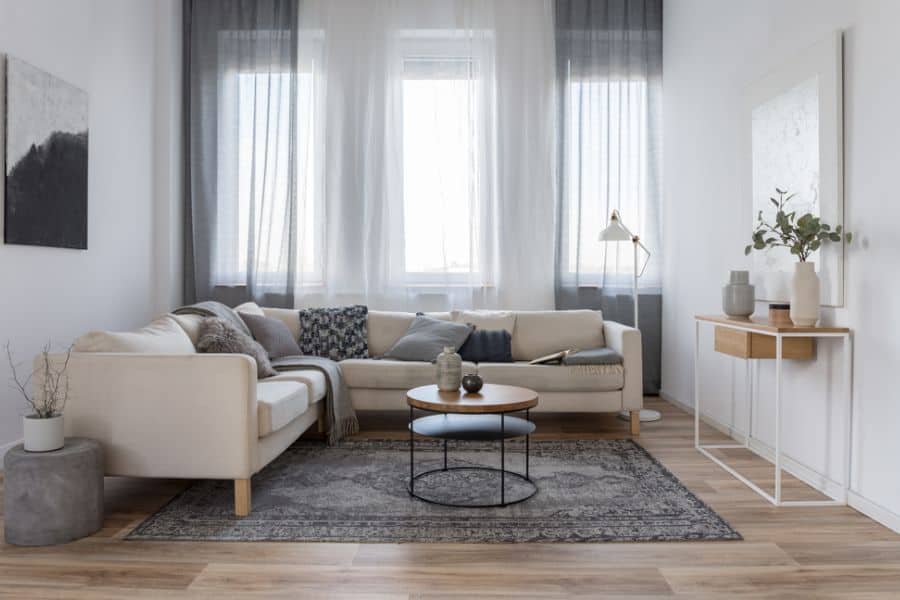 The Top 82 Gray Living Room Ideas
Committing to a color palette is hard no matter the space. But few areas are as difficult to decorate as the family living room.
Neutral colors are ideal for central spaces like the living room. Yet few homeowners want to recuse themselves to white walls and finishes. Gray offers a subtle deviation from this plain color scheme without the risk of overpowering.
Check out the gray living room ideas below to learn how to include this versatile shade in your own interior design.
1. Apartment
Decorating an apartment is a challenge all its own. While few apartments allow for dramatic renovations, a surprising number of leases and condo associations permit painting.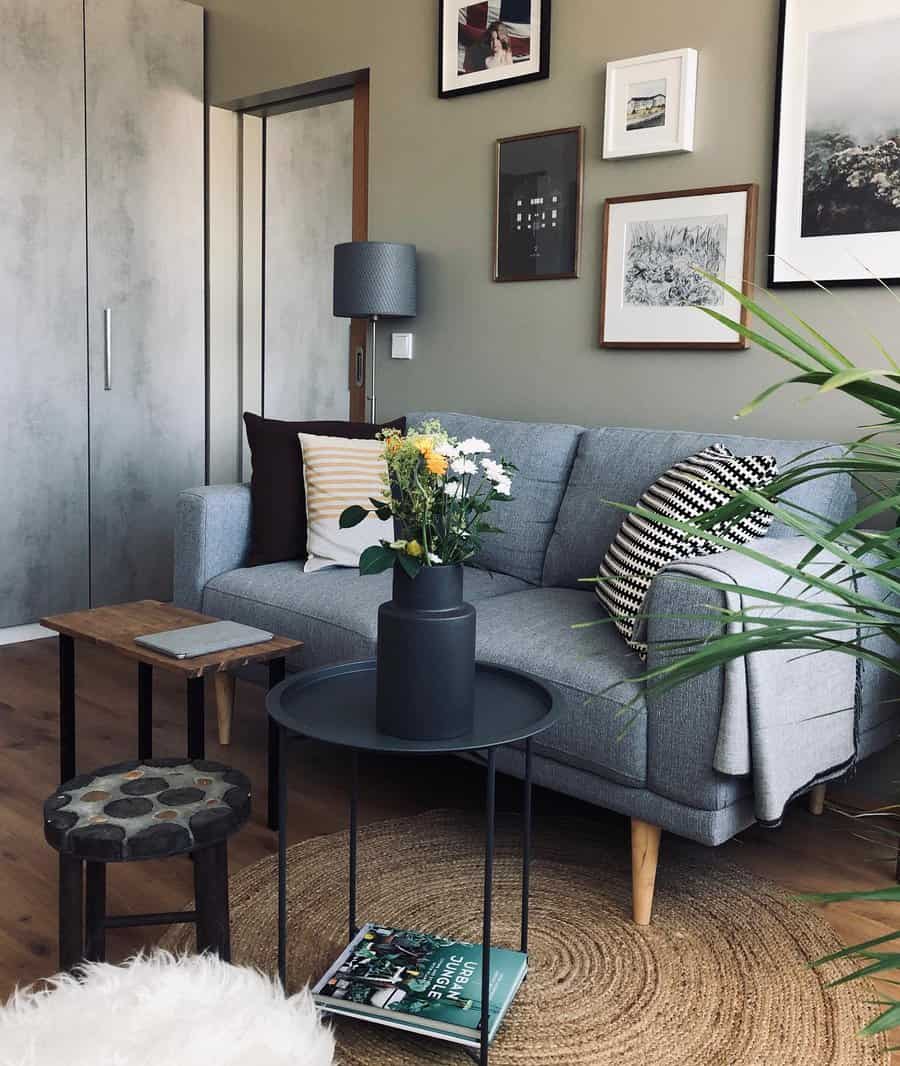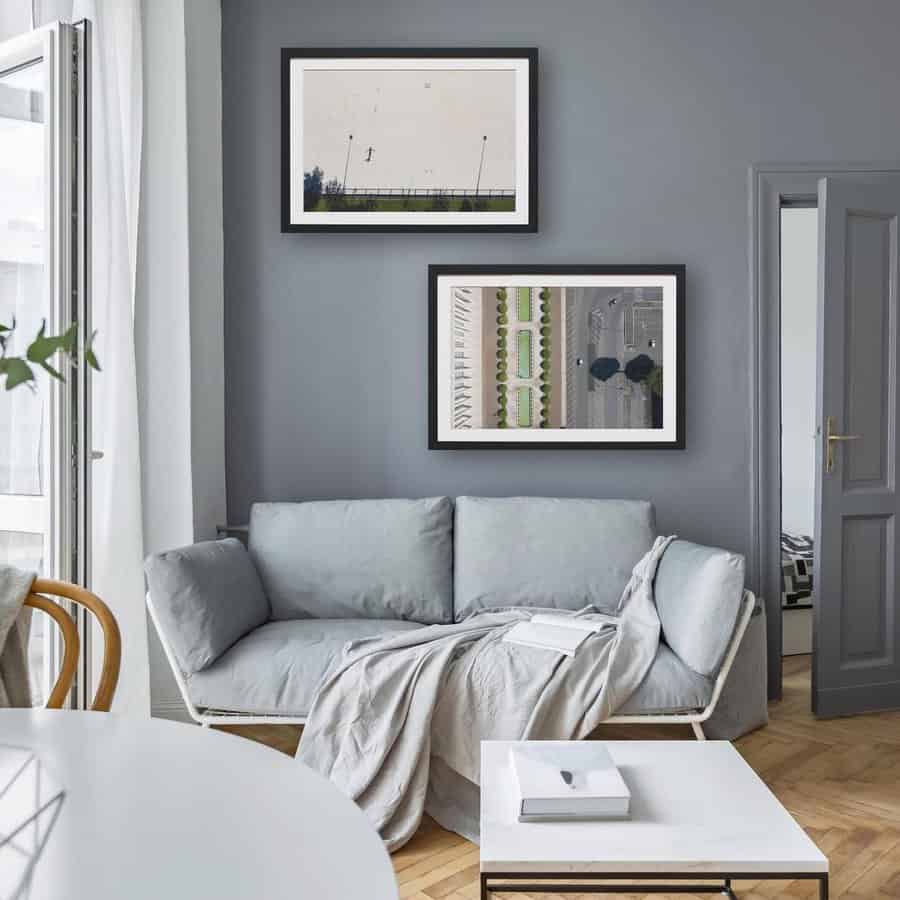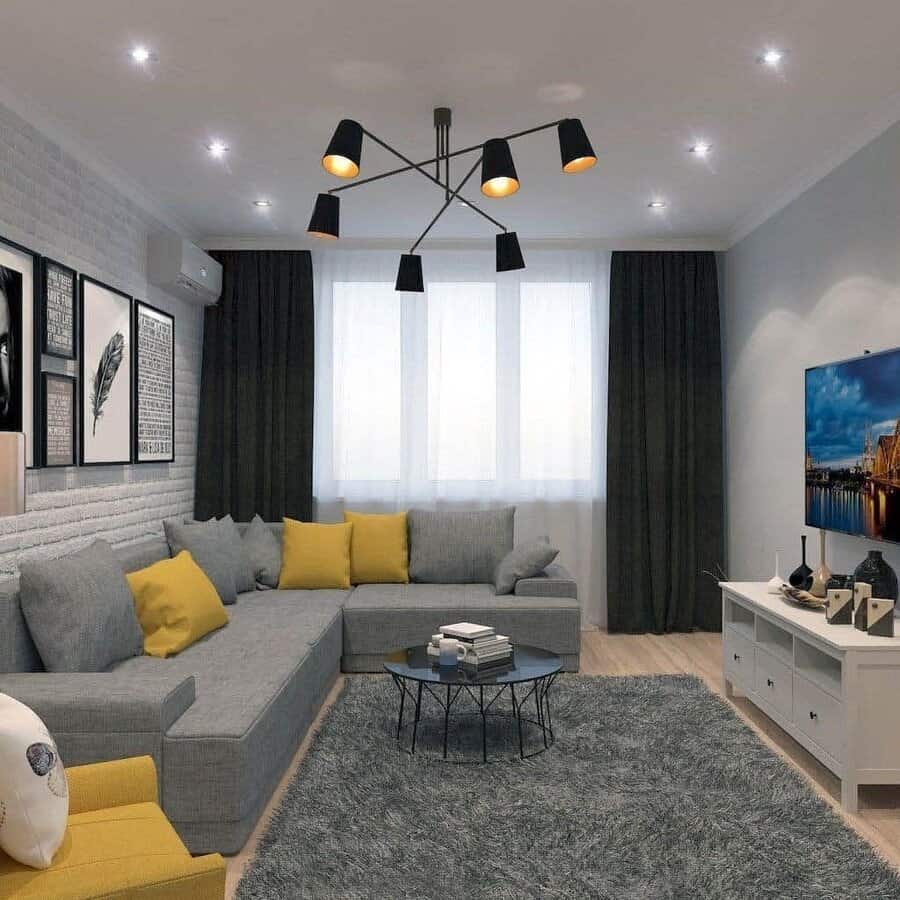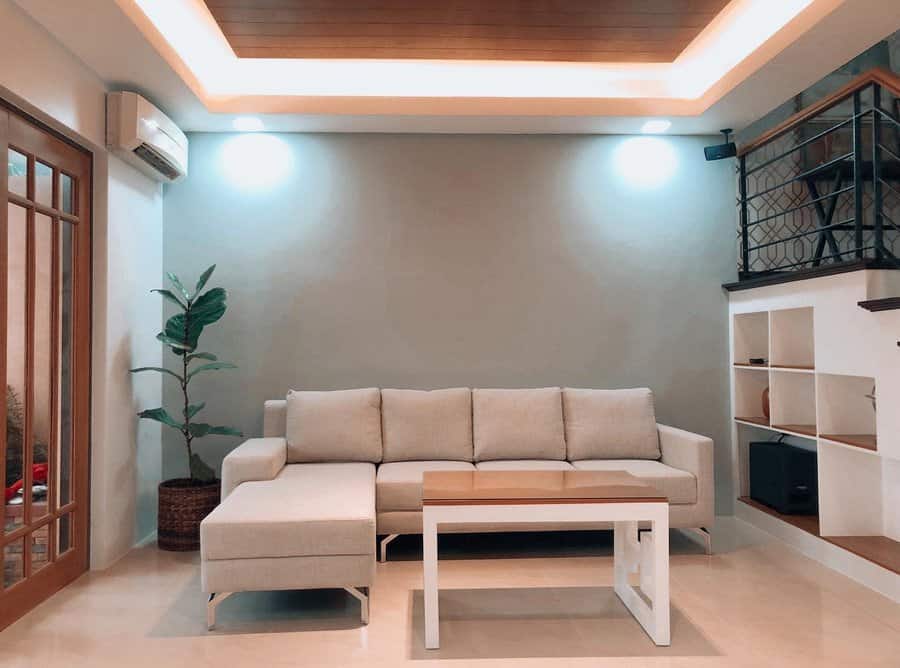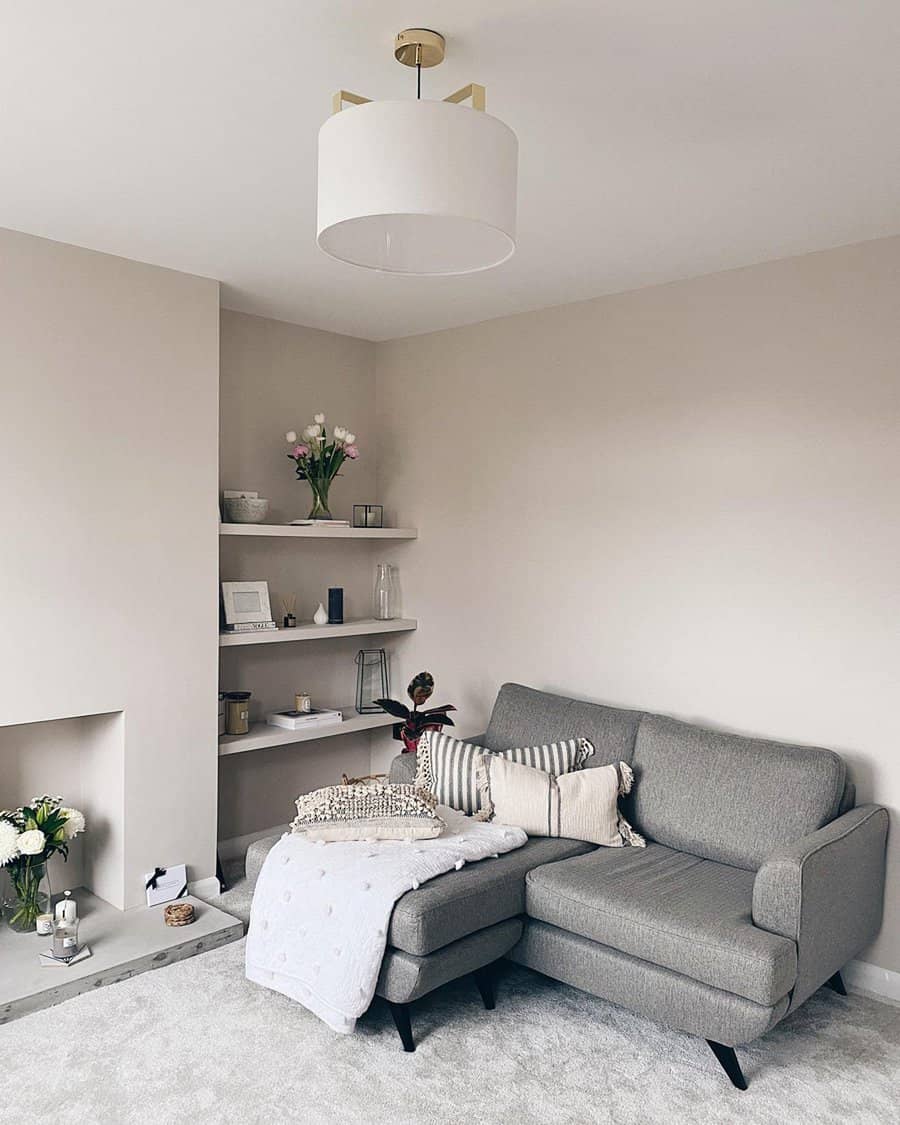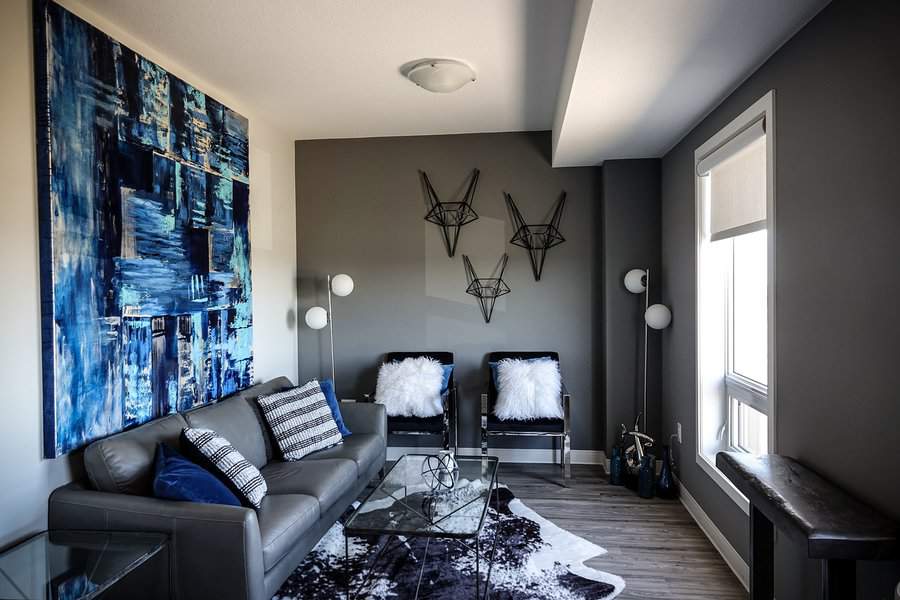 A gray palette can be a welcome change to the plain white seen in many move-in ready apartment units. Shopping for furniture is easy — your gray-toned items will match almost any future living room.
Accent colors can be a powerful addition to an all-gray living space. Primary colors are a wonderful choice. Opt for statement artwork or furniture to introduce these shades.
2. Boho
Many homeowners assume that gray decor is limited to contemporary- and modern-inspired spaces. But it's just as possible to create a stylish boho living room with this color scheme.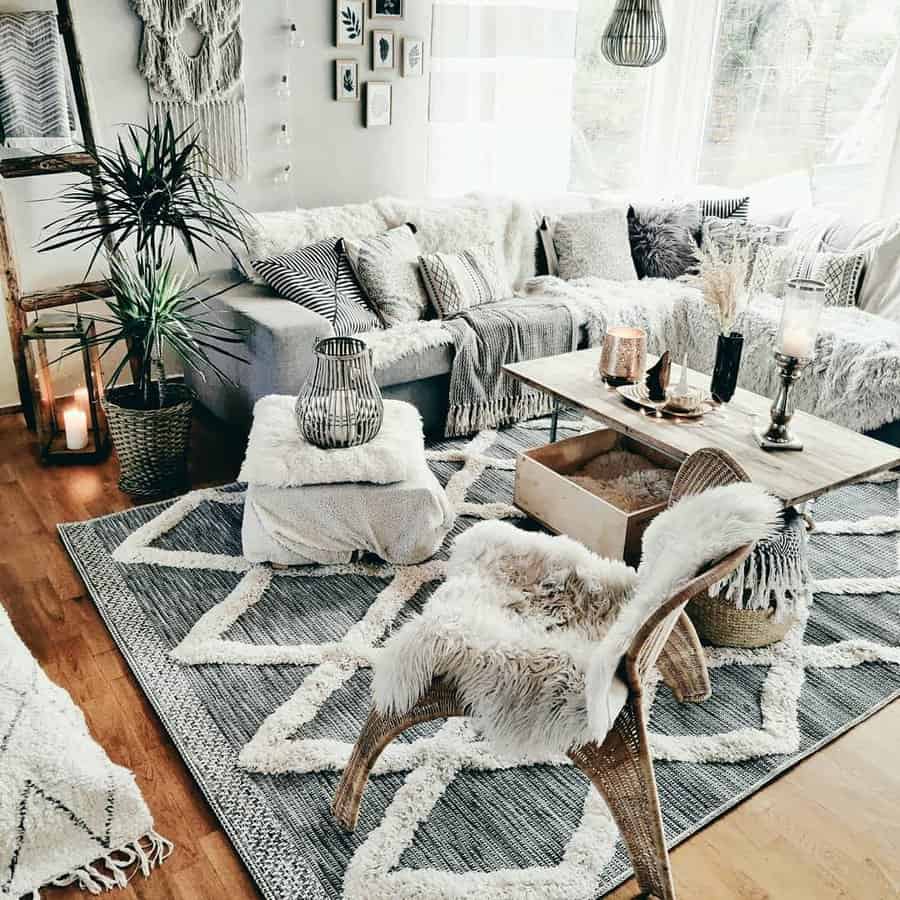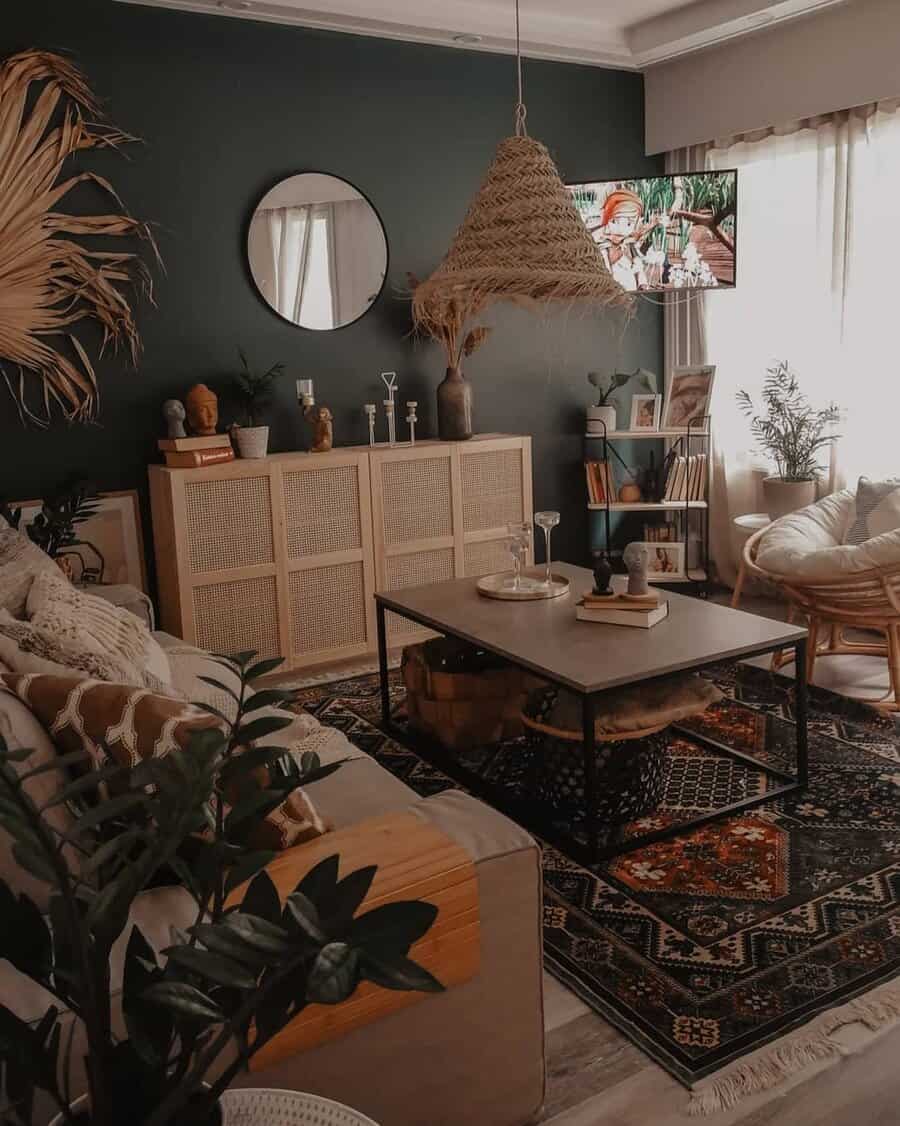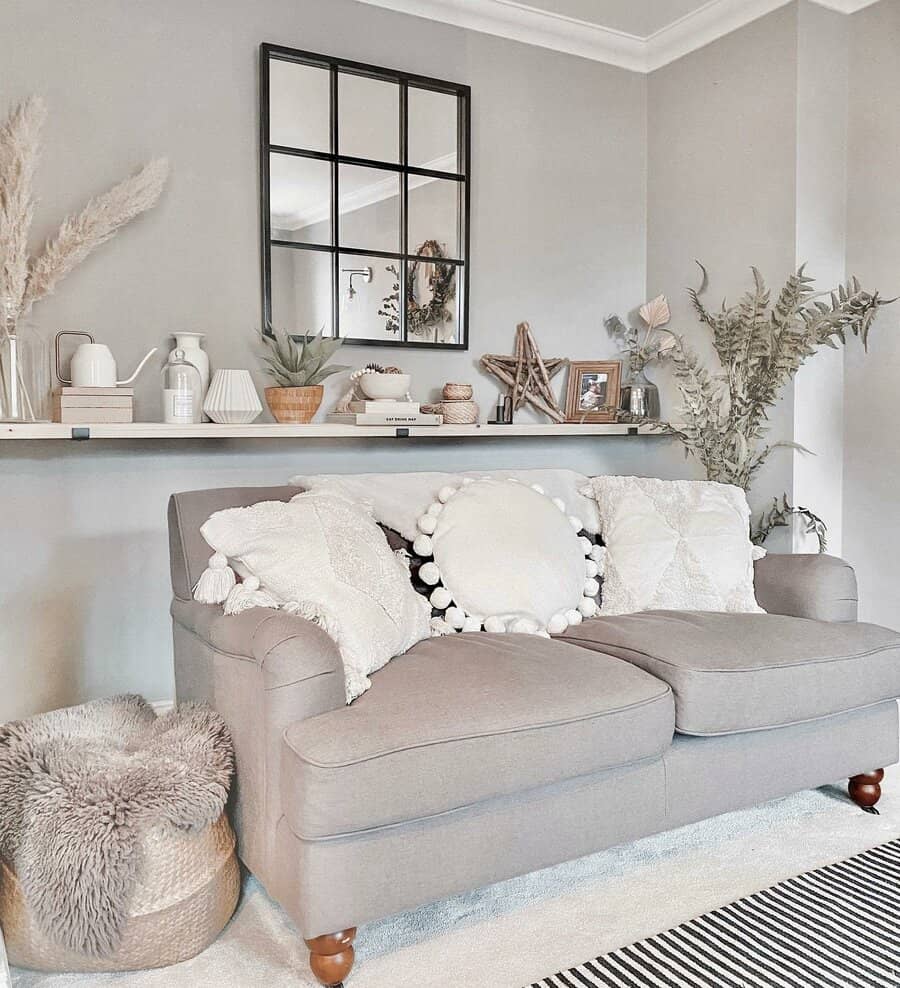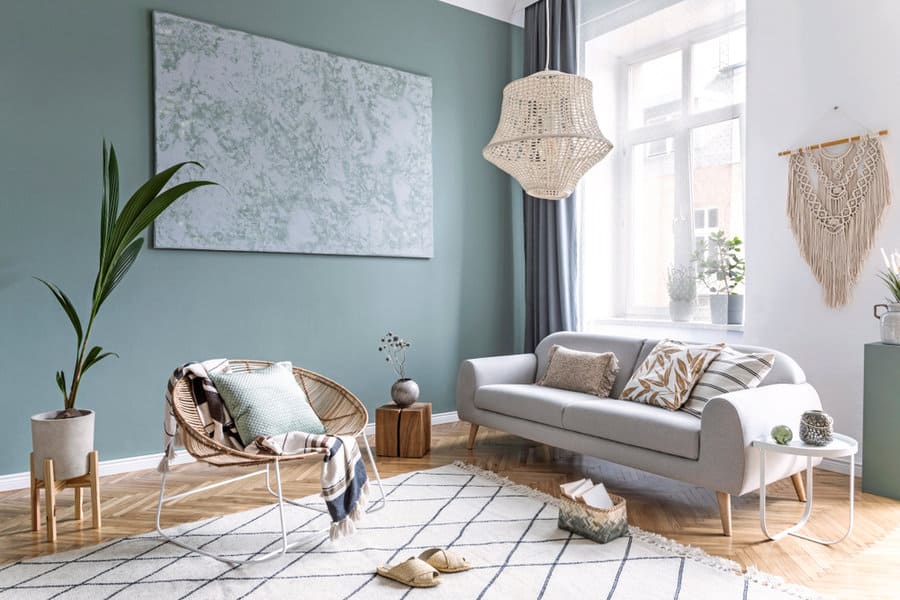 Giving your gray living room Bohemian appeal is largely about adding organic elements to the space. Potted plants and woven wicker are prime examples that pair beautifully with both light and dark shades of gray.
To make your gray living room feel as inviting as possible, stick to warm-toned grays throughout the design. This will ensure your furniture and decor looks alive rather than overly sterile!
3. Concrete Wall
Concrete wall finishes are a big trend in interior design right now. This project can add texture to any space but works particularly well for creating an accent wall in a living room.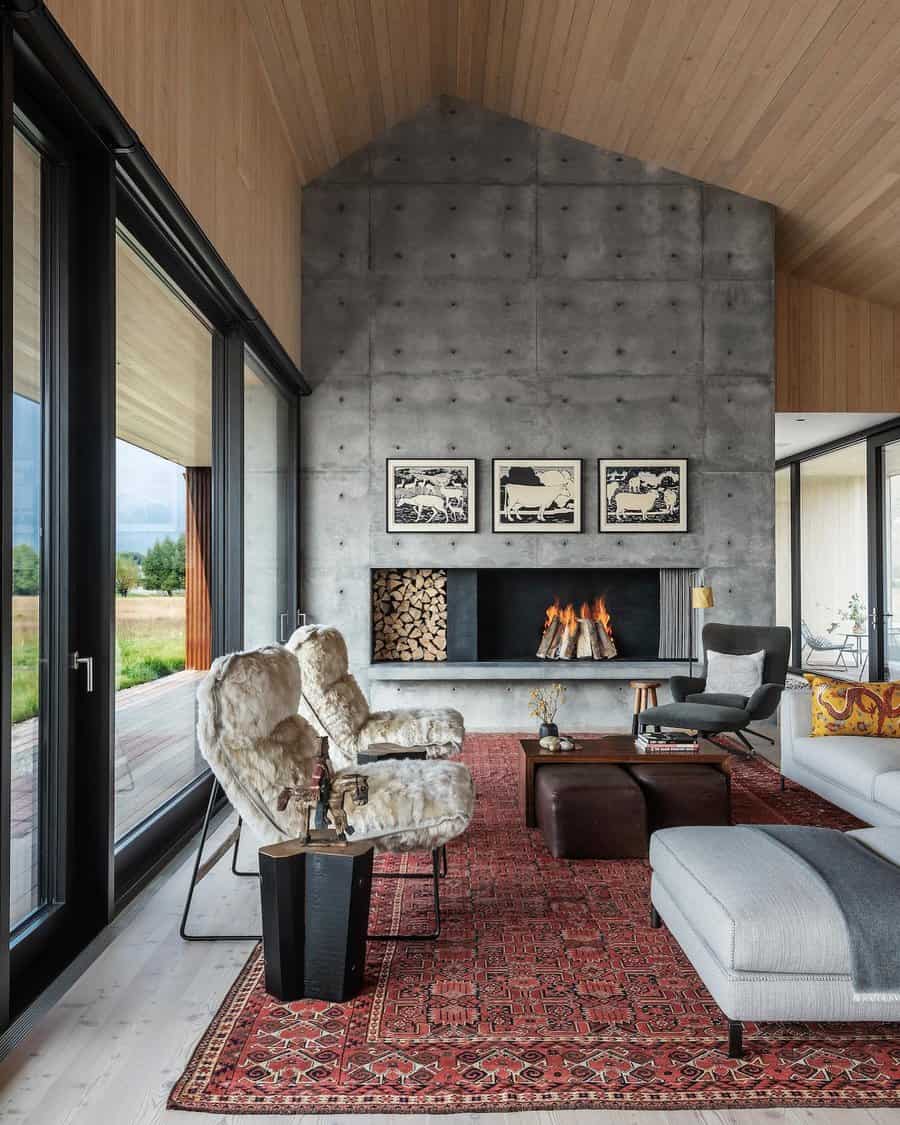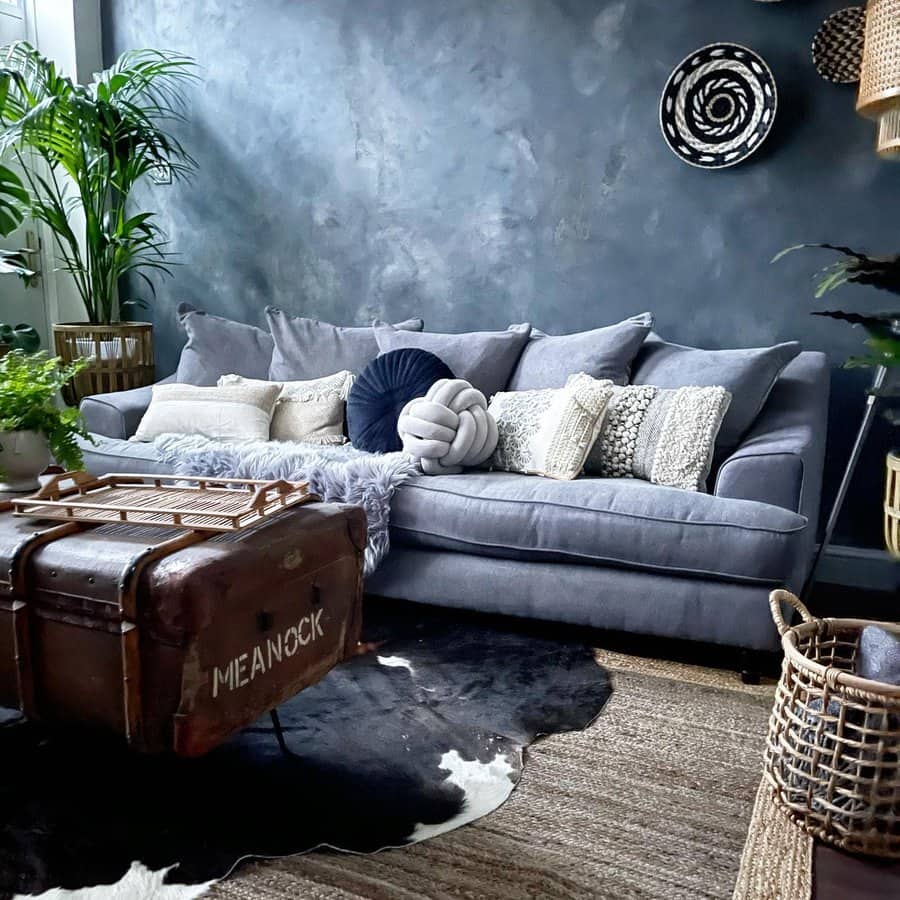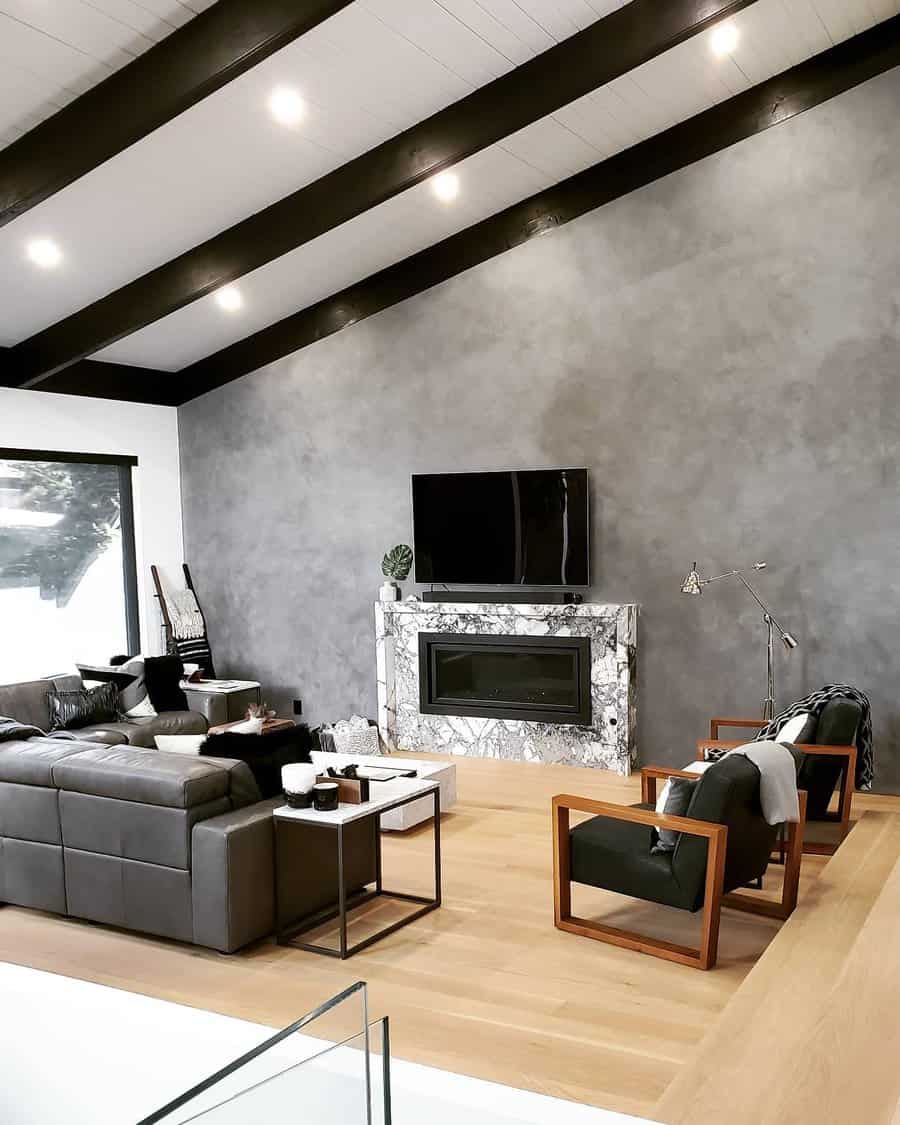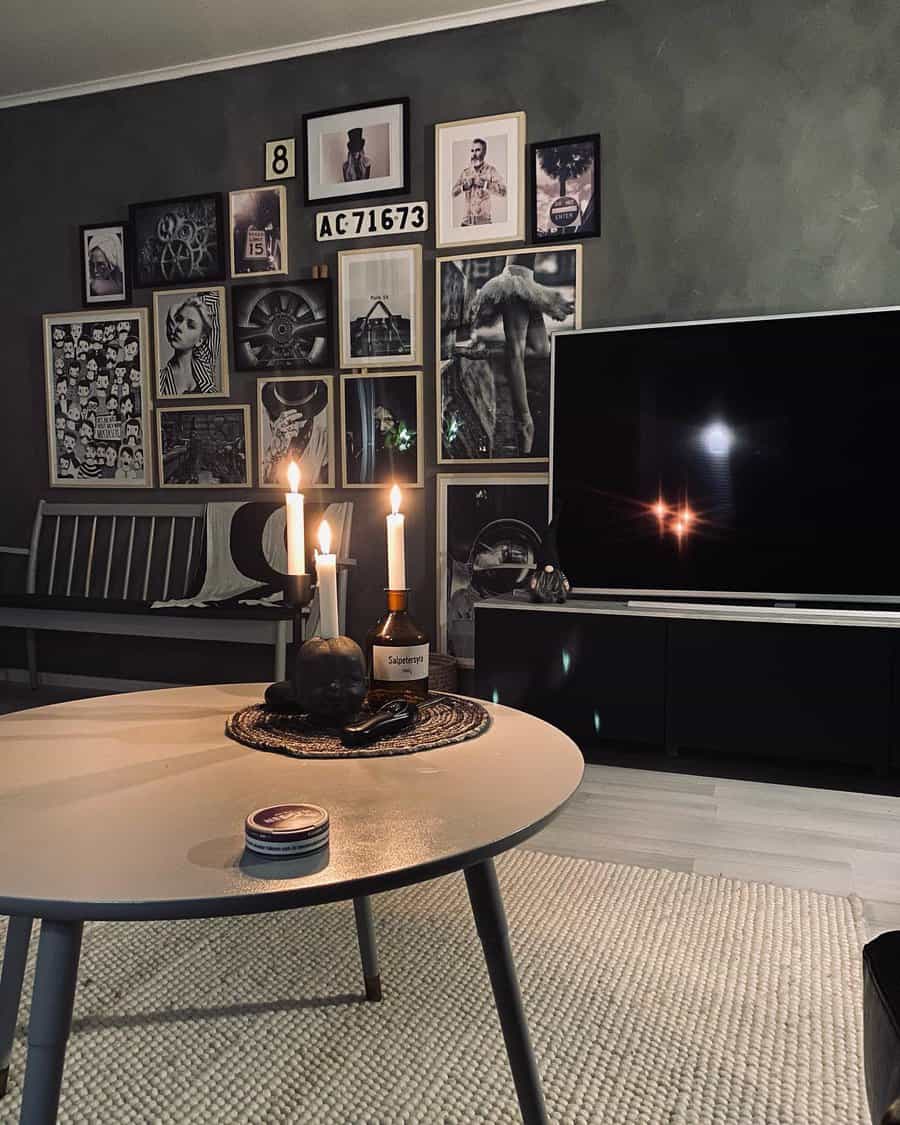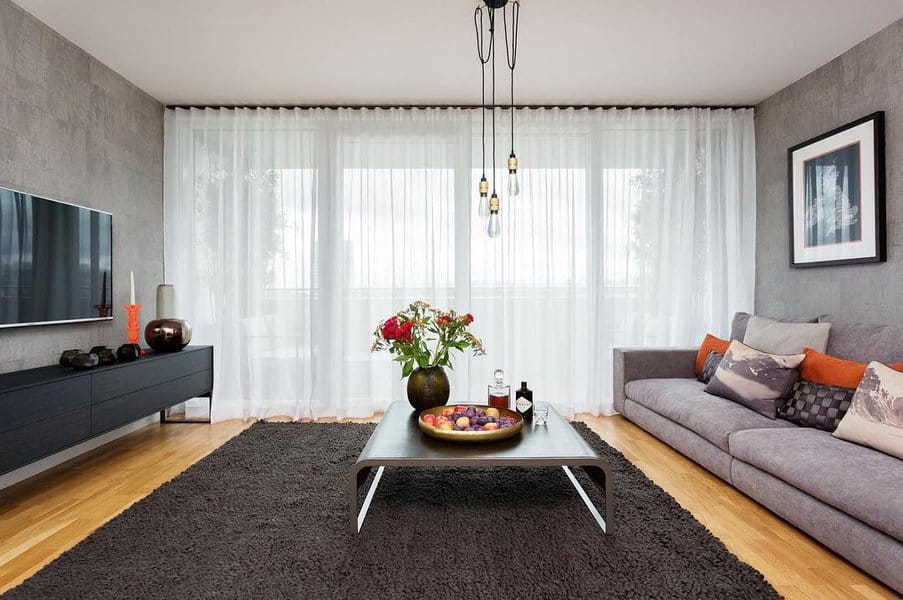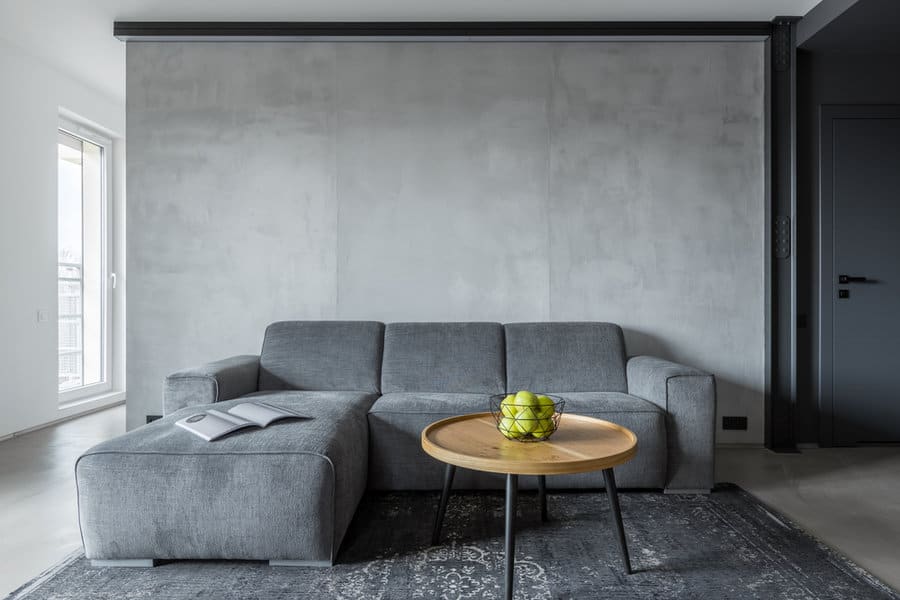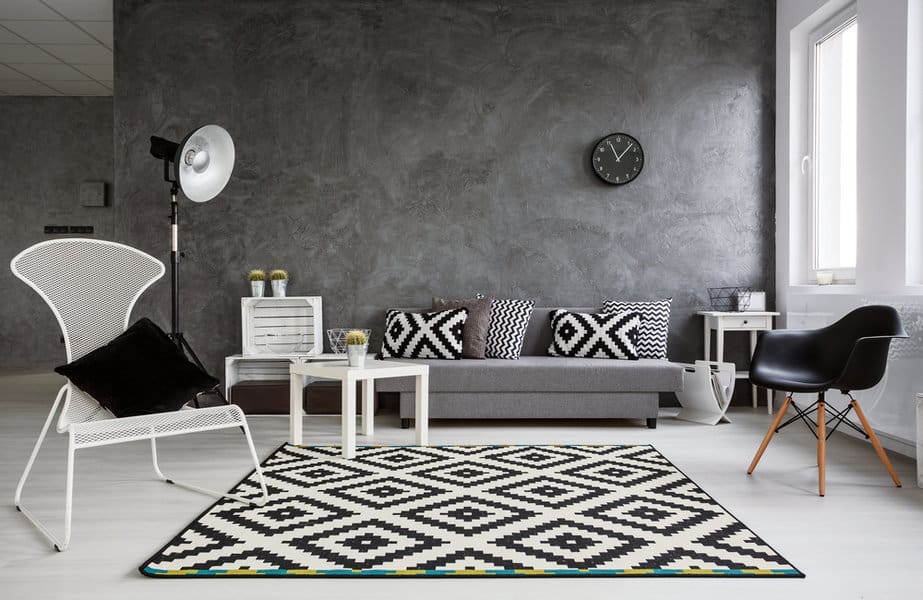 A concrete-covered wall is a great option for an industrial-inspired aesthetic. However, this material can also contrast excellently against more traditional design elements.
Actually constructing a concrete wall is a delicate process — you shouldn't attempt to DIY this idea unless you are 100% confident in your skills. Fortunately, you can easily mimic the look of a concrete overlay with texture wallpaper or even paint.
4. Contemporary
Gray has been one of the most popular interior design colors of the past decade. So it shouldn't be a surprise that this shade has a tight-knit association with contemporary decor.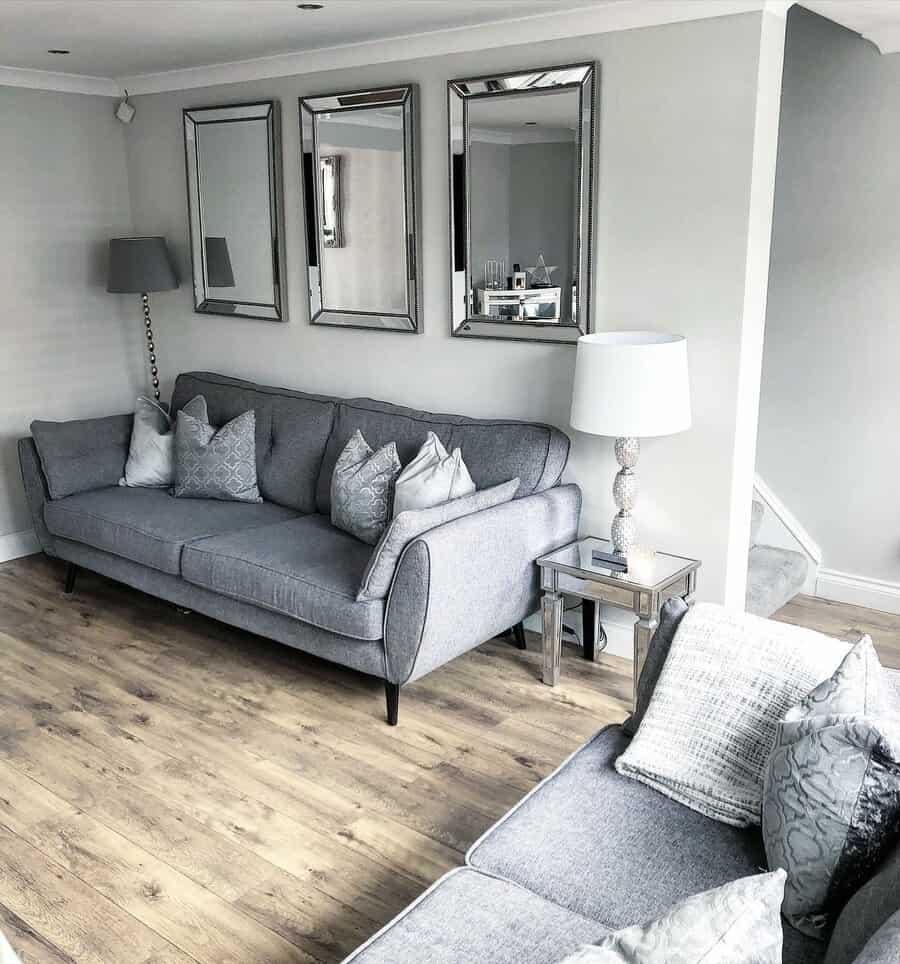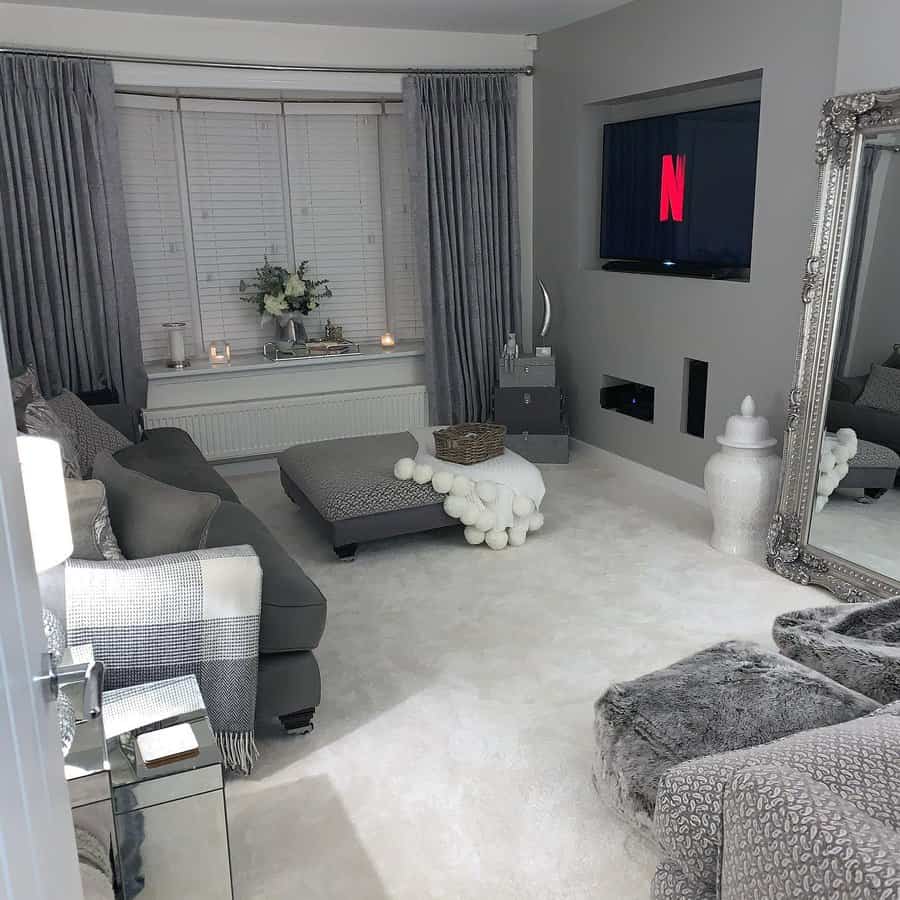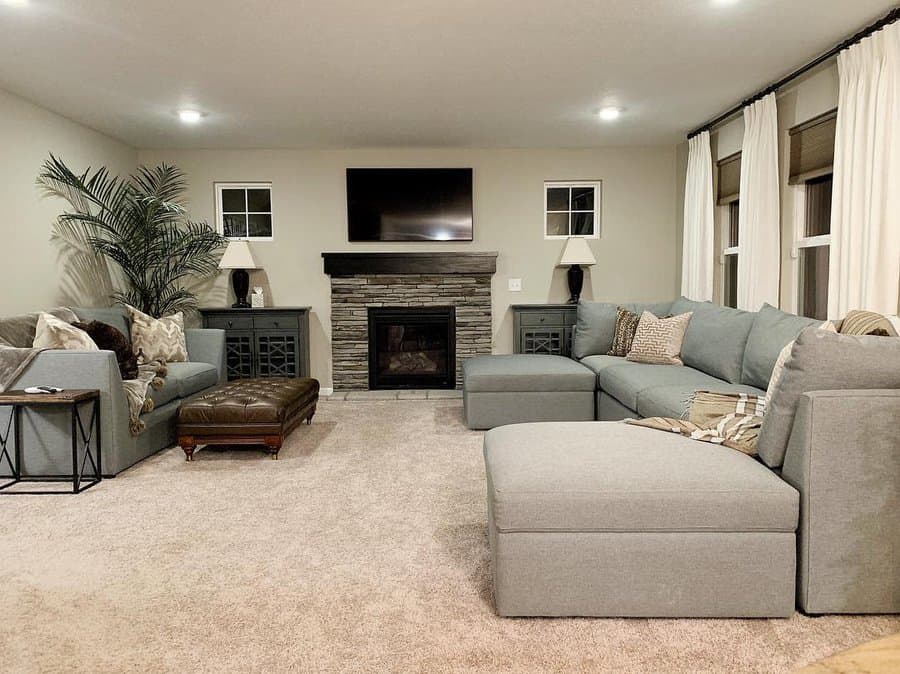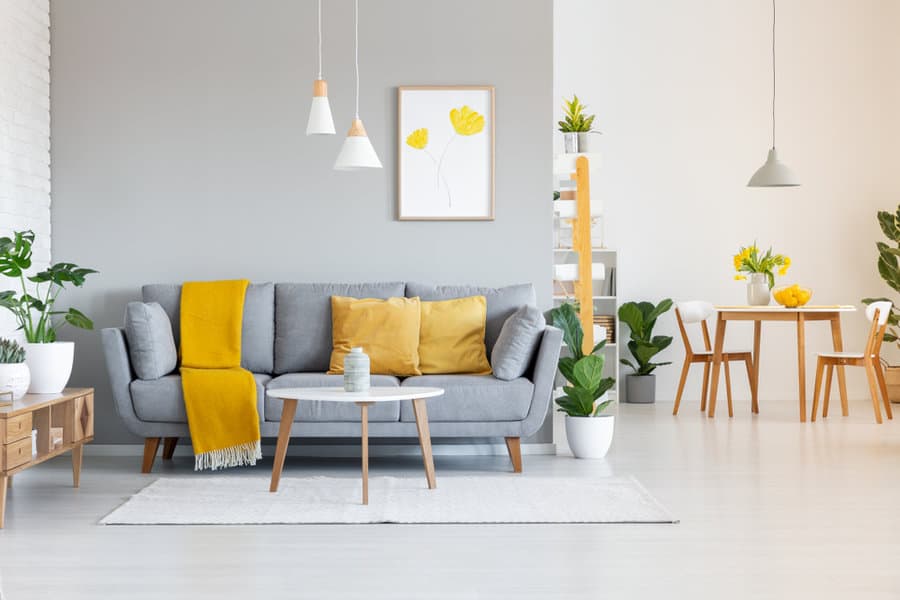 While gray has been a go-to living room color for a long time, the ways it's being used are constantly changing. Today's contemporary interiors favor light or dark shades of gray over mid-toned ones. Texture is another important factor to consider.
Too much of the wrong shade of gray can make a space look washed-out. Incorporating warm metallic finishes — gold, copper, brass, etc. — is a great way to counter this while utilizing contemporary trends.
5. Furniture
You can't have a great living room design without some cozy furniture. Fortunately, gray living room furniture is both widely available and incredibly easy to style.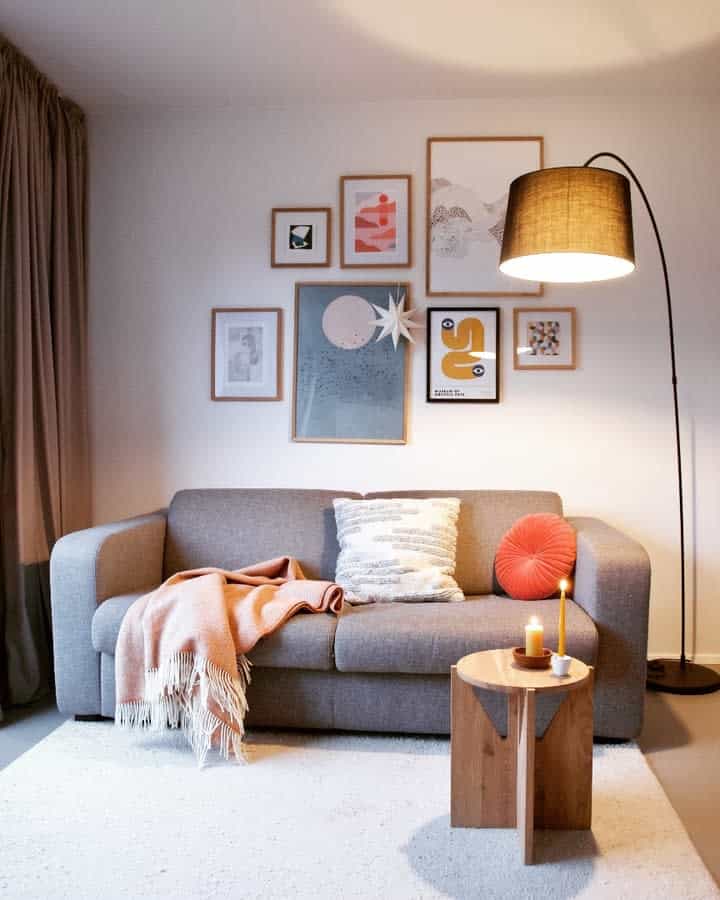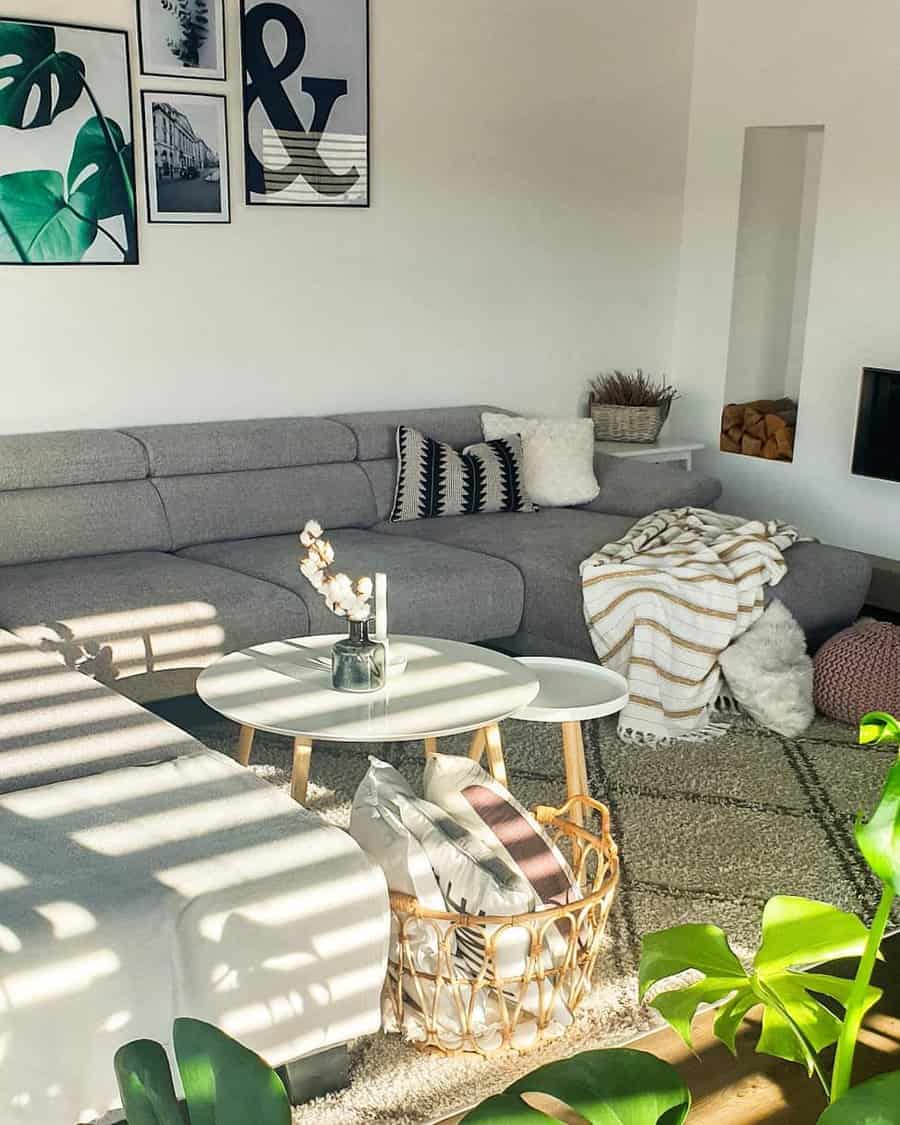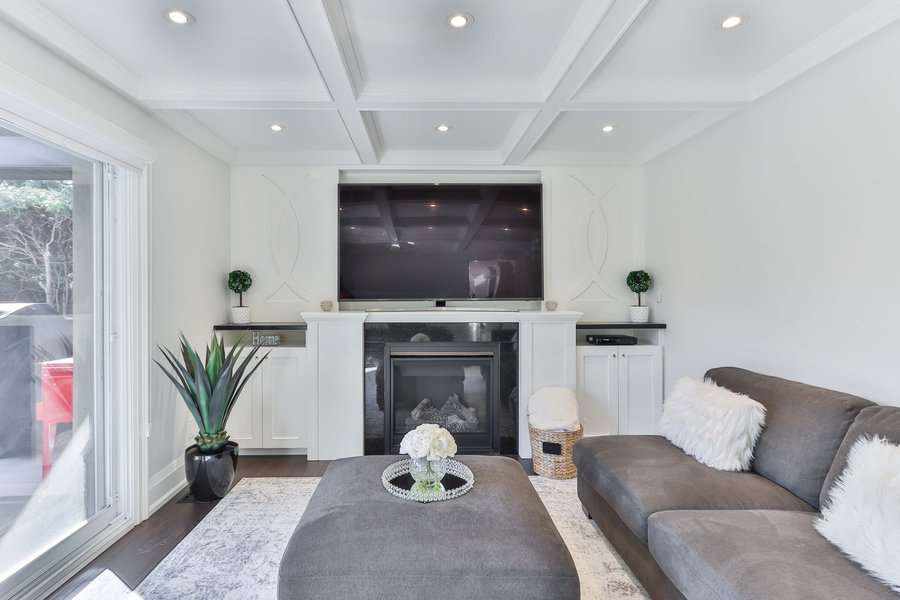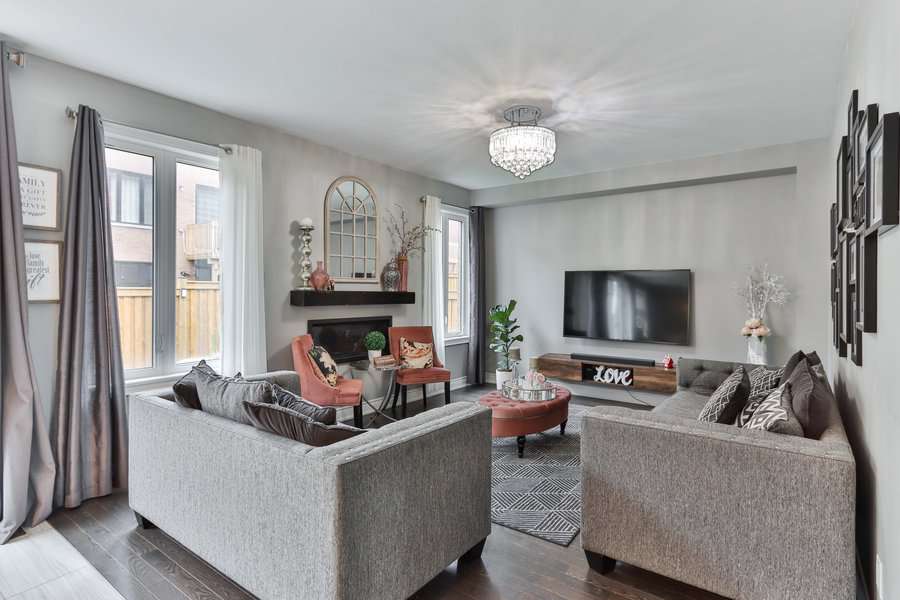 Gray furniture does not need to be exclusive to a gray-themed living room. These pieces are extremely versatile and can be combined with a wide range of color schemes and interior design trends.
Change up your living room decor with a fresh set of throw pillows or decorative blankets. A gray sofa or armchair will also pair beautifully with accent furniture. These are both low-investment ways to bring some color to the space.
6. Glam
On its own, gray isn't exactly a glamorous color. But it can be the perfect backdrop to a trend-forward living room design that will make all of your guests envious.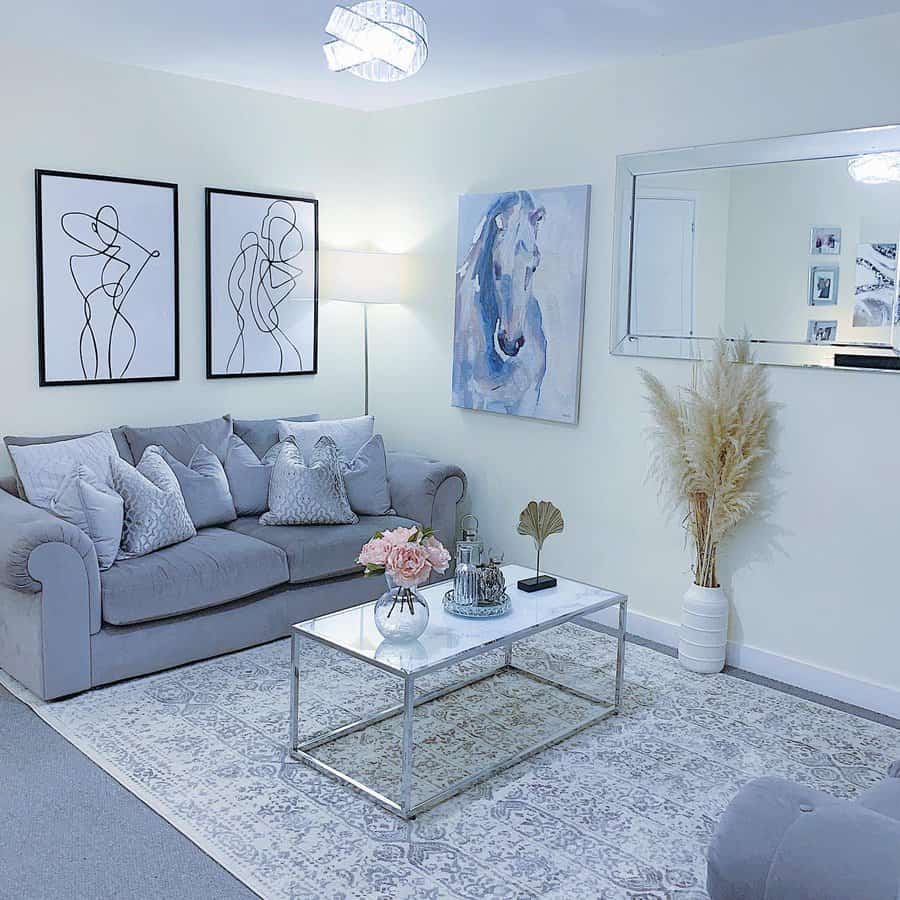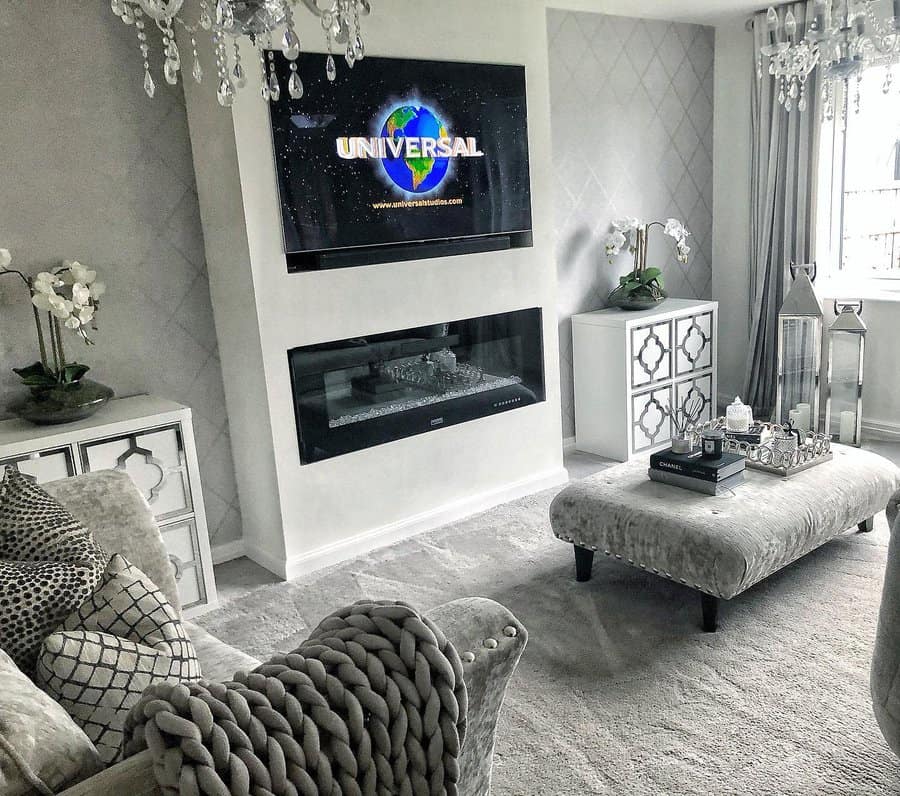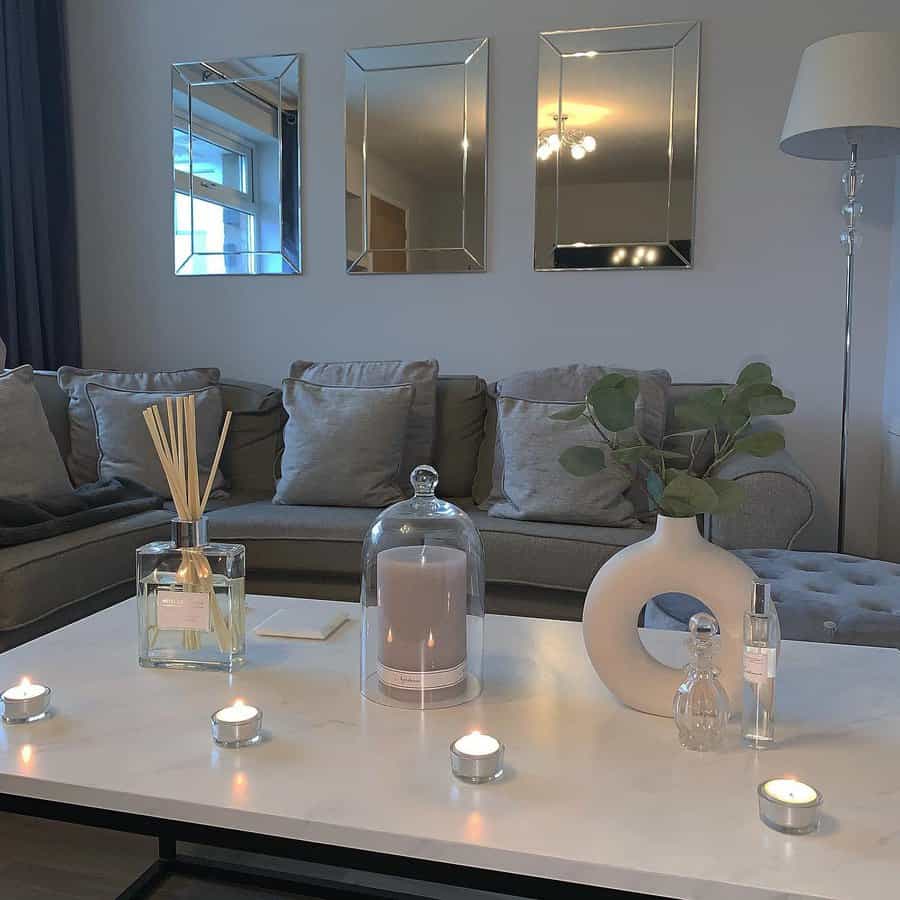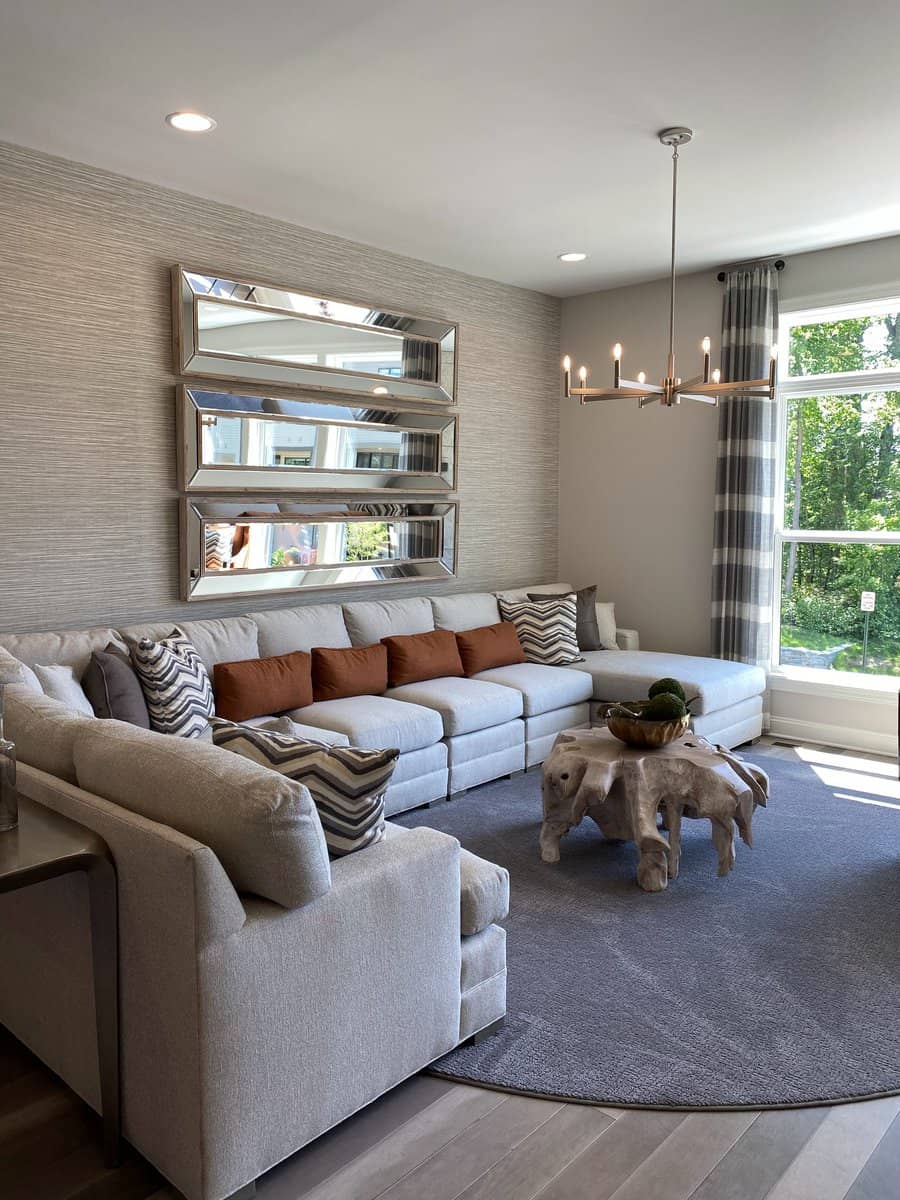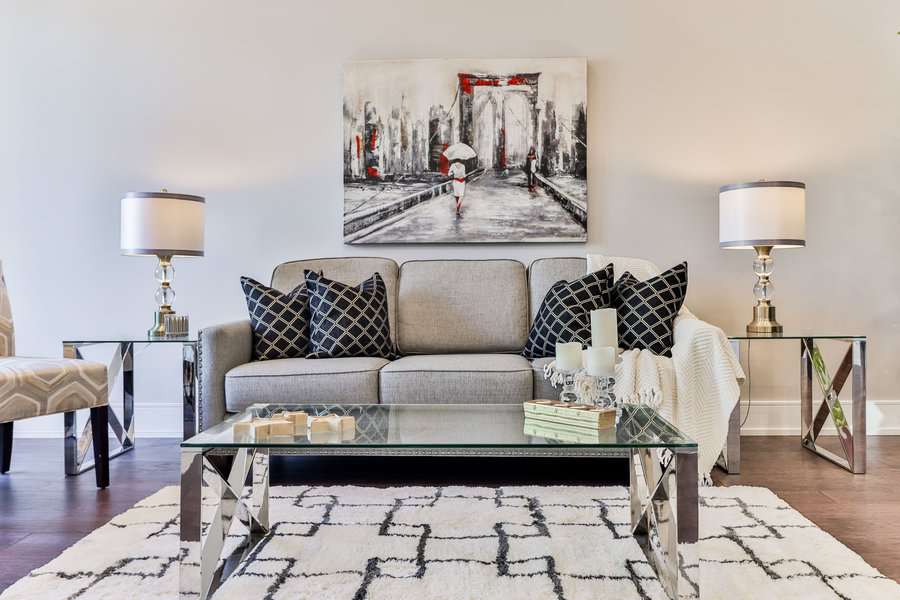 One of the best ways to make a gray living room design pop is to use stark white to create contrast. Incorporate a gray statement wall into your living room using textured wallpaper or a decorative overlay.
Add dimension to your monochromatic color scheme with reflective finishes. Hanging mirrors, light fixtures, and accent furniture can all be used to bring this contemporary decor trend to life.
7. Industrial
Industrial decor is a bold take on the modern aesthetic that has found its way into many urban lofts and bachelor pads. It's rare to see an up-to-date industrial living room that doesn't incorporate gray in one way or another.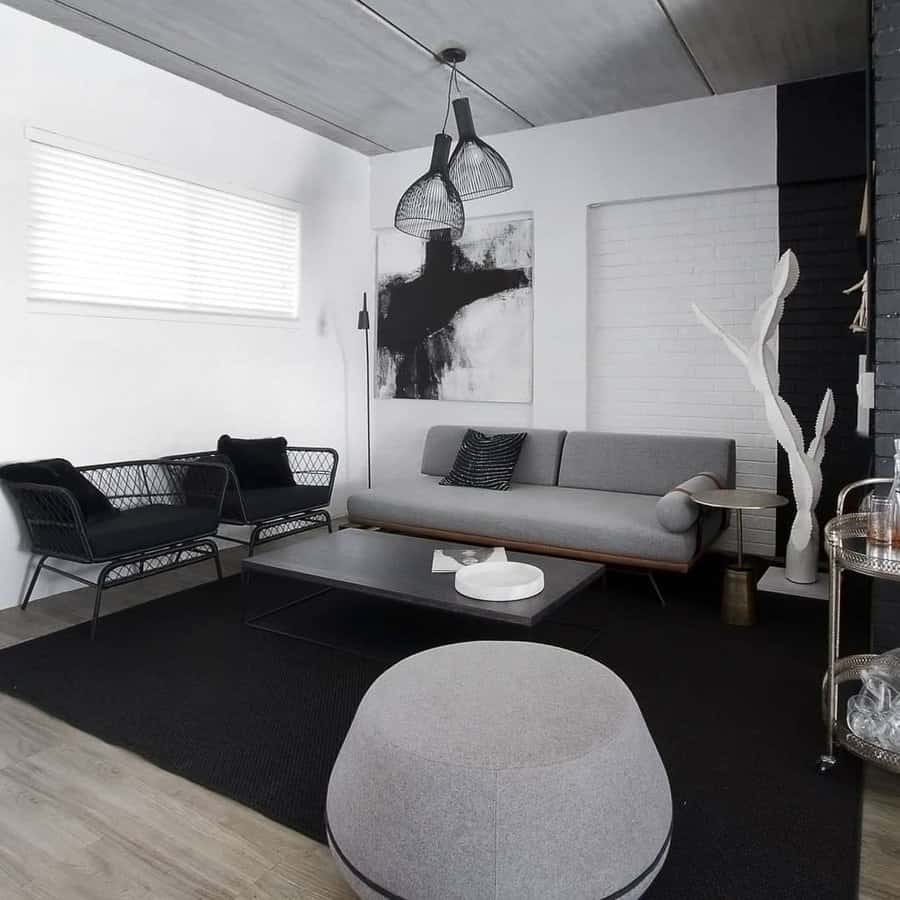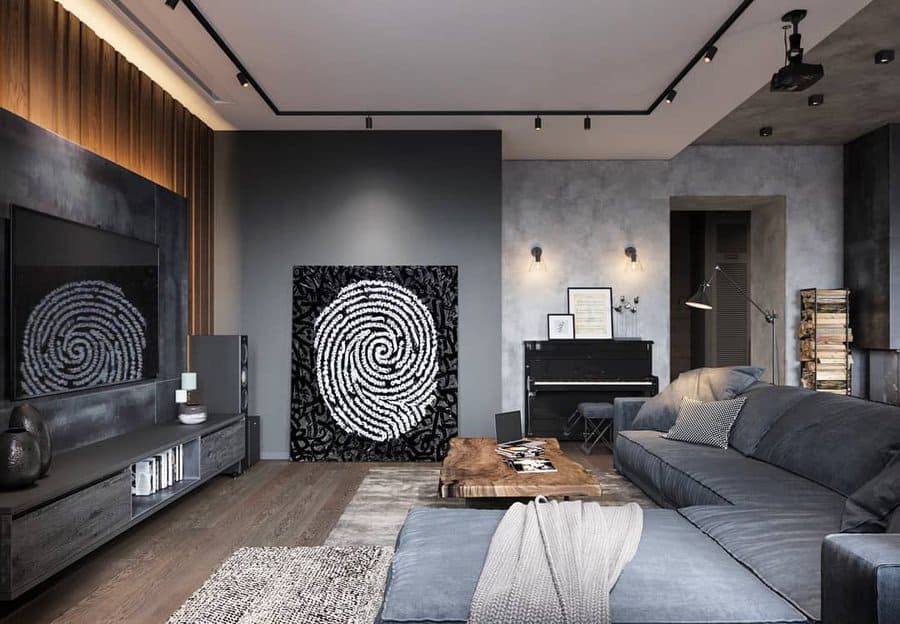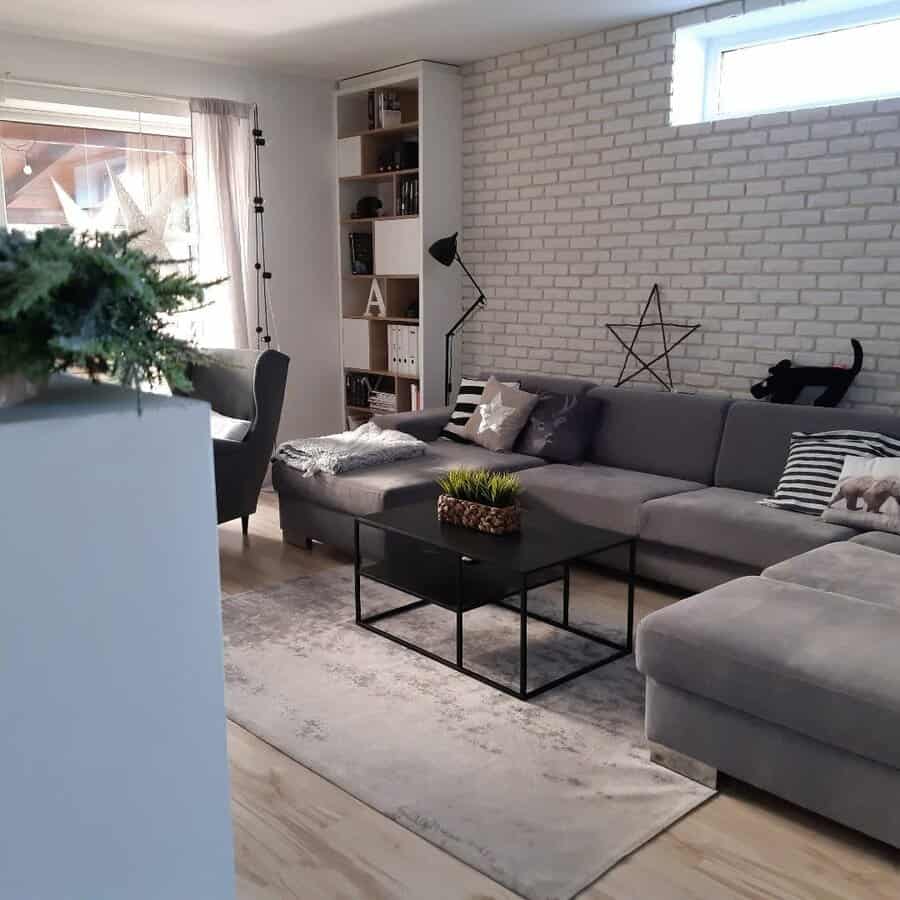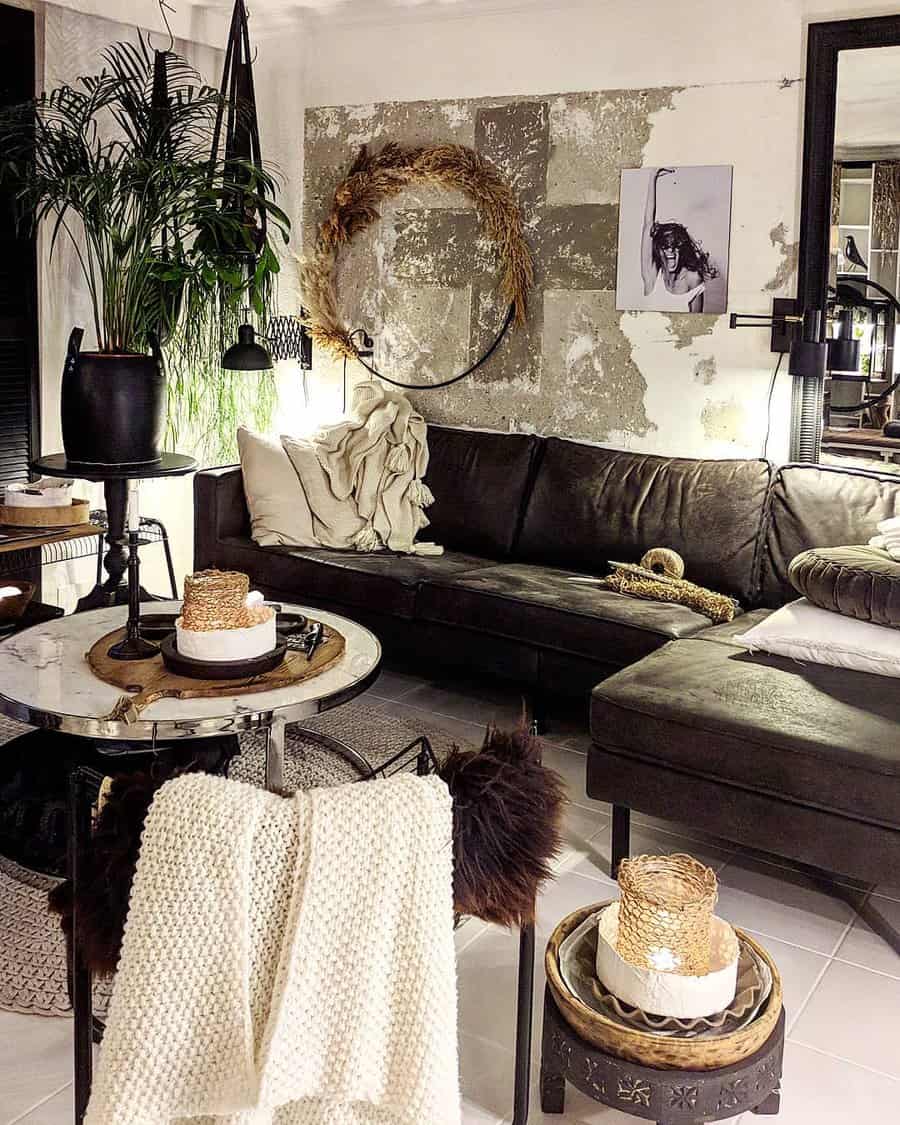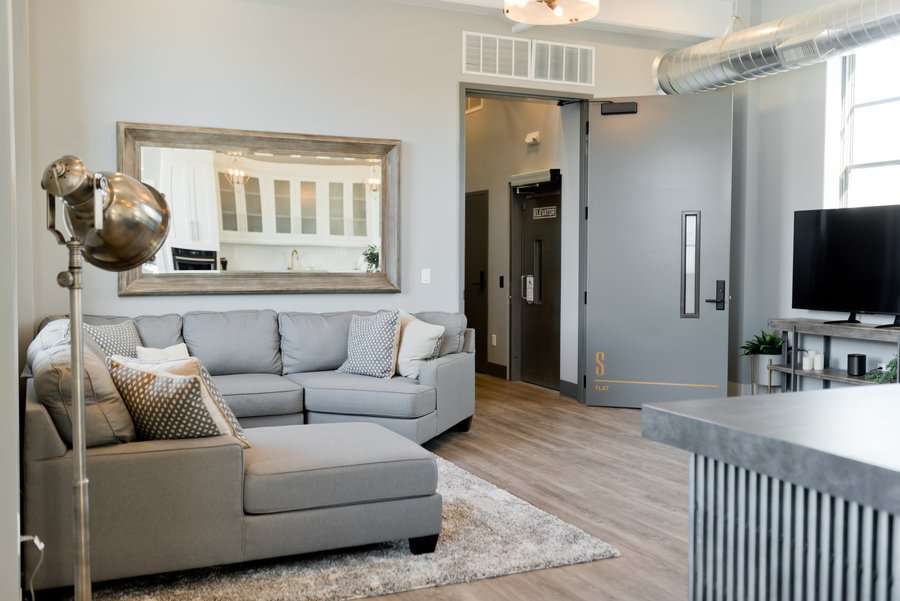 With so many interesting materials cohabiting in the average industrial living space, gray furniture can be a welcome palate cleanser. Opt for warm-toned grays, especially if your living room features exposed brick or wood paneling.
Don't be afraid to reinterpret your gray living room to include metallic finishes. Exposed ductwork is a classic element of industrial design. If your space lacks these architectural quirks, add your own using statement light fixtures or wall art.
See more industrial living room ideas here.
8. Luxury
Luxury interior design is all about striking a balance between simplicity and intricate details. And gray acts as the perfect bridge between basic neutrals and more bold finishes.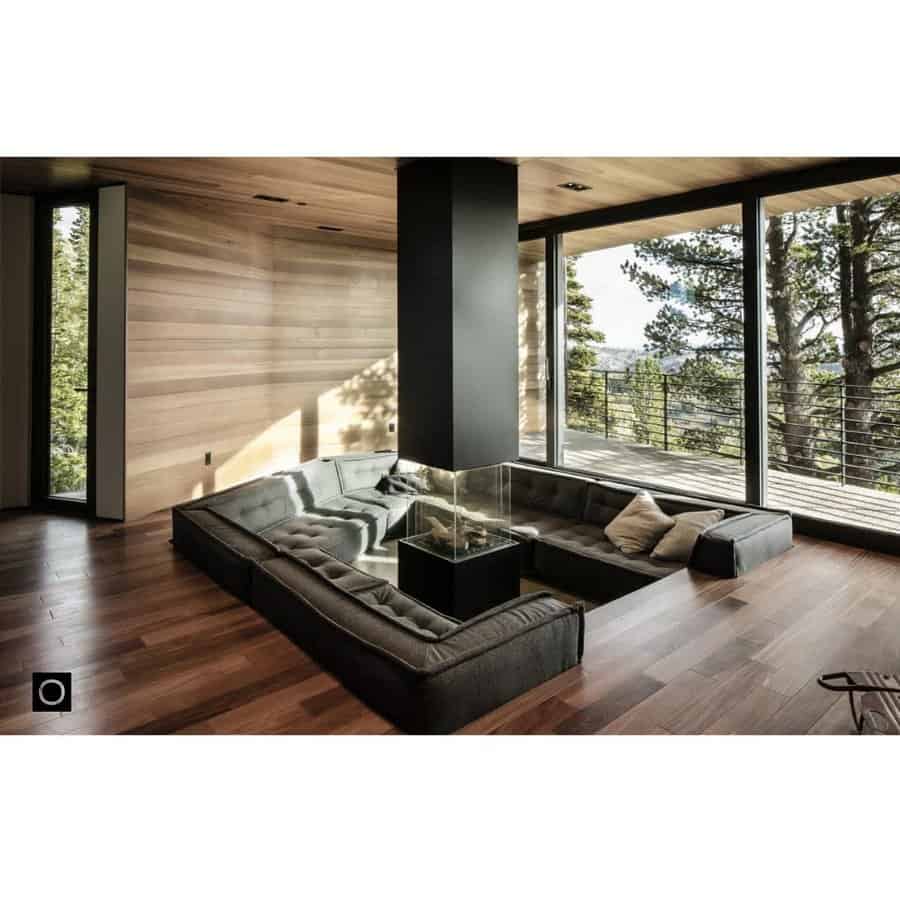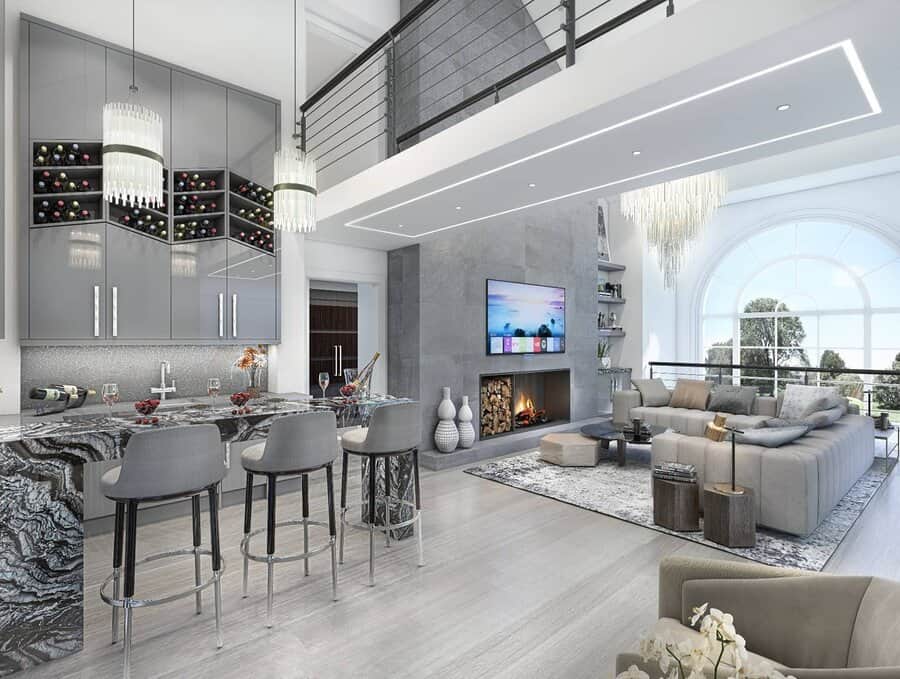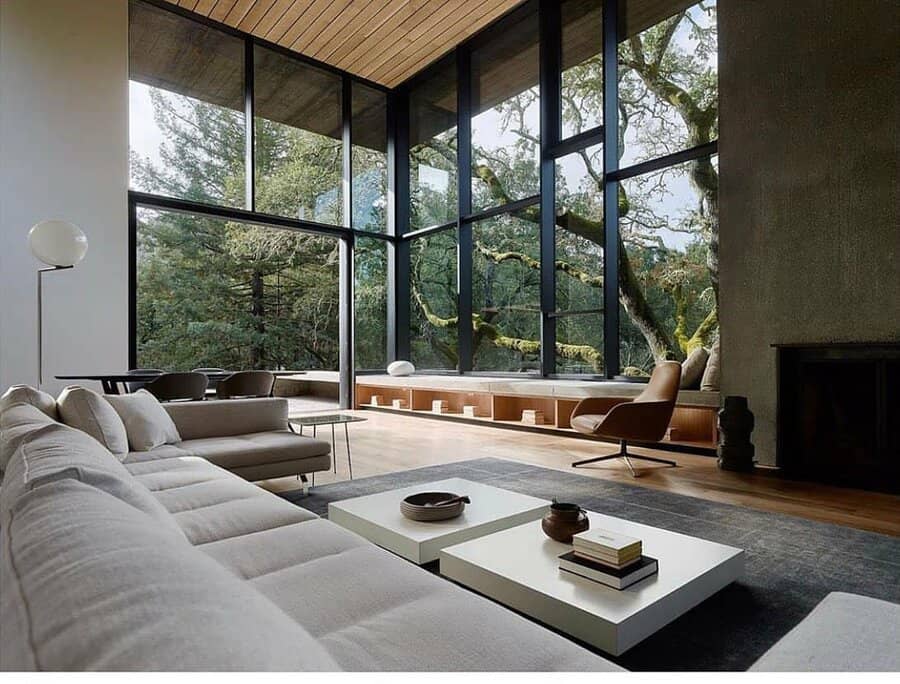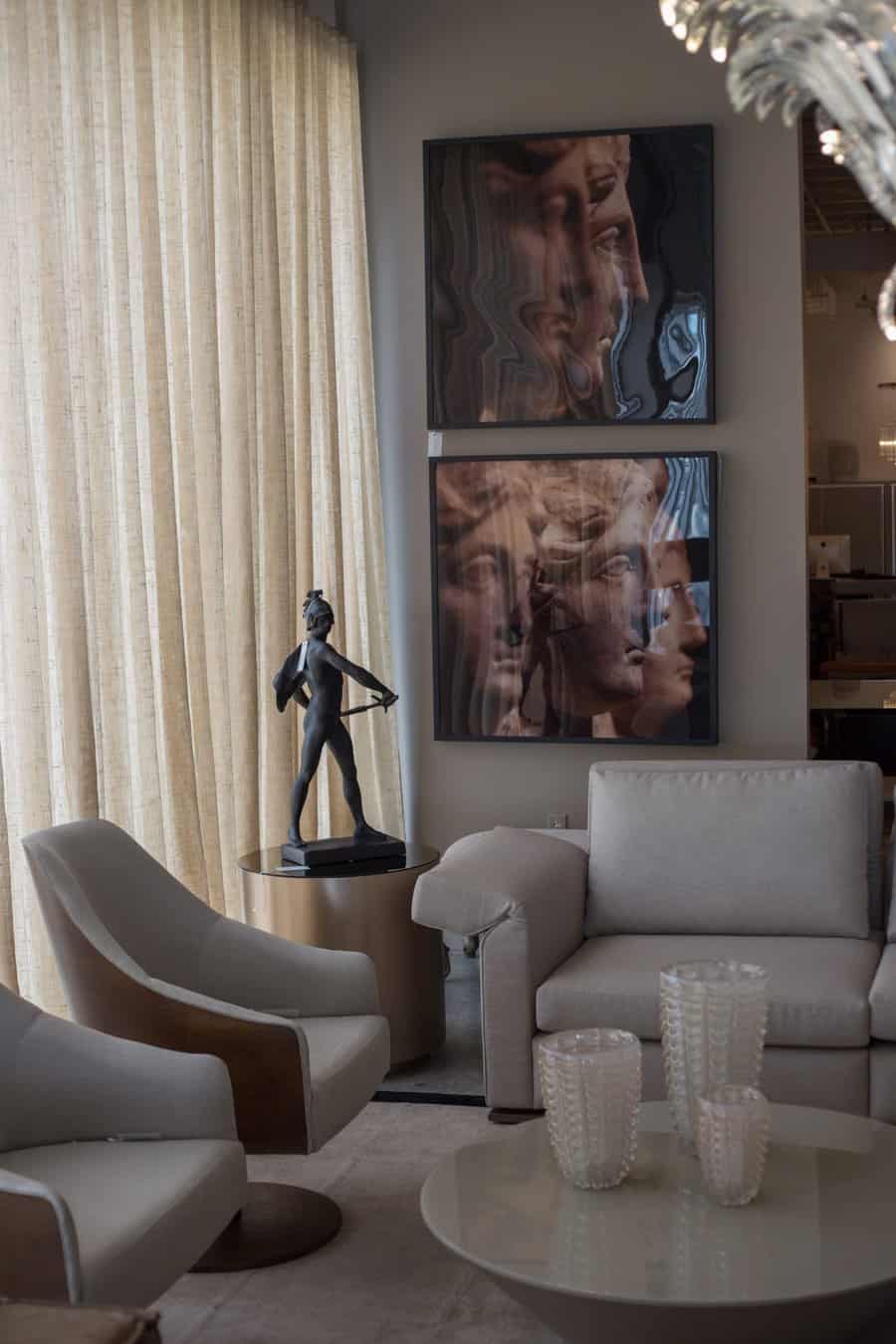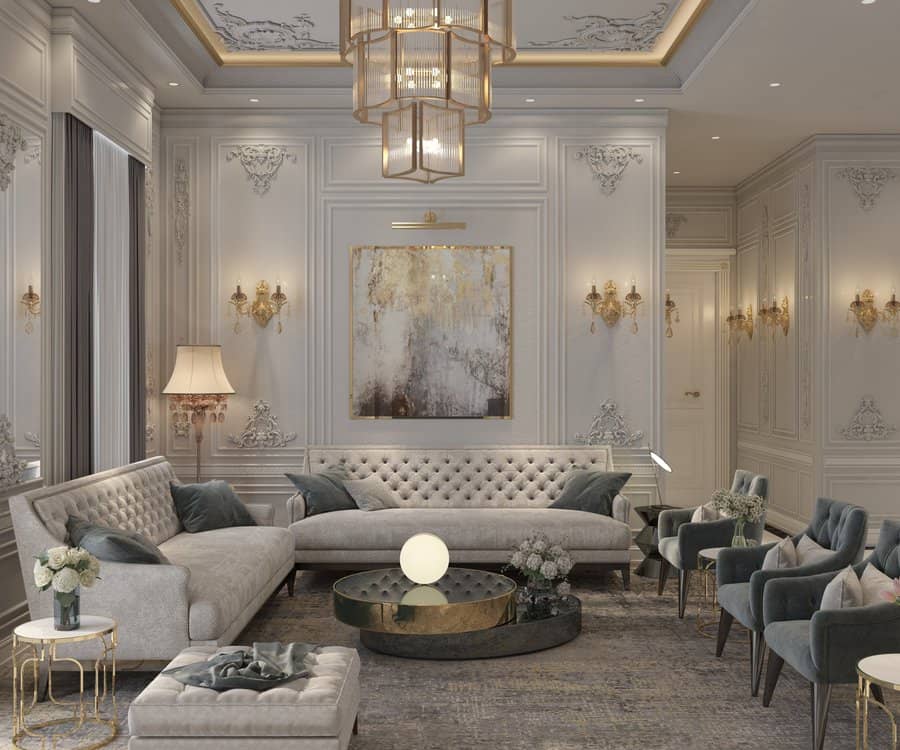 For a luxury aesthetic, your gray decor should not be the main attraction. Instead, it should act as backup for more elegant elements like natural wood, dramatic light fixtures, or stunning scenery.
The last thing you want is for your gray finishes to come across as flat. Include several similar shades of gray in the form of throw pillows. Or select materials with natural texture and variation for a high-end appearance.
9. Minimalist
When creating a minimalist living room, every single detail counts. That includes the colors you utilize within the space.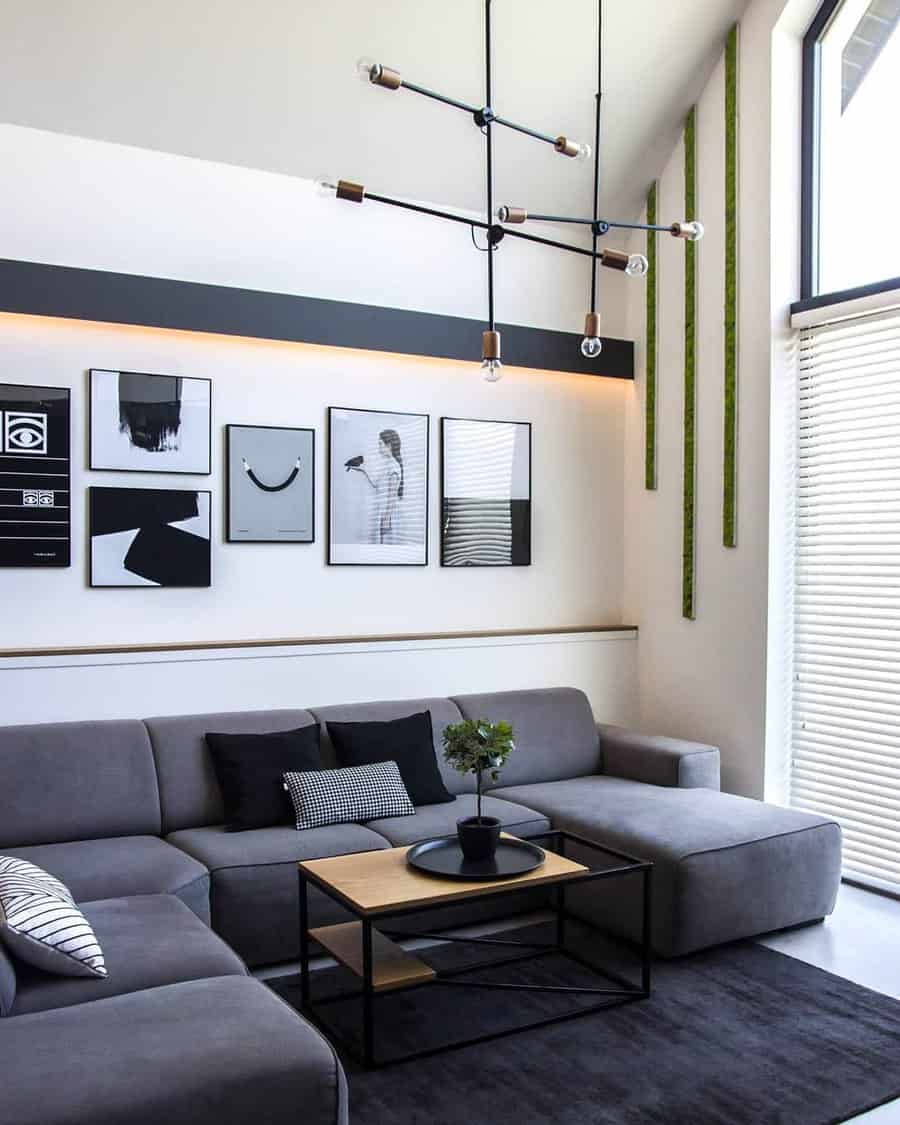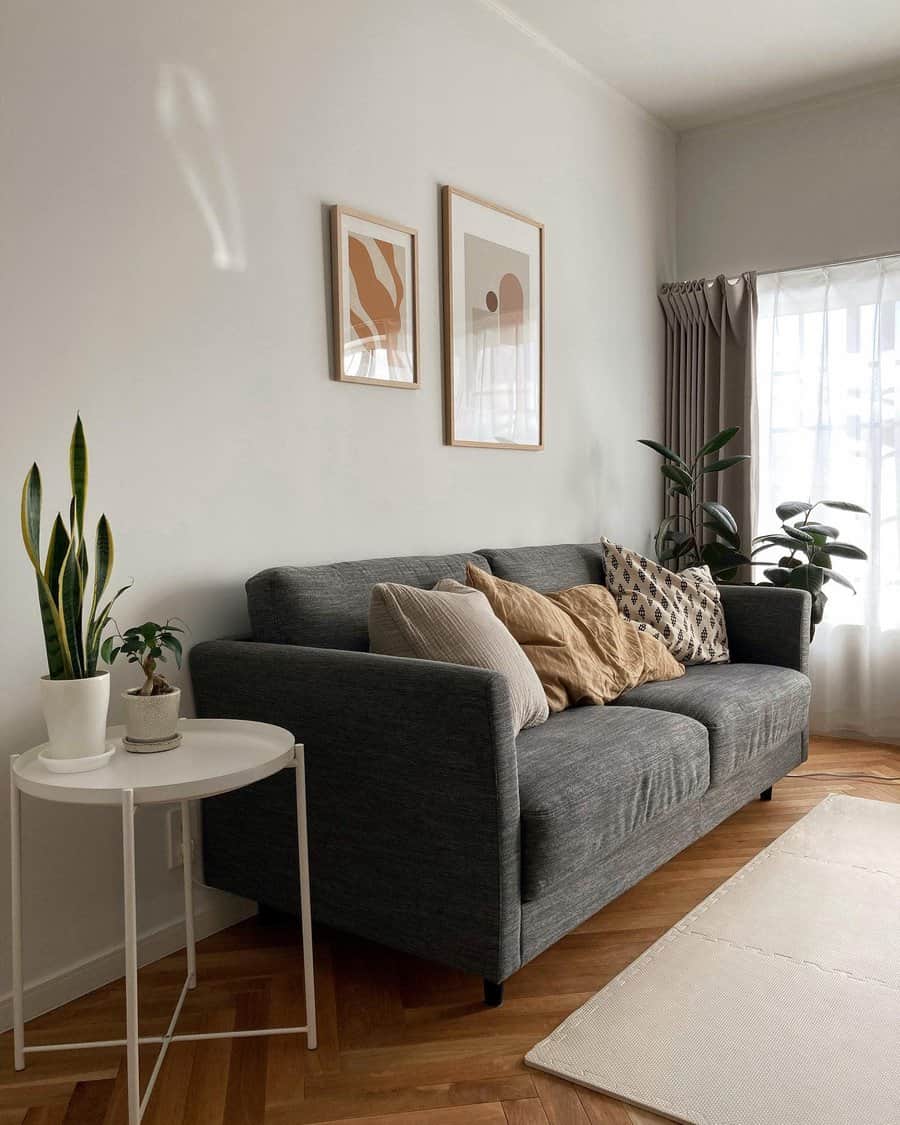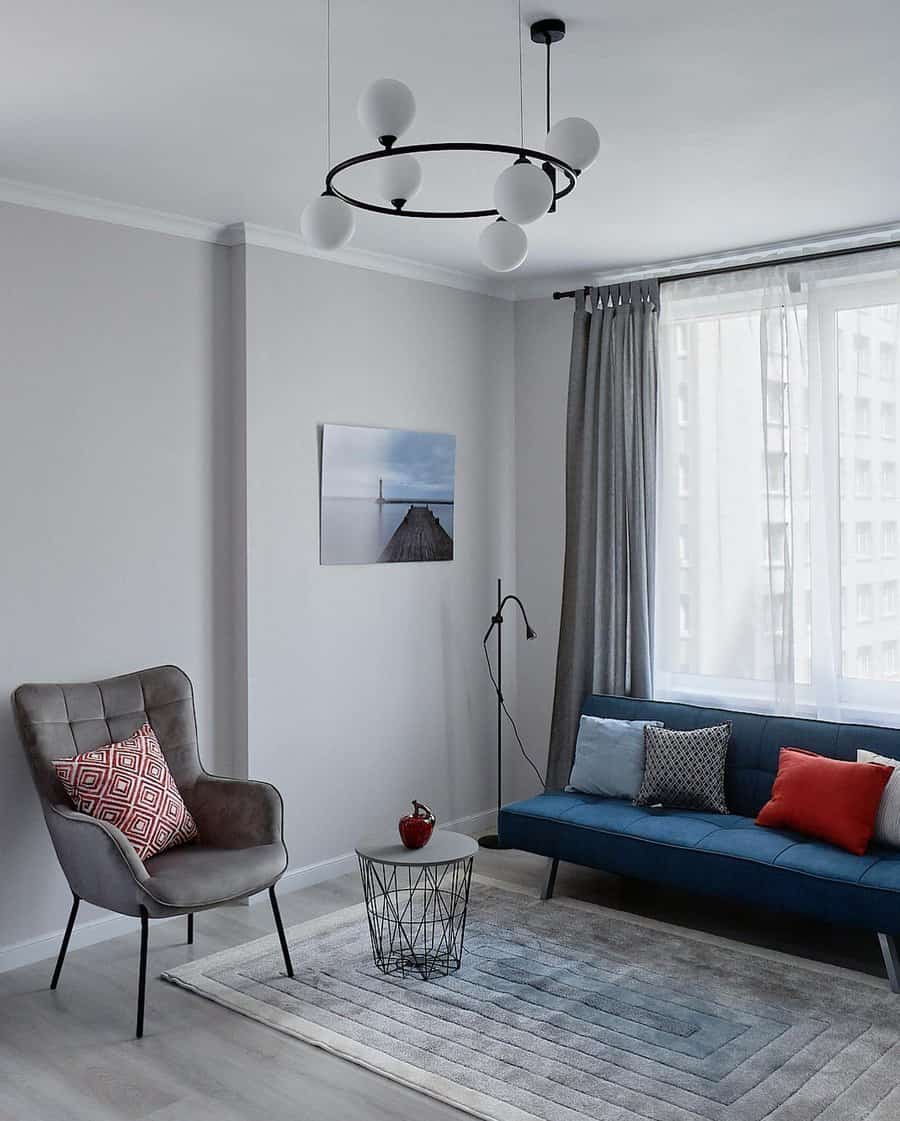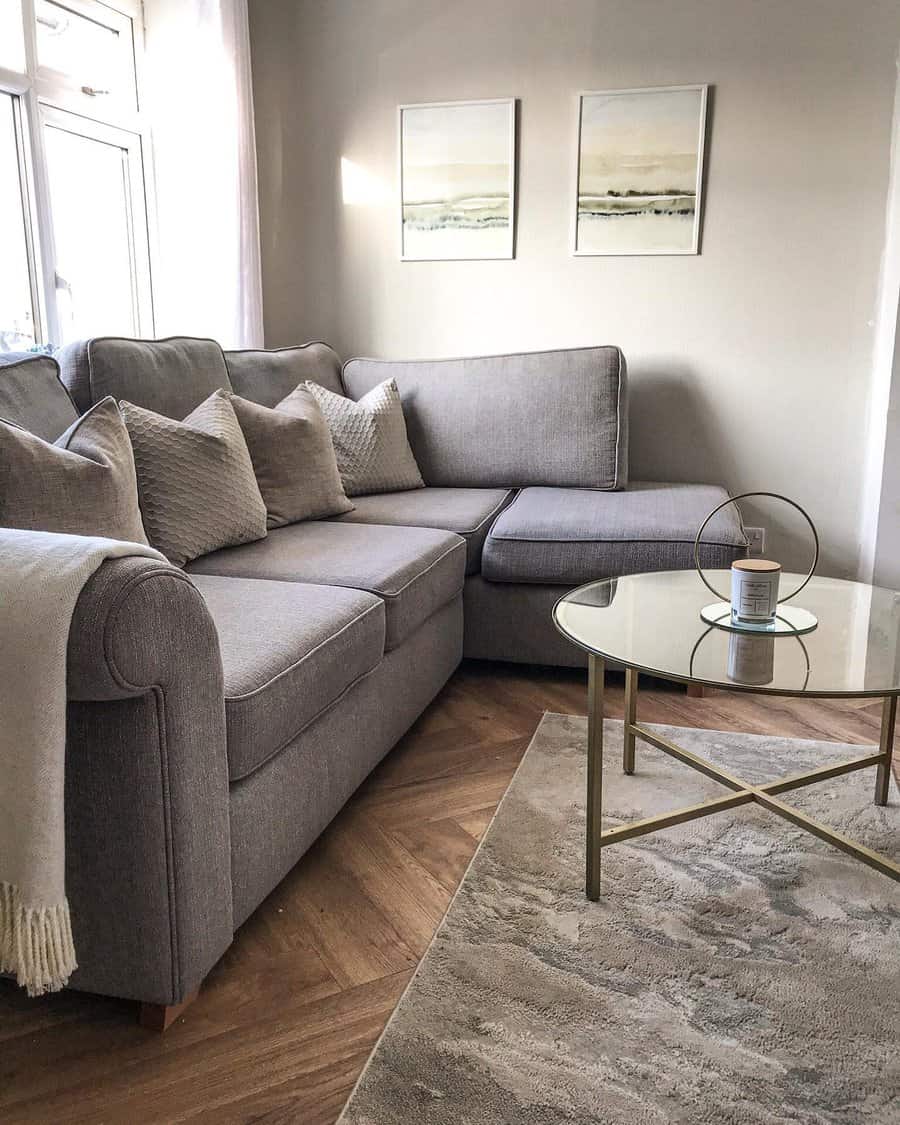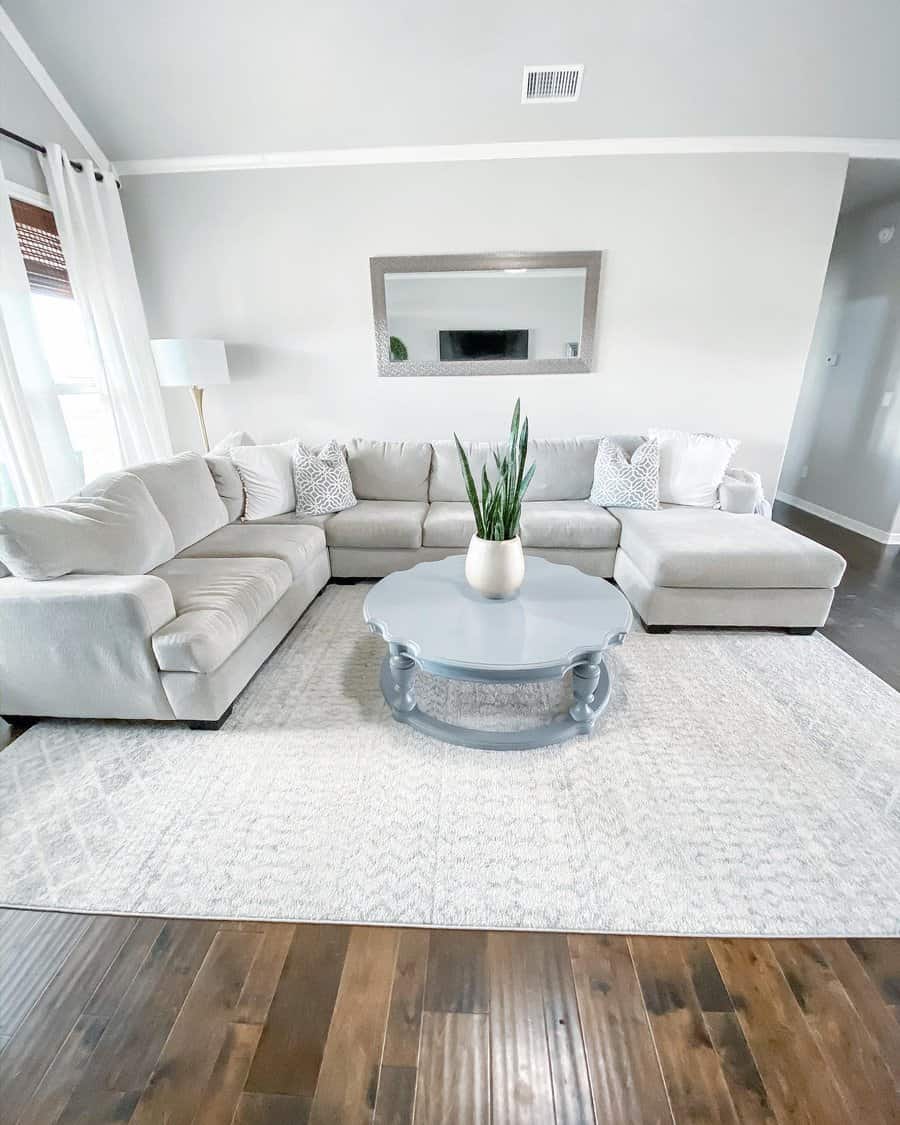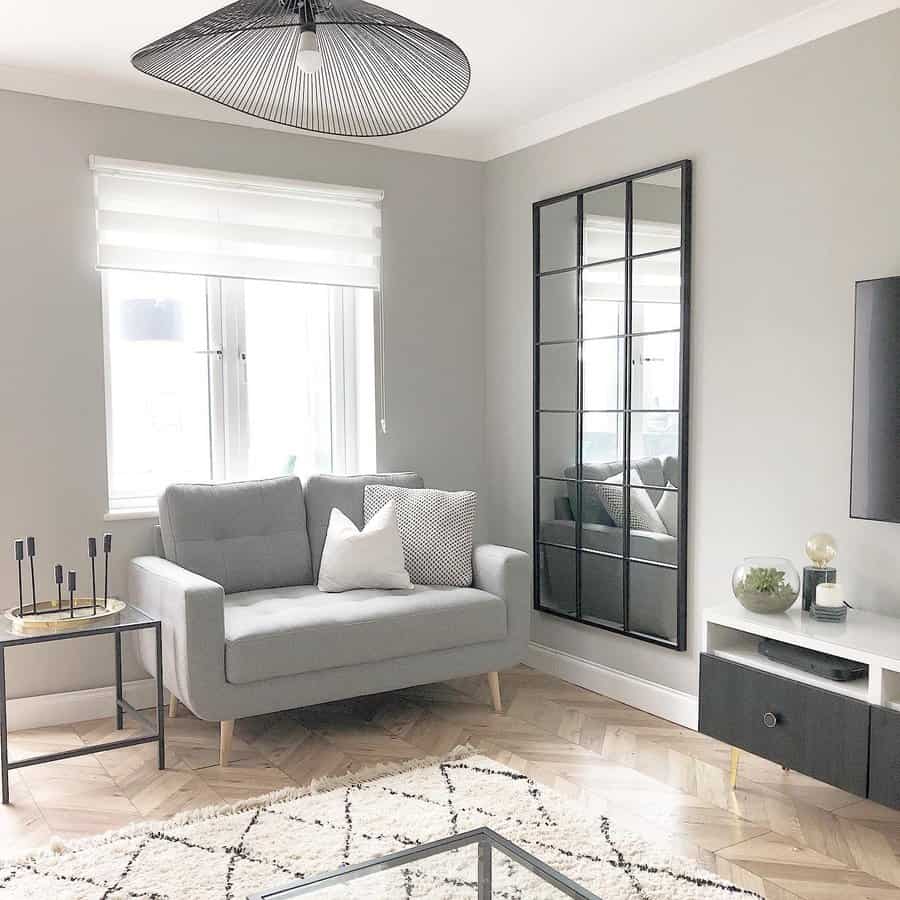 Gray wall paint offers a softer appearance than plain white. Once your living room is fully arranged and styled, though, the paint color will fade into the background just as easily.
Minimalism utilizes lots of contrast to add intrigue in place of physical items. Experiment with using light and dark grays throughout your living room to play up this contrast — you can look at black-and-white room designs for inspiration.
10. Modern
Modern decor is often inspired by home interiors from the mid-20th century. While gray is far from the most common color in modern design, this shade can be used to great effect to boost contrast and add a present-day touch.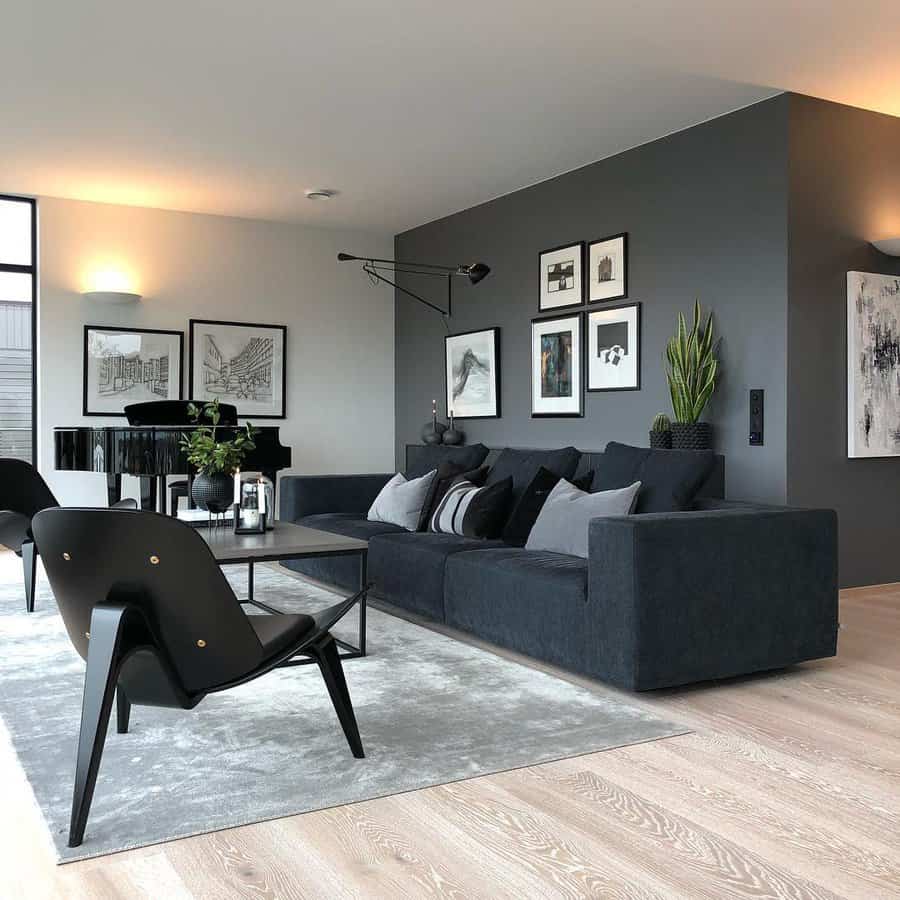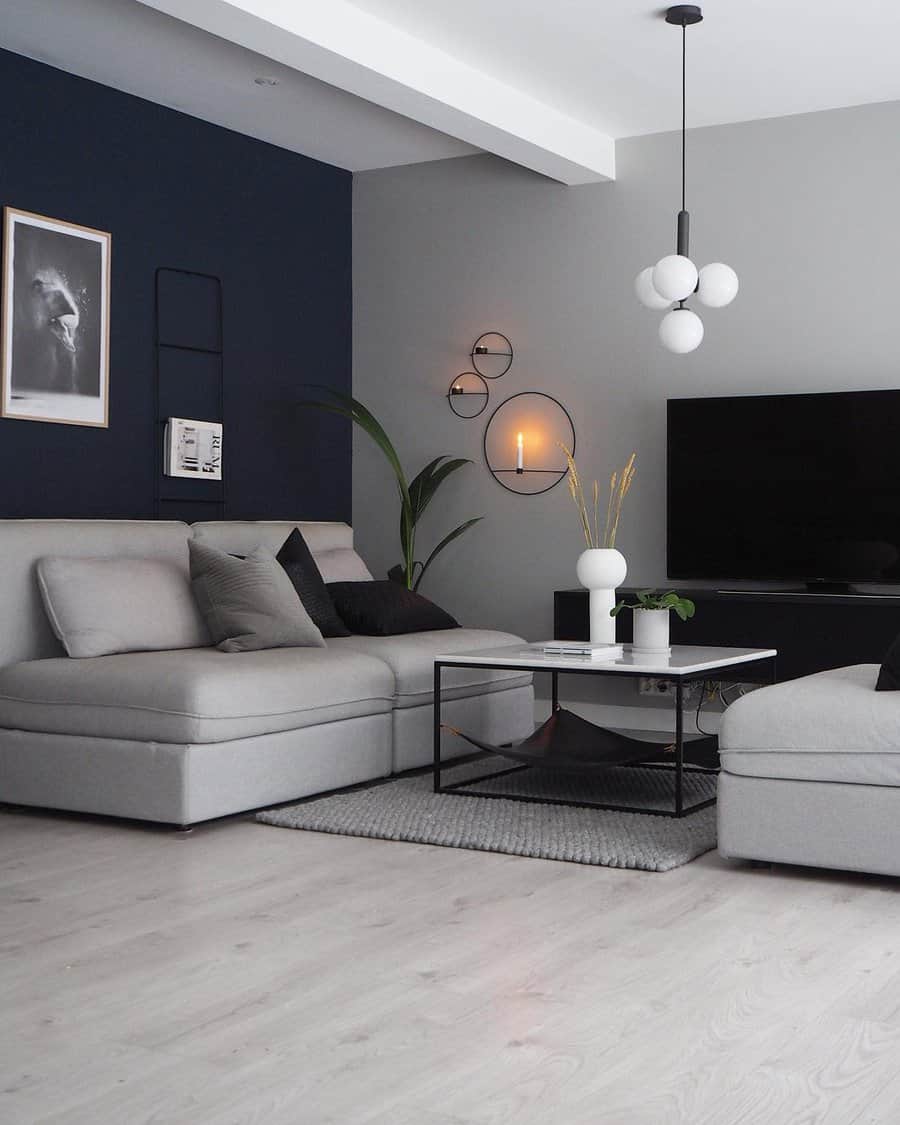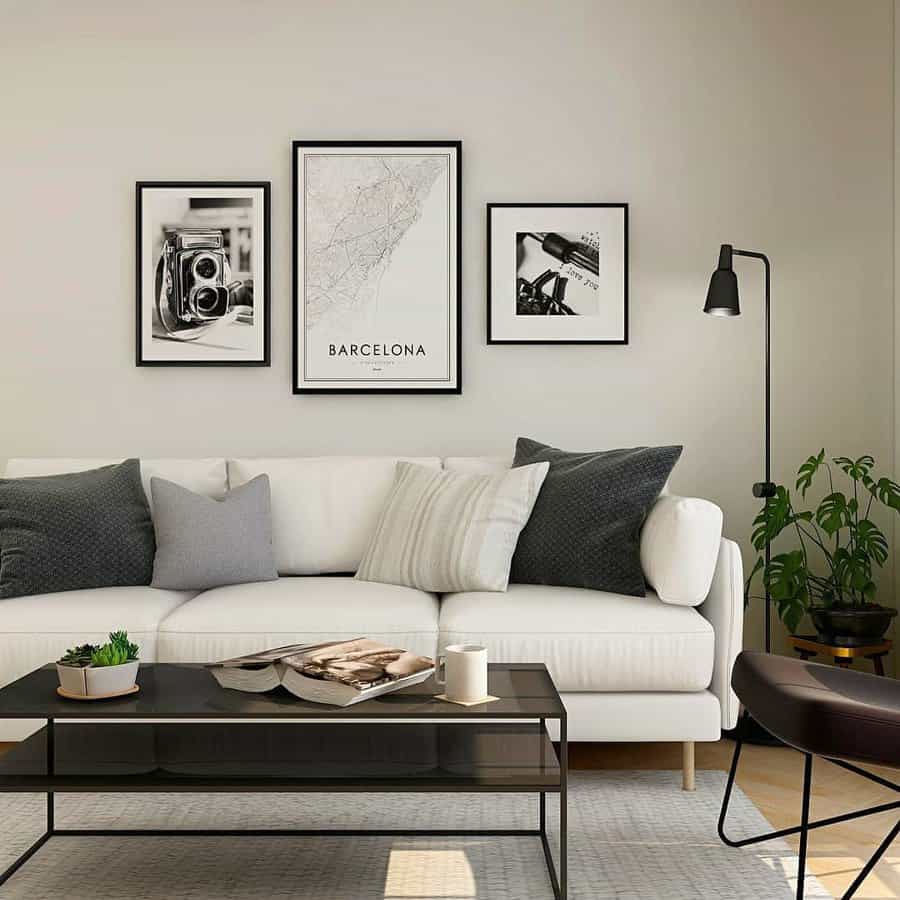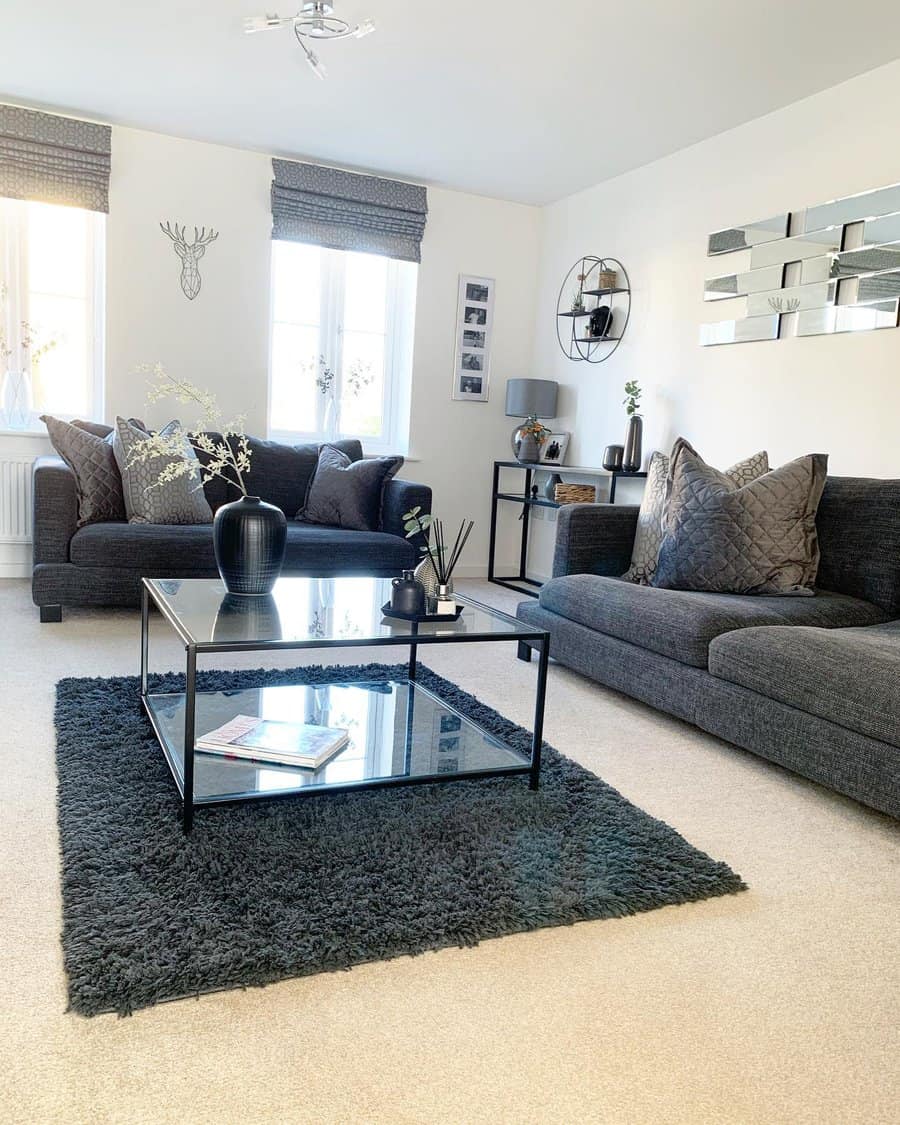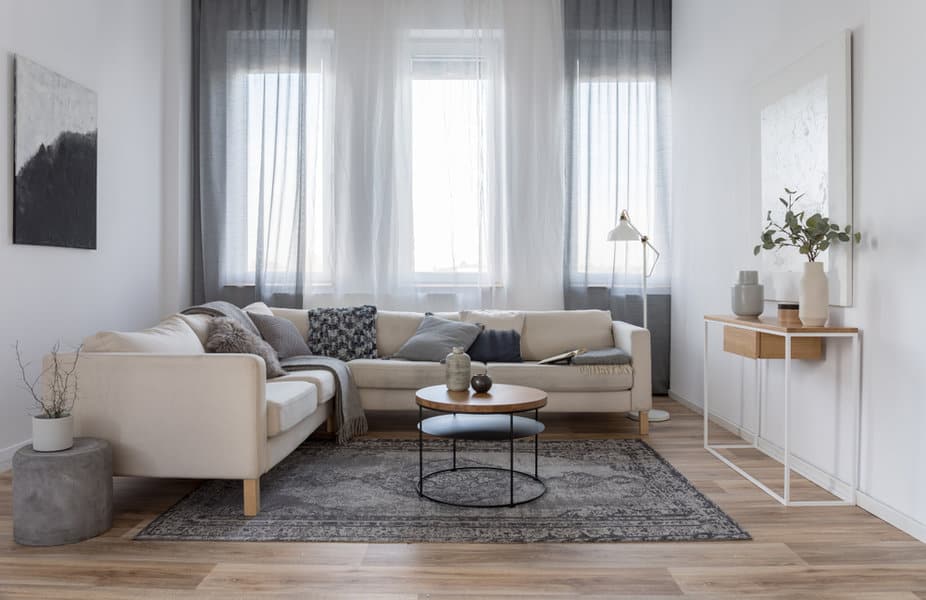 Gray wall paint is a great choice for any modern living room design. Consider using multiple shades of gray to emphasize the different angles within your home's floor plan — modern architecture is all about these details.
When it comes to selecting modern furniture, color is much less important than overall shape. As long as you opt for the right sofa or coffee table silhouette, a gray finish will fit right in with the rest of the space.
See more moderin living room ideas here.
11. Monochrome
Many homeowners believe that a varied color palette is the secret to effective interior design. But, with the right eye for detail, a monochromatic living room can be just as stylish as a multi-colored one.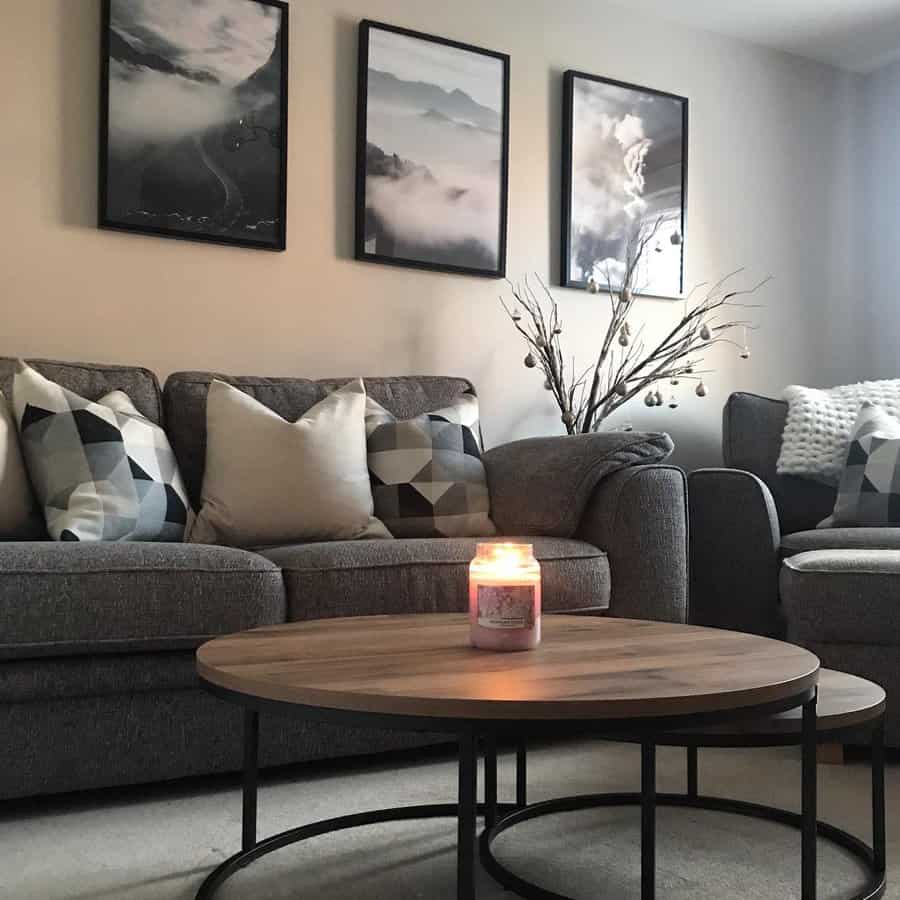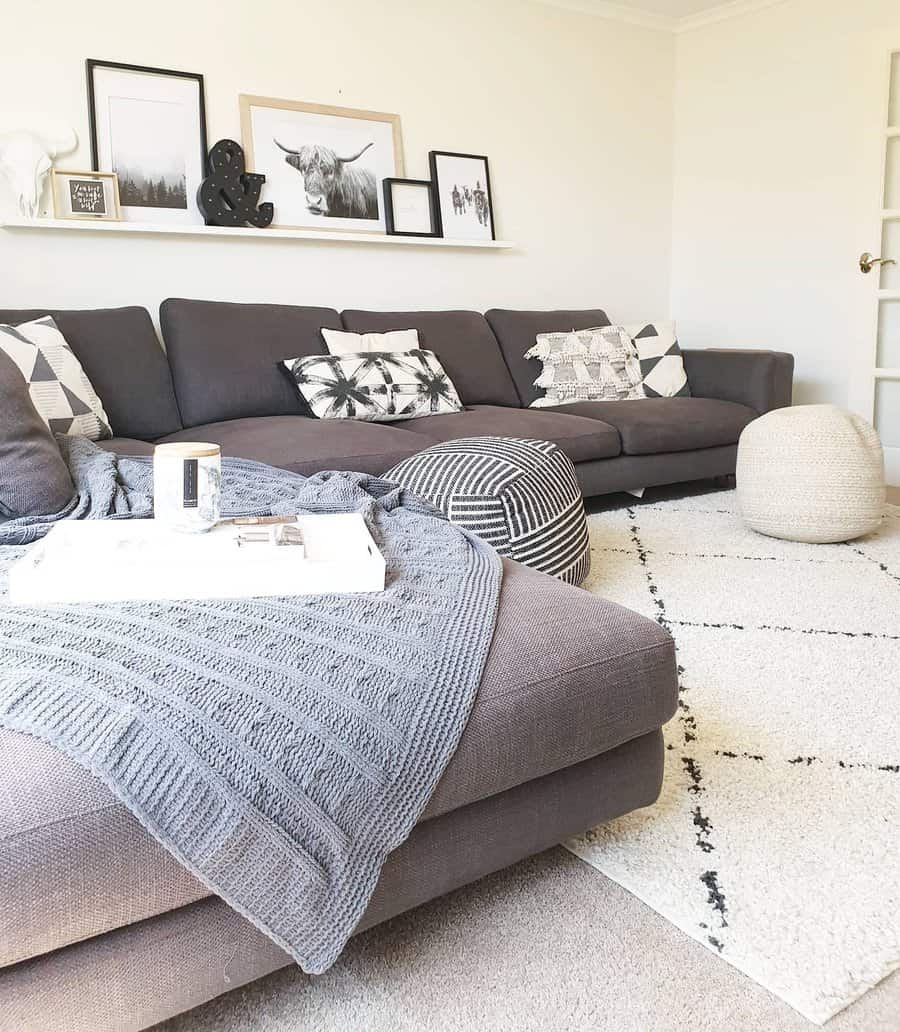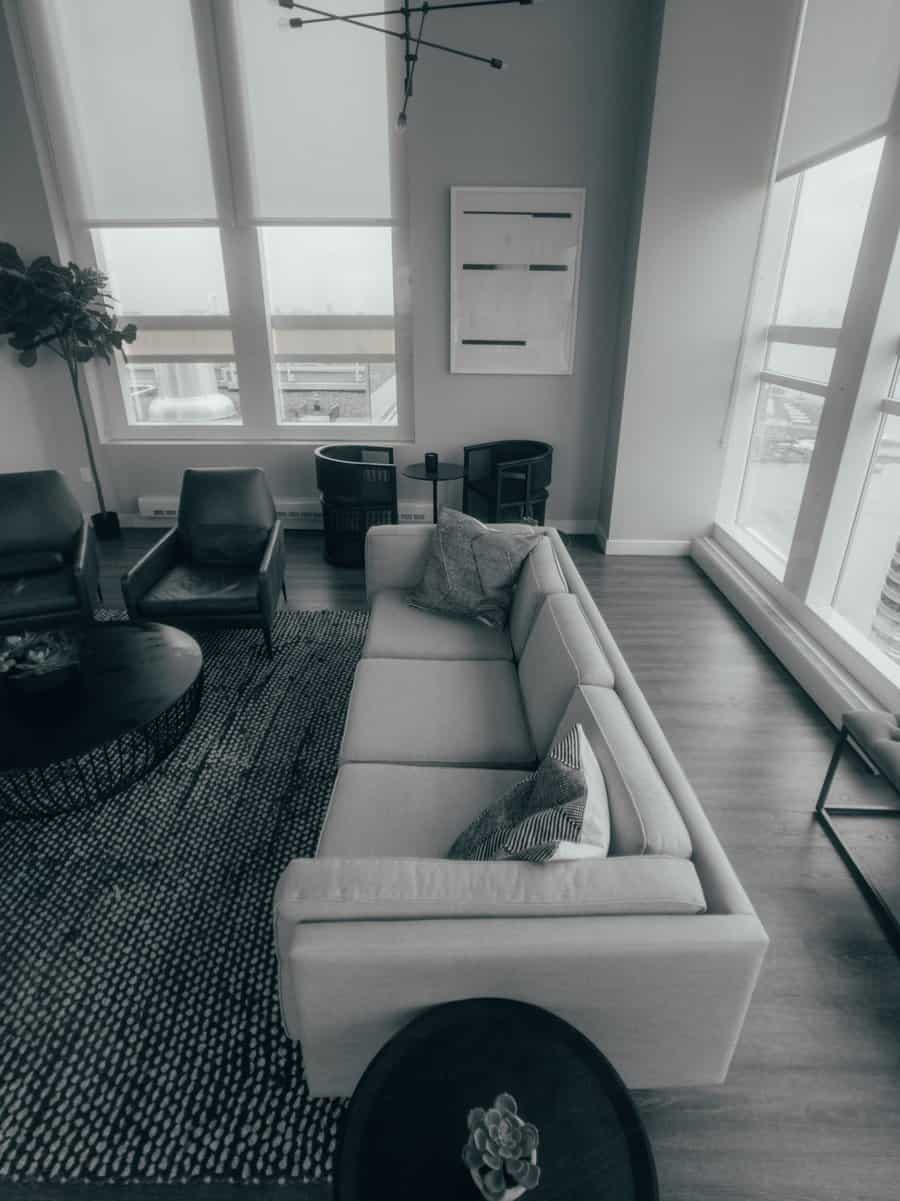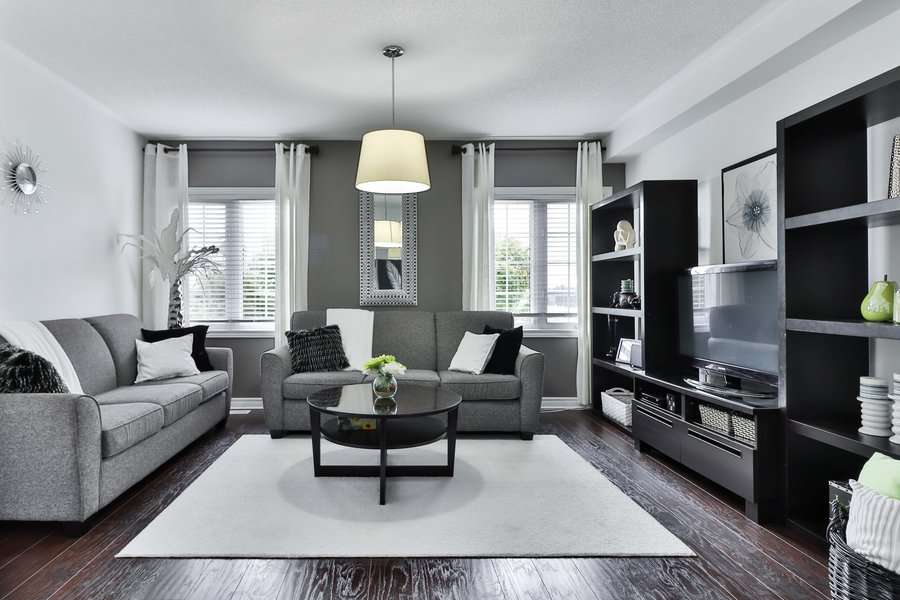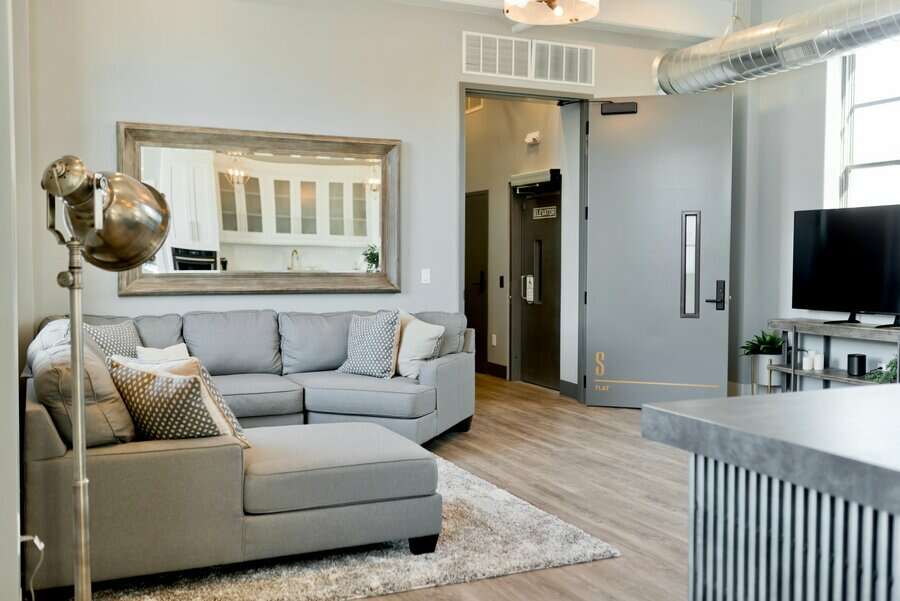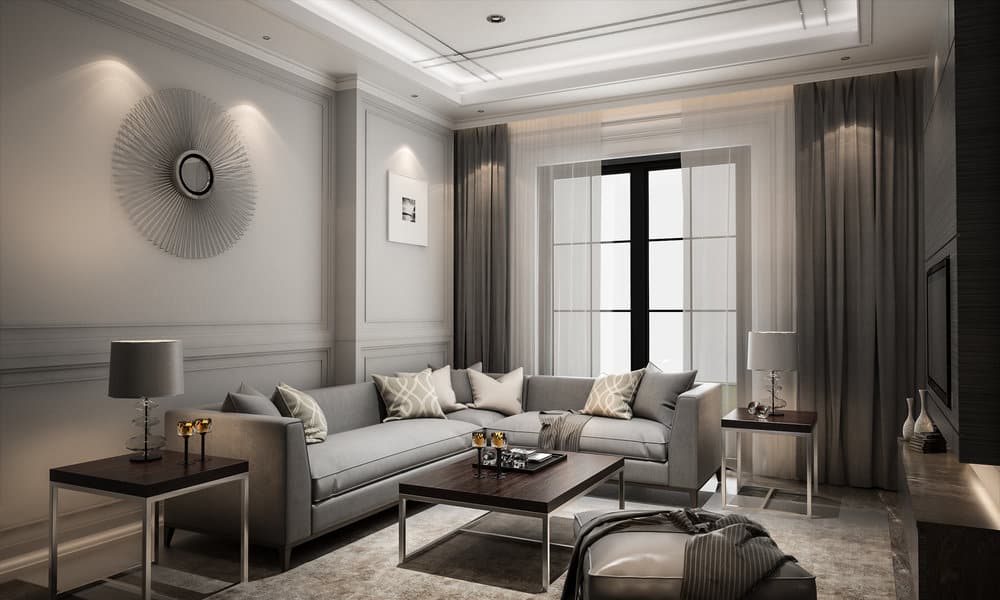 Don't just blindly choose different shades of gray to fill the space. Think about which items will be next to each other and how you can best use contrast throughout your living room.
While other colors are out of the question, you can still add intrigue using patterns and textures. If your monochromatic gray living room ideas seem to be missing something, a few patterned throw pillows may be just the ticket.
12. Neutral Decor
Vibrant shades of yellow, red, and blue are not the only options when it comes to adding variety to a gray living room. Neutral shades like cream, tan, and brown can also bring a bit of energy to an all-gray space.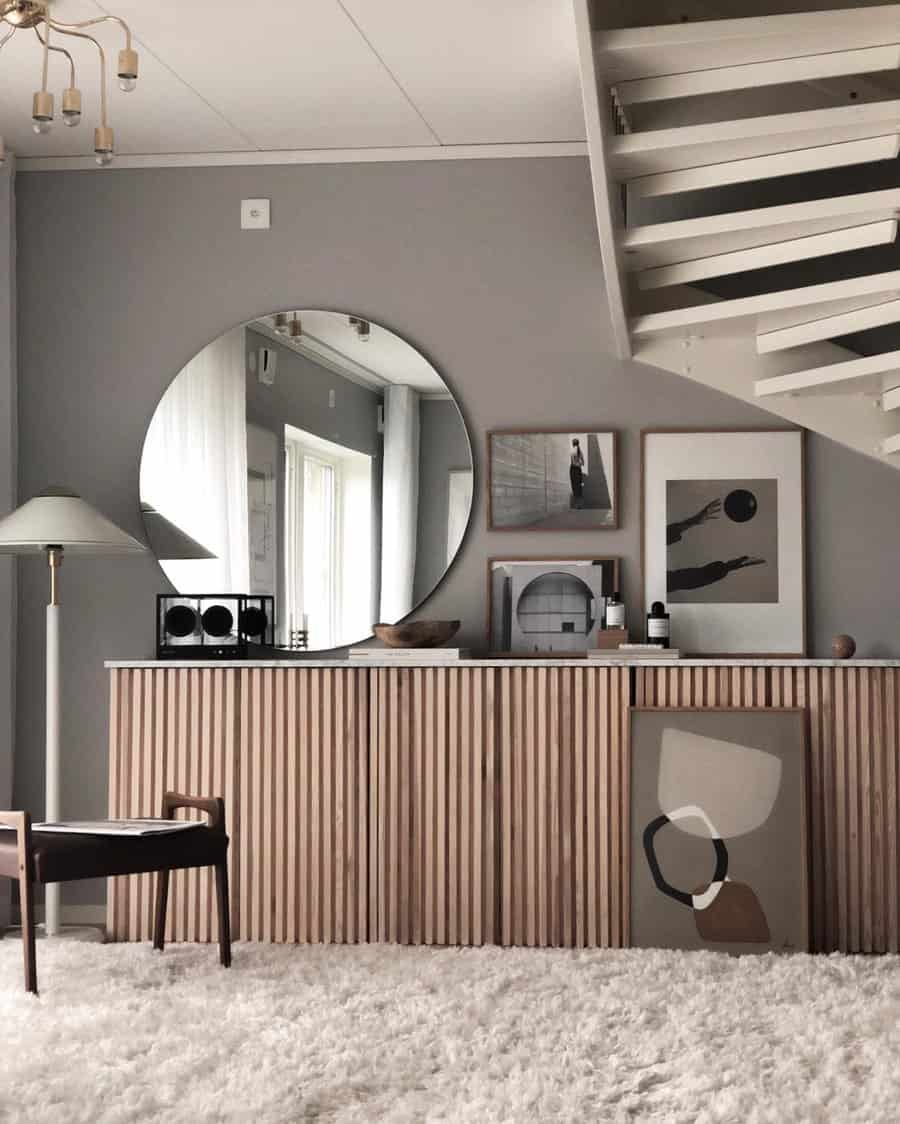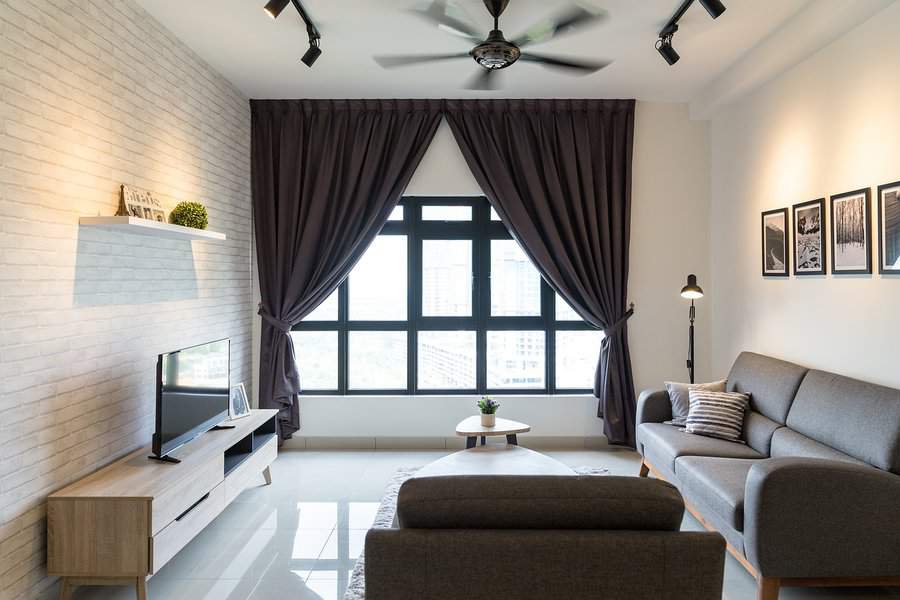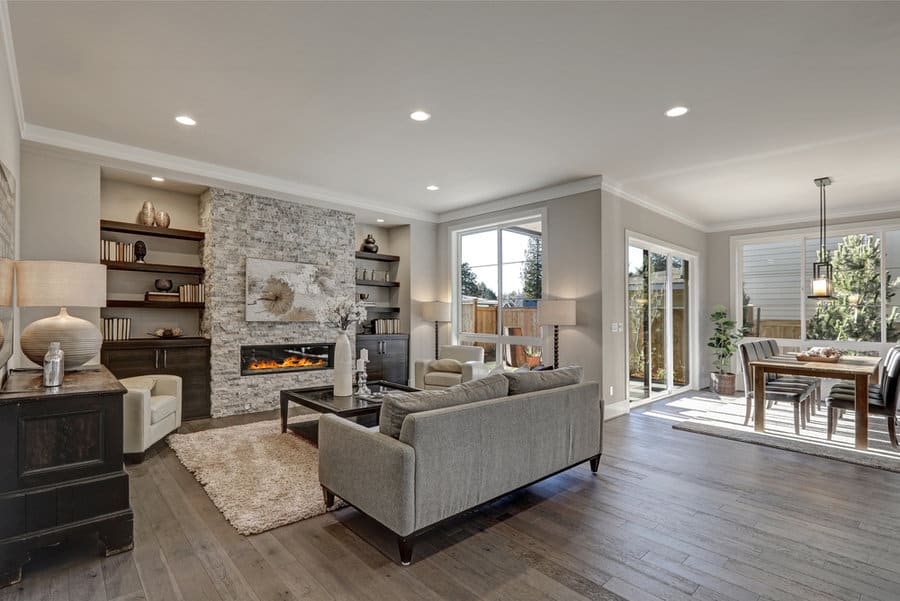 Not all neutral colors are created the same. If you find that two neutrals are clashing, it may be because they have opposing undertones. Stick to warm- or cool-toned shades for better harmony.
Neutral materials are a valuable resource that can add much-needed texture. Look for ways to include brick, stone, natural wood, and more in your living room design.
13. Rustic
Gray may not be the first color that comes to mind when you picture a rustic-style living room. But the shade actually feels right at home alongside distressed woodwork and organic textiles.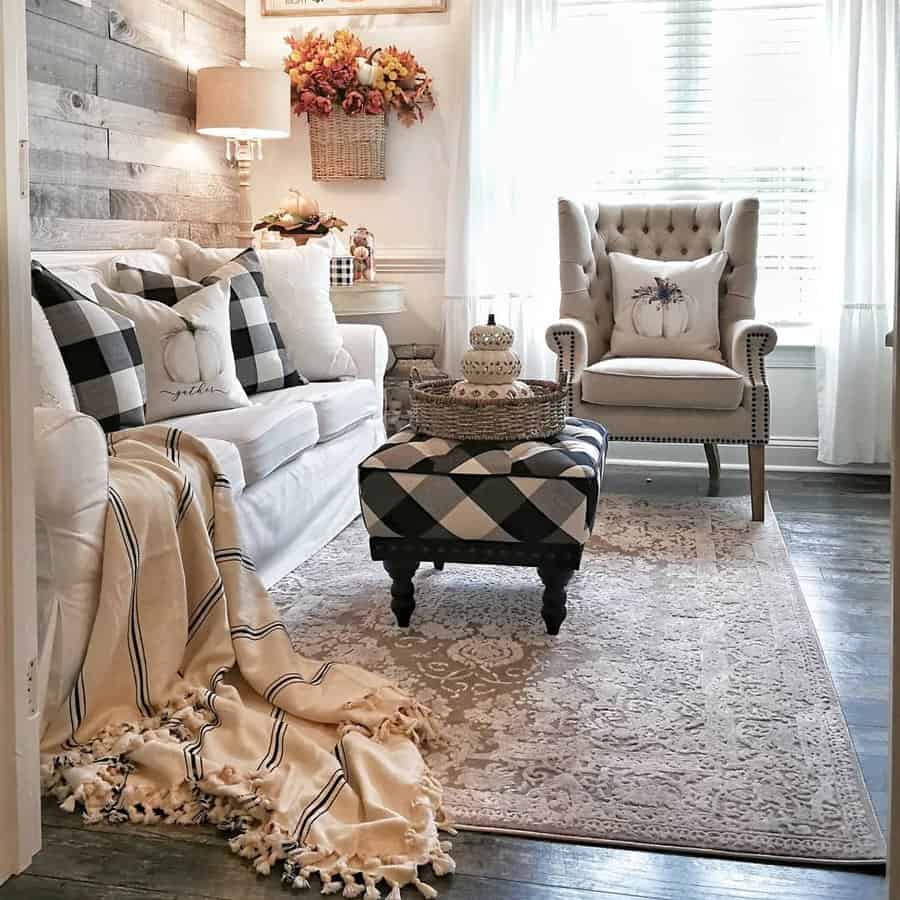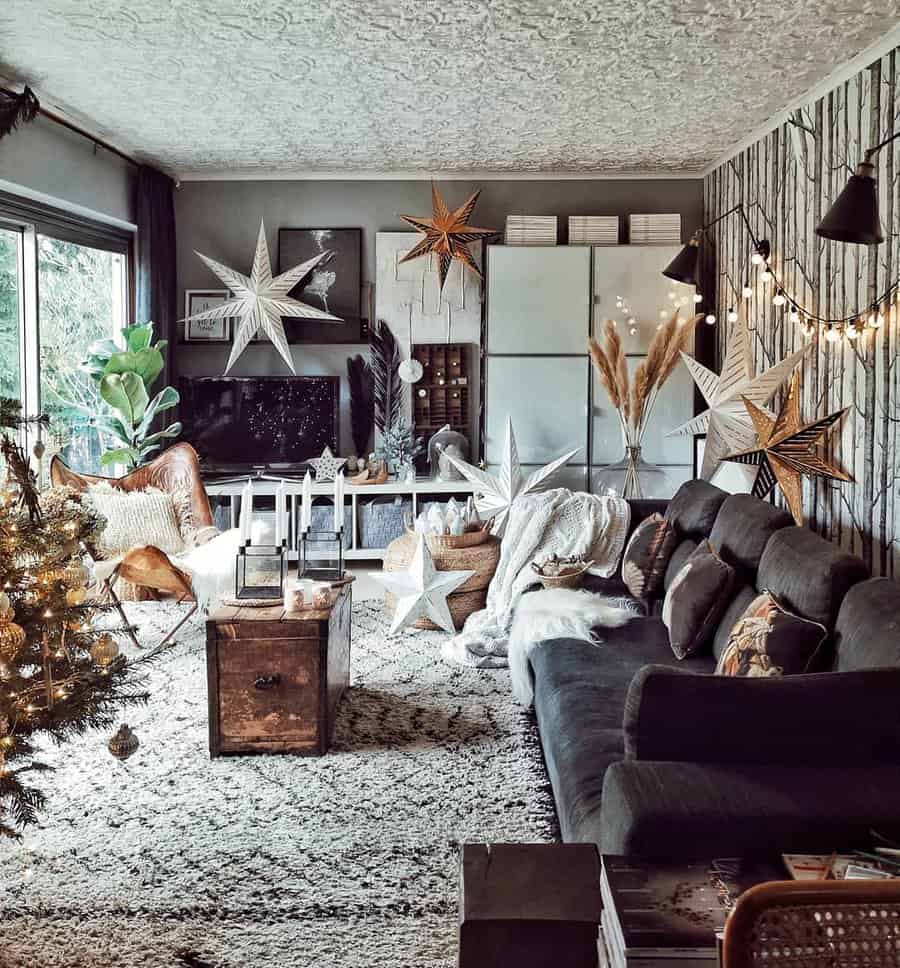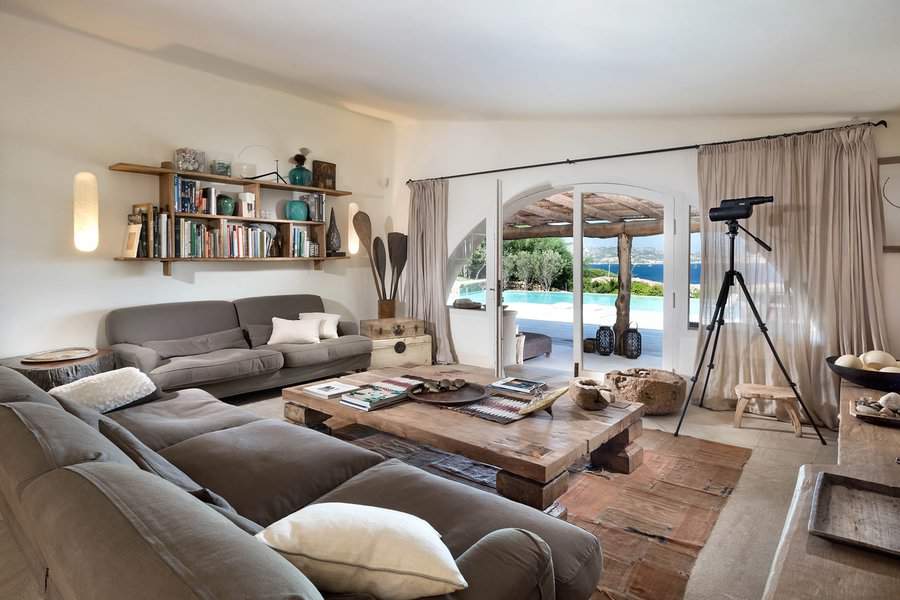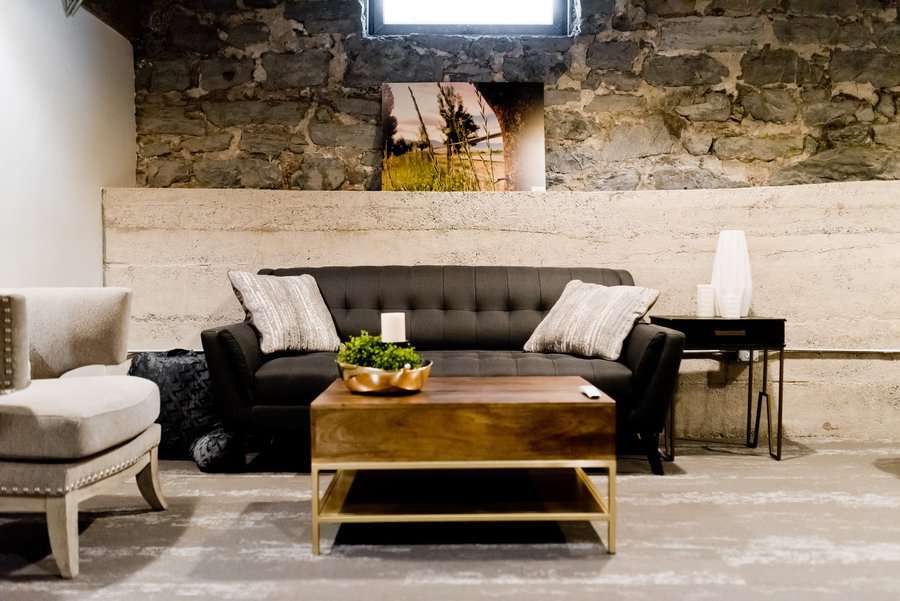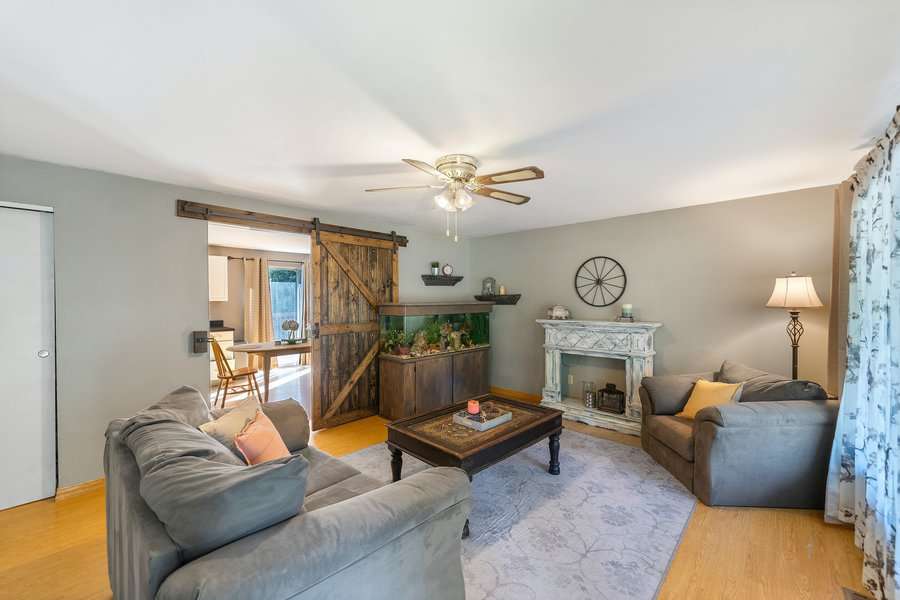 To narrow down your palette, reach for grays found in nature. Draw inspiration from sources like the bark of a birch tree, hide of an animal, or weathered river stone.
As with many home decor trends, texture is just as significant as color in rustic design. And there's no shortage of materials to choose from — i.e., leather, brick, shiplap, metal, etc.
See more rustic living room ideas here.
14. Scandinavian
Scandinavian decor is a subsect of the larger modern aesthetic. It is largely defined by minimalism combined with organic elements.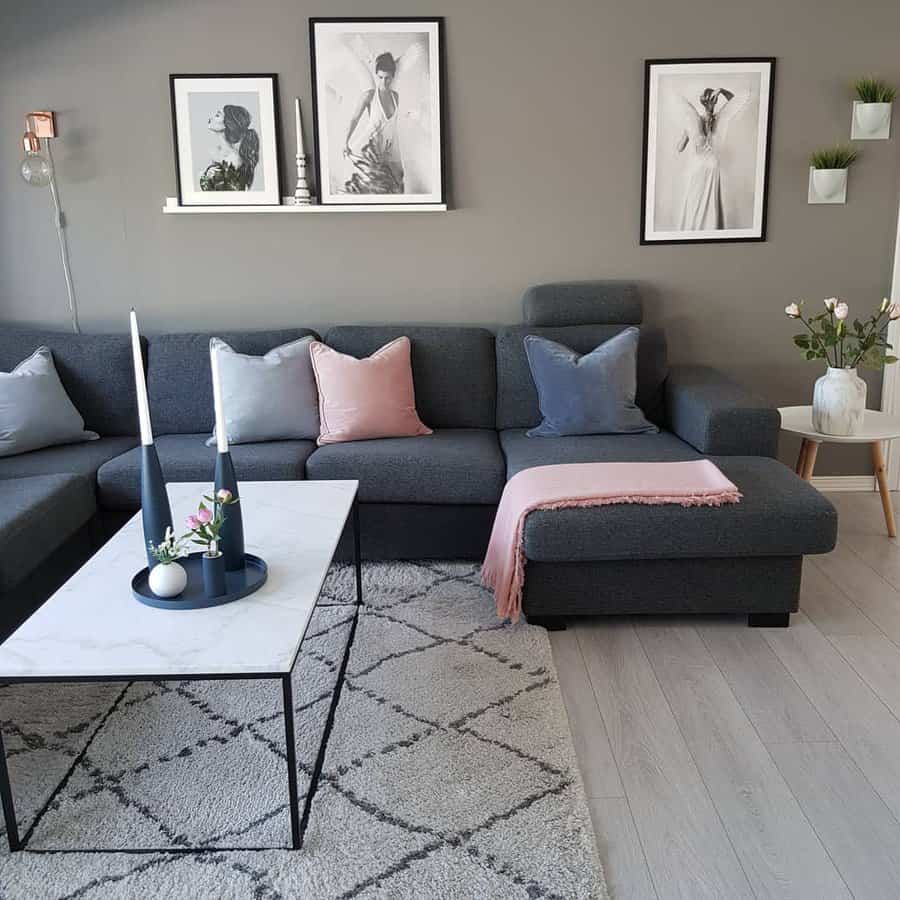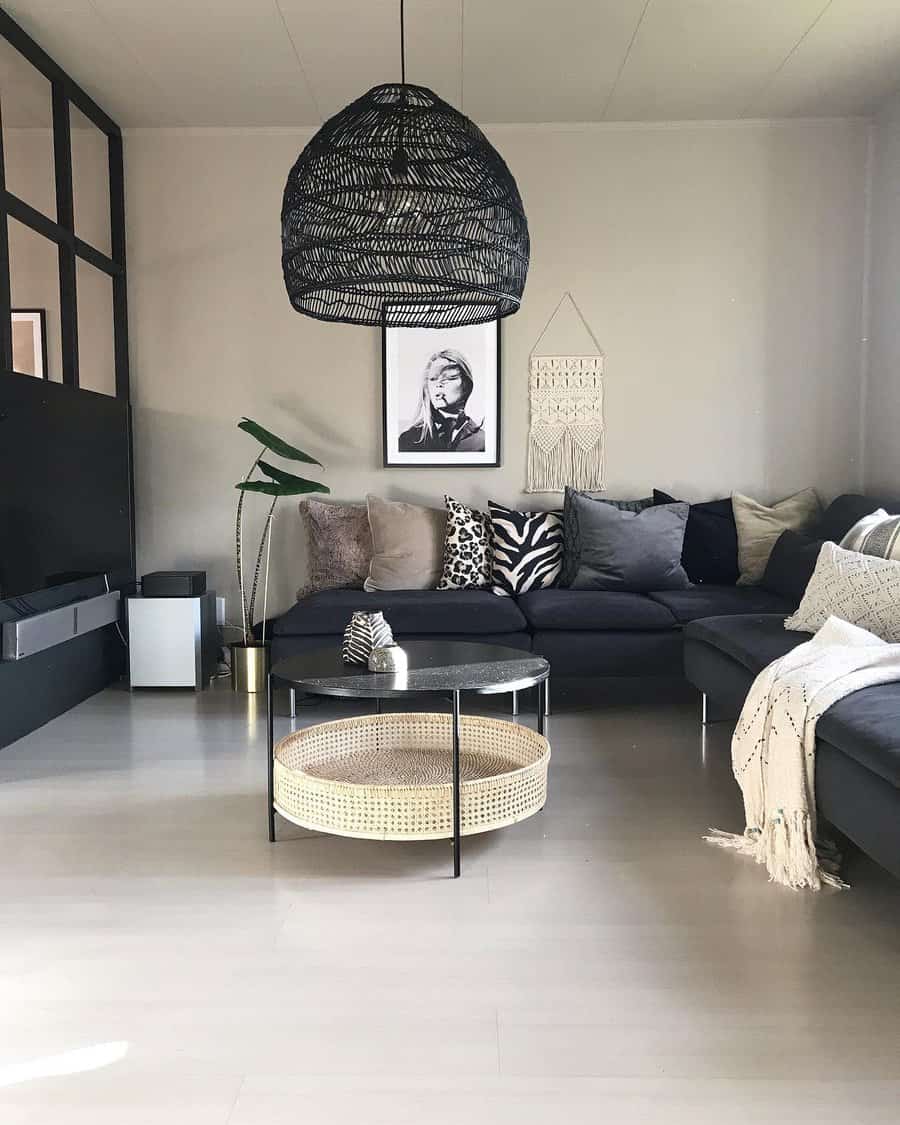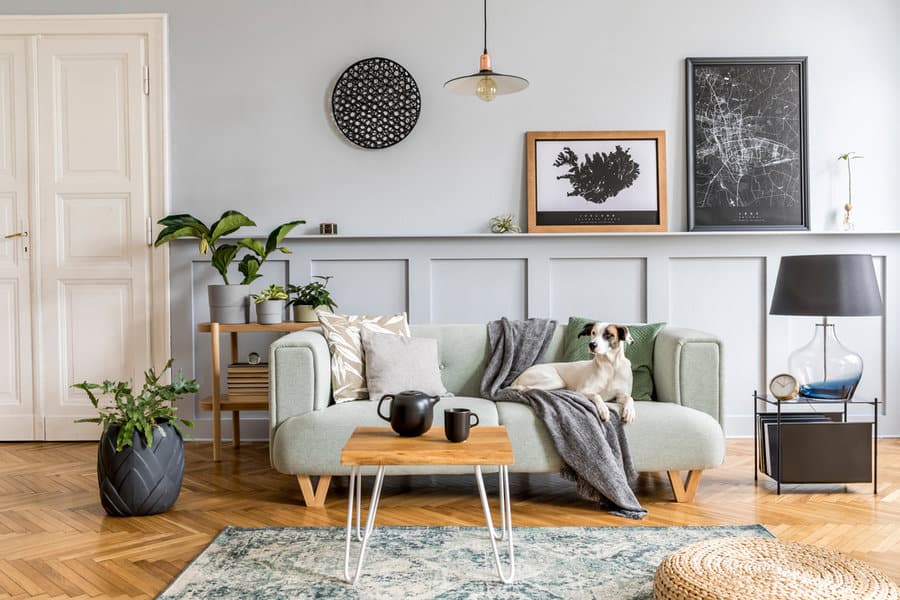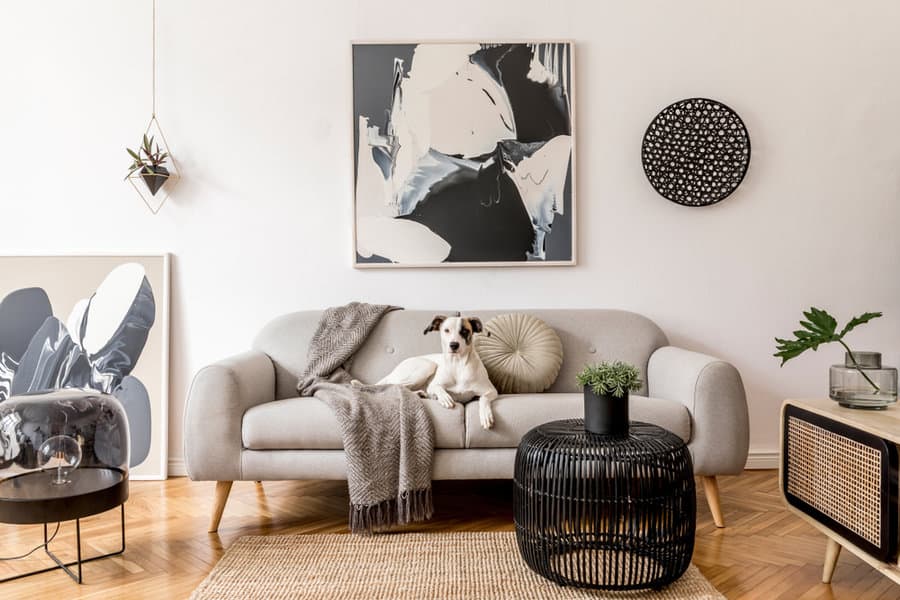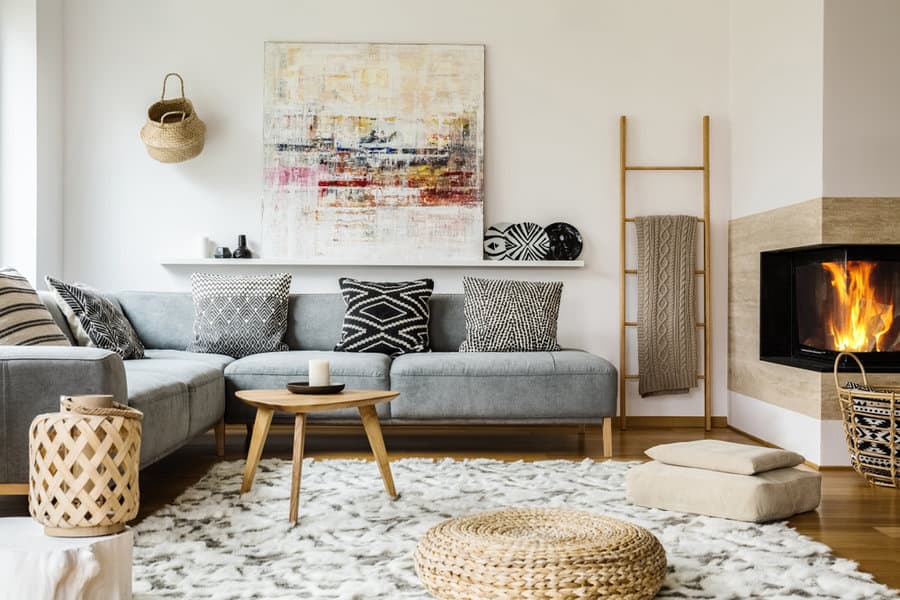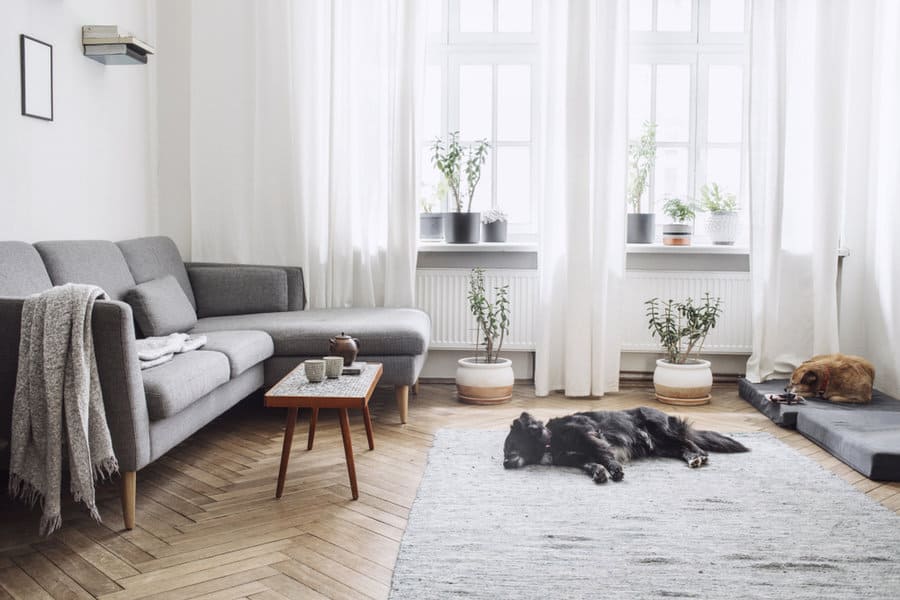 Function is just as important as form when designing a Scandinavian-inspired living room. The space should include little more than the essentials.
The best backdrop to a Scandinavian living space features warm wooden floors and light-colored walls. A dark gray sectional sofa or couch will contrast perfectly against these finishes. Experiment with using muted shades of green in your design where you would normally reach for standard gray.
15. Wall
Gray wall paint is a welcome departure to other neutral shades. Light gray is a wonderful alternative to white paint. And dark gray is a softer take on straight black.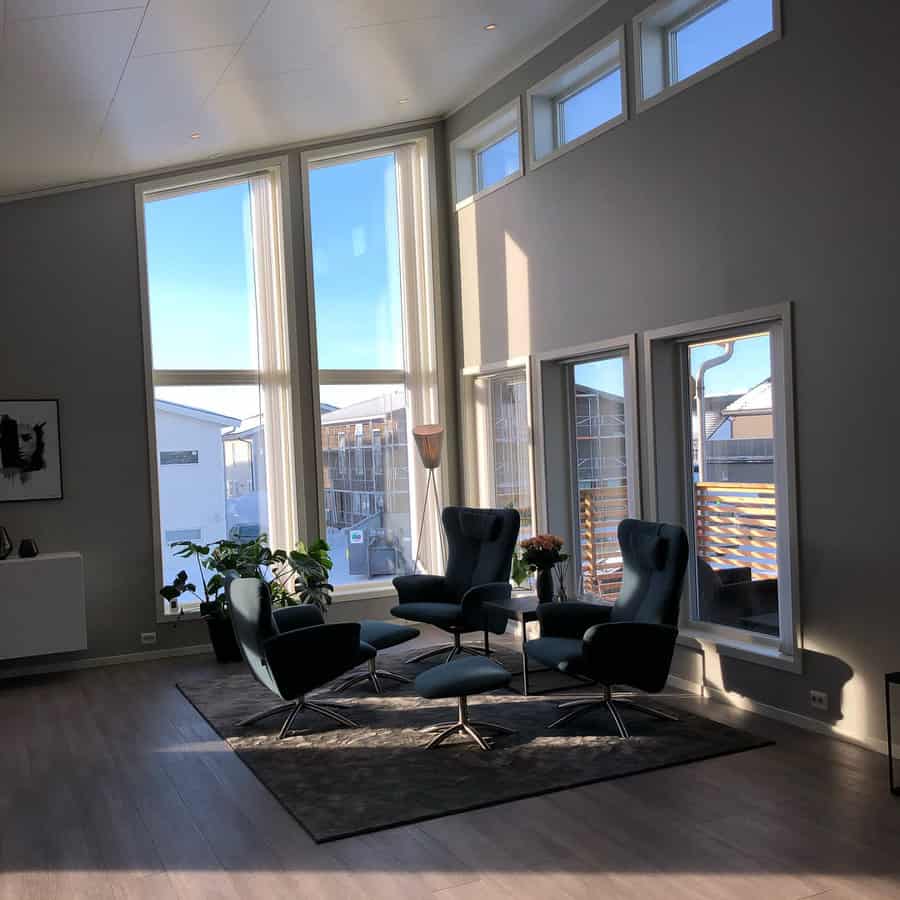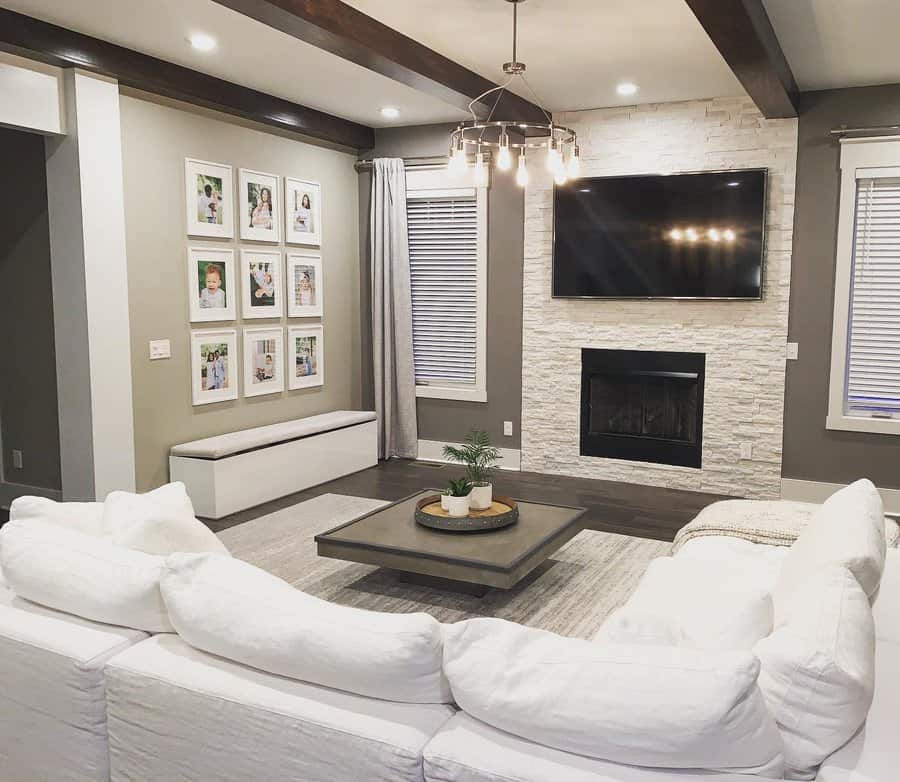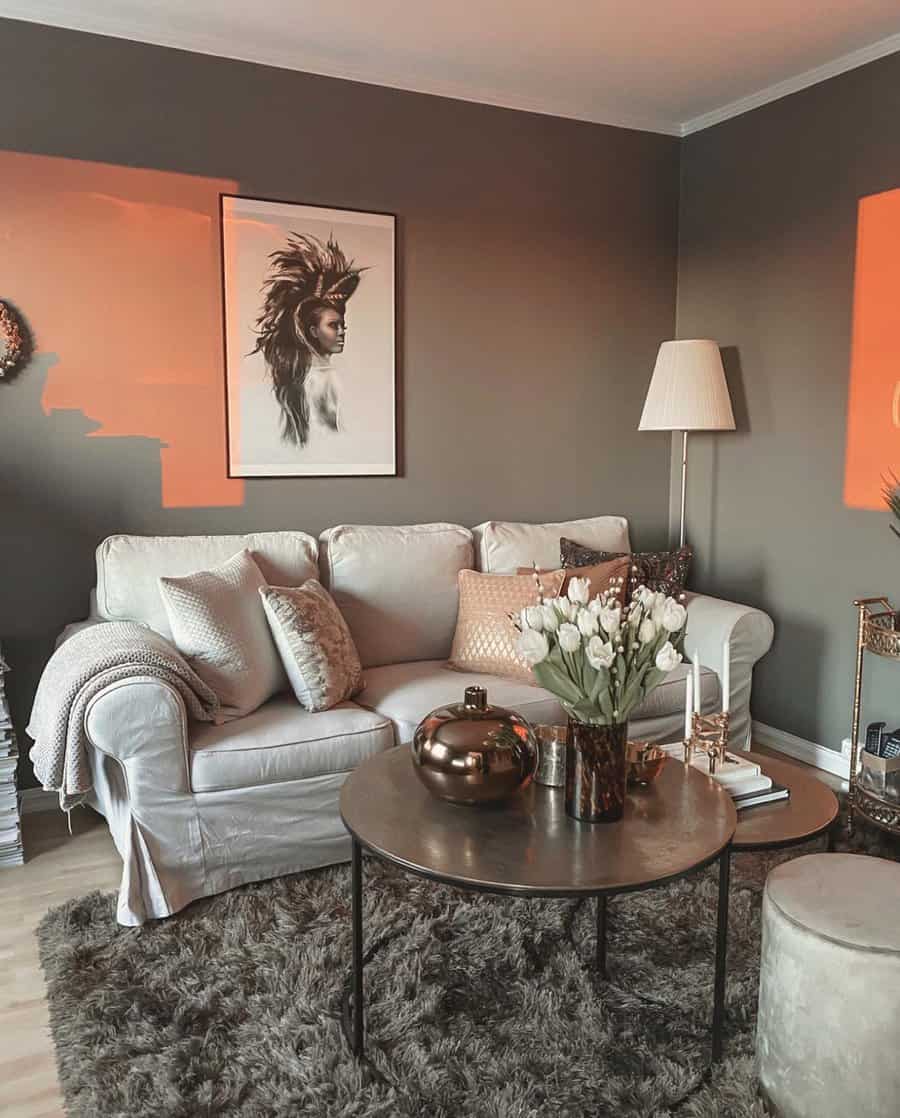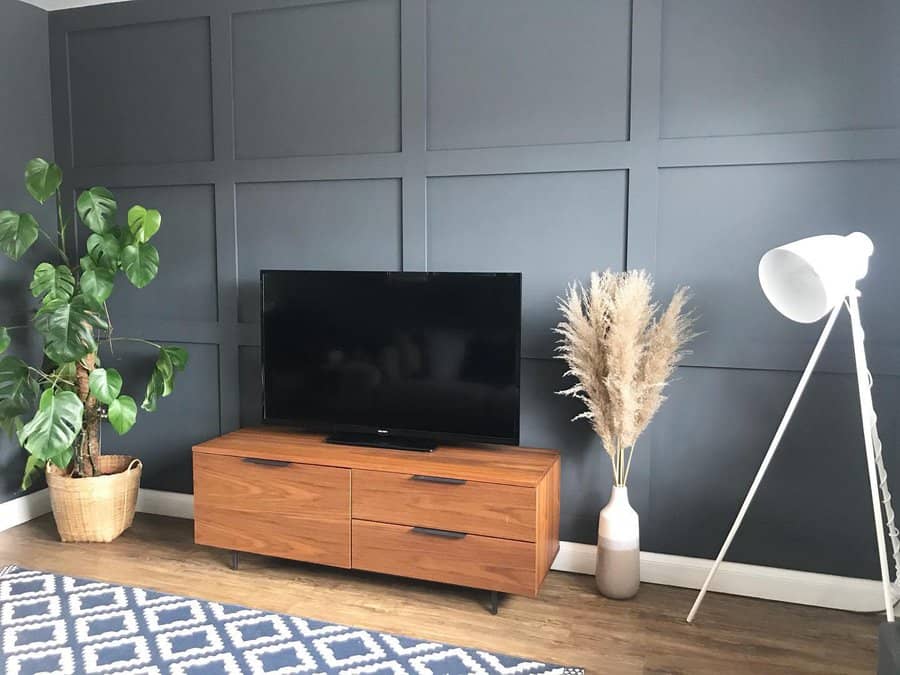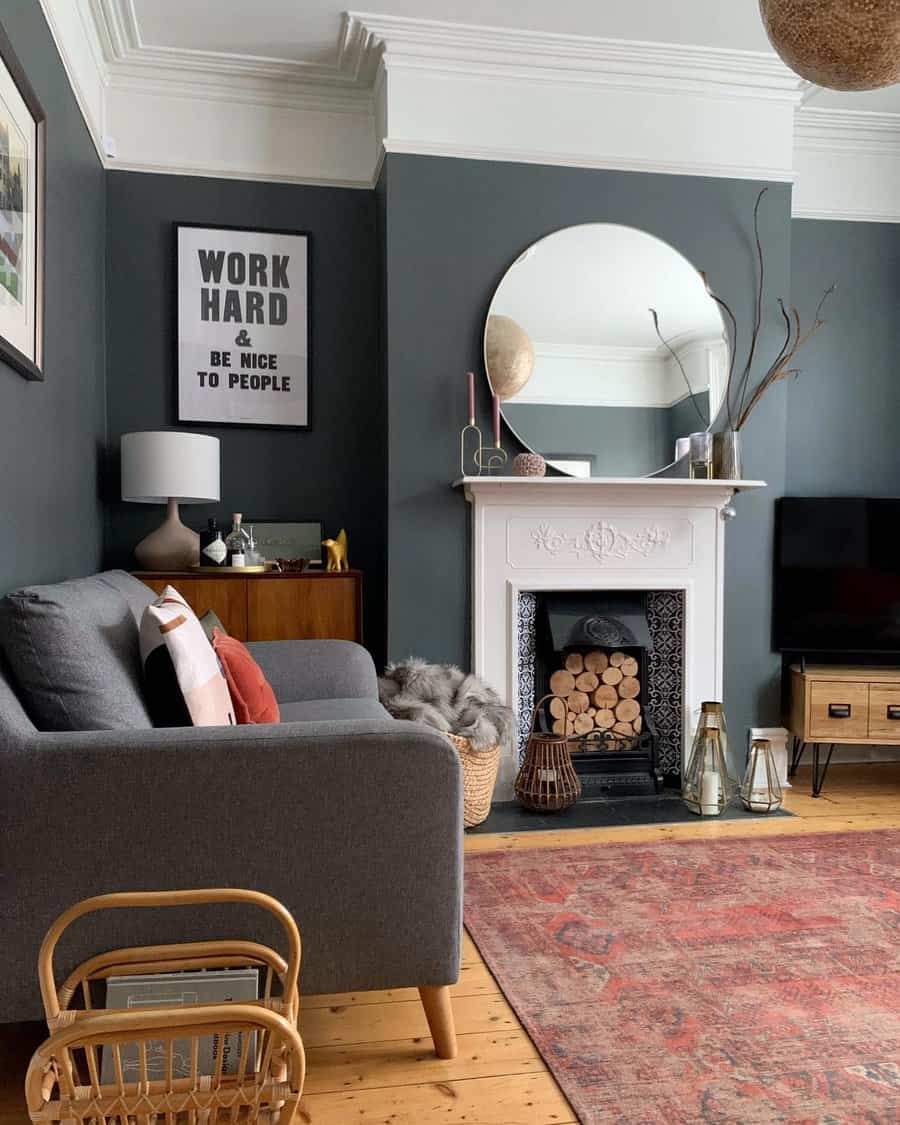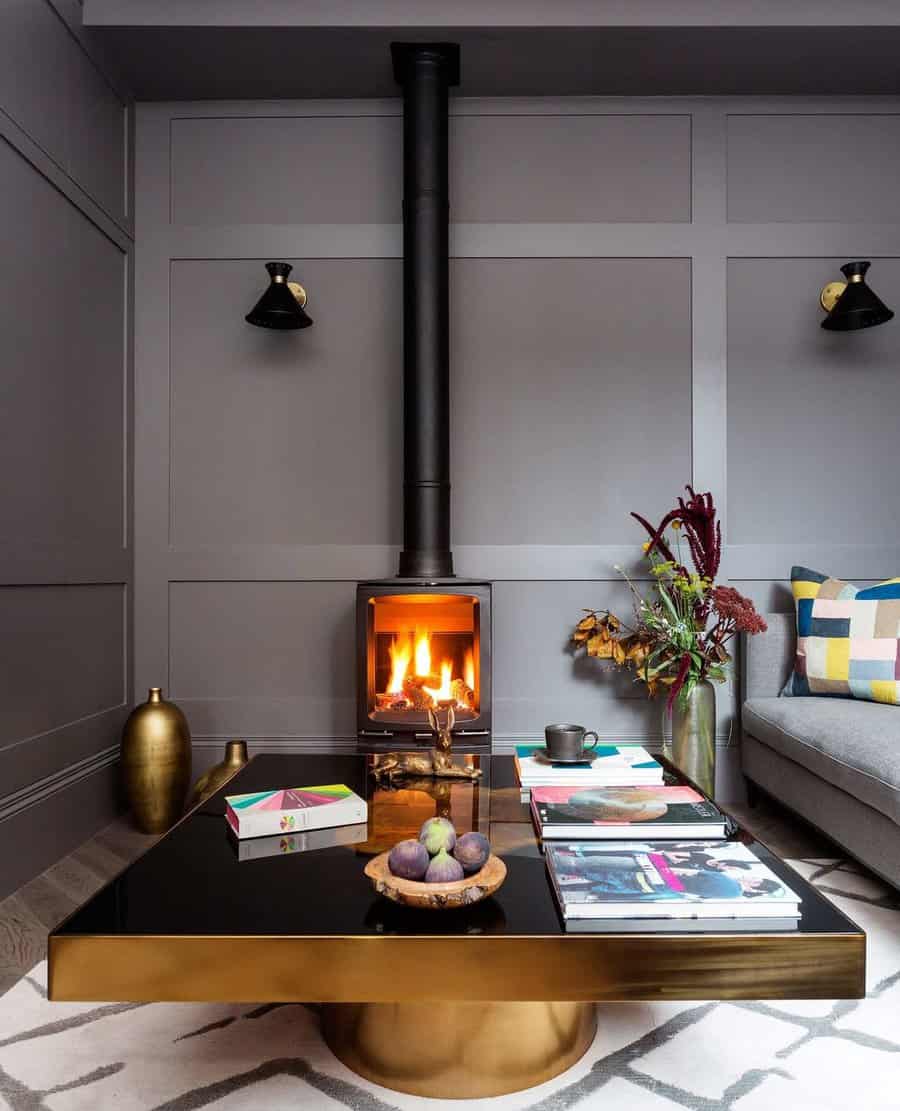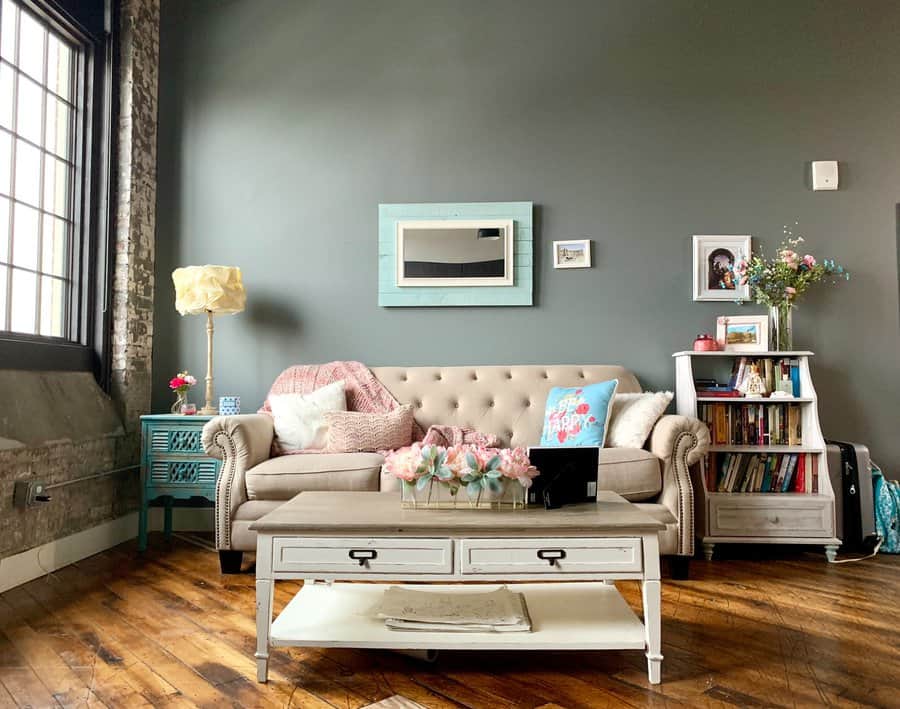 Furniture that matches your gray walls can open up the space visually. Meanwhile, investing in a contrasting couch or area rug will ensure your living design is well-defined from top to bottom.
Lighting and paint color share a delicate relationship. Gray, in particular, can take on different hues depending on how the room is lit. This isn't necessarily a downside but should be taken into account when selecting other finishes for your living room.
Gray Living Room FAQs
What is the difference between "gray" and "grey"?
"Gray" and "grey" both refer to the same color family. The key difference is that "gray" is preferred in the United States while "grey" is more common in the United Kingdom and related territories.
When searching for gray living room ideas, try using both spellings. This will ensure you find every piece of inspiration out there before embarking on your own living room renovation.
What is greige?
With the popularity of gray throughout contemporary interior design, you may have noticed the emergence of a similar (but not identical) color: Greige. 
If you haven't already figured it out, "greige" is a combination of gray and beige. There's a very fine line between gray and greige — at the end of the day, many colors fall under this term.
Shades of greige tend to lean very warm and are excellent for giving a living room a cozy atmosphere. They make a great mid-shade between cooler grays and other neutrals.