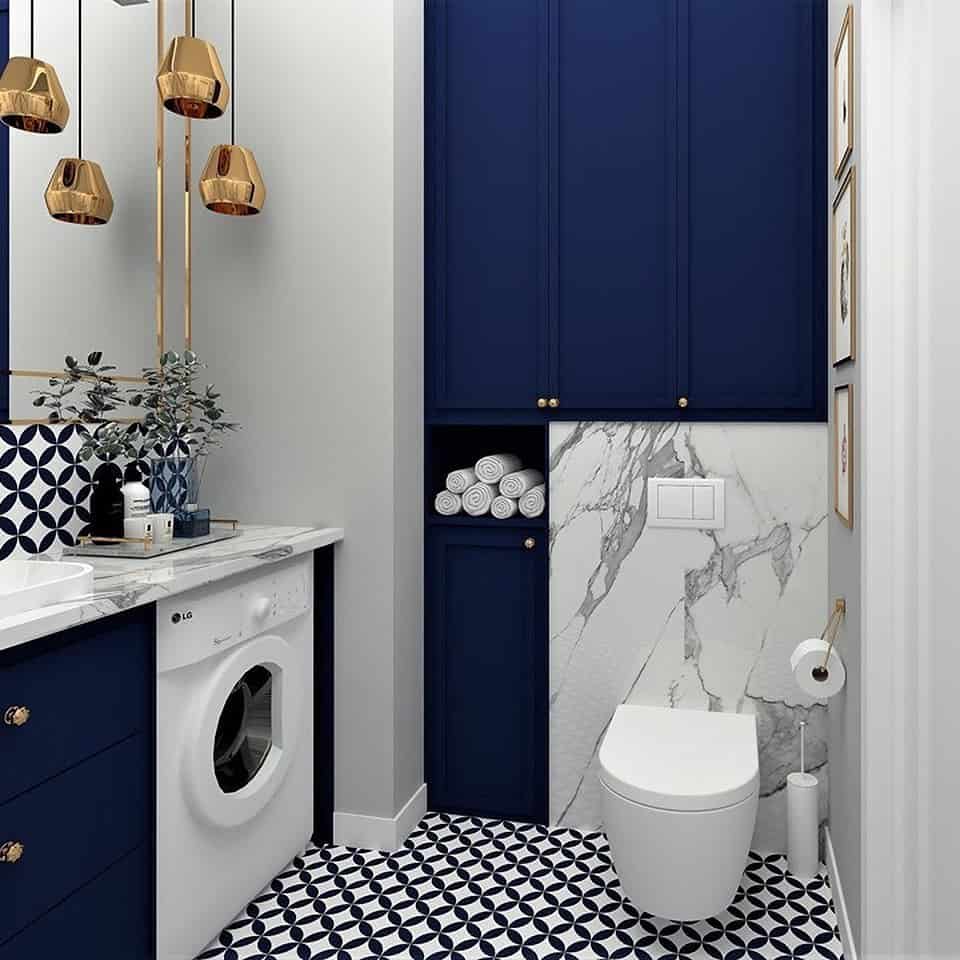 Paint your bathroom blue, and you will have an effortlessly elegant bathroom that you can decorate in any manner you see fit. From prim and elegant to relaxed coastal, blue can adapt to any bathroom design style that appeals to you.
There are plenty of decorating ideas to help you envision a blue that appeals to you and works in the space. From a soft pastel to a deep navy, there's a blue that's perfect for your bathroom. Get inspired by these blue bathroom ideas and turn your bathroom into a space worthy of design magazines and social media.
Read also: Best Bathroom Paint Colors
1. Set Up An Accent Wall
A blue bathroom should be a perfect accent for any home. The deep navy or pale sky blue accent wall provides an elegant backdrop that complements your tile choices, whether it's traditional off-white ceramic or glass tiles with playful designs.
Once you've finished the accent wall, add decorative wallpaper, textiles, and accessories to complete the look. Hang a simple vanity mirror with a stylish metal frame and accent it with a few potted plants for added warmth.
With such thoughtful touches, you can create a timeless bathroom makeover that will last for years!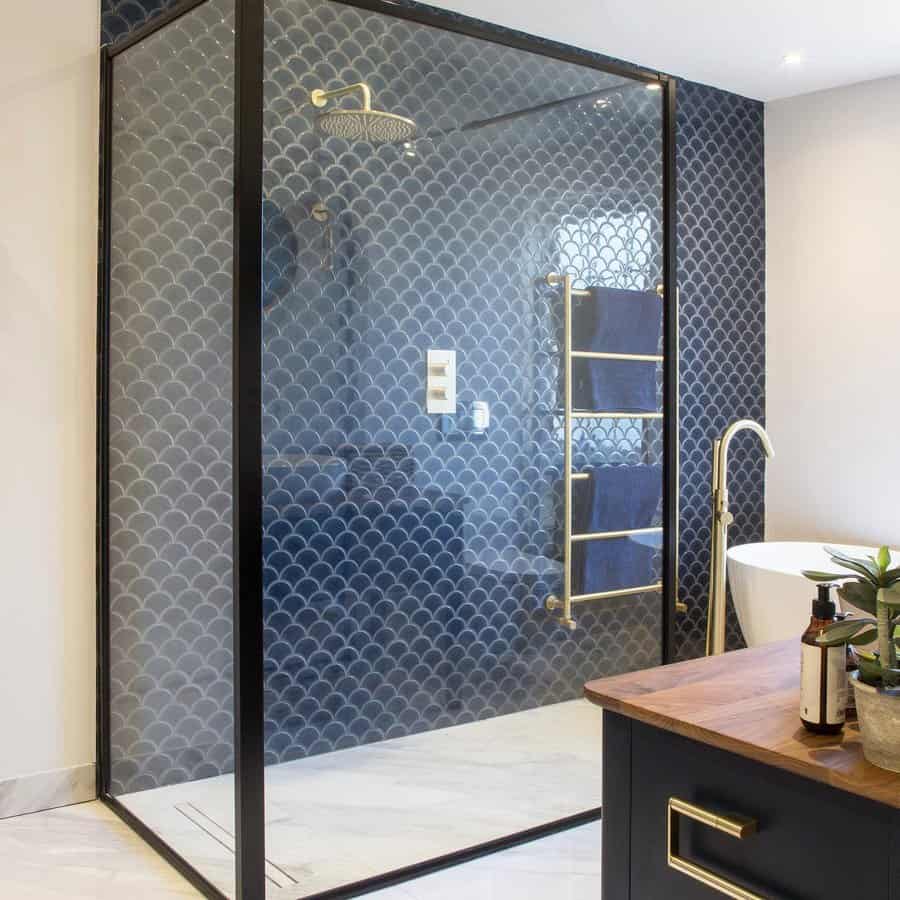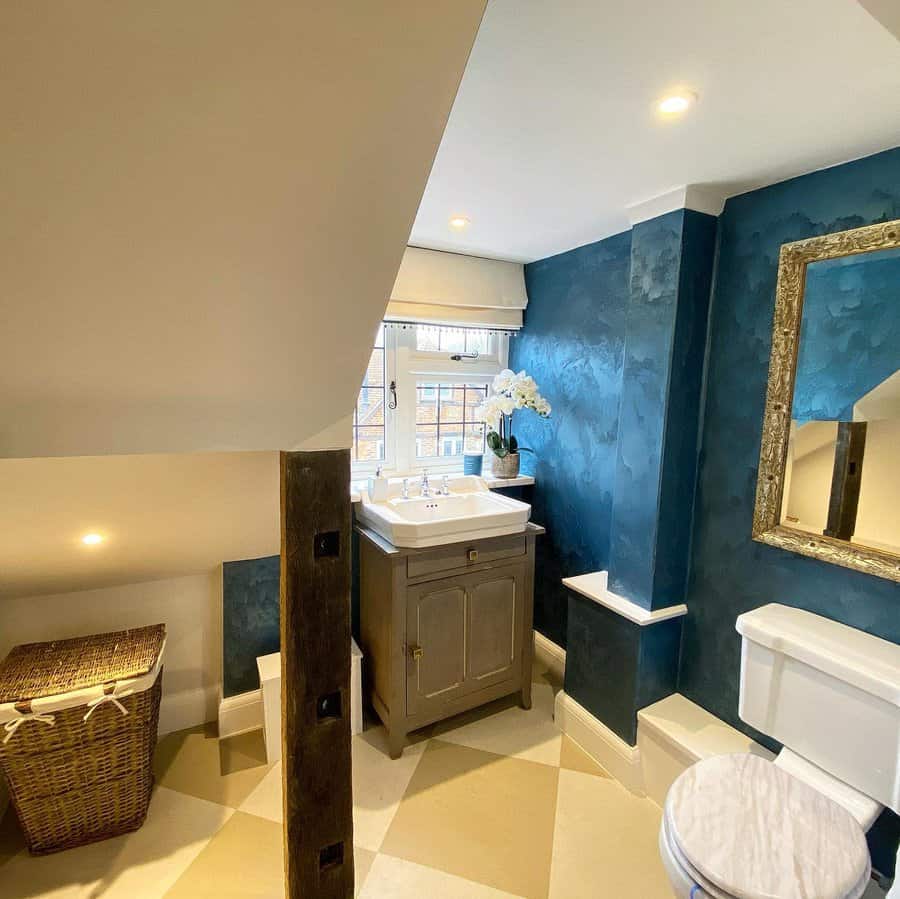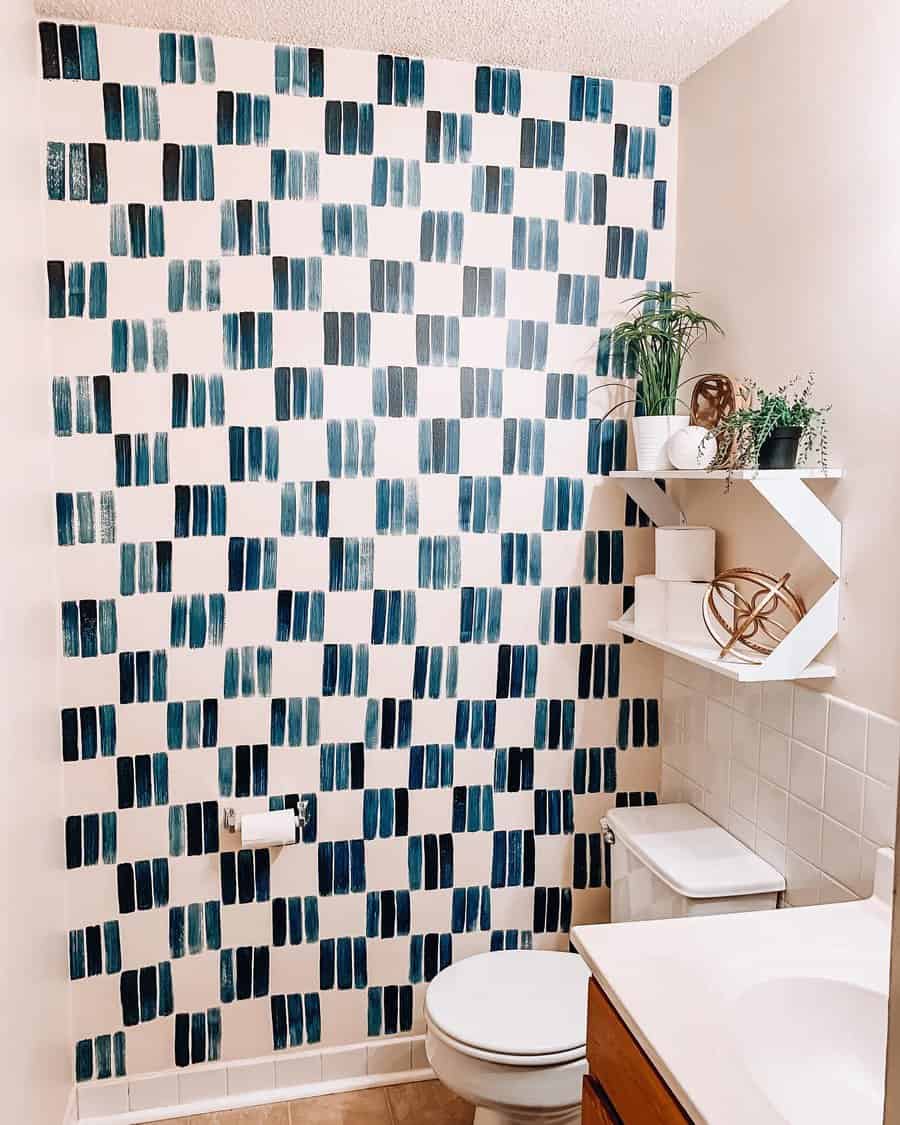 2. Incorporate Prints Into Your Home
A blue bathroom can bring a feeling of serenity and calm to any home. Decorative printed tiles are a fun way to add texture and a decorative touch to the room, while different shades of blue can be used to create an underwater-inspired atmosphere. Perfect for escaping from daily life stressors, adding some blues in this room is sure to put your mind at ease.
The bright blues bring an invigorating atmosphere that puts your mind at ease, while still being decorative enough to draw you in and create an atmosphere of imaginative inspiration. From the dark navy blues along the floor to the sky-hued blues above, this blue bathroom is sure to be remembered for its unique design and calming level of comfort.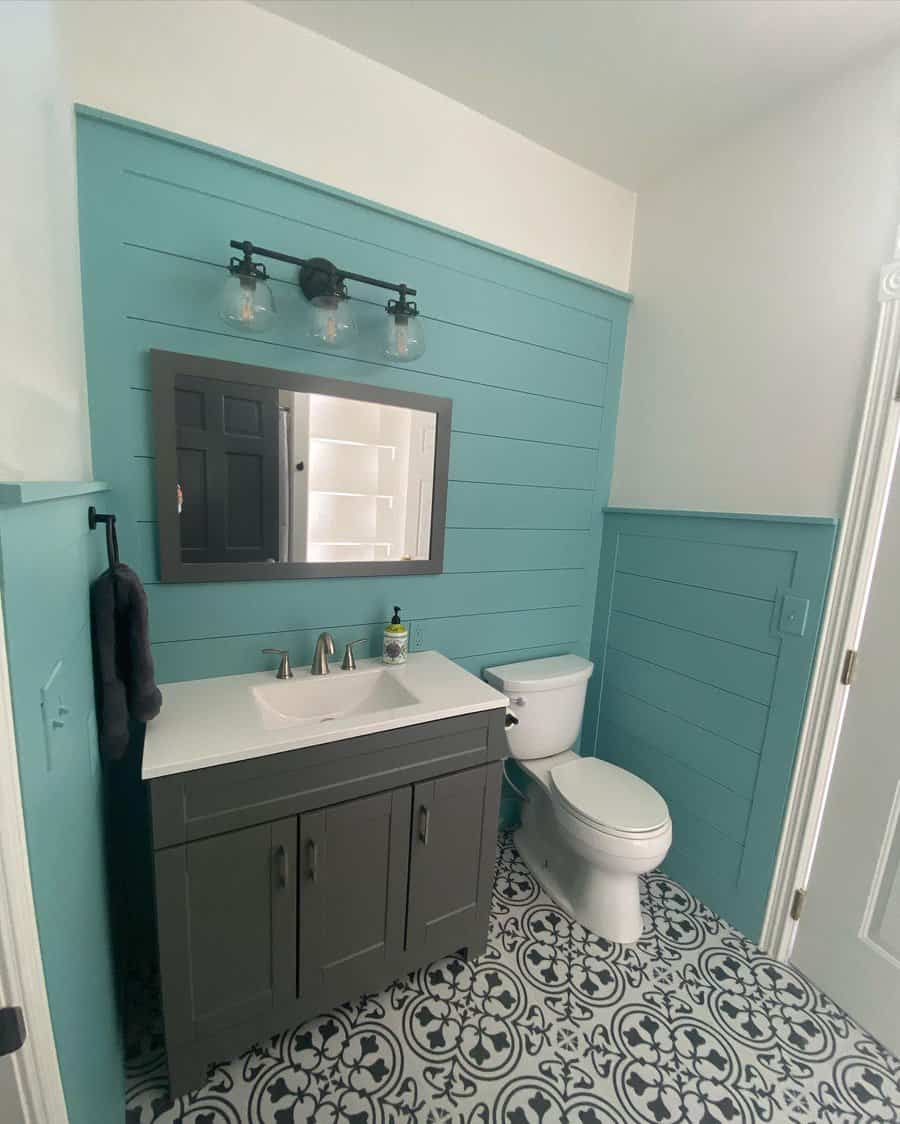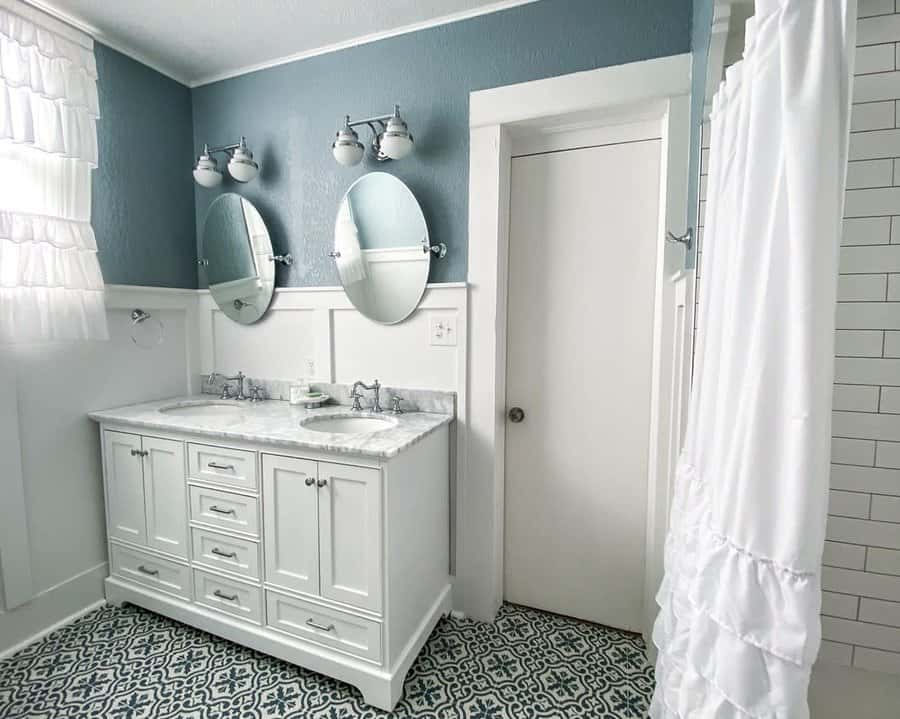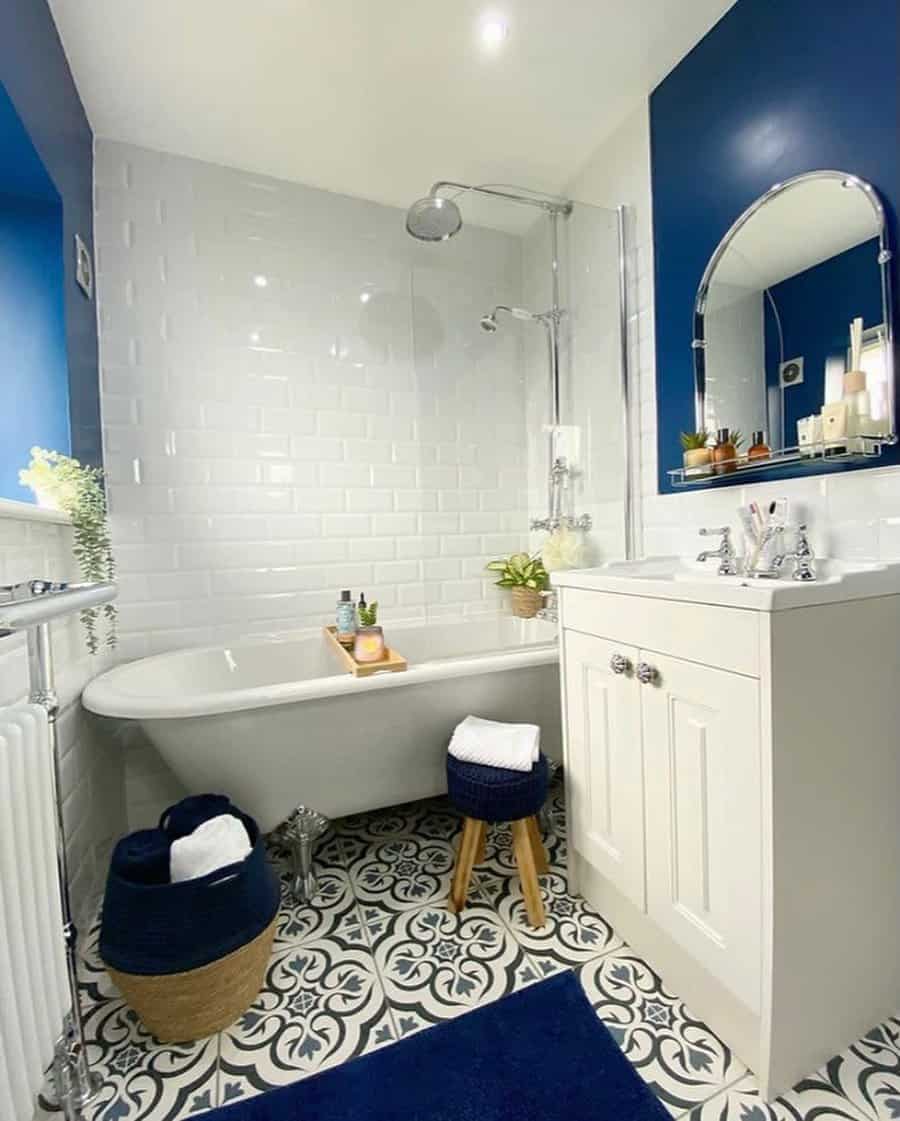 2. Blue Bathroom Fittings In A White Bathroom
Bring blue bathroom furniture into a white bathroom for a pop of blue and create the oasis of your dreams. Whether it's blue wallpaper behind white shelving or blue vanities atop tile floors, blue bathrooms offer a bit of extra something in the form of a brilliant splash of color.
Allowing homeowners to find their own blue with various shades and textures, blue bathrooms provide both an interesting focal point and an appealing aesthetic sure to last for years to come.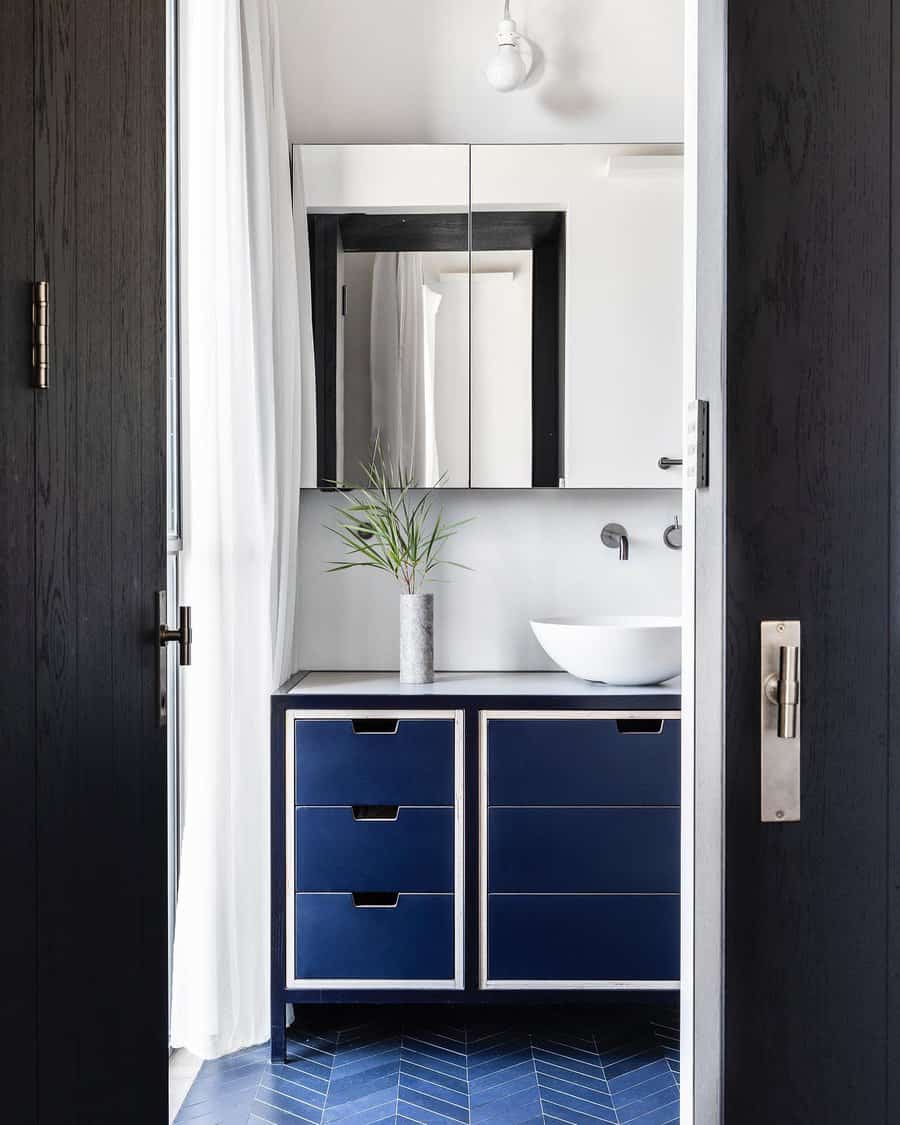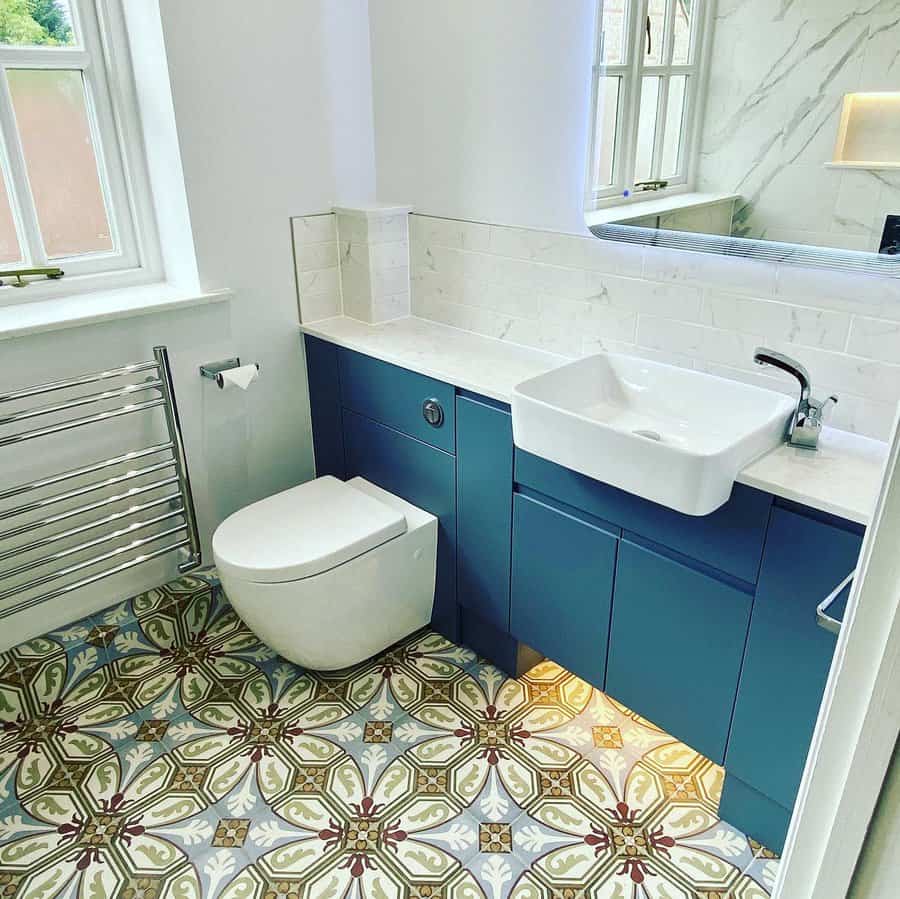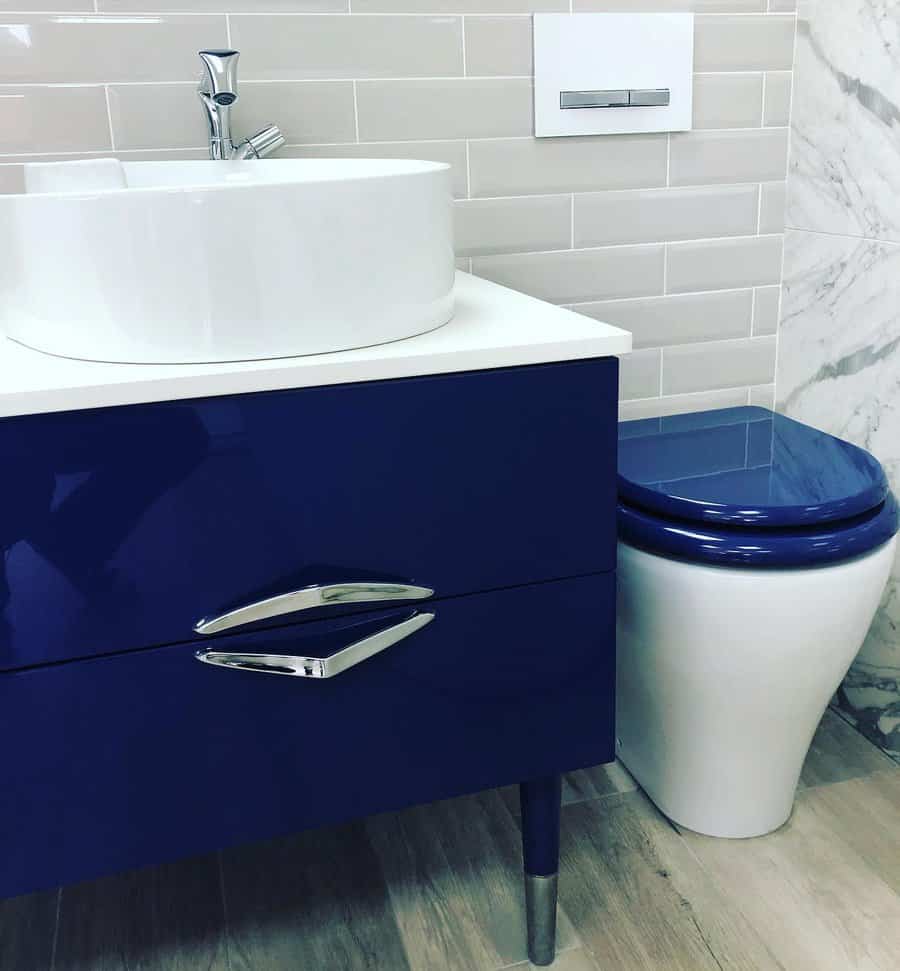 3. Go For A Coastal Interior
Outfit your bathroom with coastal vibes with a classic blue palette and natural elements. Light blues create an aura of calm, while wood or beige elements warm up the room. Complementary textures on the walls and flooring can also add an extra touch of the coastal interior to your bathing space.
Everything from the curtains to the accessories can be thoughtfully selected for a tranquil coastal feel that will help make your bathroom the ultimate retreat from the hustle and bustle of everyday life.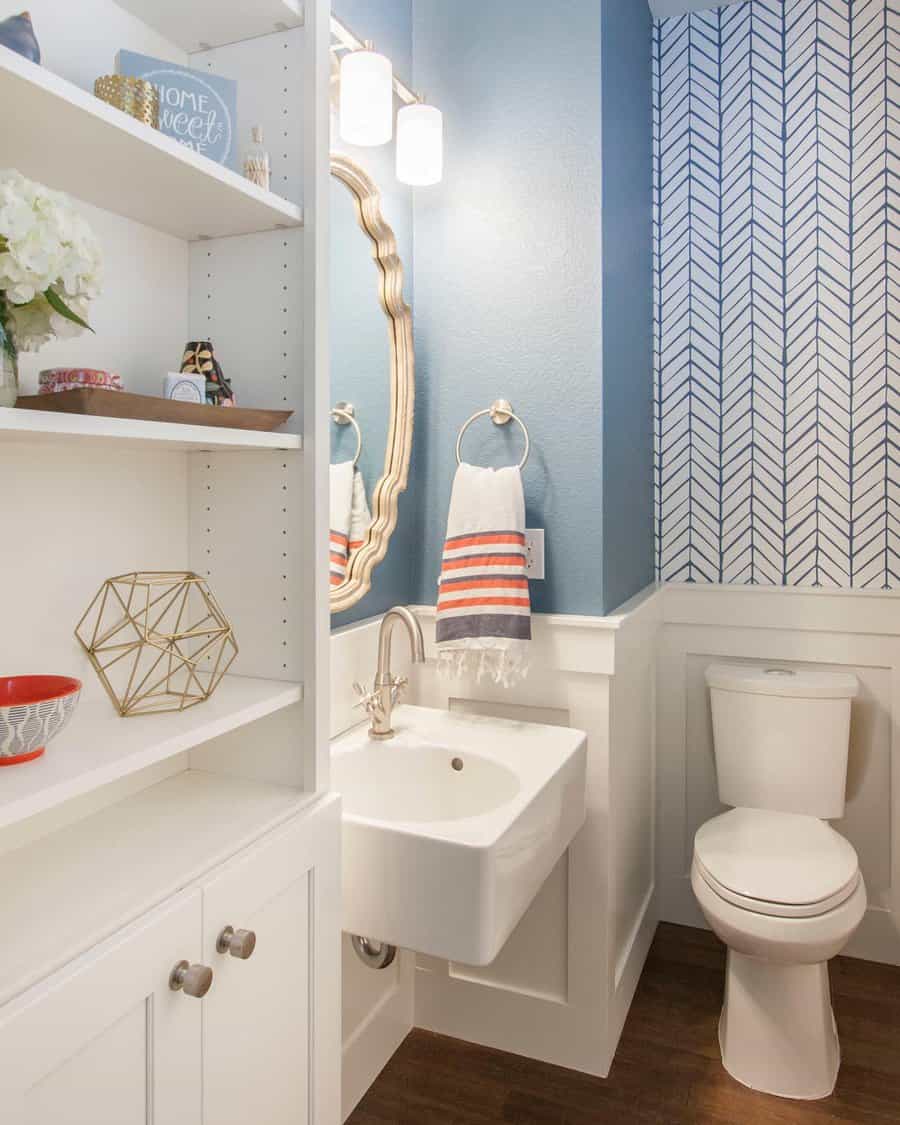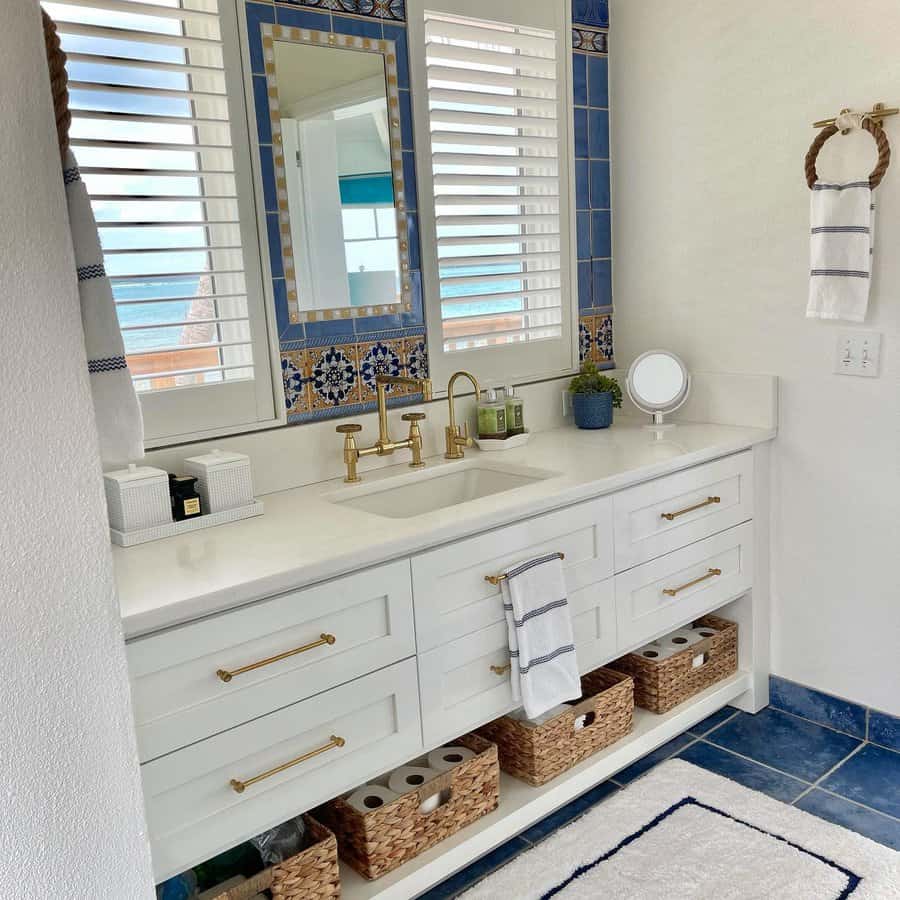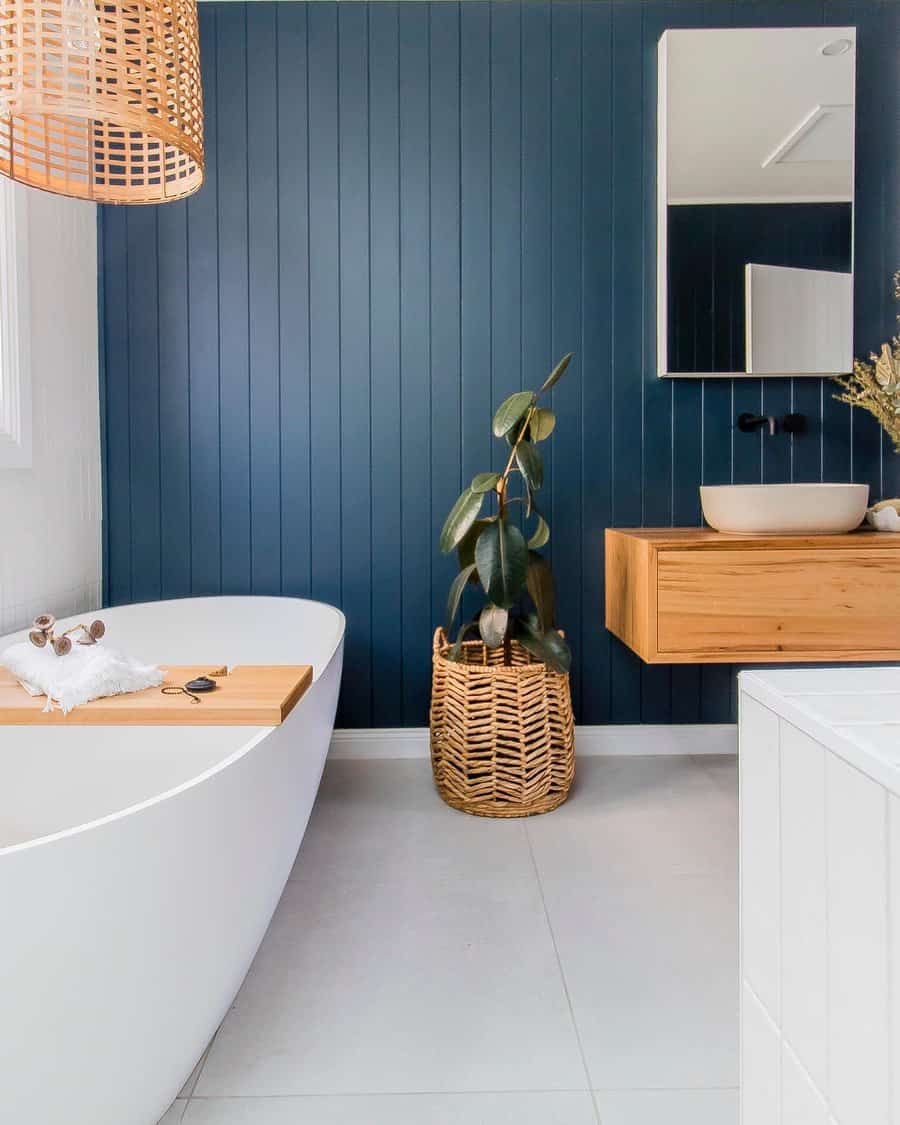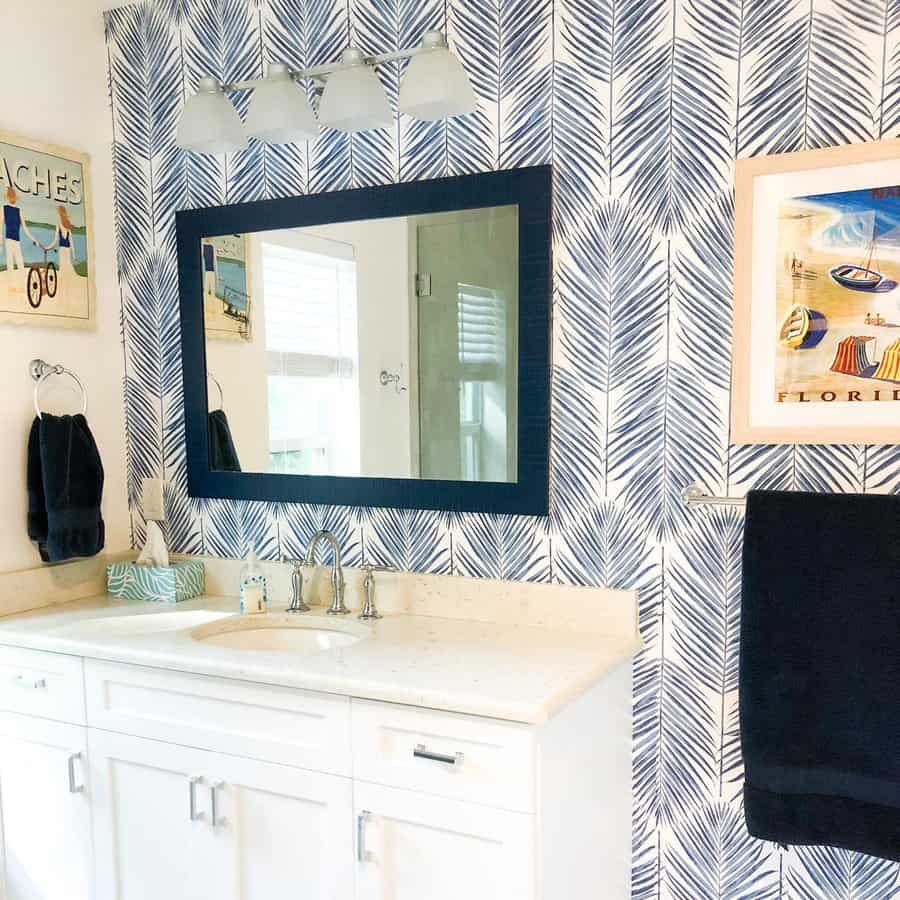 4. Add Eclectic Decor
Step into an eclectic blue bathroom and free yourself away into a tranquil paradise. Immerse your senses in blue glass tiles, silver metal fixtures, and decorative flooring that mimics the depths of a quiet pool. This color combination exudes sophistication while remaining light and airy, making it the perfect space for an intimate soak in the tub or a peaceful morning solitude.
Whether you're watching the steam unfurl from a hot shower or soaking up a calm evening of ambiance, this blue bathroom is sure to make any moment special.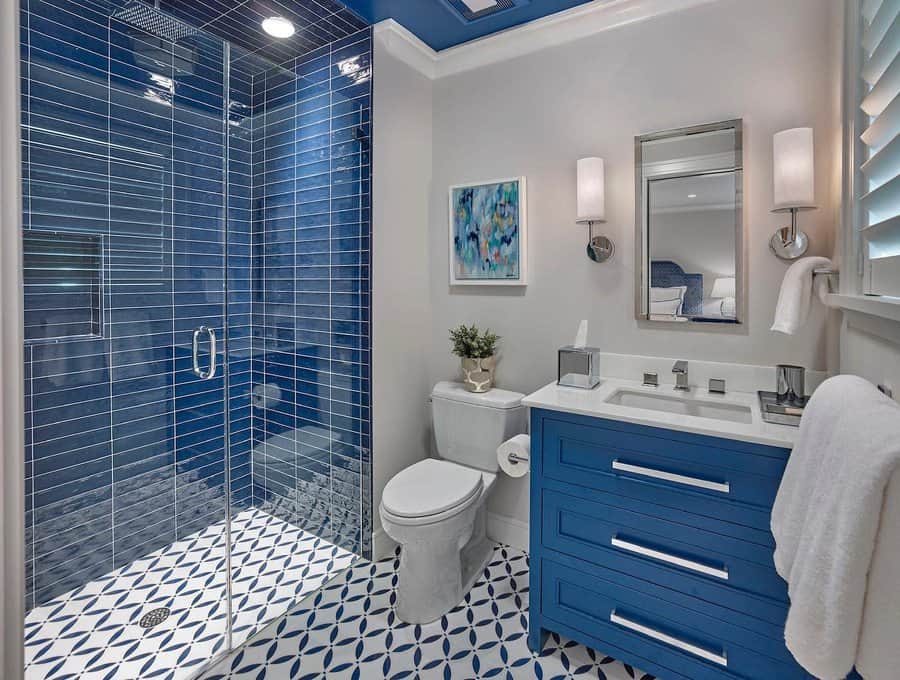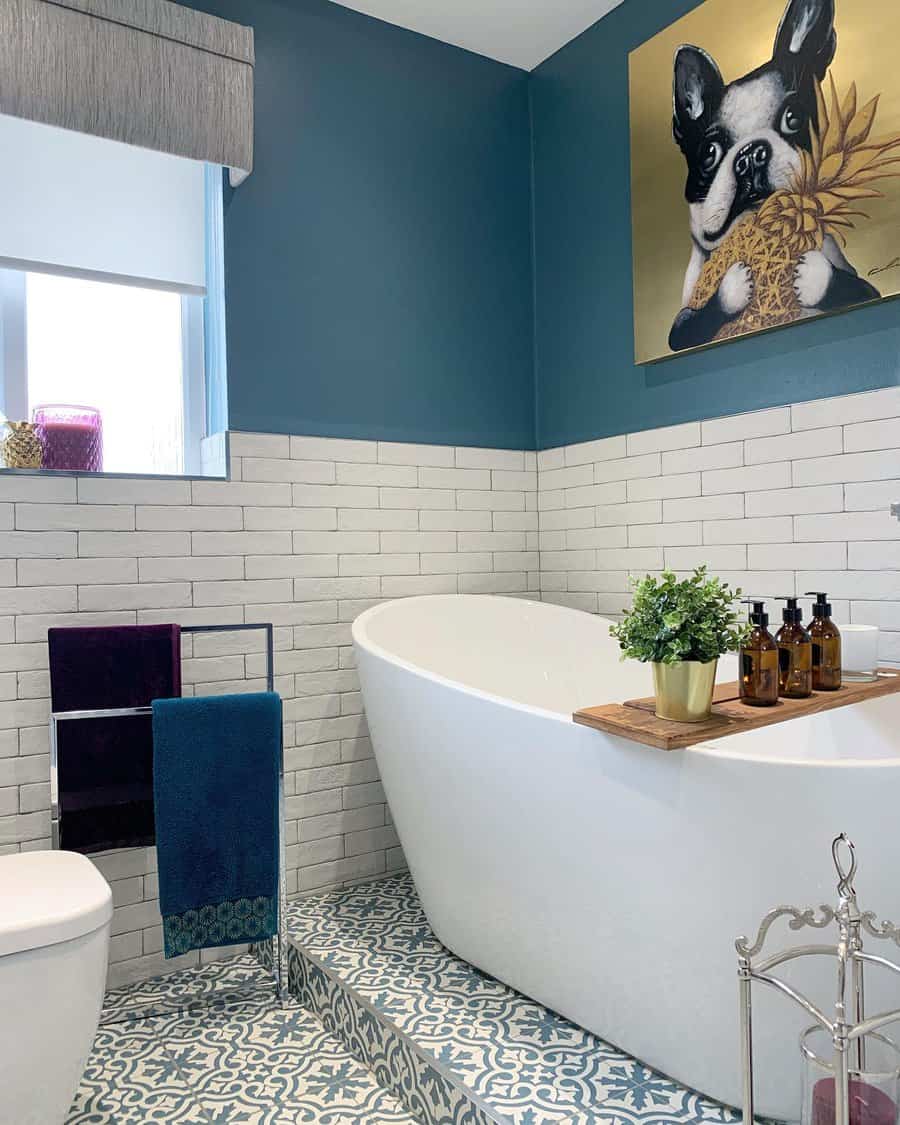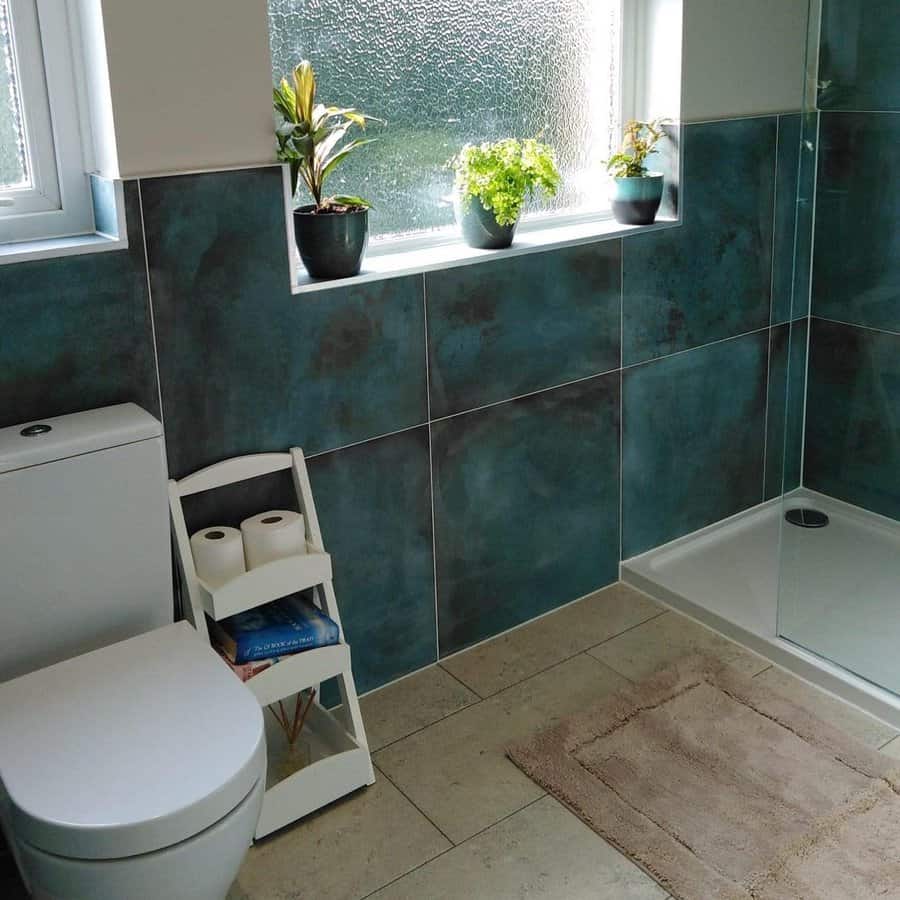 5. Set A Nostalgic Mood With Dark Shades
A dark blue bathroom adds regality, sophistication, and modern elegance to any home while inspiring creativity. From navy walls with gold accents to navy cabinetry with mirrored highlights, this color scheme can evoke different emotions depending on how you style it.
The navy blue walls of this dark blue bathroom provide the perfect backdrop for luxurious gold fixtures with a subtle art deco aesthetic as well. Whether bold and dramatic or subtle and inviting, navy offers a timeless look perfect for making an even more dramatic statement in your bathroom's overall design.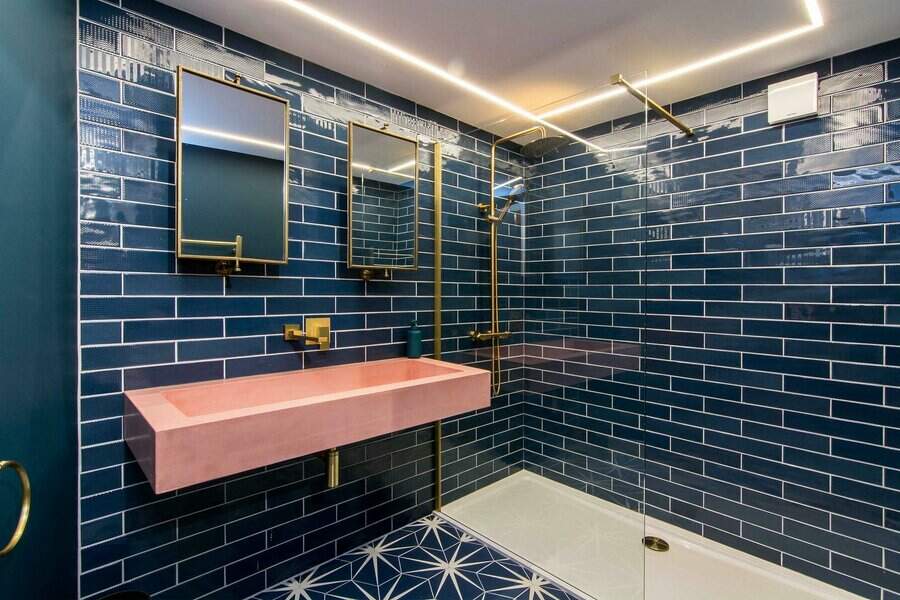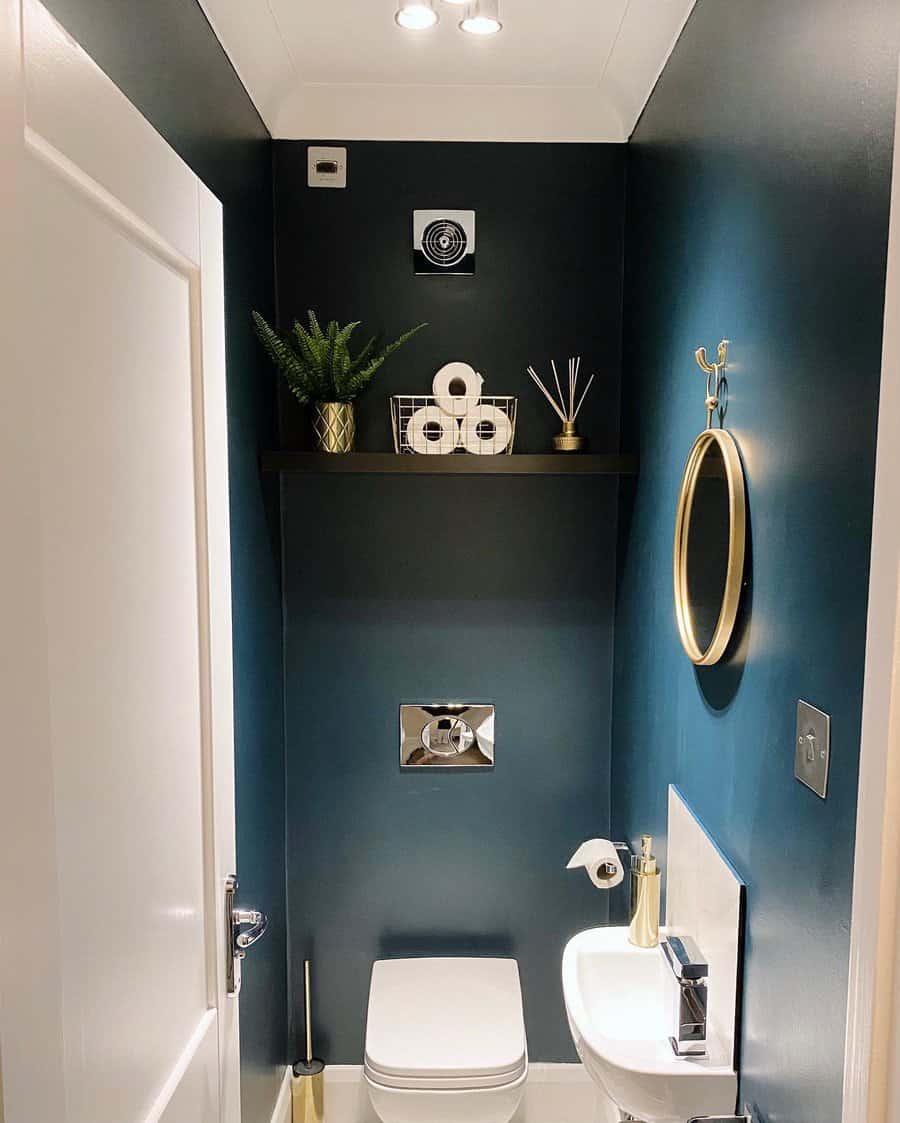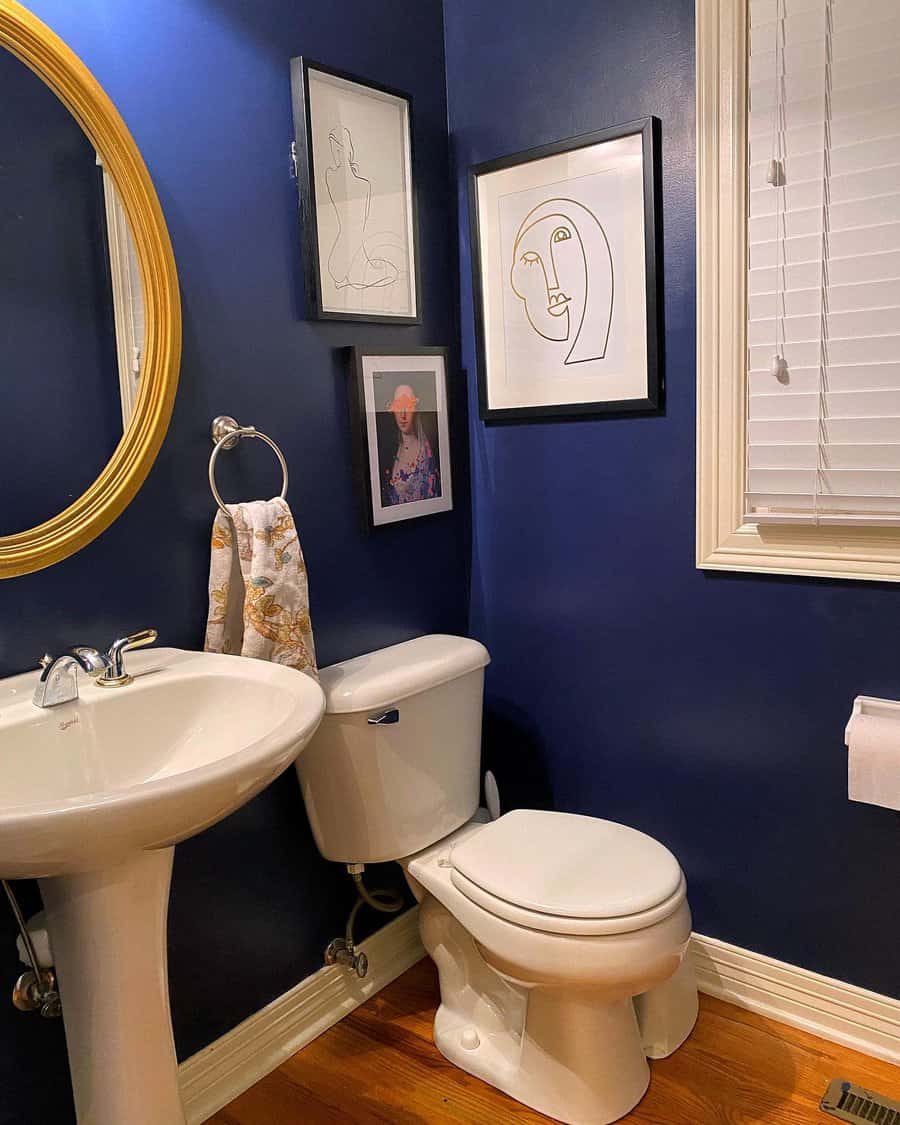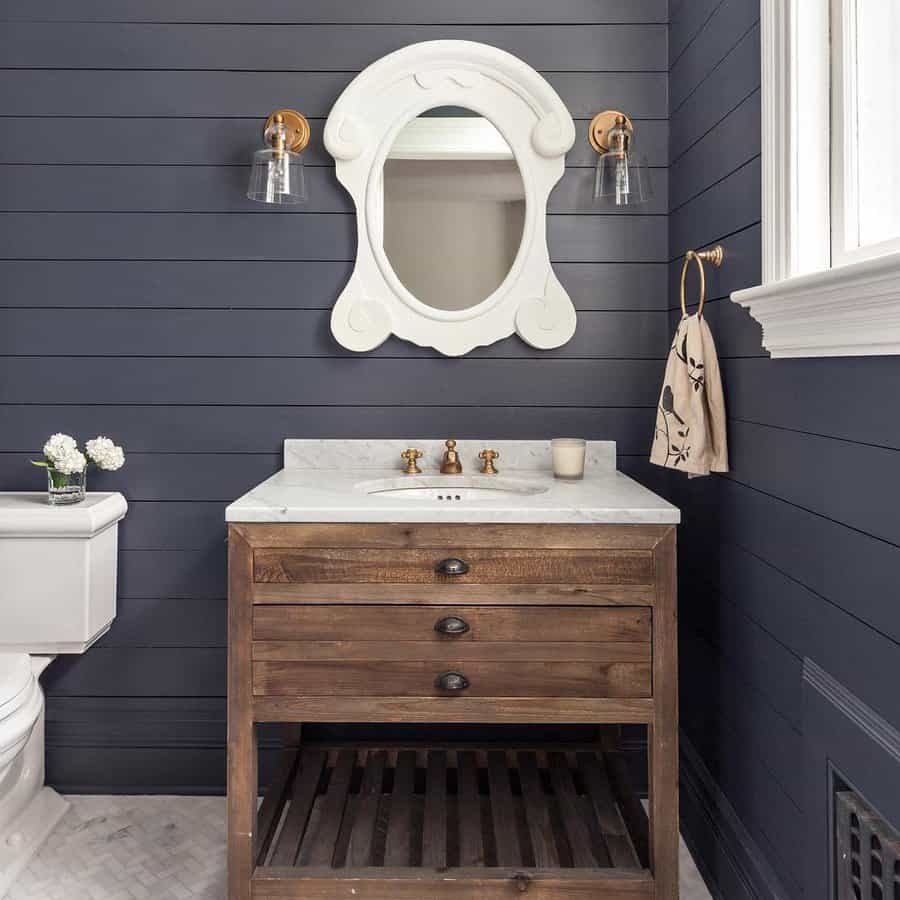 6. Add Dramatic Lighting
A blue bathroom is a bold yet calming choice for any home. To bring extra flair to your blue bathroom decor, add sconces for an art deco feel or pendant lighting for brightness. If the weather cooperates, incorporate a bright-facing window for natural light and keep your blues illuminated throughout the day.
Sconces create a warm, ambient glow that makes showering in the evening oh-so-cozy, while pendant lighting provides bursts of illumination that add elegance to every morning routine. With such vibrant walls and soothing lighting, this blue space won't fail to be any less than extraordinary!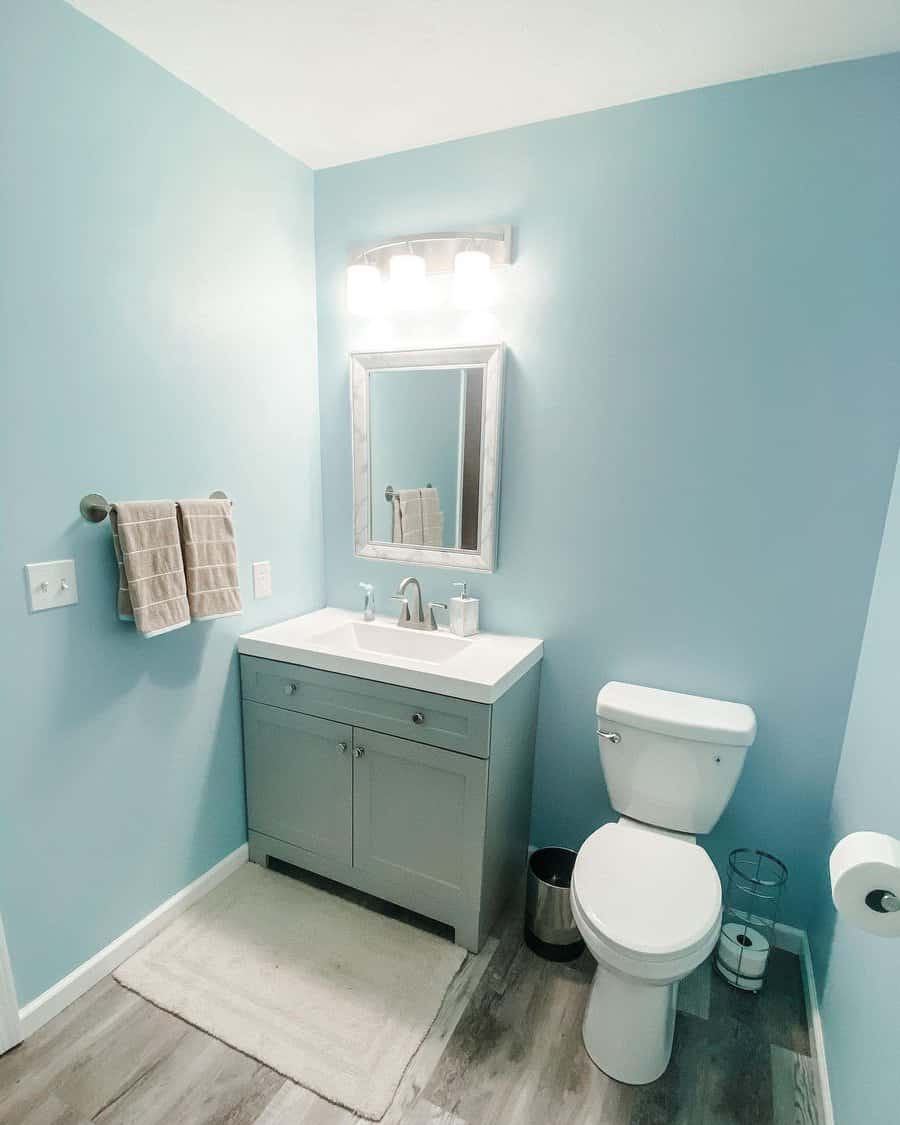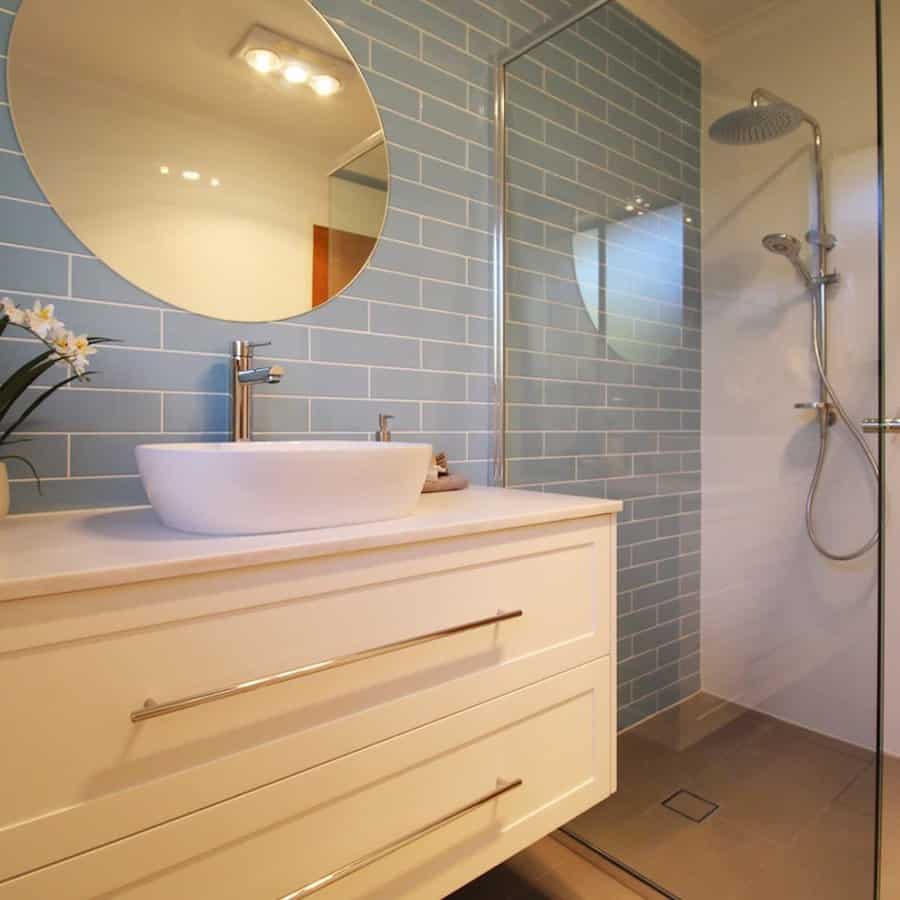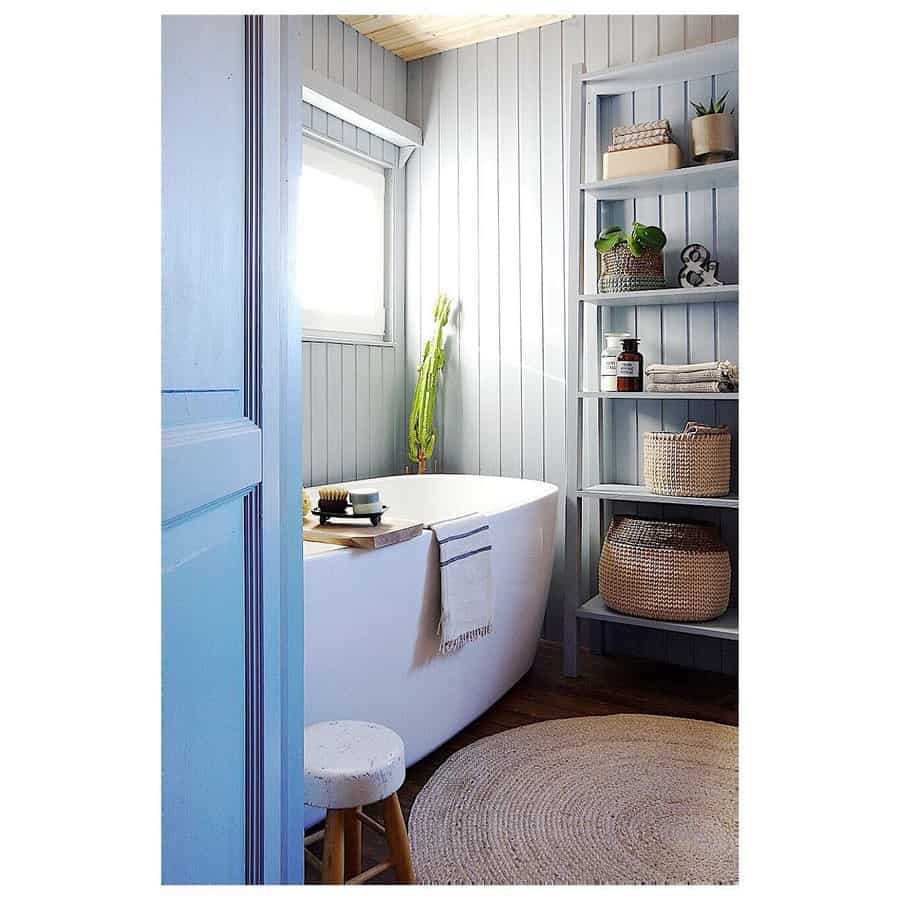 7. Bask In Luxury With Gold Fixtures
Step into a world of luxuriousness and opulence when you step into a blue bathroom with gold fixtures. Let the gold accents allow you to experience a whole new level of indulgence and refinement as you enter each room.
It's luxurious, grand, and far from ordinary – gold accents against the bold shade of blue make for a daring yet sophisticated look. The gold fixtures will immediately draw your eye, adding brightness and elegance to the room that can't be beaten. When done well, this is a color combination that looks chic and elevated like no other.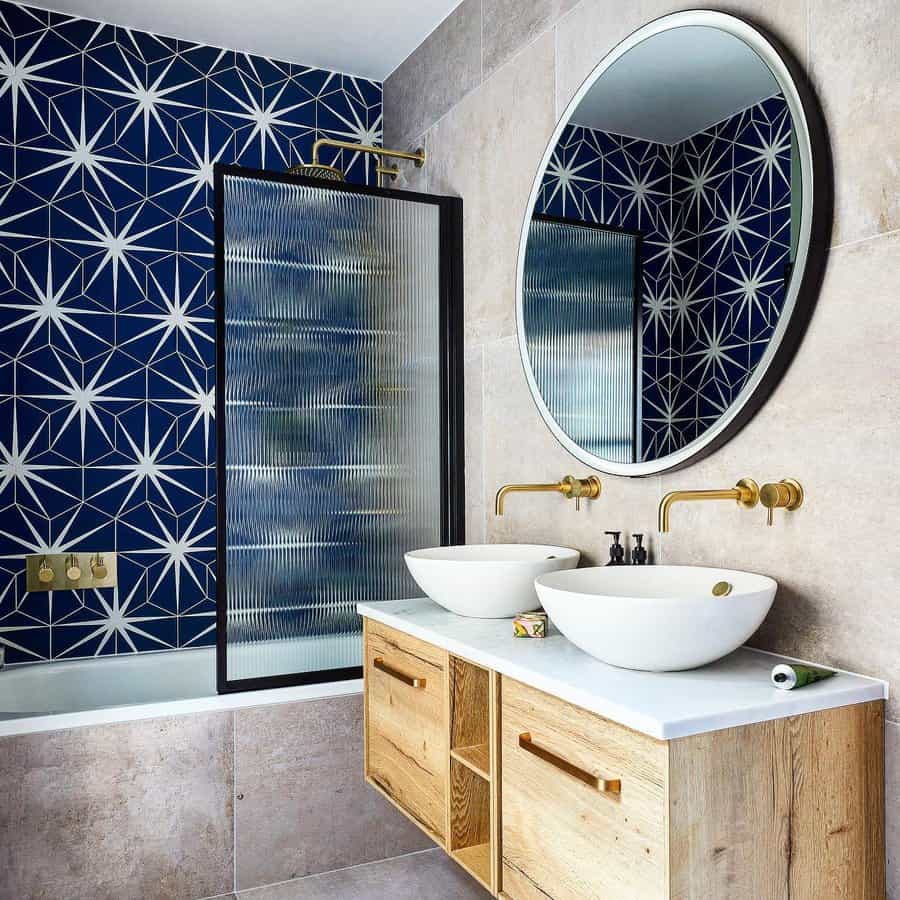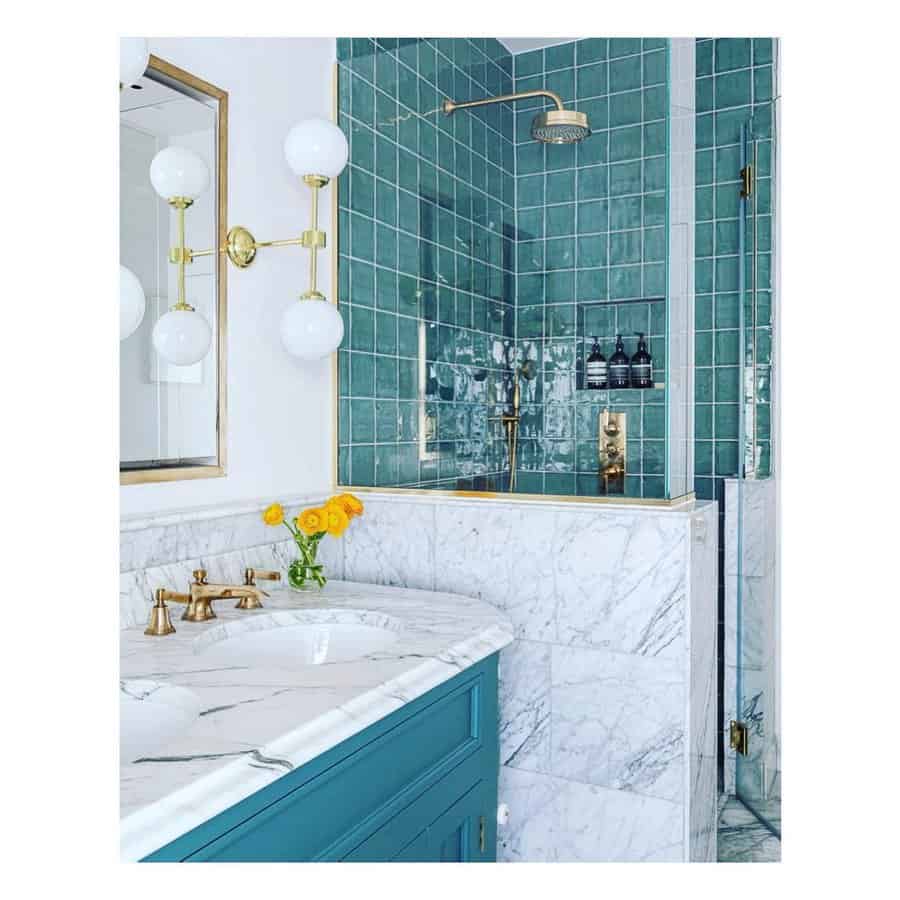 8. Opt For A Minimal Modern Look
Transform your bathroom into modern heaven with a modern minimal look. The blue and white color scheme provides a calming atmosphere, as the seamless floating vanity is undercut by vibrant blue tiles and framed by a frameless mirror.
A modern minimal look in the bathroom boosts both the aesthetic value and functionality while creating an all-around stunning visual effect.
By introducing modern materials paired with white tiles, your bathroom will reach its full potential and provide lasting comfort for many years to come.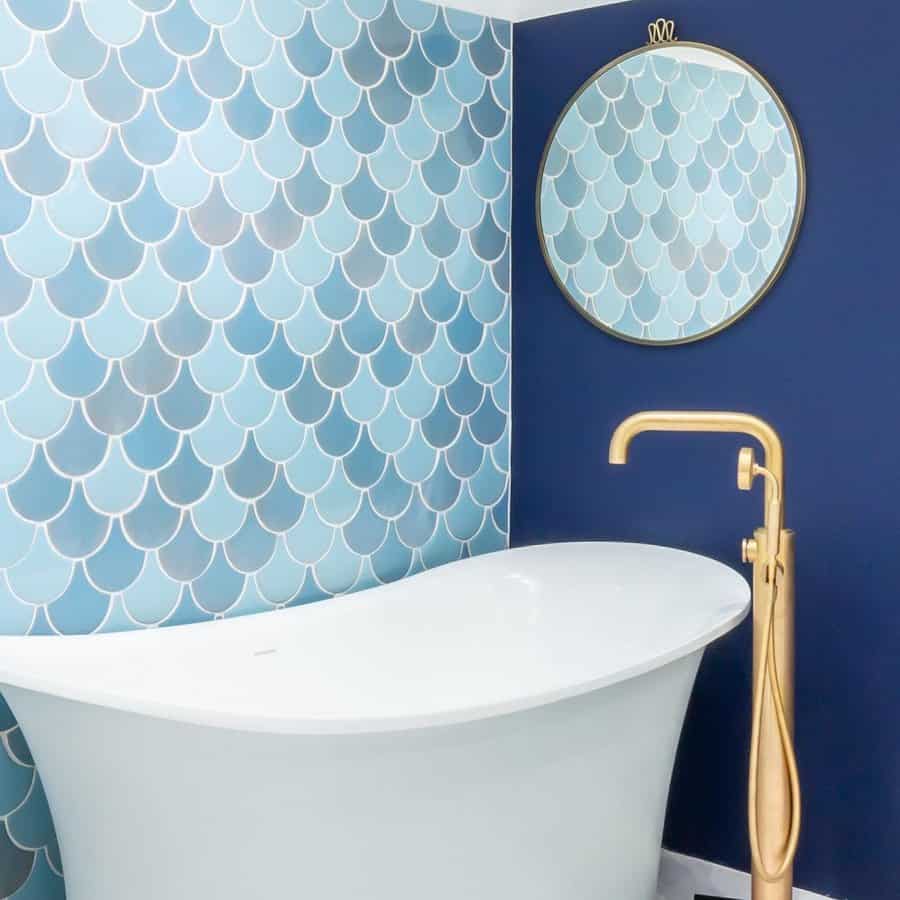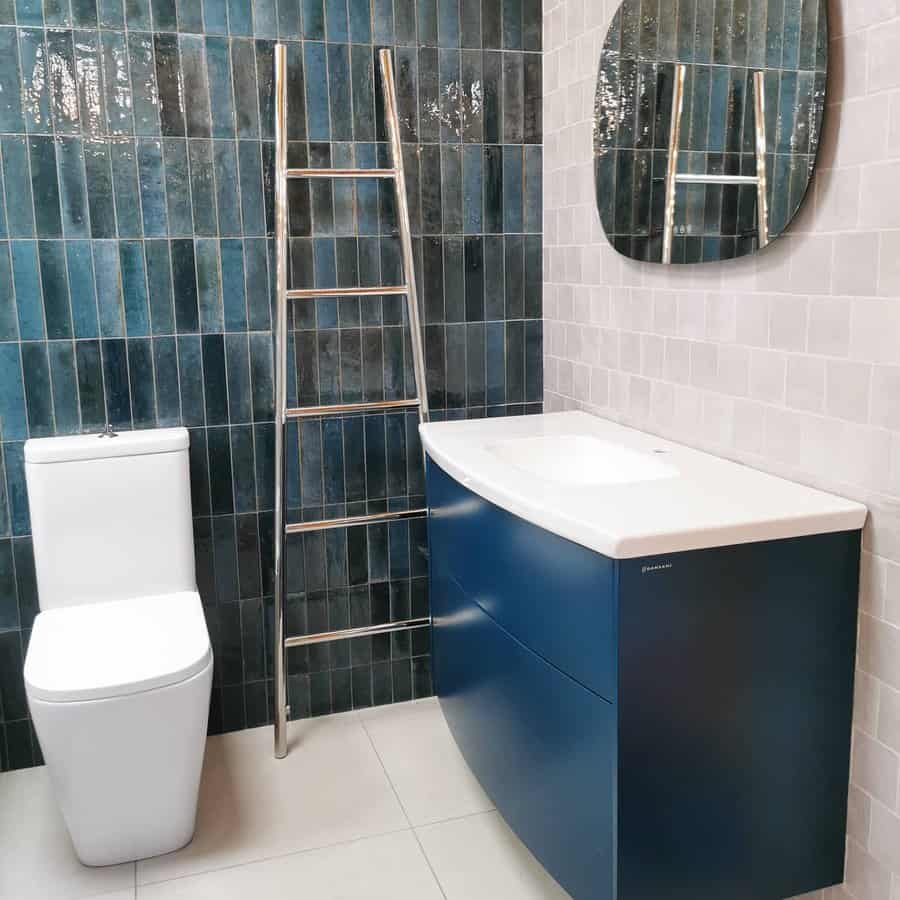 9. Play Ship With A Nautical Interior
Invite a nautical charm into your home with a blue bathroom. A navy or royal shade on the walls can be perfectly complemented by nautical-inspired touches, from ship decor on the shelves to a rope-framed mirror.
Accent the blue with bright red and yellow, like the kind you see on nautical flags. For the metal elements, stick with polished brass. Add teak elements to bring warmth into the bathroom and channel the wood elements you see on sailboats and yachts.
Don't be afraid to get creative – the ocean's plenty of inspiration you can use to build out your nautical design for your space. Seashells, driftwood and sailboat artwork mixed in between some open shelves will ensure you sail away into relaxation every time you step inside.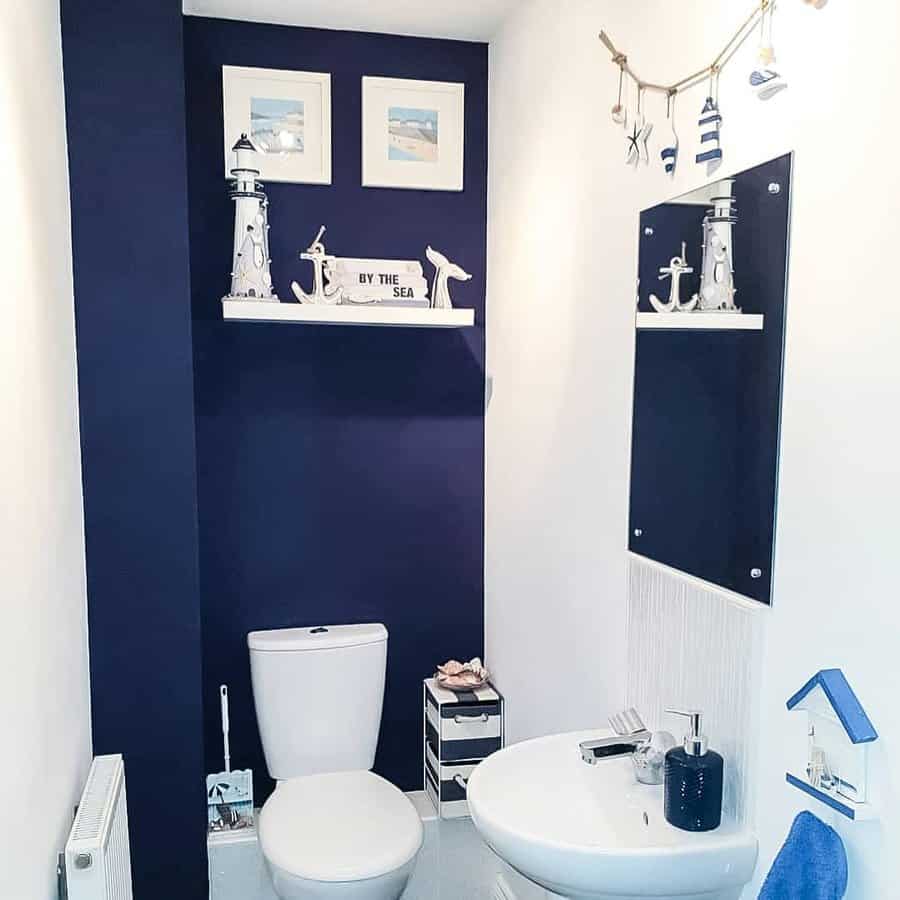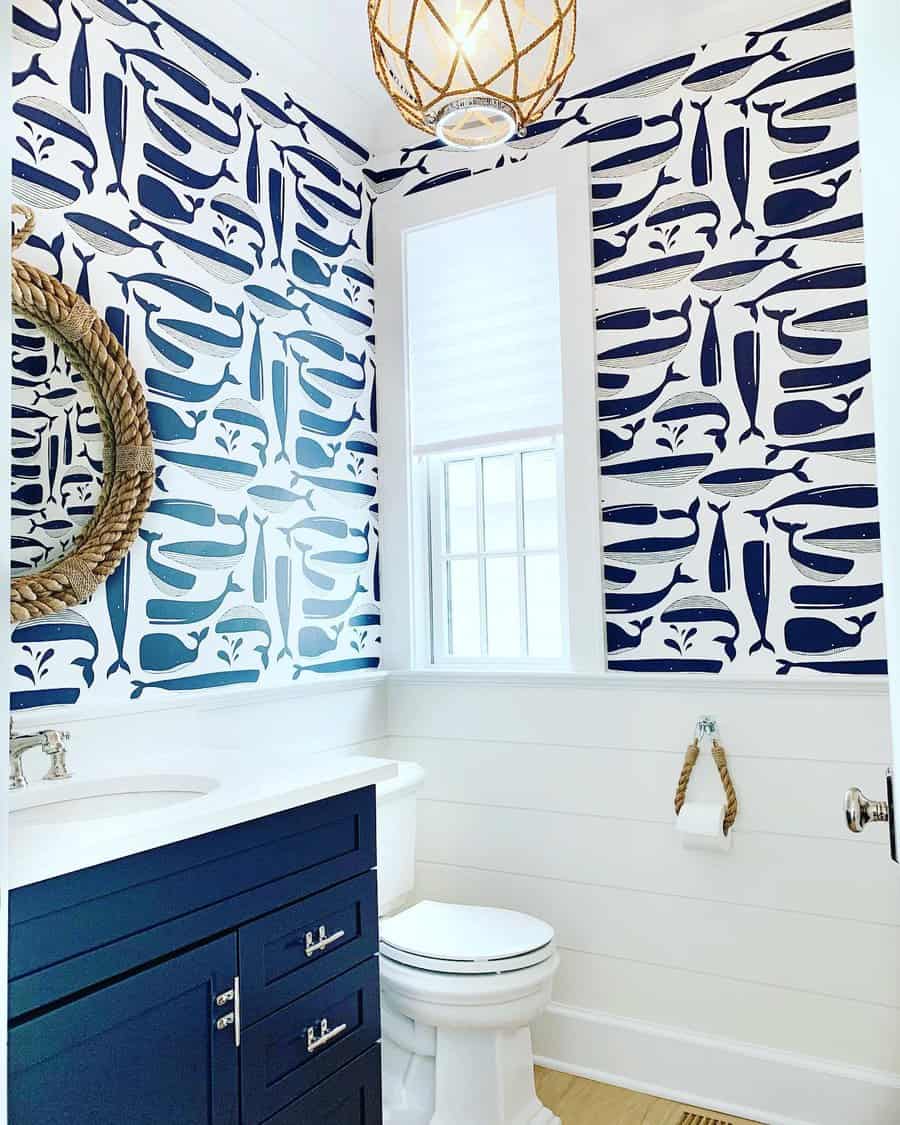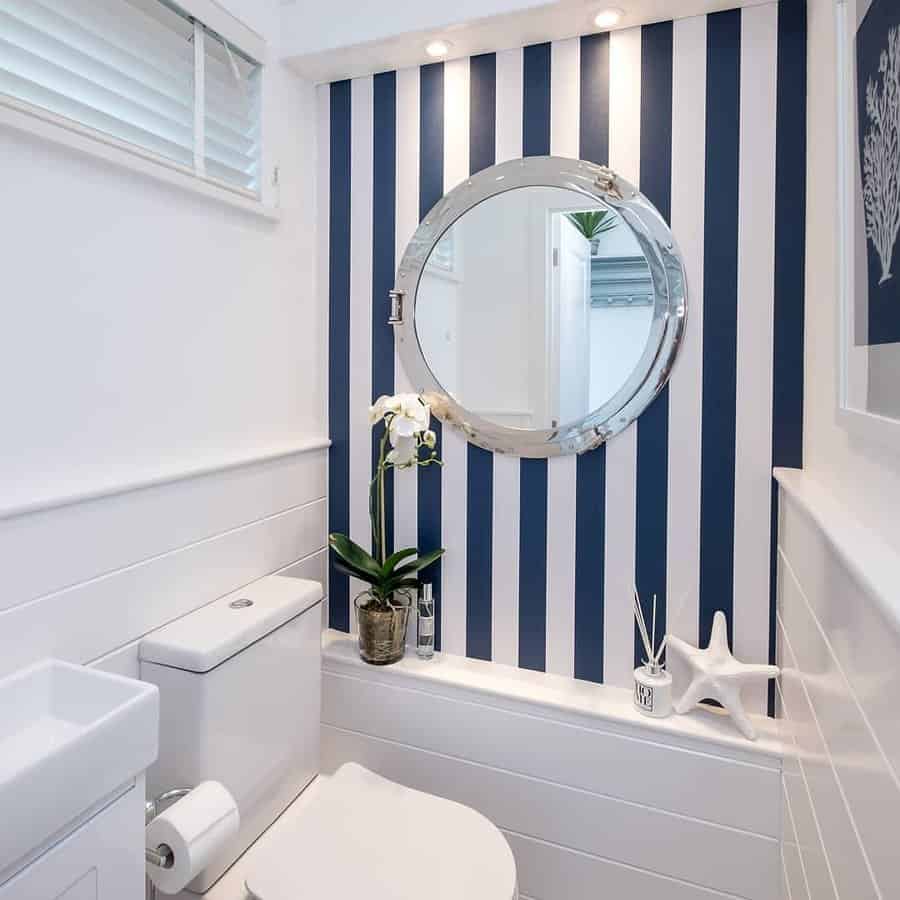 10. Set A Calming Mood With An All-blue Powder Room
Few rooms can evoke such a dramatic flair and alluring ambiance as an all-blue powder room. Picture it – all-blue walls in tranquil hues, with golden fixtures that shimmer amongst all the blues and accents of white, all creating a lavish yet calming atmosphere.
Whether you are looking to elevate your home, impress guests, or simply create an inspiring space for yourself – an all-blue powder room is sure to do the trick.
Get creative and find ways to make this all-blue wonderland come alive through sconces, textured walls, or any other touches that will enhance its lush shades of blue and gleaming gold fixtures.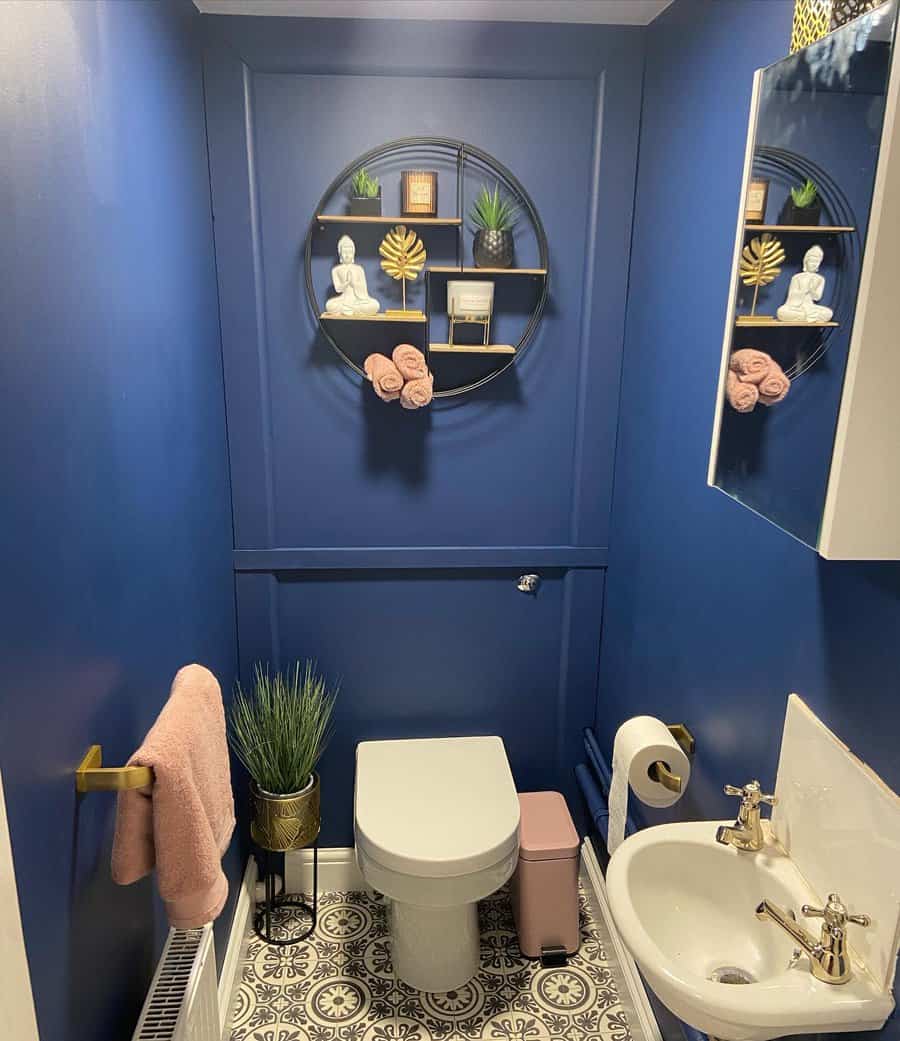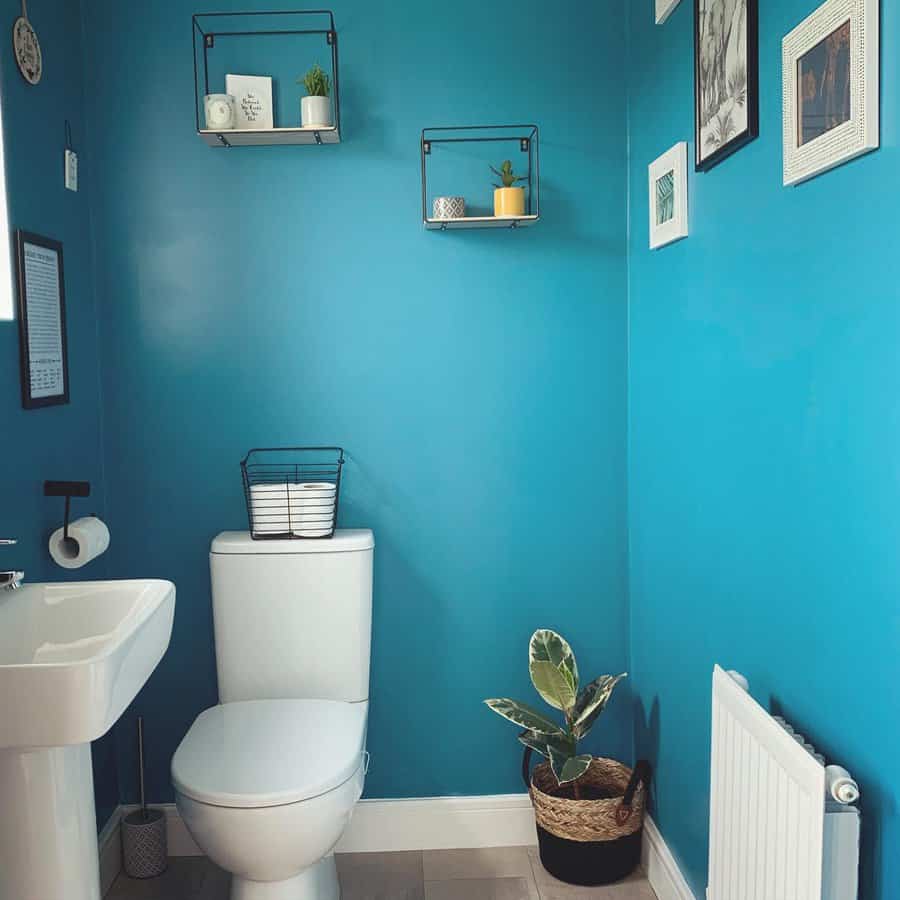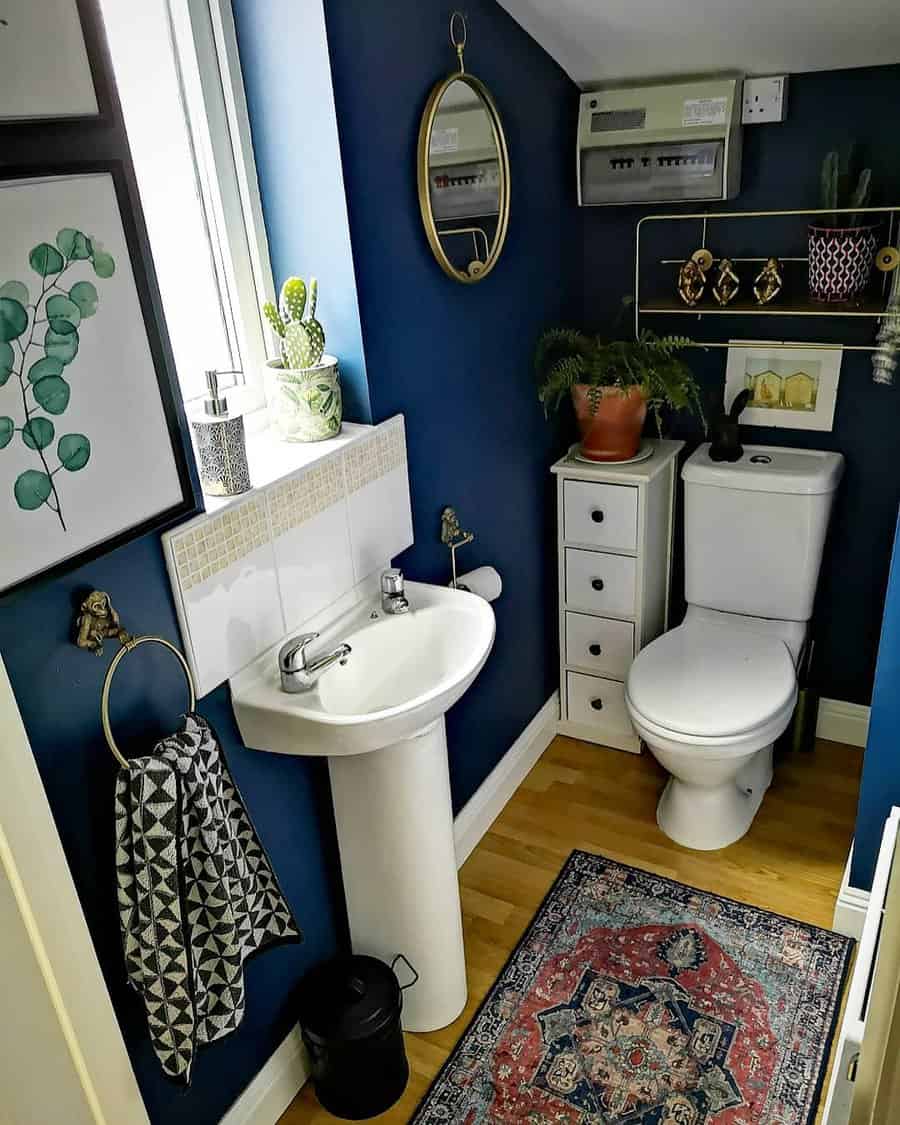 11. Add Plants Into Your Bathroom
An all-blue powder room is a one-of-a-kind experience. Transform the space into your own private sanctuary with hanging plants, potted plants, and other lush greens that thrive in low light. With hints of blue tinting the leaves and walls melting into heavenly blues – you can escape from the hustle and bustle of everyday life in this tranquil hideaway.
Imagine meandering cobalt cascades spilling over potted ivies onto a spectrum rug, adding warmth and character to this calming oasis as gentle breezes pass through hanging vines. Taking some time for yourself after a long day will never be the same again!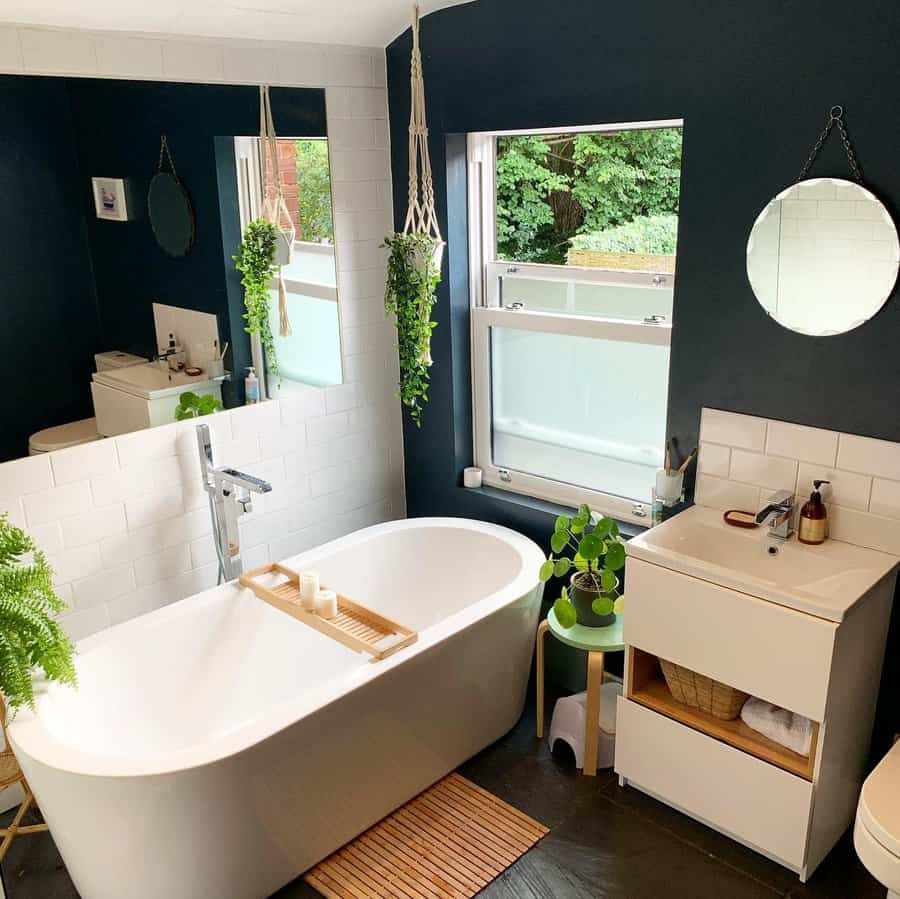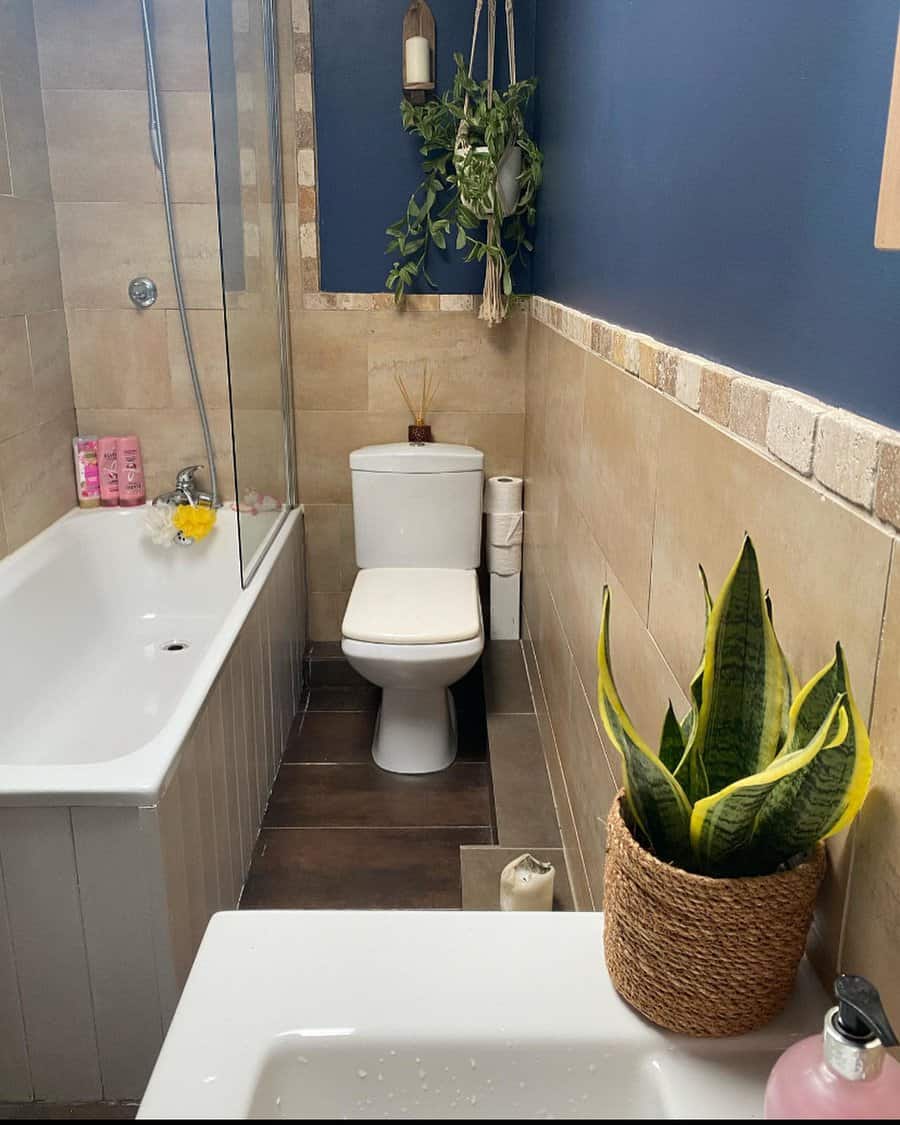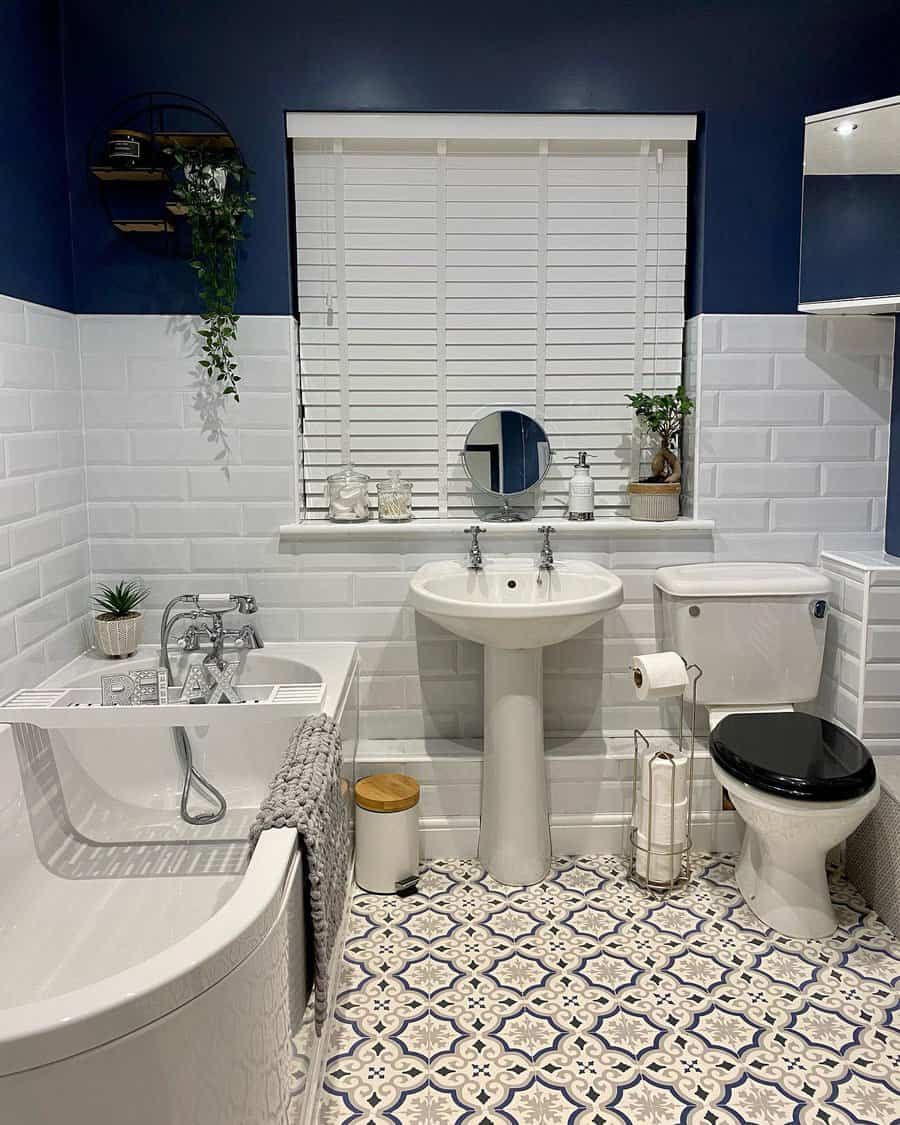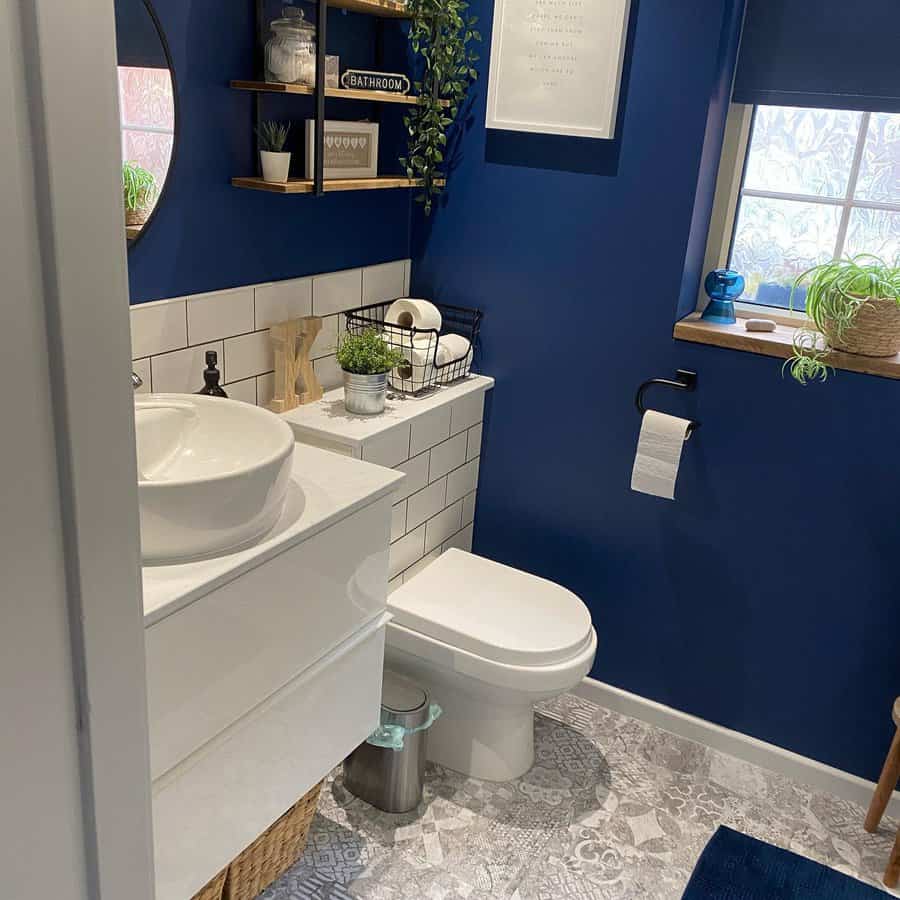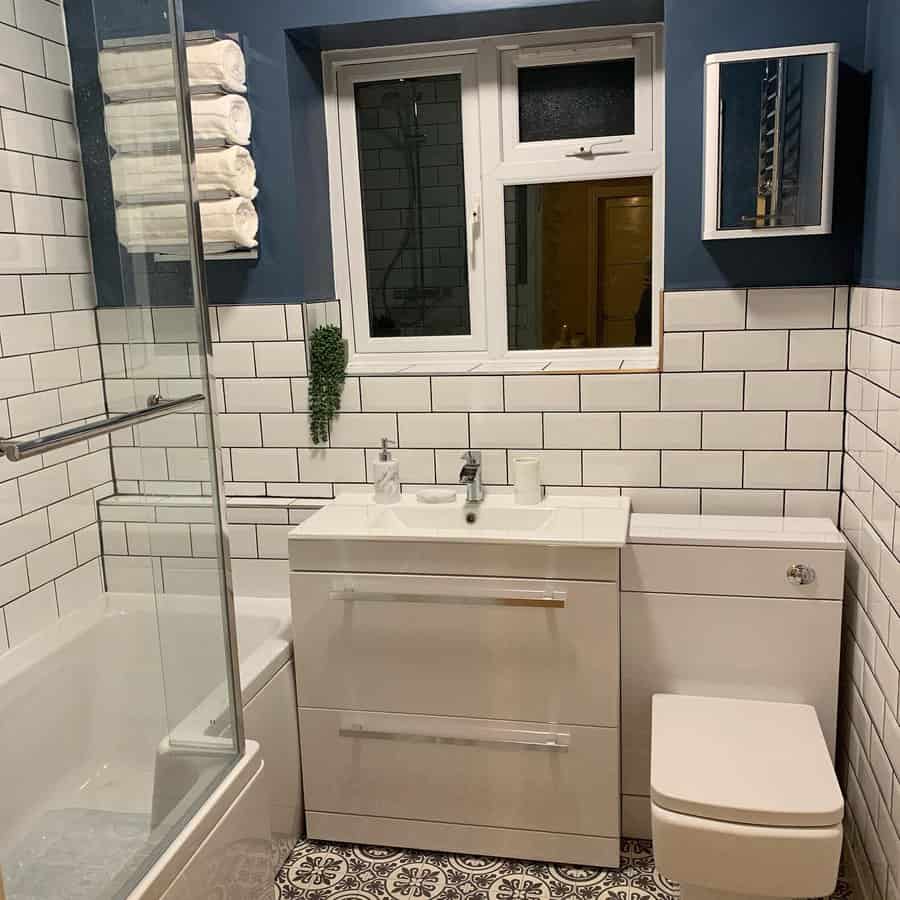 12. Go Bold With Print On Print
Transform your bathroom into a unique and opulent space with print-on-print walls and ceilings. Embrace the maximalist trend and create decorative looks that stand out in any home. Blue is a great color choice as it is calming and will allow you to enjoy a luxurious oasis right in your own home.
Whether you choose lighter blues or deep navy varieties, print on print walls and ceilings will surely help make your dreams of a luxurious blue bathroom come true!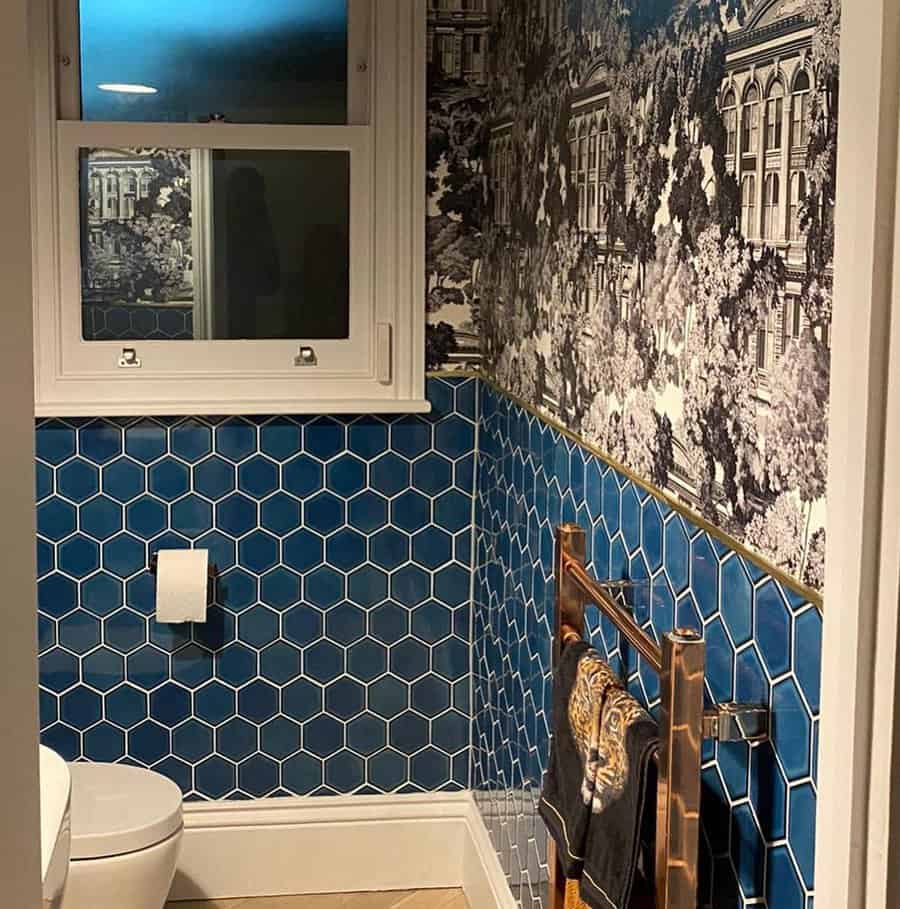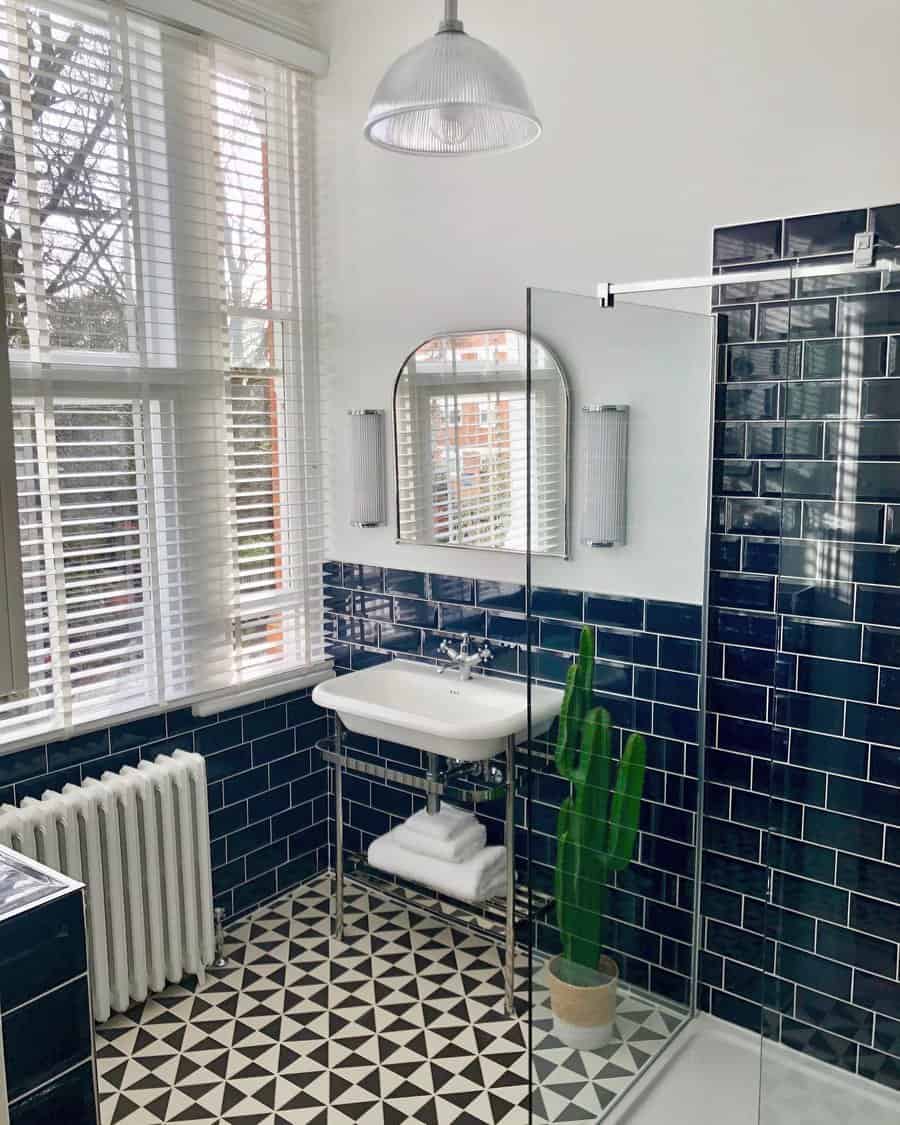 13. Install Beveled Tiles
The blue beveled tiles in this bathroom add a hint of drama, transforming it from the ordinary to something truly captivating. The spectacular glints of light that bounce off the room's surfaces create an extraordinary atmosphere that is both elegant and sophisticated.
One can easily feel at ease as they refresh or relax in such surroundings; blue beveled tile bathrooms are not only functional but provide an atmosphere for supreme satisfaction.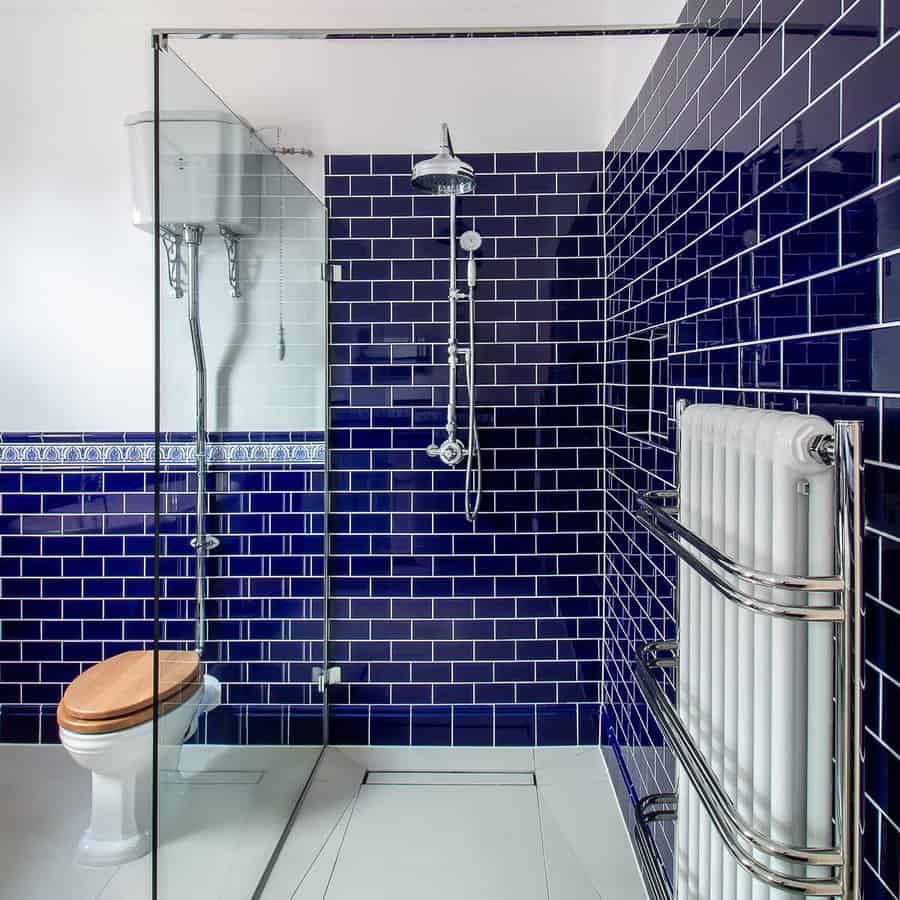 14. Add Vintage Furnishings
Adding a vintage dresser to your blue bathroom can instantly transport you to a bygone era. Place fine china on the shelves of the vintage dresser or around framed photos of family members, and then complete the vintage look with antique sconces affixed to either side of the framed mirrors above the vanity.
You'll feel like you've stepped back in time when you enter your blue bathroom, making it an even more special and inviting place.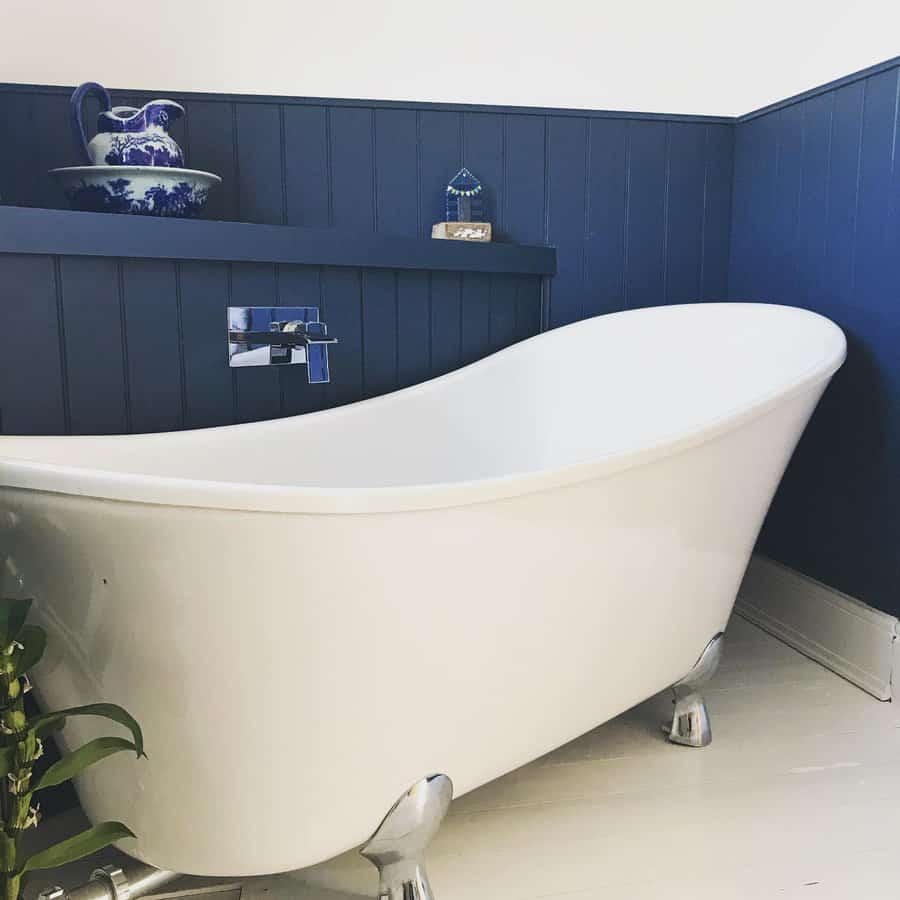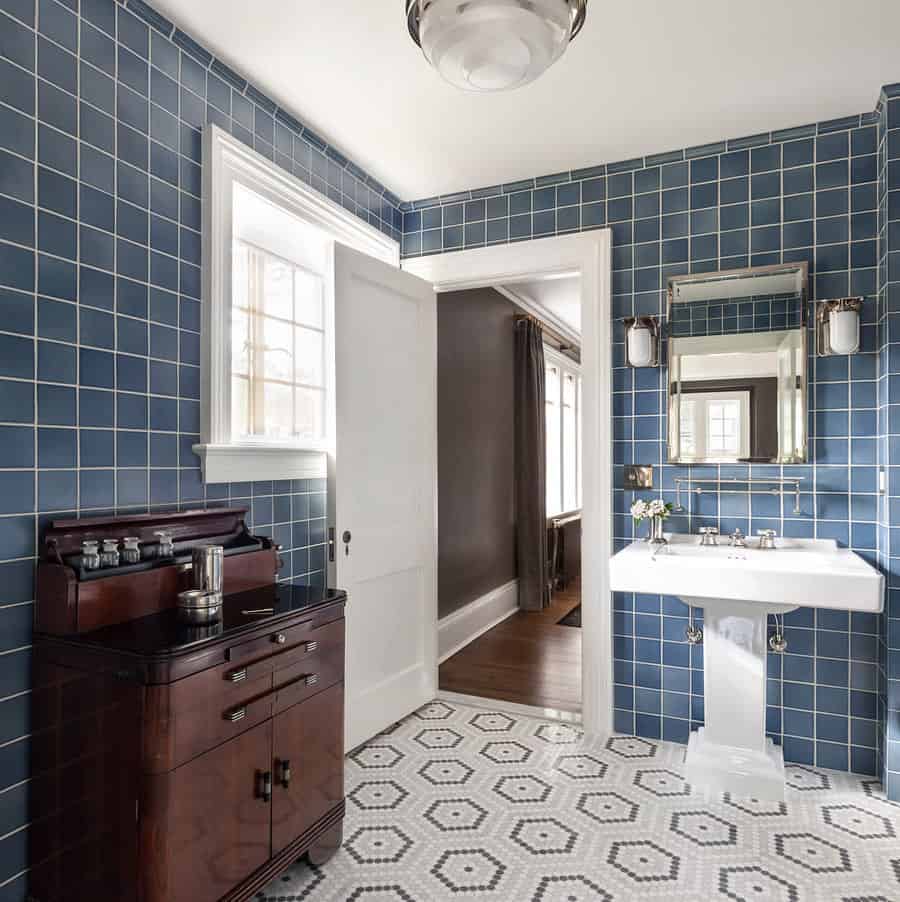 14. Add Wall Art
Transform your blue bathroom into an elegantly wallpapered paradise with some wall decor. Create a wall with framed art, macrame wall hangings, or a mood board for some creative flair. Play up the blue of the room by infusing it with warm and earthy hues, or take a simple modern approach by working in whites, greys, or black and white accents as an eye–catching contrast.
Place plush towels and bathmat to add texture and a homey atmosphere to the bathroom. Put your own transformation to the test, surprise yourself, and feel fantastic when you step foot into your new blue bathroom.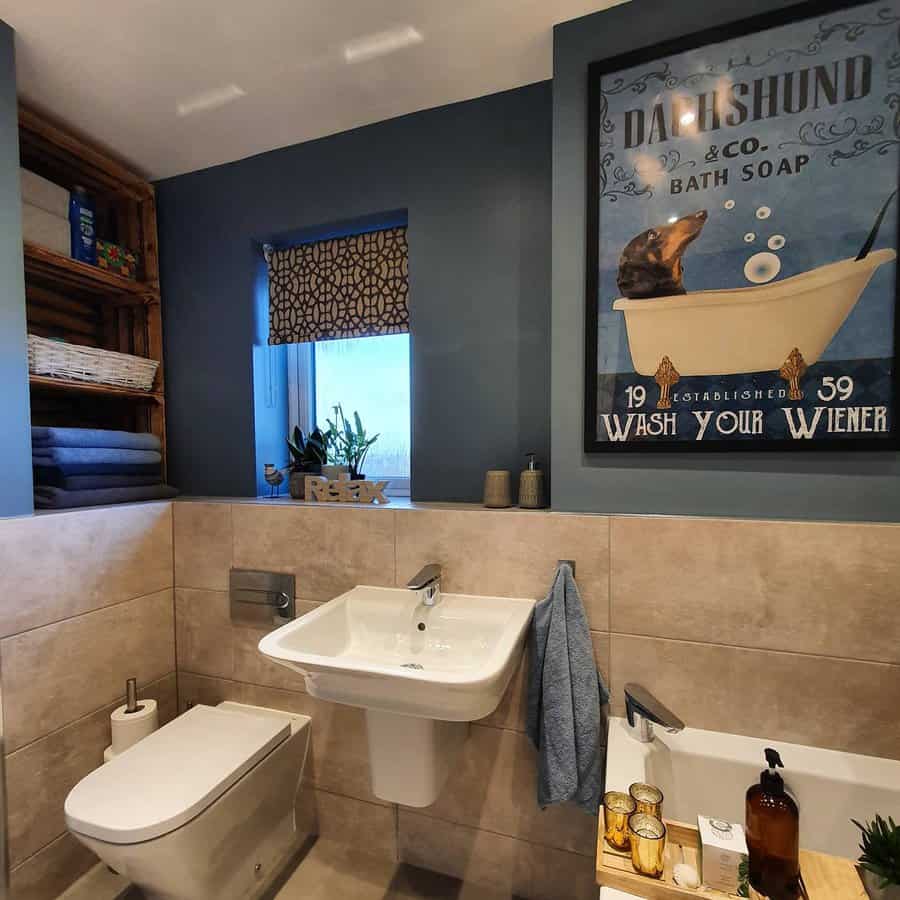 FAQs
Is blue a good color for a bathroom?
Yes, blue is a great color for your bathroom. It's a calming color and the color of water, helping it to make sense in your bathroom. Blue is also a versatile color, so that you can choose almost any shade from dark to light.
What color goes with blue in a bathroom?
A clean, simple, and classic color combination is to use white with blue. However, you can also use black, grey, yellow, green, and teal. The color that you use with your blue will depend on the shade you choose.
Should floor and wall tiles be the same?
For the best look, your wall and floor tile should complement each other but not be exactly the same. They also shouldn't be too different from each other. If you use the same tile for the walls and floor, it can close the room in, as you lose the definition of where the floor ends, and the walls start.