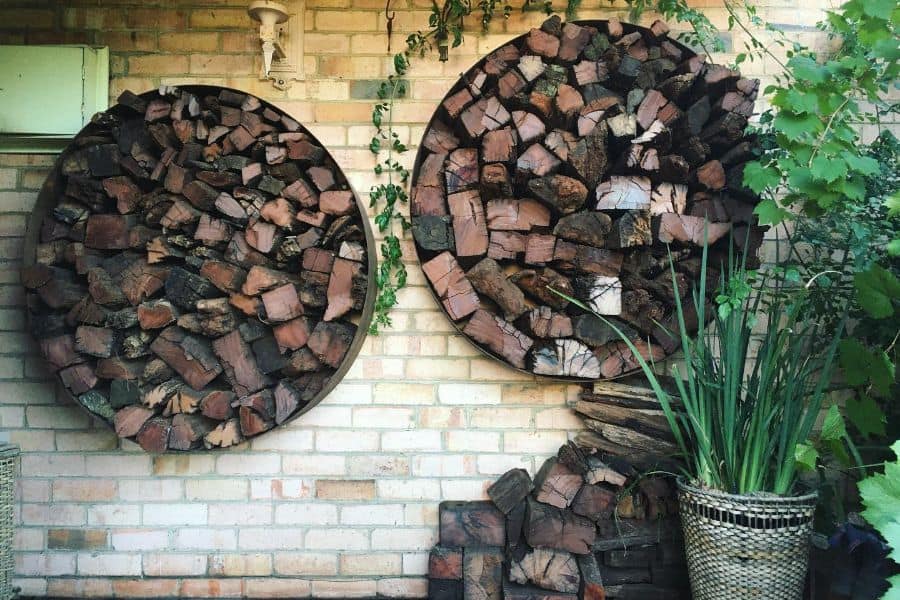 74 Firewood Storage Ideas
Nothing matches the rustic charm of a wood-burning fireplace. Gas fire logs are simple to use but fail to replicate the crackling sounds and smoky aroma of a real wood fire. To achieve the perfect fireplace or fire pit display, you must use properly seasoned firewood.
Firewood storage involves keeping wood dry. Greenwood, or unseasoned wood, has a moisture content of around 50 percent. Seasoned wood has a moisture content below 20 percent.
Proper firewood storage involves keeping your wood at this level of dryness until you're ready to use it. Check out our best firewood storage ideas and learn how to properly store your firewood indoors and out.
1. Basket Firewood Storage
If you're looking for a stylish and practical way to store firewood, basket firewood storage is the perfect option! Not only does it provide a rustic, vintage look but it also serves as an efficient way to store your logs.
It's also great for smaller spaces since most basket firewood storage pieces are stackable. Plus, it makes gathering wood from outside much easier since you can just grab a basket and be done! Keep your fire blazing with basket firewood storage all winter long.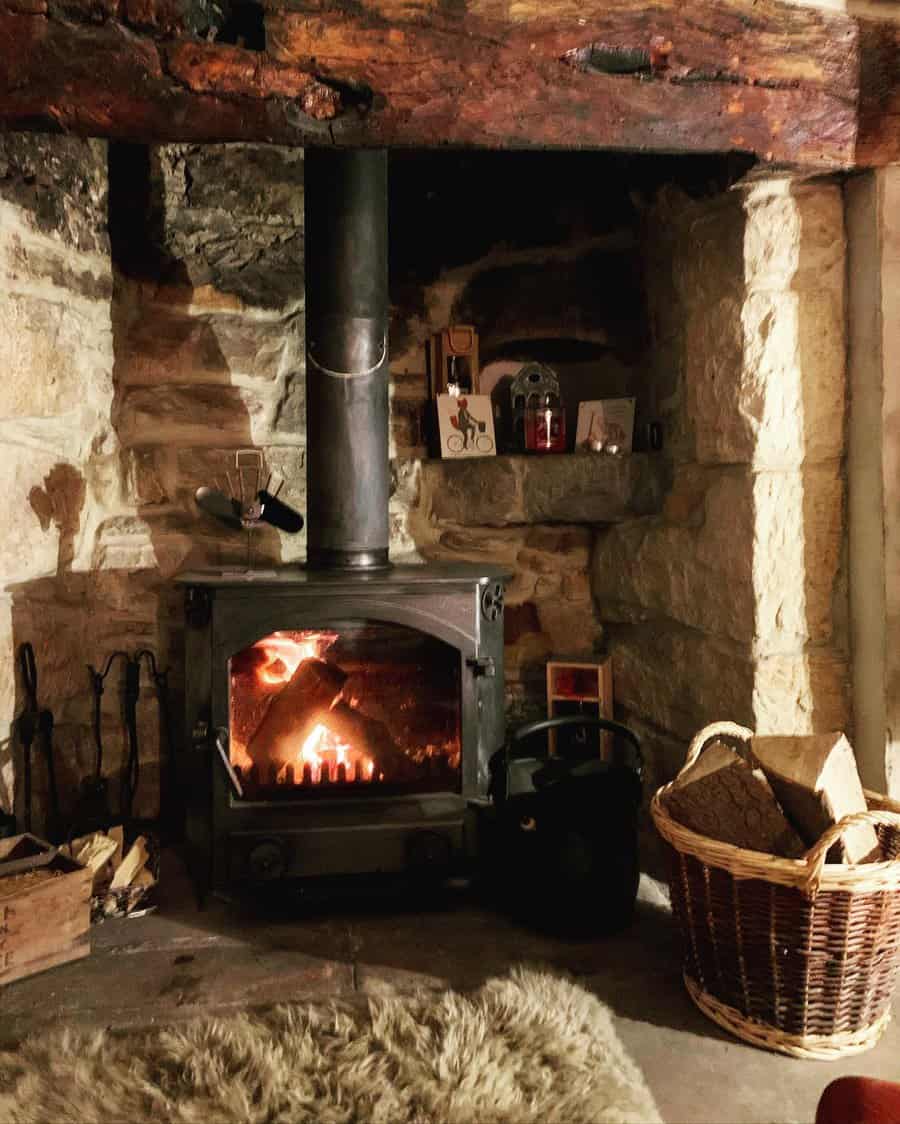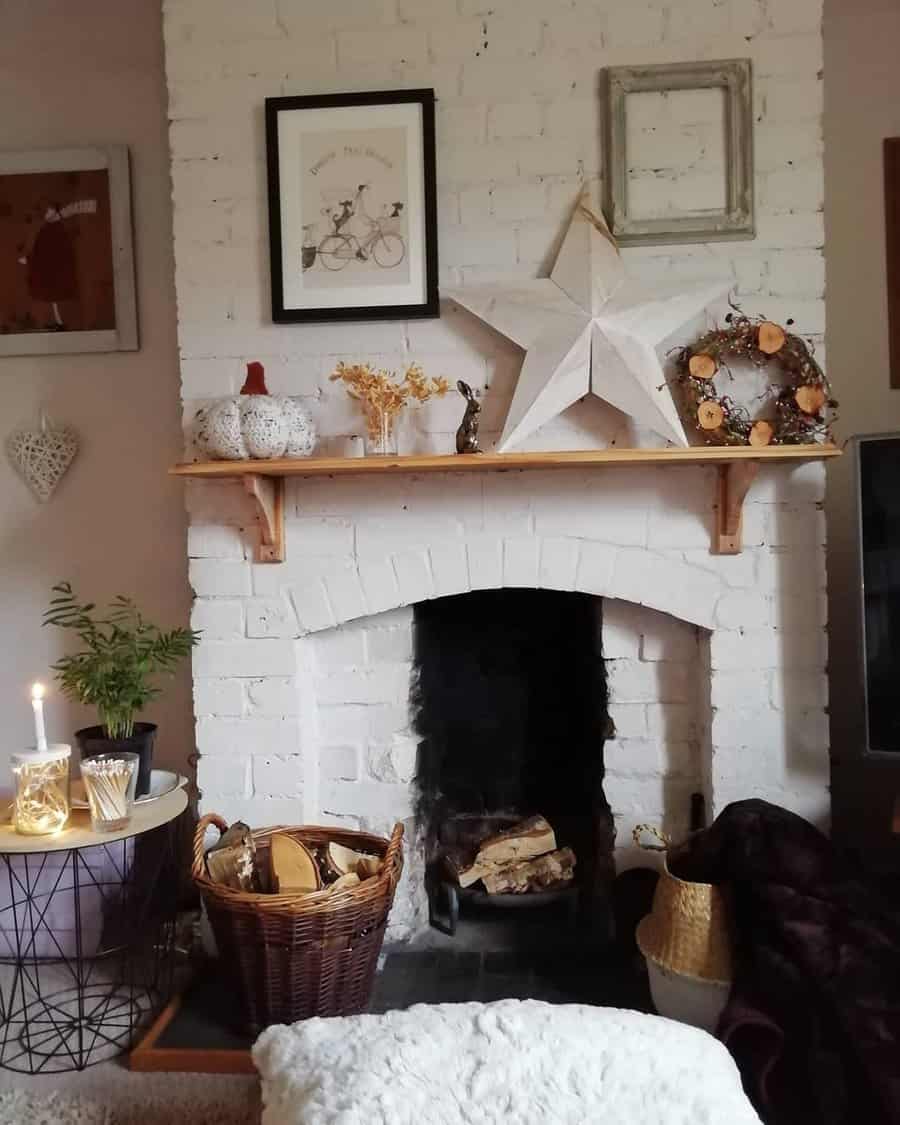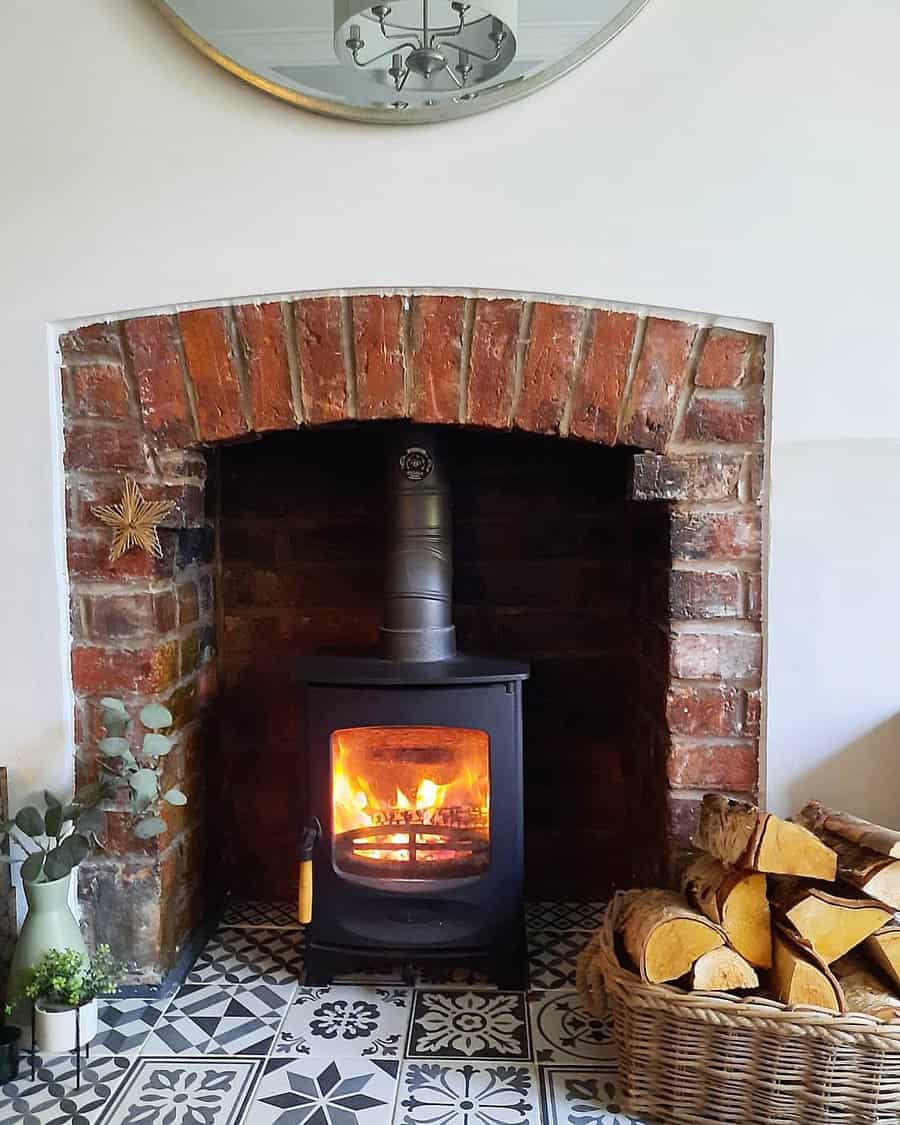 2. Bulild Under-The-Bench Storage
If you're looking for a fun, easy and underutilized way to store your firewood, look no further than under-the-bench firewood storage! This trend is sweeping the nation as a simple solution to fit any style. No need to dedicate space – under-the-bench firewood storage makes it easy to frame your logs under almost any bar, desk, or bench.
Fitting in seamlessly with its surroundings, this stylish approach to wood storage is the perfect option for any home. From traditional to modern, under-the-bench firewood storage is here for you.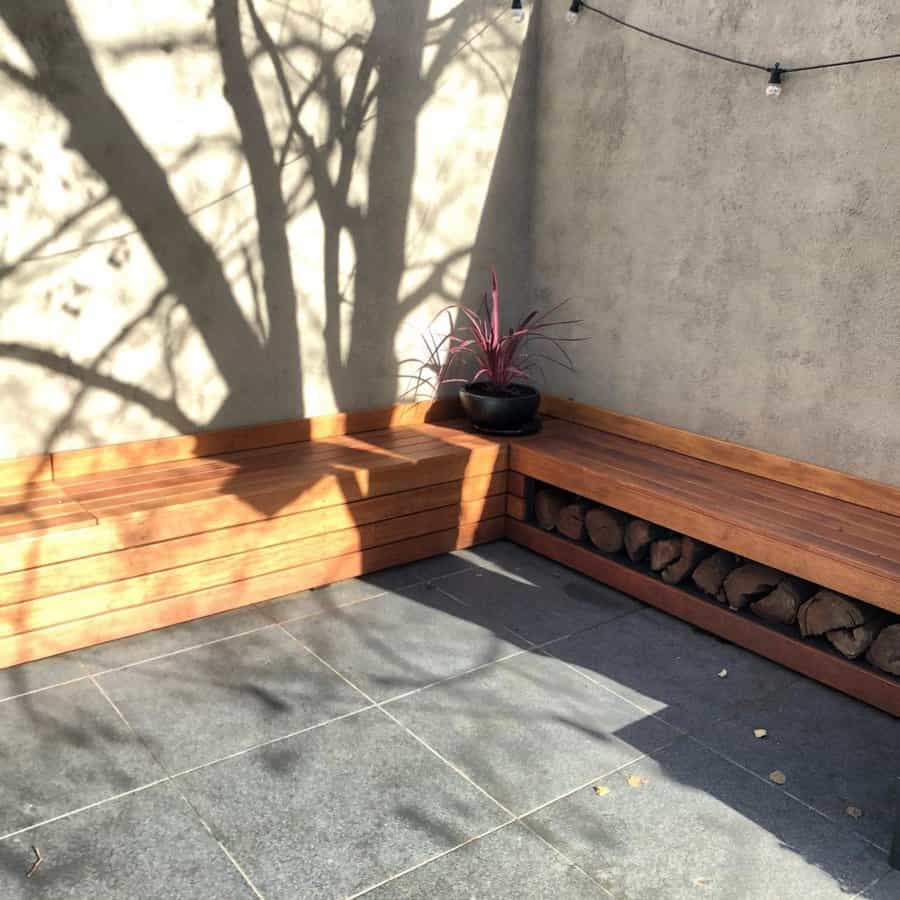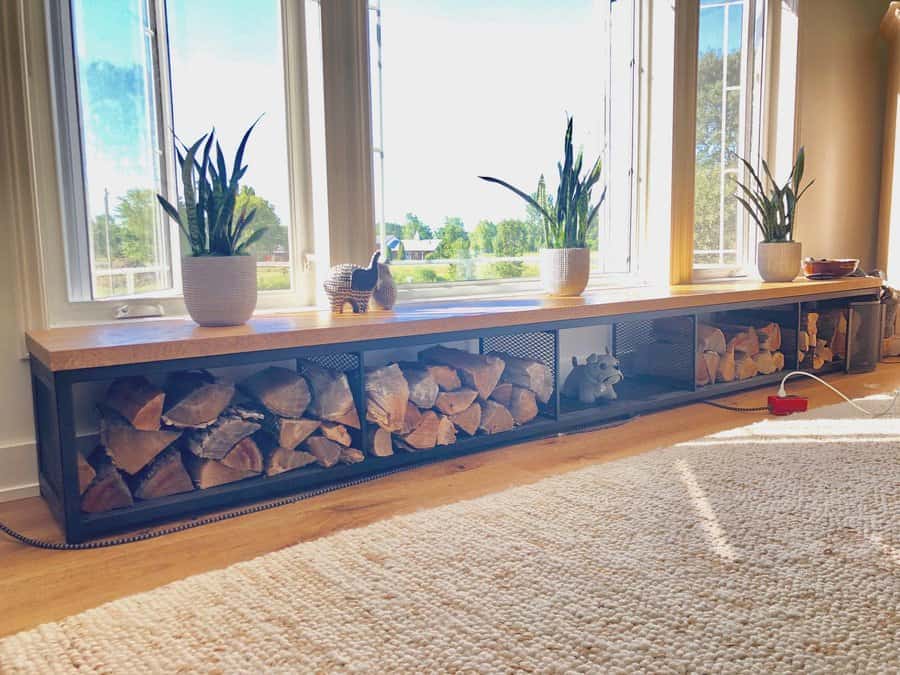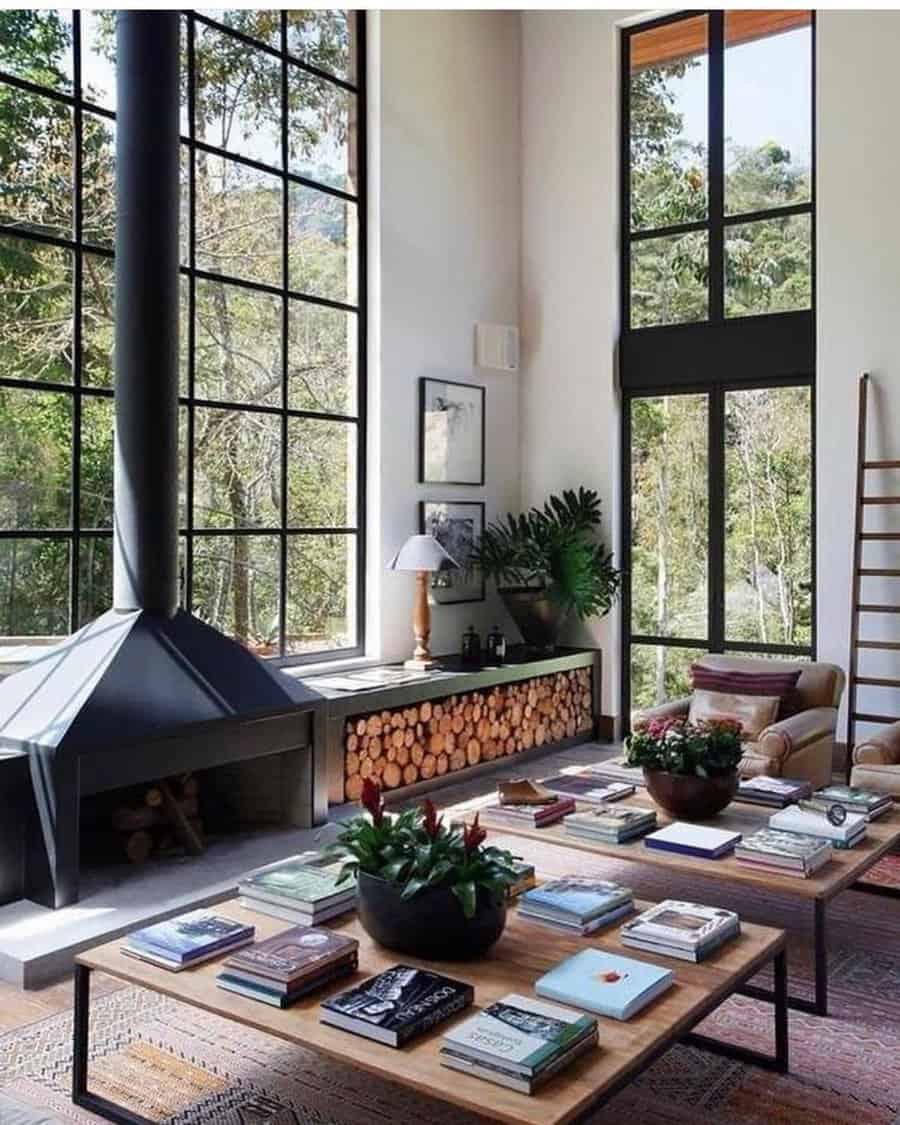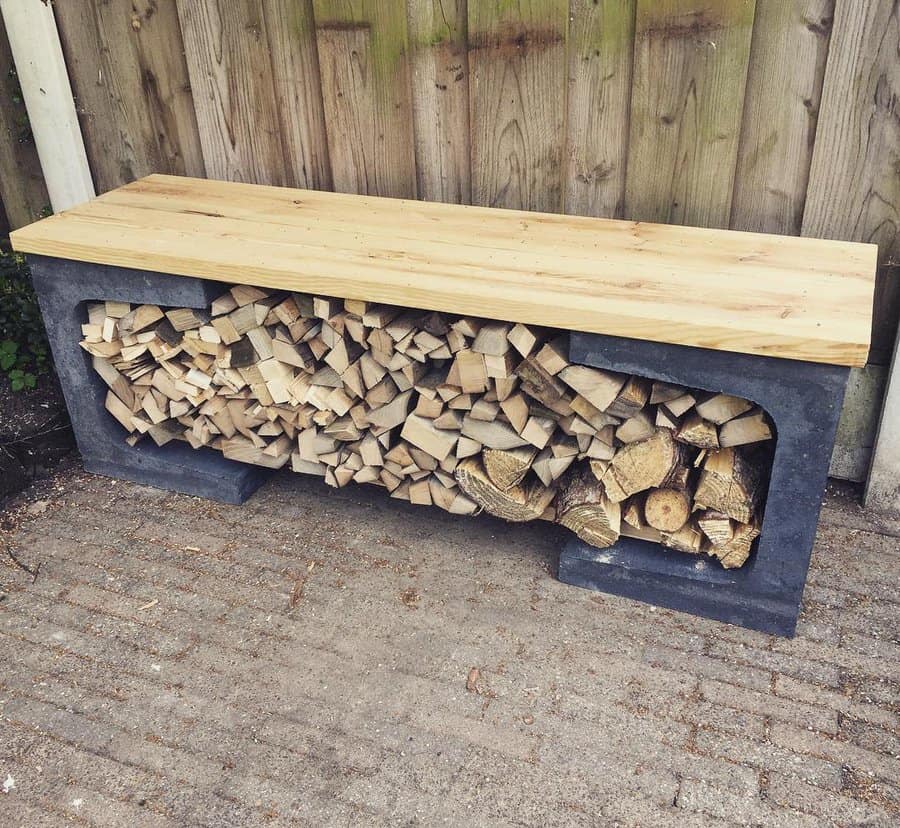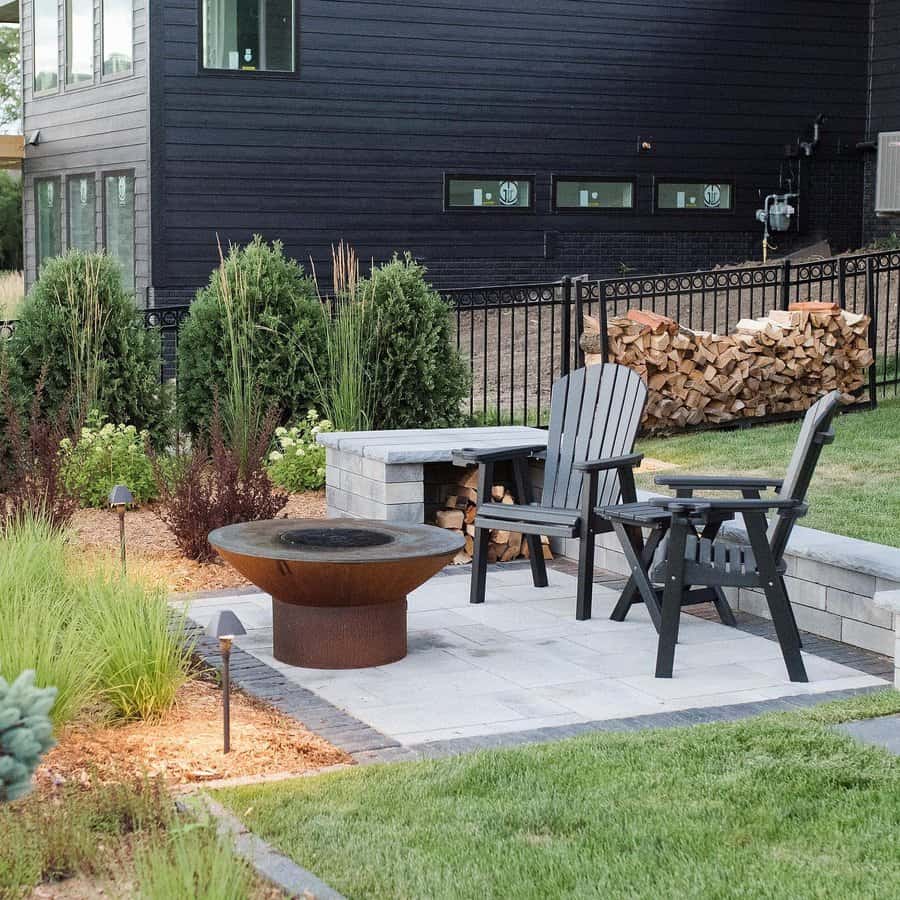 3. DIY A Metal Firewood Rack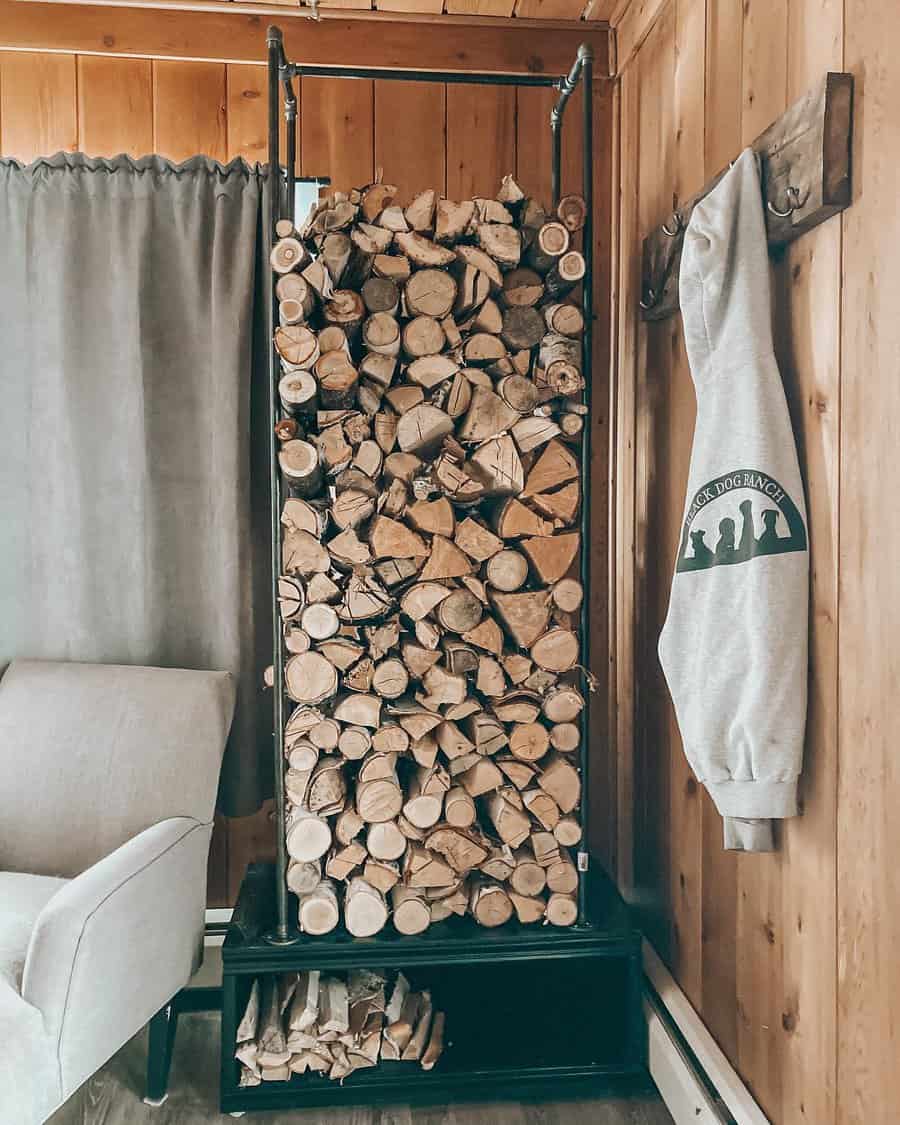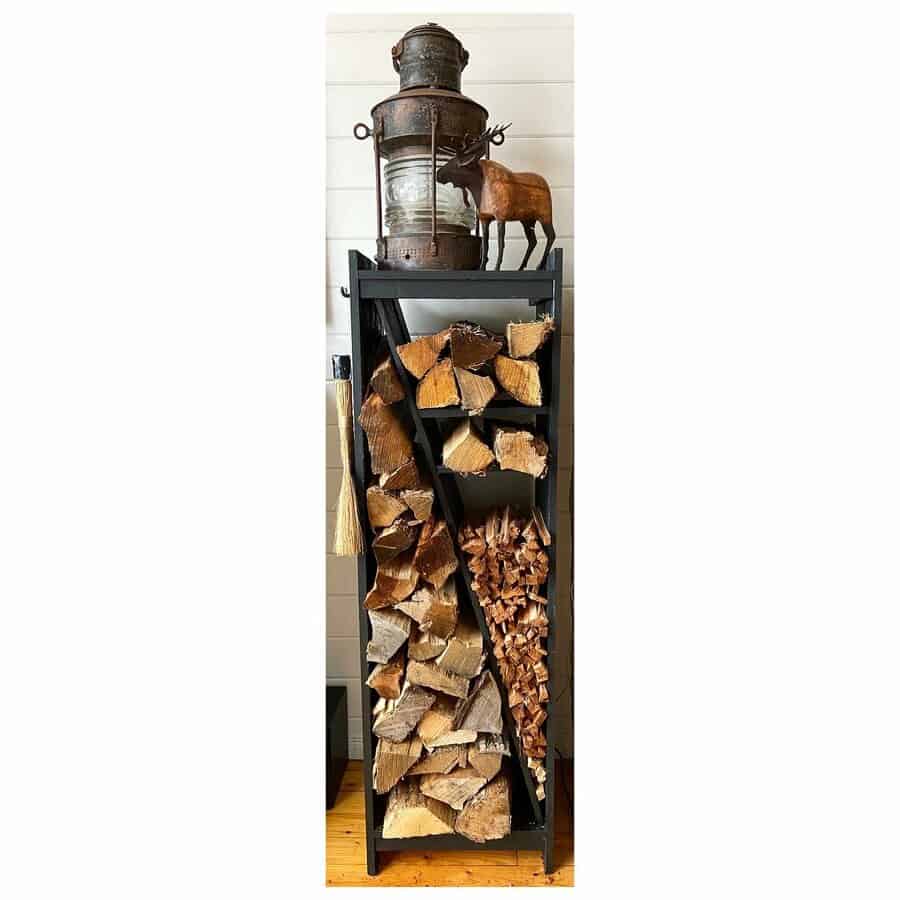 4. Repurpose Crates Into Firewood Shelves
If you've been dreaming of that special little nook to store firewood and finally have room in your home, there are many creative solutions. For a unique crate firewood shelf, consider stacking wooden crates together horizontally and adding a tabletop board on top. Not only is this a charming way to store your wood, but it also doubles as a convenient table surface.
To create the crate shelf, you can purchase the crates or make them yourself by using recycled wood planks. For an even more earth-friendly approach, transform an old pallet into an attractive yet robust DIY pallet shelf for storing logs of any size. Perfect for adding extra storage in a tight corner or entryway, this shelf will quickly become one of your favorite features.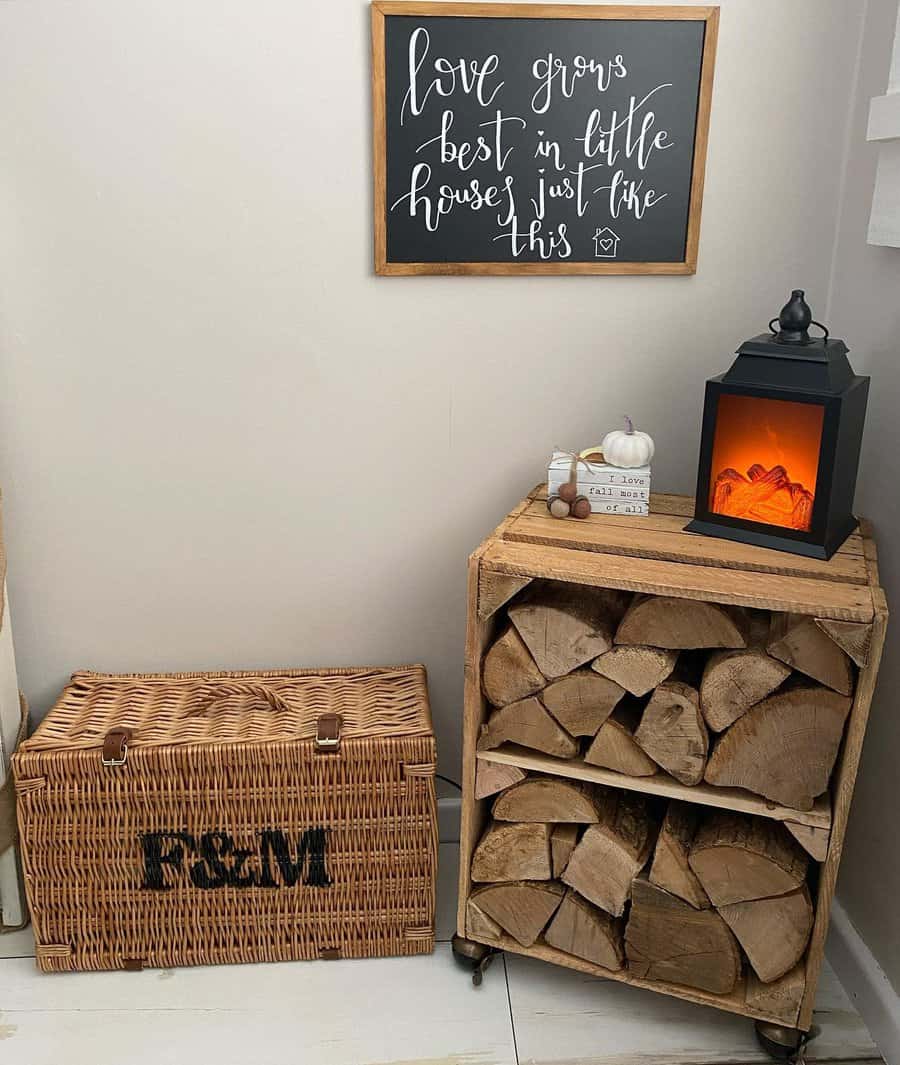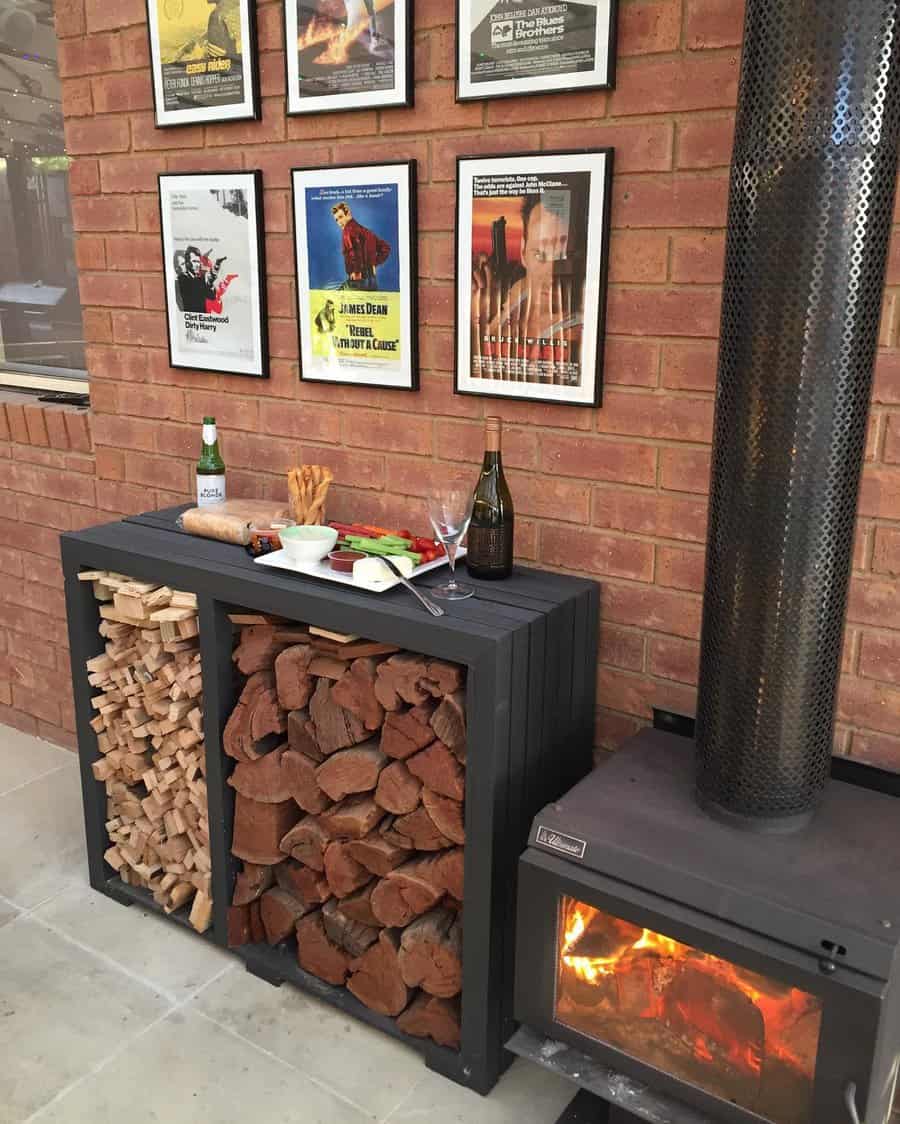 5. Round Pre-Fabricated Metal Rack
When it comes to firewood storage, round pre-fabricated metal racks are an eye-catching and sturdy solution. Unlike traditional round wooden racks, these round pre-fabricated metal racks offer the same style with added durability – they won't rot or get damaged by the outside elements.
And best of all, they can be used as a standalone decorative piece in your garden or patio space. With round pre-fabricated metal racks for firewood storage, you can enjoy an aesthetically pleasing way to keep your wood dry and safe from the elements.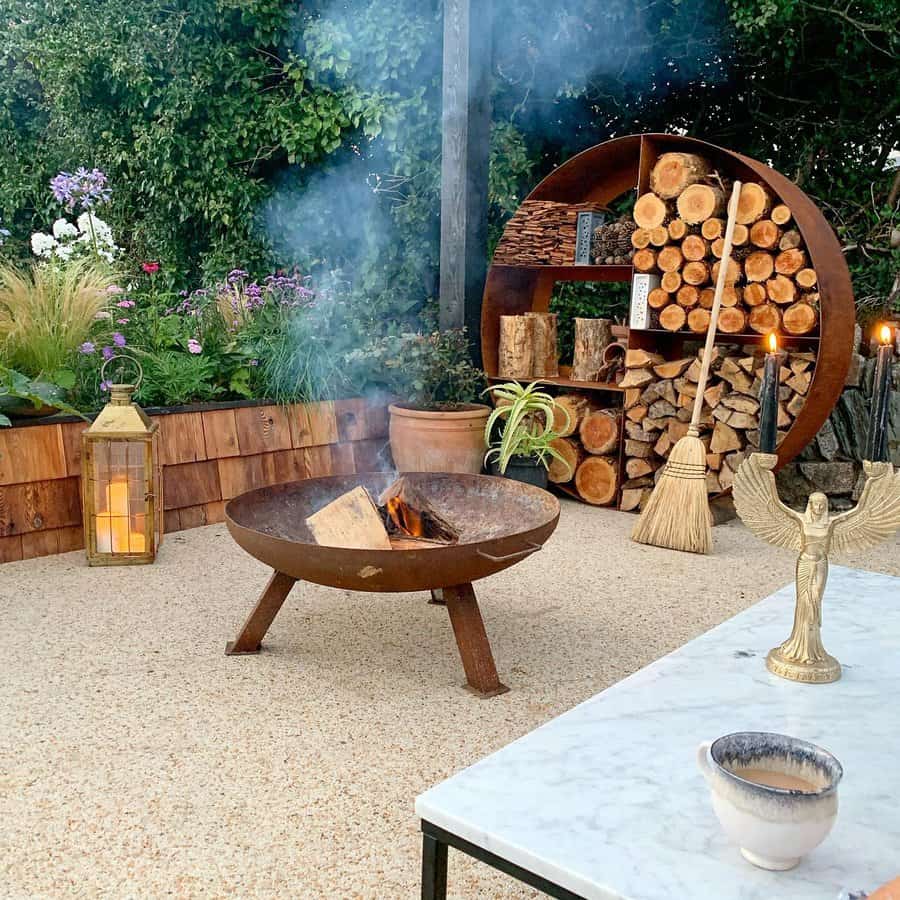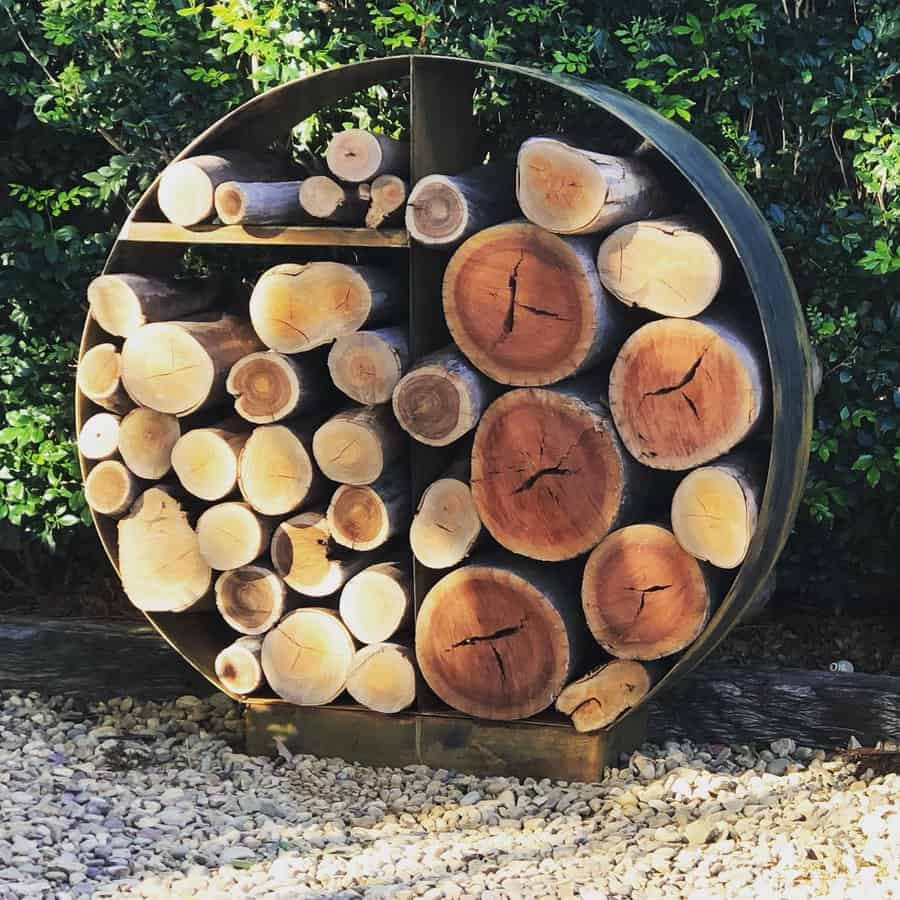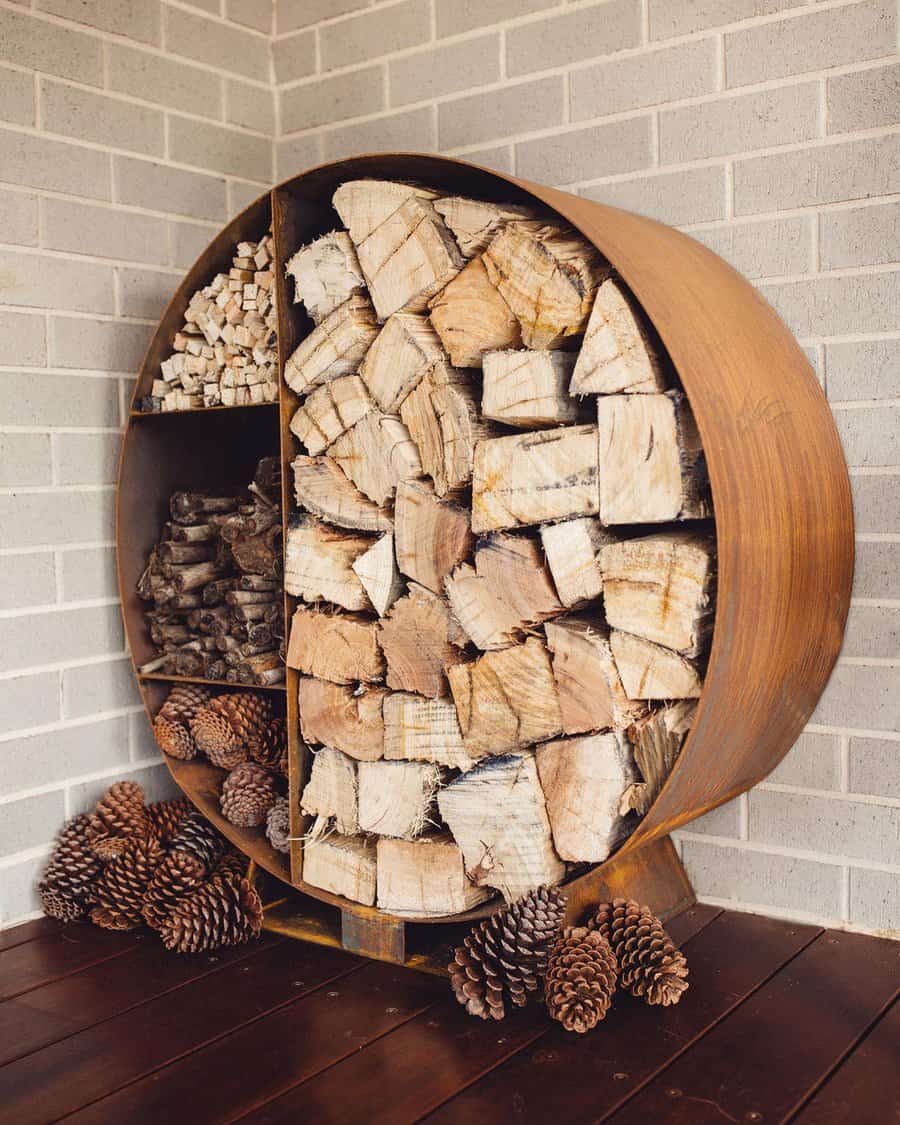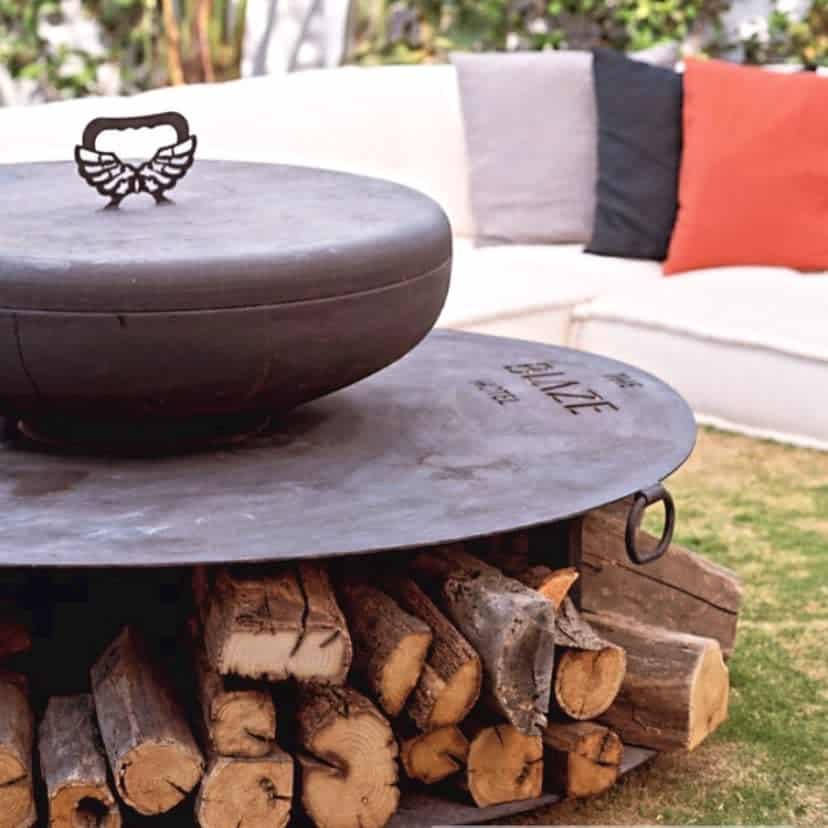 6. Fireplace With Wood Storage
Whether you own a fireplace, wood-burning stove, or another heat source, storing firewood can be challenging. To make it easier, consider adding a fireplace with storage or wall storage to your space. If you're limited on space, layered and stacked firewood storage is an ideal solution.
Store the logs in such a way that allows them to get some air circulation and stay dry – this will prevent mold or pests from taking over. Not only will these fireplace options keep your fireplace supplies organized and properly stored, but they also add a touch of coziness to your home – perfect for chilly days spent by the fireplace!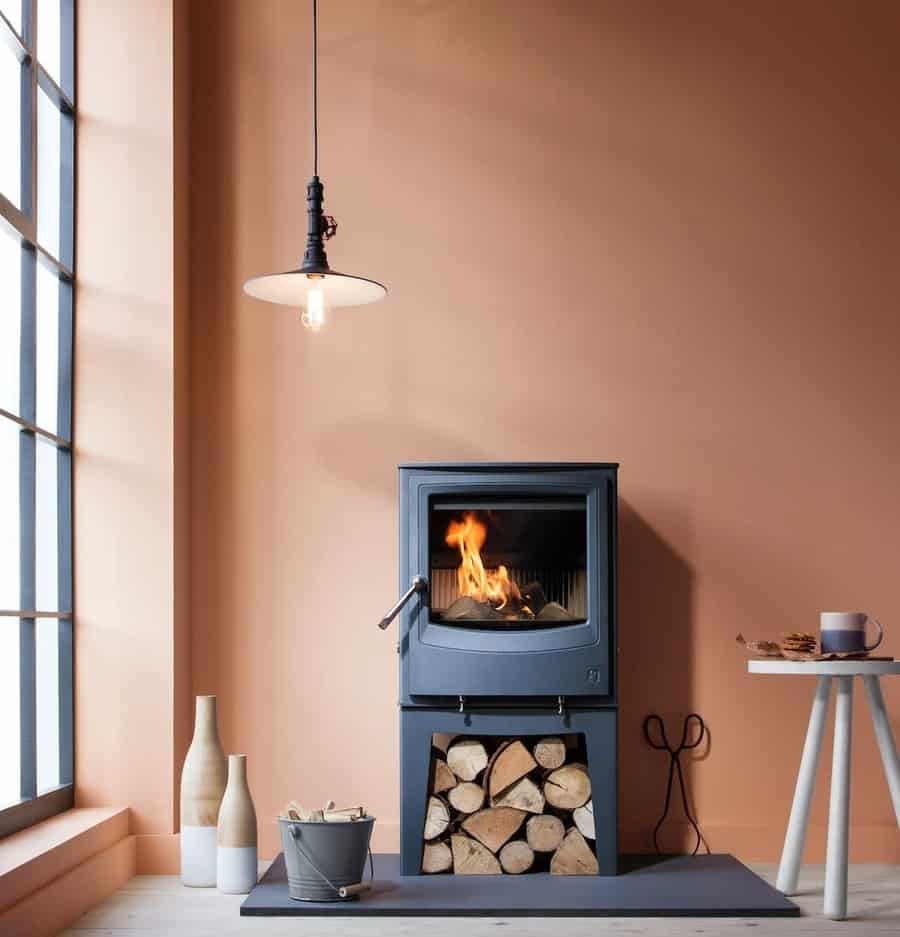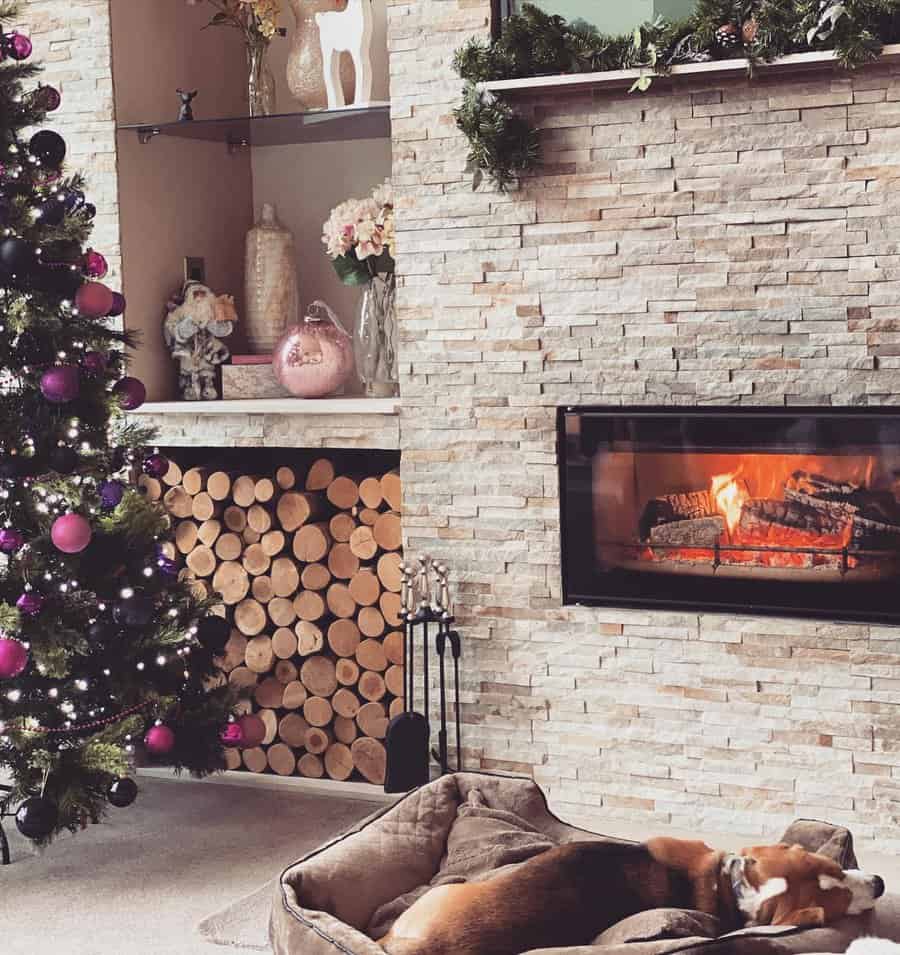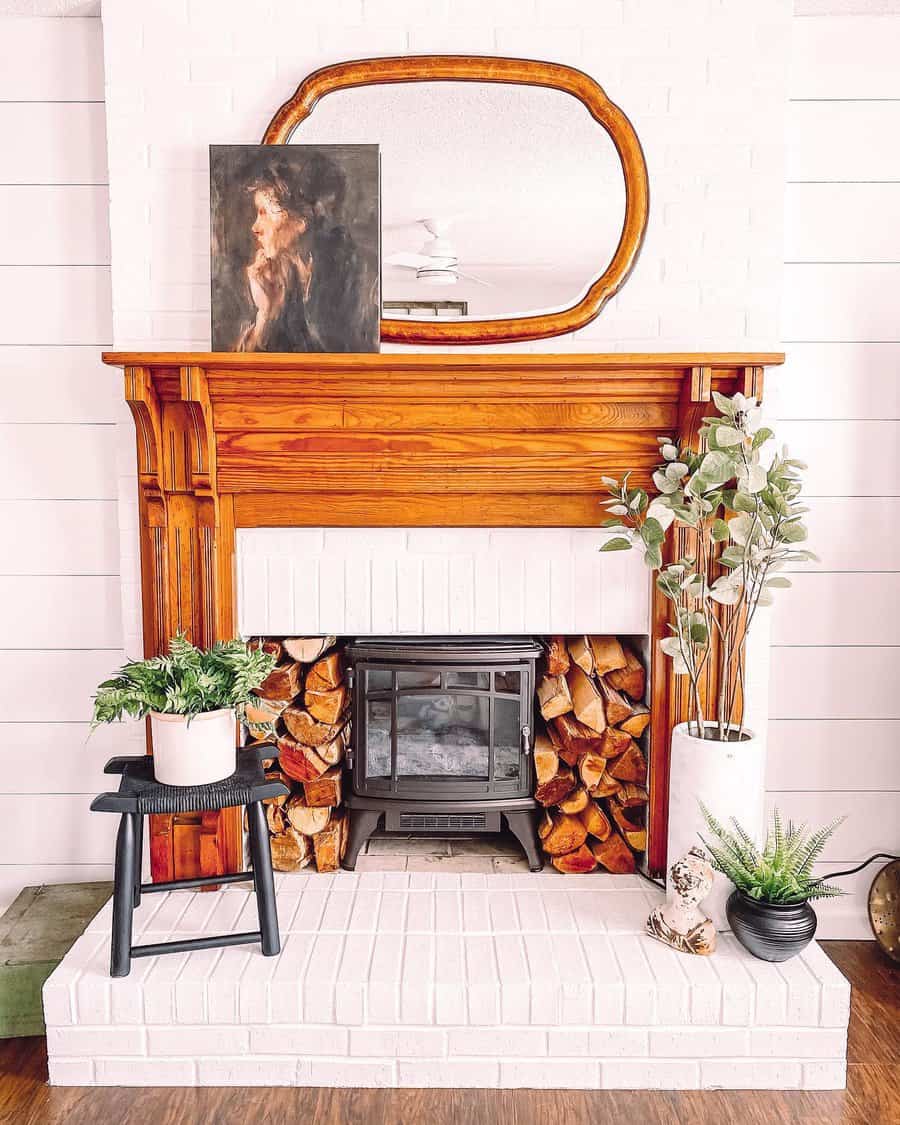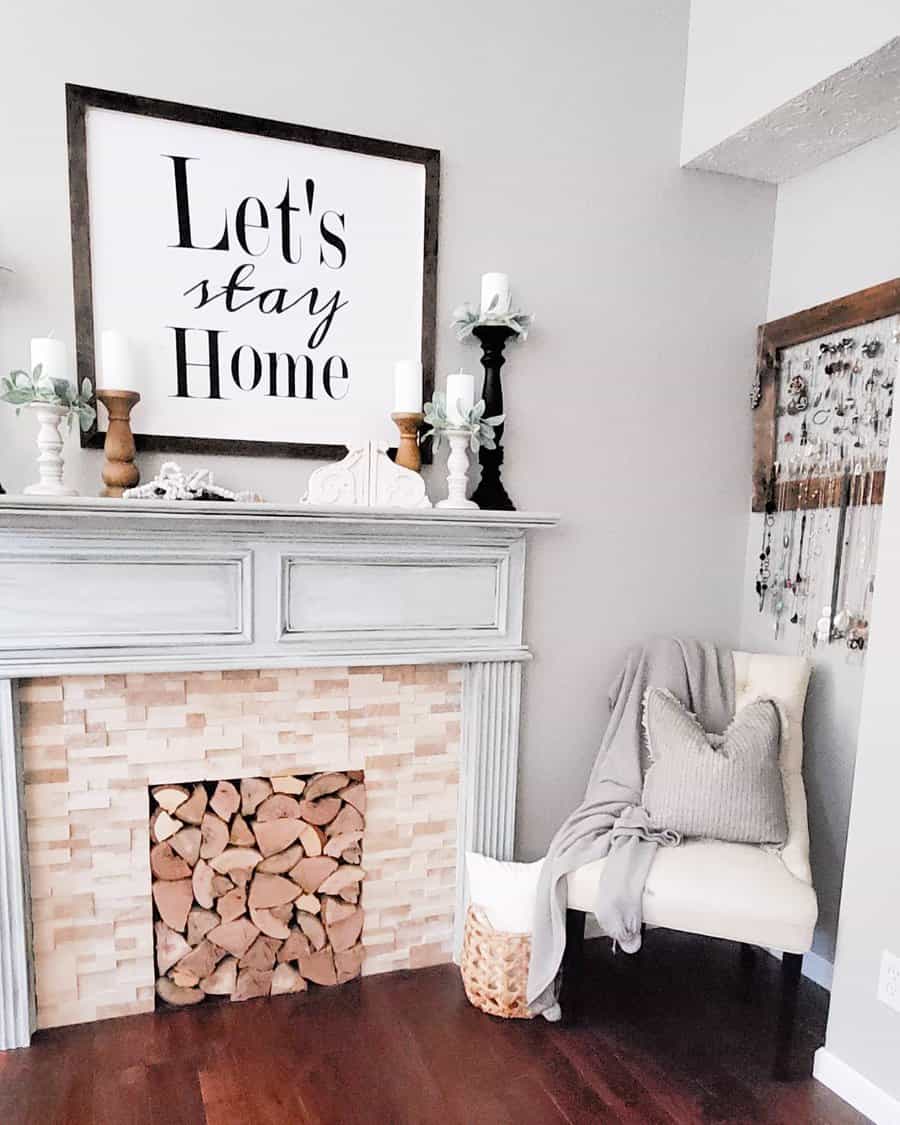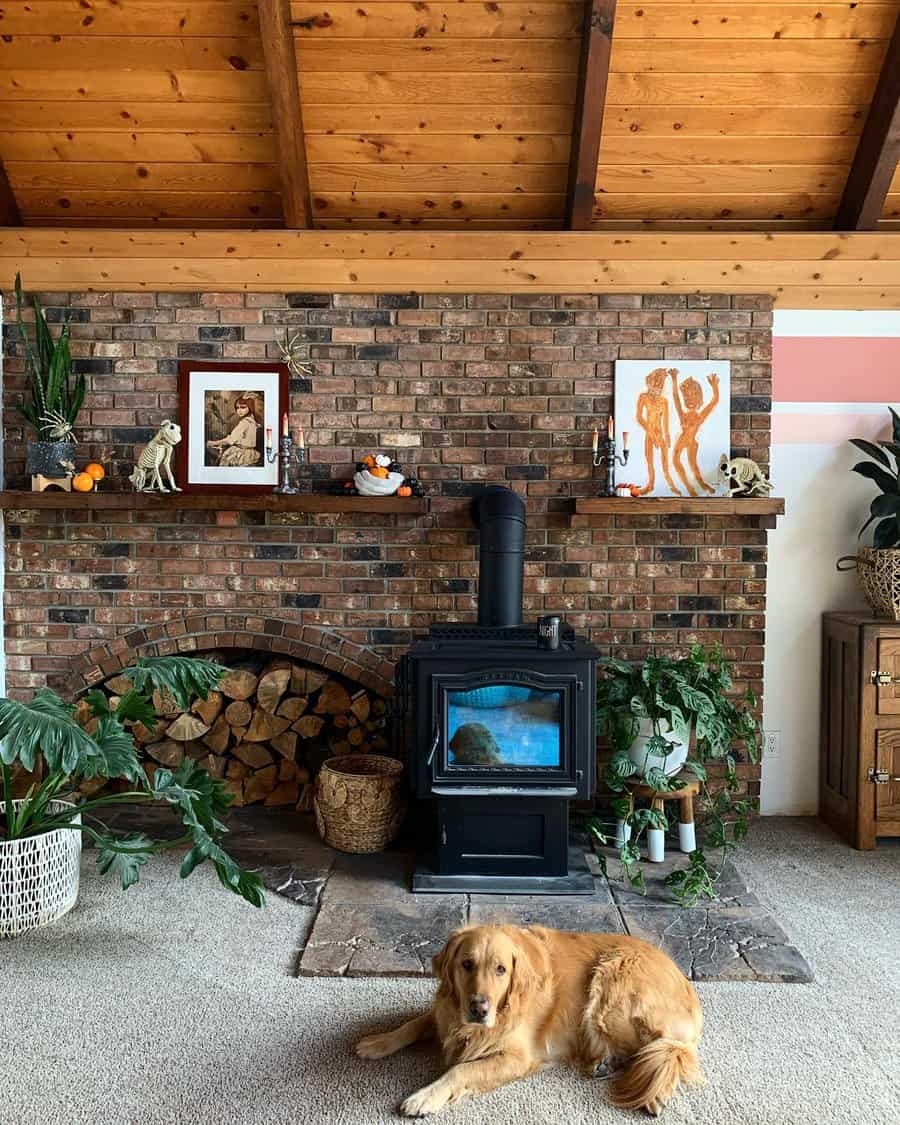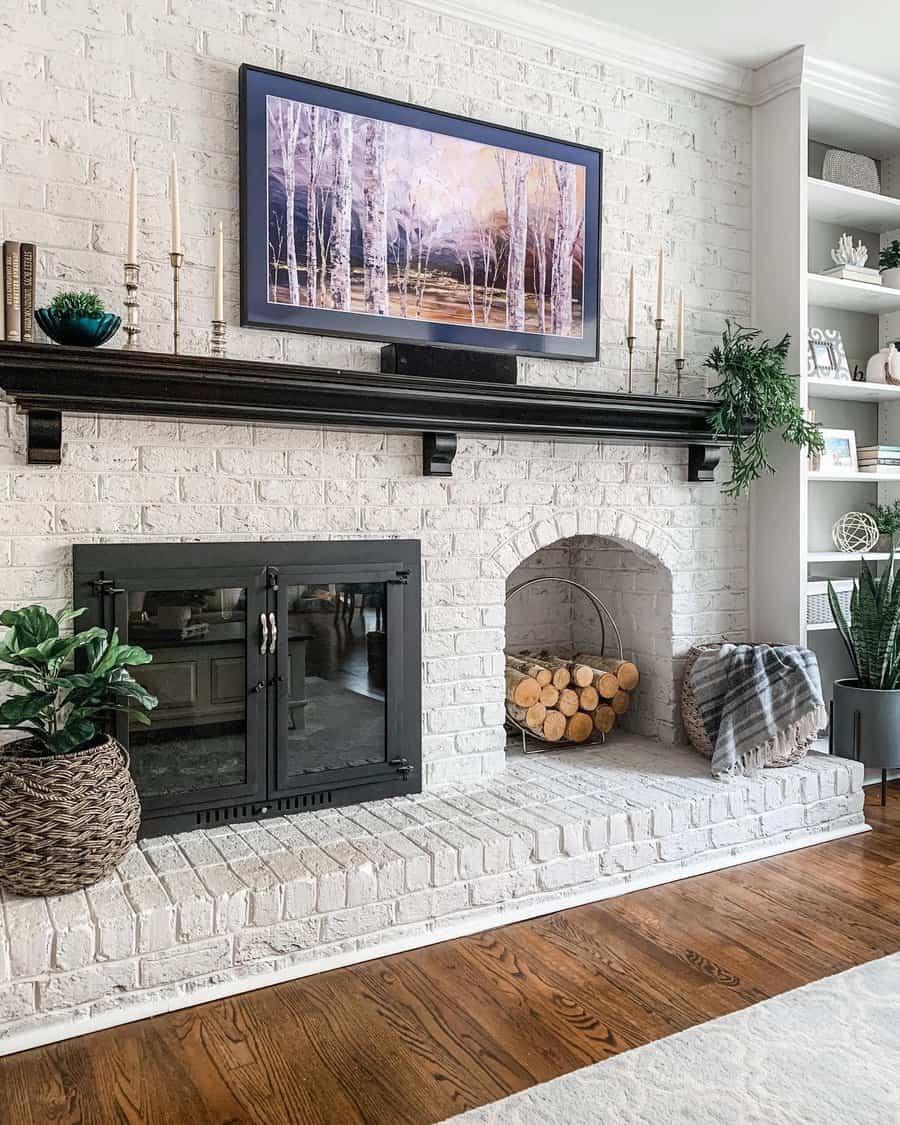 7. Stack Firewood In Recessed Areas
If you're a fan of cozy fires, nothing beats stacked firewood stored in recessed areas of your home. Finding the right spot can be challenging but it pays off when you stumble across the perfect shelving solution. Instead of having high stacks that take up too much room, why not store them on decorative wall shelves instead?
These simple recessed boxes really give off a unique vibe and can be customized to blend naturally into any existing room theme. Plus, your stacked logs always stay organized on the wall without being a hindrance to traffic or disrupting the flow of furniture around them. Storage doesn't always have to be boring!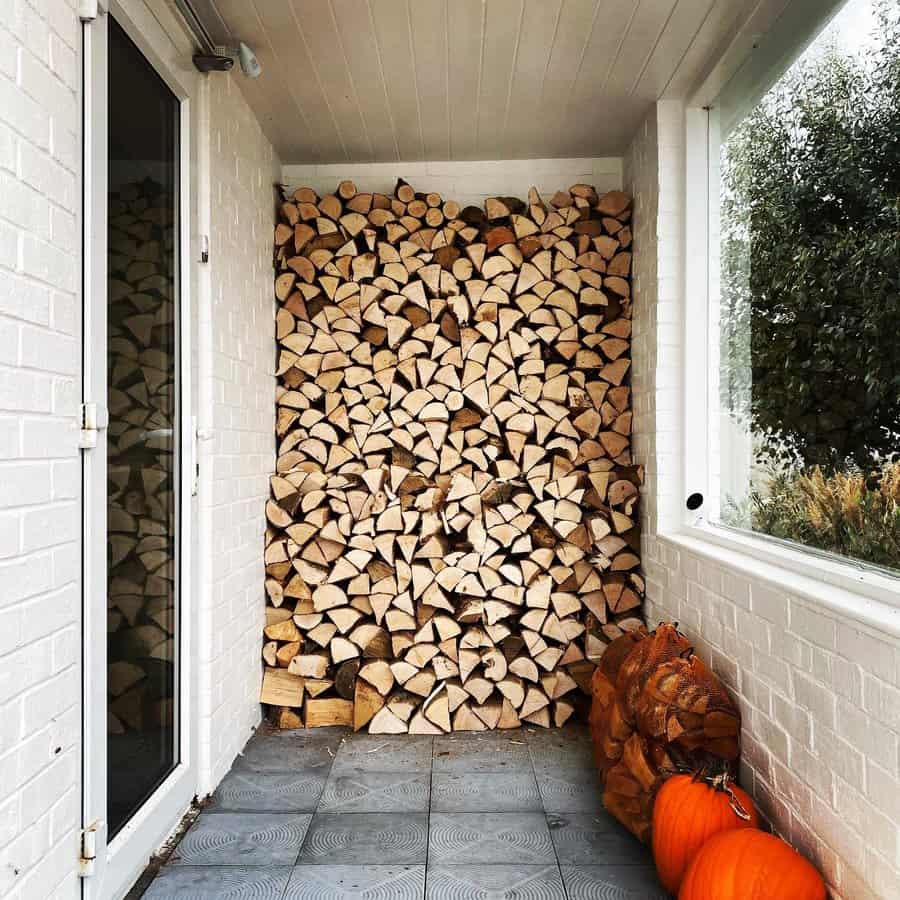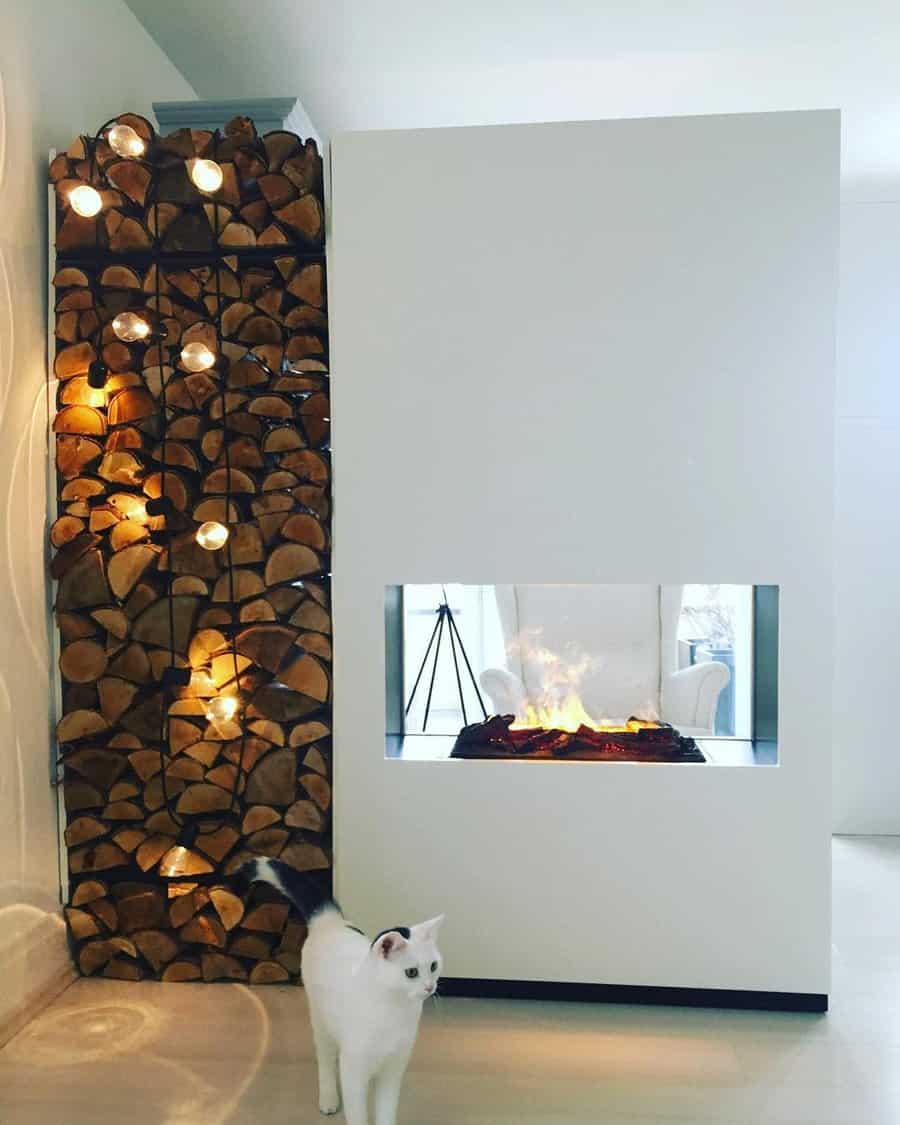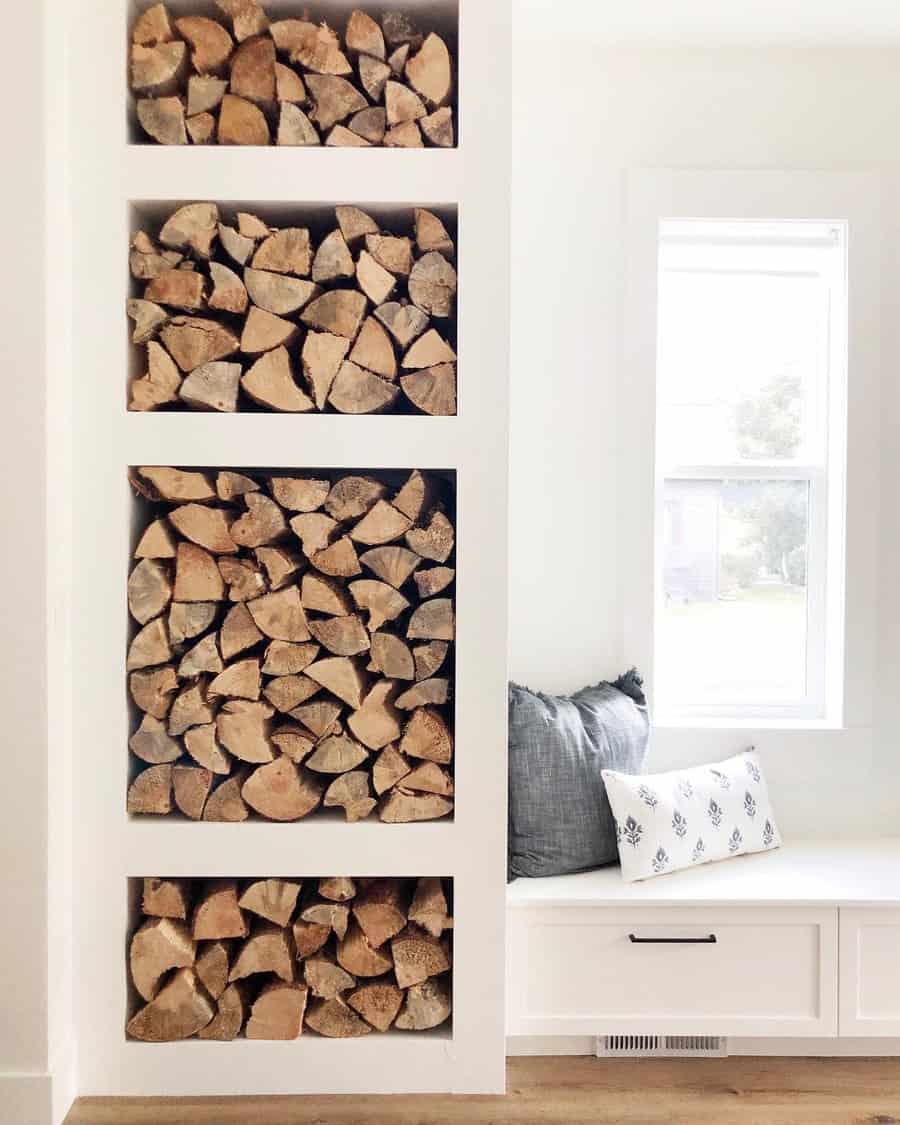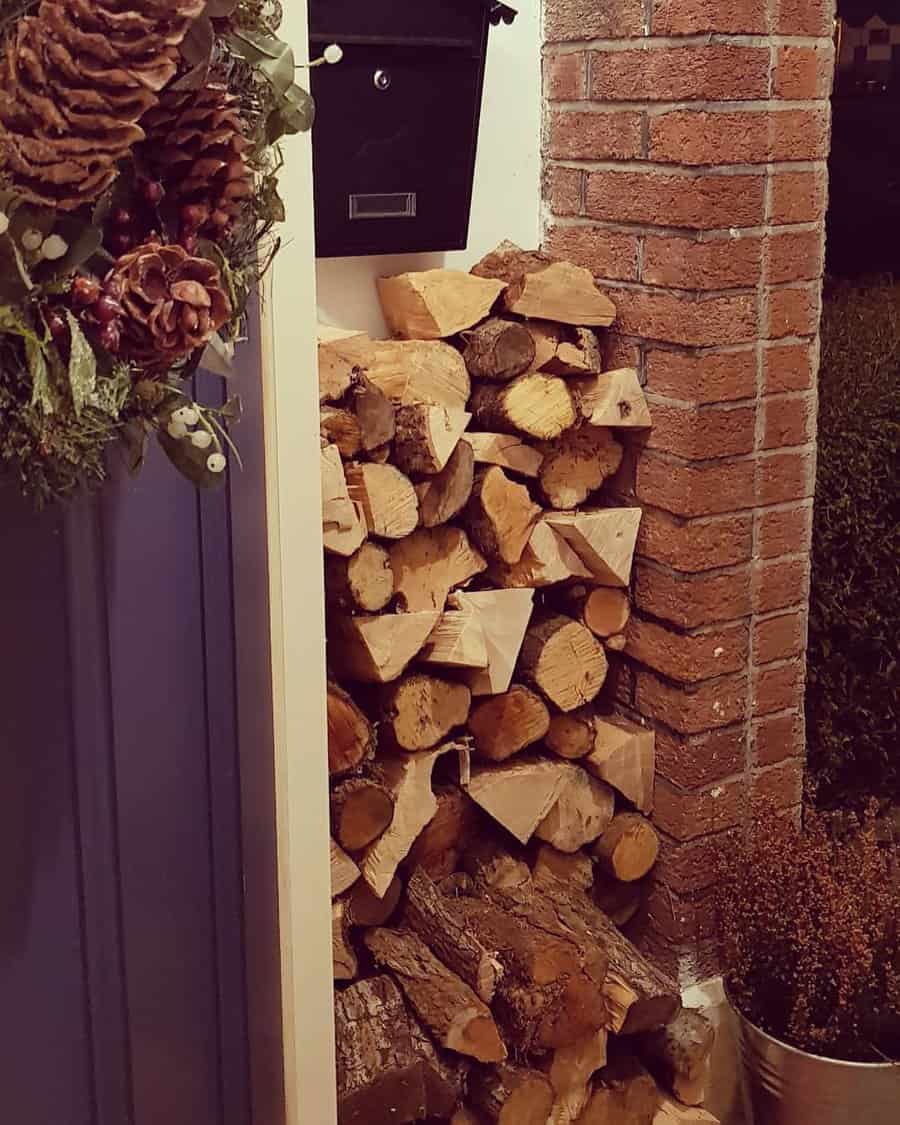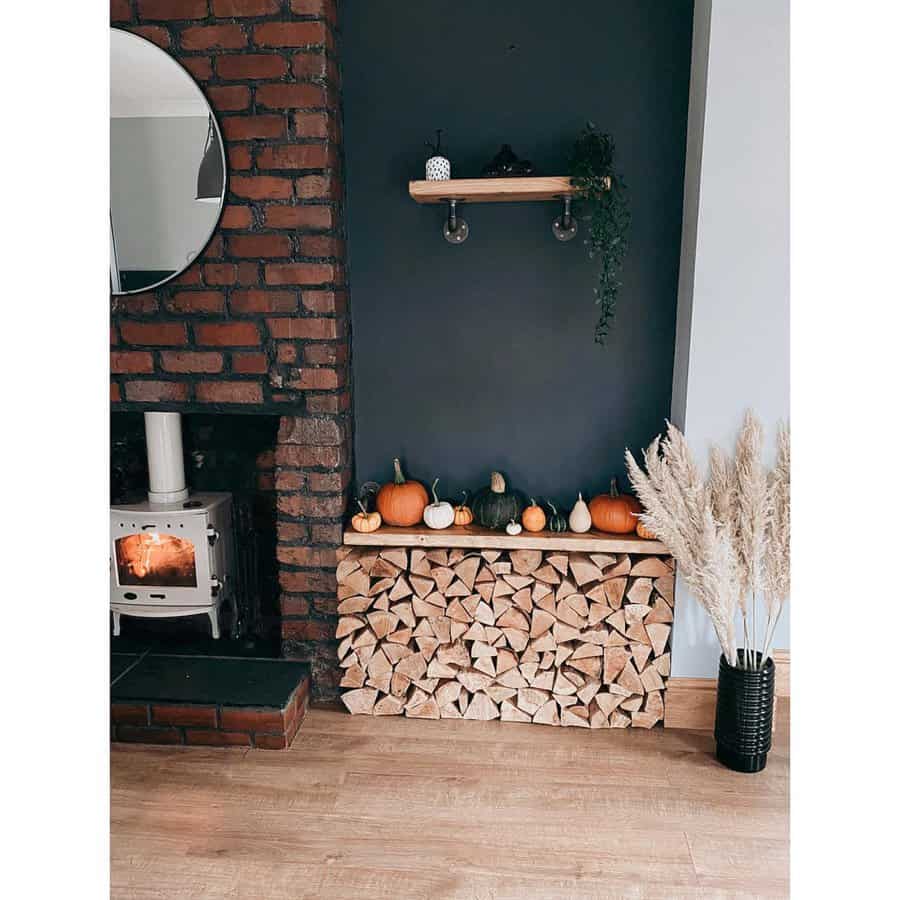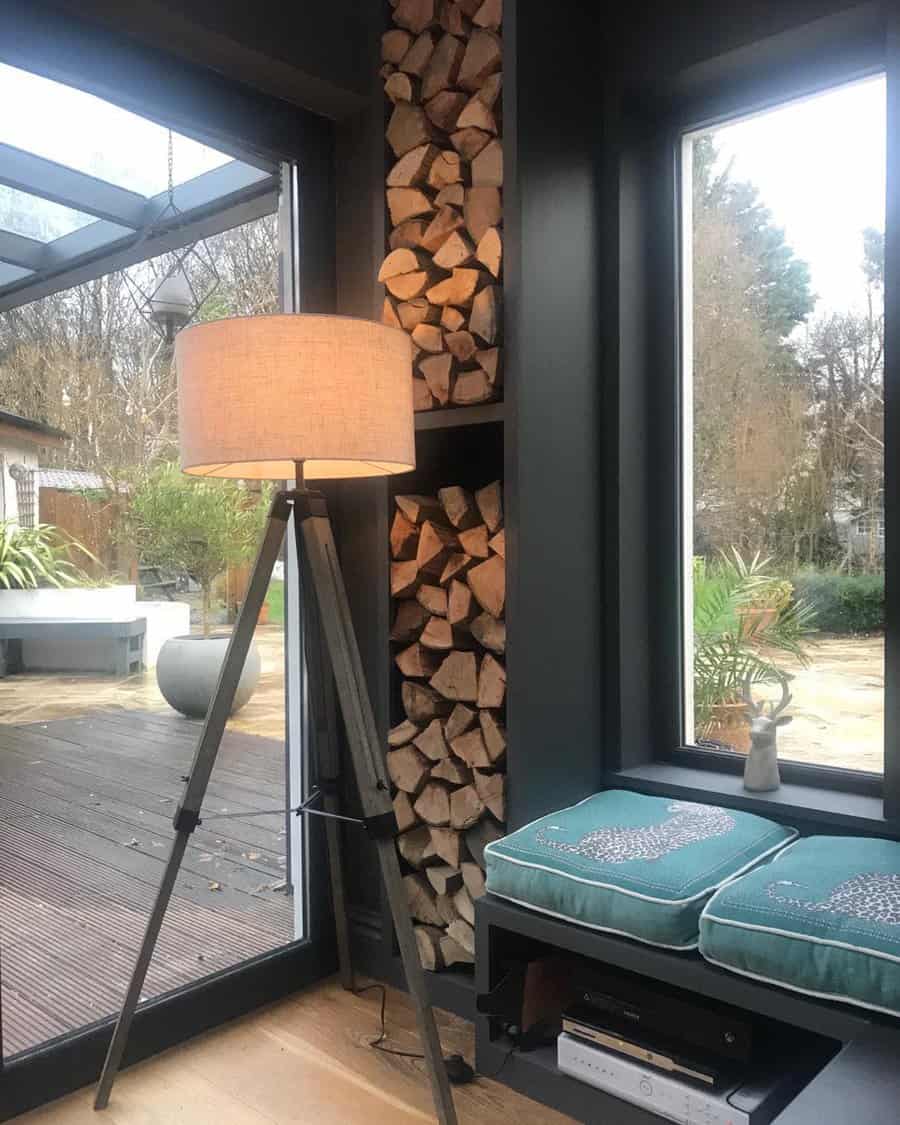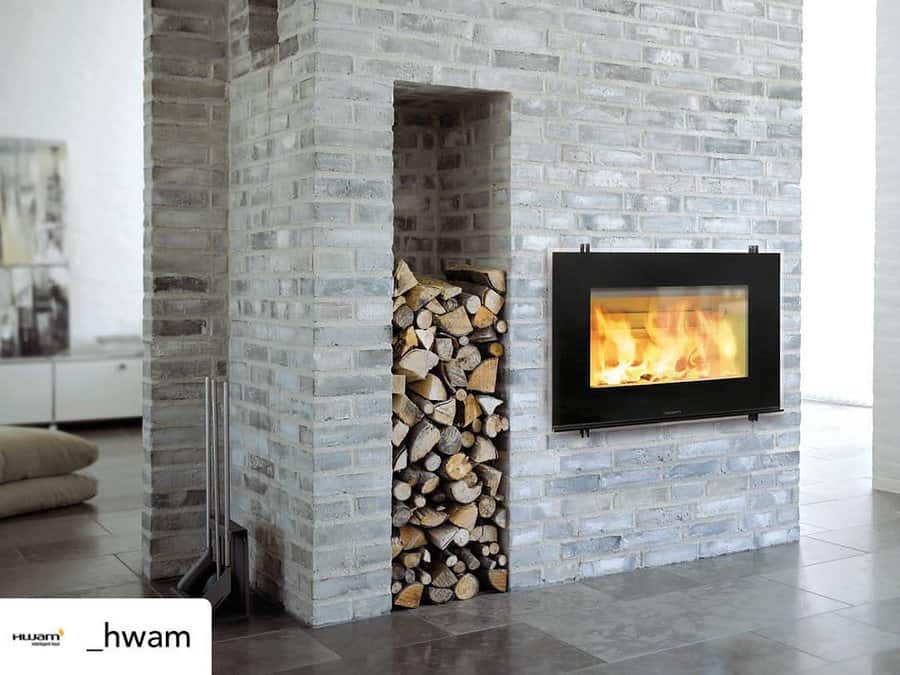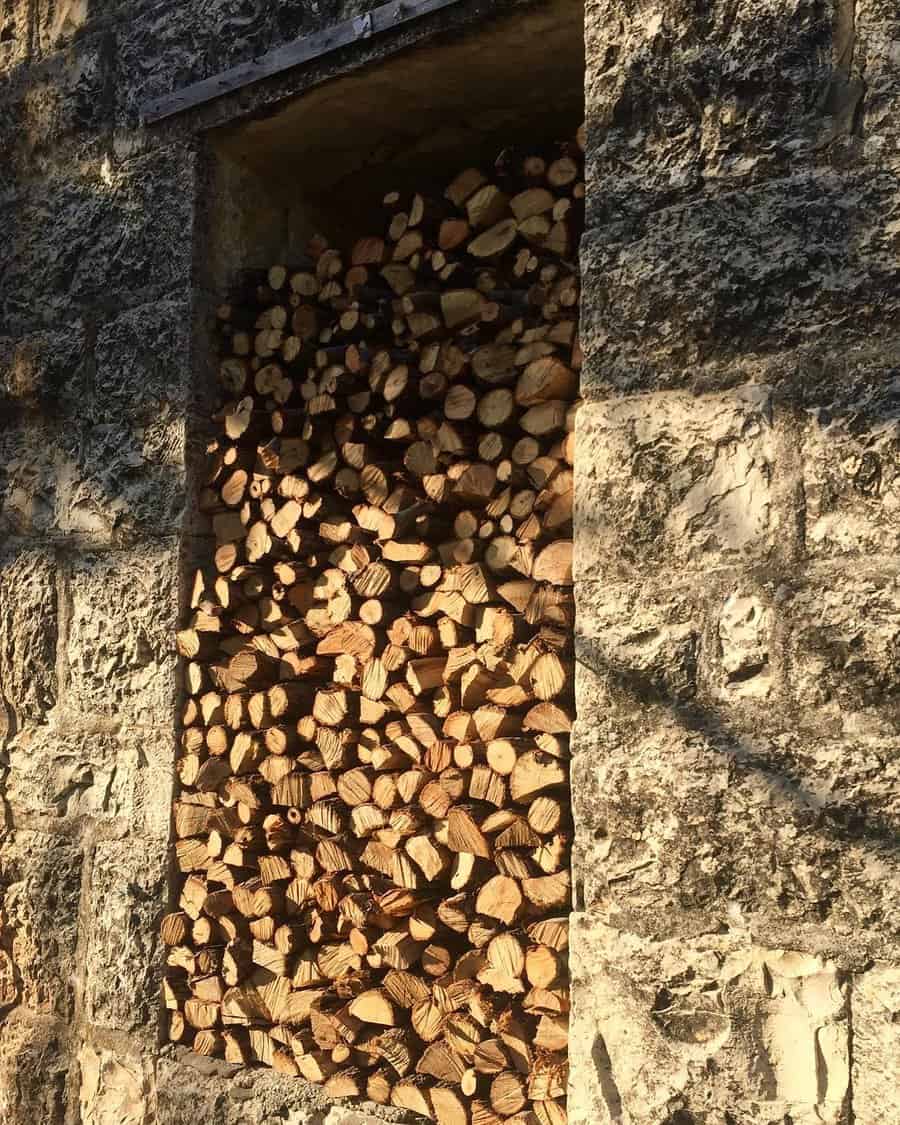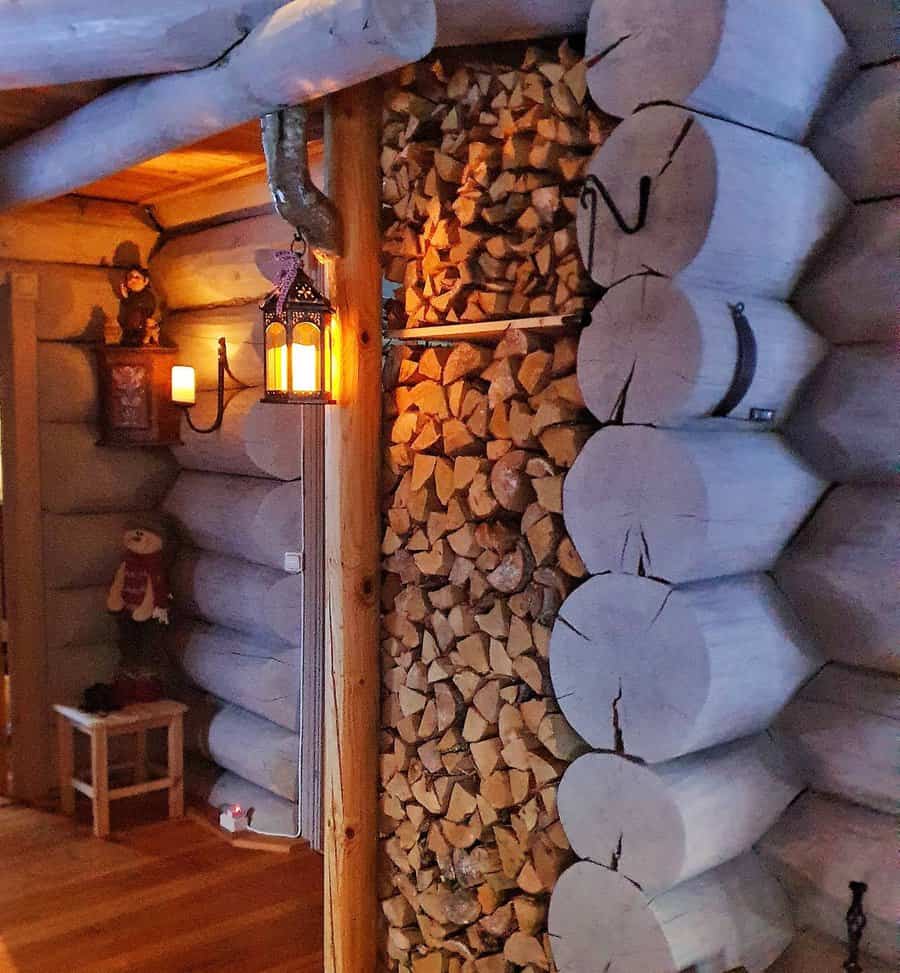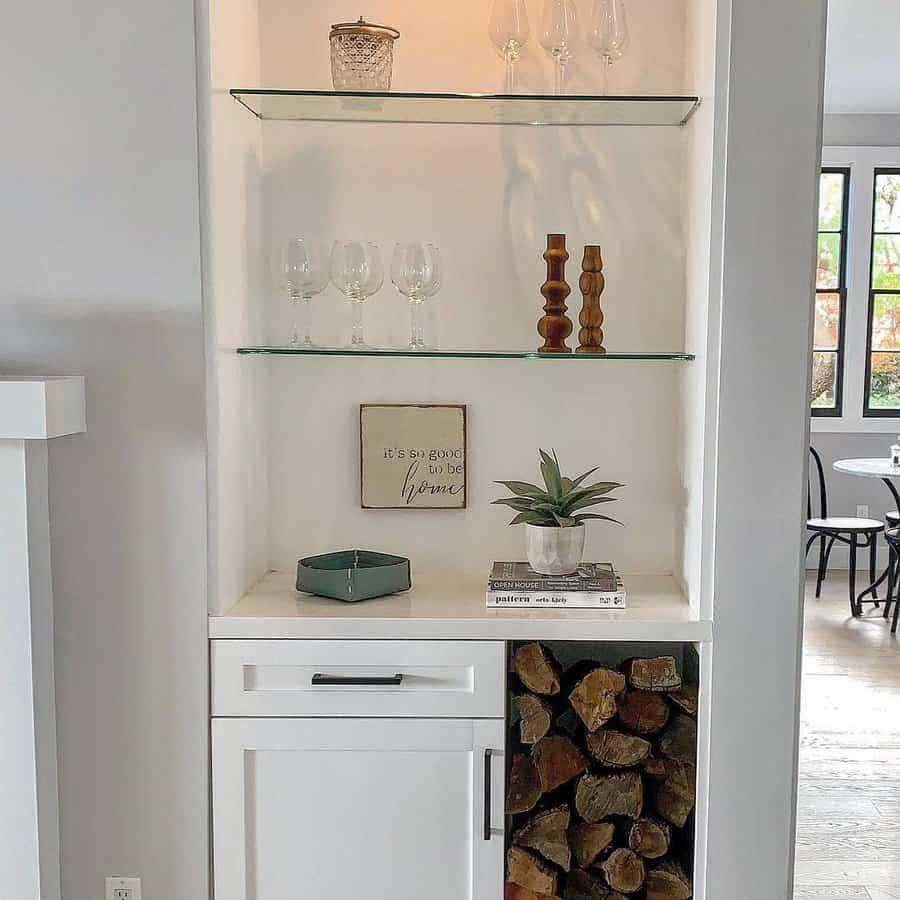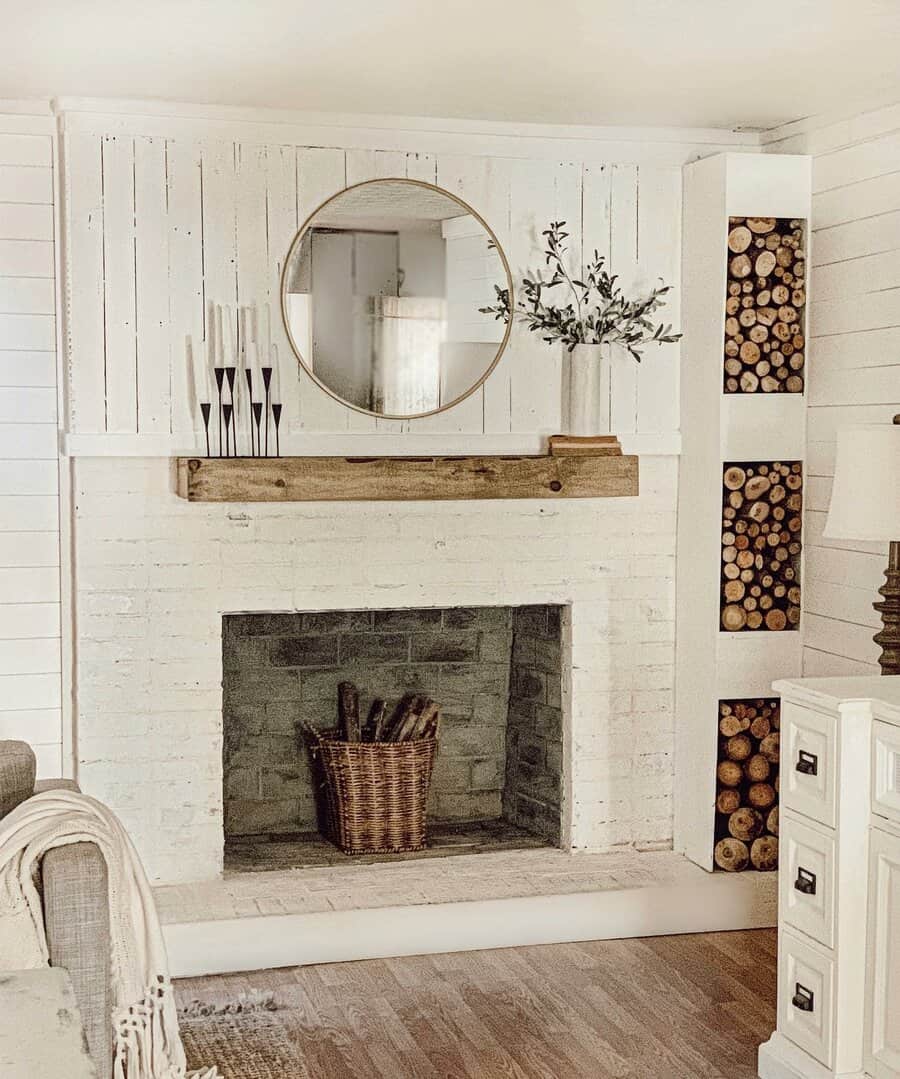 8. Use A Multi-Purpose Shelf
Firewood storage can be an art form in and of itself, with multi-purpose shelves that elegantly display your precious logs while keeping them out of the elements.
Whether you choose a metal or wood shelf doesn't really matter; what truly matters is finding a durable, safe structure that to stack your firewood. A multi-purpose shelf can help make this task easier, as these come in an array of different materials, shapes, and sizes.
With careful consideration for climate and space, you can even further customize your firewood storage area by adding efficient air circulation systems and insulation wraps. Get creative and have some fun with firewood storage now!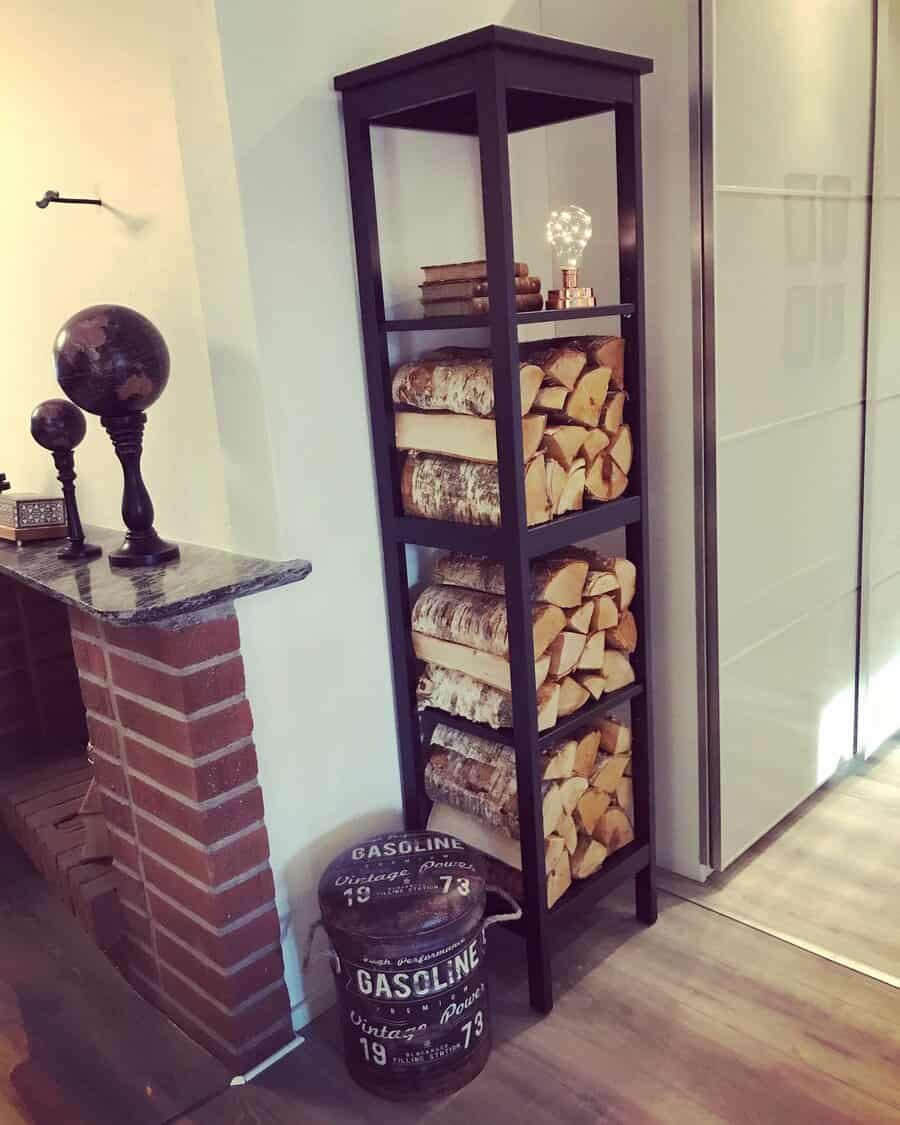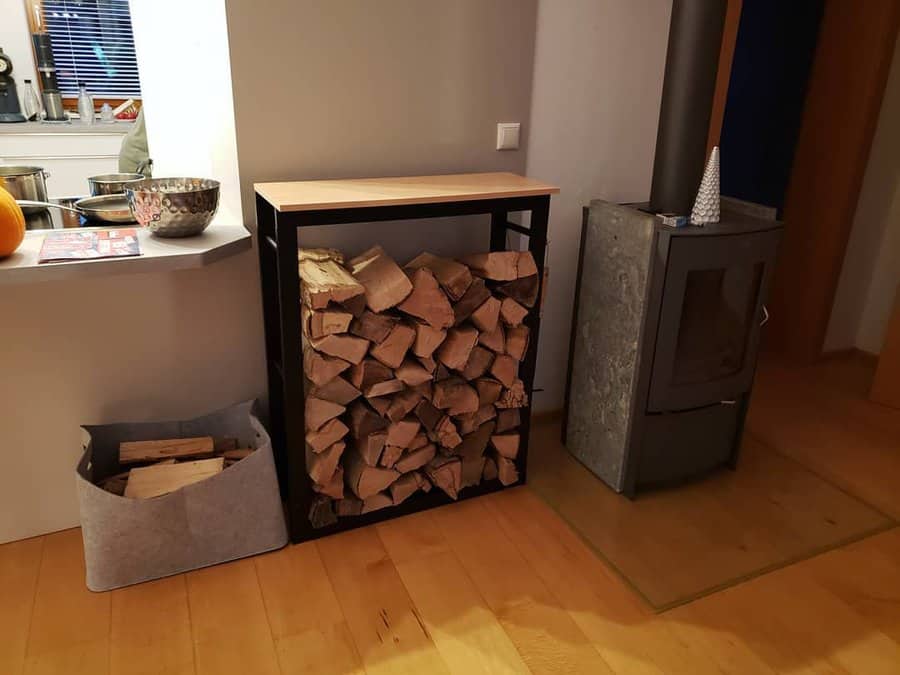 9. Decorative Metal Rack
Firewood storage doesn't have to be boring! Spice up your living room (or outdoor area) with a decorative metal rack. Featuring bold and modern geometric shapes, it's the perfect way to organize your firewood while also providing a decorative touch to the space.
If you're looking for something original, this type of rack has been growing in popularity lately, creating an eye-catching statement in any setting. Whether you love classic or contemporary style, this is an affordable and effective solution to store your firewood efficiently and stylishly!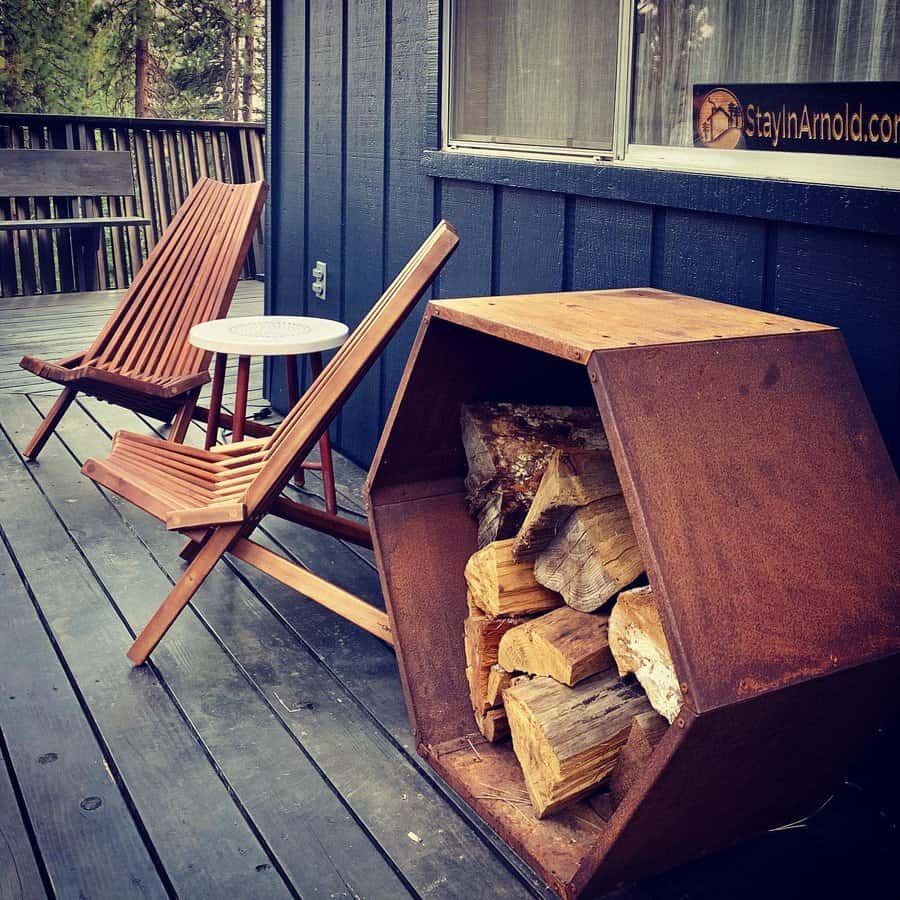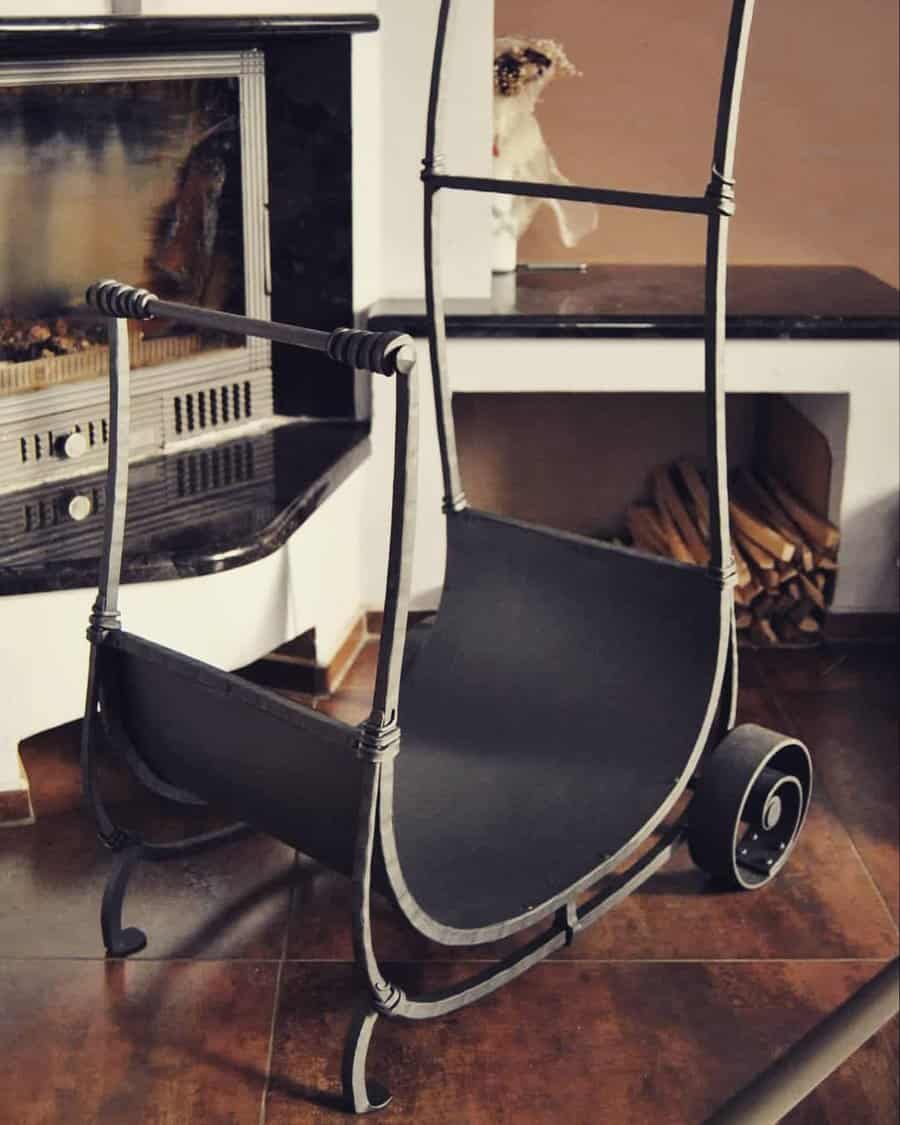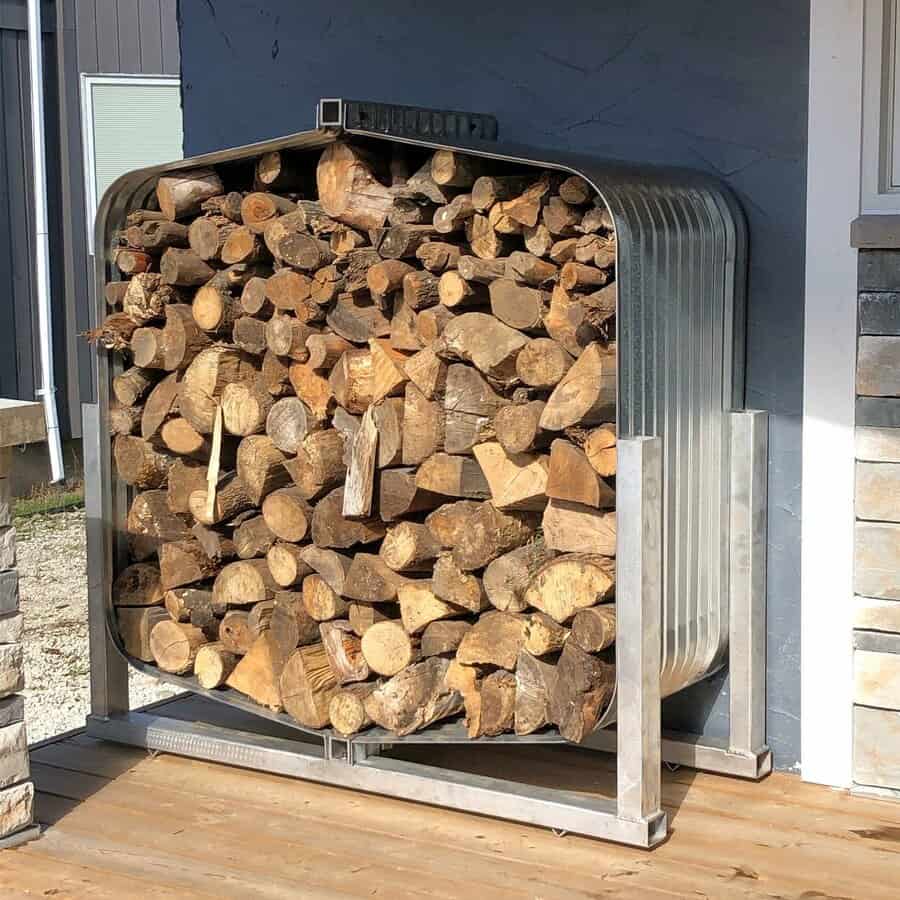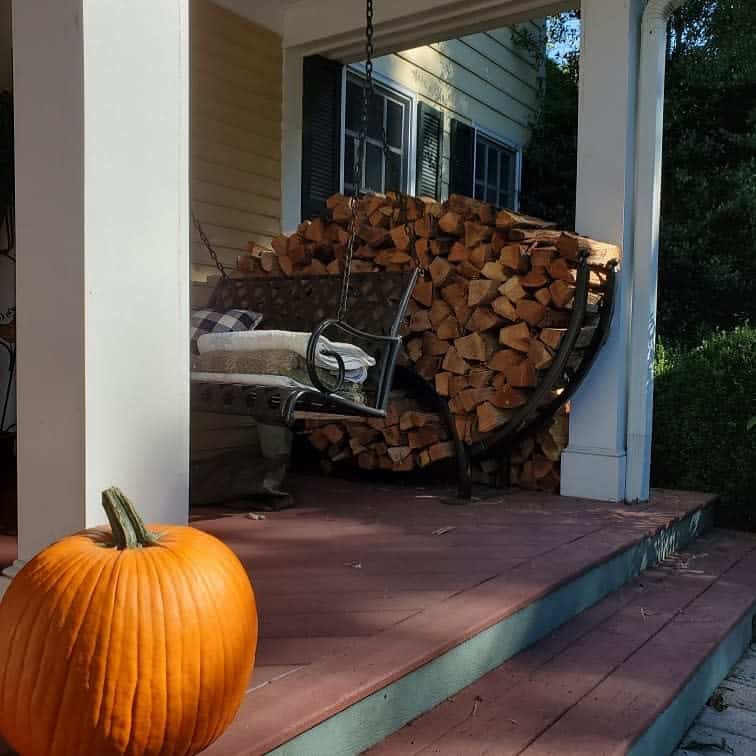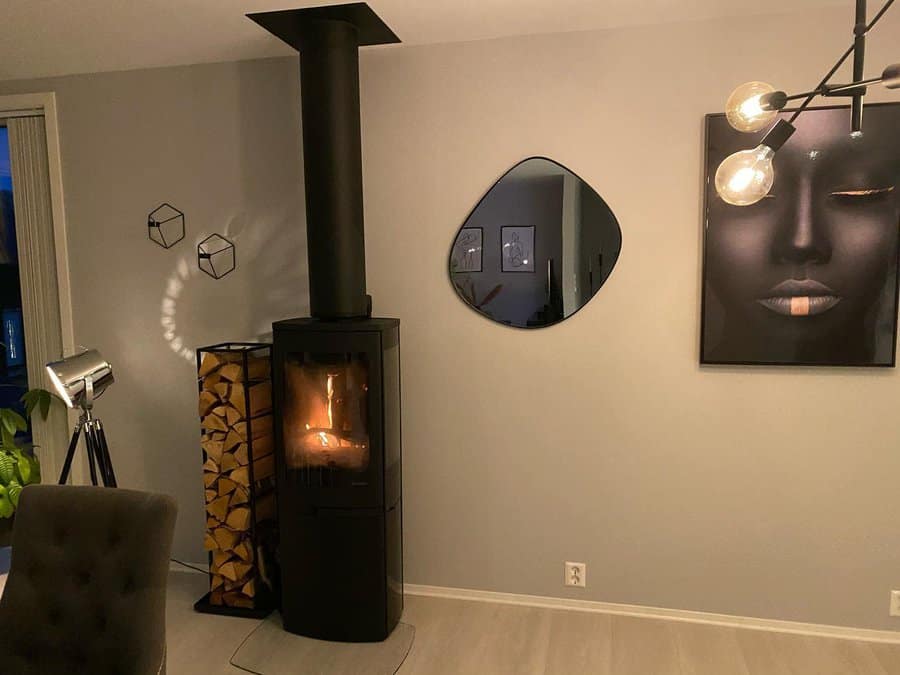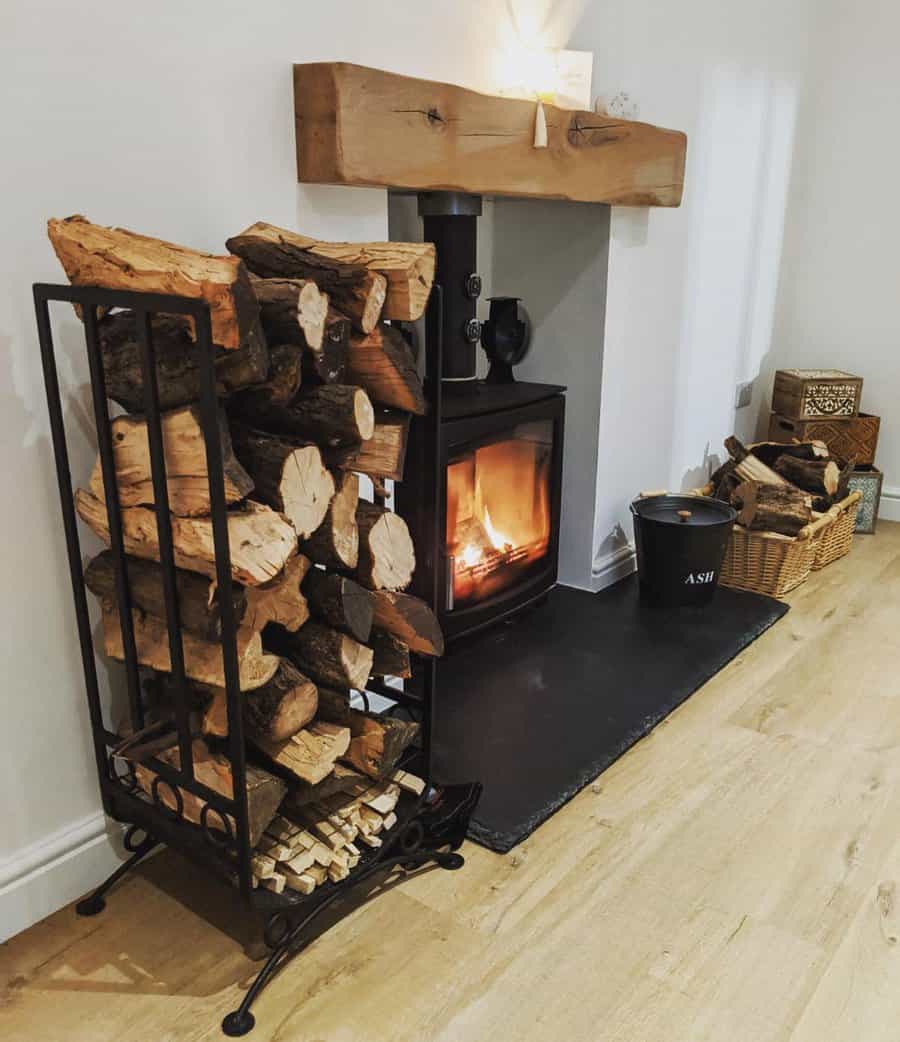 10. Wall-Mounted Firewood Rack
An often overlooked way to spruce up a dull wall and make utility out of it is by wall-mounting a firewood rack. Not only will it provide your home with a sturdy, useful place to store essential firewood, but the wall-mounted rack allows you to even turn a chore into an interesting conversation piece.
From modern, sleek designs bringing personality to traditional homes to classic solutions that fit perfectly any setting, wall-mounted firewood racks are becoming increasingly popular among homeowners looking for stylish ways of storing their wood pile.
So if you're looking for an easy and efficient way to keep those logs perfectly organized while adding an interesting twist to your décor, go wall-mounted!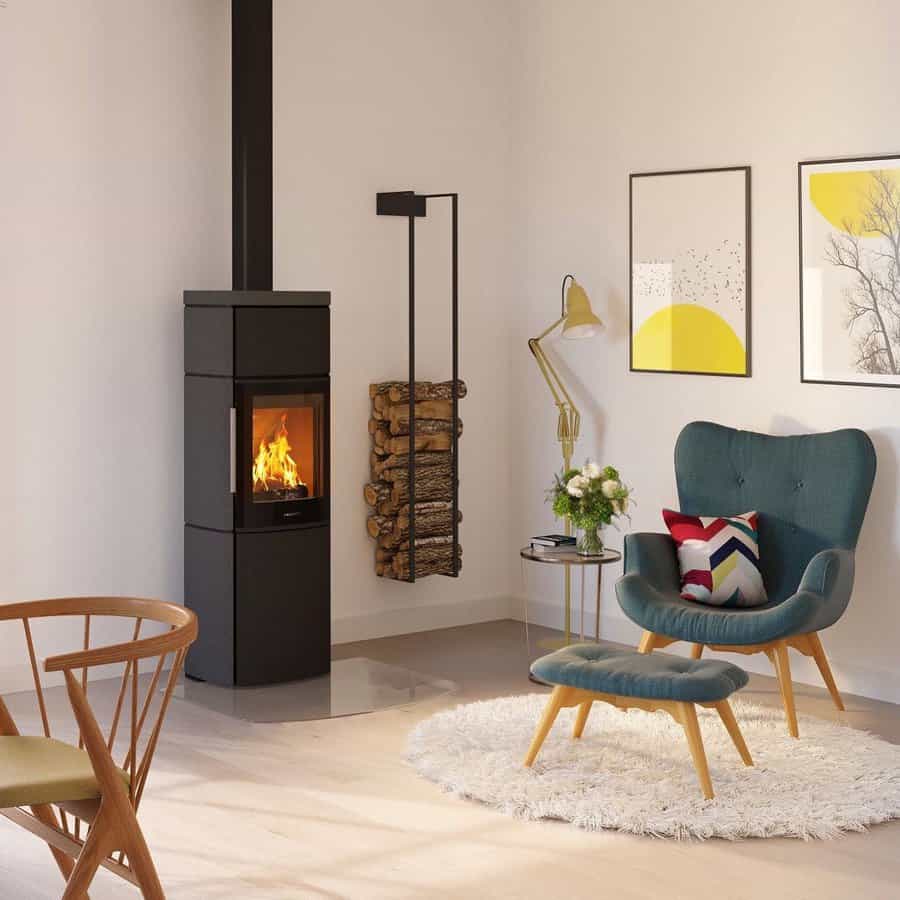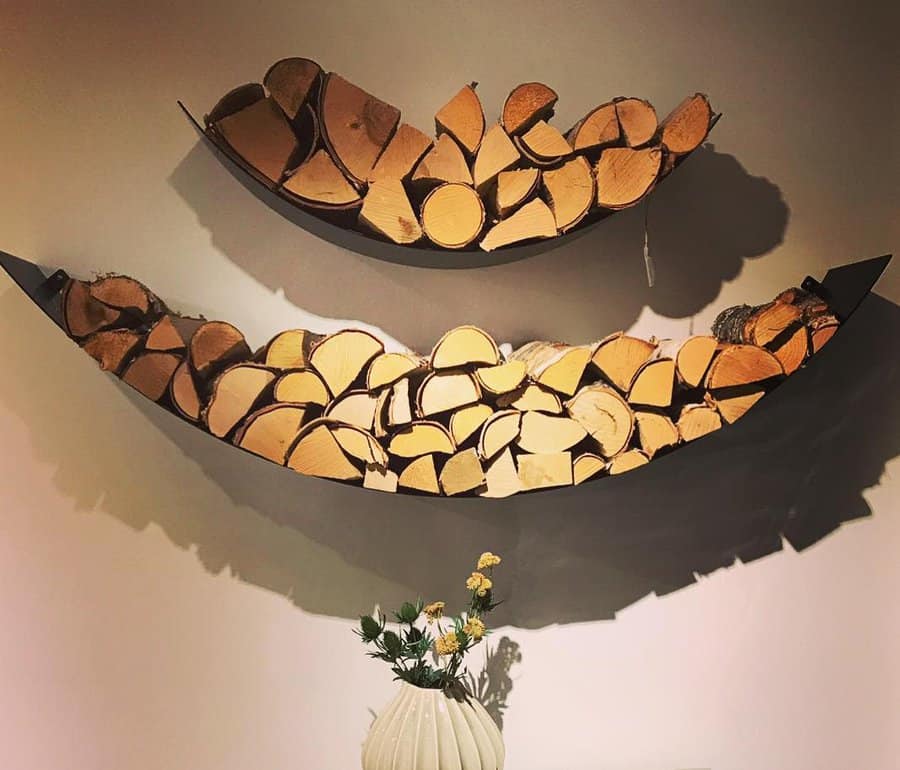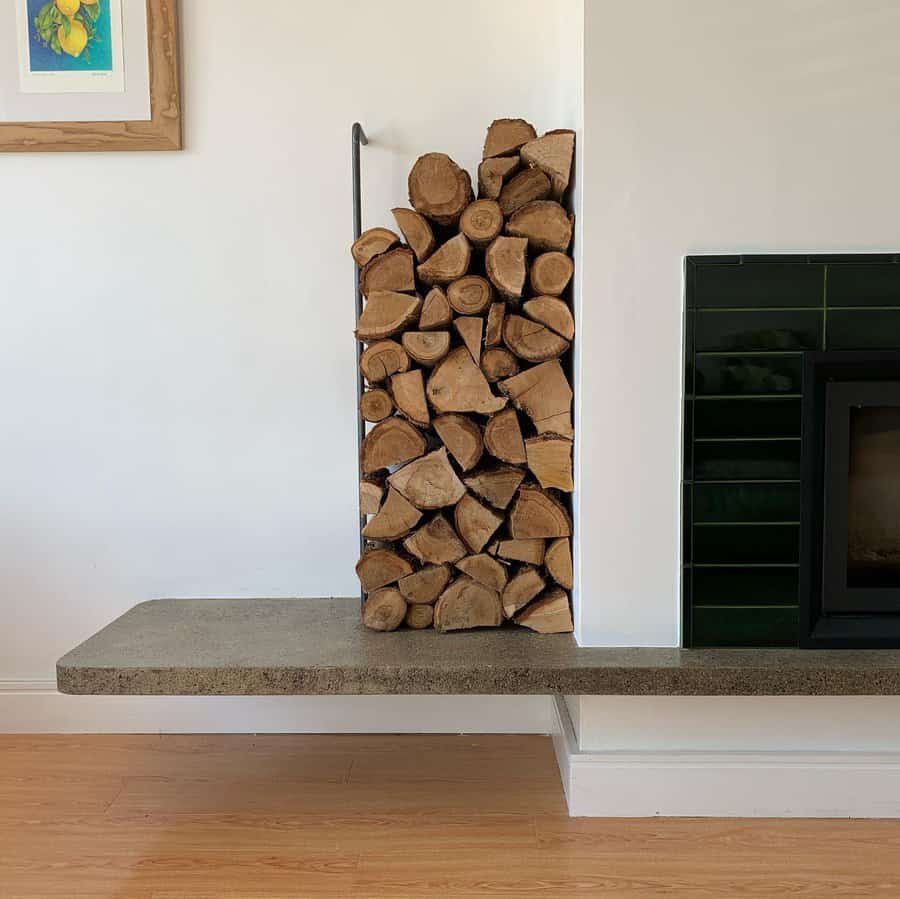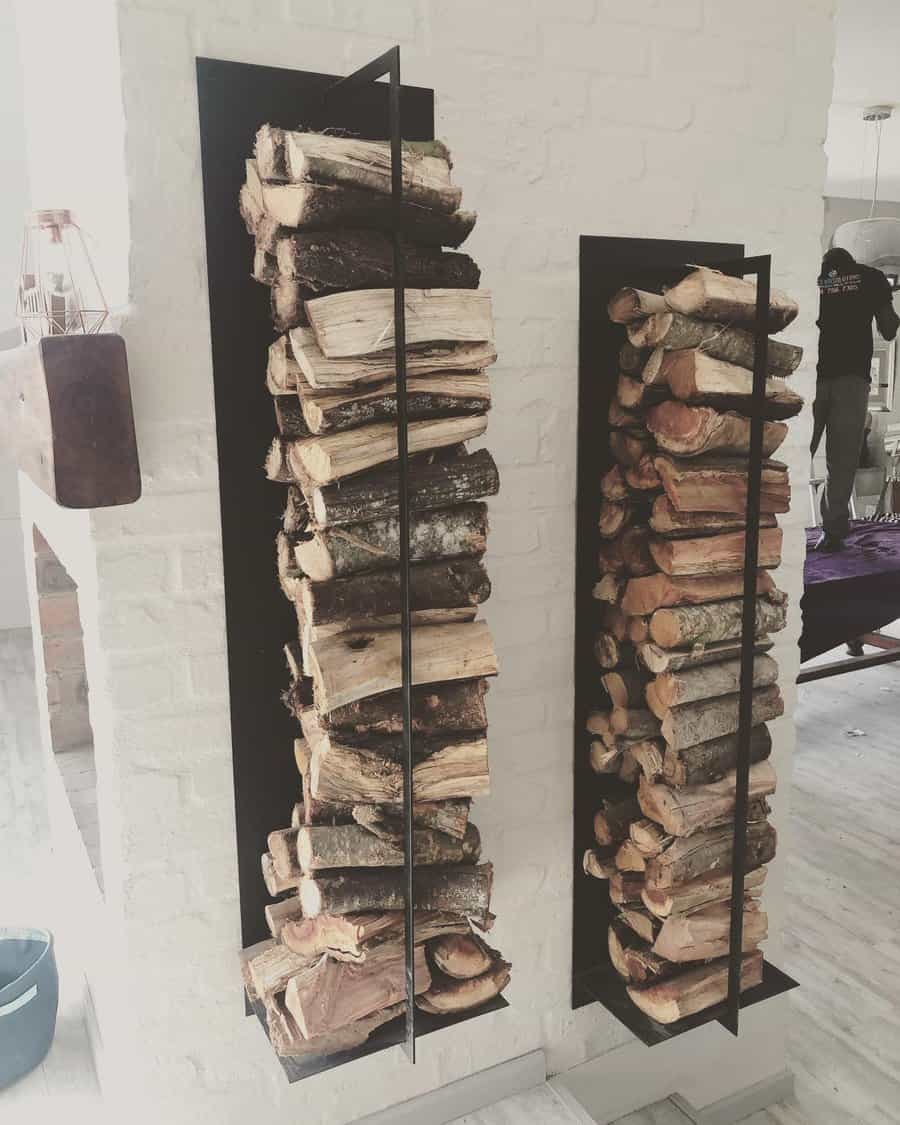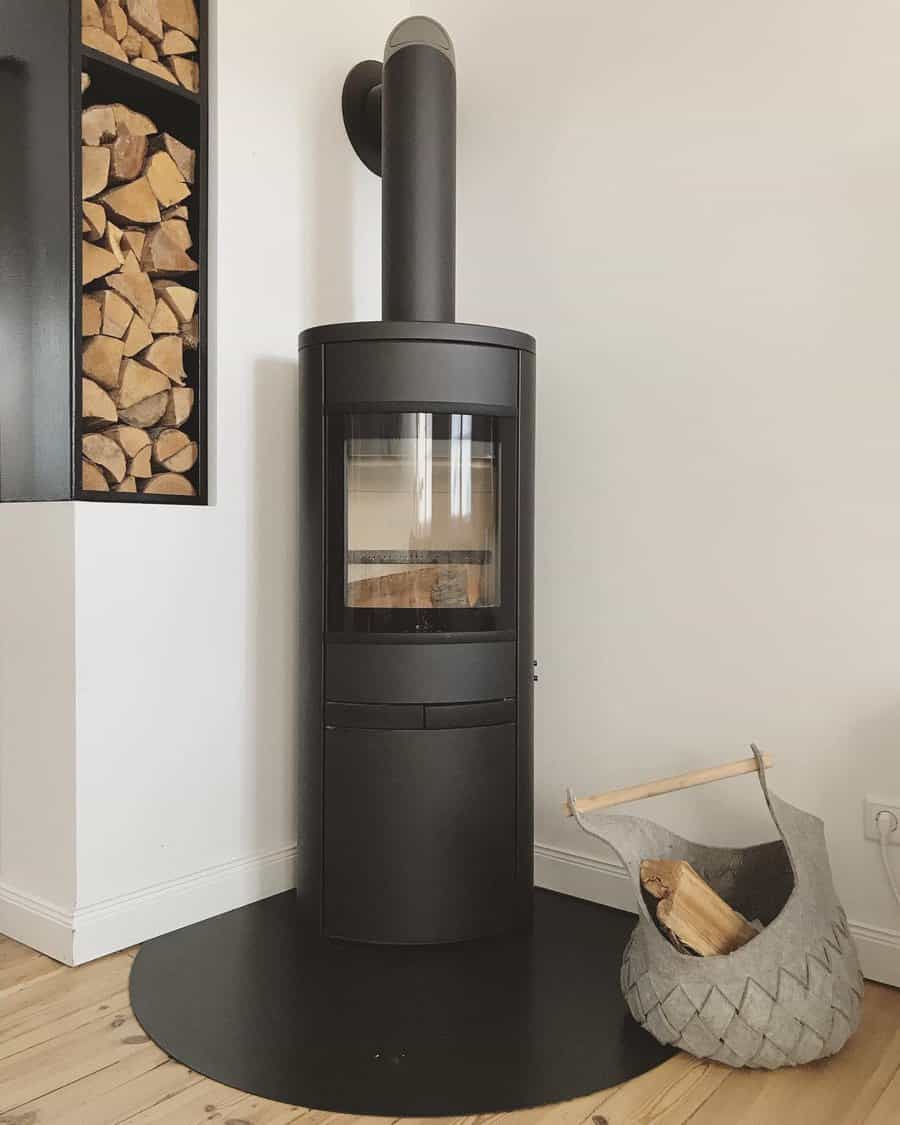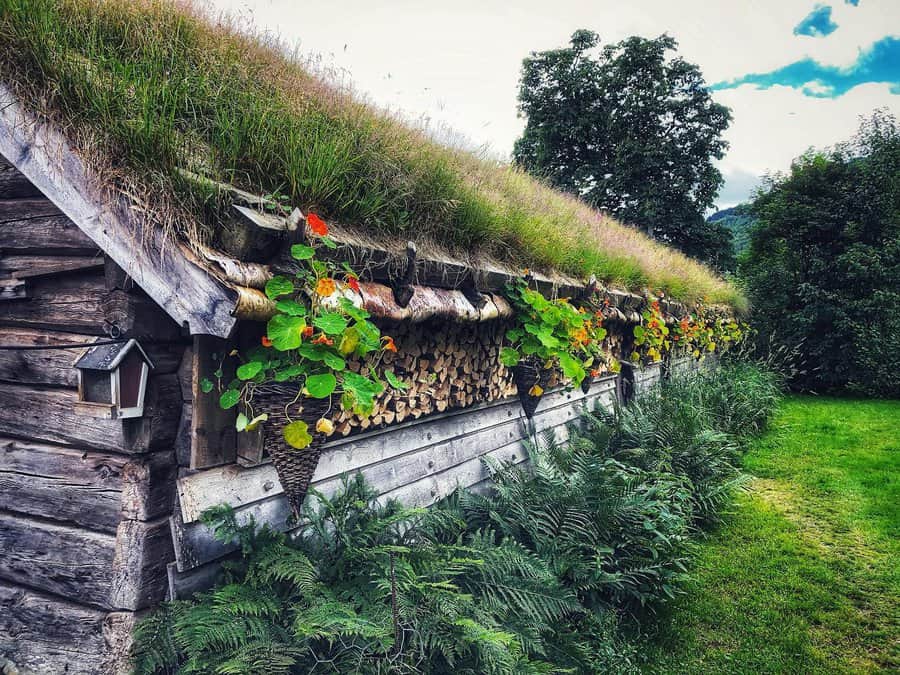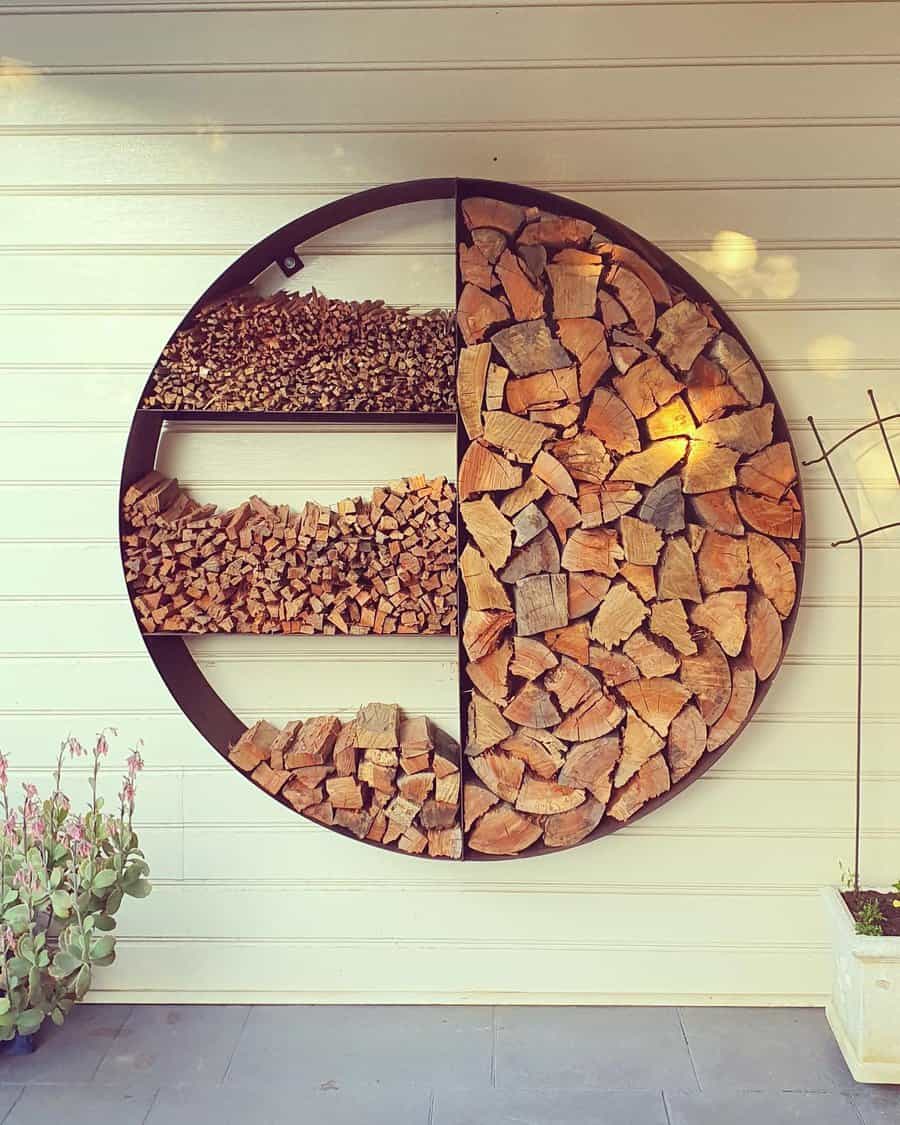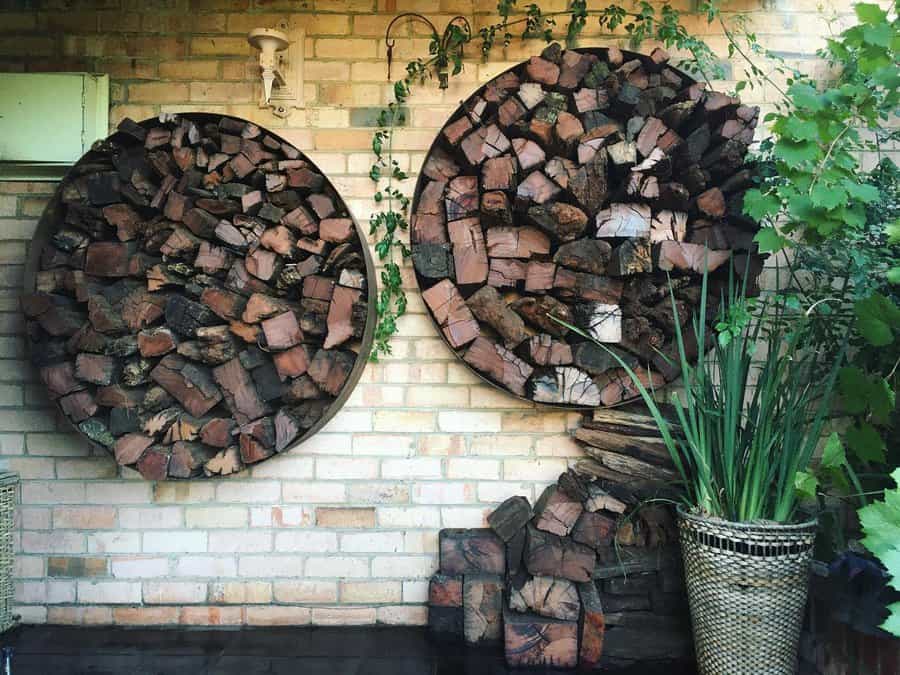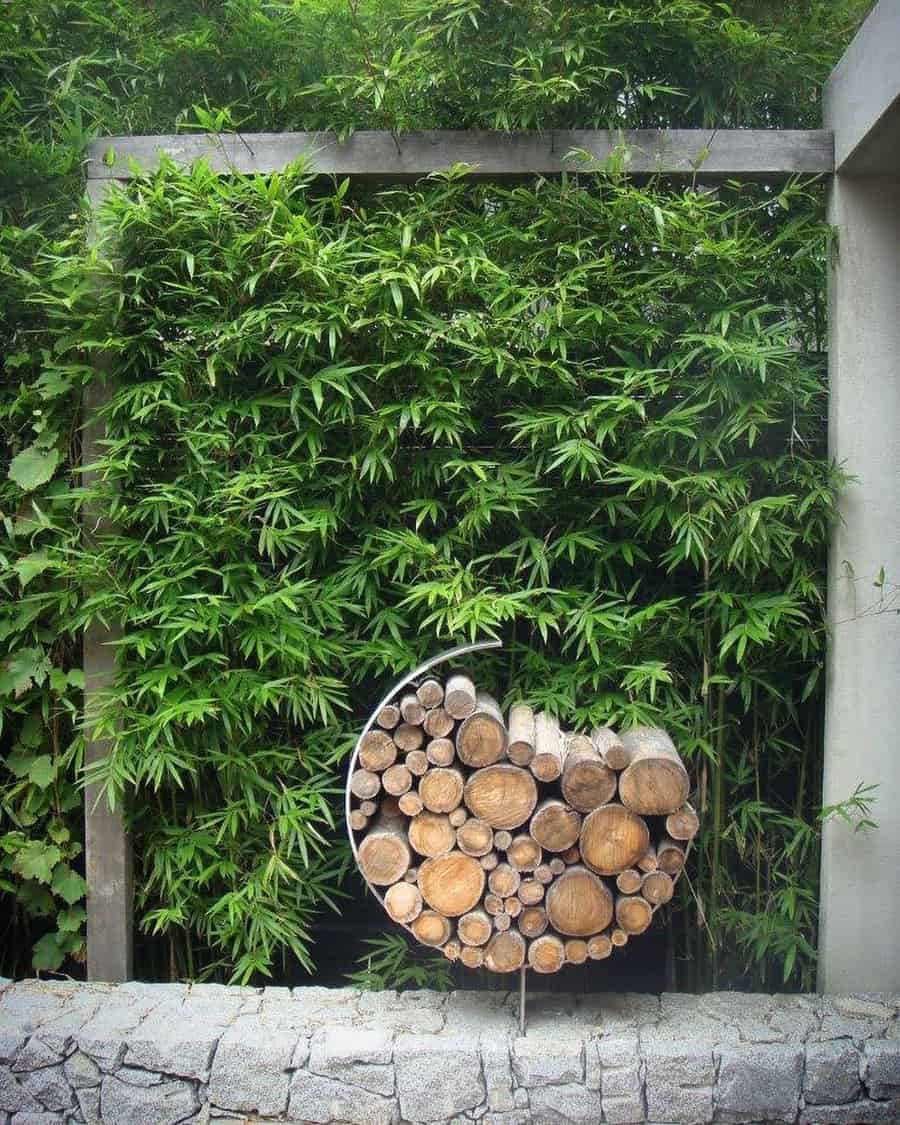 11. Scandinavian Firewood Rack
There are many ways to store firewood and the Scandinavian rack remains one of the most popular. Its stylish, unique design has made it a fan favorite in wood storage needs, allowing for easy stacking of cut logs with its clever slatted construction.
Some may choose something more traditional—a concrete standalone shelf or metal rack can provide an exceptionally sturdy means to secure your supplies. Whichever method you choose, having your firewood stored close at hand is sure to be a cozy addition to your home this winter!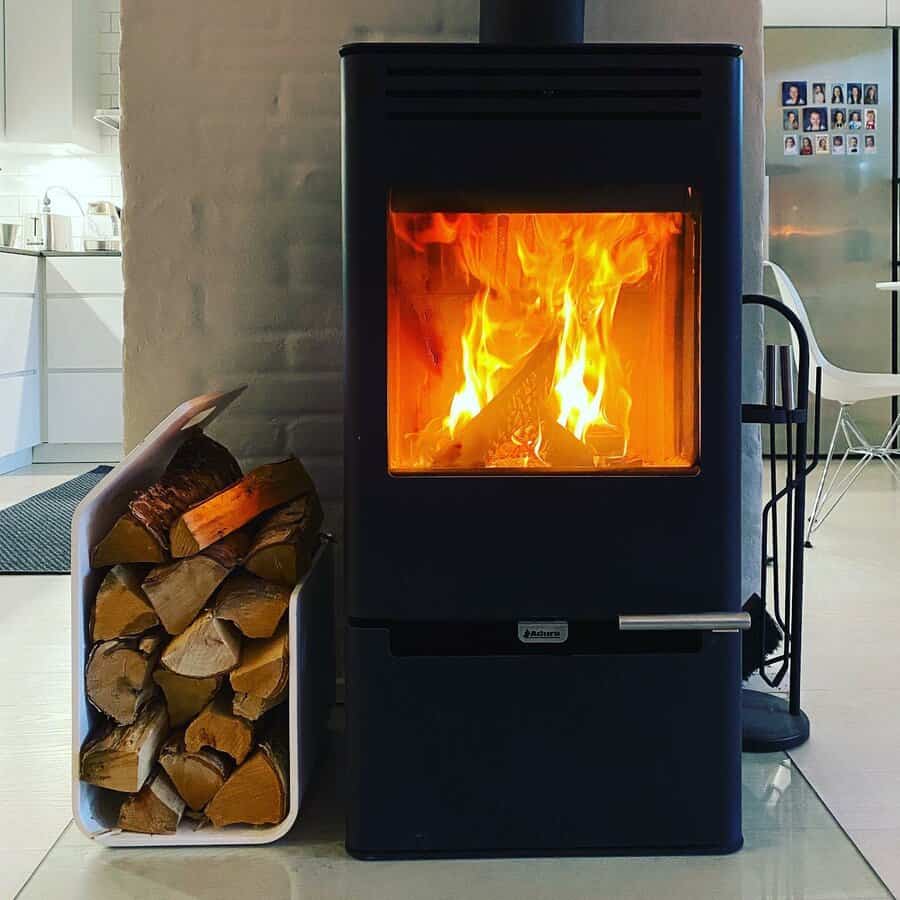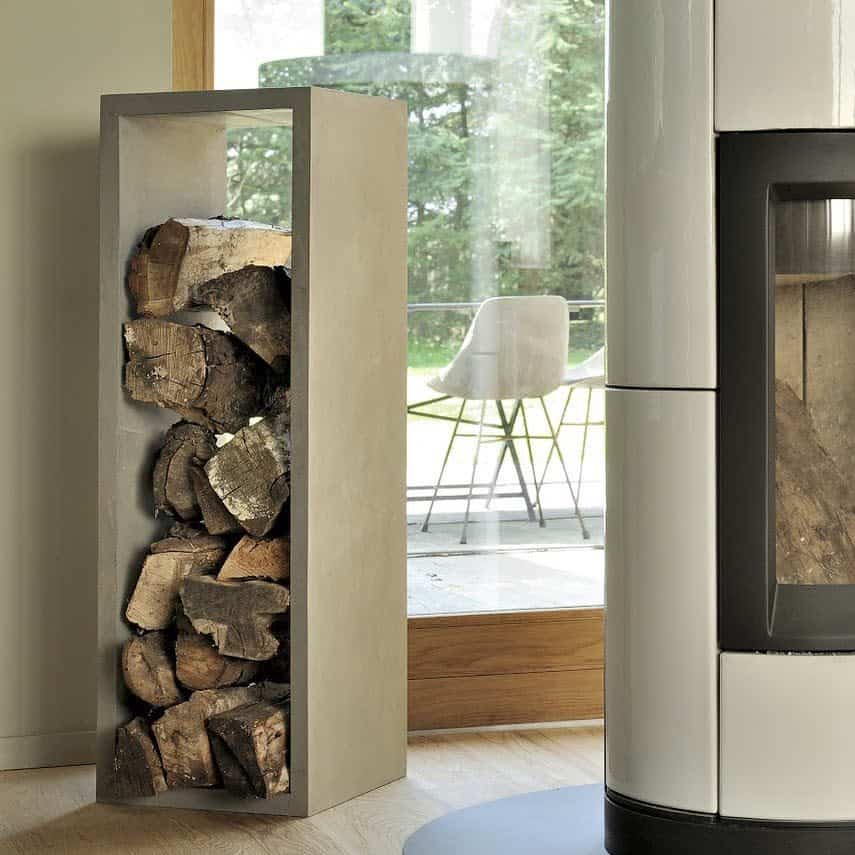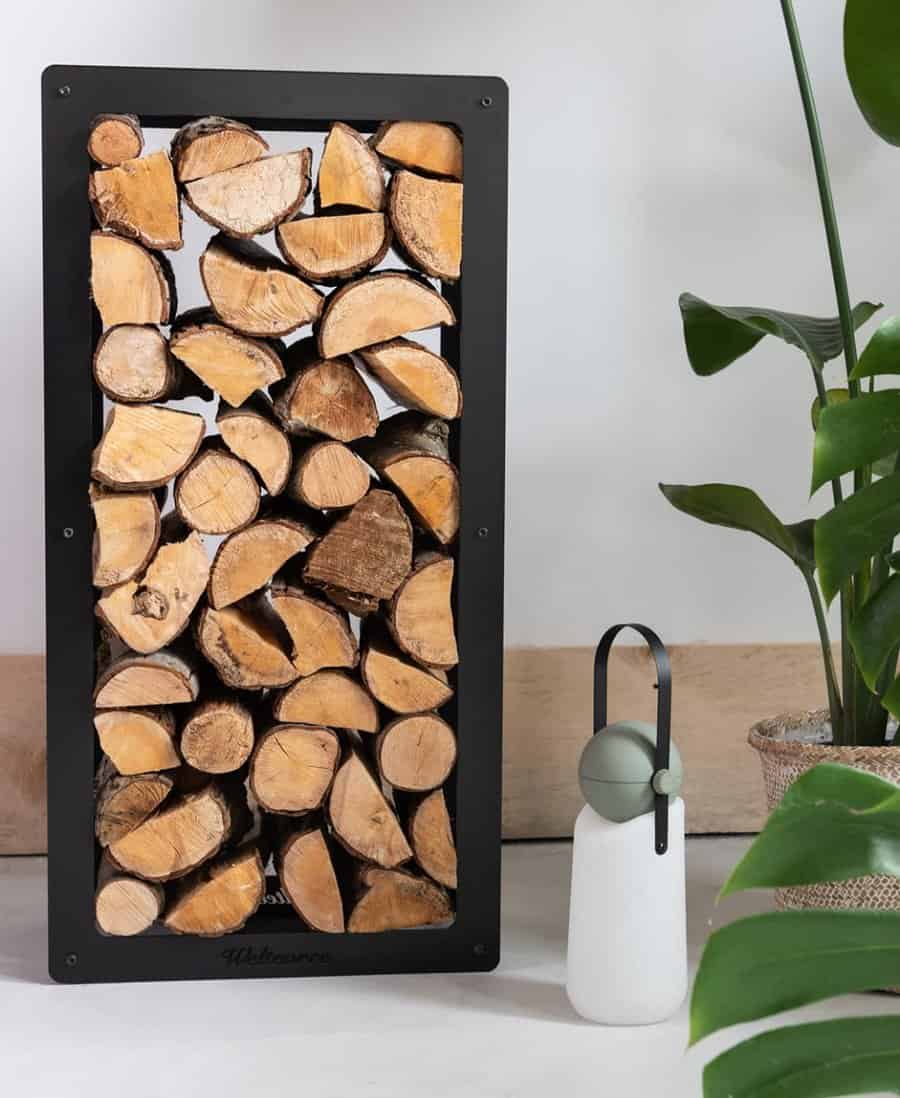 12. Transparent Glass Rack
Firewood storage doesn't have to be boring and functional anymore! Give it a modern twist with transparent glass racks that not only save space but are also decorative. A transparent glass rack is a great way to store firewood in an entertaining and innovative manner.
Transparent glass racks give you the option of organizing your wood into neat and organized piles so you can easily pick out just the right amount of logs for every fire.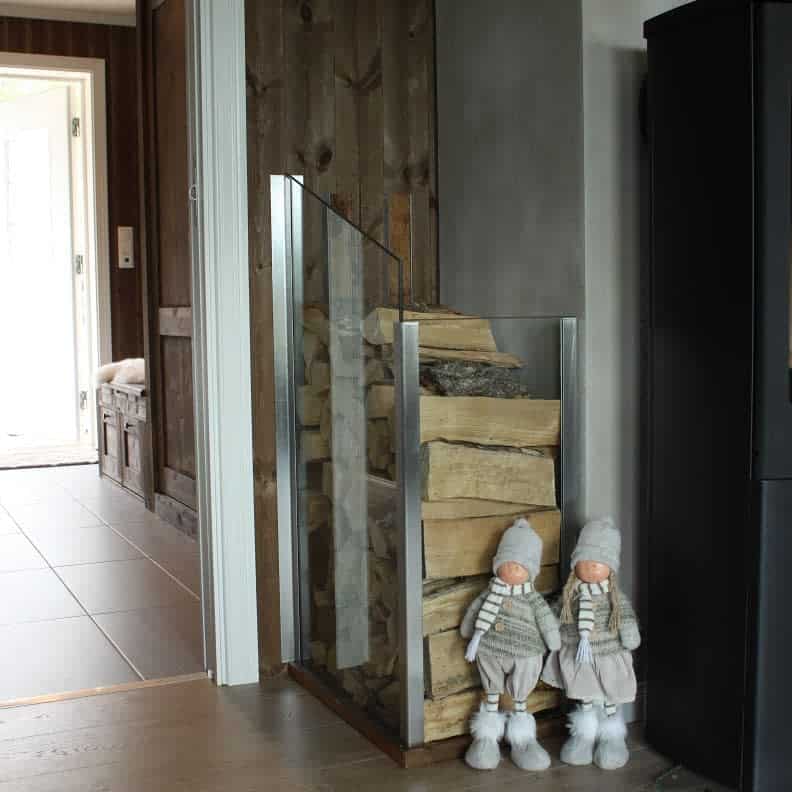 13. Plant Box With Firewood Storage
Firewood storage doesn't have to be bulky and take up unnecessary space in your garden. One creative option is a plant box with built-in firewood storage – it adds a fresh, natural flare to any outdoor area while keeping your logs safe and sound.
The plant box can also serve as a perfect accessory for an outdoor fireplace or patio. Or if you need more room to store your firewood, look into getting a durable firewood shed designed specifically for garden firewood storage. This way, you'll have plenty of space to keep your wood dry without cluttering up the yard!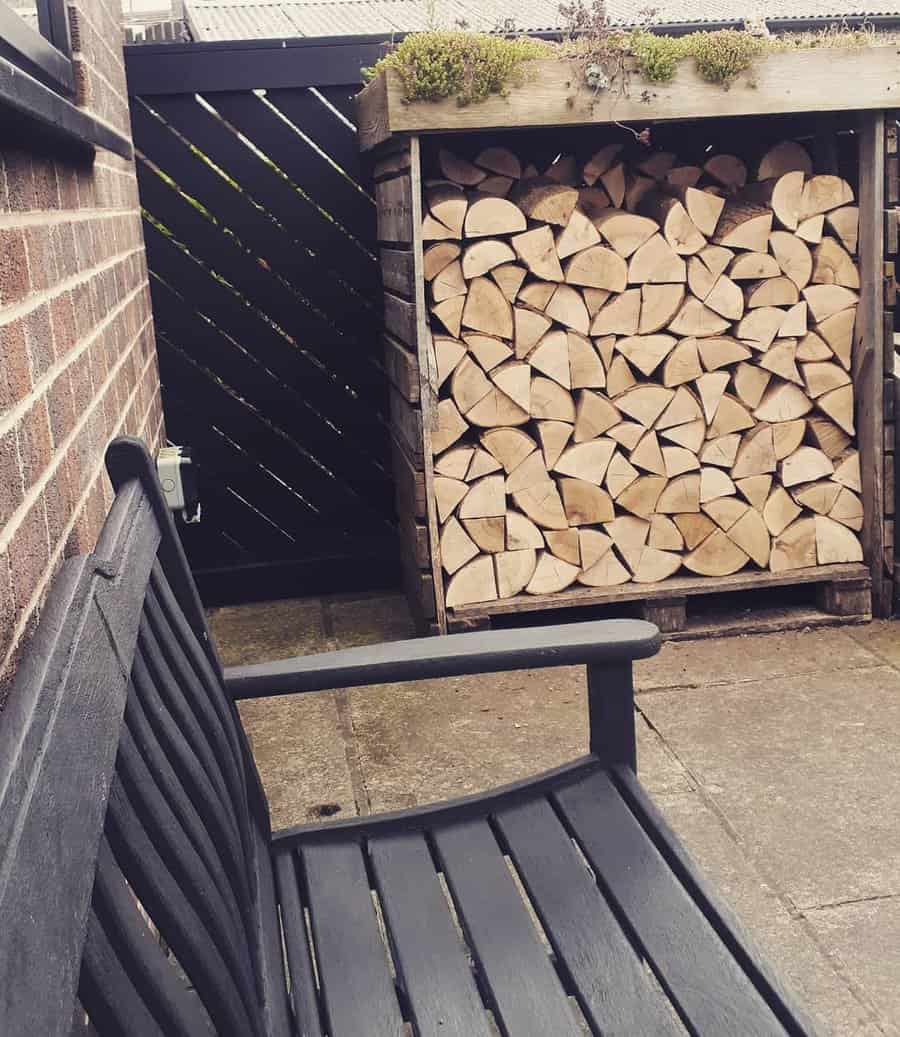 14. Floor Metal Rack
Any minimalist's dream would be to enjoy the warmth provided by a firewood storage rack while still having the floor metal rack blend in with the design of any home. With many standalone racks on the market today, you can choose one that best fits your style and storage needs.
These floor metal racks provide easy access to freshly chopped wood you can store indoors or outdoors depending on your preference. Choose the one that looks best with your furniture to complete your cozy and efficient living space.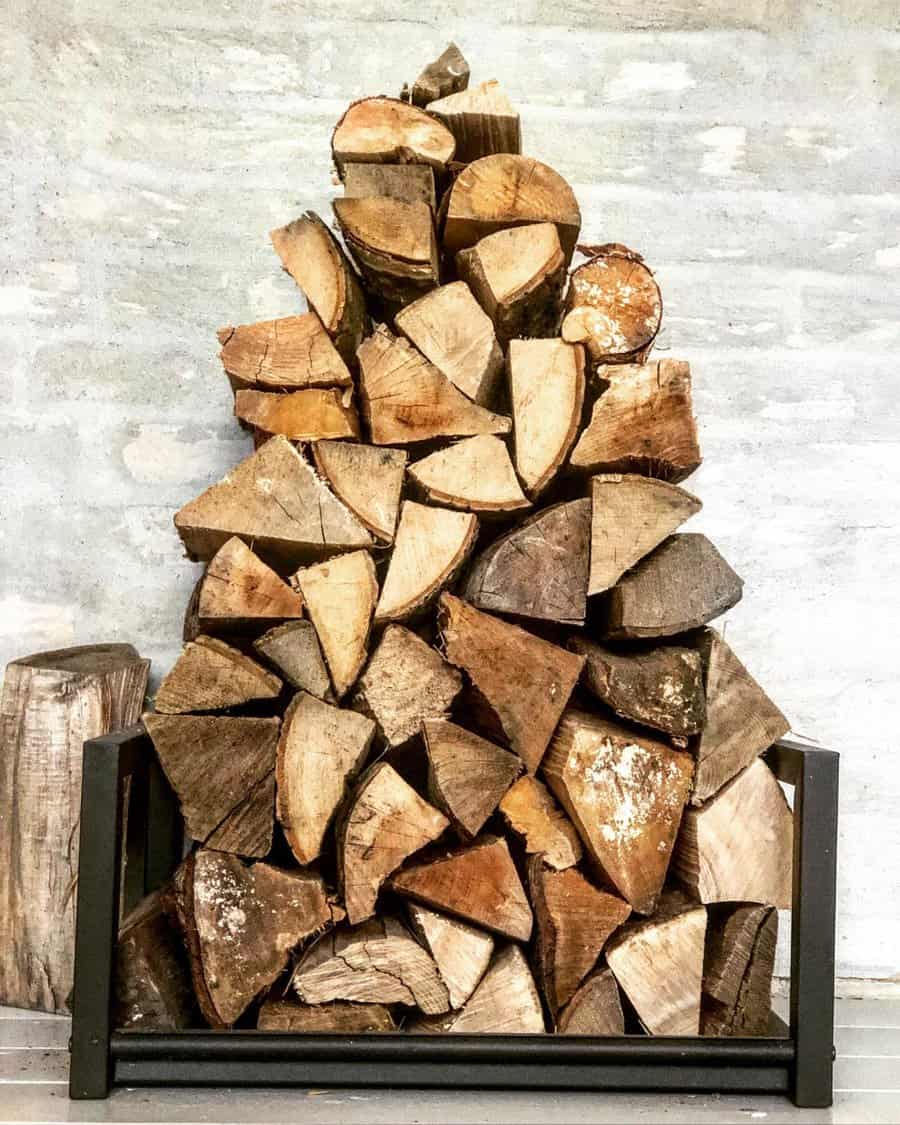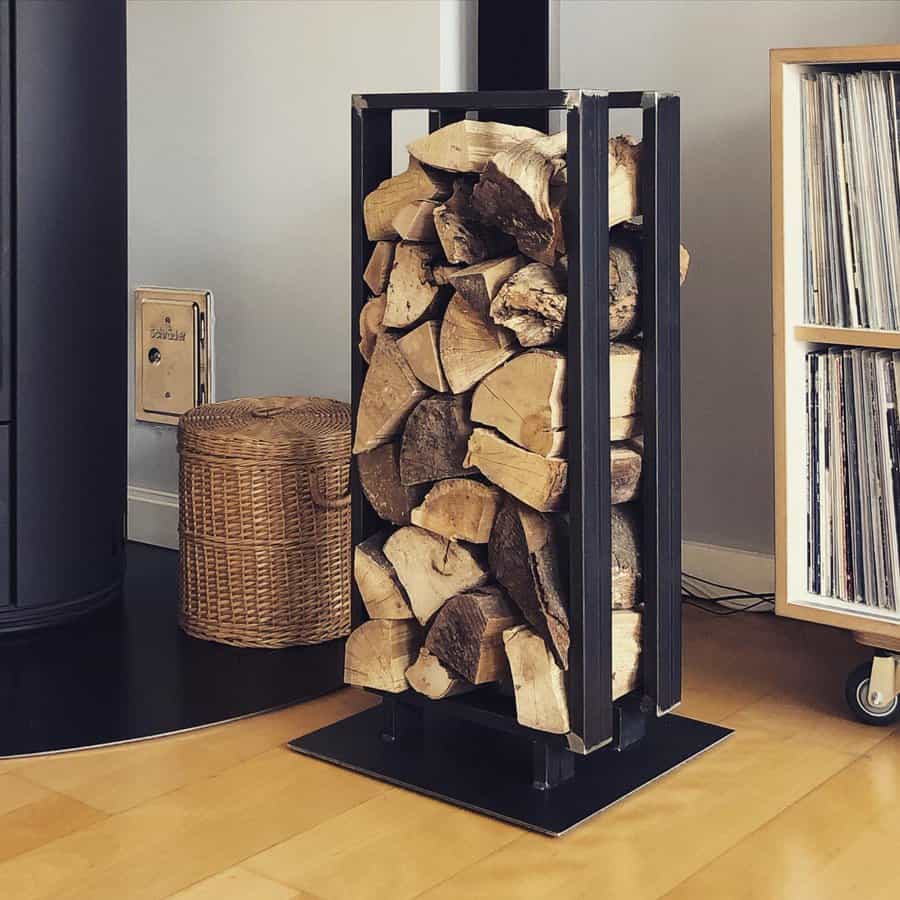 15. Opt For A Decorative Metal Basket
Finding a metal firewood basket rack to store kindling can be so much more than just an organizational tool. With a decorative metal basket, it can add a bit of rustic charm to a living area while providing much-needed firewood storage.
From basket racks placed on tables and floors, metal firewood racks can provide warmth and coziness throughout the entire home. They make for perfect wintertime decorations – stylishly filling up those chilly nights.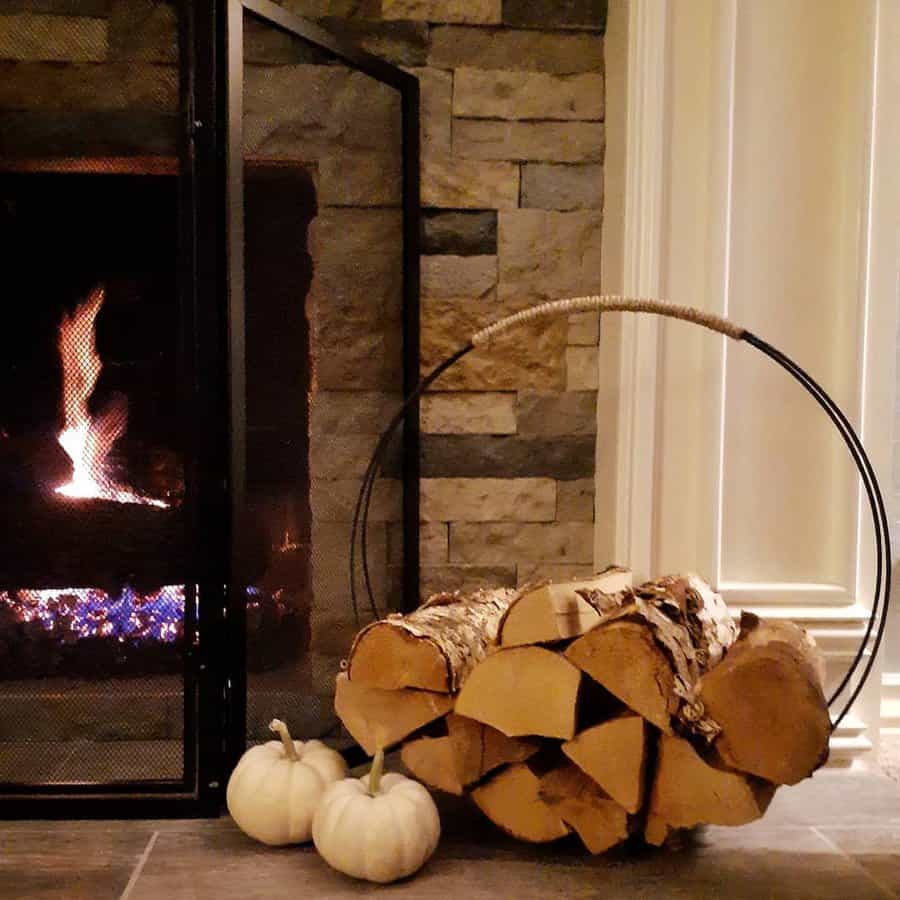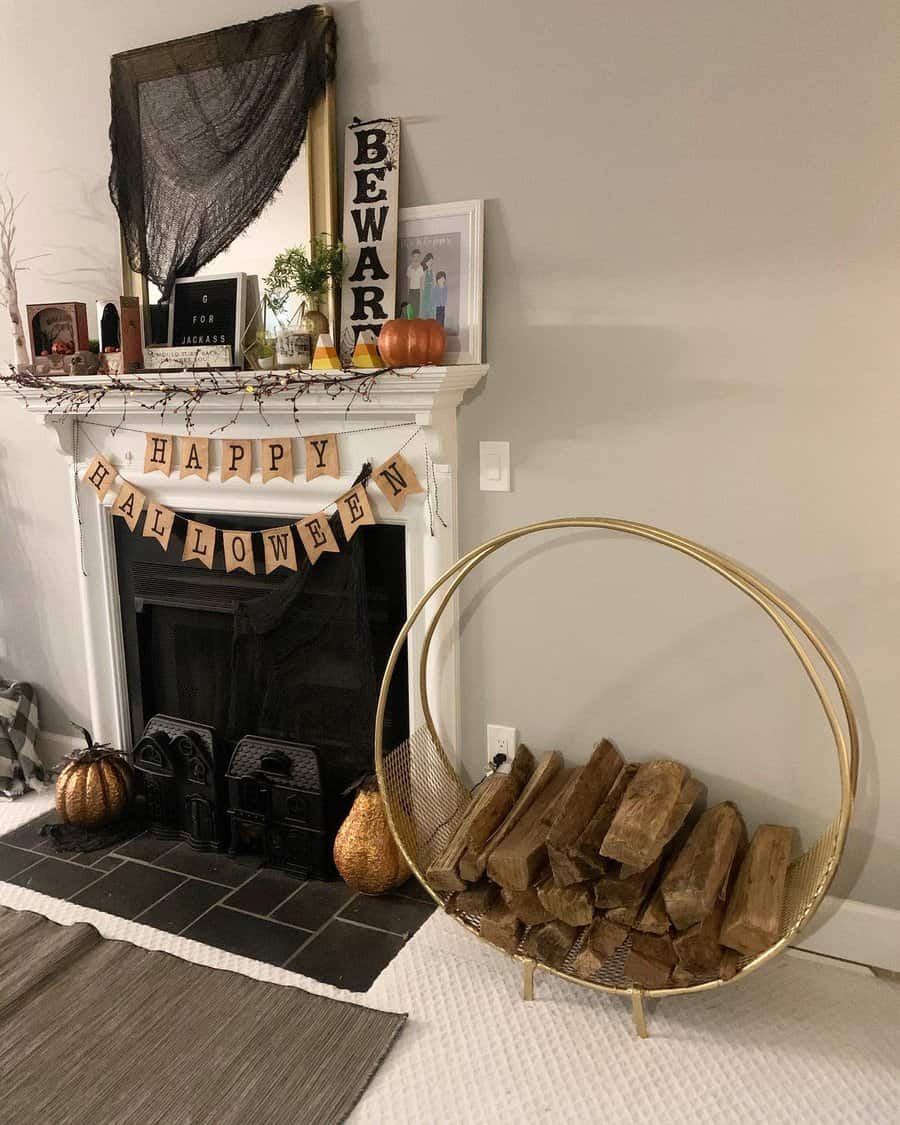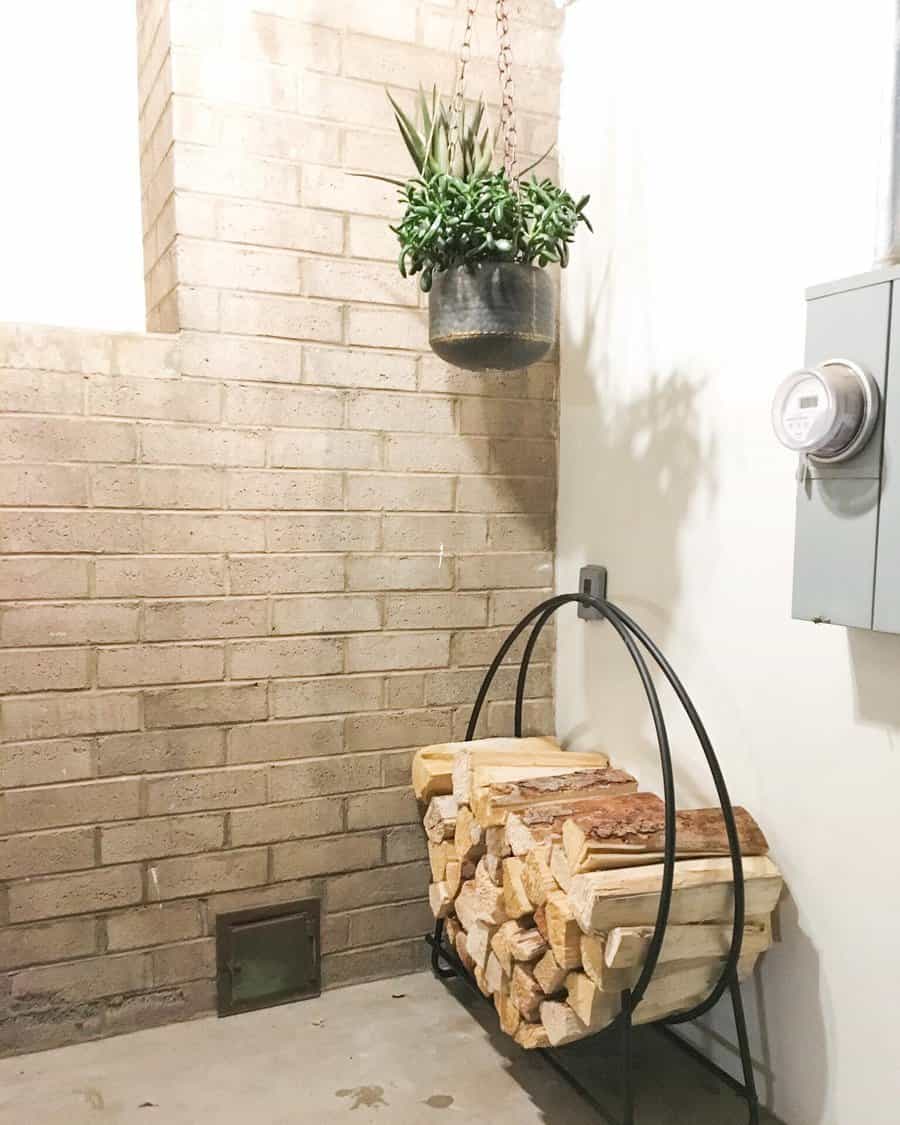 16. Patio Privacy Wall Firewood Storage
Create the perfect patio oasis with patio privacy wall firewood storage! Not only does this provide an eye-catching touch to your patio's ambiance, but it also provides a convenient place to store firewood right near where you need it.
Firewood storage with patio walls ensures that wood is kept tidy and organized while still keeping it close at hand for when it's needed. The combination of usability, convenience, and aesthetics makes patio privacy wall firewood storage a must-have for anyone wanting to spruce up their patio or outdoor living space.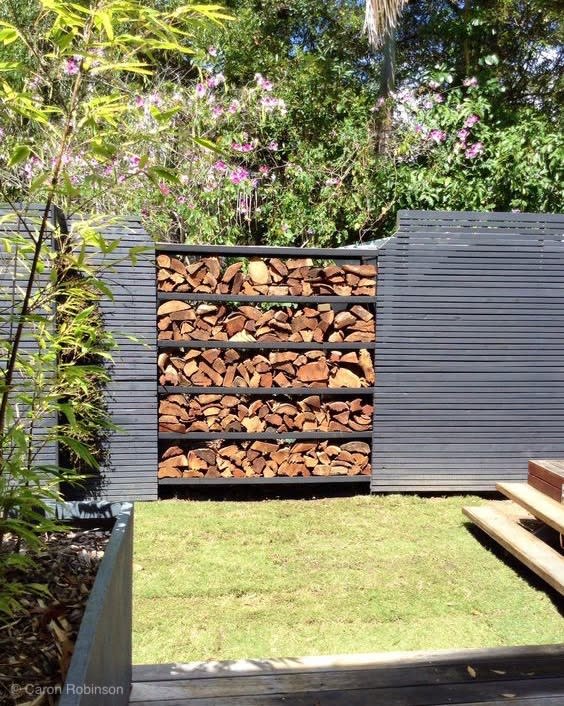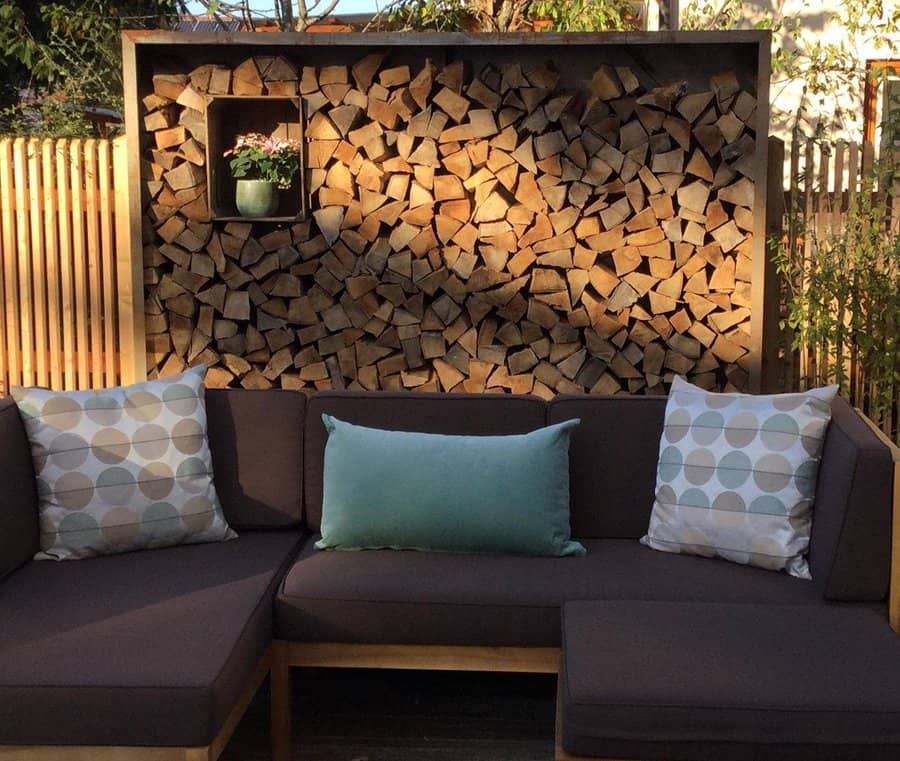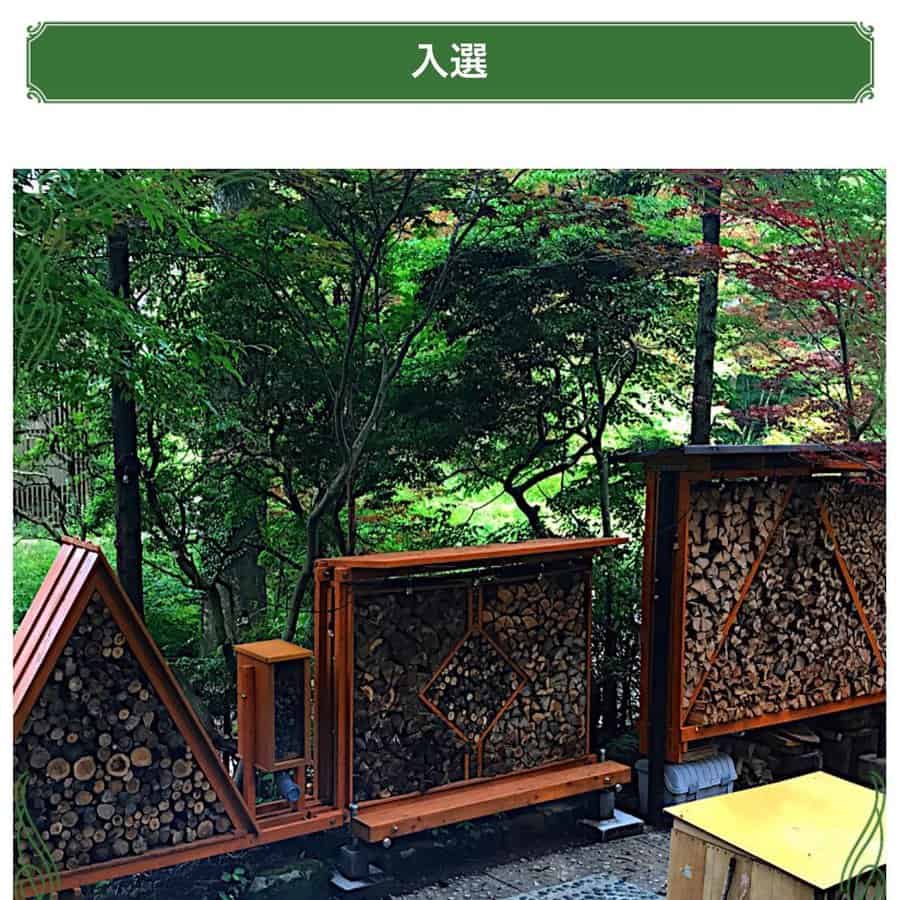 17. Front Door Decorative Storage
When it comes to firewood storage, front-door decorative storage is an attractive and efficient way to show off your supplies. With two shelves on either side of the front door entrance, you can store all your winter needs without taking up too much space!
This method of storage requires little assembly and will give your home's front entrance a gorgeous, rustic feel that you won't want to miss out on. Every time you come home or leave for work, you'll be greeted by your neatly organized firewood – making winter one step closer.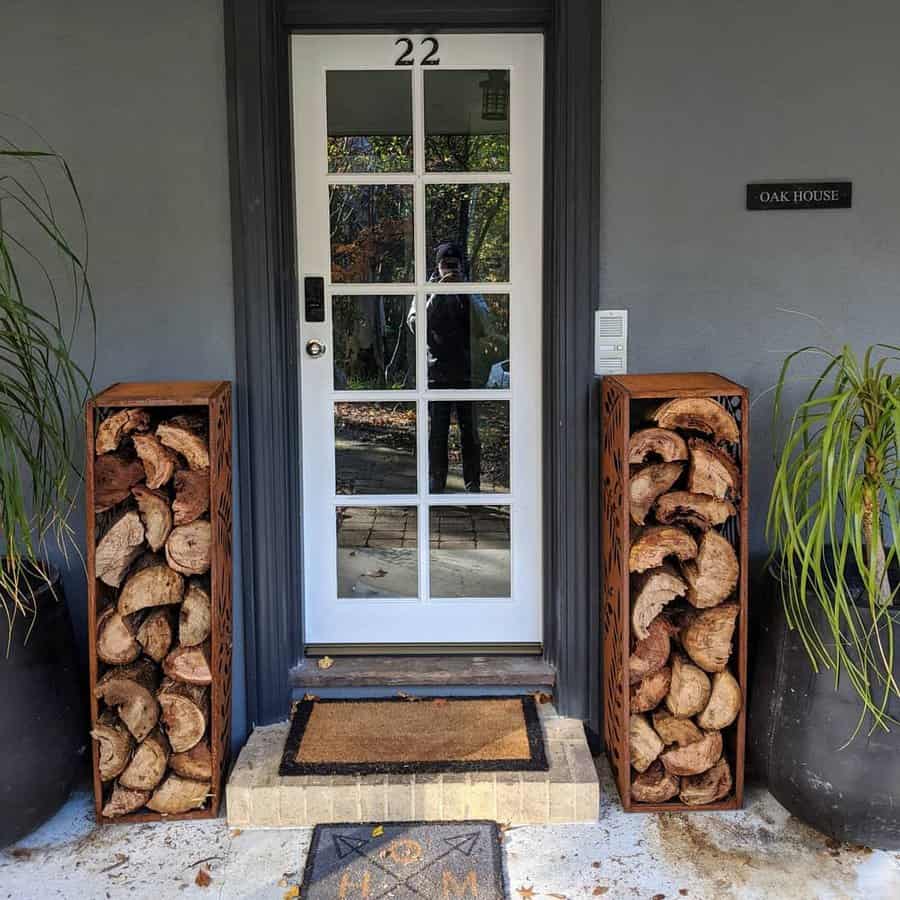 17. Build A Wood Shed
When thinking about wood storage, a wood shed is a perfect solution. Not only do wood sheds provide efficient timber storage that can easily be accessed, but they also bring a certain aesthetic charm to your landscape thanks to their rustic look.
Finding wood storage solutions that meld with our natural surroundings can feel particularly difficult, yet wood sheds bridge the gap between practical and pleasing. With its durability and classic good looks, a wood shed crafted from quality materials is sure to store your firewood for years to come.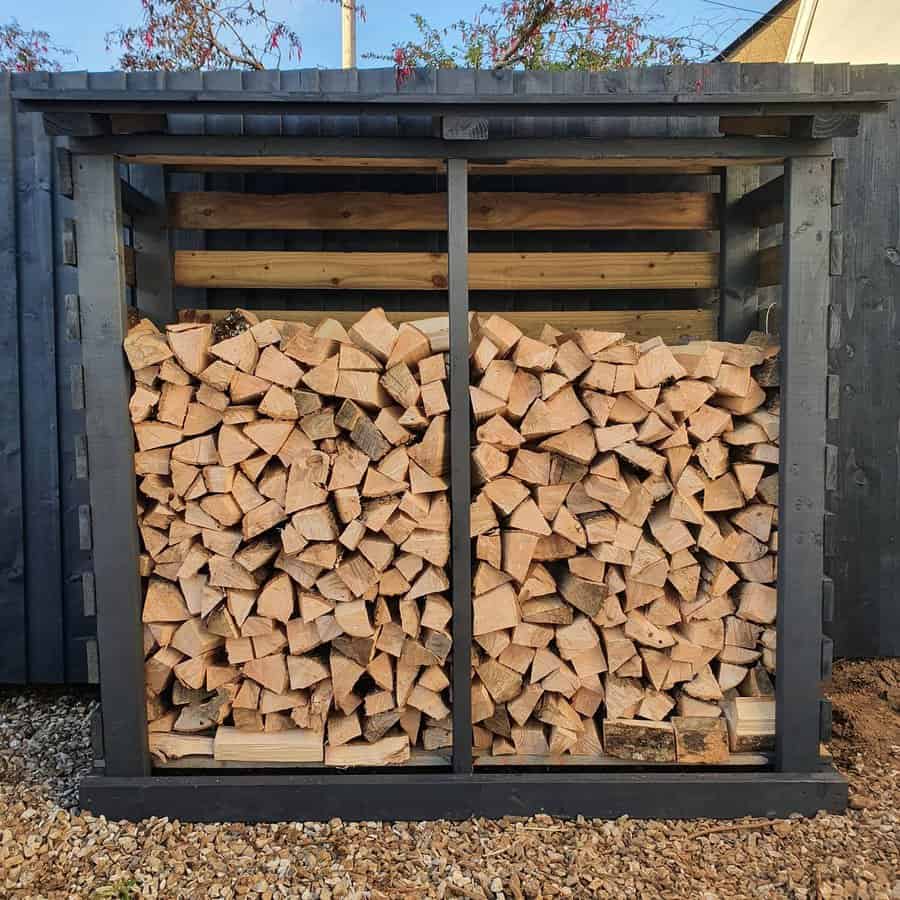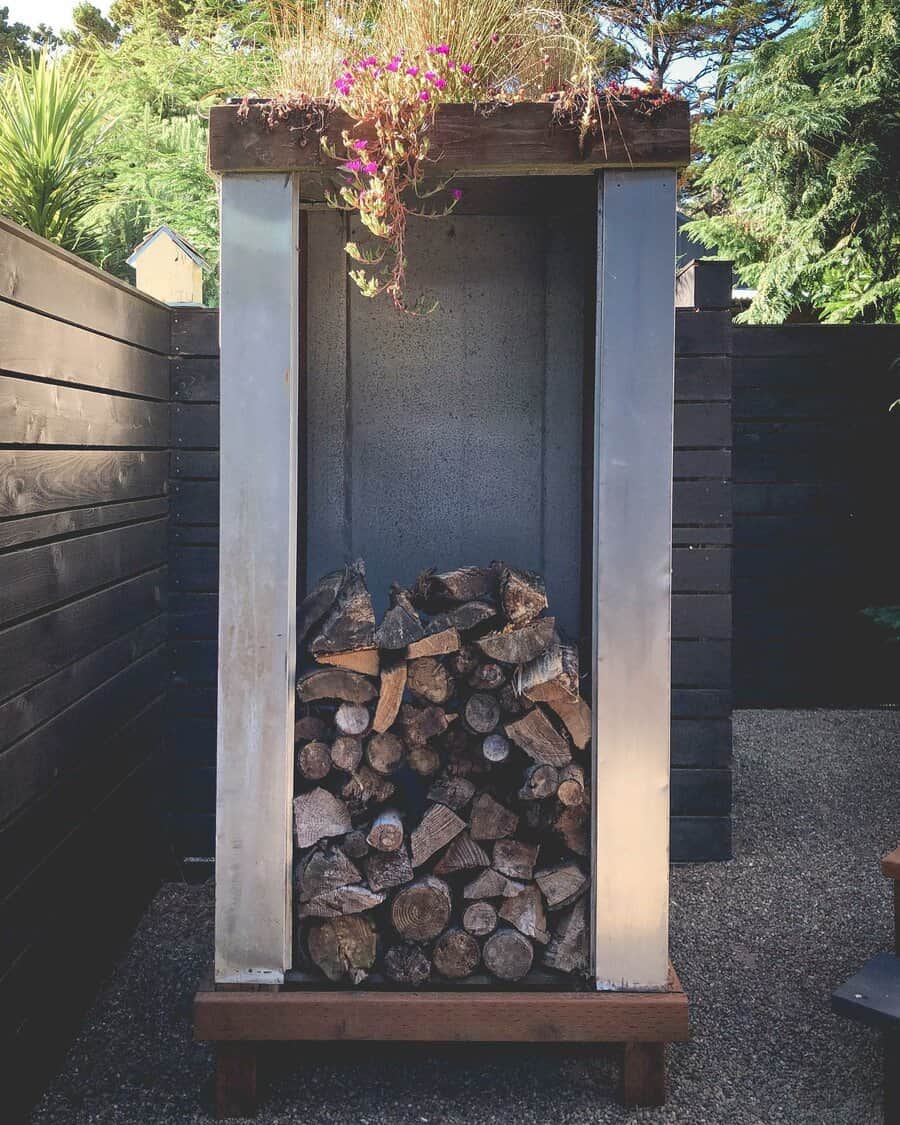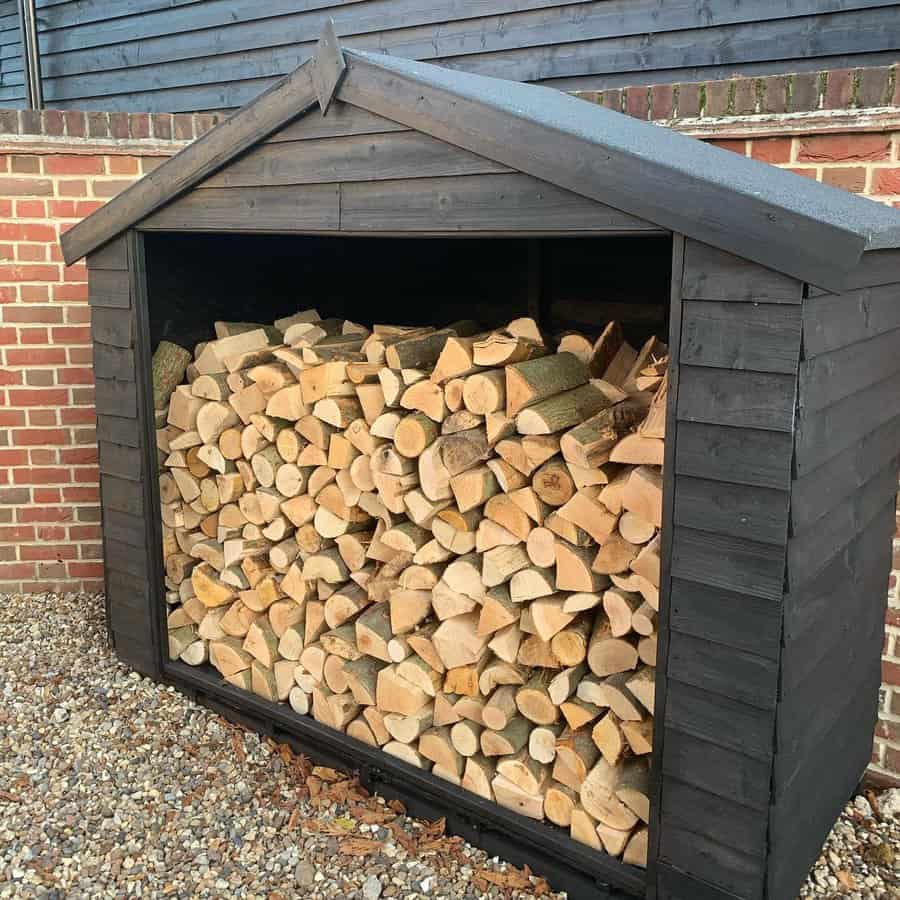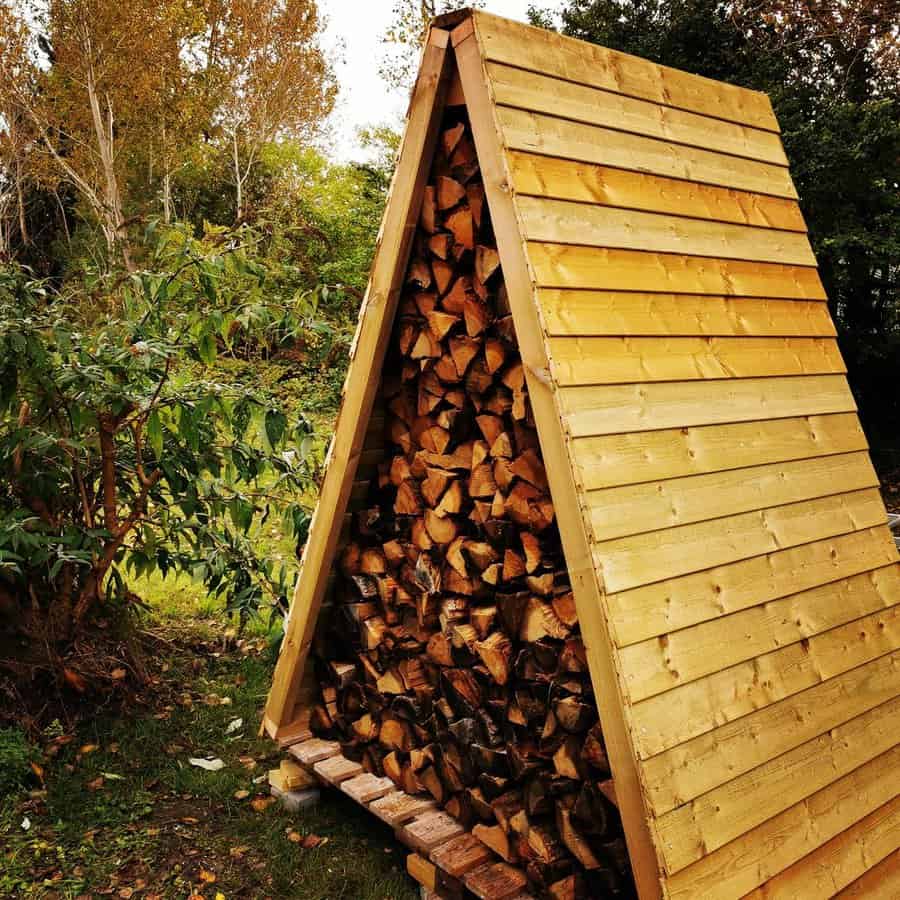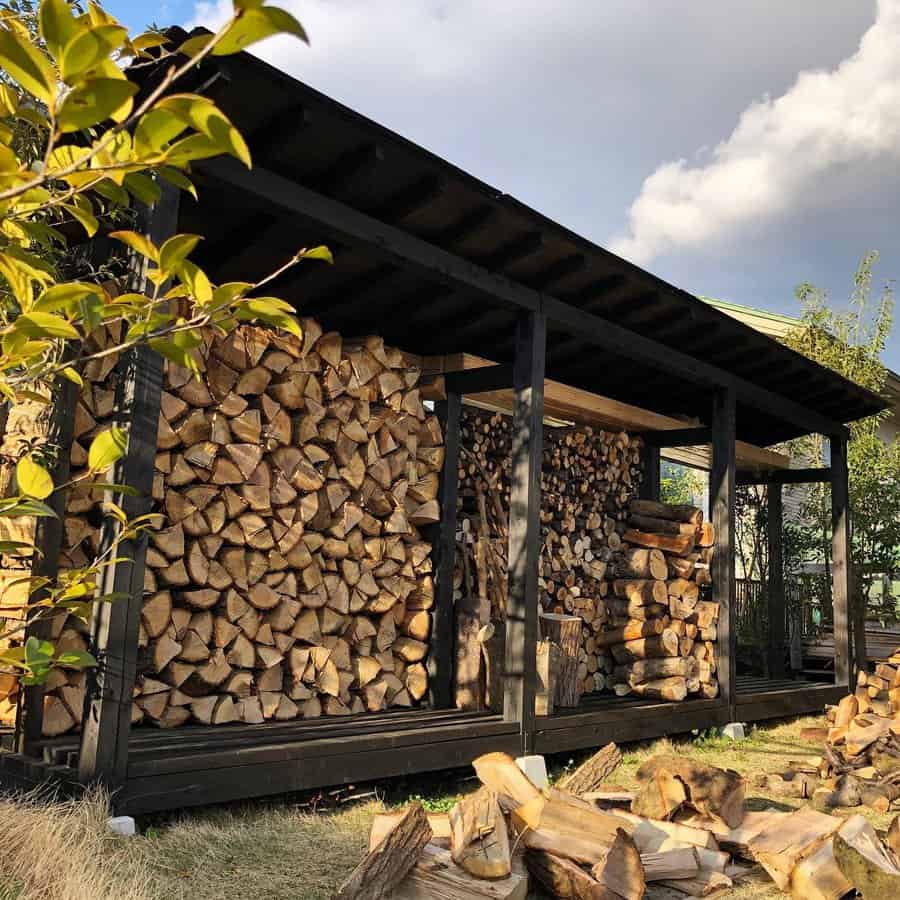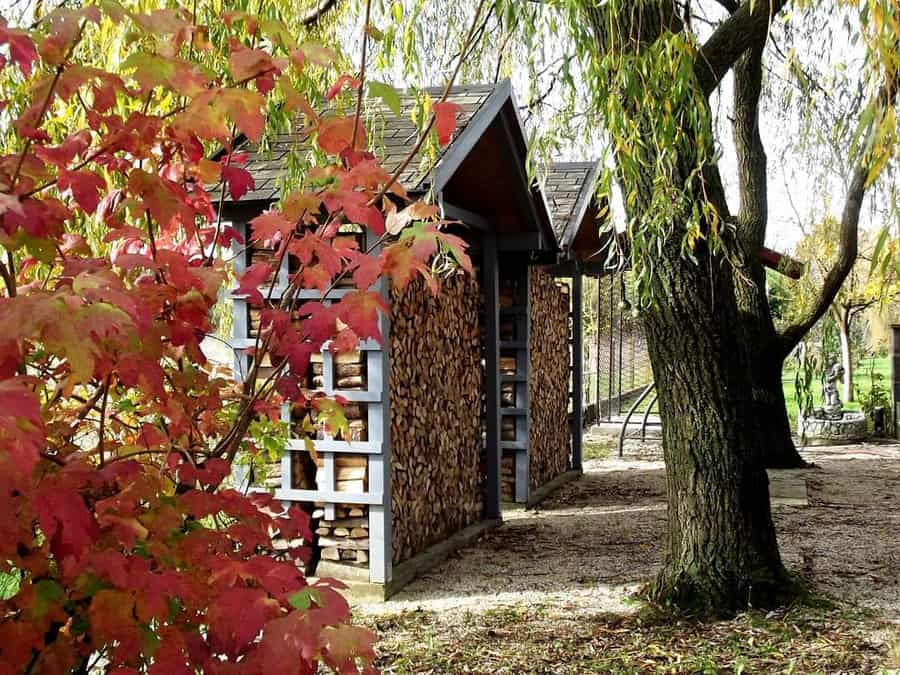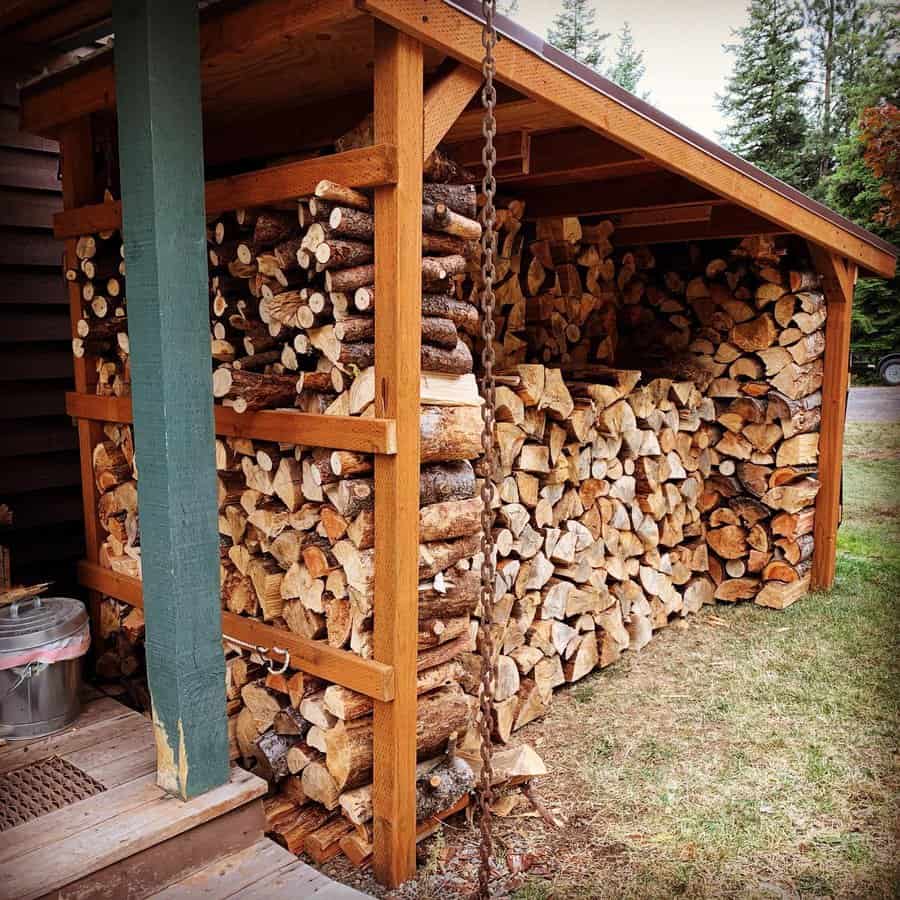 Firewood Storage FAQs
Should you cover firewood with a tarp?
Yes, proper outdoor firewood storage requires some type of cover. You must protect seasoned firewood from rain or snow. If you don't have a firewood shed, cover your firewood with a tarp to protect it from saturation.
Can you store firewood in plastic bins?
Yes, plastic bins can work for firewood storage, but only if the wood and the bin are completely dry. Residual moisture will keep the firewood damp, and it's hard to light wood that is too moist.