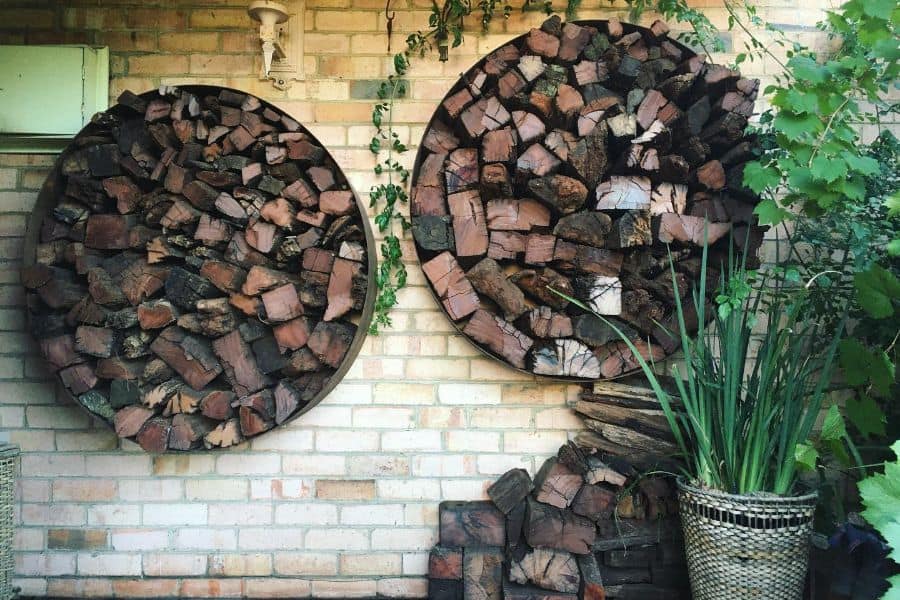 74 Firewood Storage Ideas
Nothing matches the rustic charm of a wood burning fireplace. Gas fire logs are simple to use but fail to replicate the crackling sounds and smoky aroma of a real wood fire. To achieve the perfect fireplace or fire pit display, you must use properly seasoned firewood.
Firewood storage involves keeping wood dry. Green wood, or unseasoned wood, has a moisture content around 50 percent. Seasoned wood has a moisture content below 20 percent.
Proper firewood storage involves keeping your wood at this level of dryness until you're ready to use it. Check out our best firewood storage ideas and learn how to properly store your firewood indoors and out.
1. Basket
Firewood stacked in an attractive wicker basket is a homely addition to any hearth.
Choose your basket size based on the length and width of the wooden logs and how much you expect to use each day. Look for heavy baskets with strong walls, made from thick wicker, heavy twigs, or rope.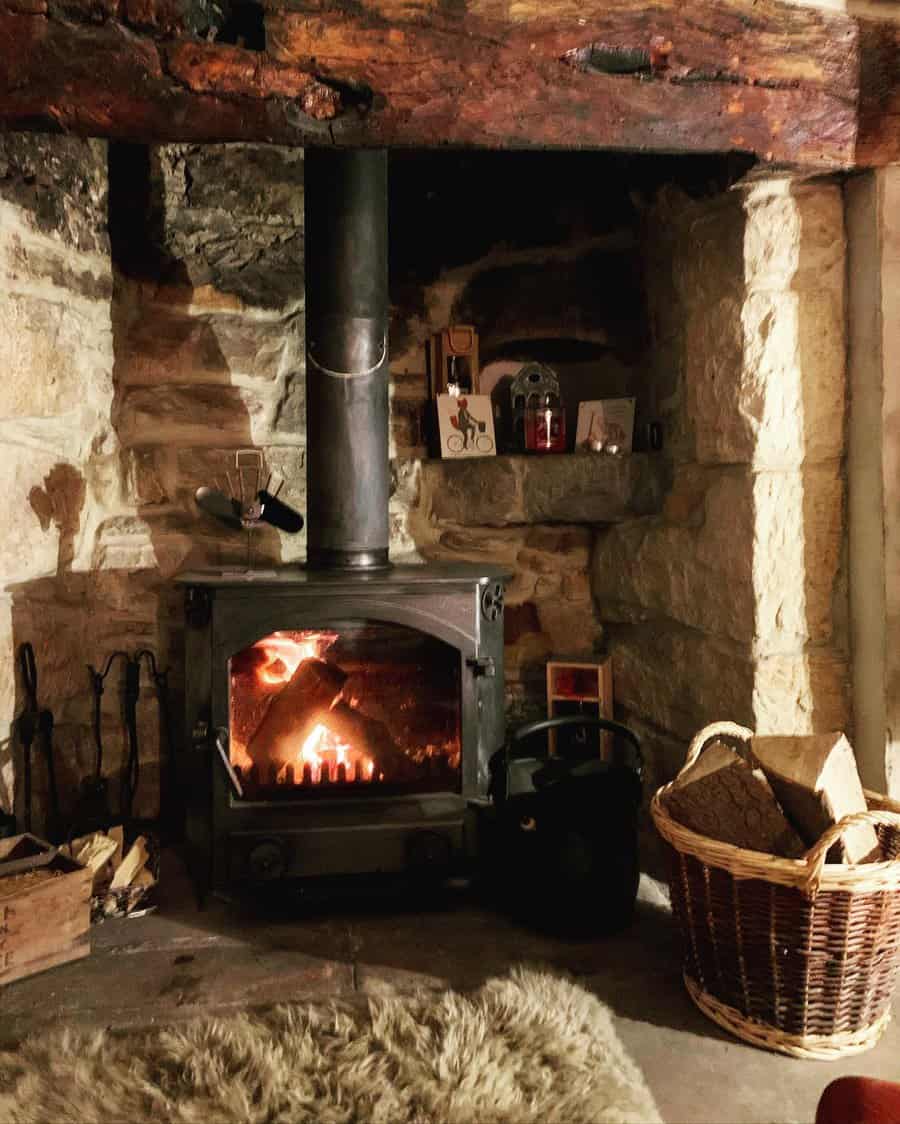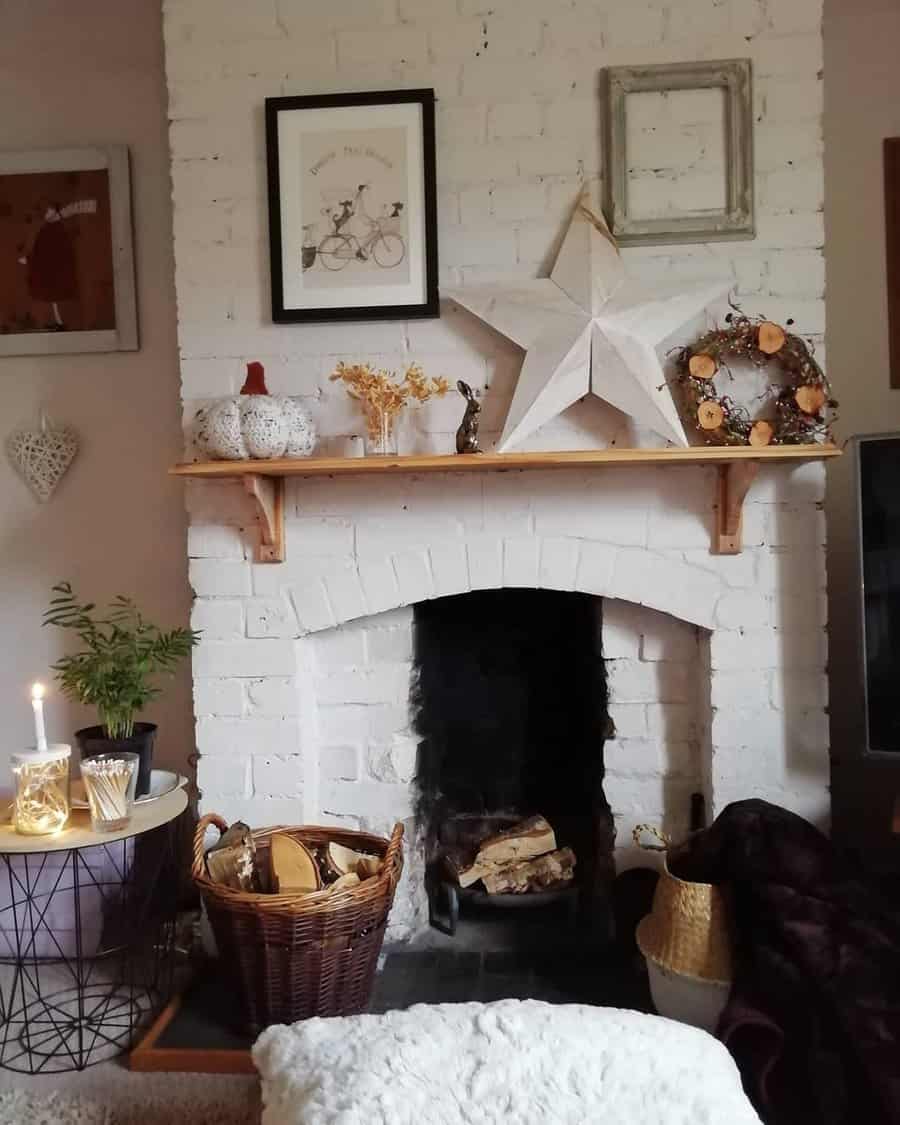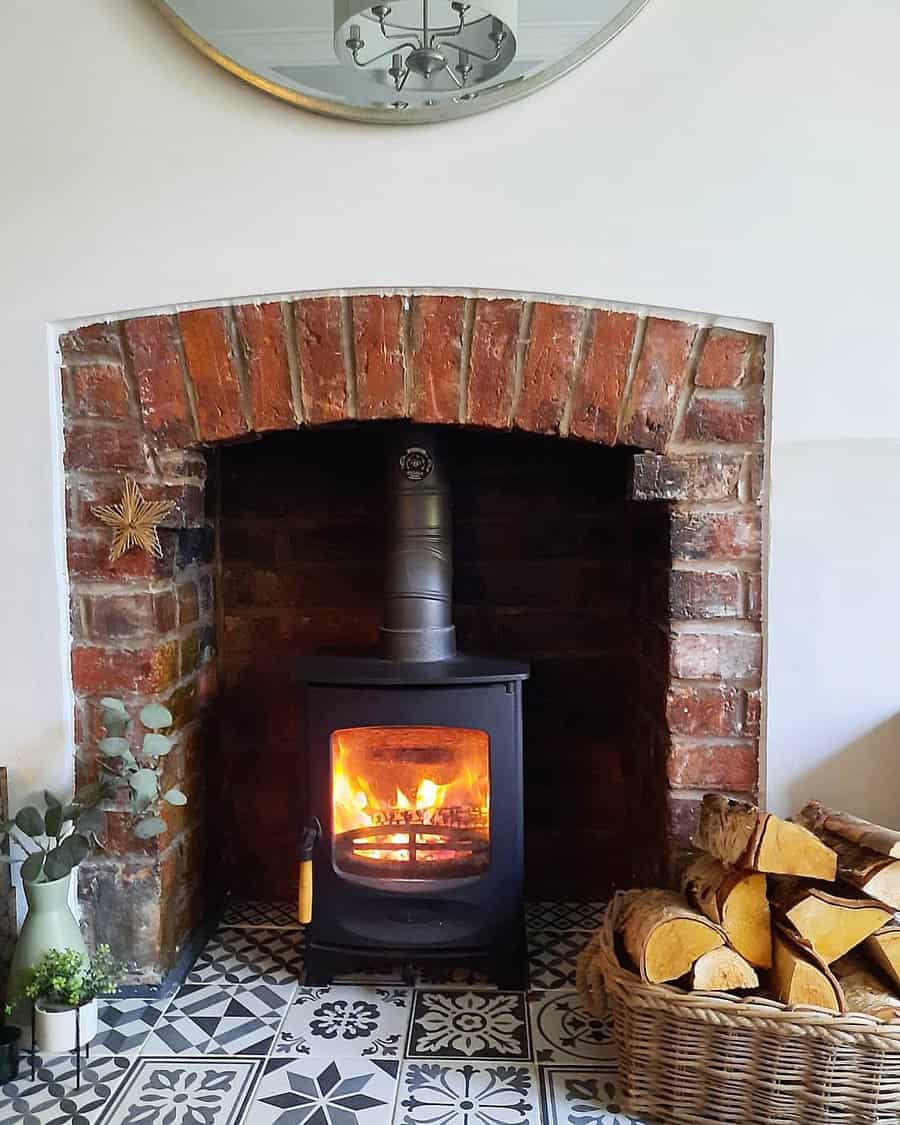 Look for a two-layer basket that has one section for firewood and one for kindling. A wooden crate or box can substitute for a woven basket, and will be stronger and more durable. Baskets made from metal slats also make good wood storage containers indoors.
2. Bench
It's ideal to get two purposes out of one piece of furniture—especially if storage space is limited inside your home.
A firewood storage bench is a unique storage solution that can also be an attractive part of your home décor.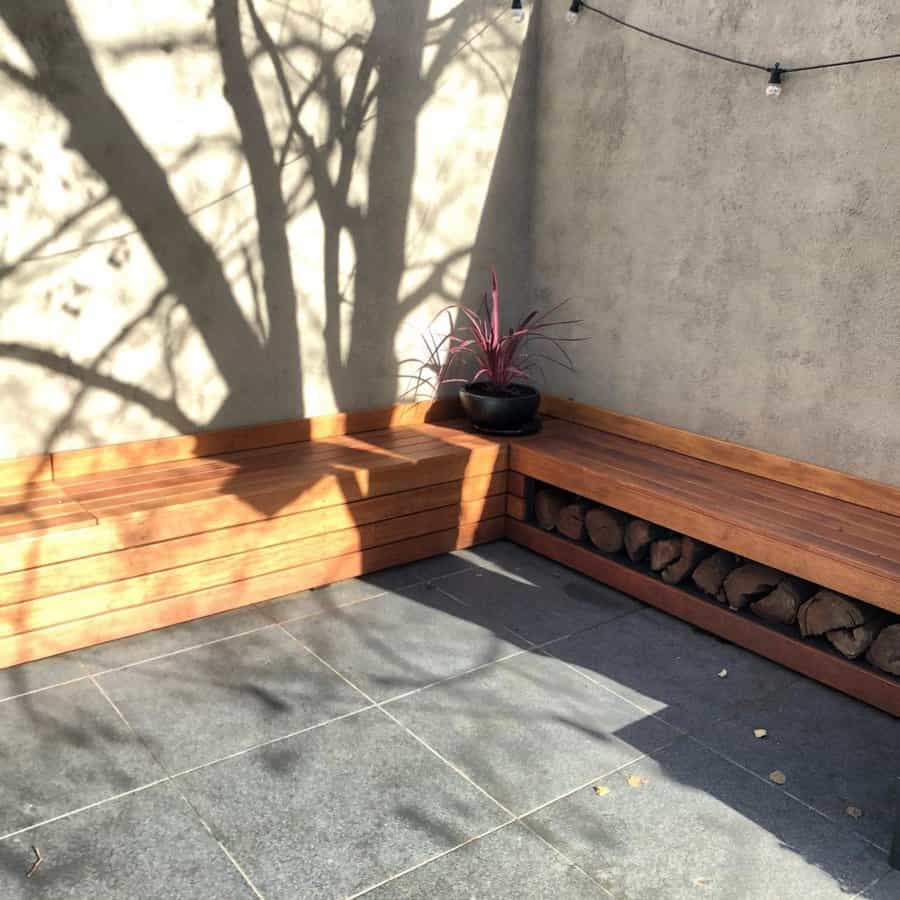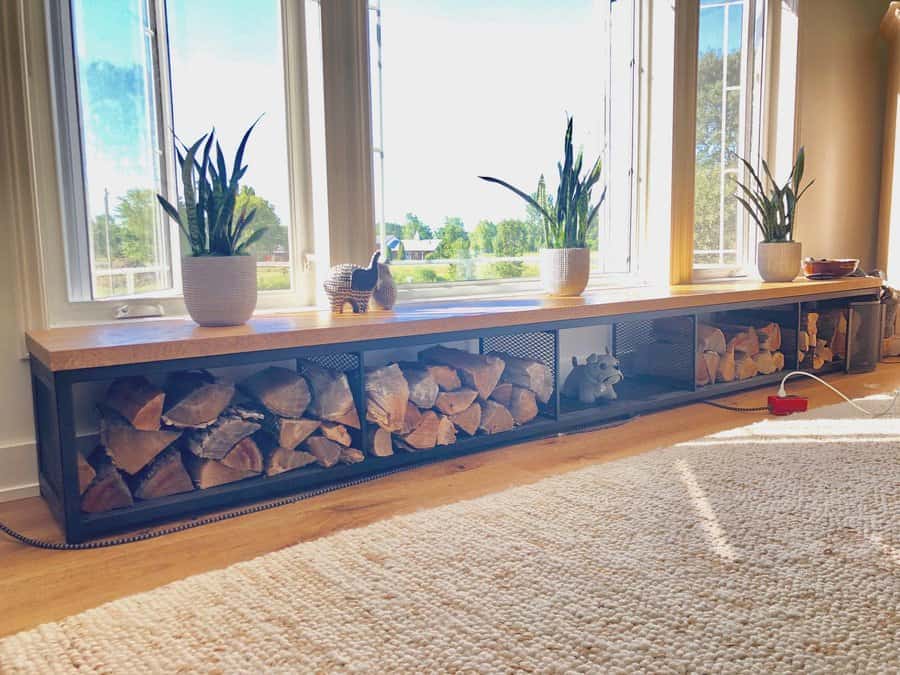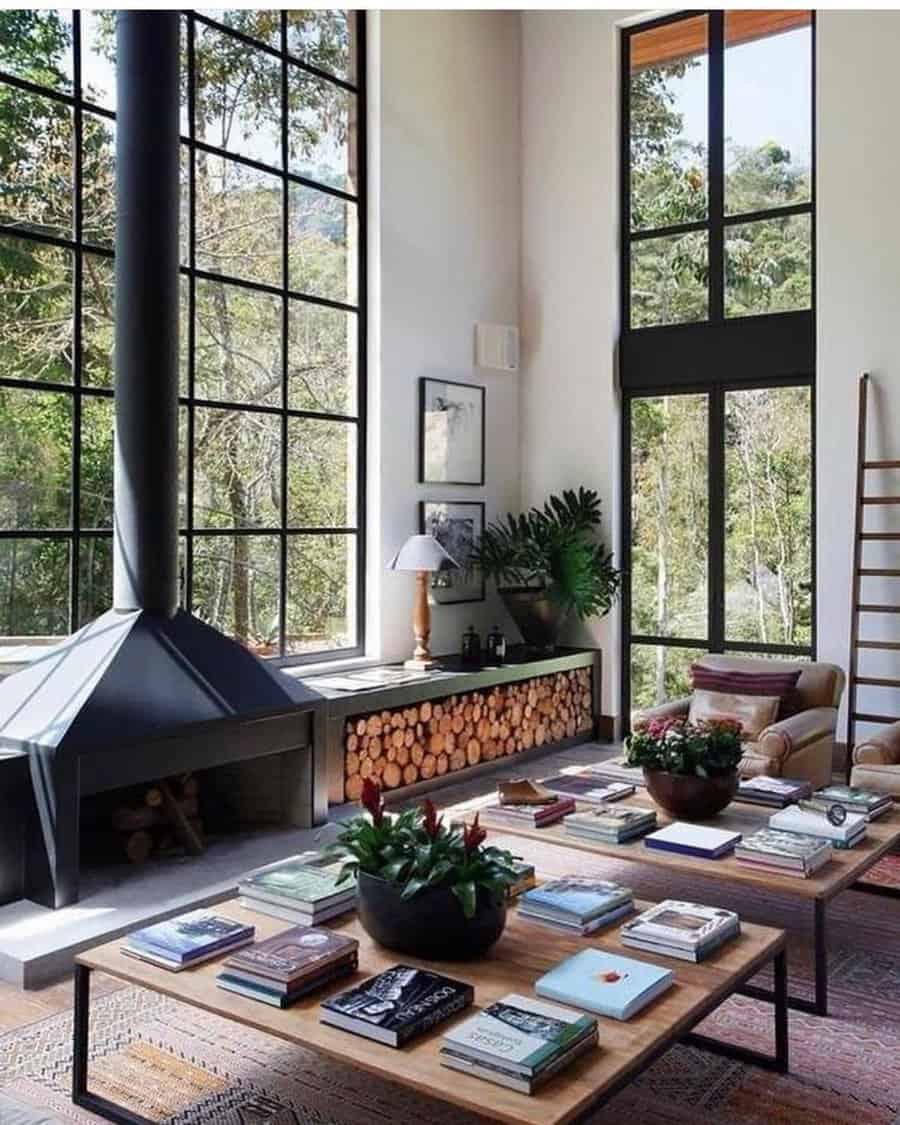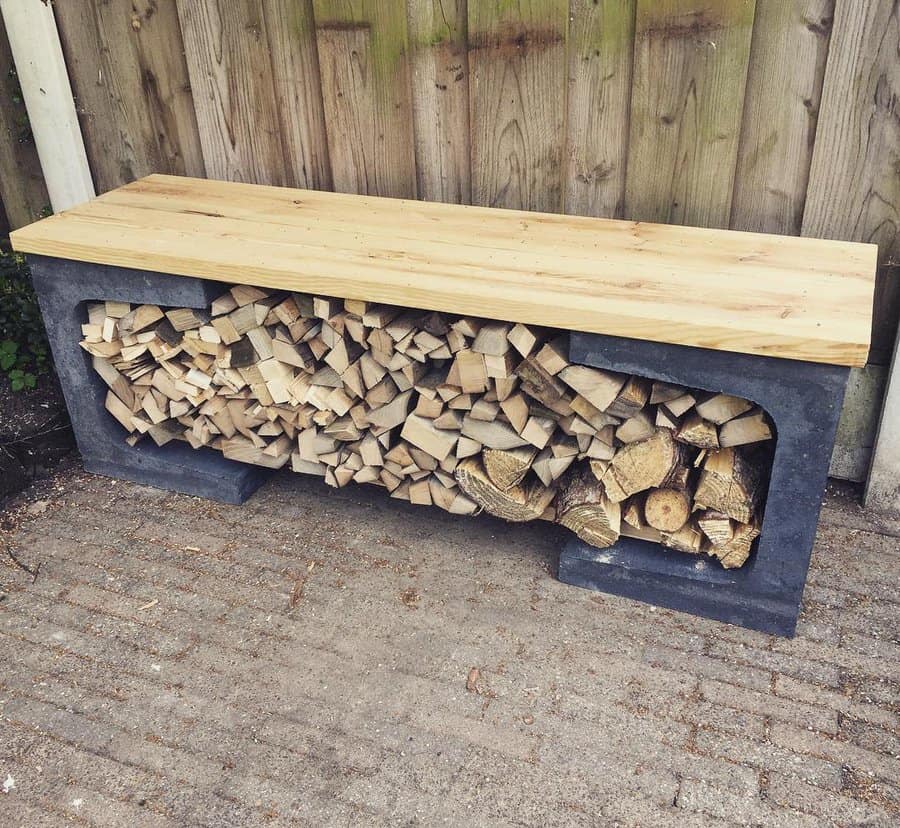 A bench with a firewood storage rack beneath it can be an appealing addition to your mudroom, entryway, or living room. Neatly filled with firewood, it's a convenient way to store a lot of firewood inside during a long winter.
A bench also works well for outdoor firewood storage on your porch or patio.
3. DIY
A DIY firewood rack is relatively easy to build out of basic lumber and tools. It's also an inexpensive project that allows you to elevate your wood above the ground for proper moisture control.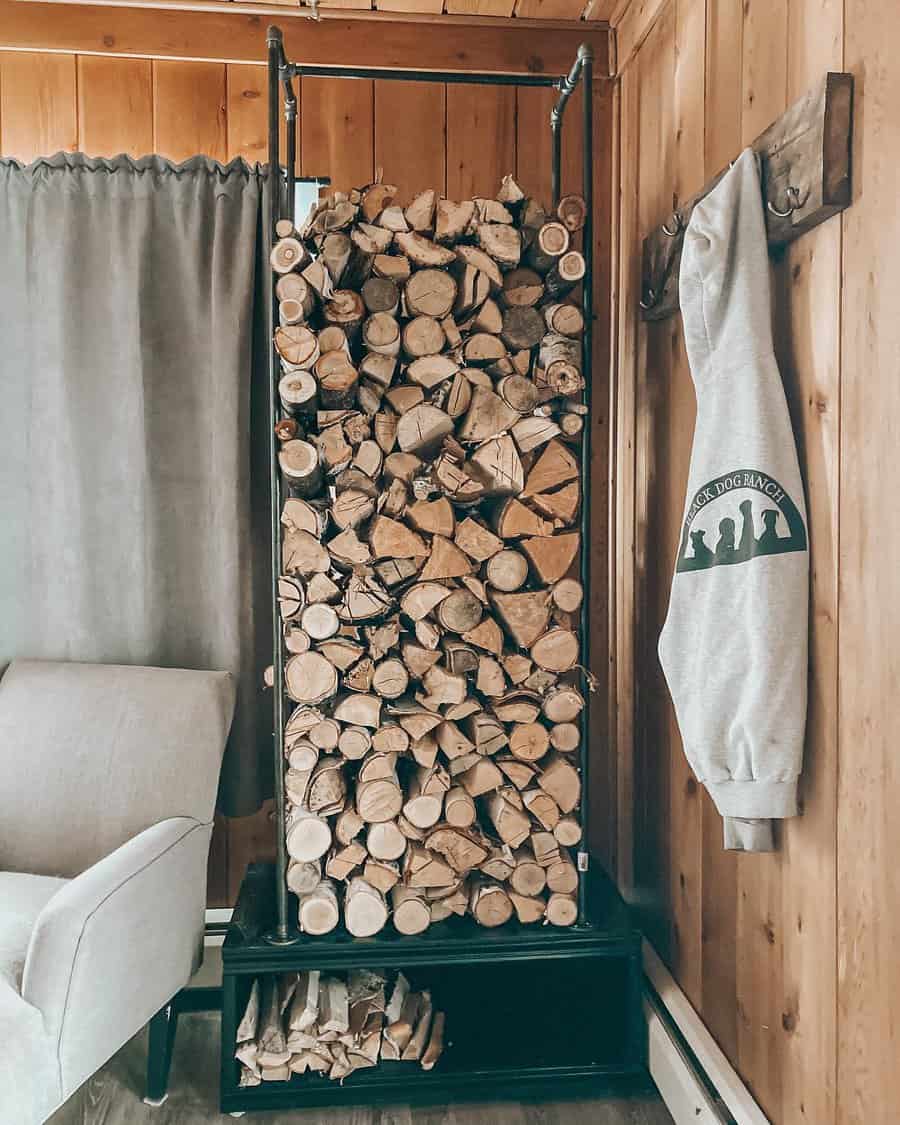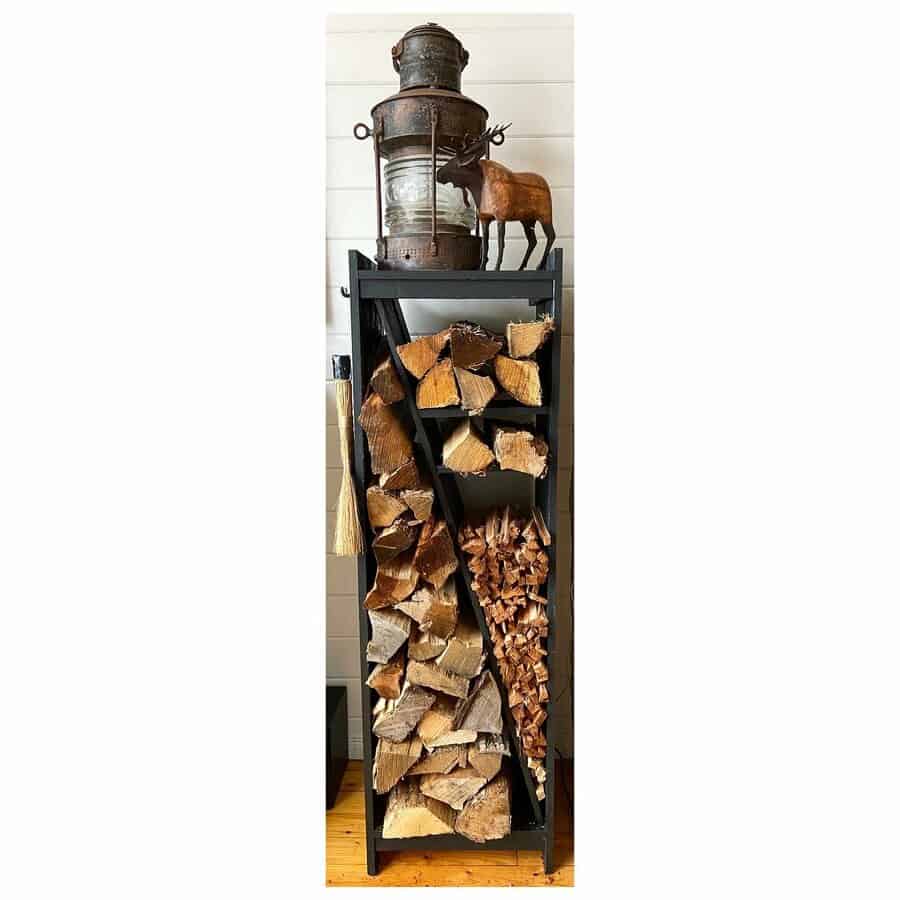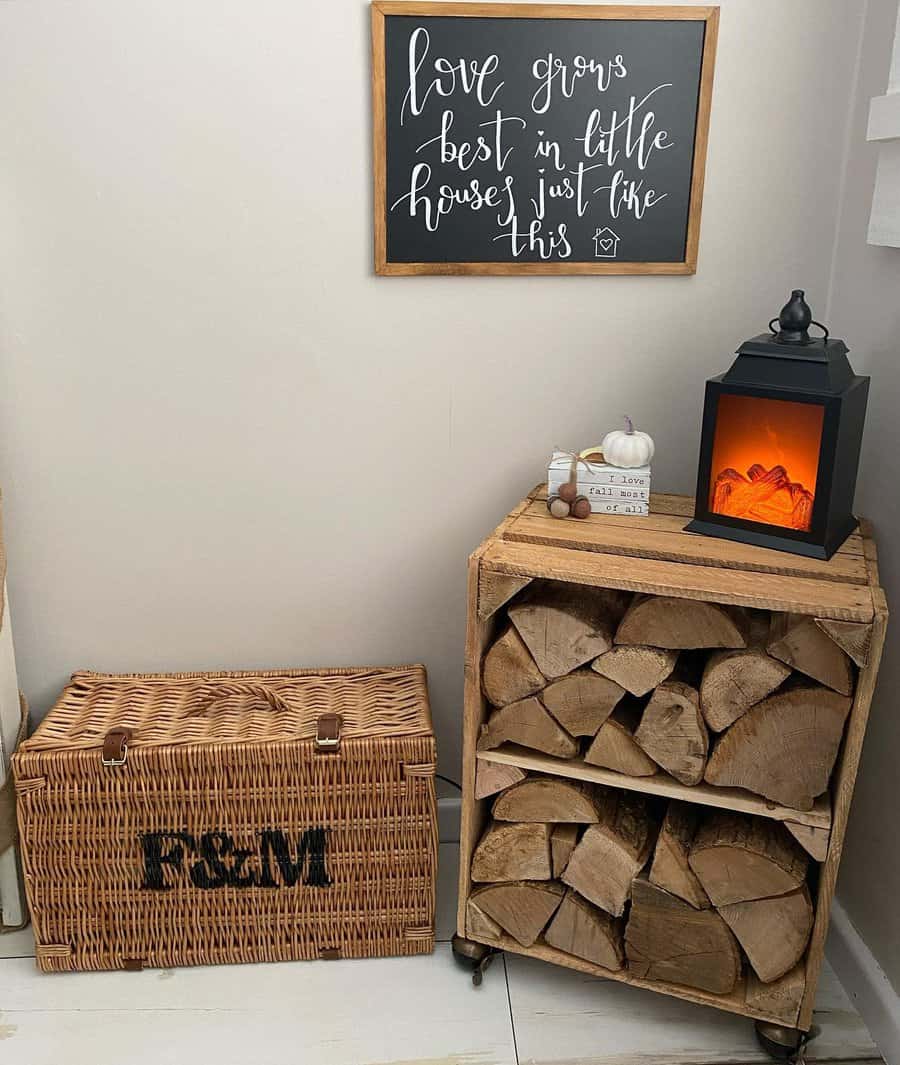 You can also make any number of DIY firewood storage containers yourself. Cut an old wine barrel in half and use it as a hearthside firewood storage basket.
4. Firepit
It's ideal to build your outdoor firewood rack near the fire pit so that it's easy to add logs to the fire. You can also build your firewood rack into the base of a concrete, stone, or brick fire pit. Some premade metal fire pits include a wood storage area in the structure's base.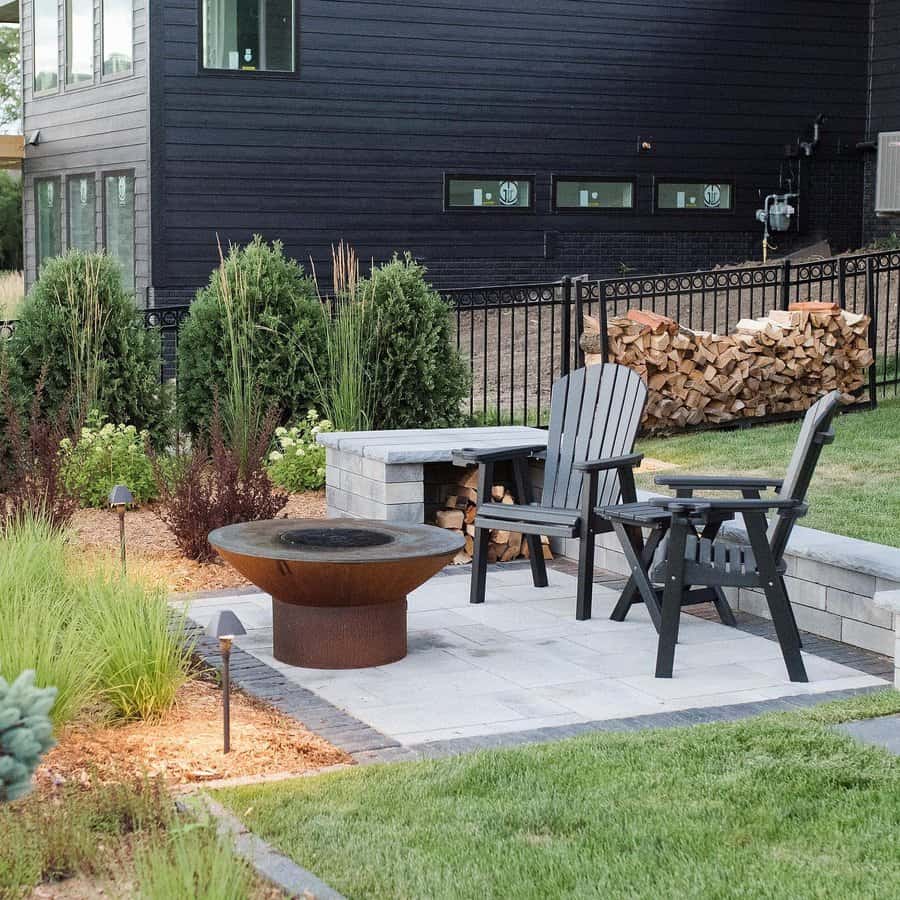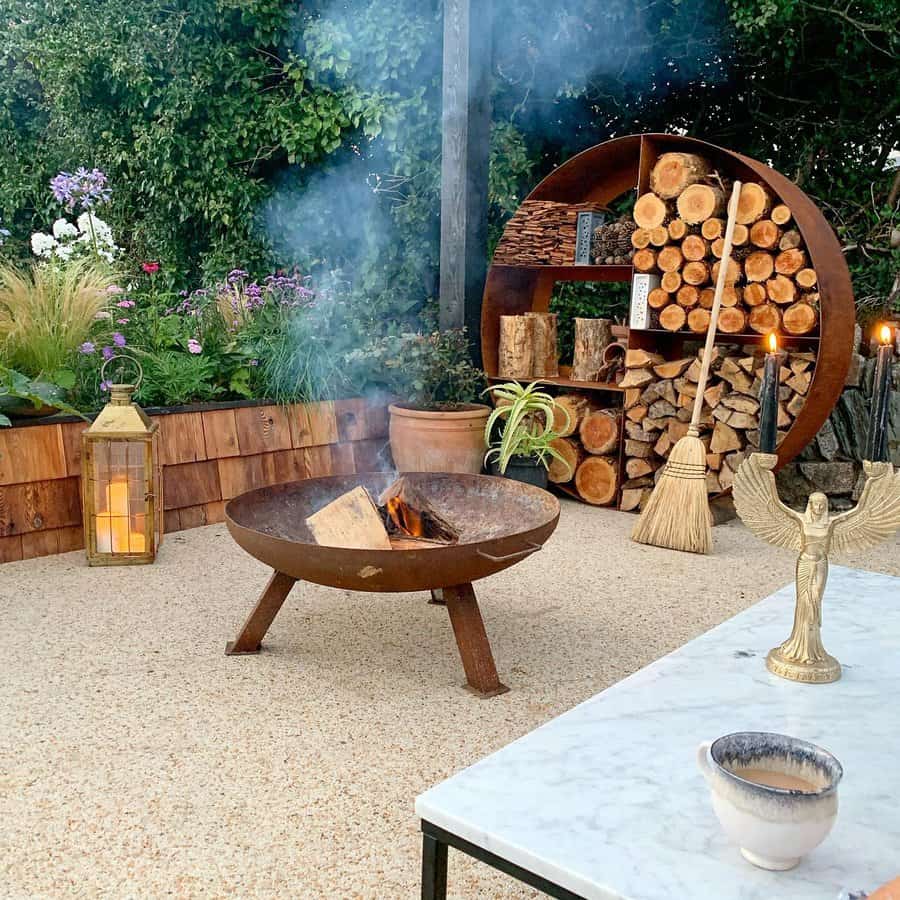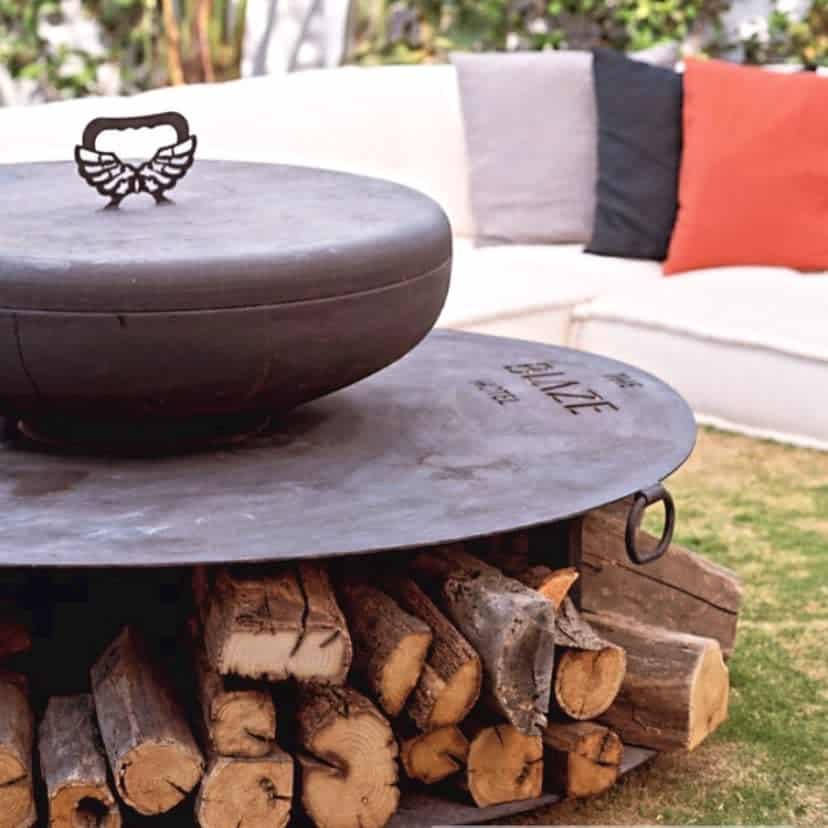 When designing an outdoor living space, incorporate a firewood storage rack into a long bench positioned near the firepit or chiminea. Design your firewood rack to look like a bookshelf and assign a shelf to different sizes of kindling and logs.
Related read: 49 Fire Pit Ideas
5. Fireplace
Many homes with built-in fireplaces already have wood storage integrated into the design. Usually, this type of indoor firewood storage is an inset area that will hold a dozen or more logs.
However, lots of homes with a wood fireplace lack any type of integrated firewood storage ideas.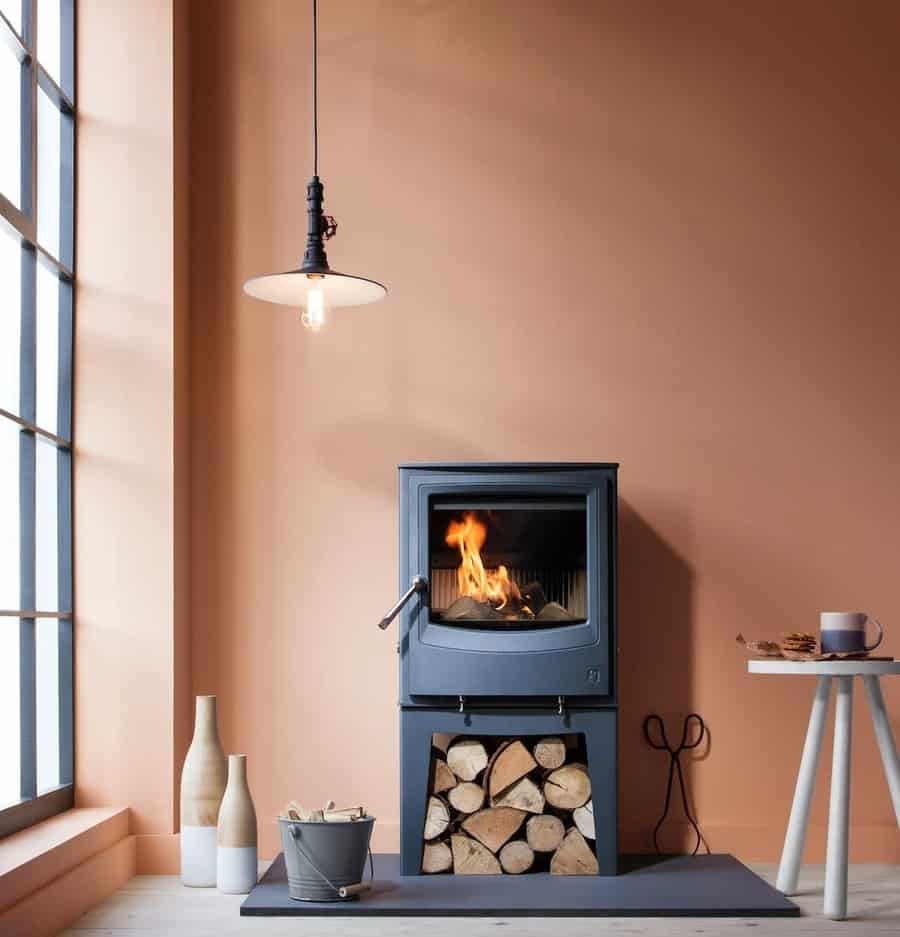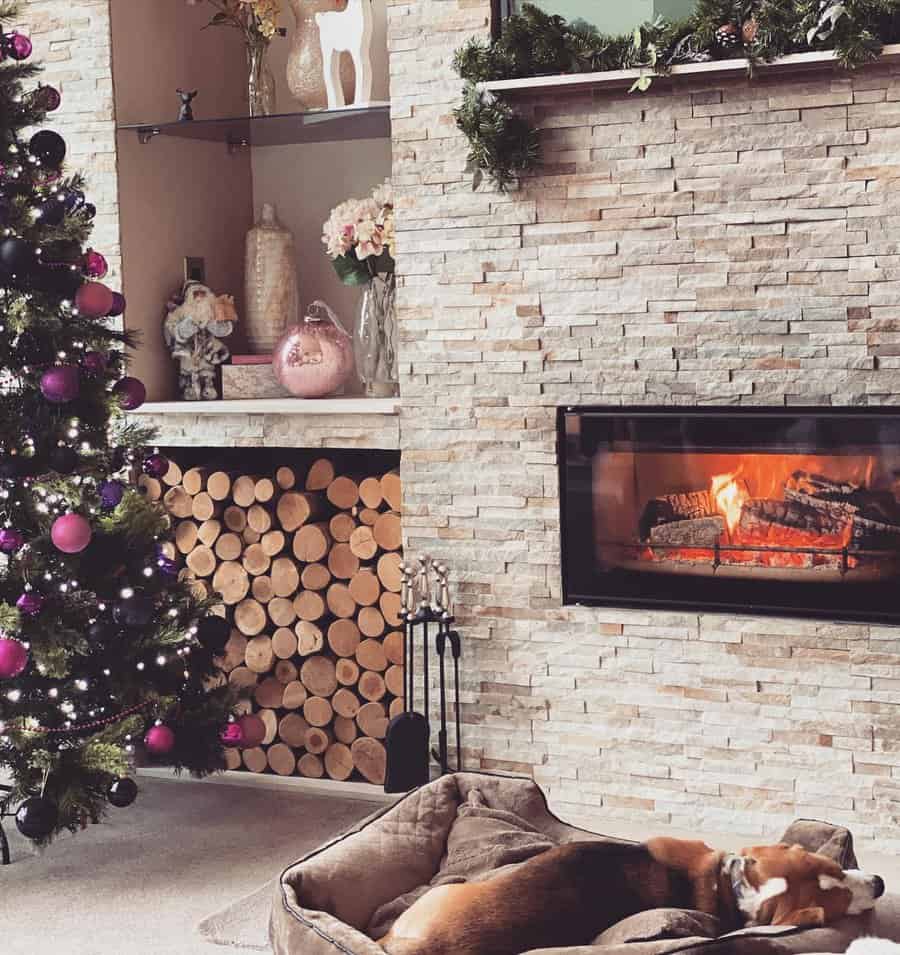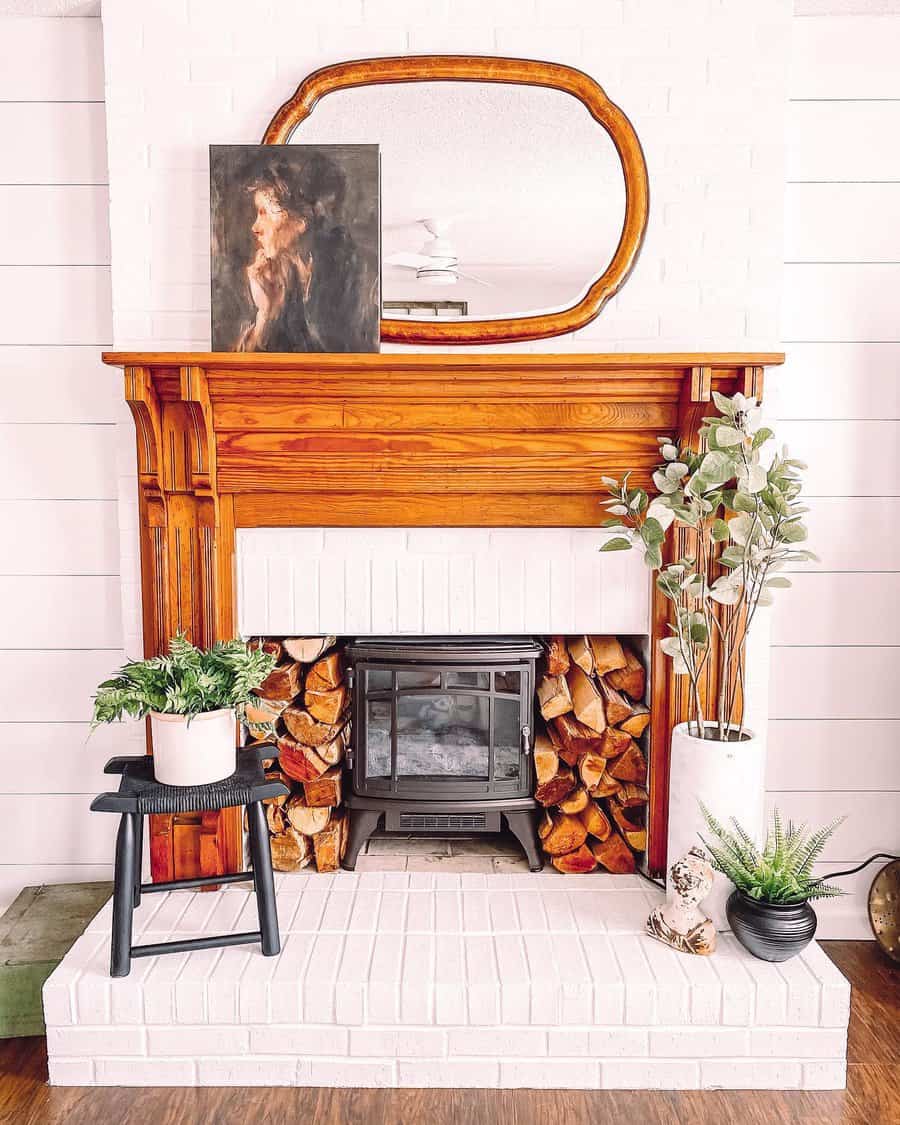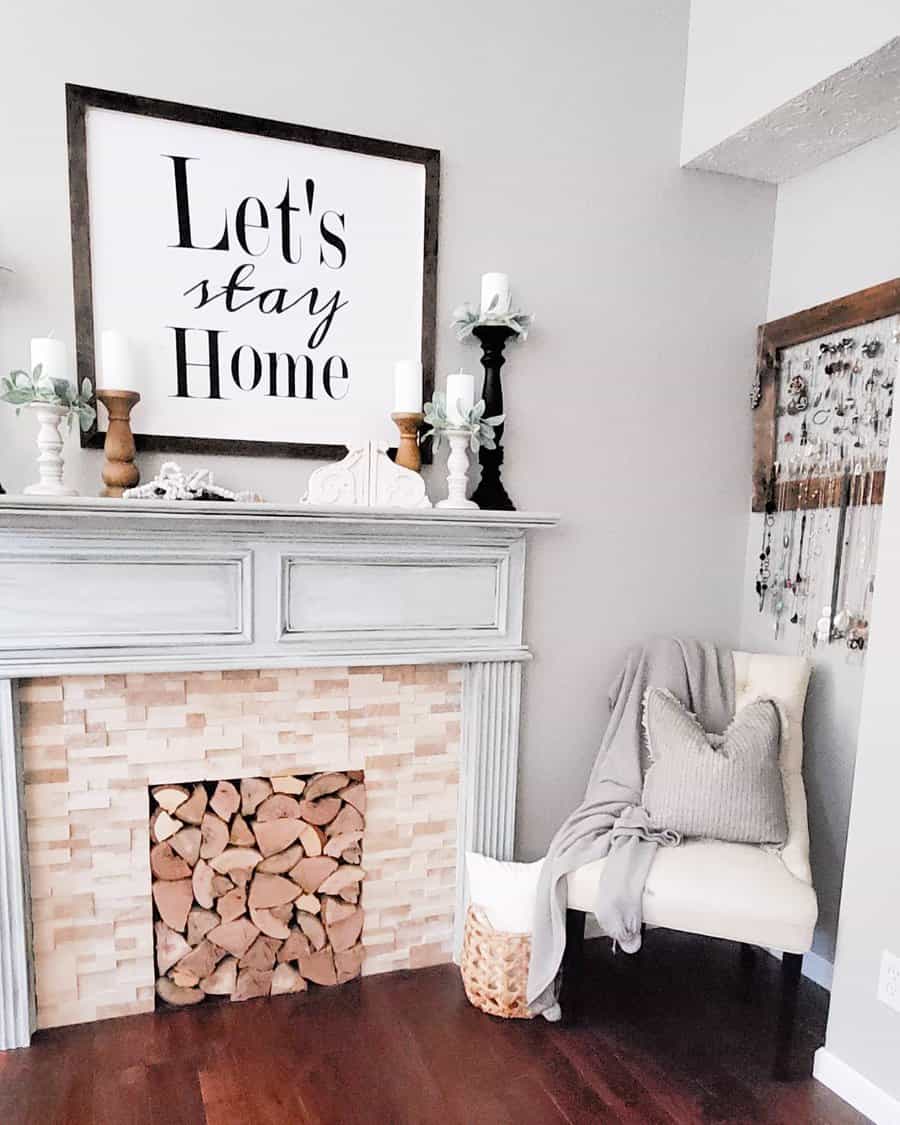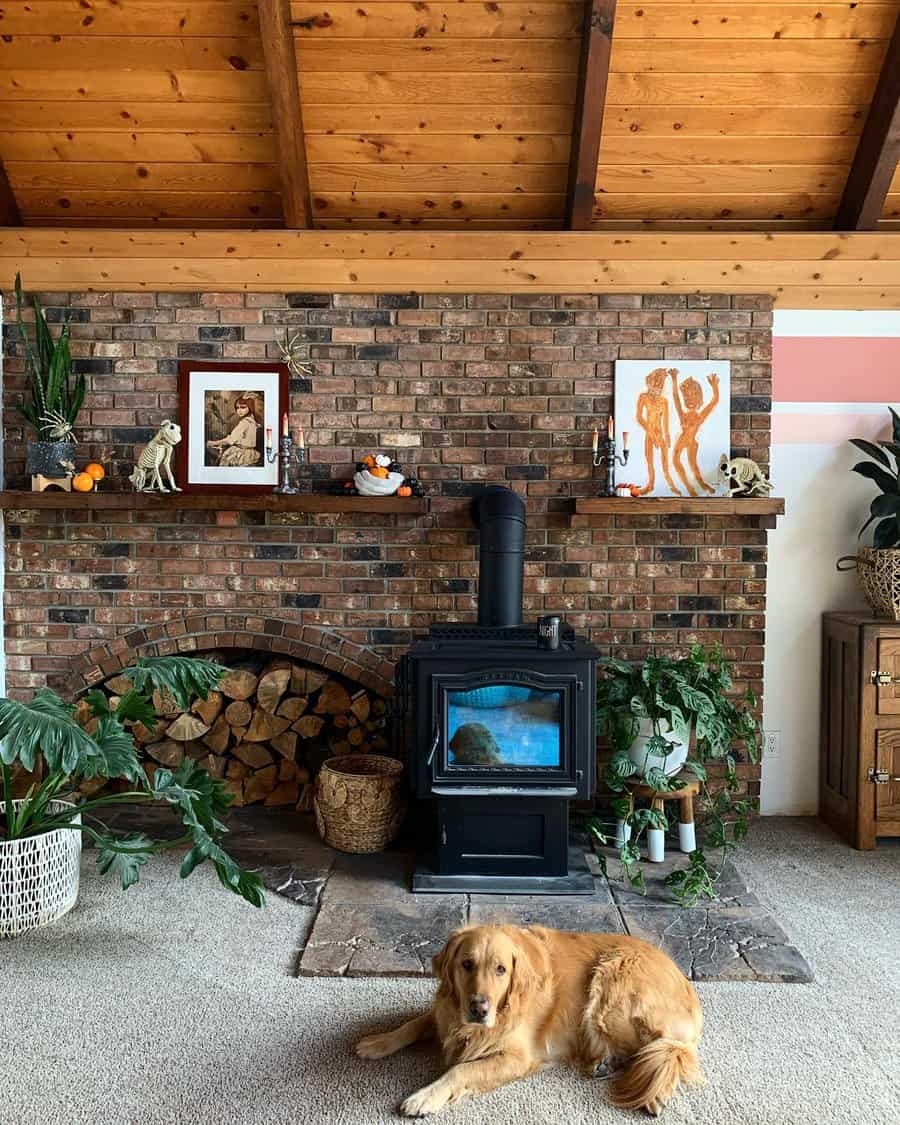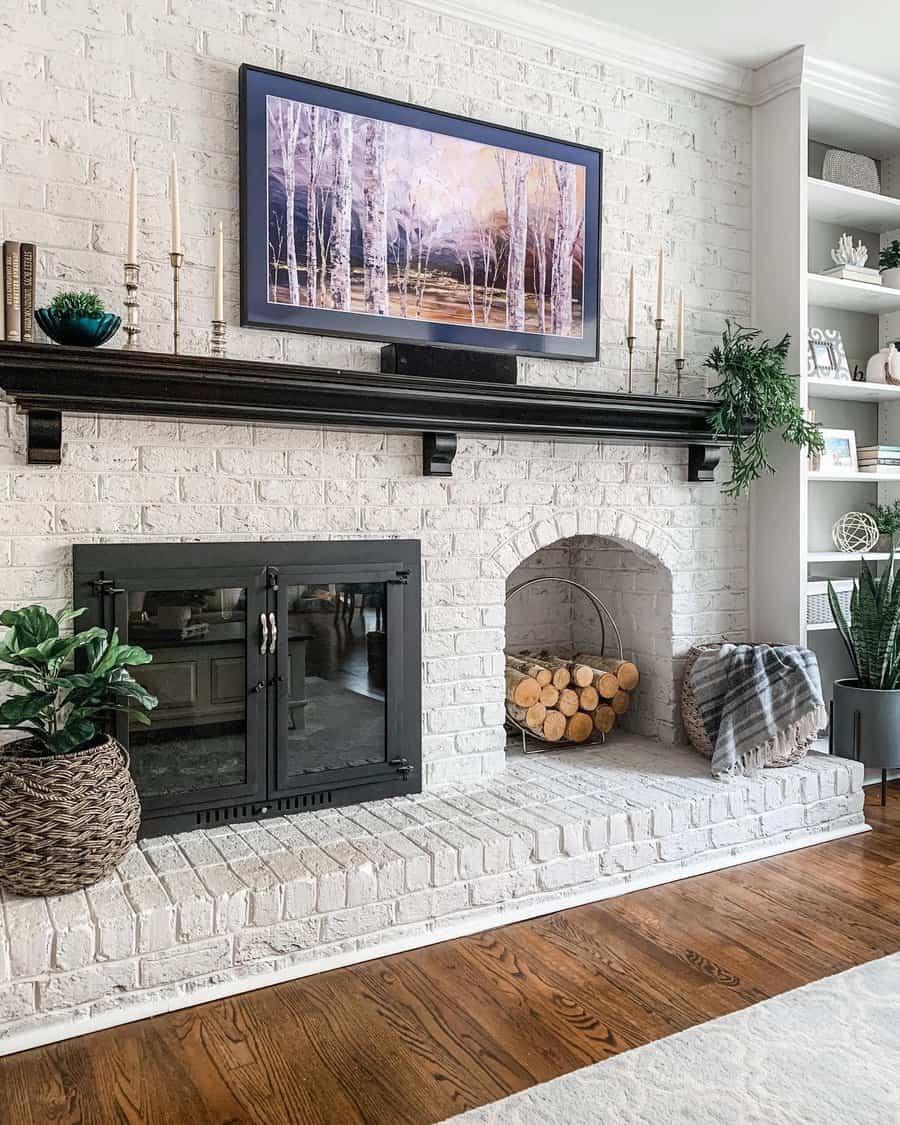 If your fireplace has built-in bookshelves on both sides, you can transform the bottom sections into wood storage areas. Simply remove a shelf or the bottom cabinet doors and stack your wood pile inside.
If you don't have a built-in storage unit, place a simple metal firewood rack beside the fireplace for wood log storage. Include a galvanized bucket to hold smaller pieces of kindling.
Read also: 61 Fireplace Ideas
6. Indoor
Countless indoor firewood storage ideas exist to make log storage an attractive part of your interior décor.
Although stacks of firewood fit effortlessly into rustic, industrial, and farmhouse décor, it can take a little creativity to make a firewood rack look at home in a modern, minimalist interior.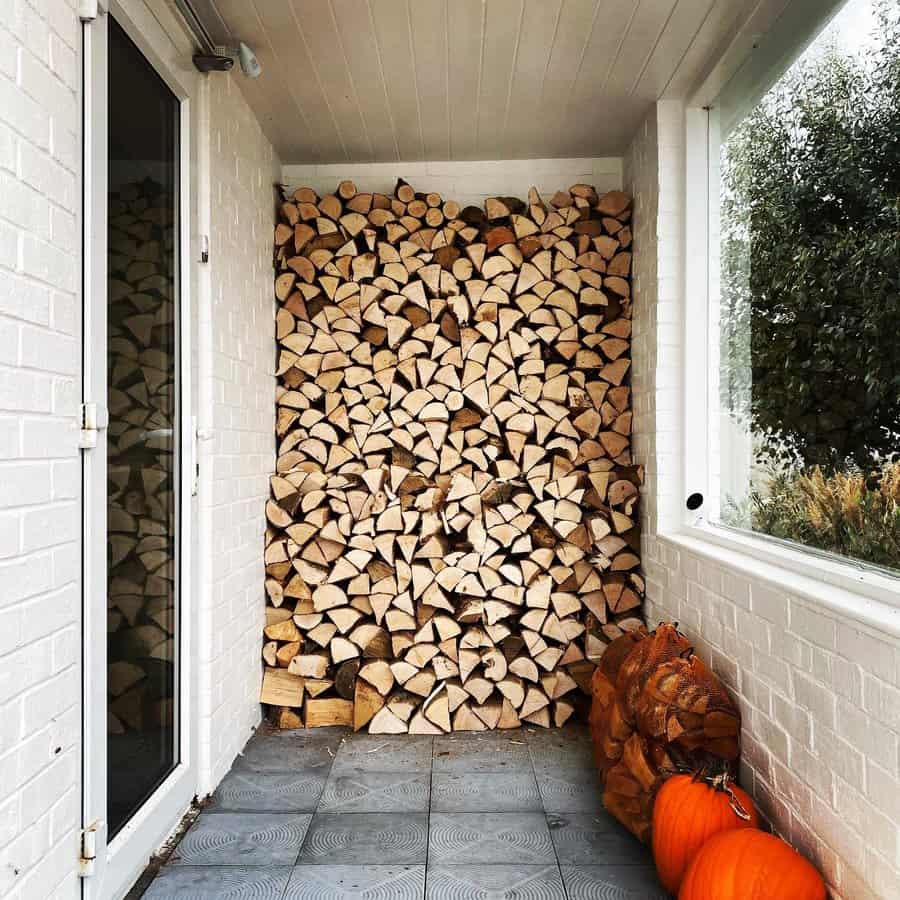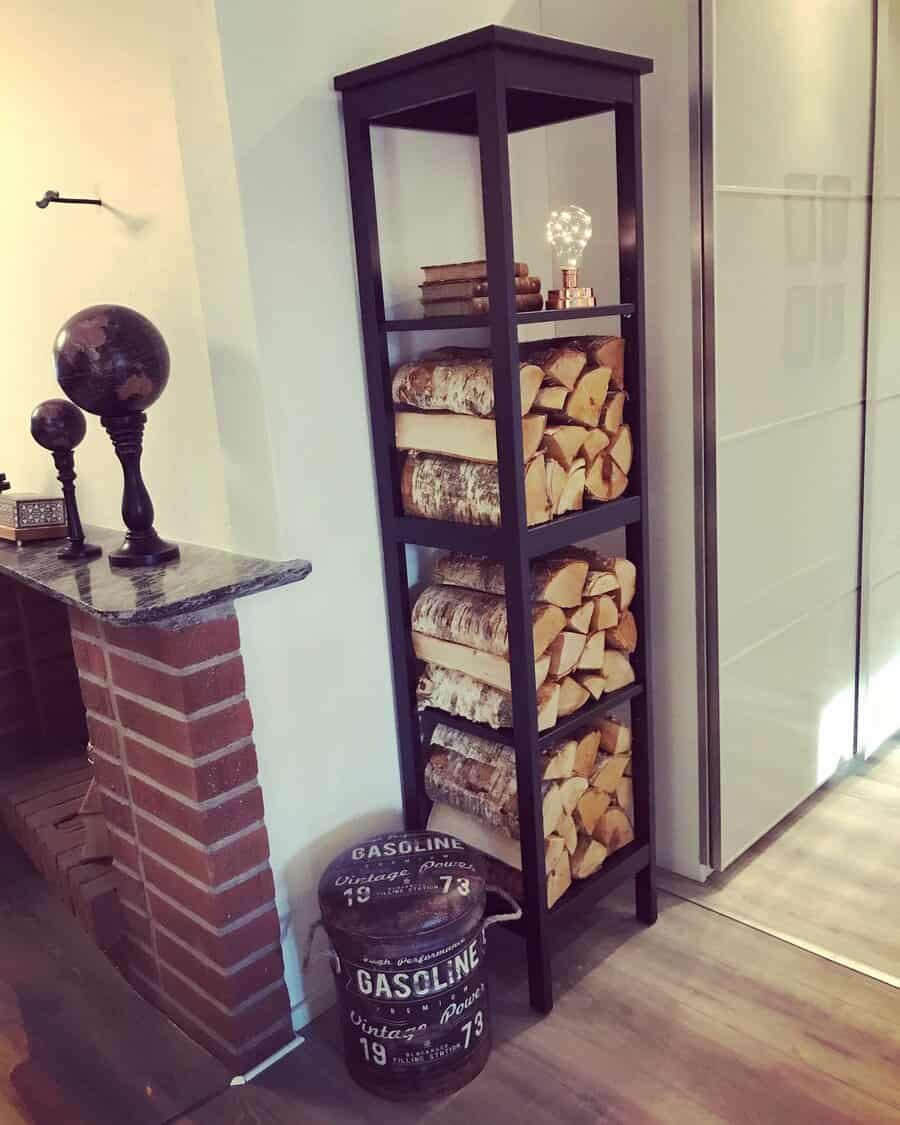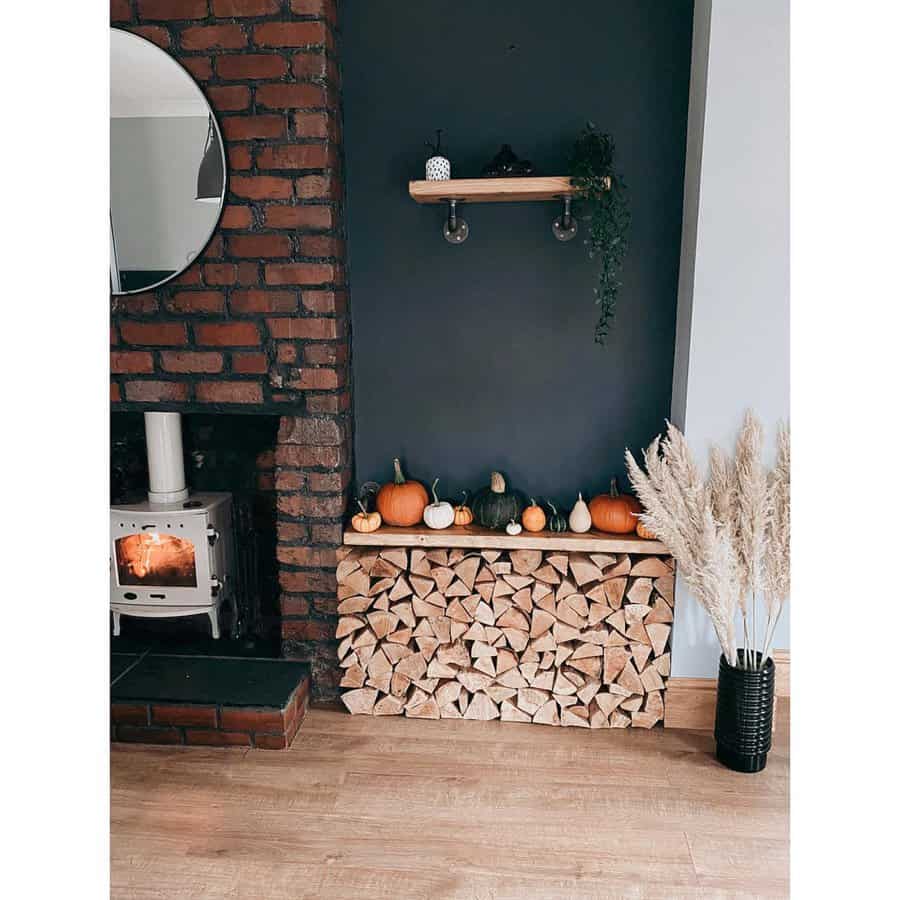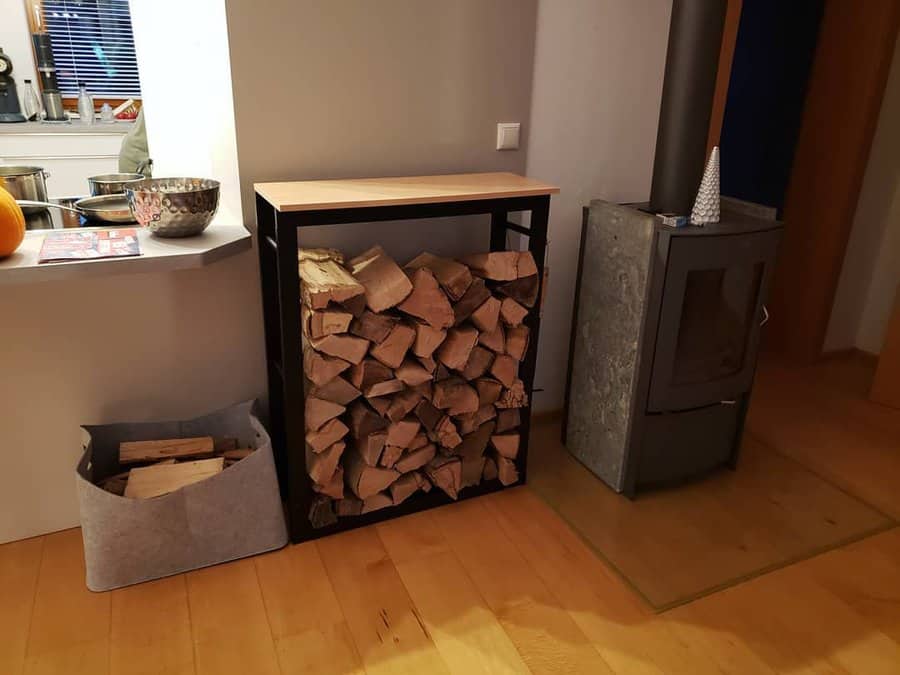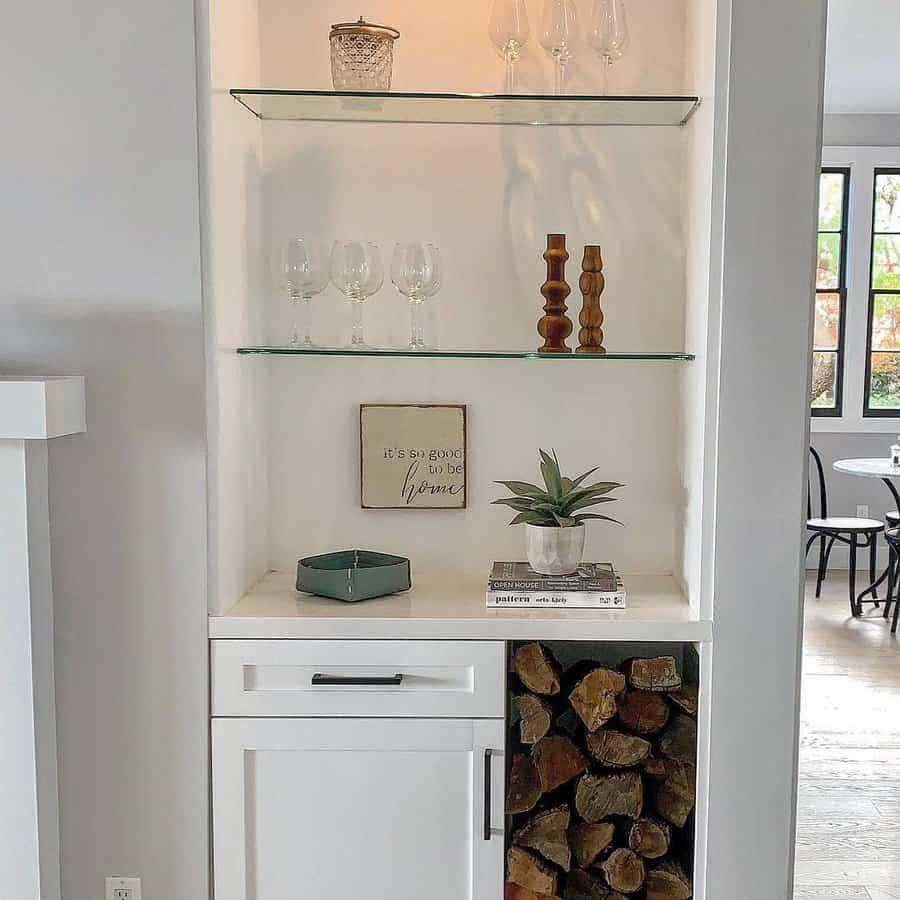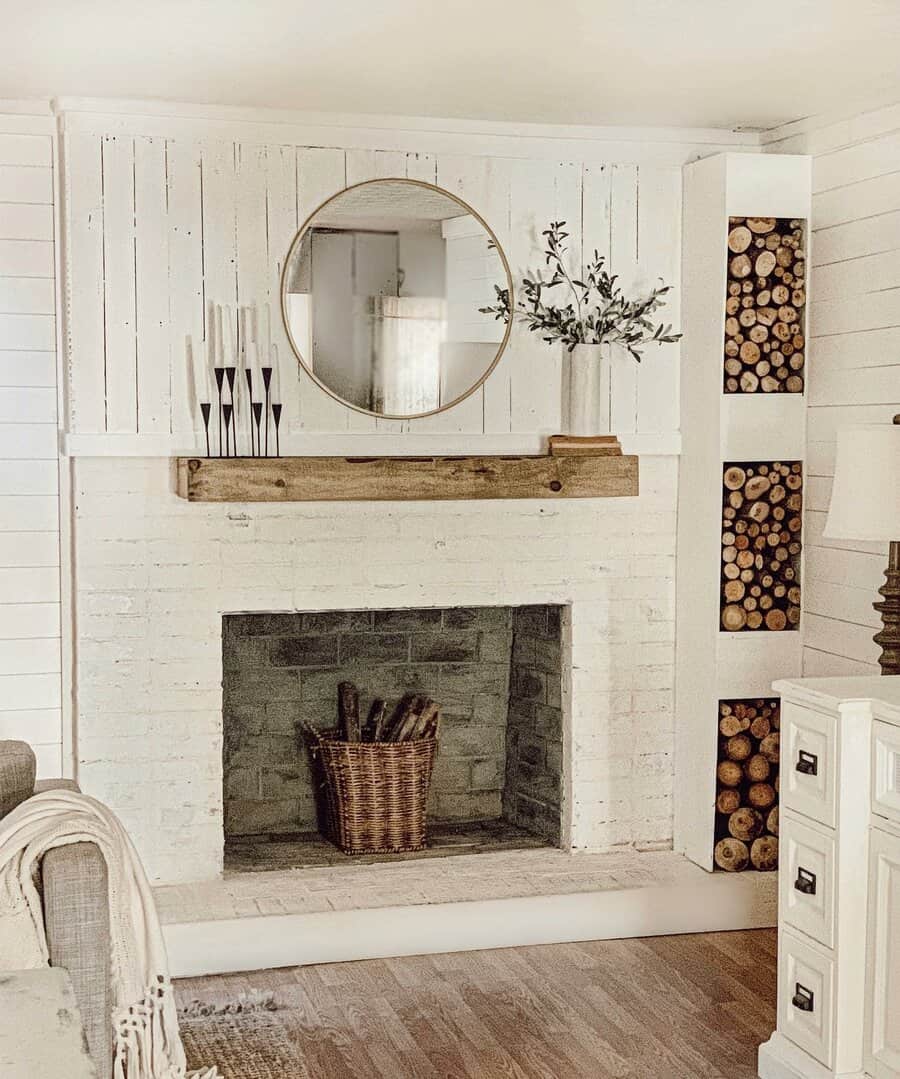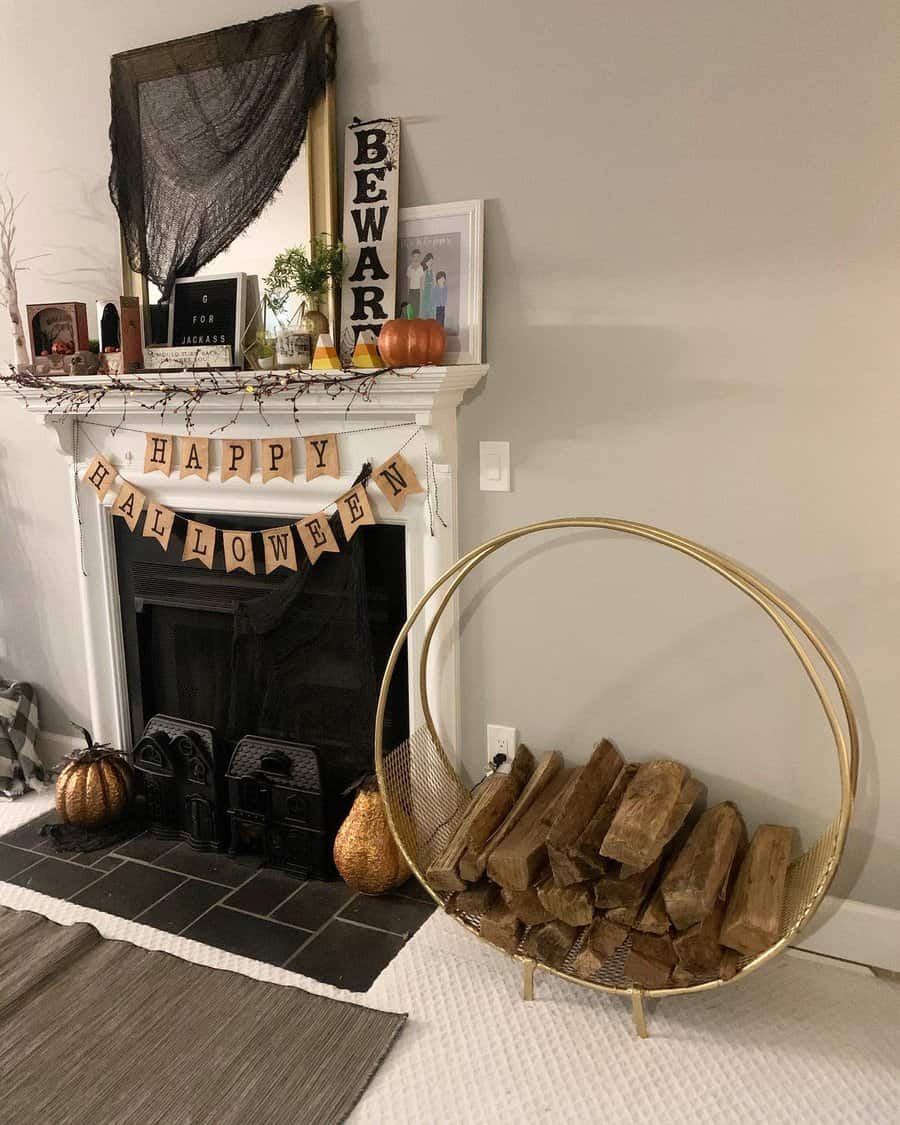 Simplicity is key when integrating a firewood rack into a non-rustic home. A simple wire rack or open shelf cubby may be your best bet.
If you'd rather not display your firewood indoors, make a simple DIY firewood rack on your back patio. It will still be convenient to gather wood when needed, but it will be largely out of sight.
7. Metal
Large galvanized metal buckets or tubs are great firewood storage ideas. If you're into repurposing and upcycling, look for a large, old metal chest with a rusty patina and stack your logs inside.
Wire firewood baskets and bins come in a wide variety of styles. Filled with wood and placed beside the fireplace or wood stove, they add a warm designer touch to the hearth.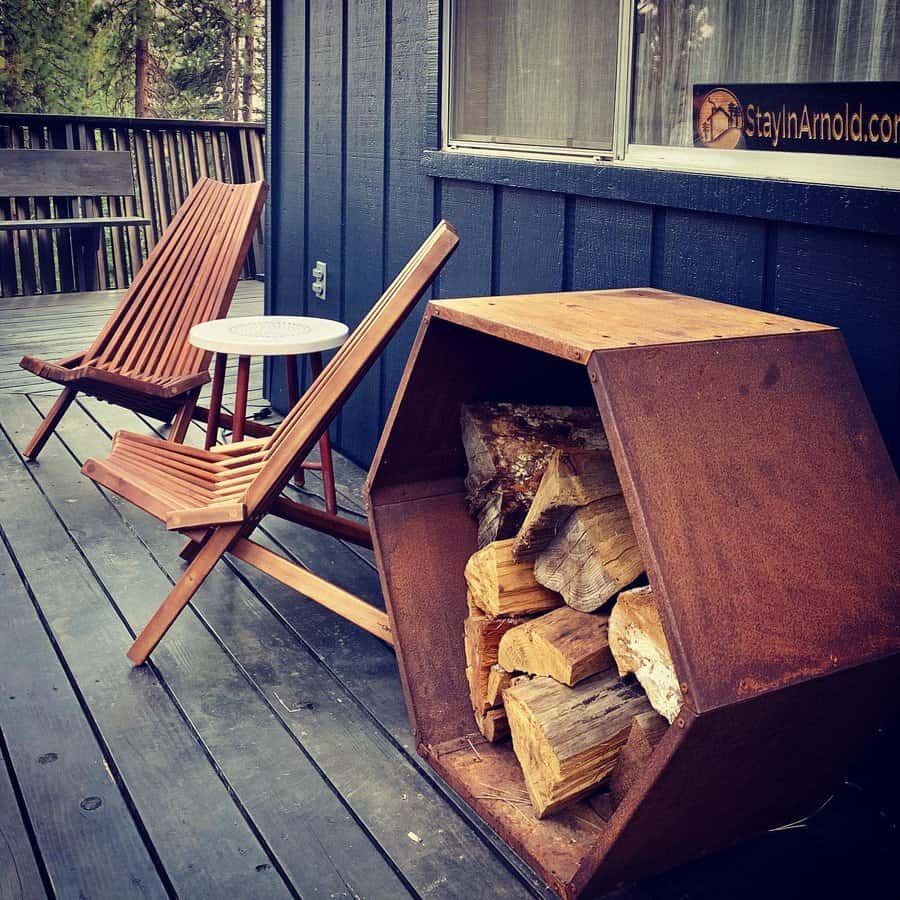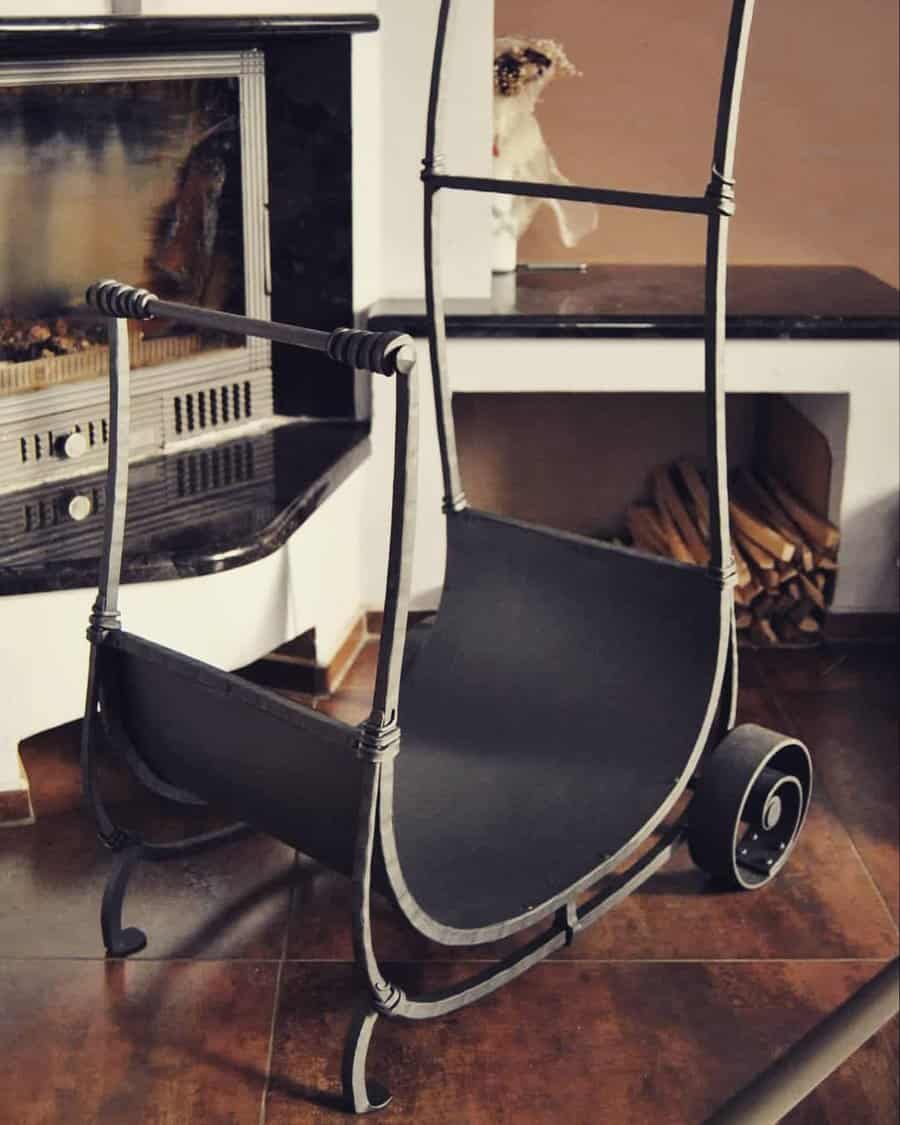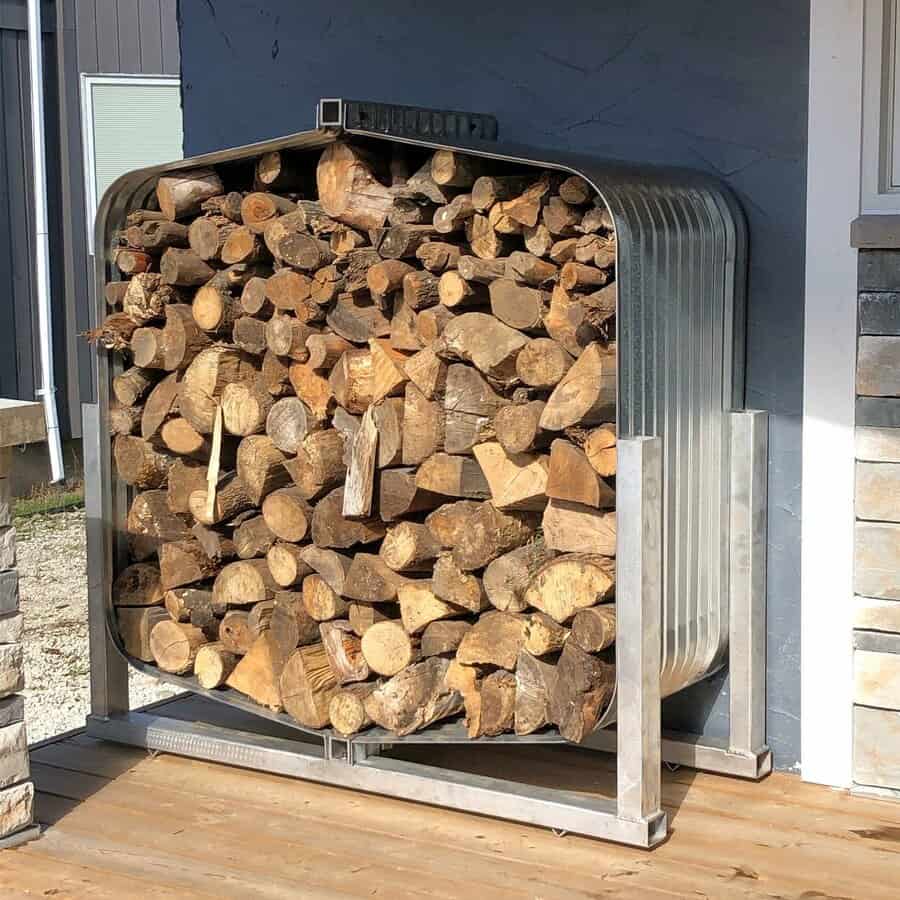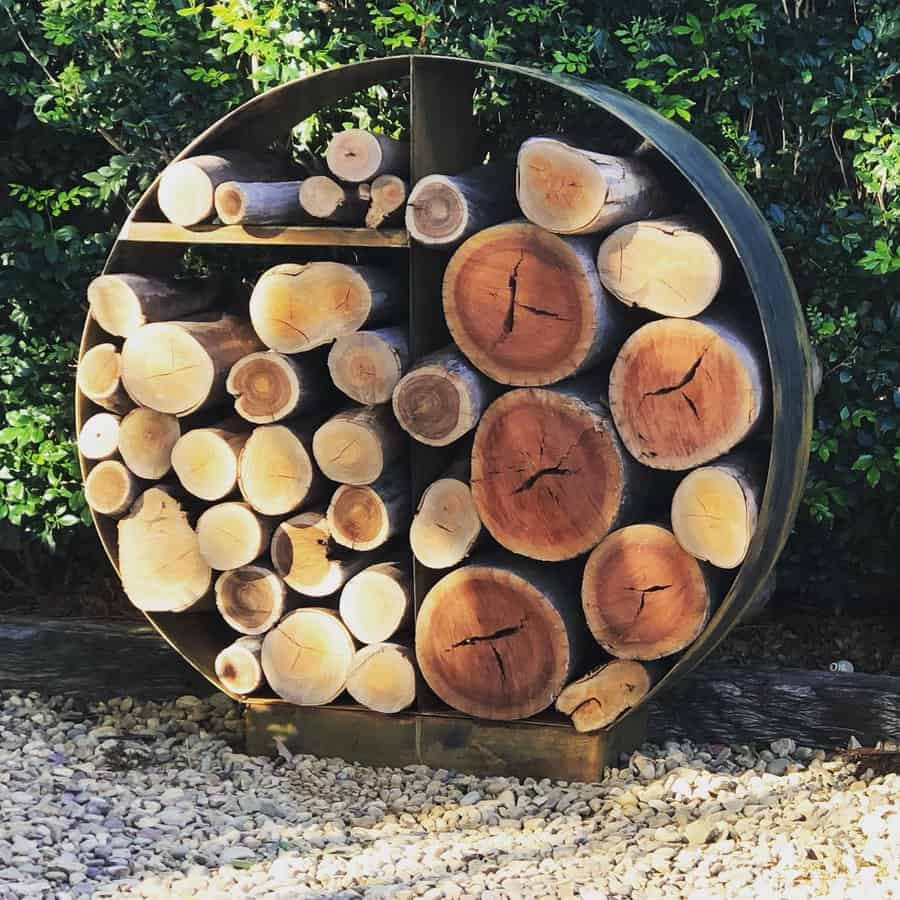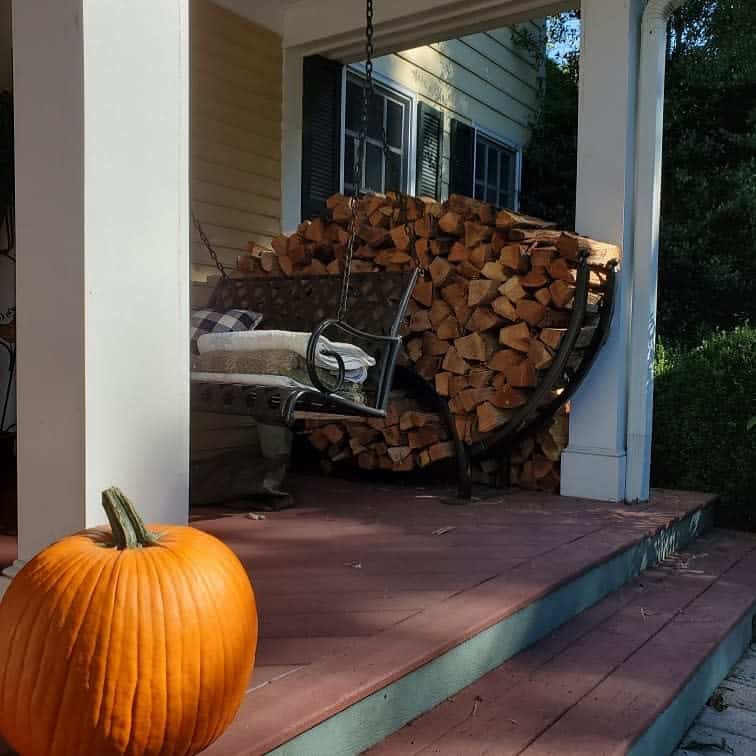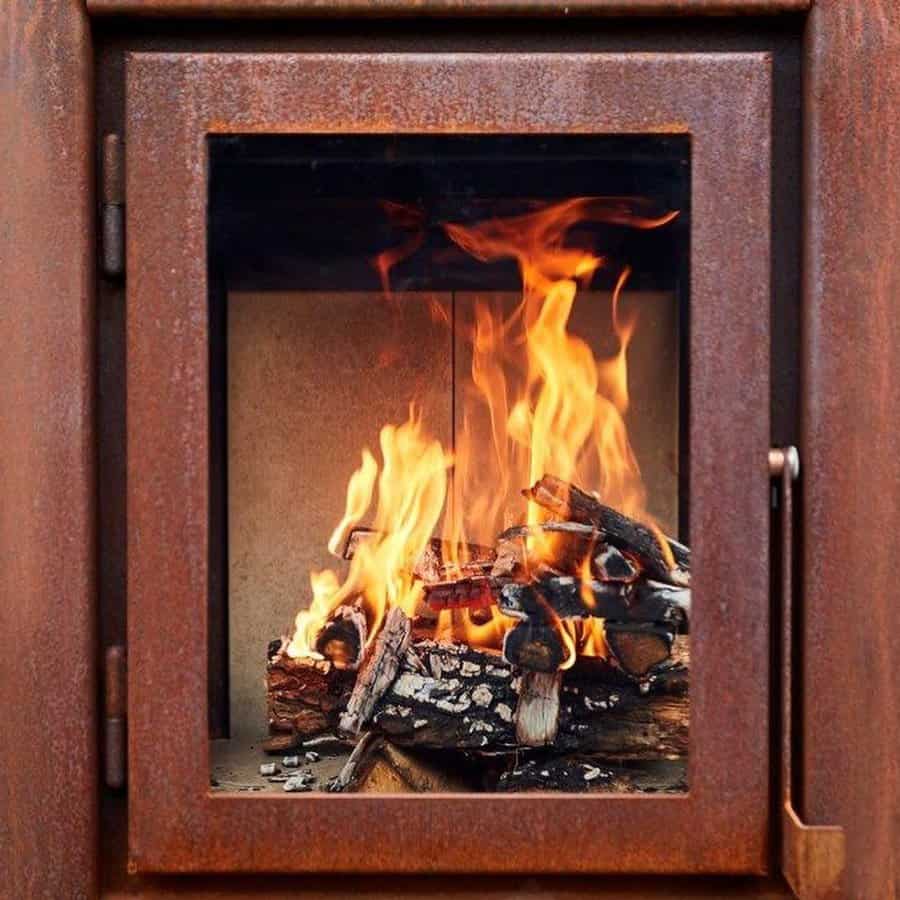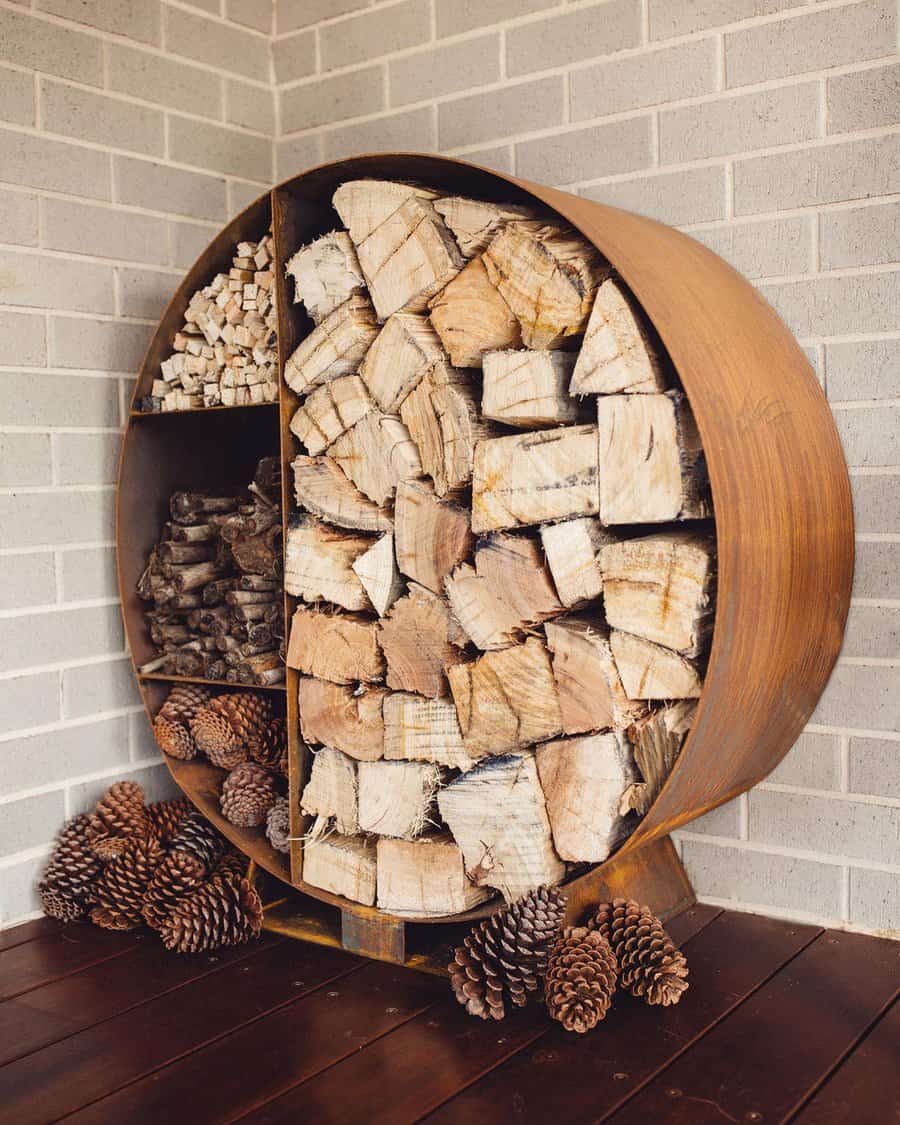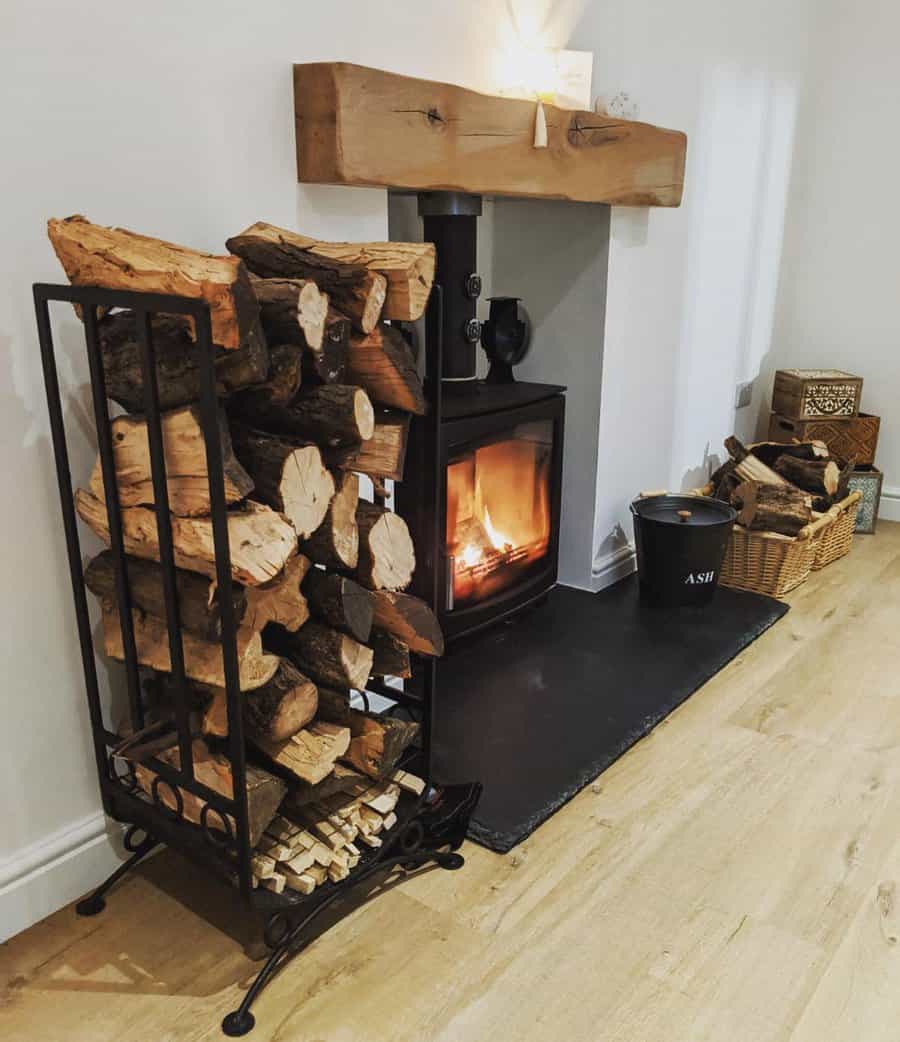 Steel metal structures in circular shapes make great outdoor or indoor firewood storage units. Mount a galvanized water trough or window well to the wall on its side. Spray paint it black first if shiny metal clashes with your décor.
8. Modern
Geometric shapes and clean lines define modern design. Sleek metal indoor or outdoor firewood storage ideas fit well into modern design. Think of a wall-mounted metal circular wood rack, or a long black metal bench with logs stacked beneath.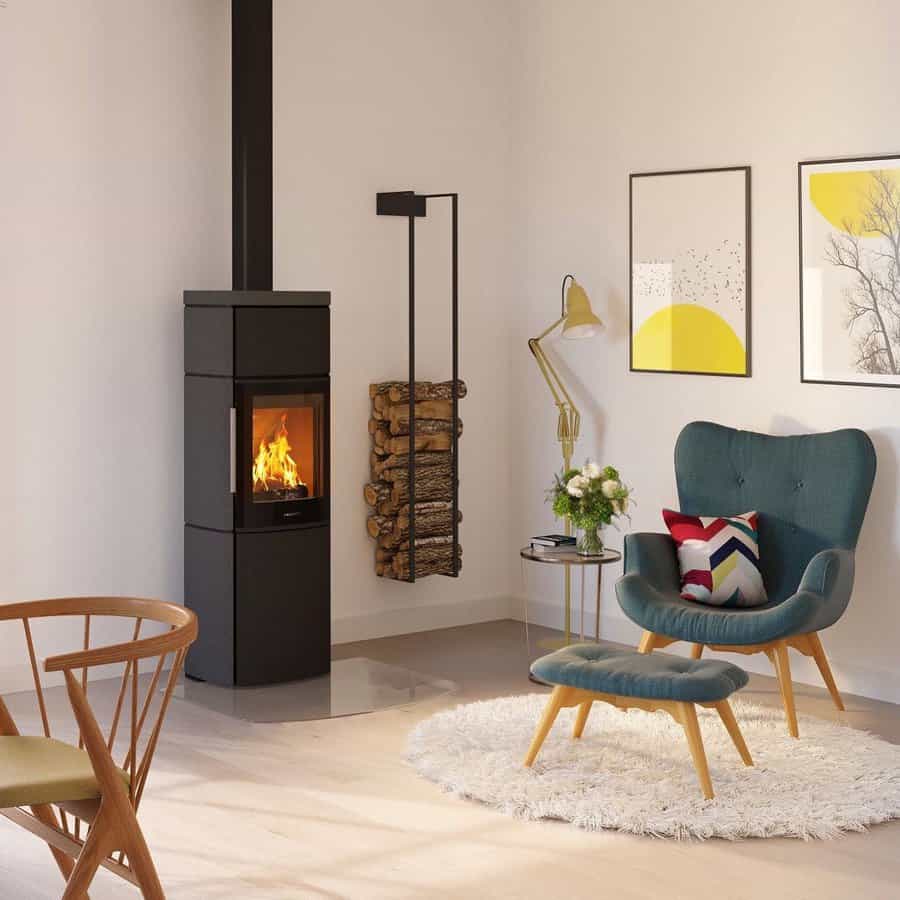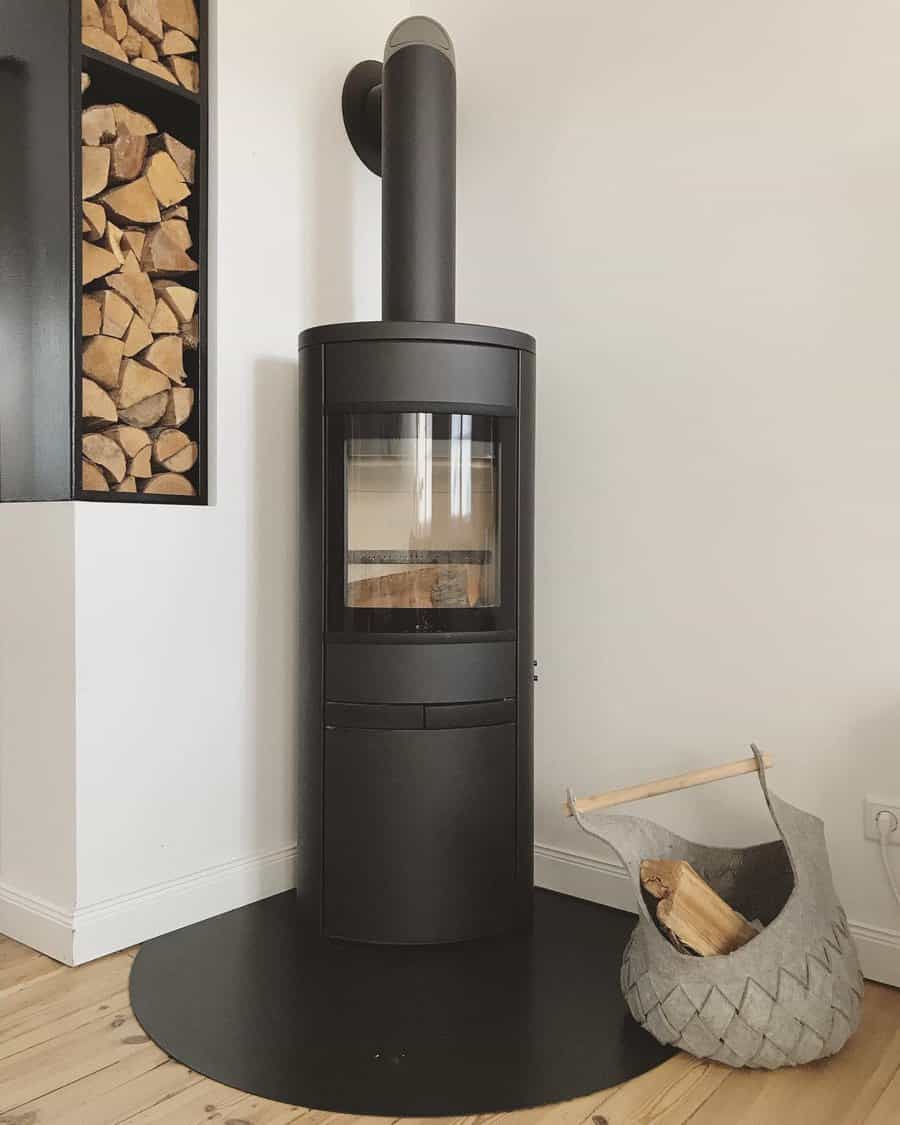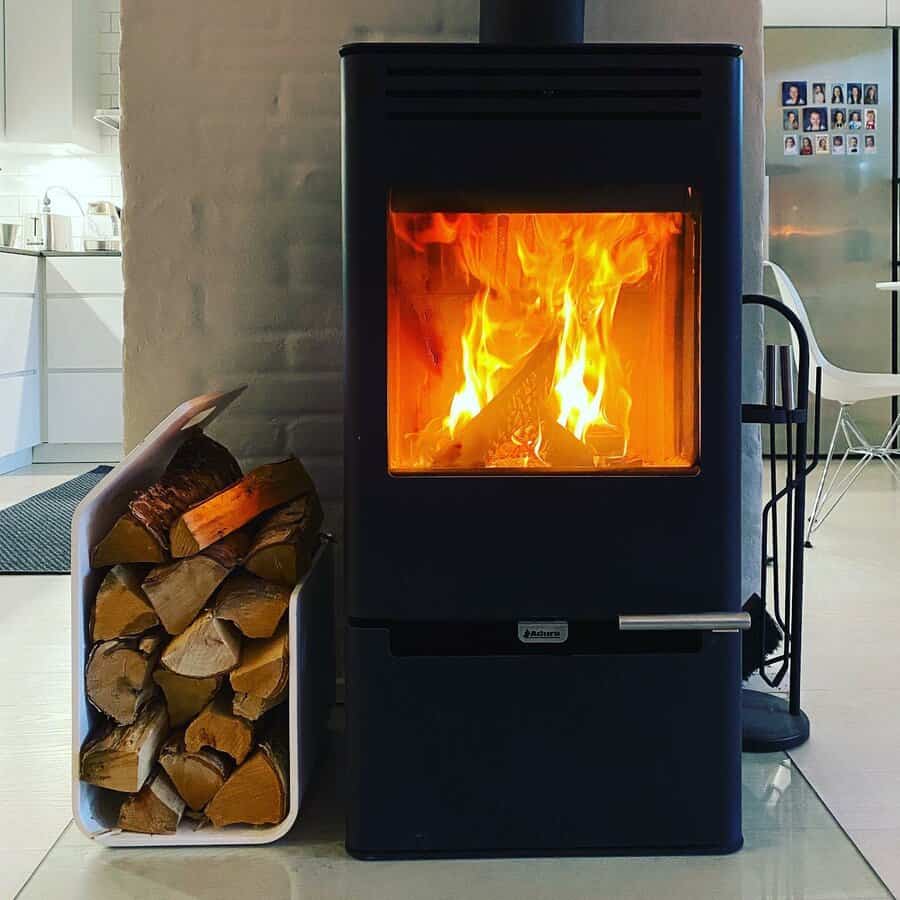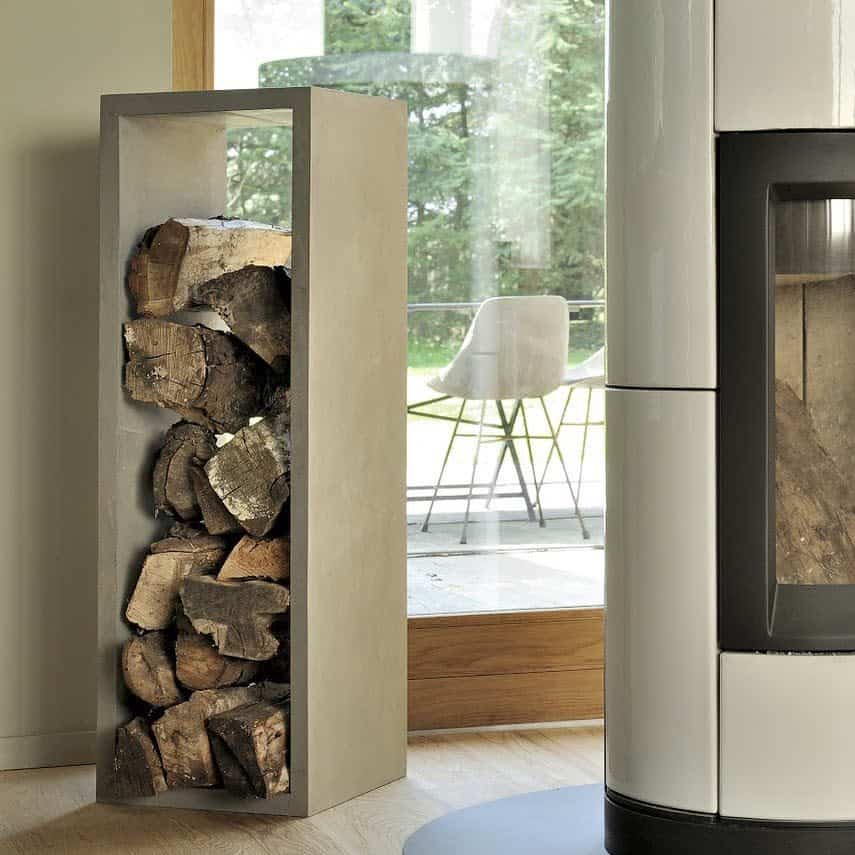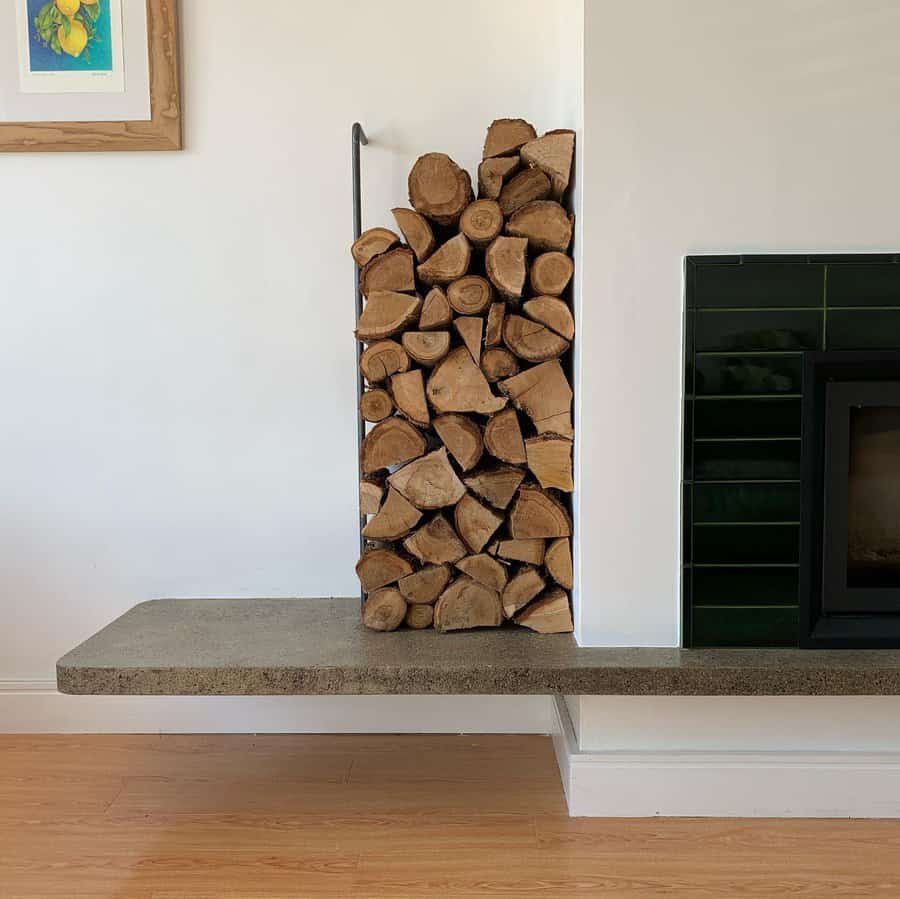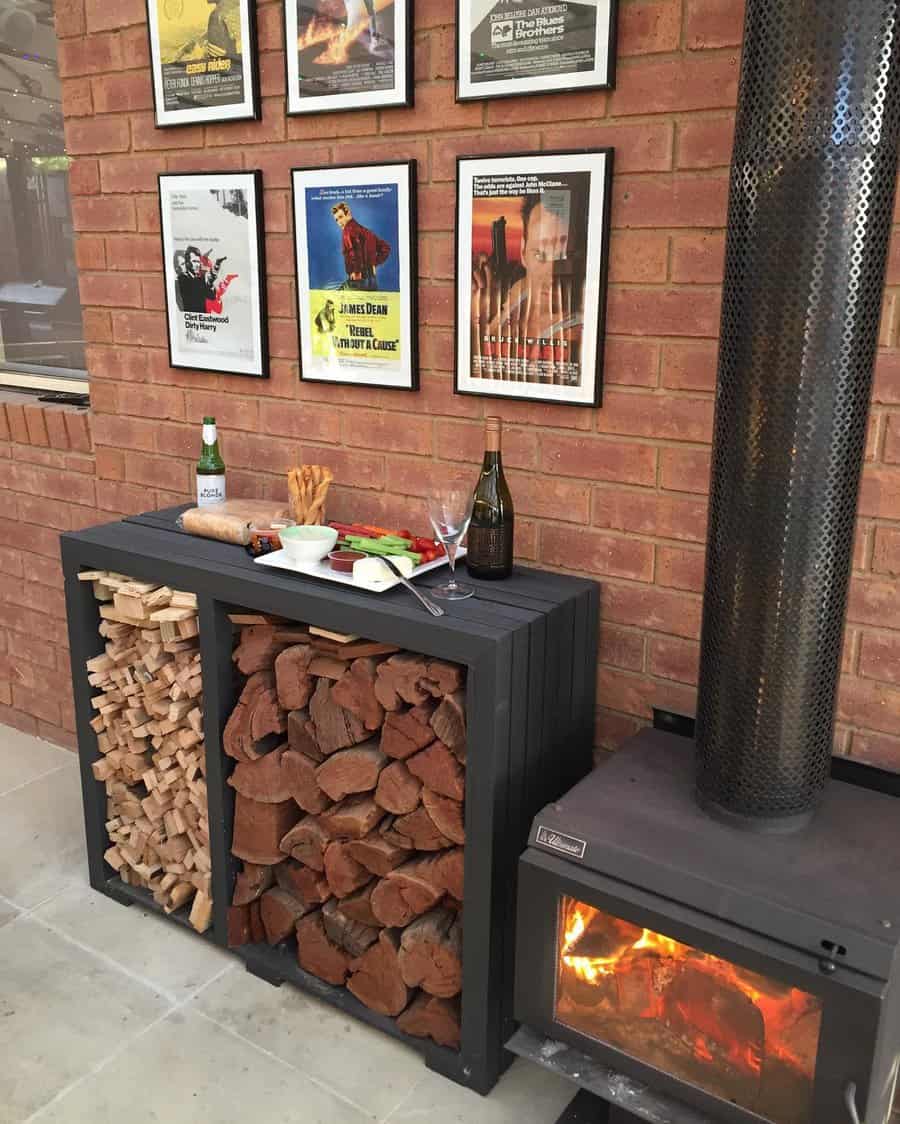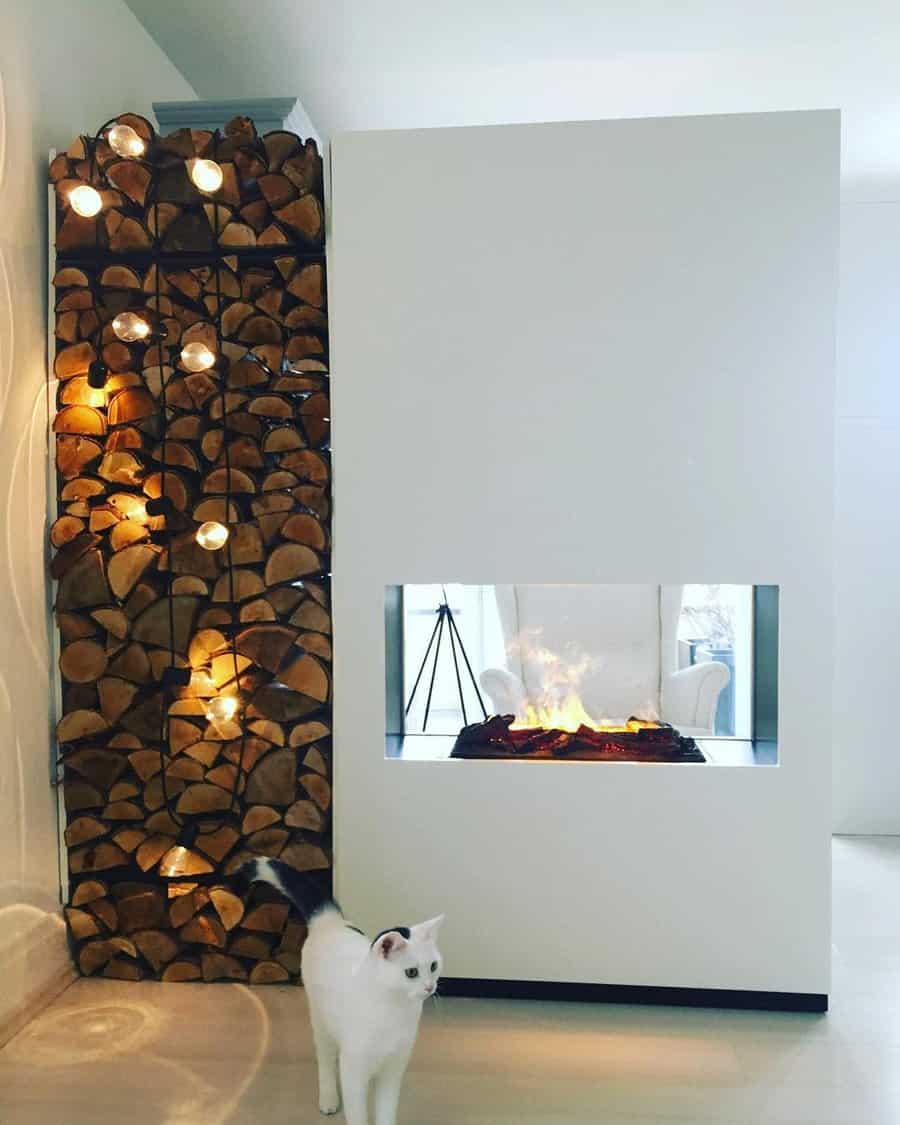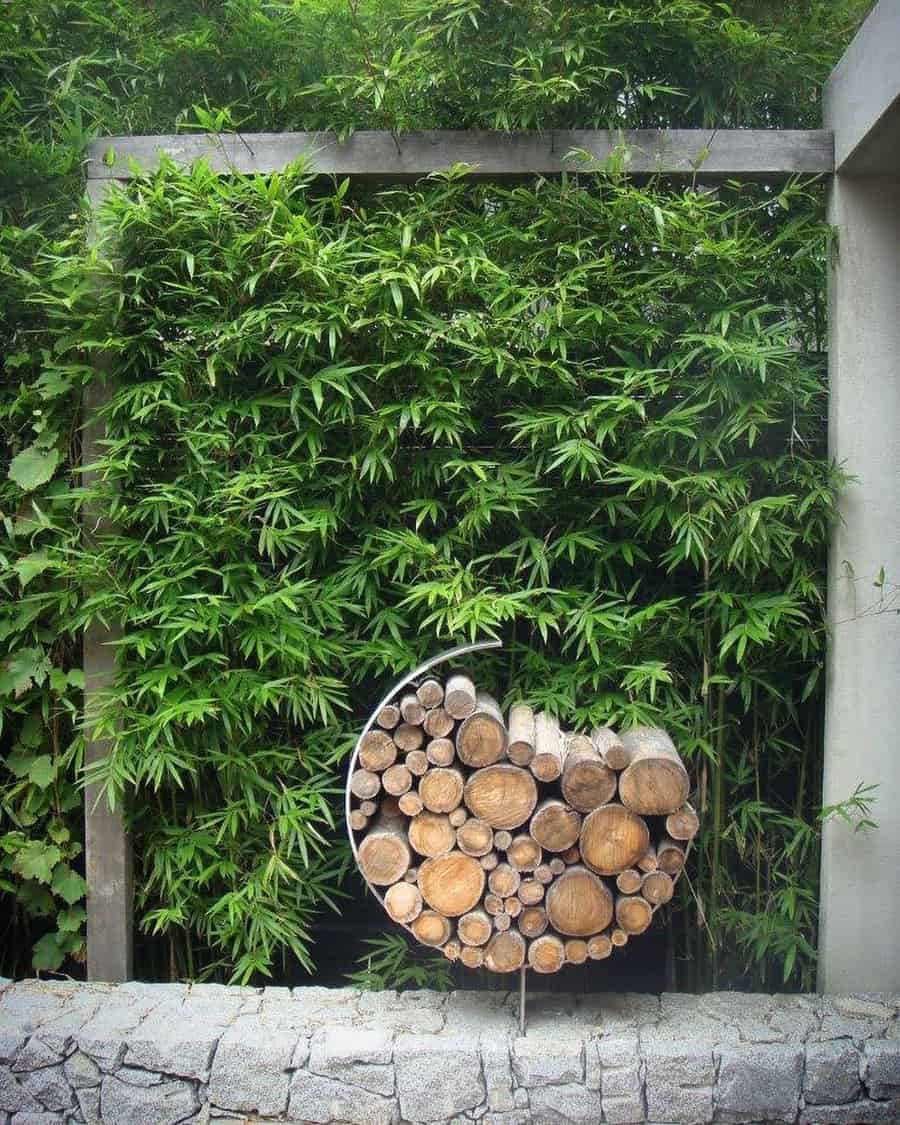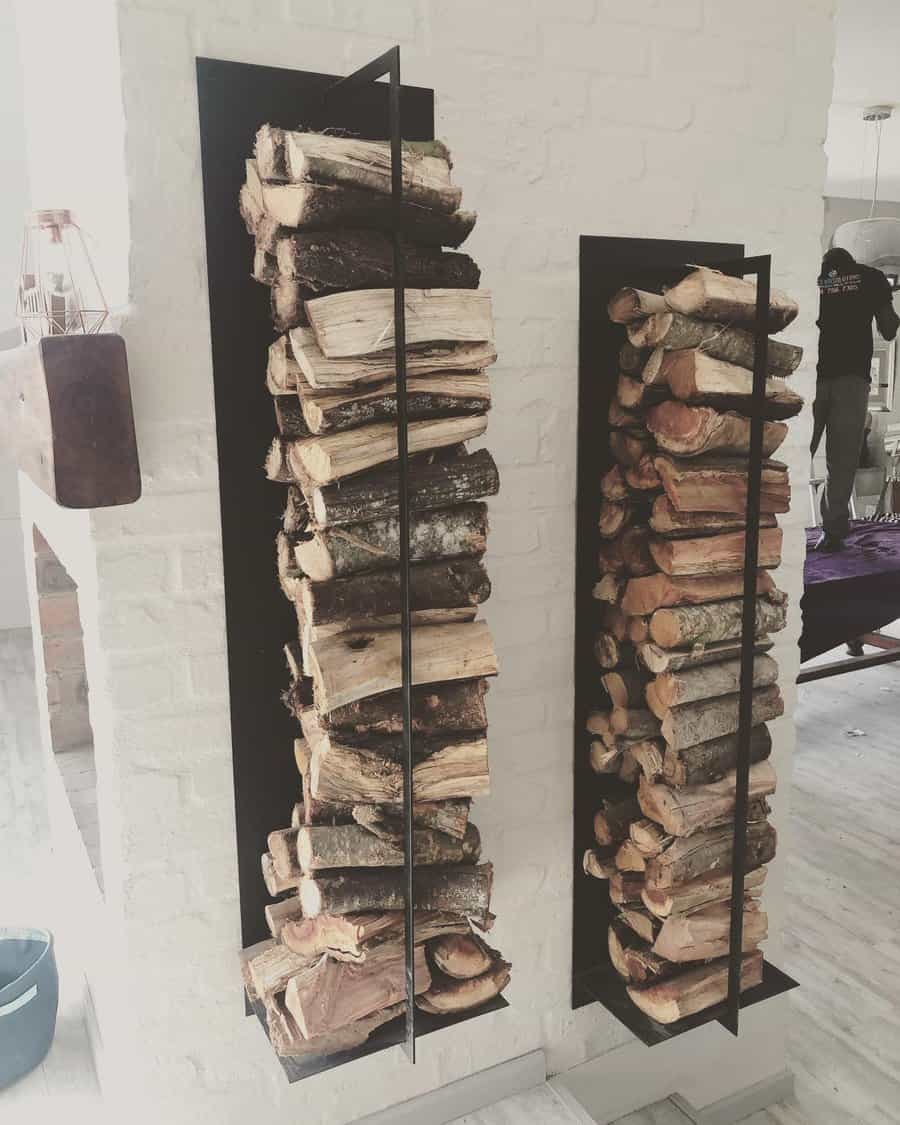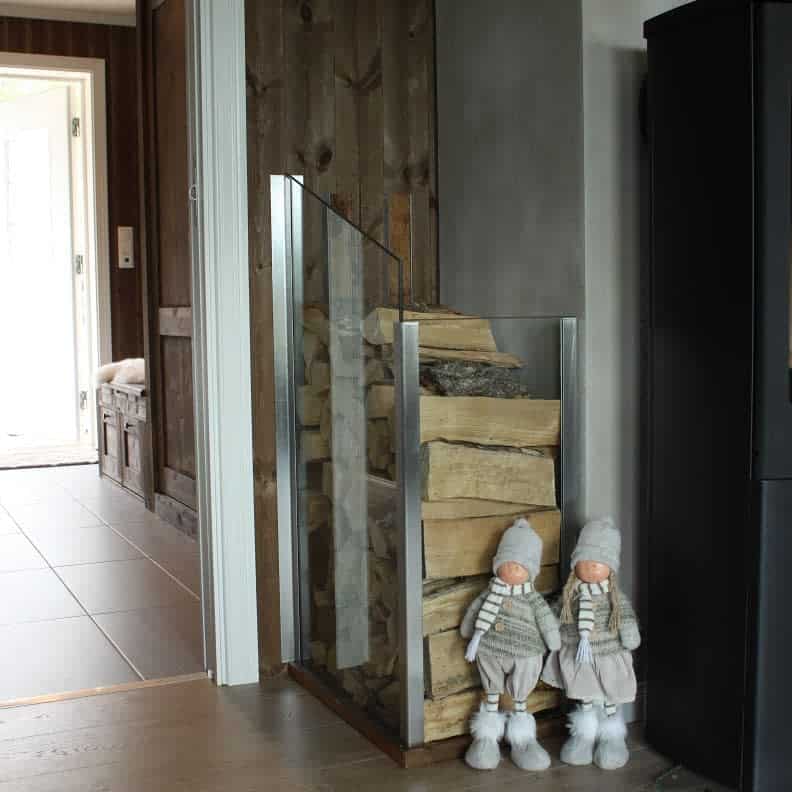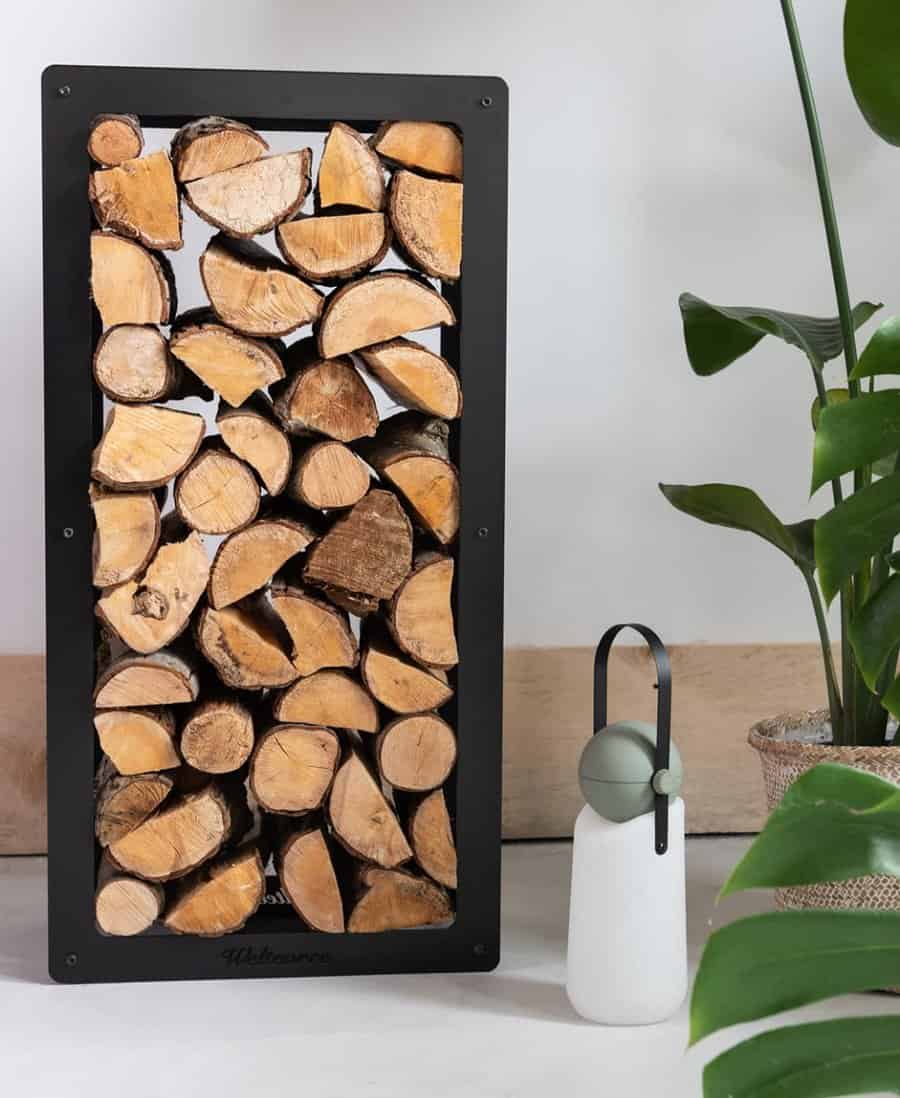 A simple modern firewood rack can be made by mounting a metal or copper pipe several feet away from the living room wall. Stack logs between the wall and the metal pipe. A simple black wooden crate or box also works well as a modern firewood holder.
9. Outdoor
Split and cut firewood in the early spring, to the right length and size to fit your fireplace, firepit, or wood burning stove. Then make individual stacks, each on top of a pallet, in well-spaced rows exposed to wind and sun.
Ideally, locate the stacks near your door to make it easier to carry wood inside later.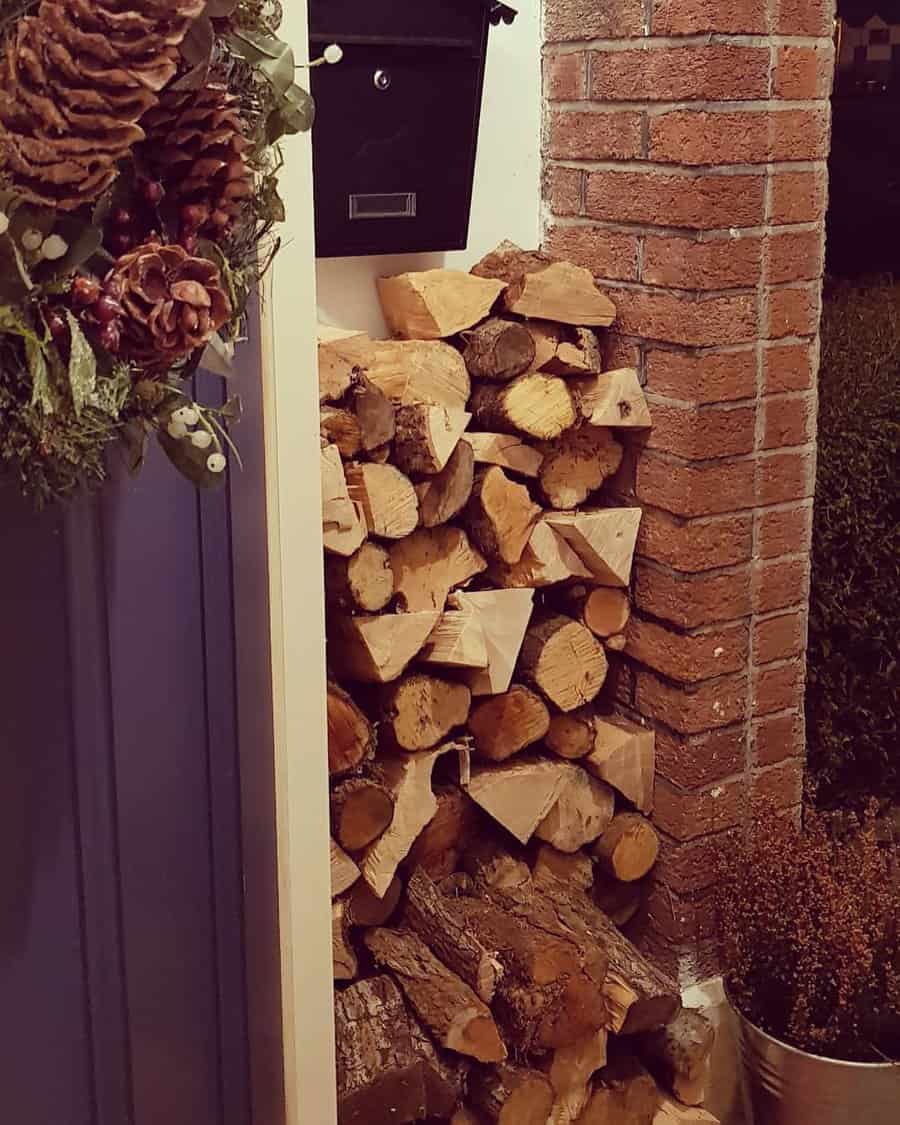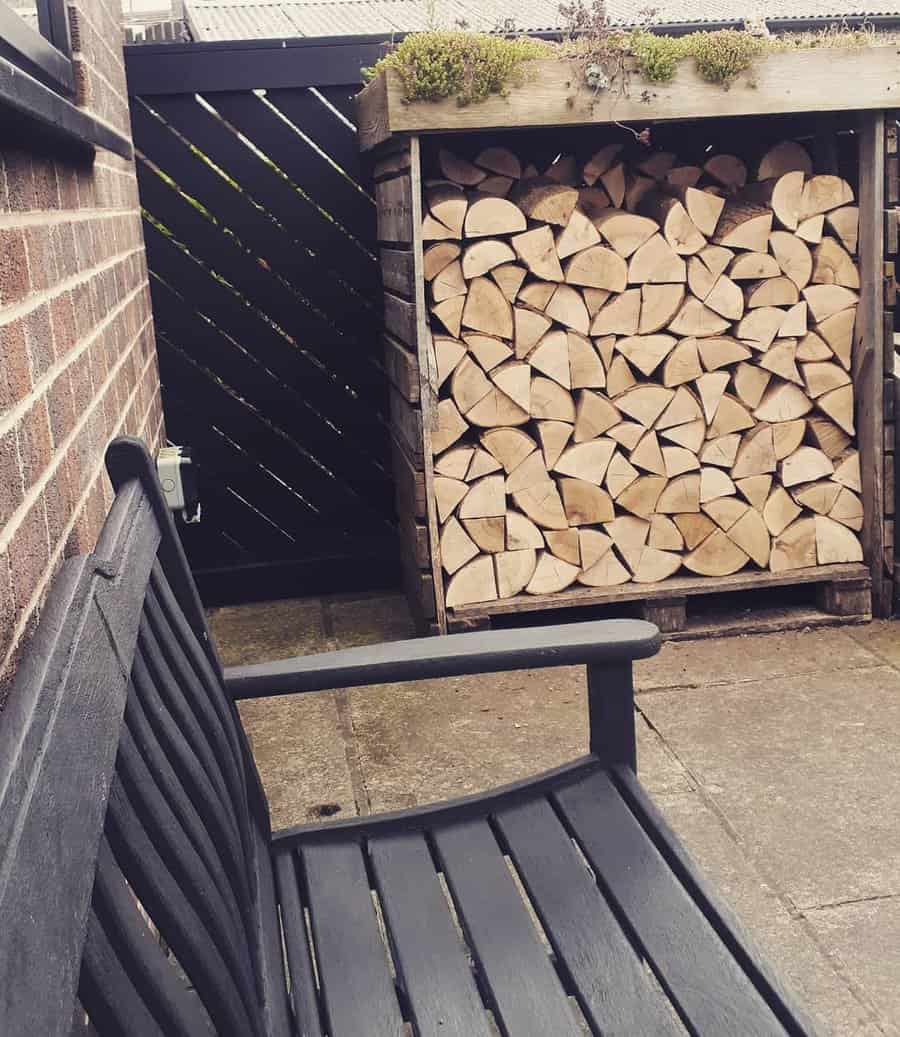 Leave plenty of air cavities between each piece of wood. This not only allows the wood to dry thoroughly, it helps prevent rodents and other pests from building nests inside your wood pile.
Build the stacks under a roof or cover them with a tarp to protect your firewood from rain and snowfall. Even with proper covering, it takes firewood at least six months to fully dry out.
10. Small
There is a small version of just about every firewood storage idea around. An ordinary basket, small wall-mounted firewood rack, or little recessed cubby can be enough if you only use your fireplace on special occasions.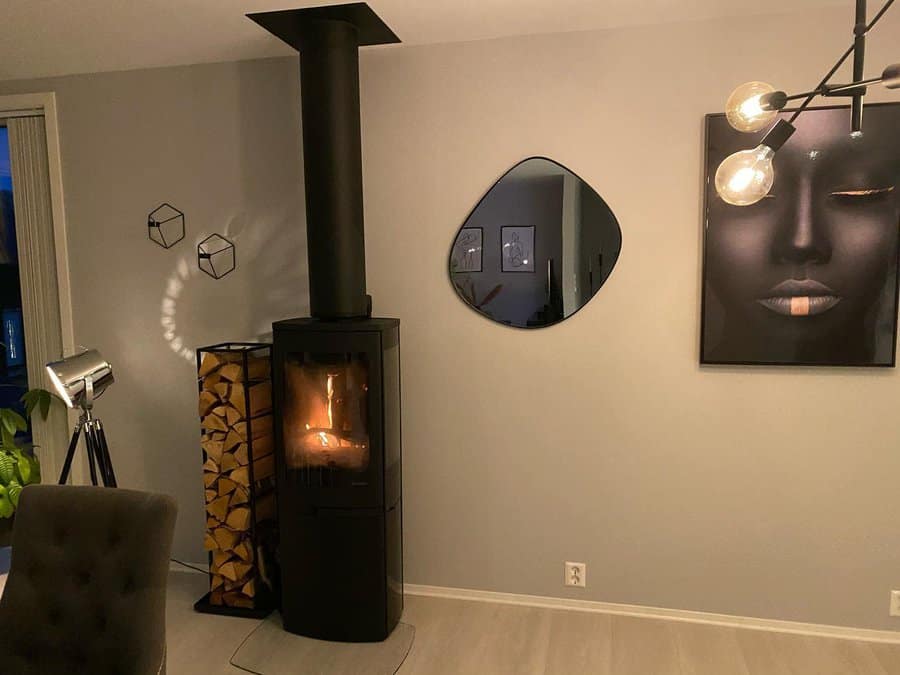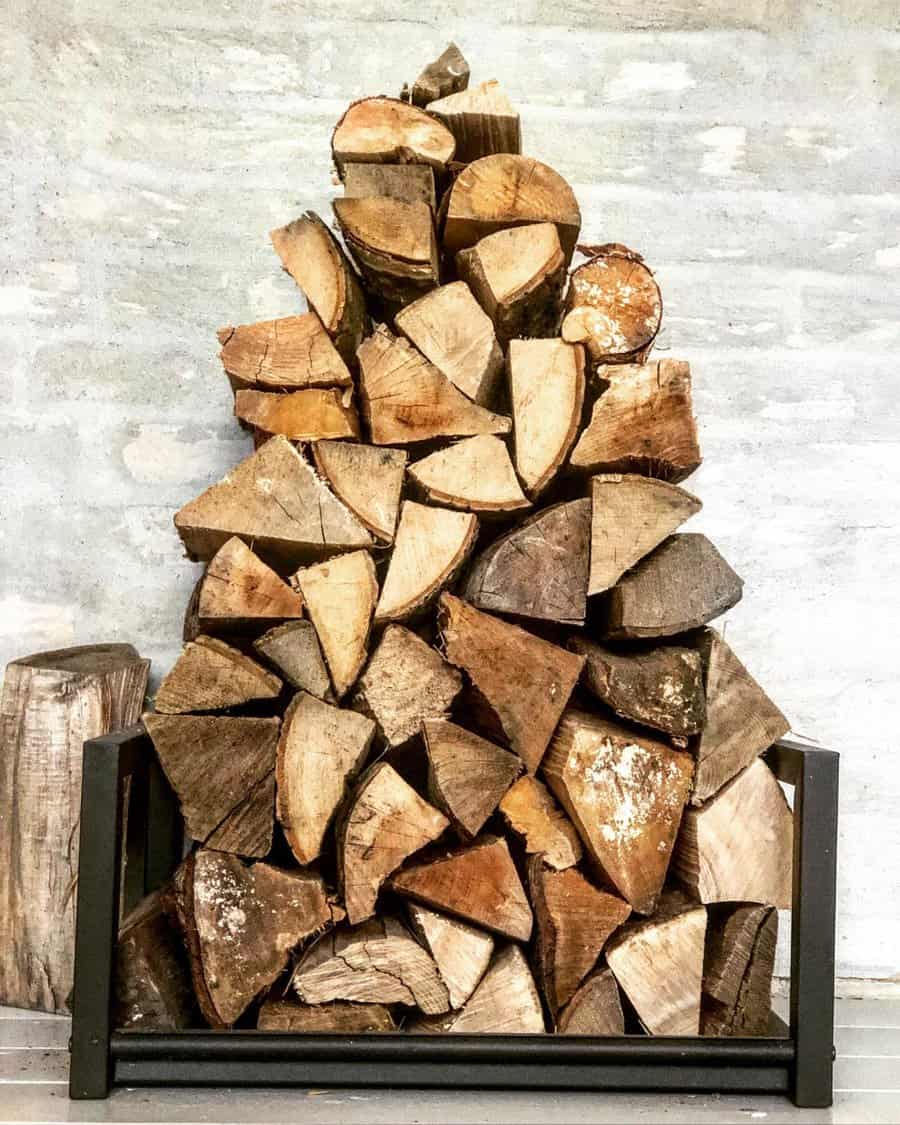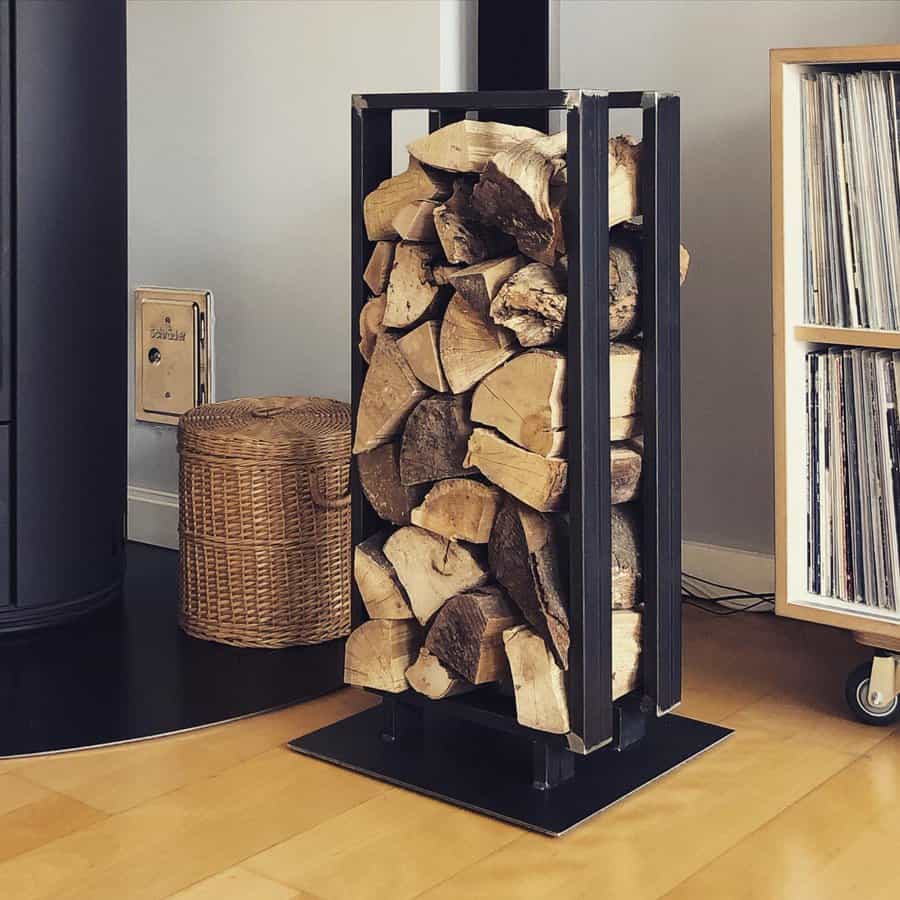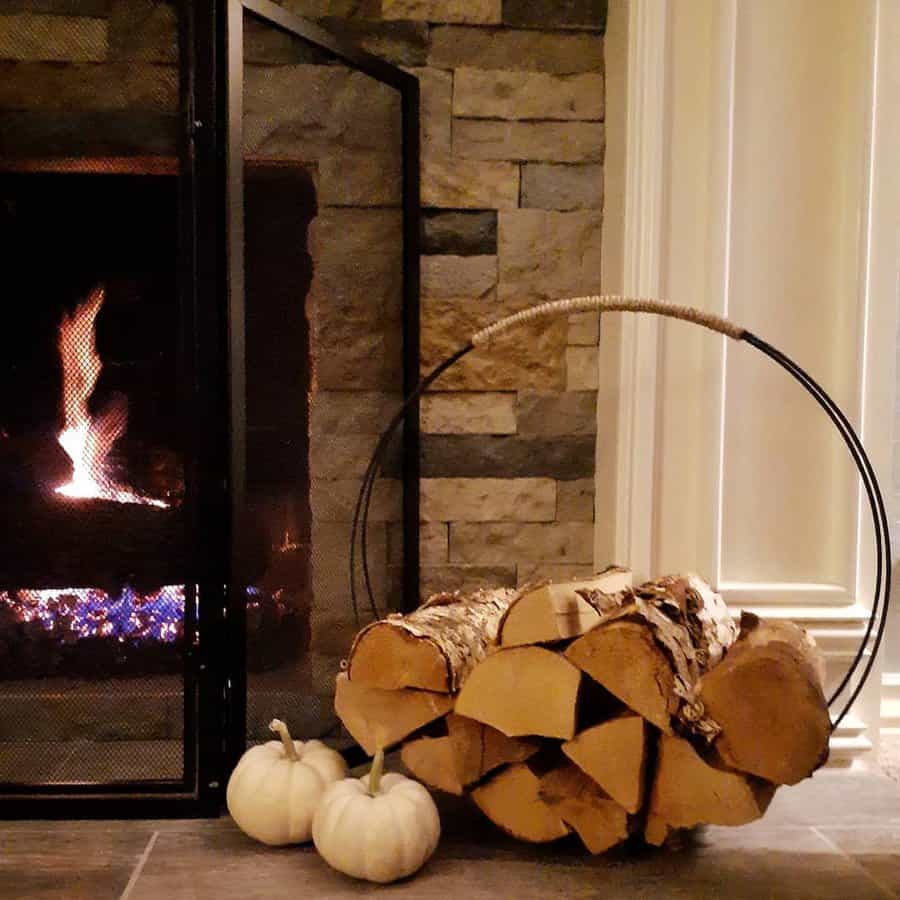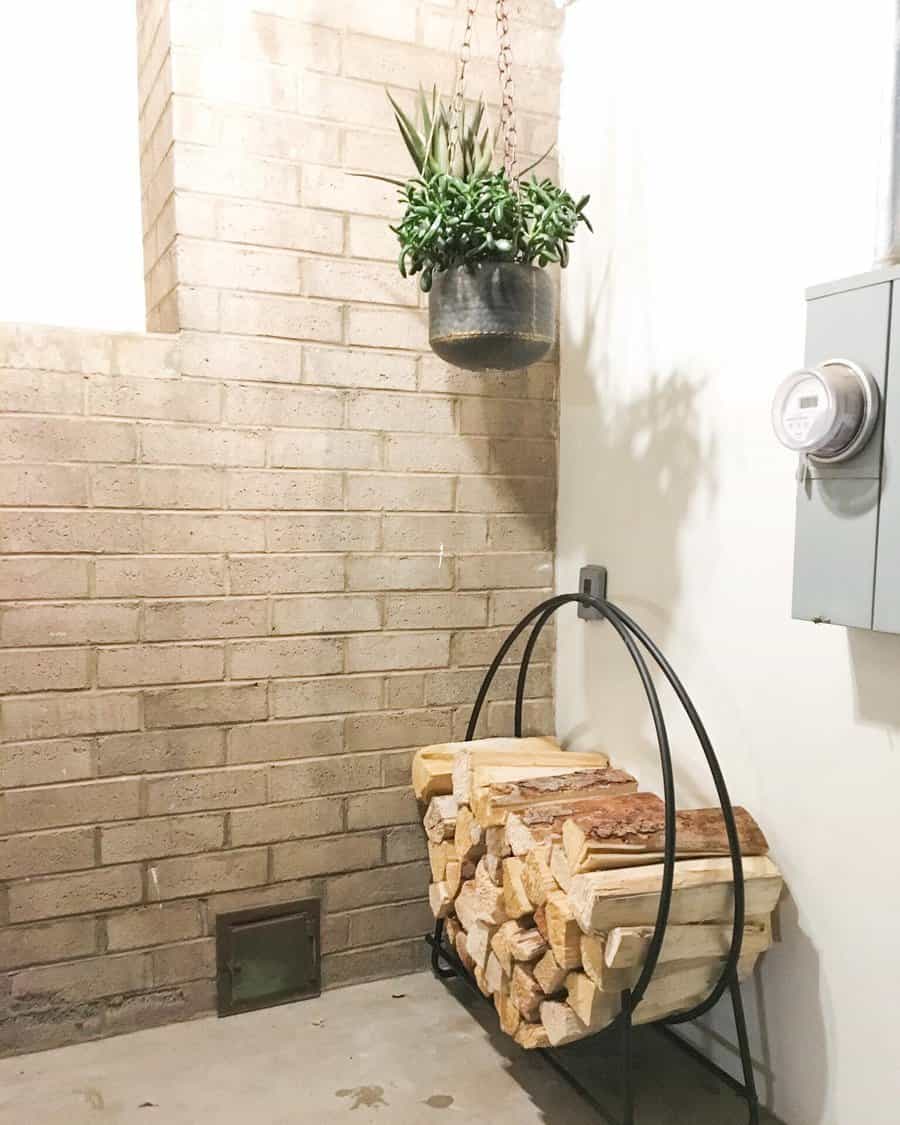 If you only need to store a small amount of firewood outside, build a simple outdoor firewood rack from two cinder blocks and four pieces of 2×4 lumber.
Related read: Storage Ideas for Small Spaces
Stand the lumber on end in the cinder block openings and stack your logs within the v-shape, as shown here:
11. Unique
Anywhere that you can stack wood and protect it from moisture can make a good firewood storage area. A sturdy wood or metal bookshelf can be repurposed for fire log storage.
If you can weld or know a metal worker, design a unique firewood rack from a metal headboard and footboard connected a few feet apart.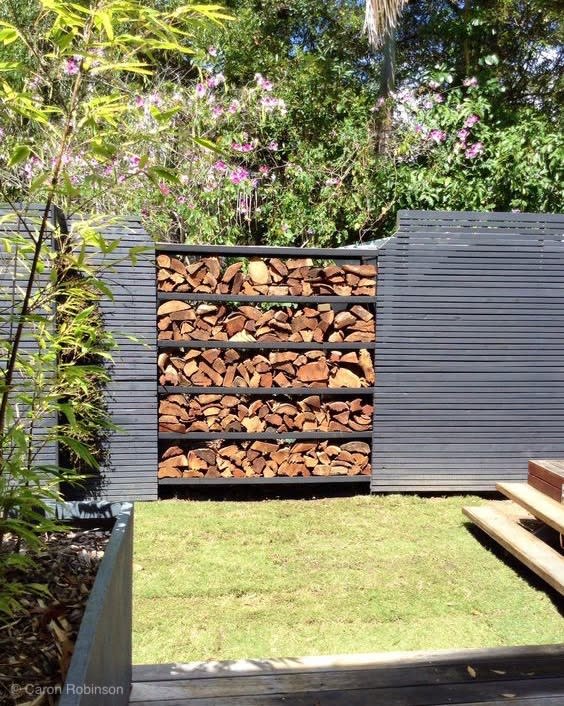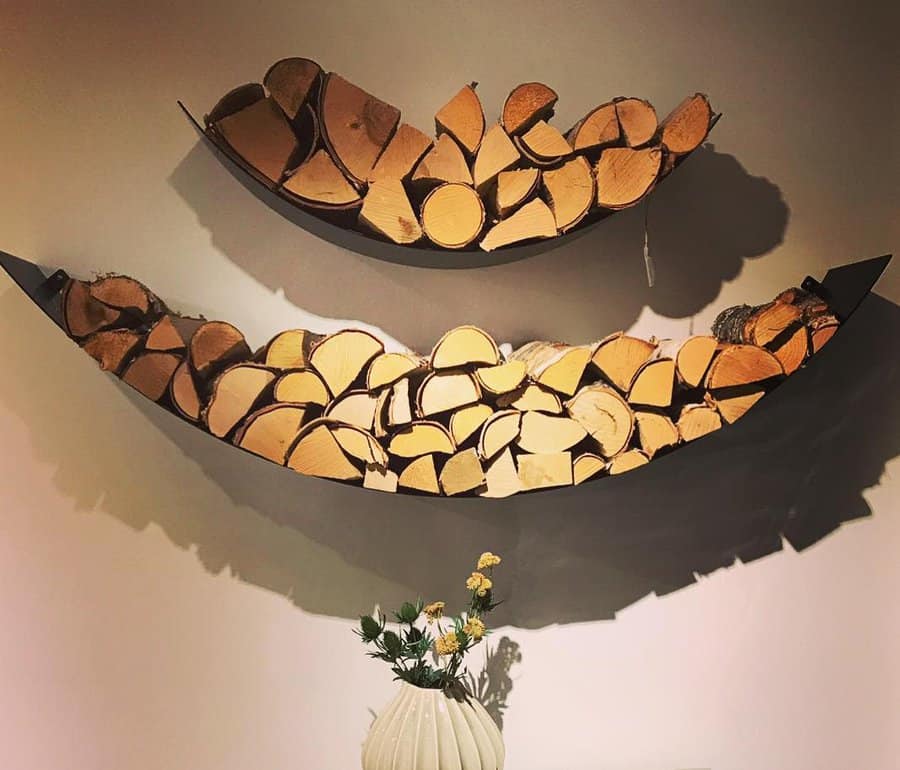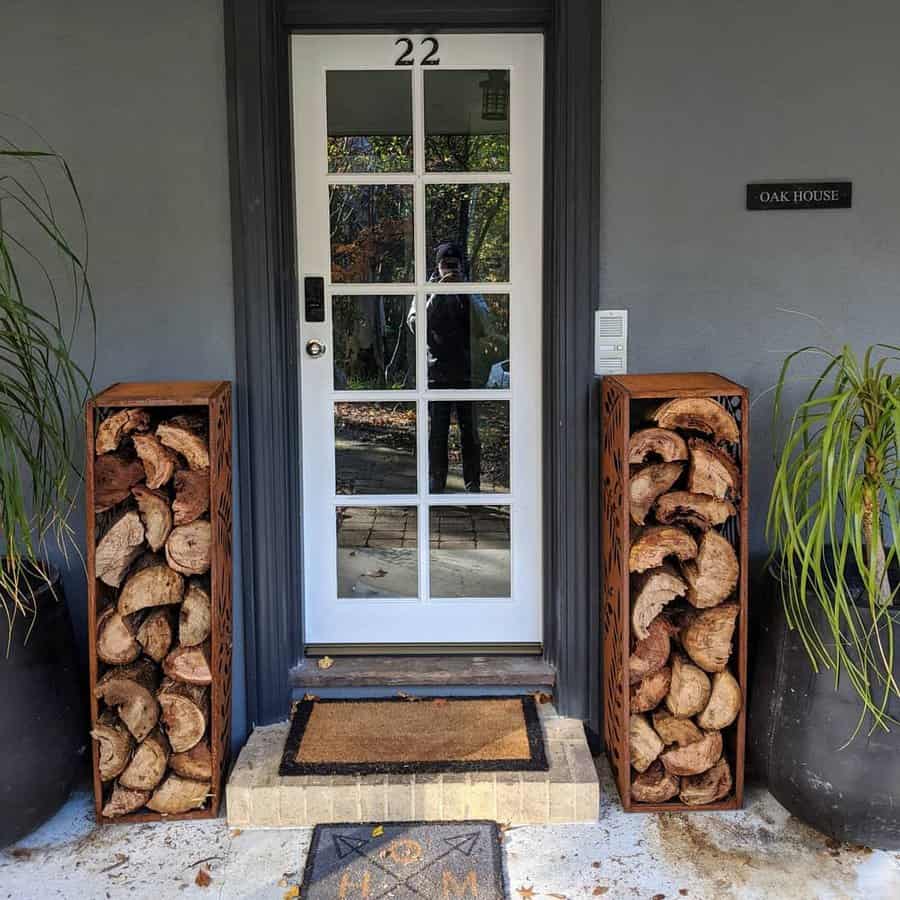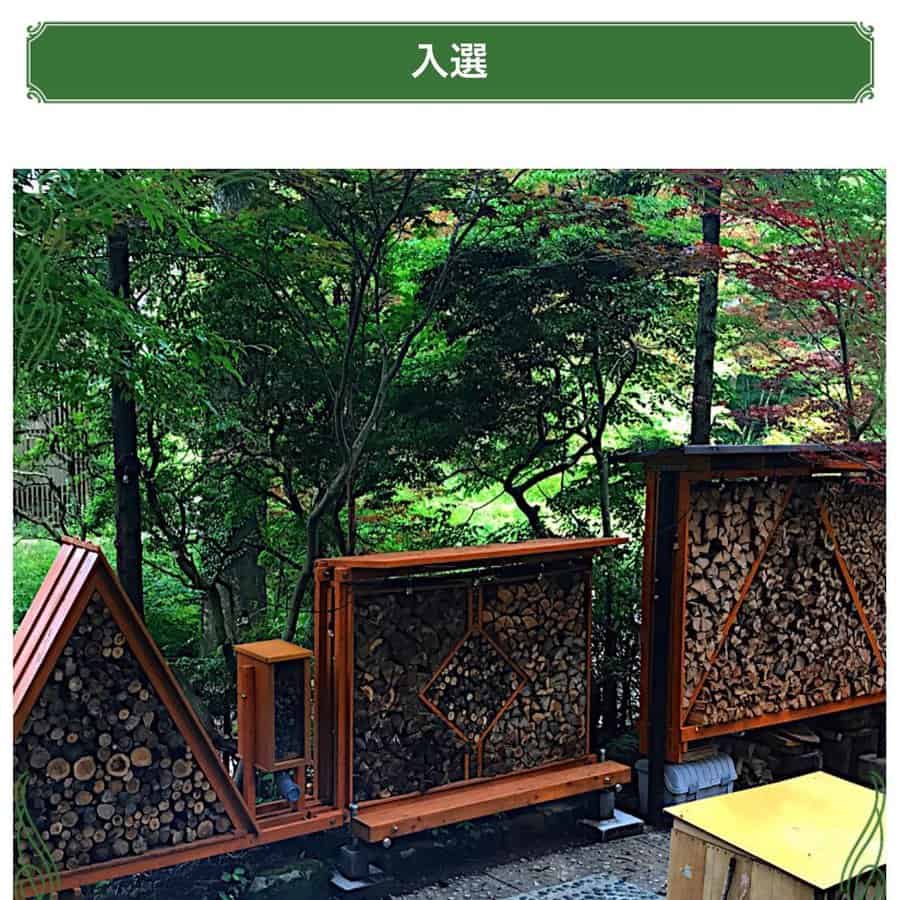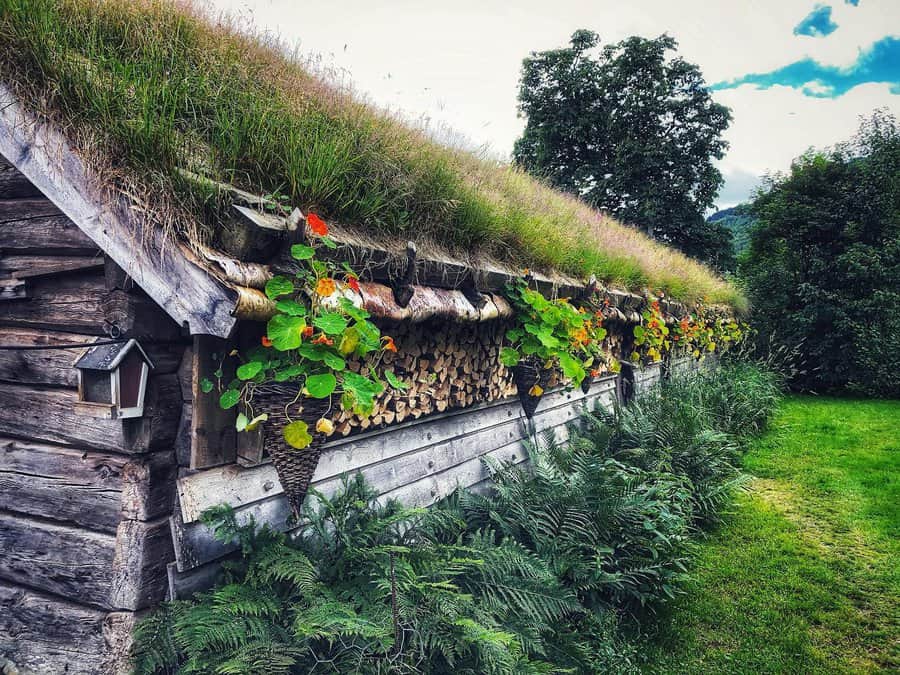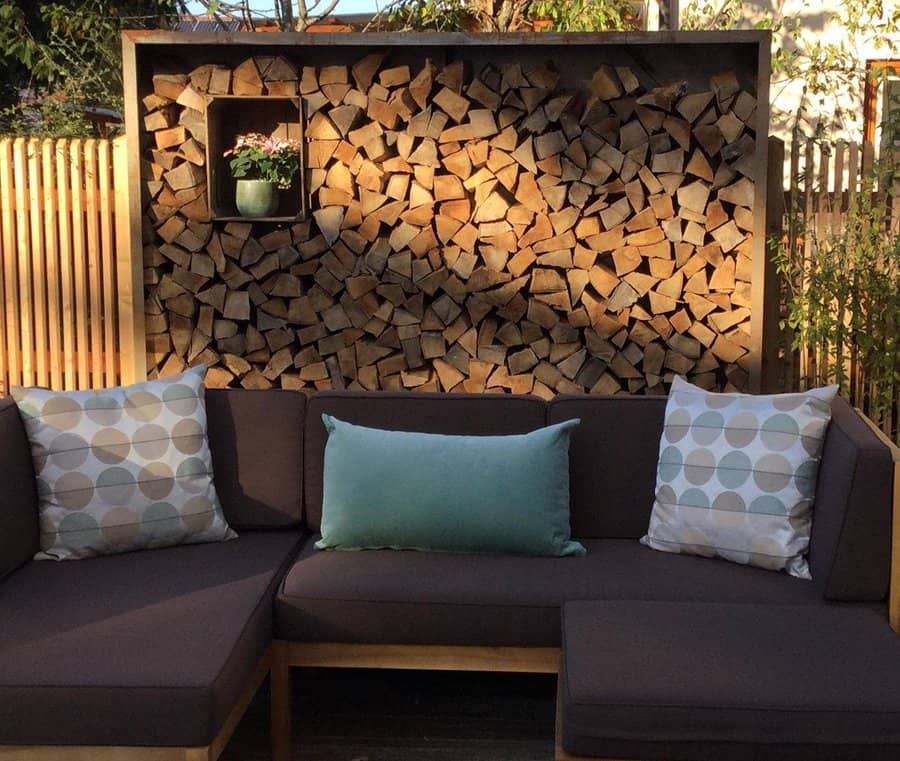 Think about firewood storage when building a garden shed or "she shed" as you can save space by integrating it into the new structure.
You can also add wood storage shelves to a garden fence or low stone wall. Indoors, look under console tables and coffee tables for suitable kindling storage zones.
12. Wall
A wall-mounted wood storage rack is a great idea when floor space is limited. Shop for a ready-made firewood storage rack or build your own.
Consider repurposing a little-used coat closet if you burn a lot of wood each winter. Stacked with firewood, it becomes a more efficient use of that space.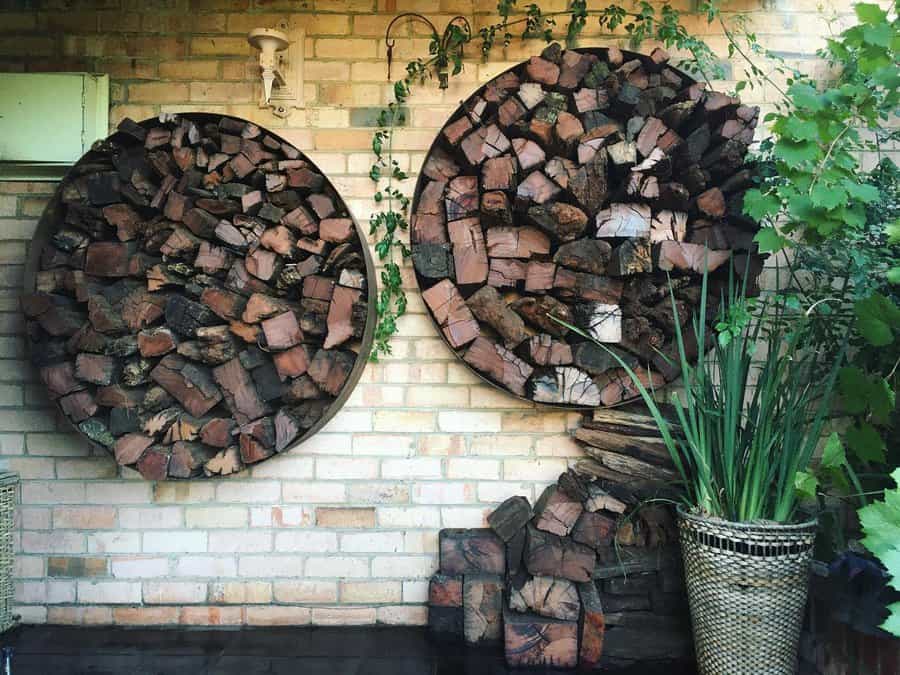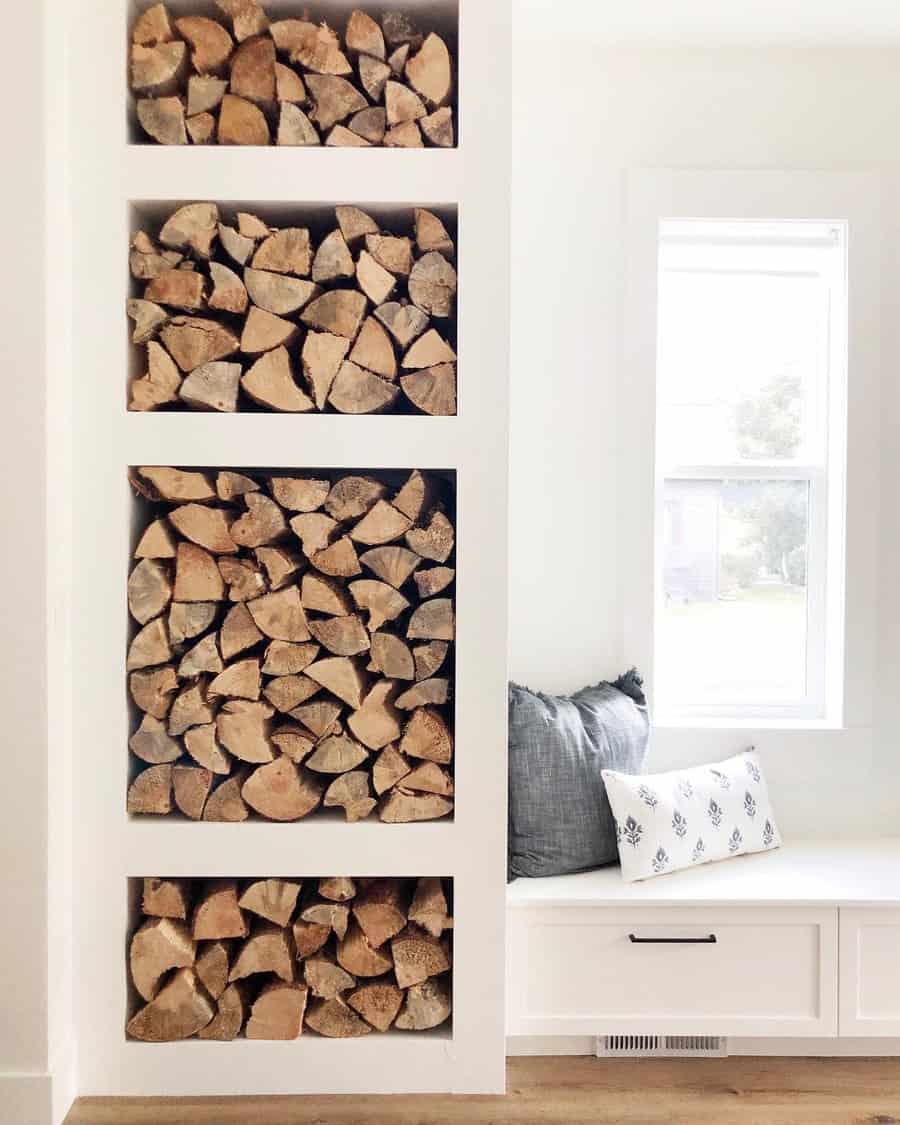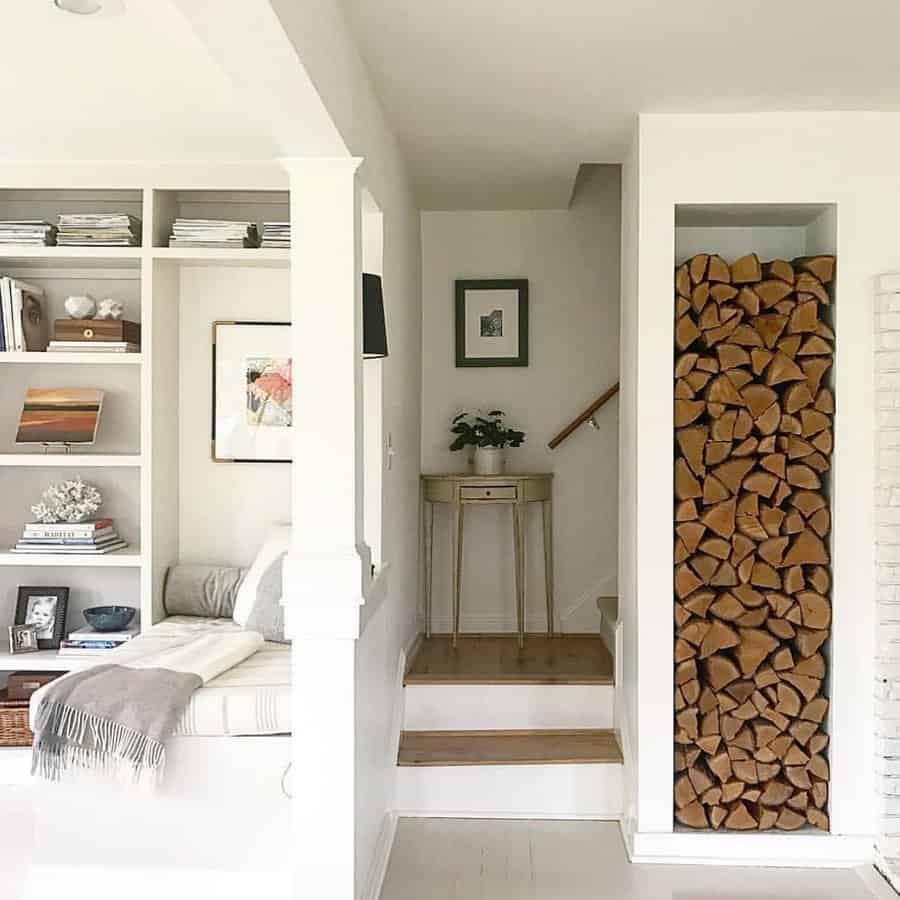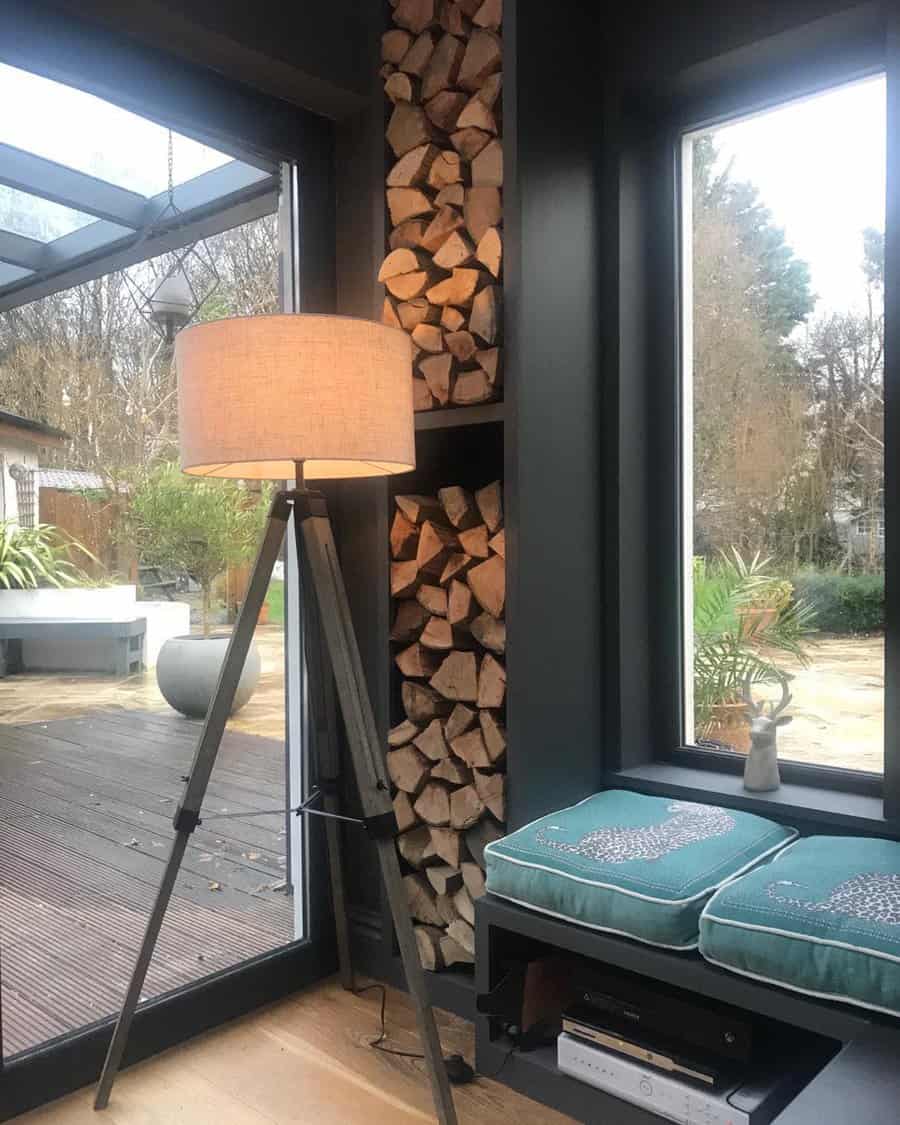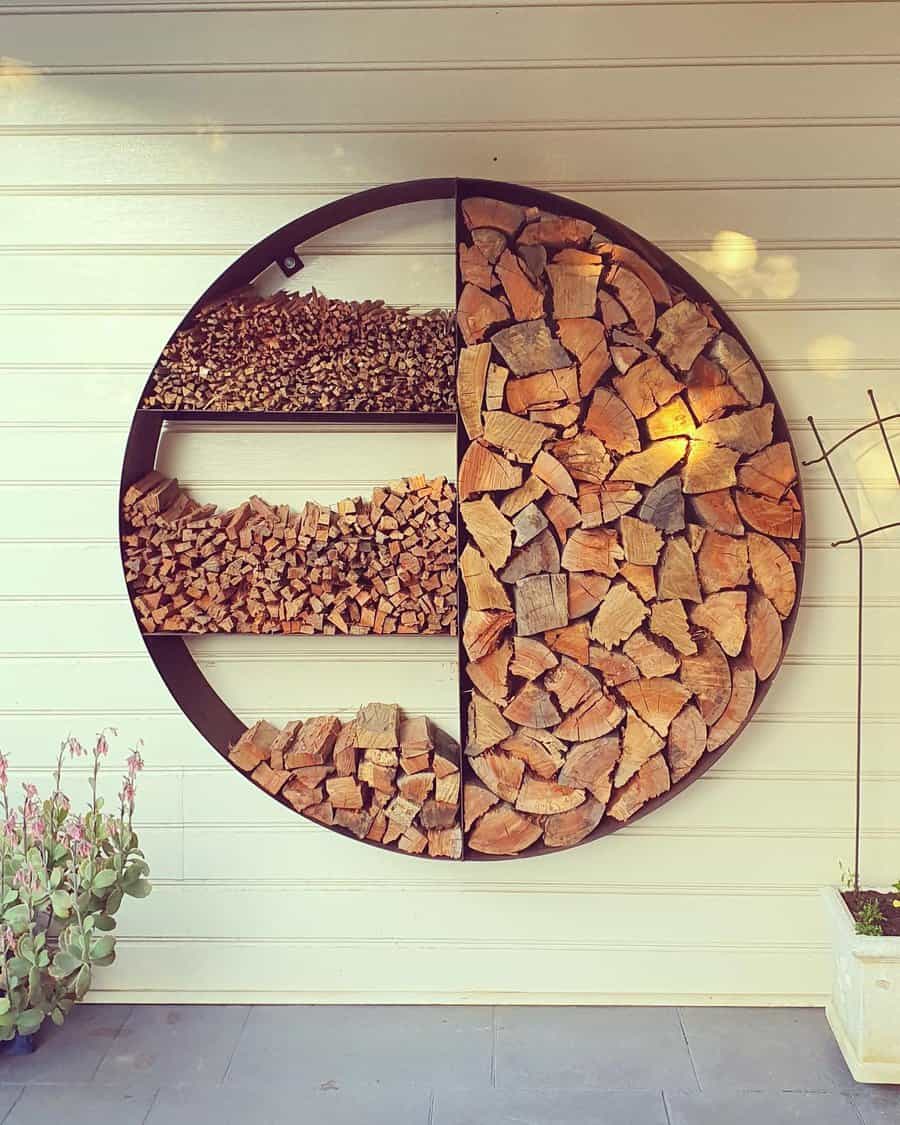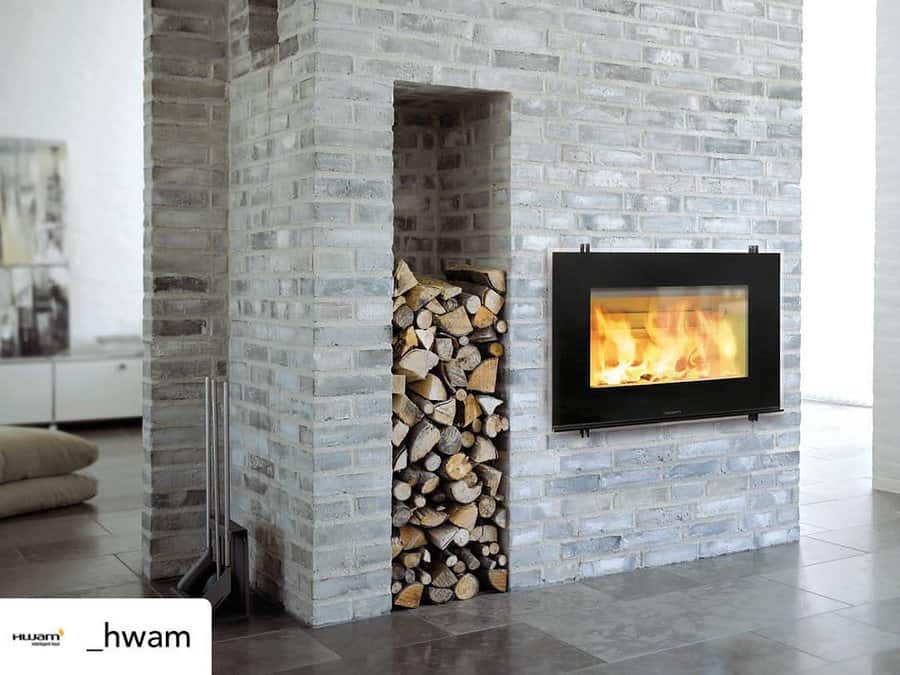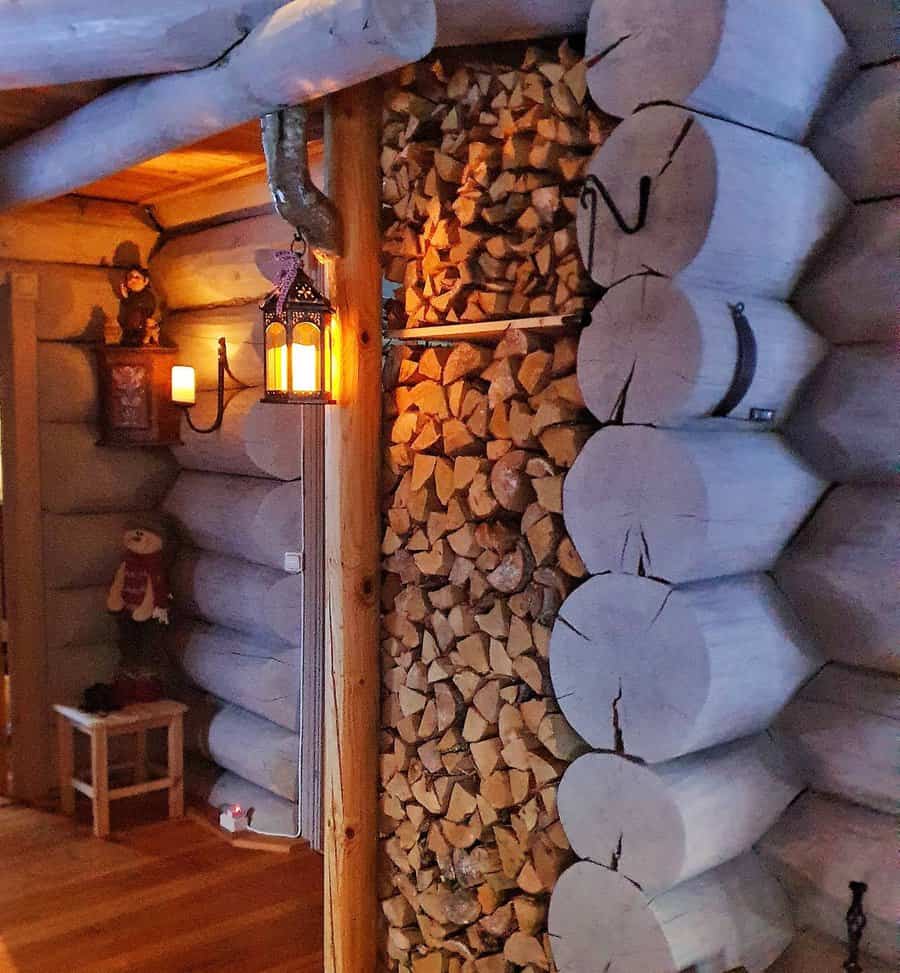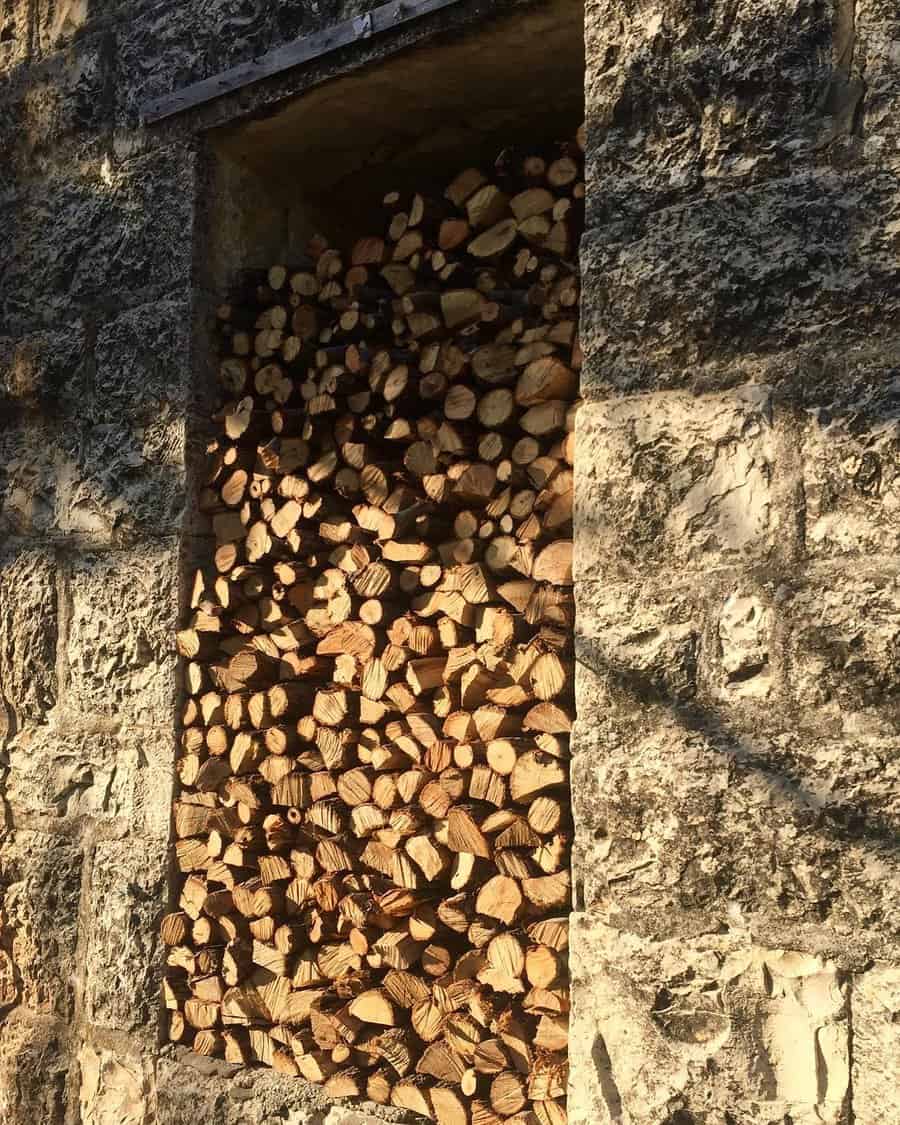 Outdoors, stacking firewood against an exterior wall helps stabilize the wood pile. If you lack the room to stack firewood on your patio or porch, a wall-mounted storage rack will keep your walkways clear.
13. Wood Shed
An old fashioned wood shed is the ideal firewood storage option because it provides a roof and adequate ventilation while not trapping moisture.
If you greatly rely on your wood stove or fireplace for heat each winter, a proper firewood shed is a must.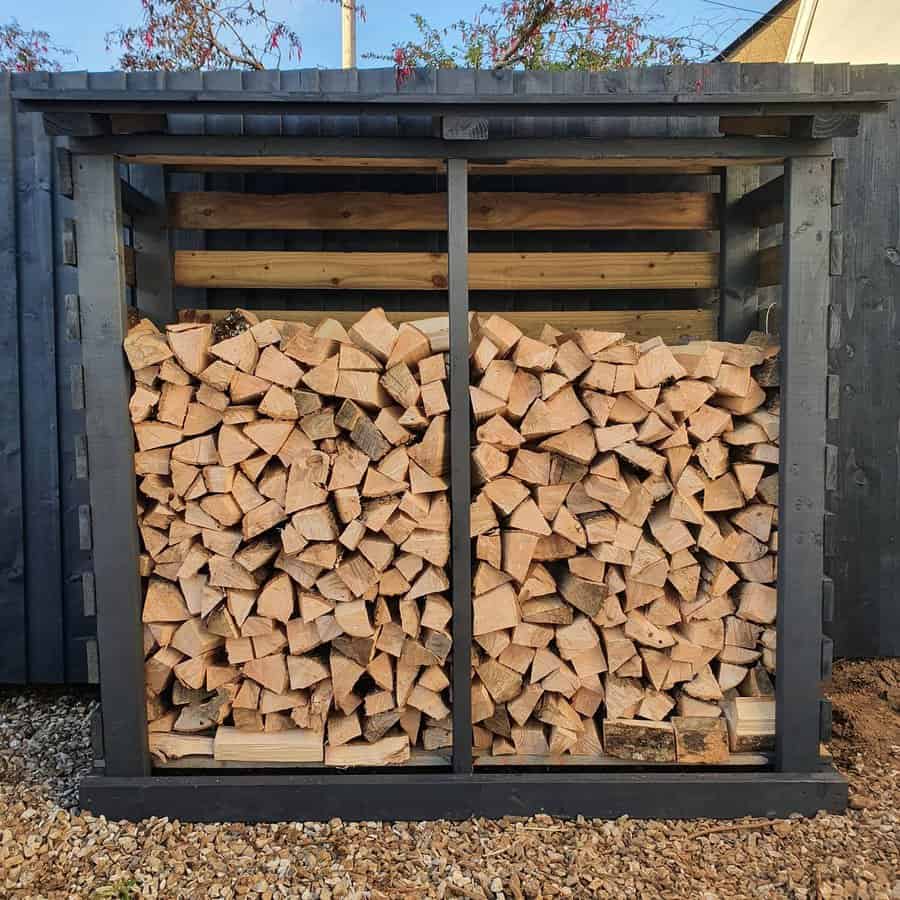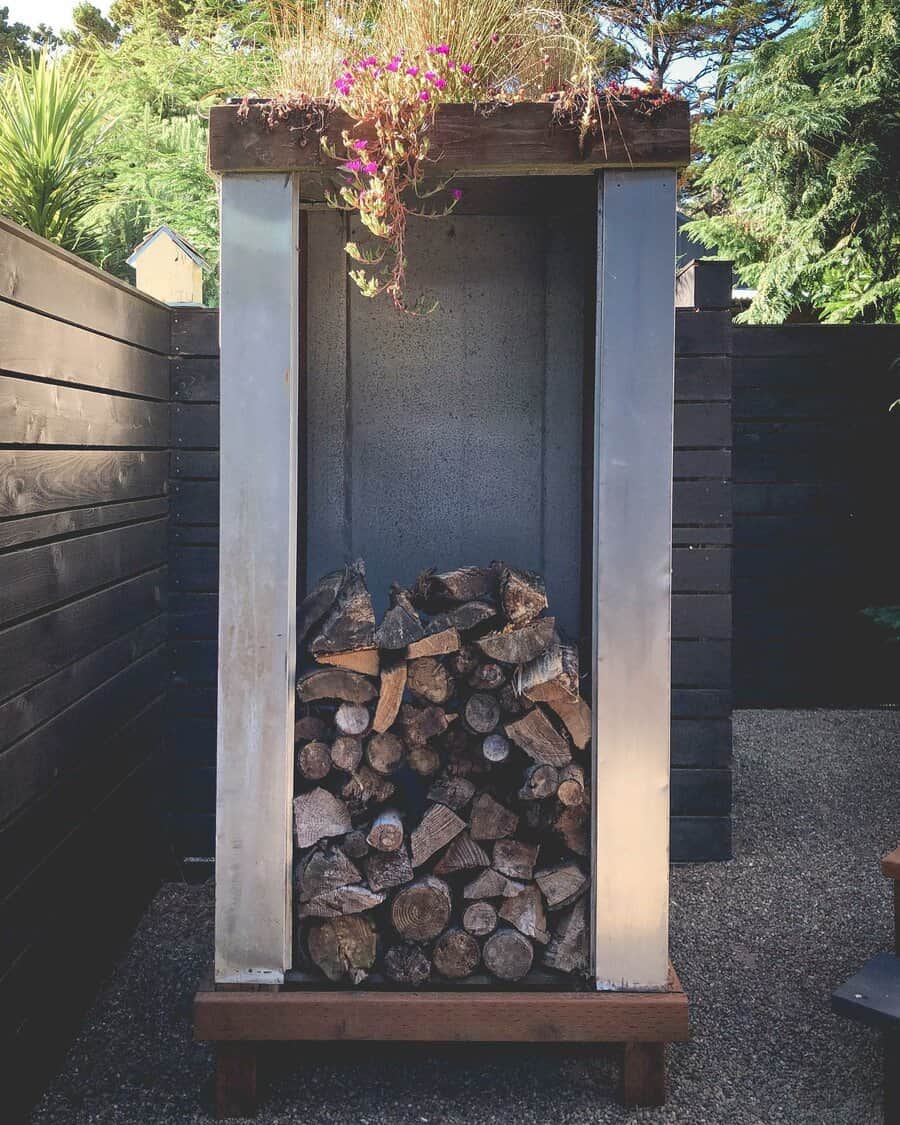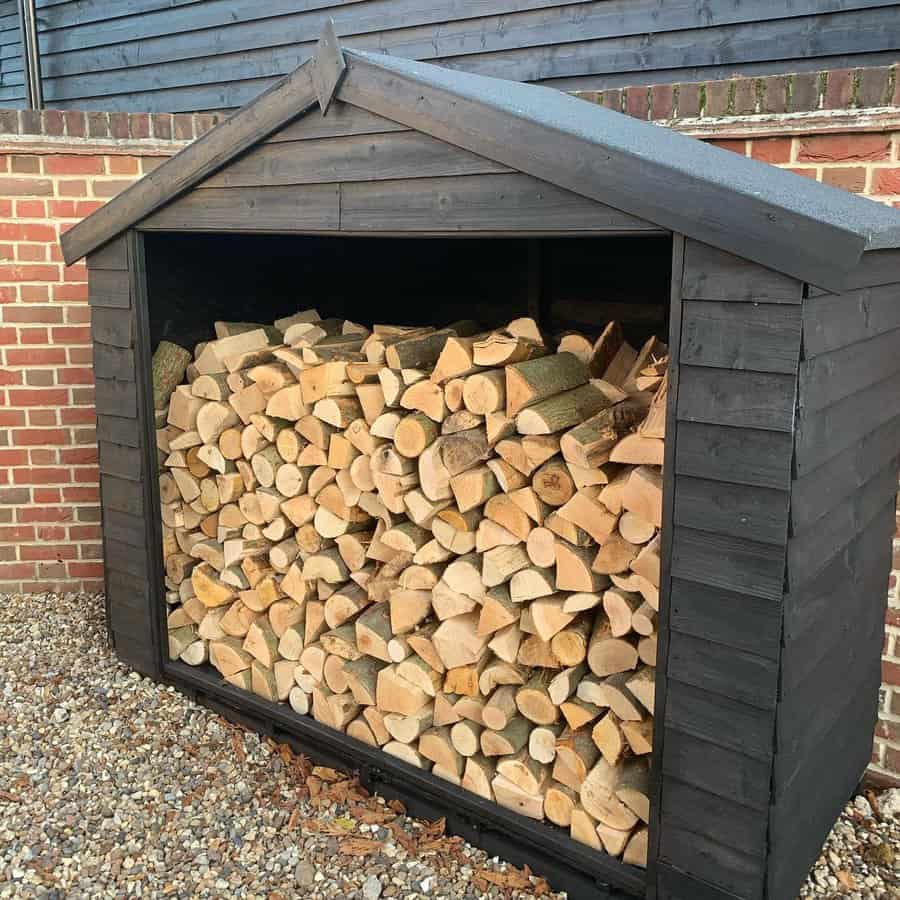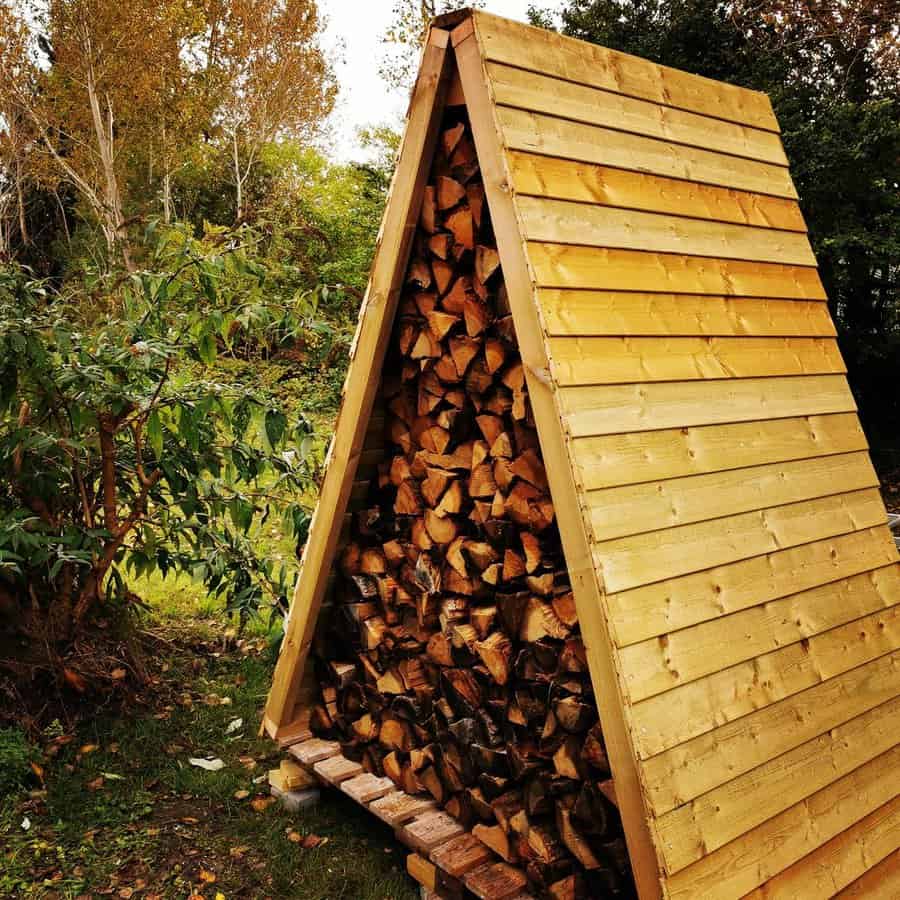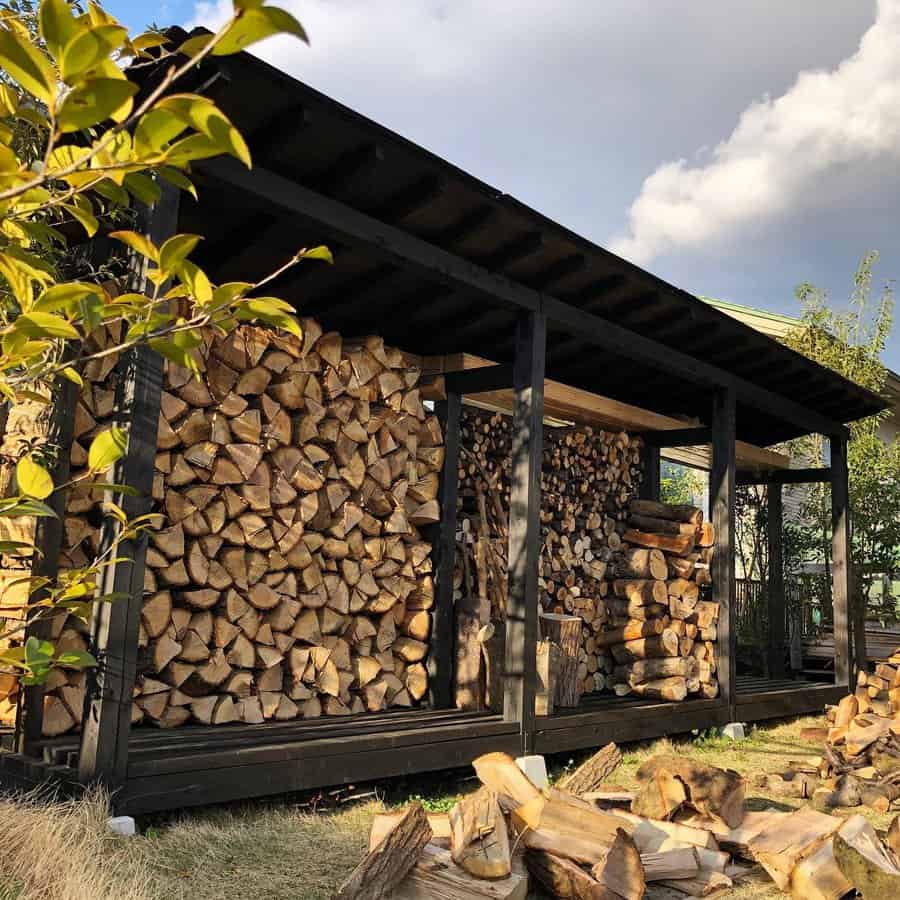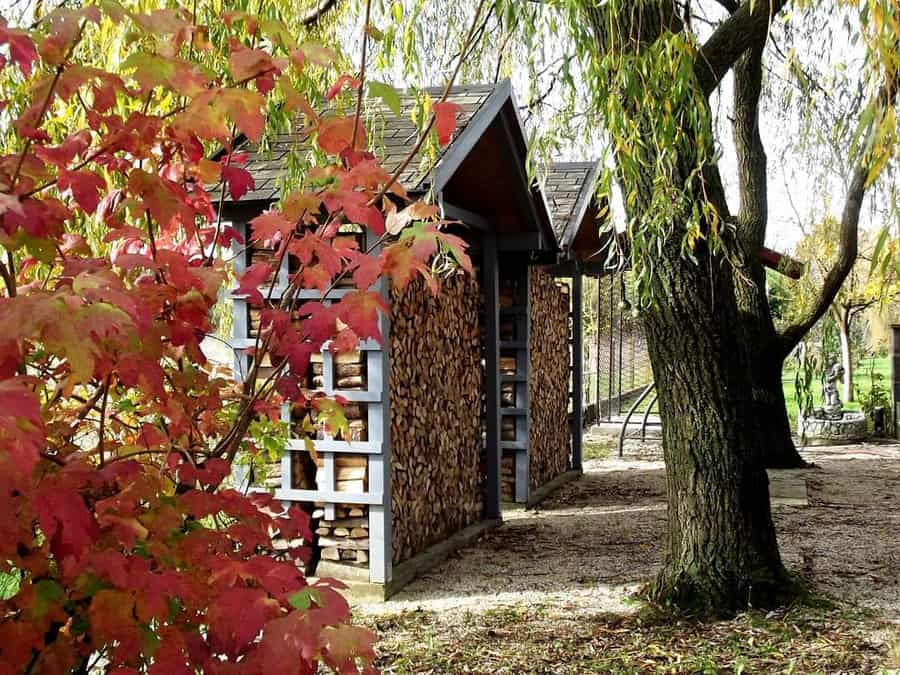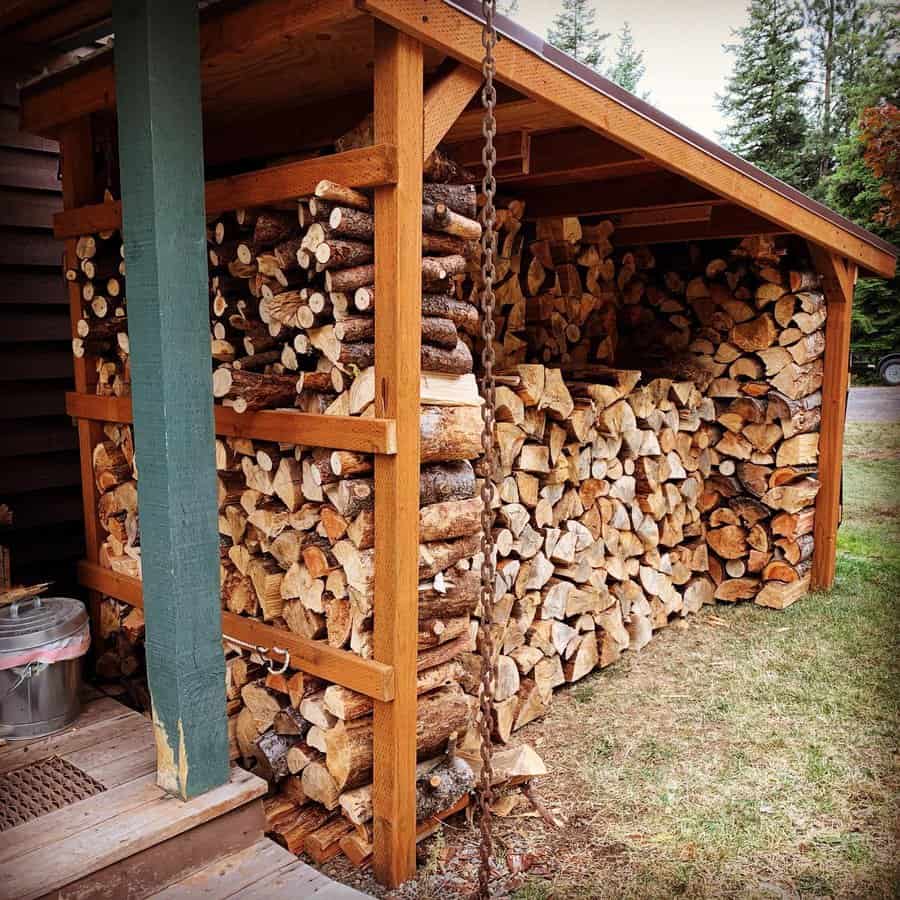 A firewood shelter can be simple or complex, depending on your DIY skills and budget. One affordable option for firewood shed construction is to use pallet wood instead of lumber.
Pallet wood can be left bare or painted to provide the look you want. You can even make an adequate woodshed roof out of shingle-covered pallets.
Firewood Storage FAQs
Should you cover firewood with a tarp?
Yes, proper outdoor firewood storage requires some type of cover. You must protect seasoned firewood from rain or snow. If you don't have a firewood shed, cover your firewood with a tarp to protect it from saturation.
Can you store firewood in plastic bins?
Yes, plastic bins can work for firewood storage, but only if the wood and the bin are completely dry. Residual moisture will keep the firewood damp, and it's hard to light wood that is too moist.