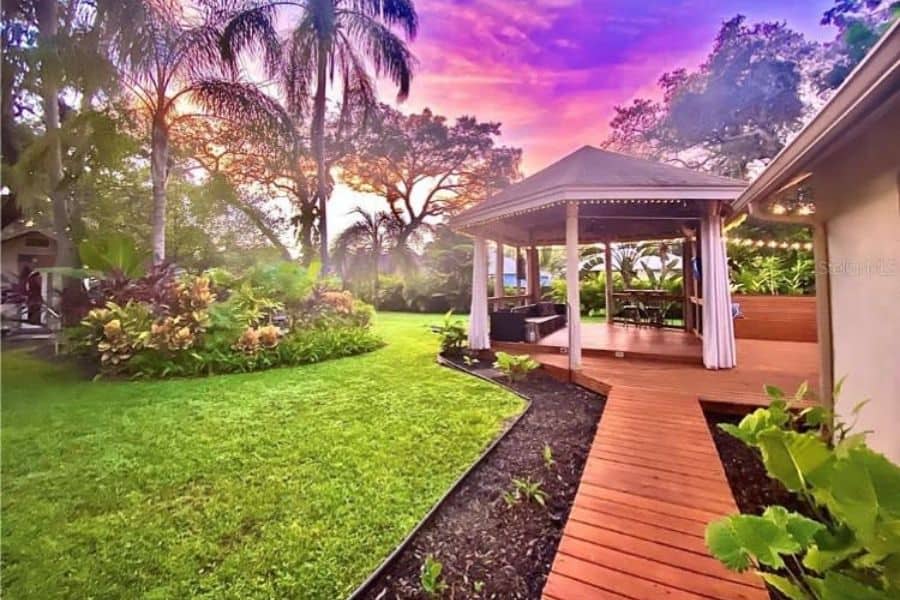 24 Florida Landscape Ideas
"Florida is a strange place: hot, beautiful, ugly. I love it here, and how nothing makes sense but still, somehow, there is a rhythm."  –  Roxane Gay
You love your Florida home, but the outside of it could look a bit nicer.
Isn't it time you embraced the outdoor living lifestyle and upgraded the landscaping around your home? Do more than just some lame rock garden.
Grow a natural living wall, increase curb appeal, or create a backyard garden oasis.
Thanks to Florida's warm and humid climate, you have plenty of options. From lush greenery to brightly-colored blooms, you can create an impressive landscaping design in your front and back yard.
These Florida landscape ideas will have your home looking like a tropical escape.
1. Create Natural Privacy
Choose plants that have large leaves or dense foliage to create a natural barrier between you and your neighbors. This helps to block sound and sight, so that you can enjoy your outdoor space in peace. For the most coverage, it helps to layer plants of different heights. This creates a visually appealing display while also creating an effective privacy barrier.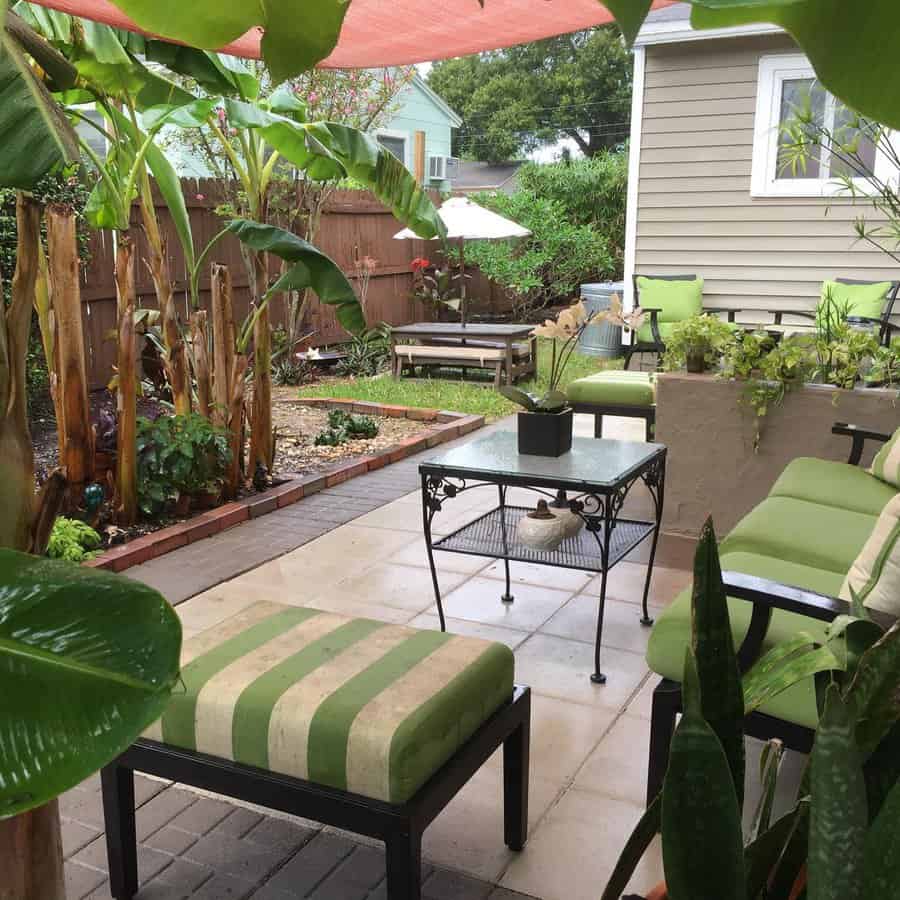 2. Pave a Scenic Florida Walkway
Adding a walkway to your Florida landscaping gives you a place to walk without having to trample your lawn or plants. It's also a nicer place to walk when it's just rained, and the ground is wet. This is called hardscape.
You can build your walkway out of concrete, but this is less attractive and can be quite expensive. Instead, build a walkway through your backyard out of pavers, stones, or bricks.
If you want to use concrete, skip having it poured by a professional and mix your own. Then use a concrete mold to create a more decorative look.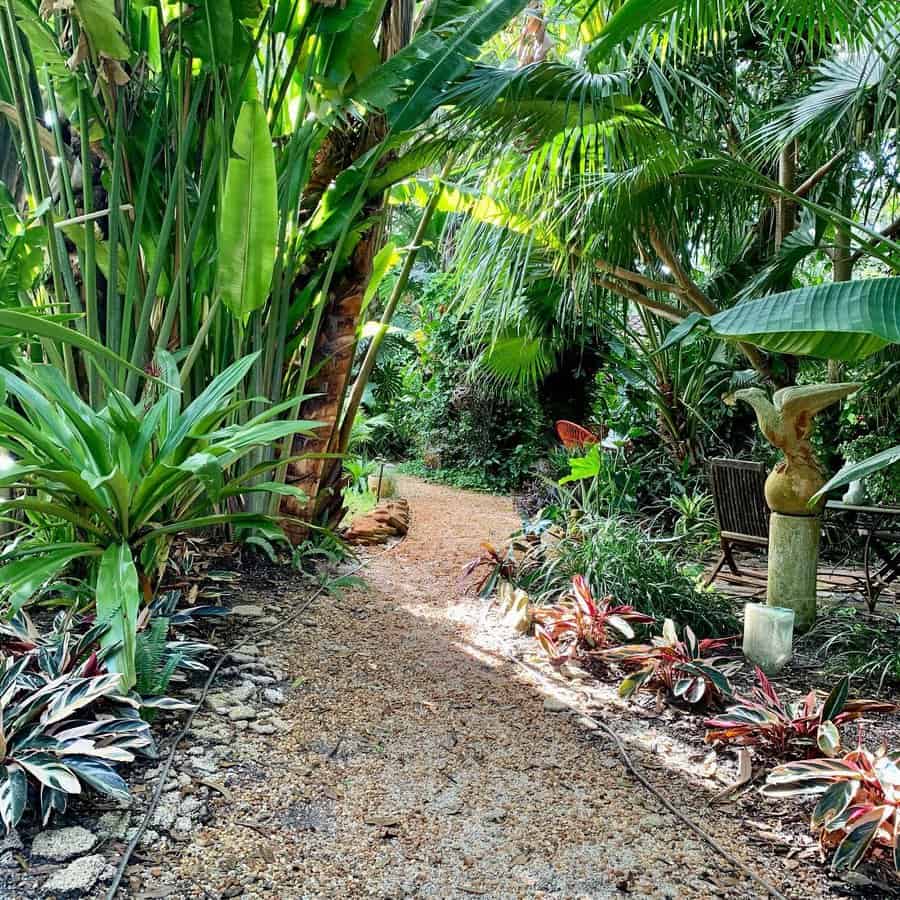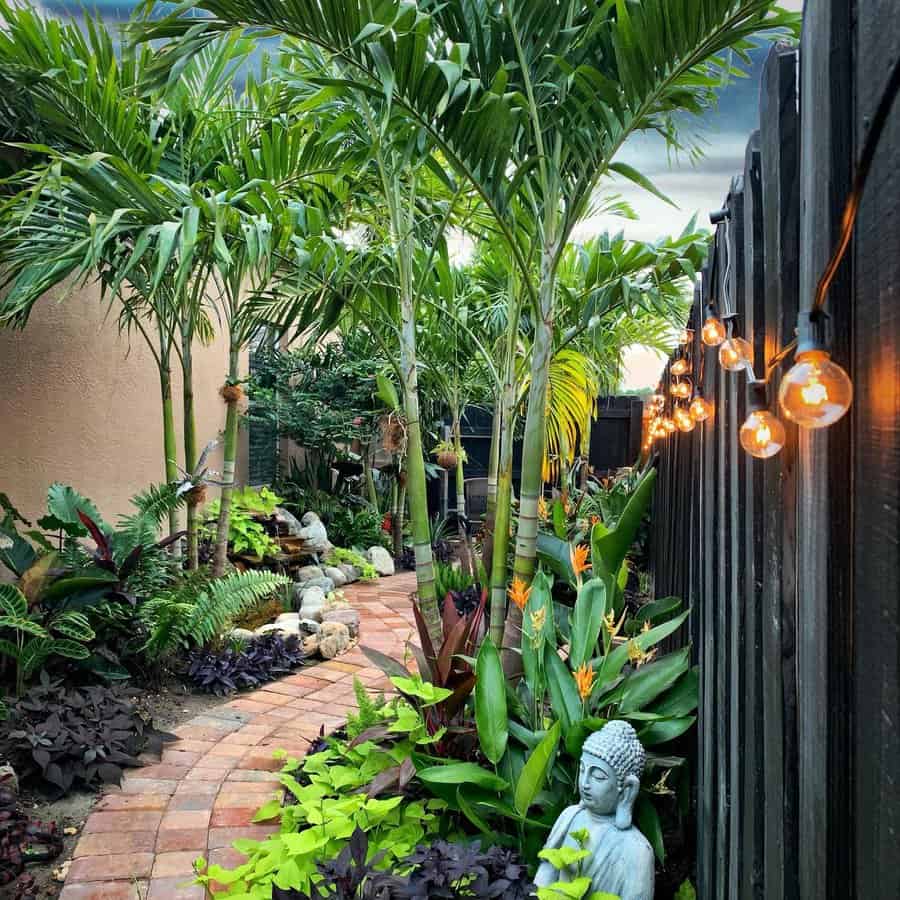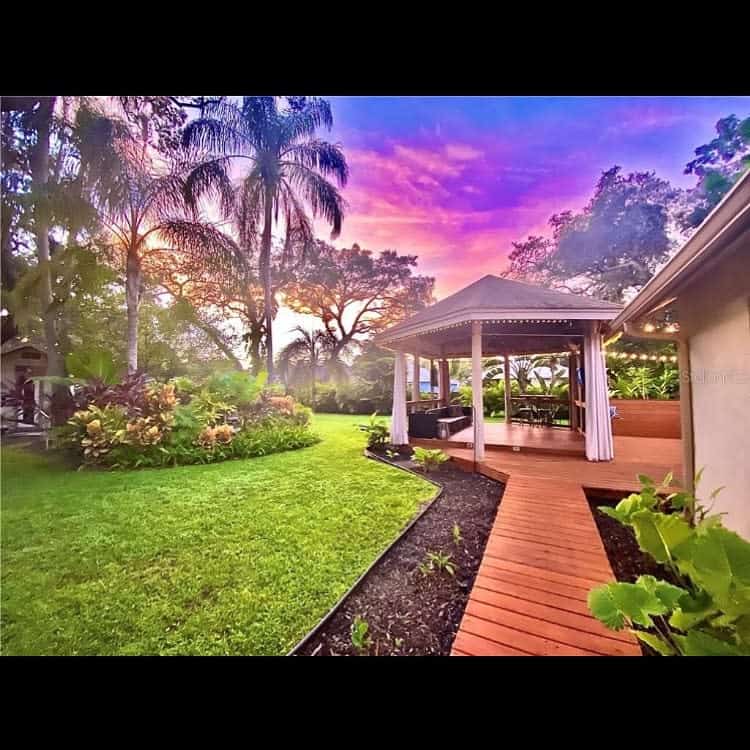 3. Budget-Friendly Florida Landscape Makeovers
You don't have to spend a fortune or hire a professional landscape designer to have a beautiful landscape.
Stick with native local plants that tend to have a lower price point than a rare exotic. If you don't already have a lawn, skip the sod and look for alternatives.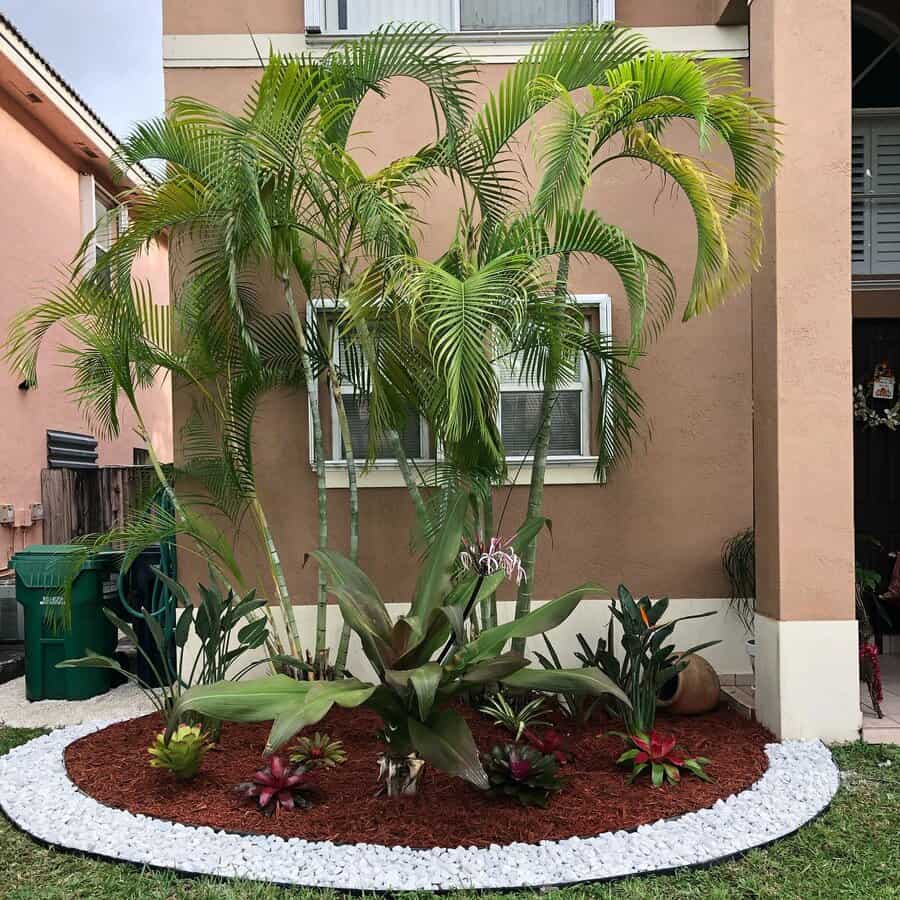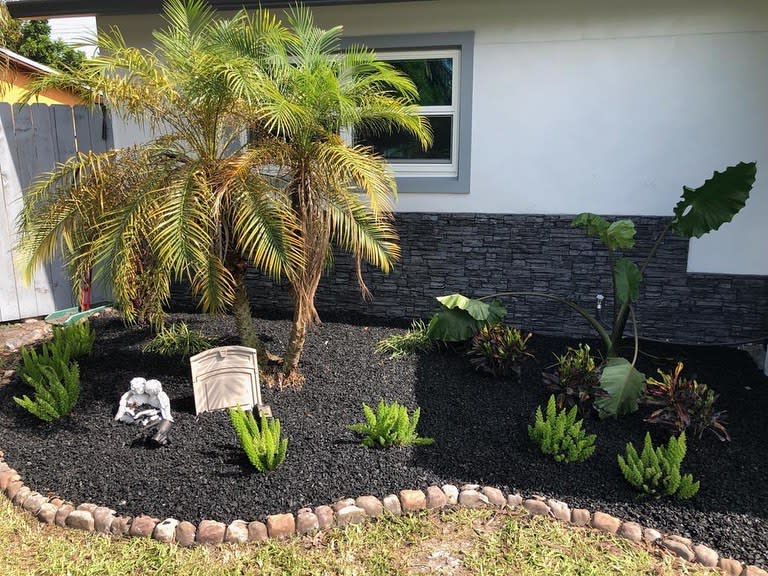 You could create a landscaping design that uses pine needles, crushed shells, or pea gravel.
Using a combination of these materials will add color and texture variety.
To prevent weeds from growing up through laying down landscaping underlayment. It allows for drainage while also preventing weeds.
Read more: 45 Backyard Ideas on a Budget
4. Blossom with Florida's Vibrant Flowers
Embrace the vibrancy of life that's present in Florida. Annuals are flowering plants that give you a burst of color for the season.
You can easily drop them in your soil and enjoy the variety of colors. They also attract pollinators like honey bees and butterflies. This brings life to your flower bed.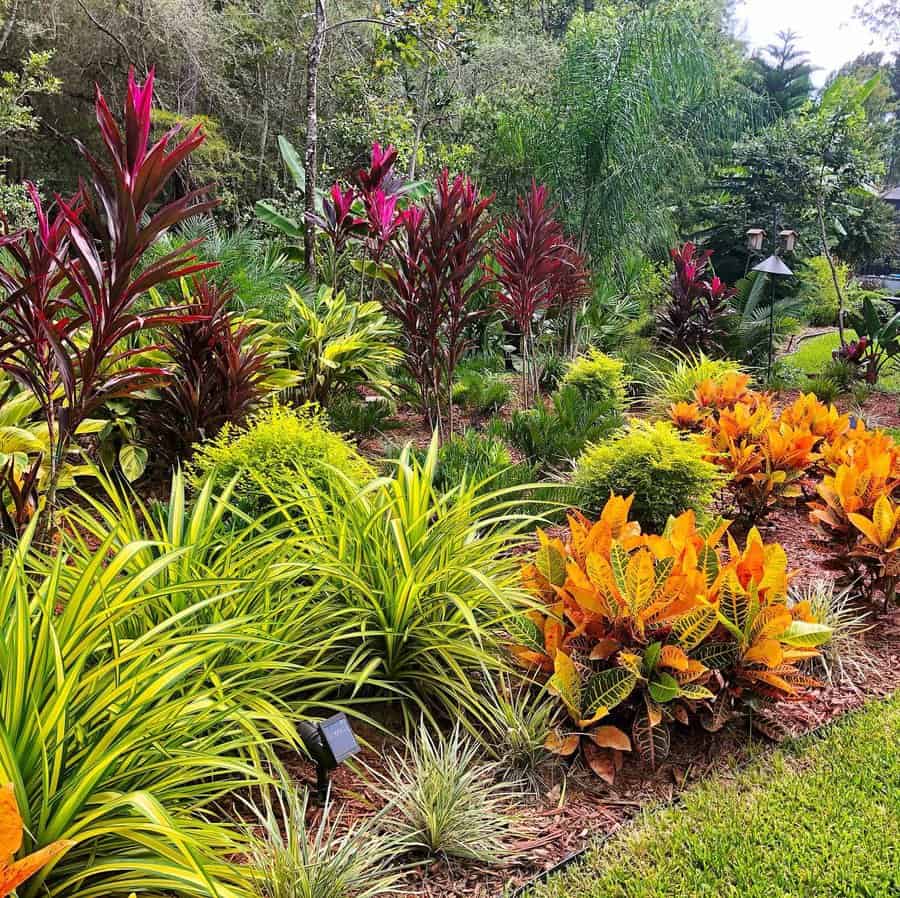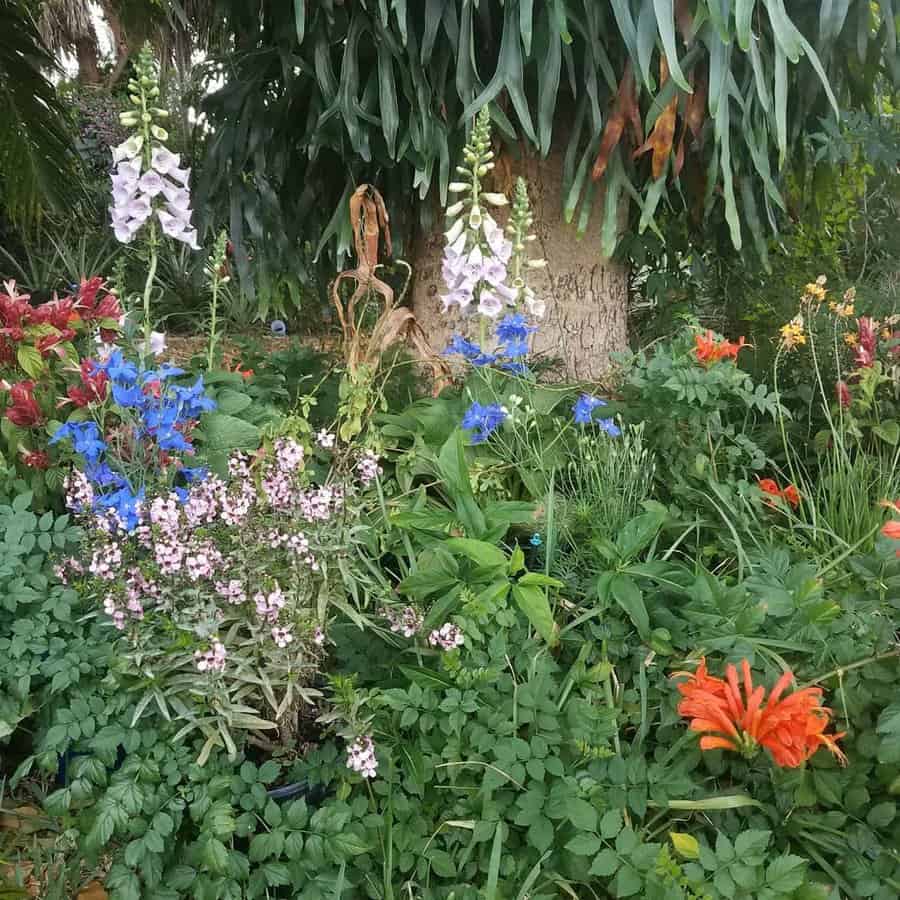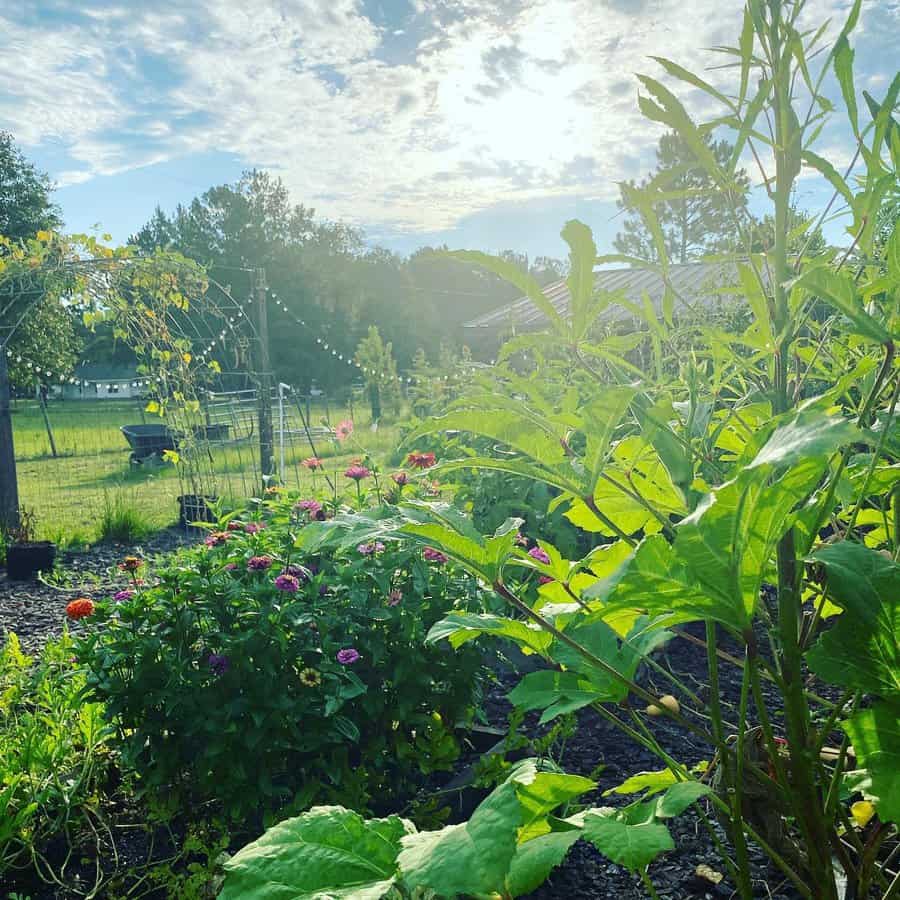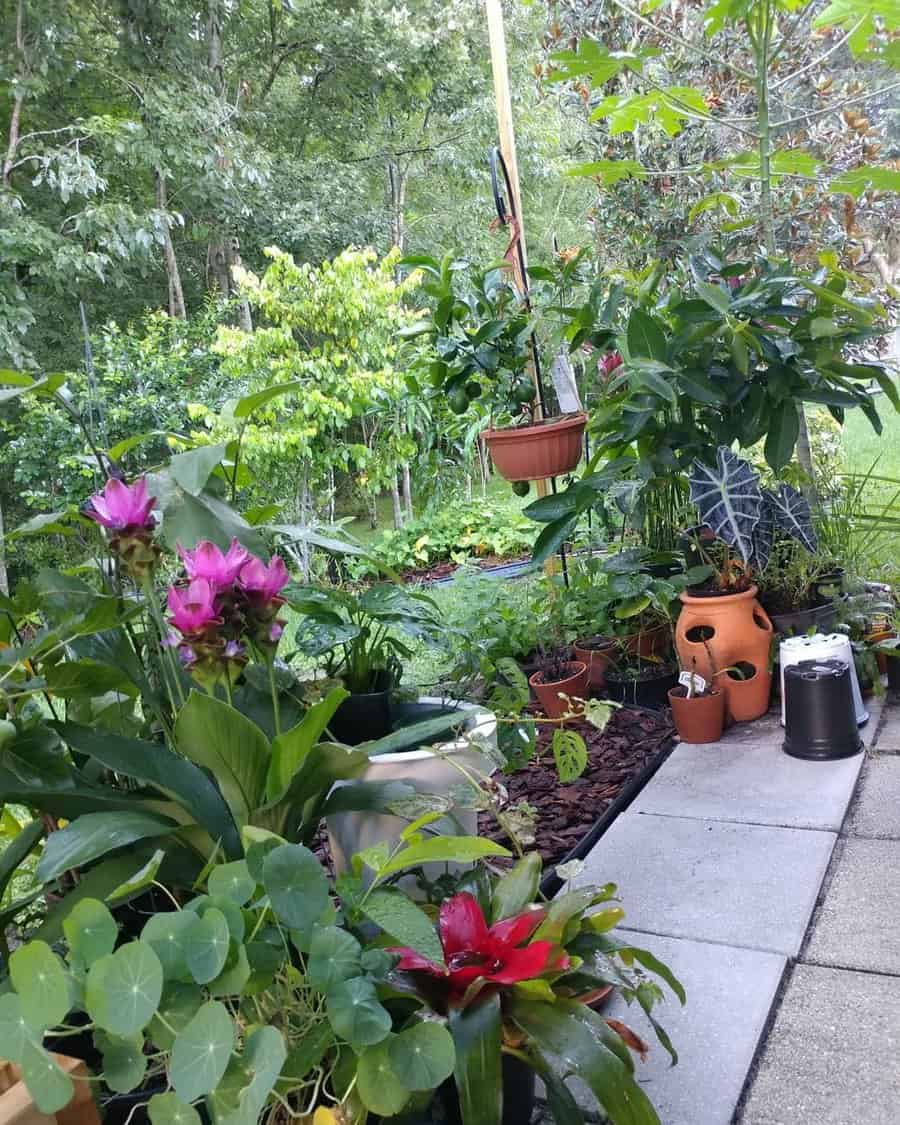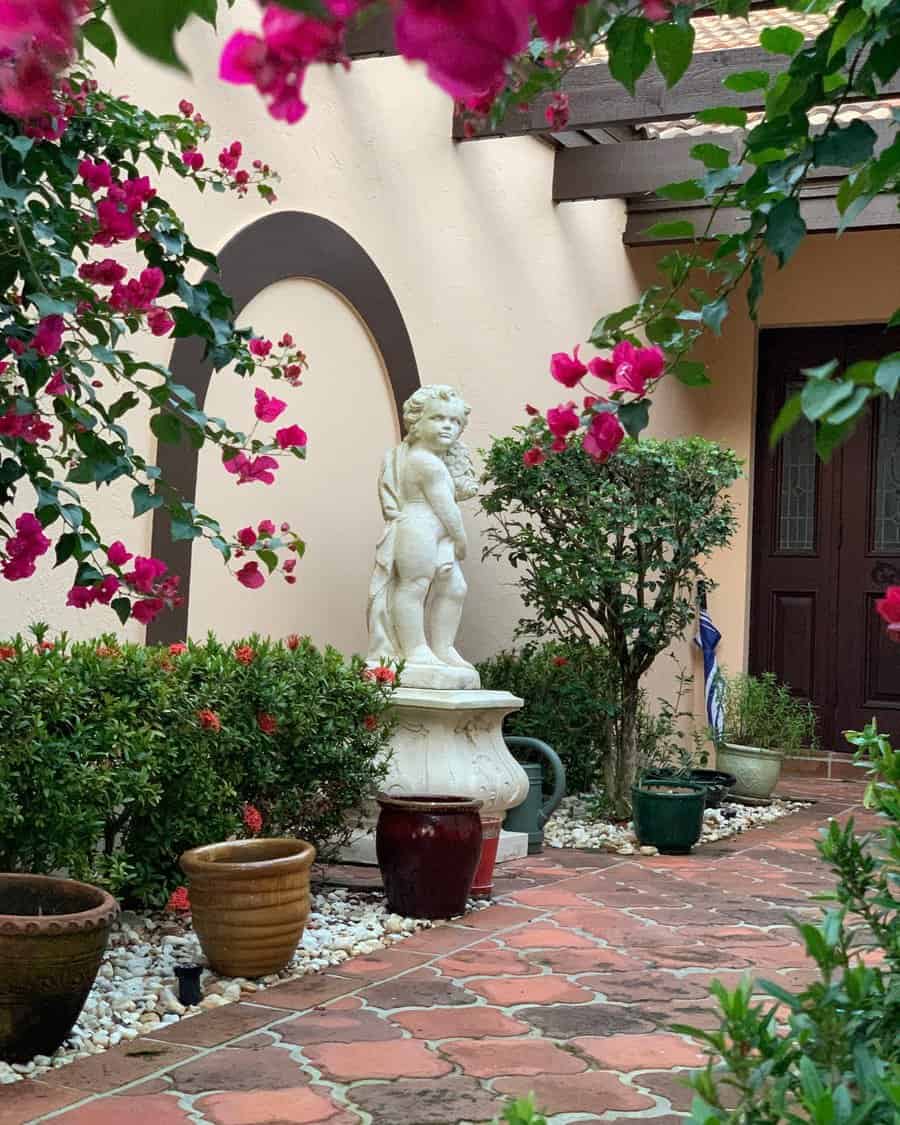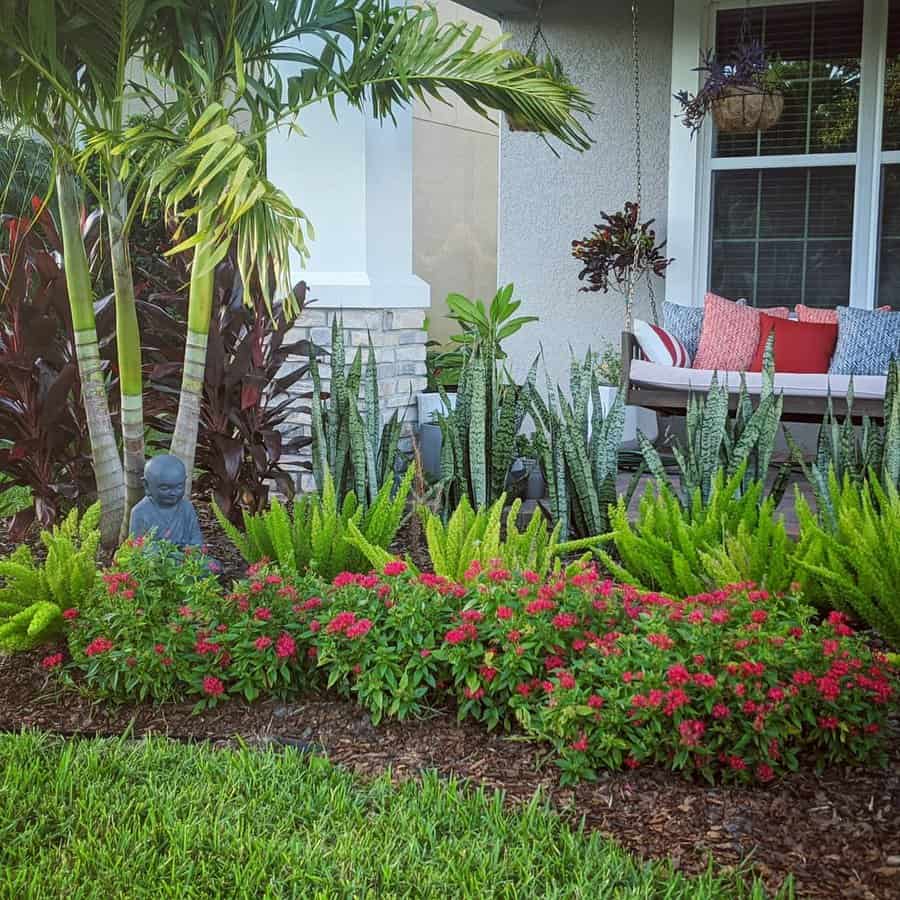 If you prefer to not garden every year with annuals, then consider planting perennials instead. These are plants that will continue to bloom season after season.
You'll find perennials that flower and come in a variety of plant types. You could choose a ground cover that will spread out on its own.
Or plant a shrub that will remain compact and low. Some trees will grow tall and provide you with multiple blooms.
5. Boost Curb Appeal with Florida Charm
Your front yard landscaping design can make or break your home's curb appeal.
You don't want to be the only home on the block with dead plants and brown grass. So embrace the Florida climate and create a design with native plants.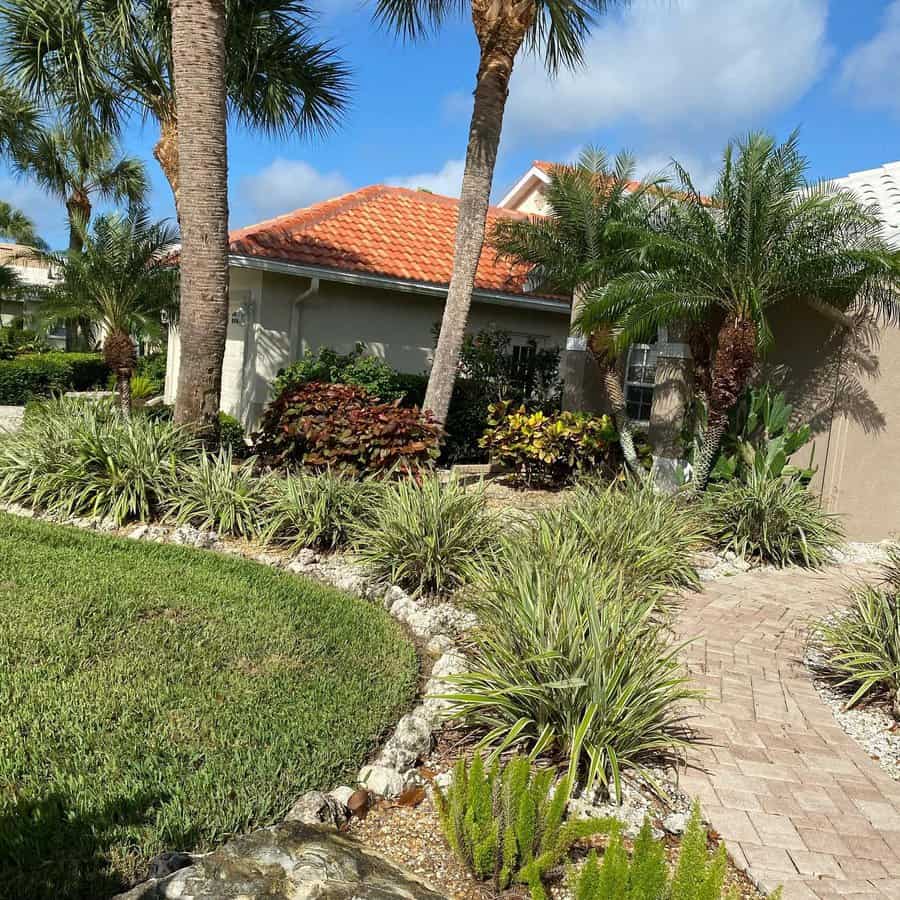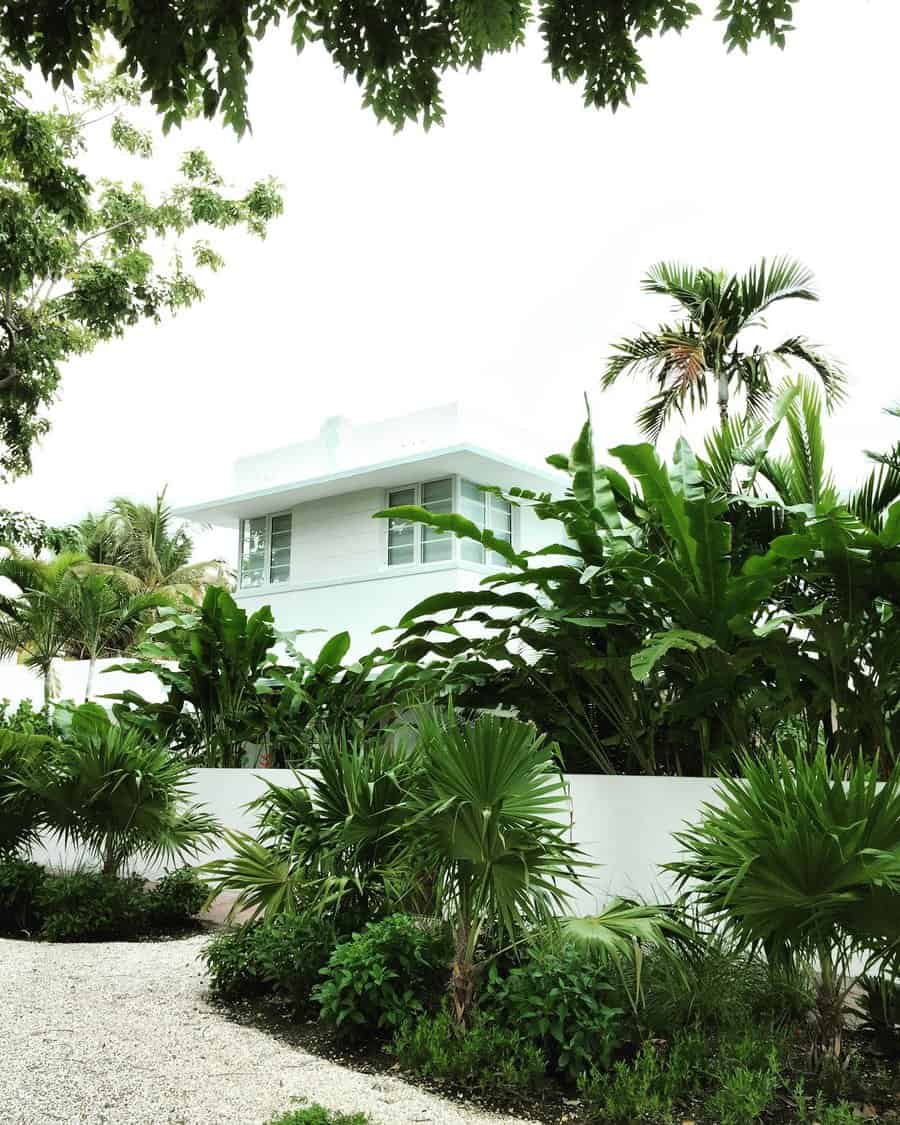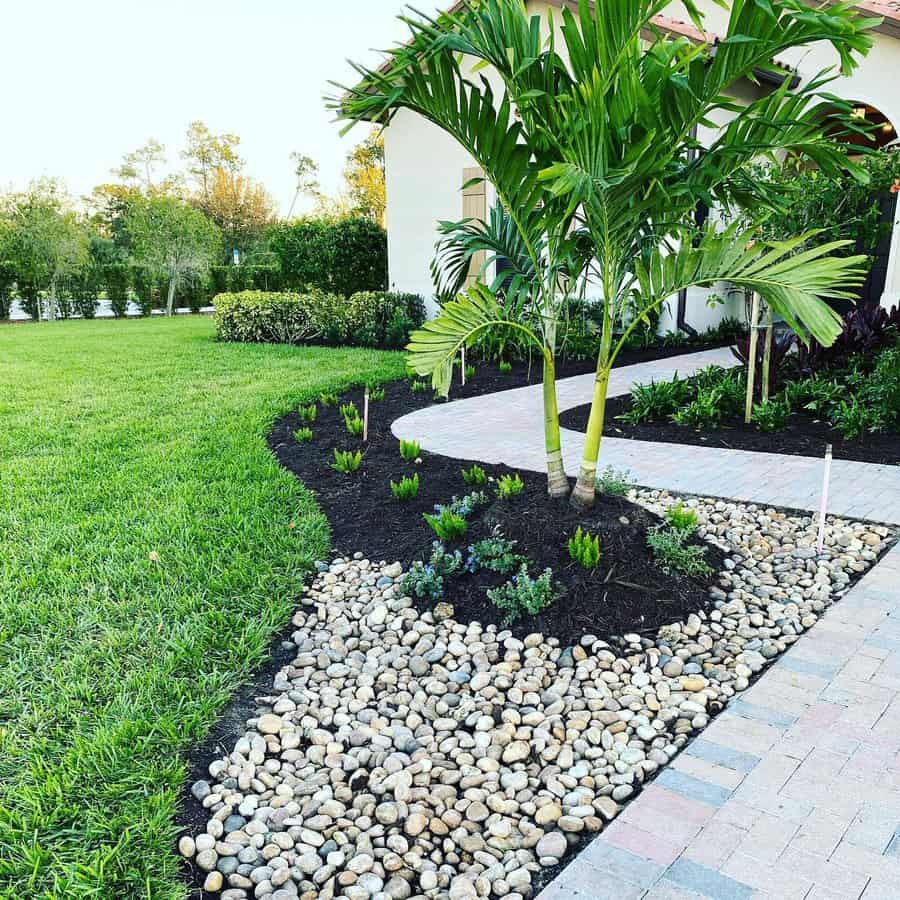 Start by adding flower beds along the front of your home. Line the flowerbeds with stones or pavers for a decorative edge. Using native plants here will keep the maintenance to a minimum.
If you have a small front yard, you could plant a single palm. Larger front yards can support something more elaborate with multiple palms or a ring of flowering plants.
Read more: 79 Landscaping Ideas For The Front Of The House
6. Showcase Iconic Florida Palm Trees
Palms are a smart option for your Florida landscaping ideas. There are a ton of options beyond the typical palm tree.
Choose one that fits the space you have available and the type of look that you're going for. This could be a few shorter palms that are full with leaves that extend in every direction.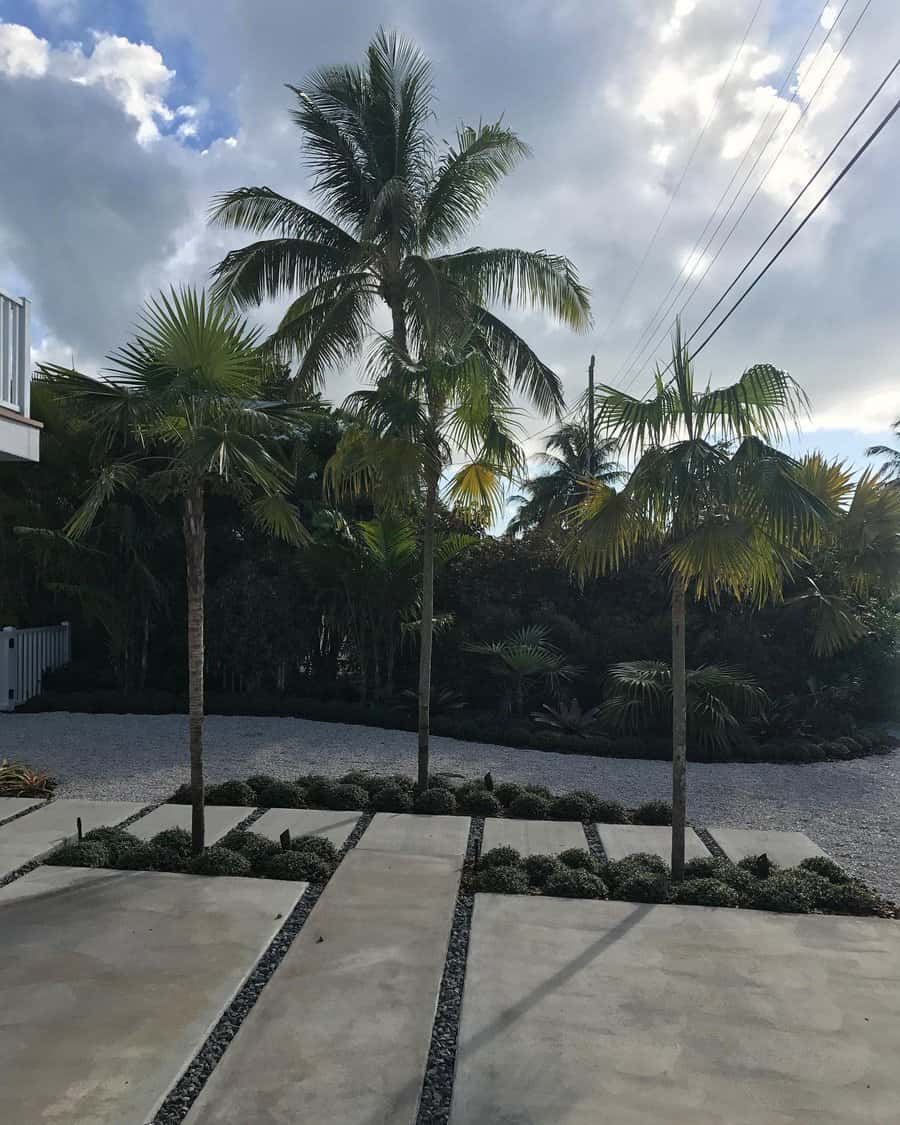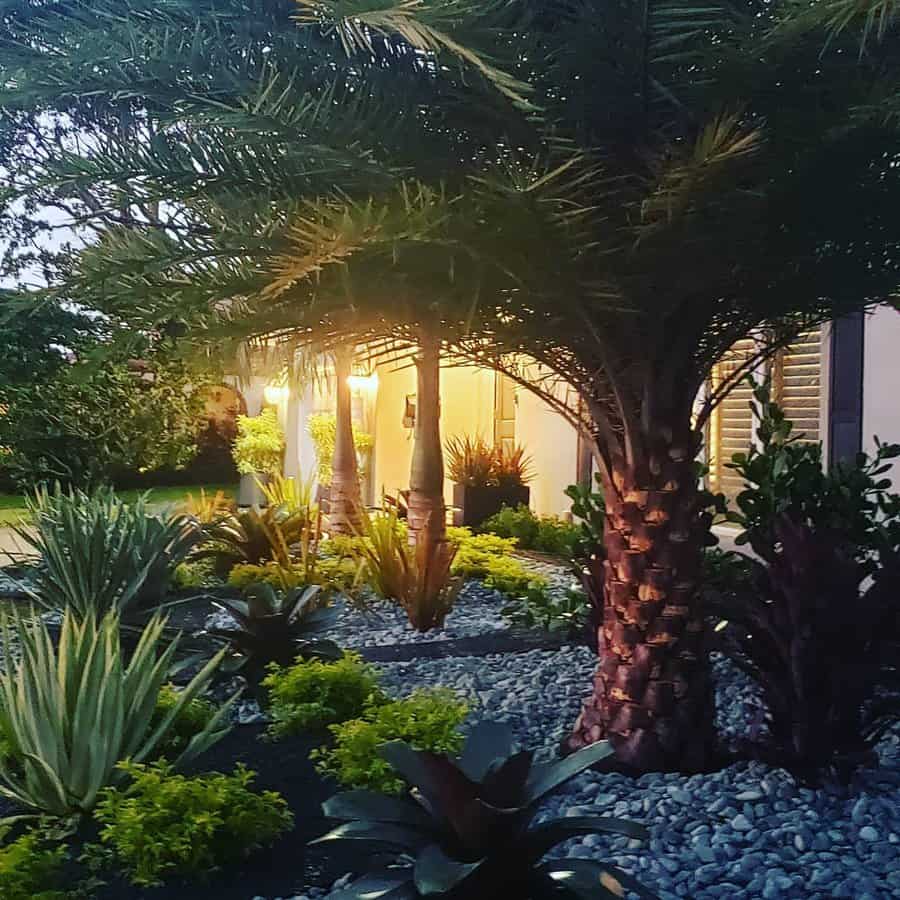 Consider the upkeep and maintenance requirements for the palms that you choose. Some have razor-sharp thorns that will make caring for your plant a nightmare.
Others drop thousands of seeds seasonally. This may not be an issue if they drop into the landscaping, but it could be a major pain if they drop onto the walkways and require cleaning.
7. Cool Off with Shade-Loving Greens
The sun shines bright in Florida, and it can make spending time outside sweltering. Adding shade plants to your landscaping will block the sun and give you a place to escape the heat.
The right plant for creating shade is one that grows taller with large leaves. An elephant plant is a good plant for this because the leaves are large and flat, like an elephant's ear.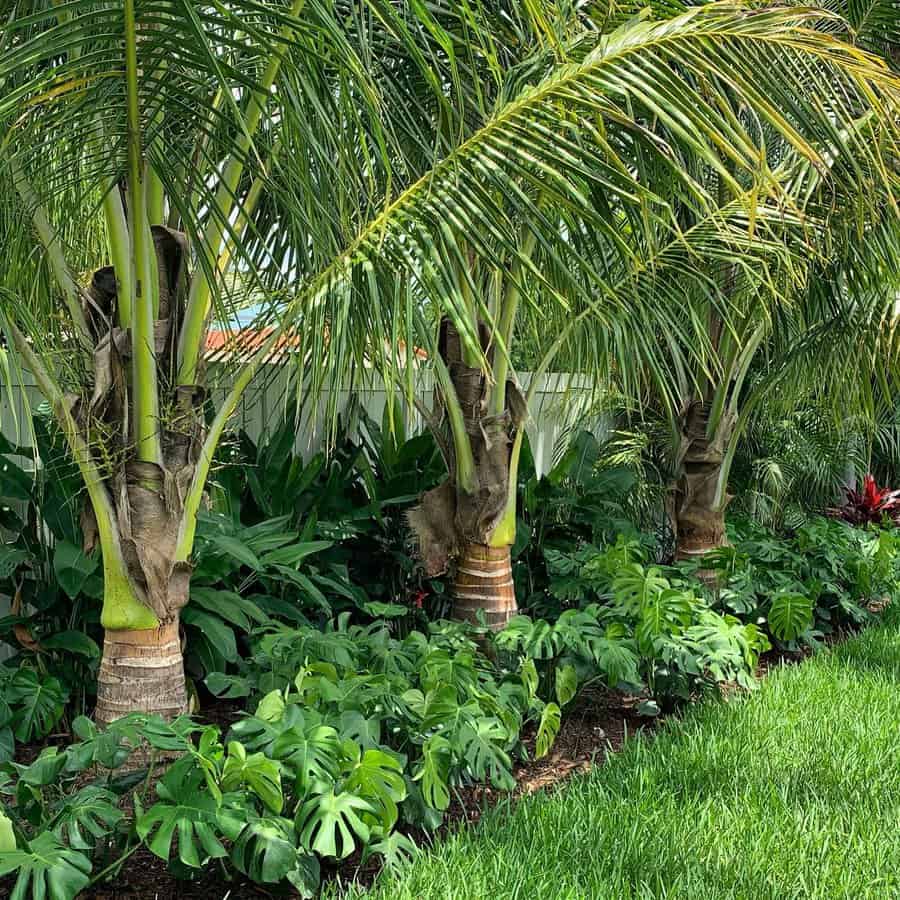 Another creative landscaping idea is to plant vine plants. You can then let them grow up and over your pergola. The pergola is a wood structure that you'll have built over your patio or deck.
It's open on the top so that it won't block the sun on its own. However, letting a vine plant make its way over it will create a natural shade that allows the sun to filter through.
8. Craft a Lush Natural Privacy Barrier
If your neighbours are closer than you would like them to be, consider using your landscaping to create a natural barrier.
This is a beautiful alternative to building a fence. Once you have more privacy, you'll be able to enjoy your Florida yard more.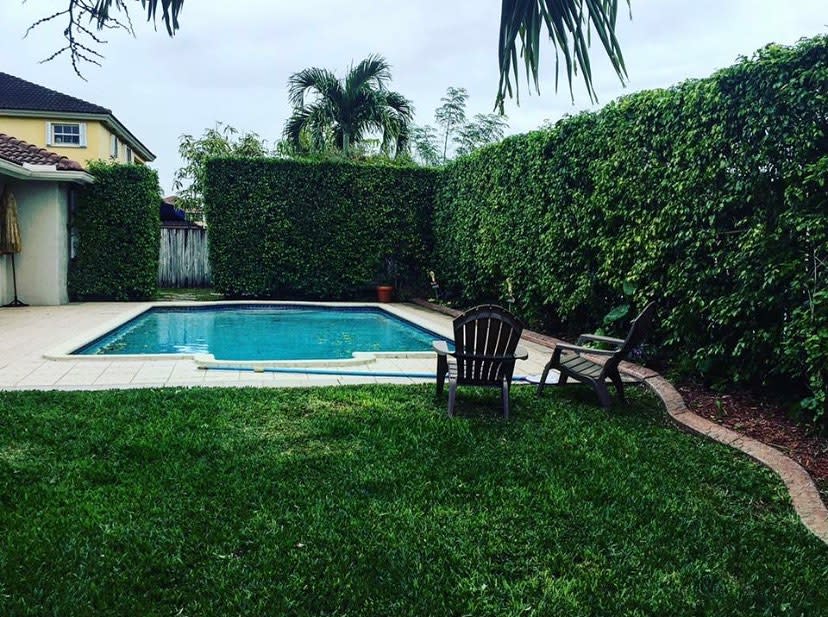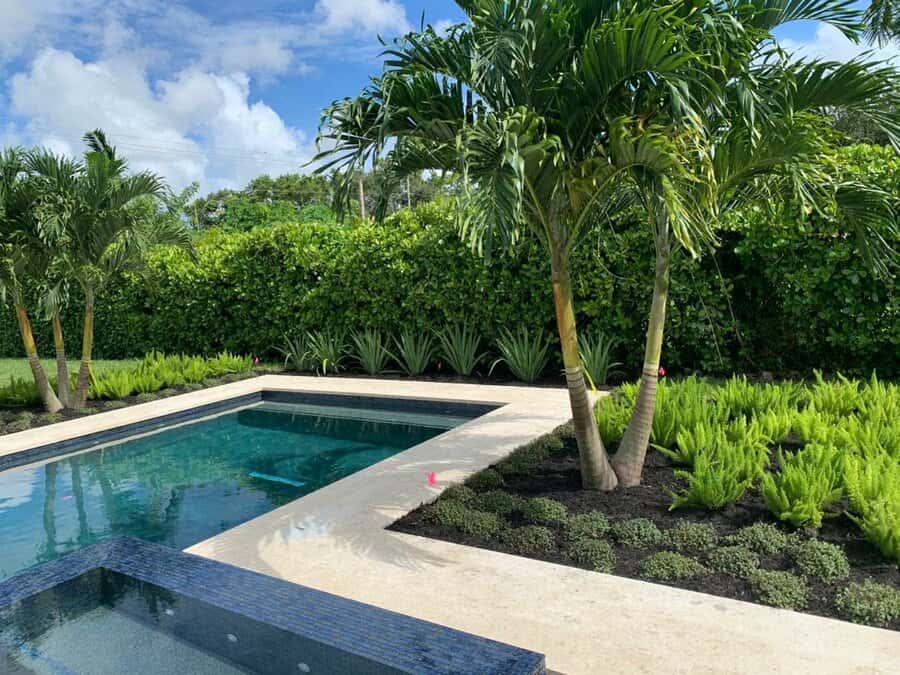 A simple idea is to choose plants with dense foliage. Let the plants grow and prune them to encourage branching and fill the area. You can use the plants to form a natural wall around the outdoor space.
Another option is to create a more abstract design. You don't need to build a full all, but you can create landscaping designs in key areas to block the sightlines of the neighbors.
9. Dive into Florida's Tropical Essence
You don't have to live in southern Florida to have a tropical garden or grow tropical plants as a part of your landscaping. Most of the state is classified as humid subtropical.
There is a long and warm summer with high humidity. Then the winter is cool yet mild.
So while southern Florida has the official tropical climate, you can still grow tropical plants in the majority of the state.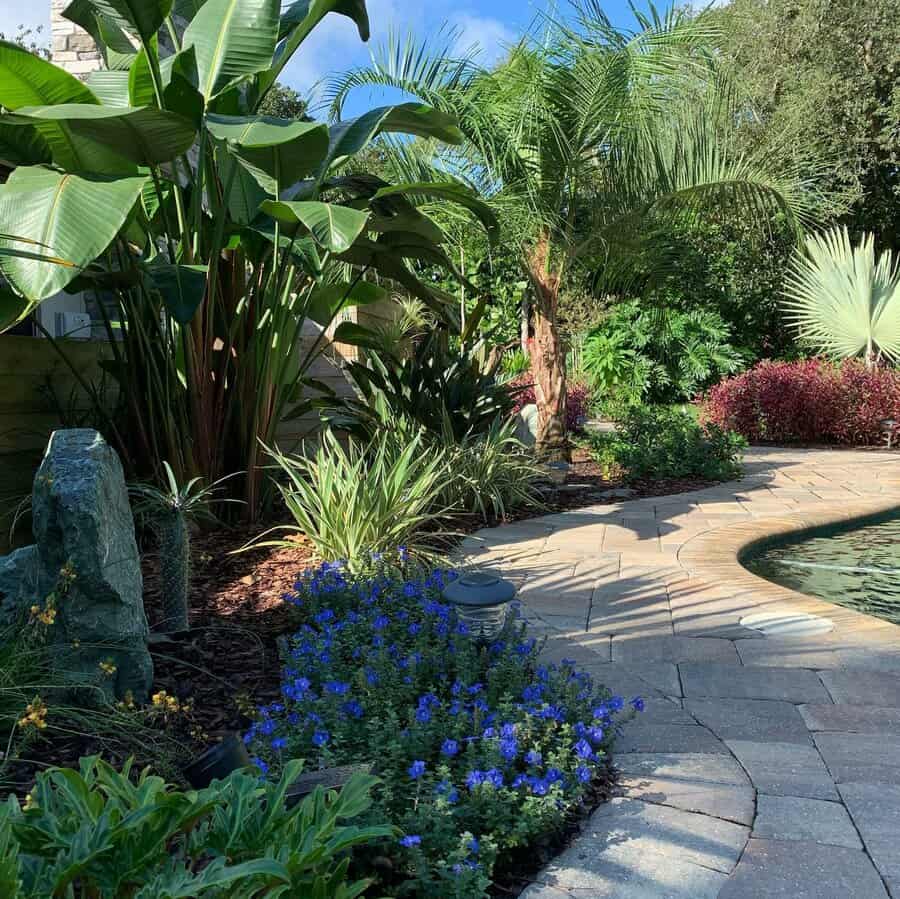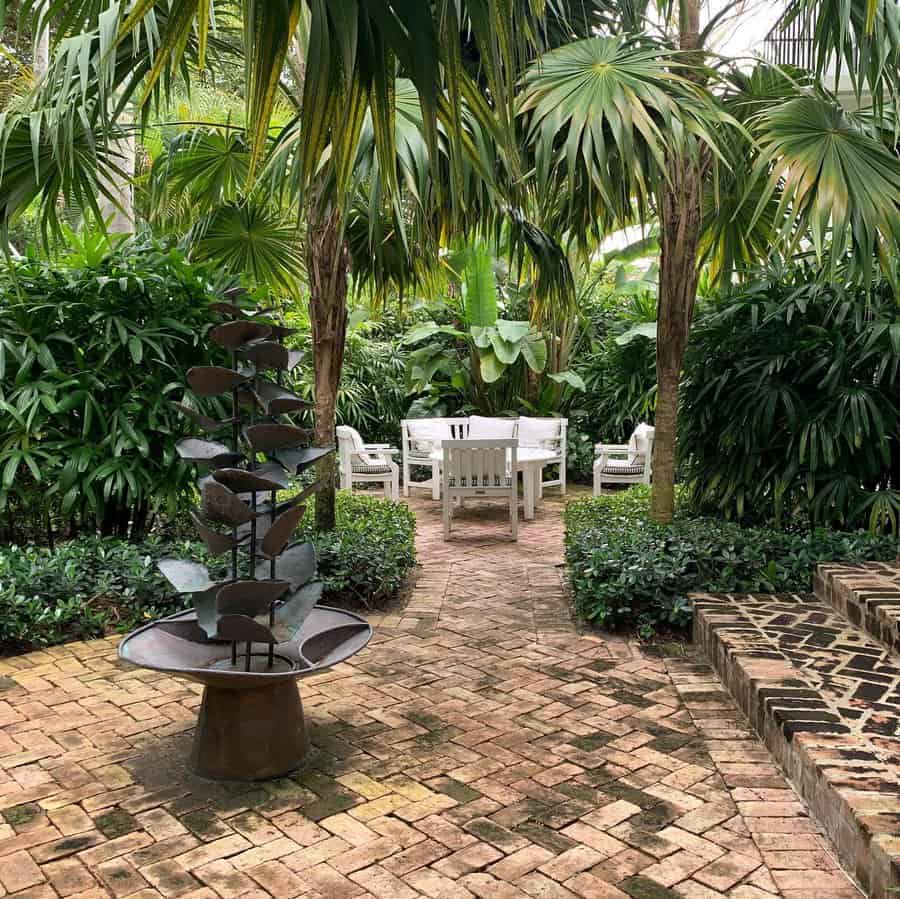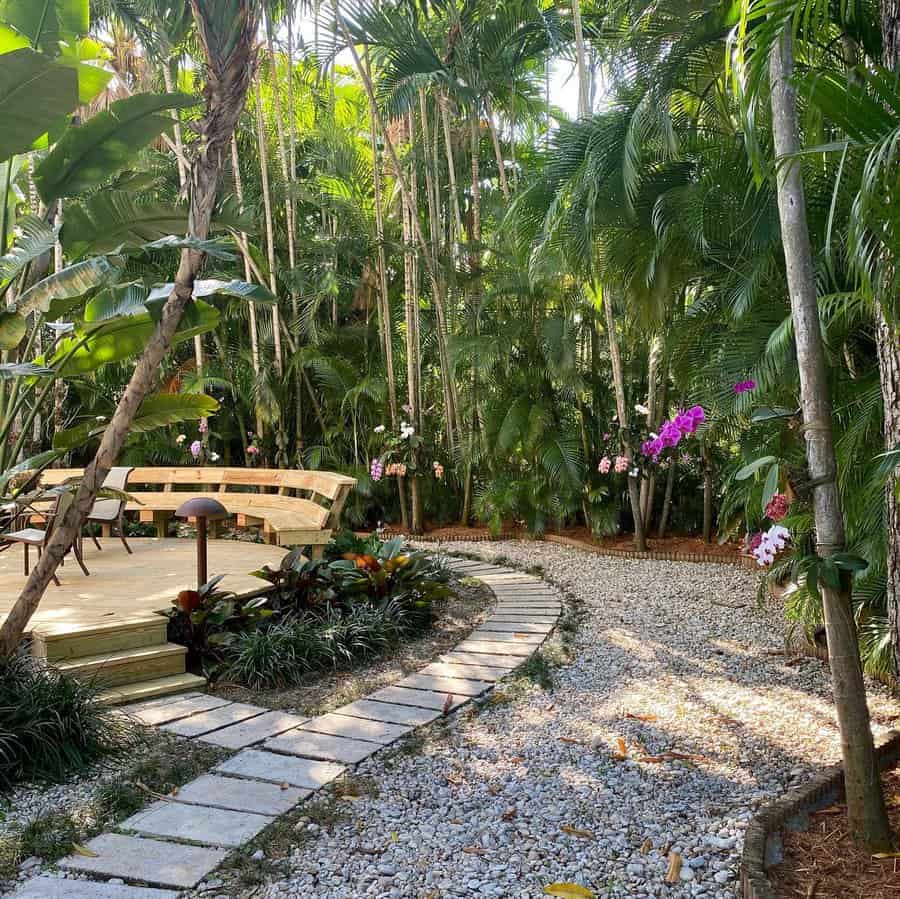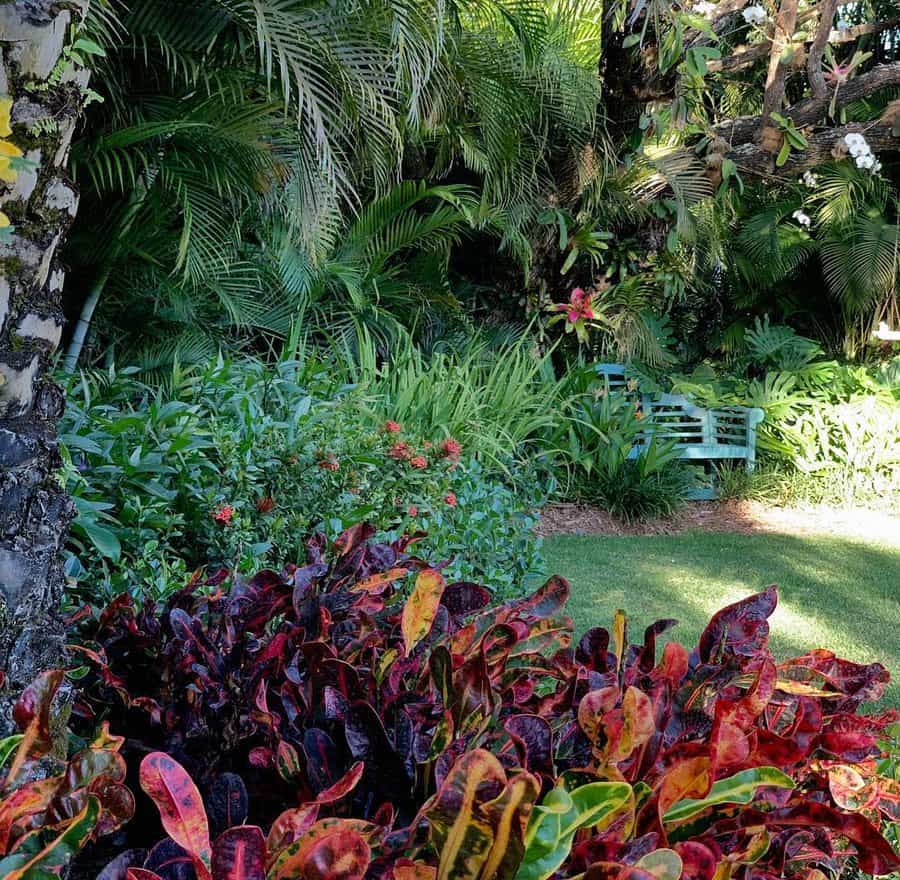 Birds of paradise are beautiful and can come in bold colors or pure white. Hibiscus comes in a range of colors, including red, orange, pink, yellow, and white.
You can trim the bushes to keep them small or let them grow large to be a natural fence or privacy barrier.
Florida Landscape FAQs
What is the cheapest way to landscape?
Use mulch alternatives like grass clippings, leaves, crushed stone, or pine needles. Instead of trying to maintain a perfect lawn, opt for ground covering perennials. These flowers bloom year after year and will continue to spread and create a beautiful blanket over your property.
How do you create a low-maintenance landscape?
Replace as much of your turf as possible with ground covers. This reduces the amount of mowing you'll have to do. When choosing plants, look for ones that are drought-tolerant. They will continue to grow and thrive despite a lack of watering and care.
Hardscape large areas of the backyard with a permeable material. This will ensure you have proper drainage while reducing maintenance tasks.
How can I make my backyard landscape without grass?
Popular alternatives to grass in Florida are mulch, rocks, crushed shells, pea gravel, or even artificial grass.
All of these are low maintenance and help insulate the ground from losing too much moisture to evaporation. They also come in bold colors, giving you plenty of options for creating a custom landscape design.