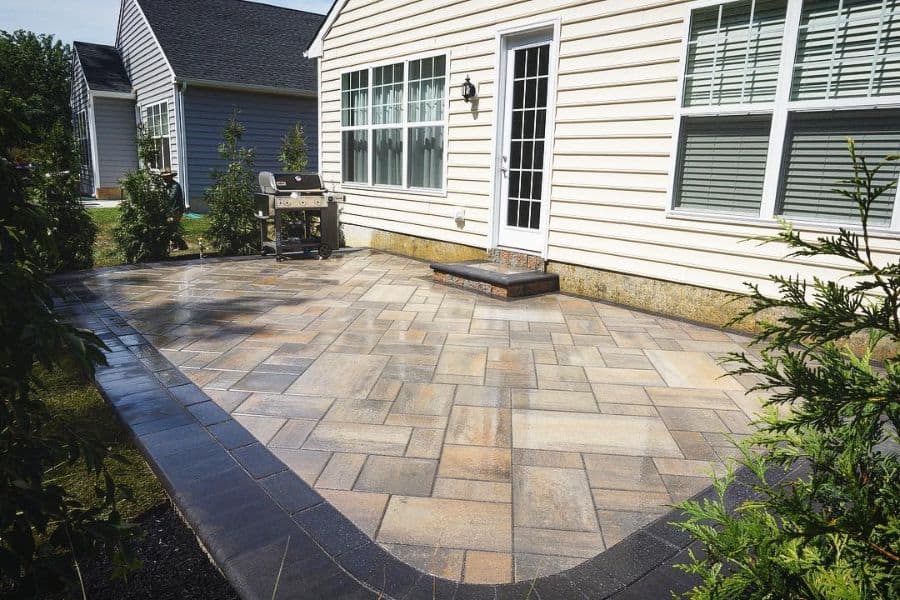 The Top 40 Hardscape Ideas
If your backyard is just grass, then you are missing out on a prime opportunity. It's time to say goodbye to all of the mulch and grass and start a hardscape project. Not only will this give you more usable space, but it will also reduce the amount of maintenance required.
Perhaps you start with a simple patio just off the back of your home. Or you could add a walkway that makes it easy to traverse your yard without stepping on the grass.
A wall adds privacy to your backyard. Smaller retaining walls make it easy to create different levels. Check out these unique hardscape ideas and upgrade your backyard.
1. Bricks
Bricks are a popular hardscape option. You can use them in your landscape design for the walkways, patio, retaining walls, or outdoor fireplace. Using them in your front yard can increase your home's curb appeal.
Traditional bricks come in a rich red color, but that may not be the color that suits the style and architecture of your home. Consider choosing bricks in a neutral color, such as beige. Or you could achieve a modern look with light grey or white bricks.
2. Driveway
Your driveway is the main hardscape element in your front yard. A well-maintained driveway adds to the curb appeal of your home. The most common and affordable driveways are poured concrete or asphalt. These are both uniform in look and easy to care for.
If you want something more elevated, consider pavers, stones, or even a natural stone tile. Add a walkway that leads from the driveway to your front door. You could even create another walkway that wraps around to the side or back of your house.
3. Fireplace
Adding a fire pit or fireplace to your outdoor space makes it usable throughout the year. A fire pit is a good addition to create a rustic atmosphere. You can DIY your own fire pit out of stone pavers. Follow online tutorials that show you how to arrange the pavers for the best performing and safest fire pit setup.
For more of a living room-type feel, you can build a fireplace out of natural stone. It could be a feature that's built into a larger wall with a chimney on the outside. Or it could be more of an open-air design where the fireplace stands on its own.
4. Modern
Create a modern design with your backyard landscaping by adding retaining walls and multiple levels to your outdoor living space. Your outdoor dining space could be at the same level as your home so that you step out from inside directly onto the patio with a large dining table. Then have steps that go up or down to another level.
Choose hardscape materials that create a uniform look. Slate tiles are a perfect example of this. They are a sleek dark grey to black shade. They have slight variations but are uniform enough to create a uniform look. Then pair the tiles with light-colored concrete.
5. Patio
A simple patio is an easy and functional way of adding hardscape to your backyard. You can surround it with shrubs and other plants for a balance of hard and soft elements. Add flowering plants for pops of color throughout your backyard.
Keep your concrete patio plain with a sealant if you plan to use your patio as an outdoor kitchen. The seal protects the concrete from stains and food spills. If you're looking to create a living room atmosphere, then lay down an area rug to add some softness.
If you need additional privacy, build a stone wall. It doesn't have to be a solid wall. Leaving small gaps allows for airflow while also blocking the sightline.
6. Pavers
Pavers add color variety and texture to your backyard. What's nice about them is that you can add them in phases. You can also scale your concrete paver design for the size of your backyard. This makes them suitable for both a large and small backyard.
You can use the pavers for more than just creating walkways and patios. Build them up to create a stone wall or outdoor fire pit. This creates uniformity in your design. Perhaps you start with the patio as your project's first phase. Then, later on, you can add the fire pit.
7. Pergola
Building a cover over your hardscape creates a shaded and protected seating area. Then you can enjoy your backyard when it's sunny, rainy, or any other inclement weather.
While traditional pergolas are built out of wood, this isn't your only option. Using bricks, concrete, or stone for your pergola creates a more permanent structure for protecting your outdoor living area.
Use stone or concrete for building the support pillars and main outside frame. Then use metal or wood for the cross beams that cover your patio. You could have rotating panels that open and close or large fabric panels that can stretch out or fold out of the way.
8. Pool
If you have a pool, creating hardscape features around it is a must. Adding flagstone around your pool creates a safe hardscape material to walk on when it's wet. Then, extend it out further to add a seating area next to the pool. Adding plenty of hardscapes helps keep your pool and home cleaner.
Choose a hardscape material that matches the esthetic of your home. It also needs to be safe to walk on when it's wet. This means avoiding highly polished or glazed tiles or stone. Choose larger tiles or stones when you have a larger space to cover.
9. Yard
A well-designed yard uses a combination of soft and hardscape materials. Before you take action on your landscaping idea, consider the hardscape design.
Create walkways around the gardens, flower beds, and lawn. You could build a garden path with gravel for a rustic and affordable hardscape.
Whether you have a large or small yard, you can scale the path to the size of your yard. If you have the space, you can add a small seating area, fire pit, or water feature.
Hardscape FAQs
How do you hardscape on a budget?
Stick with budget-friendly hard materials. You could add a walkway by making your own concrete pavers. There are forms you can use to shape the concrete into stone shapes. You can also use recycled, salvaged, or upcycled materials for building your hardscape elements. Old cedar shingles, shutters, and bricks are all materials that you can find at an affordable price.
What is an example of hardscape?
Hardscape is the elements in your landscaping that are not organic, living elements. The patio, retaining wall, deck, driveway, walkway, rocks, and water features are all examples of hardscape. For a well-balanced landscape design, you need both hard and soft landscaping.
What is a hardscape plan?
When planning your back or front yard design, try to add elements of both hard and soft. This creates visual interest and depth. There could be some large hardscape elements, such as your driveway or patio. Then there are small hardscape elements, such as a water feature, walkway, and decorative rocks. You could also add small retaining walls to create raised plant beds.