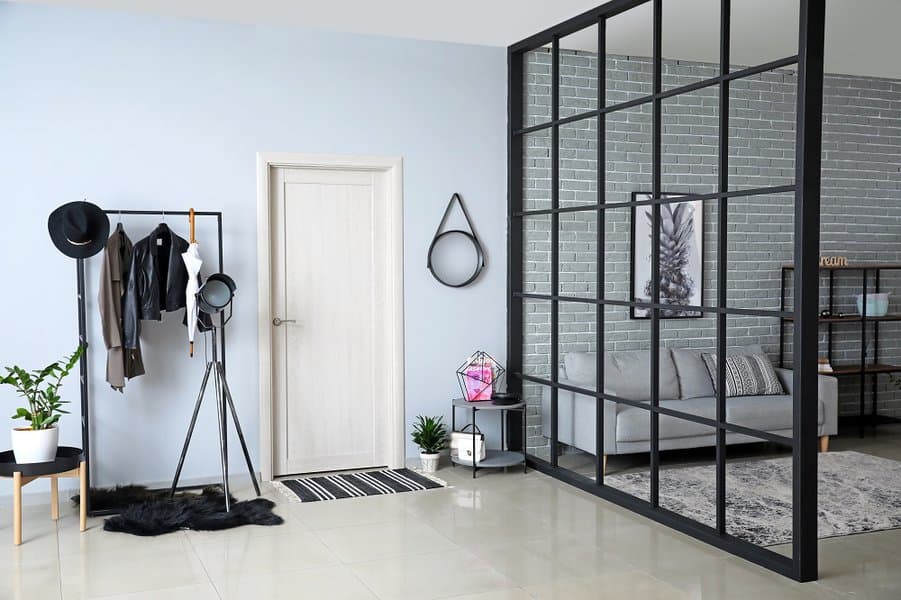 How to Create a Foyer in an Open Living Room
What is a foyer and why would you want one in an open floor plan? A foyer is the area just inside a building's main door. Older homes with separate spaces almost always included a foyer. Even if it was just a small entryway, foyer space was considered a necessary part of the floor plan.
A foyer traditionally includes a coat closet and tile or vinyl flooring instead of carpet. It's an easy-to-clean transition zone between indoor and outdoor spaces. Modern open floor plans often eliminate this useful zone, but it's fairly easy to create a functional foyer space anyway. Keep reading to learn how to create a foyer in an open living room.
Easy Foyer Design Ideas
Open concept homes provide great space for entertaining, but their lack of a clearly defined entry space can be a problem. Never fear, though–there are so many simple ways to delineate your entryway from the rest of your living space.
Rugs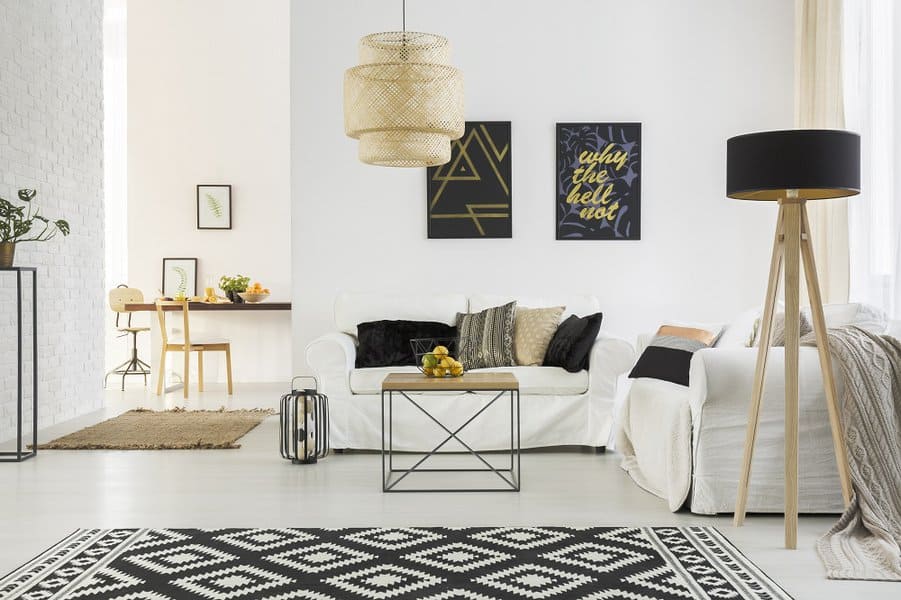 A large area rug is perfect for visually defining your entryway from the rest of the living room. If your home gets a lot of foot traffic, choose a washable rug. Sisal or jute rugs are good design ideas in the foyer, especially if your home has a casual atmosphere.
Furniture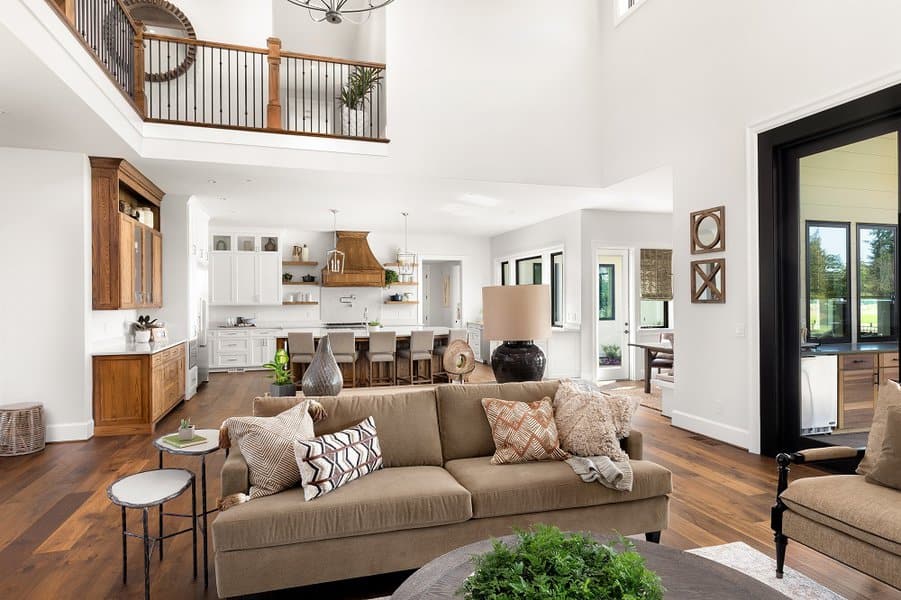 There are many ways to arrange your living room furniture so that it feels like the room has a separate foyer. For instance, you can place your sofa so that its back faces the front door. Put a console table against the sofa back to make it feel like a foyer entrance.
You can also place the console table on a wall, perhaps beside the front door. Wherever you place the console table, add a table lamp and tuck some baskets underneath shoe storage space. A narrow dresser can be used instead of a classic console table.
A bench is helpful in any entryway because it provides a place for people to sit while putting on their shoes. Add a coat tree and umbrella stand in the corner so your guests have a place to put their outerwear and gear.
If you don't have room for a console table or bench, a regular chair and small table will fulfill the same purpose of providing a place to sit and a spot to hold your mail and keys. A small tabletop basket can help keep those items neatly organized.
Wall Hooks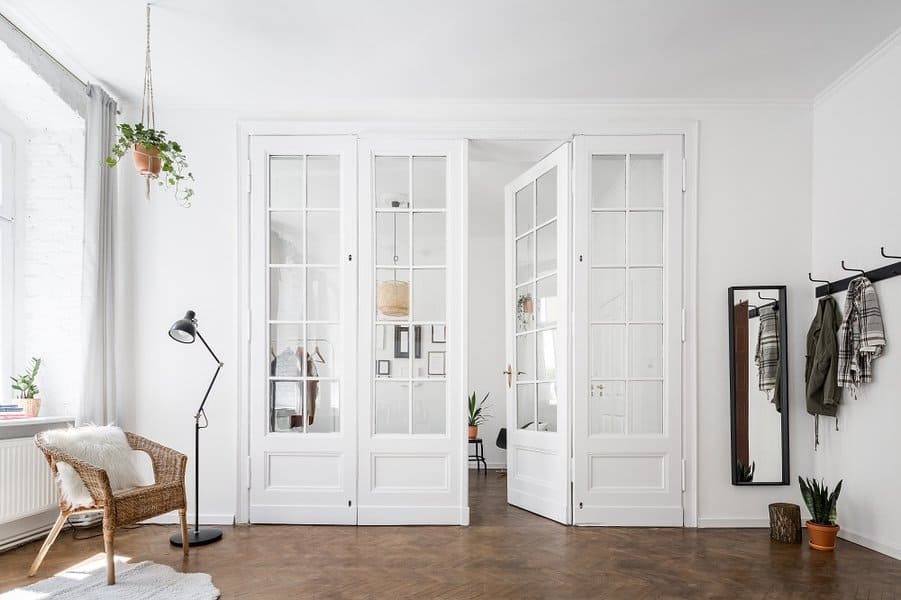 Wall hooks are useful and stylish decorating ideas in an open living room foyer zone. Use them for the family's coats and hats, and encourage your guests to hang their outerwear on the wall hooks, too.
Either hang hooks directly on the wall, or buy a shelf that has hooks beneath it. The shelf will add additional space to place your keys or add decorative touches like framed photos.
Storage Space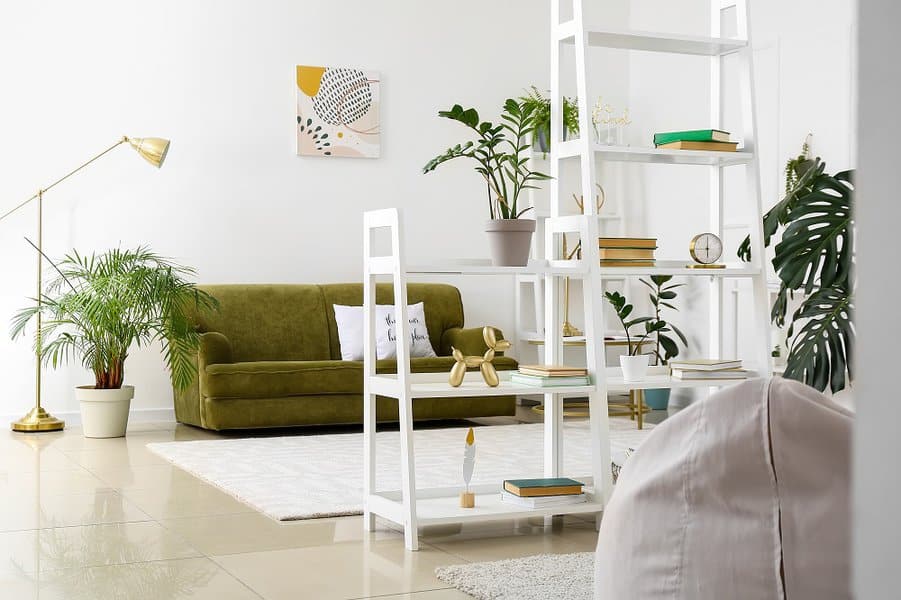 An entryway could always use a bit of storage room. Always look for furniture that has integrated storage space, such as a console table with drawers or a bench with cubbies and baskets beneath. Hang wall baskets or shelf cubes for a home decor touch that also provides room to stash things.
Lighting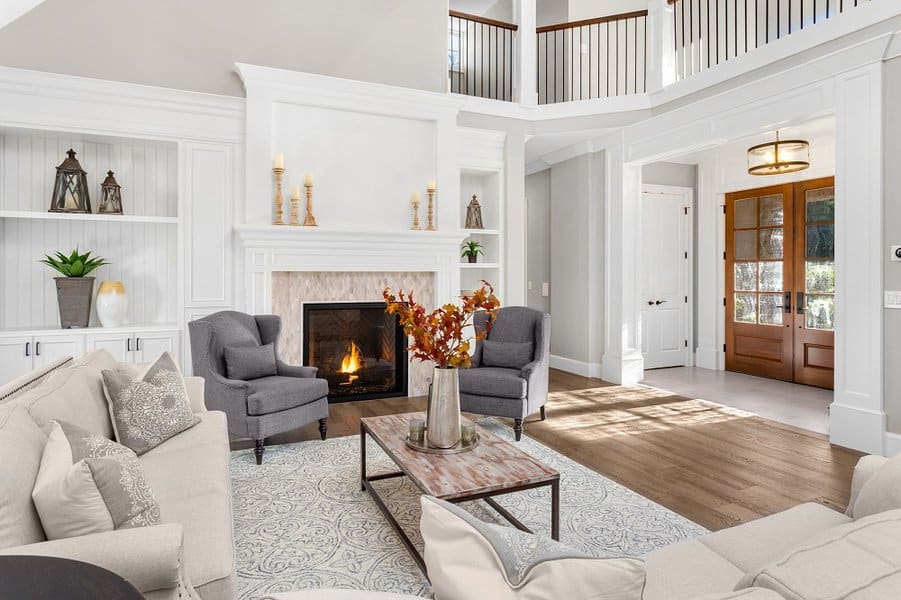 Center a special ceiling light fixture a few feet away from the door. A special chandelier or pendant light will provide a focal point that automatically makes it look like a proper living room foyer. It will also provide valuable light when coming and going at night. Tuck a lamp in the corner for a more subtle entryway light feature.
Privacy Screen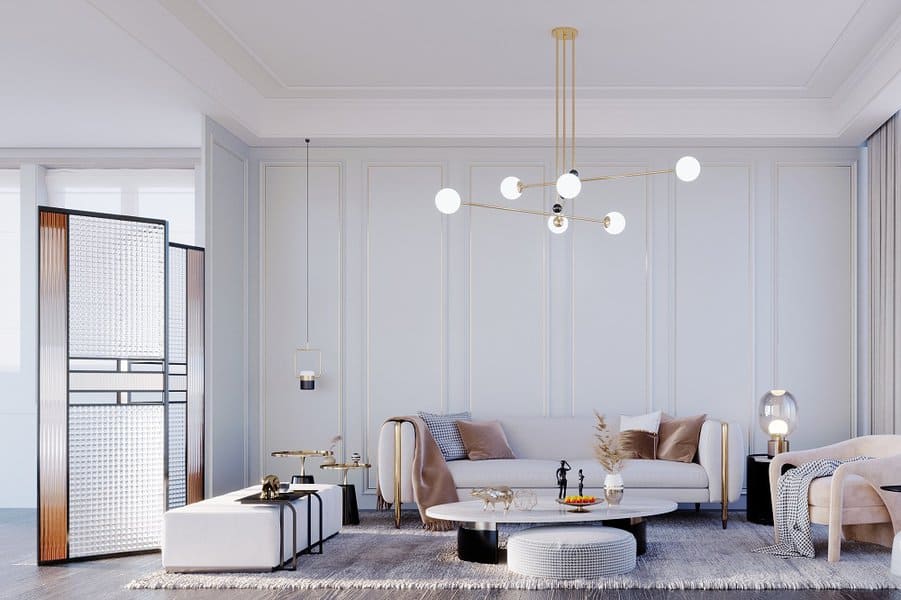 A foldable privacy screen is a good way to create a foyer in an open floor plan home or apartment. Depending on the room's layout and how much floor space you have, you can use the screen as a "wall" people see when they enter your home. Or you can place it to one side if that better suits your floor plan.
Entryway Renovation Ideas
If you're up for a more complicated project, you can make permanent changes that create a foyer where there was none. If you're great at DIYing, you may be able to do the work yourself. If not—or when in doubt—it's best to hire a contractor for professional results.
Tile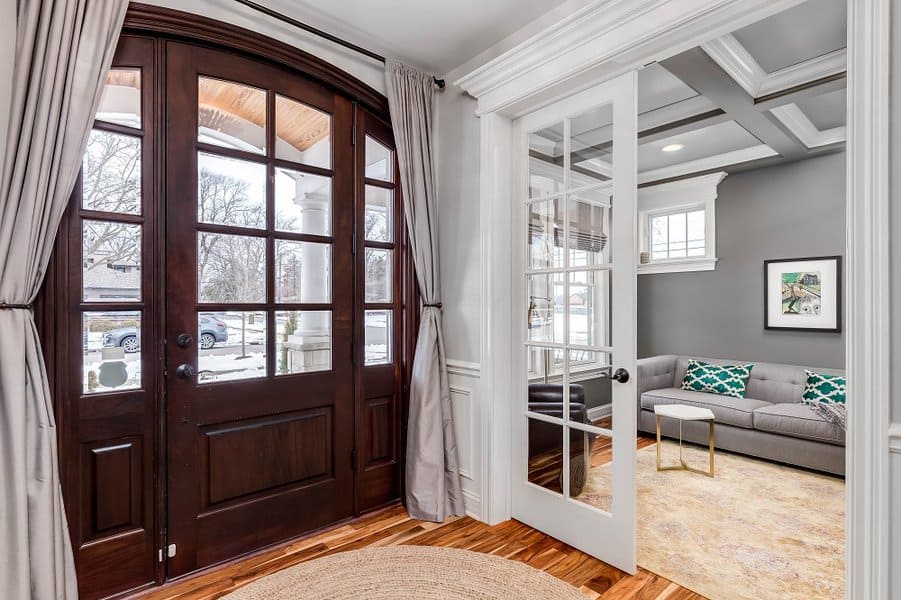 Usually, an open floor plan has the same type of flooring throughout the space. Laying a different—but complementary—type of flooring by the entryway creates a real foyer feeling.
Because it's a small area, you might be able to afford a nicer type of tile than you would in a larger area. Hand-painted Mediterranean tiles, marble tile, or black-and-white encaustic tiles are all stylish choices for an open floor plan foyer. You could also simply match the type of tile used on the kitchen floor.
Room Divider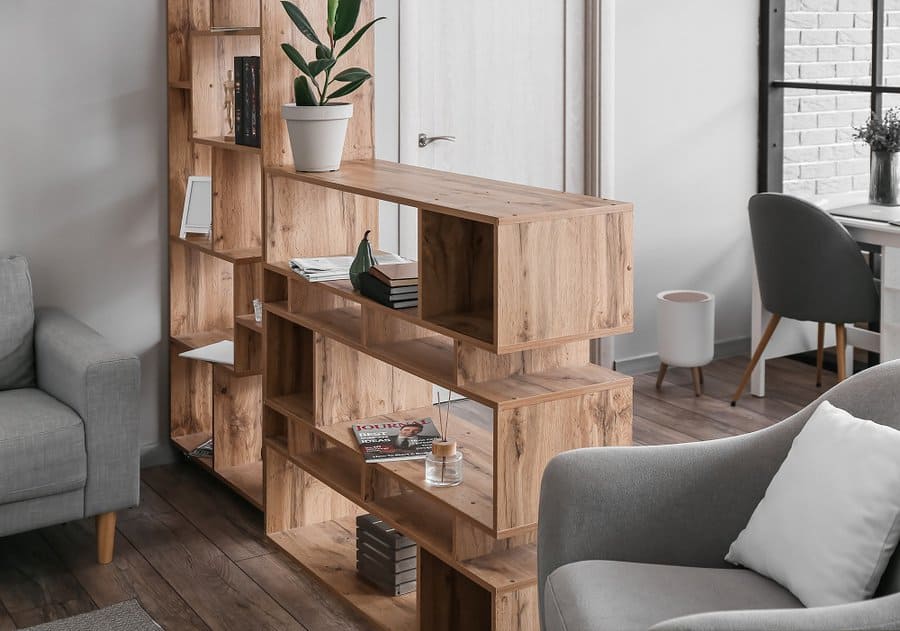 A sofa or bookcase can serve as a divider between a foyer and an open space great room. Tall, medium, and short bookshelves work equally well. You can also have a room divider custom made to fit your color scheme, entryway and wall configuration. 
Wall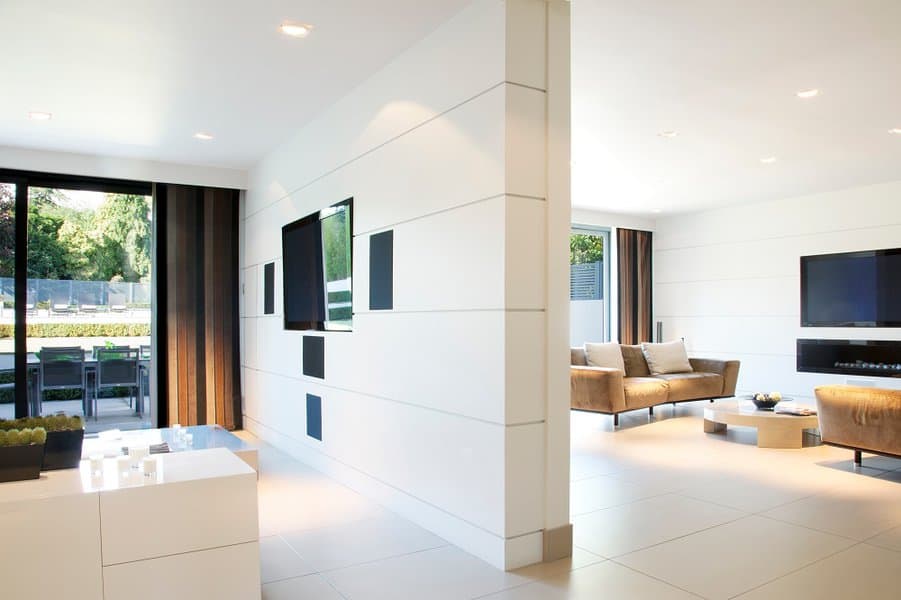 A new wall—or half-wall—will clearly set a boundary between the foyer and living room. If you're going to the trouble of hiring a contractor to build a wall, consider whether you need an additional room at the same time. It might be a good opportunity to break up your open space and create a new home office or designated dining area.
Mudroom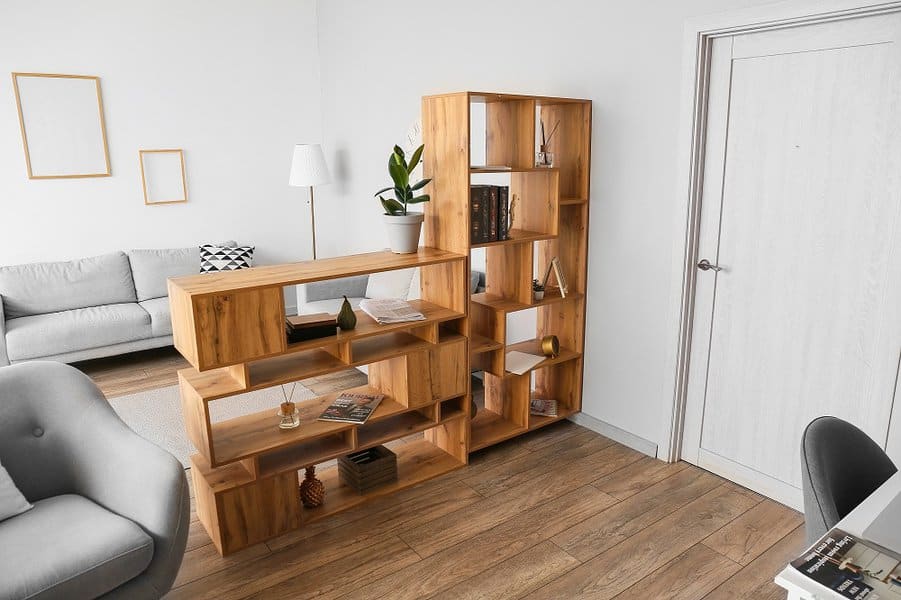 While you might not want to stick a mudroom in a corner of your living room, a DIY mudroom is great when the main door you use is located in a laundry room or off the kitchen. A wall shelf, bench, lighting, and perhaps a chalkboard wall or dry erase board are all you need for a DIY mudroom.
Foyer Styling Tips
Use these tips to make the most of your new designated entryway.
Measure the living room and foyer space before buying anything that goes there. This holds true whether you're making permanent or temporary changes to your foyer zone.

Maintain interior design continuity. Color is a good way to create cohesiveness between the kitchen, dining area, and family room of an open layout home. Use the same color choices, fabrics, textures, and style that's represented in the adjacent living area and dining room. 

Remember to accessorize your foyer furniture and walls. Hang wall art, toss a throw pillow on the bench, and place a tall potted plant in the corner. 

Hang a mirror in the foyer space. Not only is it great for last minute appearance checks before heading out, it reflects light and makes a small space feel larger. Round mirrors add a modern vibe to an open living room foyer.