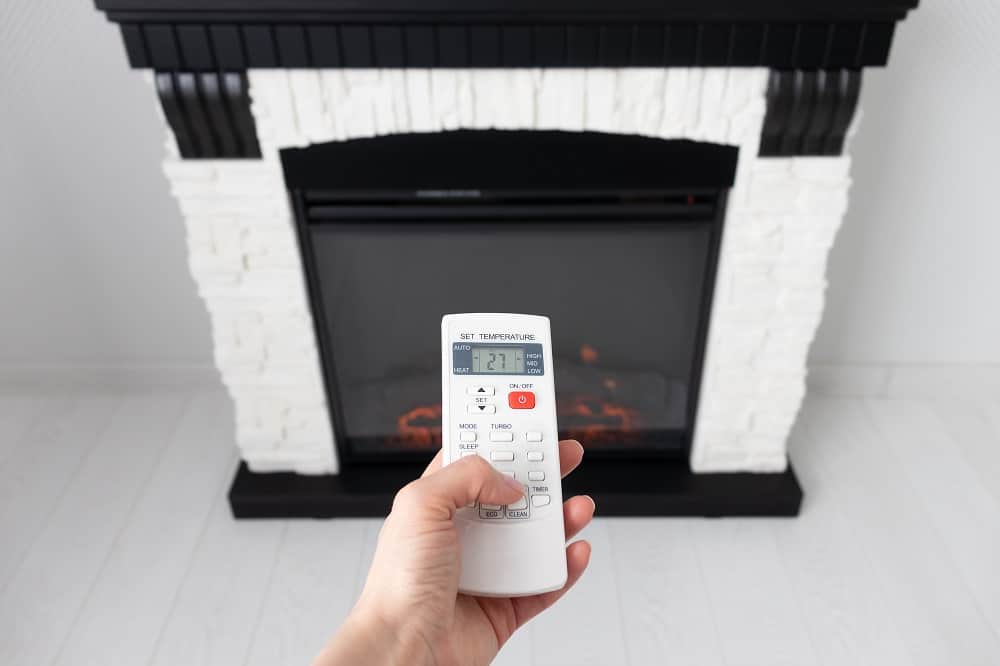 How to Make an Electric Fireplace Look Built In
Adding an electric fireplace to your living room or bedroom is a perfect way to create ambiance and add a bit of extra warmth to the space. Electric fireplaces are easy to add to an already built home because you do not have to add a chimney or make any other major home remodeling projects. Electric fireplaces are also much more affordable to run and have many more options than a traditional fireplace. However, their biggest drawback is that electric fireplaces tend to not look realistic. This can take away from the cozy feel that you are trying to create by adding the fireplace. Use these tips to make your electric fireplace look more realistic and built into the wall.
Read also: 60 Must-See Fireplace Wall Ideas
Choose the Right Electric Fireplace
You will quickly realize that electric fireplaces come in a wide range of dimensions. While the long and narrow fireplaces look cool and modern, they are not the best choice for creating a realistic-looking built-in fireplace. Instead, you will want to purchase an electric fireplace that has more height. A square shape will look more realistic because it will mimic the look of a traditional firebox. The size of the electric fireplace does not matter too much when it comes to creating a built-in look. It is better to tailor the size based on the size of the room.
Add a Mantel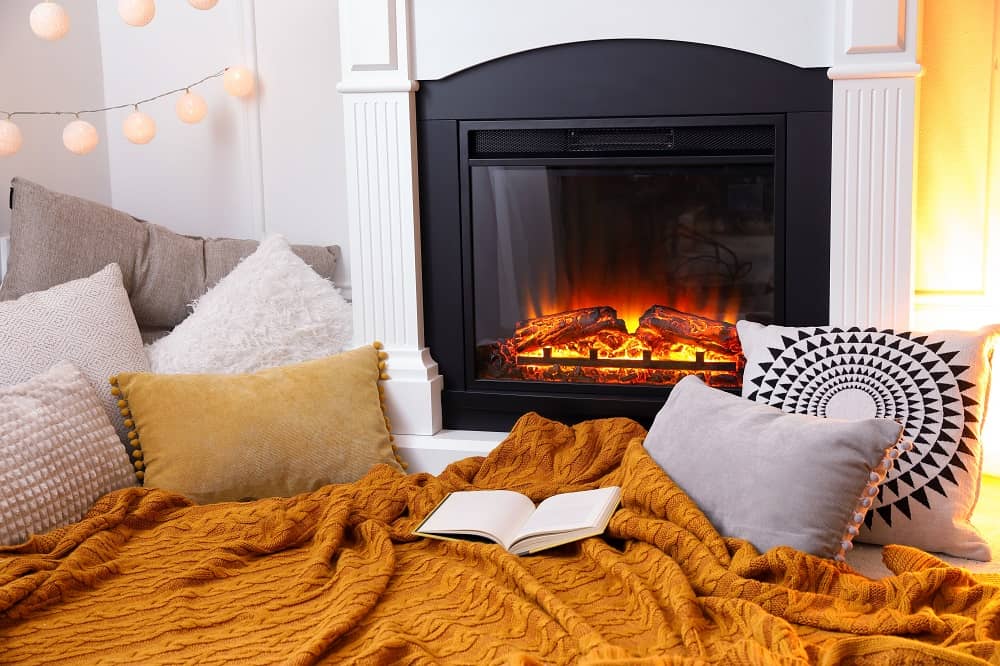 The hallmark of a traditional fireplace is the mantel. If you want your electric fireplace to look built-in, then you need to add a mantel to the wall above the fireplace. Once the mantel is in place, people will notice the fireplace but focus on the mantel. They will assume the fireplace is real and spend more time looking at the decor you have arranged on the mantel.
Just like a real fireplace, the mantel you install needs to be proportional to the size of your electric fireplace and be in a similar style. The average mantel is 60 inches long, so this is a good place to start. However, the mantle should be 3-6 inches longer than the firebox on each side. Because electric fireplaces come in a wide range of sizes, take the width of your fireplace and add 6-12 inches for the length of your mantel. The face height of the mantel will depend on the size of the room. The bigger the room, the taller the face height can be. A face of 6 inches will look nice in a large room but overpower a small room. The depth should be about 7 inches so that you have enough room to arrange decor on it. Do not let the mantle be deeper than 12 inches or you risk people accidentally walking into it.
If your electric fireplace is low on the wall, then you should place the mantel at a standard height of 4.5 feet from the floor. However, this can change if you have chosen to install your fireplace at a nontraditional height on the wall.
Related: 59 Fireplace Mantel Ideas
Build a Surround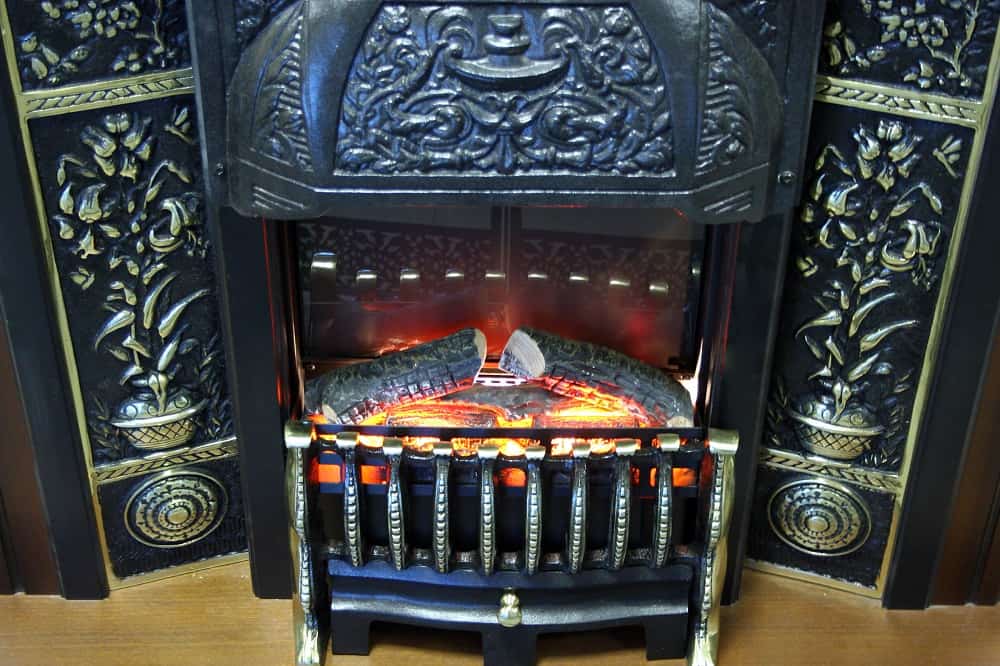 If you are looking to add more than just a mantel, then consider adding an entire surround. These would be the decorative pieces that are on the sides and above the fireplace box. Traditional Victorian fireplaces are a good example of this. You can use a reclaimed or salvaged surround that is full of ornamentation or build a new one with a simplified contemporary feel. Adding a surround helps your electric fireplace to blend in and look more real.
Here are interesting fireplace surround ideas.
Consider Your Materials
Real fireplaces produce a lot of heat, so the materials used to build them and the surrounding structures are heat resistant. To make your fireplace look authentic, use these same materials around your fireplace. Instead of using a flammable building material, use stone to build a hearth, surround, or mantel. Stacked stones create a modern feel, randomized stones look more rustic, and cut marble looks elegant. Tiles are also commonly used because of their heat resistance. Stick to these materials around your fireplace:
Masonry

Stone

Concrete

Tile

Metal

Hardy backer board

Some woods

Cement board

Calcium silicate board

Certain types of glass
Use Bigger Dimensions
Portability is associated with a smaller size. If your electric fireplace is on the smaller side, it will be viewed as less permanent, making it look less realistic. This doesn't mean you have to upgrade to a bigger fireplace. What you can do instead is to increase the dimensions and proportions of the elements around it. Build a slightly larger hearth. Add an extra inch to the thickness and length of the mantel. Make the surround take up more visual space. Do not lose sight of your proportions when enlarging the features. All of your increased proportions need to stay in line with each other. Increasing the size of one element significantly more than others will create an unbalances design. The hearth should stick out further than the mantle to keep a realistic look.
Add Built-Ins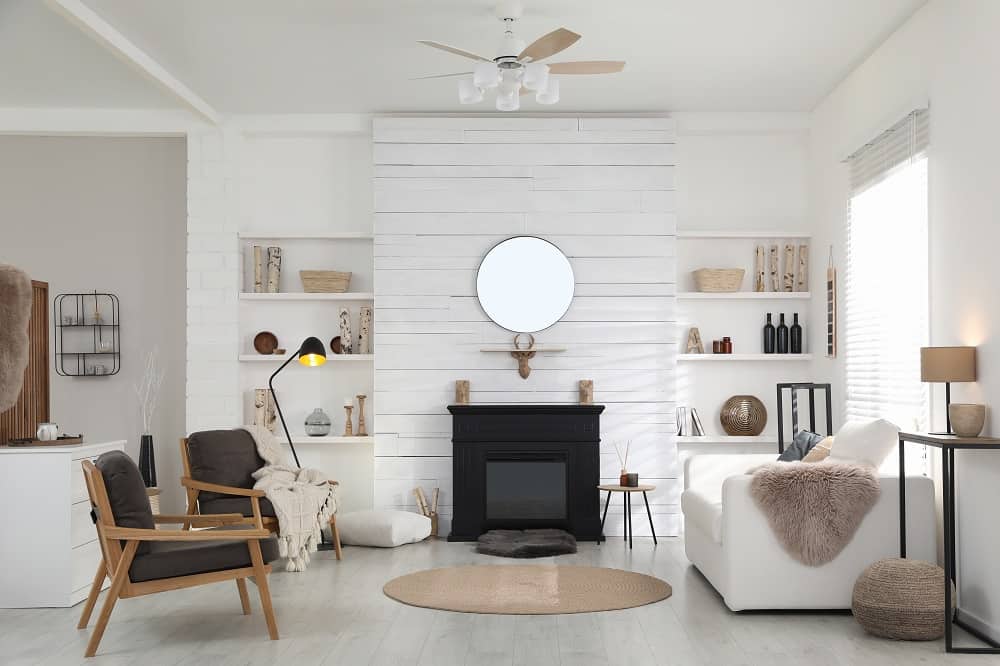 One way to make an electric fireplace look built-in is to add actual built-ins around it. Build cabinets that cover the wall. Leave a space where you plan to add the electric fireplace. These bookcases and cabinets should extend from the floor to the ceiling. Add decorative molding to give the built-ins a custom touch. You can also use molding to close the gap around the fireplace. For a balanced display, try to match the units on either side of the fireplace. This creates symmetry, which is a classic interior design rule.
Hang a TV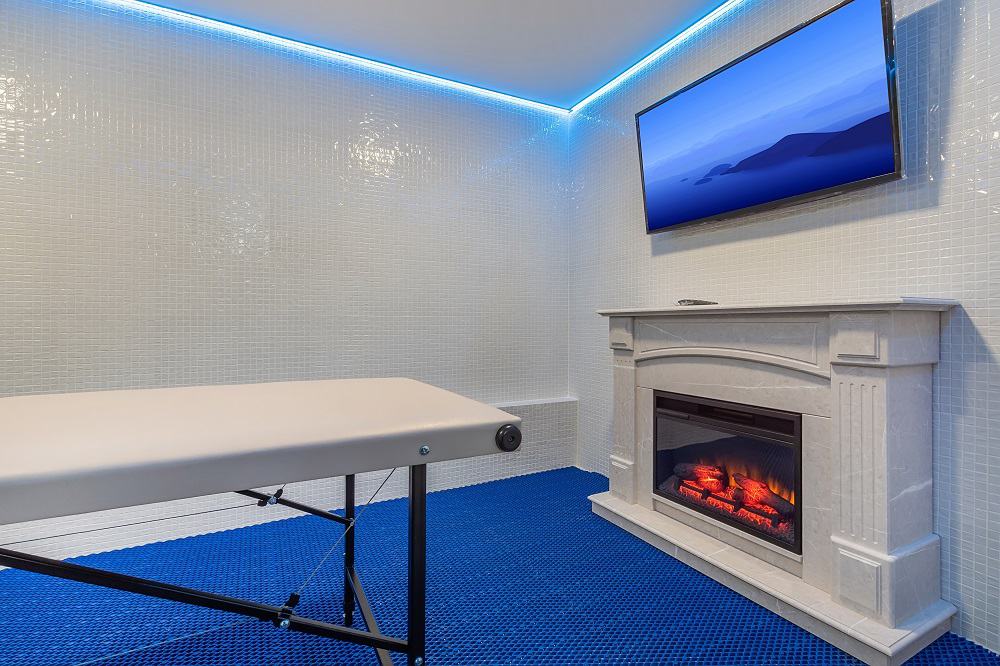 One of the most common design choices you will see in modern homes with a fireplace is to hang the TV over the fireplace. Copying this choice in your home with an electric fireplace will make yours look more realistic. The idea is that you place the faux fireplace in a setting where people expect to see a real one. Instead of focusing on the electric fireplace, the brain "fills in the gaps" and assumes the fireplace is real. The height and size of the fireplace you choose will depend on the size of the room. Typically, people mount the fireplace 60-68 inches from the