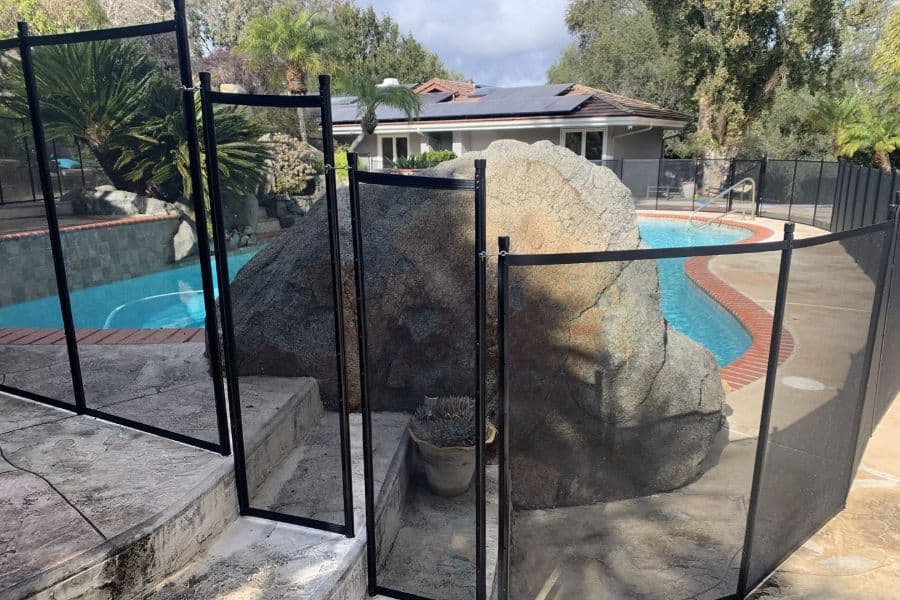 The Top 20 Pool Fence Ideas
"This life is like a swimming pool. You dive into the water, but you can't see how deep it is." – Dennis Rodman
Having a swimming pool in your backyard is a perfect way to enjoy the warm weather and make the most of your backyard. However, your pool also presents a risk. It's enticing to others, and without a fence, you could end up with uninvited visitors enjoying your backyard oasis.
Even if you don't have people coming over for a dip, you could attract the attention of your neighbors. What you need is a fence. Building a fence around your pool keeps people out and creates a sense of privacy.
These pool fence ideas will help you improve the look of your backyard and add privacy so that you can enjoy your property without the intrusive prying eyes of your neighbors.
1. Bamboo
Give your backyard pool a tropical feel by using bamboo to build a privacy fence around your pool deck. This type of pool fencing can be built in one of two ways. The first is to plant bamboo plants. The bamboo shoots grow fast and dense to create a natural living wall. Plant your bamboo far enough away from your inground pool so that the living plants don't interfere with the underground structure of the pool.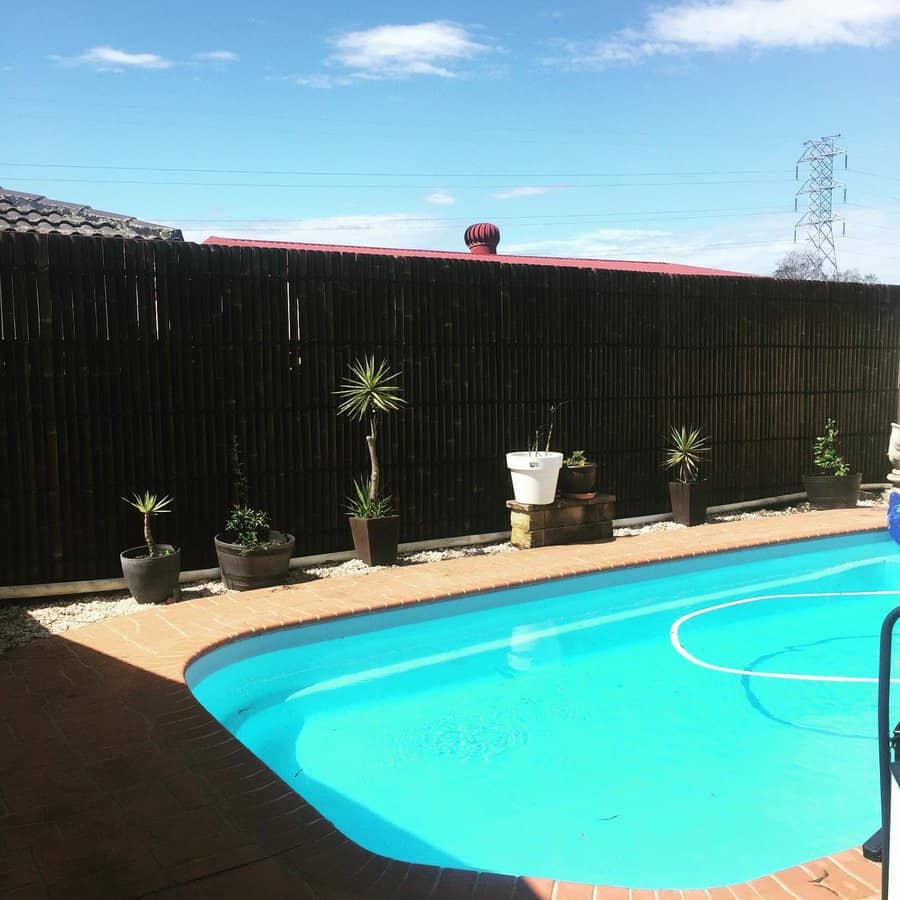 If you prefer having a removable pool fence, then use bamboo sheeting. It's made from thin bamboo shoots that are strapped together to create a solid sheet. You can then mount it on stakes to turn it into a wall.
2. Glass
A glass pool fence is a must for a modern look that doesn't block your view. Glass fencing uses large sheets of glass that are thick and durable. The fence could have a black frame around the glass or have a frameless floating look.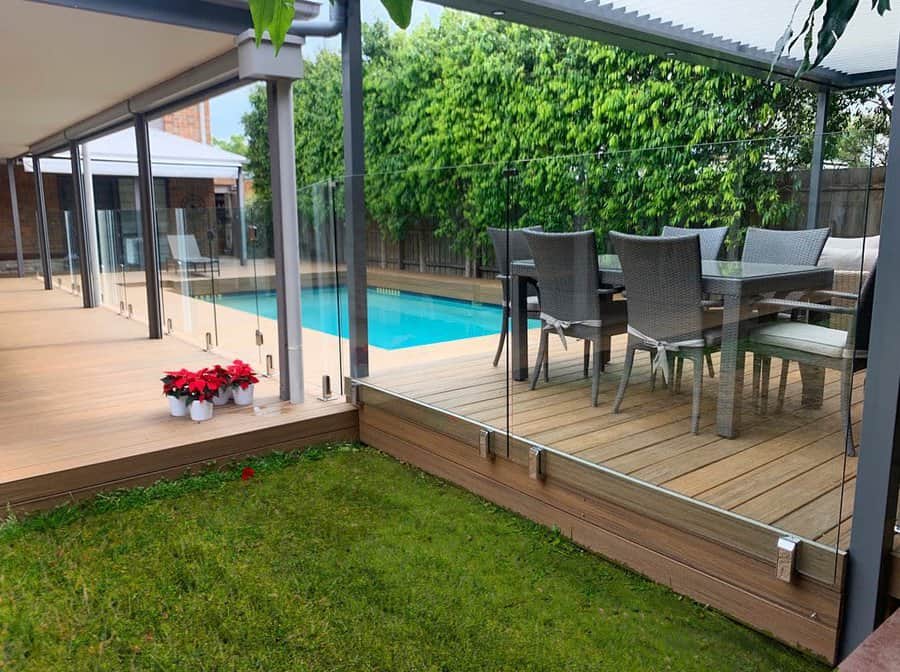 Only specific types of glass should be used for this type of fencing. It needs to be durable enough to not shatter or crack with changing temperatures or impacts with debris. Glass used for a glass fence also tends to be thicker to give it more strength.
3. Metal
Wrought iron fences are strong and solid, helping it to be a secure and long-lasting method for securing your pool. However, wrought iron fencing is heavy and expensive. If you want to add a wrought iron pool fence to your property, make the most of it by choosing one with decorative detailing at the top. This will give your fence an elegant and traditional feel.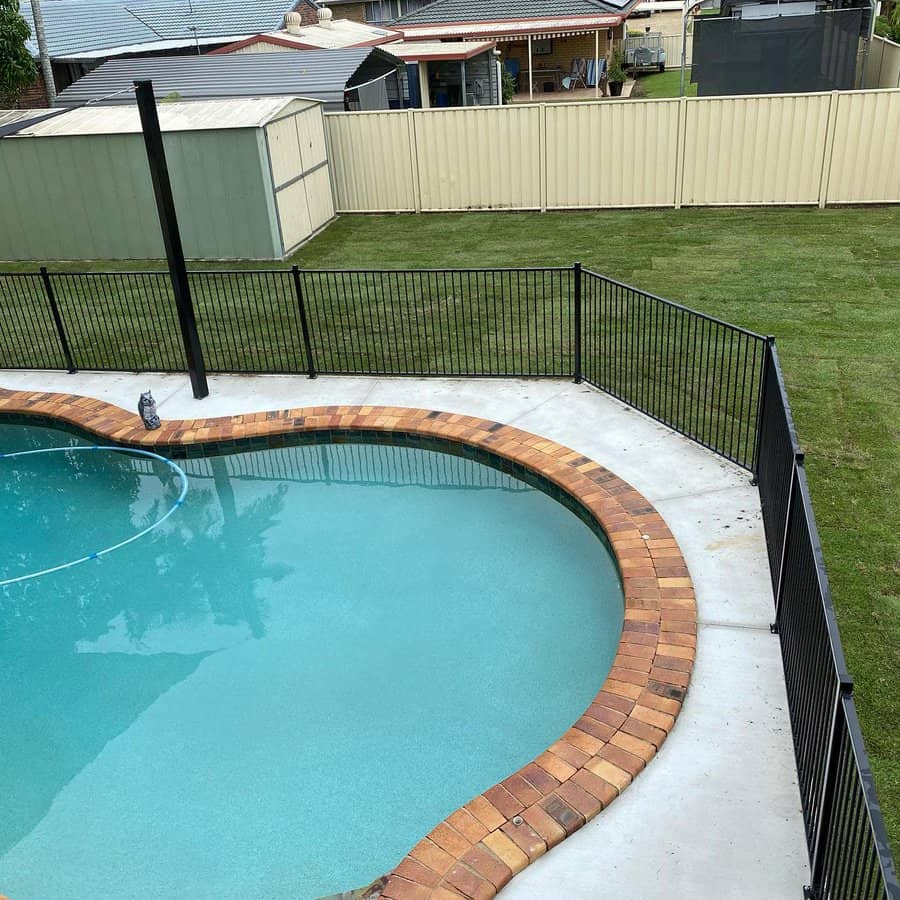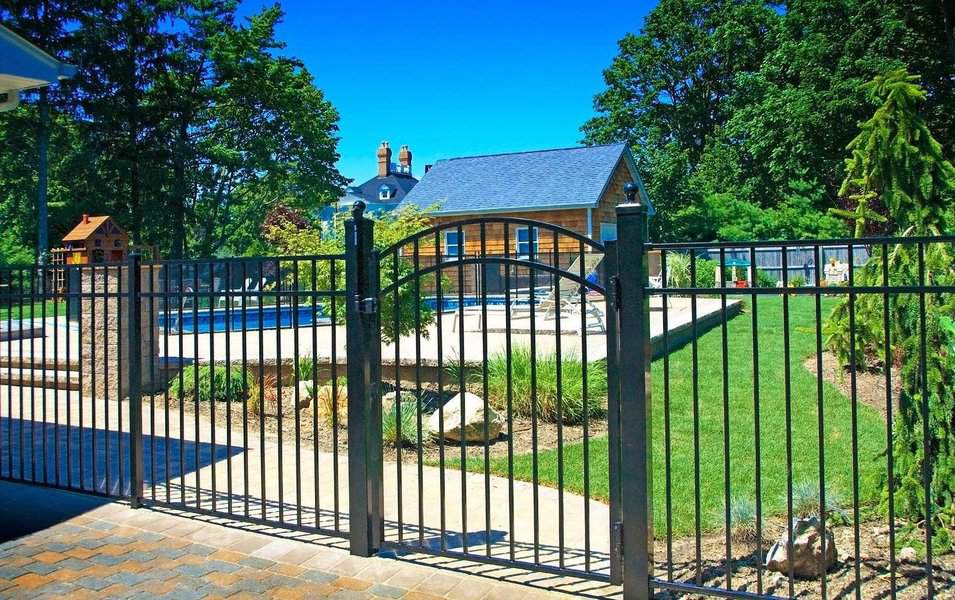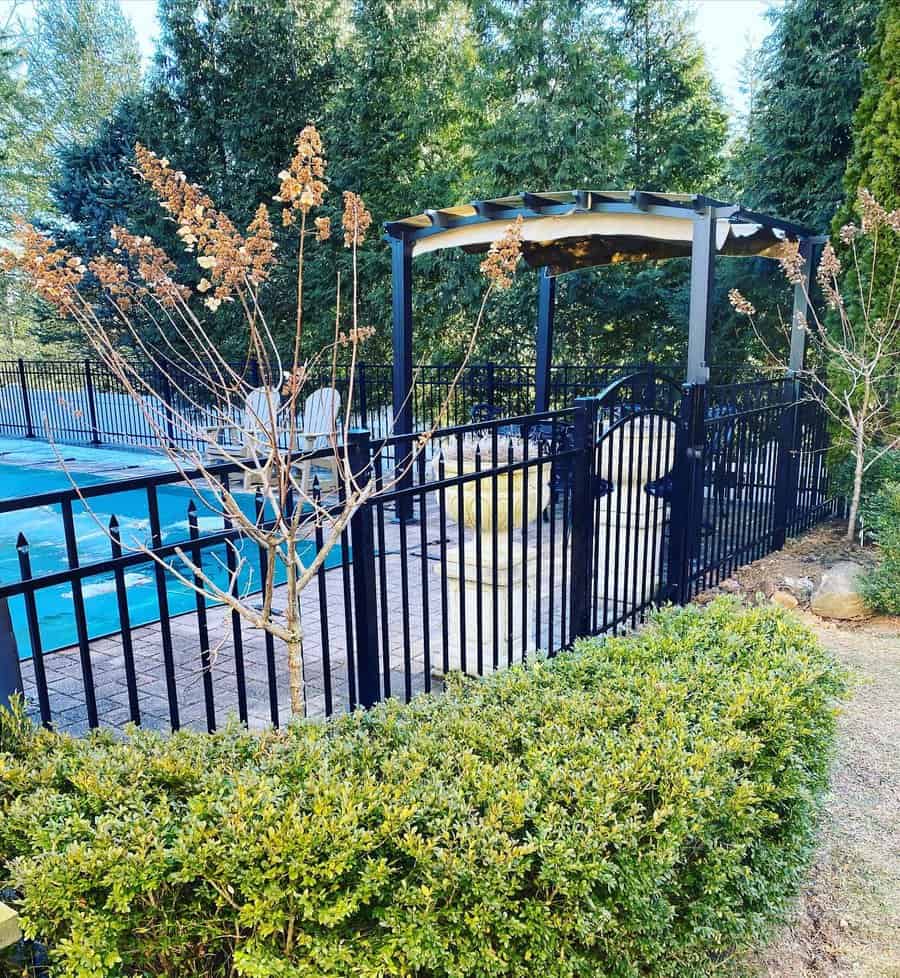 If you need a more budget-friendly metal fence, then consider an aluminum pool fence or a chain-link fence. These are both made of metal but lighter weight and easier on your wallet. Aluminum fencing is nice because it's also corrosion-resistant, helping it to be more durable. The downside of this type of fencing is that it's less attractive, which can take away from the appeal of your property.
4. Ornamental
Your fence addition is an opportunity to improve the decorative appeal of your property. An elegant pool fence design can elevate the look and feel of your backyard by adding a decorative accent. The fence style you choose should complement the architectural style of your home. A brick Victorian home would look out of place with an ultra-modern fence. A ranch-style suburban home would look overpowered by an extra high and solid traditional brick fence.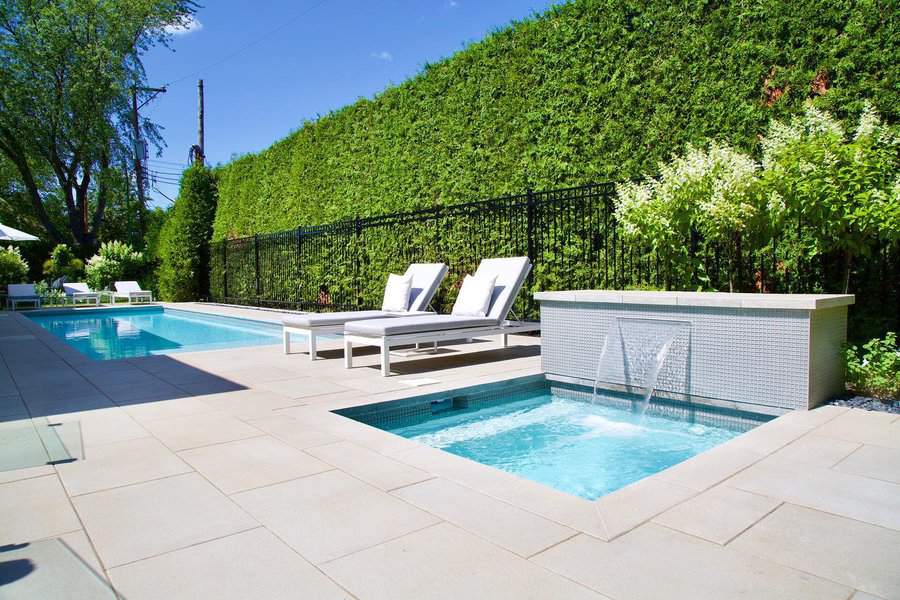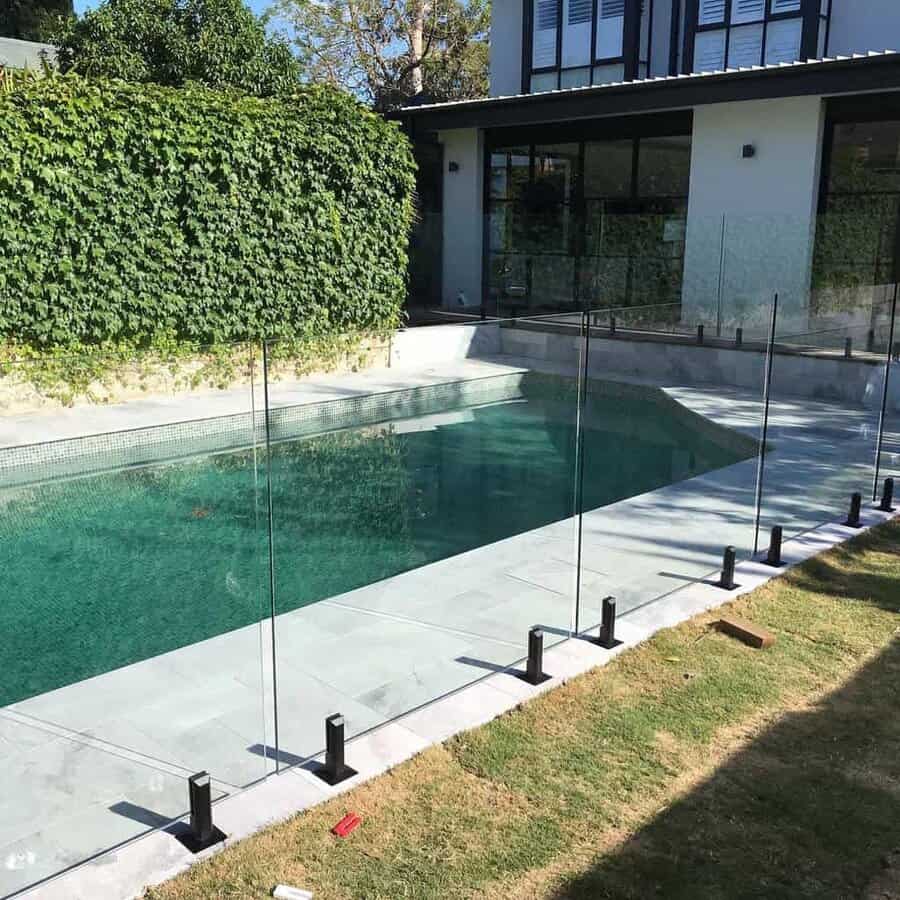 One way of adding ornamental elements to your fence is with fence panels. You could have a wood slat fence that you insert a decorative metal fence panel into. Look for one with a stamped-out design that allows for airflow while still maintaining privacy.
5. Privacy
Adding privacy to your pool is key to making the most of your backyard. The last thing you want is your neighbors getting curious about whom you have over or how you're using your pool. Whether it's inground or an above-ground pool, a tall fence is a must. However, you don't have to build a solid concrete or paver wall to achieve that privacy.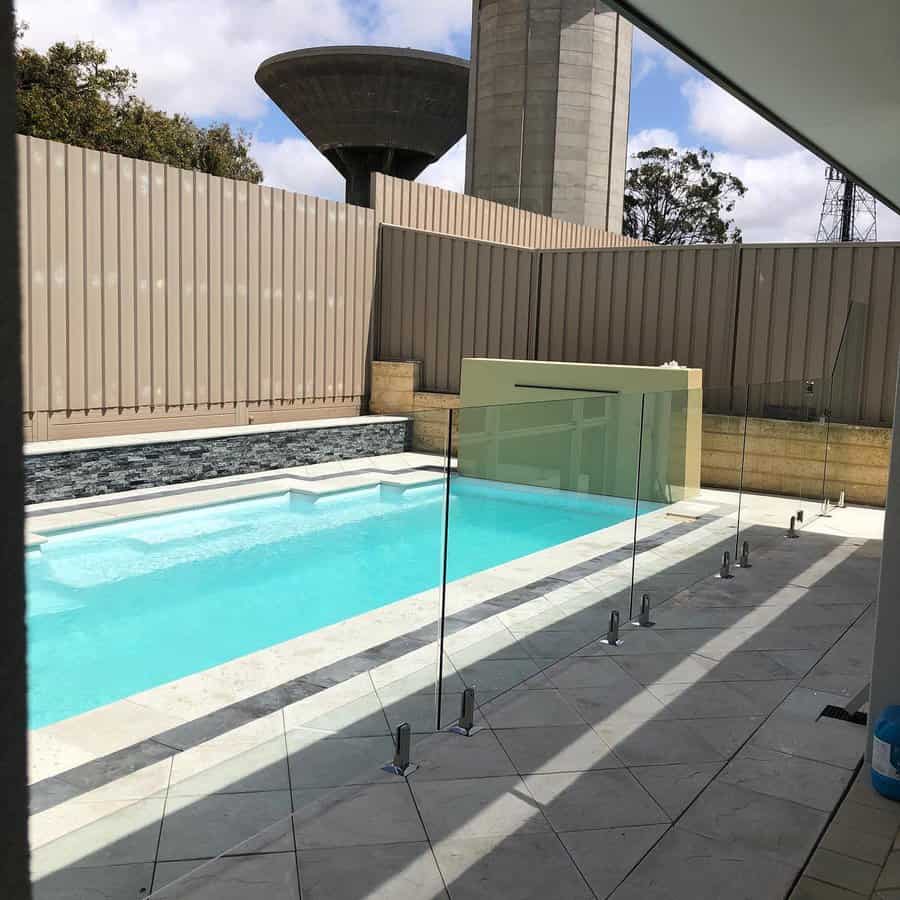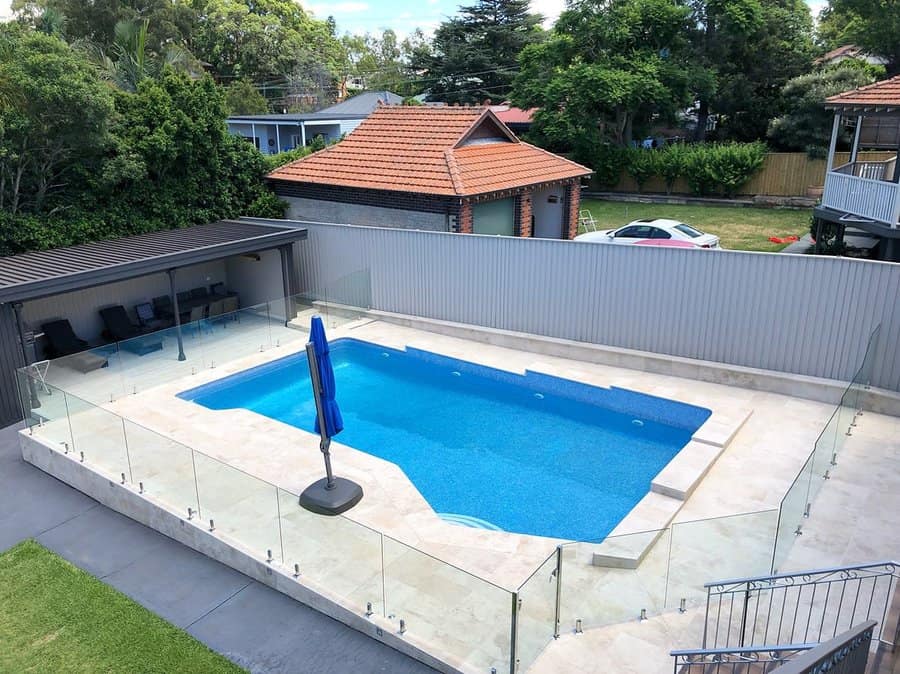 A cheap pool fence is all you need to physically block sightlines. A mesh fence made of fabric can give you just enough privacy to make your pool enjoyable. However, a metal mesh pool fence might not give you the privacy you want because the holes are too large.
6. Safety
You are responsible for ensuring the safety of your backyard pool. In many places, it's considered an attractive nuisance, which means it can be enticing for people. Instead of adding a safety fence just around the pool, you can build a perimeter fence around your entire property. This keeps people well far away from your pool, reducing the risk of an accident.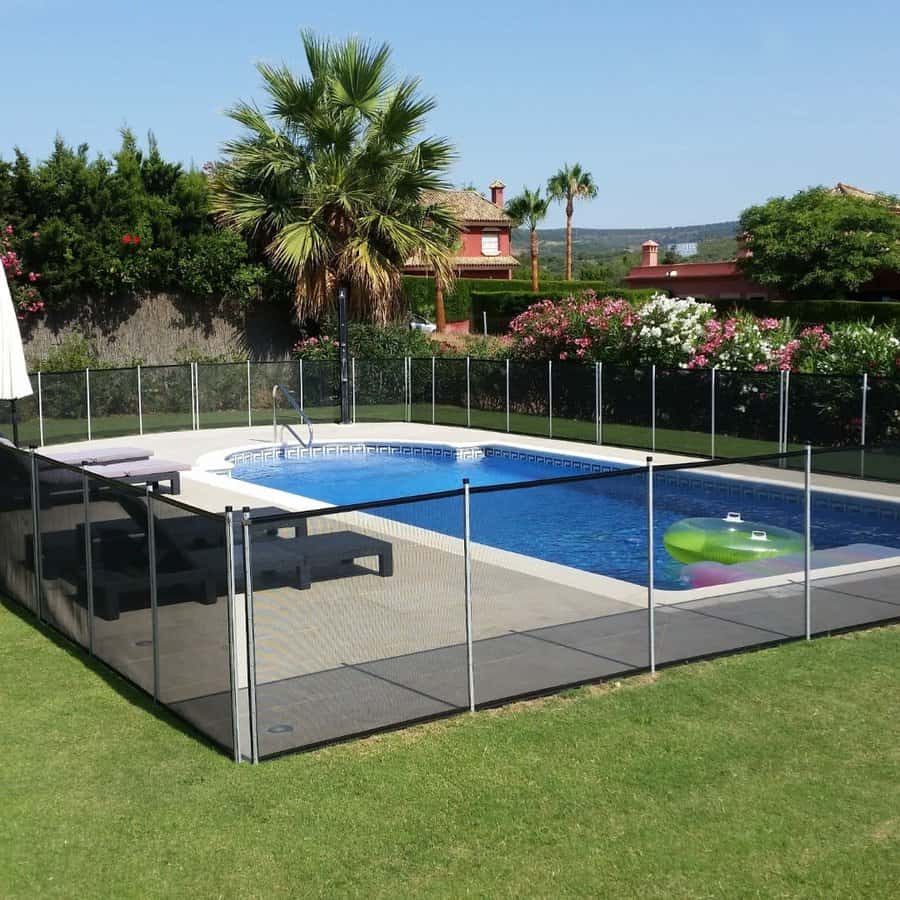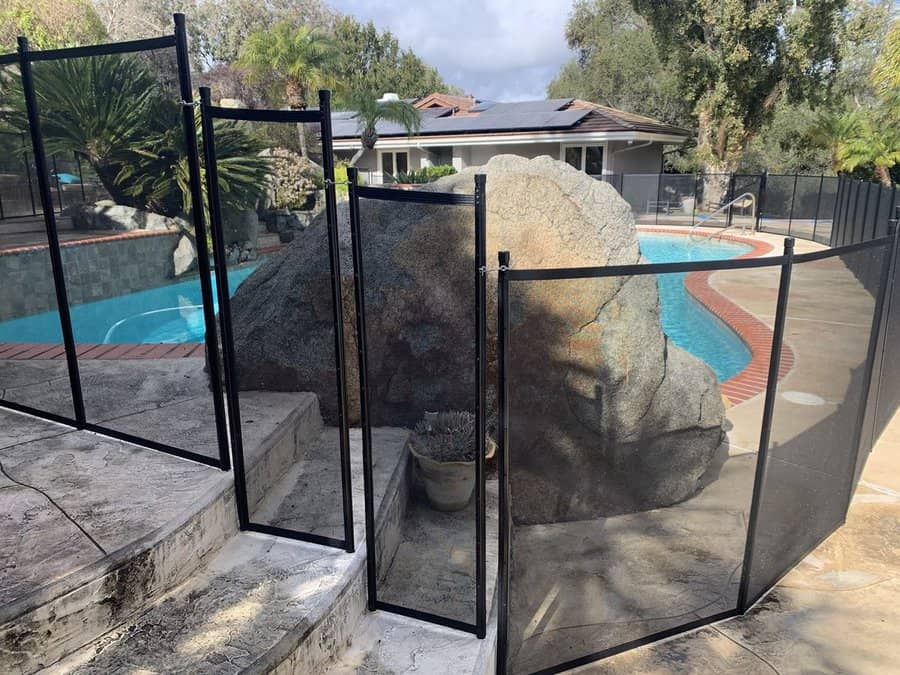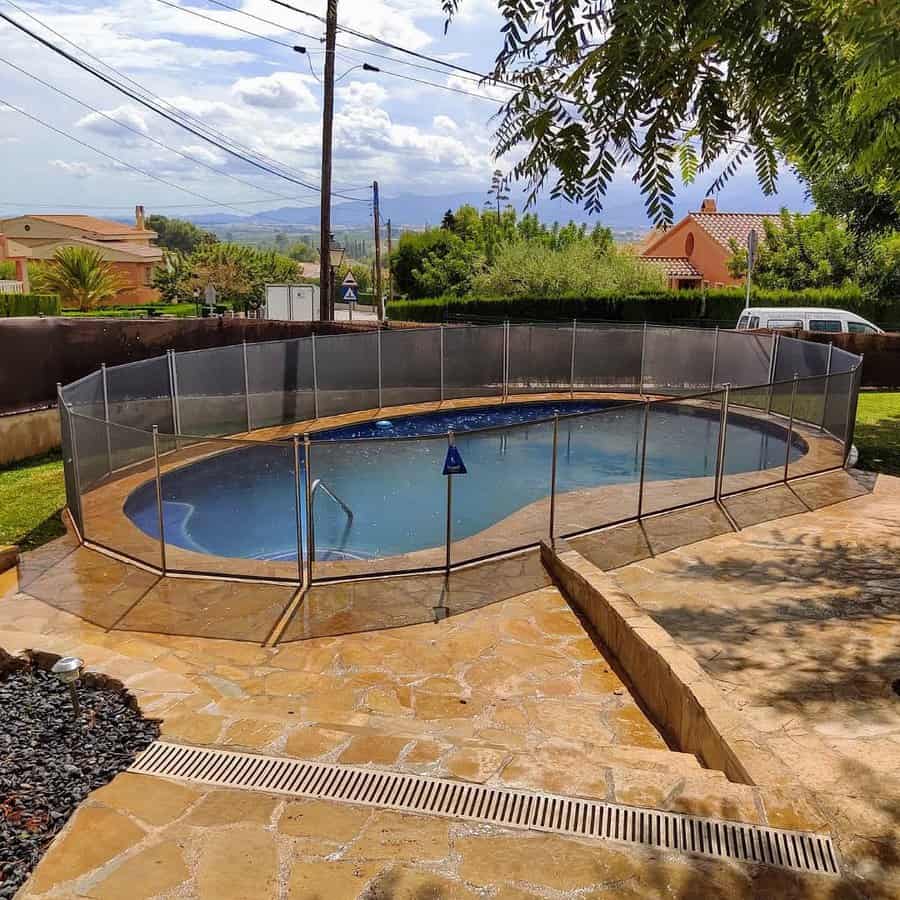 Another risk to think about is the general landscape of your property. If it's on a hill or cliff, then you have more than just your pool to think about. Your fencing also protects people from getting injured on the sudden drop in the landscape. A railing on a low fence can give you a beautiful place to admire the landscape from.
7. Solid
A solid stone fence is the most secure and permanent fence that you can build around your inground swimming pool. Unfortunately, it also happens to be the most expensive. Thankfully, once your stone fence is built, it's incredibly durable and can last for decades. They're also relatively low maintenance, requiring an occasional cleaning.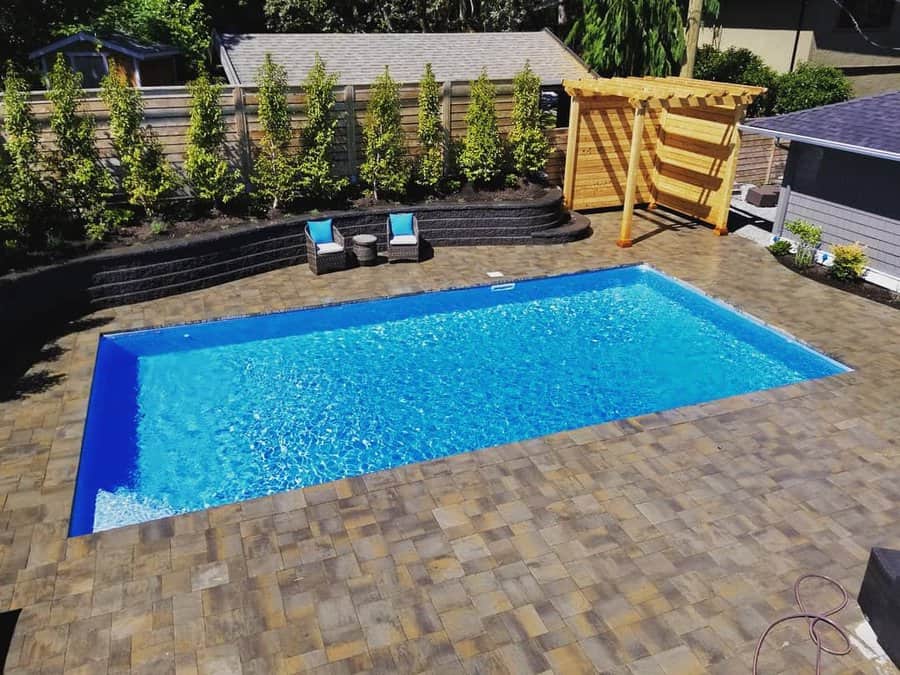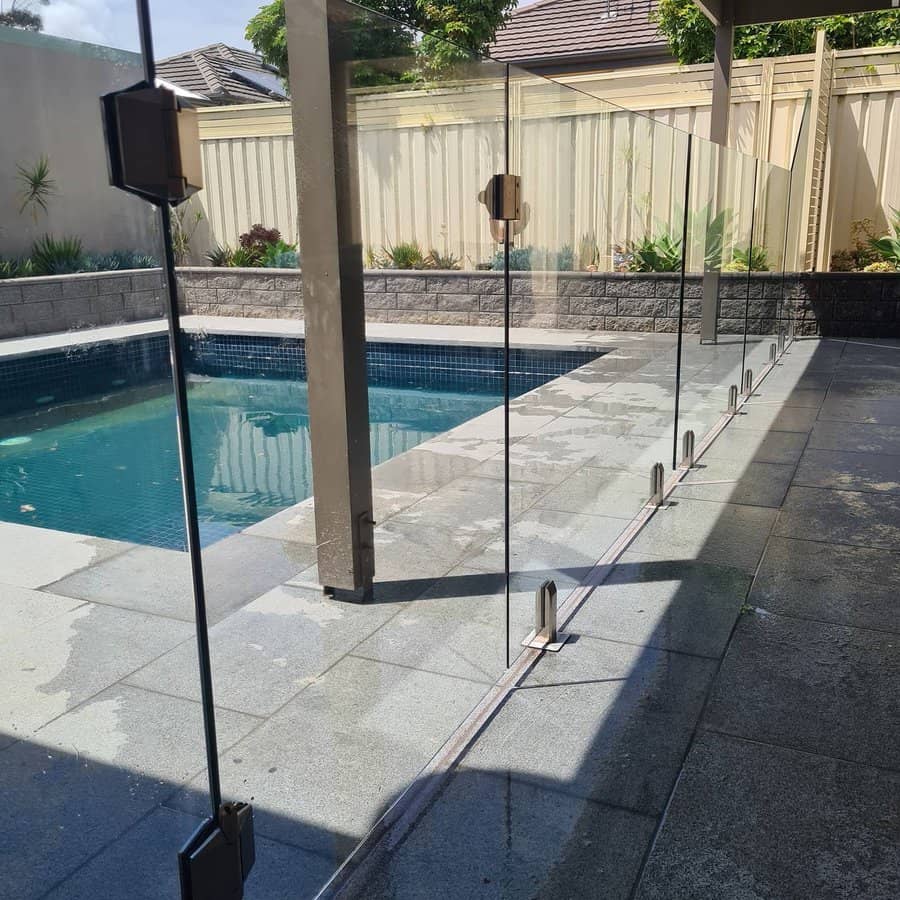 Building your solid fence out of bricks will give your fence a traditional look with a beautiful red hue. Modern pavers that are more beige will create a contemporary look. Natural stones are more rustic in appearance with their wide variation in sizes and shapes.
8. Vinyl
When you want a fresh and contemporary look, consider adding a vinyl pool fence. They are a crisp, bright white, adding brightness to your backyard. They are durable and can last a long time. The biggest drawback of a vinyl fence is that it can stain easily. If you mow the lawn right next to the fence, the grass clippings will eventually stain the fence green, or hard water can stain the fence reddish-orange.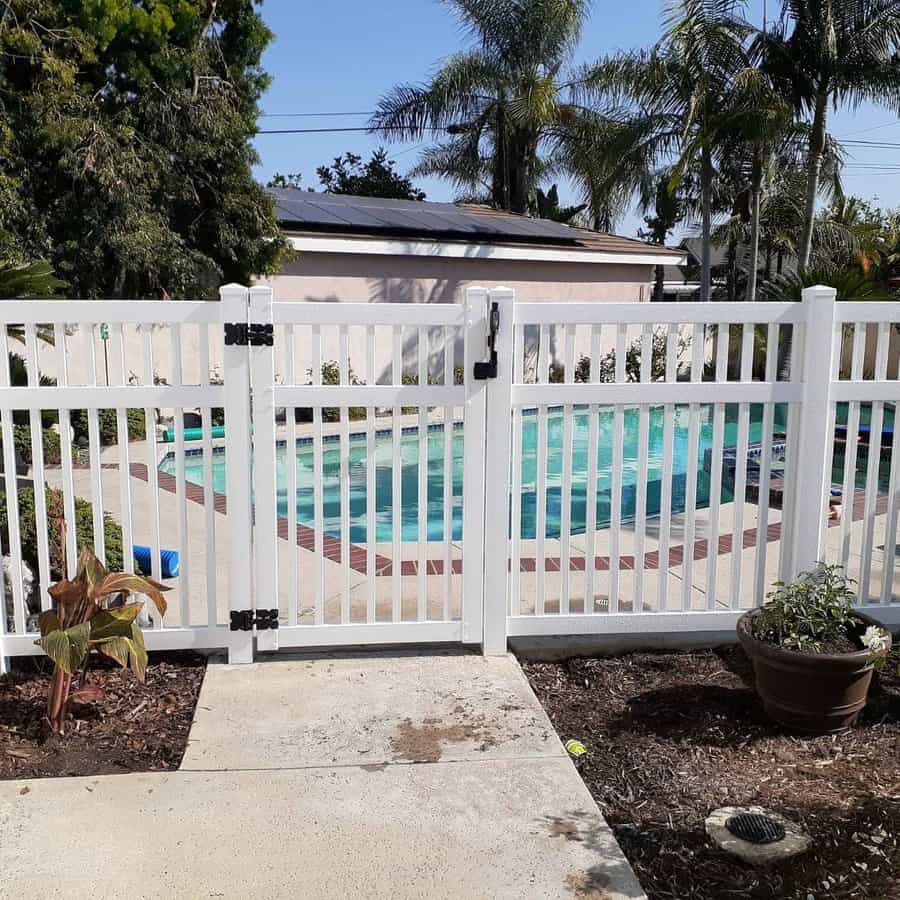 A post and rail fence won't give you the privacy and security that you need for a pool fence. Instead, look for a vinyl fence that either has a solid panel or rails that are positioned close together. This prevents people from slipping through the fence and getting onto your property.
9. Wood
A classic fencing material is wood. It's durable, attractive, and affordable. You can also choose from a wide variety of designs, making it easy to customize the look of your wooden fence. You could hire a contractor to install your swimming pool fence, but you could also purchase fence panels and do your own fence installation.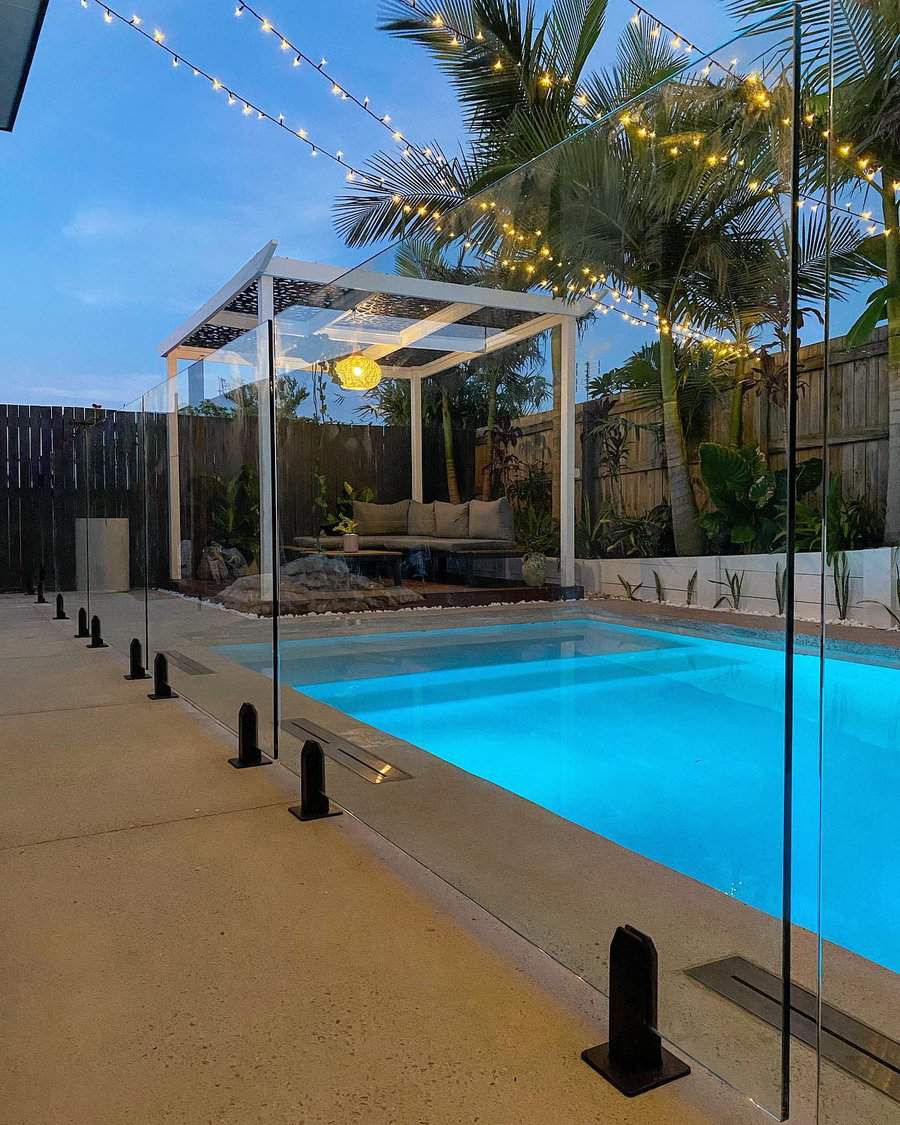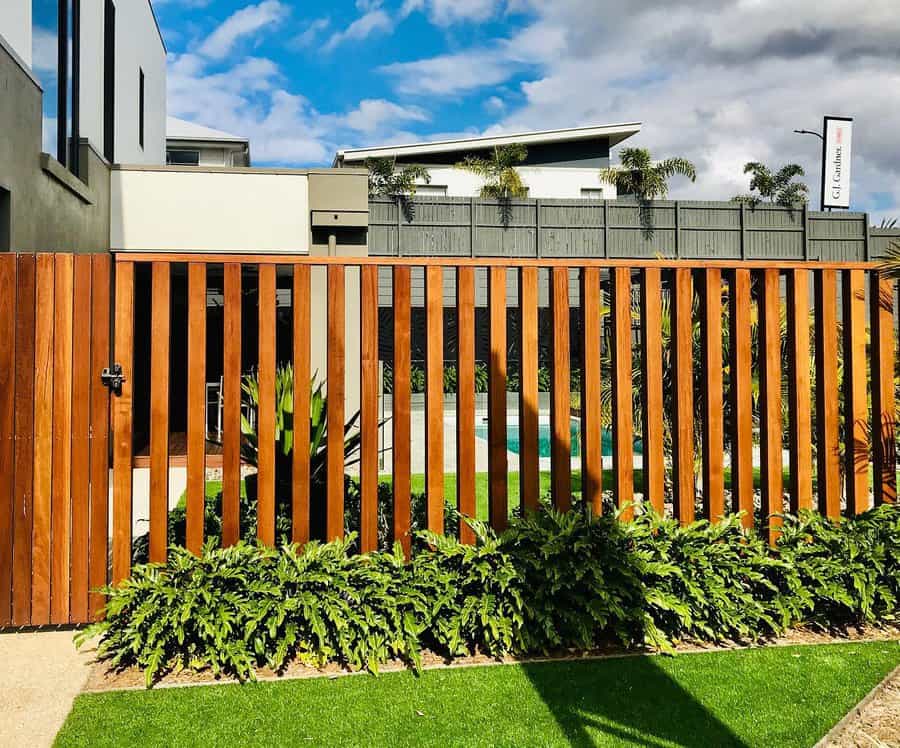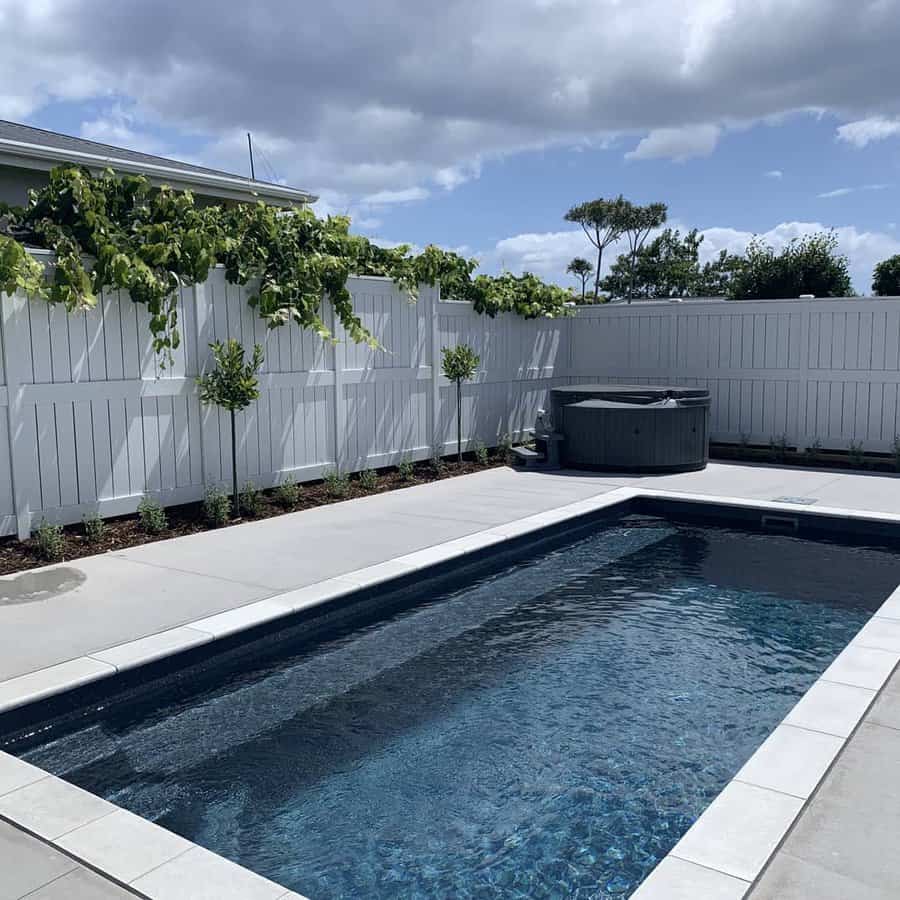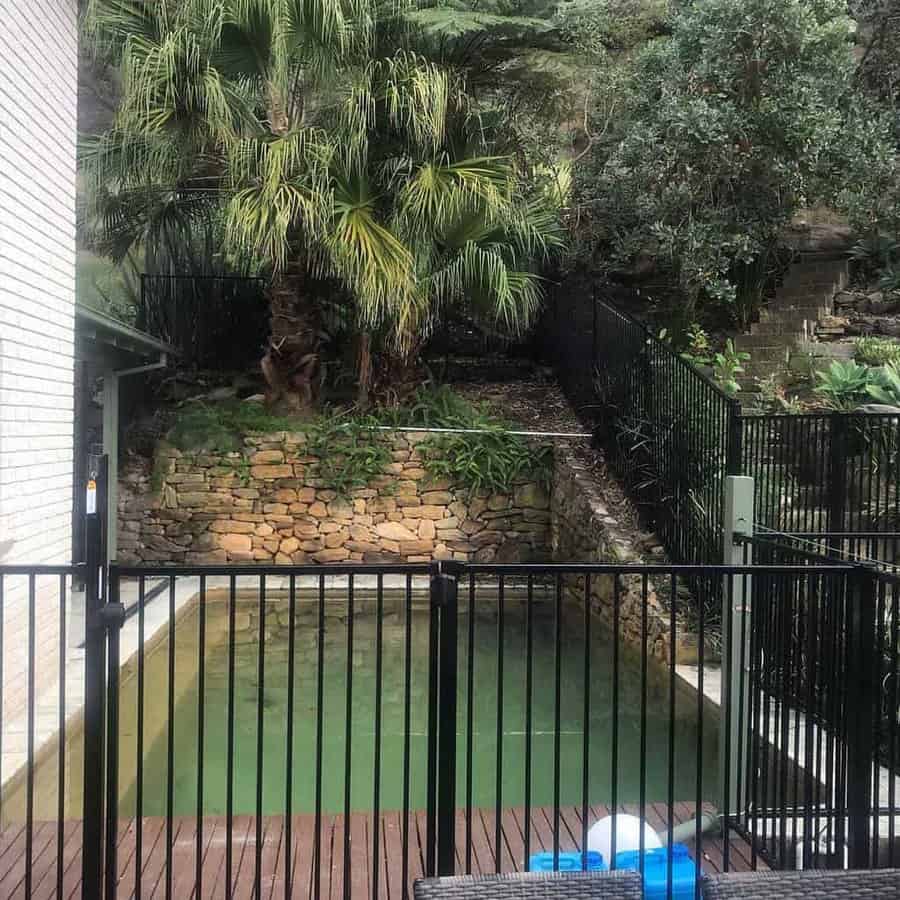 A picket fence will give your backyard a country garden feel but won't provide you with much privacy. A lattice fence can create more privacy while also allowing for plenty of airflow. You could plant vine plants along the base of the fence and allow them to grow across the fence. If you aren't ready to commit to a full lattice wood fence, then you could have a solid wood panel for the lower part and a decorative lattice topper.
Pool Fence FAQs
What is the cheapest pool fence?
The most affordable fence that you can add to build around your pool is a chain-link one. You can buy the chain link in a giant roll and the separate metal posts. The chain link is adaptable and durable, making it sturdy and strong to prevent someone from getting through to your pool.
What is the safest pool fence?
The safest type of fence you can have around your pool is an ornamental iron fence. The iron construction makes it strong and durable. It's also a permanent solution, so you don't have to worry about it eventually coming out or someone moving it. Another nice feature of iron fences is the bottom rail, which is more effective at stopping small animals and children from getting through the vertical posts.
What size pool needs a fence?
You should check our local and state laws when determining if you need a fence or not. Most states require pools with a depth of 30 centimeters or more to have a fence. This is a pool that is about a foot deep. It doesn't take deep water for someone to drown, so even shallow or small pools may require a fence to keep them safe.