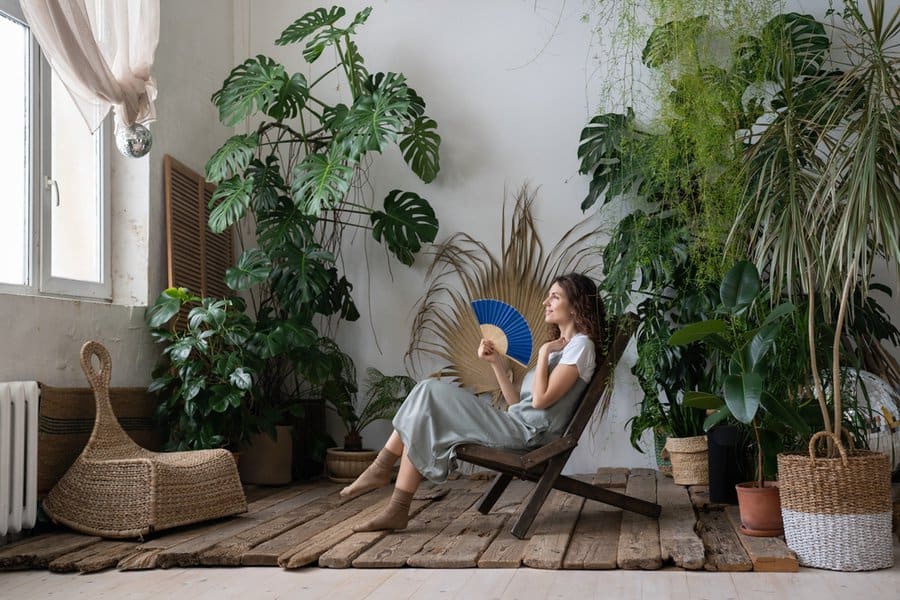 Transforming Your Home into a Wellness Oasis
In an ever-evolving world where stress and anxiety have become our constant companions, it is more important than ever to cultivate a space of tranquility and wellness in our lives. Your home should not just be a dwelling place; it should be a sanctuary that promotes holistic wellbeing, a refuge that rejuvenates your mind, body, and soul. With the right tools and mindset, you can transform your home into a wellness oasis that radiates positivity and encourages healthy living.
This article serves as your comprehensive, step-by-step guide to achieving this transformation. Whether you're starting from scratch or seeking to enhance your existing environment, this guide will empower you to create a haven of comfort, balance, and vitality. Through a blend of mindfulness, sustainable design, and wellness-oriented practices, let's embark on this journey towards nurturing a home that reflects your health goals and supports your wellbeing."
Let's dive in, and start your home's transformation today!
1. Understanding the Importance of a Wellness-oriented Home
The Impact of Environment on Wellbeing
Our environment plays a crucial role in determining our physical and emotional wellbeing. Each aspect, from the air we breathe to the sounds we hear and the colors we see, can significantly influence our mood, stress levels, productivity, and overall health.
Living in a cluttered, disorganized, or chaotic environment can lead to feelings of distress and anxiety. On the other hand, a serene, well-organized, and calming environment can enhance our sense of peace, comfort, and happiness. By understanding the intricate relationship between our environment and wellbeing, we can make conscious choices that uplift our physical and mental health.
The Value of Home in Holistic Health
Our home holds a unique value in the pursuit of holistic health. It is where we start and end our day, find solace from the world's stresses, and cultivate deep connections with our loved ones. It serves as the backdrop of our lives, making its role in our wellness journey irreplaceable.
A wellness-oriented home doesn't just facilitate better physical health; it also promotes emotional balance, spiritual growth, and mental resilience. By providing a restorative environment, it nurtures us, helps us rejuvenate, and builds a strong foundation for a healthy and fulfilling lifestyle. The importance of aligning our home with our health and wellness goals cannot be overstated.
2. Assessing Your Current Space
Identifying Stress Triggers
Before starting your transformation, it's essential to identify the potential stress triggers within your current space. These could include clutter, insufficient natural light, noise pollution, or color schemes that lack calming effects.
Take time to observe how different areas of your home affect your mood and wellbeing. Do certain spaces make you feel tense or uneasy? Are there rooms where you feel notably calm and relaxed? Recognizing these stress triggers will guide your journey to a serene and harmonious living environment.
Evaluating the Flow of Your Home
Assessing the flow of your home is another pivotal aspect of creating a wellness oasis. The flow refers to the ease and comfort with which you move through and interact with your space.
Consider whether your current layout allows for adequate movement and activities promoting wellness, such as yoga or meditation. Does your furniture arrangement facilitate smooth navigation? Is there a natural progression from one area of your home to another, or does it feel disjointed?
The flow of your home significantly impacts your comfort and relaxation. By evaluating and enhancing it, you can boost your space's functionality and overall sense of harmony.
3. Creating a Mindful Floor Plan
Making Room for Movement
Movement plays a vital role in our overall wellbeing. A wellness-focused home should accommodate this by offering enough space for exercises, stretches, or activities like yoga or dance.
Think about how you can reconfigure your floor plan to promote movement. Could you create a dedicated workout area, or clear some space in your living room for morning stretches? Perhaps there's room for an open area where you can engage in mindful activities such as tai chi. The aim is to make physical activity an inviting and accessible part of your daily routine.
Designing Spaces for Relaxation
A wellness-oriented home also needs spaces explicitly designed for relaxation. This could be a quiet reading nook, a cozy meditation corner, or a peaceful outdoor space for unwinding and connecting with nature.
These relaxation spaces should be inviting and calming, radiating peace and tranquility. Keep in mind factors like natural light, views, noise levels, and comfort when designing these areas. By creating these dedicated spots for downtime, you encourage regular rejuvenation breaks, fostering a healthier balance between activity and rest.
4. Incorporating Natural Elements
The Power of Plants for Indoor Air Quality
Incorporating indoor plants into your home goes beyond aesthetics; it's a proactive step towards wellness. Plants can significantly improve indoor air quality by absorbing toxins, increasing humidity, and producing oxygen.
The natural greenery of plants can also create a calming atmosphere, reduce stress, and boost mood. Consider air-purifying plants like spider plants, snake plants, or peace lilies to enhance these benefits. A home adorned with vibrant, lush plants is not just visually appealing, but also fosters a healthier, more relaxing environment.
Leveraging Natural Light and Views
Natural light is an essential component in transforming your home into a wellness sanctuary. Regular exposure to natural light can regulate our body's circadian rhythm, leading to improved sleep quality and mood.
Try to maximize the inflow of natural light by using light curtains, installing mirrors to reflect sunlight, or simply keeping your windows clean. If you have the luxury of a pleasant view, make the most of it. A window overlooking a garden, a tree, or the sky can offer calming visual stimulation, further amplifying your home's wellness quotient.
5. Choosing the Right Color Palette
Colors that Promote Calm and Serenity
The psychology of color significantly impacts our emotional and mental wellbeing. Choosing the right colors can foster calm and serenity, making them perfect for relaxation or sleep spaces.
Blue shades, often linked with calmness, can help alleviate anxiety. Greens, reminiscent of nature, can cultivate peace and tranquility. Neutral hues like whites, beiges, and grays can create a serene, restful atmosphere. Incorporate these colors when selecting paints, furniture, or decor items.
Colors that Stimulate Energy and Creativity
Certain colors can also energize and stimulate creativity, suitable for workspaces, exercise areas, or places for creative pursuits. Warm colors such as reds, oranges, and yellows can invigorate and stimulate activity.
Brighter tones can spur creativity and are excellent choices for home offices or art studios. Balance is the cornerstone of a wellness-oriented home, so ensure to mix calming shades with vibrant ones based on each room's purpose.
6. Harnessing the Power of Aromatherapy
Selecting Essential Oils for Your Home
Aromatherapy can significantly influence our wellbeing by reducing stress, promoting sleep, and uplifting mood. At the heart of aromatherapy are essential oils, and selecting the right ones can transform your home into a wellness sanctuary.
For a relaxing atmosphere, consider calming scents like lavender, chamomile, or ylang-ylang. To stimulate focus and energy, opt for invigorating oils such as lemon, peppermint, or rosemary. Always ensure to use these oils safely, ideally in a diffuser, following the recommended dilution rates.
Creating Your Own Signature Home Scent
Creating a signature home scent is a personal and creative journey that enhances your home's ambiance. By mixing and matching different essential oils, you can find a unique combination that resonates with you and reflects the atmosphere you wish to create.
You might prefer a refreshing blend of citrus scents, a soothing mix of floral notes, or an earthy combination of woody aromas. By crafting a signature scent, you add a unique, personal touch to your wellness oasis, making it truly your own.
7. Curating a Sound Environment
The Effect of Noise on Wellbeing
Noise, or the lack thereof, can have a profound impact on our wellbeing. Consistent exposure to high noise levels can lead to increased stress, hindered concentration, poor sleep quality, and even long-term health issues.
On the other hand, a peaceful, quiet environment can promote relaxation, improve focus, and contribute to better sleep. Understanding the impact of noise on your wellbeing is the first step towards curating a sound environment that fosters wellness.
Utilizing Soundscapes and White Noise
Soundscapes and white noise are potent tools for creating a calming auditory environment. Soundscapes, like the soothing melodies of birds, waves, or forest ambiances, can establish a peaceful atmosphere and mask distracting external sounds, particularly useful in urban settings.
White noise, a consistent sound containing equal intensities of all frequencies, is excellent for drowning out intermittent background noise. It can enhance sleep quality or encourage focused work sessions. Devices or apps producing white noise make it easy to incorporate this soothing backdrop into your home environment.
8. Creating Wellness Focused Zones
Designing a Zen Meditation Room
A Zen meditation room is a space within your home dedicated to quiet, mindful reflection. This room should be free from distractions and decorated with elements that promote serenity and peace.
A simple color palette, comfortable seating like floor cushions or a meditation bench, and calming elements such as a small water feature, soft lighting, or a candle could be included.
Setting Up a Home Fitness Corner
A home fitness corner is an area dedicated to physical activity. Depending on your fitness preferences, this might include workout equipment like weights, a yoga mat, resistance bands, or even more substantial equipment like a treadmill or exercise bike.
A wall mirror can also be useful for checking your form during exercises. Remember to also consider factors like ventilation and natural light. The goal is to make this space inviting, encouraging you to maintain regular physical activity as part of your wellness journey.
Crafting a Serene Sleep Environment
Your sleeping environment significantly impacts your sleep quality, a key component of overall wellness. This space should be designed to promote deep, restful sleep. Consider a comfortable, supportive mattress and pillows, blackout curtains or shades to keep the room dark, and soothing colors like blues or neutrals.
Reduce clutter and remove any stress-inducing items. You might also consider a white noise machine or fan to provide consistent, soothing background noise. Creating a serene sleep environment supports healthy sleep habits and contributes to your overall sense of wellbeing.
9. Sustainable and Healthy Home Materials
Understanding the Impact of Toxic Home Materials
Many common materials used in homes can contain substances that are harmful to both our health and the environment. These may include volatile organic compounds (VOCs) in paint, formaldehyde in pressed-wood furniture, or phthalates in vinyl flooring.
Over time, these substances can off-gas into our homes, impacting indoor air quality and potentially causing a range of health issues from headaches and allergies to more serious long-term effects. It's essential to understand the impact of these toxic home materials as part of creating a wellness-focused home environment.
Choosing Eco-Friendly and Non-Toxic Options
Fortunately, there are an increasing number of eco-friendly and non-toxic alternatives available for home use. When selecting paints, look for those labeled low-VOC or zero-VOC. For furniture, consider options made from solid wood, certified sustainable sources, or recycled materials. Flooring can be made from natural materials like hardwood, cork, or bamboo, or from recycled or sustainable sources.
Always check for any certifications that indicate the product is free from harmful chemicals.
10. Maintaining Your Wellness Oasis
Daily Wellness Practices
Creating a wellness oasis is just the start; maintaining it involves incorporating daily wellness practices. This could include a regular meditation or yoga session in your Zen room, a workout routine in your fitness corner, or a calming bedtime ritual to enhance your sleep.
Remember to also utilize your essential oils for aromatherapy, update your soundscapes to reflect your mood or needs, and care for your indoor plants to keep them thriving.
Engaging in these daily practices can help to reinforce your commitment to wellness and ensure that your home continues to serve as a supportive wellness oasis.
Regular Home Care and Maintenance
Just like any home, a wellness-focused home requires regular care and maintenance. This might involve replacing air filters to maintain good air quality, regular cleaning to keep spaces tidy and inviting, or periodically refreshing your decor to maintain the desired ambiance.
In a wellness-focused home, consider using natural cleaning products to reduce exposure to harsh chemicals. Regular maintenance not only keeps your home looking its best, but it also contributes to a healthier, more enjoyable living environment.
Read also: 42 Backyard Oasis Ideas