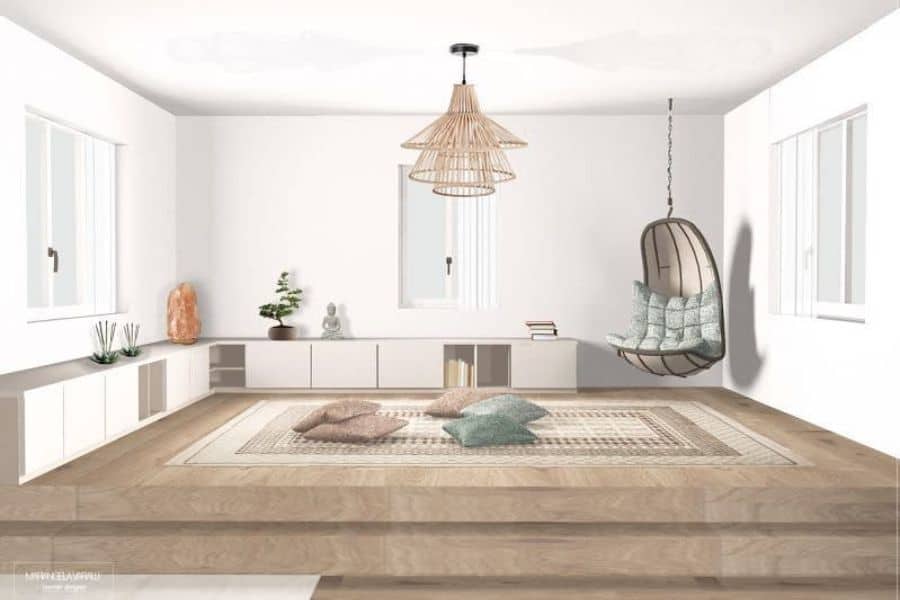 The Top 60 Meditation Room Ideas
"With meditation, you become a sensitized superhero, completely in control, with endless possibilities at your fingertips." – Tara Stiles
Meditation is worth embracing for many reasons. It lowers blood pressure, alleviates anxiety, improves cognitive function, and can even help you live longer. Moreover, these benefits can be obtained by meditating as little as 10 to 15 minutes each day.
You can create a relaxing meditation space anywhere in your home, from a loft to your bedroom to a quiet corner. The perfect meditation room is the one that brings you peace, whether that involves a funky boho or clean, minimalist design. Reflect on our favorite meditation room ideas and discover how to create your own rejuvenating oasis.
1. Peaceful Bedroom
Creating a meditation room is all about cultivating a serene and peaceful environment that allows you to dive into the depths of self-reflection and mindfulness. For small spaces, it's all about maximizing the available area and creating a dedicated space that serves as a sanctuary for your meditation practice. For others, it can be a clean and tidy bedroom.
Clear out any unnecessary clutter and keep the room tidy to promote a sense of calmness and clarity. Choose soft and soothing colors for the walls, such as muted blues or earthy neutrals, to create a tranquil atmosphere. Incorporate natural elements like plants, stones, or a small water fountain to connect with nature and enhance the overall sense of serenity. Introduce soft lighting with candles or dimmable lamps to create a warm and inviting ambiance.
Remember, it's your bedroom and meditation room, so make it a place of peace and inner harmony that allows you to connect with yourself on a deeper level.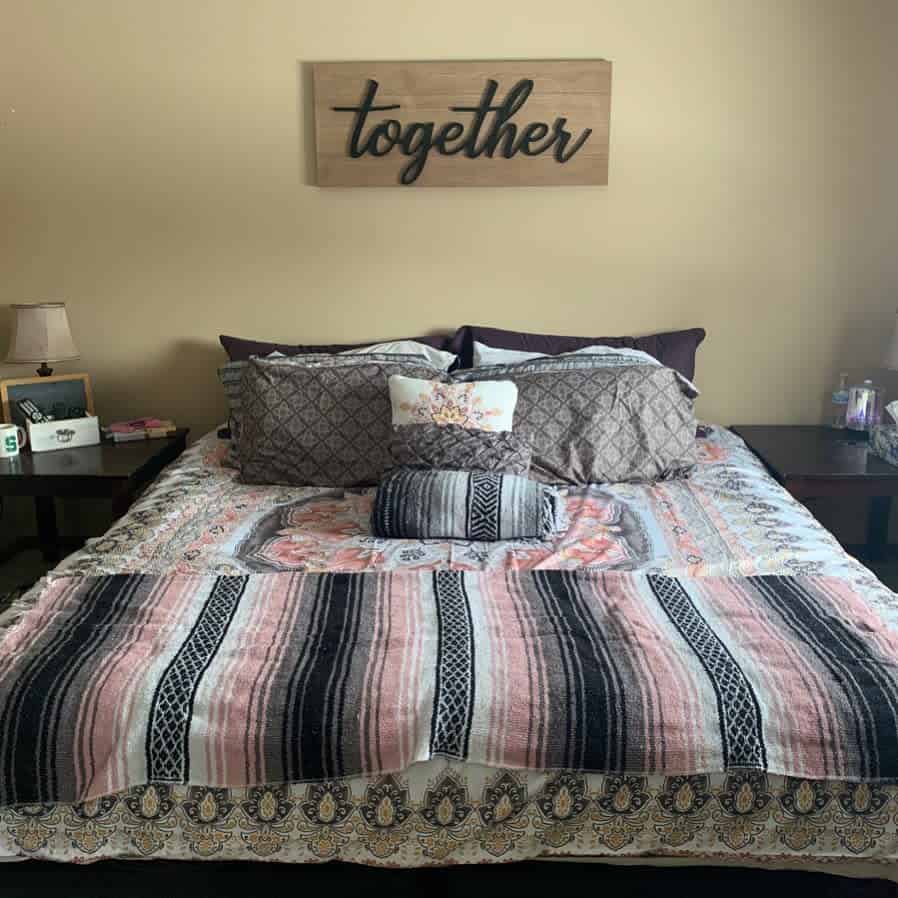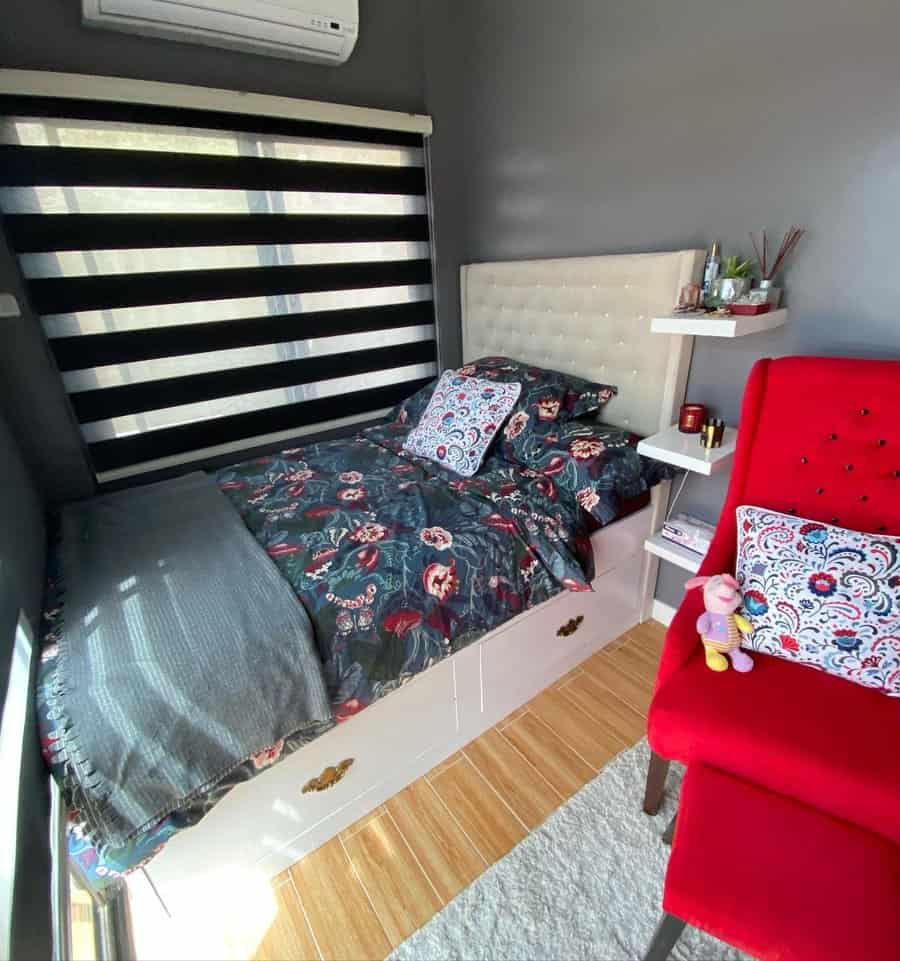 2. Meditation Mat
Create a serene and tranquil oasis within your home with a dedicated meditation room. At the heart of this sacred space is the essential meditation mat, providing a comfortable and grounding surface for your practice. Opt for a high-quality mat that supports your body and allows for proper alignment during meditation.
Consider the size and thickness of the mat to ensure it suits your needs and preferences. To further enhance your meditation experience, consider adding a bedside meditation mat. This smaller mat can be placed next to your bed, creating a peaceful corner where you can start and end your day with moments of mindfulness.
Select mats that align with your personal style, whether it's a calming neutral color or a vibrant pattern that ignites your spirit. Embrace the power of the mat as a foundation for your practice, creating a sacred space where you can cultivate inner peace and rejuvenate your mind, body, and soul.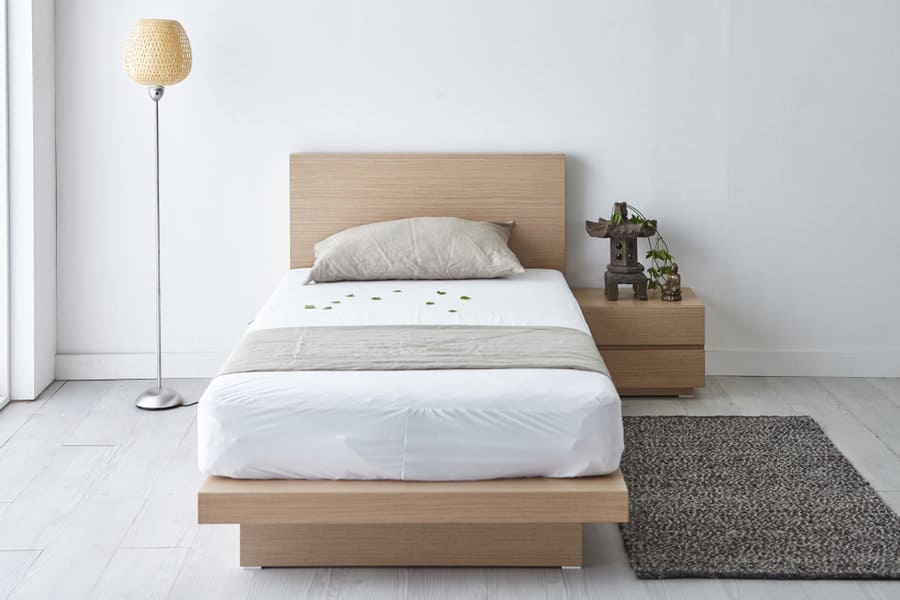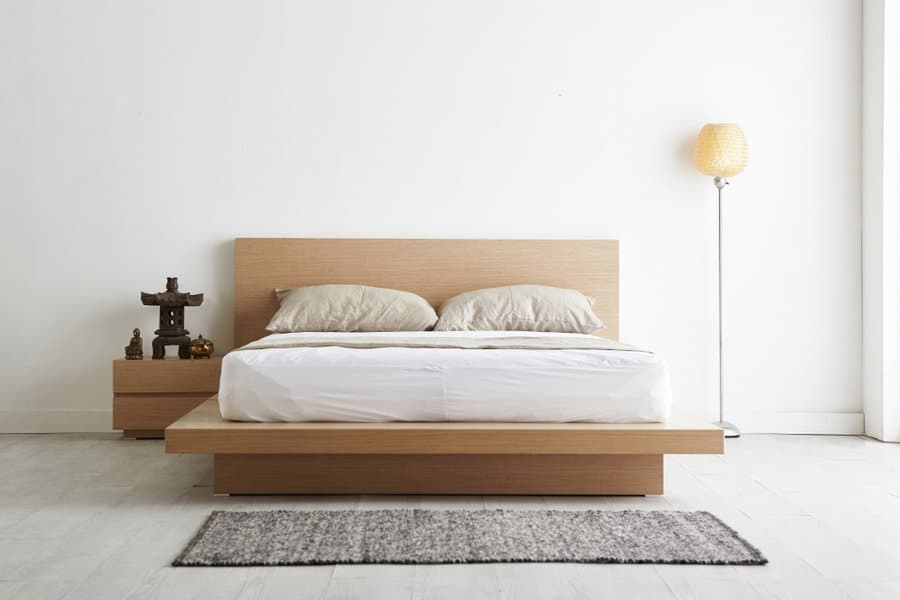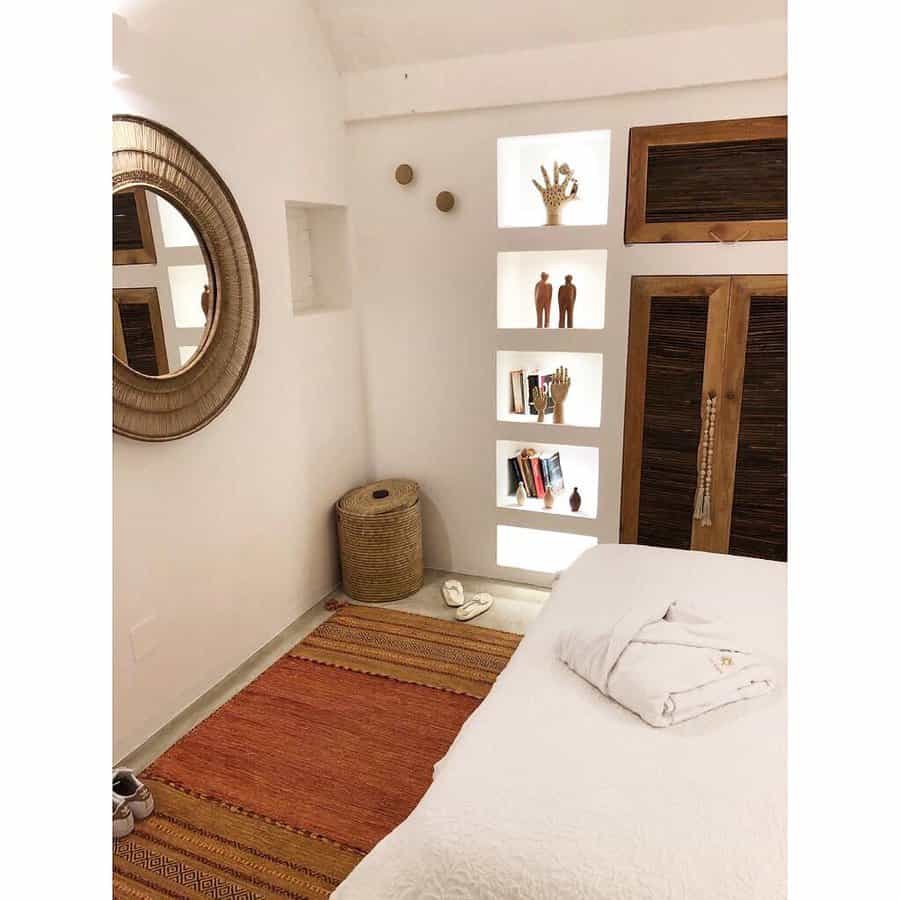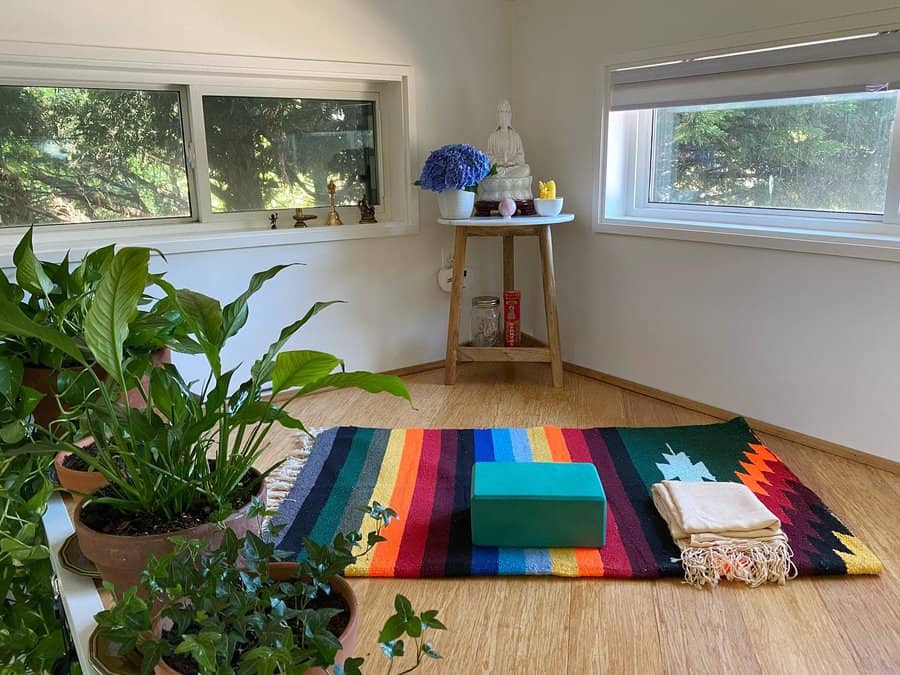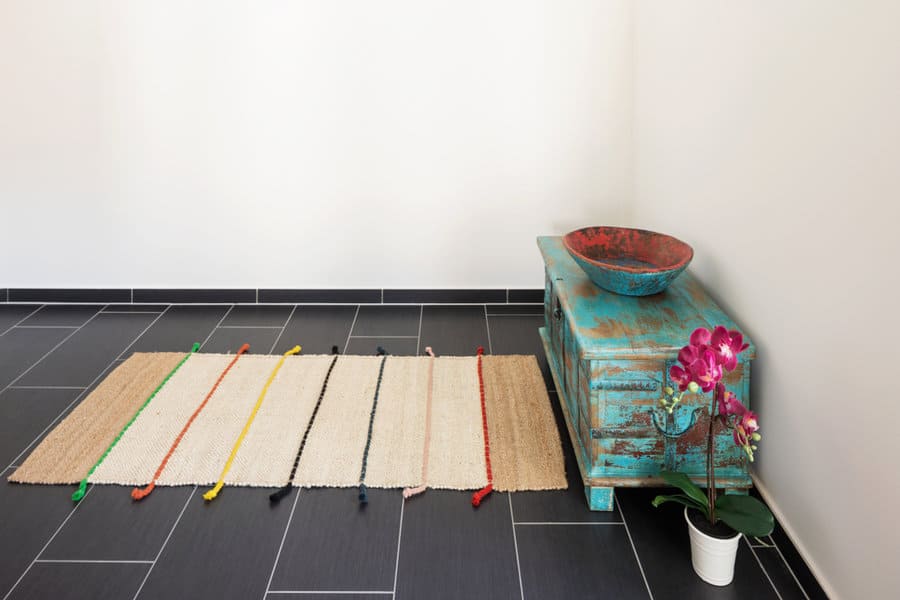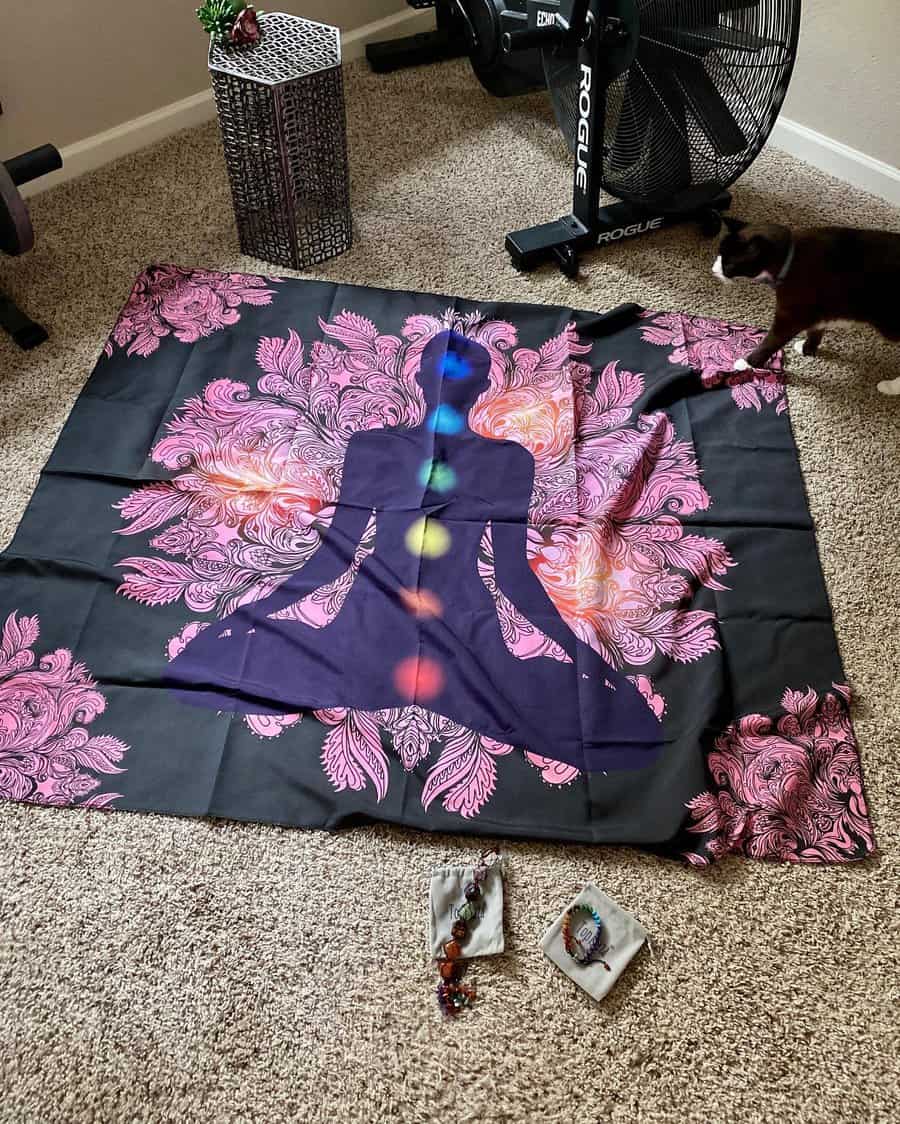 3. Cushion Seating
Whether it's a plush floor cushion or a cozy meditation pillow, choose a seating option that allows you to sit comfortably for extended periods of time. To add a touch of versatility, consider incorporating a meditation stool that not only offers a different sitting posture but also doubles as a beautiful decorative element.
Fill the space with calming colors, soft lighting, and natural elements like plants or a small indoor fountain to create a tranquil ambiance. The key is to keep the room clutter-free and free from distractions. Finally, consider adding personal touches like inspirational quotes, artwork, or symbols that resonate with your spiritual journey.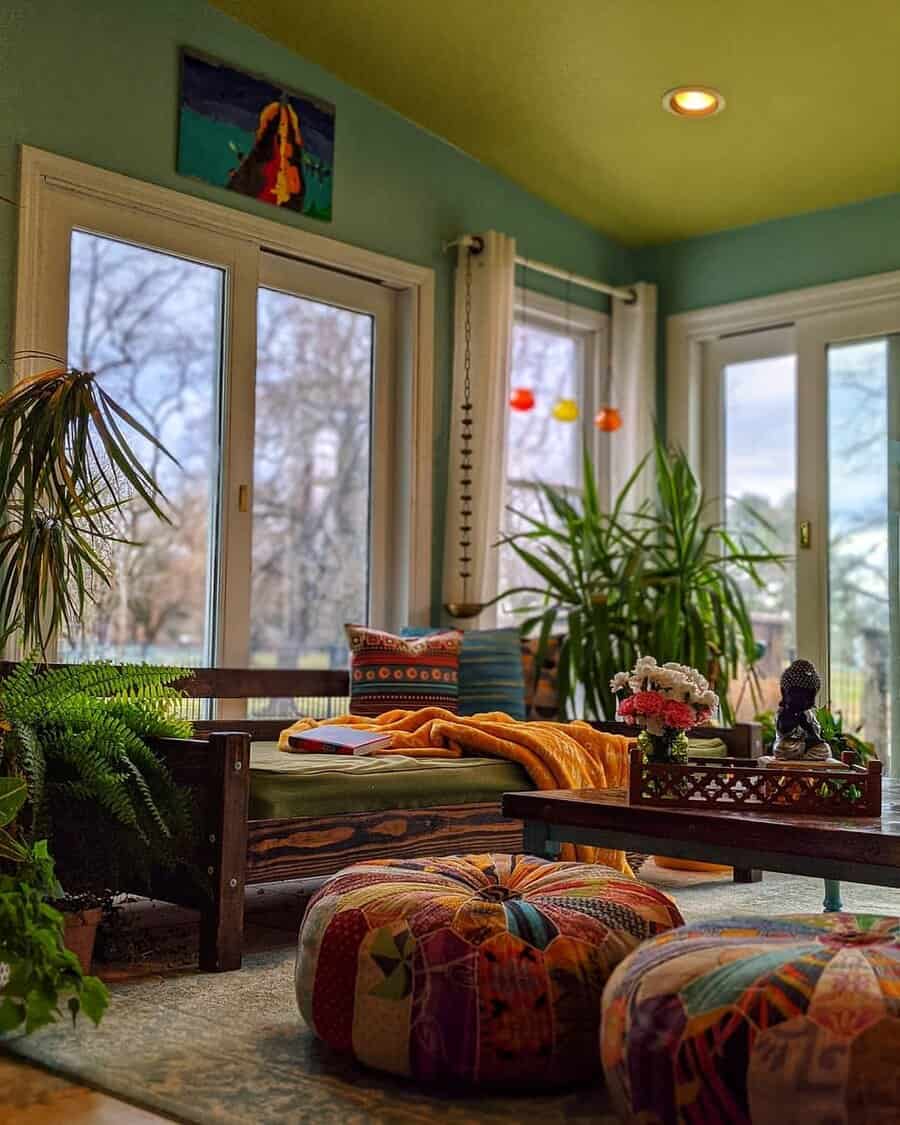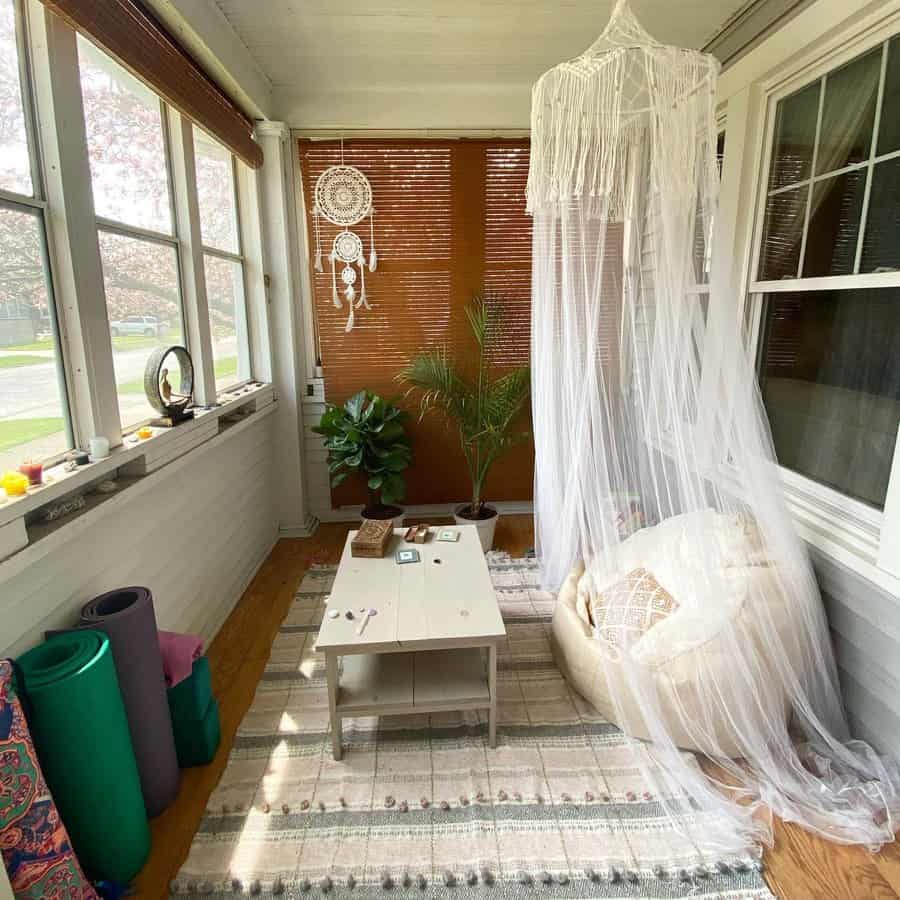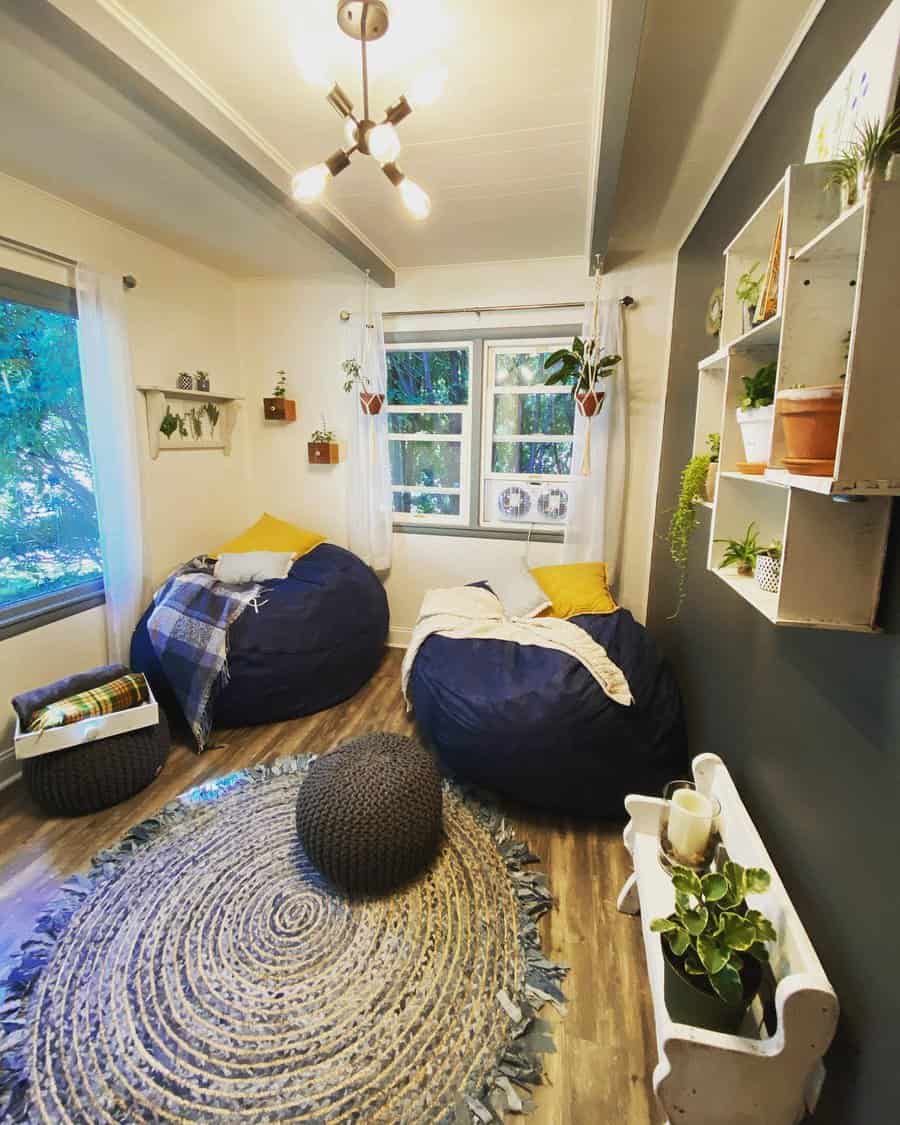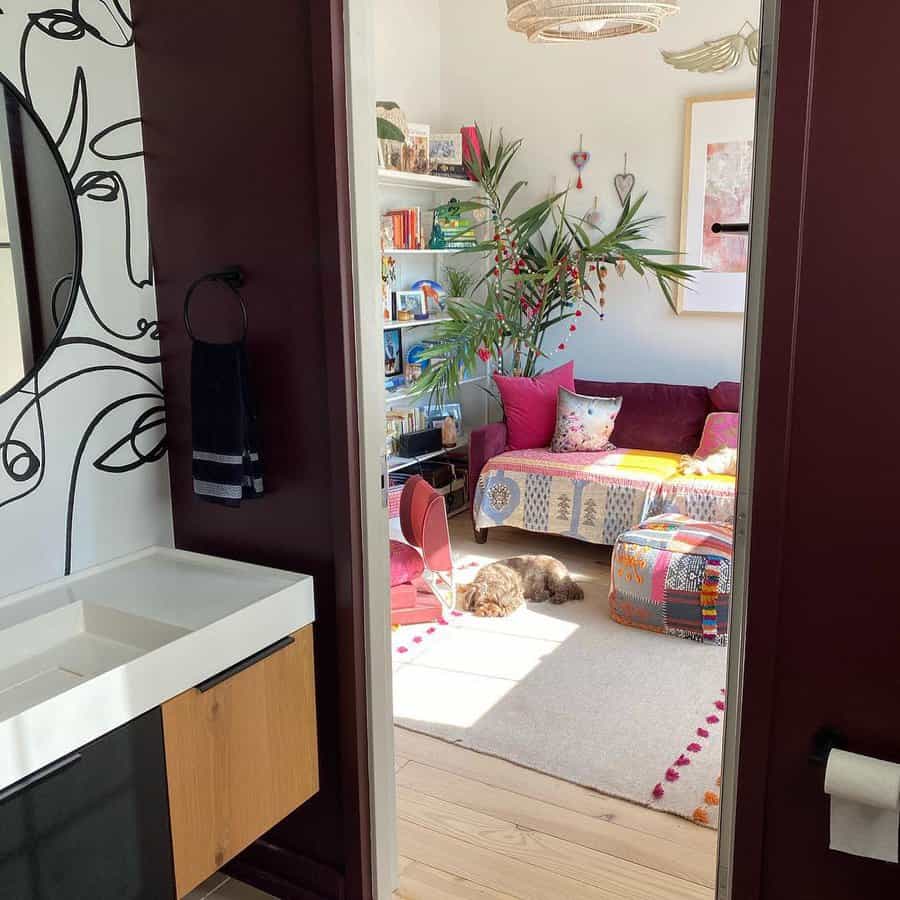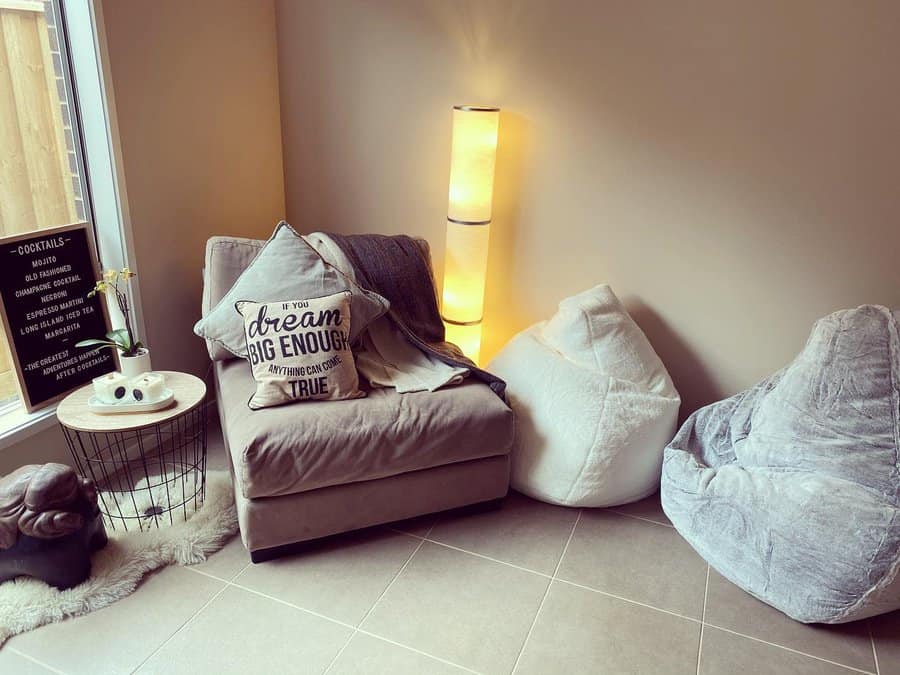 4. Floor Couch
Inspired by the simplicity and tranquility of Japanese architecture, a floor couch brings a sense of grounding and closeness to the ground. It provides a comfortable and supportive space for you to sit or recline during your meditation sessions. Imagine sinking into the plush cushions, feeling the gentle support as you find your inner calm.
A floor couch invites you to embrace a relaxed and grounded posture, allowing you to fully immerse yourself in the present moment. Choose a floor couch with soft, earthy tones and natural materials to enhance the peaceful ambiance of your meditation room.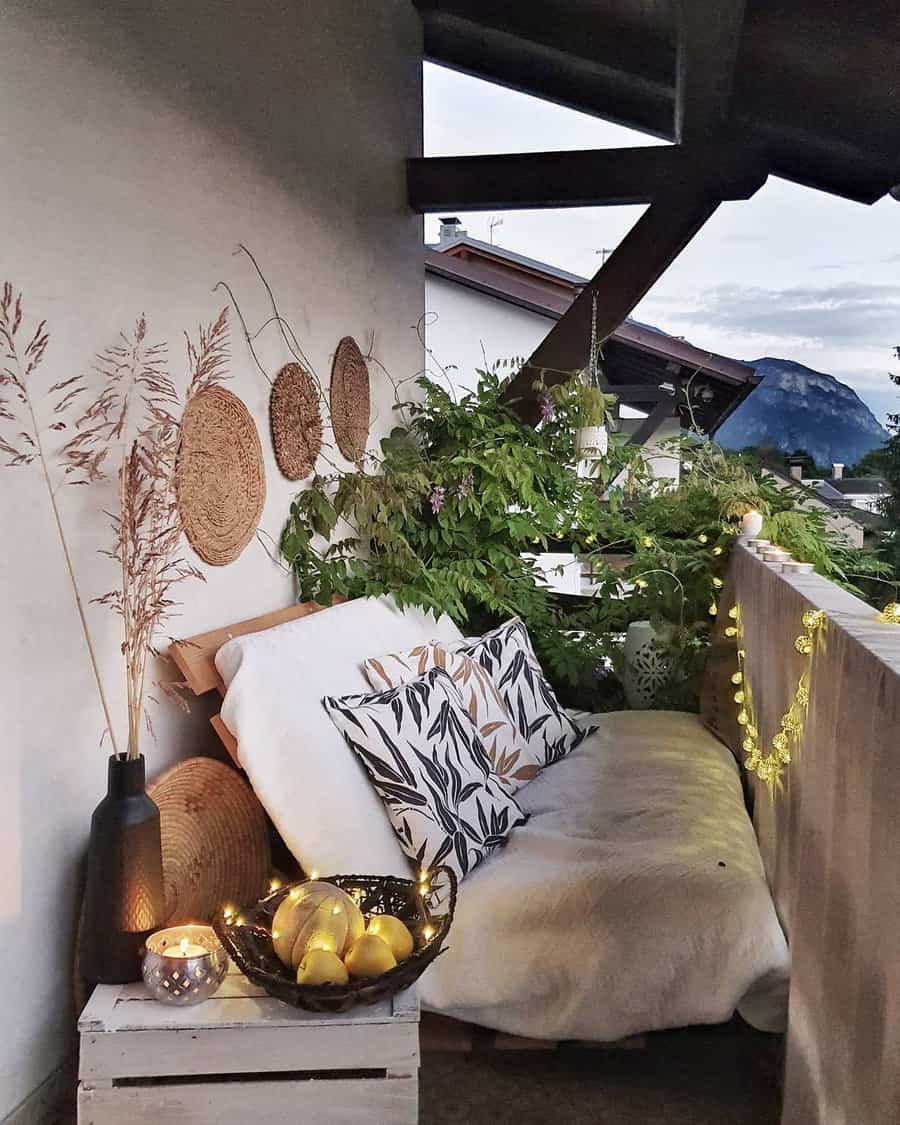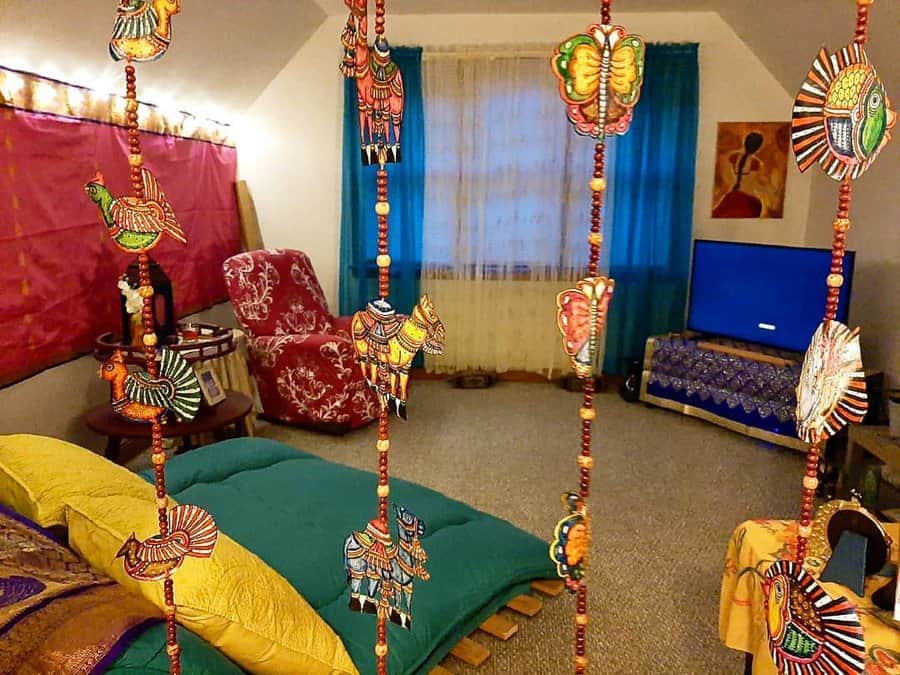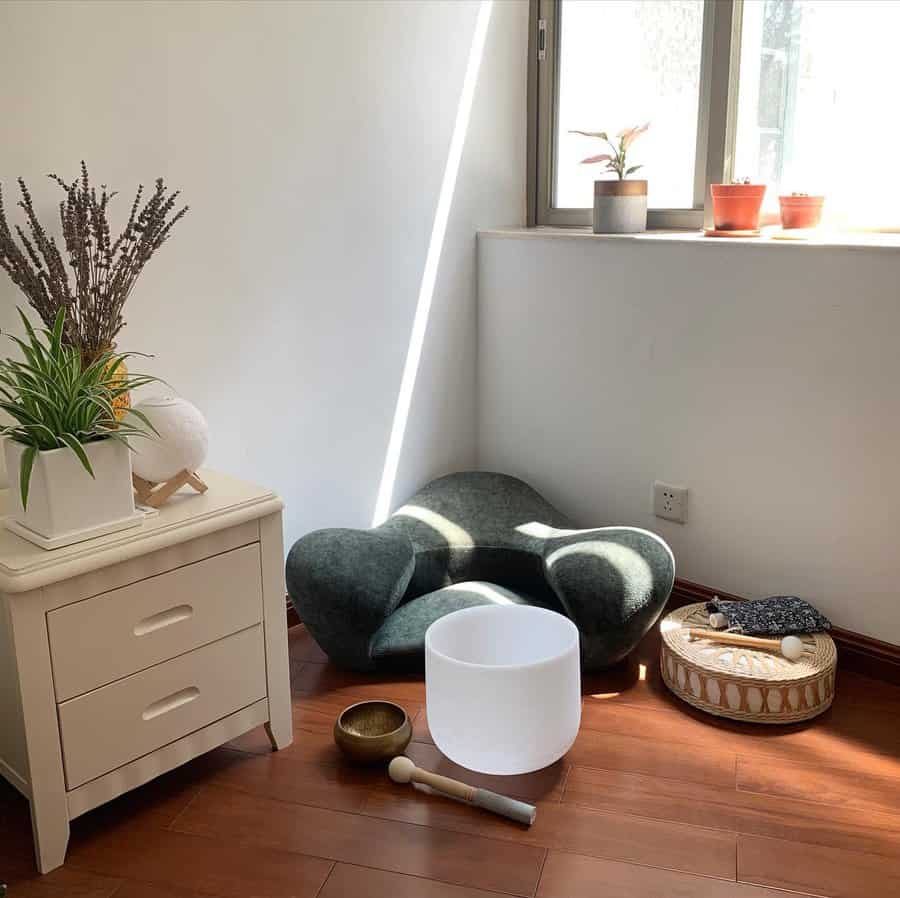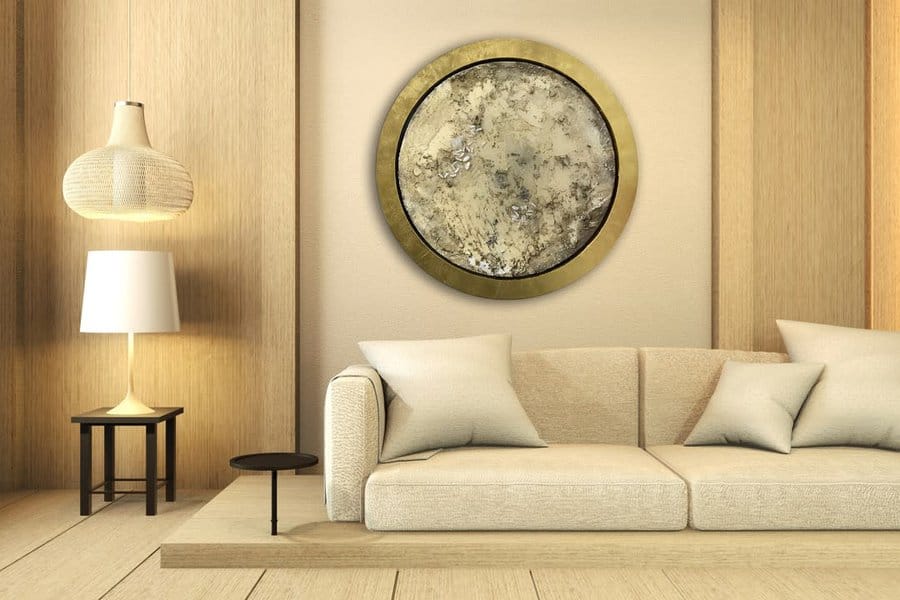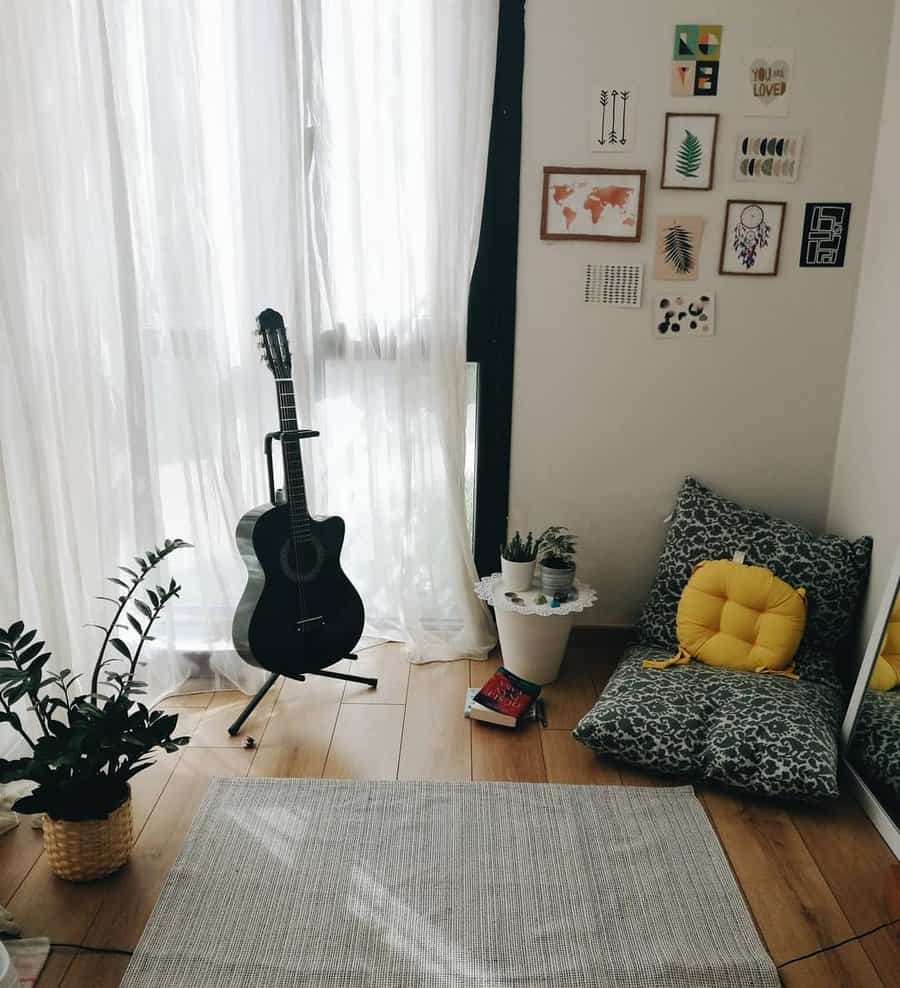 5. Bay Window
Utilize the natural light and peaceful view that the bay window offers to create a calming atmosphere. Place a comfortable meditation cushion or yoga mat in this space, allowing you to immerse yourself in the present moment. Enhance the coziness by adding a few throw pillows and blankets, creating a soft and inviting spot to relax and focus on your breath.
Consider incorporating elements of nature, such as potted plants or a small indoor fountain, to bring a sense of tranquility and harmony to the space. Additionally, you can hang sheer curtains to add privacy and diffuse the incoming light, creating a soft and serene ambiance.
Don't forget to keep the area clutter-free and uncluttered to promote a clear and peaceful mind. With these tips, your bay window meditation area will become a sacred space where you can reconnect with yourself and find inner peace.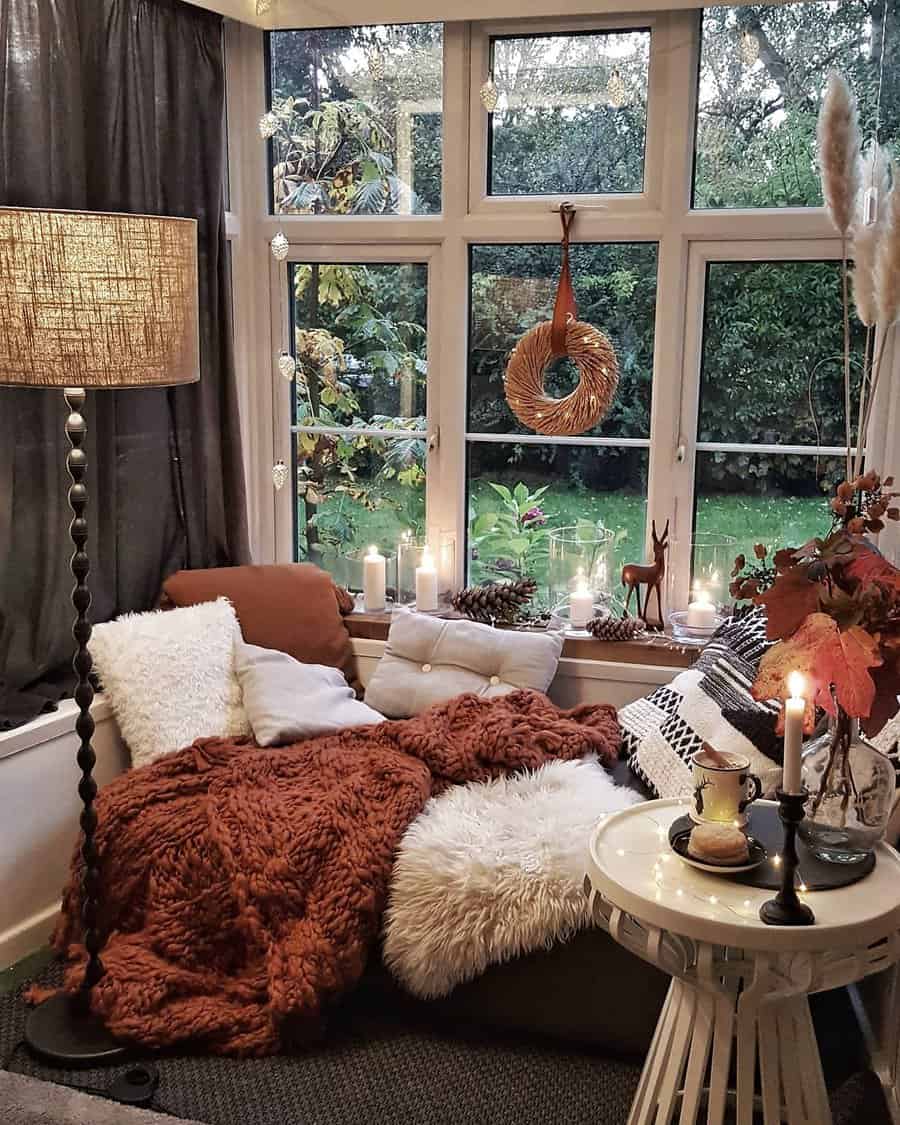 6. Throw Pillow Seating
Ditch the traditional chairs and embrace the softness and flexibility of throw pillows for a truly zen experience. Arrange a collection of plush throw pillows on a soft and inviting carpet, creating a comfortable and versatile seating area.
Choose pillows in calming colors and textures that evoke tranquility and relaxation. Experiment with different sizes, shapes, and patterns to add visual interest and express your personal style. Whether you prefer sitting cross-legged or in a more relaxed position, throw pillow seating provides the perfect balance of support and freedom of movement.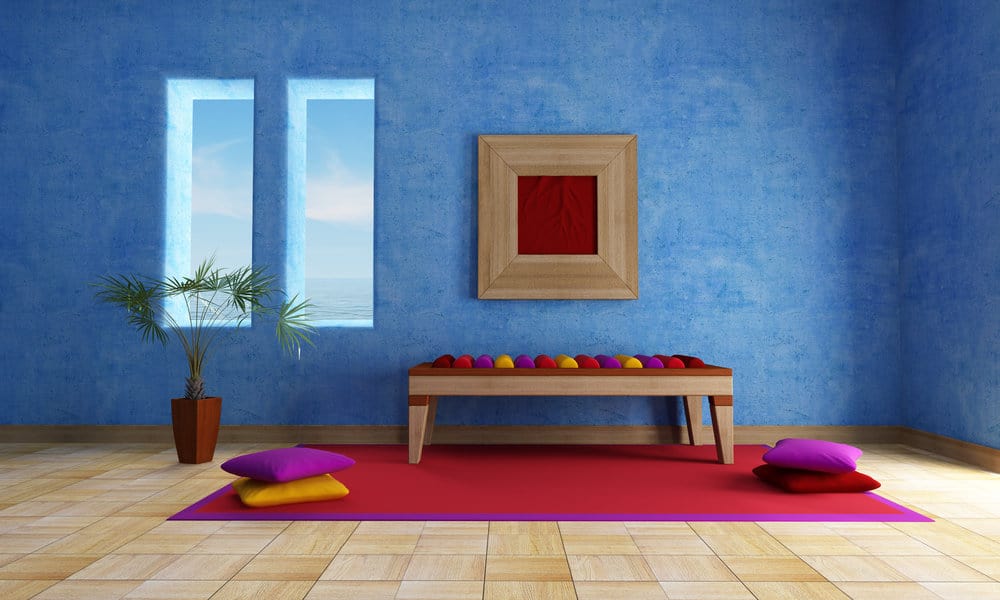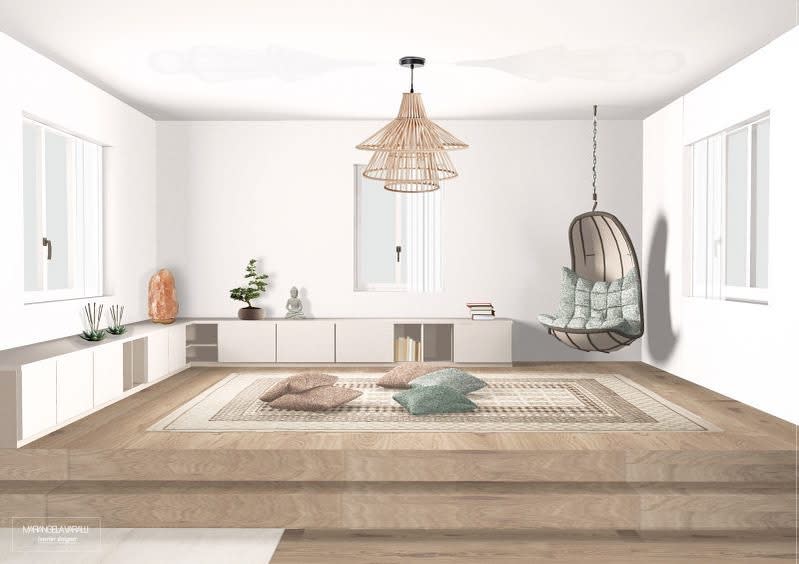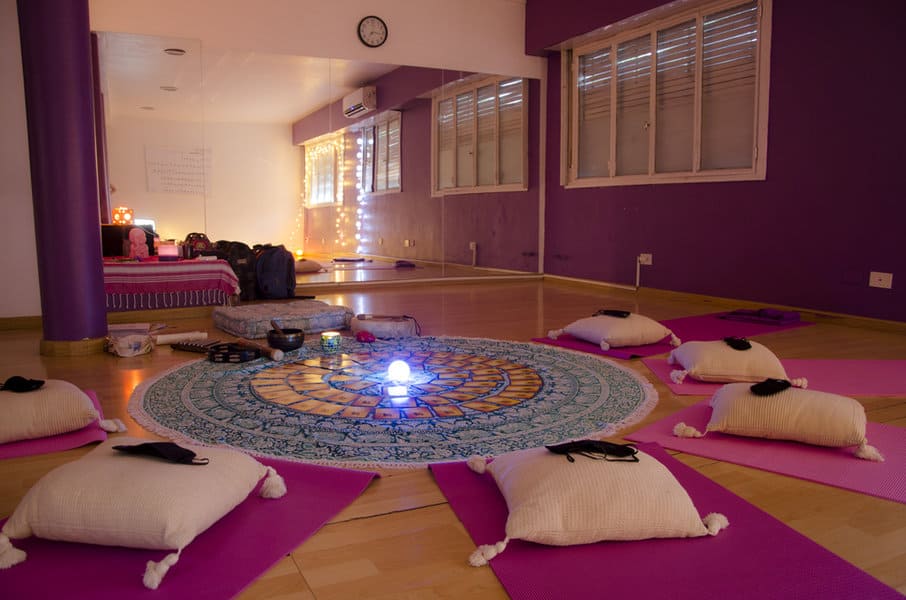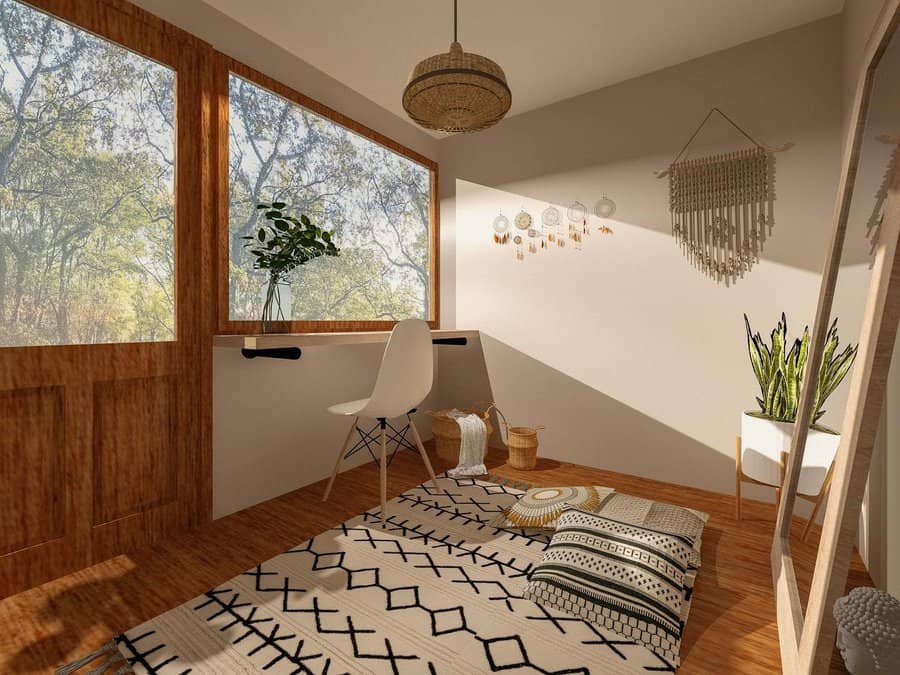 7. Incorporate Plants
When it comes to creating the perfect ambiance for meditation, plants play a vital role in connecting you with nature and promoting a sense of tranquility. Opt for low-light indoor plants that thrive in serene environments, such as the snake plant, peace lily, or pothos.
These green companions not only purify the air but also add a touch of natural beauty to your meditation space. Arrange them strategically around the room, placing them on shelves, and windowsills, or even hanging them from the ceiling to create a soothing oasis.
The soft, muted light filtering through the leaves will enhance the serene atmosphere, allowing you to delve deeper into your meditation practice.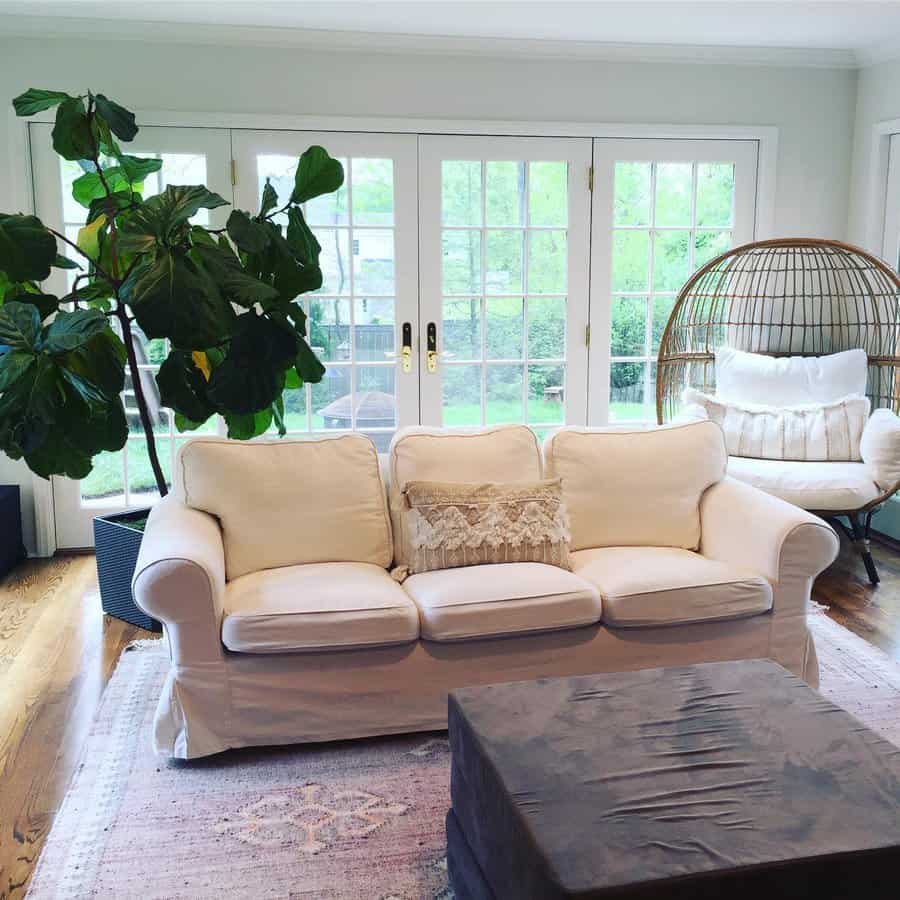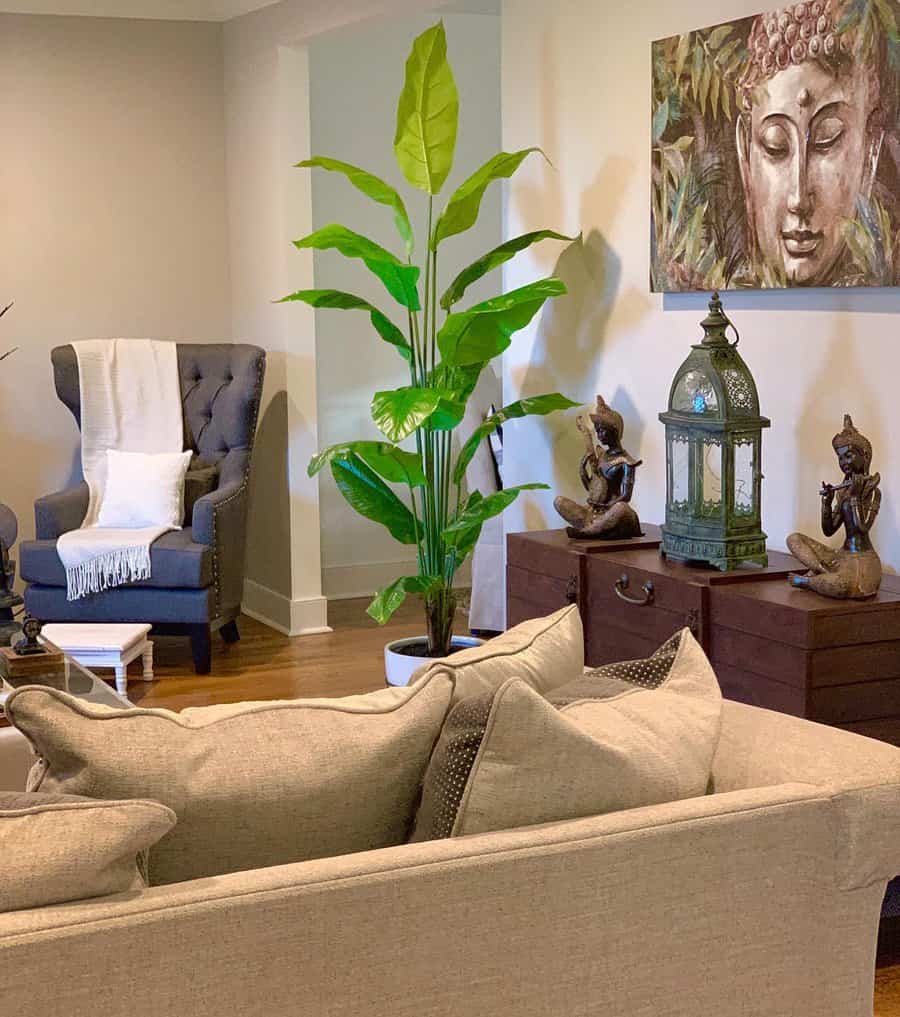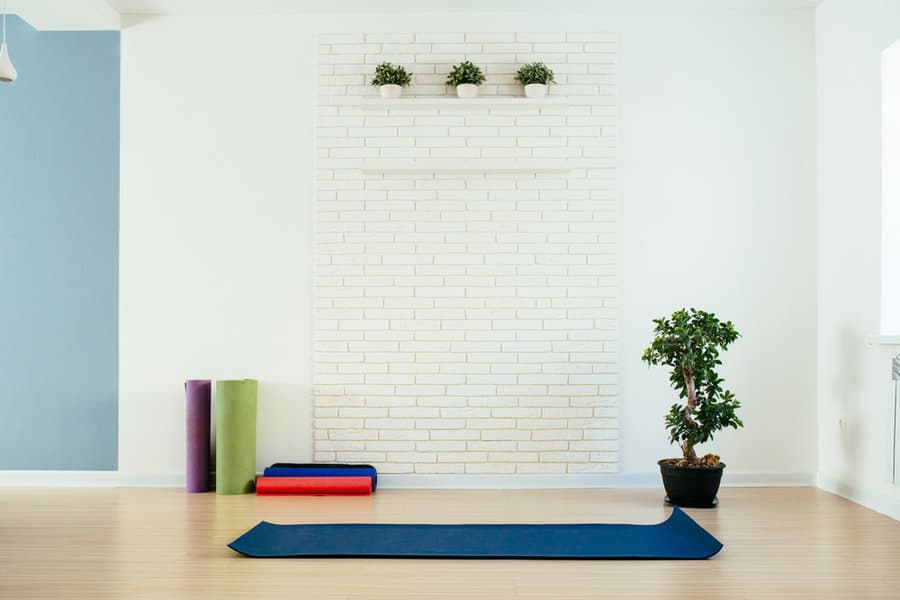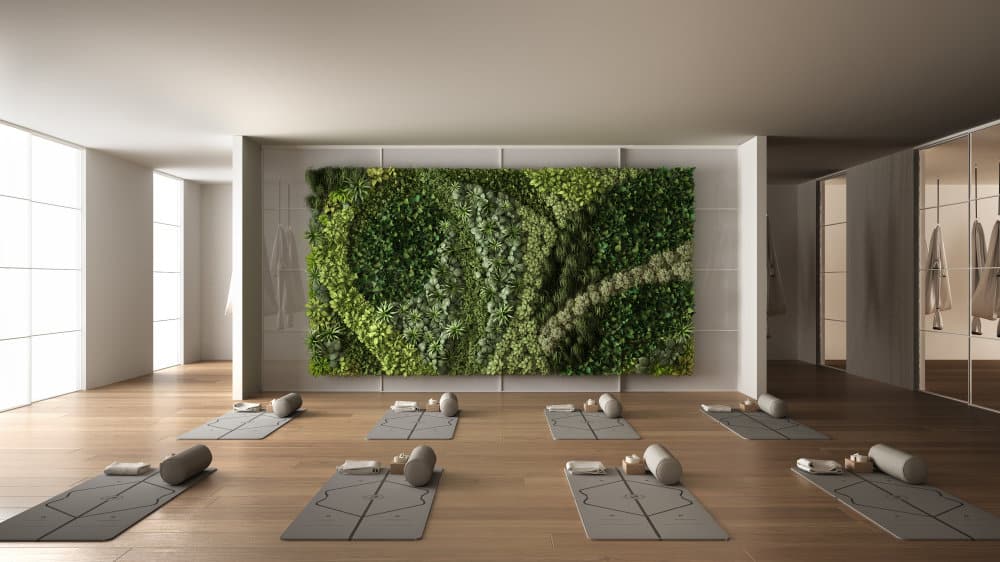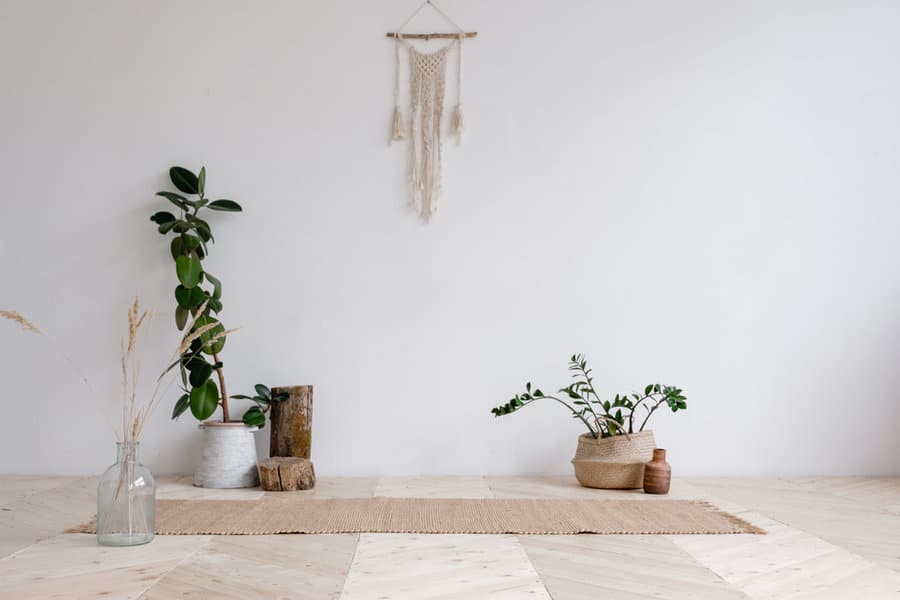 8. Get A Daybed
A daybed offers not only a comfortable spot to relax but also a versatile piece of furniture that can serve multiple functions. Opt for an L-shaped daybed or a foldable bed to maximize space in your meditation room. This allows you to effortlessly transition from seated meditation to a reclined position for deep relaxation or even a quick nap.
Choose a plush mattress and soft, calming colors to enhance the soothing ambiance of your meditation sanctuary. Decorate the daybed with cozy cushions, plush blankets, and an array of meditation props to make it the ultimate oasis of tranquility.
Whether you're practicing mindfulness, breathwork, or simply taking a moment for self-reflection, a meditation room with a daybed offers the perfect haven for finding peace and rejuvenation in your daily routine.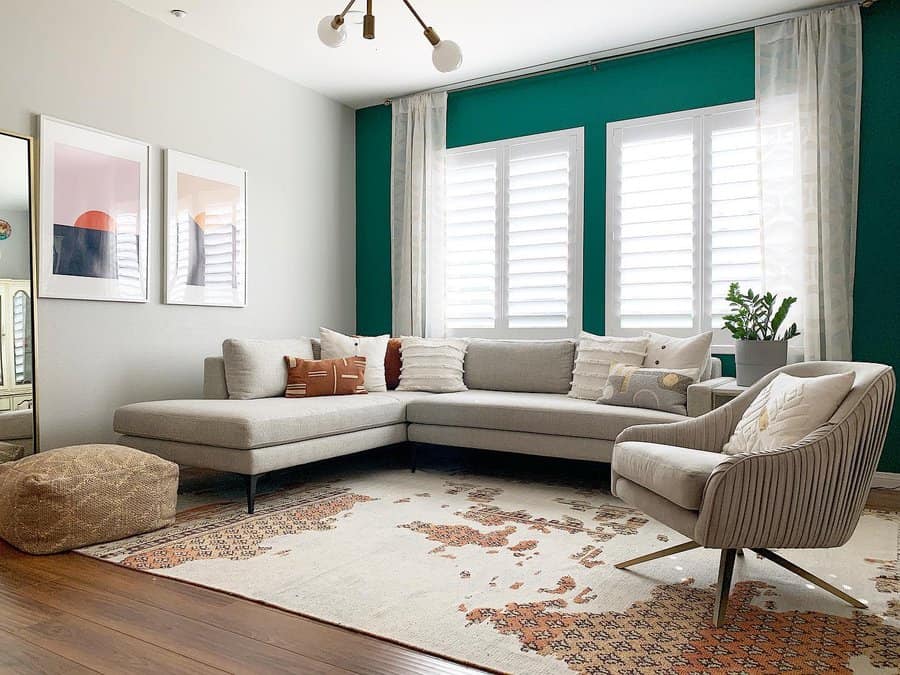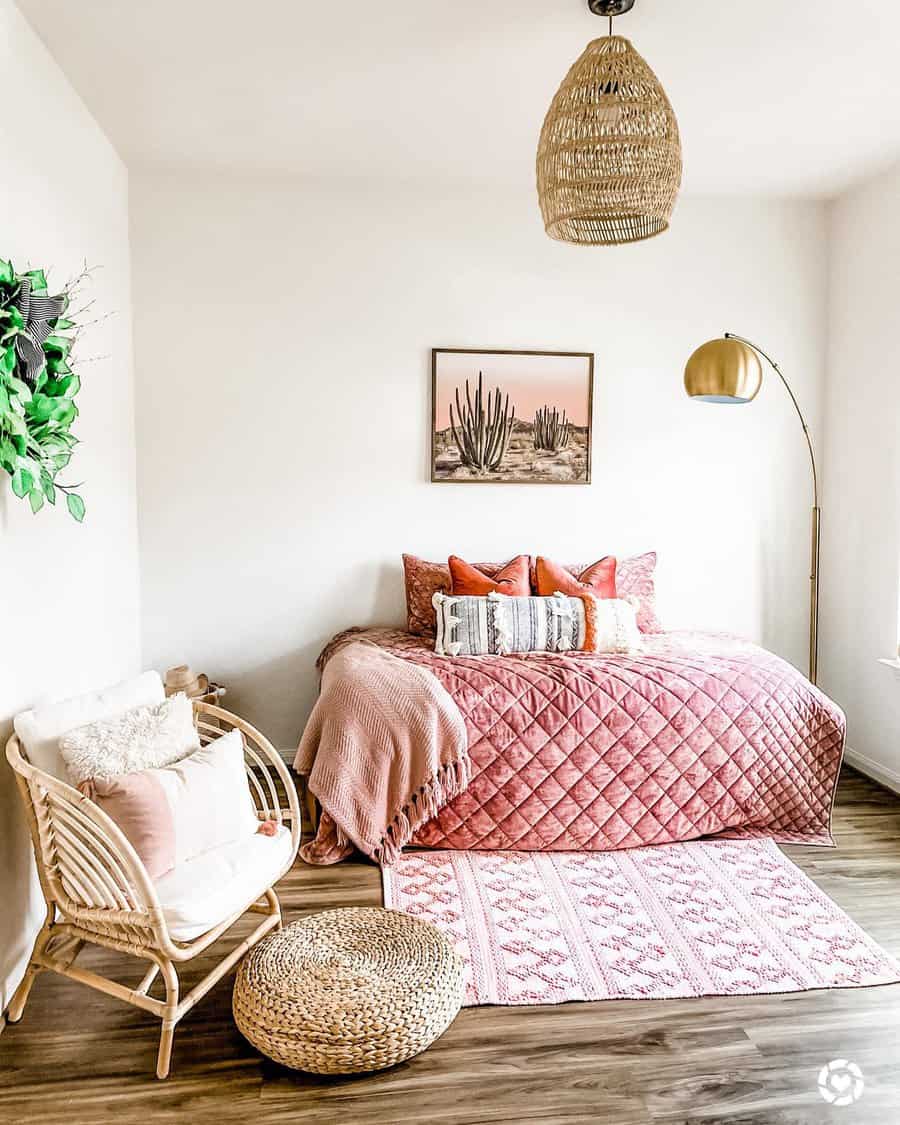 9. Mini Library
Imagine a cozy corner adorned with a cube shelf, where each compartment holds not only books but also a place to sit and reflect. This multifunctional piece of furniture becomes a peaceful nook where you can dive into the world of meditation and mindfulness.
Fill the shelves with an assortment of meditation books, such as "The Power of Now" by Eckhart Tolle, "Wherever You Go, There You Are" by Jon Kabat-Zinn, or "The Miracle of Mindfulness" by Thich Nhat Hanh. These books will guide and inspire you on your journey of self-discovery.
Don't forget to add a dedicated space for journal storage, so you can capture your thoughts and reflections after each meditation session. With your own mini meditation room library, you'll have all the resources you need to create a tranquil and transformative experience in the comfort of your own home.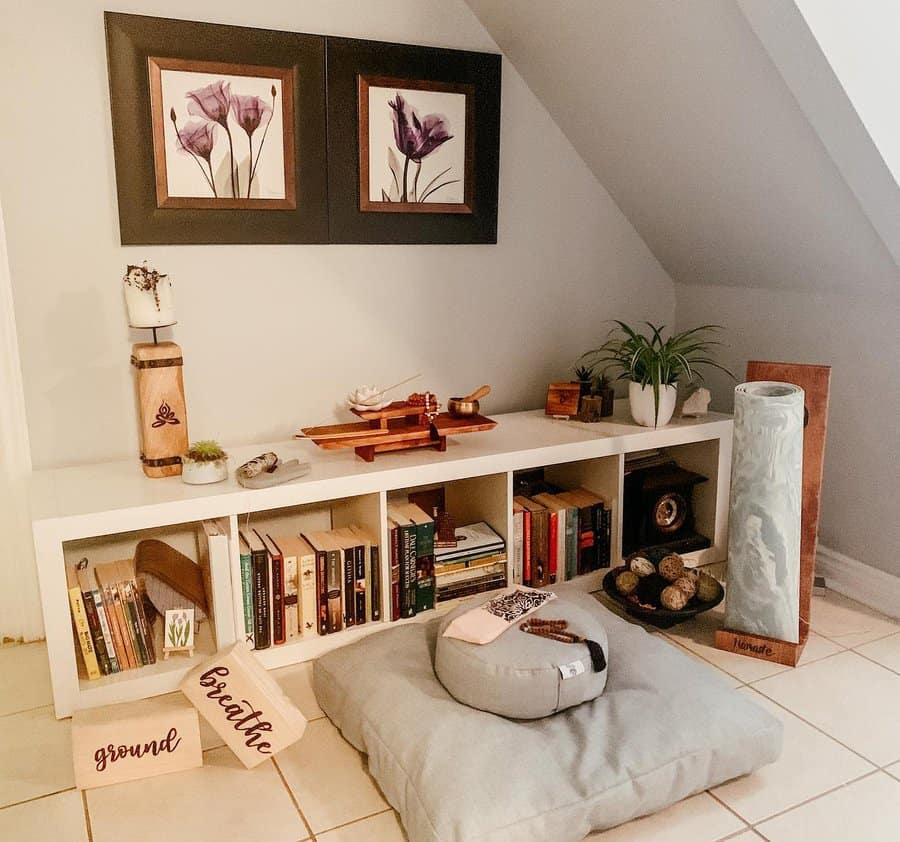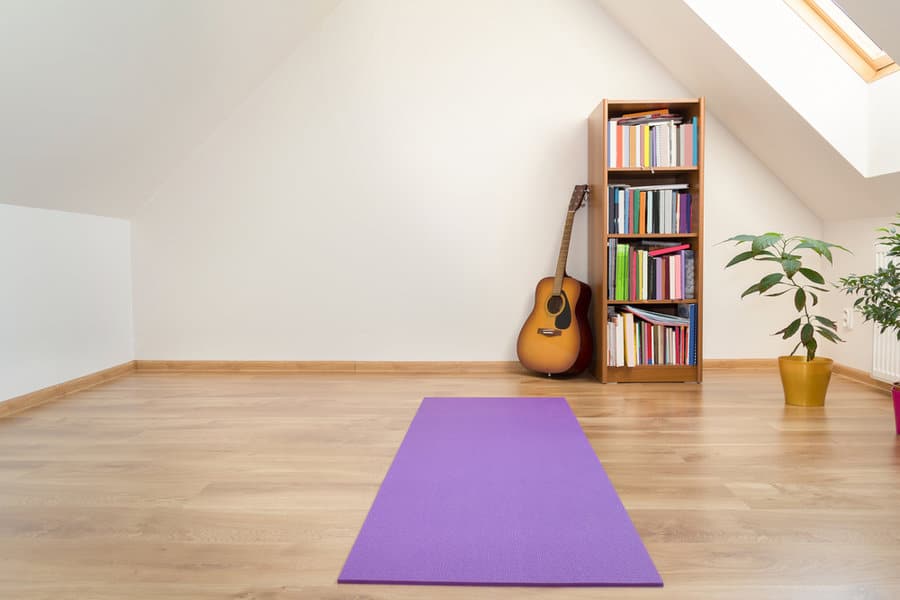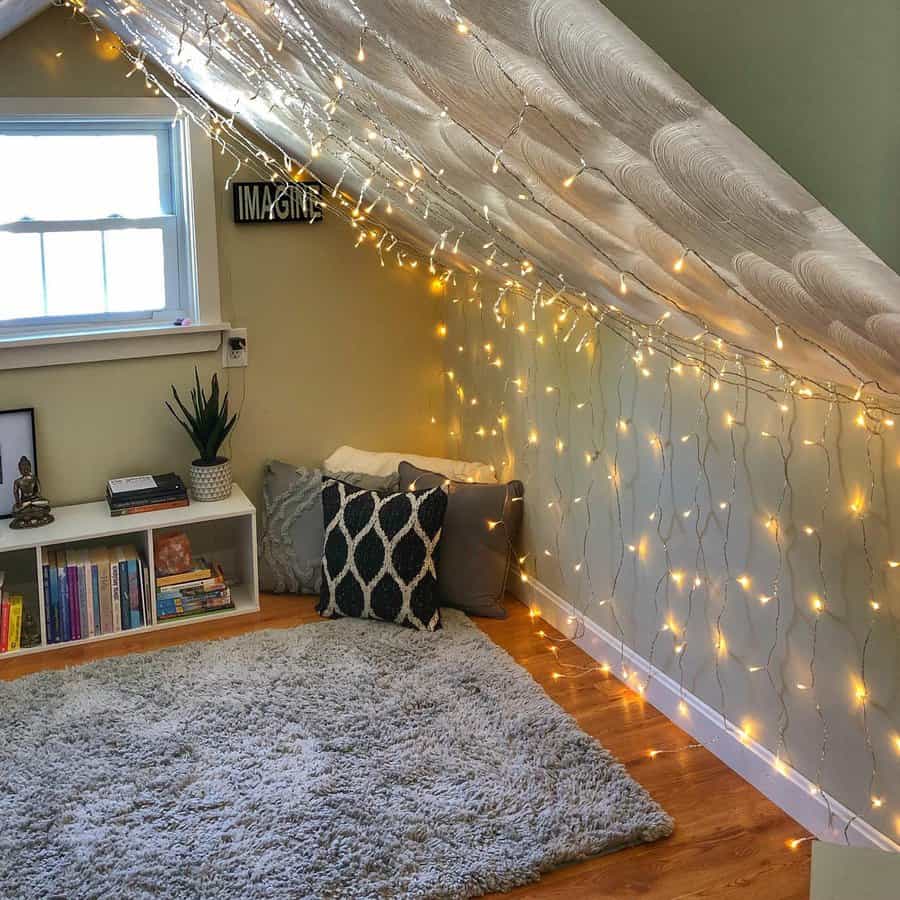 10. Wall-To-Wall Carpeting
The soft and plush texture of carpeting not only adds a cozy and inviting atmosphere but also helps to absorb sound, creating a tranquil environment for your practice. Choose a carpet in a calming hue like a soothing blue or a serene green to enhance the peaceful ambiance.
To create a comfortable seating area, add an array of throw pillows in different shapes, sizes, and patterns. These pillows not only provide a cozy spot to sit or recline but also add a touch of personality to the room. Whether you prefer vibrant and colorful patterns or subtle and neutral tones, let the throw pillows reflect your unique style and create a space that truly speaks to your soul.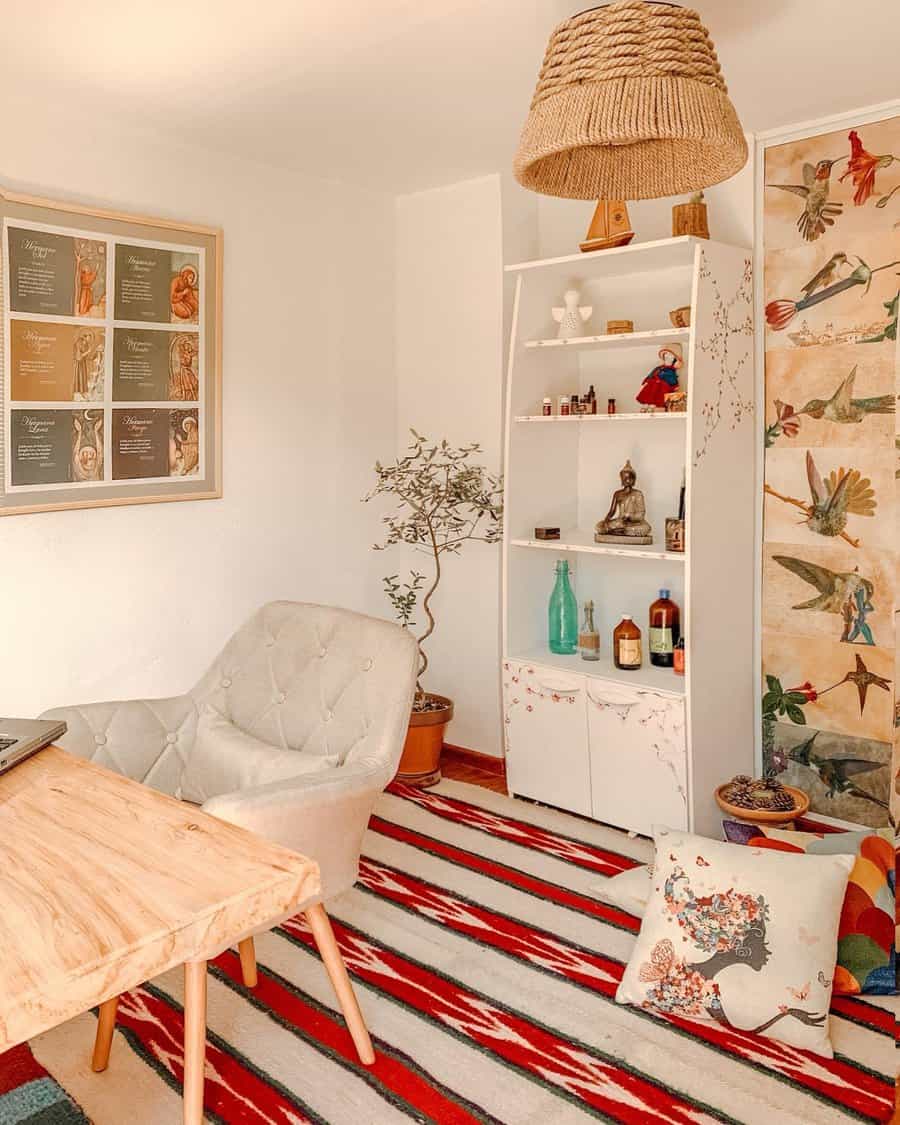 11. Install Shoji Screens
Inspired by Japanese design, shoji screens infuse your meditation room with a zen-like ambiance, fostering a sense of tranquility and peace. These delicate screens, made of translucent paper or fabric, allow for the diffusion of light, creating a soft and gentle glow that promotes relaxation and focus.
Install shoji screens to partition your meditation space, offering privacy while still allowing a sense of openness. The intricate lattice patterns of the screens add an element of elegance and sophistication to the room, elevating its overall aesthetic. You can also customize the screens with nature-inspired motifs or soothing colors to enhance the soothing atmosphere.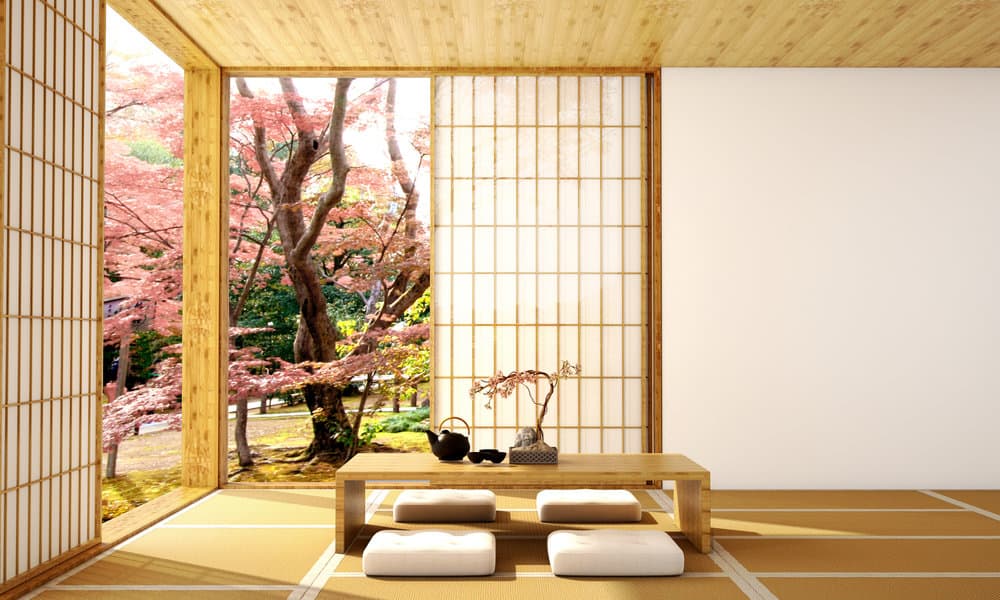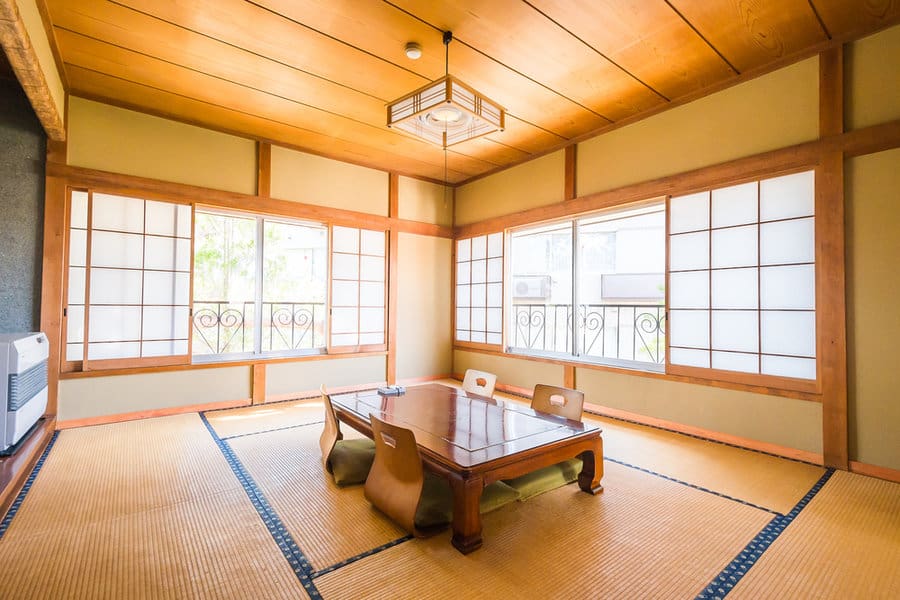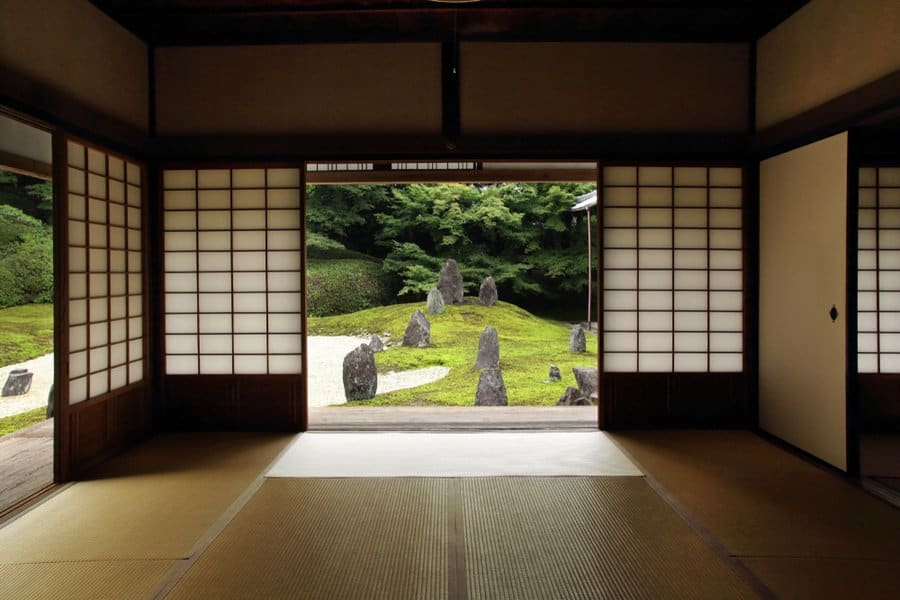 12. Straw Futon Seating
This unique and natural seating option not only provides a comfortable place to sit but also adds a touch of earthy elegance to your meditation room. The straw material gives a warm and cozy feel, transporting you to a peaceful sanctuary where you can find inner calm.
The straw futon seating can serve as both functional seating and exquisite decor, blending seamlessly with your meditation room's ambiance. The natural texture and rustic look that these futons give out create a harmonious connection with nature, enhancing the tranquil atmosphere of your sacred space. So, why not embrace the beauty of straw futon seating as an alternative to traditional options and create a meditation room that radiates serenity and simplicity?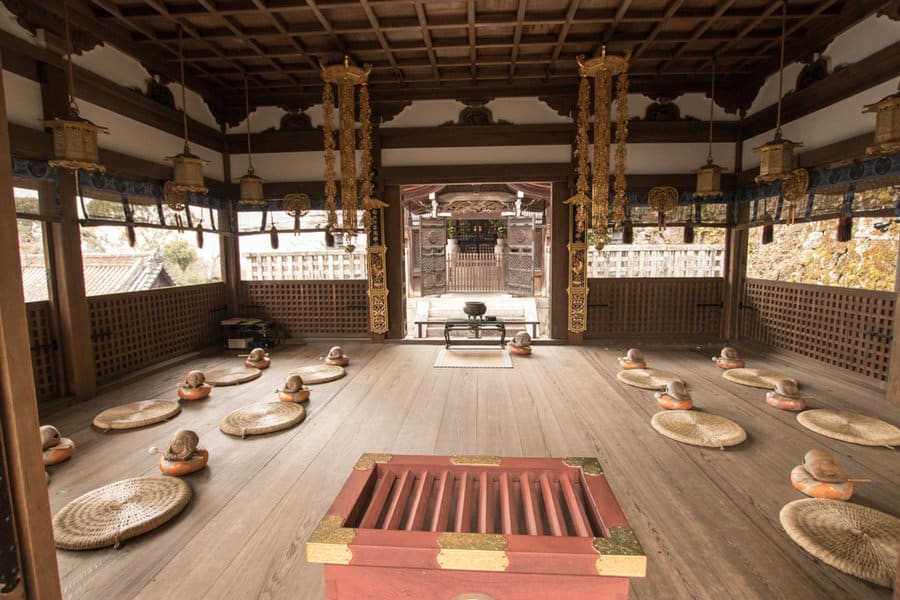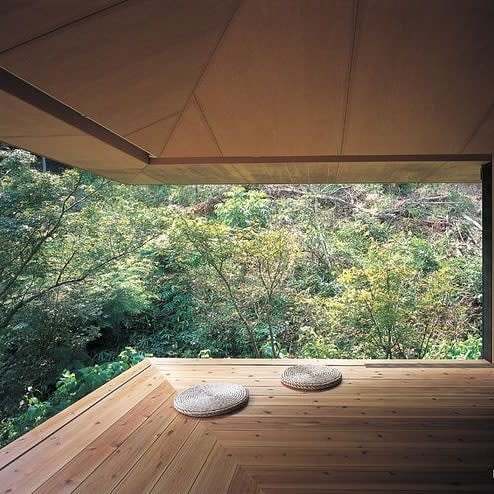 13. Balcony Meditation Area
Start by adding comfortable seating such as floor cushions or a cozy meditation chair, allowing you to sink into relaxation as you connect with your inner self. Enhance the ambiance by setting up a personal altar with meaningful objects, such as crystals, candles, or incense, to create a sacred space for your practice.
To ensure privacy and create a sense of enclosure, consider adding a privacy fence or hanging curtains that gently sway in the breeze, shielding you from the outside world. Incorporate elements of nature, such as potted plants or a small fountain, to bring a sense of calm and grounding. Opt for soft, muted colors and natural materials to create a soothing atmosphere.
Finally, make it a habit to keep your balcony meditation area clean and clutter-free, allowing for a clear and peaceful mind. With these tips and ideas, your balcony can become your personal sanctuary for mindfulness and self-discovery.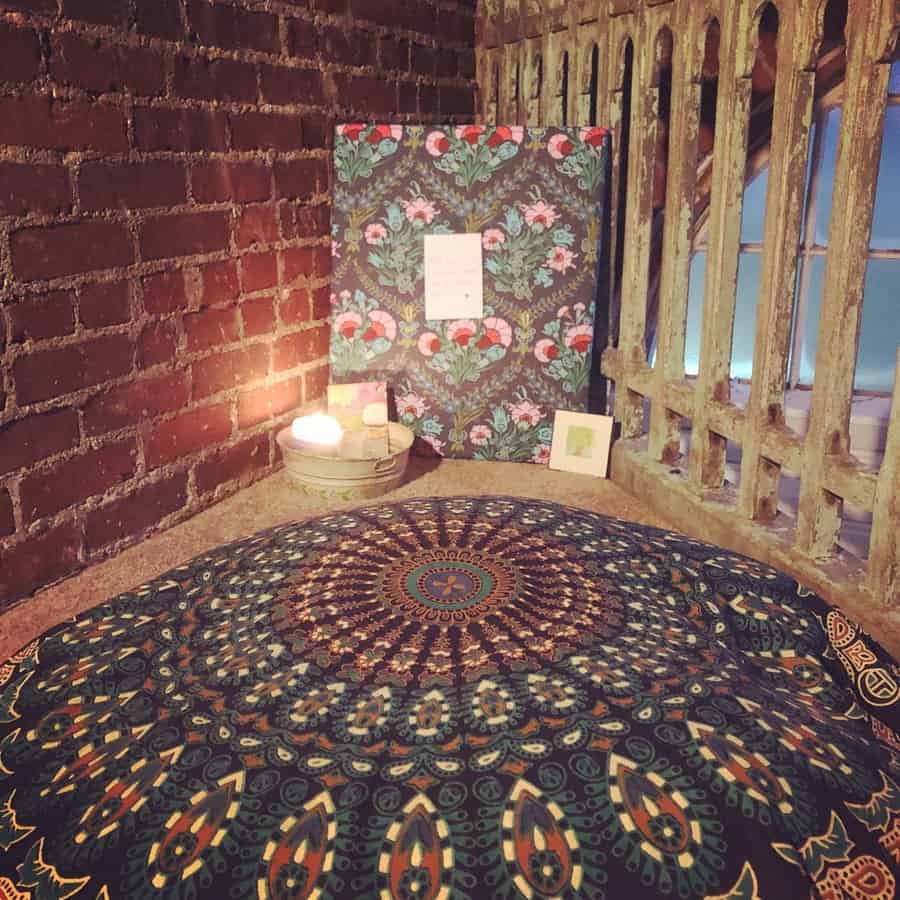 14. Use Yoga Mats
Utilizing yoga mats as a foundation for your practice allows for a versatile and comfortable space that caters to both yoga and meditation. Consider using a variety of yoga mat designs, from earthy tones to vibrant patterns, to infuse your space with a touch of personal style.
You can roll out multiple mats to create a larger practice area or stack them neatly in a corner for easy access. Enhance the ambiance with soft lighting, soothing music, and elements of nature like plants or a small indoor fountain.
Let your meditation room become a sanctuary where you can embark on a journey of self-discovery and mindfulness, all while enjoying the comfort and versatility of your yoga mats.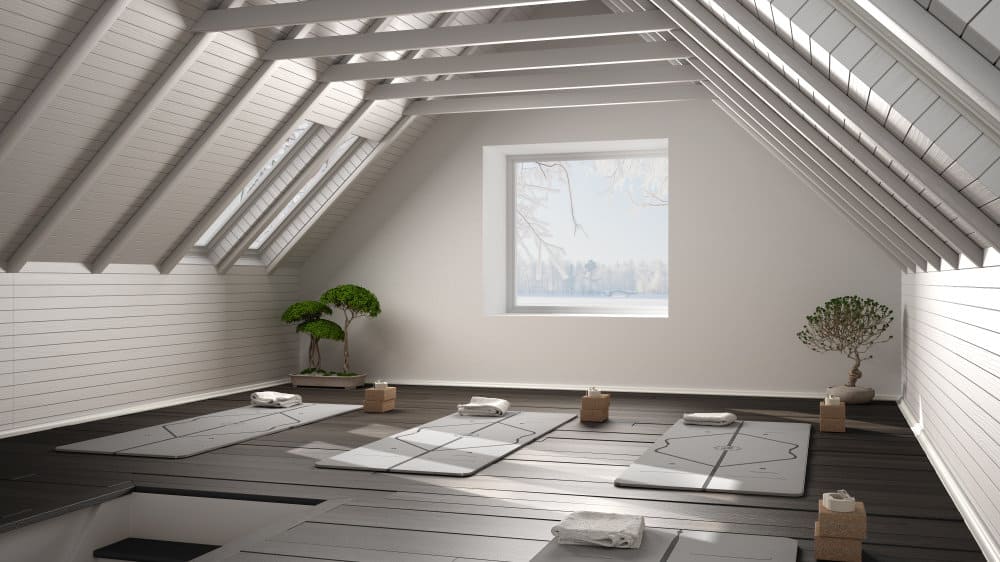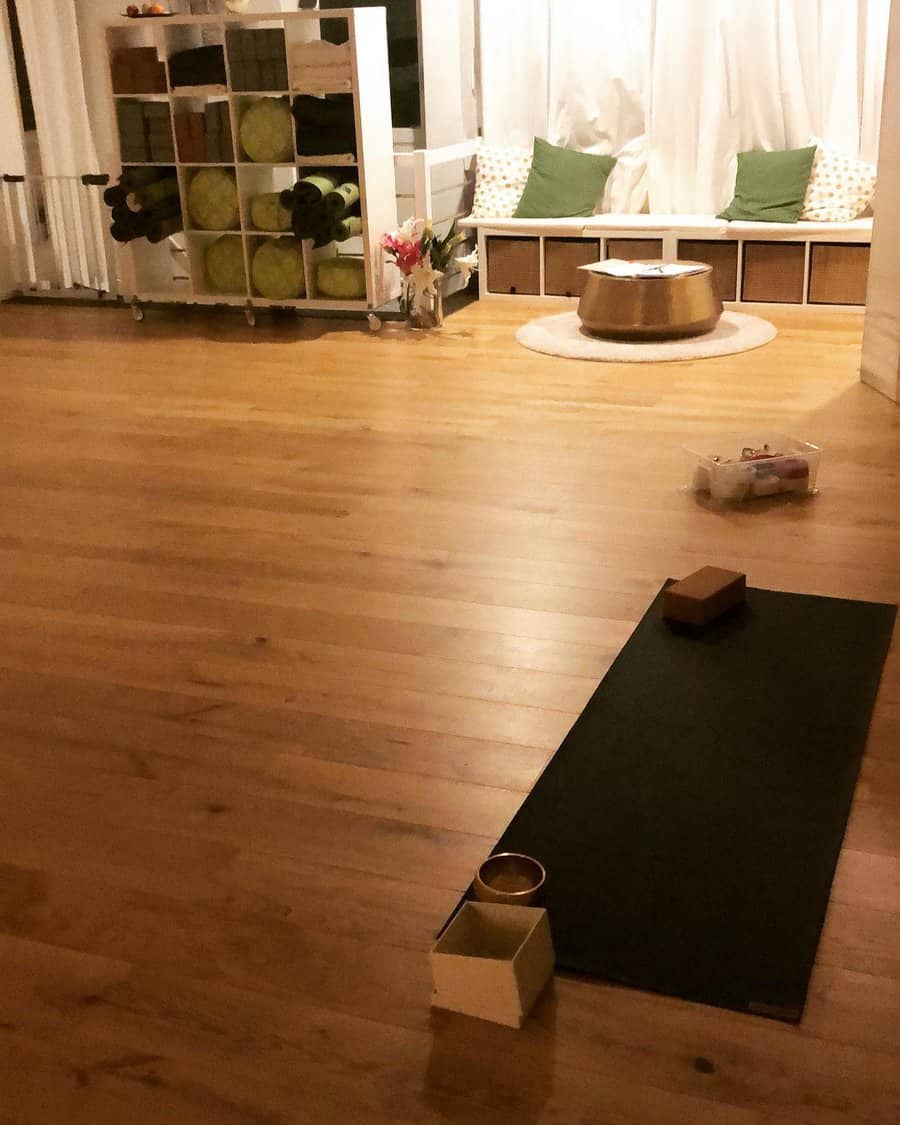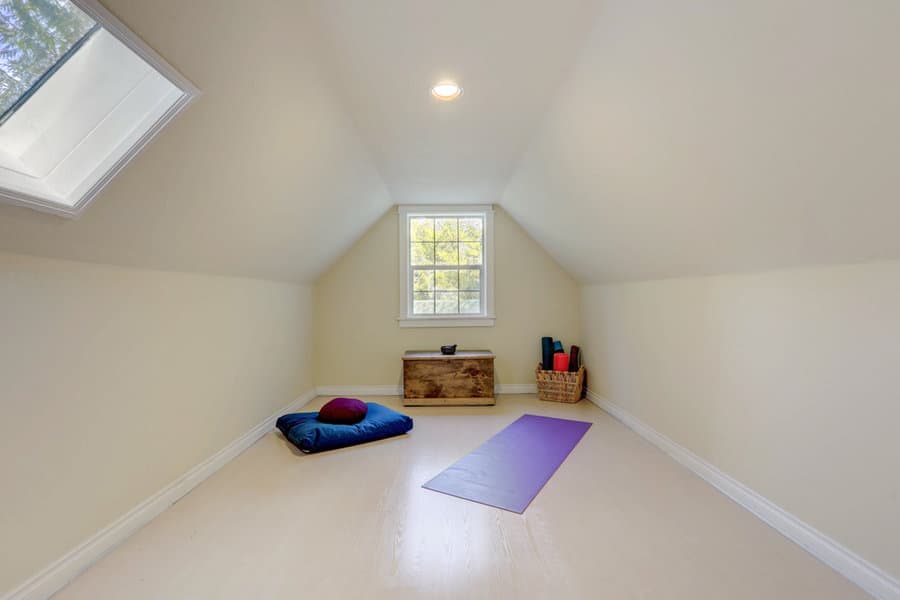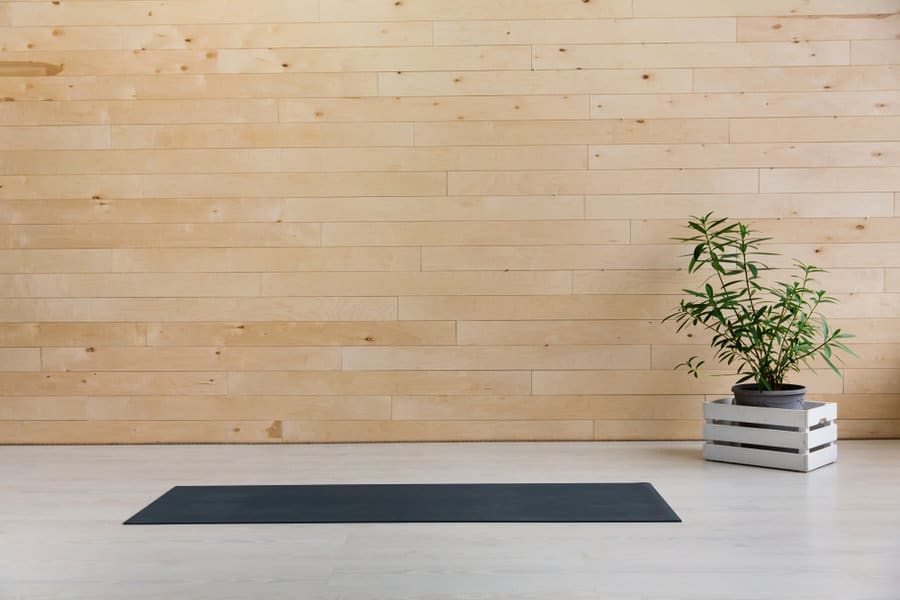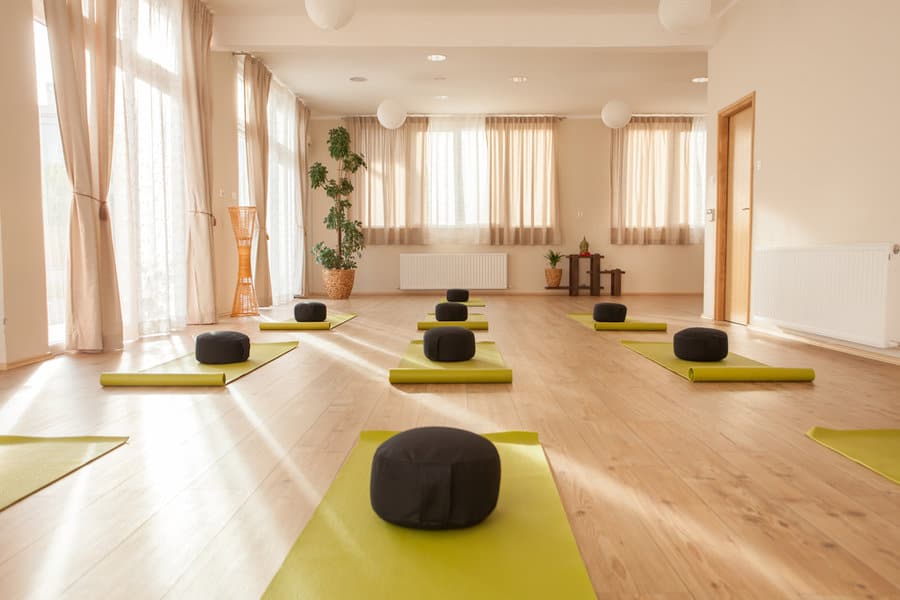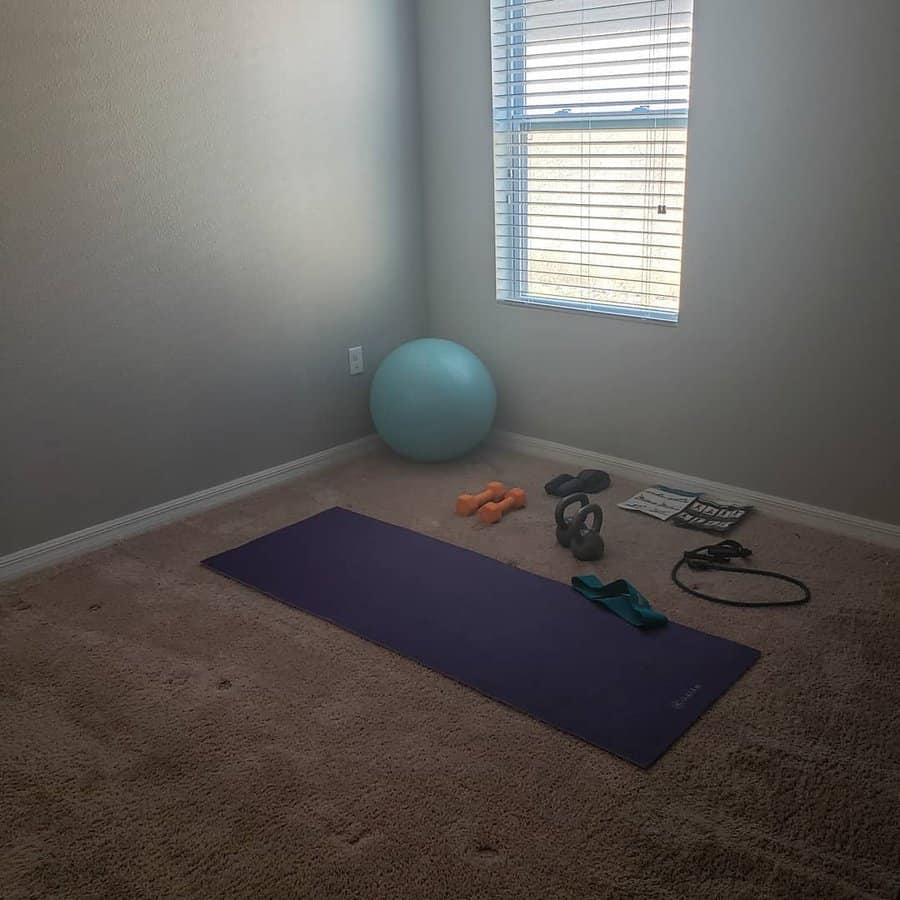 15. Cushioned Futon Seating
Inspired by the tranquility of Japanese design, a cushioned futon provides both comfort and style to your meditation room. Its low profile and soft padding offer a cozy and supportive space where you can sit for hours, allowing you to fully immerse yourself in your practice.
Choose a futon in neutral tones or earthy hues to create a calming atmosphere, and adorn it with plush cushions and blankets for added comfort. Whether you prefer to sit cross-legged or in a kneeling position, a cushioned futon provides the ideal surface for you to find your center and connect with your inner self.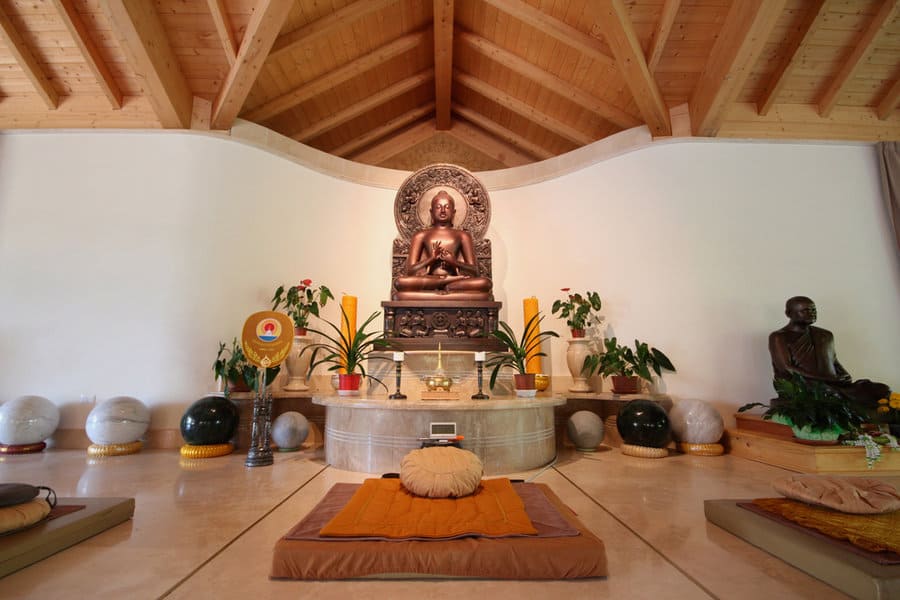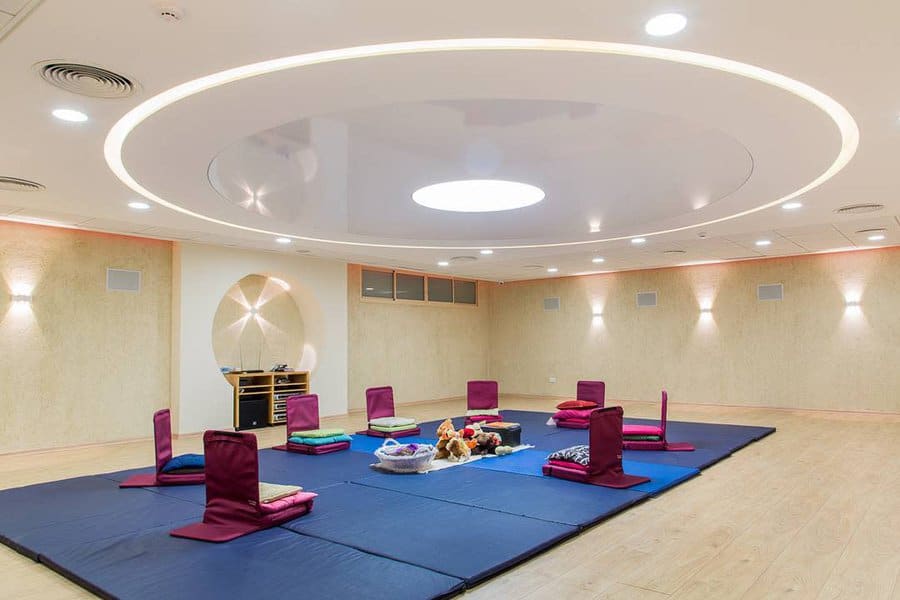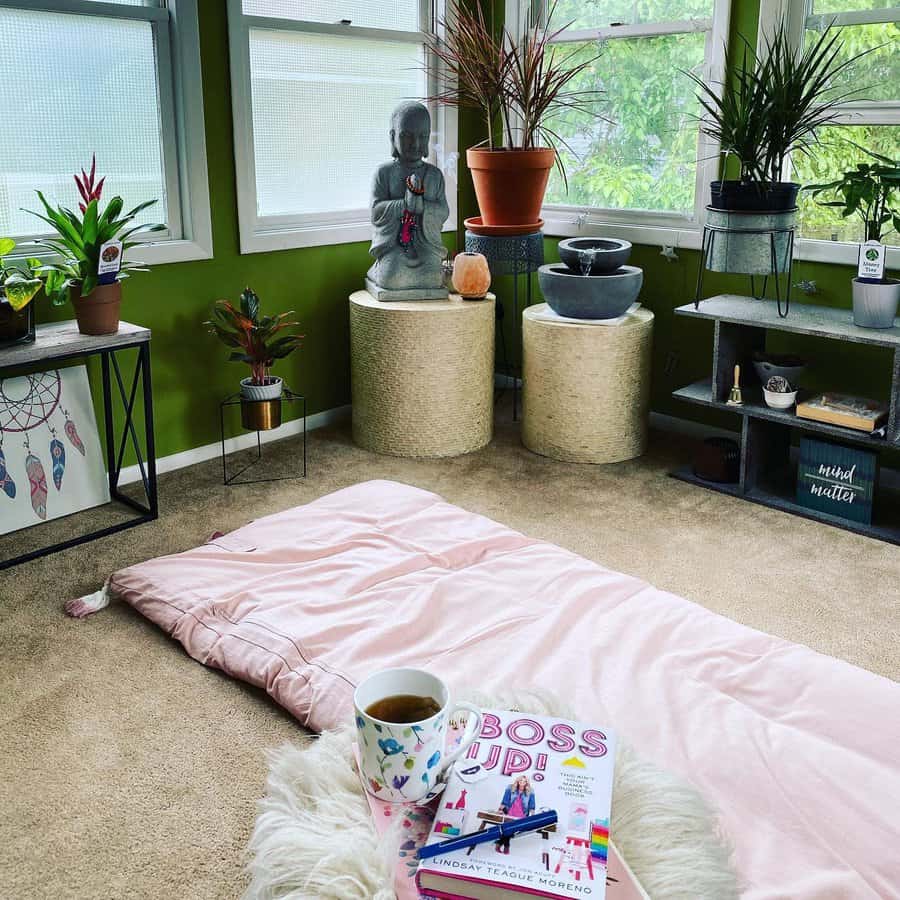 16. Tatami Mat Seating
Tatami mats, traditionally used in Japanese culture, provide a comfortable and organic surface for meditation practice. These natural, woven mats not only add a touch of authenticity but also infuse the space with a sense of calm and tranquility.
Arrange the tatami mats in a dedicated corner of your room, surrounded by gentle lighting and soft hues to create a soothing ambiance. Complement the seating area with plush cushions and bolsters for added comfort during extended meditation sessions.
Enhance the atmosphere with minimalistic decors such as incense holders, soothing aromatherapy, and tranquil artwork that inspire serenity and introspection. Whether you are a seasoned meditator or just starting your journey, a meditation room with tatami mat seating provides a sacred space for mindfulness and self-reflection.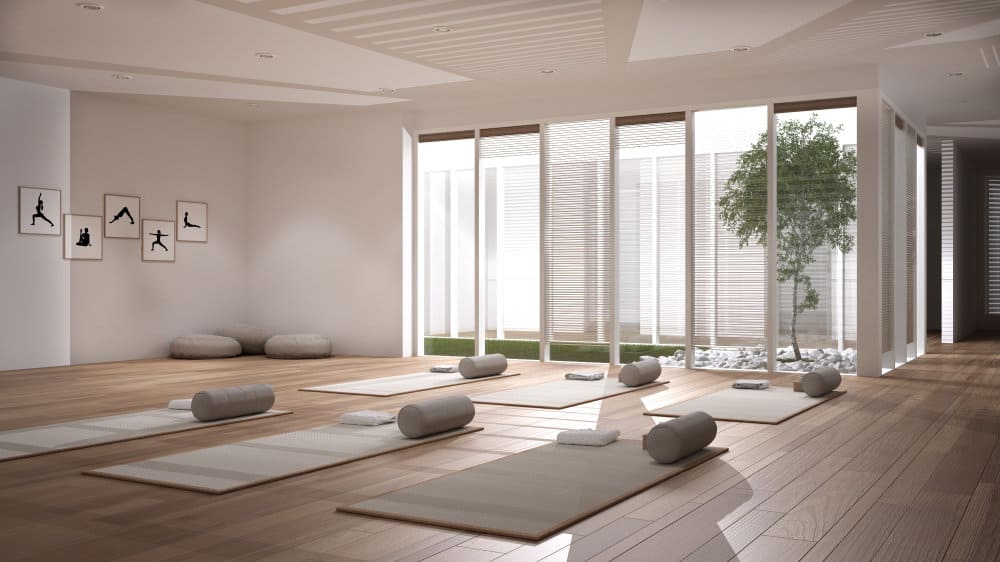 17. Set Up An Altar
Create a sacred space for your meditation practice with a beautifully curated altar that reflects your beliefs and spirituality. Setting up an altar is a personal and meaningful way to enhance your meditation room. Regardless of your religion or belief system, there are countless ways to customize your altar to align with your practices. For those who follow a specific religion, consider incorporating symbols, statues, or scriptures that hold significance to you.
If you resonate with Wicca or other pagan traditions, you can adorn your altar with crystals, candles, herbs, and natural elements to honor the Earth and the cycles of nature. Remember, the key is to infuse your altar with objects that inspire and uplift you, creating a space that feels serene and sacred.
So let your creativity flow and curate an altar that truly embodies your spirituality and serves as a focal point for deepening your meditation practice.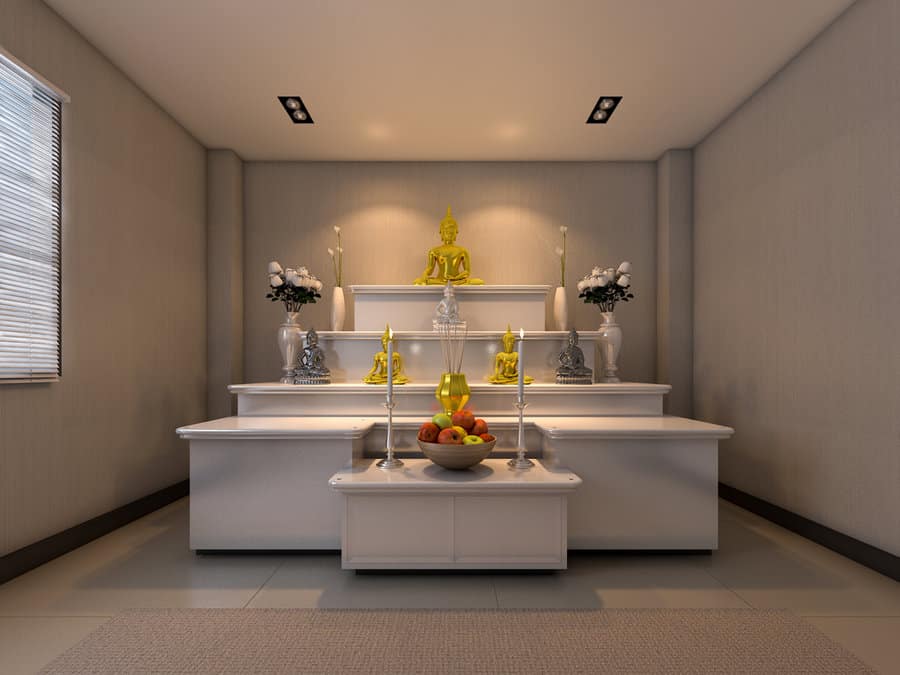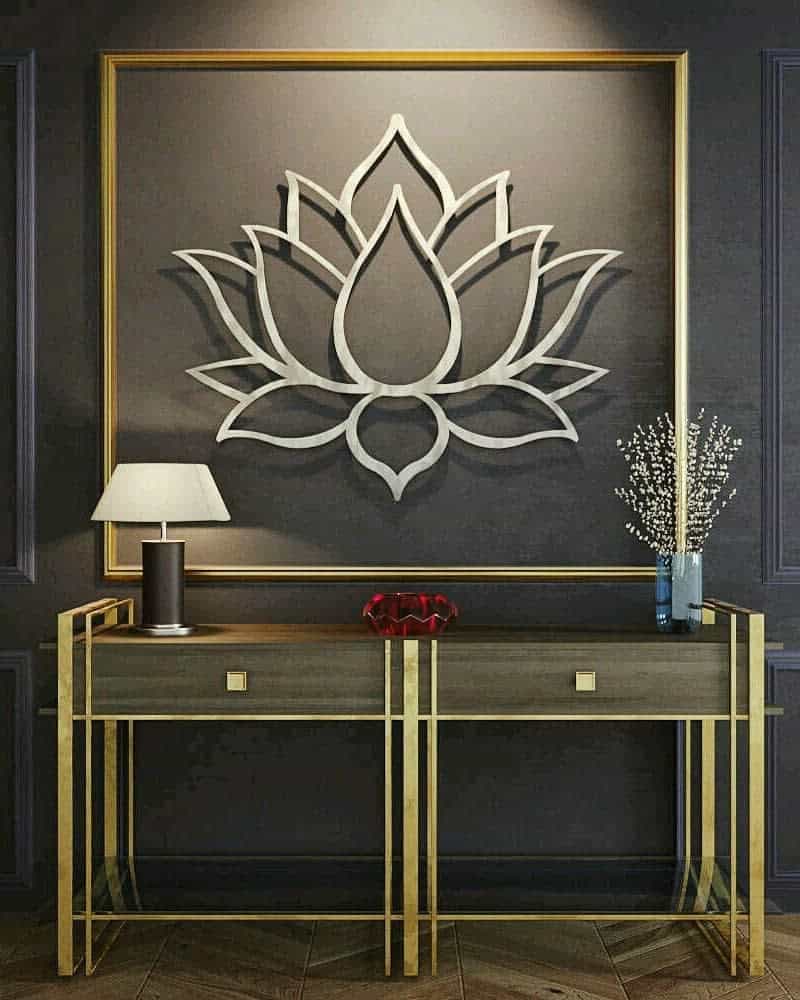 18. Install A Skylight Window
Create a serene and heavenly meditation space in your attic by adding a skylight window. The soft, natural light that streams through the skylight creates a soothing ambiance, instantly elevating the energy of the room. As you settle into your meditation practice, the gentle rays of sunlight cascade down, enveloping you in a warm and peaceful glow.
The skylight not only fills the space with an ethereal radiance but also connects you to the ever-changing beauty of the sky above. Imagine lying on your mat, gazing up at the clouds drifting by, or observing the stars sparkling in the night sky during evening meditation. The skylight becomes a portal to tranquility and a constant reminder of the vastness of the universe.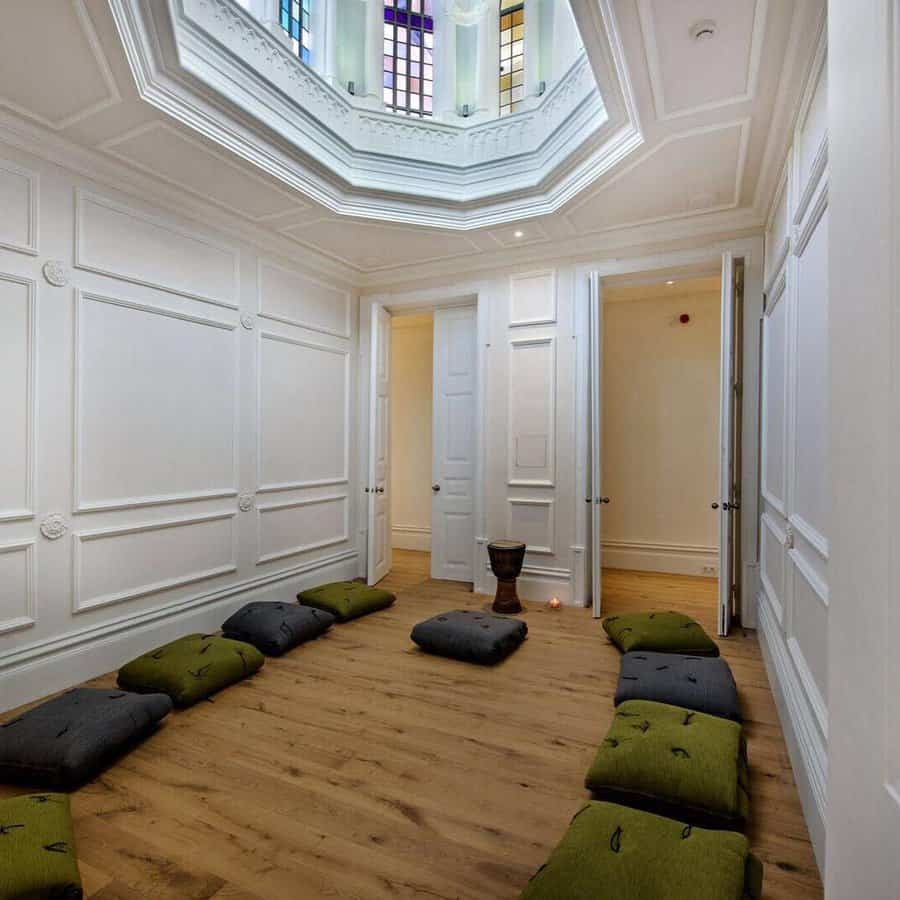 19. Use A Neutral Color Palette
Opting for a light and neutral color scheme in your meditation room can promote a sense of tranquility and inner peace. Neutrals such as soft whites, soothing grays, and warm beiges provide a calming backdrop that allows your mind to relax and focus during meditation.
These muted tones help to create a space free from distractions and visual clutter, allowing you to fully immerse yourself in the present moment. For those seeking a touch of gentle vibrancy, pastel shades can offer an alternative, infusing the room with subtle and soothing energy. Soothing and harmonious, a neutral color palette sets the stage for a truly transformative meditation experience.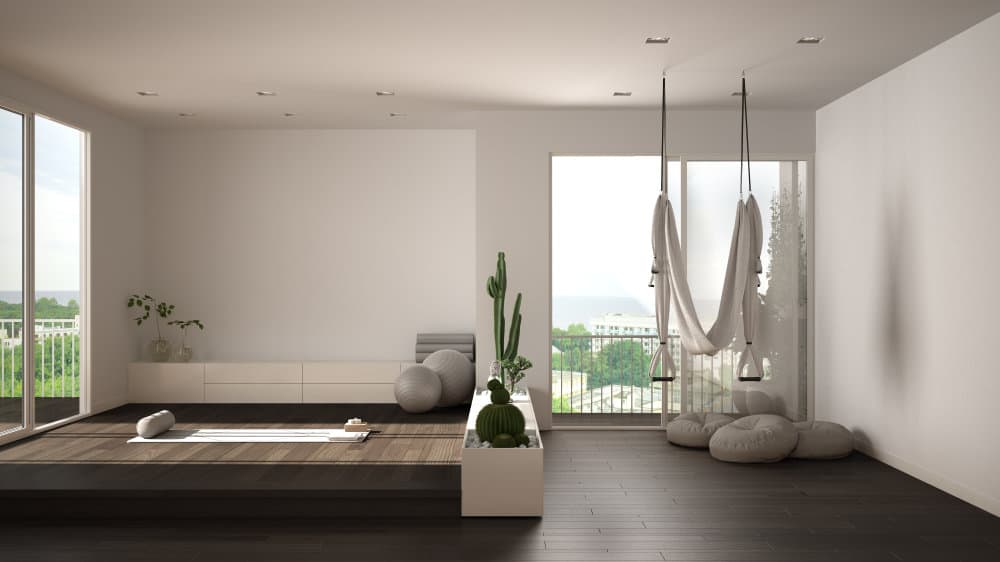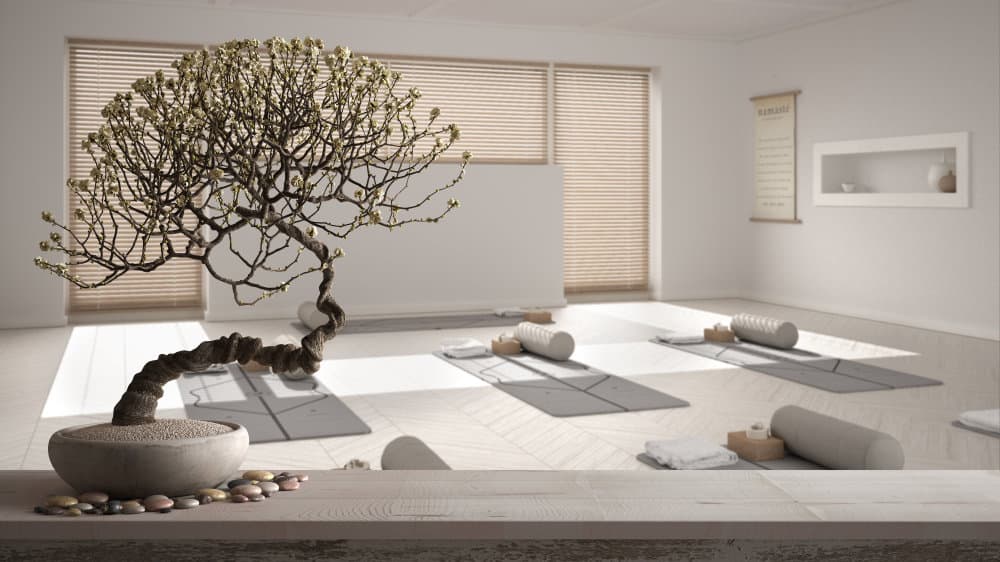 20. Turn Into A Sunroom
Transform your space into a serene sanctuary with the perfect meditation room idea: turning it into a sunroom. Embrace the beauty of natural light as it floods into your meditation space, creating a warm and inviting ambiance. By incorporating large windows and skylights, you can bathe the room in sunlight, allowing its gentle rays to energize and uplift your spirits during meditation.
Enhance the tranquil atmosphere with potted plants, bringing a touch of nature indoors and adding a sense of serenity to your sunroom. Choose comfortable cushions and mats to create a cozy seating area where you can comfortably practice your meditation. With a sunroom as your meditation retreat, you'll find solace in the gentle embrace of sunlight and create the perfect space for finding inner peace and harmony.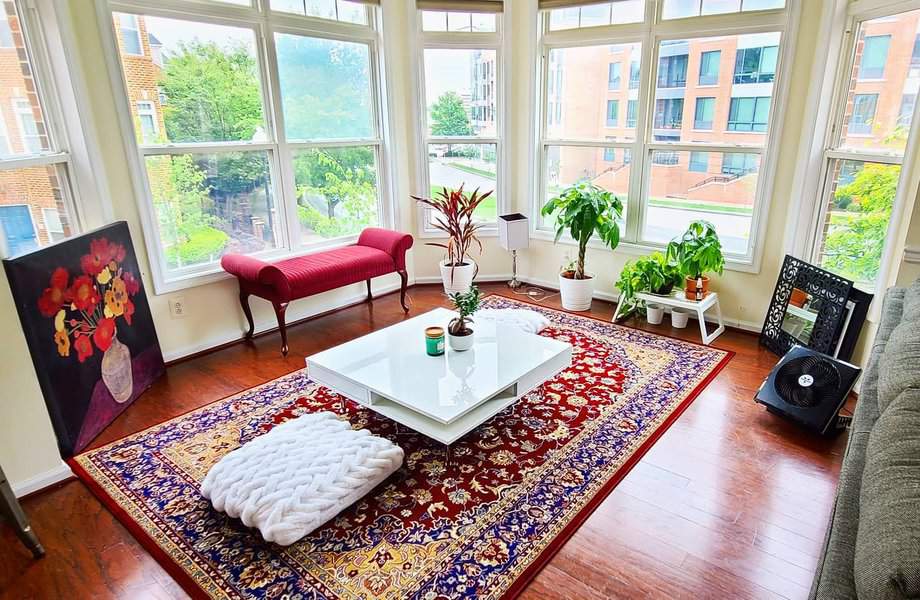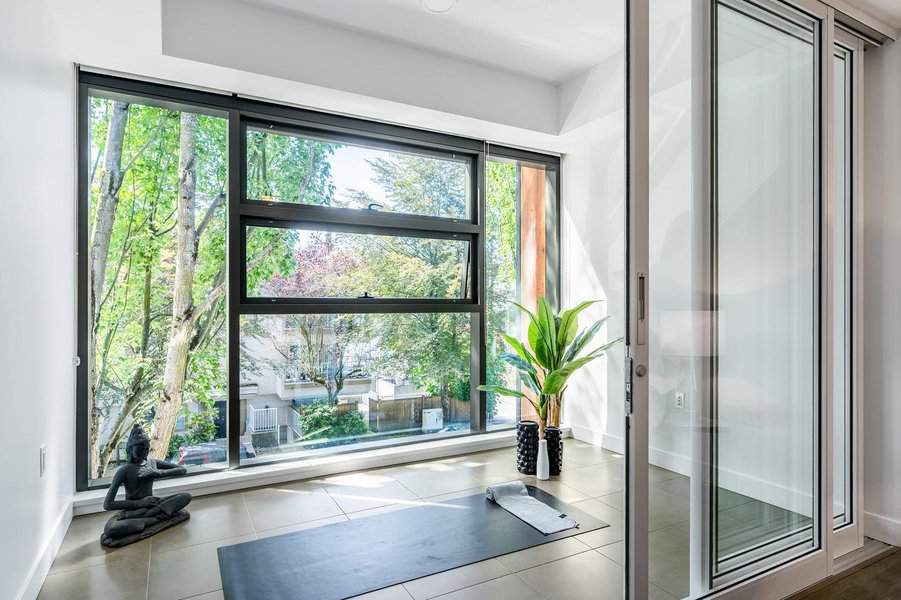 21. Wall Tapestry
Create a serene and inviting space for your meditation practice with these inspiring meditation room ideas. One way to instantly transform the atmosphere is to add a beautiful wall tapestry. Choose a design that resonates with you, whether a calming nature scene, a vibrant mandala, or a spiritual symbol. The tapestry serves as a focal point and adds texture and warmth to the room.
To further set the mood, consider incorporating soft lightings, such as string lights or candles, to create a soothing ambiance. Natural elements like plants and crystals can enhance the overall sense of tranquility. Incorporate comfortable cushions or a meditation cushion to support your posture during practice.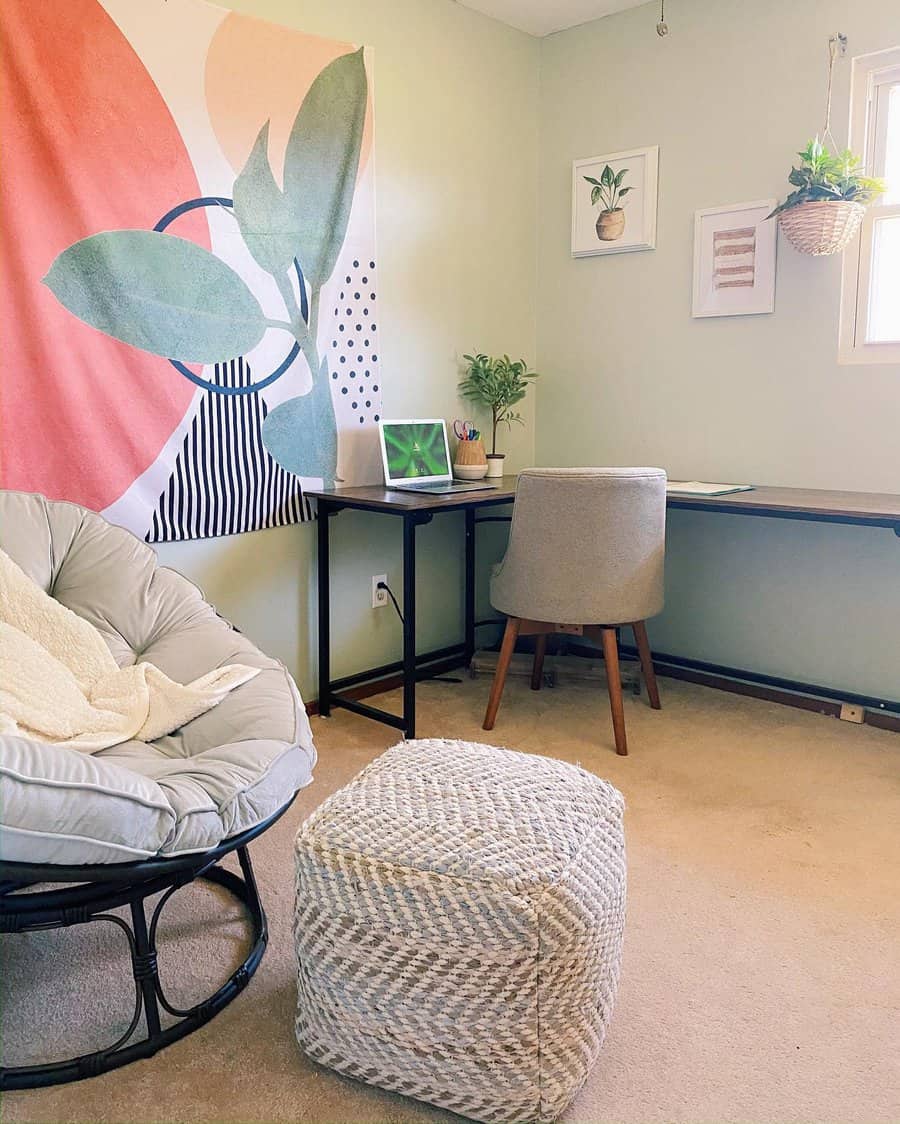 22. Ambient Lighting
Create a serene sanctuary for your meditation practice with these inspiring meditation room ideas. Ambient lighting plays a crucial role in setting the right mood and atmosphere. Consider incorporating soft and warm string lights that gently illuminate the space, creating a soothing and peaceful ambiance. Complement them with strategically placed floor or table lamps emitting soft, diffused glow.
Experiment with different types of lighting to find what resonates with you, whether it's candlelight, Himalayan salt lamps, or LED light panels that can change colors to suit your mood. Remember, the key is to create a calming environment that promotes relaxation and focus. So dim the lights, let the gentle glow envelop you, and immerse yourself in the tranquil haven of your meditation room.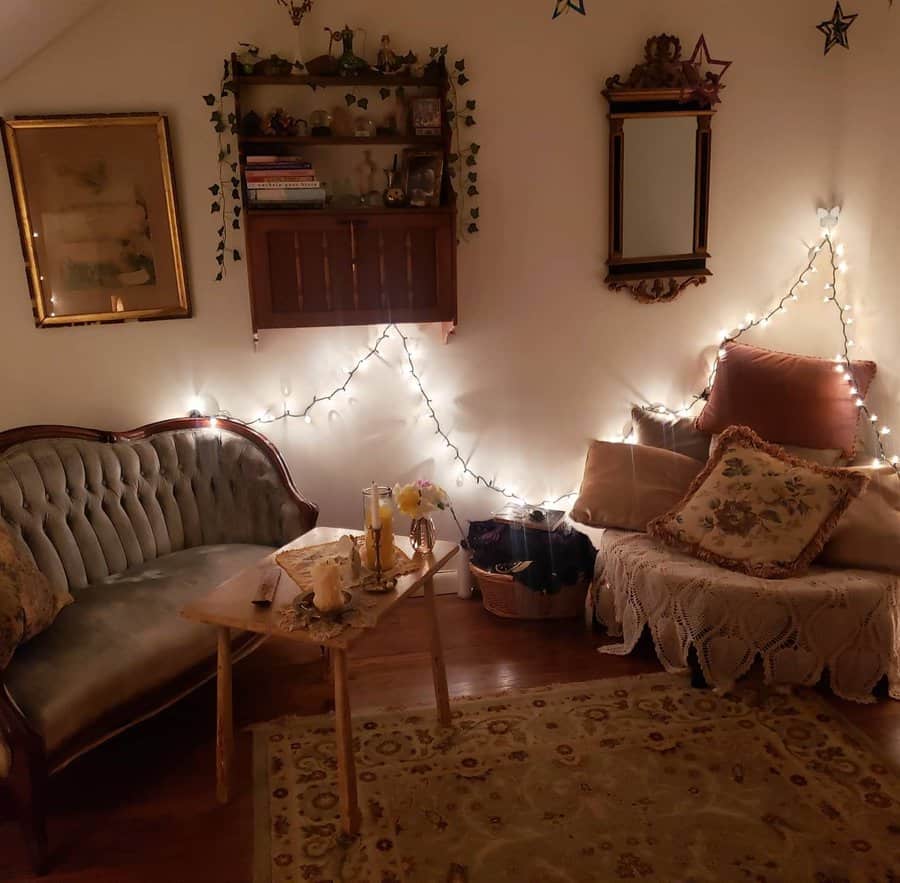 Meditation Room FAQs
How do I choose a location for my meditation room?
Create your meditation room in an area of your home that makes you feel good. Ideally, your meditation space should be outside the main foot traffic path through your house. A quiet, uncluttered room saturated in natural light will enhance your mood and meditation experience.
What should I have in my meditation room?
Certain items can help you create a serene environment, but the first rule of creating a meditation room is to keep it free from clutter. Consider which of these elements will add to your meditative experience:
Beads, stones, and crystals.

A meditation music source and speakers.

Bells and chimes.

Peaceful artwork.

Soft floor pillows and/or a yoga mat.

Candles and/or incense.

Green plants.

A fan and/or a source of fresh air.