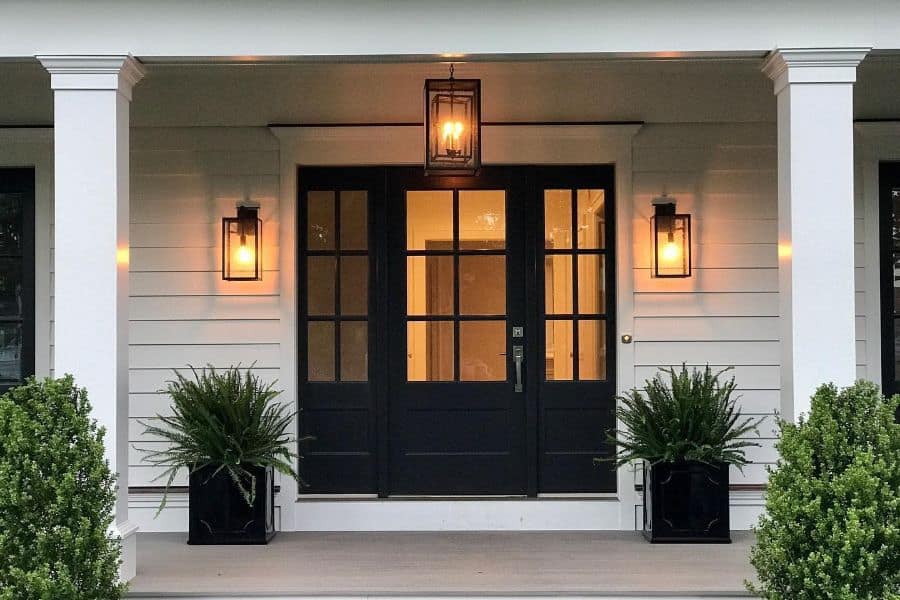 The Top 72 Front Porch Decorating Ideas
"I return to my front porch to find a place where the air smells sweeter and the sun feels warmer than at any other bend in life's long road." – John Sarris
A home with a beautiful front porch always feels more welcoming than a home without one. Your front porch is a place to relax, to drink in the sunshine and fresh air, to wave at your neighbors, and converse with friends. It is also the first impression people have of your home and the people who live inside.
Creating a welcoming front porch is an art that all can master. Front porch decorating ideas can be simple or complex, but they should reflect your personality. Our front porch décor ideas are sure to draw you in as you gain inspiration for making your front porch your home's first haven.
1. Christmas
Porch decorating during the holidays is enjoyable to you and your neighbors—especially if your porch is relatively plain the rest of the year. Christmas décor options are nearly limitless and can be as sophisticated or whimsical as you desire.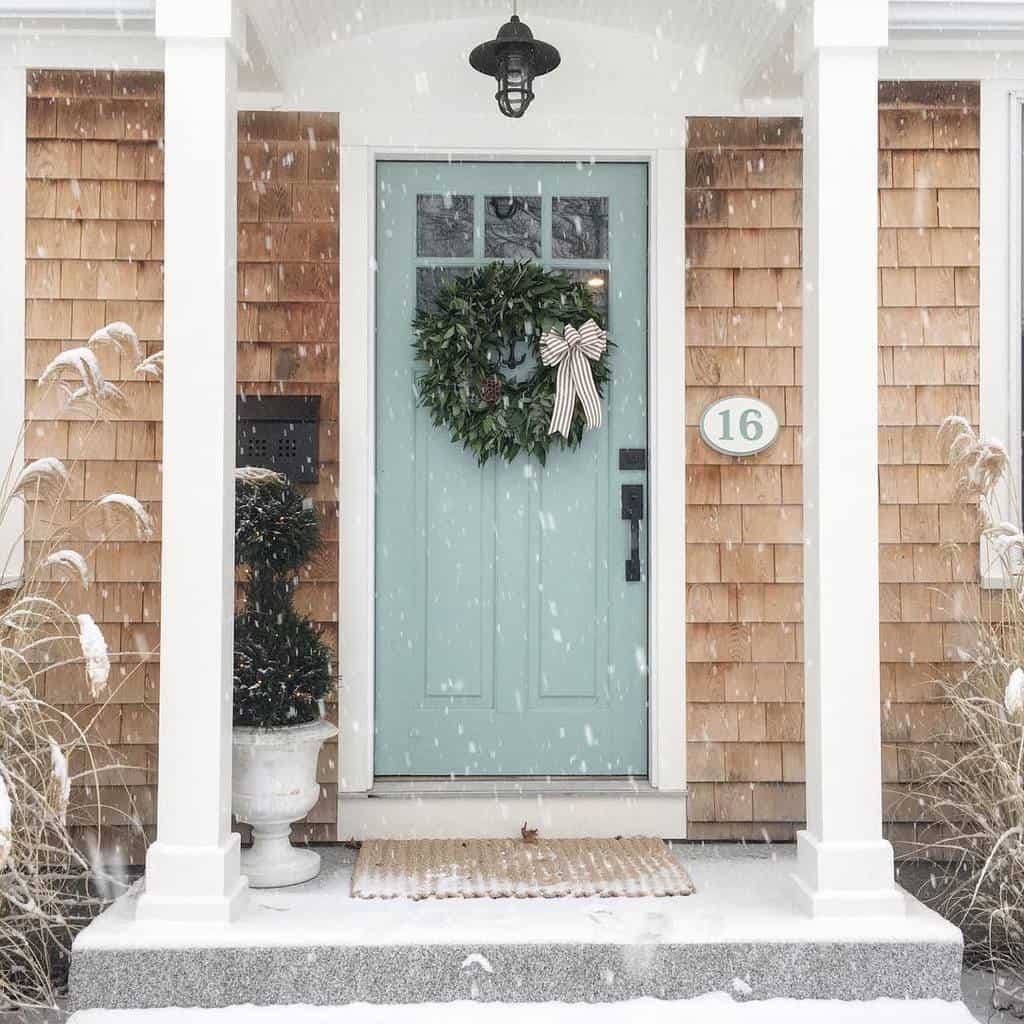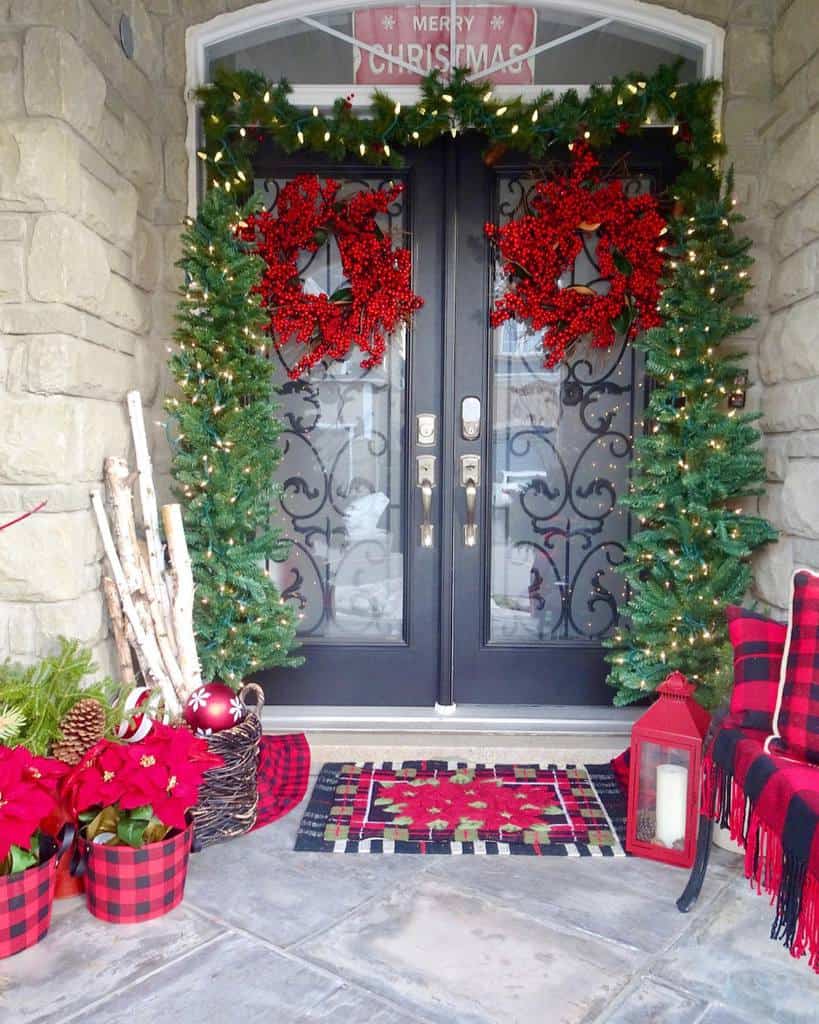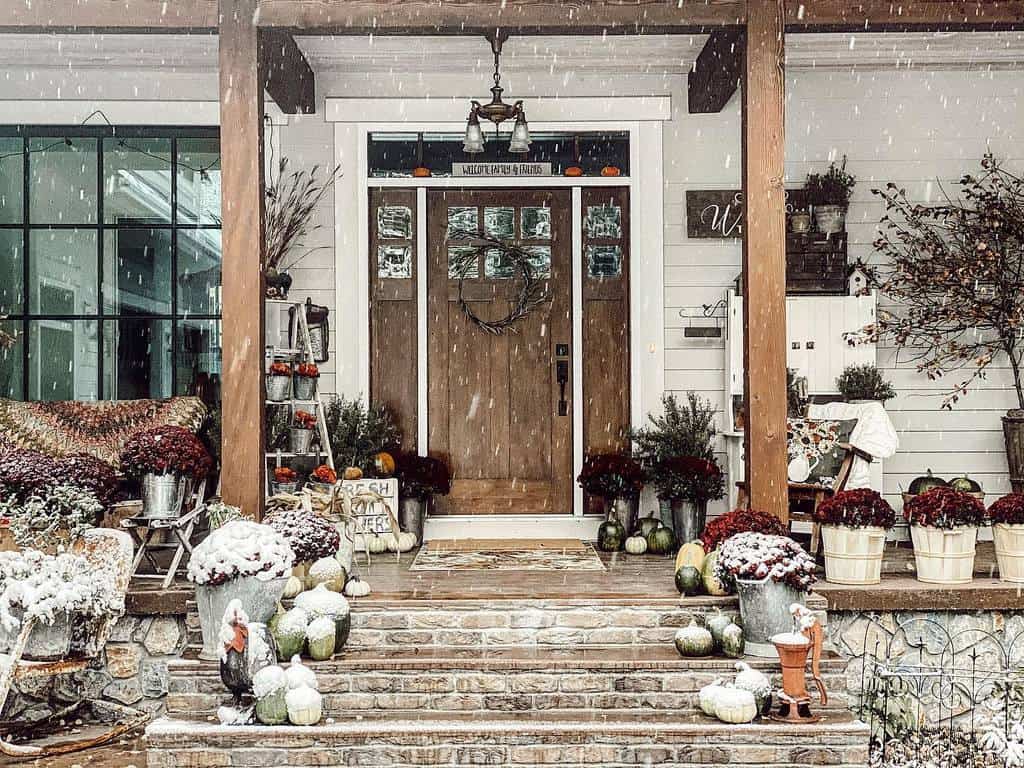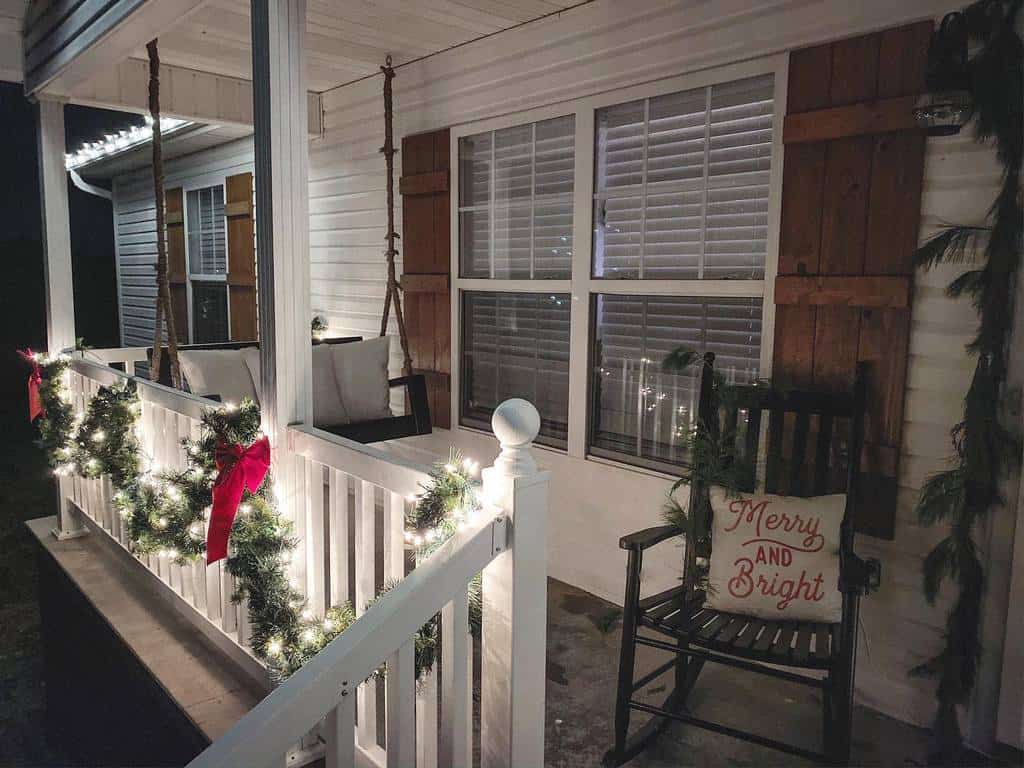 A classic porch decorating idea involves tucking miniature Christmas trees into urns and positioning one on each side of your front door. Add a coordinating front door wreath and a porch railing garland adorned with ribbon and string lights.
2. DIY
You don't have to be a professional DIYer to create porch decoration touches made by your own hands. Whether you use your eye for floral design to create a new front door wreath, or you distress-finish an antique side table, DIY touches are what makes a porch feel like home.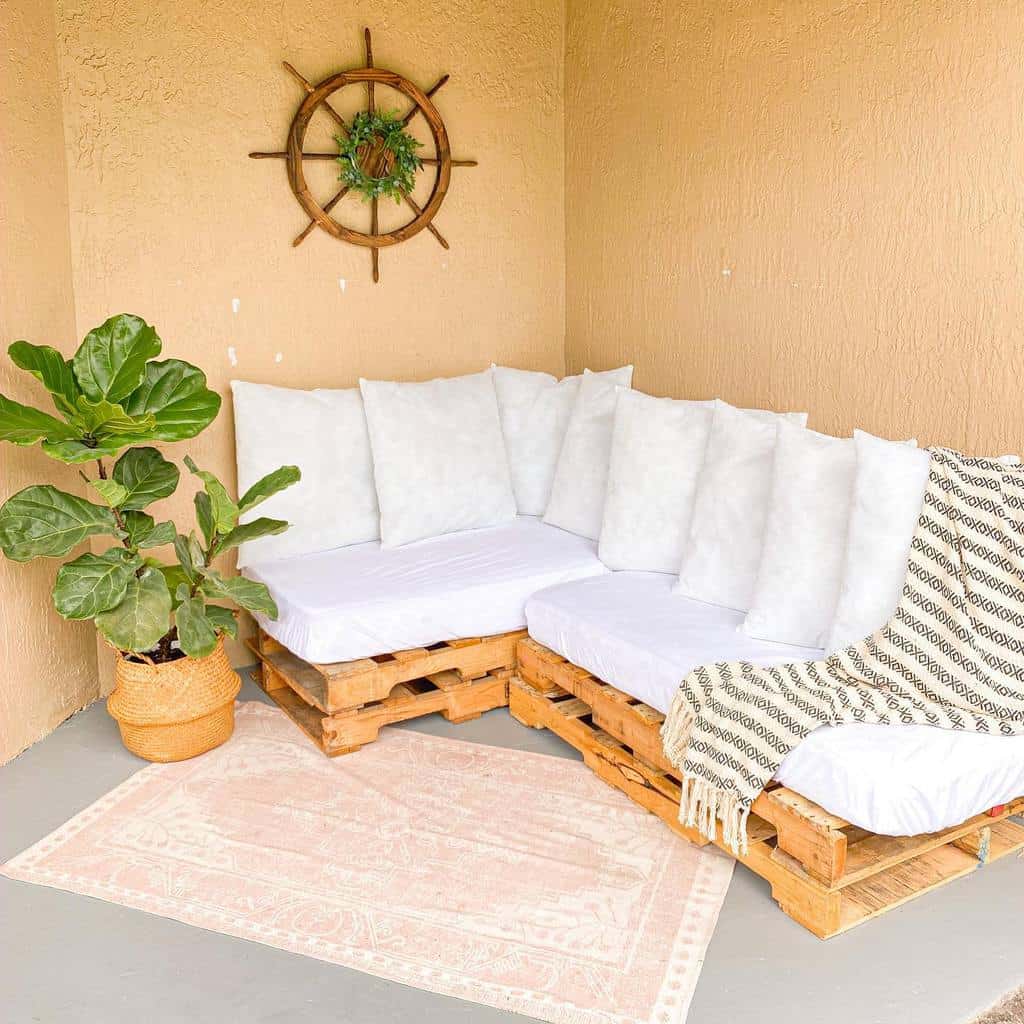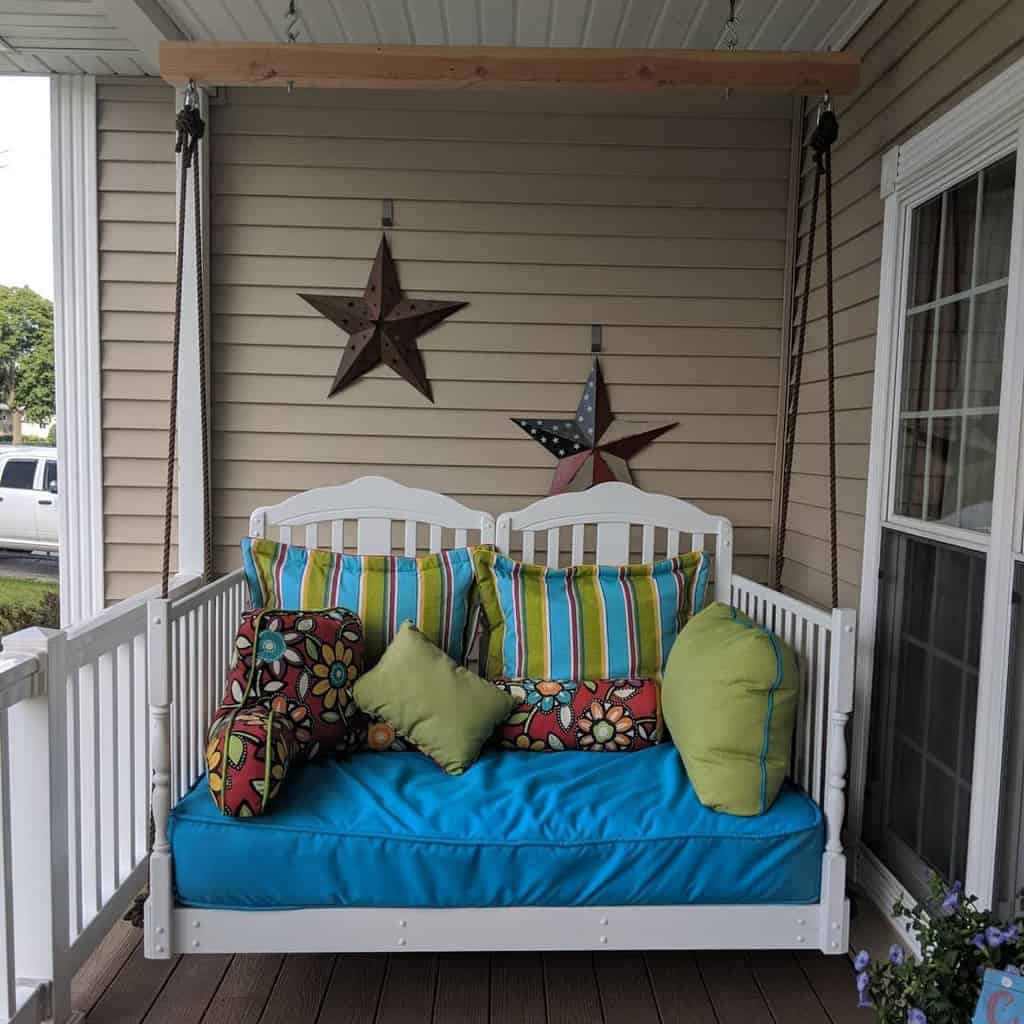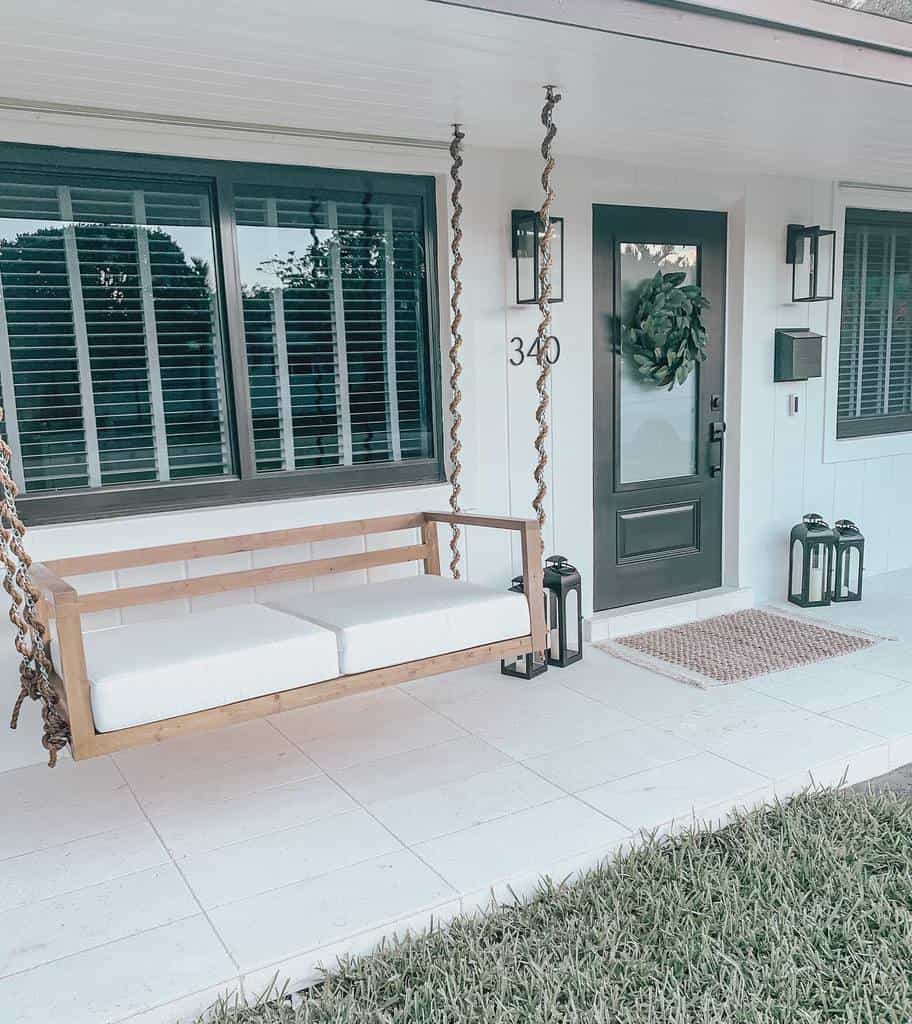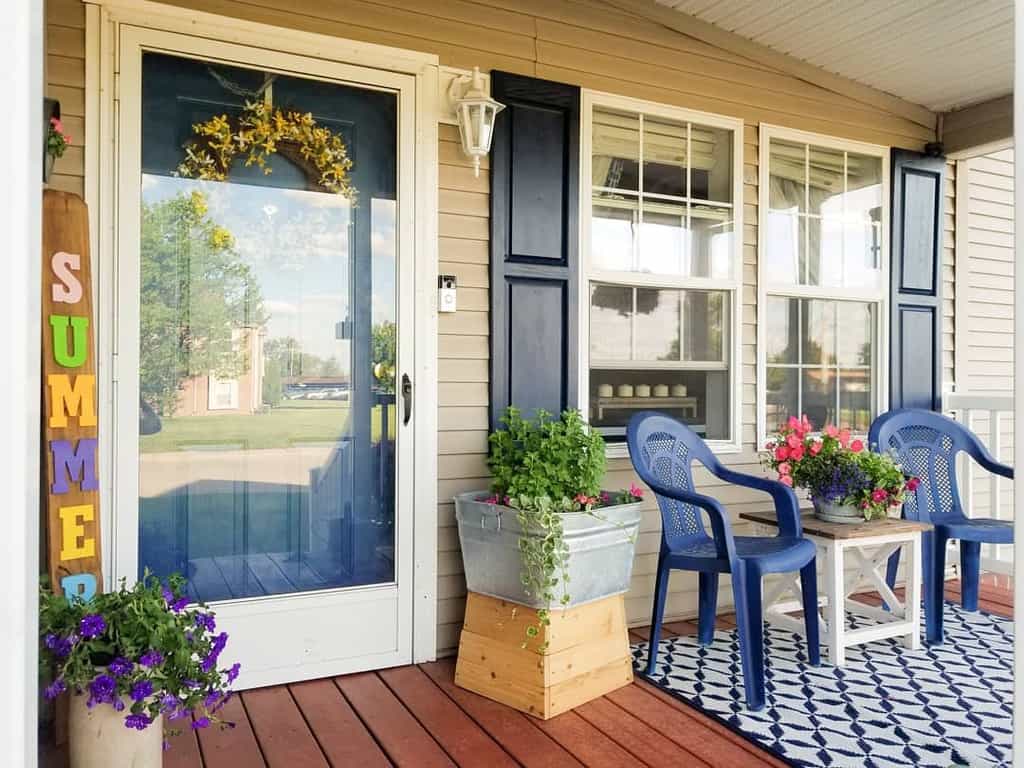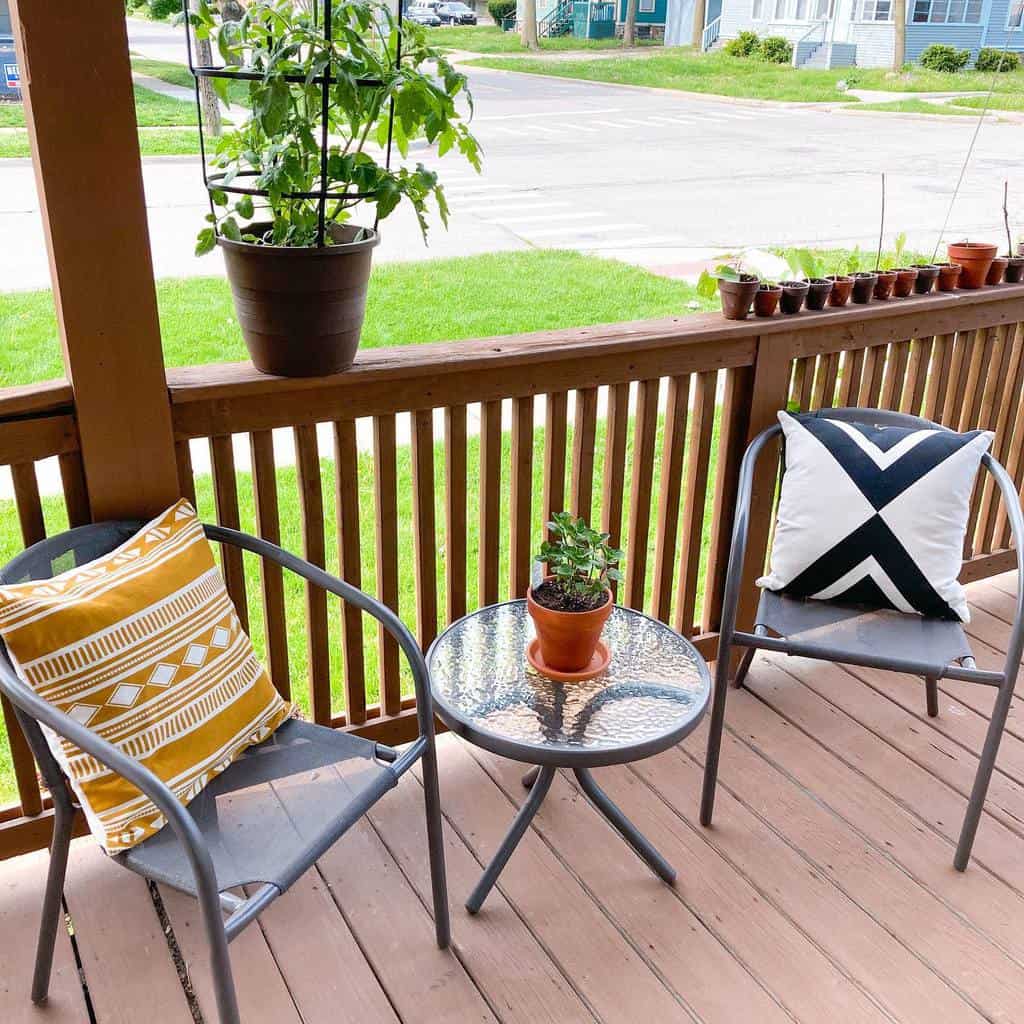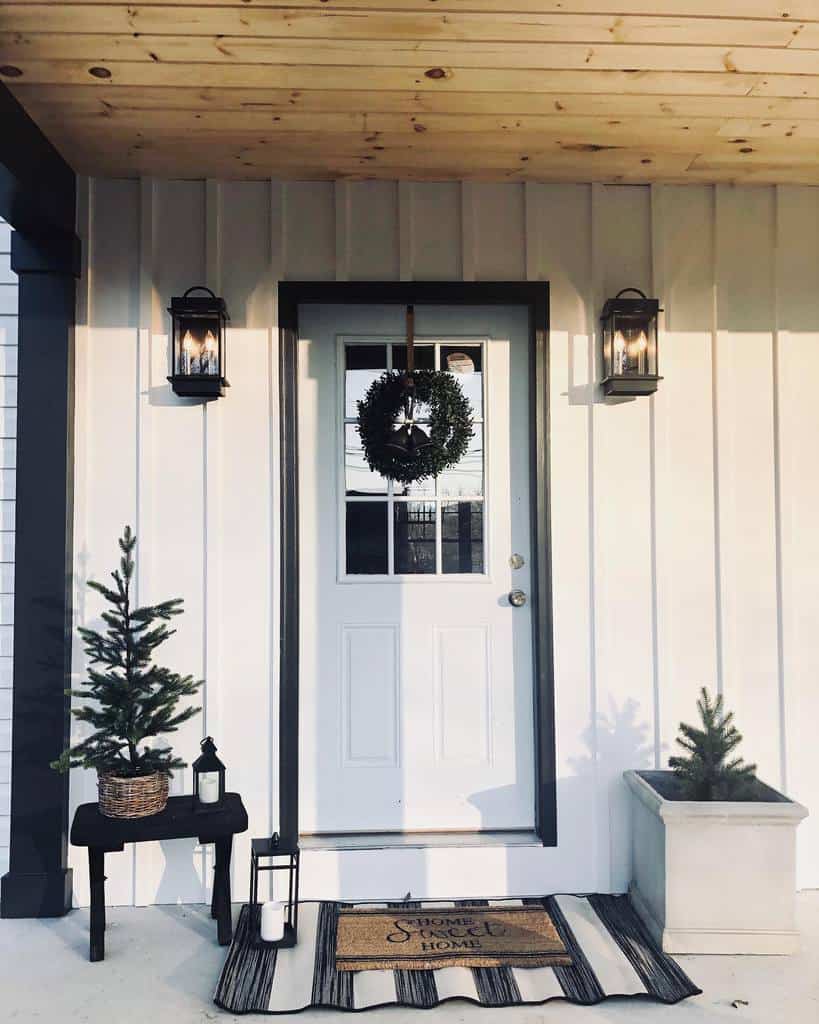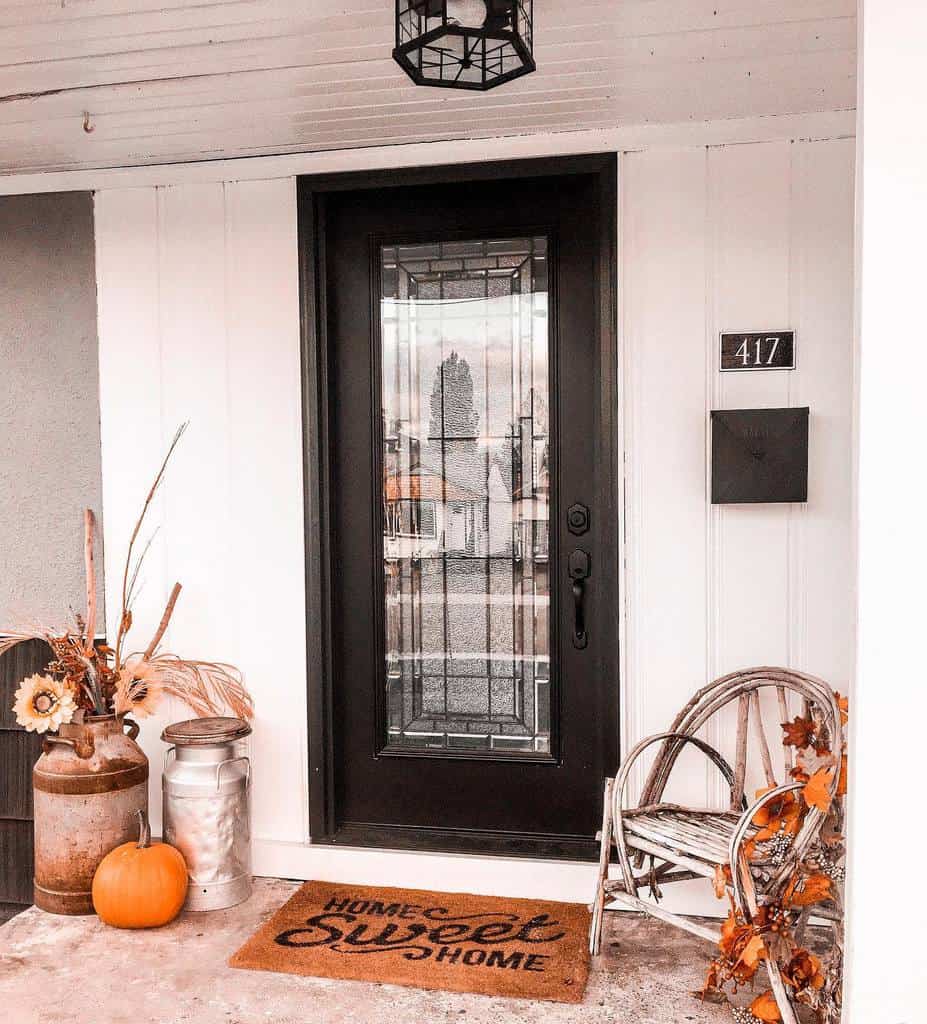 Just as artwork spruces up your interior rooms, it enhances your front porch. There's a particular charm in flea market finds when they're displayed as porch décor. Vintage signs, wood plaques, and wall sconces can all be painted and transformed into something wonderful to decorate your porch walls. Wind chimes—new or vintage—add a splash of color and a joyful sound when the wind stirs.
3. Farmhouse
Farmhouse décor ideas revolve around a white background paired with darker toned natural elements, including metal, wood, and stone. A galvanized tub can serve as a planter for potted plants, and smaller galvanized buckets make great flower pots. A lantern or two also adds that farmhouse feeling and is a welcoming source of light in the evenings. Candle lantern sconces are a nice addition to a farmhouse porch.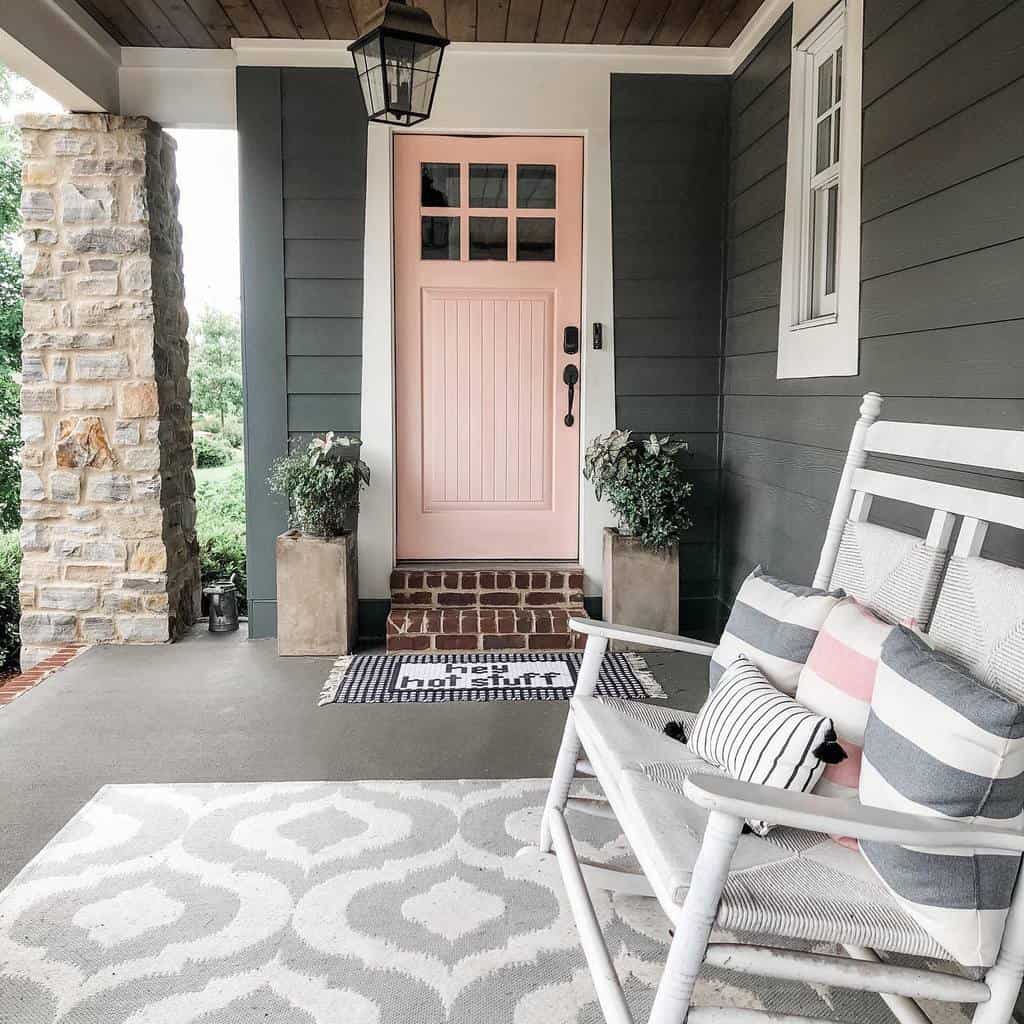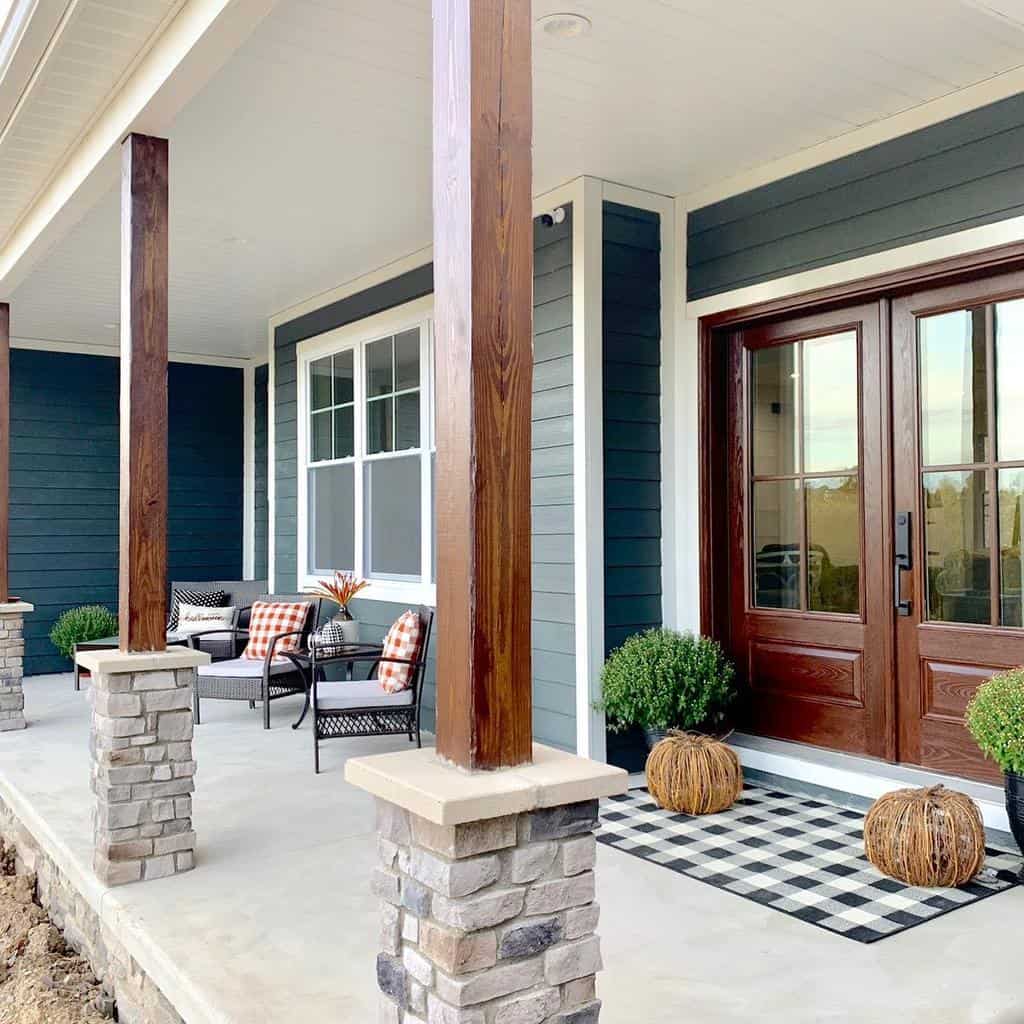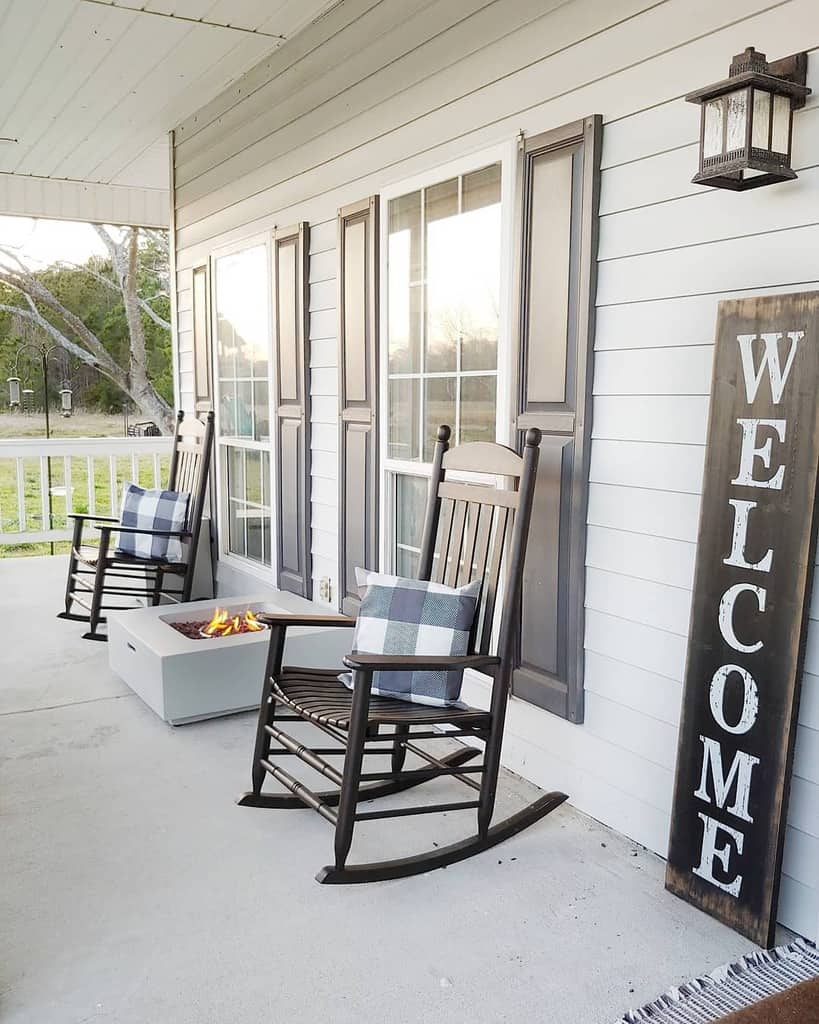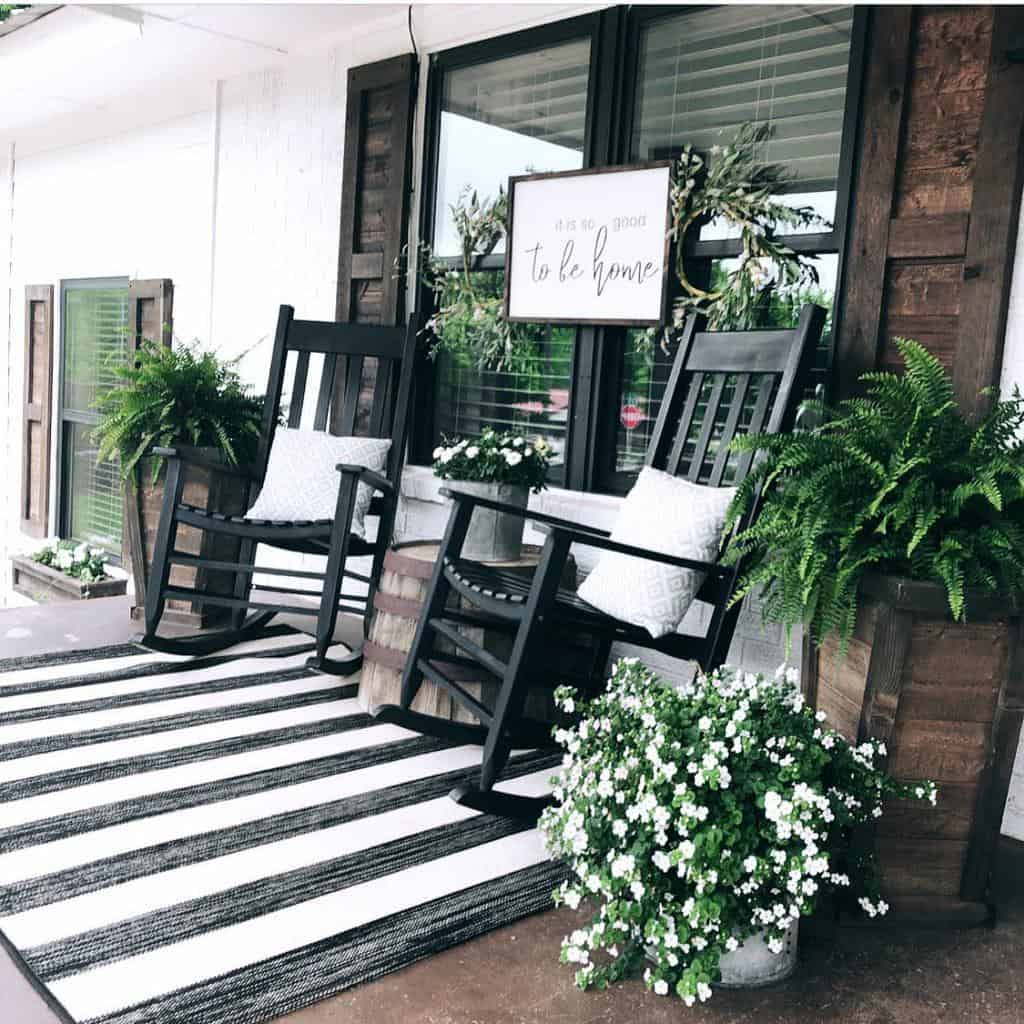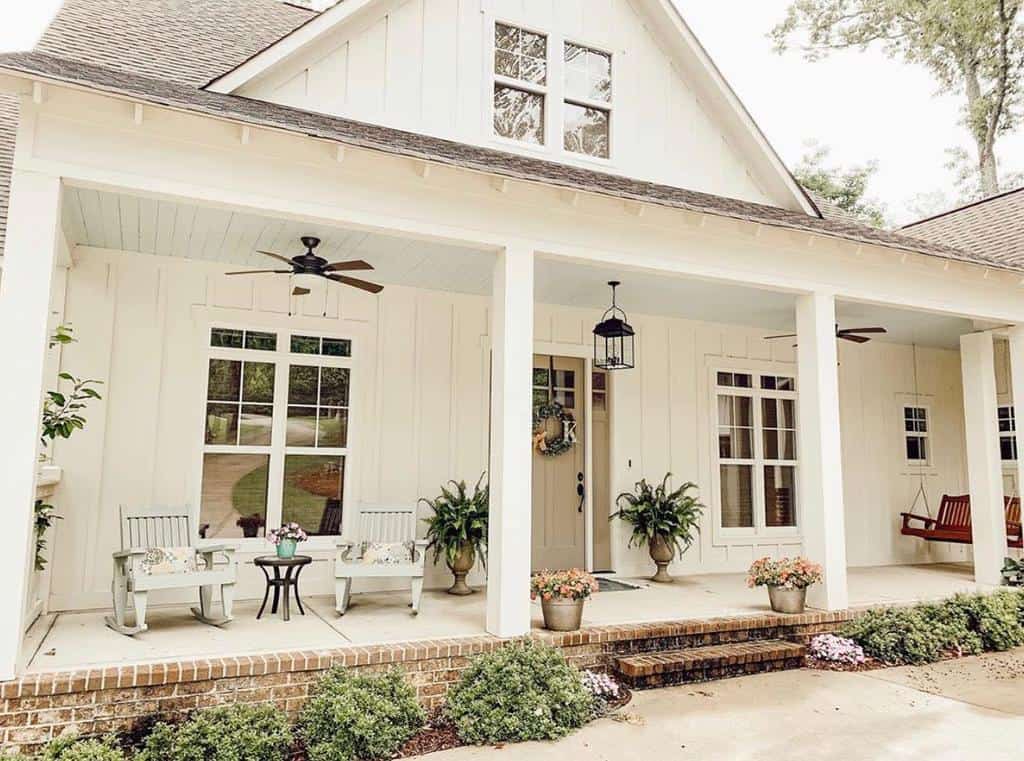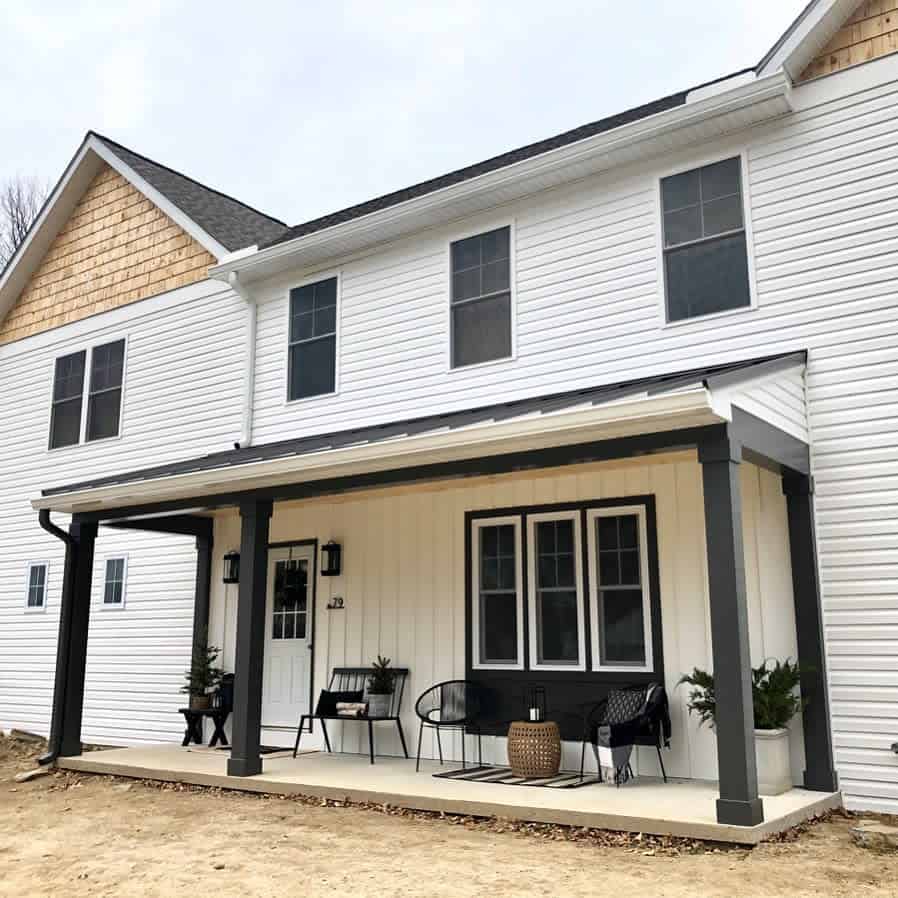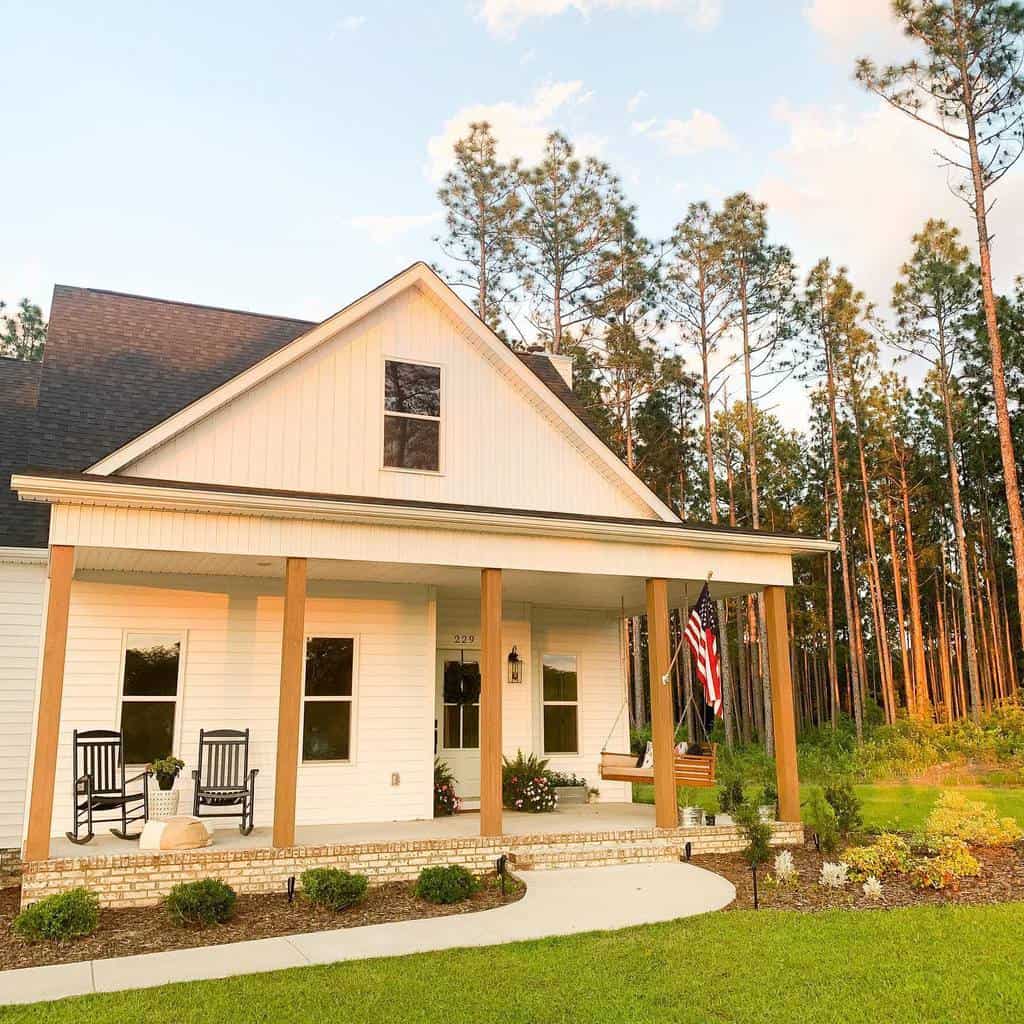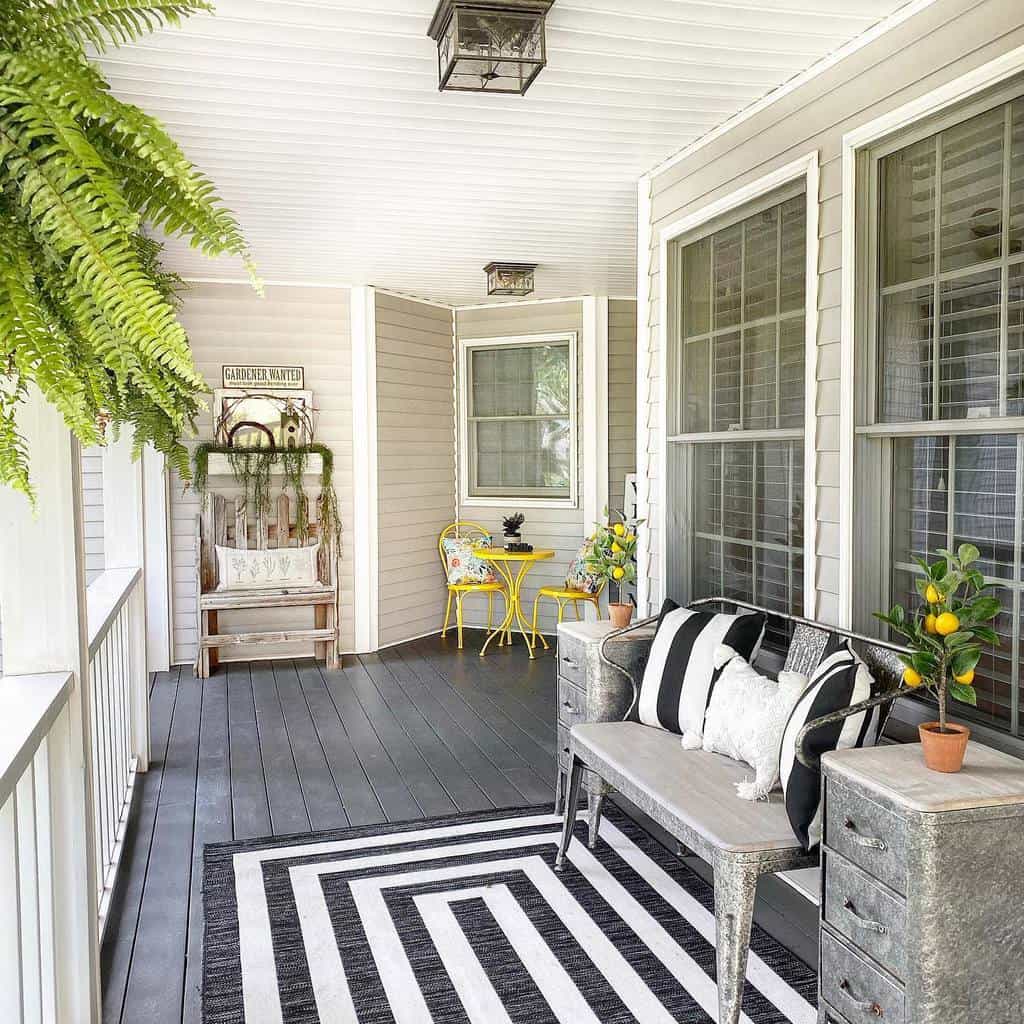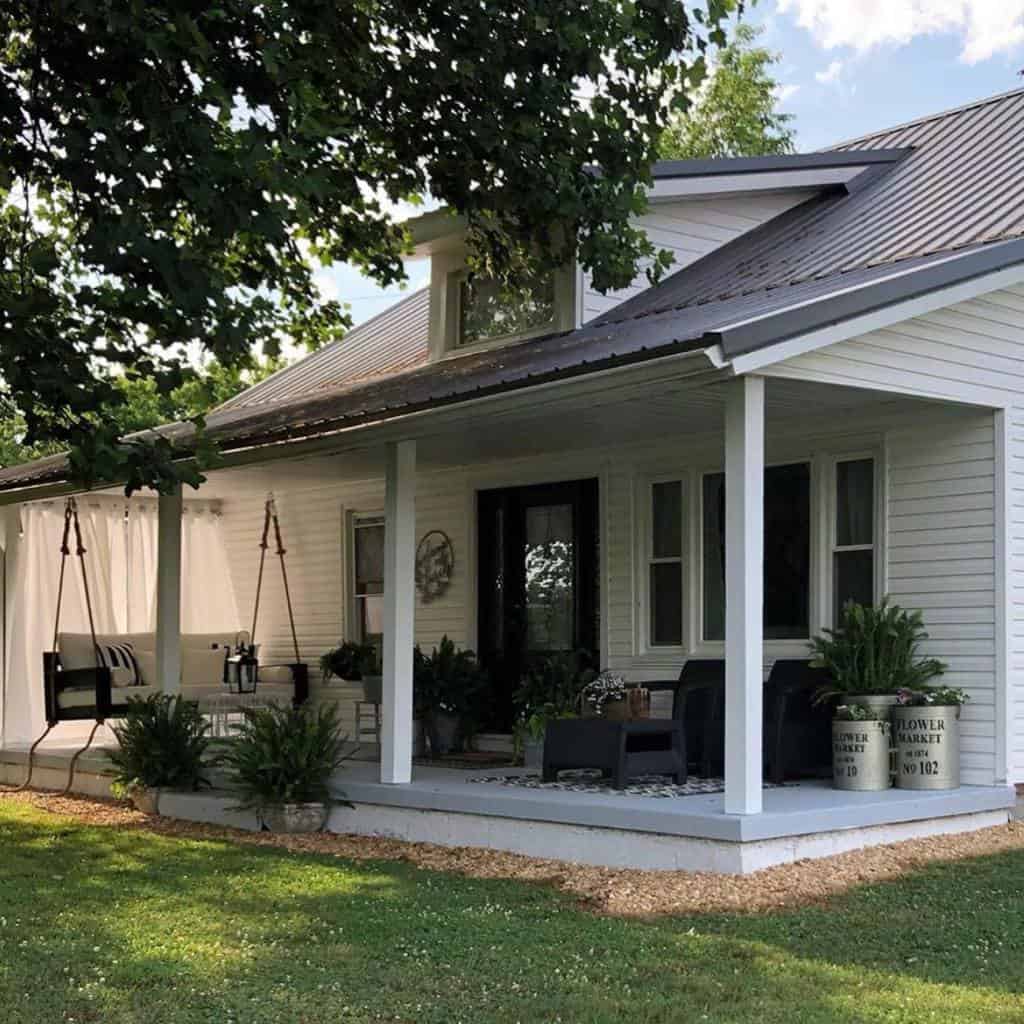 During the fall months, look for a white pumpkin variety instead of the traditional orange pumpkin types. White pumpkins emphasize the farmhouse style adherence to a simple color palette. A stunning farmhouse fall porch décor idea pairs white pumpkins with blooming bundles of cotton branches.
4. Flowers
Flowers are always at home on the front porch, whether growing in a planter, a window box, or a hanging basket. When brainstorming front porch decorating ideas, also take your landscaping into consideration. Lantana, roses, azaleas, and other colorful flower species planted in front of the porch greatly enhance curb appeal in the spring and summer.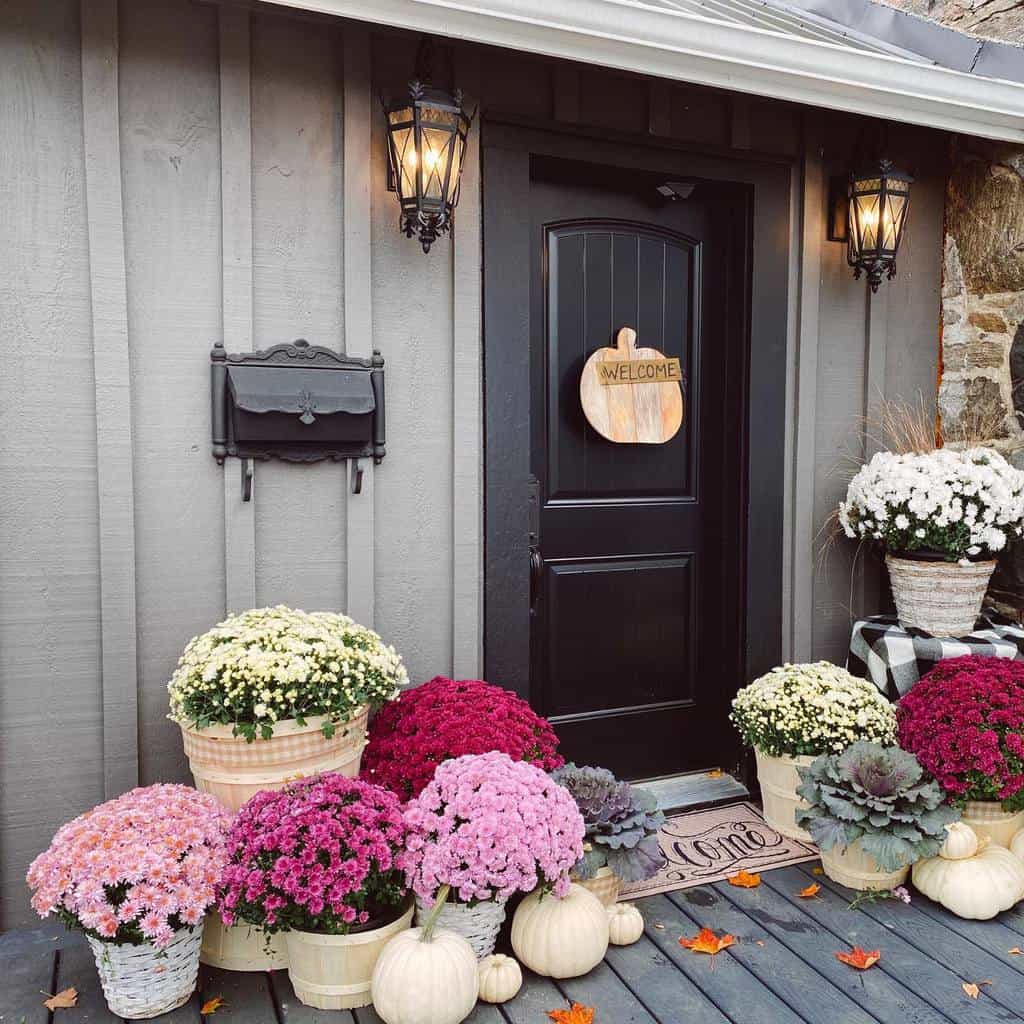 Fall flowers are some of the prettiest you'll encounter, as plant nurseries are full of mums in every warm shade imaginable. Pots of mums look amazing trailing up your front porch steps or tucked into railing boxes. Make or buy a fall wreath in coordinating colors to embellish your front door.
5. Furniture
If you have enough room for porch furniture, plan your porch décor around your seating arrangements. A simple pair of porch chairs with a small table between makes a great focal point on any large or small porch. If you have room, a porch swing will quickly become the most coveted front porch seat.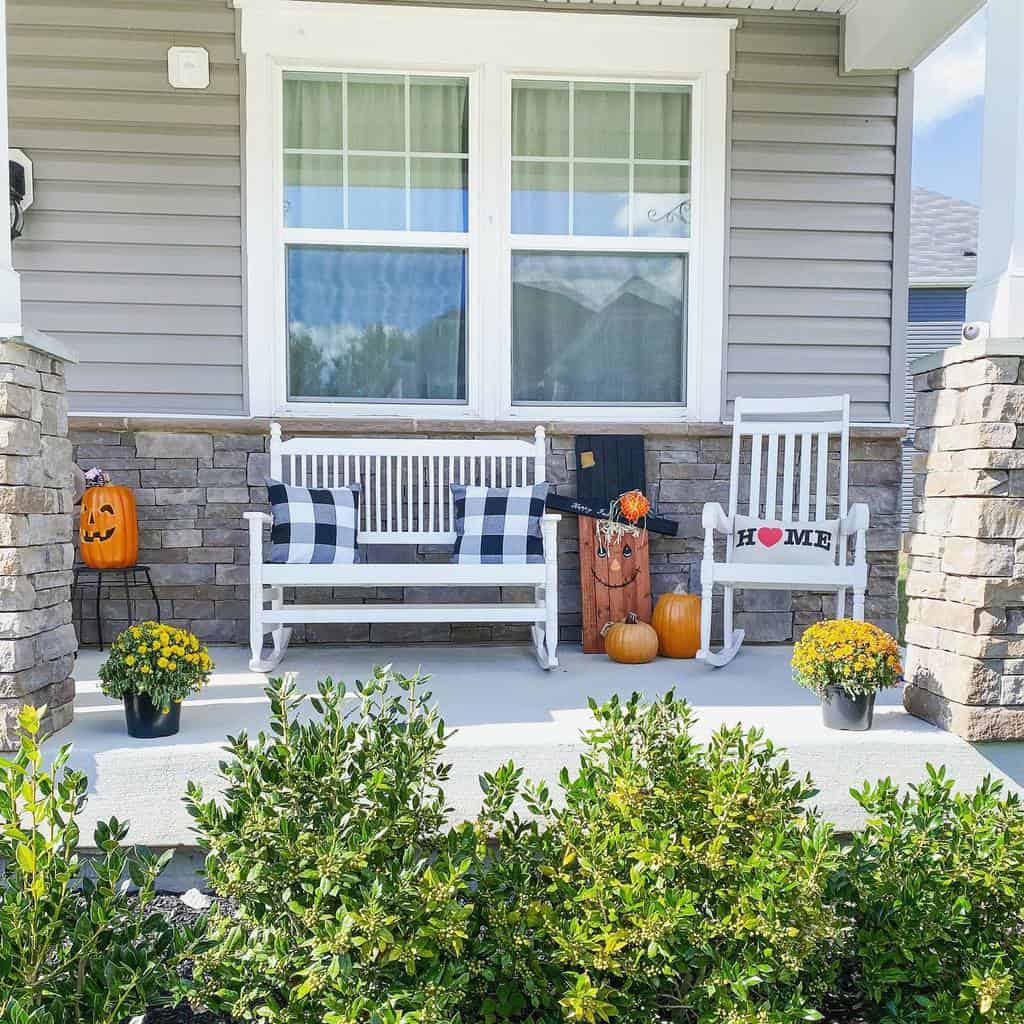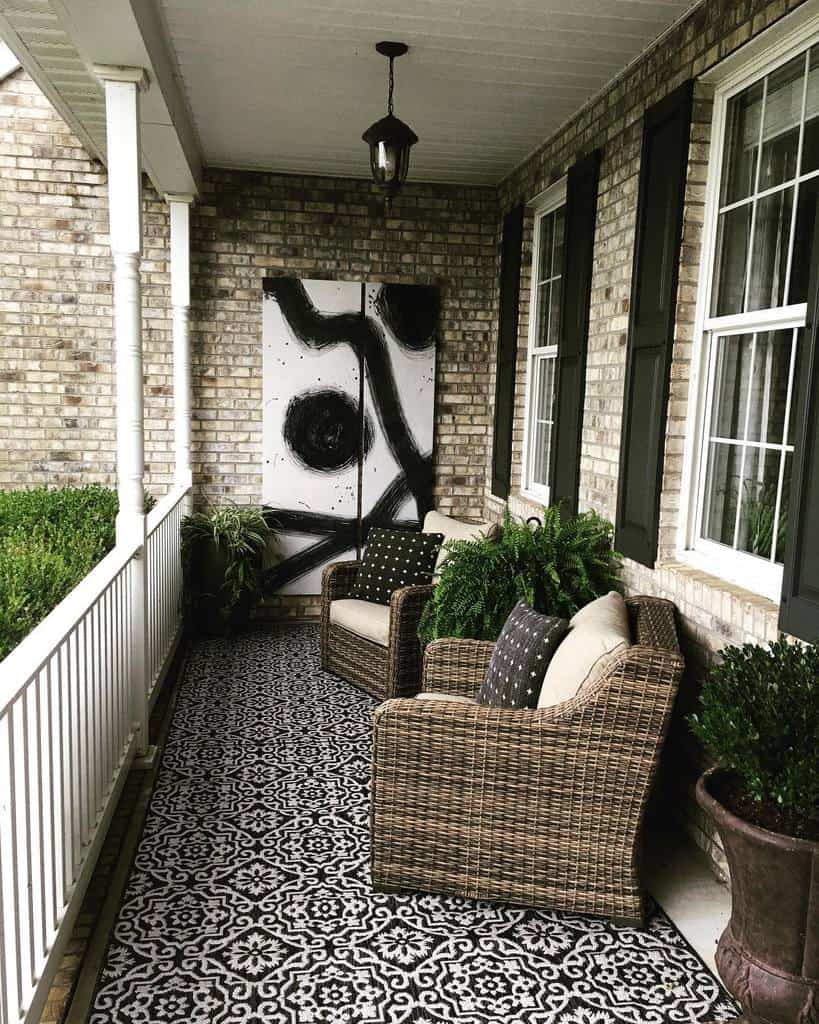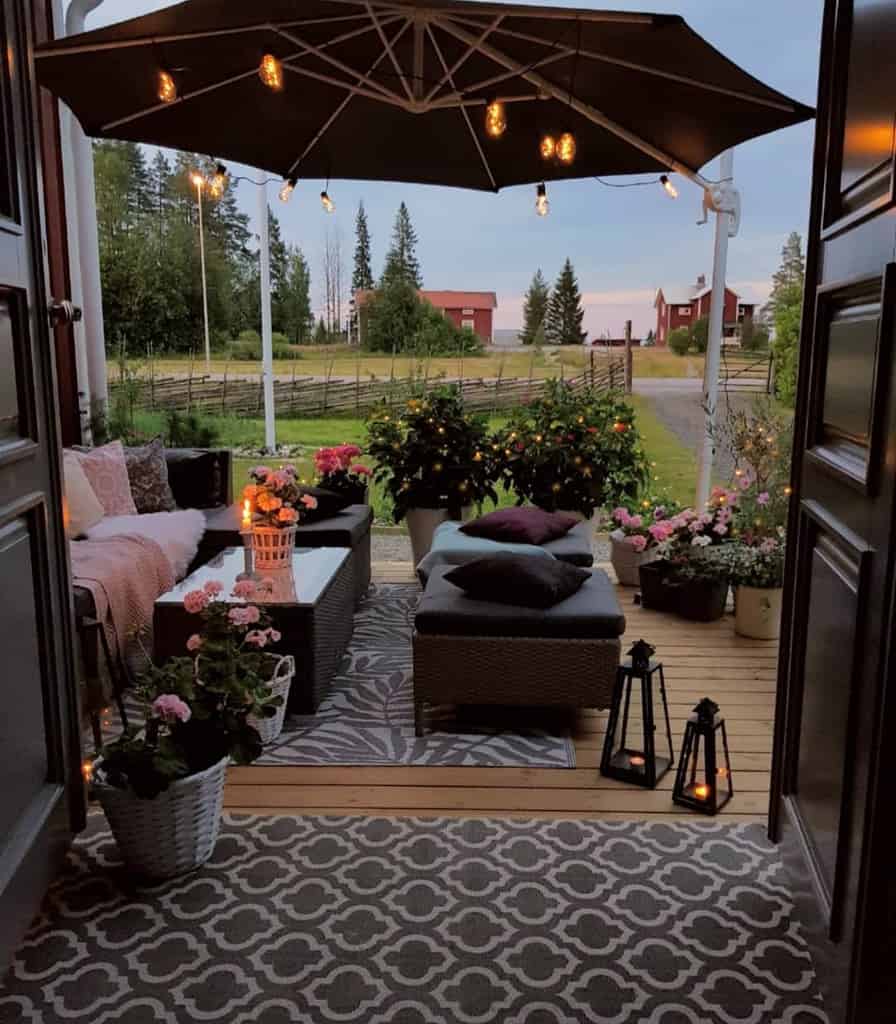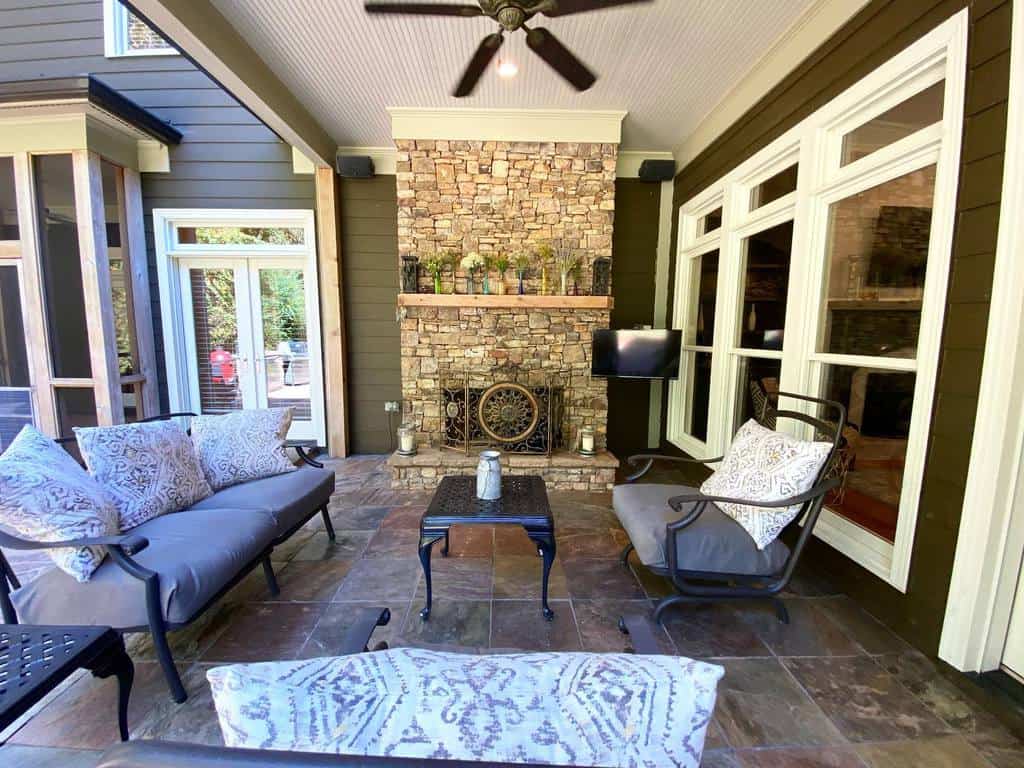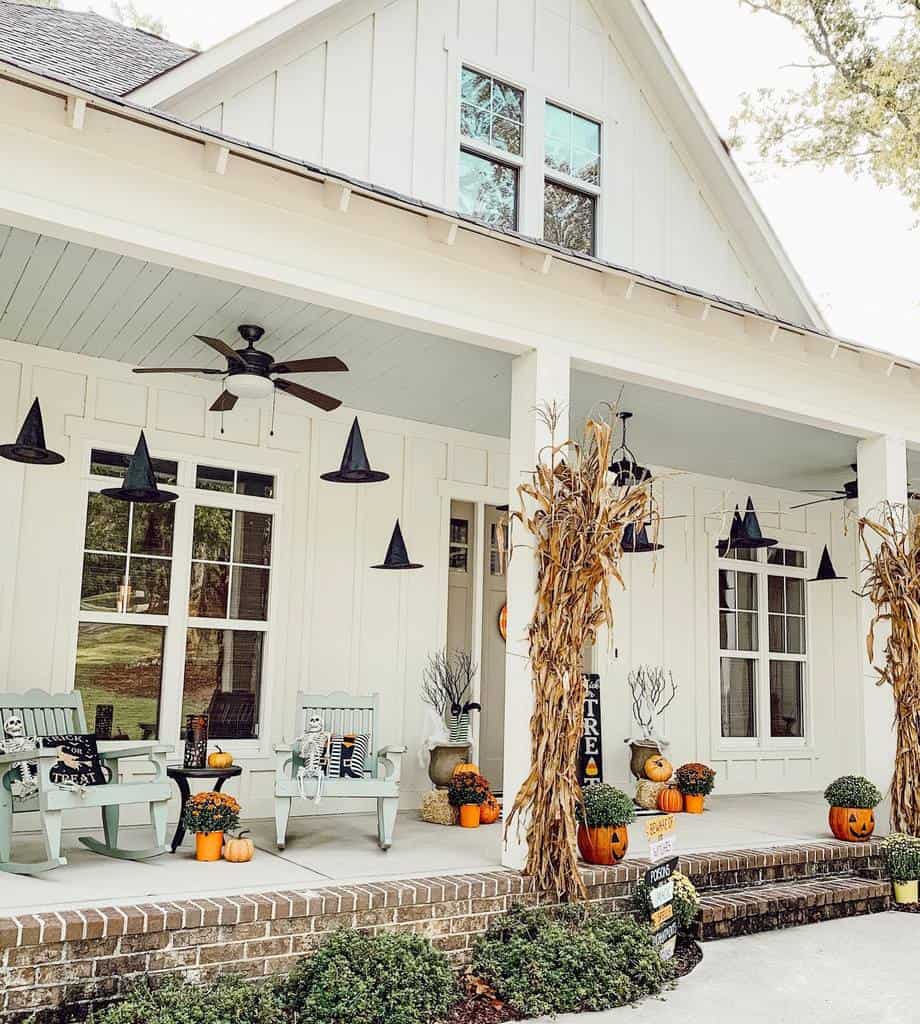 A small café table and chair combo is one of the best front porch decorating ideas when space is limited. If you've been graced with a large front porch, consider having multiple sitting areas. Line up a row of wooden rocking chairs at one end and hang a porch swing at the other.
6. Halloween
Many people enjoy Halloween decoration time as much as they enjoy decorating for Christmas. Whether carved into a jack-o-lantern or not, every Halloween porch needs a pumpkin. If you like to decorate early for Halloween, a faux pumpkin eliminates concerns that your jack-o-lantern will rot before the big day.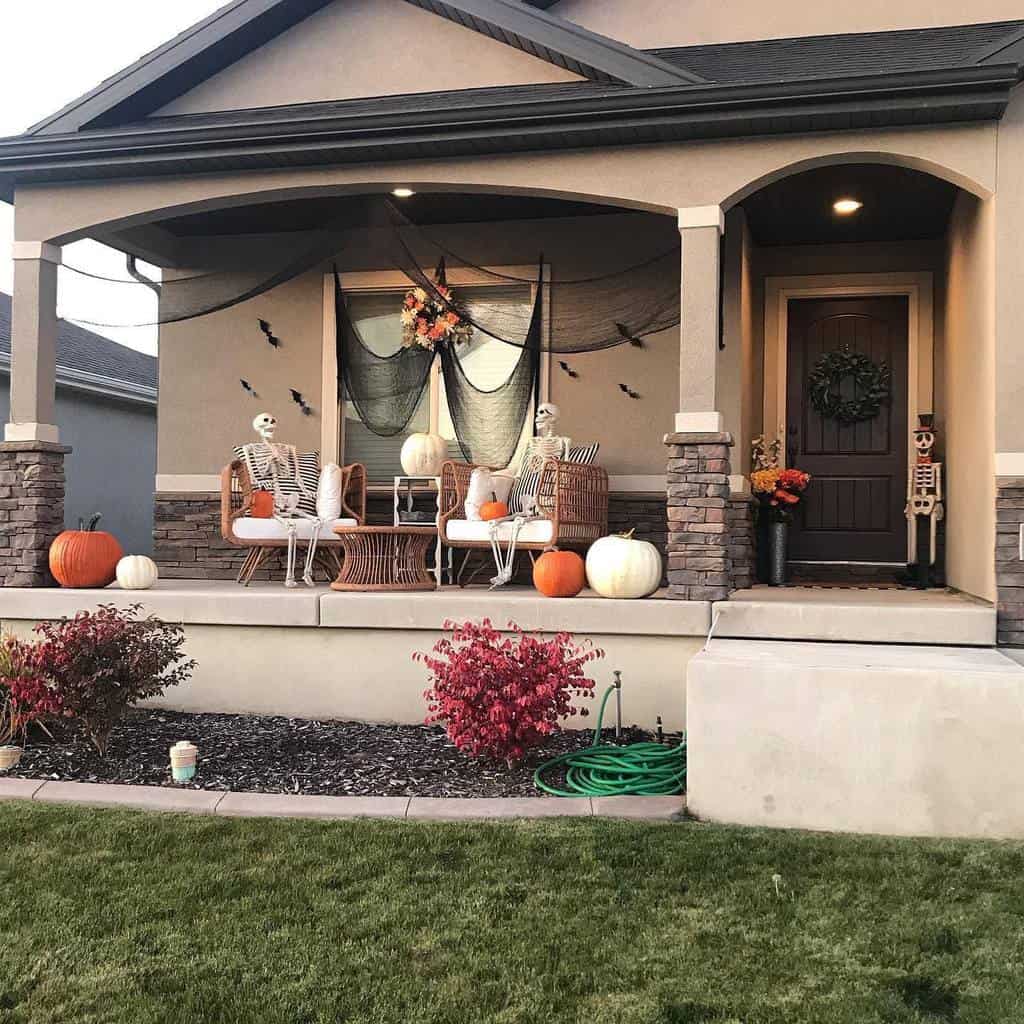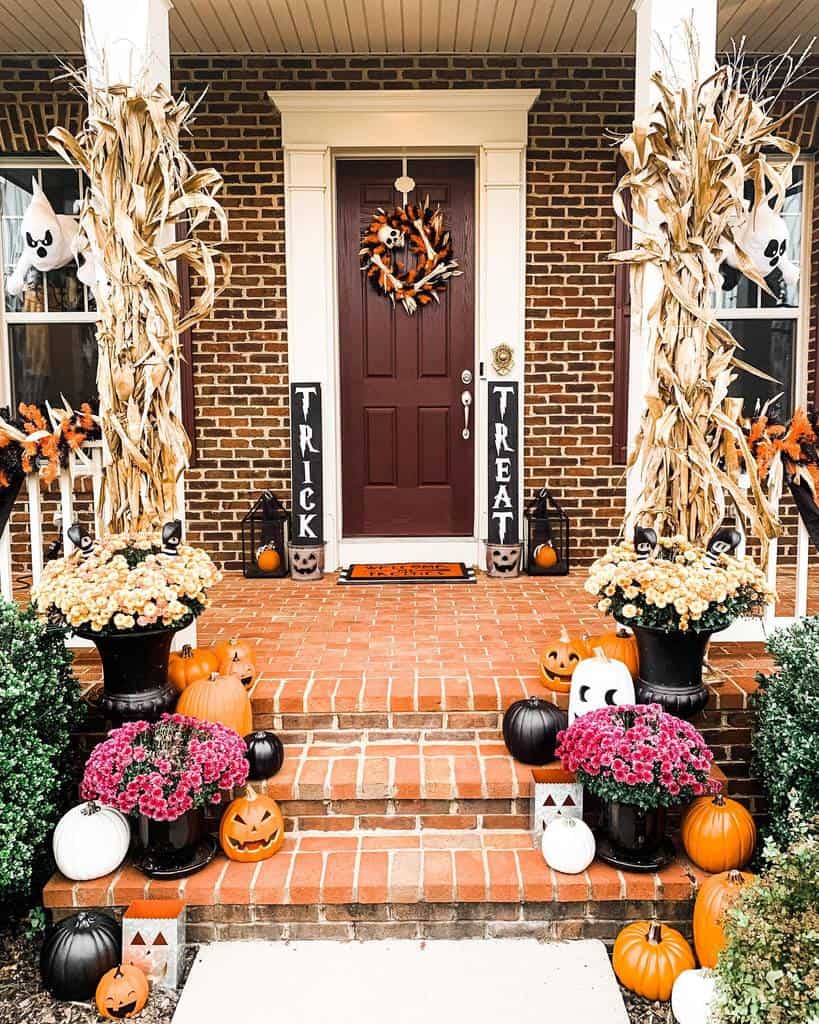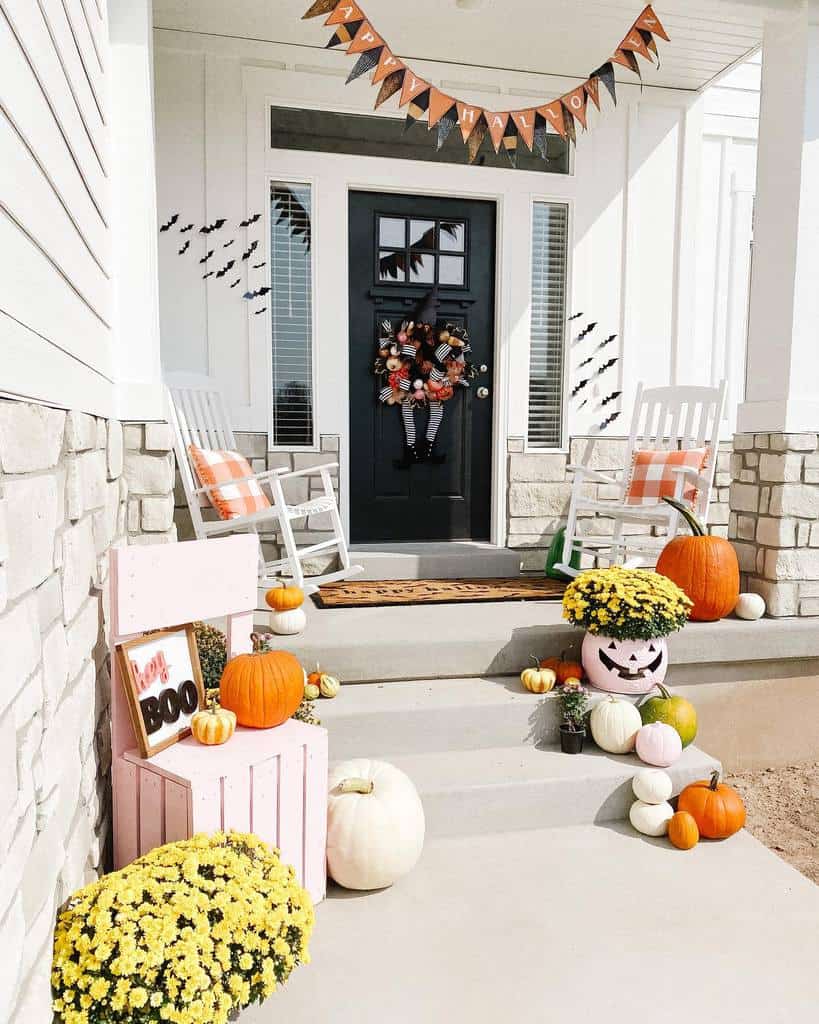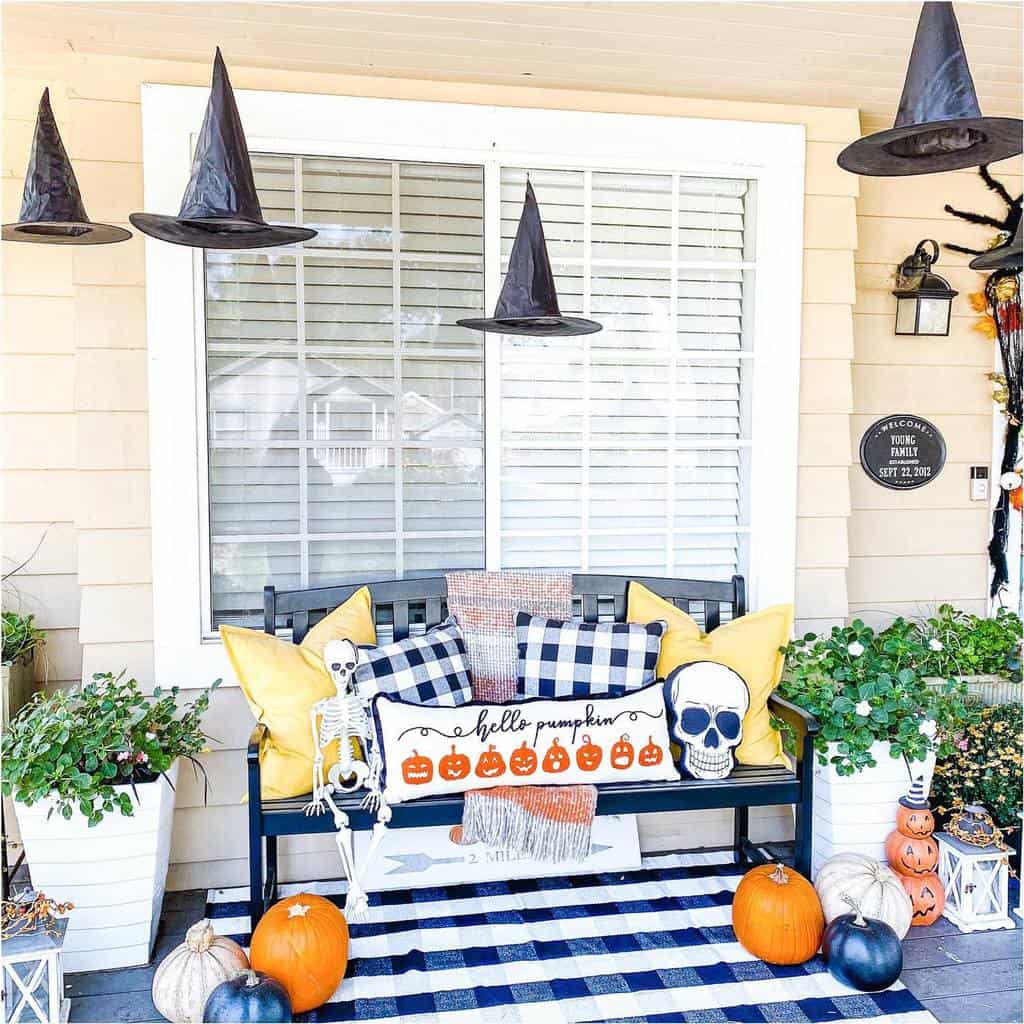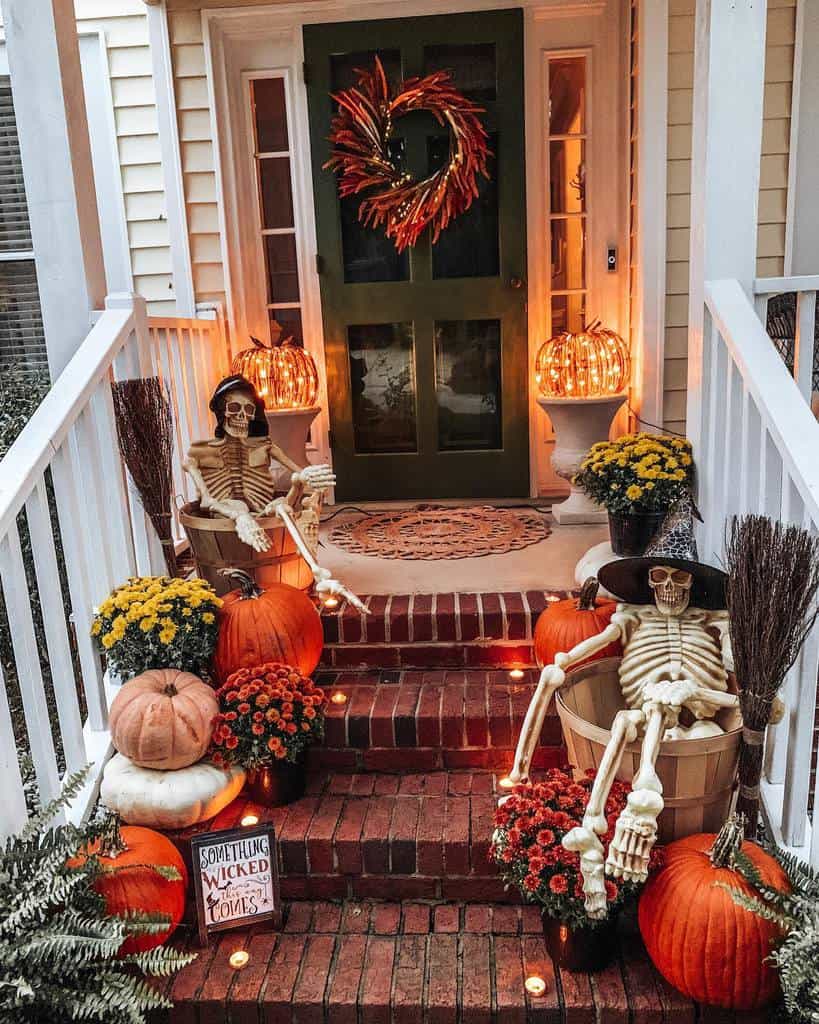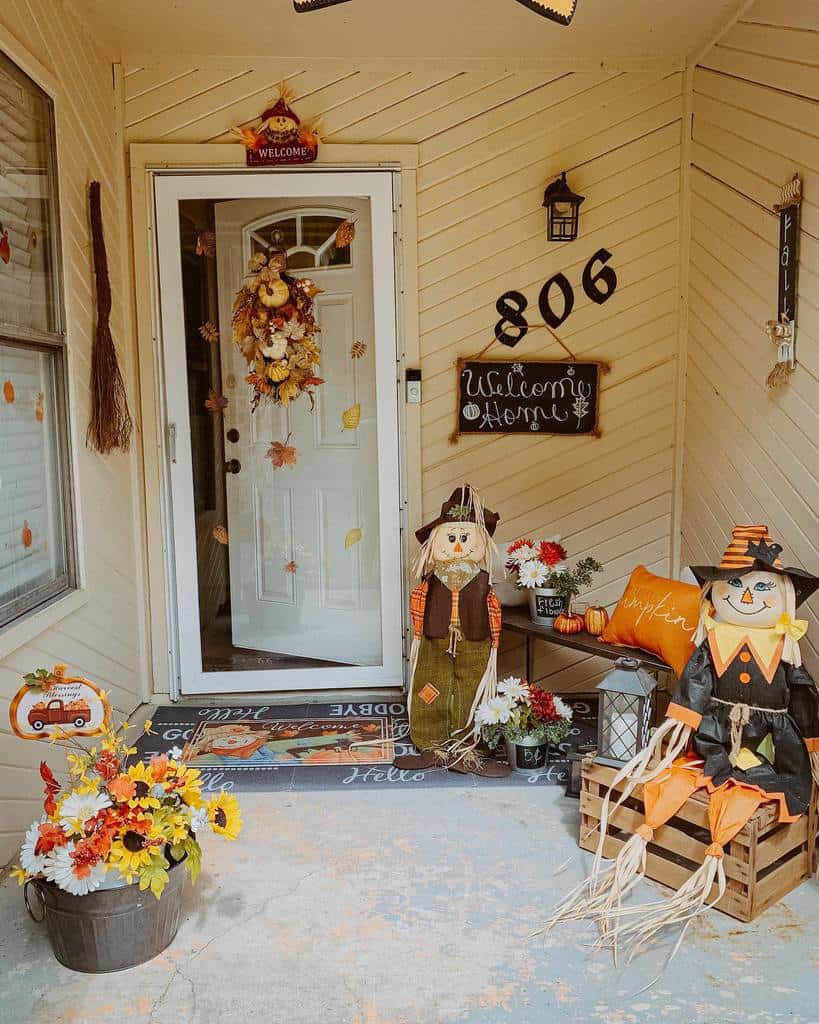 If you aren't into ghosts and goblins, take your fall porch decorating ideas in a more organic direction. Heirloom pumpkins set atop a bale, with colorful fall leaves scattered like confetti, add fall color to your porch. Place a bundle of corn stalks in an empty porch corner and set several gourd and pumpkin varieties around its base.
7. Plants
Fern-filled hanging baskets are a classic front porch decorating idea. Ferns are shade-loving and relatively easy to grow. Trailing plants are ideal porch decorating features, whether placed in hanging baskets or cascading from a porch rail planter. Topiary-filled urns look amazing at the top of your stairs, in a corner, or next to the front door.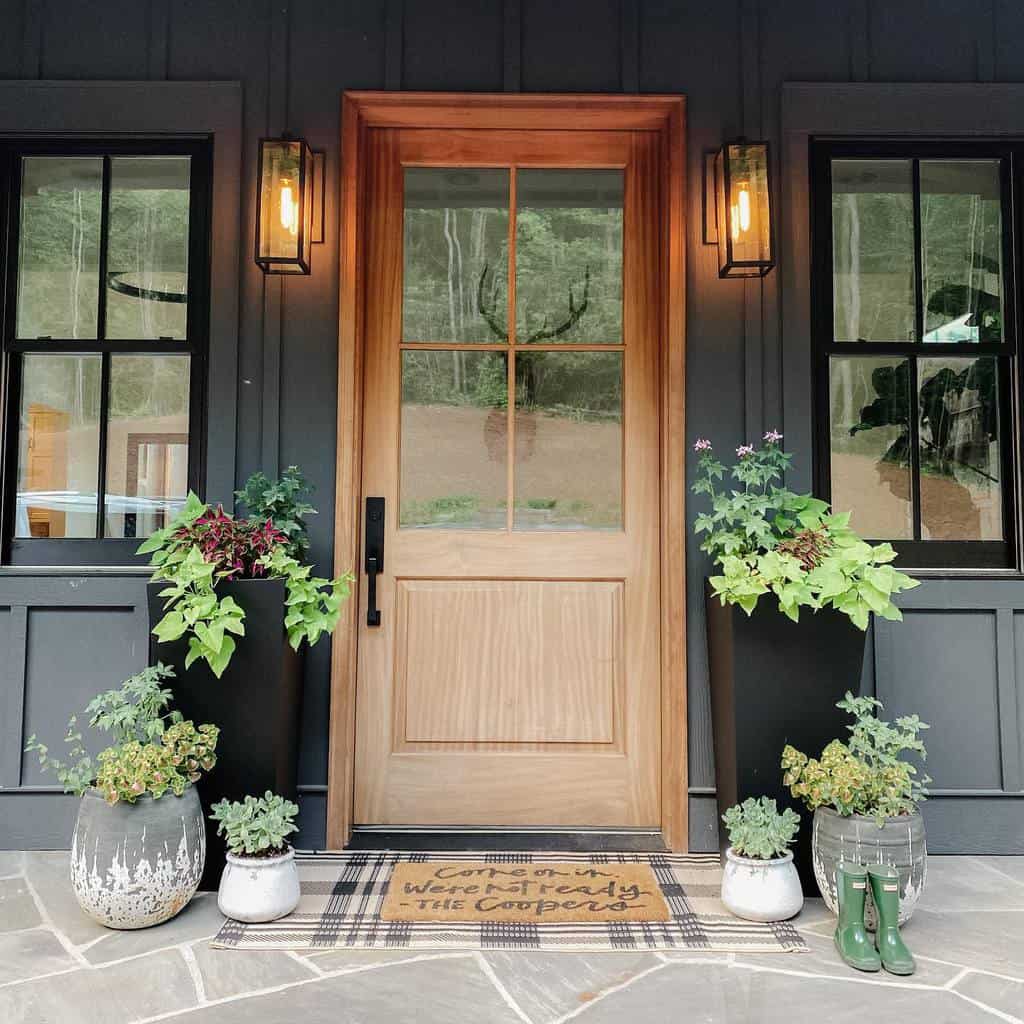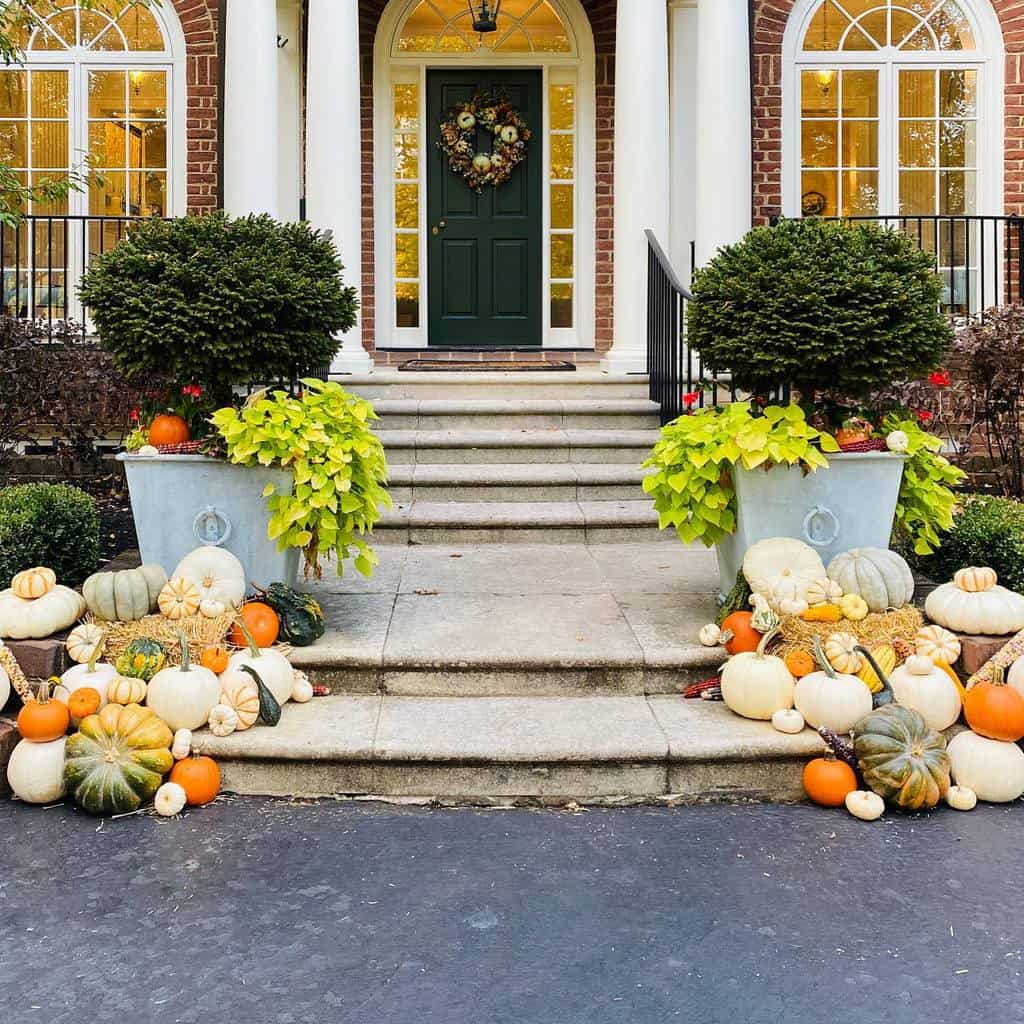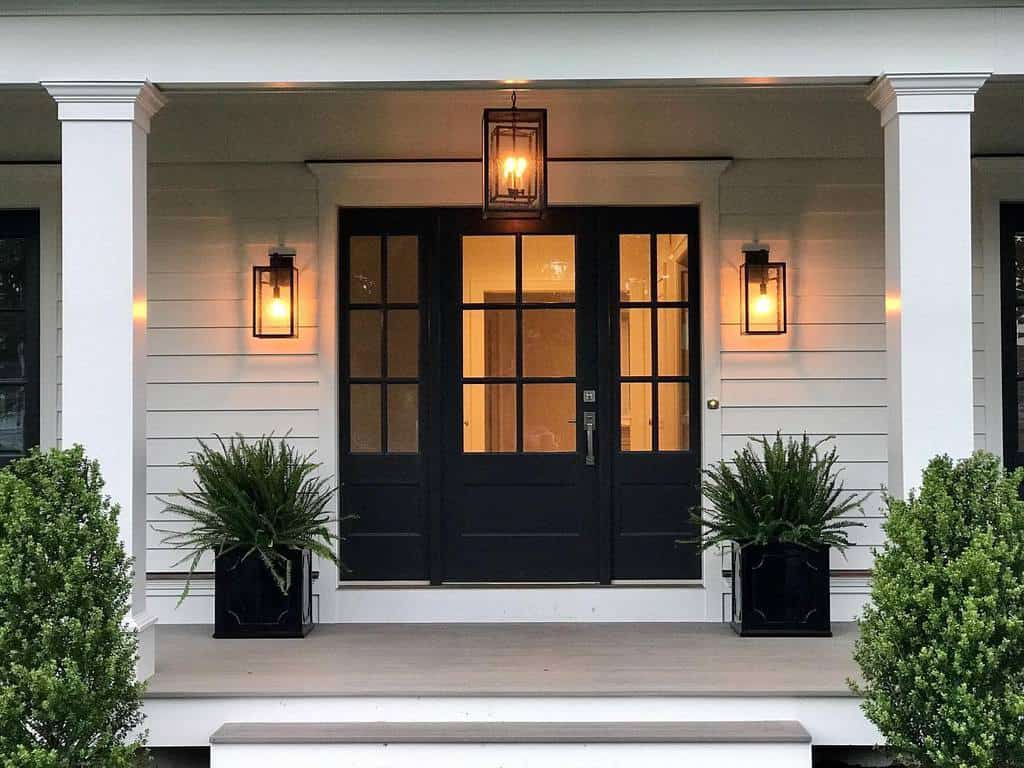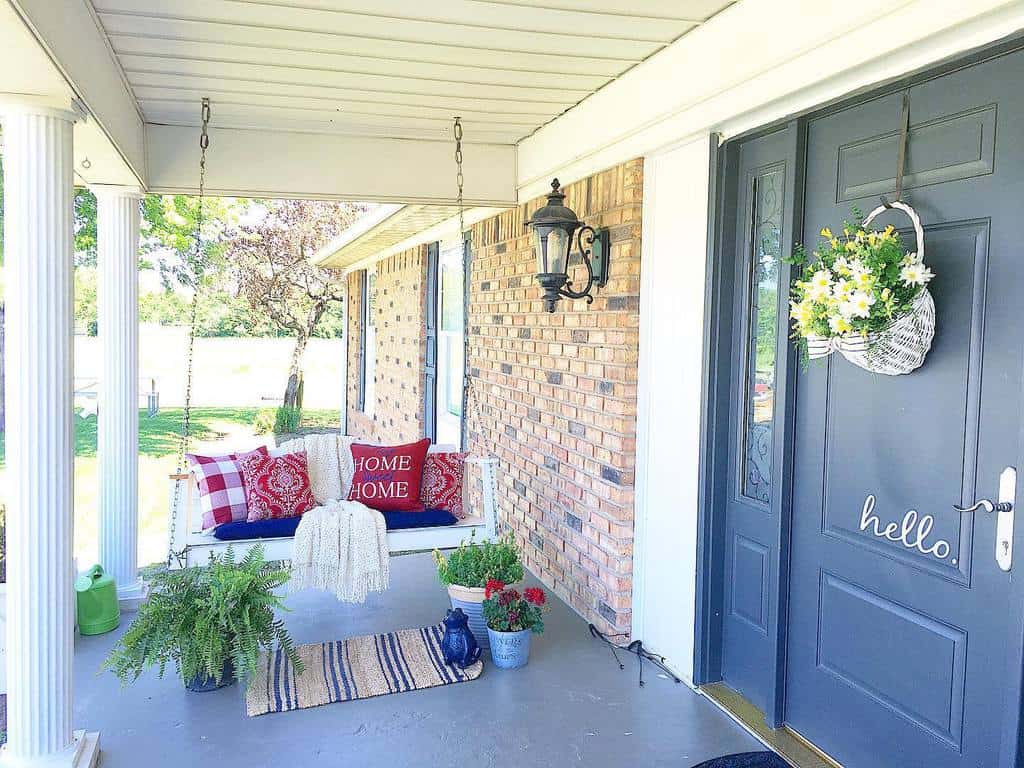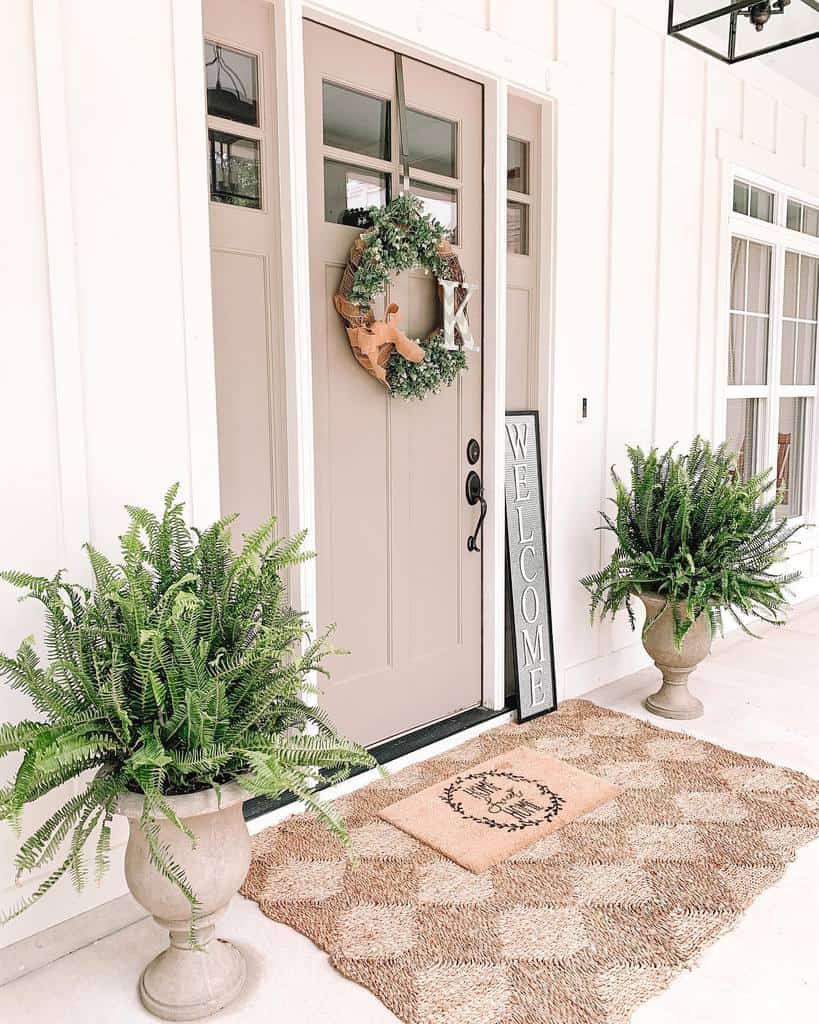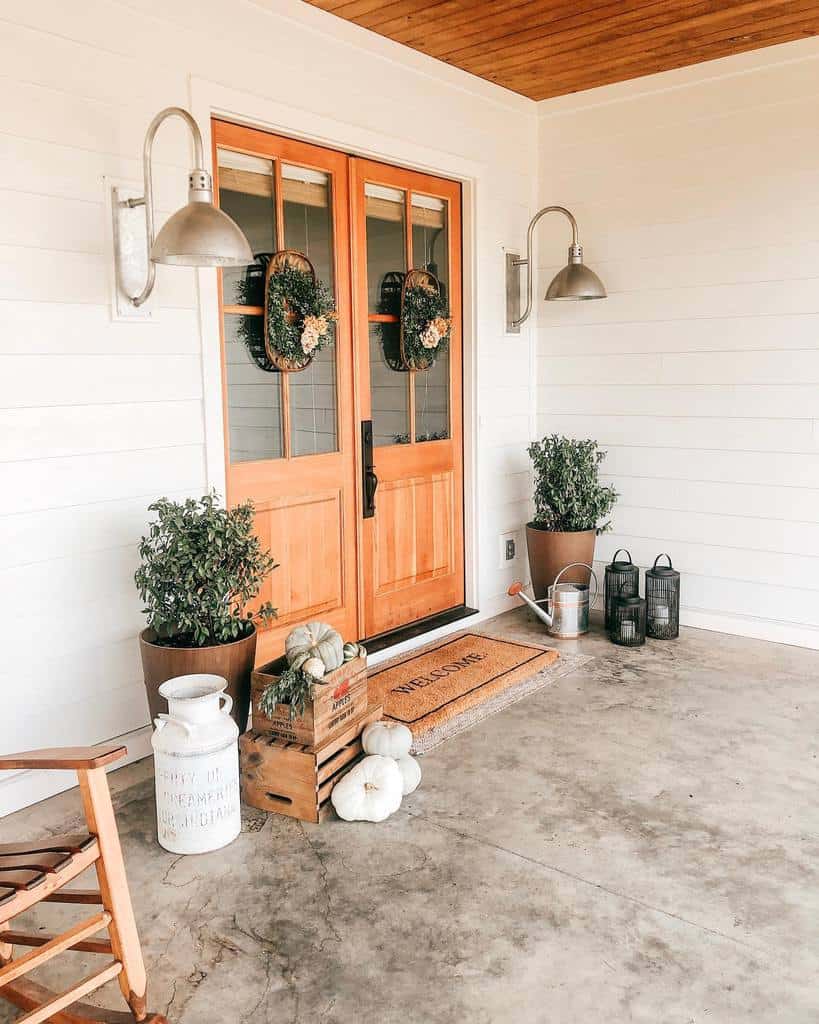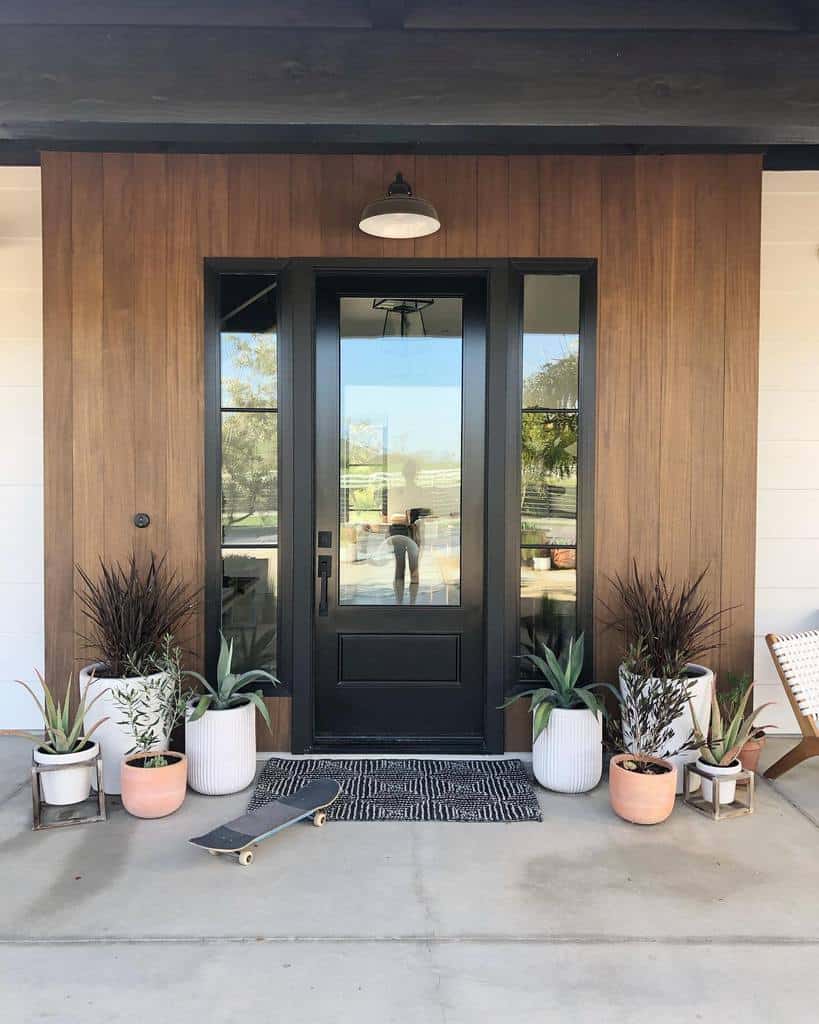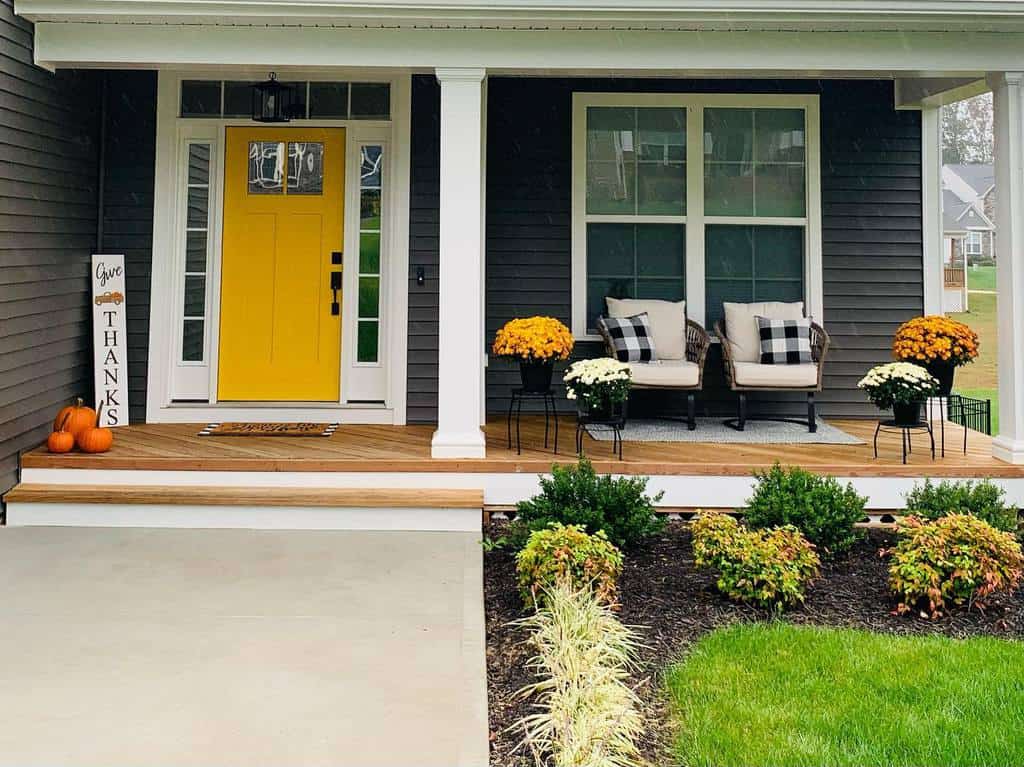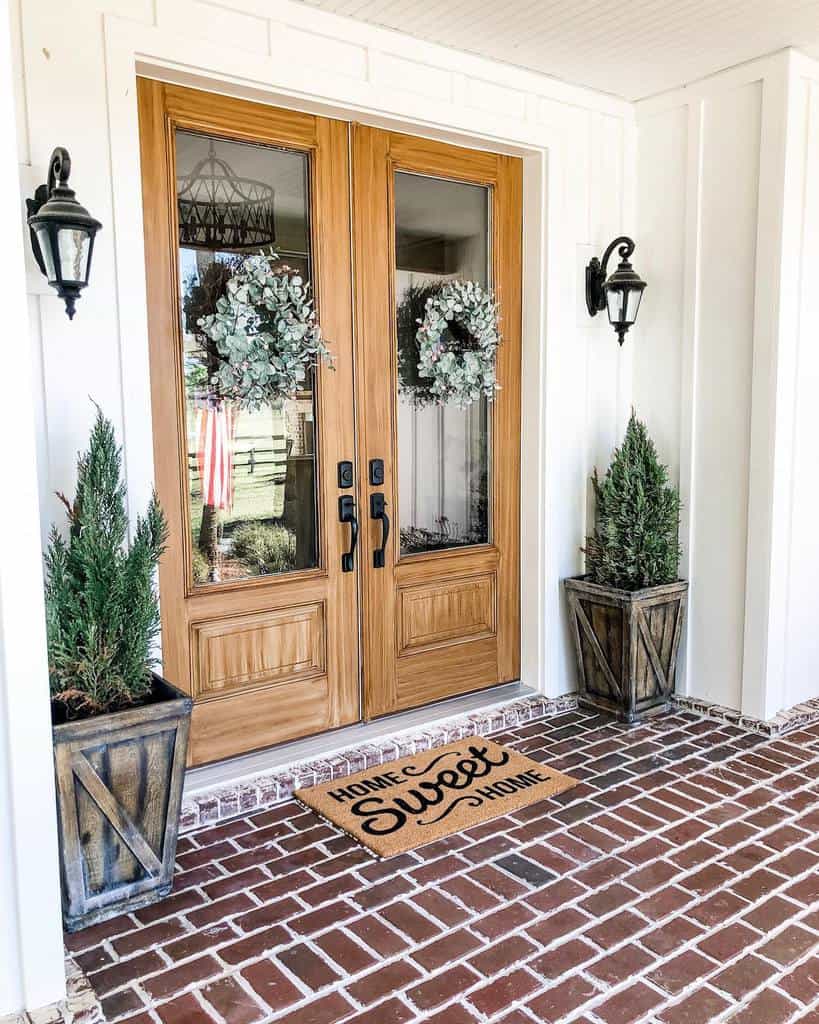 Ivy and other climbing plants are great for areas of your porch that need more shade or privacy. Install a lattice and allow the plants to take hold. You'll soon have a leafy green accent that is beautiful and functional. Tall plants, such as potted palms, can also be used for privacy or just to fill empty porch corners.
8. Signs
Signs have become a mainstay in modern home décor. Whether it's a seasonal part of your fall décor, or a sign that hangs on your porch year-round, these design touches express your personality. Simple sentiments such as, "Thankful," "Welcome," or "Home Sweet Home" can be found in a variety of styles and materials.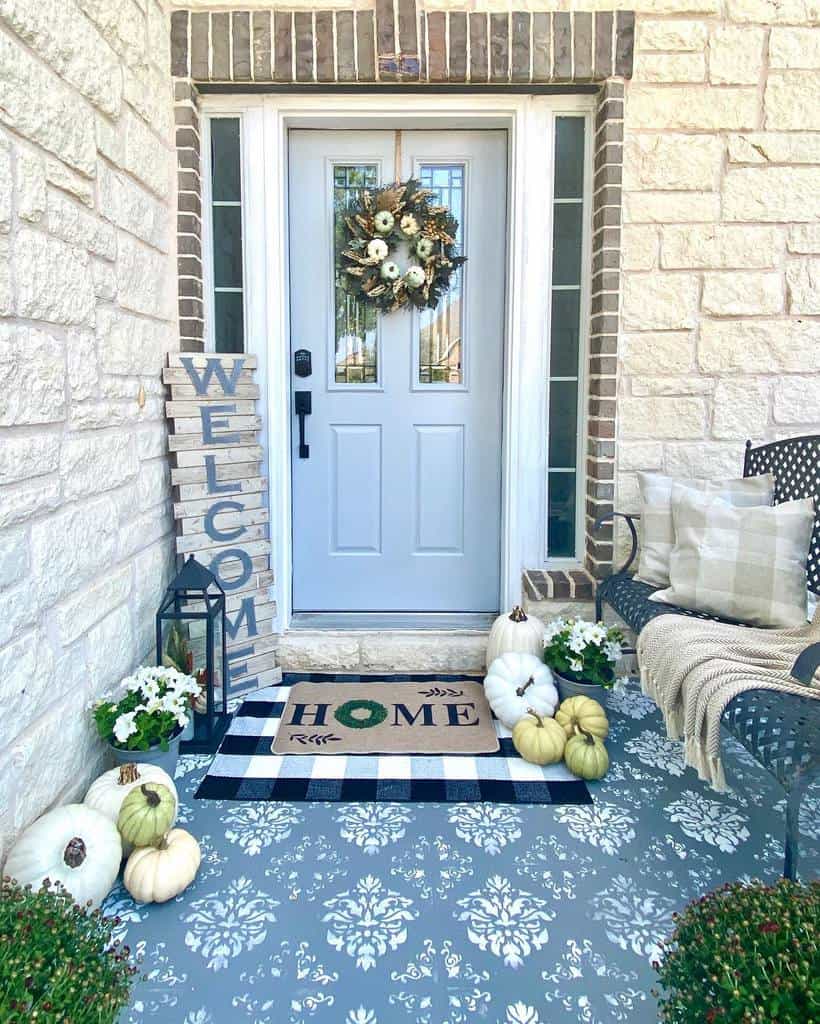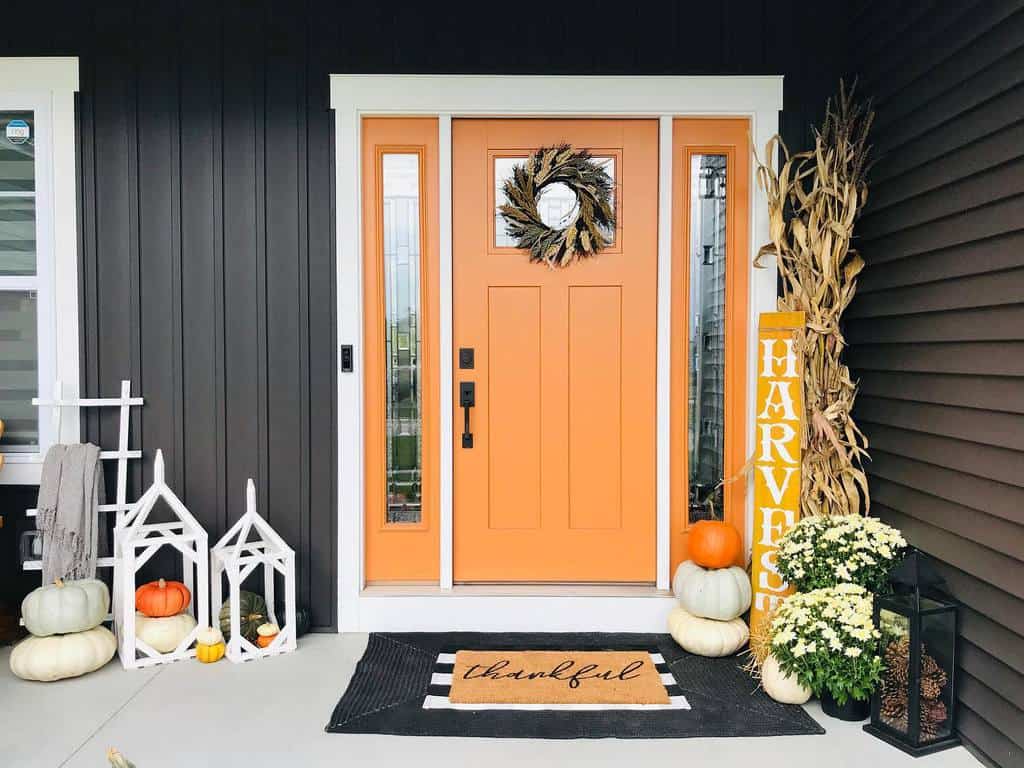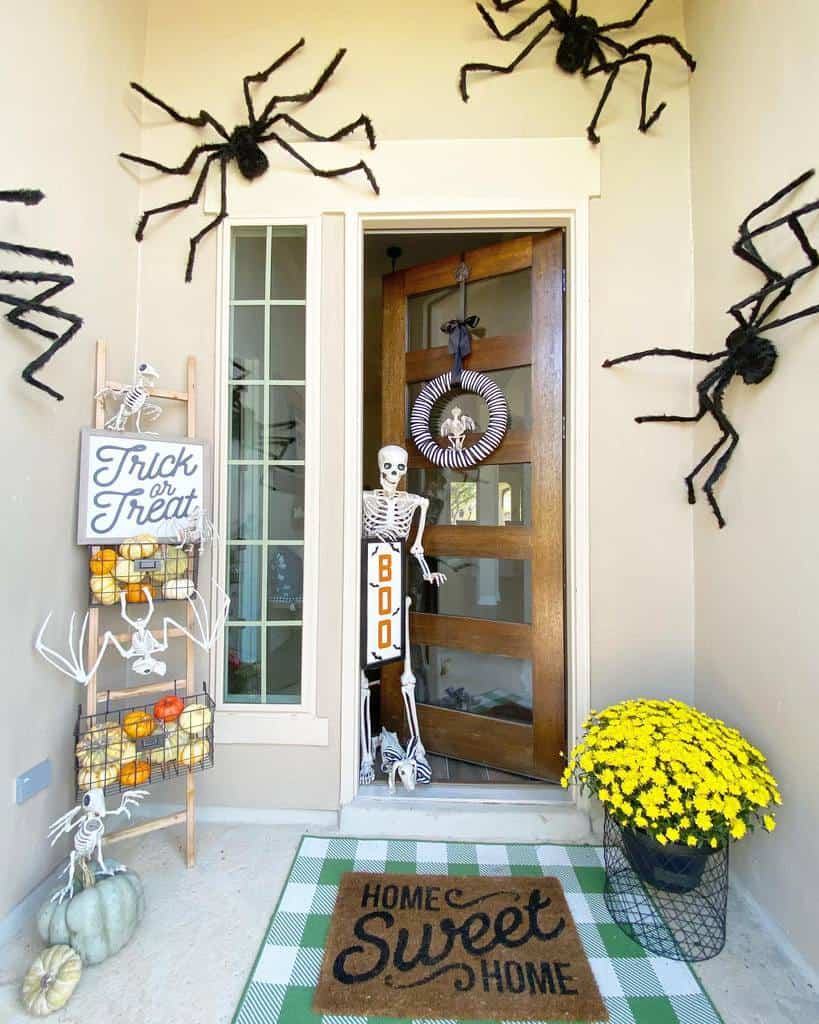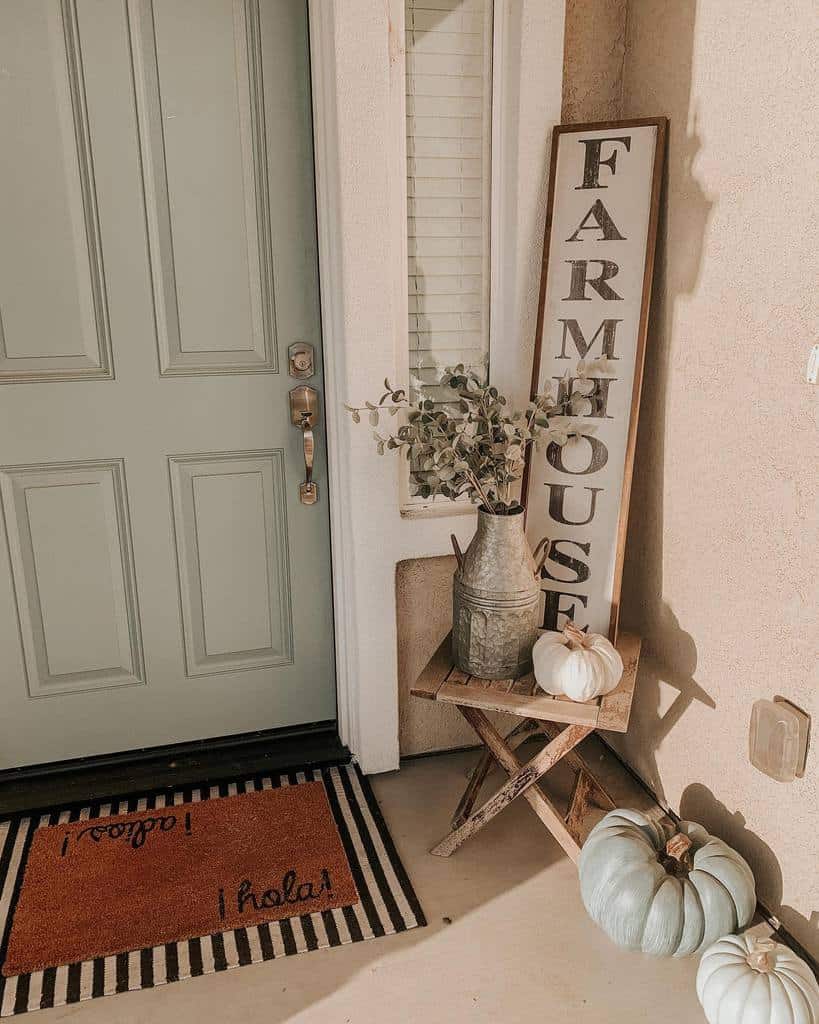 Black and white chalkboard signs add a casual, farmhouse feeling to your front porch. You could even hang up a chalkboard for family members to leave notes to one another. Decorative front porch signs may showcase your house number, family name, or monogram. Rustic and coastal homes often display antique metal signs as part of their front porch décor.
9. Small Front Porches
Some porch ideas are not feasible if you have a tiny front porch. However, making the most of the space you have is a small porch idea anyone can get behind. There's nothing wrong with having one chair or one stool if that's all the space allows. But you can make it into a focal point by painting it in a bright color or pattern and draping a cozy throw blanket across the back.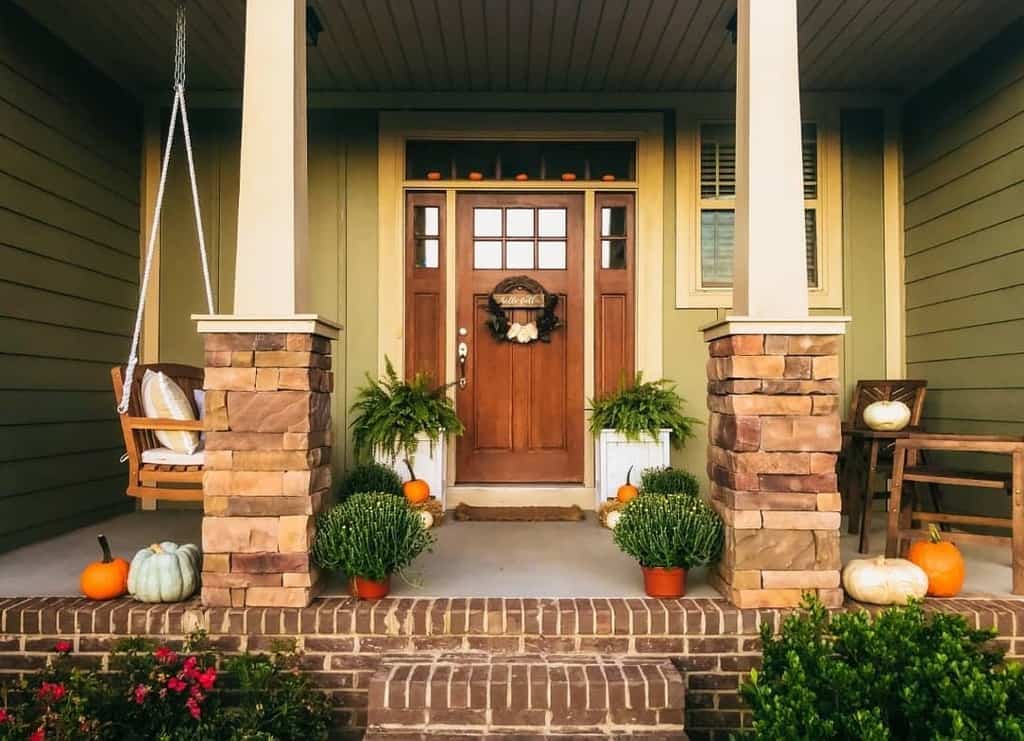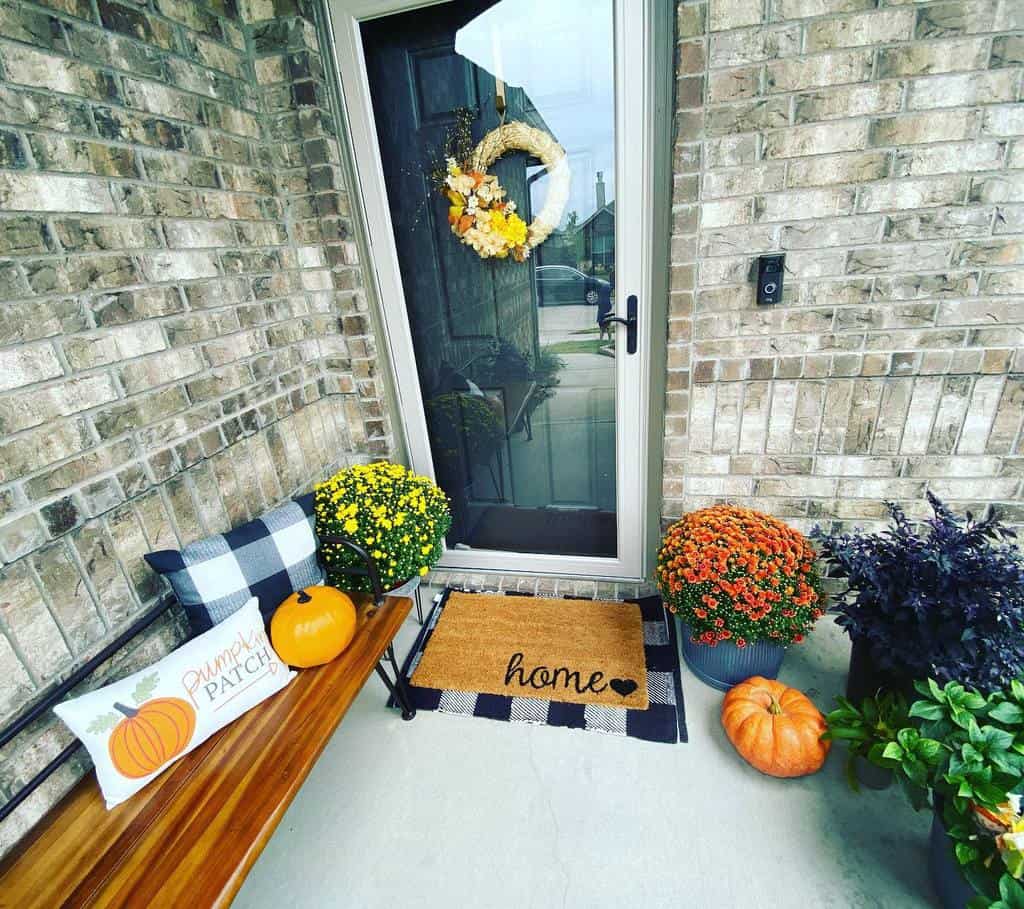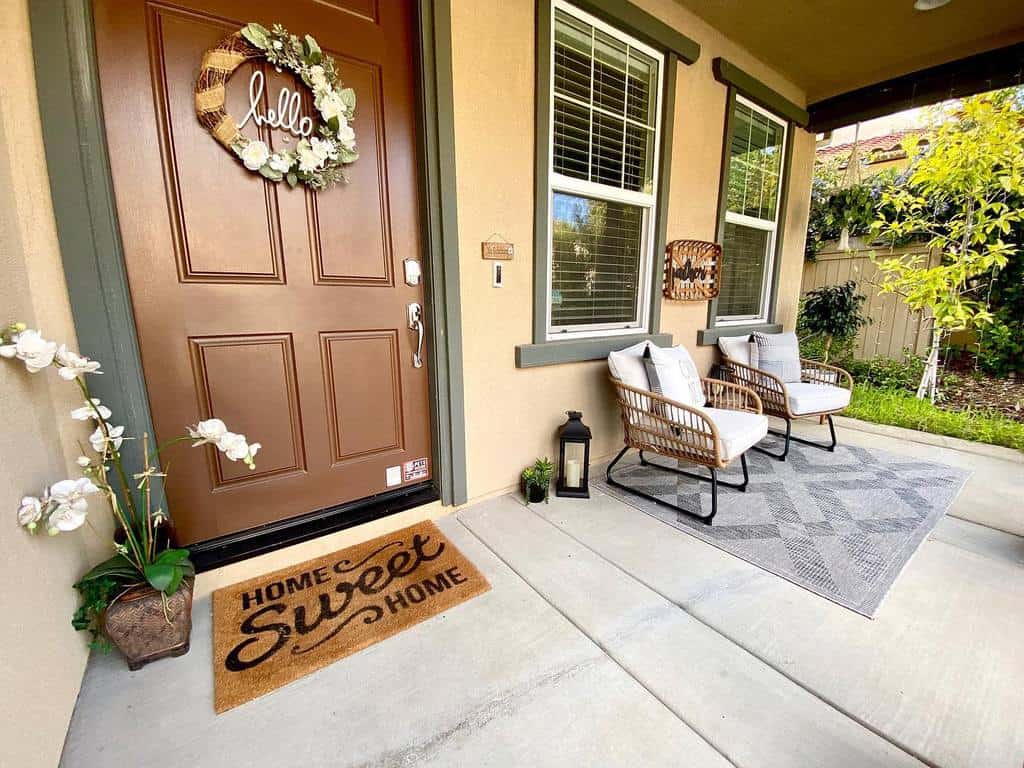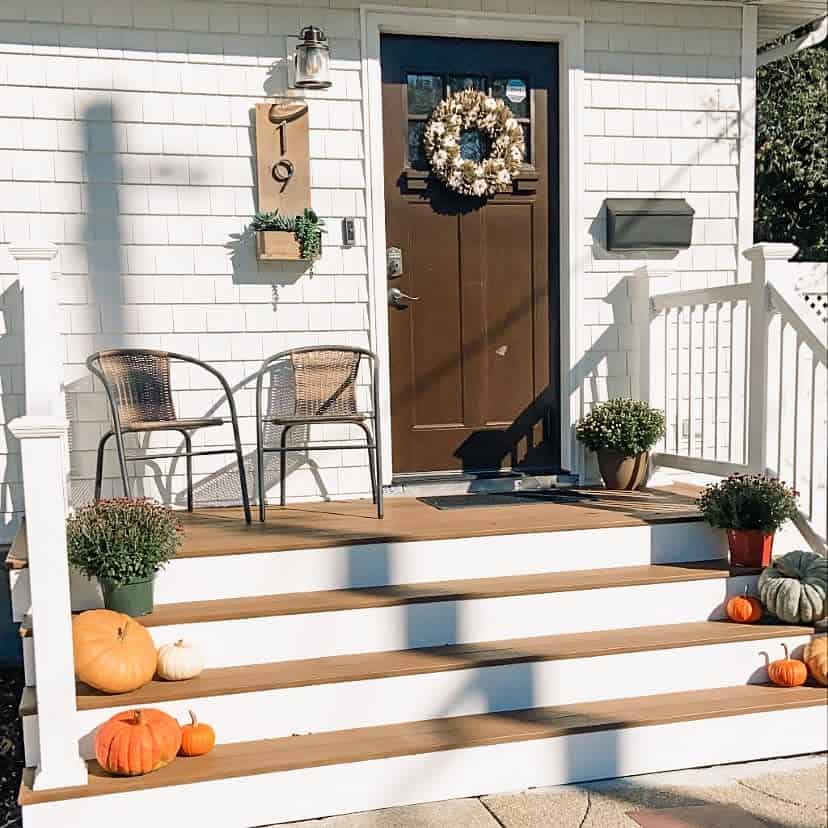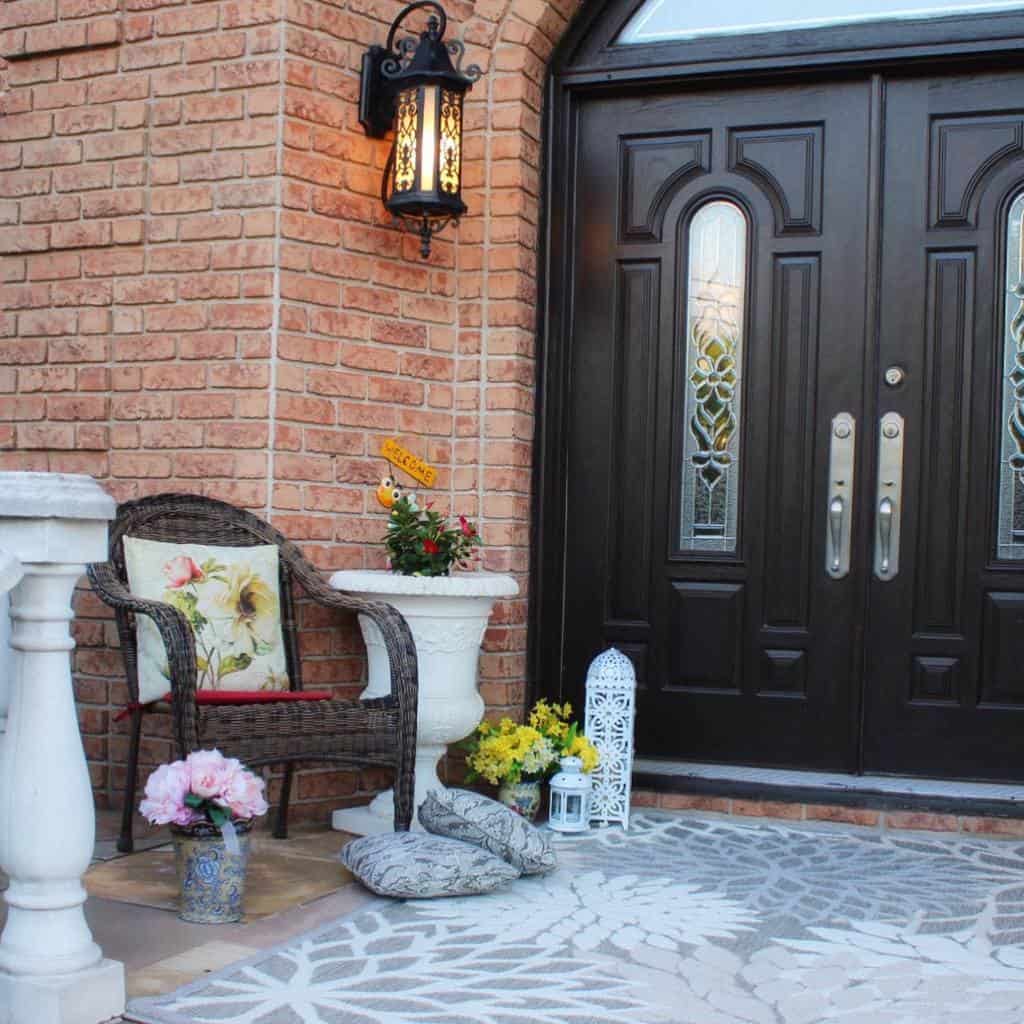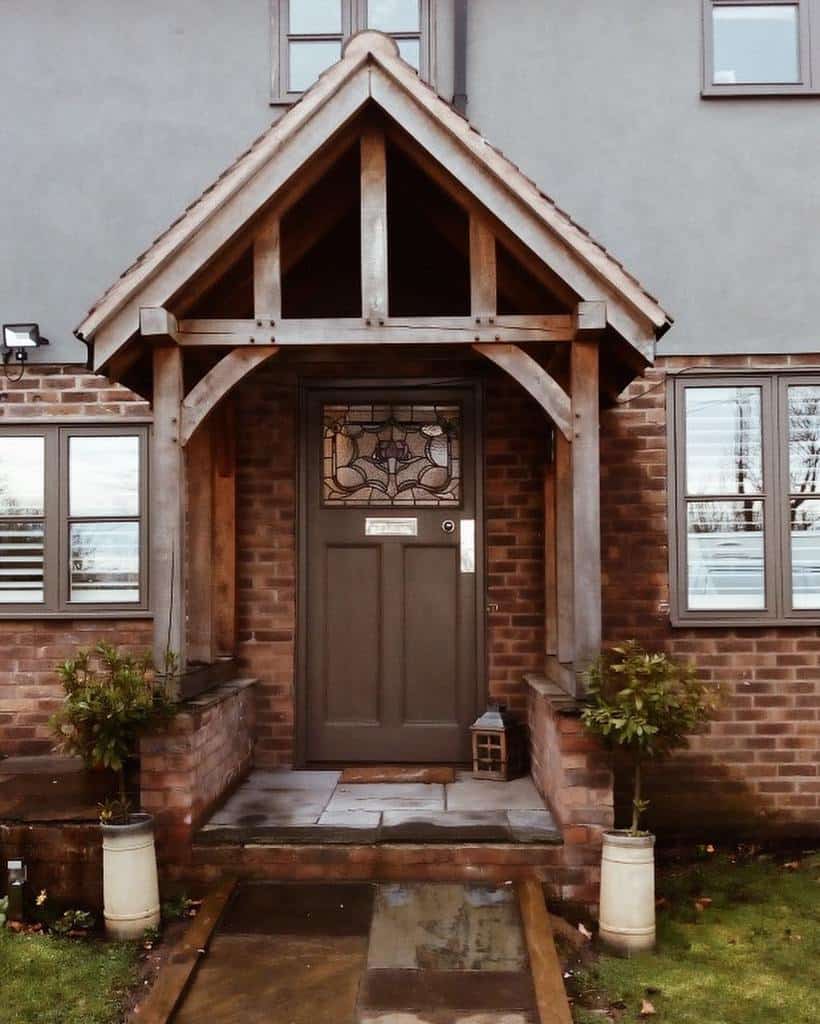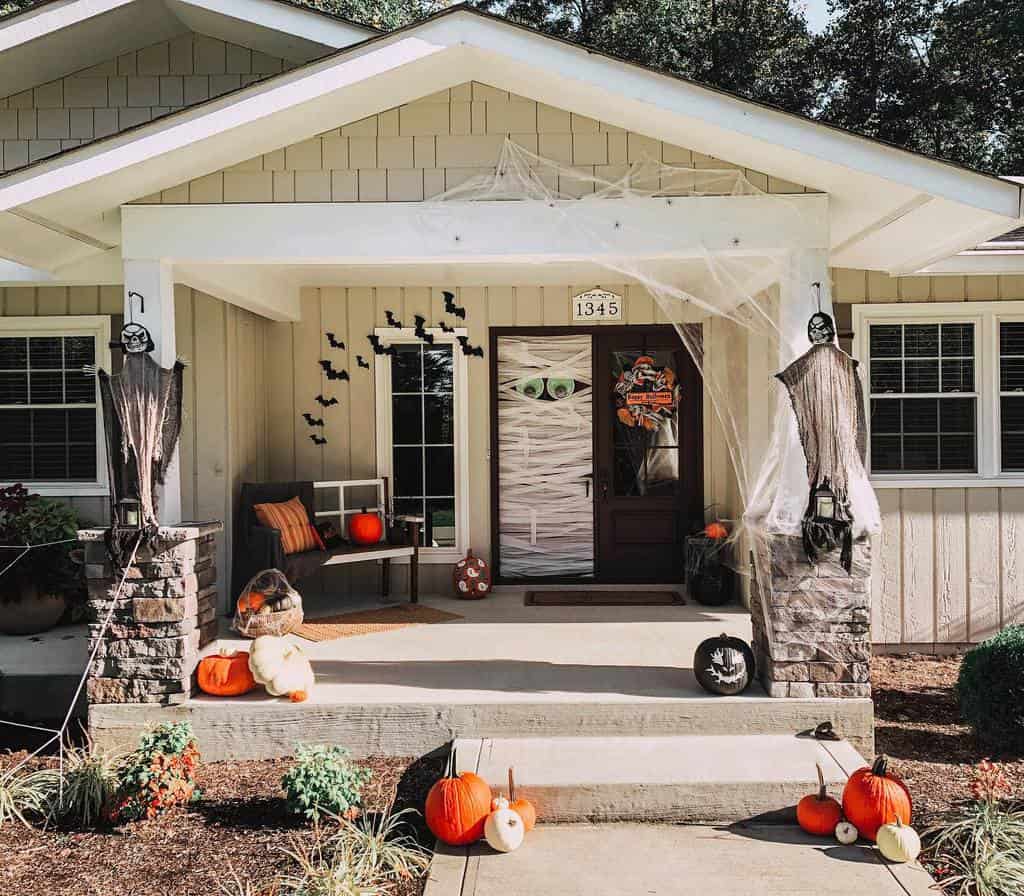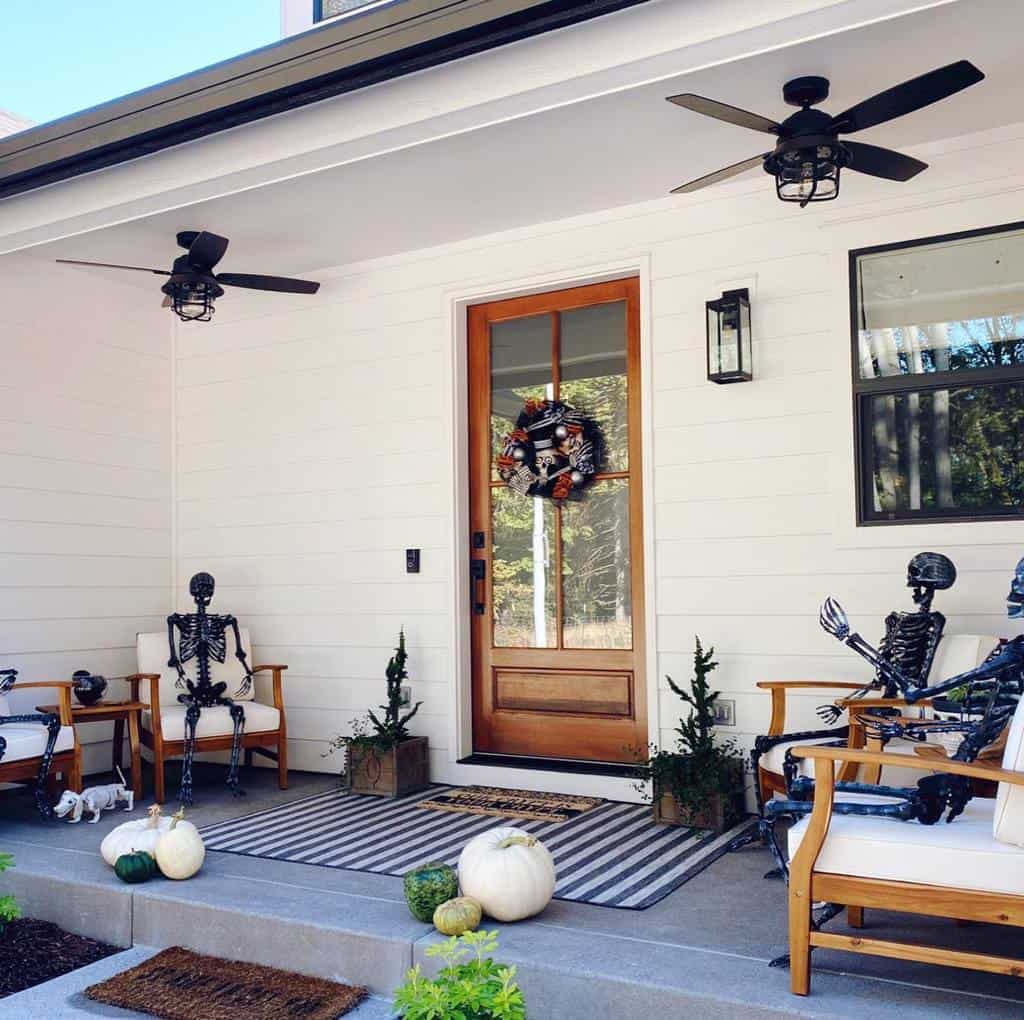 A colorful doormat and front door wreath will add ambiance to even the smallest front landing. If floor space is at a minimum, make sure your overhead light fixture or wall light sconce is at least two steps above builder-grade. A small front porch can be just as cute and cozy as a larger one—it just requires you to be imaginative with the available space.
10. Step Decorating
Don't overlook your front porch steps as a potential place to add decorative touches. A row of alternating colored potted flowers is a beautiful way to frame your porch steps on each side. Metal lanterns are also gorgeous set along front steps and help illuminate the walkway for night-time guests.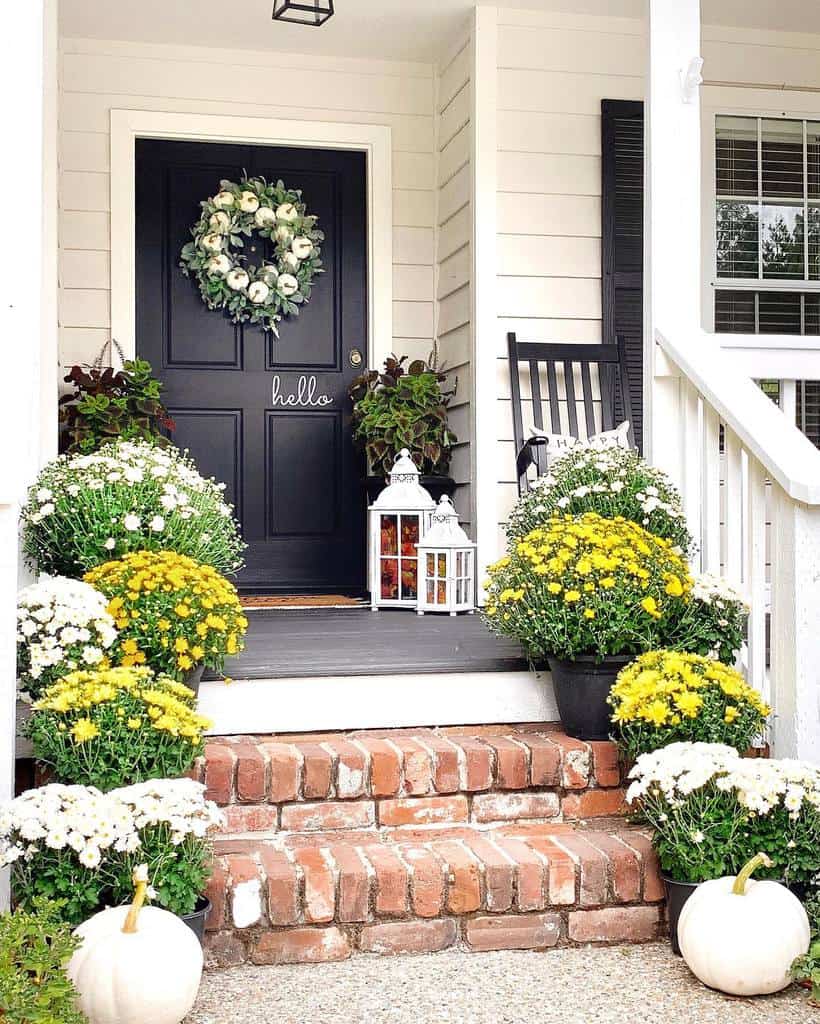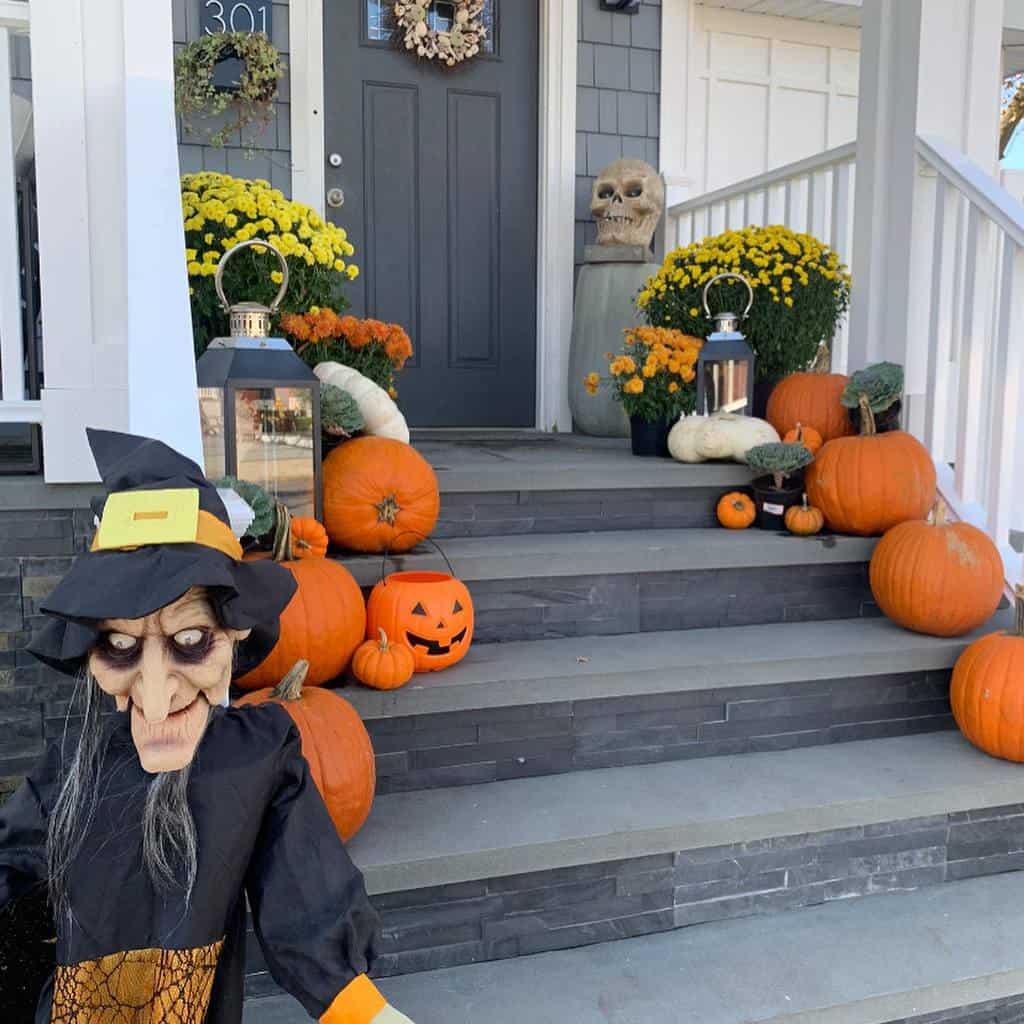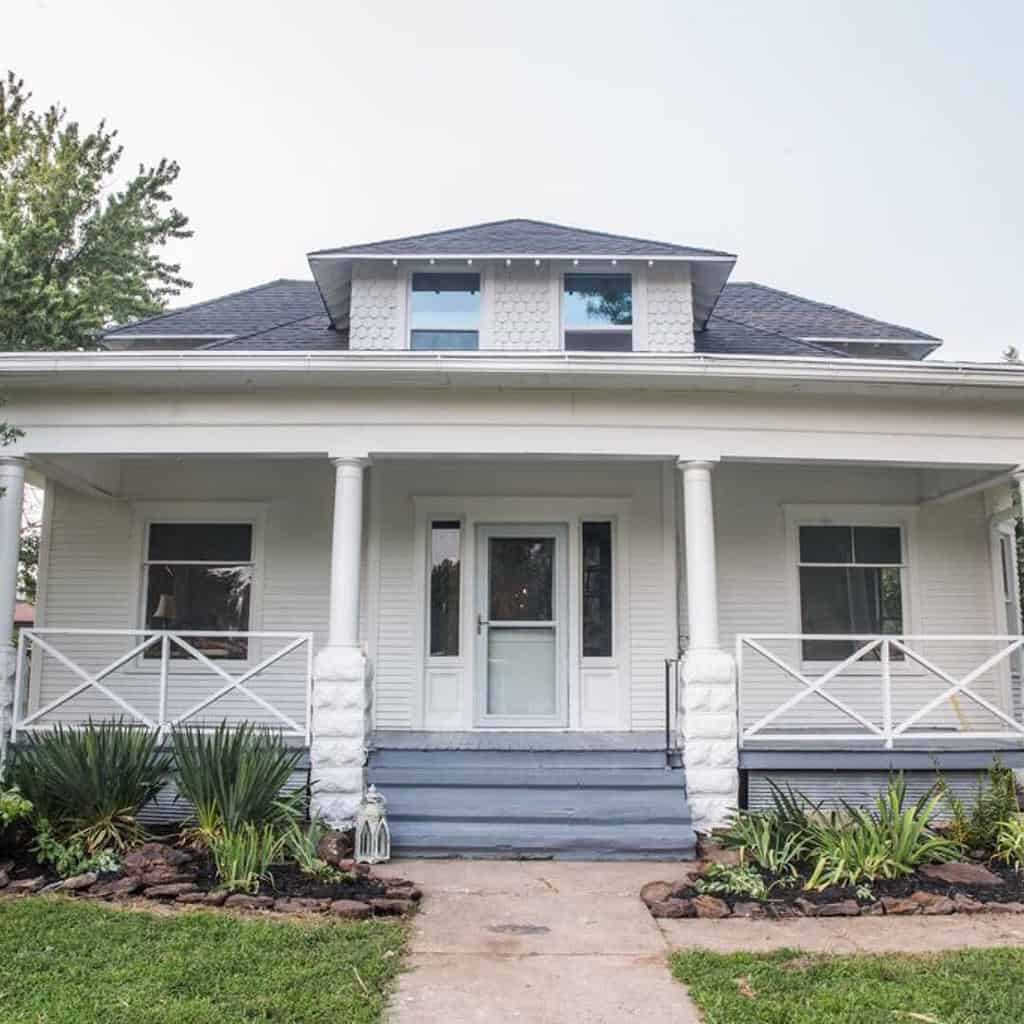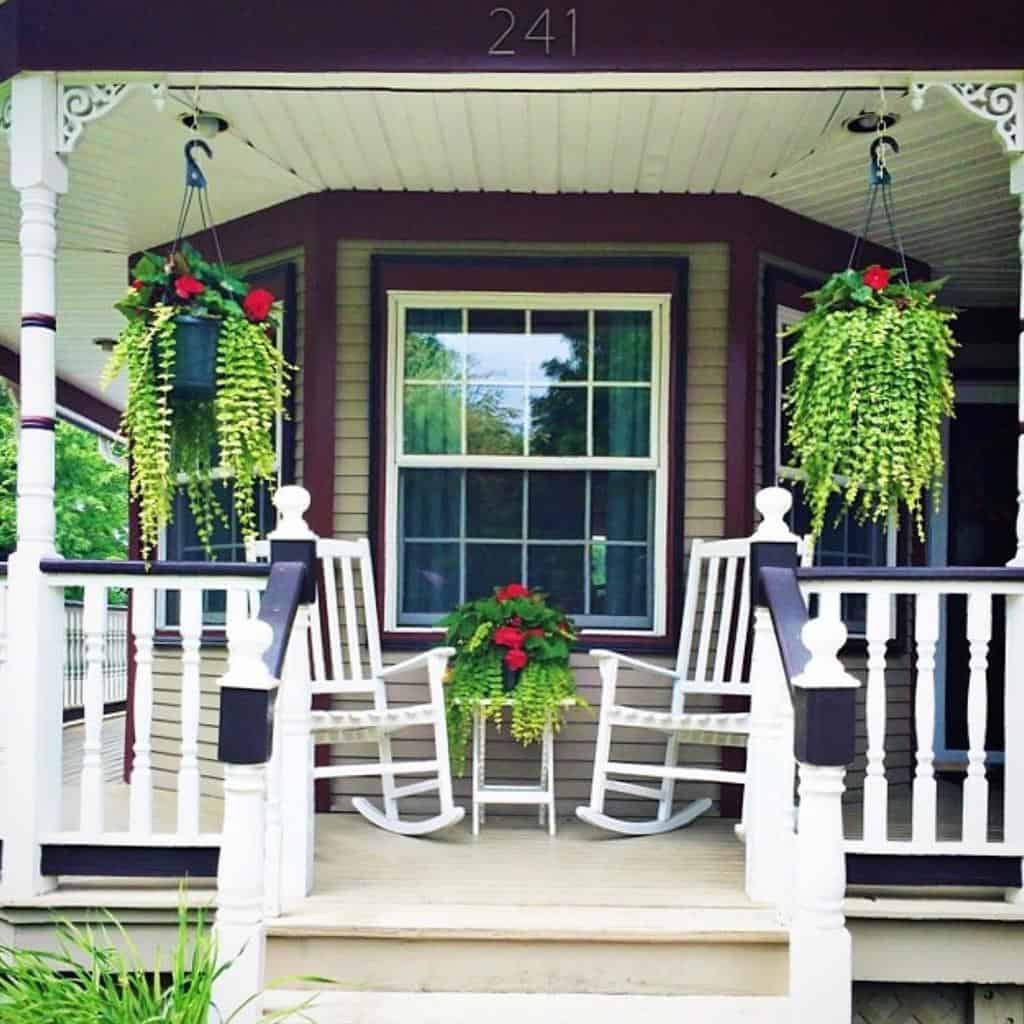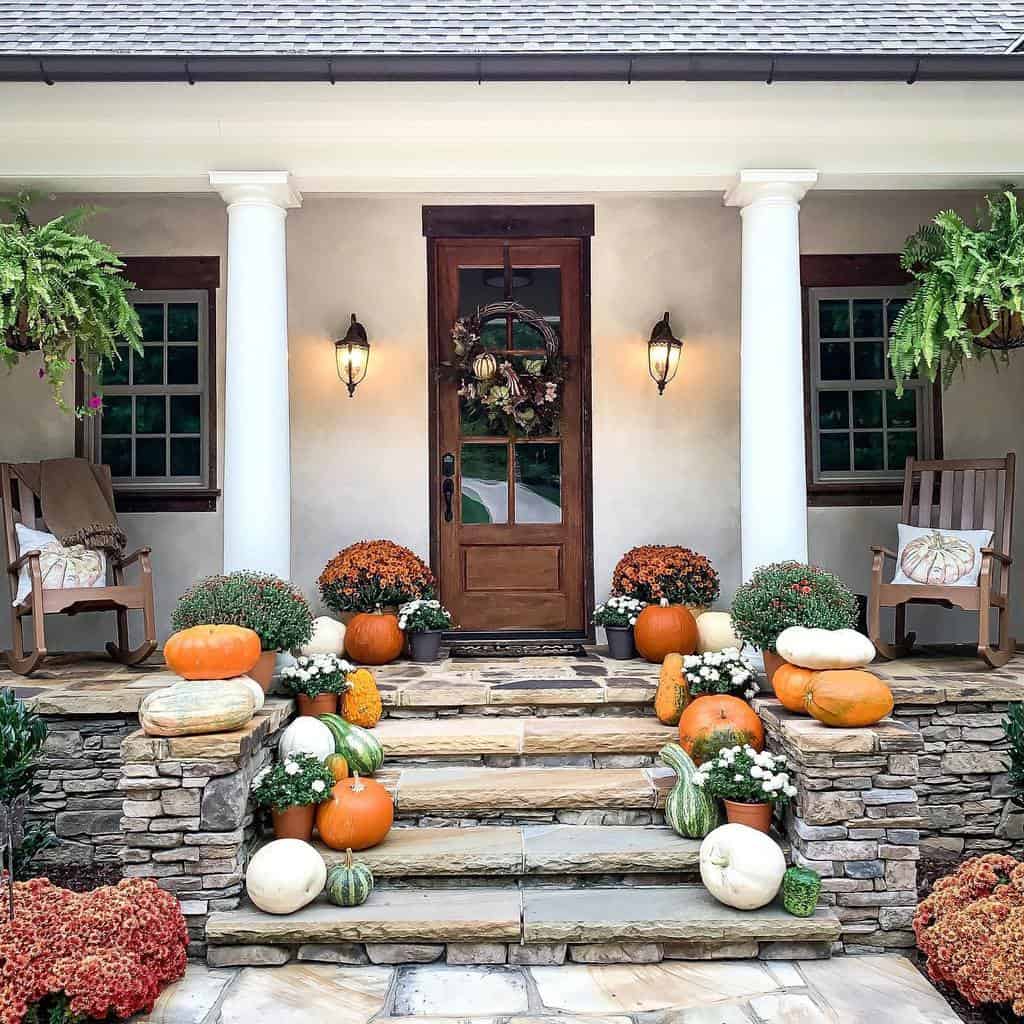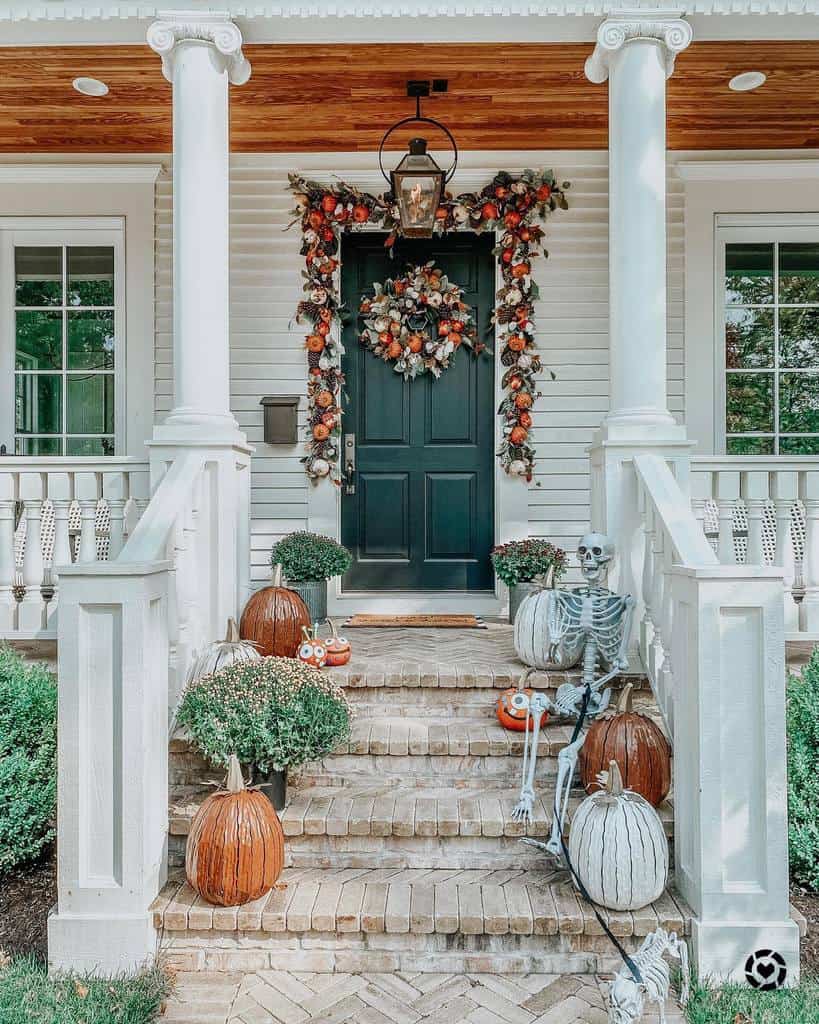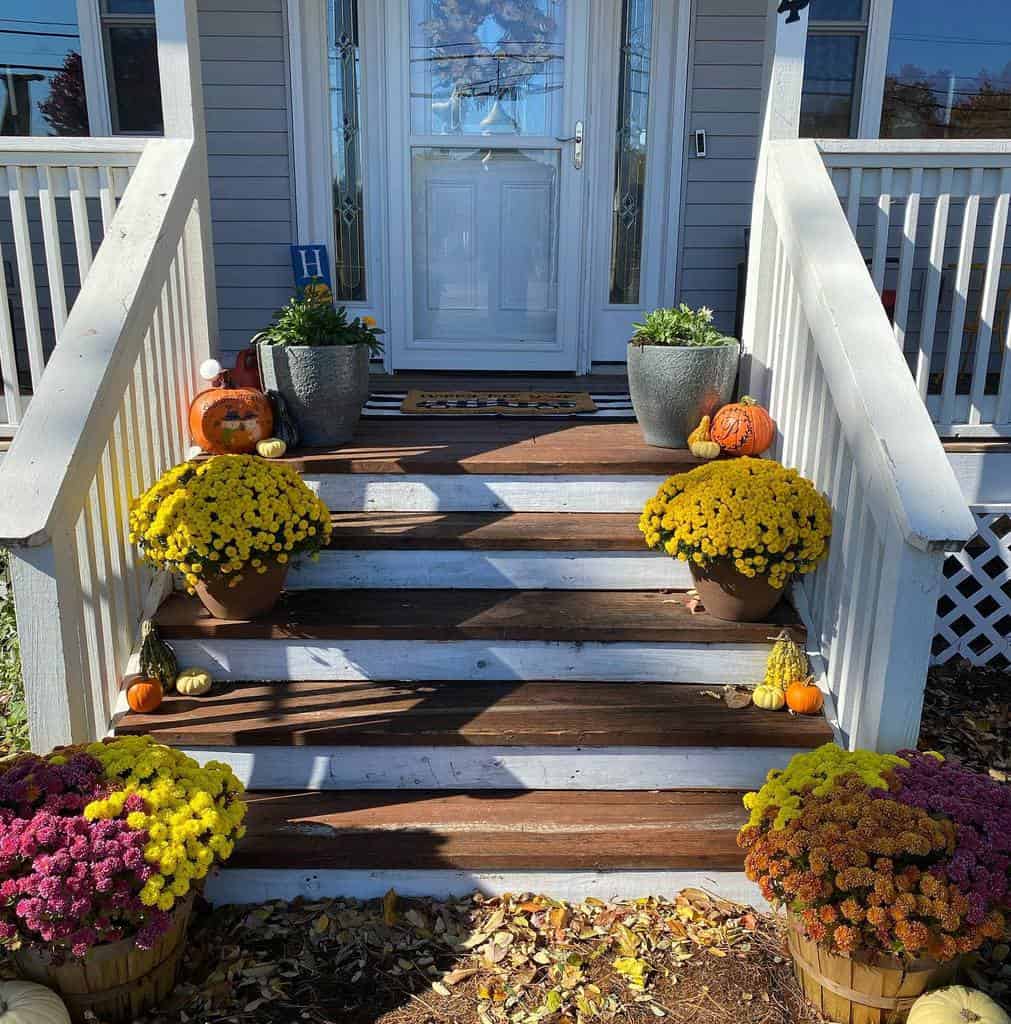 For fall or Halloween décor, set a pumpkin on each step or alternating steps. Luminaries are beautiful step decoration touches at Christmastime, and potted flowers look beautiful on staircases during the spring. Be sure to keep enough surface area on each step clear so that your decorations don't become a trip hazard.
11. Swings
Your porch swing is a great place to add color and texture to your front porch. While cushions make the swing more comfortable, they aren't a requirement. However, cushions covered in outdoor pillow fabric are durable and a nice touch to your outdoor space.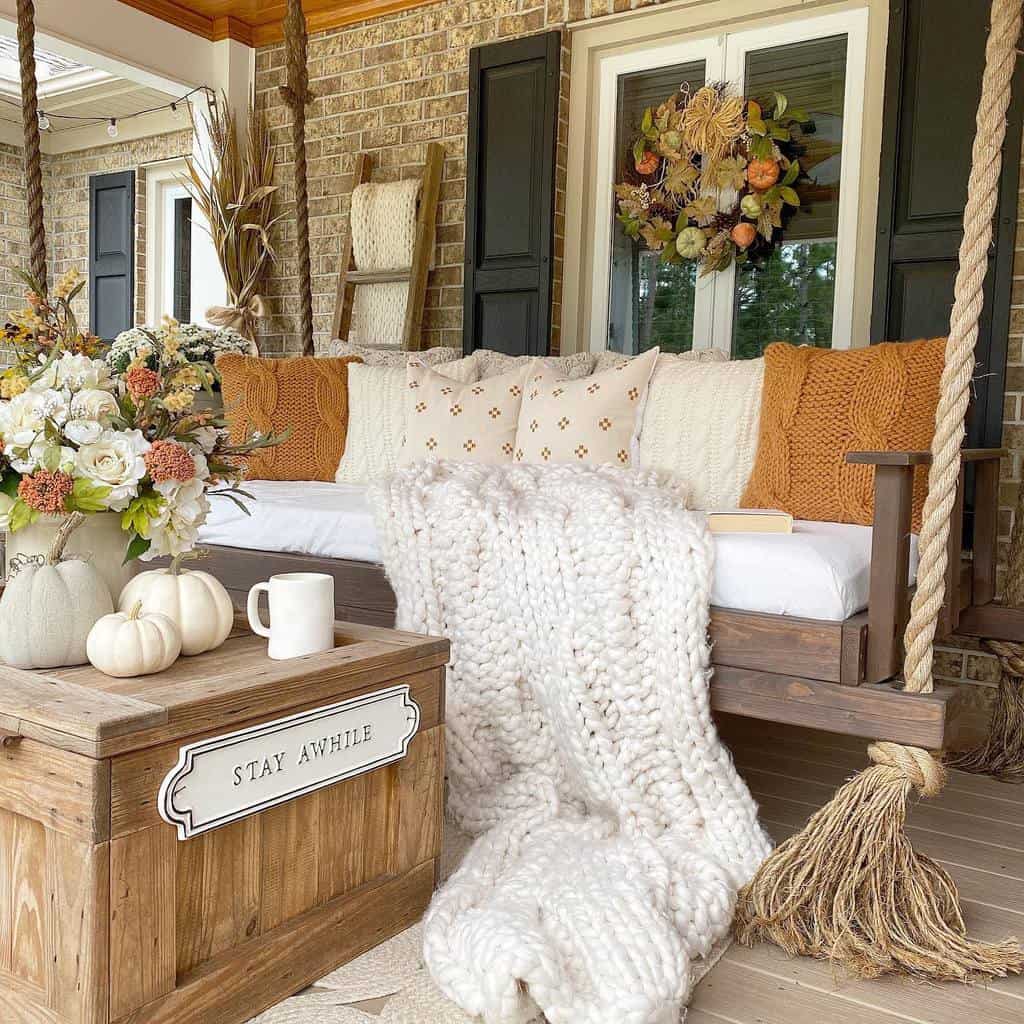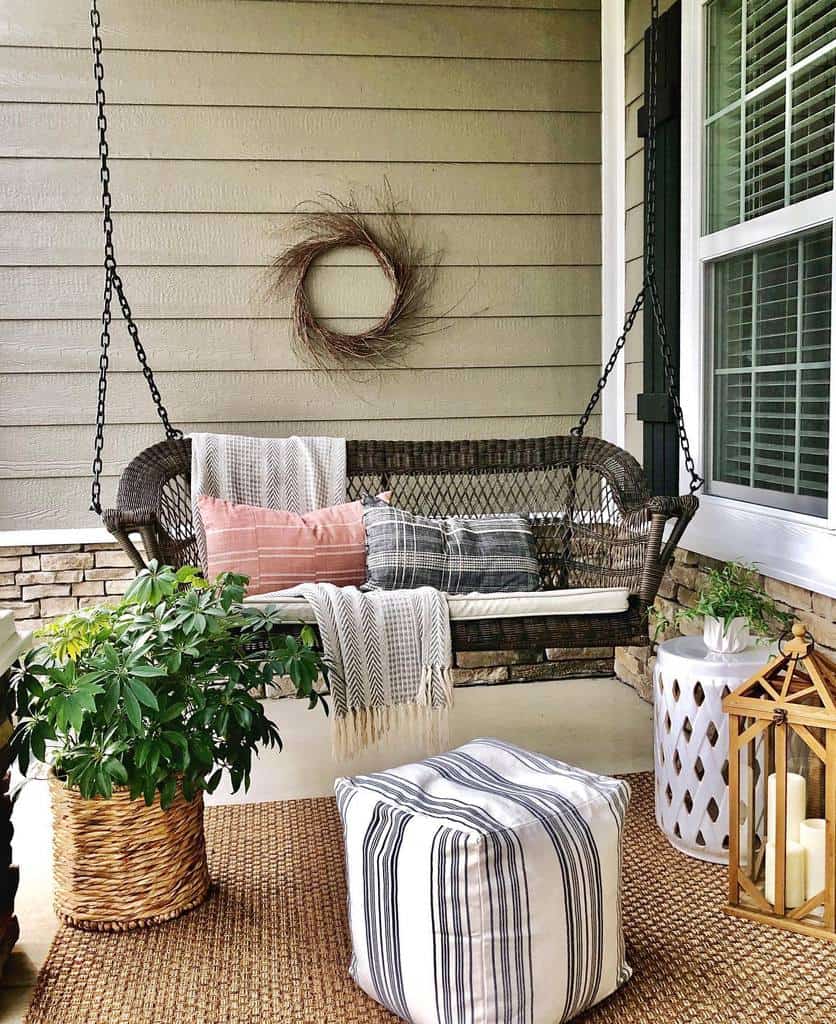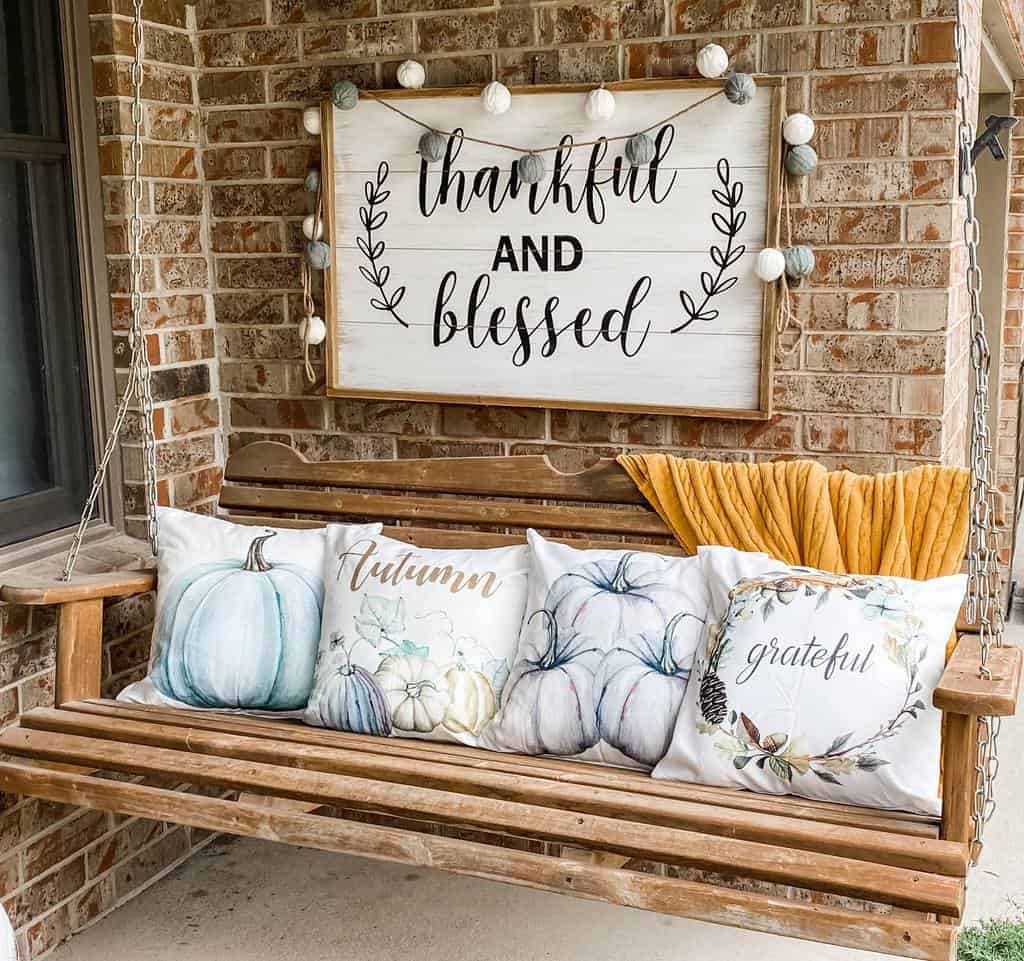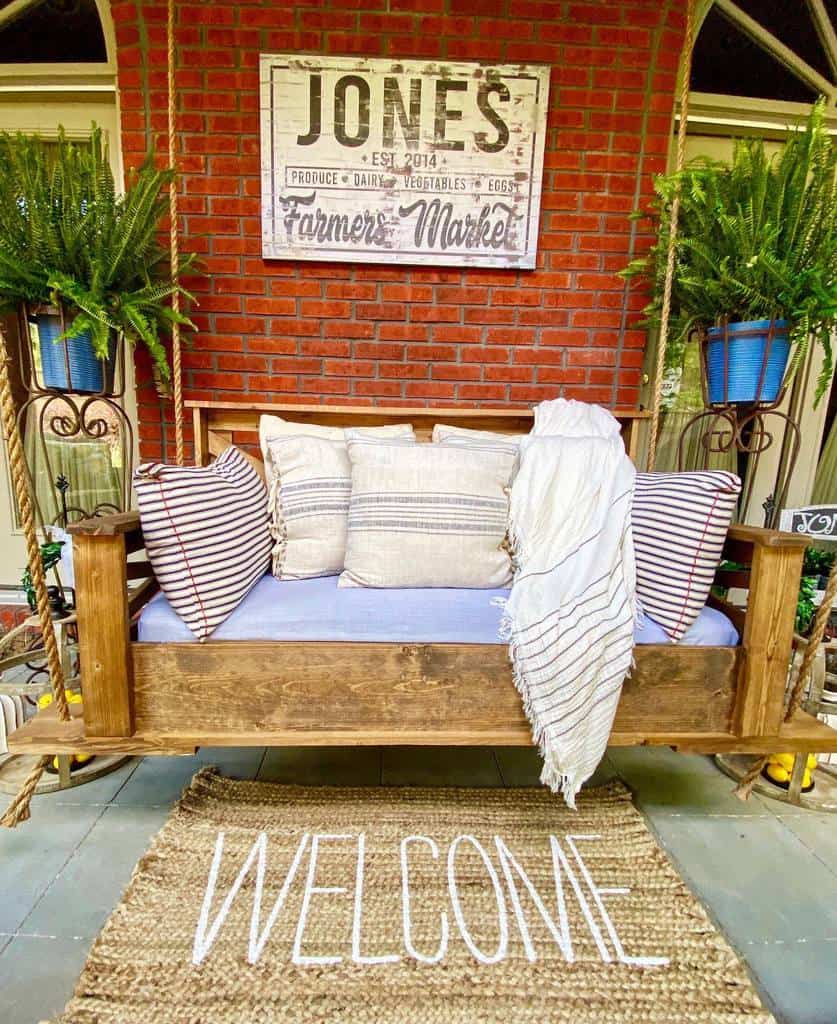 Arrange a color-coordinating throw pillow grouping on your porch swing's cushions and toss a throw blanket over the back. Both of these décor ideas raise the coziness factor, especially on a chilly fall porch. Hang a string of fairy lights above your swing for evening ambience.
12. White Front Porches
The liberal use of white is one of the most classic front porch decorating ideas. Traditional farmhouses were usually painted white, so a white-walled porch has a certain vintage elegance. However, to keep an all-white porch from looking sterile instead of inviting, accent with warm wood tones and green plants.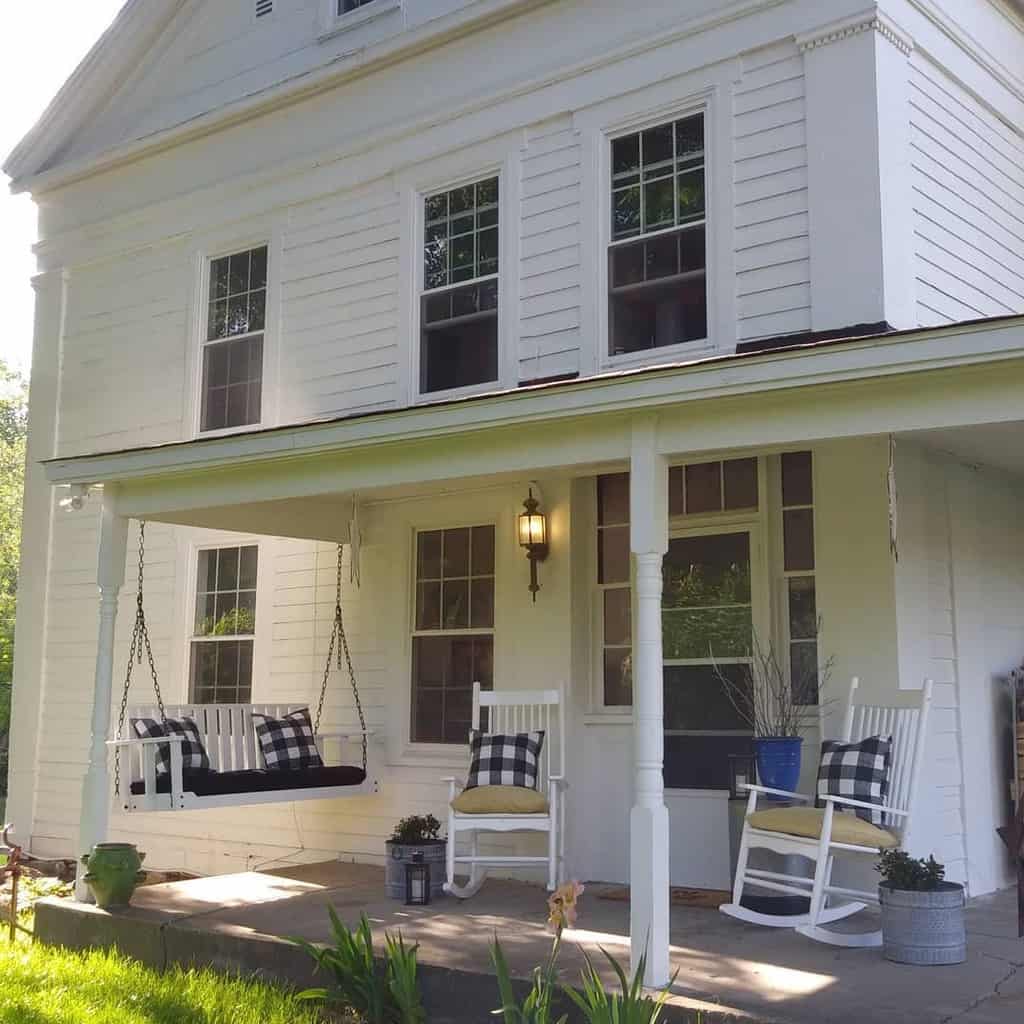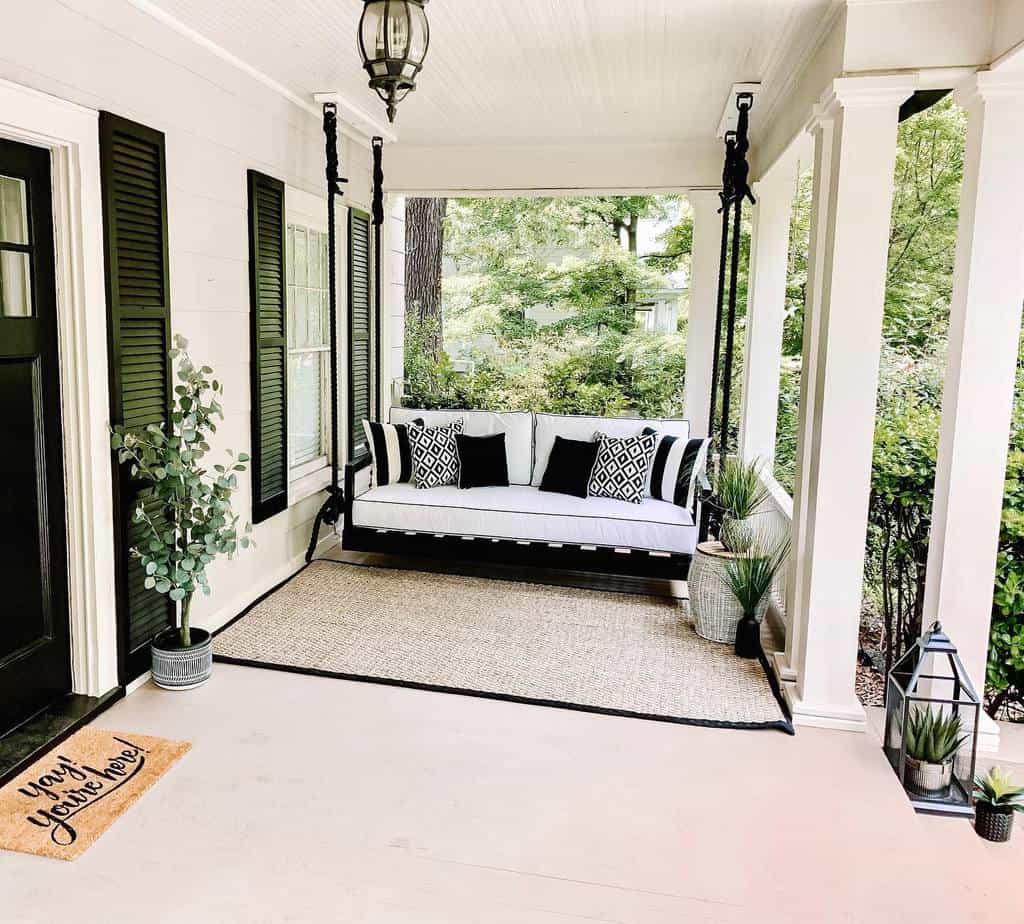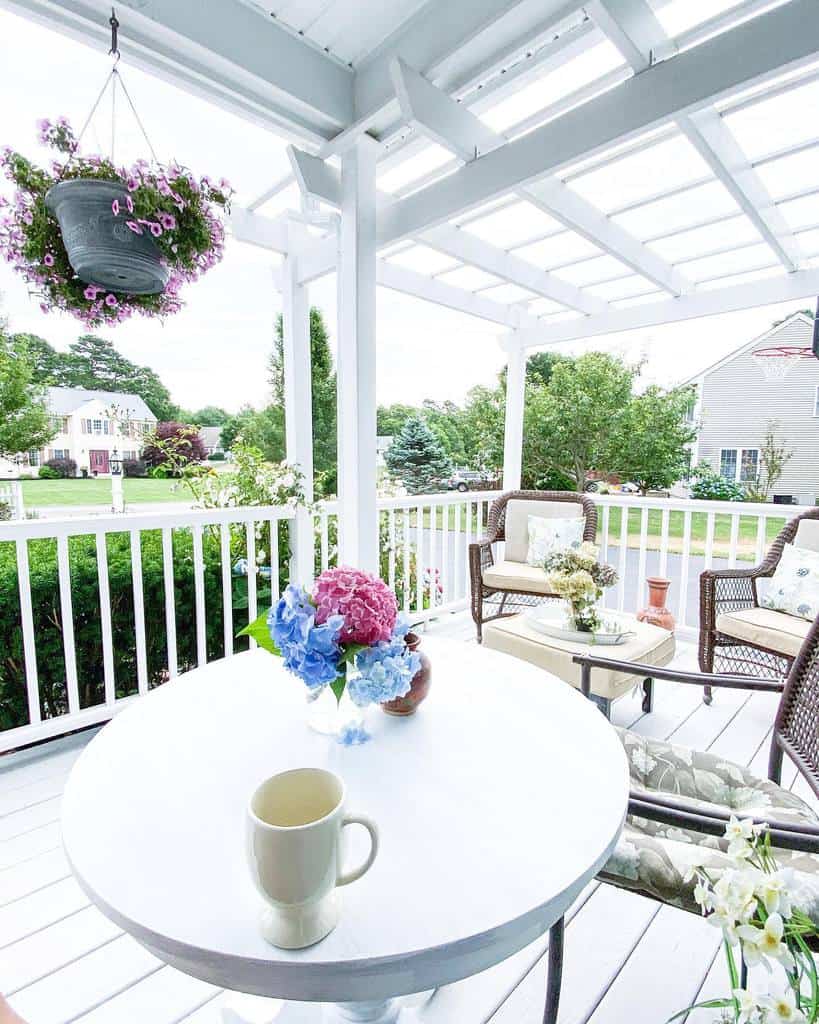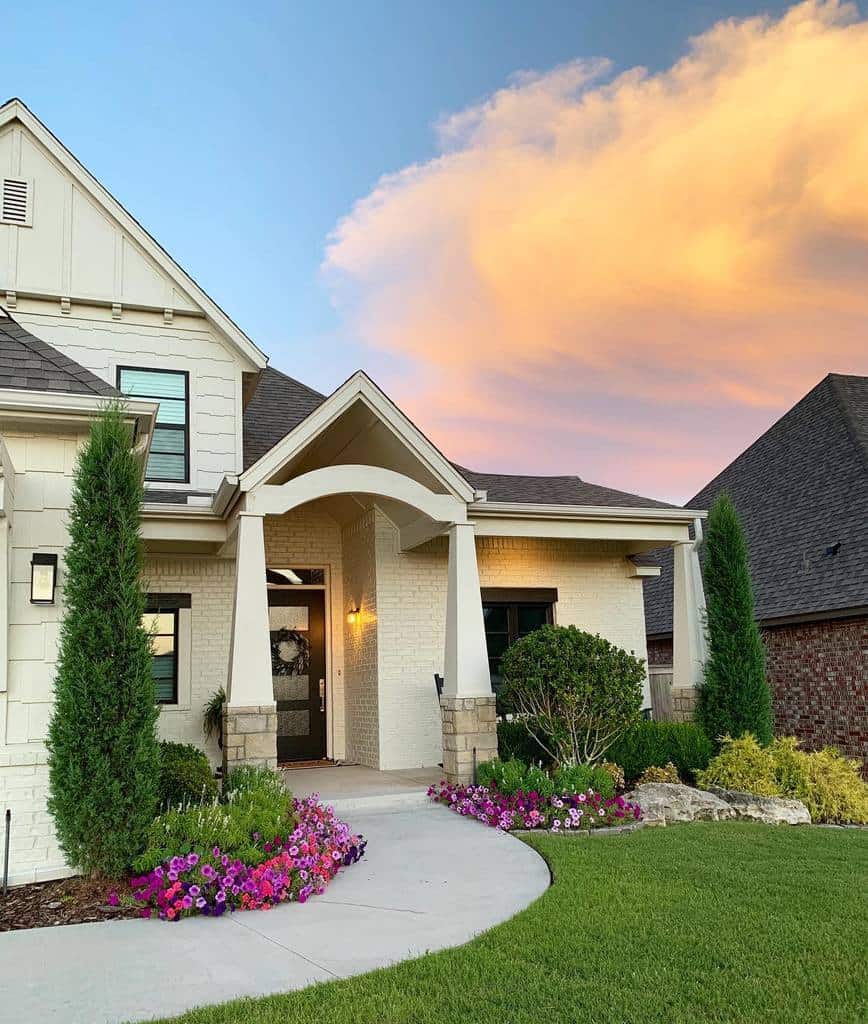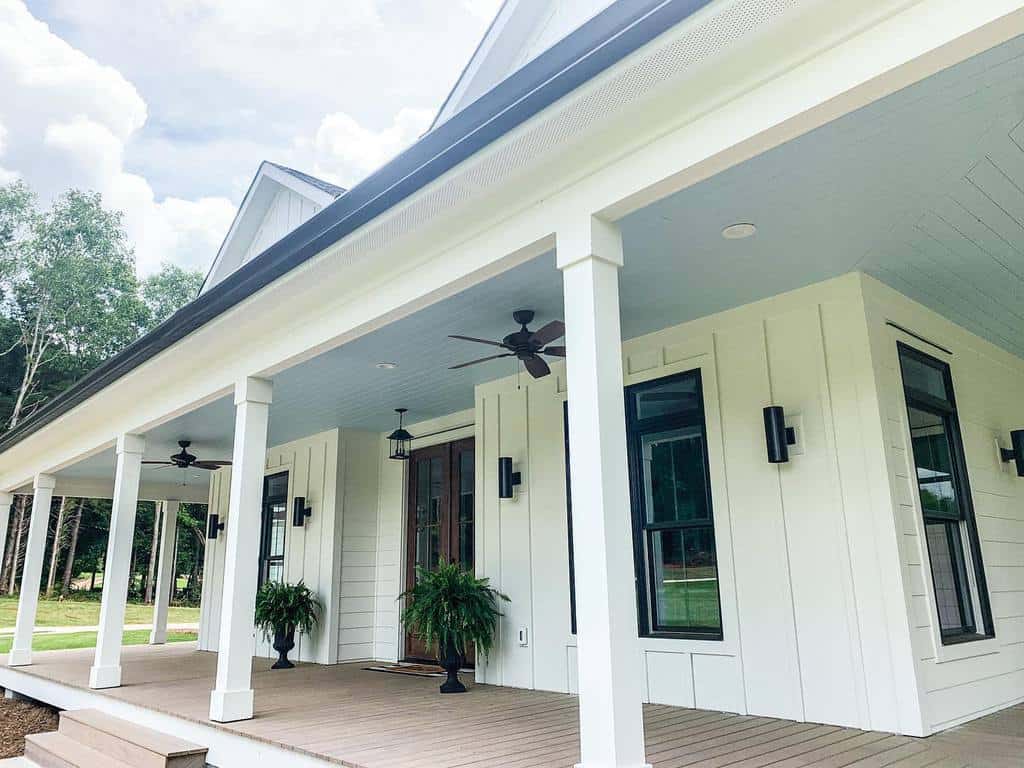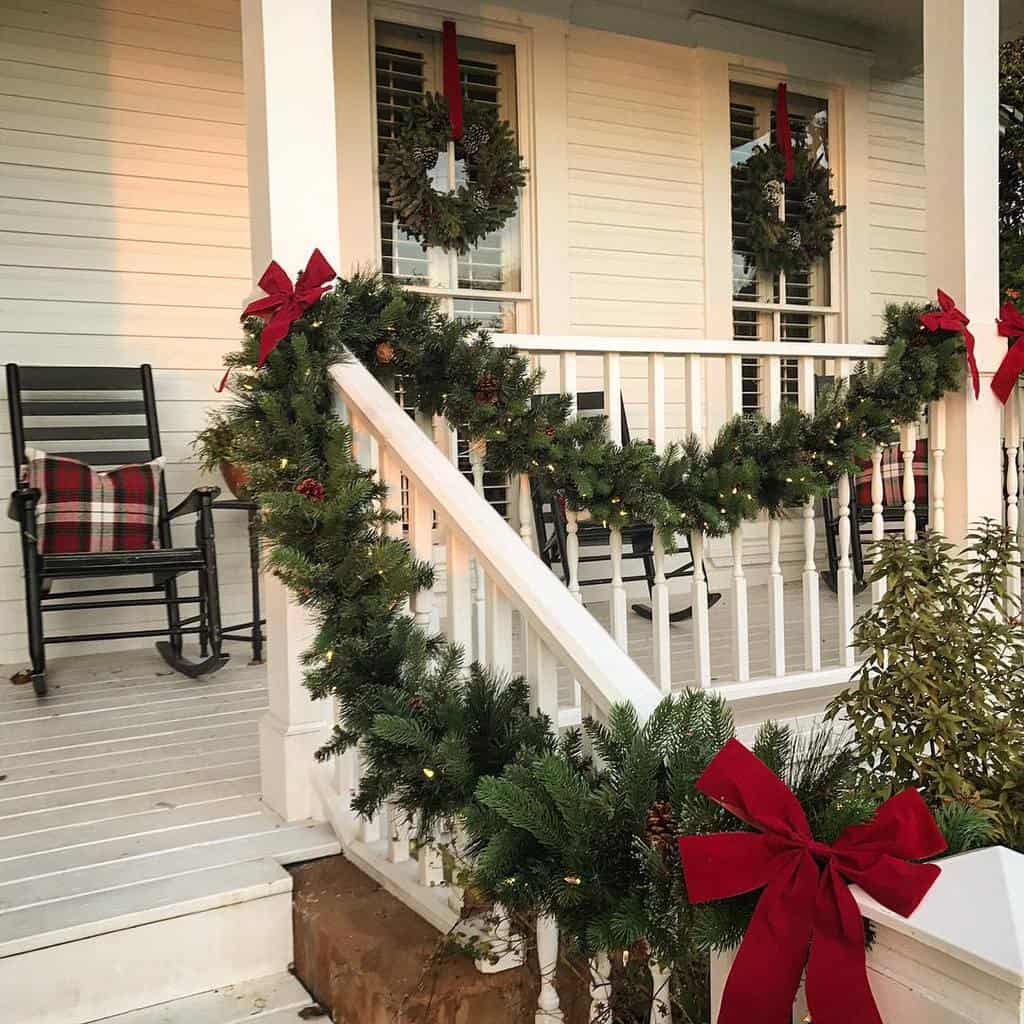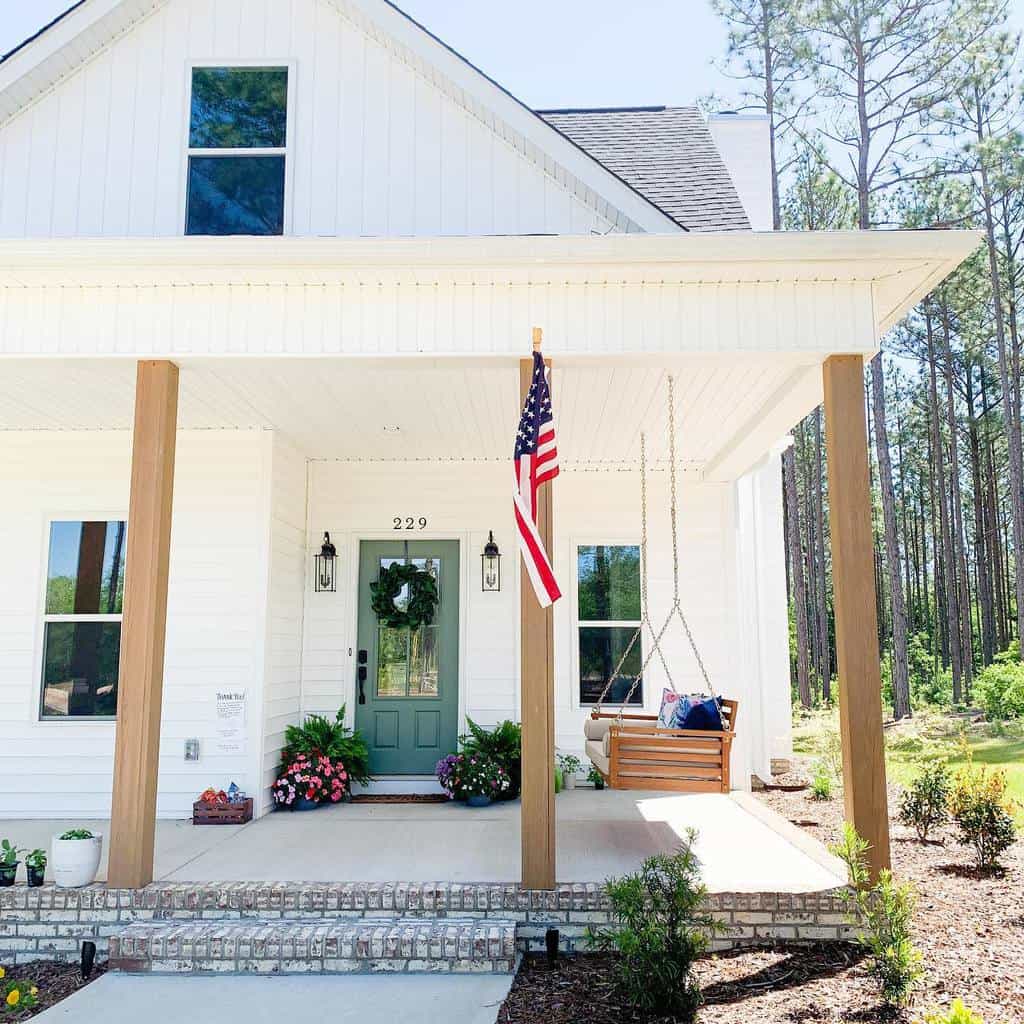 A whitewashed park bench is an attractive seating addition to a mostly-white front porch. In fact, painting or distressing all of your porch furniture in white is a great way to lighten up a dark porch. One thing you might wish to avoid is purchasing a white outdoor rug for your front porch, as it will be difficult to keep it clean.
Front Porch Decorating FAQs
How do you style a front porch?
Style your front porch the same way you'd style any room inside your home. If space allows, include a seating area and small table. An outdoor rug softens the area and adds color and texture. Plants and flowers are excellent porch decorating elements.
What are good porch flowers?
If you lack flower growing experience, there are many hearty, easy-to-grow flowers that are perfect for porch design. Hanging baskets of begonias or petunias bloom in bright shades of pink, orange and purple. Hibiscus and Mandevilla grow well in pots placed in sunny areas of your porch.
How can I lighten a dark porch?
Paint everything from walls, to floors, to furniture in light, cheery shades. Use as much white as possible to reflect available light. Avoid dark furniture and linens, opting for pastel shades instead. Add additional light fixtures if your porch needs more light at night.