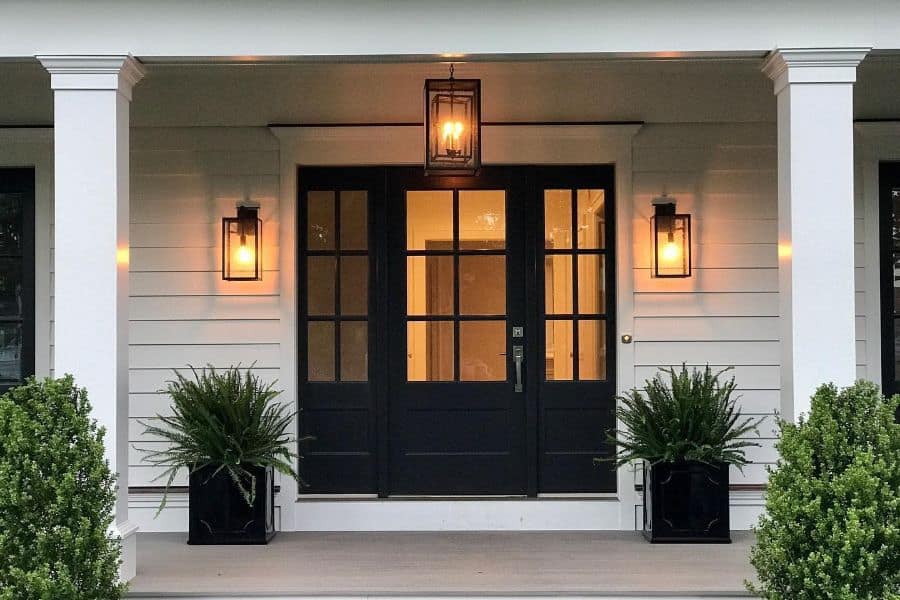 The Top 72 Front Porch Decorating Ideas
"I return to my front porch to find a place where the air smells sweeter and the sun feels warmer than at any other bend in life's long road." – John Sarris
A home with a beautiful front porch always feels more welcoming than a home without one. Your front porch is a place to relax, to drink in the sunshine and fresh air, to wave at your neighbors, and converse with friends. It is also the first impression people have of your home and the people who live inside.
Creating a welcoming front porch is an art that all can master. Front porch decorating ideas can be simple or complex, but they should reflect your personality. Our front porch décor ideas are sure to draw you in as you gain inspiration for making your front porch your home's first haven.
1. Seasonal Wreath on the Front Door
From vibrant spring florals to autumn-inspired foliage, there is a wreath to suit every season and occasion. Hang a lush greenery wreath in the summer, adorned with colorful blooms and fresh citrus accents. Embrace the cozy vibes of fall with a wreath featuring dried leaves, pinecones, and miniature pumpkins.
As winter approaches, opt for a wreath embellished with evergreen branches, berries, and elegant ribbons. The beauty of a seasonal front door wreath is that it can be easily switched out to reflect the changing seasons and holidays.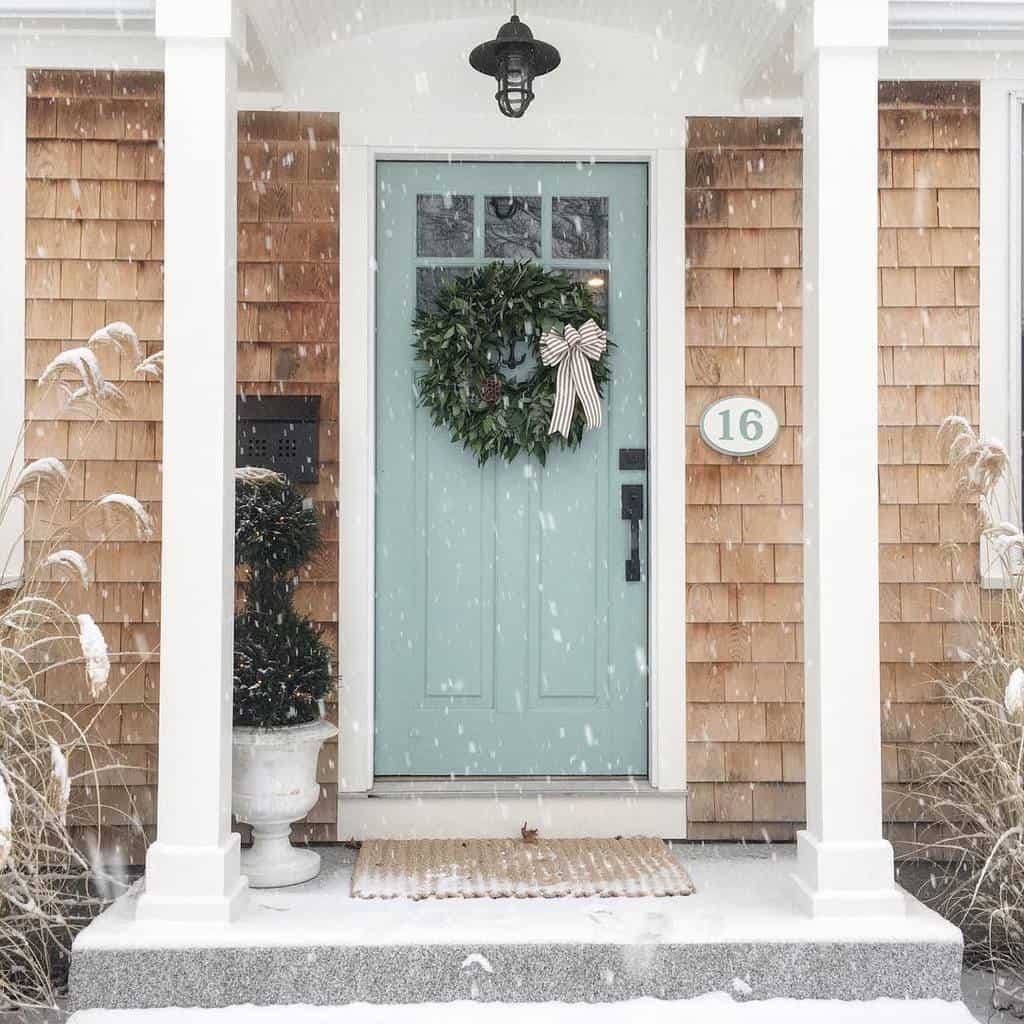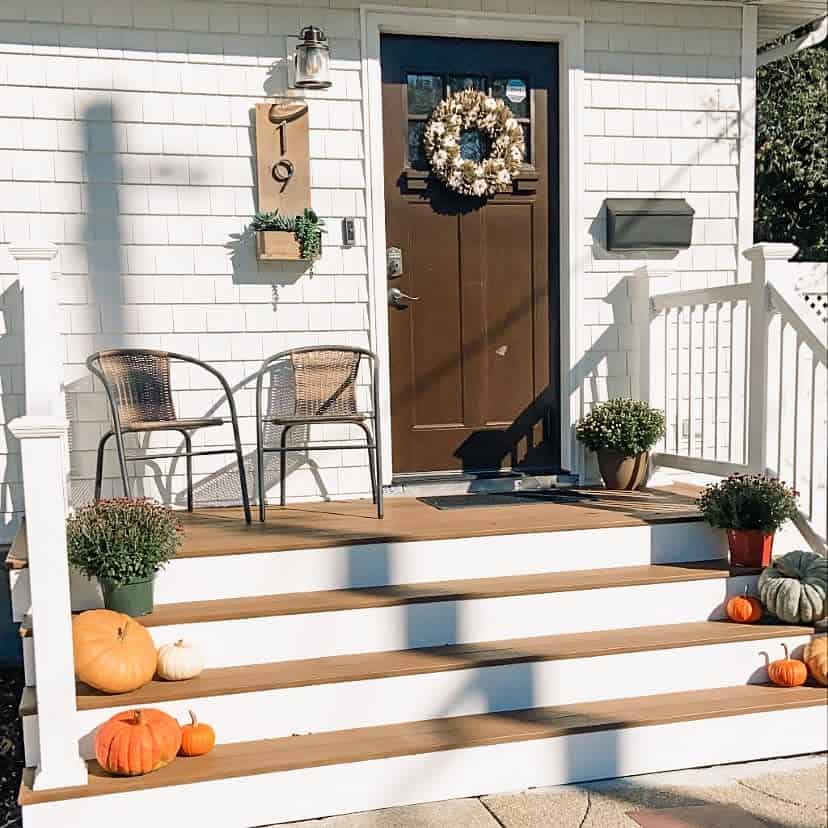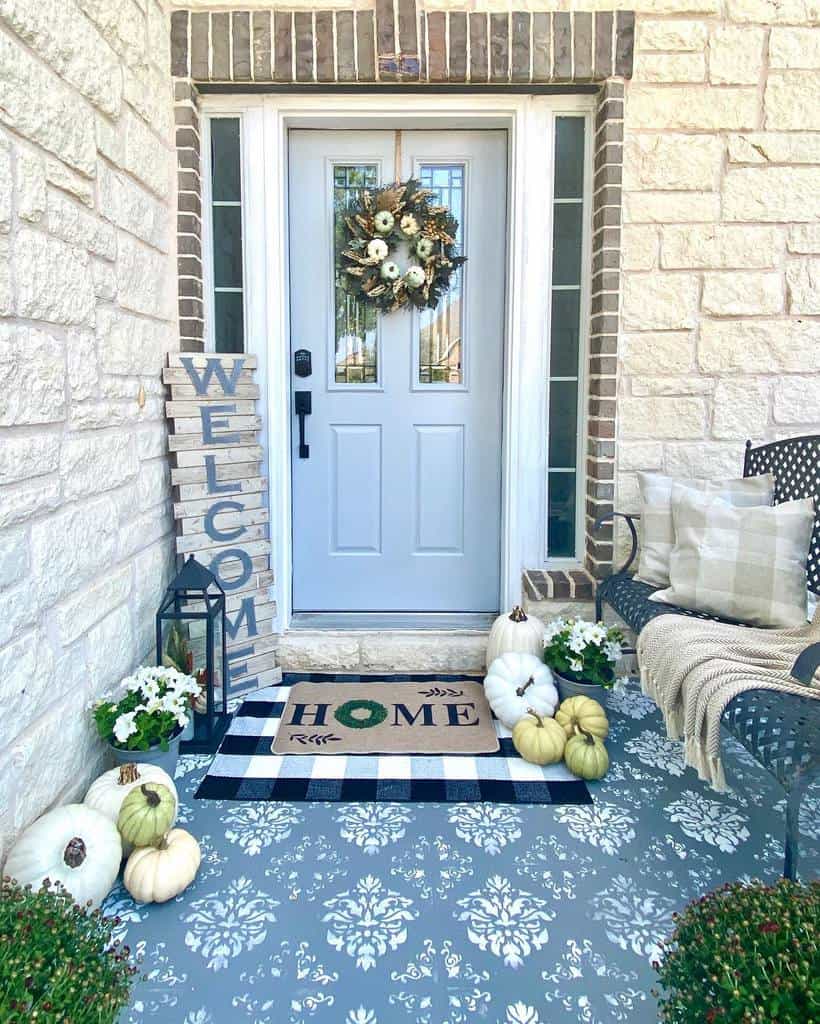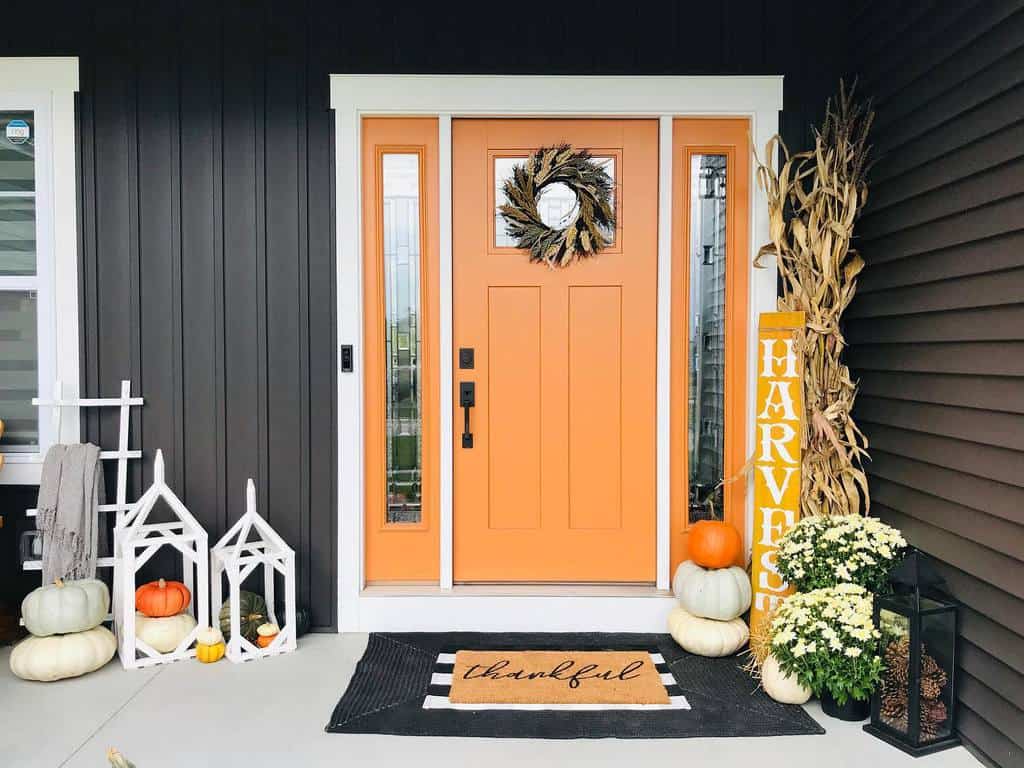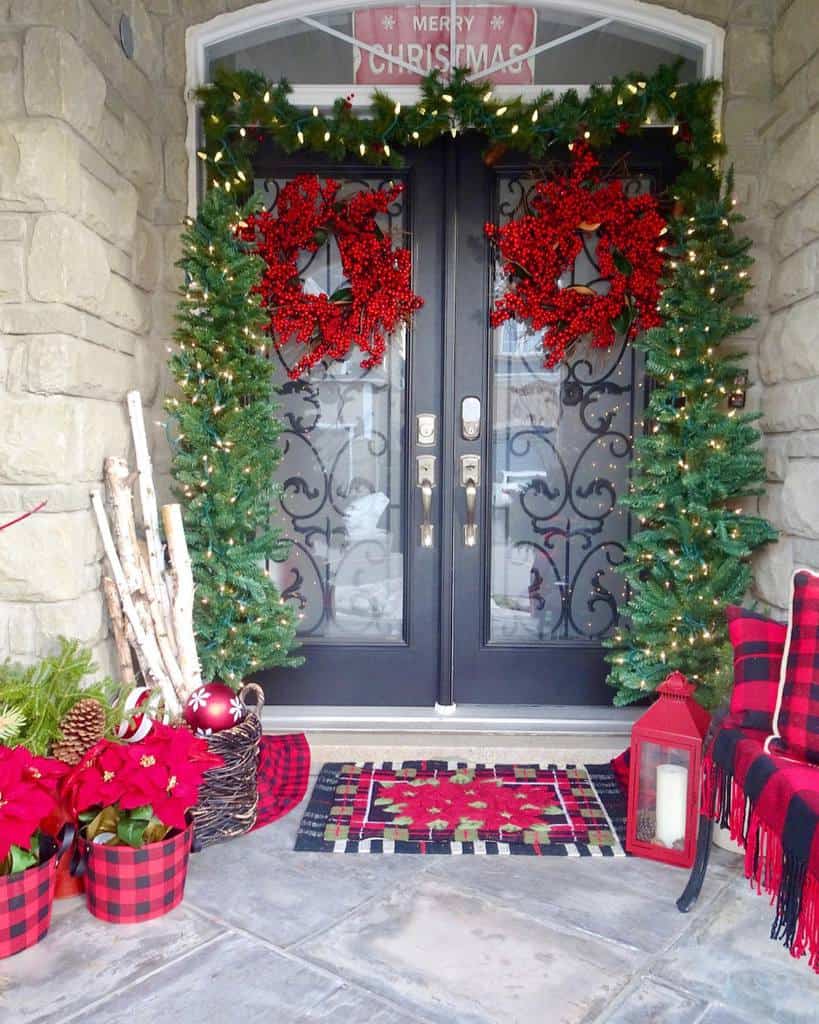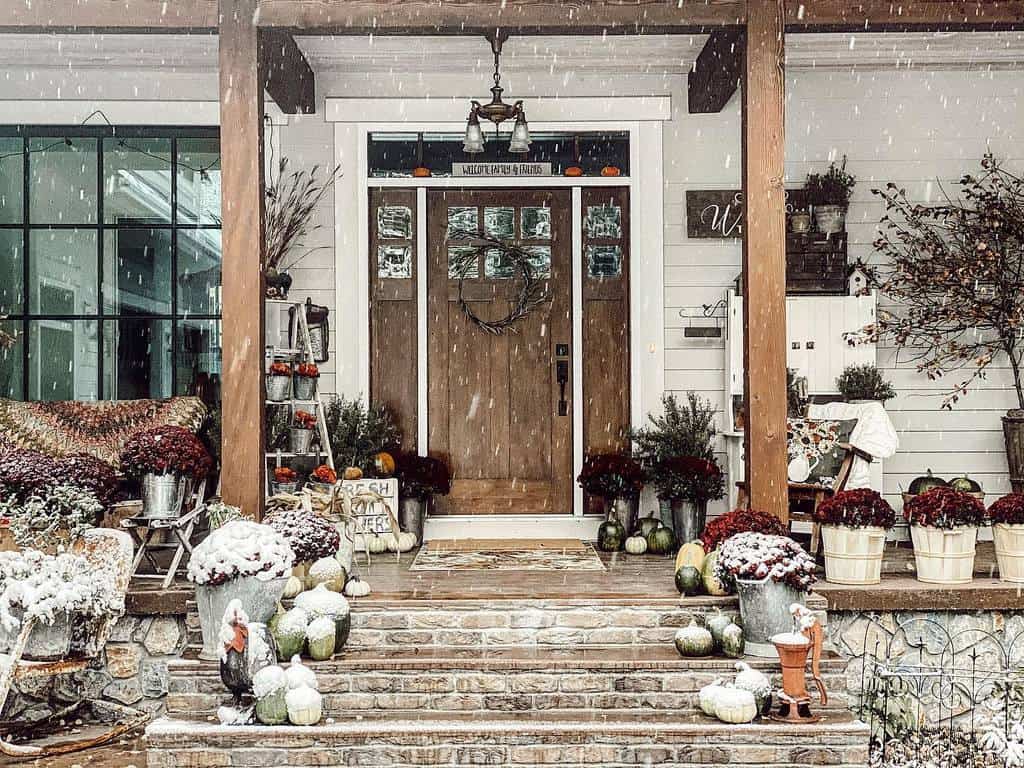 2. Porch Swag or Garland
Remake your front porch into a welcoming and enchanting space with the magical touch of railings adorned with porch swag or garland. This delightful and creative idea adds a touch of charm and elegance to your home's facade. Picture beautiful greenery and colorful flowers cascading gracefully along the railings, creating a captivating display that draws the eye and fills the air with a refreshing scent.
Whether you choose to use natural foliage or opt for artificial garland that lasts year-round, the result will be a porch that exudes warmth and invites guests with open arms. The porch swag or garland can be customized to match the seasons or your personal style, making it a versatile decor option.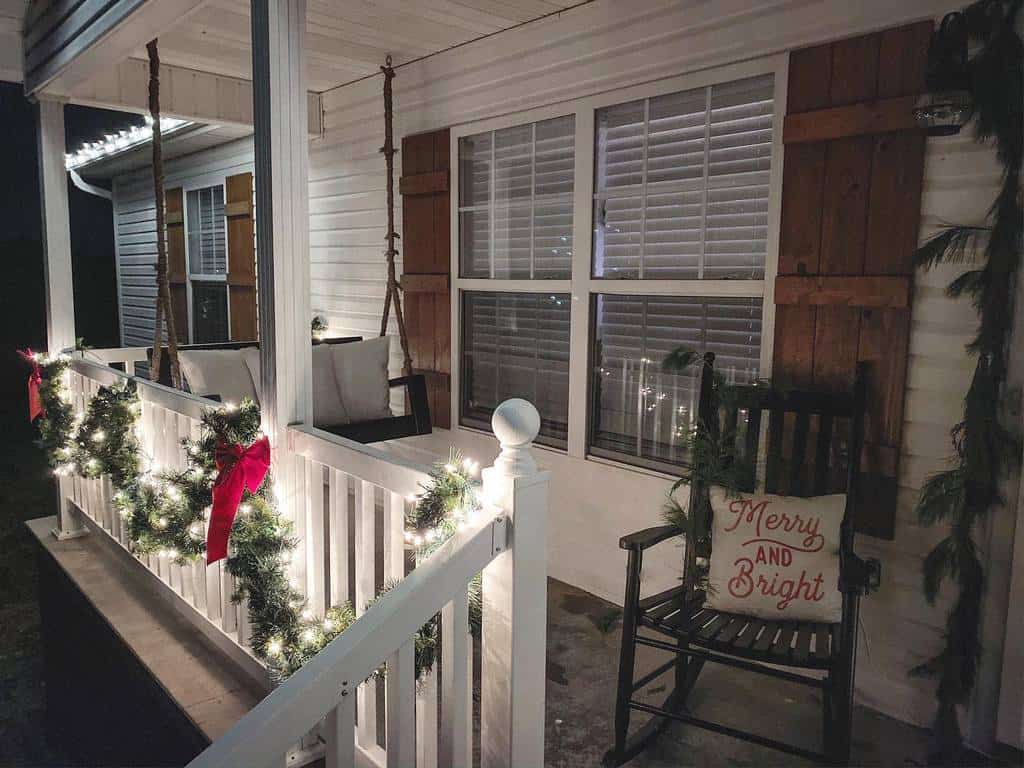 3. Wood Pallet Seating
Embrace the rustic charm of repurposed wood pallets by crafting them into comfortable seating. Arrange the pallets strategically, adding cushions and pillows to create a relaxed and laid-back atmosphere. For an extra touch of versatility, incorporate a futon mattress to enhance comfort and provide a cozy spot for lounging or even napping.
This unique seating arrangement not only adds character to your front porch but also offers a cozy space for unwinding and enjoying the outdoors. Embrace your creativity by selecting vibrant and durable outdoor fabrics for cushions and pillows, bringing a pop of color and style to the space.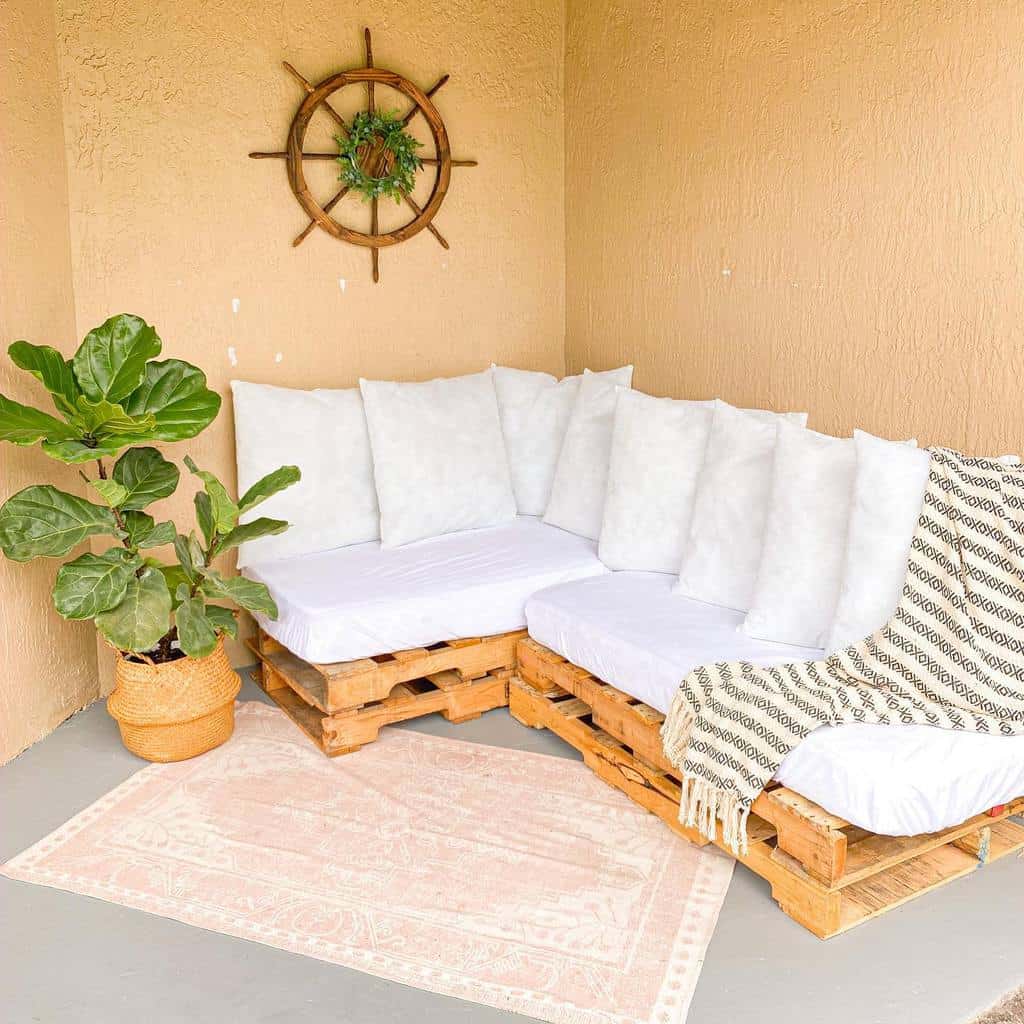 4. Hanging Porch Swing
A hanging porch swing not only adds a touch of nostalgia but also creates a perfect spot to relax and unwind. Picture yourself gently swaying back and forth, sipping a refreshing drink while enjoying the fresh air. To enhance comfort and style, adorn the swing with plush cushions and an array of vibrant throw pillows. Choose patterns and colors that complement your overall aesthetic and bring a sense of warmth and coziness.
Whether you opt for bold and vibrant hues or soft and neutral tones, the cushion and throw pillows will instantly elevate the visual appeal of your front porch. Let your personality shine through by selecting patterns and textures that reflect your unique taste.
The front porch swing becomes more than just a piece of furniture; it becomes a statement piece that invites you and your guests to relax, chat, and create lasting memories.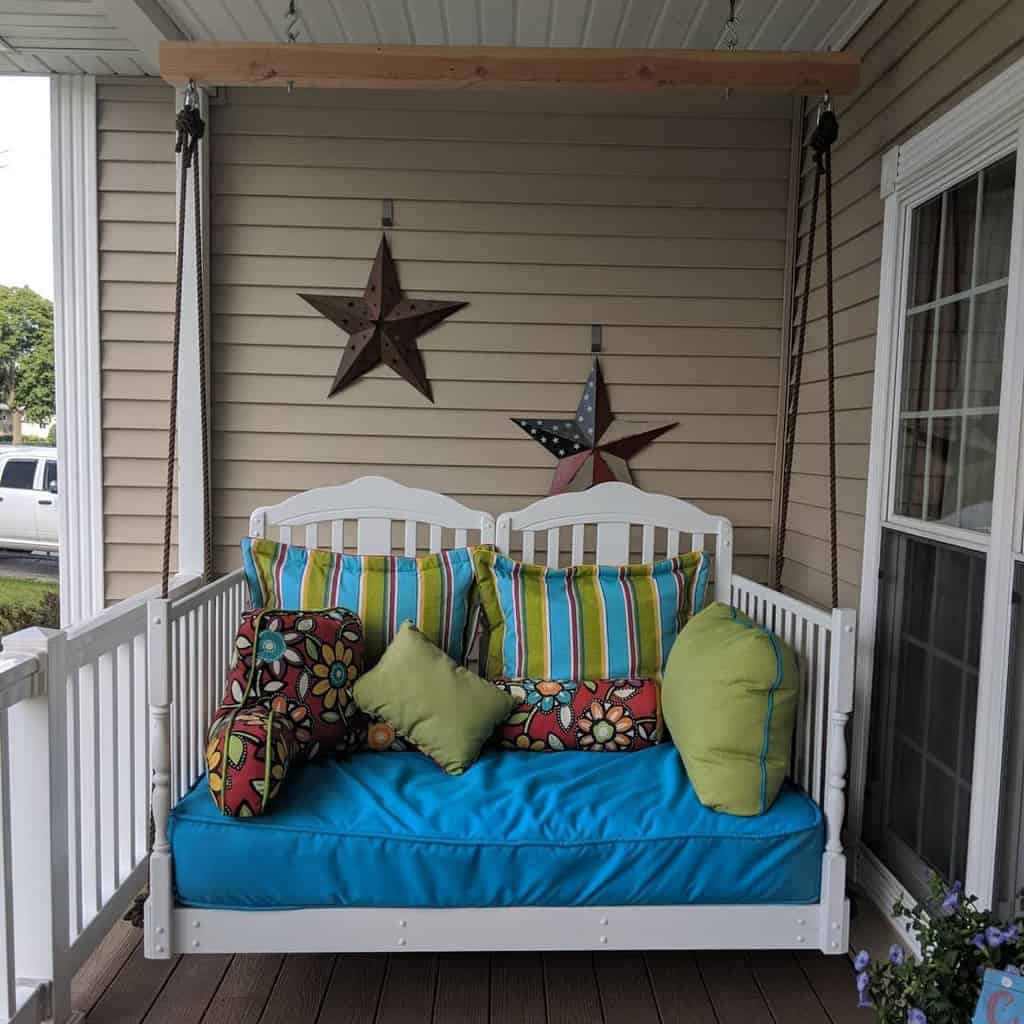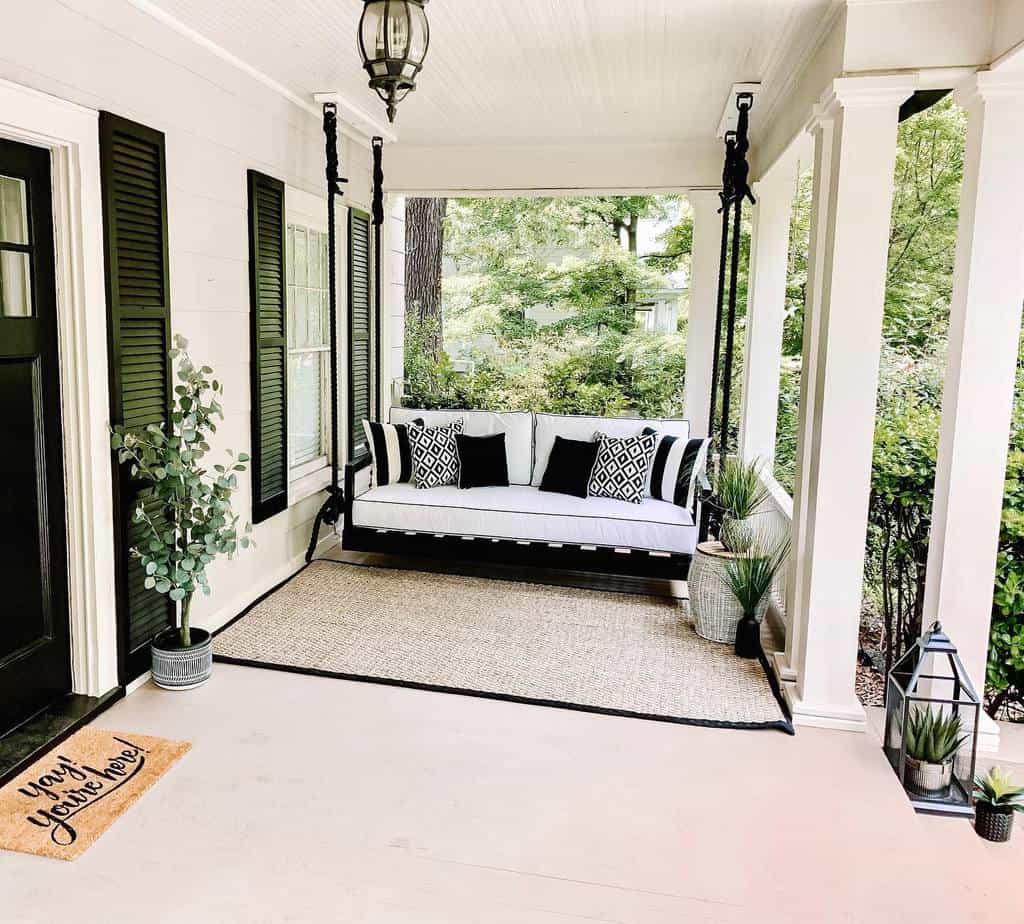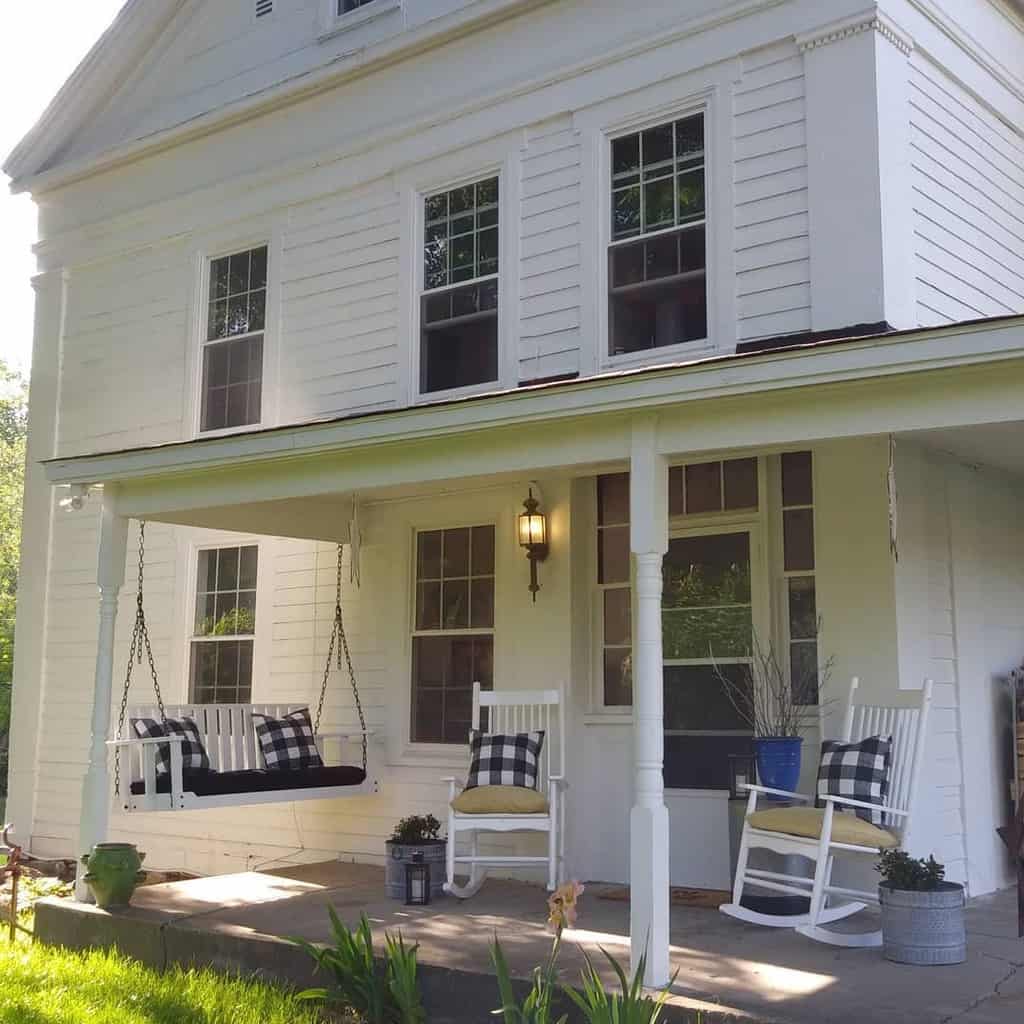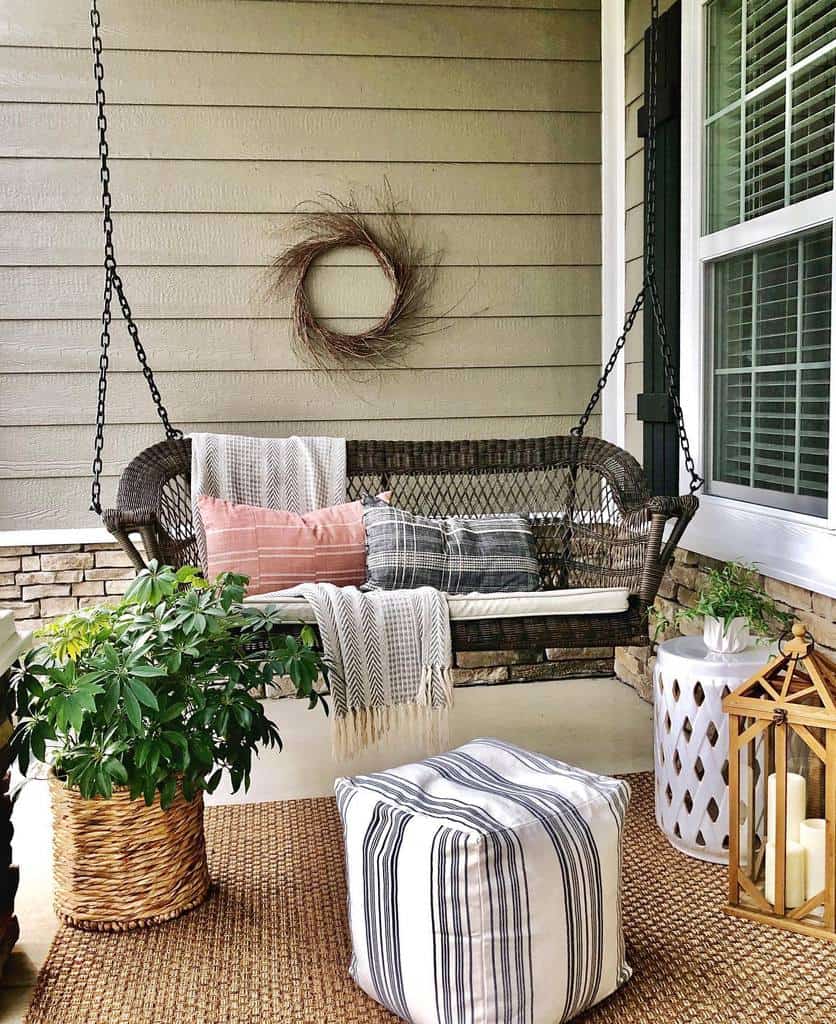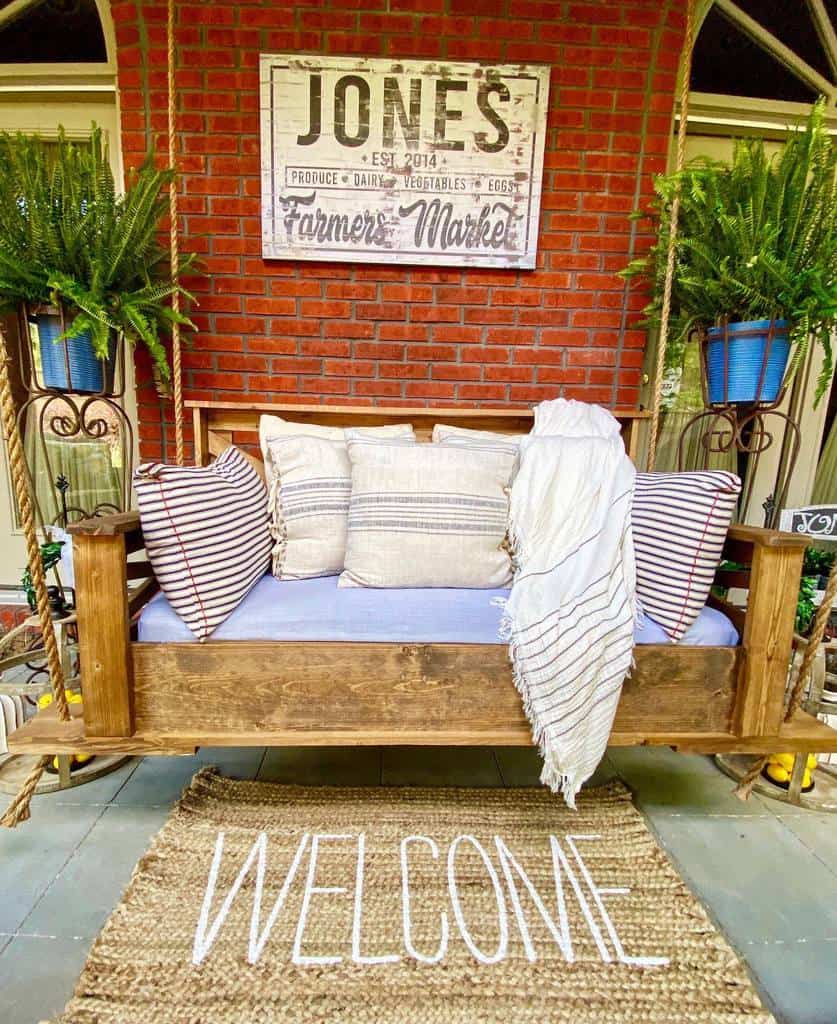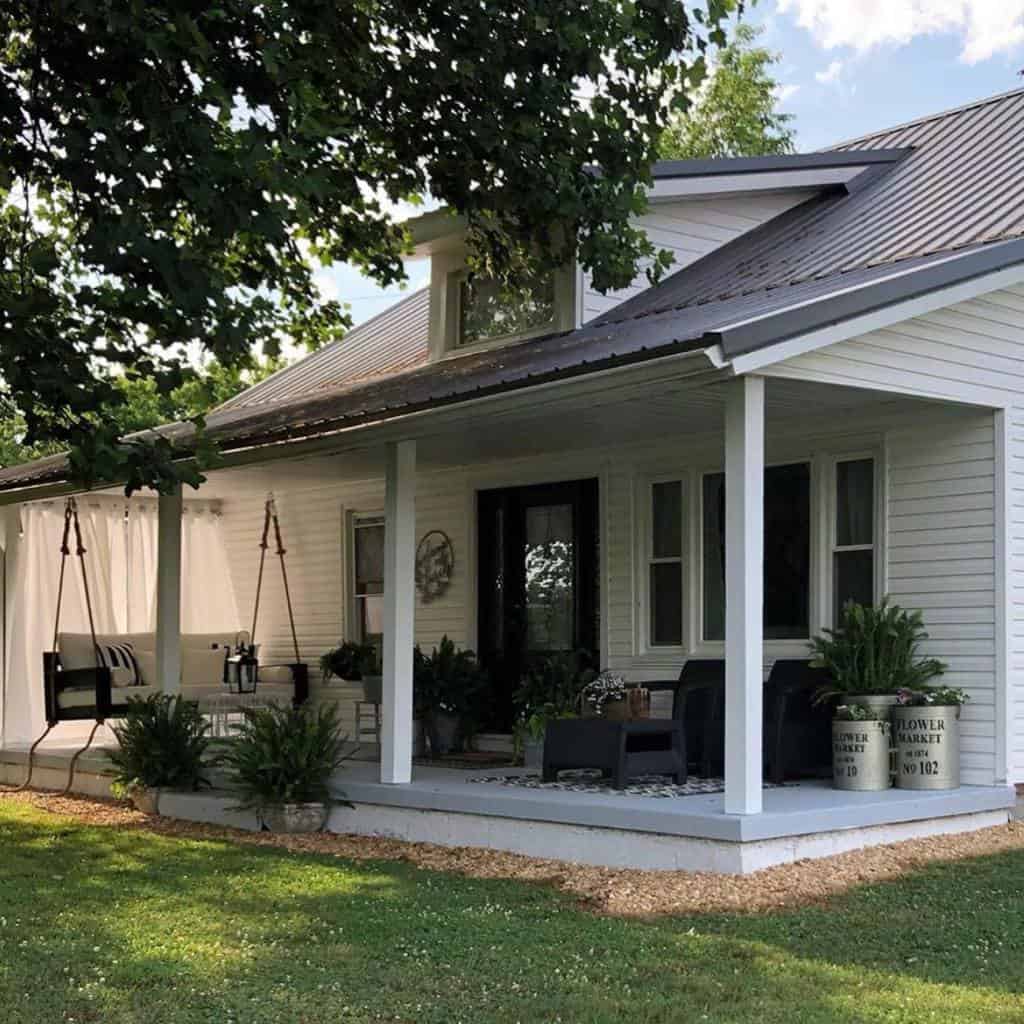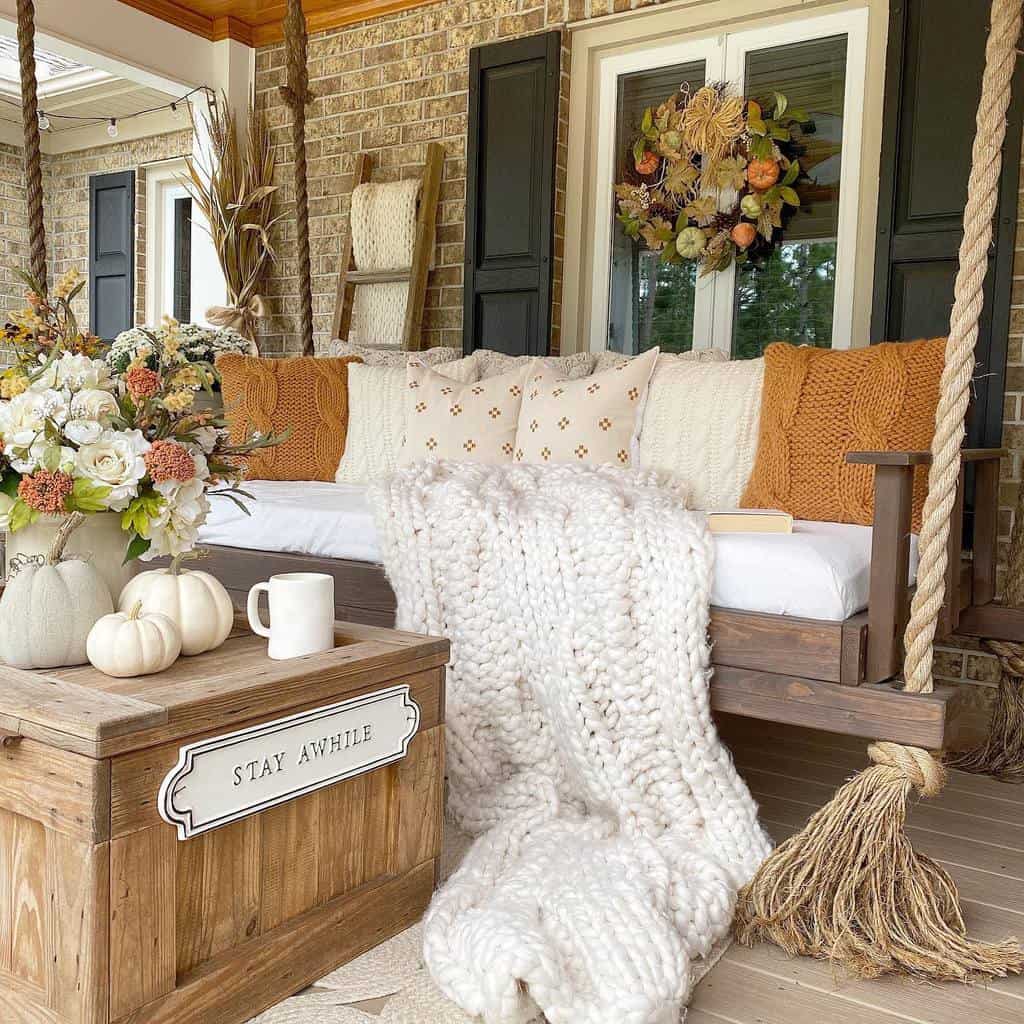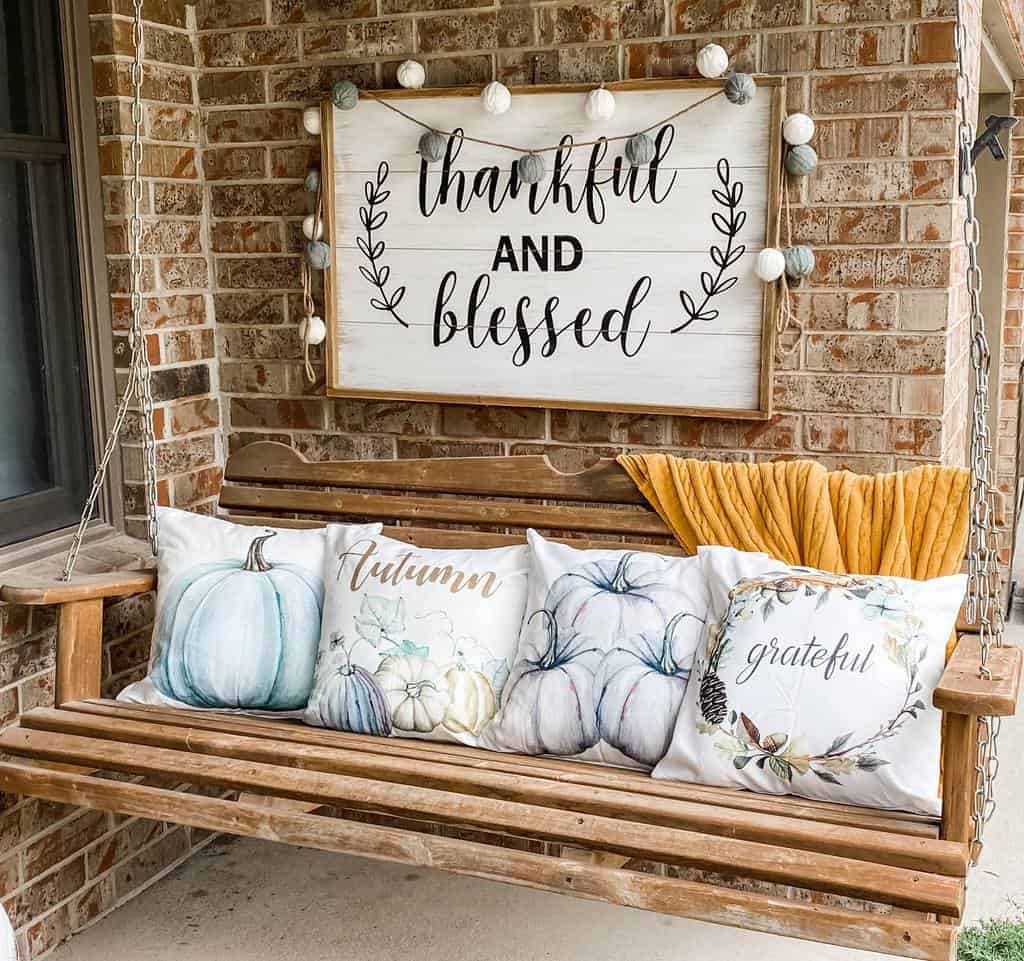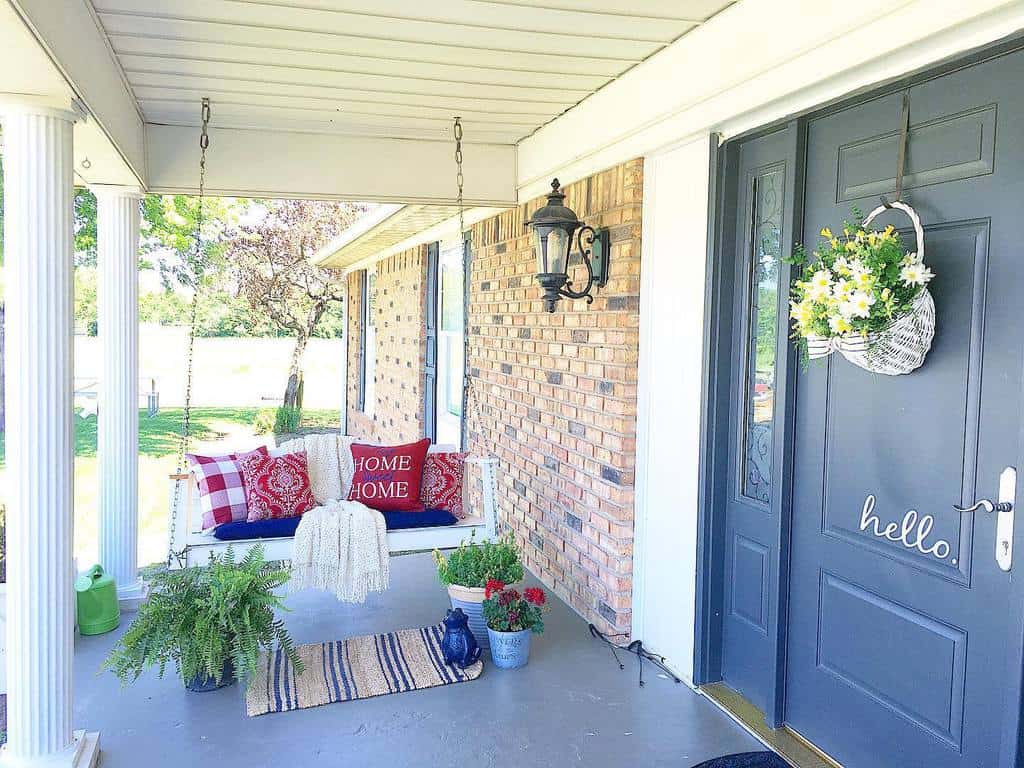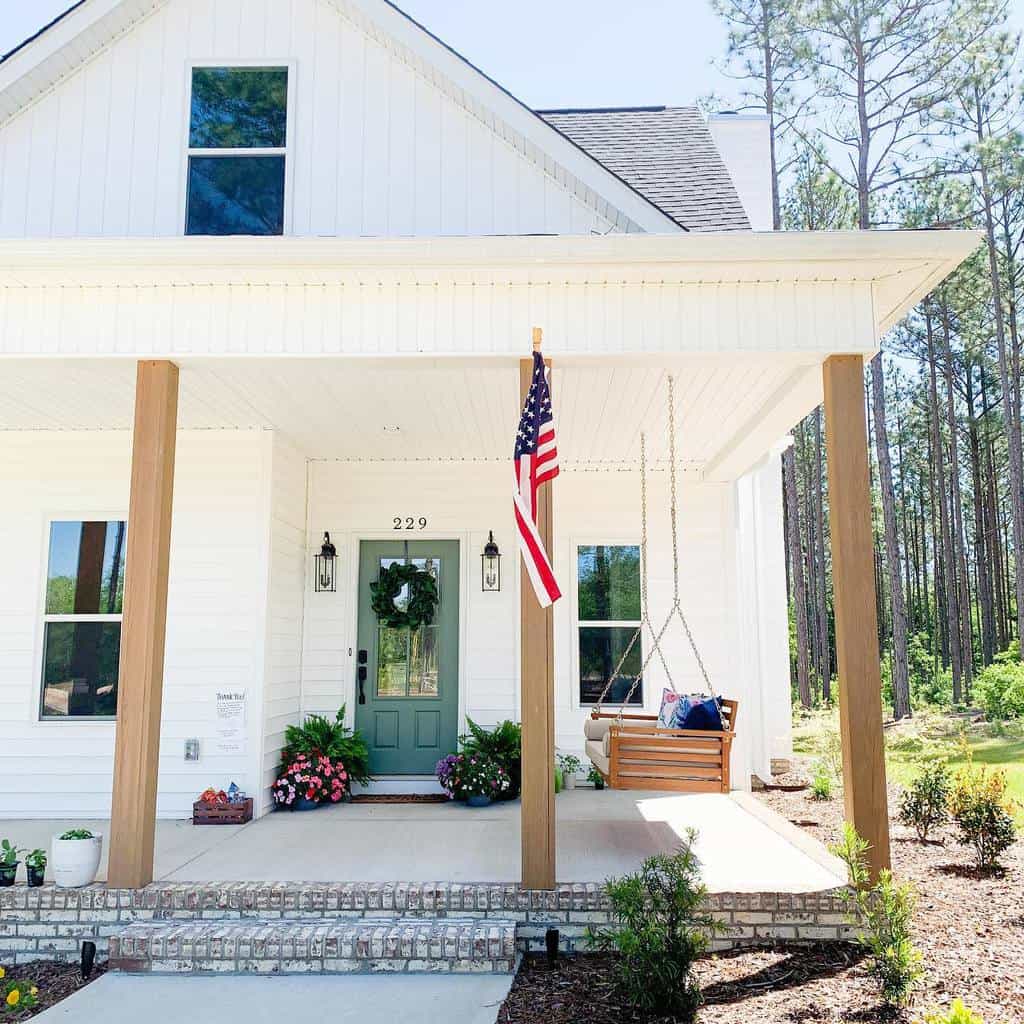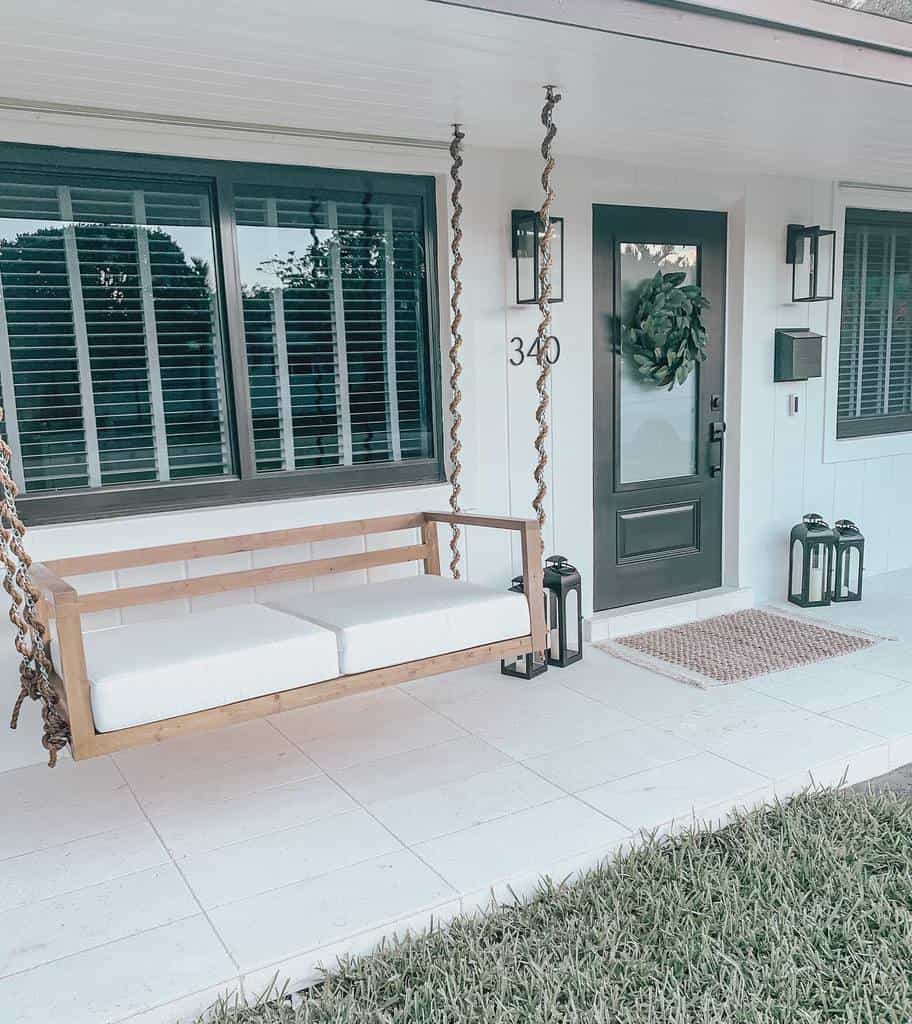 5. Potted Plants and Flowers
Choose a variety of plants with different heights, textures, and colors to add visual interest and create a harmonious display. From cascading ivy to blooming flowers and sculptural succulents, the possibilities are endless. Arrange the potted plants in groups or create a symmetrical arrangement for a balanced look.
Consider adding hanging baskets or wall-mounted planters to maximize space and add a vertical element. These potted plants not only enhance the aesthetic appeal of your front porch but also bring a touch of nature and freshness to the space.
Whether you prefer a cottage-inspired look, a modern minimalist style, or a bohemian vibe, incorporating potted plants into your front porch decor will instantly elevate its charm and curb appeal.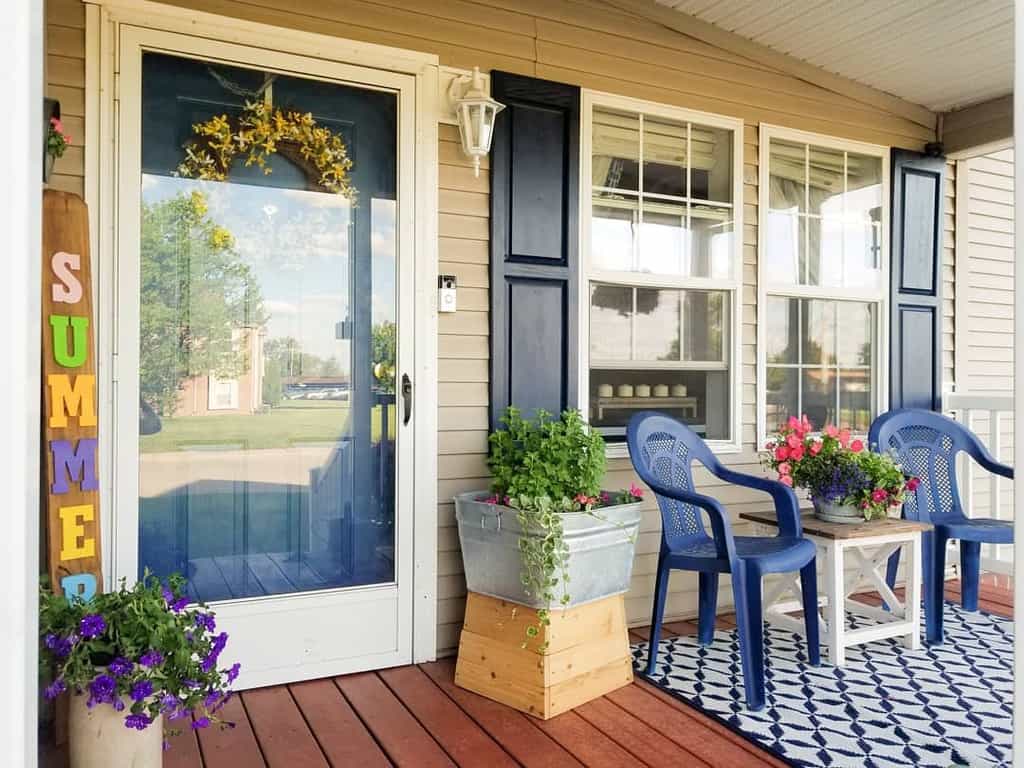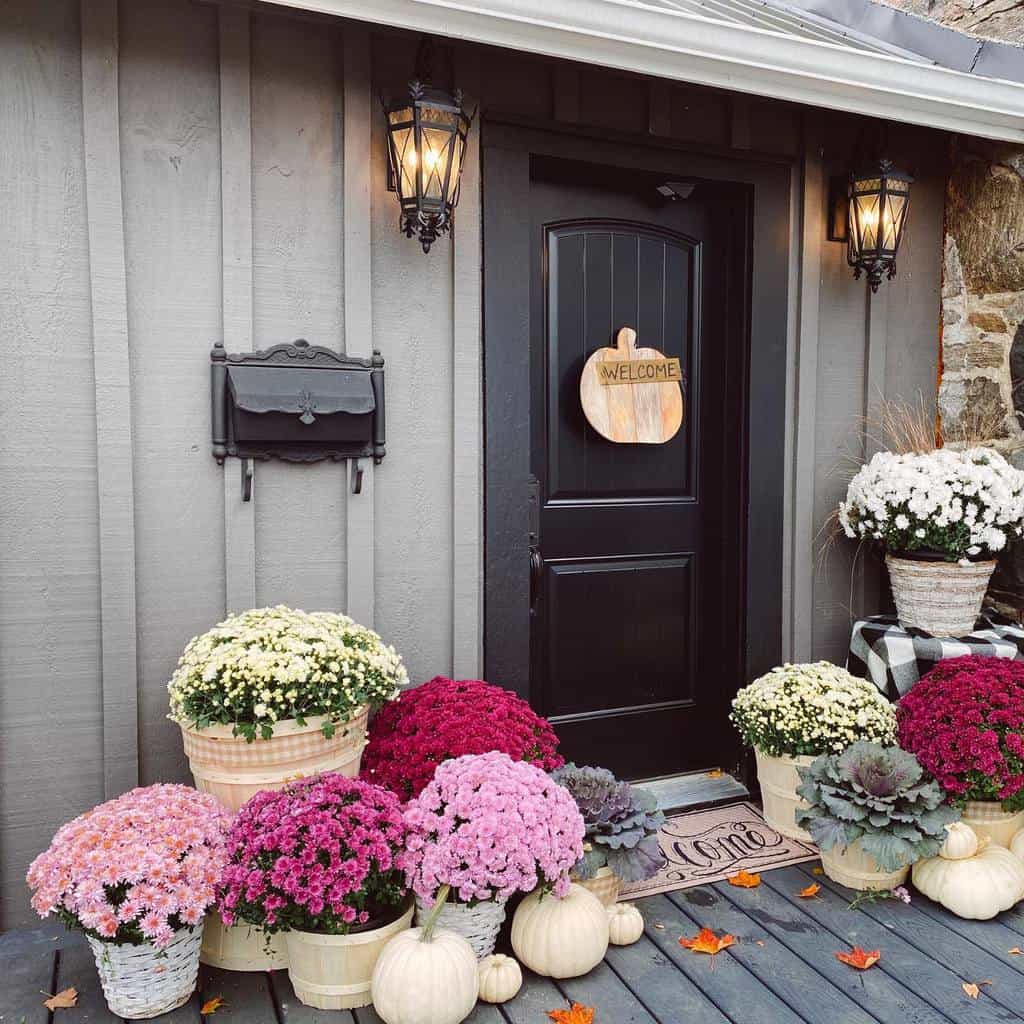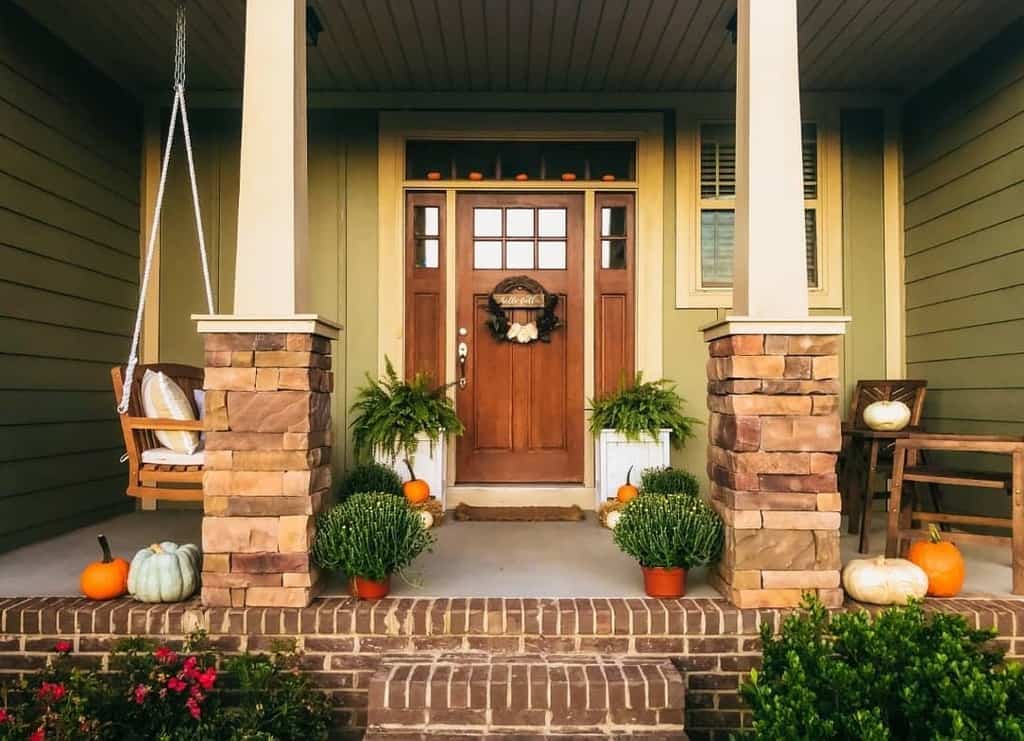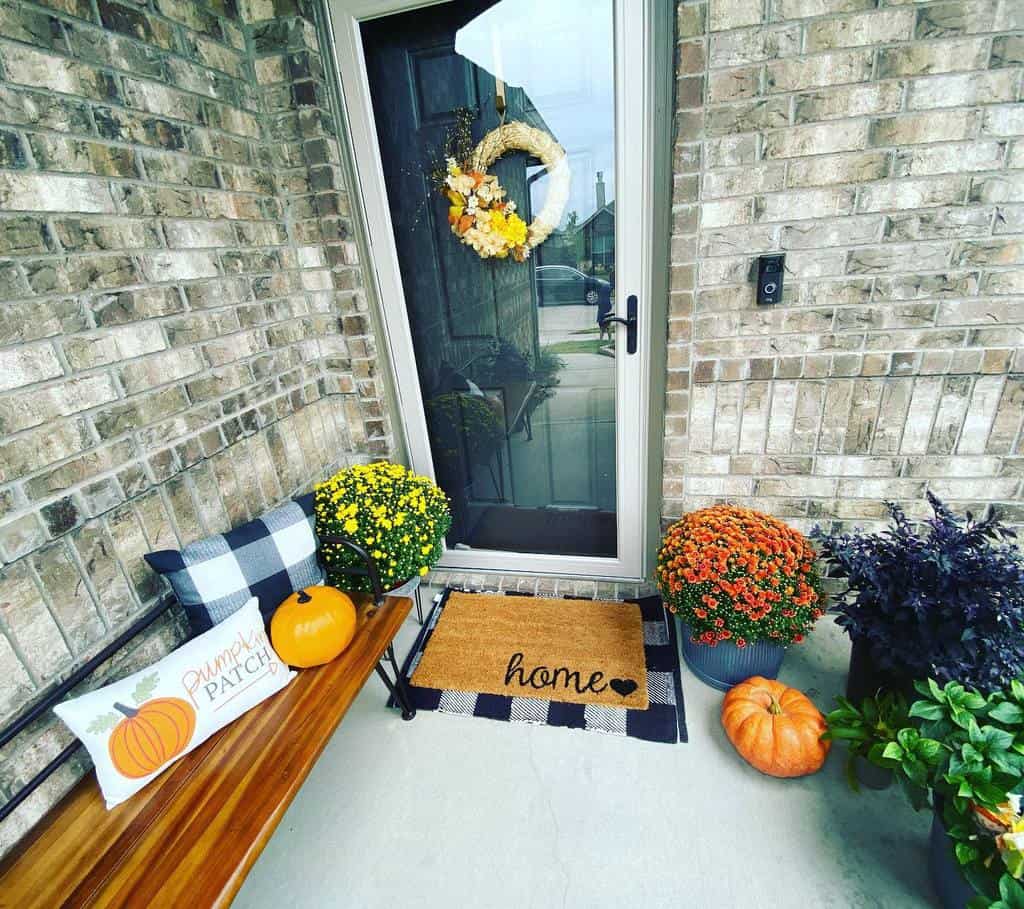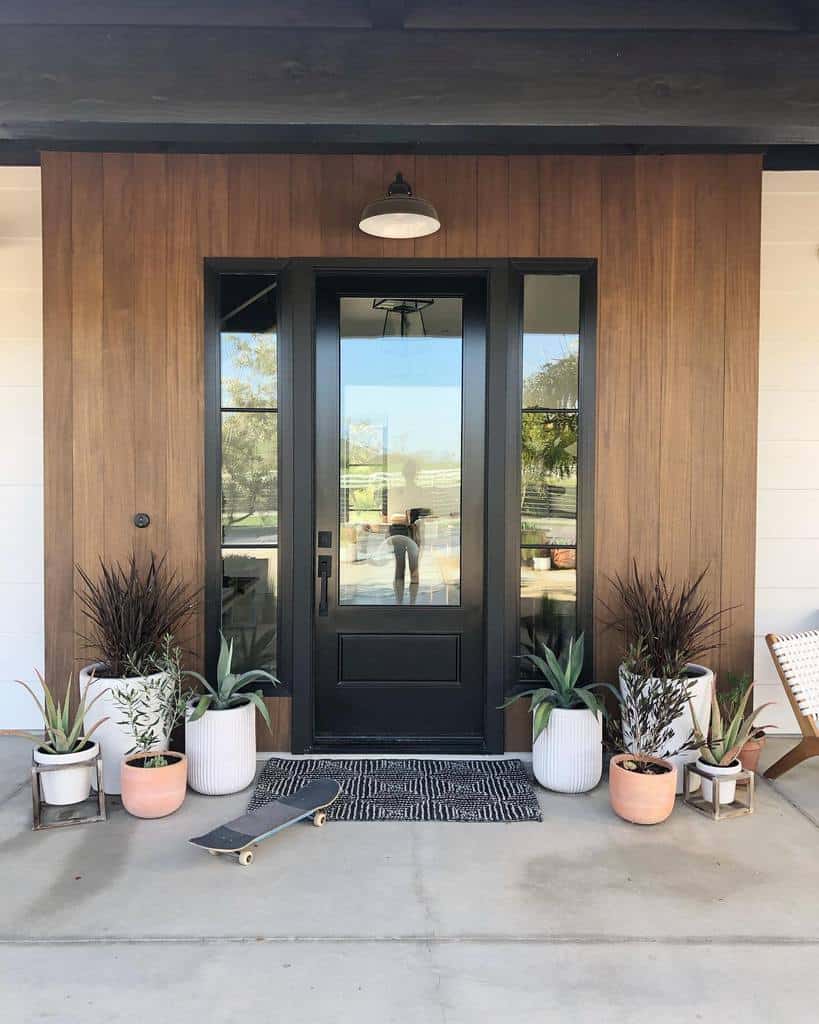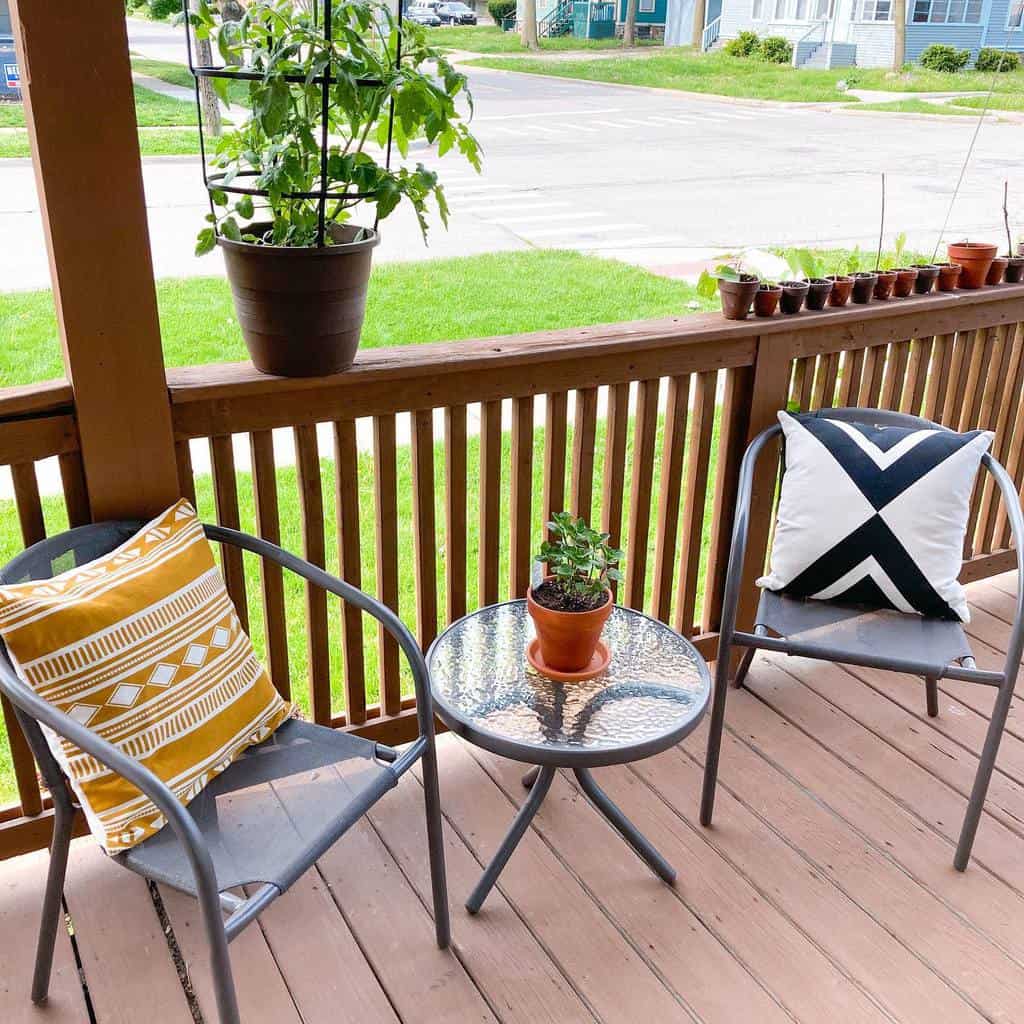 6. Outdoor Welcome Mat
One idea that never goes out of style is an outdoor welcome mat. Not only does it serve a practical purpose by keeping dirt and debris at bay, but it also adds a charming touch to your entrance. Choose a welcome mat that reflects your personal style and complements the overall aesthetic of your home. From bold patterns and vibrant colors to witty phrases and elegant designs, there is a wide range of options to choose from.
Consider adding a pop of color with a vibrant doormat or go for a classic and timeless look with a neutral-toned mat. Pair it with some potted plants or hanging baskets to add a touch of greenery and freshness. Whether your front porch is big or small, an outdoor welcome mat sets the tone for your home, inviting guests with a warm and stylish welcome.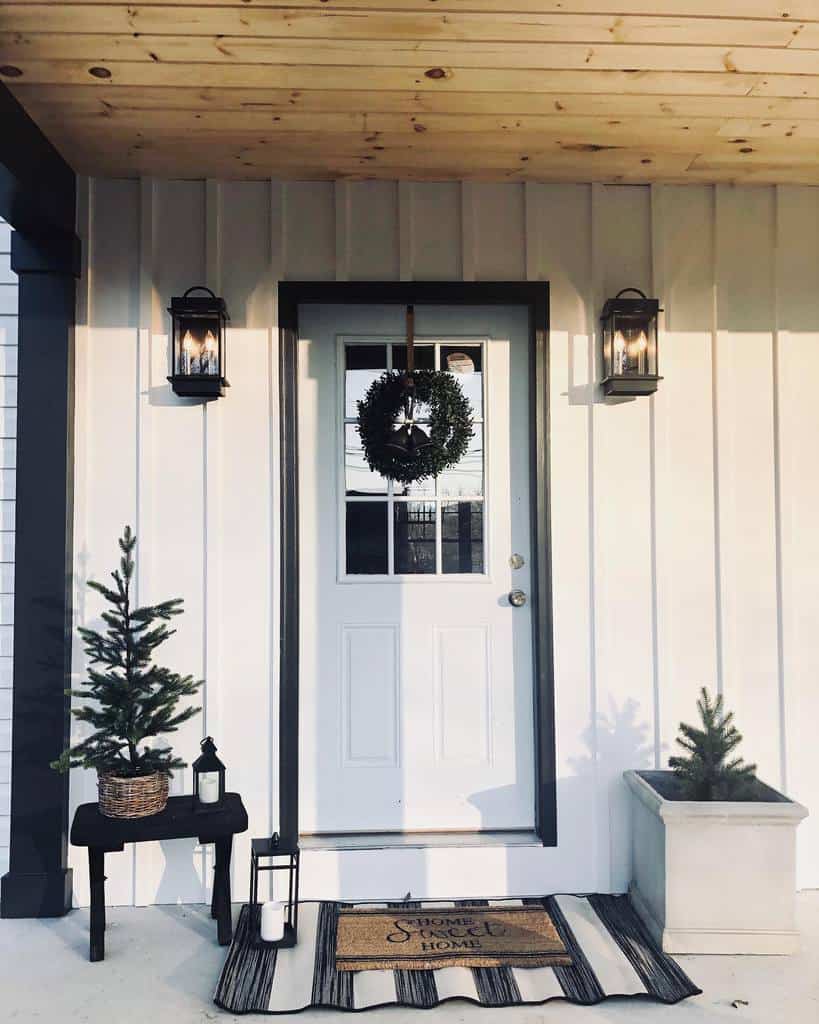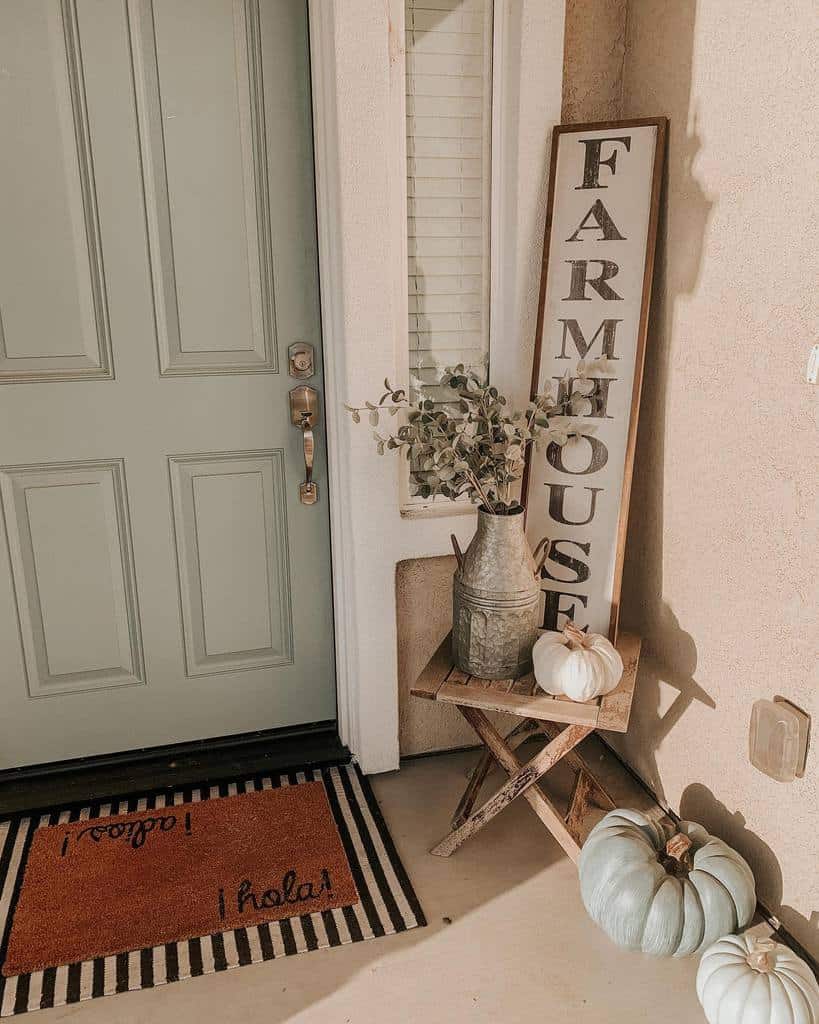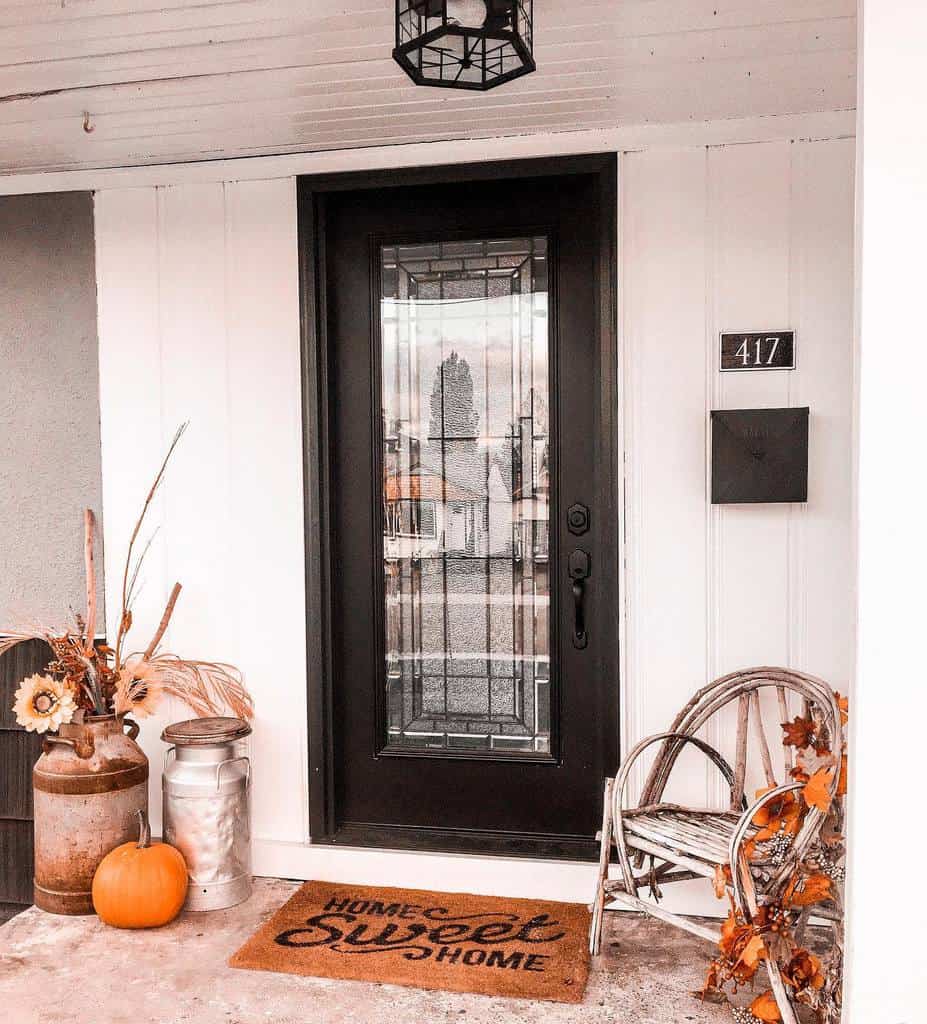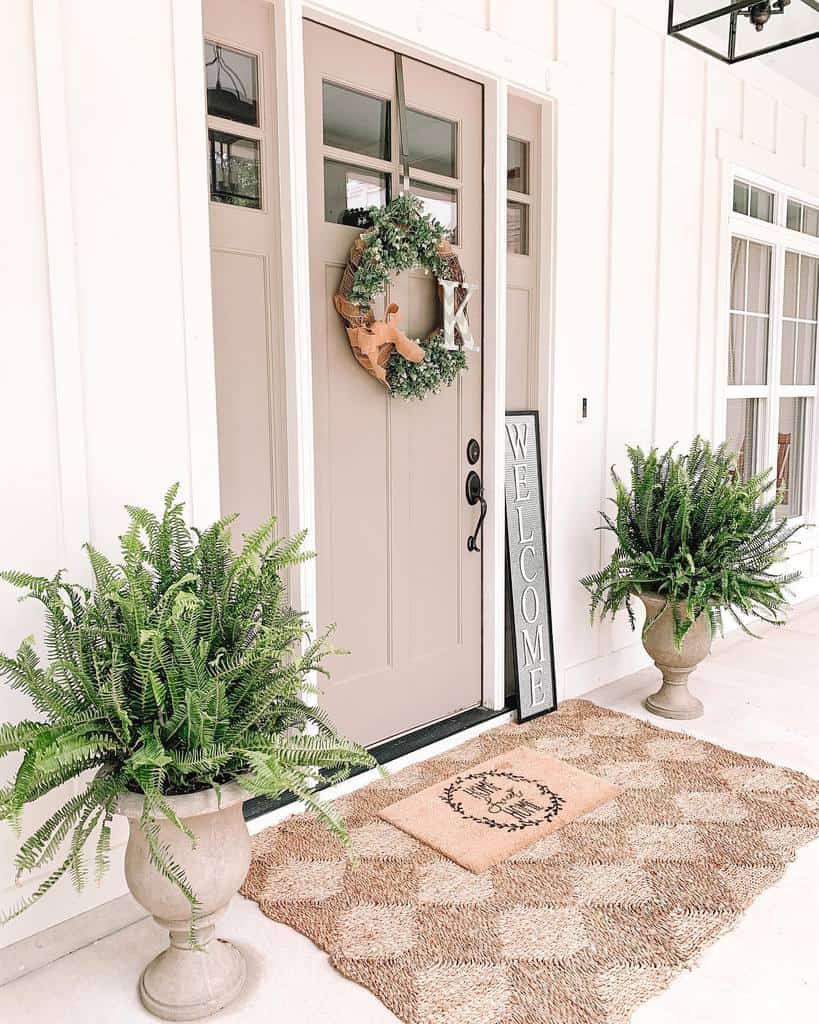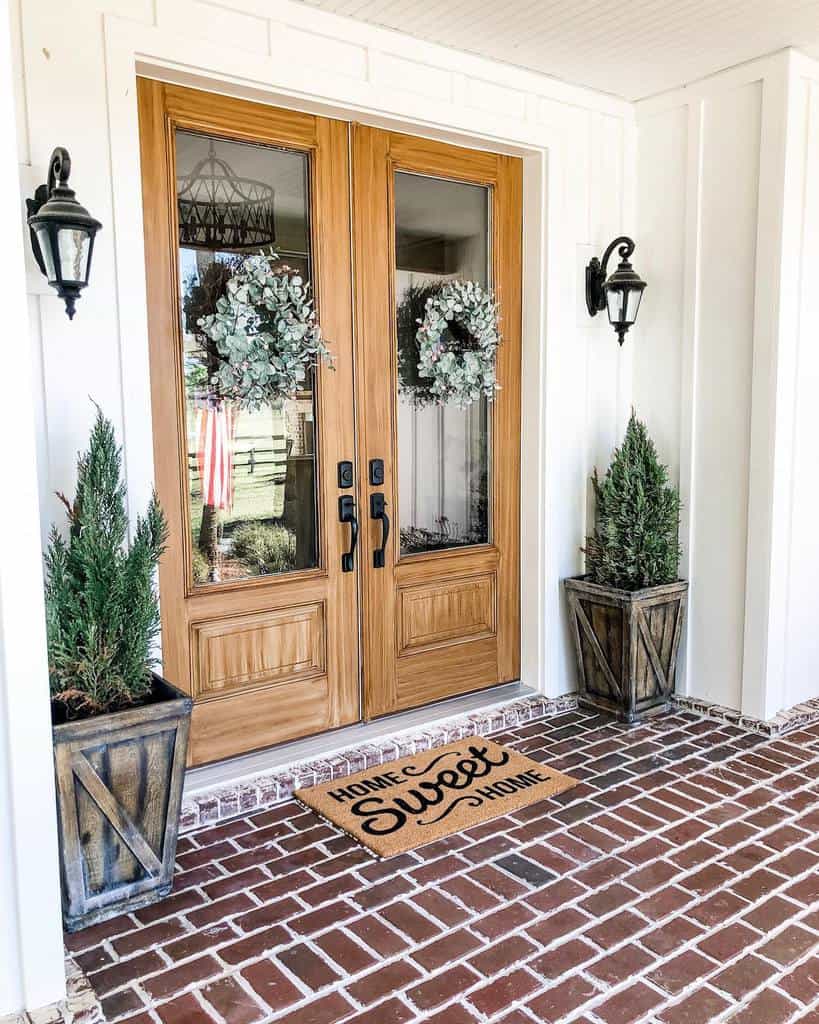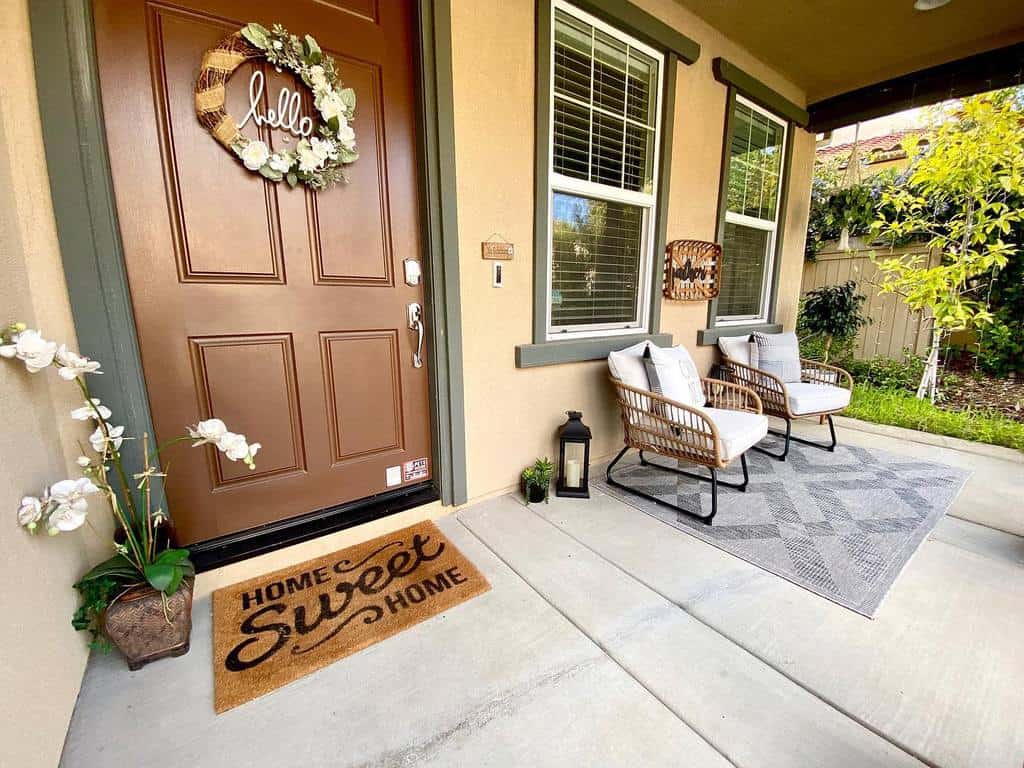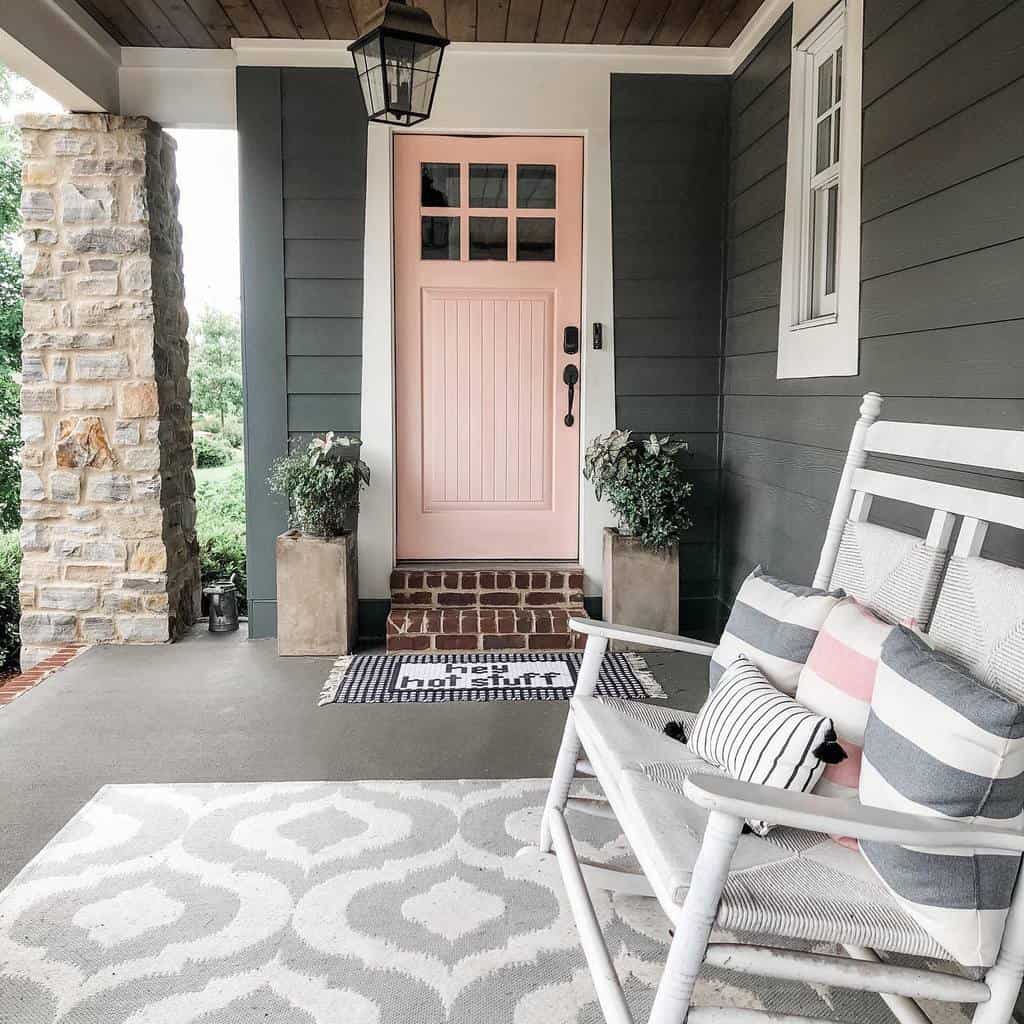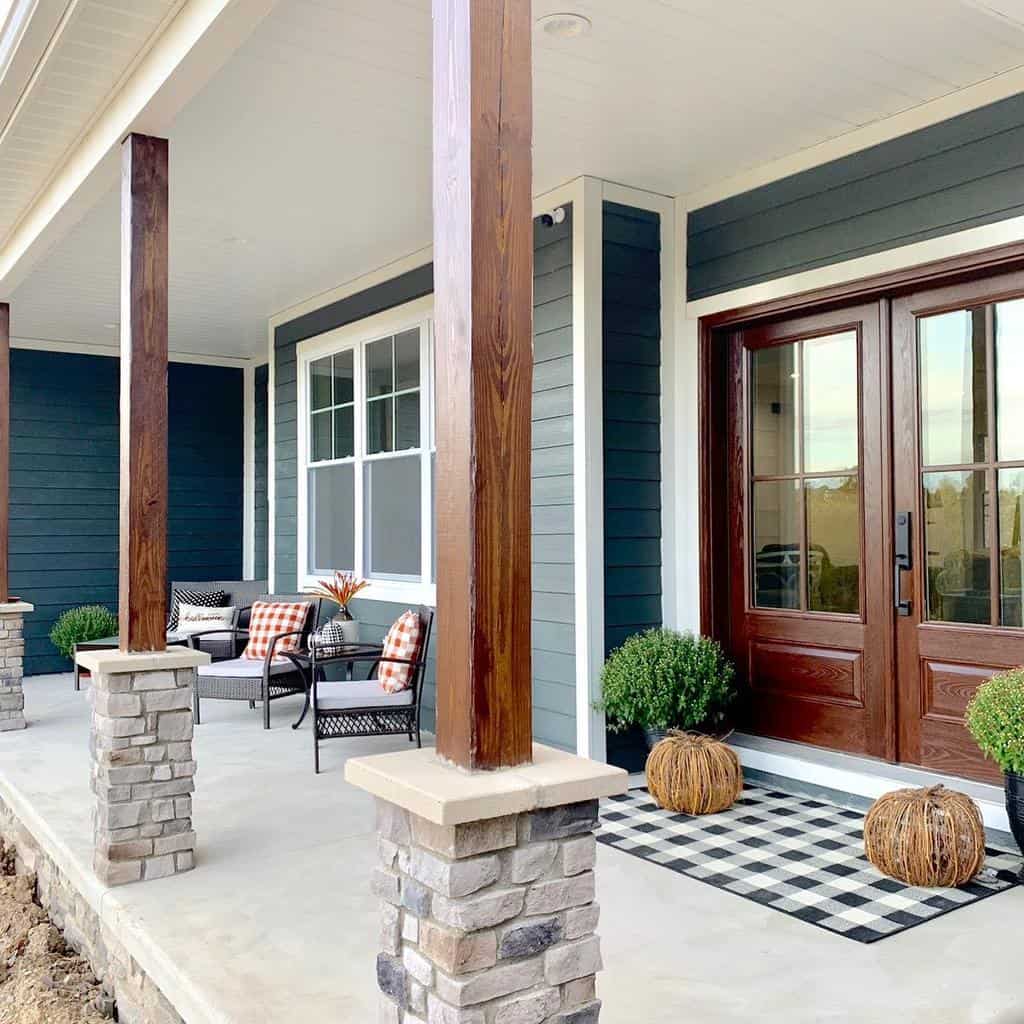 7. Classic Rocking Chairs with Cushions
To enhance comfort and style, add plush cushions to the seats, providing a cozy spot to unwind and watch the world go by. The beauty of classic rocking chairs lies in their versatility; they effortlessly blend with various architectural styles, from traditional to contemporary.
This classic option not only exudes a sense of nostalgia but also adds a touch of sophistication to your front porch. Whether you prefer vibrant cushions that make a bold statement or subtle tones that complement the surrounding decor, the choice is yours.
So, create a picturesque scene and elevate your front porch's aesthetic with the timeless elegance of classic rocking chairs adorned with plush cushions, making it the perfect spot to relax and enjoy your outdoor sanctuary.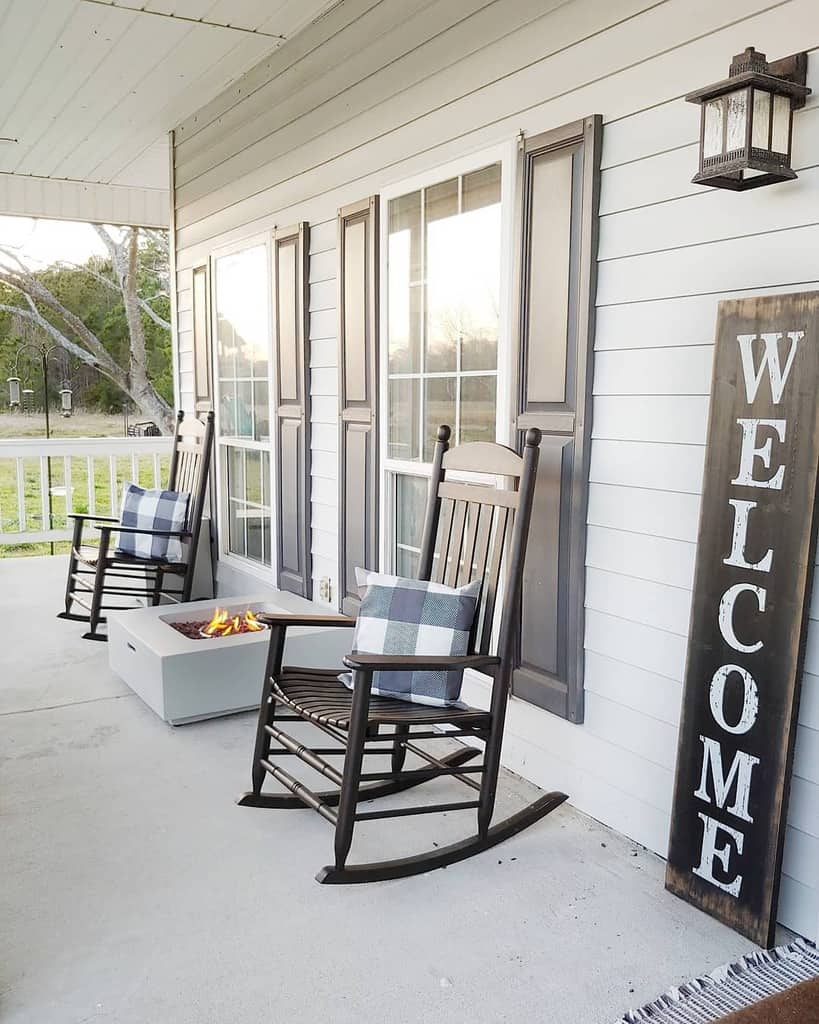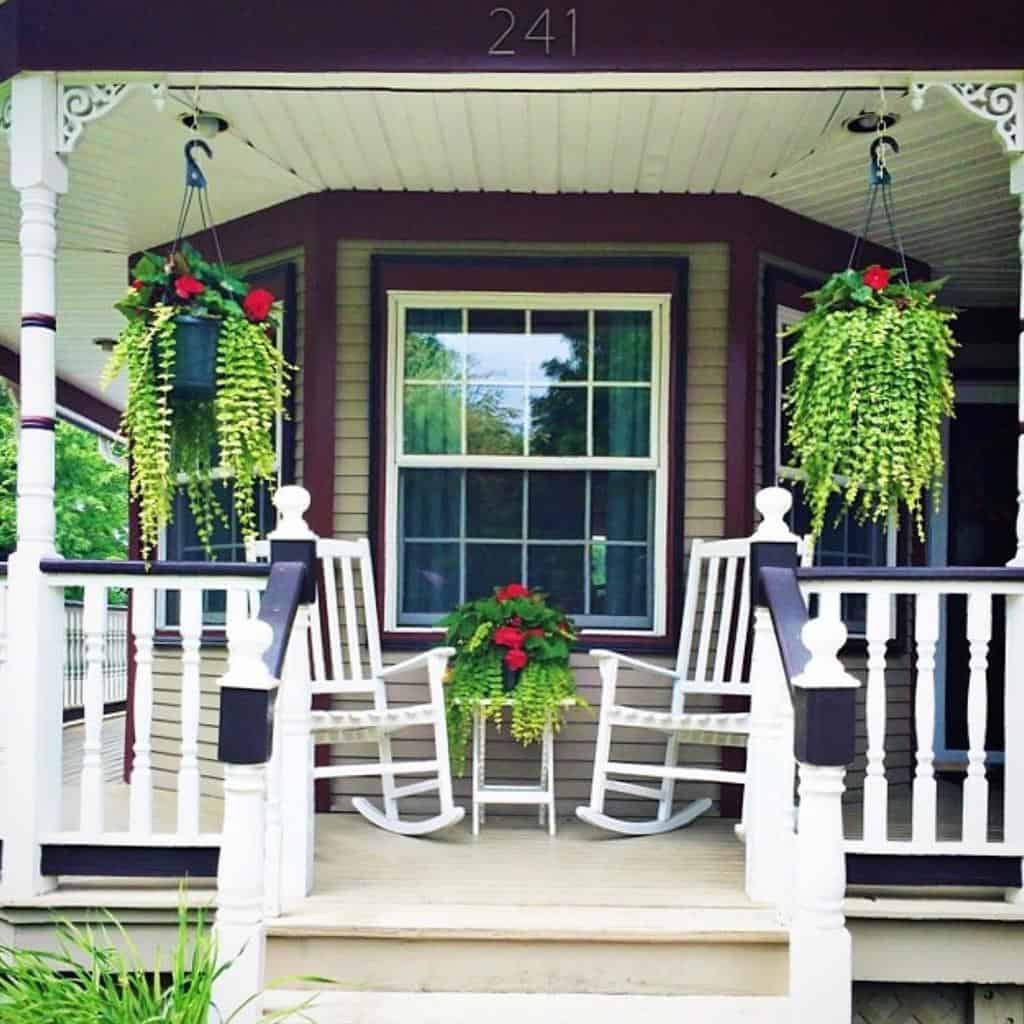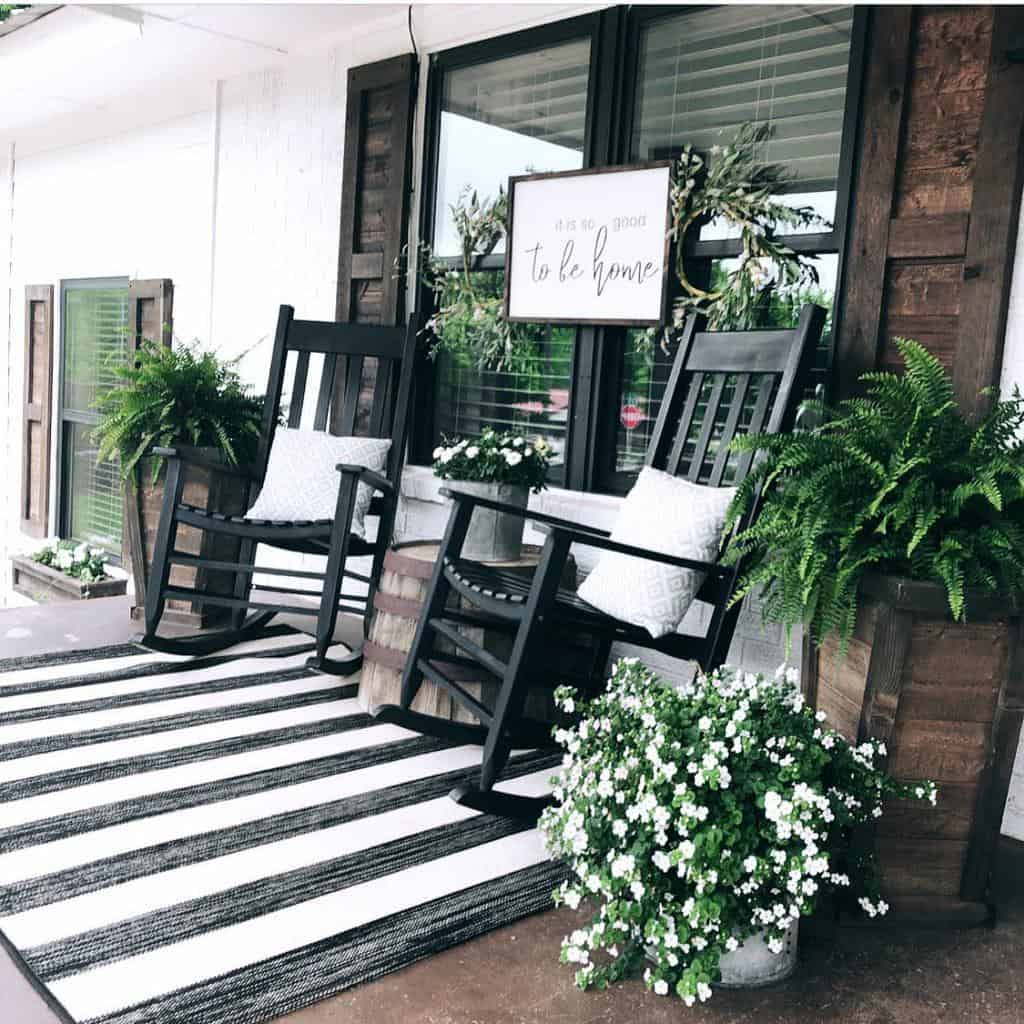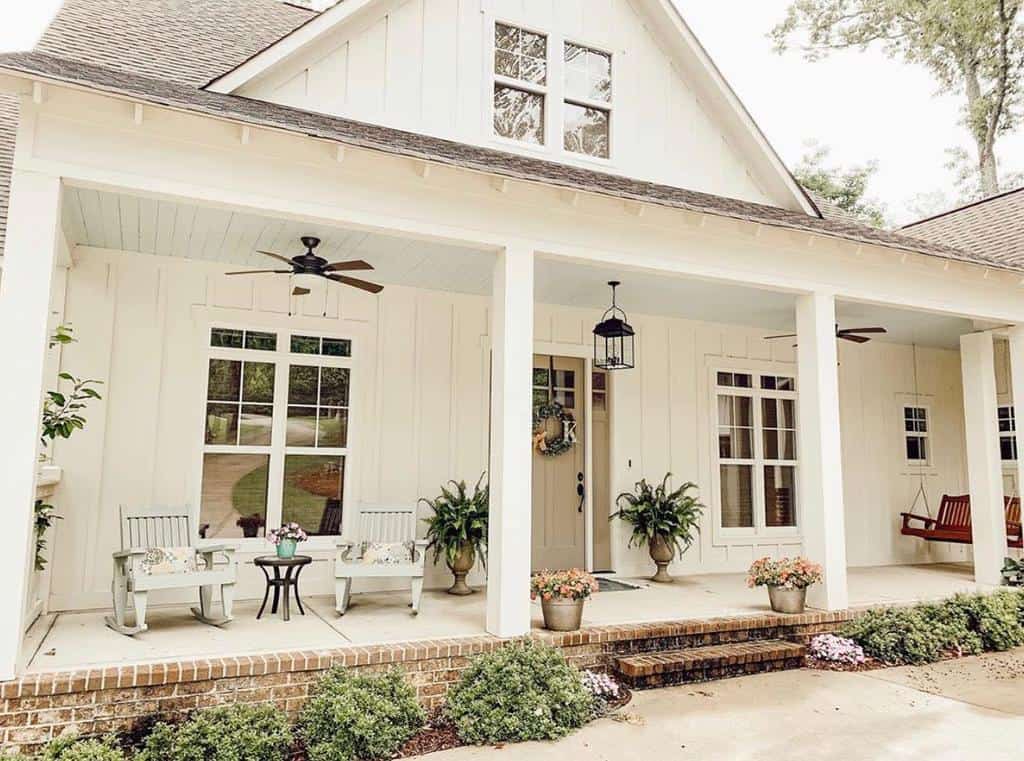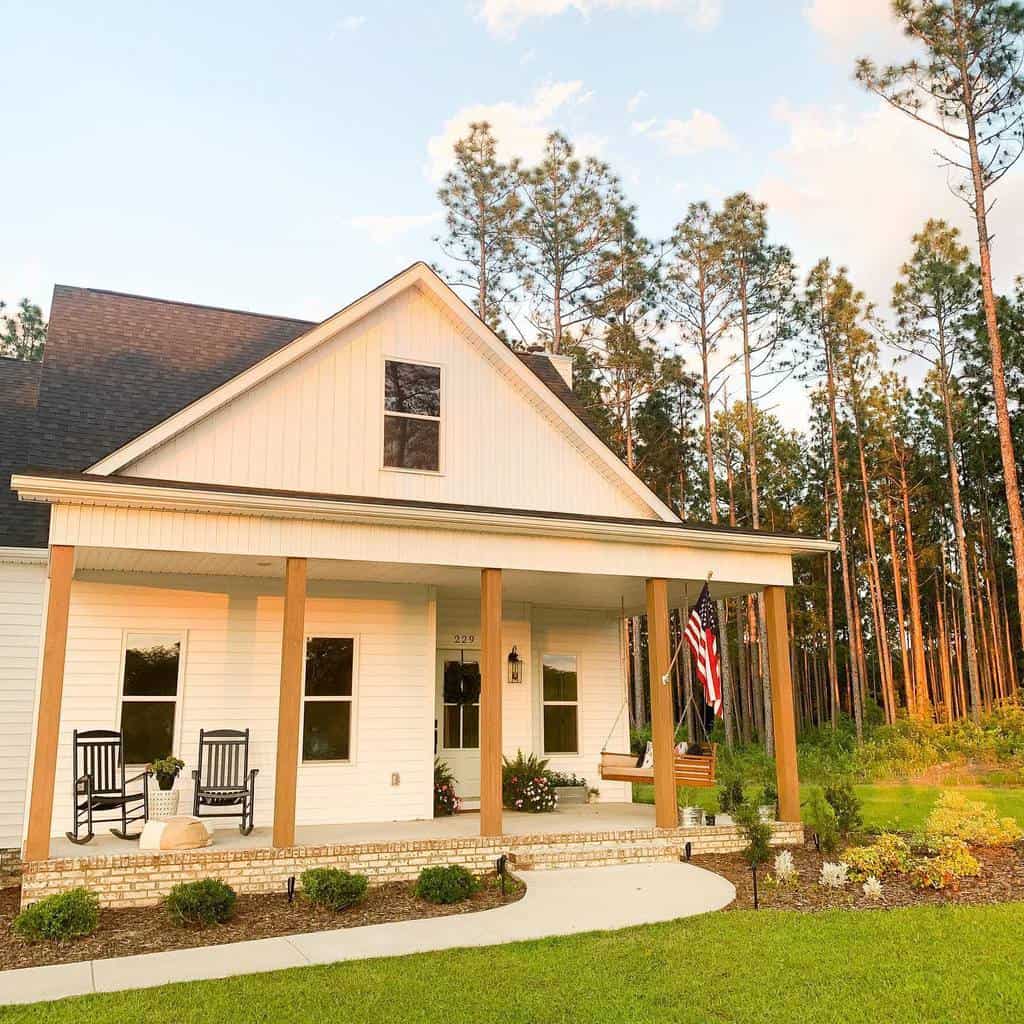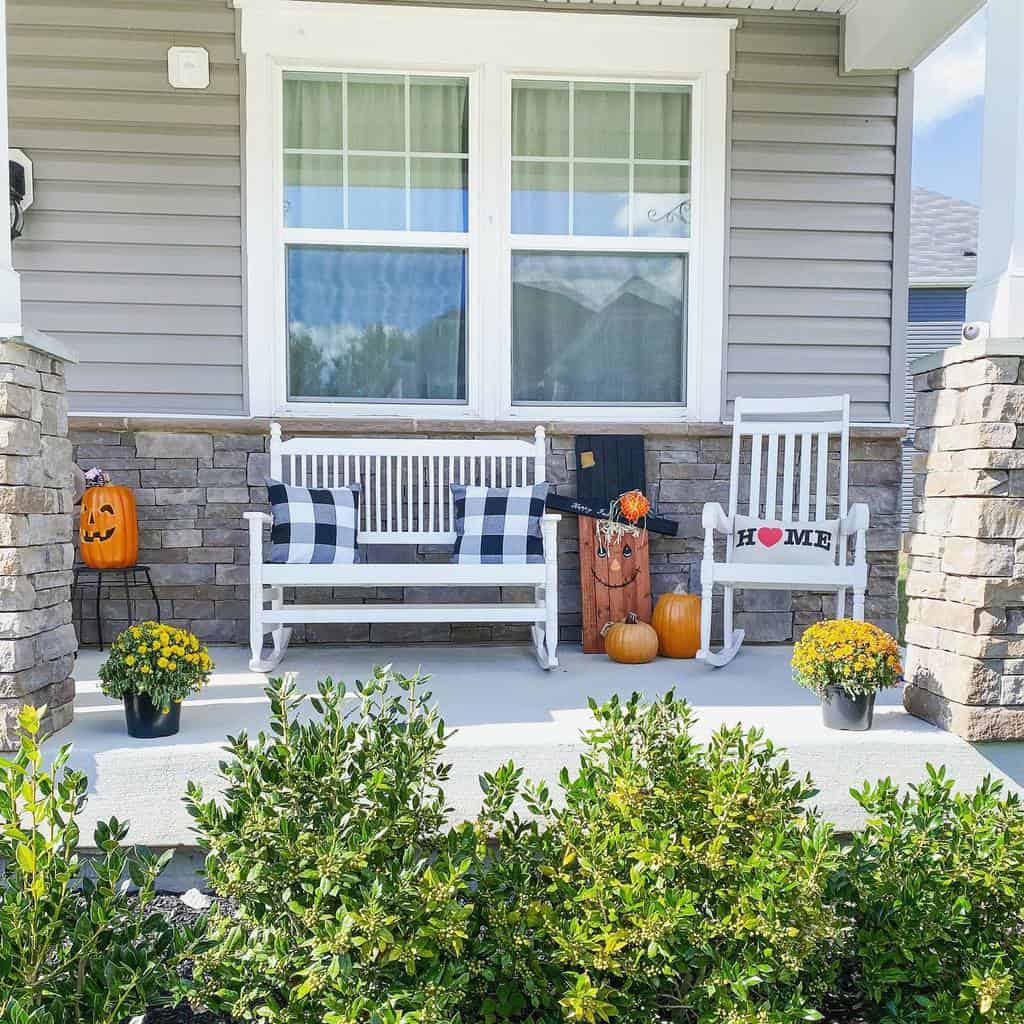 8. Cozy Outdoor Rug
An area rug is not only functional but also a great opportunity to infuse style and personality into your porch decor. Choose a rug that complements the design aesthetic of your home and the surrounding landscape. For covered porches, consider durable materials that can withstand outdoor elements.
Opt for vibrant colors and eye-catching patterns to make a bold statement or go for a more neutral option for a timeless and elegant look. The outdoor rug will not only provide a cozy and comfortable surface underfoot but also anchor your furniture arrangement and define the seating area.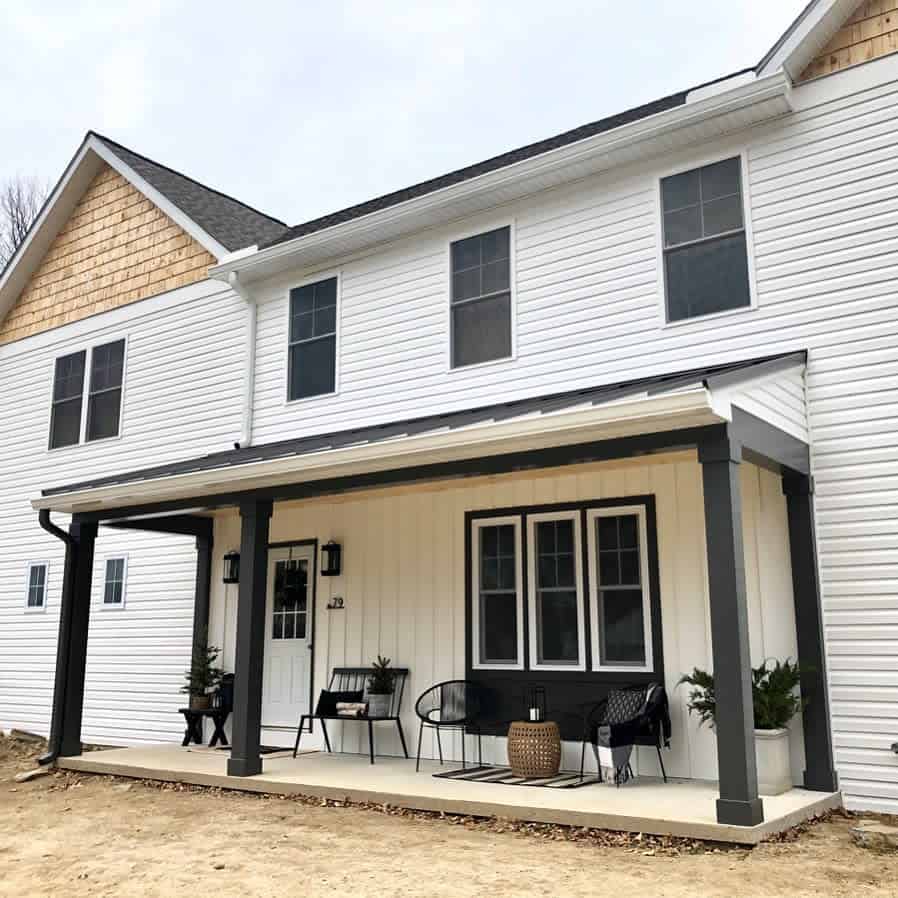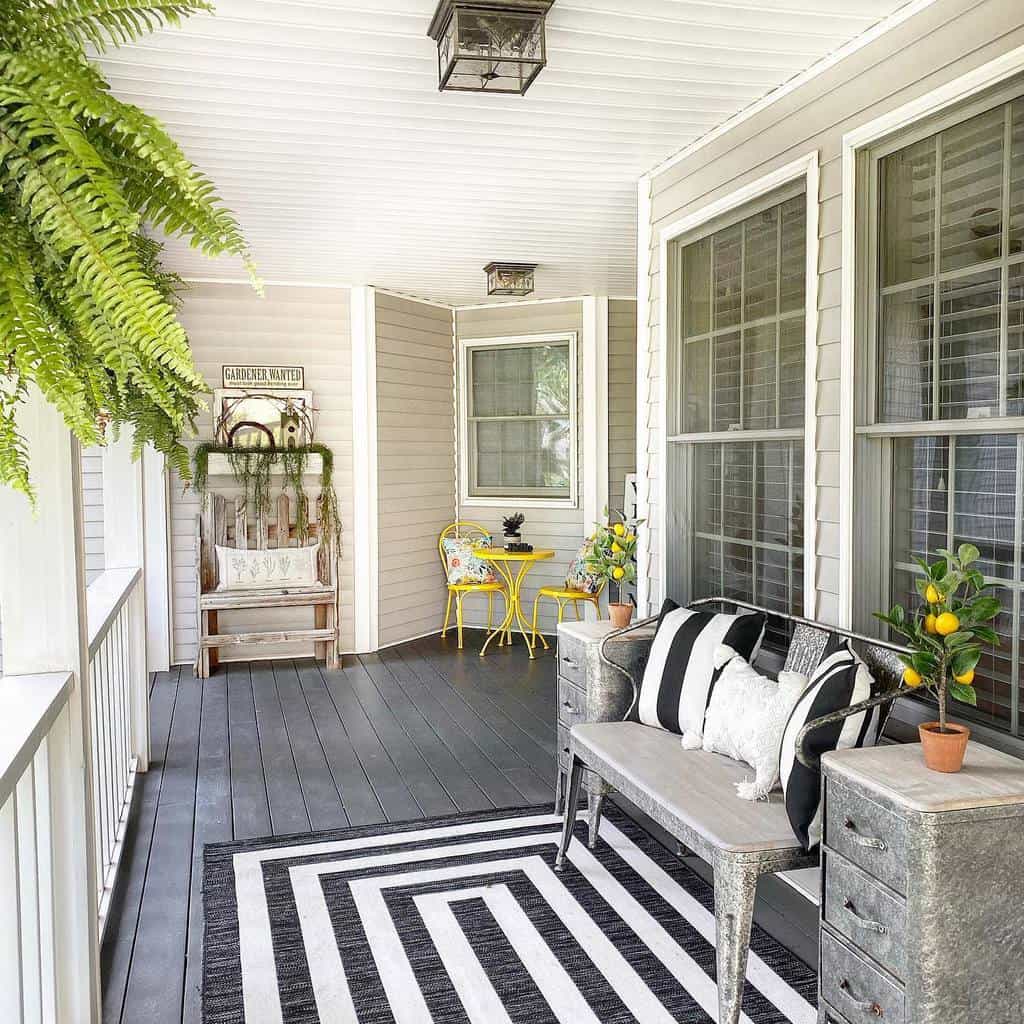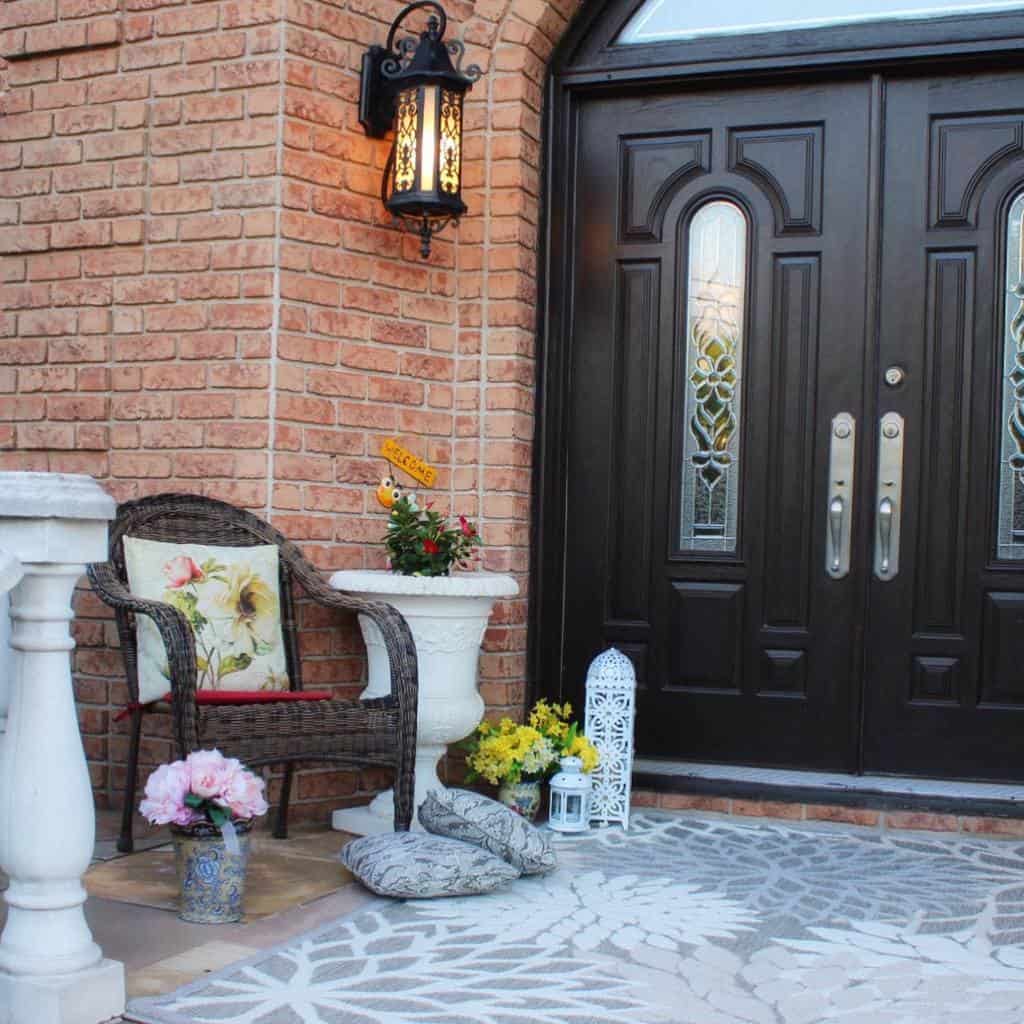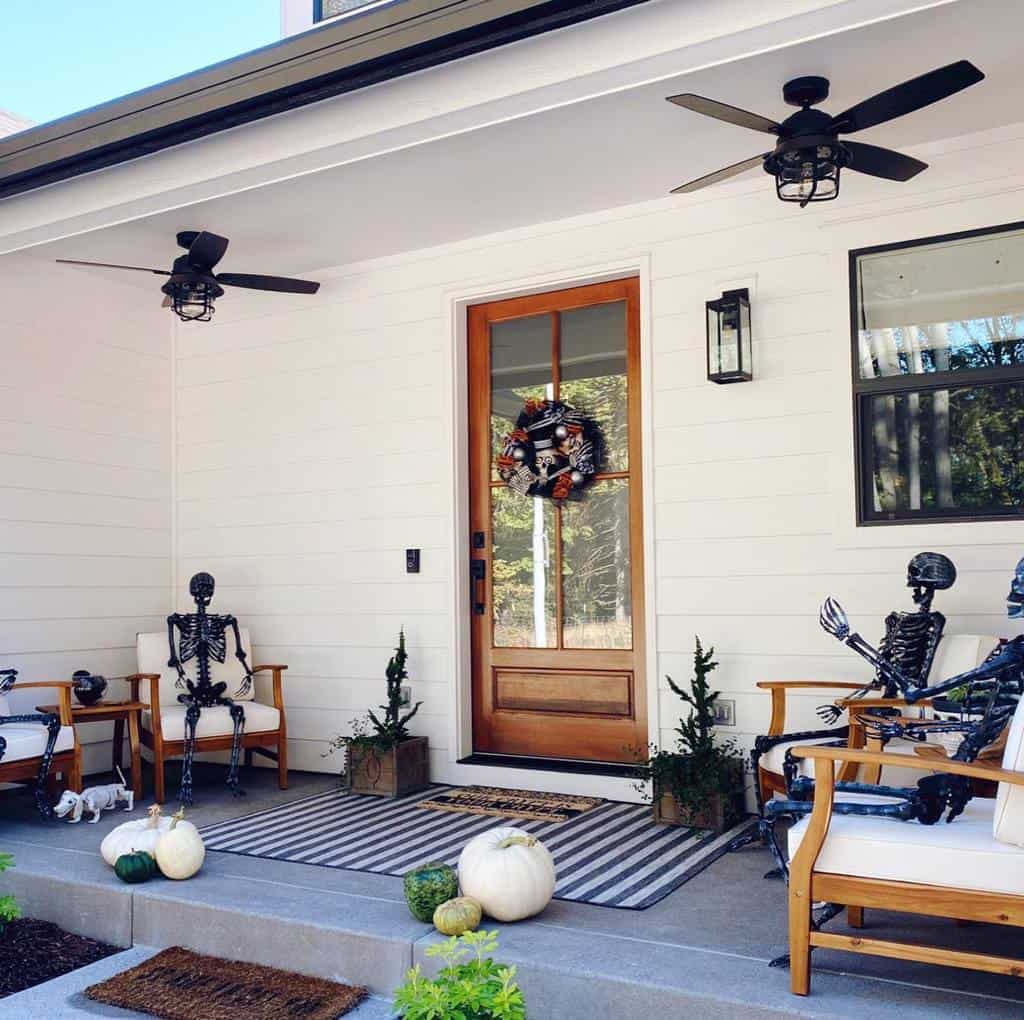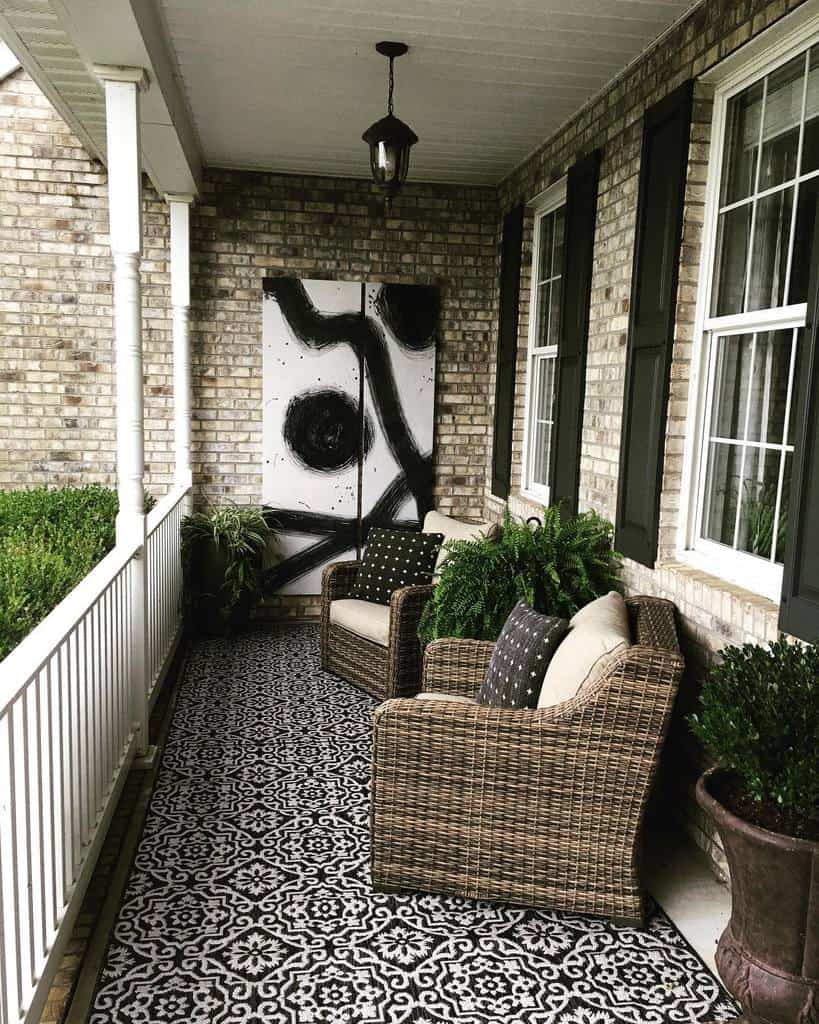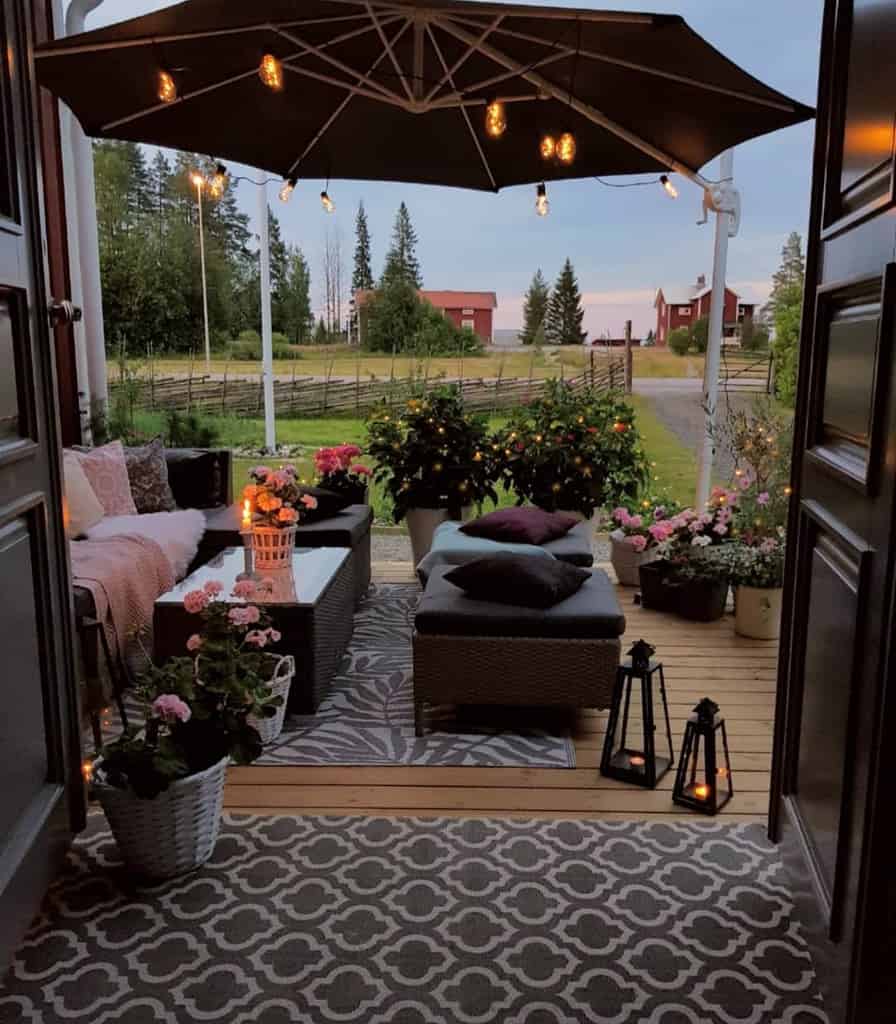 9. Front Porch Bench with Cushions
Transform your front porch into a charming and inviting space with the addition of a cozy bench adorned with plush cushions. This front porch decorating idea not only enhances the aesthetic appeal of your home's exterior but also creates a welcoming spot for relaxation and socialization. Choose a stylish and durable bench that complements the architecture and style of your home.
Adorn it with comfortable cushions in vibrant colors or patterns that reflect your personal taste and add a touch of warmth to the space. Complete the lounge area by incorporating a matching coffee table, providing a convenient surface for drinks, books, or decor.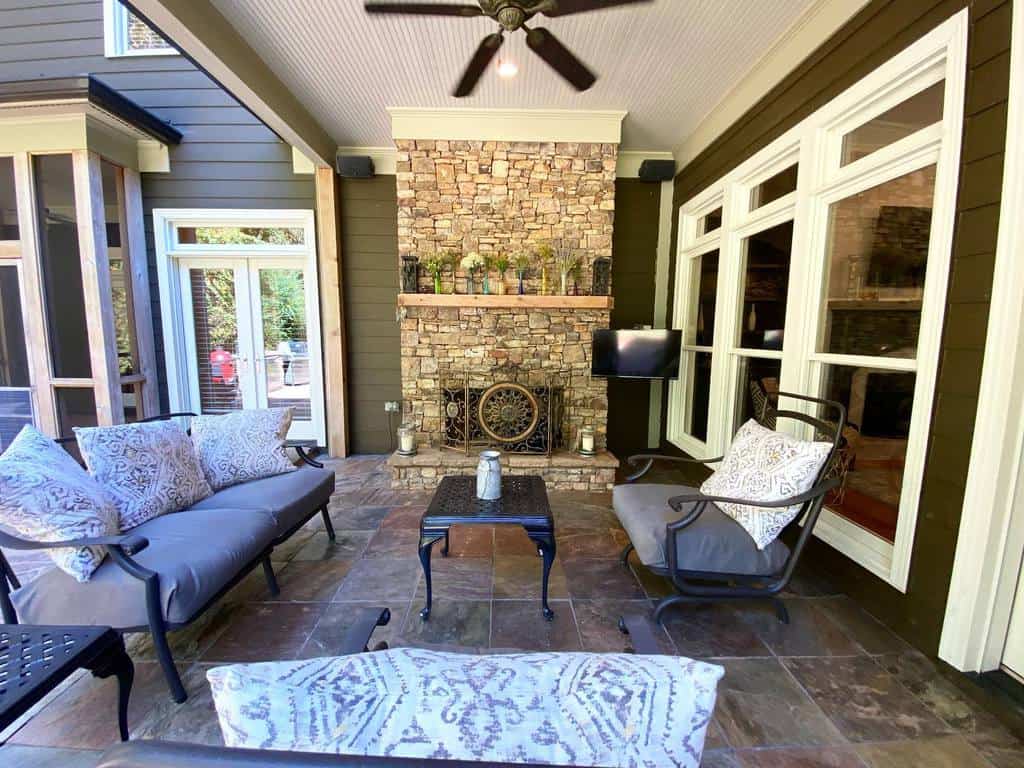 10. Seasonal Decorations
As autumn arrives, infuse your porch with the spirit of Halloween using playful and whimsical decorations. Arrange an array of plump pumpkins, both big and small, adding a vibrant burst of color and charm. Hang a beautiful wreath on your front door, incorporating elements of fall foliage, berries, and perhaps a touch of spooky delight.
Let your creativity shine as you mix and match textures and colors, creating an inviting space that captures the essence of the season. With front porch decorating ideas that celebrate the joy and magic of each season, your home will be a delightful sight for visitors and passersby alike.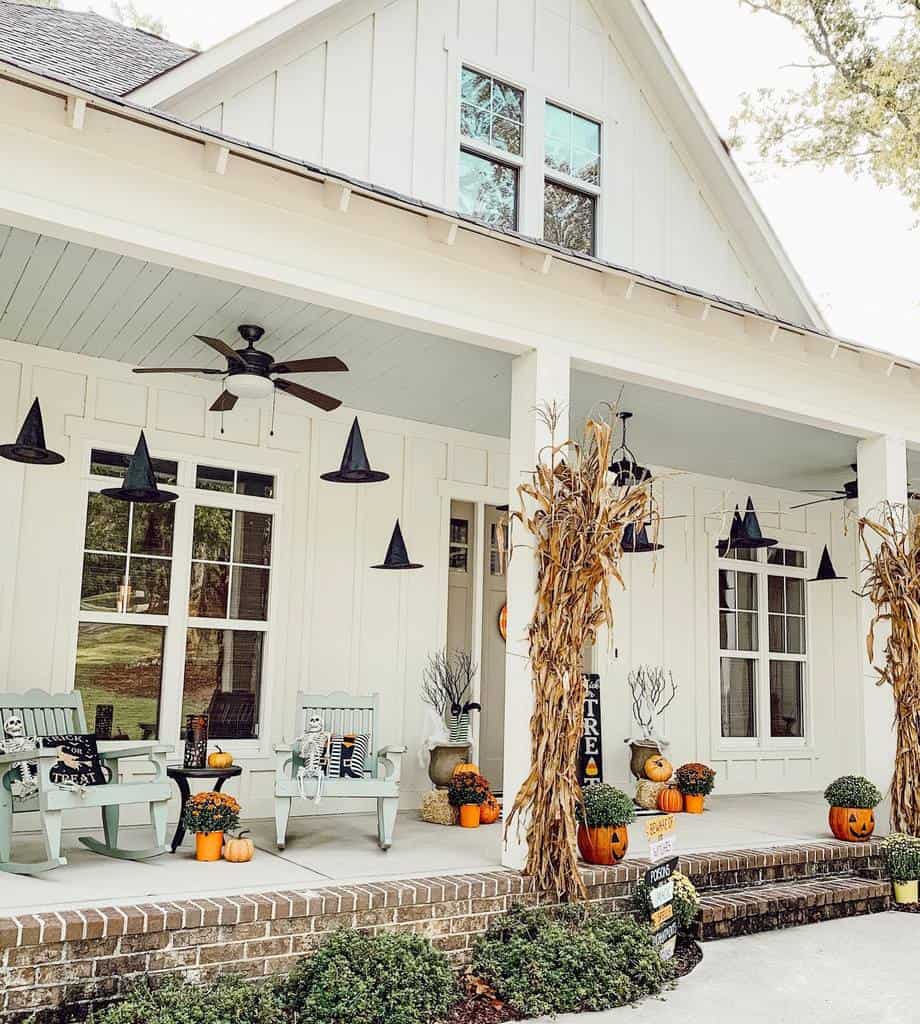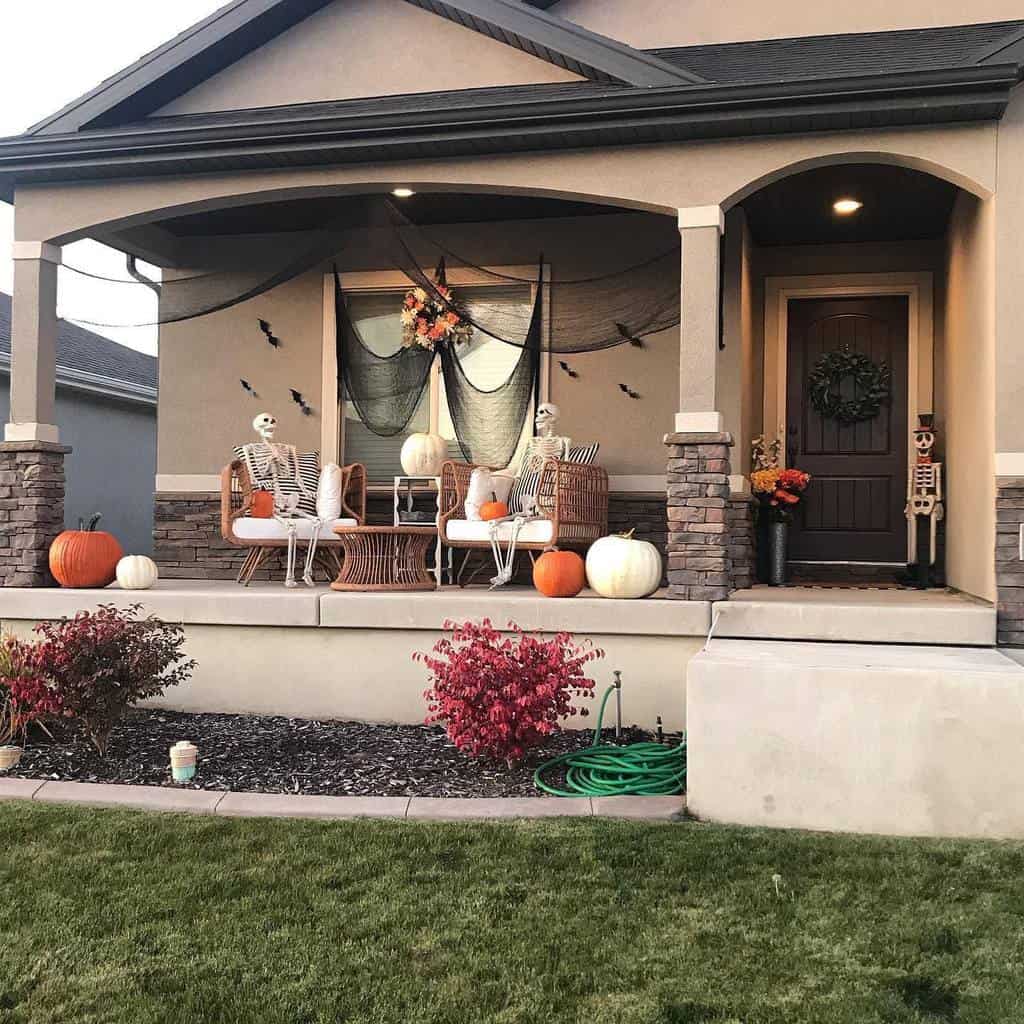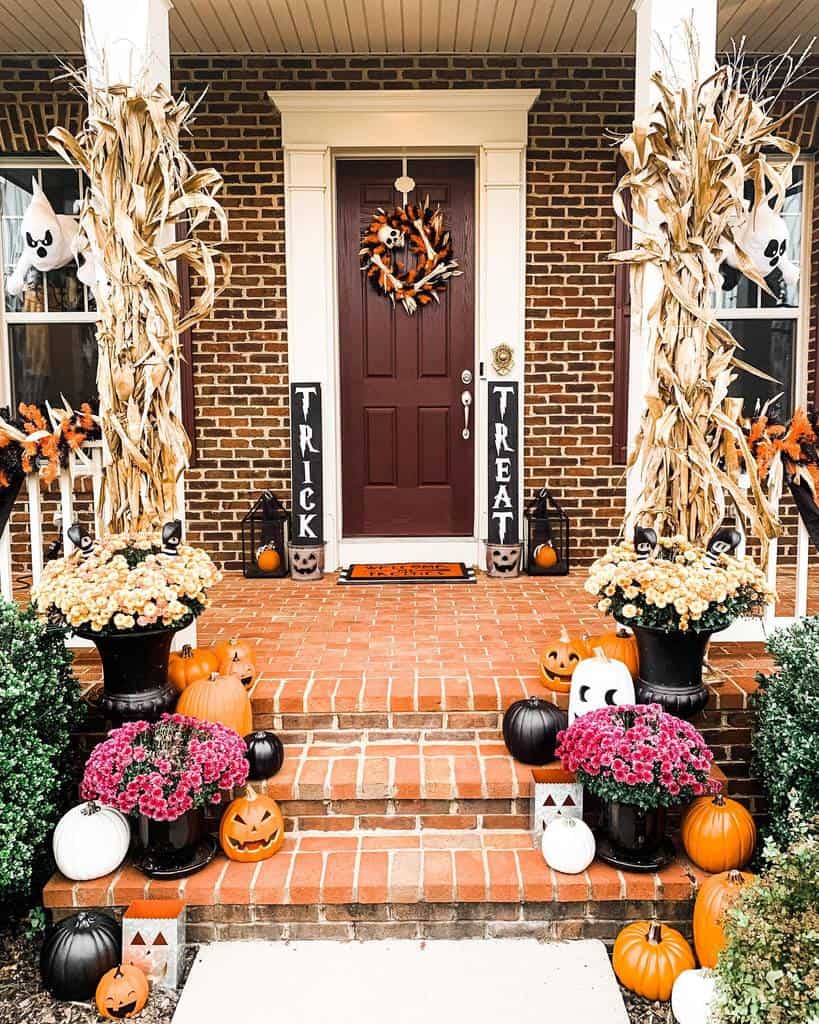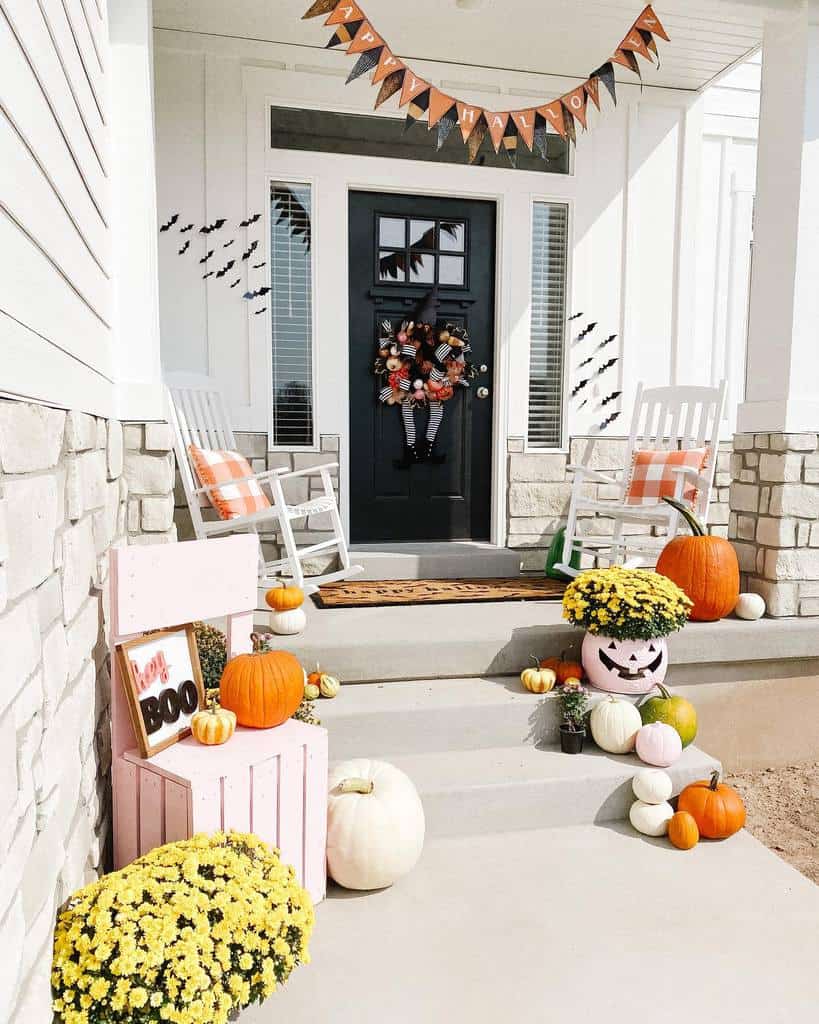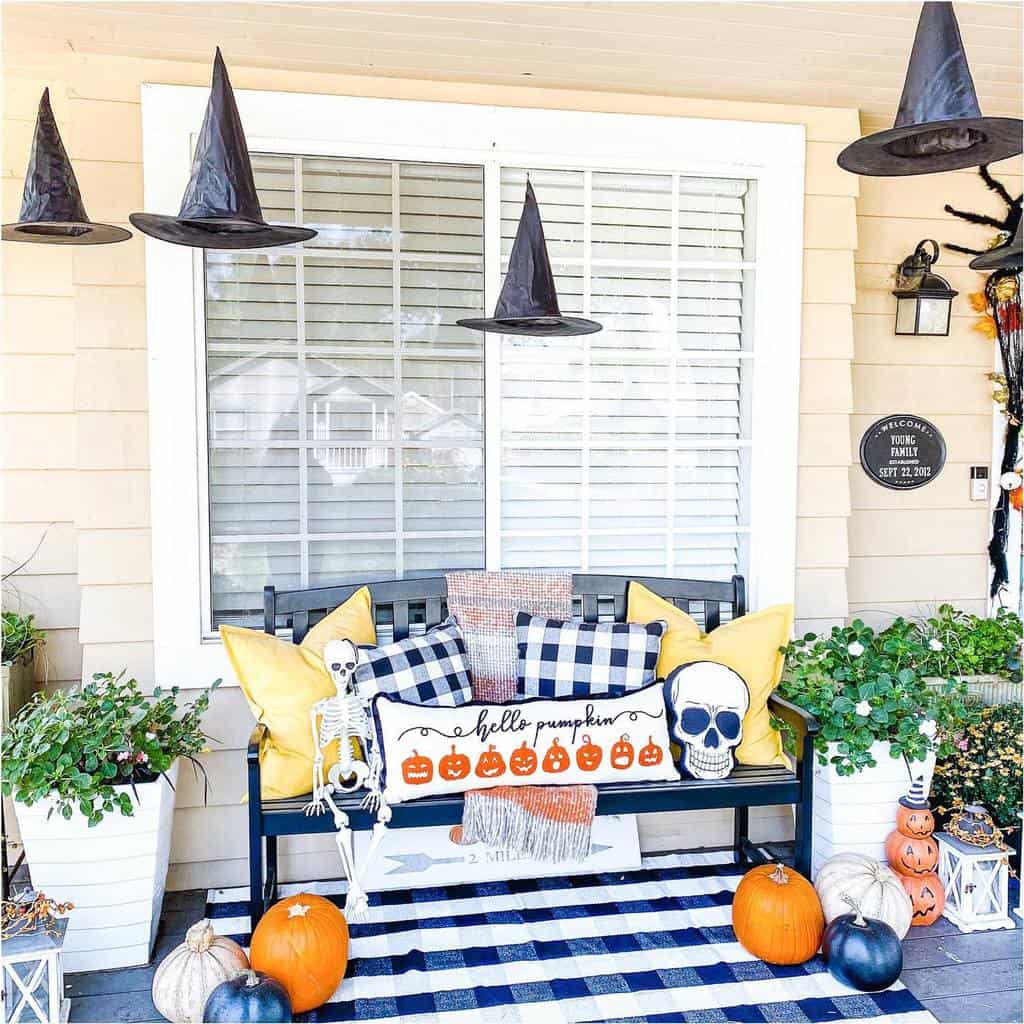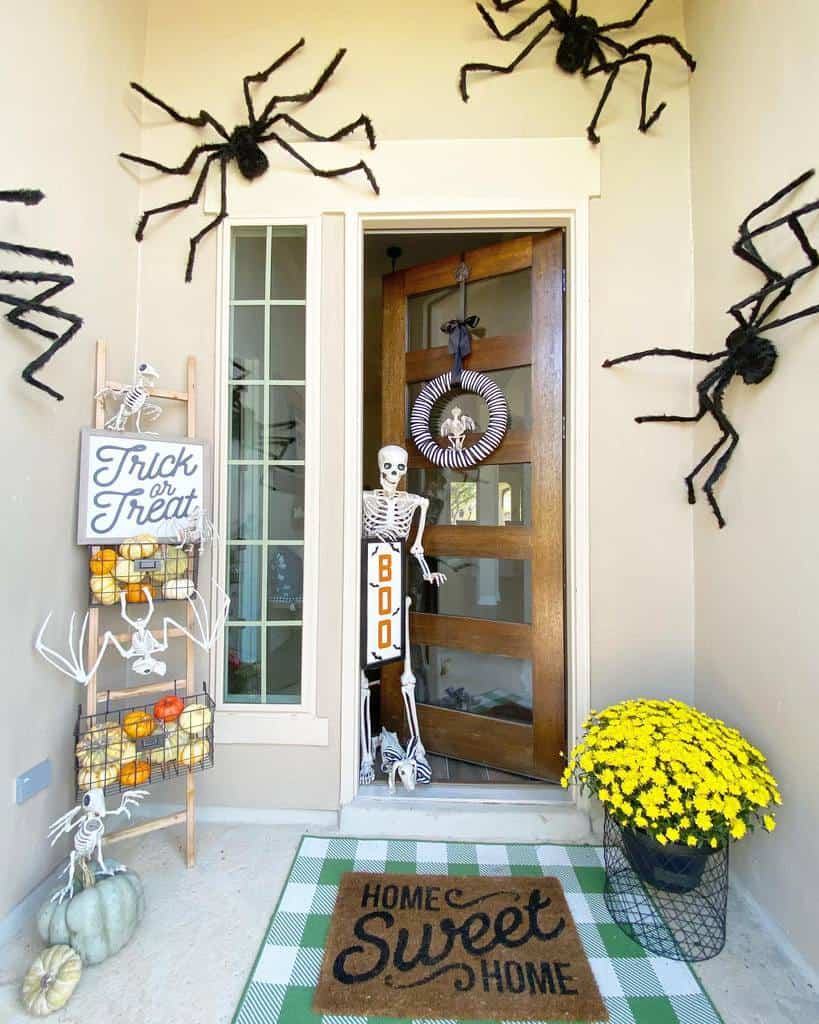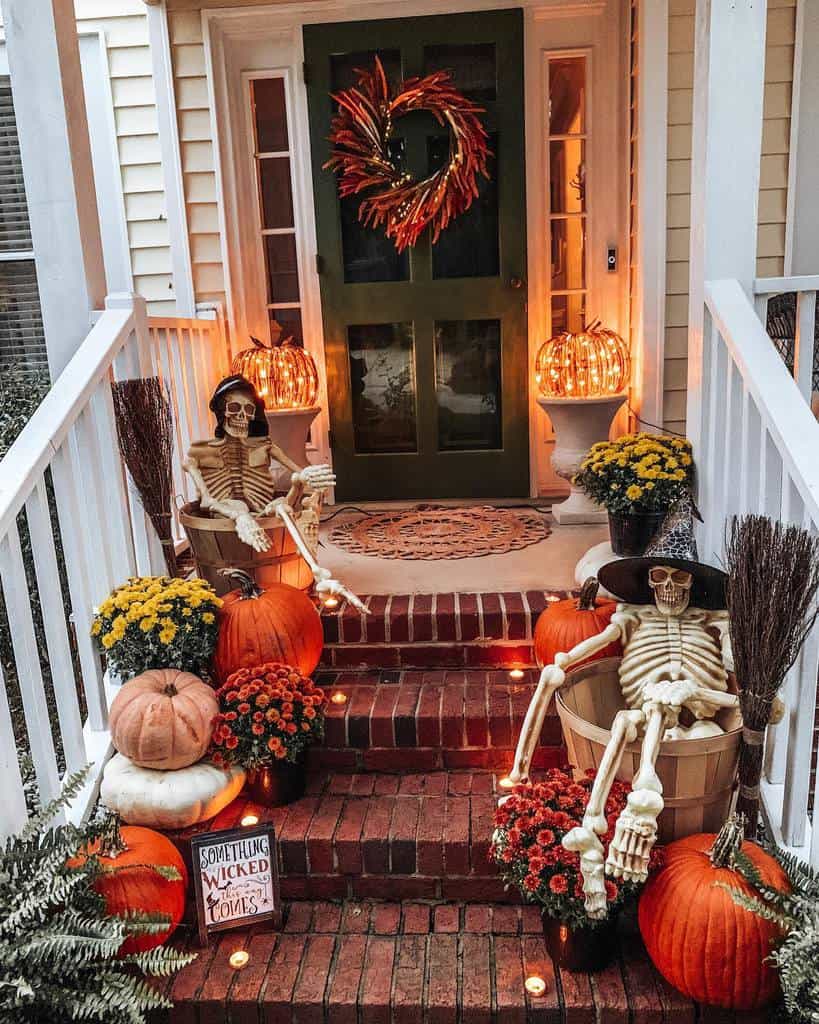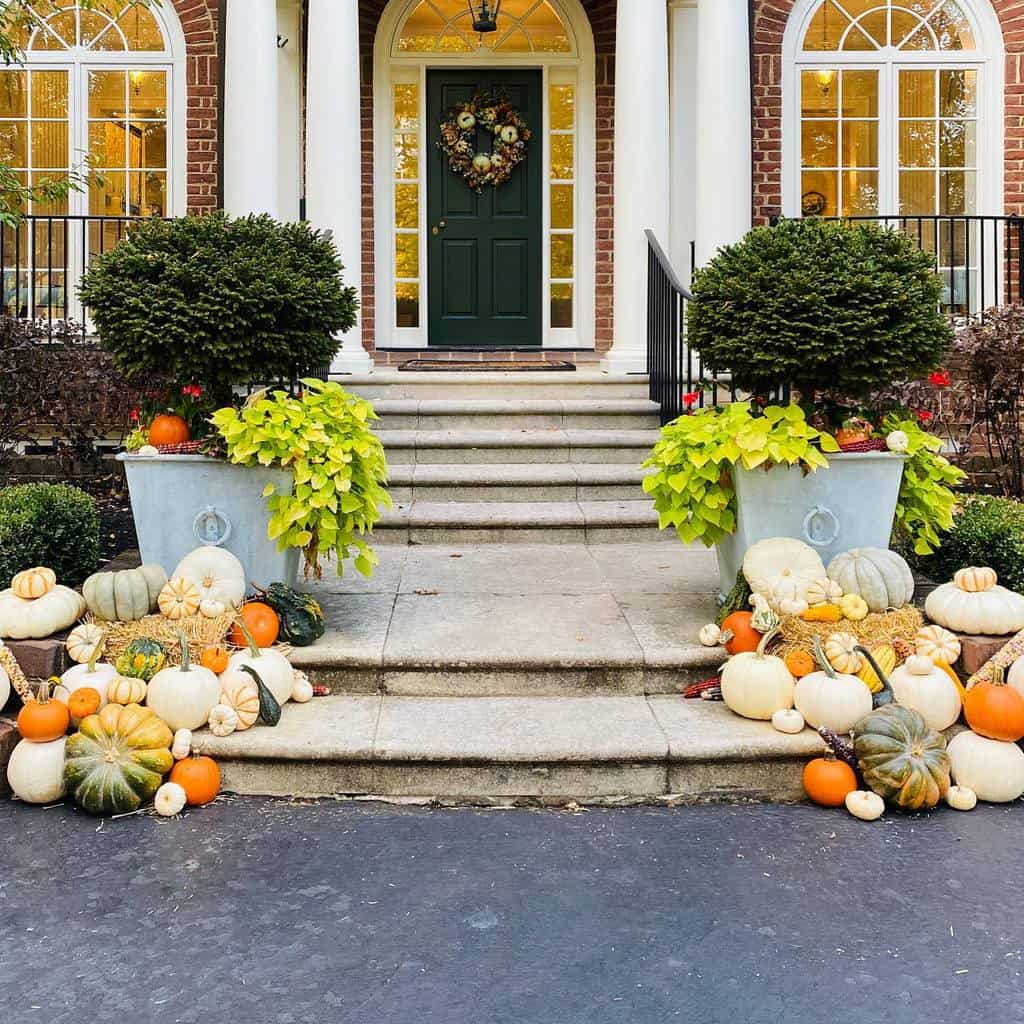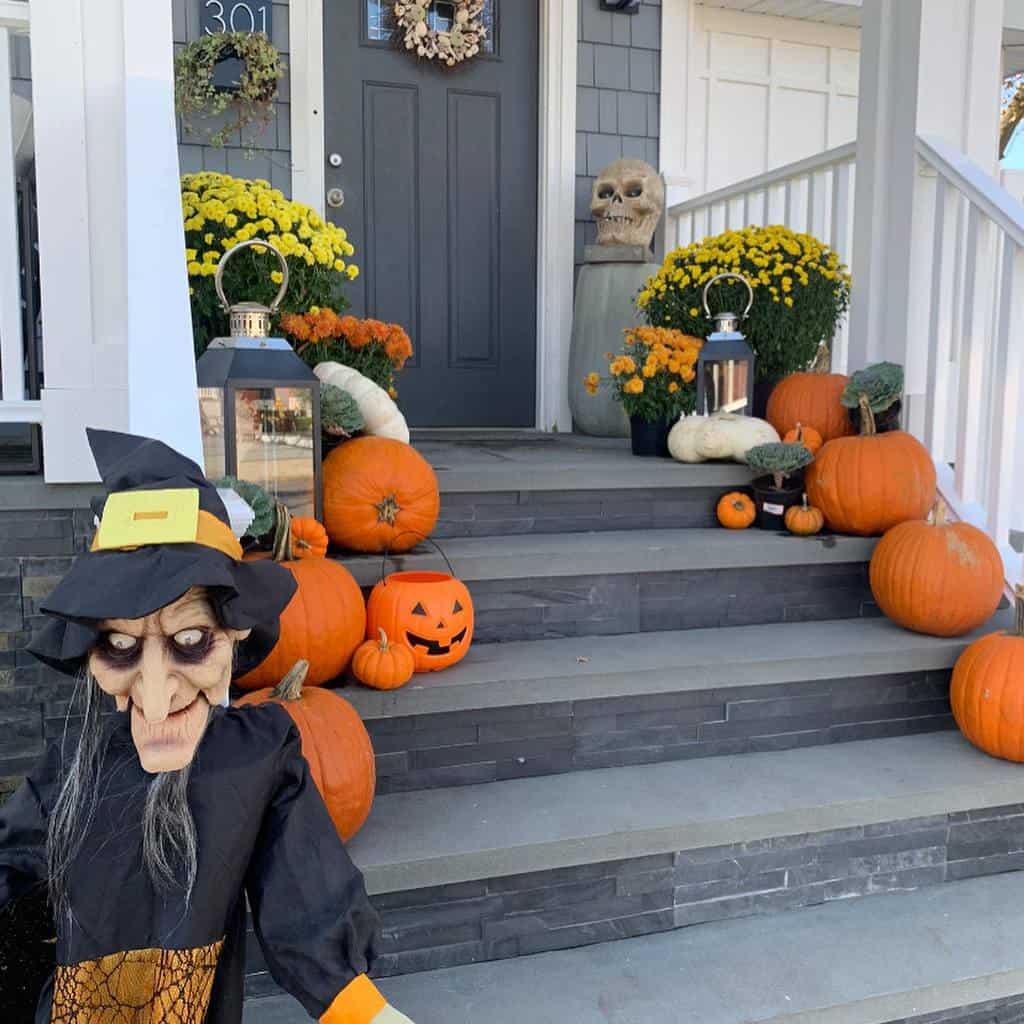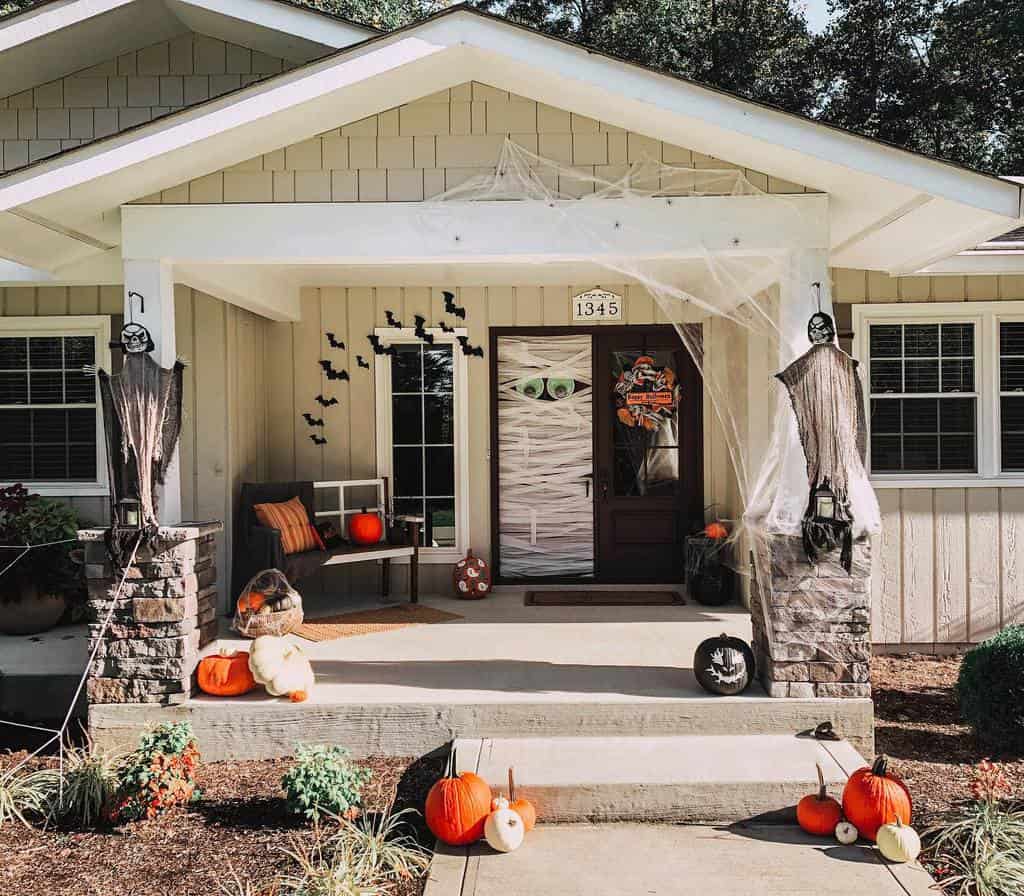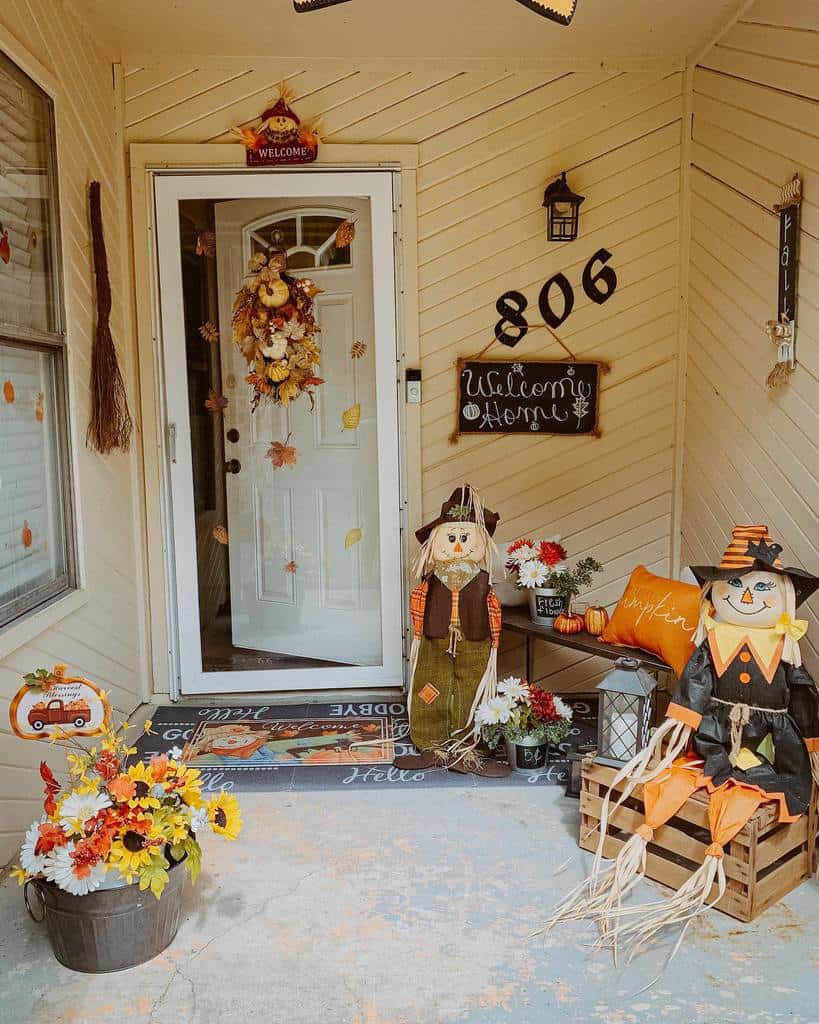 11. Front Door Sconces
. Install wall sconces on either side of your front door to create a warm and inviting entryway. The soft glow of the lights will not only illuminate your doorstep but also add a touch of sophistication to your exterior. Consider choosing sconces that complement the style of your home, whether it's traditional, modern, or rustic.
You can also extend the use of wall sconces beyond the front door by installing them along the porch walls. This will not only provide additional lighting but also enhance the overall aesthetics of the space. Whether you prefer classic lantern-style sconces or contemporary designs, wall sconces are an excellent way to add character and charm to your front porch.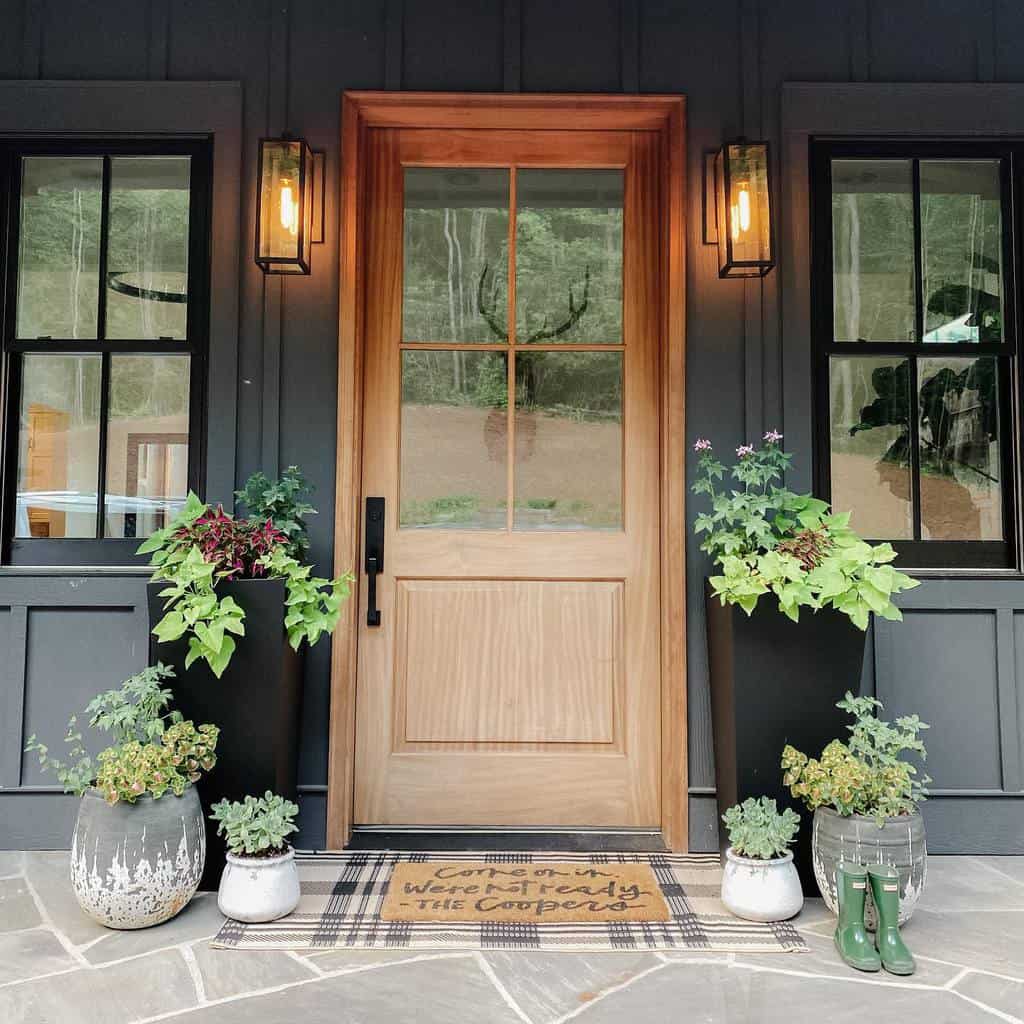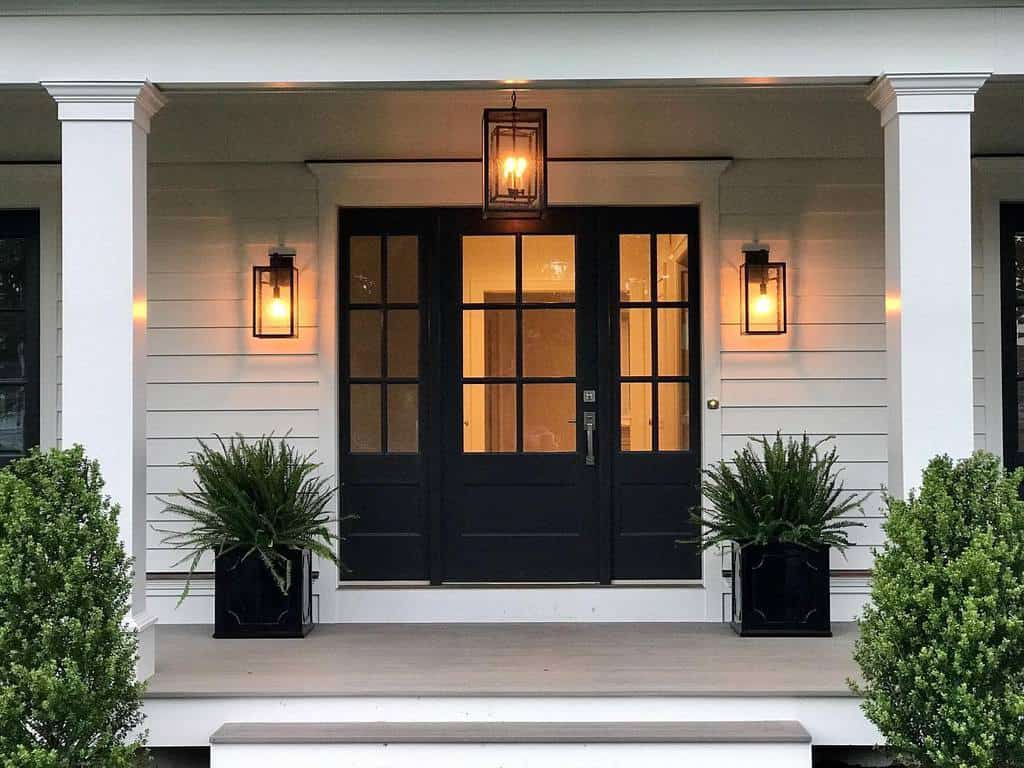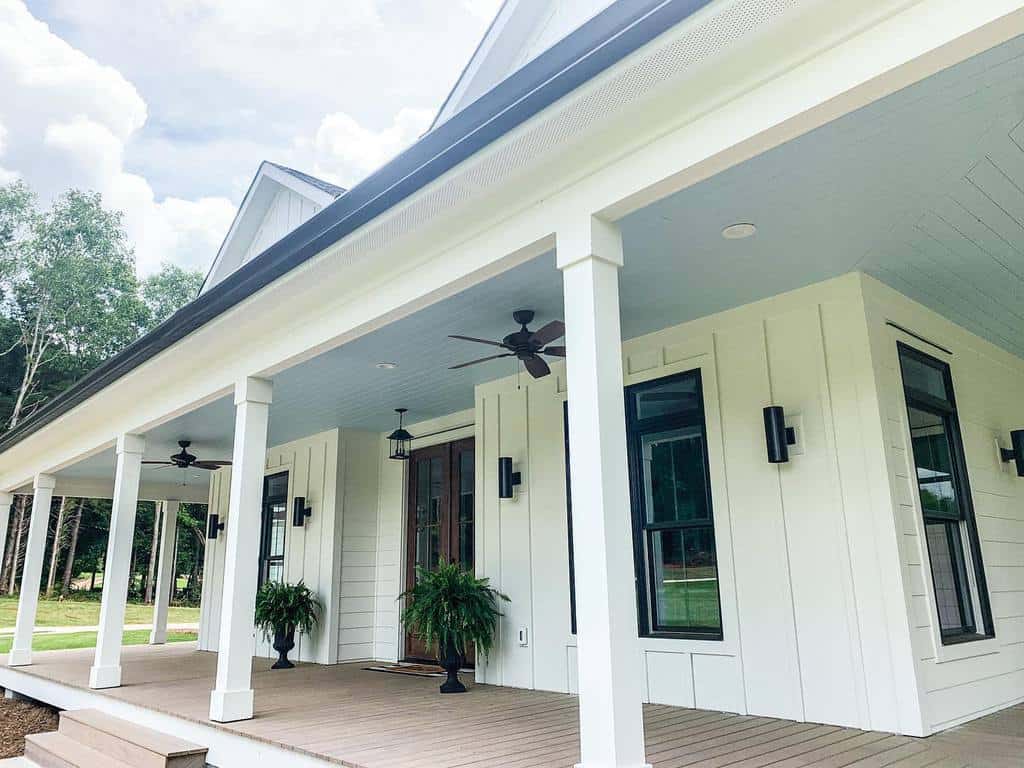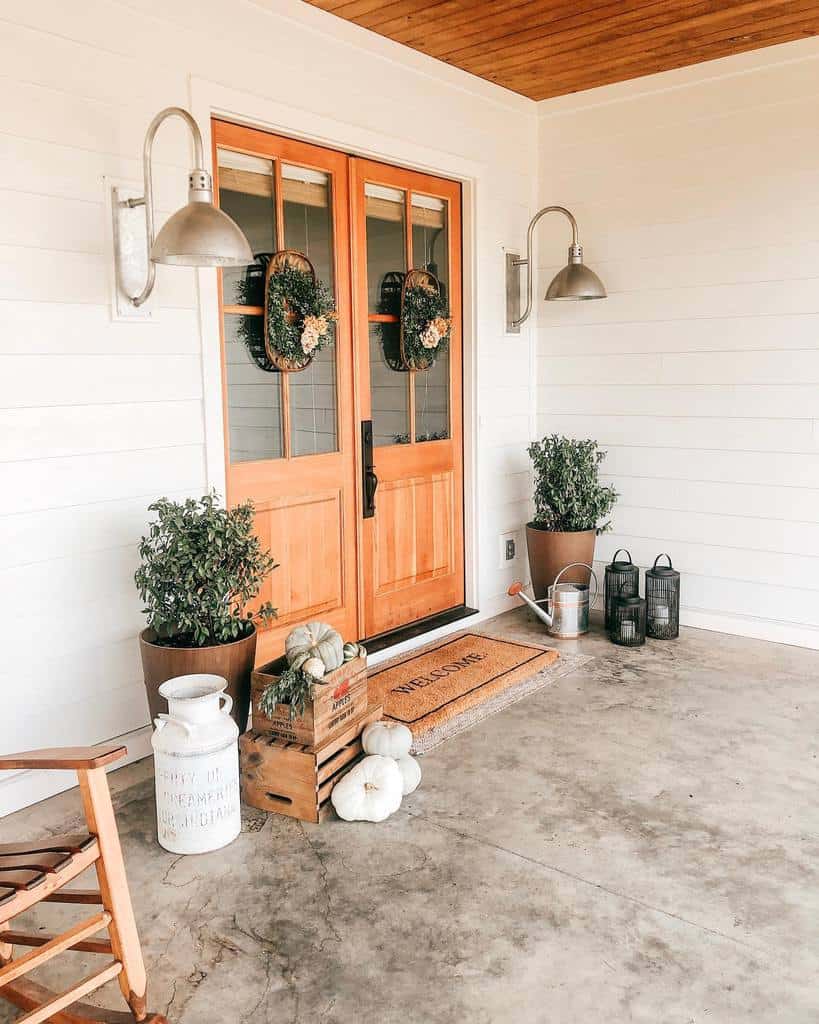 12. Front Porch Landscaping
Create a lush and vibrant oasis by strategically placing potted plants and hanging baskets around your porch, adding a burst of color and fragrance. Consider adding climbing vines or trellises to create a vertical garden effect, bringing a touch of whimsy to your space. Enhance the ambiance by incorporating cozy seating areas, such as a porch swing or a couple of stylish chairs paired with a small table.
Complete the look with charming accessories like outdoor rugs, lanterns, and decorative planters. With front porch landscaping, you can instantly elevate the curb appeal of your home while creating a warm and welcoming atmosphere for family and guests alike.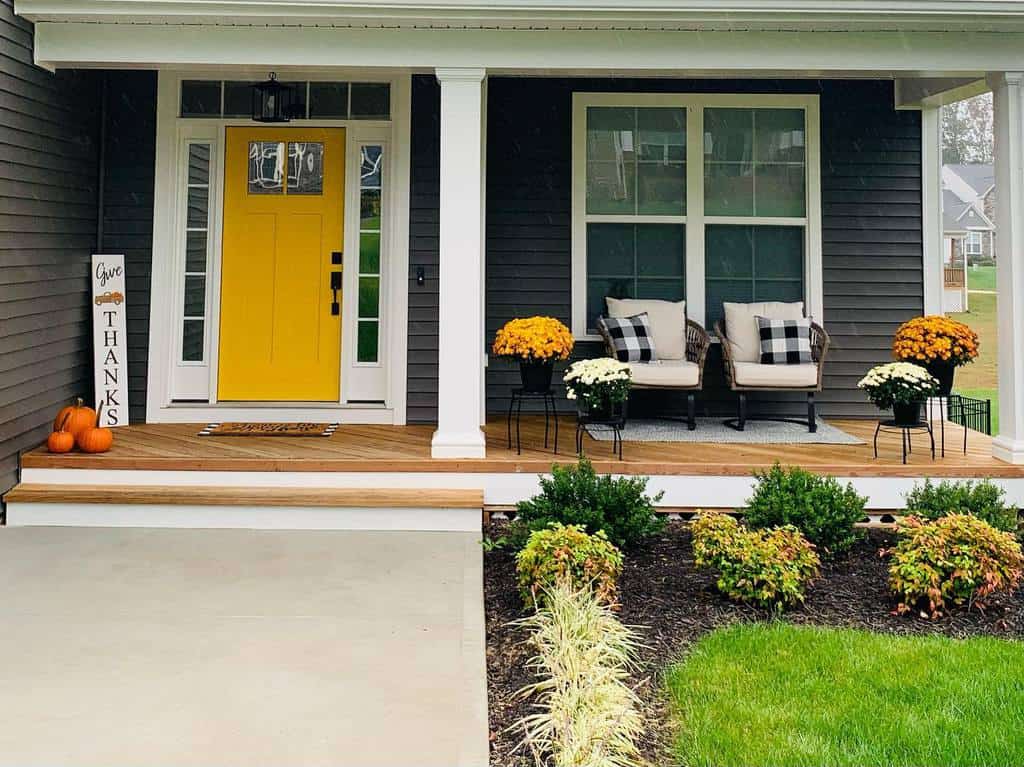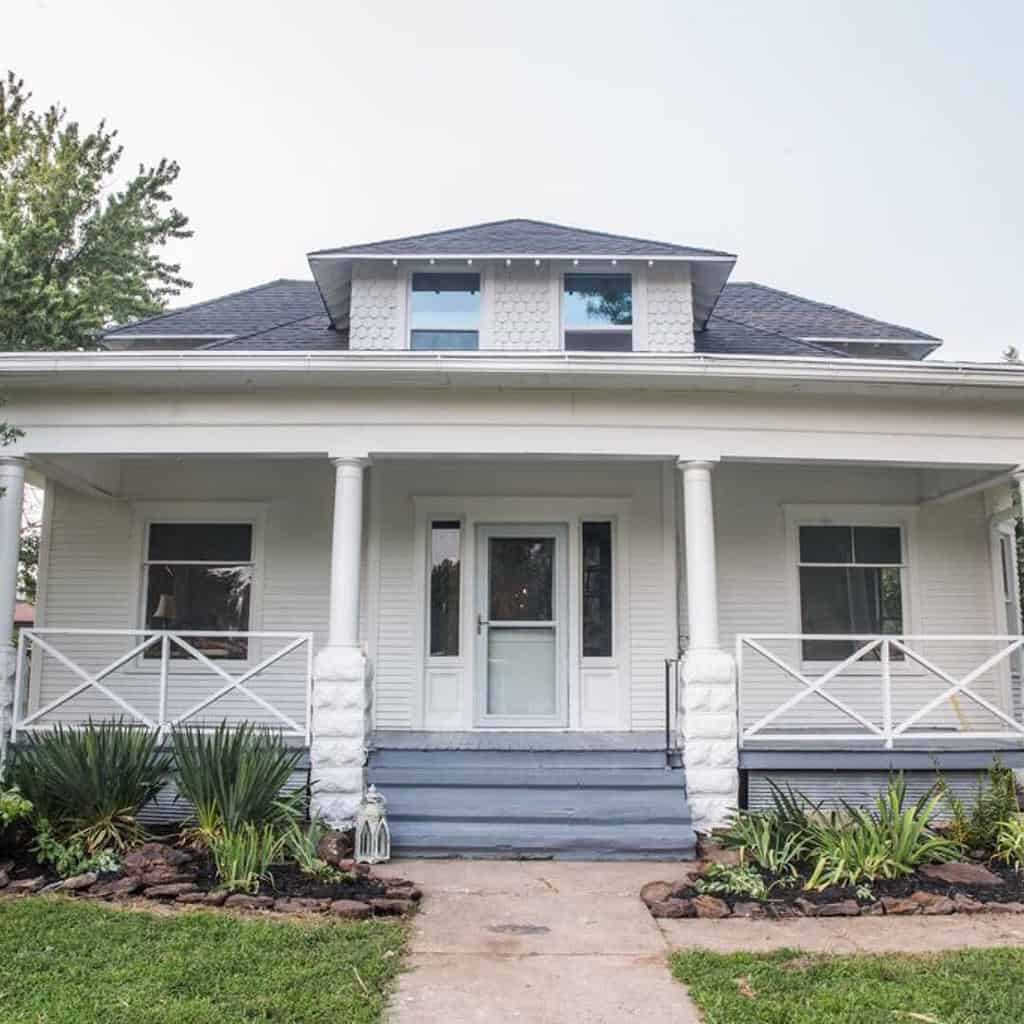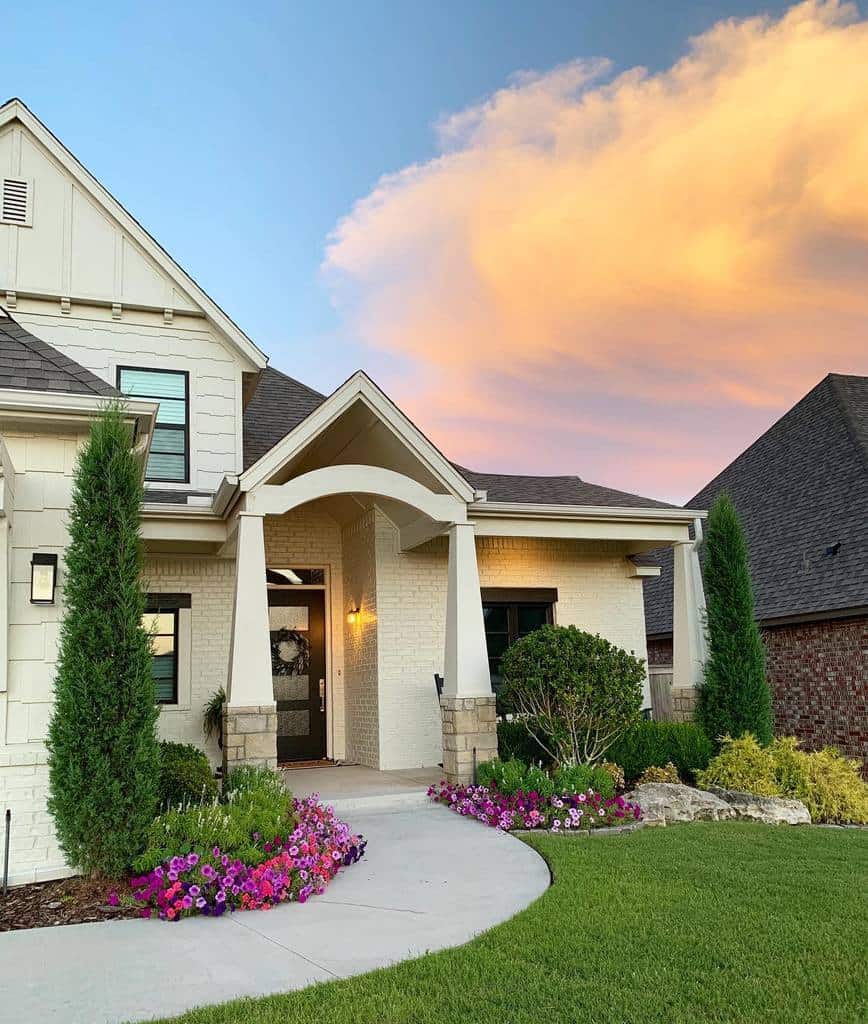 13. Front Door Awning
Picture a classic front door framed by a sleek and modern awning, creating a visually appealing focal point. Choose an awning that complements the architectural style of your home, whether it's a sleek and minimalist design or a more ornate and traditional look.
The awning can be made from materials such as metal, fabric, or even wood, offering a wide range of options to suit your taste and the overall aesthetic of your home. Additionally, an awning provides an opportunity to incorporate color and pattern into your porch design, allowing you to infuse your front entrance with a vibrant and inviting ambiance.
Enhance the visual appeal of your small front porch and make a lasting impression with a front door awning that combines style, functionality, and a touch of architectural flair.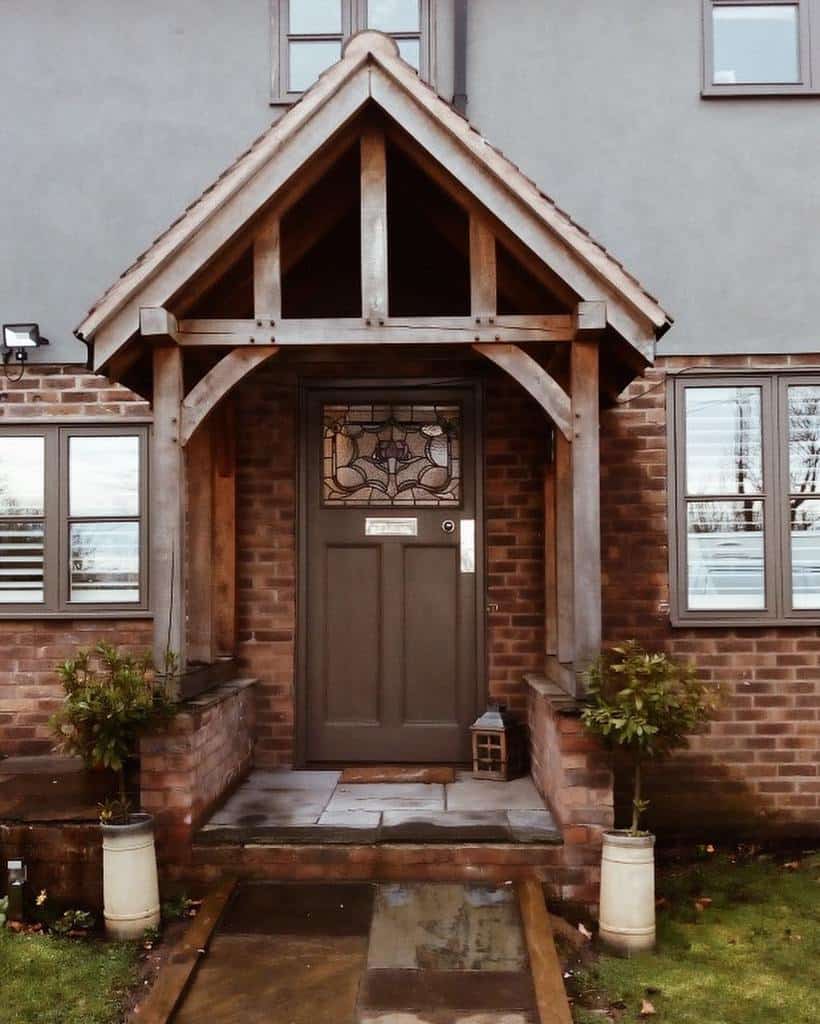 14. Front Porch Steps With Decor
Transform your front porch into a welcoming and enchanting space with creative front porch decorating ideas, focusing on the steps. Start by adorning the steps with an array of vibrant potted flowers and plants, adding bursts of color and freshness to your entrance.
Choose a variety of flowers that thrive in your climate and complement the overall aesthetic of your home. To add an extra touch of charm and personality, consider placing charming statues or figurines strategically along the steps.
Whether it's a whimsical gnome or an elegant angel, these statues bring a touch of character and delight to your front porch. By decorating the front porch steps, you create an inviting atmosphere that sets the tone for the rest of your home.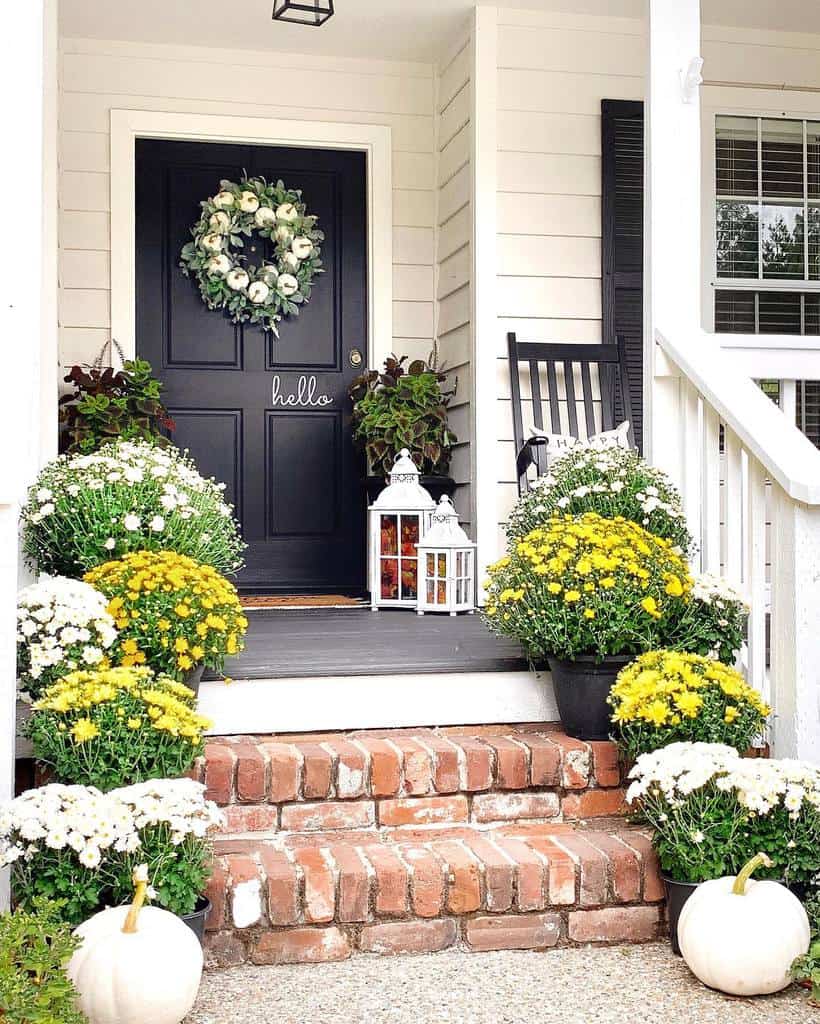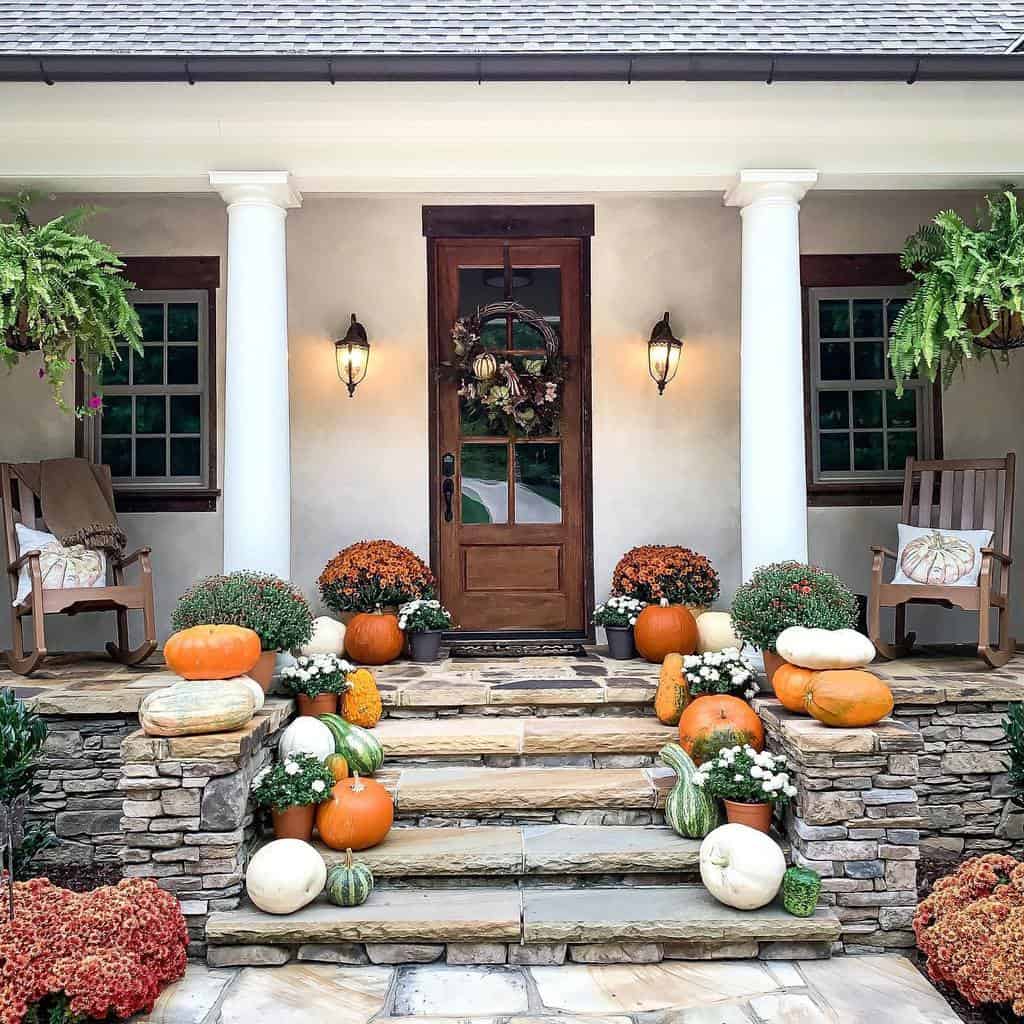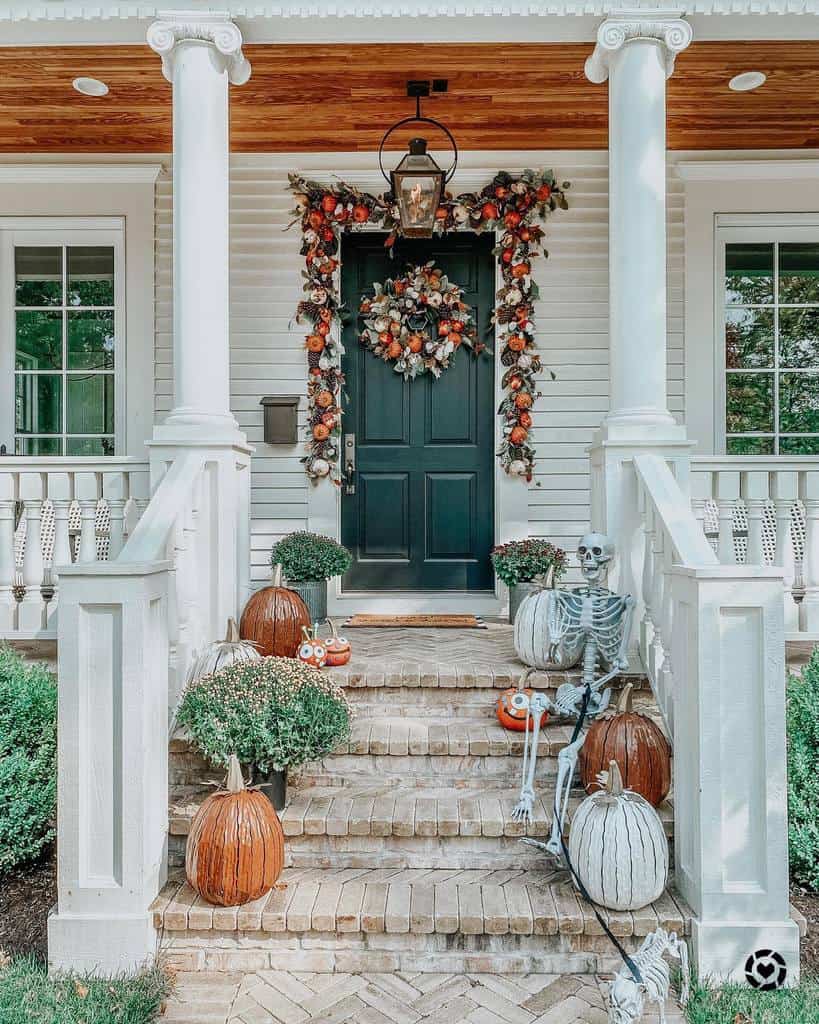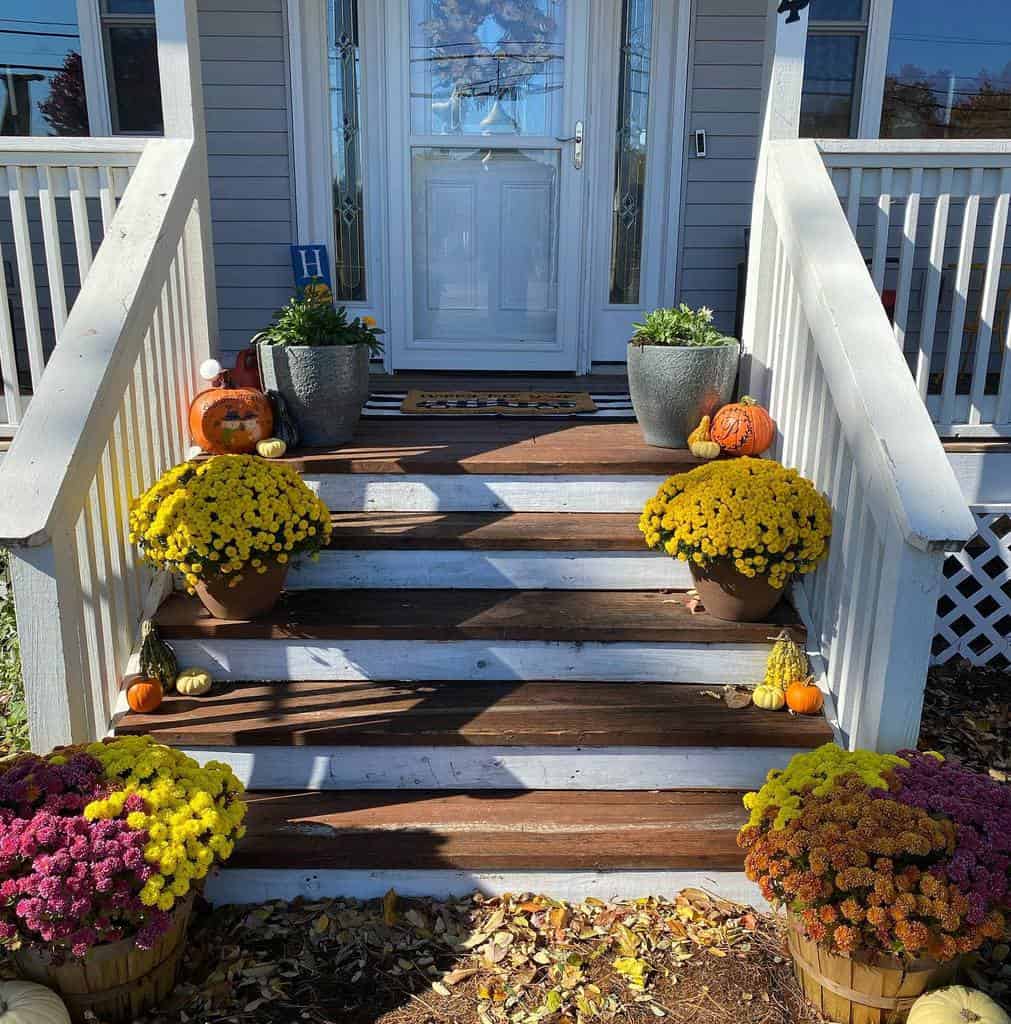 15. Porch Railings
Sturdy railings provide a sense of security, especially for families with young children or elderly individuals. However, that doesn't mean you have to compromise on style. Explore creative options such as ornate wrought iron railings for a touch of elegance or sleek modern designs for a more minimalist look. You can also play with colors by opting for contrasting or coordinating hues that complement your overall exterior color scheme.
By incorporating eye-catching porch railings, you not only ensure safety but also add character and personality to your front porch, creating a warm and inviting atmosphere for you and your guests. So, let your front porch become a delightful reflection of your style while prioritizing the well-being of your loved ones with stylish and secure porch railings.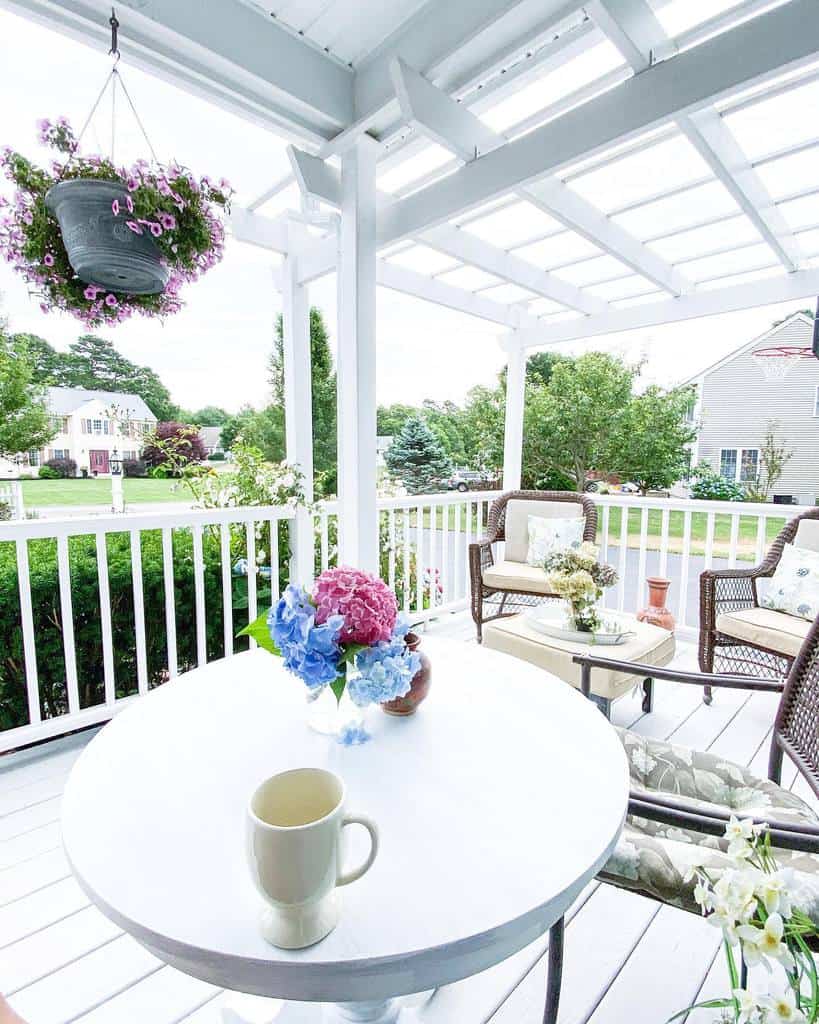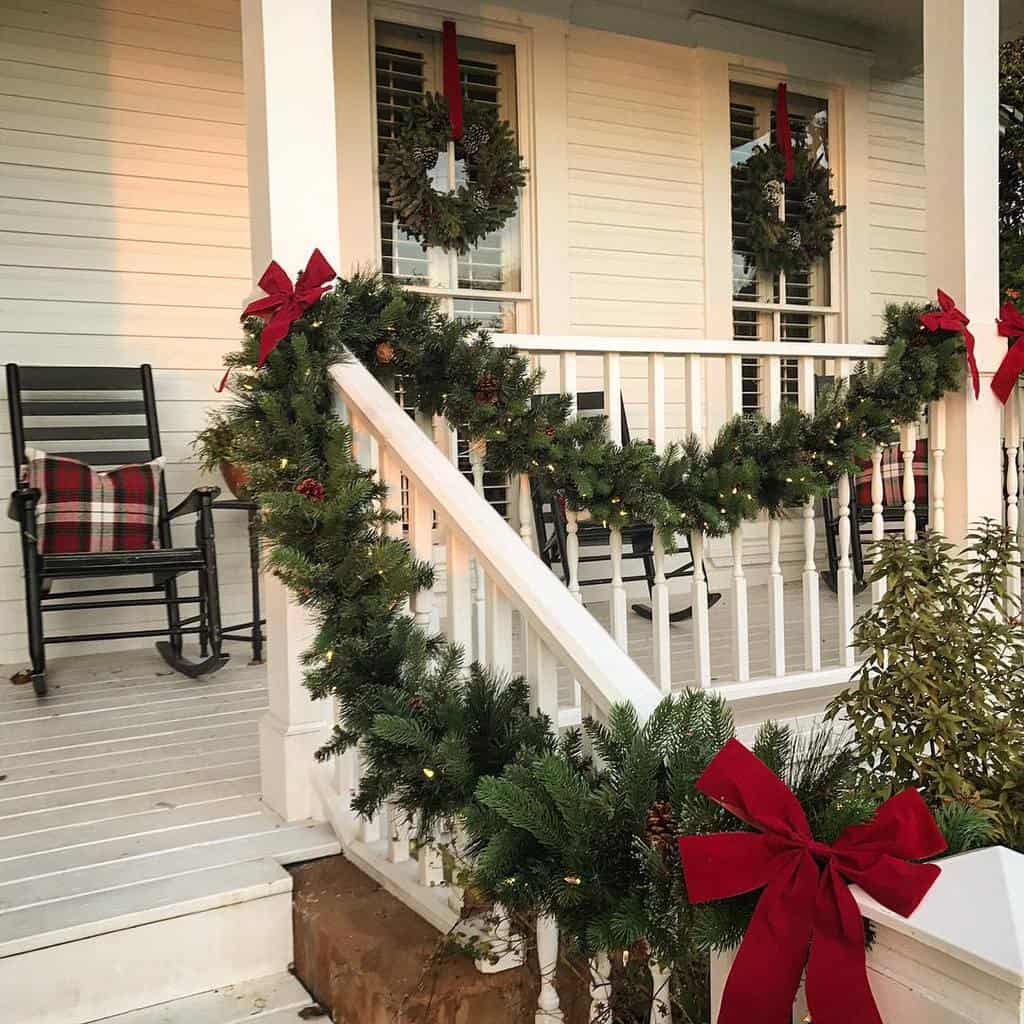 Front Porch Decorating FAQs
How do you style a front porch?
Style your front porch the same way you'd style any room inside your home. If space allows, include a seating area and small table. An outdoor rug softens the area and adds color and texture. Plants and flowers are excellent porch decorating elements.
What are good porch flowers?
If you lack flower growing experience, there are many hearty, easy-to-grow flowers that are perfect for porch design. Hanging baskets of begonias or petunias bloom in bright shades of pink, orange and purple. Hibiscus and Mandevilla grow well in pots placed in sunny areas of your porch.
How can I lighten a dark porch?
Paint everything from walls, to floors, to furniture in light, cheery shades. Use as much white as possible to reflect available light. Avoid dark furniture and linens, opting for pastel shades instead. Add additional light fixtures if your porch needs more light at night.