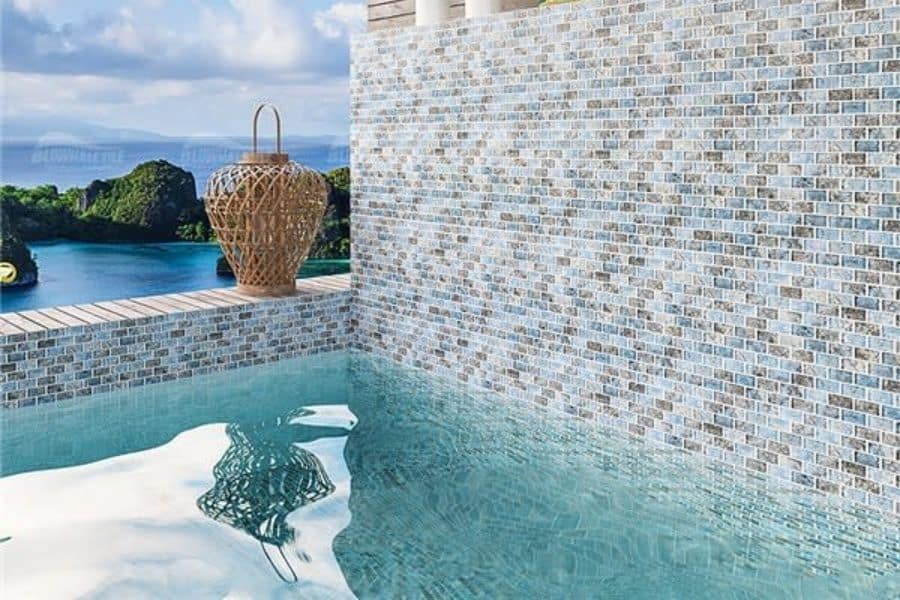 The Top 21 Pool Tile Ideas
by — Kari Apted

Published on November 9, 2021

Updated on October 1, 2023
"You're only one swim away from a good mood." – Unknown
Being a swimming pool owner is a dream that many of us share. Not only does it provide the mood-boosting effect that follows a good swim, a beautiful pool area enhances any backyard.
Swimming pool tile is an important factor in creating the perfect backyard pool oasis. The colors, textures, and sizes of tile you choose can make or break your pool design. Before settling on a particular type of tile, scroll through our best pool tile ideas and see which ones stand out to you. From natural stone to iridescent glass tile and everything in between, there's never been a better time to design the perfect pool.
1. Sleek Concrete Poolside Tiles
Transform your poolside into a modern oasis with versatile concrete tiles. Whether you prefer patterned textures or smooth surfaces, concrete tiles offer a striking and unique look. They come in various colors, making it easy to match your design vision. Beyond aesthetics, these tiles are durable and easy to clean, ideal for active pool areas.
Achieve both style and practicality effortlessly with concrete tiles. Explore a wide selection of shapes, sizes, and textures to craft your dream poolscape. Pair them with contemporary furniture and lush greenery for a complete, sophisticated makeover.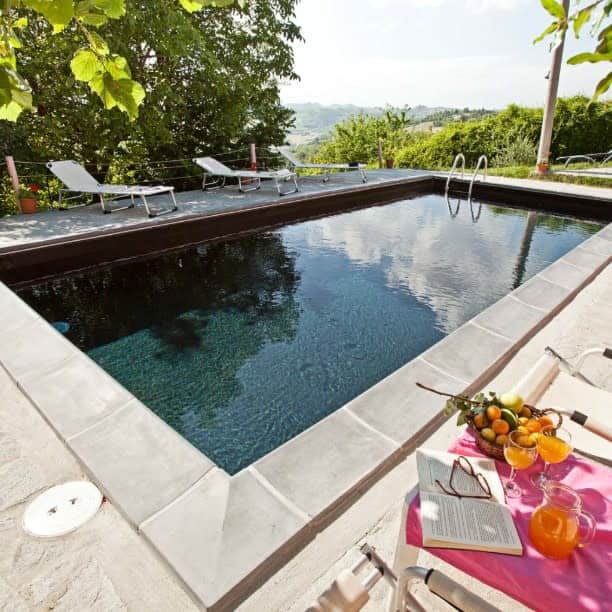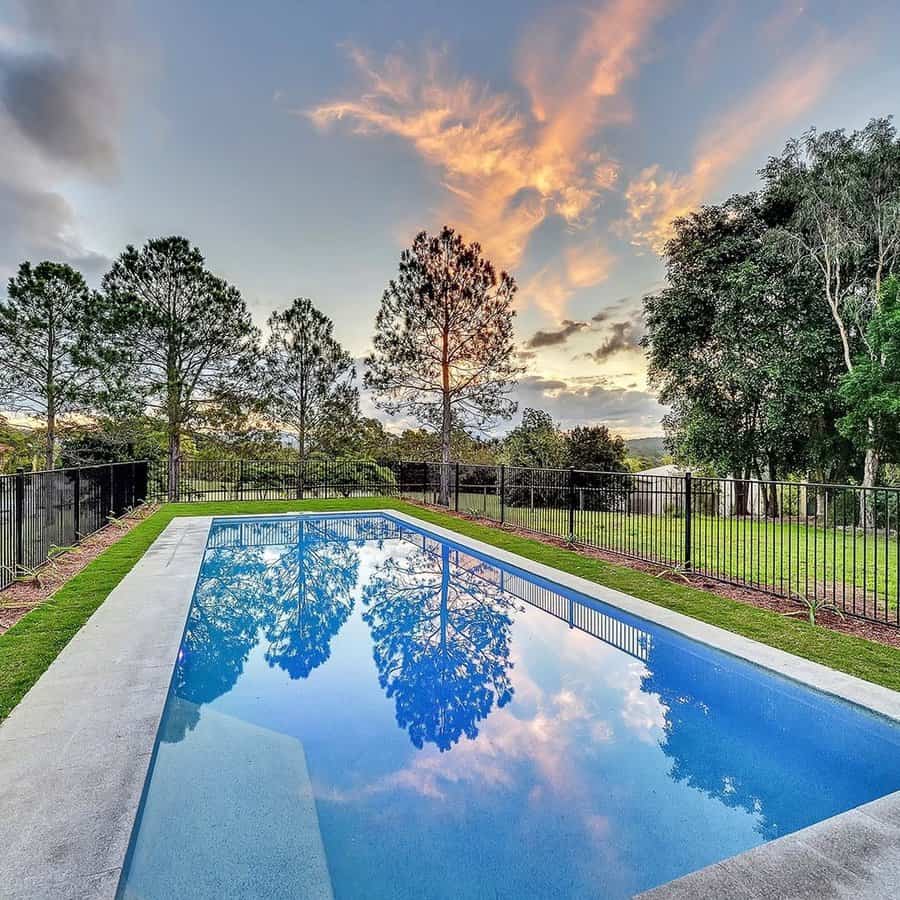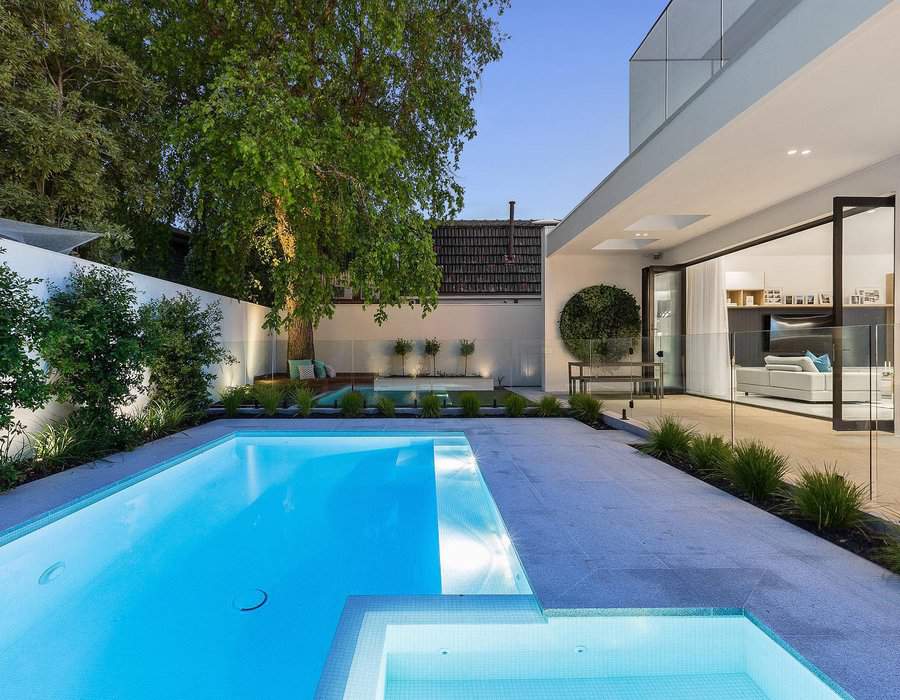 2. Timeless Blue Porcelain Pool Tiles
For a classic and impressive pool design, opt for timeless blue porcelain tiles. Their rich yet subtle hue adds a touch of luxury to your pool area.
These tiles not only bring style but also durability, ensuring your investment lasts for years. To enhance the elegance, pair them with white lounge chairs and greenery, creating a serene oasis. Consider using them for the pool's waterline or as accents in mosaic patterns for a cohesive and timeless look.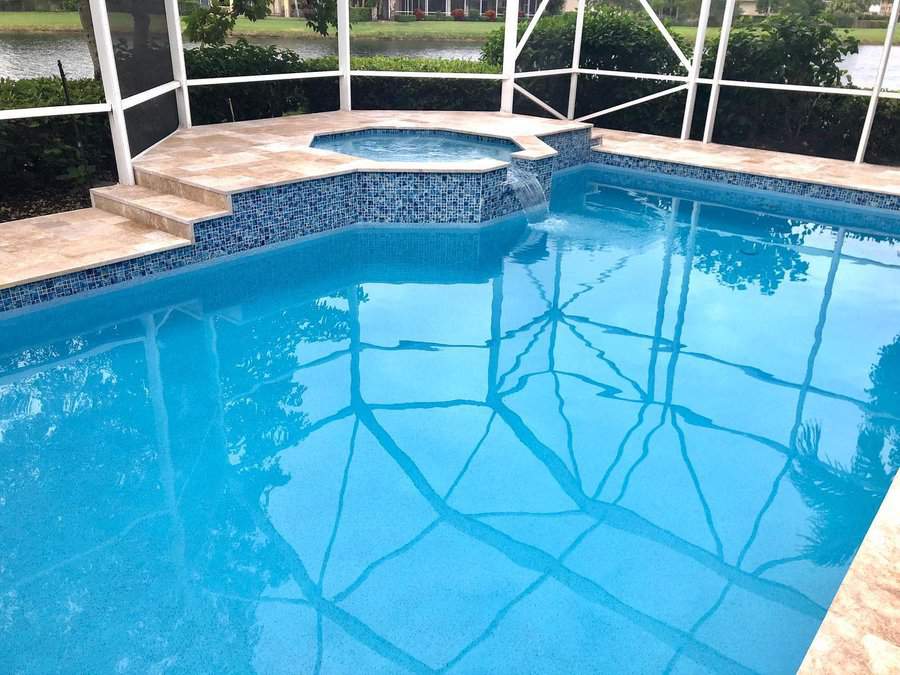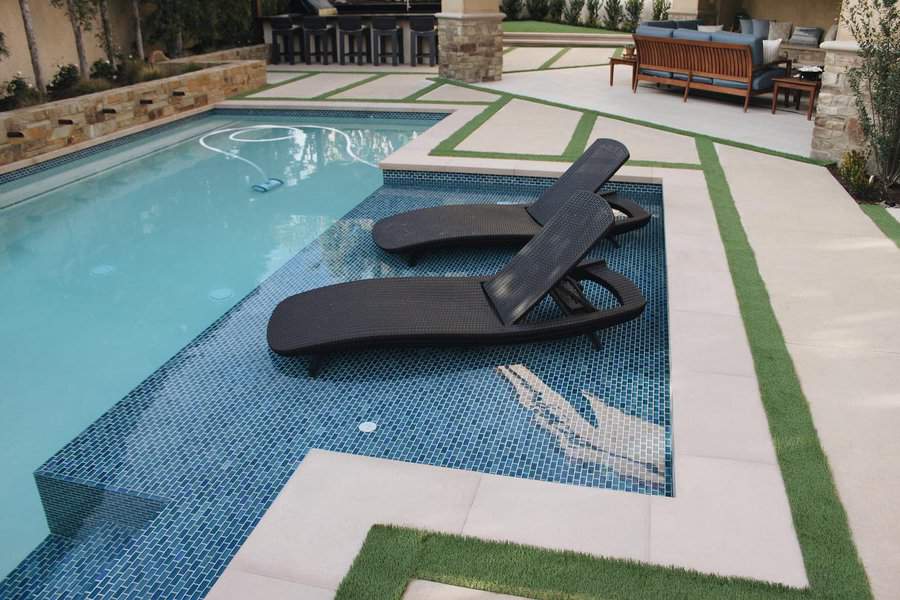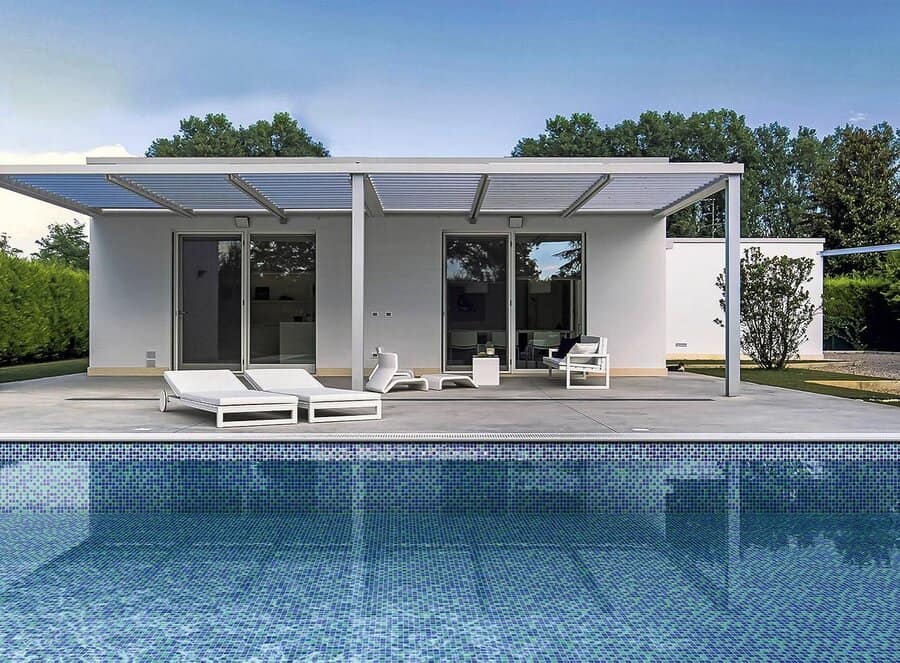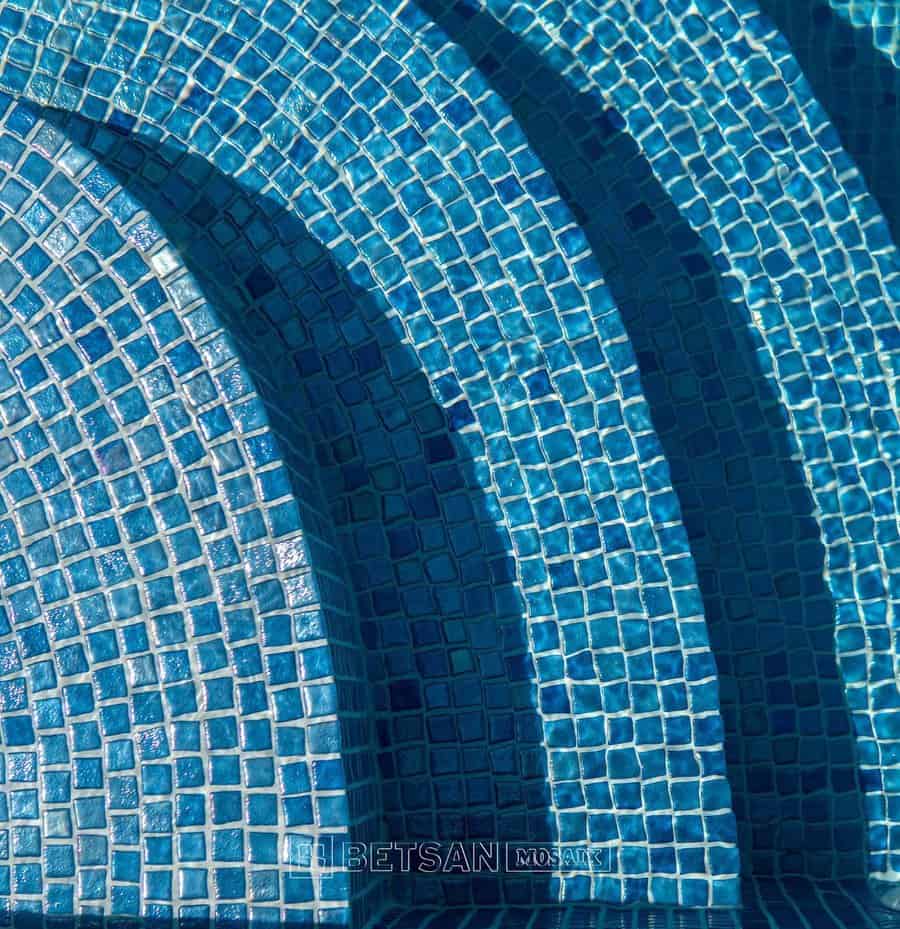 3. Mesmerizing Mosaic Blue Pool Tiles
Indulge in the tranquil allure of mosaic blue pool tiles for a one-of-a-kind swimming experience. The interplay of sunlight on varying shades of blue creates a mesmerizing, almost magical ambiance.
To recreate this captivating atmosphere, consider installing mosaic blue tiles in your pool. Their soothing colors transport you to a serene oasis, providing a perfect escape from the daily hustle and bustle. Enhance the effect by surrounding your pool area with lush greenery and comfortable seating, ensuring endless hours of relaxation and enjoyment.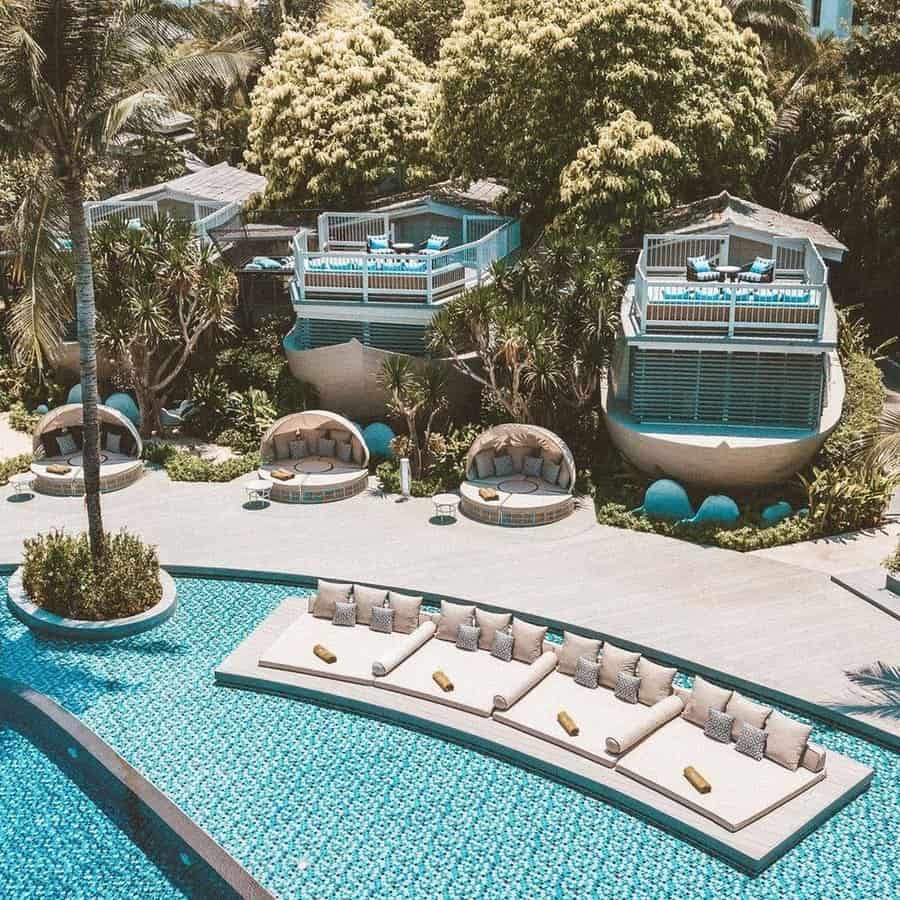 4. Elegant Patterned Blue Pool Tiles
Discover the timeless beauty of classic blue pool tiles with a twist. Opt for elegant patterned blue tiles to infuse your pool with fresh vibrancy.
These tiles not only elevate aesthetics but also offer long-lasting durability. To achieve a truly elegant look, balance the patterned tiles with sleek, modern pool furniture and minimalistic design elements. This combination will create an inviting and sophisticated outdoor space that will leave a lasting impression on your guests.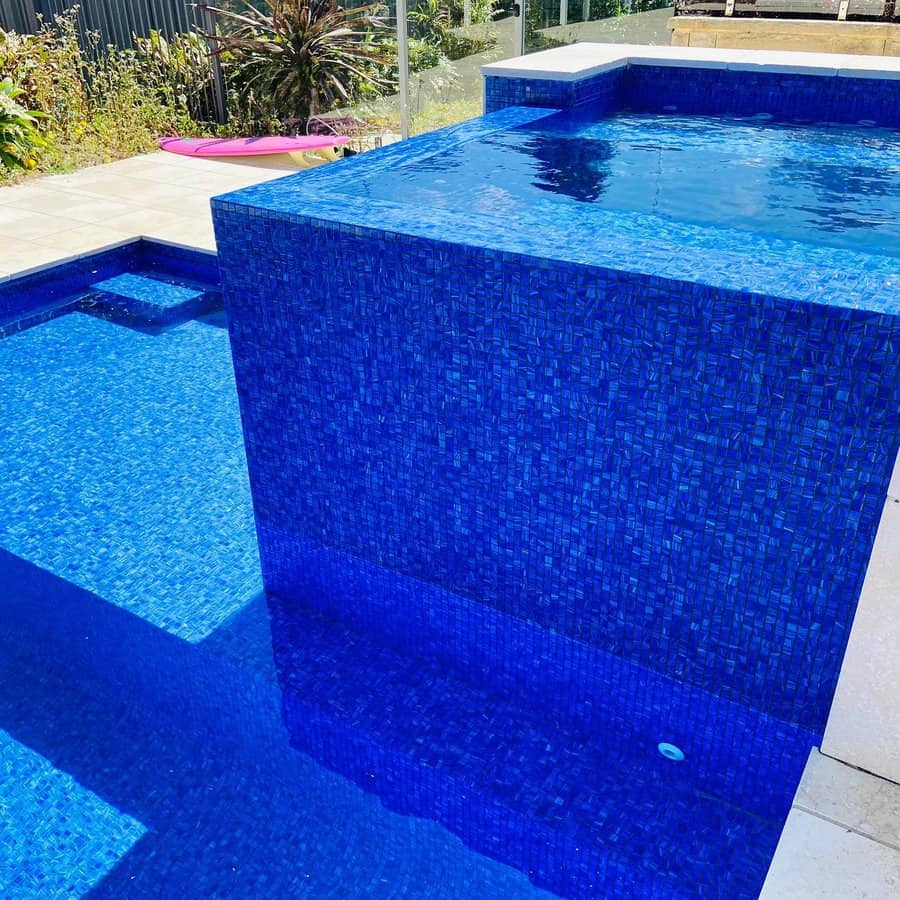 5. Natural Earthy Mosaic Pool Tiles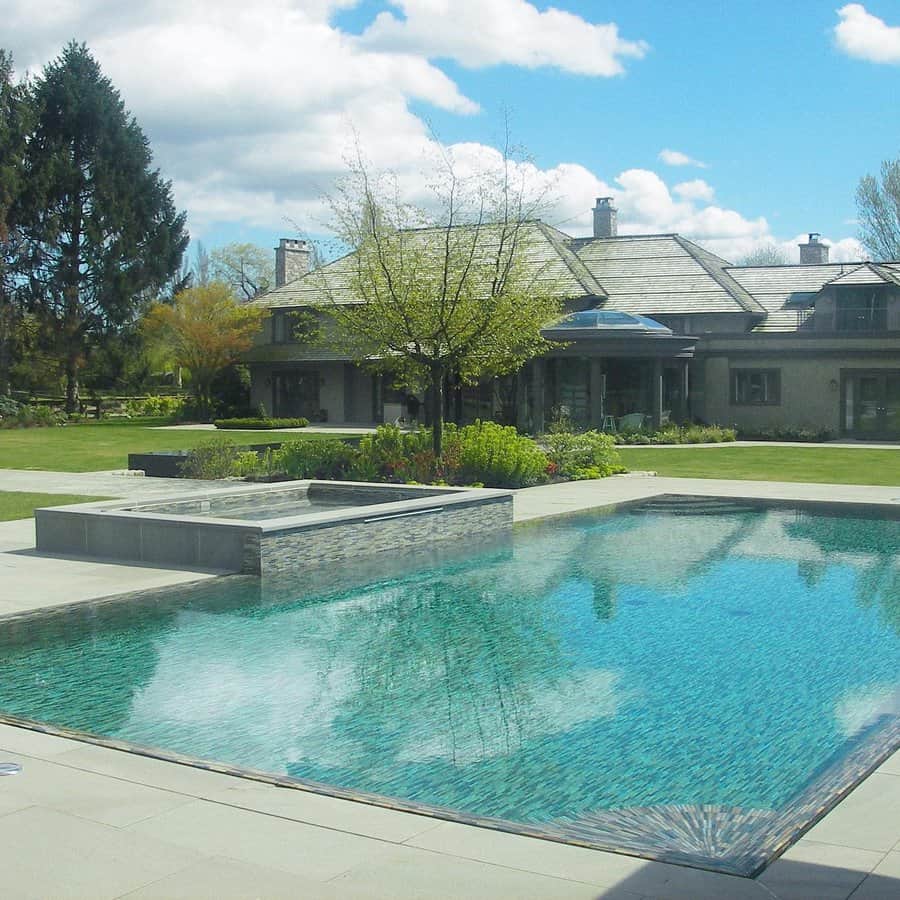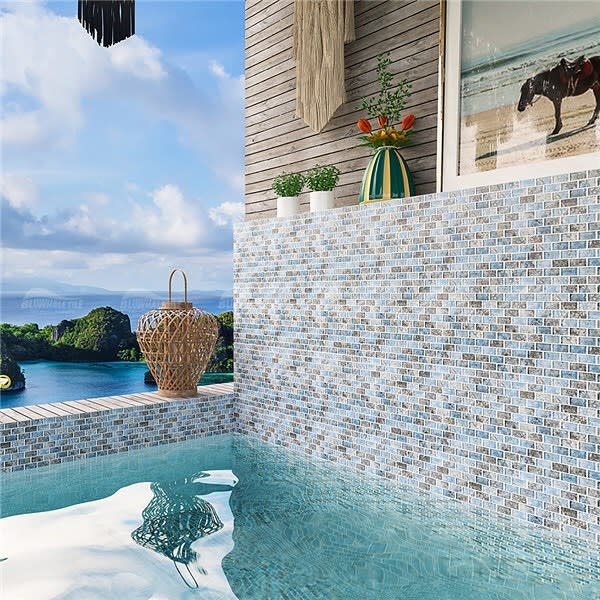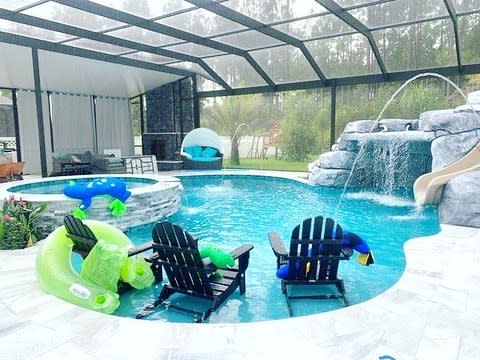 6. Subtle Beige Porcelain Pool Tiles
Enhance your pool's charm with subtle beige porcelain tiles that create a warm contrast against the sparkling water.
These tiles not only elevate aesthetics but also provide protection against staining and chemical damage. To make the most of this design choice, opt for timeless beige tiles and pair them with neutral poolside furniture and natural landscaping for a harmonious and inviting atmosphere. Whether you're seeking a subtle update or a more pronounced change, beige porcelain pool tiles always make an excellent choice for a timeless and elegant look.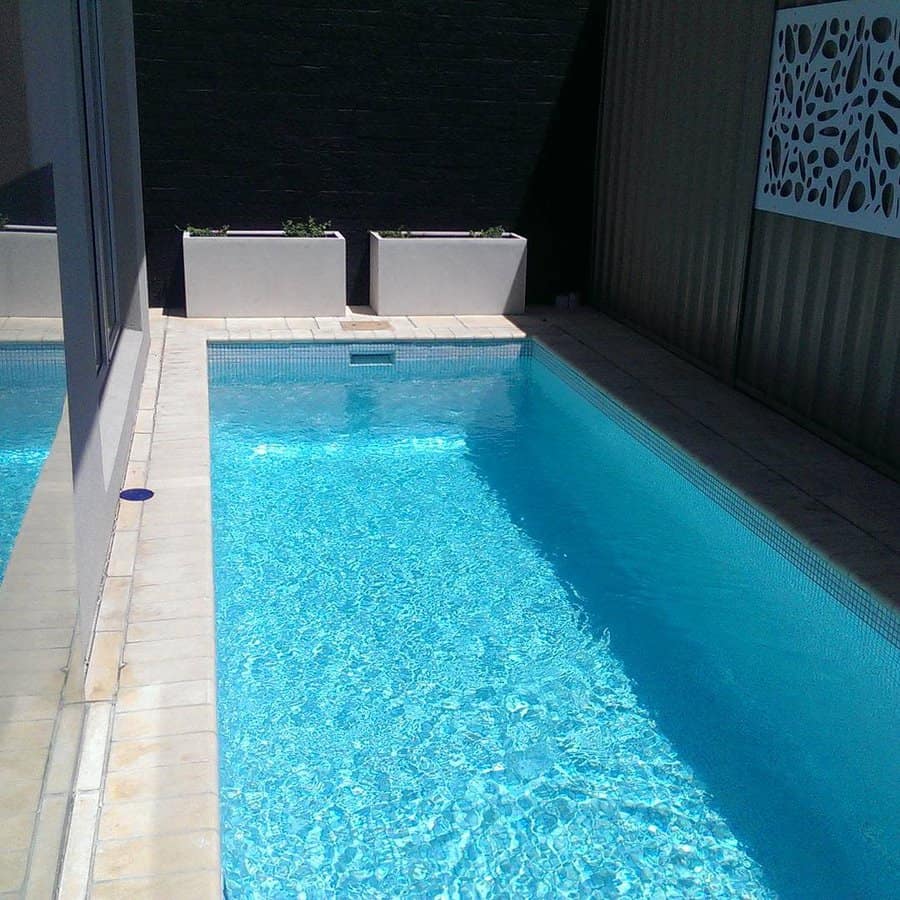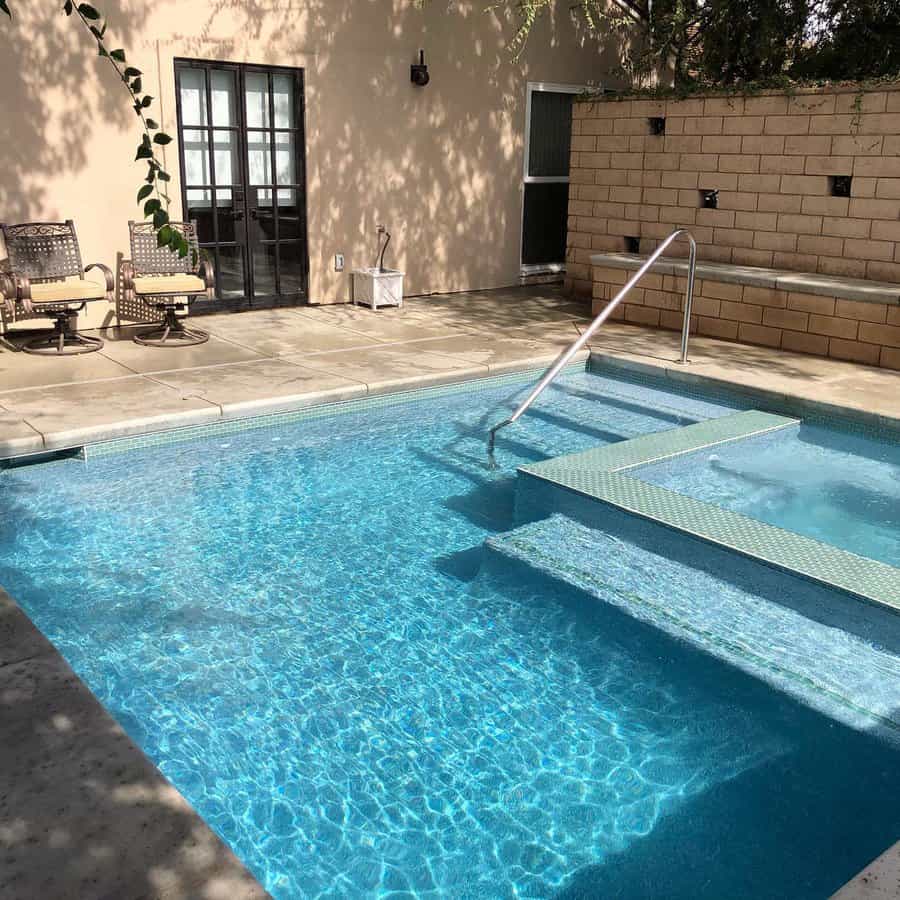 7. Artistic Patterned Poolside Tiles
Designing an exquisite poolscape opens the door to creative possibilities. Break away from the ordinary with artistic patterned poolside tiles, showcasing floral motifs, mosaic compositions, and a world of colors and shapes.
For a subtle yet standout effect, explore decorative tile options with modern, classic designs. These tiles can add a unique touch to your pool while harmonizing with its surroundings. To complete the look, coordinate your choice of poolside furniture and landscaping elements to create a truly captivating outdoor oasis. Your imagination is the only limit when it comes to achieving a unique and artistic pool design.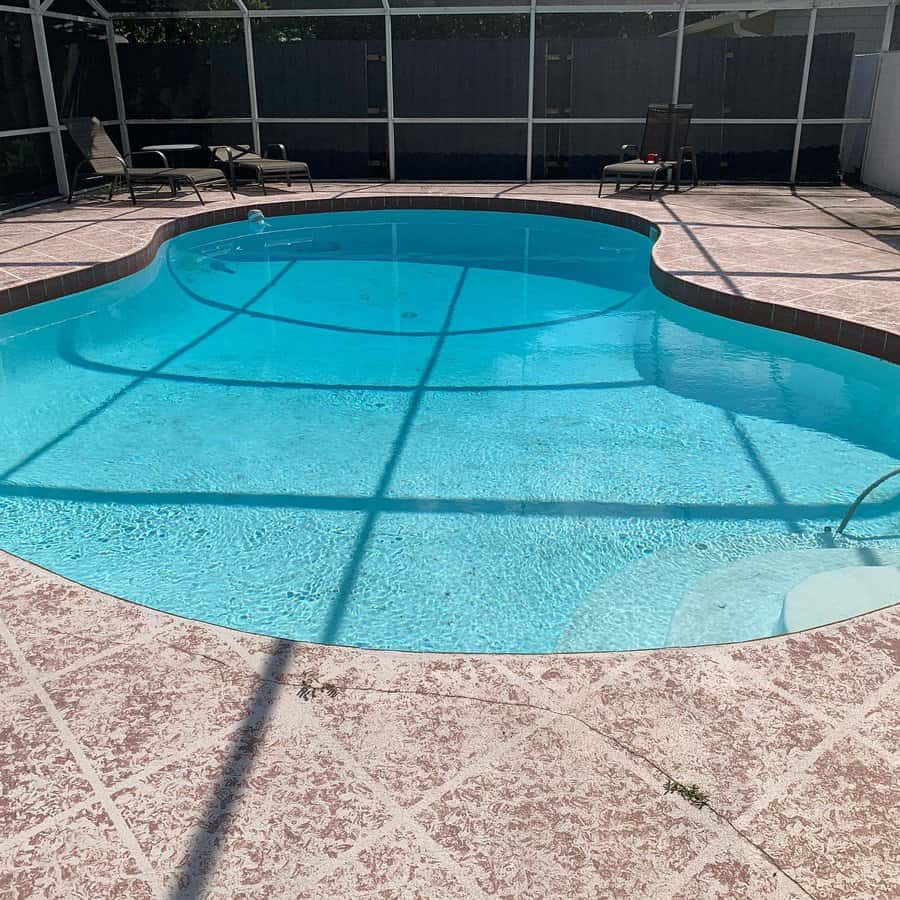 8. Rustic Stone Pool Frame
Enhance the ambiance of your pool area by incorporating the rustic charm of stone pool tiles. This choice not only adds a touch of majesty but also creates a serene outdoor retreat.
To achieve a natural look, consider selecting stone tiles for the pool frame and complement them with earthy hues for the pool's interior. Experiment with different shapes, sizes, and cuts to achieve a modern yet enchanting atmosphere that caters to various preferences.
To further elevate your pool's aesthetics, explore different textures for the pool floor. With this array of choices, you can easily find the perfect design that complements your vision and adds timeless appeal to your outdoor space.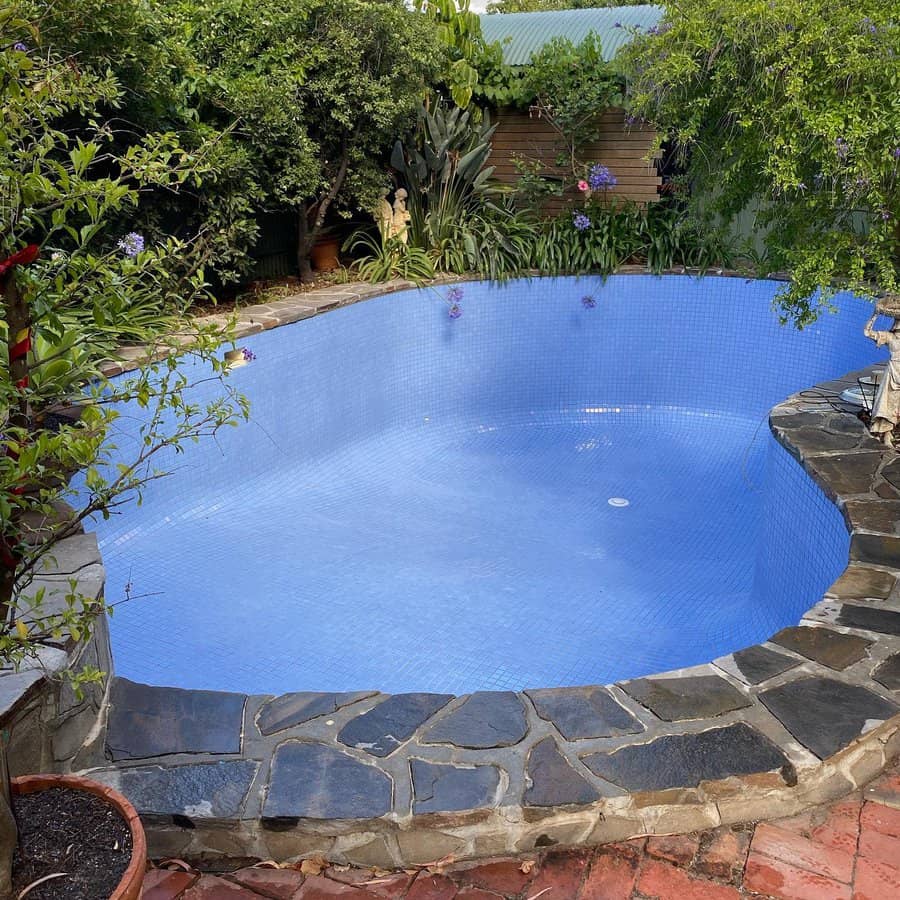 9. Geometric Hexagon Pool Tiles
Make a striking statement with your pool design by embracing the captivating allure of hexagon tiles. These unique tiles form a mesmerizing honeycomb pattern that seamlessly combines creativity with functionality, whether adorning the pool walls or floor.
Opt for a bold blue hue or choose subtler tones like white or gray to infuse artistic flair into your swimming area. Hexagon tiles offer endless customization possibilities, allowing you to artfully decorate your backyard oasis to suit your unique style. Pair them with modern furniture and geometric landscaping to complete the contemporary look. Hexagon tiles are your canvas for crafting a visually stunning and highly customized pool space.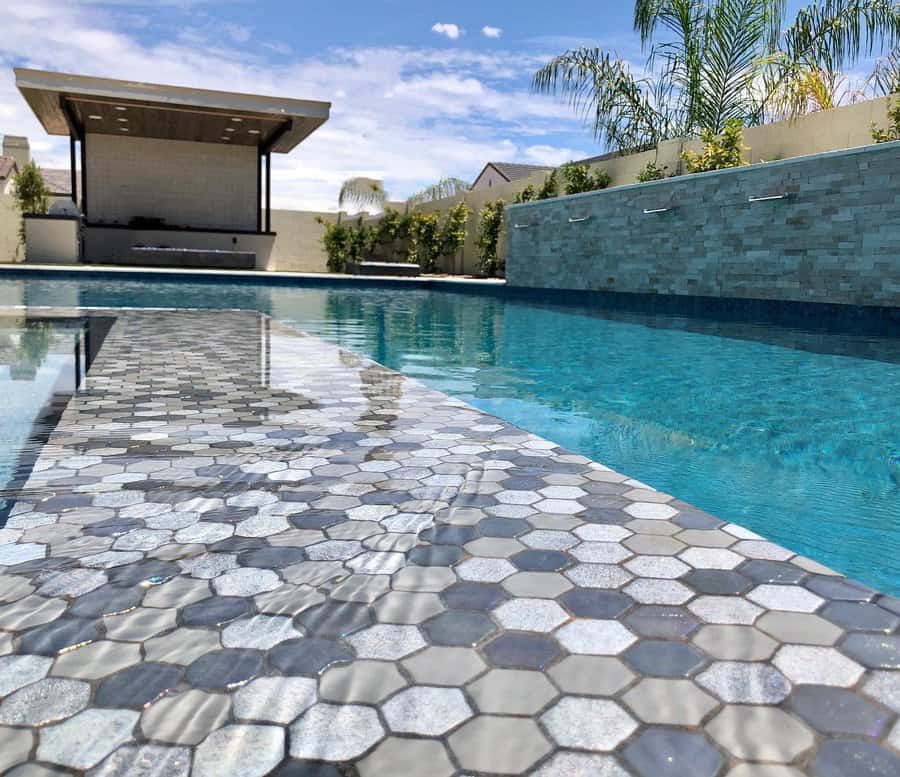 10. Creative Stamped Pool Edging
Elevate your backyard escape with creative stamped pool edging ideas. Customizing your pool area has never been easier, with options ranging from brick to cobblestone or even arches.
Select a standout pattern that complements your landscape, infusing your outdoor oasis with eye-catching colors and textures. The durability and ease of installation of these tiles ensure years of enjoyment. Enhance the overall aesthetic by coordinating your pool furniture and landscaping for a cohesive and visually striking outdoor space that will leave a lasting impression on guests. Stamp your unique style into your pool area and enjoy its beauty for years to come.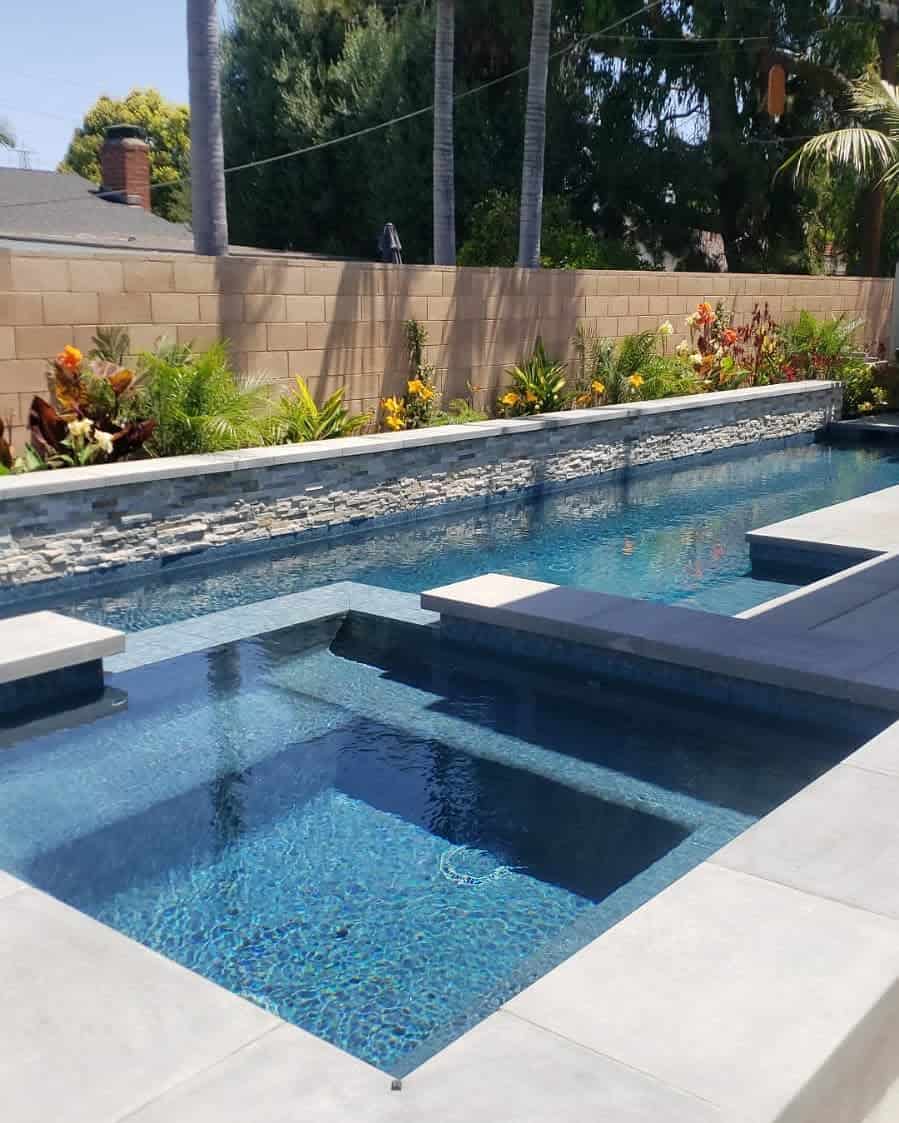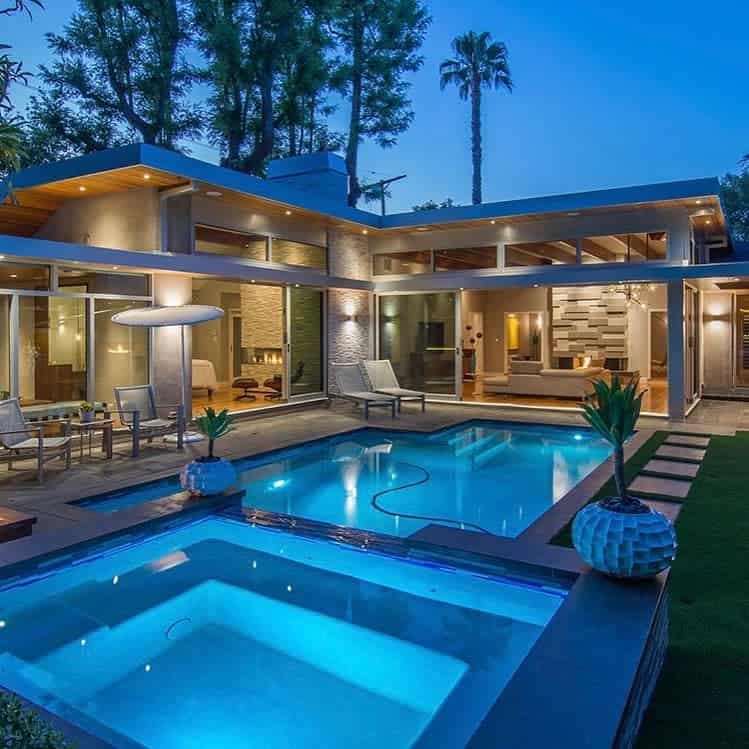 11. Stylish Pool Steps with Tile Accent
Enhance your pool experience with stylish tile accents that offer both aesthetics and functionality. Explore various design options to suit your style preferences.
For a classic touch, consider using a blue mosaic tile accent along the pool steps, adding a subtle pop of color and texture. Alternatively, create a two-tone effect by mixing and matching solid colors, adding depth and visual interest to your pool area. Don't hesitate to experiment with different shapes and patterns, such as intricate tile borders along the water's edge, to unify and elevate your entire poolscape's look. Dive into creativity and transform your pool steps into a stunning focal point that enhances your outdoor space.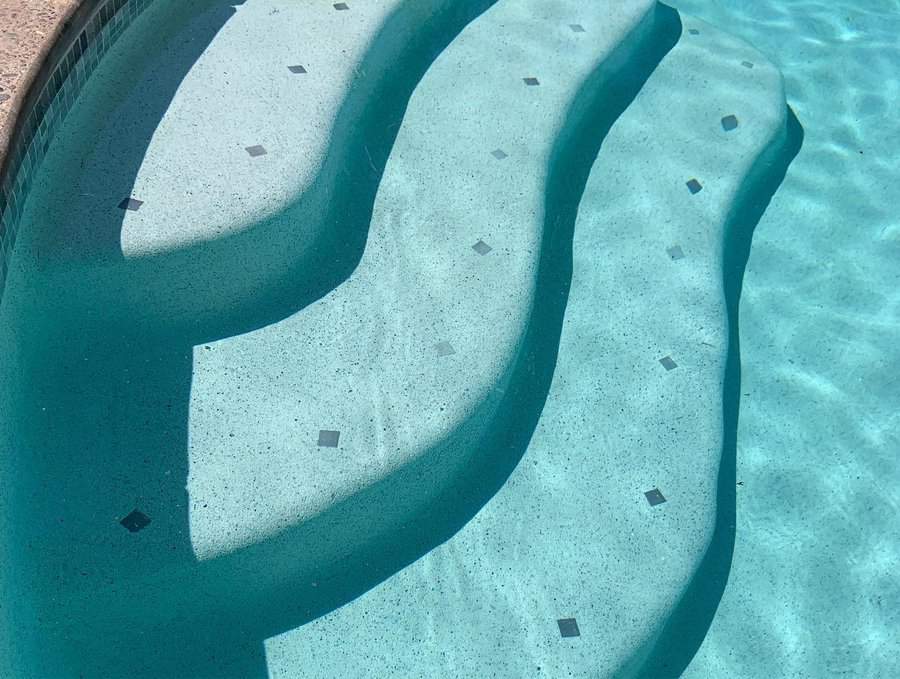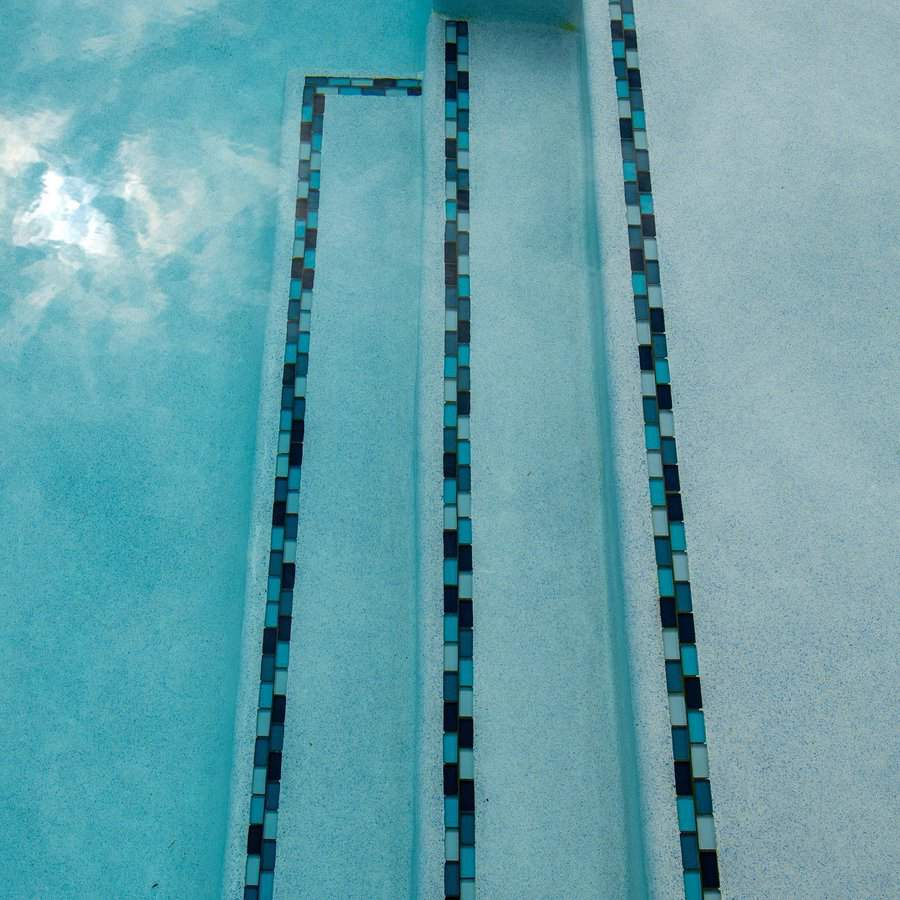 Pool Tile FAQs
Are waterline pool tiles necessary?
Waterline pool tile serves as a visual border around the swimming pool. They aren't necessary, but do serve a purpose in hiding scum lines around the pool's edge. They are also used to keep a pool liner sealed. However, most people who choose a waterline tile design do so because they like the custom style it adds to their pool.
Does glass pool tile last?
When properly cared for, glass tile can last between 8 and 12 years. Visit a pool tile supplier to ensure the glass tile you choose is made for swimming pool use. Ceramic pool tile is the most durable type of swimming pool tile, lasting over half a century if properly cared for. Epoxy grout is the most durable kind to use on pool wall tile.
Can any type of tile be used in a pool?
Stick to pool tile ideas that only use tiles specifically made for swimming pools. They're coated with a special glaze that helps them withstand the sunlight, chlorine, and other chemicals they're exposed to daily. Tiles without this protective glaze may prematurely crack, fade, or break.