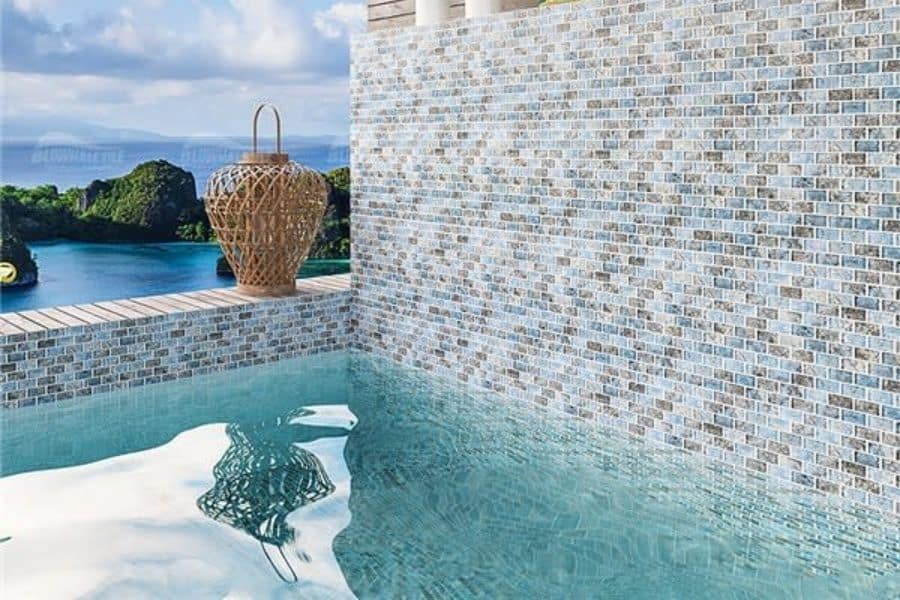 The Top 21 Pool Tile Ideas
"You're only one swim away from a good mood." – Unknown
Being a swimming pool owner is a dream that many of us share. Not only does it provide the mood-boosting effect that follows a good swim, a beautiful pool area enhances any backyard.
Swimming pool tile is an important factor in creating the perfect backyard pool oasis. The colors, textures, and sizes of tile you choose can make or break your pool design. Before settling on a particular type of tile, scroll through our best pool tile ideas and see which ones stand out to you. From natural stone to iridescent glass tile and everything in between, there's never been a better time to design the perfect pool.
1. Black
Black may not be the first swimming pool tile idea that comes to mind, but as you can see, it's an ideal dramatic tile option. Not only is black tile a modern touch along your pool's waterline, using black on the pool interior greatly increases the sense of depth. It's also a forgiving color, hiding dirt, debris, scratches, and other imperfections.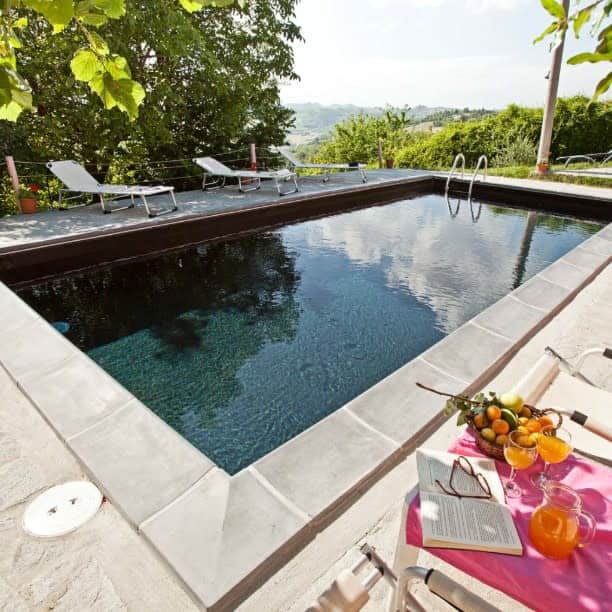 Dark pool tile absorbs heat from the sun and can increase the water's temperature by a few degrees. Keep in mind that black tile on the pool deck may become excessively hot on sunny days. Therefore, it's probably best to limit black to underwater and decorative tile applications. Adding black to a mosaic tile design is a great way to incorporate black without it overpowering your overall pool tile ideas.
2. Decorative
Tile should be thought of as an art medium used to decorate your entire pool. Dramatic or subtle, decorative swimming pool tile ideas are nearly limitless. If you find a type of accent tile that you love, use it outside of the pool as well, perhaps as backsplash tile on an outdoor kitchen.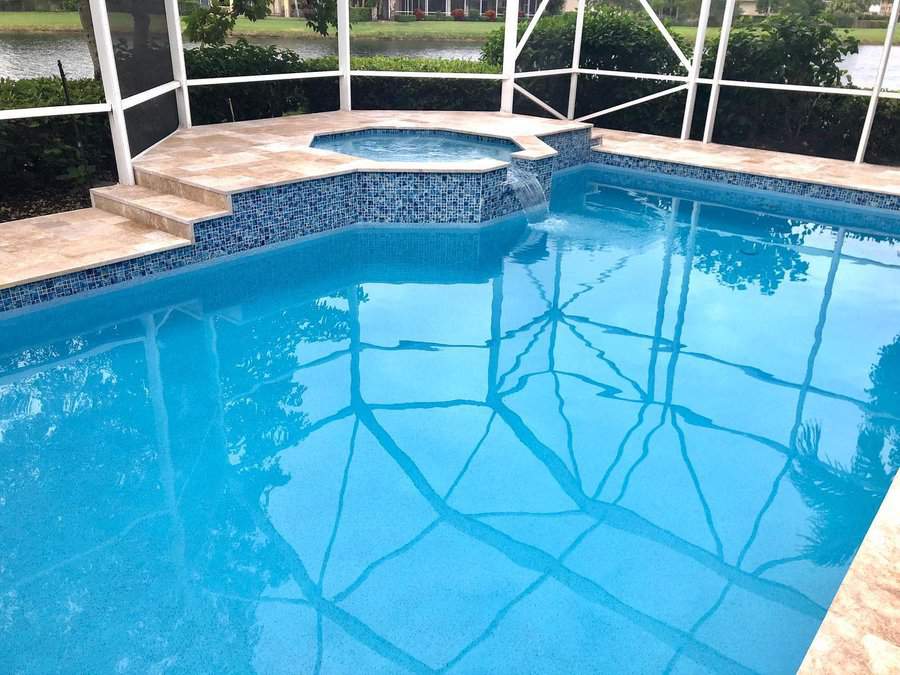 Because decorative swimming pool tile can be expensive, limit it to certain areas if you need to stick to a budget. For example, use it only around the pool waterline, or add a row to mark the edge of each pool step. Trim your hot tub in decorative tile for a dramatic accent on a smaller scale.
3. Elegant
Installing a high-end glass, ceramic, or porcelain tile is a great way to add elegance to your pool design. The type you choose will reflect your own personal definition of "elegance"—something that's completely objective. Elegant types of pool tile include mirrored tiles, metallic glass tiles, painted porcelain pool tile, and complex pool mosaic designs that feature these special materials.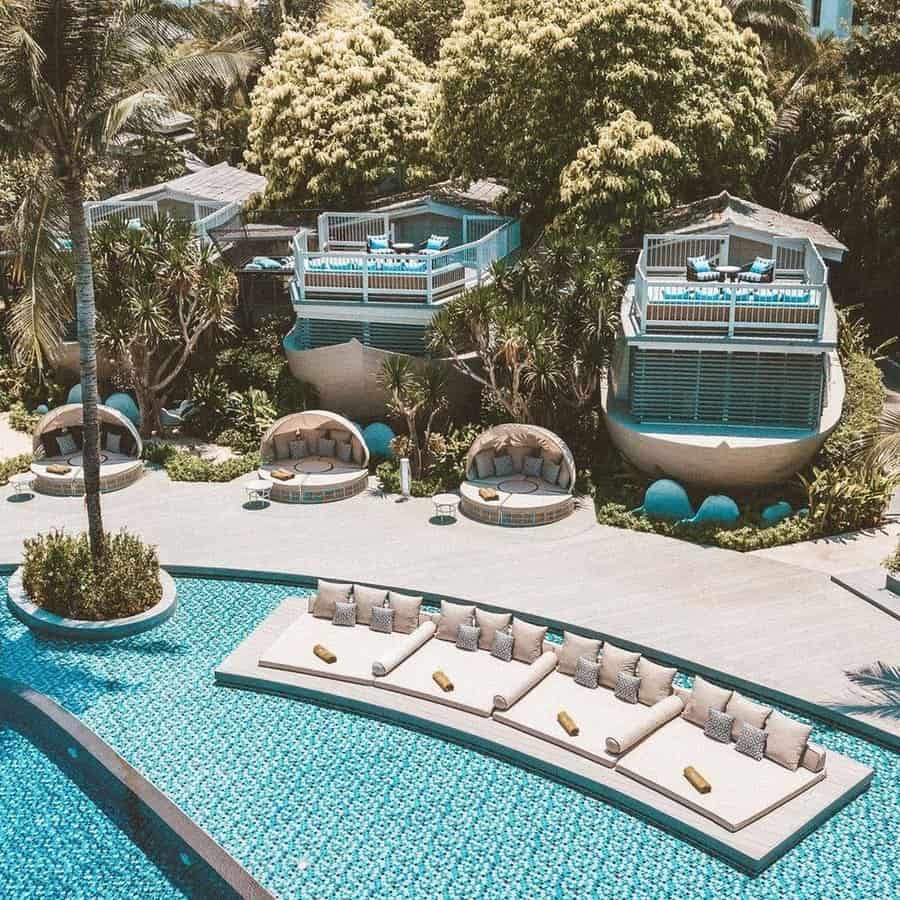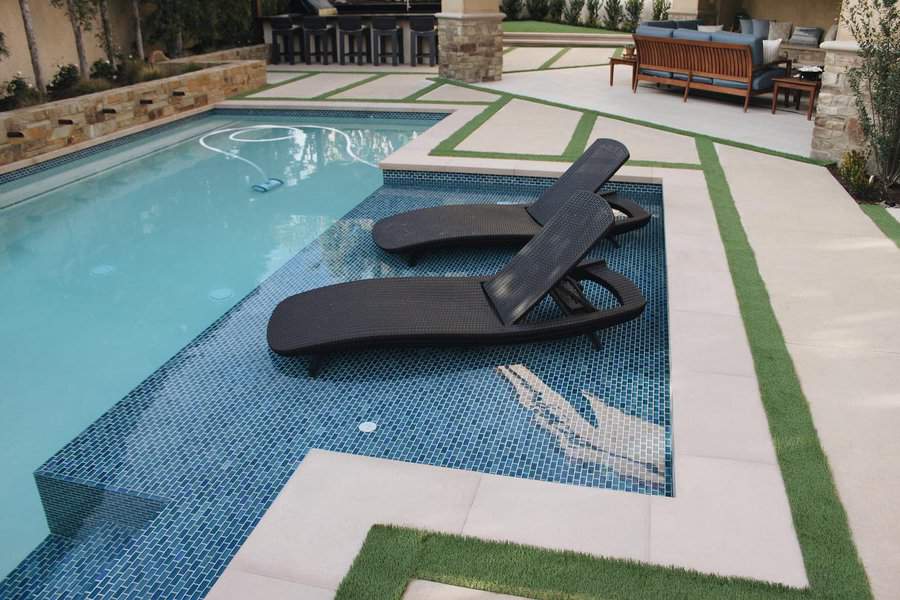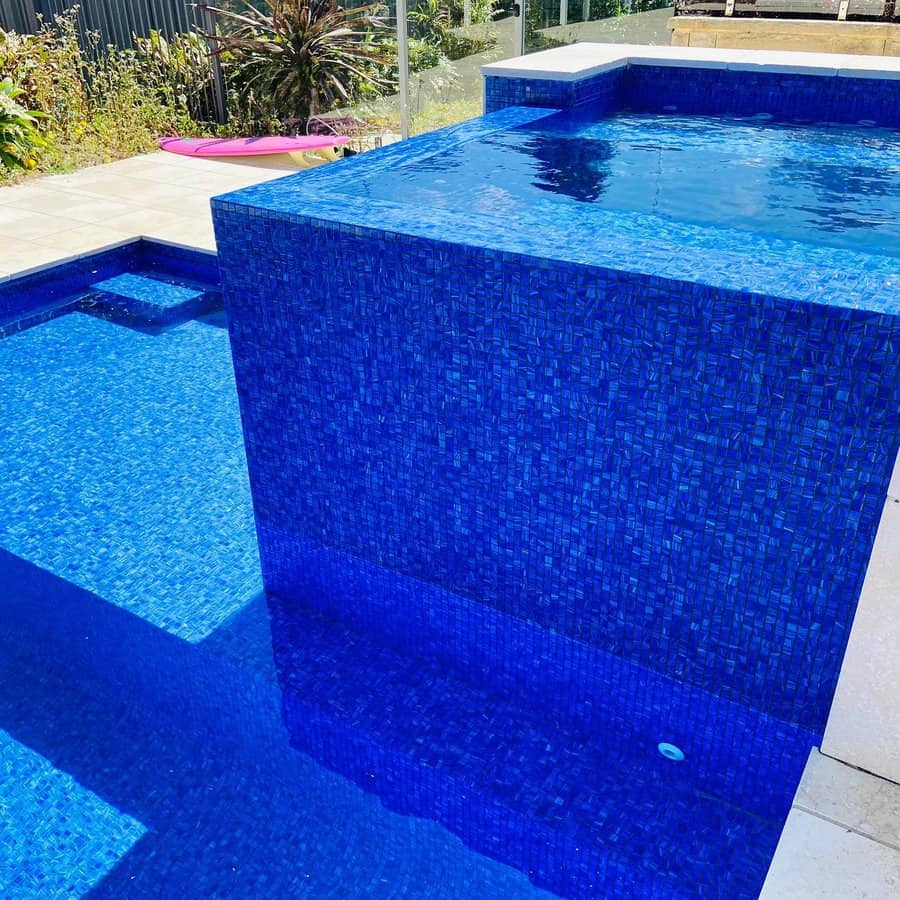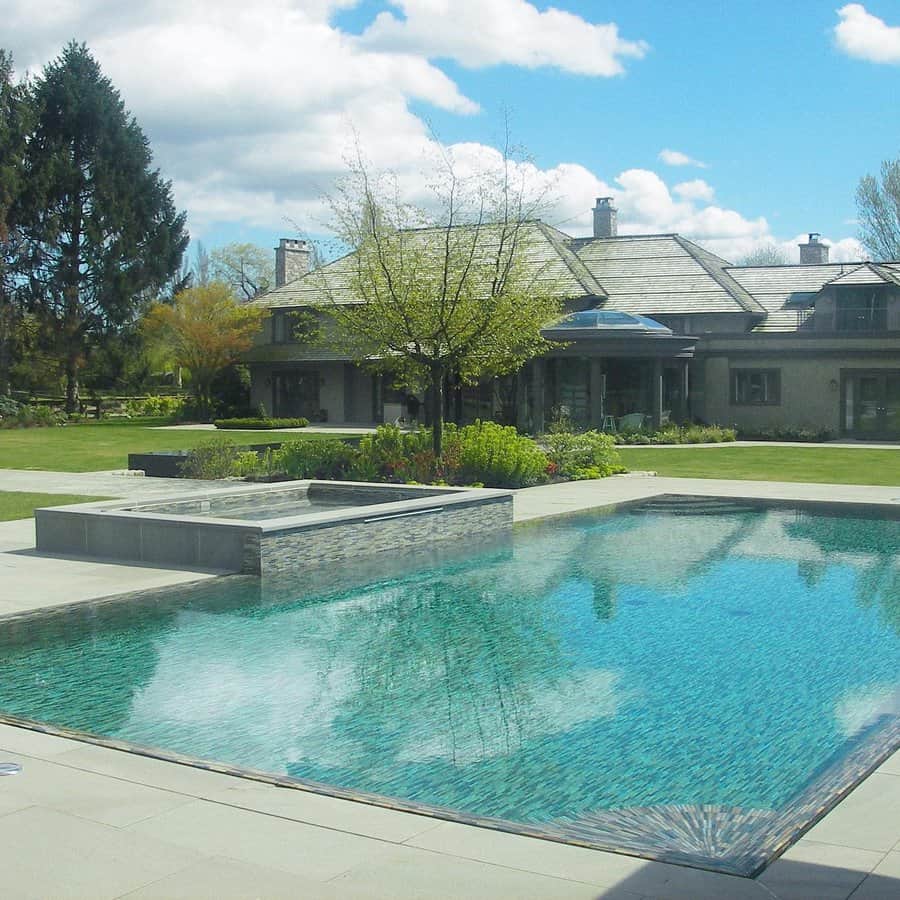 Lightstreams glass tile is one brand that specializes in elegant, complex glass tile products for architectural and residential use. Iridescent and metallic finishes make this glass tile stand out from the rest. They are among the highest-priced tile options, but most would say they're worth it.
4. Glass
Ordinary glass tile and glass mosaic tile are perhaps the most popular pool tile option available today. With a clarity rivaled only by the crystal blue pool water, glass tiles add dimension like no other product. It's also a durable choice that should last for a decade or more with proper maintenance.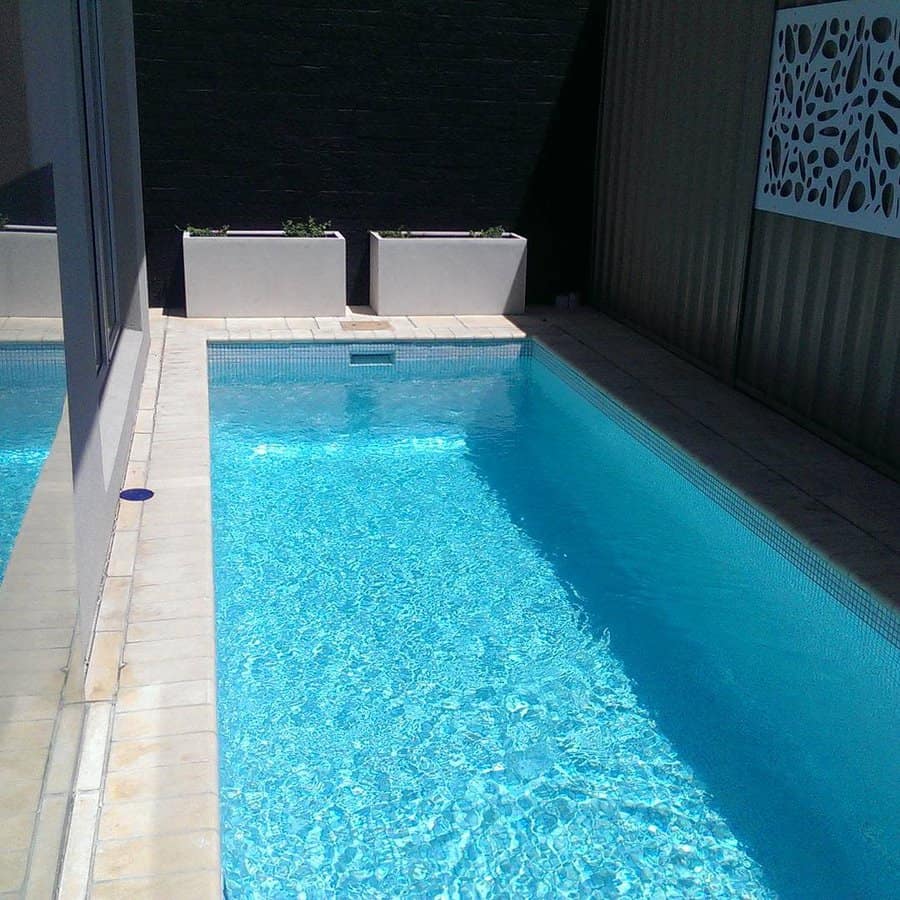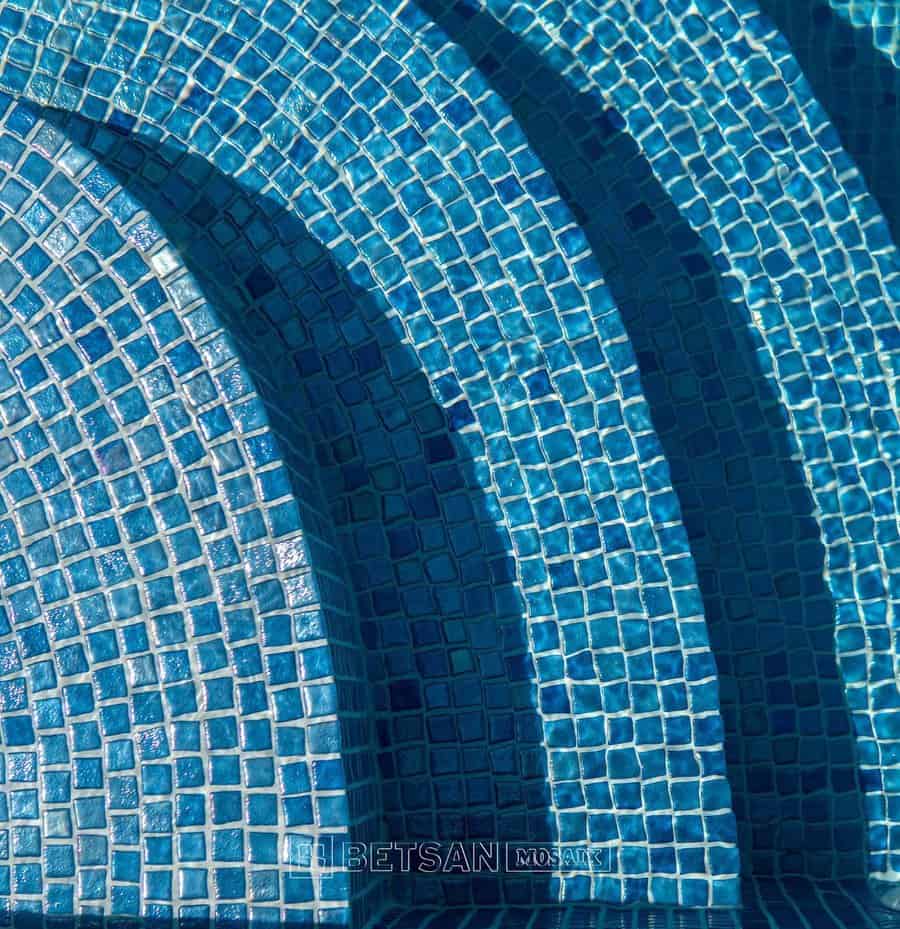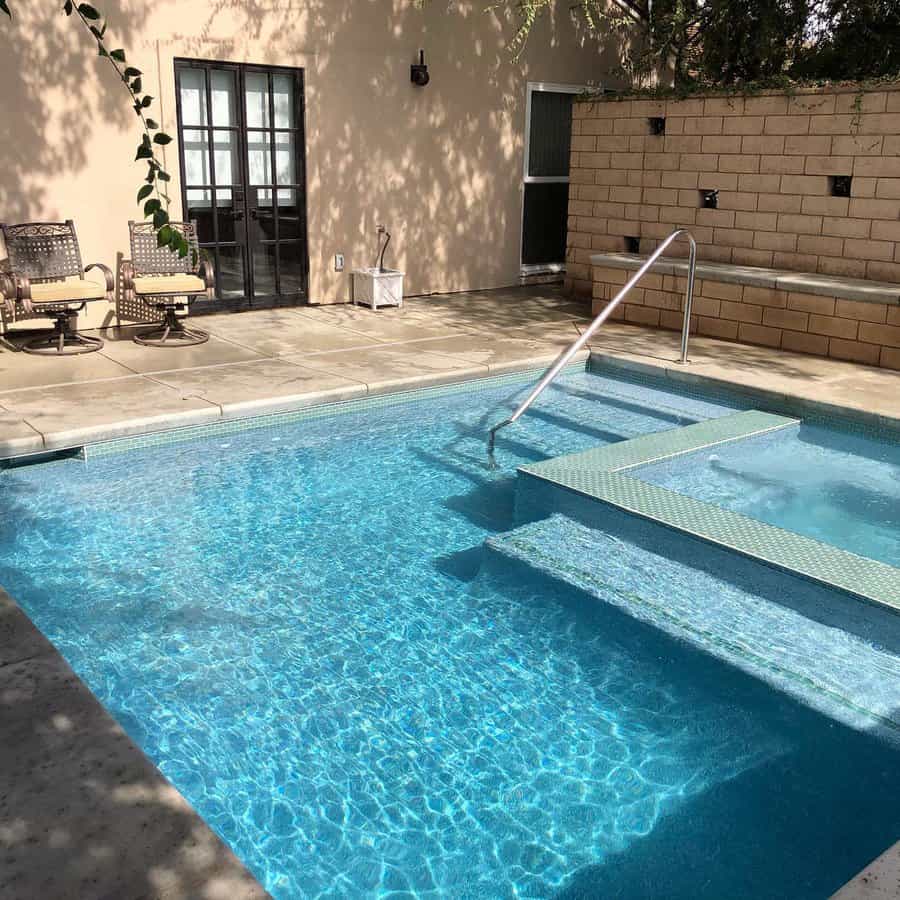 Glass tile is available in a huge variety of colors, shapes, and textures, but it is an expensive outdoor tile option. You can get the look of glass mosaic tile without the expense by using a liner printed with a tile-like pattern. Then install the real thing as your waterline tile border.
5. Modern
Modern pool design reflects the clean lines and simplicity found in modern architectural style. Therefore, the type of tile you use is important for maintaining a consistent vibe in the pool area behind a modern home.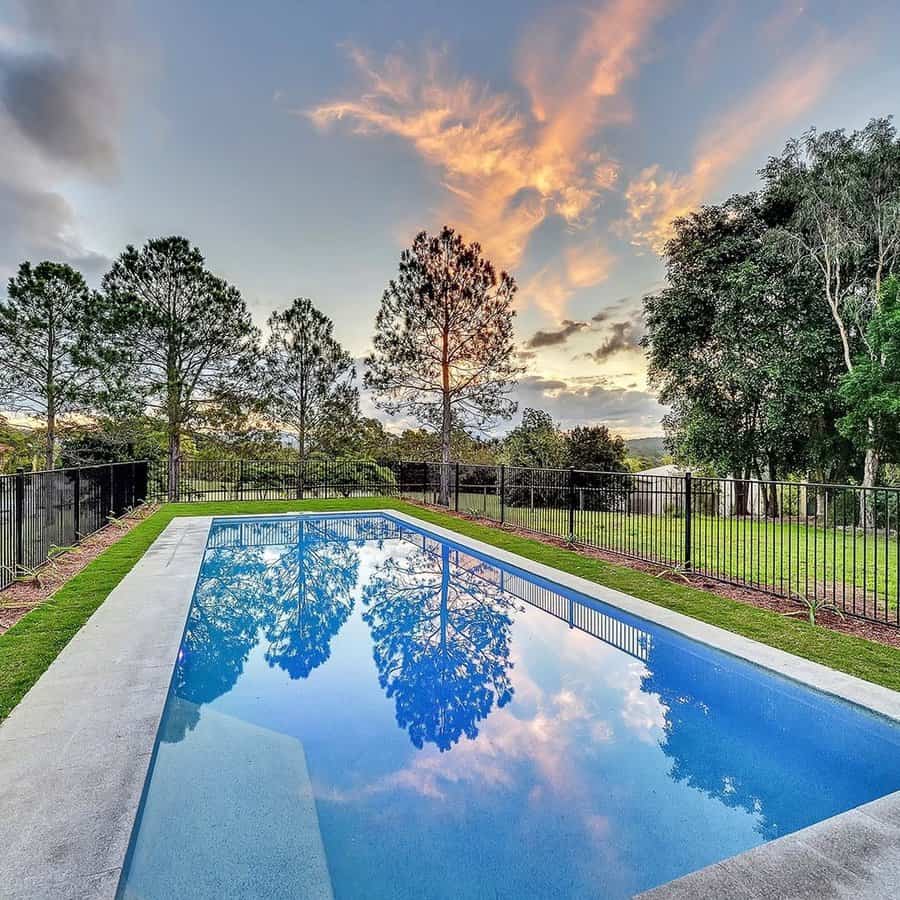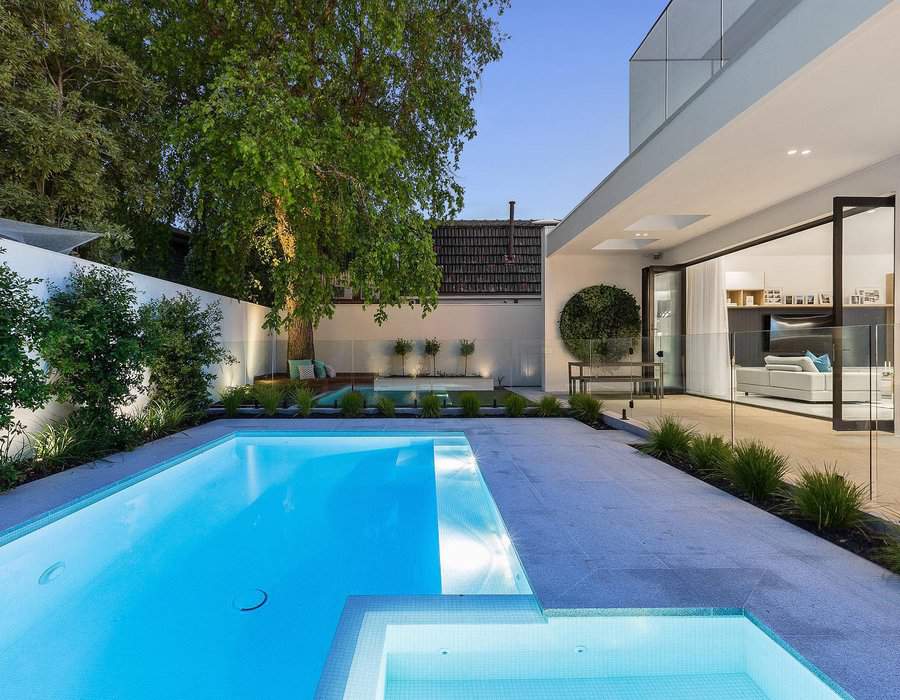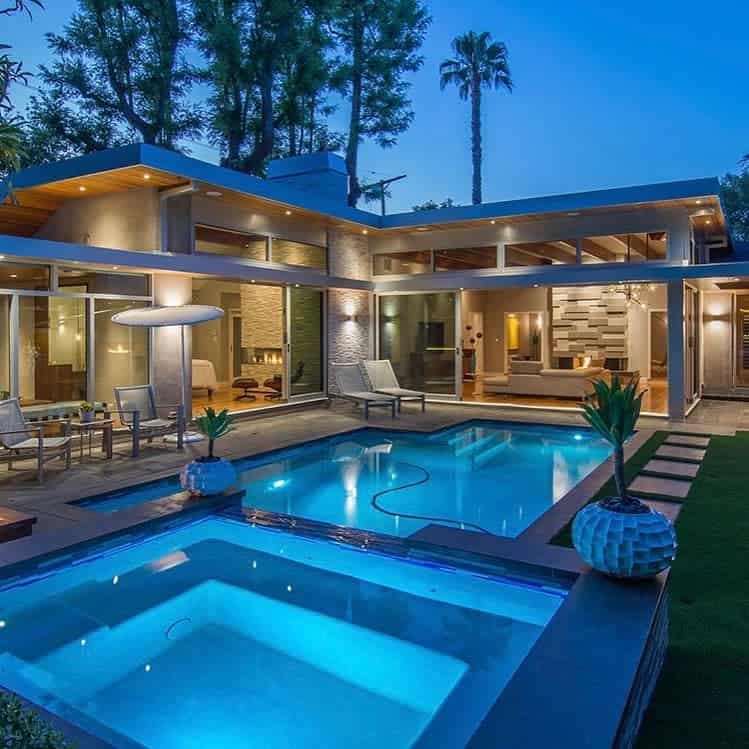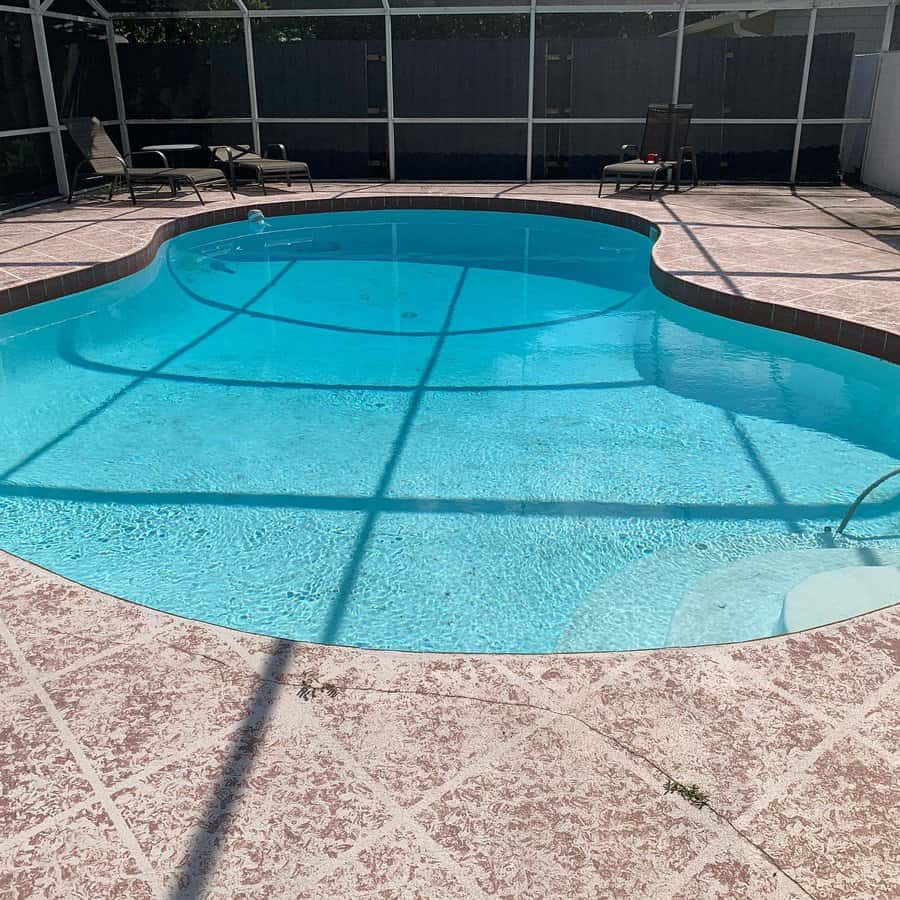 Modern waterline tile choices include glass or ceramic tile with an exaggerated linear design. Keep the color palette simple, or even limit it to one color. A water wall is a great addition to a modern swimming pool and can provide another place to show off a particularly fantastic type of modern tile.
6. Mosaic
Mosaic tile designs are an art form that is as old as civilization itself. Take your family and guests straight to the Mediterranean by replicating ancient Roman or Turkish bathhouse designs and patterns. Or create an Art Deco pool paradise with bold, angular tiles highlighted with metallic accents.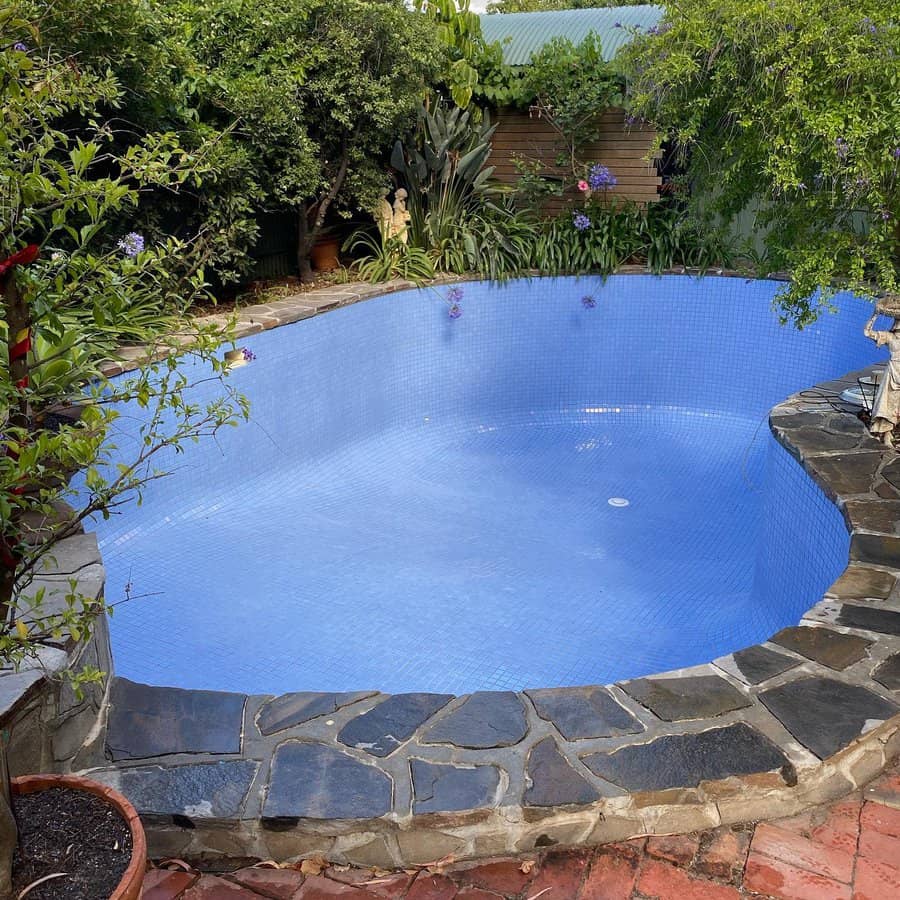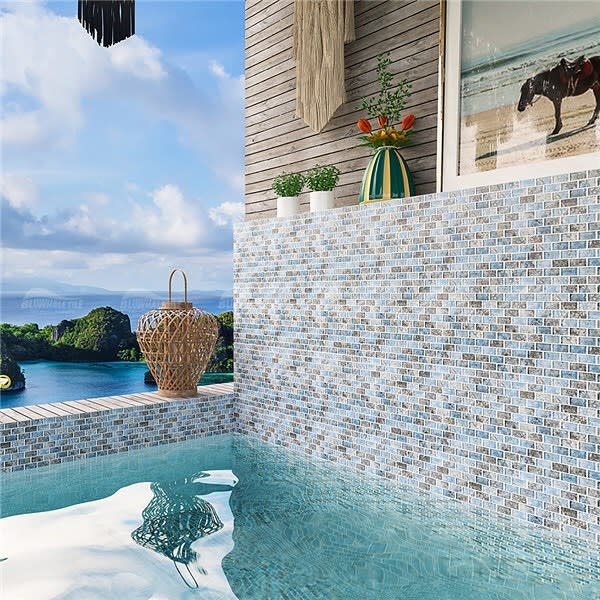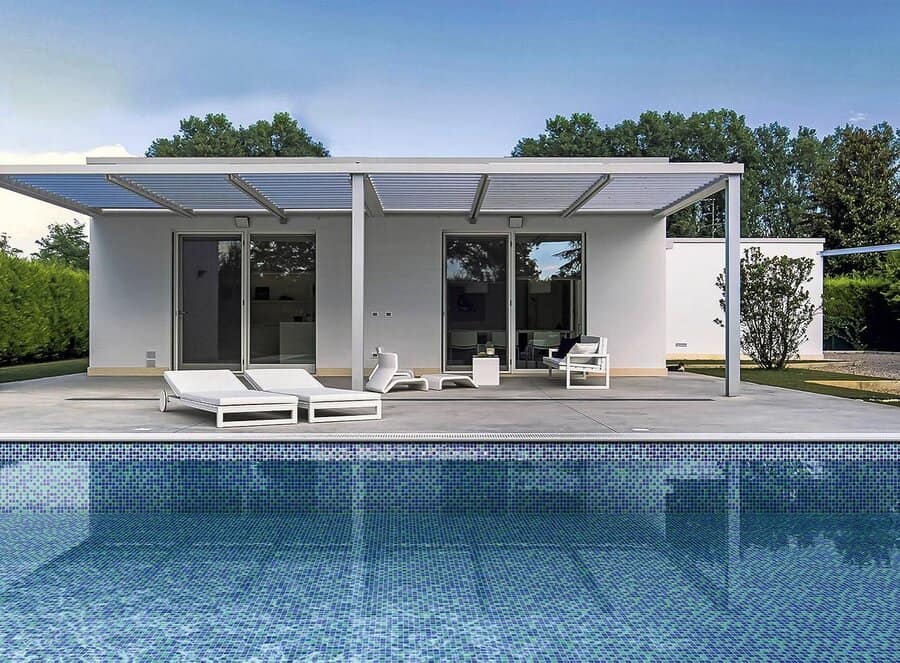 Simple mosaic pool features can be crafted from one or multiple colors arranged in a chevron or herringbone pattern. For something more flowy and artistic, go with a completely abstract pattern that showcases particularly detailed glass mosaic pool tile.
7. Neutral
Neutral pool tile has long been used to surround swimming pools. Whether they appear on the patio, pool coping, or deck, neutral colors replicate the soothing color palette of sand and sea.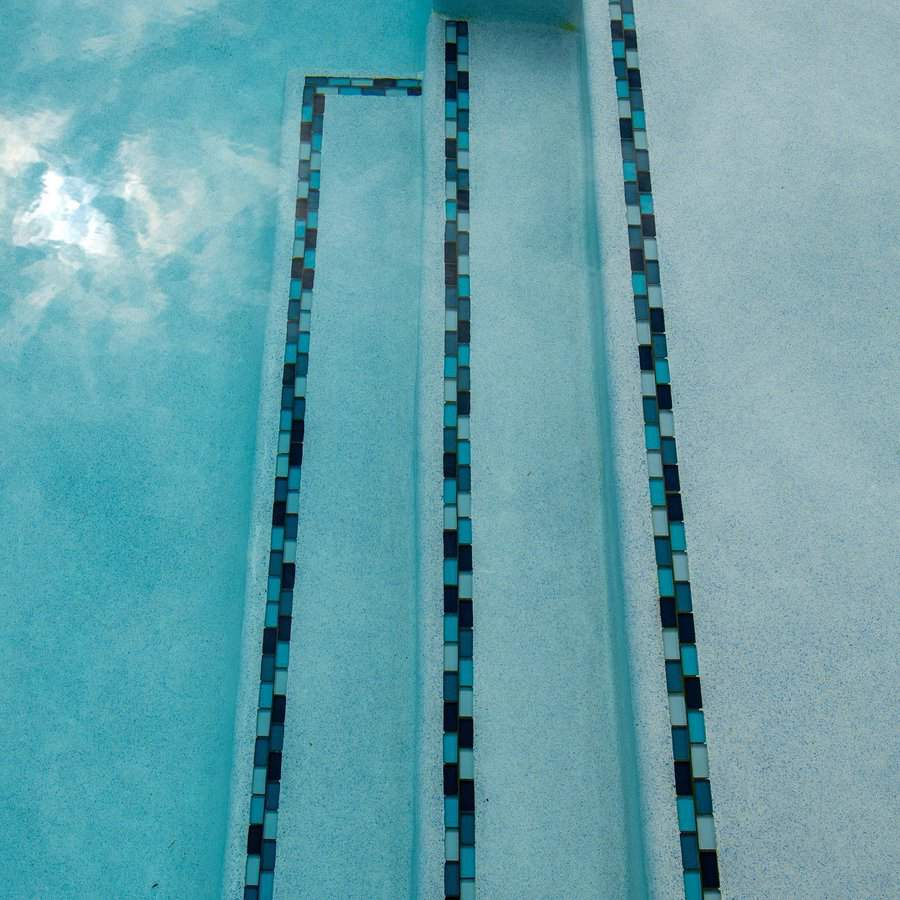 There's a lot you can do to add subtle details to neutral pool tile. Lay the tile in a basketweave or other creative pattern, or choose a stone tile that includes natural color variations.
8. Stone
Natural stone tile is a classic pool tile material that will never go out of style. Installing natural stone tile around a fiberglass inground pool adds a custom finish that increases your property value. Just be sure to use a textured stone surface to prevent slips and falls.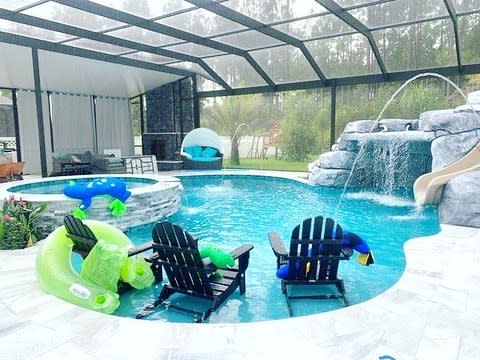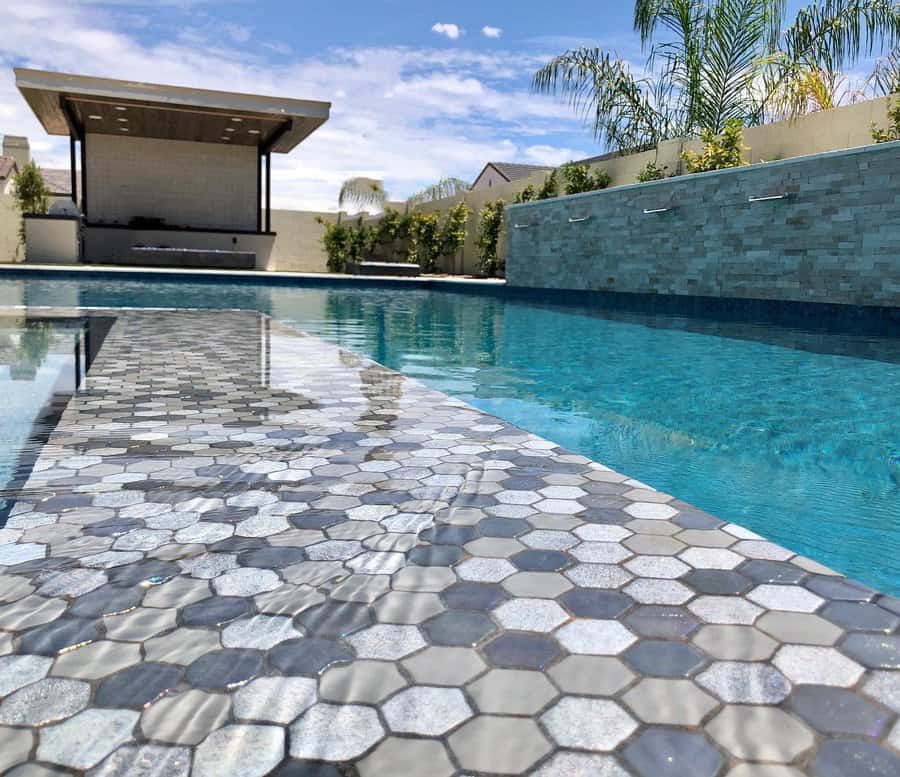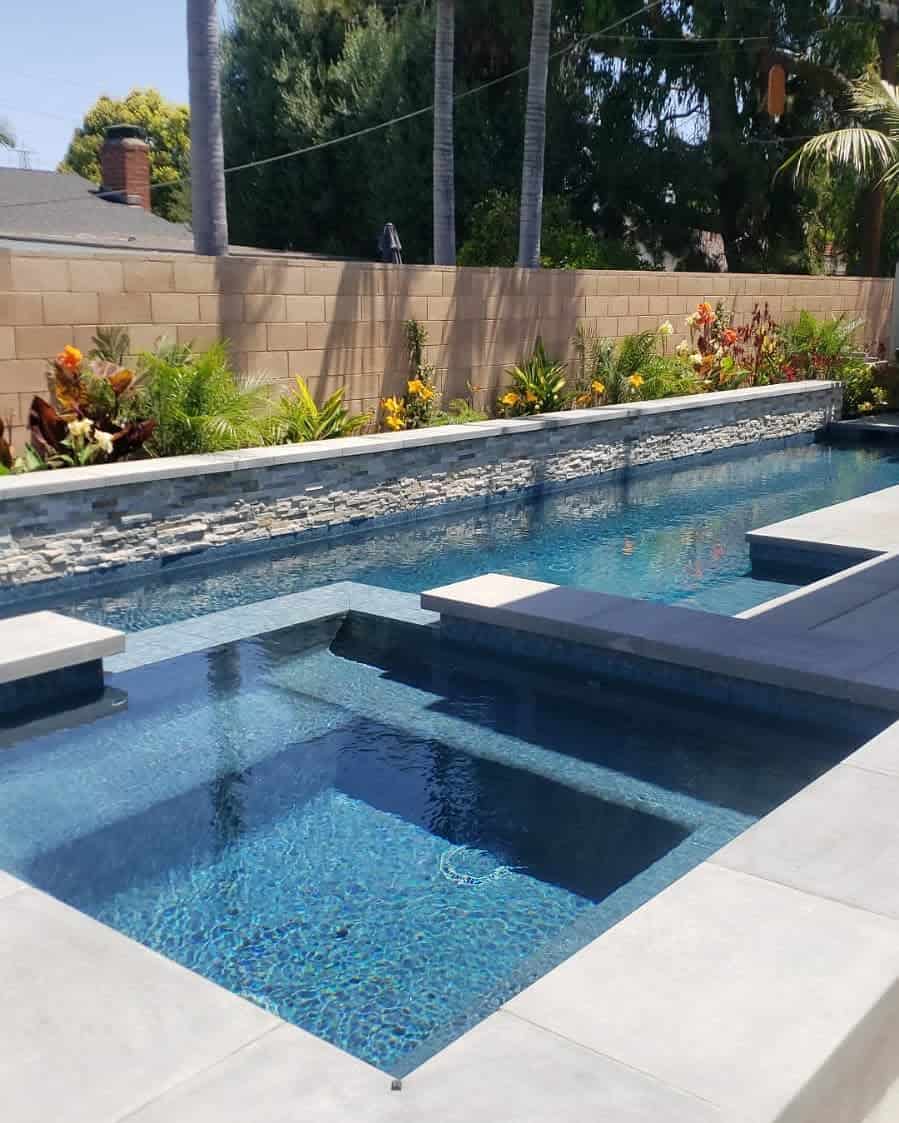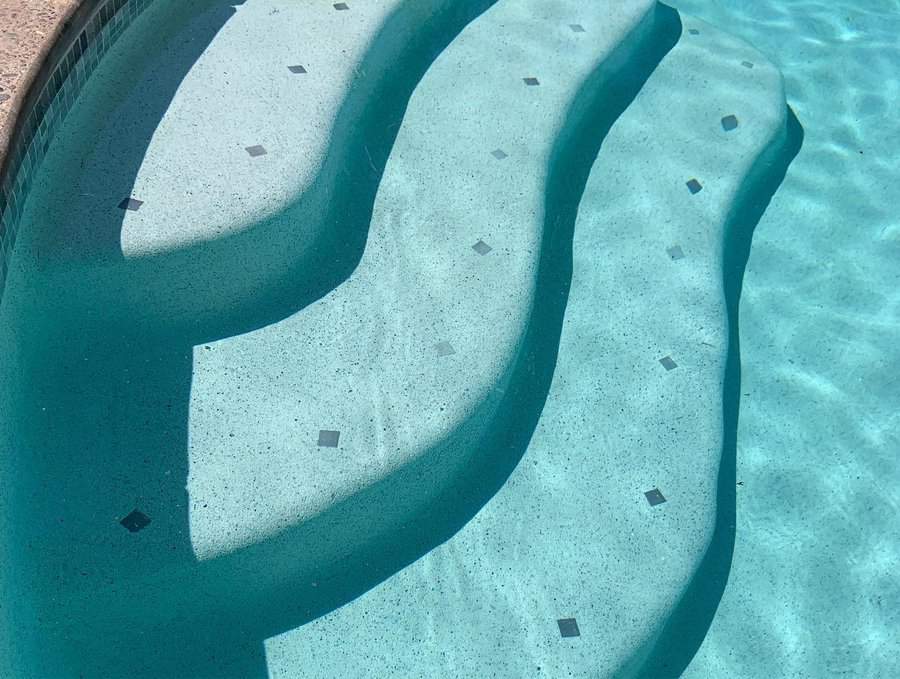 Mix and match stone tiles for a dramatic effect. For example, use rough flagstone pavers on a water wall and on the deck. Then install pool step tile made from a coordinating stone cut in penny tile or arabesque shapes.
Pool Tile FAQs
Are waterline pool tiles necessary?
Waterline pool tile serves as a visual border around the swimming pool. They aren't necessary, but do serve a purpose in hiding scum lines around the pool's edge. They are also used to keep a pool liner sealed. However, most people who choose a waterline tile design do so because they like the custom style it adds to their pool.
Does glass pool tile last?
When properly cared for, glass tile can last between 8 and 12 years. Visit a pool tile supplier to ensure the glass tile you choose is made for swimming pool use. Ceramic pool tile is the most durable type of swimming pool tile, lasting over half a century if properly cared for. Epoxy grout is the most durable kind to use on pool wall tile.
Can any type of tile be used in a pool?
Stick to pool tile ideas that only use tiles specifically made for swimming pools. They're coated with a special glaze that helps them withstand the sunlight, chlorine, and other chemicals they're exposed to daily. Tiles without this protective glaze may prematurely crack, fade, or break.