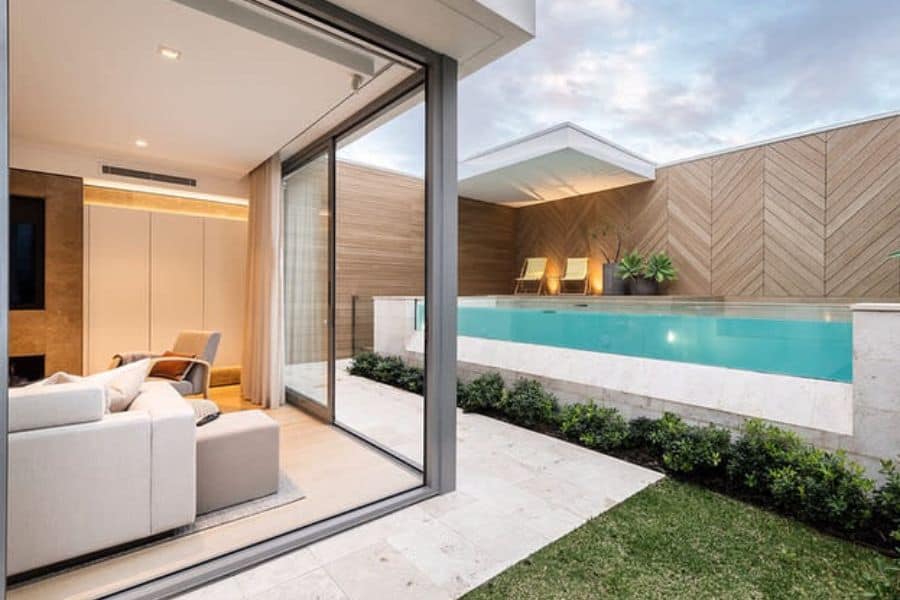 36 Best Above Ground Pool Ideas
by — Kendrick Hulse

Published on June 28, 2021

Updated on November 22, 2022
The summer heat doesn't discriminate. But not everyone can excavate their backyard to make way for an inground swimming pool.
Above-ground pools get a bad rap for no reason. All it takes is a stylish patio or strategically placed pool deck to make these swimming holes look as good as their inground counterparts. In fact, if you ask us, some setups look even better!
Keep reading for our favorite above-ground pool ideas that prove you don't need to spend a fortune to cool off this summer! You'll also find some great above-ground pool deck ideas to go along with your new backyard oasis.
1. Above Ground Pool Deck Designs
Pool decking can serve several purposes. It offers a designated area to arrange your favorite patio furniture. It prevents grass clippings and dirt from being tracked into your pool water. And it can hide the less attractive parts of an above-ground pool setup.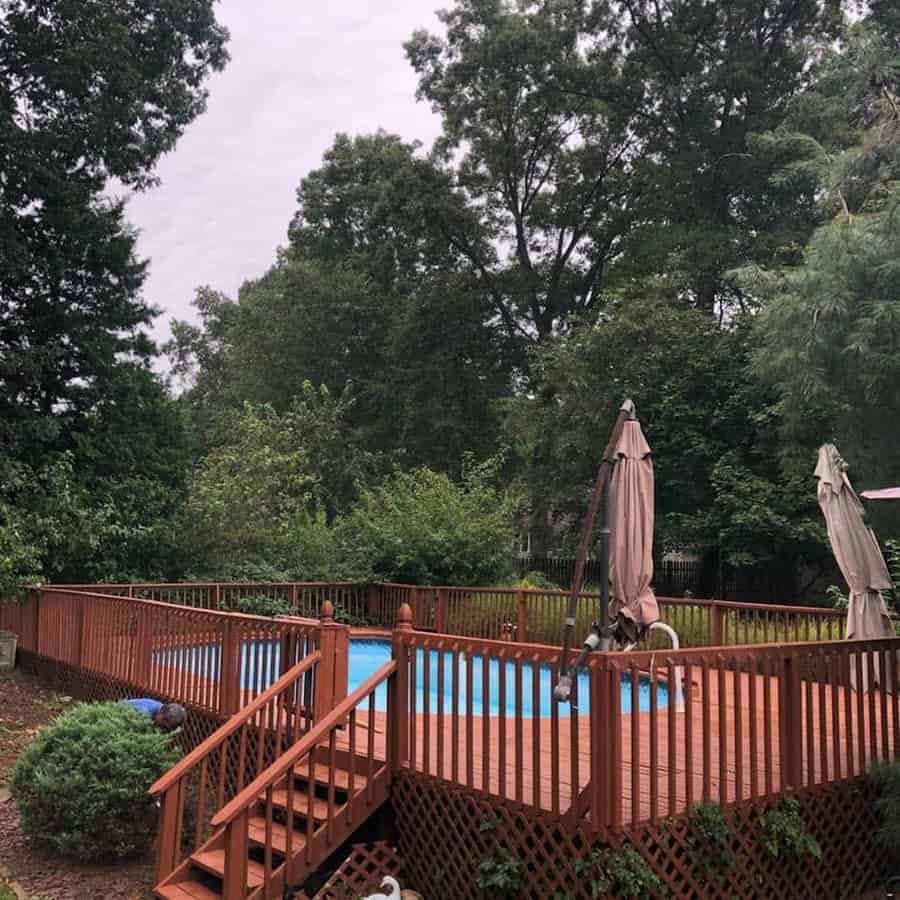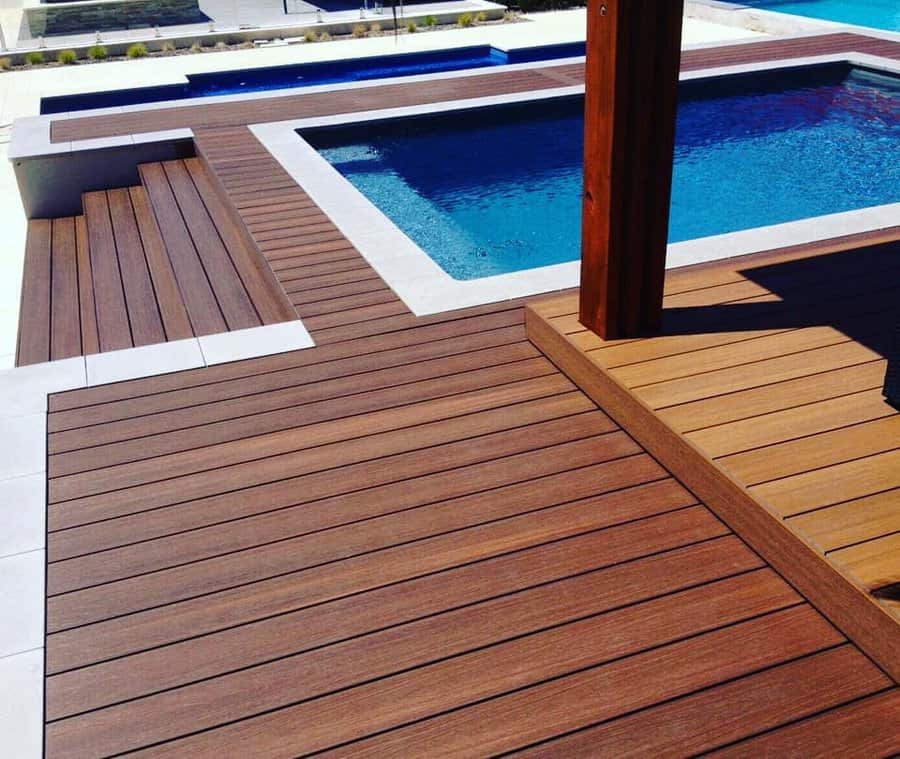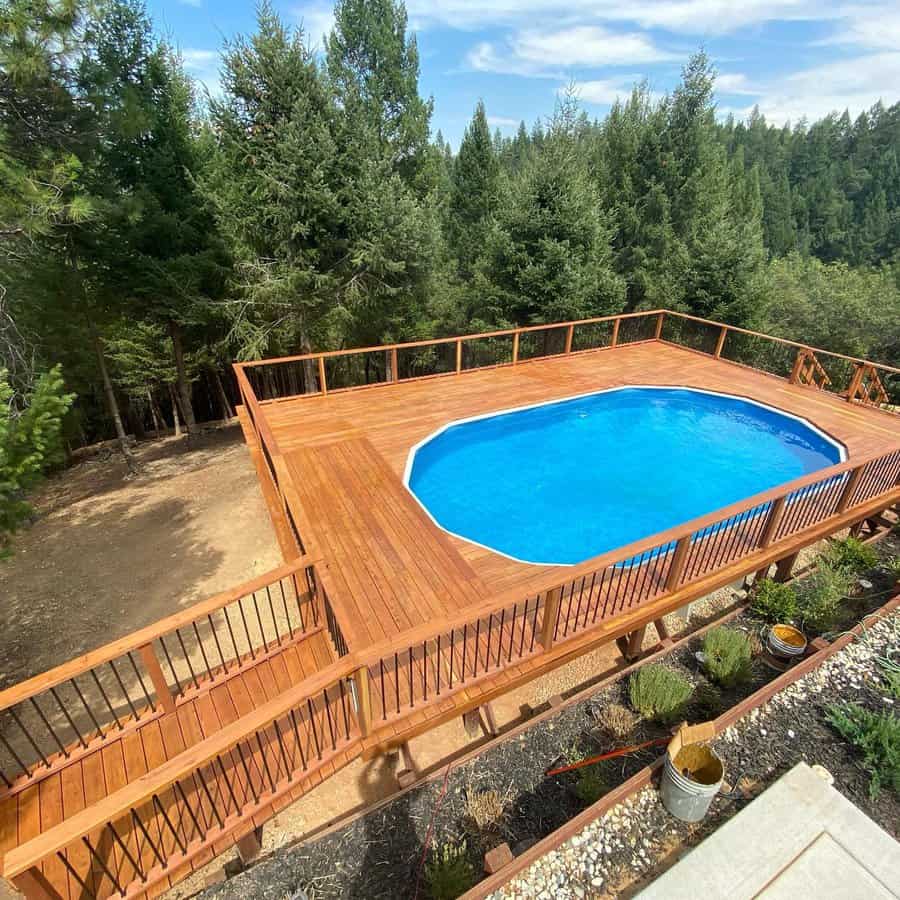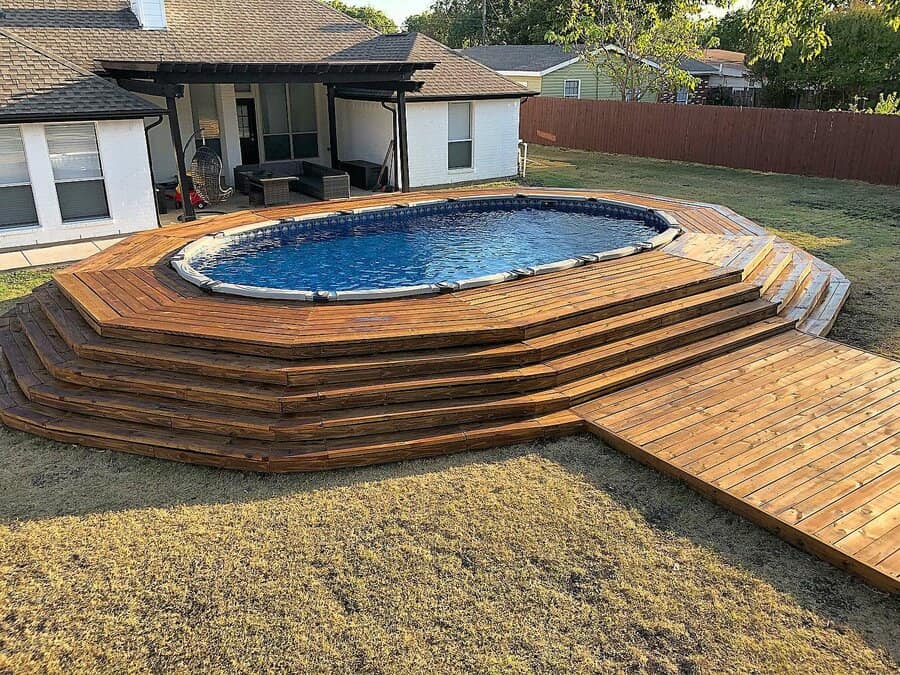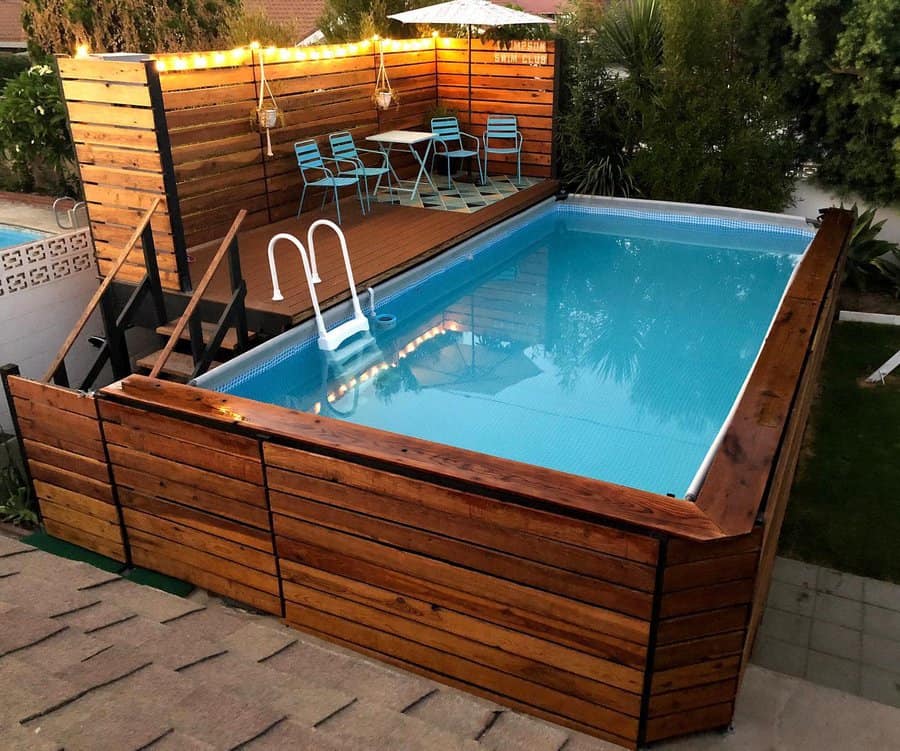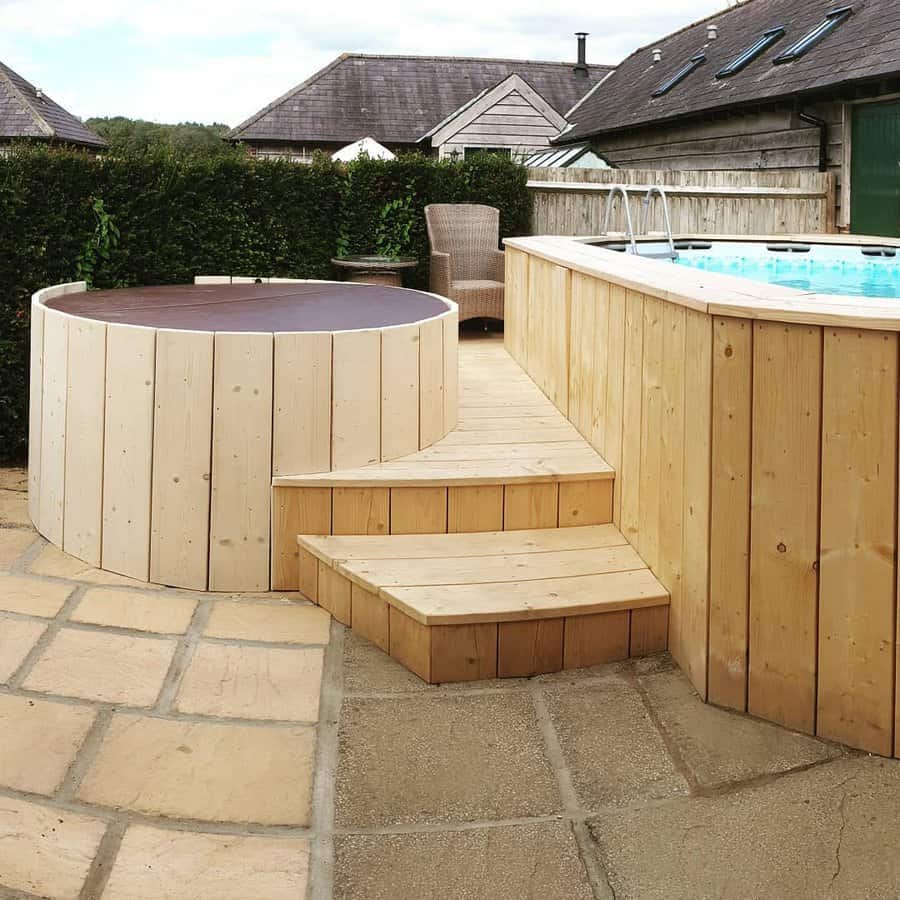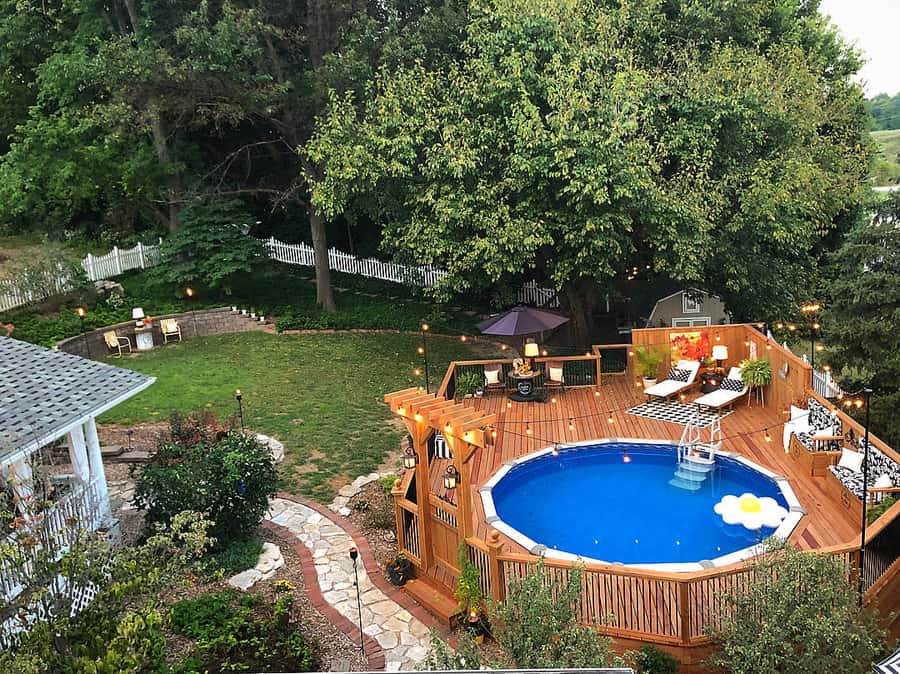 Many homeowners opt to build a raised deck around their above-ground pool — the pool exterior sits underneath. Others encase the entire pool in decking for a cleaner appearance.
Most pool deck ideas rely on wood planking. You can choose from a wide range of patterns and stain colors to suit your outdoor decor style. Be sure to invest in a high-quality sealant to protect against rain and pool water!
2. Low Cost Pools
There's no question: Above-ground pools are almost always more affordable than in-ground models. But that doesn't mean decorating the space around your pool can't cost a pretty penny.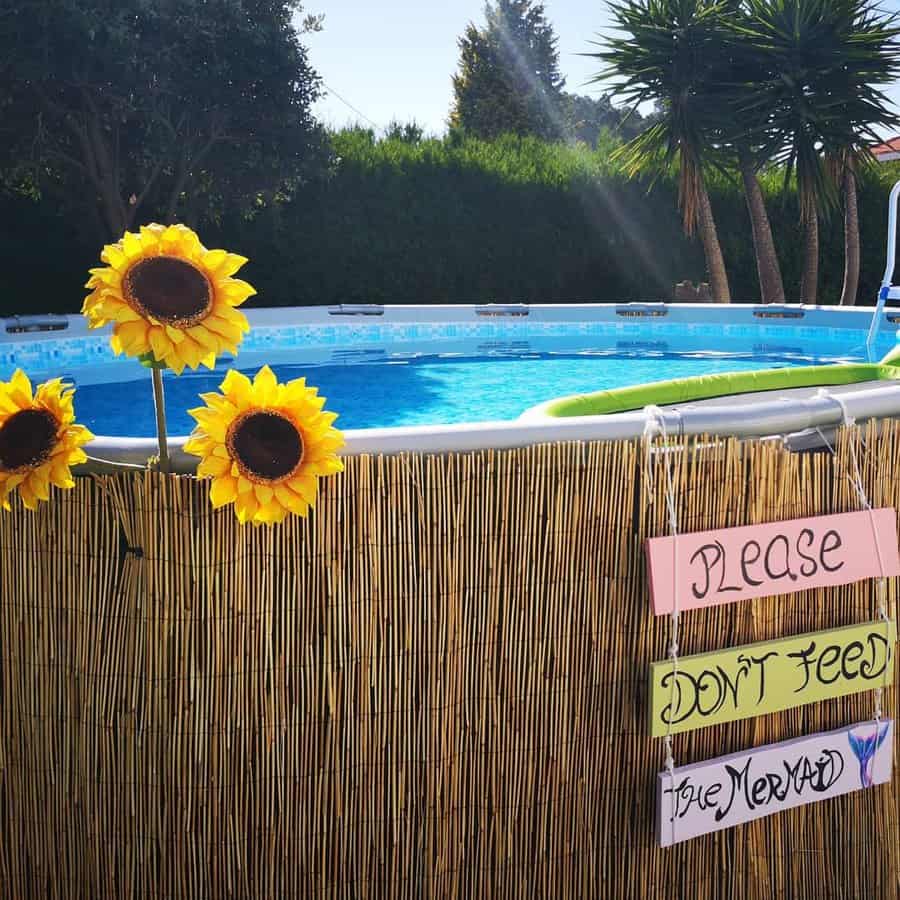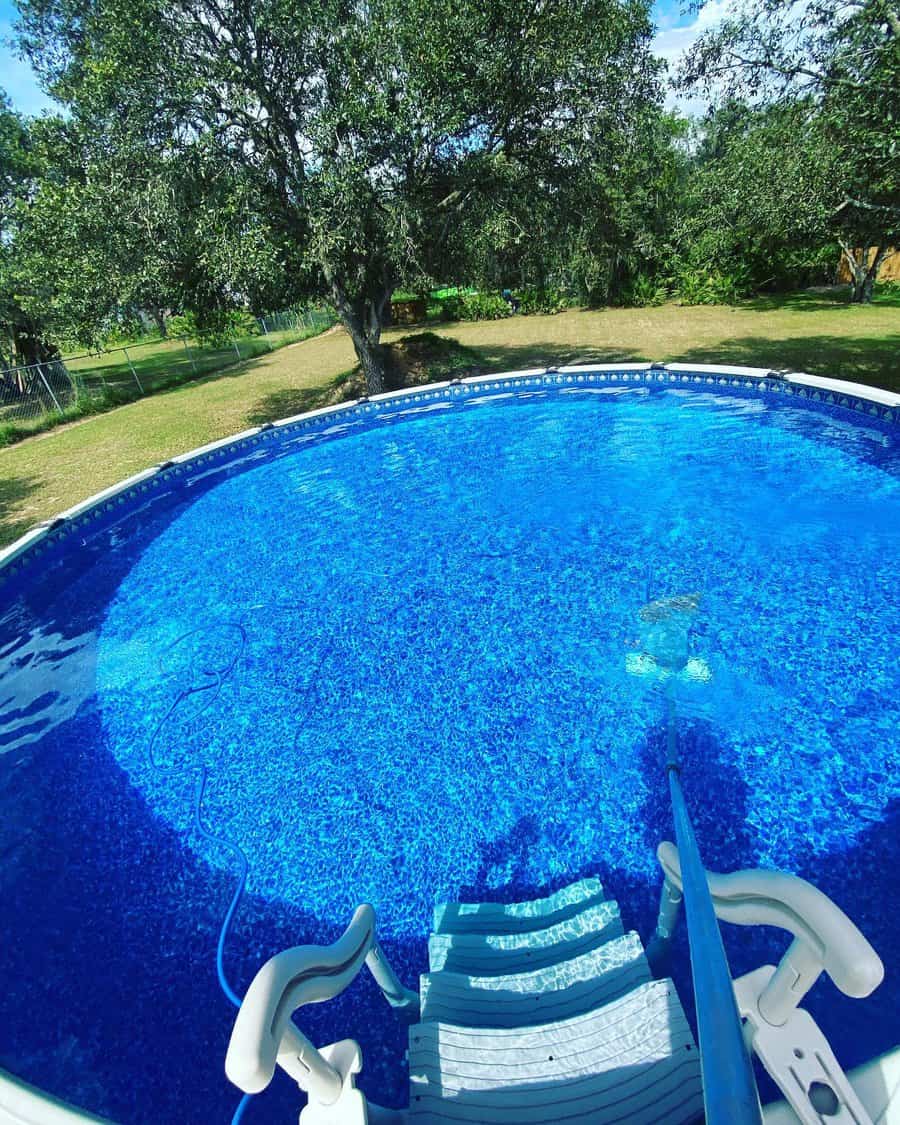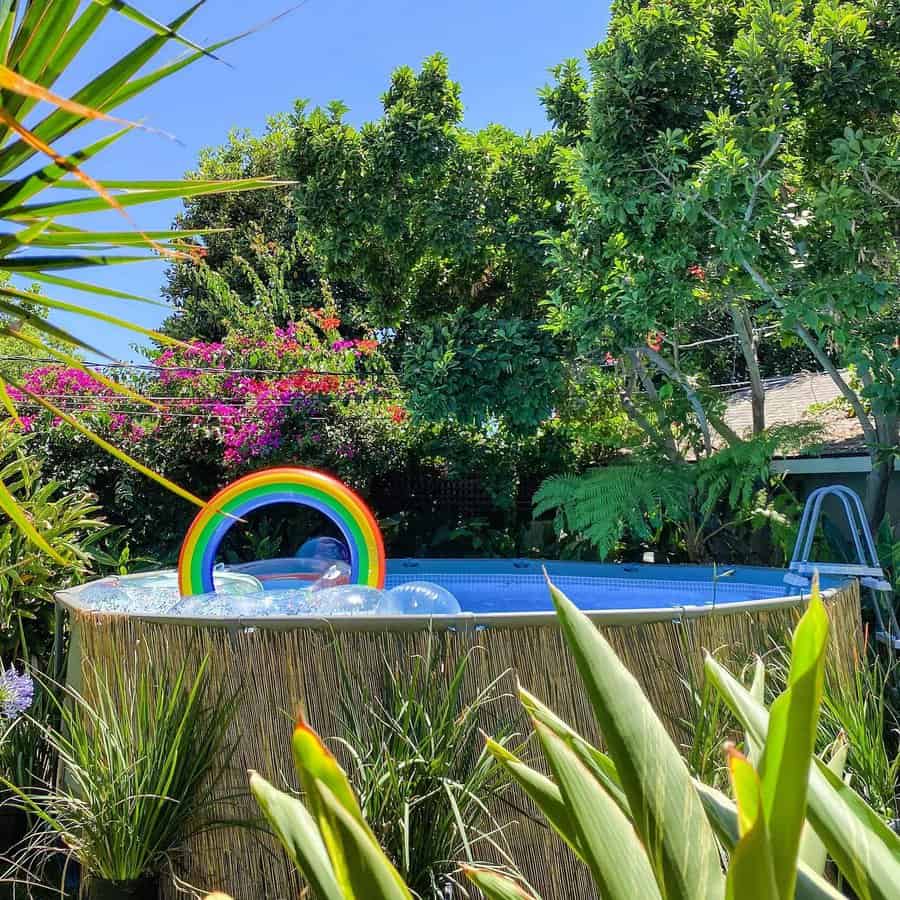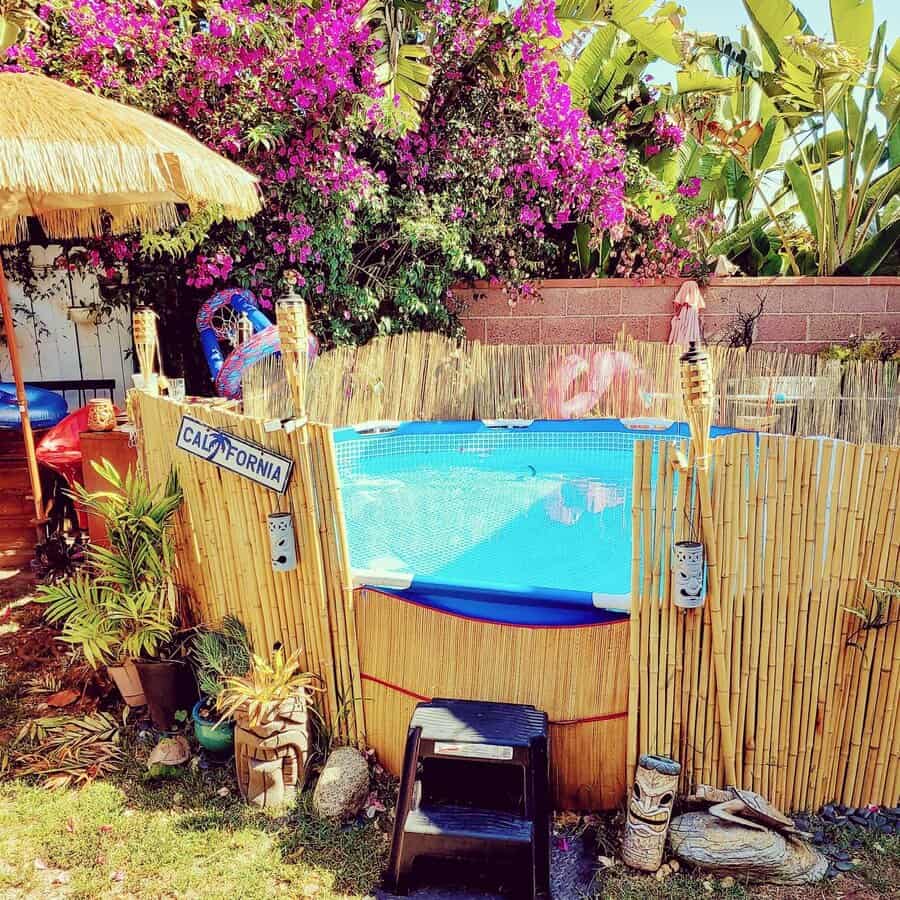 Covering up your pool's original siding can make a huge difference in your backyard's appearance. Wood posts or bamboo can be applied to the pool's exterior to cover up the plastic or vinyl underneath. Use recycled wood to save even more money!
Place large stones around your above-ground pool to make it look like a natural part of the landscape. Inground or potted plants can also help your swimming pool blend into the backyard around it.
3. Luxury Pool Designs
We tend to assume that every homeowner would opt for an inground pool if they had the budget. Yet there are countless above-ground pool ideas out there absolutely dripping in luxury.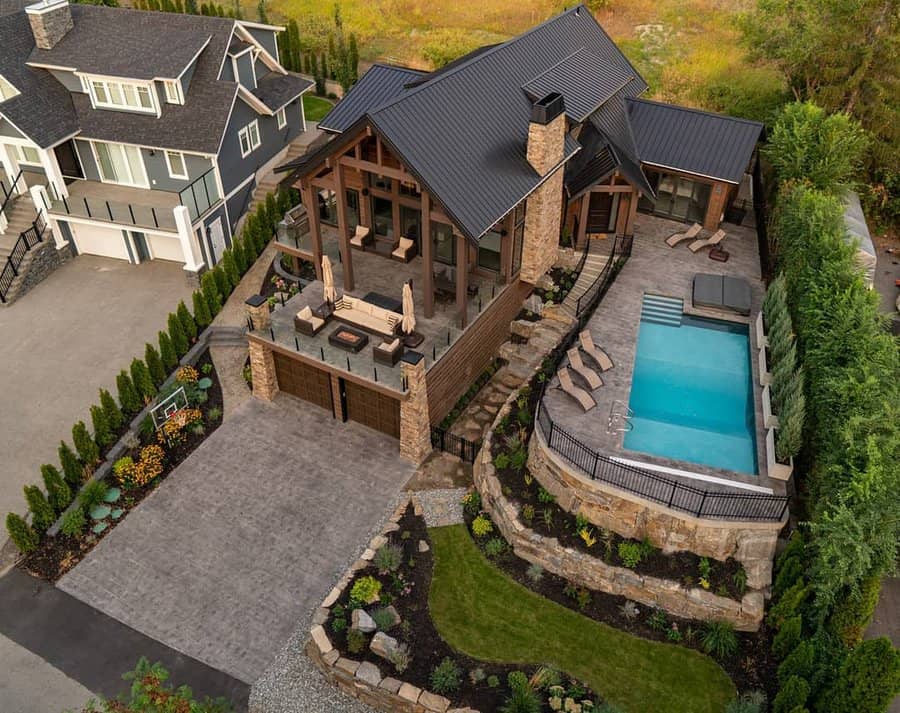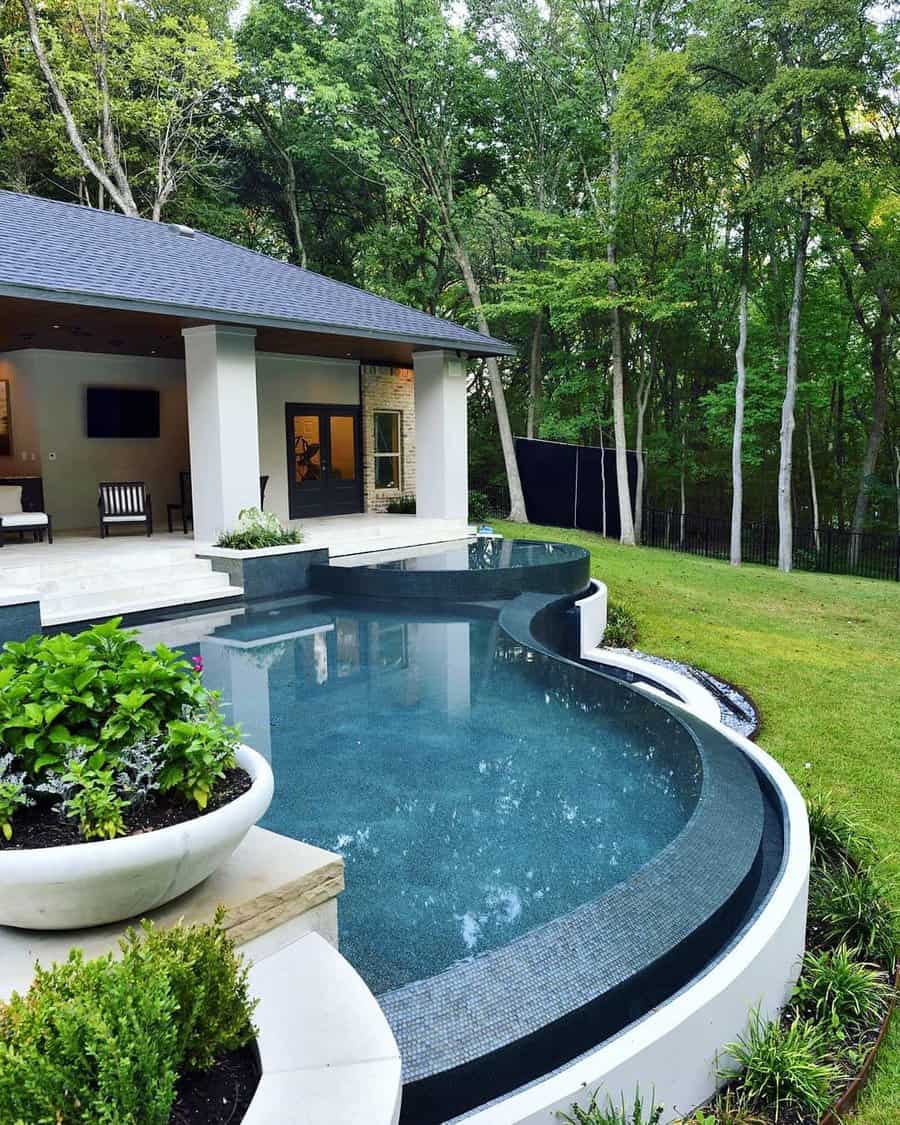 Not all above-ground pools are made of plastic or vinyl. Just take a look at the infinity-edge trend — it would be impossible to create this illusion with an inground pool. Luxury pool designs can be made from glass, metal, stone, and a wide range of other materials.
Above-ground pools have tons of benefits besides cost. Nothing beats a raised pool when it comes to safety. An above-ground pool is also an excellent option if you live in an area where excavation isn't possible.
4. Modern Swimming Pool Designs
Are you hesitant to install an above-ground pool because you don't know if it will fit into your modern landscape? A few small details are all you need for a modernized backyard oasis.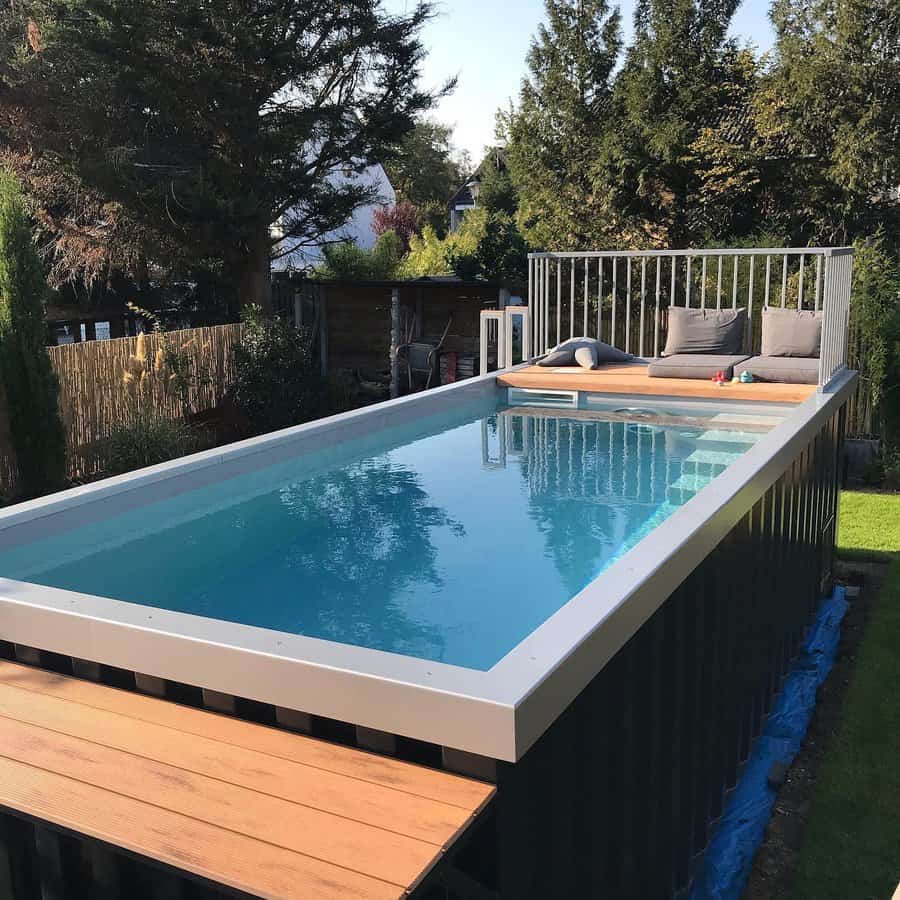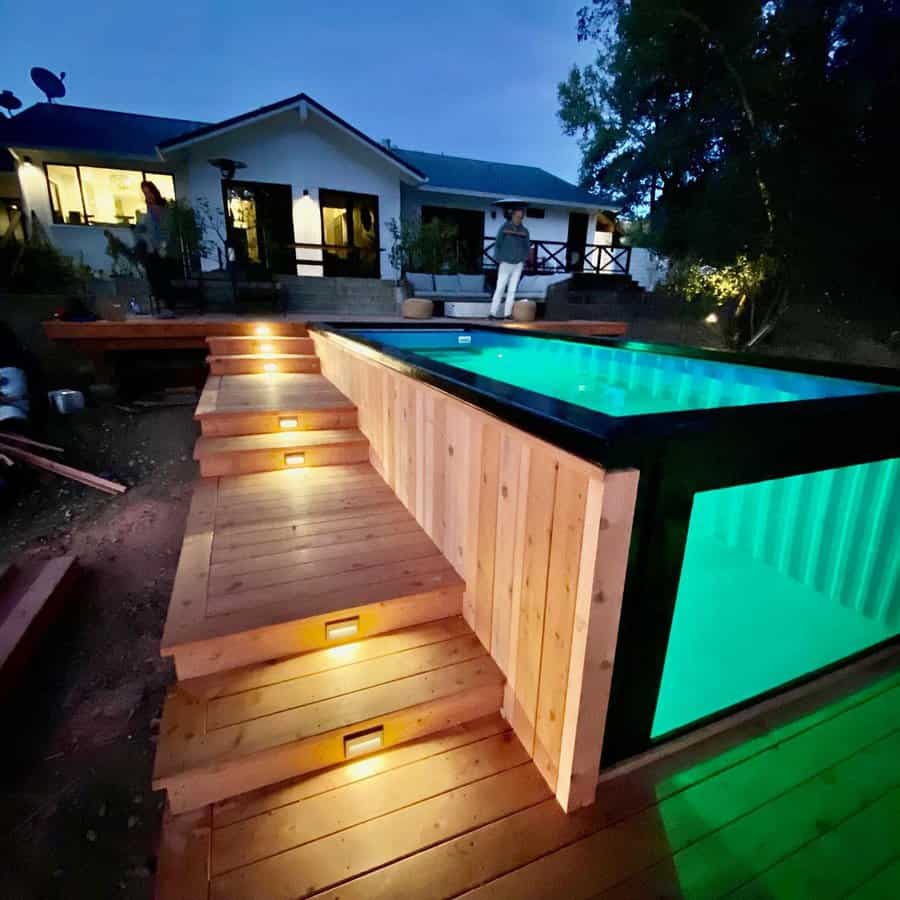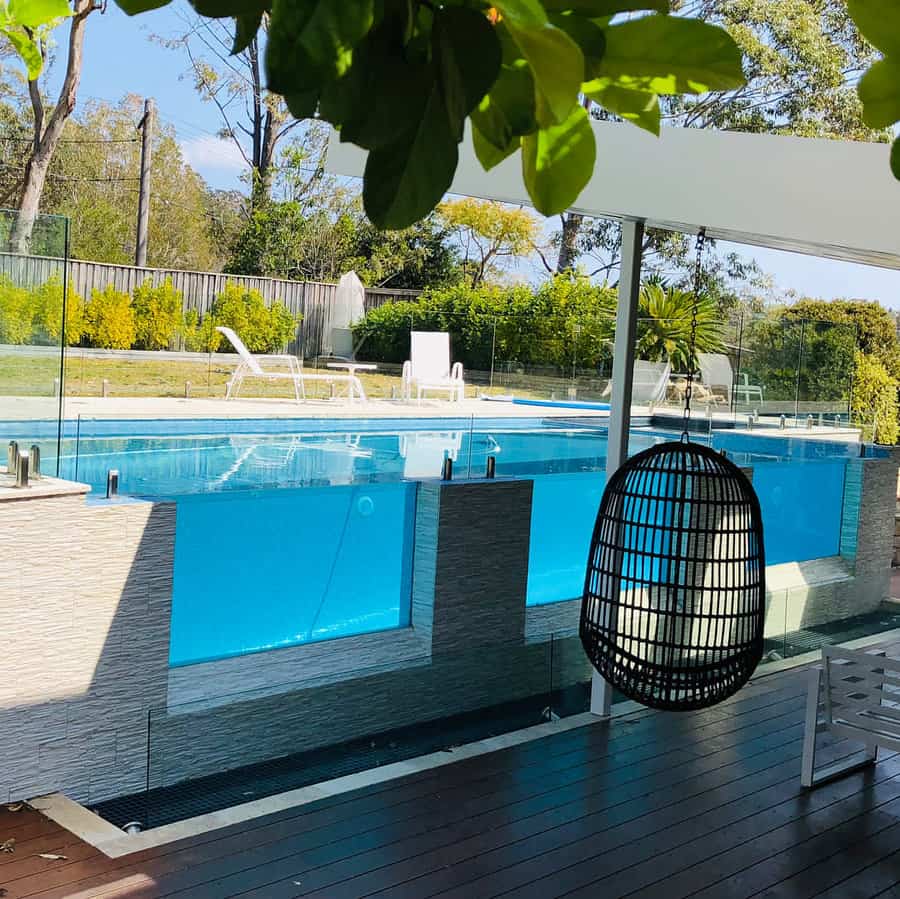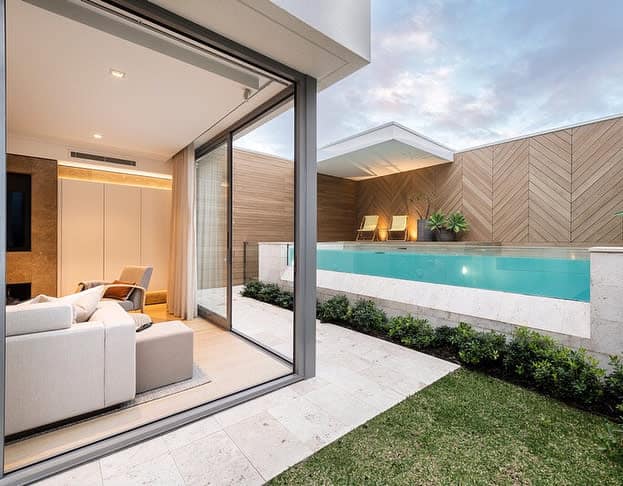 The secret to modern design is using clean lines and geometric shapes. Try to get your hands on a square, rectangular, or round pool for the most aesthetically pleasing shape.
Many modern swimming pools are built into an existing structure, like a concrete patio or wooden deck. If you're unable to find any pool deck ideas that fit your space, you can always let your above-ground pool design shine on its own.
5. Semi-Inground Pools
Many homeowners think that swimming pools come in just two types — above-ground or inground. But another has emerged in recent years.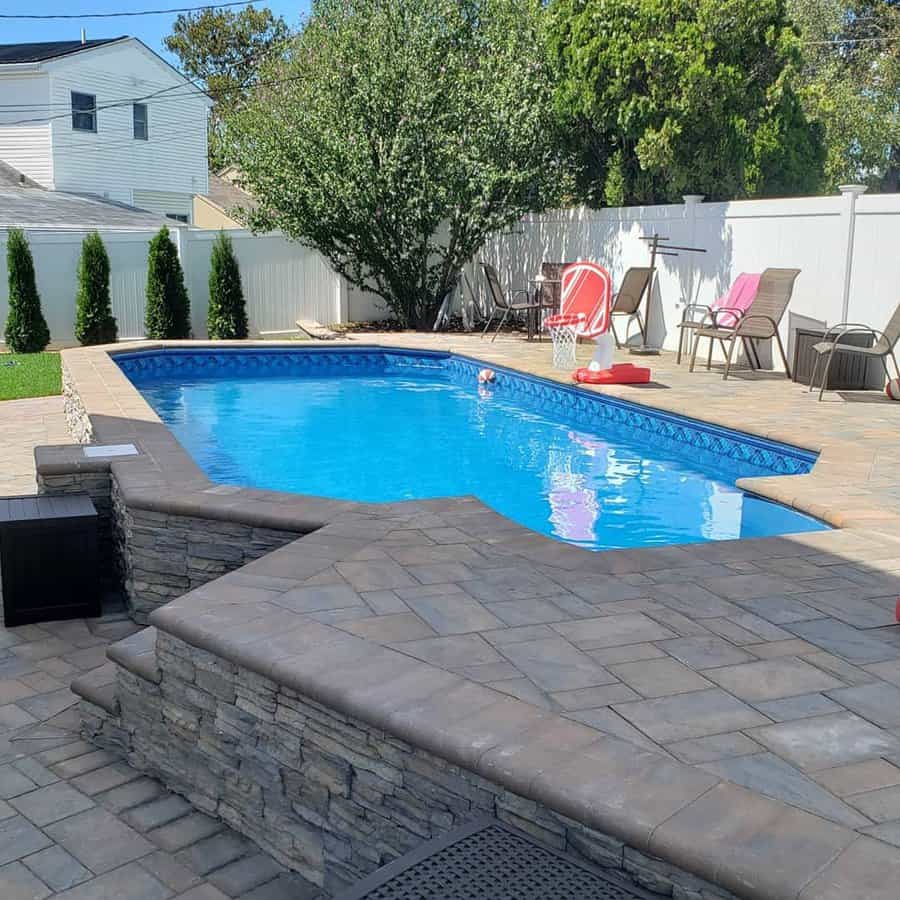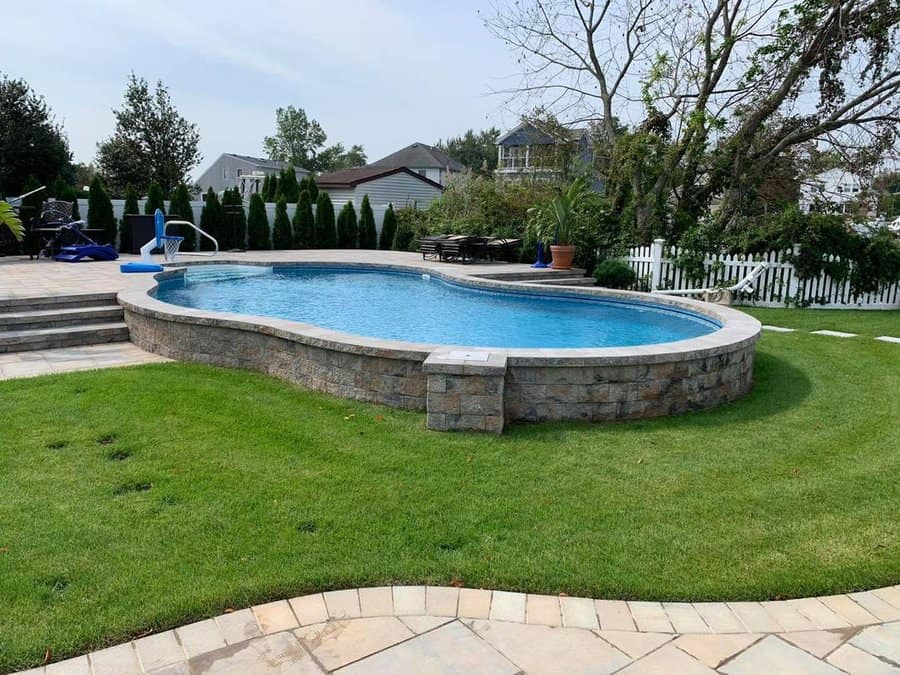 A semi-inground pool is a hybrid option sharing characteristics with both traditional styles of pool. These pools simultaneously reach several feet above and below the ground's surface. The upper walls can be made of cement, plastic, metal, or even clear glass.
Semi-inground pools don't just combine the appearances of above and inground pools. Typically, a semi-inground pool is a more affordable alternative to a true inground pool. Yet this style of pool tends to have a lifespan and maintenance requirements more similar to an above-ground model.
6. Small Above Ground Pools
Despite what we might dream of in our spare time, most backyards aren't suited to a full-size lap pool. That doesn't mean a small swimming pool can't be a godsend on hot summer days.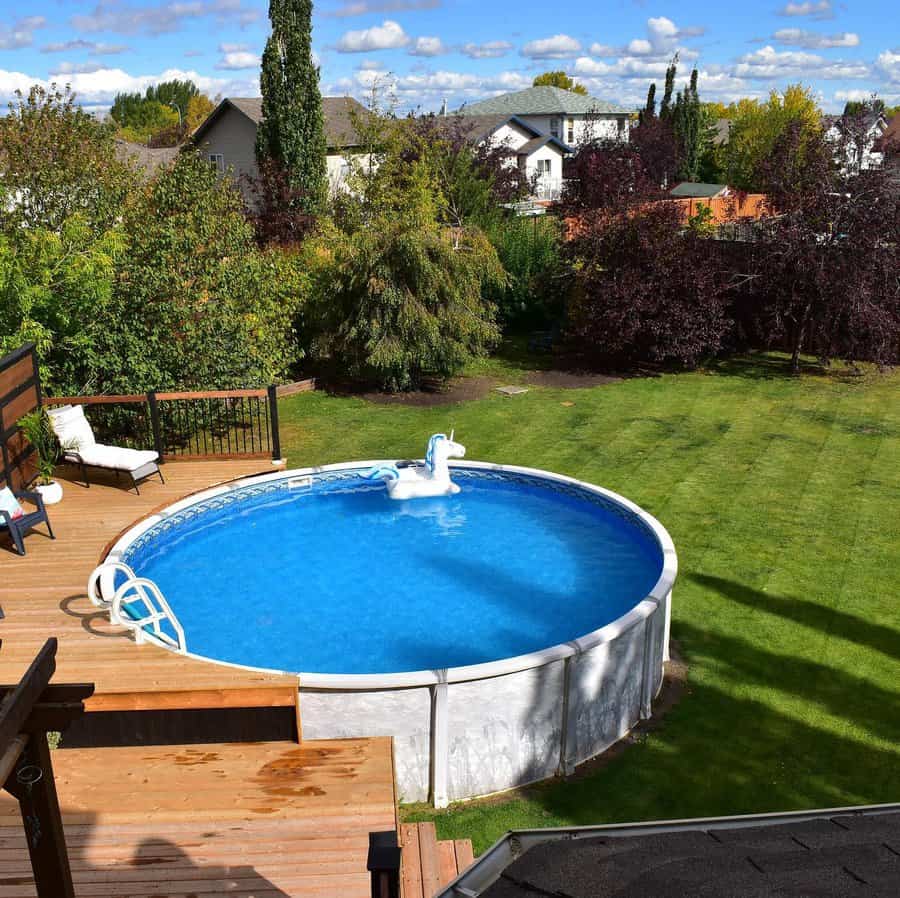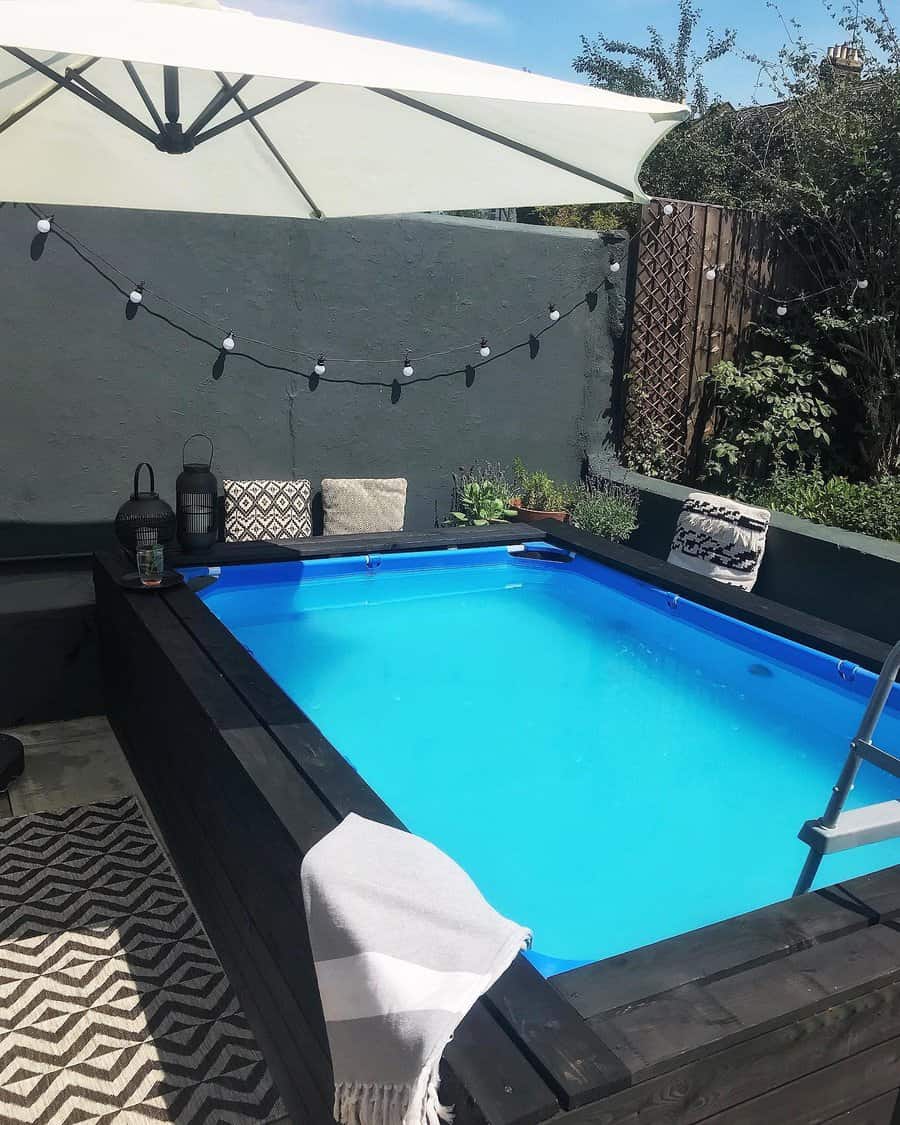 Small pools are excellent for children, water-loving dogs, and adults in need of relaxation. Many can even be set up to double as hot tubs when the temperatures drop!
Because space inside is obviously limited, it's a good idea to include a comfortable lounge area around your small swimming pool. This will allow you and others to hang out and destress without overcrowding the water.
Read more: 41 Small Pool Ideas
7. Stock Tanks
Stock tanks are traditionally used to hold feed or water for livestock. But many ingenious homeowners have adapted these metal basins into DIY swimming pools (and even hot tubs).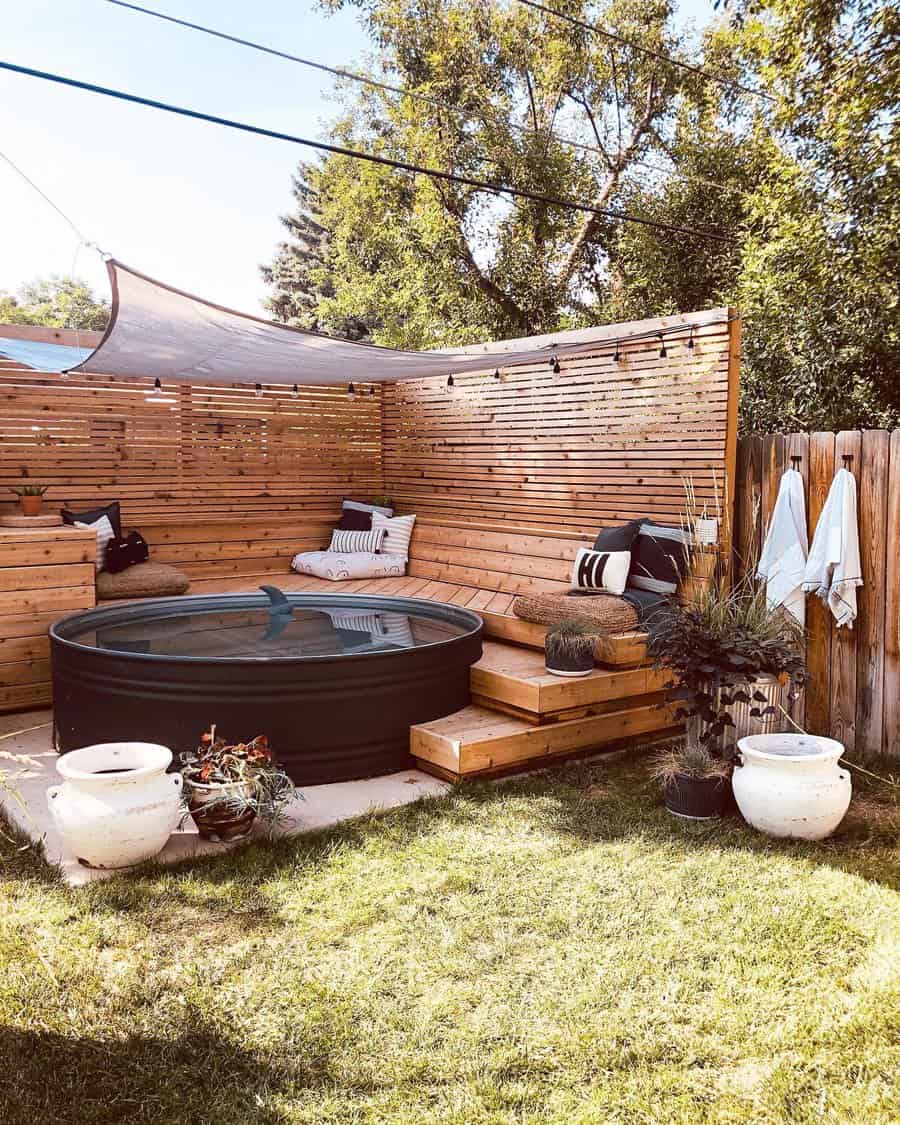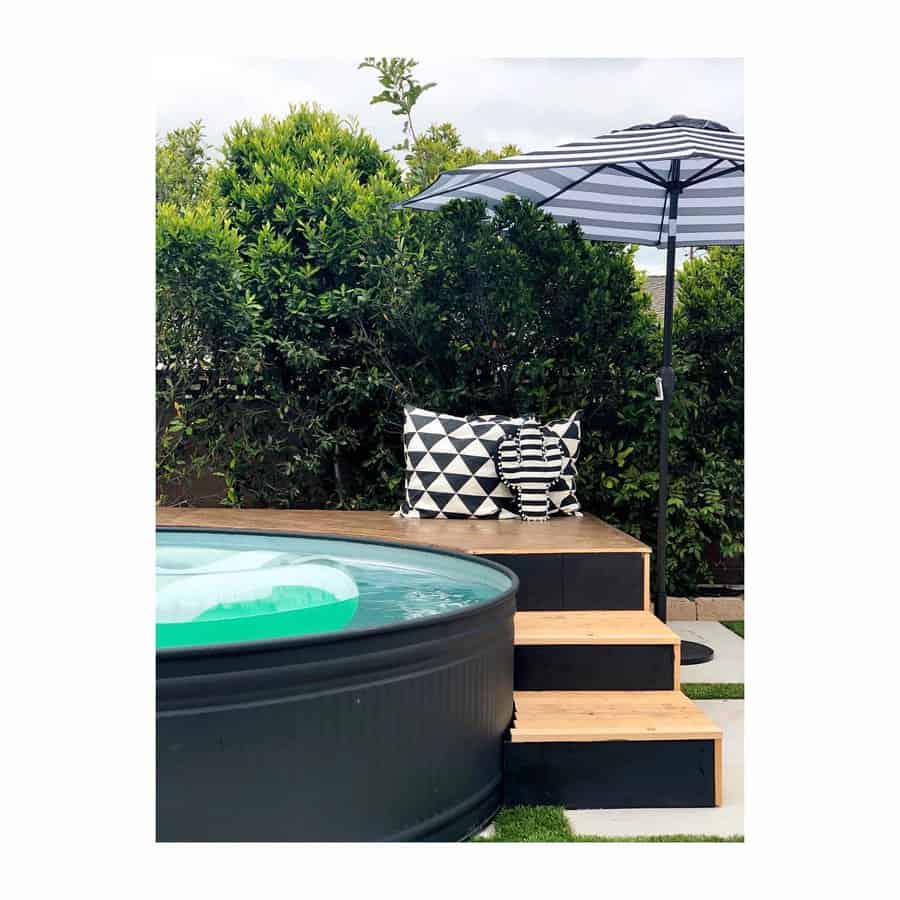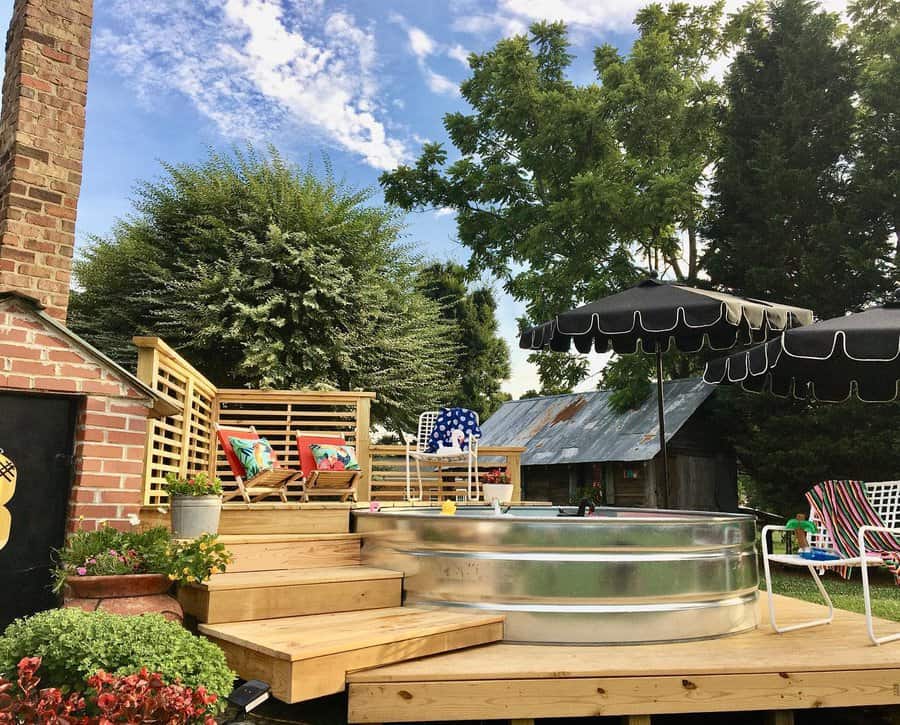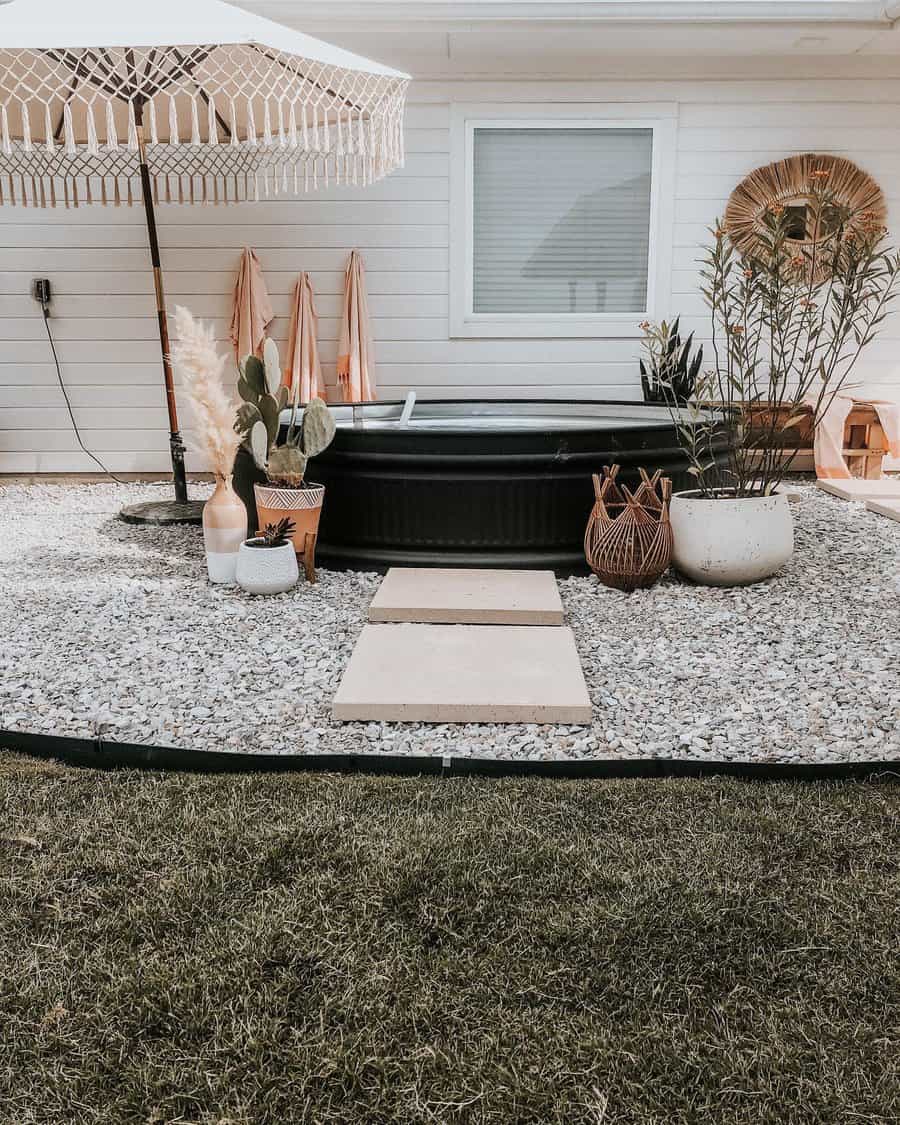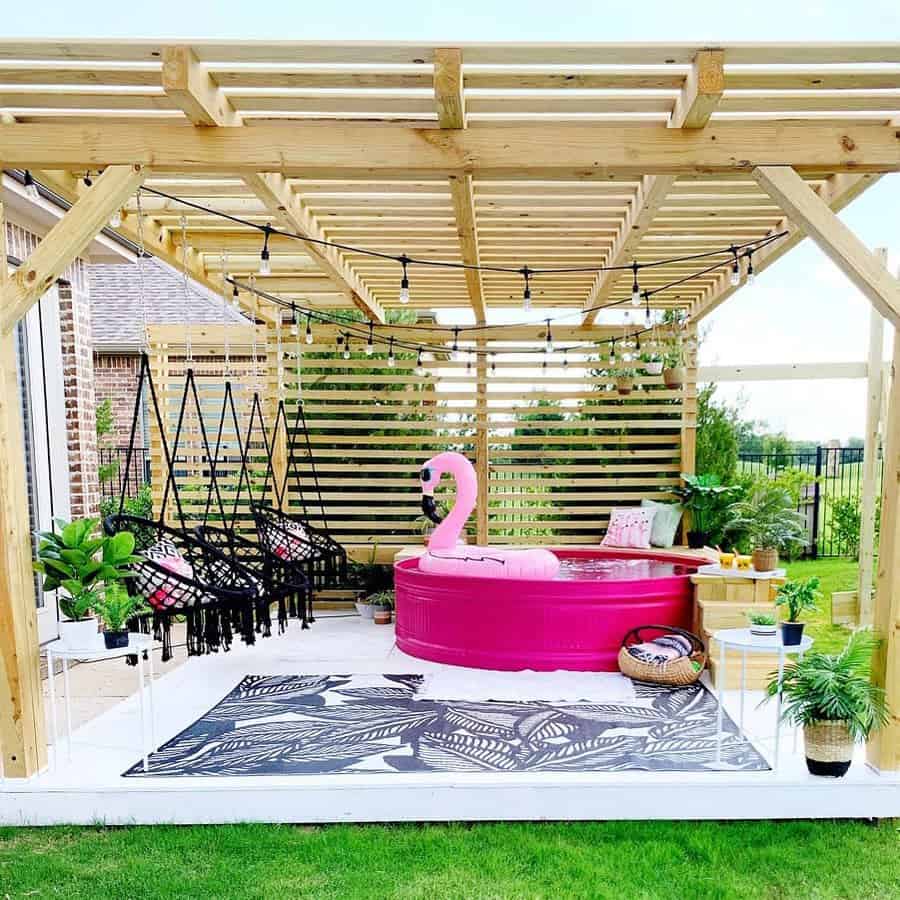 Stock tank pools are one of the cheapest styles of above-ground pools available. They're also much more attractive than a plastic or inflatable pool!
While stock tank pools are a great way to beat the summer heat in a pinch, they're not perfect. This style of pool is ideal for quickly cooling off — stock tanks are excellent for children and pets. But if you want something you can actually swim in, you'll need to look elsewhere.
Read more: 68 Stock Tank Pool Ideas
8. Stonework or Pavers for Pool Landscaping
Some people just can't get over the seamless appearance of an inground pool. Believe it or not, there are ways to build your swimming pool deck that mimic this aesthetic without any excavation.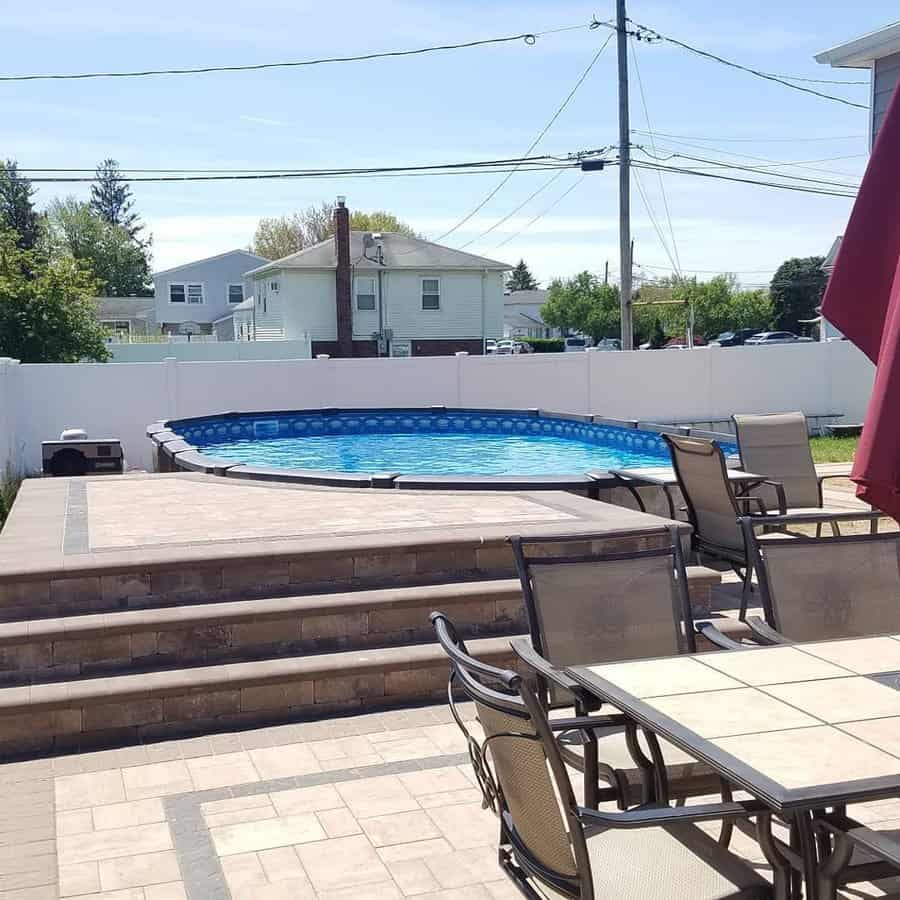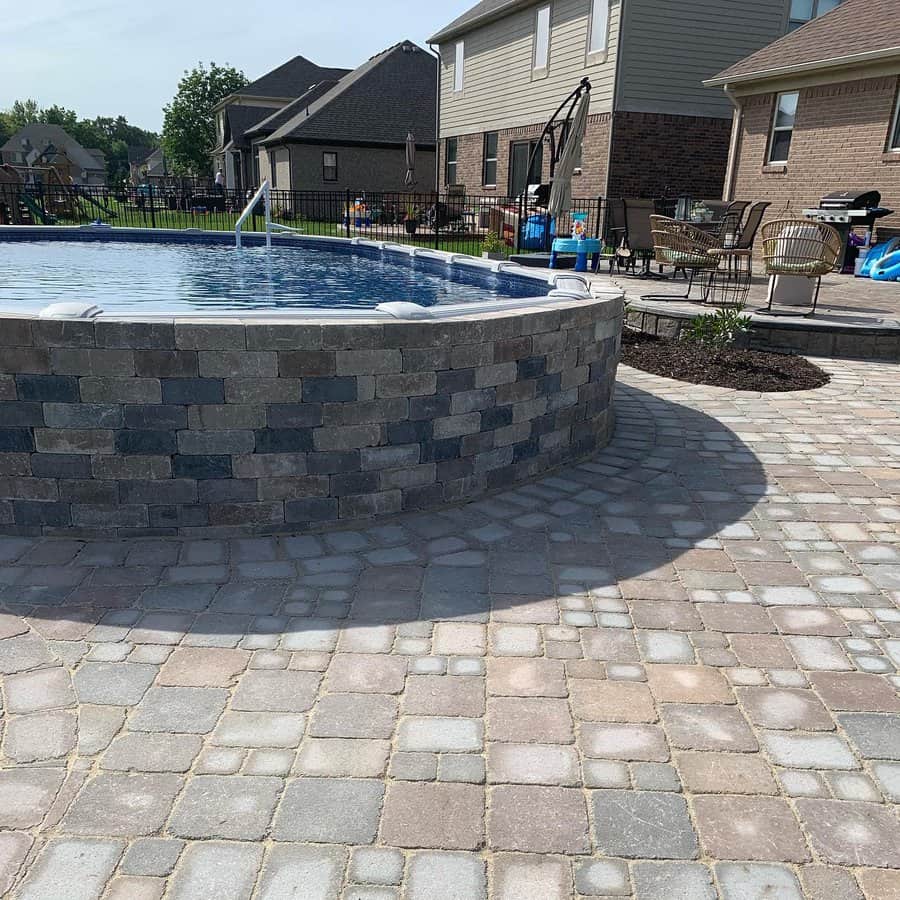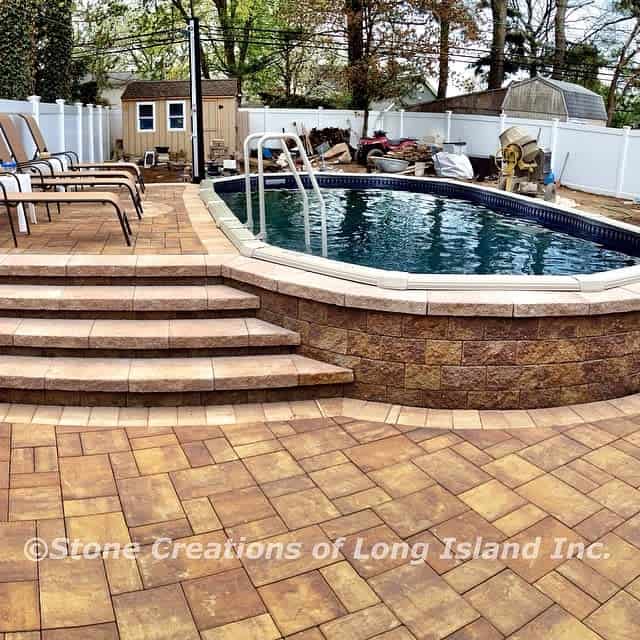 Laying stone blocks around your above-ground pool serves much the same purpose as a wooden deck. You can stack stones around the perimeter or create a raised pool deck for an experience that is — essentially — the same as an inground pool deck.
There is no one style of paver that fits all projects. Experiment with different stone types, colors, finishes, and shapes to create an above-ground pool deck that suits your personal taste.
9. Wooden Above Ground Pool
If we haven't already made it abundantly clear: Wood is by far the best way to cover an above-ground pool and make it look like a permanent fixture in your backyard.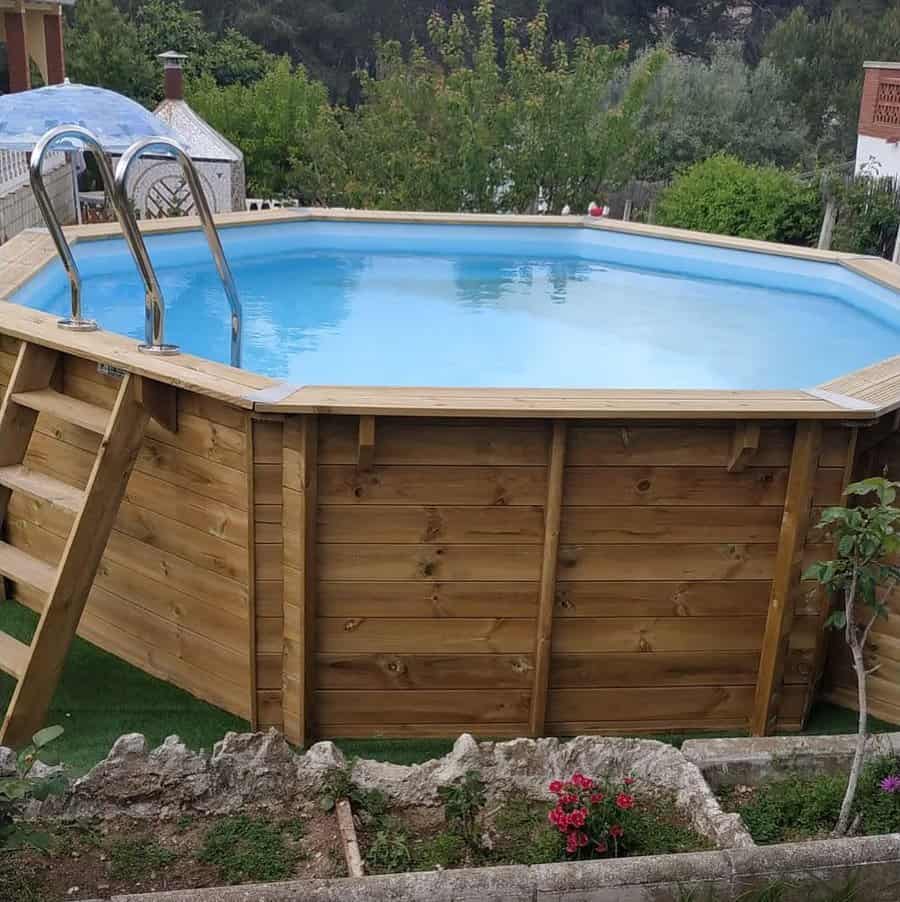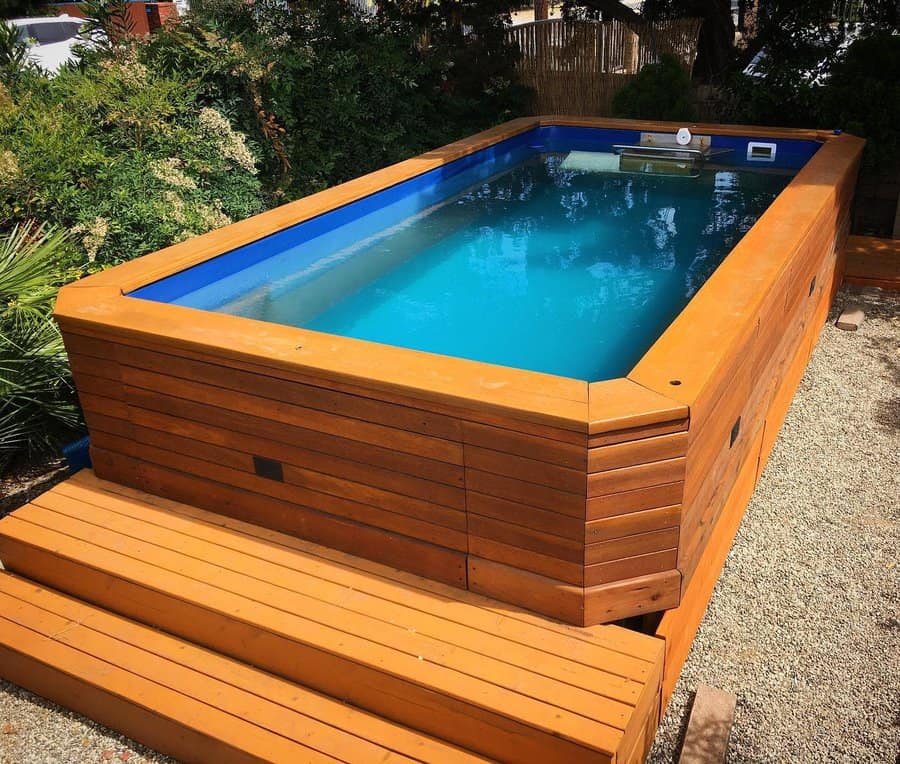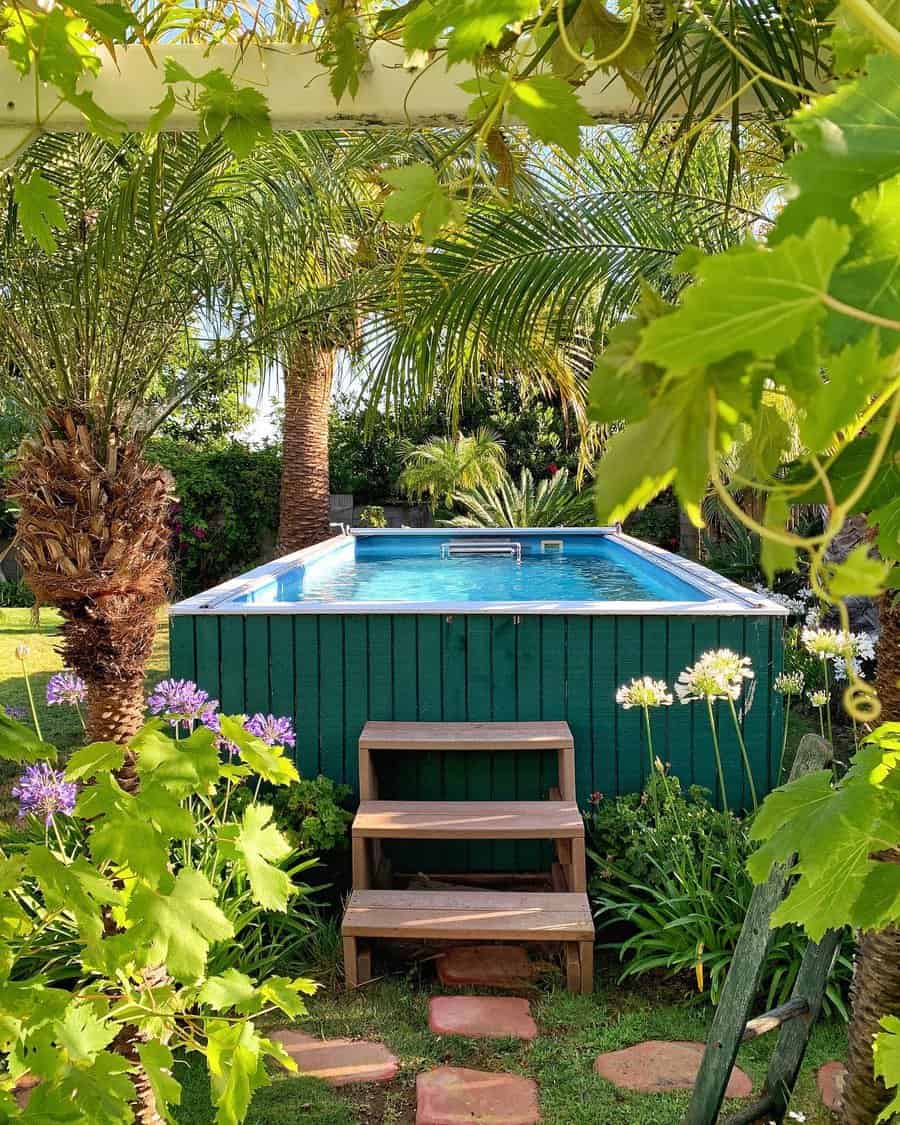 You can easily cover your above-ground pool's exterior using wood planks, shingles, or even old pallets. Be sure to coordinate the wood's finish with the rest of your backyard or patio design. You can even attach a ladder right to the wood structure!
Of course, aesthetics shouldn't be your only concern. High-quality pool decking will still allow easy access to pumps, filters, and other essential equipment. Removable panels can be used to cover up these elements between routine maintenance.
Above Ground Pool FAQs
Are above-ground pools trashy?
An above-ground swimming pool can be just as classy as an inground one, especially if you finish everything off with a nice deck.
Don't let other pool owners discourage you from investing in a pool that meets your needs. The stereotype of above-ground pools looking cheap or trashy needs to go!
Are above-ground pools permanent?
It depends. Most above-ground pools are considered temporary structures.
While these pools can last for 10 years or more, they don't actually change the surrounding property. This is in contrast to inground pools, which require excavation and other major changes to the land.
Semi-inground pools and above-ground pools built into a foundation are typically considered permanent structures.