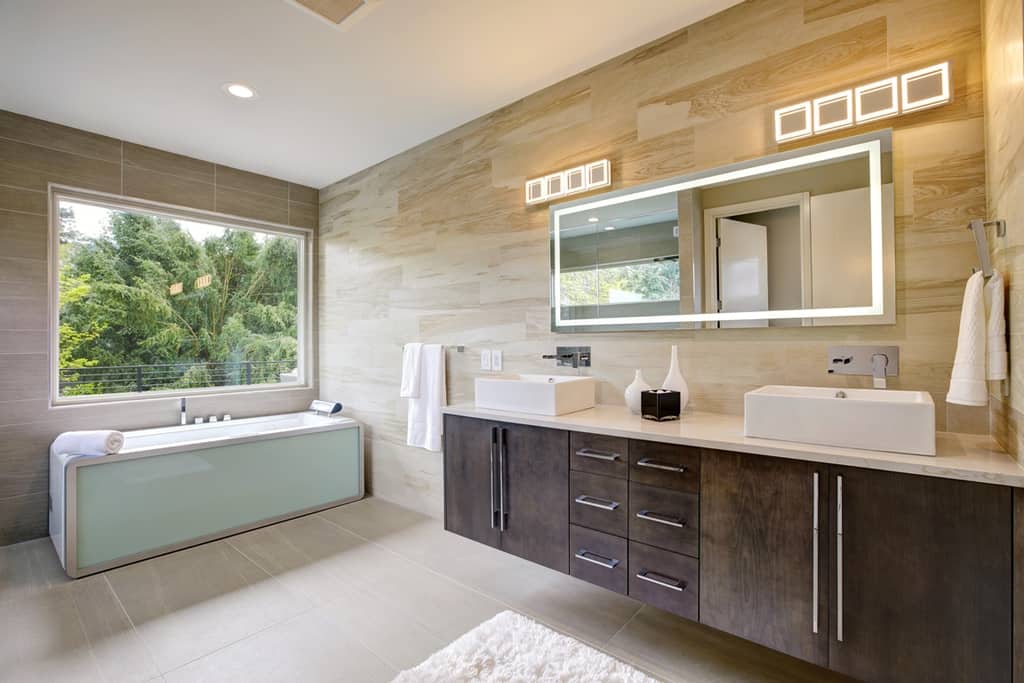 Everyone needs bathroom storage, to keep towels, and bathroom essentials. Freestanding pedestal sinks do not offer counter space, such an essential item especially when you want to get ready for a day's work ahead. Medicine cabinets are tiny, without enough space to store all the everyday toiletry items we need at arm's reach.
So, a bathroom vanity is an essential item for you to keep your bathroom tidy and organized. No matter the size of your bathroom, you will see that there are simple ways to make it more functional, with the awesome ideas we will give you in this post.
1. Explore Brown Wooden Drawer Vanities
Choosing a brown wooden vanity with drawers not only brings warmth and a natural touch to your bathroom but also offers substantial storage. To achieve this design, look for a long vanity crafted from quality hardwoods, such as oak or walnut, ensuring longevity.
A key tip when installing such a vanity is to consider the tone and grain of the wood, ensuring it complements other bathroom elements like tiles or fixtures. For instance, a deep brown vanity pairs beautifully with lighter walls or tiles, creating a balanced contrast.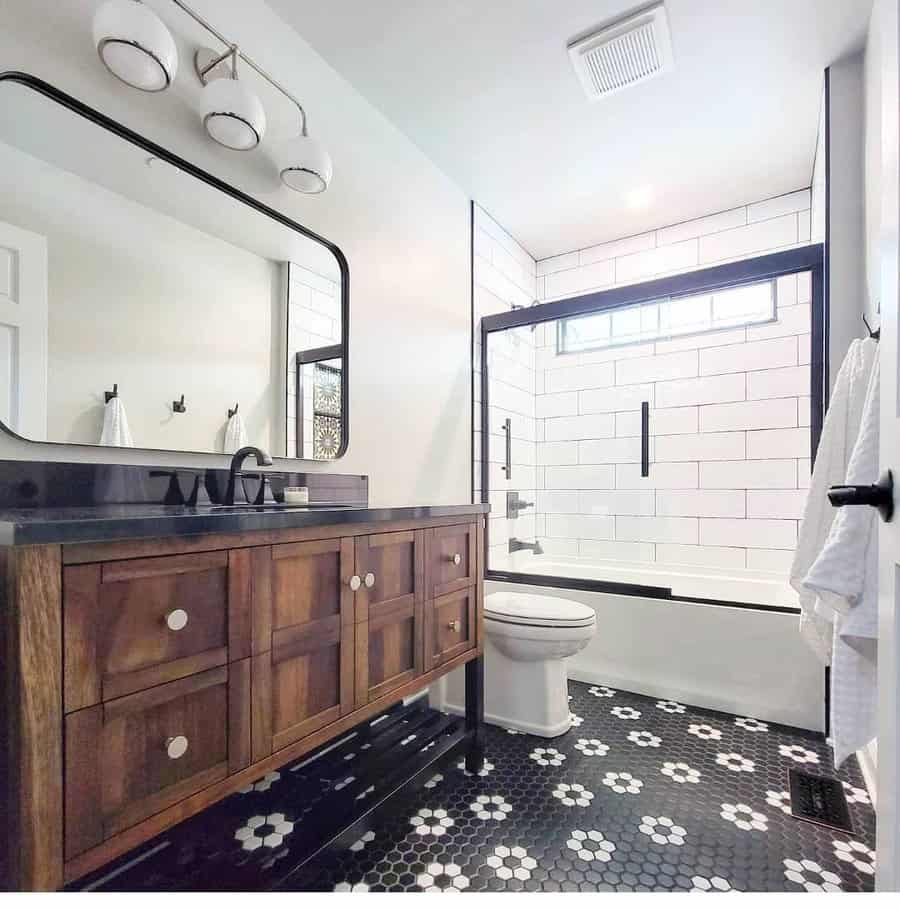 2. Maximize with Full-Length Vanity
Opting for a full-length black vanity can transform your bathroom into a sleek and modern space while maximizing utility. To achieve this bold look, select a vanity that extends from one end of the bathroom to the other, ensuring a seamless fit.
While the expansive surface offers plenty of counter space, the dark hue necessitates careful lighting choices to avoid a gloomy ambiance. Soft white pendant lights or under-cabinet LED strips can illuminate the space tastefully.
As for complementary elements, think about using contrasting textures or colors, such as white marble countertops or silver fixtures, to break the monochrome expanse.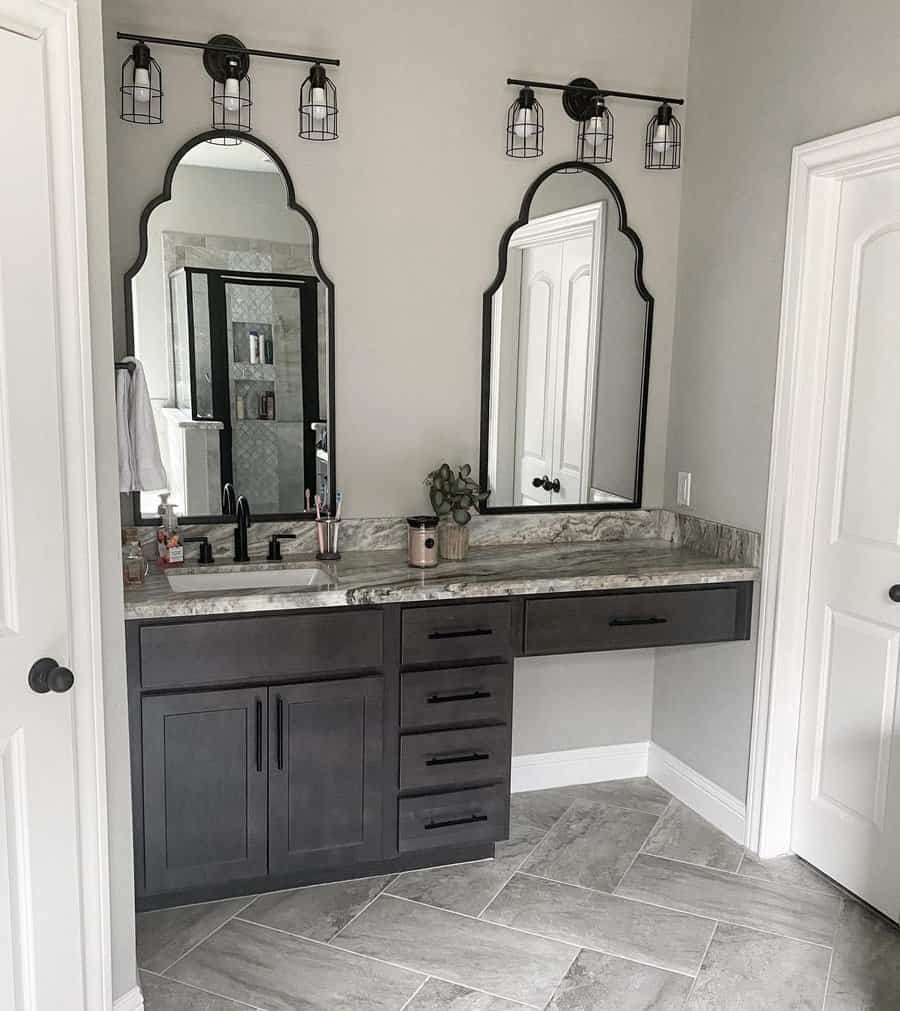 3. Discover Compact Storage Vanities
Embracing a compact white vanity with insert storage boxes is a smart move for bathrooms where space is a premium, yet functionality remains paramount. The pristine white color gives a fresh and airy feel, making the room appear larger, while the in-built storage boxes ensure clutter-free counters.
When aiming for this design, focus on materials that resist moisture and stains, like laminates or treated wood. Additionally, integrating brushed nickel or gold-toned hardware can elevate the vanity's aesthetic, adding a hint of luxury. Complement the vanity with a statement mirror or minimalist fixtures to maintain a spacious feel.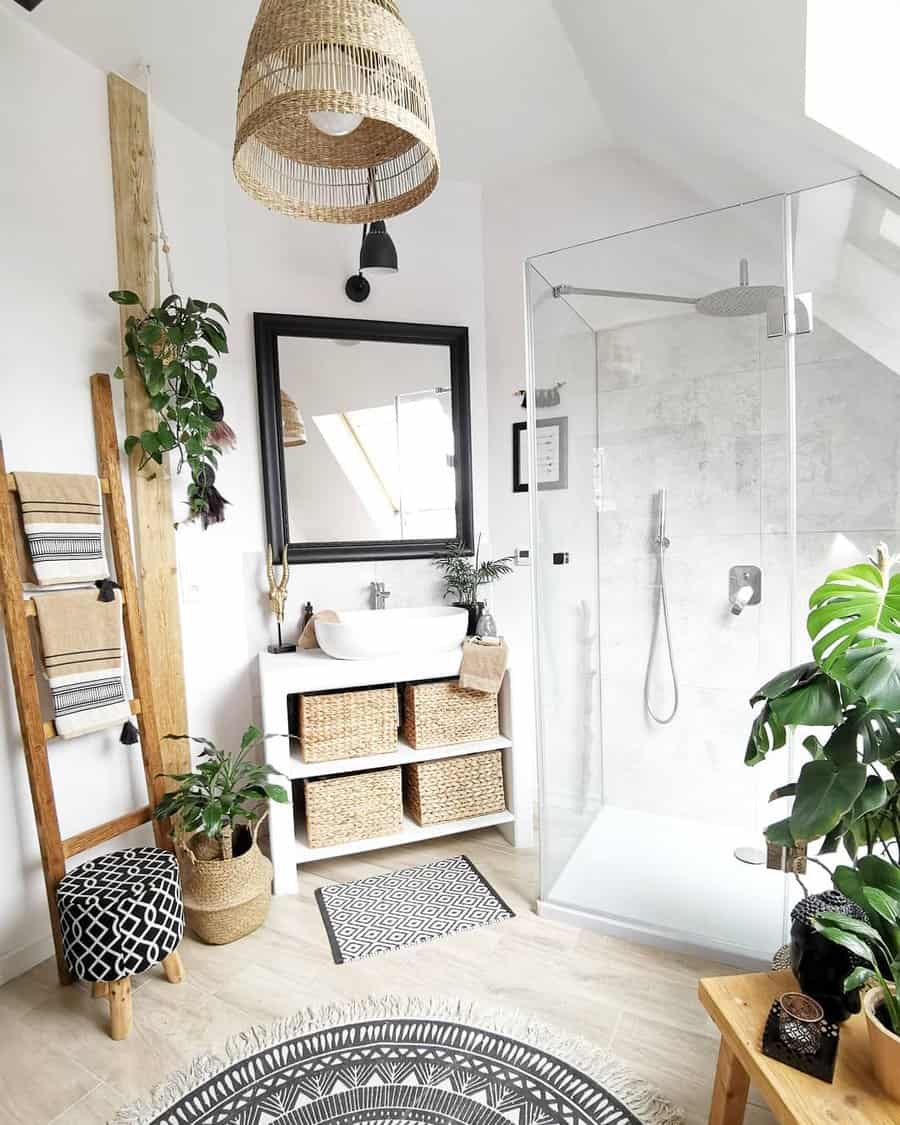 4. Embrace Wall-Hung Vanities
A hanging wooden vanity with a push-open drawer mechanism marries the charm of natural materials with contemporary flair. Elevated off the floor, this vanity style not only facilitates easier cleaning but also adds an illusion of space in tighter bathrooms.
When aiming for this design, prioritize sustainably sourced woods like bamboo or oak that offer resilience in damp environments. The grain and hue of the wood can serve as a focal point, so pair it with understated tiles and walls to let the vanity stand out.
Brushed metal or ceramic basin complements can further accentuate its elegance. Given its floating nature, ensure a professional installation, anchoring the vanity firmly to wall studs.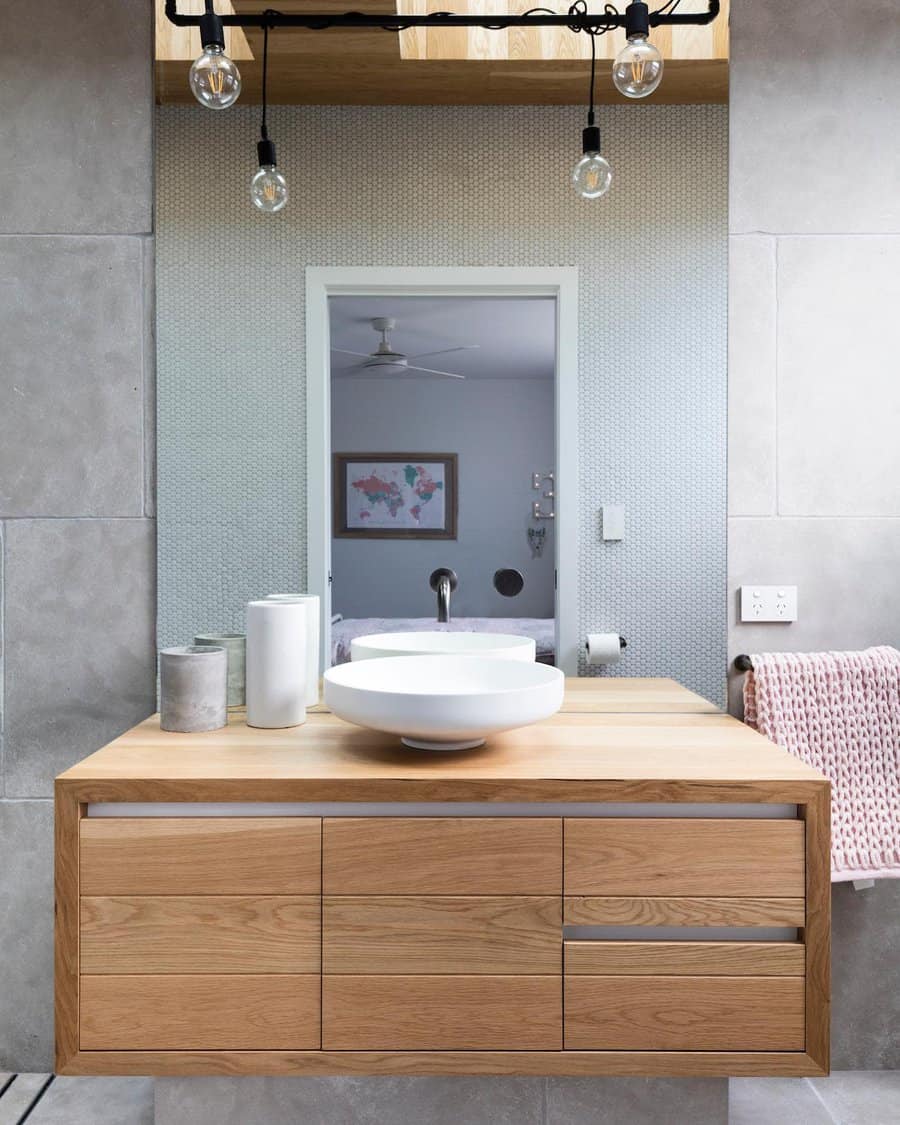 5. Dive into Different Double Vanity Designs
Double vanities are a game-changer for shared bathrooms, offering both personal space and enhanced functionality. These designs range from side-by-side basins with shared storage to completely independent units, each tailored to specific needs.
For a cohesive look, consider matching the countertop material, like marble or quartz, across both sinks, but feel free to experiment with asymmetrical mirror shapes or varied lighting fixtures for a dynamic touch.
If your bathroom space allows, introduce a central storage tower between the two sinks, providing a visual break and extra storage. Another tip is to explore different faucet designs for a unique touch.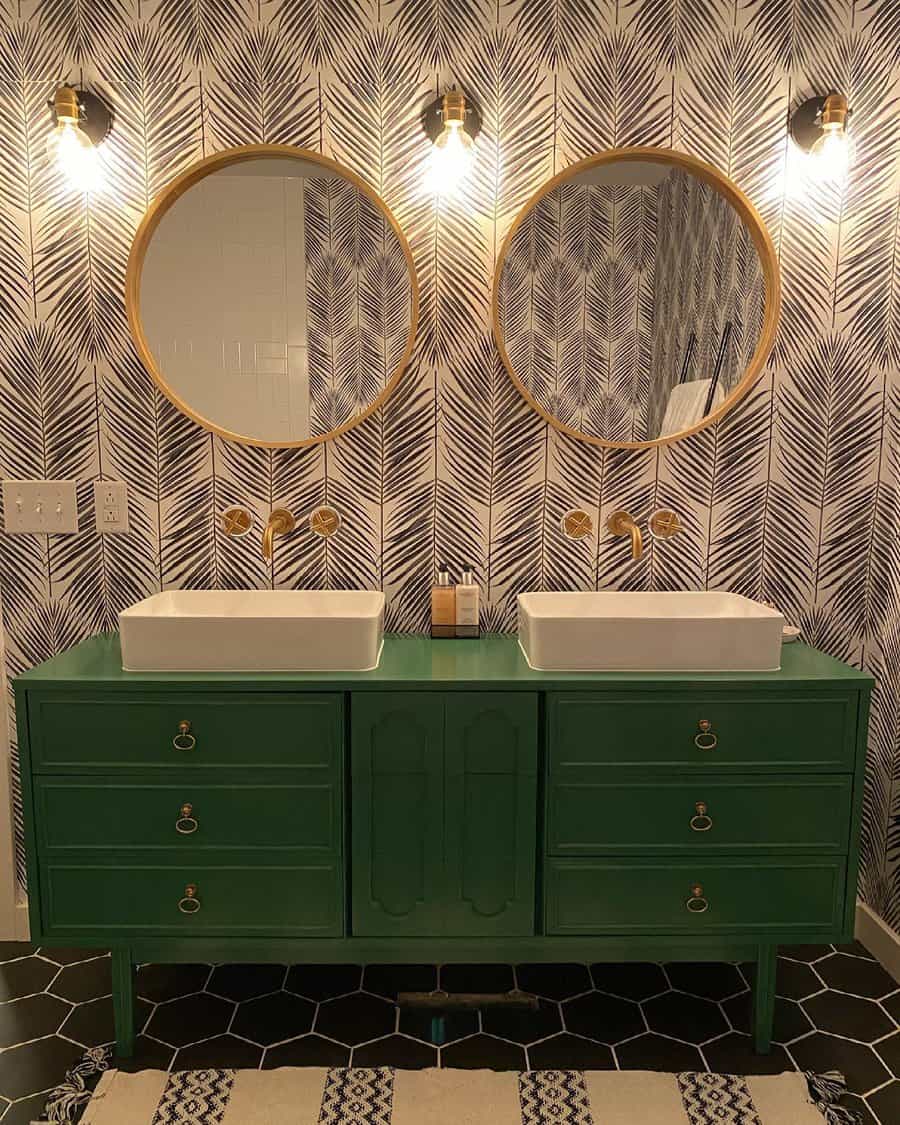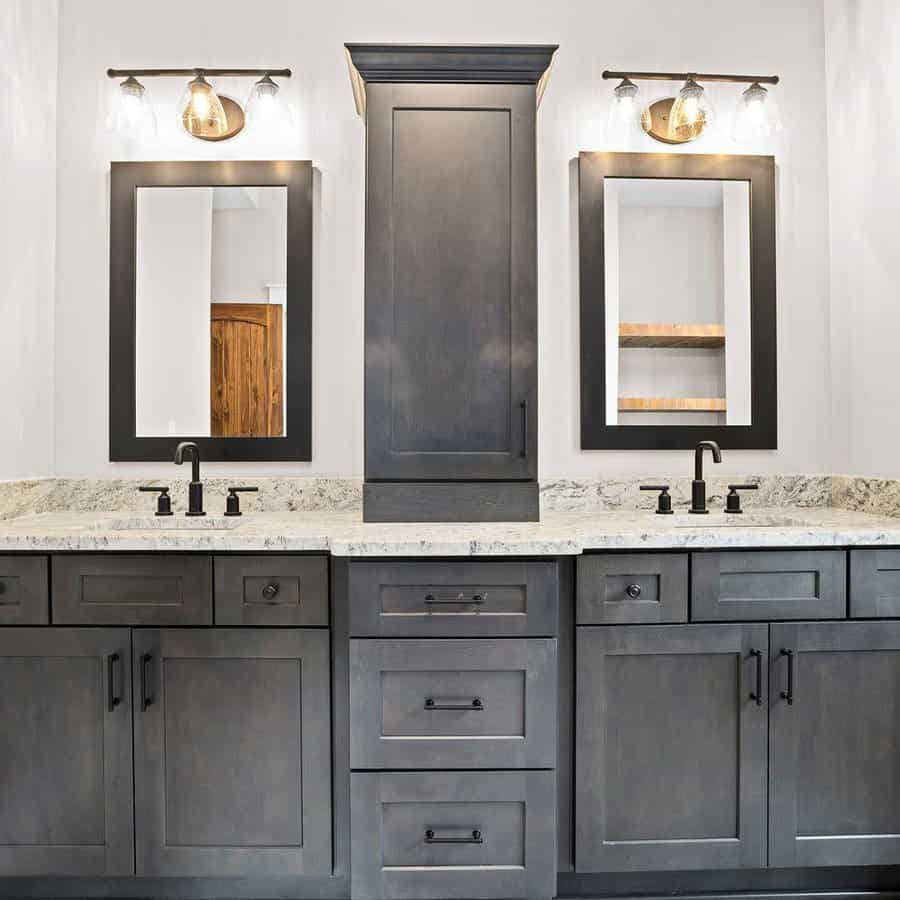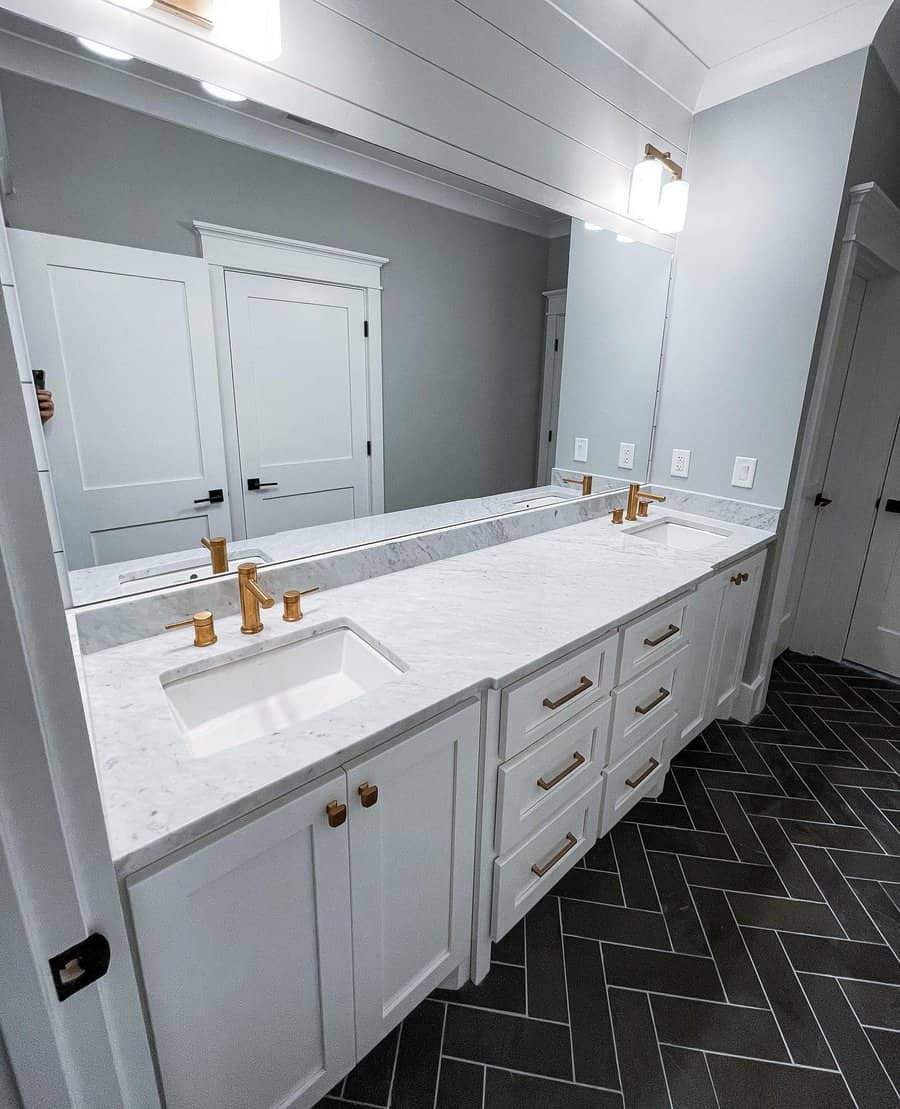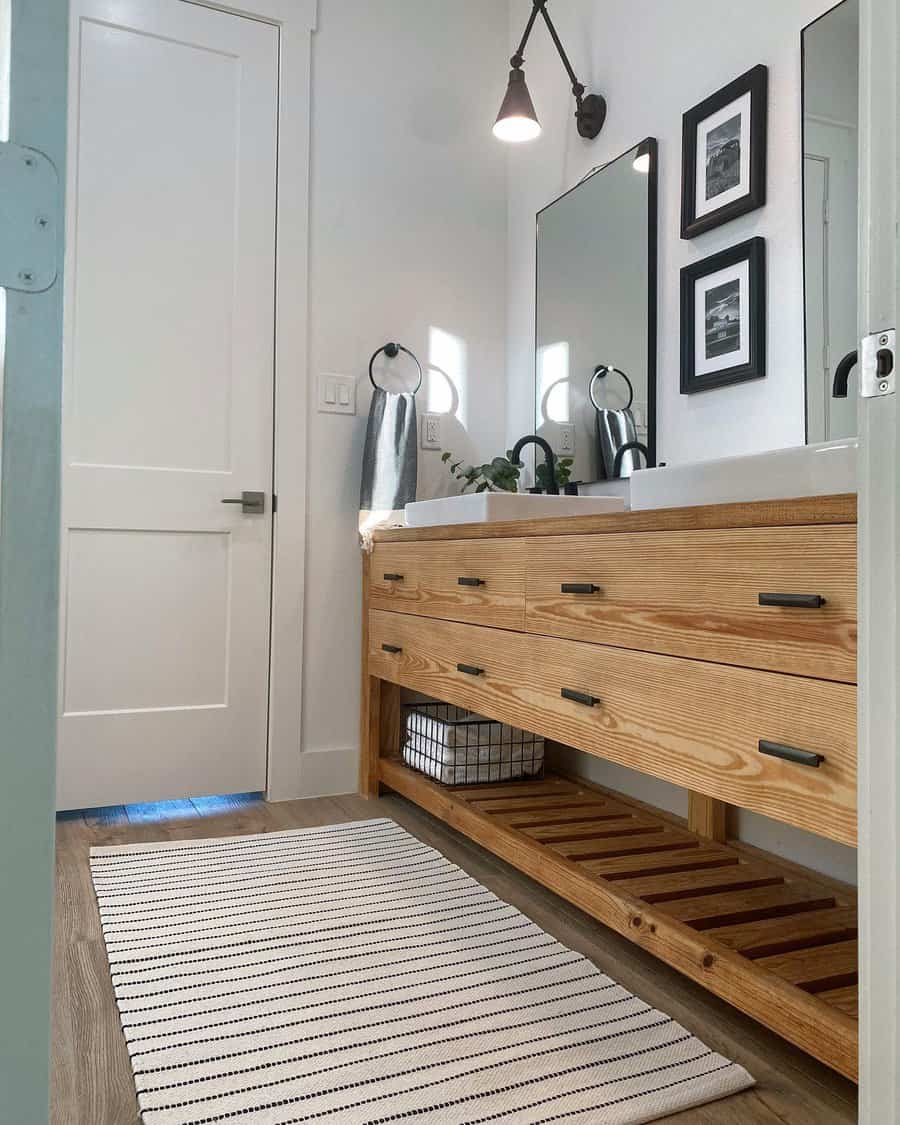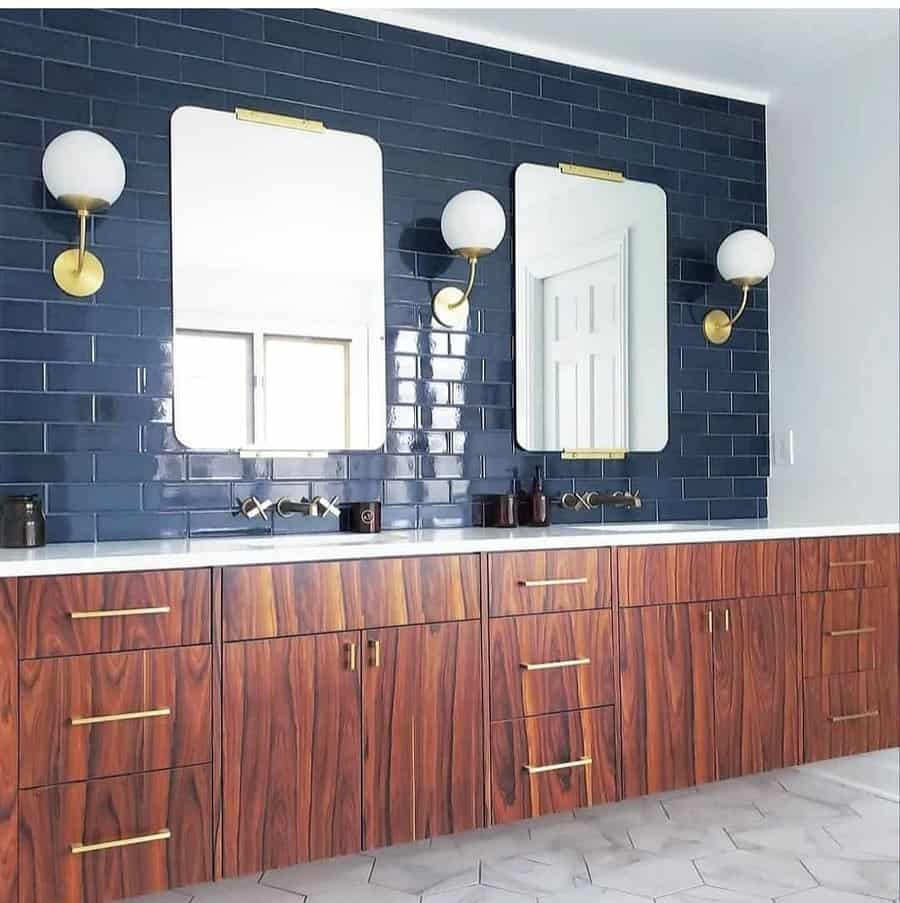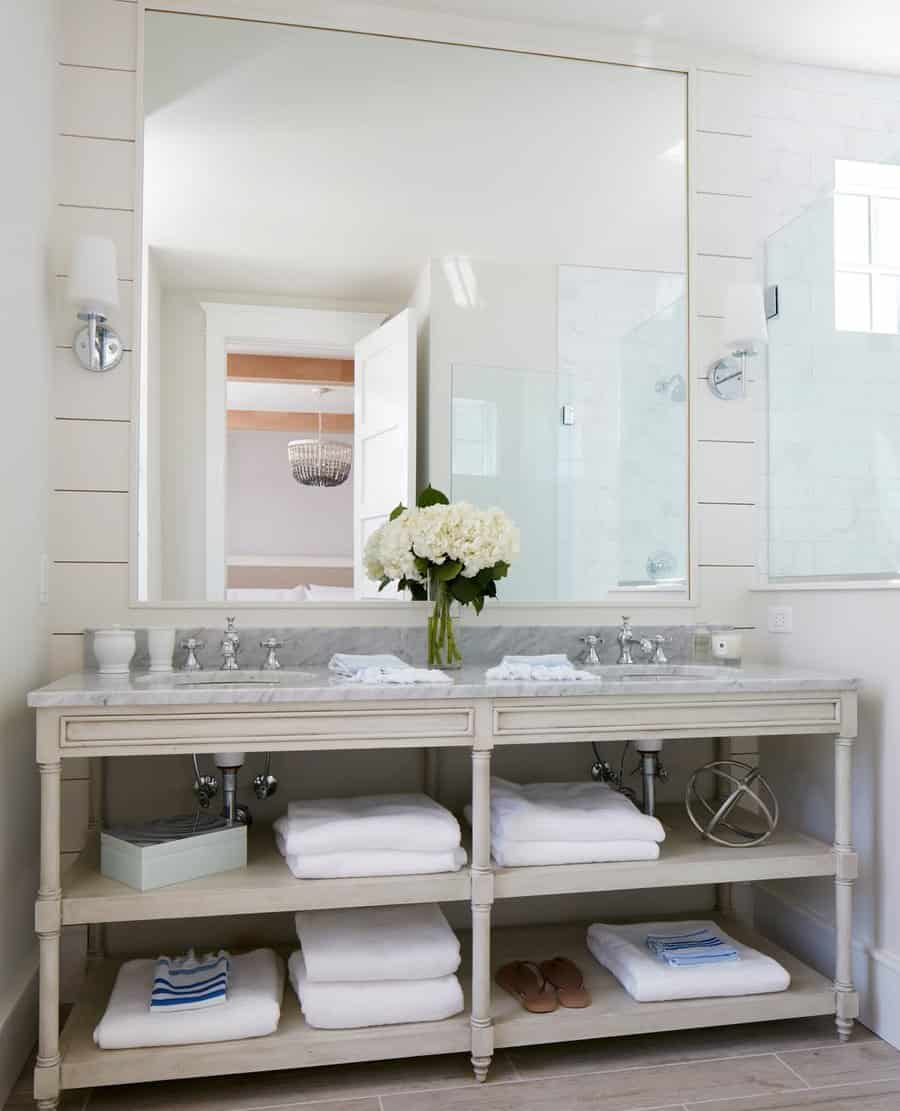 6. Dive into Rustic Vanity Charm
A rustic vanity is like a breath of fresh countryside air, infusing bathrooms with warmth and character. Typically crafted from reclaimed wood, raw stone, or weathered metals, these vanities evoke a sense of history and timelessness.
To achieve the authentic rustic allure, consider a vanity with exposed hardware, untreated wood grains, and perhaps a farmhouse-style sink. Complement this centerpiece with natural elements, such as a woven jute rug or terracotta pots, to reinforce the rustic narrative.
Ambient lighting from lantern-style sconces or Edison bulbs can further enhance the mood.
While sourcing genuine vintage pieces might stretch the budget, the unique charm they add is unparalleled.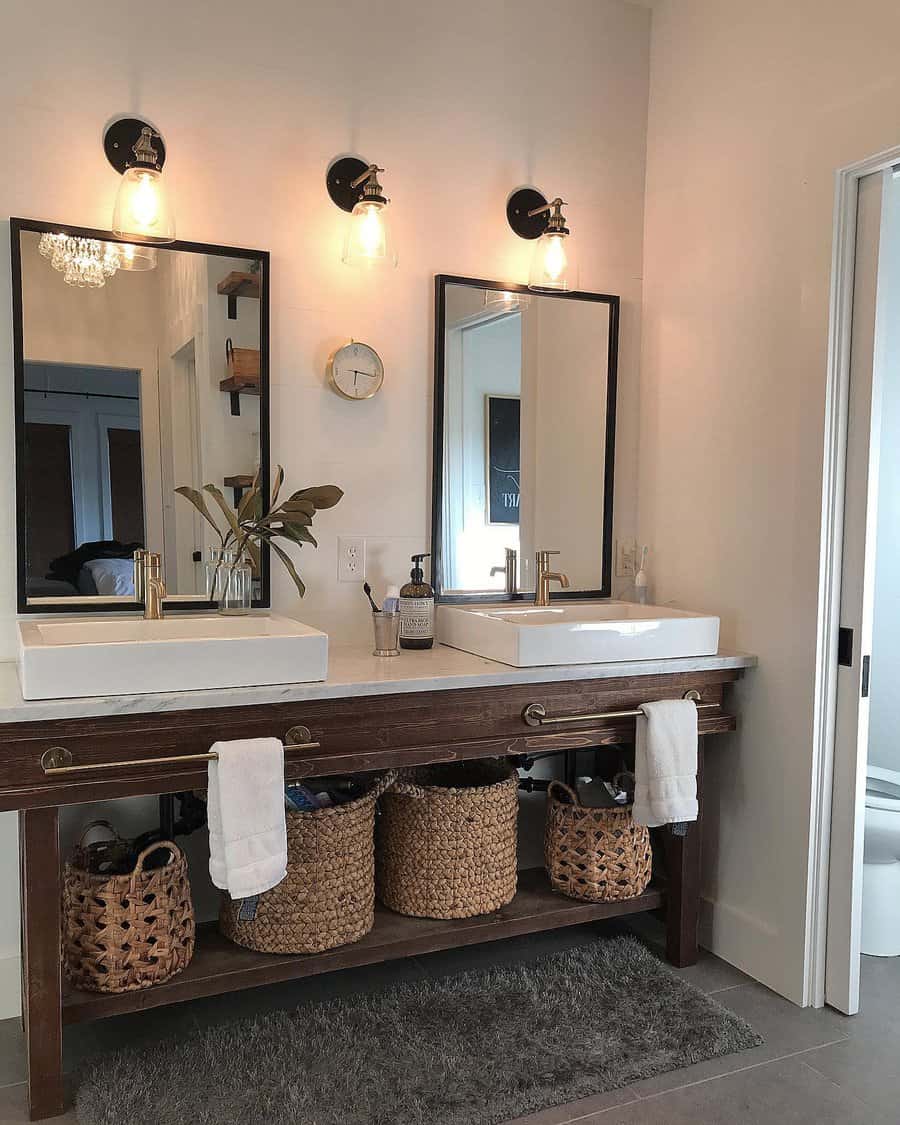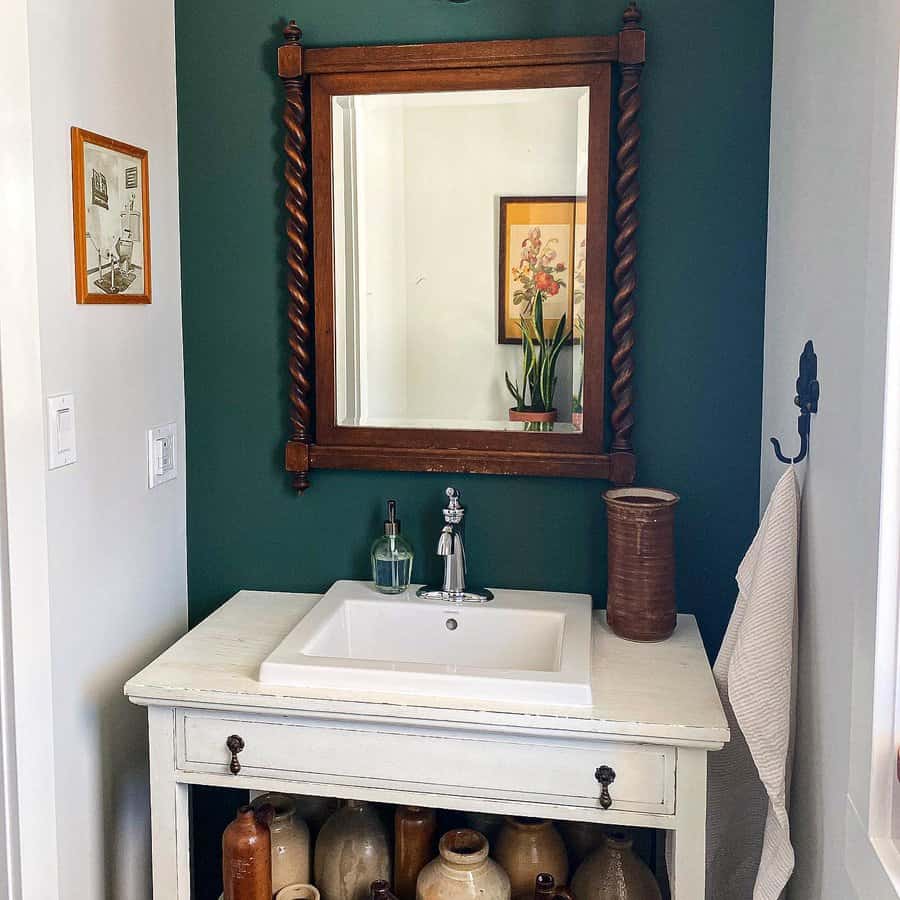 Wicker baskets and polished brass hardware complement the décor.
See more rustic bathroom ideas here.
7. Master Small Bathroom Vanity Solutions
For petite bathrooms, choosing the right vanity can make all the difference between a cramped space and a functional oasis. Opt for vanities with smart storage solutions like tiered drawers or built-in organizers, maximizing every inch.
Consider designs that utilize vertical space, such as tall storage units or wall-mounted vanities, which free up floor real estate and create an illusion of spaciousness. Glass or light-colored countertops can further amplify the sense of space.
When accessorizing, choose minimalist fixtures and consider wall-mounted faucets to keep the counter decluttered. Floating shelves above the vanity can provide additional storage without overwhelming the area.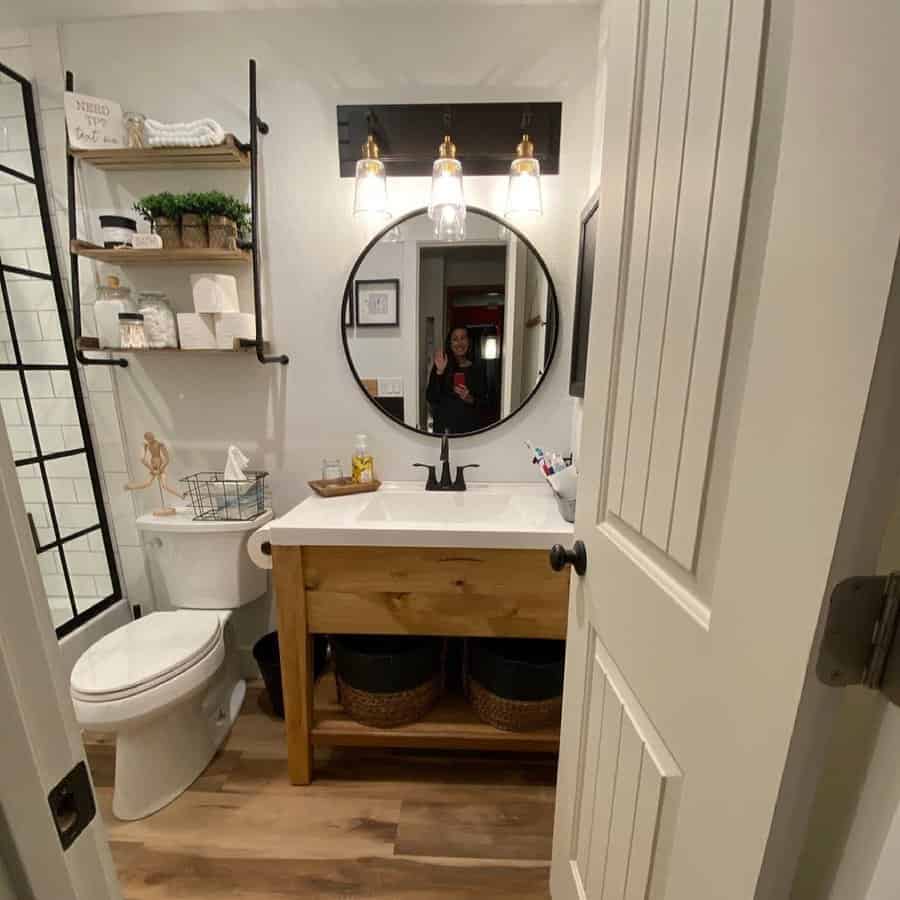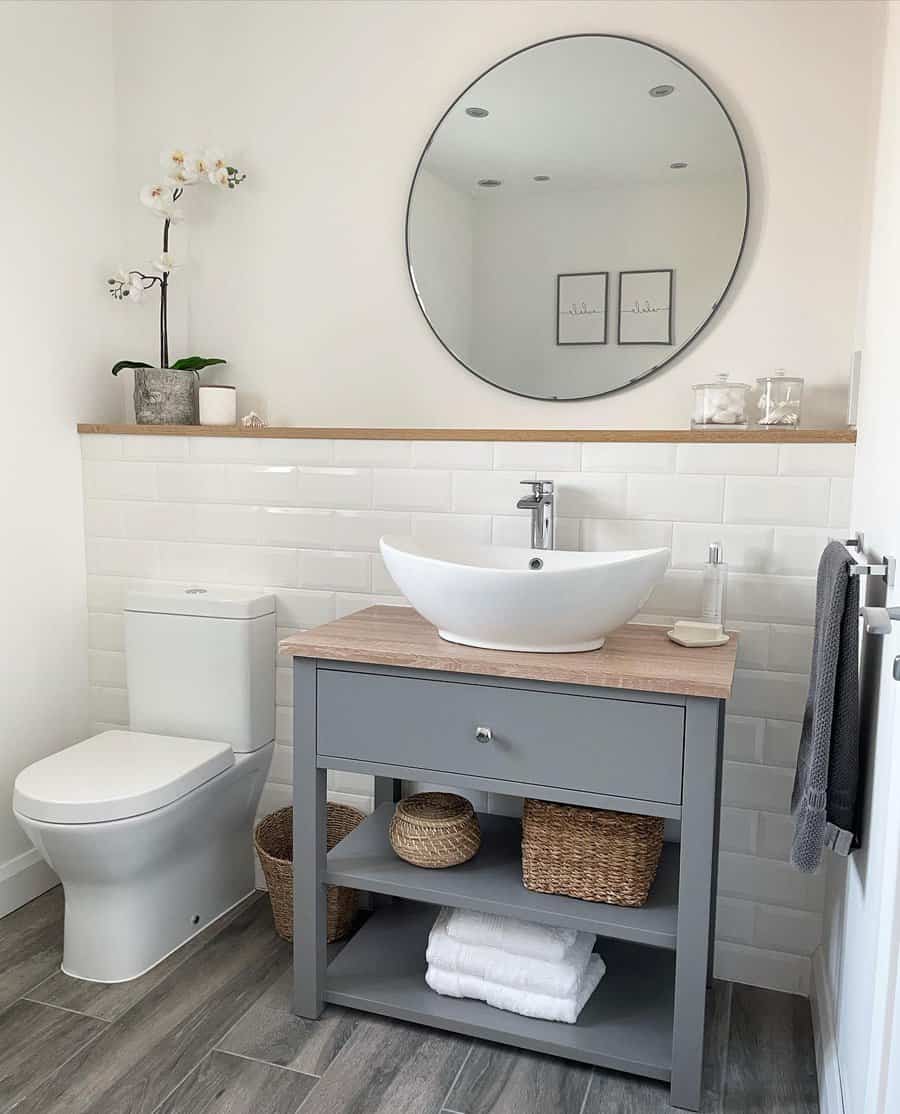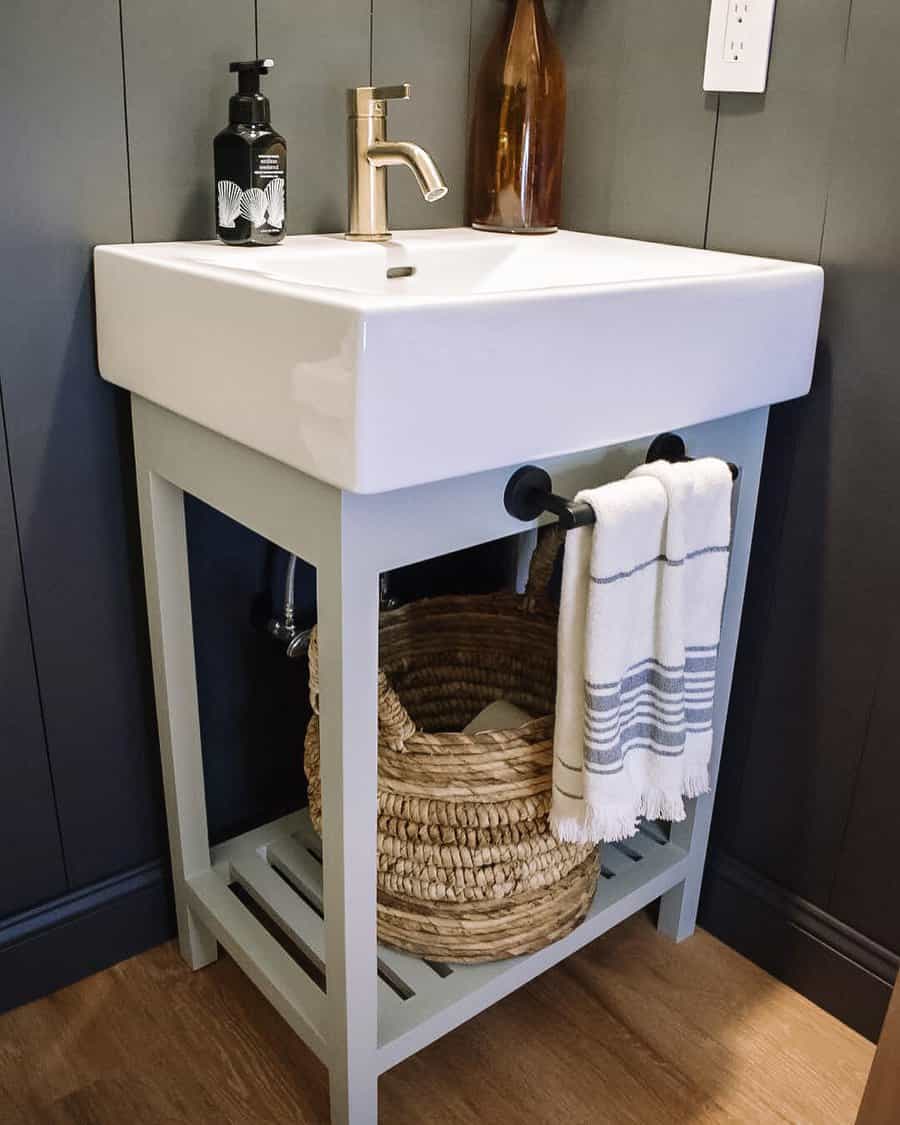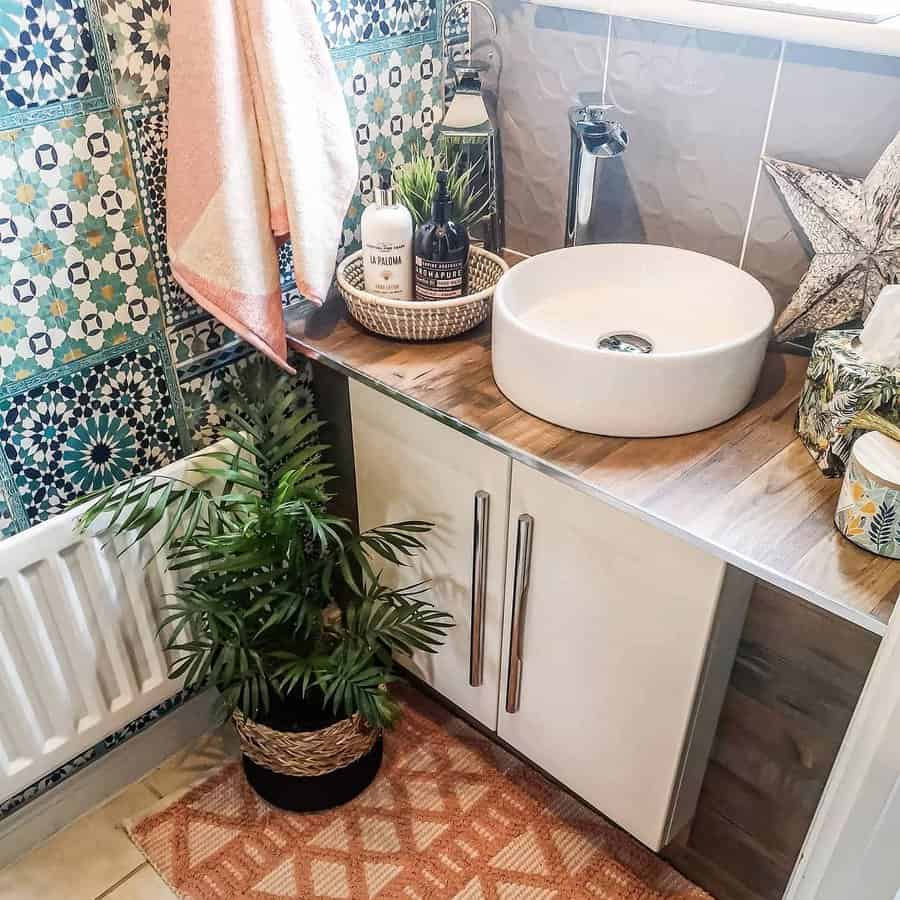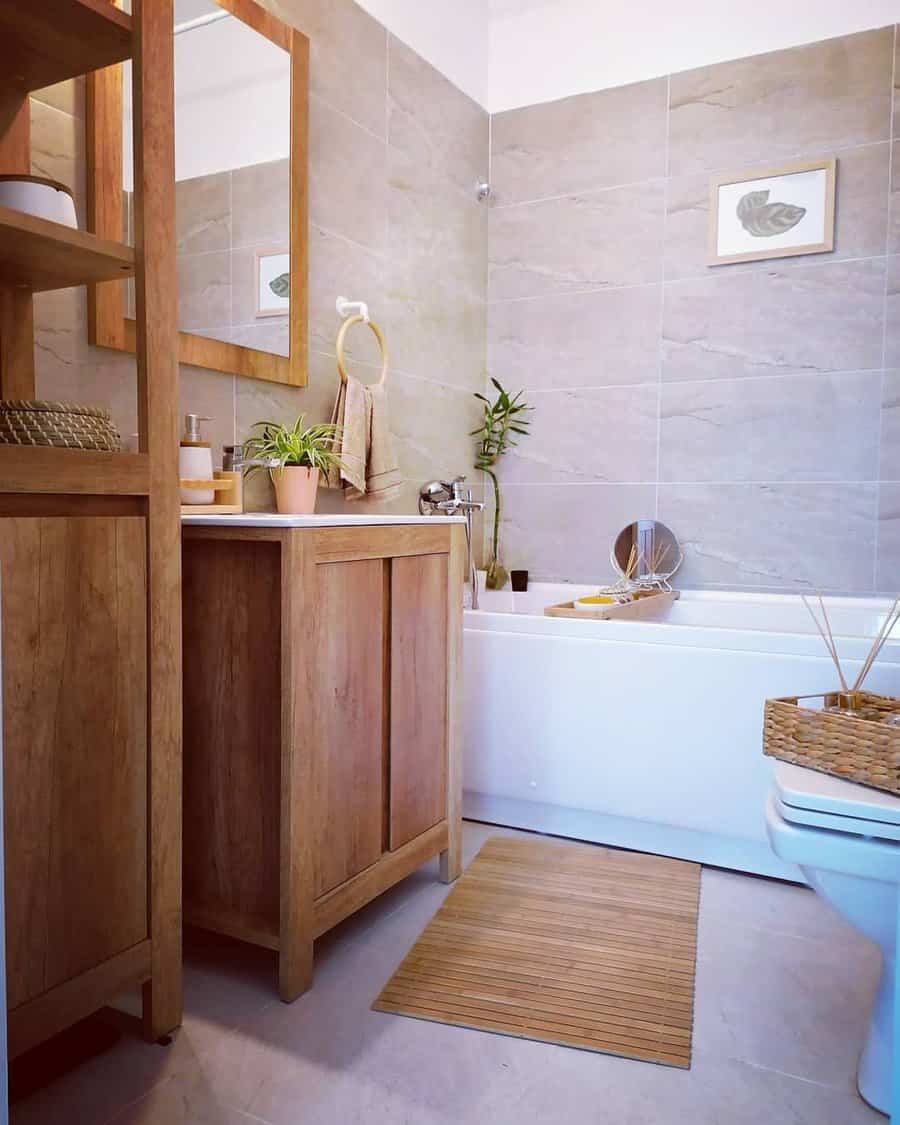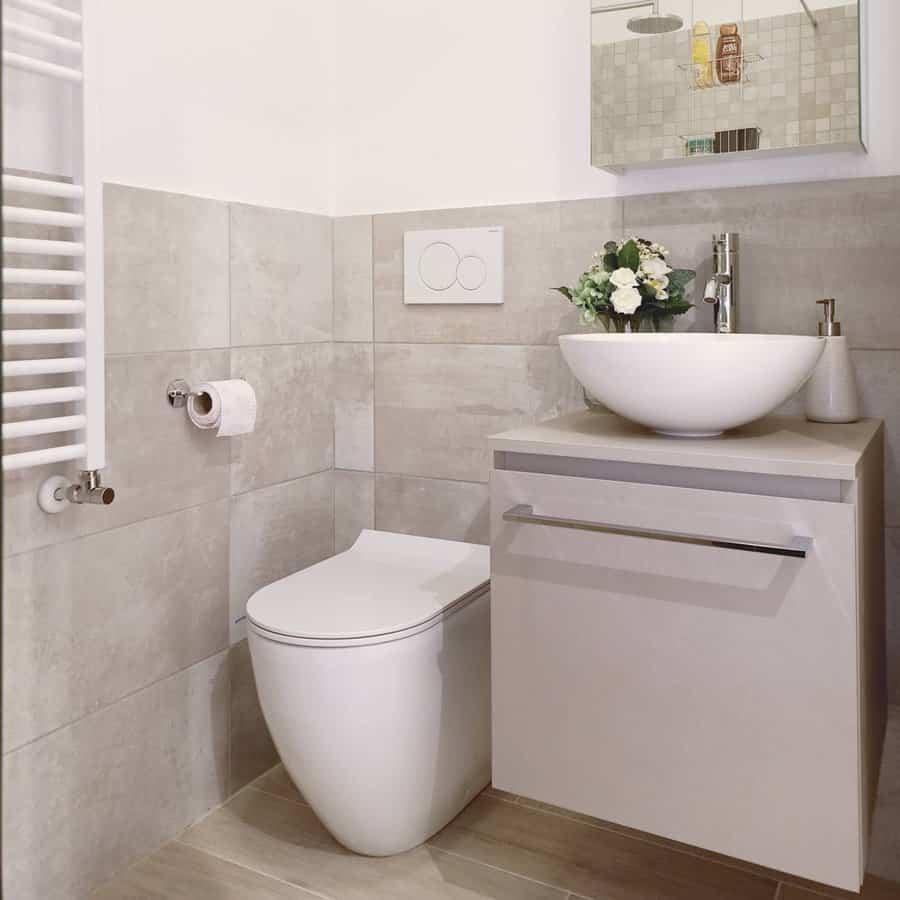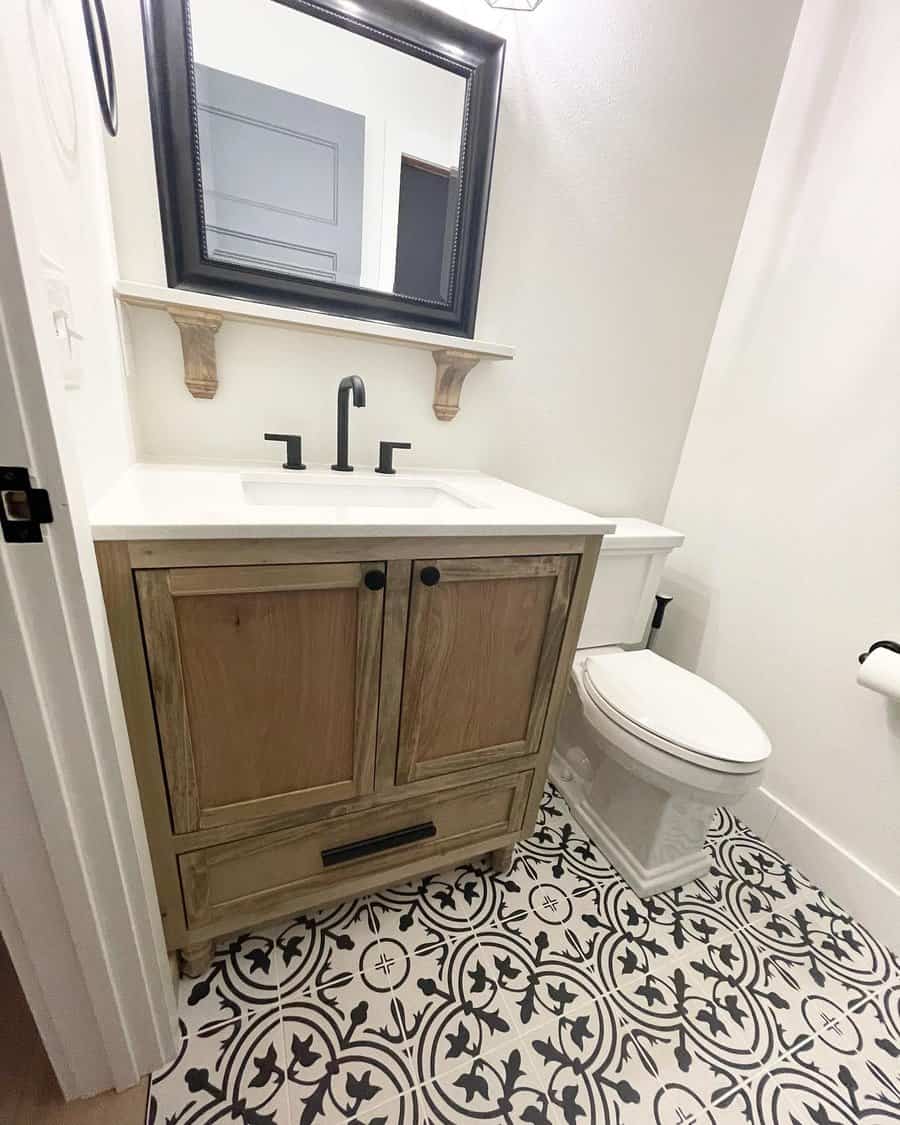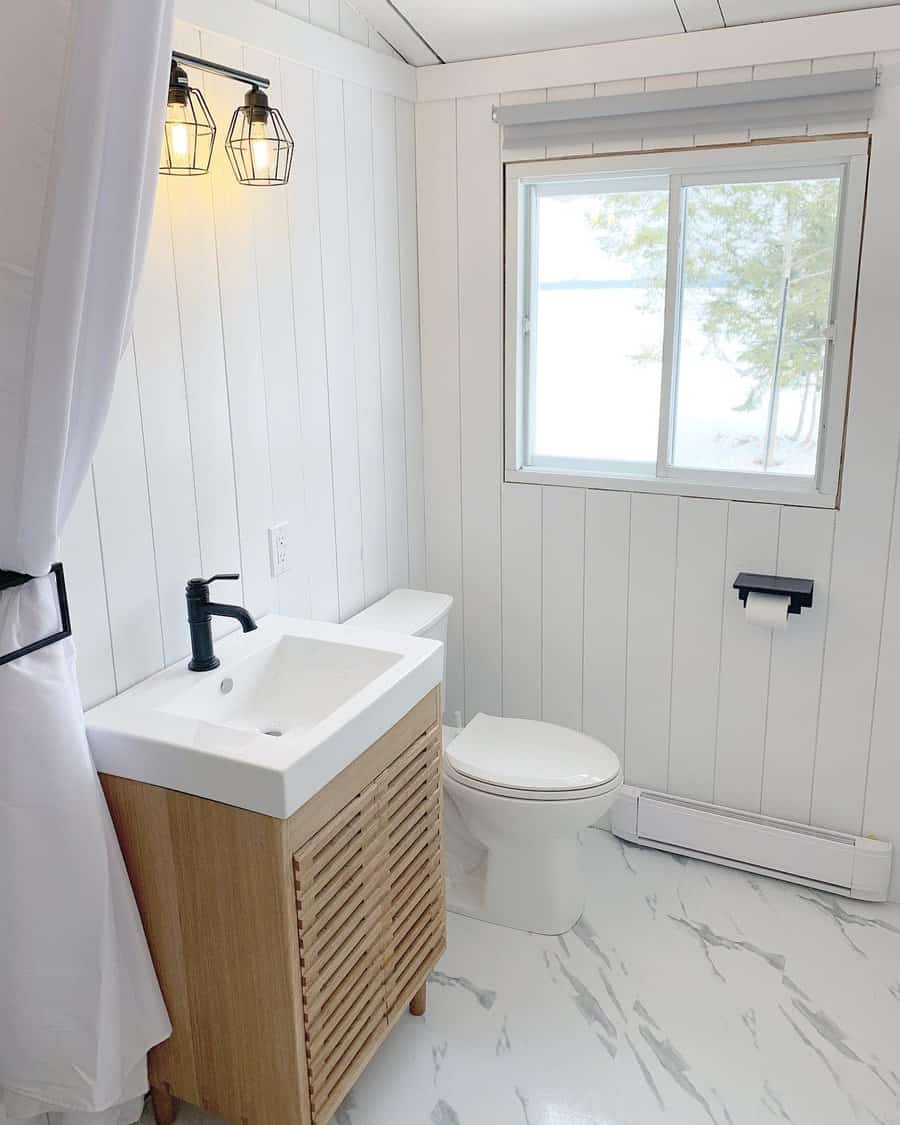 Also, take your measurements right and make sure there's enough circulation space when the cabinet doors are open. Creativity makes up for the lack of space. You can have a tilt-out laundry hamper, alongside drawers.
Vanity units that include drawers and at least one cabinet door are well-suited for various storage needs. You can use countertop space for organizers with day-to-day toiletry items, and maximize the use of vertical space by adding floating shelves for extra storage.
See more small bathroom ideas here.
8. Relish Vintage Vanity Styles
Delving into vintage vanity styles can transform a mundane bathroom into a nostalgic haven, echoing the elegance of bygone eras. To capture the vintage spirit, seek vanities with intricate woodwork, ornate handles, and perhaps a distressed finish.
Marble or porcelain countertops paired with brass or gold-toned fixtures can further accentuate the old-world charm. While scouting for genuine antique pieces at thrift stores or auctions can yield beautiful finds, ensure they're retrofitted to accommodate modern plumbing.
A vintage cabinet can also be converted into a sleek and stylish vanity. Vessel sinks allow for more storage room inside the cabinet and give the vanity a modern look.
Visit thrift stores and salvage yards to find exclusive pieces that you can transform into a showstopper vanity!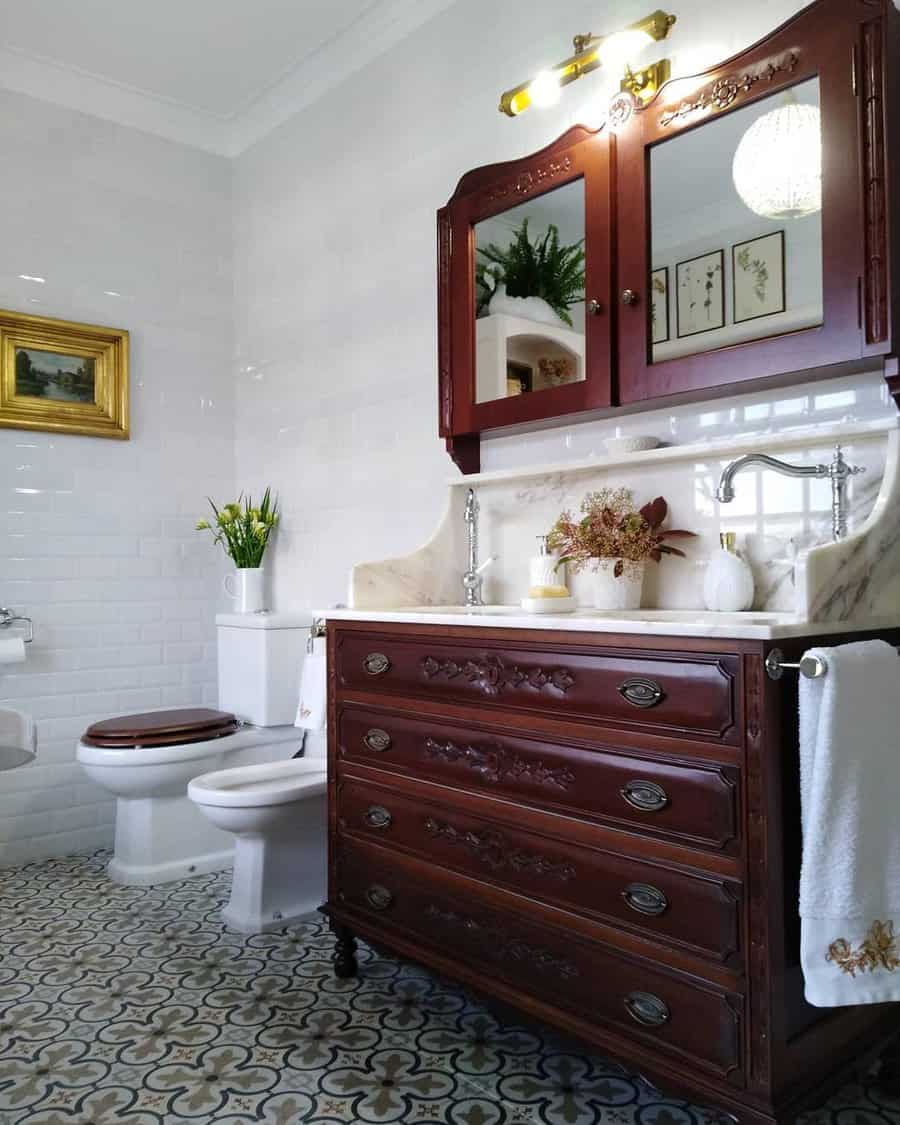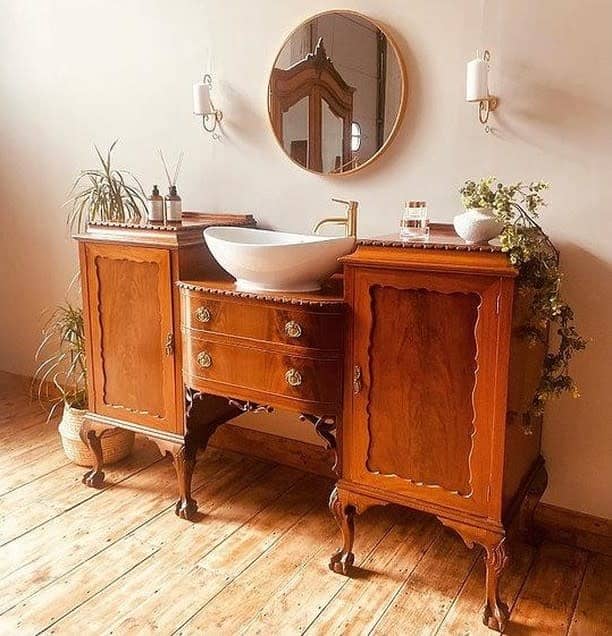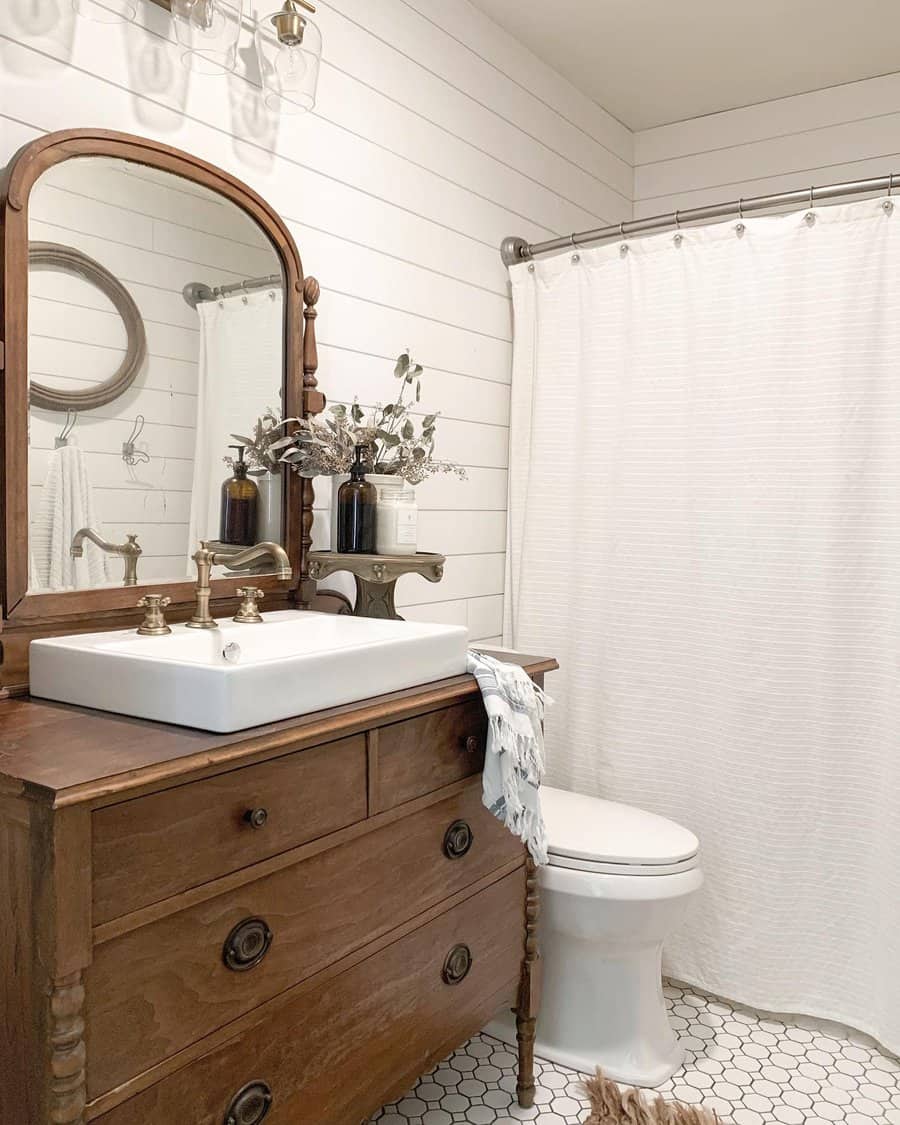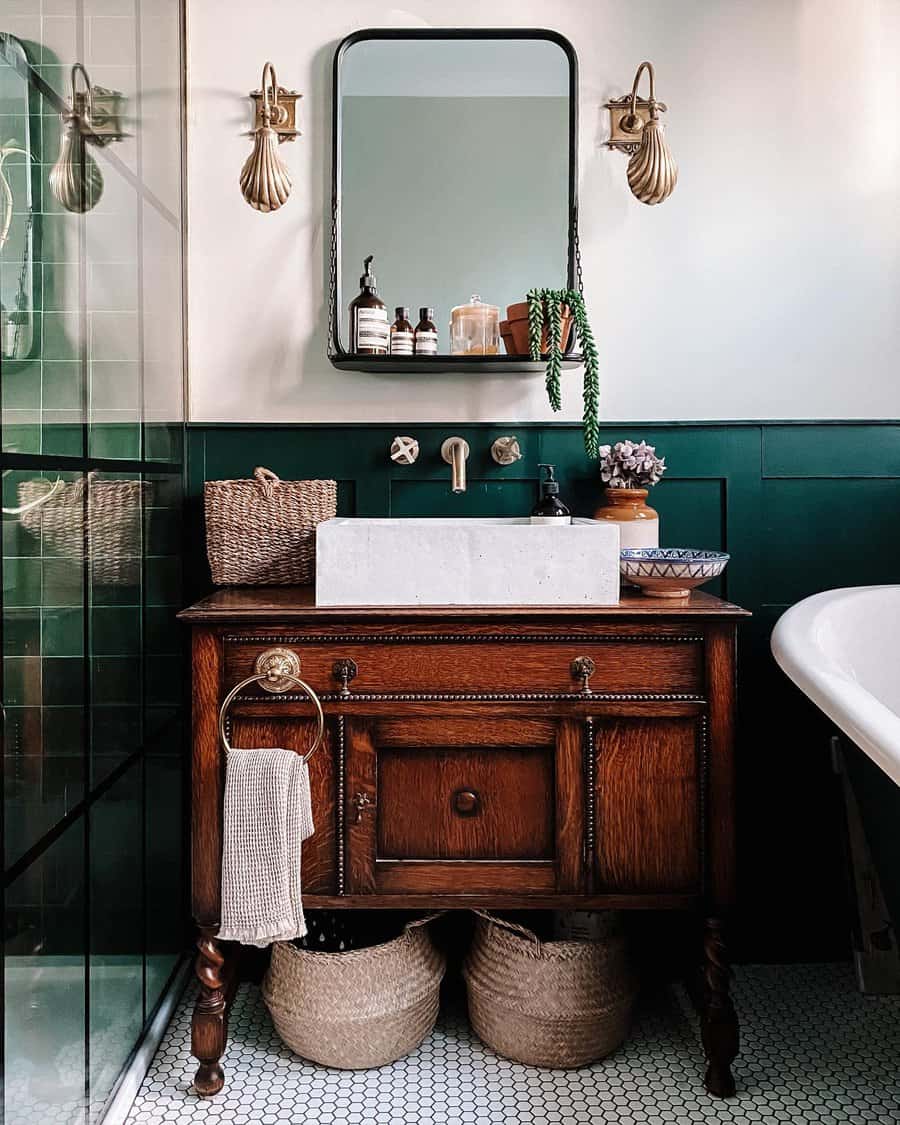 FREQUENTLY ASKED QUESTIONS
Can I use wallpaper in a bathroom?
It is possible to use wallpaper in spaces with humidity. Nevertheless, hot and long showers can damage the appearance and quality of the wallpaper. Wallpapers are more suited for powder rooms or half baths.
What materials should be avoided in a bathroom?
When using wooden countertops, make sure to apply a water-resistant paint or clear coating, so you won't need to worry about swelling, warping, and other damage. Agglomerate wood, for example,  can swell with moisture. As for the finishes, keep in mind that lacquer can stain easily, when in contact with products such as hair dye.
What are the recommendable materials for a vanity countertop?
There are several options for all tastes and budgets. You can use granite, quartz, marble, wood, glass, Corian solid surface, onyx, concrete, porcelain, and tiles. Marble countertops can stain easily if paints or soaps are left on its surface for a long period of hours.