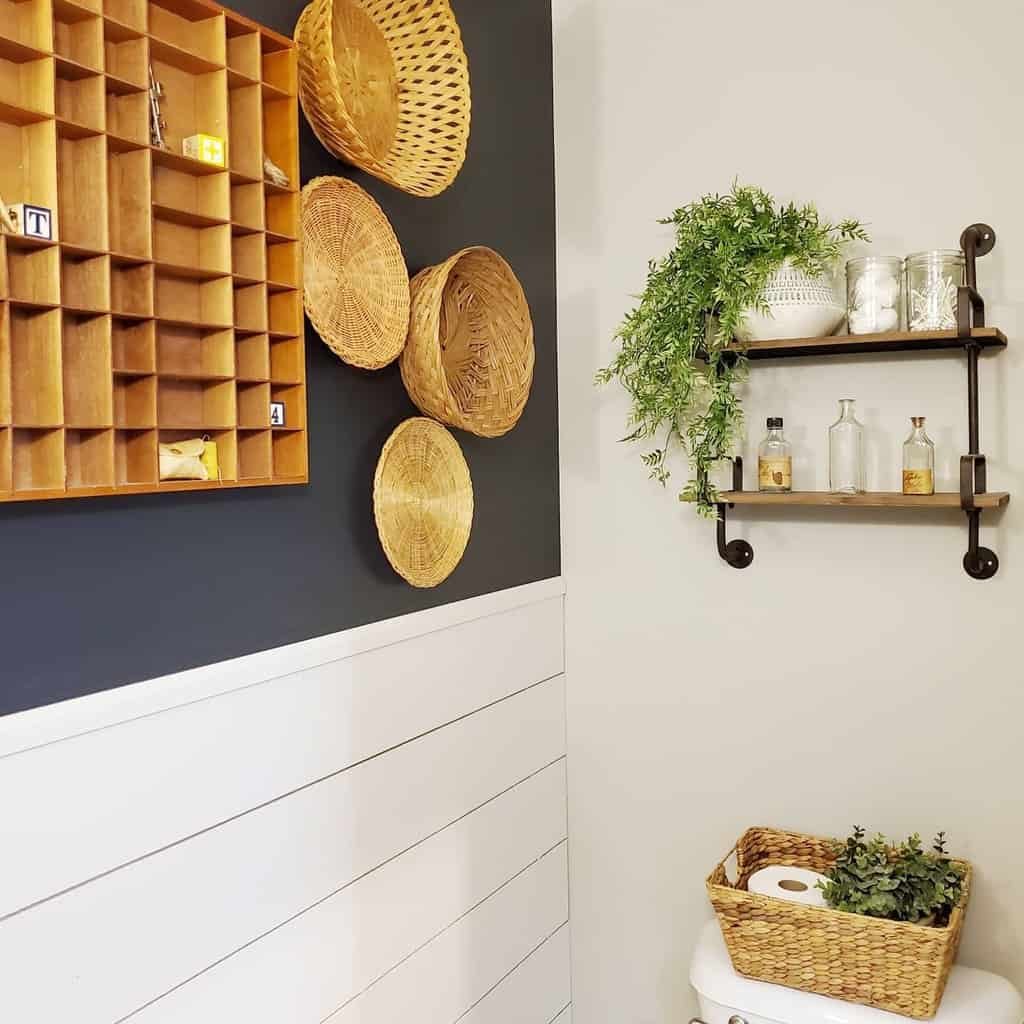 24 DIY Decor Bathroom Ideas
"The best measure of a man's honesty isn't his income tax return. It's the zero adjust on his bathroom scale." – Arthur C. Clarke
Every time you walk into your bathroom, you groan. The colors are off, the decor is outdated, the tile and grout look dingy, and the overall floorplan is awkward. All of this becomes more frustrating when you have a tiny bathroom that limits the space you have to work with.
Thankfully, you can make a lot of improvements yourself with DIY ideas. There are small changes you can make that will have a big impact on the overall appeal of your bathroom.
These DIY bathroom ideas will help you improve the look of your bathroom.
1. Minimalist Bathroom Design
Just because you have an old bathroom doesn't mean you can't achieve a minimalist design. Focus on removing any clutter and unnecessary furniture.
The goal is to have the bare minimums and keep the space open and airy feeling. This works well for a small space where too many decorative elements and the bathroom will feel cramped and confined.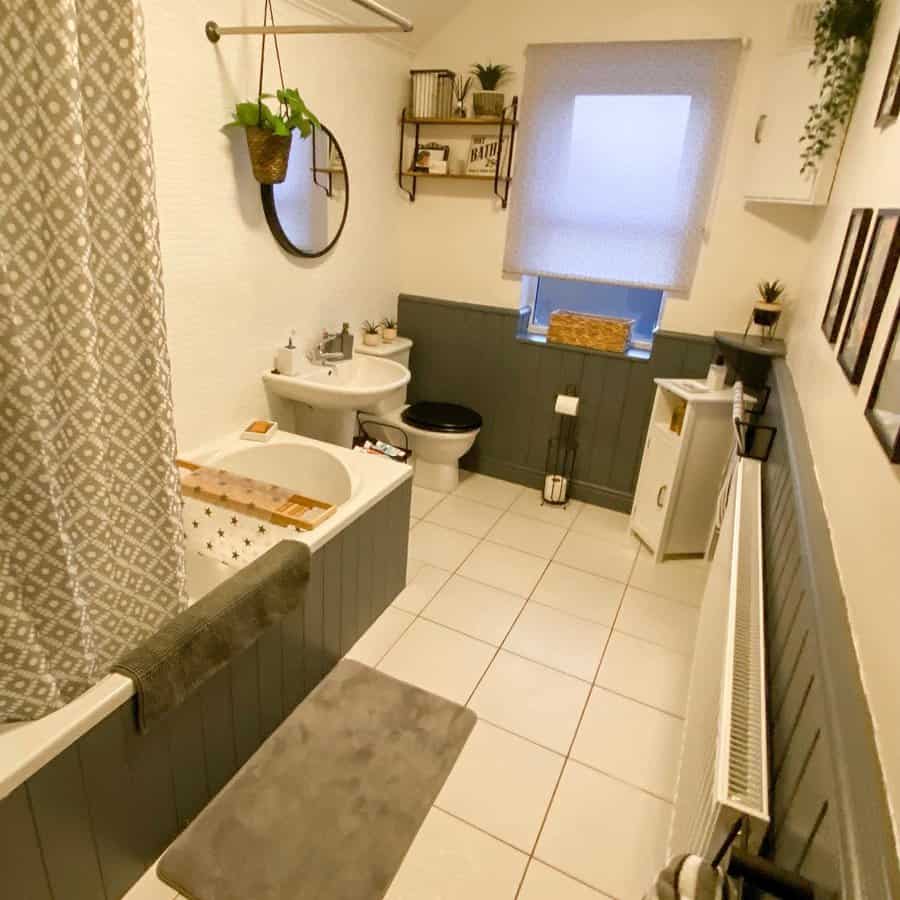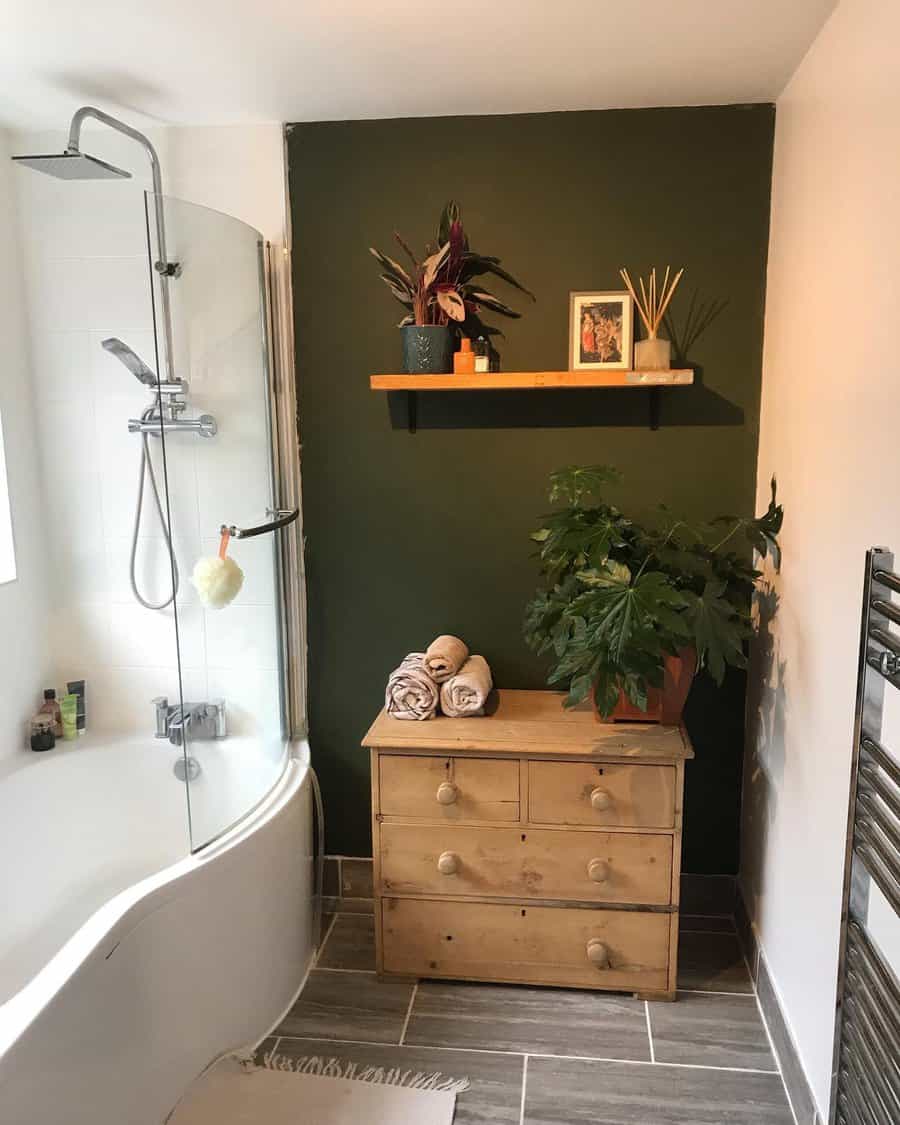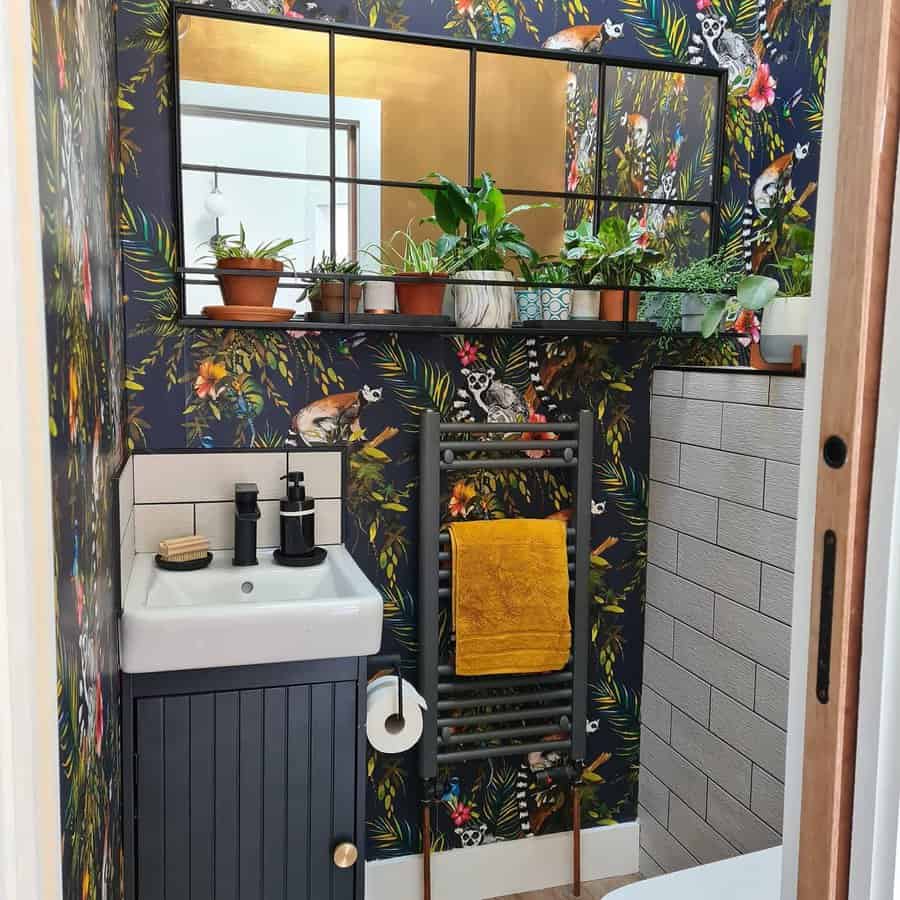 Check out white bathroom ideas because minimalist bathrooms tend to embrace a simple color palette. If you can't avoid getting rid of items, then buy a cabinet to place everything in and hide it.
2. Set up a Mirror Above Vanity
When in doubt and not sure what to do, hang a mirror. This simple piece of wall decor can elevate your DIY bathroom design.
Mirrors are popular in small bathroom ideas because they reflect light and make a space feel bigger. They are also a simple decor piece so that they won't take away from the rest of the bathroom fixtures and furniture.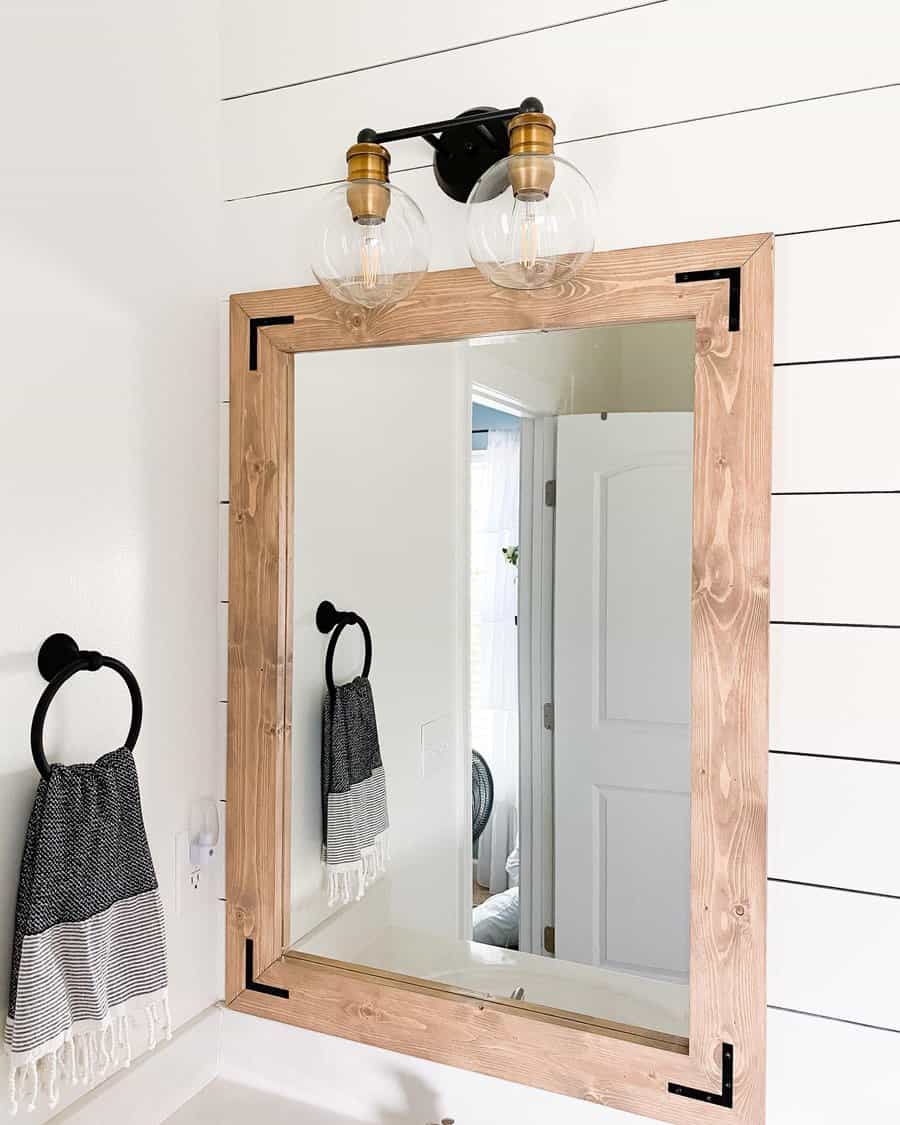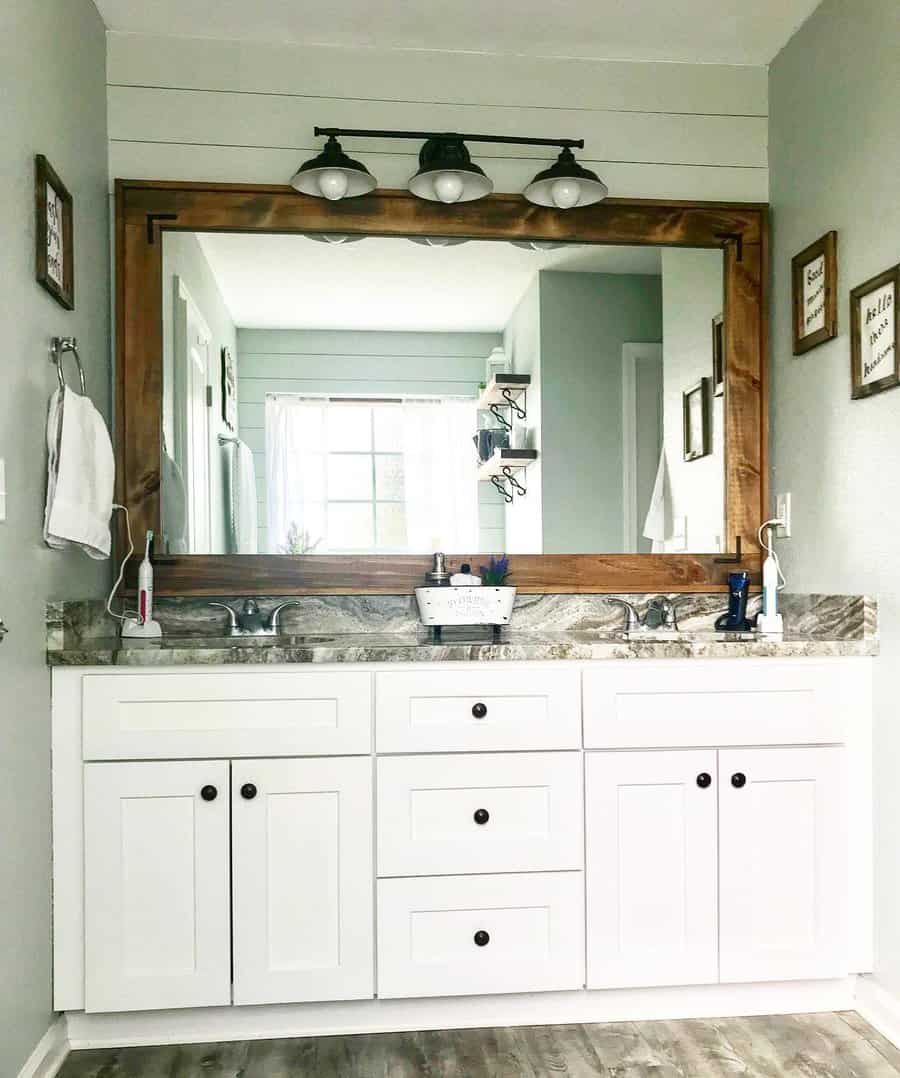 Choose a mirror that's a size proportioned with the available space. Then decide if you want a frame on it. If you decide you want a frame, its style should blend with the rest of the bathroom design.
See more bathroom mirror ideas here.
4. Display Art in Your Bathroom
Art doesn't only have a place in the living room or bedroom. A well-decorated bathroom often features artwork that should reflect the overall style of the bathroom.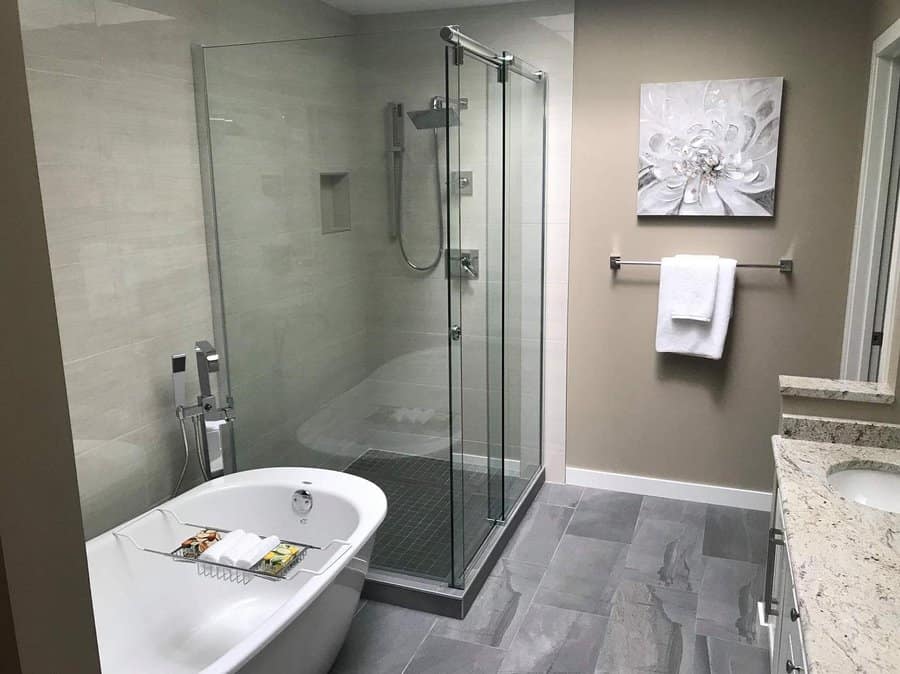 5. Consider Putting Plants to Your Bathroom
It's time you brought some nature into your home. The easiest way to do this is by adding a plant to your bathroom. You don't have to put any effort into this. Buy an air plant and put it in a decorative planter. The natural moisture in the air will be plenty for the air plant to thrive. If you want more greenery, consider the amount of light that comes into your bathroom.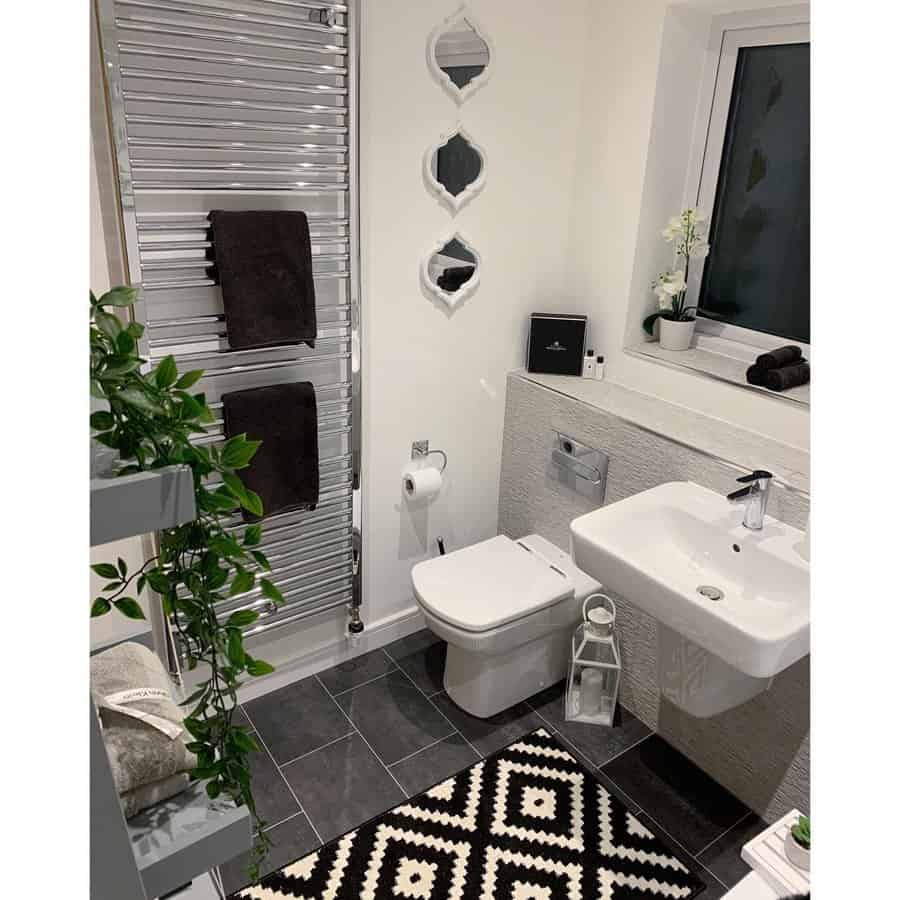 Snake plants are good if you want a low-maintenance potted plant. A vine plant is good if you want a free-growing feel to your plant. Encourage the plant to grow around a shelving unit or around the shower.
See more bathroom paint ideas here.
6. Bathroom Storage and Organization Hacks
Due to the small nature of bathrooms, it seems like there's never enough extra storage space. Create more storage in your bathroom by adding a small bathroom cabinet. This gives you hidden storage for holding personal items or extra bathroom supplies.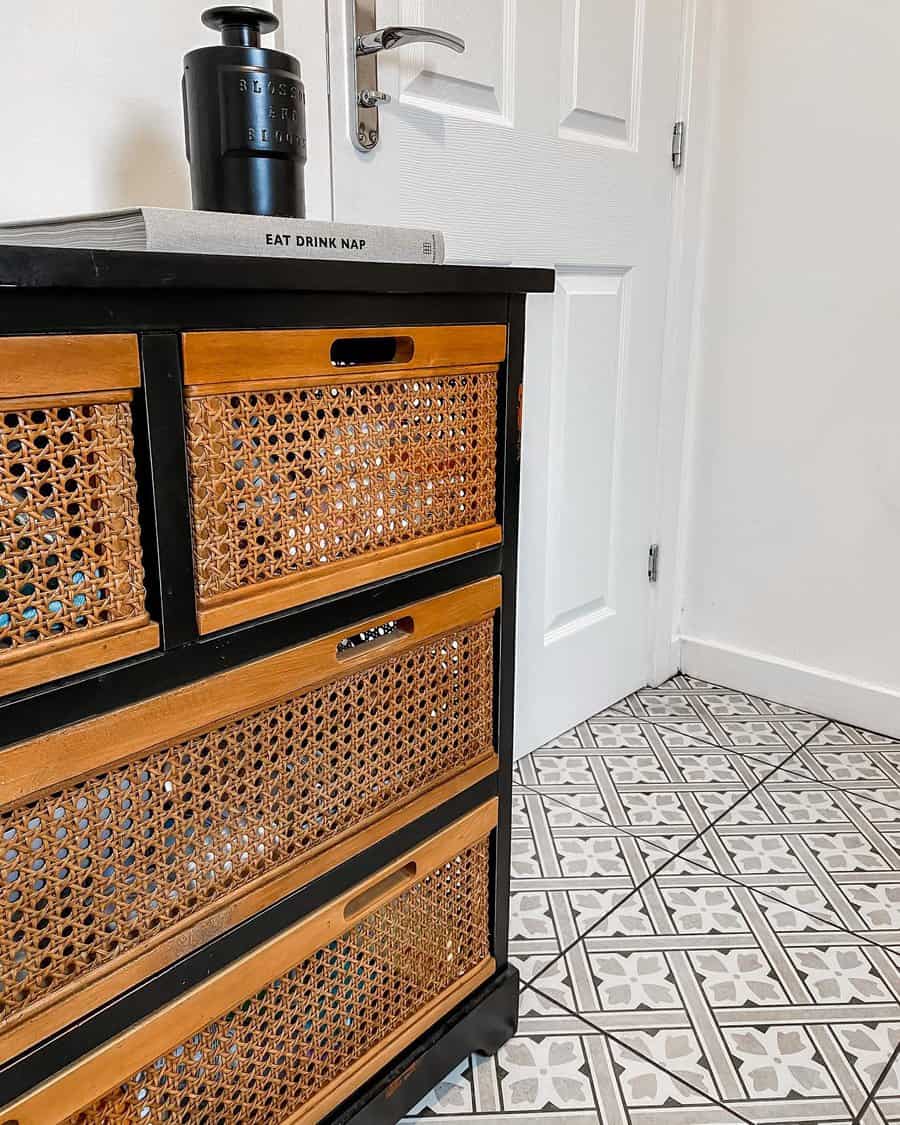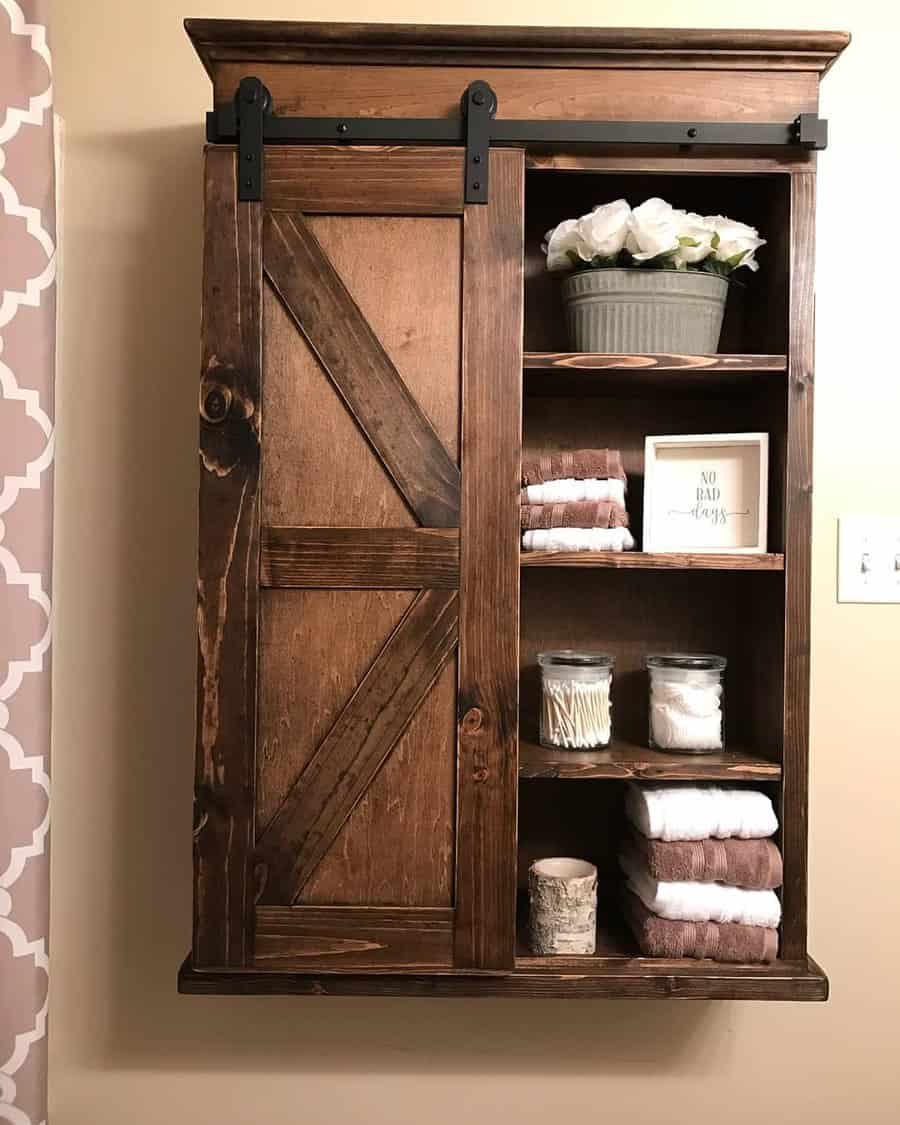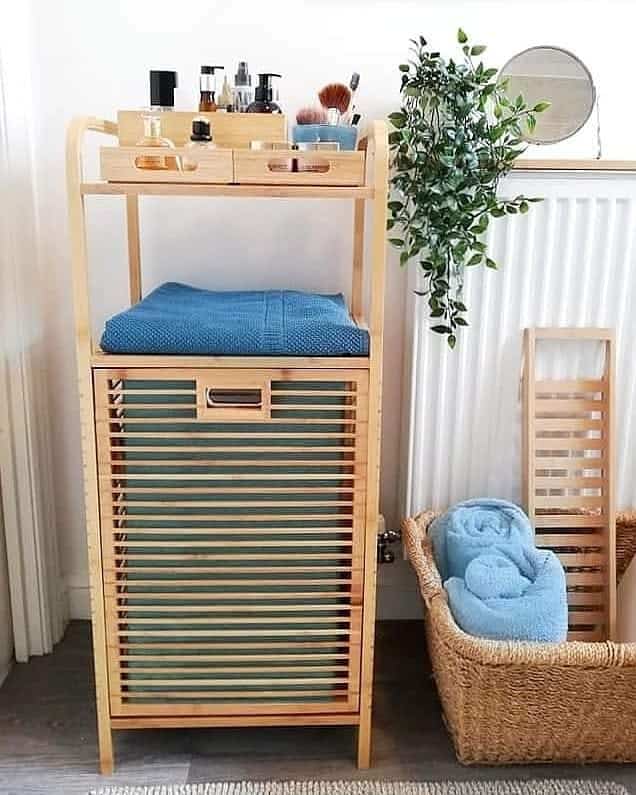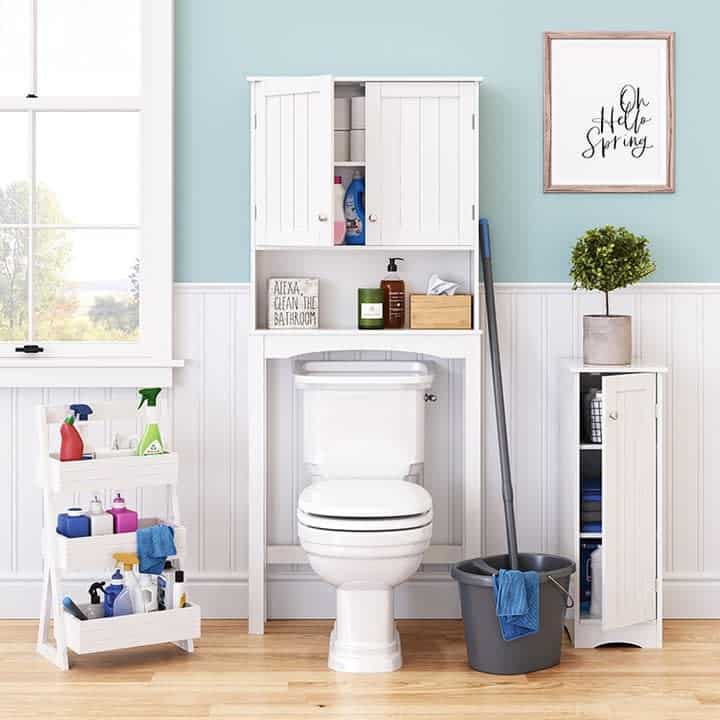 It's also helpful to add extra storage to the vanity countertop. You can have mason jar bathroom storage if you have a rustic or farmhouse-themed bathroom. The glass jars are easy to clean and sanitize. Tie a ribbon or twine around the top to give them a decorative accent.
See more small bathroom storage ideas here.
8. Add a Decorative Tissue Holder
Where do you keep the toilet paper in your bathroom? Is it on a hook next to the toilet? Perhaps you just place it on the back of the toilet and call it a day. A decorative tissue holder can add to the decor of your bathroom.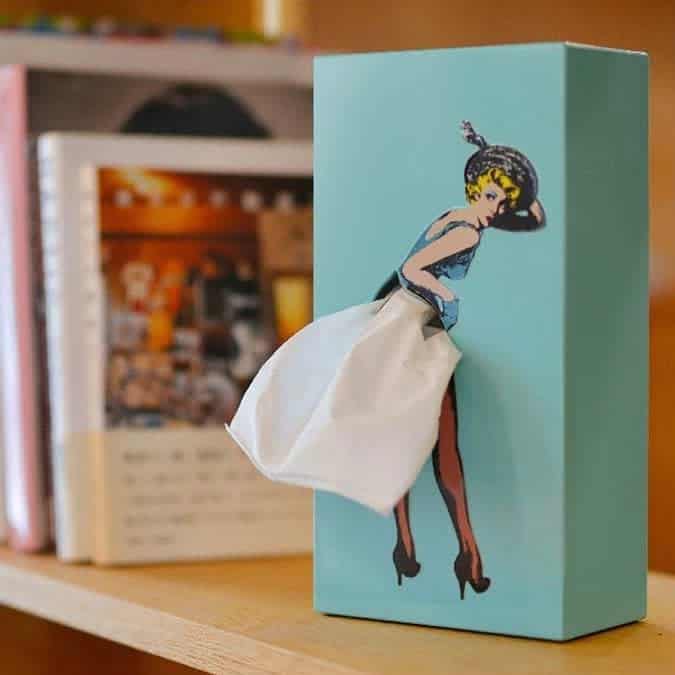 A freestanding holder is nice because you can move it around to where you need it. If you want to install a permanent holder, plan carefully when placing it. You need to be able to reach it when sitting down. A wood holder will look nice in a rustic theme. Black metal or iron holders can give your bathroom a vintage feel.
9. Install a Towel Holder
Say goodbye to your builder-grade towel bar and replace it with a rack that can hold several towels. Build a DIY towel rack that fits your space and holds the number of towels you need it to.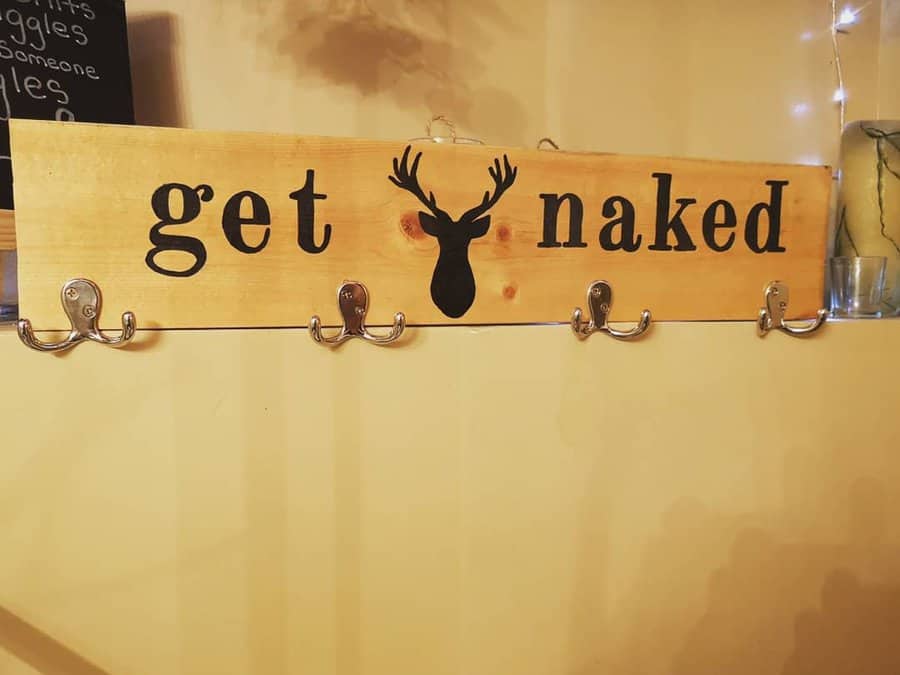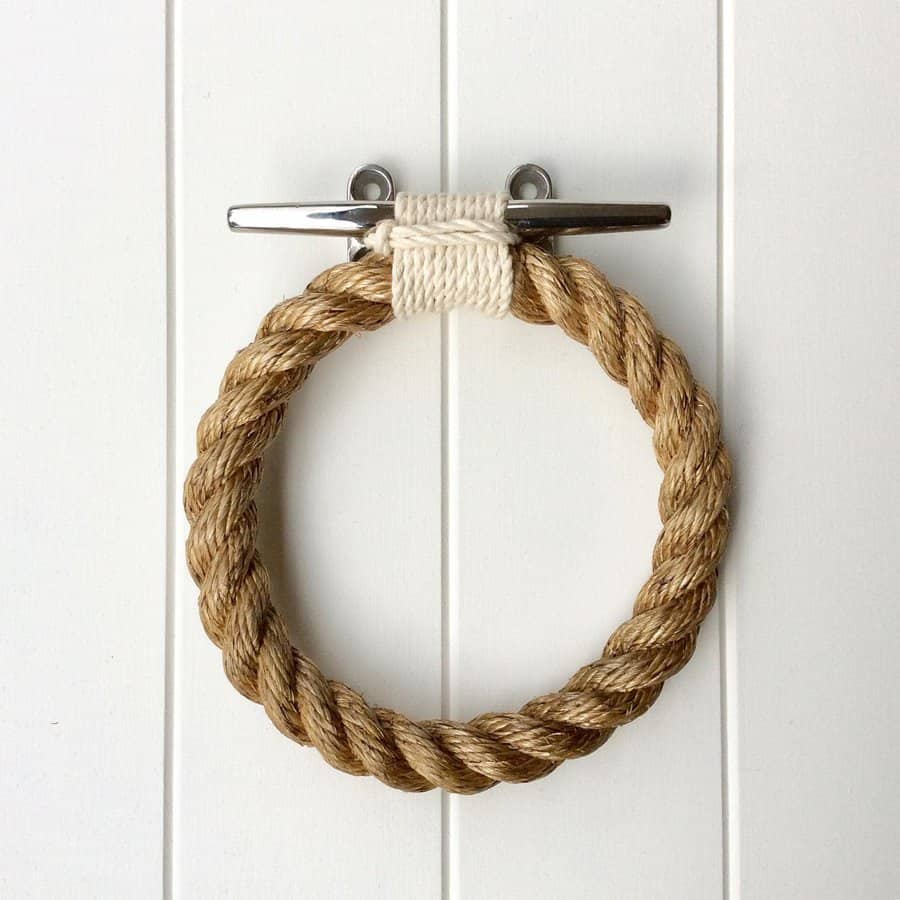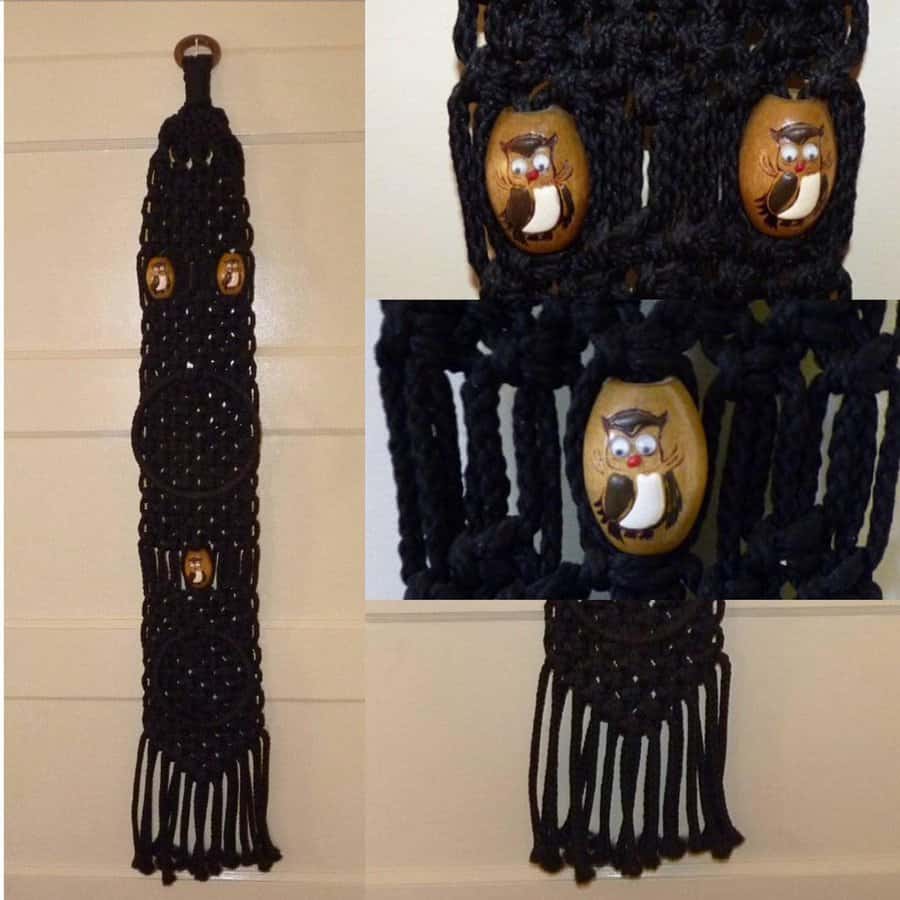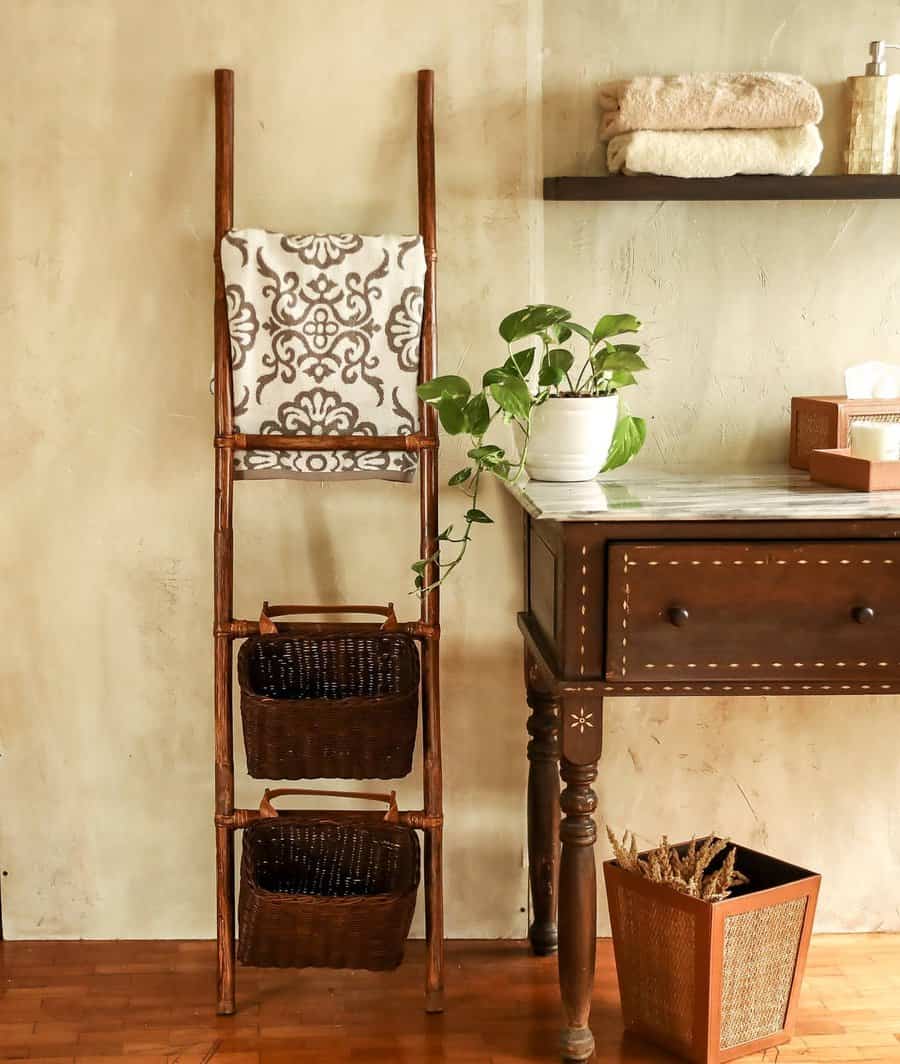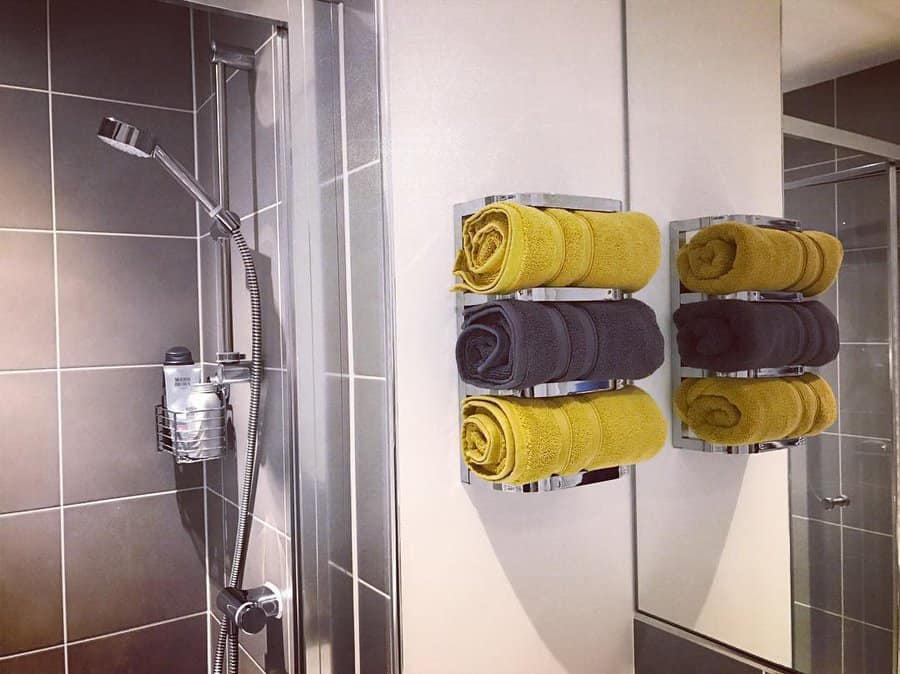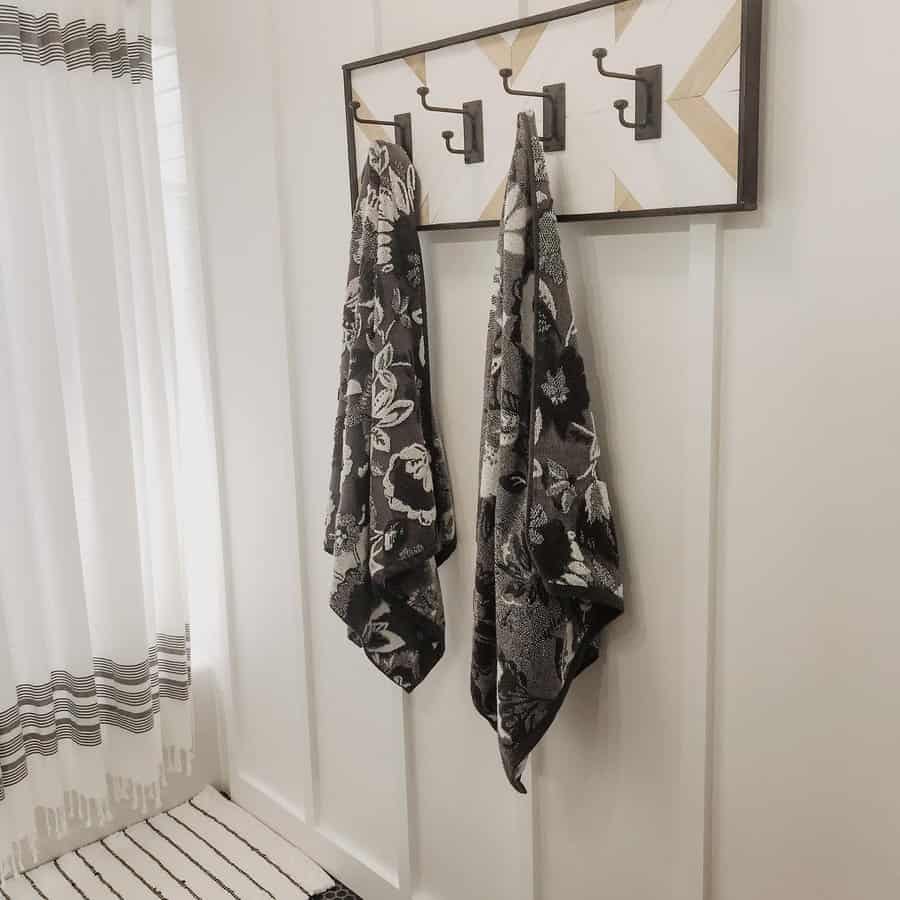 Think beyond the towels currently in use and plan for it to hold clean towels also. Hooks or pegs are good for hanging wet used towels on. Then a shelf is suitable for holding clean towels. Space your hooks or pegs far enough apart so that there's plenty of air circulation for the towels to dry.
10. Install Wallpaper in a Bathroom
Adding wallpaper to your bathroom is a simple and easy way of transforming the design. You could add wallpaper to all of the walls, but this isn't necessary. You could add it to just the vanity wall or another accent wall.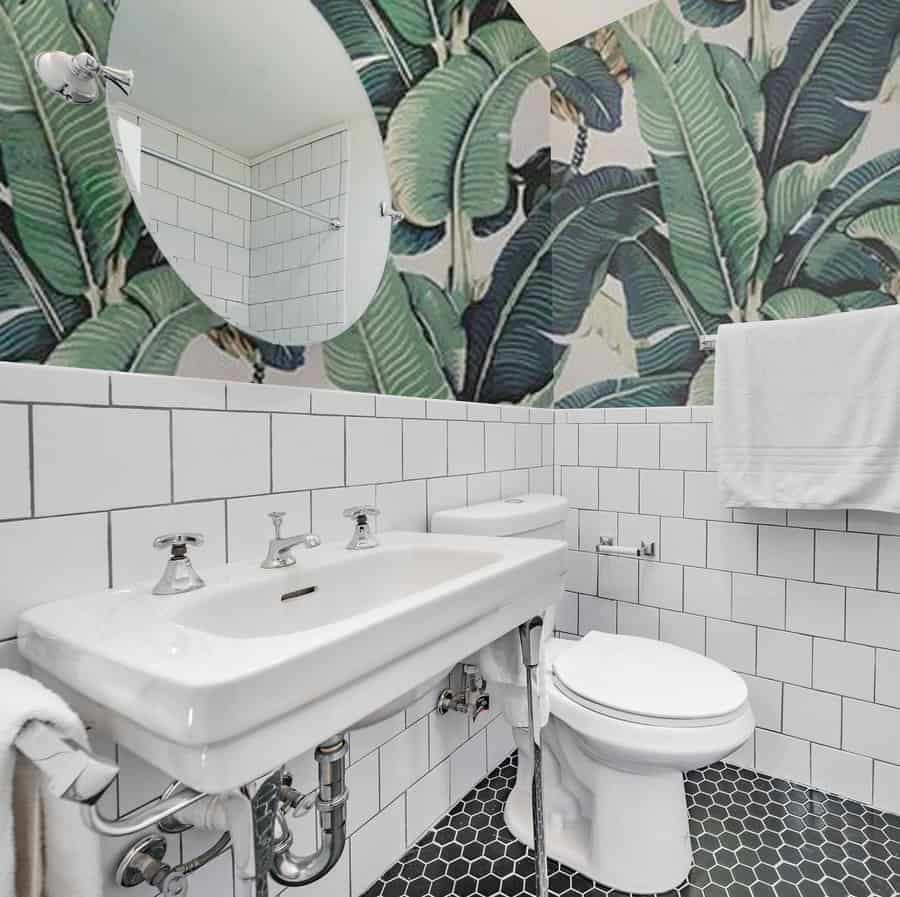 Because bathrooms are smaller spaces, you can splurge with a slightly more expensive wallpaper. To make a bolder statement, try using a wallpaper that has a 3D effect or texture to it. This will elevate the look of your bathroom. Don't place the wallpaper in a high moisture area, like in the shower. This will cause it to peel off of the wall.
11. Wall Words and Decals
One of the most common DIY bathroom décor ideas is to add an inspiration phrase or sign to the walls. Changing up the wall art is a simple approach to a bathroom makeover. Buy a sign or piece of art that speaks to you.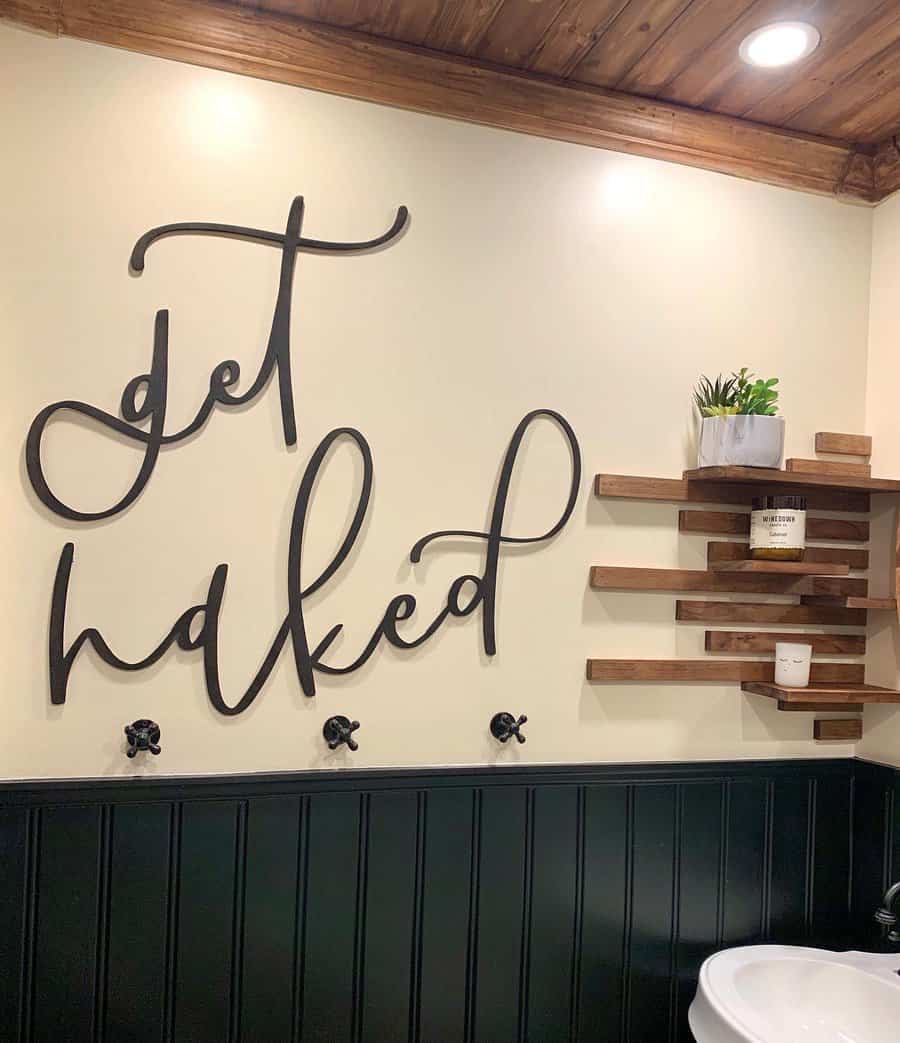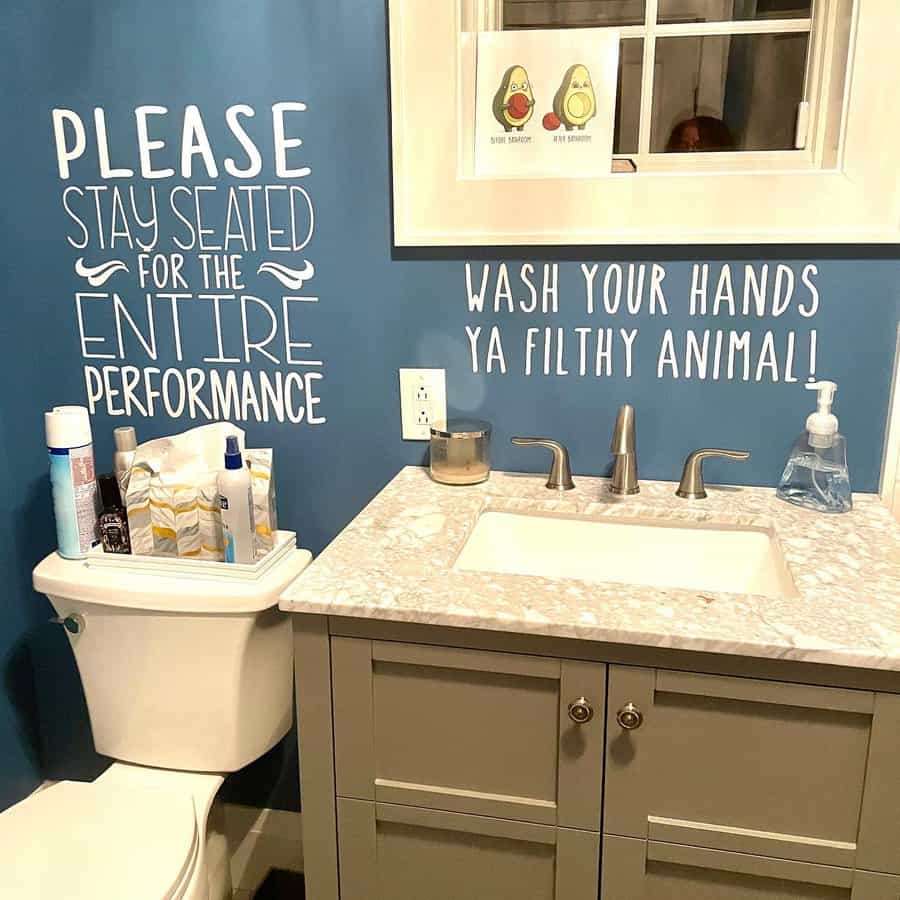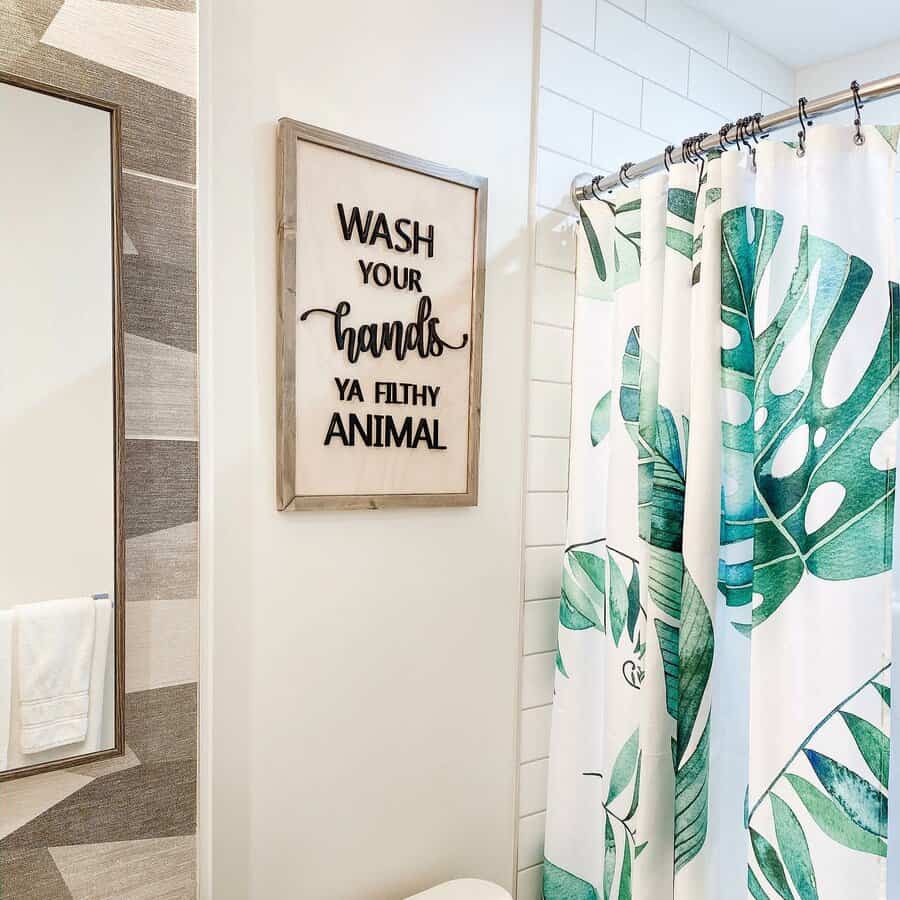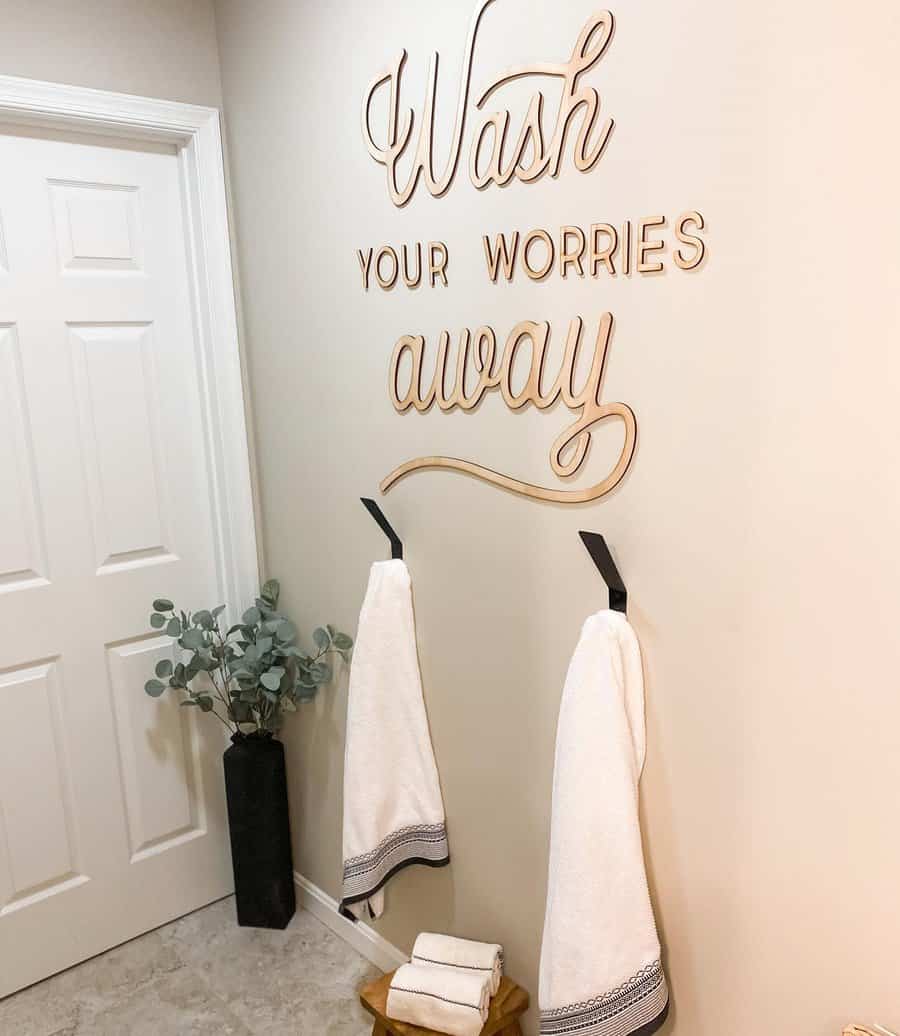 You could use vinyl stickers that you adhere directly to the wall. You could hang a sign made from reclaimed wood boards with a decorative design painted on it for a rustic look. If you want to create a luxurious or glamorous touch, try a piece of art that's painted or printed and then set in an elegant frame.
DIY Bathroom FAQs
What can I put on top of my toilet?
You can place anything that will fit on top of your toilet. It's smart to place a tray first. This keeps everything secure and contained on the back of the toilet. Try adding a spare roll of toilet paper, a candle, an oil diffuser, or a small plant. You could even add a small picture.
How can I make my small bathroom luxurious?
Where do you hang a shelf above a toilet?
Measure at least 24 inches up from the back of the toilet. This is the minimum height where the bottom of the shelf should start. Any lower, and you risk hitting your head on the shelf while trying to use the toilet. Don't hang it too high, though, or you risk the shelf looking awkwardly high.