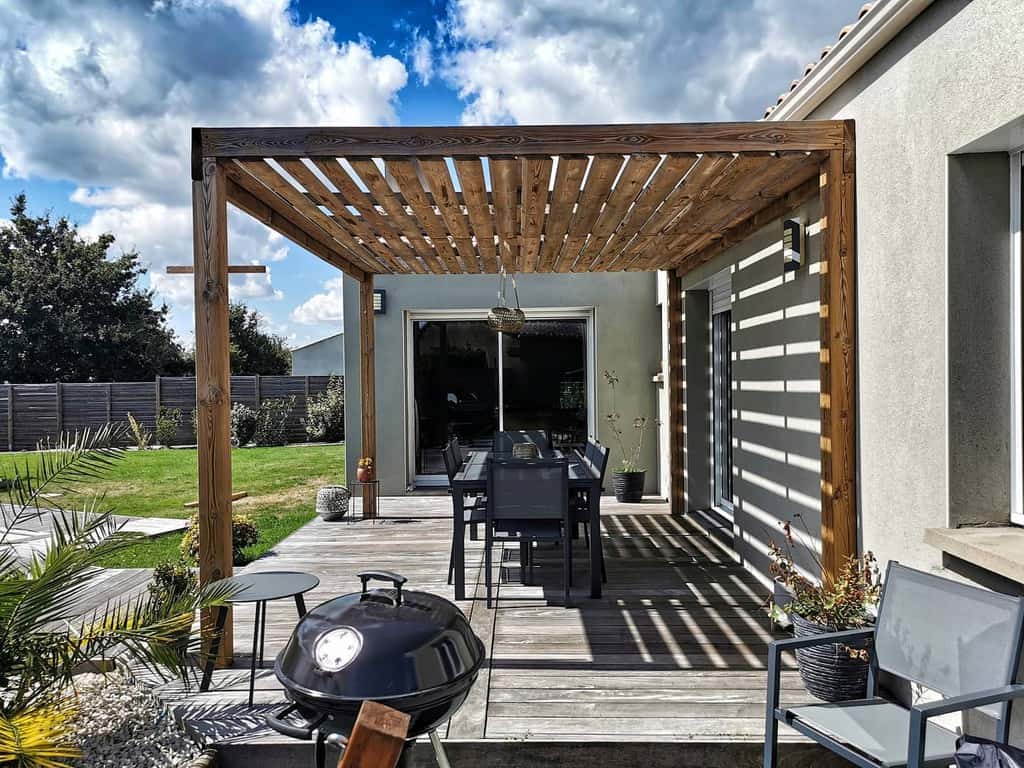 28 Best Deck Shade Ideas for Your Outdoor Space
Basking in the sun is one of the small pleasures of summer, but there's also a lot to be said for lounging in the shade. Whether your backyard has a patio or deck, having a source of shade is imperative for getting the most out of your outdoor living space.
You may wish to hire a contractor to build a shade structure. But keep in mind that there are many backyard shade options that are easy to DIY, including shade sails, umbrellas, and awnings. Enjoy our collection of backyard shade ideas and see how easy it is to add a stylish shade solution to your backyard.
1. Canopy
A shade canopy can be hung by itself—as a shade sail—or attached to a frame or gazebo. Make a simple canopy frame out of wood, PVC pipe or copper pipes and fittings. If you include panels on the sides, you will have more privacy while enjoying your outdoor area.
An awning is a type of canopy that is often left in place year-round. Colorful striped awnings are a stylish addition to cottages and bungalows, both over the patio or deck and nearby windows.
2. Design
A backyard deck shade can be casual or traditional in design. A shade sail over an elevated deck is a more casual style, while a formal backyard gazebo is a more traditional structure.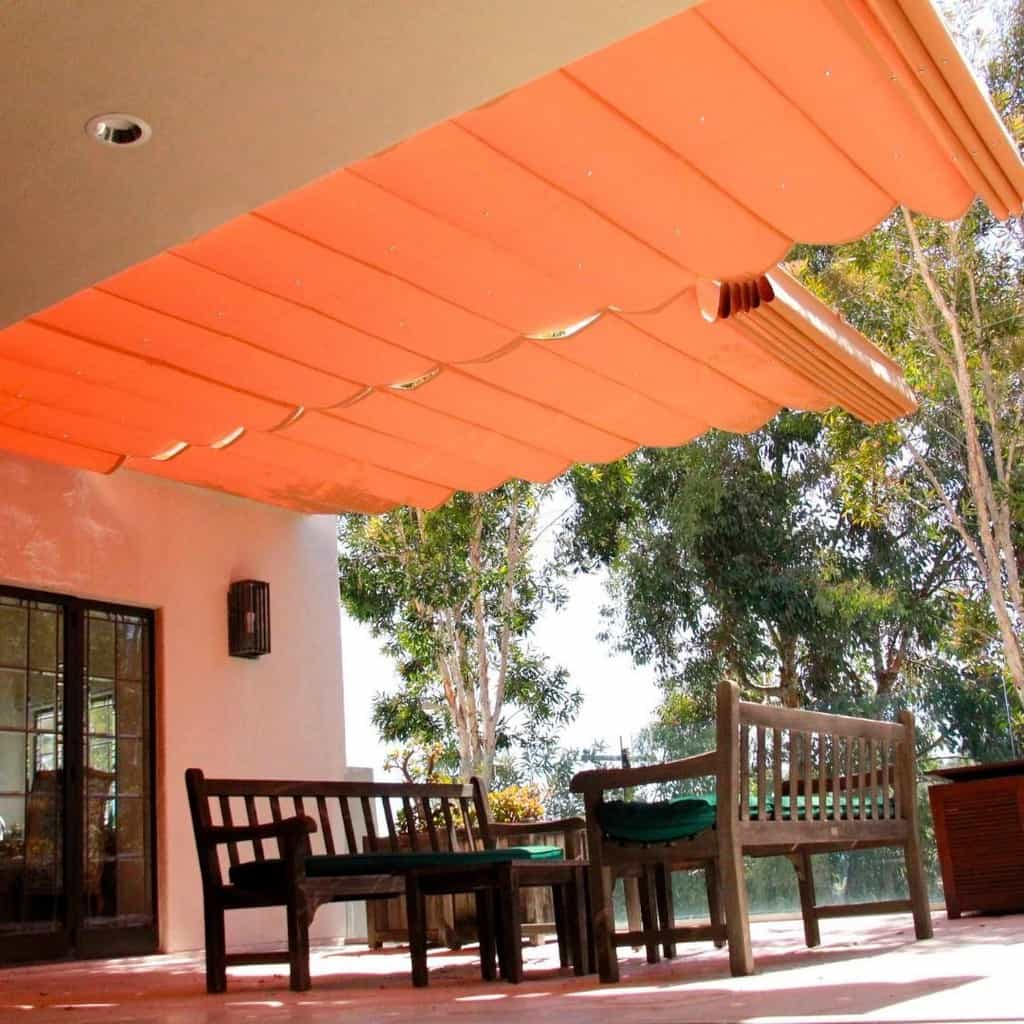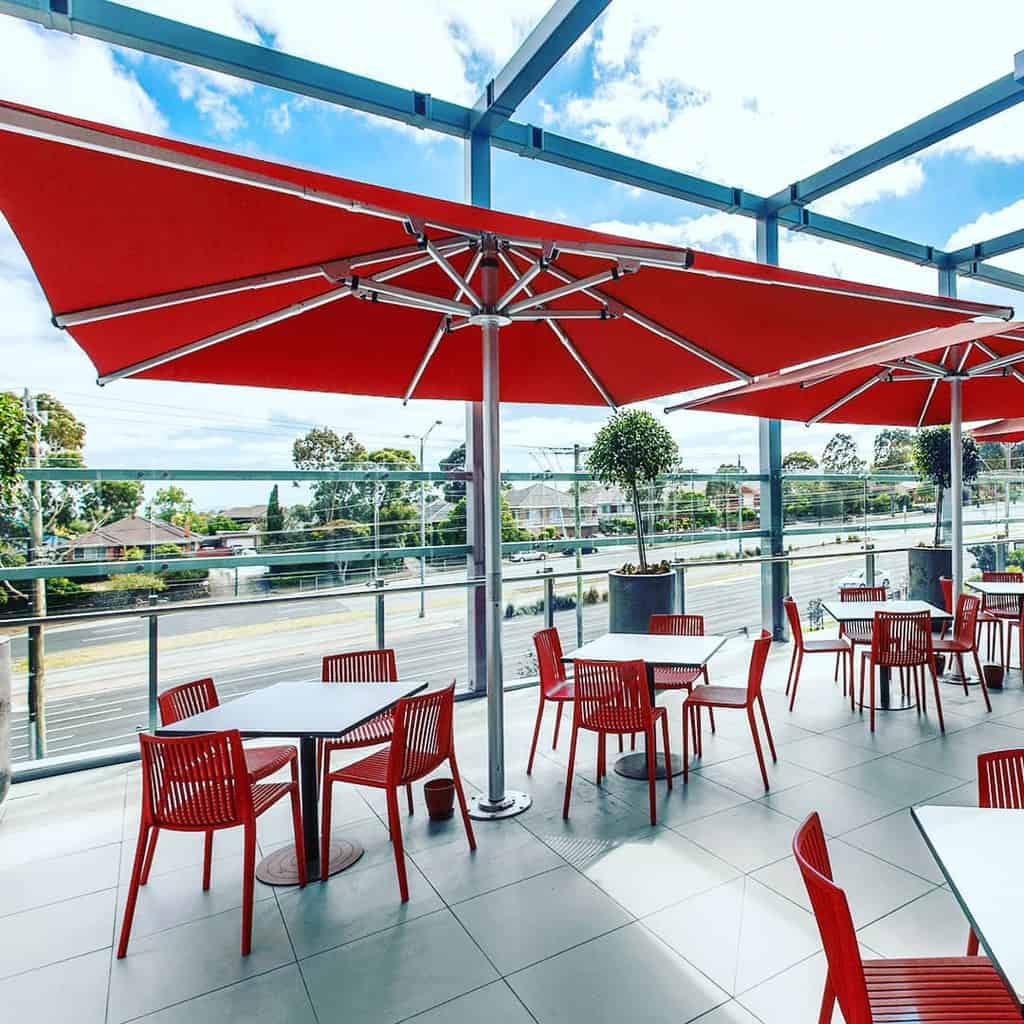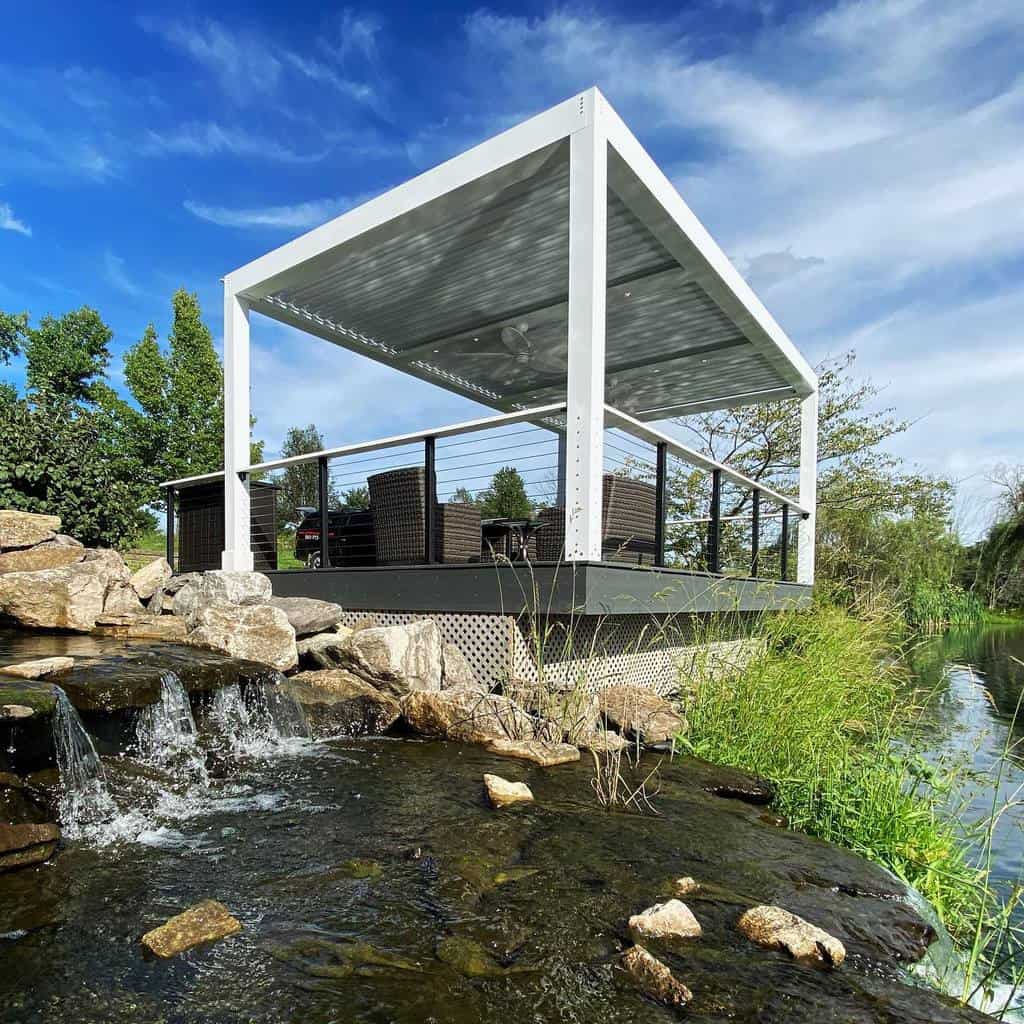 Various outdoor shade ideas exist to compliment any home decor style. If you live in a warm, tropical climate, consider hanging mosquito netting around your gazebo or pergola. Install ceiling fans to cool down your outdoor living area on hot summer days.
3. Modern
A modern approach to backyard shade will mimic the clean lines and simplicity of a modern home's exterior. Black metal is an excellent choice for a deck shade frame or solid patio roof.
Choose open beam structures instead of lattice. Straight lines fit a modern design style, while latticework has a more traditional, casual flair.
4. Patio
An open backyard patio usually needs some type of shade to be comfortable year-round. While a large, established shade tree might be enough for occasional outdoor living, you'll likely want a more permanent shade structure if you spend a lot of time on the deck.
A retractable rolling shade allows you to enjoy an open patio after the sun sets—perfect if you live in an area where the stars are brightly visible.
See more patio shade ideas here.
5. Pergola
A pergola is a permanent shade structure made from columns supporting a roof. It has open sides, and the roof may be solid or an open beam or latticework design.
A pergola with an open-style roof provides some degree of shade without totally blocking the sun. If you want more sun shade under your pergola, add a shade cloth or allow verdant vines to grow over the open grid.
See more pergola ideas here.
6. Retractable
A retractable awning is a great patio shade choice if you like to alternate between shade and full sunlight. A motorized retractable awning is convenient, but they can cost thousands of dollars. A manually-operated retractable shade is more affordable and usually easy to manipulate yourself.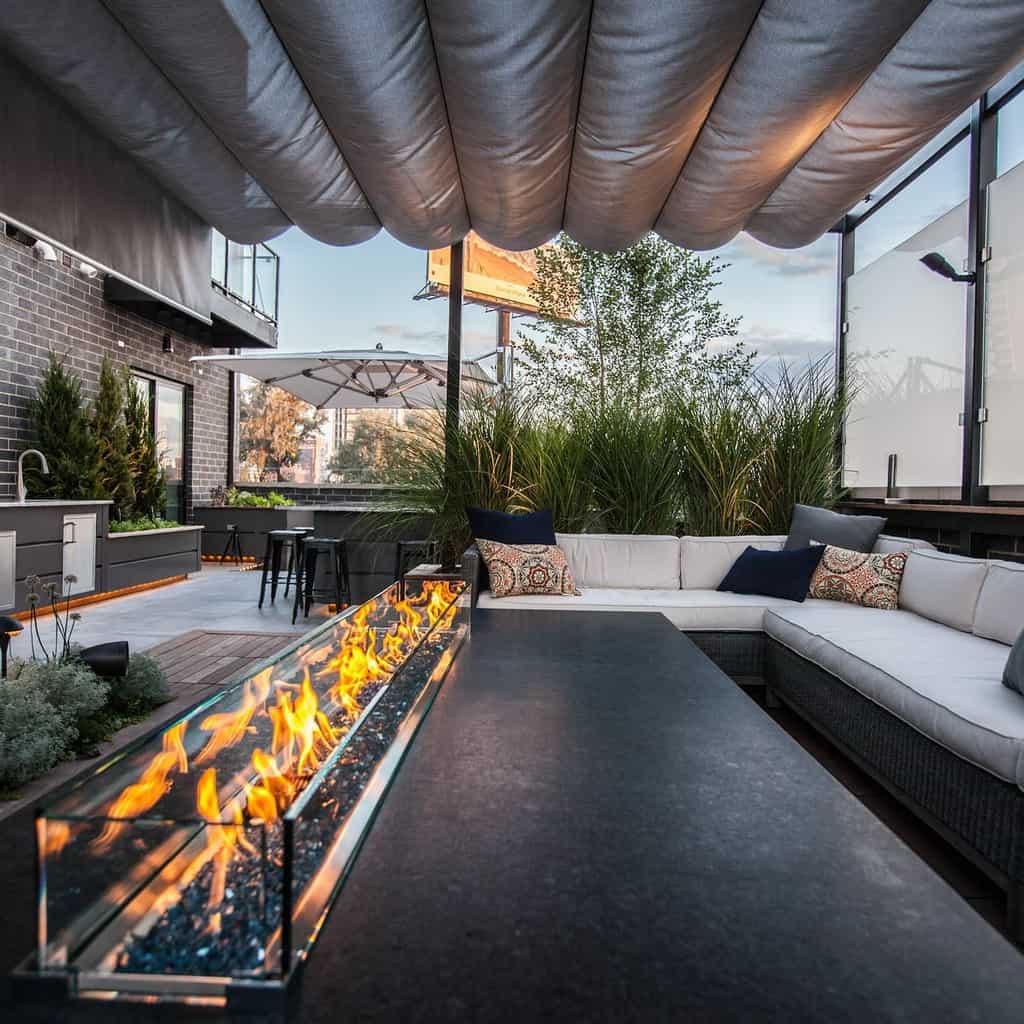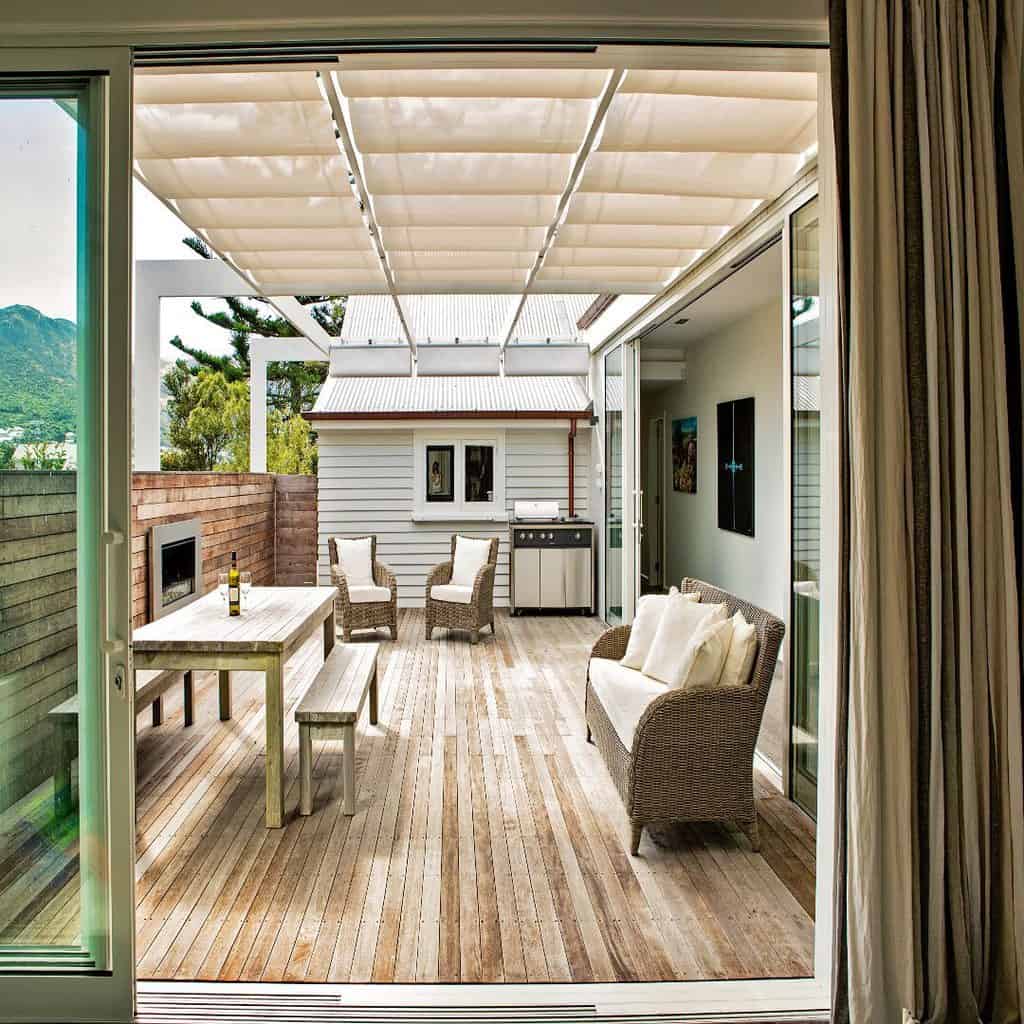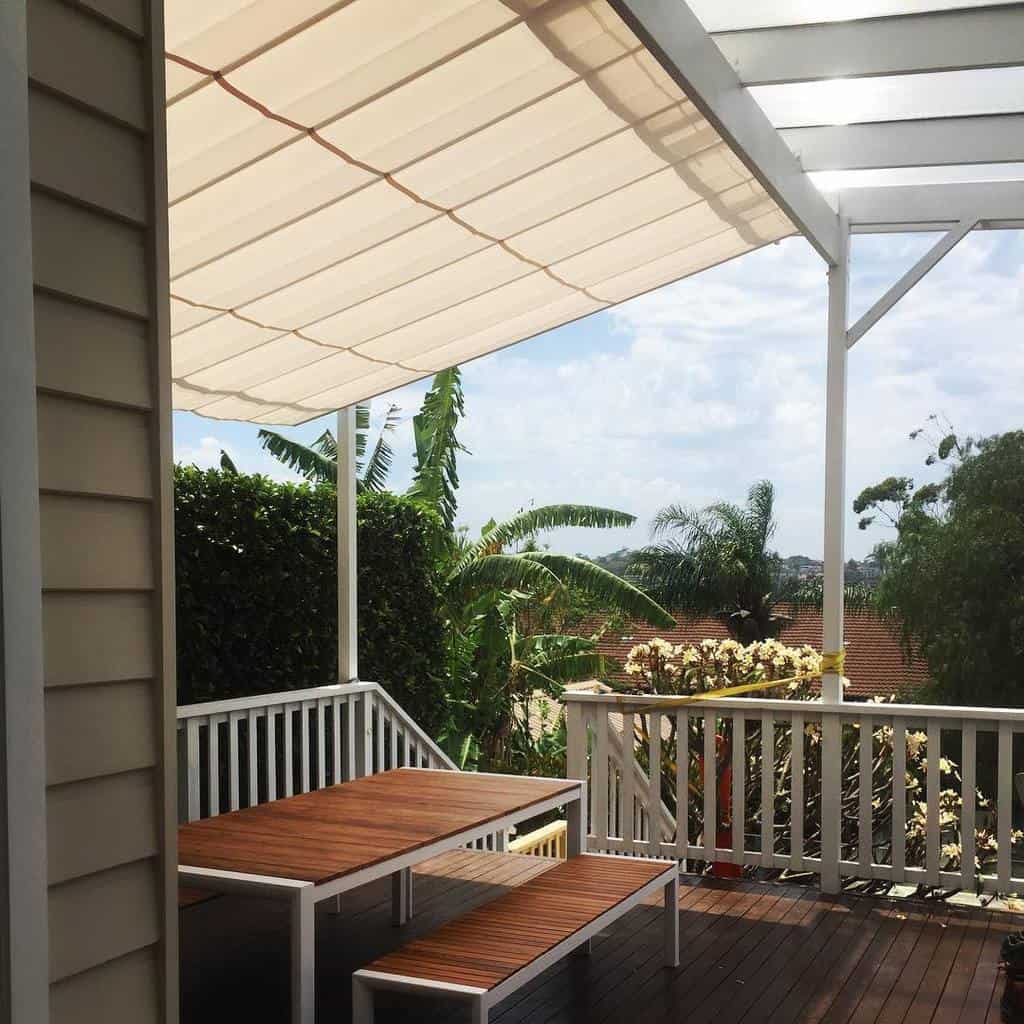 A retractable canopy may be made of various types of shade cloth. Some are solid and provide full shade while others are semi-sheer. These provide partial shade that allows a little sunlight to filter through.
7. Roof
A solid roof provides the best protection against direct sunlight. Not only will it protect you from harmful UV rays, it will also keep your decking from fading prematurely.
Add some tropical flair to your patio or deck by covering it with a thatched tiki roof. It's a great way to add a party vibe to your outdoor space and is particularly fun beside a swimming pool. Up the party factor by building a poolside bar under your tiki patio cover.
Read also: 44 Patio Roof Ideas
8. Sail
A shade sail is a triangular or rectangular fabric canopy with eyelets on each corner. Strong rope or twine goes through the eyelet and the other end is attached to the side of the house, nearby trees, or porch columns. A shade sail may also be strung between poles designed for supporting this type of outdoor shade.
A deck or patio shade sail is an affordable patio shade idea and can be found in colors that enhance your outdoor room decor. They are also easy to reposition if you decide to rearrange your outdoor furniture.
Read also: 28 Deck Shade Ideas
9. Umbrella
An oversized patio umbrella can provide a large patch of backyard shade and is easy to move as the sun changes position in the sky. There are three basic styles of umbrellas that provide backyard shade:
Cantilever umbrella:

Also called an offset umbrella, its top is set to the side of the pole instead of centered above it. A cantilever umbrella is a great shade idea when you need to shield a dining table or seating area but need the umbrella base out of the way.

Market umbrella:

A market umbrella is the classic upright umbrella style. They may have a tilt feature and a vented top to allow wind to flow through. Market umbrellas may be mounted on a stand or placed in the center hole of a patio table.
Half umbrella: A half umbrella can be positioned against the wall of your house and used to shade a small bistro set or other smaller seating area.
A deck shade umbrella may be made of polyester, acrylic, olefin, or the name-brand "Sunbrella" fabric. Sunbrella is a durable acrylic and polyester blend that resists mildew, stains, and fading. Backyard umbrella frames are usually made of aluminum, hardwood, or fiberglass.
Deck Shade FAQs
What is the cheapest way to shade a deck?
The least expensive deck shade ideas are also easy DIY solutions. Buy a sail shade or a patio umbrella. Both options are affordable and can be moved to cast shade specific areas of your deck.
How do I cover the sides of my deck?
Outdoor curtains provide ample shade against sunlight angling in from the sides of your deck. Hang them from your deck roof and pull them back when you want more sun. You can also build a pergola or other shade structure and allow a climbing vine to grow for shade.