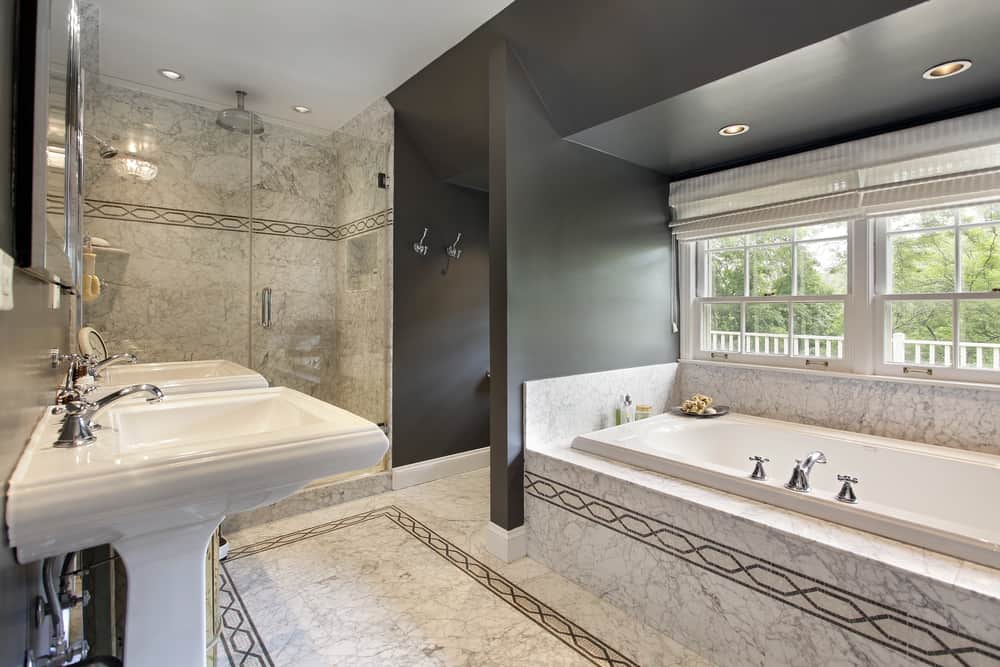 18 Luxury Bathroom Ideas and Designs
"Luxury must be comfortable, otherwise it is not luxury." – Coco Chanel
Your master bathroom should be a beautiful place where you can relax from a long day. It should be a pleasant place to start your day in as you shower and get ready.
You don't have to live in a mansion to enjoy luxury. All it takes are some simple changes to your current bathroom to upgrade its features. This could be adding upscale decor, changing the tile, or moving the placement of the shower.
These luxury bathroom ideas will take your boring bathroom and turn it into a luxury design that will impress.
1. Contemporary Luxury Bathroom
A contemporary bathroom is a perfect backdrop for turning your bathroom into a luxury space. The neutral color palette and clean design blend beautifully with high-end materials and sophisticated accents.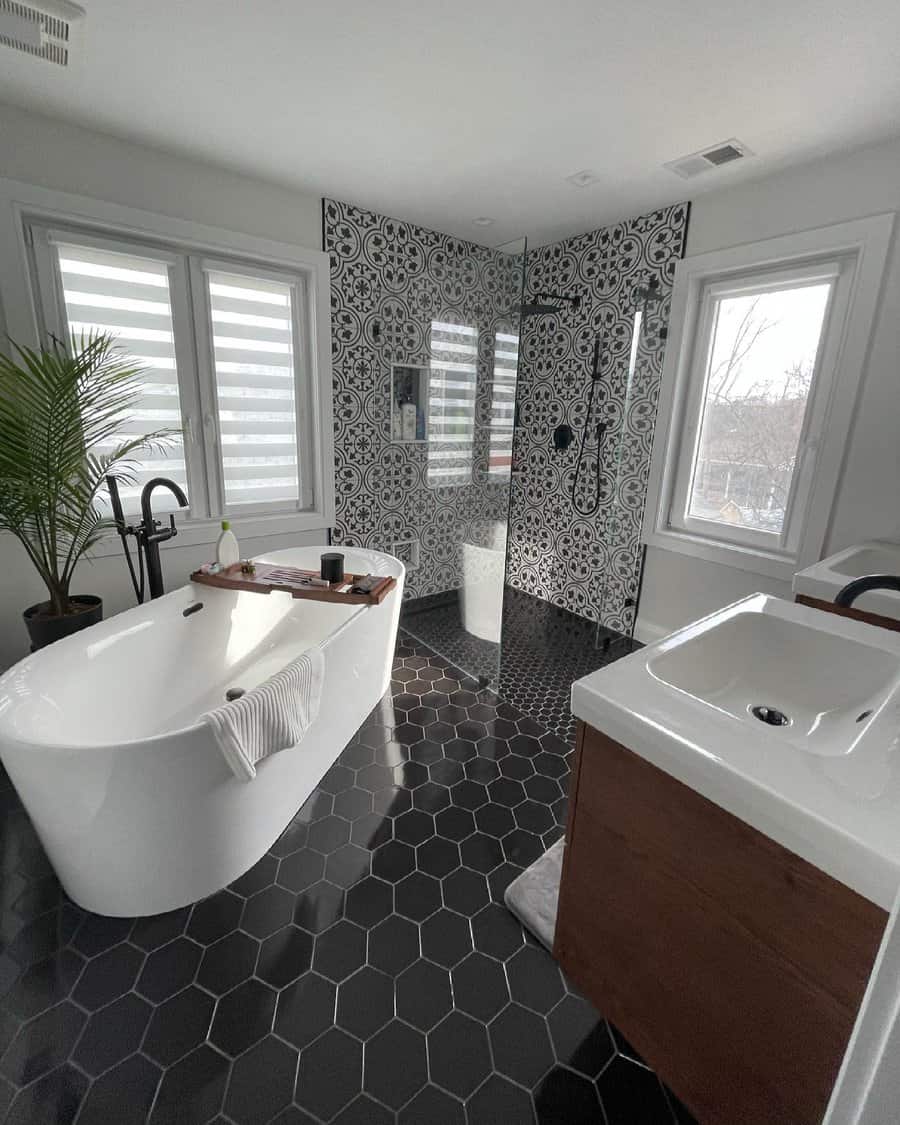 Try adding a marble tile backsplash to the wall behind the vanity. Add luxury towels and floor mats to the bathroom. Switch up the standard textile rug and replace it with a teak mat.
Arrange your new towels to create a display in the bathroom. Try rolling them and placing them in a basket, as you would see in a spa or luxury resort.
2. Dark-Coloured Bathroom
Dark bathroom design ideas are bold and sophisticated. It takes the right type of bathroom to support a dark color palette.
Look at the bathroom architecture of dark luxury interior design projects to determine if your bathroom would look good with a dark color palette. It isn't about size because even small bathrooms can look sleek and sophisticated in all black.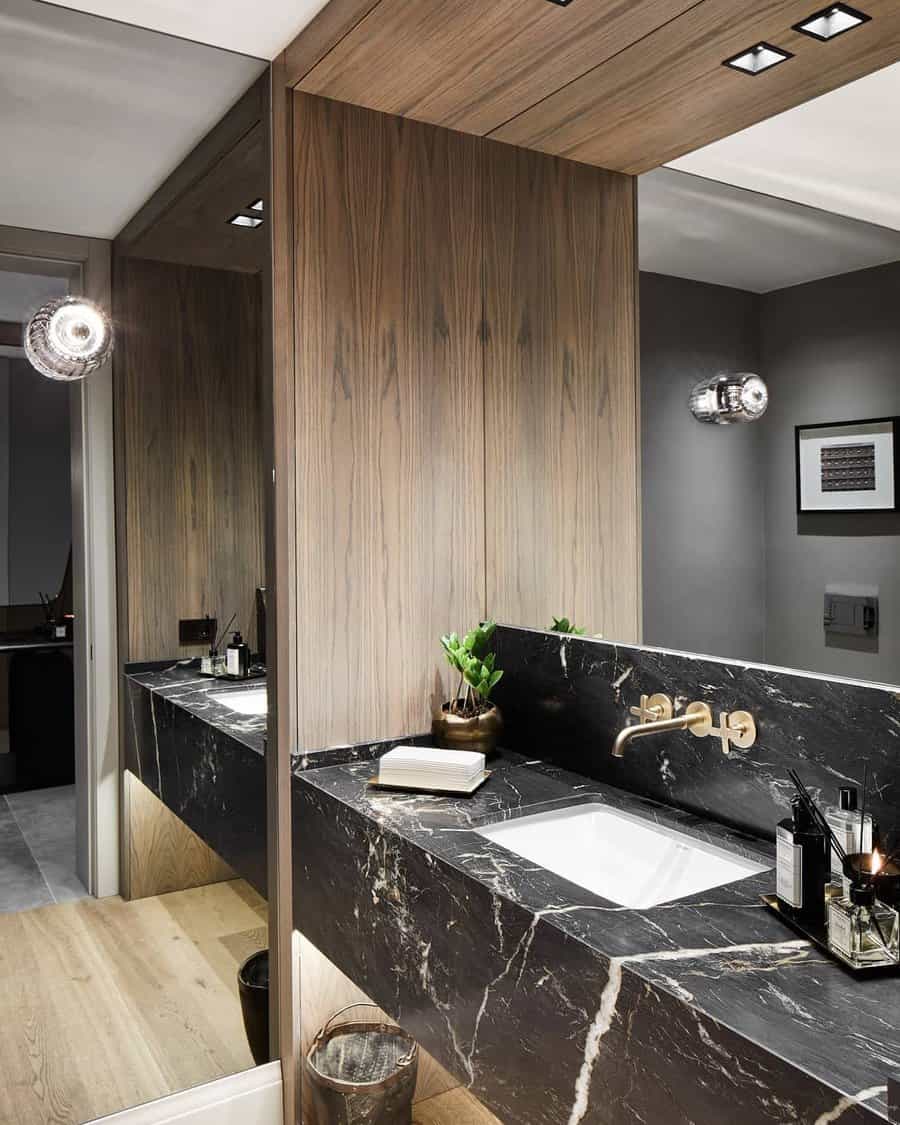 Try adding textures to keep your design from looking flat or gothic. Instead of plain black tile, use black marble. Instead of painting the walls black, you could add black wallpaper with the texture of leather or alligator skin.
3. Make a Living Wall Vertical Garden in Your Bathroom
Stepping into a luxurious bathroom is like stepping through the door of paradise. From living walls of lush vertical gardens that welcome you in to find peace and relaxation, to elegant floor tiles that bring a touch of timeless beauty to every corner, there's something truly captivating about the experience.
Imagine being surrounded by living pieces of art, living walls with pops of vibrant colors growing up towards the high ceilings – this could be your reality with a luxury bathroom. Perfect for those who appreciate living plants, a living wall also improves air quality with its fresh oxygen and purifying properties.
There's no denying that spending time in such an oasis will make you feel like royalty without breaking the bank!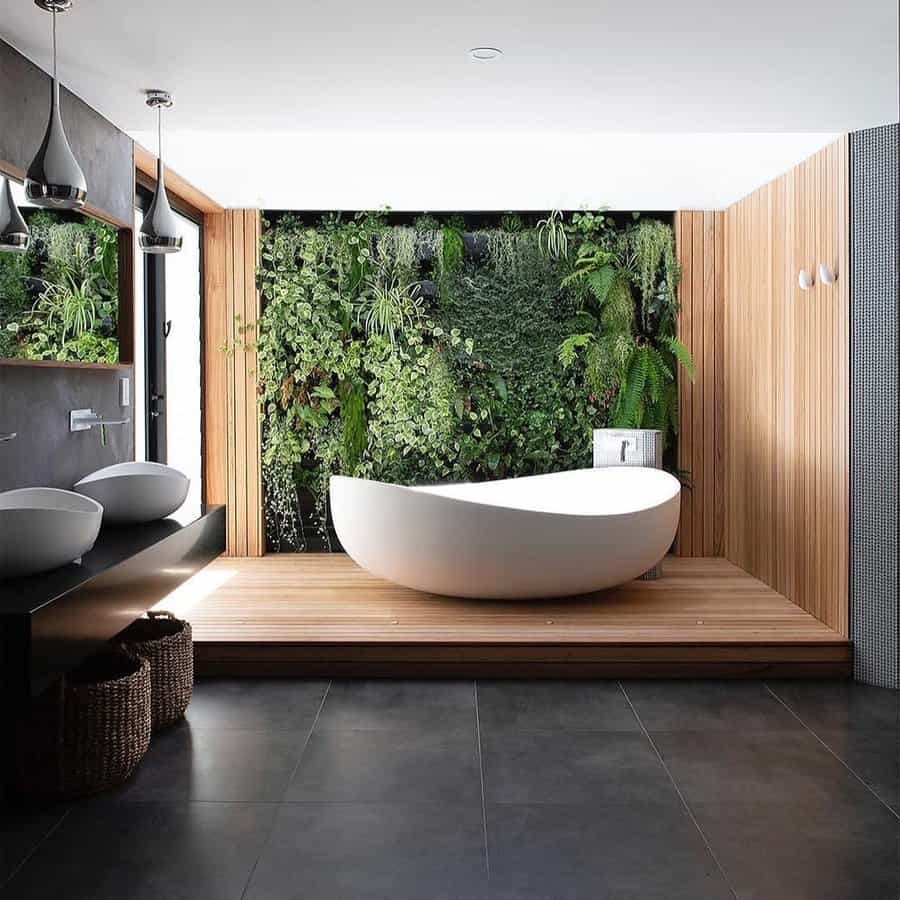 4. Open Bathroom
Picture a place of relaxation. A luxuriously open bathroom with warm wooden accents, crystalline white tiles and the scent of sandalwood – the perfect tranquil escape.
Imagine having a beautiful wooden vanity with impeccable storage and extra-large open mirrors providing the perfect stage for your daily self-care rituals.
It's easy to transport to a blissful retreat each time you step foot in this luxurious open sanctuary, inviting total relaxation for body, mind and soul.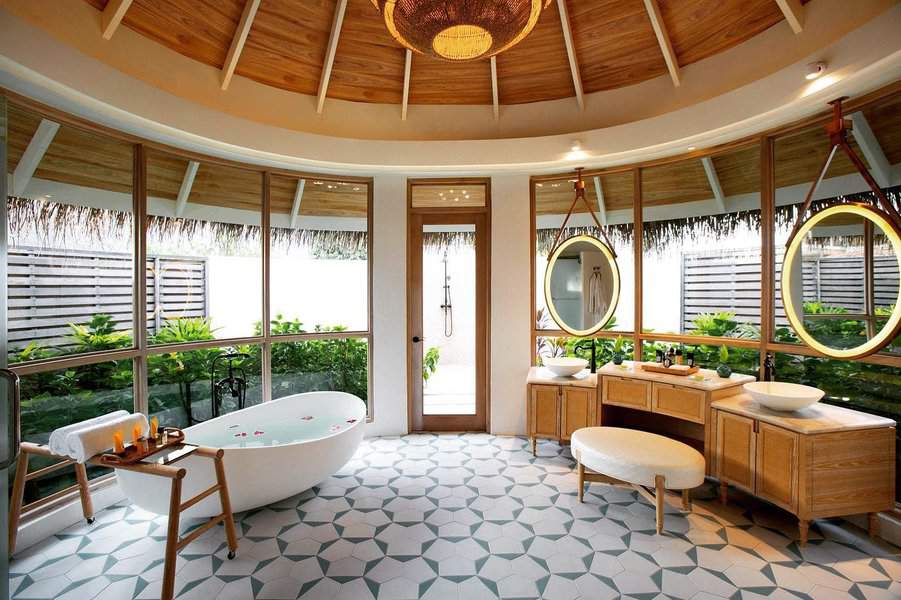 5. Marble Tile Bathroom
A luxurious marble tiled bathroom is a beautiful addition to any home. The marble's polished finish gives off a regal, decadent feel that sets the room apart from the rest of your house. From the gloss of marble tiles on the walls and floors to marble countertops, soaking tubs and stylish fixtures – there are so many ways to customize your marble-inspired retreat.
Whether you go all out with opulent accents or keep it simple and elegant, adding marble elements to your bathroom can instantly boost its beauty and comfort. With soft indirect lighting and cool, inviting colors palette, you can create an oasis of serenity right in the heart of your home.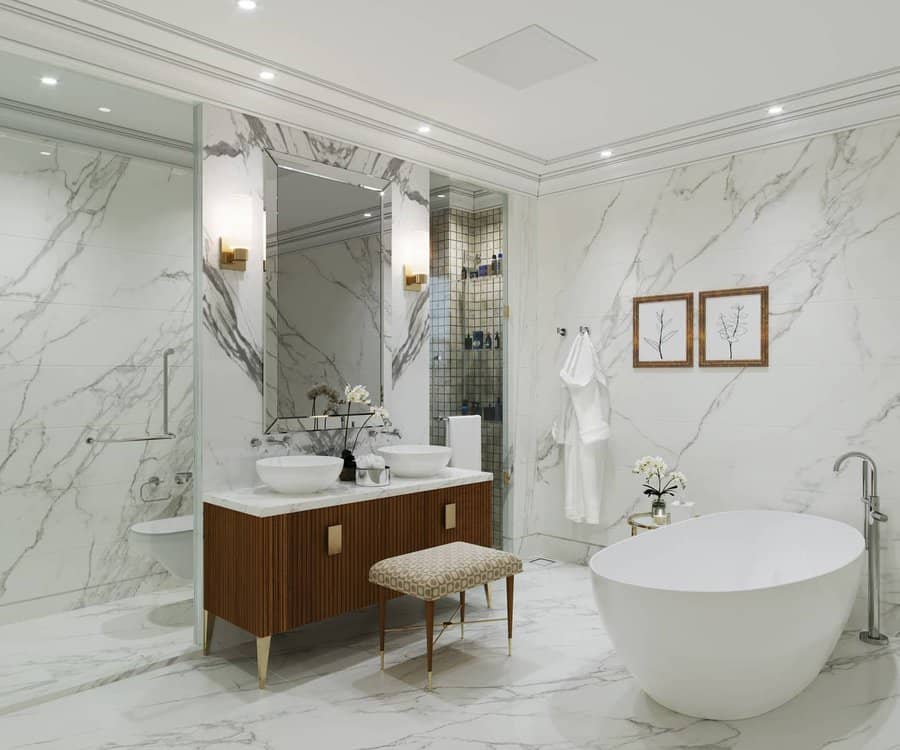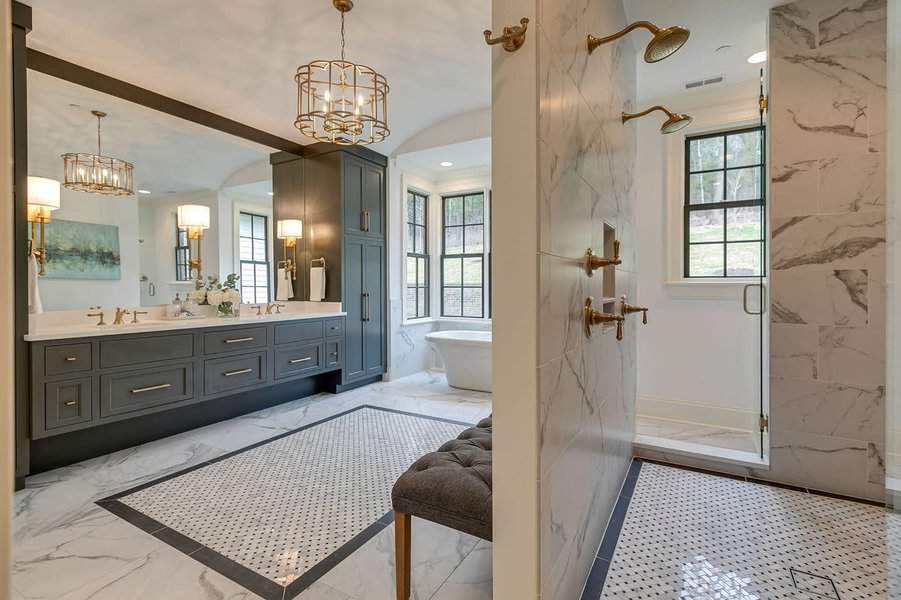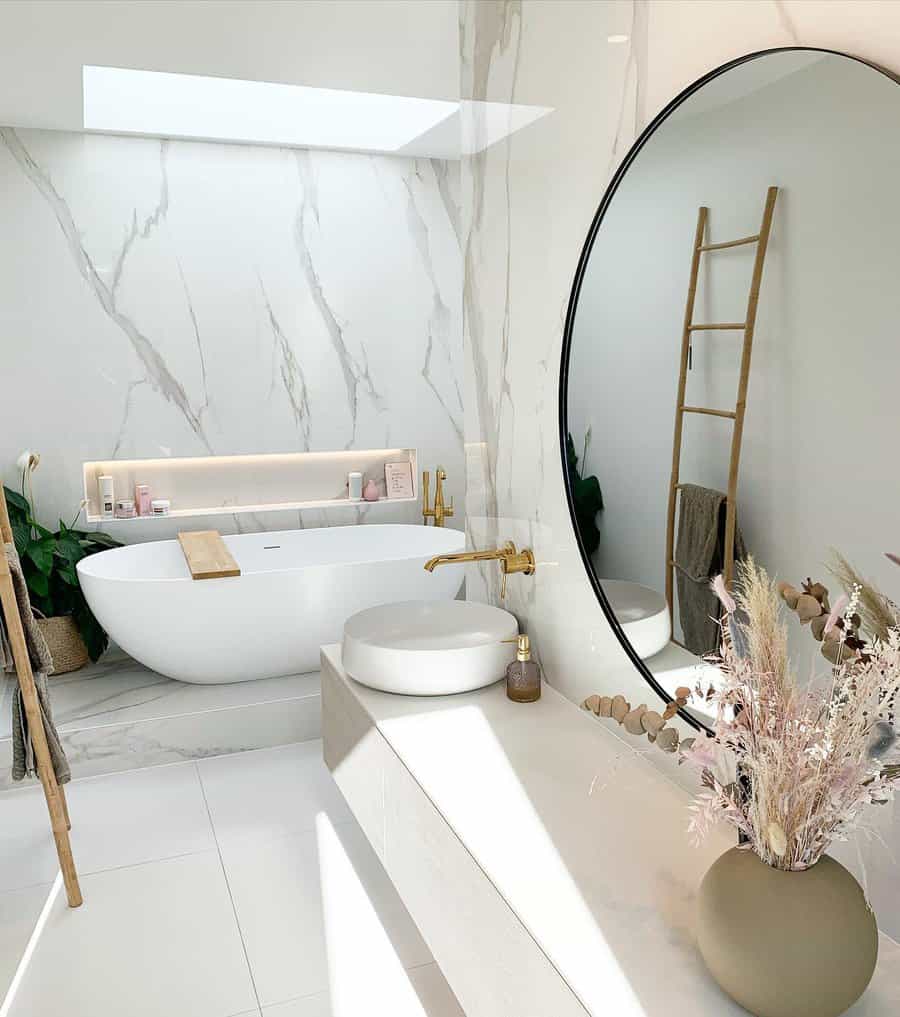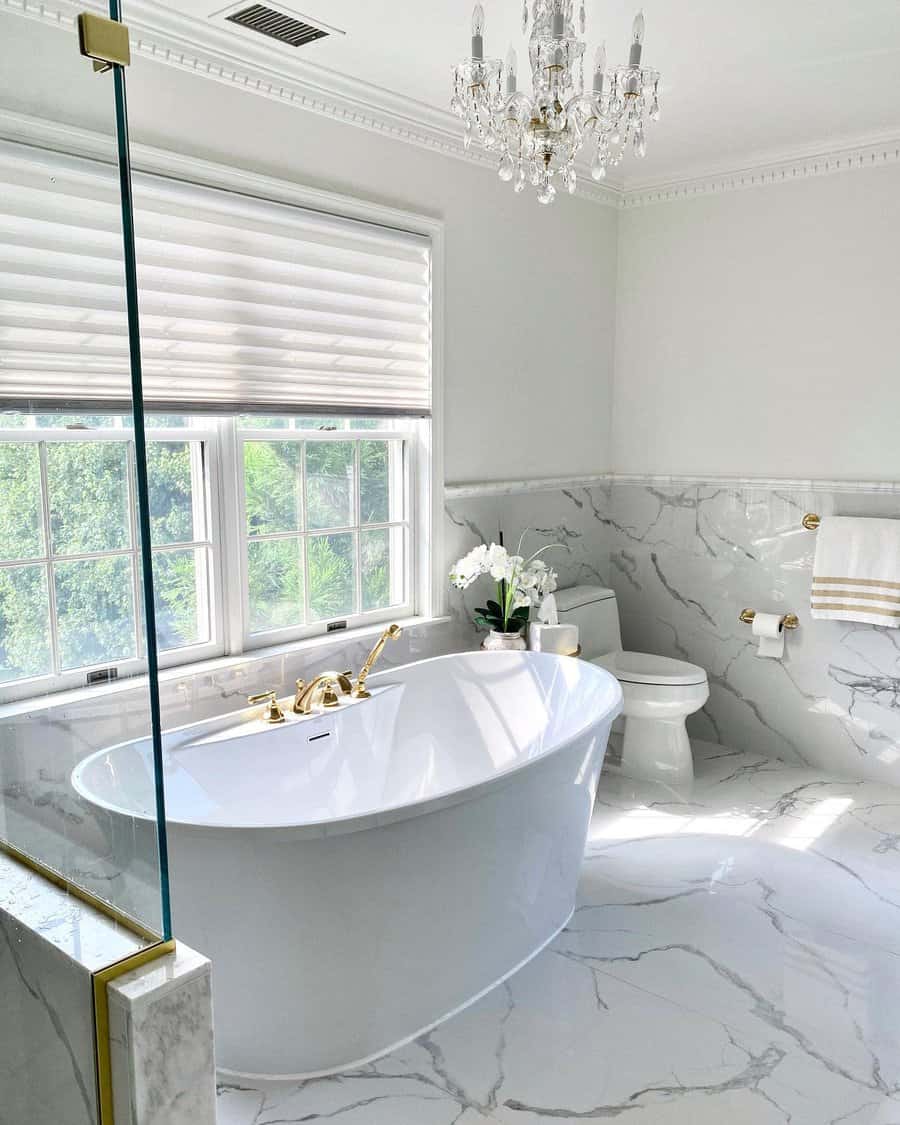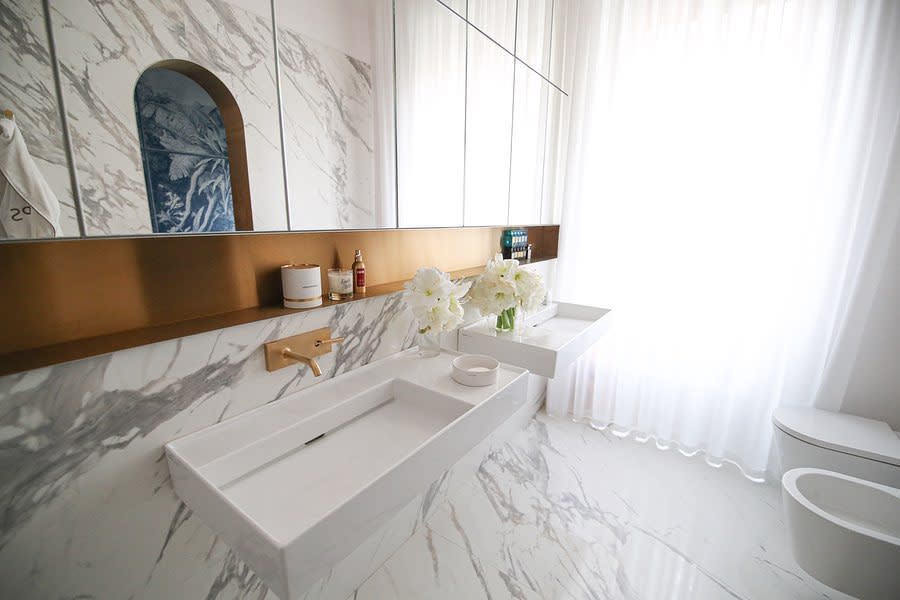 The larger the piece of marble, the more delicate and harder it is to work with. This makes it more expensive, and thus, more luxurious.
If your budget doesn't allow for this, you can still use marble; just choose a smaller tile size. A common choice in modern bathrooms is to use a subway tile shape on the floor in a herringbone pattern.
6. Modern Minimalist Style
People assume that luxury means opulence with overly ornate furniture and decor. This isn't true. You can have a minimalist bathroom that still feels luxurious. Focus on showcasing the materials and the clean lines in the space.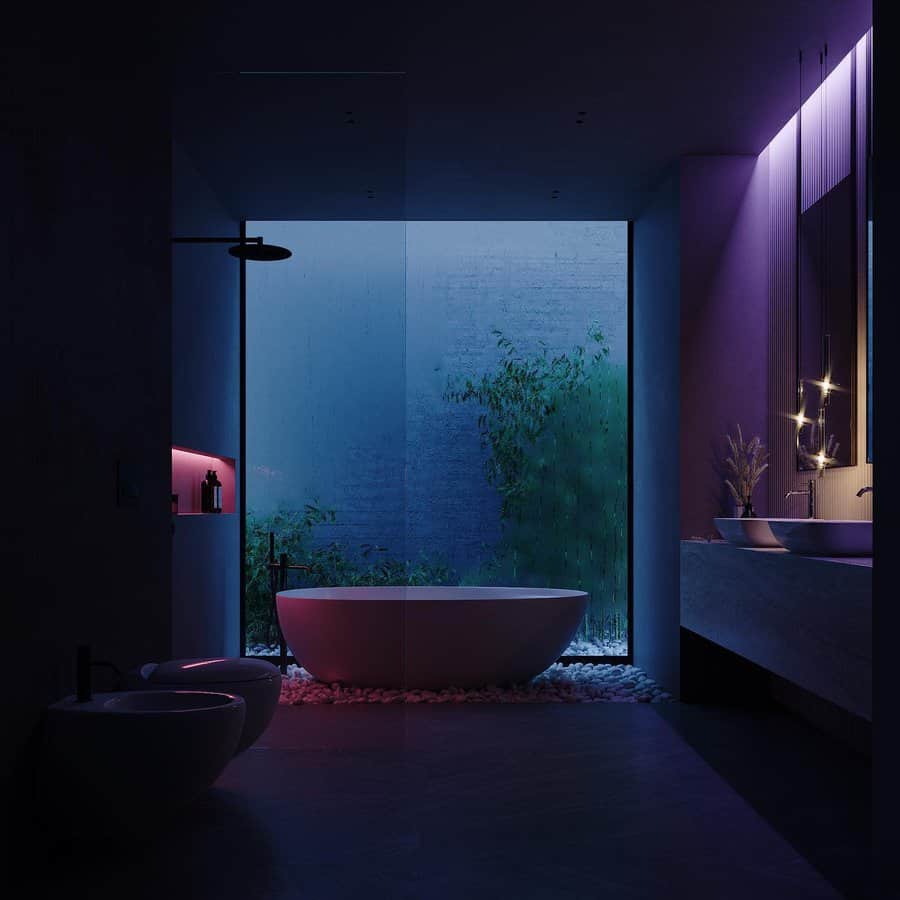 Instead of choosing a marble that's seen everywhere, choose a more exotic stone for the countertop. Add lighting, so it glows through. Add technology to the shower like accent lighting or a state-of-the-art shower head.
Keep the decor in the bathroom to a minimum by only having a single experience on display or a piece of art on the wall. Modern bathroom design embraces the less is more approach.
7. Luxury Walk-In Showers
Your shower is an opportunity to go all out to create an authentic luxury experience. Replace the standard showerhead with a rain shower one. If you have a large bathroom, you can add multiple showerheads.
If you are remodeling and can sacrifice some storage space, expand your shower into a neighboring linen closet or vanity area. A contractor and architect can help you reorganize your standard bathroom into a luxe bathroom.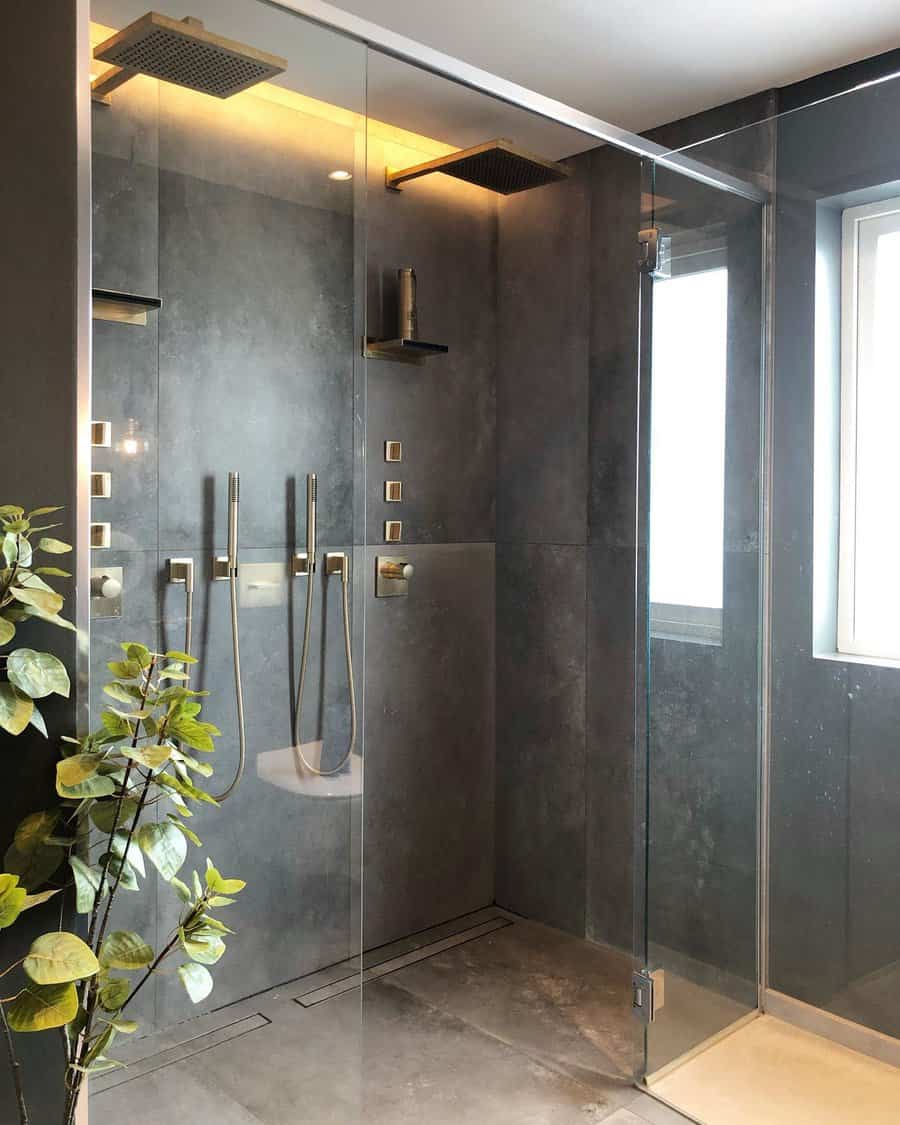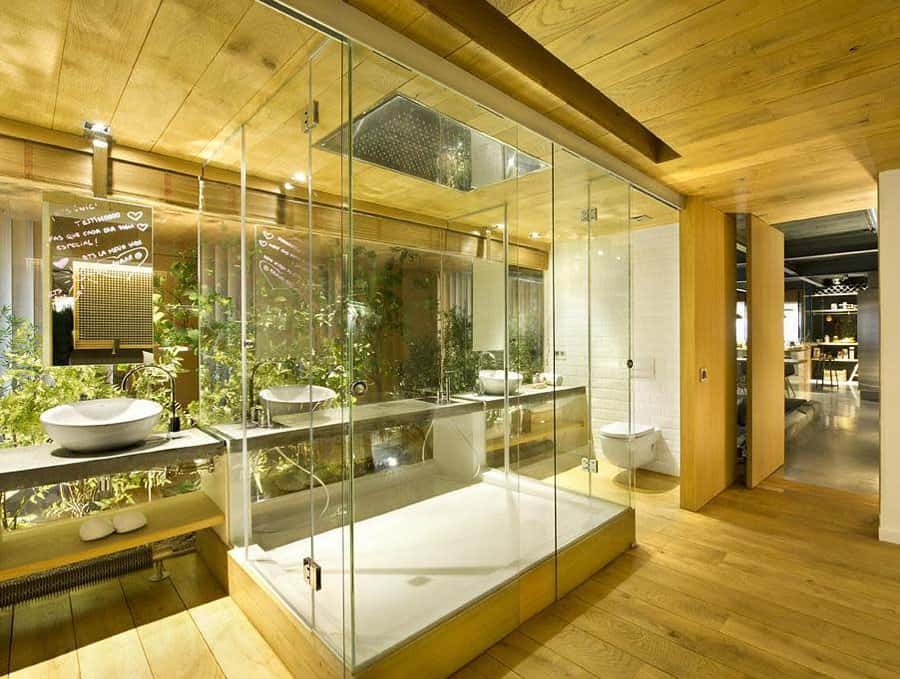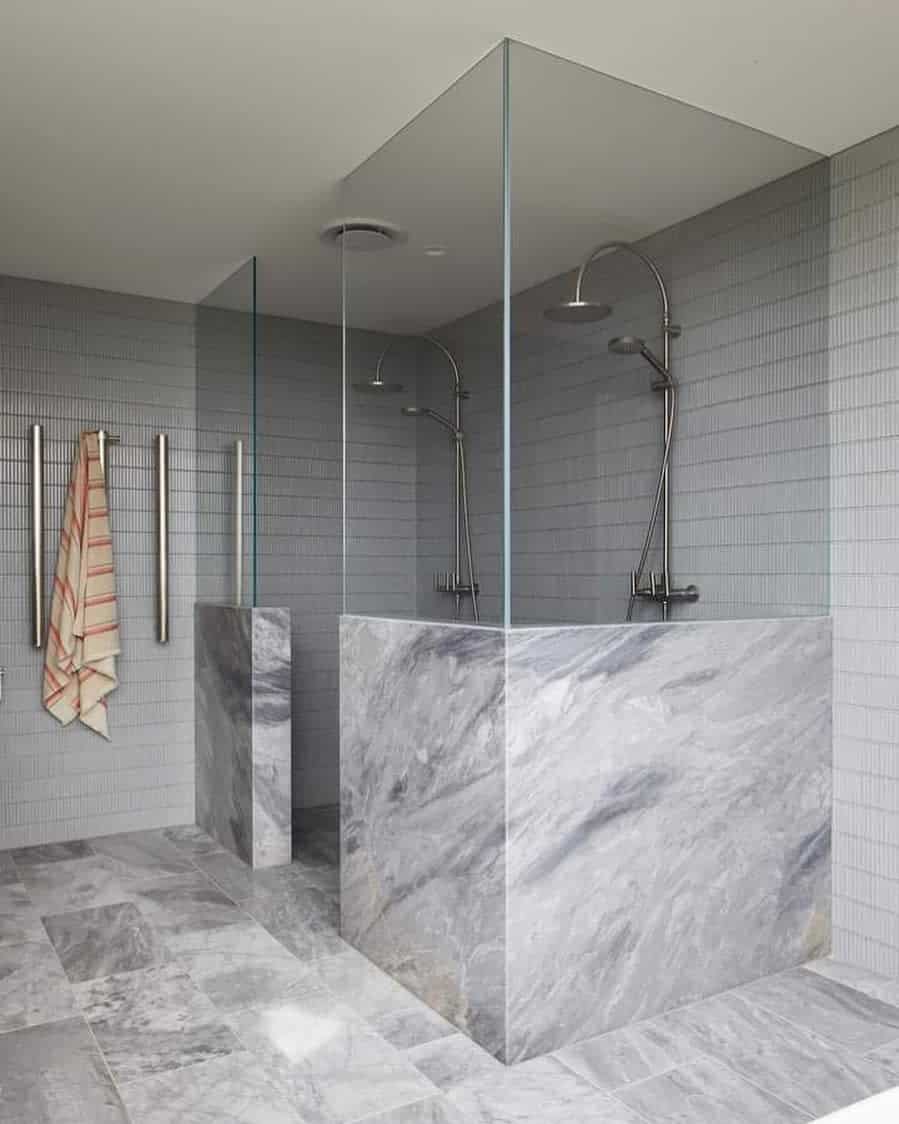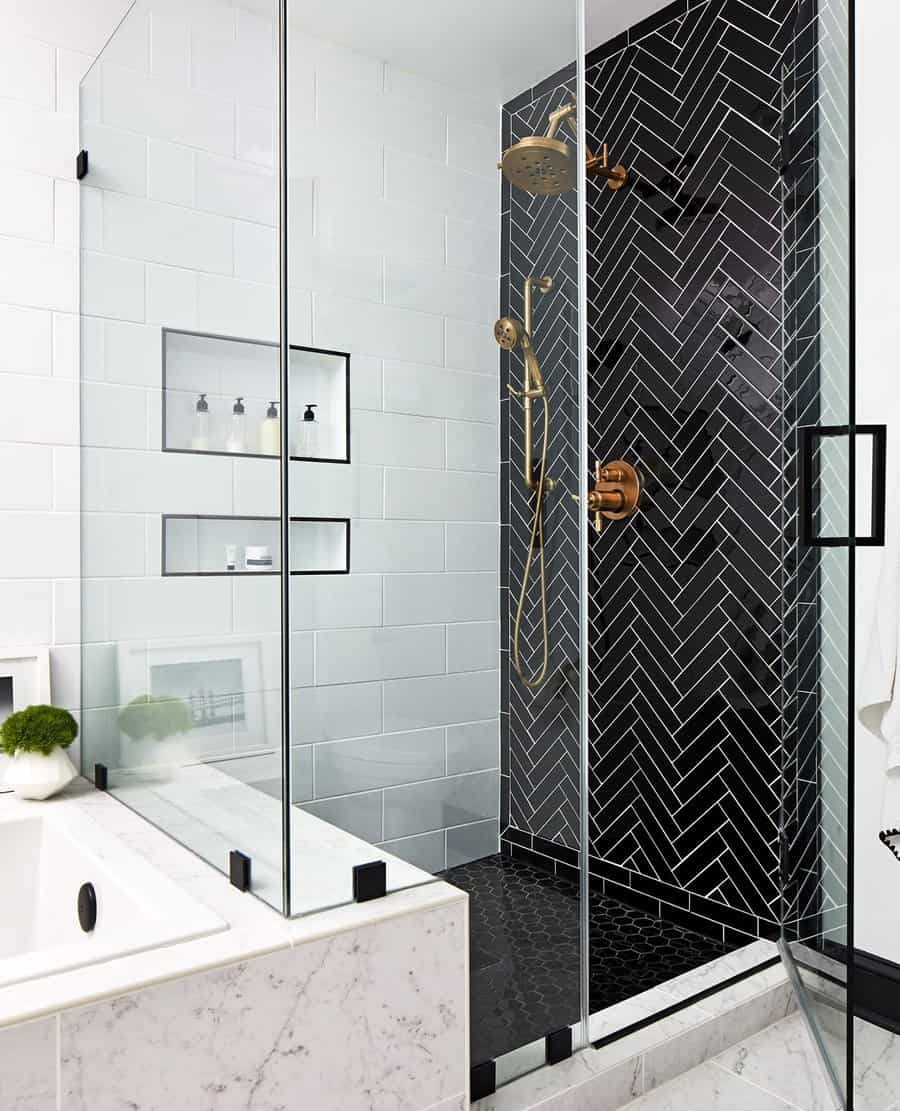 Look at pictures of completed bathrooms to gather ideas for your bathroom's inspiration. An interior designer can then help you add the final decorative touches necessary to complete your new shower, such as adding a bench, stool, decorative mat, or even bathroom fittings.
8. Luxurious Bathroom Designs for Small Spaces
You can still have a luxurious bathroom, even if it's small. It doesn't matter if it's a guest water closet or your master bathroom; focus on filling the space with high-quality materials.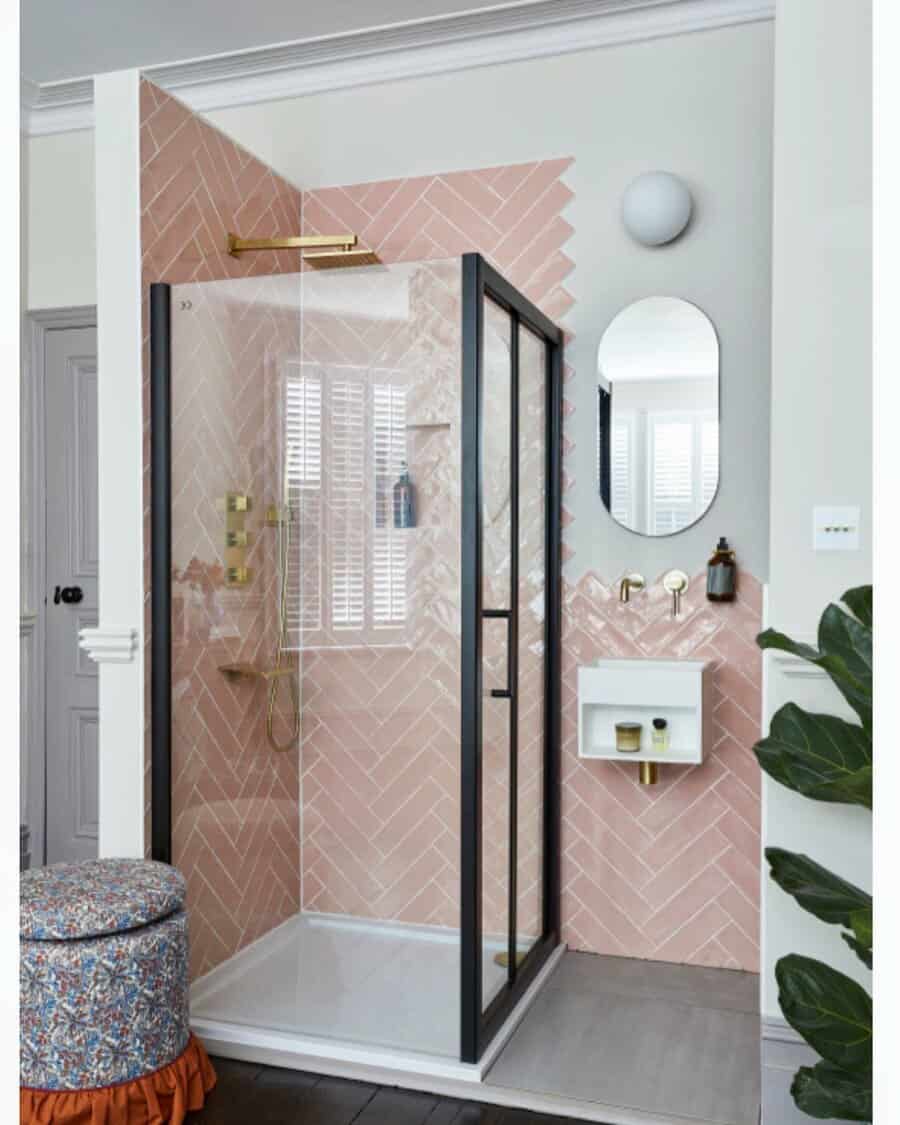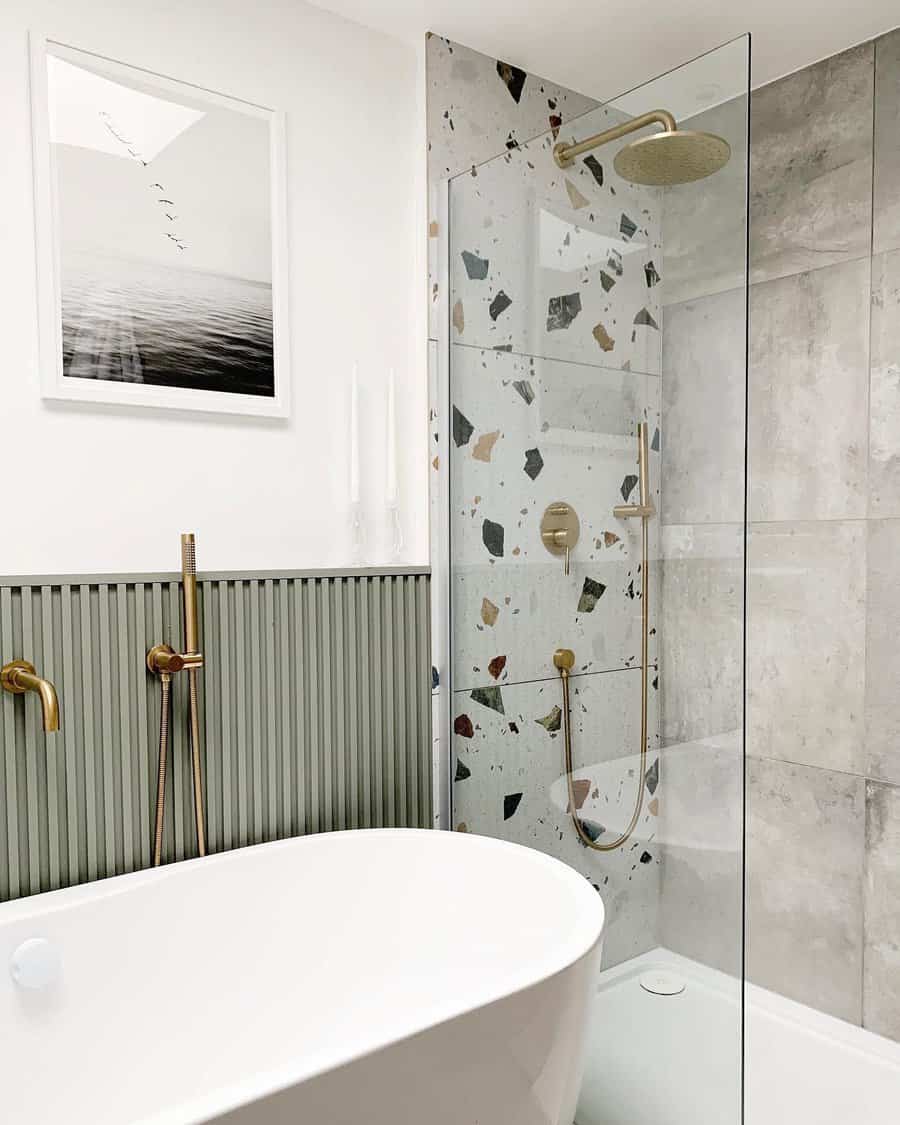 You're actually at an advantage with a small bathroom because you don't need as large of a budget. This means you can make bolder interior design choices.
For example, cover an entire wall in a single sheet of marble, cover the whole floor with an intricate custom-designed mosaic, or splurge on the fancy light fixture. Instead of buying mass-produced wallpaper, you could buy a hand-painted design.
See more small bathroom ideas here.
9. Bathtub with Luxurious Appeal
Not all of us have the luxury of having a freestanding bath in our master bathroom. If you are like most Americans, you have a builder-grade drop-in tub. They require you to step over the edge and stand in it. They aren't very deep or long, so a part of your body is always stuck out of the water.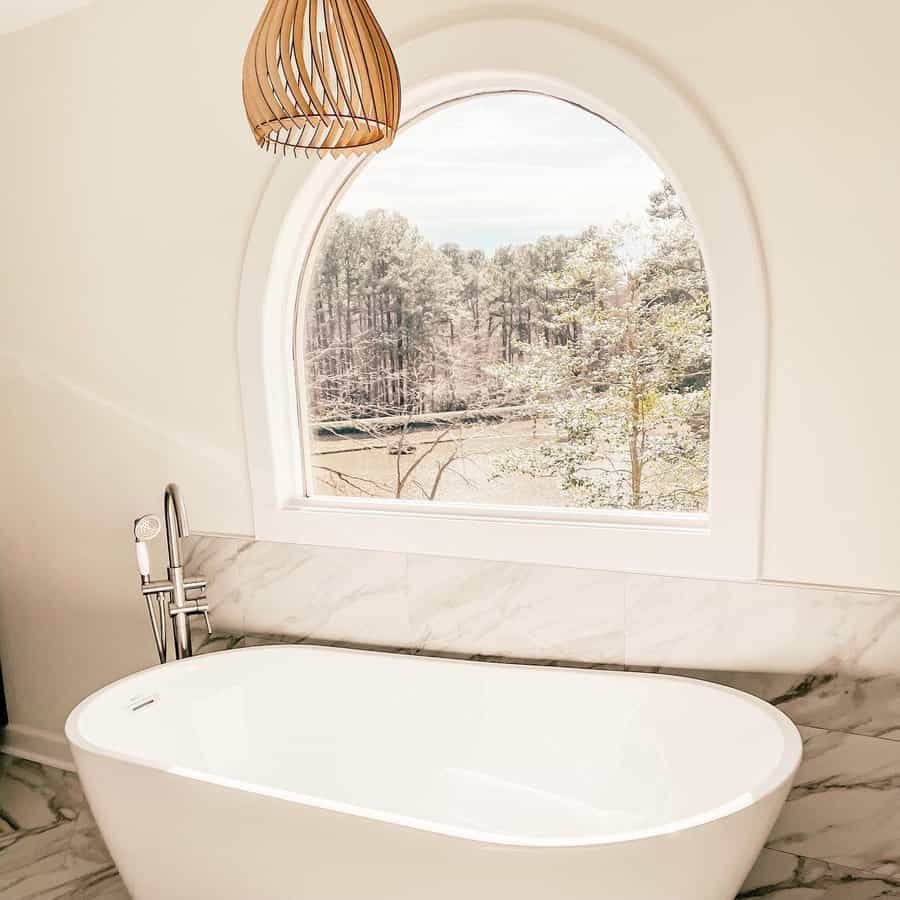 If you have a larger budget and are ready to do a bathroom remodel, rip out the tub and replace it with a diamond bathtub that's freestanding and deep enough to fully relax under the water. Turn your bathtub into a statement piece with a lapiaz bathtub or one carved from a single piece of stone.
10. All-White Bathroom
An all-white bathroom looks brighter and feels fresh. A bright bathroom feels bigger, making it seem more expensive and luxurious. Be careful, though; white can easily look cheap when you choose the wrong approach.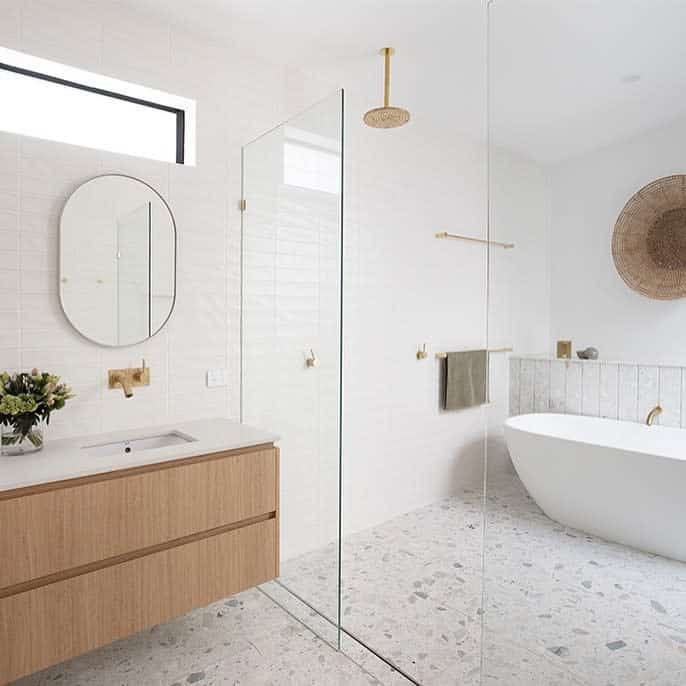 To create a beautiful bathroom, add visual layers and textures to your luxury bathroom design. Instead of painting the walls white, try a white wallpaper with a subtle texture.
Add natural elements like wood to bring some warmth into the space. Skip the raw or rustic finishes and opt for a stained or varnished instead. This elevates the look of the wood and brings out its rich colors.
You can choose an ornately carved piece for a traditional look or keep it simple for a modern bathroom.
Luxury Bathroom FAQs
What should be in a luxury bathroom?
If you want to create a truly luxurious bathroom, look beyond the materials you use and the design you create. Add extra features like radiant heated floors, a fireplace, a sauna, heated towel rack, massage table, or separate water closet with a luxury toilet. You could even add a bidet.
How big should a luxury bathroom be?
Luxury showers are typically oversized. Their large space lends to it feeling more expensive. Typically luxury bathrooms are 100 to 200 square feet. A bathroom that's over 200 square feet is considered an expansive bathroom. For reference, a 200 square foot room would measure ten feet wide and 20 feet long. This is larger than many people's bedrooms or even their living room.
How do I get a luxurious shower?
Look for ways you can add luxury elements to your bathroom. Place a teak wood floor mat down outside of the shower. Add basket full of bath bombs, shower diffusers, and bubble bath. Add a potted plant or two. Upgrade your towels and add a freestanding towel heater. Install Bluetooth speakers that are water-safe so that you can enjoy tunes while taking a bath or showering.