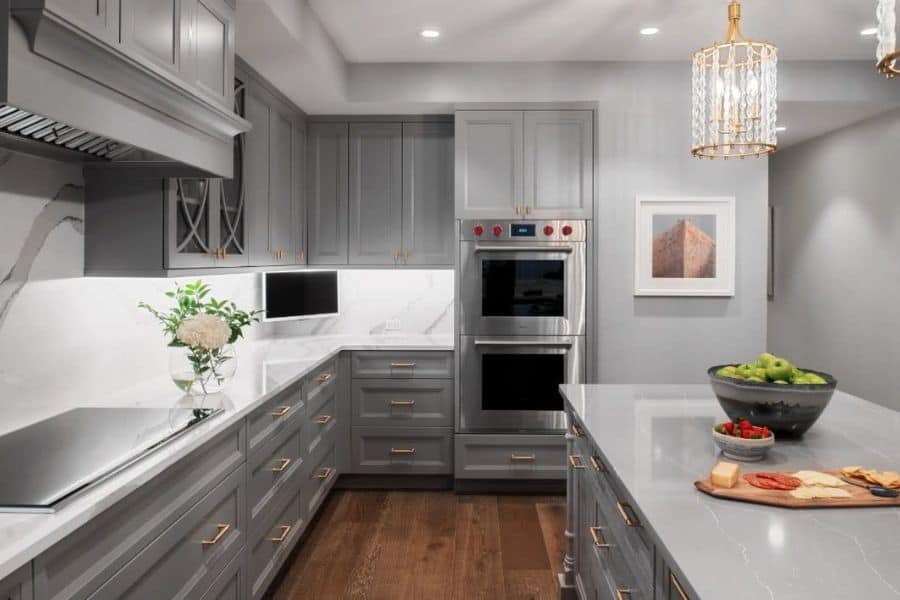 "Life isn't black and white. It's a million gray areas, don't you find?" – Ridley Scott
Gray is the modern neutral and gives your home a soft and welcoming feel. It's the perfect solution when white is too harsh and bright while black is too dark and moody. From light and pale to rich charcoal, grey can soften the look of your kitchen.
Pair your grey with bronze, copper, or gold, and you add warmth to the space. Choose stainless steel, silver, or nickel, and you have an ultra-cool space for preparing your meals.
These gray kitchen ideas will get you inspired to change up the color scheme in your kitchen.
1. Black and Gray
For a sophisticated and slightly masculine feel, use a black and gray color palette in your kitchen. An all-black kitchen can be stunning but requires the right type of kitchen for it to not look like a black hole.
Soften the look by painting your walls black and hanging gray kitchen cabinets. The lighter cabinets in front of the darker walls create the illusion of a larger space.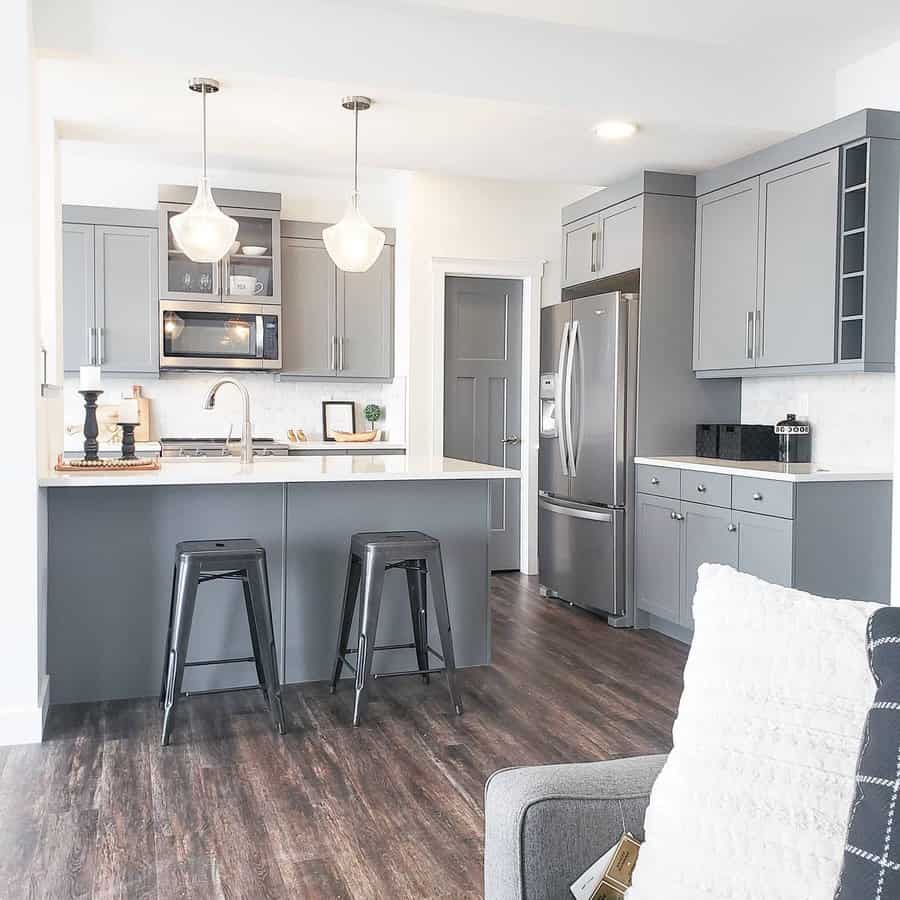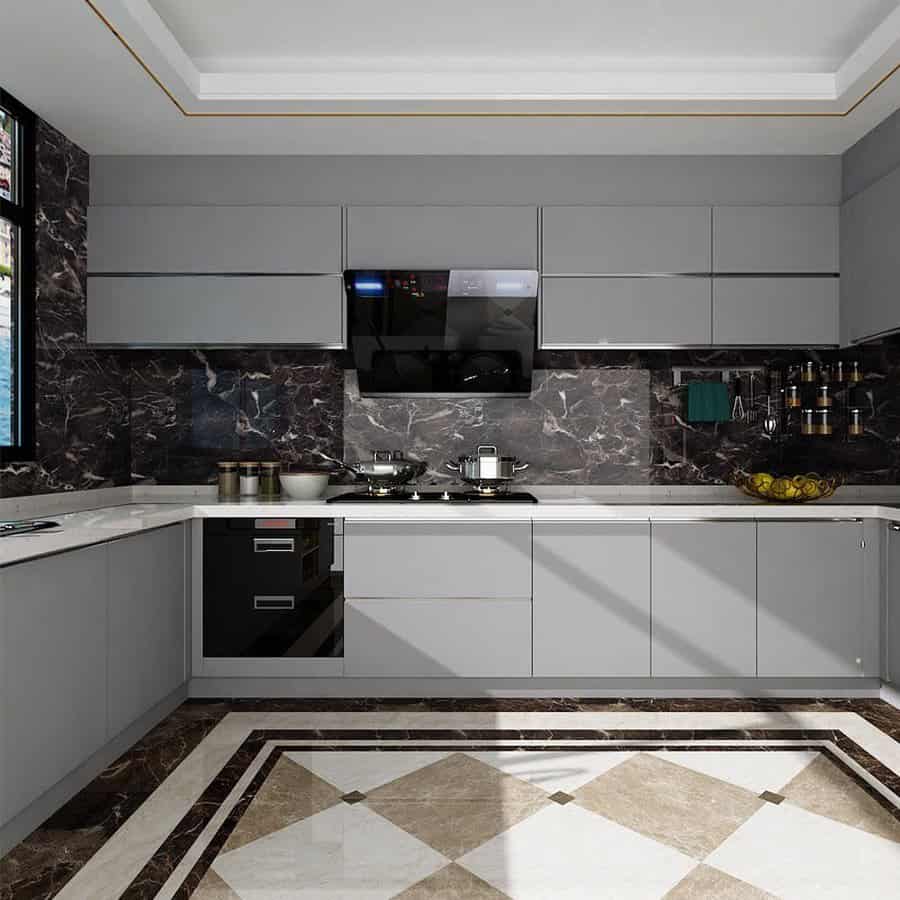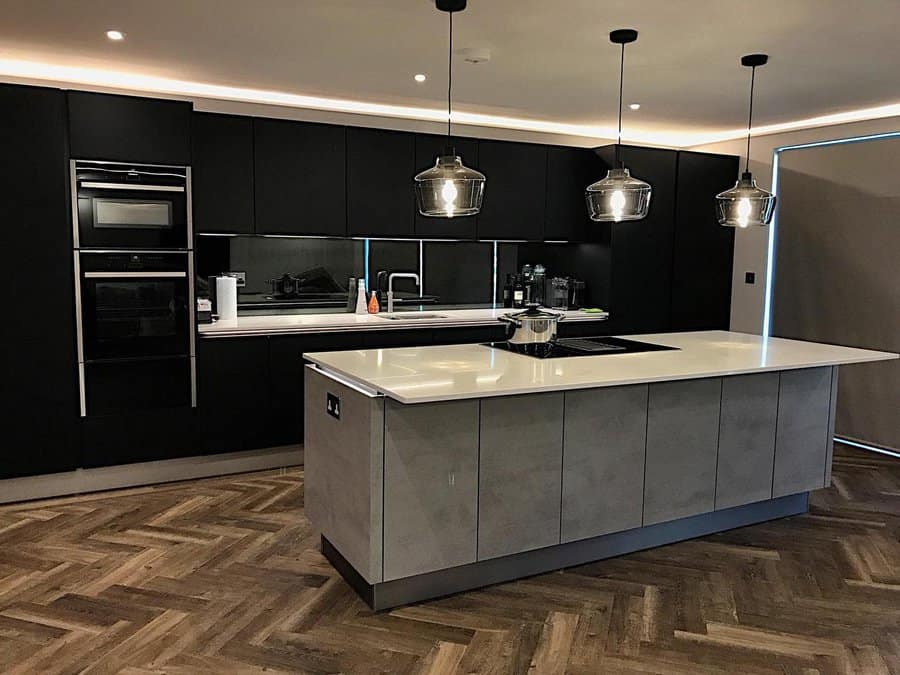 You can also create this illusion with the countertop. Choose black lower cabinets and then place a light gray countertop on them. The placement of the two colors makes the counter seem bigger than it really is.
Having it on this horizontal surface also helps to reflect more light, making the kitchen feel brighter.
2. Brown and Gray
Don't skip over this kitchen color combination. When done right, it isn't nearly as boring or dull as it initially sounds. The idea is to use your gray color palette with natural materials that have a brown color palette. The two then combine together for a simple and well-designed kitchen.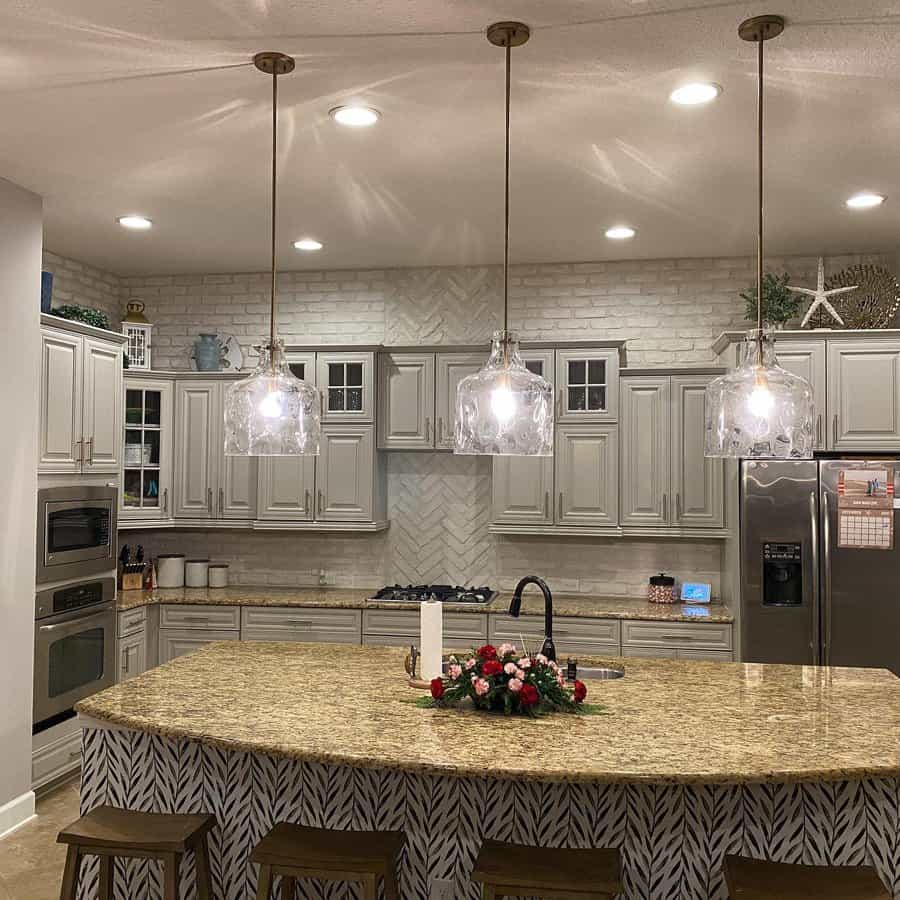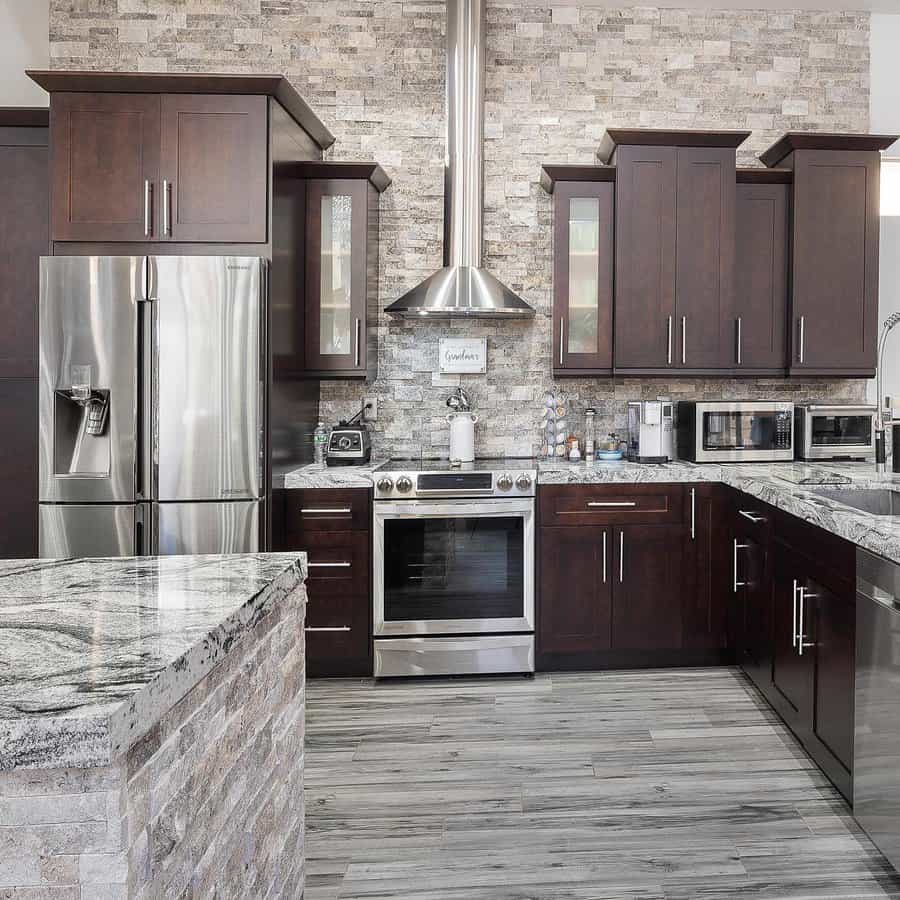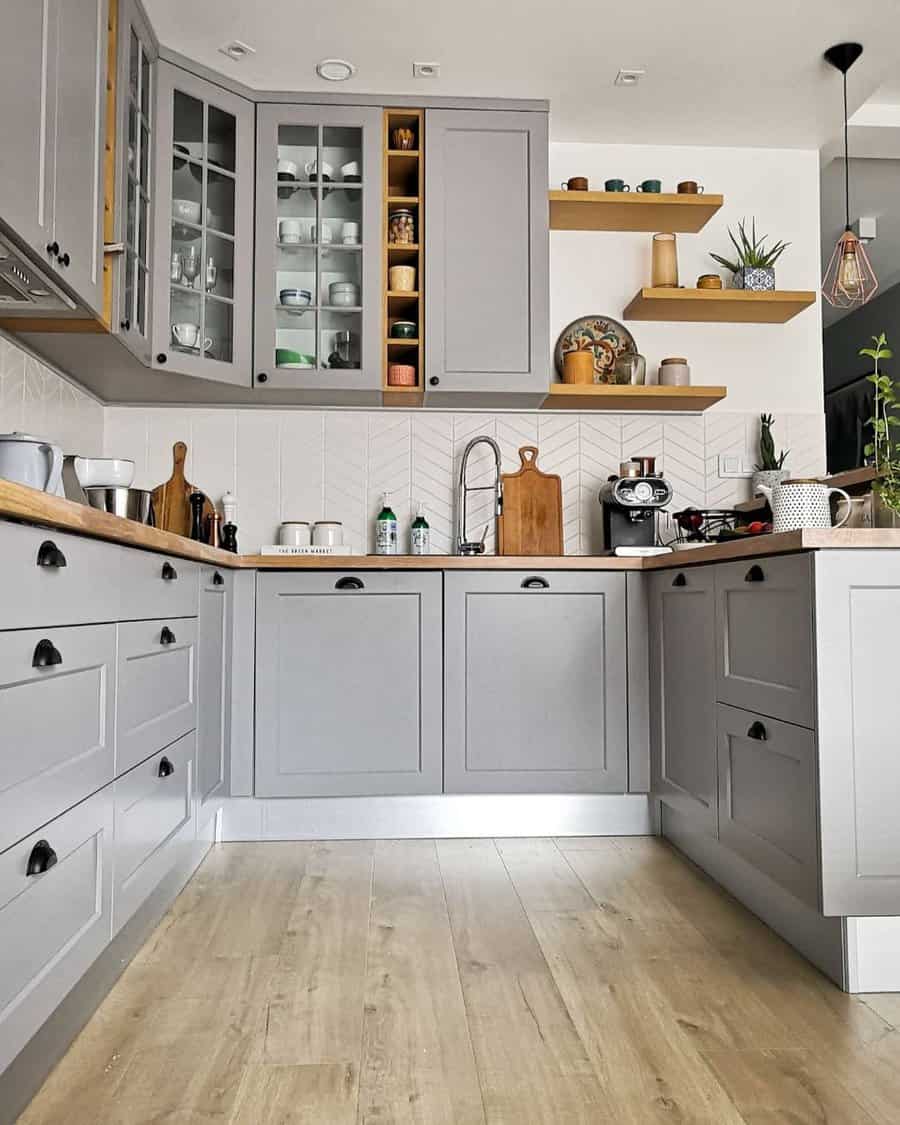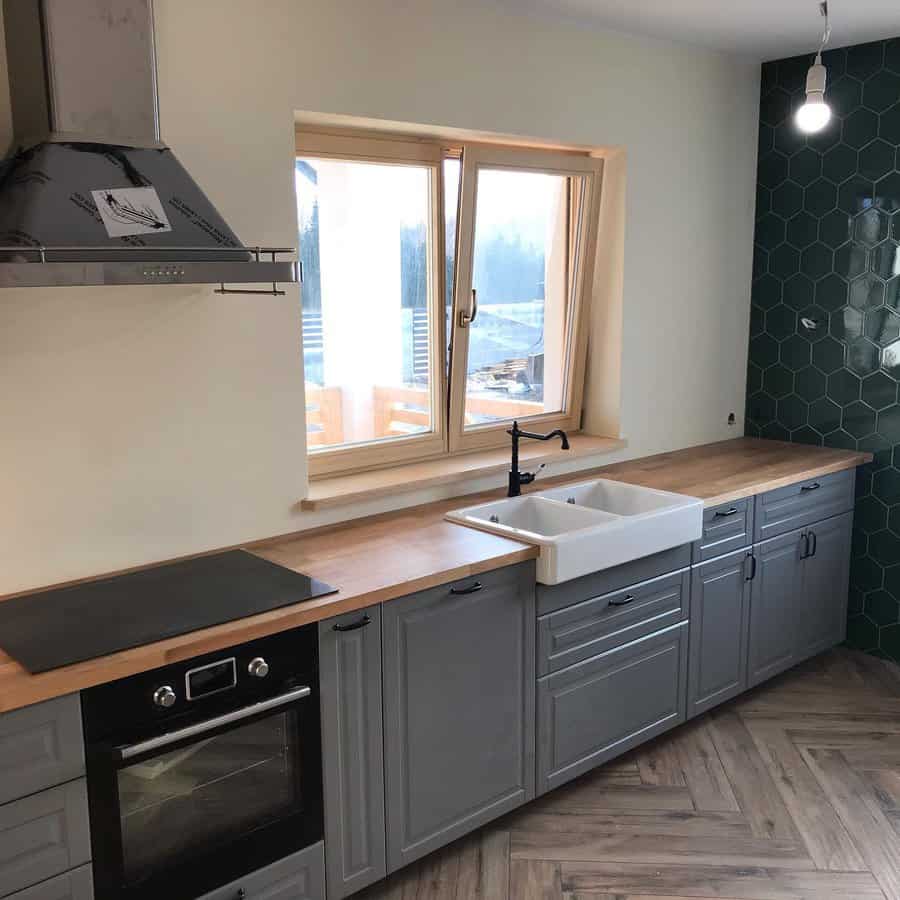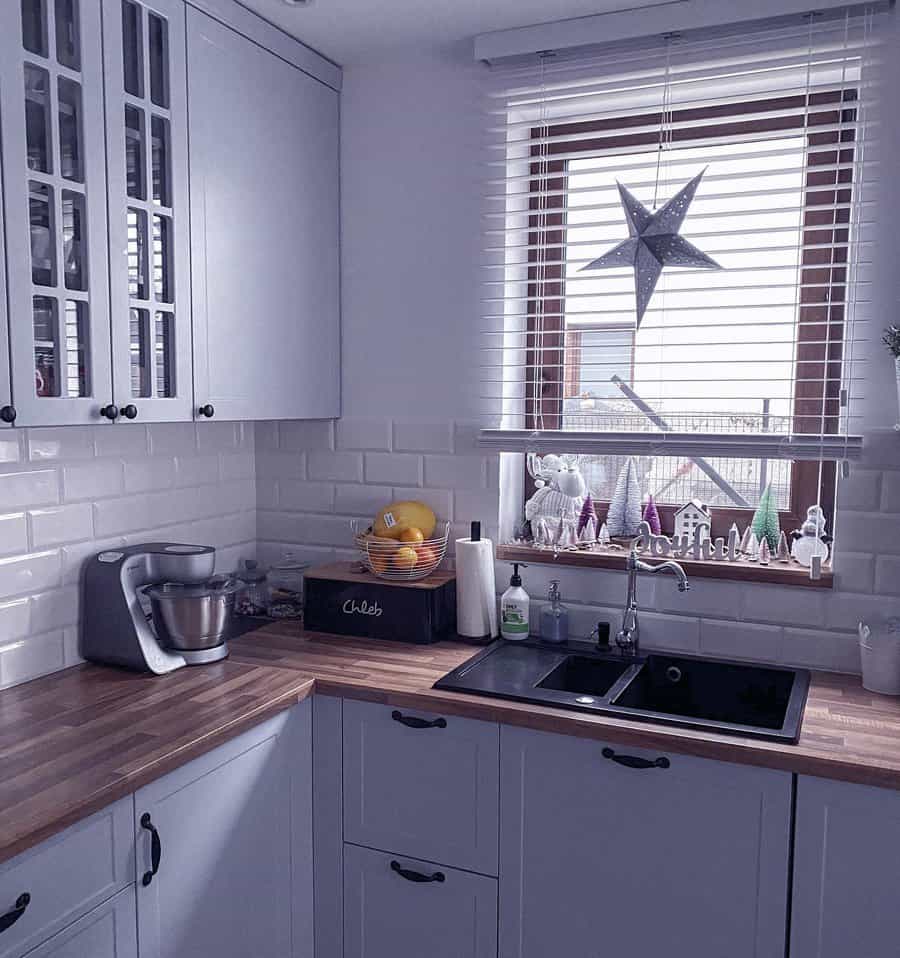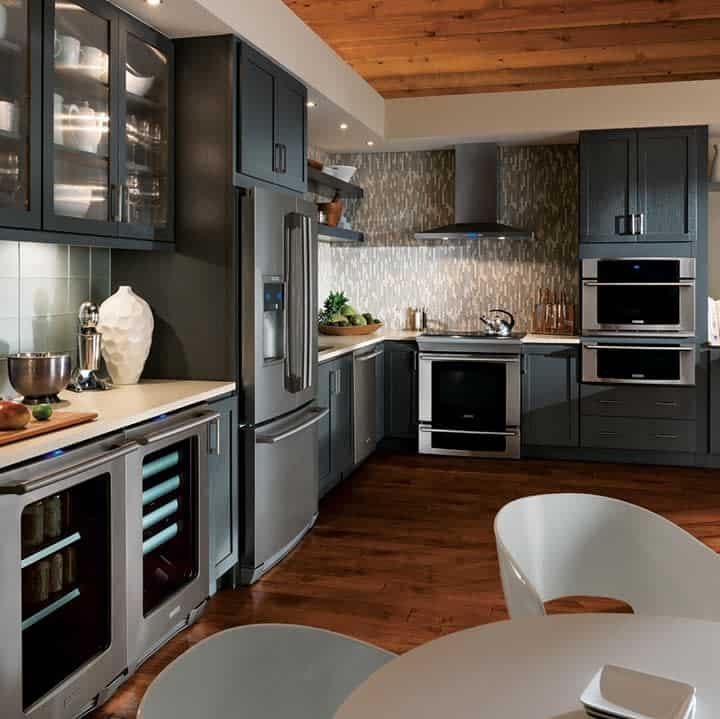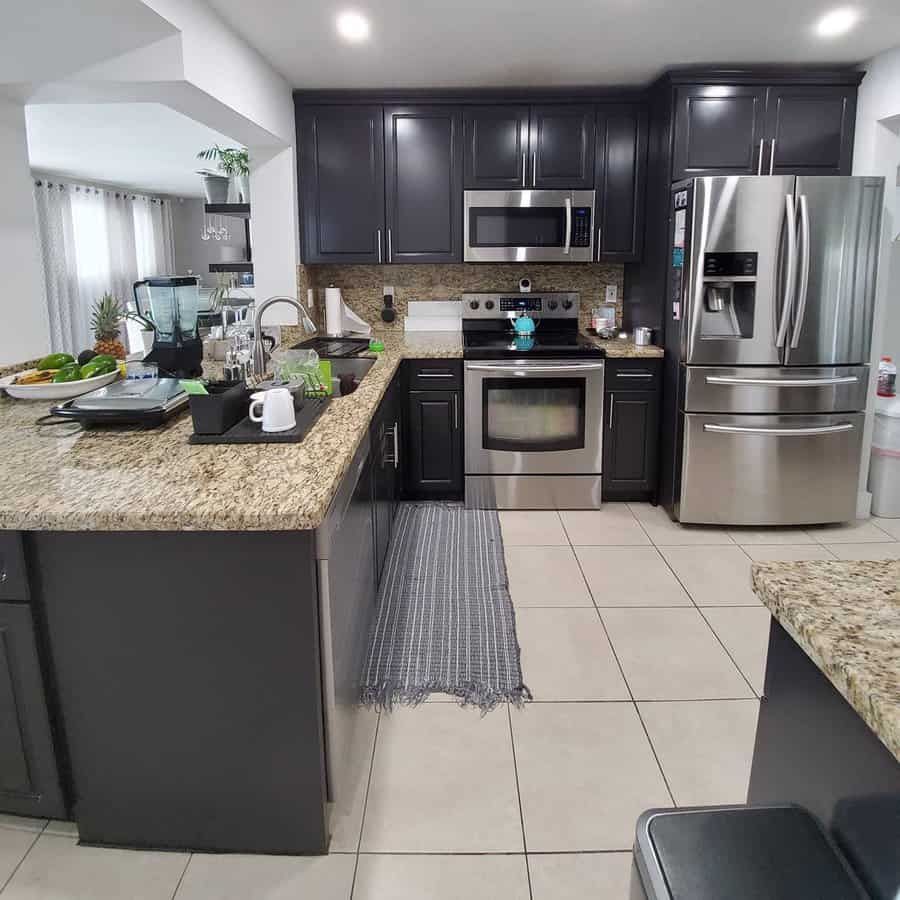 You create this look in your kitchen by adding a gray backsplash or gray walls. Then use dark wood for the cabinets, food, or countertop.
Embrace modern kitchen trends by using your gray color on half of the cabinets and dark wood on the other half. This two-tone look breaks up the kitchen.
3. Gray Cabinets
While white cabinets will always be the standard go-to in kitchens, they can be boring. Light gray cabinets are a perfect alternative.
Pair light gray kitchen cabinets with the right door front style, and you have a clean and classic design. Shaker cabinets are perfect because they have a subtle design that adds visual interest without being overwhelming. It also combines a traditional cabinet style with modern color.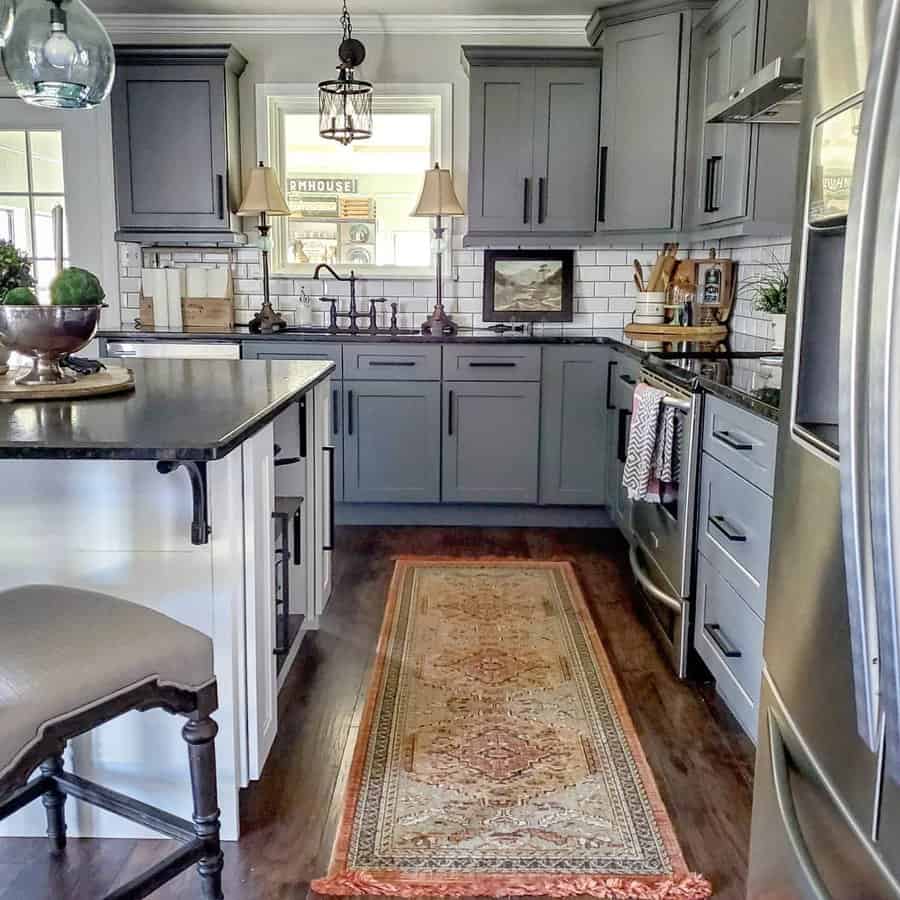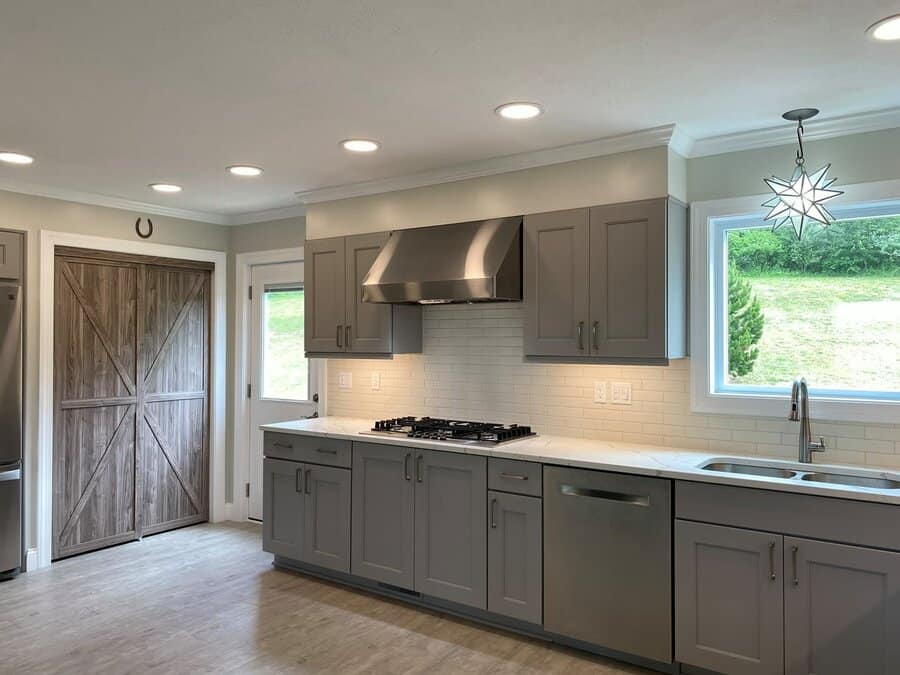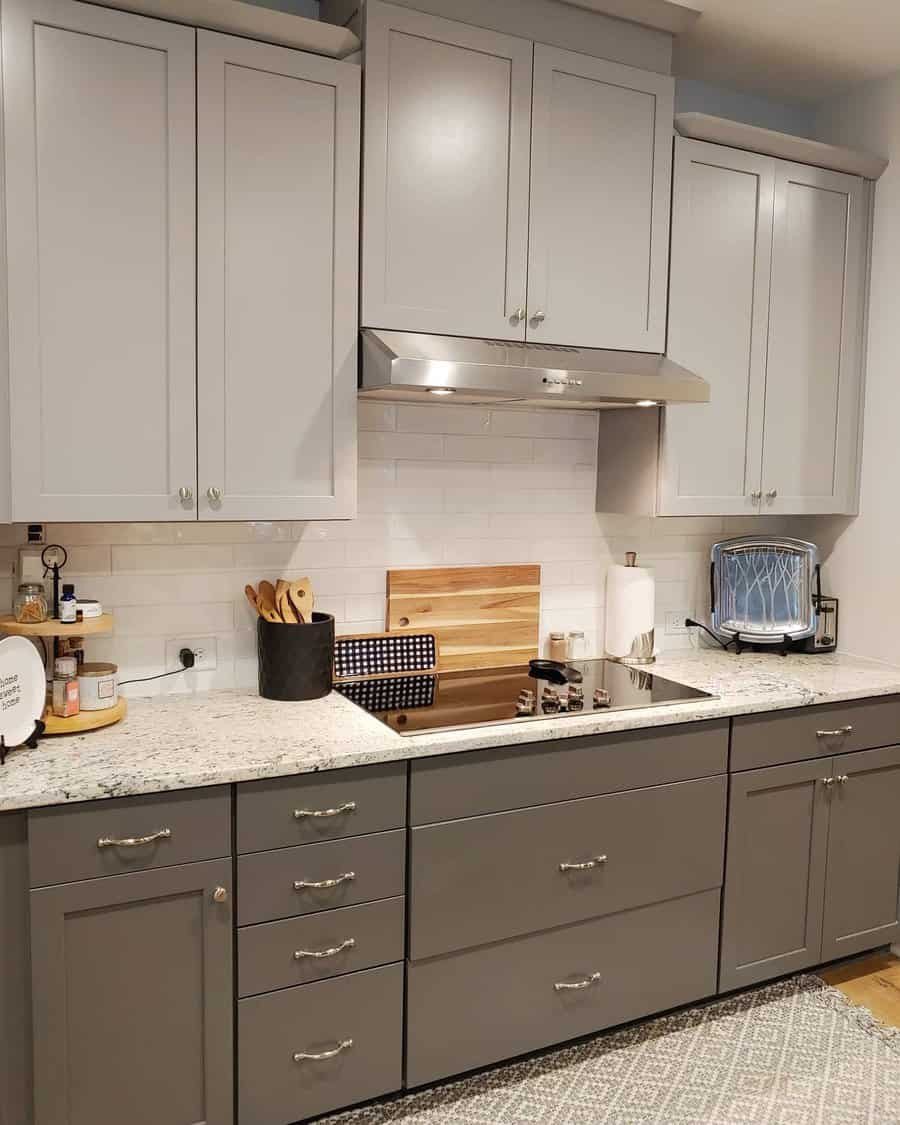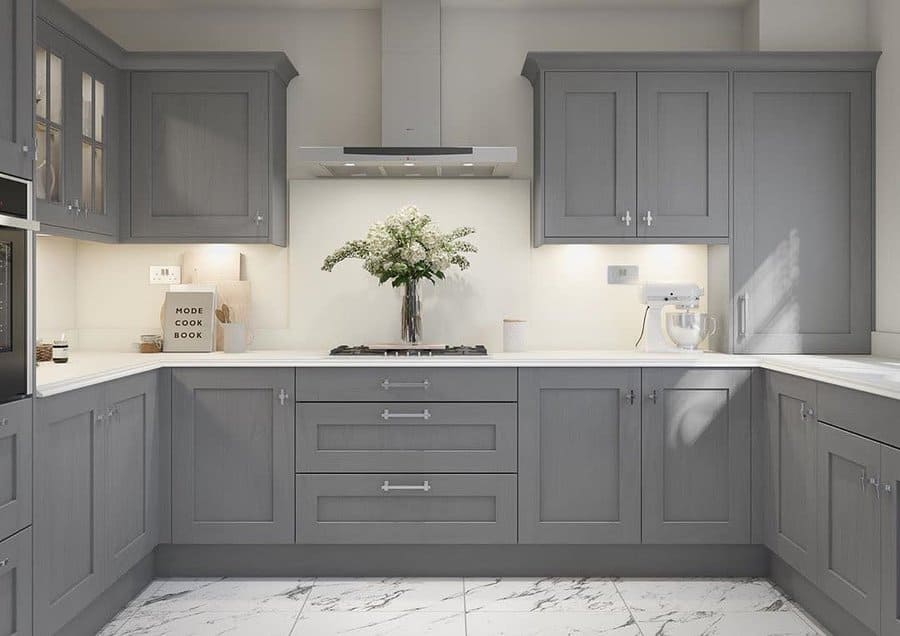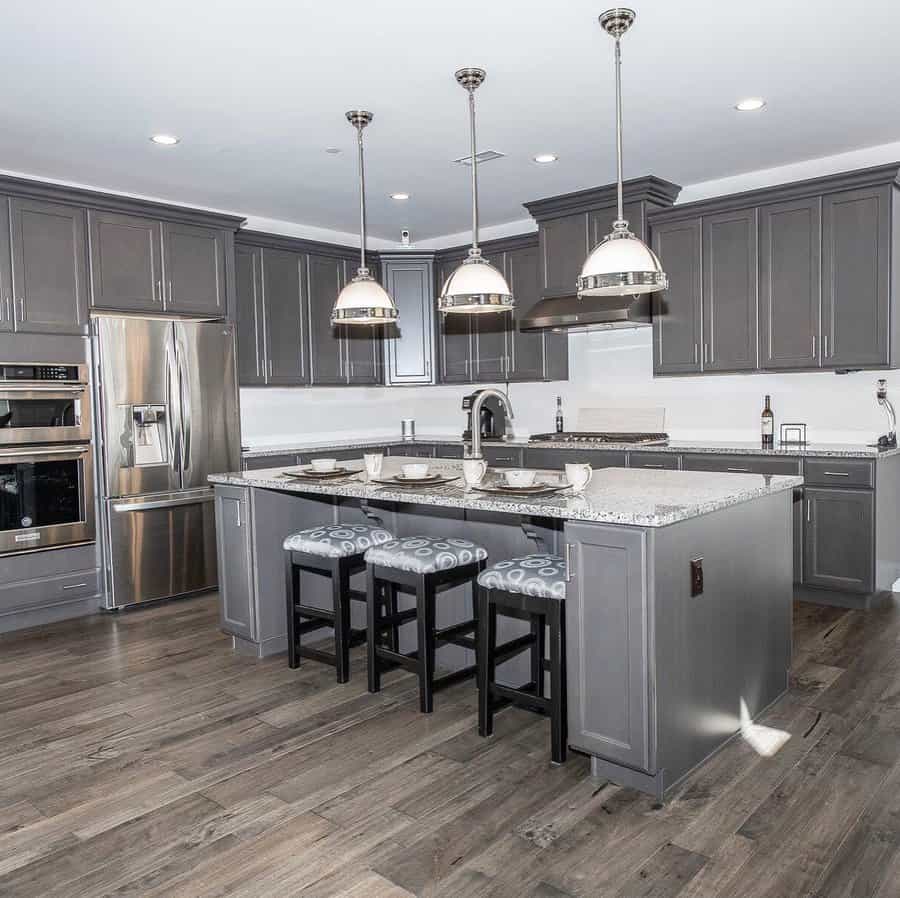 For a sleek and ultra-modern look, choose slabs cabinet fronts. These are perfectly flat and create a smooth look across all of your cabinets.
For a more traditional look, choose cabinets that have more millwork. These more ornate cabinets will give your kitchen a lot of visual details.
4. Contemporary
Use a combination of dark gray, light gray, white, and light wood to create a contemporary or transitional kitchen. This soft color combination creates a neutral canvas for you to then decorate. This is ideal if you like to change your decor often or plan to sell your home soon.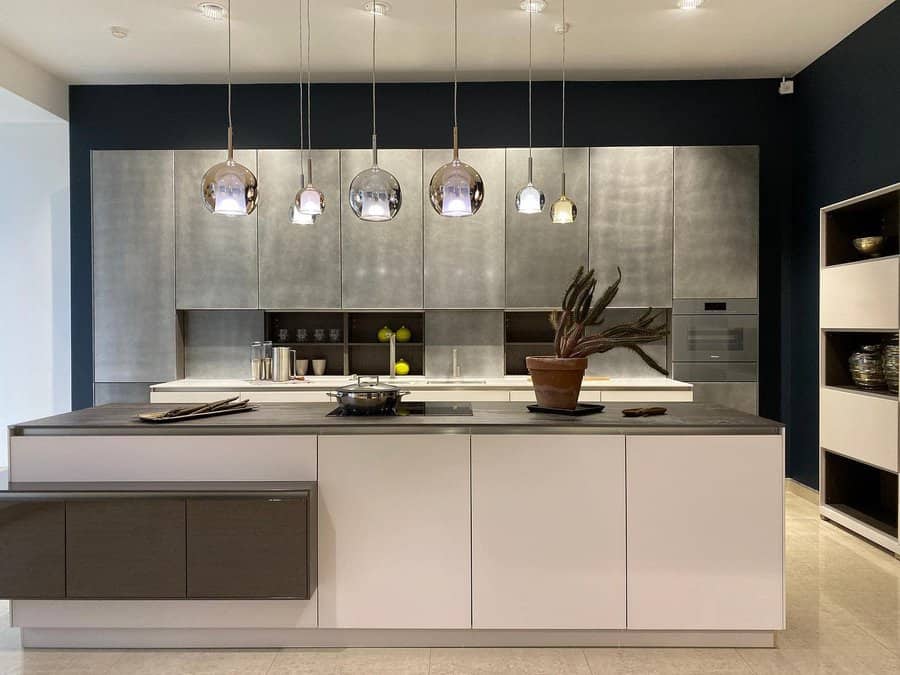 Contemporary kitchens can look beautiful with light gray cabinets. The light shade softens the look of bright white cabinets. It also artfully combines modern color trends with the traditional cabinet design.
Pair it with a light wood floor and light-colored countertop, and you have a bright and welcoming kitchen.
5. Elegant
Gray is a perfect color for creating an elegant kitchen style. The trick is to skip the gray paint and instead use expensive materials and designs that are typically found in high-end kitchens. Start with your kitchen counter.
Replace your current counters with Carrara marble that has gray veining or is predominantly gray.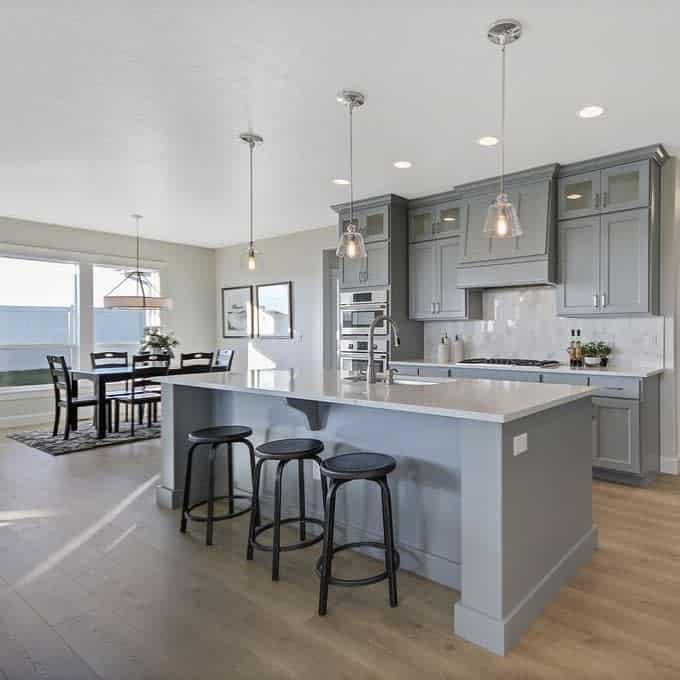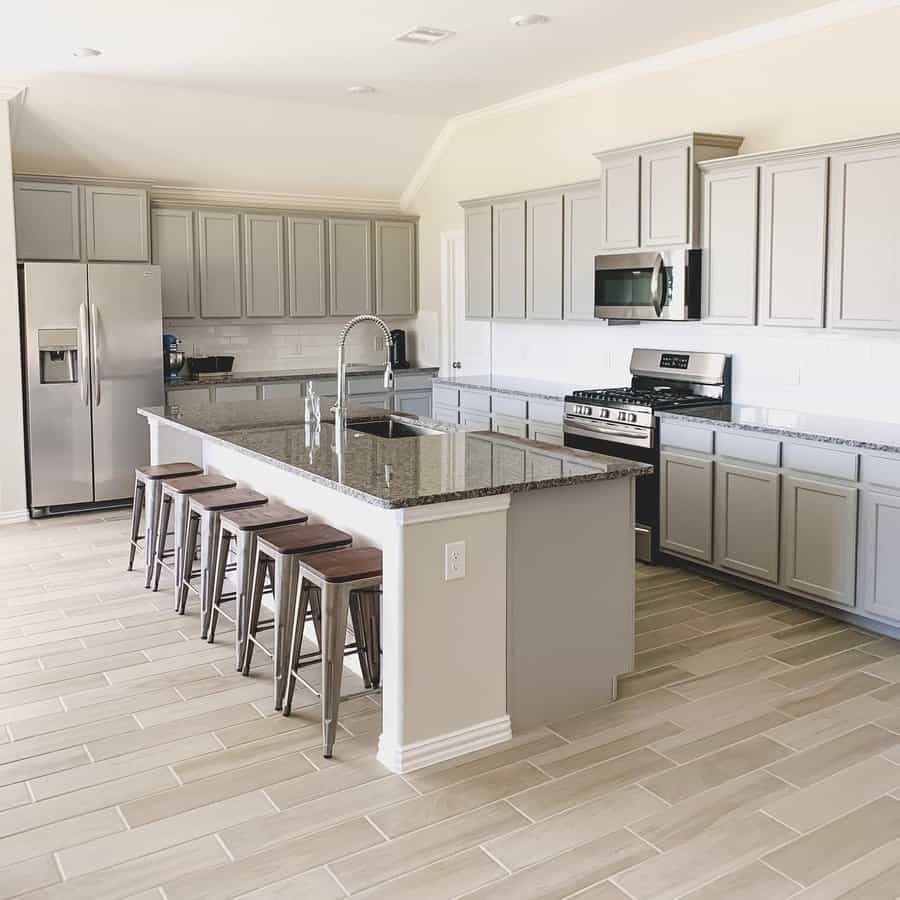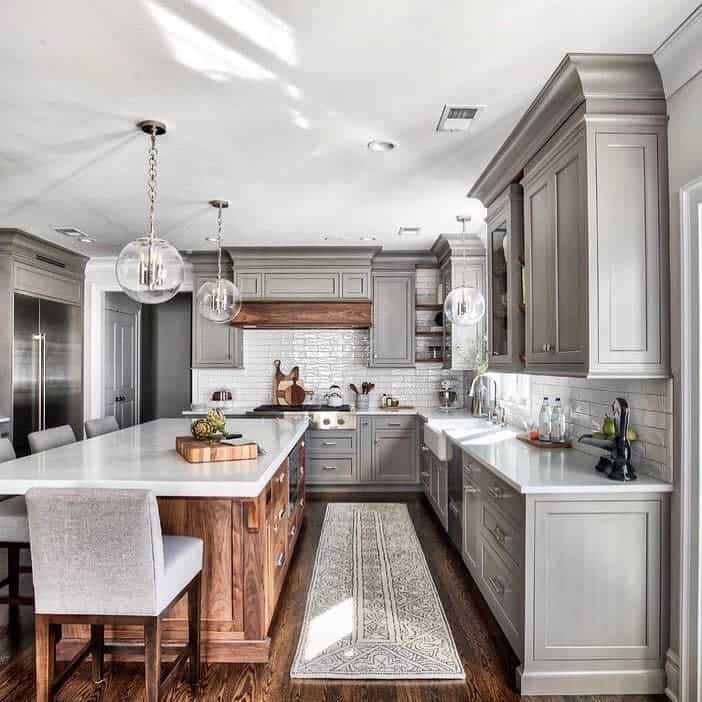 Marble countertops aren't your only option. You could also use another stone that has a similar look to marble. Granite and limestone are other natural stones that can give your kitchen an elegant look. You can also use an engineered stone, such as quartz.
6. Island
Having a kitchen island gives you the chance to go bold with the gray shade you choose. A dark shade of gray may be too dark for your upper gray cabinetry. Upper wall cabinets in a dark gray and close your kitchen in, making it feel dark and small.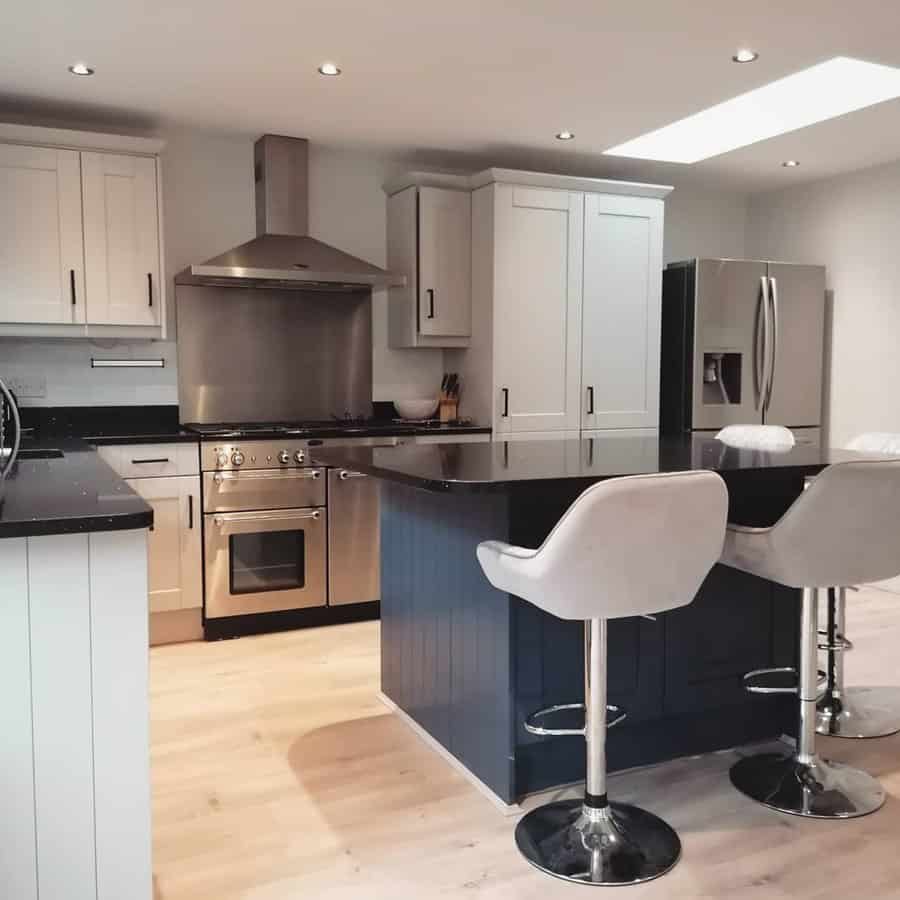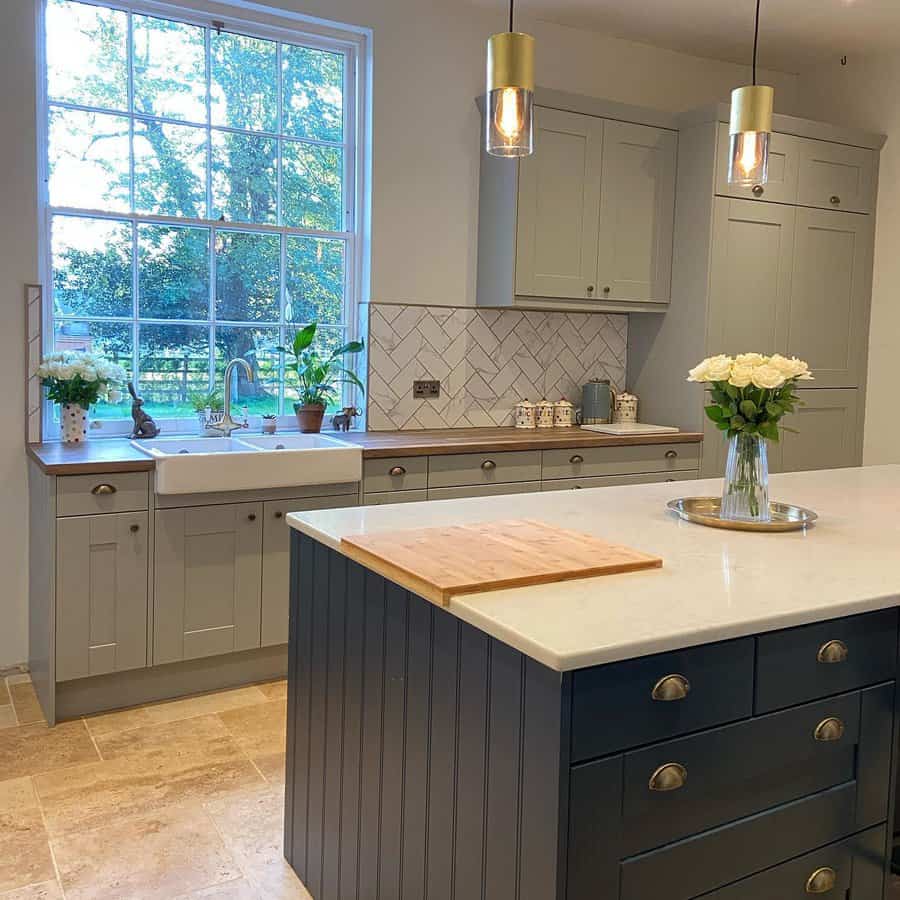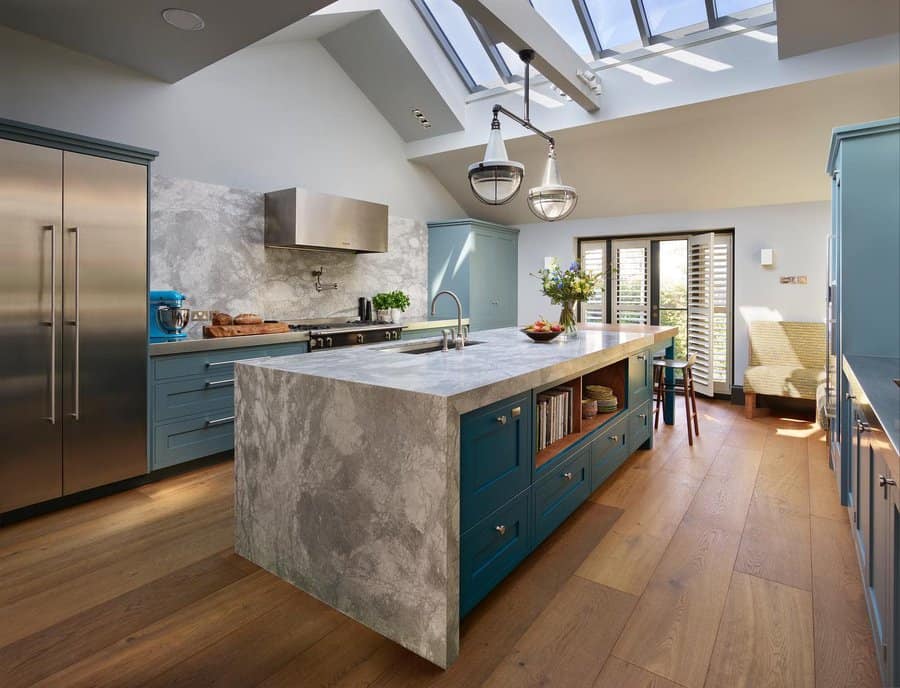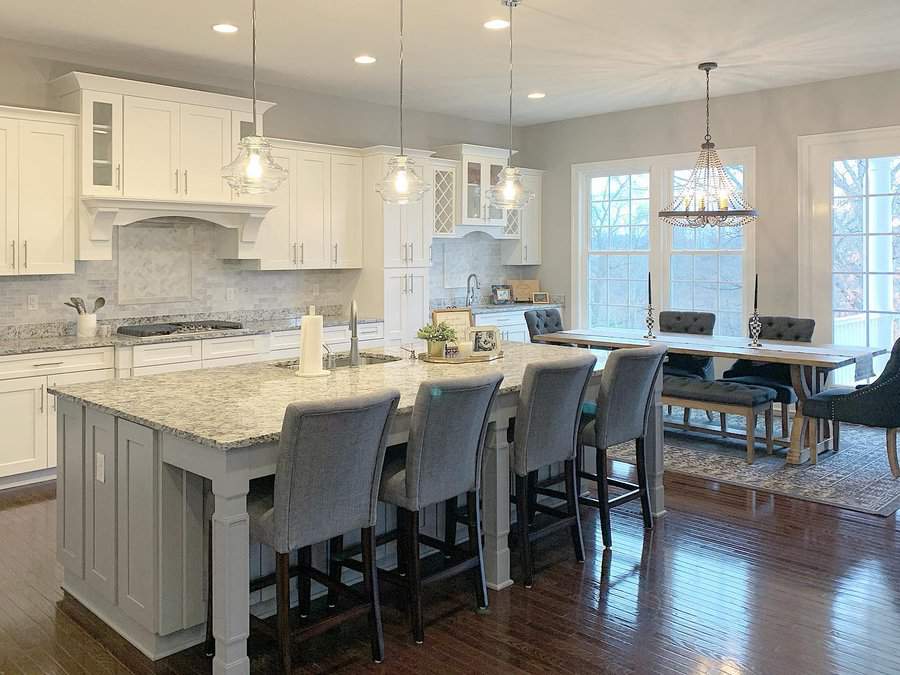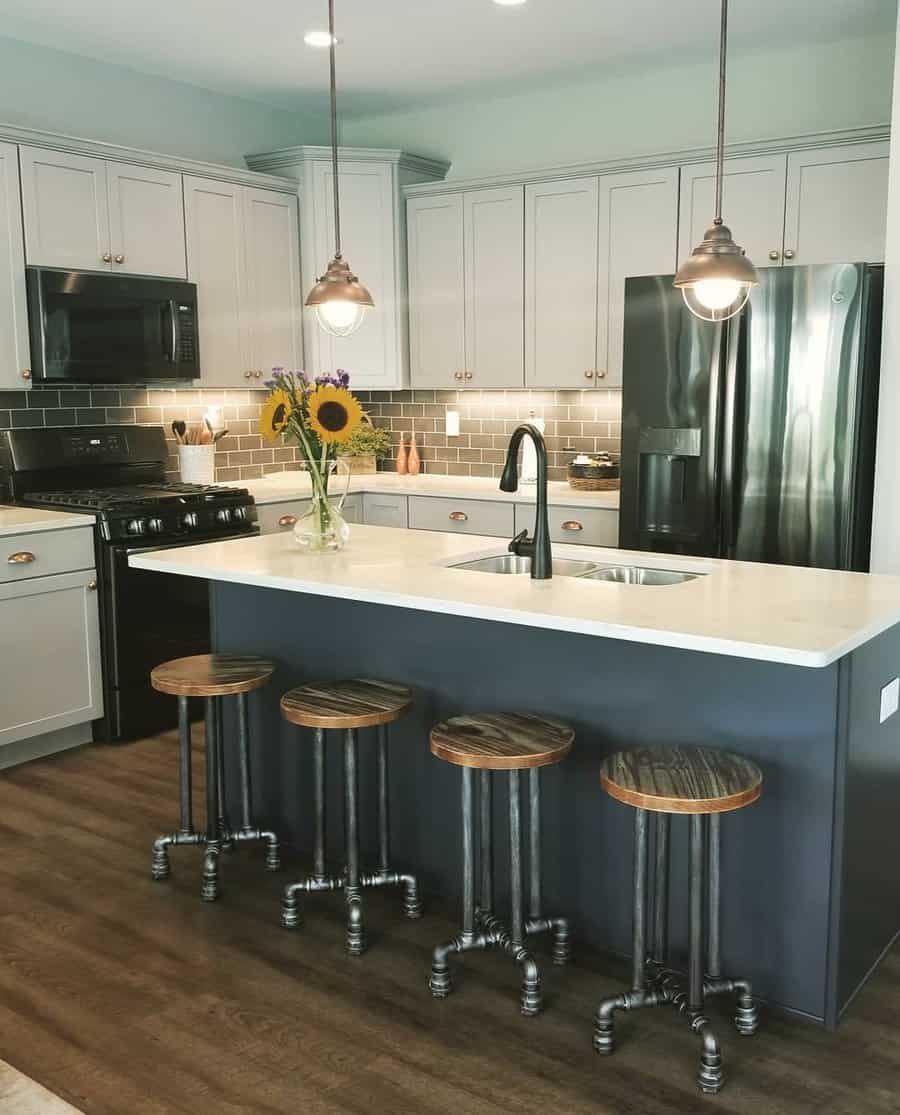 Instead, use that dark shade for your gray kitchen island. The limited amount of coverage keeps the dark color contained so as not to take over your kitchen.
Keeping it in the lower half of the room also prevents it from closing in the kitchen. Using it only on the island embraces modern kitchen design trends, helping your kitchen to look fresh.
Read more: 69 Kitchen Island Ideas
7. Modern
Give yourself a modern kitchen by choosing a darker shade of gray. Charcoal gray is a softer version of black and is still dark enough to offset beautifully against your stainless steel appliances.
To keep your kitchen from becoming too dark, add contrast by using white. The clean and crisp look of the bright white helps to reflect more light and keep your kitchen bright.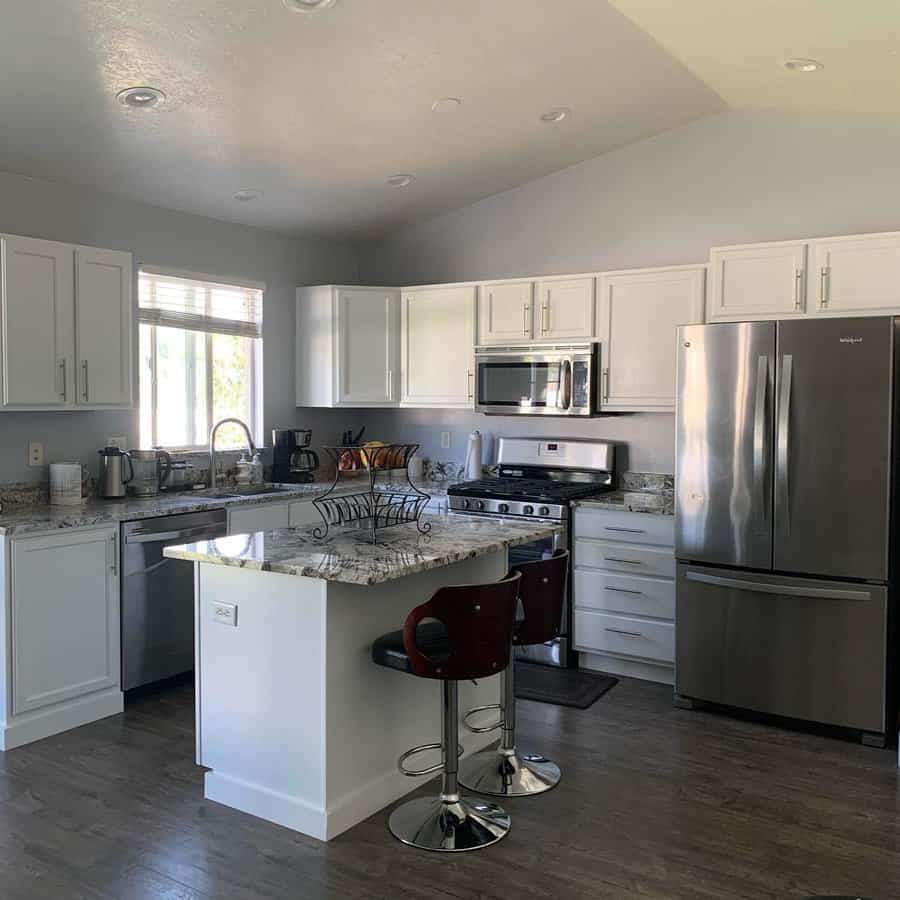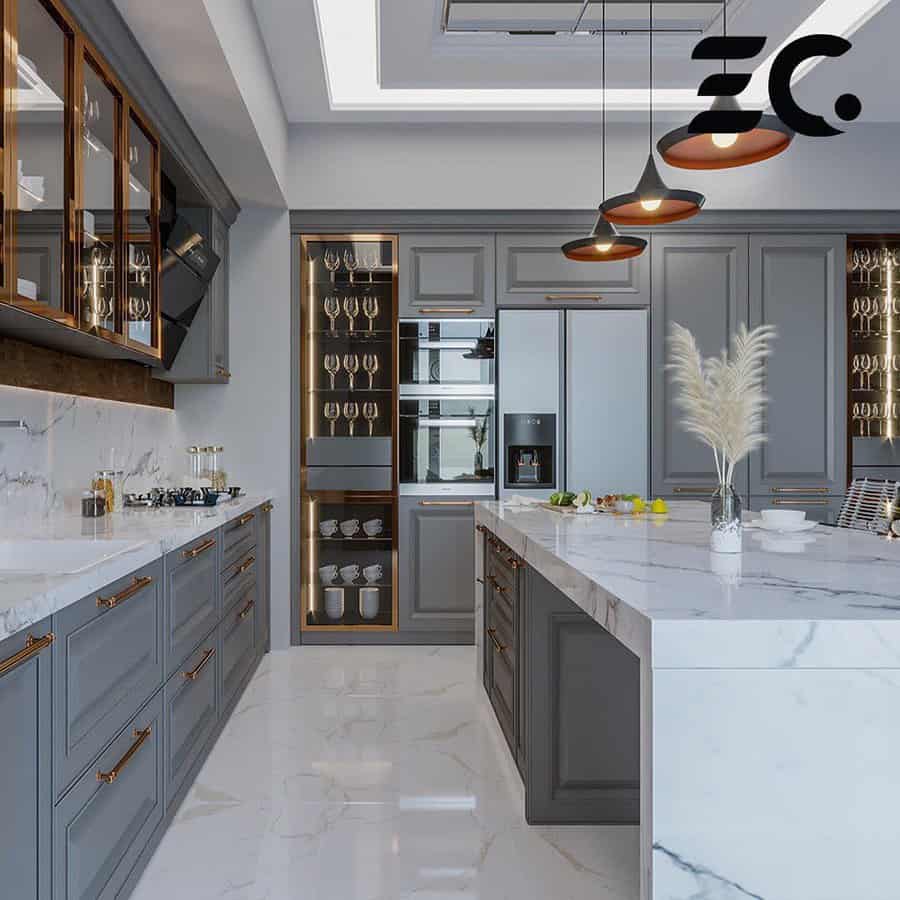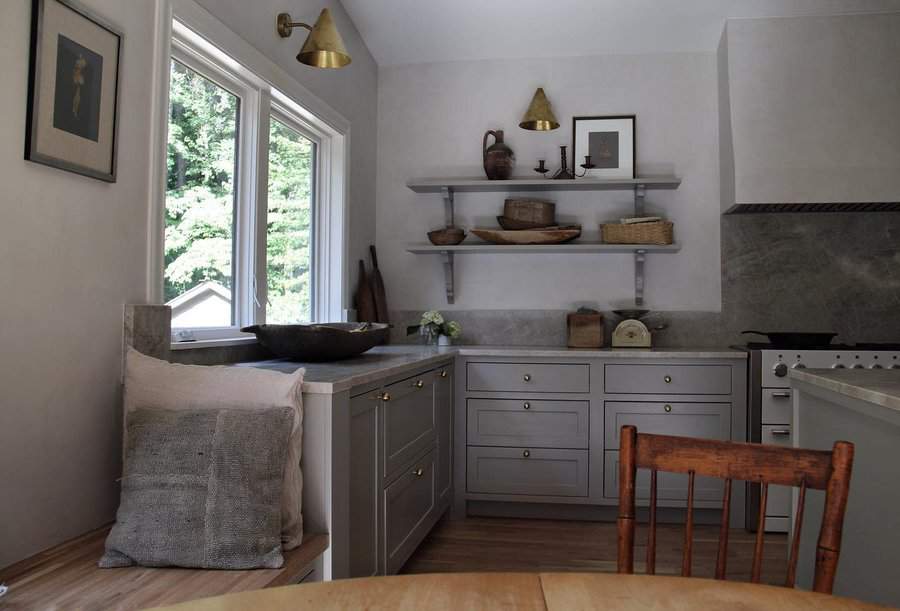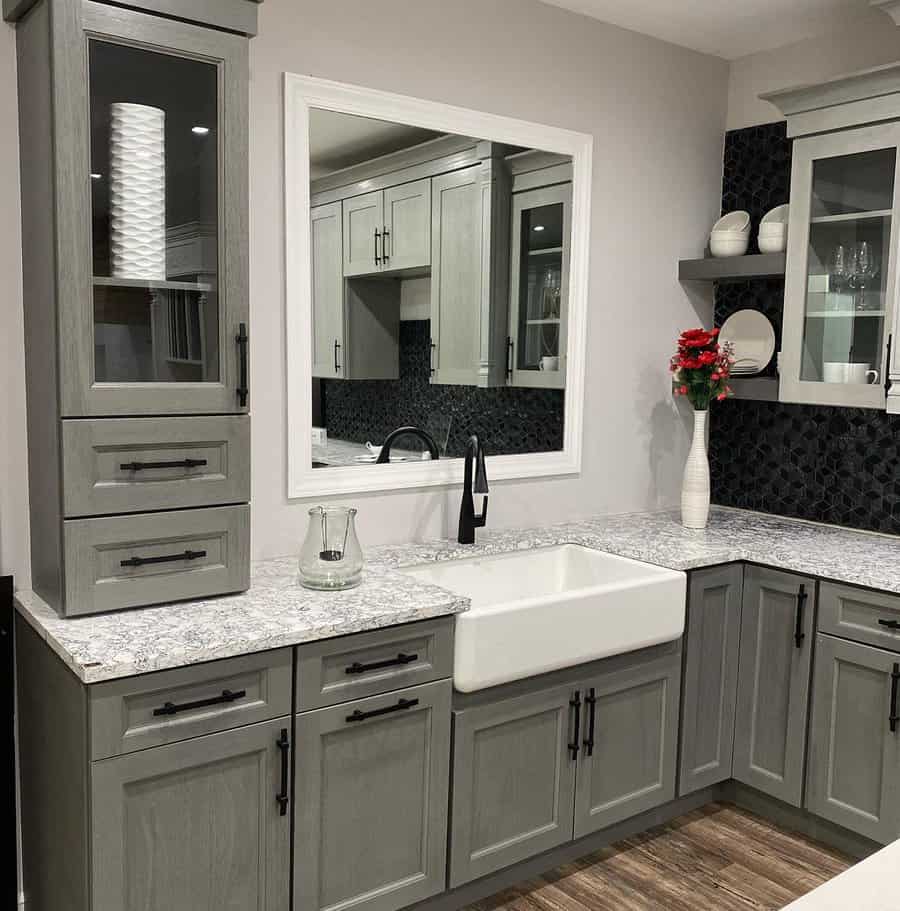 If you want to add color, consider creating a gray and navy kitchen. The gray and blue balance well against each other. You can keep your stainless steel appliances, and you have the option of using either light or dark wood.
8. Small
Your small kitchen presents a unique challenge because you want to create a beautiful yet functional space but are limited. Using gray is a perfect way to make a galley kitchen feel larger than it really is.
Choose a darker backsplash tile and then hang light gray cabinetry. The color contrast will make the darker wall feel further away than it really is.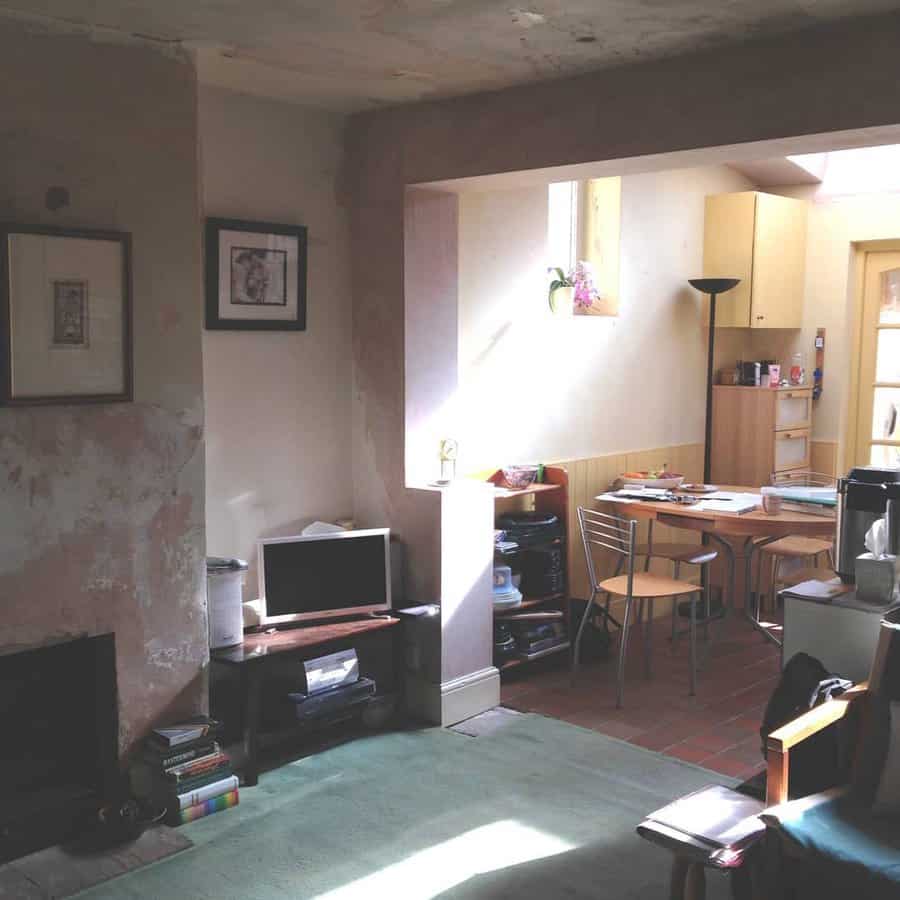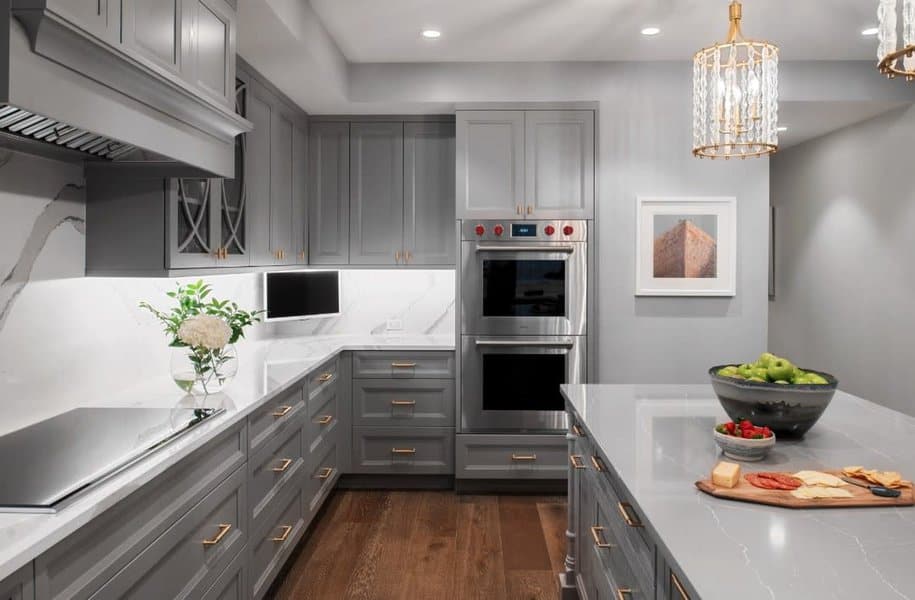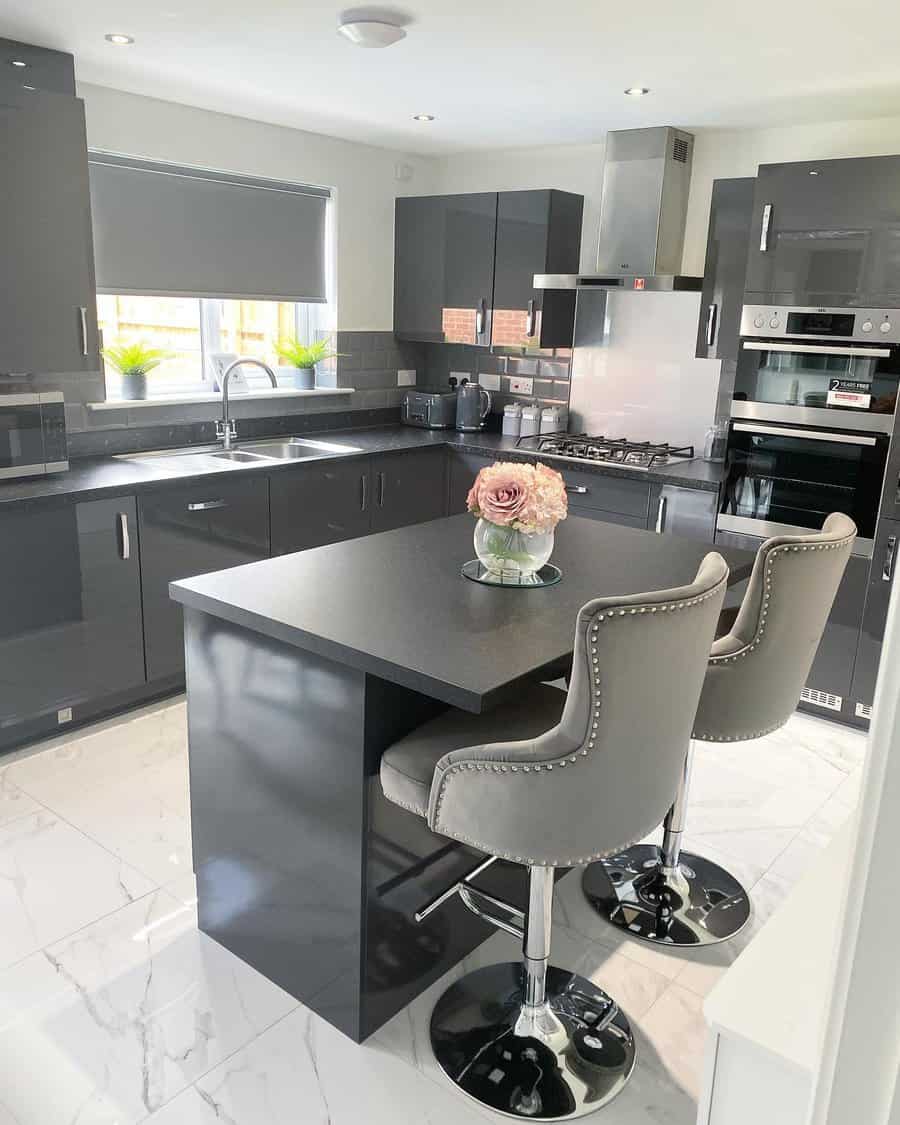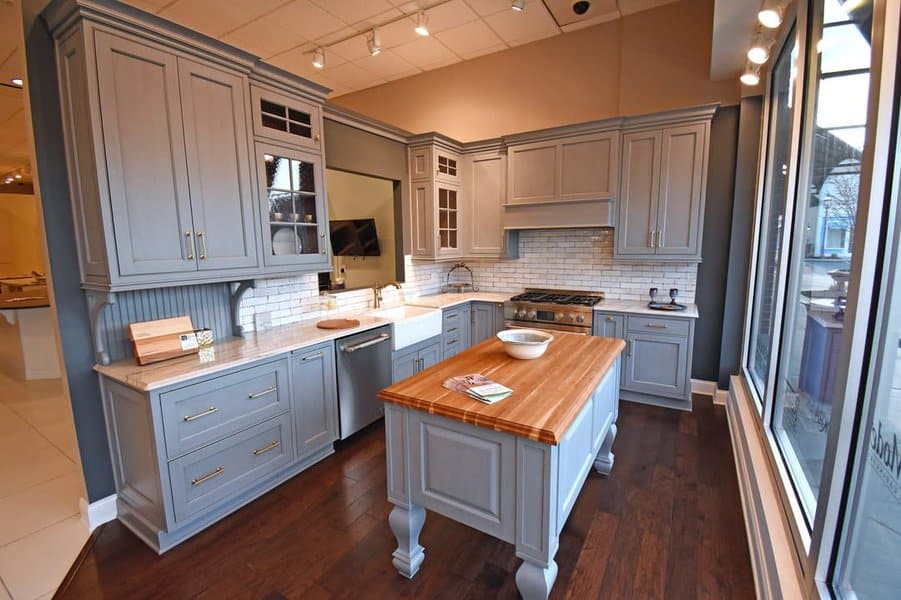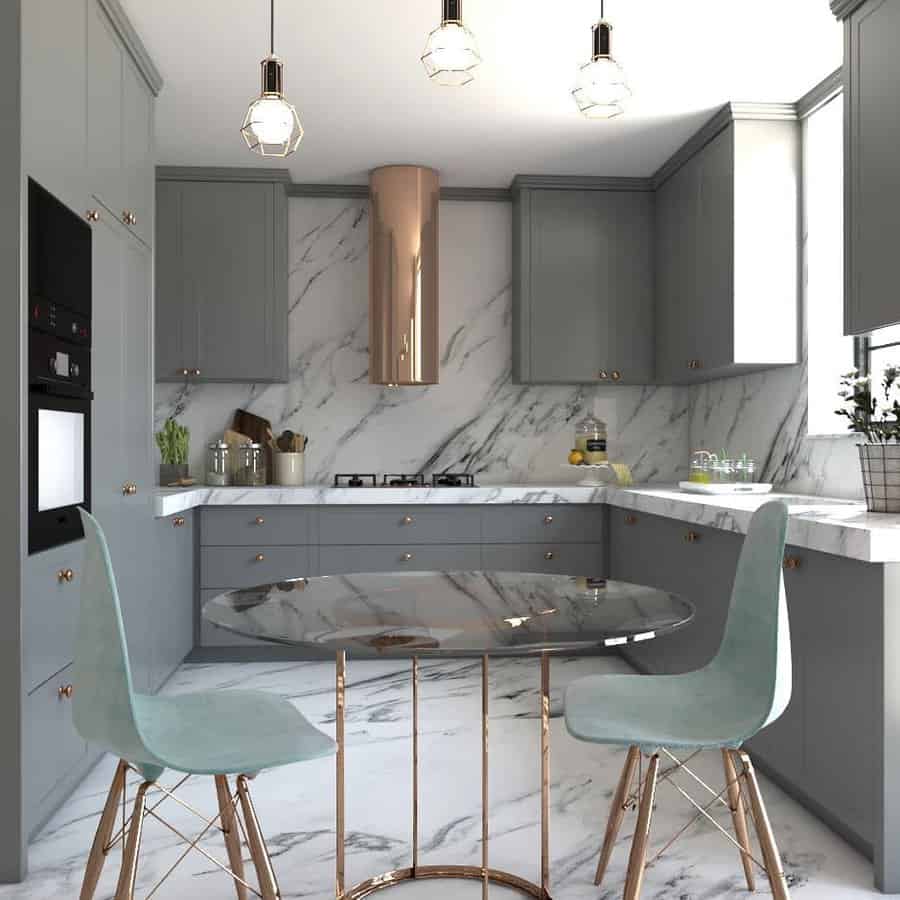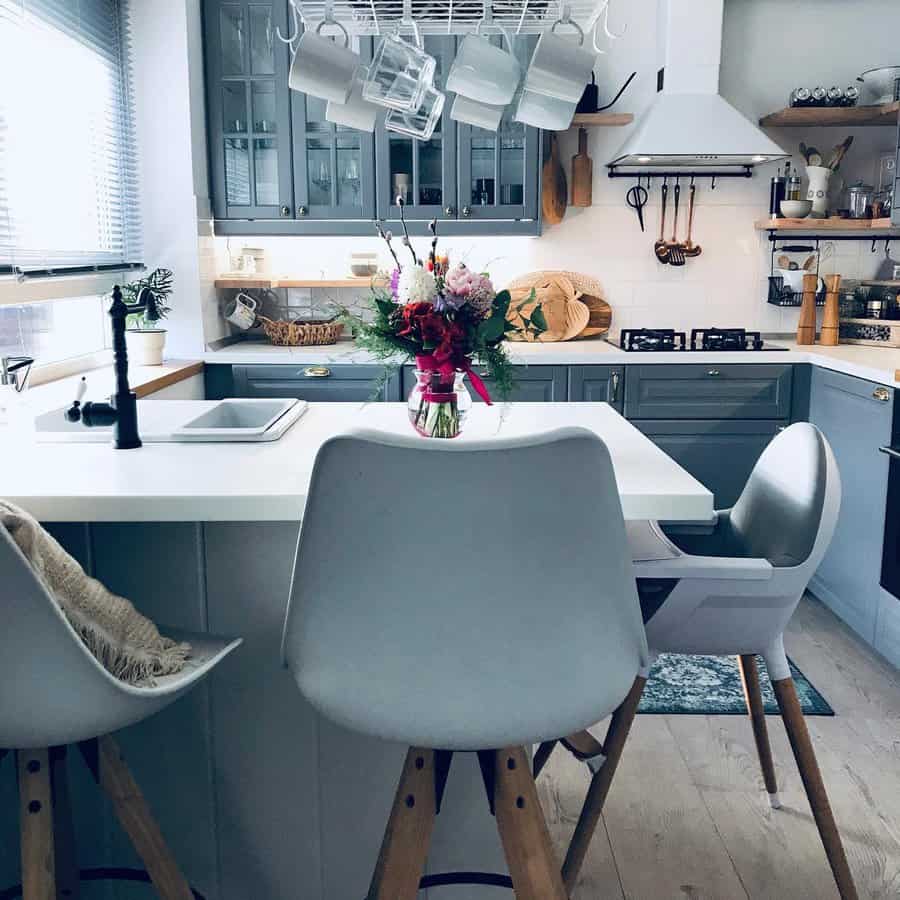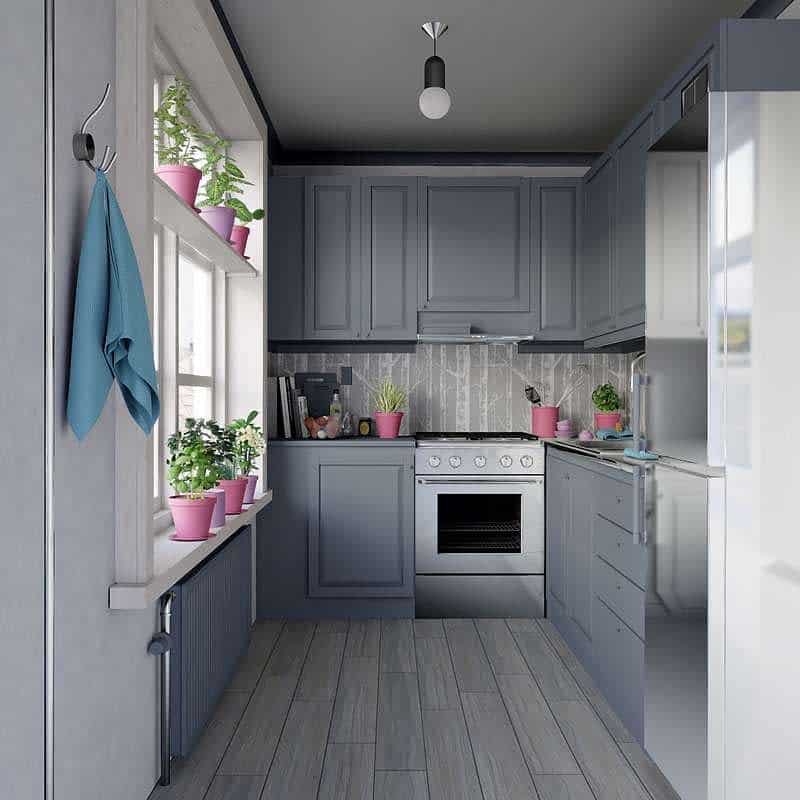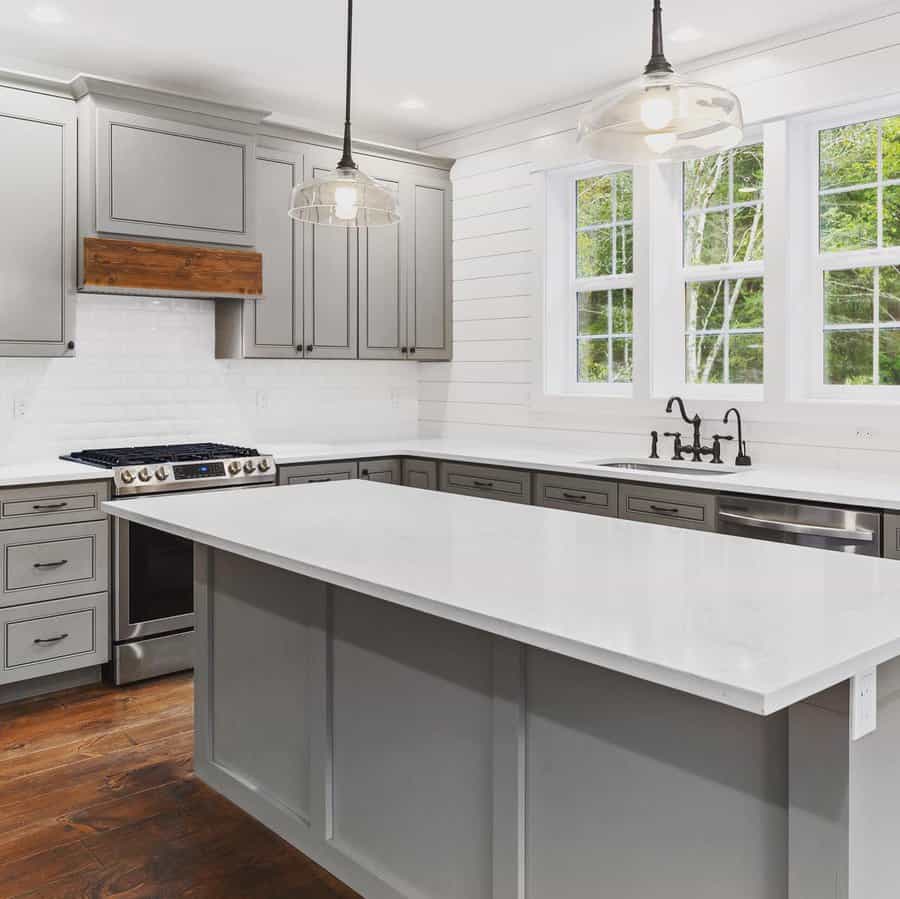 You could also choose a light gray countertop instead. A smaller kitchen means you can make the most of your budget and splurge on a more expensive material like marble.
Making the floor darker can also make the space feel bigger. You can do this by staining your concrete floor a darker gray and then sealing it.
9. White and Gray
All-white kitchens are boring and a pain to keep clean. Adding gray to your white kitchen can create layers and visual interest. It'll also be less harsh on your eyes.
Try replacing your white cabinets with dark gray cabinets. Or add a stainless steel subway tile backsplash. The metal doesn't take away from the white aesthetic while also being easy to clean.
Another option for your kitchen design is to add a gray floor. Skip the ugly plain gray tile. Opt for a light gray wood floor. It will look beautiful and add a contemporary touch to the kitchen. It will have broad appeal and blends with a wide range of interior design themes.
Gray Kitchen FAQs
What color goes best with a gray kitchen?
Almost any color you want can look beautiful with gray. You could create a soft look by pairing your gray with other neutrals. For a sophisticated and modern look, choose black. You can give your gray kitchen a bright and cheery feel by choosing light and bright colors with a warm tone. Or give your kitchen a relaxing feel by using color with a cool tone.
How do you style a gray kitchen?
You can use the color gray in a wide range of interior design styles. This modern-looking neutral looks best when done in a contemporary, minimalist, modern, or industrial. If you choose a soft gray, it can look nice in a farmhouse or even a rustic kitchen.
How do you brighten up a gray kitchen?
Start by choosing a gray shade that is on the lighter end of the spectrum. Stay away from dark charcoals. You can also pair it with a lighter color. Shades like pink, orange, and yellow keep the space bright while also adding warmth. White, cream, and light beige keep your kitchen color scheme neutral while also being light and bright.