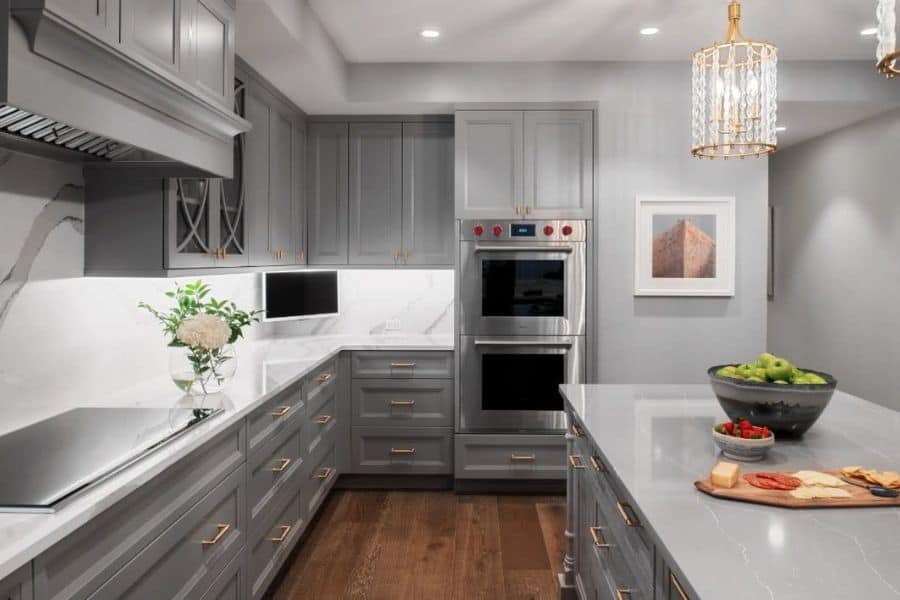 "Life isn't black and white. It's a million gray areas, don't you find?" – Ridley Scott
Gray is the modern neutral and gives your home a soft and welcoming feel. It's the perfect solution when white is too harsh and bright while black is too dark and moody. From light and pale to rich charcoal, grey can soften the look of your kitchen.
Pair your grey with bronze, copper, or gold, and you add warmth to the space. Choose stainless steel, silver, or nickel, and you have an ultra-cool space for preparing your meals.
These gray kitchen ideas will get you inspired to change up the color scheme in your kitchen.
1. Compliment Gray With Wood
Nothing adds a dose of warm contrast like wood accents in a gray kitchen. Whether you opt for oak countertops or maple flooring, the natural touches create texture and breathe character into the room.
Watch as everyday items like utensils and dishware take on subtle highlights from the wood elements. Soften up the space with plant-based decor and – voila! – you've created an inviting haven that isn't afraid to stand out from the crowd.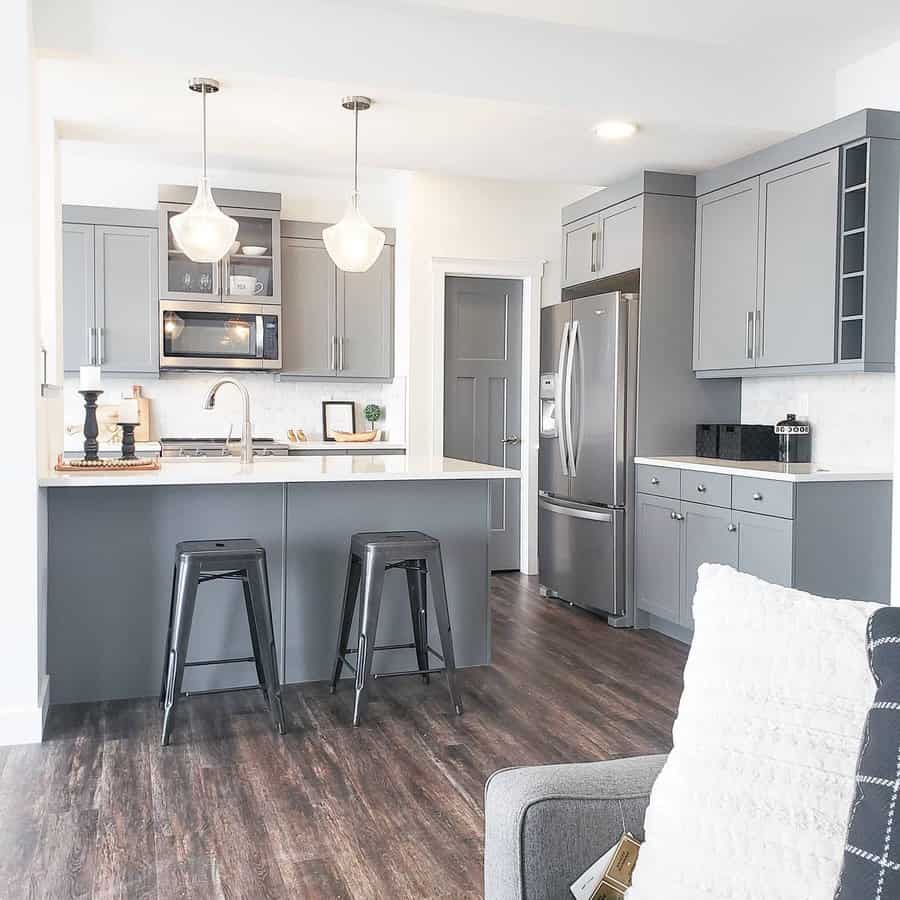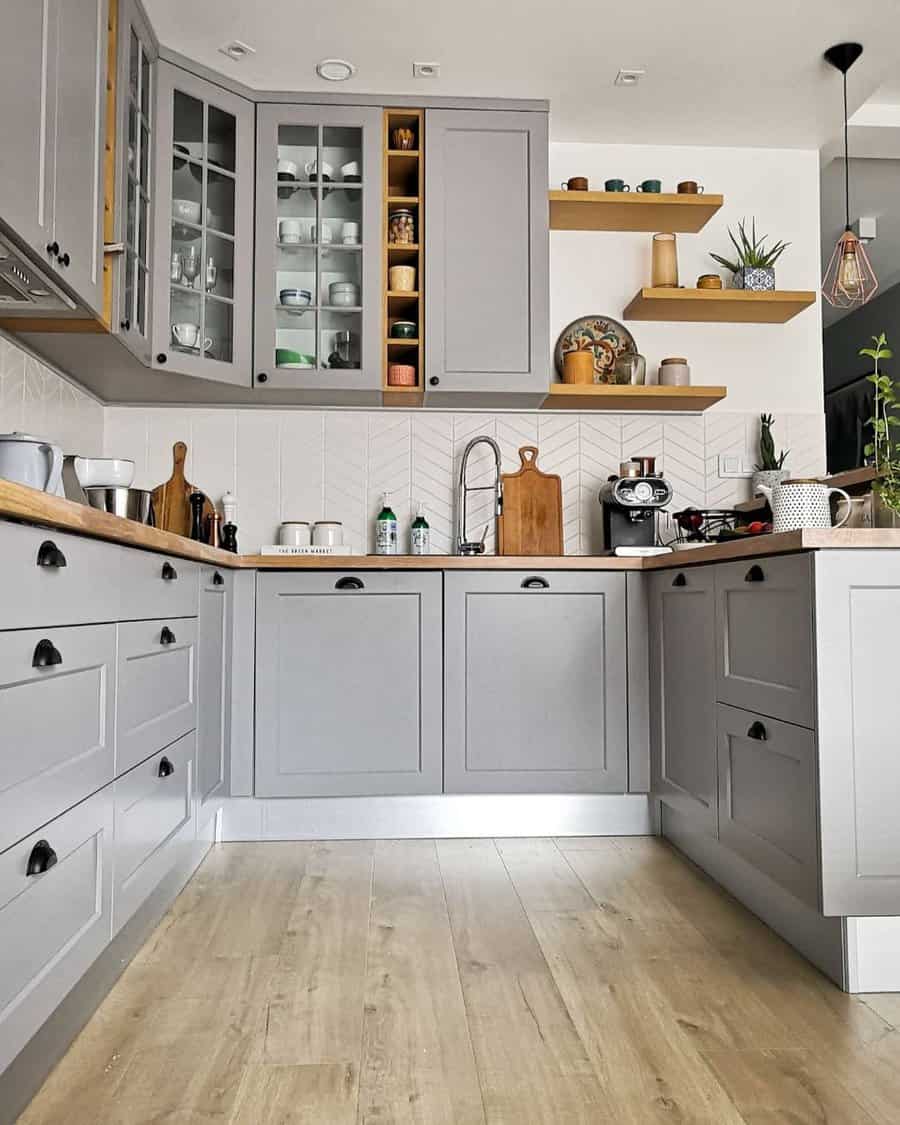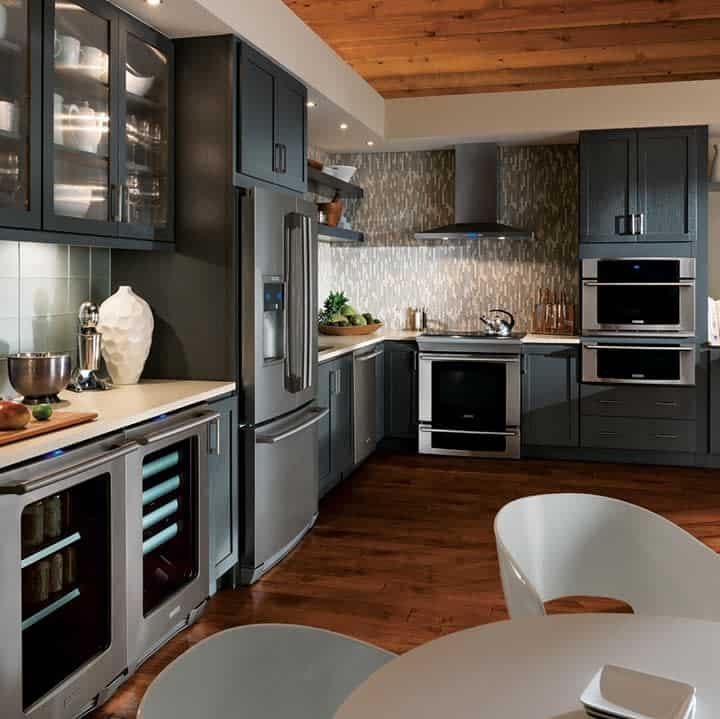 2. Add Ambiance Lighting
The gray hue of kitchen space can be elevated to new heights with the addition of ambient lighting recessed in the ceiling. Accentuating this with pendant lamps that are placed intermittently throughout the room creates a space with just enough drama to draw one's eye to the details while maintaining a tranquil atmosphere perfect for reflection and contemplation.
Of course, LED lights should be used in these recessed spots to produce a warm light that casts an elegant touch over the entire area. With such thoughtful touches, the gray kitchen can transform into a source of heavenly delight at any time of day.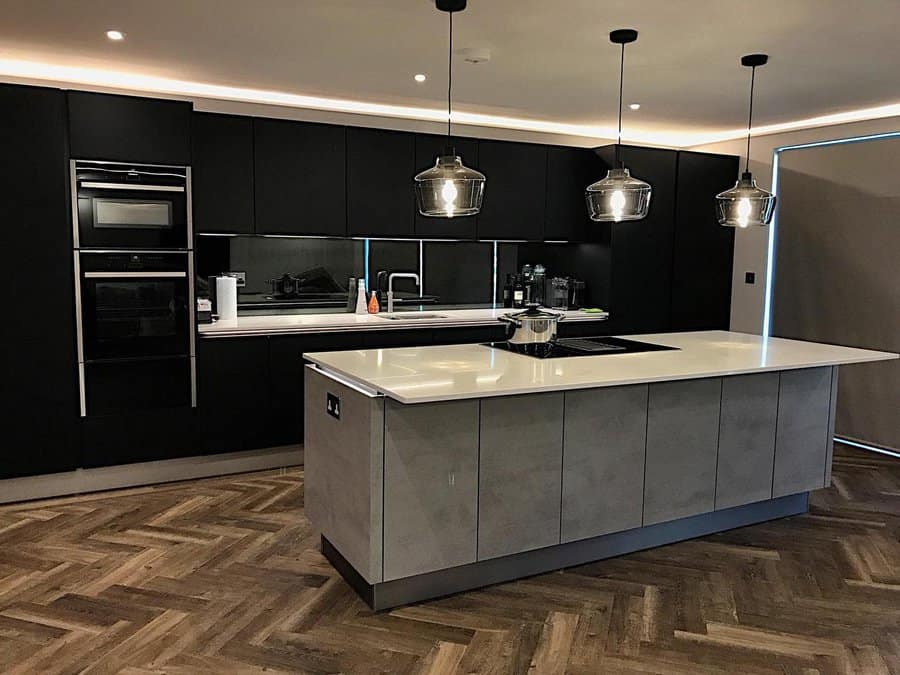 3. Install Decorative Flooring
A contemporary gray kitchen is sure to be the envy of any guest or family member who walks through its doors. This charming kitchen makes a statement with polished marble flooring that's a contemporary twist on a classic style.
Showcasing three-toned tiles in bright white, light beige, and darker brown hues, this flooring ties beautifully into the room's overall palette, adding a luxurious layer of texture that you can't help but admire.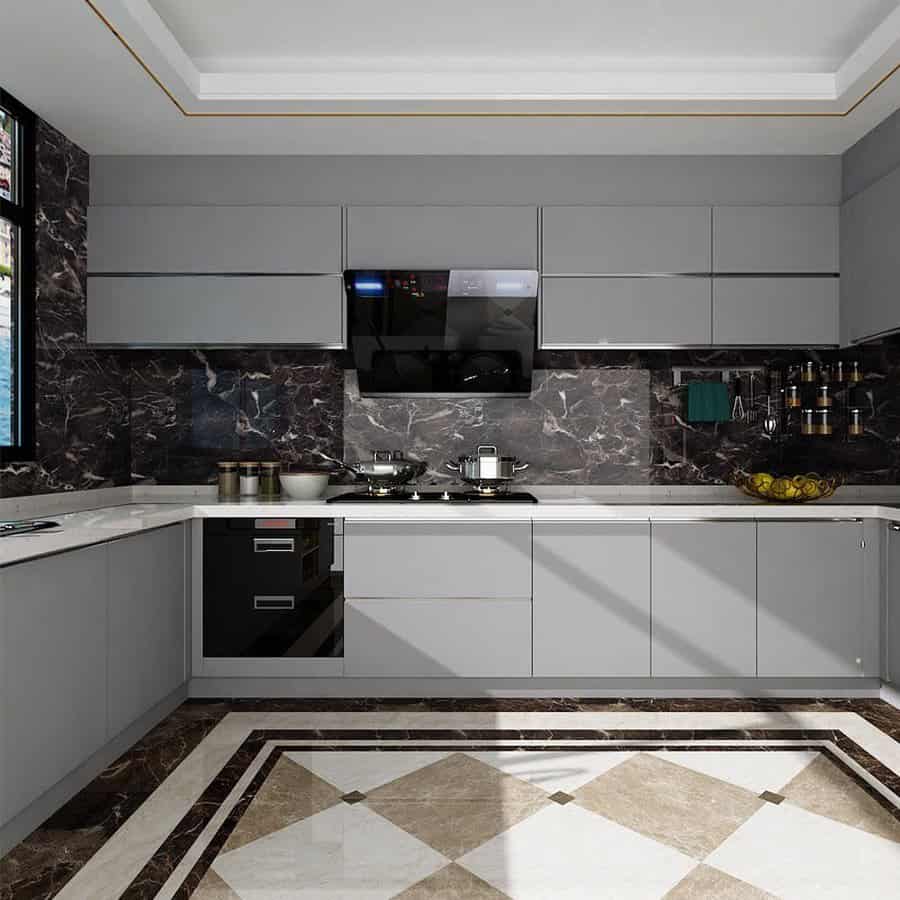 4. Play With Prints For Accent
A gray kitchen can often appear drab and gray, but a kitchen island with printed wallpaper adds visual interest and a playful aesthetic that make any gray kitchen come alive. With the right design selection, you can give your gray kitchen a stylish update that is sure to be the envy of all your friends.
Pick out a playful wallpaper pattern in colors that match perfectly with your gray kitchen walls and cabinets for an effect that will truly take your kitchen from dull to daring.
Rather than be confined by the gray, let it become a canvas to express yourself and add character to a room known for its activity.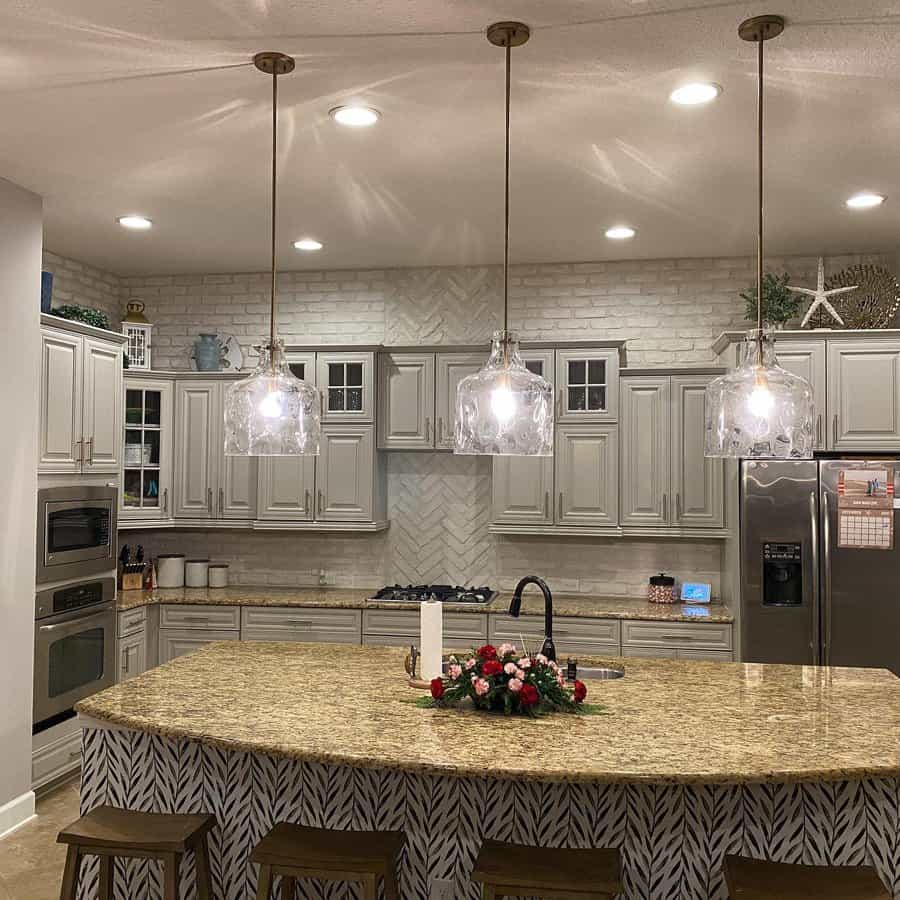 5. Opt For Dark Wood Furniture
The combination of a gray kitchen with dark wood furnishings creates an eye-catching contrast which makes for a striking yet classic look. This aesthetic creates a formal and traditional atmosphere, yet is versatile enough to fit in almost any home.
The cool color of the gray creates a calming and warm atmosphere, while the fieriness of the dark wood creates an elegant depth to this design. Together, this look creates an effortless combination that evokes both modern and classic elements.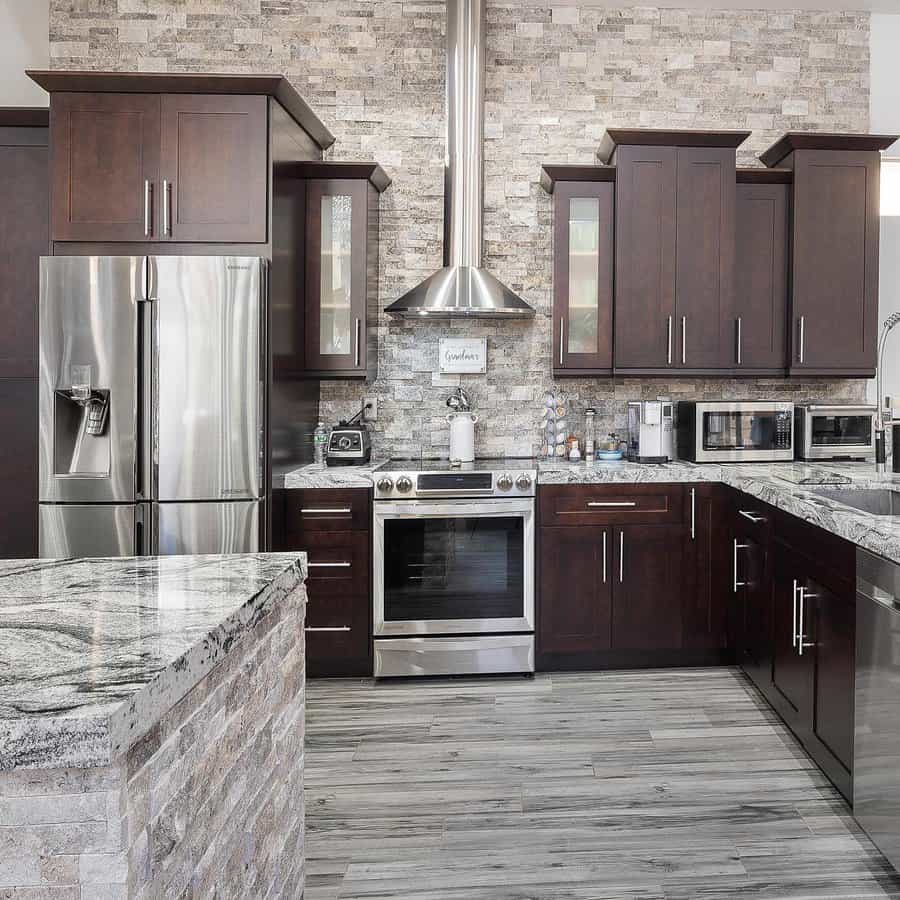 6. Light Up The Kitchen With A Window
A gray kitchen with a window opens up the space to allow for a bright and airy feel, allowing natural light to hit that brightly lit countertop. Sun spills in, casting shadows and adding an extra bit of charm.
It's the perfect backdrop to start your day – cozy yet modern and the perfect size for whipping up delicious meals for family or friends. Let this comfortable cooking space inspire you today.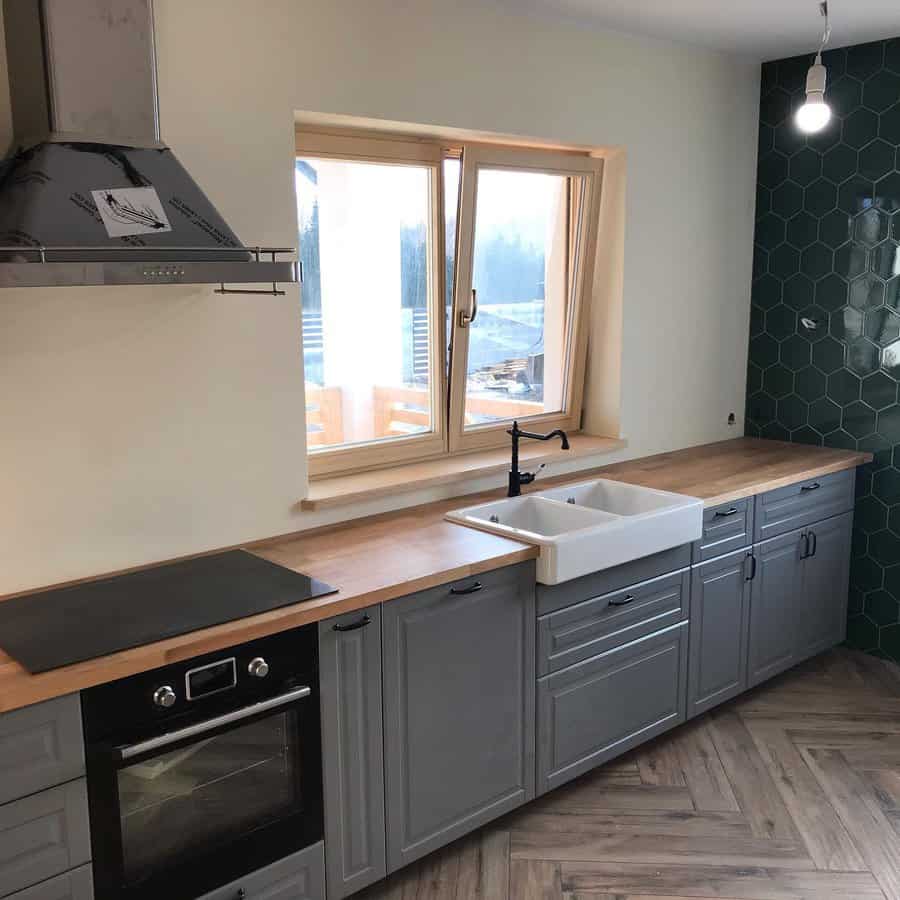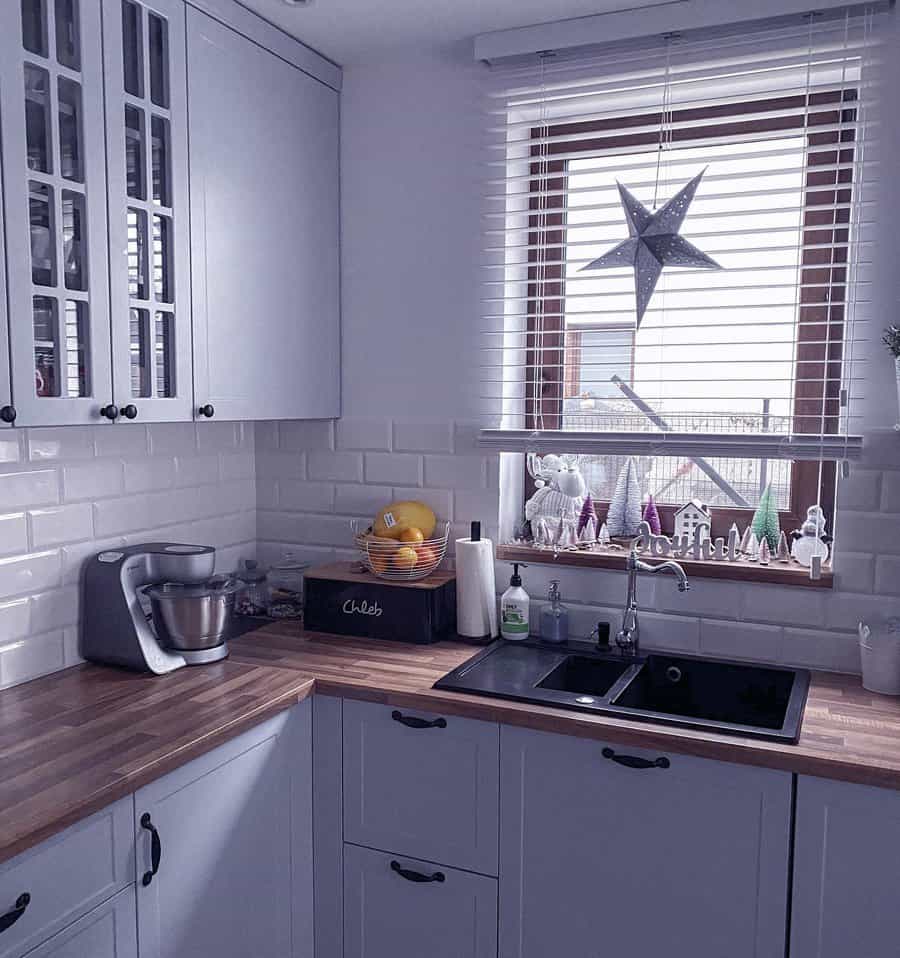 7. Select A Warm-toned Marble Countertop
A gray kitchen adds a soothing and serene atmosphere, while a warm-toned countertop adds contrast and dimension. This adds to the overall aesthetic of the kitchen, creating an inviting space with touches of interest.
Whether investing in lighter or darker shades of gray, the additional warmth adds complexity and depth that accents the design perfectly. Incorporating a warm-toned countertop into a gray kitchen adds an irresistible charm that can transform any space.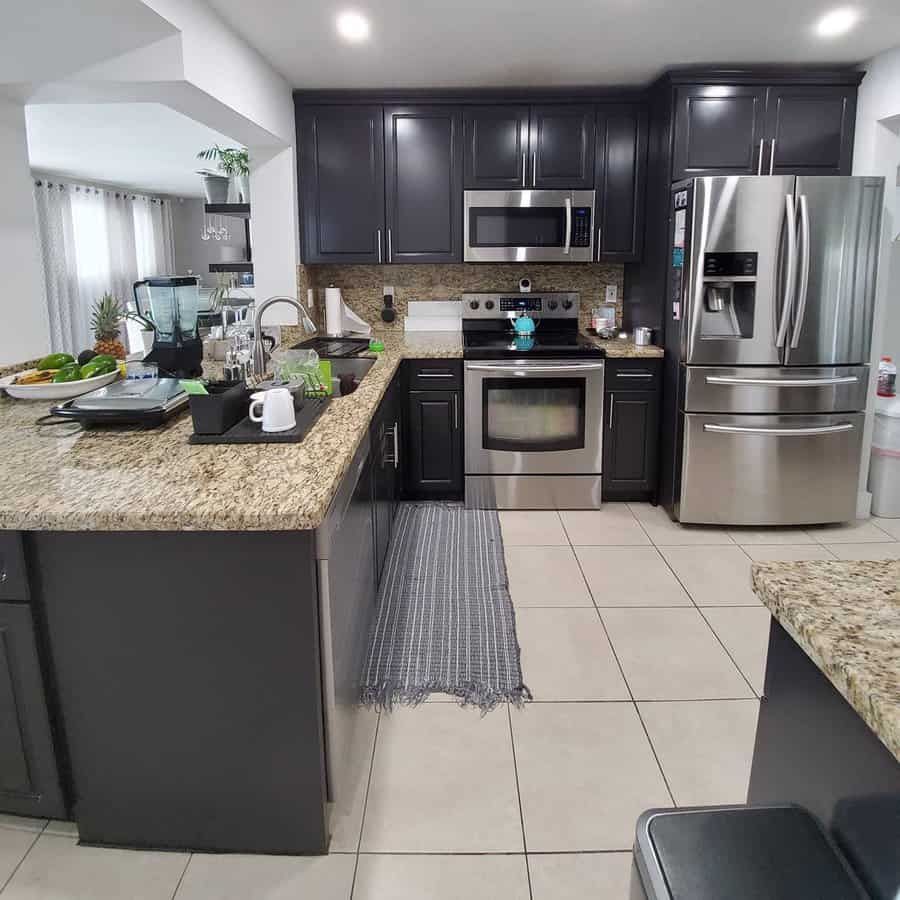 8. Add A Vintage Runner
A gray kitchen can be a beautiful place but may lack character at times. Adding a vintage Persian runner to the space adds just the right amount of artistic touch, transforming it into an inviting Bohemian interior.
Richly colored floral designs from these intricately woven pieces of art contrast wonderfully with the calming neutrality of the room, making it a perfect backdrop for creative dining experiences.
If done right, a grey kitchen with a Persian runner promises to be an aesthetically pleasing haven that adds life and energy to any home.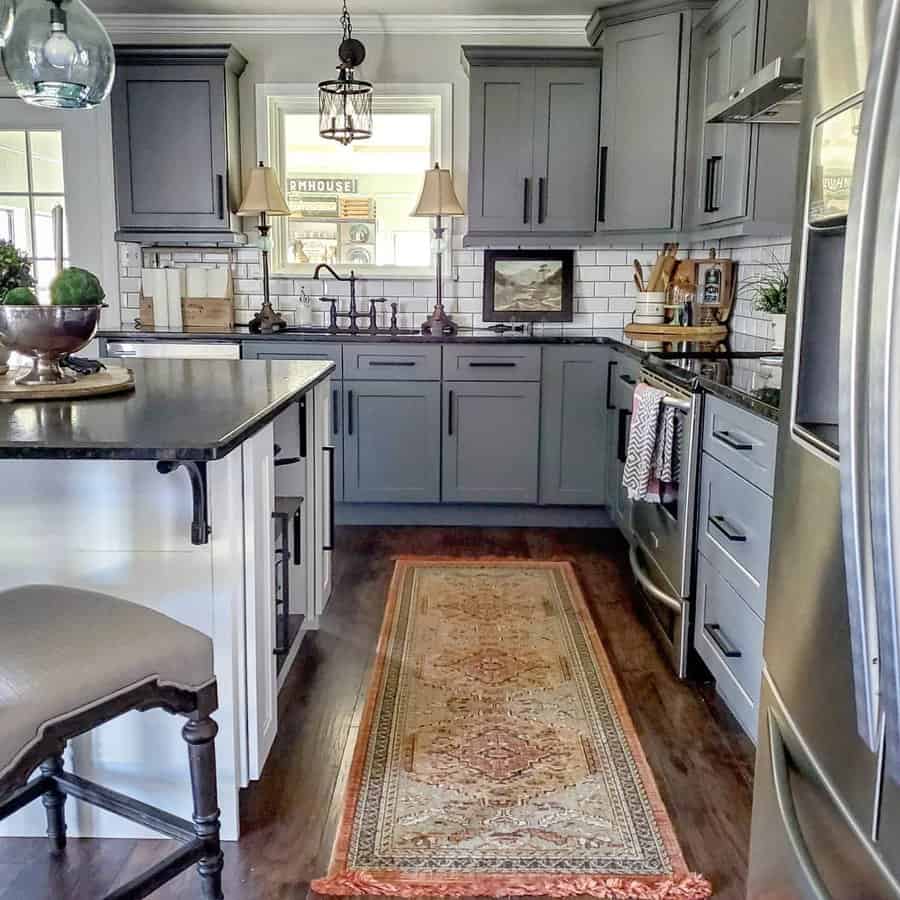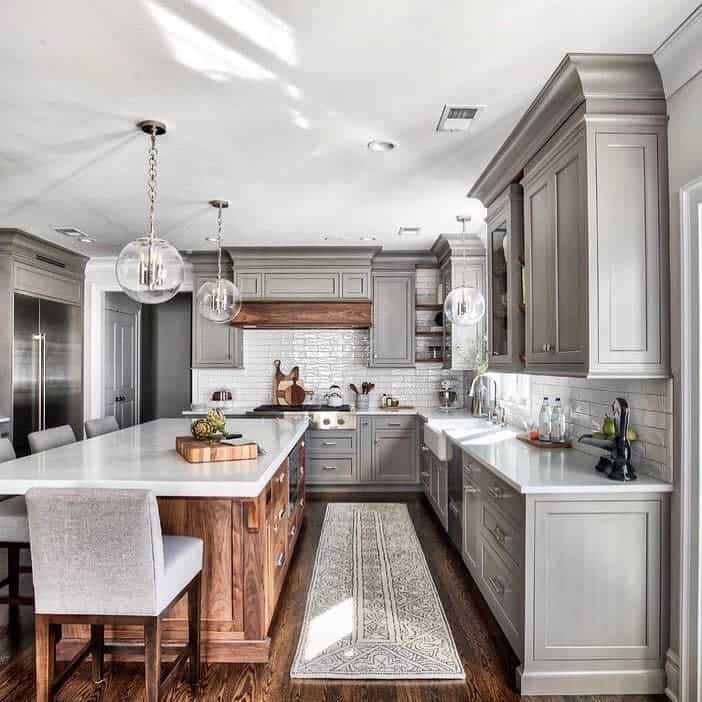 9. Install Chalkwood Flooring
A gray kitchen with chalk wood flooring creates a unique and timeless look that is easy to the eye. The sleek colors create an illusion of a bigger space, making it seem seamless and effortless.
Whether you like to entertain guests or are looking for a calming retreat, this combination of colors creates a zen yet cozy atmosphere, perfect for any activity.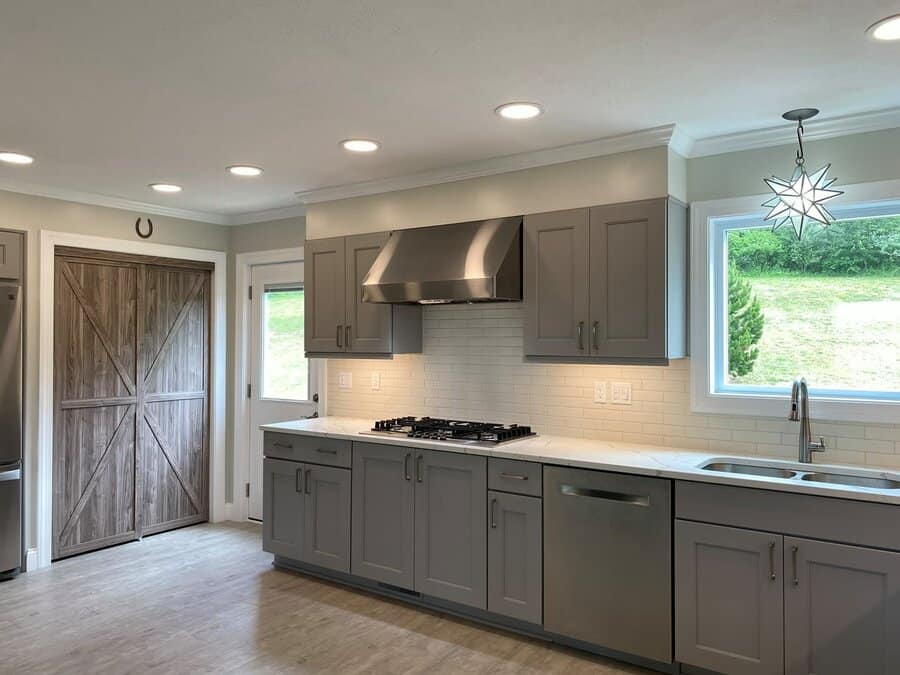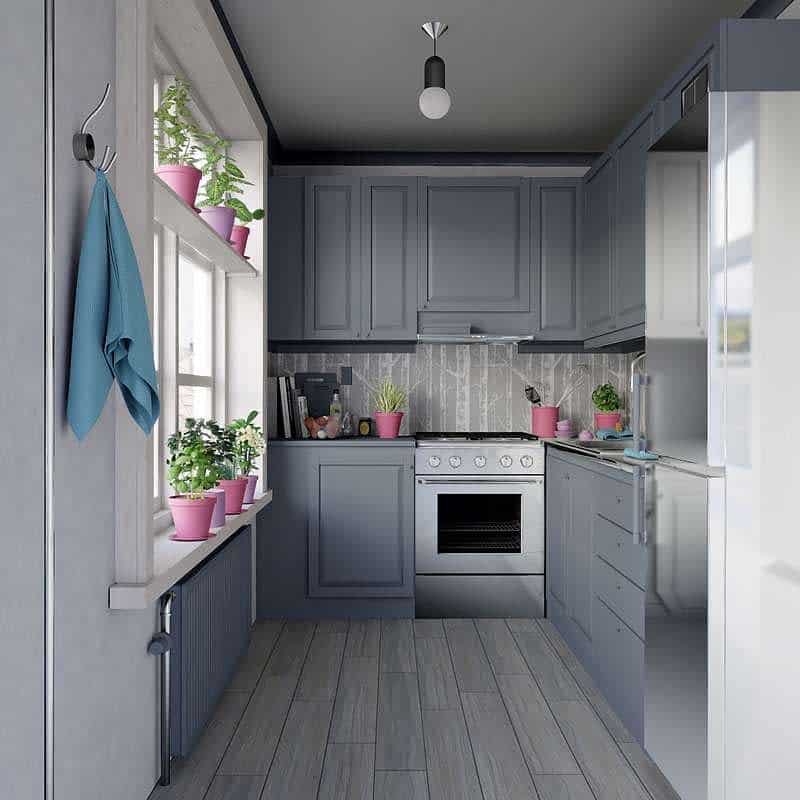 10. Choose Equipments With Light-toned Silver Metal
Kitchens are often the heart of a home, and with the right décor, they can be beautifully inviting. A gray kitchen is a great way to create an atmosphere of homeliness while keeping things quite muted.
By adding light-toned metal equipment, you can accessorize the already neutral colors to make them look seamless. Not only will it blends easily with your gray kitchen, but it will serve its purpose with just a hint of shimmer and shine.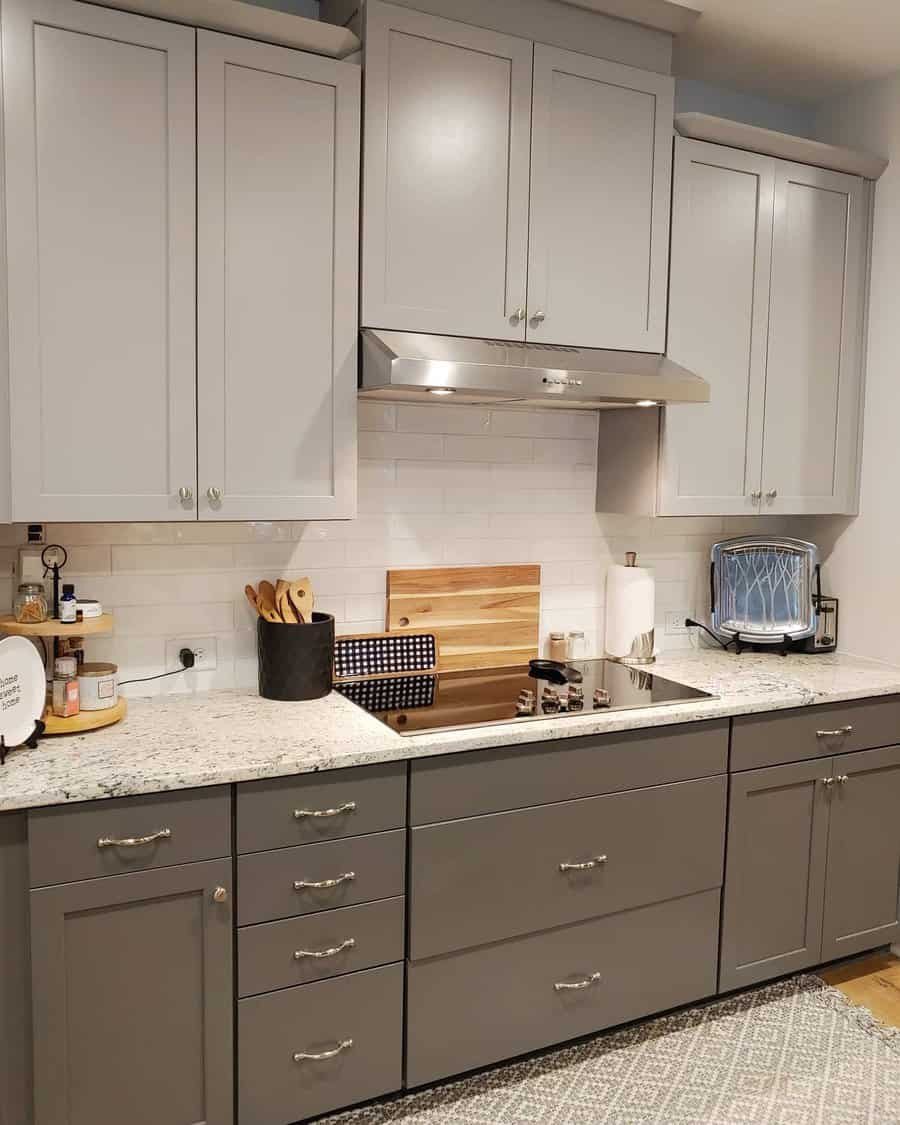 11. Pick White Marble Flooring
The combination of a deep gray kitchen and white marble flooring adds character and sophistication to any home. The intricate patterns of the marble add an elegant touch while the deep hue of the kitchen cabinets adds depth and texture to the space.
Together, this combination creates a bold yet timeless look that adds visual interest and brings out an effortlessly chic vibe in any room.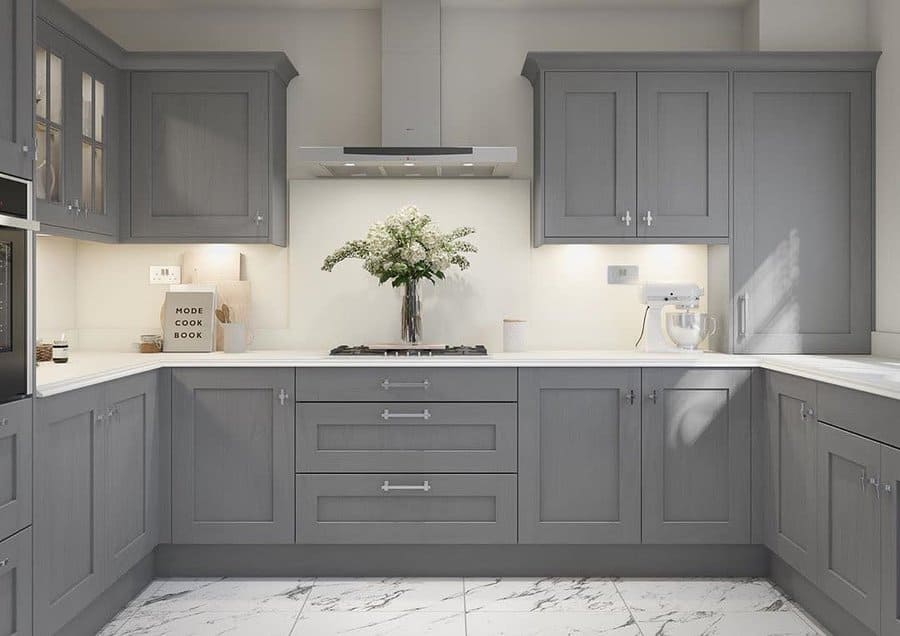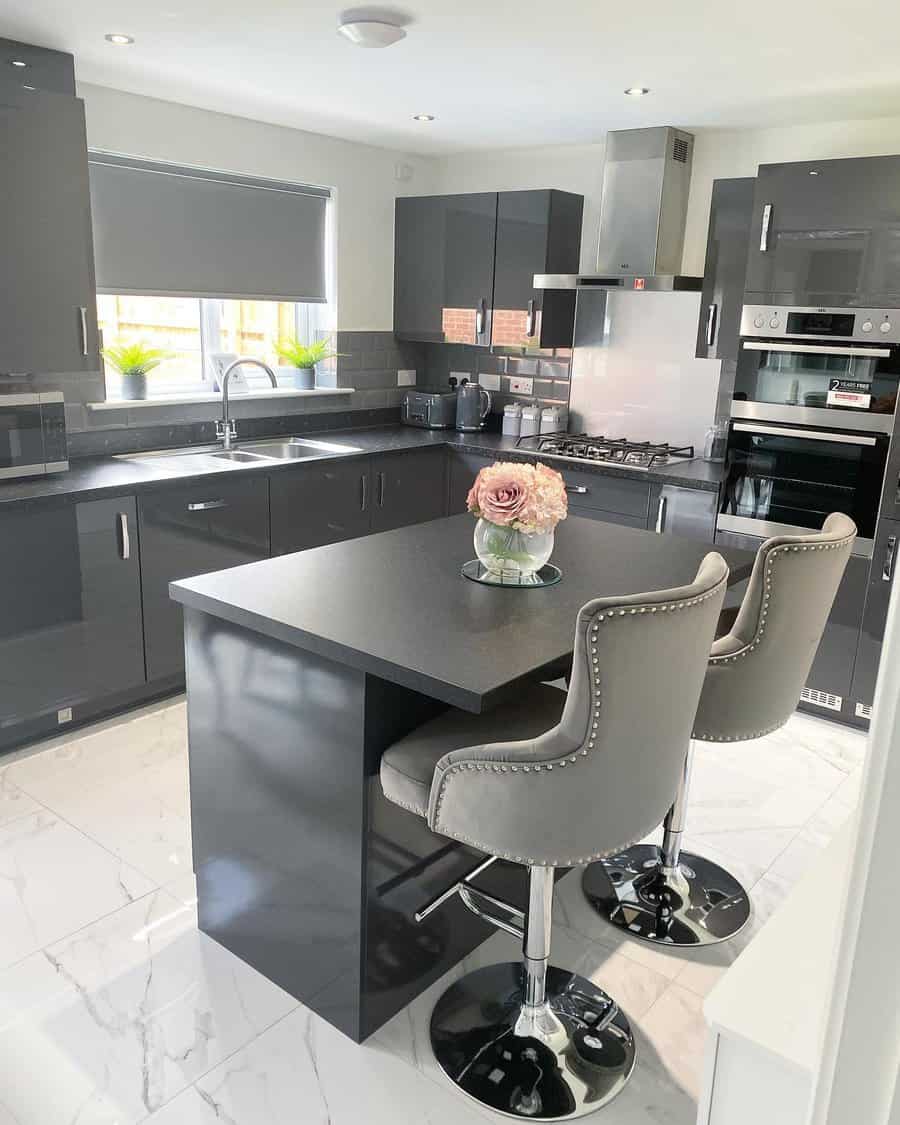 12. Add Printed Furnishings
With its sleek gray kitchen cabinets and printed upholstery, this modern-day home is a feast for the eyes. Striking a balance between style and functionality, the printed accents provide an interesting focal point in the room. Meanwhile, light gray walls and countertops keep the space looking fresh and inviting without overwhelming, creating a harmonious vibe throughout.
The overall effect is one that is striking yet still conforming to all of your practical needs – what could be better?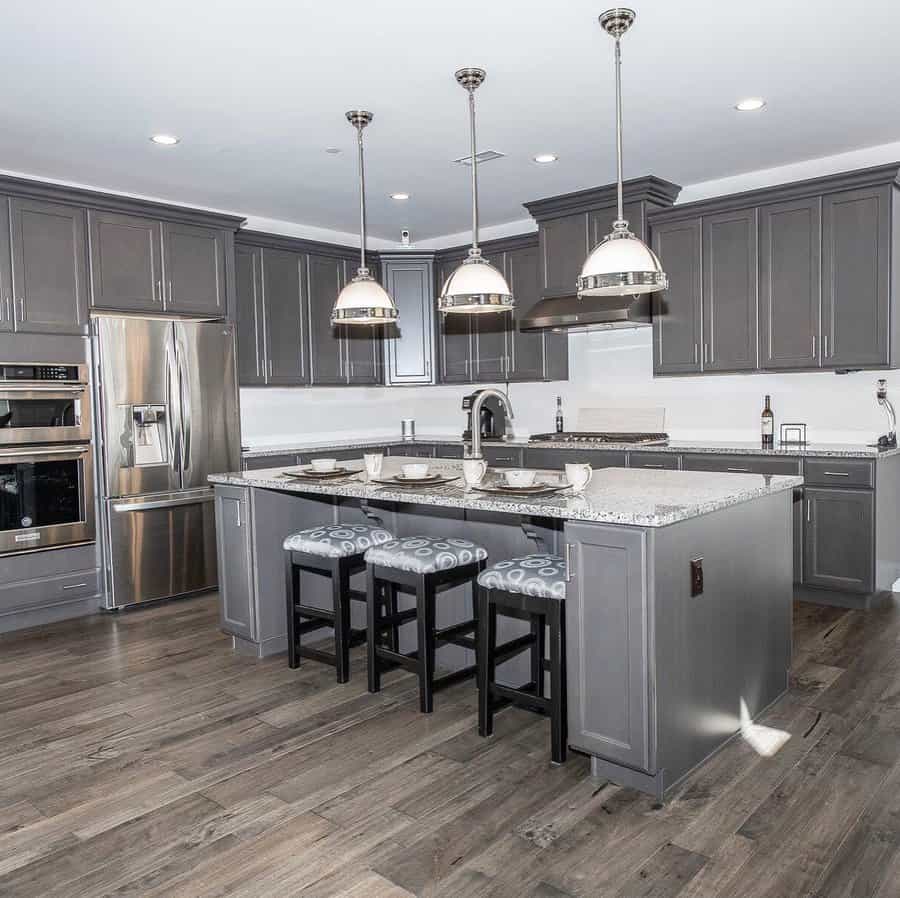 13. Paint Cabinets With Limewash
The gray kitchen with limewash cabinets promises to bring both easy-on-the-eyes comfort and chic style to your home. The limewash paint is full of texture, adding a unique and subtle twist that easily stands out from the crowd.
It's a wonderful way to introduce a bit of warmth and coziness, as limewash helps to keep the look informal and effortless yet still filled with sophistication.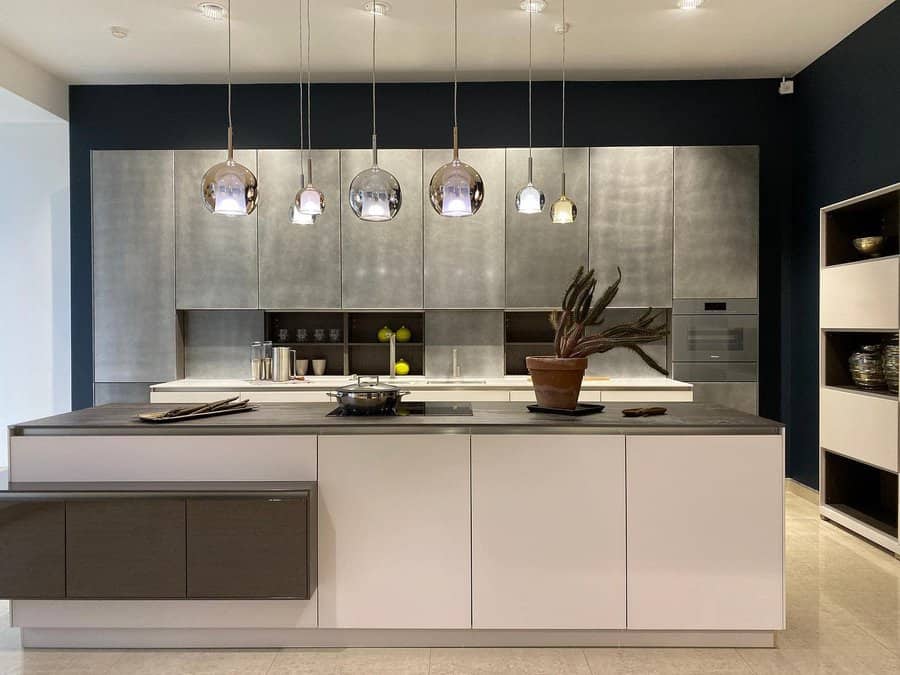 14. Opt For A Shabby Chic Interior
With its rustic and rust-toned hues, this gray kitchen injects a unique and feminine quality, creating a kind of shabby chic atmosphere throughout the home. Sophistication meets rustic charm in this soft space, where pale grays and whites combine to create an inviting atmosphere with a gentle vibe.
Natural wood tones round out the look, making it the perfect balance between timeless elegance and rustic comfort.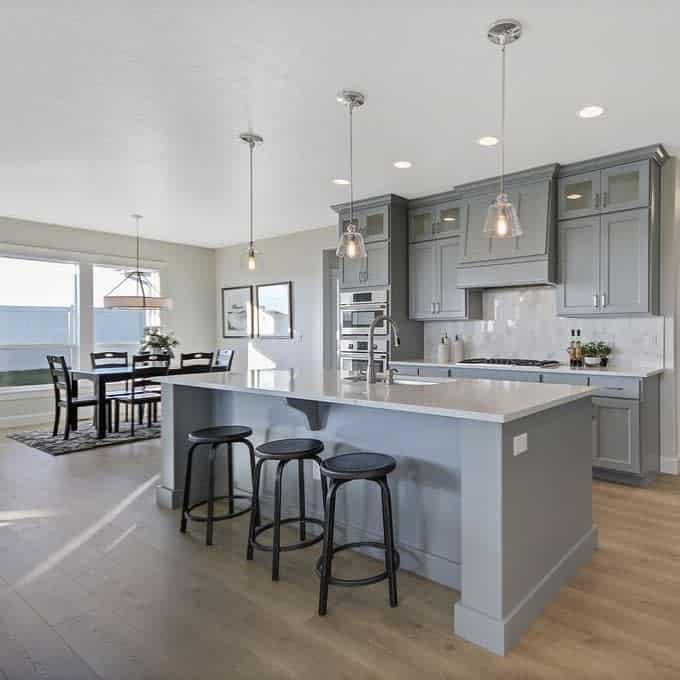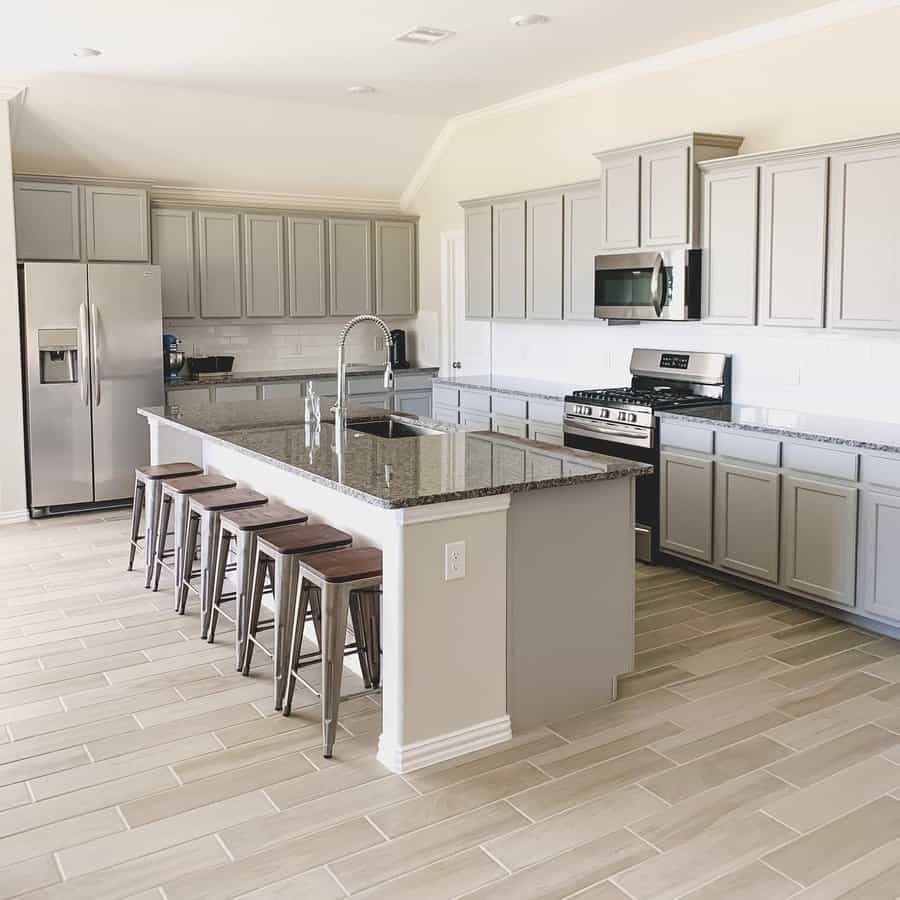 15. Contrast With A Dark Blue Kitchen Island
A dark blue kitchen island adds sophisticated touches of color to a gray kitchen. The cool, regal shade of blue pairs perfectly with the striking tone of gray, elevating it in unexpected ways.
It serves as an eye-catching focal point to the space, breathing life into it and creating a look that's both cozy and modern. Combining these two contrasting shades creates an interesting dynamic that adds harmony and balance to the setting.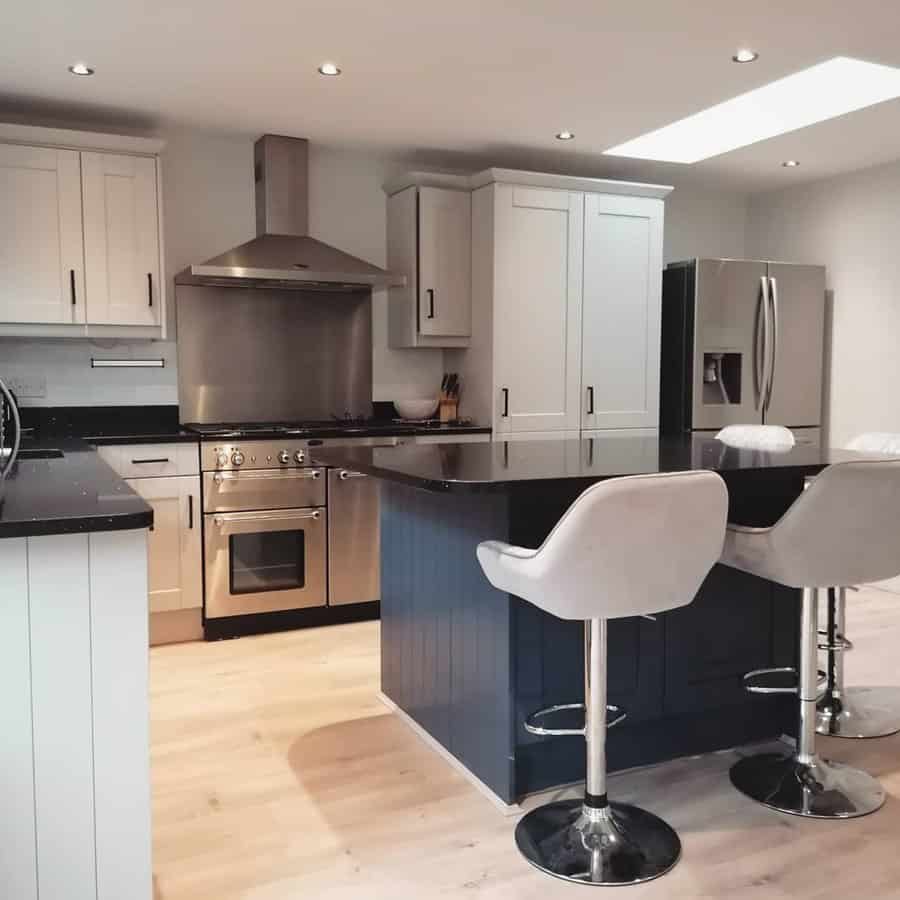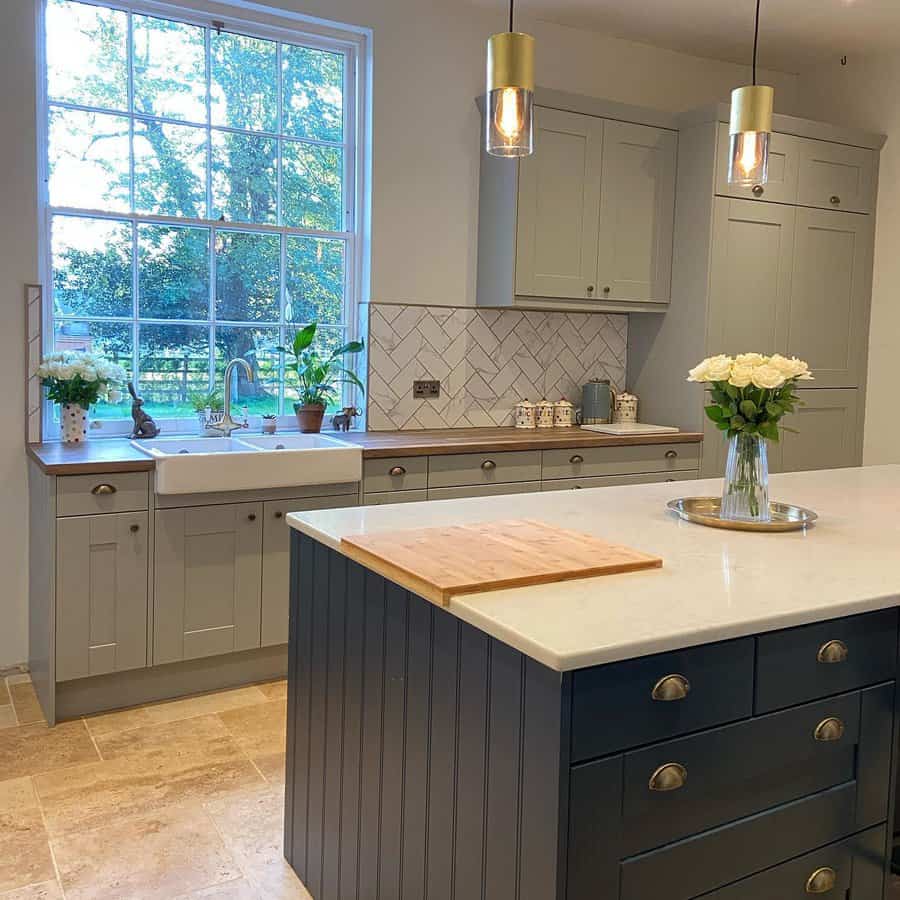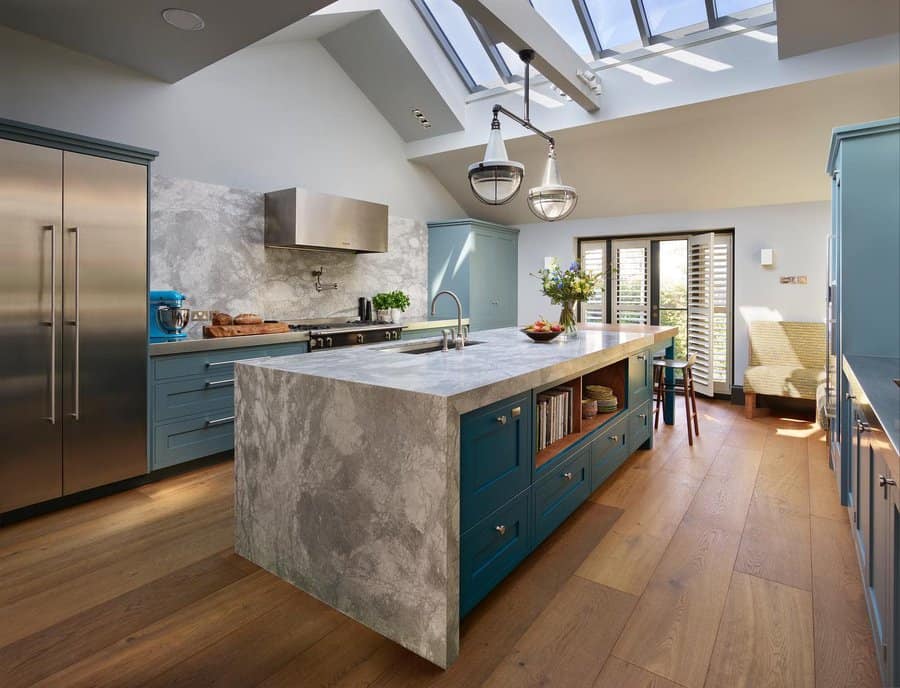 16. Add Grey Furnishings For A Neutral Vibe
Take a journey into the modern kitchen and experience the sleekness and sophistication of its gray furnishings. white cabinets with white countertops give it the perfect canvas for its highlights – namely, the large gray kitchen island.
Its upholstery is rubbed to a smooth texture, allowing you to relax and take in how this classic color offsets the richness of accompanying white pieces. Whether you're serving up breakfast or hosting a dinner party, this glorious gray kitchen has everything you need!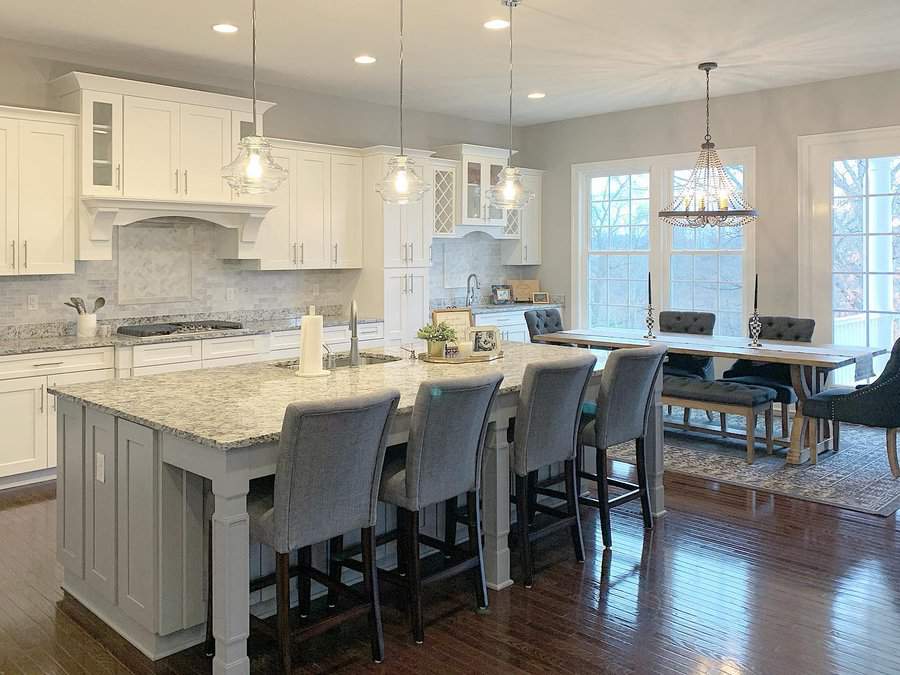 17. Add Industrial Elements
Step into any industrial-style kitchen and you will be transported to the 'mad scientist's laboratory'. Inject a hint of industrial elements, such as industrial pendant lights and DIY pipe stools, and your kitchen area is sure to pack a creative punch.
Infuse it with black fixtures to create an edgy feel in industrial-style kitchens – you can't go wrong! Perfect for entertaining guests or just getting creative and having fun in the cooking process.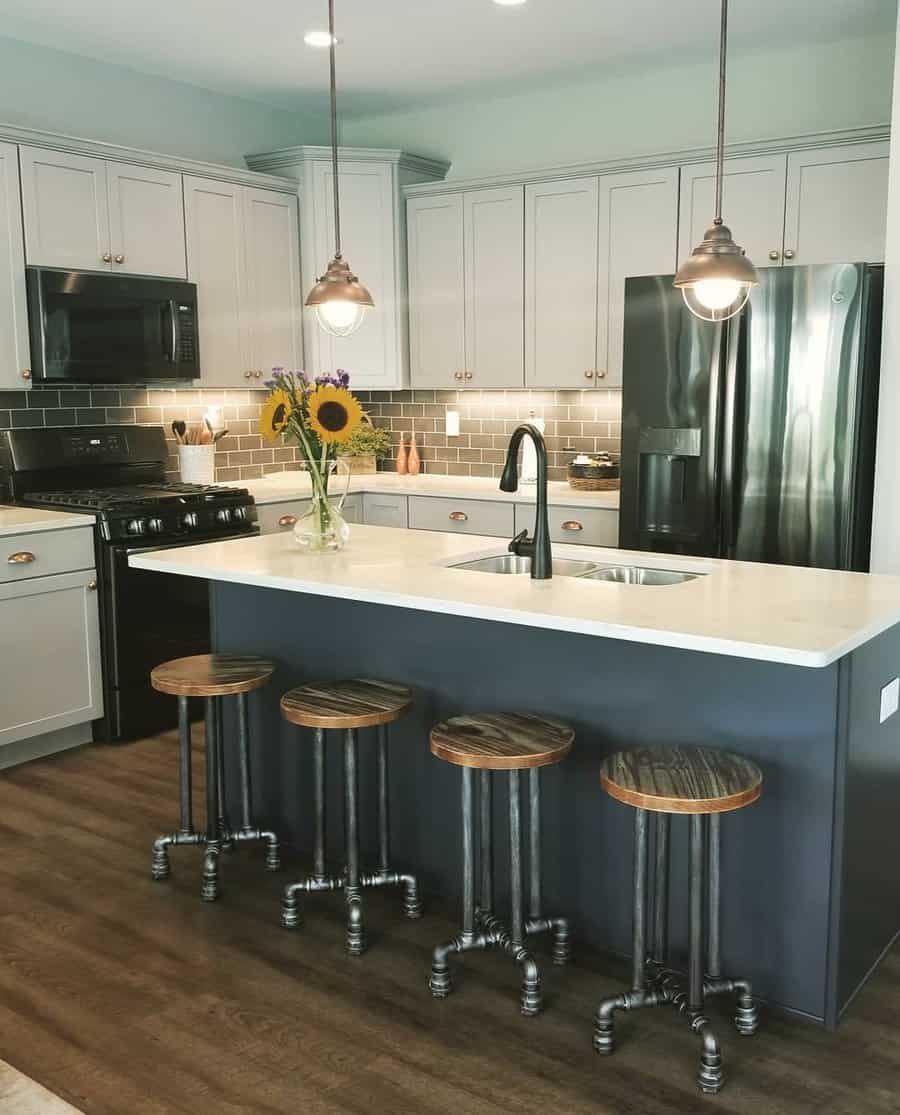 18. Install A Gray Marble Countertop
The gray kitchen is the epitome of style, with the striking marble countertop and the highlight. It's the centerpiece that everyone gravitates towards, mimicking the grandeur of a classic diner or restaurant. Its elegant swirls, veins, and depth all make the gray marble the perfect choice to complete the ambiance of the room.
Its timeless beauty and sleek sophistication are what truly consist of the gray kitchen, making it the ideal backdrop for warm memories with family and friends over passionate meals, conversations, and moments.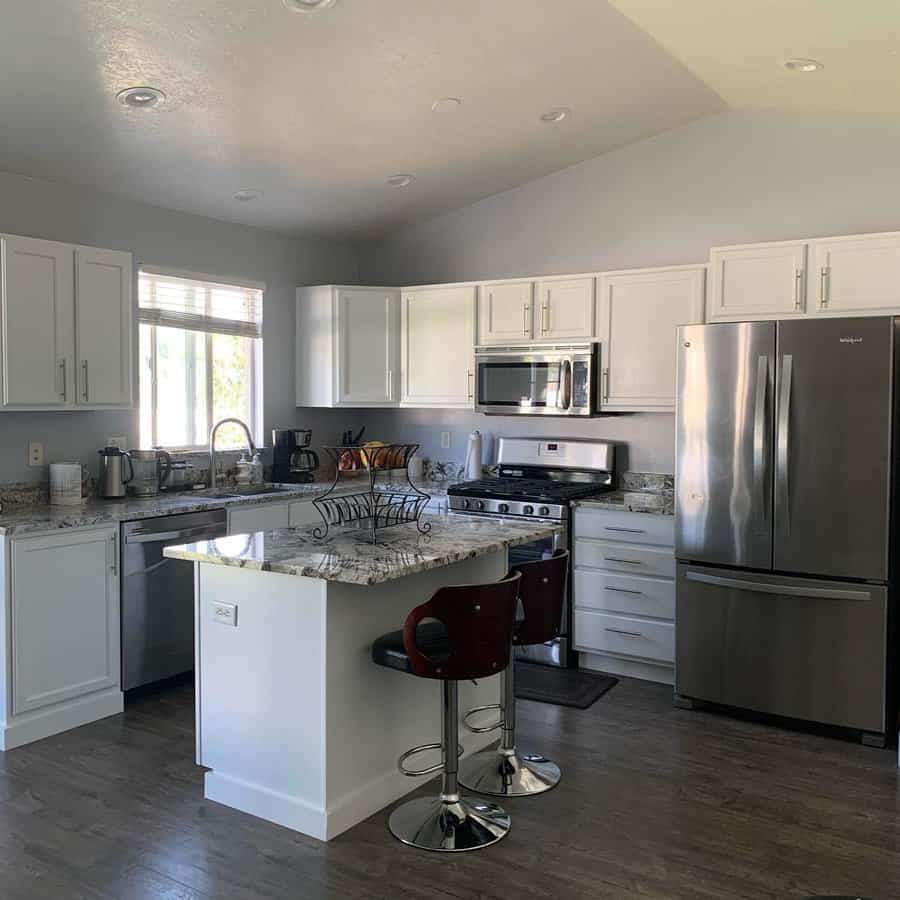 19. Pair Gray With Gold Fixtures & Metalware
The kitchen is a room where beauty and functionality meet. With gold fixtures, gold handles on the gray cabinets, and gold pendant lights hanging from the ceiling, this kitchen positively glows with its magnificent golden accents!
Not only does gold make a stunning visual statement, but it also adds a timeless touch of luxury. So take a moment to appreciate artistry in motion; an intricate mix of sophistication and style that comes together to create this gorgeous gold-accented kitchen!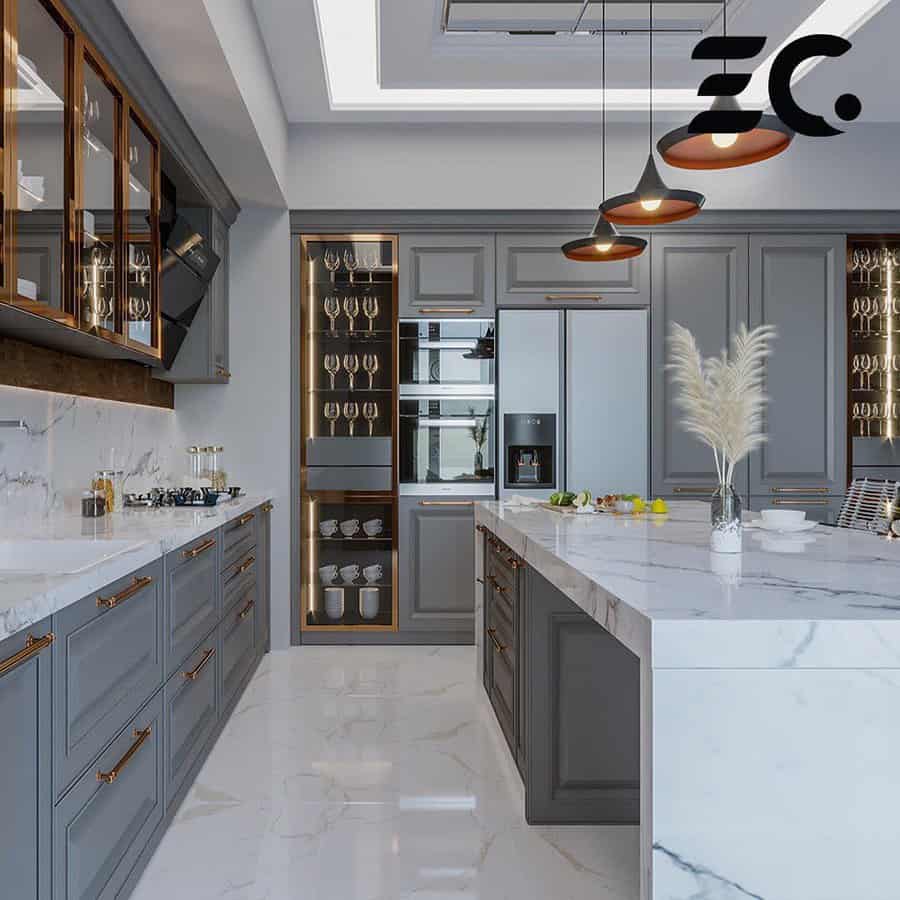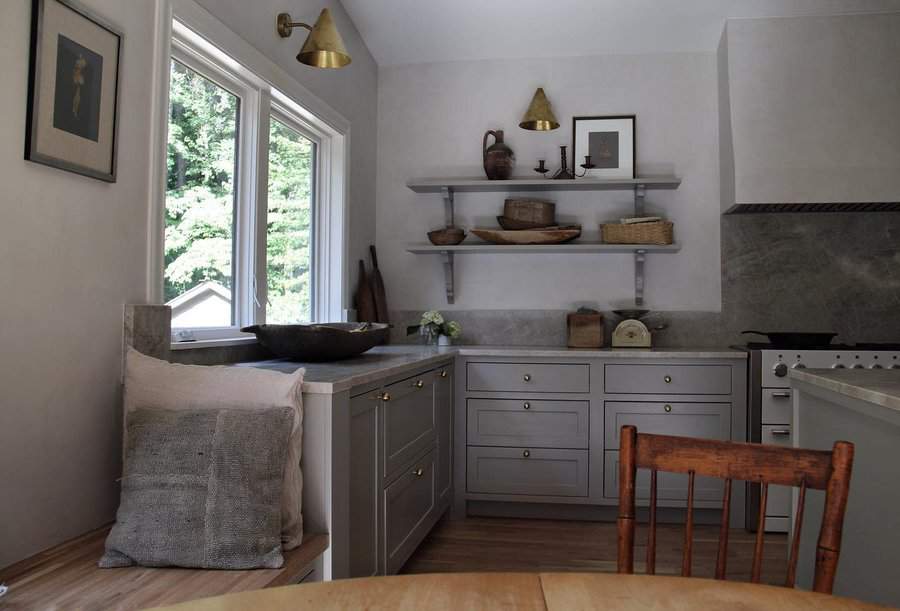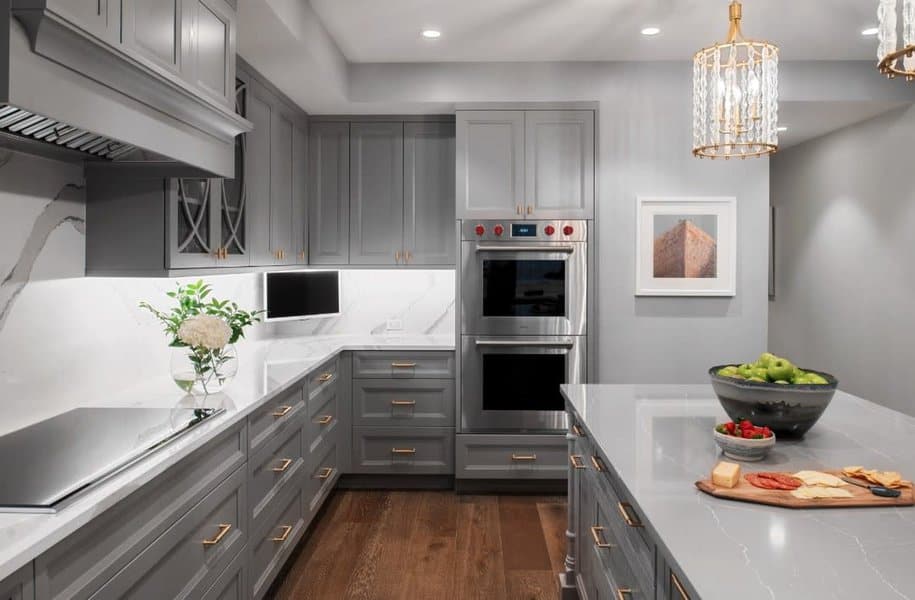 20. Pair With Matte Black Fixtures & Metalware
A kitchen with matte black fixtures is a timeless classic that will bring a sleek and elegant touch to any home. Whether your style is modern, minimalistic, traditional, or eclectic, matte black fixtures pair well with just about any interior type.
From matte black sinks and countertops to matte black faucets and hardware, this color helps create an atmosphere of sophistication without becoming overpowering. With the right coordination of other materials such as marble or stainless steel, matte black fixtures can help bring your dream kitchen to life.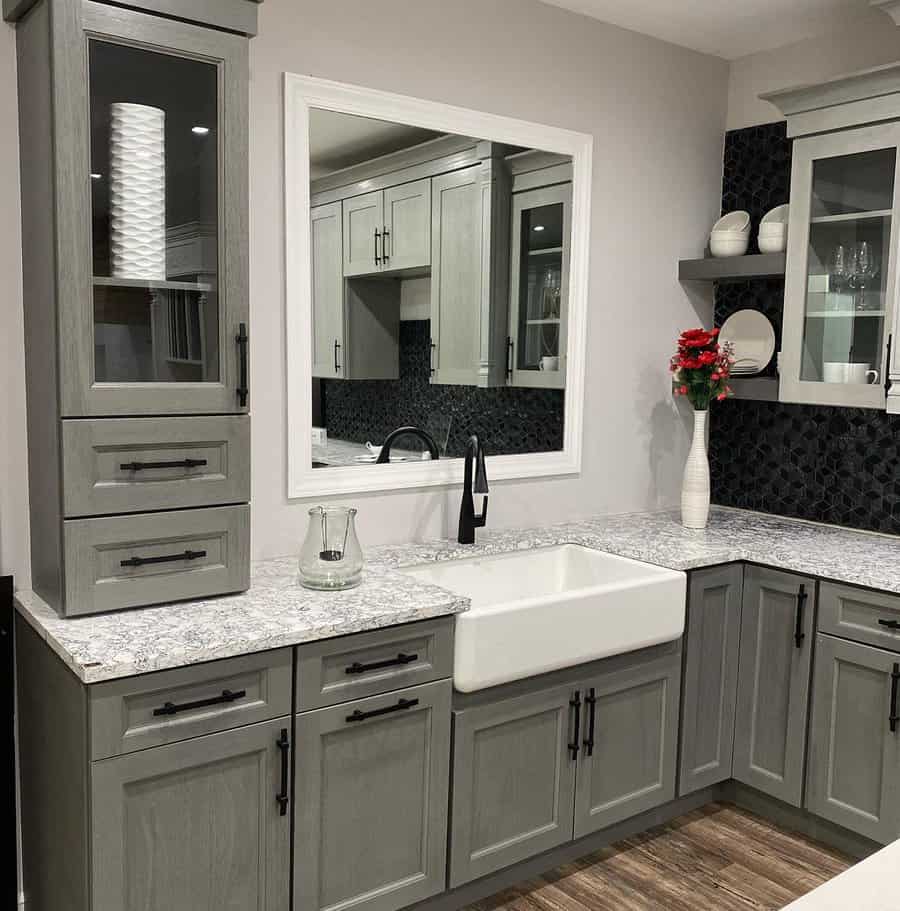 21. Add White Subway Bricks For Accent
A kitchen with white subway bricks adds an accent that boldly contrasts with any other soft gray elements in the room. From the counters to the walls, this classic look adds a unique touch that sets your space apart from all others.
Perhaps you pair the white subway bricks with black counters or add vibrant pops of color to give the kitchen depth and life. Whatever choice you make, know that you'll have a timeless masterpiece customized just for you and your home.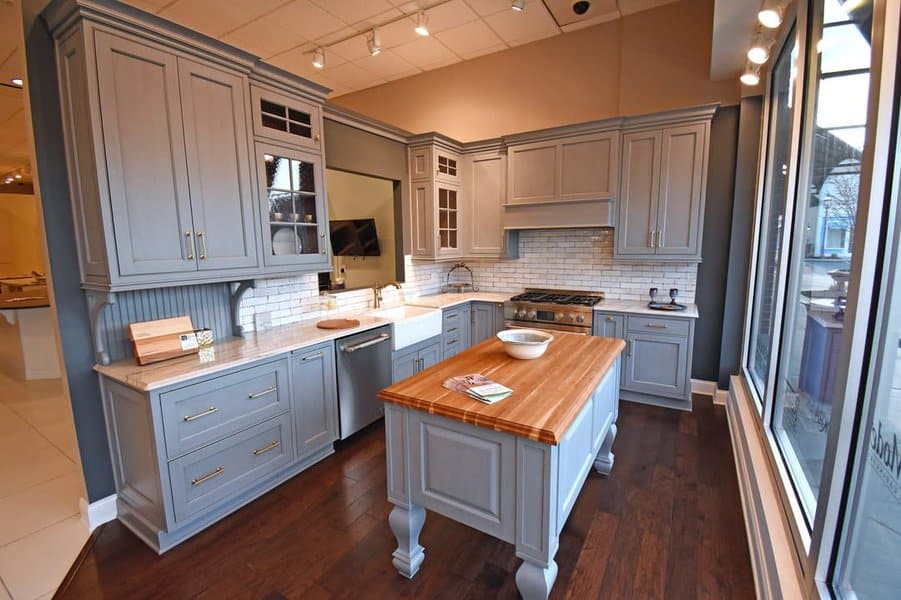 22. Fill The Room With White Marble
A white marble kitchen evokes an extra layer of elegance into any home. From the white marble floor to the white marble walls and white marble ceiling, you're instantly transported outside of time in search of a place that shines a few steps above the ordinary.
Bring this space even more to life with warm metallic accents, a rich wood island countertop, and an array of other details that create an overall luxurious atmosphere in the room. With white marble as its foundation, your kitchen will be timelessly beautiful.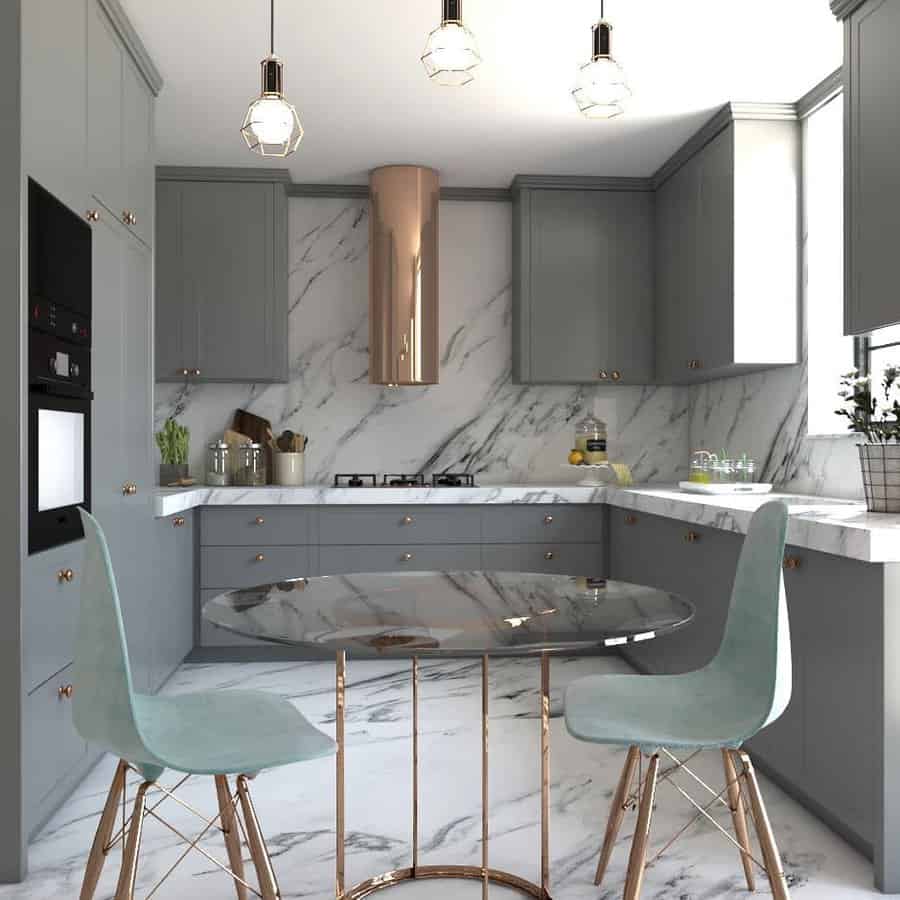 23. Utilize Walls With Hanging Racks
Utilizing hanging racks in the kitchen can be a simple, yet super effective way of creating more space. Whether it is hanging mugs above the counter or hanging utensils near the stovetop, these racks will make efficient use of space while adding an element of originality to the room.
Get inventive and play with shape and size when selecting hanging racks that are right for your kitchen. Not only does this give off a modern vibe, but it also serves as a good housewarming conversation piece for when guests arrive for dinner.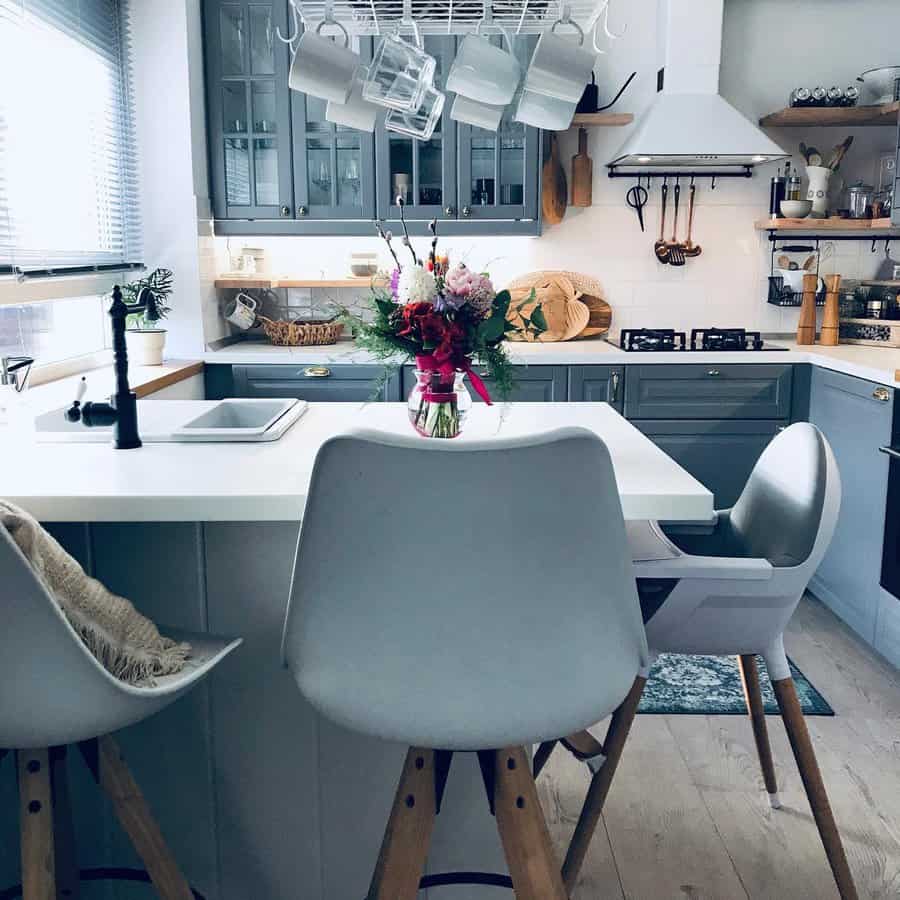 24. Add A White Cladding Wall Accent
For a classic, rustic farmhouse vibe, a kitchen with a white cladding wall adds the perfect accent. This cost-effective upgrade adds warmth and life to any kitchen design and is sure to be appreciated by all who experience it.
From soft grey undertones to bright crisp accents, this durable material adds just the right touch of coziness needed to take your home from ordinary to extraordinary.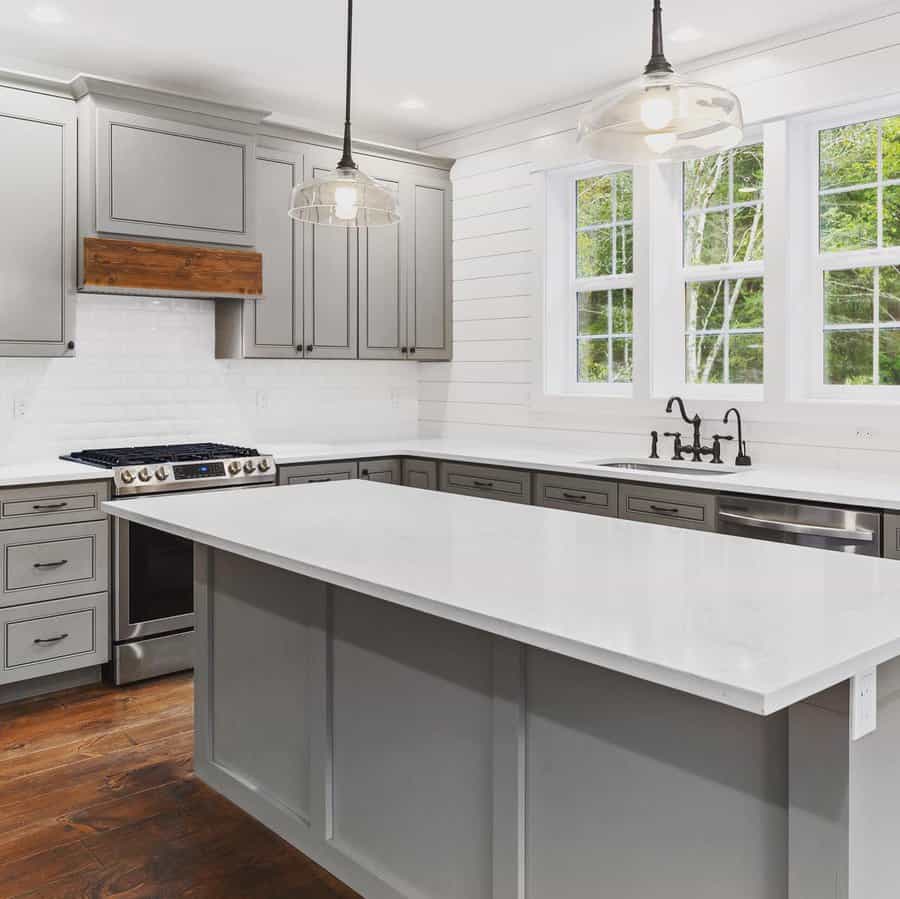 25. Add Pendant Lighting
Pendant lighting adds an accent to any kitchen and adds a rustic farmhouse vibe to the whole space. It's relatively inexpensive and cost-effective, making it a great investment for those looking for bright ideas.
With pendant lighting in your kitchen you can instantly make it feel more inviting, warm, and stylish; all without breaking the bank. Not only is it energy efficient but adds a touch of class to your space, making it truly remarkable.
Gray Kitchen FAQs
What color goes best with a gray kitchen?
Almost any color you want can look beautiful with gray. You could create a soft look by pairing your gray with other neutrals. For a sophisticated and modern look, choose black. You can give your gray kitchen a bright and cheery feel by choosing light and bright colors with a warm tone. Or give your kitchen a relaxing feel by using color with a cool tone.
How do you style a gray kitchen?
You can use the color gray in a wide range of interior design styles. This modern-looking neutral looks best when done in a contemporary, minimalist, modern, or industrial. If you choose a soft gray, it can look nice in a farmhouse or even a rustic kitchen.
How do you brighten up a gray kitchen?
Start by choosing a gray shade that is on the lighter end of the spectrum. Stay away from dark charcoals. You can also pair it with a lighter color. Shades like pink, orange, and yellow keep the space bright while also adding warmth. White, cream, and light beige keep your kitchen color scheme neutral while also being light and bright.