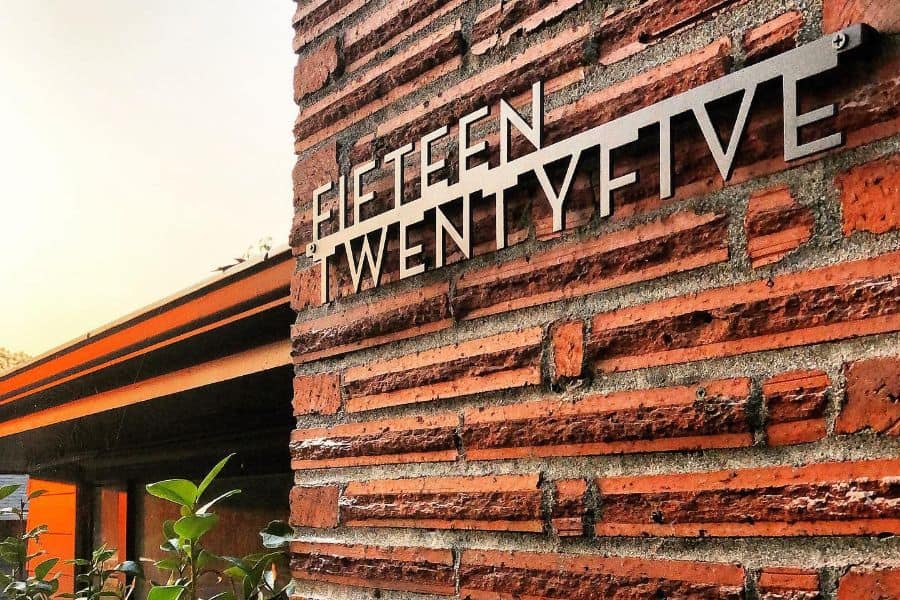 The Top 89 House Number Ideas
Even with the help of GPS, it can be hard to find a house if it lacks a visible house number. Not only is this annoying when trying to find a new friend's home, it can be a safety issue if a first responder can't easily distinguish your house from your neighbor's.
Creative house number ideas abound. Unless your homeowners' association has rules on house number design, you can go as big and bold as you want.
View our gallery of inspiring house number sign ideas and you'll undoubtedly struggle to narrow it down to just one choice.
1. DIY
It can be easy to create a DIY house number sign from a plain house number plate and the appropriate numerals. Attaching your address number to a plate instead of directly to the wall makes it easier to change your house number design.
Picking a color scheme for a DIY house number sign can be tricky. Use an online color palette generator to help you decide which colors will work best with your home's exterior décor.
2. Front Door
Many people opt to mount an address sign directly on the front door or its frame. Others position it to the left or right of the door, or on the wall above. Any door area placement is a great idea, provided that the house number is visible from the road and is illuminated by the porch light at night.
A simple wood address plaque can be boring, however. So use bold colors, beautiful metals, and interesting textures in your house number ideas. Moss-covered numbers amp up your home's curb appeal and add a warm, natural feeling to your home's exterior.
3. House Number in Words
A unique house number idea is to write out the address in words instead of displaying numerals. Play around with your house number and see which spellings sound best. For example, "Twenty Four Thirty" flows better than the choppy-sounding "Two Four Three Zero."
Say your options aloud with your partner or a friend before settling on how to write your number sign.
Spelling out your house address is best with short house numbers. Otherwise, the address plaque might be too large for your home's exterior. In addition, spelling out your house number can make it harder for those who speak another language to find your home. If this is a concern, stick to a numeral address sign to avoid confusion.
4. Illuminated
Every house number sign should be illuminated at night for safety reasons. However, some house number ideas incorporate illumination into the design itself. A light box house number plaque can replace a standard light fixture beside your front door.
Engraved glass panels create a modern house number option when mounted above or below a smaller light-producing element. A solar-powered address plaque will charge all day and glow all night. If you lack an outlet for your address sign, paint a DIY house number sign with glow-in-the-dark paint.
5. Lawn Decor
Nothing says that an address sign must be mounted near your front door. In fact, you can add instant curb appeal by placing an attractive number sign on your front lawn. For a really unique address sign, make it part of a water feature, illuminated from below the water.
Mount individual numbers or a house number plaque onto a large rock that's already a landscaping focal point. Illuminate it with a carefully placed spotlight.
DIY or purchase a simple wood address sign and mount it with large metal numbers. Be sure to DIY attractive landscaping around your lawn house number sign so that it doesn't look like a commercial or business address sign.
6. Mailbox
Placing a clear house number sign on your mailbox post as well as on your front porch will make it easier to find your home. Make a house number sign from an attractive piece of scrap wood and mount it beneath your mailbox. Choose colors and wood finishes that coordinate with your exterior décor.
Build a wood planter box around your mailbox base. Make it tall enough to display your house number and wide enough to plant a beautiful assortment of flowers. Mount numbers to a wood vintage paddle and hang it below the mailbox for a rustic DIY idea.
7. Metal
Any type of metal number can make a strong house number sign statement. Bent copper or galvanized pipe address sign fixtures provide a strong industrial vibe to your exterior décor. Metal artists and welders often make customized metal address sign options that are a true work of art.
If you live in a Victorian or craftsman home, hand-tooled wrought iron numbers are a classic idea. Mount them to a wooden plaque, a fence, or above your front door.
8. Modern
Modern design is an idea that embraces simplicity. Therefore any modern address sign should convey a minimalist elegance. Chrome, brass, and burnished bronze all work well to create an address sign with modern metallic flair.
If you prefer a planter around your house number, go for a metal one instead of wood. Of course if wood is a large part of your home's design, craft a planter box in the same wood stain on your home.
9. Number Plate
A number plate is a flat metal or wooden board that provides a solid background behind your house numbers. It's easy to DIY a basic wooden plate using materials found at your local hardware store.
You can fashion a simple DIY number plate from paint sticks held together with wood glue. Paint your house numbers on top using stencils for guidance.
For cottage or shabby chic décor, consider transforming an antique dish into a number plate. Use outdoor decoupage medium to attach paper numbers to the ceramic surface for a truly unique house number plaque.
10. Stone/Ceramics/Tiles
Stone is a material that can be used for an address sign on any type of home. From craftsman to a log cabin, stone is always a good idea to integrate wherever you can.
Ceramic or tile number plates look amazing beside the front door. A tile mosaic address sign would make a strong statement with Spanish or Mediterranean décor.
Stone or tile also make a great medium for crafting a planter to display your house number. Get creative with mixed media, such as a tile mosaic panel trimmed in wrought iron, mounted on a distressed wooden board. Cobalt blue and white are a gorgeous ceramic paint combination for accents like house number plaques.
11. Wall or Fence
If there's a wall or fence around your property, that's a logical place to display your house number. Hang a planter from the top of the fence and mount your number on its front. Or paint a wood plaque a contrasting color and mount the house numbers on top.
A wall or solid wood fence is sturdy enough to have house numbers directly mounted on top of it. For a nice three dimensional effect, place wood shims under the house numbers to raise them slightly, creating dramatic shadows on sunny days.
Read also: 30 Horizontal Fence Ideas
12. With Planter
Placing your house number on a planter box is one of the more popular house number ideas. Instead of just nailing plain numbers onto your home's exterior, add to the home's curb appeal by making the numbers part of your flower planter design.
A succulent planter looks especially welcoming in a desert environment, while colorful marigolds may work better in another planting zone.
Reclaimed wood—from a wood pallet or old furniture—can make a beautiful, rustic wood planter and house number combination. Hang your welcoming flower pot creation beside the front door and tend it regularly to help it thrive.
13. Wood
Painted or plain, wood is often the best choice when it comes to house number ideas. From a rustic wood slice with an engraved house number to a glossy modern wood plaque, wood works with all kinds of décor.
For a casual house number display, paint your house numbers vertically on a tall wooden board. Then stand it beside the front door, with a matching "welcome" board sign on another part of your front porch.
House Number FAQs
Where should you put your house numbers?
To help others find your home, place your house number display near the front door. Be sure it's within the radius of your porch light and located above eye level.
How tall should house numbers be?
Your address plaque or numbers should be between four and six inches tall. However, if your house is far from the street, you may need bigger characters on your house number sign. The most important thing is for your house number to be readable from the road.
What's the best font for house numbers?
A thick, sans serif font is great for both traditional and modern house number displays. Keep in mind that the more elaborate your house number font, the harder it may be to read clearly.