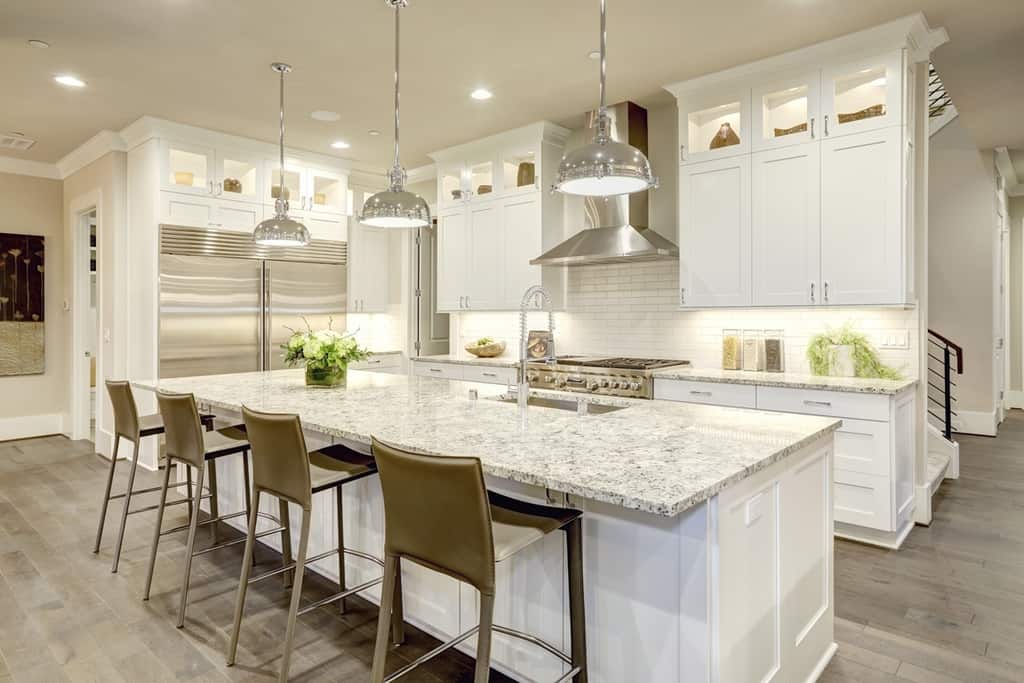 23 Kitchen Island Ideas with Seating
by — Liz Bittar

Published on February 14, 2022

Updated on September 25, 2023
The kitchen is perhaps the most important room in the house. It's where families gather for meals, snacks, or a simple cup of coffee with a nice chat. An open floor plan is ideal if you do not want to be isolated from the family while cooking.
But even if your kitchen is a separate room, you can make it cozy and very functional with a kitchen island with seating, so that it will function as a dining table, breakfast bar, and prep space. In this article, we will give you plenty of design ideas for you to have your dream kitchen!
1. Vibrant Rustic Island Oasis
A wooden kitchen island offers both function and a cozy, inviting feel. Enhance this rustic charm by pairing it with rattan stools. Complement the design with scattered greenery on and around the island, turning it into a delightful spot for meals. This simple addition transforms your kitchen into a vibrant oasis.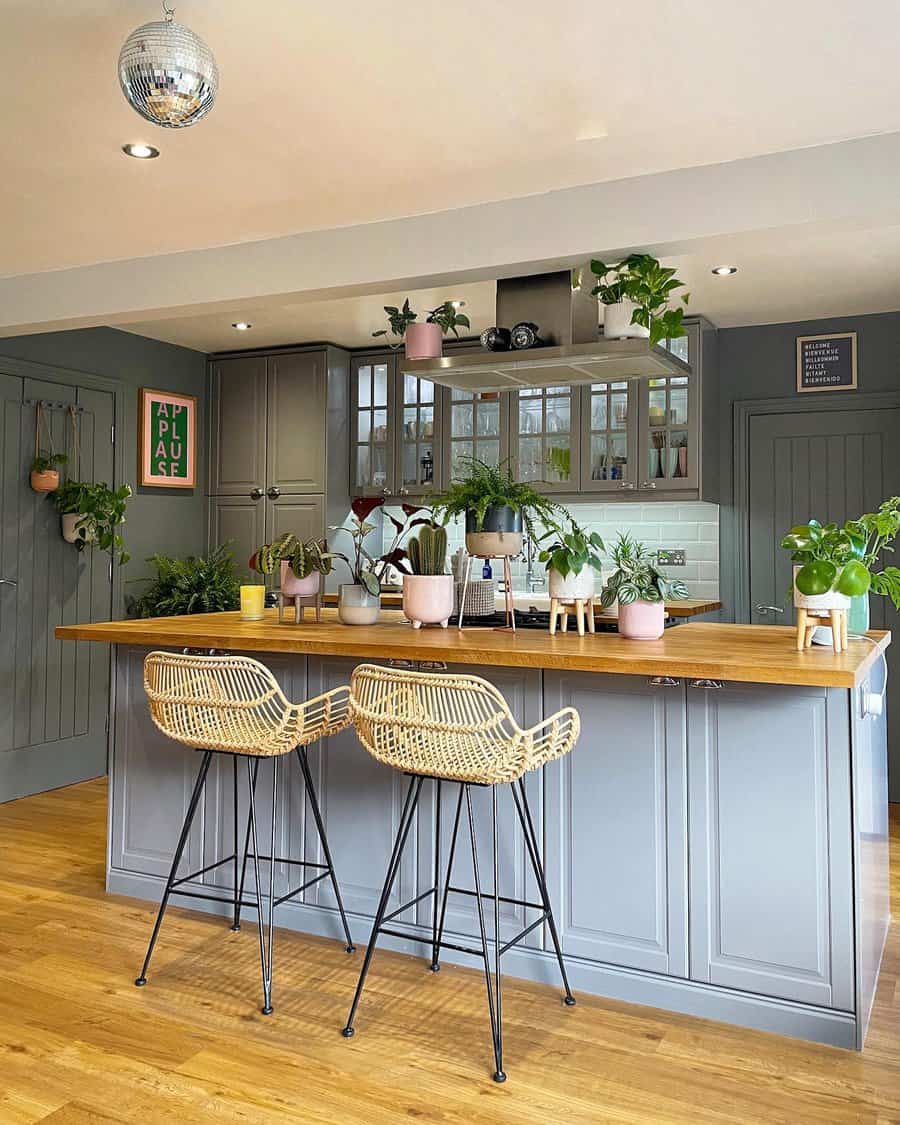 2. Sleek Scandinavian Seating Design
Embrace the warmth of a Scandinavian kitchen island by featuring white tones and globe pendant lights. Pair it with lightweight geometric bar stools for a touch of modern elegance. This design not only offers functionality but also fosters intimate conversations over meals. Elevate your kitchen with this sleek, Nordic-inspired touch.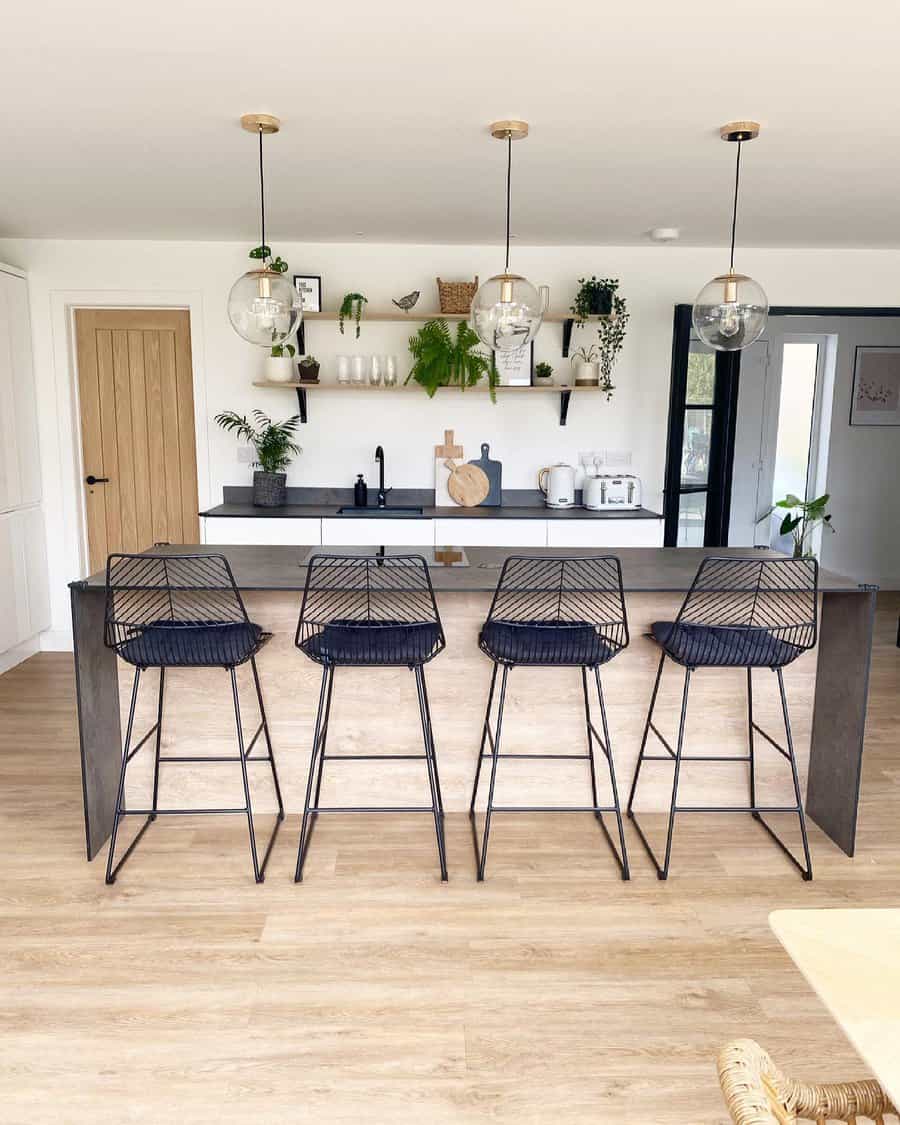 3. Bold Masculine Island Approach
A black and white kitchen island exudes sophistication and is perfect for both prep and entertainment. Pair it with metal bar stools for a modern touch and accentuate with a glass dome pendant light to illuminate without overshadowing the bold design. This combination creates a statement kitchen, sure to impress any visitor.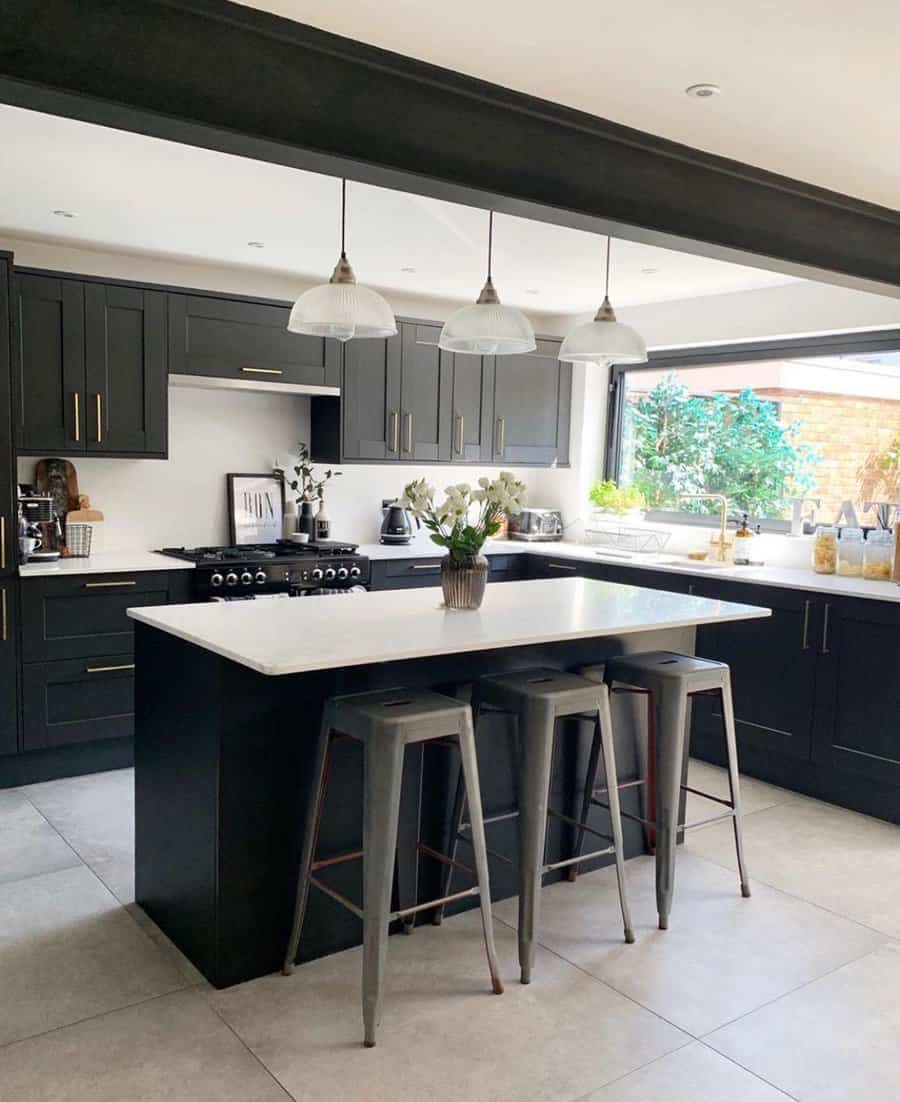 4. Industrial Charm with Parquet Finish
A parquet kitchen island optimizes small spaces, enhancing modern décor with its unique design. Complement it with brown leather stools, balancing function and style. Perfect for breakfast or late-night chats, this setup becomes a cozy and functional gathering point in compact spaces.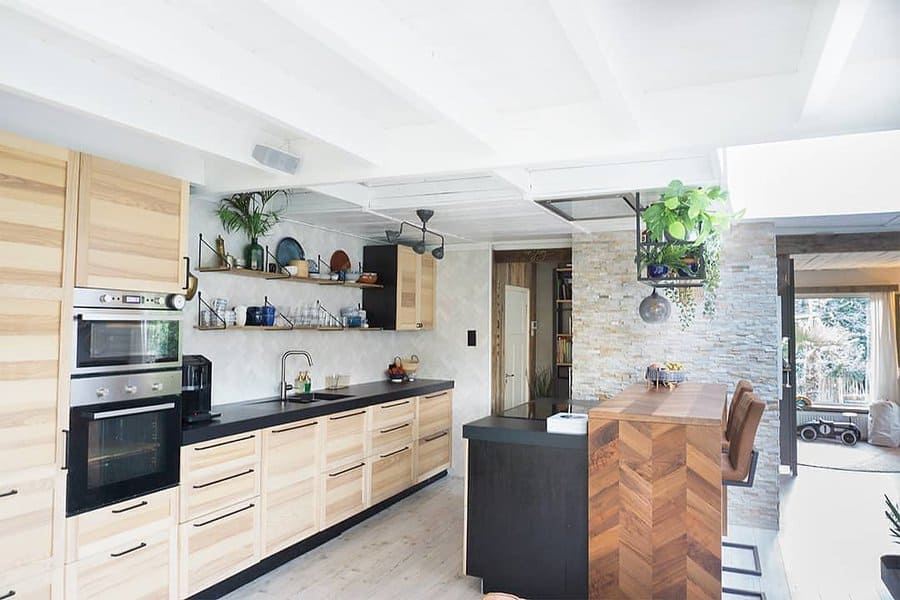 5. Sophisticated Dark Contemporary Elegance
Elevate your kitchen with a bold black island paired with suede bar stools, blending modernity and comfort. This centerpiece not only enhances aesthetics but promotes communal gatherings during meal prep. Ideal for both small or expansive spaces, this design marries form and function seamlessly.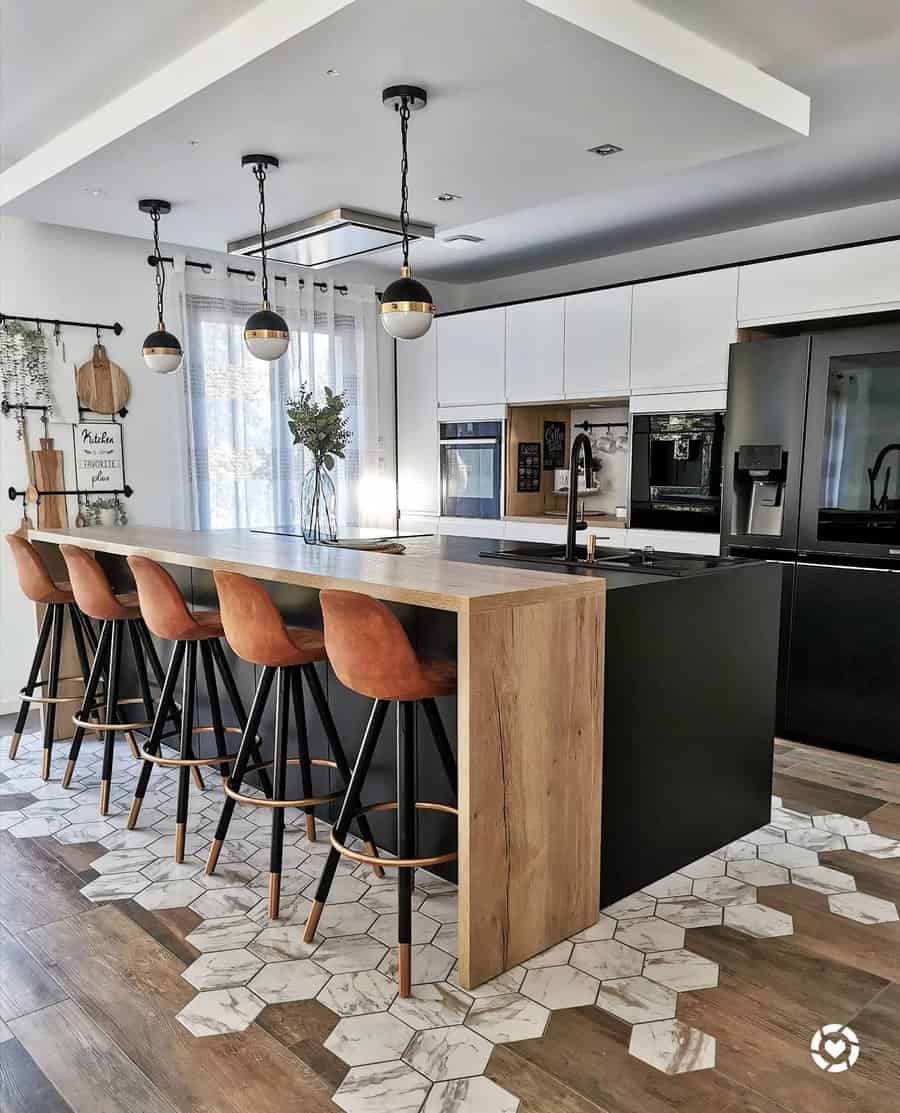 6. Cozy Farmhouse Island Retreat
A farmhouse-style kitchen island becomes the heart of culinary creativity. This design offers ample storage and features a rustic seat bar, ideal for hosting guests. Its timeless charm adds character, ensuring a lasting centerpiece in your home.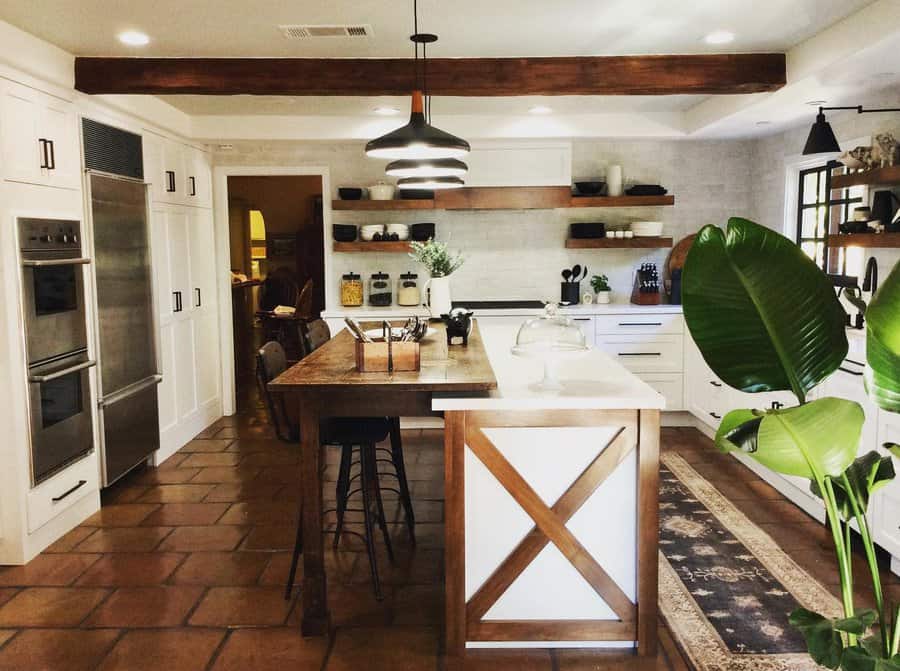 7. Radiant Art Deco Island Flair
Introducing color block walls paired with art deco furnishings can give your kitchen a transformative boost, especially when centered around a striking island with seating. Complement this bold design with an art deco bar cart or table set. Introduce a skylight to flood the space with natural light, perfect for culinary tasks. This vibrant mix ensures a memorable and luminous kitchen experience.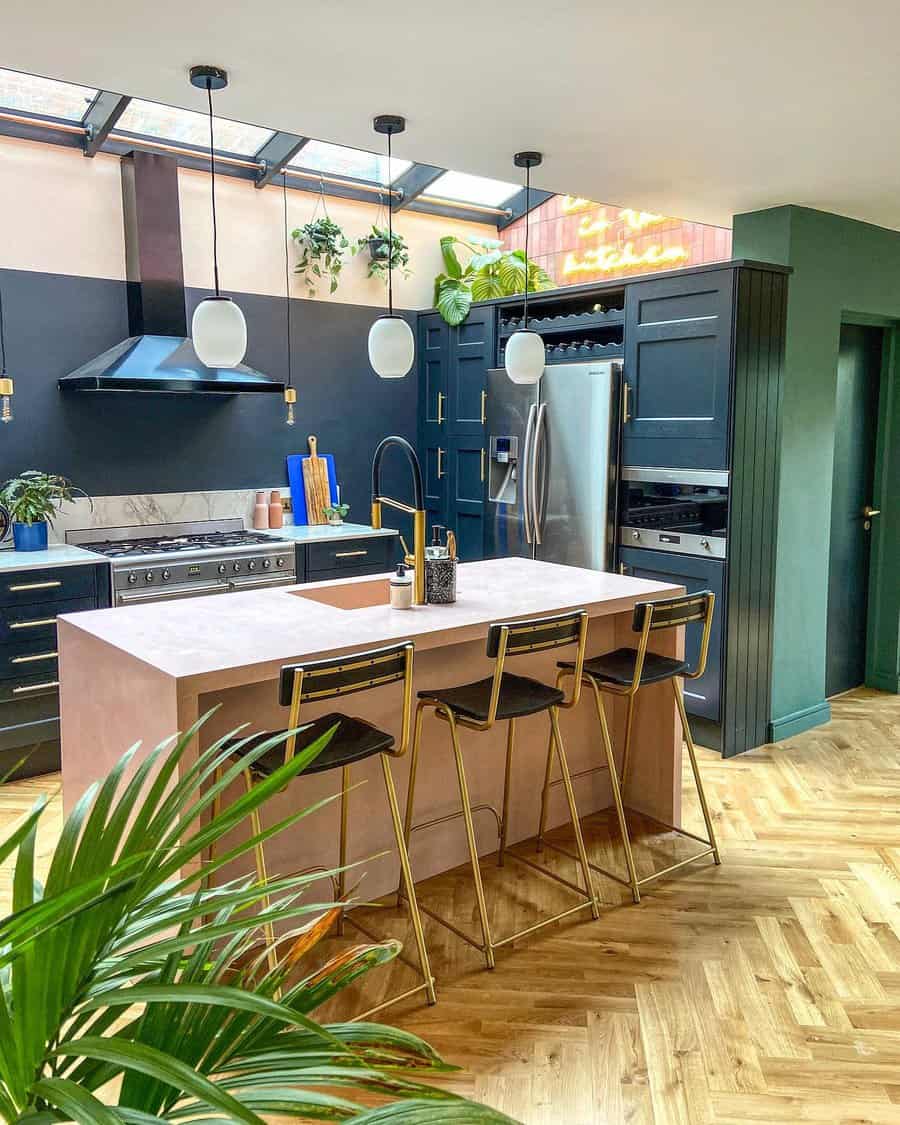 8. Crisp White Meets Rustic Warmth
A white marble island, complemented by snug rattan seating, transforms any kitchen into an elegant yet cozy haven. Enhance this blend of elegance and warmth with modern pendant lights overhead. This combination serves as both a functional workspace and a stylish gathering spot, making it an essential centerpiece for any home.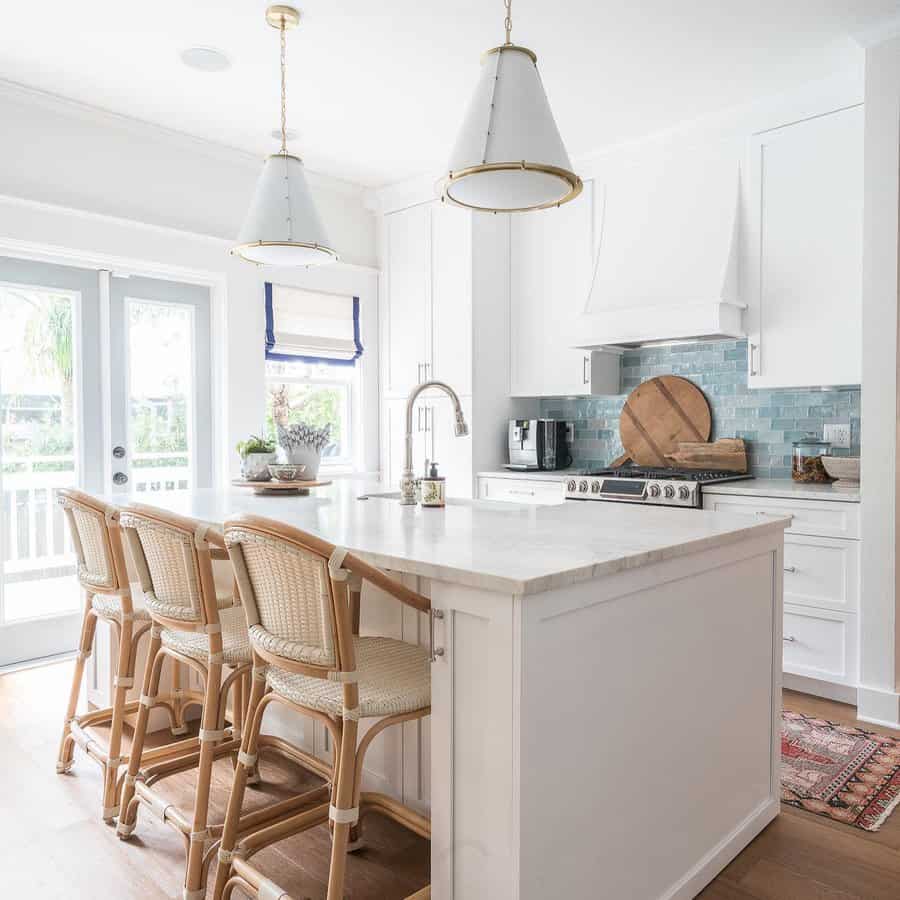 9. White Quartz Rattan Island Fusion
A white quartz countertop island brings a touch of refinement to your kitchen. Complement its polished surface with textured rattan chairs, blending sophistication and warmth. This setup not only boosts your prep space but also serves as an inviting breakfast nook or entertaining area, enhancing the overall kitchen ambiance.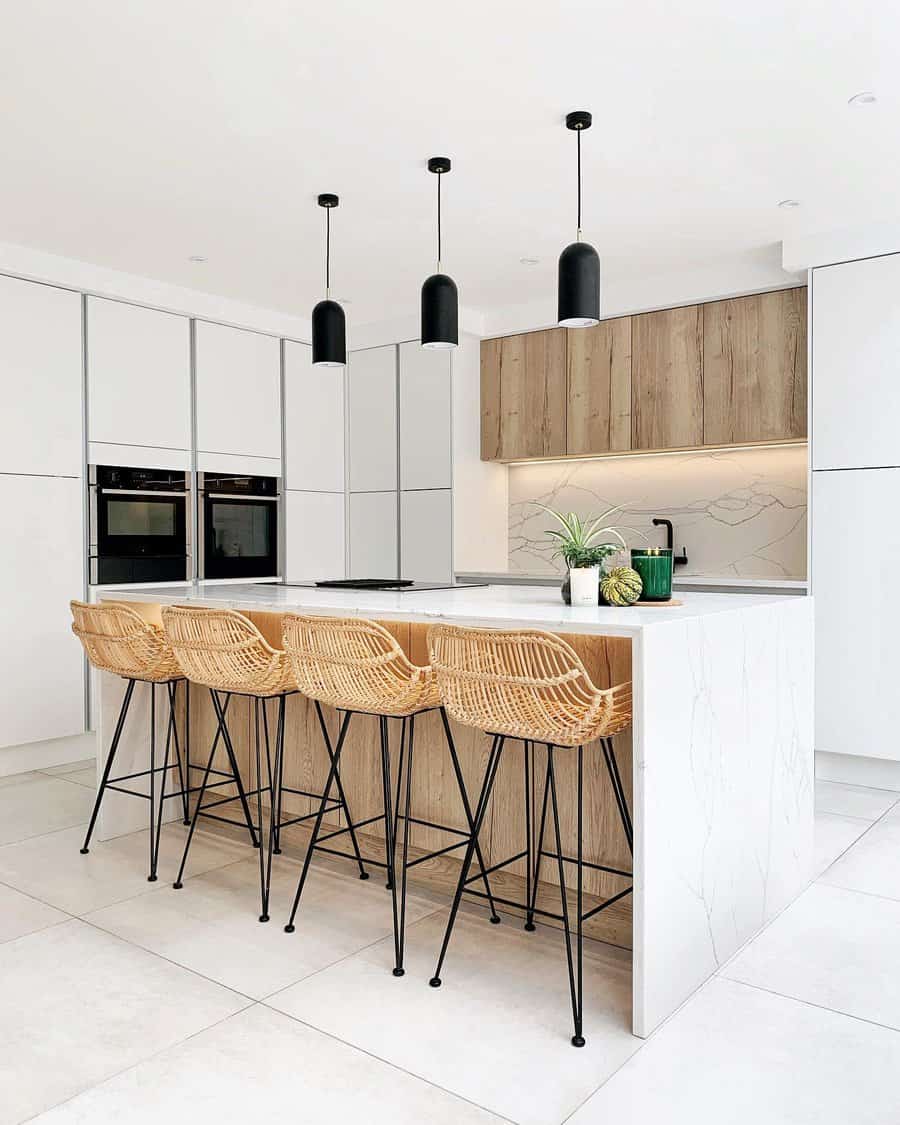 10. Elegant Beige and White Blend
A harmonious blend of white and beige granite graces the heart of your kitchen in the form of a sophisticated island. Paired with luxurious beige bar stools, it creates an inviting space for both dining and prep. Accentuate with classy pendant lights overhead, transforming the island into a captivating centerpiece perfect for any occasion.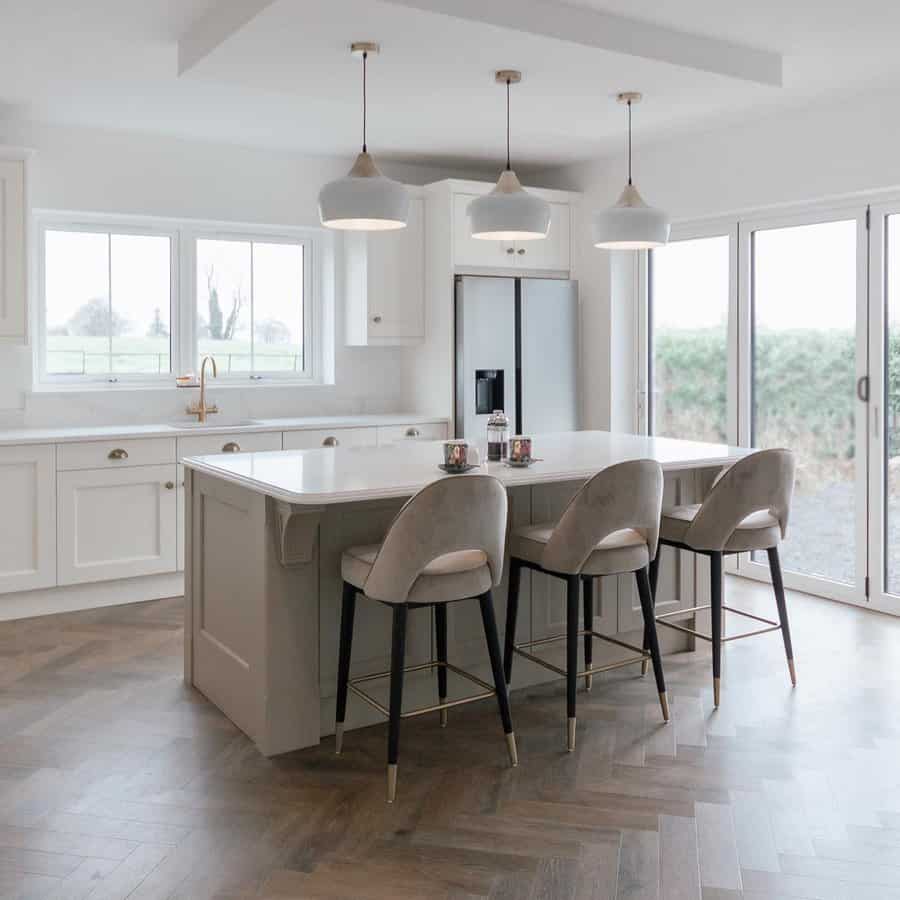 11. Chic Pink Meets Marble Island
A white marble island, accentuated by pink and gold suede bar stools, becomes the focal point of your kitchen. This glamorous setup not only enhances prep work but also provides a charming spot for gatherings. Introduce vibrant colors and cozy textures to make it an enticing hub for all kitchen endeavors.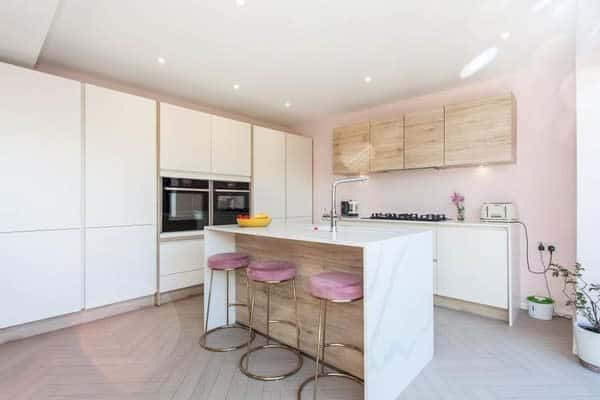 12. Dramatic Black and White Ensemble
Complete your kitchen transformation with a marble countertop island flanked by bold black cabinets. Its luxurious appeal is accentuated by a gold faucet, melding practicality with sophistication. This ensemble not only provides ample seating but also becomes a magnetic gathering spot, showcasing unparalleled craftsmanship.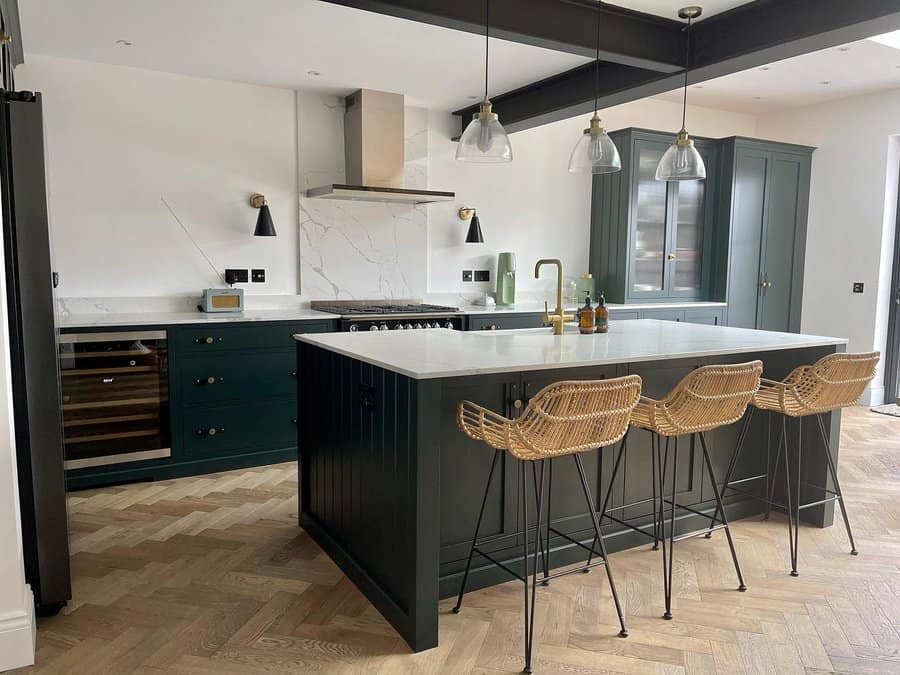 13. Kitchen Island With Green Space
A spacious black countertop island, paired with inviting wooden bar stools, redefines your kitchen's essence. Green leafy plants add a touch of nature, infusing vibrancy and life into the space. This combination melds utility with aesthetics, cultivating unforgettable moments at the very core of the kitchen.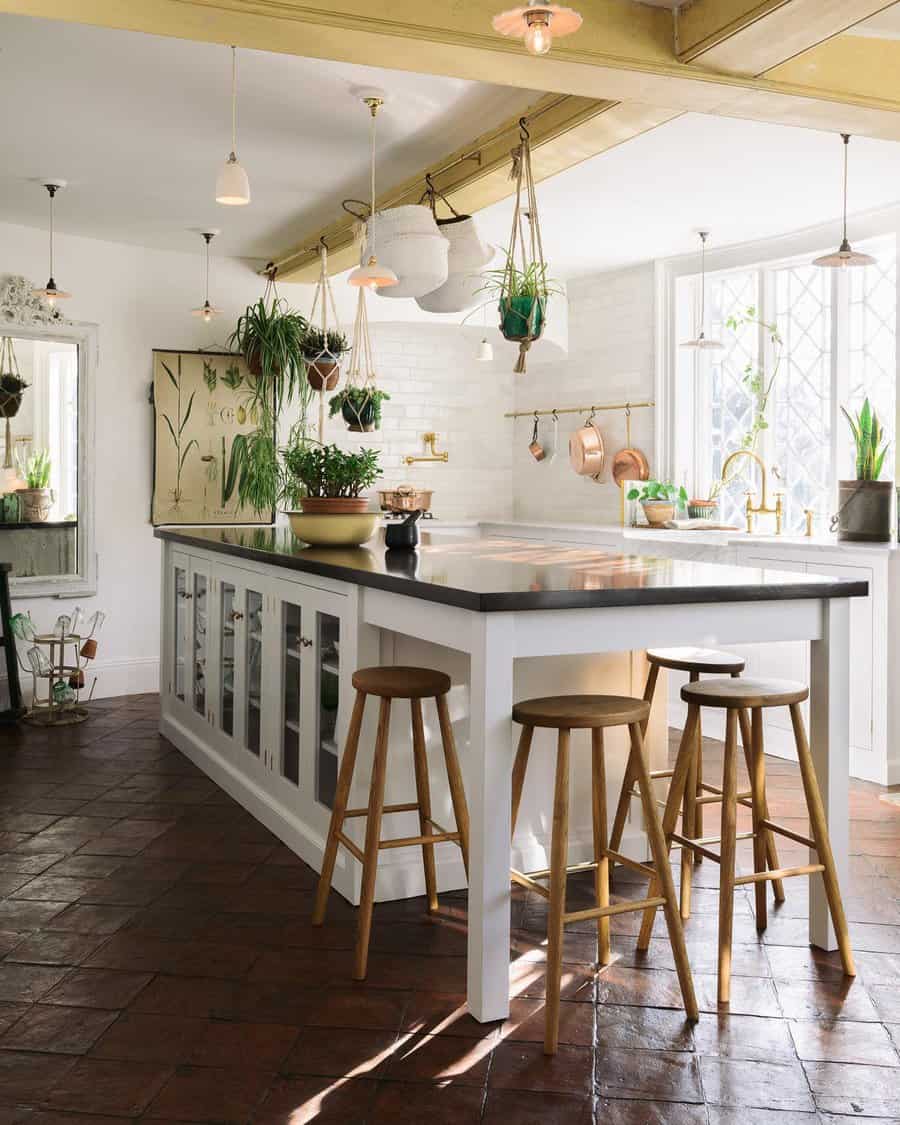 14. Kitchen Island With Dining Space
Merge elegance and convenience with a 4-seater kitchen island. Featuring a light grey countertop for seamless prep and plush seating for four, it's ideal for family meals or entertaining guests. This setup delivers both style and function, catering to casual brunches or formal dinners alike.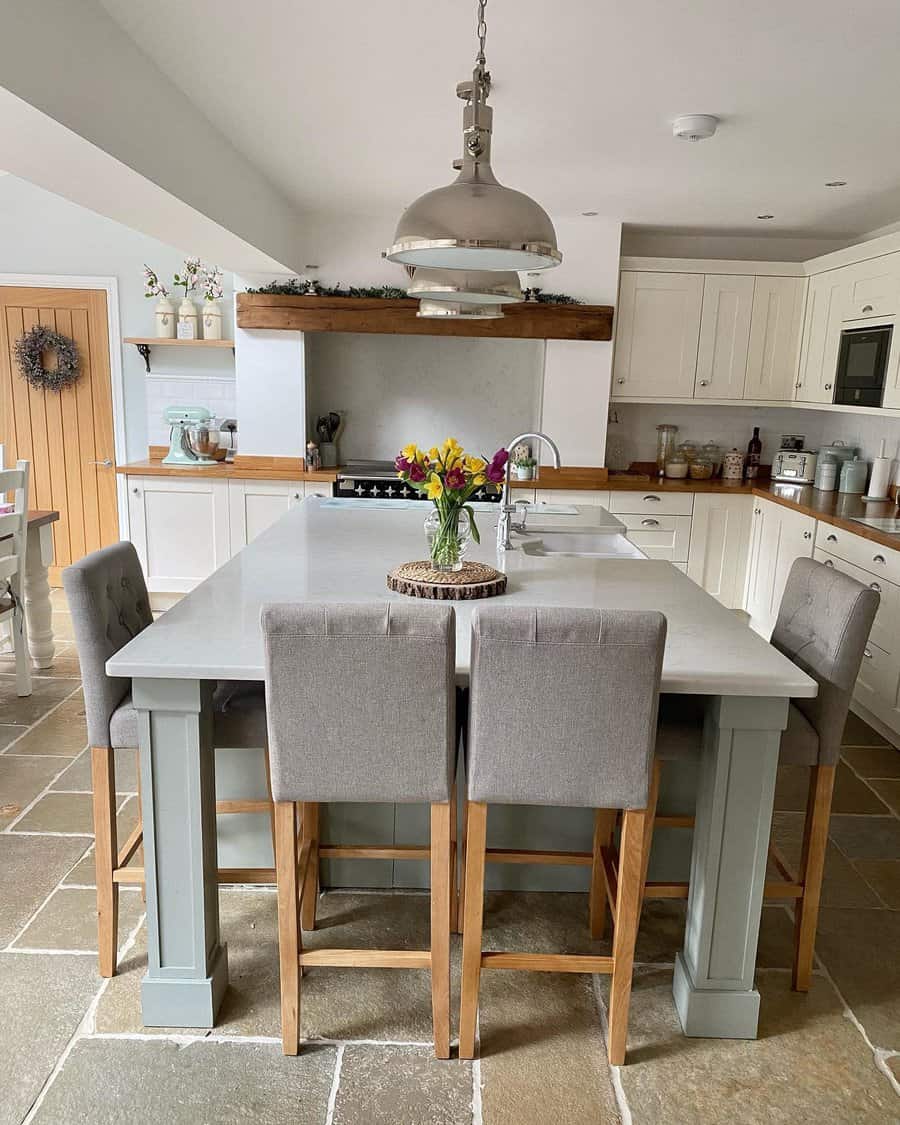 15. Stove-Integrated Countertop Island
A kitchen island integrating a stove top, expansive countertop, and black storage cabinets below transforms the culinary space. Beyond its functional benefits, it introduces an added dining dimension, streamlining the flow of the kitchen. This addition promises a blend of warmth and comfort for both chefs and diners.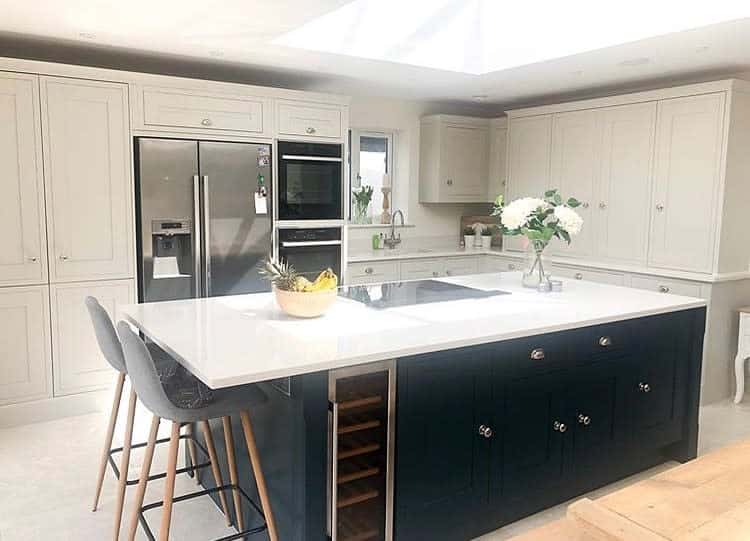 16. Grounded, Low-Set Kitchen Island
The blend of sage and white marble in a kitchen island evokes a minimalist, timeless charm, further elevated by accompanying light grey bar stools. Its low-profile design fosters closeness and warmth, serving as an idyllic spot for gatherings, culinary endeavors, or tranquil coffee breaks. This island seamlessly becomes the heart of any kitchen.
17. Vintage Charm of Shabby Chic
Infuse your kitchen with vintage allure using a farmhouse-inspired island with seating. Pair farmhouse dining chairs with washed blue cabinets for a cozy and inviting aesthetic. This setup not only elevates your kitchen's appearance but also enhances functionality, blending meal prep and dining in a beautiful farmhouse setting.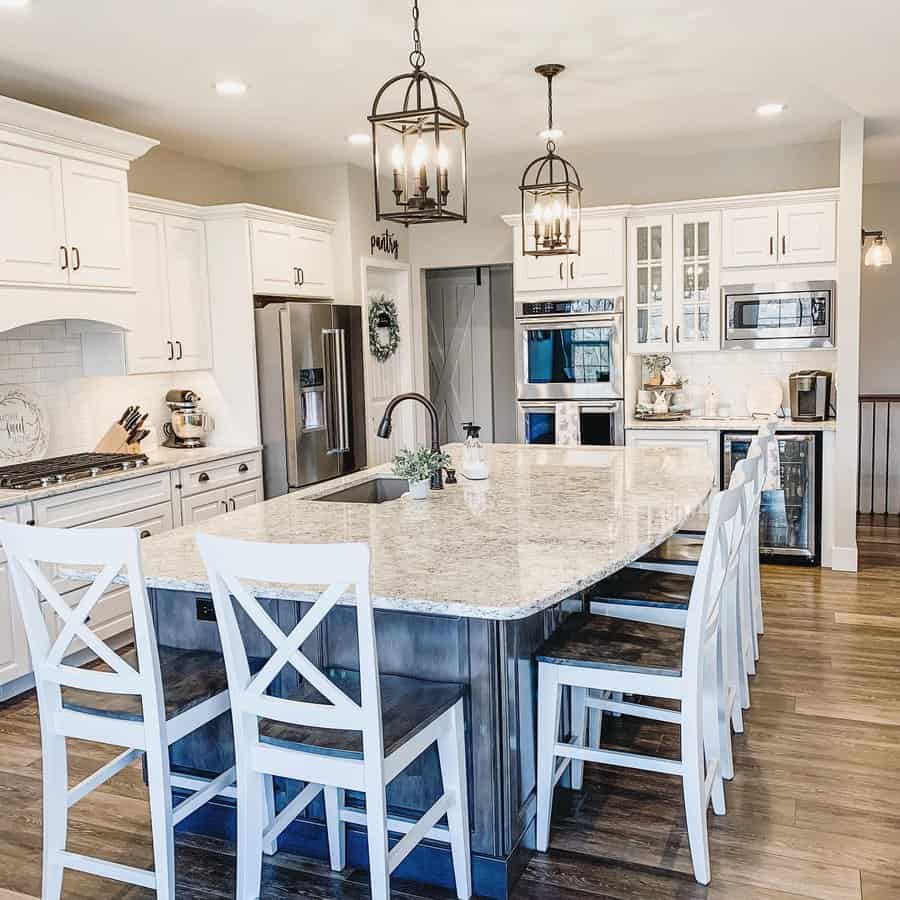 18. Kitchen Island as Dining Central
Transform your kitchen into a culinary haven with a bespoke island. With a wine shelf overhead, your finest bottles are always accessible, and the ambient glow of pendant lights sets the mood. Merging preparation with dining, this island fosters cherished meals and heartfelt chats.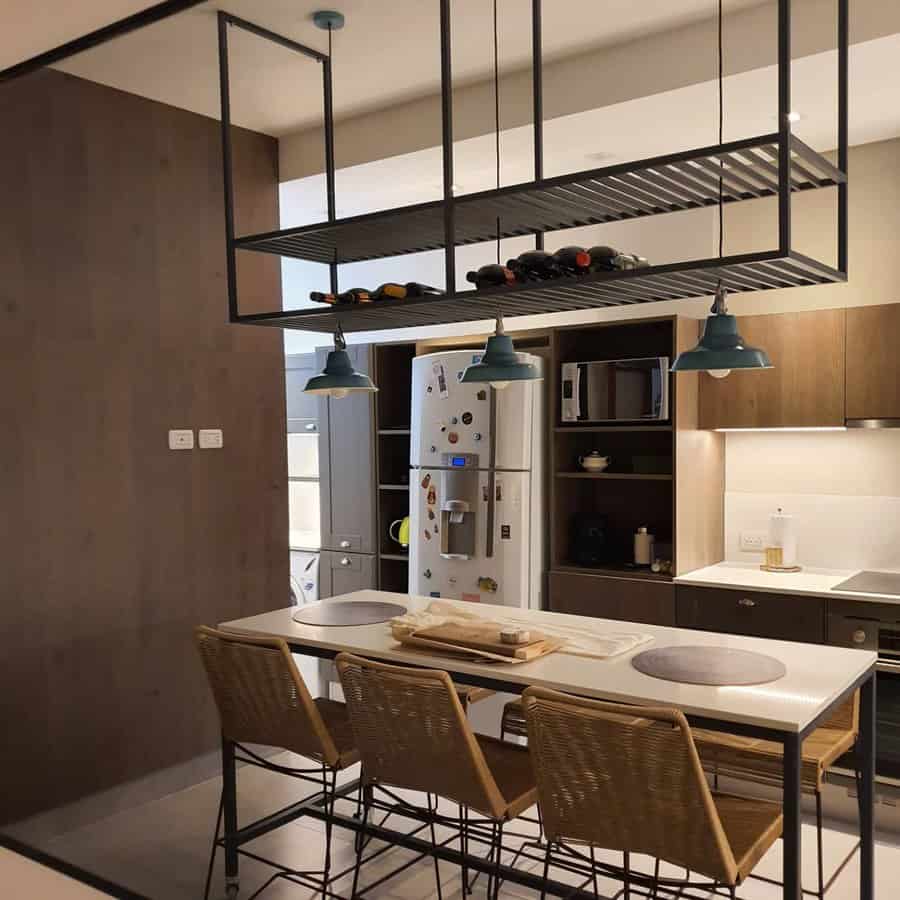 19. Minimalist Muji Island Inspiration
Refresh your kitchen with a white and light wood countertop island, paired with cozy light grey bar stools. This minimalist design offers added workspace, dining convenience, and a side bookshelf perfect for hosting. From breakfast to dinner, its contemporary elegance ensures every meal feels special.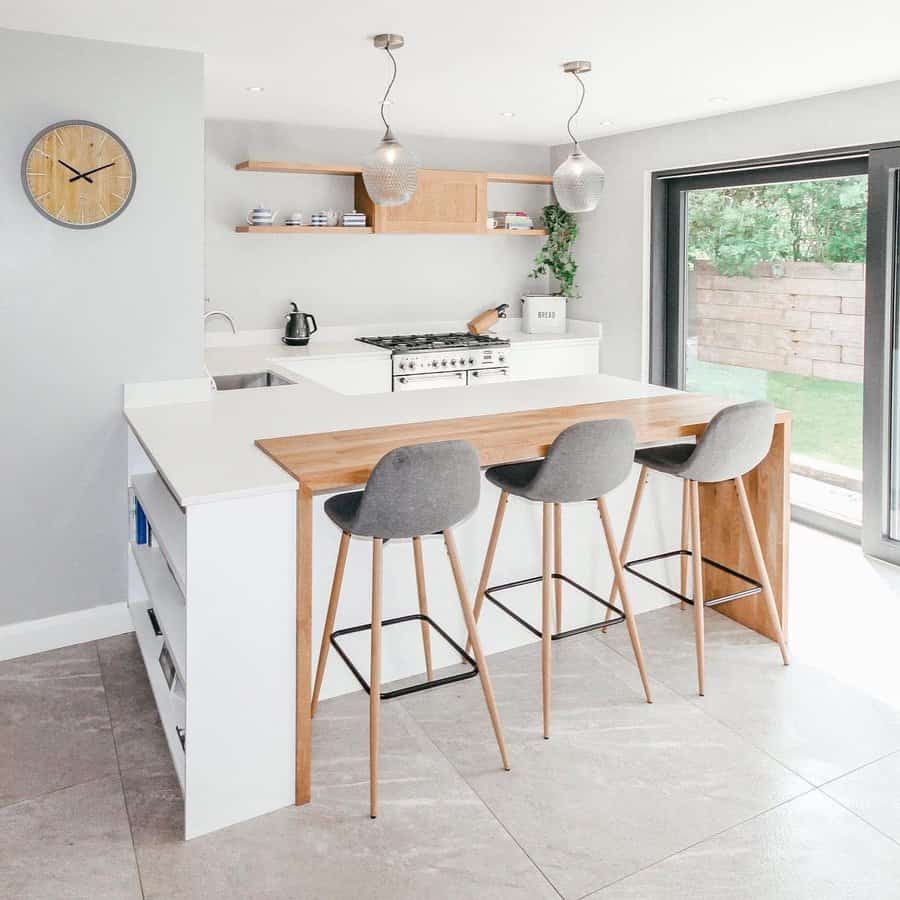 20. Edgy Dark Contemporary Design
Introduce a sense of luxury to your kitchen with a dark teakwood island, topped with pristine marble. A matte black faucet adds a touch of modern flair, highlighting your sophisticated taste. Round it off with bucket seat stools, fostering extended conversations over hot brews or cool beverages.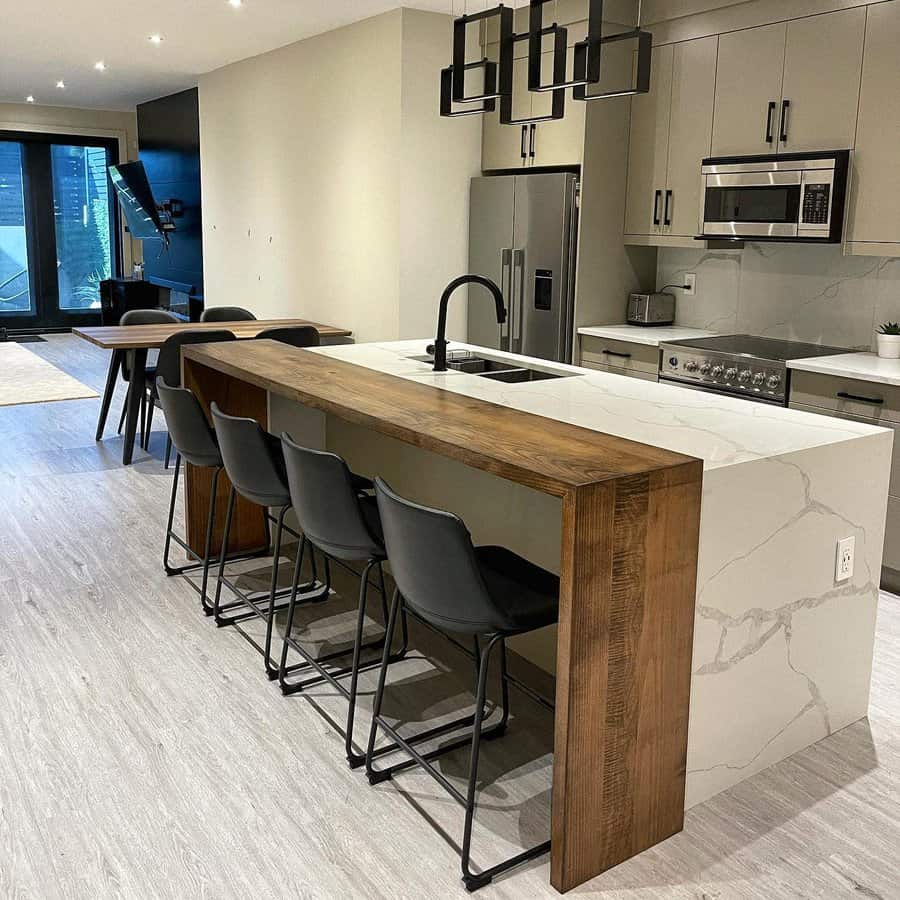 21. Integrated Seating Island Solution
Envision a kitchen centerpiece: an island with gleaming marble and integrated seating, inspired by French bistro designs. Perfect for gatherings, its subtle seating curves exude charm, while the marble brings warmth and elegance. Merging classic style with modern utility, this island promises to captivate.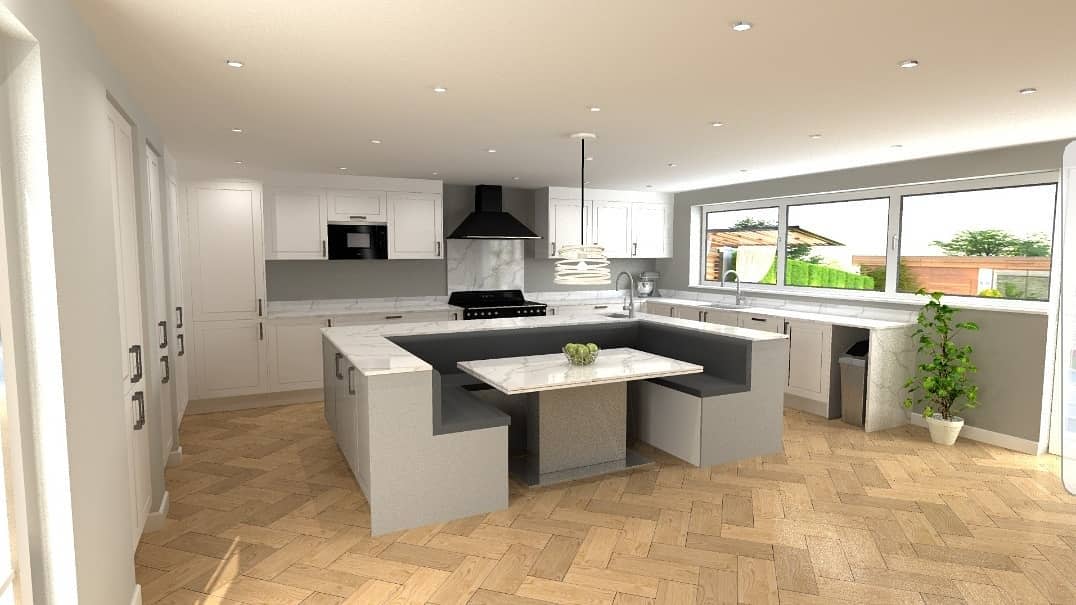 22. Fun and Quirky Modern Touch
Brighten your kitchen with a vivid printed vinyl island – a sure conversation starter. Complement it with wooden bar stools, their cushioned rounds beckoning guests to stay a while. Teal pendant lights overhead add a dash of color, illuminating the space with a cozy, radiant charm. This island isn't just about function; it's about making every meal and chat a delightful experience.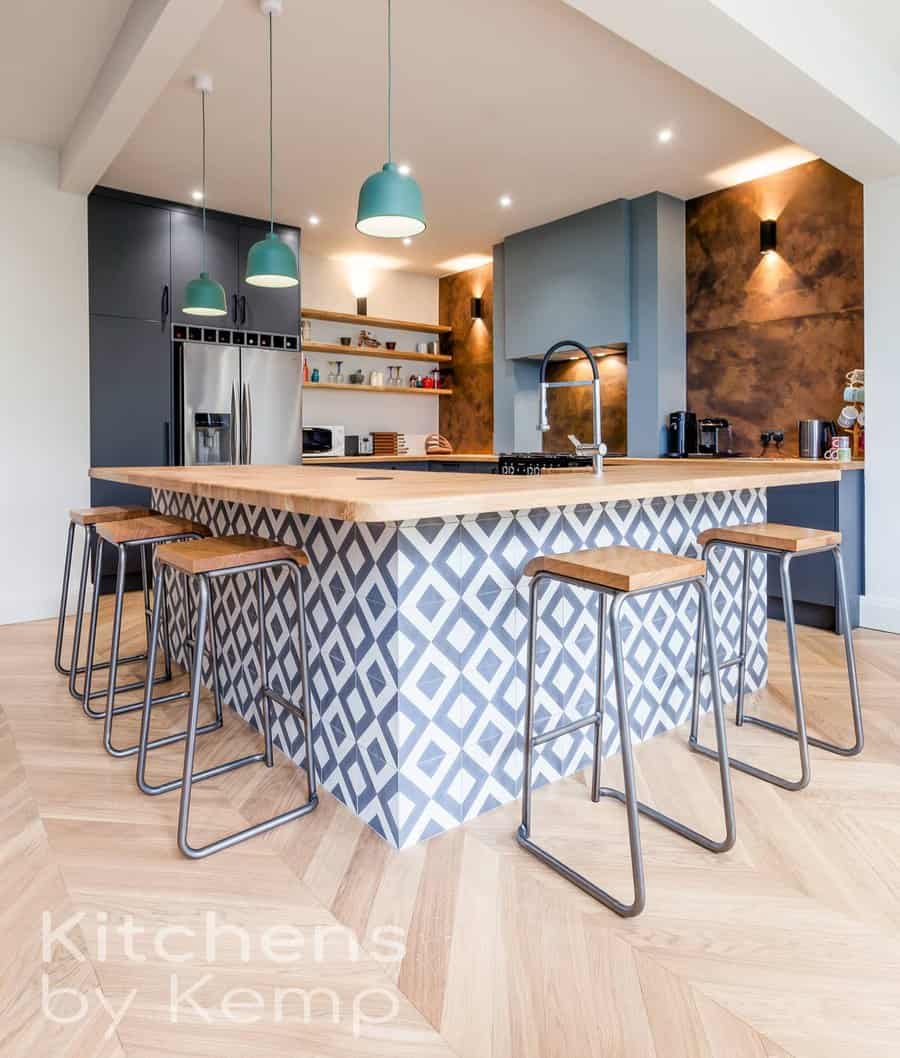 23. Timeless Midcentury Island Design
Introduce a slice of the past to your modern kitchen with a pristine white island inspired by midcentury aesthetics. Complemented by cozy wooden bar stools, it seamlessly merges utility with a touch of nostalgia. This compact island offers more than just a preparation surface—it beckons for gatherings and shared moments, echoing the timeless allure of bygone days in a space-conscious design. It's a vintage charm reimagined for today's compact kitchens.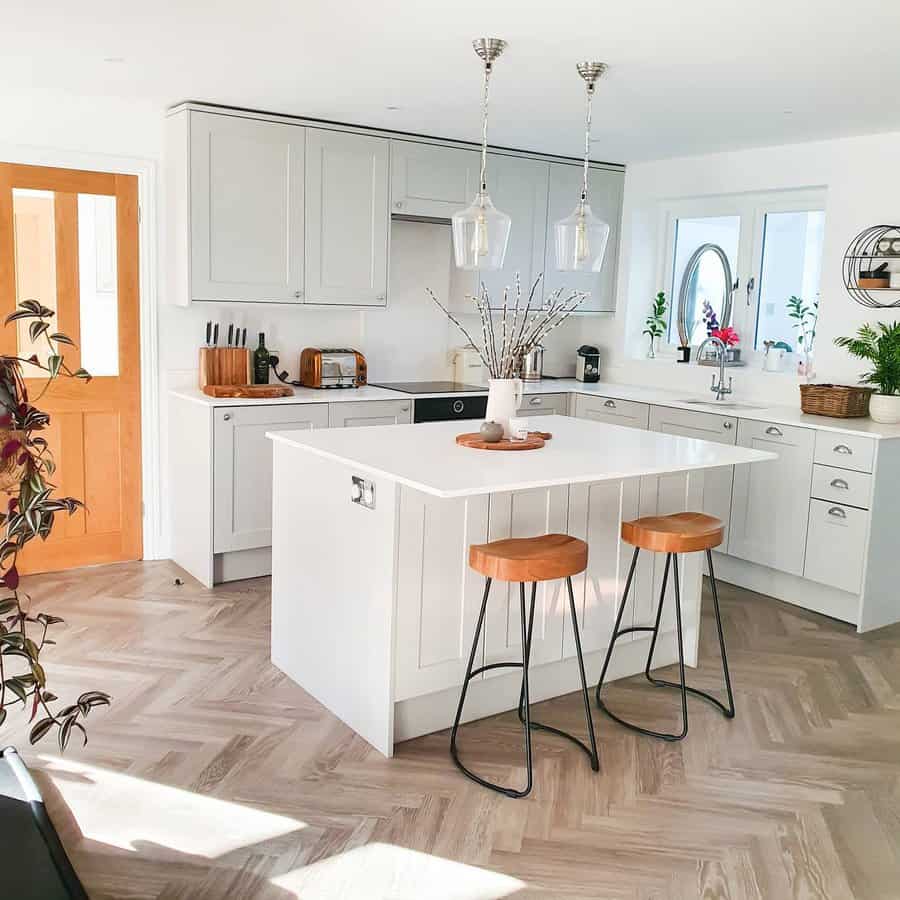 FREQUENTLY ASKED QUESTIONS
What is the ideal size of an island, to accommodate 4 chairs?
You need a minimum of 24 inches to accommodate people comfortably. So, if you have four chairs or stools, your island should be at least 8 feet long.
Do I need less space if I decide to use stools instead of chairs?
It does not make much of a difference. Consider a minimum distance of 24 inches between them, so that people are comfortable getting in and out, and having their meals comfortably.
Can I buy a kitchen island, or they are custom-made?
There are plenty of options in the market if you do not want a custom-made island. There is a variety of sizes and styles to choose from, and many come with shelves or cabinets so that you increase your kitchen storage space.
What is the best size for a kitchen island?
It depends on how much seating space you want. You need to leave a comfortable distance between chairs or stools (24 inches), and the counter overhang should be at least 12 inches, which is rather narrow. Choose a 15-inch overhang, for more comfort.
How to run electricity to a kitchen island?
It will run ideally under the floor, so you need to cut a trench in the concrete for a PVC conduit. You should have at least two dedicated circuits for island outlets. Use a minimum of two 20-amp, 120-volt dedicated circuits, wired with 12-2 and/or 12-3 cable.