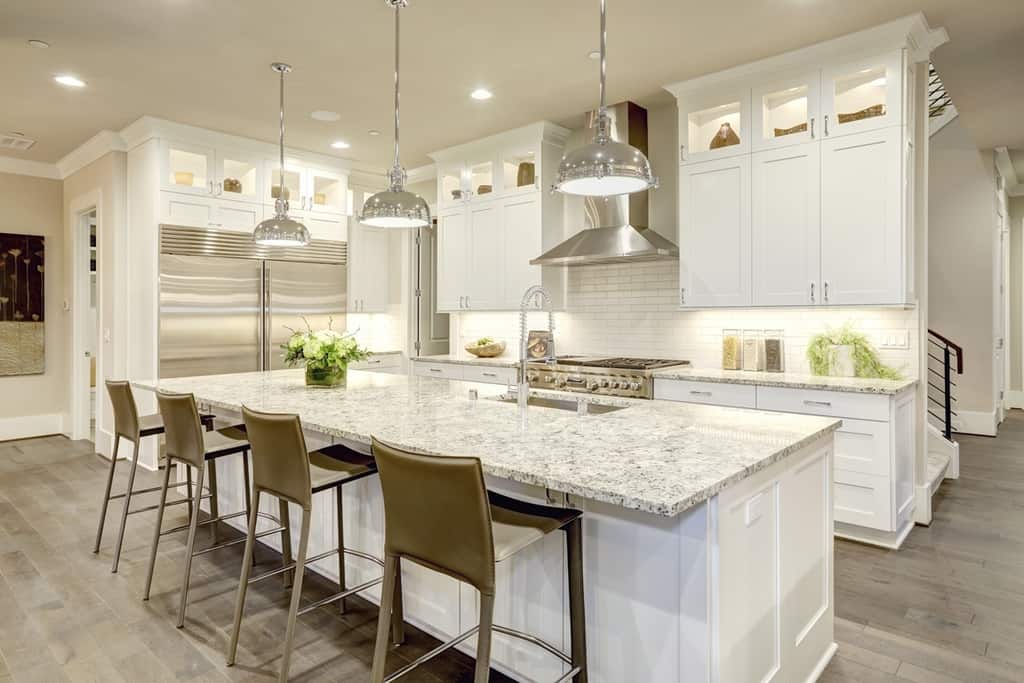 24 Kitchen Island Ideas with Seating
The kitchen is perhaps the most important room in the house. It's where families gather for meals, snacks, or a simple cup of coffee with a nice chat. An open floor plan is ideal if you do not want to be isolated from the family while cooking.
But even if your kitchen is a separate room, you can make it cozy and very functional with a kitchen island with seating, so that it will function as a dining table, breakfast bar, and prep space. In this article, we will give you plenty of design ideas for you to have your dream kitchen!
1. Bright & Rustic
Whether you are looking for a functional breakfast bar or just extra counter space, a wooden kitchen island with seating is the perfect solution. In addition to providing useable surface area in your cooking space, it can bring style to the room and make it feel cozy and inviting.
For something extra special, add some rattan kitchen stools and lush greenery by scattering some plants around the island – this will create an inviting spot for a casual morning feast or an afternoon snack.
You won't ever want to leave your beautiful oasis!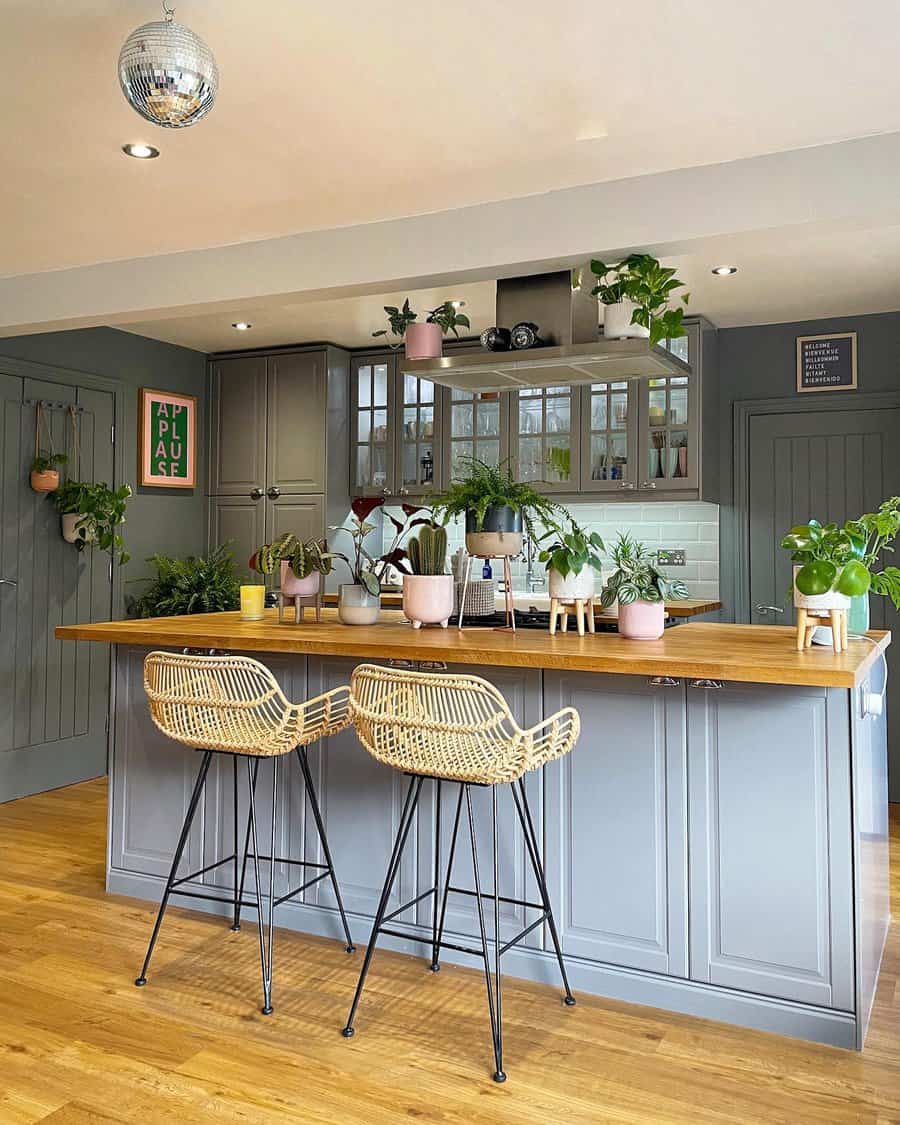 2. Scandinavian
There's something inviting and warm about Scandinavian-style kitchen islands with seating. Picture it: a magnificent white island adorned with an array of globe pendant lights dangling above, while four lightweight geometric bar stools are pulled up to the side, ready for the family to gather around.
Adding seating to a kitchen island is a wonderful way to create both function and style – perfect for friendly conversations over meals or just solving daily puzzles.
Make your space come alive with a Scandinavian-style kitchen island with seating!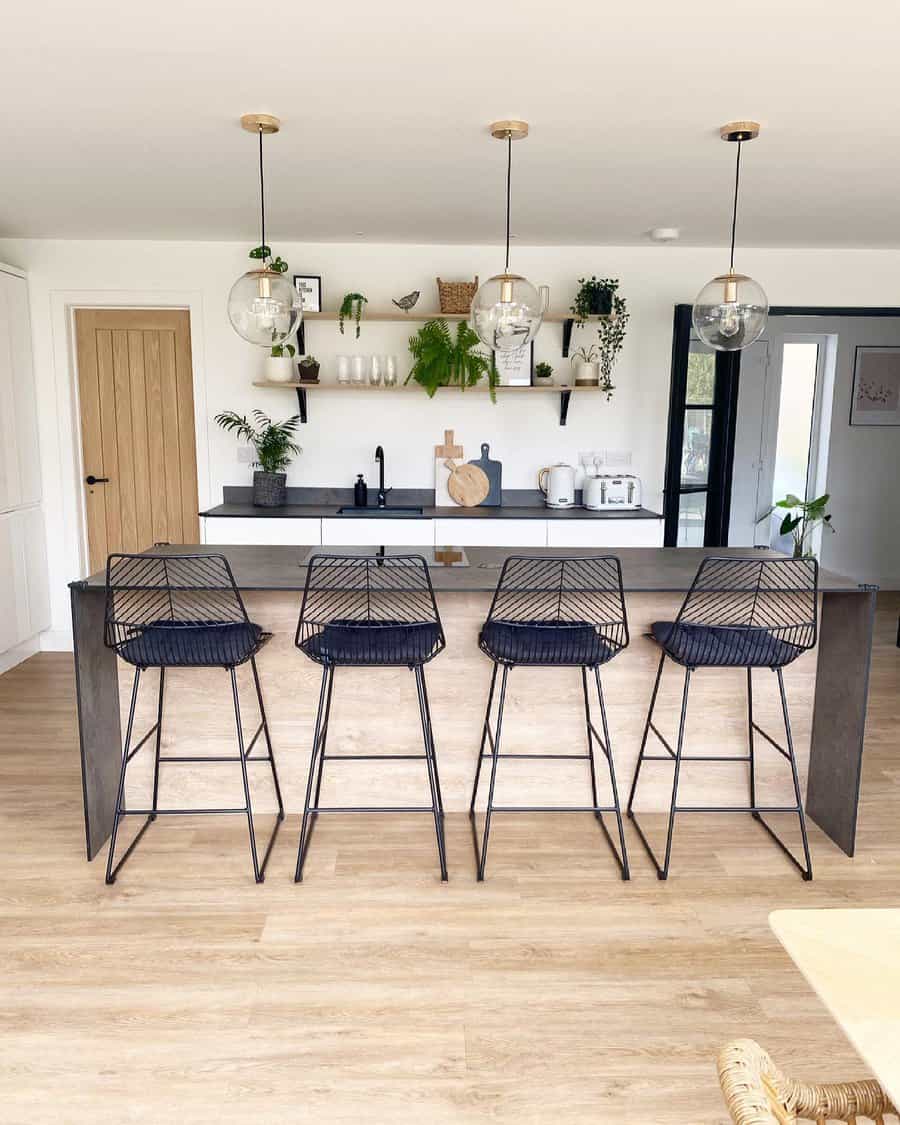 3. Masculine & Straightforward
If a black and white kitchen island with seating is on your shopping list, then look no further! Picture this: a sleek black and white kitchen island topped with professional-grade countertops, the perfect spot for meal prepping and entertaining.
On each side of the island are metal bar stools for seating, bringing a touch of modern sophistication to the space. A glass dome pendant light hangs overhead – its shiny surface standing out against its black and white backdrop – providing just enough light without taking away from any of the elements in the room.
With all these pieces together, you have yourself an absolutely stunning kitchen area that is sure to wow guests.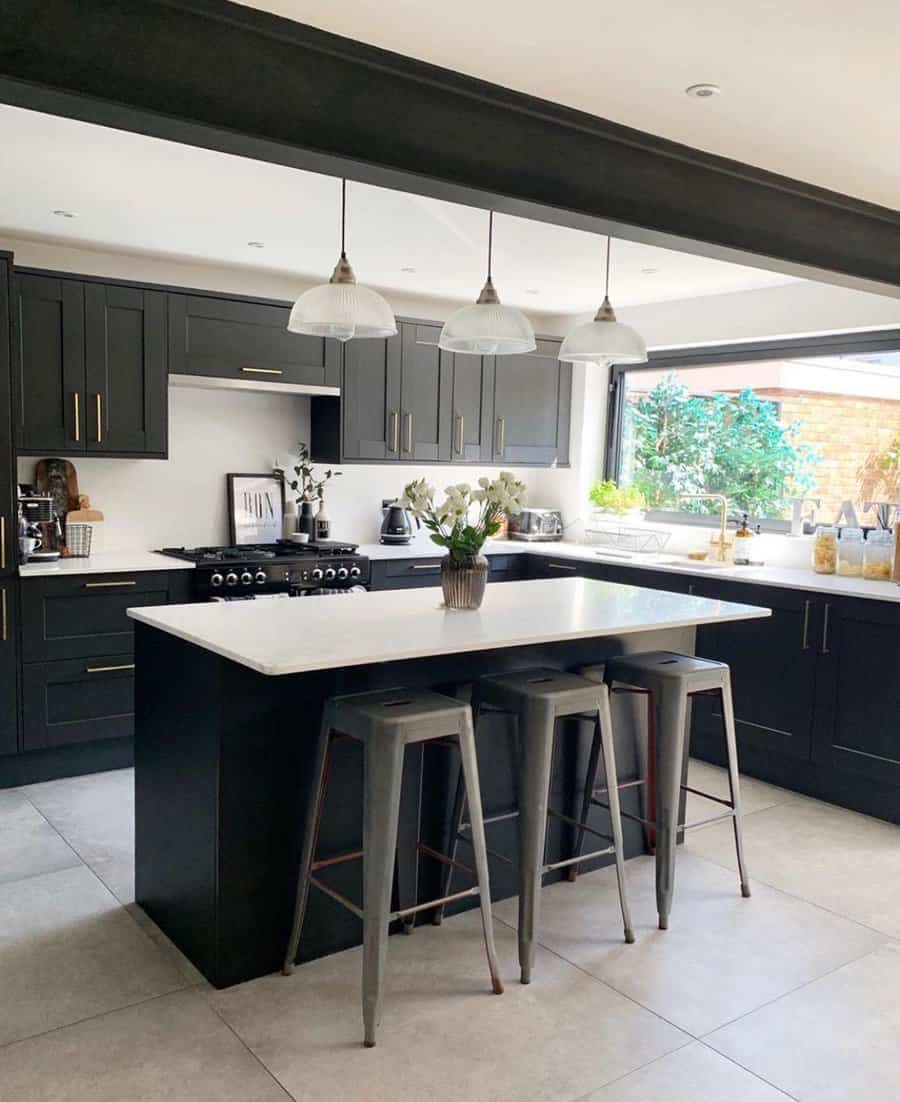 4. Modern Industrial Parquet
A small parquet kitchen island is the perfect way to add storage and seating to any small space. With a clean, streamlined design, this kitchen island instantly elevates your modern décor.
Plus, with brown leather kitchen stools as the icing on the cake, these stools provide a contrast that creates ample seating without compromising style.
Whether you're having breakfast in the morning or sharing late-night conversations over dinner and drinks, this small kitchen island and accompanying brown leather stools will fit perfectly into your small space and make it a more functional hub for loved ones to gather around.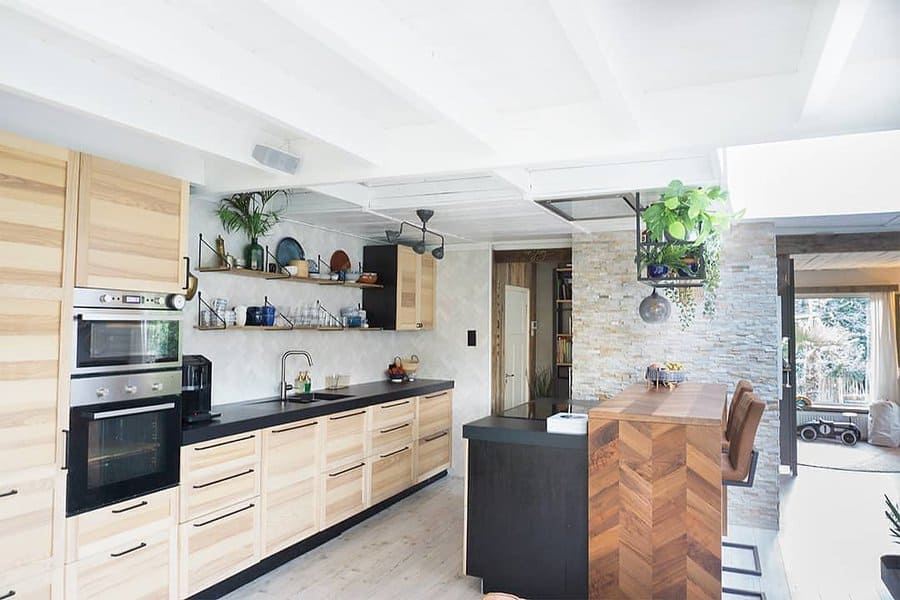 5. Dark Modern Contemporary
Adding black kitchen island with 5-seat suede bar stools to your home is the perfect way to upgrade your kitchen space and give it a bold, modern style.
The black island will become the centerpiece of the room, making a statement with its striking look. Your family and friends will love how comfortable and stylish the suede bar stools are, allowing everyone to sit and gather around while meals are prepared.
Whether you want to spruce up a smaller kitchen or create more counter space in a larger one, this black kitchen island combines form and function for an effortless all-in-one solution.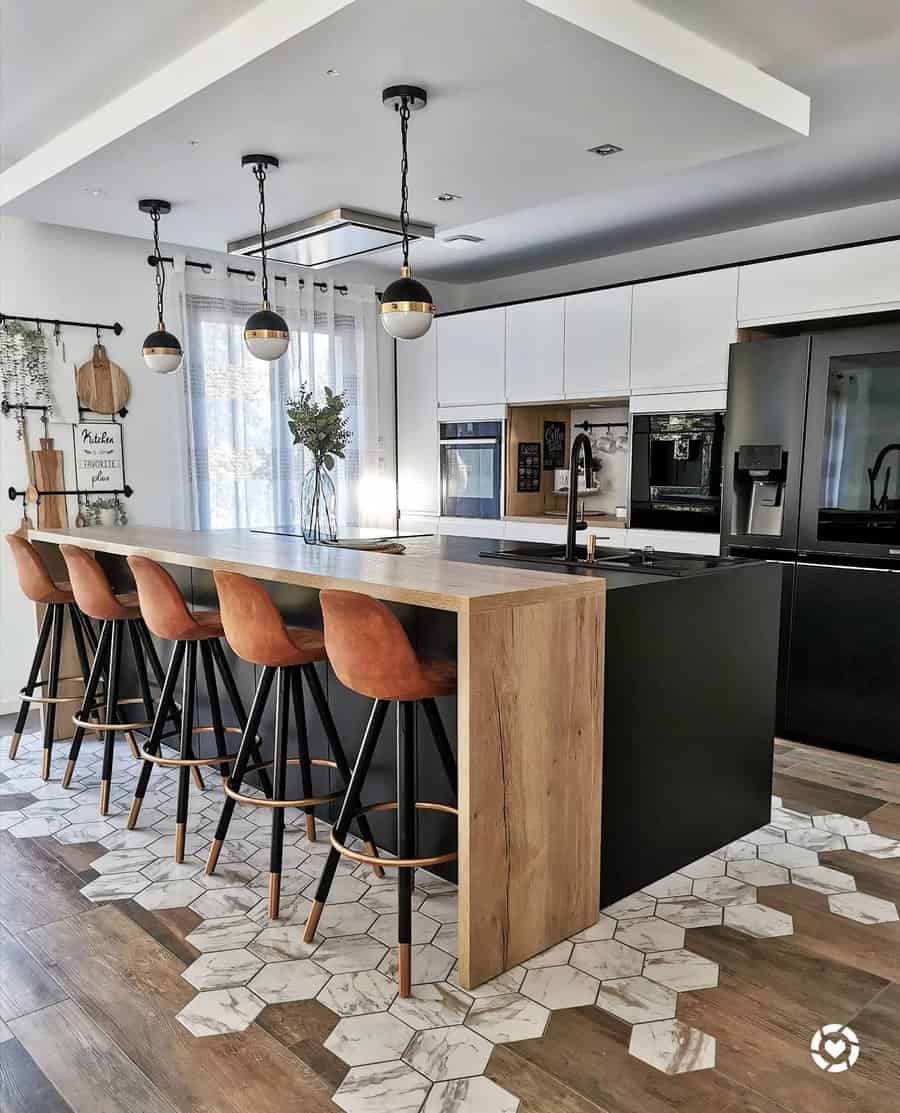 6. Farmhouse Style
Cooking in the kitchen has never been more fun! A farmhouse-style kitchen island is the perfect addition to any home, offering both plenty of storage space, and a rustic 2-seat bar – perfect for when you want to invite friends over to enjoy all your cooking creations!
Finished with a charming farmhouse style, it brings a unique touch of character and timelessness that can be enjoyed in your home for years.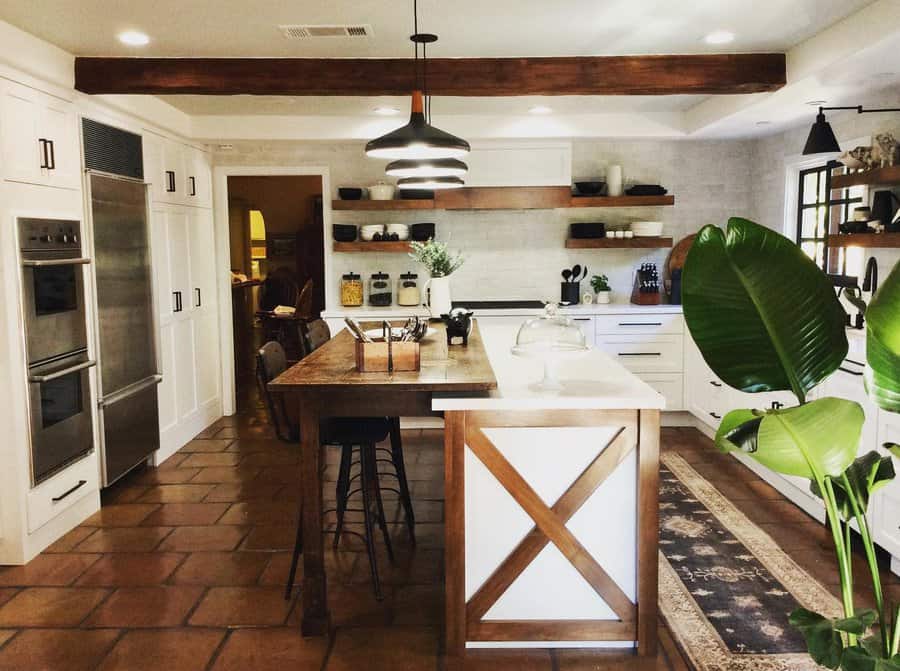 7. Bright Art Deco
What better way to make a kitchen island with seating stand out in the space than color block walls, art deco furniture, and a skylight window? With color blocking, you can easily create a unique look that will draw the attention of visitors and make them want to stay in your home.
Throw in an art deco-style bar cart or a kitchen table set to truly take this look to the next level. And don't forget about the skylight window: it's ideal for pouring natural light into your home while making sure you have enough illumination when working on cooking projects.
The combination of color blocked walls, art deco furniture pieces, and subtle touches such as a skylight window makes for an unforgettable kitchen island with seating experience!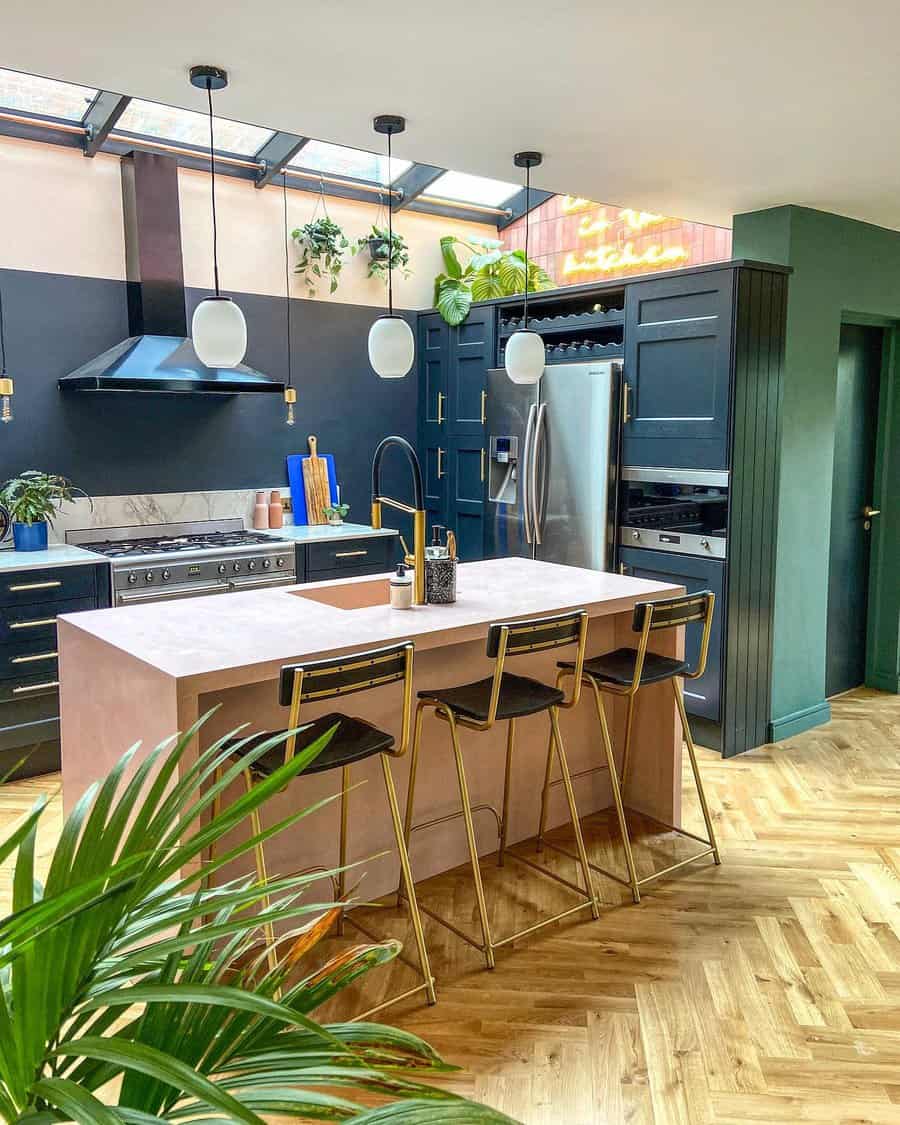 8. Tidy White With Rustic Elements
Adding a stunning white marble kitchen island with comfortable rattan seating is the perfect way to instantly uplift any kitchen space. Not only do they add convenience and functionality, they can be decorated to fit any style.
With modern pendant lights floating above the island, you can create an effortless yet eye-catching aesthetic that simply oozes class and sophistication.
Whether it's for preparing meals, hosting friends and family or just for taking small breaks throughout the day, a white marble kitchen island with rattan seating and pendant lights is definitely a must-have item in your home.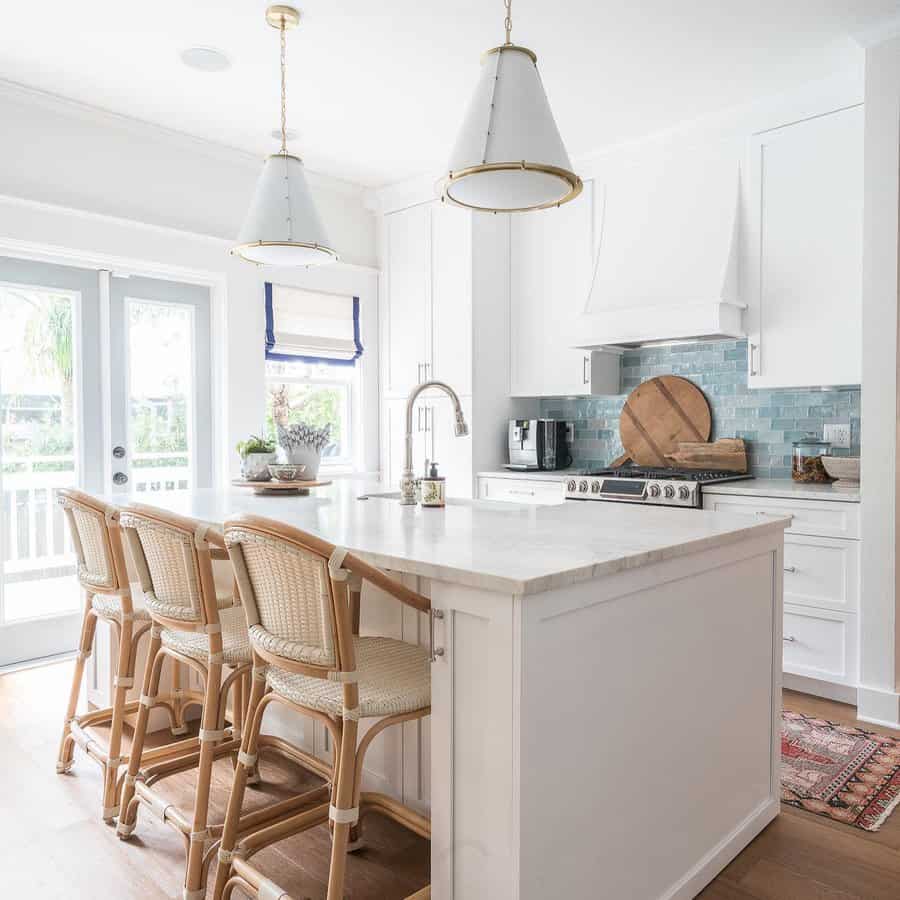 9. White Quartz & Rattan
Create a beautiful and inviting space in your white kitchen with a white quartz countertop kitchen island with seating. The white quartz countertop allows for a polished look with plenty of prep area, while the seating can be designed to fit any décor.
For example, rattan chairs could provide a touch of texture and sophistication to the room. In addition, it can also double as your breakfast nook or a place to entertain friends.
Overall, adding a white quartz countertop kitchen island with seating can make all the difference in your white kitchen.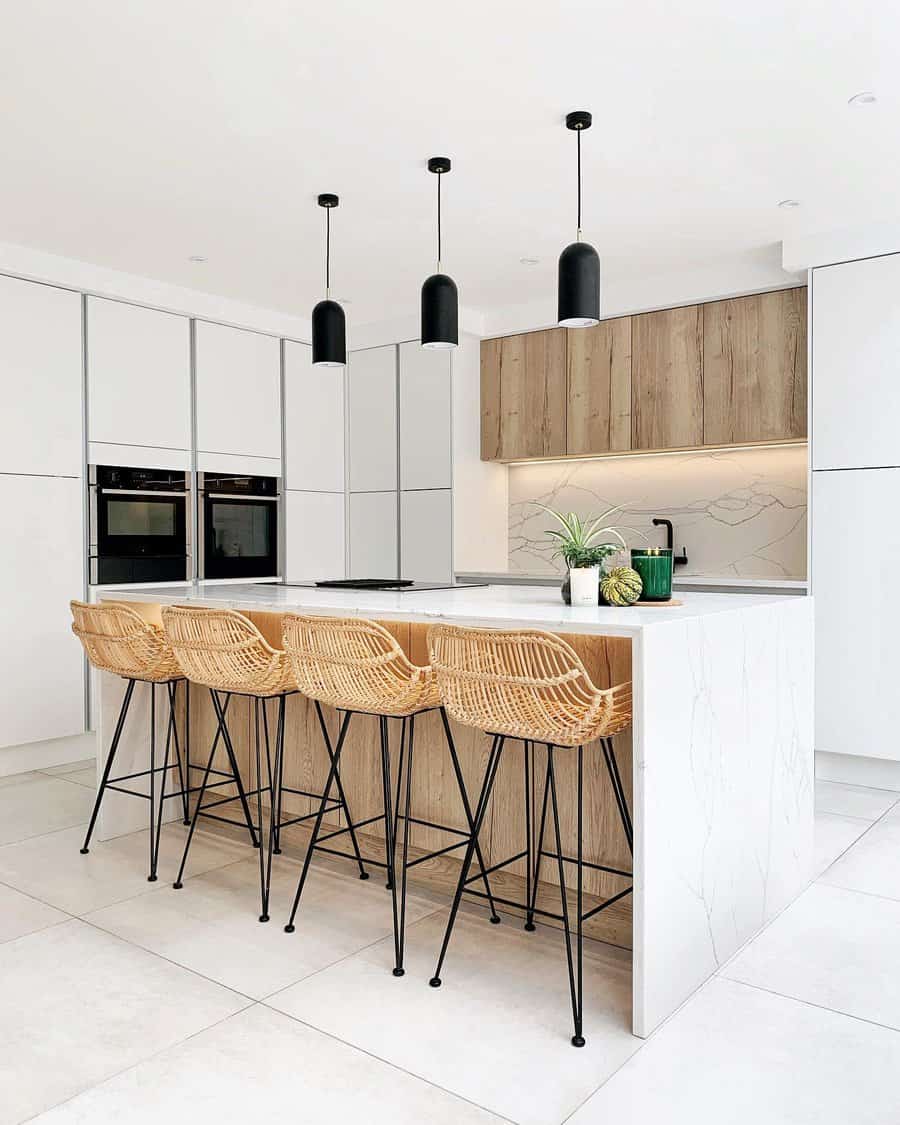 10. Classy White & Beige
A kitchen island with seating provides the perfect opportunity to spruce up a space and make it look modern and stylish. Featuring a white and beige counter top, carved out of a single slab of granite, this kitchen island serves as an inviting centerpiece for the entire room.
Accompanying the white and beige countertop are four luxurious beige bar stools, perfect for entertaining guests or having small meetings while preparing meals in your home.
Offering a finishing touch is five classy pendant lights right above the island, making this piece one that's sure to draw attention wherever it goes!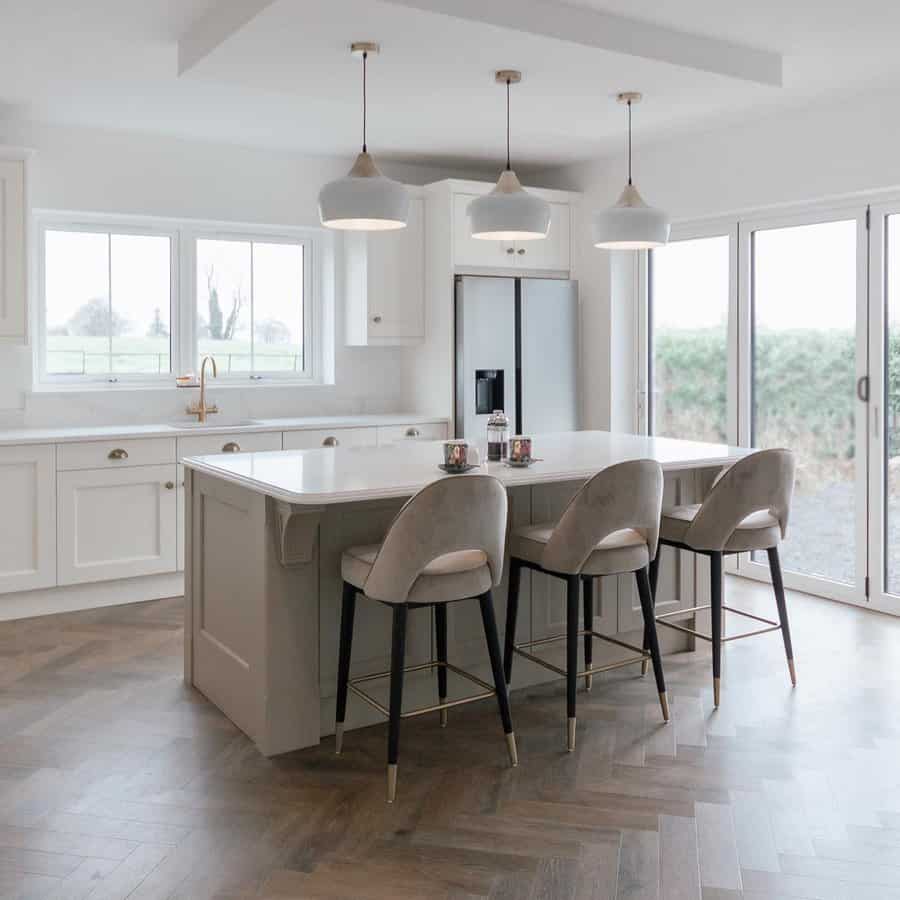 11. Pink & Marble
A white marble countertop, framed by pink and gold suede bar stools – a kitchen island with pretty seating is the perfect touch to give your kitchen added glamour.
Whether you're slicing onions, rolling out dough, or hosting friends for a delicious dinner, a kitchen island with seating will surely bring charm to any occasion.
Add warmth to the space with vibrant colors and cozy fabrics, creating an inviting area for any activity.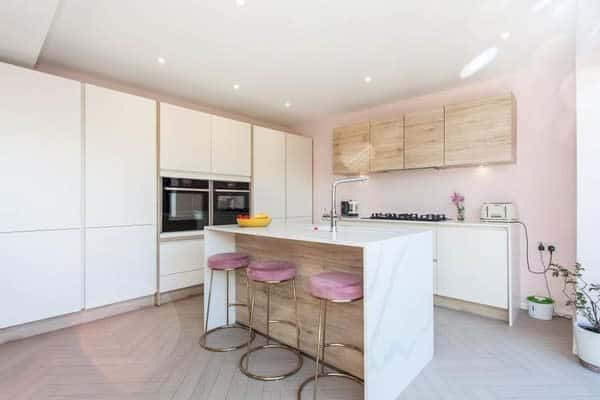 12. Bold Black & White Countertop Island
When transforming a kitchen into a culinary masterpiece, there is no greater way to complete the look than with a luxurious marble countertop kitchen island. This one-of-a-kind centerpiece provides both practicality and beauty with ample seating to match.
Bold black cabinets compliment the marble countertop, while a stylish gold faucet speaks of luxury.
The perfect way for friends and family to gather around the heart of the home – all crafted from the finest materials available.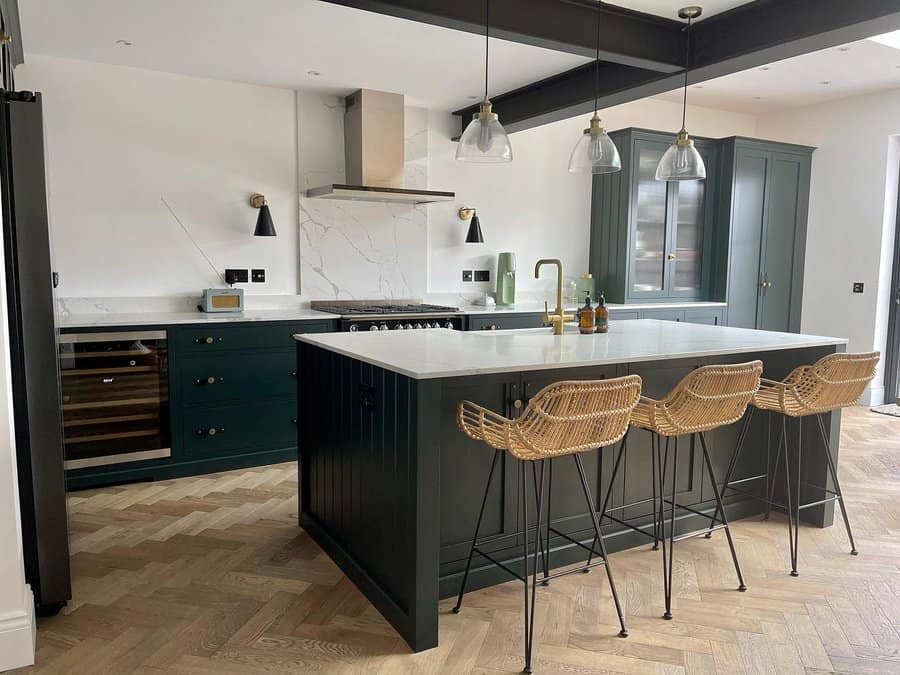 13. Large & Oversized Kitchen Island
A 6-seater kitchen island is an ideal way to transform your kitchen into a welcoming dining and social space. Its spacious countertop allows you to show off your culinary skills while guests sit around the island, visiting and savoring the tasty treats they've indulged in.
The 6-seater kitchen island adds a touch of luxury, perfect for entertaining with its beautiful surface and stain resistant finish that ensures it retains its glamorous appearance for many years. Not only does it serve as a great place for dinner parties or extra seating during holidays, but also doubles as extra work or meal prep space when needed.
No matter how you use it, a 6-seater kitchen island will bring elegance and improved functionality to your space.
14. Kitchen Island With Green Space
The perfect kitchen island is finally here! Come home to a black countertop, offering you plenty of room to prepare delicious meals and inviting wooden bar stools that are perfect for those quick bite moments.
Liven up the space with some green leafy plants and enjoy the whole experience of being in the heart of it all! Make use of this practical yet stylish piece and create unforgettable gathering experiences with family and friends.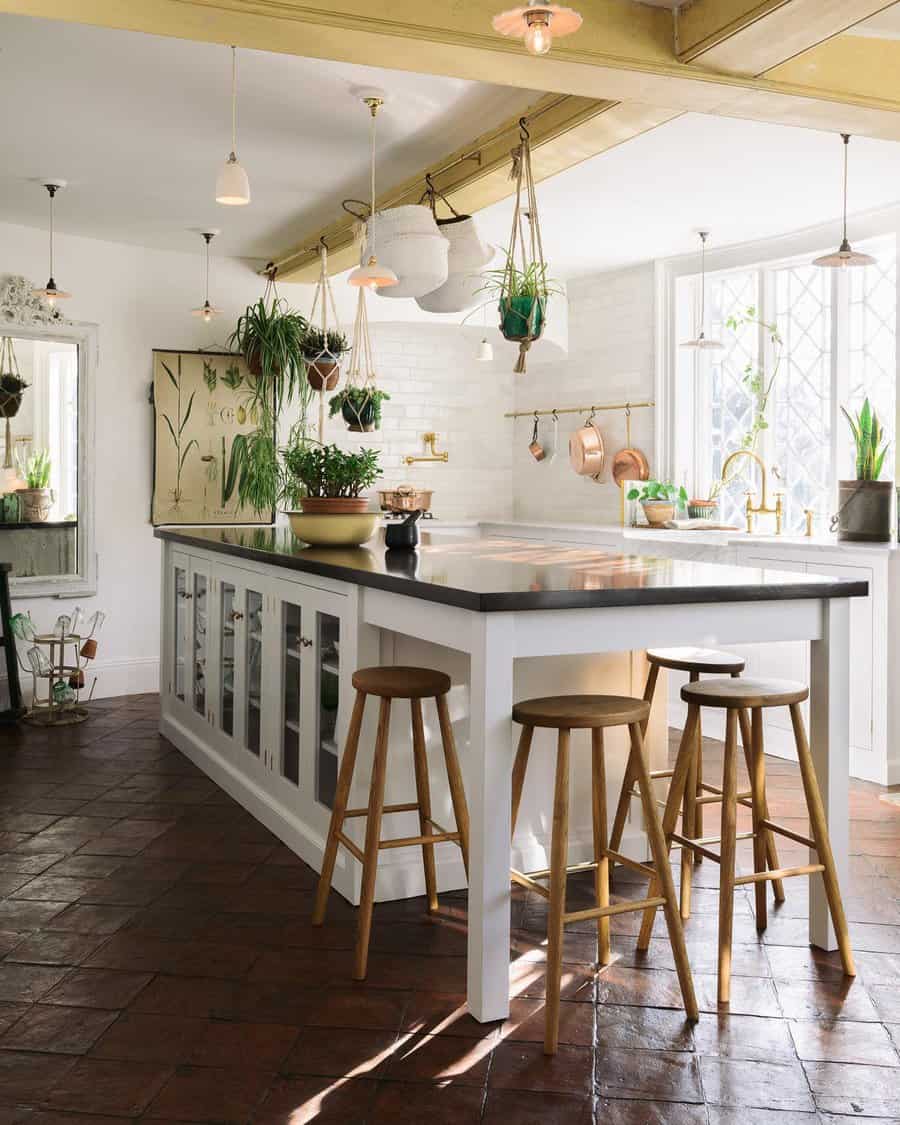 15. Kitchen Island With Dining Space
A 4-seater dining table on a kitchen island offers the ultimate combination of elegance and convenience. Our 4-seated kitchen island boasts a light grey countertop, perfect for food preparation, and luxurious high-grade seating for four.
You can cook meals for your family or entertain guests as they relax and watch you work with ease. Whether it's a casual gathering or an important dinner party, this 4-seater kitchen island offers the perfect blend of style and practicality.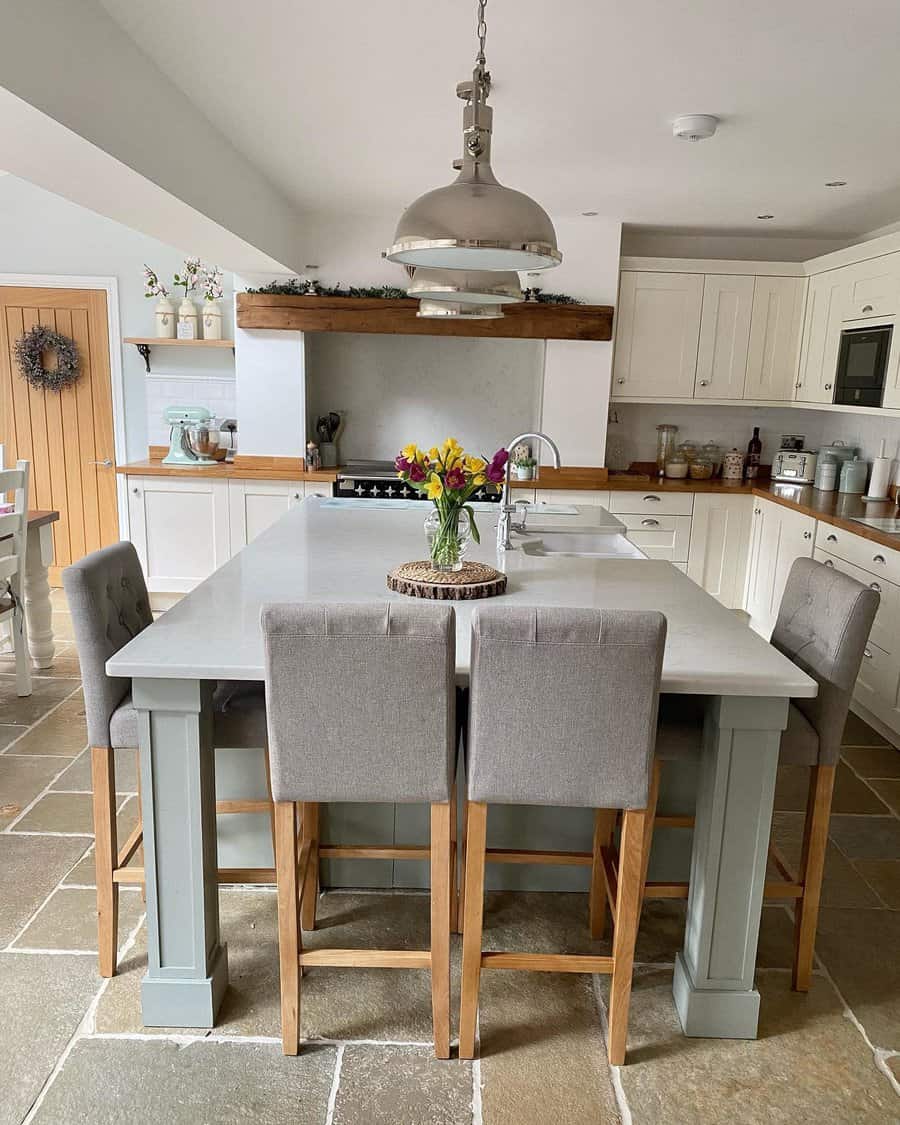 16. Countertop Island With Built-In Stove
The perfect addition to any kitchen is a kitchen island with seating. Imagine having your countertop with stove top on the large, open countertop space and black cabinets underneath for storage and countertops that double as a place to eat breakfast or dinner.
It's the ideal way to maximize your counter space while still providing diners with a comfortable spot to enjoy a meal.
Plus, who doesn't love having a designated spot in the kitchen? It brings that extra bit of warmth and comfort with it – something any kitchen needs!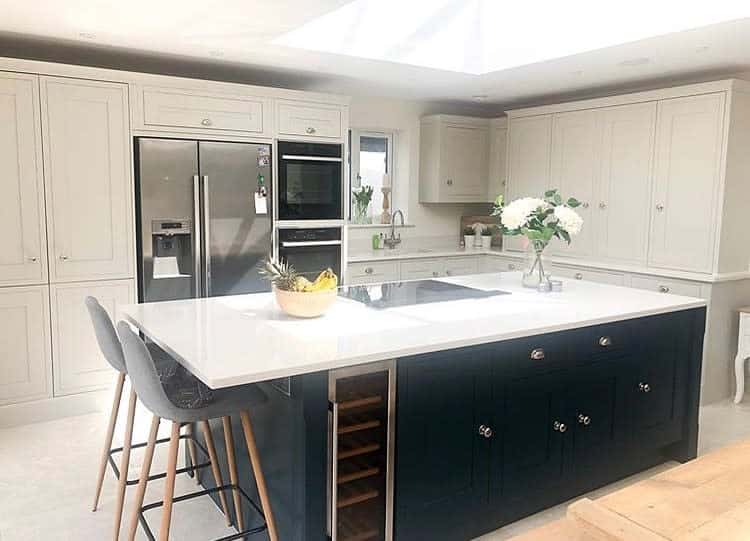 17. Low Kitchen Island
Switch up the vibe of your kitchen with a sage-colored island and contrasting light grey bar stools! For the classic yet minimalistic look, pair sage cabinets with a white marble countertop — pairing strength and elegance. To make it cozy, add low seating so you can gather around it with family and friends. Whether you use it for gathering, prepping meals together, or simply as an area to sip morning coffee and read the newspaper, this beautiful kitchen island will be an inviting focal point in your space.
18. Shabby Chic Style
Transform your kitchen into the farmhouse of your dreams with a kitchen island with seating. Imagine the warm, inviting space the combination of a farmhouse dining chair and washed blue cabinet creates.
Not only does this style make your kitchen more aesthetically pleasing, but it also gives you an added work surface and seating area—making meal time preparation easier! With this farmhouse style kitchen island, you can cook in comfort while enjoying the beauty of farmhouse style.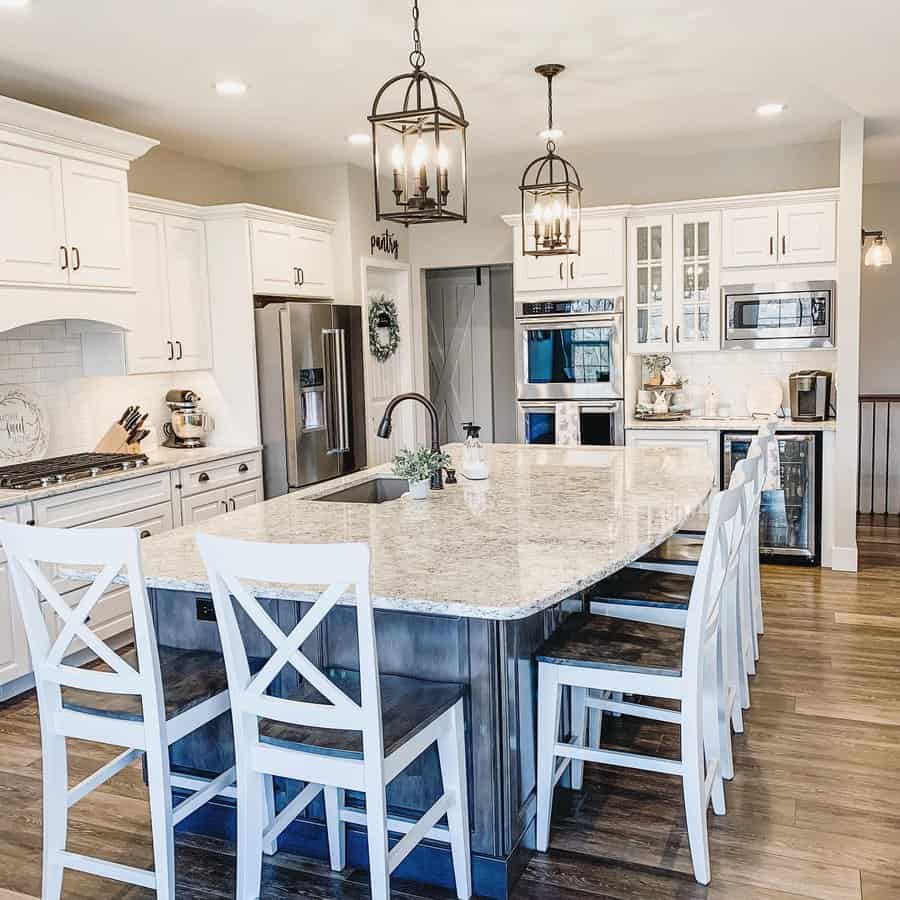 19. Dining Kitchen Island
For the perfect dining experience, you need a kitchen island with seating that fits your needs. The wine ceiling shelf ensures you will never be without wine while you cook or dine.
Pendant lights illuminating the dinner table make it all the more inviting to gather around and enjoy a meal with friends and family.
This dining kitchen island is the perfect solution for cooking something special and savoring it while enjoying each other's company—all in one spot!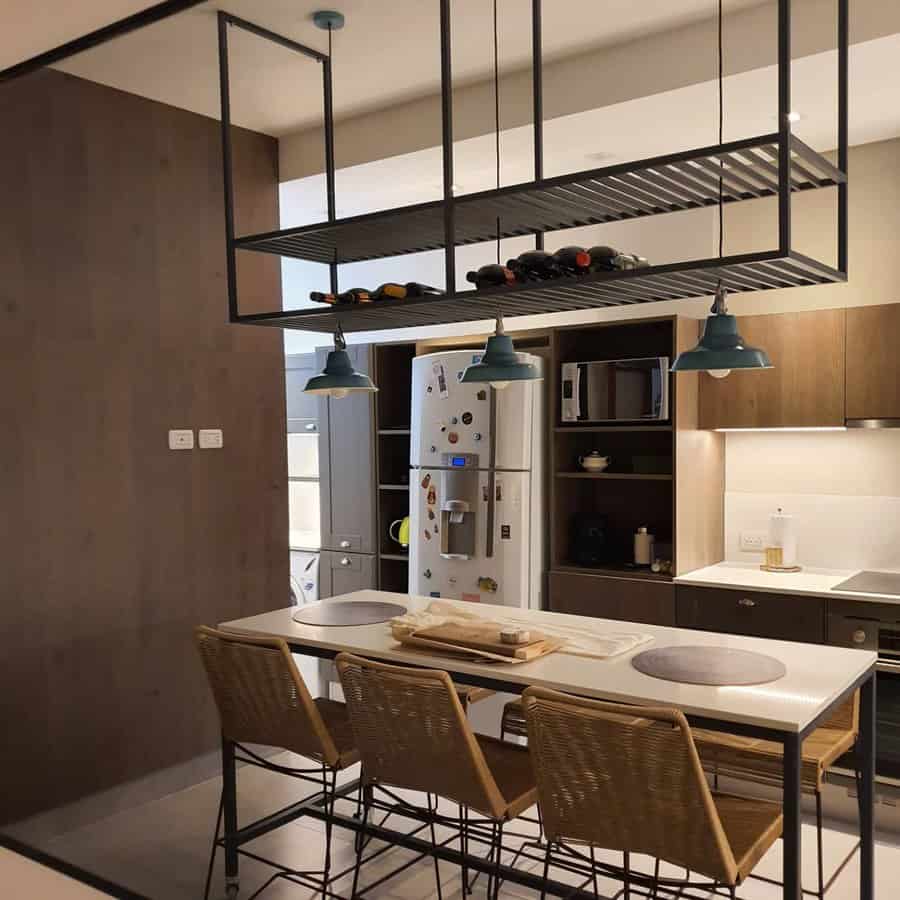 20. Muji Inspired Kitchen Island
A white and light wood countertop kitchen island with seating is a refreshing, polished way to update any cooking space. Feel the luxury of having an extra workspace combined with the comfort and convenience of three cozy light grey bar stools that make prep and dining moments stress-free.
A stylish side book shelf makes hosting friends easy, so all you need to provide is your delicious cooking creations. Whether you're dishing out breakfast or making quick dinners, a kitchen island with seating brightens the occasion with its modern sparkle and timelessness.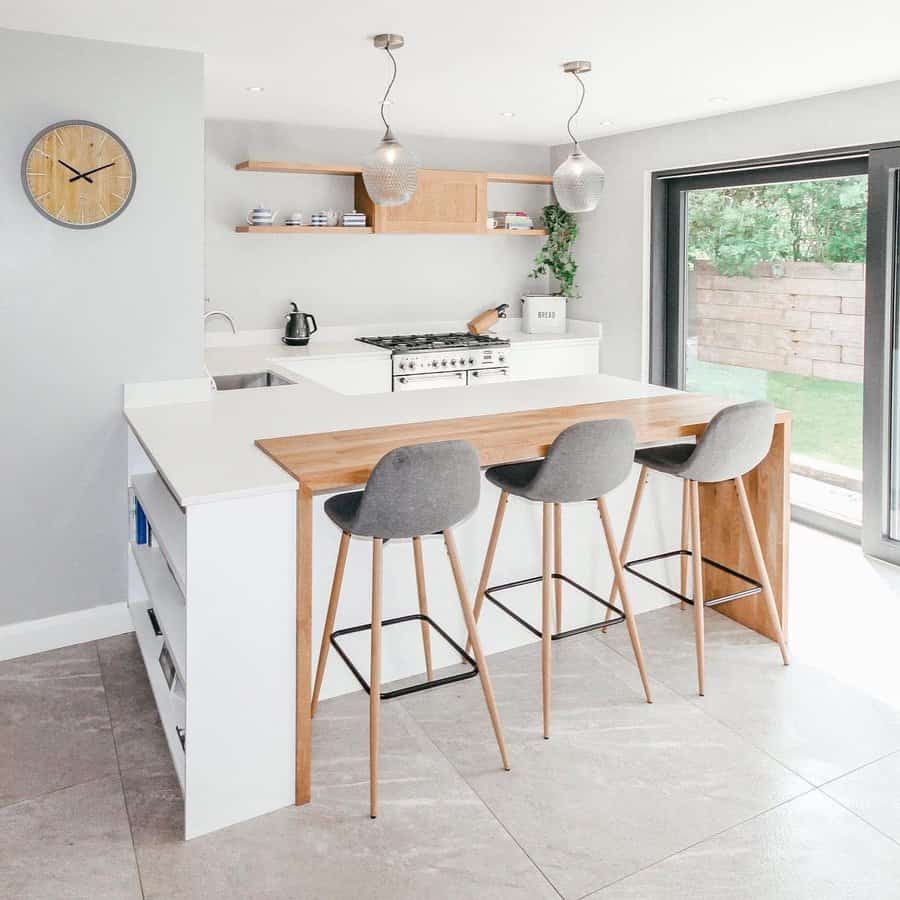 21. Dark Modern Contemporary
The perfect kitchen island is here! Featuring dark teakwood and a marble countertop, this island conveys style, sophistication and luxury. Its matte black faucet adds an edgy touch which will showcase your cutting-edge taste.
And to enhance the experience and make it truly inviting, seating choices abound with bucket seat stools that will surely invite long conversations over a warm cup of coffee or a chilled drink in the summertime.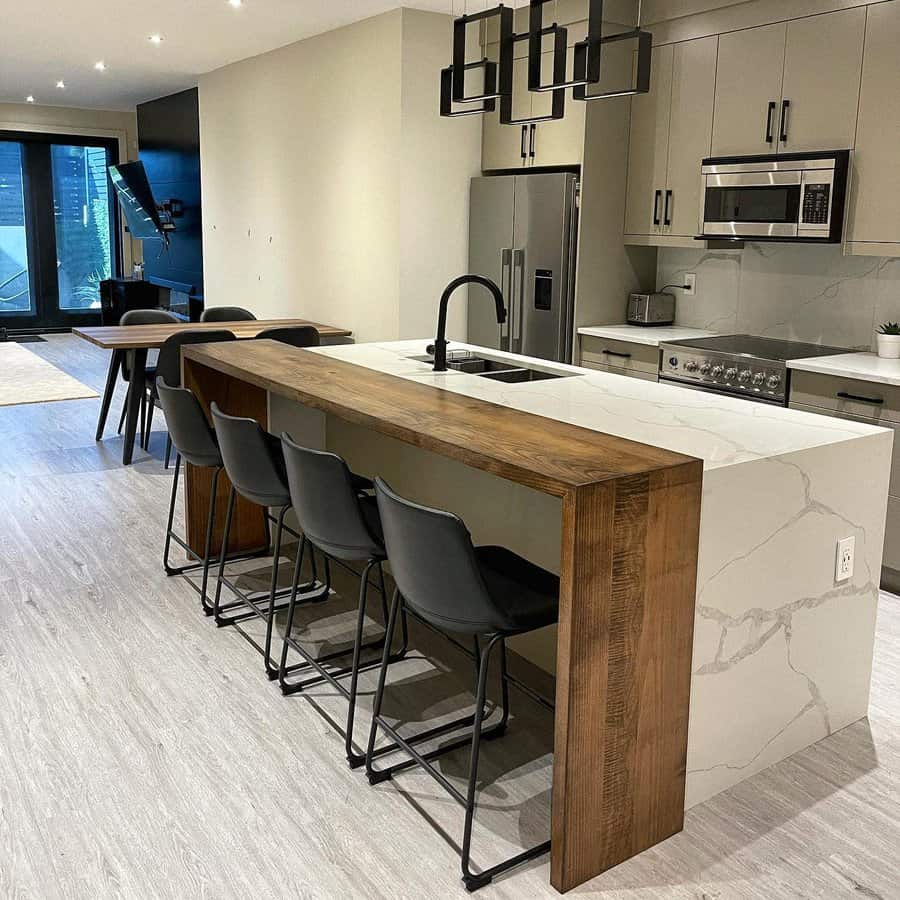 22. Kitchen Island With Built-In Seating
Visualize a stunning kitchen island with built-in seating and a gleaming marble countertop. Perfect for larger gatherings and family meals, this center table is an eye-catching addition to any home.
Inspired by classic French bistro designs, the built-in seating features subtle curves that add an extra layer of charm to any space. The natural look of marble nurtures a cozy atmosphere while adding sophistication.
With its classic style and modern functionality, this kitchen island is sure to be the center of attention!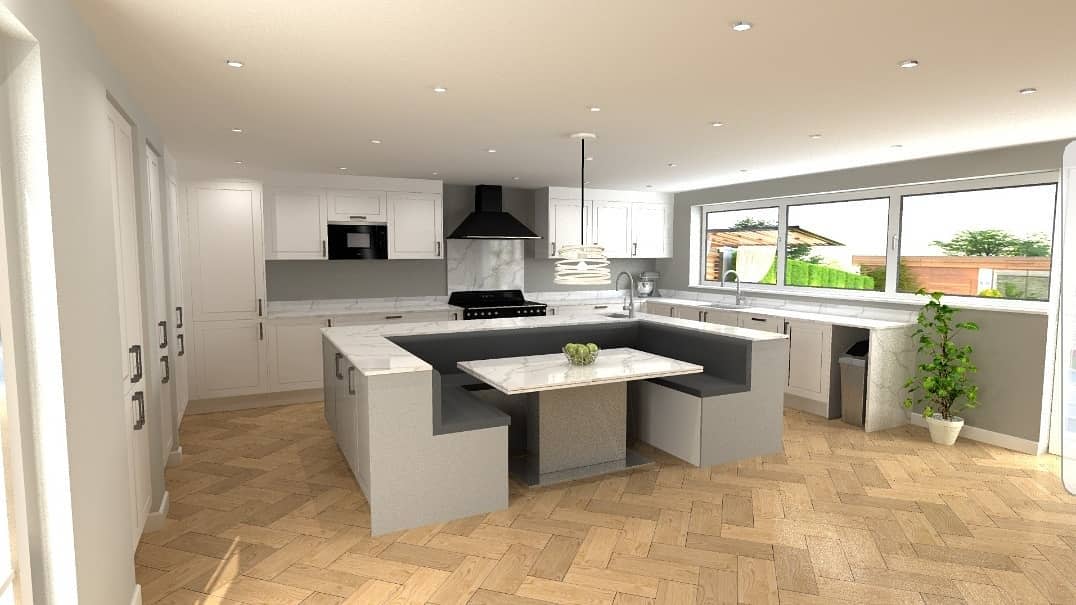 23. Playful Modern Style
An eye-catching printed vinyl kitchen island provides an interesting focal point for any room. Anchor the space with a pair of wooden bar stools with rounded cushions that invite guests to linger.
Add some teal pendant lights above the seating area, sparkling like jewels and casting a warm, friendly glow across the whole room; your guests will be sure to appreciate the inviting atmosphere this creates.
Gather around this multifunctional centerpiece and take pleasure in sharing meals and conversation at home.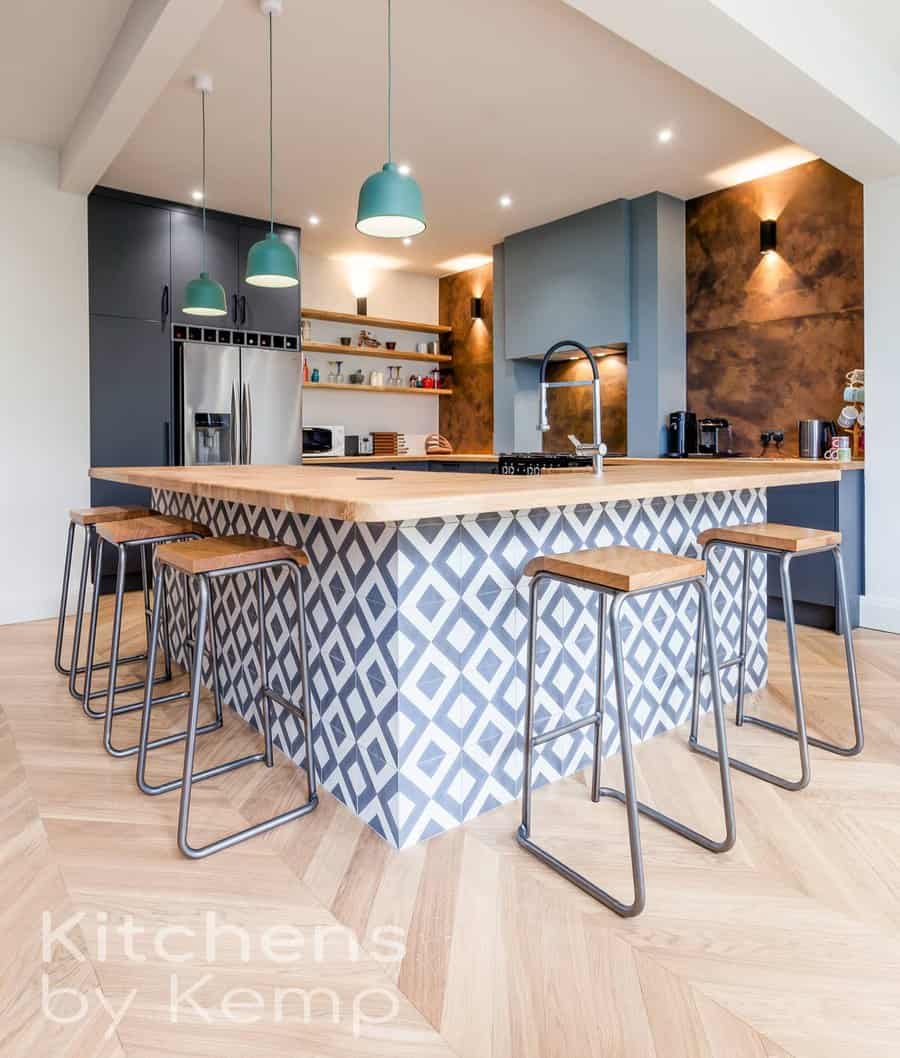 24. Midcentury Modern Style
Transform any small kitchen into a stunning centerpiece with the addition of a small white kitchen island. Outfitted with comfortable wood bar stools, this chic and inviting space allows for both food preparation and conversation between friends and family.
Whether you opt for quick breakfasts before work or leisurely dinner parties, this small but mighty island will surely become the hub of your culinary home.
The classic look and practicality of a kitchen island with seating makes it a must-have in any small kitchen space.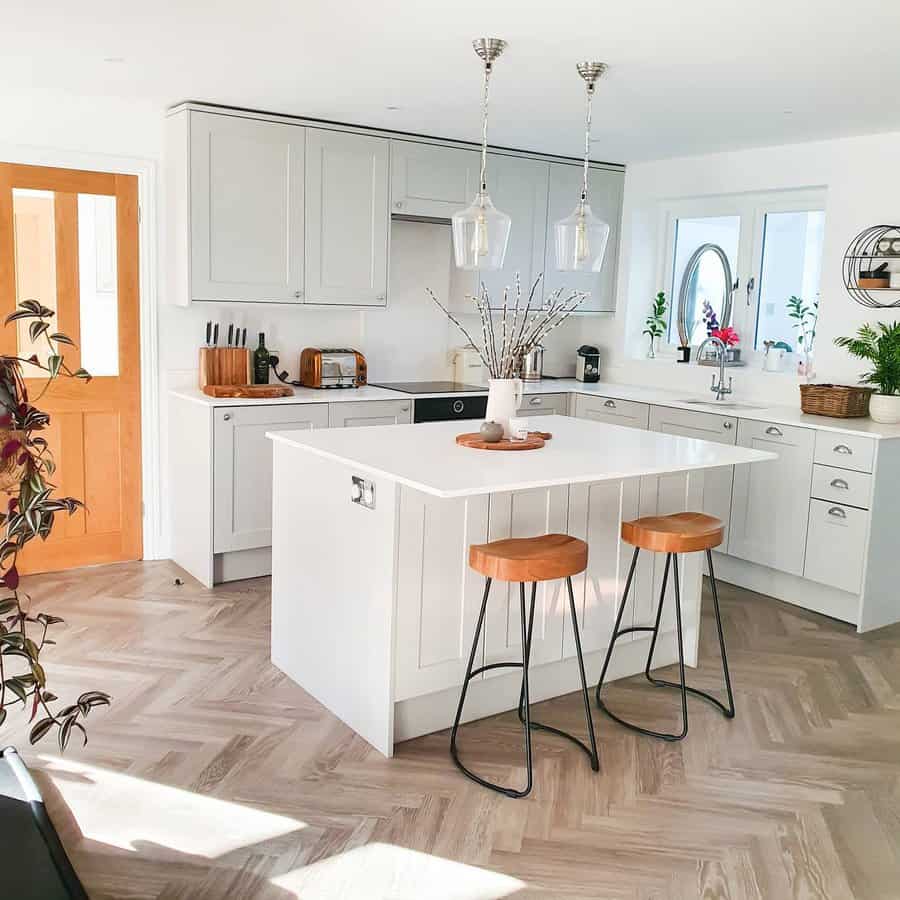 FREQUENTLY ASKED QUESTIONS
What is the ideal size of an island, to accommodate 4 chairs?
You need a minimum of 24 inches to accommodate people comfortably. So, if you have four chairs or stools, your island should be at least 8 feet long.
Do I need less space if I decide to use stools instead of chairs?
It does not make much of a difference. Consider a minimum distance of 24 inches between them, so that people are comfortable getting in and out, and having their meals comfortably.
Can I buy a kitchen island, or they are custom-made?
There are plenty of options in the market if you do not want a custom-made island. There is a variety of sizes and styles to choose from, and many come with shelves or cabinets so that you increase your kitchen storage space.
What is the best size for a kitchen island?
It depends on how much seating space you want. You need to leave a comfortable distance between chairs or stools (24 inches), and the counter overhang should be at least 12 inches, which is rather narrow. Choose a 15-inch overhang, for more comfort.
How to run electricity to a kitchen island?
It will run ideally under the floor, so you need to cut a trench in the concrete for a PVC conduit. You should have at least two dedicated circuits for island outlets. Use a minimum of two 20-amp, 120-volt dedicated circuits, wired with 12-2 and/or 12-3 cable.