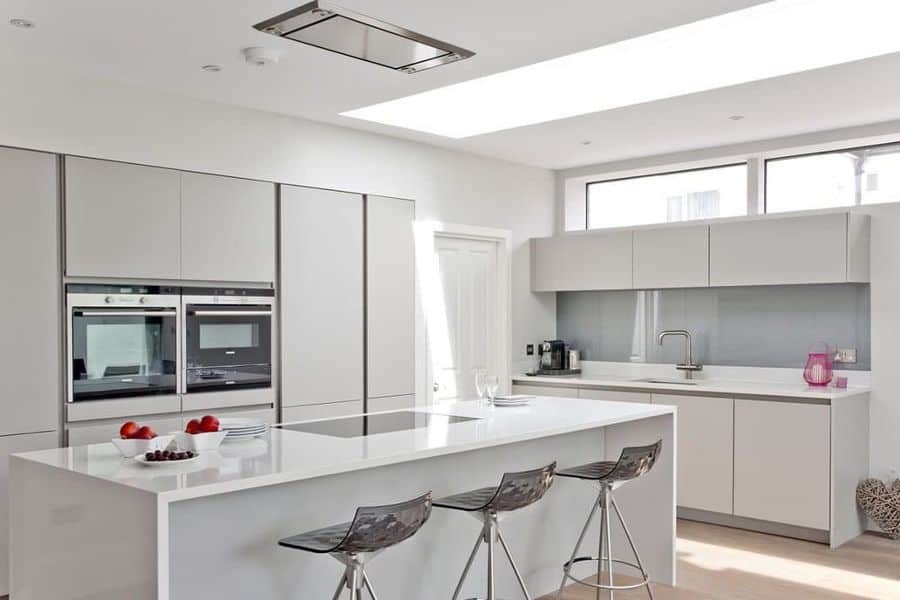 78 Kitchen Breakfast Bar Ideas
"Life, within doors, has few pleasanter prospects than a neatly-arranged and well-provisioned breakfast table." – Nathaniel Hawthorne, The House of the Seven Gables
A modern take on the breakfast nook, today's breakfast bar ideas have reinvented where people consume the most important meal of the day.
A breakfast bar can also provide additional kitchen storage and workspace. It's often the most popular place in the house for families and guests to linger over a light meal any time of day.
We've curated an impressive collection of some of the best breakfast bar ideas around. Take a look and gain inspiration for creating your own kitchen breakfast bar haven.
1. Attached Kitchen Island Counter
A breakfast bar is an easy way to open up your kitchen space and provide an informal environment for breakfast or snacks. Attaching it to the kitchen counter offers even more benefits as it can provide additional workspace for meal preparation, or a convenient spot for the kids to do their homework while you prepare dinner.
It's a great idea all around, so why not get creative and make it the featured piece in your kitchen? With strategically placed task lighting and charming accents, it could be the ideal spot to enjoy breakfast with the family or gather around with friends over coffee – what better way to start any day?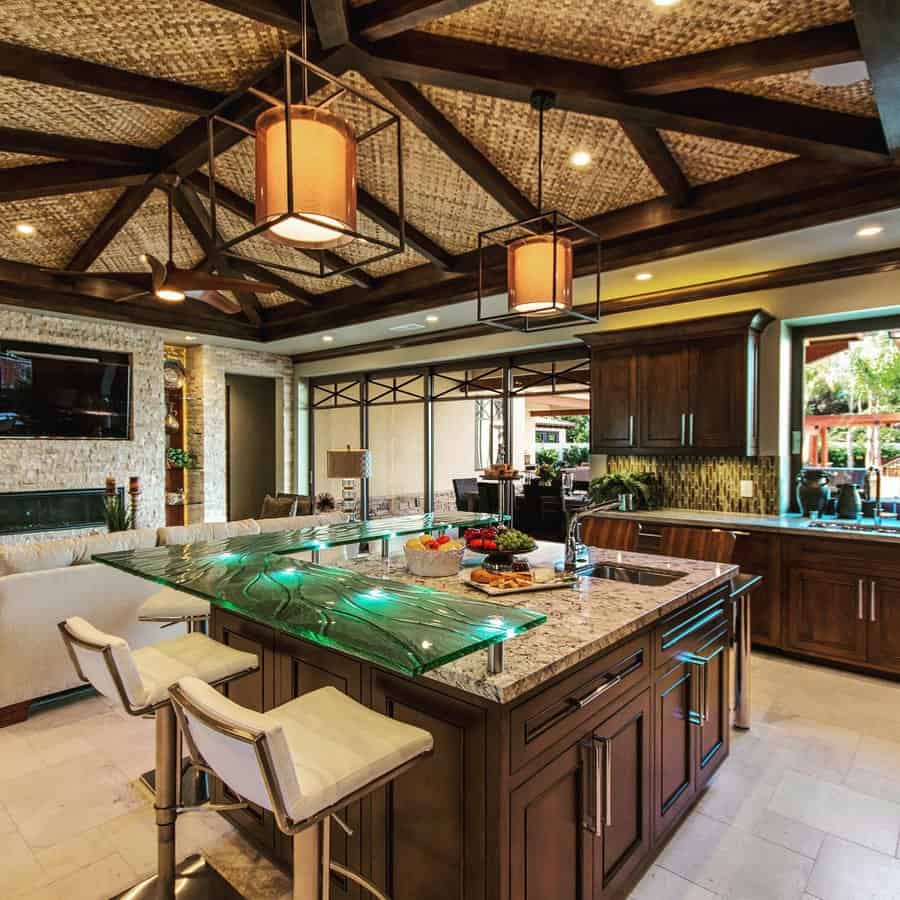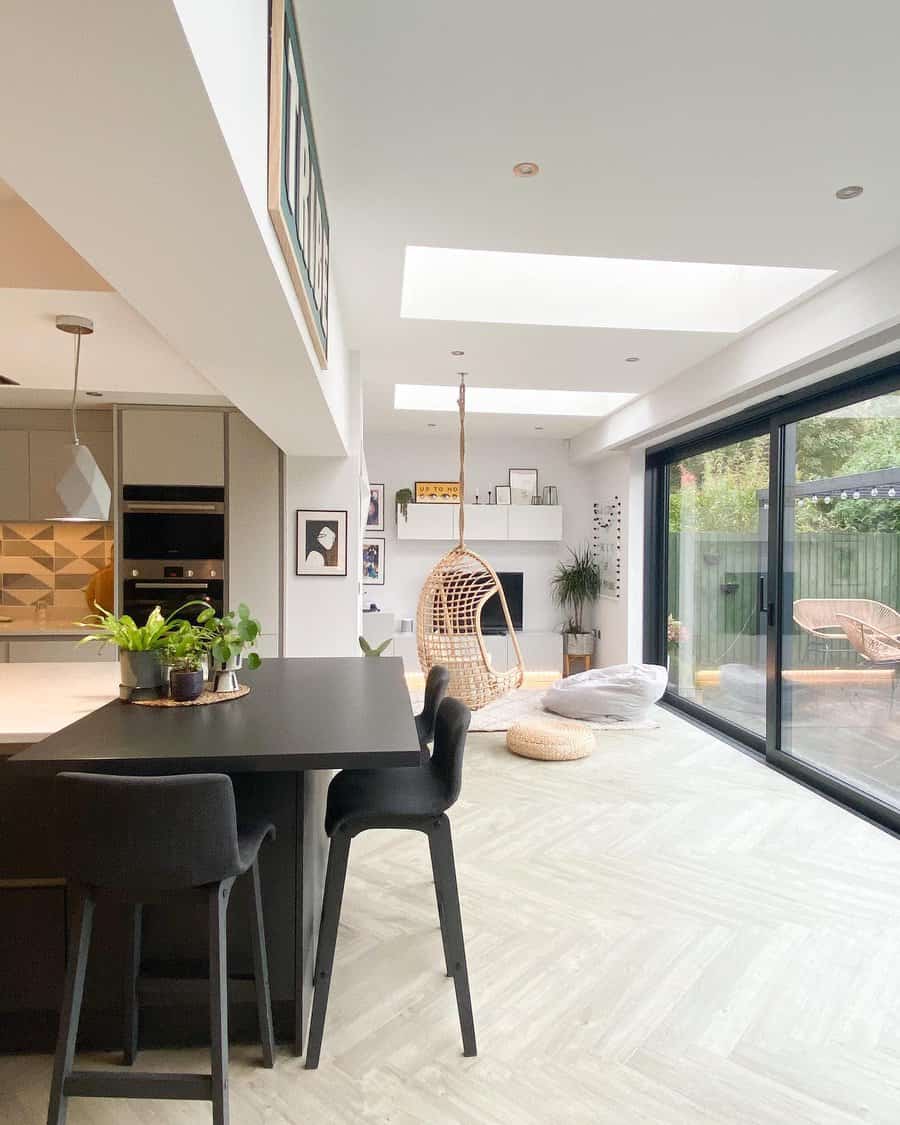 2. Accent Breakfast Bar Stool
When you add a kitchen breakfast bar to your home, make sure to add an accent bar stool for a unique touch! Consider using upholstered stools that add some texture to the space – velvet or leather stools are eye-catching and add an interesting flare.
Not only do they add a touch of style and personality to your breakfast area, but they're also great for extra seating when guests come over. Choose colors that match well with the colors of the room and don't be afraid to incorporate a splash of color too. With an accent bar stool, you can add both practicality and pleasure to your kitchen breakfast bar.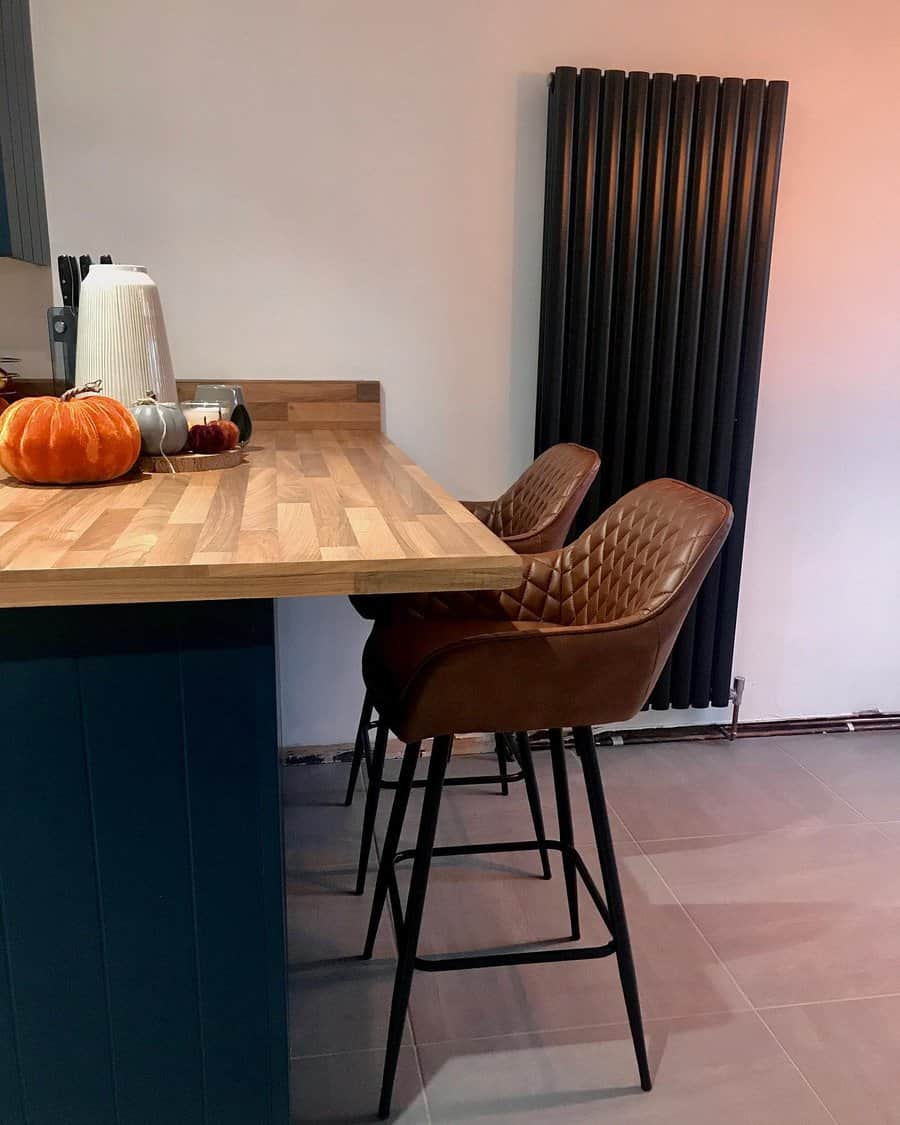 3. Kitchen Countertop Corners
For a kitchen that's creative, modern, and functional all at the same time, consider adding a kitchen breakfast bar. Start by taking your kitchen countertop and extending it into a corner table. Place several stools underneath and you're all set!
Not only does this create an inviting conversation piece for any kitchen, it also adds extra seating to busy family breakfasts or impromptu dinners for friends. With kitchen breakfast bars, you no longer have to sacrifice style or functionality. Now that's something to smile about!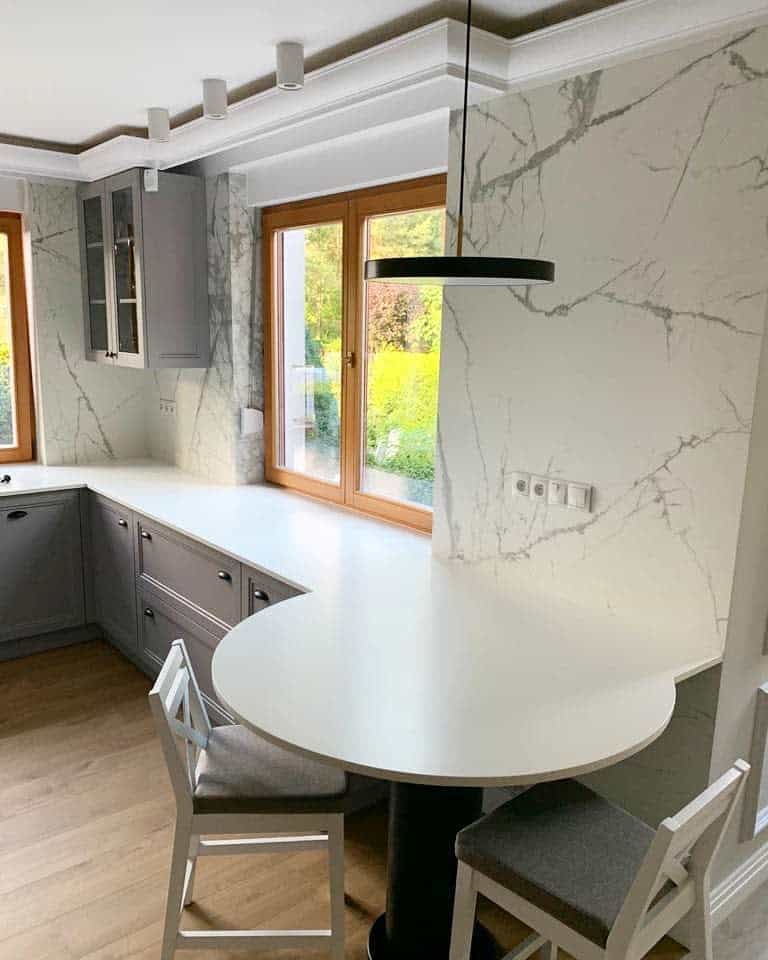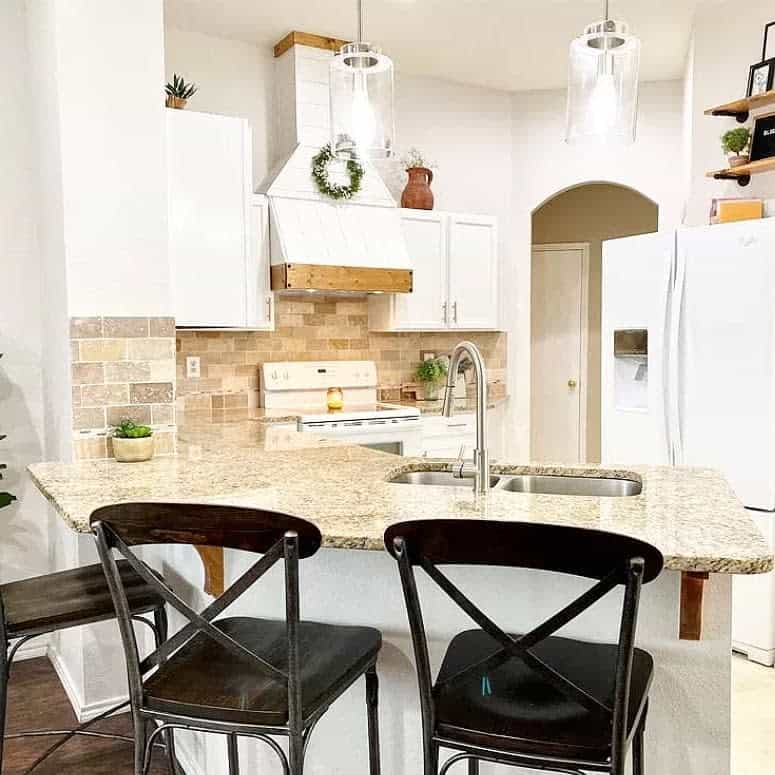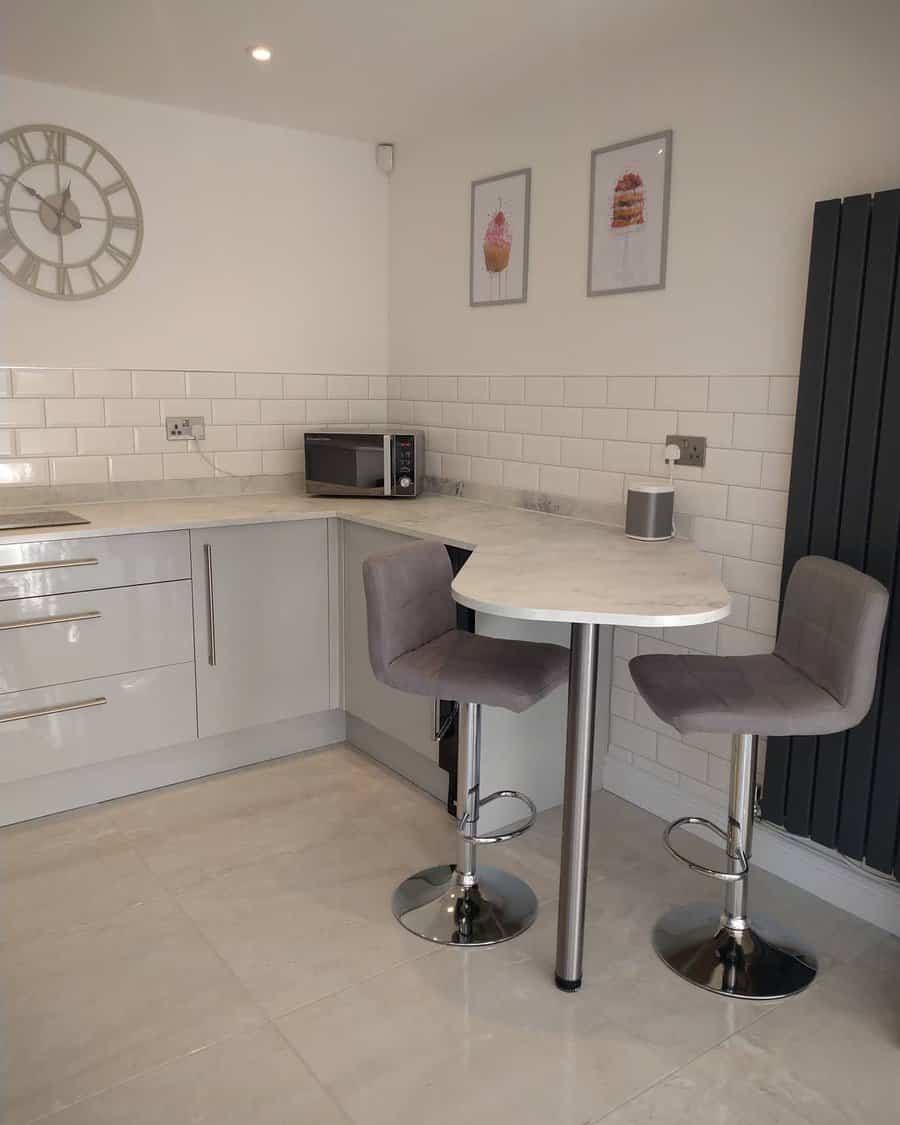 4. Floating Breakfast Countertop
If you're looking to create a cozy and inviting atmosphere in your kitchen, a floating breakfast bar is a great addition. Not only does it provide an extra surface area for dining or prepping food, but having the counter floating against a wall gives your kitchen an eye-catching and modern accent.
You can also opt for a wall-mounted countertop that comes with chairs or stools that can be tucked away when not in use. This not only looks stylish but will help to save space as well.
Whether you choose floating or wall-mounted options, adding either of these is sure to give your kitchen the inviting look and feel you desire.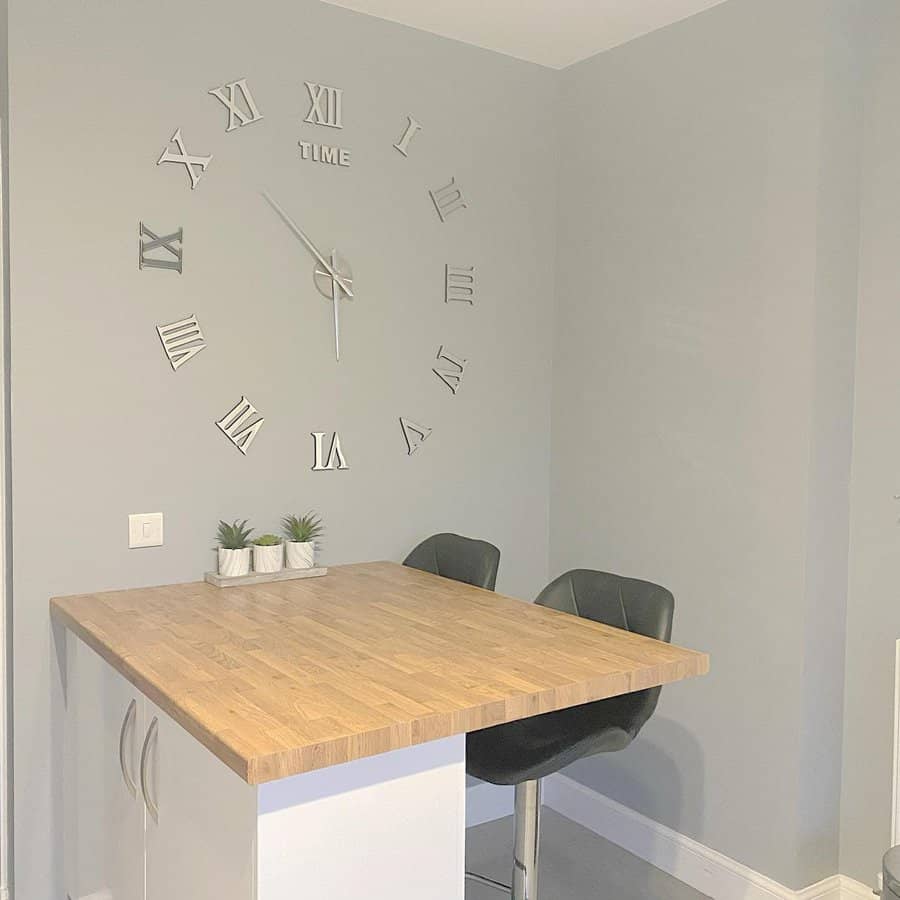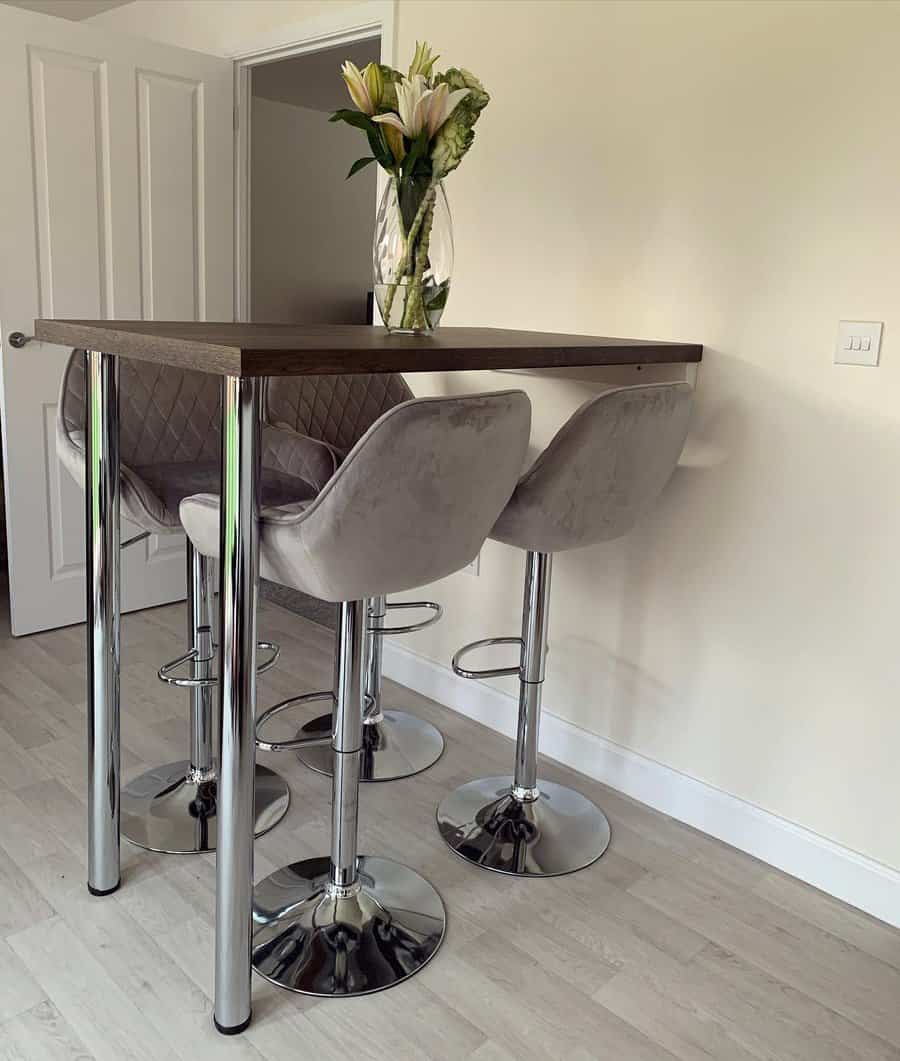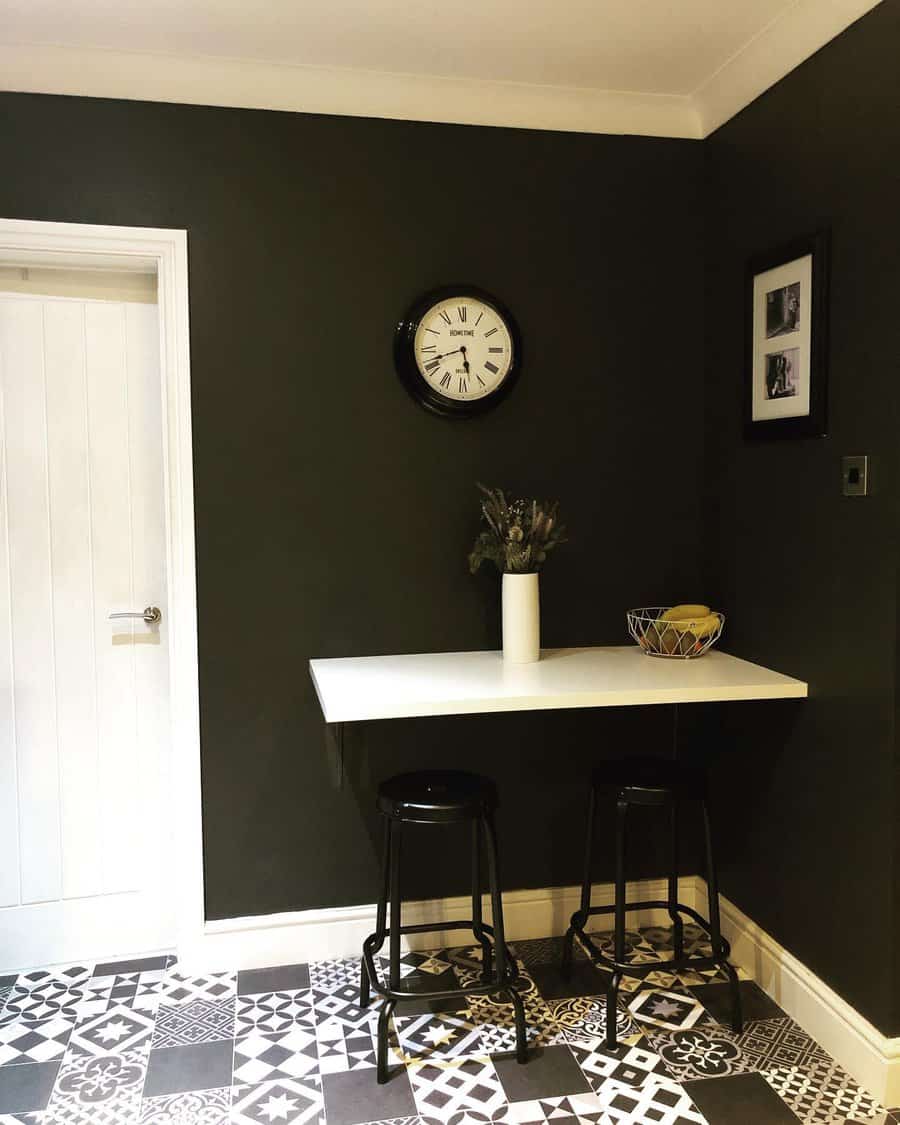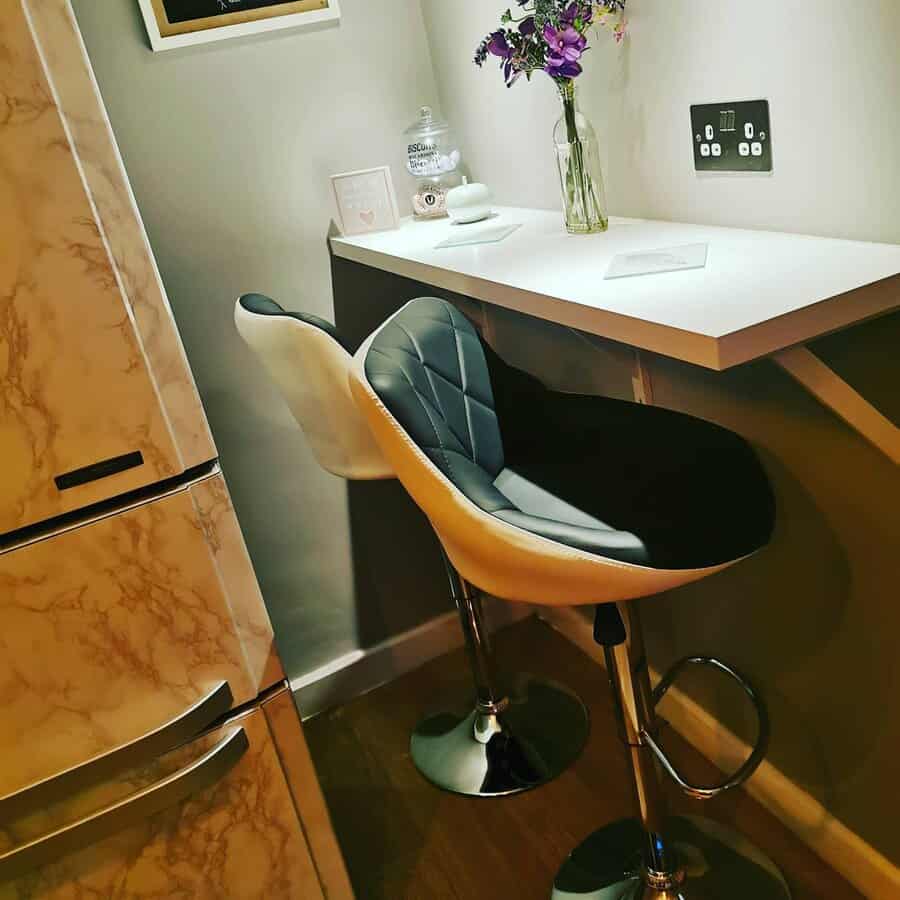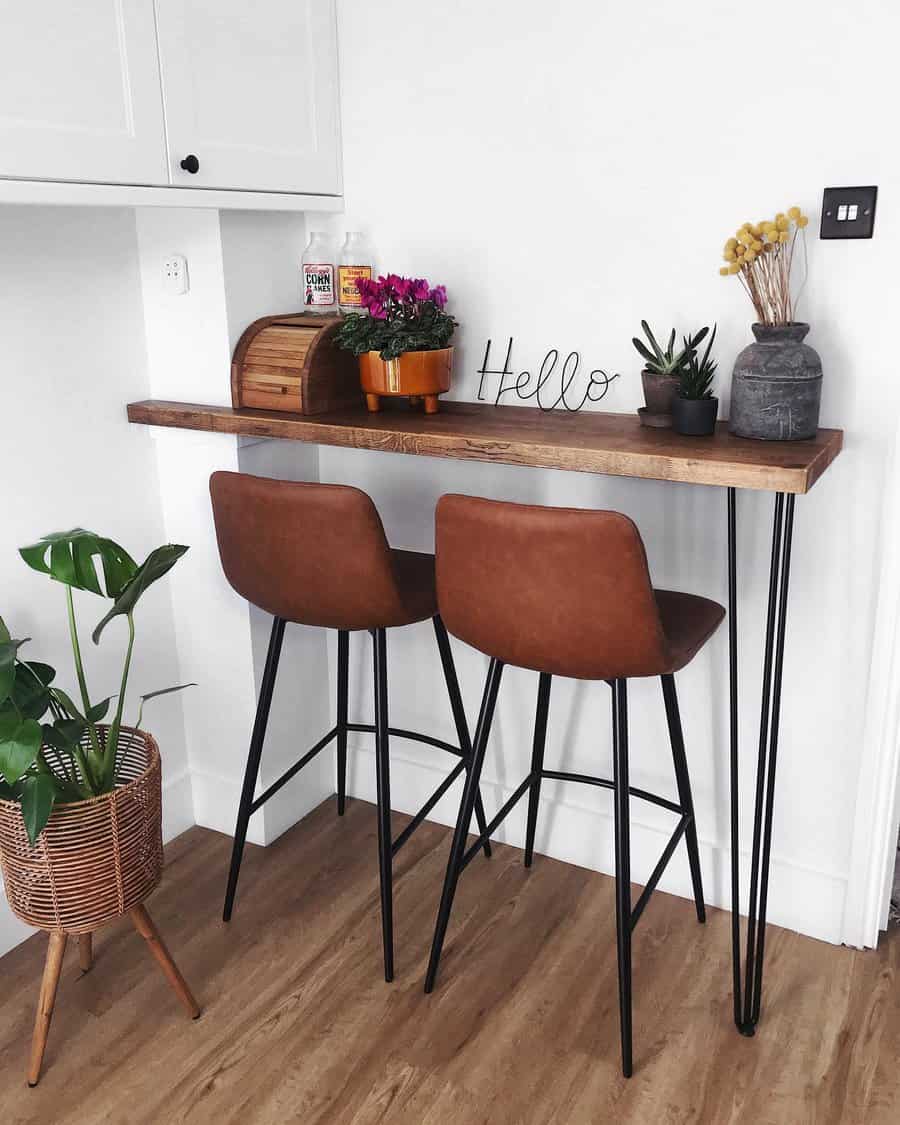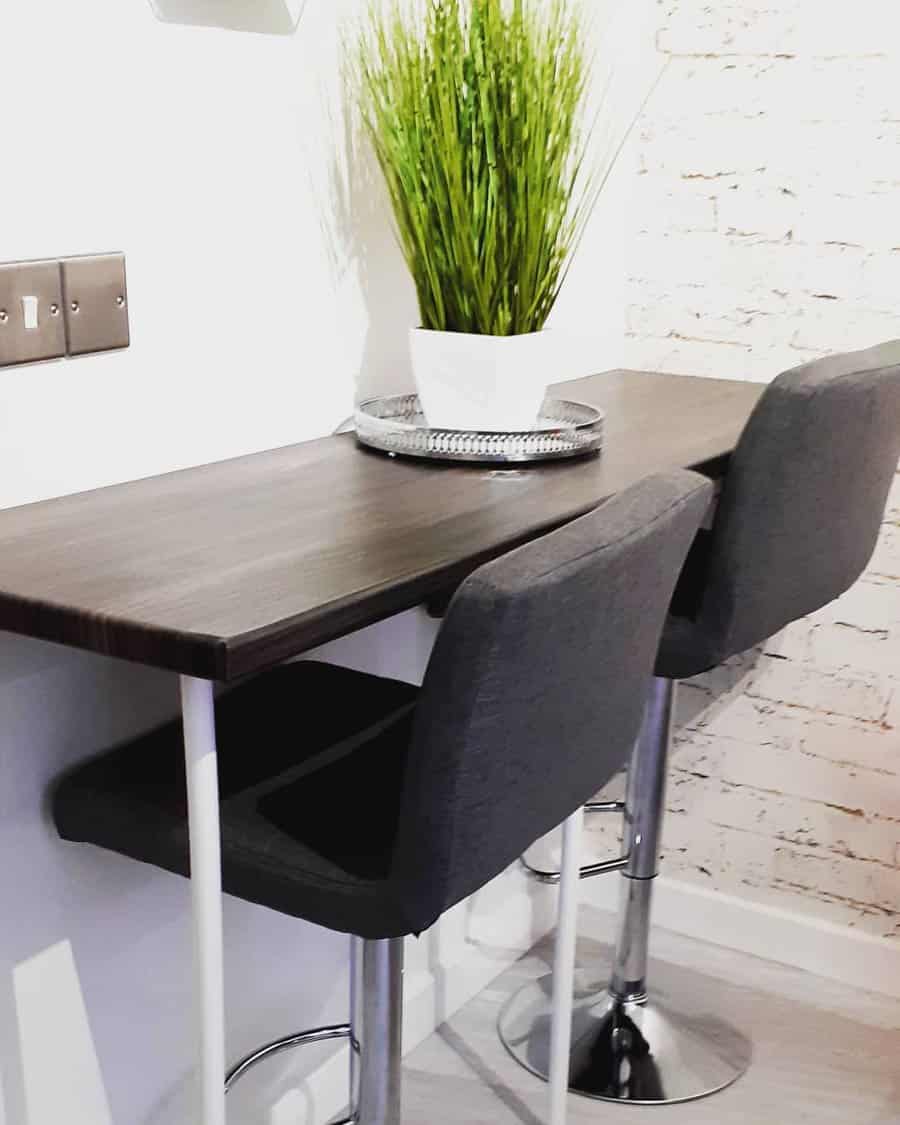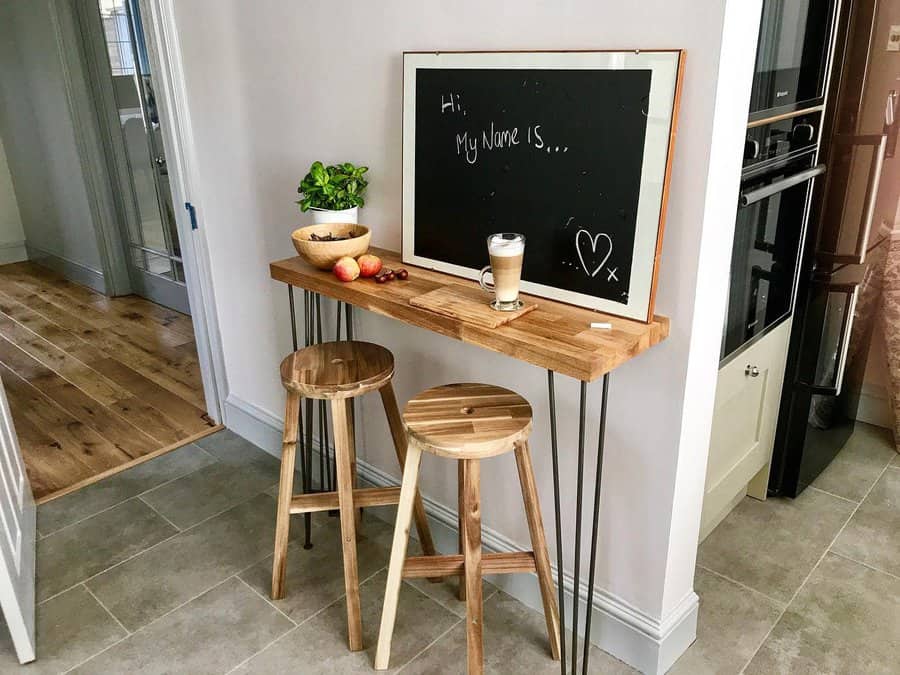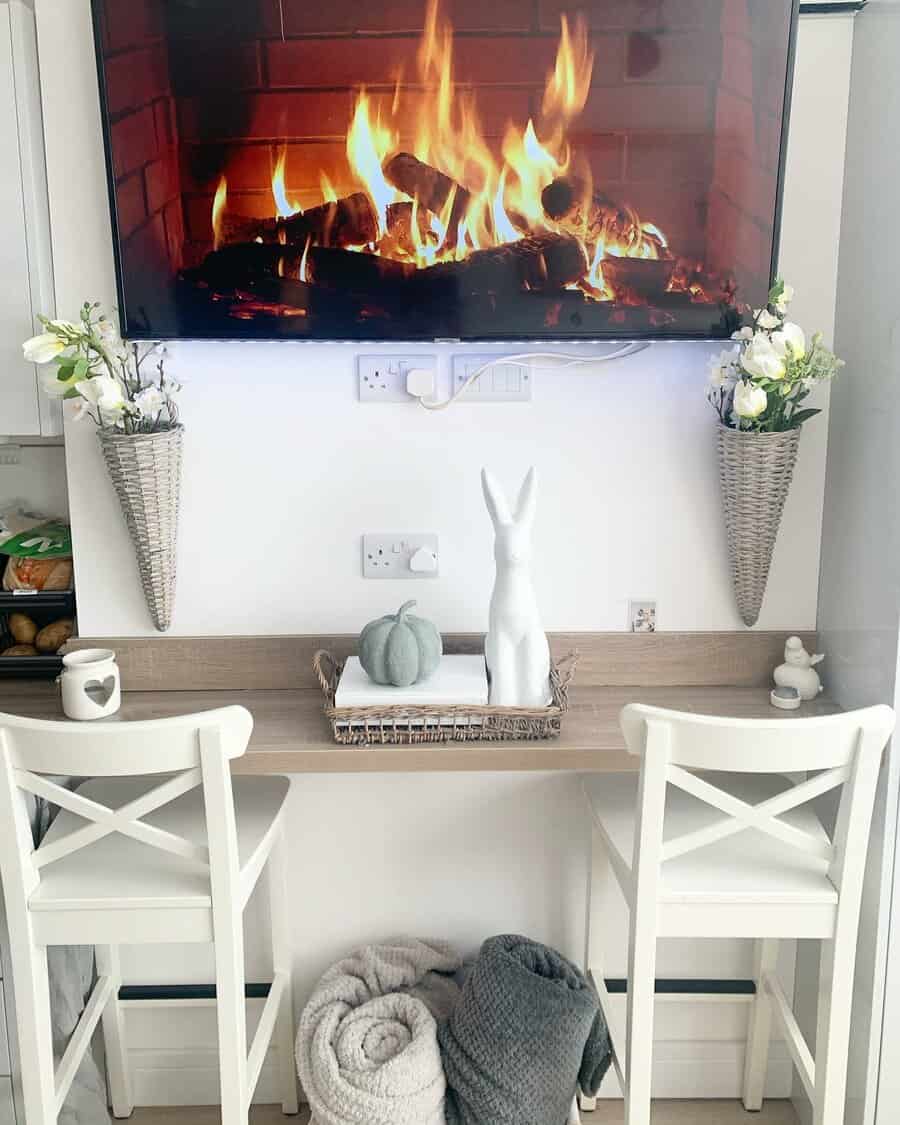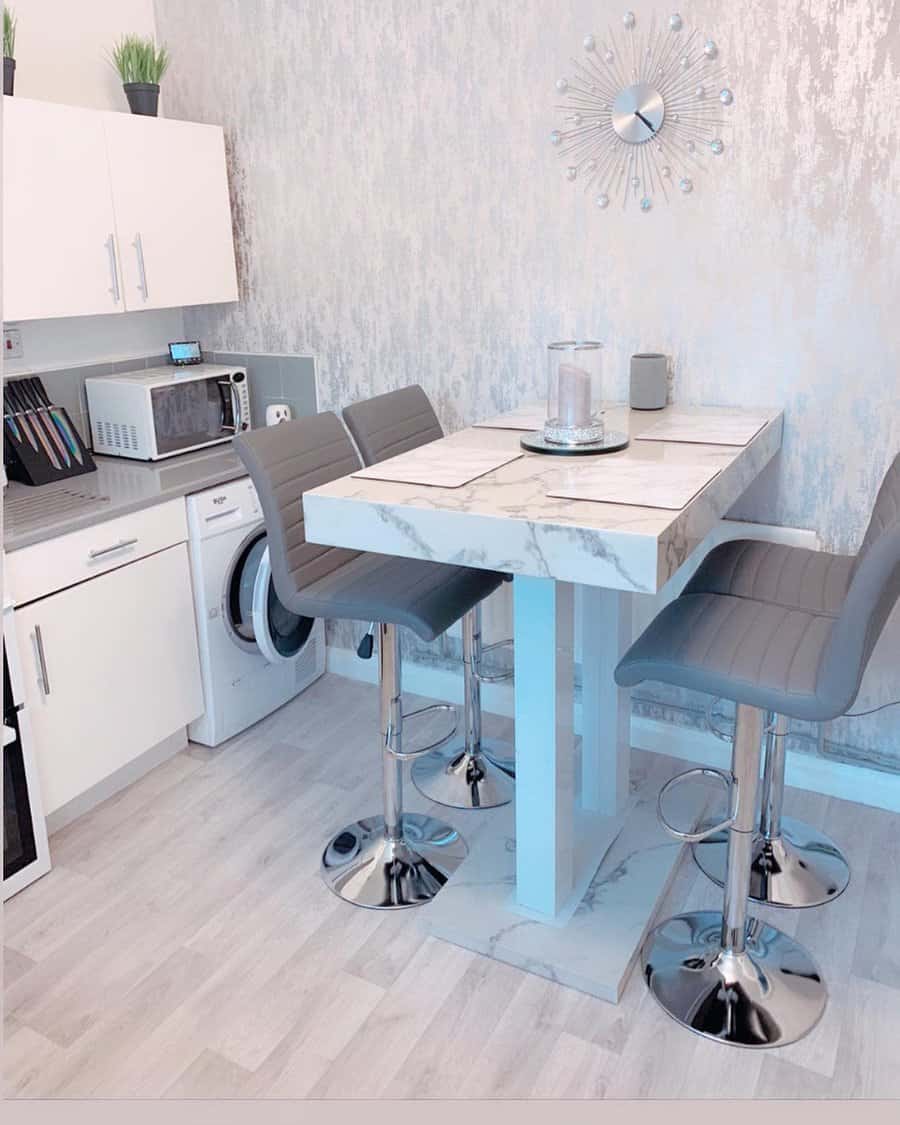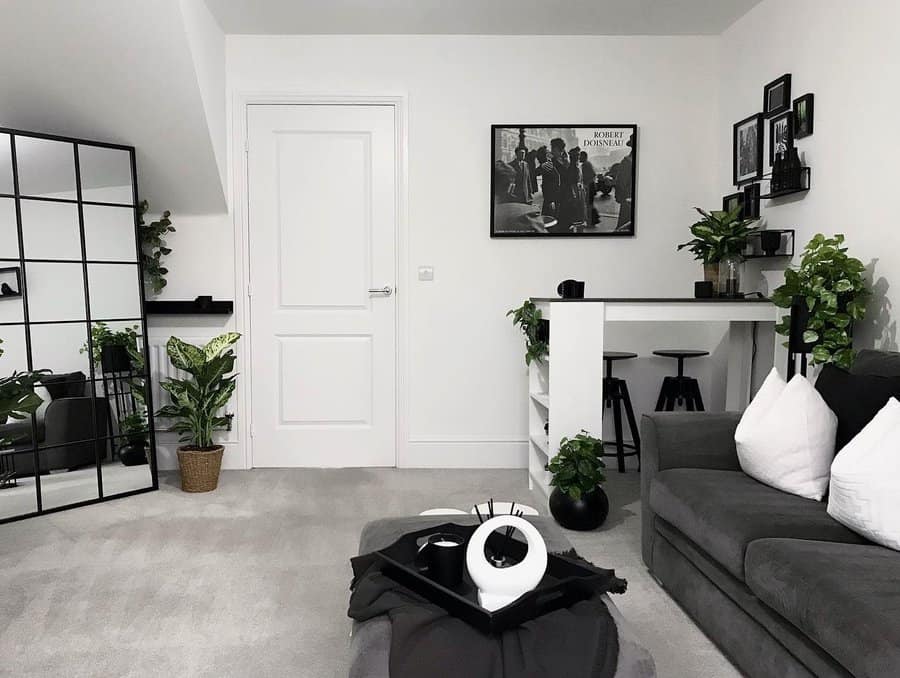 4. Half-Wall Breakfast Bar
If you're looking to add a modern twist to your kitchen, why not try a countertop divider or half-wall breakfast bar? This style is perfect for those searching for something more spacious and will give the room a fresh and up-to-date look.
Not only will this add personality to your already beautiful kitchen, but it also offers enough counter space that you can use as an additional workspace while preparing meals! So why not take advantage of this cooking trend today and make your kitchen both modern and functional?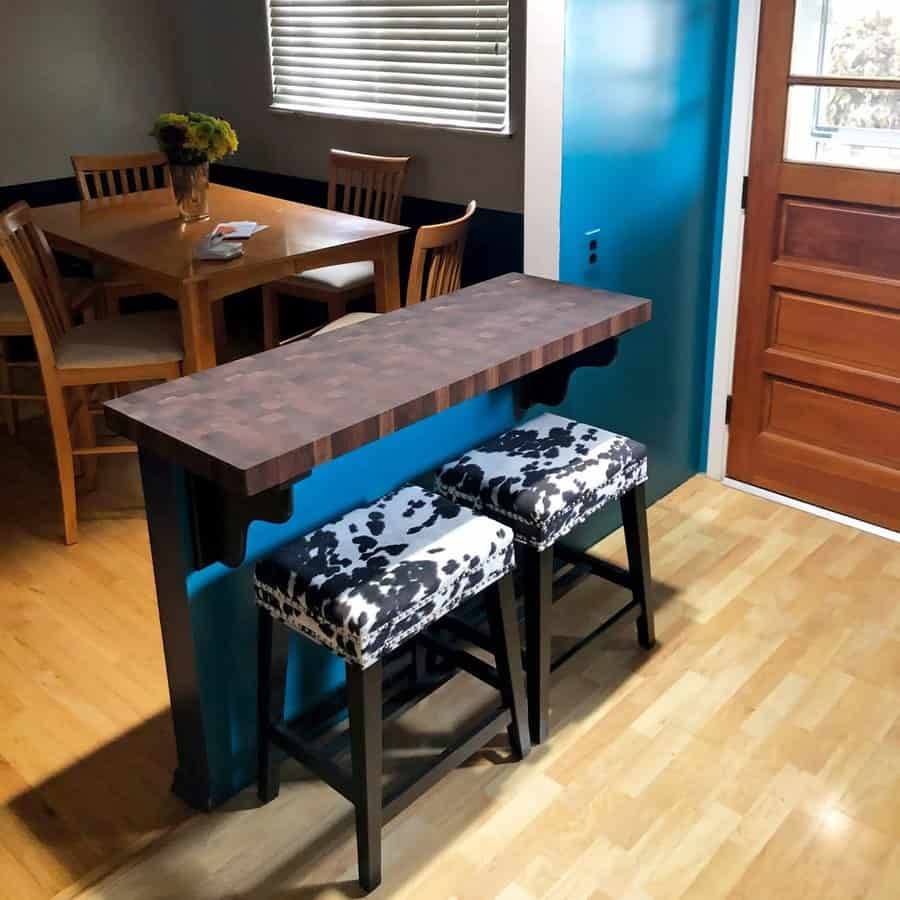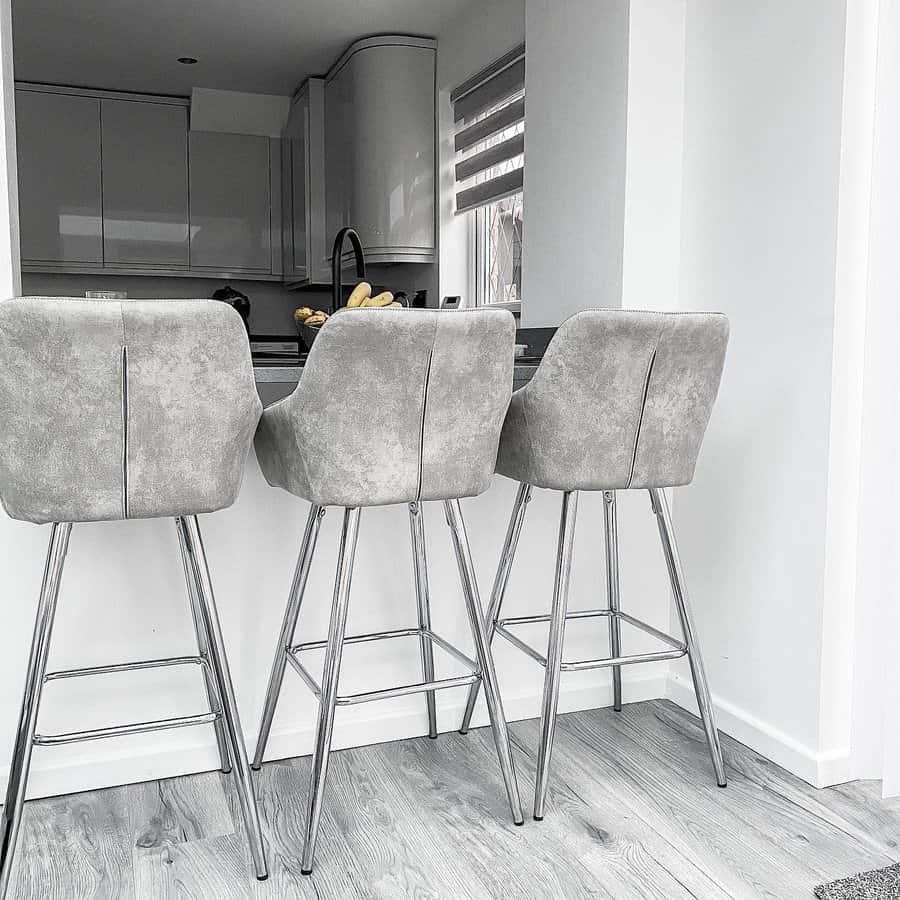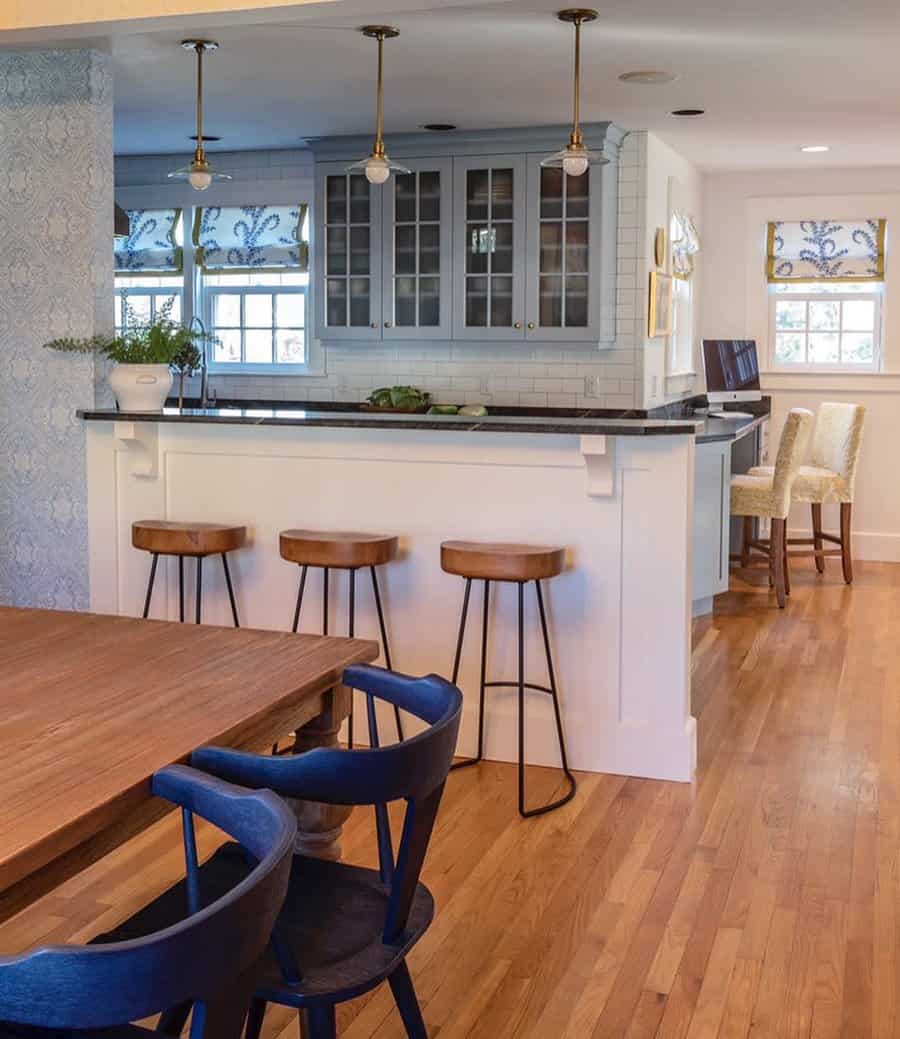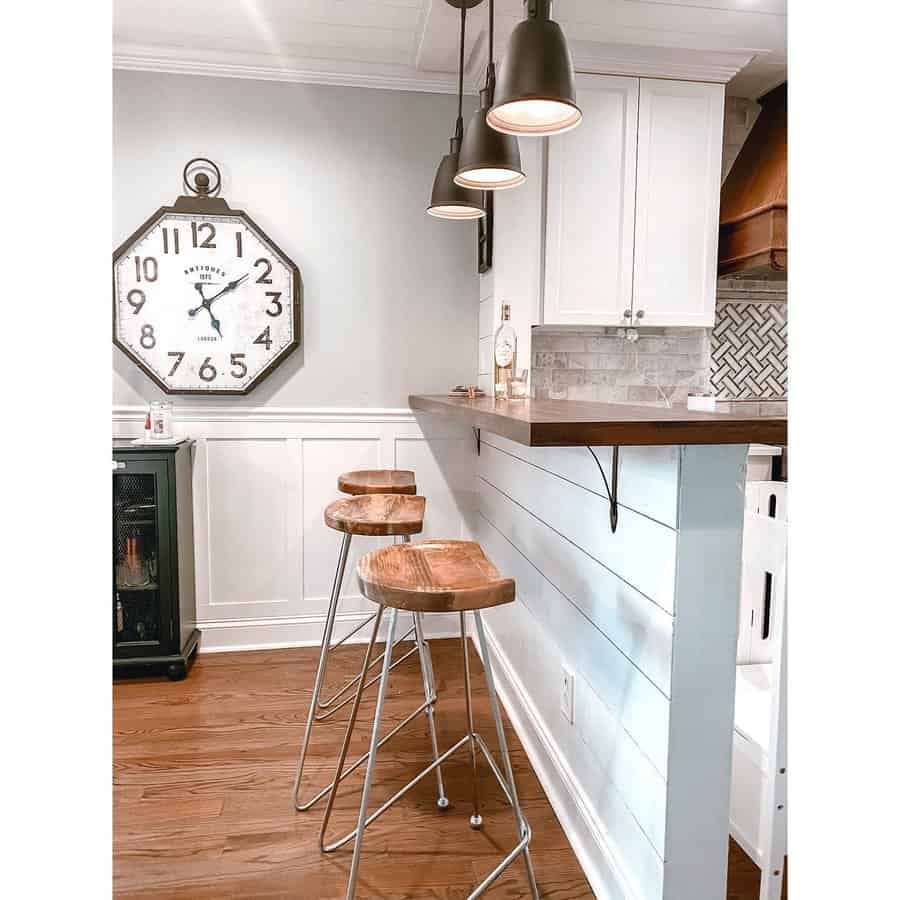 5. Farmhouse-Style Breakfast Nook
Have you been looking for a farmhouse-style breakfast bar for your kitchen? The shiplap panels and barn-style look are definitely in style, making this the perfect addition to your home! Create a unique look with a wooden material that is sure to be an eye-catching centerpiece!
Not only will it look great, but it'll also provide comfort and convenience as you have a meal right at home. With the farmhouse breakfast bar, you can give your kitchen an update that really stands out!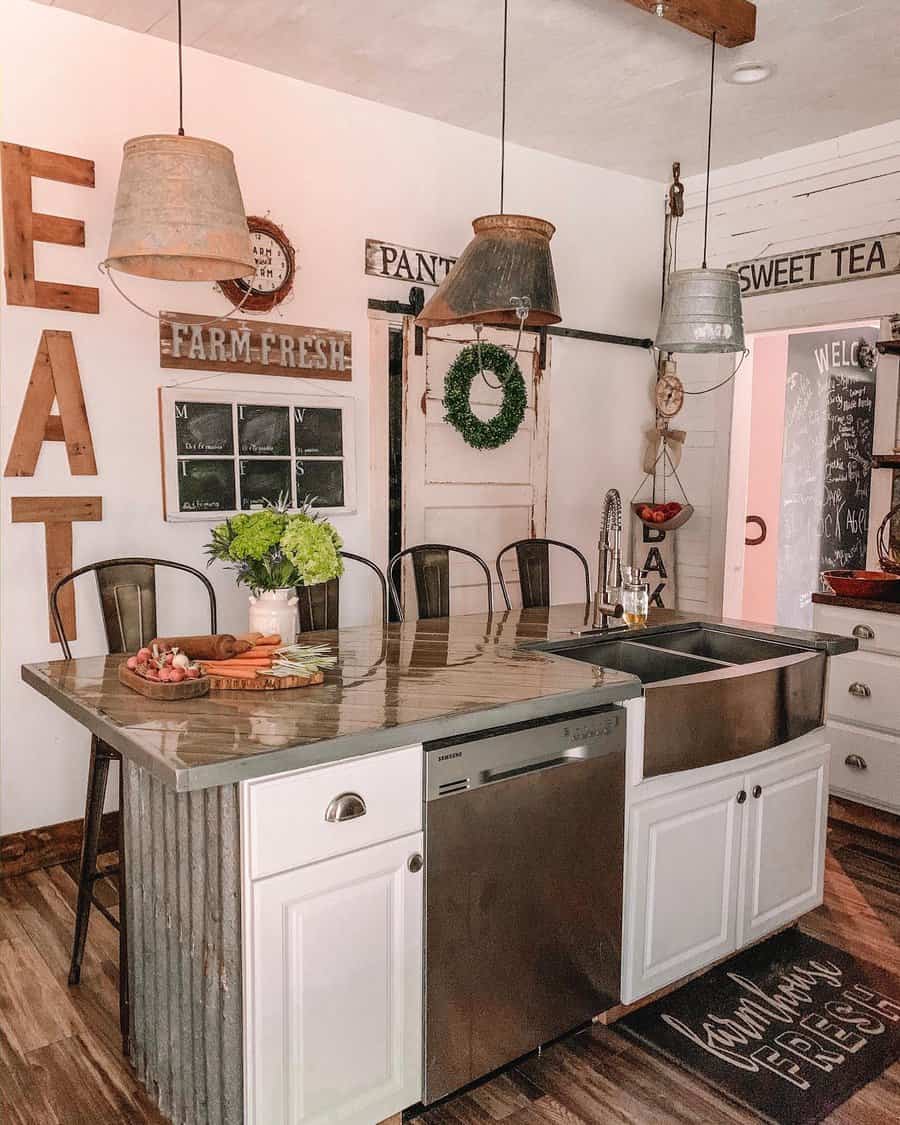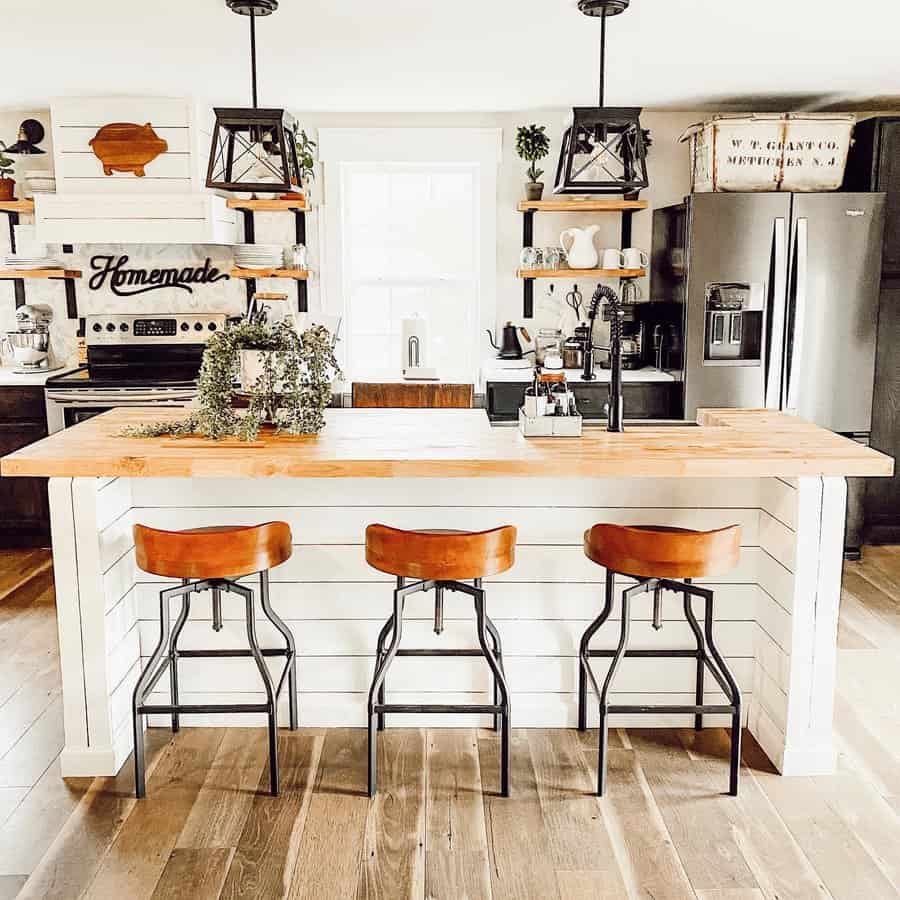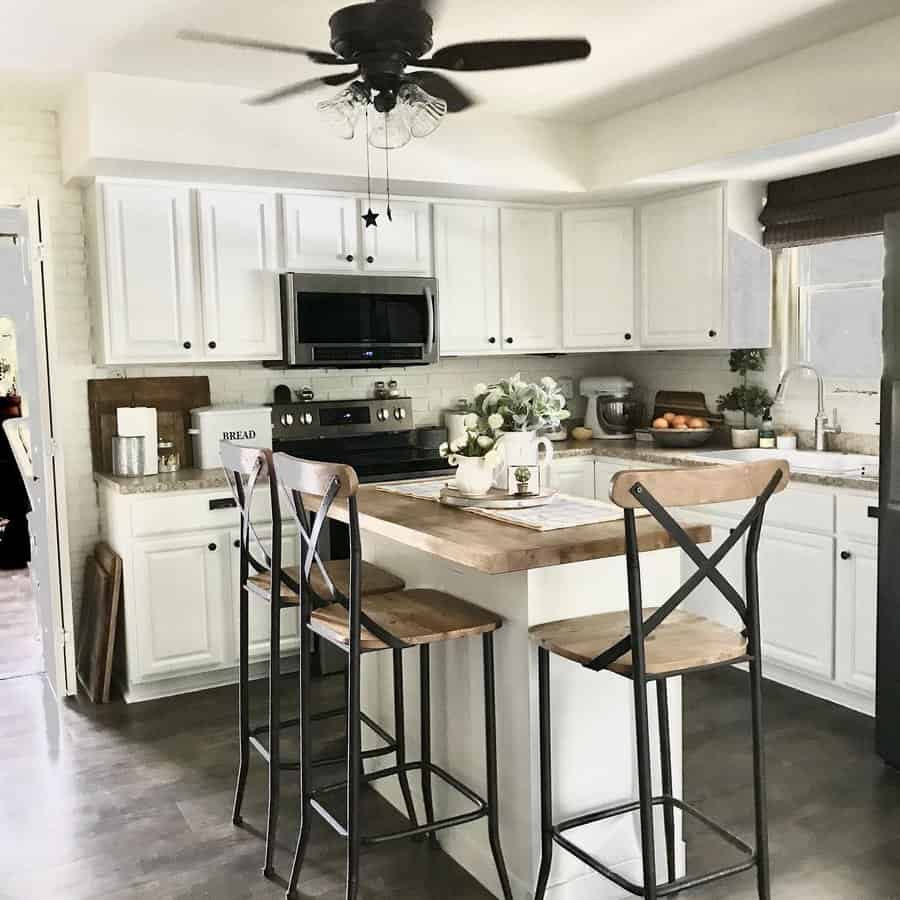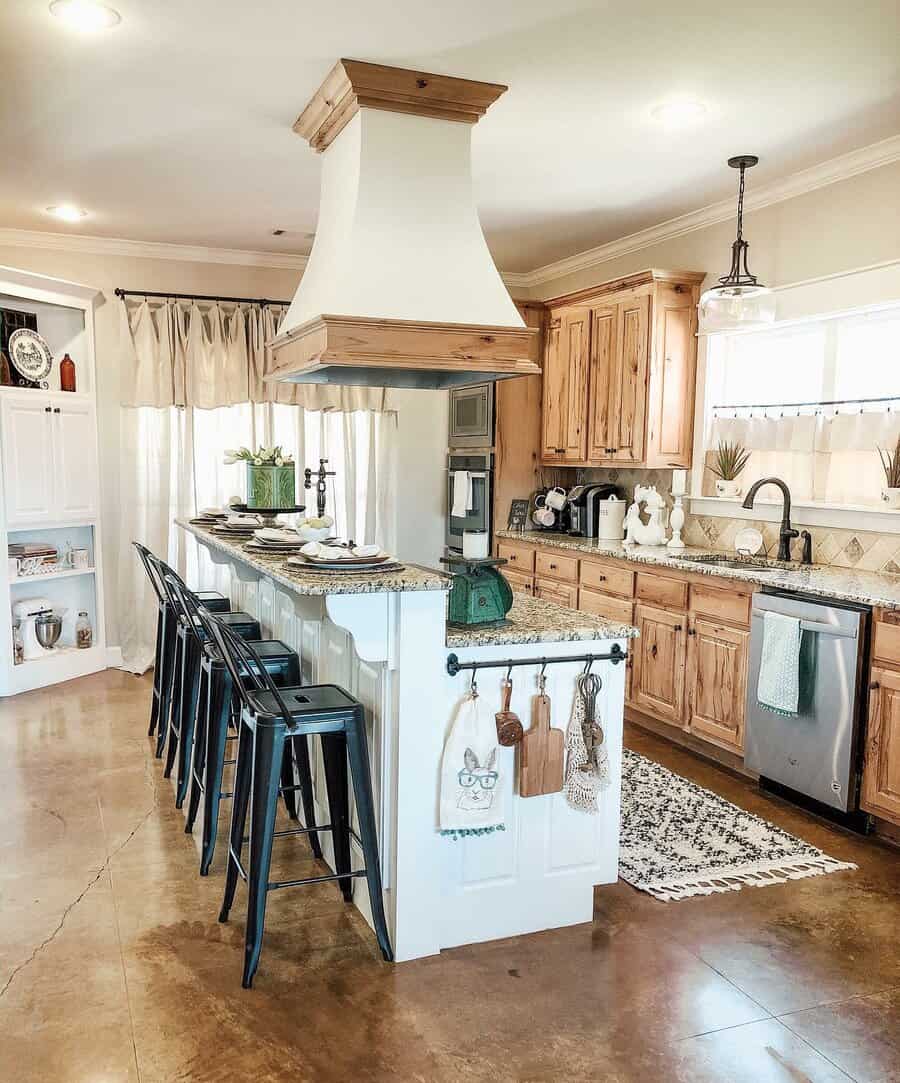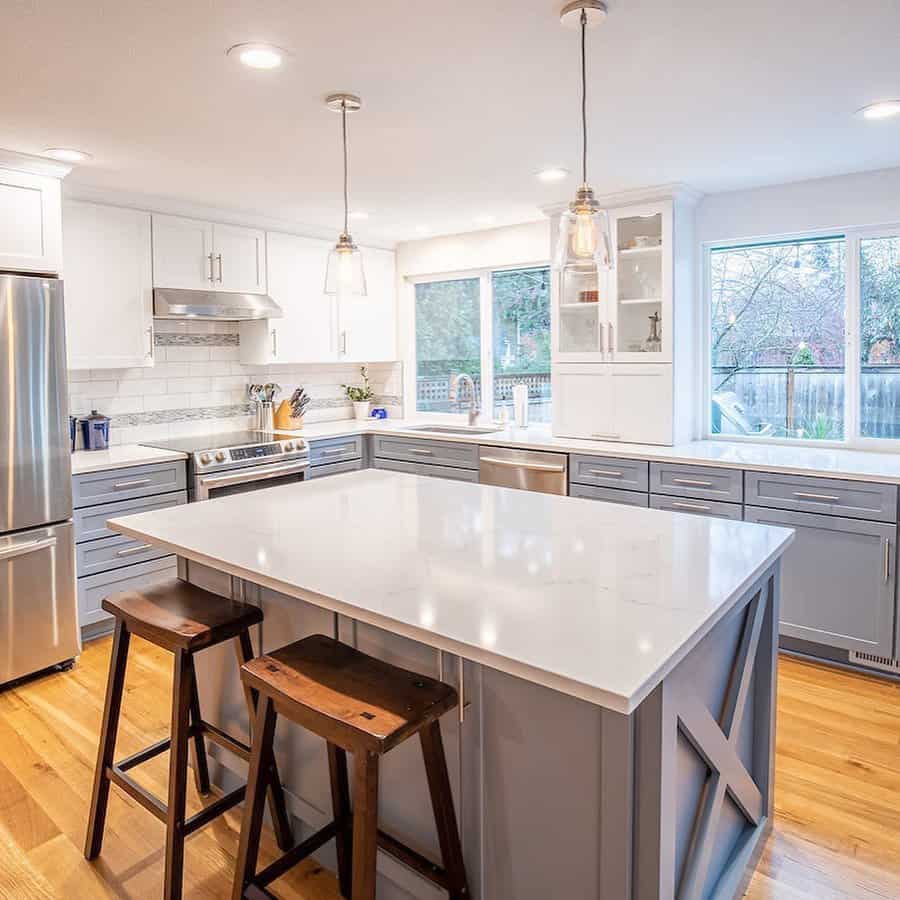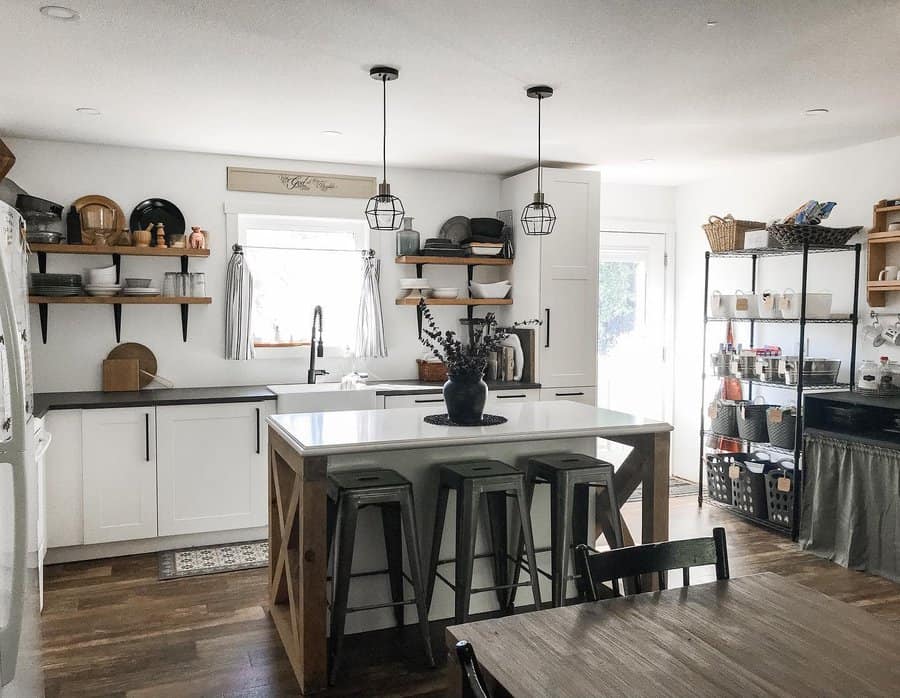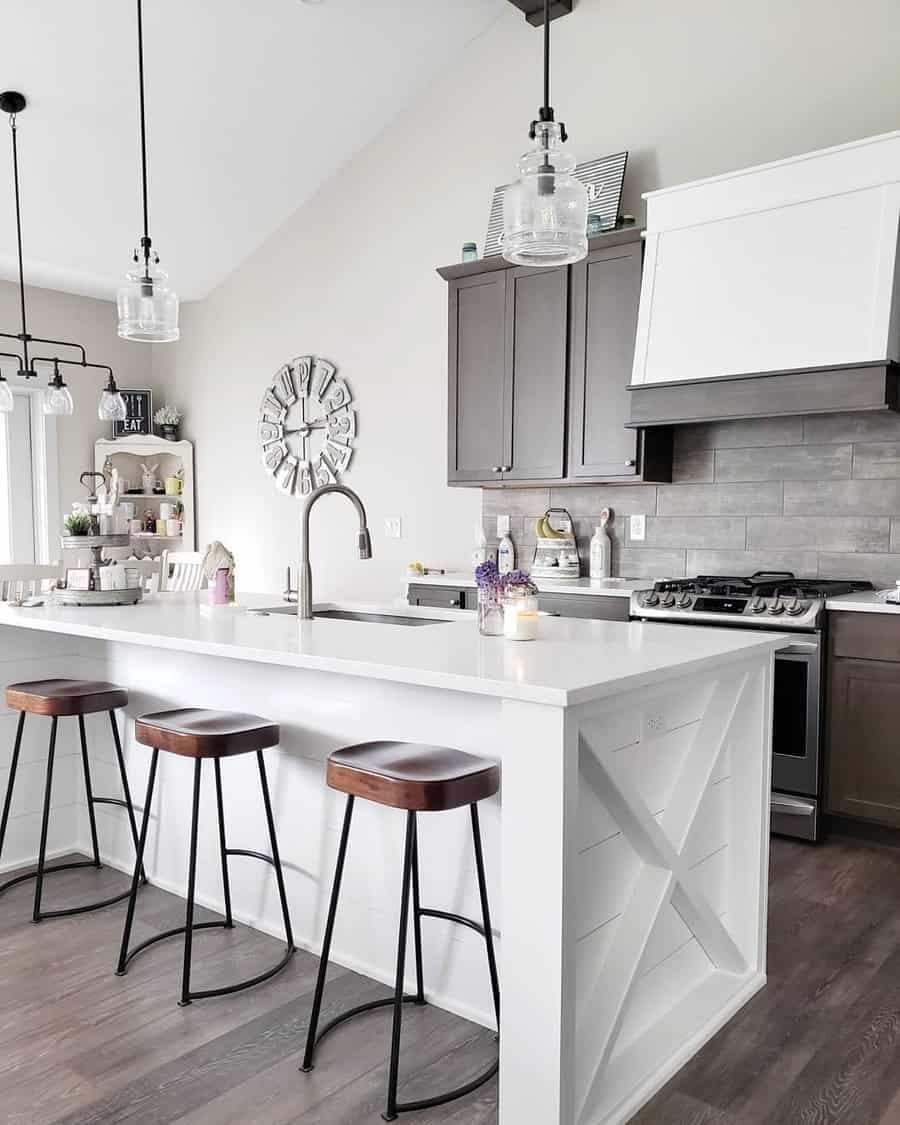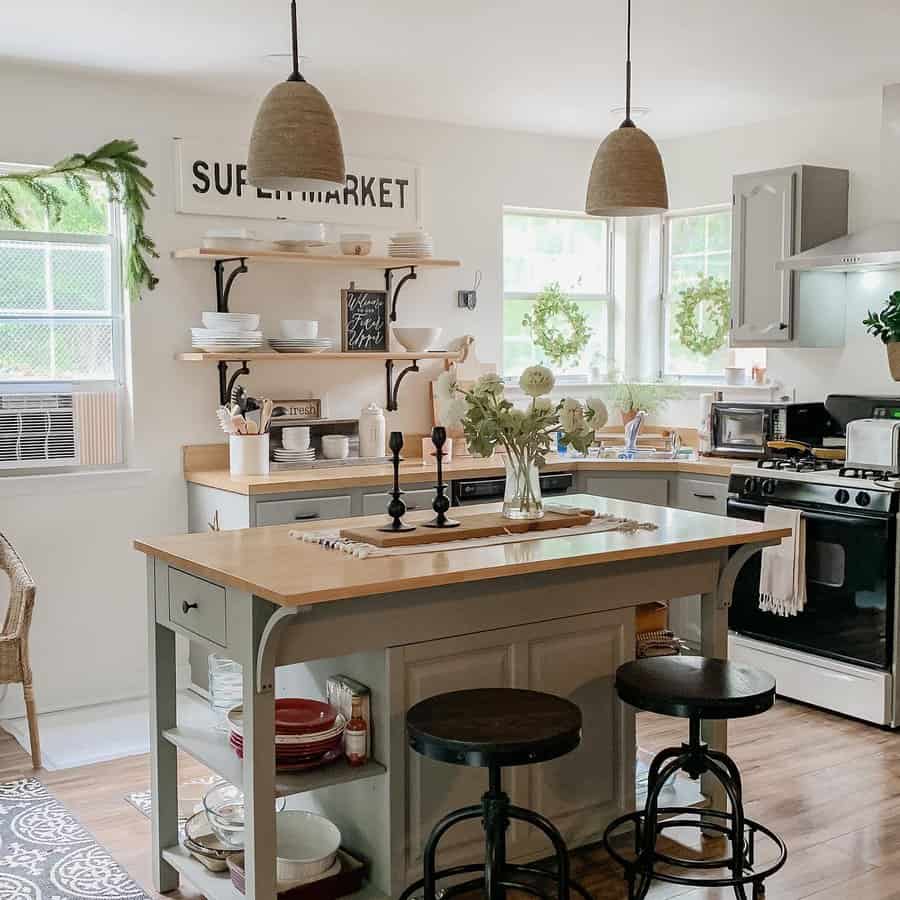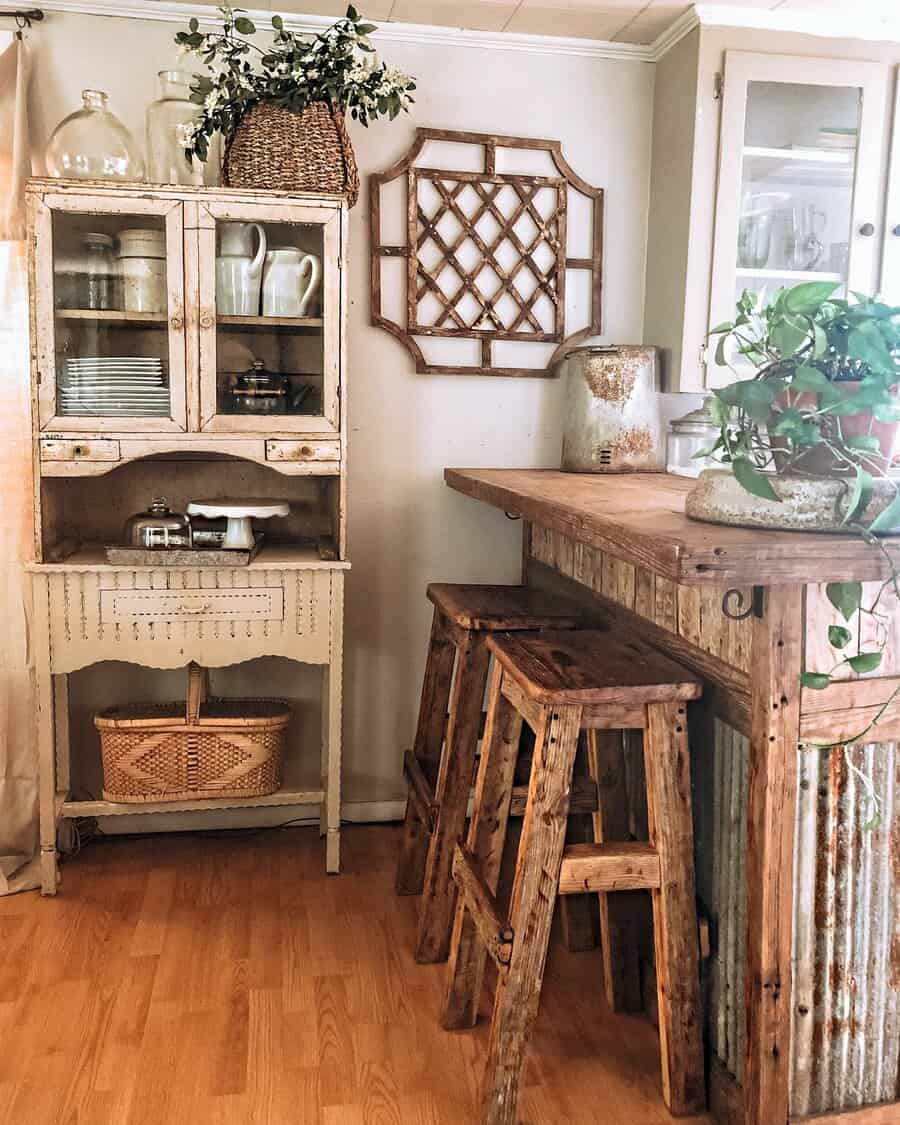 6. Add Pendant Lighting
If you're looking to make a simple yet significant impact in your kitchen, a breakfast bar with pendant lighting is a great way to go. Not only does this create visual interest and an inviting atmosphere, but it also adds a functional aesthetic that can elevate the look of any space.
Investing in breakfast bar furniture with complementary pendant lighting offers dynamic illumination as well as practical style, making breakfast more enjoyable and brightening up the entire kitchen. Invest in quality pieces for long-lasting appeal, and you'll be sure to start the day off right!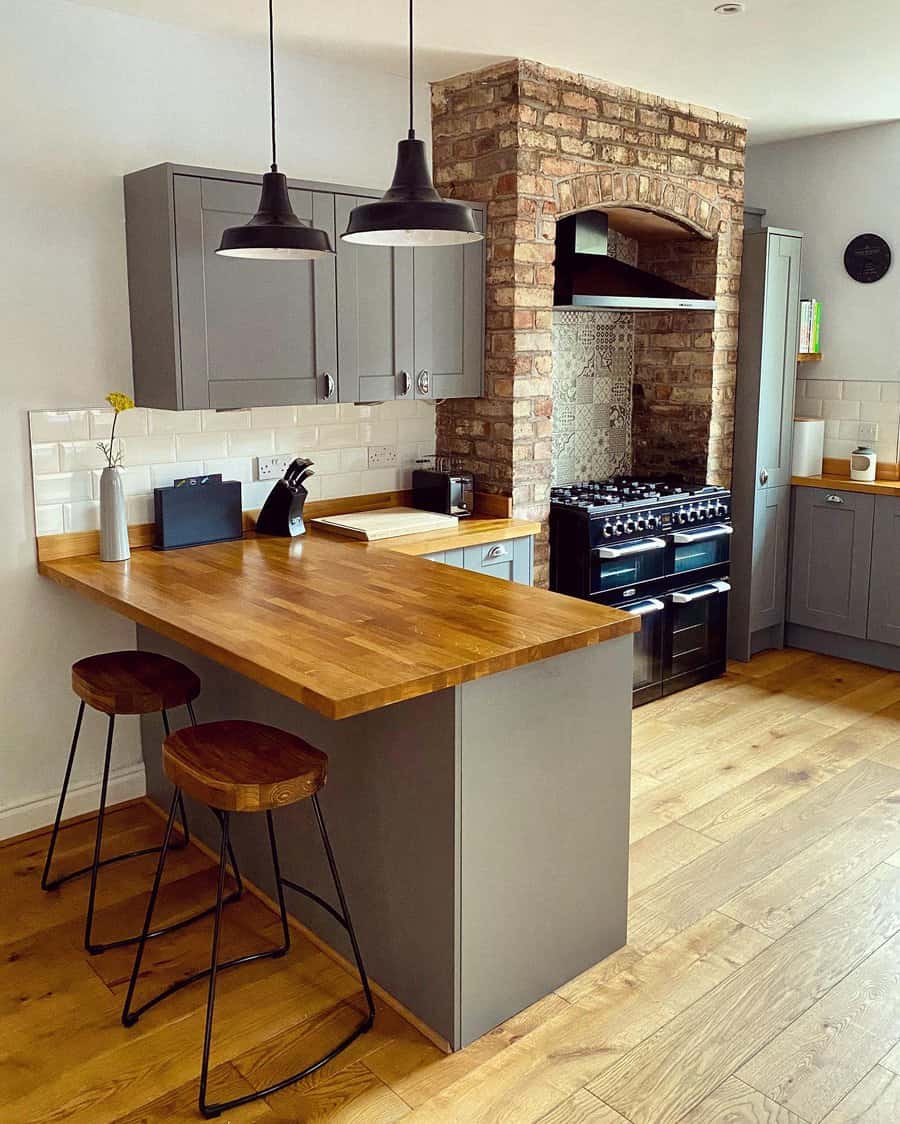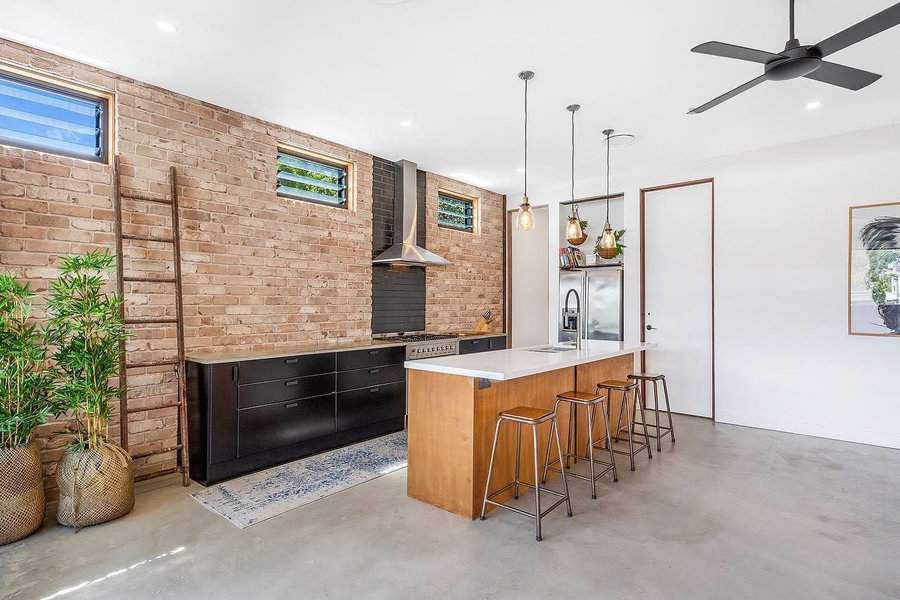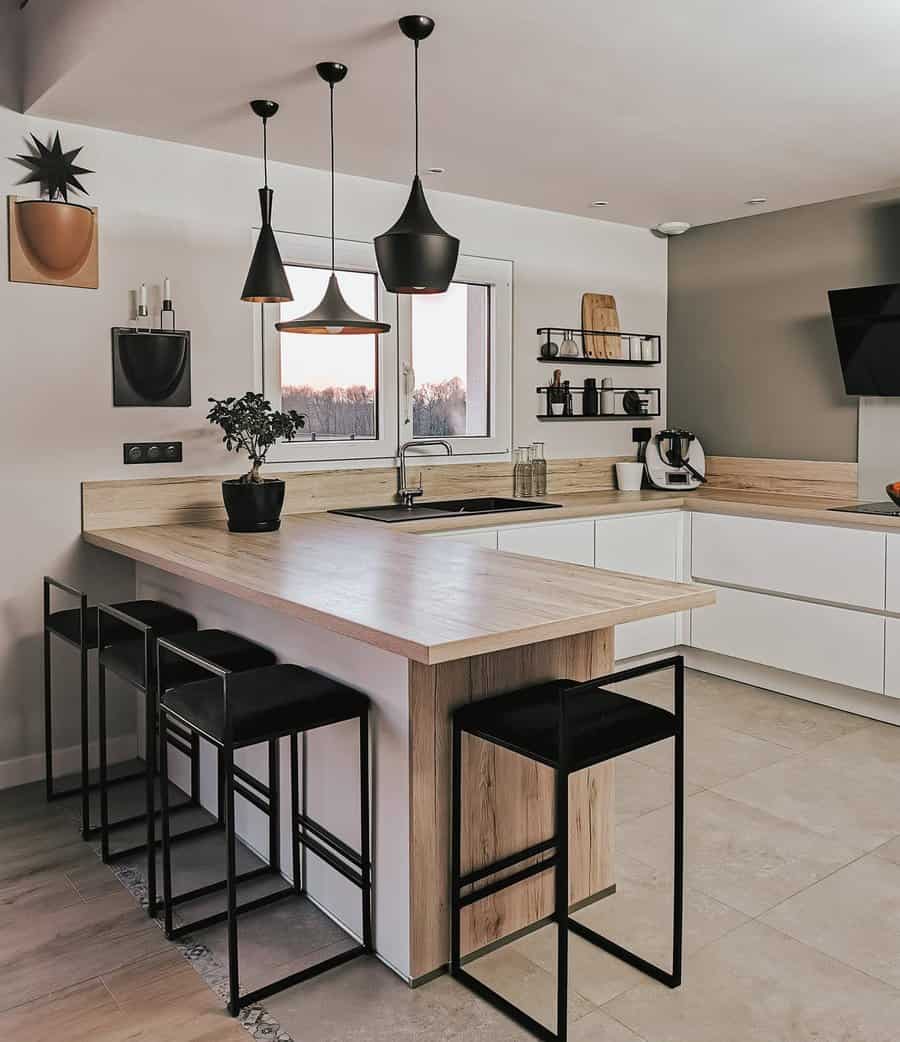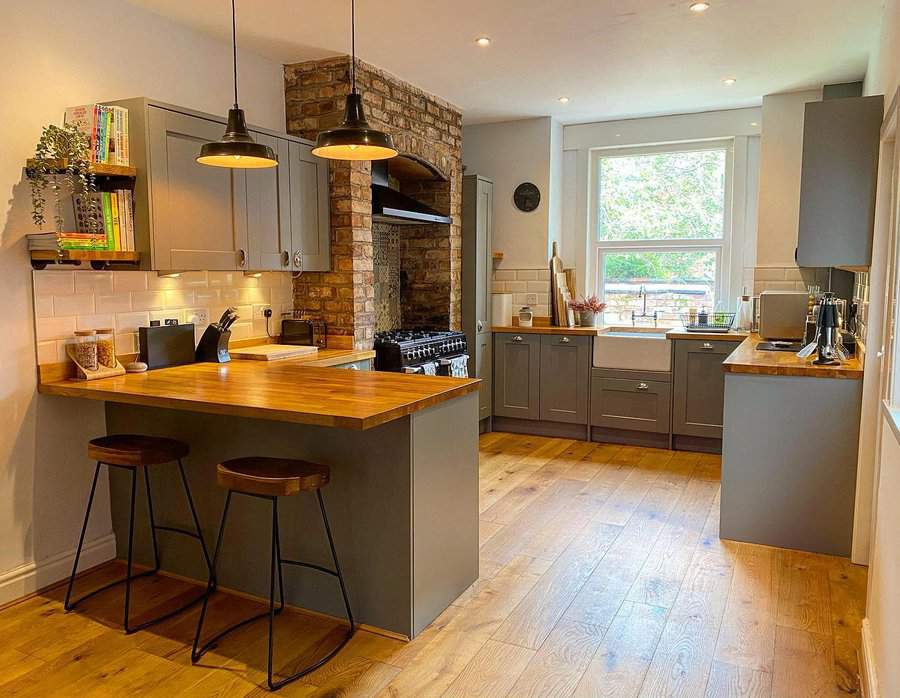 7. Narrow Countertop
If you're looking to make efficient use of limited space in your kitchen, a narrow countertop breakfast bar could be the perfect solution. Though narrow, a breakfast bar can easily accommodate two or three stools tucked under a small ledge, allowing friends and family to share meals in close proximity.
Consider pairing narrow countertops with an array of multicolored stools that match your interior style—innovative combinations of colors, textures, and patterns create unique finishing touches that elevate the vibe of any kitchen setting.
With a creative placement of narrow breakfast bars and relatively smaller seating areas, one can discover newfound harmony within their home that would otherwise go unnoticed.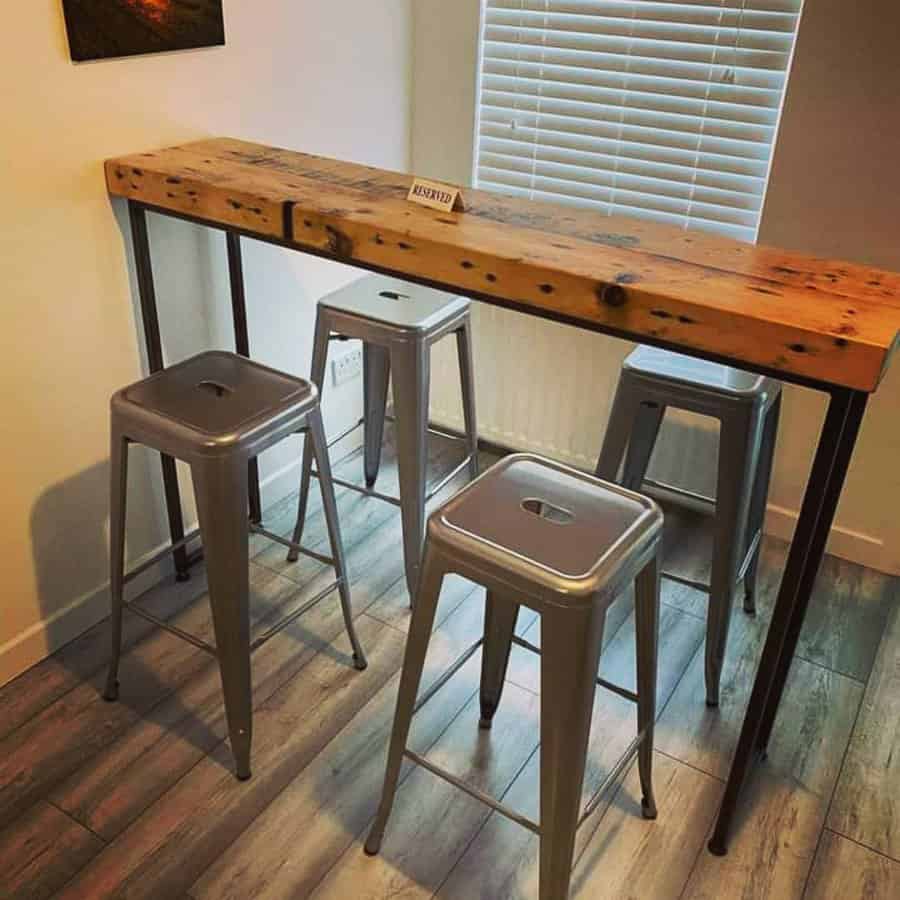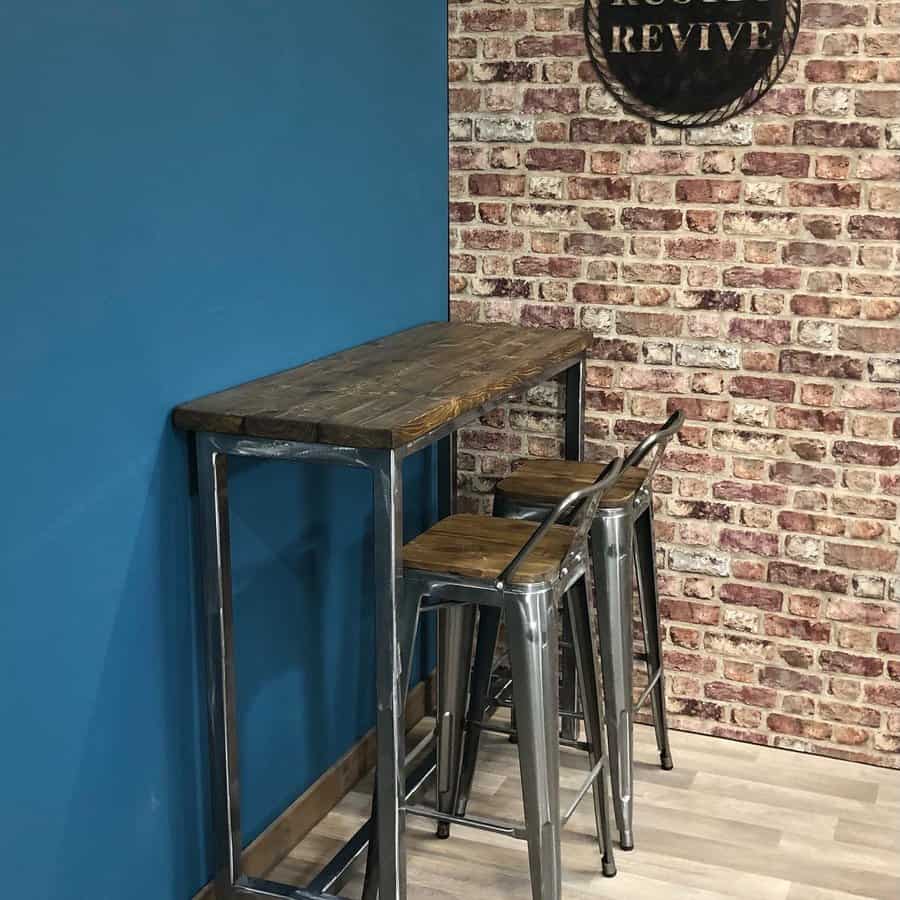 8. Round Coffee Table
If you're looking to energize the heart of your home, a round coffee table in the kitchen is the ideal solution for creating a relaxed breakfast bar. Not only will it provide an inviting spot to eat your first meals of the day, but it can also be used as an additional workspace for when you're getting creative with dinner ideas.
Plus, its round shape is perfect for opening up conversations and making mealtime more social. So next time you're in need of bringing some life into your kitchen, grab a round coffee table and enjoy breakfast with friends around it.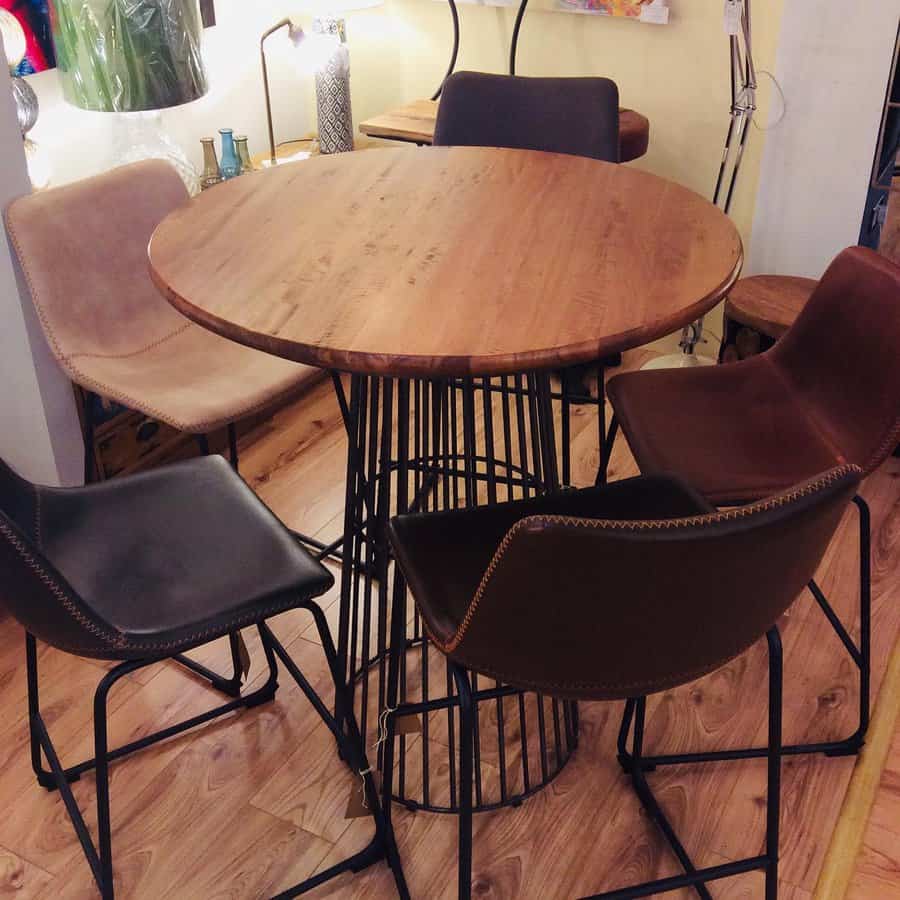 9. Add Skylight Windows
A breakfast bar is an innovative kitchen element that can bring an inviting ambiance and a touch of luxury to your space. One great way to really elevate your breakfast bar to the next level is to add skylight windows above it.
Having natural light in your breakfast nook will make it much more pleasant and inviting – plus, you'll be able to enjoy Mother Nature as you have breakfast, making for a truly uplifting morning experience!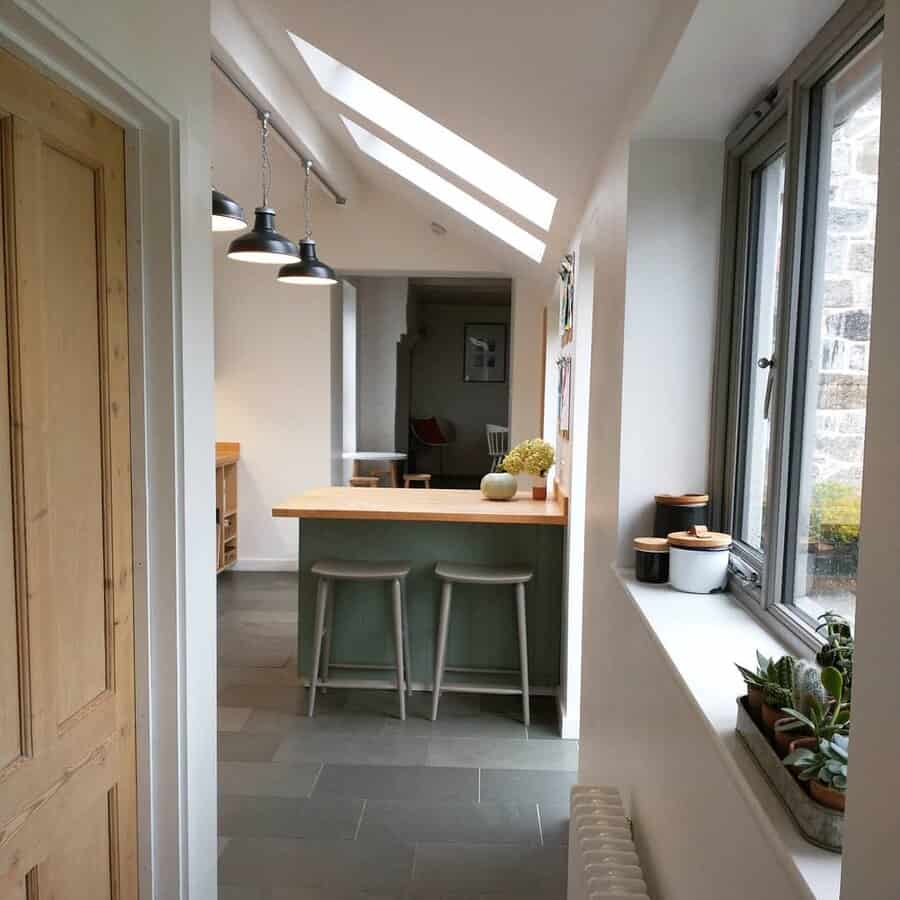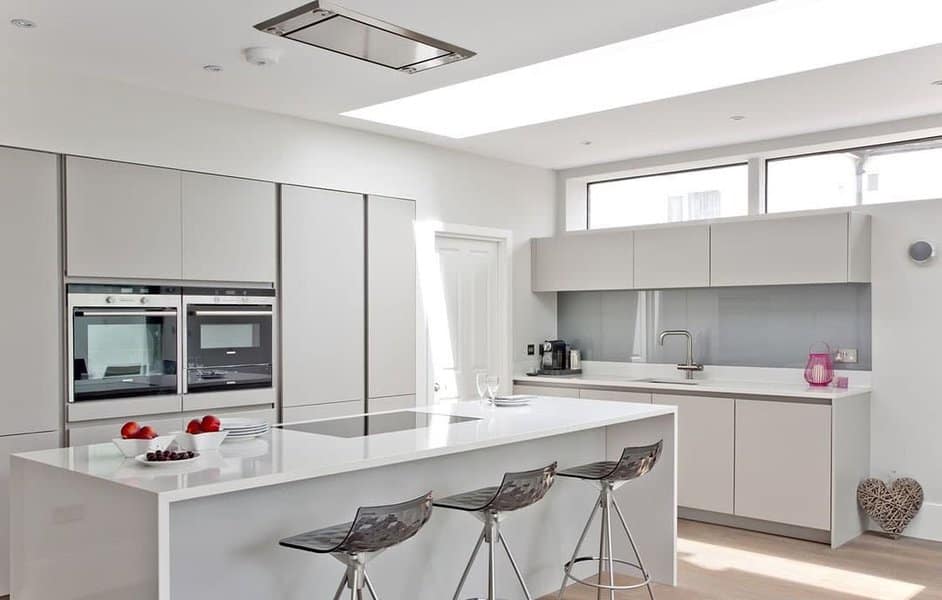 10. Hang Macrame Above The Breakfast Bar
Create a breakfast bar that both looks and functions great by incorporating some chic macrame decor. A breakfast bar with macrame can add plenty of modern boho vibes to any kitchen.
Consider adding a few hanging macrame planters, so your breakfast nook contains both the functional and the decorative. Whether you choose a neutral color scheme or one that incorporates vibrant colors, a breakfast bar decorated with some contemporary macrame pieces will help make breakfast time feel like a special occasion.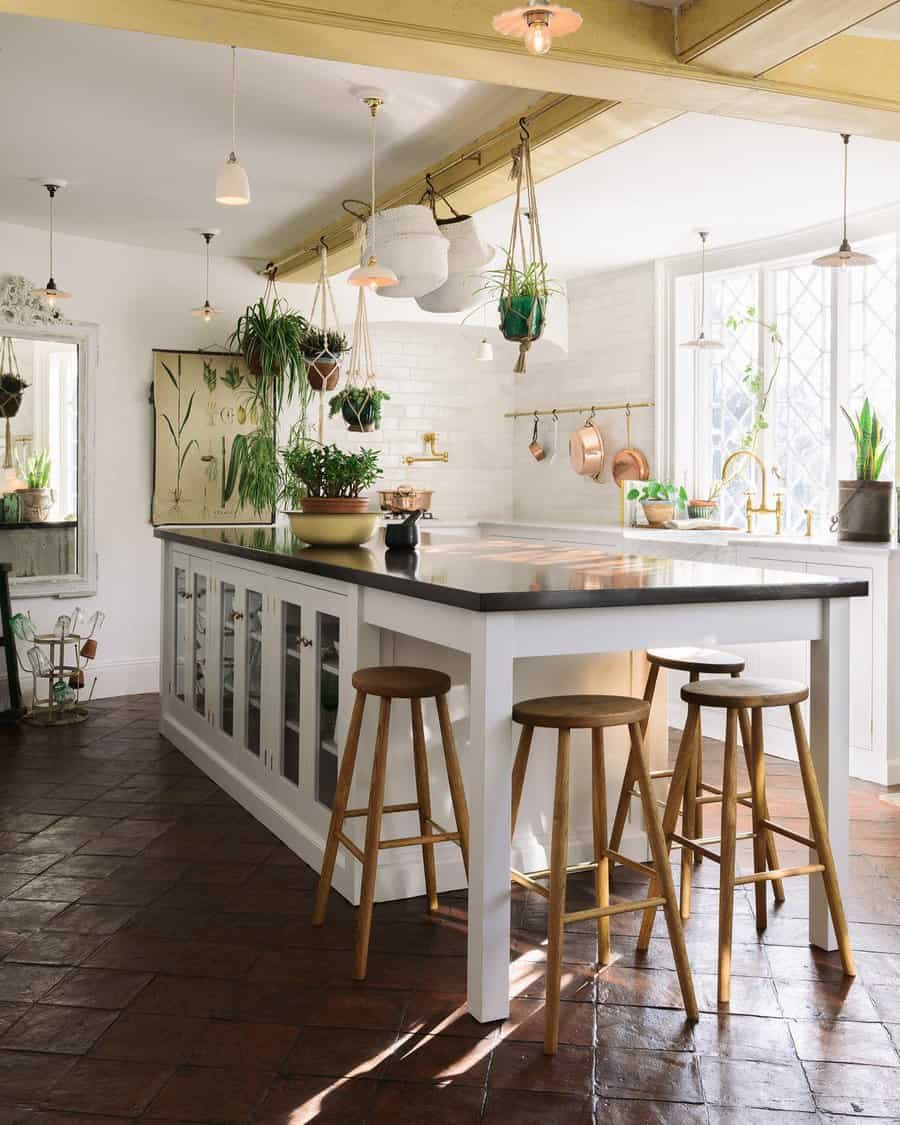 11. Marble Kitchen Island
Spruce up your kitchen in an elegant, yet practical way with a marble kitchen island breakfast bar. Perfect for those mornings when you need to quickly grab something on your way out the door or want to settle in with a cup of coffee and read the morning paper, marble kitchen islands provide ample space for meal prep.
They also add a touch of sophistication, making any room warm and inviting. If you're looking for that special something to complete your kitchen renovation project, consider adding a marble kitchen island breakfast bar – it's sure to be the show-stopper centerpiece of your dream kitchen.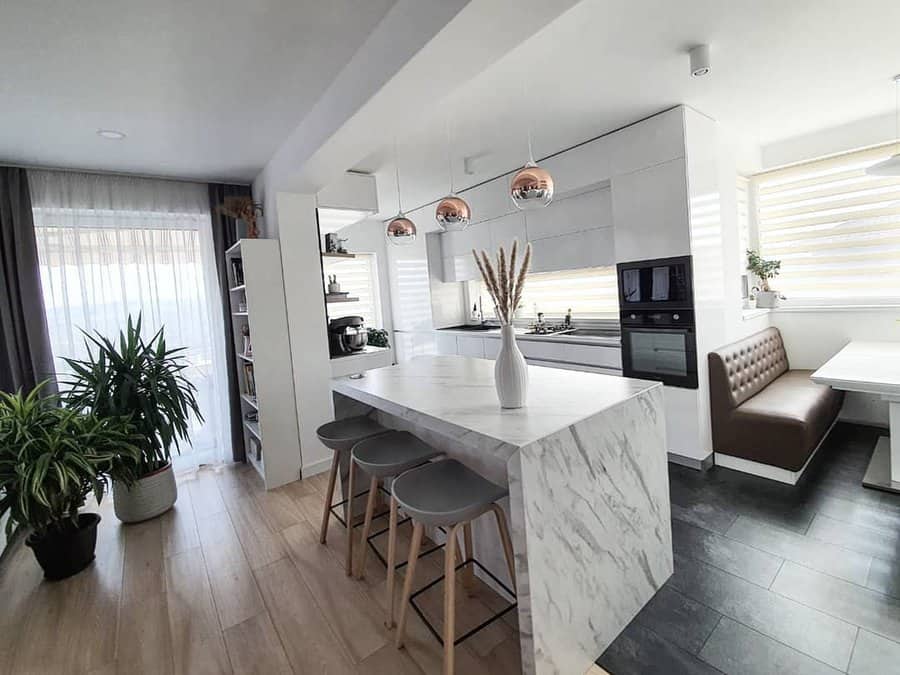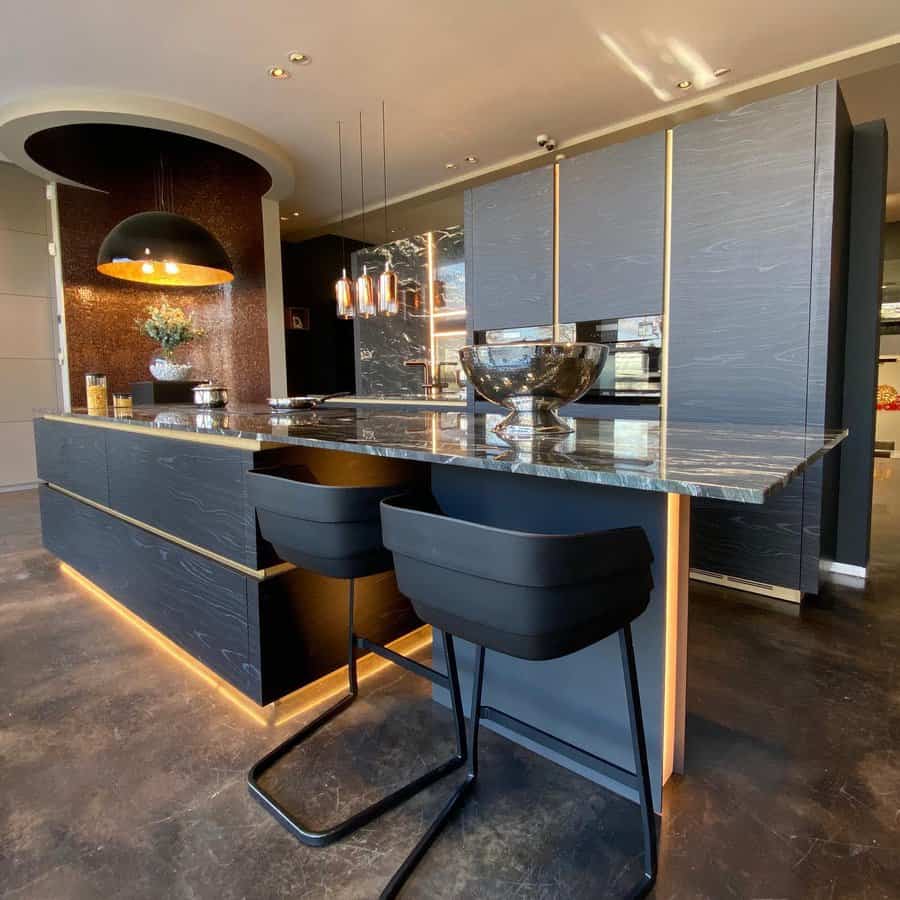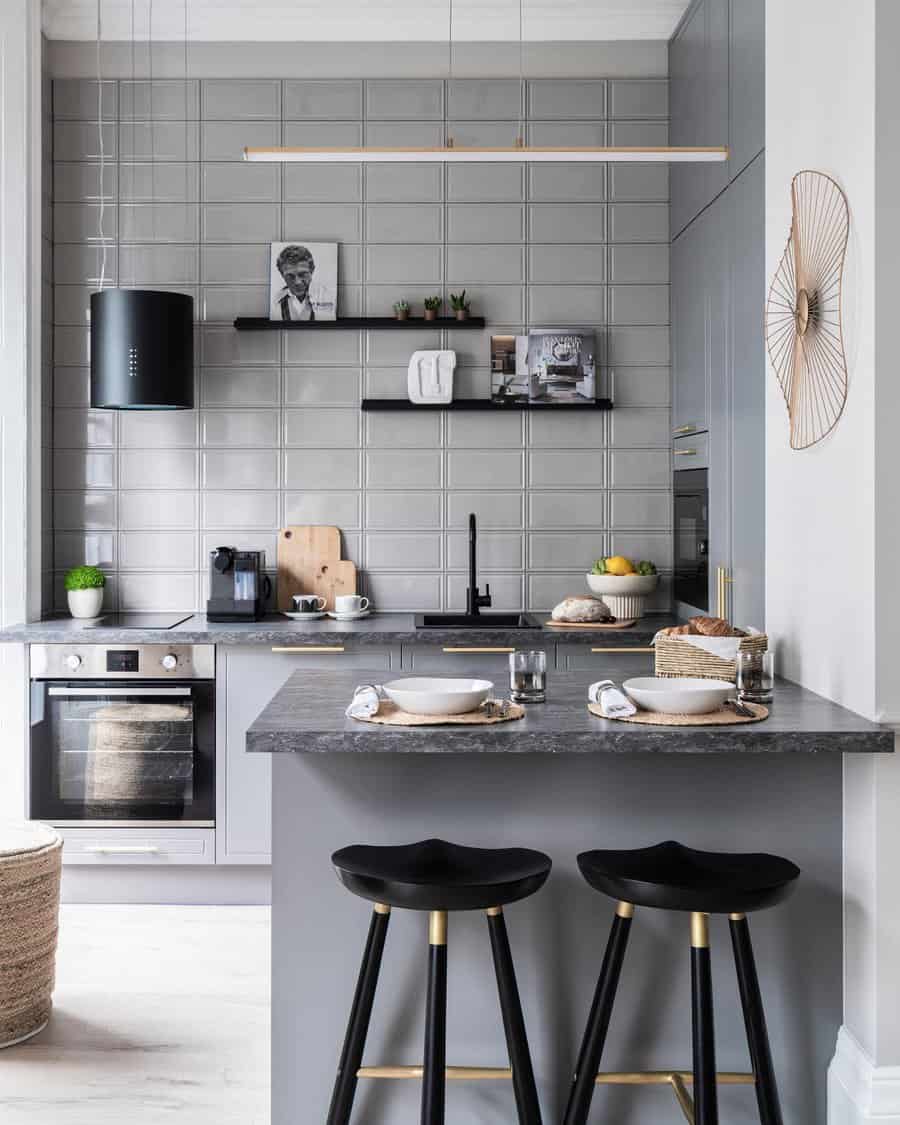 12. L-Kitchen Countertop
The L-Shaped breakfast bar is the perfect way to level up your kitchen space. Not only does it provide additional seating, but it also allows you to have extra countertops and storage space all in one neat package.
This design is a great solution when there's limited space available too, as you won't lose any valuable square footage or deal with bulky furniture pieces taking up valuable room. Additionally, if you choose a style with open shelves and cabinets, you'll be able to showcase interesting items and keep your countertops clutter-free!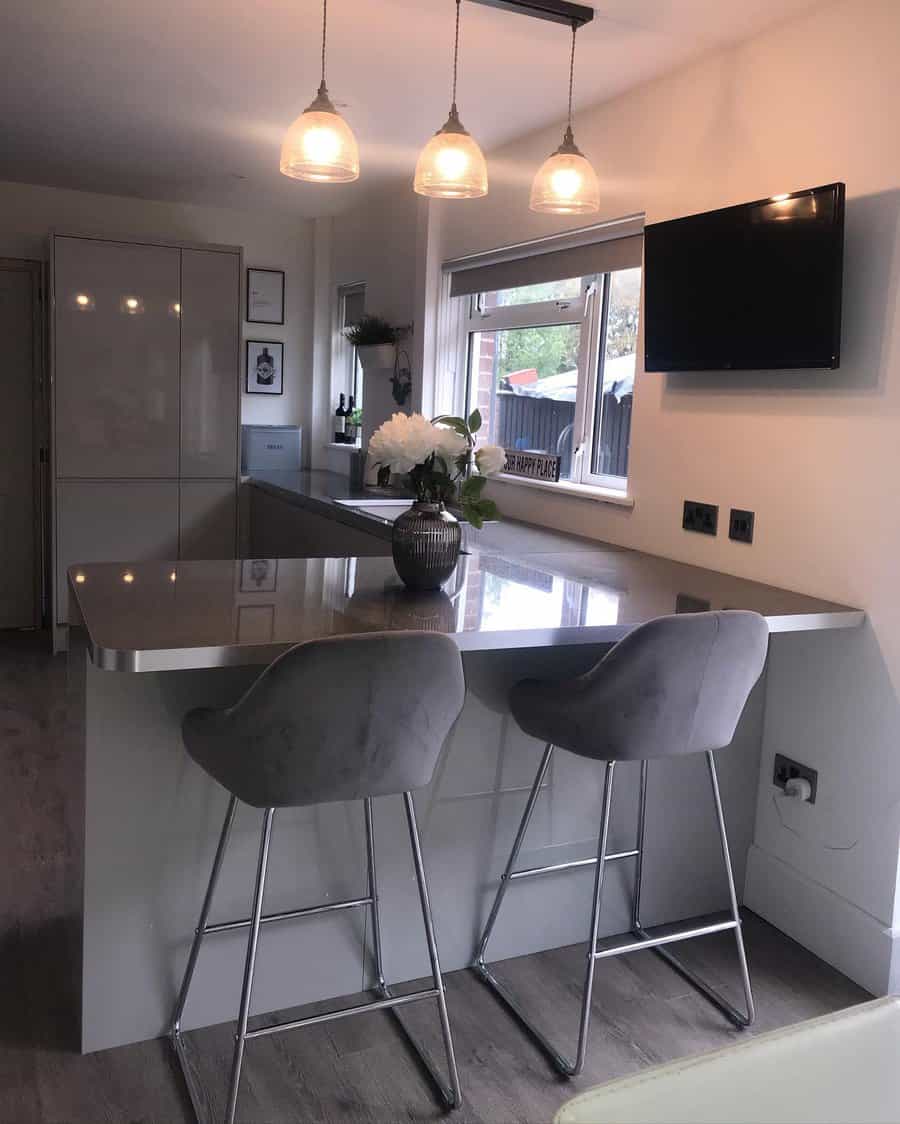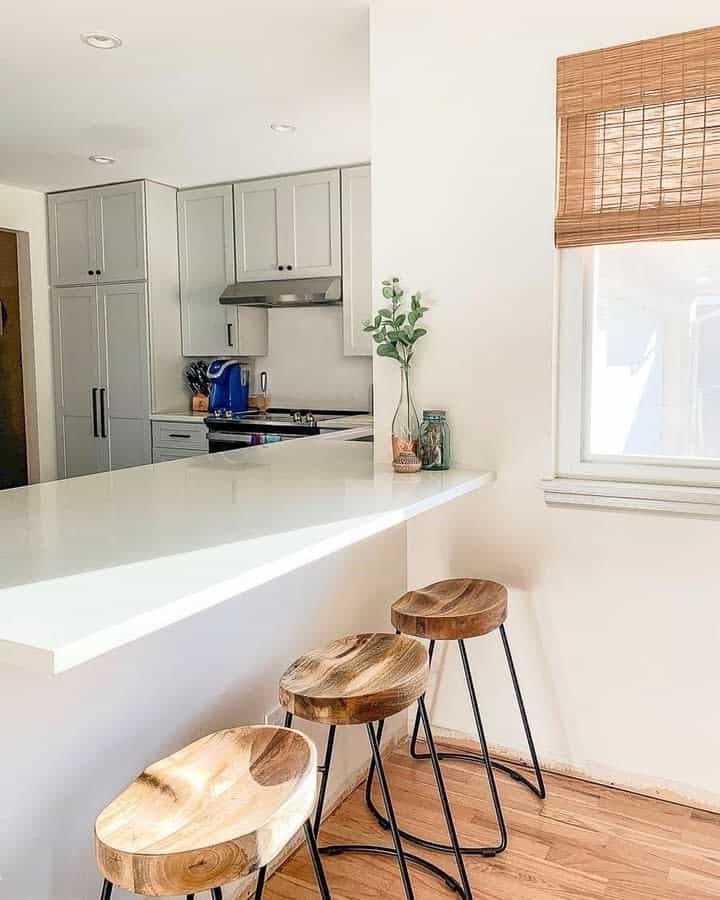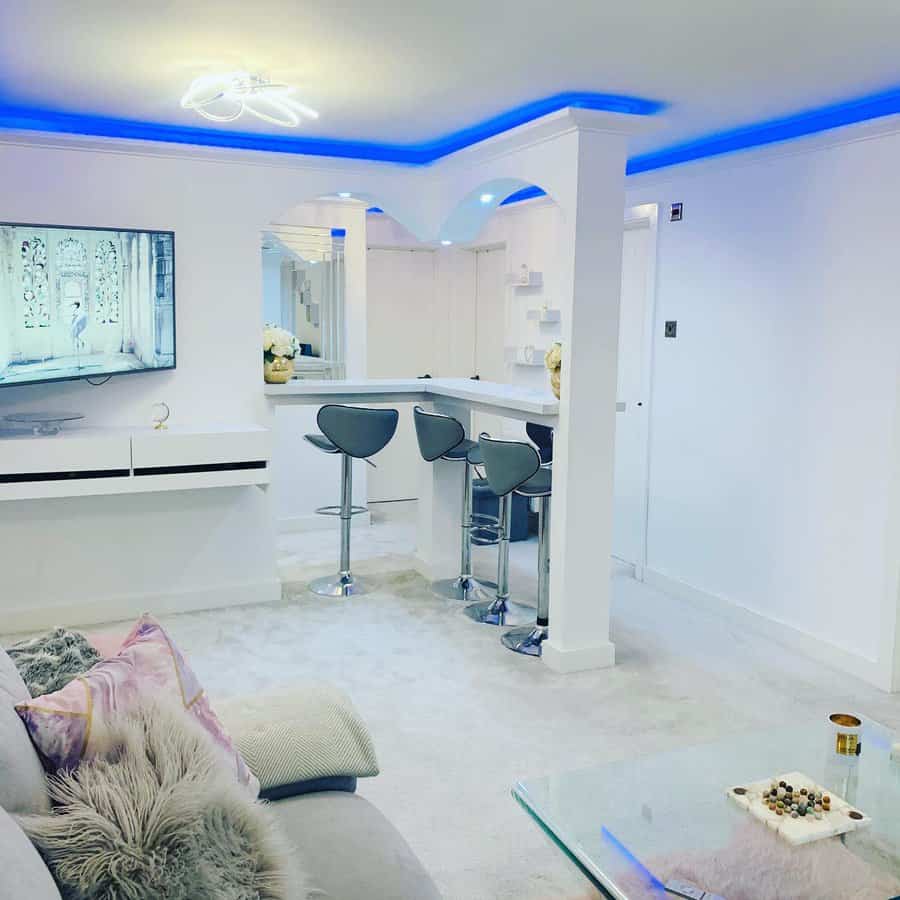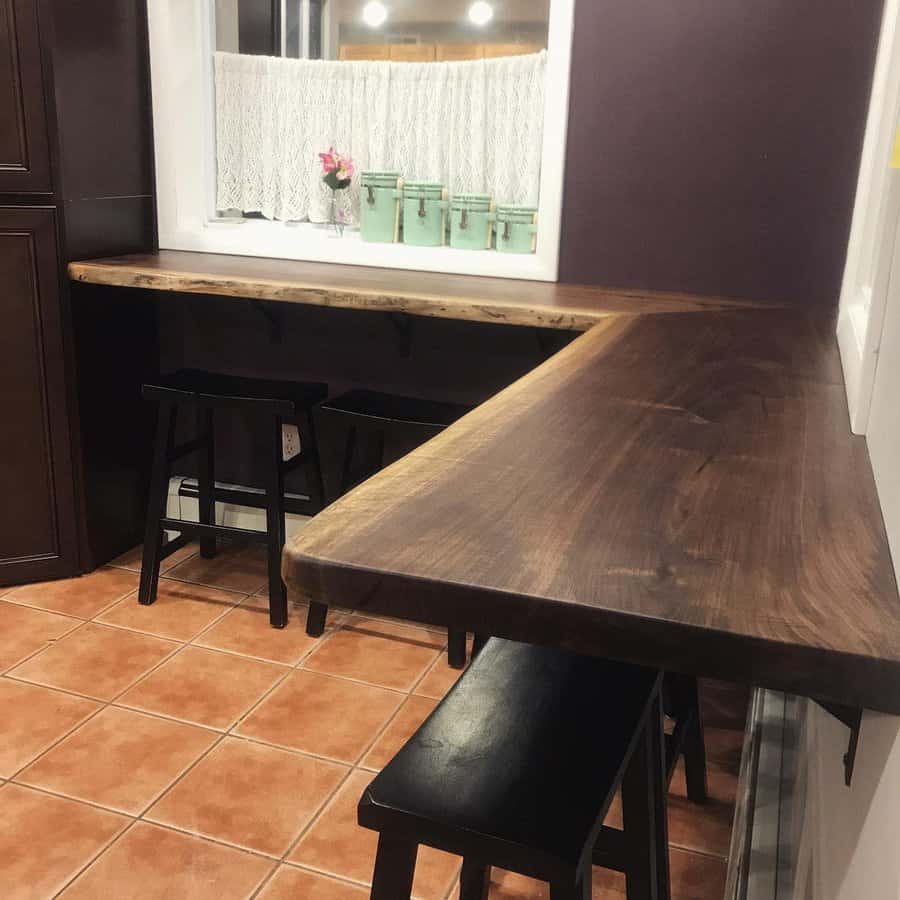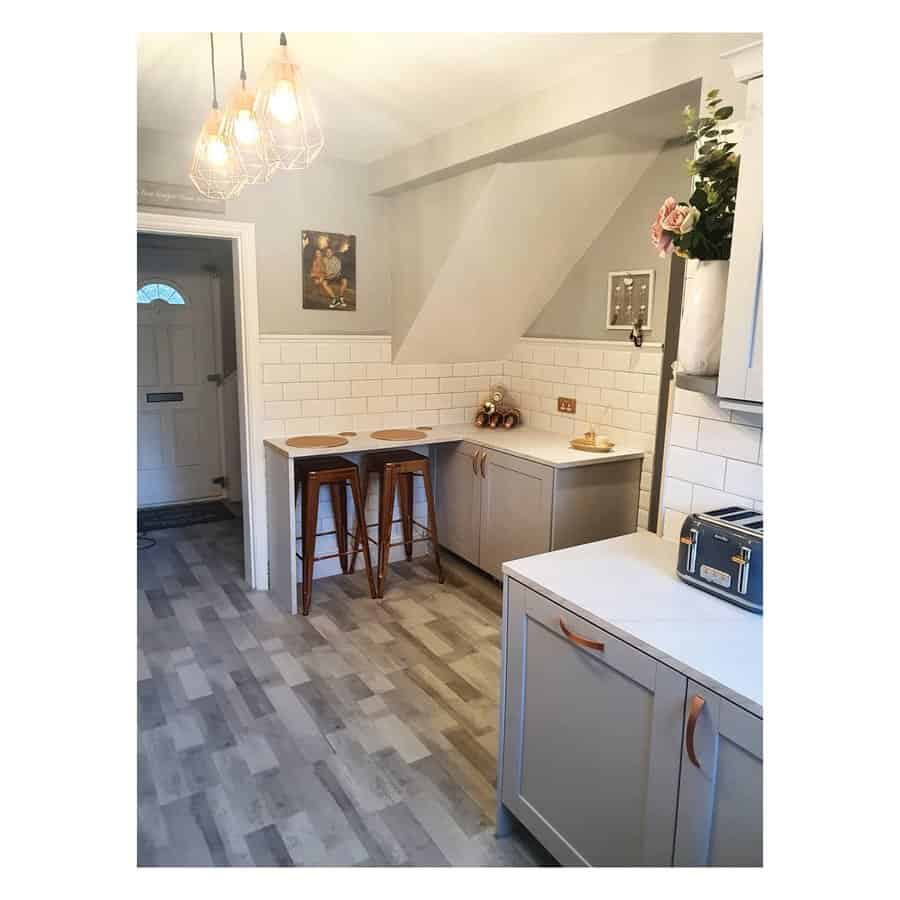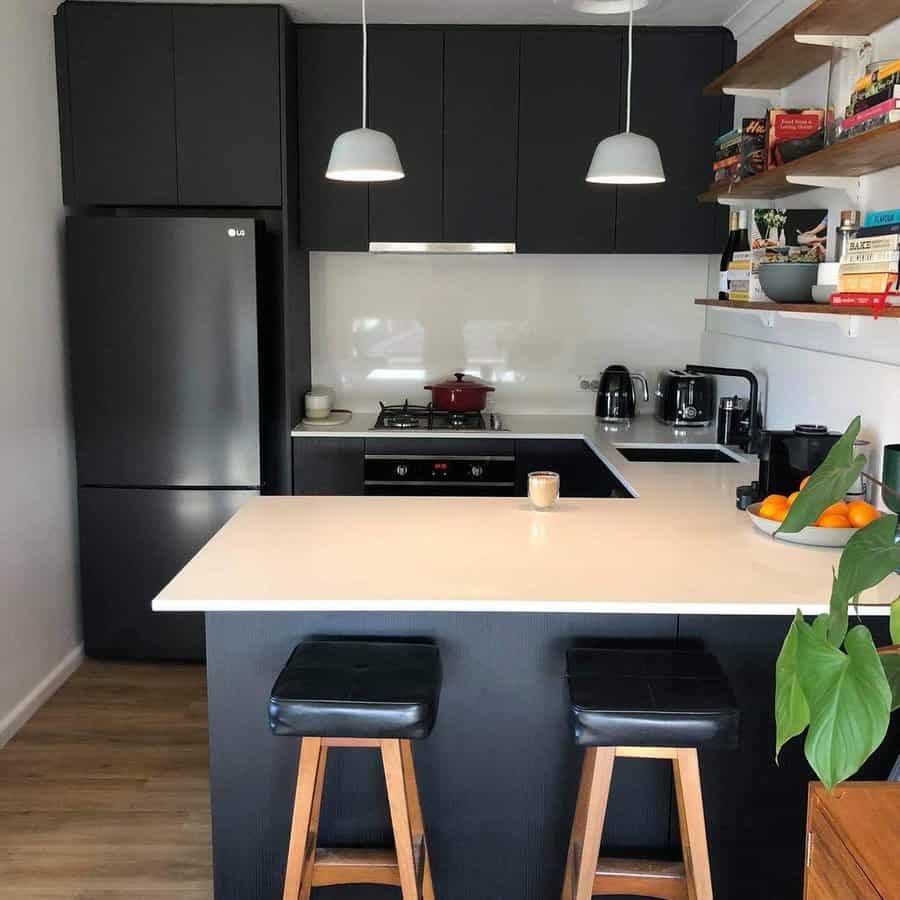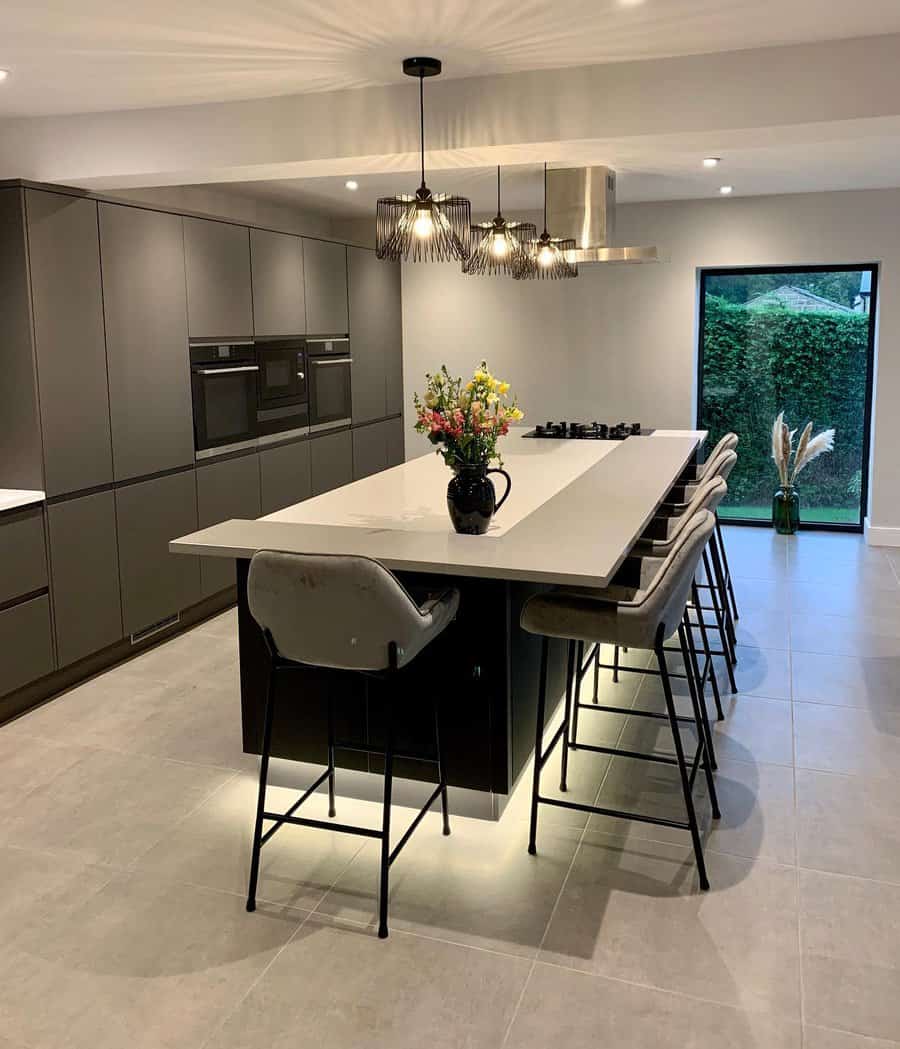 13. Minimalist Breakfast Bar
For modern kitchens, a breakfast bar is an ideal way to bring formal and casual dining into one space. Providing both practical convenience and modern aesthetics, a kitchen breakfast bar makes having a meal or gathering together with friends easier than ever.
Whether you opt for wood, marble, or granite, modernizing your kitchen with a functional breakfast bar can instantly revive your entertaining space. With some clever choices of stools and a hint of greenery, it'll be like you have been transported to a modern bistro in no time.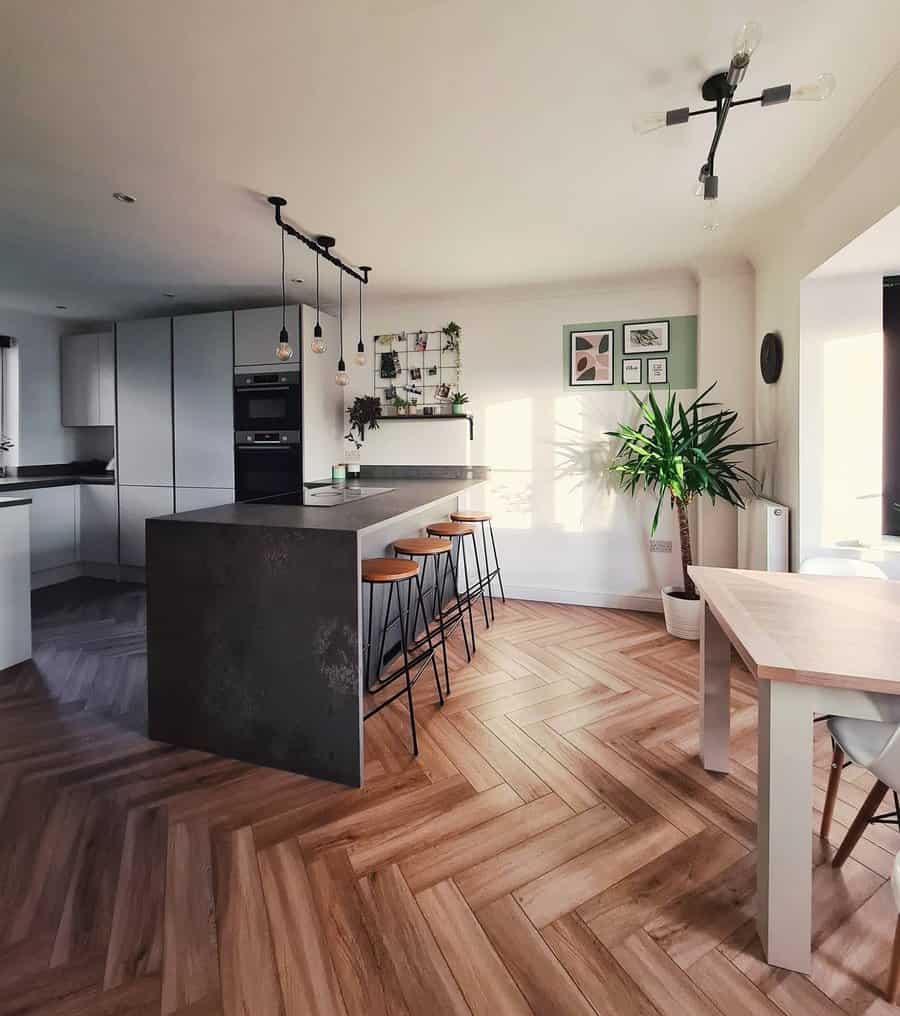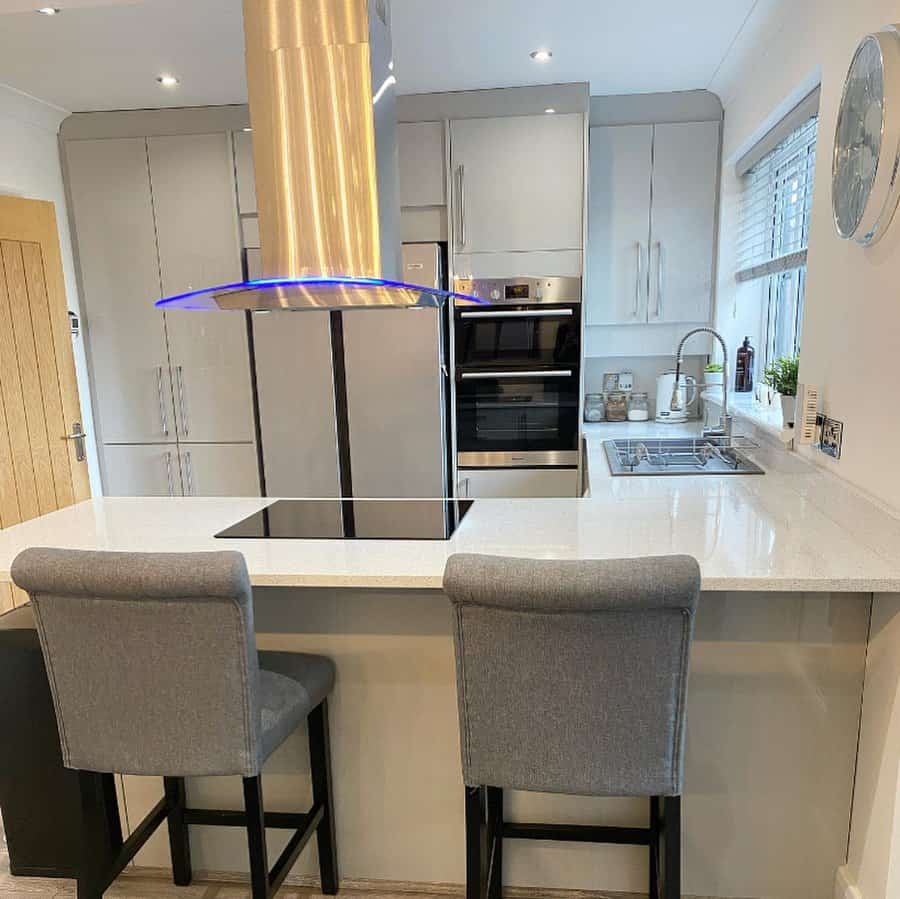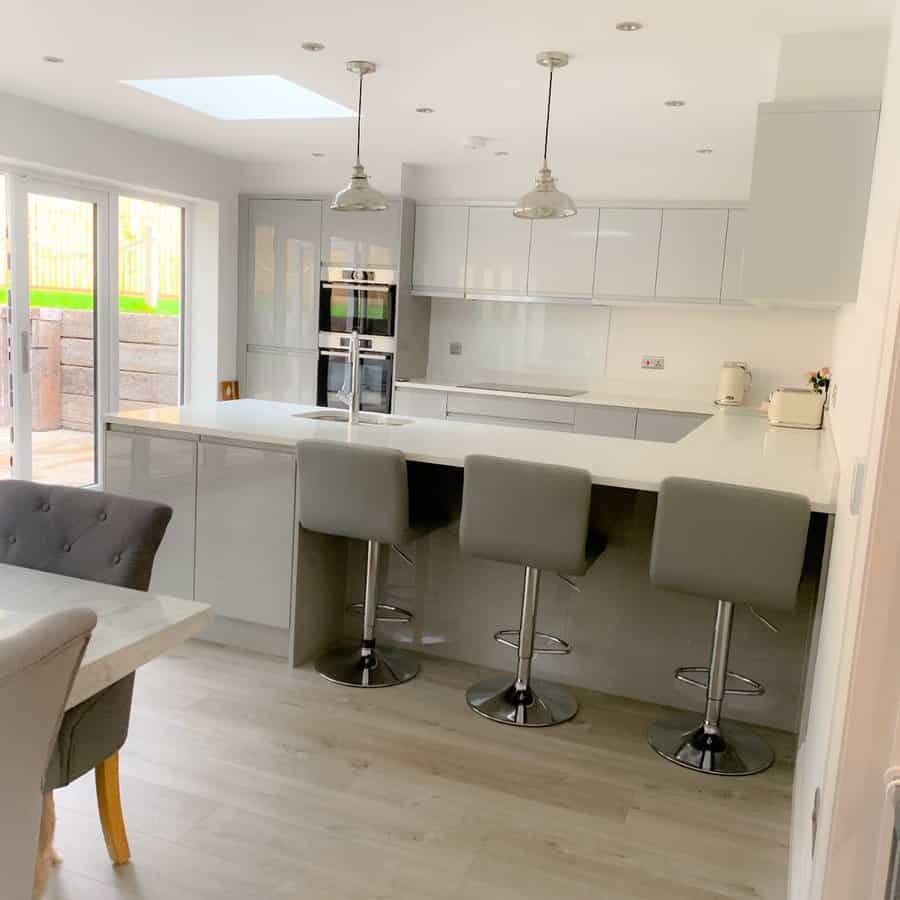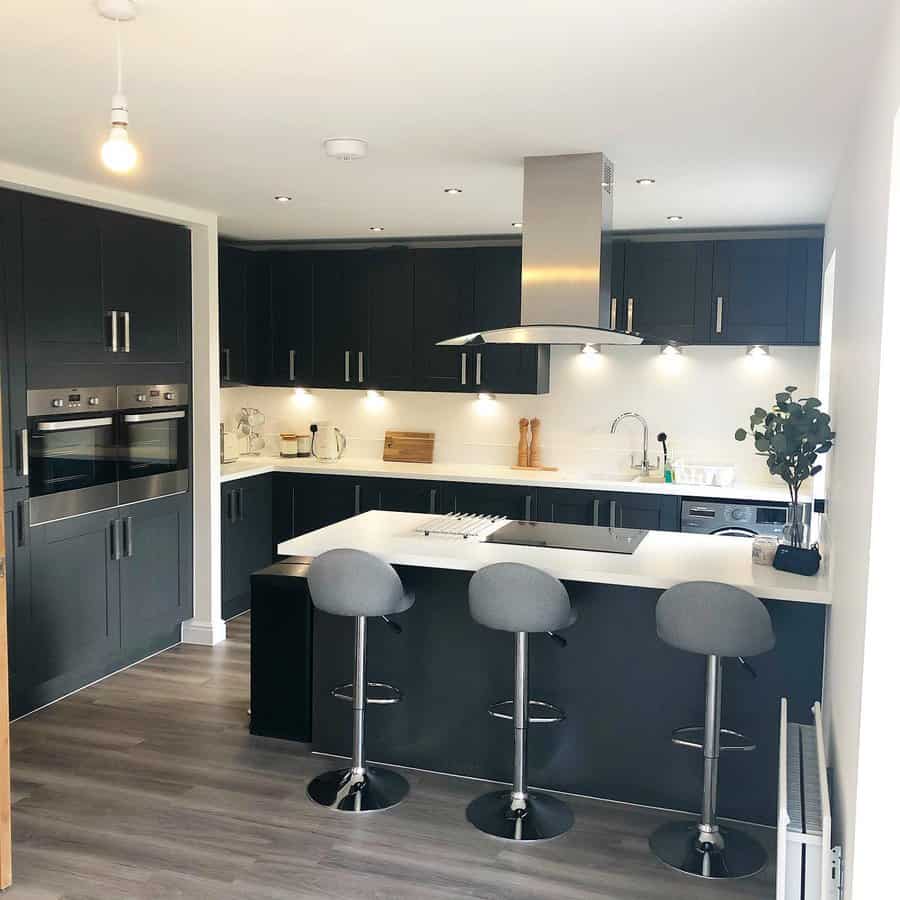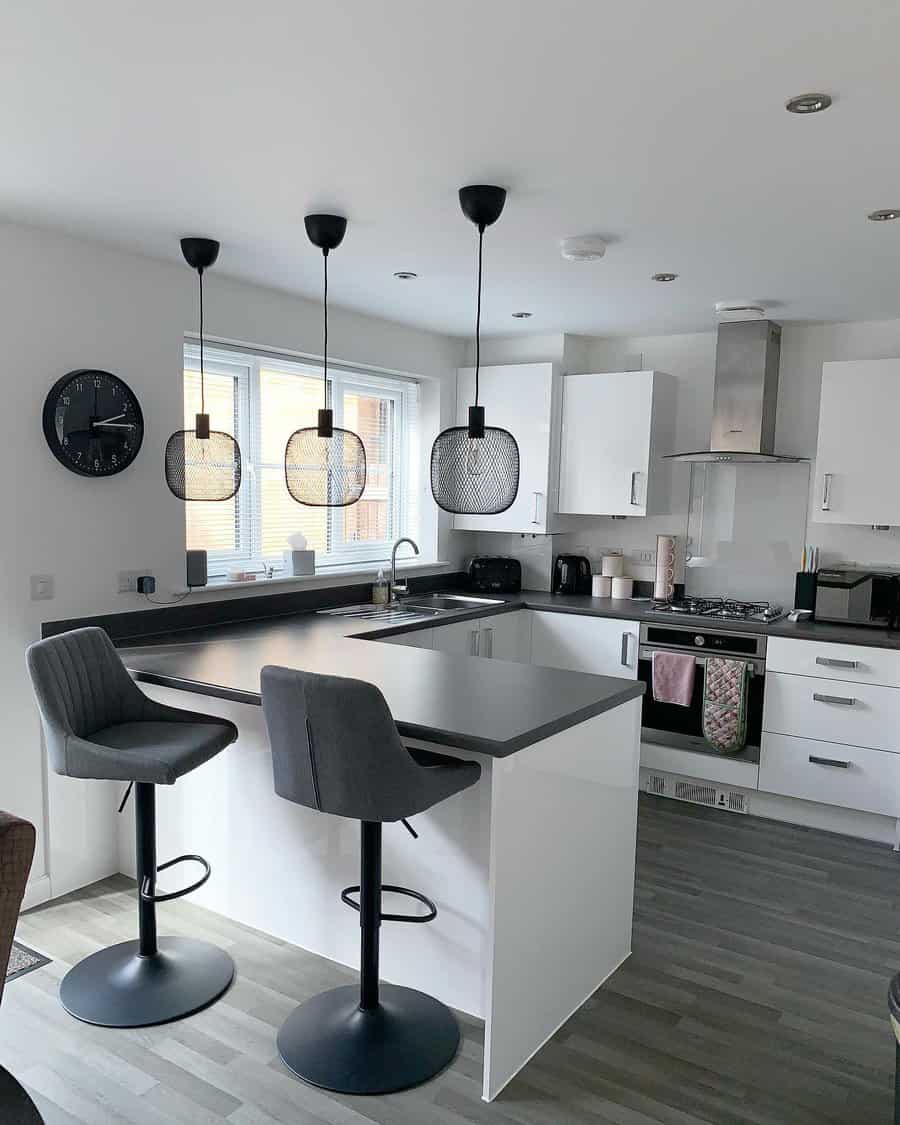 14. Wooden Breakfast Nook
A wooden kitchen breakfast bar is an impressive addition to any kitchen, providing a modern and stylish place in which the family can come together in the mornings. Not only do wooden countertops provide a sleek and natural look, but they are also extremely strong and durable – perfect for withstanding wear and tear from everyday kitchen activities.
A wooden countertop of your kitchen breakfast bar can also be customized in various colors to suit your tastes – whether you prefer a subtle wooden hue or a vibrant shade to stand out from the rest of the room.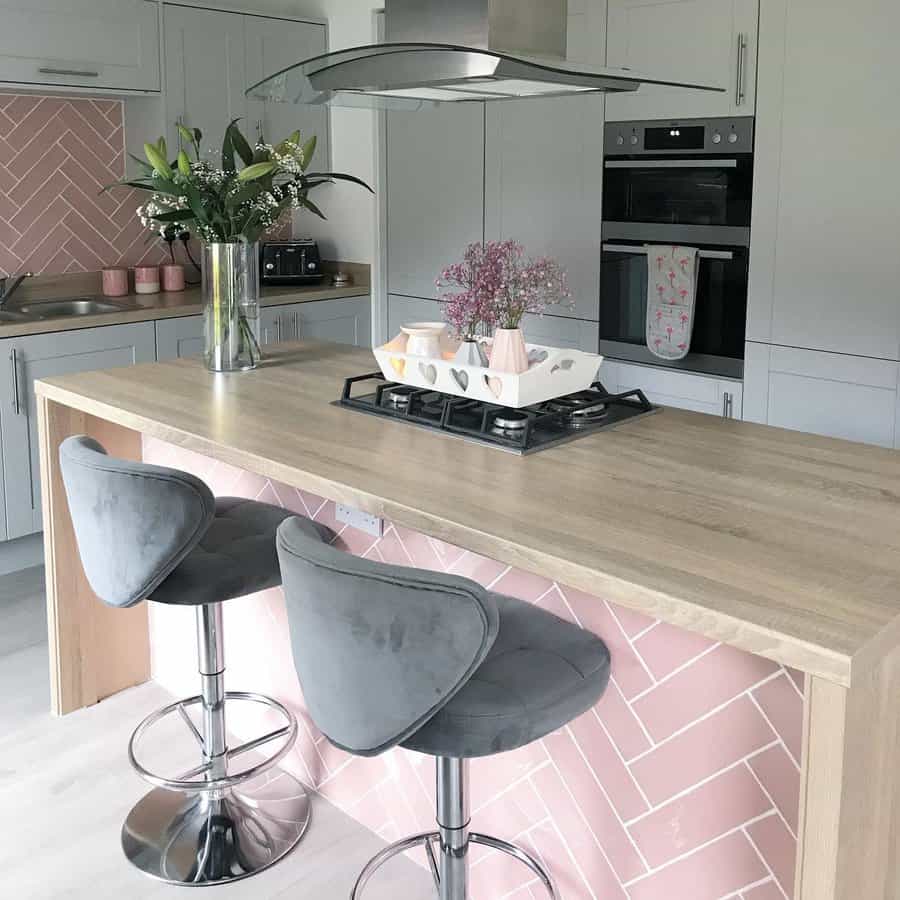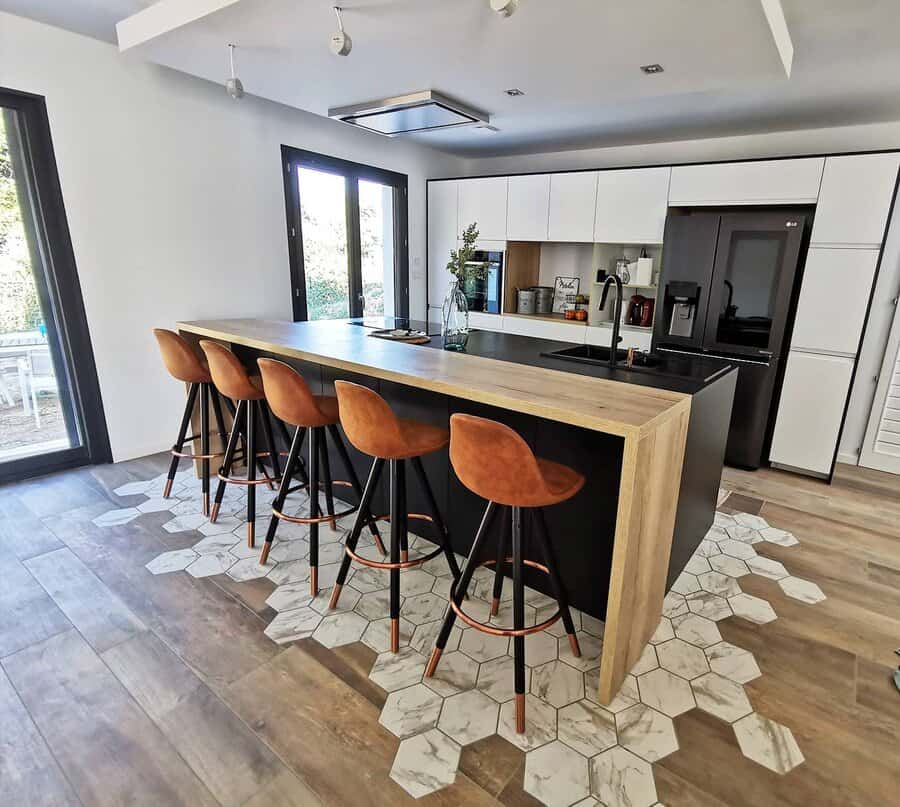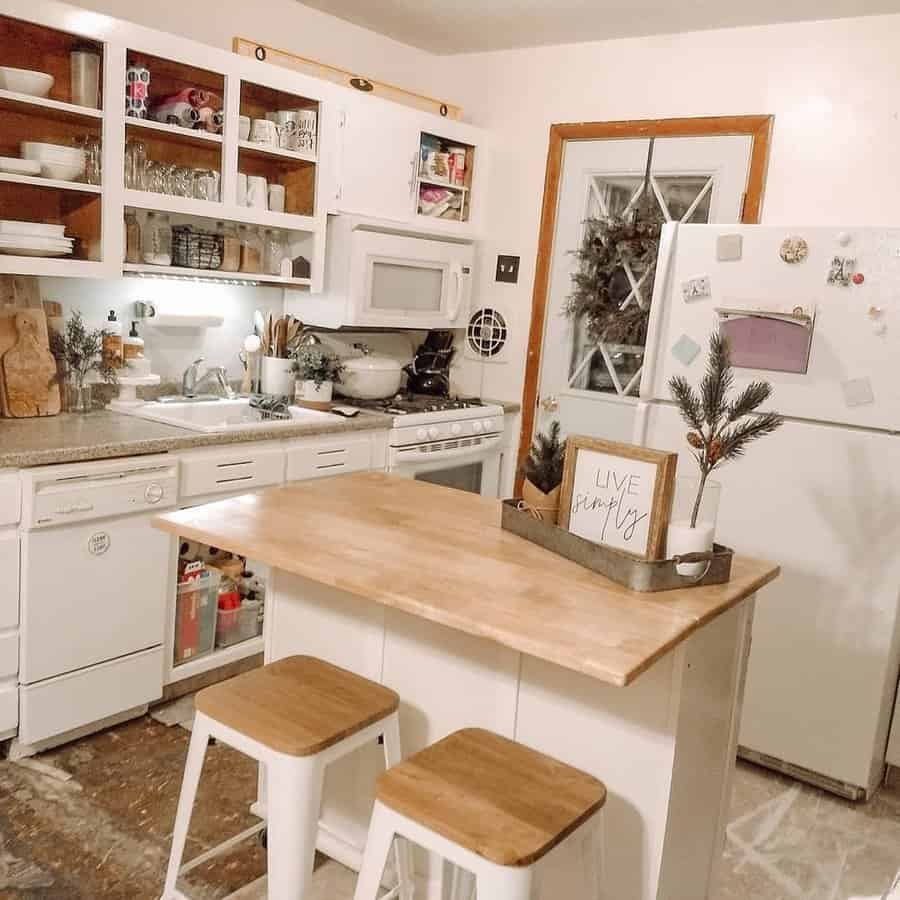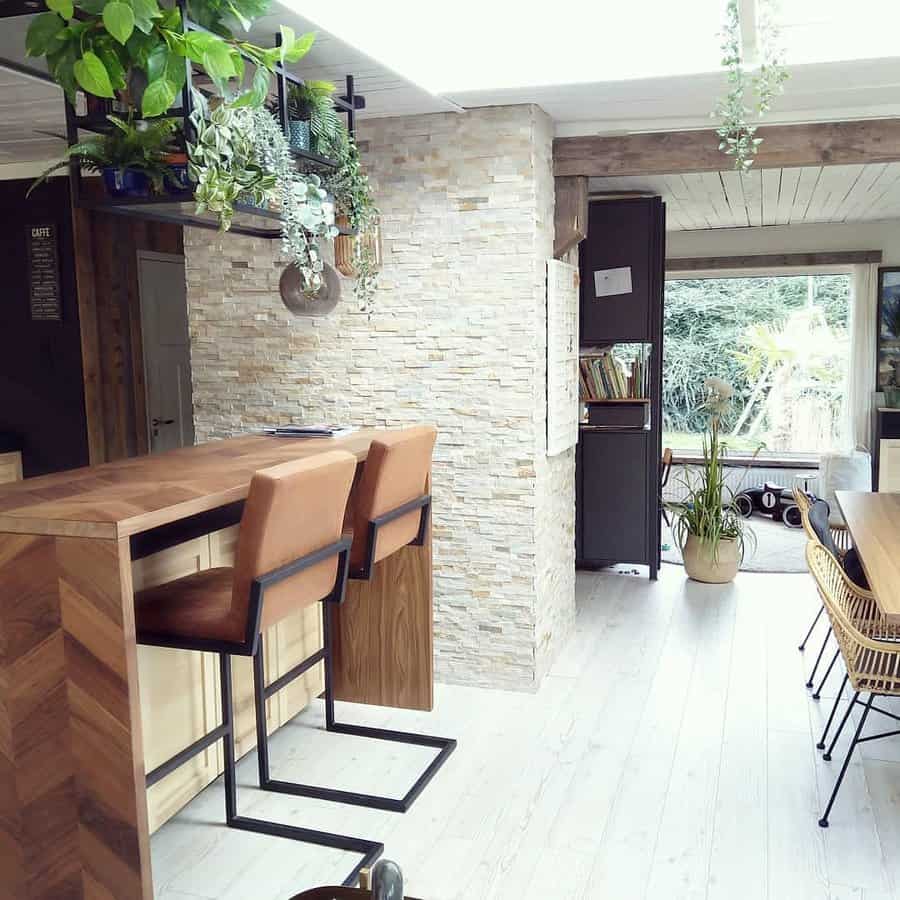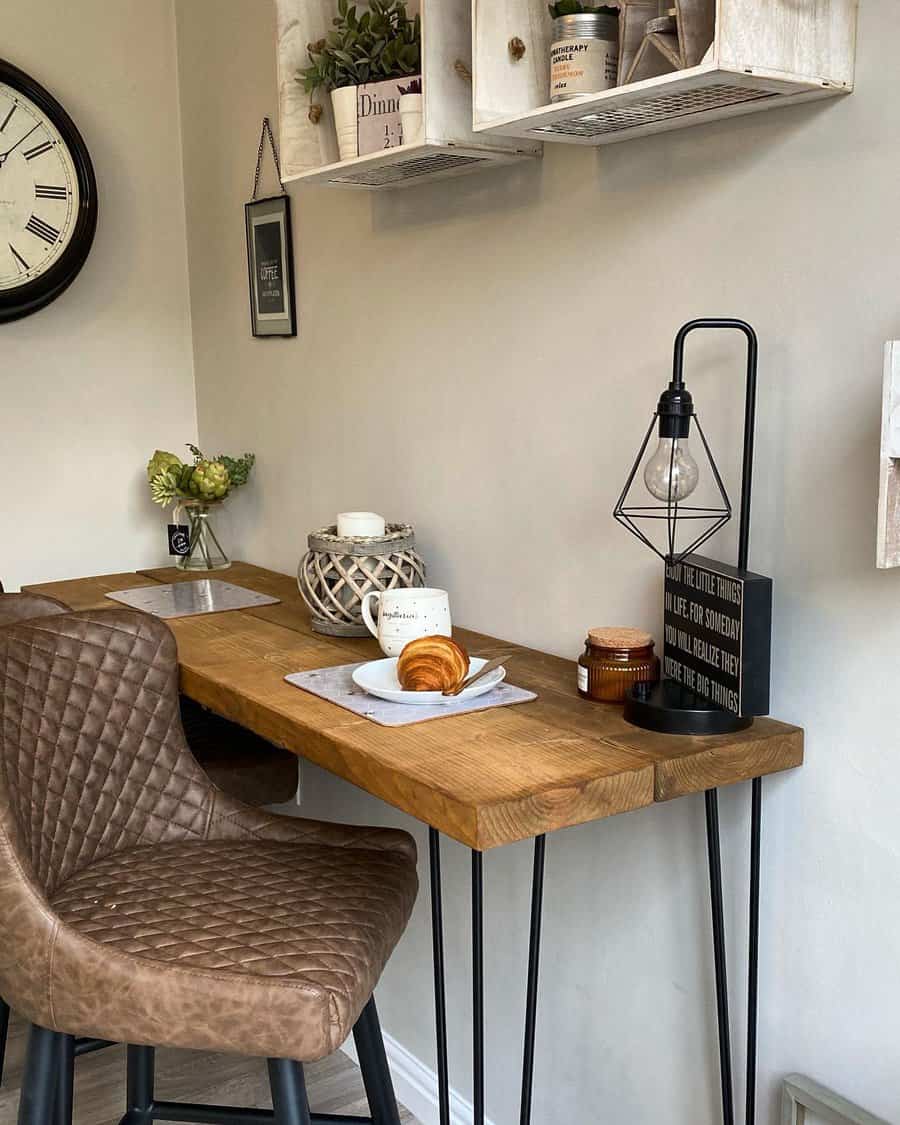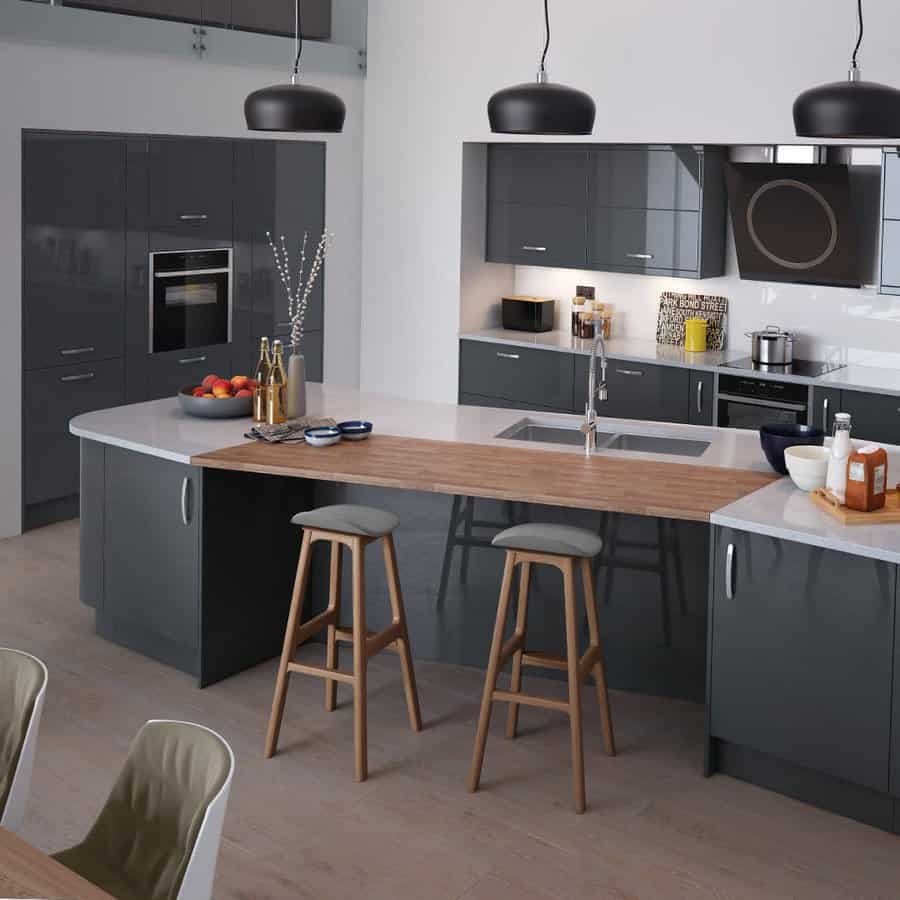 15. Coffee Station
If you're looking to add an extra dose of sophistication to mealtime and breakfast, look no further than adding a breakfast bar! Distinct from the traditional breakfast table, breakfast bars offer a standing-height surface that grants a whole new sense of culinary control.
Why not take it one step further and dedicate part of the breakfast bar to your perfect coffee station setup? Imagine the convenience and finesse of having everything you need for the drip (or Nespresso) pump at your fingertips – all in one great place. With a breakfast bar and with a coffee station, eating breakfast in your kitchen has never been more stylish.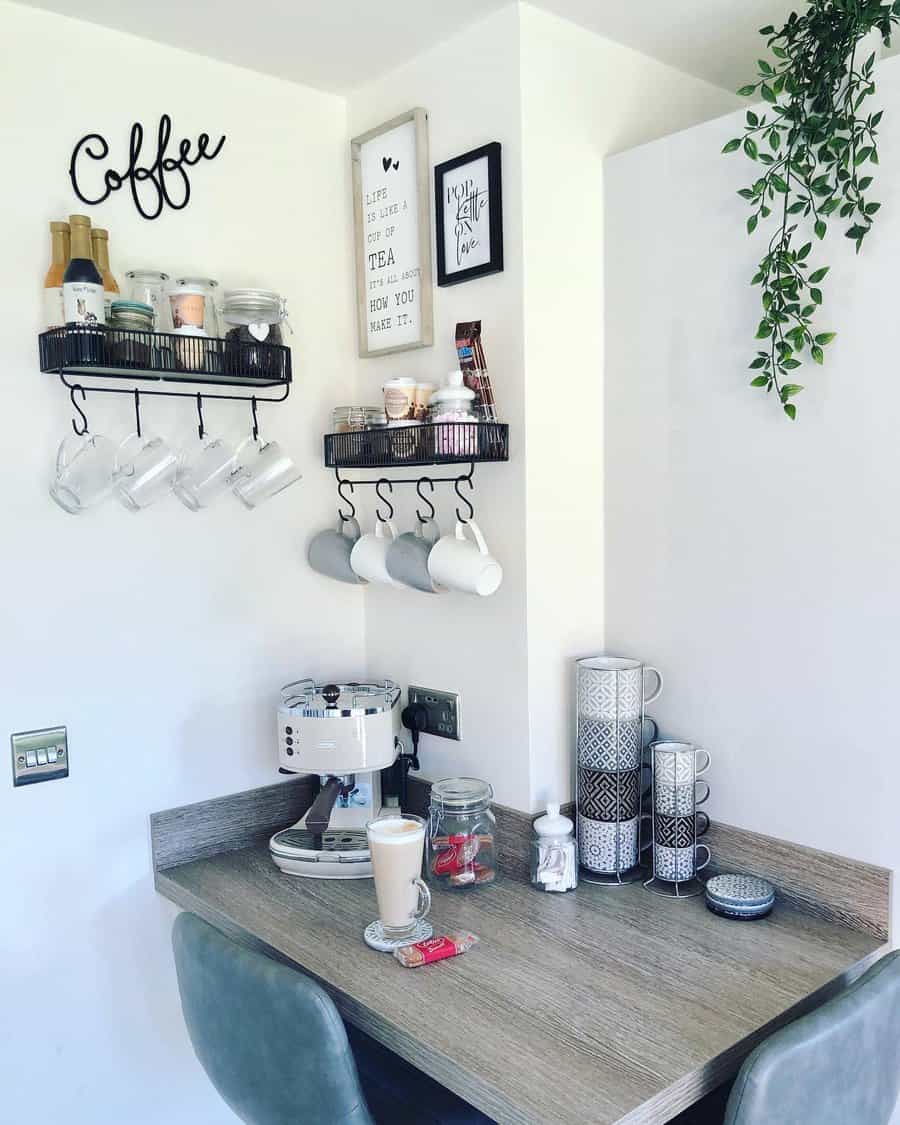 16. Breakfast Nook With Shelf
The wall-mounted breakfast bar with a shelf can be the ultimate way to transform your kitchen! A wall-mounted breakfast bar is a great way to add extra counter space for meal prep and provide extra seating when entertaining. It's easy to set up, too – all you need is wall studs and wall anchors for sure footing.
To further enhance the look of your wall-mounted breakfast bar and shelf, try installing LED lights underneath it for an eye-catching touch. This setup will give your kitchen a chic, modern look that you can enjoy every morning at breakfast or anytime you want to entertain family and friends.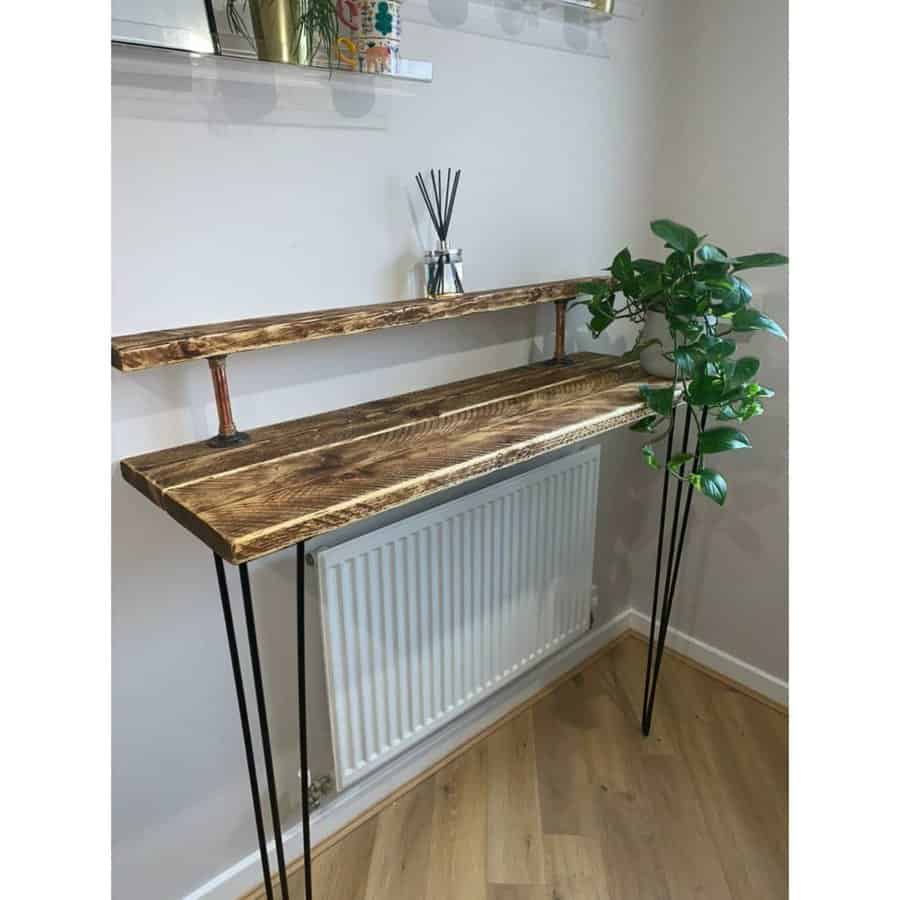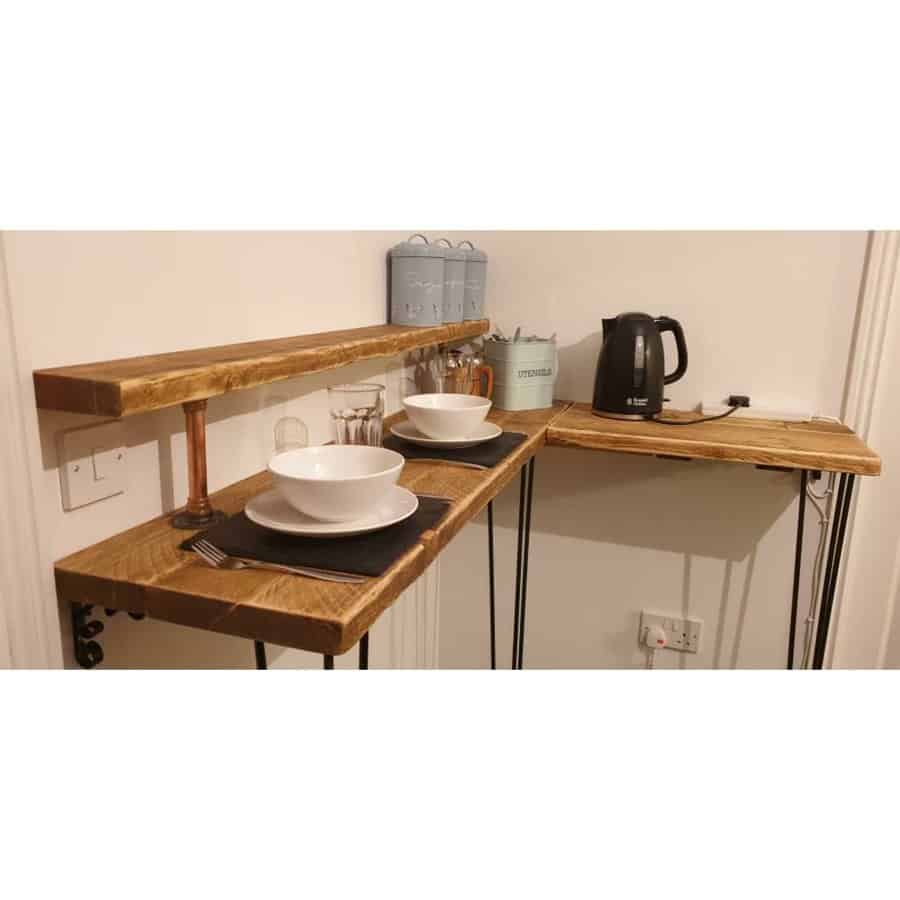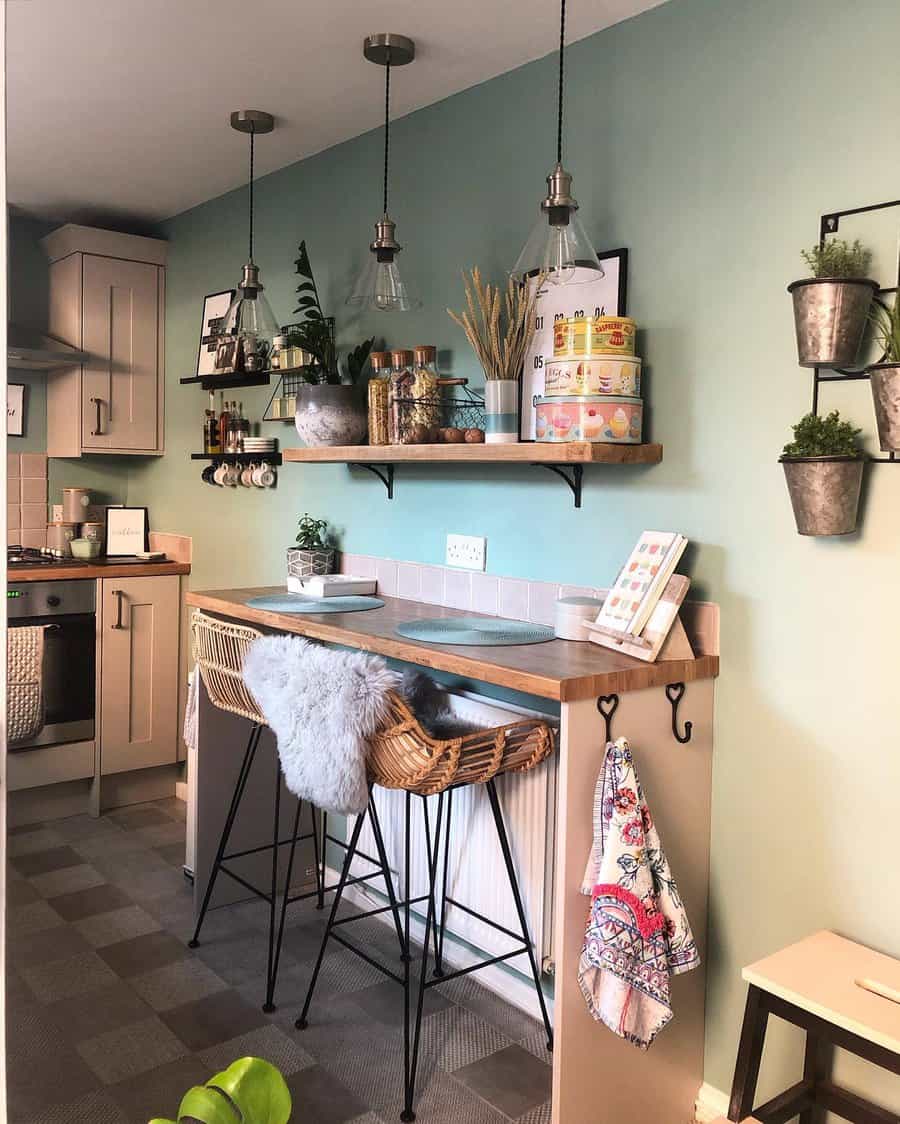 17. Gabion Outdoor Breakfast Bar
Upgrade your outdoor kitchen with the perfect outdoor breakfast bar. A gabion breakfast bar not only looks great but also provides a creative way to create natural outdoor seating. Build it around the outdoor kitchen and you've got the perfect spot for friends and family to hang out while turning up the grill.
Plus, an outdoor gabion breakfast bar is made from weather-resistant rocks which gives it a unique look that will last for years to come. So if you're looking for something unique to spruce up your outdoor kitchen, consider creating one of these stunning outdoor bars!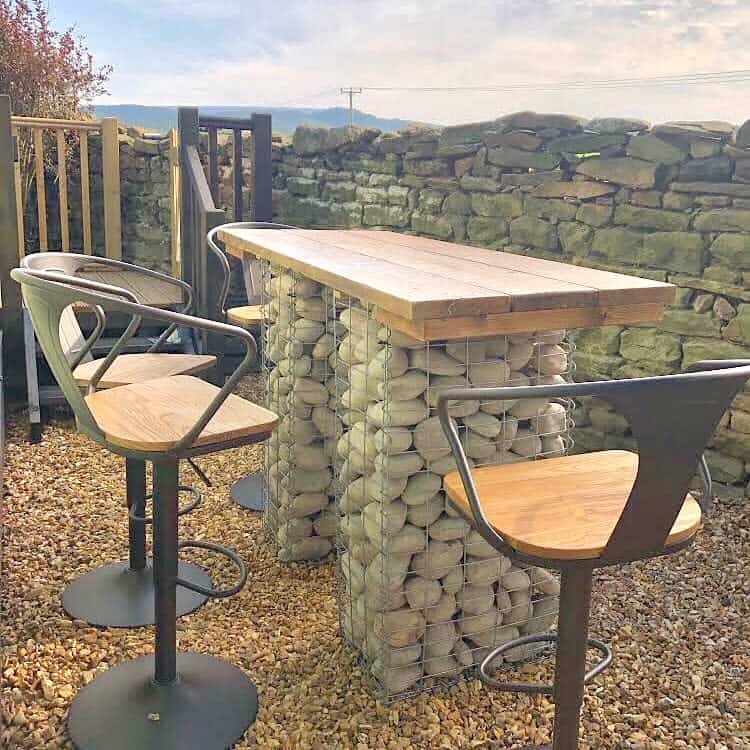 18. Single Breakfast/Cocktail Table
A single breakfast or cocktail bar is the perfect finish for any great kitchen. If you're looking for an eye-catching conversation piece that also adds a functional boost to your design, consider adding a single breakfast or cocktail bar.
In addition to providing more counter space, it can be used as a multi-purpose seating area – with backless stools, it's great for grabbing a casual bite or entertaining guests. Not only will it bring people together, but the luxurious feel of a single breakfast or cocktail bar will give your kitchen an updated style without breaking the bank.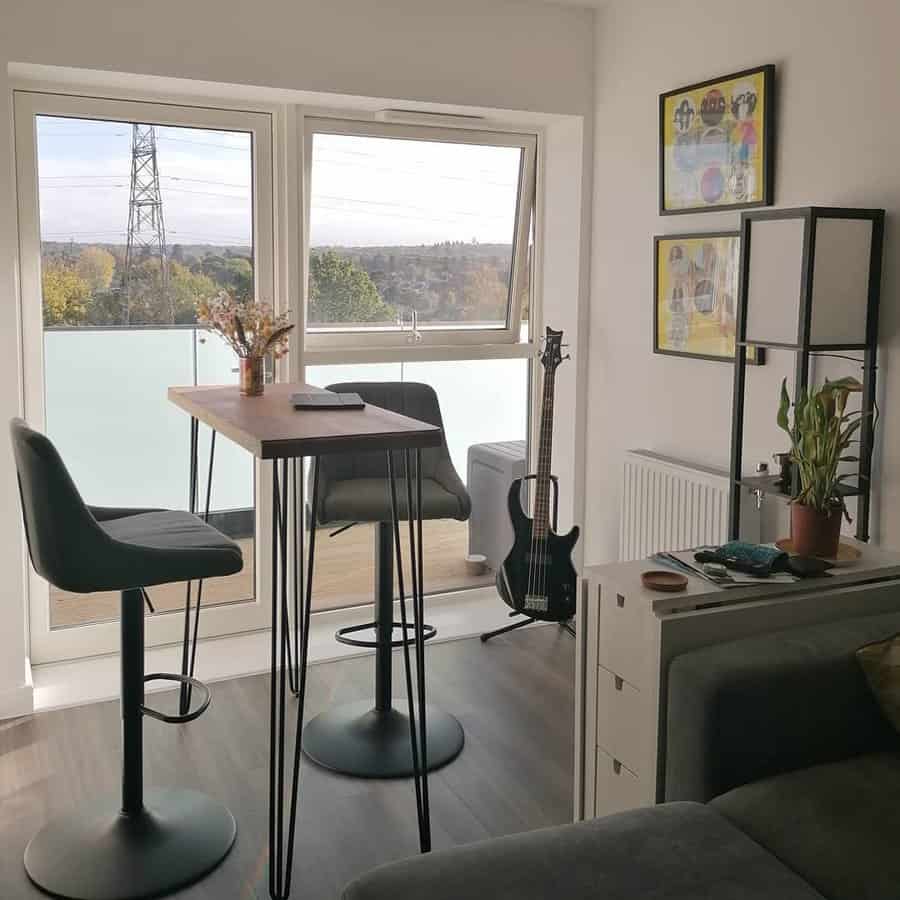 19. Wooden Slab
For a truly unique look in your kitchen, transform your counter area with a wooden slab breakfast bar! Create a chic and modern aesthetic for your kitchen without the need to spend your entire budget replacing the entire countertop. It is easy to do yourself using treated wooden slabs of various thicknesses as the base for a one-of-a-kind slab countertop.
The wooden breakfast bar will stand out as the most eye-catching element in any style space, while also allowing you to easily customize it with whatever wood species or stain you choose. Creative and budget-friendly, wooden slabs are an excellent way to add an extra wow factor to any kitchen!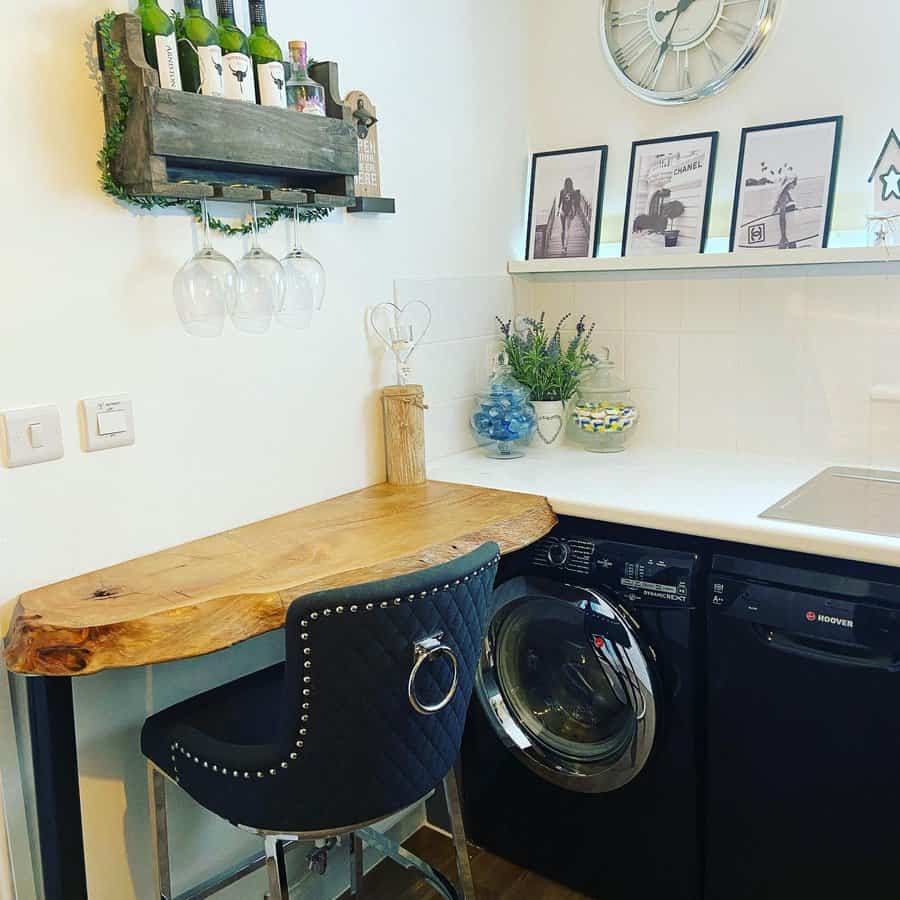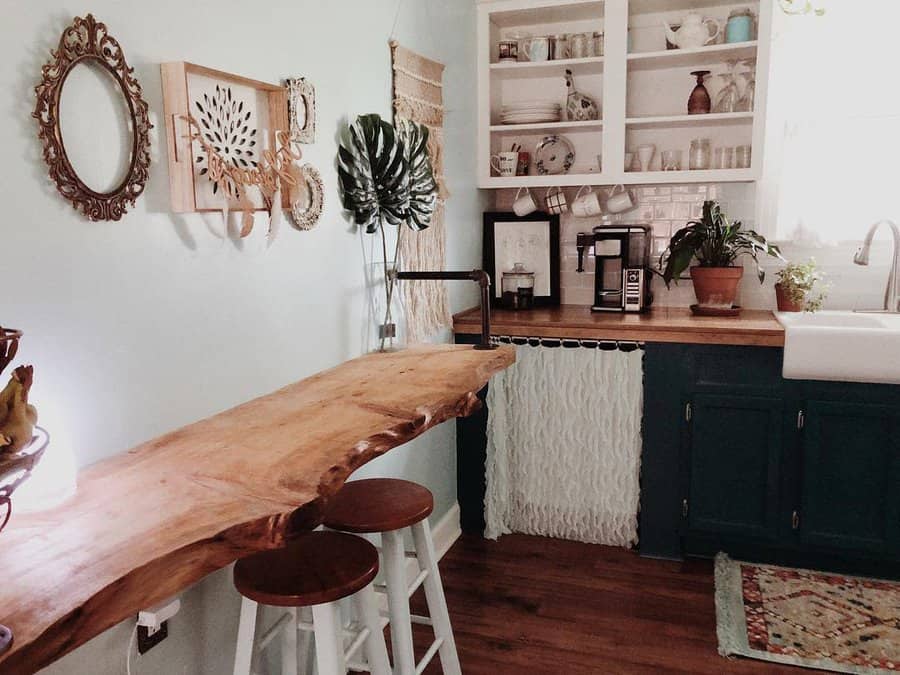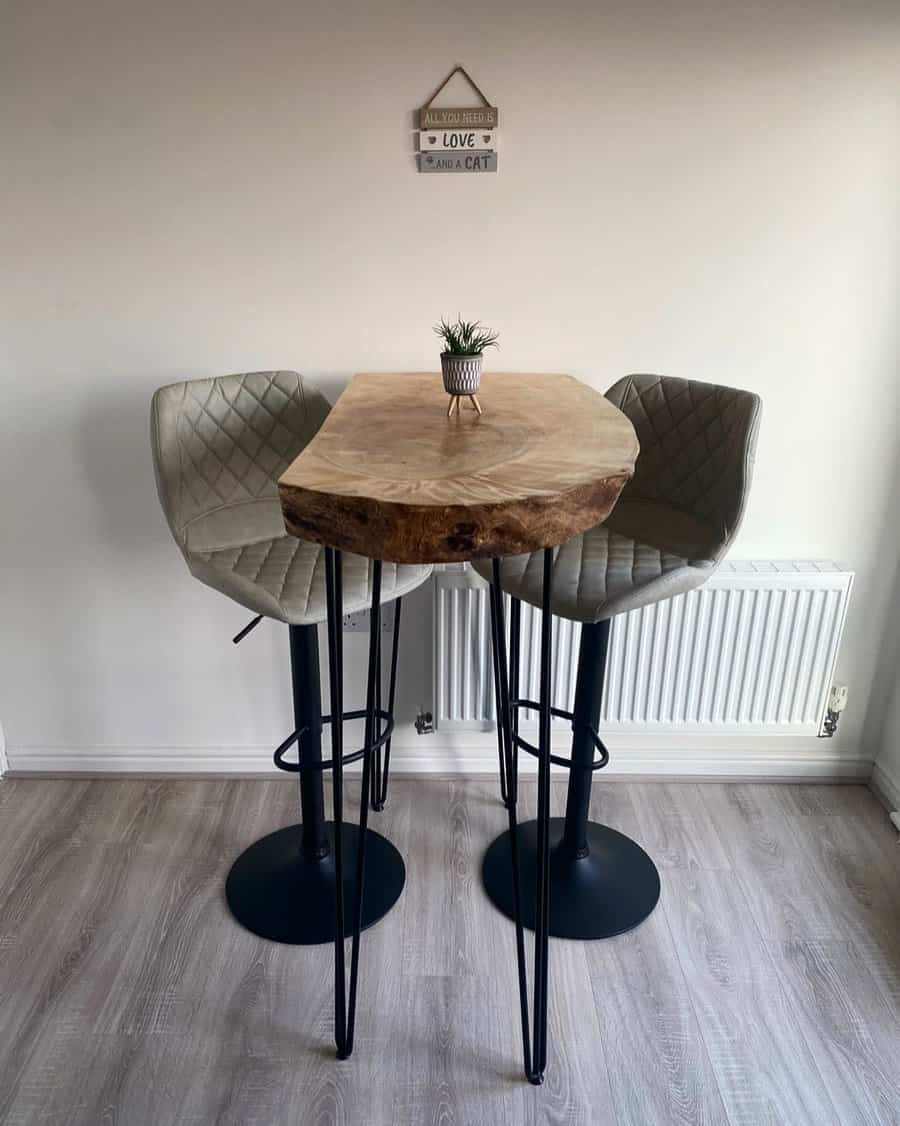 20. White Breakfast Nook
Want to add a bit of brightness to your kitchen? A white breakfast nook is a perfect way to do it! Having white walls, white chairs, and a white table creates a dazzling effect of classic simplicity. Decorate your white canvas with bright accessories such as vibrant flowers or multi-colored dishes.
By adding a white breakfast bar, you'll bring life to your kitchen and create an inviting space for you and your family as you enjoy meals together in the morning.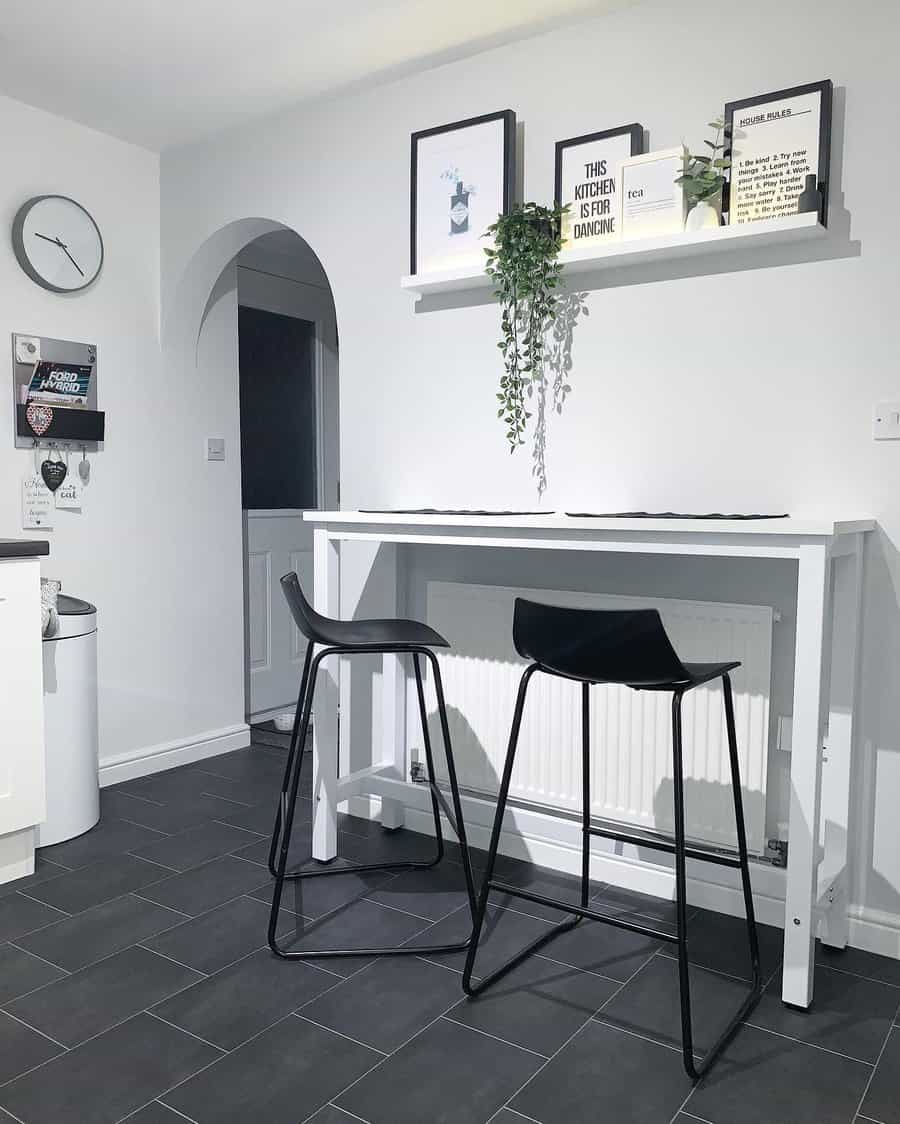 21. Breakfast Station With Under-The-Table Storage
Spruce up your kitchen and make it warm, inviting, and practical with a wall-mounted breakfast bar! Not only will this create extra counter space for all of your small appliances and baking needs, but the fun doesn't stop there.
With under-the-table storage, you'll have enough seating for everyone while having easy access to your coffee mug in the morning. Enjoy a delicious start to your day knowing everything has its place!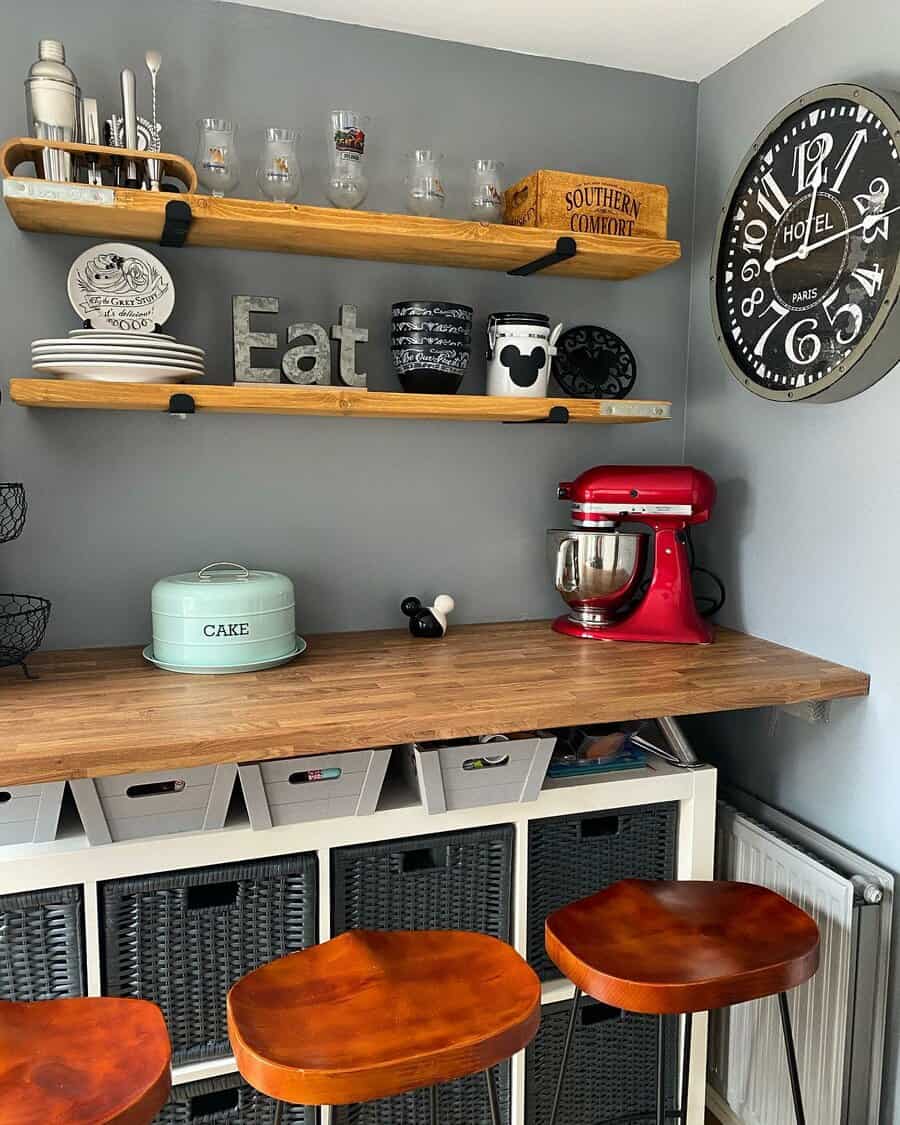 22. Breakfast Bar With Accent Wall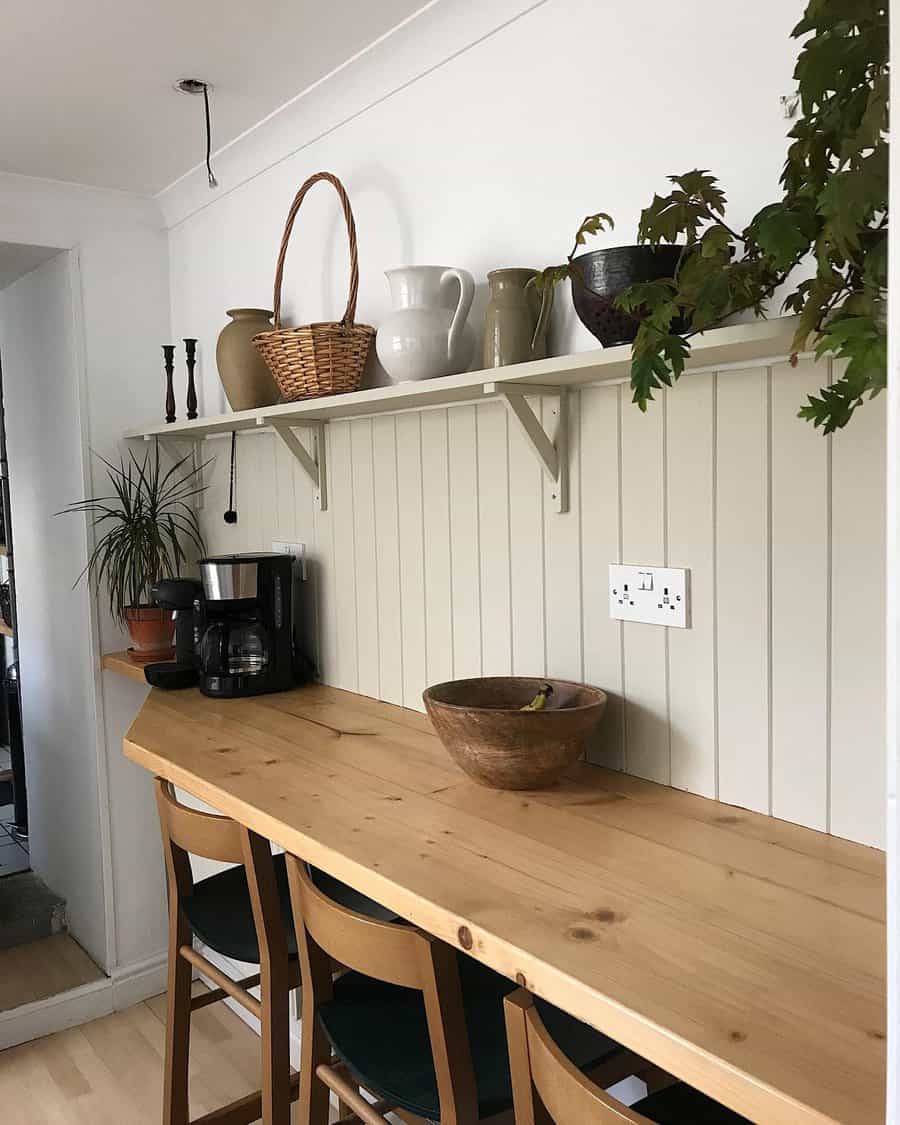 23. Windowsill Breakfast Bar
Do you have windows in your kitchen? If so, convert it into a windowsill breakfast bar! You can turn your windowsill into the best spot to enjoy your morning cup of coffee or bowl of cereal while also basking in the sun's rays.
In addition to providing natural light and warmth, injecting some sunlight therapy into your day can also positively impact mental well-being.
To prevent sun glare on certain days, add a light-colored curtain that will diffuse the light into a softer glow. With all these ideas, you have the perfect windowsill breakfast bar!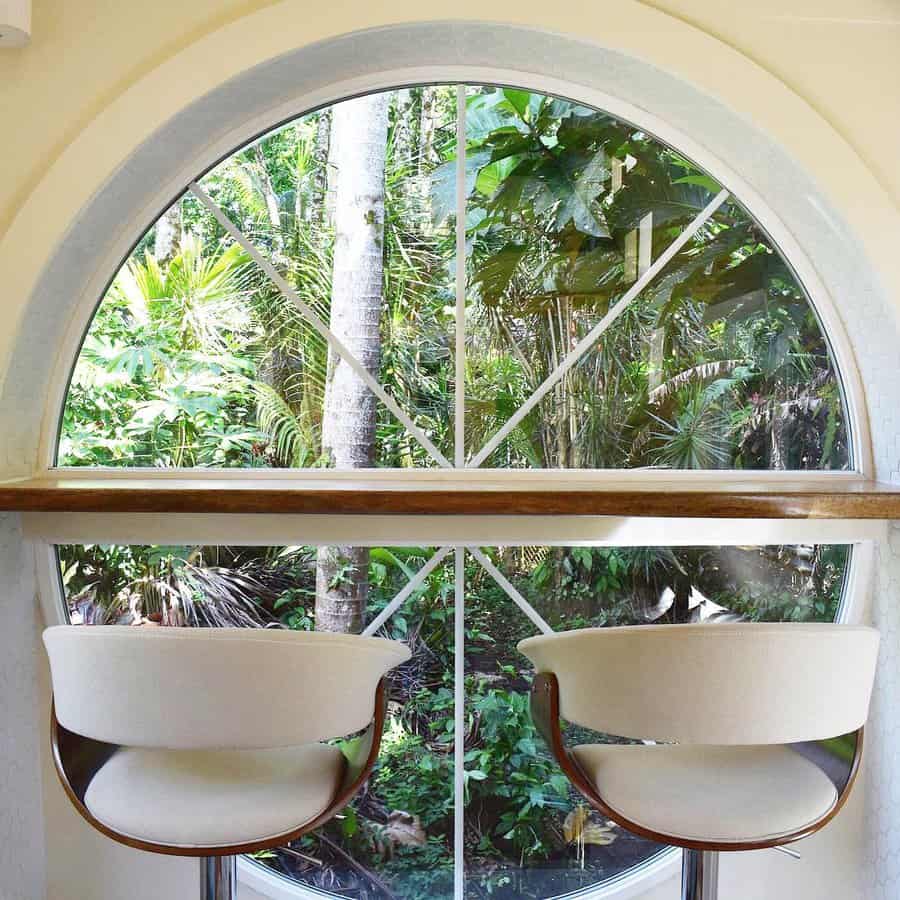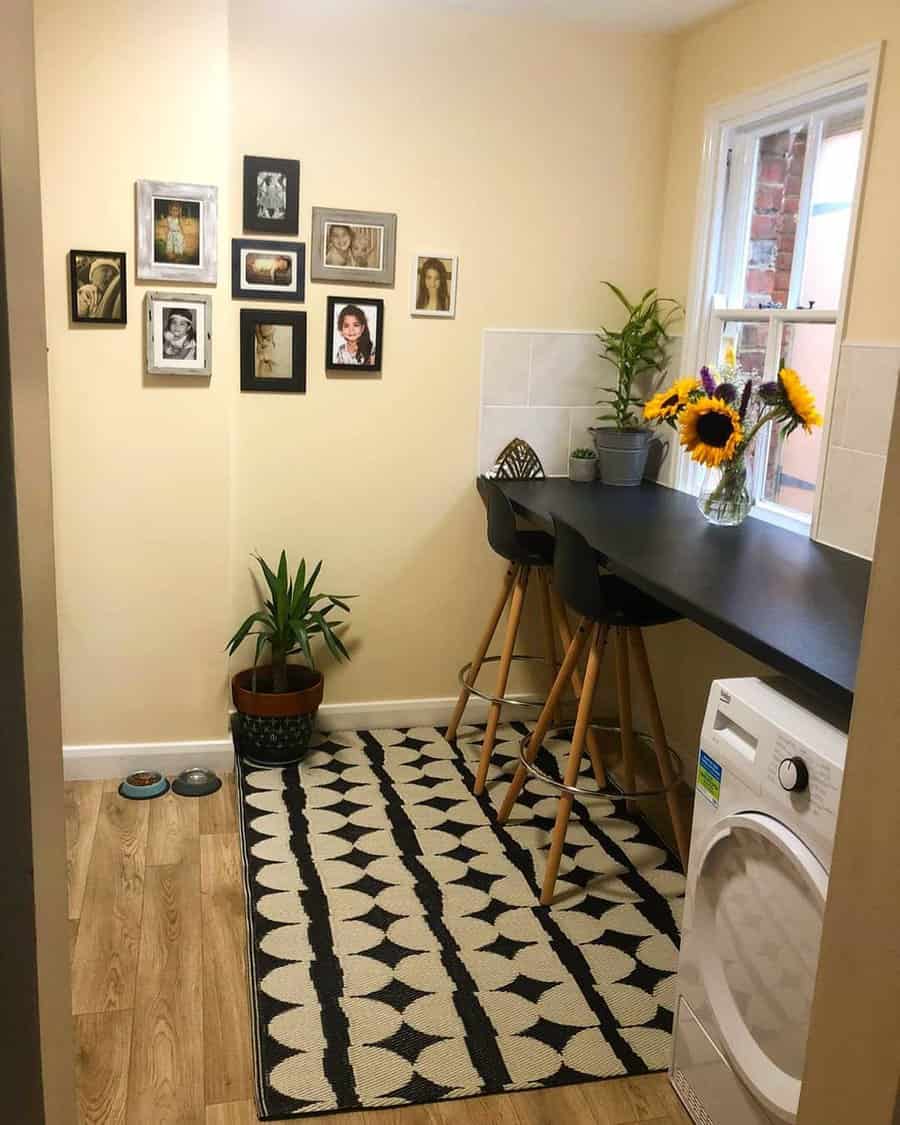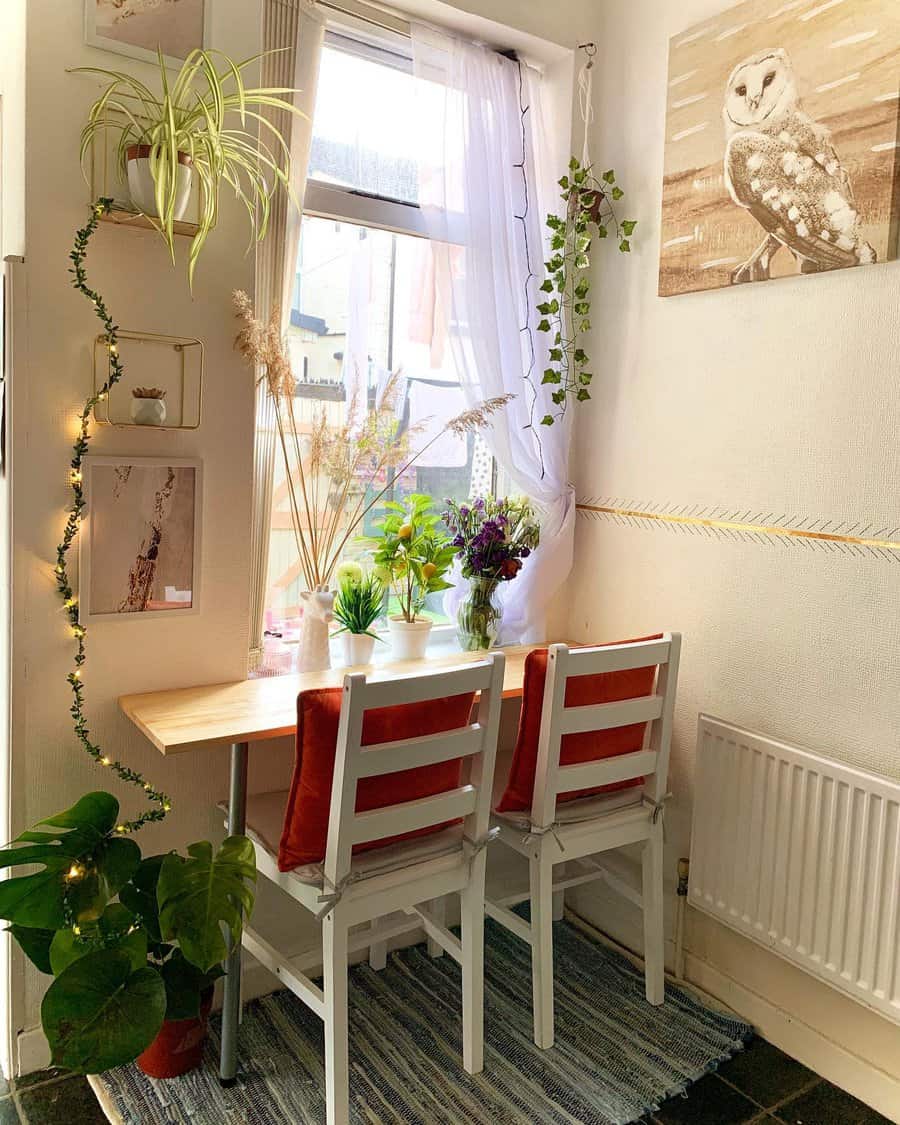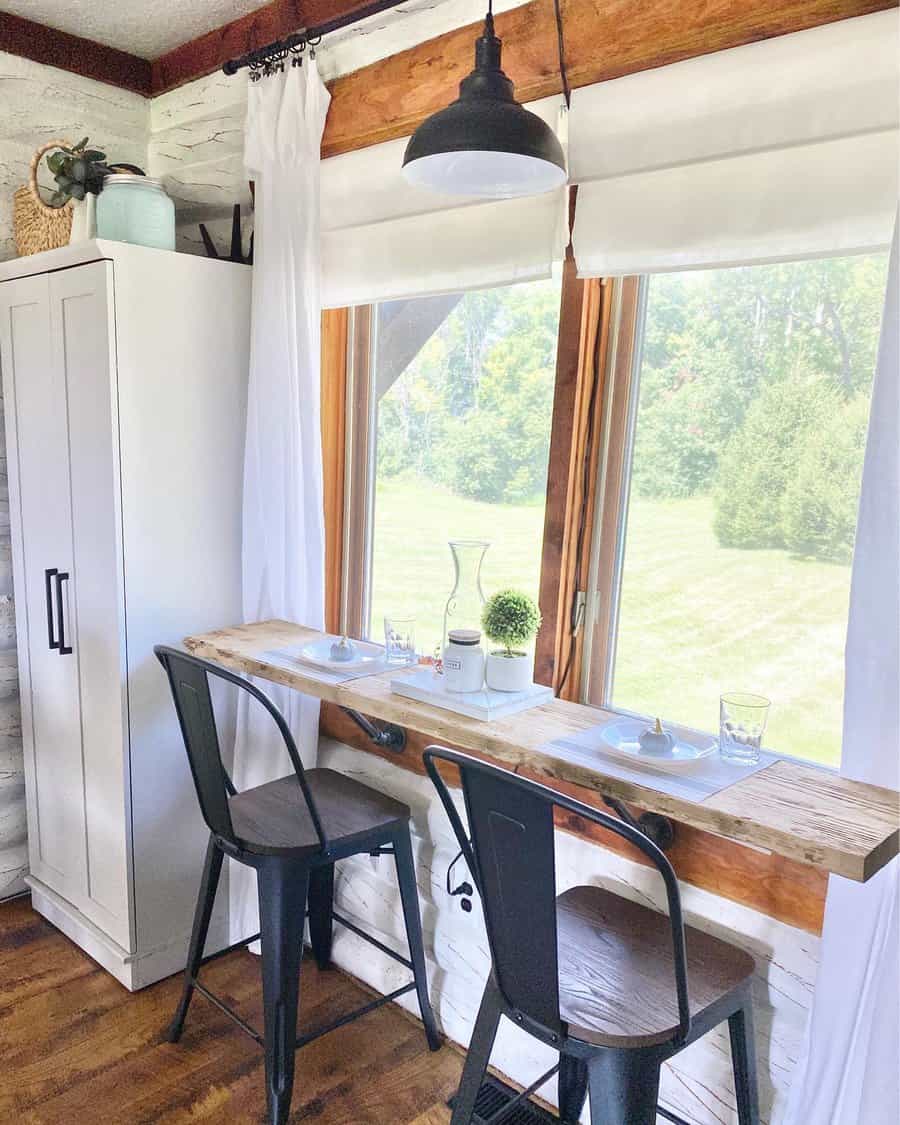 Breakfast Bar FAQs
How do you decorate a kitchen breakfast bar?
A few elements can turn a breakfast bar from boring to beautiful. Hang attractive pendant lights over the bar and undermount LED lights beneath the countertop. Use a colorful bowl of fresh fruit or a vase of cut flowers as a centerpiece. Keep it simple, but splurge on high quality, great looking bar stools.
What is the normal overhang for a breakfast bar?
An average overhang is between 10 and 12 inches. This allows most people enough knee room below and enough dining space on top.