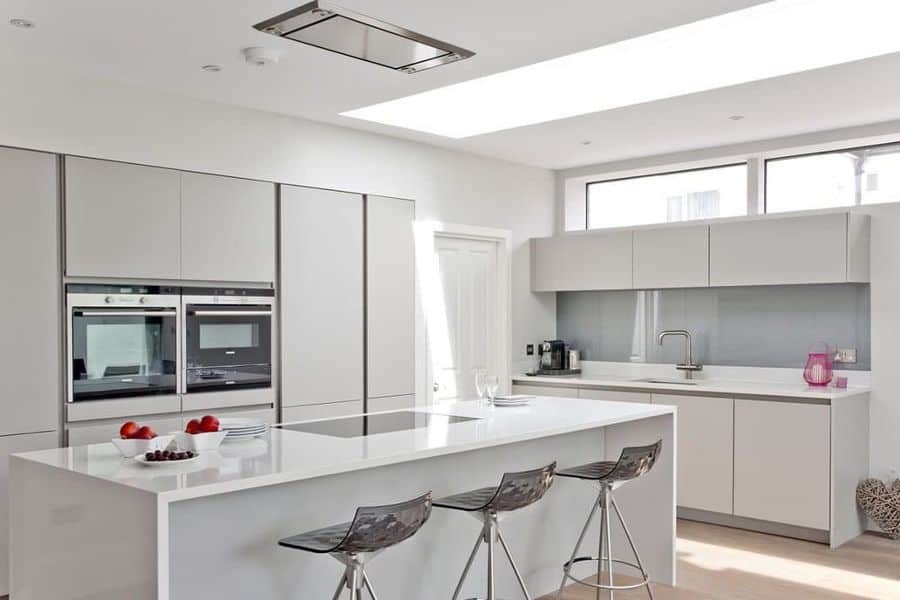 78 Kitchen Breakfast Bar Ideas
"Life, within doors, has few pleasanter prospects than a neatly-arranged and well-provisioned breakfast table." – Nathaniel Hawthorne, The House of the Seven Gables
A modern take on the breakfast nook, today's breakfast bar ideas have reinvented where people consume the most important meal of the day.
A breakfast bar can also provide additional kitchen storage and workspace. It's often the most popular place in the house for families and guests to linger over a light meal any time of day.
We've curated an impressive collection of some of the best breakfast bar ideas around. Take a look and gain inspiration for creating your own kitchen breakfast bar haven.
1. Attached to Counter
You can make a breakfast bar by adding a 10-to-12-inch overhang to an existing kitchen counter.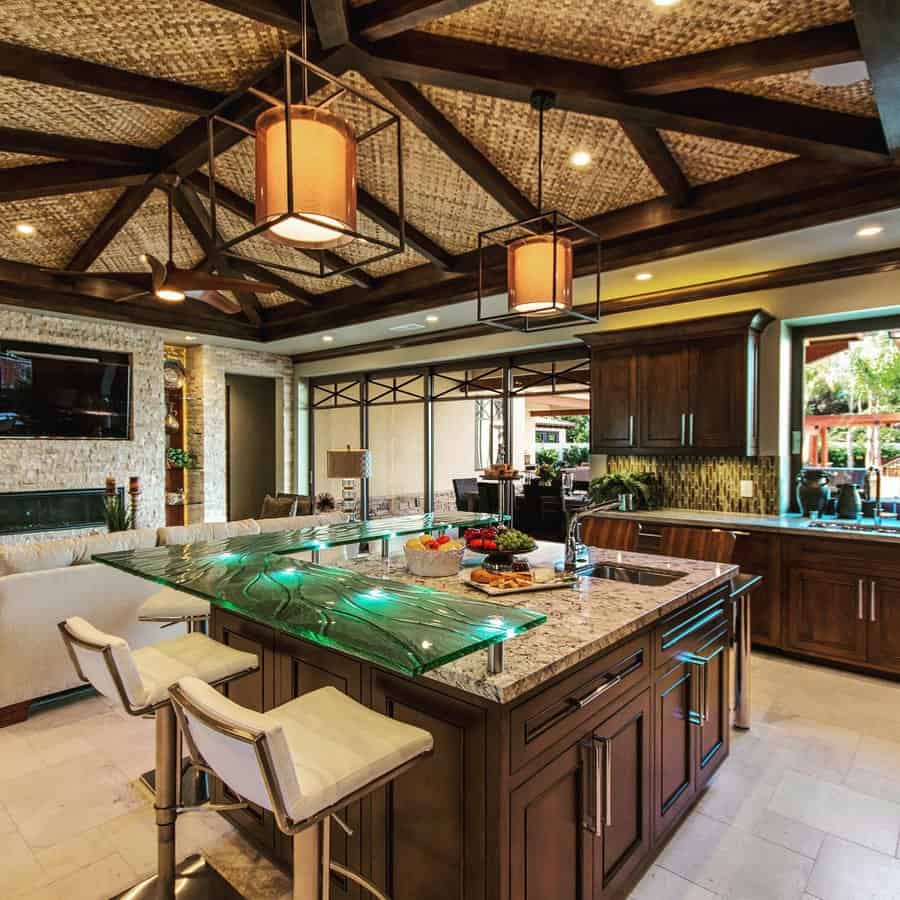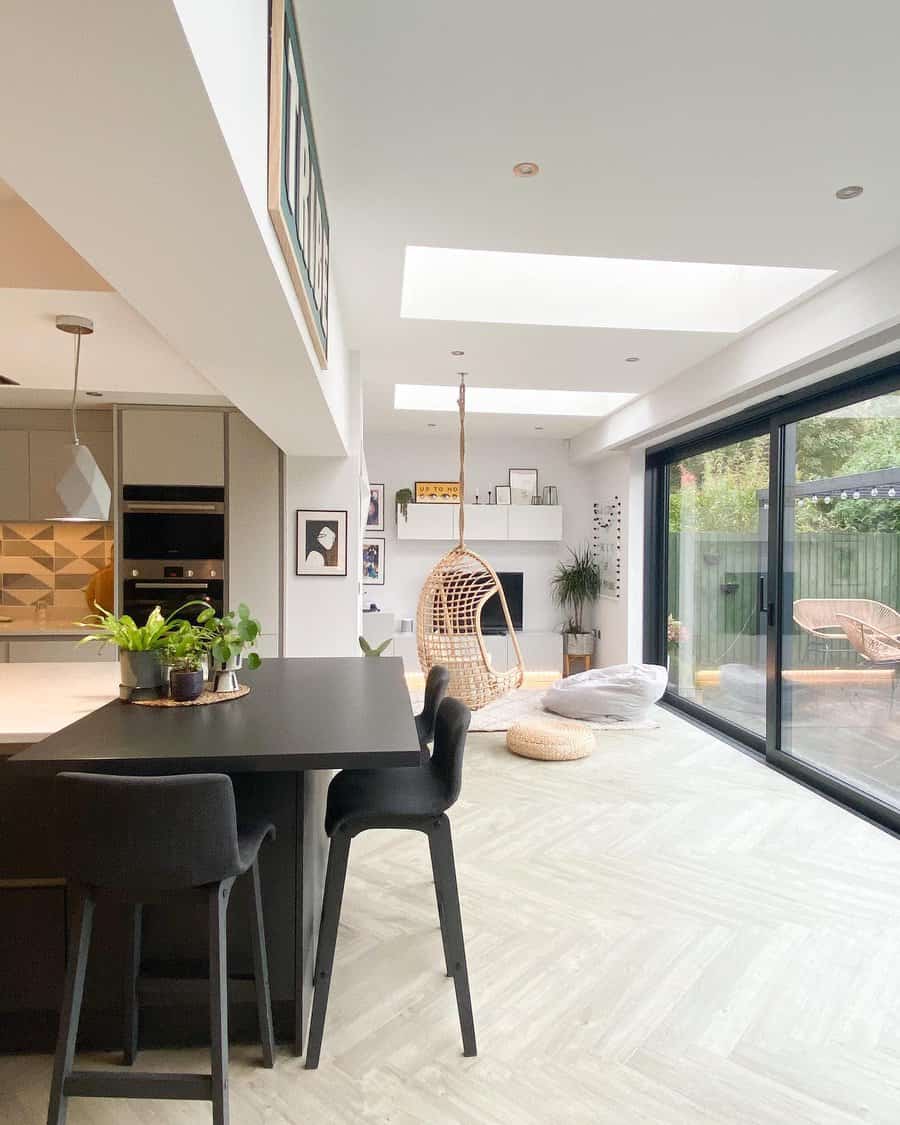 As shown in the following video, you can also build a structure on the back side of an existing kitchen cabinet and countertop.
While this is a lengthy video series, it will help you see if your DIY skills are strong enough to tackle this project:
If you have room, integrate a breakfast bar into a kitchen island plan. For an eye-catching breakfast bar, make the countertop a contrast to the rest of the kitchen's surface materials. For example, use a different color of marble or even butcher block. Tuck a few barstools under the countertop and you have the perfect place for casual dining.
2. Breakfast Bar Stool
An essential part of any breakfast bar, finding the perfect bar stool may seem elusive. Because your family and friends are likely to use this area more than your dining table, comfort should be your first consideration.
A cushioned and upholstered stool is usually more comfy than wooden bar stools. However, if you have small children, you may prefer the easy cleanability of a hard surface.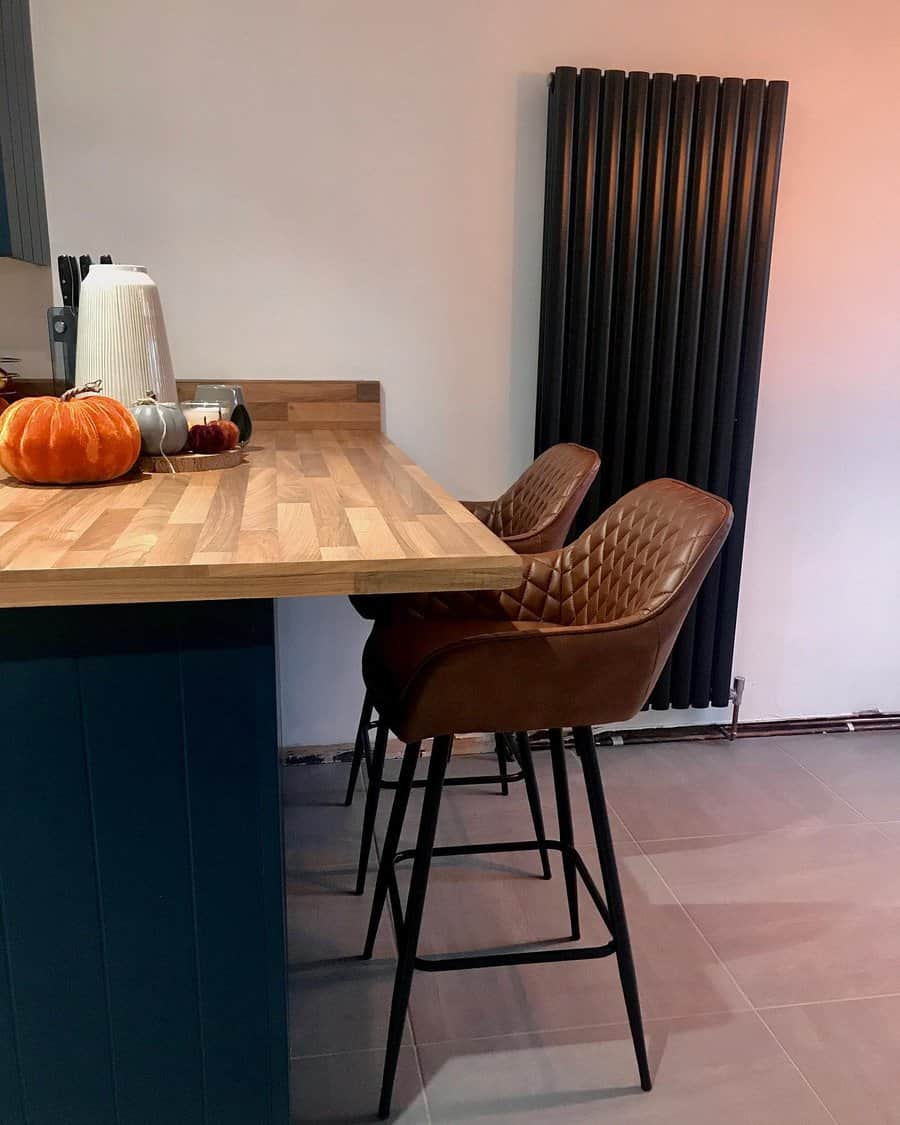 If space is an issue, choose backless bar stools so they can fully tuck under the bar. That way your walkway remains completely clear. While you want your barstools to be sturdy, check their weight before purchasing. Some can be surprisingly heavy, making it difficult for small children or the elderly to slide them in and out.
3. Corner
If you think you don't have room to make your breakfast bar ideas come to life, look in the corner. Any dining room or open kitchen corner can be turned into a breakfast bar with the addition of a simple shelf.
Install a 12" deep breakfast bar shelf between 40 and 42 inches above the floor, or whatever size fits into your designated corner.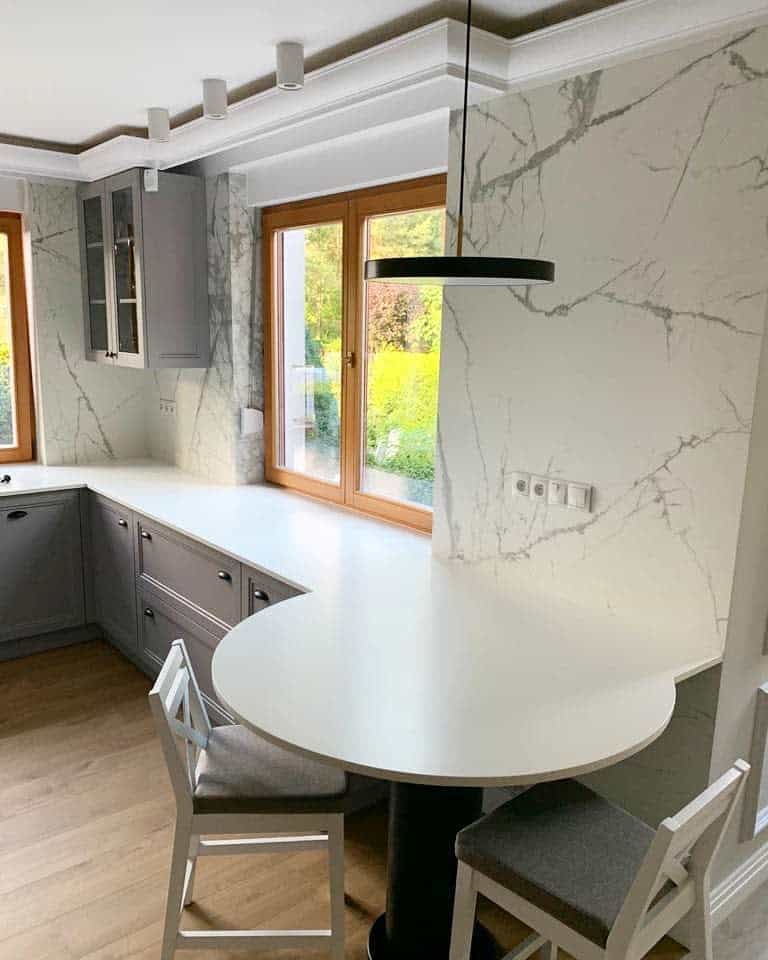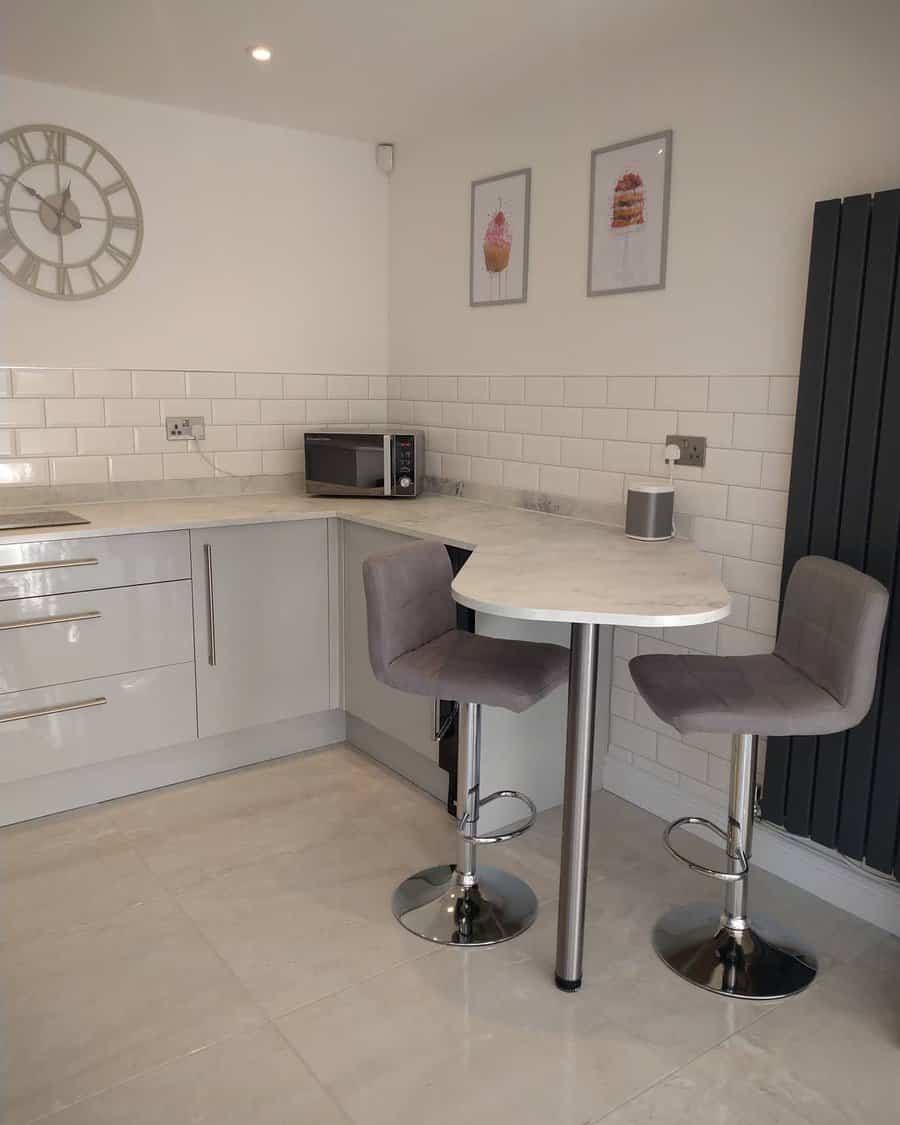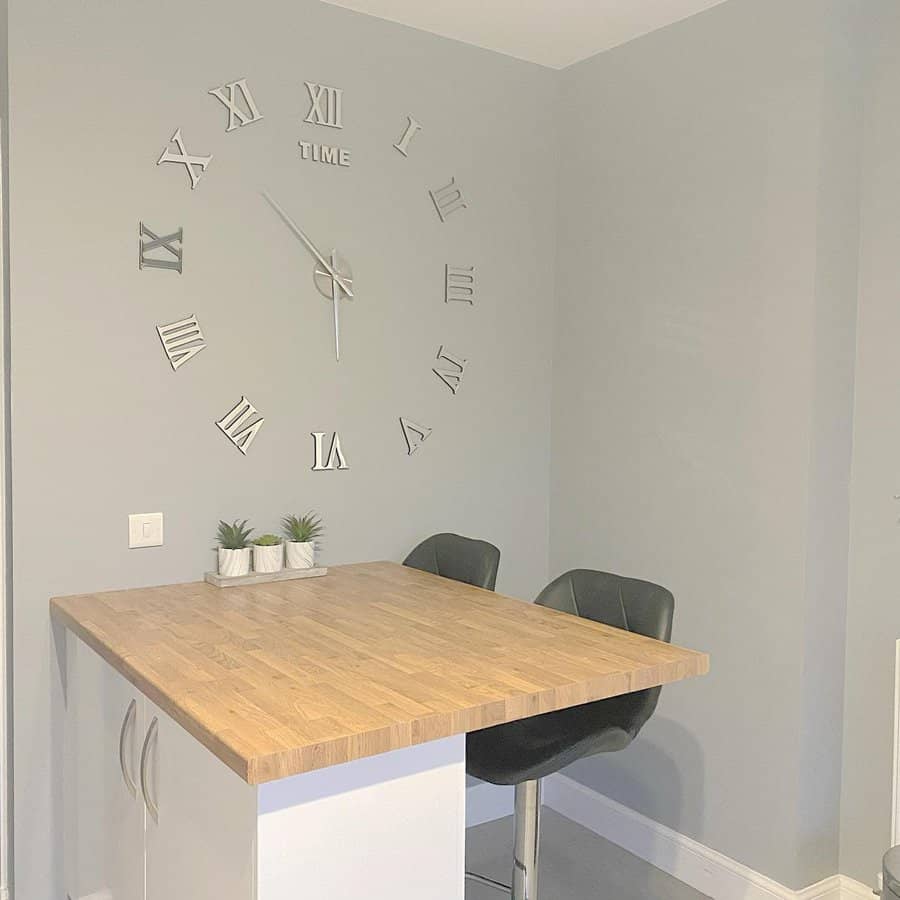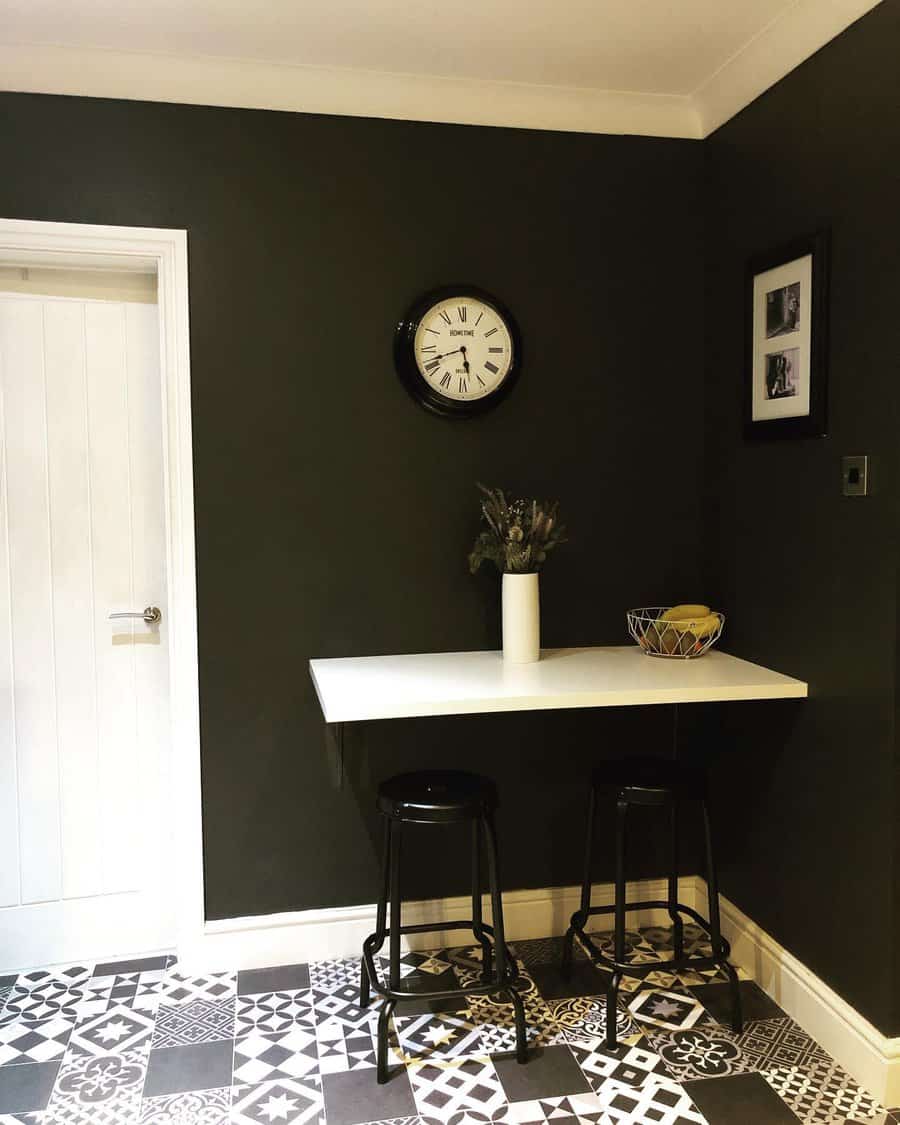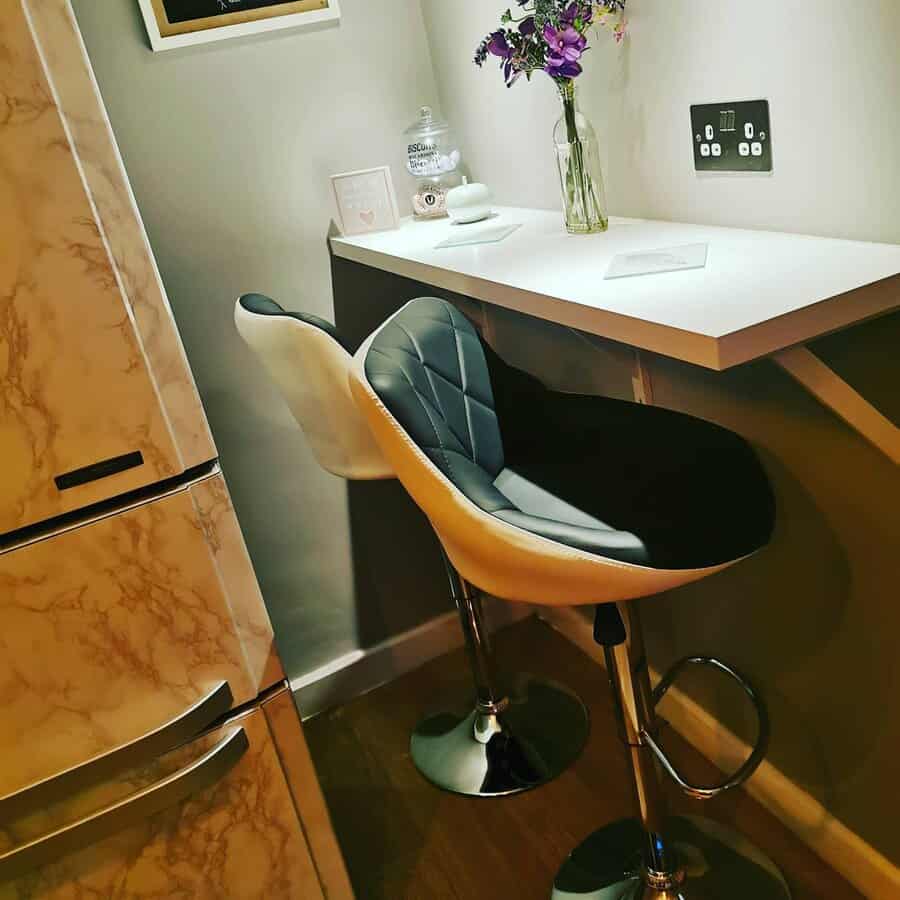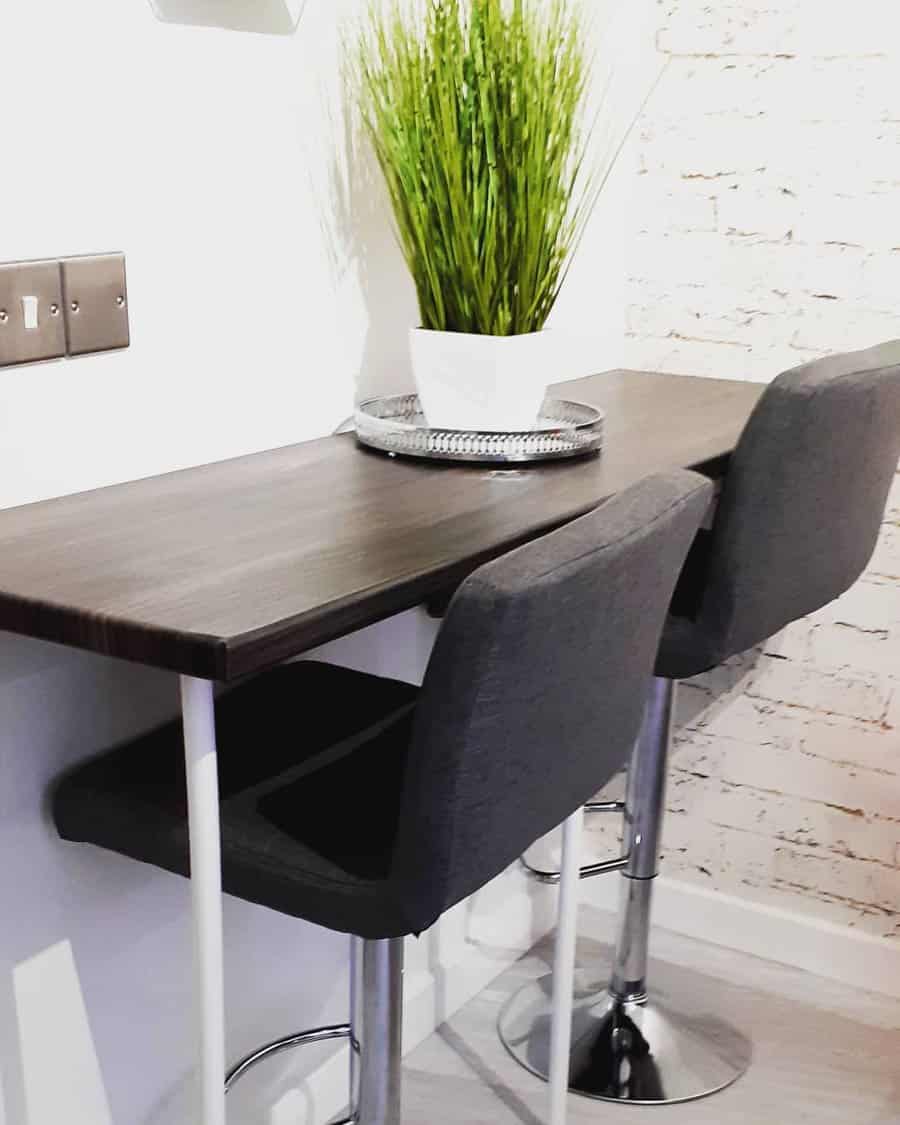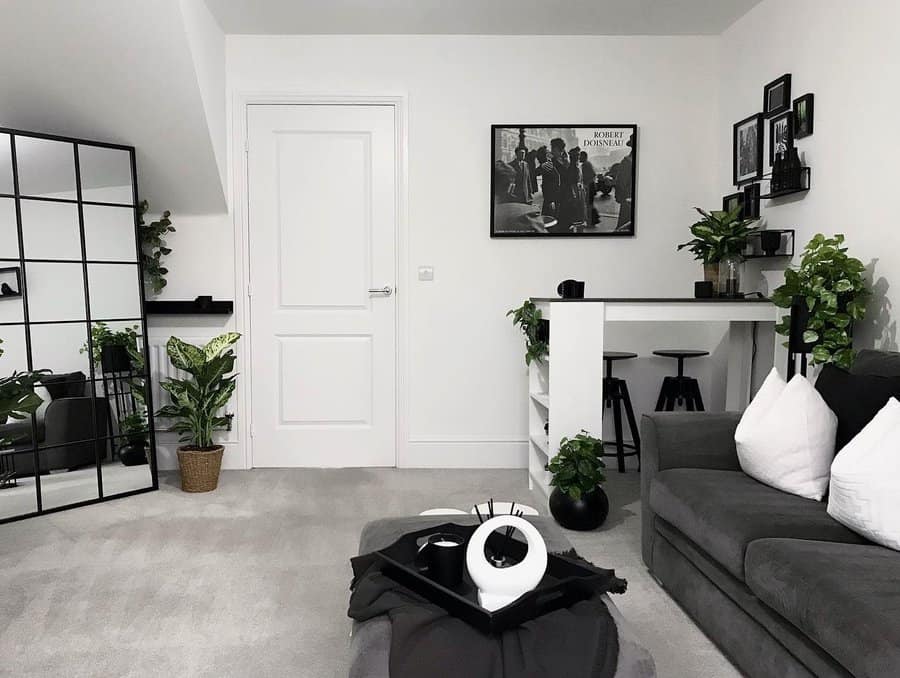 A fold-down kitchen bar is another option when space is exceptionally tight. Purchase folding wooden stools and you have a "Murphy" dining space that can be put up and stowed away as needed. Include a light fixture that illuminates the worktop, as corners tend to be dark.
4. Cutout or Half Wall
The front side of a wall cutout is a great place to locate a functional kitchen bar. Park a freestanding kitchen island in front of the cutout and slide bar stools beneath.
You can also hire a builder to install a shelf that extends through the cutout and into the living room or dining room 10 to 12 inches. The extra barstool seating will be welcome the next time you entertain.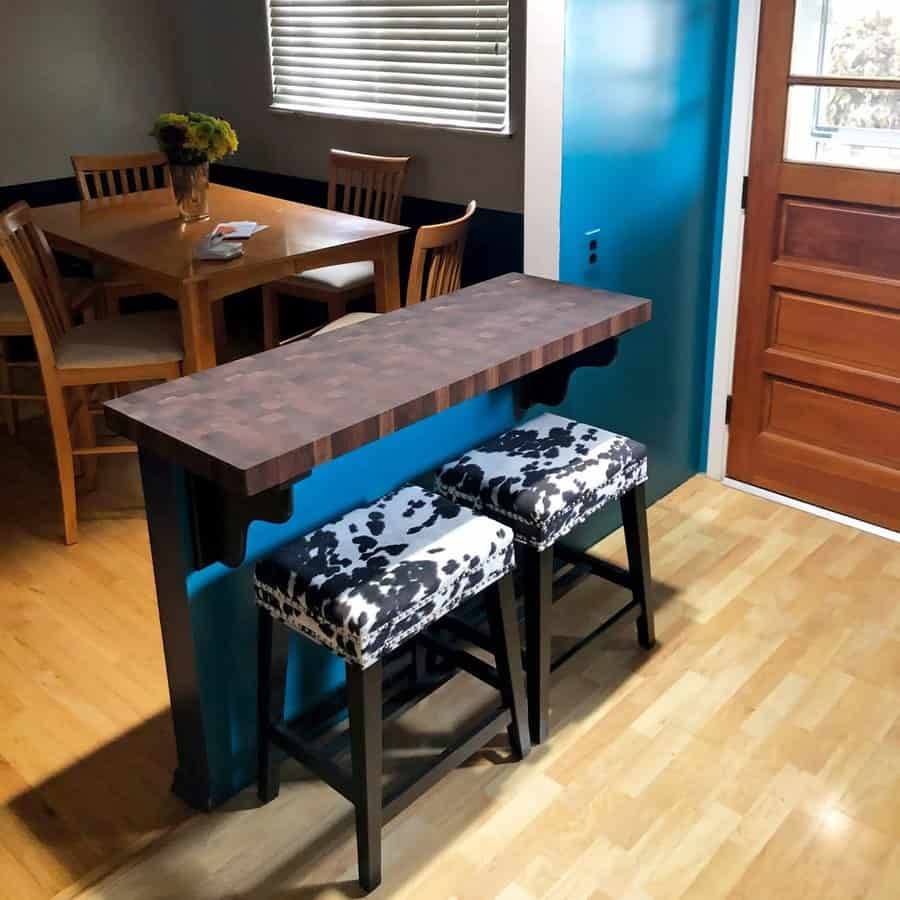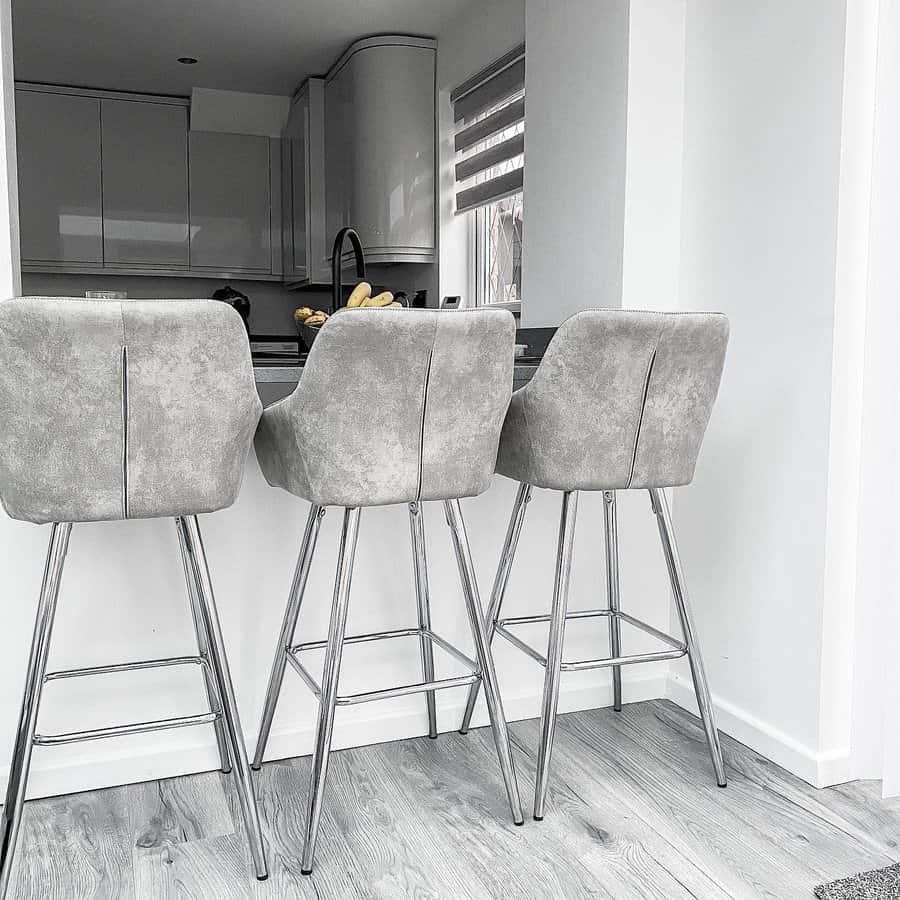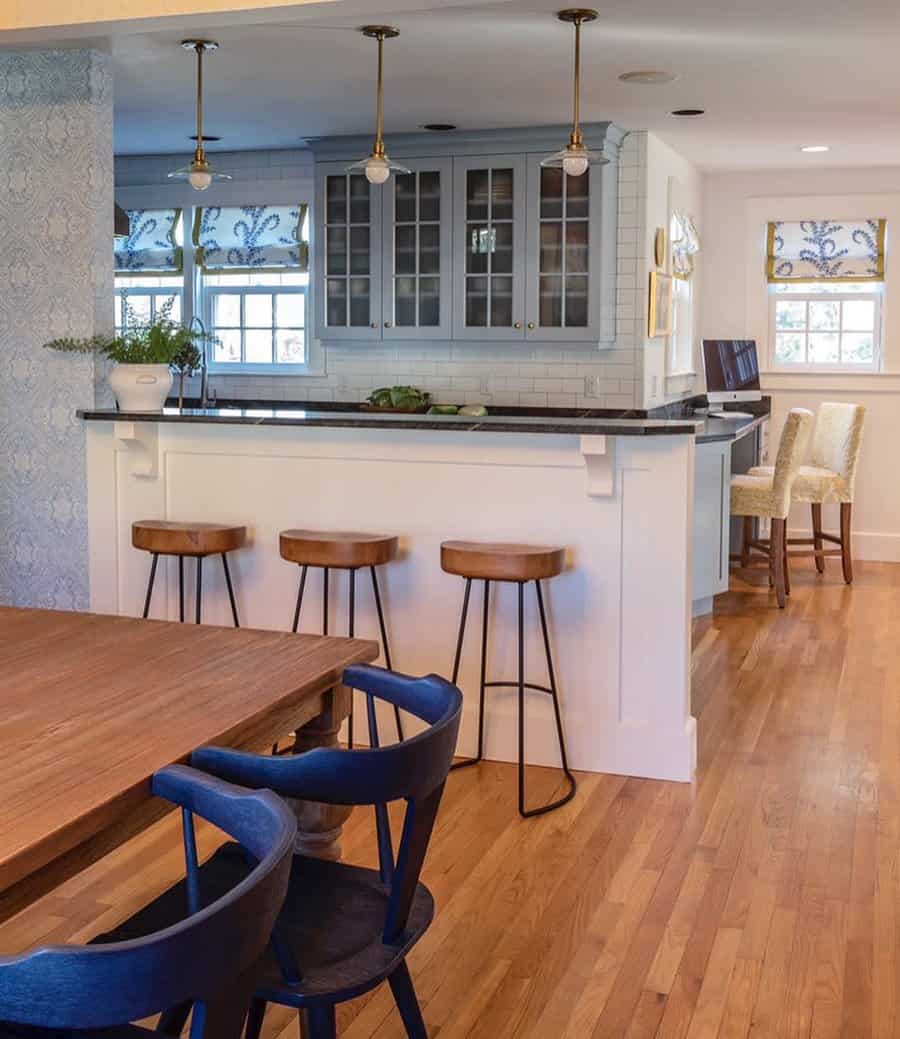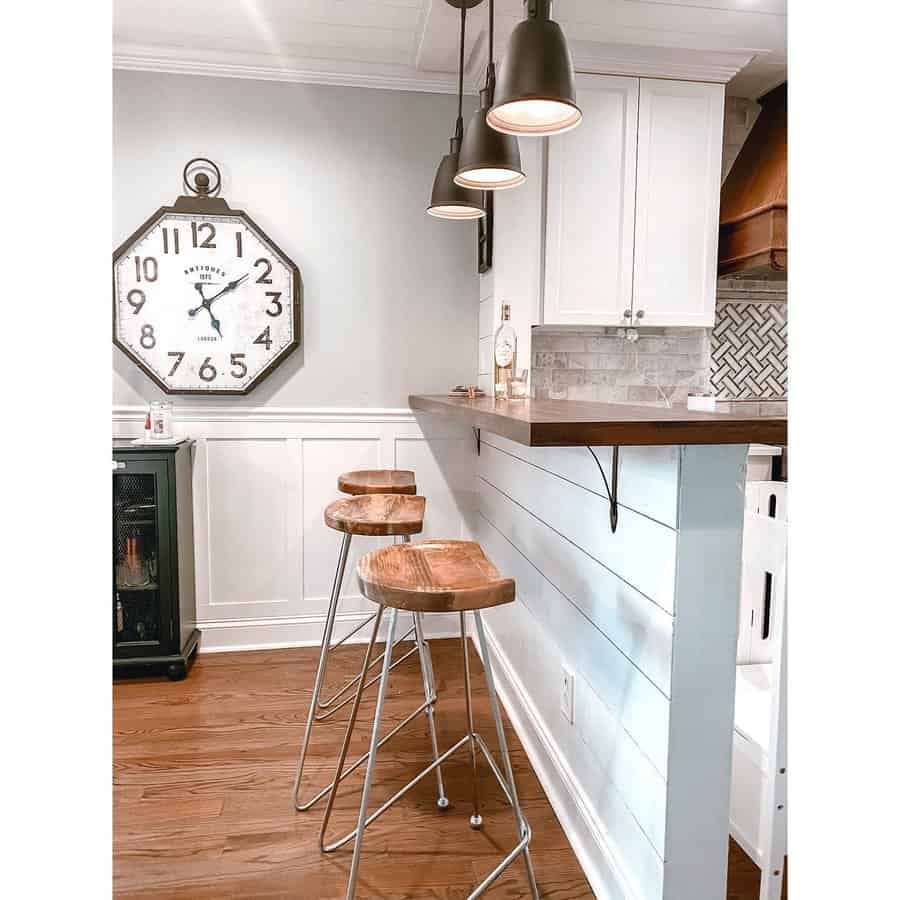 If you have a half wall in your dining room or kitchen area, its top is another great location for a raised breakfast bar. Build it up if you need to reach the standard 40" to 42" bar height.
Adding a countertop to your half wall multiplies your available counter space, making additional room for a coffee maker or other small appliances.
5. Farmhouse
Turn a kitchen island into a farmhouse breakfast bar with the addition of shiplap and a butcher block countertop. Shaker cabinets work well as part of a farmhouse breakfast bar island. Paint the island white, black or a muted, earthy pastel to keep true to farmhouse style.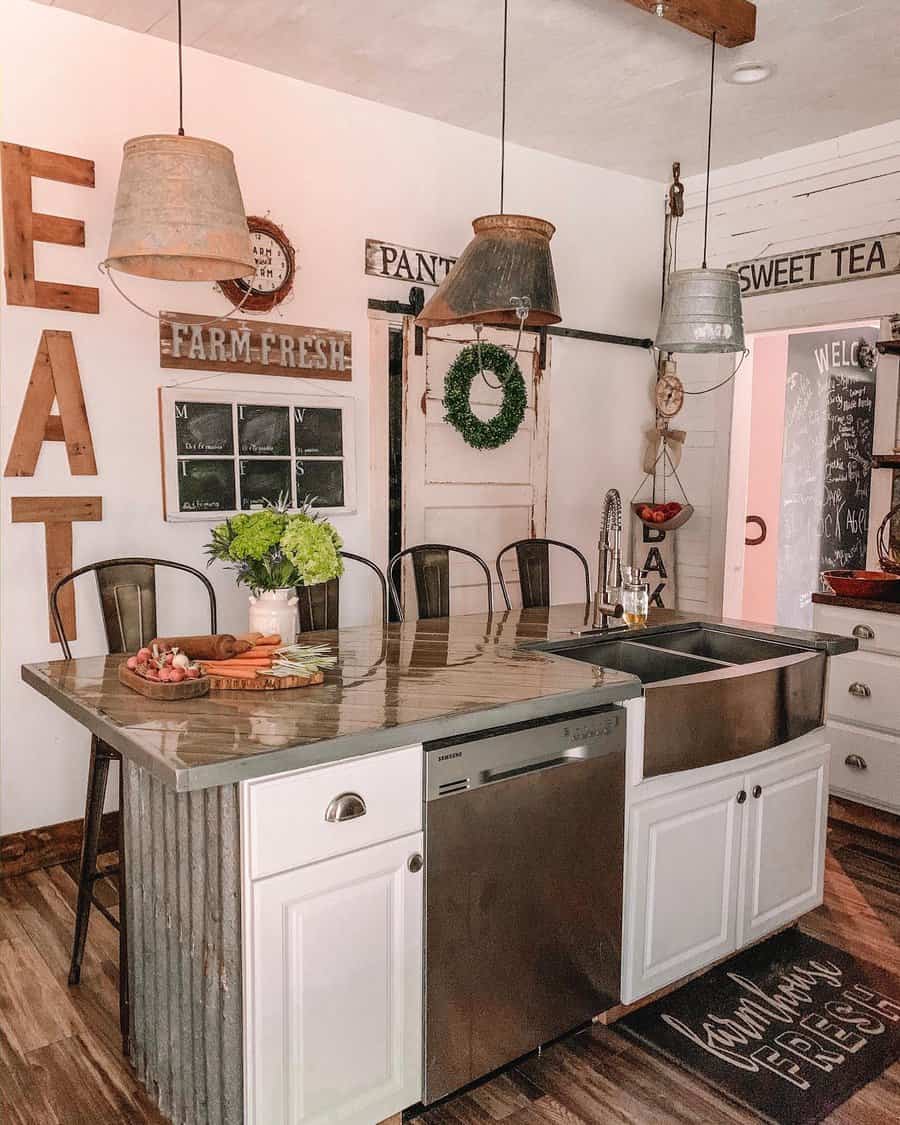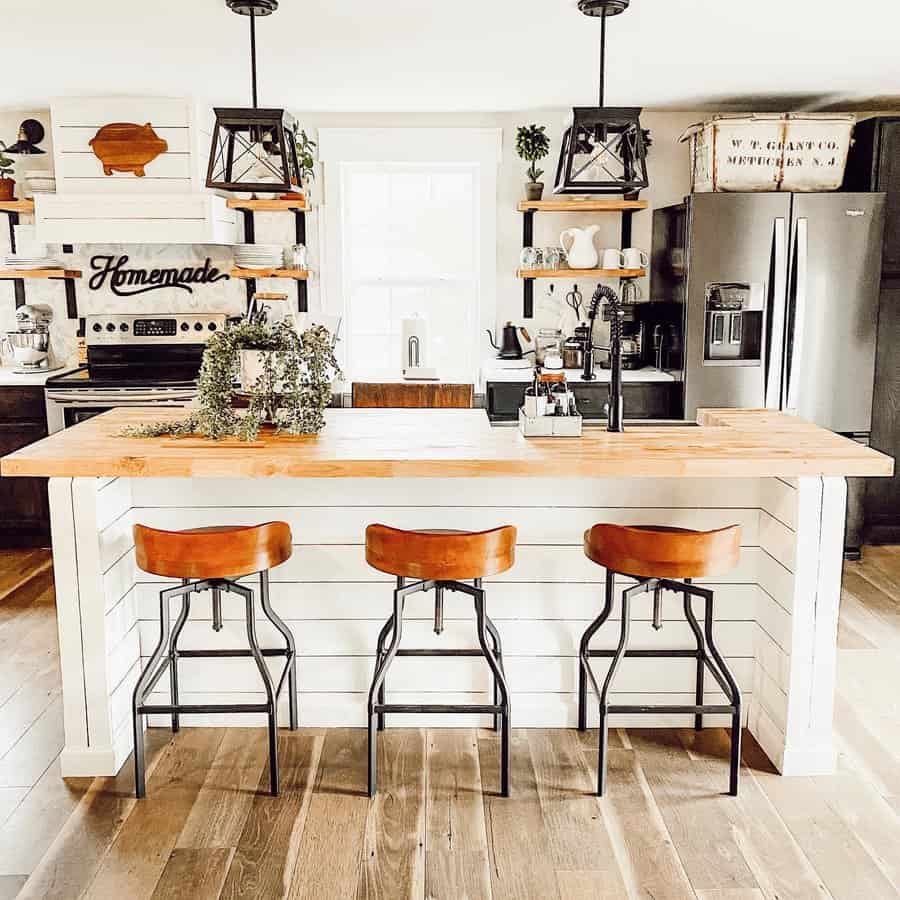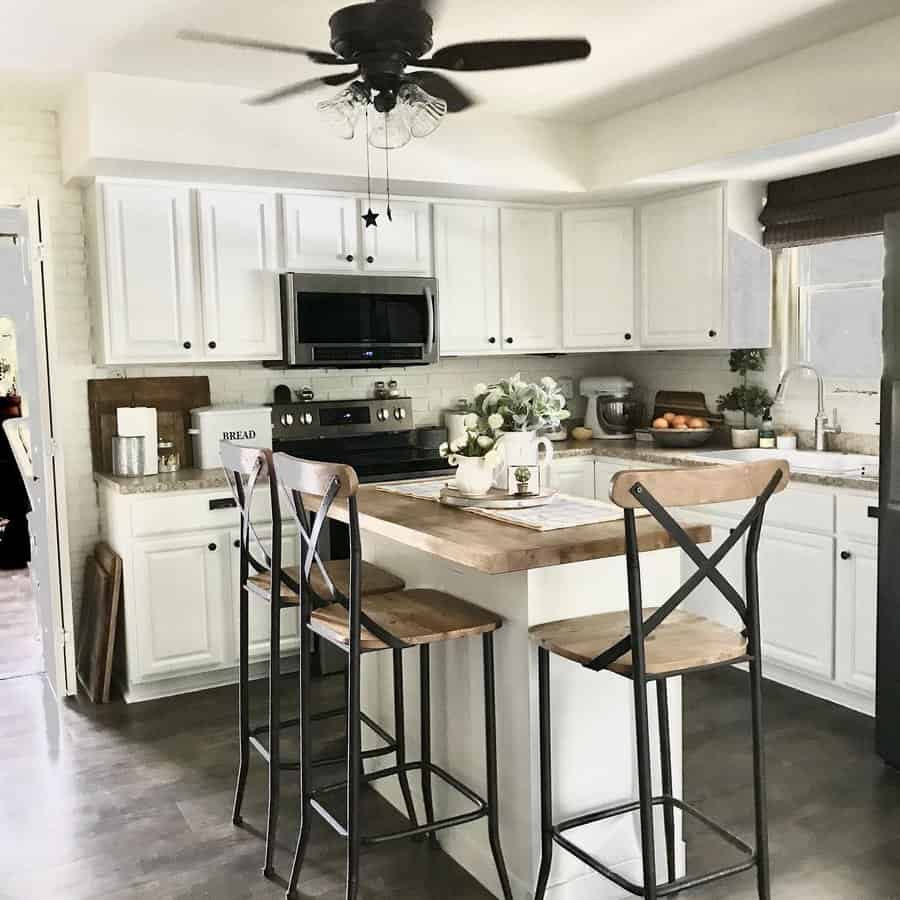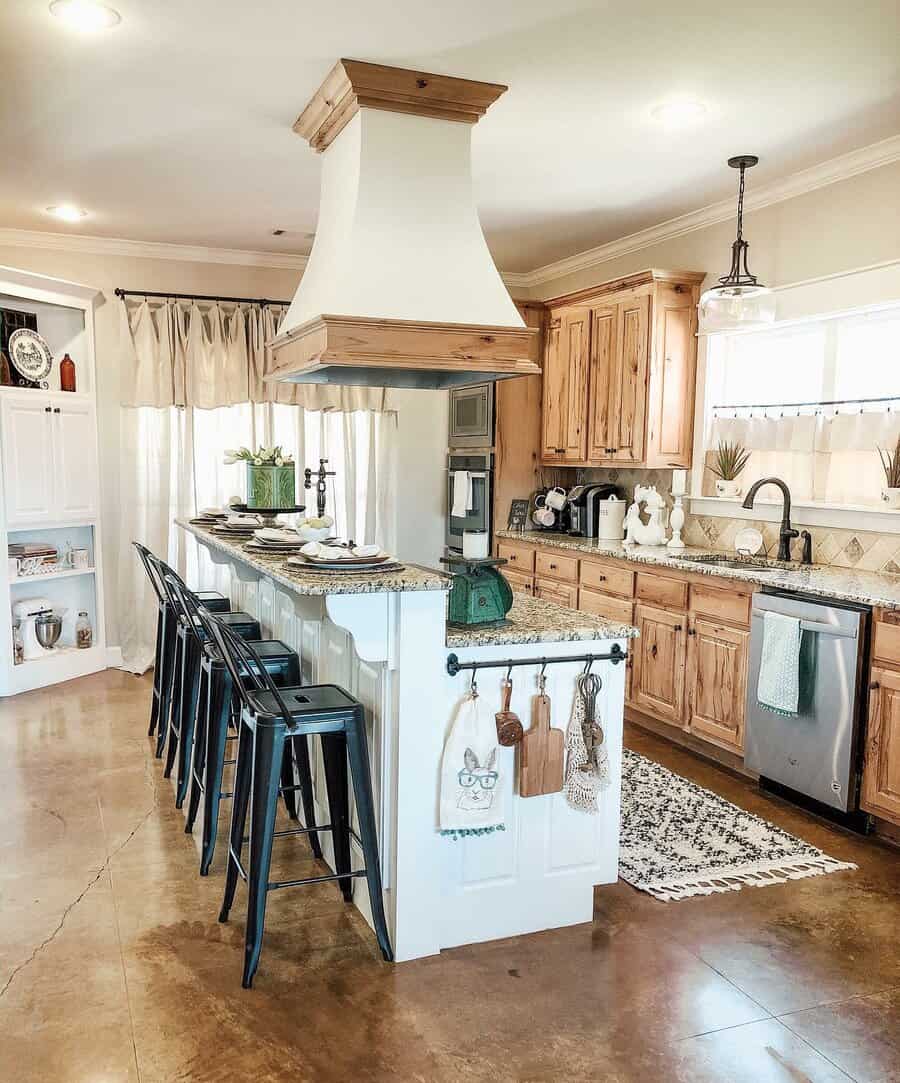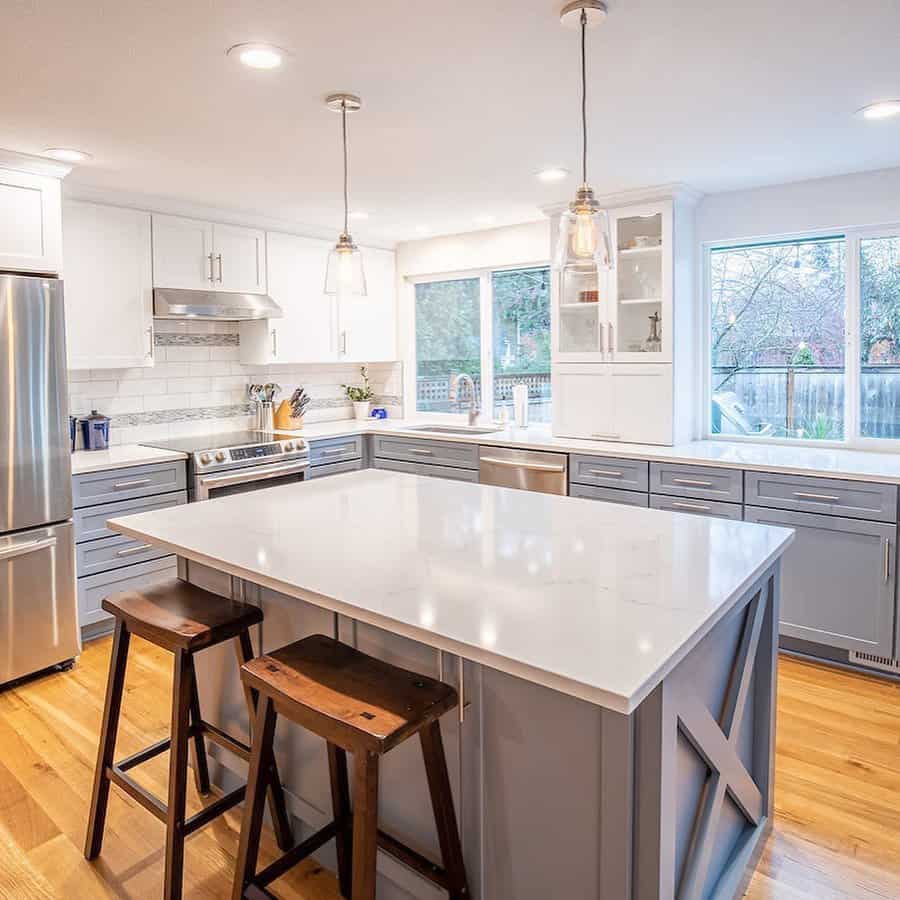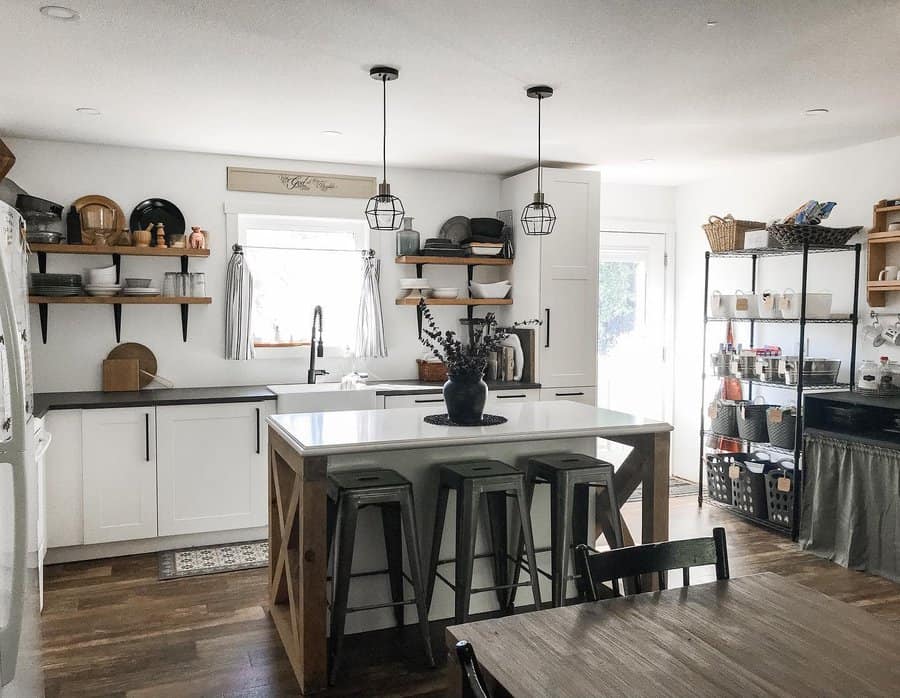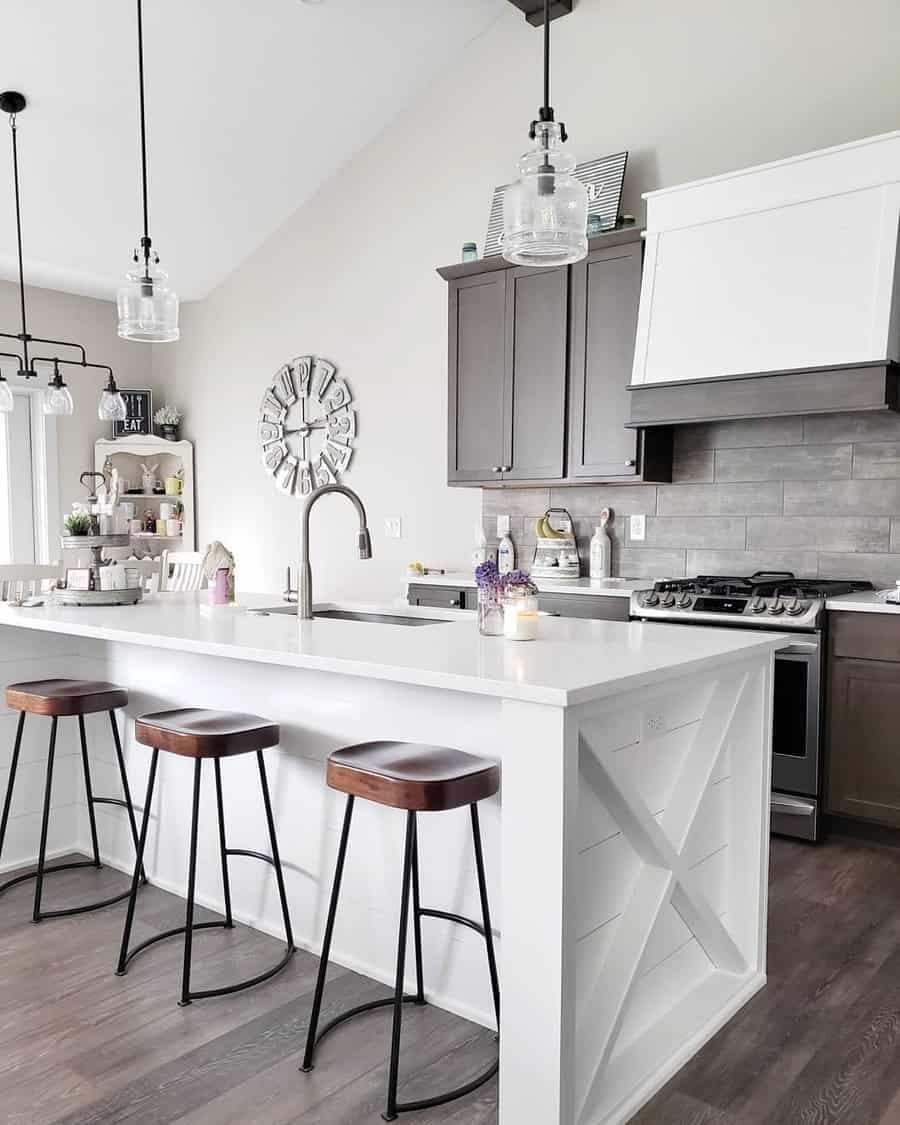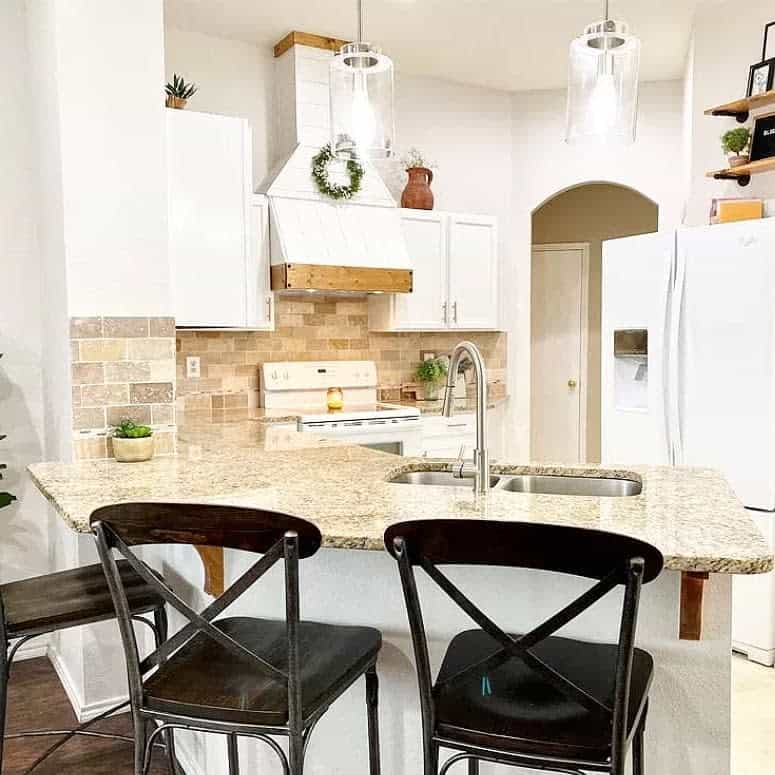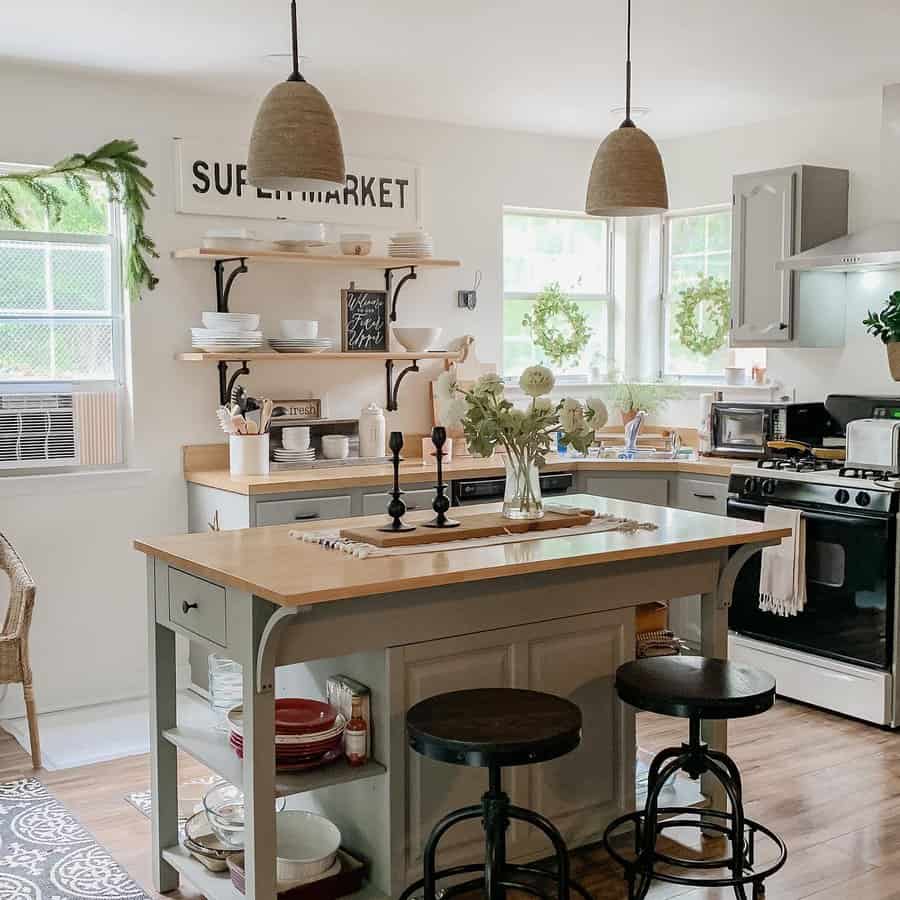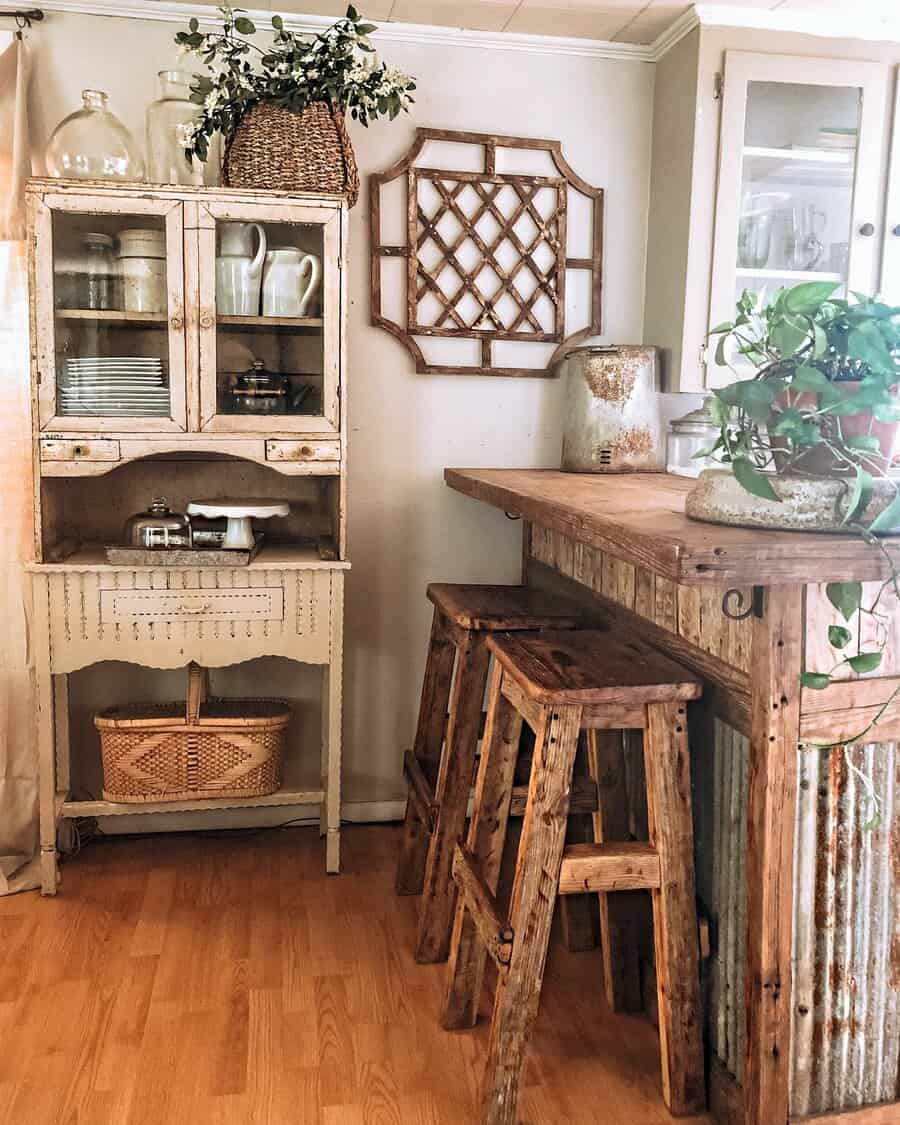 Farmhouse style bar stool ideas often mix wood and metal accents together. Look for bronze or gunmetal stool frames topped with wooden seats. Stainless steel appliances are a welcome touch. Consider adding a small refrigerator, ice maker, or second dishwasher to your island kitchen units.
6. Industrial
Capture an industrial breakfast bar vibe by adding an all-metal island to your kitchen. Whether you go with a painted matte black island or add rusty, corrugated metal panels, metal is a must in an industrial style kitchen. Wooden stools are a valid industrial seating selection and add an earthy touch tucked under a metal kitchen island.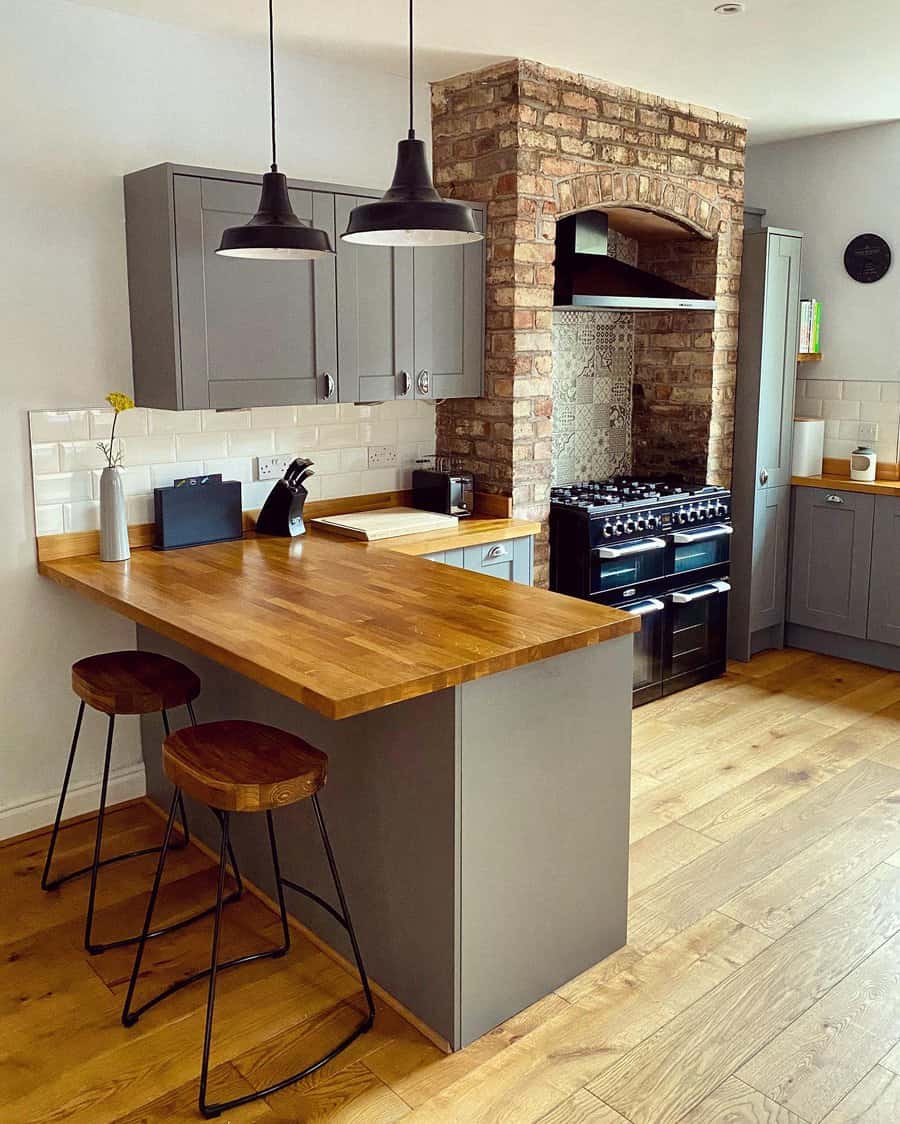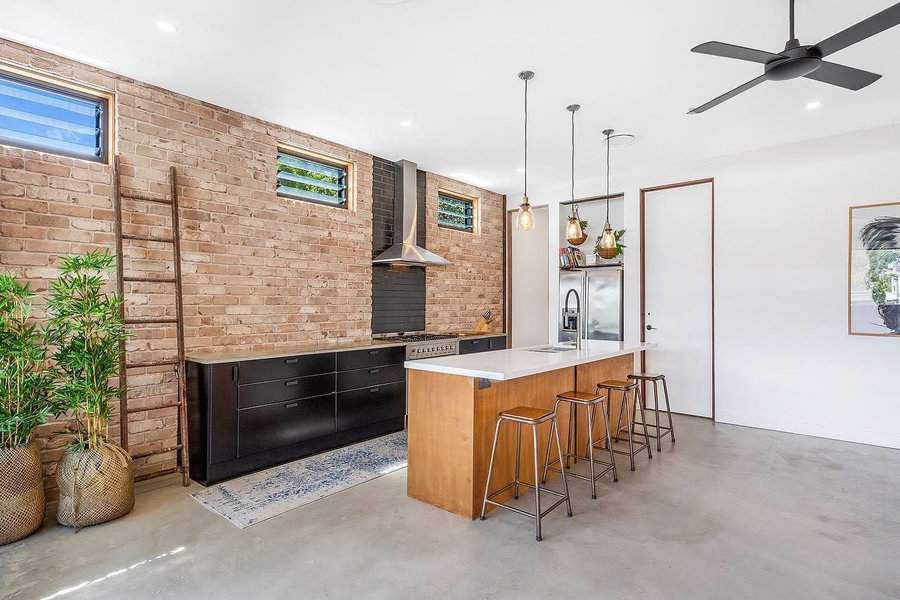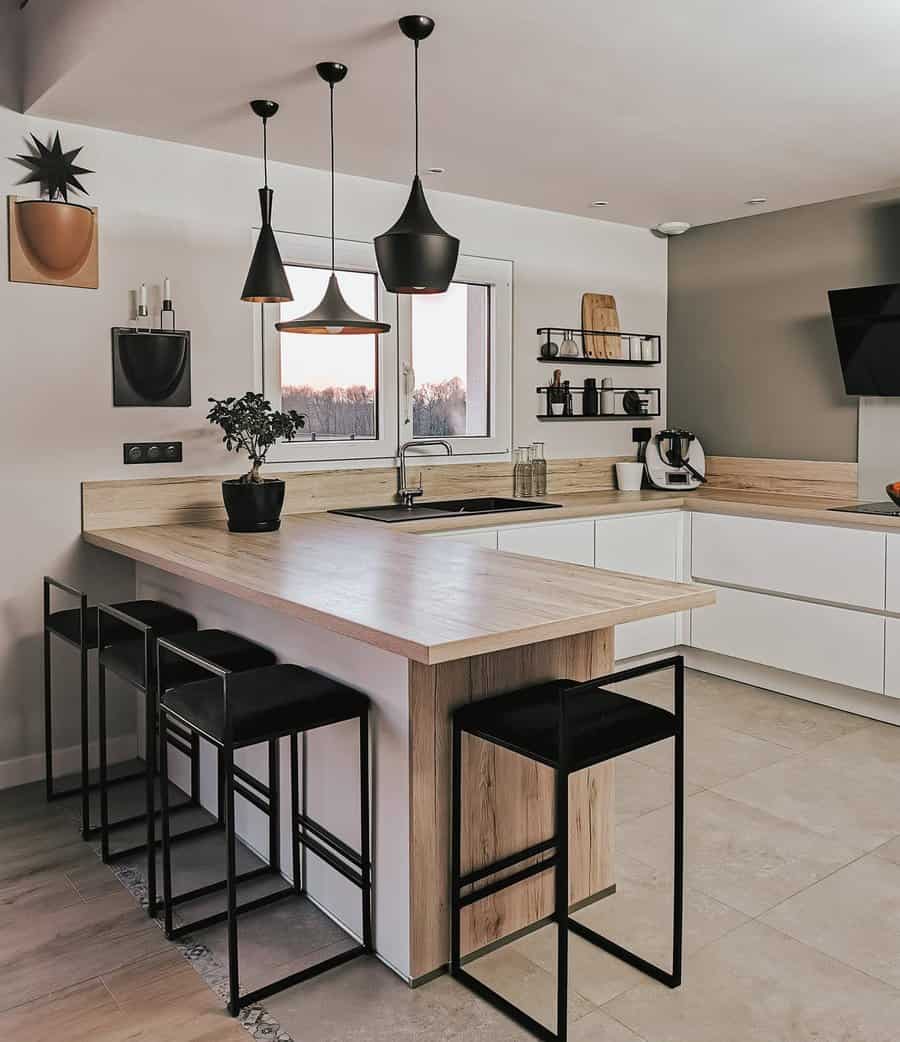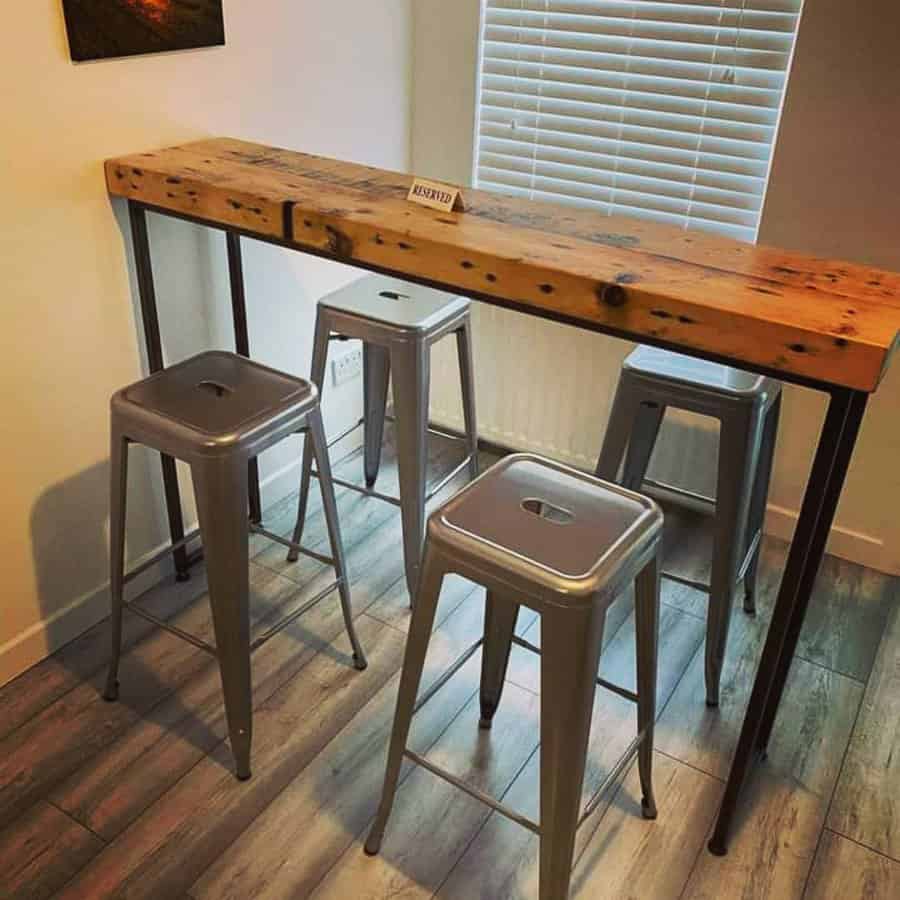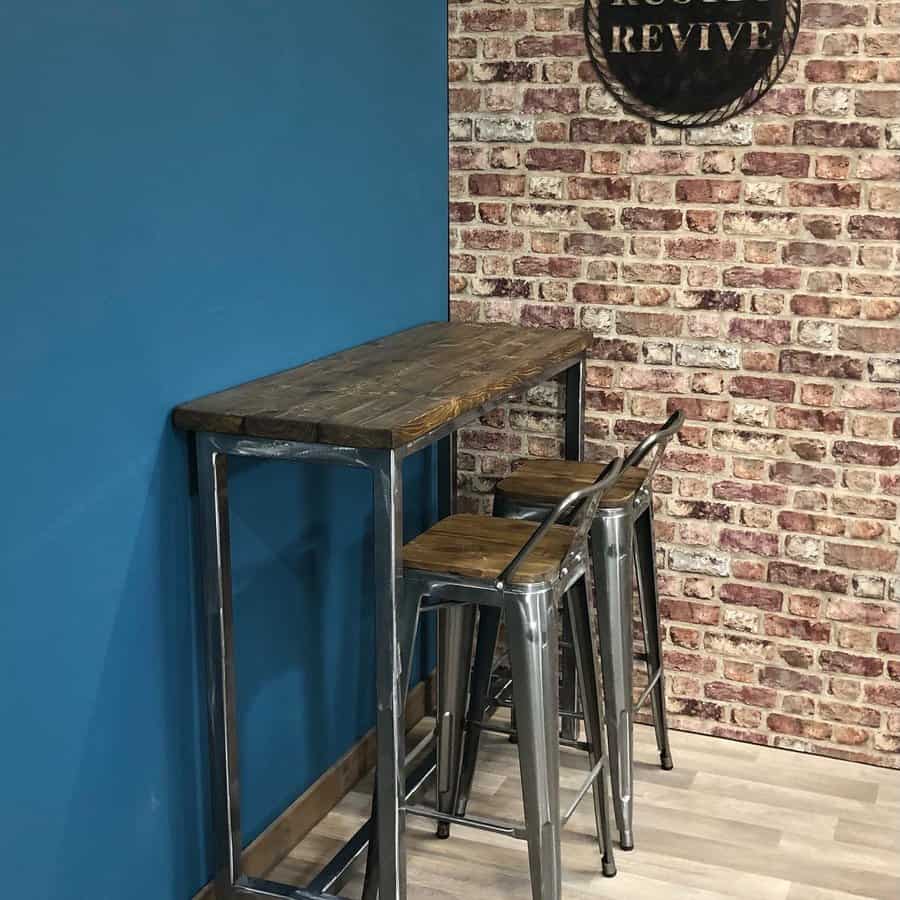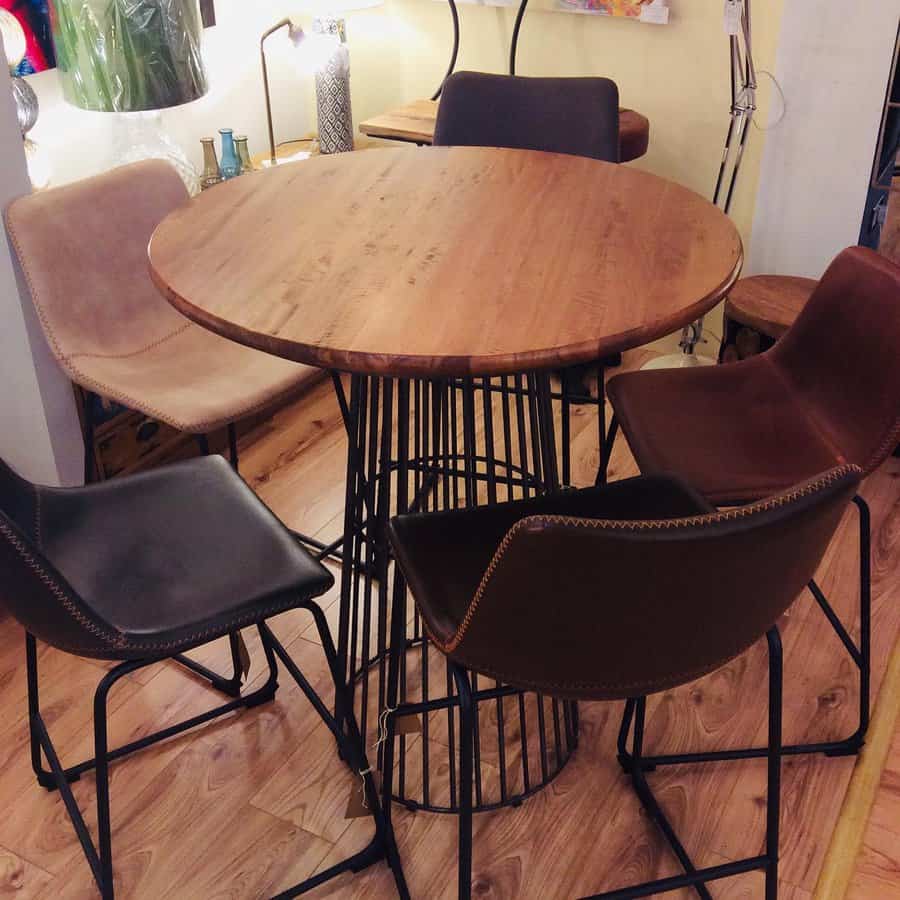 Dark, monochromatic tones work well with industrial design ideas, so go for an espresso brown floor to anchor your edgy new kitchen bar. Hardwood, tile, or painted concrete keep true to the industrial style. Add a faux exposed brick wall beside the bar to add more industrial-flavored appeal.
7. Informal Dining
If you were to poll people with a breakfast bar, they would likely state that informal dining is the thing they love most about this feature. Not only is it preferred to the dining room for family meals, the breakfast bar provides welcome extra seating when entertaining.
You don't have to be fussy about decorating a breakfast bar, as its counter space is usually more functional than decorative.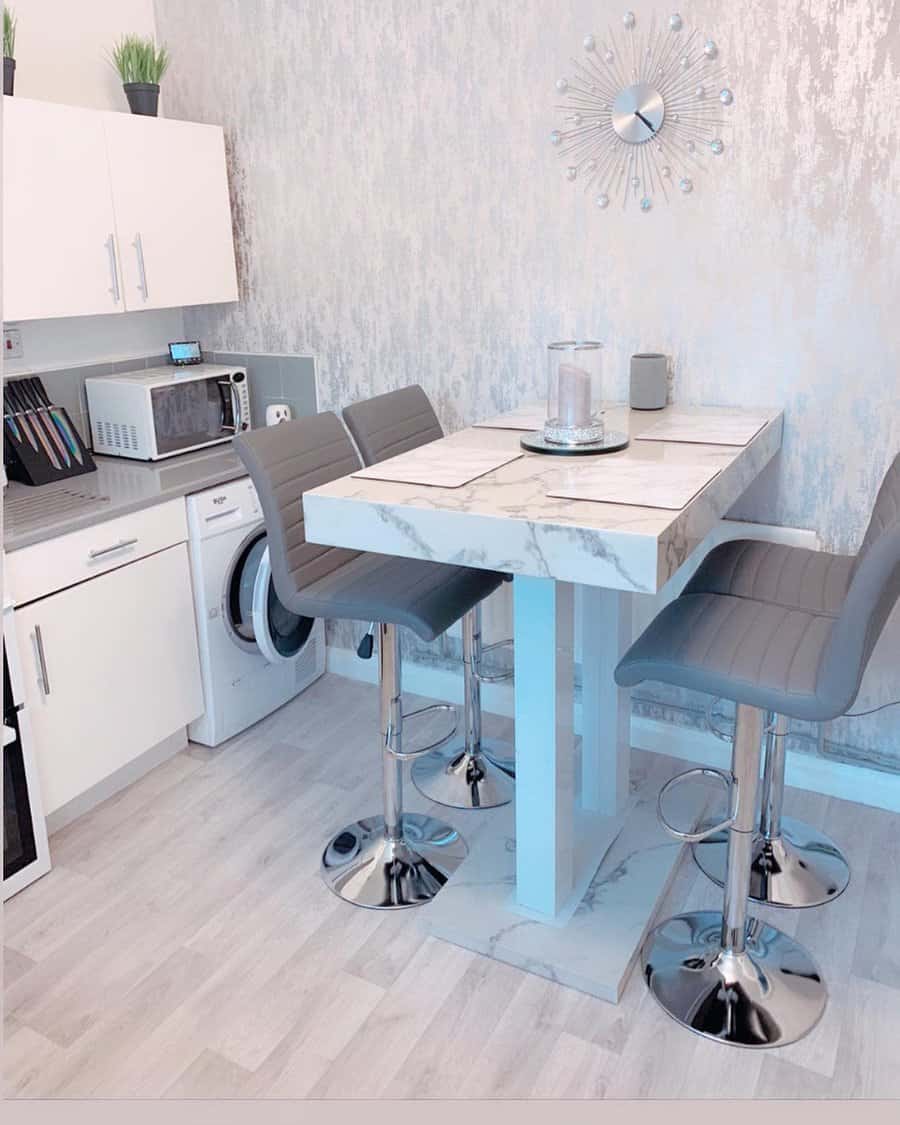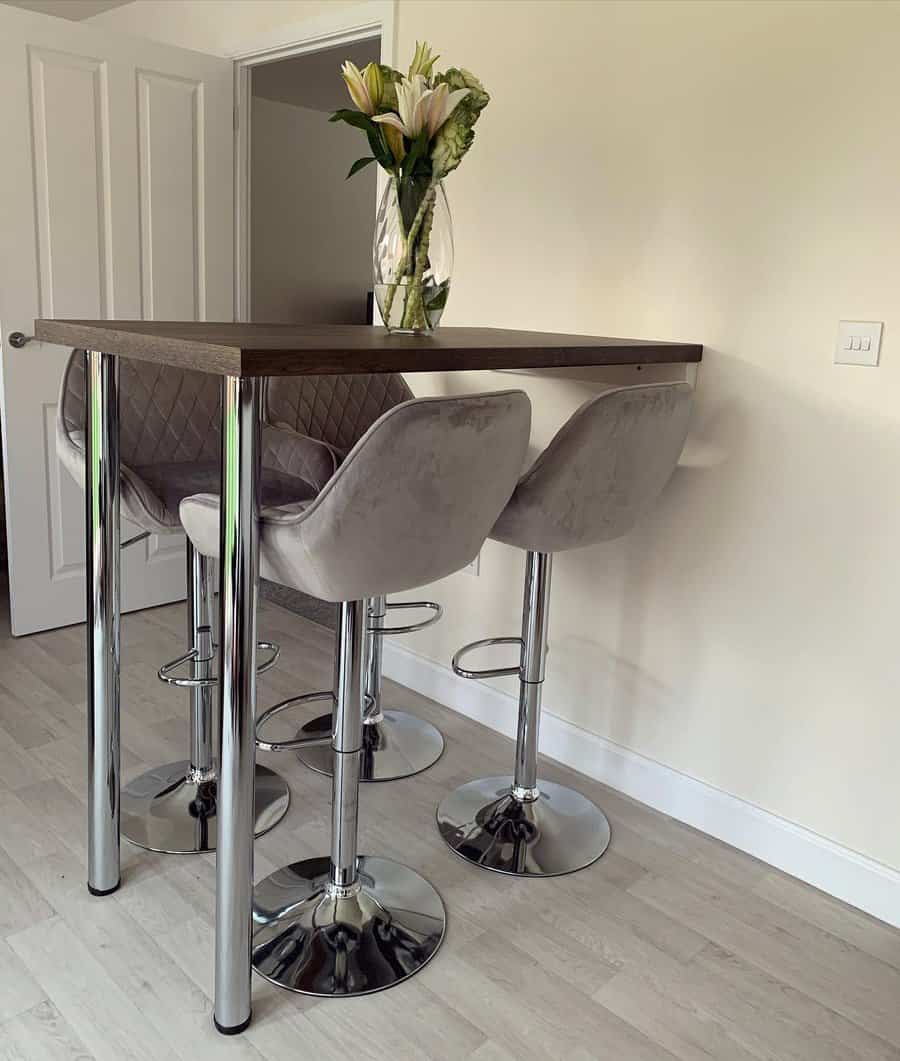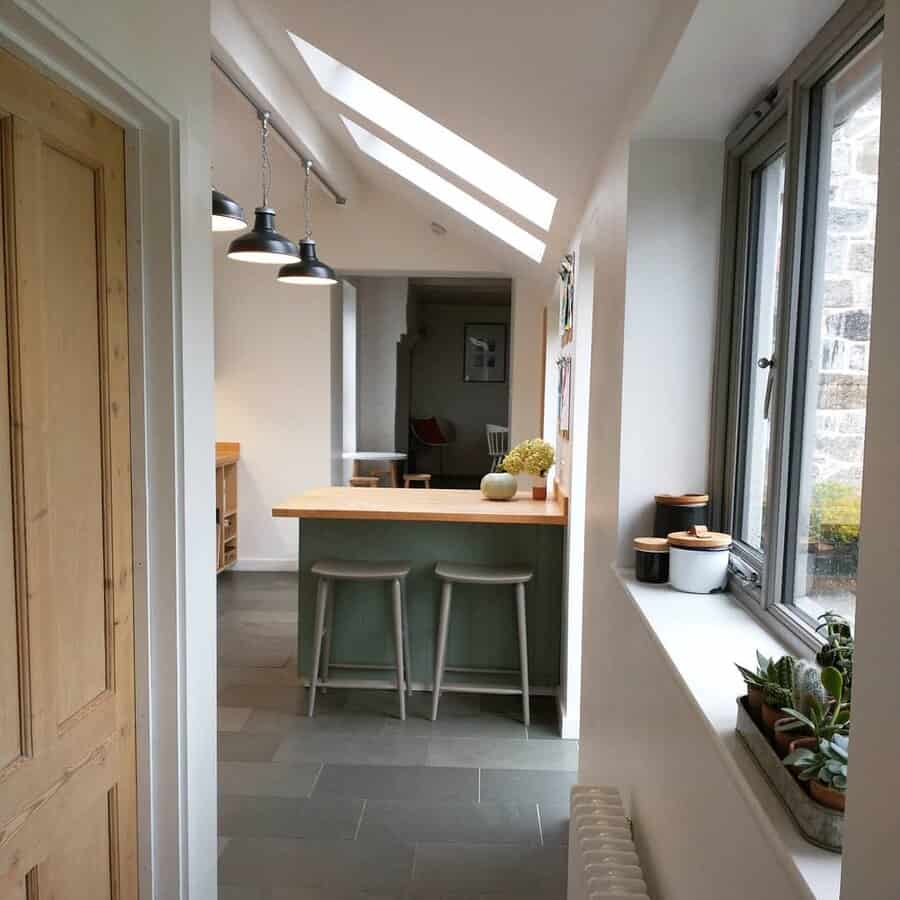 An island breakfast bar is the perfect place to have coffee or brunch with a few friends. Your kids will likely ask to eat all their meals in this comfortable zone. It's also a great workspace to break out the flour and chocolate chips and have a rainy-day bake session.
8. Kitchen
One of the beautiful benefits of a kitchen breakfast bar is that it provides a comfortable place for your guests to hang out while you are cooking. Comfortable seating, such as an upholstered bar stool, will make the area even more appealing.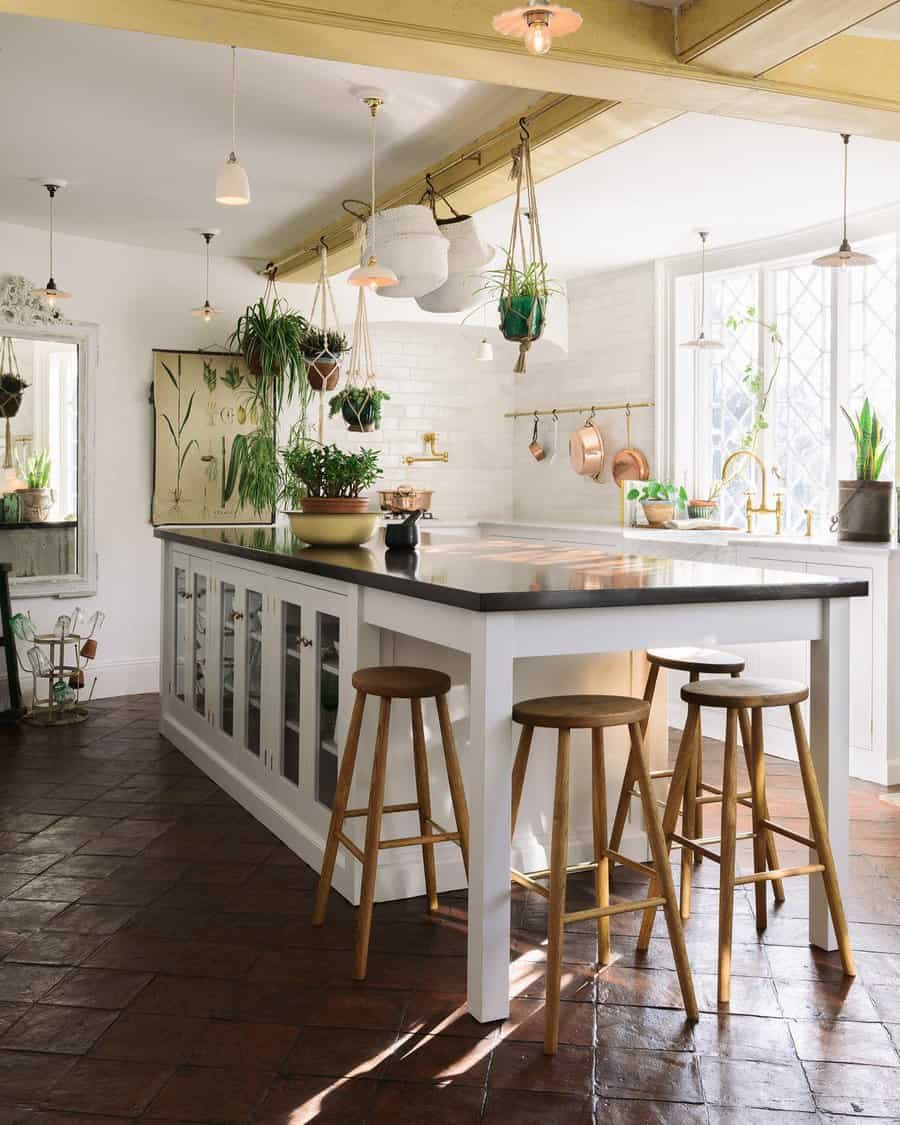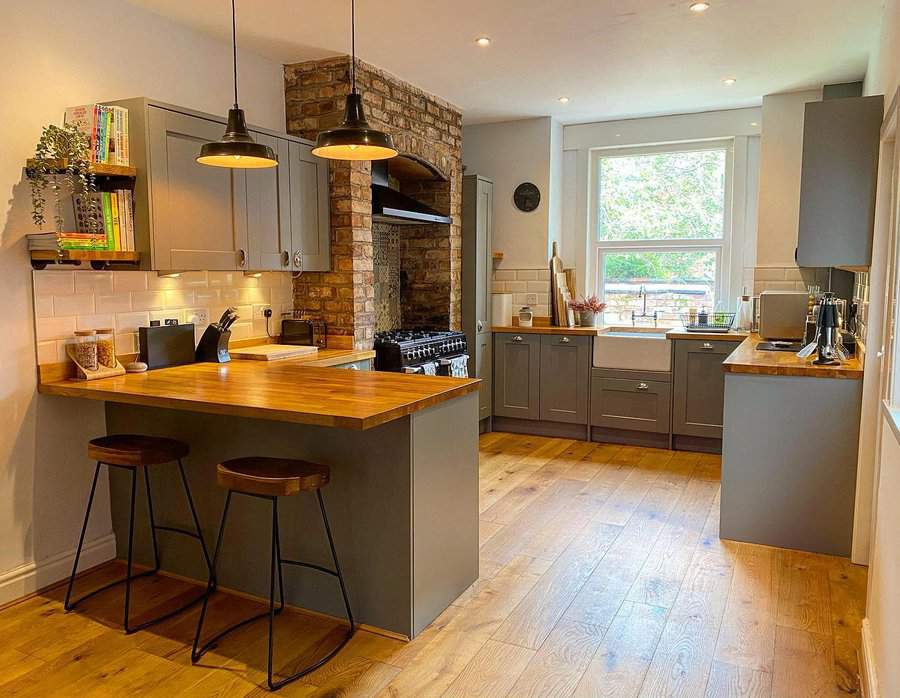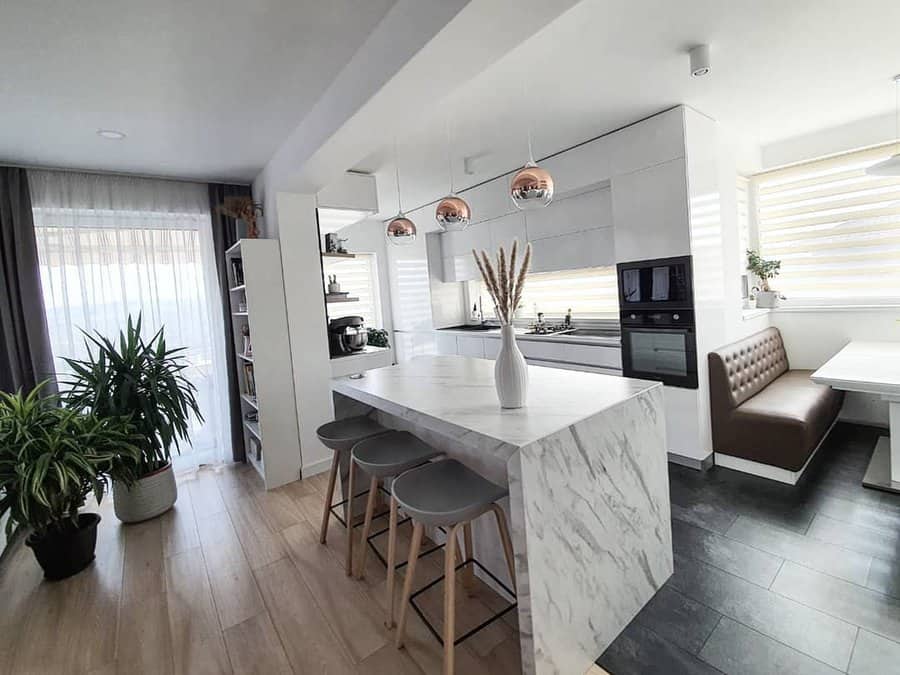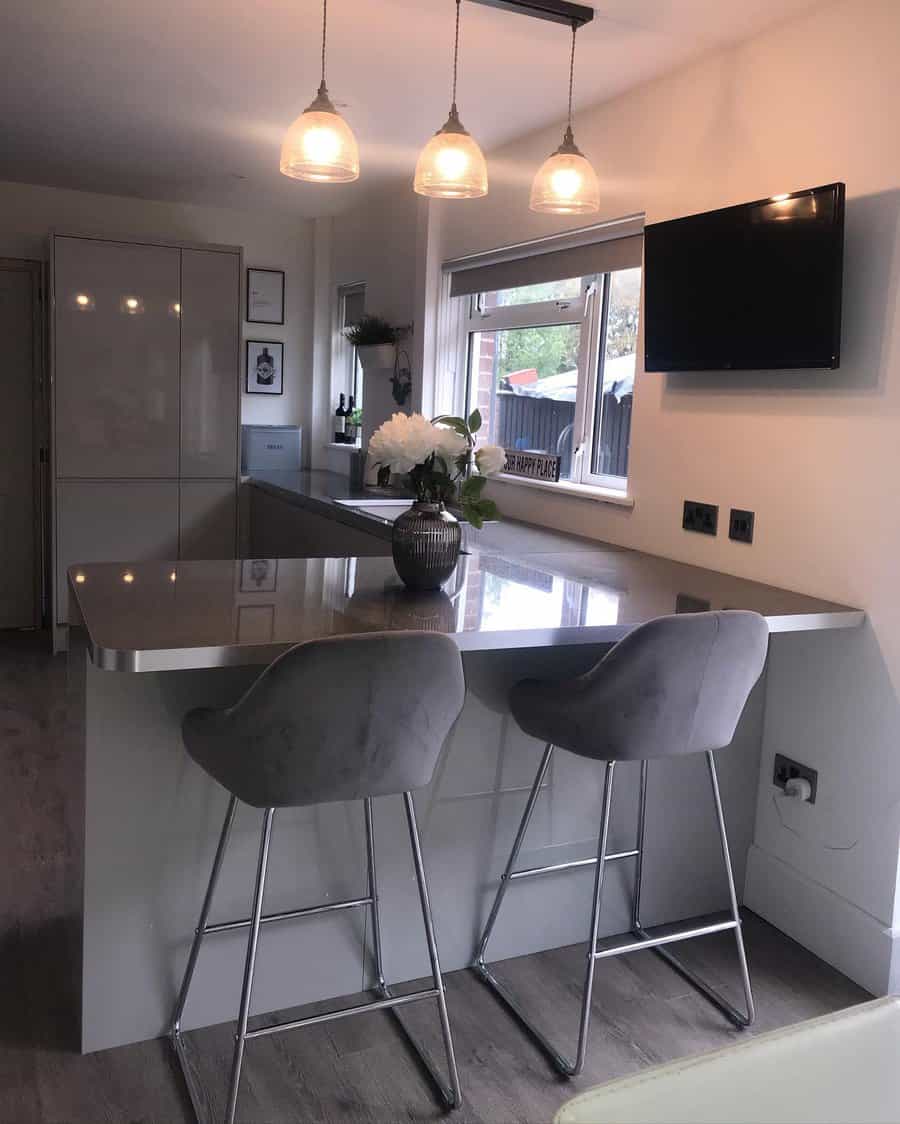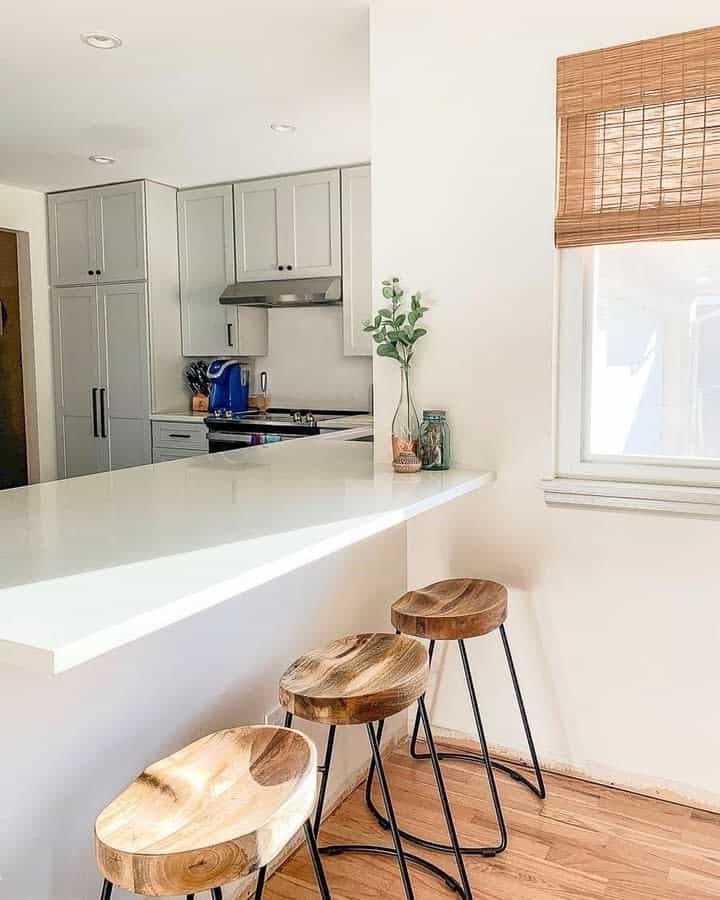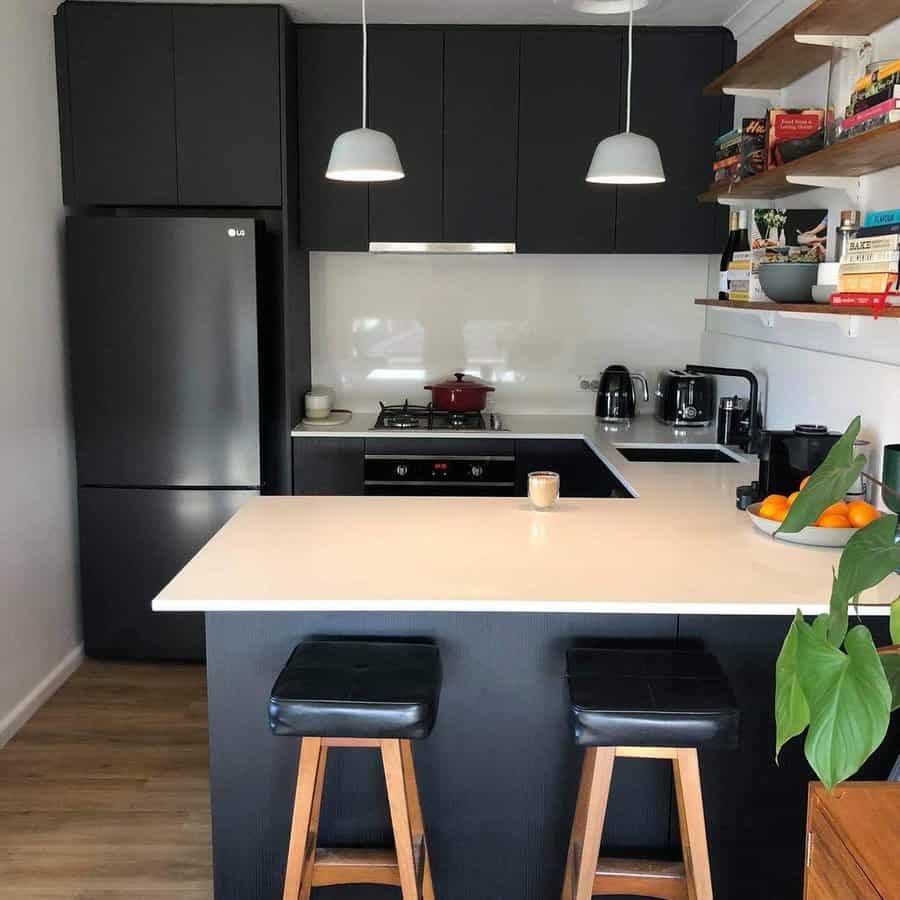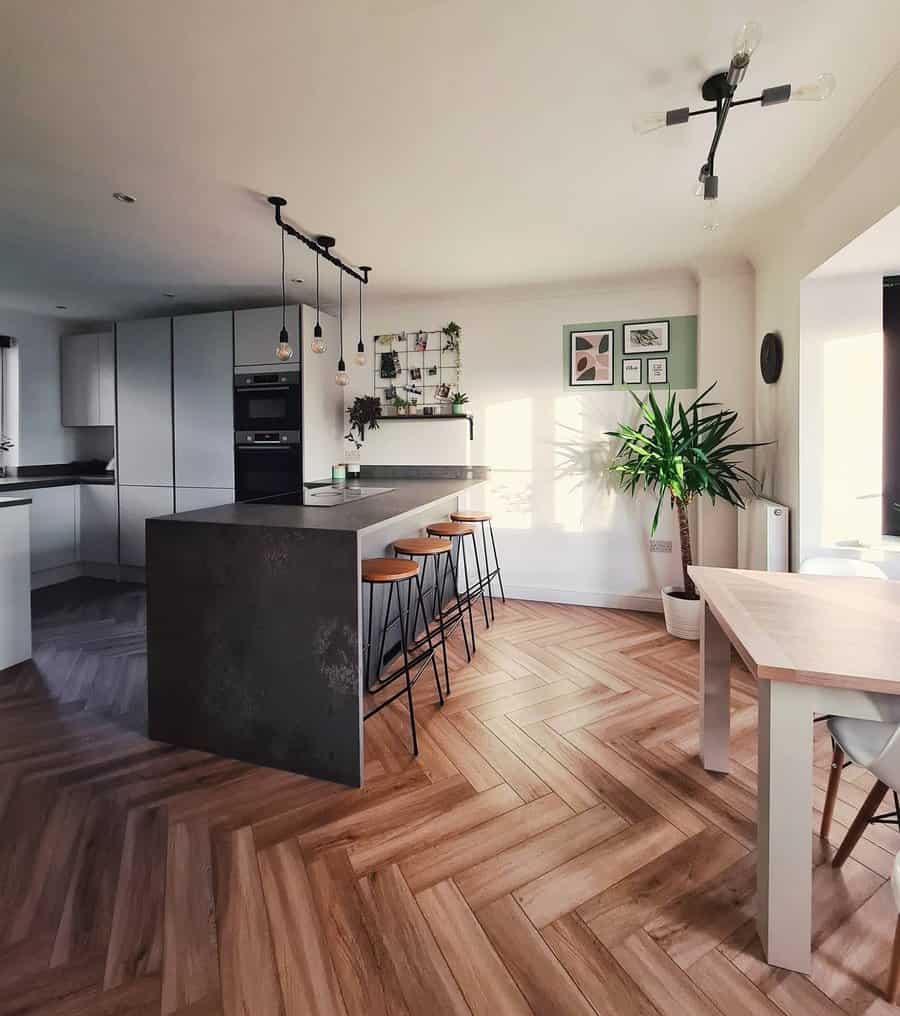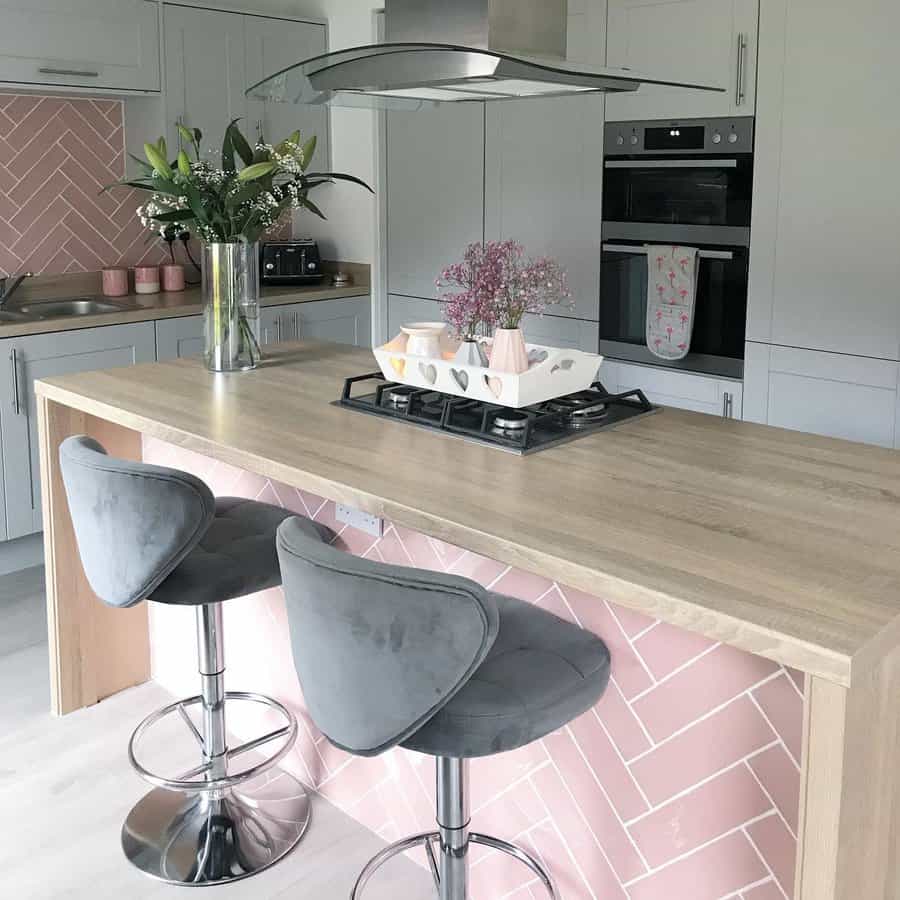 If you can, connect water and electricity into your kitchen island breakfast bar. That way, you create a mini kitchen within your kitchen—a perfect second work area when preparing big meals or even doing arts and crafts.
9. L-Shaped
An L-shaped, or peninsula-style breakfast bar is one that extends into the kitchen at a 90 degree angle from the adjacent cabinet and countertop. Even though one end is essentially anchored to the wall, your family and guests will still love gathering around this type of kitchen breakfast bar.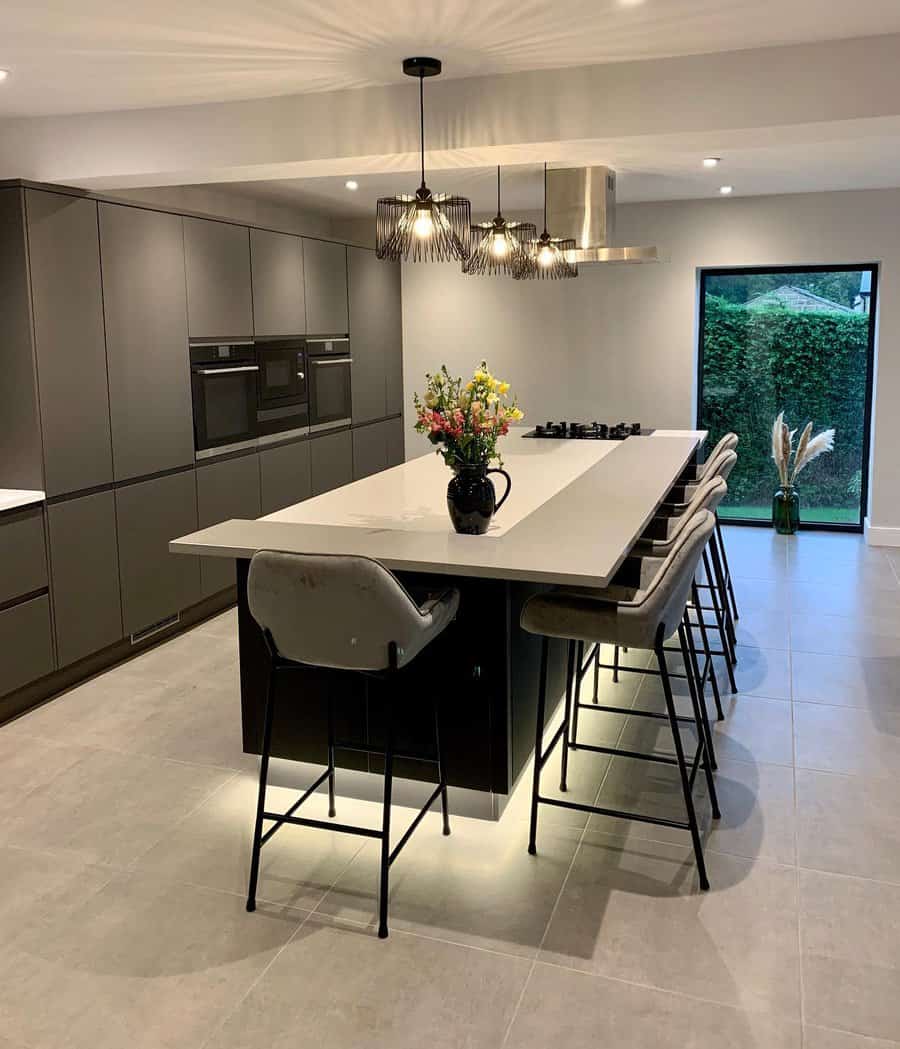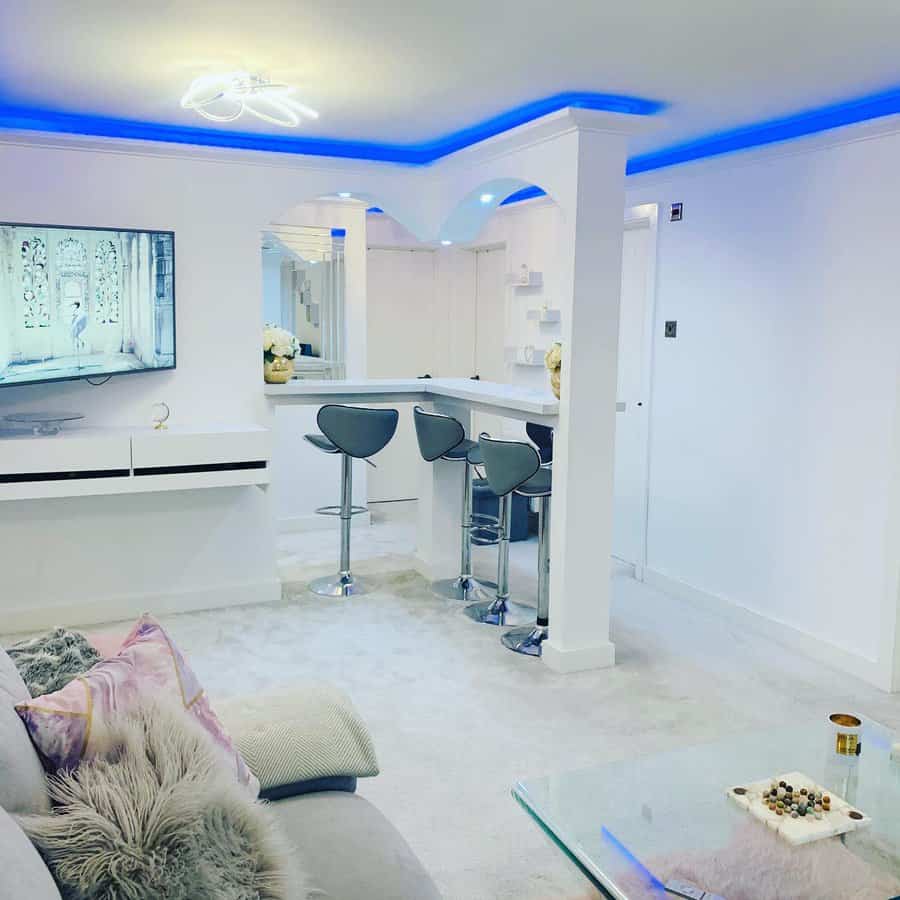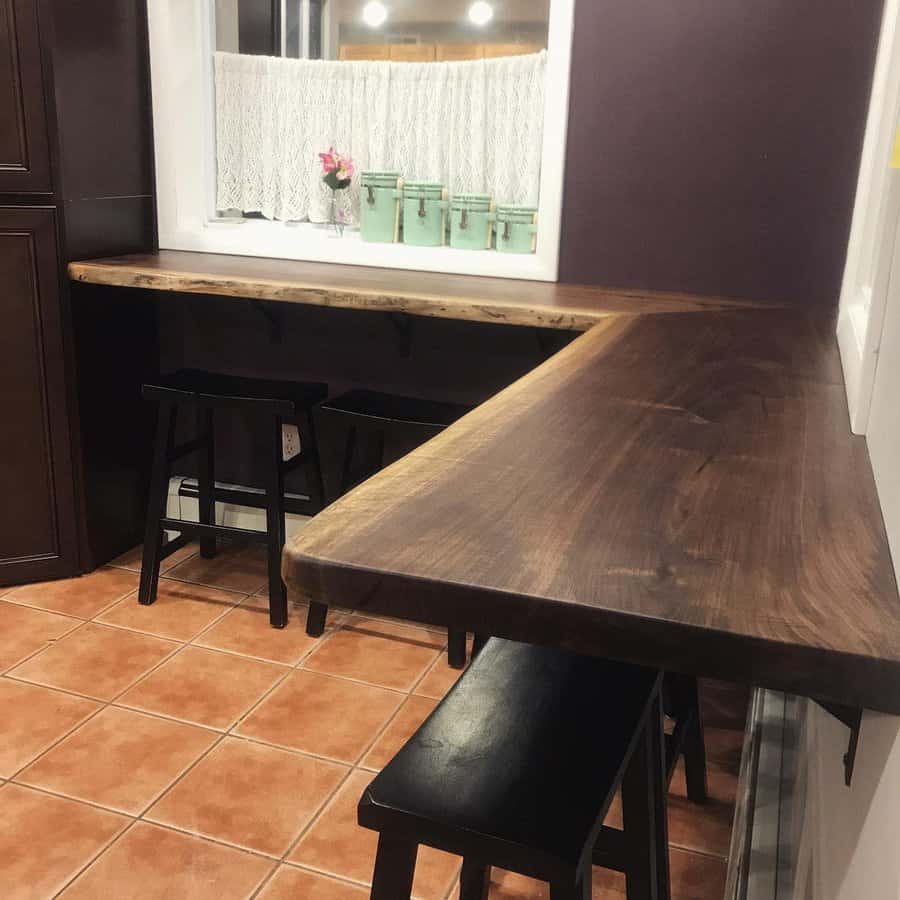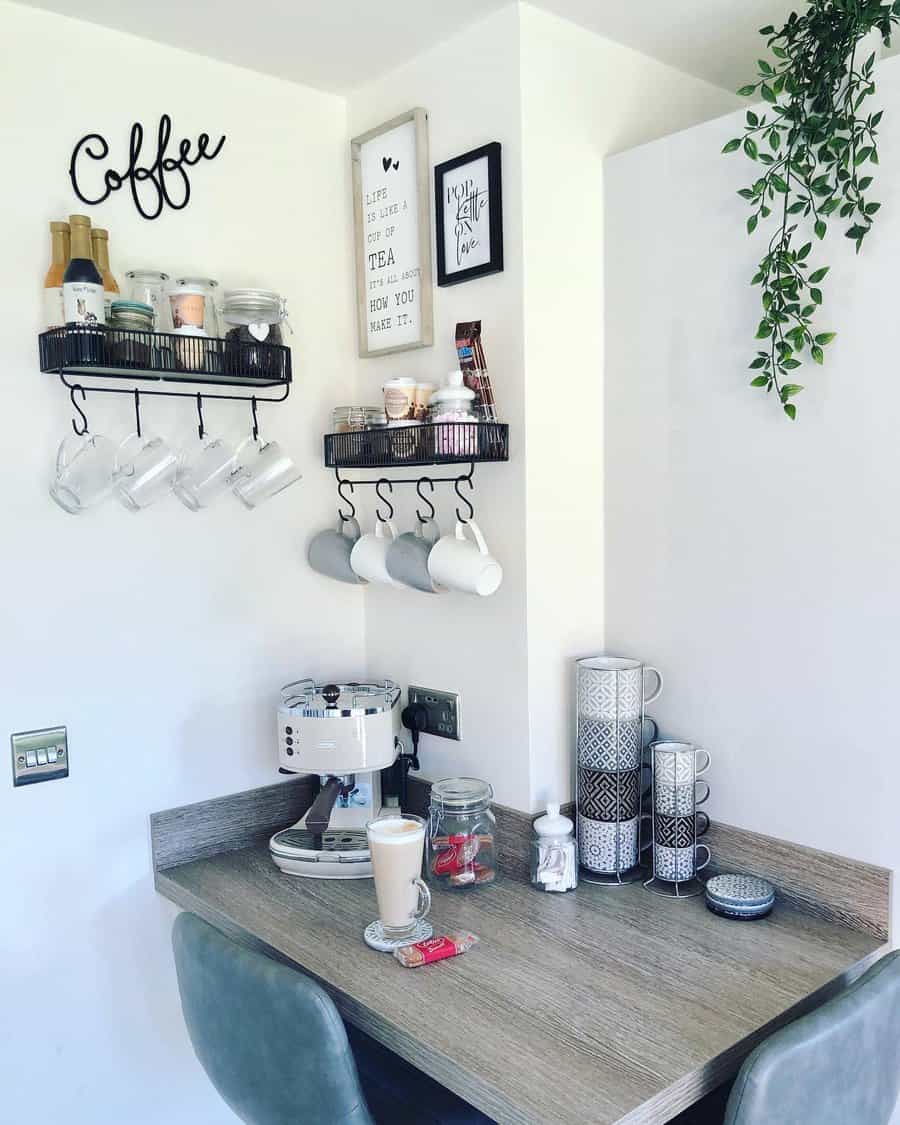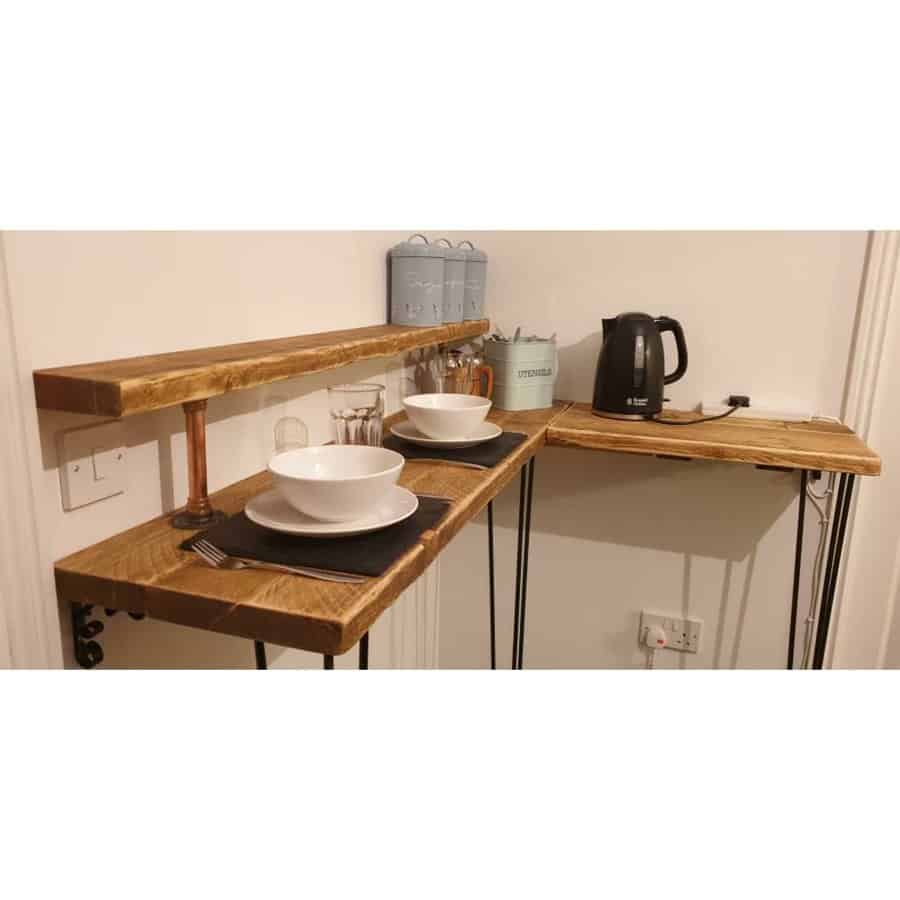 An L-shaped design can offer more seating space than a counter-based breakfast bar. It can also provide a work area on the smaller part of the "L" while providing seating zones on the longer side.
10. Modern
Modern floor plans include more open spaces, making the breakfast bar a welcoming island in the midst. People tend to be drawn to these social focal points and gather around them during parties or visits. A sleek, uncluttered, modern kitchen is a perfect backdrop for a simple yet useful breakfast bar.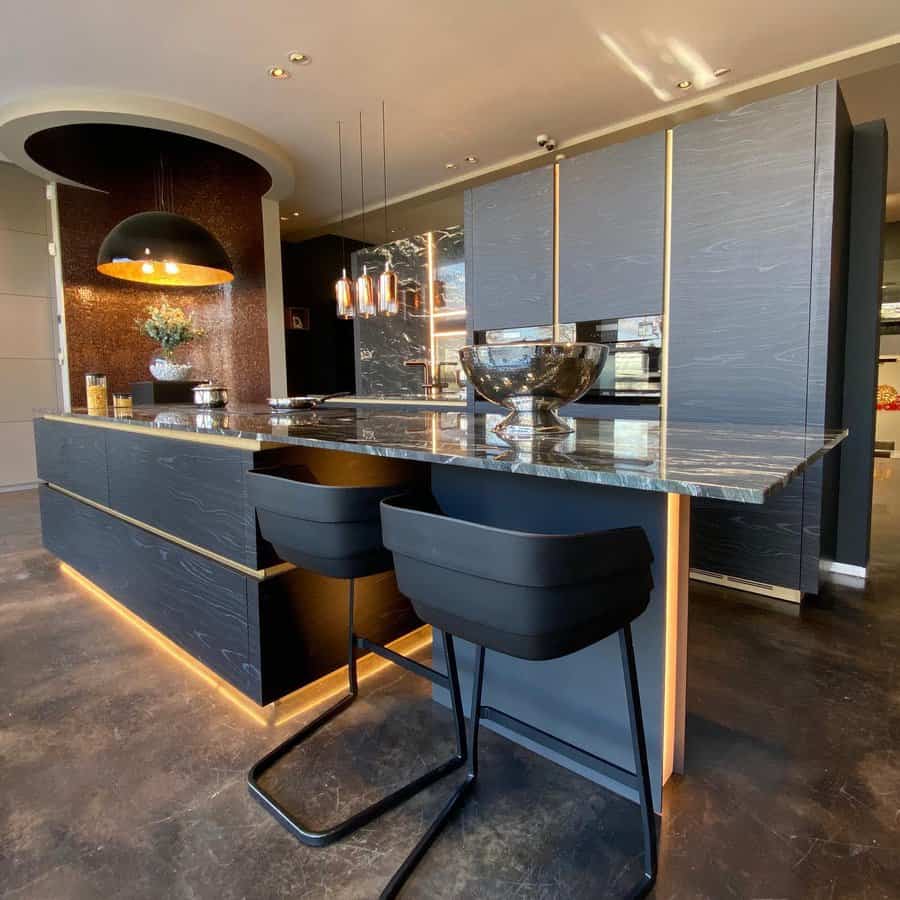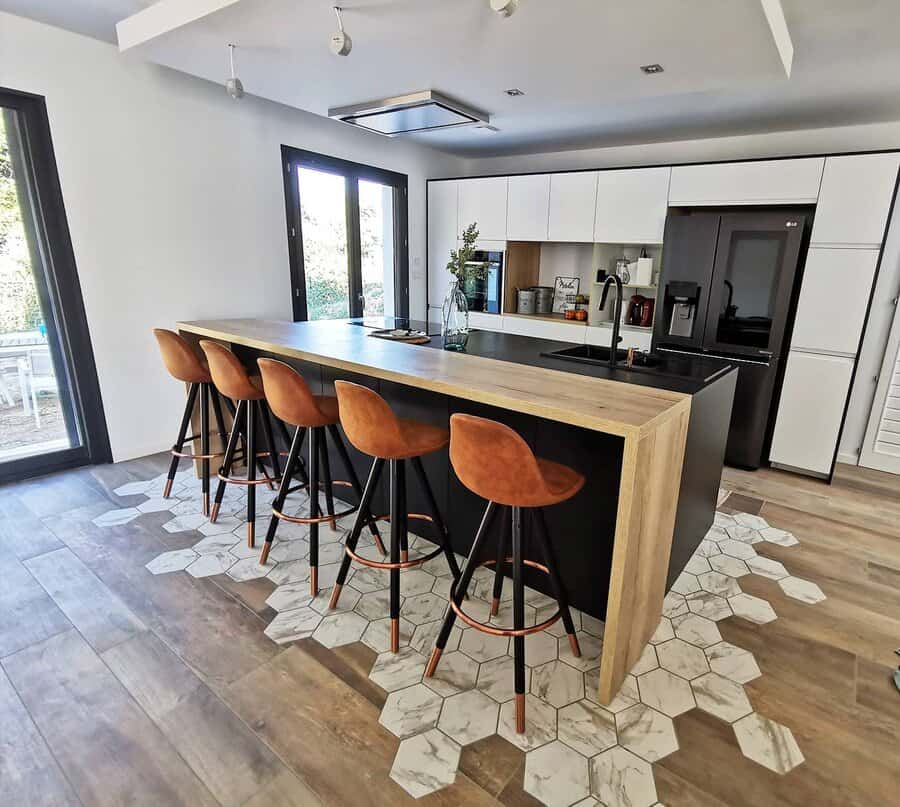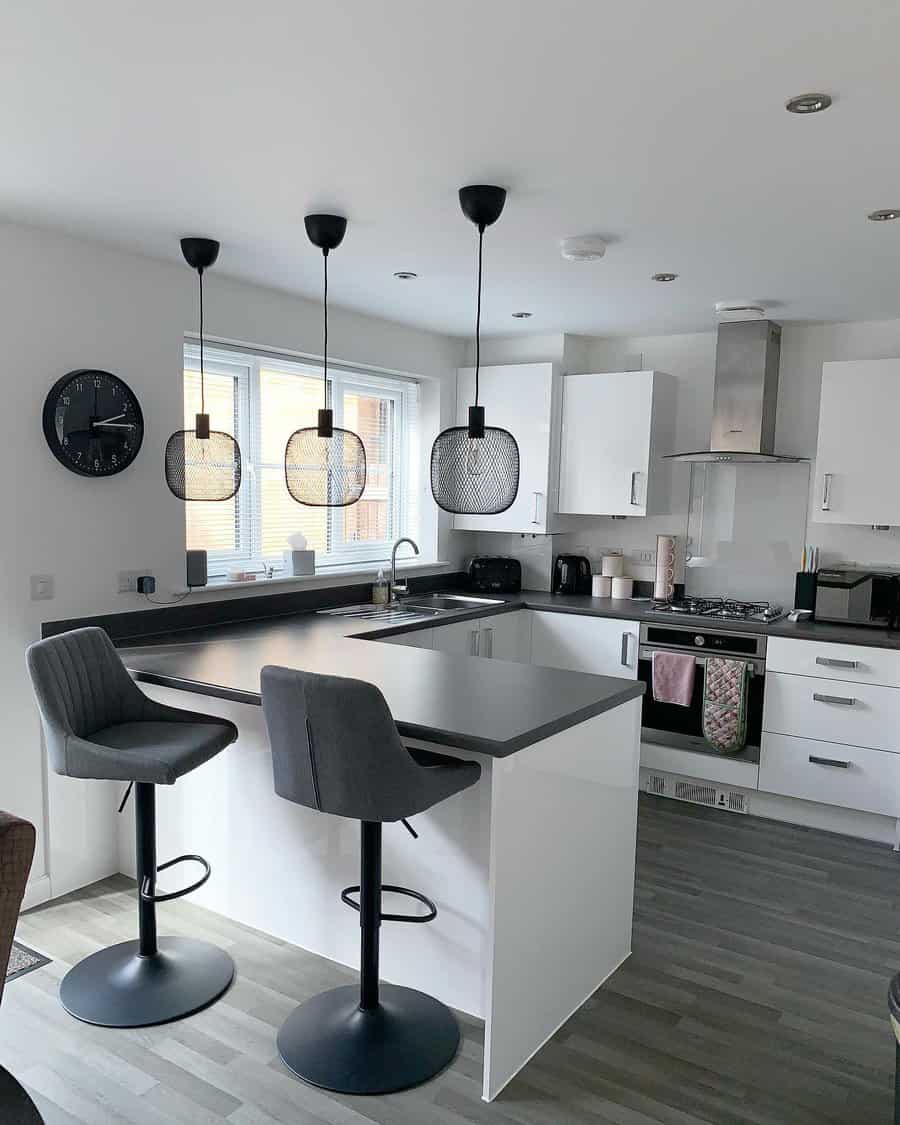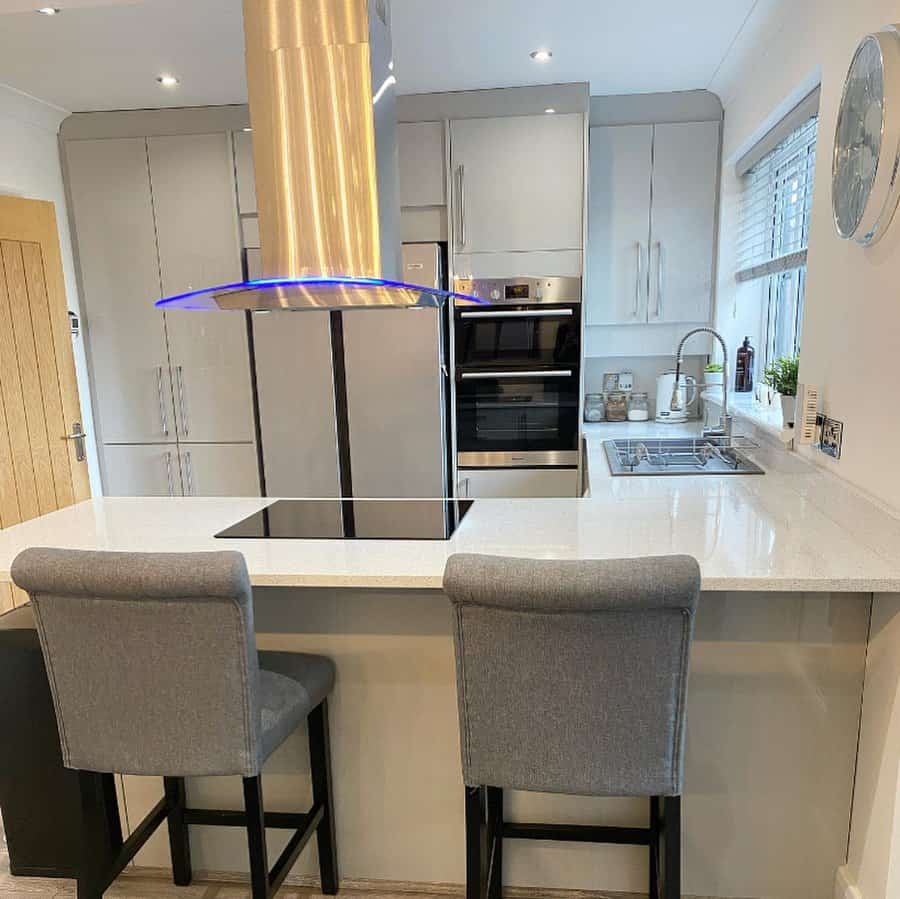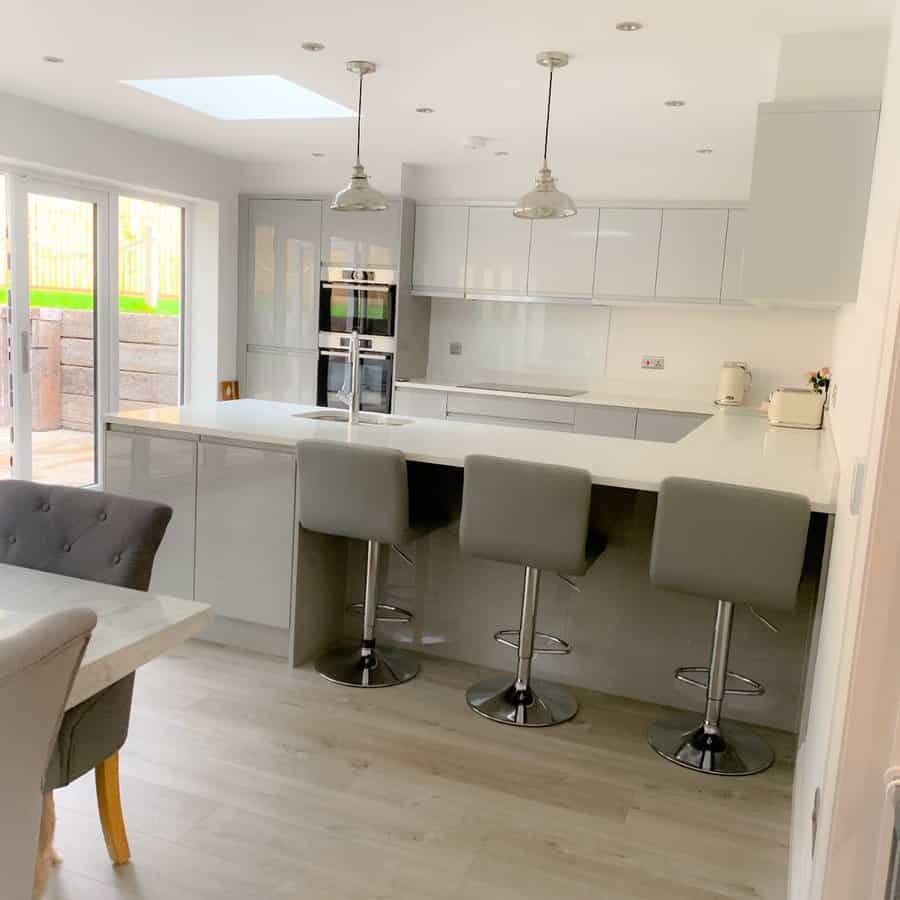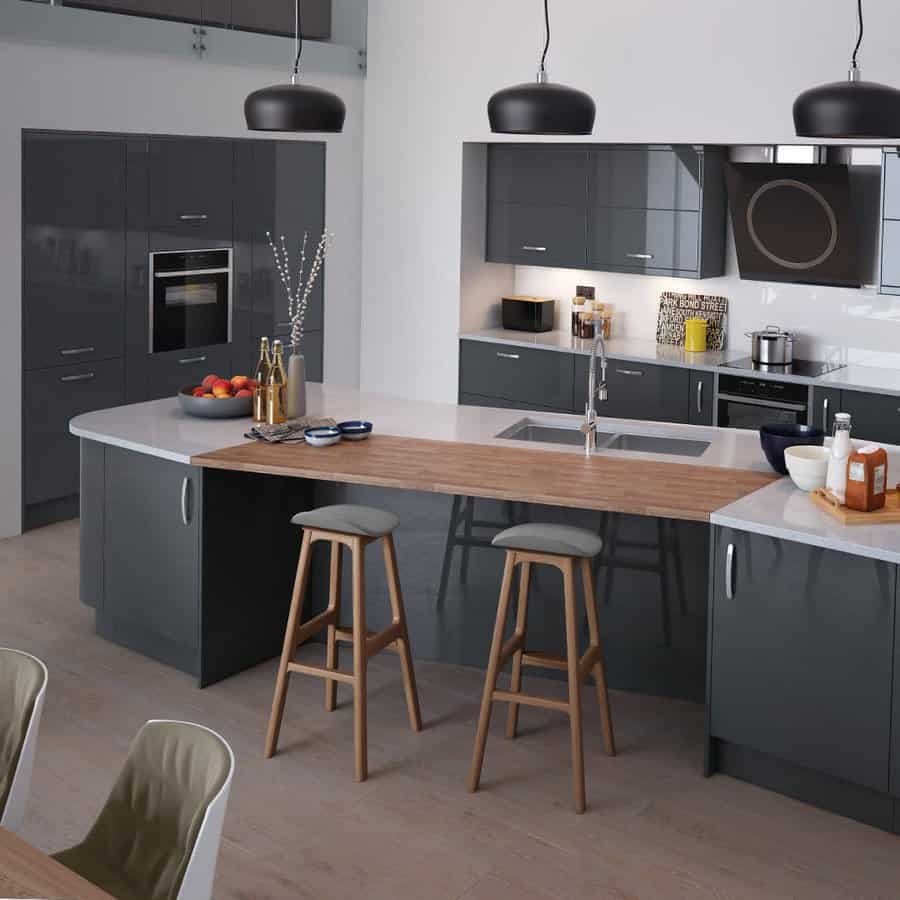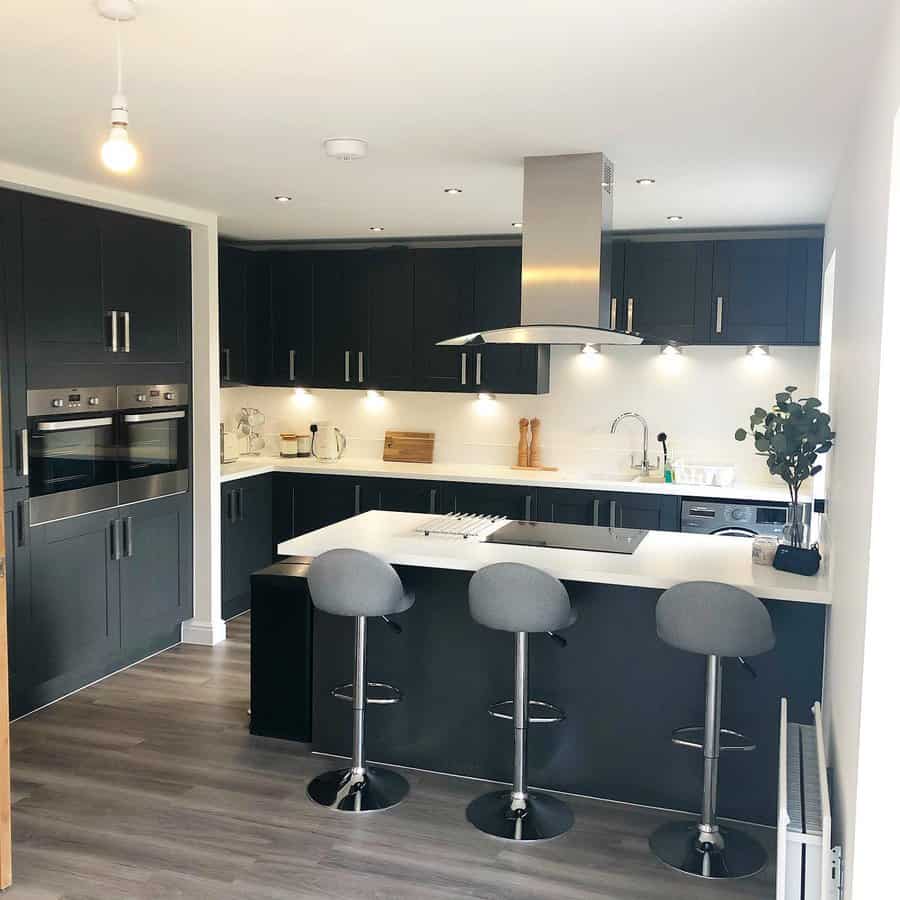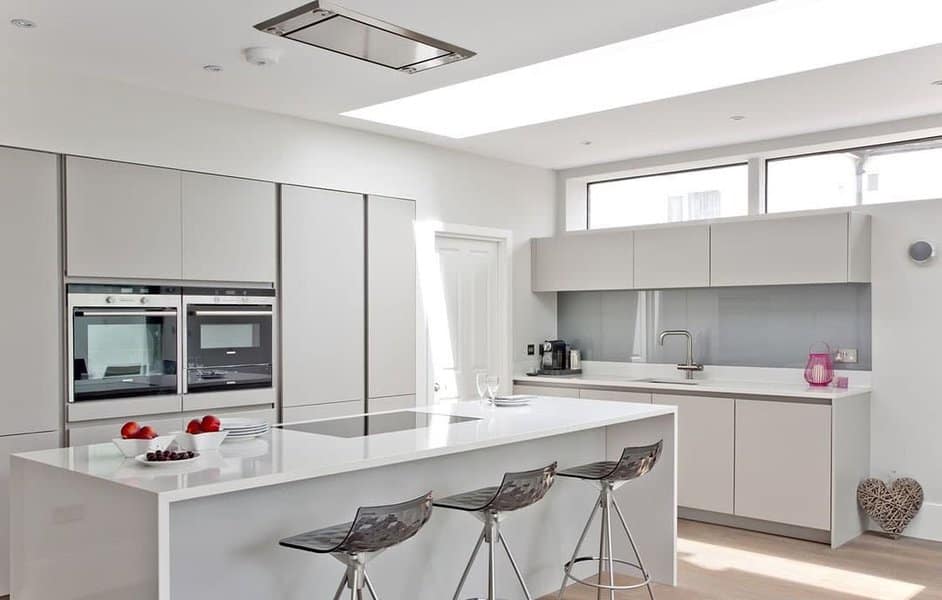 Although simplicity is king when it comes to modern kitchen design, it's very contemporary to mix natural materials, such as marble, wood, metal and stone.
White cabinets with a white quartz countertop are a glamorous modern combination that will never fall out of style. A beige floor made from herringbone pale oak laminate adds a light, airy, Scandinavian flavor to your modern design ideas.
Read more: 54 Modern Kitchen Ideas
11. Outdoor
Sometimes the best place to build a breakfast bar is outdoors—especially if you live in a temperate climate. If you frequently grill or use an outdoor kitchen in the summertime, an outdoor breakfast bar is a must for casual dining. Install weatherproofed kitchen cabinets beneath it to store all your outdoor cooking essentials.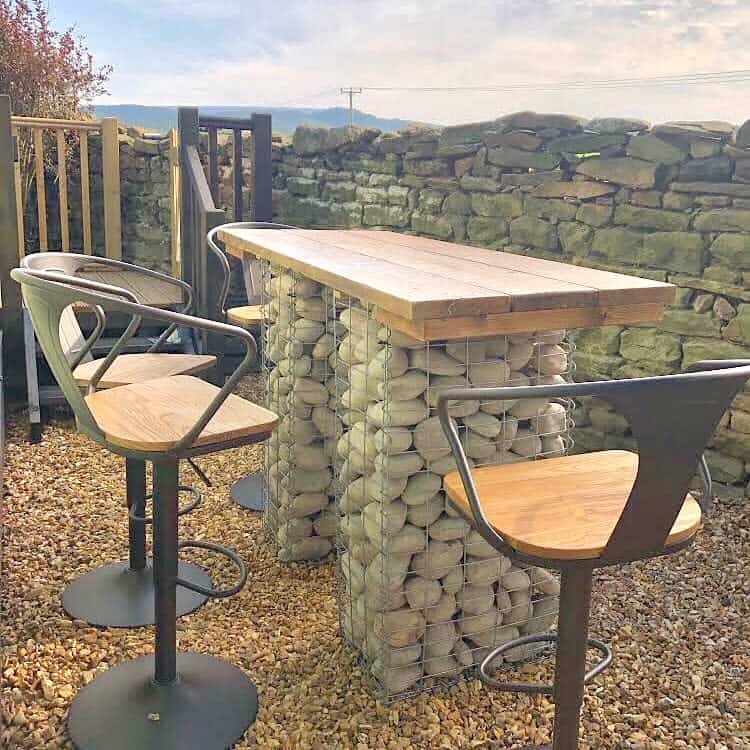 If patio space is limited, a fold-down Murphy bar may be your best bet. Check out this video to see how one DIYer made the perfect party or breakfast bar on his back patio:
If you live in an apartment with a balcony, check into bar top options that attach directly to the balcony railing.
Read more: 33 Outdoor Kitchen Ideas
12. Small
Even a small breakfast bar adds a lot of usability to your kitchen. Not only does it provide extra storage and workspace, it is an excellent place to serve food buffet-style during a party.
Installing flat panel cabinets beneath the bar can provide a convenient place to store your toaster, blender, and other small appliances when they're not being used.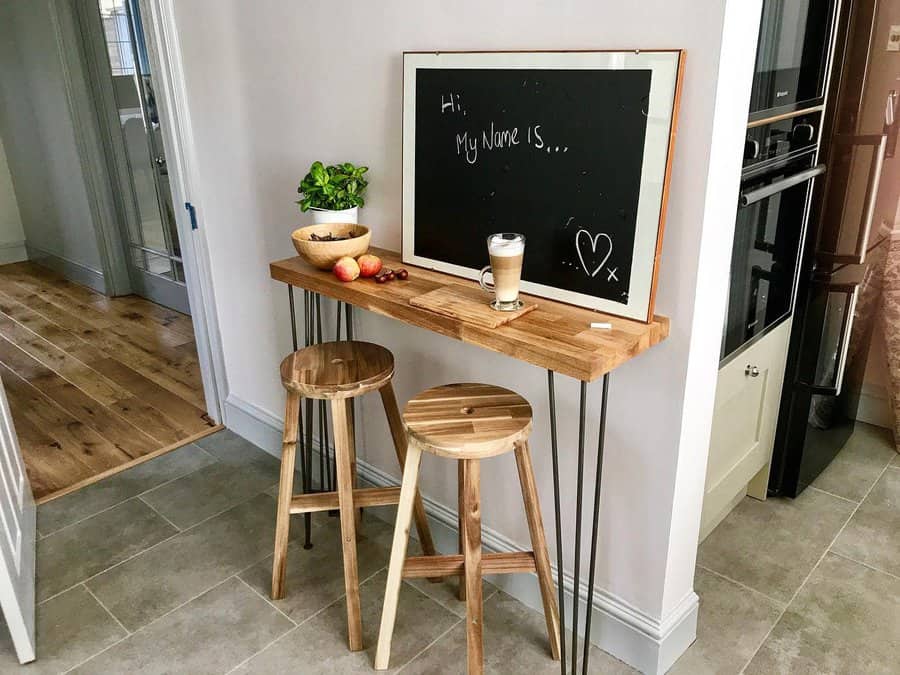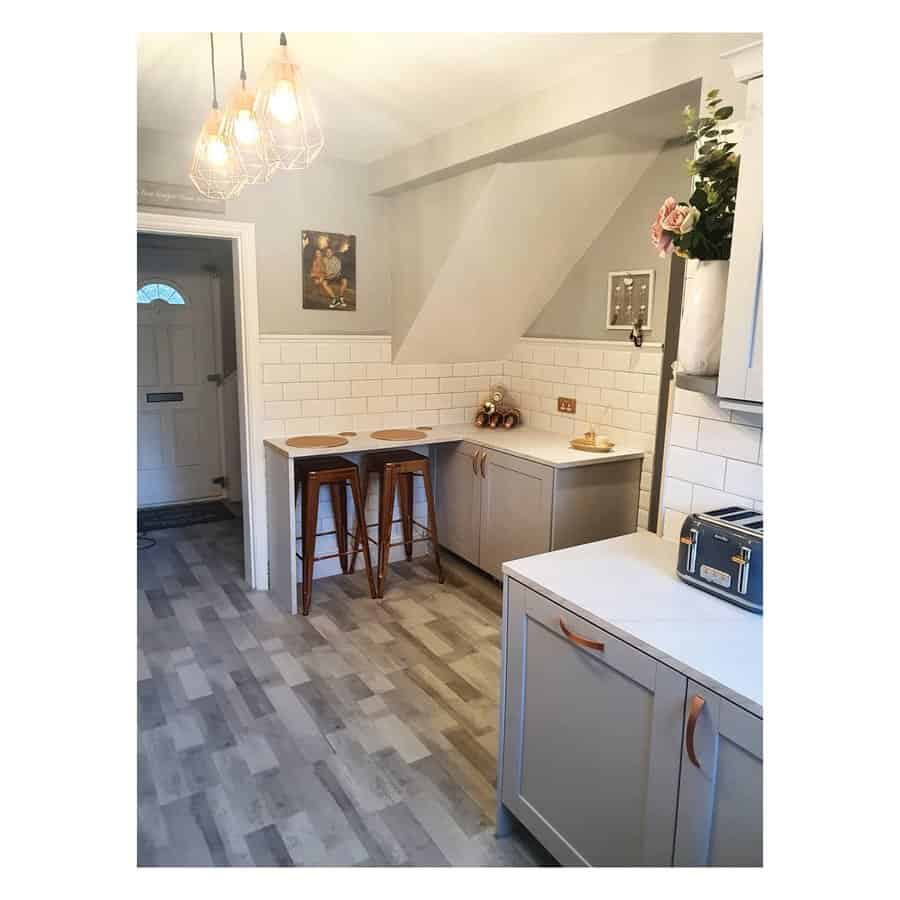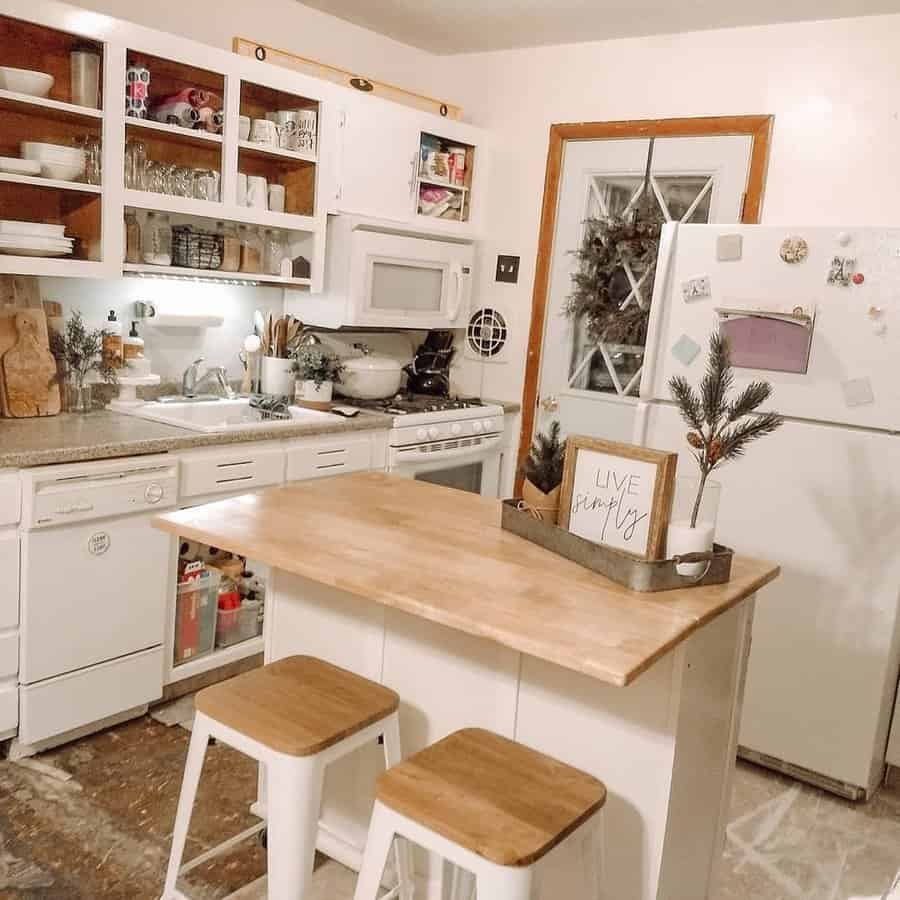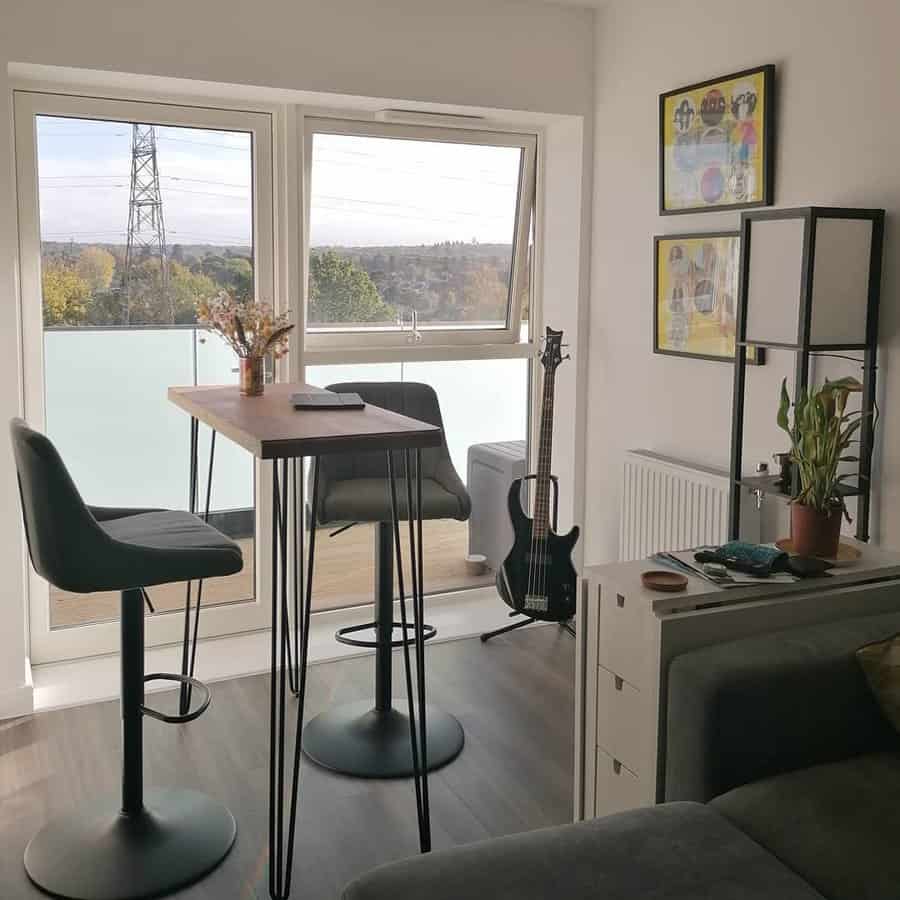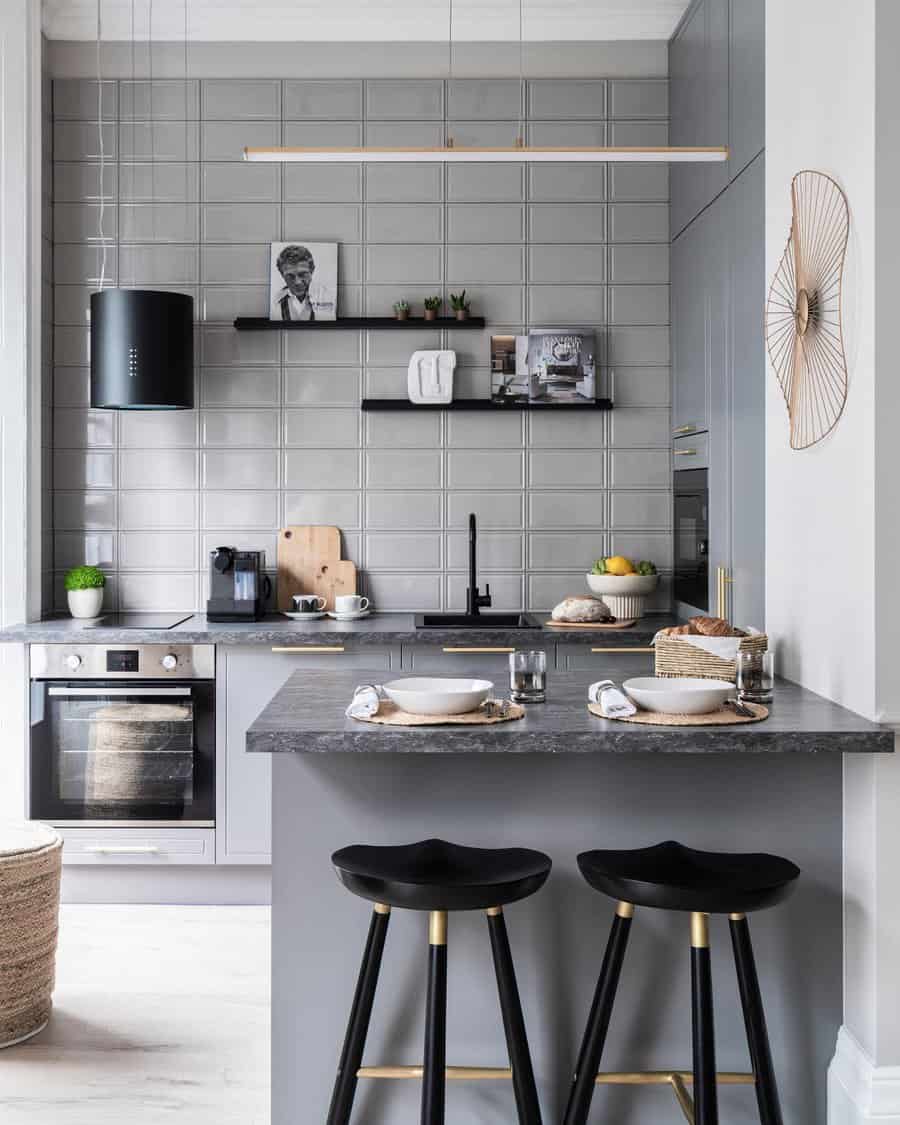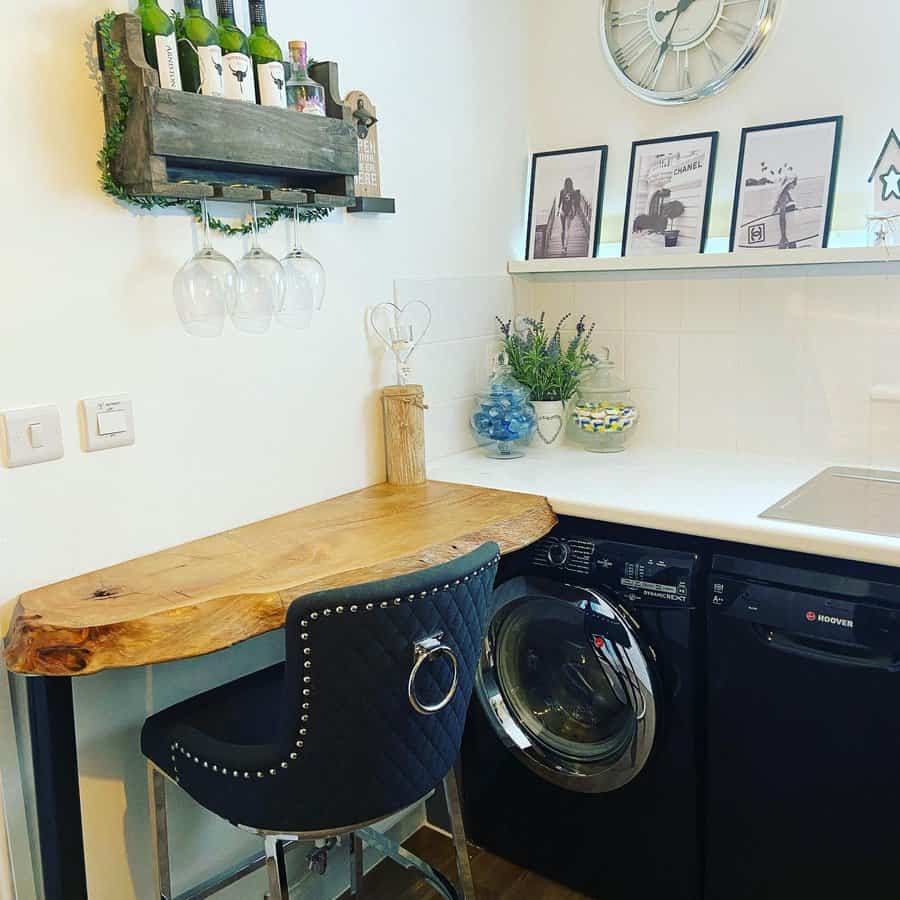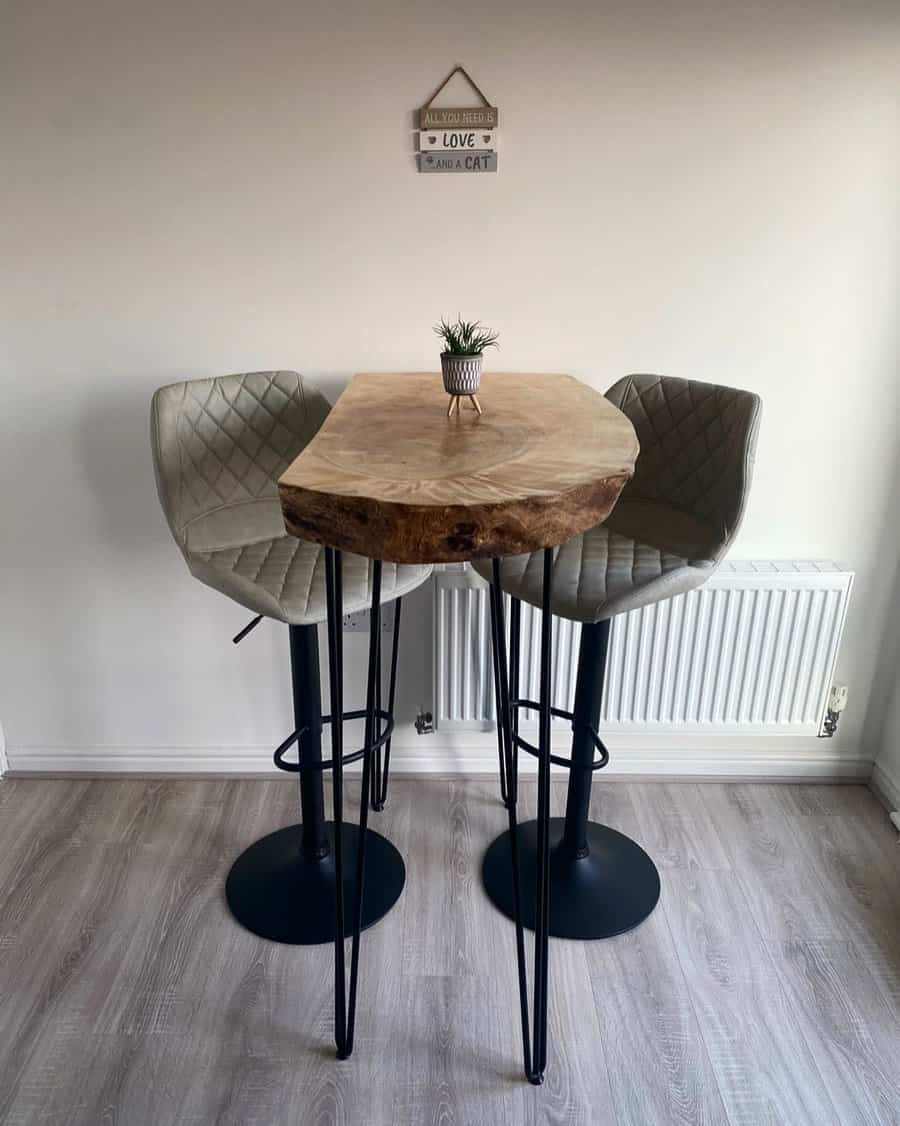 Even in a studio apartment, you may have a corner that's a perfect location for small breakfast bar ideas. If you're fully remodeling your small space, remember that light colors and oversized floor tiles can help make a small kitchen feel more spacious.
13. Table
If you want a breakfast bar, but your landlord won't allow you to build one, shop for a narrow table. A bar-sized table can be placed in a corner and turned into a perfectly functional breakfast bar. In fact, any kind of table can potentially become a breakfast bar with creative room placement.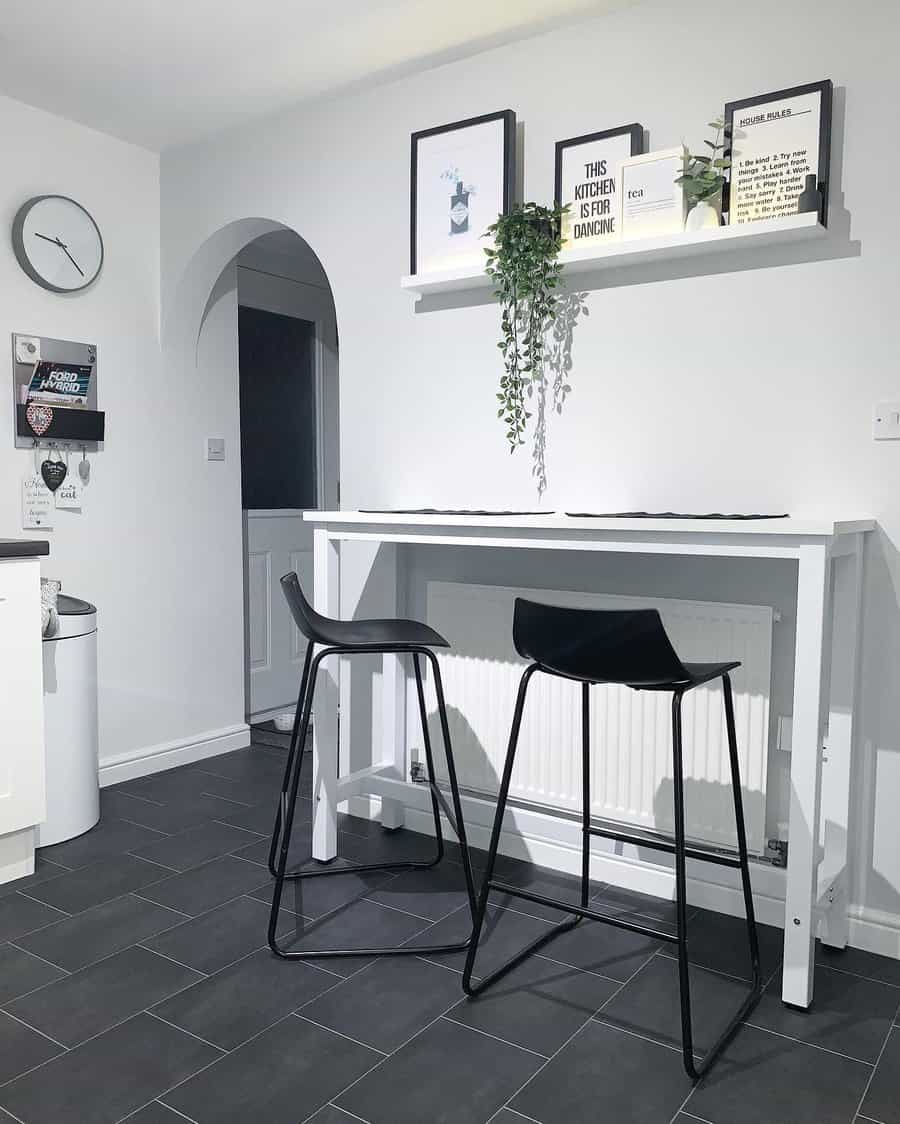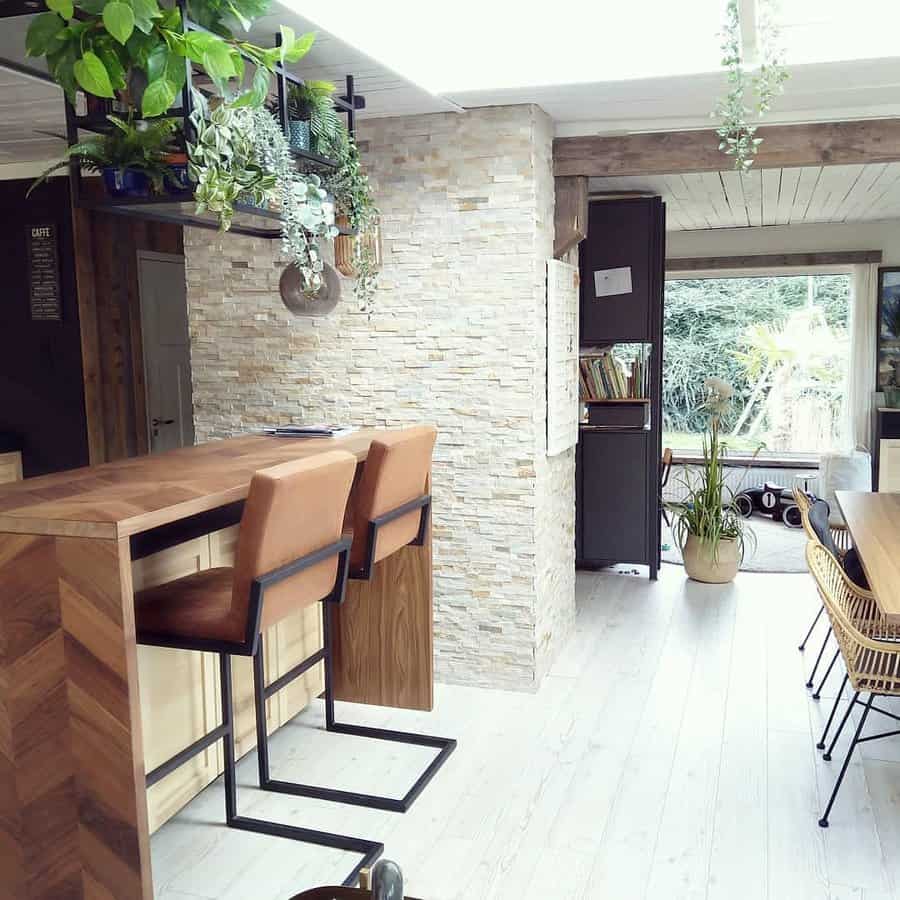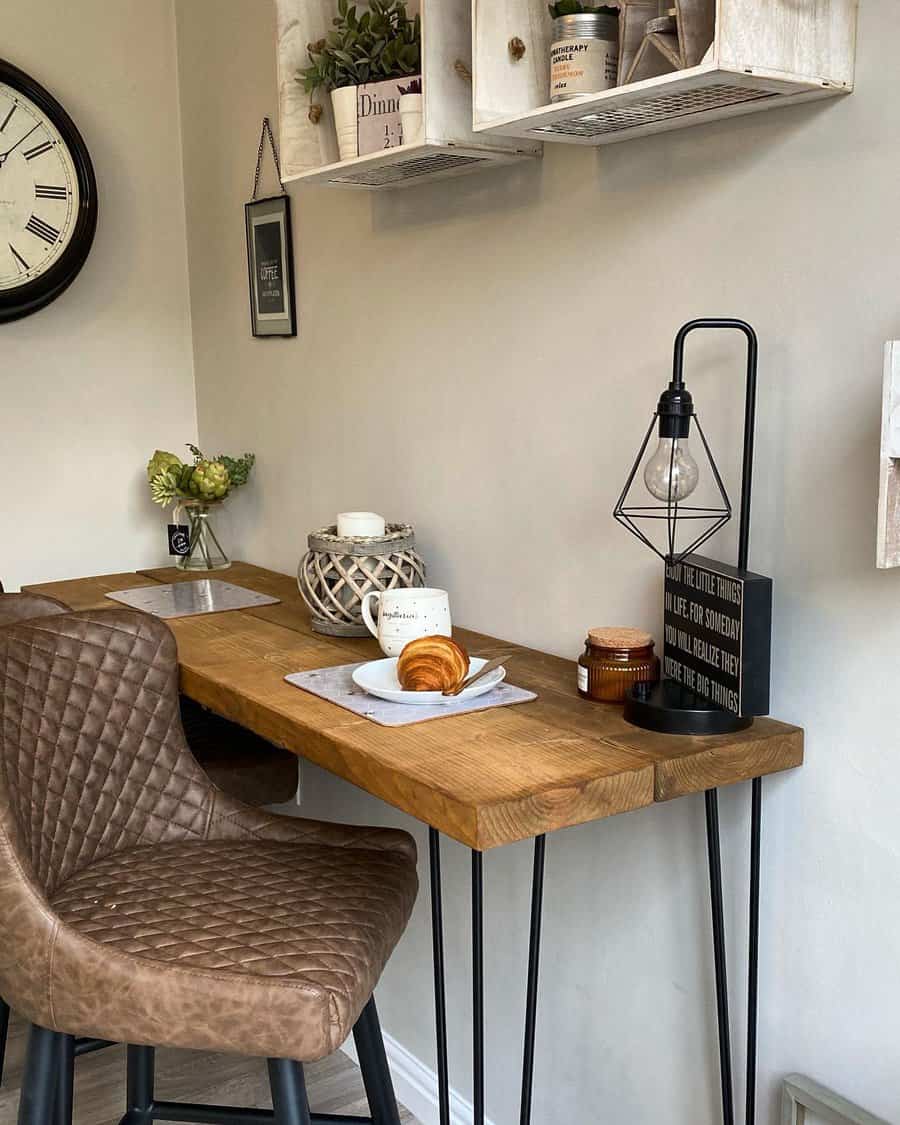 If you have an ordinary height table or desk that you wish to repurpose into a breakfast bar, ask a handyman if he can lengthen its legs. You may have to attach all new legs to raise your breakfast bar to full barstool height.
14. Wall
A wall-mounted breakfast bar may be the best way to add this feature while preserving your available floor space. Add floating shelves above the bar to increase your storage space. Canisters, extra mugs, and glasses can be stashed away on these wall-mounted shelves.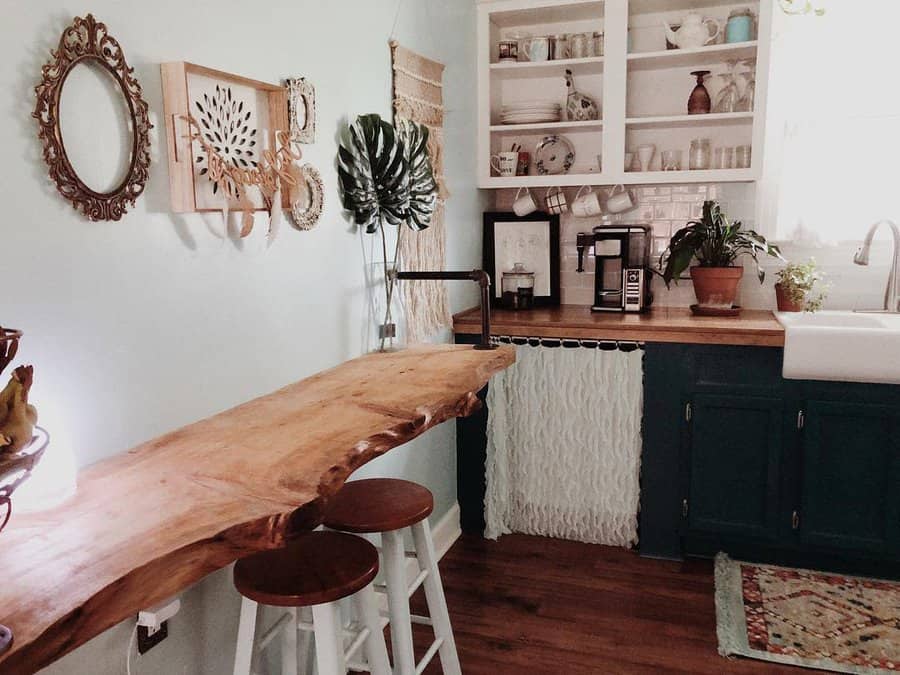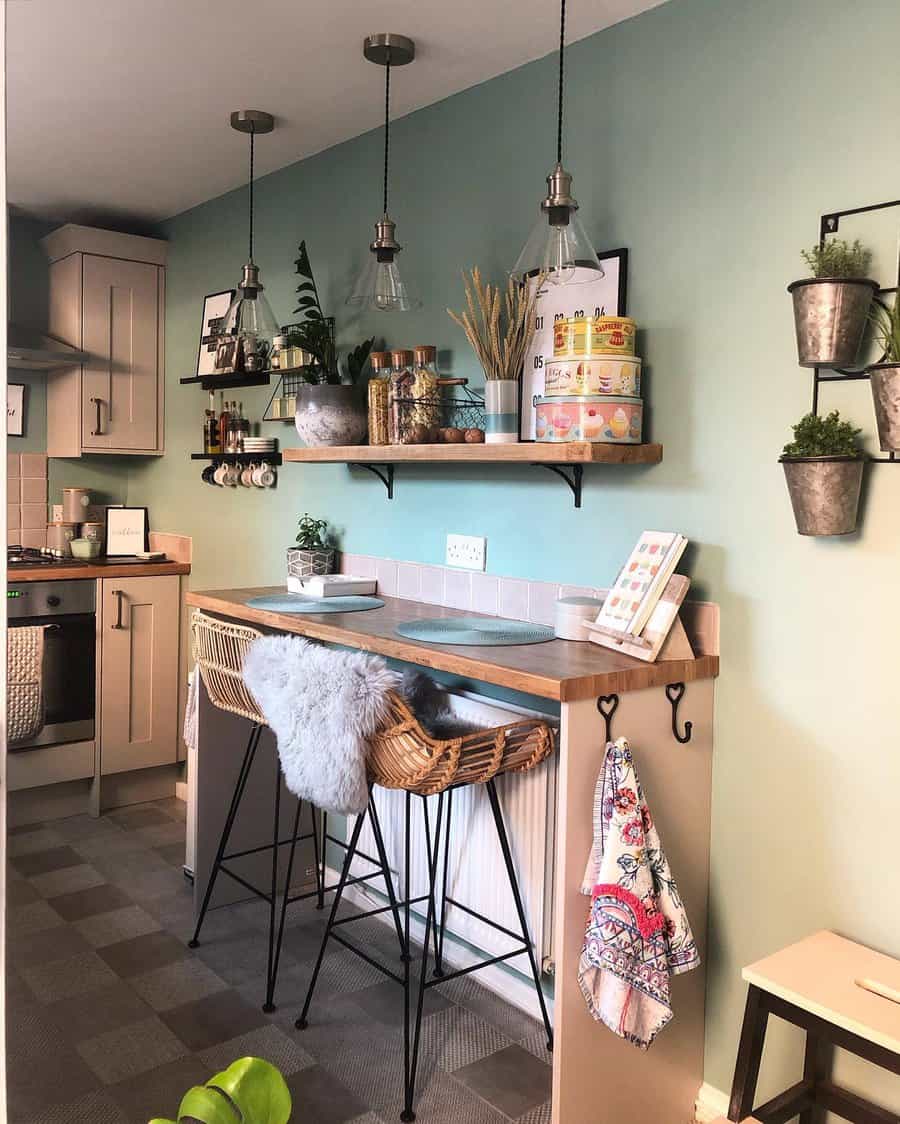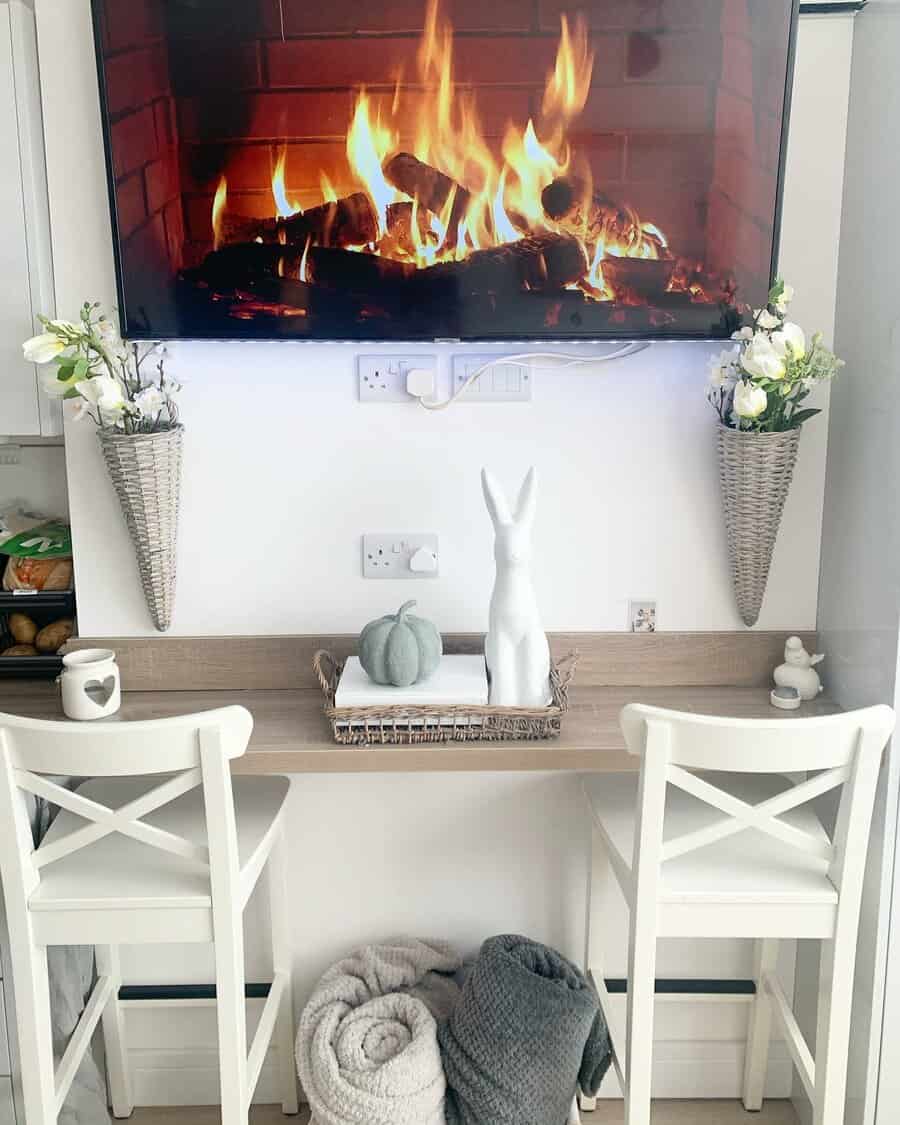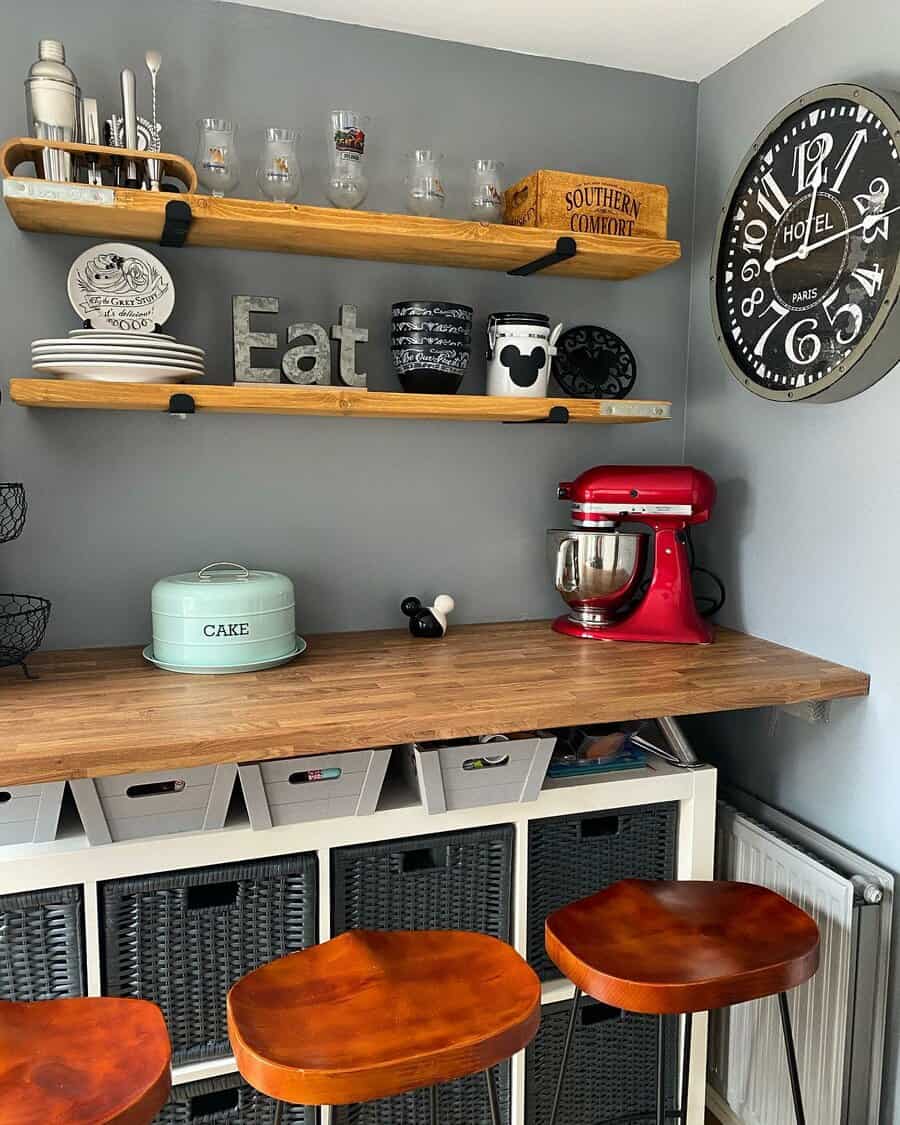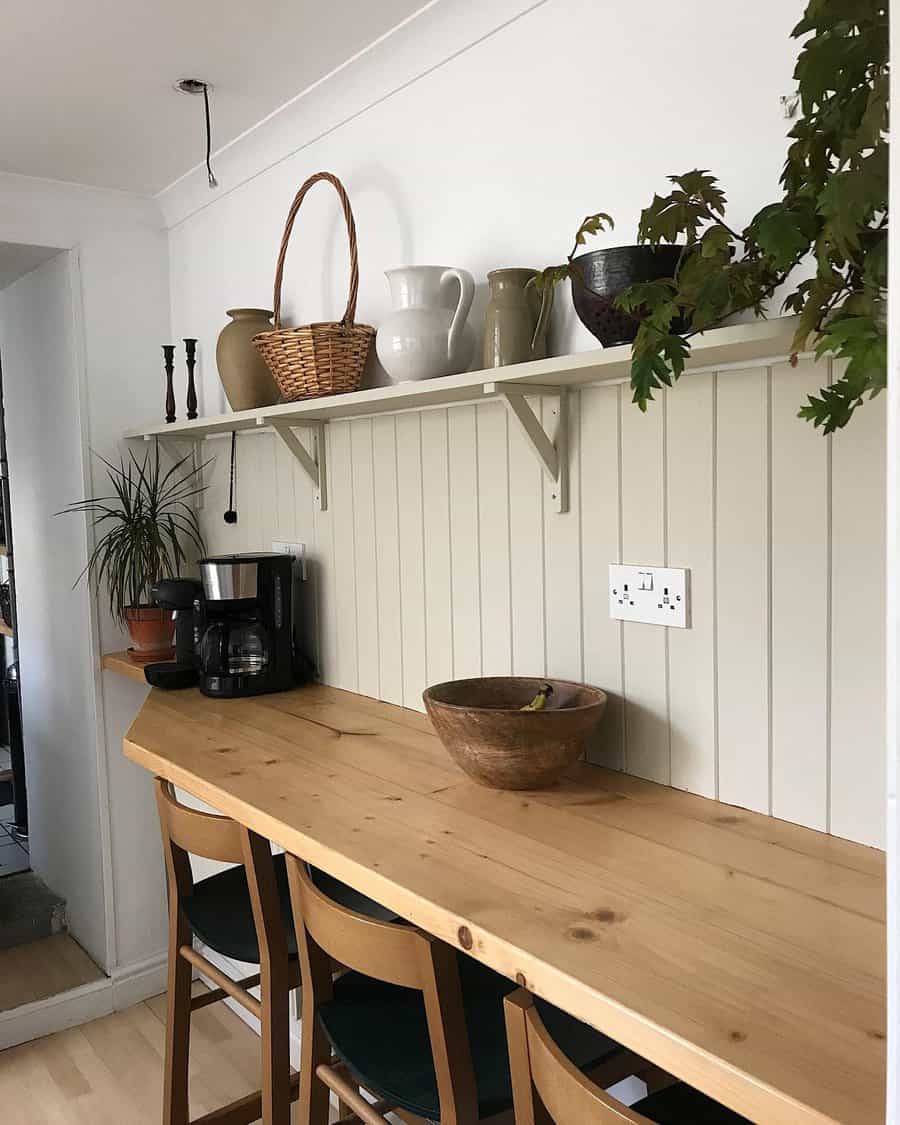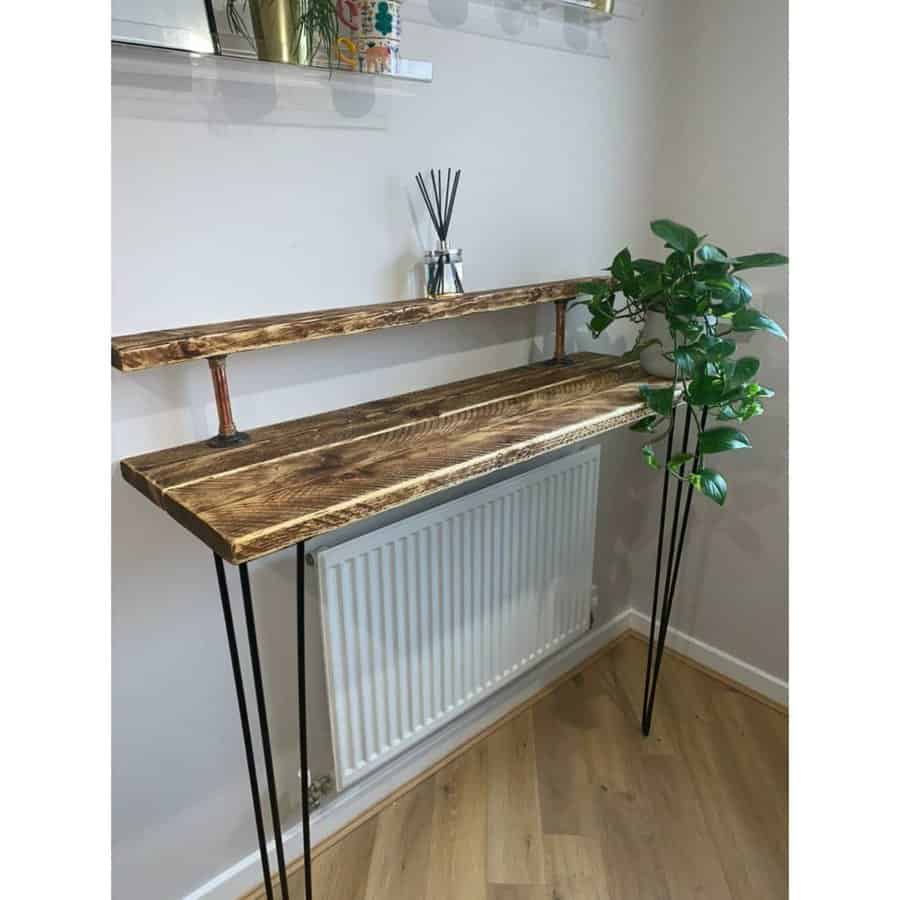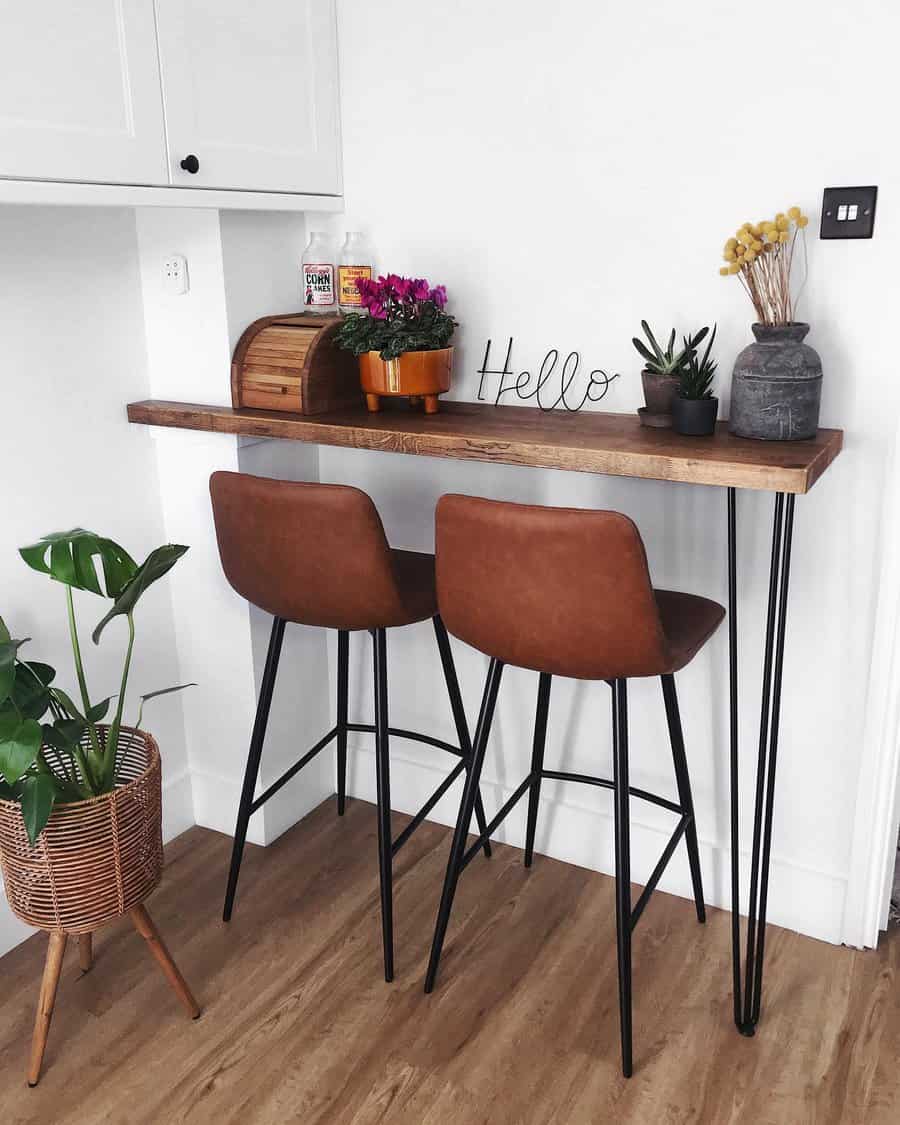 Hang a large mirror over the breakfast bar to visually expand the room. Or mount a flat screen TV above the bar. That will make it easy to watch the weather and traffic report while eating your morning cereal.
15. Window
Don't overlook the space beneath a window as a possible breakfast bar location. In fact, a windowsill breakfast bar might be the best location of all if you have a nice view. Install a simple shelf at bar or table height and add seating that coordinates with your overall design scheme.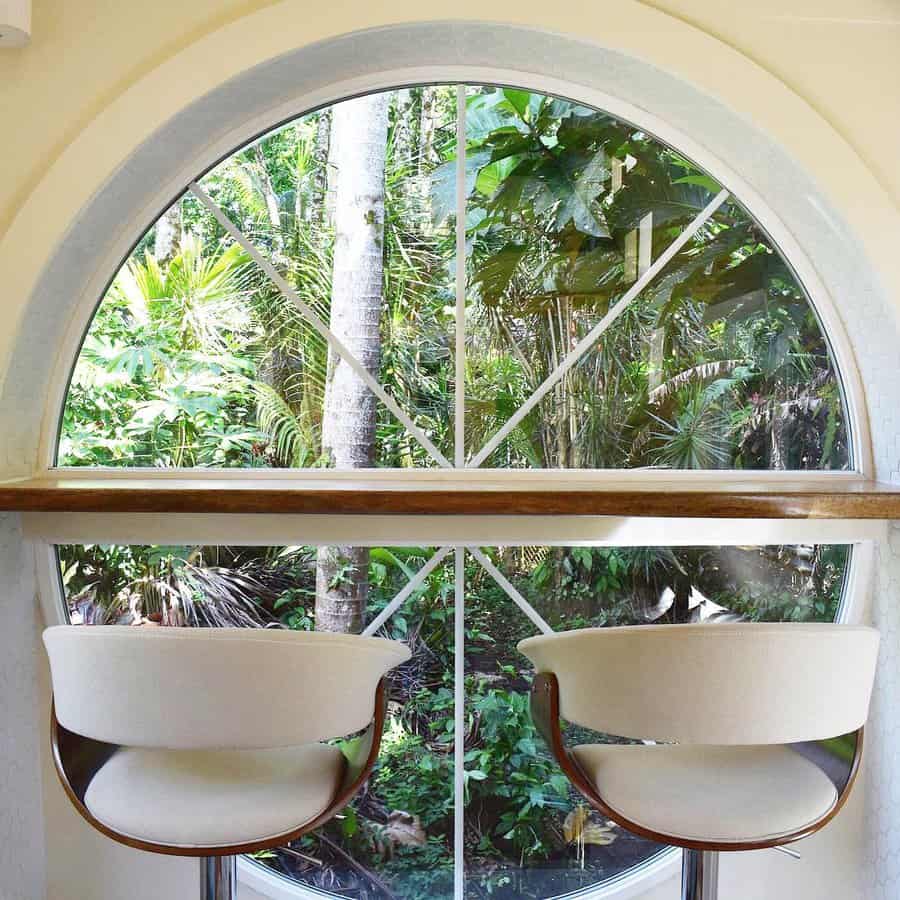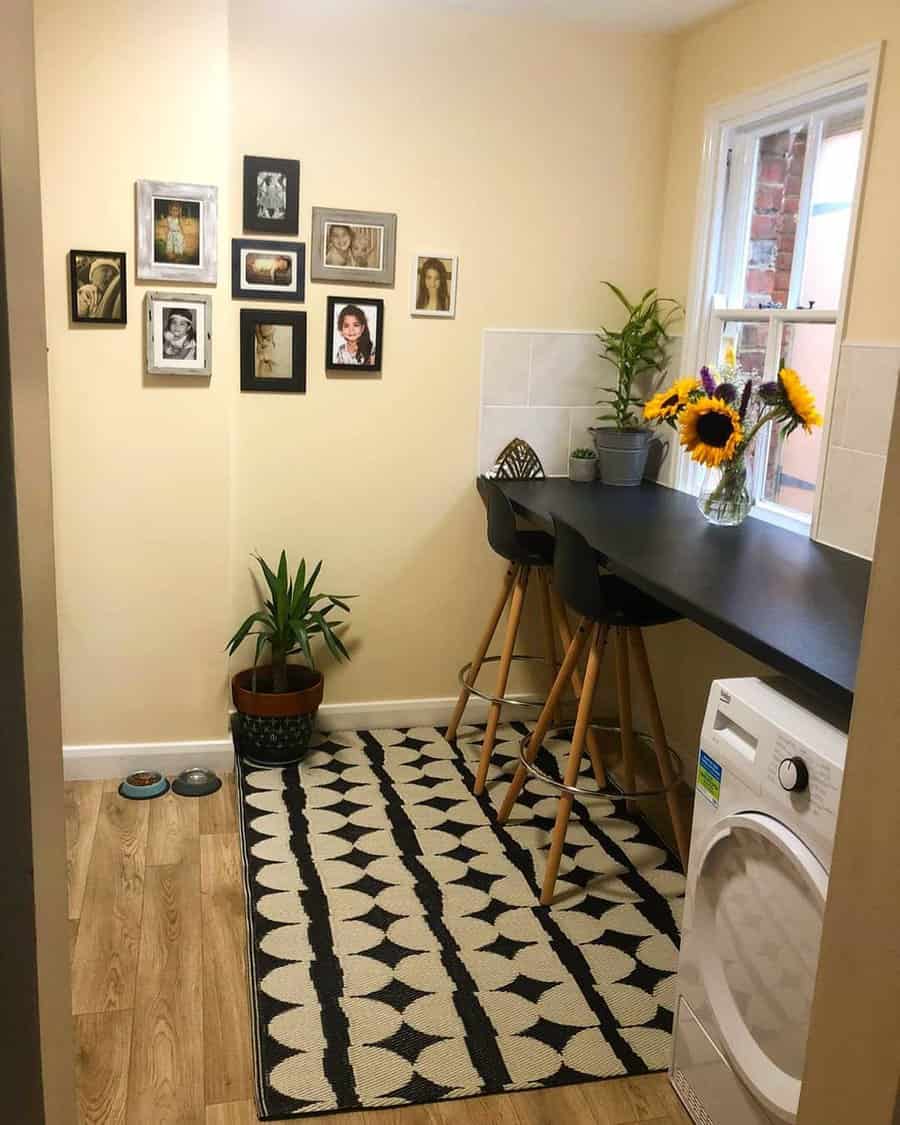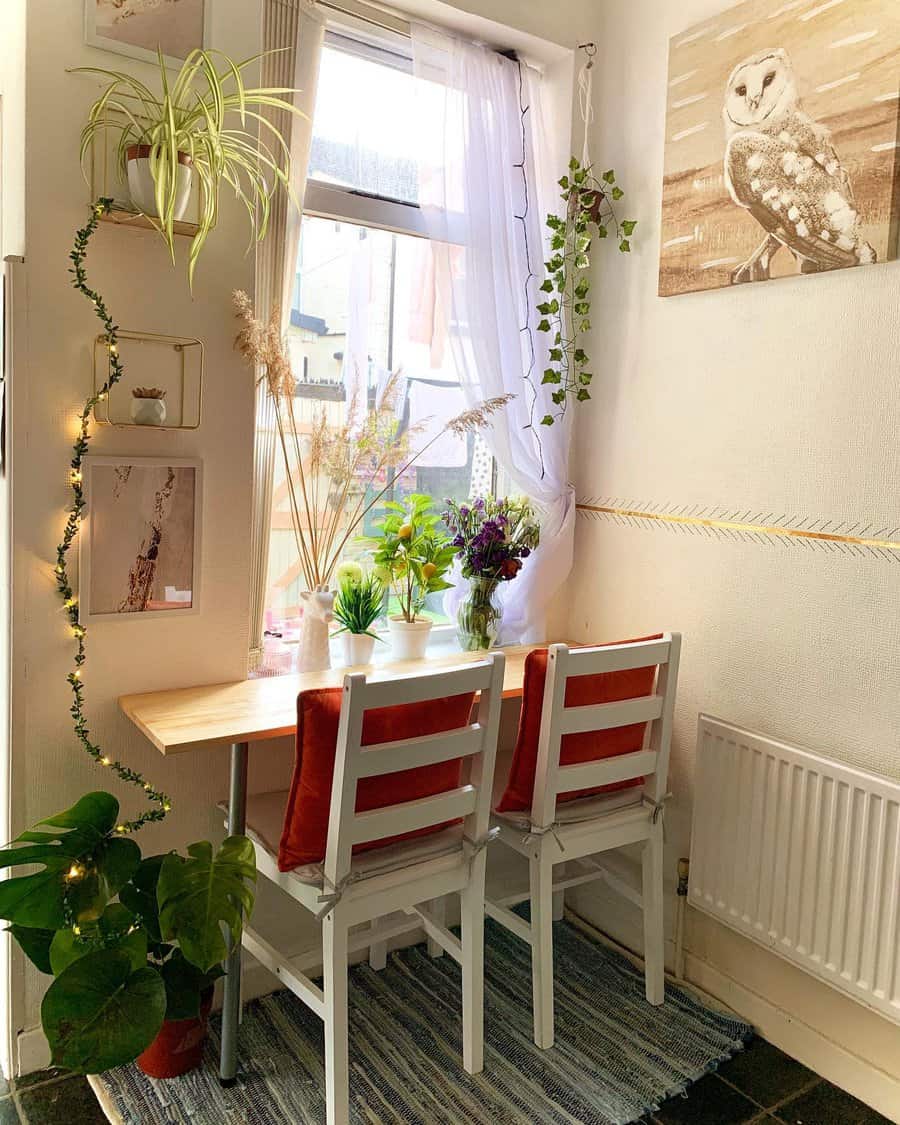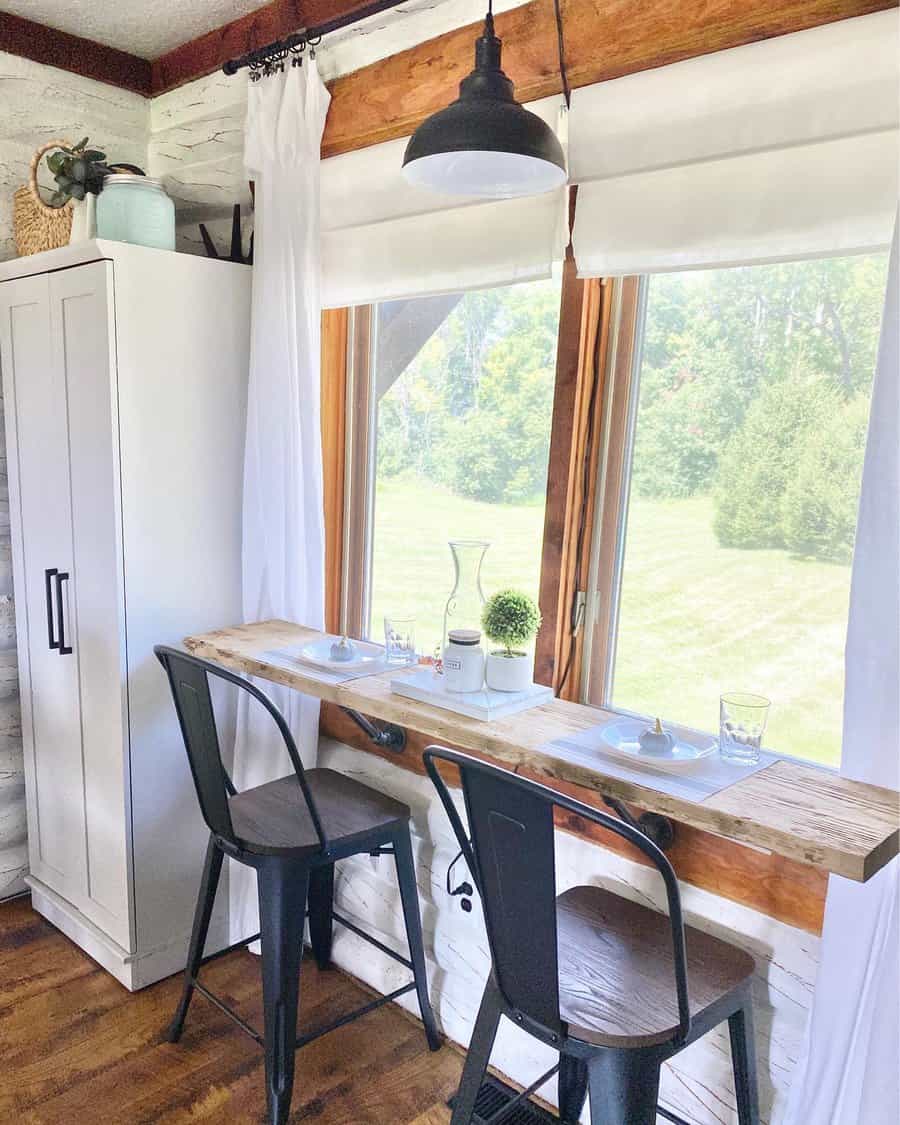 If your windowsill is wide enough, line up green plants or succulents along its length to bring the outdoors inside. A window-mounted bird feeder can bring feathered friends to dine with you on the other side of the glass.
Be sure to have blinds or sheer curtains to help soften intense morning light, especially if the window faces east.
Breakfast Bar FAQs
How do you decorate a kitchen breakfast bar?
A few elements can turn a breakfast bar from boring to beautiful. Hang attractive pendant lights over the bar and undermount LED lights beneath the countertop. Use a colorful bowl of fresh fruit or a vase of cut flowers as a centerpiece. Keep it simple, but splurge on high quality, great looking bar stools.
What is the normal overhang for a breakfast bar?
An average overhang is between 10 and 12 inches. This allows most people enough knee room below and enough dining space on top.