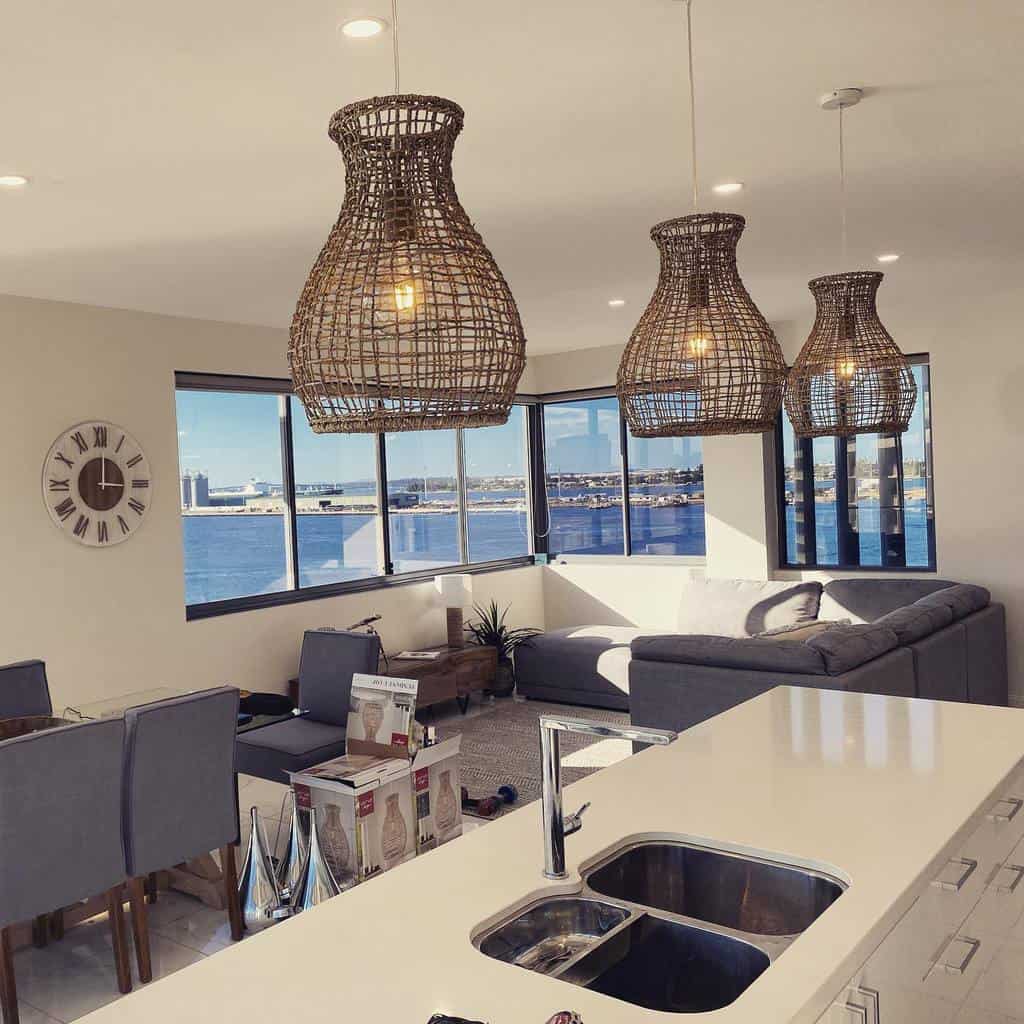 55 Kitchen Island Pendant Lighting Ideas
Buying new lighting fixtures is a great way to update a room without putting in a lot of effort. A kitchen island is the center of the room so these kitchen light fixtures are the perfect place to broadcast your personal style.
It's important to choose the right kitchen island light, scaled in size to fit the room. We have 55 amazing kitchen island pendant lighting ideas to help remove the guesswork in your next kitchen makeover.
1. Candle
Candle-shaped light bulbs are a popular addition to kitchen island lighting fixtures. They add a warm, ambient glow to the kitchen, especially at night. Chandelier island lighting adds elegance to a traditional kitchen. Hang one large chandelier or two smaller ones over your island.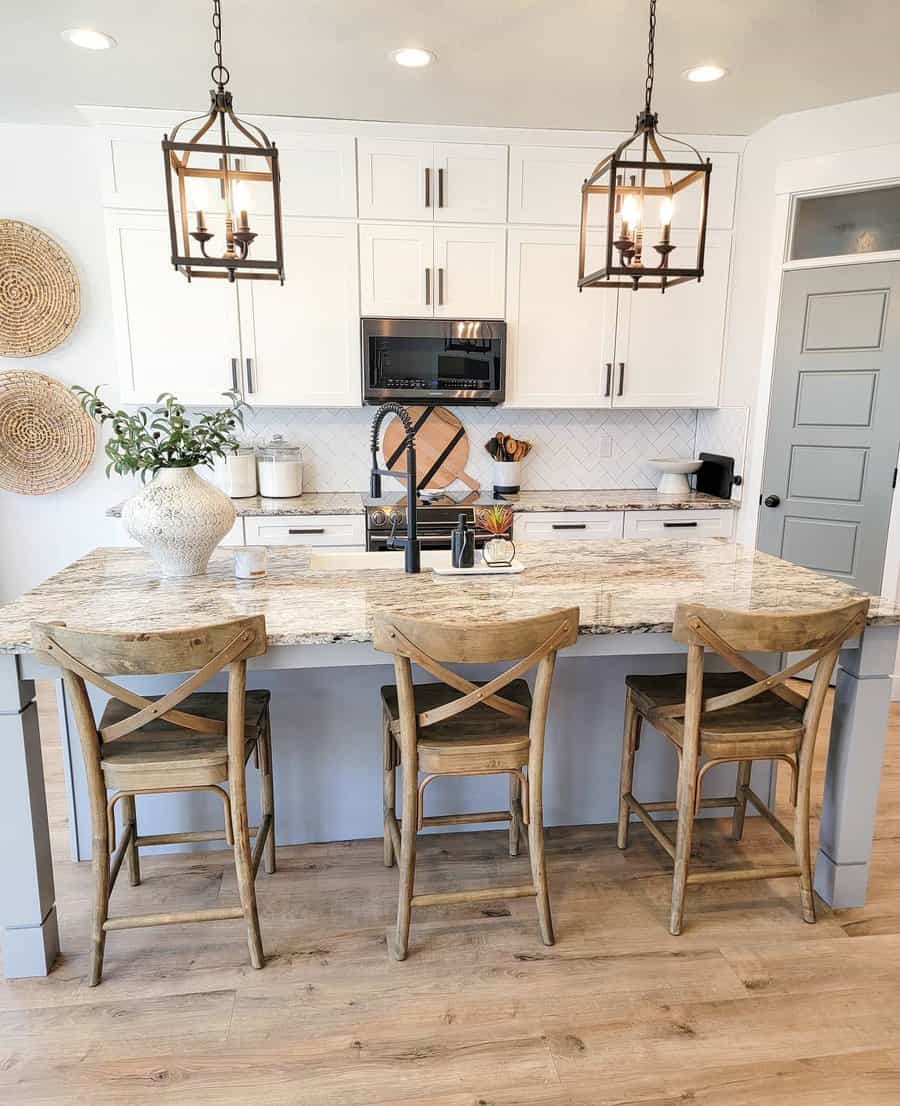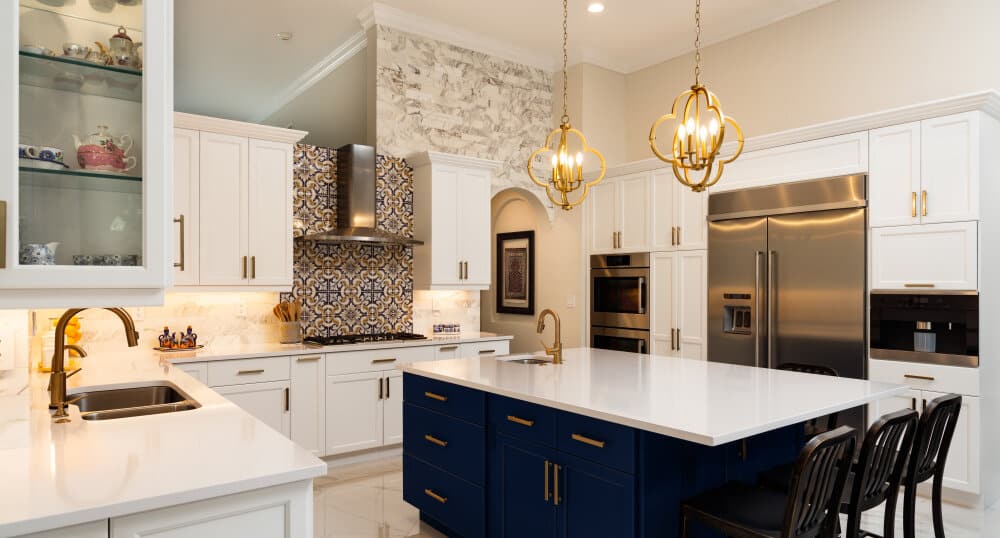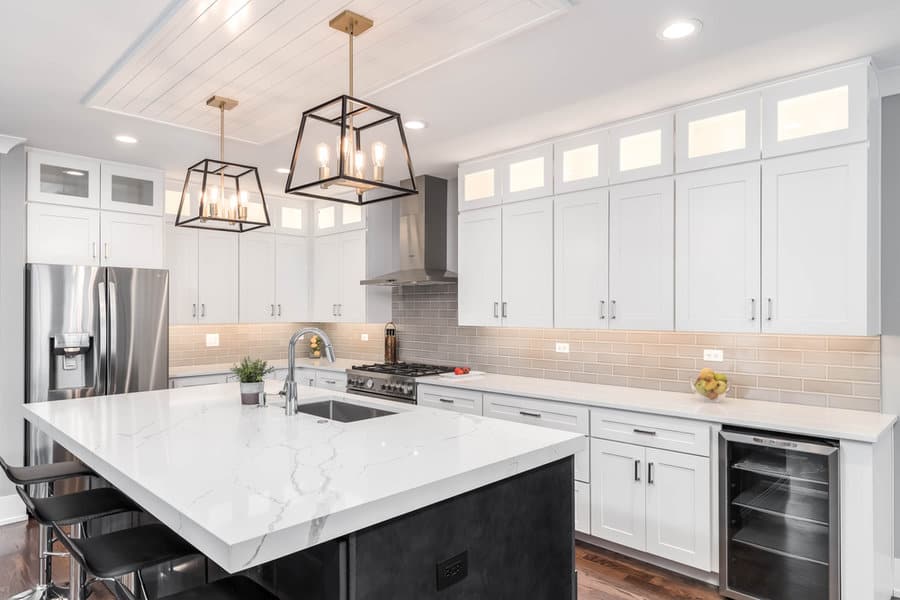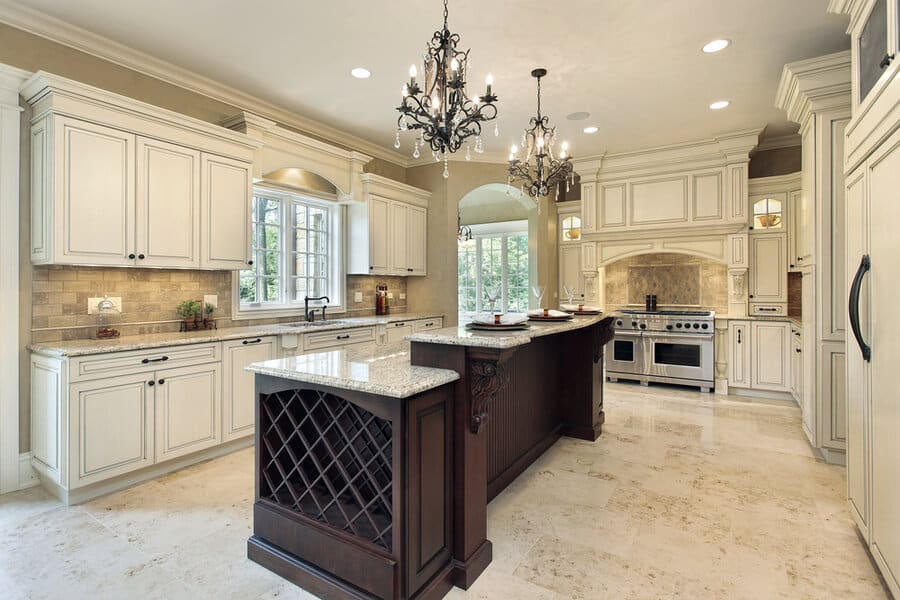 Although they're essential in chandeliers, adding candle bulbs is a good way to update any open pendant light fixture. Install a dimmer switch to maximize the impact of these electric candle alternatives.
2. Coastal
A home with coastal inspired home decor needs casual pendant lighting that fits into the theme. Casual kitchen island lighting ideas include rope, wicker, weathered wood, and other materials that inspire costal visions.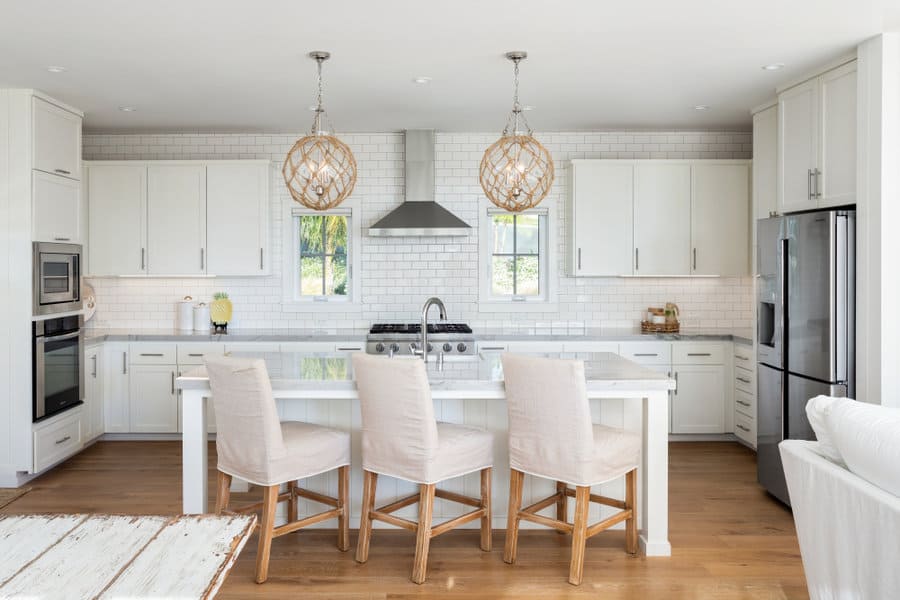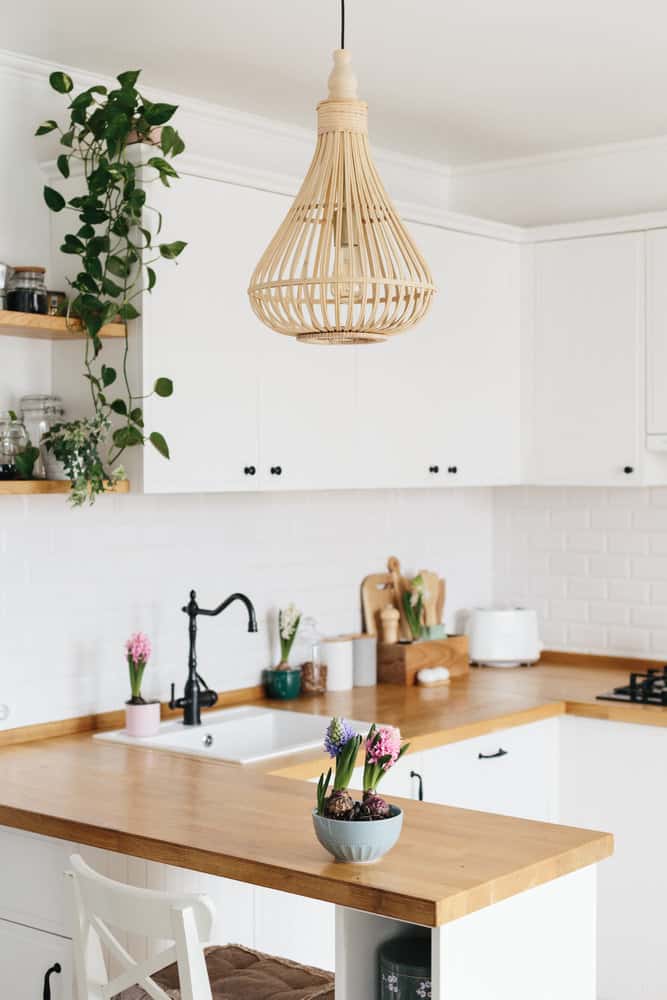 Shop for open basket weave pendants to give an airy, seaside ambience to your kitchen island. They're available in a huge variety of shapes and sizes, with finishes ranging from whitewash to espresso brown.
3. Conical
Conical, or cone shapes, are common kitchen fixture design options. From metal lamps to fabric shades, conical is a shape that works in modern or traditional homes alike. Long, tapered cone shapes continue to be a popular choice in midcentury modern home decor.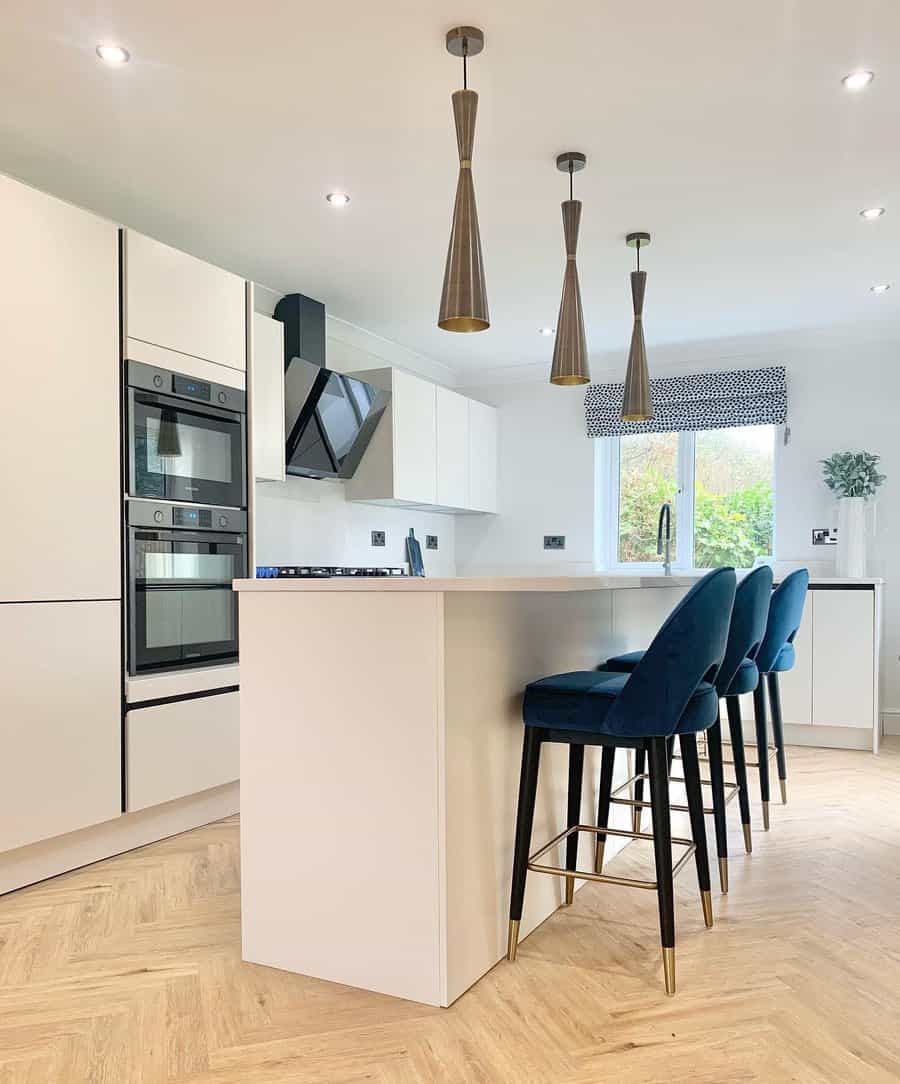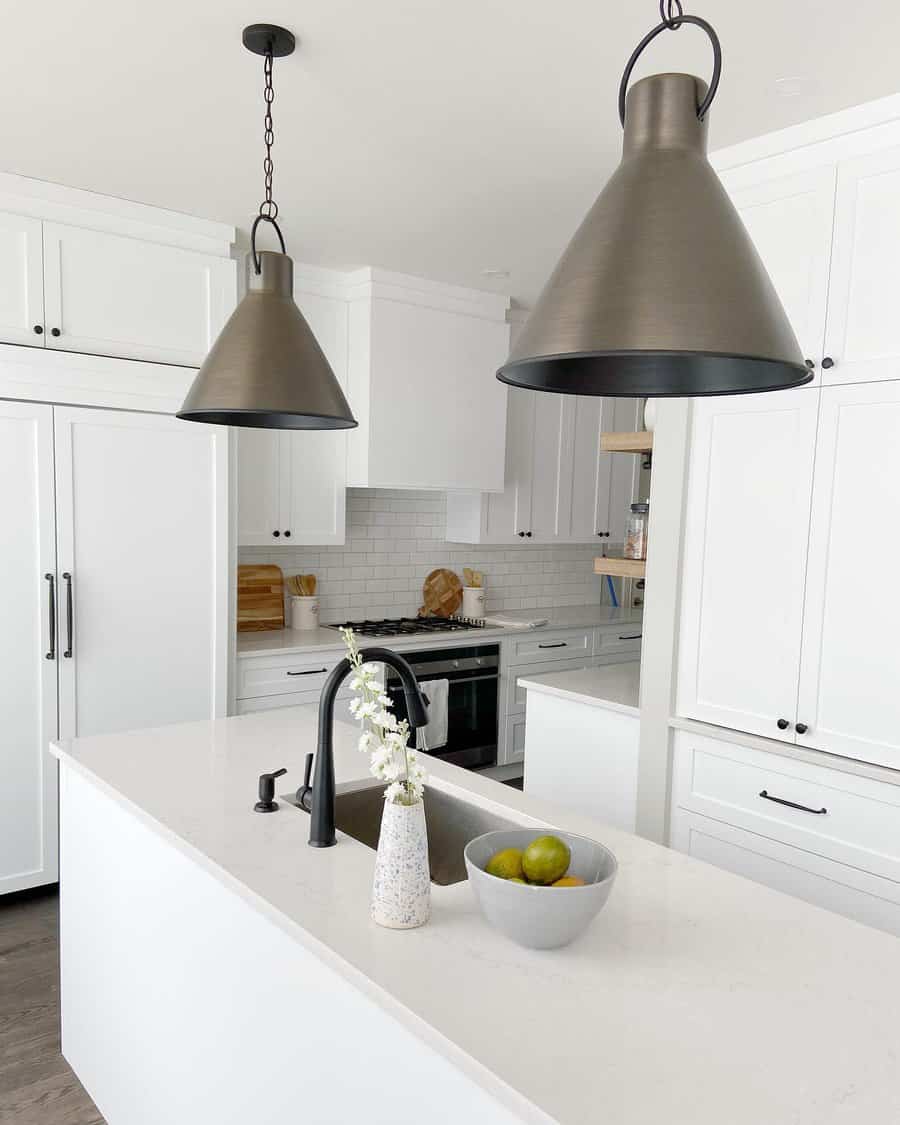 Metal conical kitchen pendants come in every finish imaginable, including shiny brass and brushed nickel. Powder-coated paint options are also popular, from glossy white to black matte. Cone shaped glass pendant light shades are an elegant kitchen lighting idea.
4. Dome
A rounded, curving, half-ball shape is the hallmark of dome pendant light fixtures. This simplistic kitchen island lighting silhouette merges with most home decor styles and is available in nearly unlimited colors and sizes.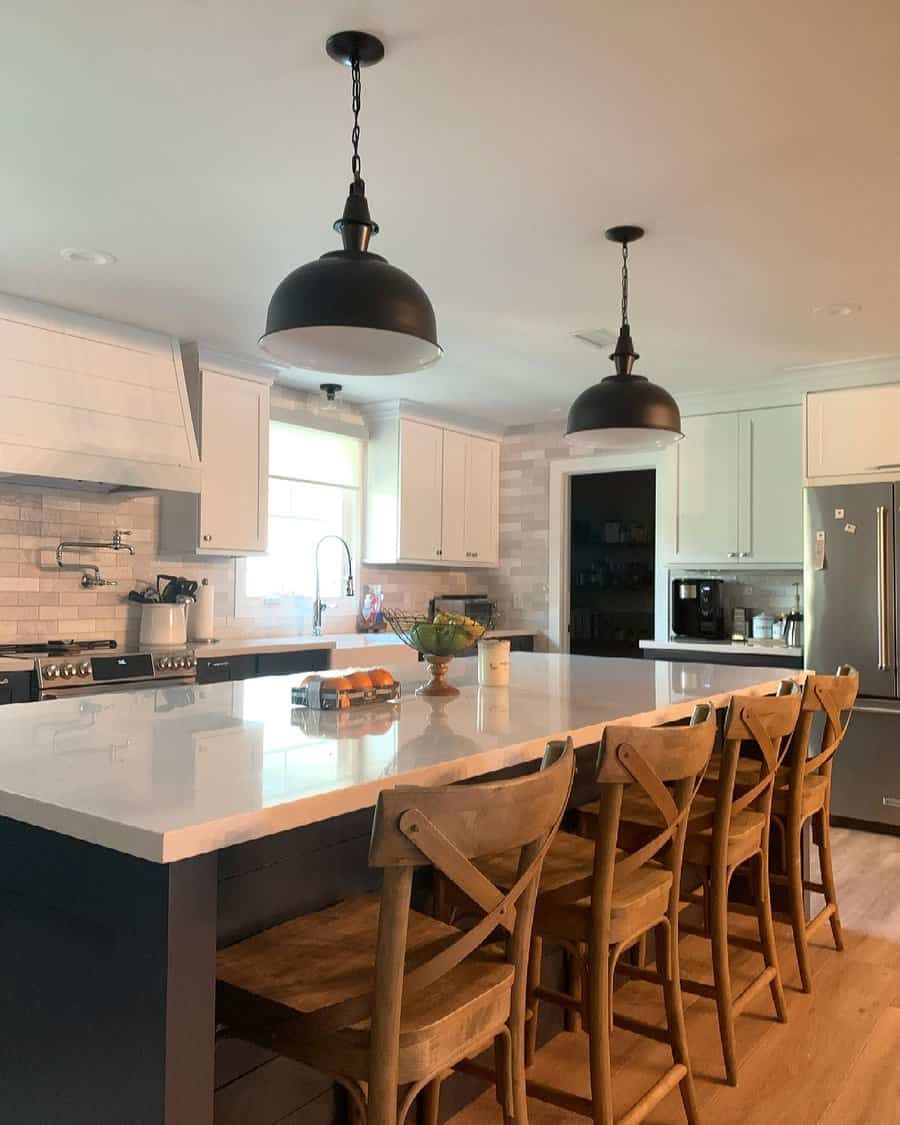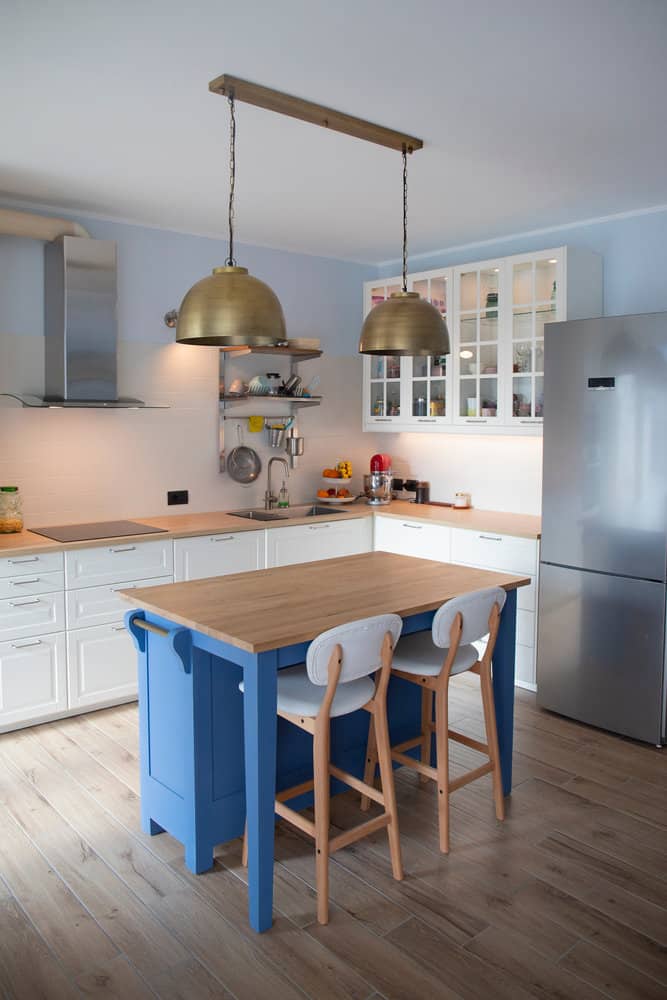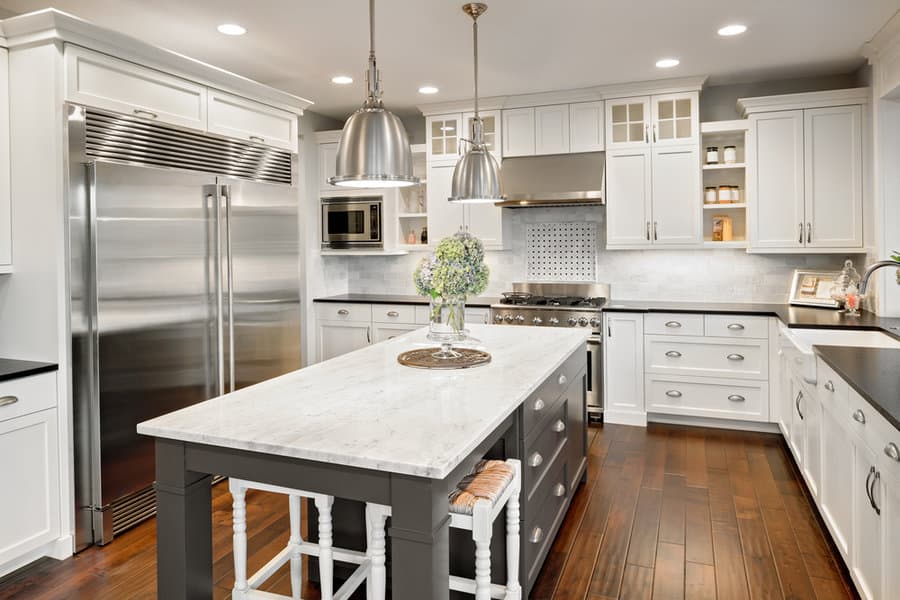 For contrast, look for domes with different finishes inside and out, such as a black exterior and white interior. Having a light color inside the dome helps it reflect more light.
5. Fancy
Don't be afraid to get a little dramatic with your kitchen island lighting ideas. After all, it's the centerpiece of your kitchen—it should be something fabulous! Fun pendant lighting ideas include installing a group of small hanging light fixtures, such as a dozen small glass pendants at varying heights.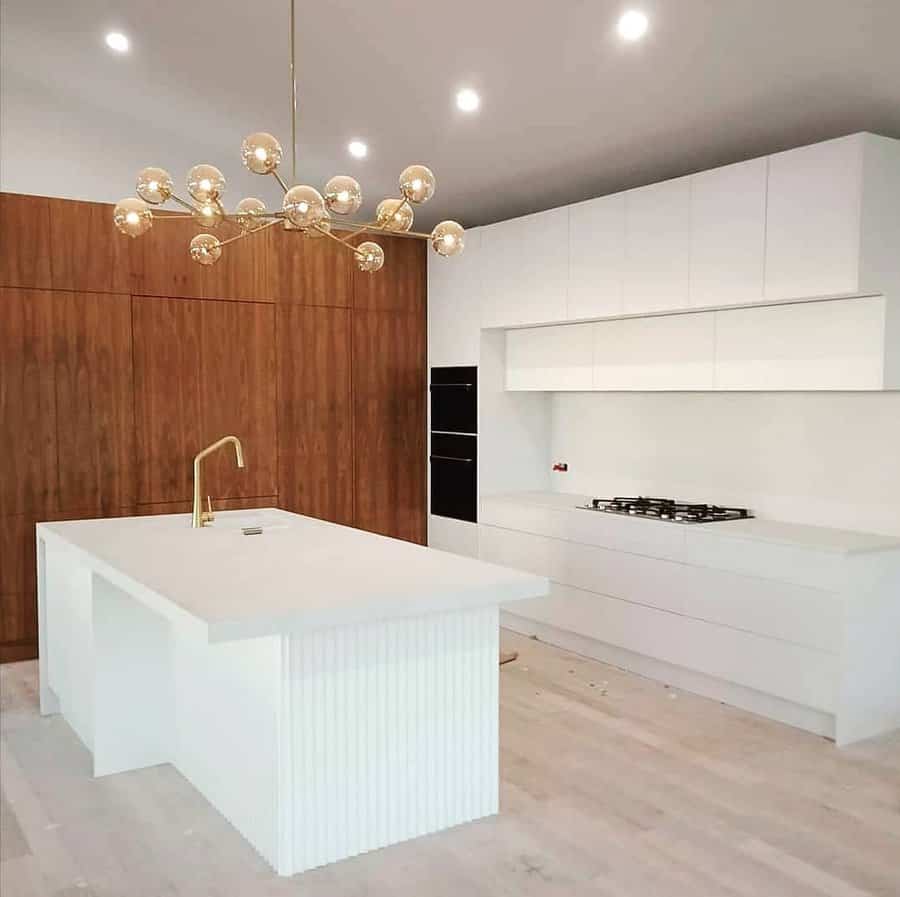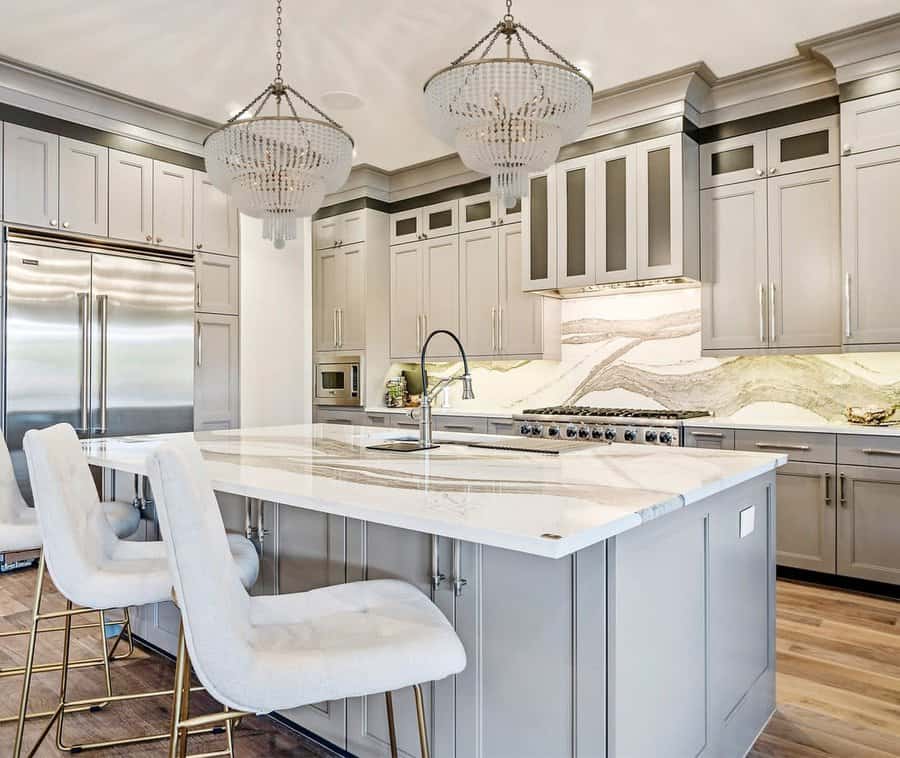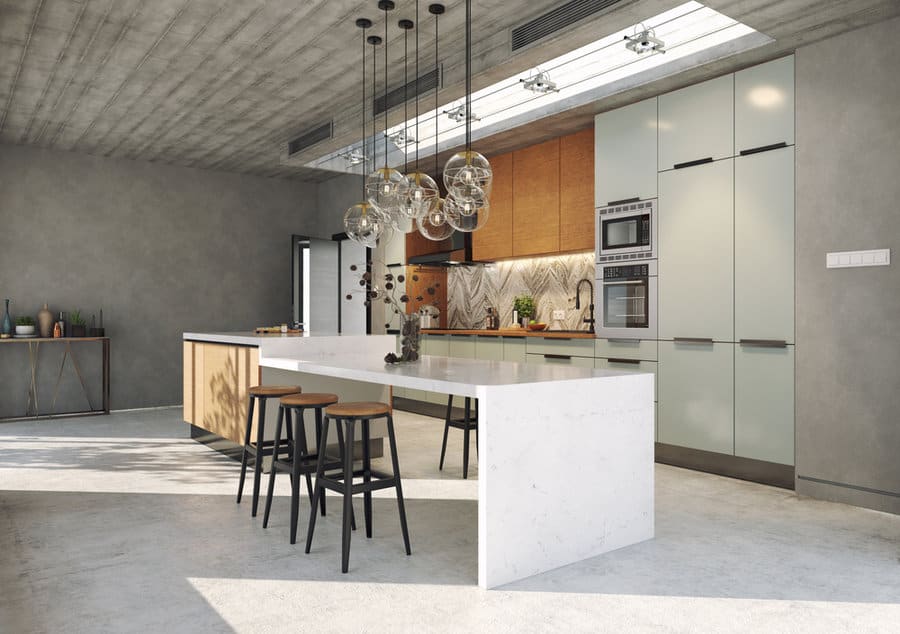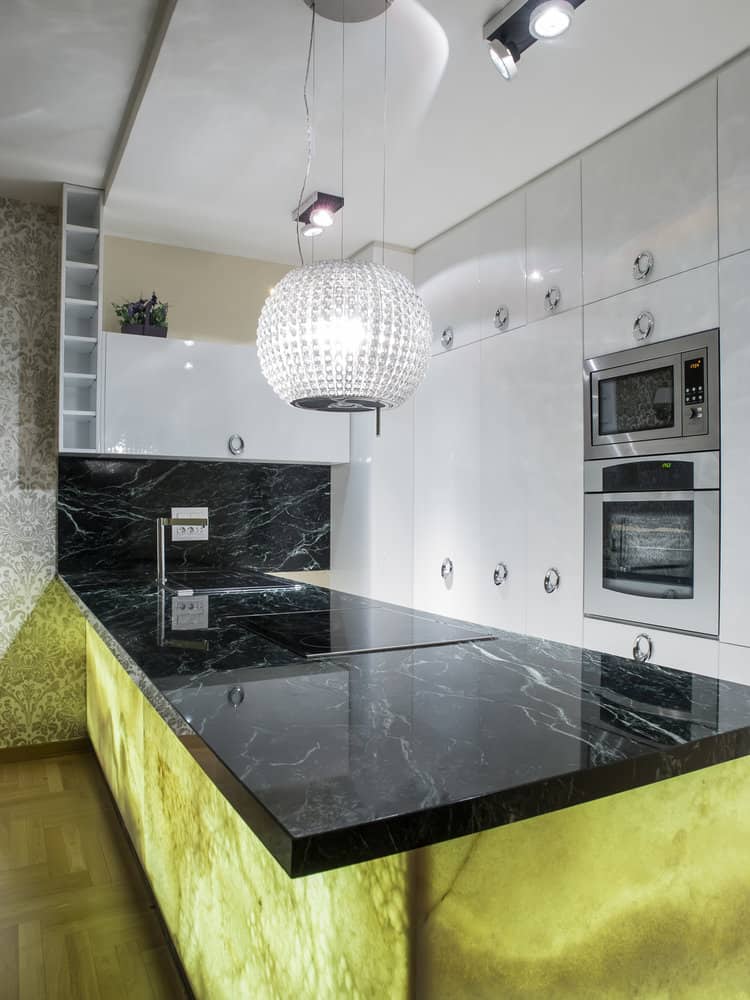 Hang a wide sputnik light fixture to add a midcentury vibe to your modern kitchen island. Or go shabby chic with vintage pendant light fixtures covered in crystal beads. Turn a simple light fitting into something fancy by adding a plaster ceiling medallion to its ceiling insertion point.
6. Farmhouse
A farmhouse kitchen island lighting idea will follow the template for farmhouse style: cozy, casual, or reclaimed. Black metal or wood-beam hanging light fixtures fit comfortably over a farmhouse kitchen island.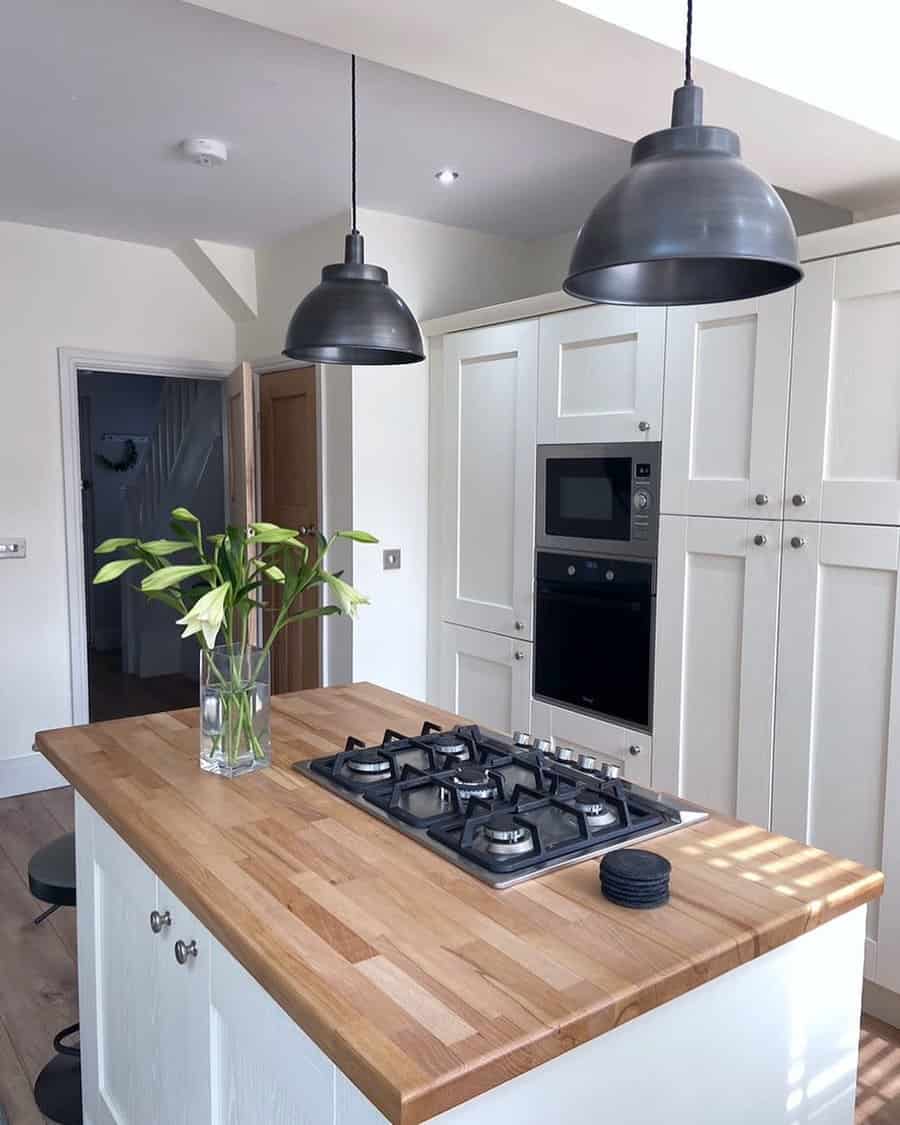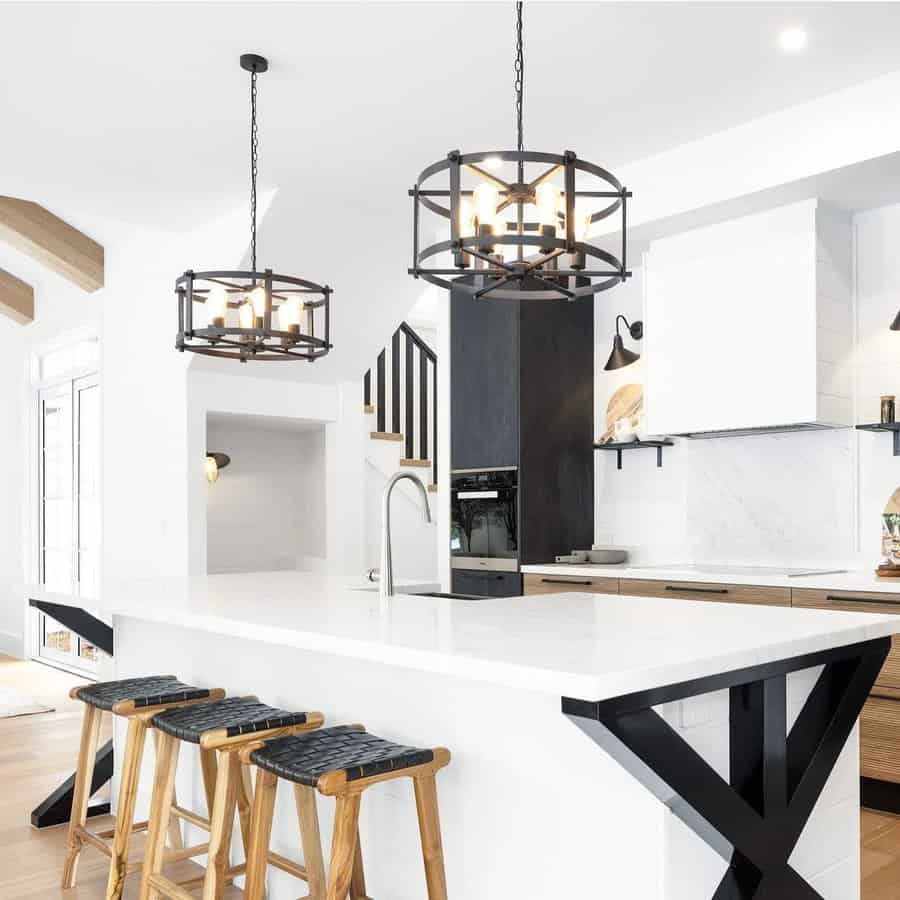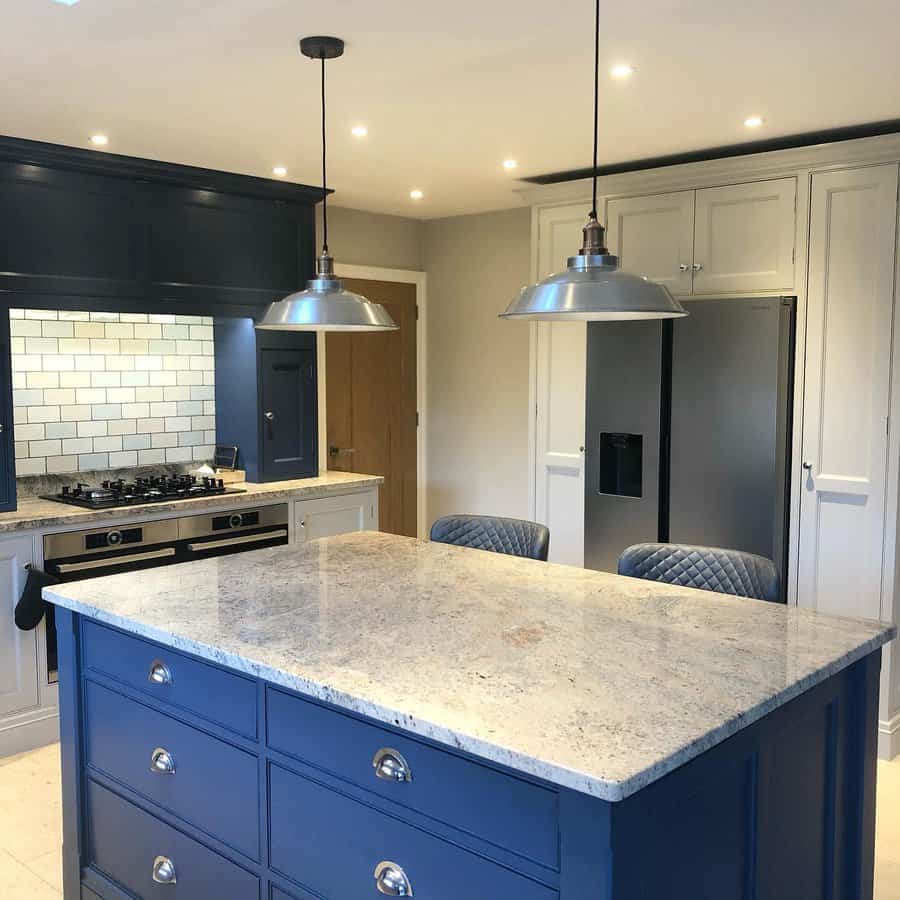 Farmhouse island lighting is usually simple in design, and may carry a slightly industrial vibe. Plain metal domes or conical glass shades work equally well for farmhouse or industrial kitchen lighting ideas.
7. Geometric
An assortment of geometric shapes adds dimension to any home interior, and island lighting is no exception. While most islands are rectangular in shape, their accent lighting doesn't have to mimic this basic outline.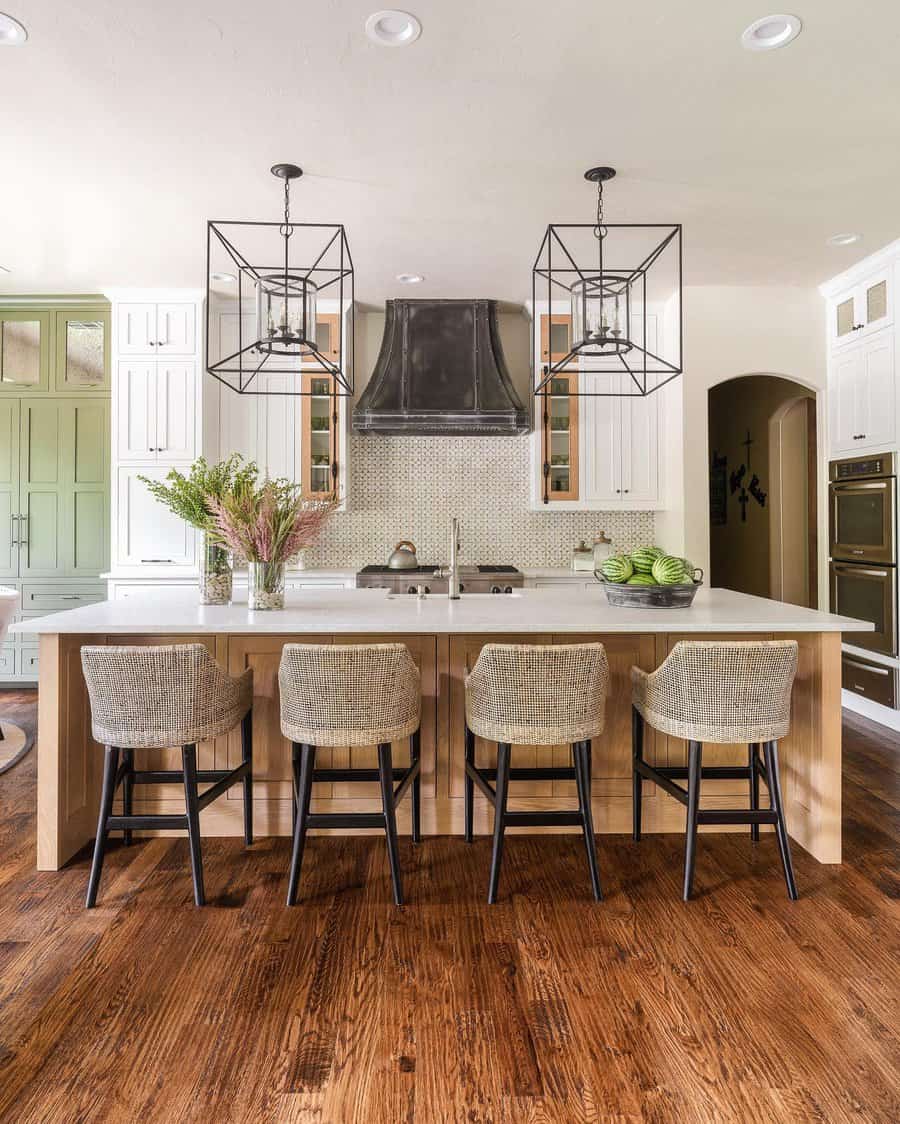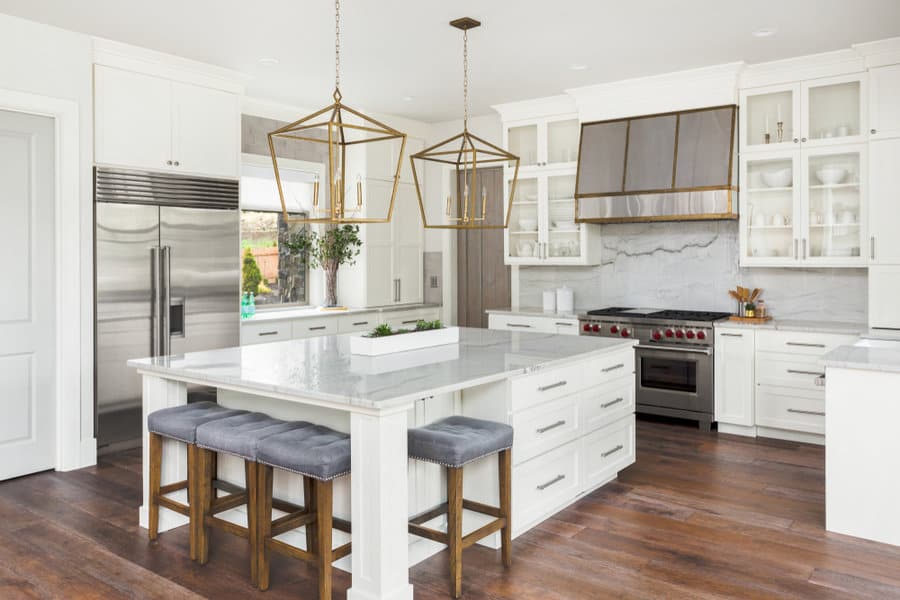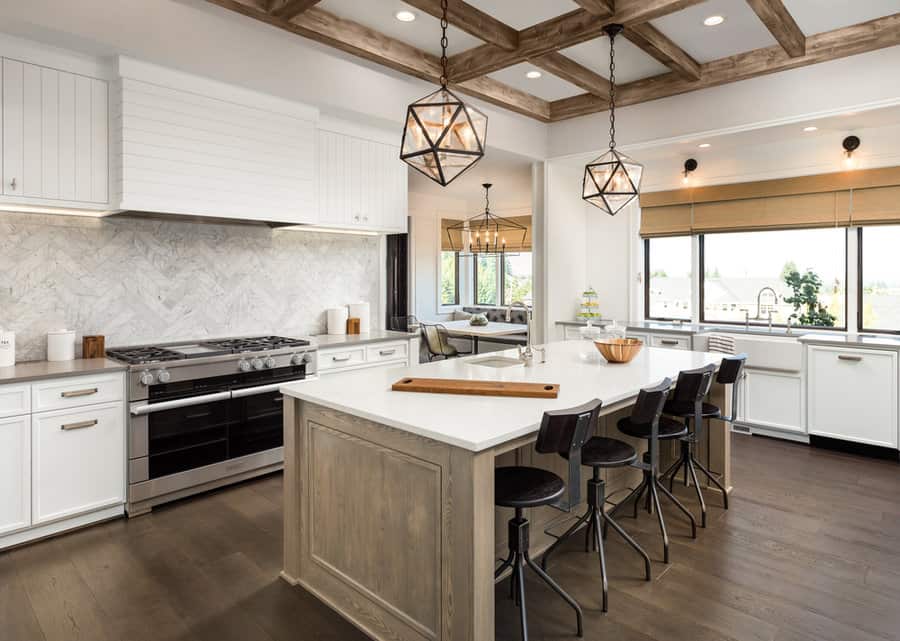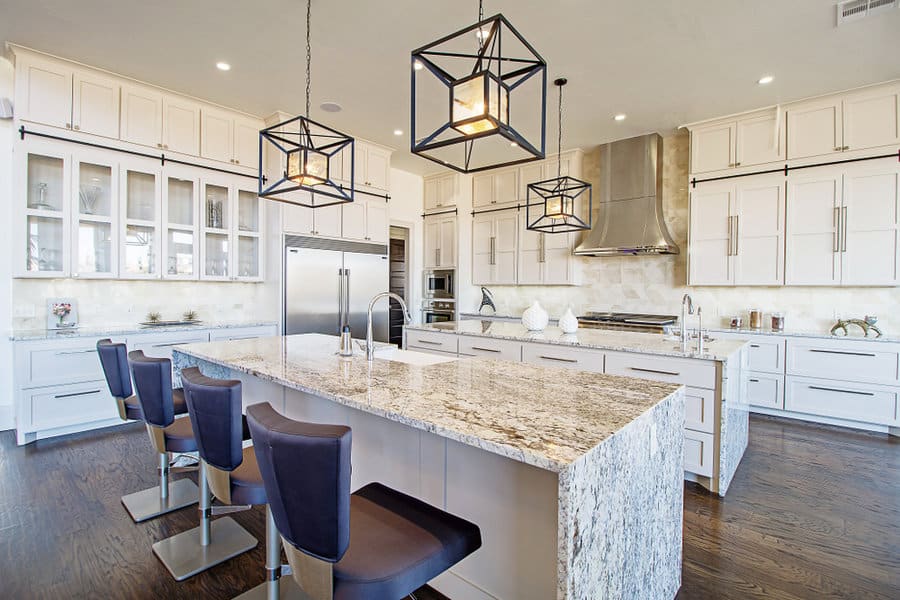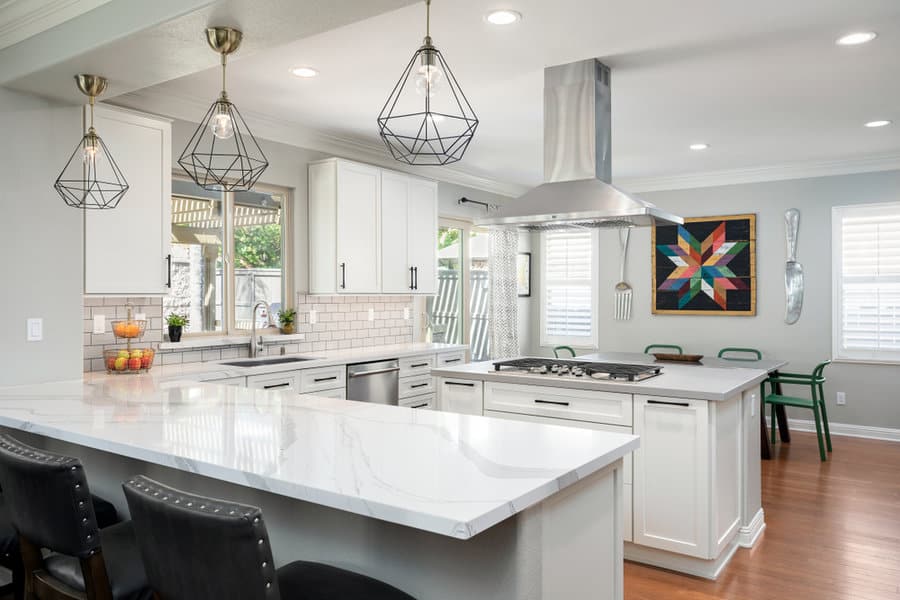 Look for open metal lanterns with hexagonal or triangular shaped frames. You can even find star-shaped pendant lighting to hang over your island. Look for coordinating wall light fixtures to tie together your island lighting and cabinet lighting choices.
8. Glass
Glass pendant lighting not only looks elegant, its transparency makes the kitchen look more open and airy. Glass ceiling light fixtures can be clear, frosted, colored, or include bubbles or etching as a textural feature.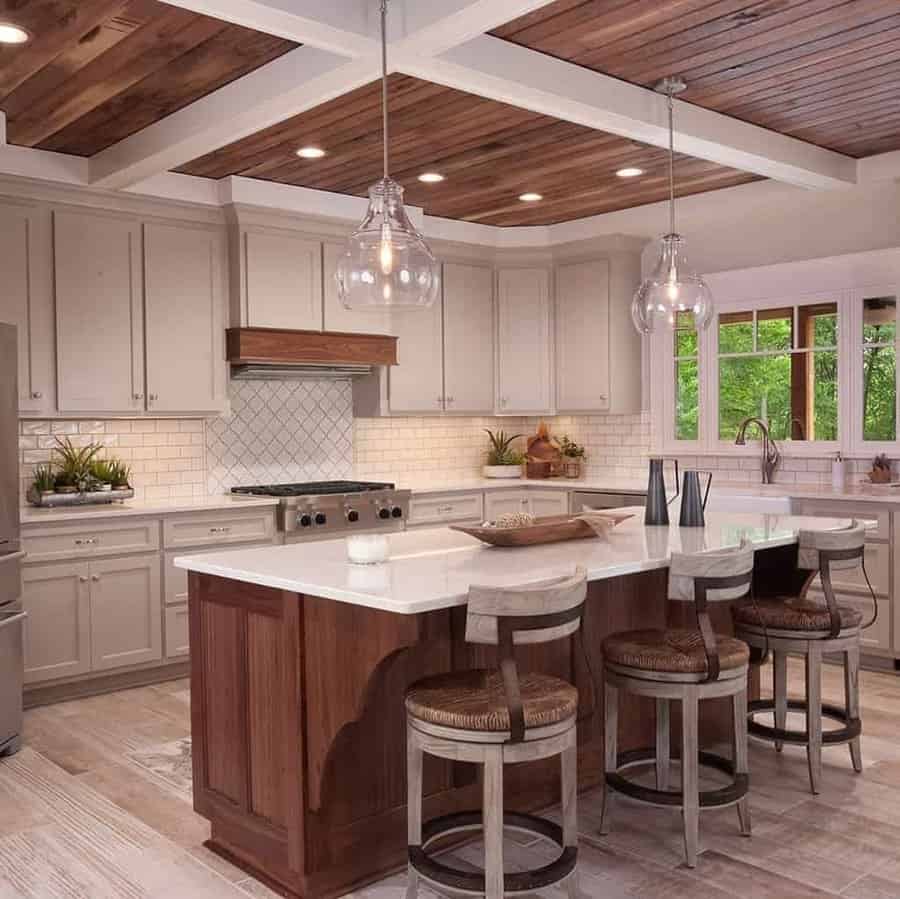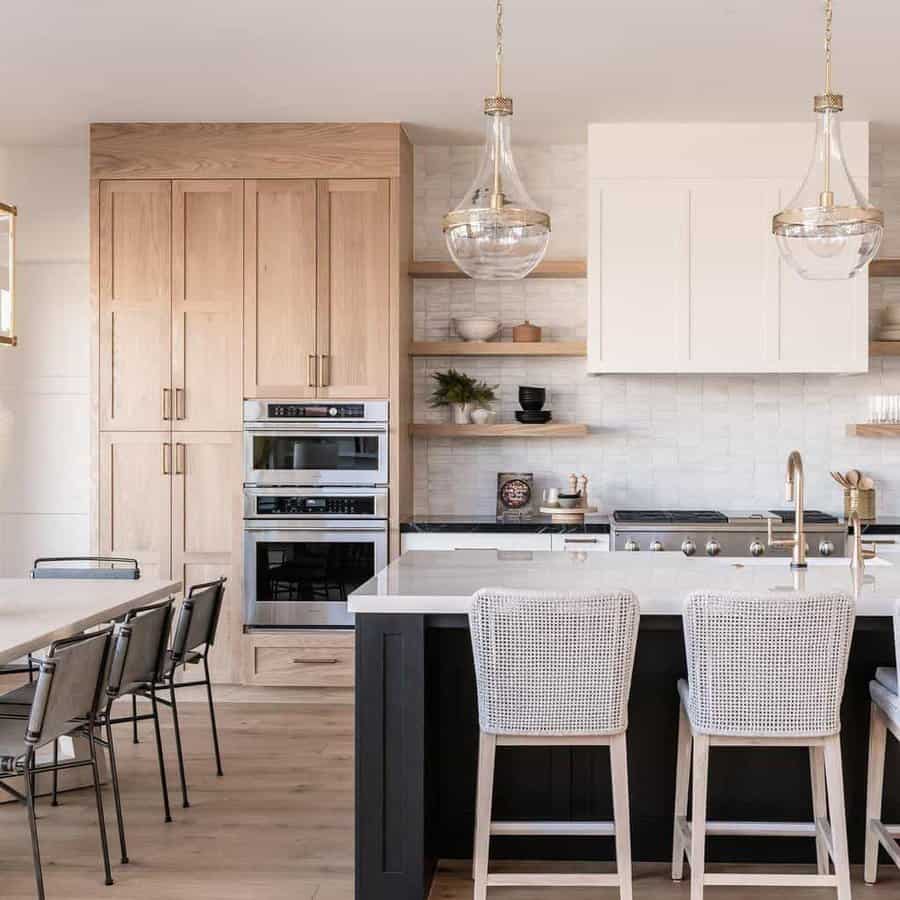 It's nice to replace ordinary bulbs with Edison or other decorative bulbs when they can be seen through glass shades. This is true for island lighting and other task lighting fixtures in the kitchen. If the room includes a ceiling fan, make sure its light bulbs coordinate with the rest of the kitchen lights.
9. Globe
Round, globe shapes abound in home decorating ideas. Orbs are one of the ambient light fixture shapes that truly fit into any decor style.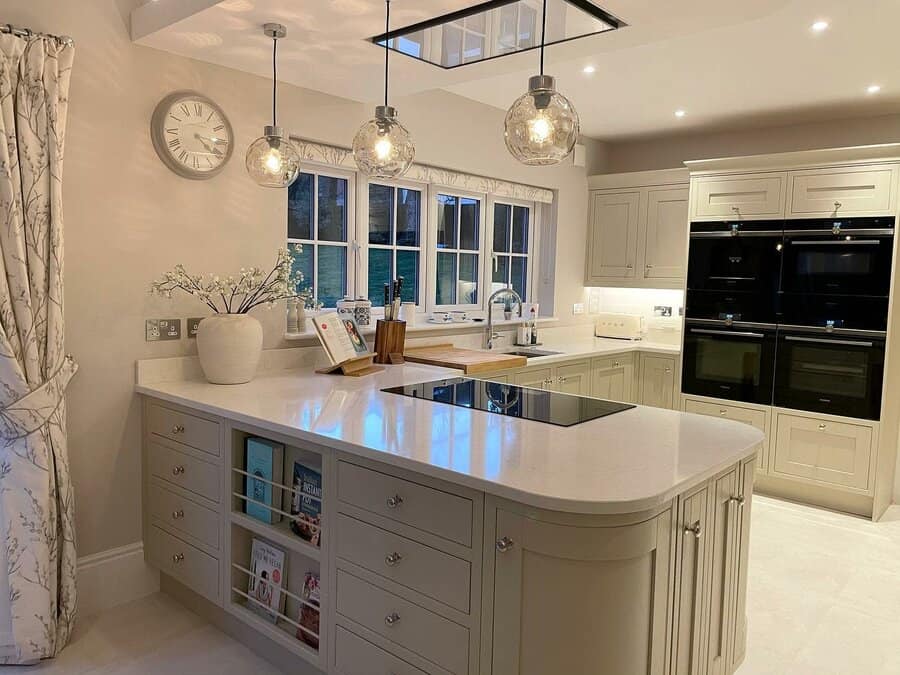 Round kitchen pendant light fixtures distribute light evenly, making them ideal as a task light for any work you'll do on the kitchen island. Globe shaped island lighting products aren't limited to glass shades. Round wicker, metal, and fabric options should also be considered.
10. Industrial
Industrial ambient lighting is often made of distressed wood or dark-toned metals. An industrial kitchen island pendant may incorporate wire cages, open geometric shapes, and exposed bulbs.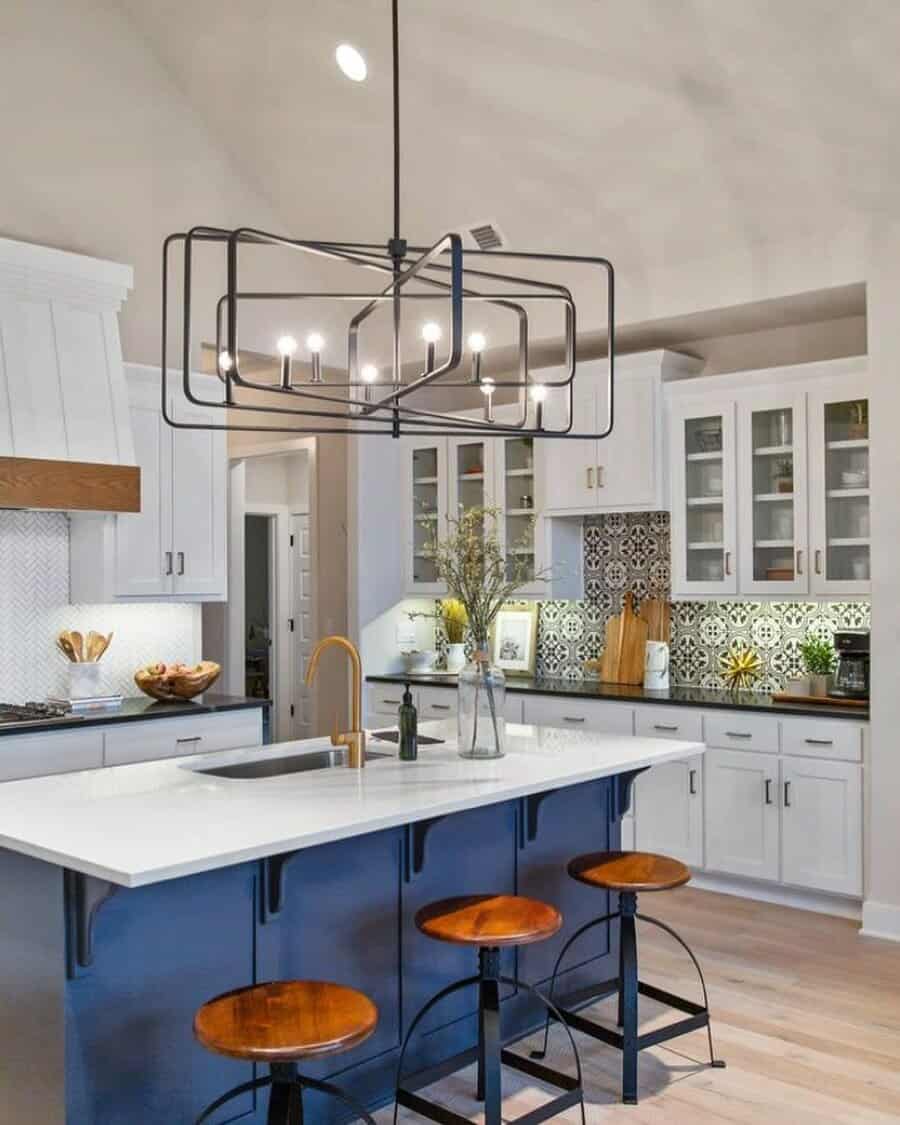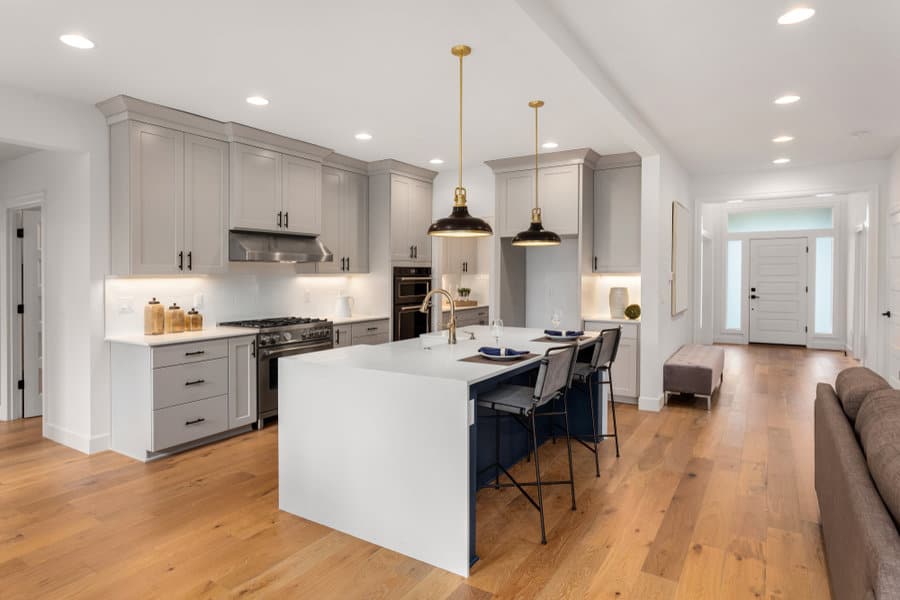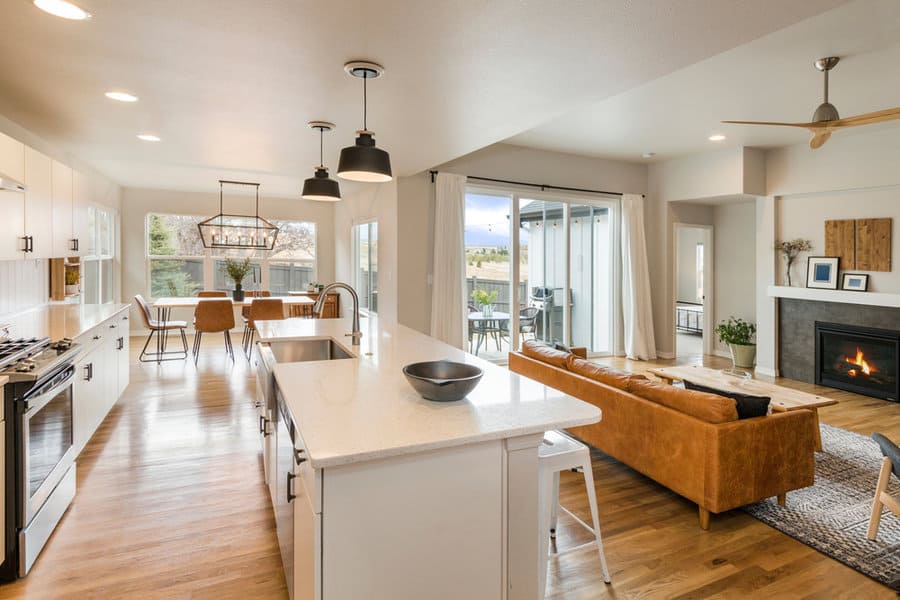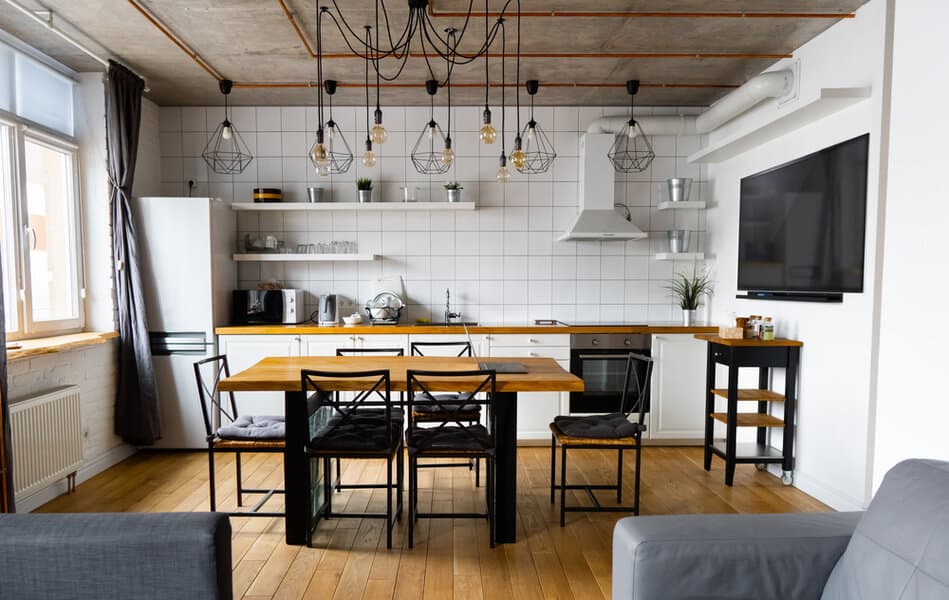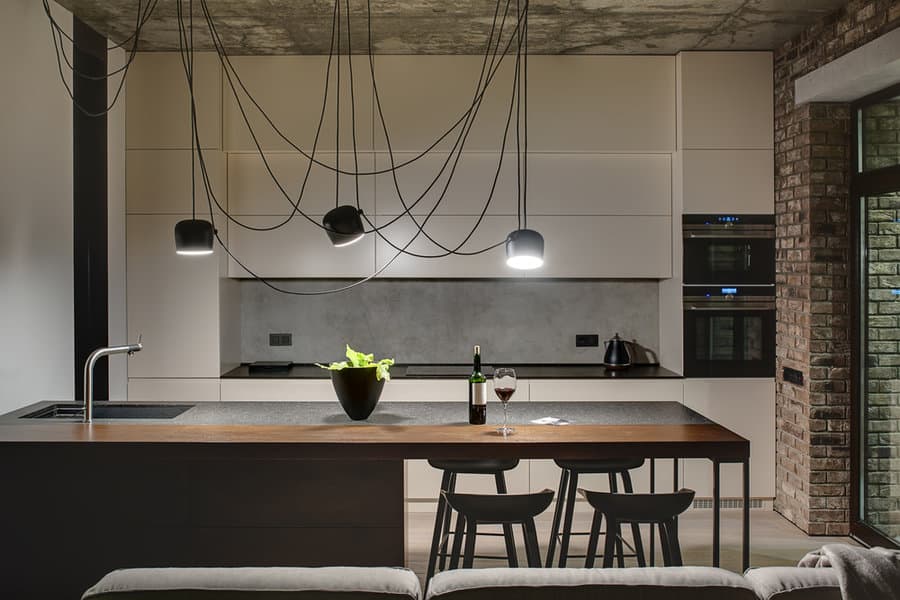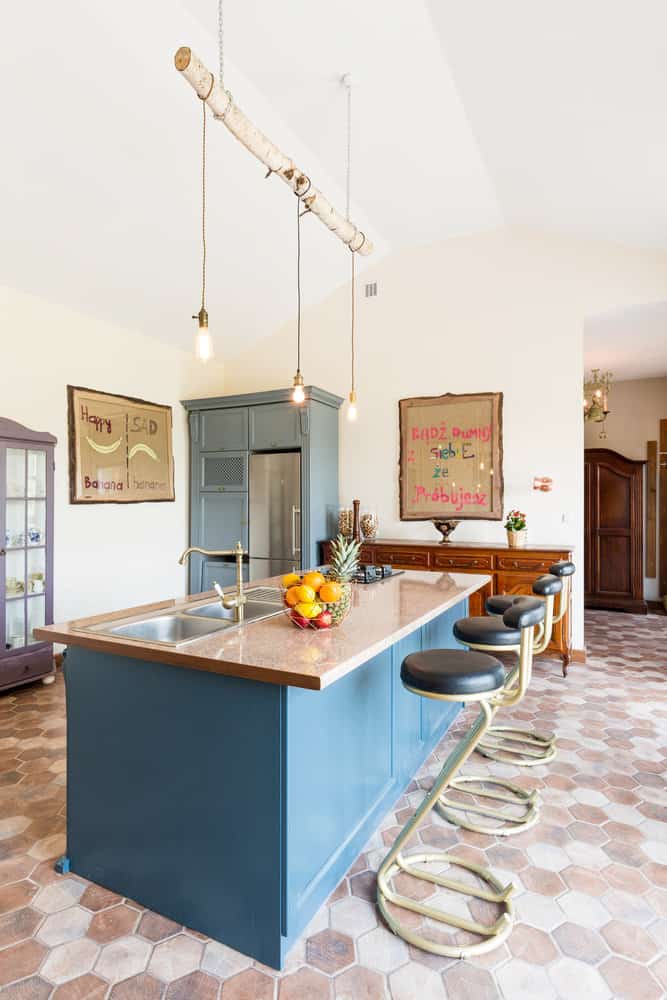 Pair industrial kitchen island lighting with recessed light fixtures for balanced kitchen light distribution. Note that contractors often want to install more recessed lighting fixtures than you need, so have your task lighting needs clearly mapped out before installation begins.
11. Minimalist
Minimalism requires its adherents to keep all things simple. When this comes to island pendant light selections, only the most basic lines and shapes will do. Beading or other embellishments are shunned for simplicity's sake.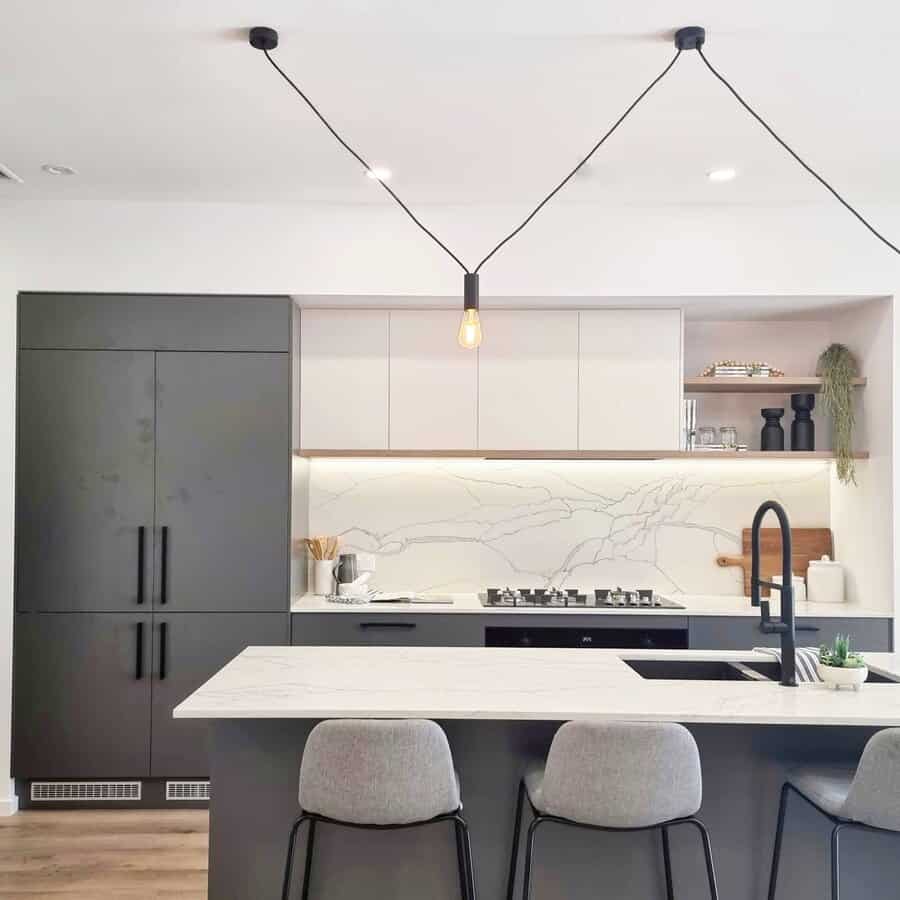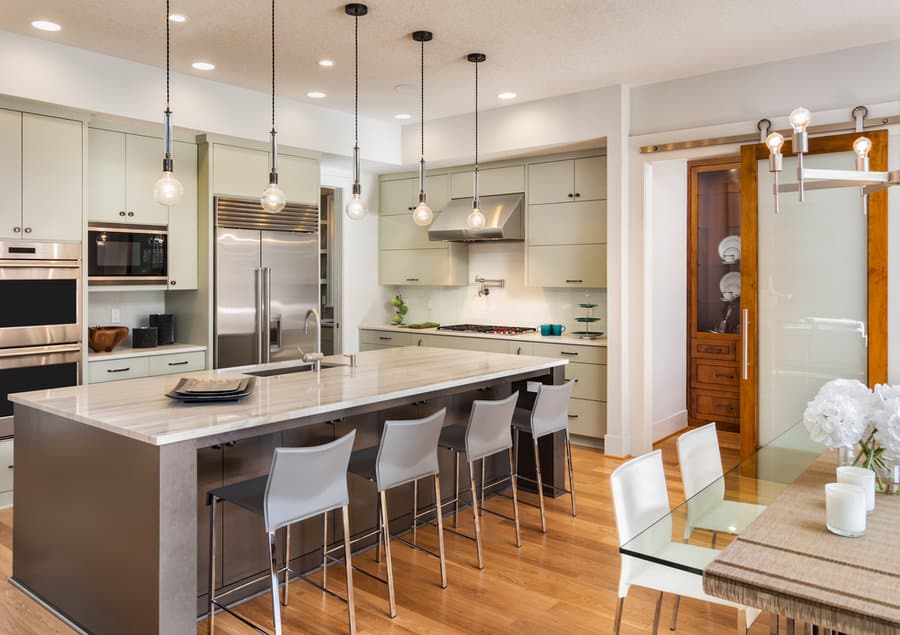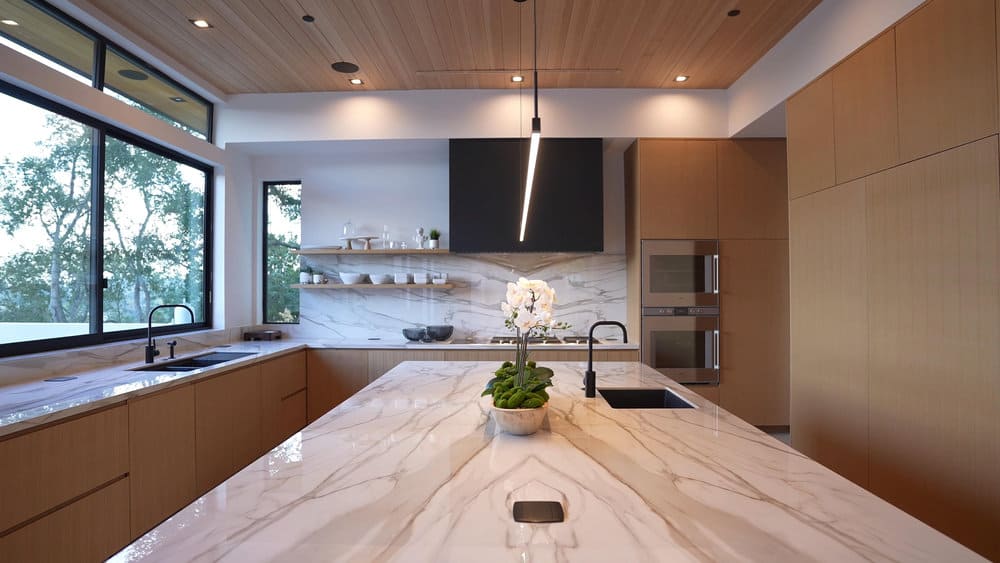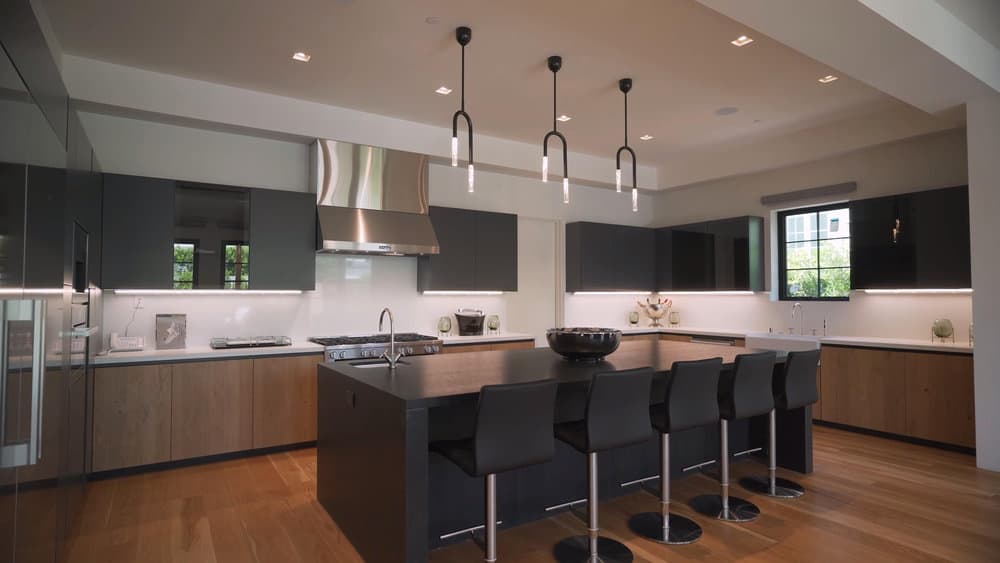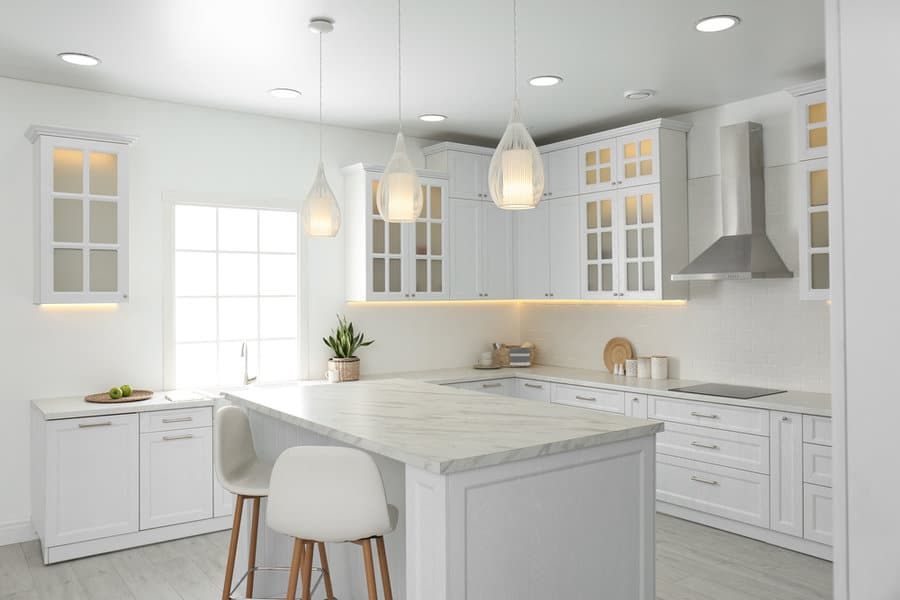 Track lighting can be a good choice if you want to keep your light sources understated. If you use simple track lights for your minimalist kitchen lighting, aiming certain bulbs at specific work stations makes it double as task lighting.
12. Modern
Modern island pendant light fixtures are often imaginative in their simplicity. A row of narrow black cylinder lights can multitask as both lighting and a work of art when displayed appropriately.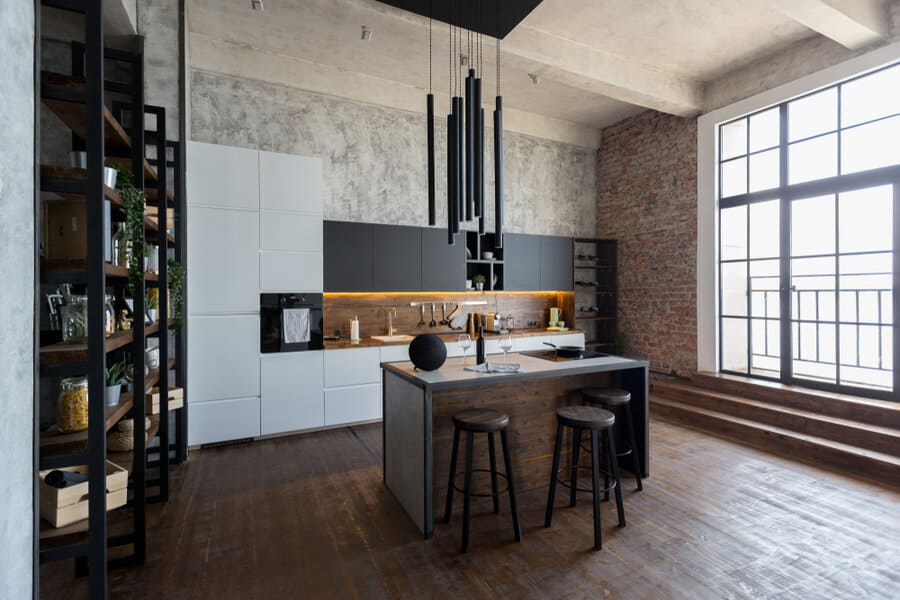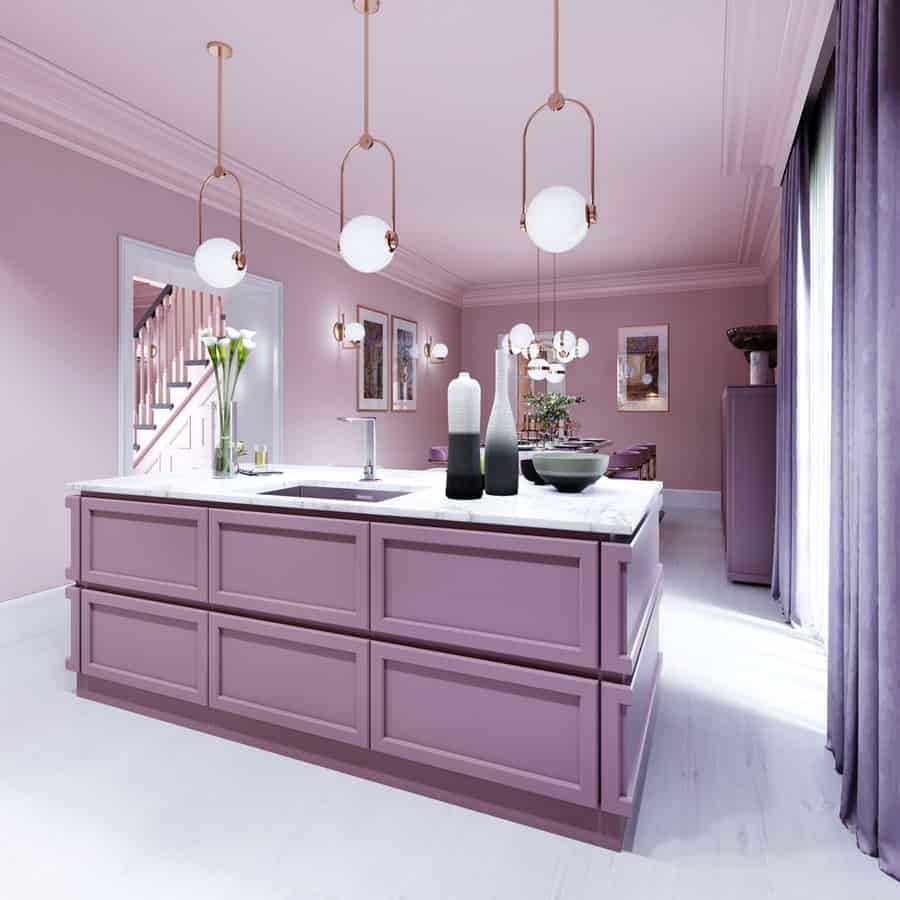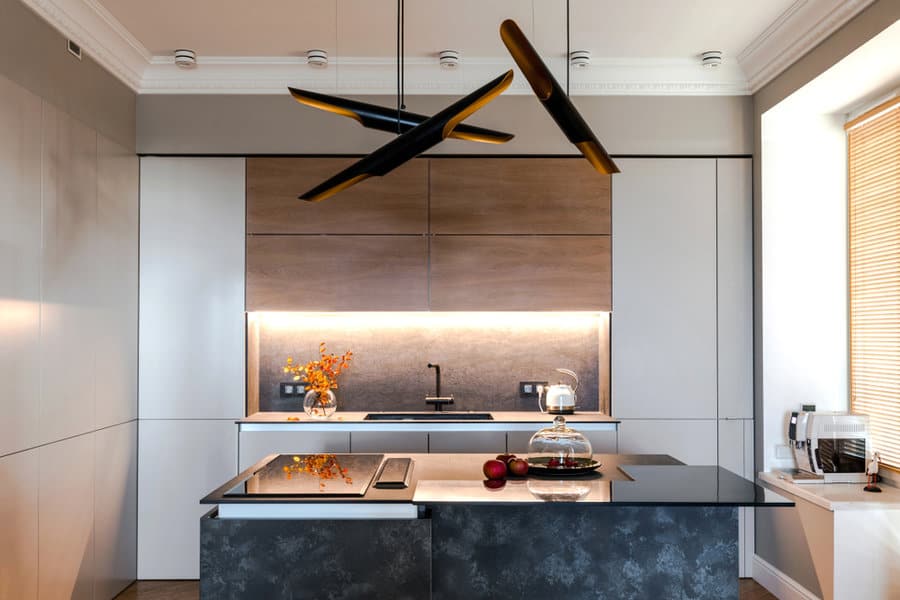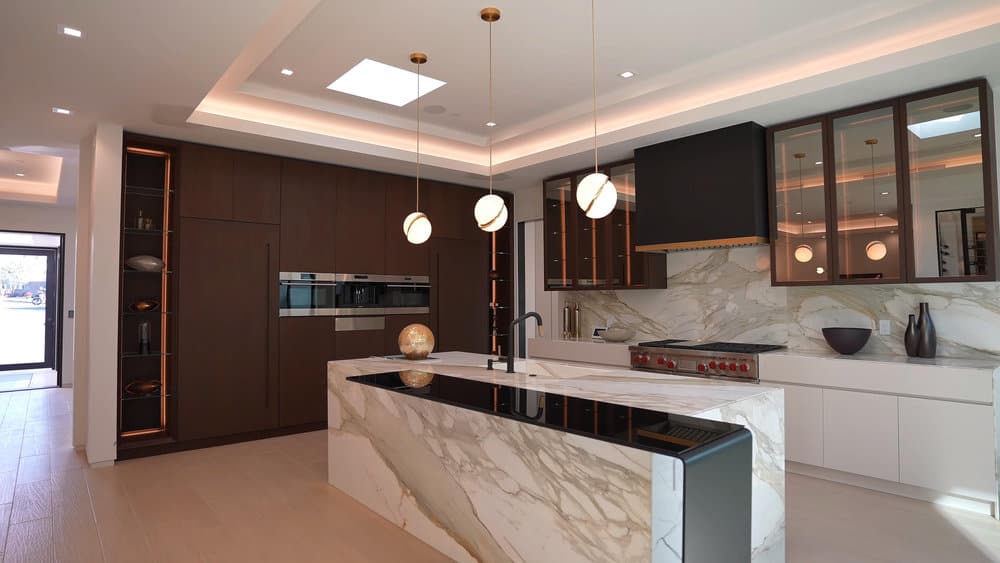 It's also OK to take modern kitchen island lighting in a direction that makes it less predominant. A row of recessed can light fixtures will beautifully illuminate the island without the need for extraneous decor.
13. Novelty
Novel approaches to kitchen island lighting include colorful or whimsical fixtures. Hang a cluster of pink glass orbs over the island for a bubble gum vibe, or look for chandeliers covered in with feather or petal-shaped pieces of glass.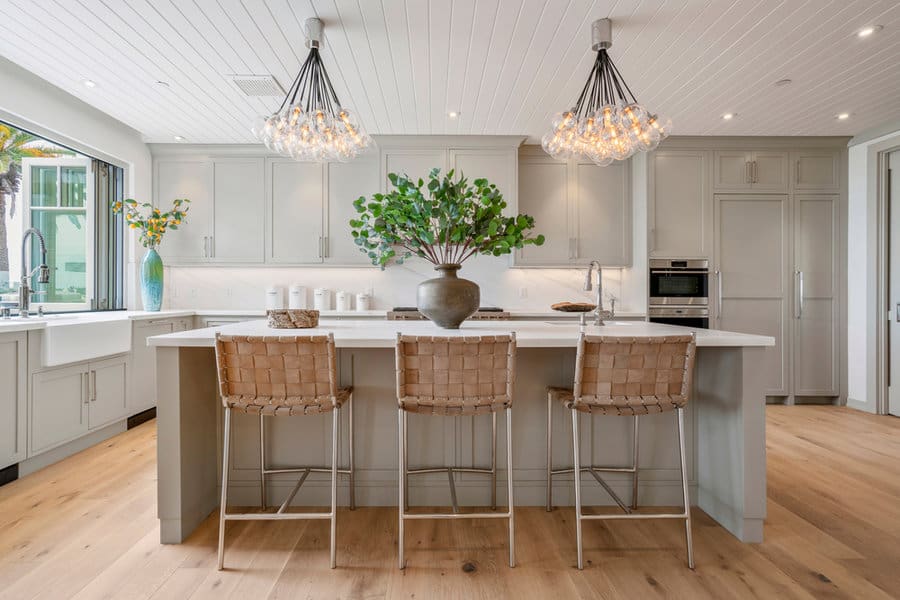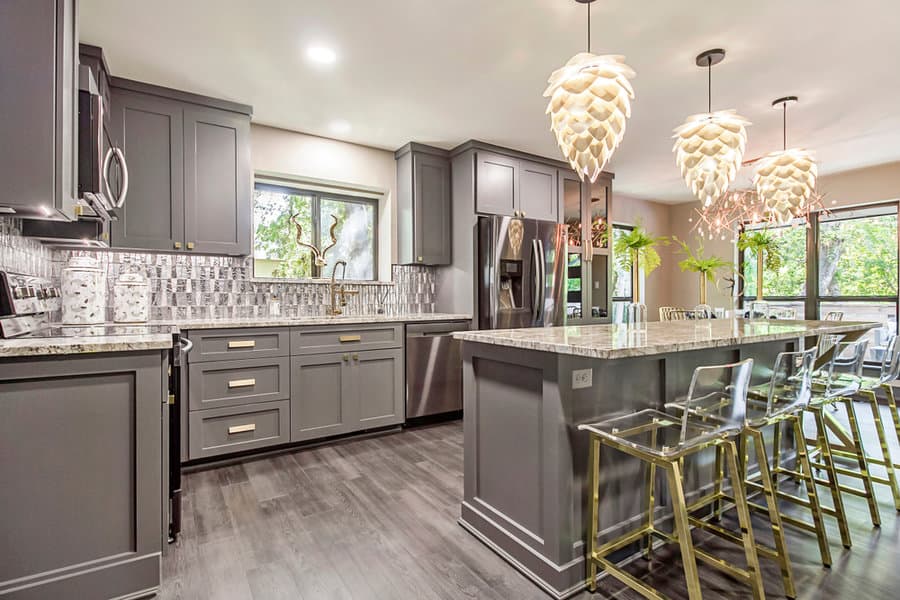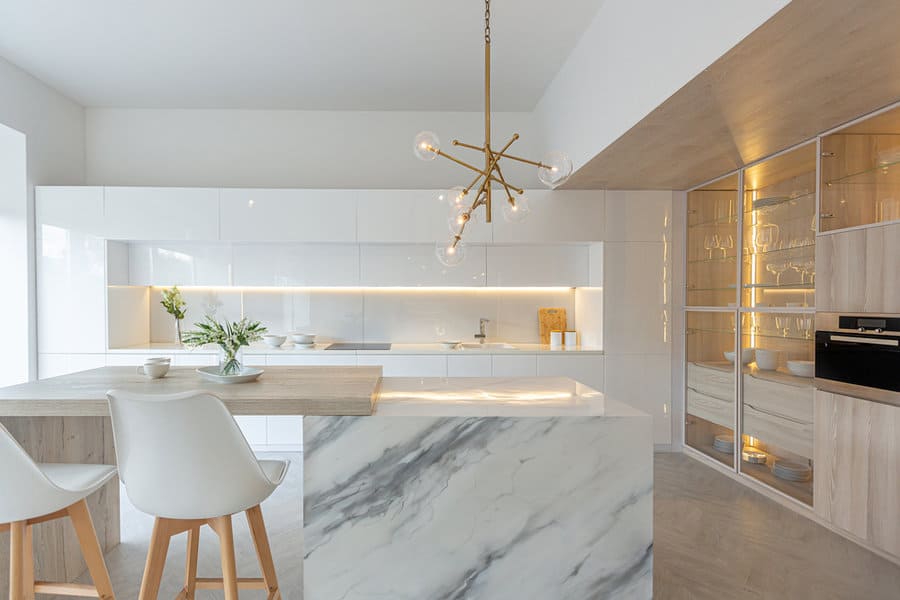 Long, rectangular light fixtures look great over kitchen islands. Options include a rustic beam entwined with Edison bulbs on thick cords, and a tray-shaped metal fixture with irregular-height candlelike lights on top.
14. Oversize
A common mistake when choosing kitchen island lighting is to go too small. When considering your kitchen lighting ideas, bigger is usually better. This is especially true if you have an exceptionally large island, 12 feet or more in length.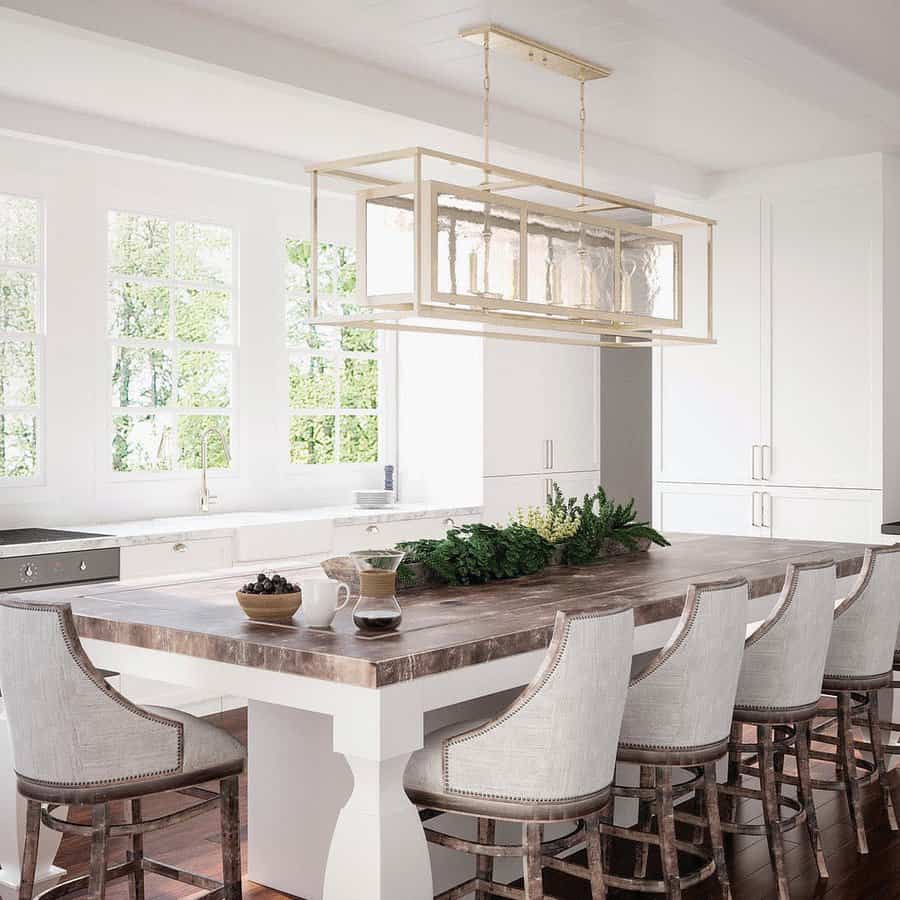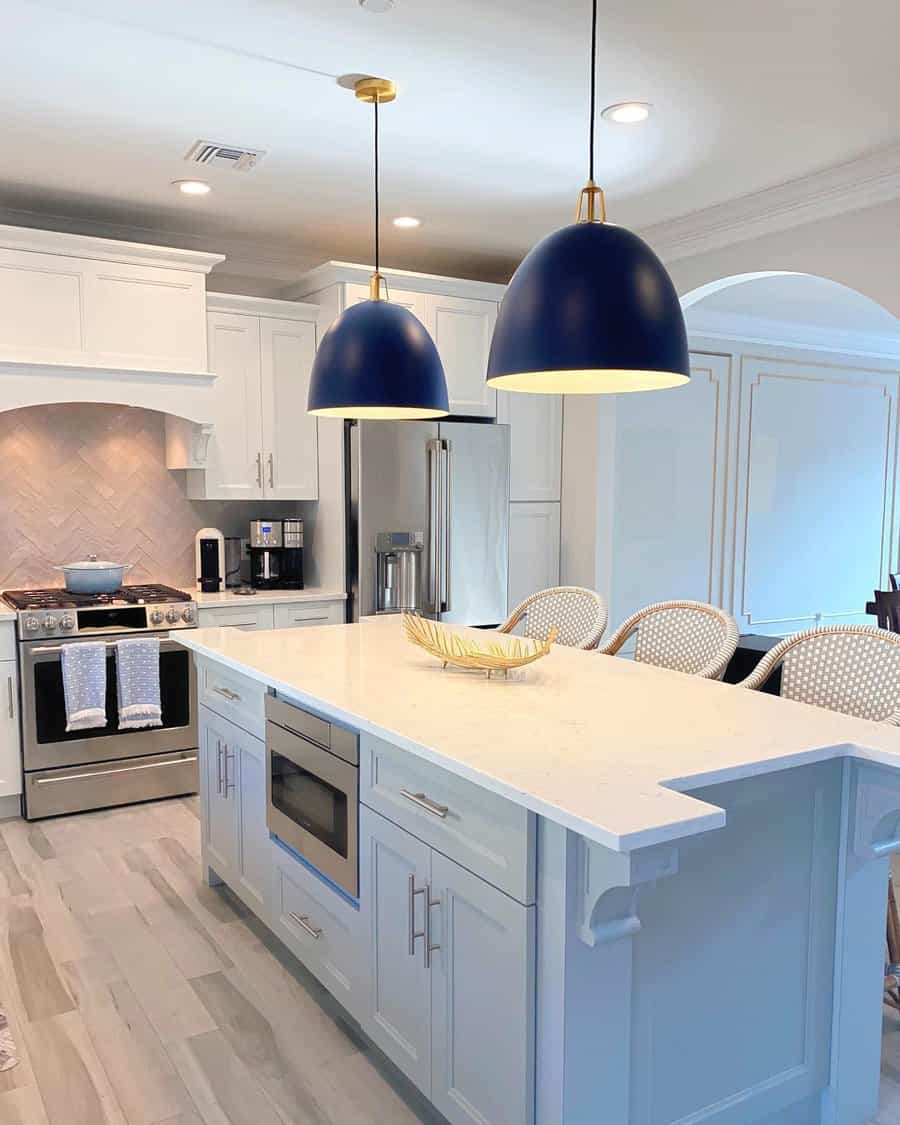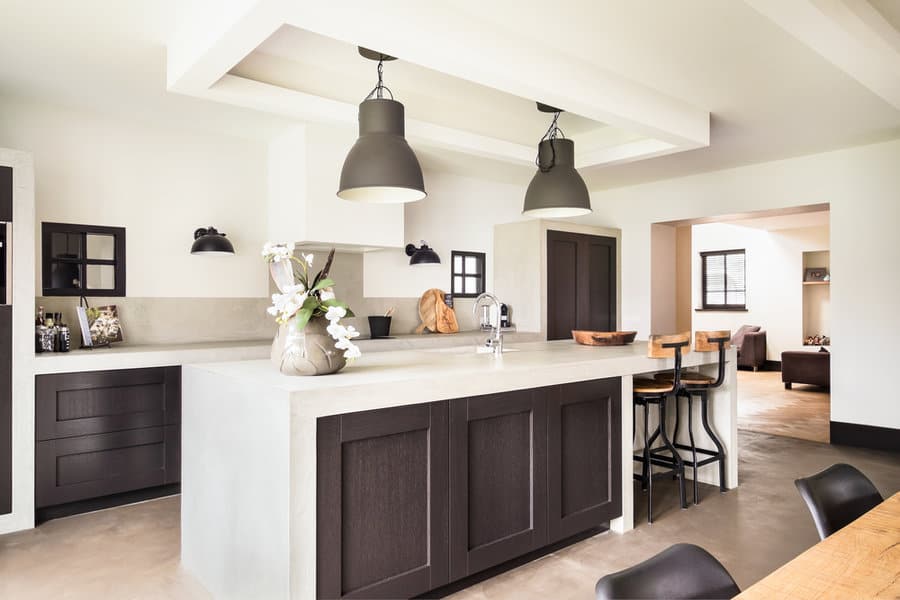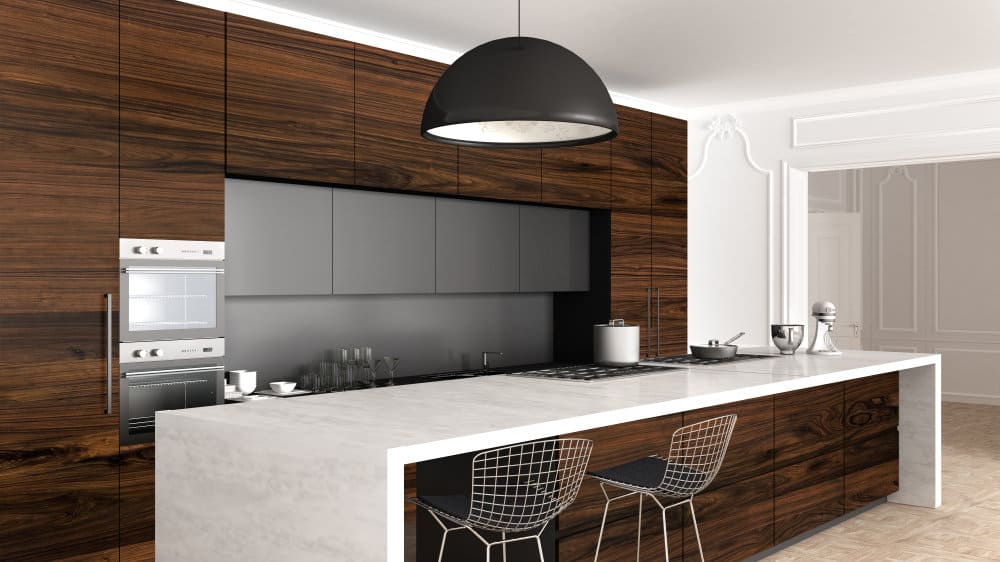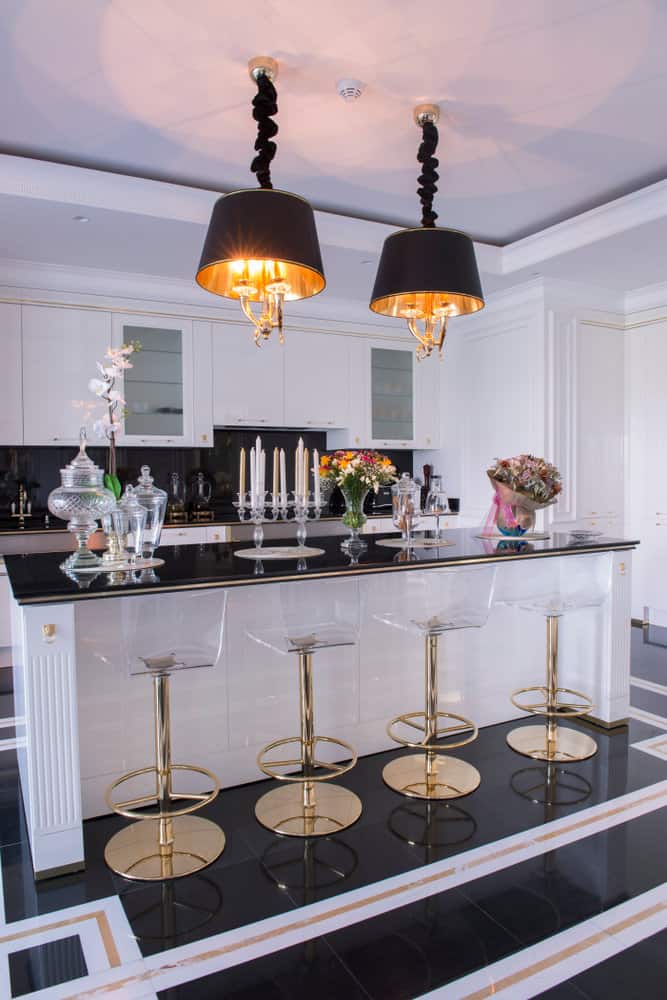 Shop for long and wide hanging light bars, or a series of pendants that measure at least 12 to 15 inches in diameter. Remember that the light fixture is the "centerpiece" of the kitchen island, so it's fine if it makes a bigger statement than you're accustomed to seeing.
15. Vintage
If your kitchen decor has a strong retro aesthetic, you have two options for vintage island lighting. Raid antique stores—and your grandmother's attic—for genuine vintage kitchen light fixtures, or shop for new pieces that carry a strong vintage vibe.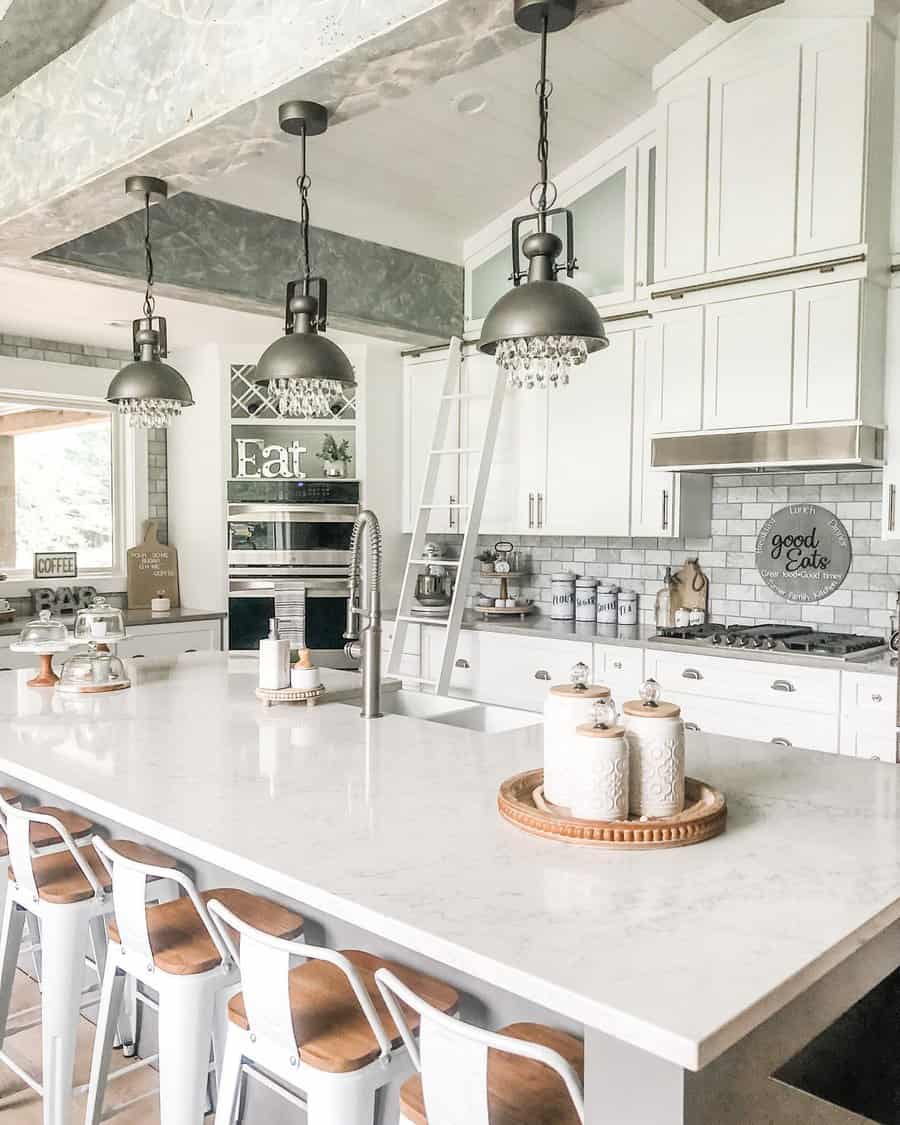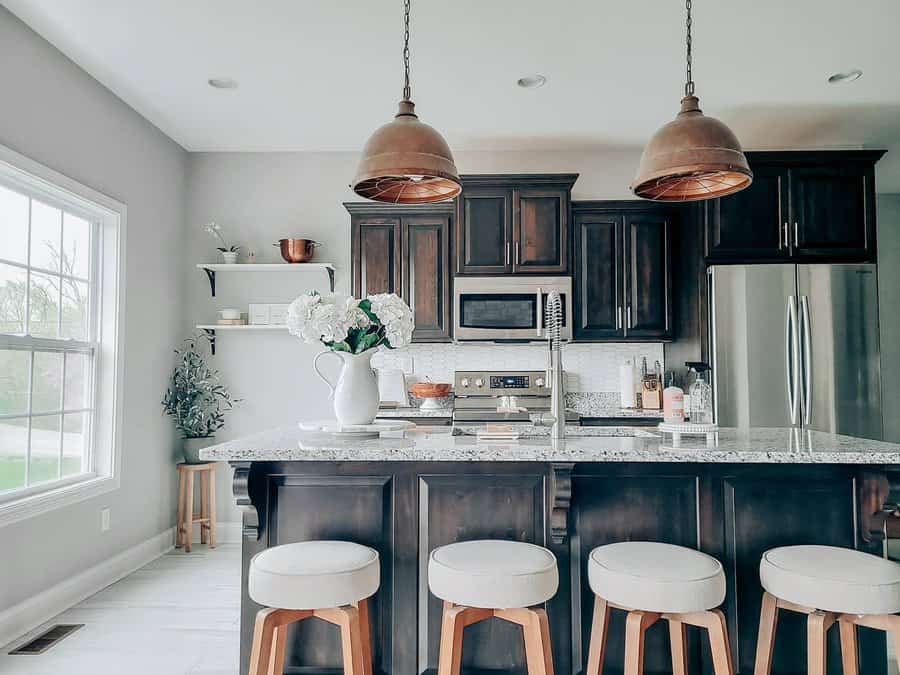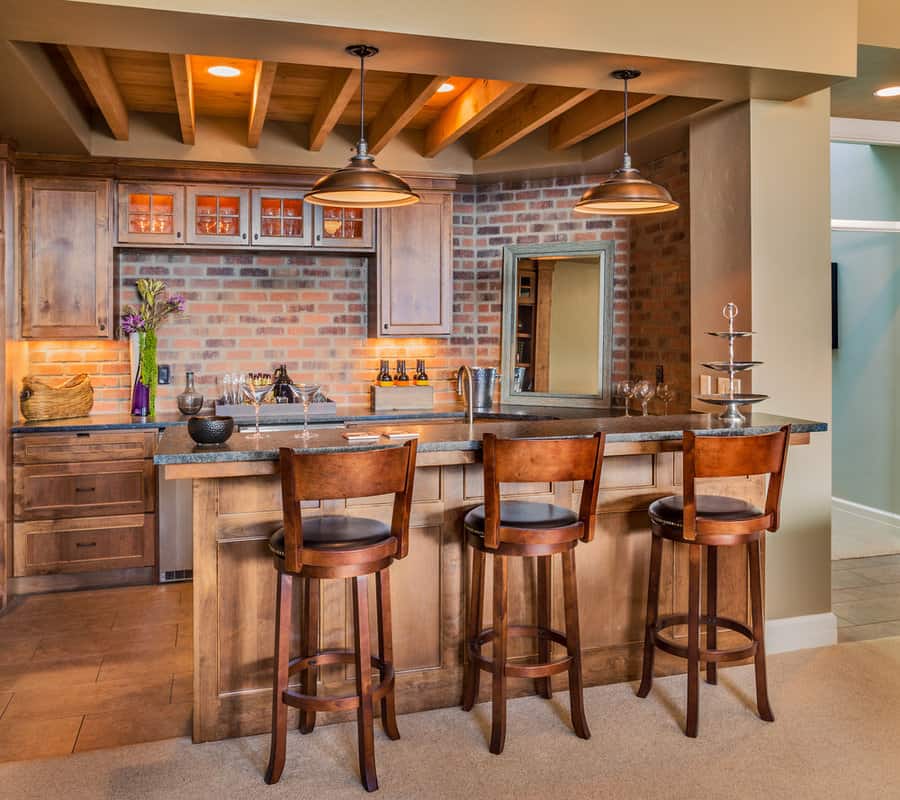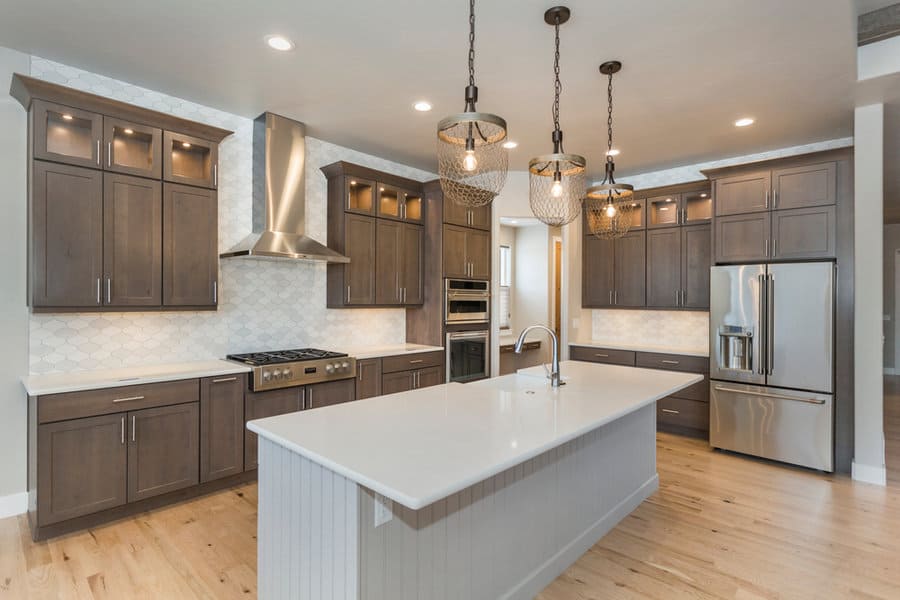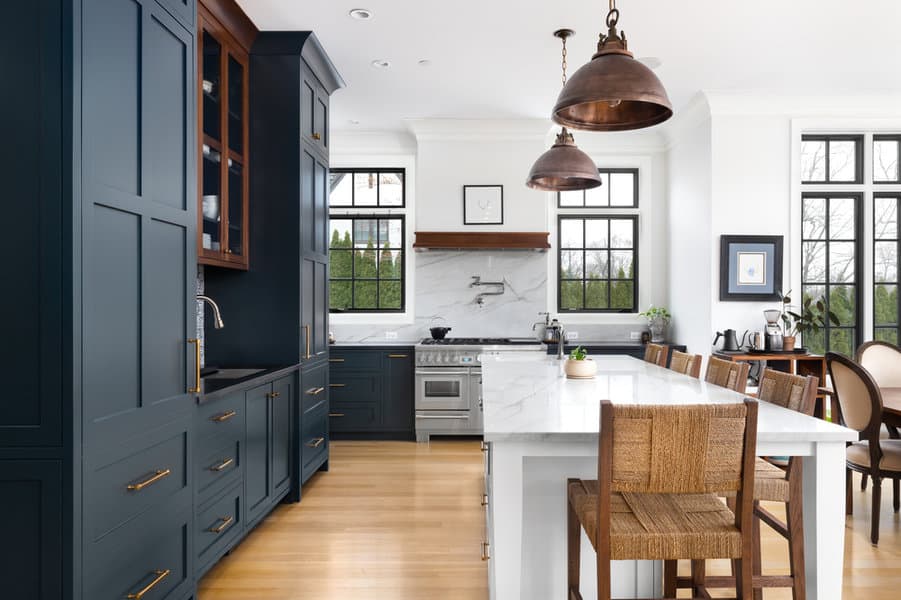 Look for distressed paint finishes and metal with natural-looking patina. Hand blown glass shades that incorporate bubbles or wavy patterns also look like those made in years gone by.
Kitchen Island Pendant Lighting FAQs
How big should pendant lights be over a kitchen island?
Kitchen pendants should be between 12 and 15 inches wide for good lighting and kitchen design impact. Allow double the width of the pendant between each lighting fixture and at least 10 inches between the outer edge of the light fixture and the end of the island.
At what height do I hang kitchen island lighting?
The bottom of your kitchen island light should be 30 to 32 inches above the island countertop. 
How many pendant lights do I need for my island?
There is no hard and fast rule, but if your pendant light fixtures are 15 inches wide, you'll need two for an 8-foot-long island. Three light fixtures should be sufficient over a 10- or 12-foot-long island.