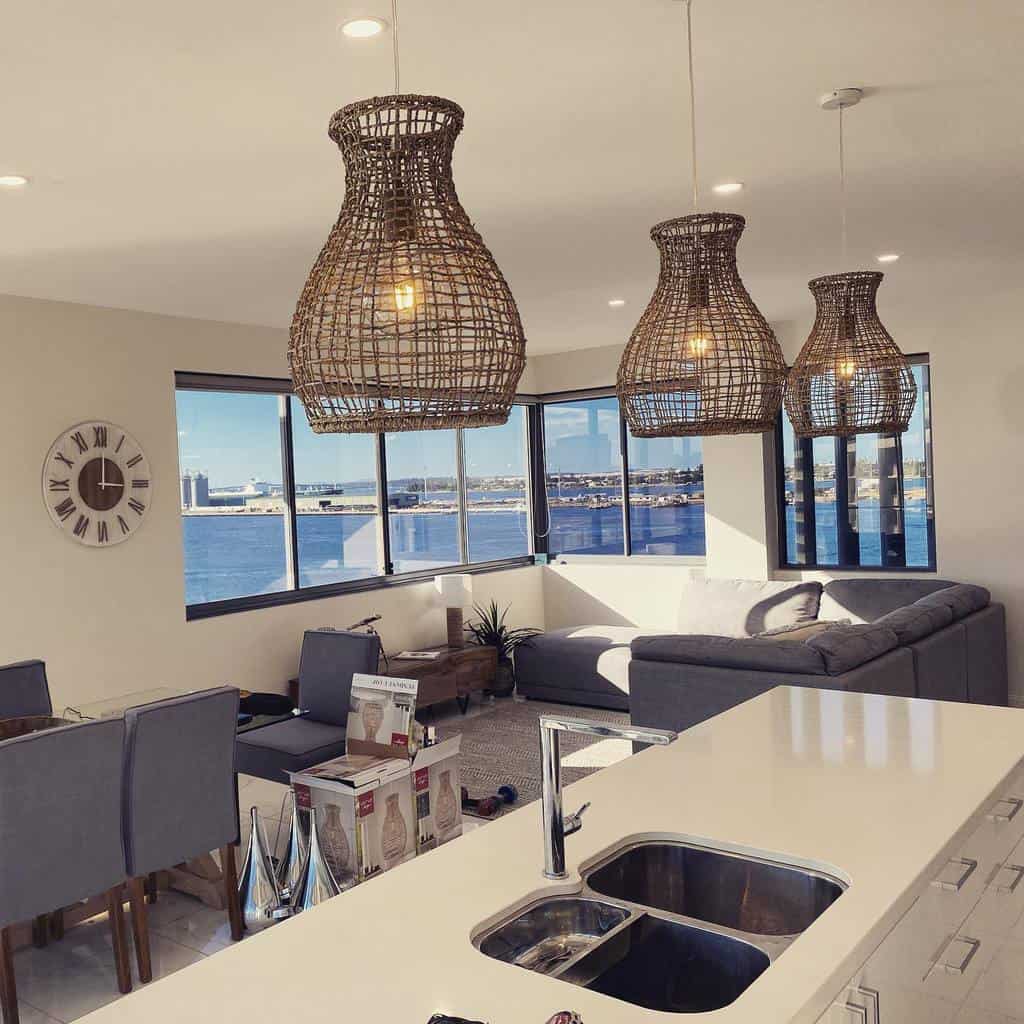 55 Kitchen Island Pendant Lighting Ideas
Buying new lighting fixtures is a great way to update a room without putting in a lot of effort. A kitchen island is the center of the room so these kitchen light fixtures are the perfect place to broadcast your personal style.
It's important to choose the right kitchen island light, scaled in size to fit the room. We have 55 amazing kitchen island pendant lighting ideas to help remove the guesswork in your next kitchen makeover.
1. Upright Candle-Shaped Bulbs For A Warm Ambiance
For a warm and inviting look in the kitchen, nothing beats the effect of pendant lamps with upright candle-shaped bulbs. As the heart of your home, kitchen island pendants help create an eye-catching atmosphere that's both functional and aesthetically pleasing at the same time. With sleek designs and adjustable height options available, you can find the perfect lighting solution for any kind of kitchen!
Consider adding dimmers for even more mood-setting capabilities. No matter what unique touch you decide to use, make sure to choose lamps with bright colors that won't distract from the vibrant hues of your food creations!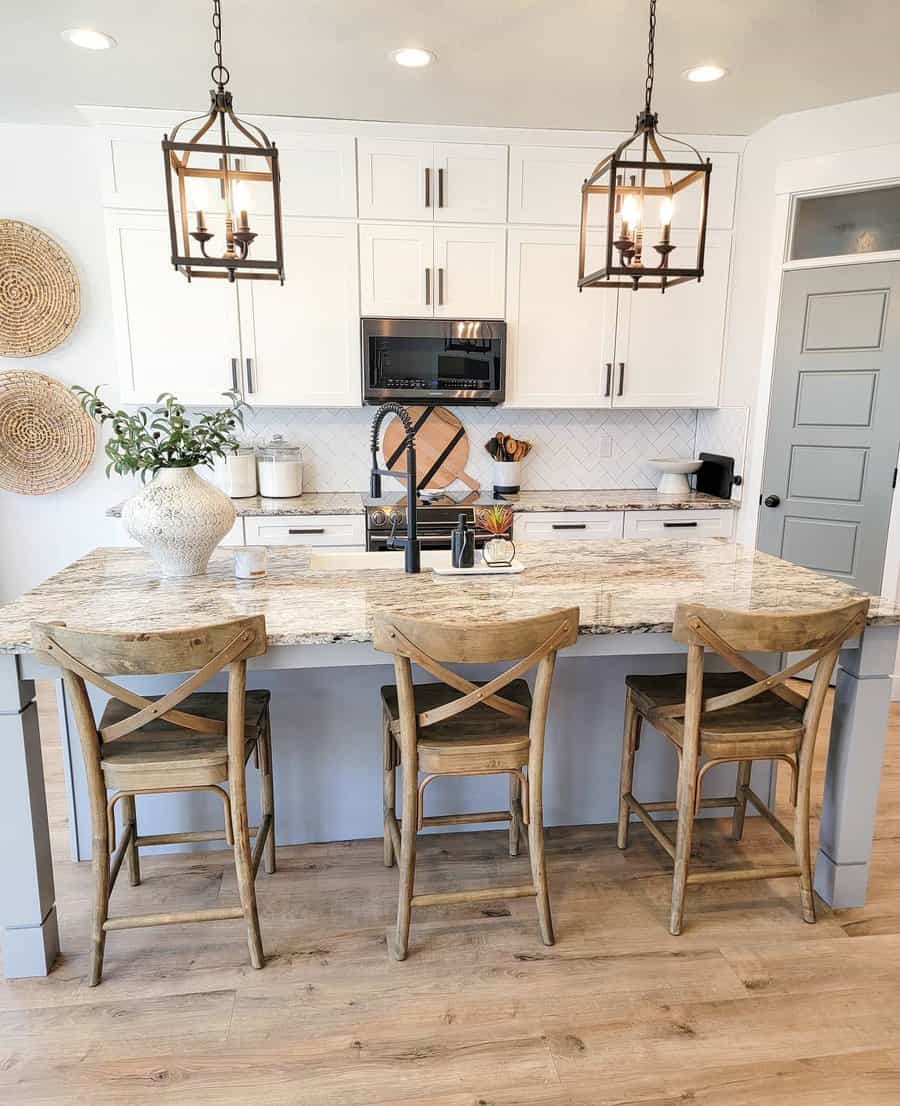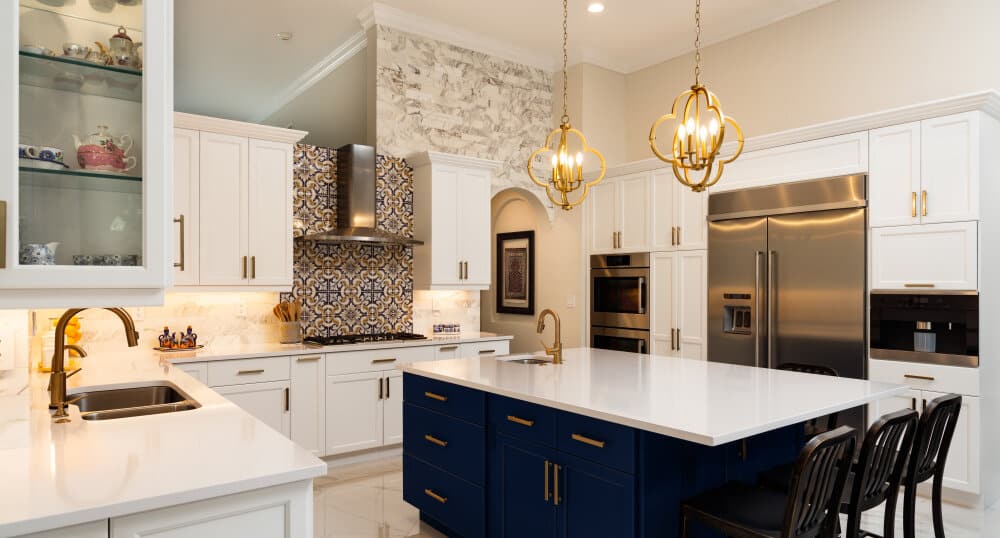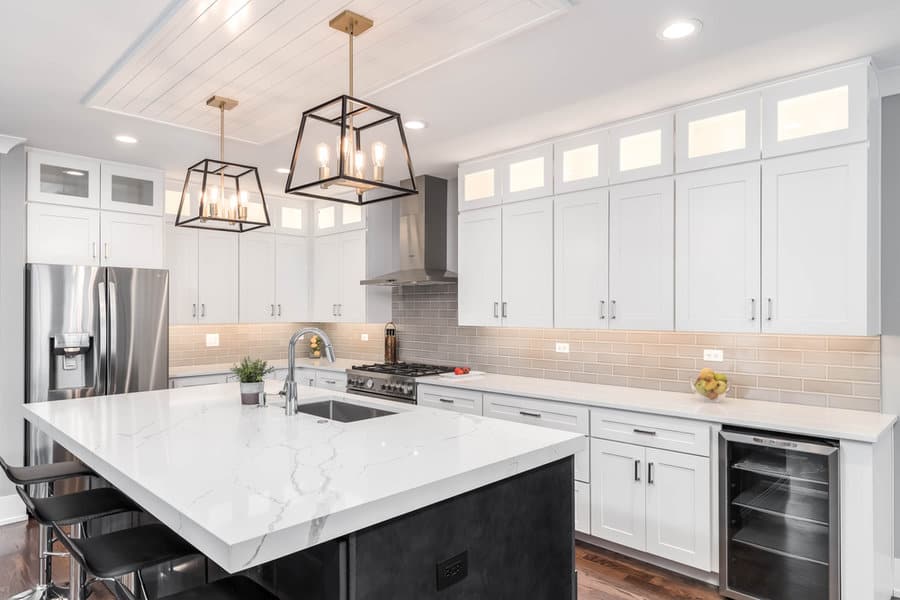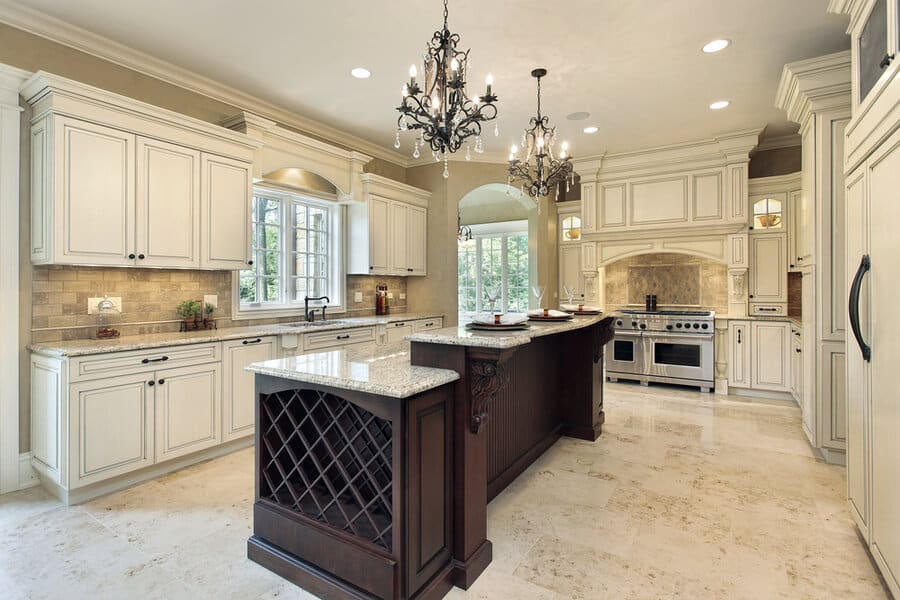 2. Wood, Wicker, & Rope Pendant Shades For A Coastal Look
When it comes to coastal kitchen island pendant lighting, light wood, and wicker materials are the perfect choice to achieve a lighthearted and airy look. With that in mind, consider going one step further by opting for a rope pendant shade – this will add an extra layer of texture and subtle detail, helping to create the ideal coastal-style lighting in your kitchen.
By combining light wood and wicker furniture with a rope pendant shade you'll be able to show off your true style while creating an inviting atmosphere in your home.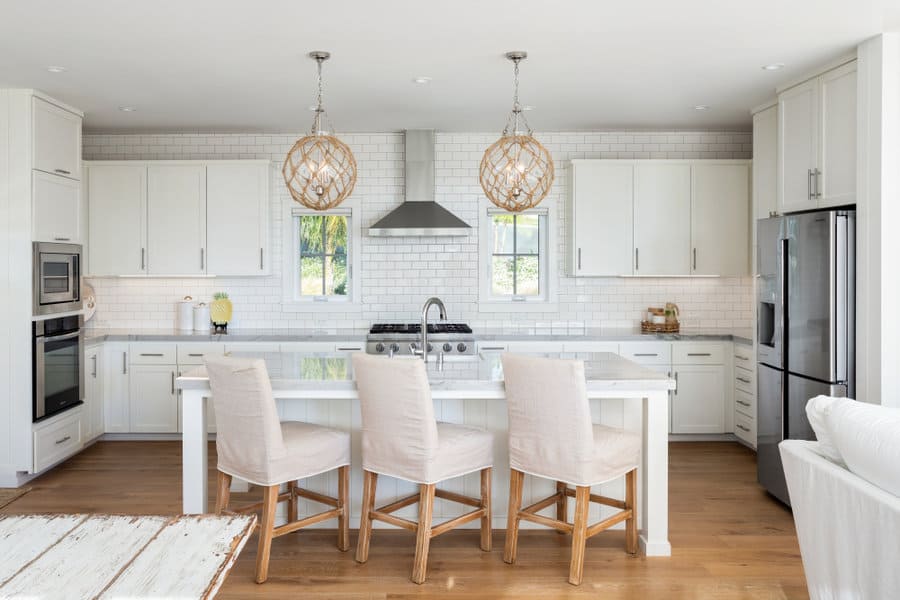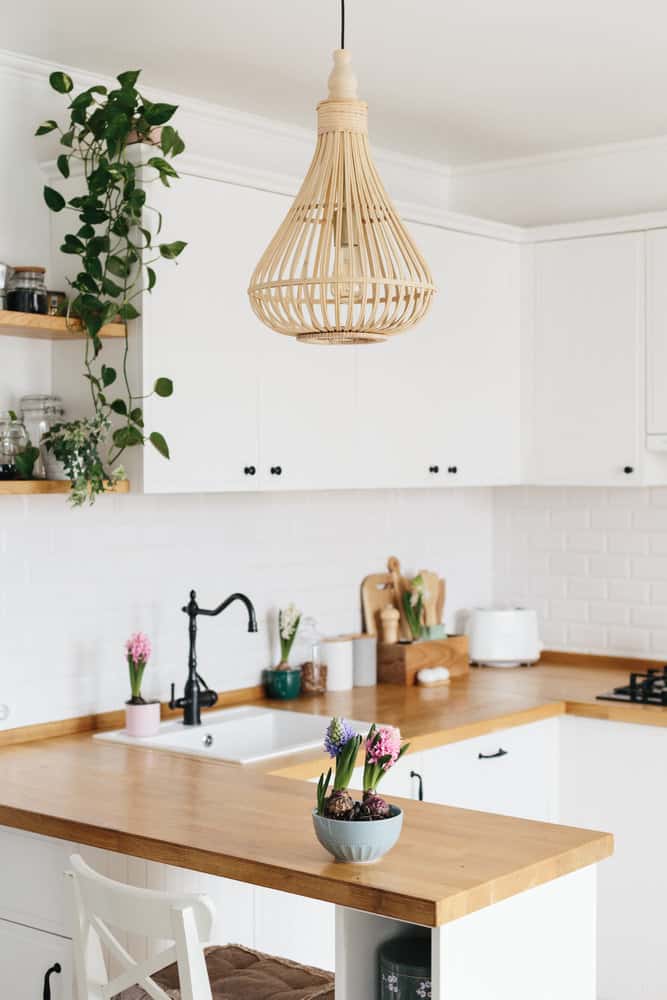 3. Conical Lamps For A Modern Look
Splurge on conical pendant lights for a modern and contemporary kitchen island look. These sleek conical lamps are just the thing to light up your space with a warm, inviting ambiance that will make you want to spend even more time in the kitchen.
Their timeless design can match any style – from traditional to ultra-modern – and come in a range of finishes to fit your aesthetic. For that perfect finishing touch, enjoy the joys of modern kitchen island pendant lighting!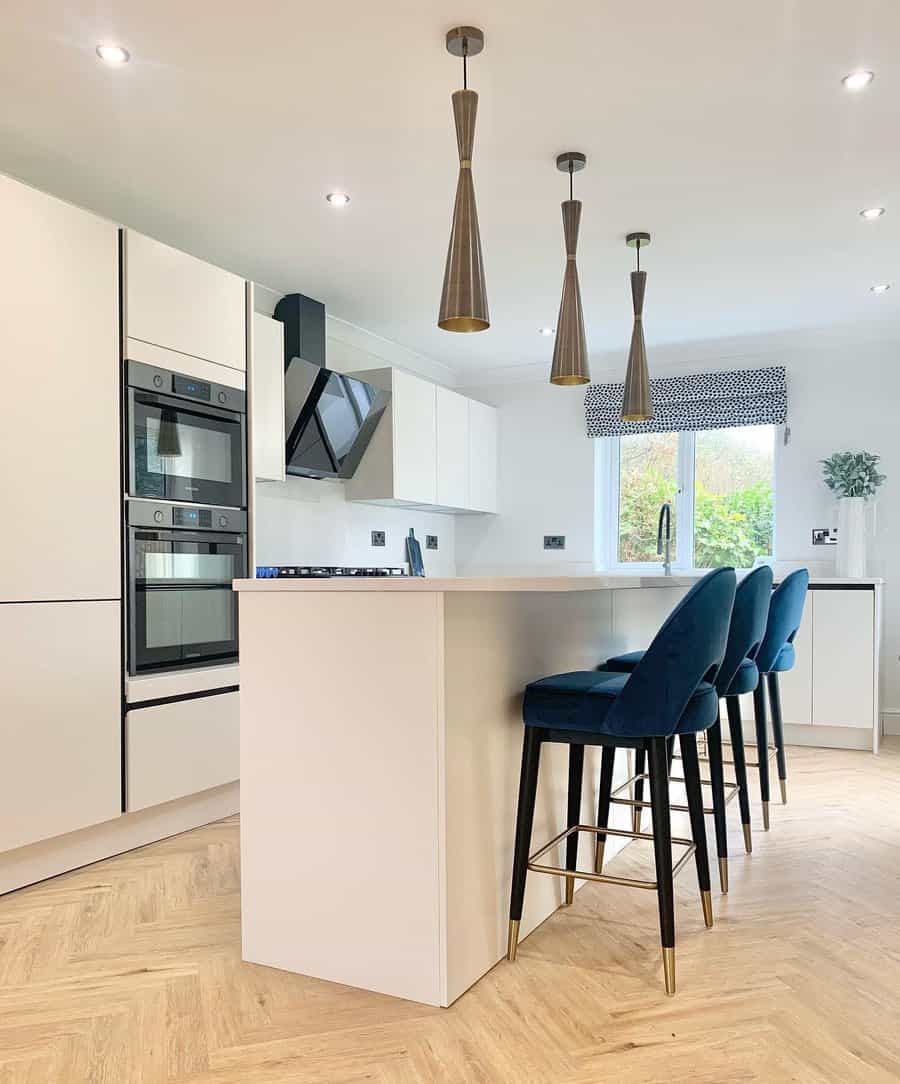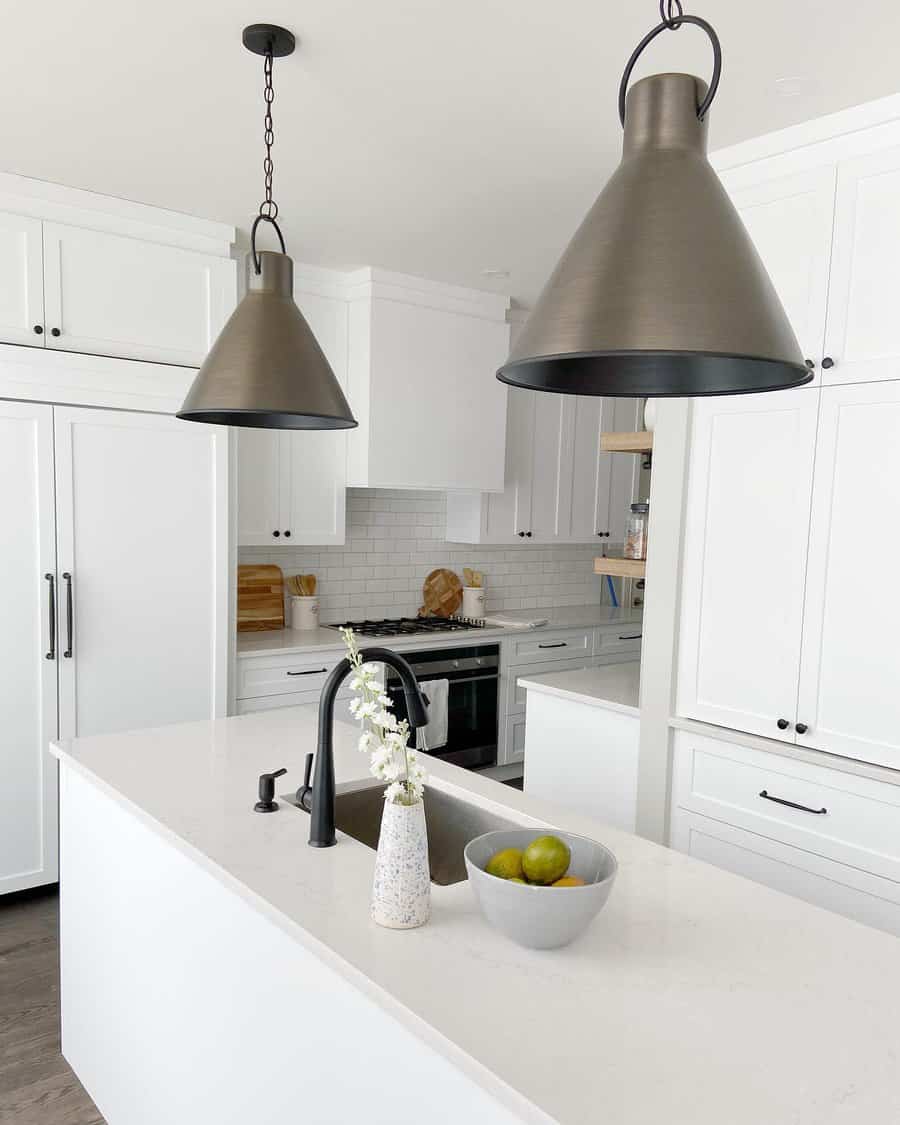 4. Go Retro With Dome Pendant Lamps
Looking to spruce up your kitchen décor? Consider adding dome pendant lamps to your retro kitchen island for a unique, retro feel. These dome pendant lamps harken back not only to the past but add a touch of modern flair with their contemporary design and brightness.
Installing dome pendant lamps will bring more light into the room, transforming it into a cozy place for entertaining family and friends alike. With dome pendant lamps, you never have to worry about your kitchen being too dated: these classic pieces will make any kitchen timeless!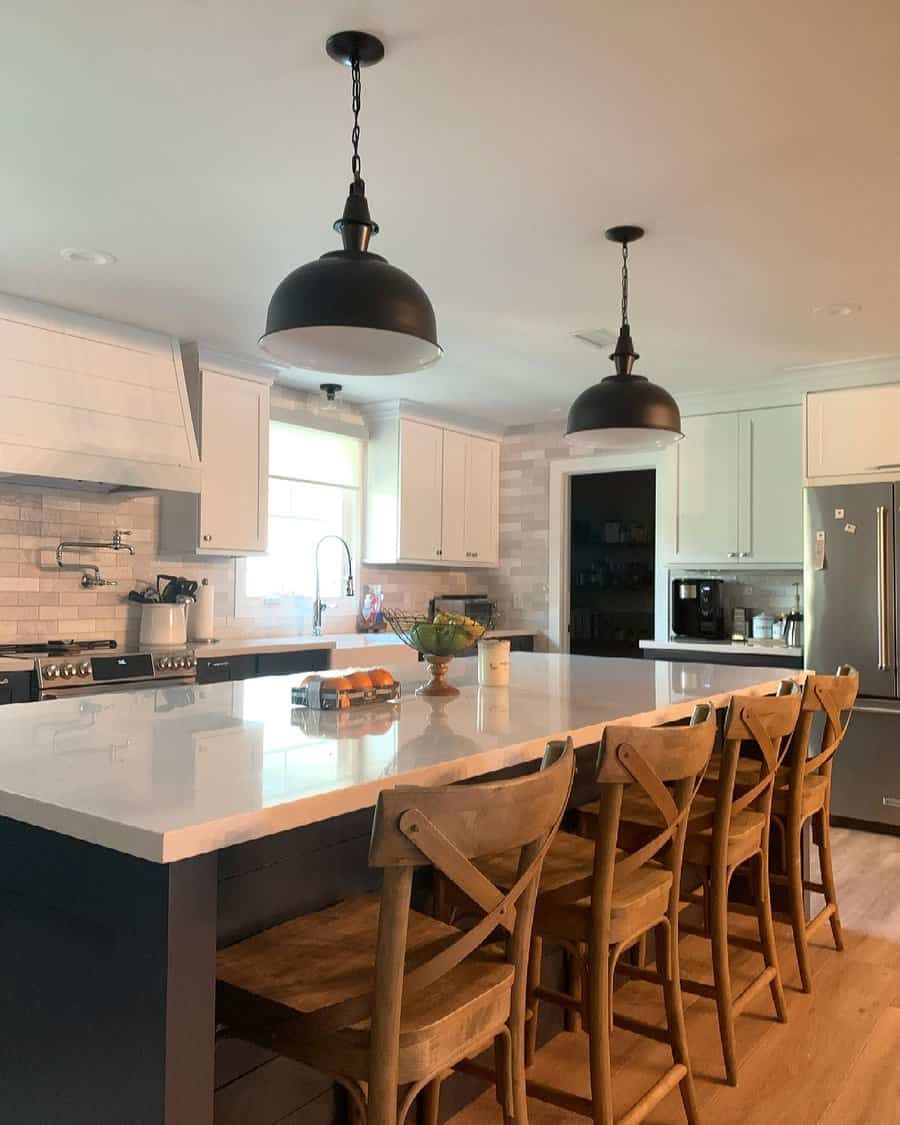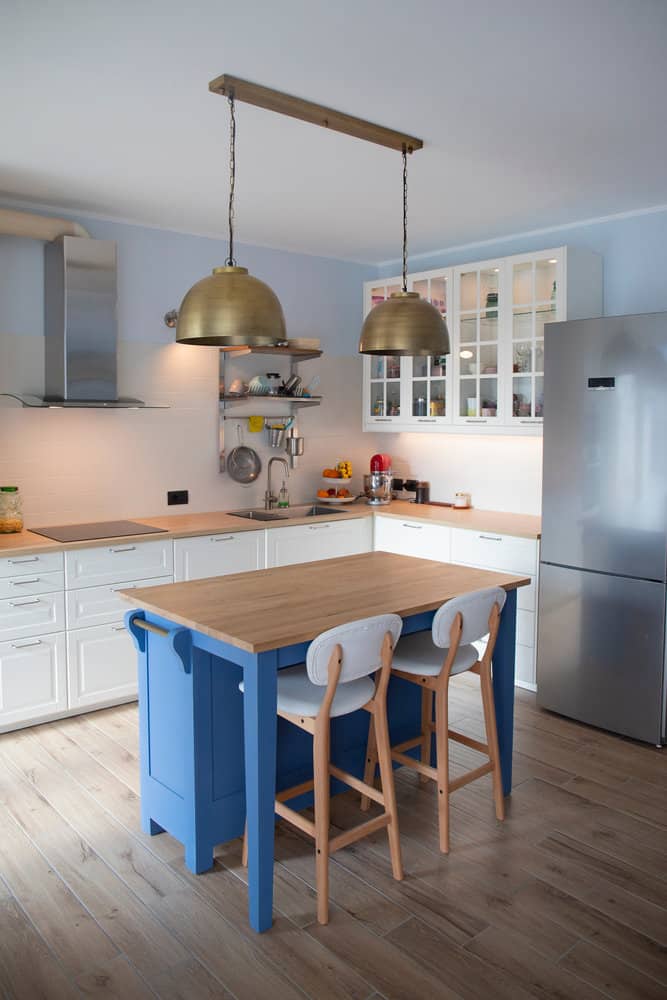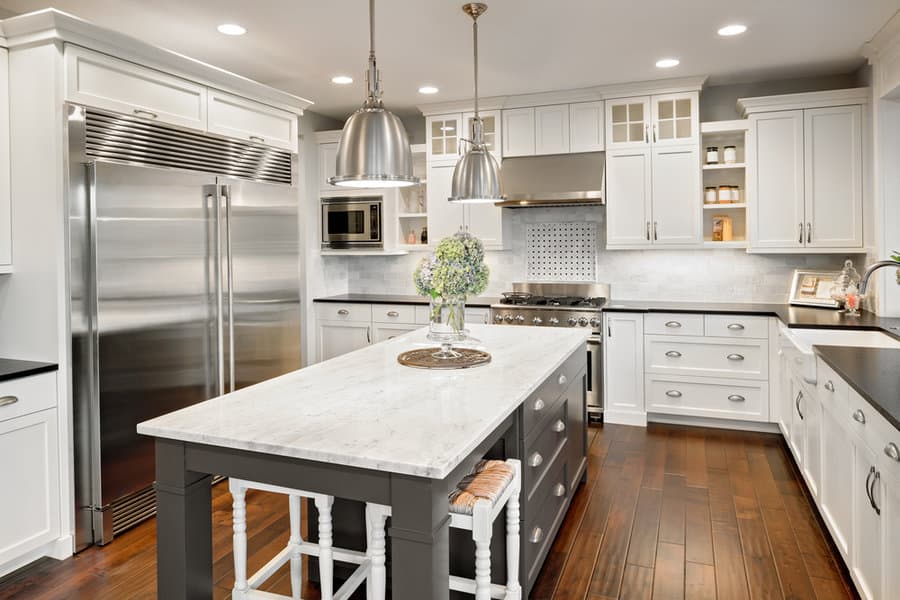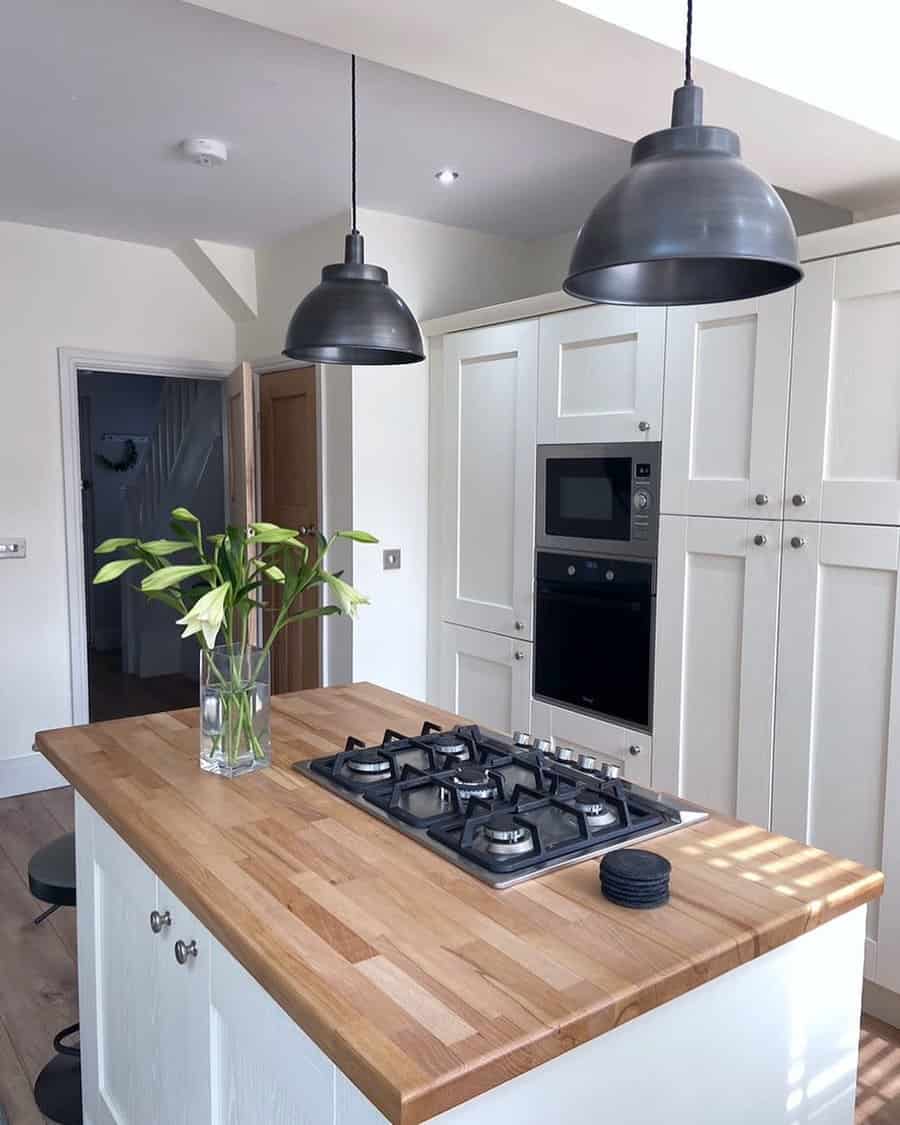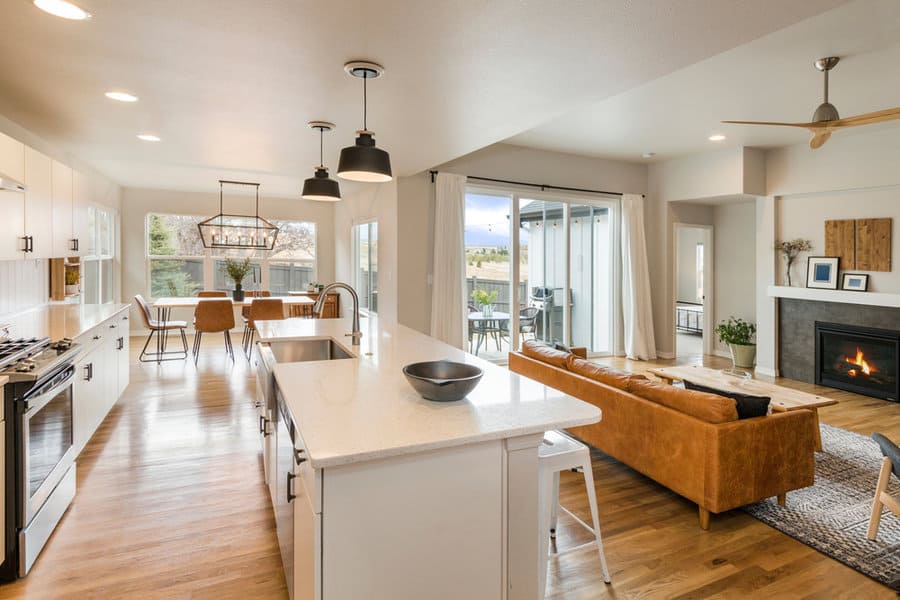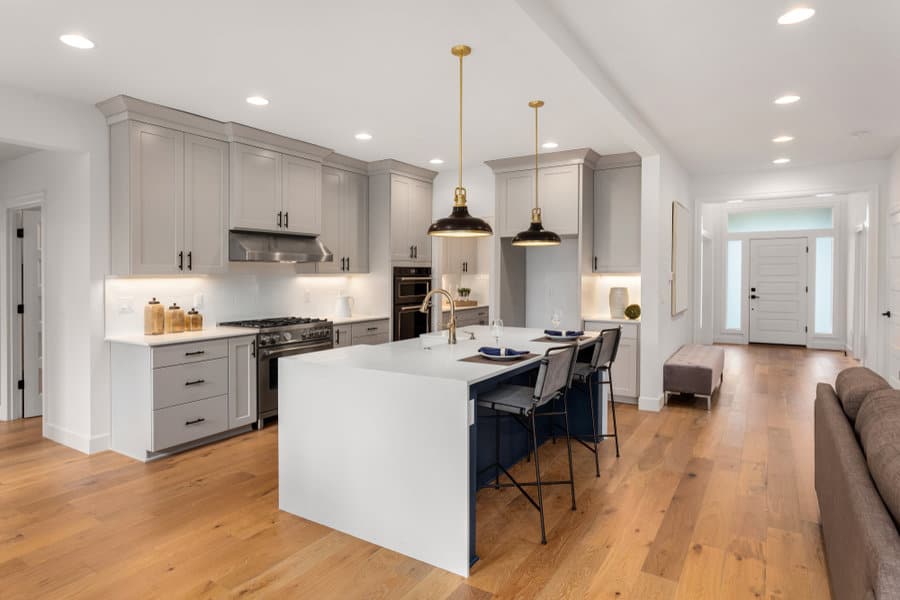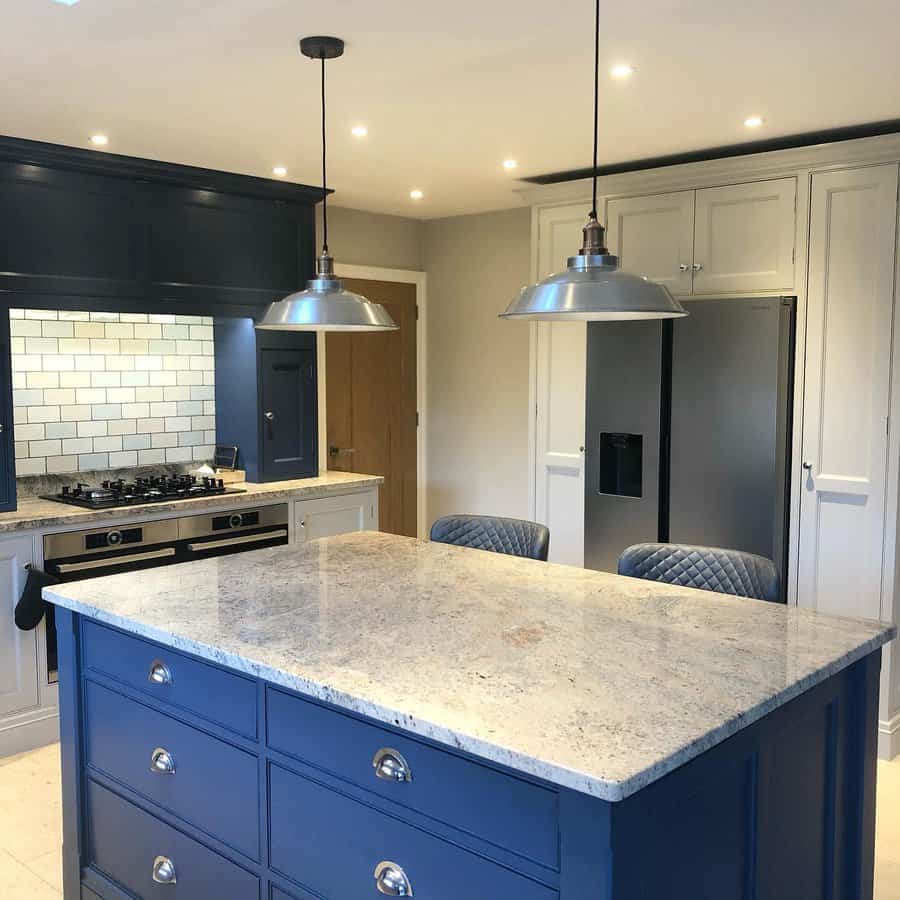 5. Chandelier For An Elegant Look
Adding modern or traditional chandelier pendant lighting to your kitchen island can completely transform the look and feel of the space. You'll no doubt make a statement with a beautiful and elegant light fixture – many modern designs feature contemporary shapes, while more classic styles have an intricate beauty reminiscent of old-time elegance.
Look for an adjustable height design so you can create the perfect look and facilitate task lighting when needed. A modern or classic chandelier placed over your kitchen island will breathe new life into the heart of your home!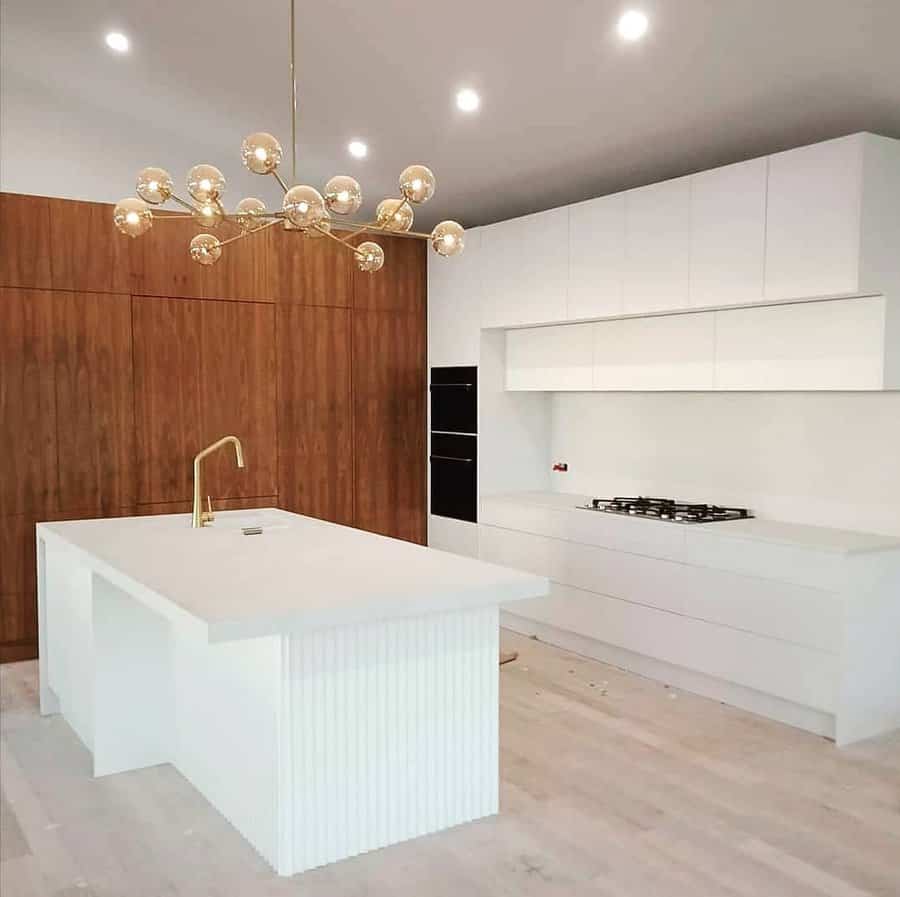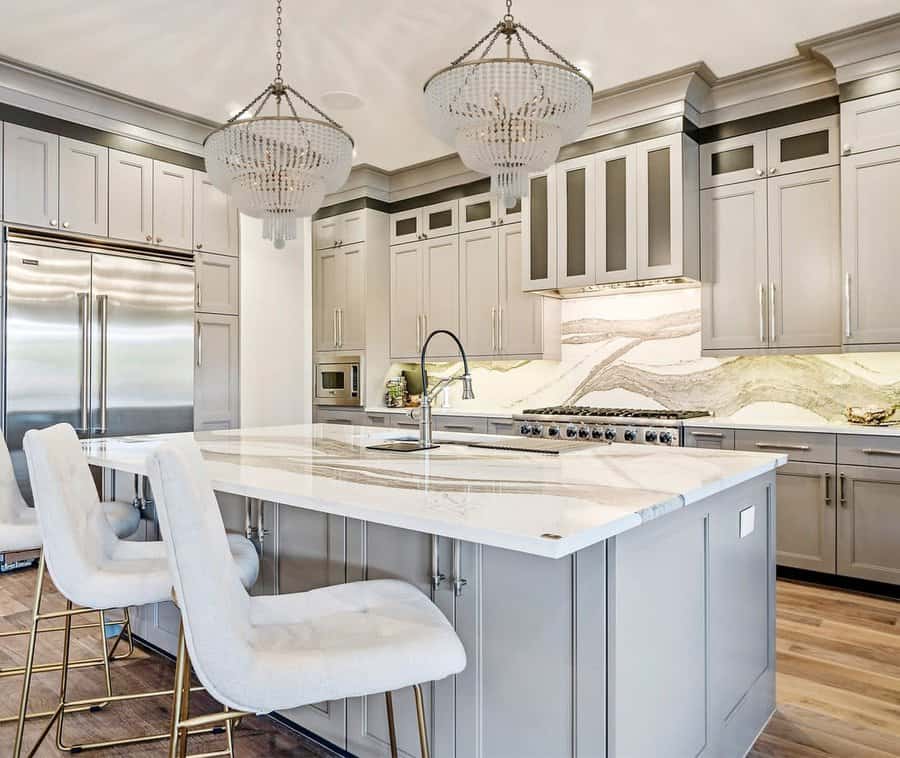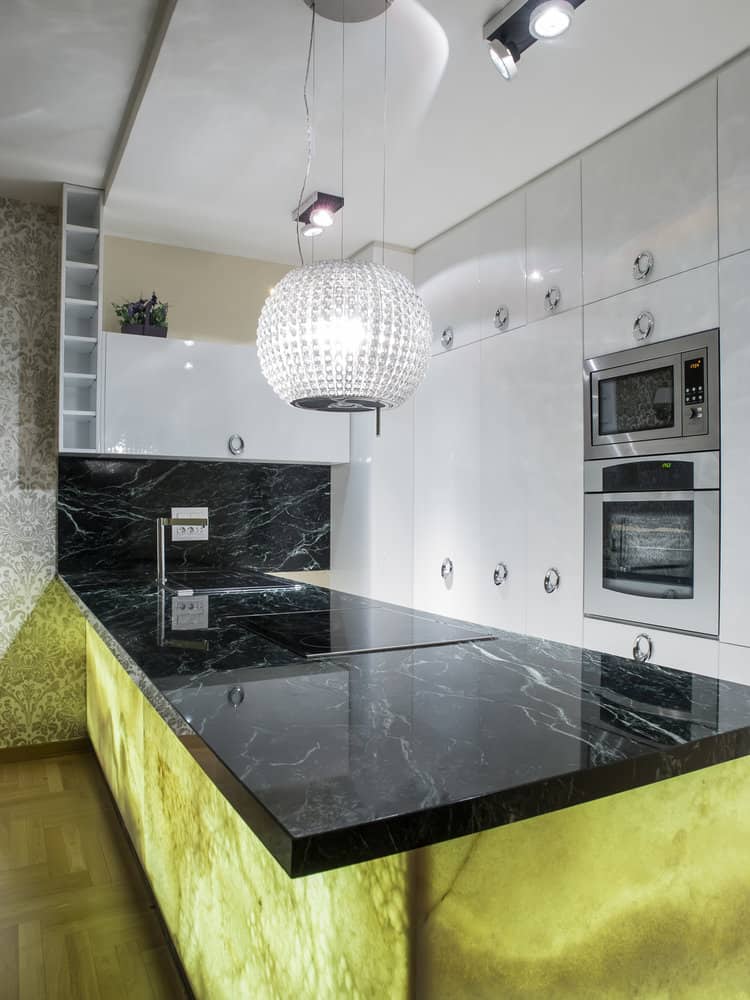 6. Wagon Wheel Lamp To Emnate A Cozy Farmhouse
For a true farmhouse kitchen island look, wagon wheel pendant chandeliers are the perfect addition! These rustic and vintage lighting fixtures make a statement piece in any room. Whether your style is modern farm or classic country, wagon wheel pendants create an inviting atmosphere that allows you to bring family and friends together.
Keep in mind the size of your space when choosing the right wagon wheel fixture – you want to be sure it's not too large or small compared to the kitchen island area. Happy decorating!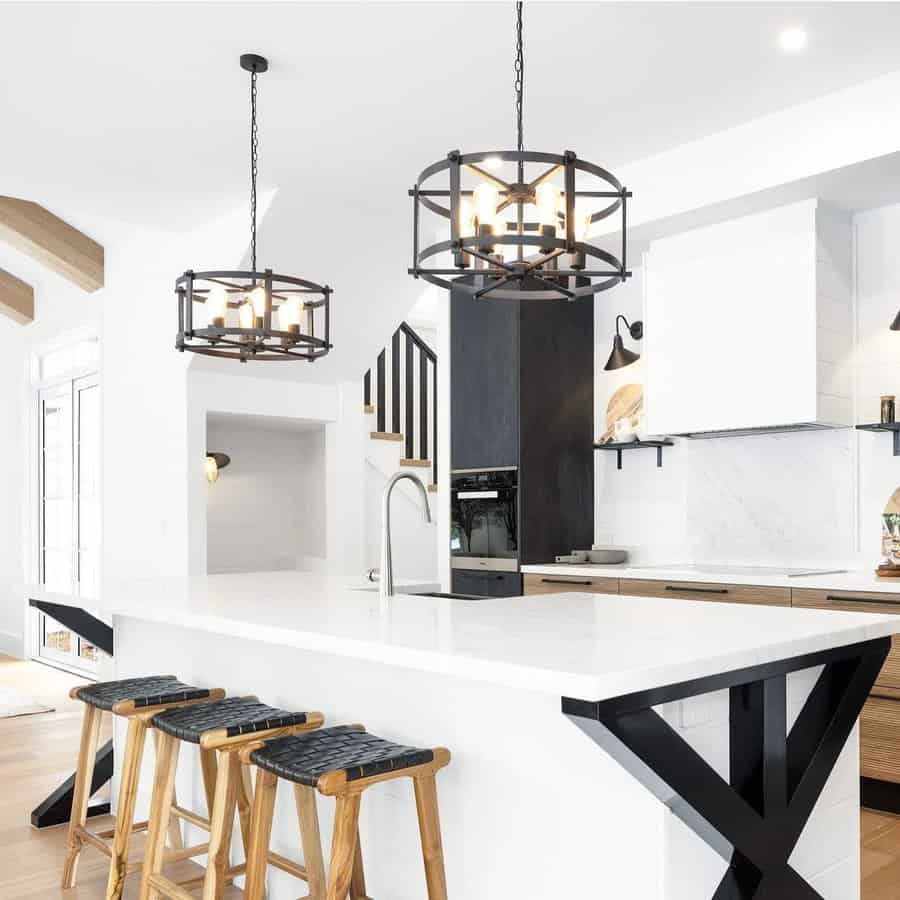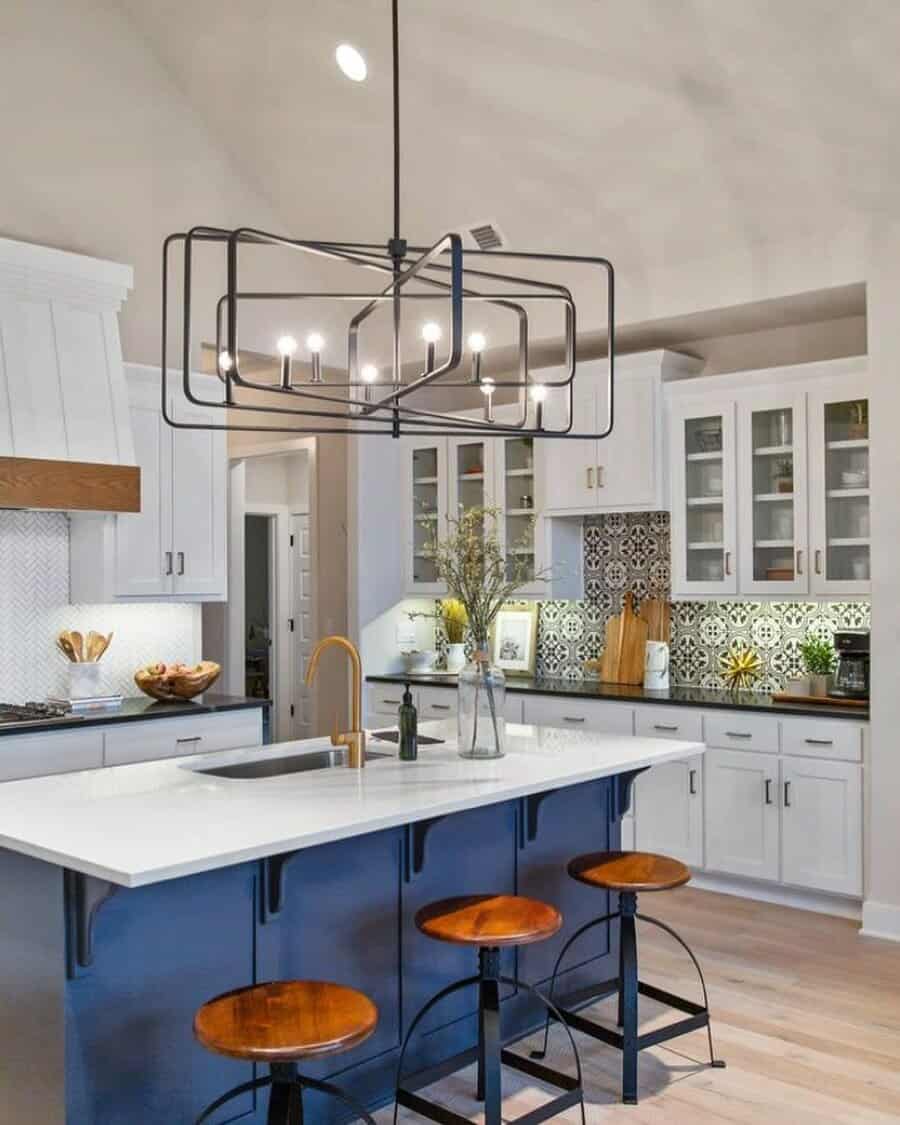 7. Geometric Lamps For Visual Play
A geometric kitchen island pendant lighting is the perfect way to add a modern and creative touch to your space. The geometric shapes add an extra level of visual play to your room, allowing you to create different patterns with the geometric lamps.
If you are looking for something more subtle, go for a Scandinavian design with geometric pendants featuring natural earthy tones: think browns and tans which will give off a warming and inviting atmosphere.
There are plenty of options available when it comes to geometric kitchen island pendant lighting; see what works best in your space and enjoy the effect of these geometric beauties!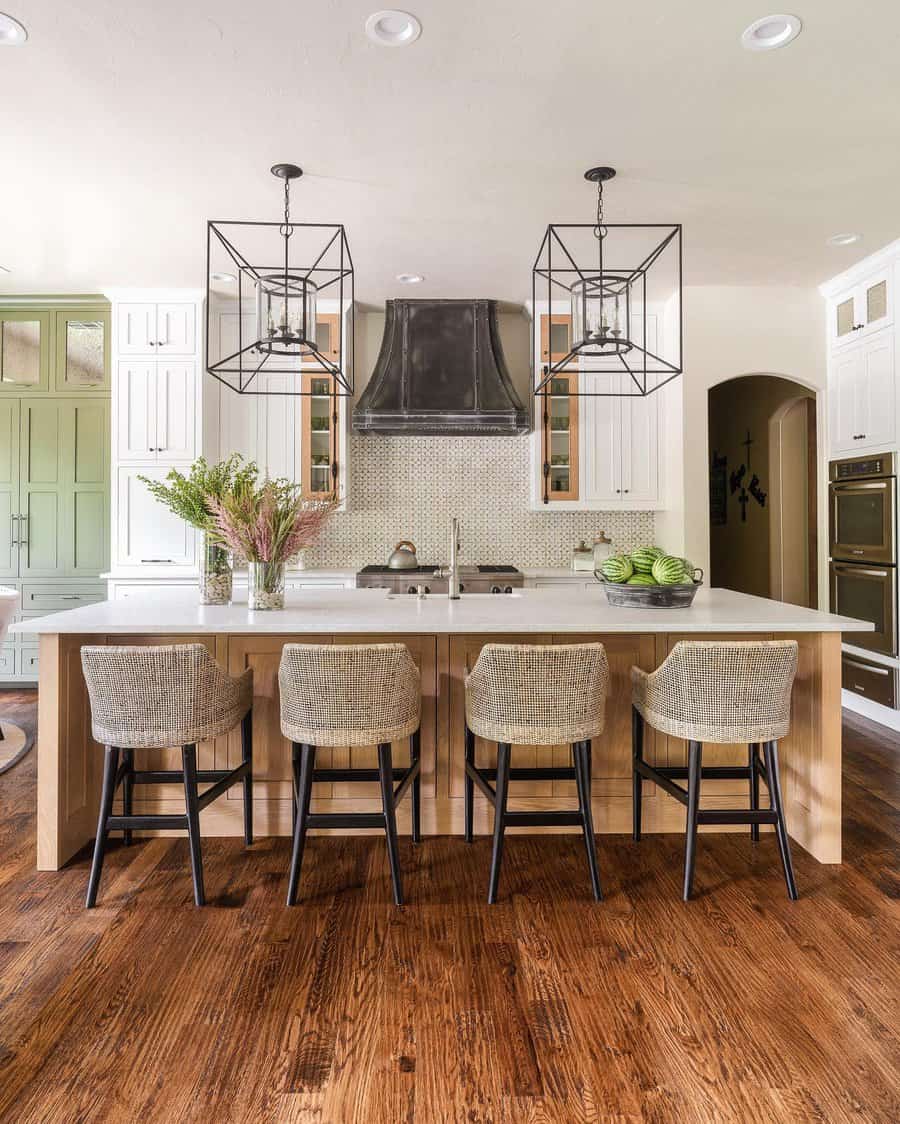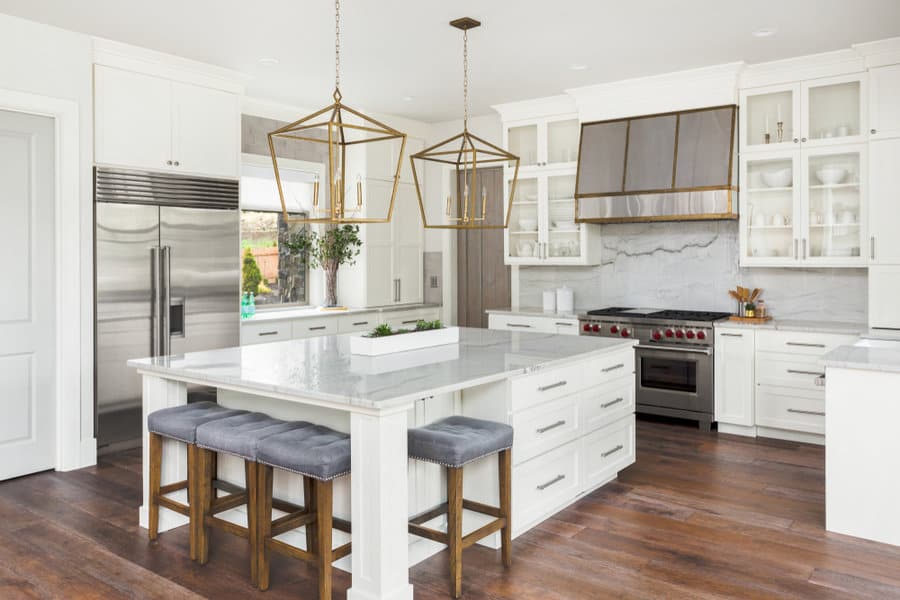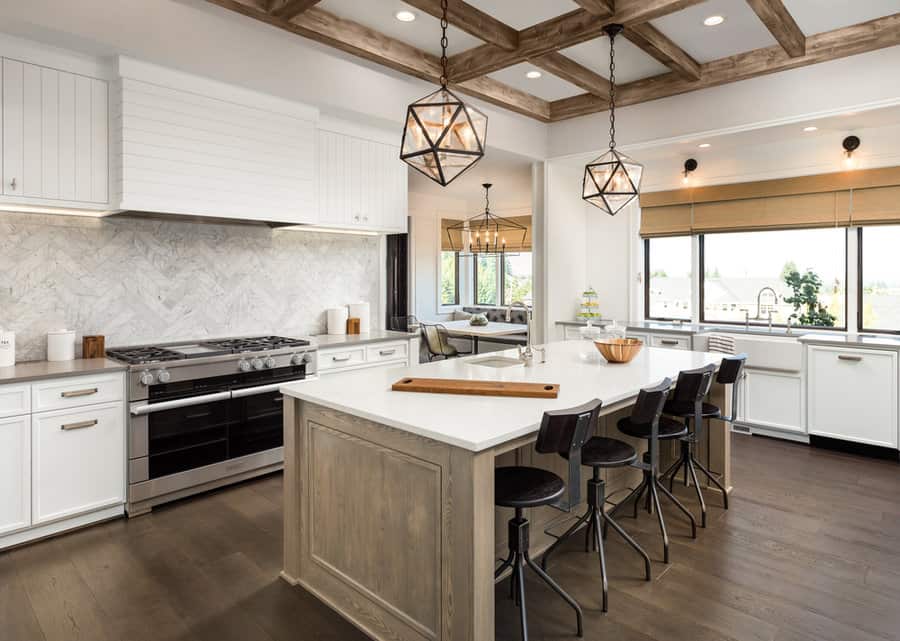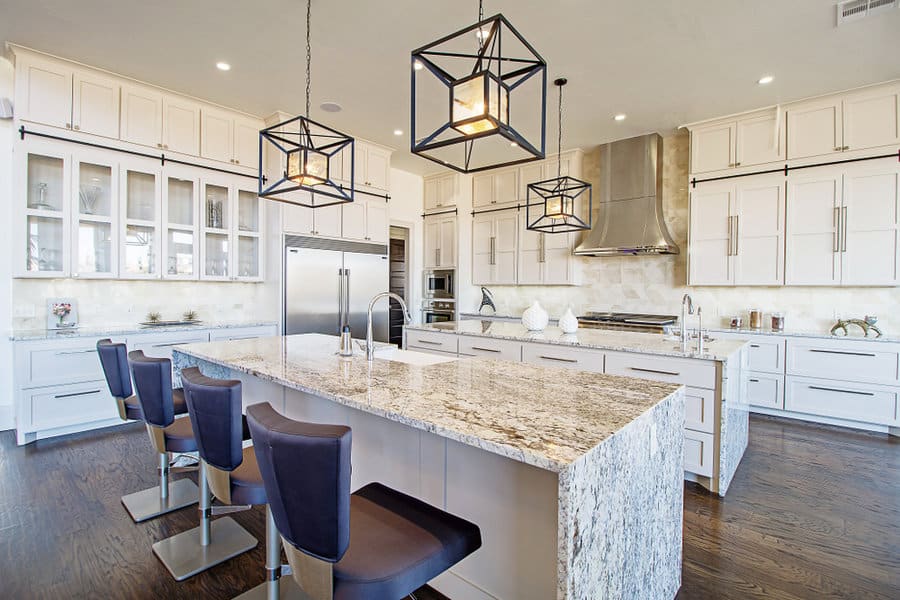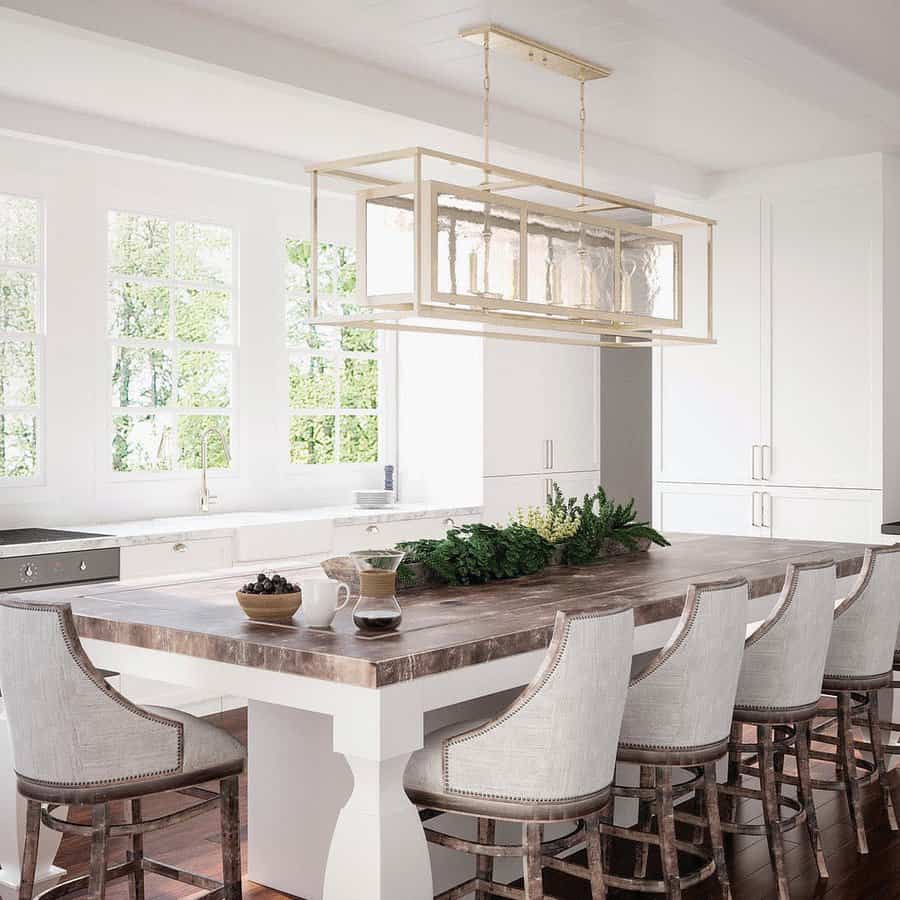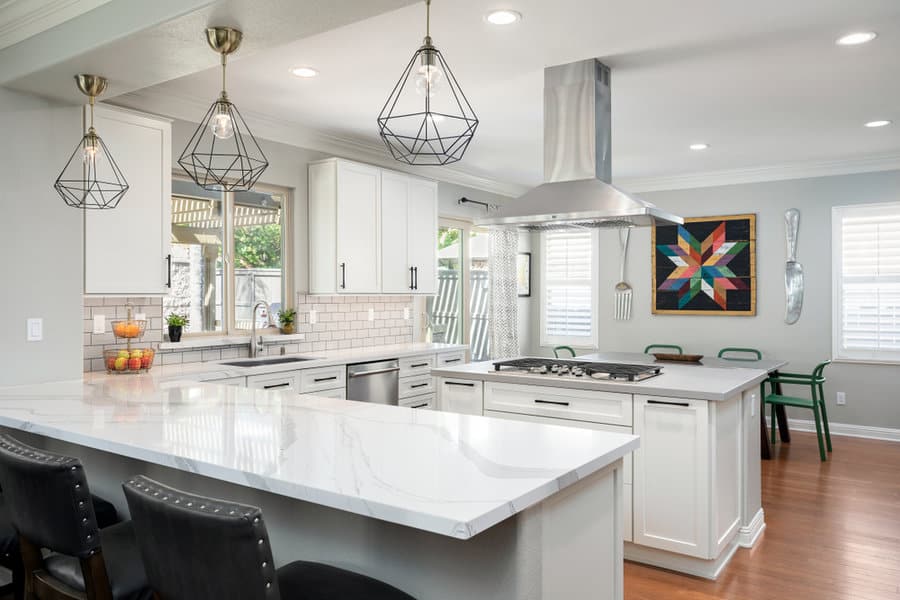 8. Glass Pendant Lighting For A Seamless Look
If you're looking to add texture and dimension to a kitchen island, glass pendant lighting could be the perfect solution. It casts lots of light, creating an inviting feel for everyone who uses the kitchen. Not only that, glass pendant lights like this create a seamless look that adds a designer feel – no matter what your budget is.
Plus, you can always put your own spin on glass pendant lighting by picking the size and style to best match with existing decor and countertops in the room. Whatever your style or size needs may be, glass pendant lighting will provide the perfect chic element to complete your room.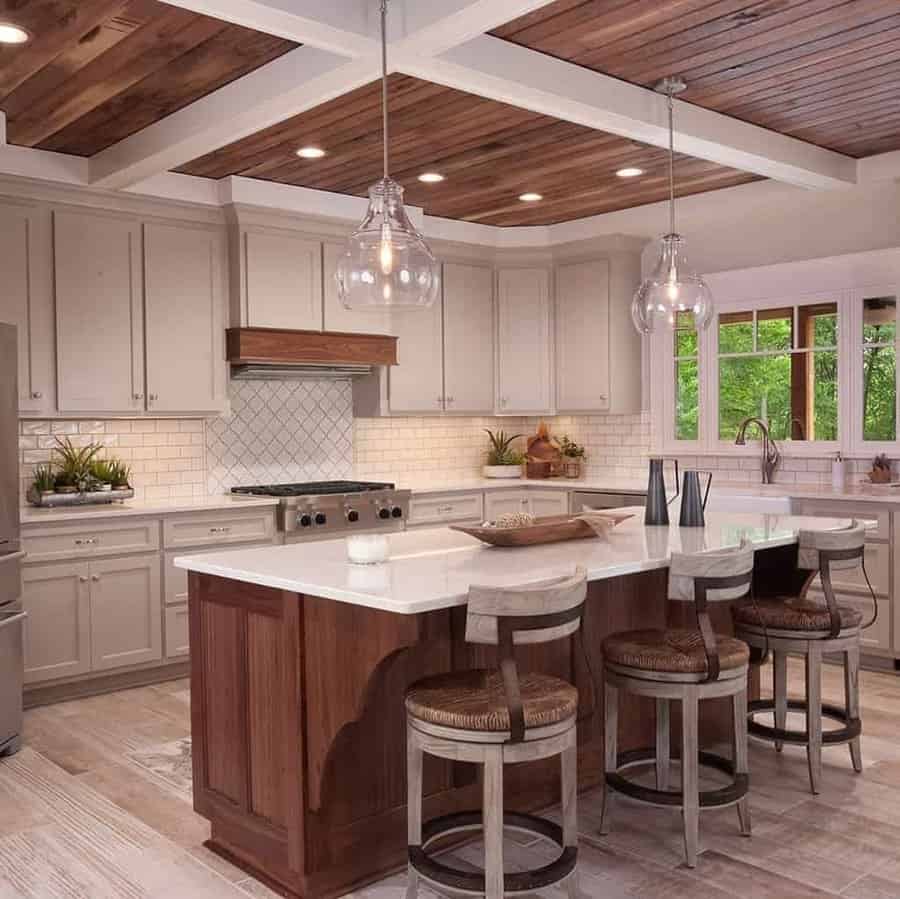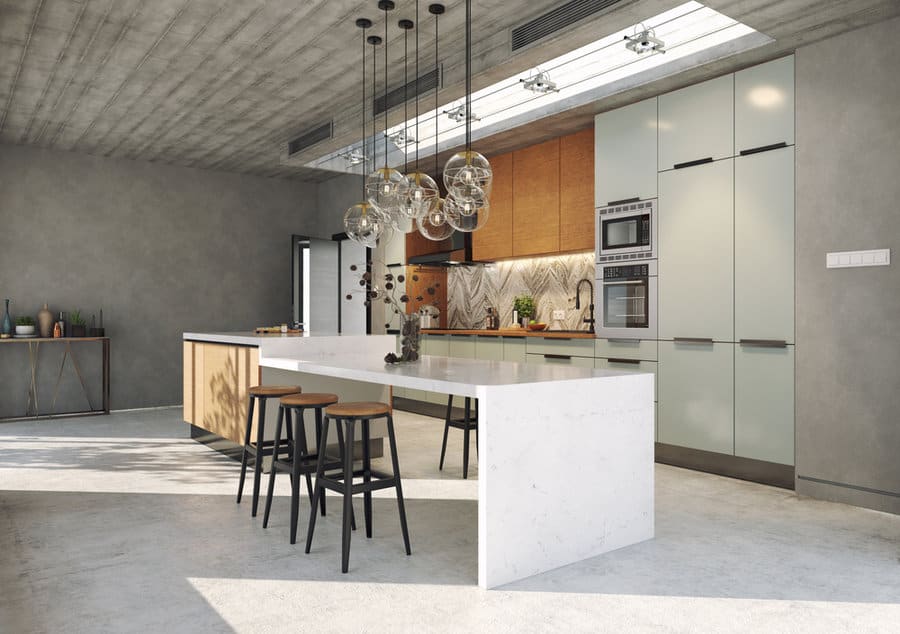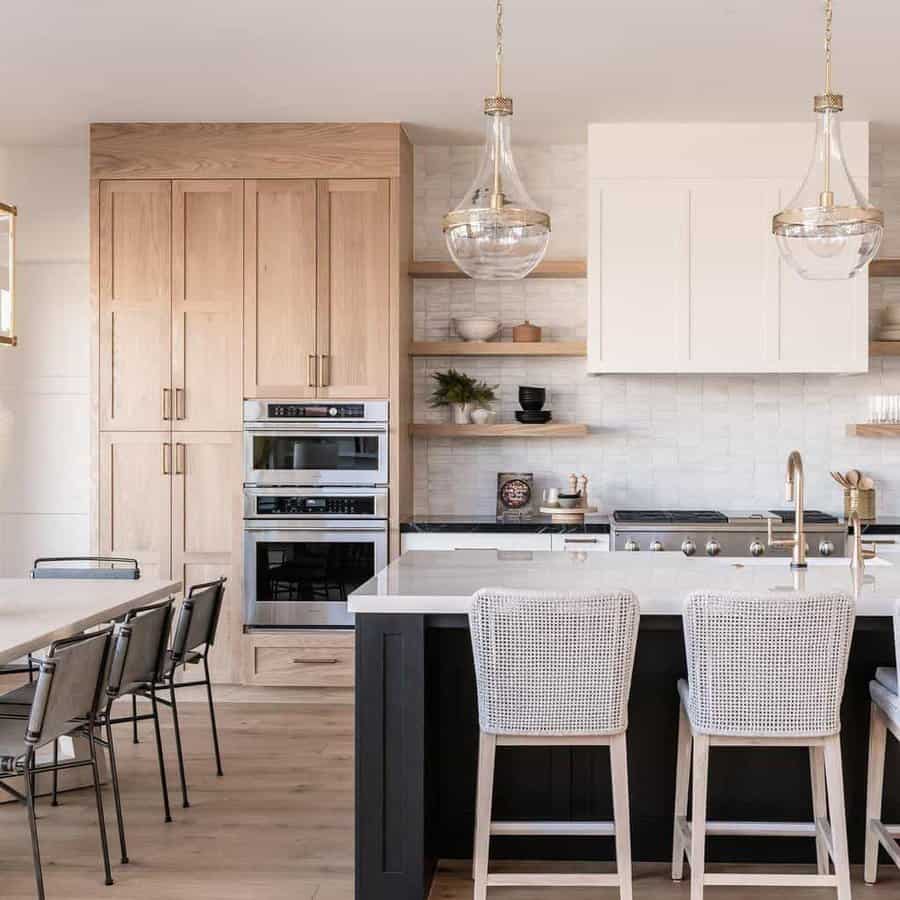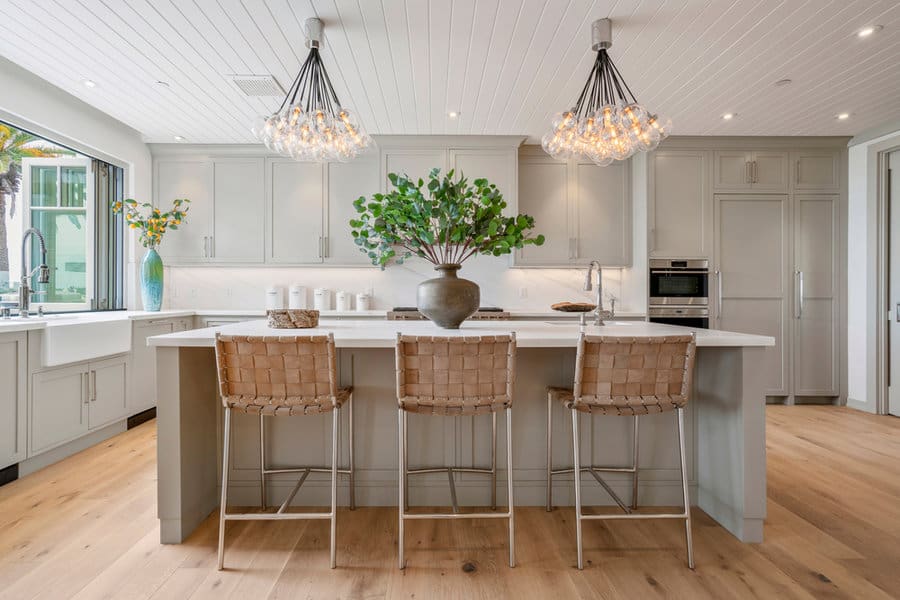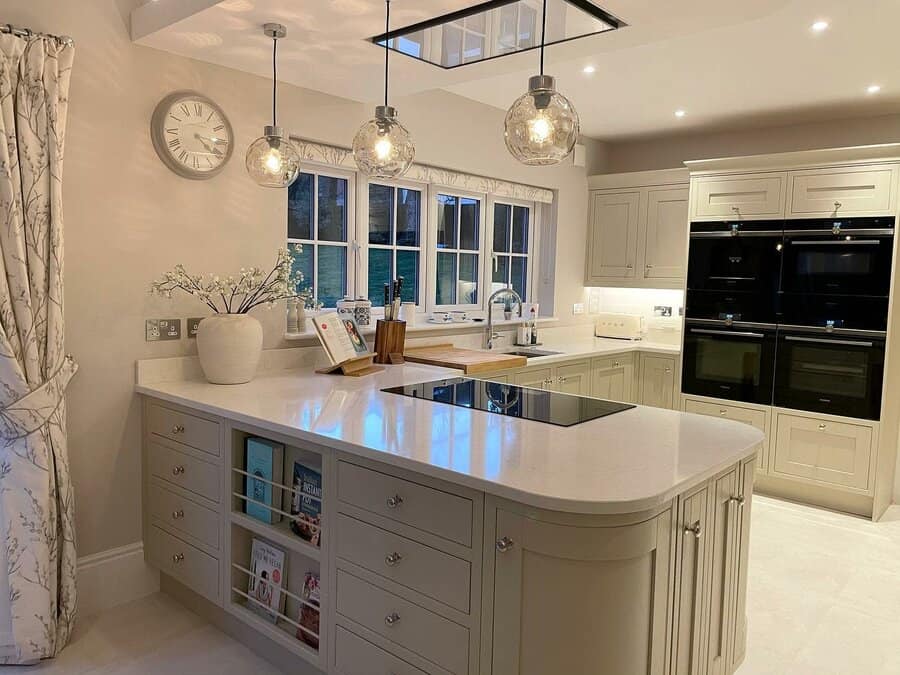 9. Raw & Unfinished For Industrial Kitchens
The perfect way to bring raw and unfinished style to your kitchen is by adding a wrap-around industrial kitchen island pendant lighting feature. Pick lamps with an industrial edge—either raw copper or in different shades of steel—and hang them so they make a statement even when not lit. You could also try combining raw metal finishes with shades of white glass.
This will create a great contrast with the raw exterior and add warmth from the soft glow of the light emanating within. With this kind of kitchen lighting, you can give your space an inspiring atmosphere that will lift its visual appeal no matter the time of day.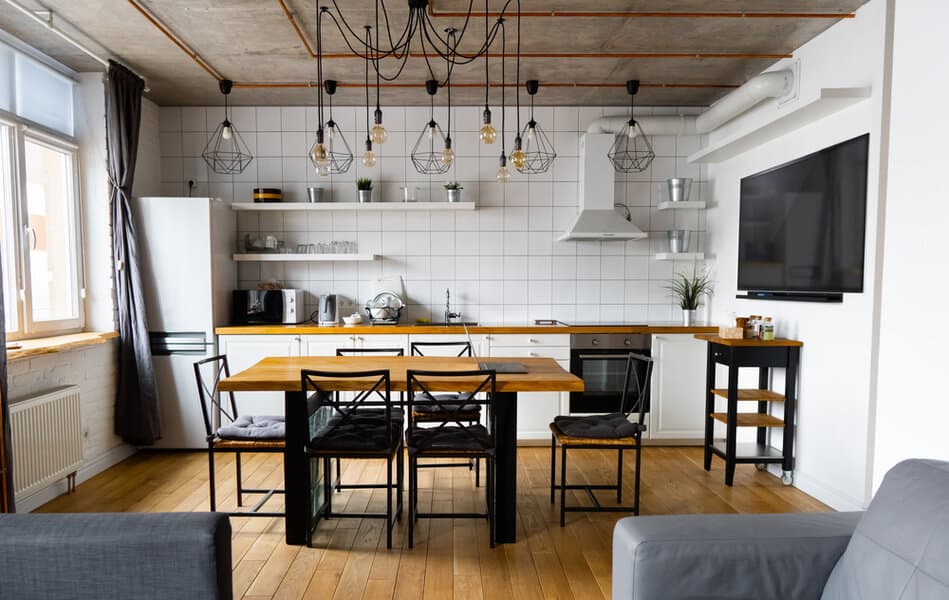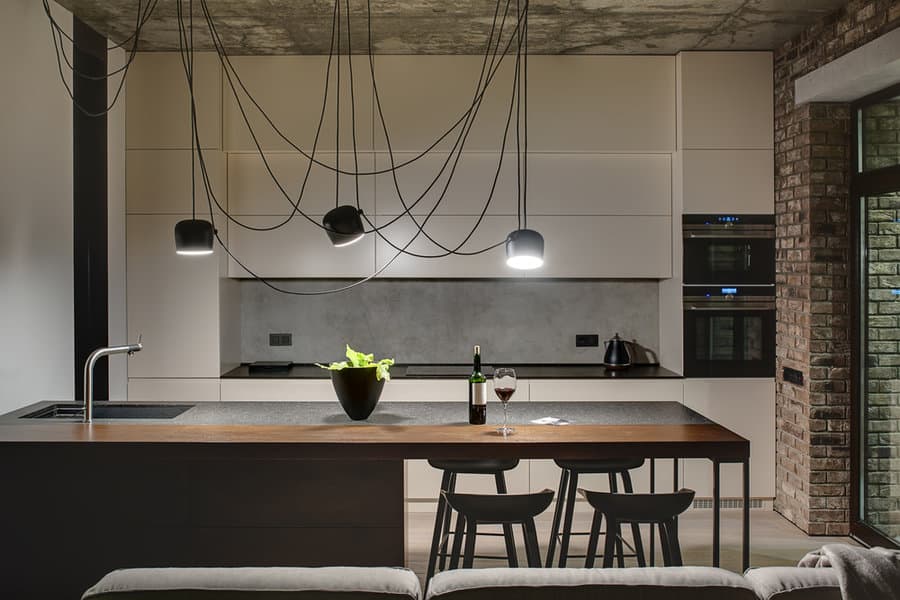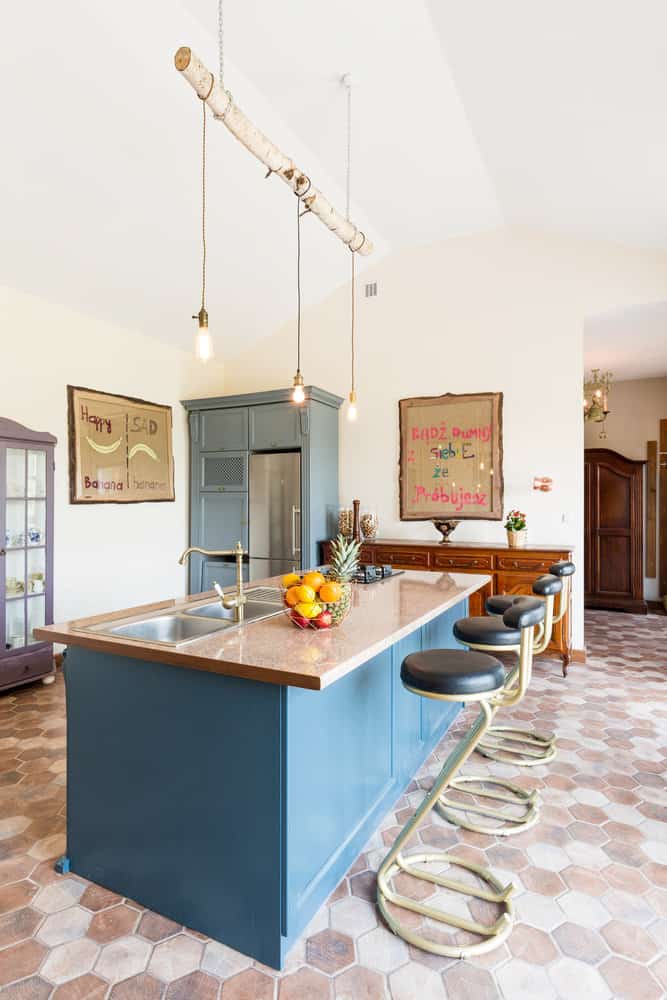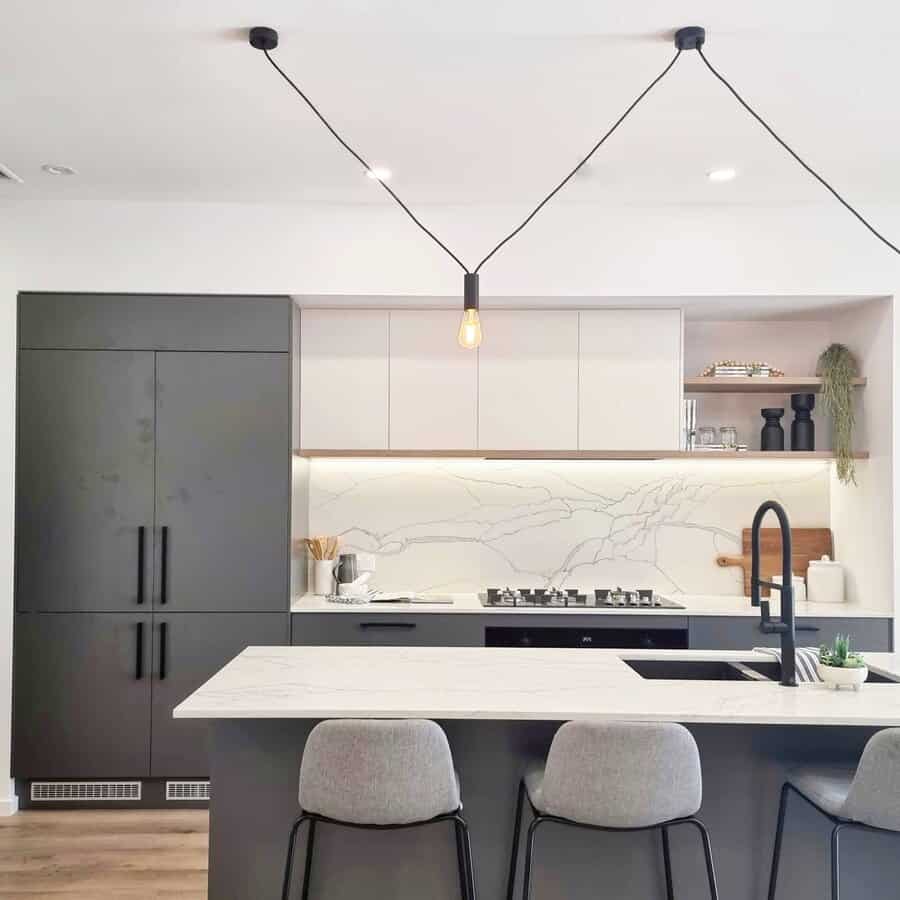 11. Understated Lamp Silhouettes For A Minimal & Clean Look
Minimal kitchen island pendant lighting is an easy way to execute a modern and minimalistic look in the kitchen. To achieve an understated yet chic minimal design, opt for minimal pendant lighting with slim and basic silhouettes.
Choose either black or white minimal pendant lighting to keep the look subtle yet refined. This timeless aesthetic will give your kitchen a sophisticated minimal style that won't go out of style with future trends.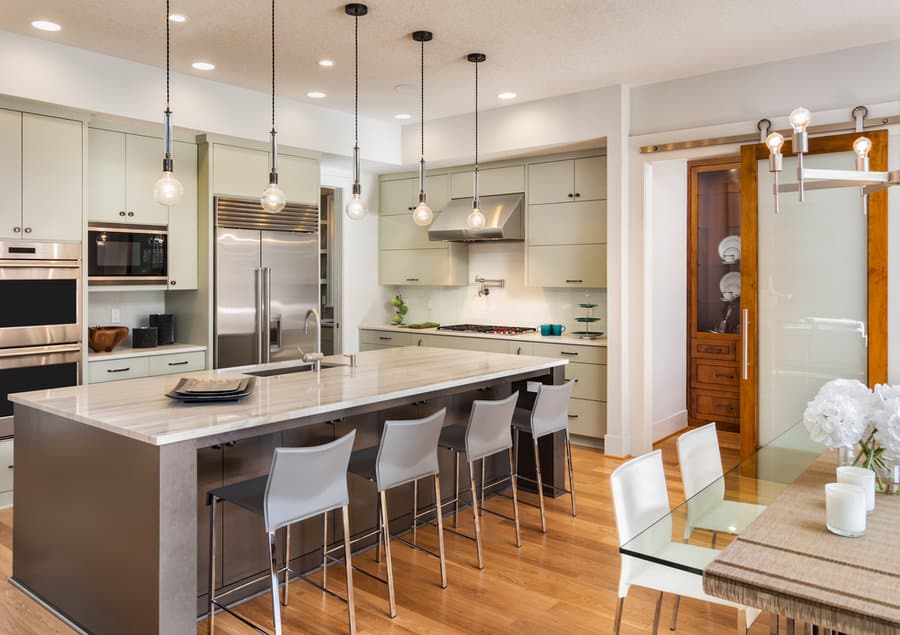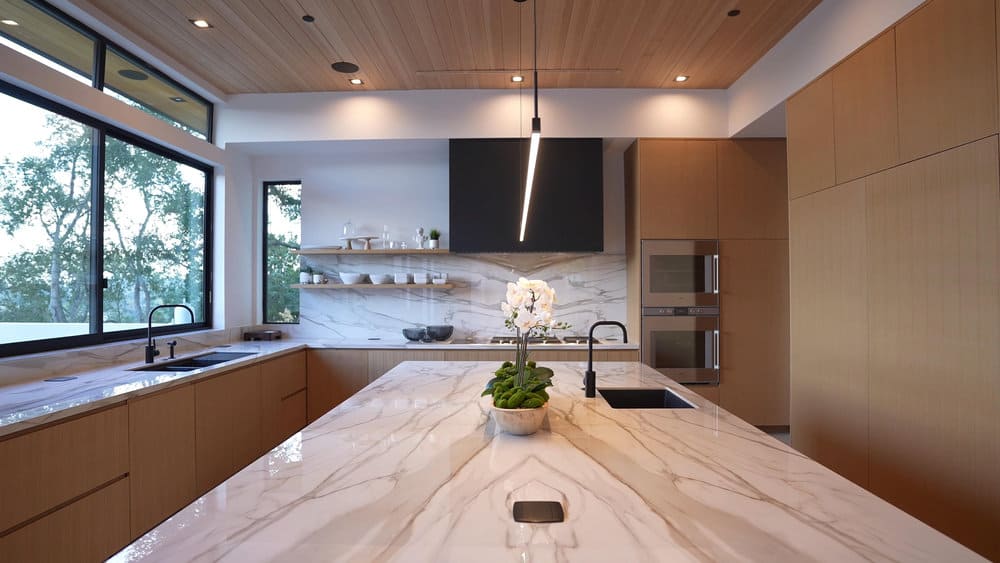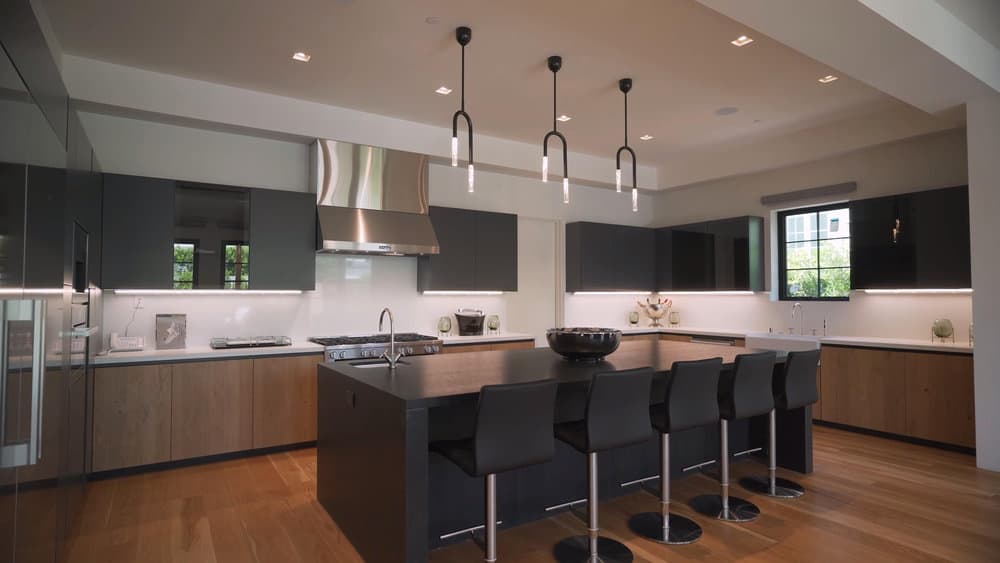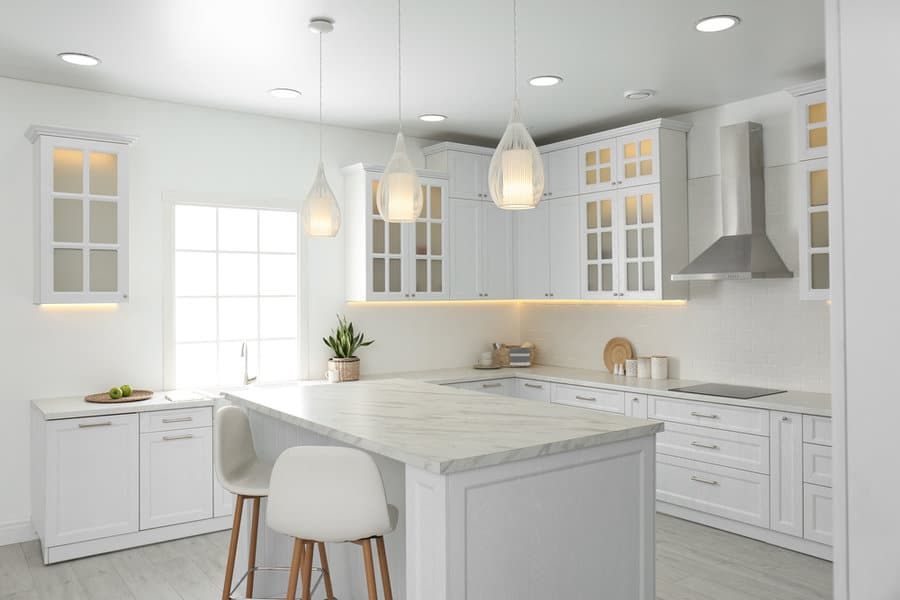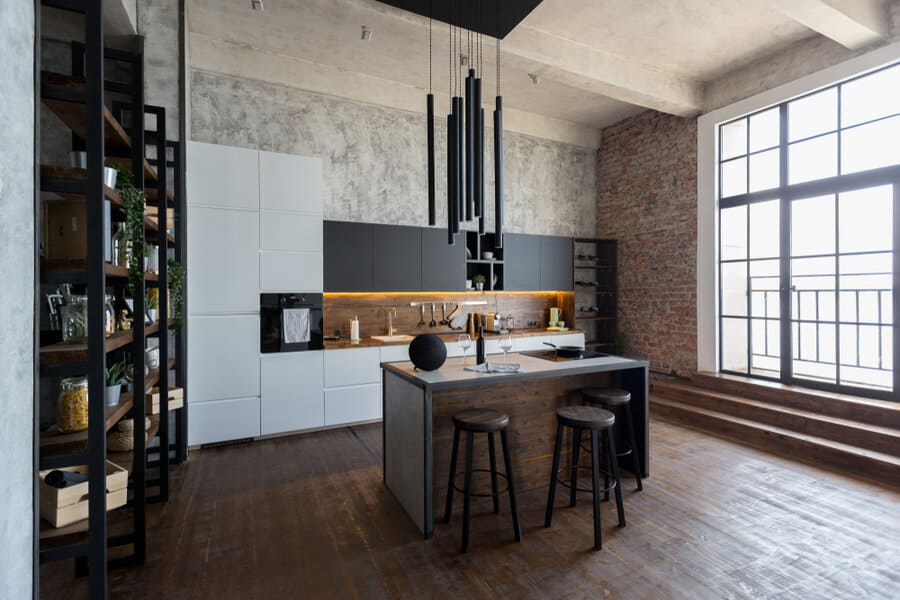 12. Gold Fixtures For Art Deco Kitchens
Adding gold pendant light fixtures to an art deco kitchen island is a surefire way to make a bold statement. A pendant lamp with gold fixtures will create a stunning focal point that adds grandeur and sophistication to the space.
Use pieces featuring clean lines and geometric shapes, like circles, rectangles, or arcs, for an ultra-modern touch. In addition to providing great lighting for preparing food or dining, pendant lighting will become the centerpiece of the room and give it a showstopping style.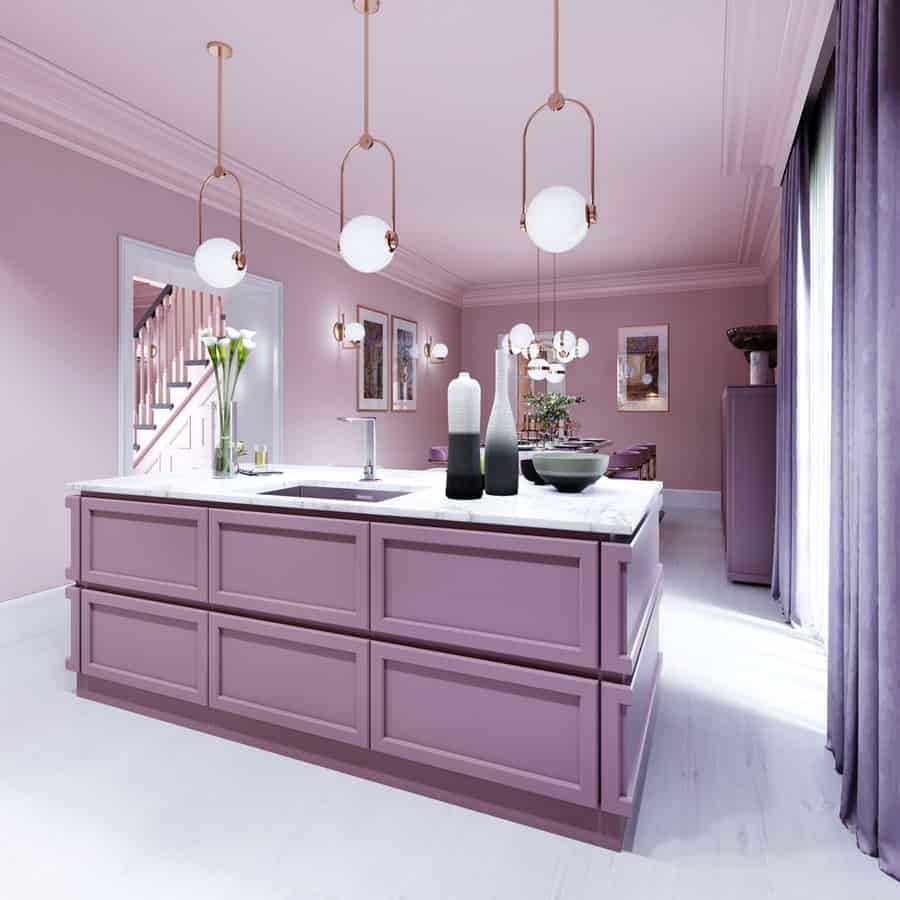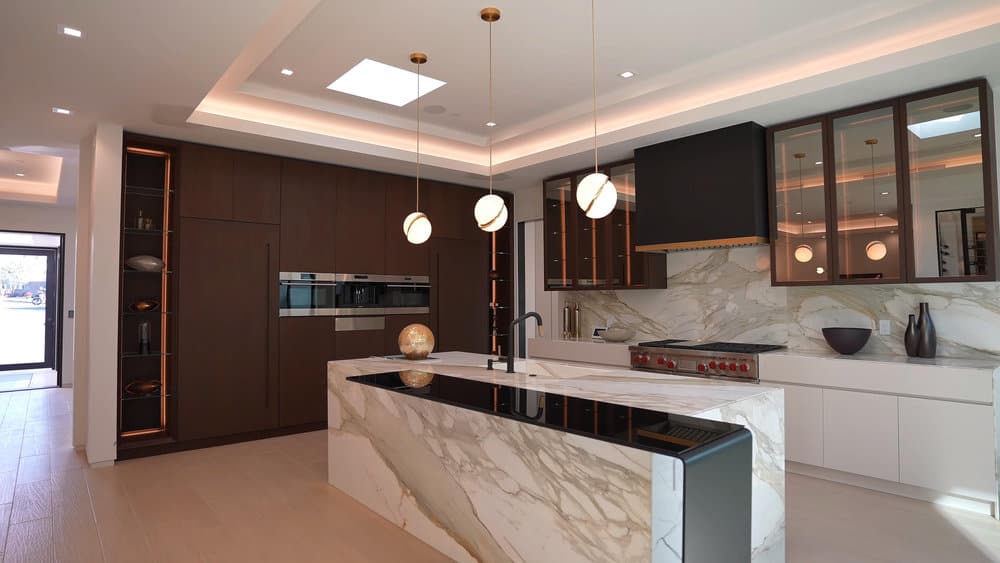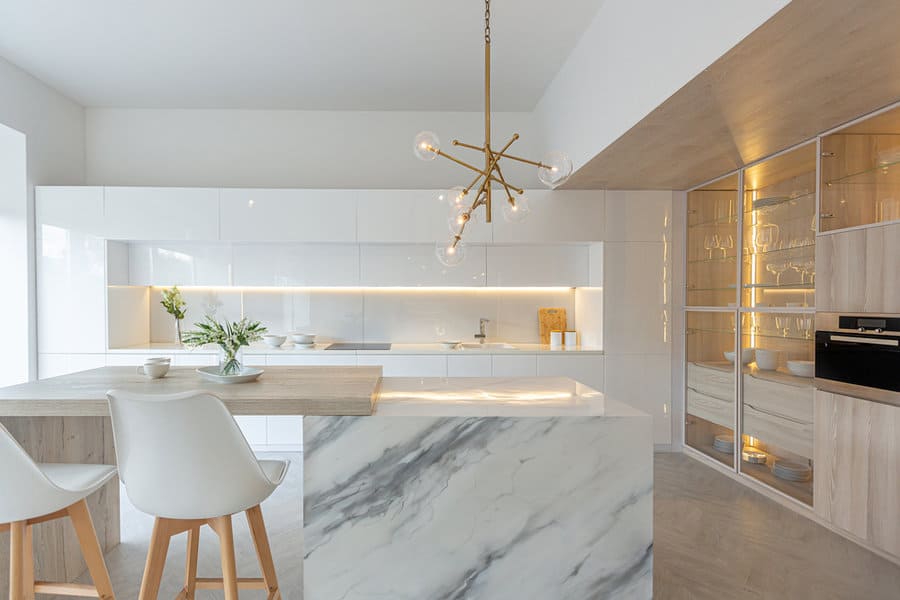 13. Artistic Focal Point
If you're looking to add creative flair to your kitchen island, why not consider artistic pendant lighting? It's a great way to artfully display the natural and industrial components of your home.
Look for sculptural-like designs, oversized bamboo flute lamp designs, or even modern pineapple cone lamps that are sure to bring some artful sophistication into this room of your house.
Have fun experimenting with materials and shapes – there is no limit to the possibilities!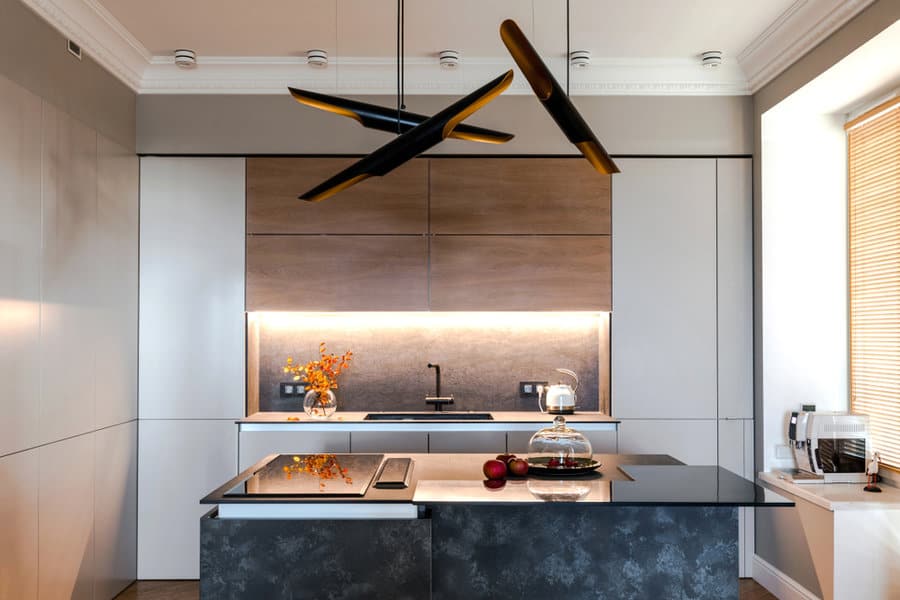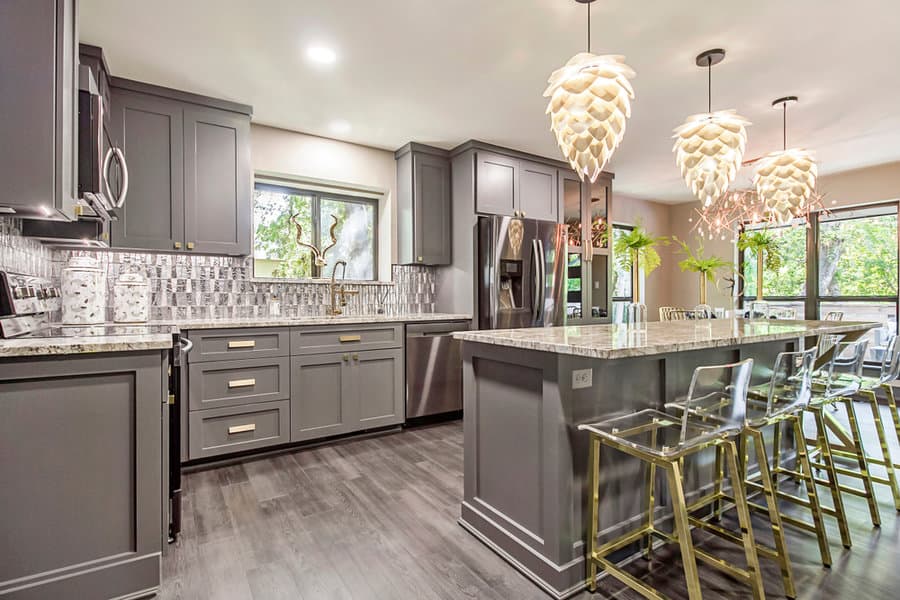 14. Stand Out With An Oversized Pendant Lighting
An oversized kitchen island pendant lighting is a great way to make any large kitchen come alive. It has the ability to fill up empty space, elevating its look and adding personality. The oversized lighting will cast shadows in all directions while providing the perfect mixture of direct light that a large space requires.
Plus, it's an easy upgrade if you're looking to give your big kitchen some added pizzazz. Whether you get modern or vintage-styled oversized pendant lighting, there are endless possibilities to choose from that will make your big kitchen look even bigger and more inviting!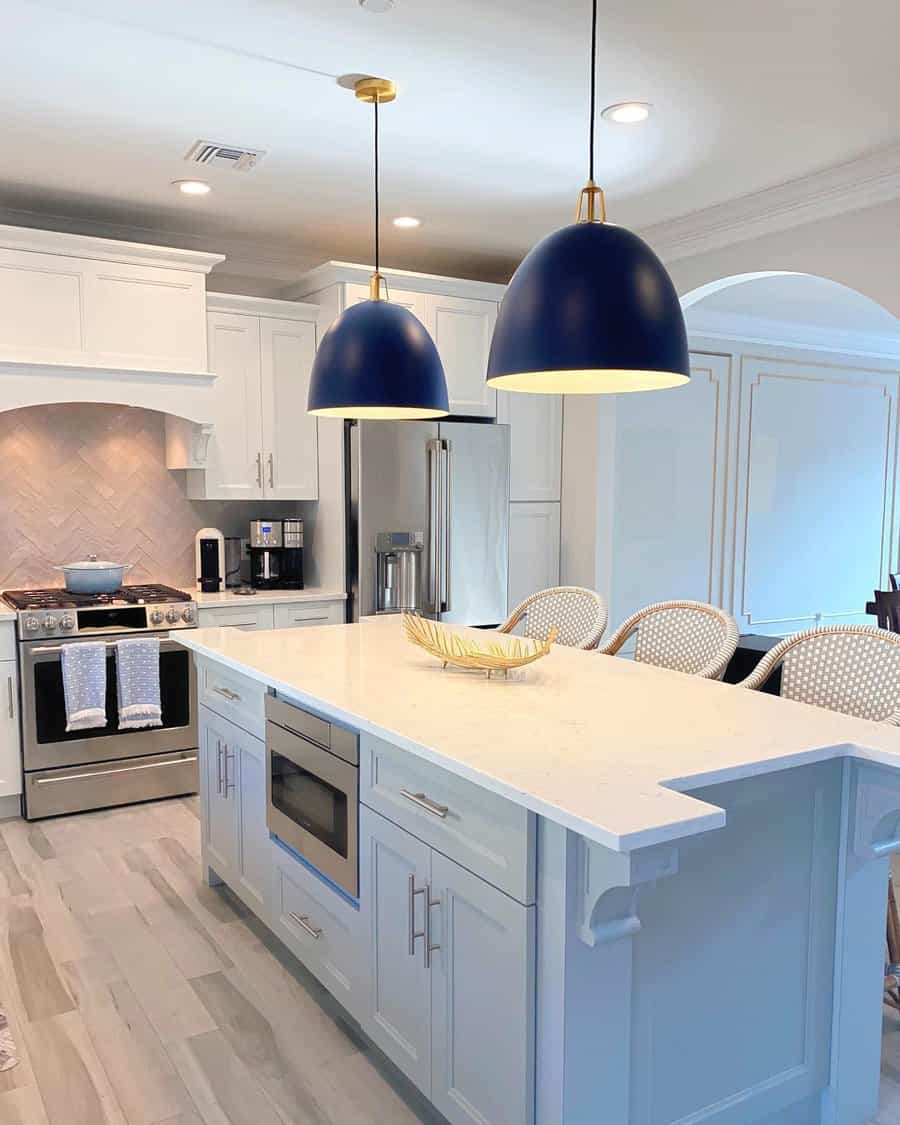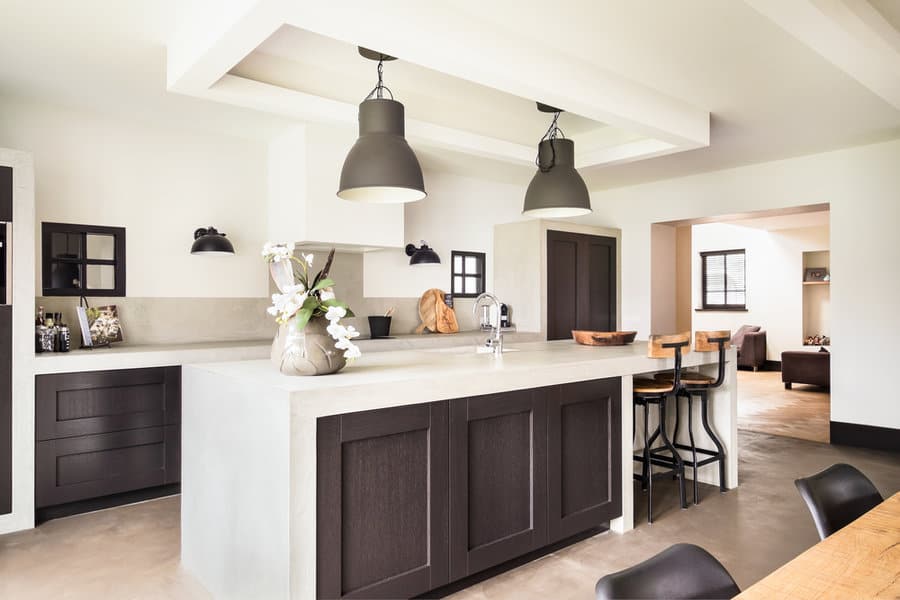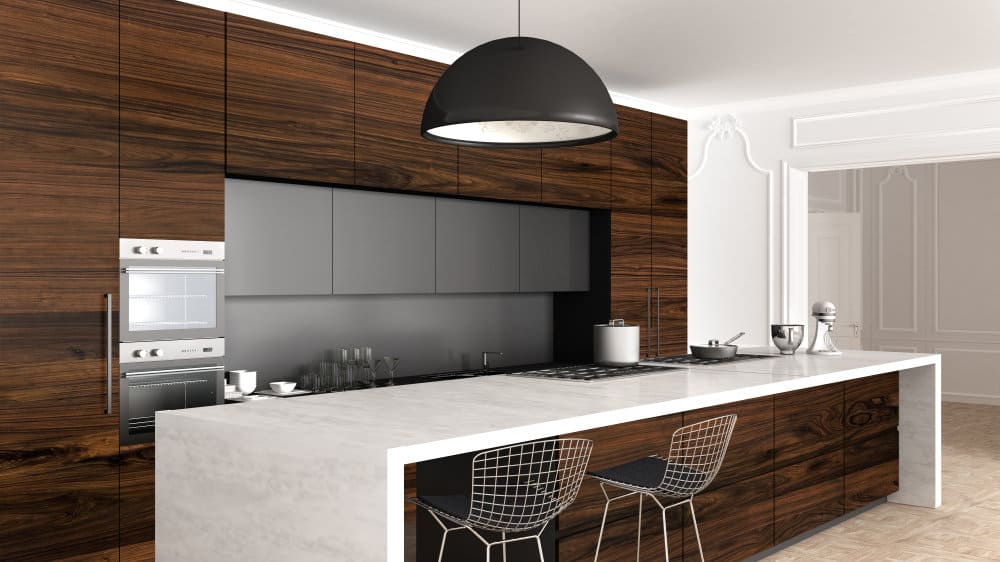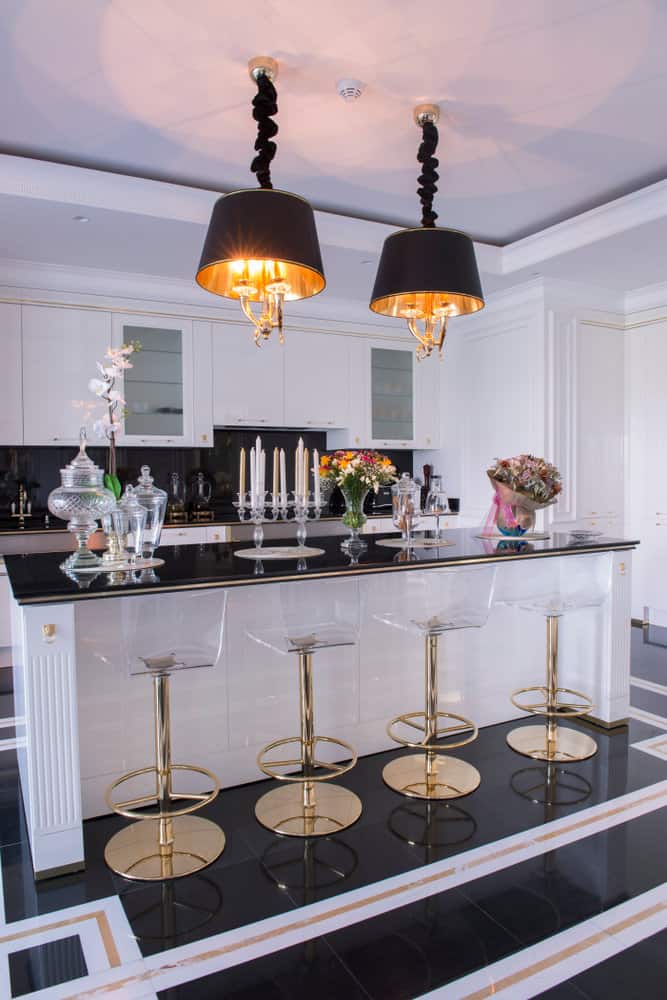 15. Revamp Old Lamps For Vintage Charm
Vintage kitchen island pendant lighting can revamp any room with a retro and classic appeal. Get creative with your decor and revamp old lamps you may have that can be used as vintage kitchen pendants.
If you're looking to create an authentic vintage feel, thrift or scour the internet for vintage-inspired pieces. While revamping old lamps or finding thrifted or vintage-inspired lighting can require a bit more effort, the result is so worth it with the atmosphere it brings to your space!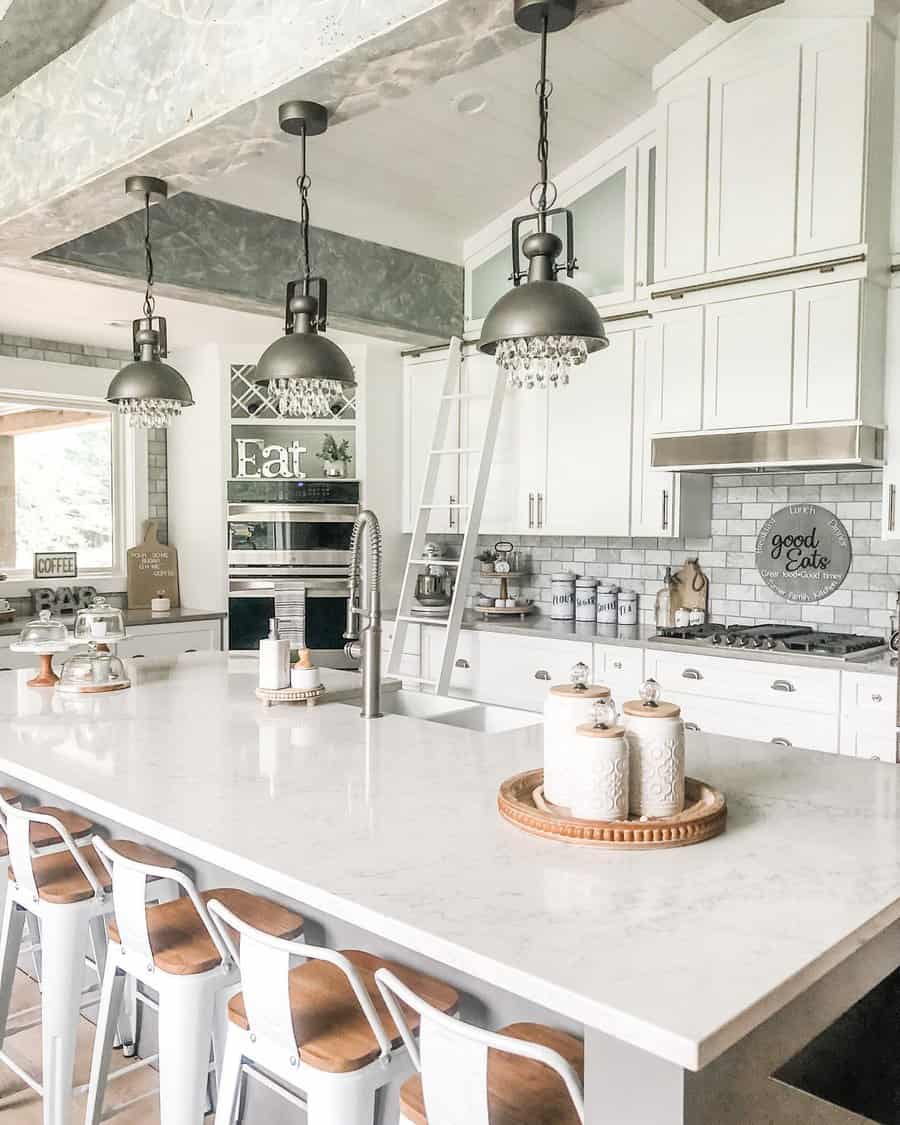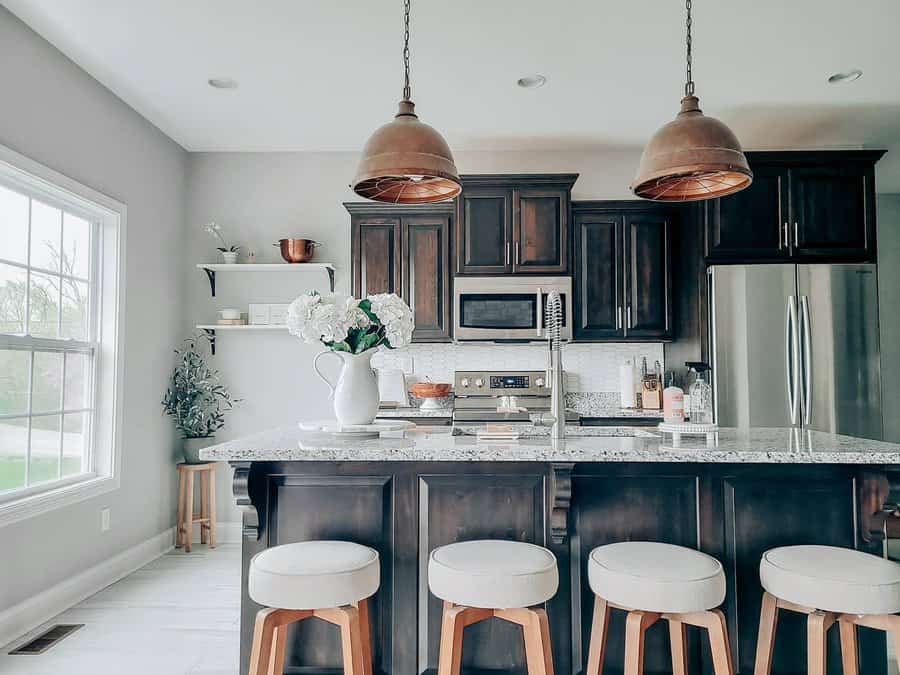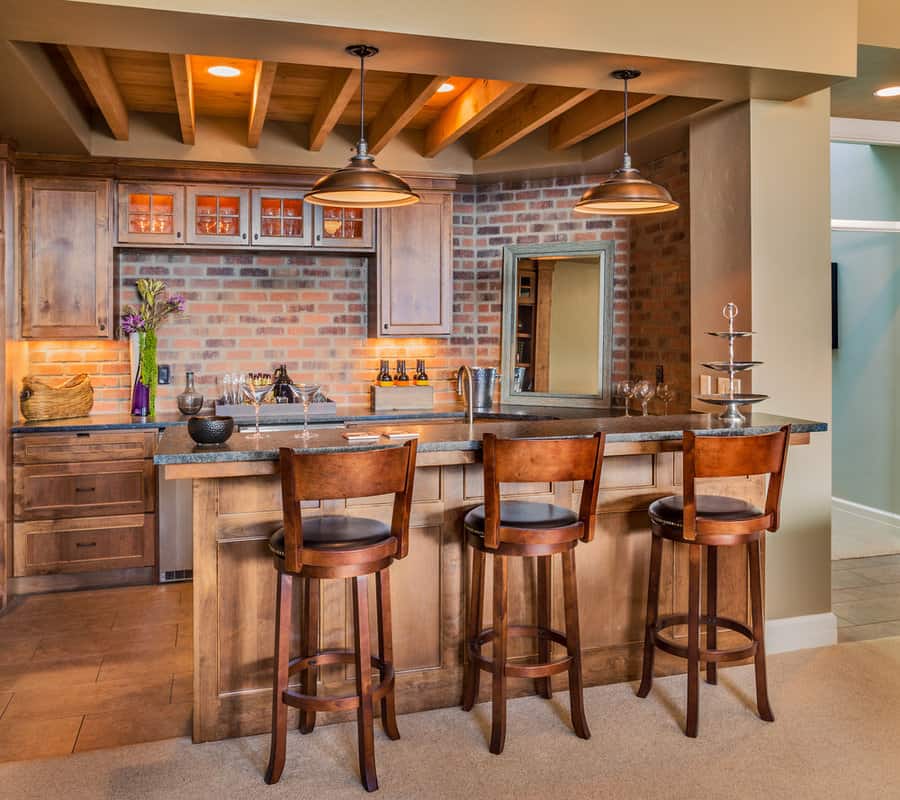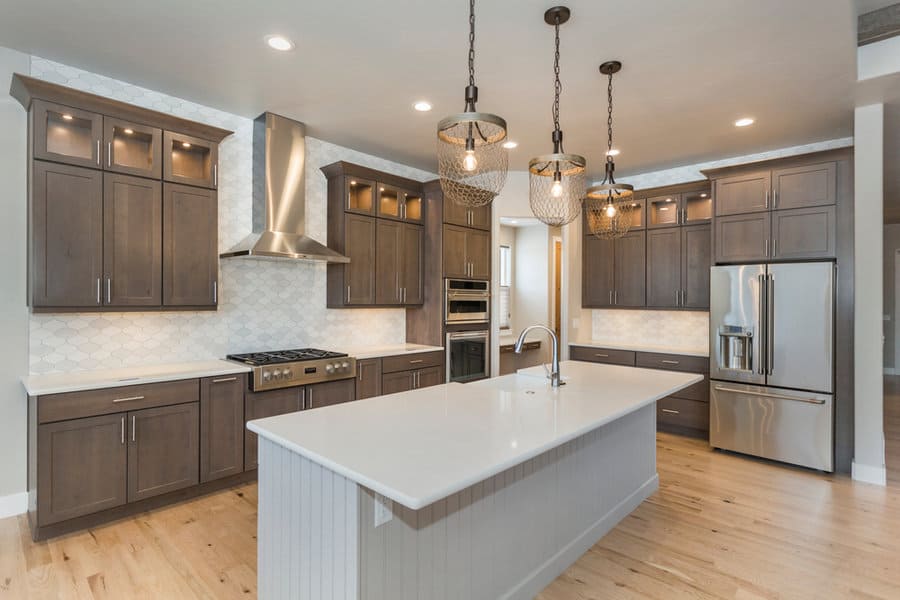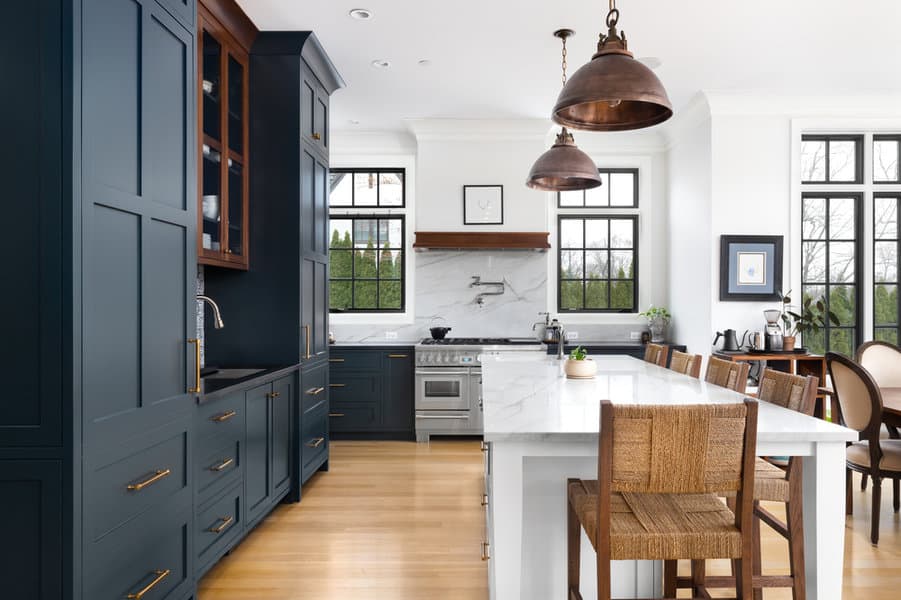 Kitchen Island Pendant Lighting FAQs
How big should pendant lights be over a kitchen island?
Kitchen pendants should be between 12 and 15 inches wide for good lighting and kitchen design impact. Allow double the width of the pendant between each lighting fixture and at least 10 inches between the outer edge of the light fixture and the end of the island.
At what height do I hang kitchen island lighting?
The bottom of your kitchen island light should be 30 to 32 inches above the island countertop. 
How many pendant lights do I need for my island?
There is no hard and fast rule, but if your pendant light fixtures are 15 inches wide, you'll need two for an 8-foot-long island. Three light fixtures should be sufficient over a 10- or 12-foot-long island.