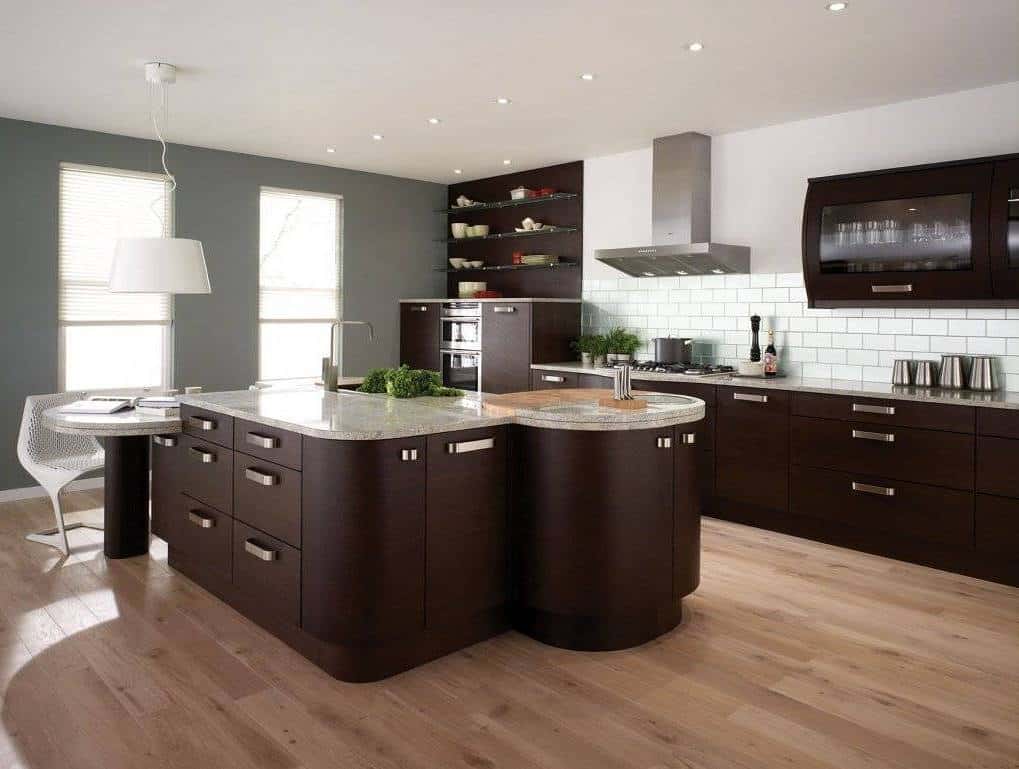 24 Kitchen Paint Color Ideas
The kitchen is the heart of your home, where family and friends gather to share stories and delicious meals. It needs to be a comfortable and inviting place to be. The right color in your kitchen can fuel your appetite and create the right atmosphere you hope to create. The wrong color can make your kitchen feel uncomfortable and dark. When choosing your paint colors, think beyond the walls. You could paint the cabinets, island, ceiling, or floor.
These kitchen paint ideas will help you figure out which colors are the perfect addition to your kitchen.
1. Blue
Turn your white walls blue and make your white subway tile pop. Whether it's a bright pastel or a deep, highly saturated navy, the combination of white and blue is one of the most popular color ideas. If you have a neutral farmhouse kitchen, adding blue can refresh it. Dark blue looks classic when paired with white.
Paint your lower cabinets dark blue and leave your upper cabinets white. Or paint your kitchen island dark blue and your wall cabinets white. For a unique approach to the color combination, paint your ceiling blue. This works for both light and dark shades of blue.
2. Brown
Don't paint your kitchen brown. It will look outdated and dirty. A darker shade will not inspire feelings of hunger, life, or comfort. If you have your heart set on a neutral color palette, consider more earthy tones. Instead of chocolate brown, consider rust, terracotta, mustard, clay, or moss.
These colors aren't brown but are in the same color family and will give you an updated look to your kitchen. For homeowners who aren't willing to give up on brown, achieve your desired color in another way other than with paint. Choose a wood in your chosen shade of brown for the cabinets and a brown stone for the countertop.
3. Cabinet
Cabinet painting is a popular home DIY project. If you decide to paint your cabinets, always follow all prep work steps. Skip these crucial steps, and your kitchen cabinetry won't look as nice or last as long as you hope. When choosing a color scheme for your cabinets, consider your wall color.
A single color for everything will create a streamlined and uniform look. Contrasting colors will clearly define the cabinets. You could also choose multiple colors for your cabinets. Perhaps you choose one color for the cabinet unit and another for the doors. Or you could have the cabinets and doors one color, but the inside back wall of the cabinets another.
4. Dark
If you have dark cabinets and countertops, then you'd be wise to paint your walls a complementary dark color. If you used a light color for the walls behind the dark cabinets, you would close your kitchen in, making it feel darker and smaller than it really is. If your kitchen units are light-colored, dark walls also work for you. If you aren't ready to paint your entire kitchen a dark color, there is another option.
Paint your kitchen island a dark color. This kind of accent in your color palette gives your kitchen a fresh design while also helping to define your kitchen. The dark island keeps the dark color low so it won't close your kitchen in. By keeping the visual weight low, the upper half of your kitchen feels bigger.
5. Galley
You have a unique challenge and opportunity for your kitchen design when you have a galley kitchen. You don't have a natural accent wall because you have kitchen walls on both sides. You also need to be careful about the color you choose when painting kitchen cabinets. Because there are cabinets on both sides, the wrong color can close your kitchen in and make it feel smaller than it is.
However, you can embrace the galley set up by purposefully choosing a dark color. With the right lighting, it will become cavernous and cave-like, making it feel bigger than it is. Embrace the length of your kitchen and paint a long stripe down your ceiling. This accentuates the length of your kitchen, making it feel longer and, thus, bigger.
See more small galley kitchen ideas here.
6. Gray
If you're looking for a contemporary color that feels modern but not too sleek, then consider gray. It's a perfect kitchen color idea for a kitchen that has broad appeal. A light gray will give you a bright design that works well with Scandinavian, contemporary, and farmhouse designs.
A dark charcoal gray is perfect for giving your kitchen a more masculine and sophisticated feel. It's softer than black, so it's a more approachable color for an intimidating design style. The only drawback of gray is that you need to be careful with your stainless steel appliances. Choose a shade too close to the stainless steel, and your kitchen design will fall flat and look bland.
See more gray kitchen ideas here.
7. Light
If you plan to paint your entire kitchen a single color, choosing a light color is smart. It creates a soft backdrop that you can break up with white and accent with darker colors. You could have white upper cabinets with black or gold hardware. Both of these metals highlight the cabinets and enhance your chosen color choice.
For a contemporary kitchen design. Choose a patterned backsplash tile to create a visual break and define the space. White kitchen cabinets are popular and a good neutral to pair with your light-colored paint choice.
8. Modern
Modern design has a simplicity that keeps everything looking sophisticated and streamlined. This typically means white cabinets and walls. However, it doesn't always. You could also use black. The trick is balancing the light and dark. Try to use an equal amount of white and black in the kitchen. Then soften the use of both by adding natural wood or stone elements.
When painting, keep your lines clean and straight. Try to follow the natural architectural lines in the kitchen. This highlights your kitchen's design instead of fighting it. If you choose to paint one wall black, then balance it by painting another element in the kitchen white.
9. Pink
Pink is a less common kitchen cabinet paint color. There are a few shades that people typically gravitate towards. Pastel, magenta, and mauve are popular. Depending on the interior design style you are aiming for, you will choose a different shade of pink.
Magenta is vibrant and intense, making it perfect for a glam kitchen. Pastel is soft and gentle, perfect for a farmhouse, country, or even contemporary kitchen. Mauve is muted and darker, making it a good choice for a bohemian, rustic, or retro kitchen.
10. Red
Choosing a red color for your kitchen is a smart decision. There's a reason many restaurants choose the color for their color scheme. Red inspires energy, passion, and appetite.
This bold color is perfect for the walls or your kitchen cabinet color. However, it doesn't work with all interior design styles. It looks best in modern and minimalist styles. It's a little more challenging to use with a farmhouse or vintage design, but still possible. It won't look right in a contemporary or Scandinavian kitchen.
See more modern kitchen ideas here.
11. Yellow
Yellow is a bright and cheery kitchen paint color. It's the color of the sun, which helps it feel energetic and youthful. To keep it from becoming too intense, choose a softer shade. Unless you're aiming for a kindercore design, primary yellow has a limited number of applications where it looks beautiful and isn't overwhelming.
Avoid a muted yellow shade. It will look dull and slightly dirty. A soft pastel shade is perfect for a farmhouse, country, or contemporary kitchen. It softens the look of an all-white kitchen while not detracting from the light reflecting effect.
FAQs
Do you need special paint for a kitchen?
You don't need to buy kitchen-specific or specially formulated paint. However, you should use a finish that has some gloss to it. High gloss and semi-gloss are easier to clean and more durable than an eggshell or flat finish.
What colors make a small kitchen look bigger?
Generally, lighter colors make kitchens feel and look bigger. Brighter rooms feel bigger, and light colors reflect more light. For the greatest effect, paint the entire kitchen a single color. This reduces the visual barriers and breaks, helping to make the room feel bigger. 
Should I paint my kitchen white?
If you like white kitchens, then, by all means, paint your kitchen white. However, don't feel obligated to have a white kitchen if it doesn't appeal to you. If you plan to sell your home soon, then choosing a white color scheme could help to make your home more marketable. However, if you plan to live in your home for the foreseeable future, then why not choose a paint color and express your taste and style in your kitchen?