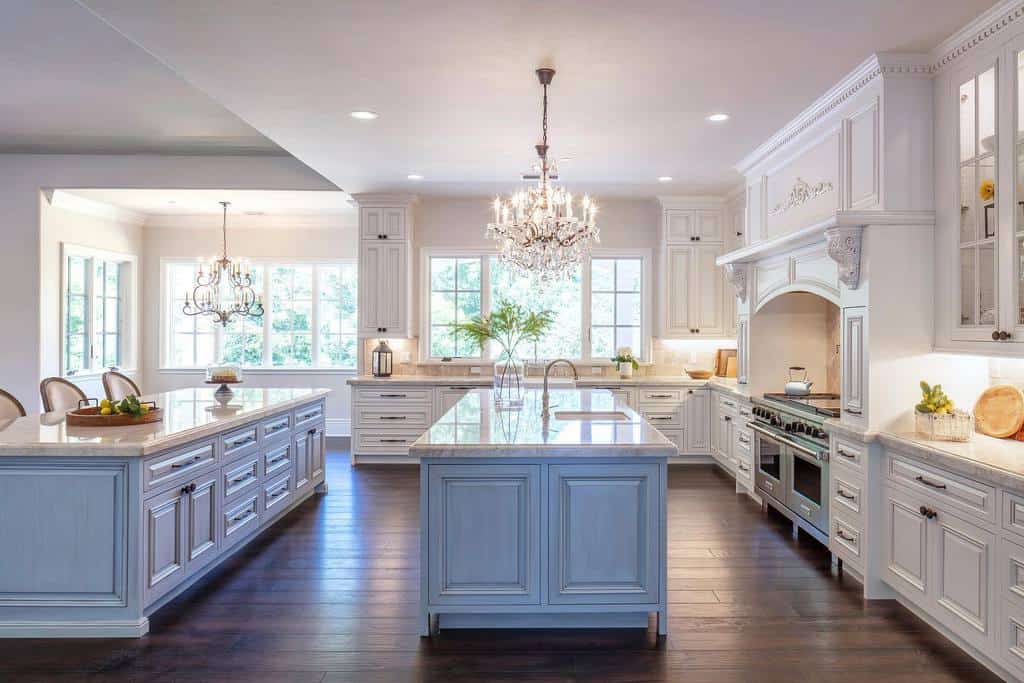 31 Kitchen Island Lighting Ideas
Kitchen islands are more popular than ever, with more homeowners adding these separate countertop spaces to their kitchens. Once you have the kitchen island, you need to figure out the rest of it. This includes adding the right amount of lighting. The lighting over your kitchen island is necessary for illuminating your kitchen and adding enough illumination to create a functional workspace. Check out these creative kitchen island lighting ideas for your kitchen.
1. Light
Adding three light fixtures over your kitchen island follows a classic design rule. Kitchen islands are located in the center of your kitchen, so your island lighting is going to be a focal point in the room. Because of this, having the wrong number of lights or lights that are incorrectly spaced will throw off the entire kitchen's balance.
Three lights is an odd number that helps to break up the space. When you choose two or four lights, any slight mismeasurement will be glaringly obvious.
2. Ceiling
You need to consider a lighting option other than pendant lights if you have a low ceiling. However, you can't just have a general flush mount fixture that creates ambient lighting. You need directed task lighting. Recessed lighting is installed into the ceiling, so the lights are sunk into holes and then shine a light directly below.
Another popular kitchen lighting idea is to use track lighting. This style of ceiling lights works well as island lighting because you can move the lights around and direct them to where you need them. Be careful when choosing your light fixture, as track lights can look dated.
3. Chandelier
Consider hanging a chandelier or two over your kitchen island if your kitchen design is more traditional. Look at decorating ideas that show you how to successfully use a chandelier in your kitchen.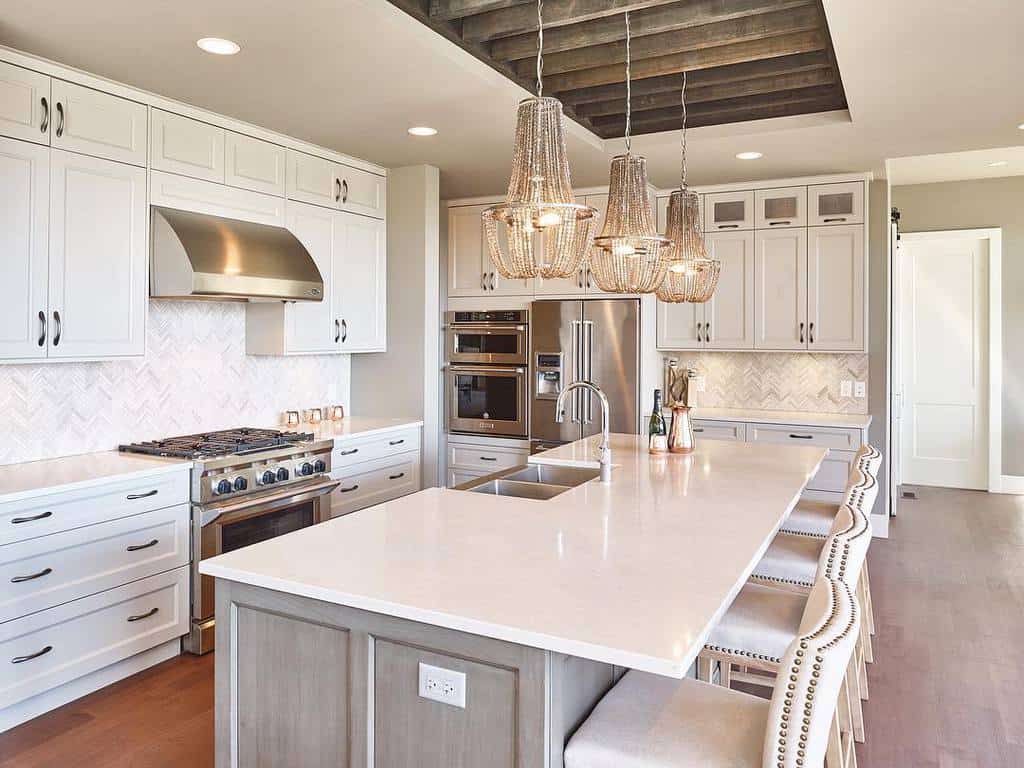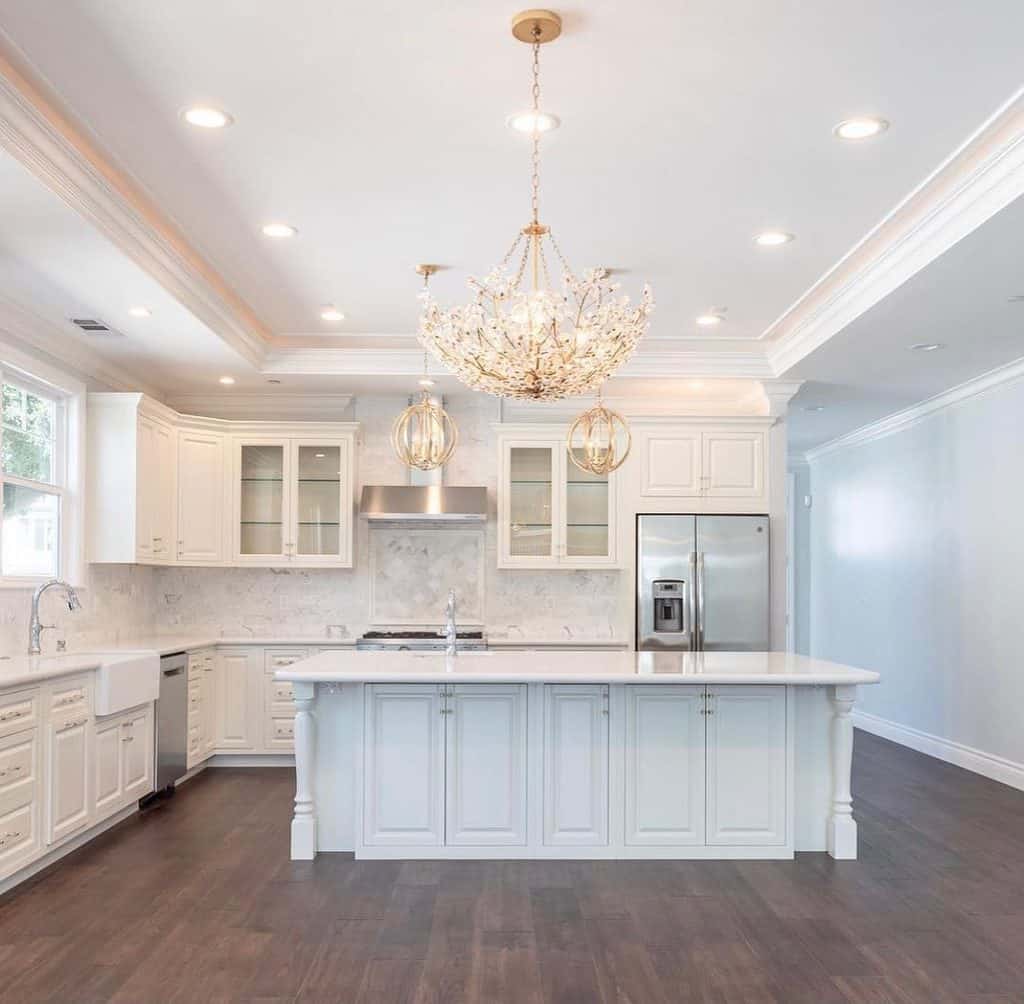 If you can readily see the dining room from the kitchen, then consider mounting a more elegant design that coordinates with the chandelier in your dining room. However, not all chandeliers are traditional or ornate. If you have simple and modern wall decor, you could add a chandelier to match.
4. Glass
Glass pendants give your kitchen island an elegant look. Depending on the style of the glass shade, your pendant lights could complement the rest of the design in the kitchen. Clear glass in a simple geometric shape will look modern.
Glass that's a blue or green shade can mimic sea glass, giving your kitchen a coastal feel. Hand-blown glass shades will provide your kitchen with a bohemian feel. Stained glass shades will have a traditional feel. Consider the amount of light that your glass shade will diffuse. Colored and opaque glass will block more light than clear glass.
5. Hanging
Pendant lighting is the classic hanging light solution. What is nice about these lights is that they create a strong directed light right where you need it. Because they hang down lower than ceiling height, they create a stronger light on the countertop. They also add a focal point to the kitchen because they typically hang out in front in the middle of the kitchen.
When choosing your pendants, consider size and scale. You don't want oversized pendants that will overpower the kitchen. You also don't want small pendants that get lost in an oversized kitchen.
6. Industrial
If you have an industrial kitchen, then you need lighting to match. Not only will you add overhead lighting, but you can also add decorative cabinet lighting. Just like the other cabinets in your kitchen, you can add cabinet lighting to your kitchen island. Add LED strip lights to the cabinet's underside to illuminate the kick plate. Or add lighting along the countertop edge for a soft glow that will illuminate the kitchen when you need a late-night snack.
Consider also having lighting that looks commercial. It could have a metal cage over the light bulbs. For a curated and authentic look, you could use salvaged or reclaimed lights that are pulled from a commercial building.
7. Modern
Complete the look in your modern kitchen by replacing old and tired lights with innovative tech lighting. It should have modern LED light bulbs that produce a bright white natural light. For the fixture, look for a clean and simple design with minimal ornamentation. Typically, the lights are black, but you can also find modern lights that are brush gold or silver.
Modern lights can also use a mixture of materials. They could have smooth, polished wood elements that are paired with sleek metal elements. You'll find options that feature long straight lines and sharp 90-degree corners and others that feature curved lines.
8. Rustic
Rustic lights may look like rough and tumble kitchen lighting fixtures, but they have all of the modern technology to make them safe for installation in a modern kitchen. Wooden box lights are popular for a rustic or farmhouse look. Another option is to hang black metal fixtures that mimic the look of cast iron.
A third popular option is to hang a log from chains with lighting cables that each supports a single bulb. Look for fixtures that are imperfect. They could be handmade or just look handmade. Perhaps they have a weathered look as if they are aged.
9. Traditional
If you love the traditional look, then consider adding wall lights. These lighting fixtures get mounted on the wall instead of from the ceiling. They tend to be smaller, with only one or two bulbs. They don't typically produce a lot of light but are perfect for creating a traditional style.
It's helpful to use traditional lighting styles in addition to modern ones. This gives you more flexibility in how you use your kitchen lights, such as turning on additional lights when you need a bit more light or turning them off when you don't.
10. Unique
If you have a new kitchen or are remodeling your old kitchen, this is your chance to choose unique lighting that reflects your taste and personality. While you could follow lighting trends, this may not suit your style.
Perhaps you'd like to have a ceiling fan that can circulate air and also has a light on it. You could choose a light fixture that matches the rest of your kitchen and home decor. This is also your chance to add accent lighting. This is lighting that highlights the unique features of your kitchen.
11. White
White lights are good because you can install them in almost any kitchen, no matter their size or ceiling height. This ensures you have adequate light in a large or small kitchen. Choose a light fixture that is bright white.
Pay attention to the finish, as it needs to be easy to clean. A kitchen is a messy place, where grease can become airborne and will settle on the surfaces in your kitchen. White gets dirty quickly, so you need to be able to quickly and easily clean them.
FAQs
How many lights should be on a kitchen island?
The best approach is to follow the rule of three. This rule creates a better balance than what you can achieve with two or four lights. In addition, the odd number makes it easier to space them out for a visually appealing design.
How high should lights be above the island?
As a general rule, the pendant lights over your island should be 30 to 36 inches over the countertop. However, you also need to consider the height of your ceiling. You need to be able to stand at the kitchen island and see across it without having a pendant light blocking the view. Because of this, a low ceiling means pendant lights may not be the best option.
How bright should island lights be?
Lights that are over your kitchen island are typically task lights. Because of this, they should be sufficiently bright enough to work at the countertop safely. Typically, this is between 35 and 50 lumens per square foot of kitchen island countertop. This means a larger kitchen island and kitchen space require brighter lights. However, you should also consider the number and brightness of the other lights in the kitchen space. If they aren't very bright, then you'll want to compensate with brighter lights. If they are already bright, then you could get away with less bright lights.