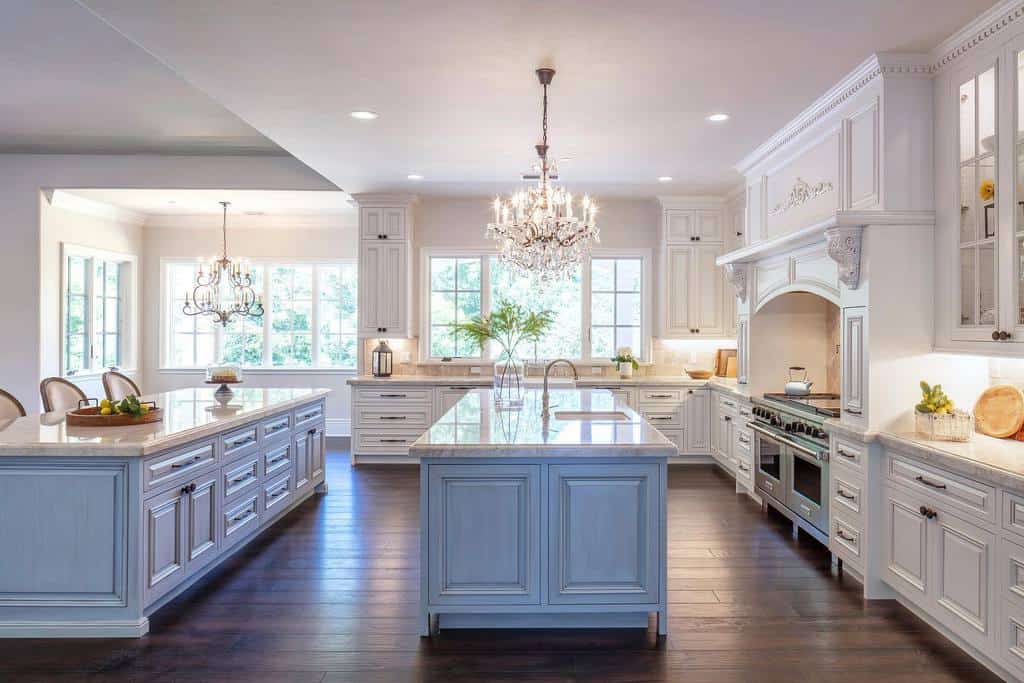 31 Kitchen Island Lighting Ideas
Kitchen islands are more popular than ever, with more homeowners adding these separate countertop spaces to their kitchens. Once you have the kitchen island, you need to figure out the rest of it. This includes adding the right amount of lighting. The lighting over your kitchen island is necessary for illuminating your kitchen and adding enough illumination to create a functional workspace. Check out these creative kitchen island lighting ideas for your kitchen.
1. Stylish Glass Pendant Lighting Options
When it comes to enhancing the charm of your dark blue and white kitchen island, consider stylish glass pendant lighting. These unique glass shades introduce subtle glamour, casting a warm, star-like glow that beautifully complements vibrant accessories like colorful tulips on your island table.
Integrating glass pendant lighting effortlessly adds sophistication to your kitchen island design. To achieve this look, choose pendant fixtures with elegant glass shades that match or contrast your island's color scheme, creating a harmonious and visually appealing space.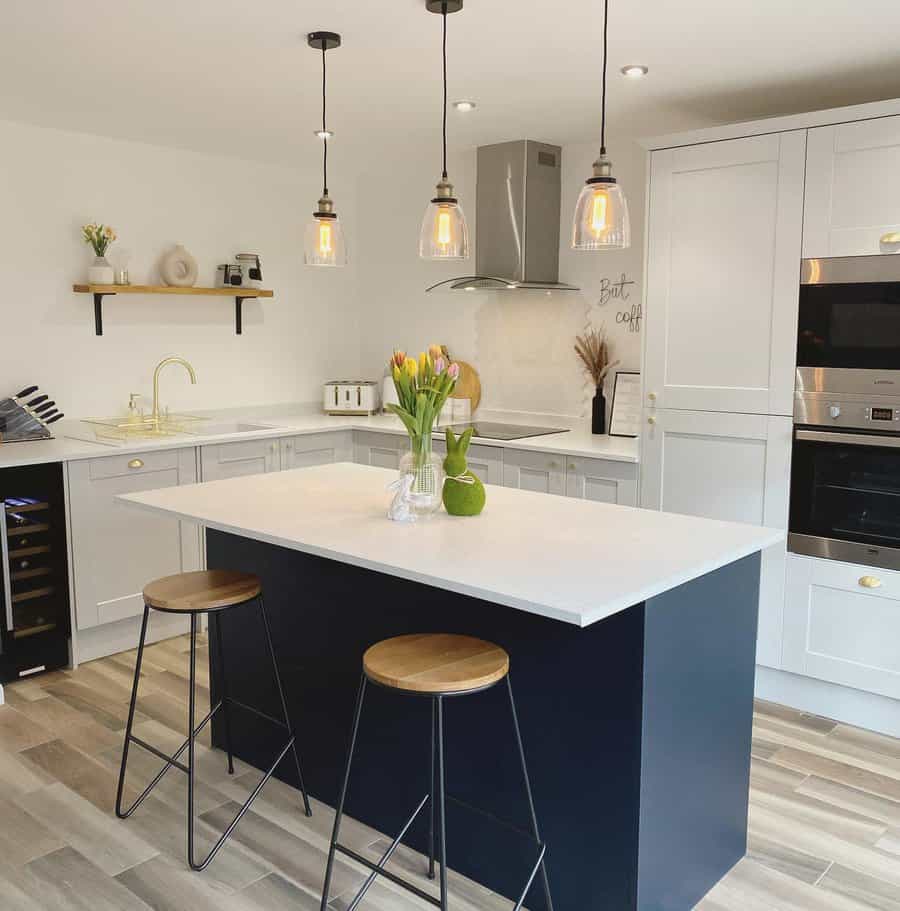 2. Drop Pendant Lamps: A Modern Touch
When aiming for an elegant and luxurious kitchen island design, consider pendant drop lamps as your secret weapon. These lamps gracefully cascade down, making your island the focal point of the room. Whether your island is sleek stainless steel or a grand marble masterpiece, pendant drop lamps effortlessly infuse sophistication.
To achieve this look, choose pendant lamps that complement your island's material and shape. They'll strike the perfect balance between ambient and natural light, enhancing the overall elegance of your space.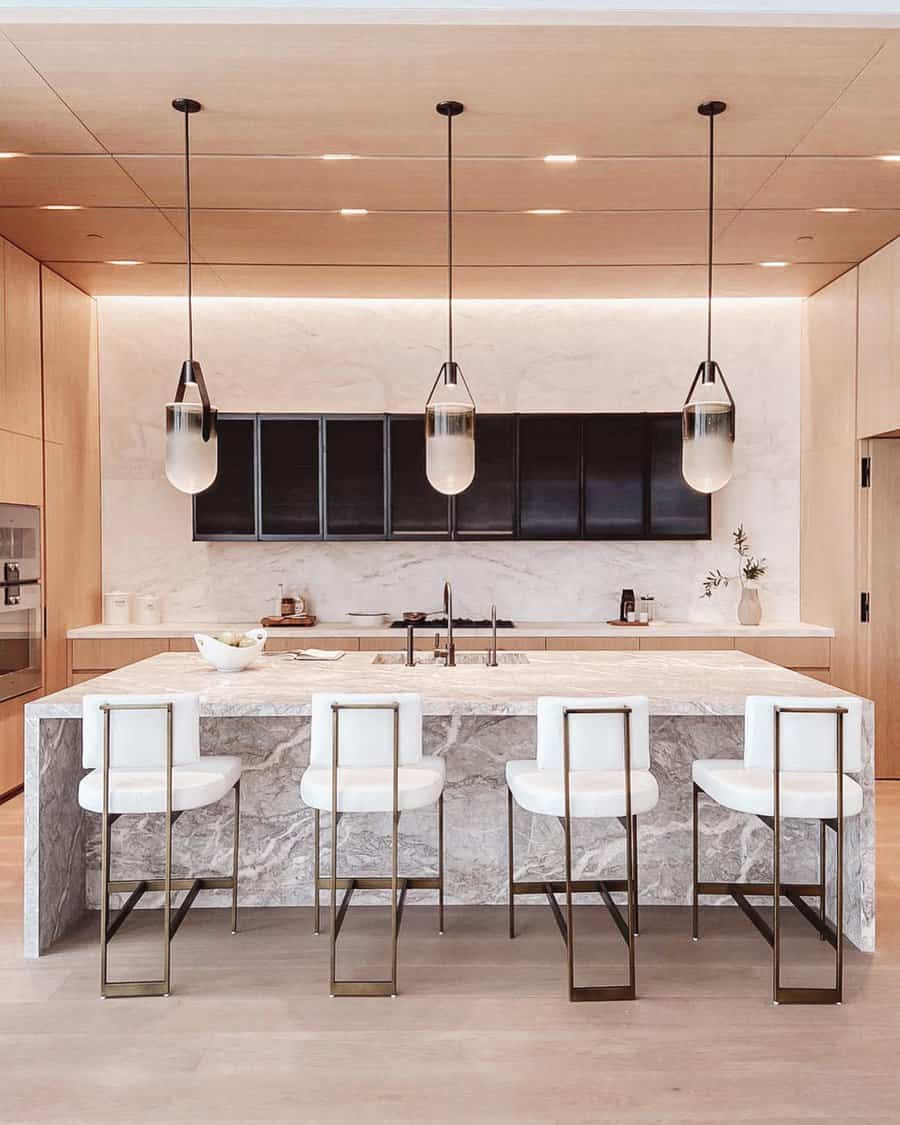 3. Industrial Pendant Lamps for Rustic Charm
For a touch of rustic charm in your kitchen, consider industrial pendant lamps as a brilliant lighting choice for your island. Their straightforward industrial style complements bright white kitchens and adds a chic, industrial flair.
Additionally, pendant lamps efficiently illuminate the room, providing ample light for cooking while creating an inviting atmosphere for gatherings. To make the most of this design, select pendant lamps that match the overall aesthetic of your kitchen and its color palette, ensuring your kitchen island stands out with style.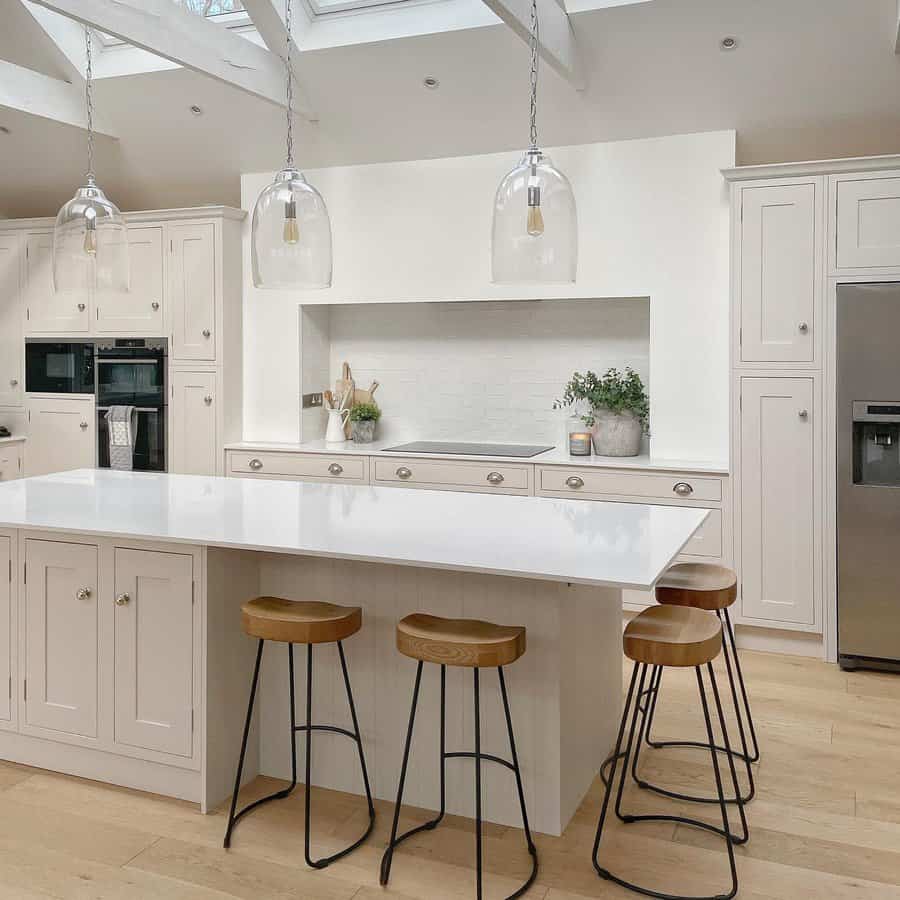 4. Skylight Windows: Natural Illumination
Transform your kitchen into a breathtaking space by harnessing the power of skylight windows. These windows flood the room with natural light, brilliantly illuminating your stove top and kitchen island. To complement this design, opt for modern drop lights above your island. With a wide range of styles and designs available, your choice of kitchen island lighting can elevate your home cooking experience and bring a "wow" factor to any kitchen decor style. Ensure your island lighting complements the overall aesthetics of your kitchen for a cohesive and visually pleasing result.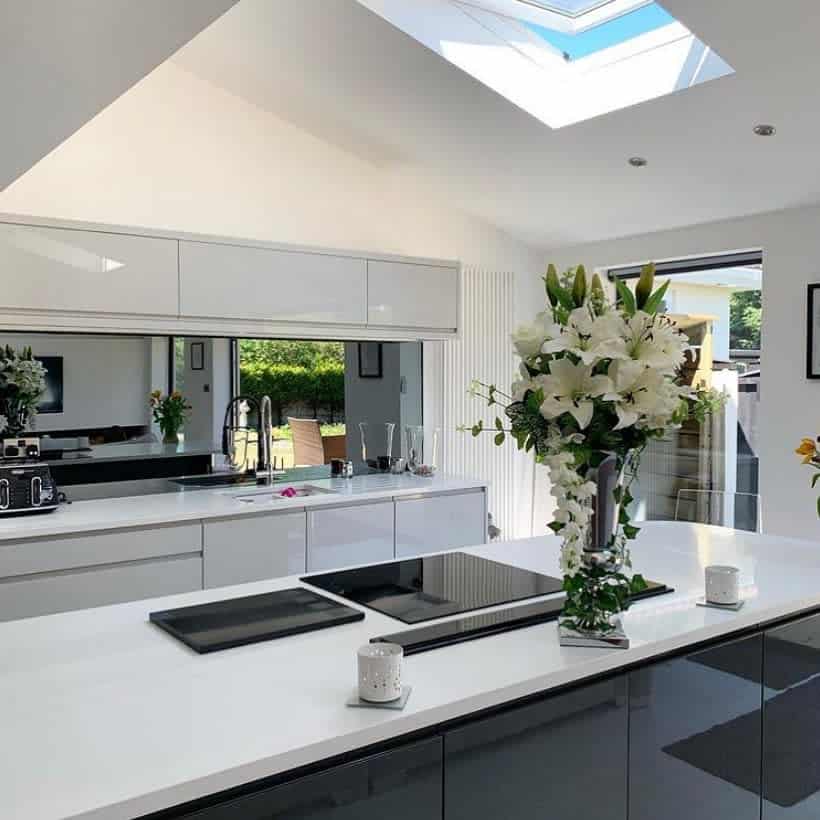 5. Dramatic Drop Lights for Impact
For a dramatic touch in your kitchen, consider incorporating drop lights above your island. These fixtures not only serve a practical purpose by illuminating your workspace but also make a striking design statement. To achieve this look, choose bold and stylish drop light fixtures that complement your kitchen's overall aesthetic. Additionally, for added ambiance during gatherings, consider installing dimmer switches to adjust the lighting intensity to your liking.
If you have a frameless window, pendant lights can be an excellent choice, casting a beautiful shimmer of ambient light onto your countertop, further enhancing your kitchen's atmosphere. Pair these lights with other design elements like sleek barstools or contrasting cabinetry to create a cohesive and visually appealing kitchen space.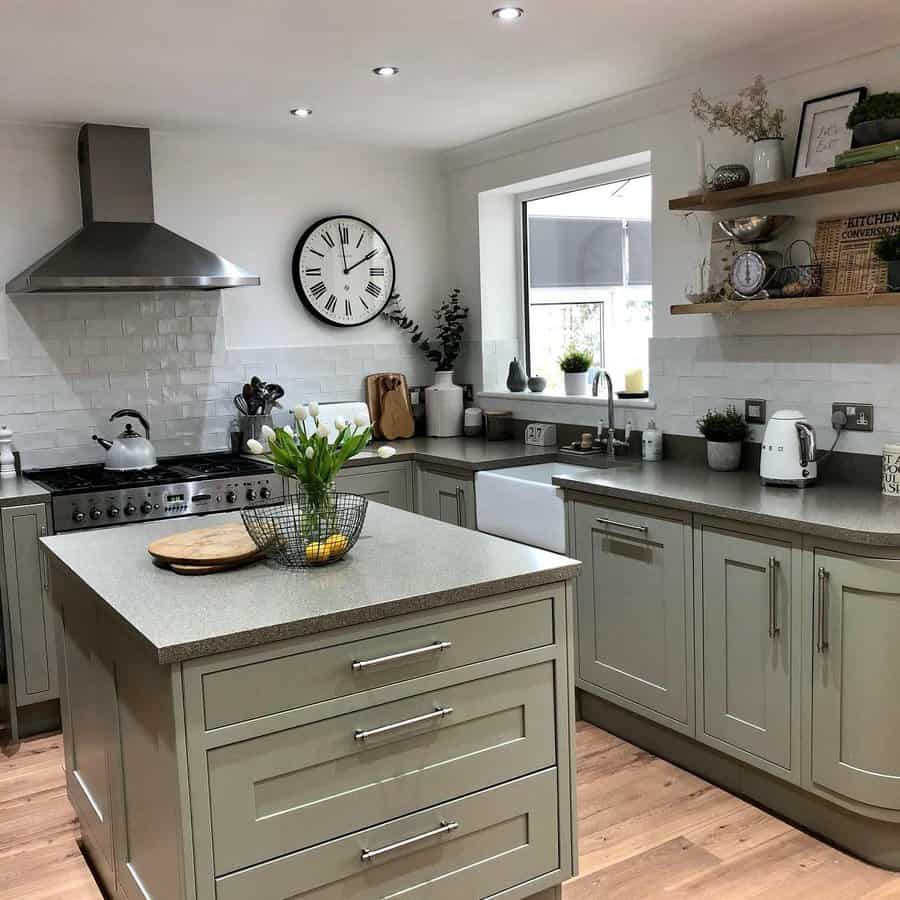 6. Multiple Recessed Lights: Even Brightness
For an evenly lit and sophisticated kitchen, consider installing multiple recessed lights beneath your kitchen island. This approach ensures consistent illumination throughout your spacious kitchen, creating a visually appealing and welcoming atmosphere.
To achieve this design, consult with a lighting expert to determine the ideal placement and spacing of recessed lights based on your kitchen's size and layout. Complement this lighting style with modern and sleek island décor, such as pendant lights or barstools, to enhance the overall aesthetic of your kitchen.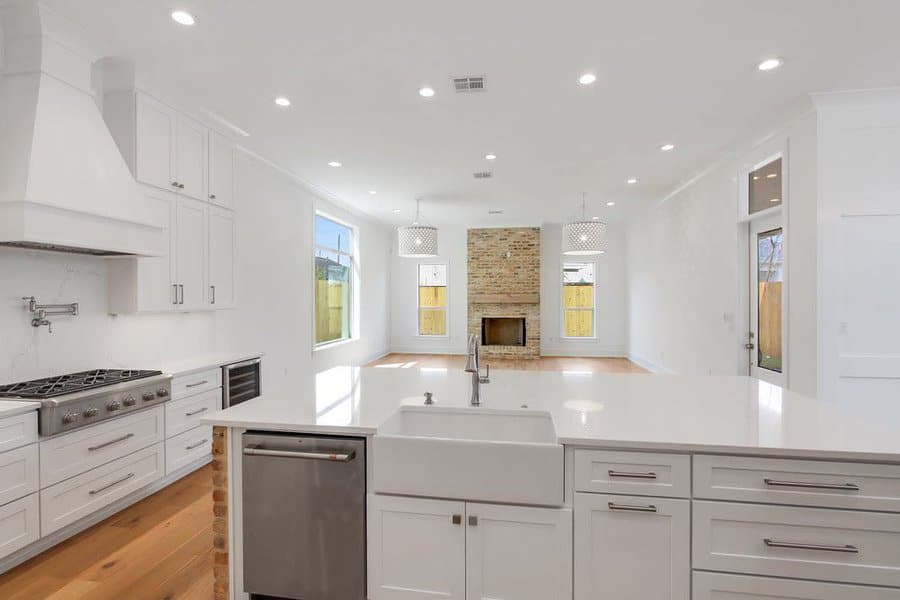 7. Energy-Efficient LED Strips
Achieving the perfect kitchen island lighting is crucial for enhancing your space. Opt for energy-efficient LED strips, which emit a soft and even glow, creating an inviting ambiance. To optimize their effect, consider covering your ceiling with gypsum boards, as they reflect light smoothly and are suitable for kitchens' humid environments.
LED strips are also a safe choice as they stay cool, eliminating fire hazards and burn risks associated with traditional bulbs. Let these LED strips cast warm and stylish light on your kitchen island, and pair them with chic pendant lights or complementary decor to craft a welcoming atmosphere that's both efficient and aesthetically pleasing.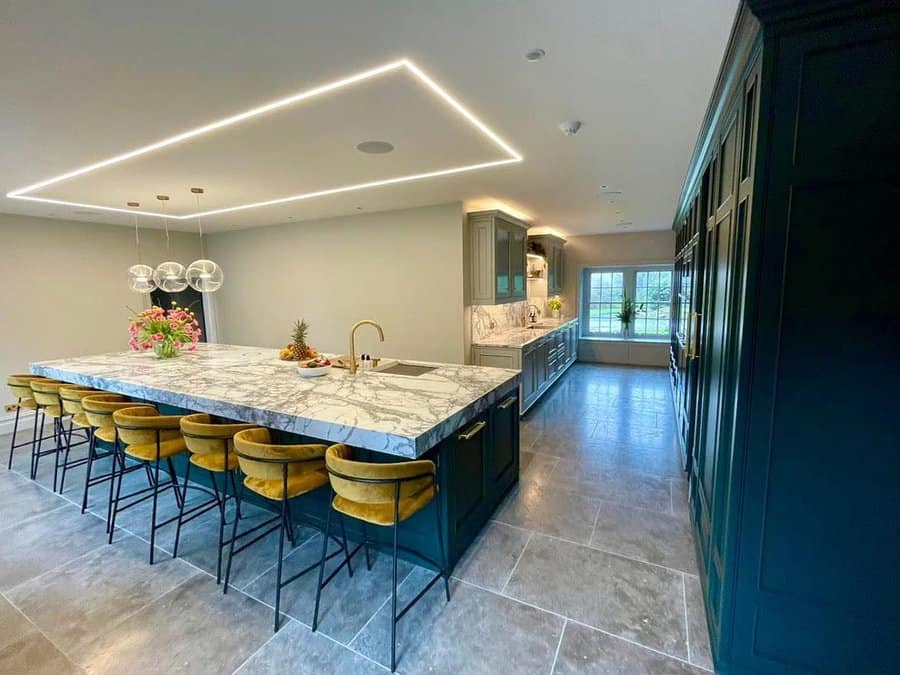 8. Recessed Lighting for Compact Kitchens
In smaller kitchens, the choice of island lighting plays a significant role in shaping the ambiance. Recessed drop lights are a savvy option that can complement the aesthetics of your black-and-white interior. These lights not only excel at providing focused illumination but also infuse warmth and coziness into any space, elevating it into an elegant and inviting area of your home.
If you're on a budget but eager to enhance your small kitchen, consider installing recessed drop lights for an affordable yet charming transformation. Pair them with light-colored cabinetry and reflective surfaces to maximize the effect and create an illusion of spaciousness in your compact kitchen.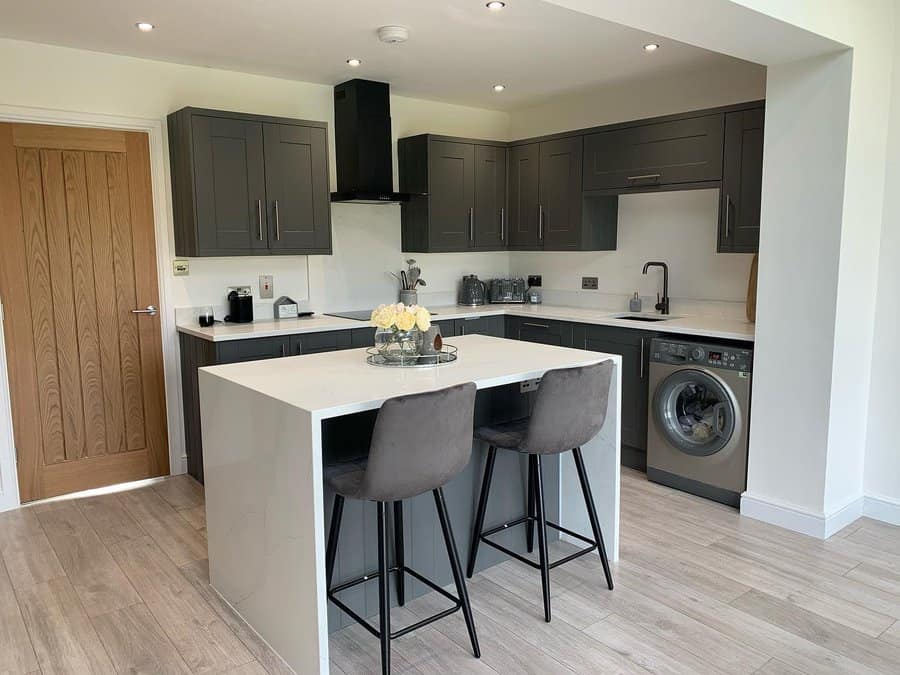 9. Beaded Island Chandeliers: Elegant Accents
For a touch of glamour and chic elegance in your kitchen, consider adding a beaded island chandelier. These fixtures, available in various styles including pendants, beading, and box drops, can transform your kitchen into a sophisticated yet cozy space.
Whether you're hosting guests or preparing a family dinner, beaded island lighting can serve as the finishing touch you've been seeking. Their radiant presence not only adds vibrancy to the room but also creates an inviting atmosphere. To make the most of beaded island lighting, pair it with neutral tones and complementing decor elements to achieve a luxurious and harmonious look in your kitchen.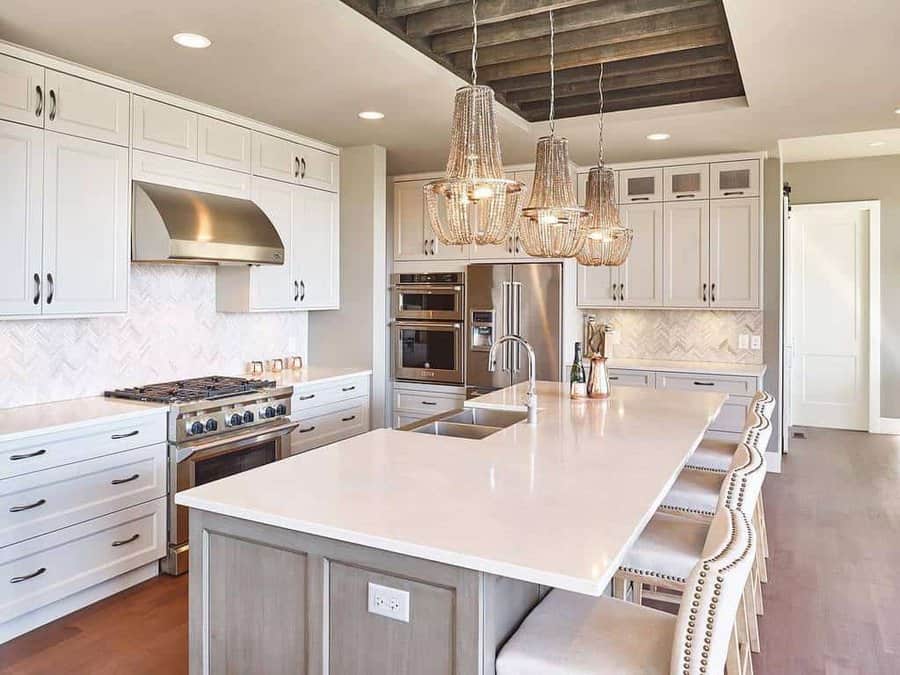 10. Cherry Blossom Chandeliers: Floral Elegance
To infuse a touch of magic and romance into your kitchen island lighting, consider a cherry blossom chandelier. Imagine it hanging gracefully above a white kitchen island, surrounded by white cabinets, creating a captivating scene reminiscent of cherry blossom festivals in Japan.
The elegantly cascading lights mimic cherry blossom petals, adding both ambiance and mood-lifting illumination to your space. To make the most of this design, maintain a clean and neutral color palette in your kitchen, allowing the cherry blossom chandelier to be the focal point and contribute a timeless and enchanting atmosphere.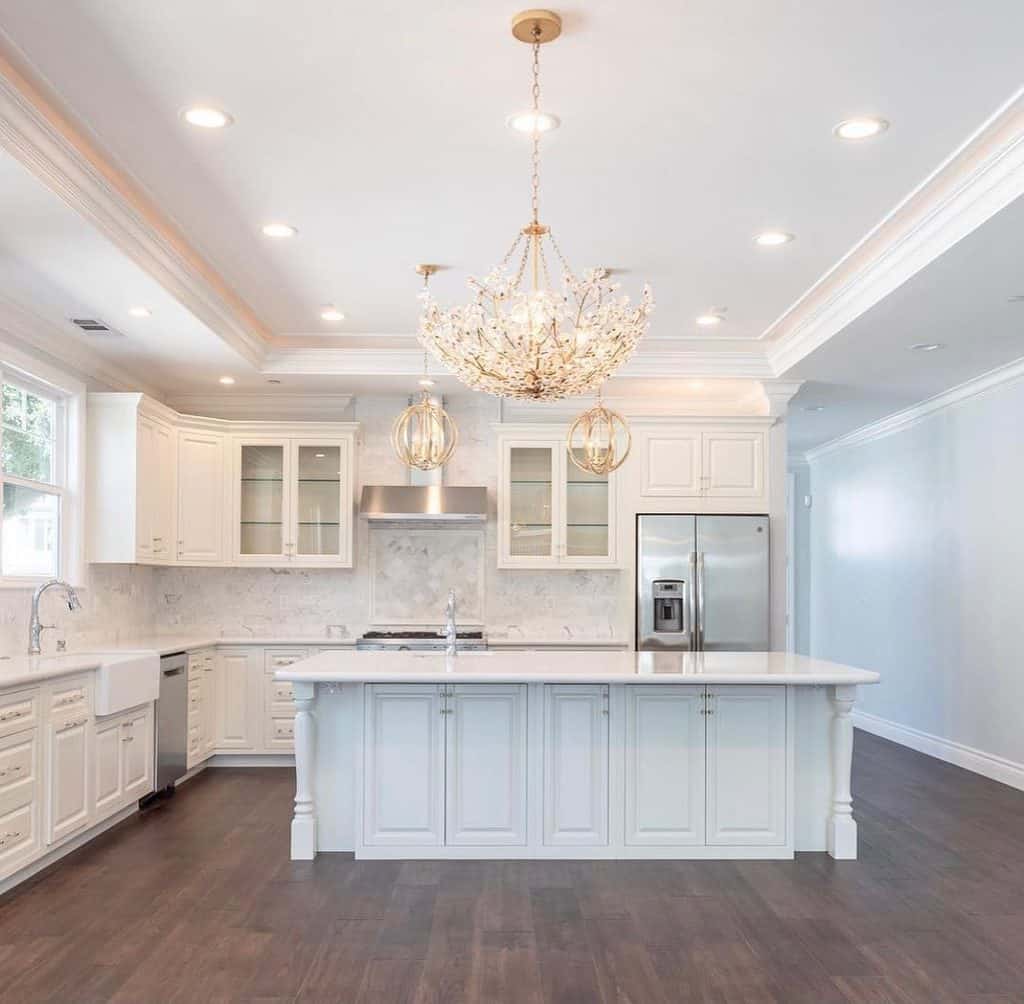 11. Retro Pendant Lamps: Vintage Vibes
Make the most of your kitchen island lighting by infusing a retro, creative statement into your space. Consider a captivating retro chandelier featuring round pendant lamps to achieve a dramatic effect when suspended above a white countertop. This juxtaposition of modern and vintage styles adds a unique charm to your kitchen.
Opt for energy-efficient bulbs to create a warm and inviting ambiance, ensuring your kitchen island exudes a personality that's both timeless and trendy. Complement this look by incorporating other retro elements such as vintage-inspired barstools or retro color accents to complete the nostalgic atmosphere in your kitchen.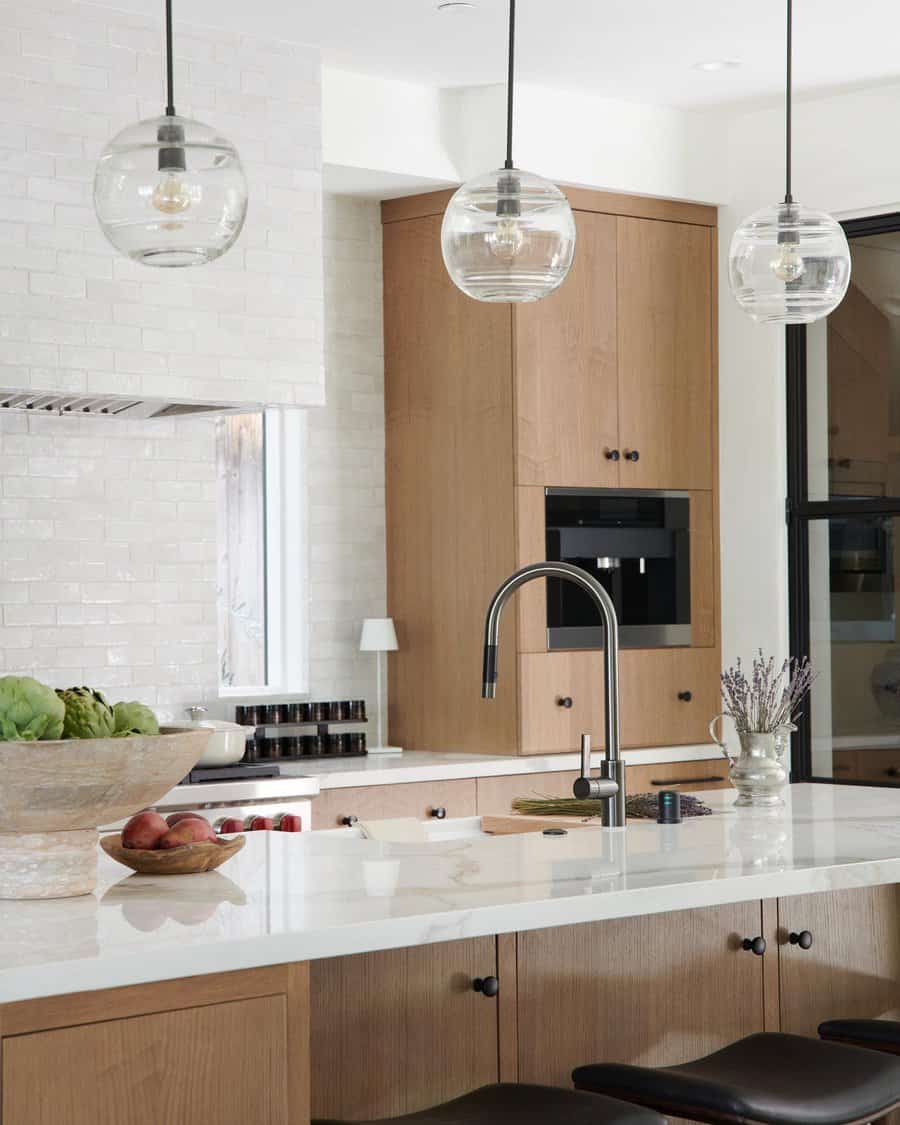 12. Timeless Retro Pendant Lighting
Achieving the perfect blend of retro diner styling and modern minimalism is all about choosing the right kitchen island lighting. Opt for retro diner-inspired pendant lamps suspended over a sleek black and white kitchen island for a chic and attention-grabbing effect. These pendant lights not only become the focal point of your kitchen but also infuse a warm and inviting atmosphere, reducing the need for additional accents or decorations.
The contrast between retro style and a minimalist backdrop creates an eye-catching look that's both timeless and trendy. To enhance this aesthetic, pair the lighting with retro-inspired barstools and vintage decor elements to complete the nostalgic ambiance in your kitchen space.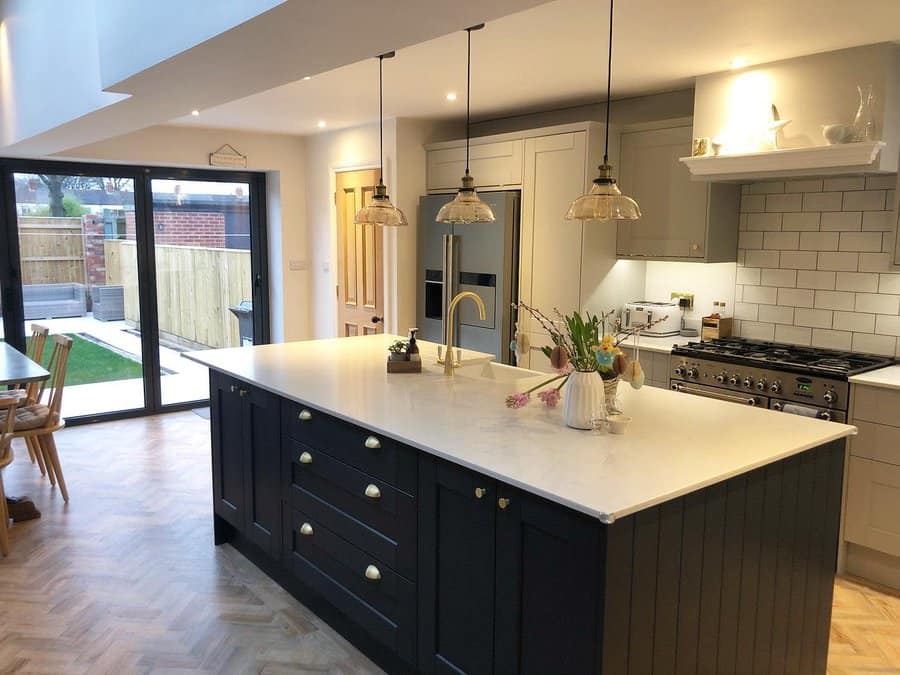 13. Round Glass Pendant Lamps: Enclosed Glow
To illuminate your kitchen island in style, consider using round enclosed glass pendant lamps. These versatile fixtures can be chosen to match accent colors in your cabinetry or kept neutral to maximize their warm glow effect. Strategically place them above a polished marble countertop to enhance the overall aesthetic of your kitchen island.
The result will be a delightful ambiance that exudes sophistication, perfect for hosting dinner gatherings with friends. To complement this look further, incorporate matching decor elements such as glassware or metallic accents to create a cohesive and inviting atmosphere in your kitchen.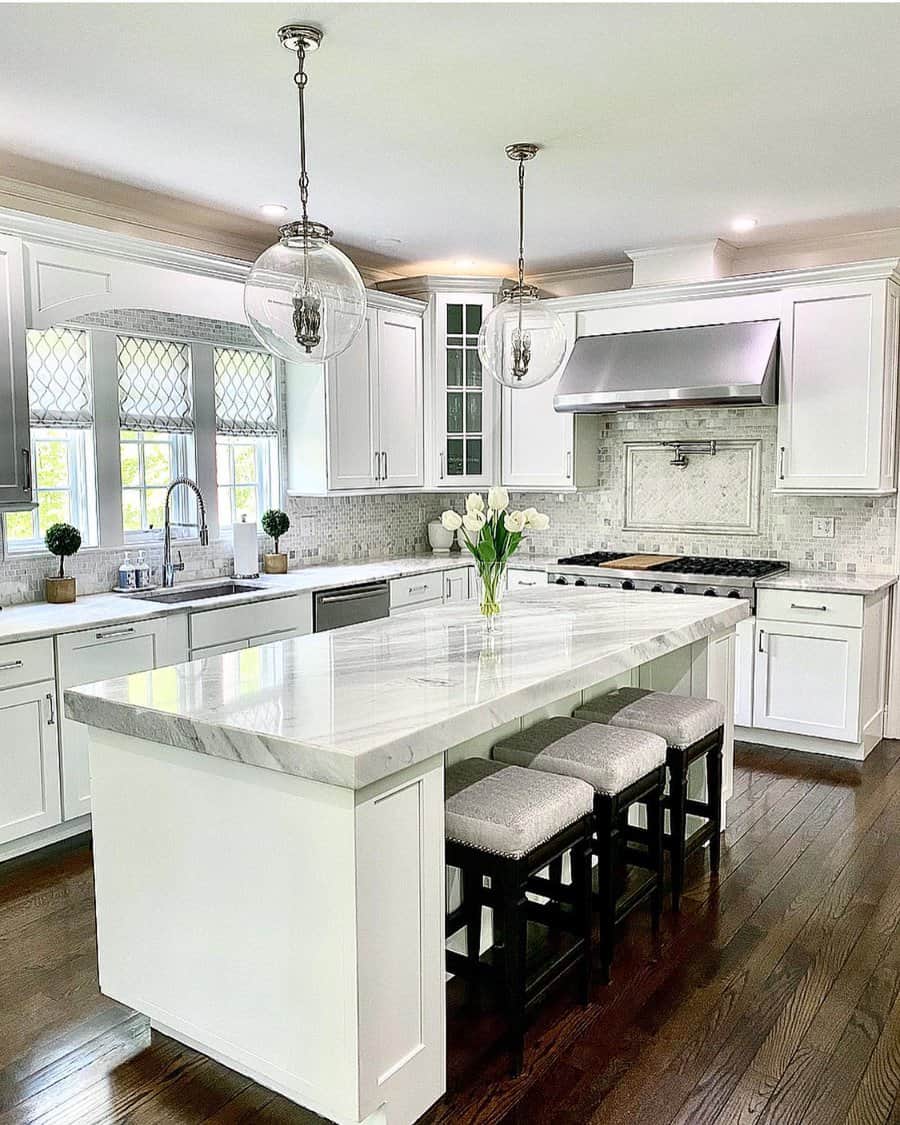 14. Glam Chic Round Pendant Lighting
For a seamless blend of modern and classic aesthetics, consider using brass-stemmed round pendant lamps to illuminate your kitchen island's countertop. The brass accents add an air of sophistication and glamour that complements marble countertops and brass faucets perfectly, making it an ideal choice for design-savvy spaces.
These pendant lamps not only provide illumination but also introduce an extra layer of warmth and personality to your kitchen island setup. To complete the look, pair them with complementary brass hardware and fixtures, and incorporate plush textiles or metallic accents to create a luxurious and cohesive atmosphere in your kitchen. This design option offers a touch of opulence without straining your budget, making it a smart choice for style-conscious homeowners.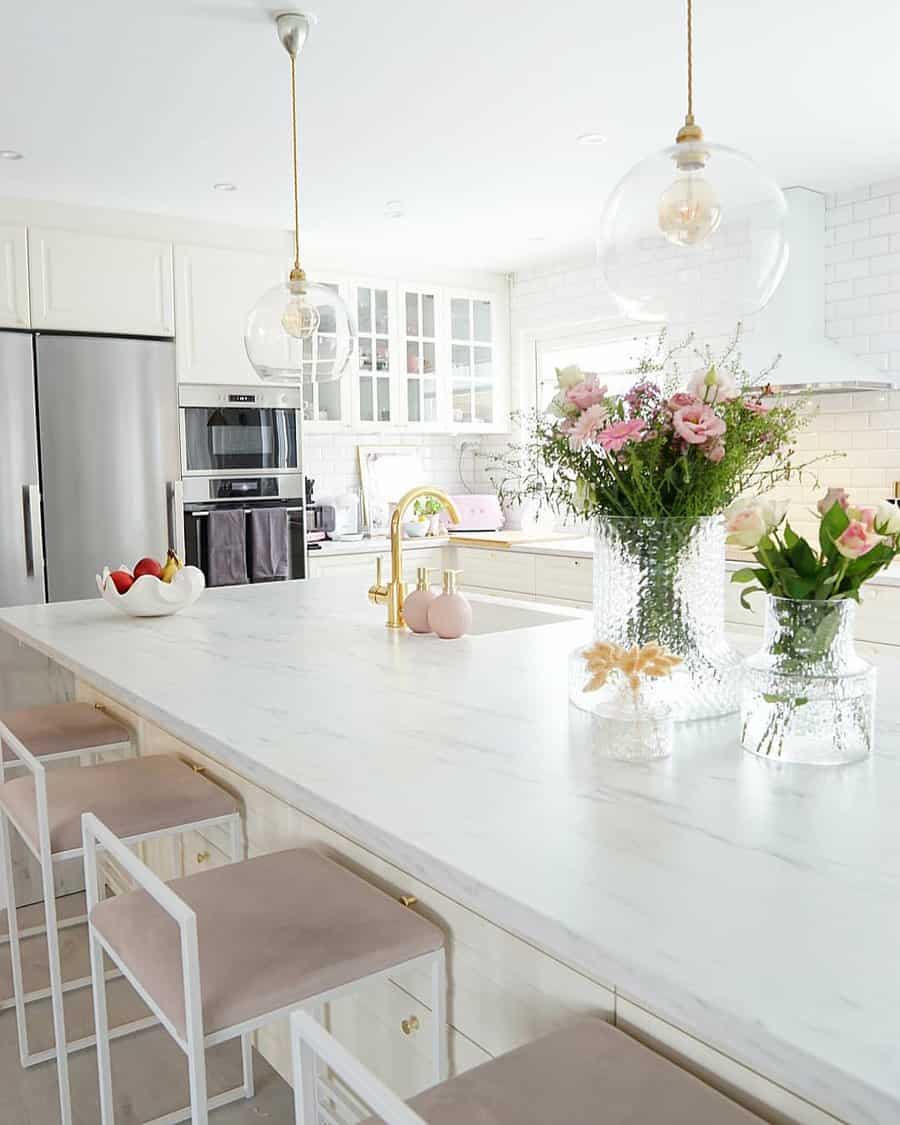 15. Small Round Pendant Lamps: Delicate Illumination
Small round pendant lamps are a charming addition that brings both warmth and visual interest to your kitchen island. They offer ideal task lighting for activities like chopping and food preparation while creating a balanced ambiance throughout your kitchen.
To achieve a cohesive look, consider using small round pendant lamps to tie together elements in your coastal kitchen, such as a white countertop and neutral flooring. These subtle pops of color from the pendant lamps can draw attention without overwhelming the overall design of the room. When selecting these fixtures, ensure they are proportionate to the size of your island for the perfect lighting effect. To complete the look, complement them with coastal-inspired decor elements like sea-inspired artwork, glass jars filled with seashells, or light-toned cabinetry to create a harmonious and inviting cooking environment.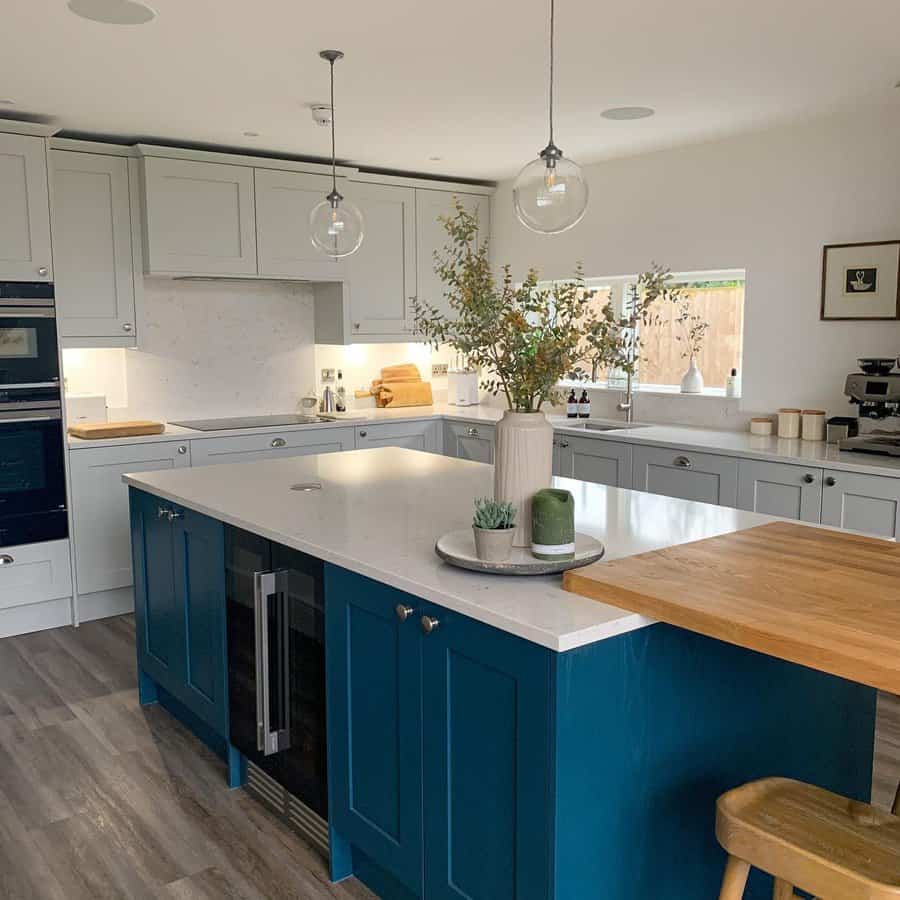 16. Geometric Pendant Lamps: Modern Geometry
To infuse a modern touch into your kitchen, opt for geometric pendant lamps suspended from the ceiling. These fixtures create a captivating contrast when placed above a white marble kitchen island. Their geometric design complements the glossy sheen of the marble, resulting in a stunning visual combination that's sure to impress your guests.
To enhance this aesthetic, add colorful flowers to the kitchen island, injecting a natural and vibrant look into the space. This combination of modern geometry and classic elegance will make your kitchen a dream come true, inspiring culinary creations in your own stylish haven.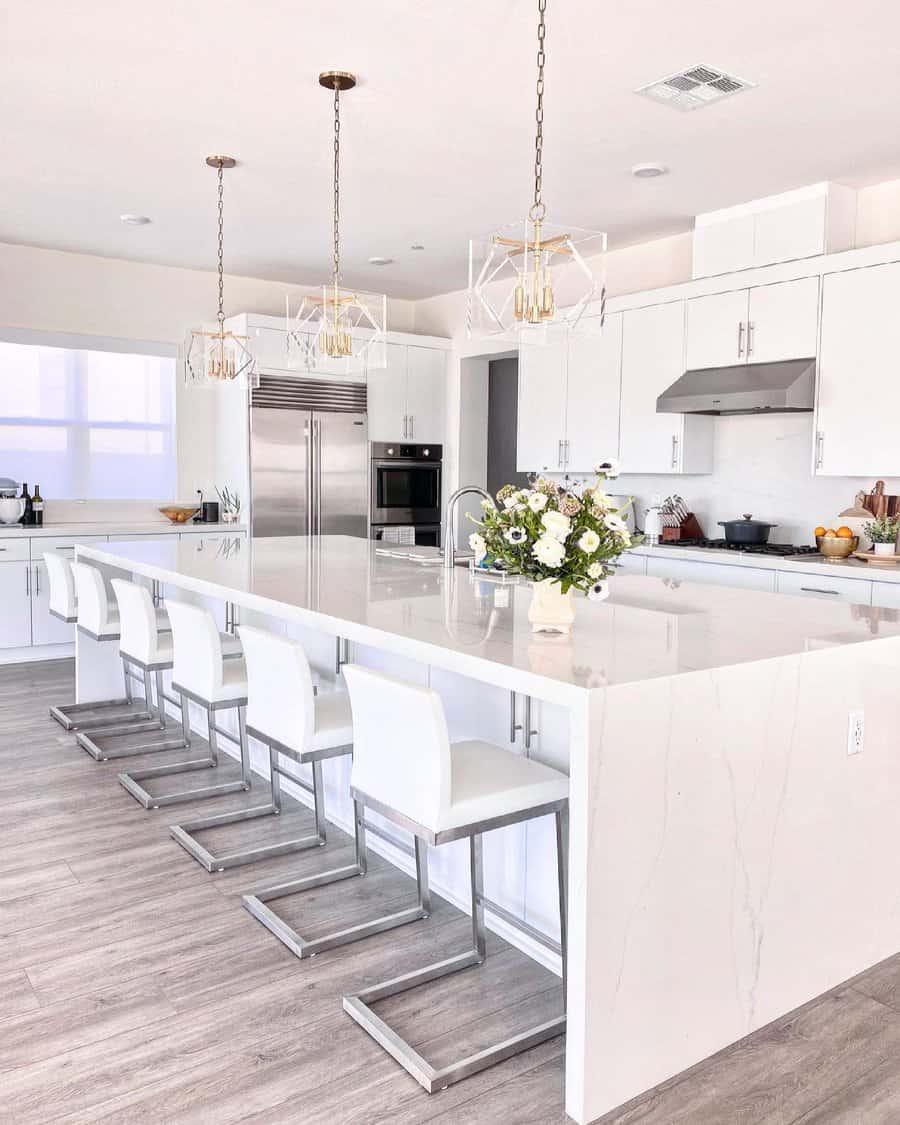 17. Orb Chandeliers: Contemporary Elegance
Orb chandeliers can work wonders in small kitchens, especially when suspended above a white wood kitchen island. These fixtures not only offer the perfect illumination but also infuse a touch of contemporary elegance into your space.
Their orb shape adds dimension and movement, enhancing visual appeal and fostering a welcoming ambiance. To achieve this look, consider complementing them with minimalist design elements and neutral color schemes for a seamless, sophisticated upgrade.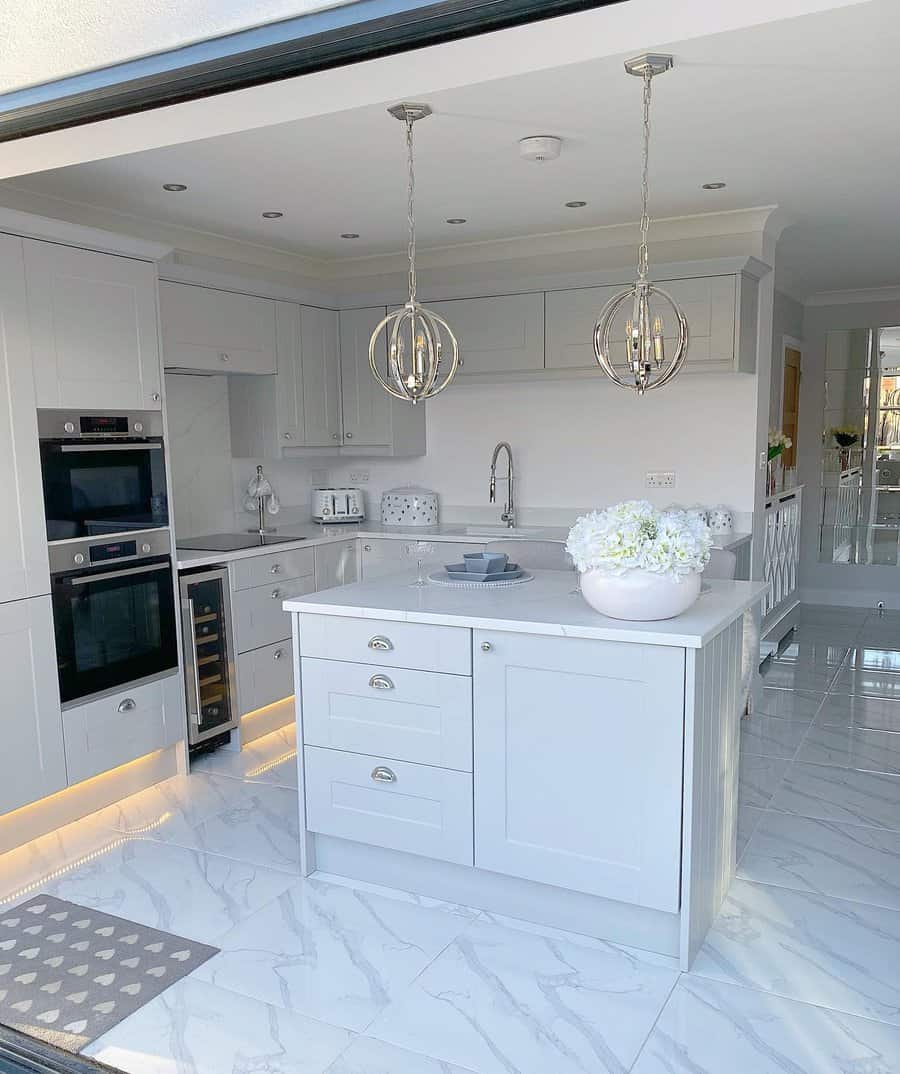 18. Brass Pendant Lamps: Timeless Brilliance
For a kitchen island that exudes sophistication, consider installing copper brass pendant lamps. These fixtures add a touch of timeless elegance to your space. Their warm, inviting tones create a captivating ambiance, while the bold geometric shapes can serve as design inspiration for a kitchen makeover. To enhance this look, adorn your wood countertop with fresh flowers like tulips to breathe life into the room and create an elegant atmosphere, perfect for cooking and entertaining guests.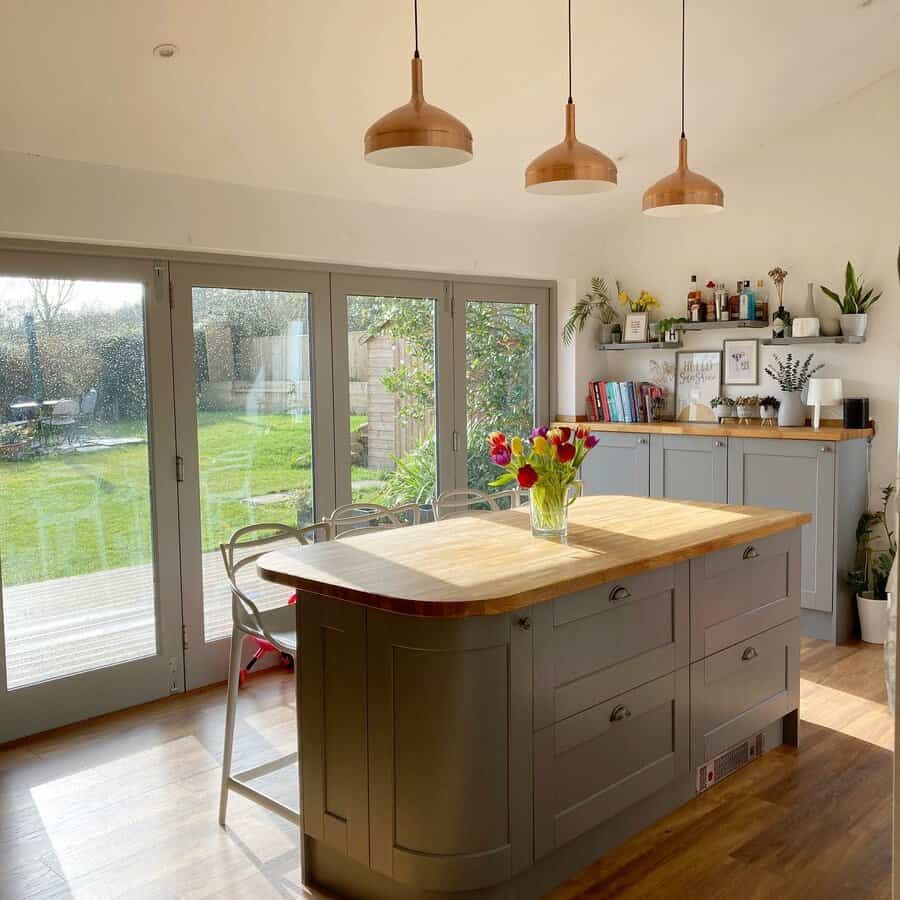 19. Nordic Minimalist Pendant Lamp: Sleek Simplicity
Achieve a sleek and minimalist kitchen island design by incorporating a copper brass pendant lamp. Its warm tones beautifully complement a wooden countertop, casting a welcoming radiance throughout the room. To complete the look, add a delicate arrangement of fresh tulips, enhancing the inviting atmosphere. This lighting choice seamlessly combines aesthetics and functionality, creating a harmonious kitchen setting.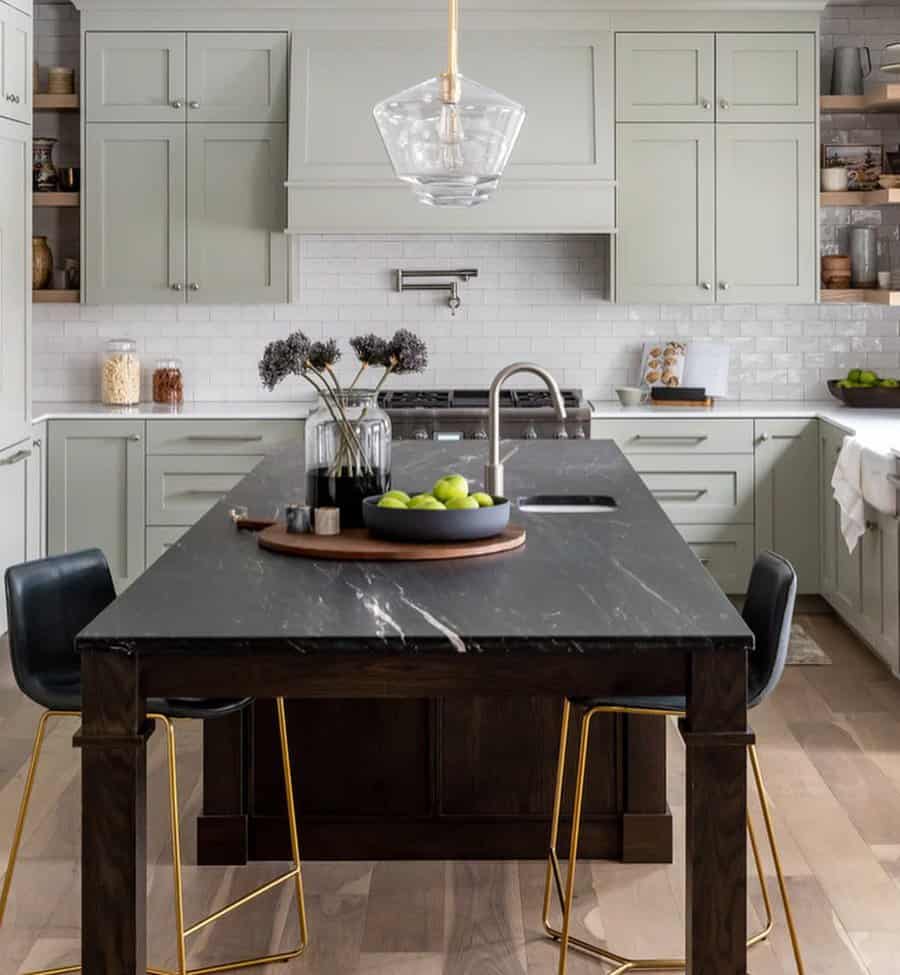 20. Rattan Pendant Shades: Natural Radiance
Incorporating rattan pendant light shades into your kitchen island design can infuse a timeless charm into your space. Lighting plays a crucial role in kitchen aesthetics, and rattan pendants effortlessly blend with both modern and classic interiors. These fixtures emit a warm and inviting ambiance, ideal for creating a cozy kitchen gathering spot. Whether you opt for rattan globes above the dining area or dome-shaped pendants over your island, you'll find a style to complement your taste.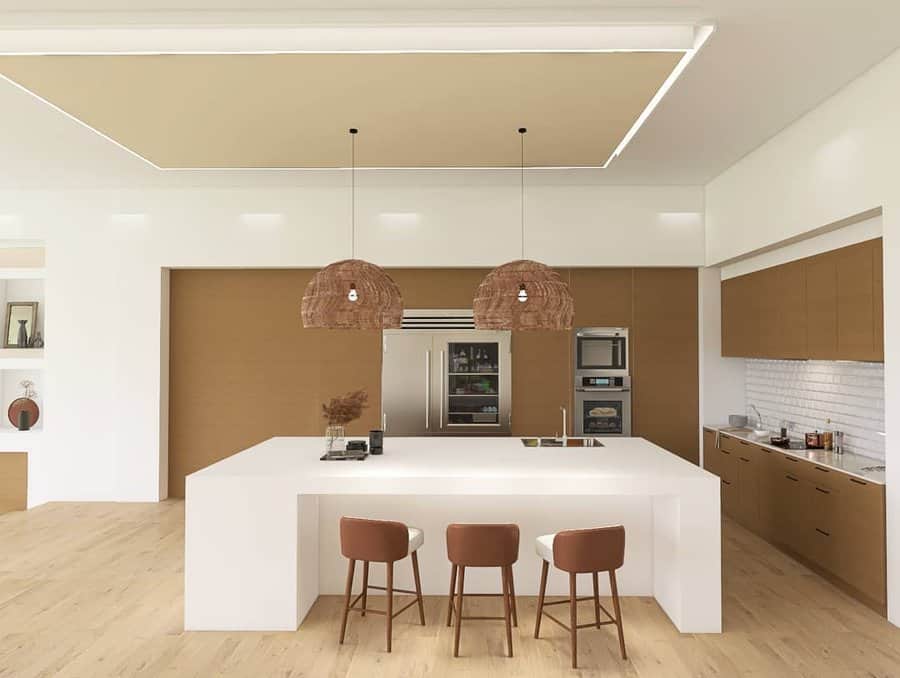 21. Traditional Pendant Lamps: Classic Appeal
To infuse classic charm into your traditional kitchen, consider adding a pendant lamp shade above your island. This lighting choice not only provides warmth and ambiance but also complements dark wood furniture beautifully.
Opt for crystal-drop chandeliers for an elegant look or choose exposed filament bulbs for a more modern twist. To complete the design, ensure the fixture's size and shape harmonize with your kitchen's proportions, creating a timeless and inviting atmosphere in your traditional space.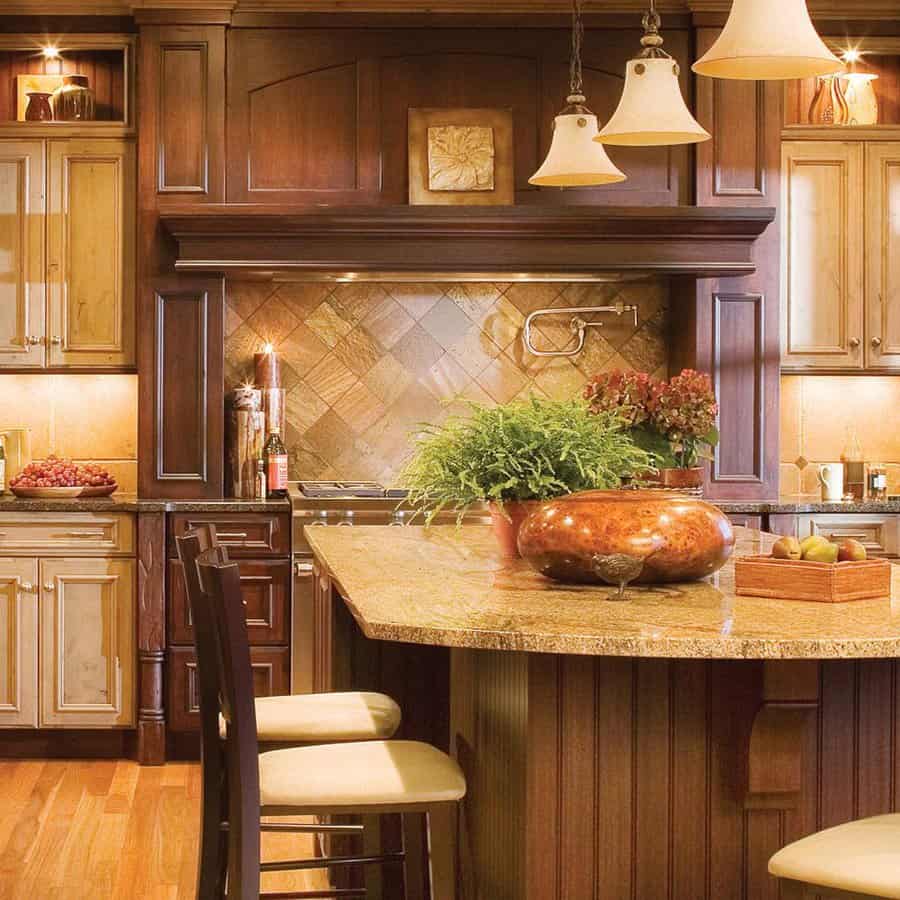 22. Wagon Wheel Chandeliers: Rustic Charm
Wagon wheel chandeliers are a fantastic choice for enhancing your kitchen island's ambiance. These rustic fixtures can transform the look and feel of your space, especially when paired with a modern marble and grey kitchen island.
The warm, ambient glow they emit sets the stage for a timeless and inviting atmosphere, perfect for hosting gatherings. Consider the interplay between form and light to fully appreciate the captivating charm these chandeliers bring to your kitchen island area.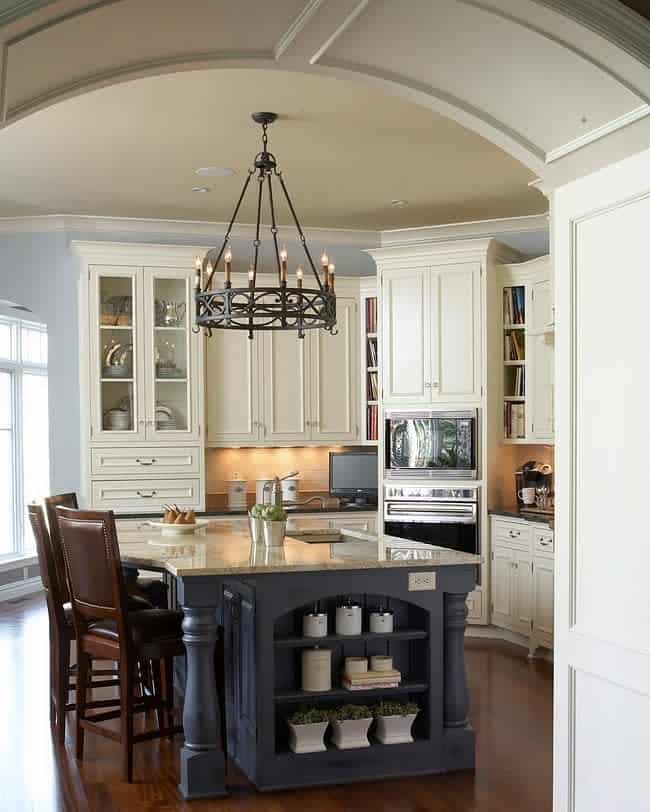 23. Matte Black Pendant Lights: Understated Elegance
Achieve understated elegance by incorporating matte black pendant lights into your kitchen island lighting design. These fixtures offer ample task lighting while imparting a sleek and sophisticated style. Enhance the effect by pairing them with wood and marble countertops for a timeless and inviting ambiance. Elevate your kitchen's atmosphere effortlessly with this lighting choice that combines both form and function.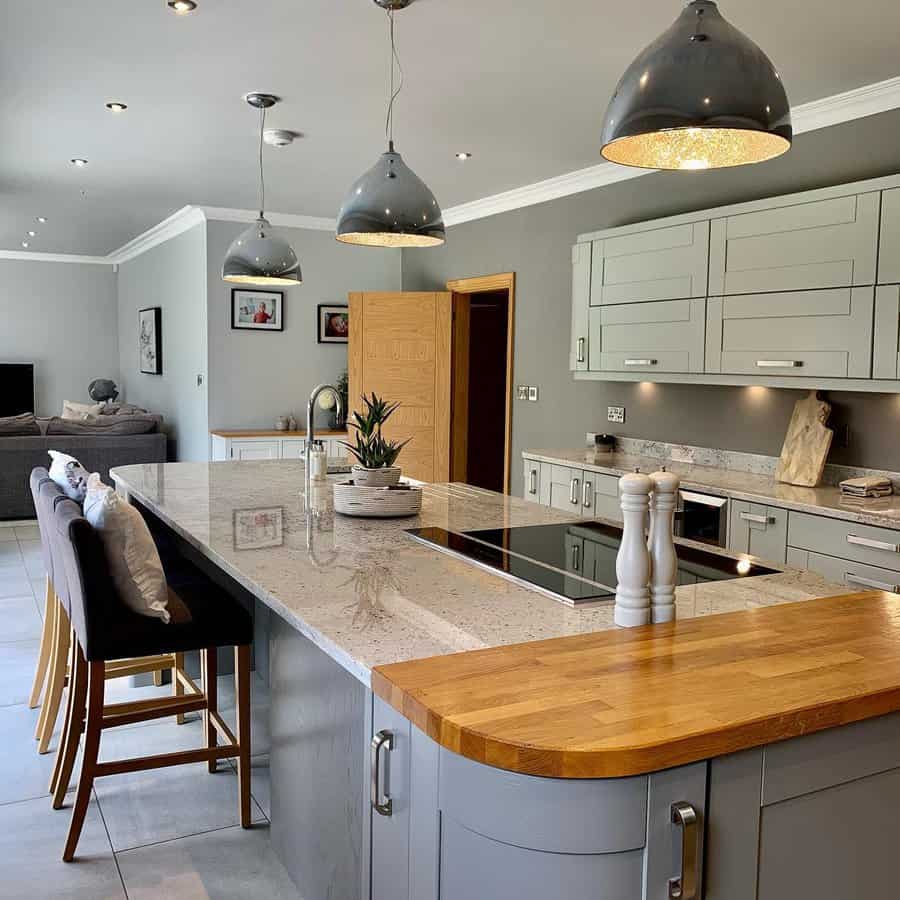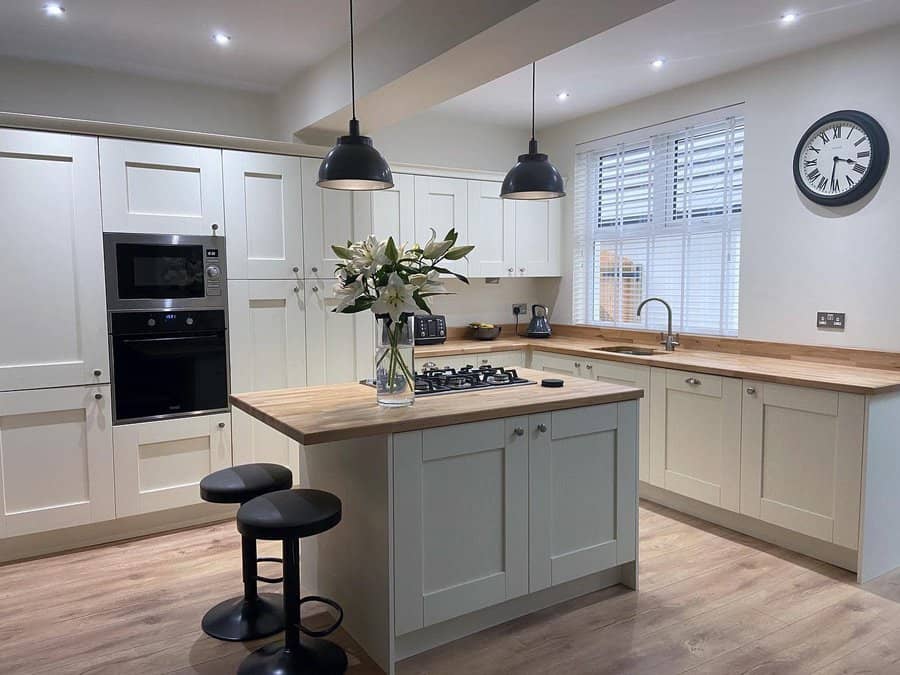 24. Candelabra Pendant Lights: Classic Glamour
While appliances and countertops provide the foundation, it's the kitchen island lighting that truly ties your kitchen's design together. To add a touch of classic glamour to your modern kitchen, consider candelabra pendant lights.
Pair them with a white countertop and a black faucet for a sleek and inviting contrast. These lights not only provide lasting illumination but also elevate your kitchen's elegance. Placing a candelabra pendant light above your kitchen island creates a captivating atmosphere that sets your space apart.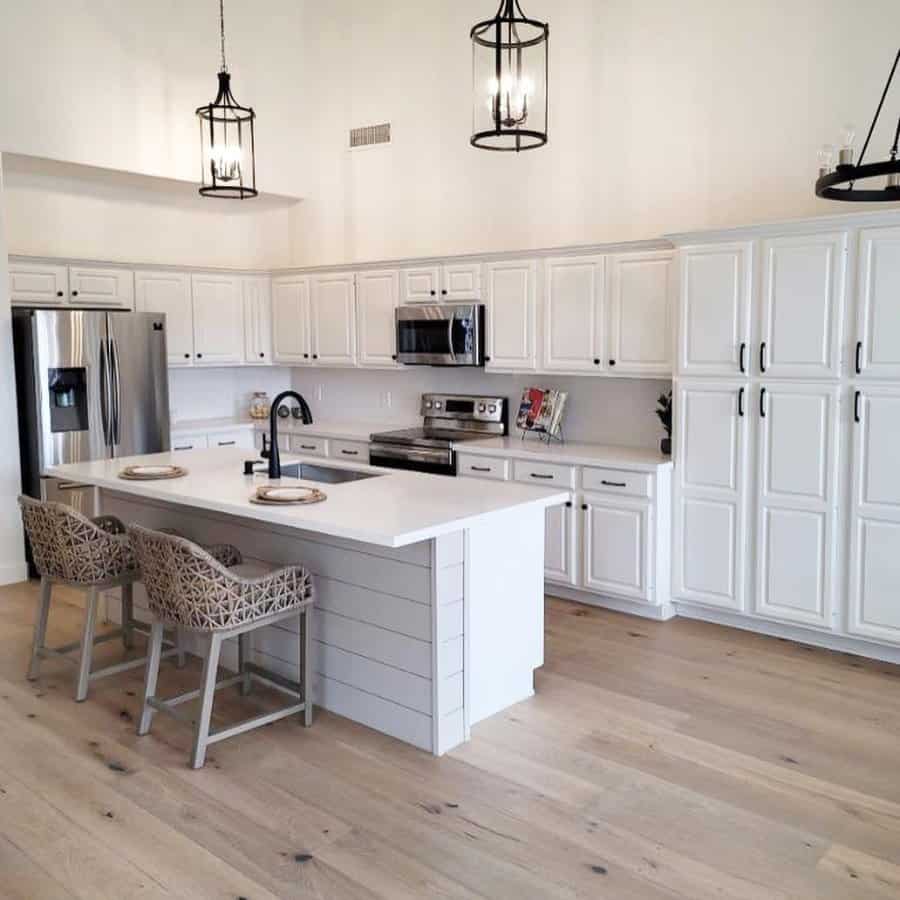 25. Round Rattan Pendant Shades: Boho Chic
For a warm and cozy atmosphere in your kitchen, consider adorning your white marble kitchen island with round rattan pendant shades. These textures add a boho-chic vibe to your island lighting. Strategically placed, these shades cast beautiful shadows, enhancing the ambiance.
To complete the look, pair them with rattan seating for an inviting space where friends and family can gather and chat while enjoying snacks around the island. Achieving a boho-chic kitchen is all about embracing natural textures and creating a comfortable, communal atmosphere.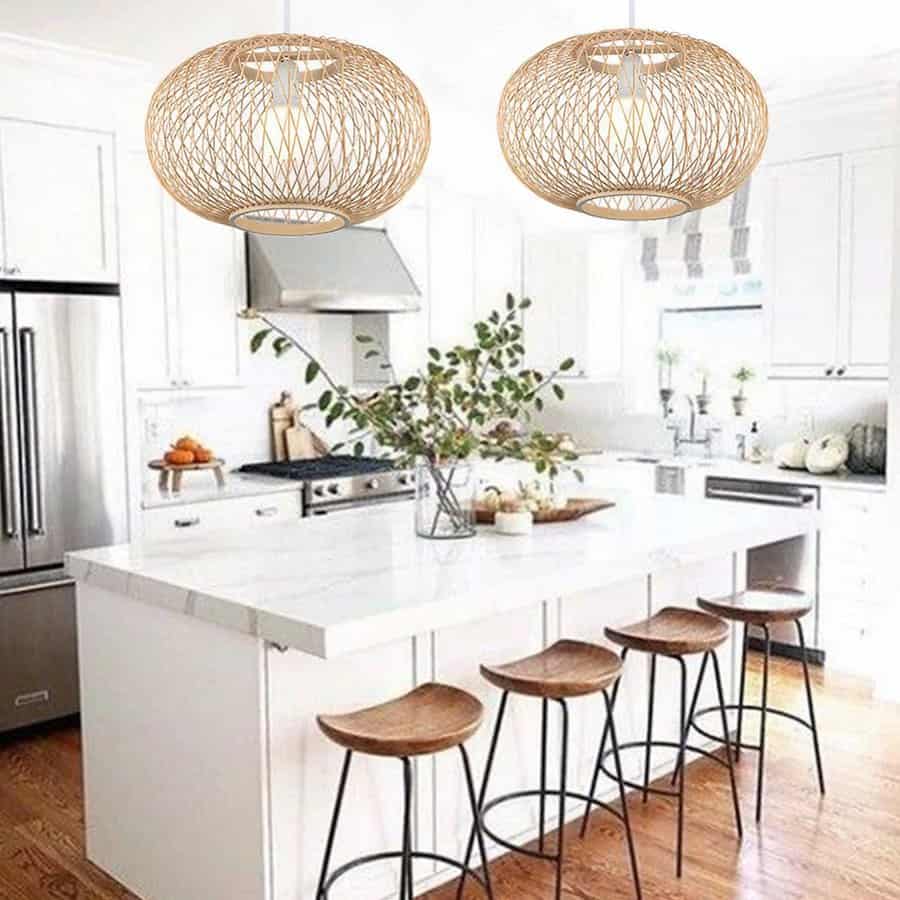 26. Sunburst Lamps: Radiant Design
Elevate your kitchen's ambiance by introducing a sunburst lamp above your white and blue kitchen island. The soft, radiant glow it emits adds a distinctive touch to your transitional interior. This lighting choice not only brightens your space but also sets a welcoming tone for gatherings. As hanging lamps continue to trend in home decor, incorporating this sunburst design will instantly breathe new life into your kitchen area.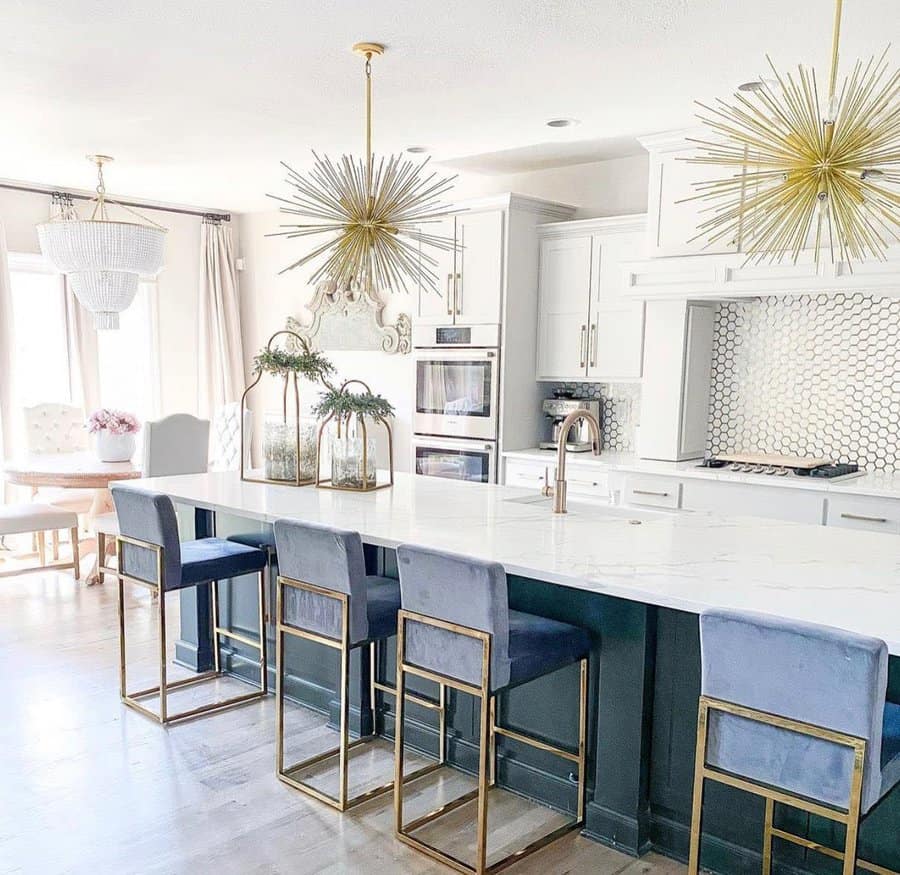 27. Crystal Beaded Orb Chandeliers: Dazzling Accents
Transform your kitchen into an inviting oasis with the addition of two exquisite crystal-beaded orb chandeliers above your dark wood kitchen island and marble countertop. Kitchen island lighting serves as a captivating focal point that leaves a lasting impression on your guests.
The two-tiered design not only introduces depth and texture but also exudes luxury through its intricate beading, enhancing your sense of comfort and elegance in this well-lit haven. Embrace the power of two luminous chandeliers to set the ambiance and infuse your living space with unparalleled charm, ultimately shaping your home into a unique retreat that resonates with your personal style.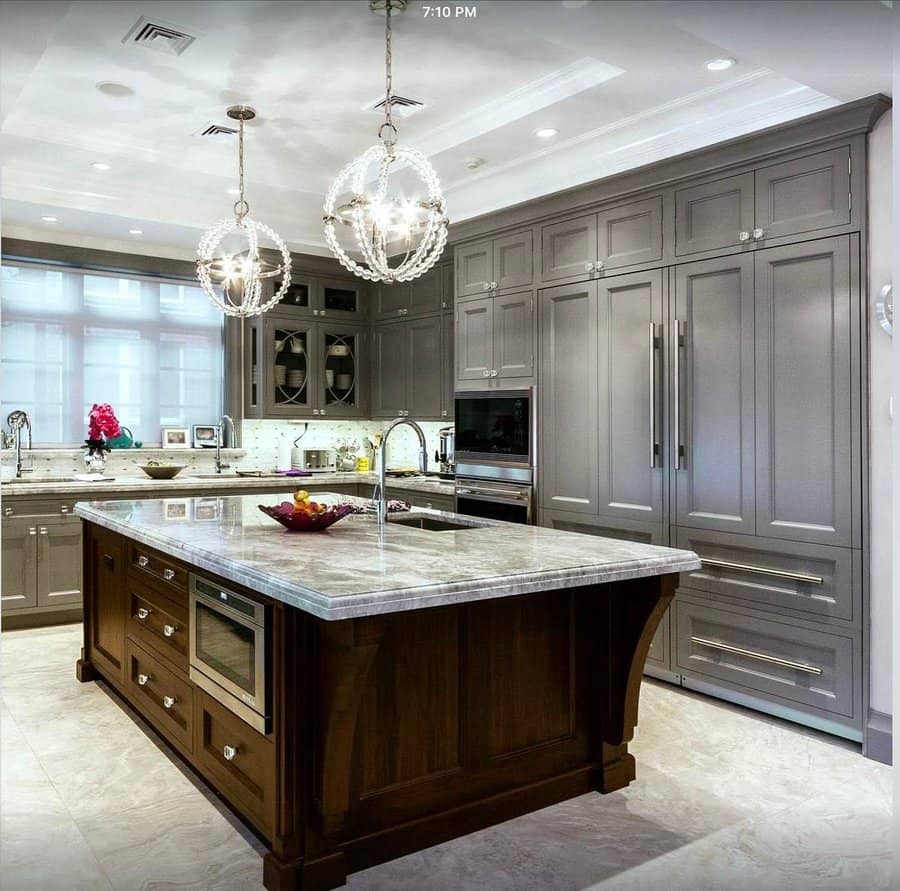 28. Light Jar Pendant: Whimsical Illumination
Enhance the charm of your kitchen island with light jar pendant lighting. These unique fixtures add a touch of warmth and playfulness to your space, creating an inviting atmosphere. Hanging them above a pink limewash countertop can infuse your kitchen with vibrancy and cheer. With light jar pendants, you'll set the stage for engaging conversations with loved ones as you embark on your culinary adventures.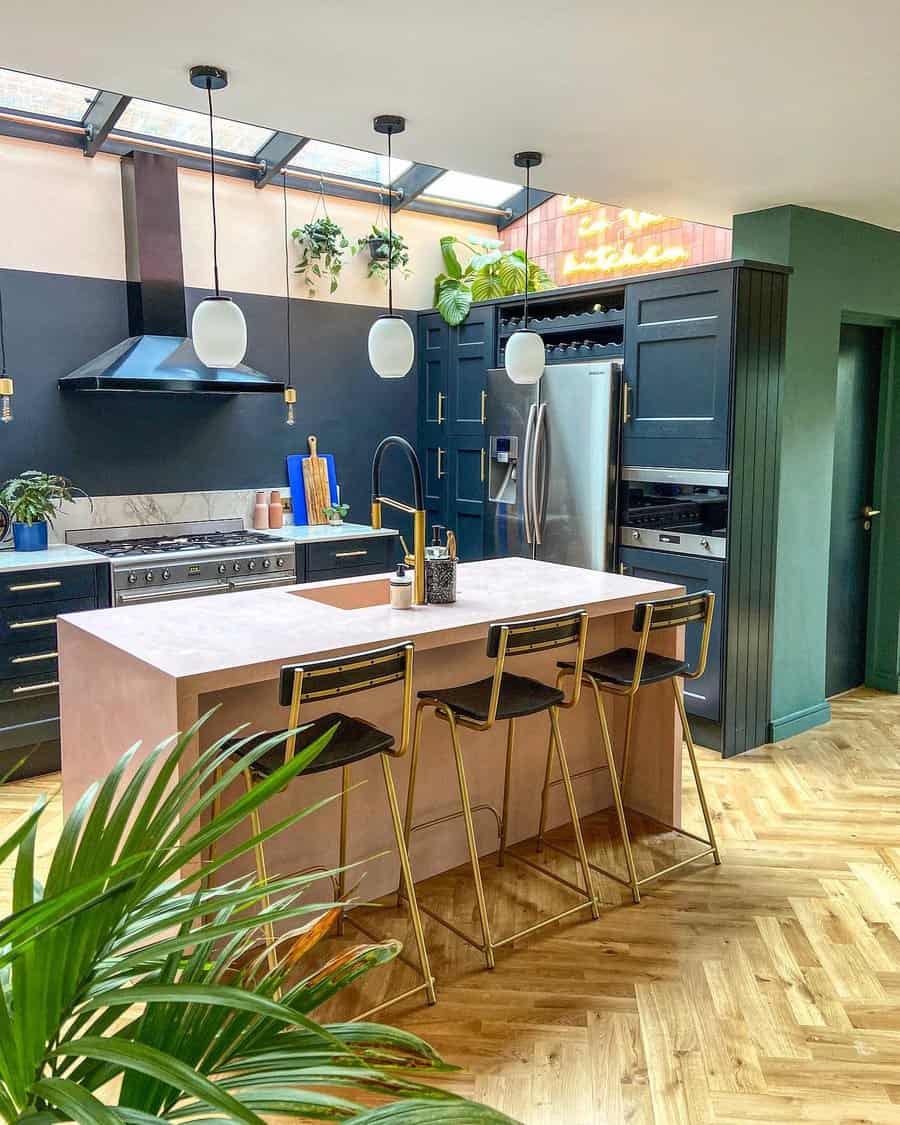 29. Scandinavian Pendant Lights: Minimalist Beauty
Incorporating white Scandinavian pendant lights into your black-and-white kitchen can elevate its aesthetic appeal while enhancing functionality. These minimalist lights not only add elegance but also offer practical benefits. They provide essential task lighting for meal preparation and create a cozy ambiance for dining with loved ones. With these pendant lights, your kitchen will be bathed in a soothing glow, allowing you to confidently cook everyday meals or embark on culinary adventures.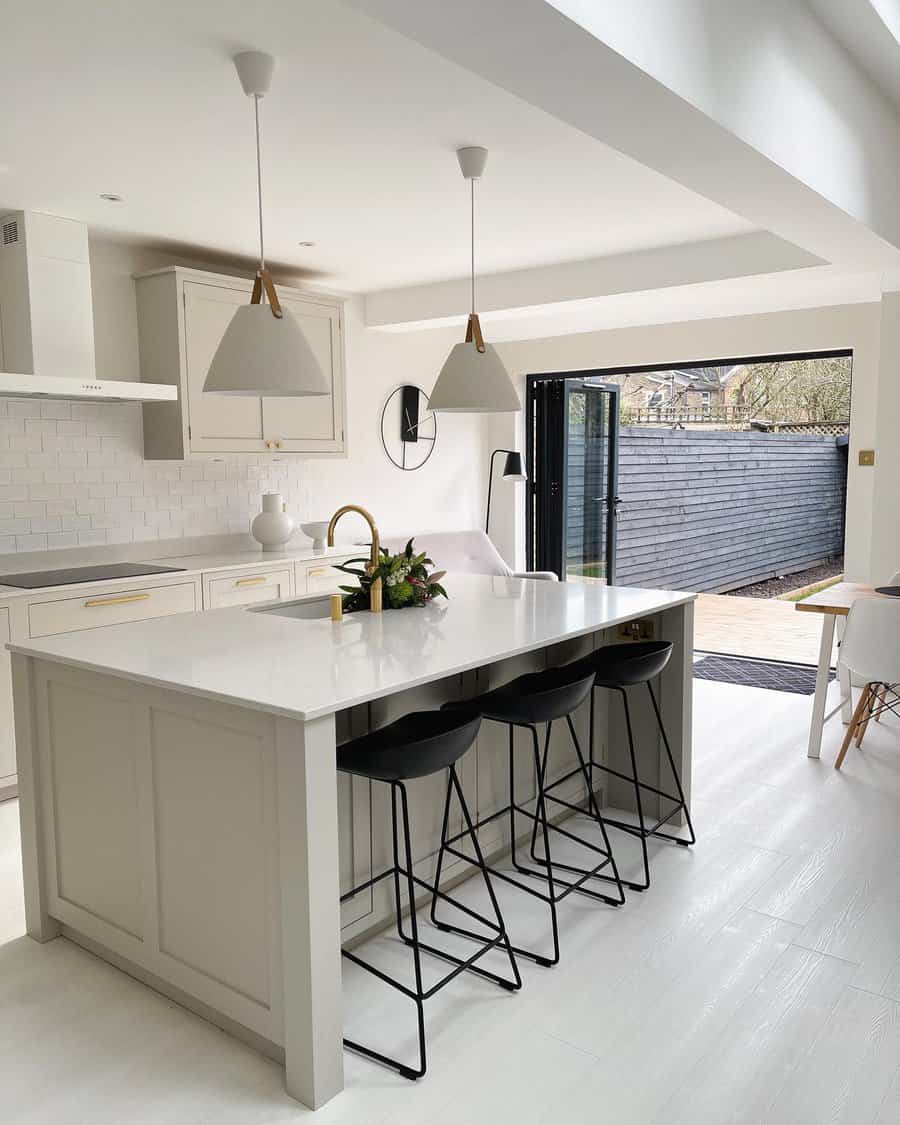 30. Pendant Lighting with Black Hardware: Sleek Contrast
When it comes to revamping your kitchen island's aesthetic, consider incorporating pendant light fixtures with black hardware for a sleek and stylish contrast. These lights not only fulfill your practical lighting needs but also elevate your kitchen's overall design.
To achieve a modern rustic interior, select pendant island lights that align with your desired look, seamlessly combining functionality with ambiance. Let your kitchen island shine as a statement piece, bridging the gap between effective task lighting and captivating decor.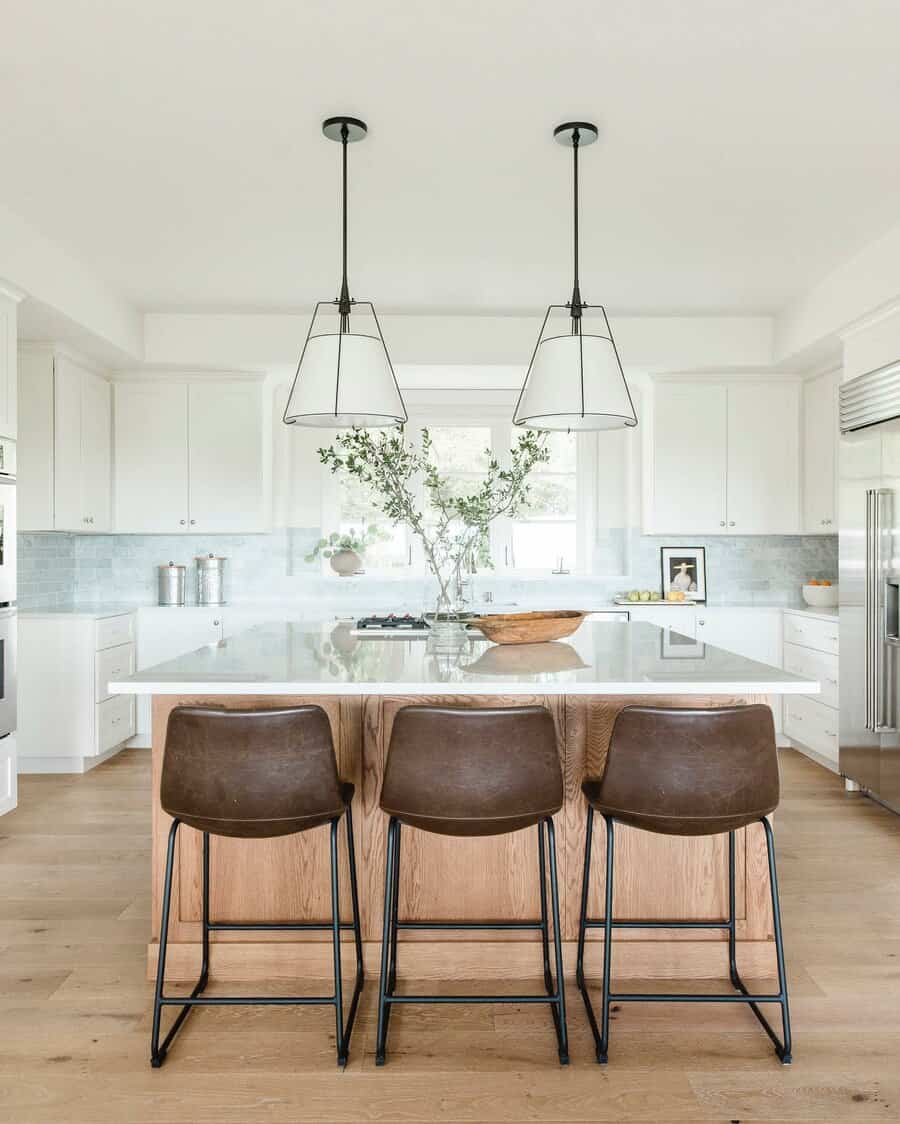 FAQs
How many lights should be on a kitchen island?
The best approach is to follow the rule of three. This rule creates a better balance than what you can achieve with two or four lights. In addition, the odd number makes it easier to space them out for a visually appealing design.
How high should lights be above the island?
As a general rule, the pendant lights over your island should be 30 to 36 inches over the countertop. However, you also need to consider the height of your ceiling. You need to be able to stand at the kitchen island and see across it without having a pendant light blocking the view. Because of this, a low ceiling means pendant lights may not be the best option.
How bright should island lights be?
Lights that are over your kitchen island are typically task lights. Because of this, they should be sufficiently bright enough to work at the countertop safely. Typically, this is between 35 and 50 lumens per square foot of kitchen island countertop. This means a larger kitchen island and kitchen space require brighter lights. However, you should also consider the number and brightness of the other lights in the kitchen space. If they aren't very bright, then you'll want to compensate with brighter lights. If they are already bright, then you could get away with less bright lights.