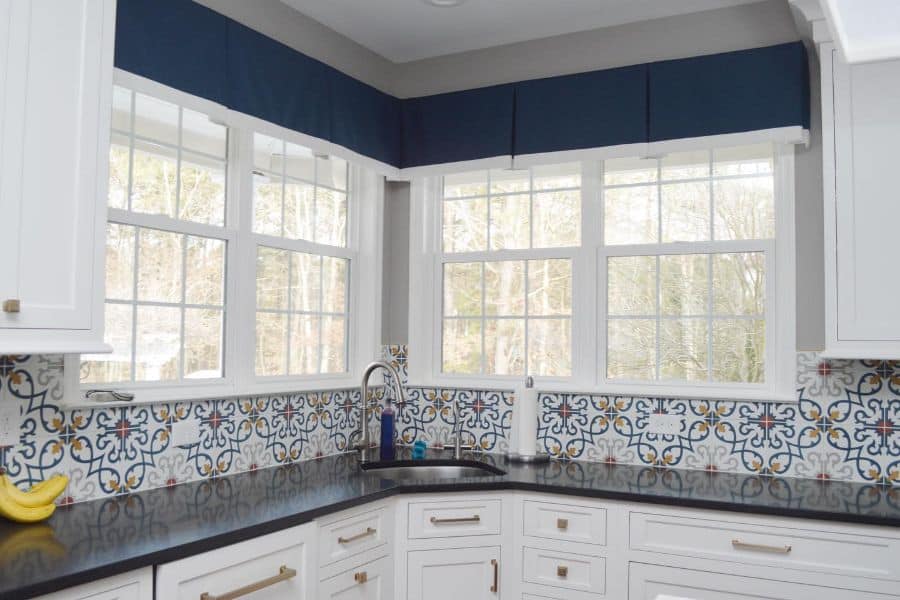 35 Kitchen Valance Ideas to Dress Windows
The word "valance" is derived from the Old French word "avaler", which means "to descend." It's a short length of curtain fabric or wood that hangs from the top of the window, often to cover curtain or window blind fittings.
A window valance adds softness and style to your kitchen window. It can be hung with or without curtains or blinds. A valance is a great option when you want to accentuate your windows without committing to full curtain panels. Check out our 35 best kitchen valance ideas to see how much ambience they can add to your kitchen decor.
1. Ballon
A balloon valance is a voluminous window treatment that's made from gathered or pleated fabric. It has distinct poofs that stand out from the window, sometimes trimmed with fringe. They are popular window coverings in traditional and country style homes.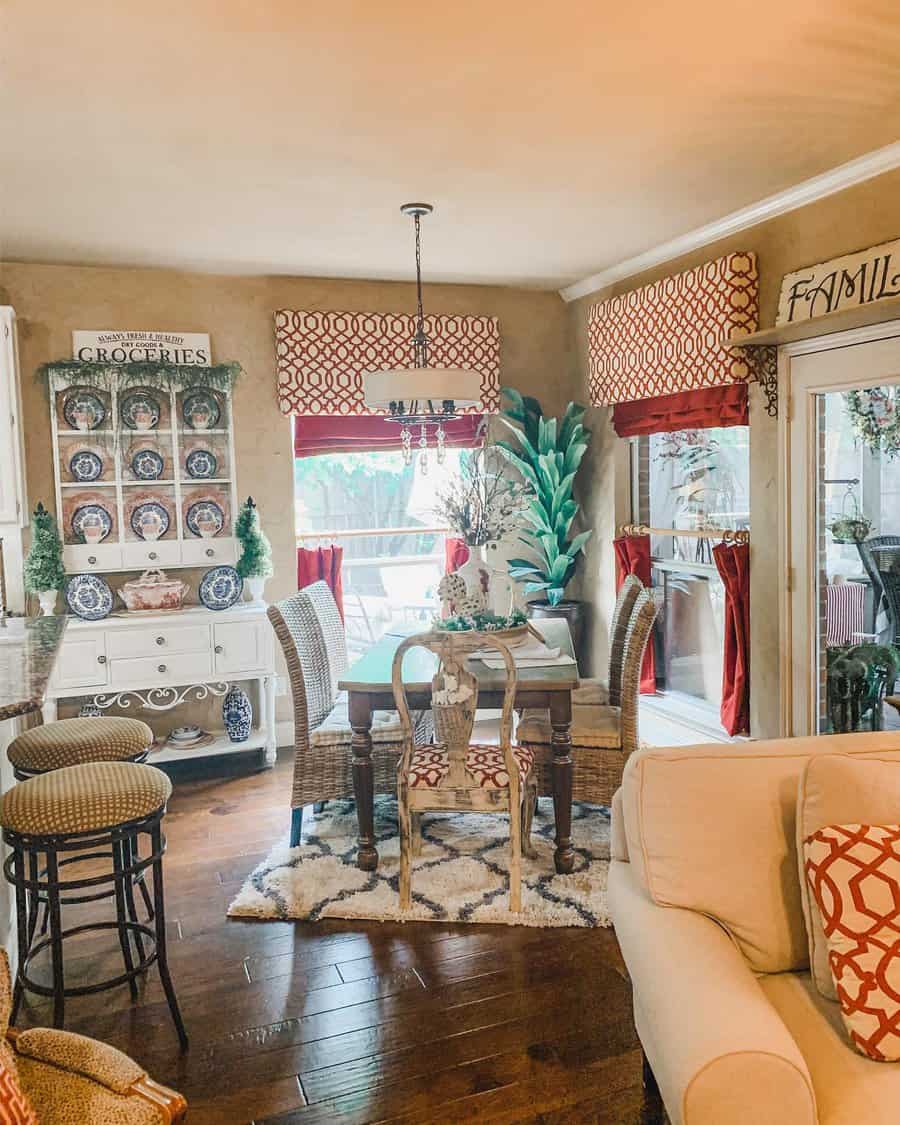 The bottom of this valance style looks scalloped, but its volume is what makes it different from a scalloped or swag valance. The poufs at the bottom of a balloon valance should stick out at least eight inches from the wall.
2. Bay
Bay windows are a sought-after feature in kitchens, especially in those with a breakfast nook. They are a combination of three or more windows that project out from the exterior wall in a square, hexagonal, or octagonal shape. There's often a window seat at the bottom of the bay window.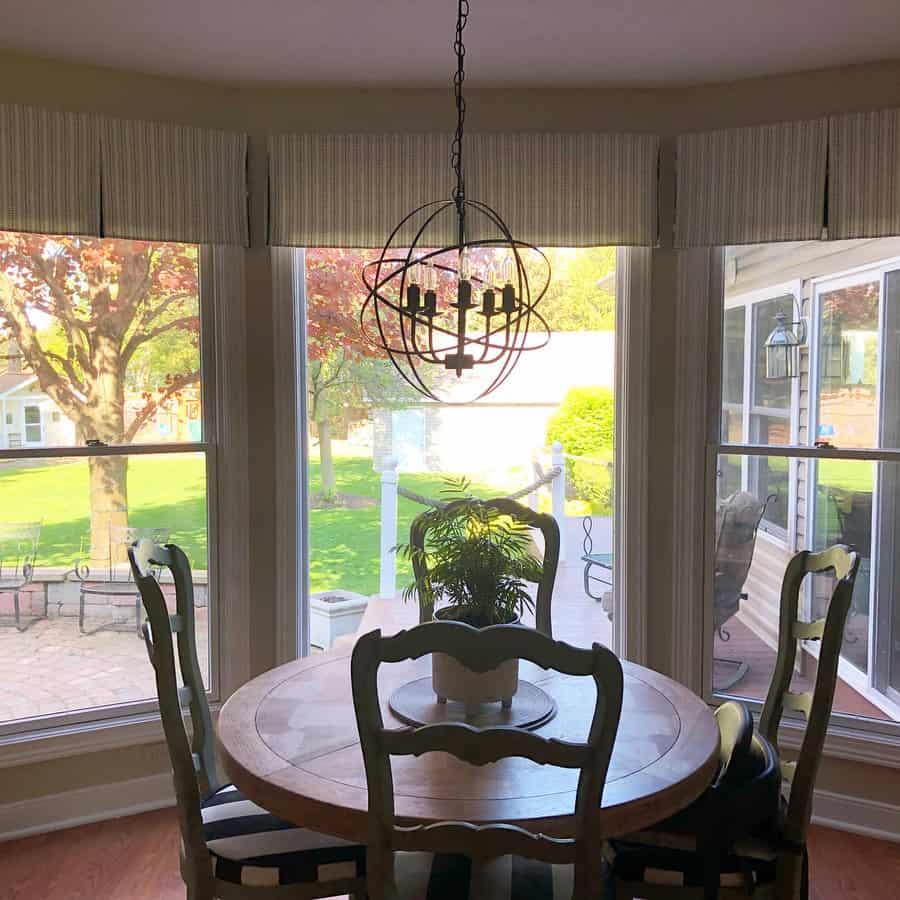 Bay windows admit more light into the kitchen than an ordinary flat window, so most people don't want to hang heavy drapery that will block the light. Therefore, a valance is a good way to embellish bay windows. Add wood blinds or a roller shade to each panel if you need more privacy.
3. Box
A box pleat is a popular curtain valance embellishment. These pleats consist of two sharply pressed knife pleats, folded away from each other to create a wide, vertical pocket of sorts.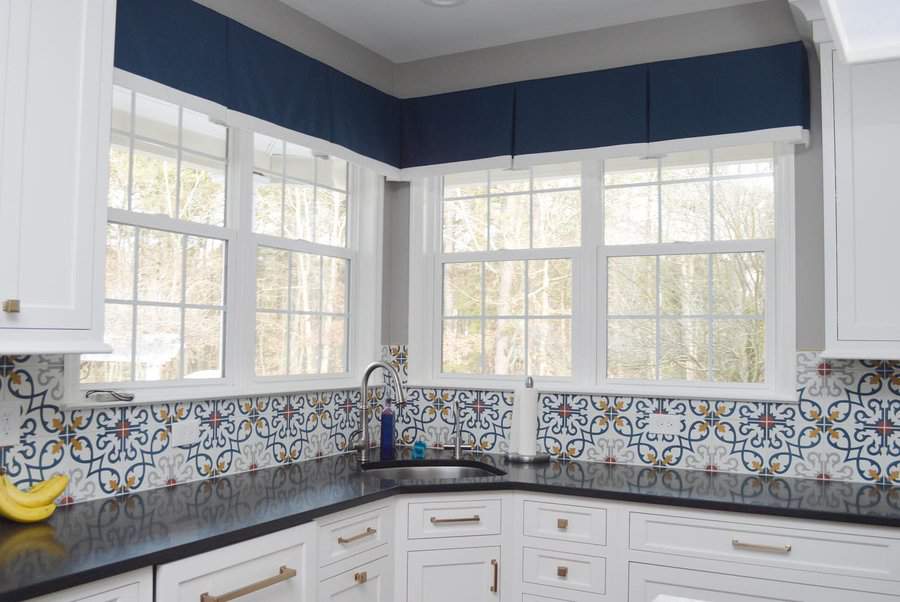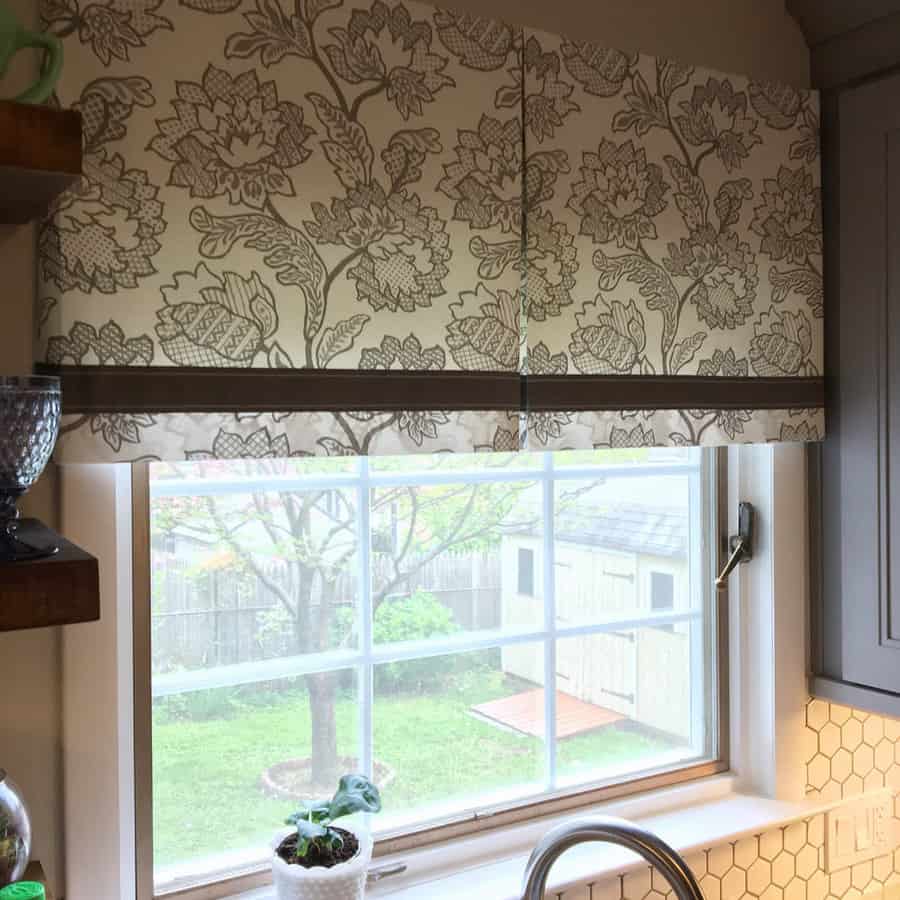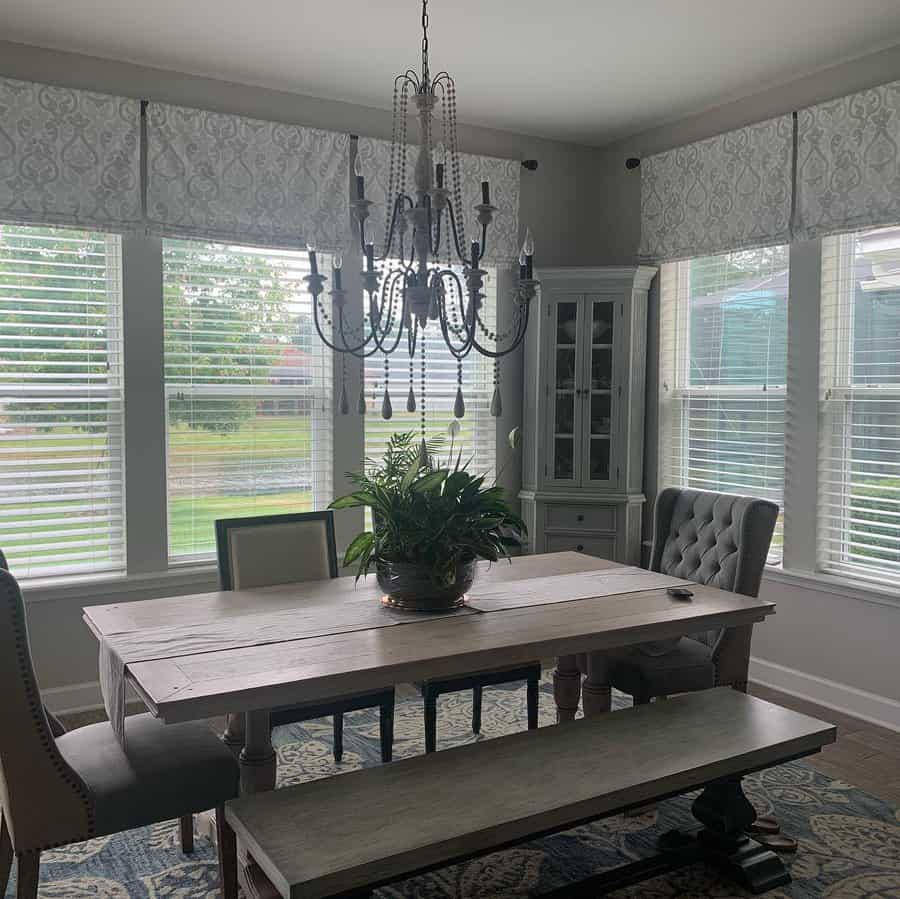 Box pleating is a subtle way to add fullness and dimension to an ordinary window valance. It conveys the tailored, linear style that's currently trending in window treatment style. The bottom of a box pleat valance may be straight or arched.
4. Cornice
A cornice board is a wood or faux wood panel at the top of the window. Sometimes a cornice is covered in fabric and padding; other times, it's painted or stained to match the kitchen cabinets or furniture. It helps hide the headers on window blinds or drapes.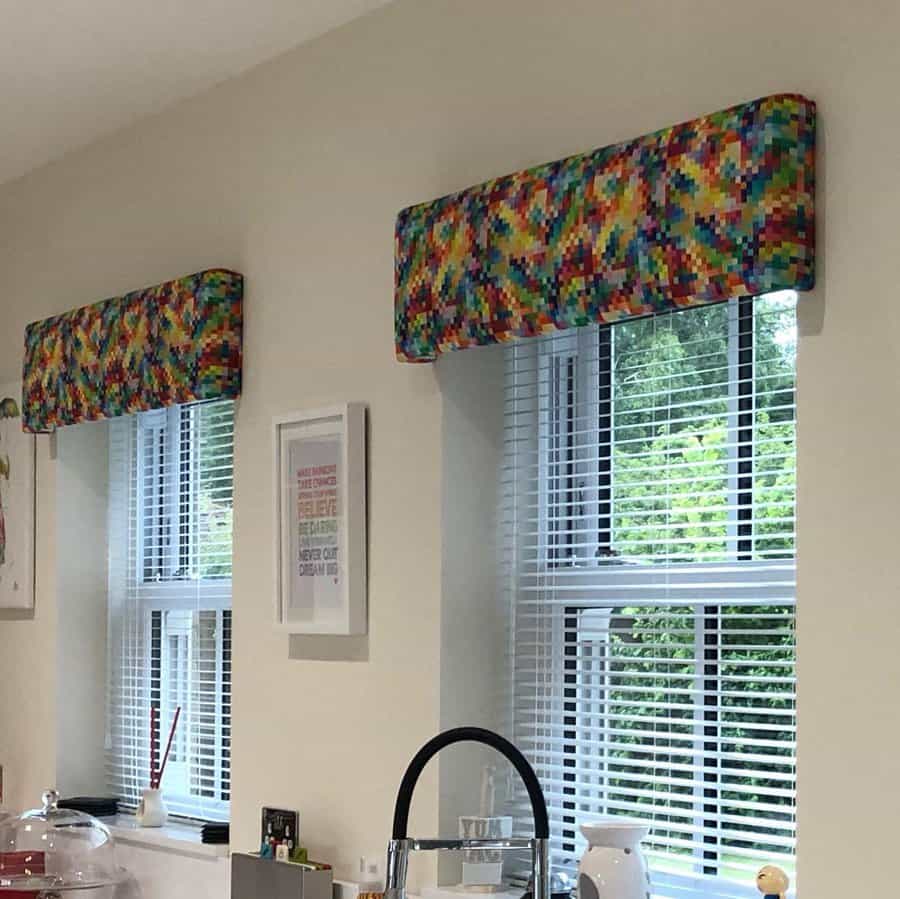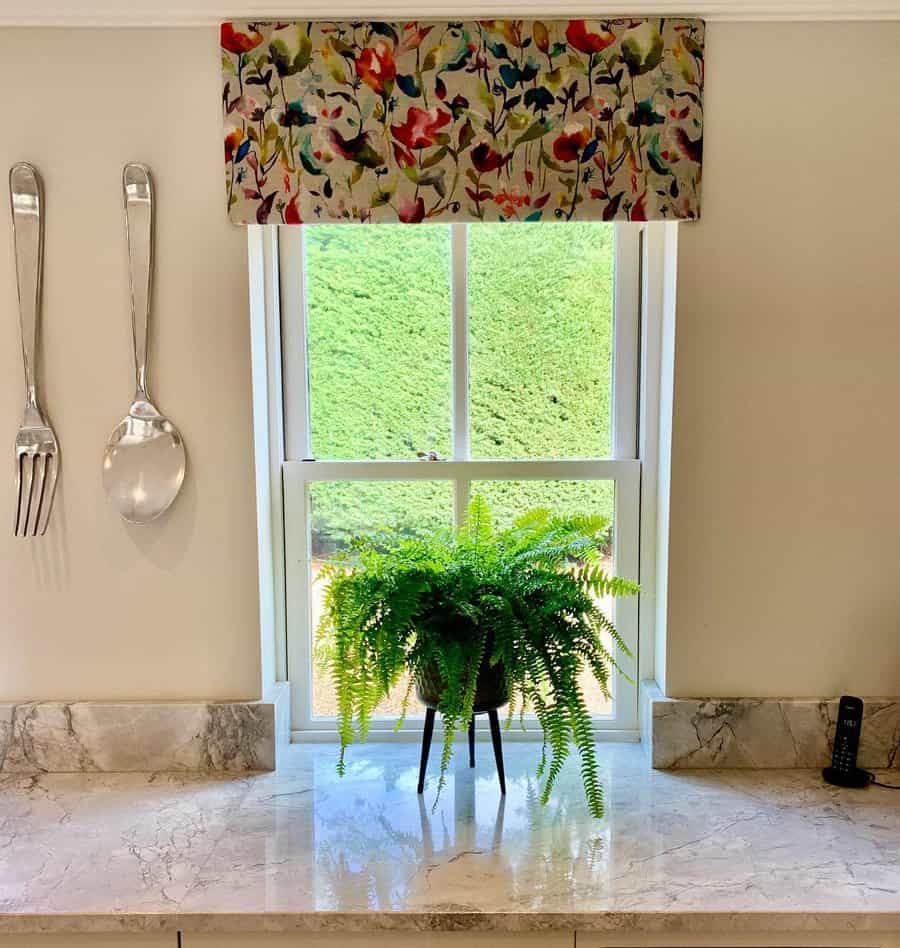 This type of upholstered valance box looks more formal than a flowy, scarf valance. A cornice board is good for windows viewed from above, such as those seen from a second story landing, because the fabric wraps around the top.
5. Country
The window valance will always be a welcome addition to casual, comfortable, country home decor. Vintage fabrics in muted colors, striped, checked, and floral—all these elements can be found in soft, flowy kitchen window treatments. Eyelet fabric and lace are also lovely in a country kitchen.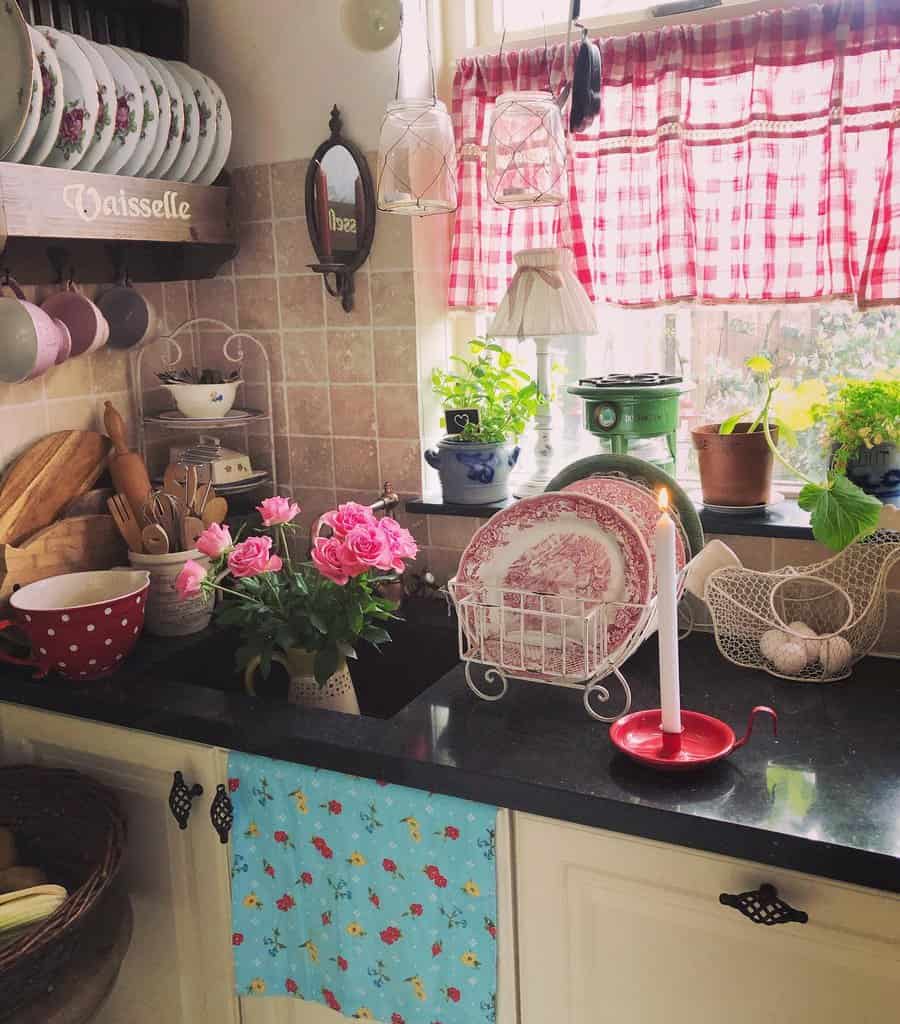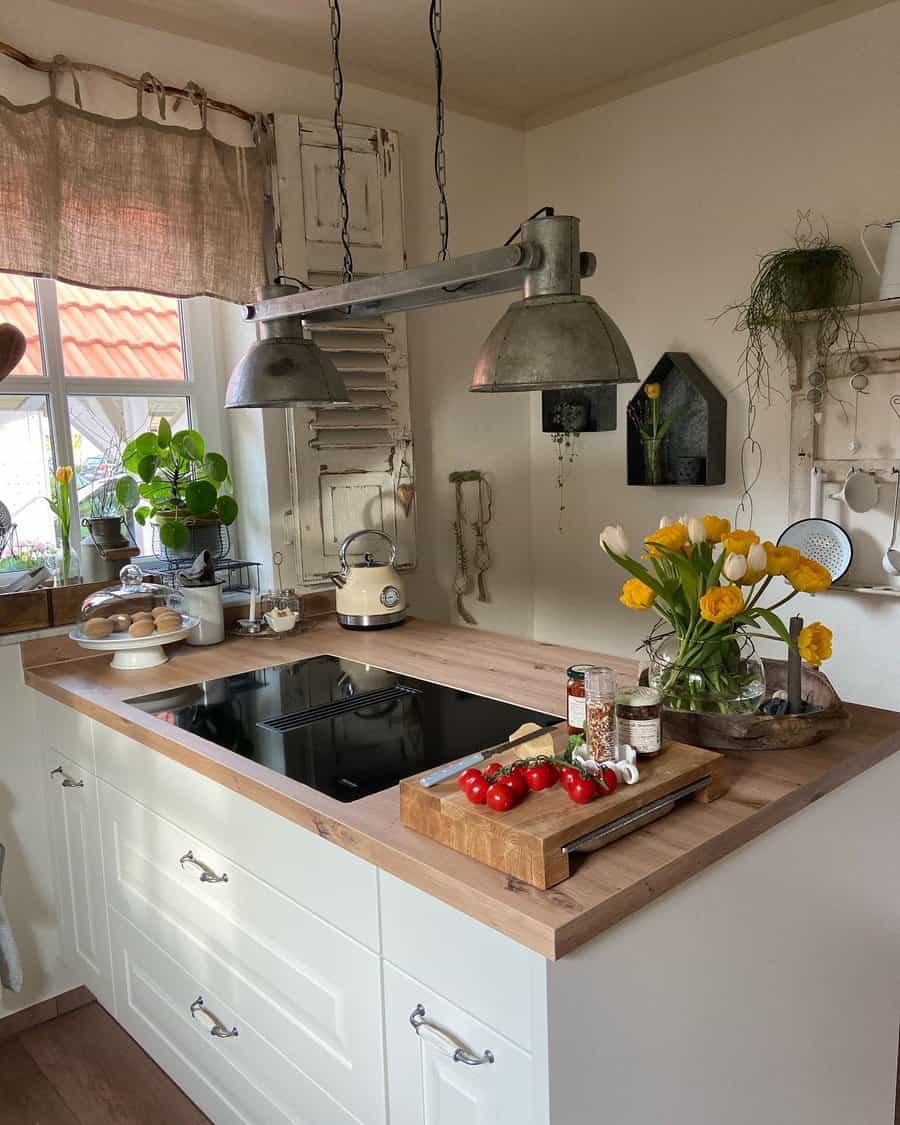 A scalloped valance and other classic window curtain styles work well with this design scheme. Pair a lace-trimmed gingham curtain with a matching café curtain set for a traditional country kitchen window treatment.
7. Decorative
Valance ideas aren't limited to just plain swaths of fabric. Embroidery, appliques, and various trims and adornments are all ways to add a creative twist to your valance ideas.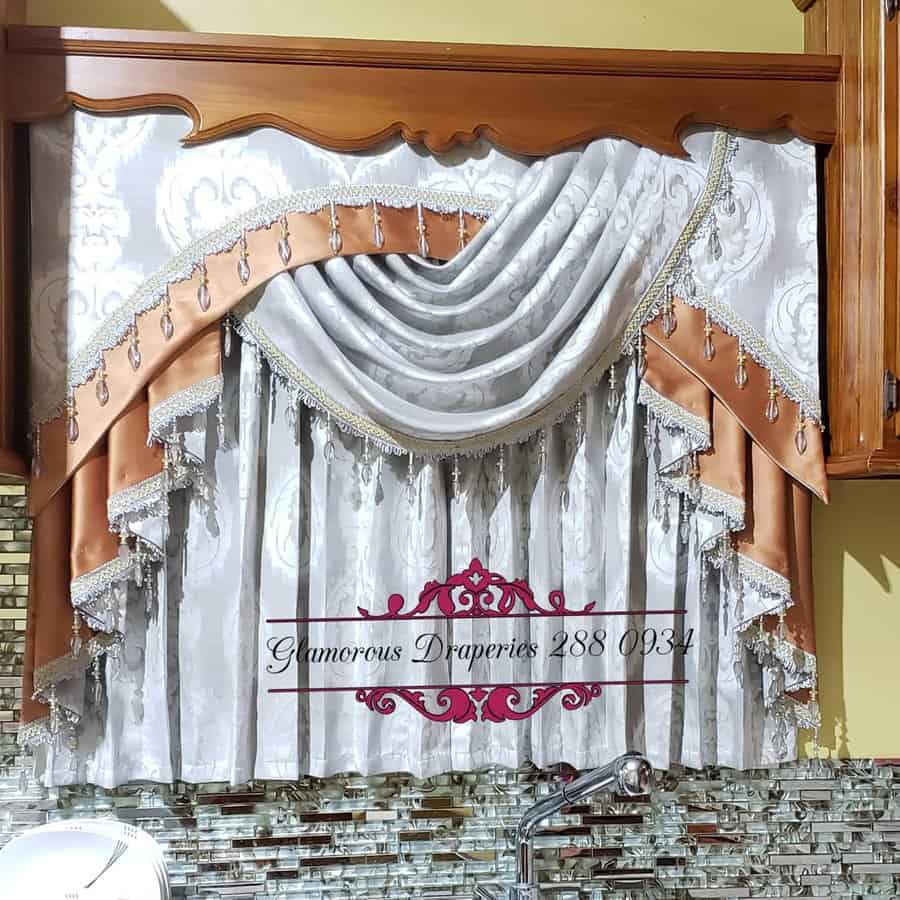 While most valances have a rod pocket at the top, some have a visible curtain rod, which adds another possibility for creative embellishments. Crystal finials or designer brackets can turn a plain kitchen curtain valance into something special.
6. DIY
A window valance is an easy project for beginning DIYers, especially if you have a sewing machine. You can save money by transforming a shower curtain or even sheets into simple valances. If you cannot sew, there are still plenty of valance and cornice options for a DIY window treatment.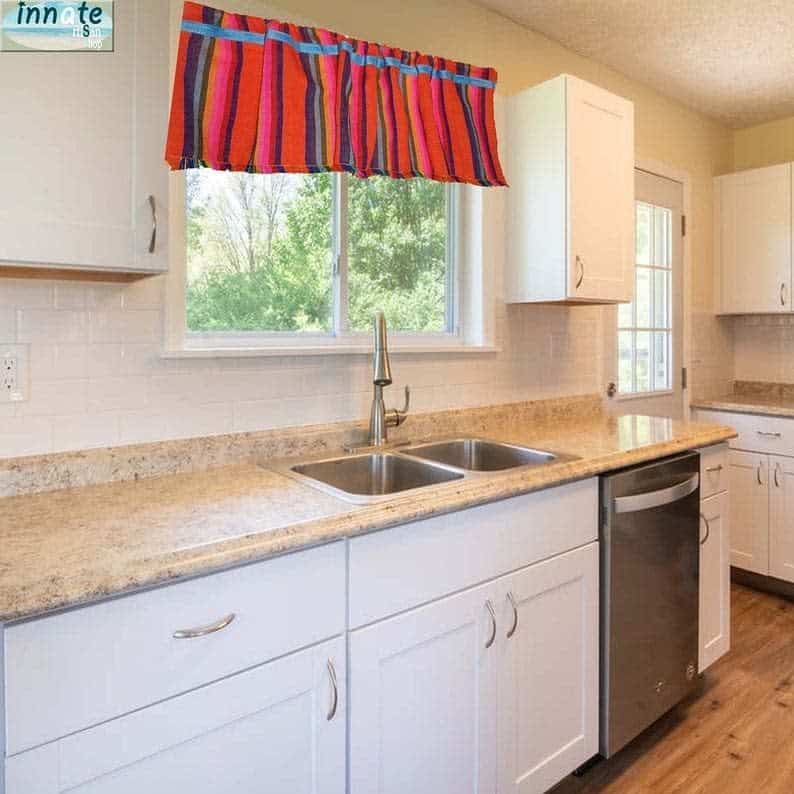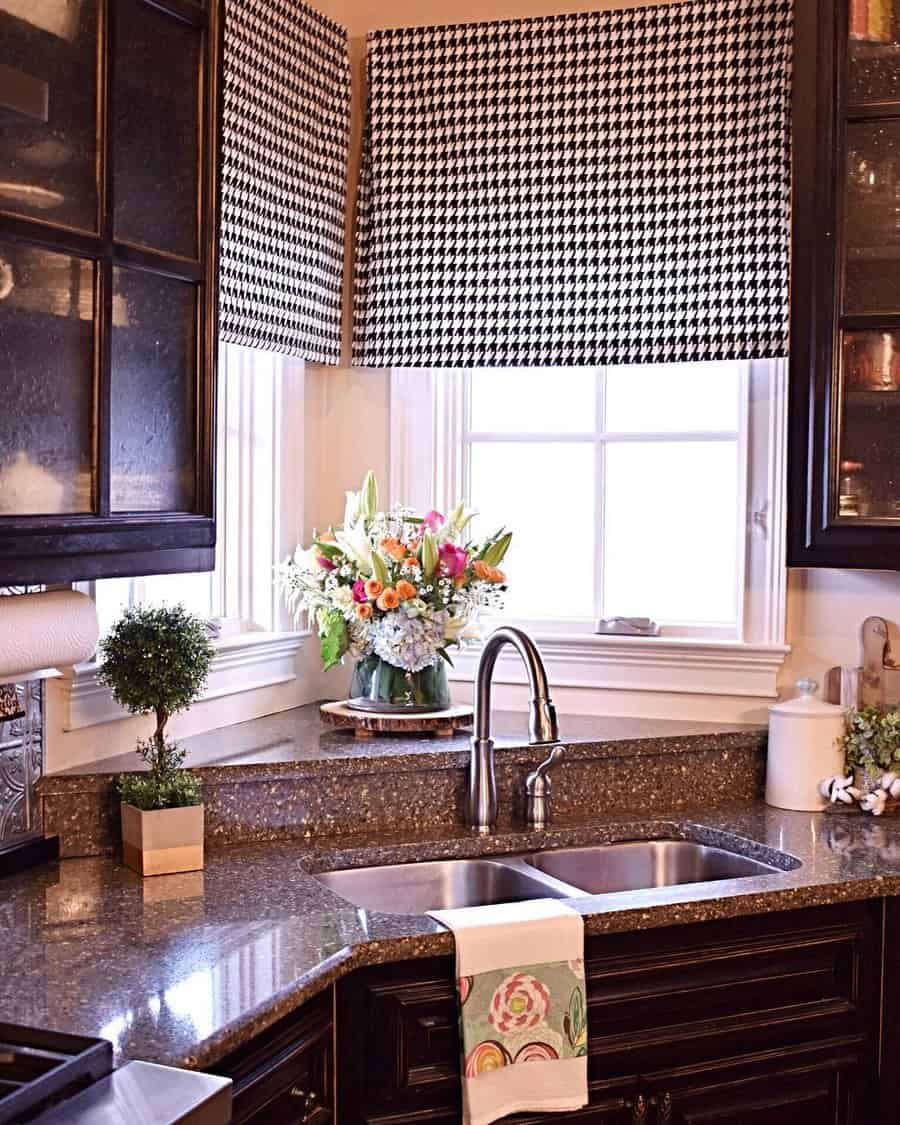 Make a cornice box out of thick foam-core board and hot glue batting on top. Then cover it with a beautiful fabric for a simple modern DIY valance box.
Use clip-on curtain rings and hang a row of decorative napkins, kitchen towels, or vintage handkerchiefs from a simple curtain rod.
8. Farmhouse
A rod pocket valance looks amazing paired with farmhouse decor. Hang a short buffalo check valance over a longer lace sheer curtain, and drape the top with a dried vine garland.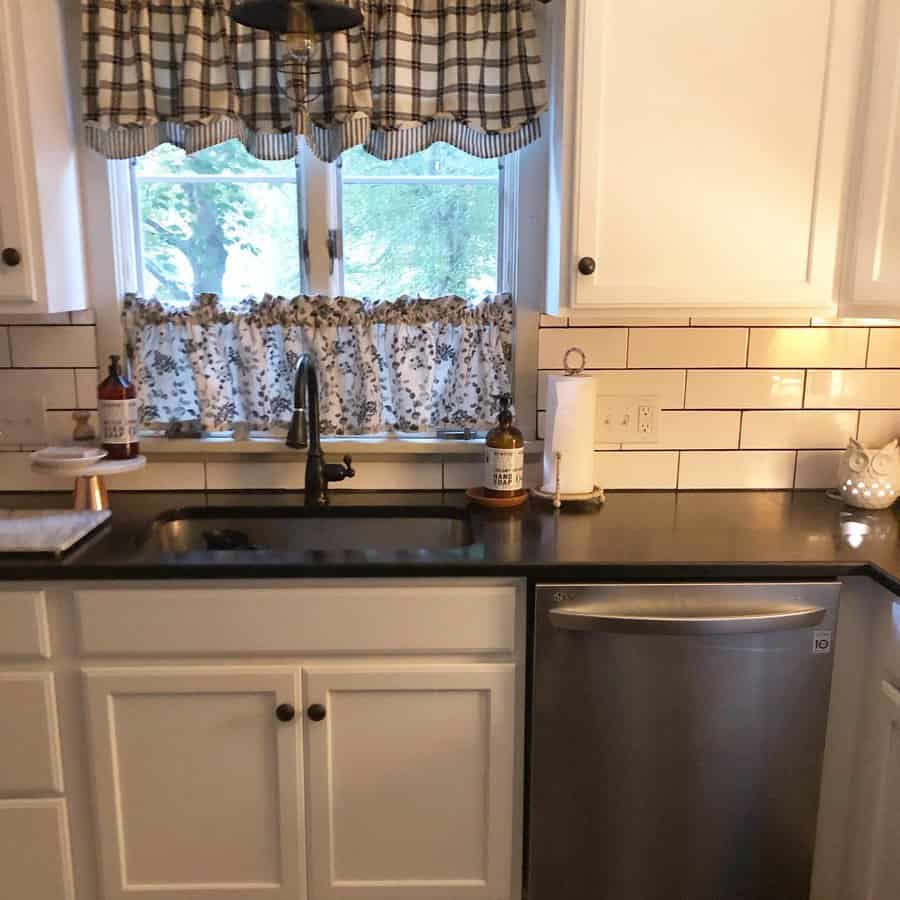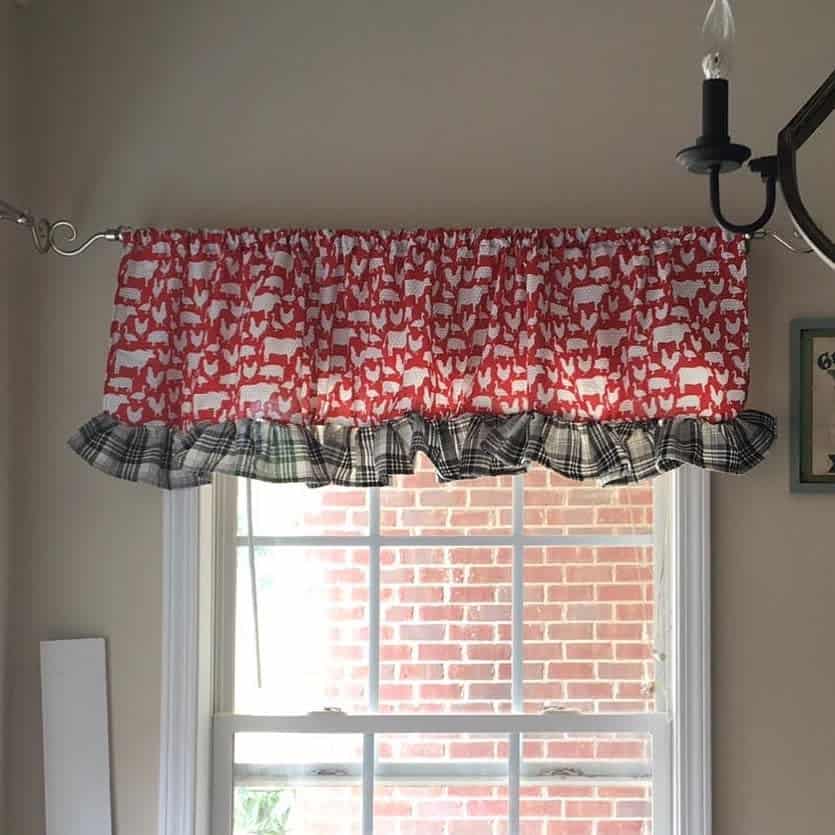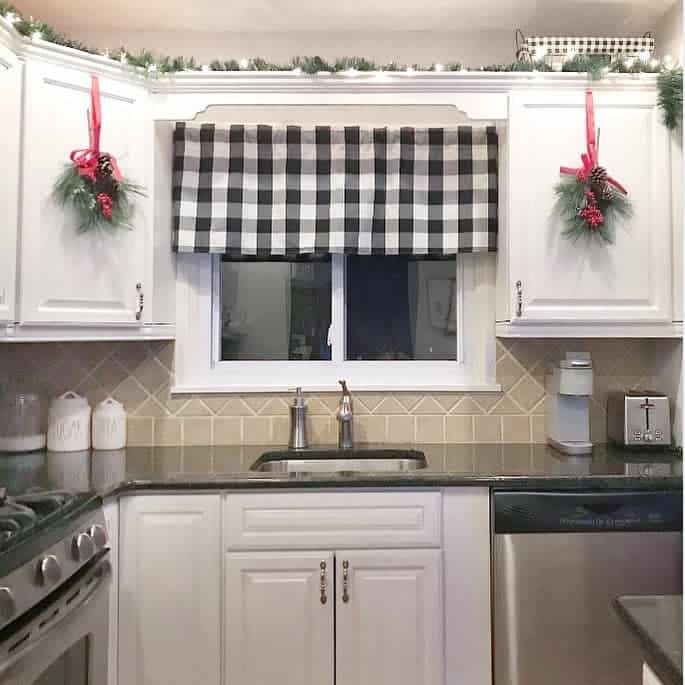 Burlap is another excellent window treatment fabric in a farmhouse kitchen. Use it as a window scarf or a roman shade. Pair it with lace or grosgrain ribbon if its rough texture feels too rustic for the space.
9. Lace
Turn to lace whenever you need to soften the edges of a valance, curtain panel, or shade. Or shop for full lace panels with a rod pocket top for a fully delicate window treatment.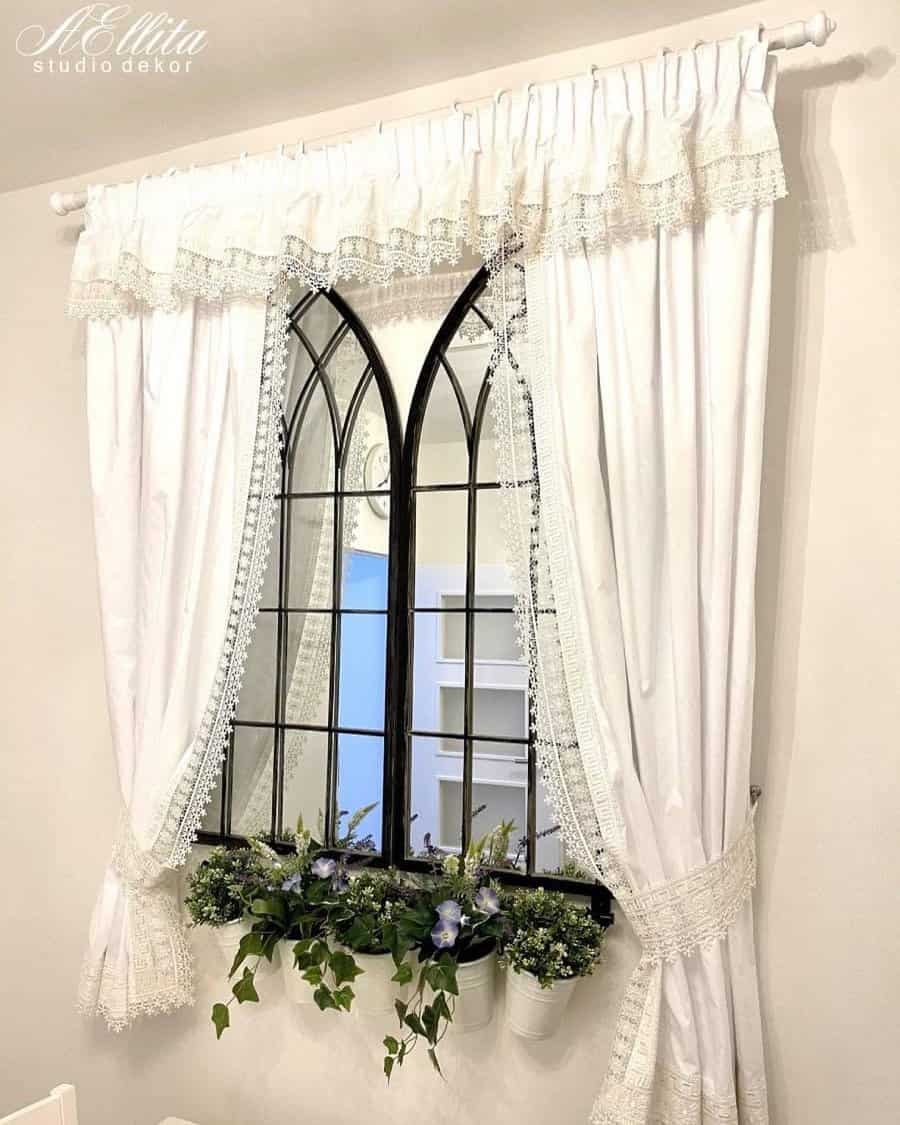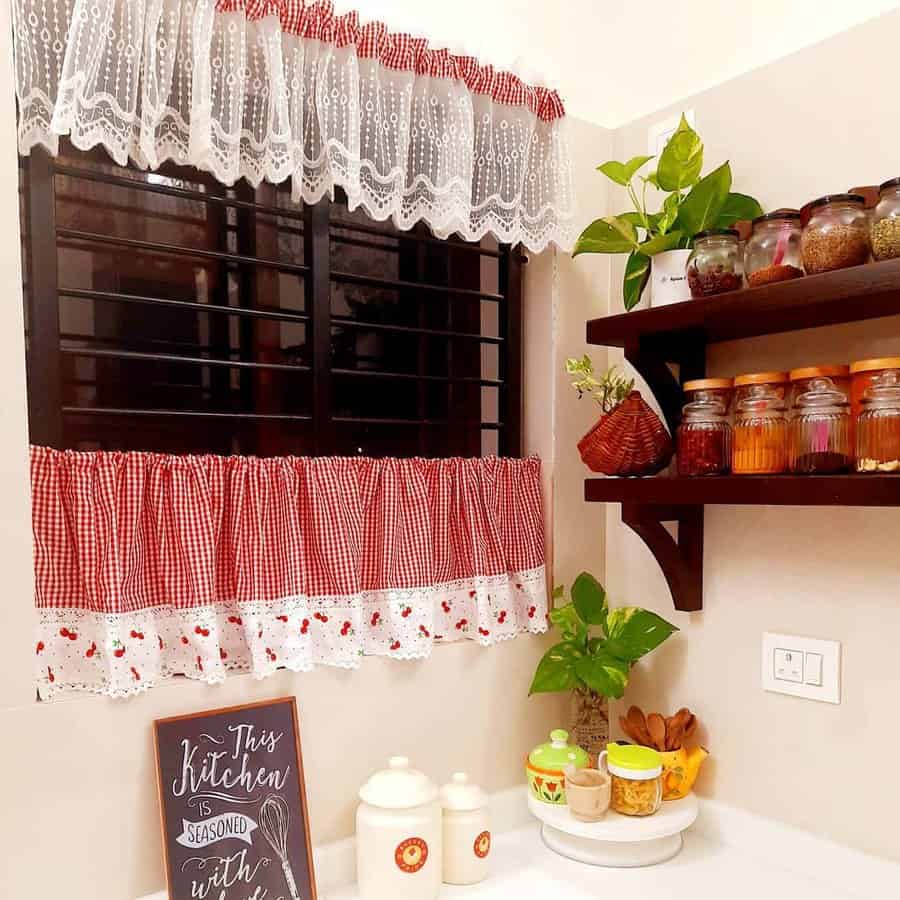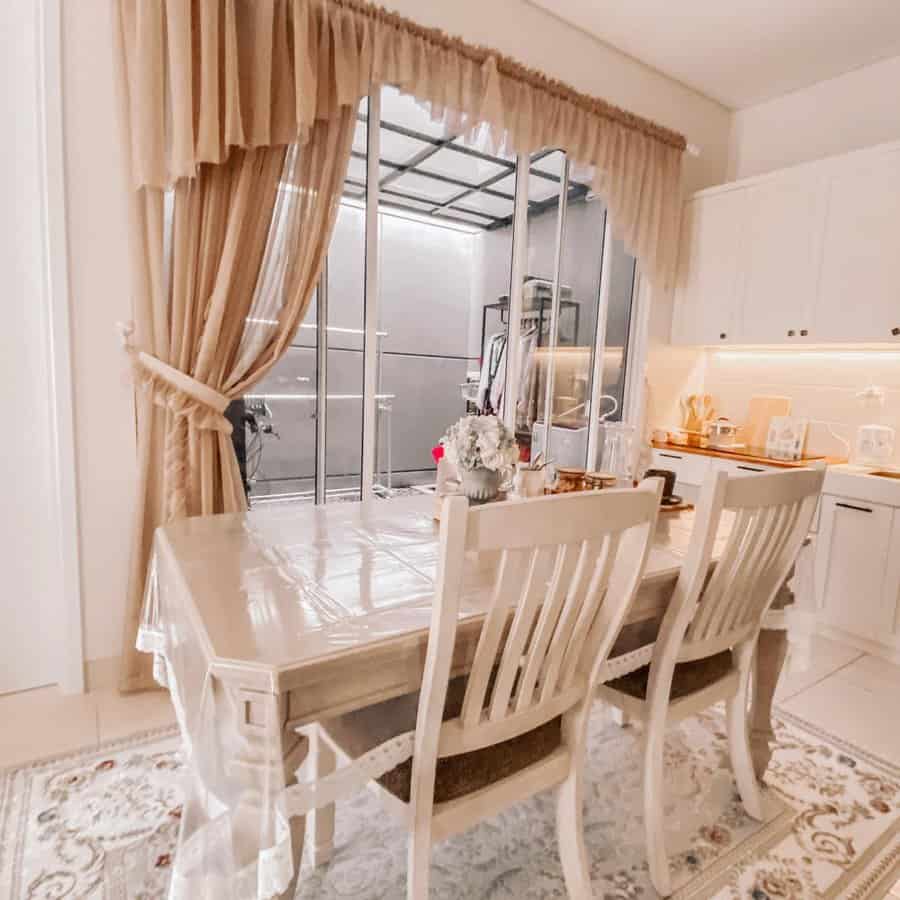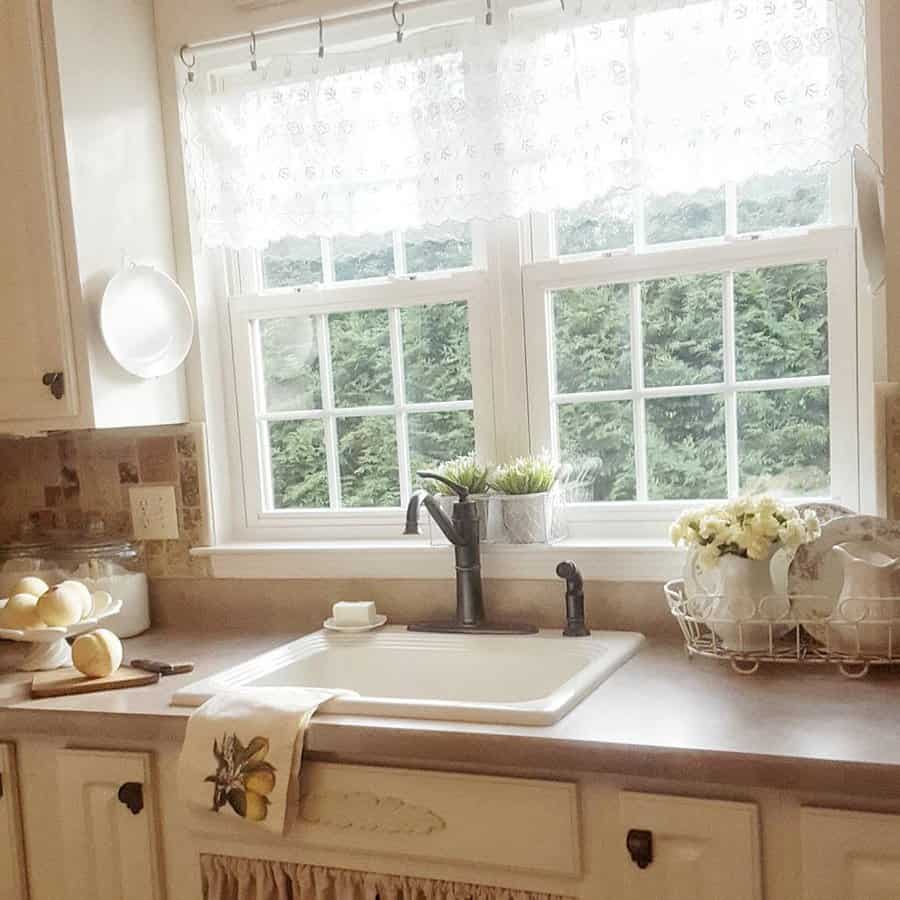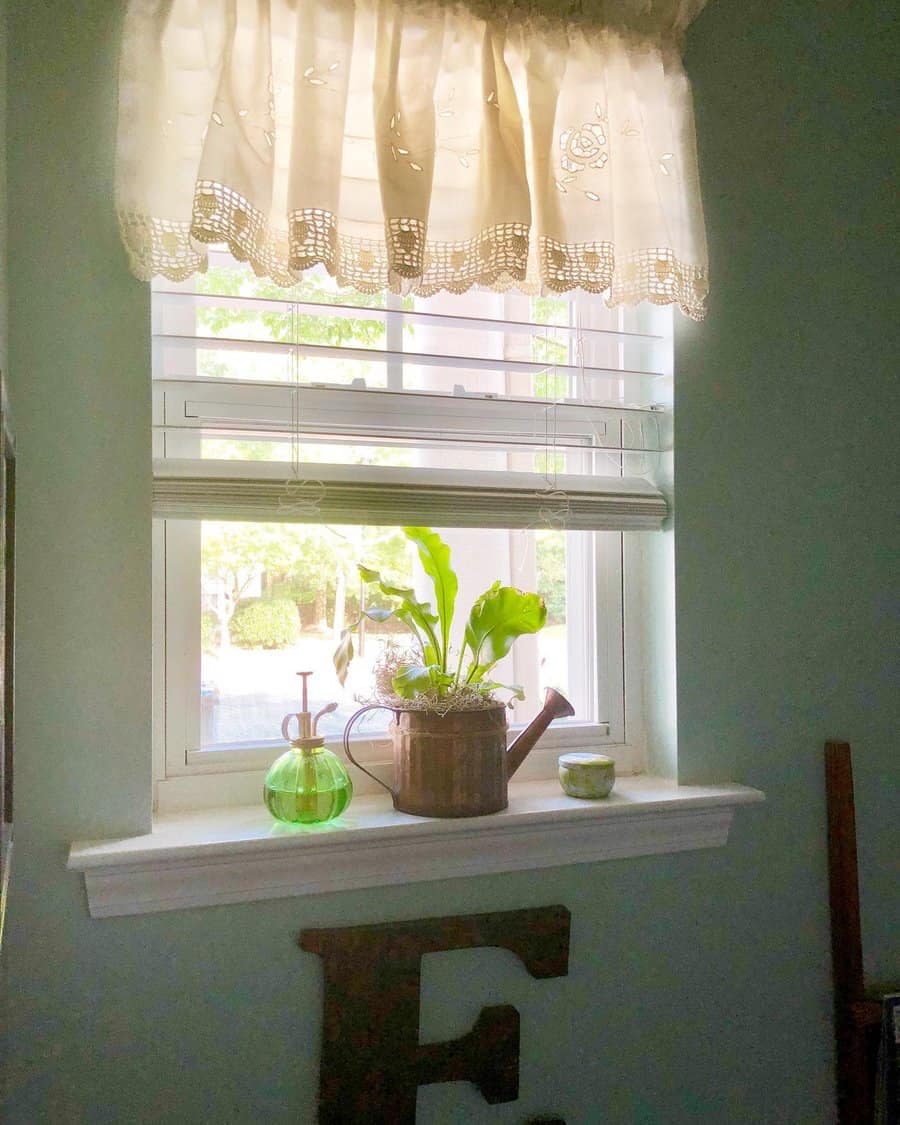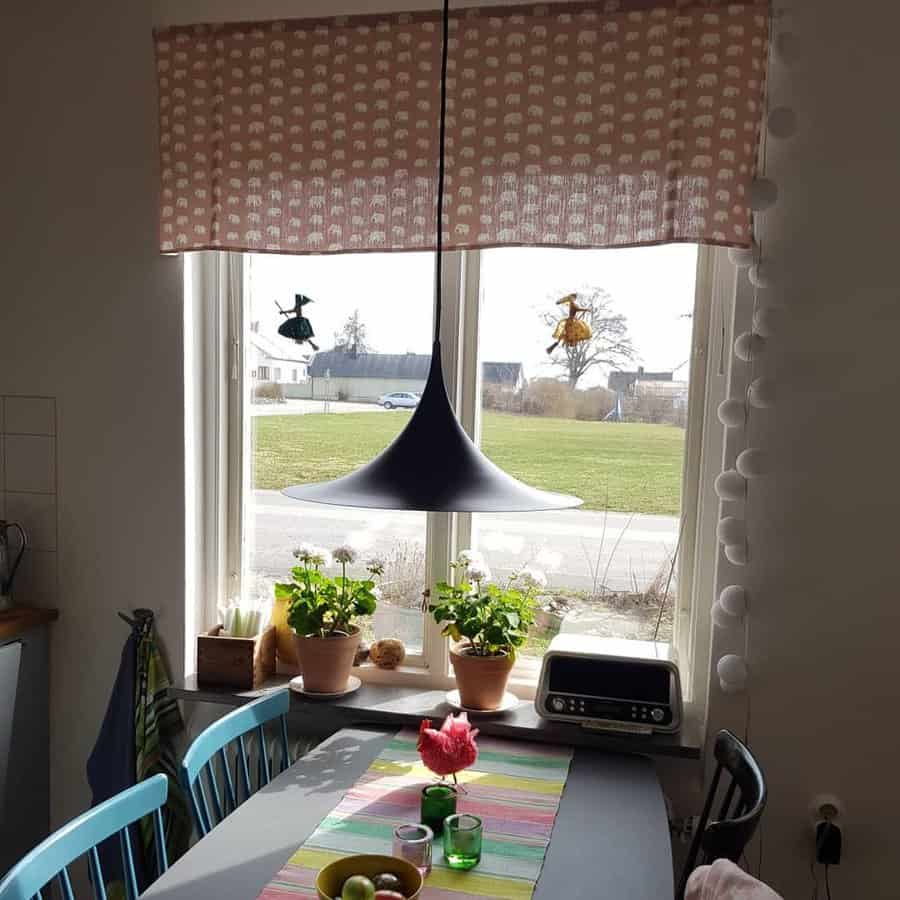 Lace adds a Victorian flavor to traditional home decor. It allows natural light to filter through, making it perfect for when you want a little window embellishment that doesn't block light.
10. Mock Roman Shade
A real roman shade has strings or ribbons that allow it to be raised and lowered. A mock roman shade looks the same as a half-raised roman shade, but it's permanently sewn into that position. It cannot be raised or lowered.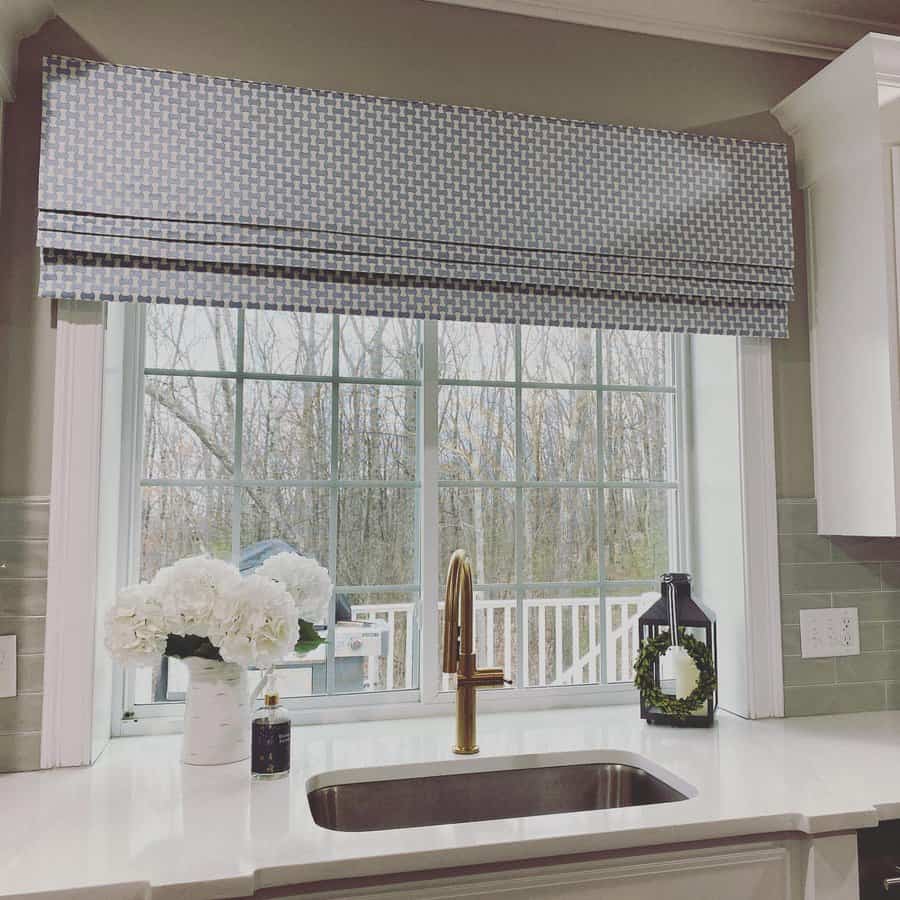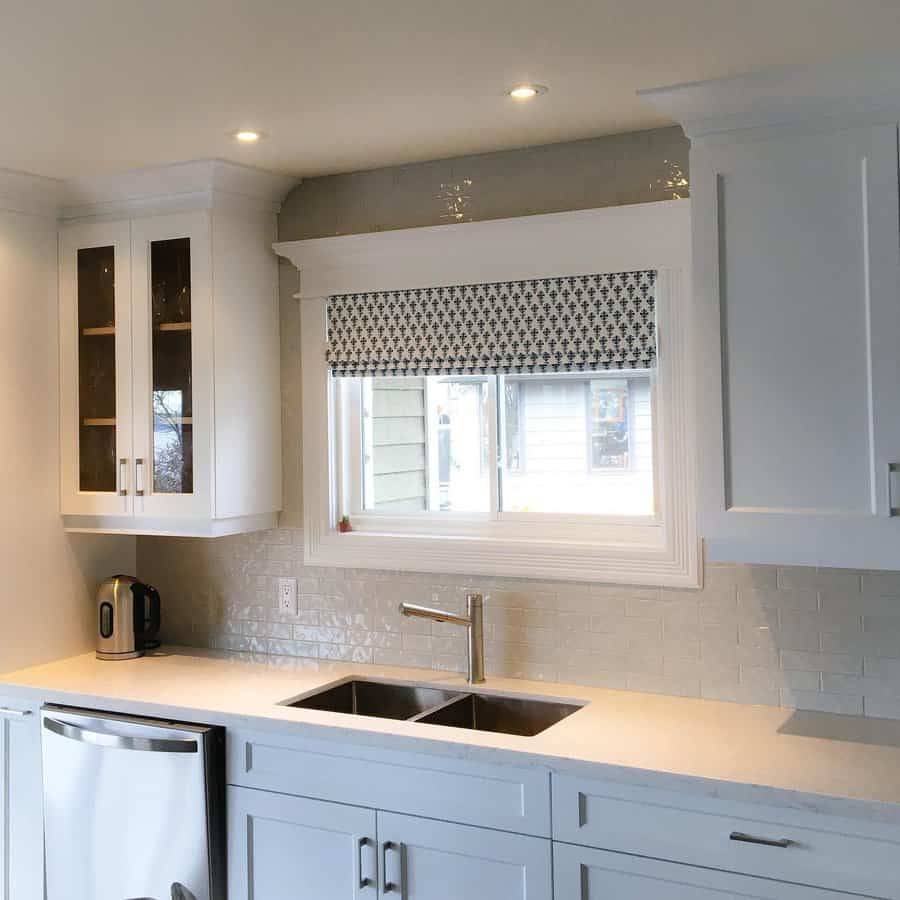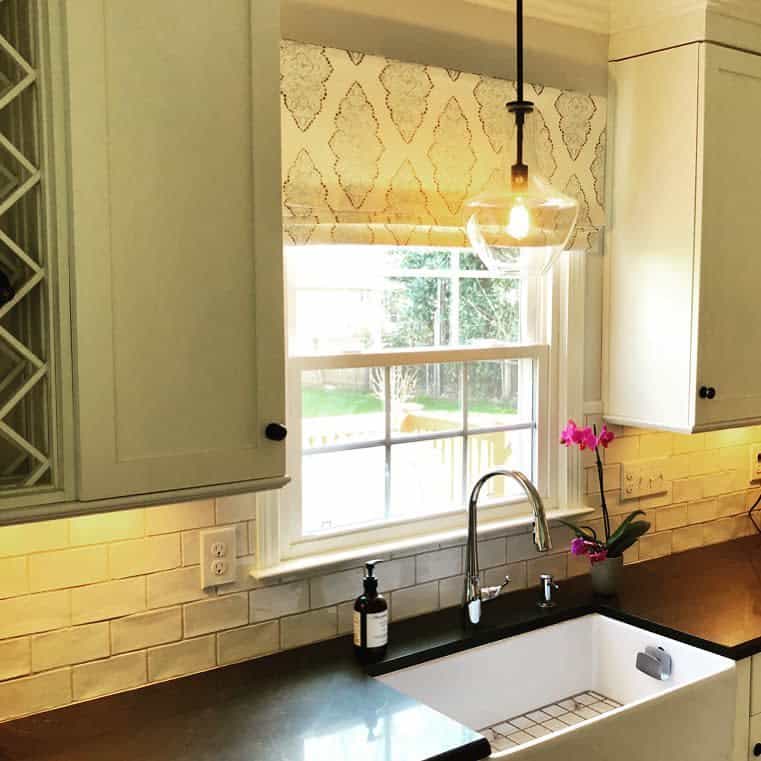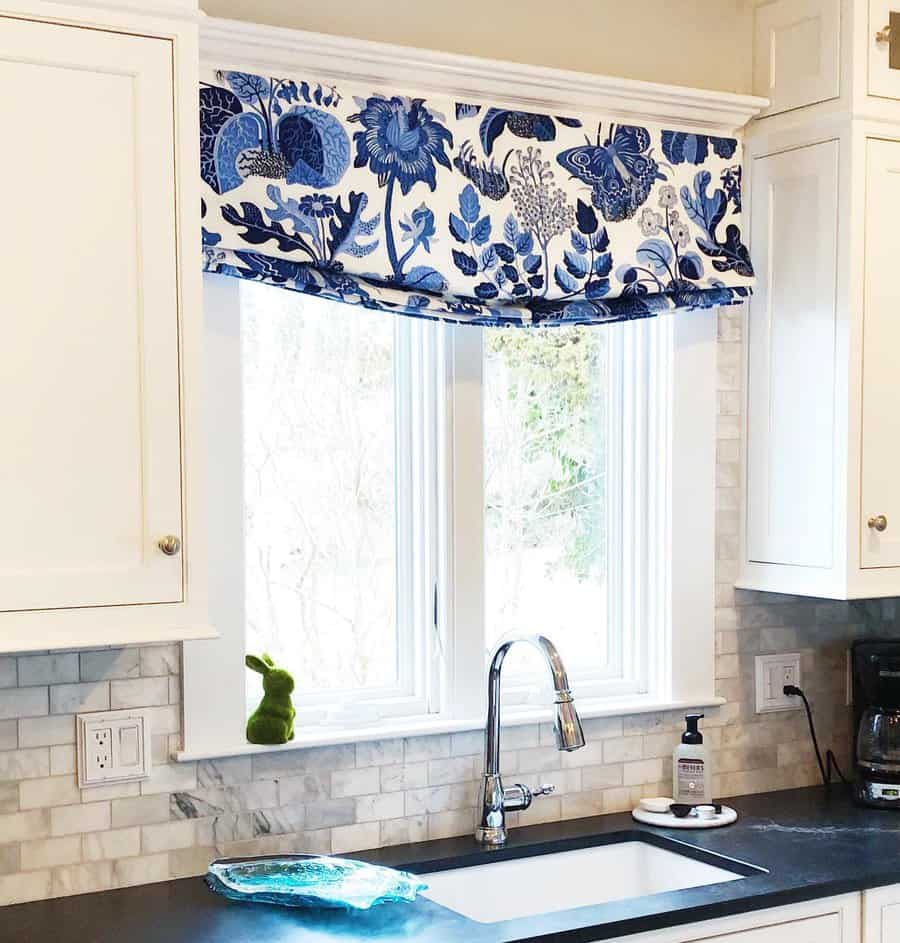 Also called a faux roman shade, fake roman shade, or roman shade valance, these are an attractive decorative window treatment. Its clean, horizontal pleats merge well with most interior design styles.
11. Modern
Modern home interiors celebrate minimalism, so a valance in this type of space should be simple and solid-colored. A simple strip of white, black, or grey fabric that hides miniblind or window shade hardware is enough.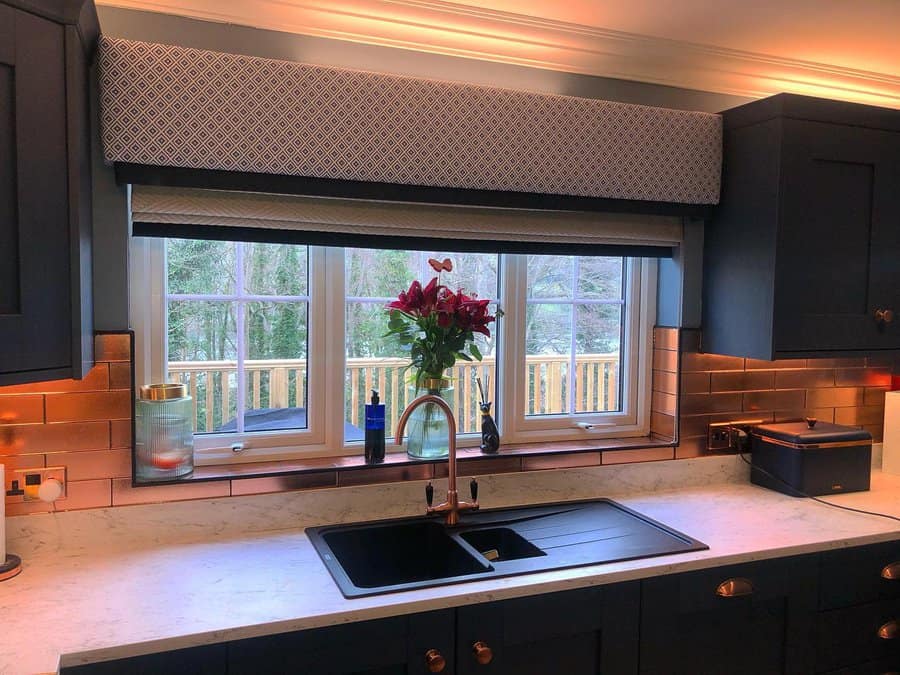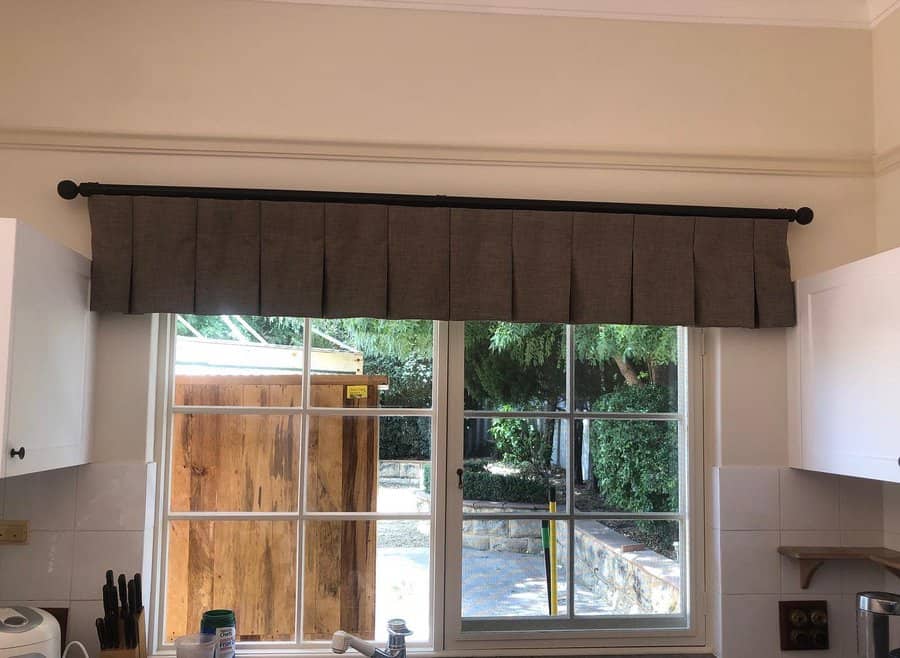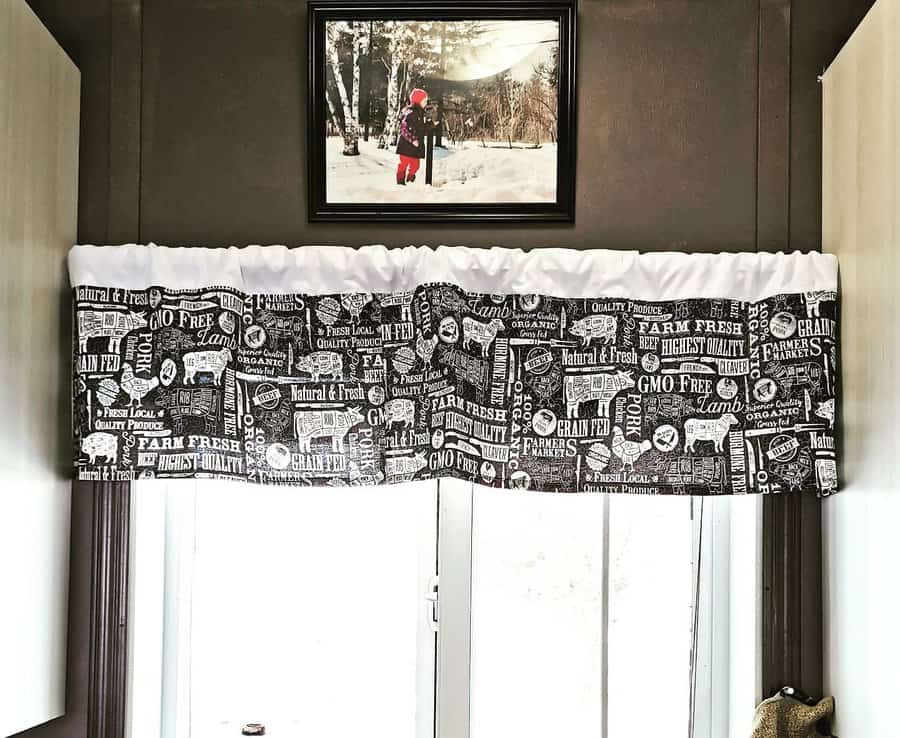 If you feel your modern valance needs some embellishment, keep it simple. Hang it from a brushed nickel curtain rod, or attach a few bronze buttons along the border. Or look for an arched valance in a solid color, to add a different shape while maintaining a modern aesthetic.
12. Pattern
Flowered, striped, plaid, and dotted fabrics have long been used for kitchen window treatments. A delicate toile or cabbage rose print is perfect in a country kitchen while fabric with stripes better suits a traditional cottage.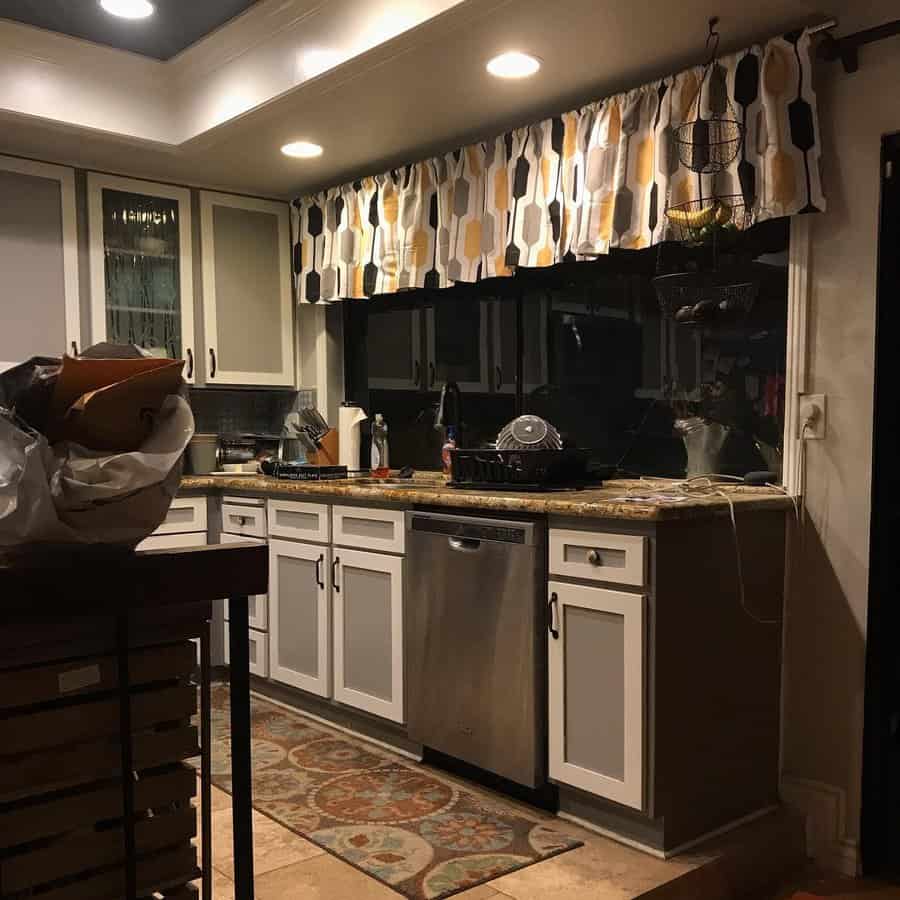 Fabric pattern options are limitless, with options for every style of decorating. White fabric embellished with loose colorful brushstrokes could be perfect in a modern kitchen. Sputnik or space-age prints are ideal on a café curtain/valance duo in a midcentury modern ranch.
13. Pelmet
A pelmet is similar to a cornice in that it's a framework placed above a window or door to conceal curtain hardware. It can be covered in fabric, stained, or painted. They were often installed in European homes to help prevent convection currents.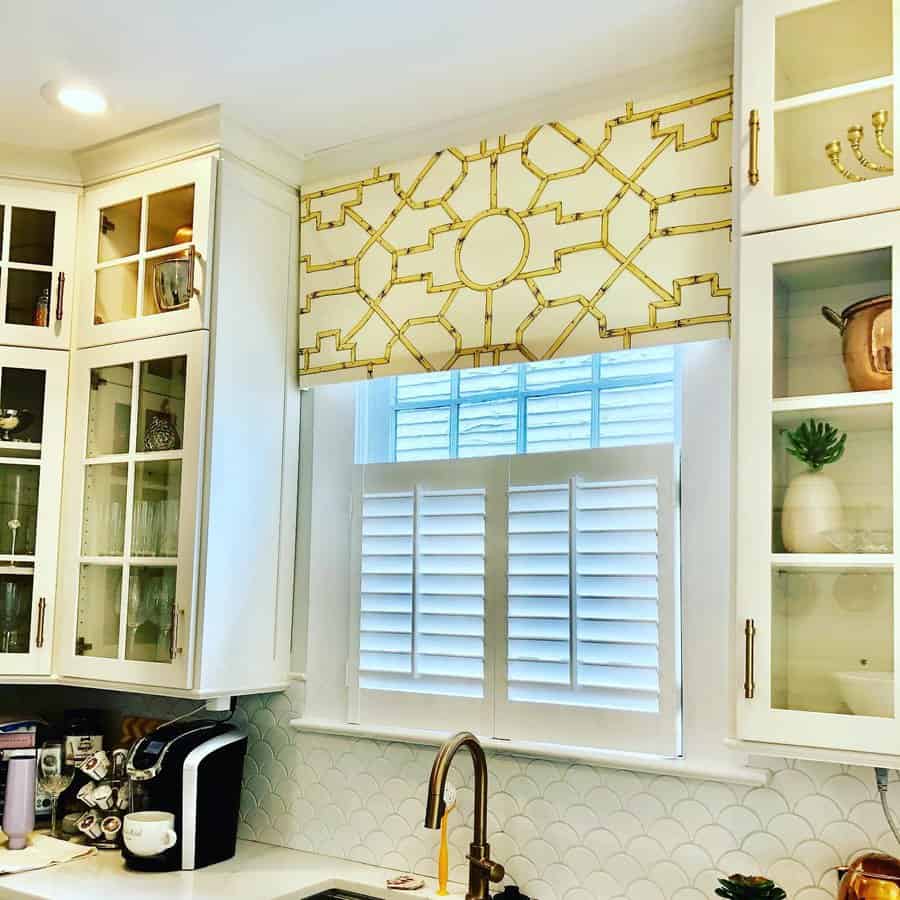 Pelmets usually project further from the wall than a valance or cornice, which may be a look you're after. Because they're made with a sturdy frame, they are good for hiding heavy curtain hardware, such as the kind used to hang blackout curtain or velvet curtain panels.
14. Scalloped
A softly scalloped valance in a floral print is a common fixture in French provincial and English cottage kitchens. Its curved edge adds a nice sense of motion to your window areas.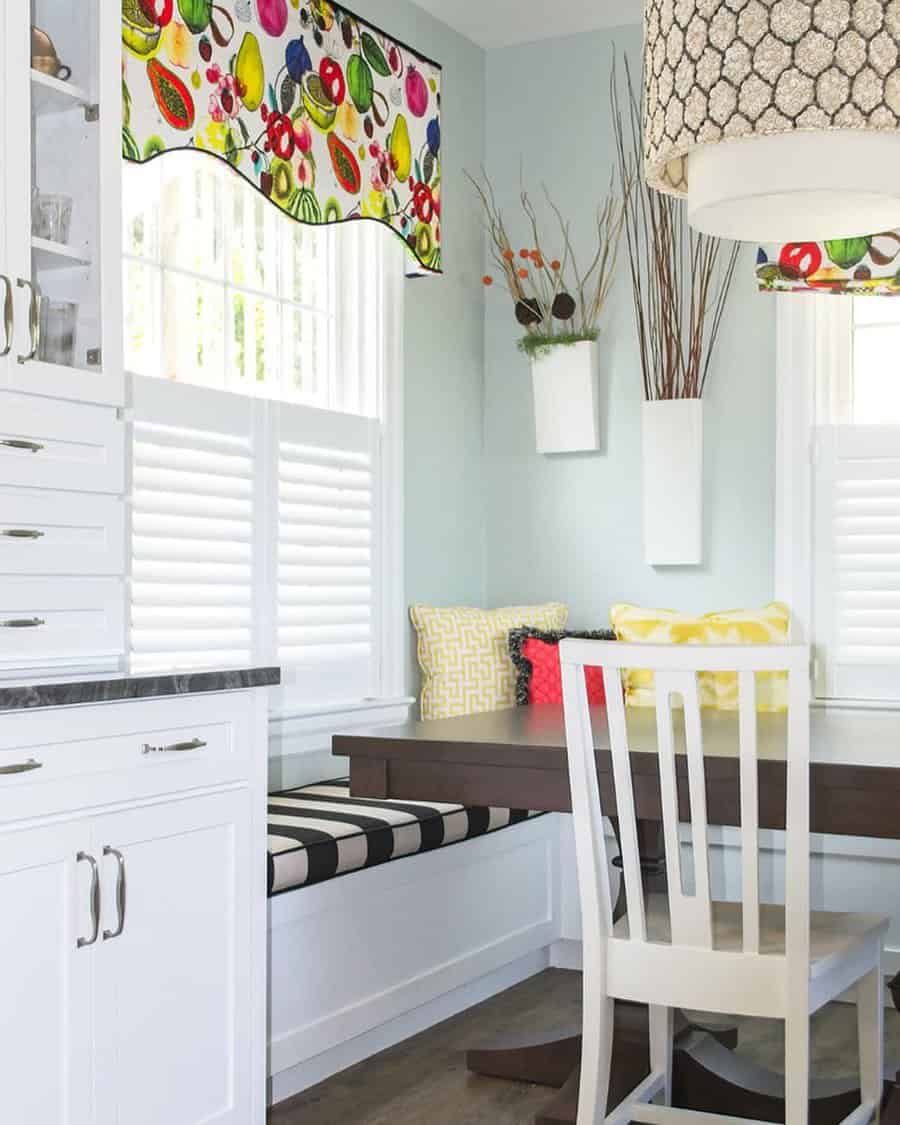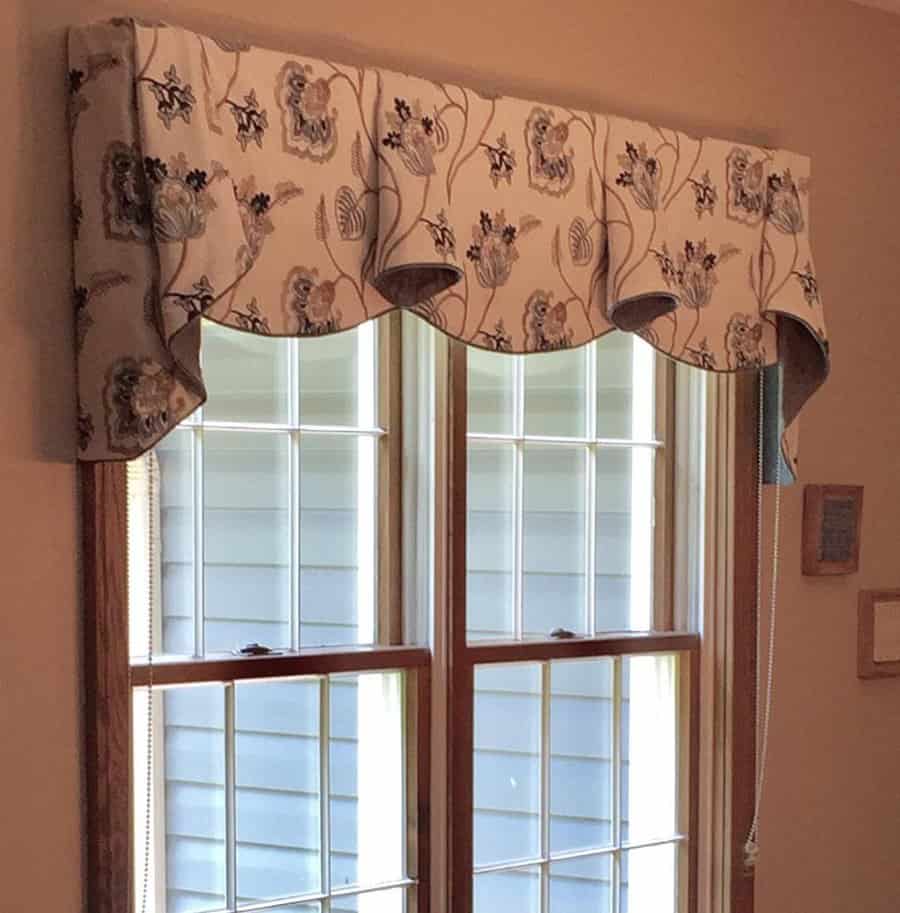 Scalloped edge valances can be left plain or finished with cording or ribbon edges. Tassel or lace borders are also classic embellishments to add to a curvy scalloped valance.
15. Swag
A swag is one of the simplest options for a kitchen valance. Simply drape a length of material over two brackets attached to each side of the window.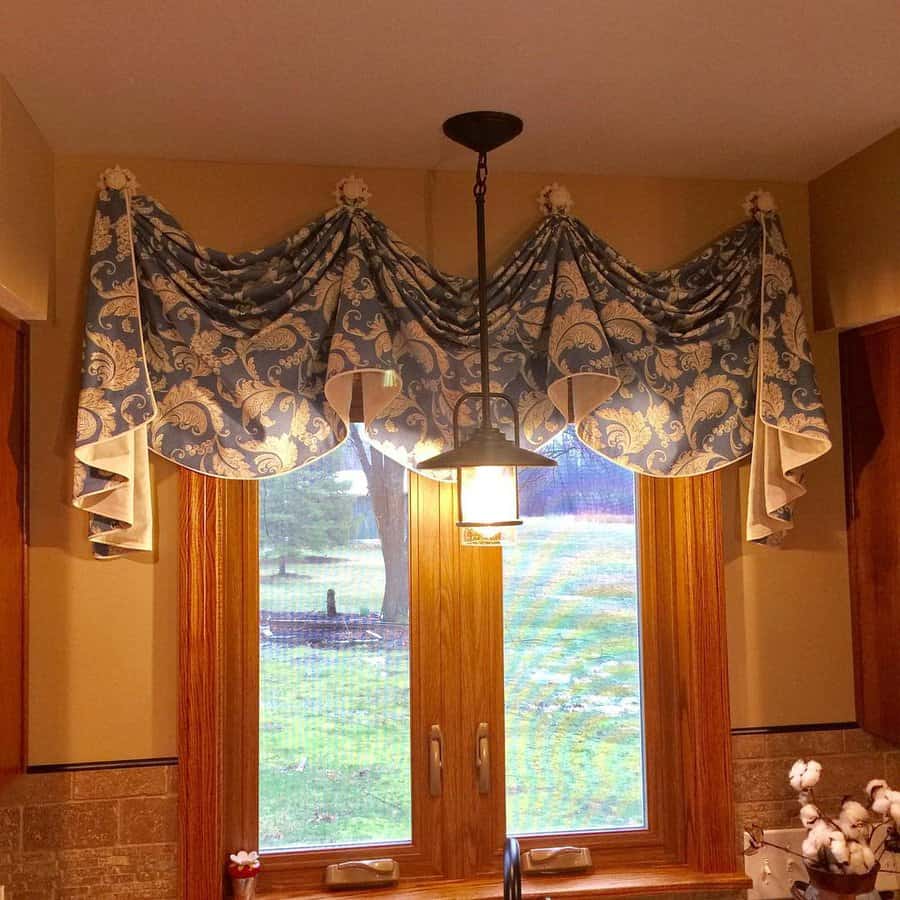 Upcycle a vintage scarf or table runner by turning it into a kitchen window valance. Tulle is another pretty material to drape into a swag when you want a sheer feeling without the details of a lace valance.
Kitchen Valance FAQs
Is a valance out of style?
Window valances are still in style, but current versions of this kitchen window treatment are more tailored than in years past. However, certain home decor styles still support classic window valance ideas, such as hanging an ascot valance in a traditional kitchen.
What is the standard length of a kitchen valance?
A valance should be one-fourth of the window height, plus one inch.