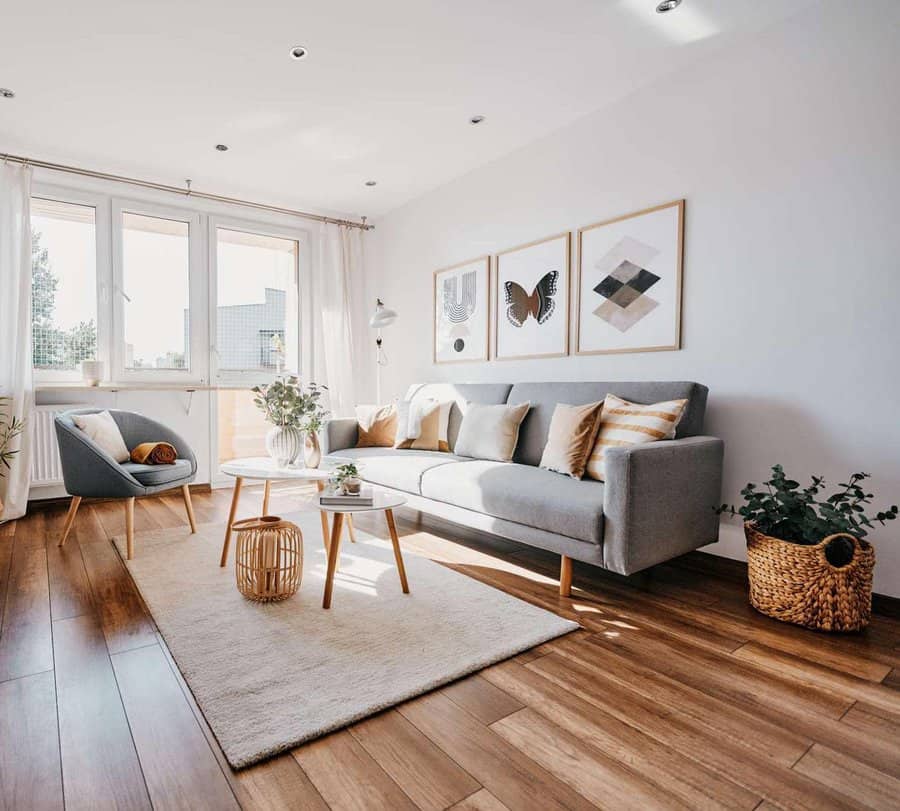 40 Best Living Room Ideas
Your living room is the central point in your home. It is one of the rooms that see the most action. Unlike your laundry room, which is hidden away and rarely seen by guests, your living room is front and center. Because of this, it needs to be presentable, clean, and well decorated. This goes beyond just having living room furniture. Having the right decor takes a boring living room and turns it into a welcoming space that people want to be in. It can help to look at decorating ideas to get an idea of what you want your living room to look like. Check out these living room decor ideas and get inspired to add decor to your living room.
1. Follow A Moodboard
Creating a themed living room can be a challenging yet fulfilling task. The key to an interesting and successful space is consistency. Initially, create a mood board of colors and patterns that evoke the bohemian look, for instance, thinking carefully about how they will be incorporated into the space.
Utilize accent pieces such as handmade throw pillows, woven rugs, and wall hangings to tie in their theme. For additional coziness, hang string lights or place glass-beaded curtains at windows to filter light and bring a subtle bit of glamour without detracting from the main decor.
Finish off with some potted houseplants around the room to refine the bohemian profile even more.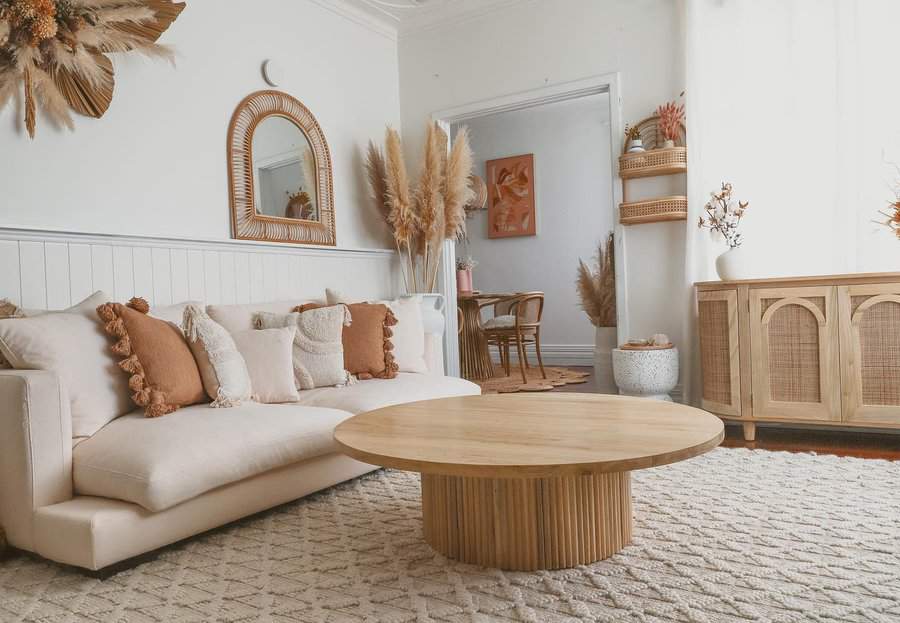 2. Incorporate Plants Into Your Space
Transform your living room into a lush and inviting space with wall-hanging plants, potted plants, an indoor trellis, and some cozy macrame. These touches of nature create a tranquil environment sure to bring relaxation and serenity to your home.
The wall-hanging plants provide a soft and airy atmosphere, while potted plants bring life and energy through their bright green hues and delightful foliage.
For something extra special, incorporate an indoor trellis on the wall for more flourishing greenery to be added, wrapped in whimsical wall hangings. Instantly refresh your living room by infusing it with seven-minute elements!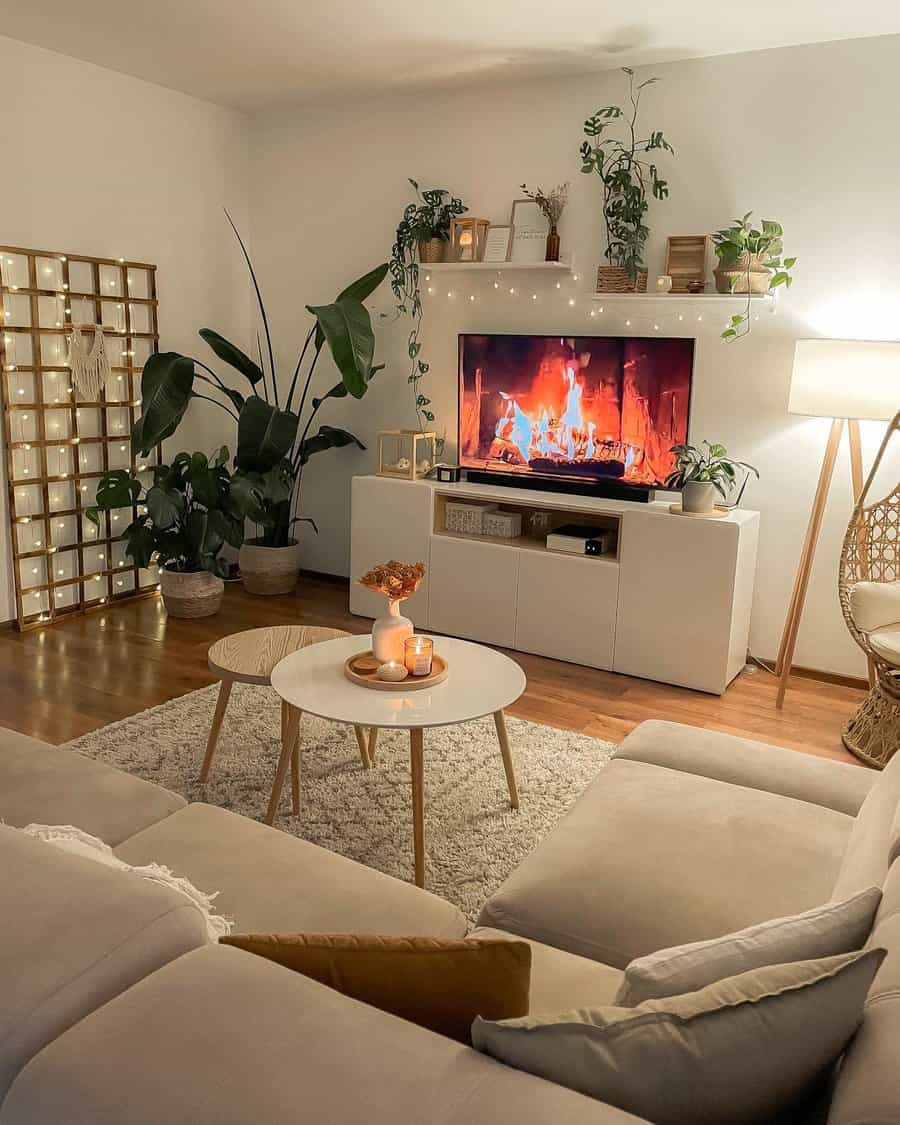 3. Set The Vibe With Statement Pieces
When it comes to transforming a living room, one statement piece like a pendant lamp or an art mirror often proves enough to lift the overall atmosphere. Consider the colors of your walls and furniture as a guideline for picking one that complements the space.
It might just be one item that makes all the difference – after all, one central feature will draw people's attention first when they enter your home.
The ability to choose wisely is key – one thoughtfully placed product can elevate the entire look of your living room with relatively little effort and cost involved.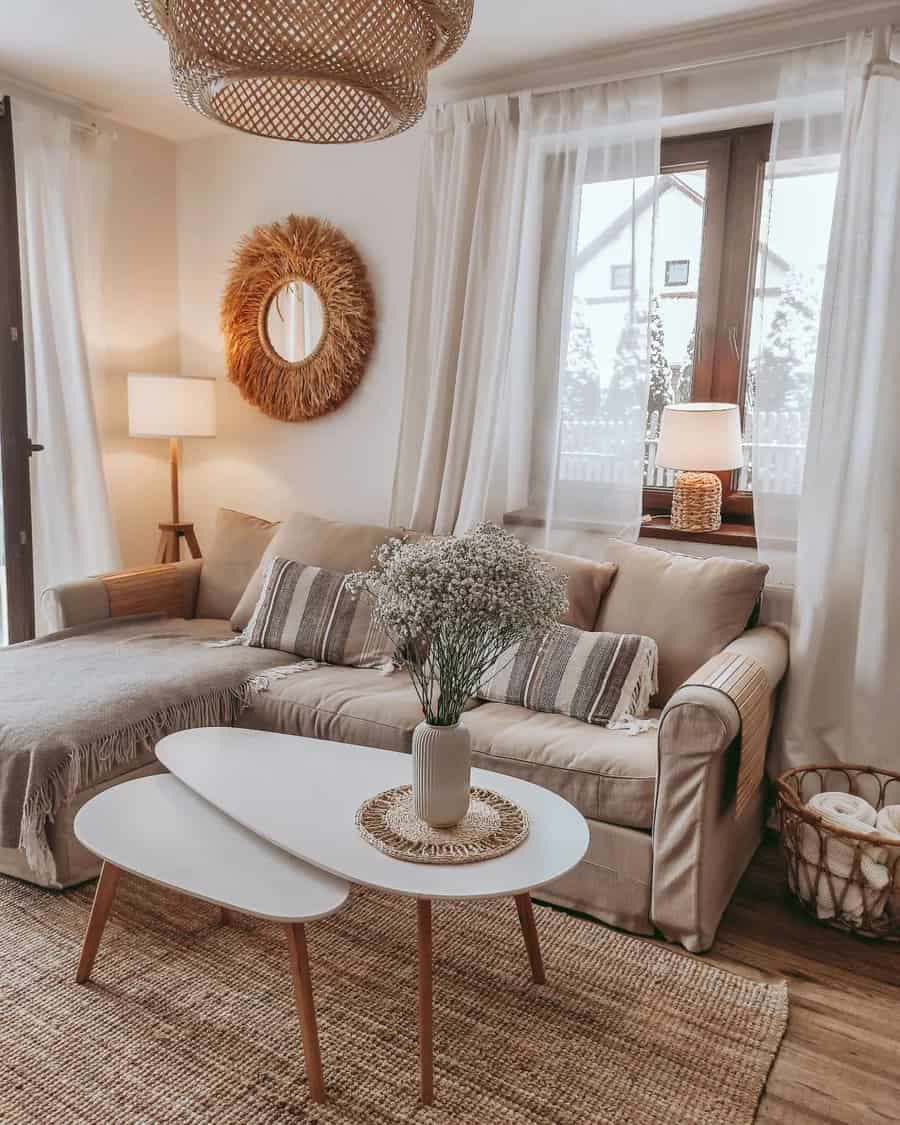 4. Keep It Bright
When it comes to decorating the living room, choose soft or white elements in order to keep the space feeling light and airy. White reflects light and helps enhance a sense of spaciousness so that the room feels bright and inviting.
If you need to inject some color choose accents or art pieces that will create a focal point, to draw the eye but also maintain a calming overall atmosphere that is conducive to relaxation.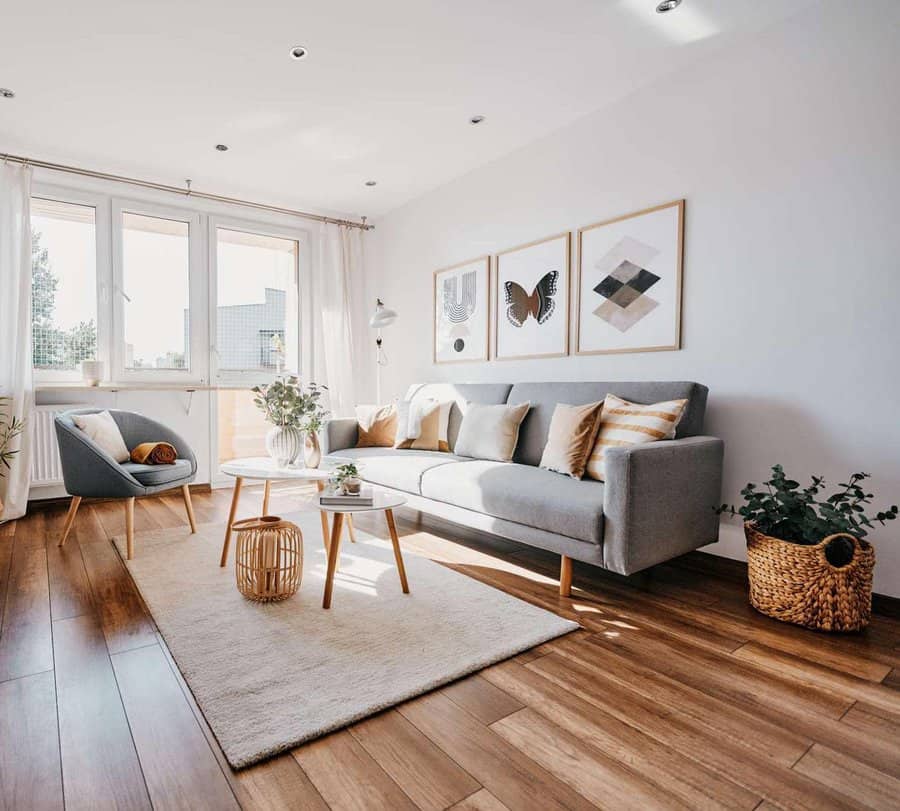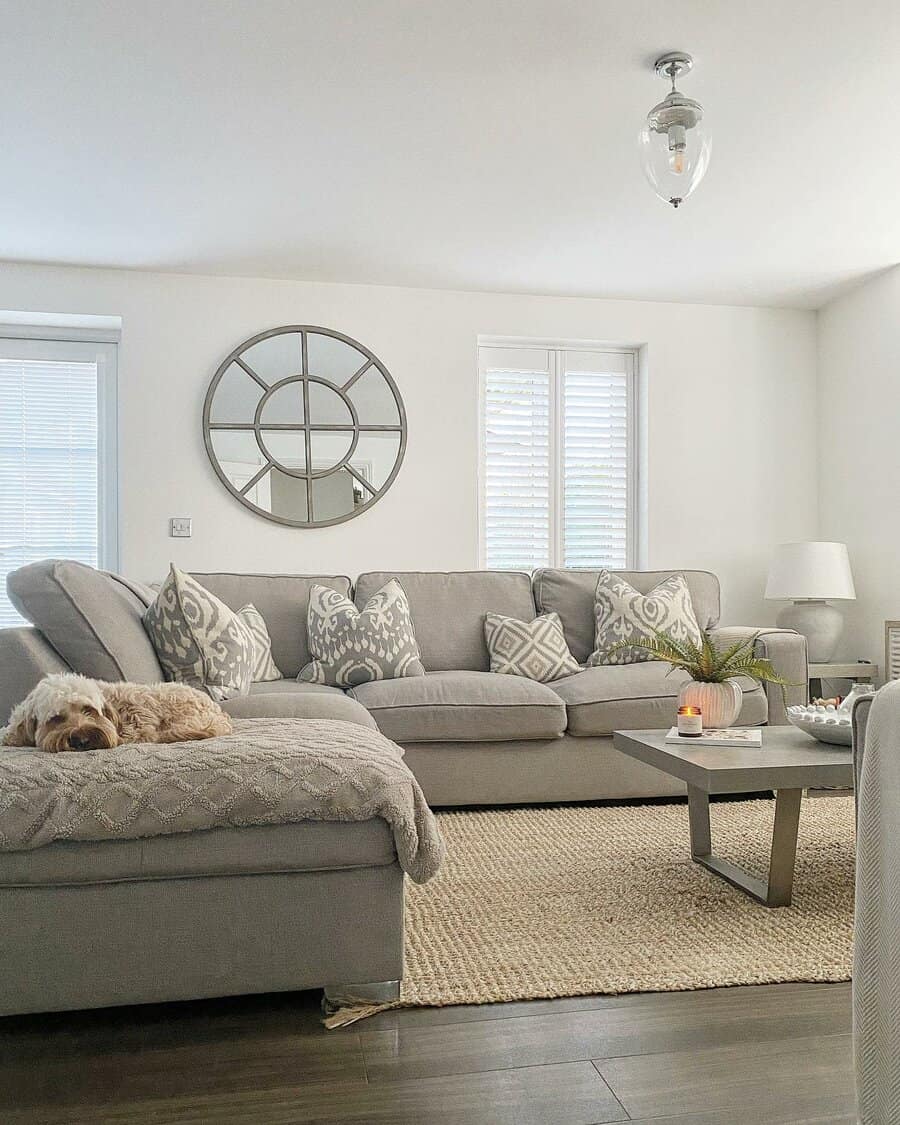 5. Go Boho
Creating a rustic boho living room is easier than ever with the range of easy DIY solutions available. From hanging macrame wall weavings and baskets to creating a warm and inviting sitting area with rustic cushions and throw blankets, there are so many simple ways to embrace rustic interior design without going over budget.
Add pops of color by hanging prints or adding statement objet d'art like vintage pottery. By upcycling furniture and mixing modern pieces with rustic touches, you can create an inviting boho-chic living room that is unique to you.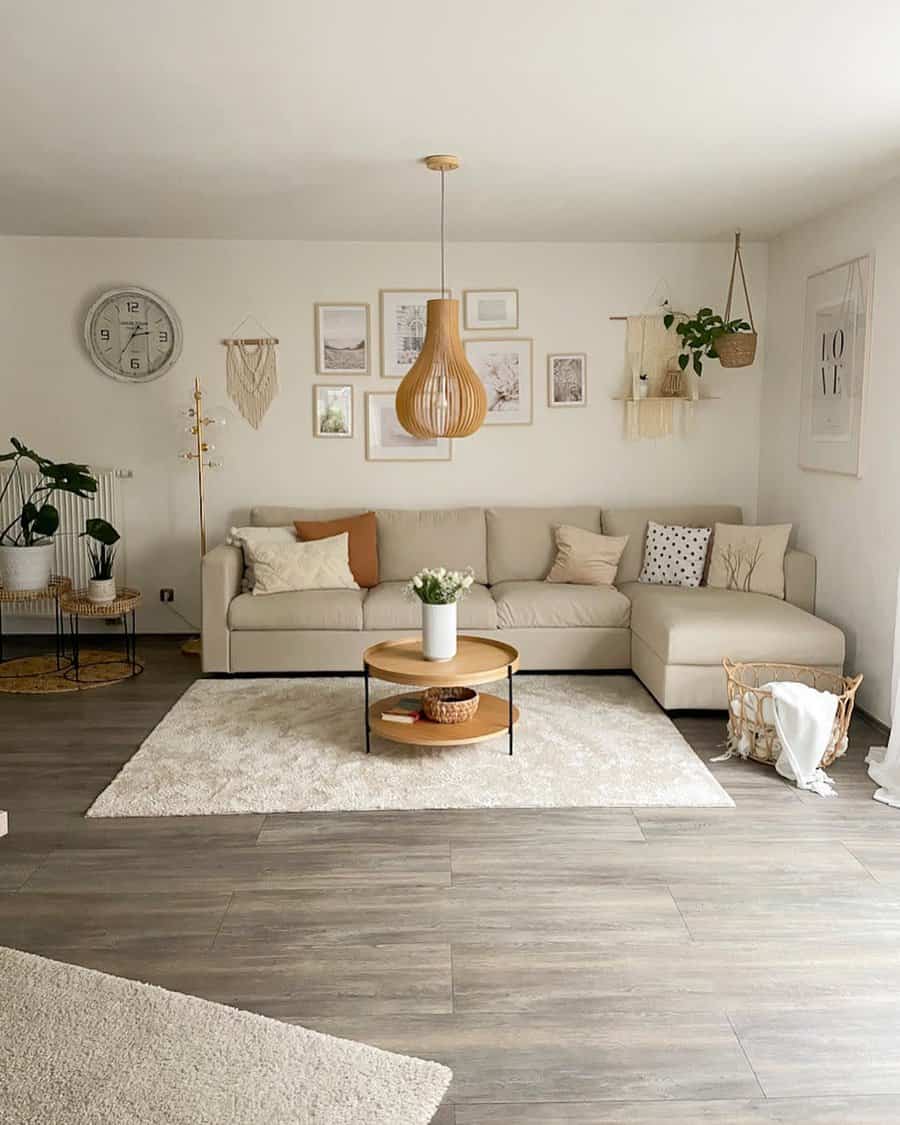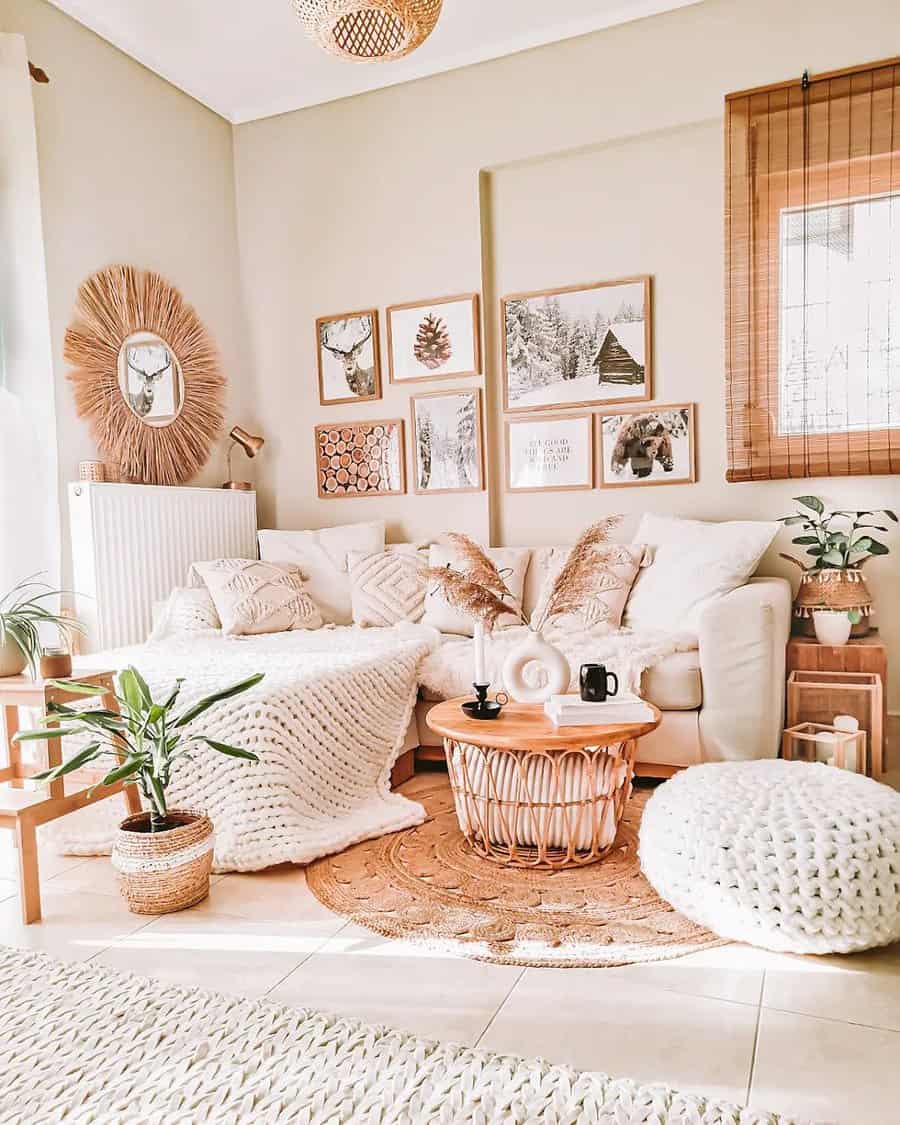 6. Make A Cozy Sanctuary
When it comes to decorating a cozy living room, add blankets to add both warmth and texture. Choose soft, inviting blankets in complementary colors that add visual interest and provide warmth when the weather outside turns cold. Use sturdy, colorfast fabric like wool or cotton and add pops of texture with interesting stitches or patterns.
Make sure you have enough lift-able pillows on hand in case friends drop by – upholstered ottomans also make great seating when trying to squeeze in an extra person!
Curl up with your favorite book while wrapped in one of your cozy blankets and enjoy your newly decorated living room!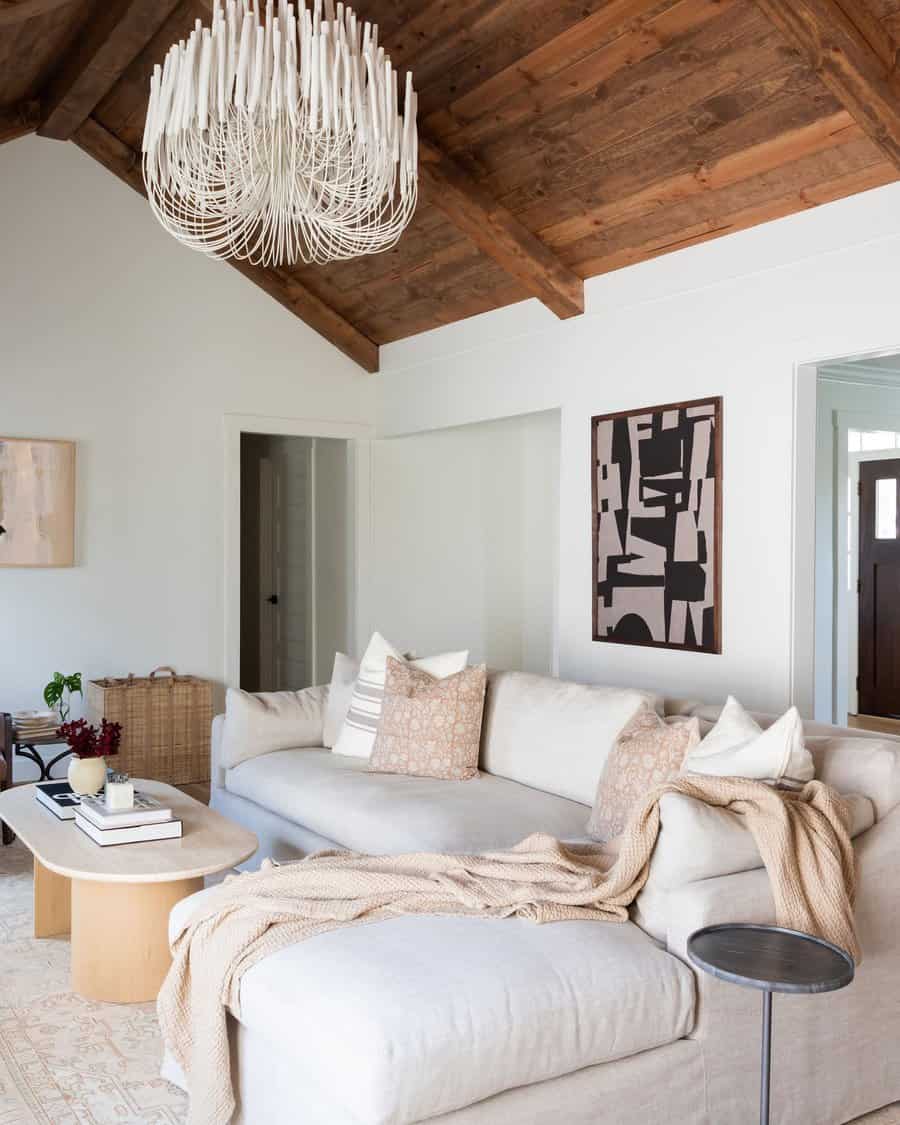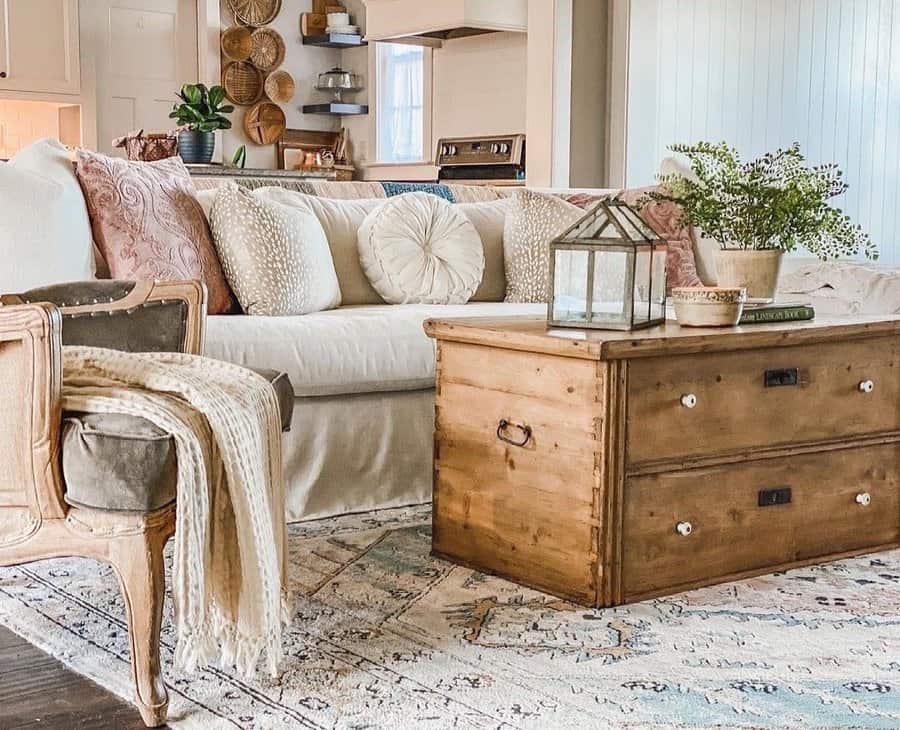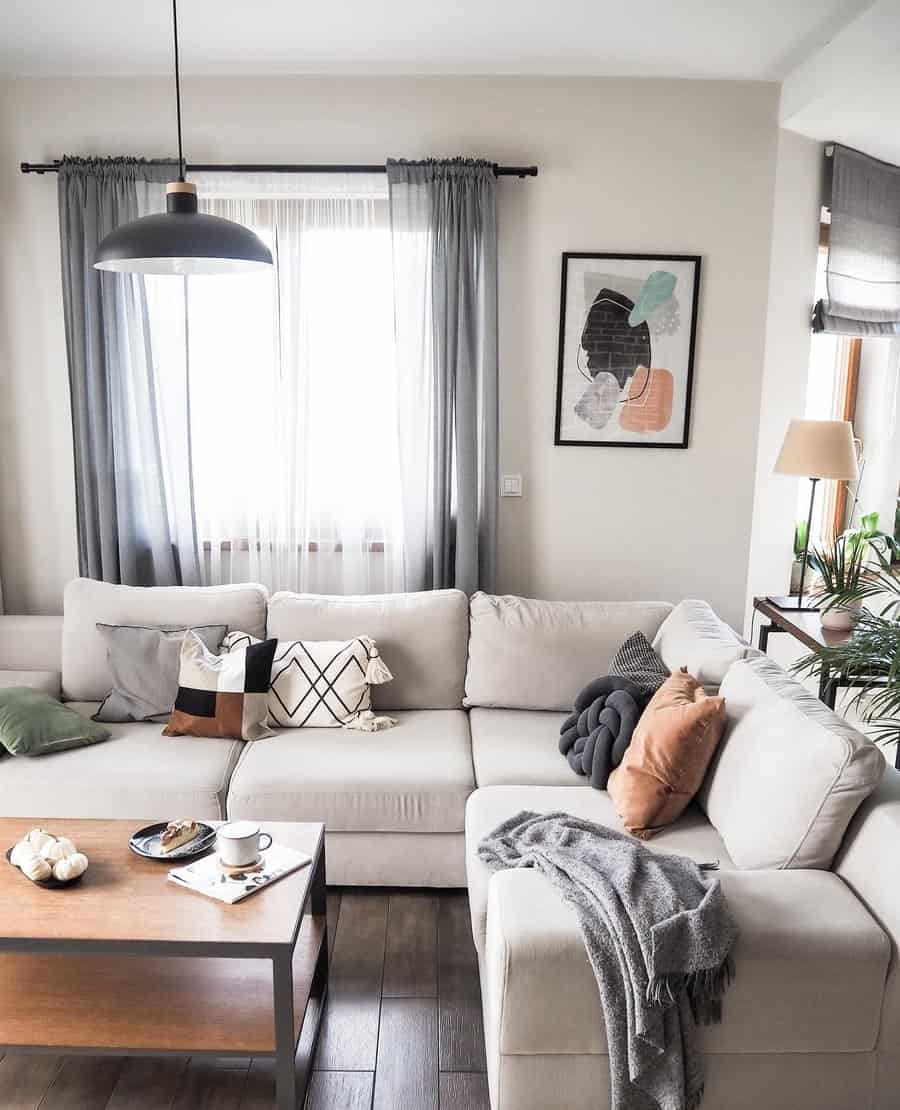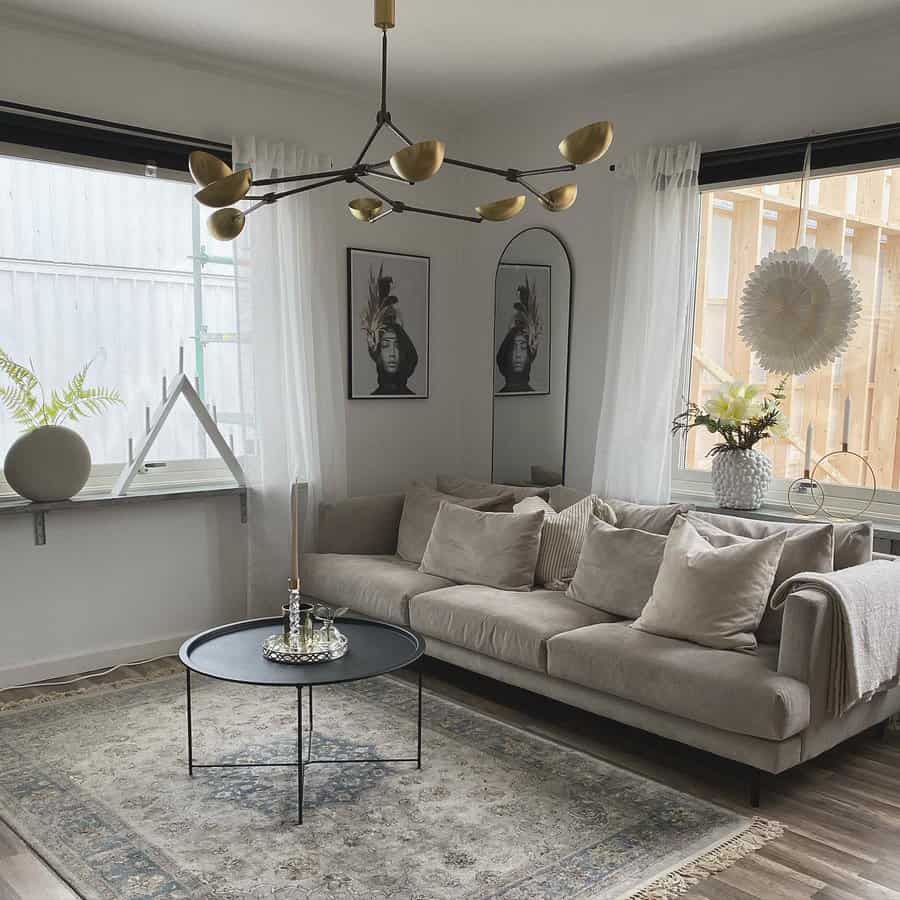 7. Be Creative With Wallpaper
Adding printed wallpaper to your living room can be a creative and budget-friendly way to make a statement. Whether you choose a subtle pattern or an eye-catching print, the texture of printed wallpaper instantly livens up the atmosphere of any space.
Plus, it can add depth to your decor when used as an accent. Feel free to experiment with print on print for a layered look that's sure to impress – just make sure whatever colors and patterns you choose to harmonize well together.
With printed wallpaper, you can create an inviting ambiance that is completely unique in your space!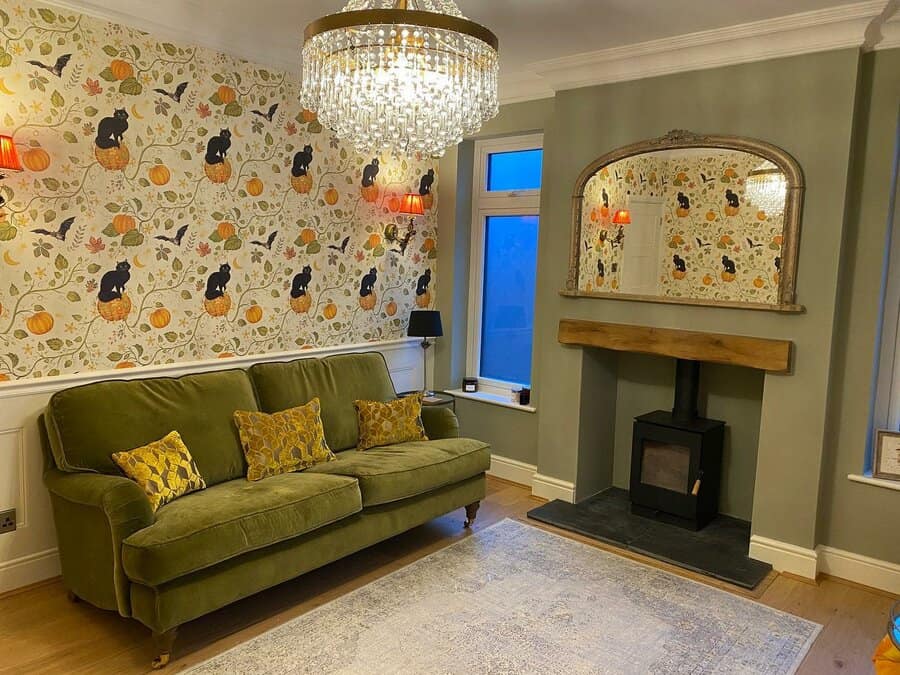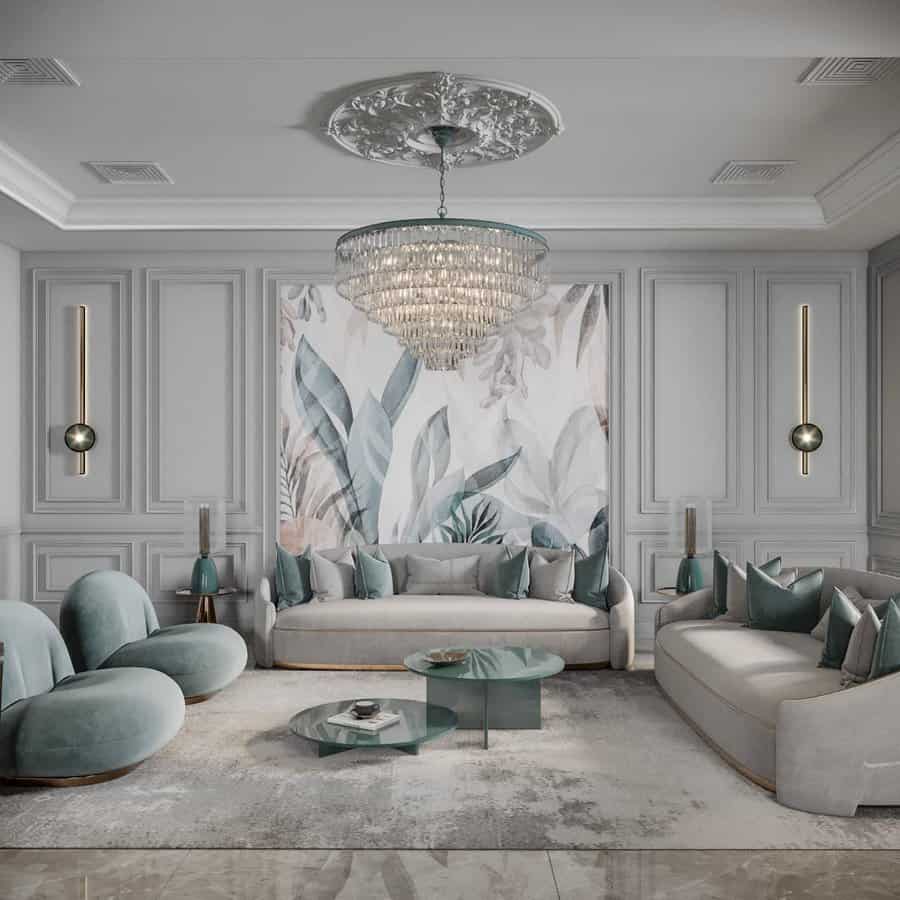 8. Install A Functional Fireplace
Creating a living room around a functional fireplace adds a cozy vibe perfect for those long winter evenings. Whether you're curling up with the family to watch a movie or enjoying some quiet time with a good book, the fire adds both warmth and ambiance.
The dancing flames provide an inviting centerpiece that commands attention while it adds to the atmosphere of comfort. With accent pieces to match your style and subtle lighting to soften the space, your fireplace can be a focal point in your home while it keeps you warm all through the cold months!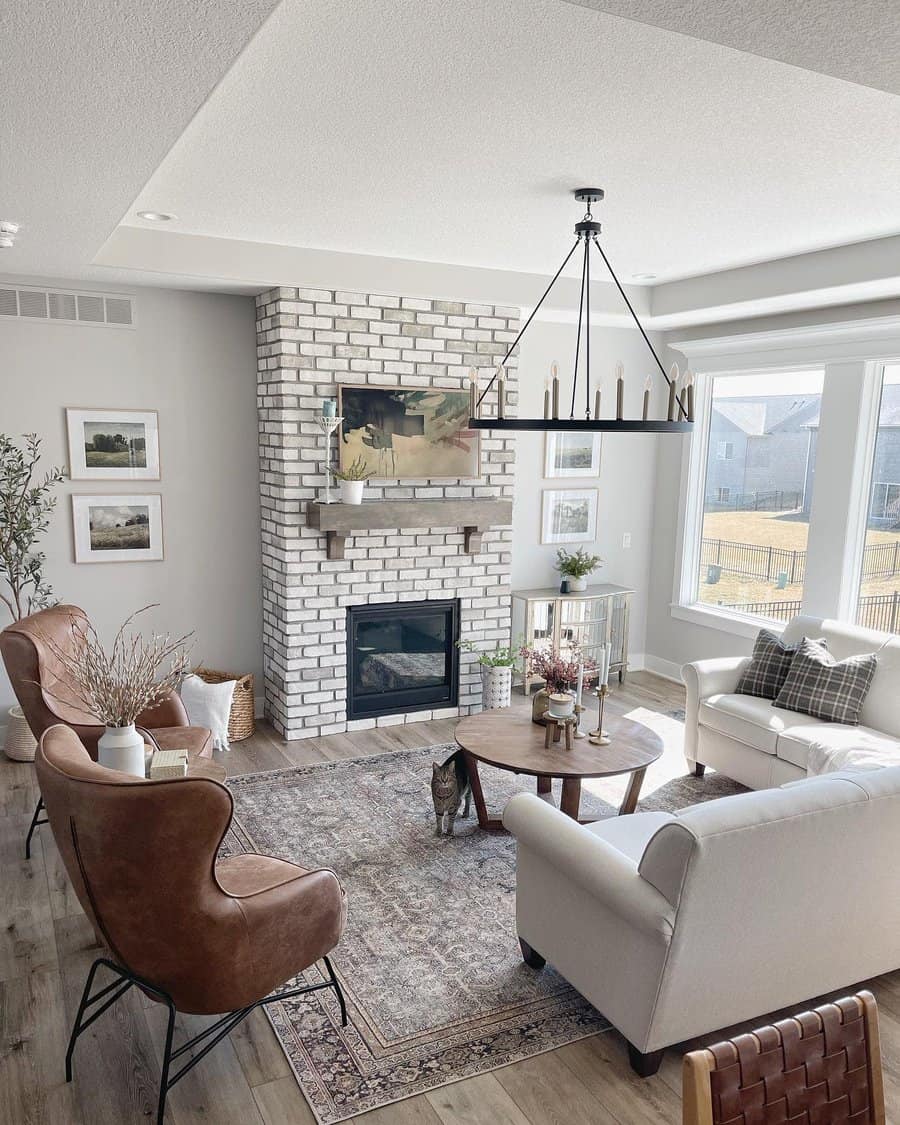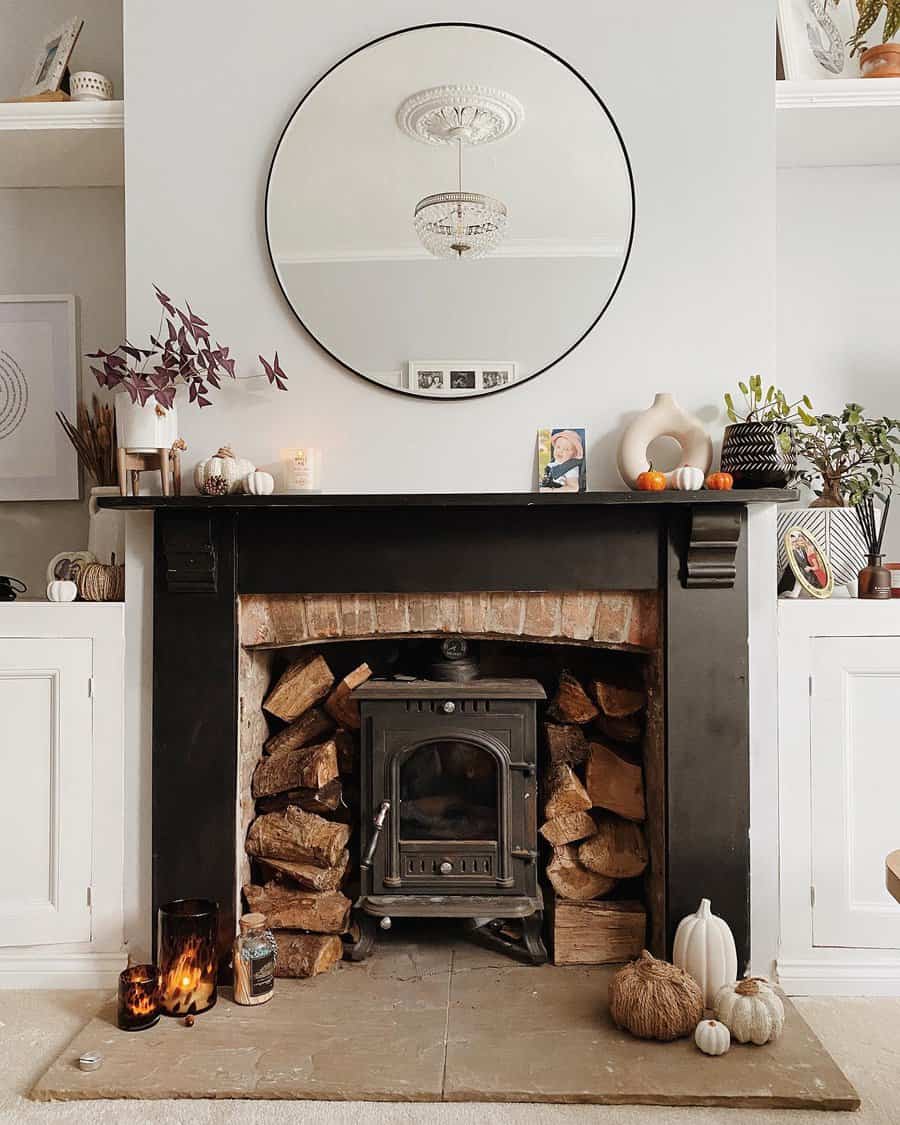 9. Opt For Textured Concrete Walls For A Brutalist Look
Creating a living room with textured concrete walls and a brutalist interior is the perfect way to make a strong style statement without spending a fortune. An increasingly popular choice in modern home decor, textured concrete walls are an affordable and versatile way to add texture and warmth to any living space.
This earthy material also pairs well with minimalist furniture pieces, giving the room an elegant touch of minimalism.
Complete your look by adding clean lines, natural lighting sources, and unique textiles for that unique brutalist vibe. Before you know it, you'll have a luxe yet inviting atmosphere in your own living room!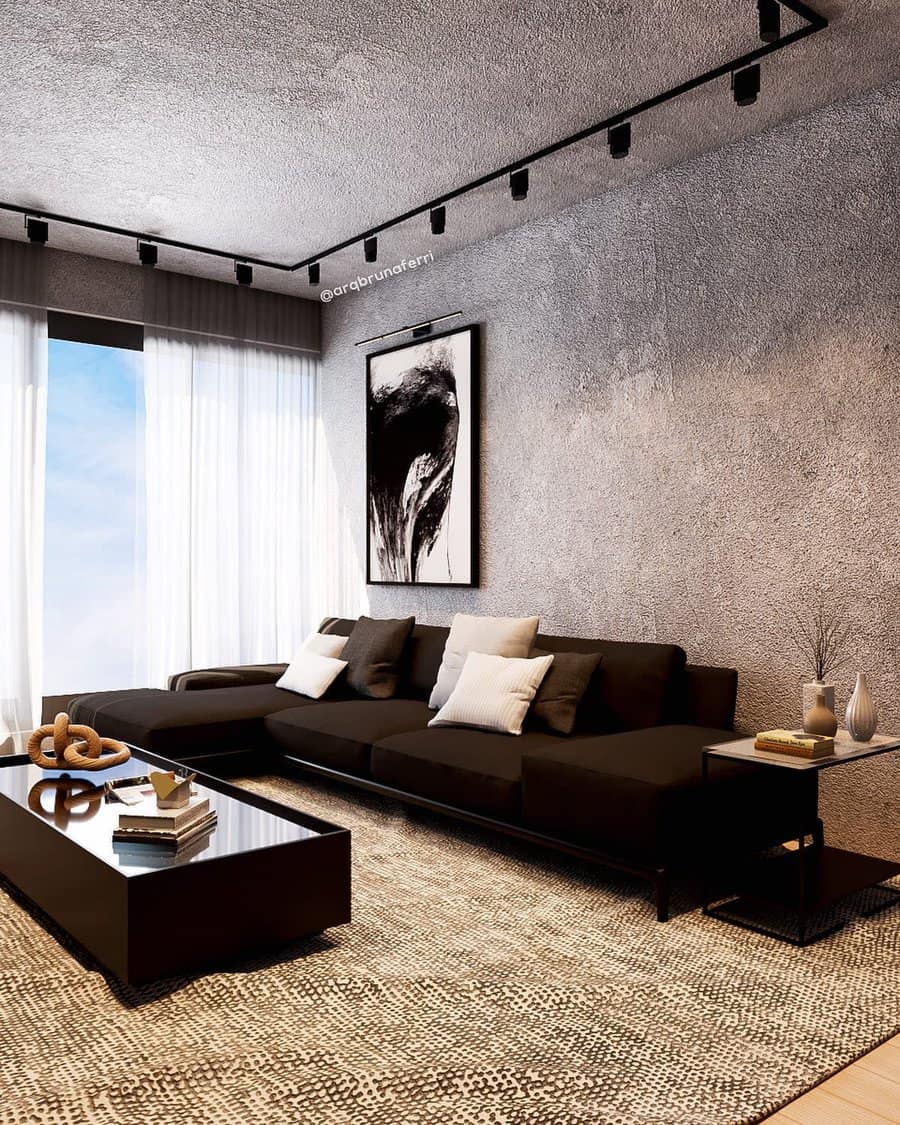 10. Get A Cabinet Stand For Your TV Set
For anyone who is looking to add a touch of chic style with plenty of storage to their living room, a TV cabinet stand is a perfect choice. This piece adds texture and interest to any room while providing useful storage space for any items that need organizing.
Whether you use it as a television stand, bookshelf, or accent piece in your living room, this item adds an eye-catching, multi-functional touch that will be sure to wow your guests.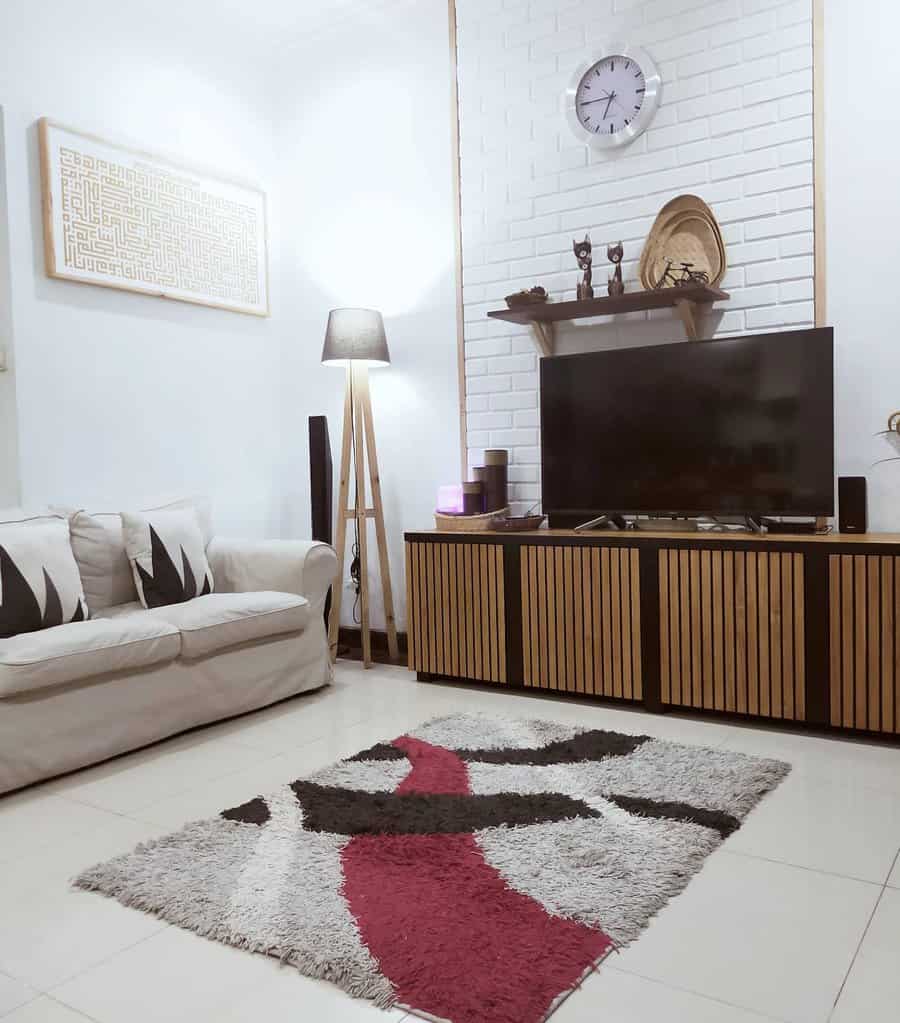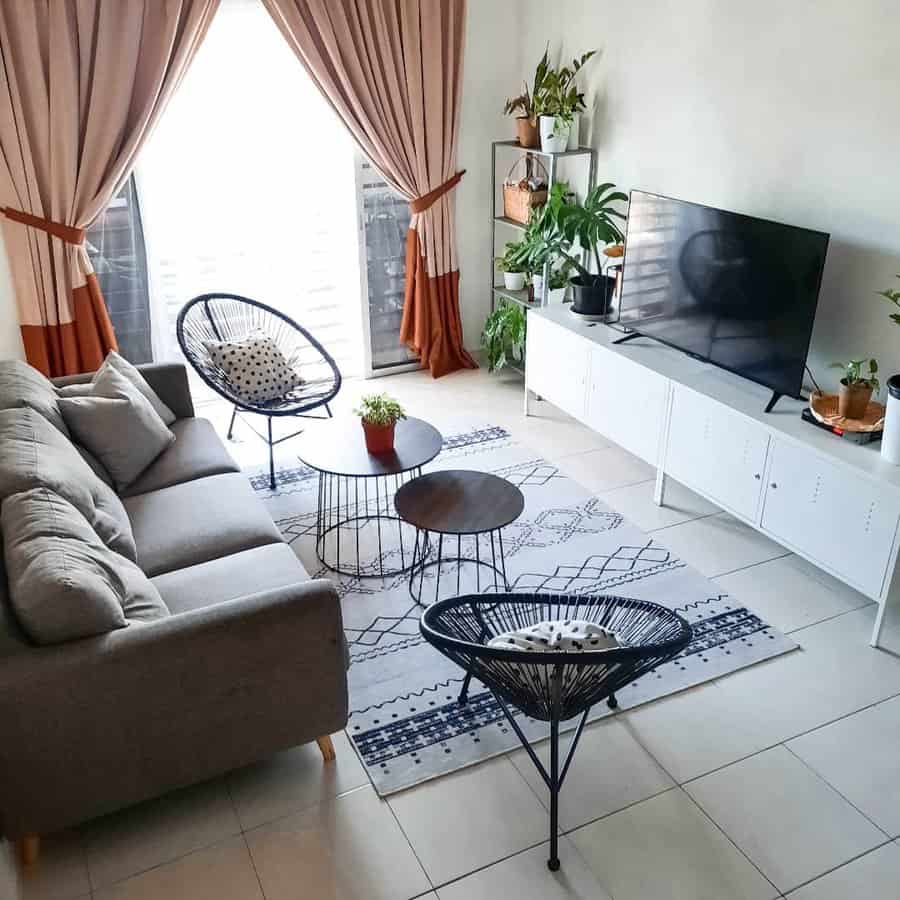 11. Incorporate Mirrors
Mirrors bring a unique, creative atmosphere to any living space. Not only can a mirror add dimension and an illusion of a bigger space, but it adds personality and a sparkle of style. Whether ornate and antique or sleek and modern, working carefully chosen mirrors into your decor scheme adds interest, intrigue, and character – without even having to lift a paintbrush!
Place them strategically around the living room for maximum impact or go small with mini mirrors tucked among ornaments on shelves – either way, you cannot go wrong when adding elegant mirrors to any living space.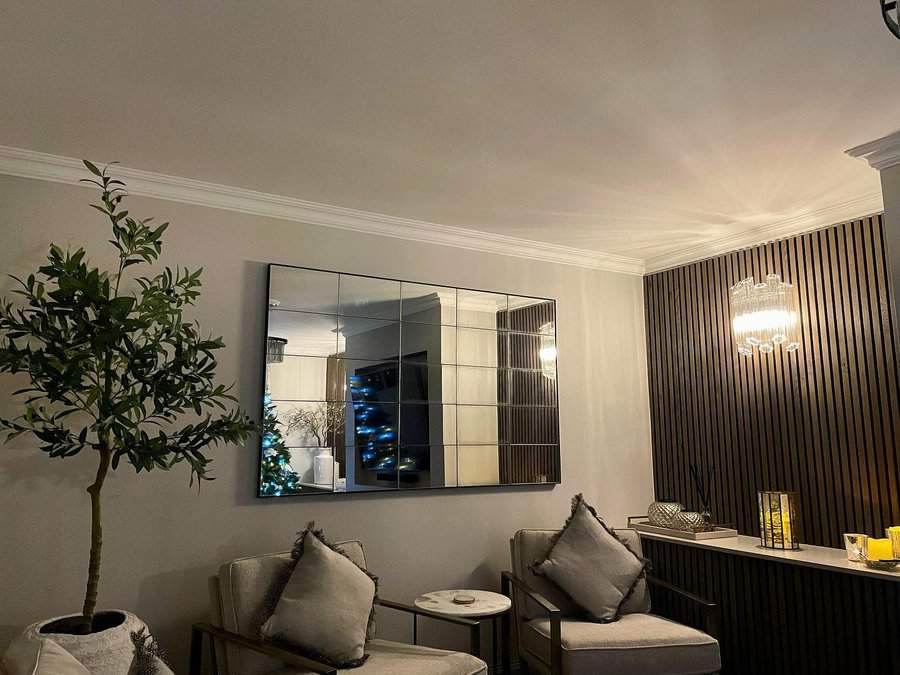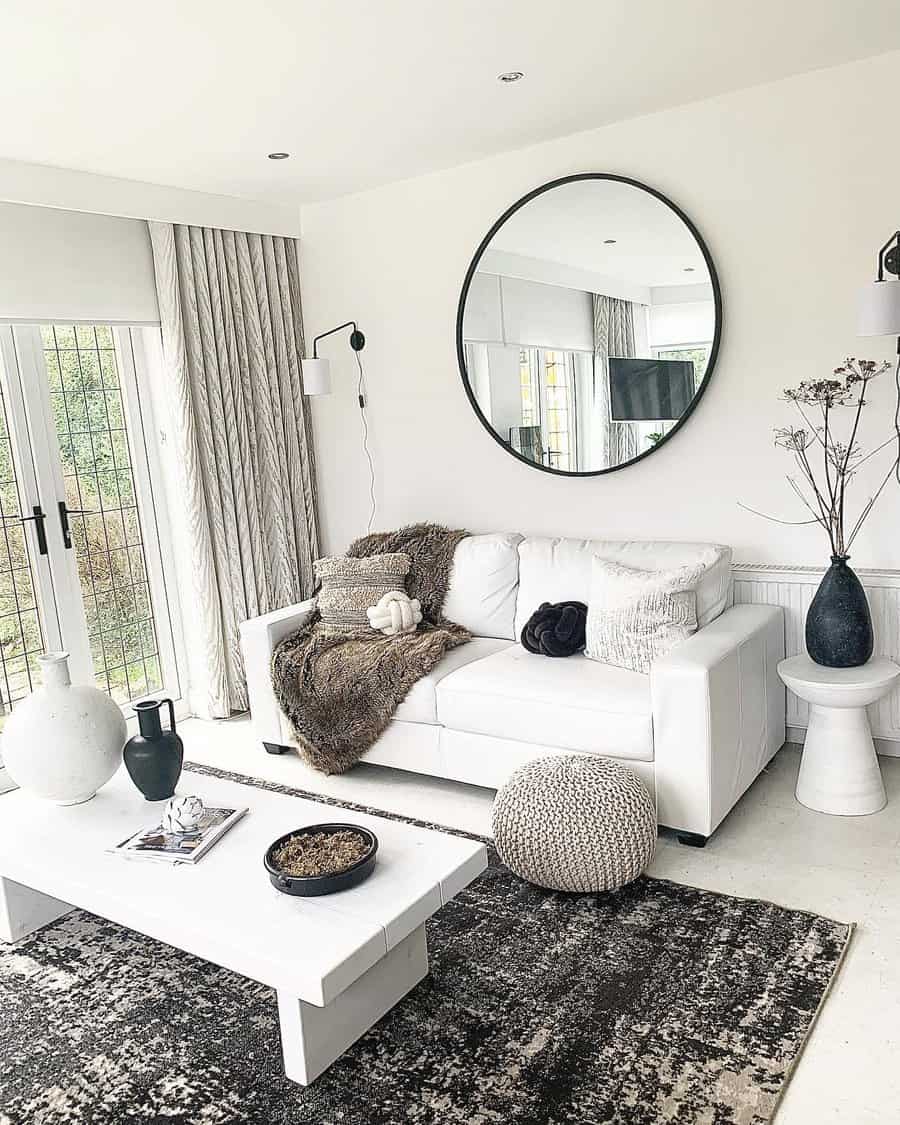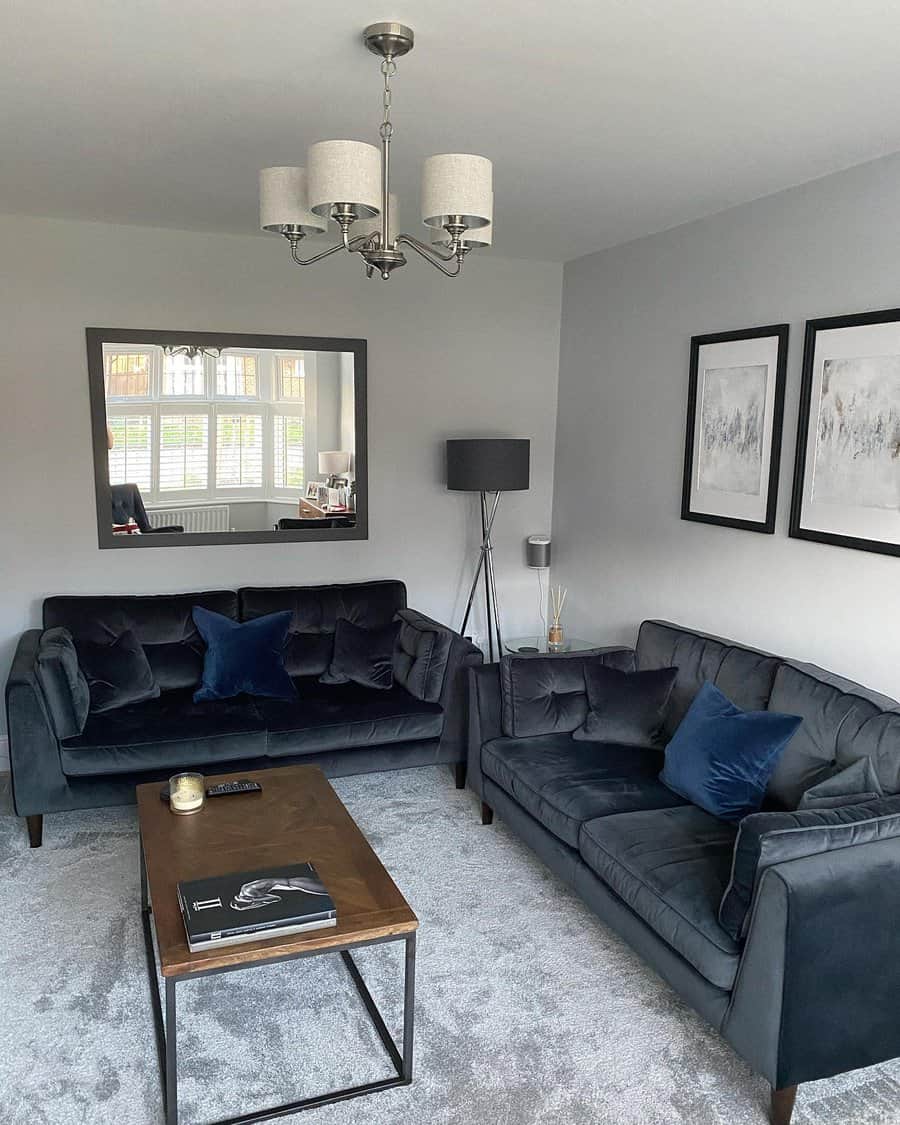 12. Install Full-length Glass Doors
Living room decor with full-length glass doors lets natural light pour into the space, creating a bright and cheery atmosphere. If you want to control the level of sunlight entering the room through these glass doors without sacrificing aesthetics, you can invest in drop curtains or other types of non-traditional window coverings that make a statement while providing flexibility when it comes to managing privacy and light exposure.
With the right mix of materials, this creative solution can add texture, pattern, and color to bring new life to your living area.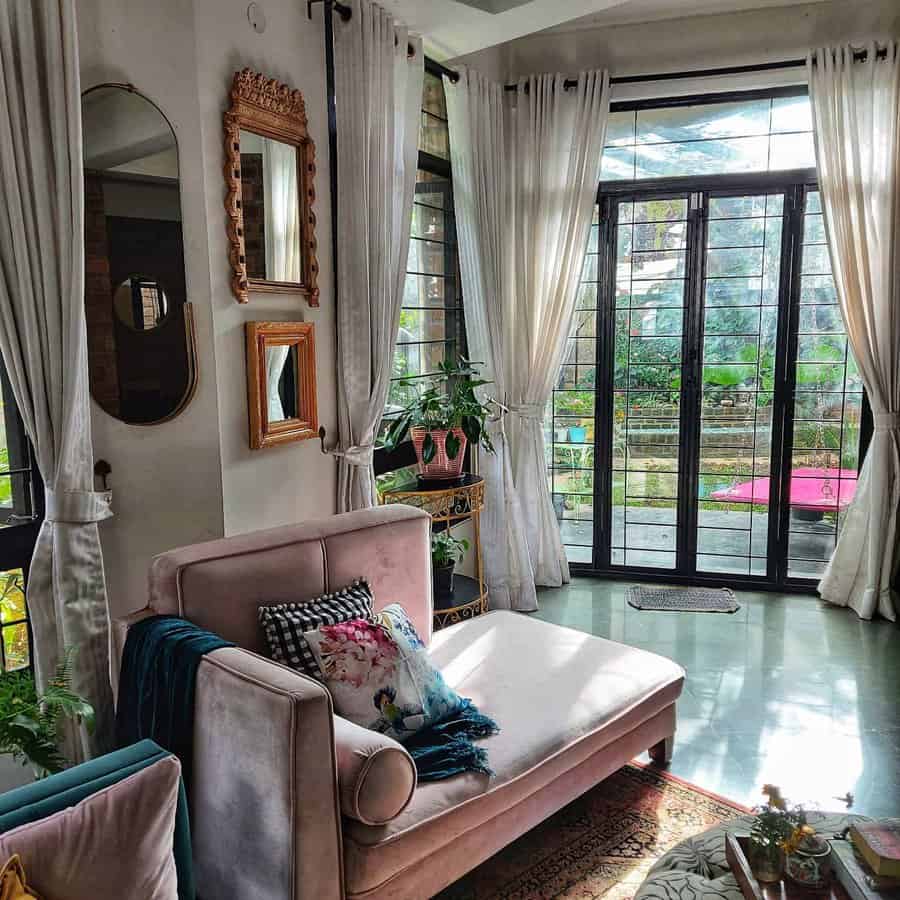 13. Assemble A TV Wall With LED Lights
Transform your living room into a bewitching television area with a creative wall featuring LED lights. Choose an accent wallpaper or one that adds texture to make it stand out among the rest of the decorations.
Add contrasting colors or go with the traditional beiges and neutrals for a warm yet engaging atmosphere. Finish by adding different tones of lighting and you will be amazed at the transformation from ordinary to extraordinary!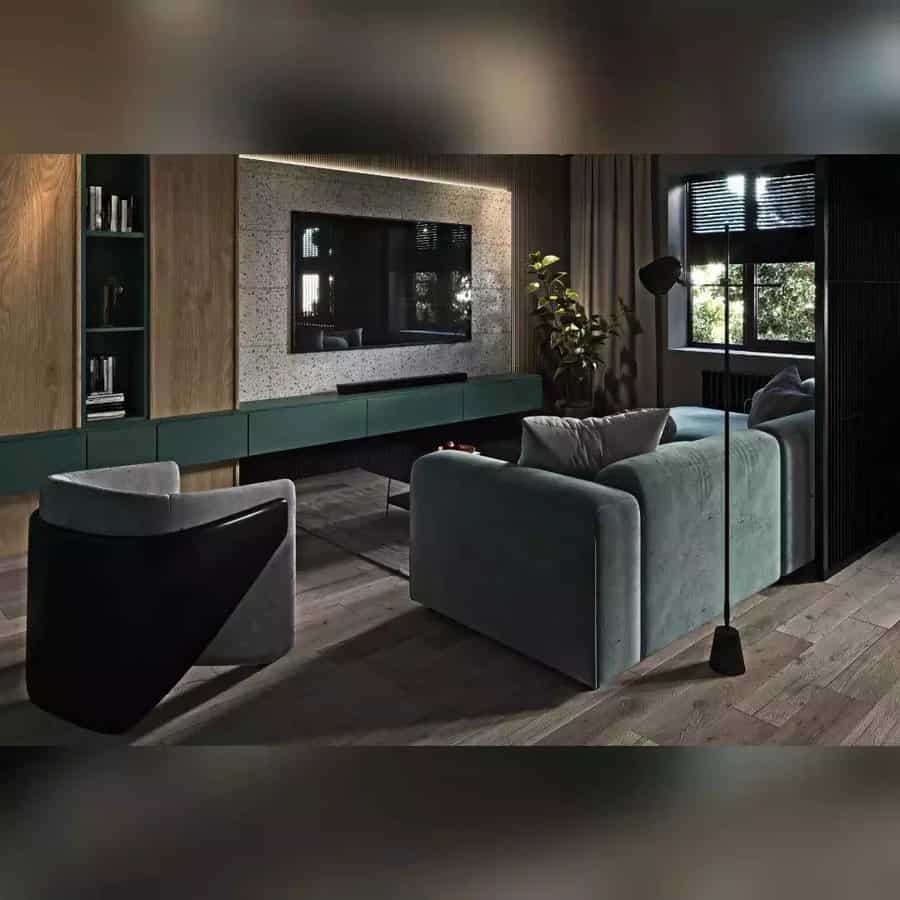 14. Add A Homey Rug
Adding a rug to your living room can help bring homey vibes without too much effort. It adds charm and is an excellent way to tie together the other pieces of furniture you have in the space. Distressed rugs with soft neutrals or bright colors will bring warmth and comfort to your home.
Not only are they aesthetically pleasing, but they can also improve the acoustics in your home if you live in a noisy area! Get creative and incorporate such a vibrant accessory into your home decor today.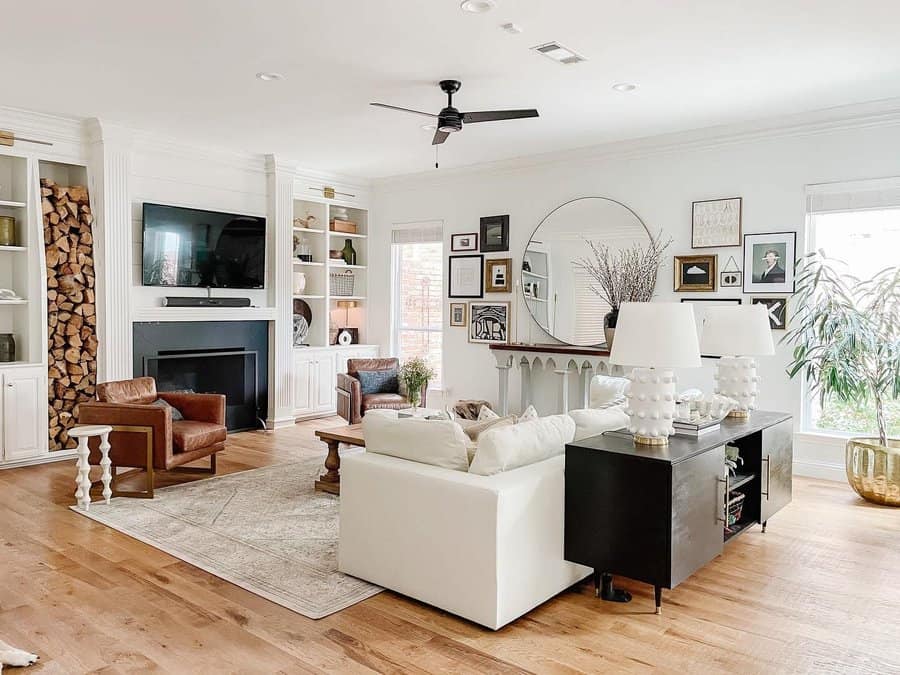 15. Paint A Mural
Adding a mural to your living room is the better alternative to wallpaper, as it will give you the unmatched opportunity to personalizing your space. With the added layer of art, you will have access to an unlimited amount of customizable designs that can help you create something totally unique, tailored to fit any style of home decor.
Whether you're looking for an artistic landscape, an inspirational quote or simply some beautiful florals, a mural can give your living room the perfect individualized touch it needs.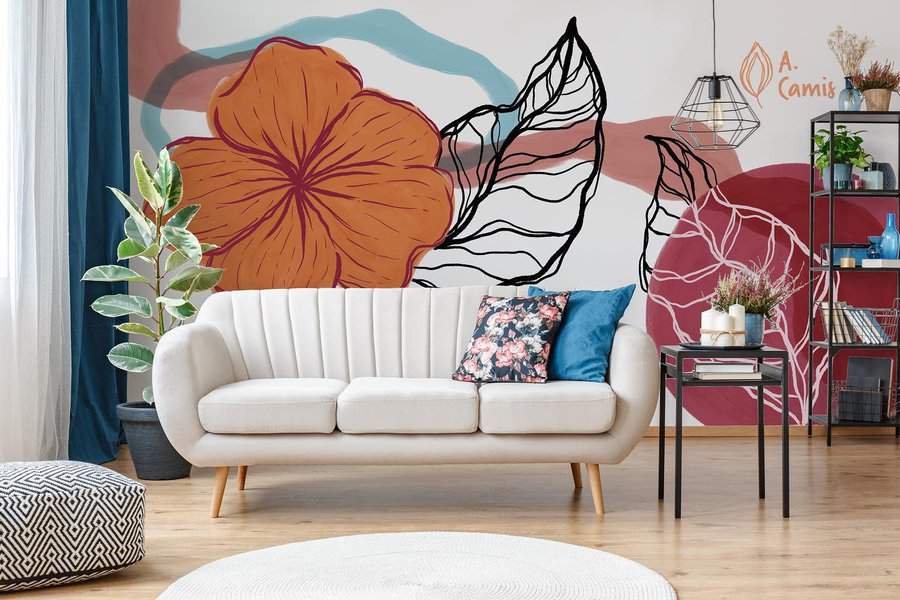 16. Hang Up An Artwork
Adding framed artwork to your living room decor can be a great alternative to a mural if you want something that can easily be changed out. With this option, you are able to enjoy the beauty of your favorite artwork and have it prominently displayed in your living room.
Not only does this provide an interesting conversation topic, but it will also bring an element of creativity to your home. Find the perfect frame for your artwork and you'll have a piece that is sure to captivate all who visit.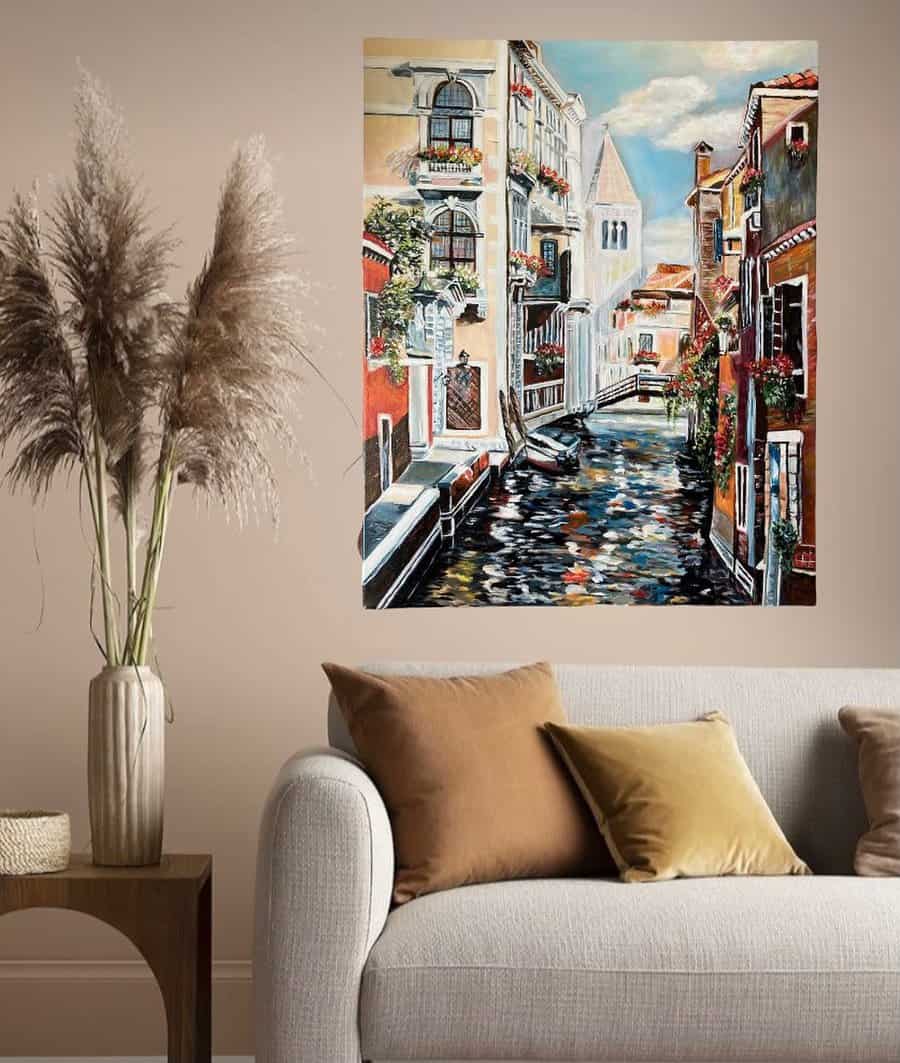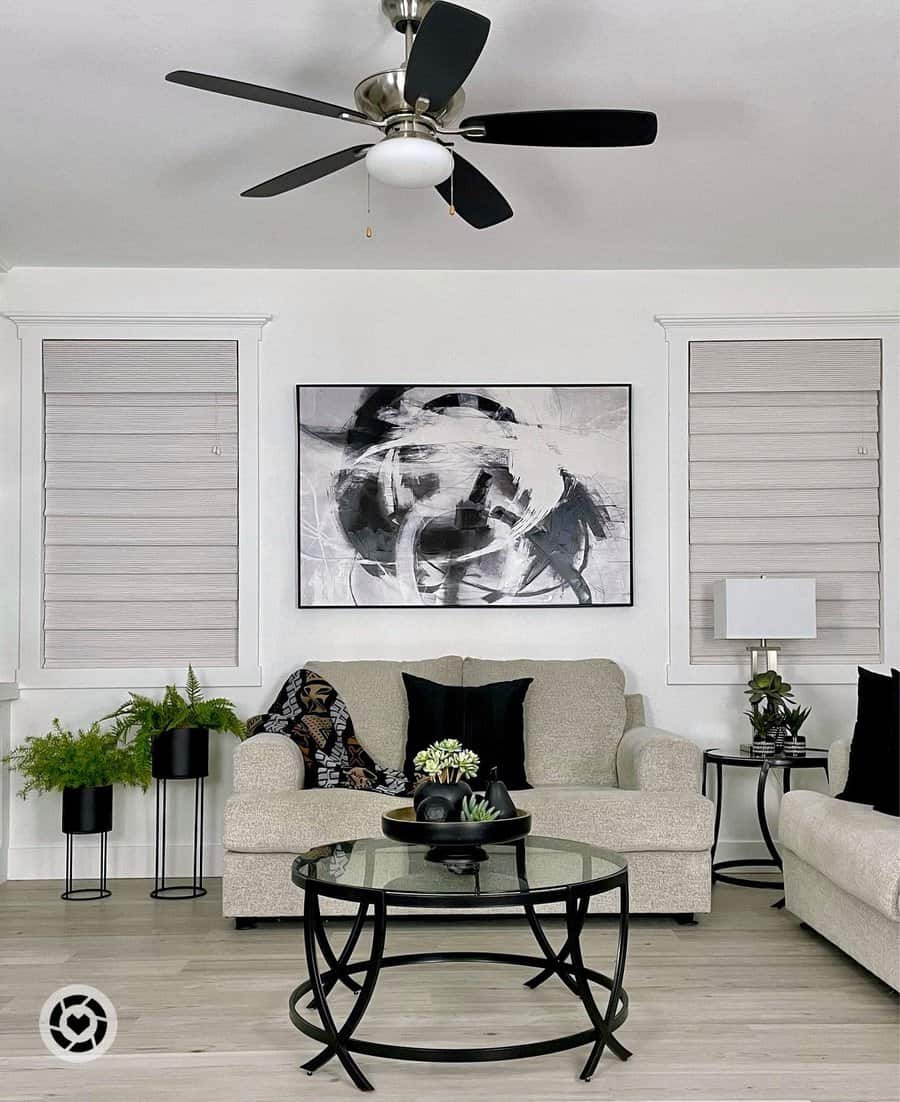 17. Play With Height, Dimension, & Layers
When it comes to living room decor, shelves and tables of different heights add unexpected visual interest. Keeping shelves at a variety of heights helps create depth in your space, adding layers that can be further accentuated with decorative objects like books, plants, and knick-knacks.
Try stacking shelves at various levels along the wall or opt for leaning shelves or side tables to make a statement. Creating areas with contrasting shapes and sizes will work together aesthetically to bring your living room to life.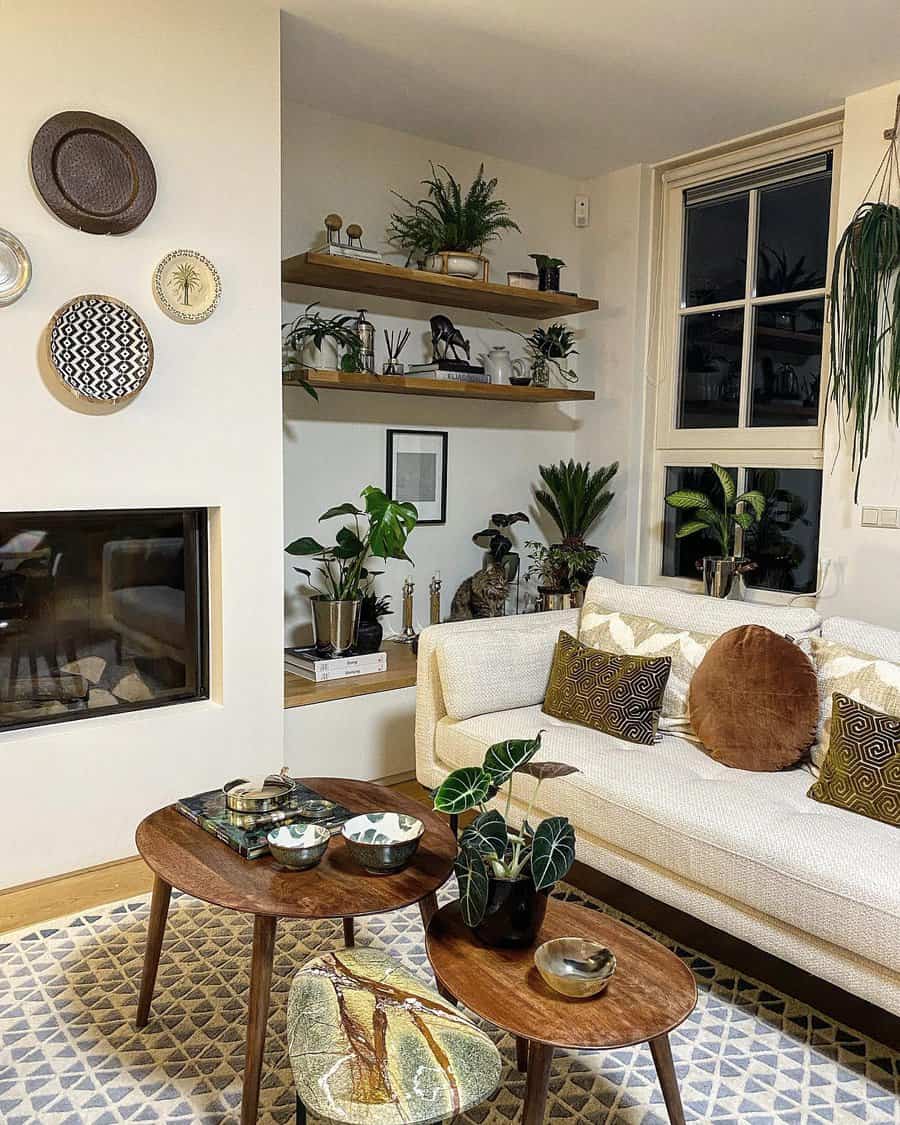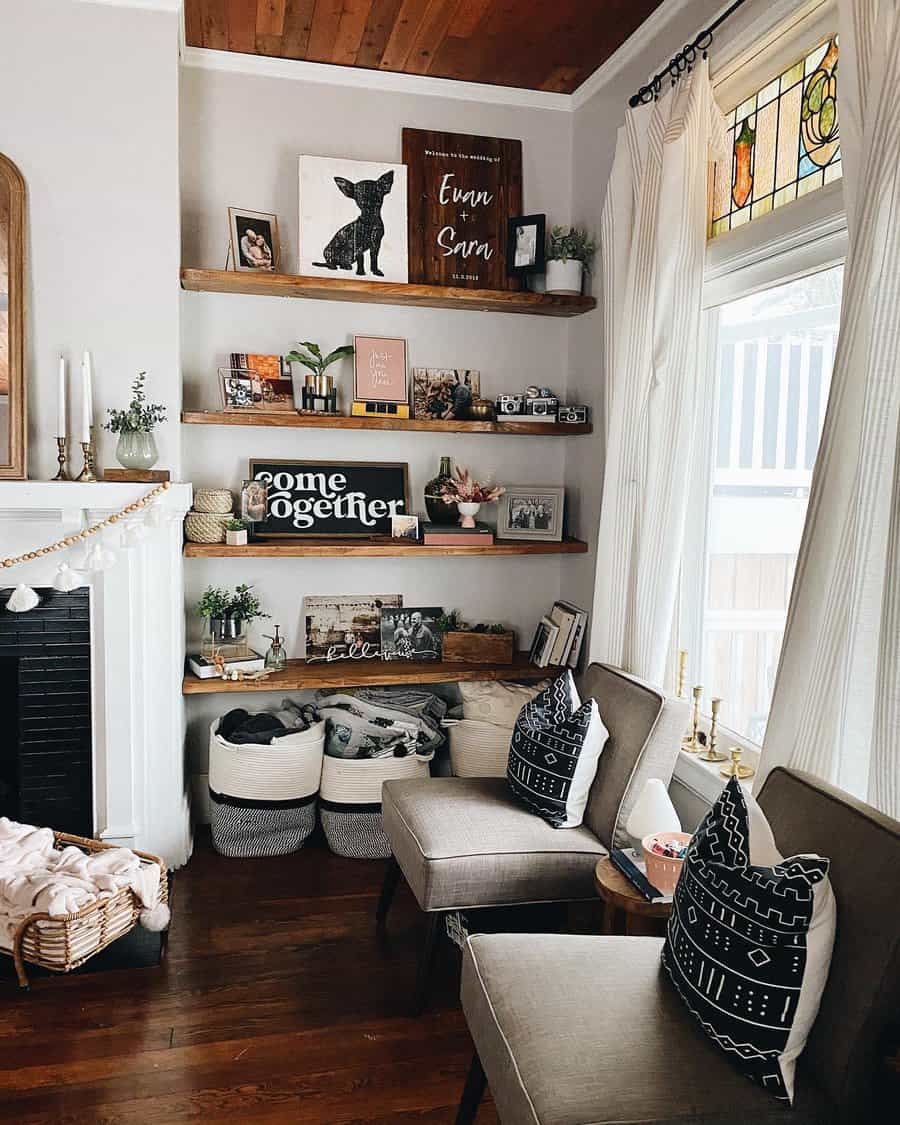 18. Embrace The Season
Make your living room feel alive with seasonal-themed decor. Consider adding seasonal-colored pillows, throws, and fresh floral pieces to instantly bring some seasonal sensibilities into the room. Not crazy about flowers?
Try adding seasonal scented candles or seasonal artwork or prints for the walls for a comfortable atmosphere that evokes feelings of home. Make sure to accessorize with natural elements such as baskets, and bowls with seasonal fruit, fragrant greenery, and foliage.
By bringing in seasonal touches you're sure to keep your living room lively all year round!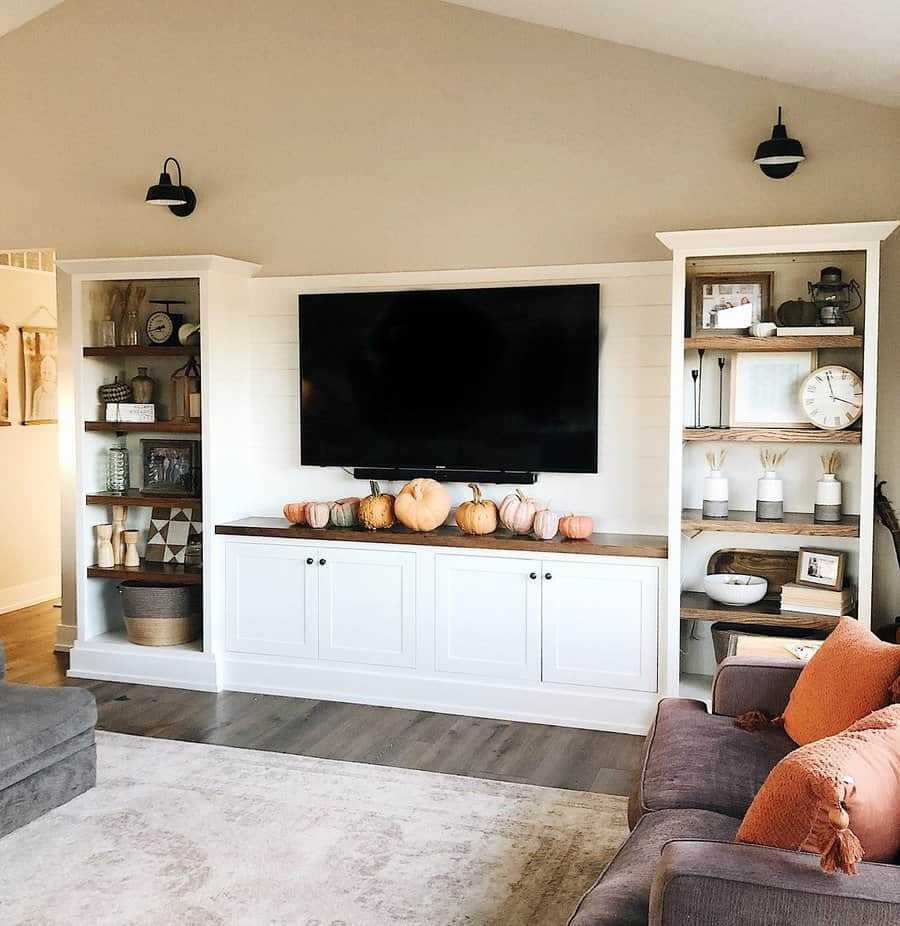 19. Add Printed Roll-Up Windows
Adding a printed roll-up window to your living room decor is a great alternative to traditional wallpaper. Not only can you switch up the print whenever you feel like it, but you can also match it with different accessories and pillows to tie all of your design elements together while also giving your room an exciting twist.
What's even better—it's an inexpensive way to refresh your living space on a budget and get creative with different patterns and styles throughout the seasons!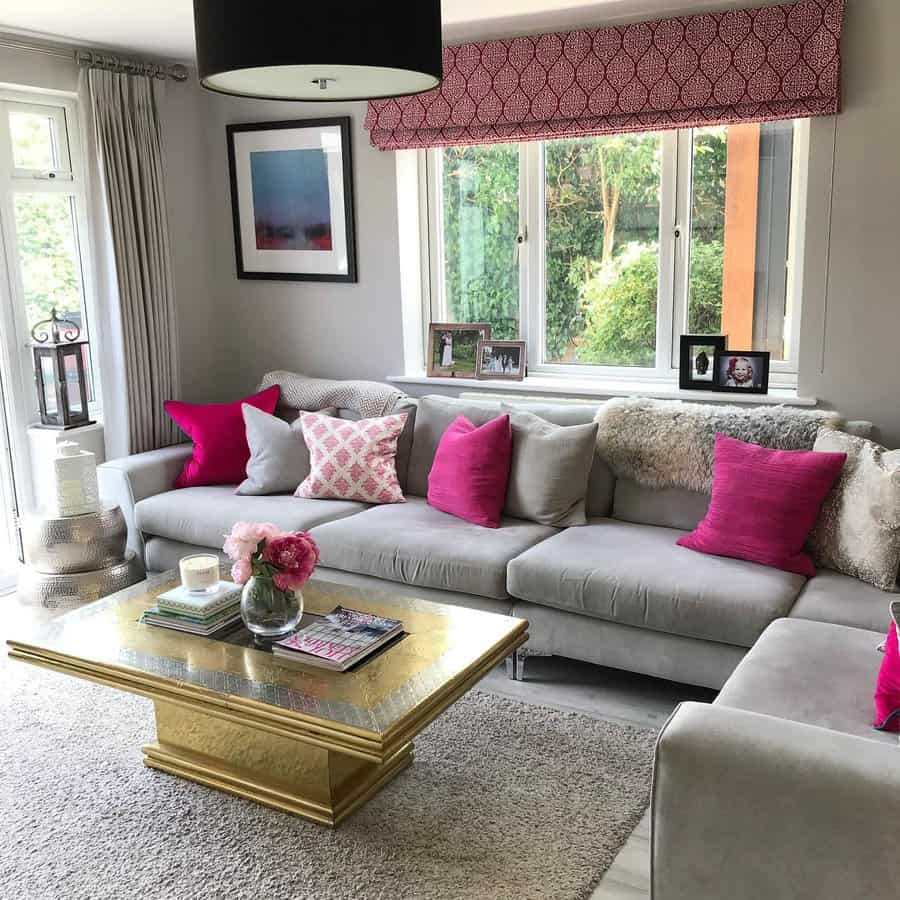 20. Mix Different Eras
If you're looking for unique and creative living room decor, try using transitional design to mix different eras and styles. You can mix and match pieces of furniture from various time periods, or mix modern decor with traditional art featuring vintage patterns and prints.
Experiment with innovative combinations to create an eclectic but cohesive look that will give your living room a charming, one-of-a-kind feel. Not only does this add eye-catching visual interest, but it will be an enjoyable project that allows for lots of exploration.
When embarking on a transitional living room decor journey, the possibilities are truly endless!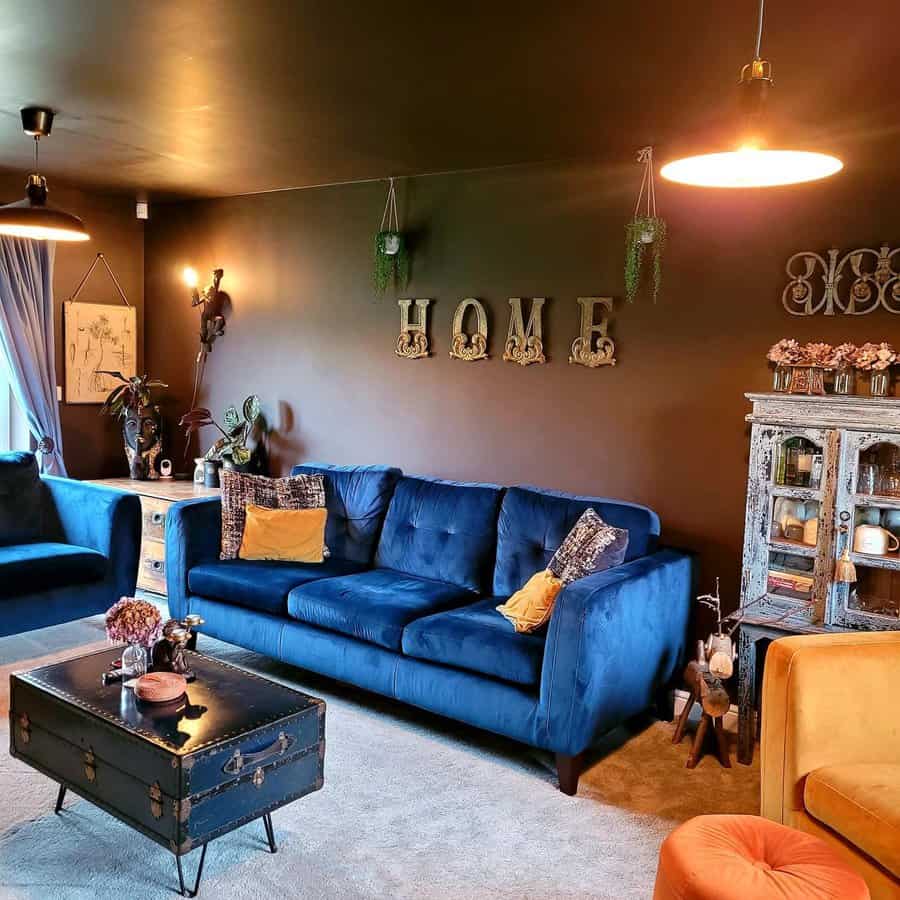 21. Mismatch Throw Pillows With Texture & Prints
Adding a few mismatched throw pillows to your living room can really spice things up, creating the perfect vibe for lounging and entertaining. Play with texture and prints to create interesting combinations, such as whispering florals, cheery bright solids, or fuzzy fur details.
The ultimate goal is to play with patterns and colors that all sync up together, drawing in natural elements, like greenery from plants or earthy neutral colors.
Mismatched throw pillows have the ability to transform any living space, taking it from blah to beautiful in just a few minutes.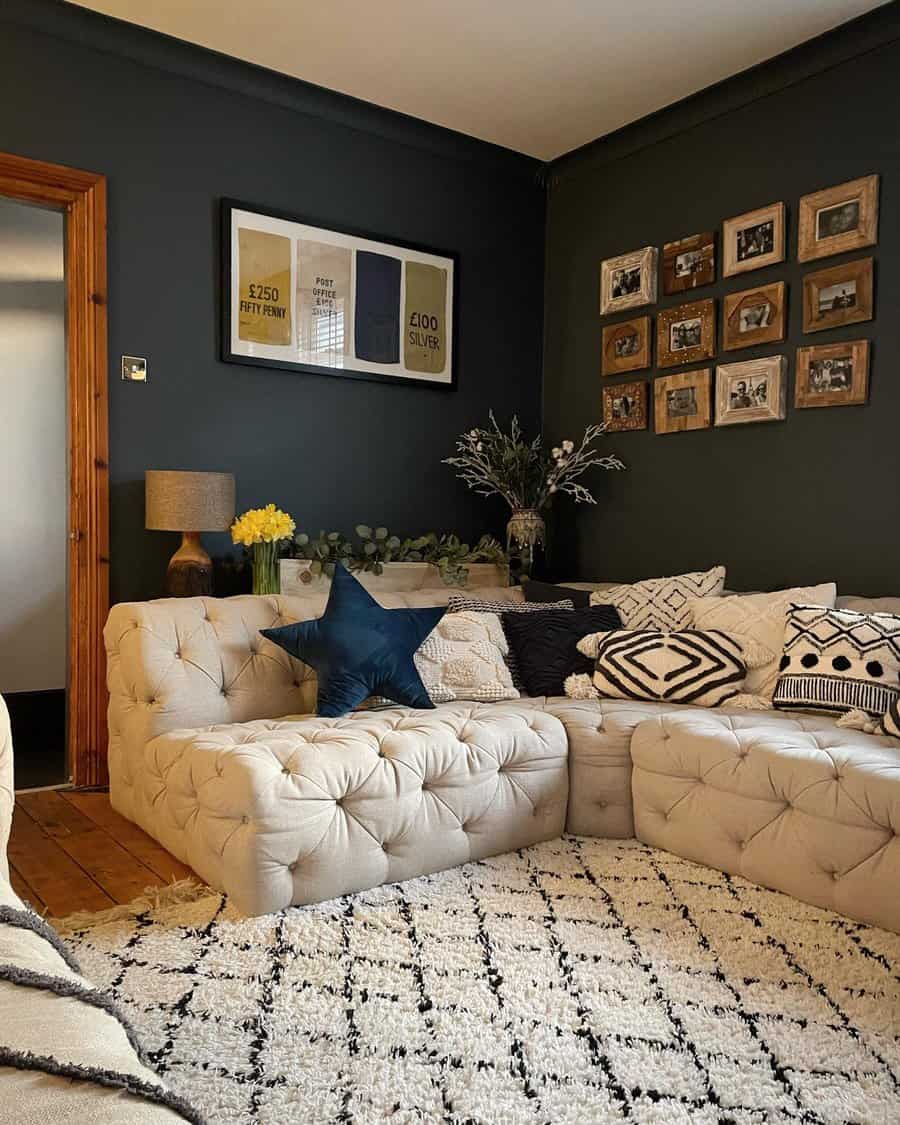 22. Match The Couch With Wood
Adding a couch to your living room not only provides extra seating and comfort but is also a great way to tie the entire space together. A couch that matches the wooden floor and furniture will help create a cozy, inviting atmosphere for guests.
Choosing a couch with eye-catching patterns or accent colors can make a huge statement when entering the room and give your living room an elevated look that's sure to impress.
Whether it be modern and sleek or warm and inviting, there are endless couch options that can give your living space something special.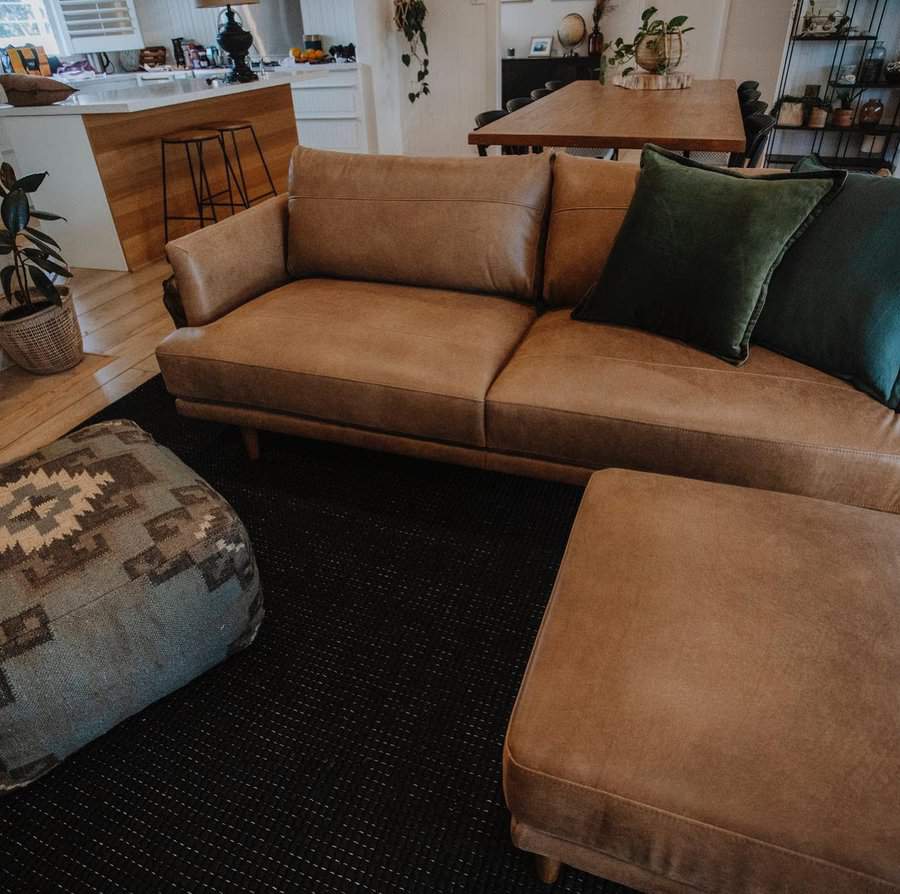 23. Arrange Dried Flowers In Vases
Dried flowers add an unexpected and delightful charm to any living room. This minimalistic, but stylish approach to decor makes the living room alive as if the blooms are about to burst forth in color under the sun's rays. Dried flower arrangements come in various colors and shapes, adding a feminine and soft touch.
They give off a beautiful natural vibe that makes you feel right at home as soon as you step into the living room. With just one addition, your living space turns into a sophisticated addition that adds an entirely new level of warmth and depth.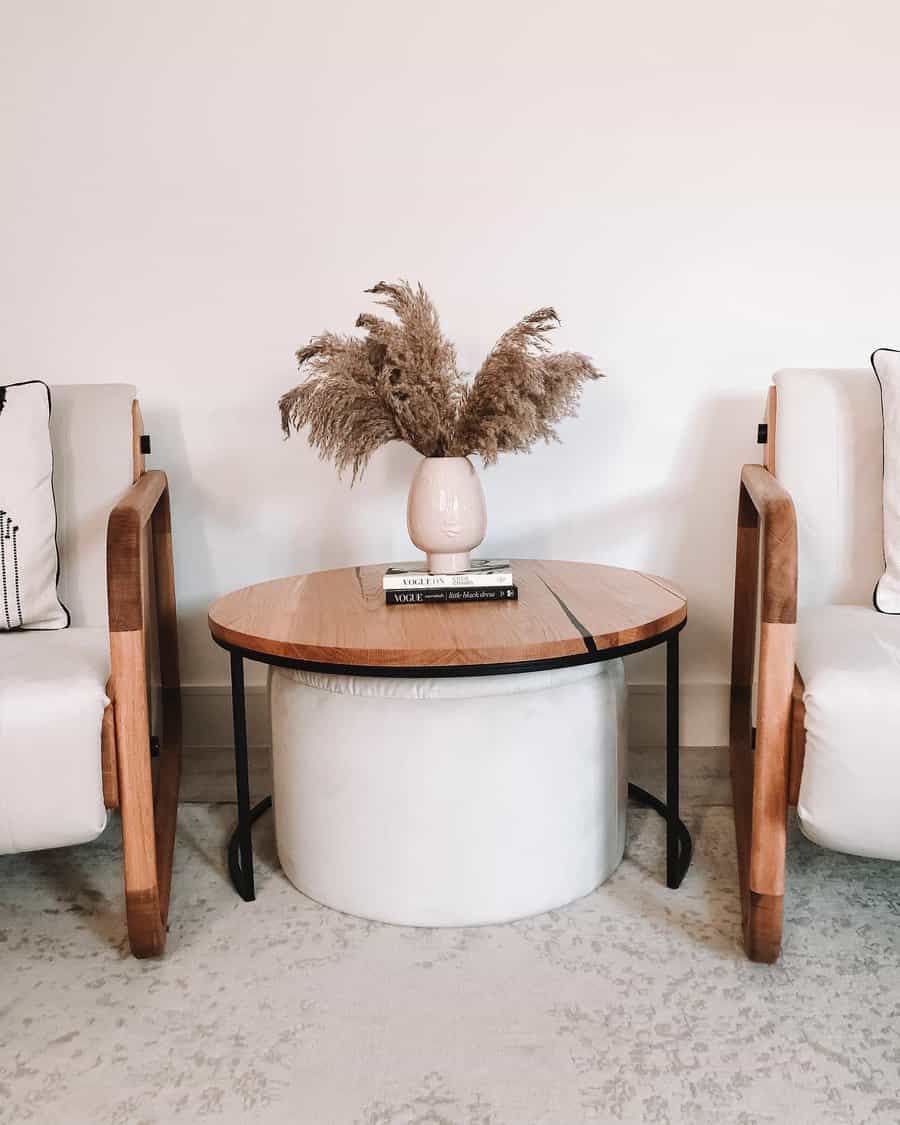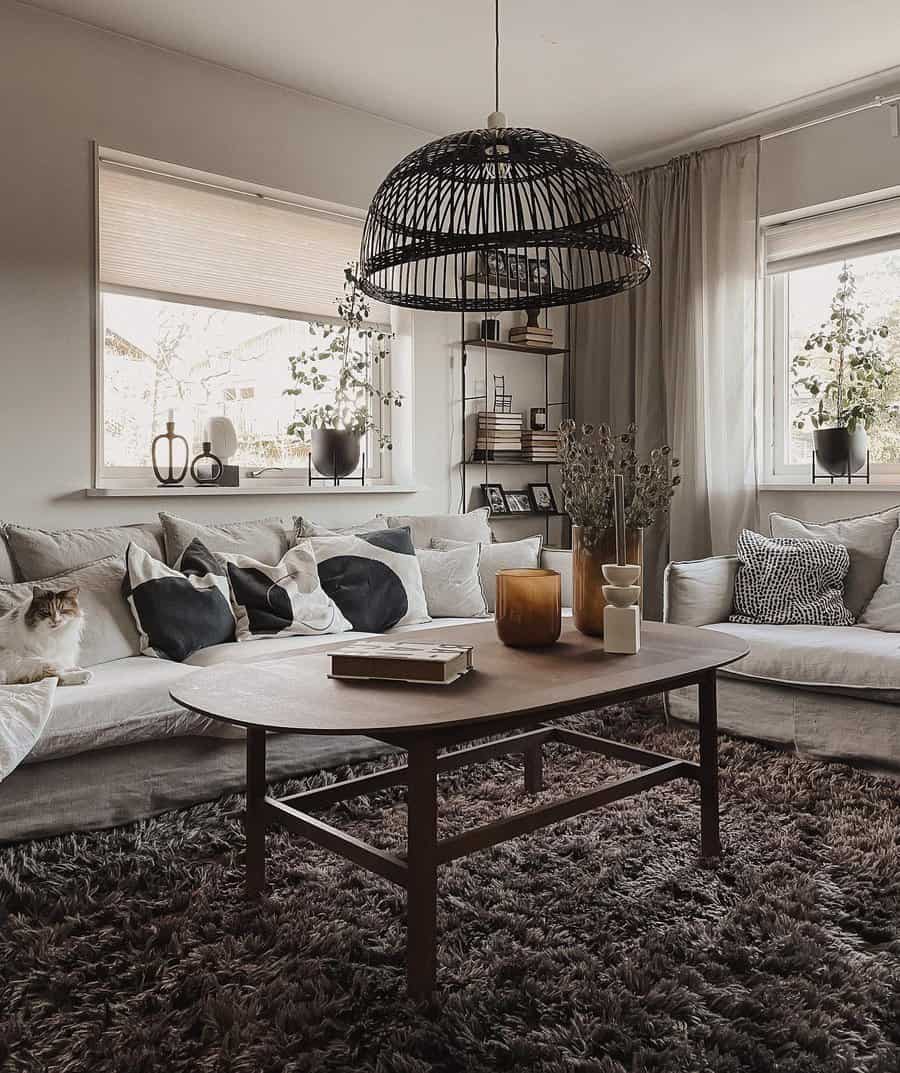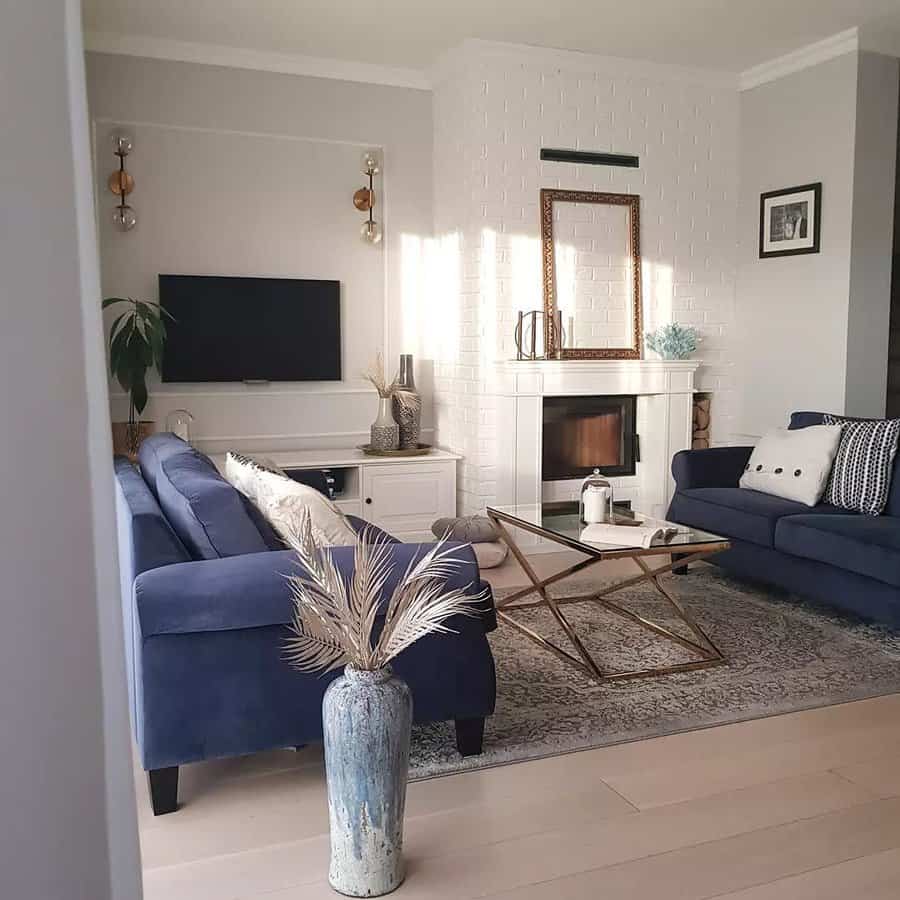 24. Go Unconventional With Decor
A living room with Scandinavian decor can be an unconventional and playful way to spruce up your home. The simple, minimalistic style adds visual interest to the environment and can even serve as a conversation starter for guests.
Go for a modern look by adding vibrant colors and soft textures, such as a beaded chandelier or colorful accent pillows. By implementing some unconventional decor, you will create a living room that is inviting and unique.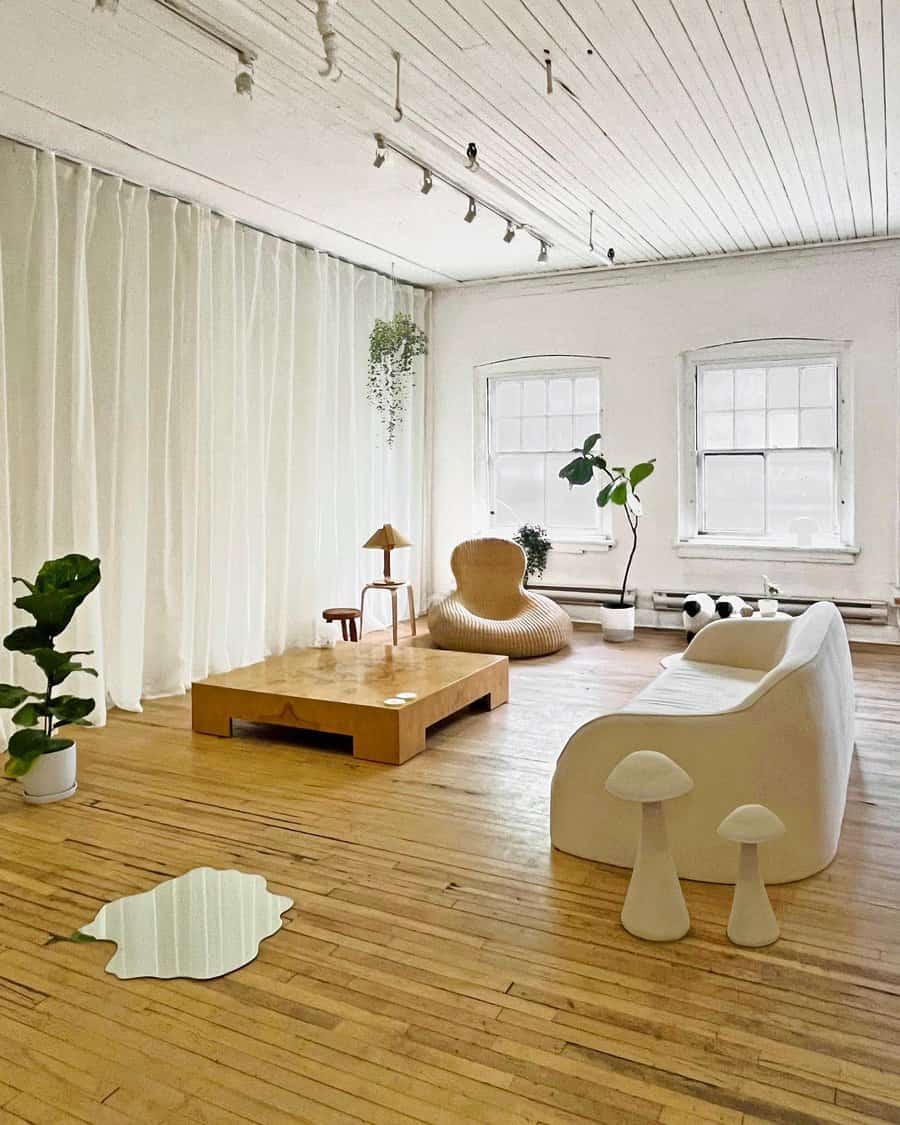 Living Room Decor FAQs
Is it okay to have a mirror facing your bed?
If your living room looks boring, start with the color scheme. If it is all bland neutrals, it is time to inject some color into your design. Next, look at the furniture, if it is all overly matching and looks the same, then it is time to mix things up with different accent pieces. Try adding new decor to the walls or on flat surfaces.
Where do I start decorating my living room?
Always start with the furniture you want to use. Then you can add an area rug and light fixtures to complement the furniture. Finish with decor. You can look for pieces that reflect the style you've created by using similar colors or textures. It can help to choose a statement piece that will become the focal point in the room. Then choose smaller pieces to accent your main piece.
What is the 60 30 10 decorating rule?
The 60/30/10 rule refers to the colors that you use when decorating a room. You should choose three colors for your color scheme. The first color is the primary color that you will use in 60 percent of the room, making it the dominant color in the room. The next color is the secondary color and should be used in 30 percent of the room. The third and final color is an accent color. It should be used sparingly in only 10 percent of the room.