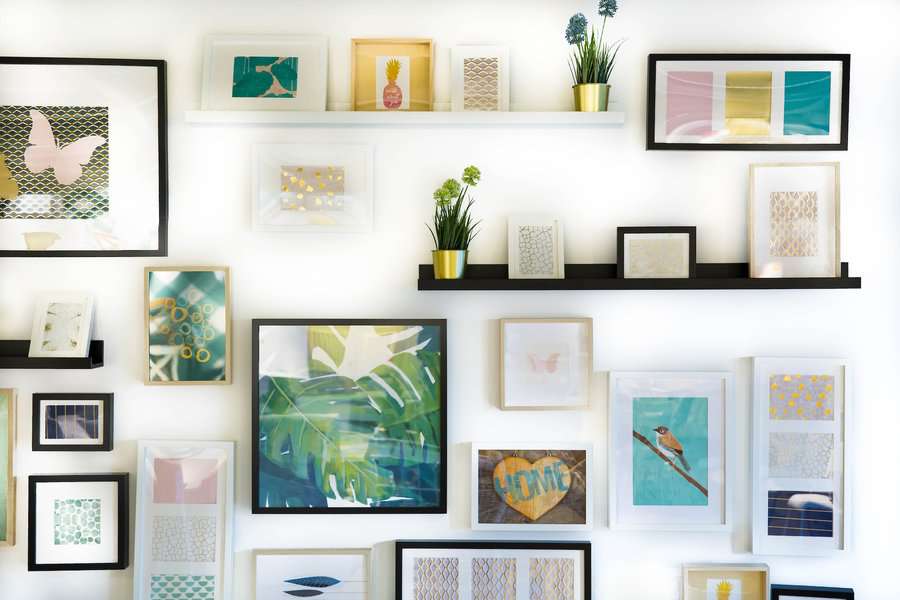 29 Wall Art Ideas for Living Room
Living room wall decor helps define the overall aesthetic you want to convey. Choosing the best wall decor idea complements your living room's existing furniture and provides inspiration for the rest of the room's details.
We've put together 29 of the best wall art ideas for living room spaces. From simple DIY projects to creative gallery walls, these awesome concepts will help you beautifully fill your living room wall space.
1. Abstract Boho
When it comes to finding the perfect wall art for your living room, abstract boho art is a great choice! It adds texture, warmth, and personality to any space, while also helping create a more inviting atmosphere.
Whether you choose a vibrant abstract painting or one that is more subtle in color, it will bring out the beauty in the textured wall behind it and the white linen couch below.
Incorporating abstract boho art into your living room decor will not only make it look beautiful but will create an ambiance where you can hang out with family and friends in comfort.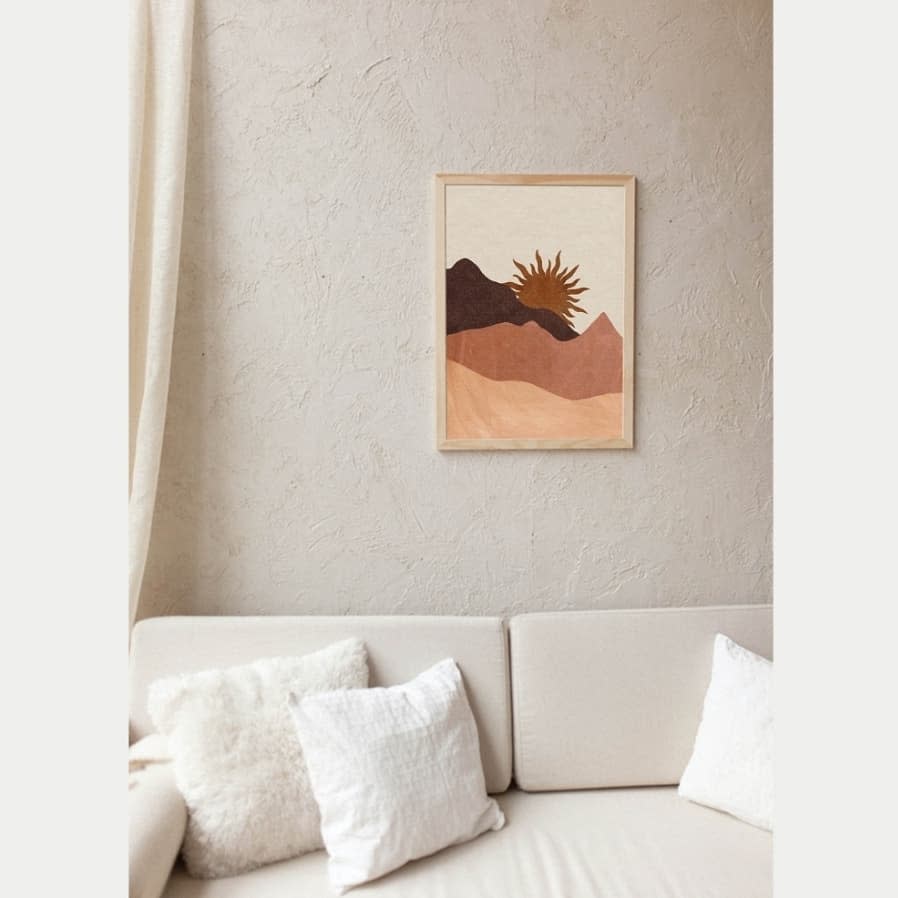 2. Framed Resin Art
Transform your living room into a luxurious retreat with resin art adorned in a gold frame. Perched on top of the couch, a gorgeous resin painting will provide an eye-catching focal point, especially when coupled with a burnt orange couch and scattered plants.
Whether you choose something abstract or opt for a design based more on realism, resin art makes an excellent addition to any living room that is both stylish and unique.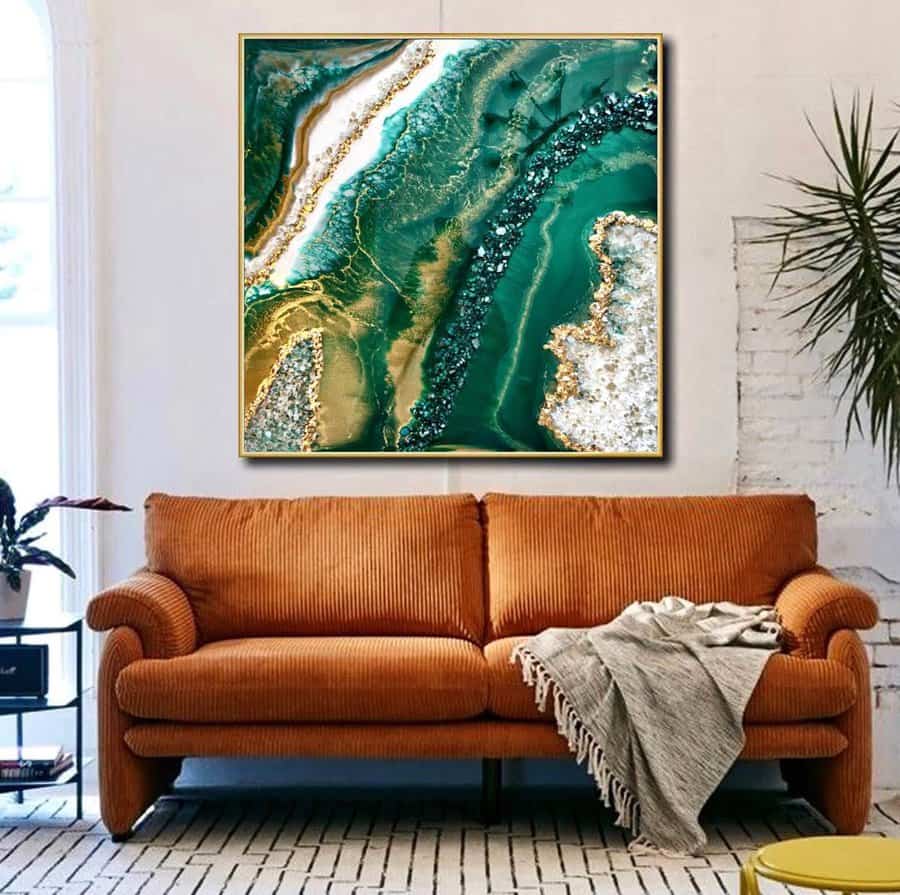 3. Witchy Shelves
Create a witchy wonderland in your living room with witchy wall shelves, lots of trailing plants, and an entire wall devoted to displaying your collection of tarot cards. With the right decorations, candles, and artwork it's easy to give your living room an entire makeover while expressing yourself.
Wall art is a great way to add a creative twist to a boring space by bringing your style into the room – whether you want to be fierce, glamorous or witchy!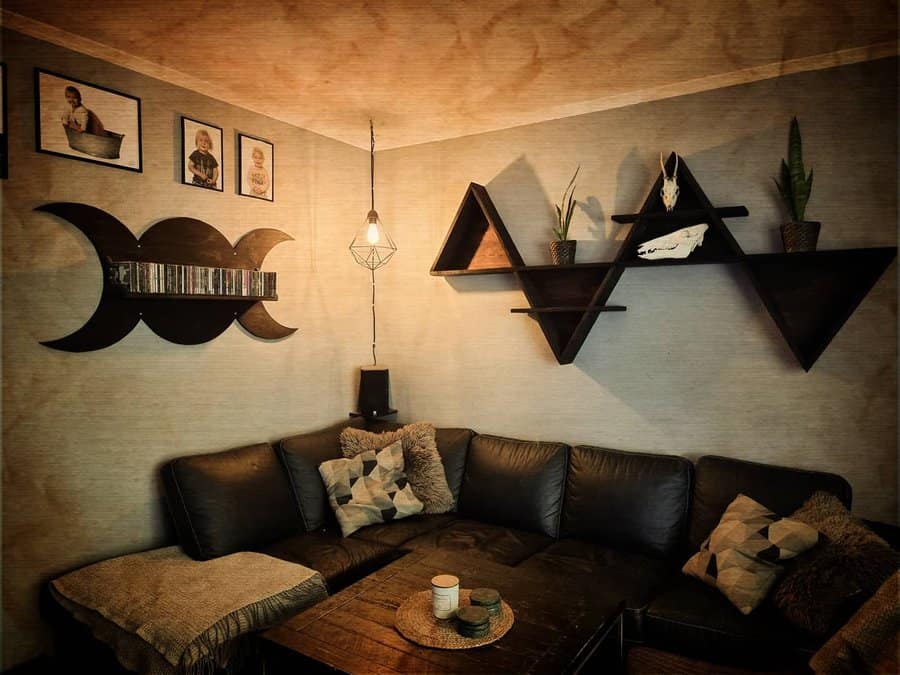 4. Boho Clay Art
Decorate your living room with boho flair by adding wall art like boho clay art and macrame shelves. Brighten a dull space with unique boho-inspired pieces or create a feature wall with clay works of art.
Macrame shelves not only look great but they can also be used as an organizing tool, perfect for placing small items like books and succulents.
With boho clay art and macrame shelves, you can easily transform your living room into a cozy, inviting oasis that celebrates the boho lifestyle.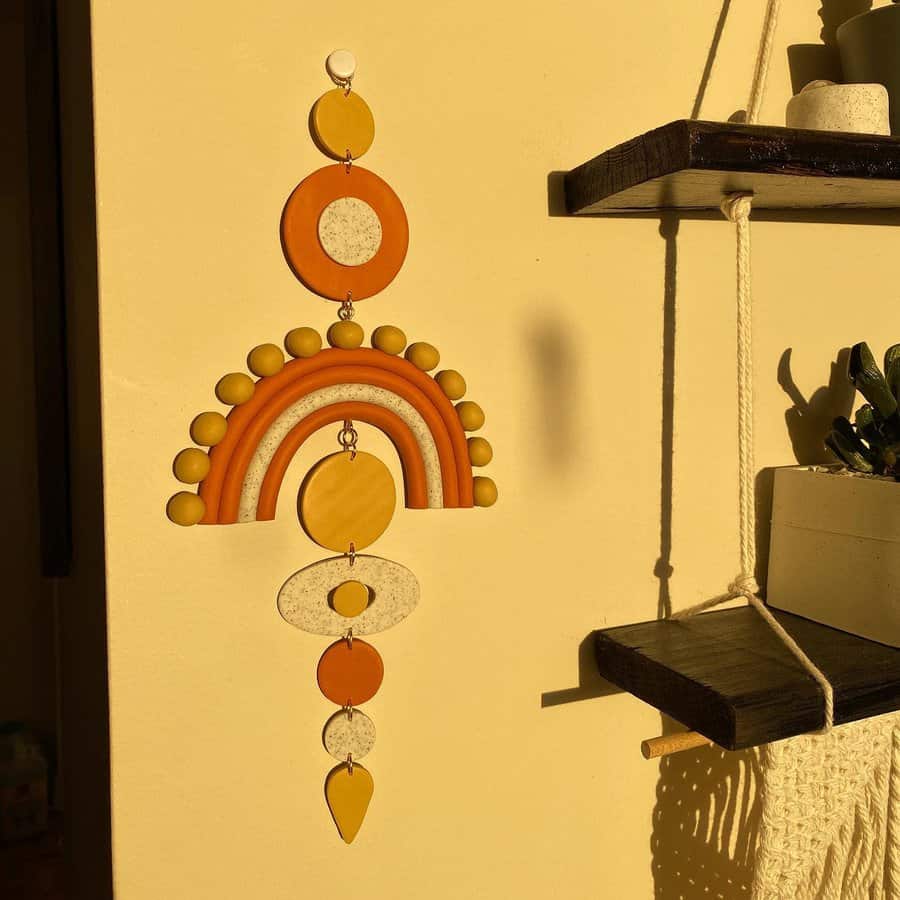 5. Starburst Wall Art
The living room is often the star of the show, so no one wants to skimp on decor! One of the easiest ways to give any room a bold makeover is statement wall art. This can range from starburst mirrors to rattan rugs, depending on your personal taste.
o really set off this unique look, don't forget to throw in lots of plants – they bring an extra shot of personality plus a touch of nature that really puts the cherry on top. With these few pieces of starburst wall art, colorful rattan rugs, and plenty of plants, you'll have a living room that's sure to keep your guests talking!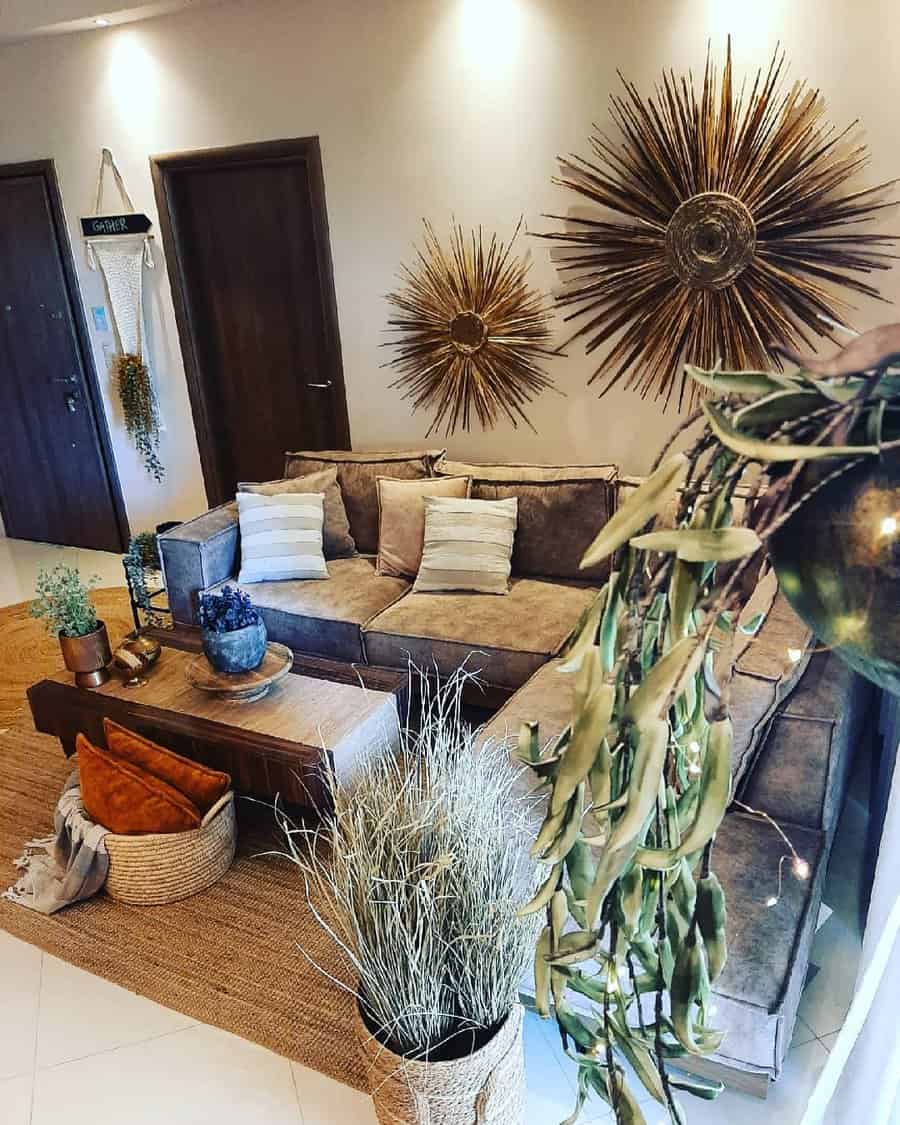 6. Ornamental Gypsum Ceiling
When it comes to decorative wall art for your living room, an ornamental gypsum ceiling with soft light is the perfect way to highlight your decor.
It adds a touch of elegance to any space while providing gentle illumination, giving you a unique glow among the walls of your home. Soft lighting can emphasize decorative elements, making them look more beautiful and welcoming.
Whether you prefer modern minimalistic design or bold eclectic style, an ornamental gypsum ceiling with soft light will provide just enough accent to your living room that it stands out from the rest and makes an unforgettable impression on guests!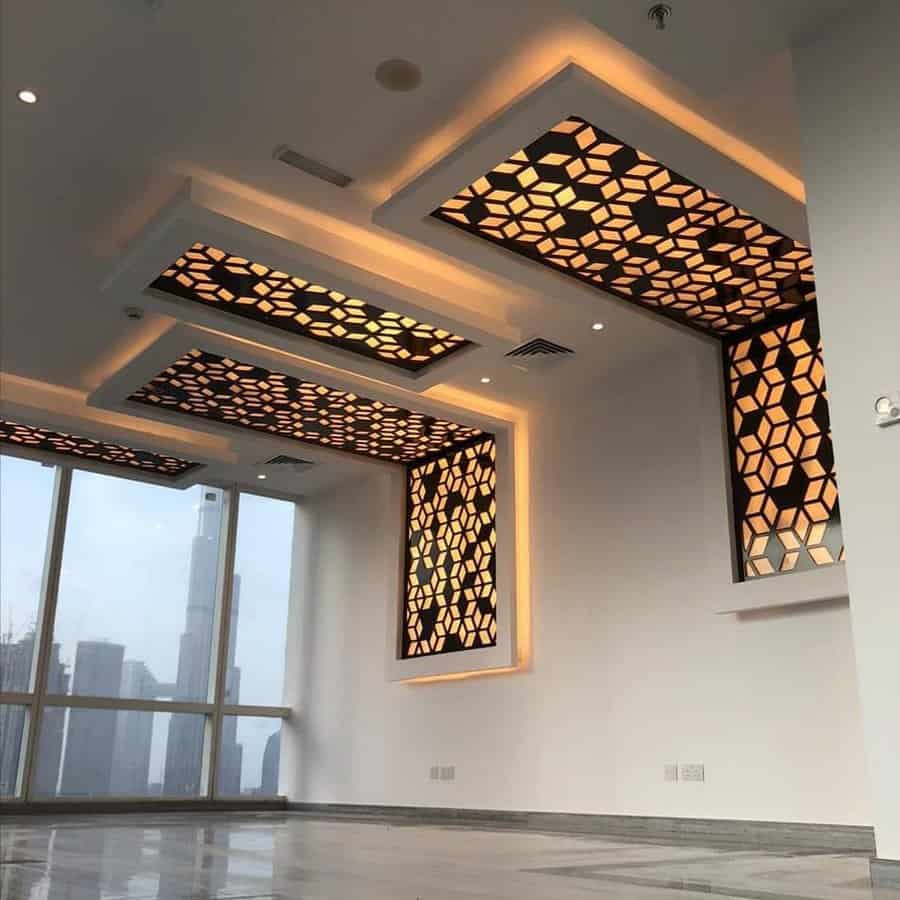 7. Sconce Shelves
Transform your living room with some beautiful sconce shelves – choose ones that are adorned with shells, sand, and ocean textures to bring the feel of an island paradise into your space! Hang them above a doorway or along an empty wall to create a natural yet contemporary display.
Bring in more warm colors like coral, salmon, and beige to complete your look and add depth to your room design. For a more whimsical touch, you could also accompany the sconce shelves with other decorative pieces such as coral shadowboxes or sea-inspired figurines.
Ultimately, wall art for living rooms creates an inviting atmosphere full of personality – sconce shelves combined with other elements serve up a beautifully charming display.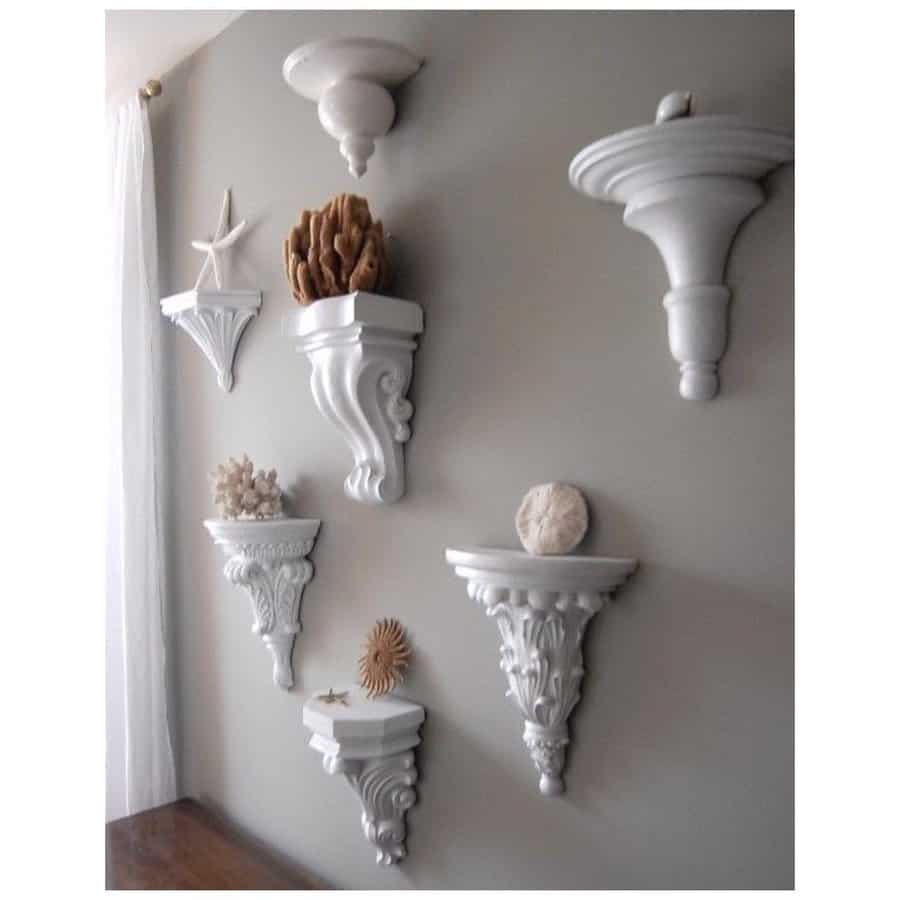 8. Giant Wall Clock
Spruce up your coastal-themed living room with a giant wall clock, that serves not only as a statement piece but also helps you keep track of time. Adding the perfect accent to your modern home, selecting the brass-finished giant wall clock is just what you need to bring luxurious vibes into your living room.
Whether you leave it bare or enhance it with frames of family photos and artwork, this giant wall clock will be an eye-catching addition that brings sophistication to the environment.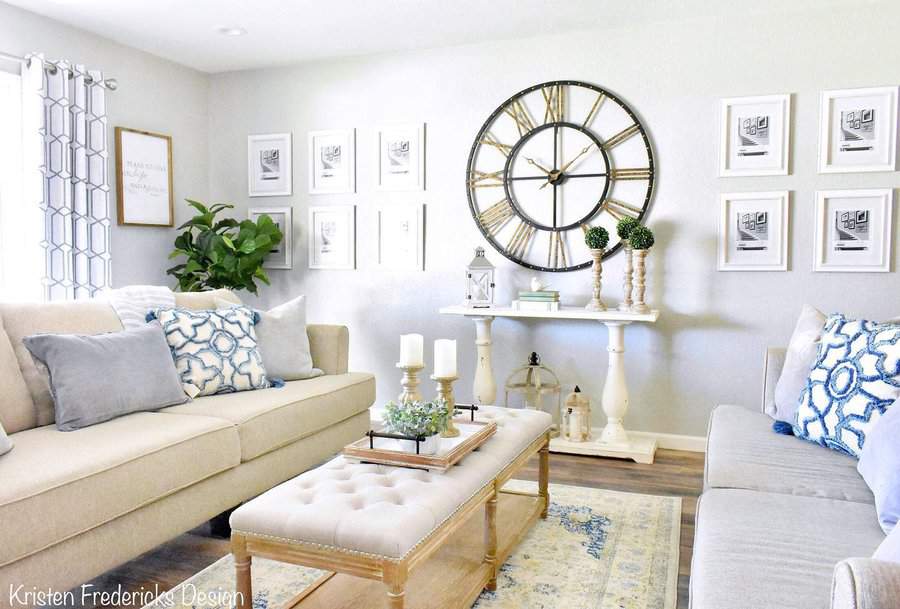 9. Boho Prints Collage
This wall art is the perfect way to give any room a boho makeover! Transform your walls with vibrant boho wall collages and neutral color palettes. The endless combinations of unique prints will give you endless ways to express yourself – each one lasting for years and serving as a reminder of who you are.
Not only is it great for modern looks, but boho wall collages are also sure to make any room stand out from the others. With so many styles and options – from muted colors to bold abstract patterns – wall art is the perfect addition to add warmth and personality to any living space!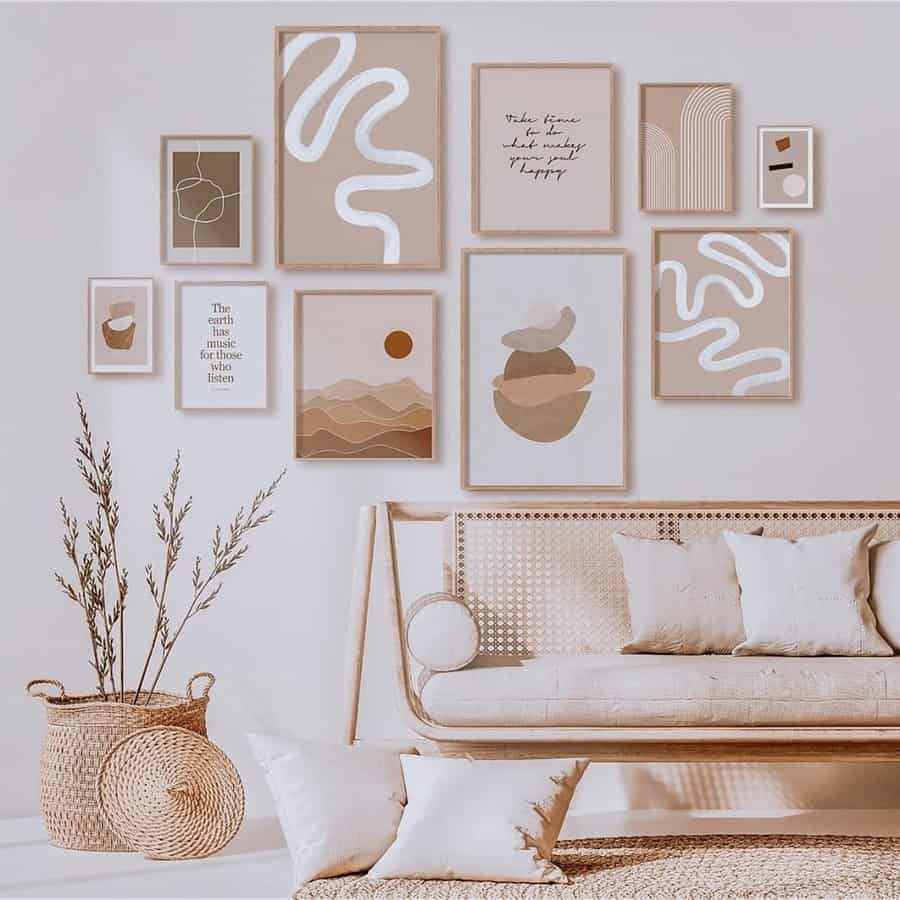 10. Framed Watercolor Collage
Everyone is drawn to framed watercolor paintings and plants because they add a certain level of ambiance and greenery to any room.
Wall art is the perfect way to enhance your interior aesthetic without taking up too much space. It's no wonder why many people invest in framed watercolors and lush plants; they are full of color, texture, and life.
The framed canvases will draw people in with their vibrant hues while the plants will help create a calming atmosphere by producing oxygen and reducing pollution from indoor air. After all, wall art has the power to bring wherever you live or work into a beautiful realm of possibility.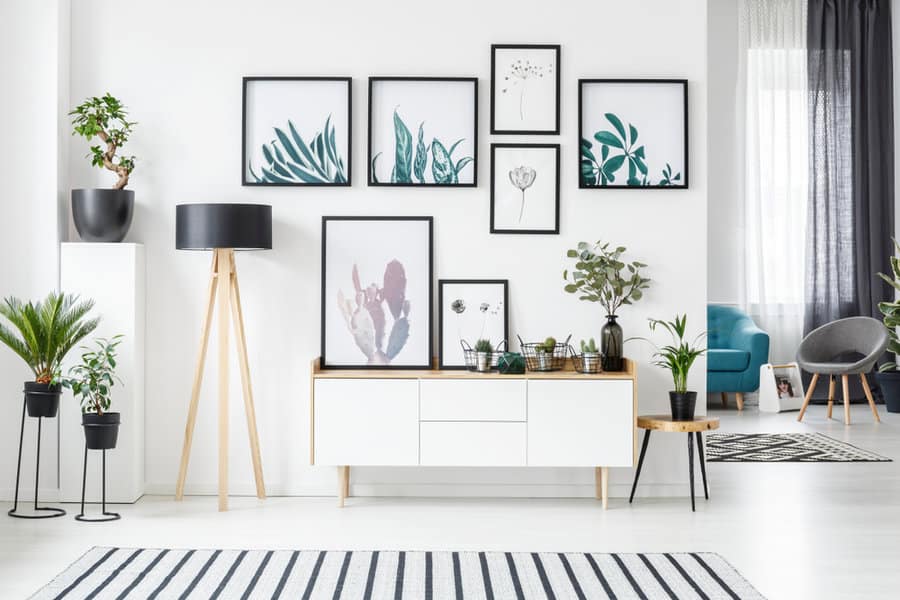 11. Framed Black & White Mural
Revitalizing your living room has never been easier with framed black and white murals! Whether you want to go for a modern aesthetic or something more abstract, wall art can be the perfect way to bring life into a beige living room. Framed murals draw the eye in, making it easy for you to find that tranquil environment you've been looking for.
With its simple elegance, framed black and white murals allows any homeowner to infuse personality into their space. Not only is framed wall art guaranteed to spruce up your space, but it also makes a bold statement that you'll love forever!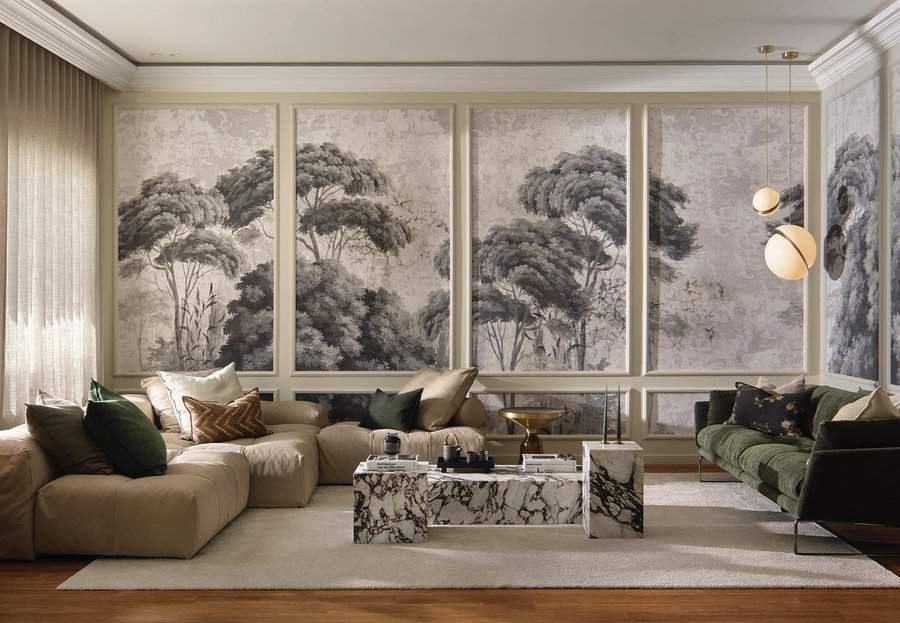 12. Minimalist 3D Map
If you're looking for a minimalist yet eye-catching addition to your living room, why not opt for a 3D map wall art? An art piece like this can transform an ordinary white wall from being monotonous and boring into something beautiful.
Whether it's a wood or aluminum relief of your favorite city or country, or minimalist wall decor pieces in different colors – all of these shapes can come together to create an amazing look for your living room. A 3D world map is sure to be the focal point of any living space and bring some visual interest!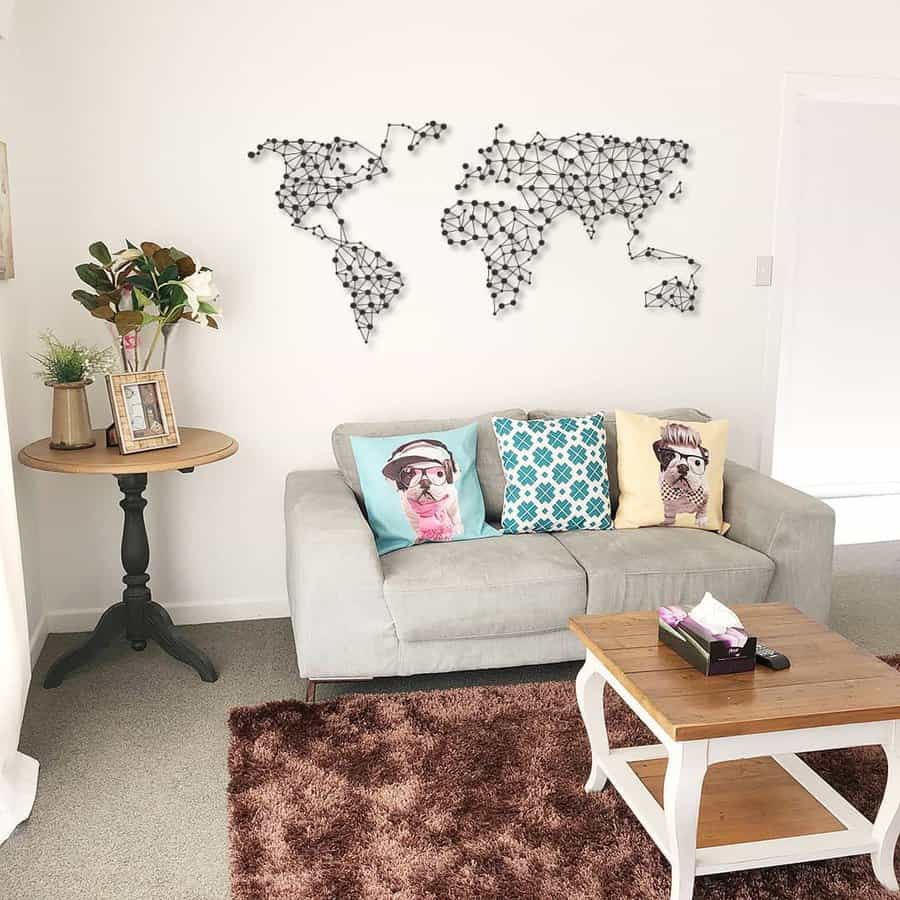 13. Letterboard
Bring a touch of vintage charm to your living room! Start by creating an eye-catching letterboard display with your favorite quotes and messages. Hang up a retro wall light or two to add warmth and a touch of ambient lighting to the space.
Try pairing these together for a truly breathtaking look! Wall art can be used to show your style, reflect your interests, and capture your best memories. Who knows – maybe it will even inspire conversations amongst guests over drinks!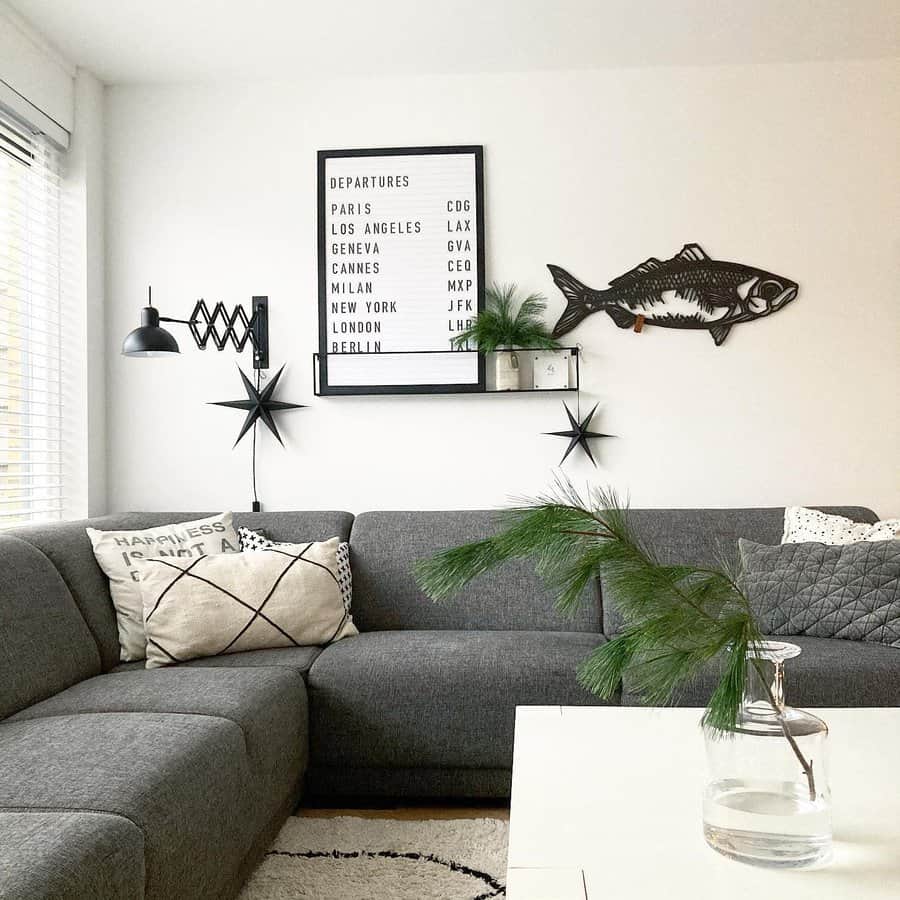 14. Monochrome Abstract Wall Art
Doing up a monochrome abstract for your living room is the perfect way to spruce up any black-and-white themed space. These artsy figures not only add beautiful dimension to walls but also create a subtle and sophisticated appeal that nobody can ignore.
Whether you want something more vibrant or muted, monochrome abstract wall art goes with almost every style of decor that you desire!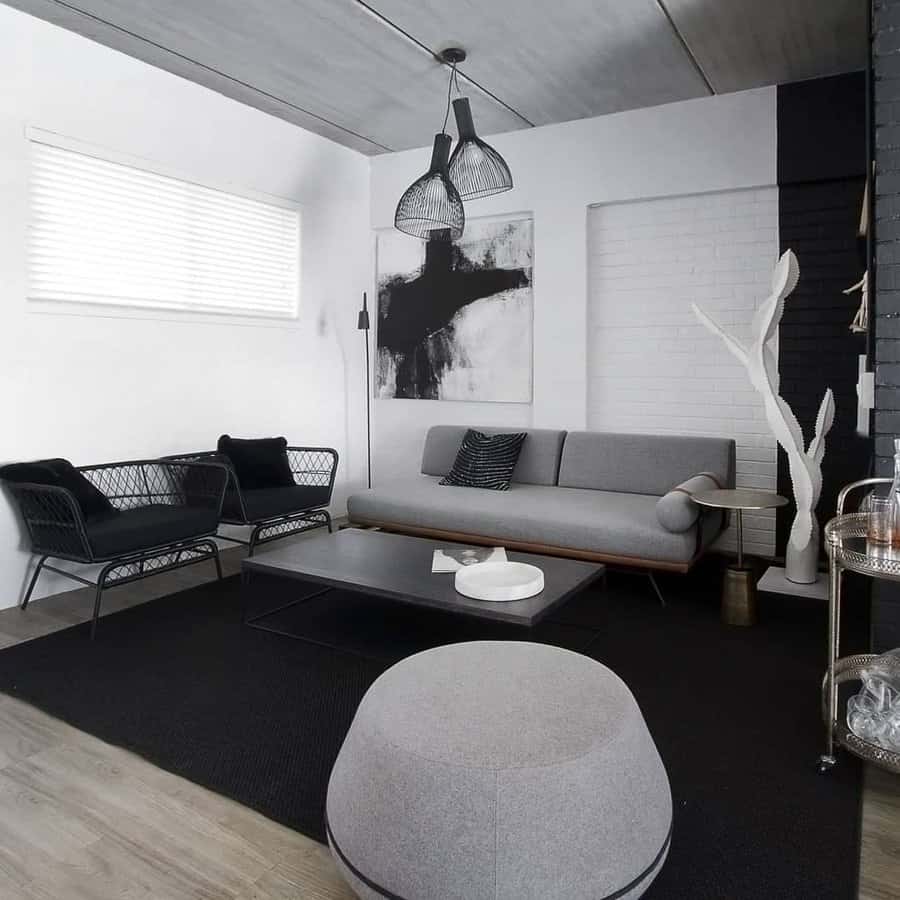 15. DIY Textured Art
Wall art can add character and creativity to any living room. DIY textured art is an easy and fun way to make a statement while adding texture and sparking interest. Whether through dimensional art pieces, painted canvases, or other types of wall hangings, DIY textured art can take a living room from dull to unique in no time.
Not only is DIY textured art a great option for filling wall space in the living room, it's also an awesome way to express your creative side and let your personality shine.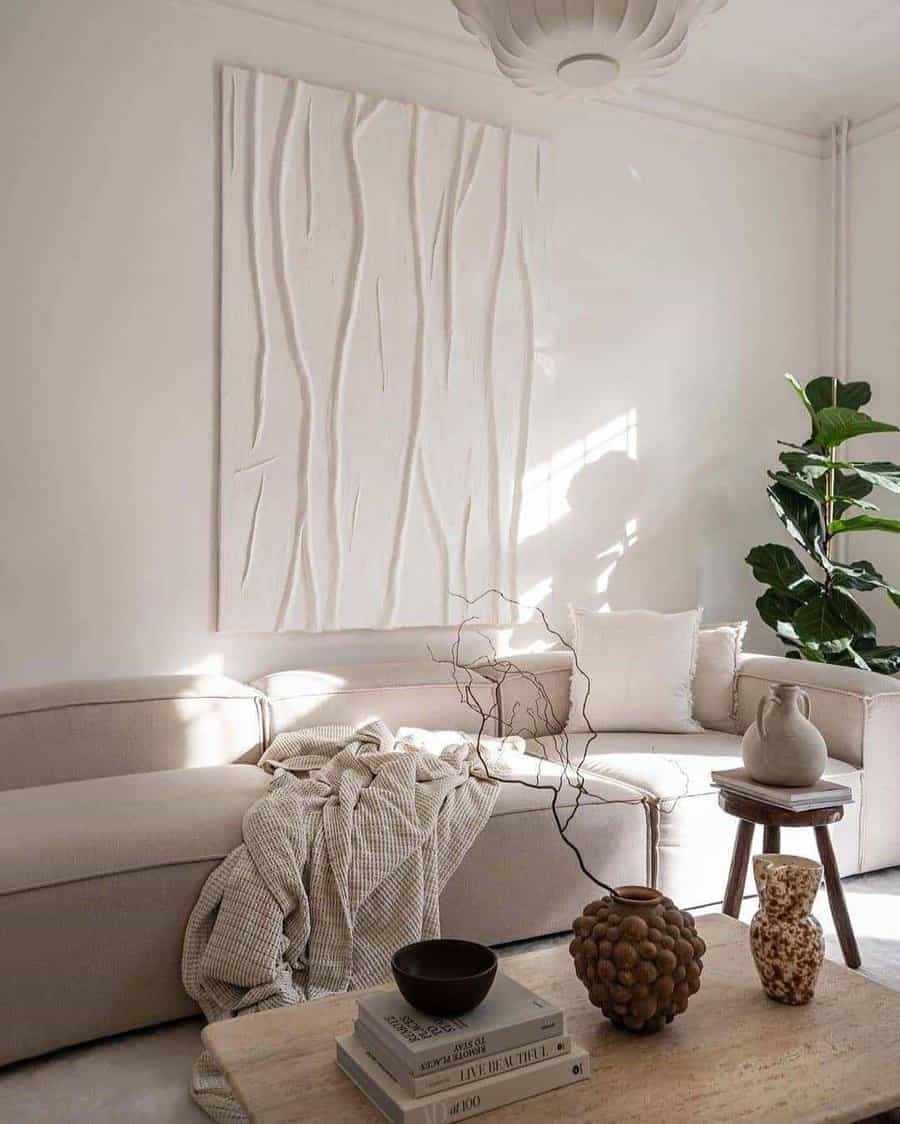 16. Antique Mirror
If you're looking to add some creativity and elegance to your living room, antique brass mirrors make the perfect wall art. Not only are they sure to draw the eye, but they also reflect light in a unique way that brings warmth into any space. Depending on the size and shape of the antique brass mirror you choose, it can give off antique vibes or presents a modern feel for any home.
Whether you hang a single antique brass mirror or position a few together in an arrangement, this timeless piece of decor will ensure your living room looks stunning.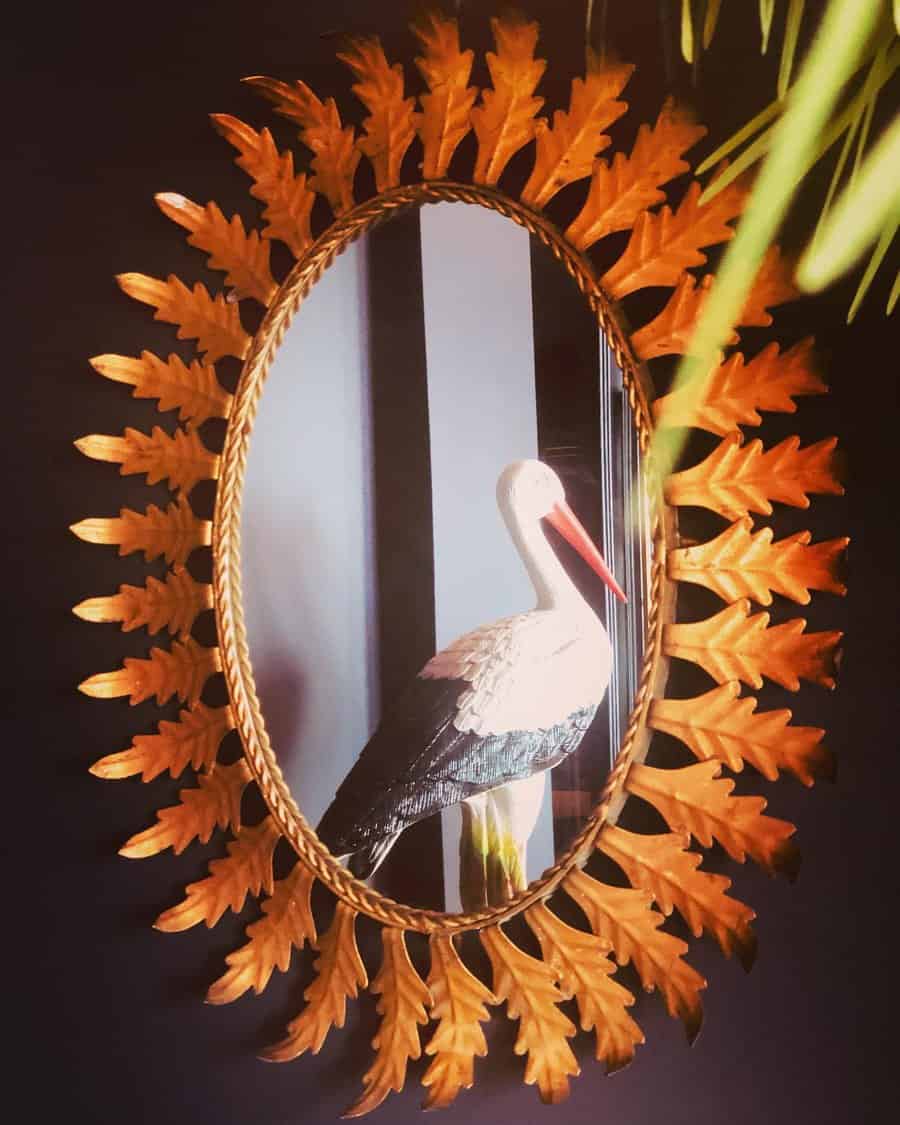 17. Sunburst Mirror
To add a touch of modern chic to any living room, sunburst brass mirrors are the perfect wall art. Not only are they stylish, but sunburst mirrors reflect natural or artificial light to create an eye-catching effect. The sunburst motif is the ultimate way to add sparkle and vibrancy to your home and will draw attention to the wall, whether it's left bare or accessorized with other items.
A sunburst brass mirror is a great way of bringing beauty and texture into your interior space whilst adding ambiance.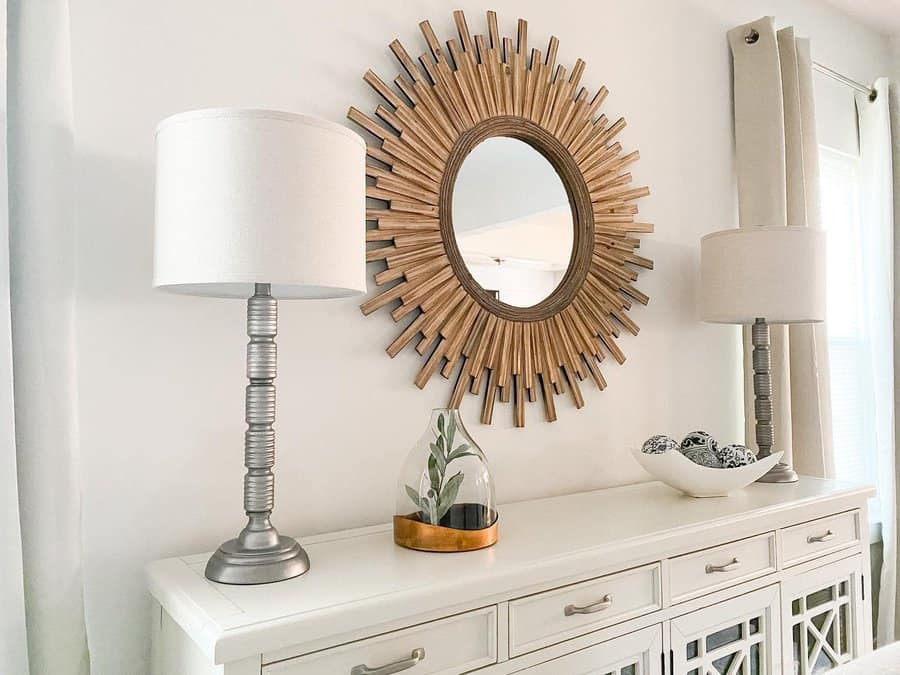 18. Round Modern Decorative Mirror
Transform your living room into a modern and stylish oasis with a round decorative mirror that will instantly give your space an illusion of added depth and visual interest. Create a cohesive and impactful visual by choosing pieces that work together to create an interesting focal point for onlookers.
Then, spice up the overall interior with some rustic decorations like a faux deer head, vintage glass bottles, natural wicker baskets and so much more. Don't forget to sprinkle in other accents like wall bookshelves, photo frames, and throw pillows for that extra flavor! With these creative pieces of wall art, you'll be sure to have a living room like never before!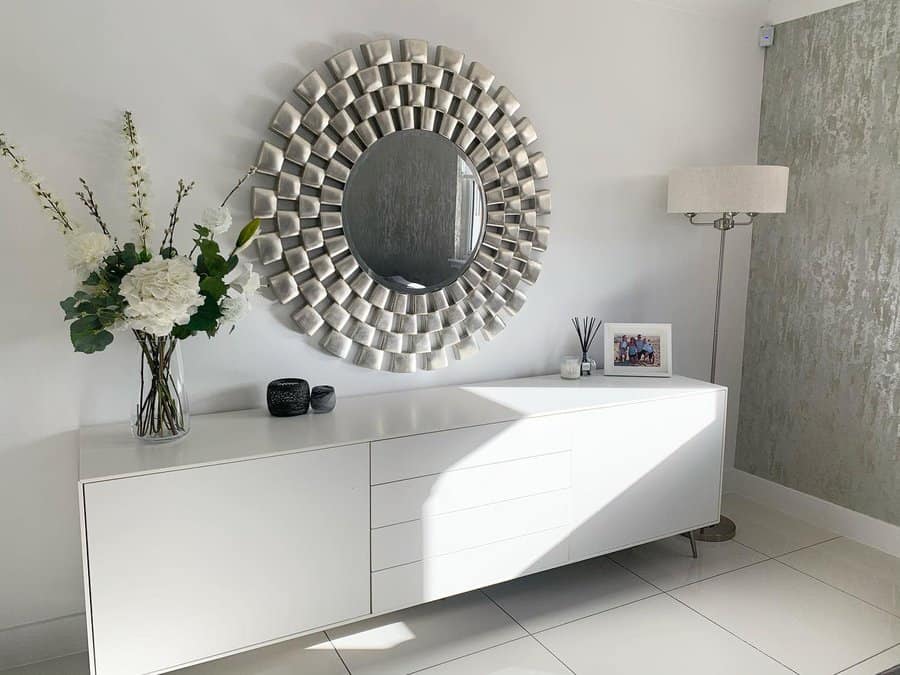 19. Geometric Shapes Mural
Unconventional and colorful wall art could be the difference between an ordinary living room and one that is truly special! A creative, colorful geometric wall mural would immediately bring a cozy creative feel to your space. How about contrasting the punchy mural with a more minimalist look on the ground? Try adding a simple wooden floor to tie it all together.
The contrast between the colorful artwork and the neutral background can create a unique and interesting atmosphere, transforming your living room into an inspirational place for spending time with family.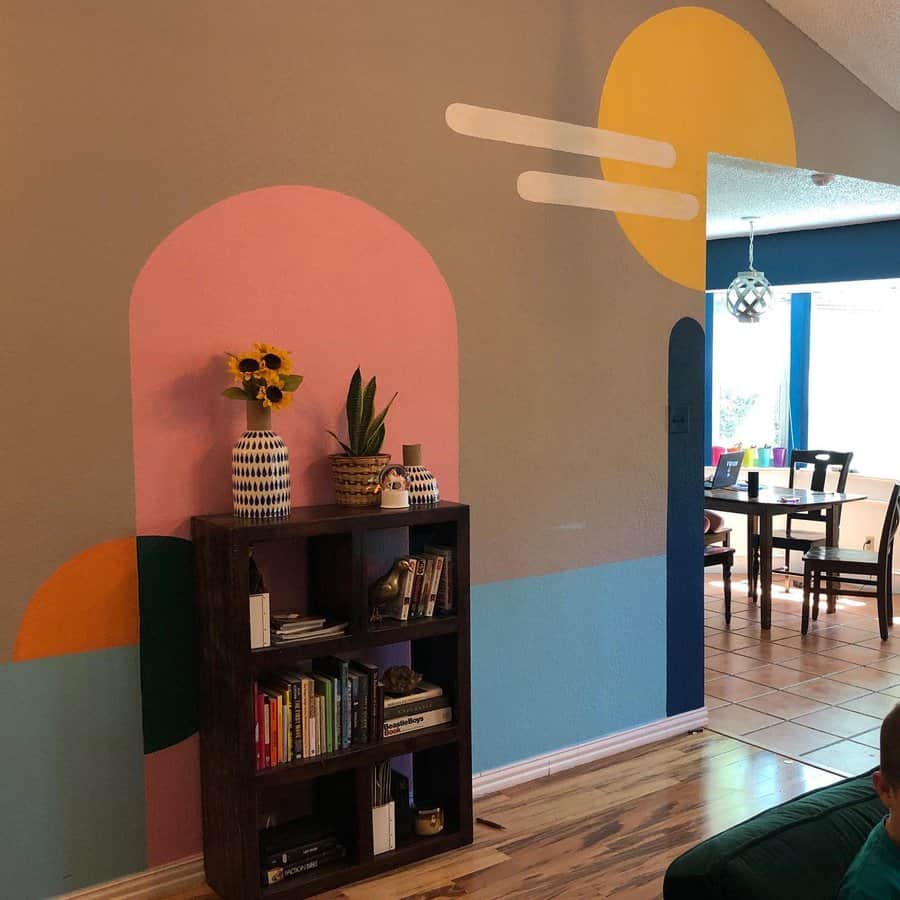 20. Abstract Oil Painting
A shabby chic living room is an inviting space that embraces comfort and warmth – the perfect backdrop to showcase abstract oil paintings with muted, earthy tones. These unique pieces bring character while their abstract form adds a fresh twist to traditional art standards — all while complementing your existing home decor.
Allow yourself to be creative and explore unique styles of wall art to express your individual taste and style. Let abstract oil paintings add depth and personality to each corner of your living room!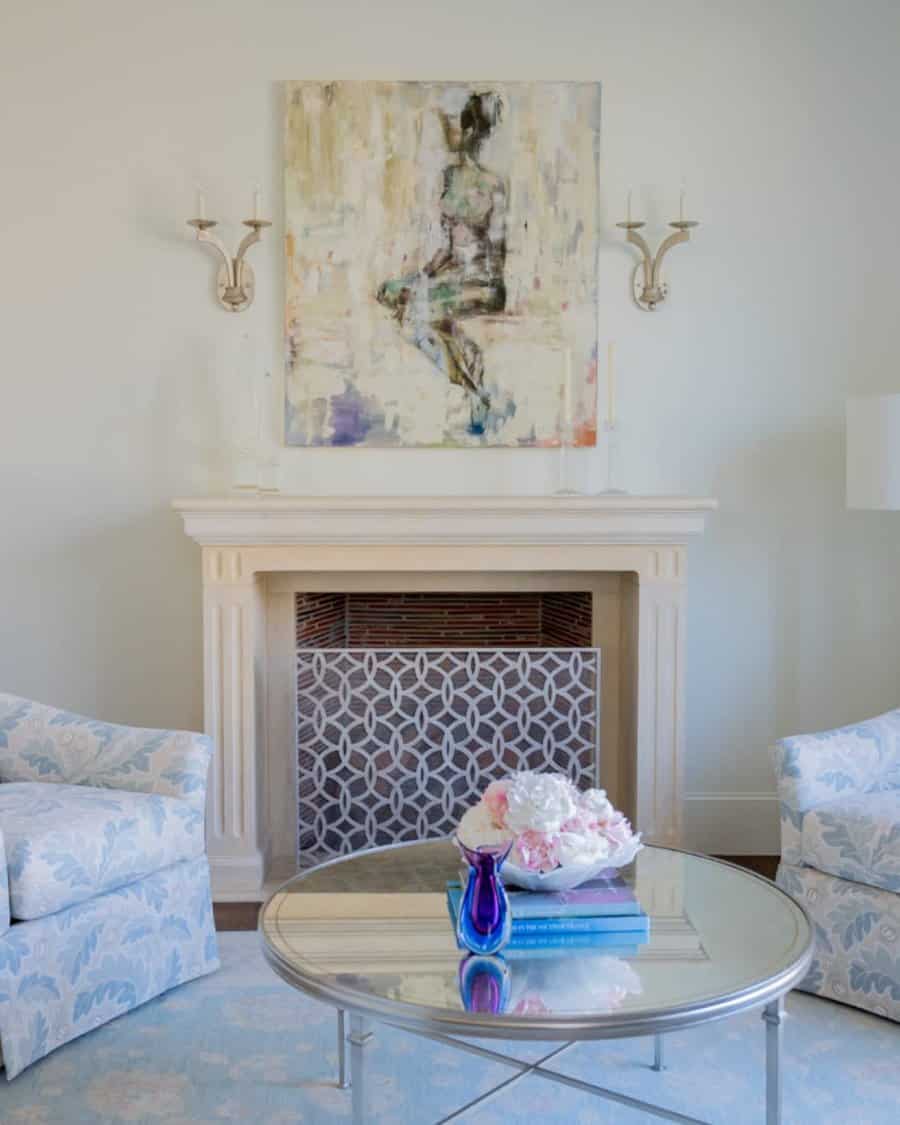 21. Modern Bauhaus Painting
Spice up your modern Bauhaus living room with some unique, eye-catching wall art. An eclectic mix of paintings and artwork can make a statement in any modern interior. Choose modern prints and add a combination of sculptural elements for a dramatic flair, or give your room an artistic twist with sharp geometric shapes in muted tones.
Whether you decide to blend bold colors for an invigorating pop in the space or choose pastels for an airy feel – wall art provides endless possibilities for everyone's personal tastes!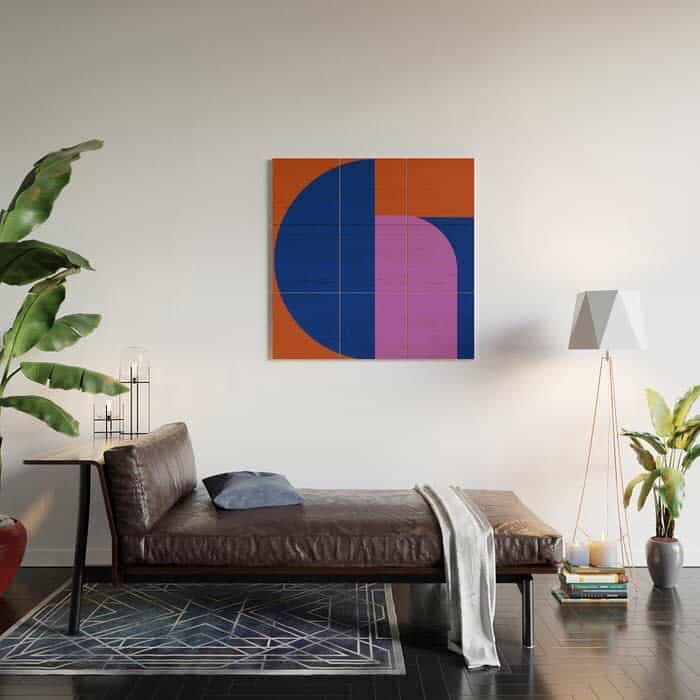 22. Neutral Neo-expressionism Art
Add a neutral neo-expressionism art piece to your living room and watch its vibrant energy infuse your contemporary interior.
Wall art is an essential ingredient for bringing drama, texture, and sophistication to any modern home. With the correct wall art selection, you can create an atmosphere that is relaxed yet energized with style and elegance.
Consider balancing neutral tones with bold strokes of color or mixing nature-inspired elements with expressionist techniques to discover the perfect visual for your living room. Embrace your artwork and use it as a tool for self-expression in your home.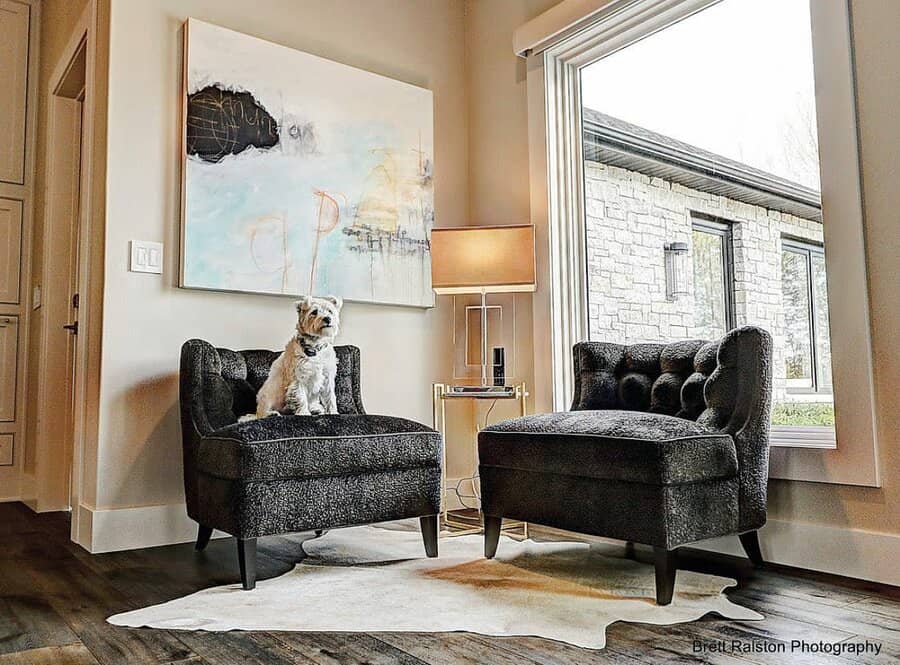 23. Dramatic Monochrome Sketch
A dramatic monochrome sketch in a frame is a great way to add a touch of style and sophistication to any grey living room walls. Whether you choose a large portrait sketch or a smaller print sketched in black and white, it's sure to make an impactful statement without being too outwardly dramatic. Hang your chosen artwork above the center of your focal wall, such as a fireplace mantel or couch, for dramatic effect and dramatic appeal.
By choosing an attractive frame that complies with the size of the sketch and the shades used in your living area, you'll be sure to create a harmony that allows both pieces of art to blend seamlessly together into one unified art canvas.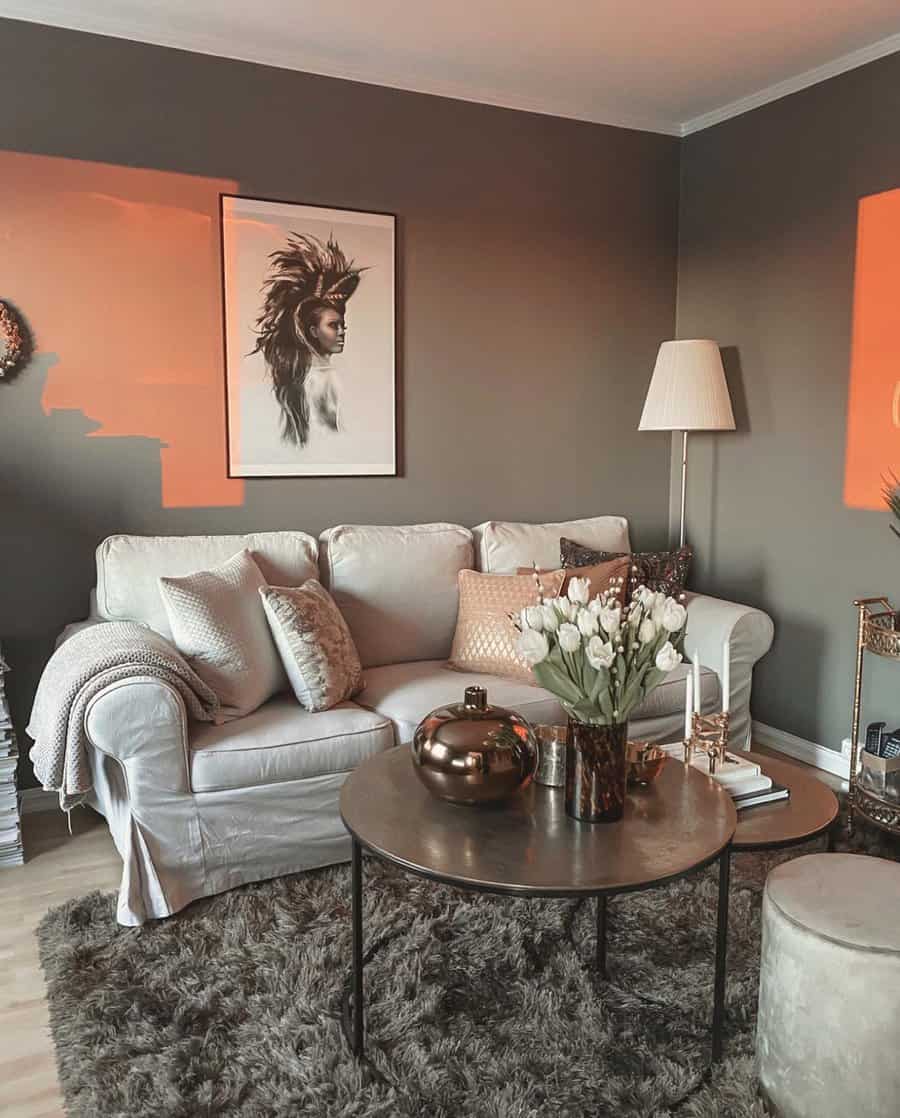 24. Jungle Wall Map
With wall art for the living room, why not turn your home into an atlas-inspired jungle paradise? A jungle wall map can spruce up a modern or rustic furniture set while bringing a sense of adventure to the room.
Accentuate this jungle theme with potted plants strategically placed around the room – adding both a serene aesthetic and naturalistic charm to the living space. Enjoy your living room oasis!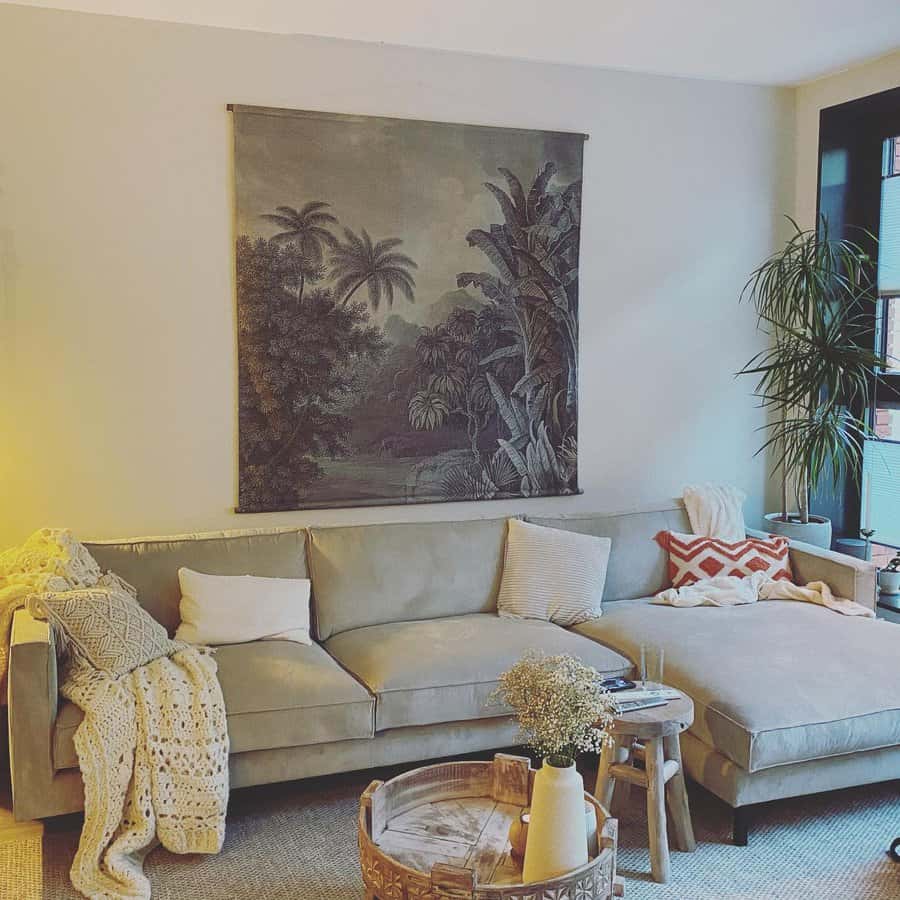 25. Framed Mosaic Art
For a glam chic interior, mosaic art with gold frames takes center stage and immediately creates an aura of sophistication that is sure to impress. Not only does mosaic art add visual interest, but it also gives the living room more depth – taking it from dull to exciting in just a few steps.
Make this bold statement by showcasing mosaic art in your living room and enjoy your guests' reactions as they take in the luxurious vibes of your clever design!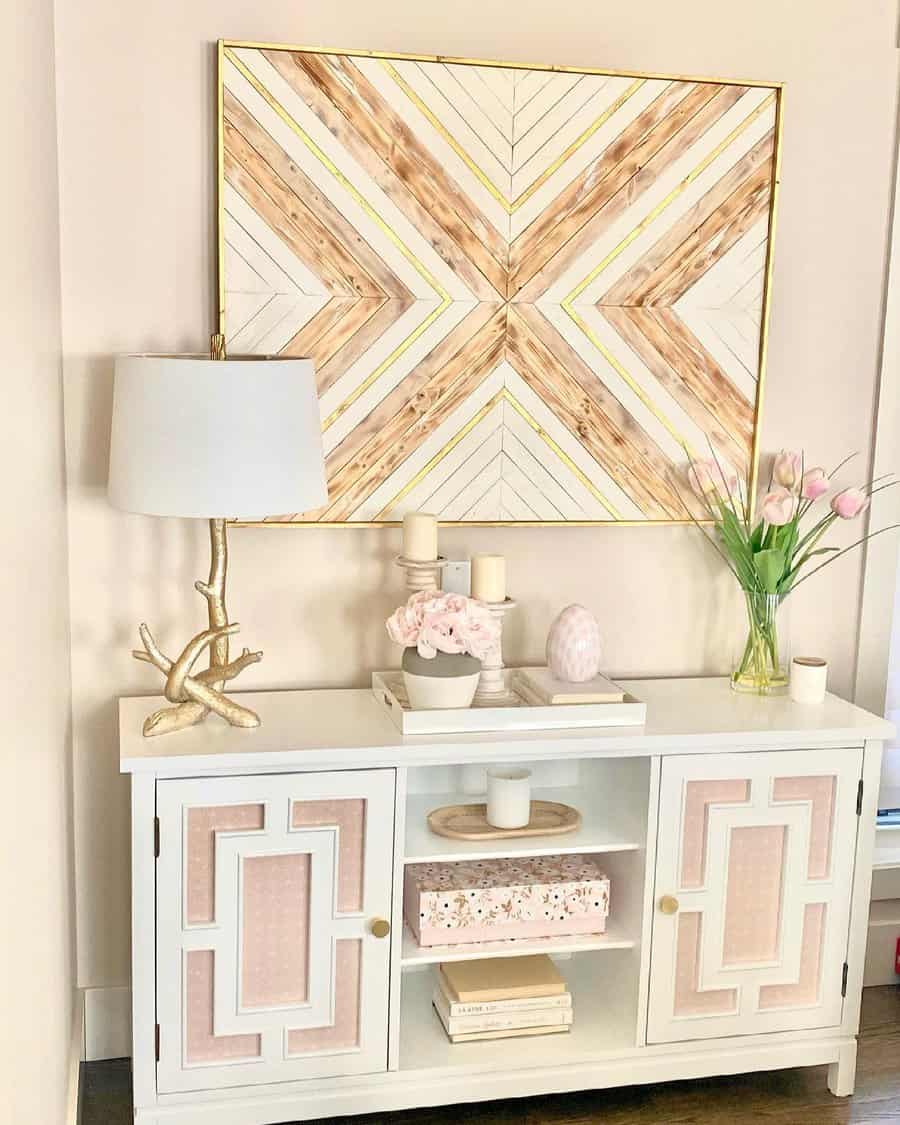 26. Wooden Puzzle World Map
Decorating with wooden puzzle world map wall art is a great way to add some creative flair to any living room. These wooden puzzles feature timezone clocks that can help you keep track of the time at home and in far-reaching places all over the world!
Nothing will make your living space look more unique than wooden puzzle world walls maps. Plus, these wooden wall maps are lightweight, so you can even take them with you on vacation for everlasting memories of your journey!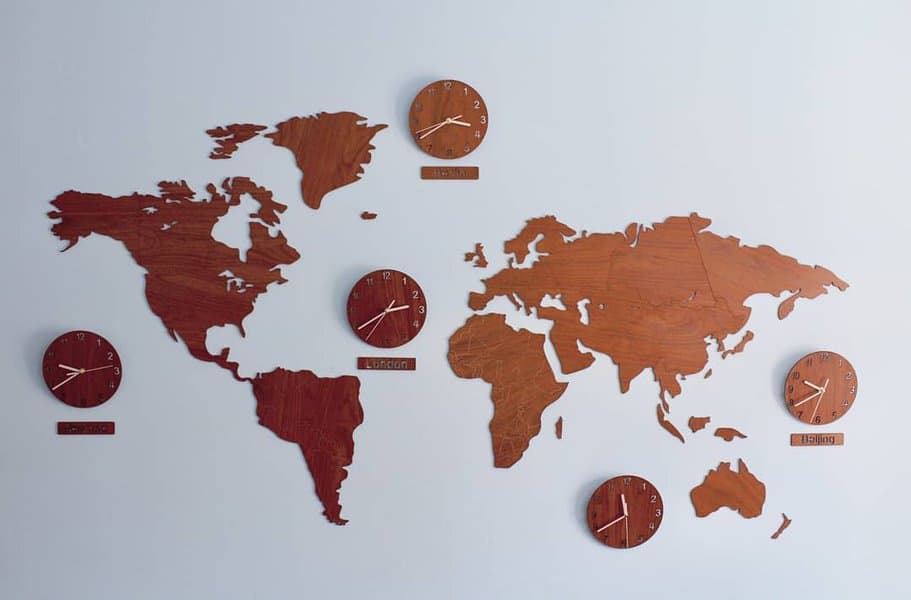 27. Hexagon Wood Print
Bring a bit of nature's beauty inside by adding hexagon wall art puzzles with floral prints to your living room. Imagine how lovely it will look when the hexagonal pieces come together – like putting the final touches on a masterpiece!
Not only do you get the natural elements, but you also create an eye-catching work of art that is sure to draw your guests' attention!
Enjoy decorating your space while breathing in a sense of life and renewal without ever leaving the comfort of your living room.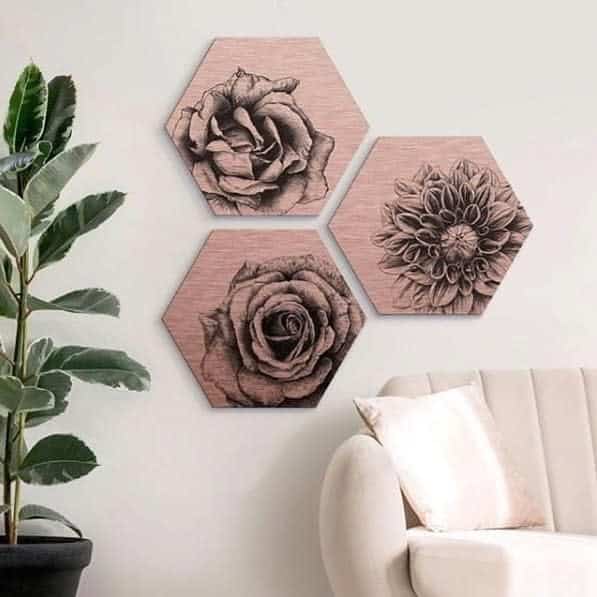 28. Sunburst Carving Wall Art
Transform your living room into a sun-soaked sun-inspired suite with sunburst carving wall art and Aztec throw pillows! These eclectic accents brighten up any space, adding layers of texture to walls and floors alike.
Let the sun burst through as these warm elements tie your living room together in a one-of-a-kind statement that has plenty of personalities. Whether opting for a subtle sun motif or a stronger patterned look, wall art paired with boho chic pillows takes your space to another level.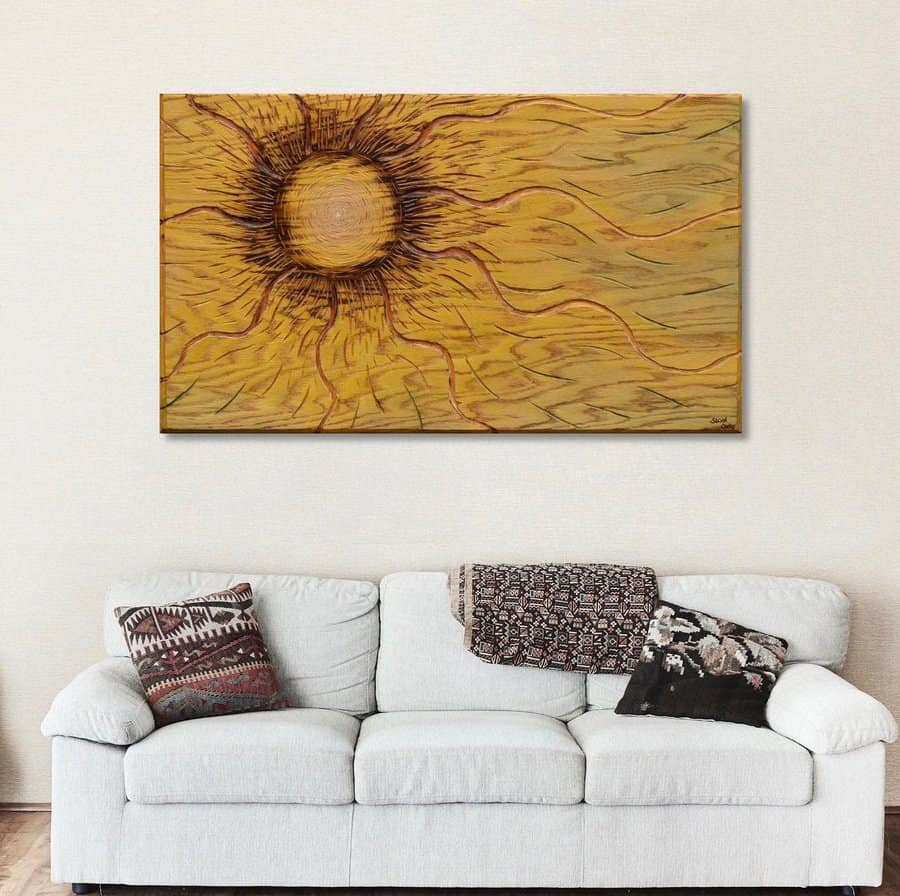 29. Gold Wall Map
Decorating the living room with wall art that helps create a homey feel is a must! If you're looking for something striking and unique, consider gold wall maps. Not only do gold wall maps add a touch of sophistication to even the simplest brown and wood interior, but they also offer an inspirational reminder of the world's beauty.
Gold wall maps can be hung in any orientation – from large gold frames to long gold strings – offering you some creative freedom as you design your dream living space.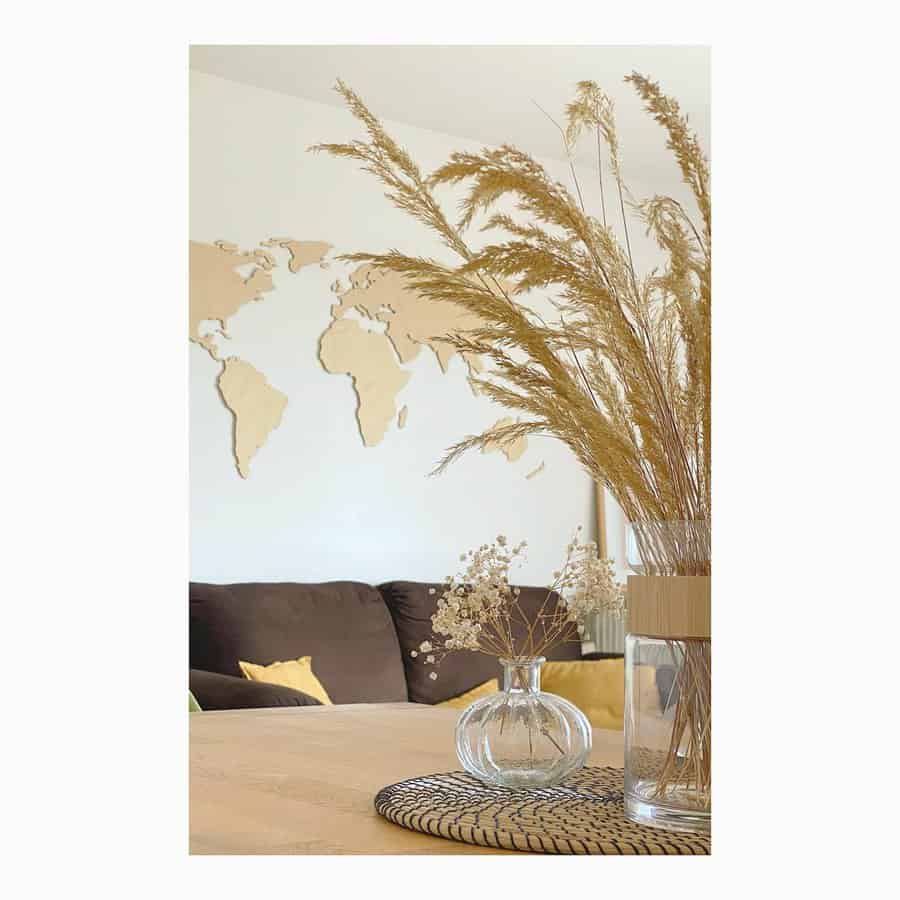 Living Room Wall Art FAQs
What's the easiest way to decorate a living room?
Start by measuring the room and choosing the furniture style you like best. Choose a wall color, rug color, and lighting fixtures. After all of this is in place, narrow down your wall decor ideas and choose accessories for the room.
Should living room wall decor be centered on the wall or over the furniture?
Always plan wall art placement to work with the furniture below them. This creates balanced visual groupings and a clear focal point. If you try to center your living room wall art on the wall itself, it can make the space feel a bit erratic.