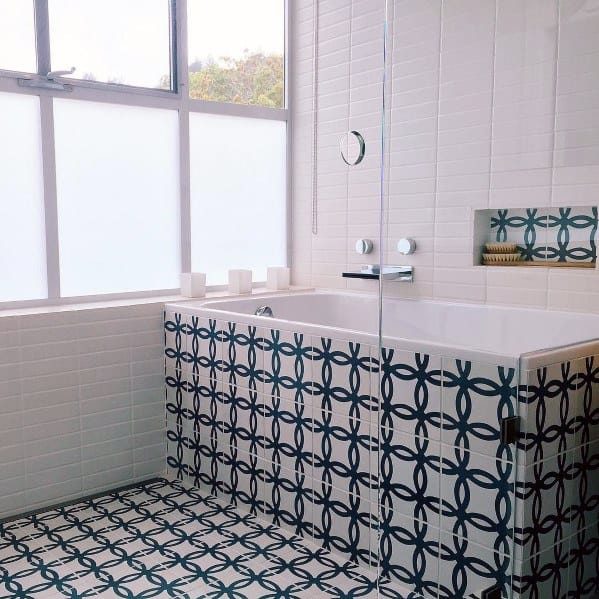 25 Best Bathtub Tile Design Ideas
"I noticed every time I spent a lot of time in the bathtub, I would just get fantastic realizations about myself, and they were so valuable and liberating."– Leonard Orr
Say goodbye to that boring builder-grade drop-in bathtub. It's small and ugly in that basic white. You can't really do much with these tubs other than take them out and replace them with something better.
You could have a freestanding tub or another built-in that has tile surrounding it. Even if you add a freestanding tub, you need tile on the walls around it. Once you decide on your dream tub, your next step is to choose just the right tile.
These bathtub tile ideas will help you plan a bathroom remodel that features an upgraded tub.
1. Blend of Light Blue Herringbone with White Marble
Combining light blue herringbone tiles with white marble creates a timeless bathtub ambiance. The cool tones exude sophistication while keeping the space fresh and airy. To achieve this design, choose quality light blue herringbone tiles for your shower walls or backsplash. Complement them with white marble countertops or bathtub surrounds.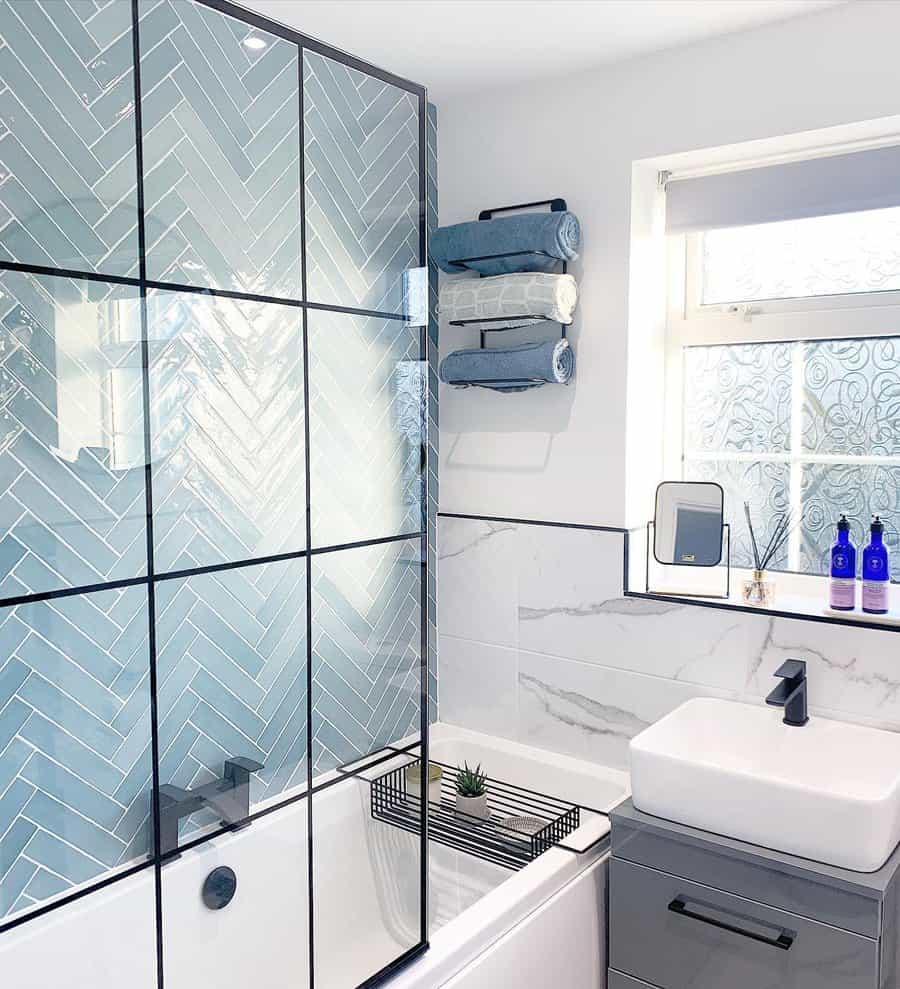 2. Dive into Blue Hexagon Tile Elegance
Blue hexagon tiles introduce a distinctive charm to your bathroom, reminiscent of serene ocean hues. Enhance this aquatic elegance by pairing with light-colored grout to make the tiles pop. Complement the design with soft, neutral accessories or a touch of gold for added luxury. This choice ensures a captivating, yet harmonious, bathroom escape.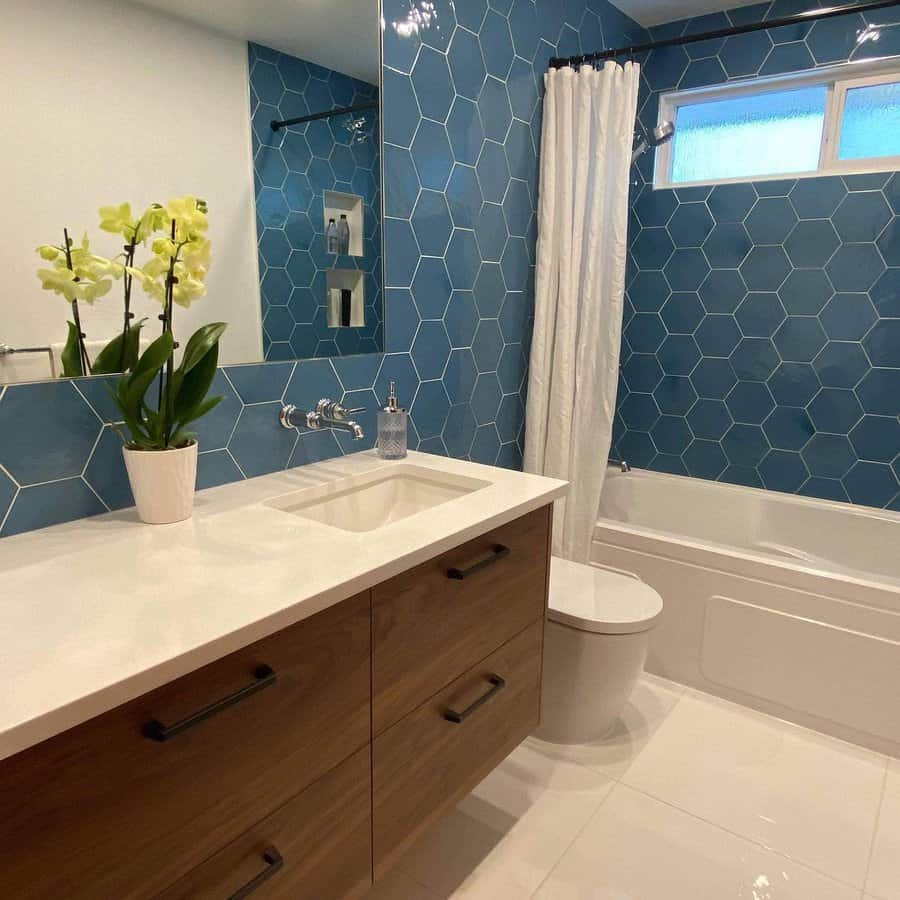 3. Marble Mastery with Monochromatic Accents
Introducing ceramic marble wall tiles with grey hexagon accents guarantees a classic yet opulent bathroom touch. Enhance this elegance by considering a feature wall or distinct trim to personalize your bathtub space. Remember, each ceramic piece can be custom-cut, allowing seamless integration of your design visions for that dream spa ambiance.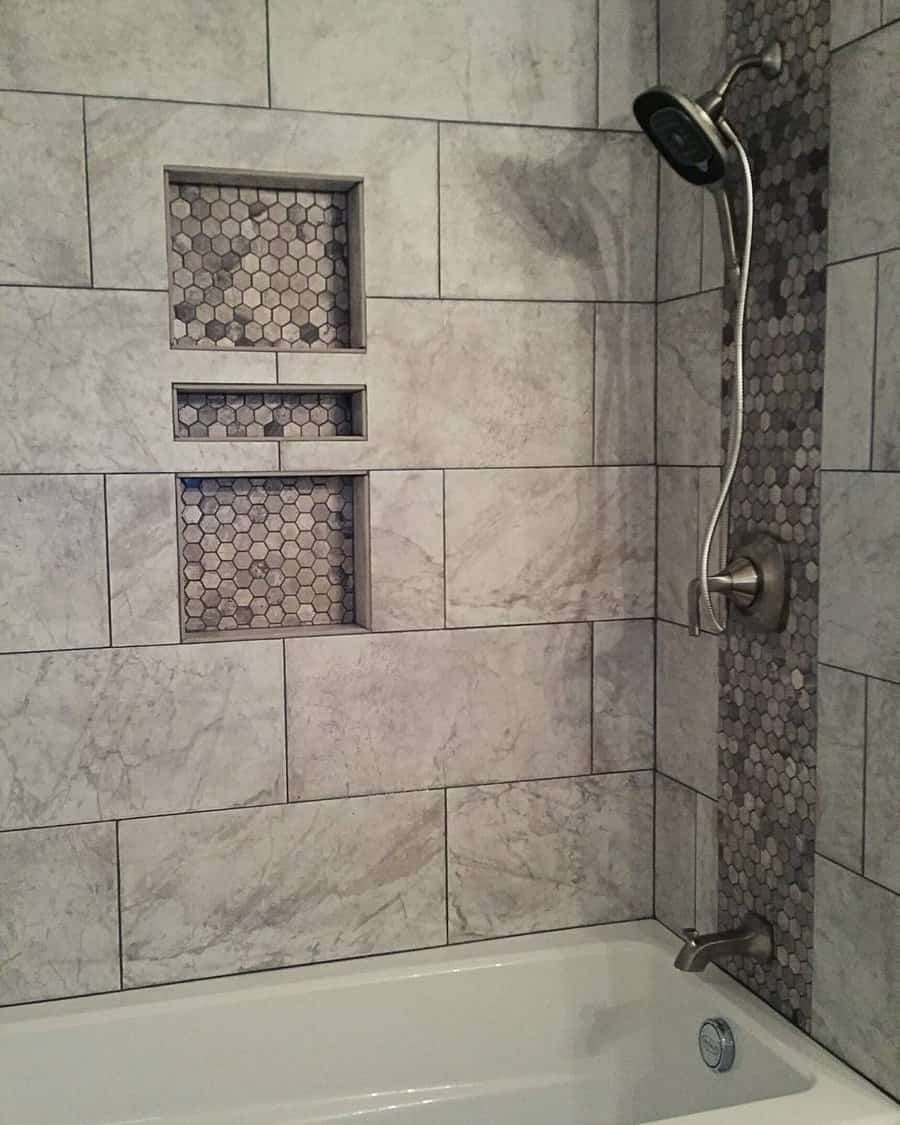 4. Elevate Style with Vertical Glass Mosaics
Pairing ceramic tile bathtubs with vertical mosaic accents crafts a blend of timeless luxury and contemporary artistry. The versatility of ceramic tiles lets you select from a spectrum, whether classic white, deep slate, or vibrant blues. For added sophistication, consider geometric-shaped vertical tiles with textured nuances. This combination guarantees a bathroom that radiates elegance, irrespective of your design choice.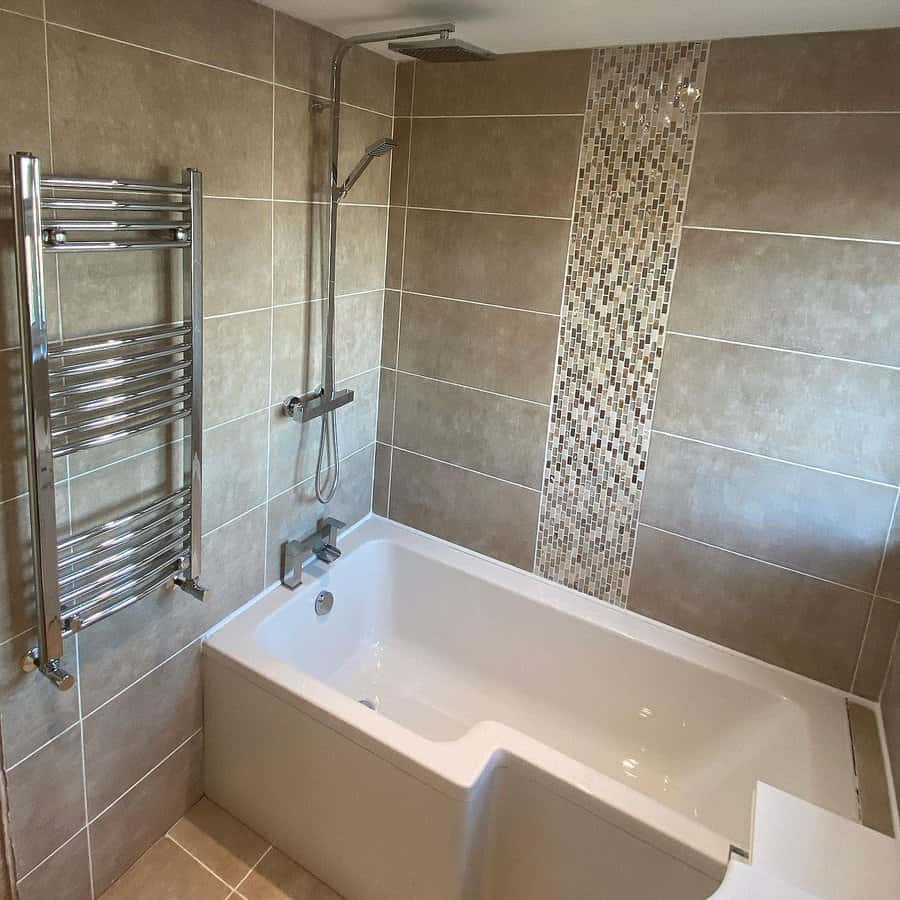 5. Fade into Beauty with Ombre Glass Tiles
Grey ombre vertical glass tiles provide a tranquil yet luxurious touch to bathrooms, transitioning from dark grey at the base to lighter shades. Pairing these with white accent tiles crafts a captivating interplay of grey tones. To elevate the design, choose fixtures in matte black or brushed nickel. This ombre approach ensures your bathtub becomes a soothing, indulgent retreat.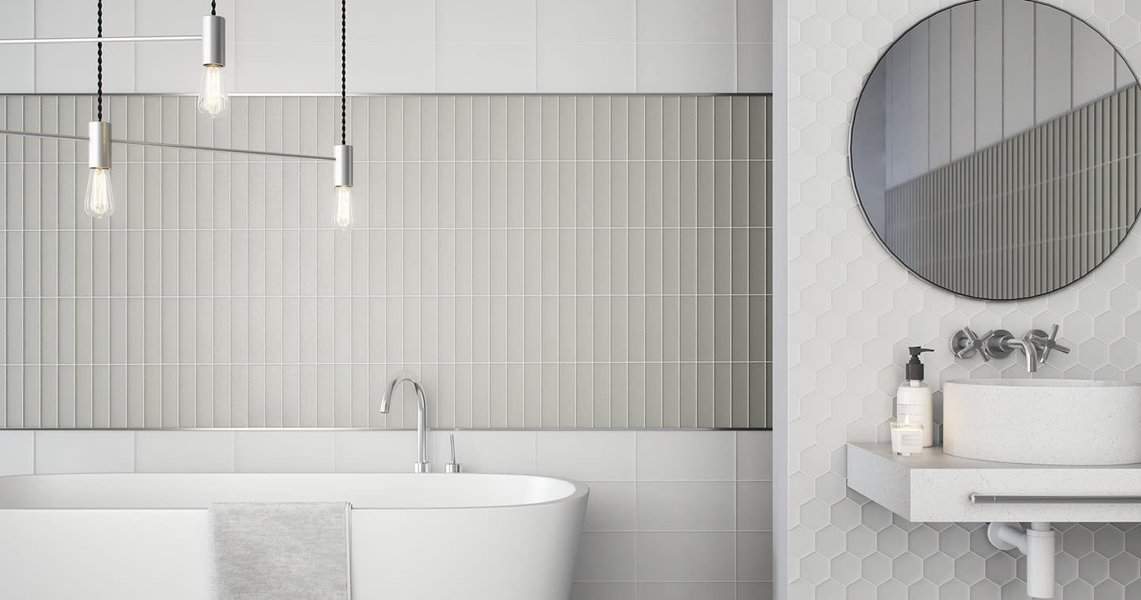 6. Embrace the Intensity of Black Tiles
All-black matte tiles infuse bathrooms with a profound sophistication. Amplify this elegance by coordinating with black bath accessories, offering a contemporary allure. For a touch of contrast, introduce gold or chrome fixtures. This bold choice ensures a memorable and timelessly chic bathroom ambiance.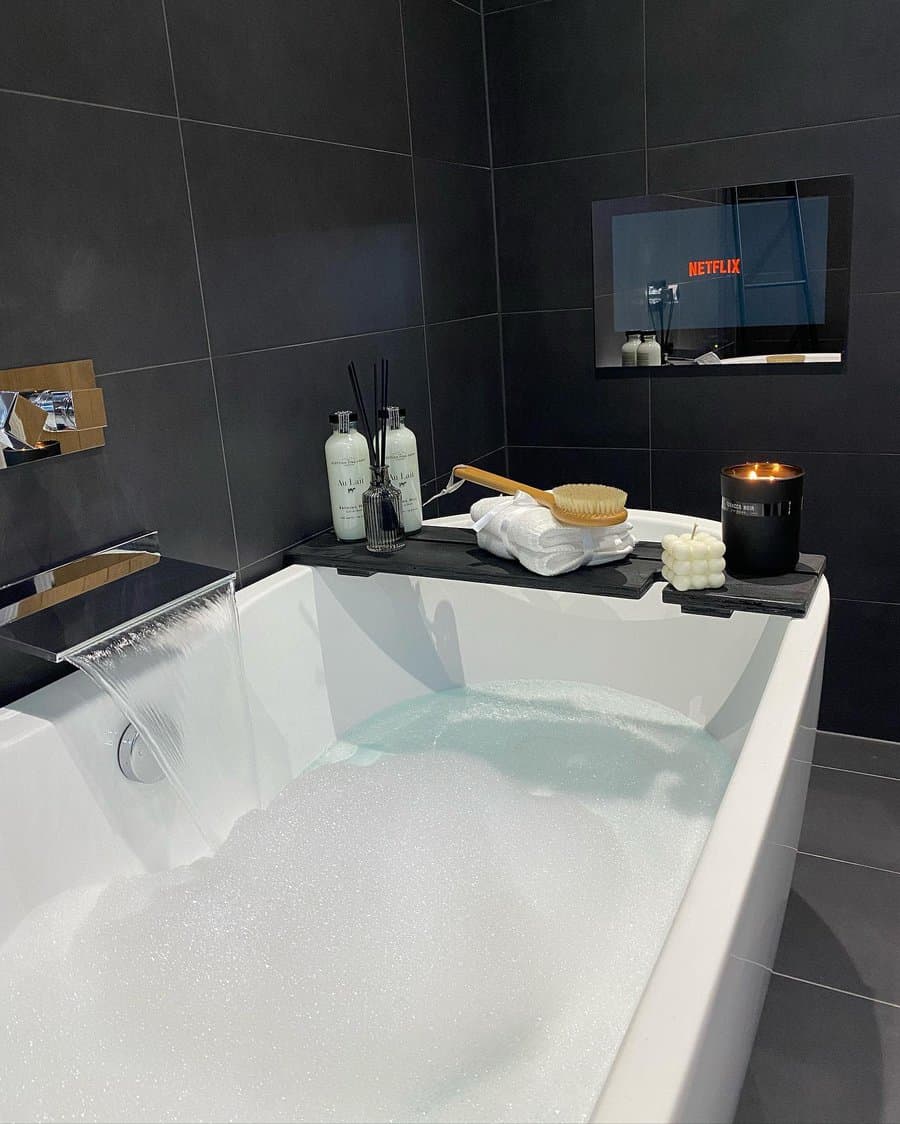 7. Pure Sophistication with White Quartz Marble
White quartz tiles elevate bathrooms with their ethereal elegance, offering a serene sanctuary feel. Utilize them as borders or for comprehensive coverage to achieve a luminous, calming ambiance. Beyond their aesthetic appeal, white quartz tiles are low-maintenance, ensuring beauty with effortless upkeep.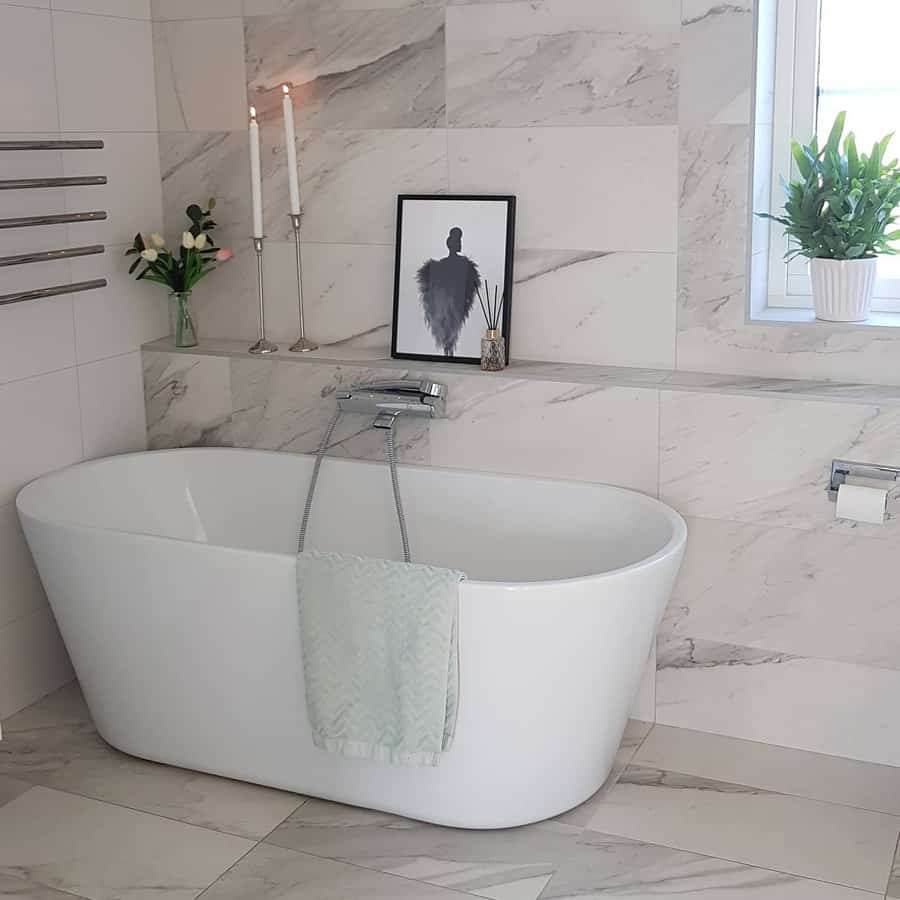 8. Full Marble Tiles for Timeless Elegance
Marble tiles infuse bathrooms with a blend of timeless charm and contemporary grace. Consider complementing this elegance with textured glass windows for added privacy and allure. Whether choosing intricate mosaics or simple marble slabs, they elevate the depth and dimension of your space, letting you craft a bold, lasting statement.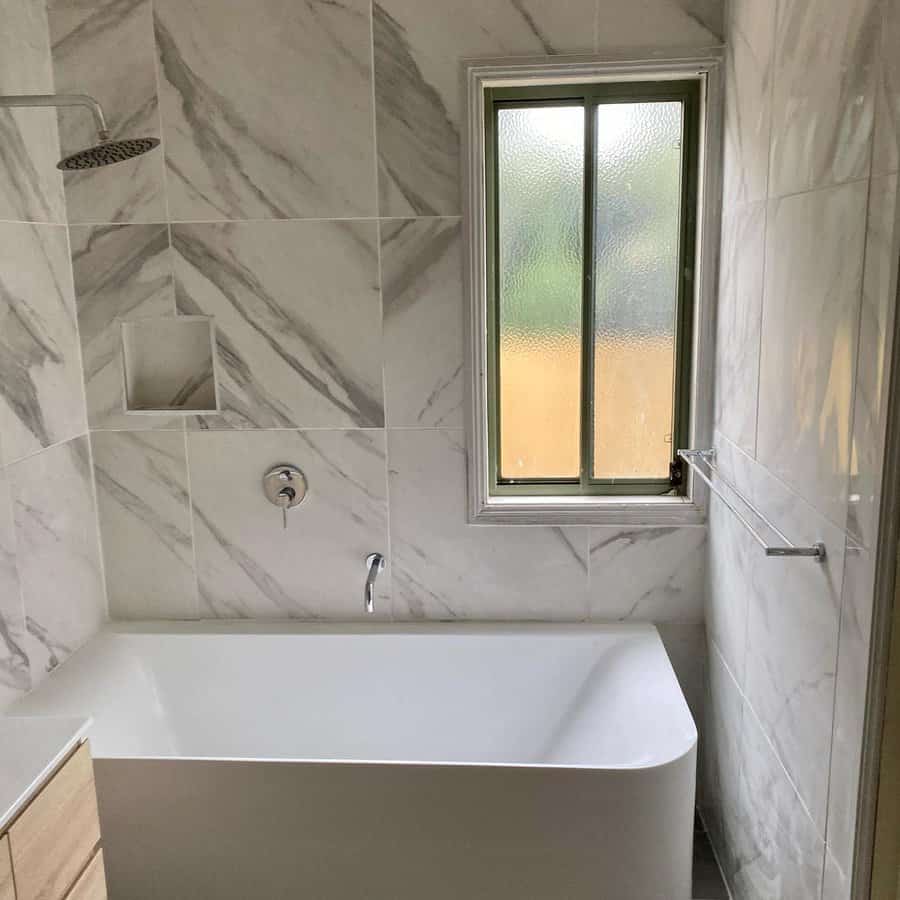 9. White Marble Meets Diamond Brilliance
Pairing white marble tiles with diamond-patterned floors merges timeless elegance with visual intrigue. The marble illuminates the space, making it feel expansive, while the diamond pattern injects a layer of understated sophistication. This union guarantees a rejuvenated bathroom that seamlessly balances classic grace with modern aesthetics.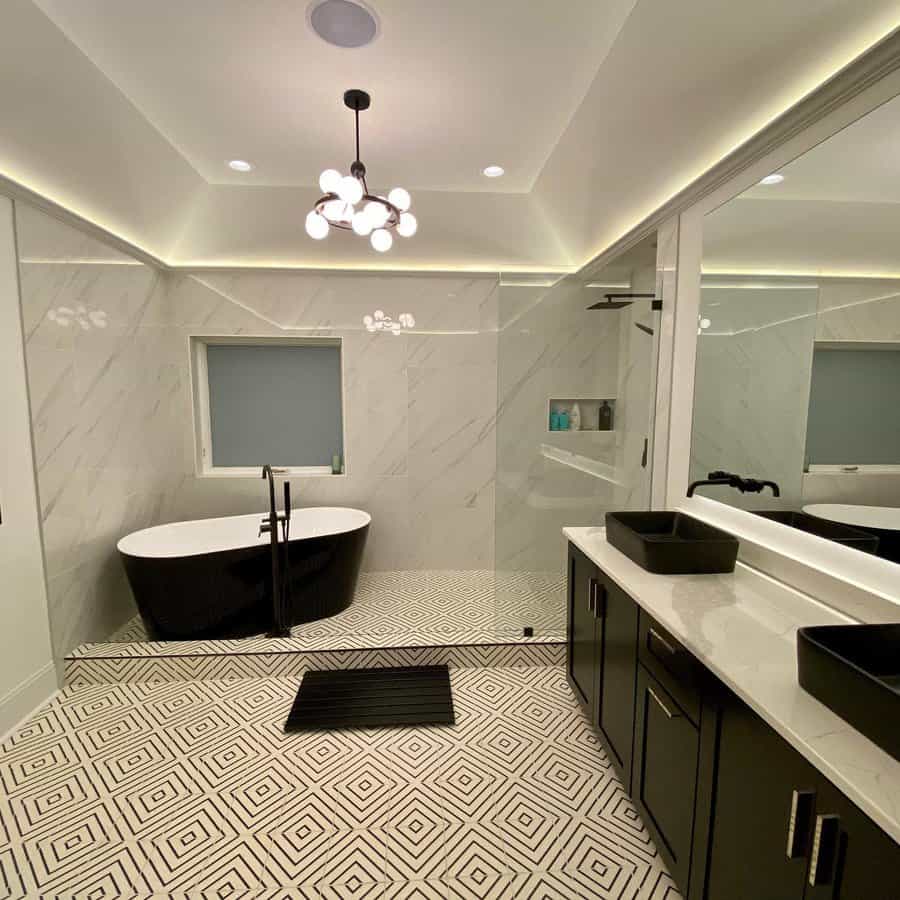 10. Classic Charm of Ceramic Tiles
Ceramic tiles offer a versatile foundation for any bathroom aesthetic, from sleek modernity to rustic charm. Enhance their appeal with complementary fixtures like colorful drop lights for added character. Boasting durability and water resistance, ceramics provide a lasting and easy-to-maintain surface, ensuring your bathroom remains a reflection of your unique style for years.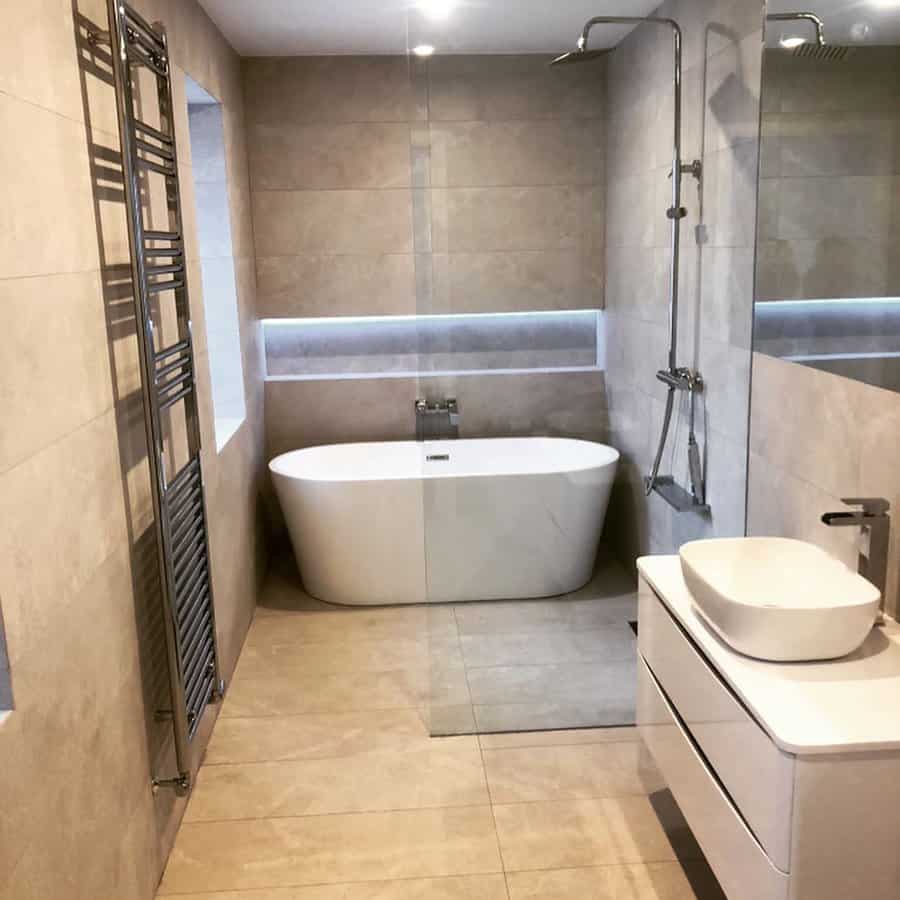 11. Depth with Recessed Mosaic Tile Walls
Recessed tiles, particularly with a glossy finish, can enhance the perception of space in your bathroom. Pairing them with reflective mosaic tiles intensifies natural light and ambiance. For a standout design, consider mixing tiles of various colors and shapes, such as hexagons, checkers, or herringbones. Such choices breathe life into your bathtub area, ensuring it remains a dynamic focal point.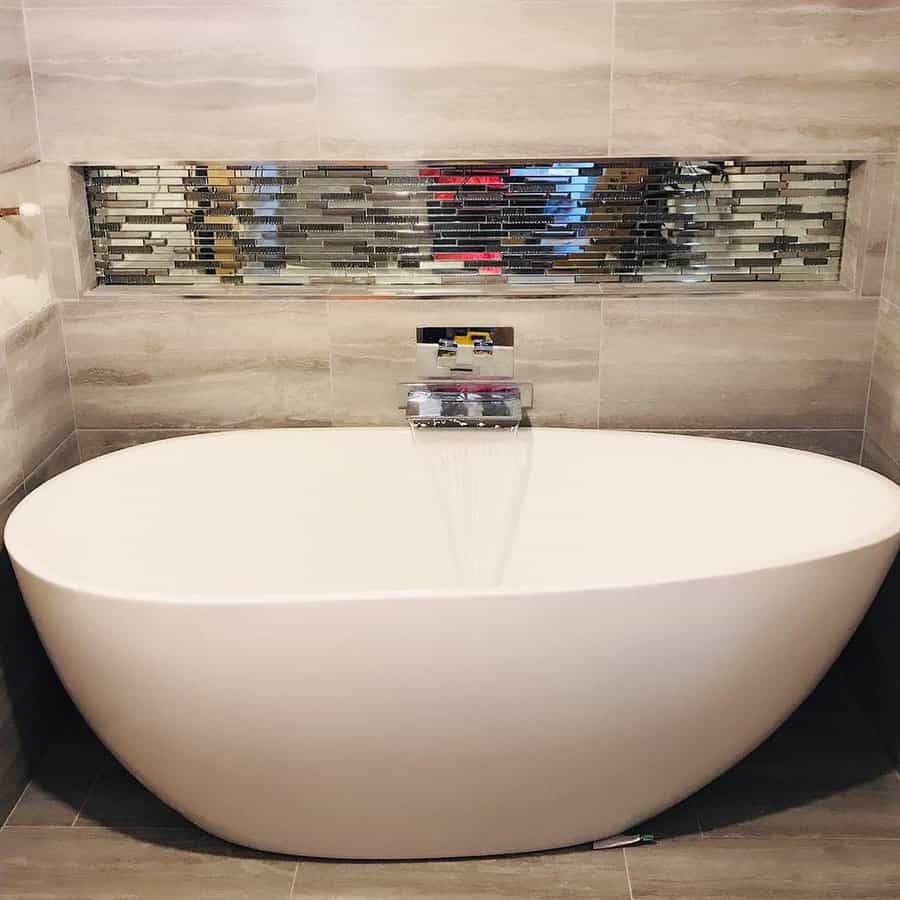 12. Shine On with Polished Stone Tiles
Polished stone tiles radiate luxury in bathrooms, especially when paired with complementary lighting like a chandelier above the bathtub. Not only do they enhance your home's aesthetic, but they also boost its value. The reflective nature of the tiles amplifies light, creating a serene space ideal for unwinding in unparalleled tranquility.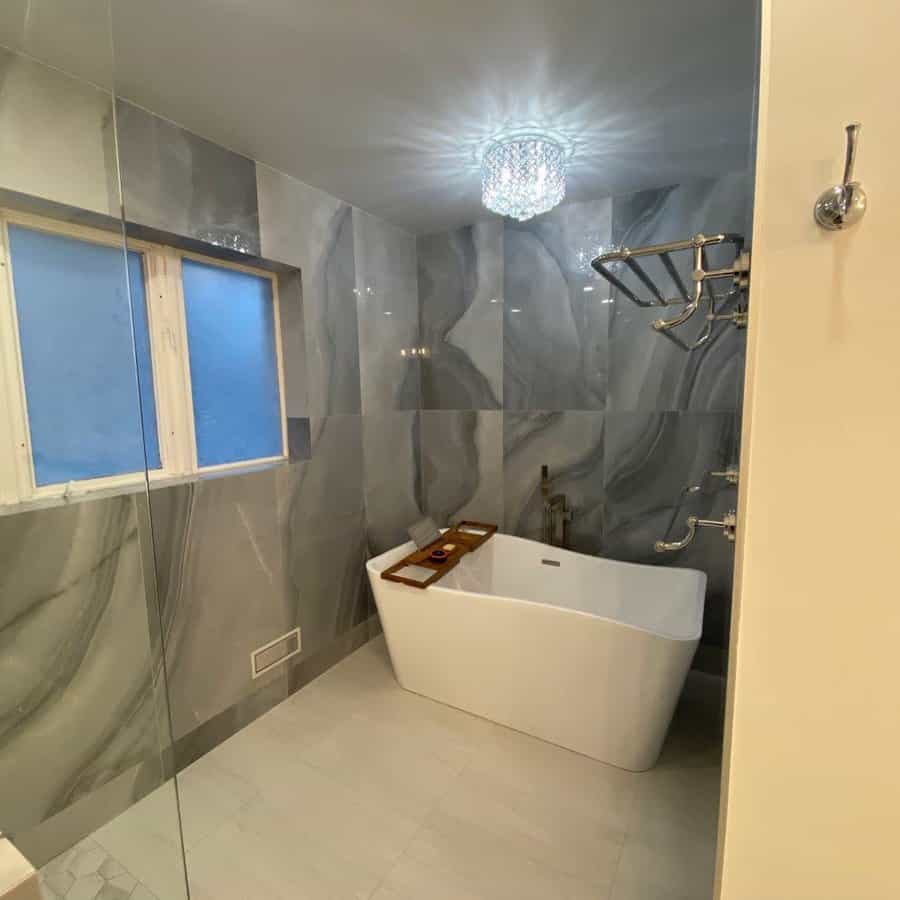 13. Modern Edge with Graphite Tile Panels
Graphite tile panels offer a textured and contemporary touch to bathroom spaces. Their distinct appearance sets them apart, providing a dynamic backdrop. Enhance their intrigue by pairing with concealed window blinds, creating an unexpected visual treat for guests. Whether aiming for subtlety or boldness, graphite tiles promise to tailor your bathroom with unmatched modernity.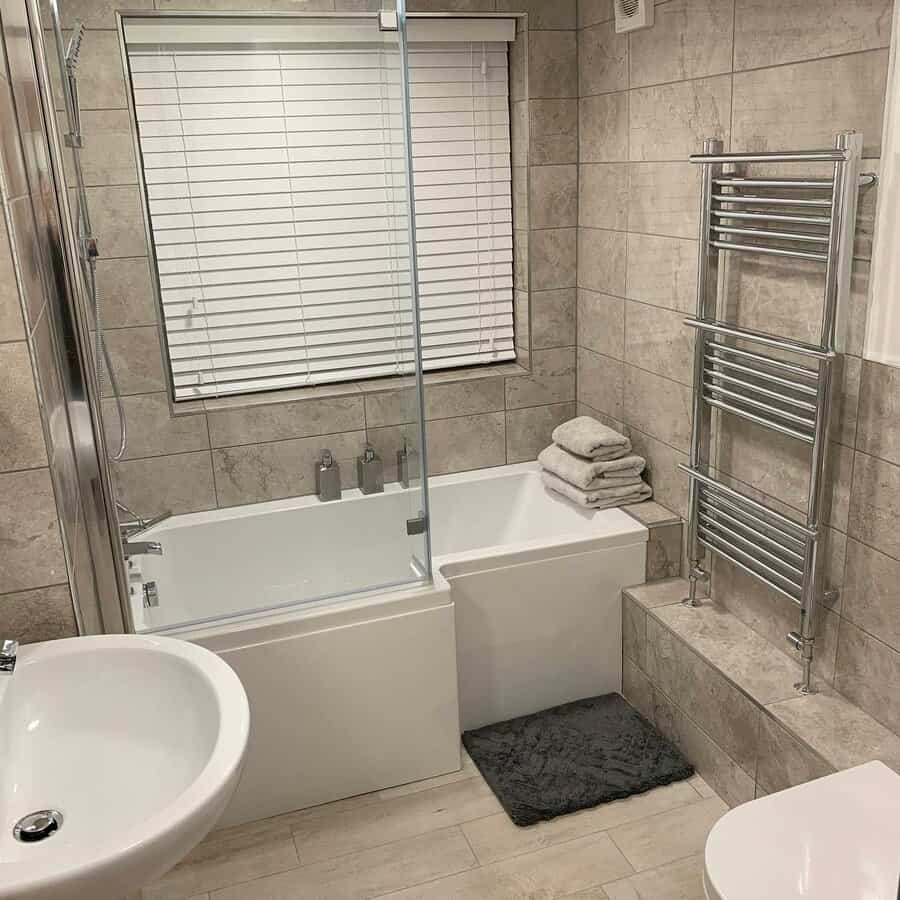 14. Stripe Up Your Bathroom Walls
Introducing striped walls can invigorate a bathroom with distinct flair. To achieve a harmonious look, choose stripe colors that complement your bathtub. Whether you opt for classic off-white or a vivid palette, these lines can transform the space. Not just a design choice, striped walls become the talking point, adding charisma to your bathroom retreat.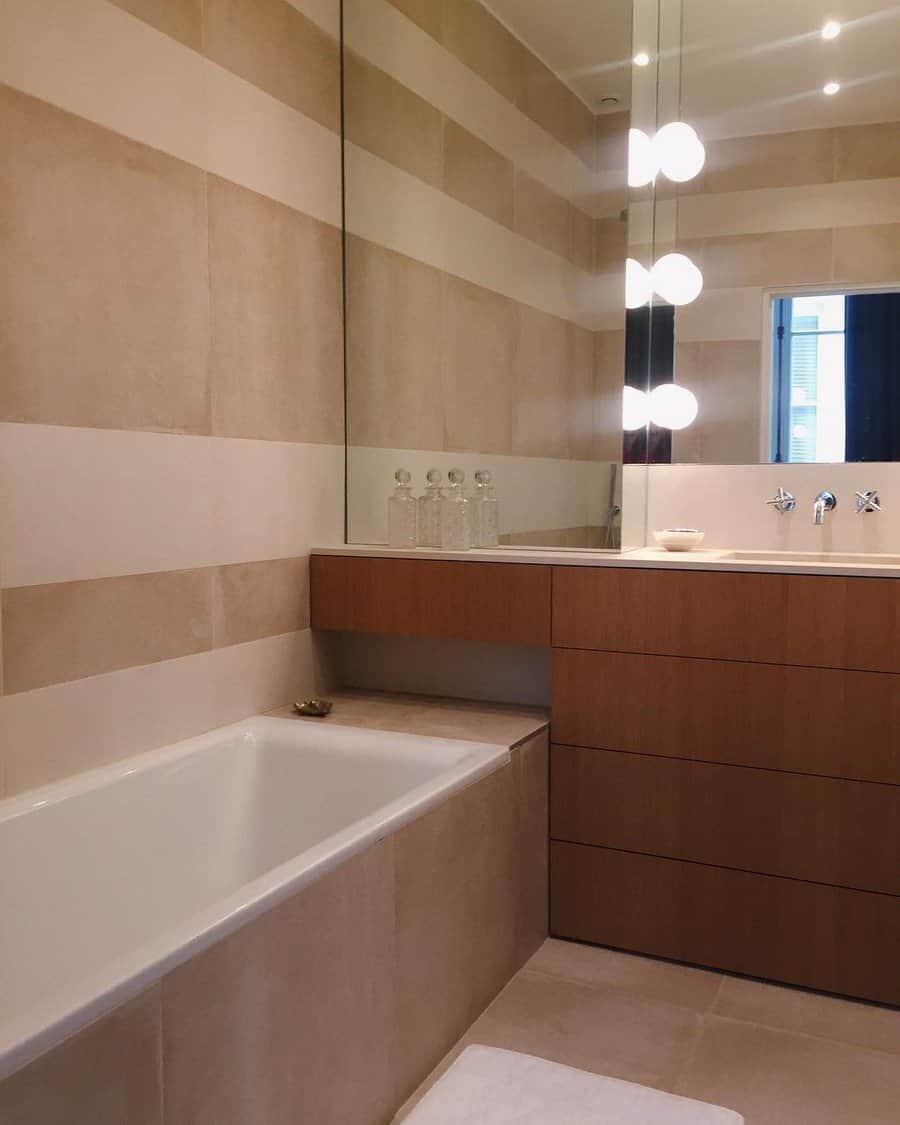 15. Stone Panel Nuance Meets Ceramic Delight
Elevate your bathroom aesthetic by blending light grey stone or marble tiles with captivating stone panel accents. This combination creates a harmonious backdrop while spotlighting the bathtub. Introducing oblong tiles among traditional rectangular ones can further enrich the design. A well-balanced mix of color, texture, and pattern ensures your bathtub becomes more than just a functional space—it's a visual masterpiece.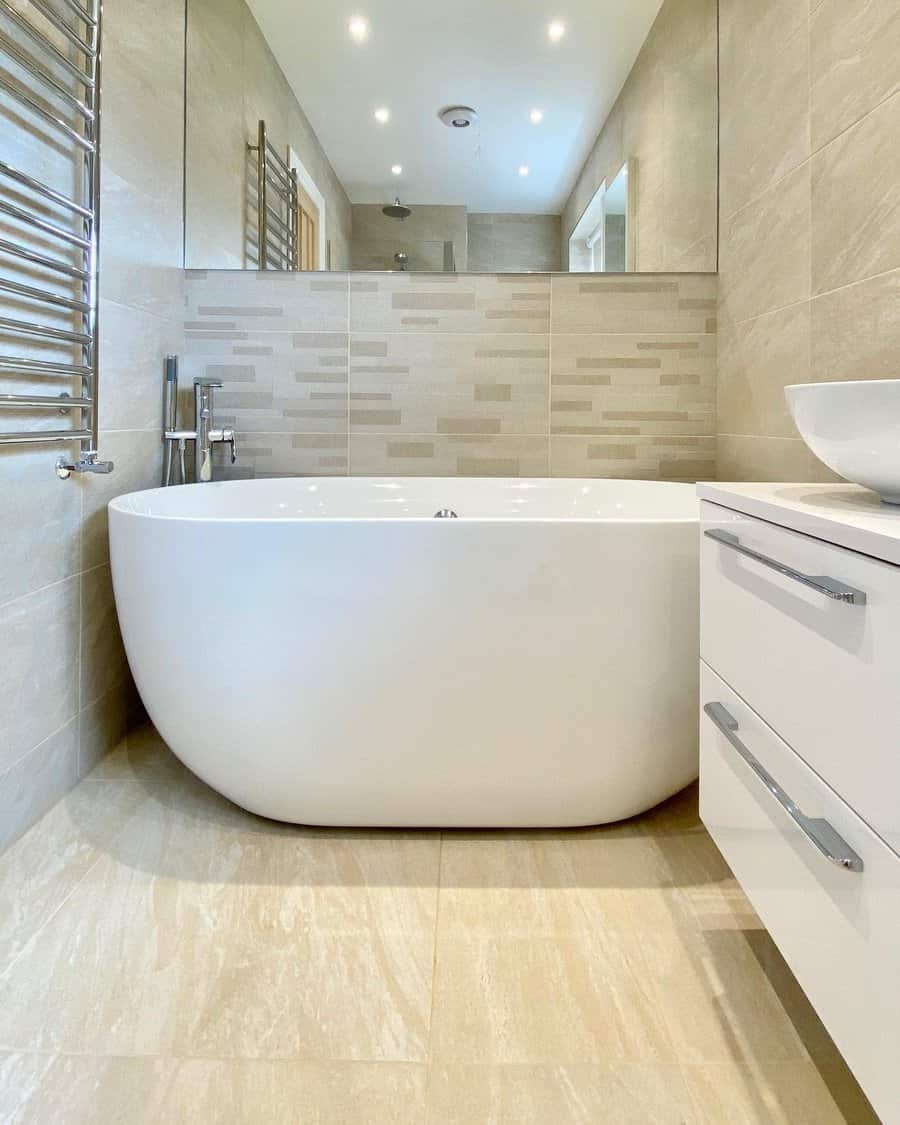 16. Bohemian Bliss in Mosaic Tiles
Infuse a bohemian vibe into your bathroom with vibrant mosaic tiles. Laying white marble floor tiles as a base, accentuate with eclectic bohemian mosaics in bold blues or radiant coppers. This interplay of foundational elegance with whimsical colors crafts a singular design that transforms the bathroom into a work of art, showcasing your unique flair.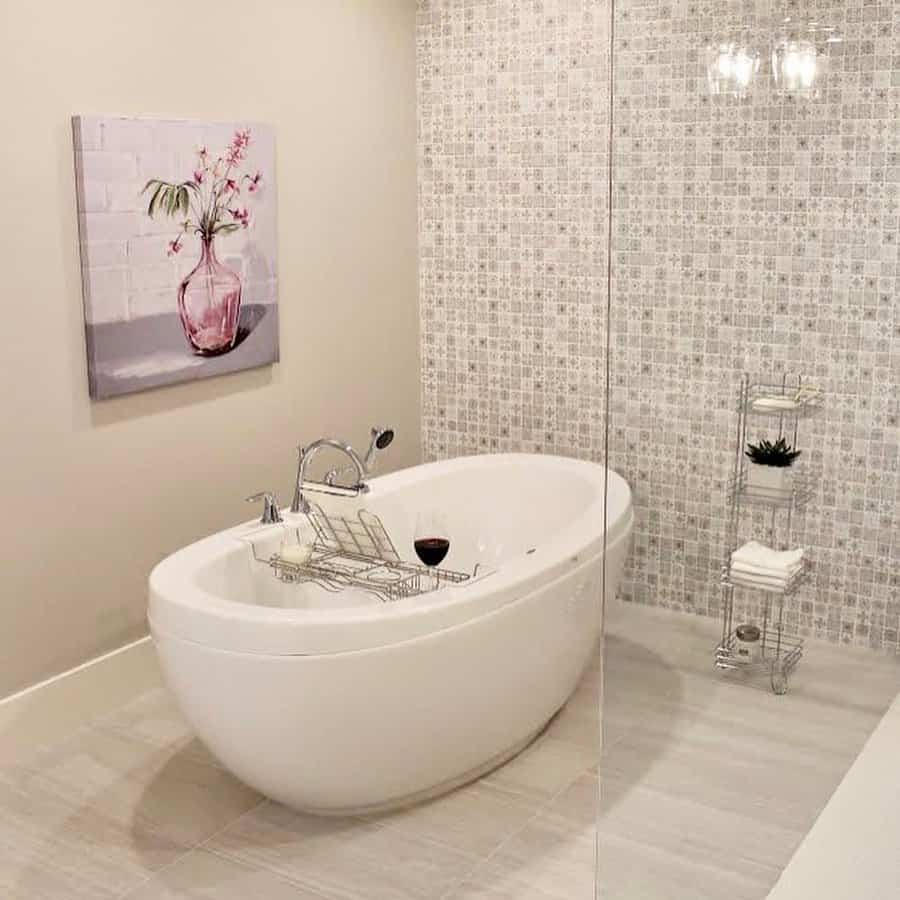 17. Feel the Texture of Black Stone Tiles
Black stone tiles, with their rich texture, infuse depth and character into any bathroom. Paired with a skylight, these tiles offer a serene, natural ambiance reminiscent of upscale spas. For those yearning for a retreat-like experience every day, black stone tiles bridge luxury and nature in one harmonious design.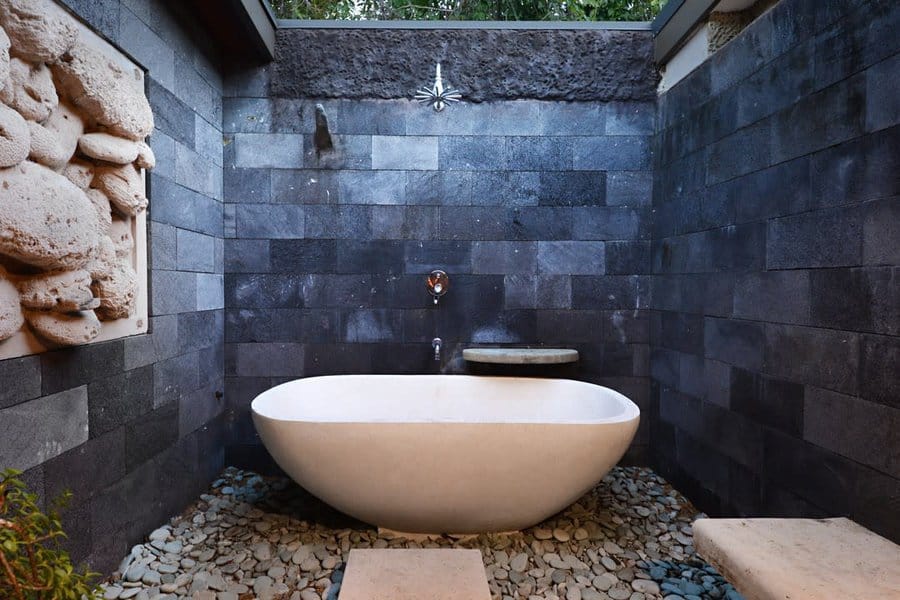 18. Calm and Neutral with Beige Ceramics
Beige ceramic tiles imbue a coastal tranquility to the bathroom space. Enhancing this calming backdrop, consider textured ceramics for added depth and dimension. Whether it's geometric patterns or linen-inspired grooves, the right texture can elevate the design. The blend of neutral beige with intriguing texture ensures a soothing yet sophisticated bath experience.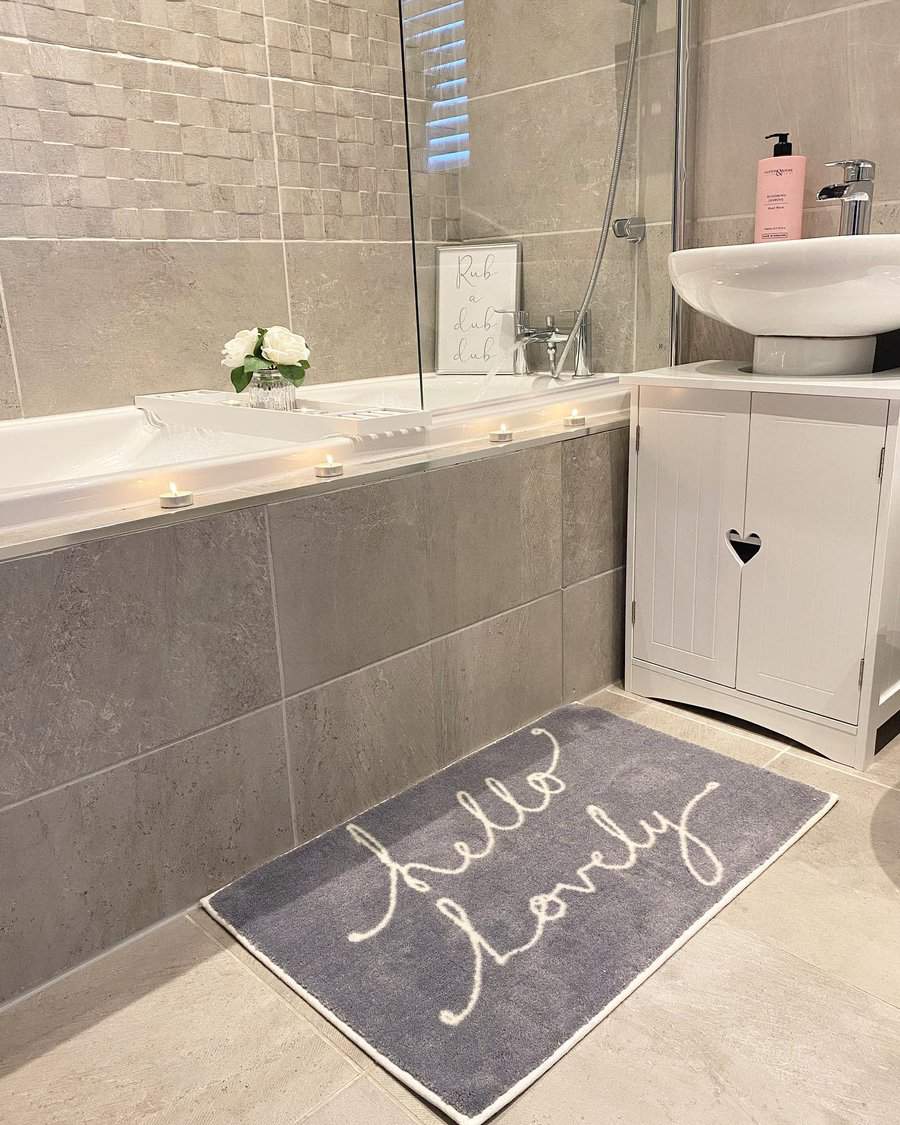 19. Contrast Light Grey Bricks with Marble Hexagons
Light grey brick tiles bring a contemporary flair to the bathroom, while marble hexagon floor tiles infuse it with luxury. This pairing offers both texture and dimension, making your space both soothing and stylish. For a sophisticated upgrade, this combination is a harmonious blend of modern design and timeless elegance.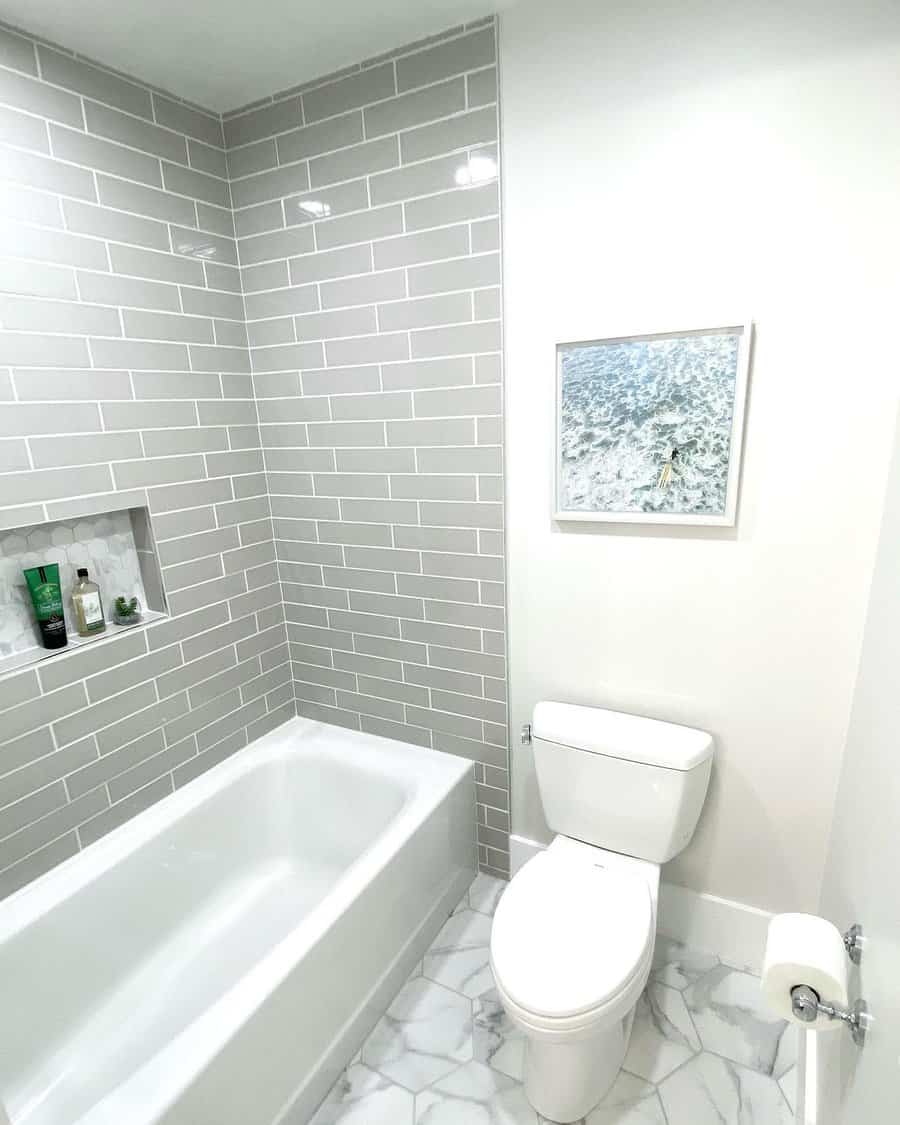 20. Herringbone's White Polished Perfection
White herringbone polished tiles can transform a bathroom into an elegant sanctuary. Their pattern adds dynamic movement, especially when paired with white grouting, creating a luxurious and timeless design. For a touch of flow and life, ensure the tiles curve gracefully along the bathtub walls, turning your bathing area into a tranquil retreat.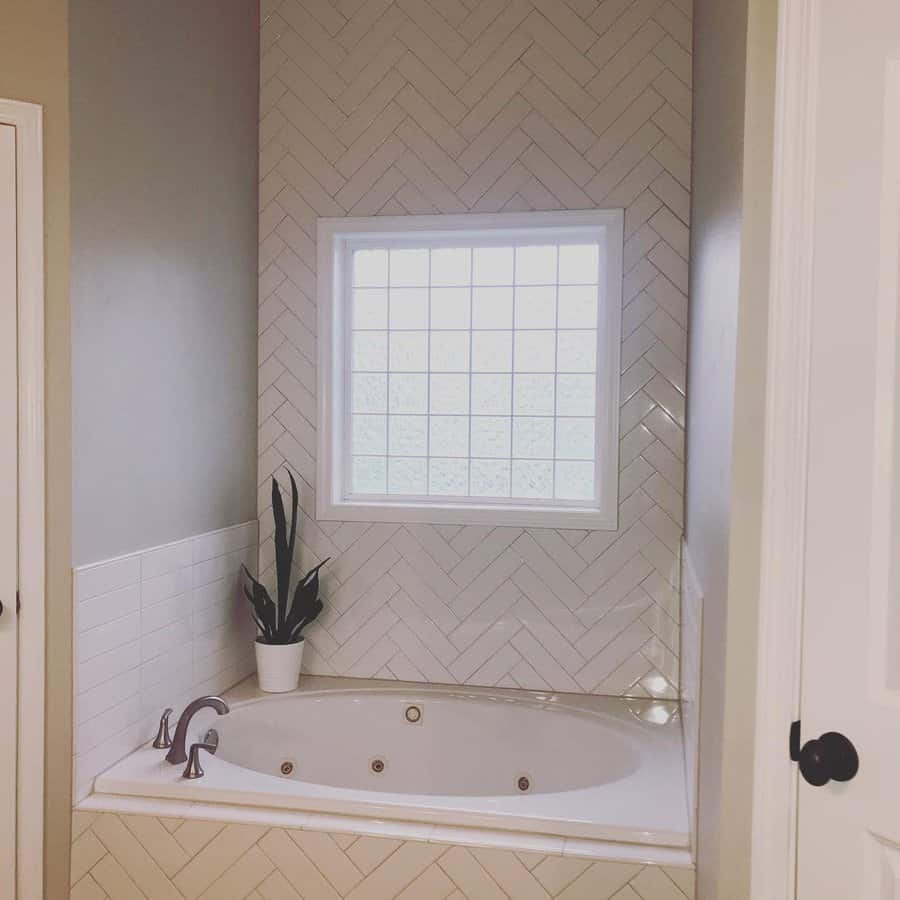 21. Classic Revamp with Beveled Subway Tiles
Black and white beveled subway tiles bring a timeless yet distinctive touch to your bathtub. Their angular corners provide a contemporary flair, making them versatile for both eclectic and traditional decors. Mix and match colors or stick to a monochromatic theme for added depth. Plus, their easy maintenance ensures a pristine look with minimal effort. Upgrade your bathroom with these tiles for a modern twist on a classic style.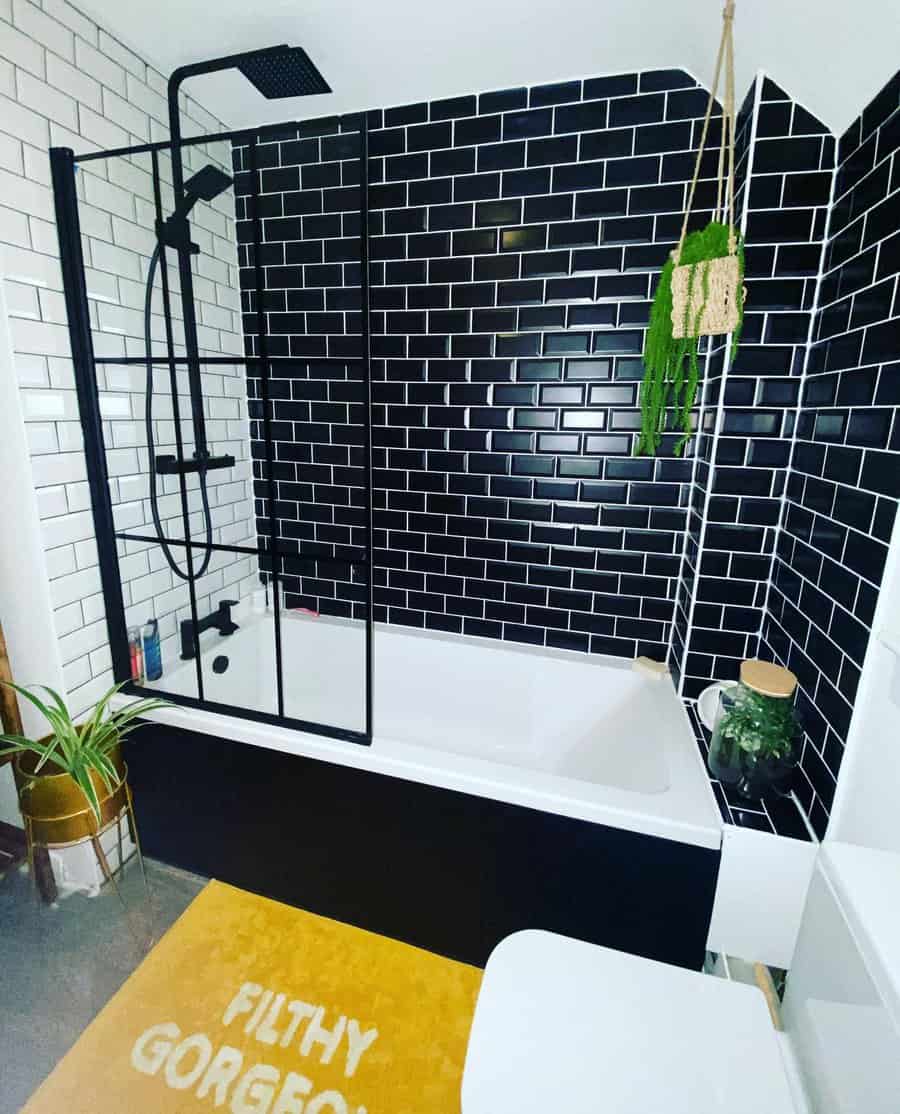 22. Retro Radiance in Green Mosaic Tiles
Infuse a retro charm into your bathroom with shimmering green mosaic tiles. These tiles not only exude luxury and tranquility but also offer excellent protection against water damage. Perfect for both serene baths and invigorating spa sessions, they'll keep your bathtub looking pristine. Pair with complementary hues or metallic fixtures to truly bring out their radiant beauty.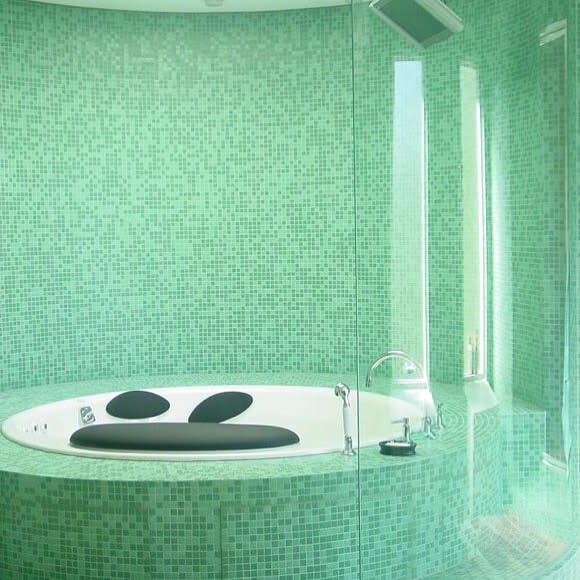 23. Dive into Delicate Finger Mosaics
Elevate your bathtub's aesthetic with the intricate charm of finger mosaic tiles. Arrange these tiles in delicate patterns either inside the tub or as a captivating accent on the back wall. Complement this design by adding recessed shelves beside the bathtub, adorned with candles or plants that harmonize with your mosaic's color palette. This subtle touch transforms your bathroom into an inviting, personalized retreat.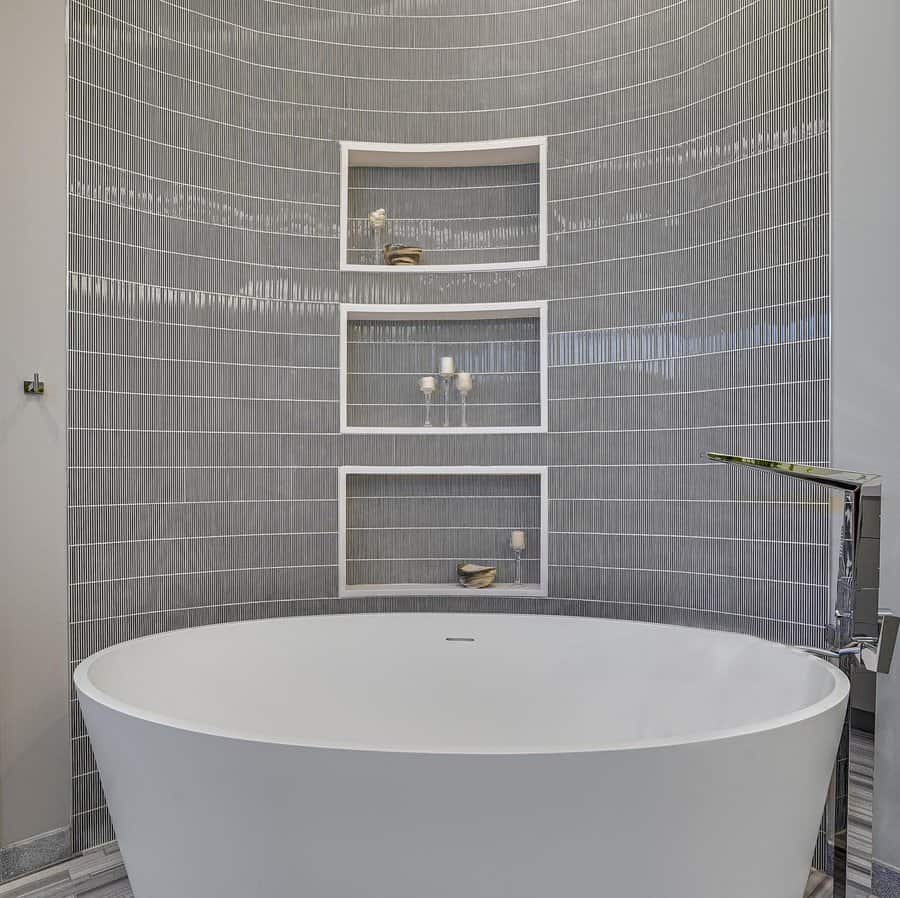 24. Brick Elegance in Marble Form
Bring a sophisticated twist to the classic brick design with marble tiles. Their natural veining and polished finish provide a unique blend of rustic charm and upscale luxury. Lining your bathtub walls or floors with these tiles gives your space an air of timeless sophistication. Enhance the grandeur by incorporating decorative accent tiles alongside the brick-patterned marble. This creates depth, visual interest, and an unparalleled elegance.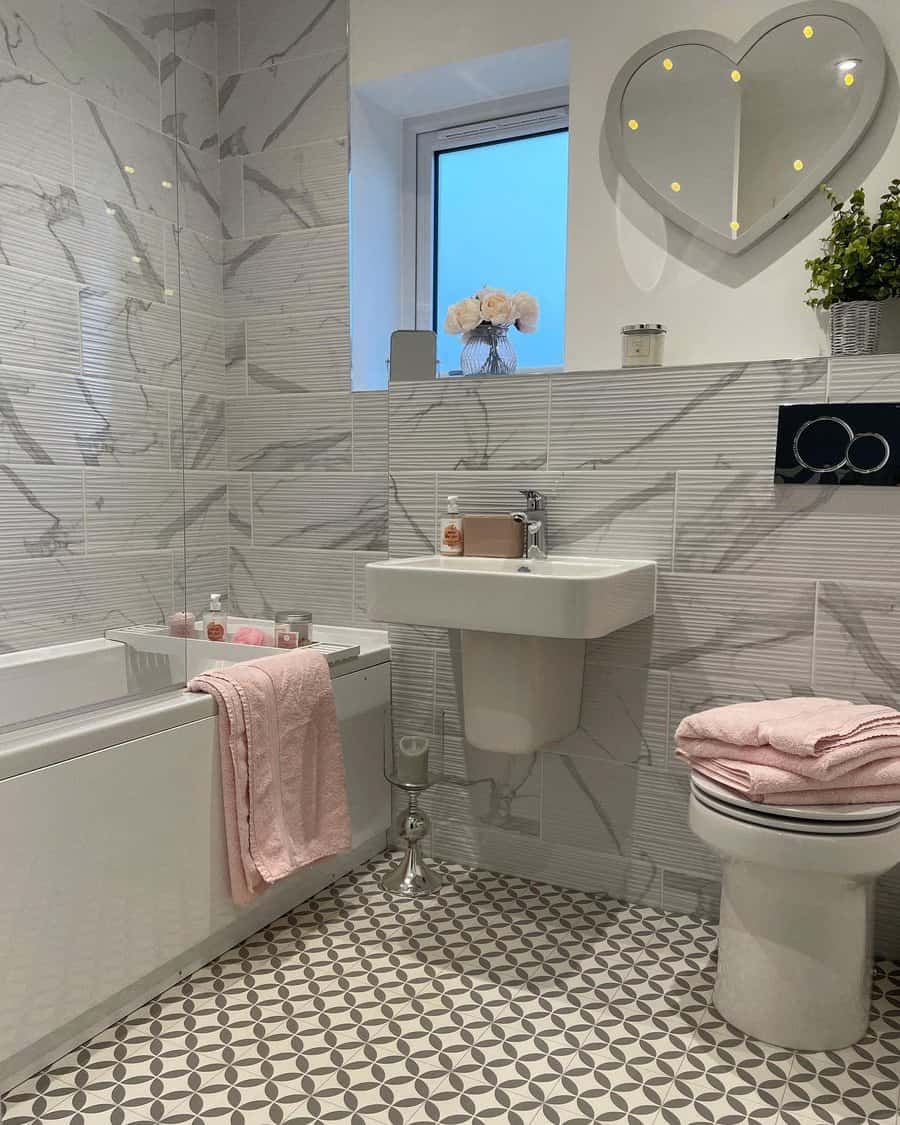 25. Textured White Tiles Meet Herringbone Floors
Marrying the intricate beauty of herringbone floors with the simplicity of textured white tiles gives your bathroom a harmonious blend of sophistication and charm. The crispness of the white tiles offers a serene backdrop, while the herringbone pattern on the floor adds a dash of dynamism and elegance.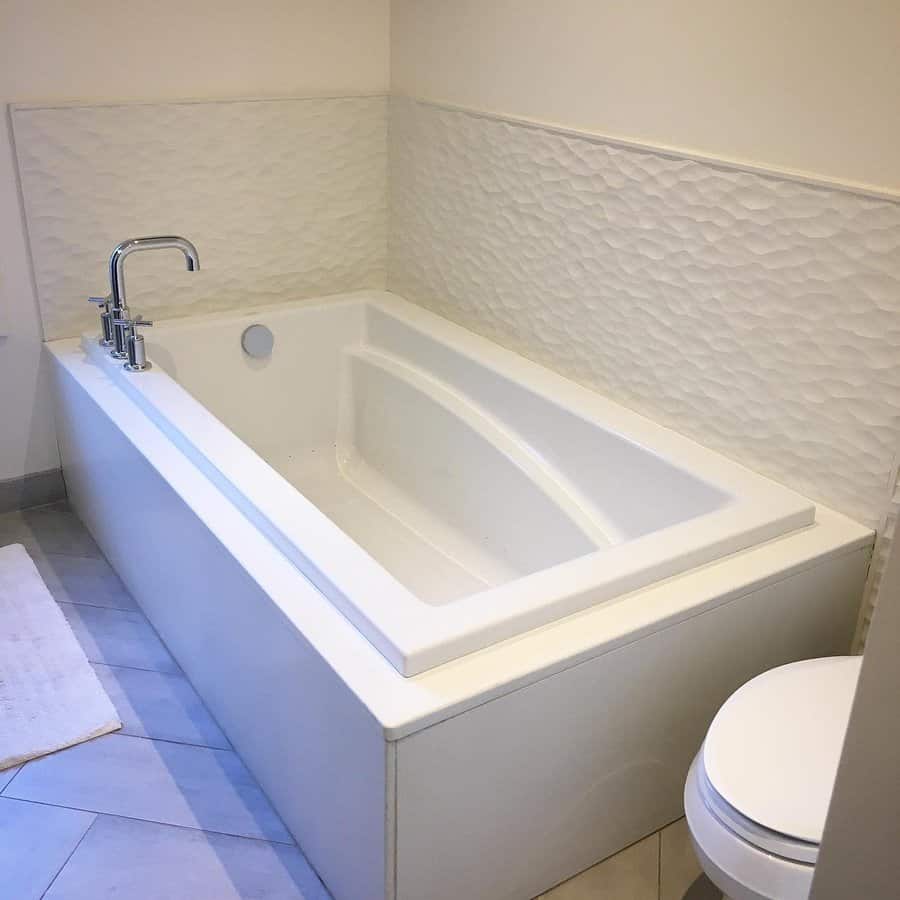 Bathtub Tile FAQs
Can you put tile directly on a bathtub?
You shouldn't put tile directly on a plastic bathtub. Modern tubs are not turdy enough to support tile and mortar. The tub flexes, which will cause the tile to pop off. There are DIY guides that can show you a method for adding tile to your tub. However, if you want lasting results, you should remove the plastic tub and do the project correctly from the start.
Should I tile before installing a bathtub?
When installing a bathtub, you should install the backer board, floor tile, and backsplash tile first. Then you can install the bathtub. The final step is to install the first row of tiles around the tub and then work your way up the wall.
Do you start tiling from the top or bottom?
When installing your tile, start with a pyramid that consists of three tiles on the bottom row and one on the second row. Work your way up the wall from this point by adding layers to your pyramid. Work your way back and forth to slowly work your way out towards the edge of the wall. Using this method helps to keep your tile level and centered for a professional-looking finish.