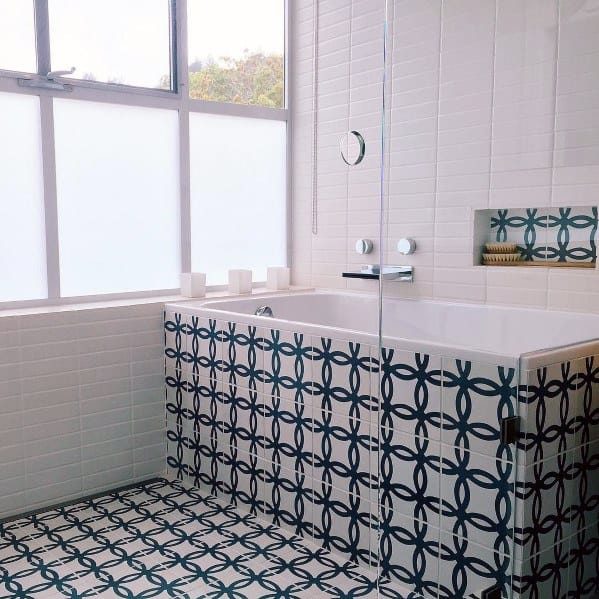 25 Best Bathtub Tile Design Ideas
"I noticed every time I spent a lot of time in the bathtub, I would just get fantastic realizations about myself, and they were so valuable and liberating."– Leonard Orr
Say goodbye to that boring builder-grade drop-in bathtub. It's small and ugly in that basic white. You can't really do much with these tubs other than take them out and replace them with something better.
You could have a freestanding tub or another built-in that has tile surrounding it. Even if you add a freestanding tub, you need tile on the walls around it. Once you decide on your dream tub, your next step is to choose just the right tile.
These bathtub tile ideas will help you plan a bathroom remodel that features an upgraded tub.
1. Light Blue Herringbone & White Marble Tiles
When it comes to bathtub tile design, you can create something both classic and modern for a truly timeless look. One way to achieve this is by pairing light blue herringbone tile with white marble- these complementary cool tones add a hint of sophistication, yet remain light and airy to the feel of your space.
By contrasting the light blue patterned lines of the herringbone tile with the smooth, creamy surface of the marble, you can bring life and depth to your bathroom that will stand the test of time!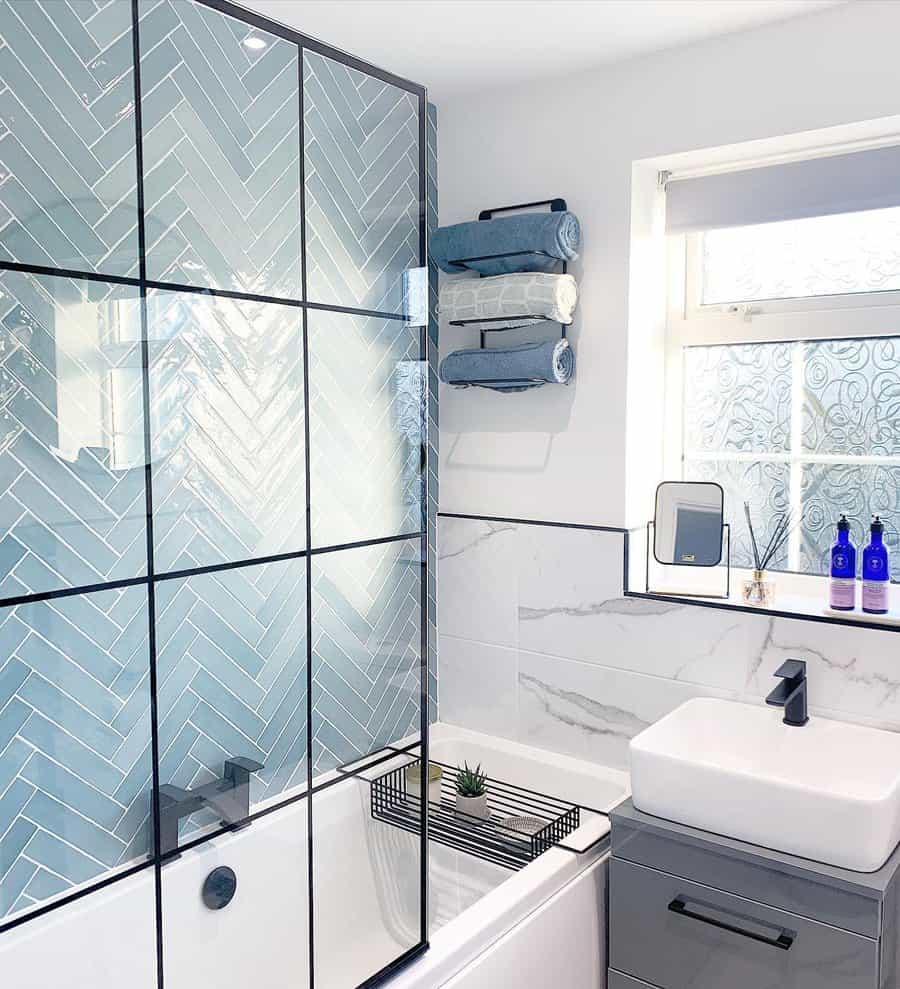 2. Blue Hexagon Tiles
If you're looking for something truly unique in your bathroom design, blue hexagon tiles taking center stage and complemented by a pot of yellow faux flowers are a great option.
They lend a creative touch to the room, providing texture, color, and a hint of nature -all inspired by the blue tones of the sea.
Whether you're going for an ocean blue theme or a whimsical vibe, these tiles will bring your vision to life!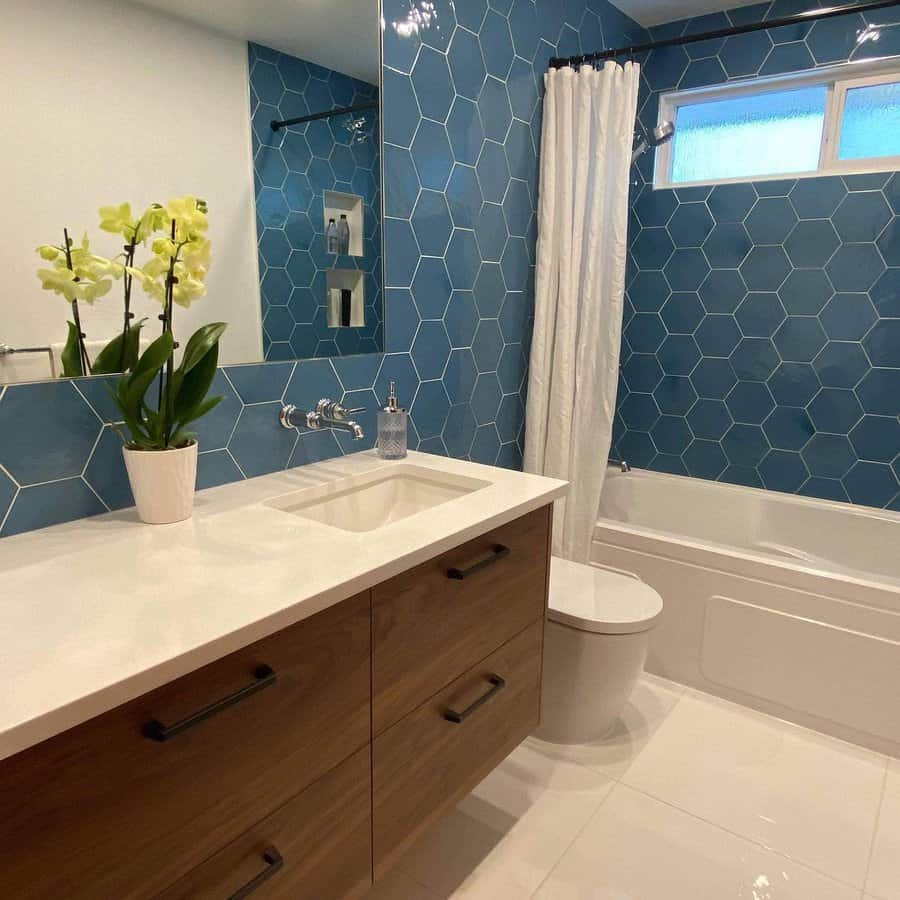 3. Monochromatic Marble Tiles With Accent
Creating a bathroom oasis can be as simple as adding ceramic marble wall tiles, combined with grey hexagon accent tiles – the perfect way to make a classic yet luxurious statement. The elegant tile design provides an inviting atmosphere that isn't overly dramatic.
Imaginative techniques such as a feature wall or adding an interesting trim will help to further customize the overall look of your bathtub and make it one of a kind.
Each ceramic piece is custom cut, giving you the creative power to design and create exactly what you had envisioned in your dream spa-like bathroom.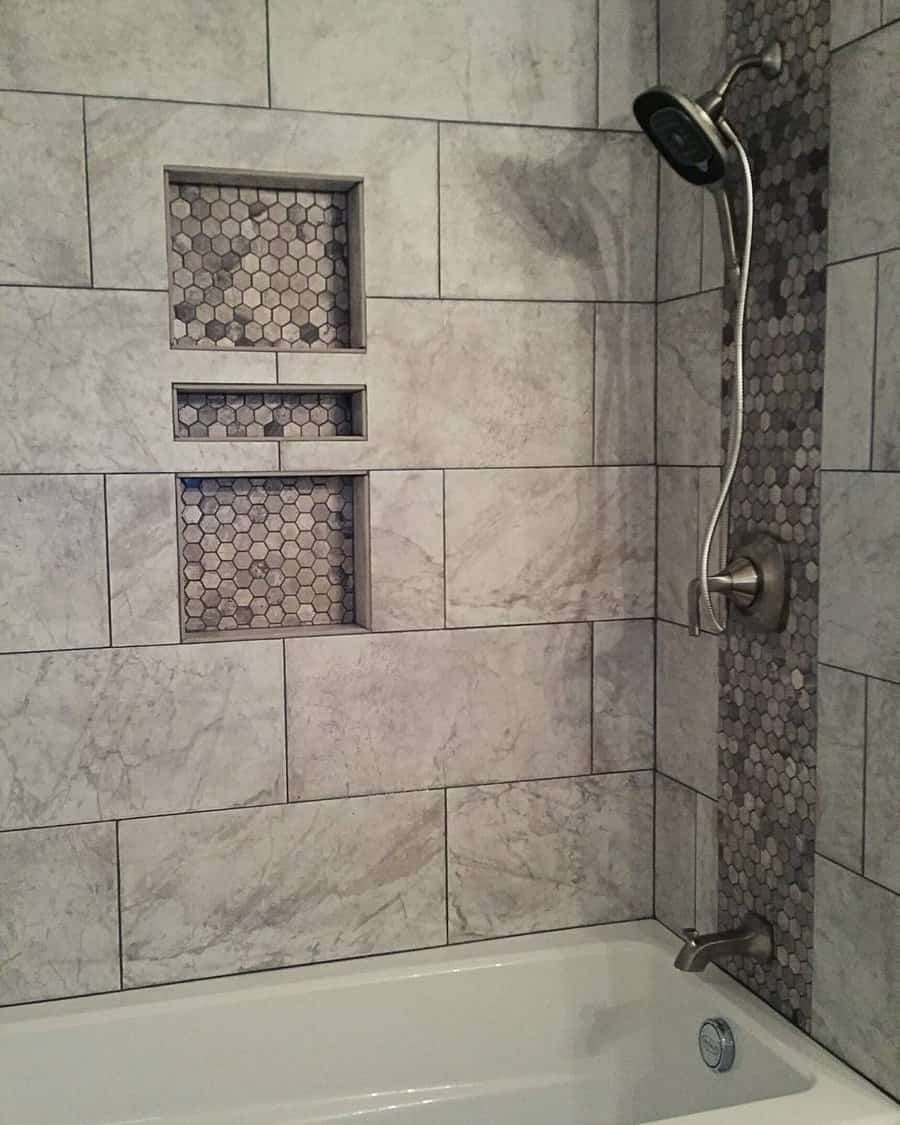 4. Vertical Glass Mosaic Tile Accent
A ceramic tile bathtub provides a luxurious and timeless look, while vertical mosaic accent tiles add an artistic flair to your bathroom design. With ceramic tiles, you can choose any hue you want: from traditional white to slate grey, or eye-catching shades of blues and greens.
Wall accents of vertical tiles in geometric shapes and subtle textures can create an elegant focal point. From the classic look of subway tiles to intricate hues with ceramic opulence, the possibilities for bathtub tile design are endless.
Imagine walking into a luxurious bathroom simply oozing with style –– no matter what design direction you choose the end result will be beautiful!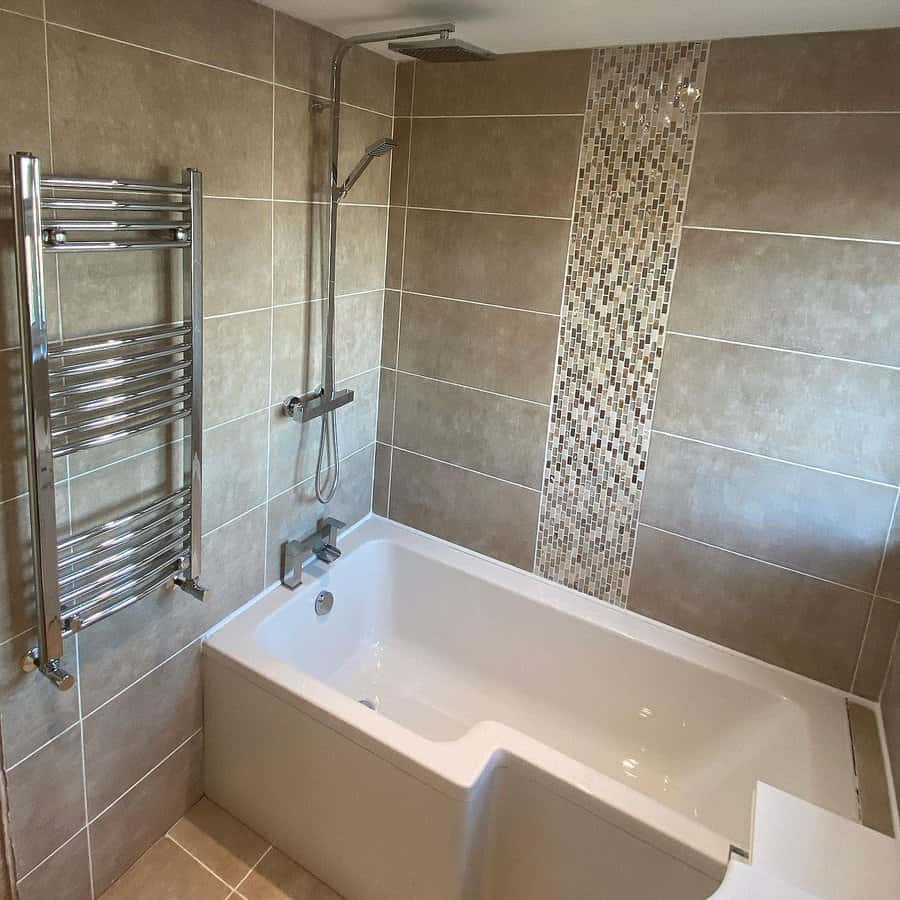 5. Ombre Vertical Glass Tiles
Designing a luxury bathroom full of calming vibes doesn't have to be a stressful task thanks to grey ombre vertical glass tiles. These tiles drip with elegance and set the grey color tones from dark grey at the base, gradually lightening from left to right. Contrasted against white tiles as an accent, they create a truly beautiful interplay of grey nuances, giving your bathtub area a unique sense of style and wonder that you can never find elsewhere. With grey ombre vertical glass tiles in your corner, you can totally craft endless possibilities for your bathtub and make it into your own private sanctuary that radiates indulgence at its peak.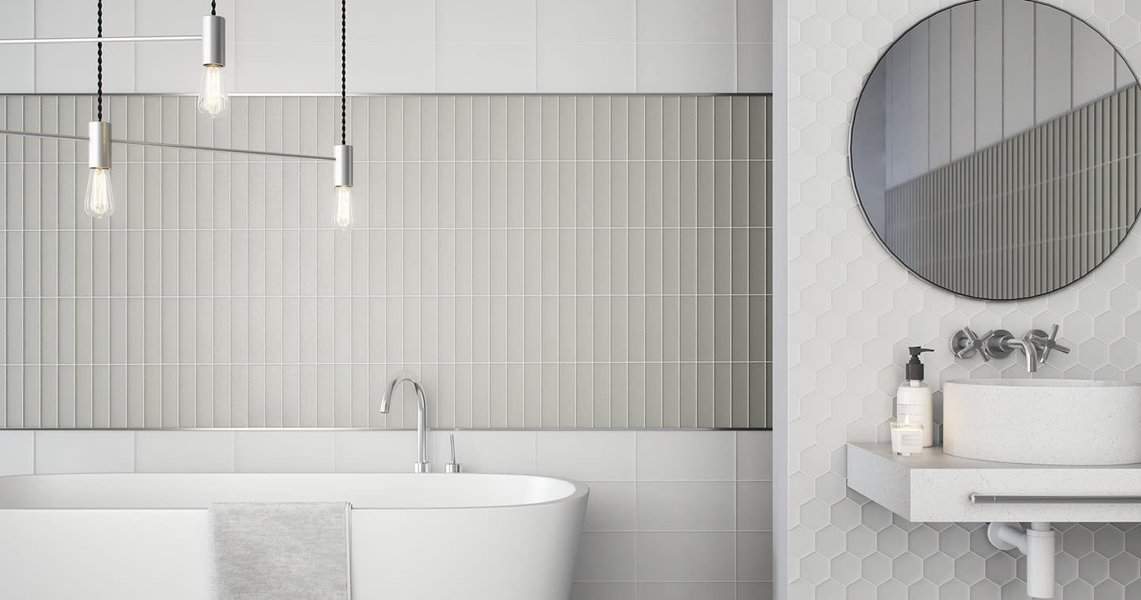 6. Black On Black Tiles
For those looking to create a design statement in the bathroom, all-black matte tiles are a great way to convey an alluring sense of sophistication. Try pairing them with black bath accessories for a daringly modern look that will make you want to linger in the bathtub all day long.
This bold contrasting twist on a classic style is guaranteed to impress guests and bring a distinctive touch of timeless elegance to any home.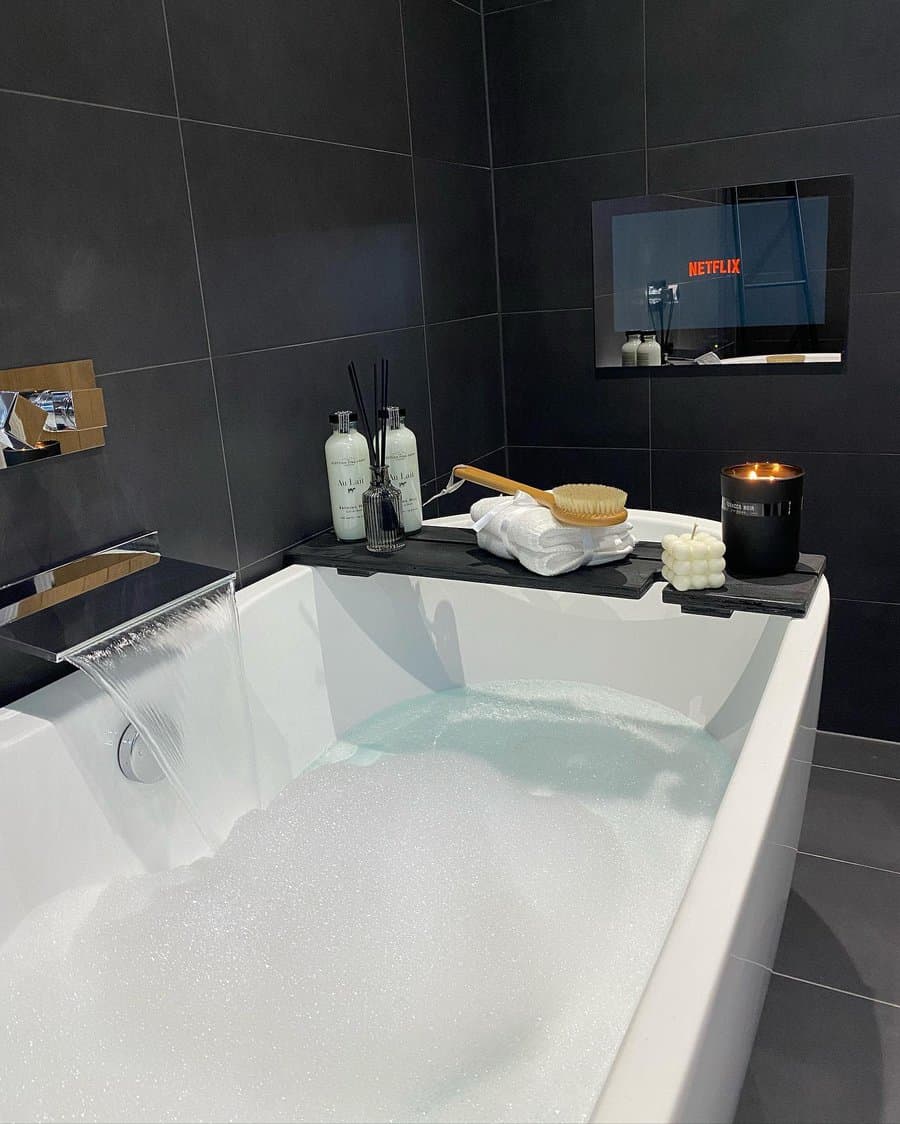 7. White Quartz Marble & White Tiles
If you're looking for the perfect tile design to transform your bathroom from mundane to magnificent, white quartz tiles are the way to go. They bring an ethereal elegance, illuminating your bathing area with subtle luxury.
Whether used as a border or completely covering the walls and floor, white tiles instantly create a serene sanctuary that will soothe your soul every time you step in.
Not only do white quartz tiles look stunning but they are also easy to clean, giving you maximum indulgence and minimal upkeep.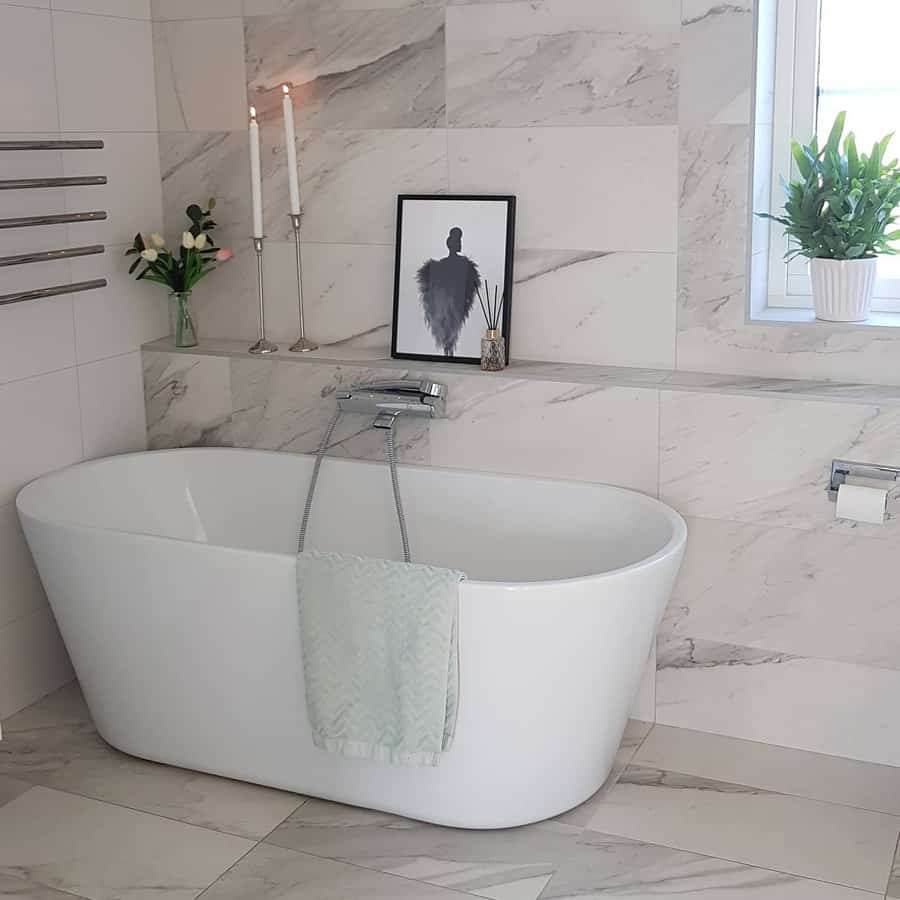 8. Full Marble Tiles
When it comes to bathtub tile design, the possibilities are truly limitless. Get creative and think outside of the box by adding marble tiles to give your bathroom a timeless yet modern feel.
To add a layer of luxury, try frosting a window with textured glass for diffused privacy. Whether you opt for intricate mosaic or classic marble tile, any design will bring added depth and dimension to your bathroom interior. Dare to make a statement with creative bathtub tile designs.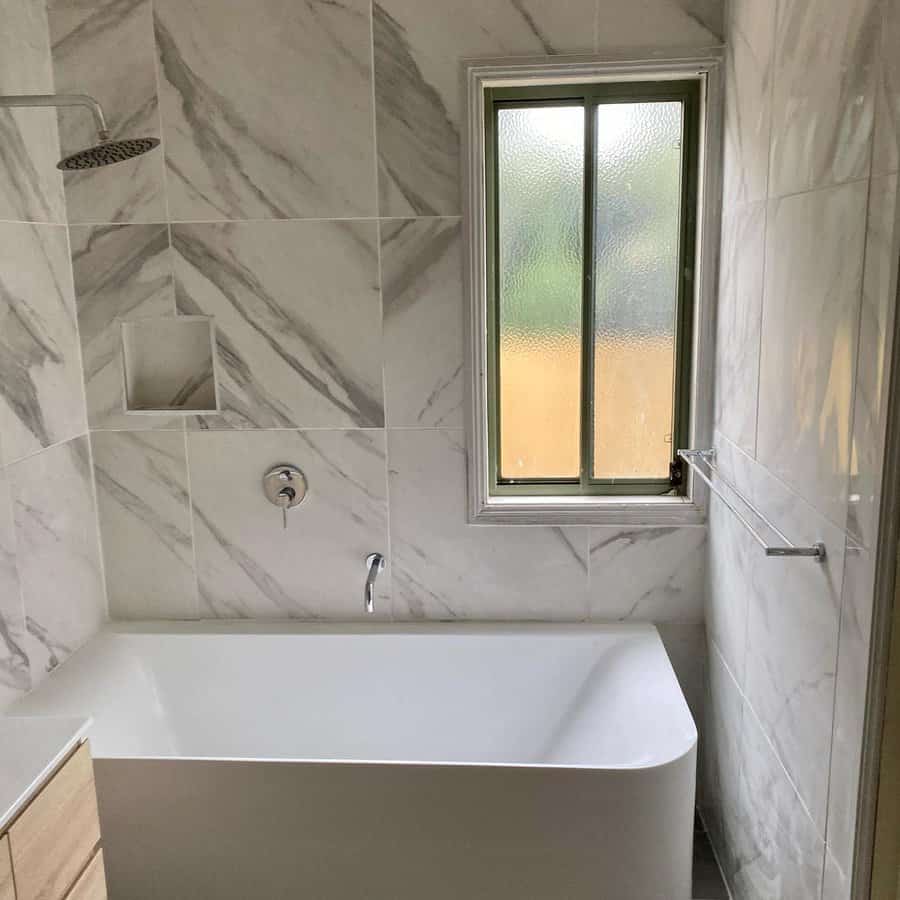 9. White Marble & Diamond Pattern Tiles
White marble tiles are both elegant and timeless, while diamond pattern floor tiles create an interesting visual element.
Combining these two elements can result in a beautiful and unique space that feels luxuriously modern. The white marble will make the bathroom feel bright and airy, while the diamond pattern will add subtle sophistication to the atmosphere.
Whether you're looking to upgrade a simple bathroom or breathe life into an outdated one, white marble tile and diamond-patterned floor tiling offer a classic yet modern look that will never go out of style.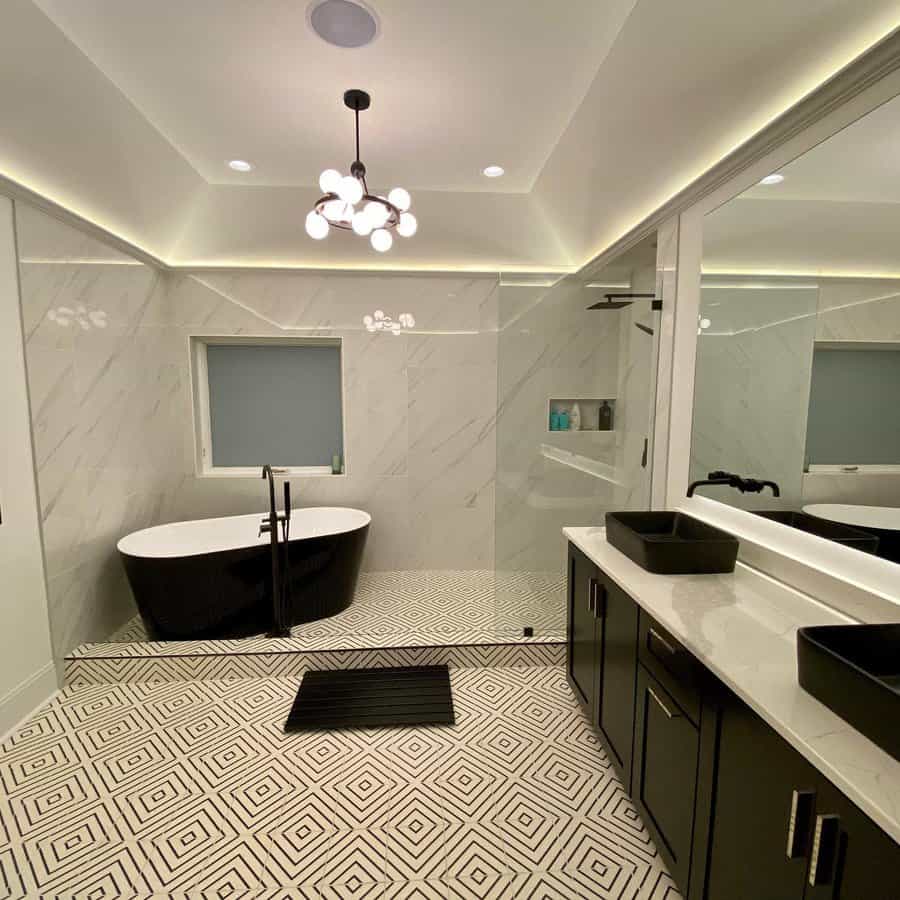 10. Ceramic Tiles
Whether you're looking for something sleek and contemporary, natural and rustic, or anything in between, ceramic bathtub tiles are the perfect choice for achieving your desired look.
Installing ceramic tiles on your bathtub walls creates an easy-to-clean, stylish surface that can be adorned with colorful drop lights to add a touch of whimsy to any bathroom.
The ceramic is durable and water resistant so it's sure to last through years of use, while allowing you to express yourself with one-of-a-kind designs as unique as you are!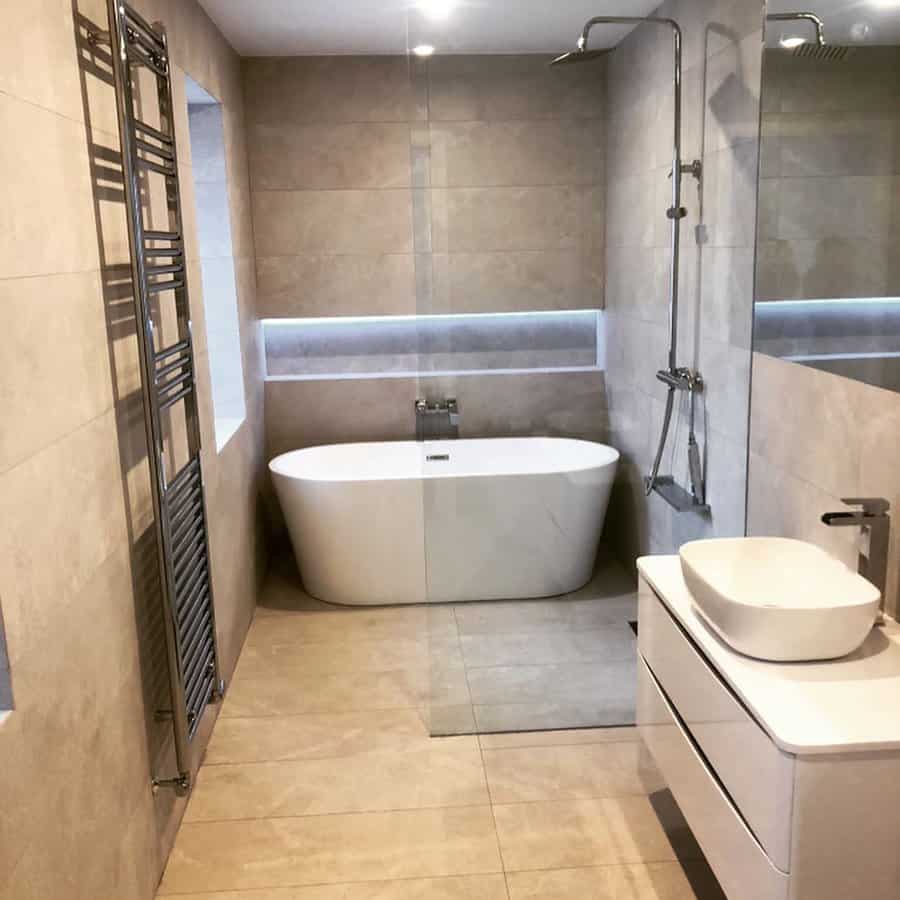 11. Recessed Wall With Mosaic Tile Accent
When it comes to designing a bathtub tile, the possibilities are nearly endless. You can choose recessed wall tiles with a glossy finish that creates the illusion of space or mosaic mirror tiles that reflect sunlight and enhance the ambiance. Whatever route you take, you can be sure you'll end up with an eye-catching design.
However, if you really want your bathroom to stand out, go for a more creative approach and mismatch various tiles for more visual interest. Choose different colors and shapes to enhance the look even further – anything from hexagon patterns to checkered and herringbone looks will have great results.
With just a few simple decisions, you could make your bathtub tile design come alive.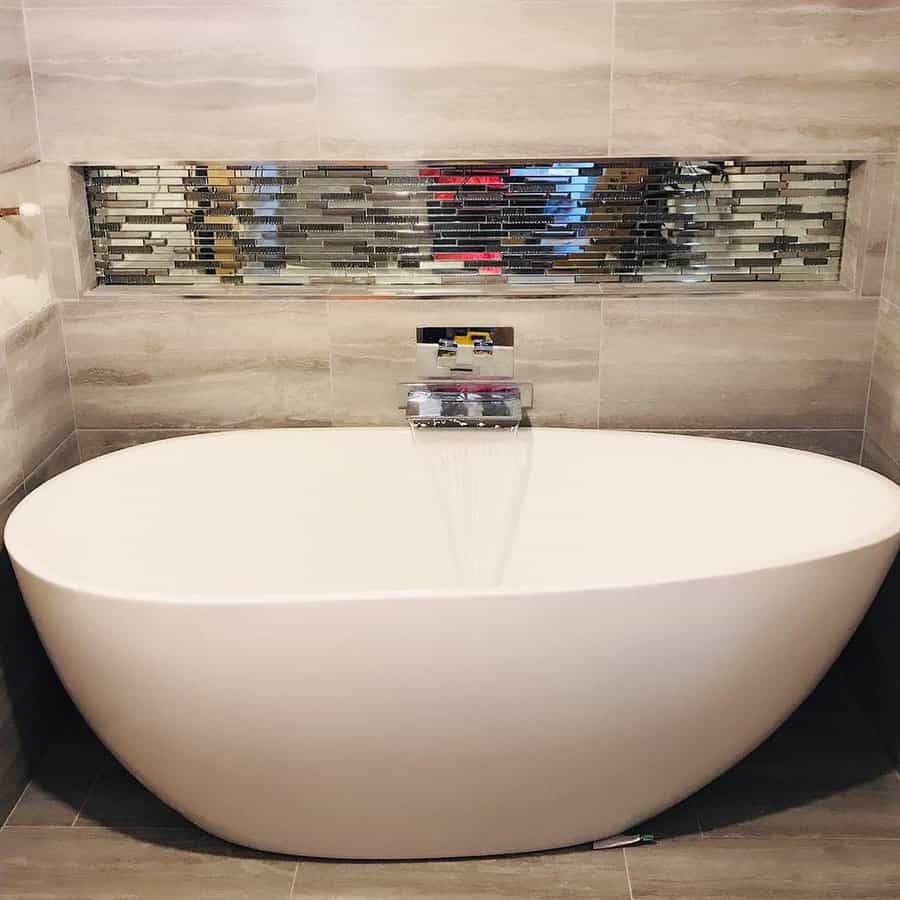 12. Polished Stone Tiles
With polished stone tiles in your bathroom, you can create a luxurious and inviting look. Add a simple chandelier over the bathtub and you have taken bath time to a whole new level of sophistication.
Bathtub tile design will upgrade the overall interior style of your home while adding value and comfort. You'll be able to relax after long days, as your polished stone tiles reflect light and serenity across the room, allowing you to kick back and enjoy a little alone time in utter tranquility.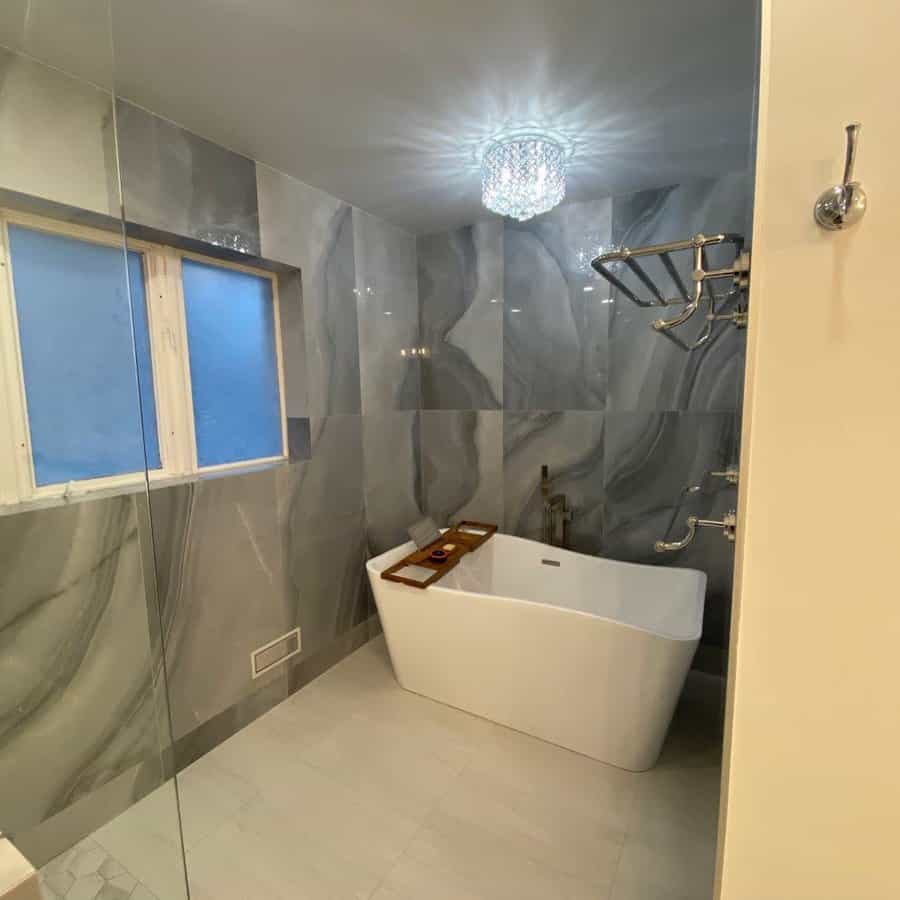 13. Graphite Tile Panels
When it comes to bathroom design, graphite tile panels are a great choice for both emerging and established trends. The panels add an eye-catching texture to the bathroom walls and floors, creating an interesting effect that stands out from the ordinary.
To achieve a more creative look, try concealing graphite tiles with window blinds. This will provide an element of surprise when visitors step in, making your bathtub feel like a masterpiece!
Whether you are looking for something simple or statement-worthy, graphite tile is sure to spark the perfect style for your space.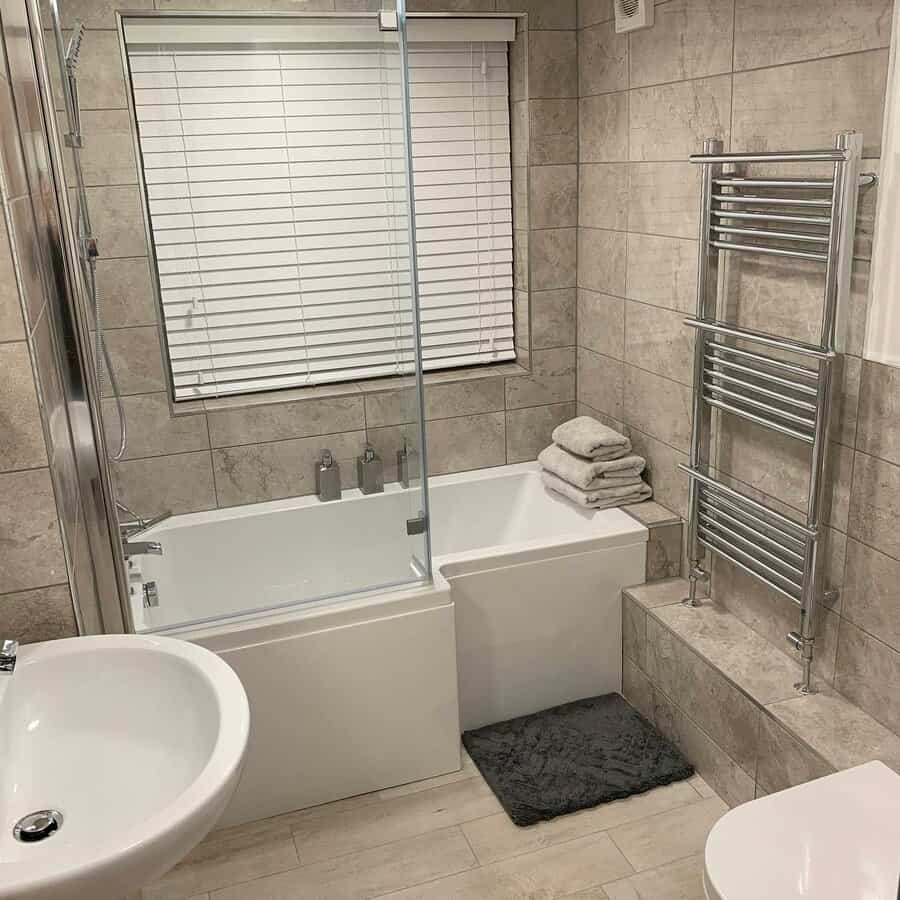 14. Striped Wall Panels
Adding striped walls to your bathroom space can be a unique and eye-catching way to liven up the area! Consider varying colors for your striped accents in order to create a one-of-a-kind look. Make sure that the colors you select compliment the built-in bathtub itself – from the classic off-white look to a broader color scheme, get creative when it comes to your tile design.
Those striped walls will be a conversation starter every time you entertain guests in your bathroom oasis!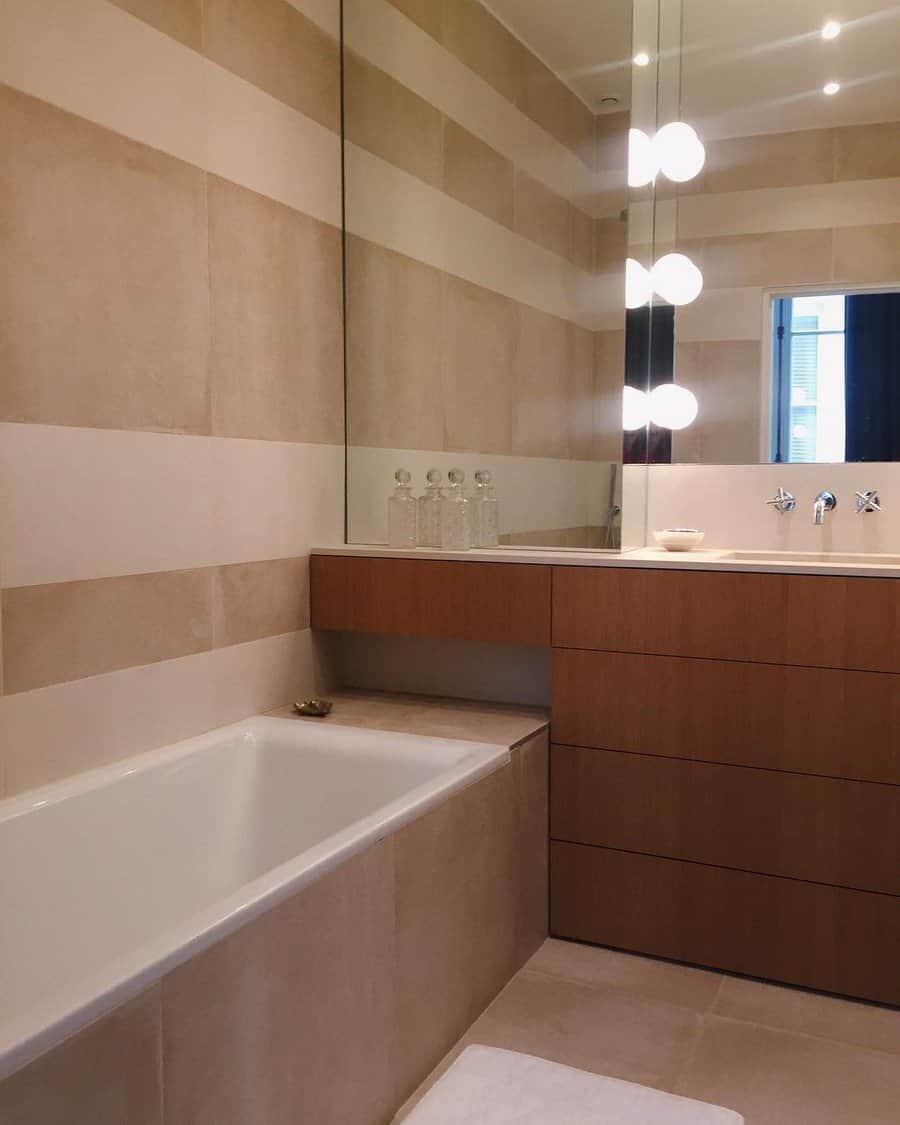 15. Subtle Stone Panel Accent & Ceramic Tiles
A bathtub tile design can completely elevate a bathroom space from bland to beautiful. Create a subtle yet powerful visual impact with a light grey stone or marble tile providing a subtle background, and add in a nuanced stone panel accent that draws the eye to the focal point of the tub as a splash of contrast.
To increase the richness of your bathroom, consider adding different shapes, such as oblong tiles that alternate with more traditional rectangular tile patterns.
With just the right balance in color, texture, and pattern, bathtub tile design can become an intriguing conversation piece!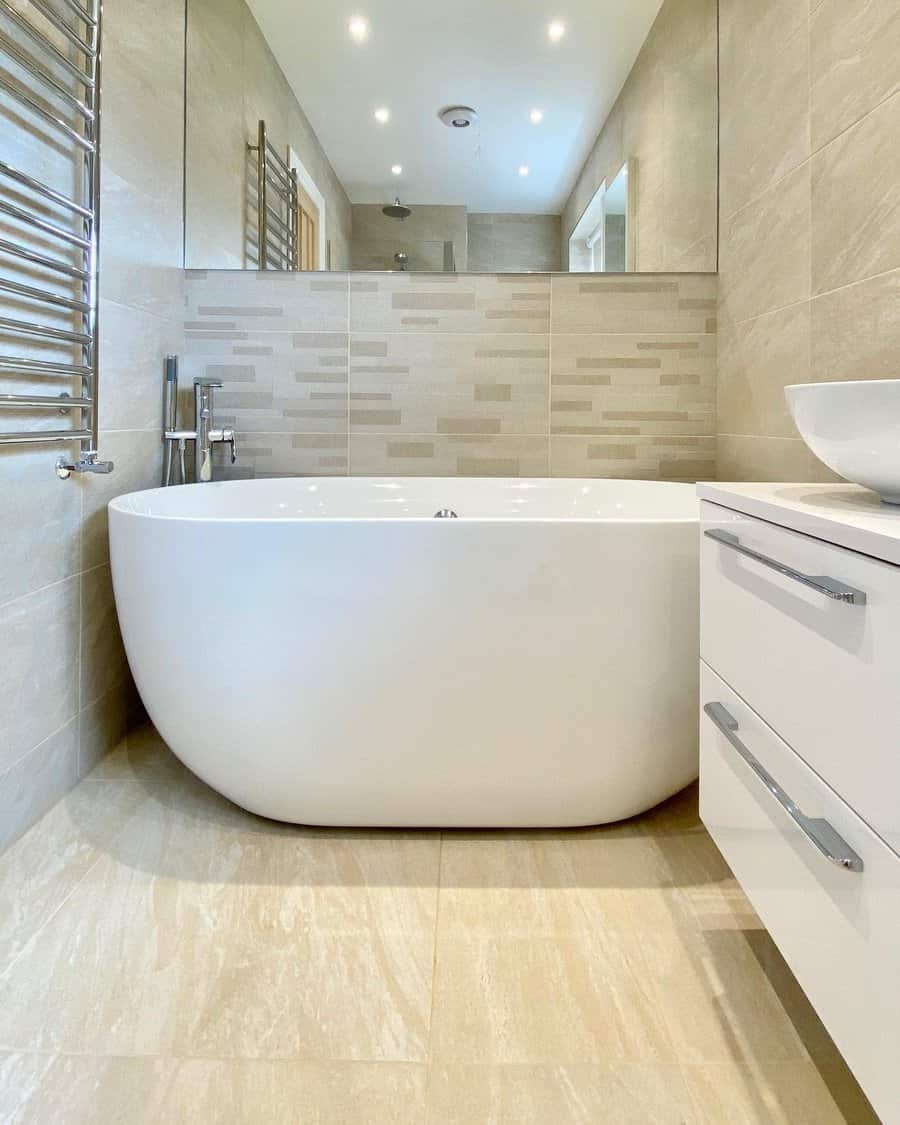 16. Bohemian Mosaic Tile Accent
When dreaming up your perfect bathroom, bohemian mosaic tiles will be your best friend. With their wealth of colors and textures, these tiles are an ideal way to give your bathtub just the right touch of pizzazz.
Construct a surround using white marble floor tiles as the foundation, then layer on bohemian mosaics in the wildest shades imaginable – perhaps the most audacious blues to imagine or warmest coppers – creating a unique bohemian design that no one else can replicate.
Your bathroom won't just be a room anymore; it'll become an art piece!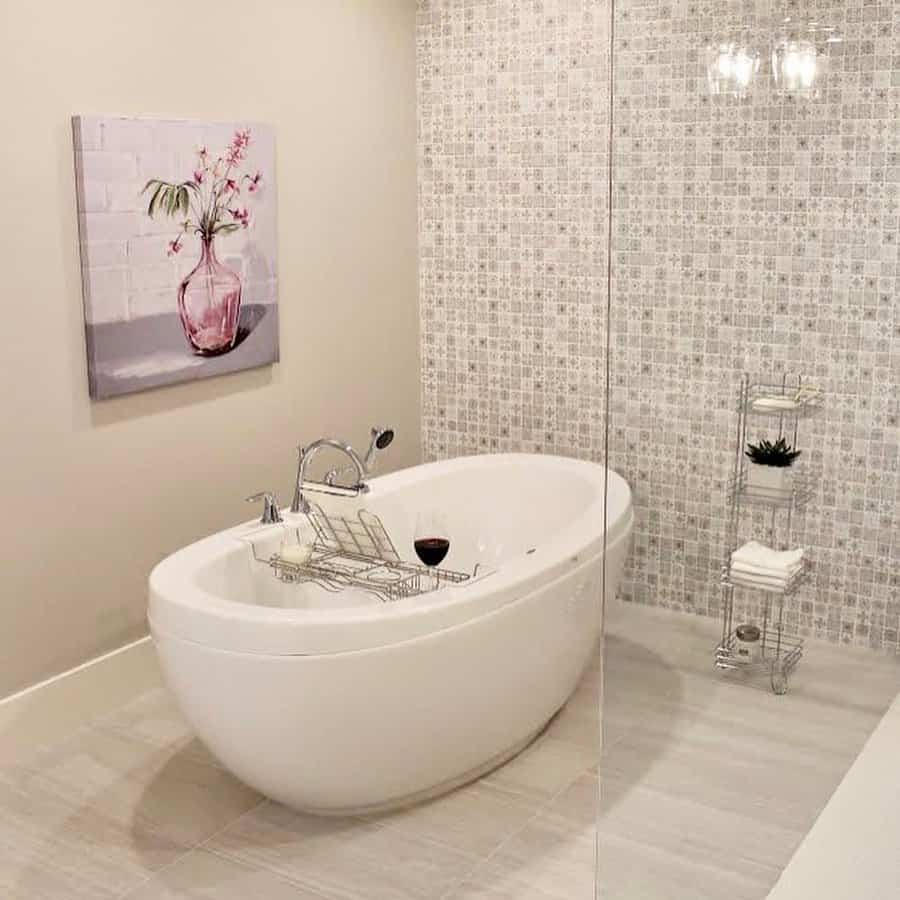 17. Textured Black Stone Tiles
Creating an eye-catching bathtub design isn't always easy. But textured stone tiles can bring a unique look and feel to your bathroom that you won't find anywhere else.
When combined with a skylight window, black slate tiles create an almost luxuriously natural atmosphere. It's not only visually appealing but also soothing enough to relax the mind, body, and soul.
If you're looking for a spa like experience right in the comfort of your home, black slate tile is definitely the way to go!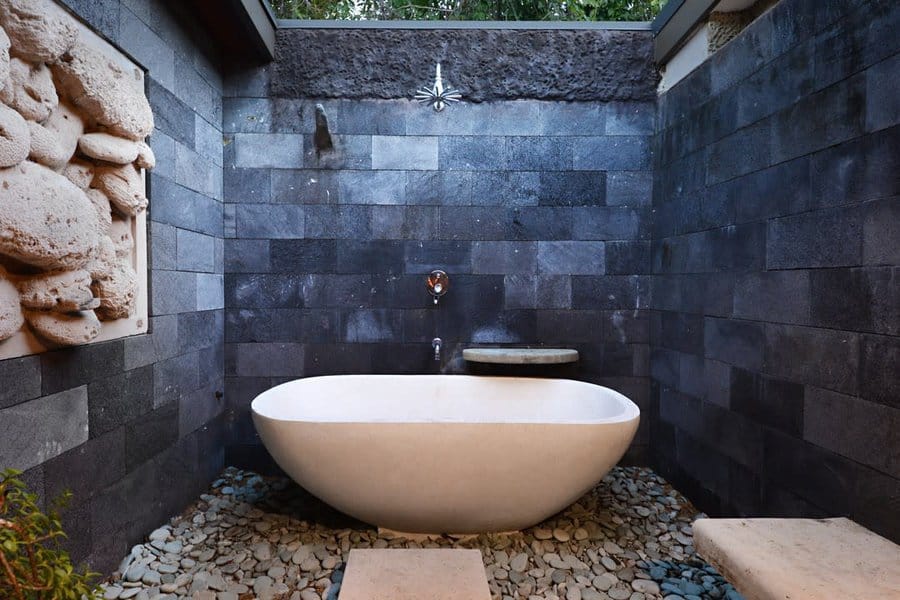 18. Beige Ceramic Tiles
Adding beige ceramic tiles to a bathtub are like adding a touch of coastal chic. The beige hues create an ambiance of serenity, perfect for anyone wanting to relax in the tub.
For those looking for more than just beige ceramic tiles, introducing textured ceramic tiles can be the perfect way to make a statement in your bathroom. Textured tiles open up opportunities when it comes to design by offering depth and character; you don't even need to be limited to beige with this option.
Ranging from geometric patterns created with different shapes of tile, or choosing unique textures like linen-like grooves set into the surface, these tiling options will have you feeling as luxurious as ever.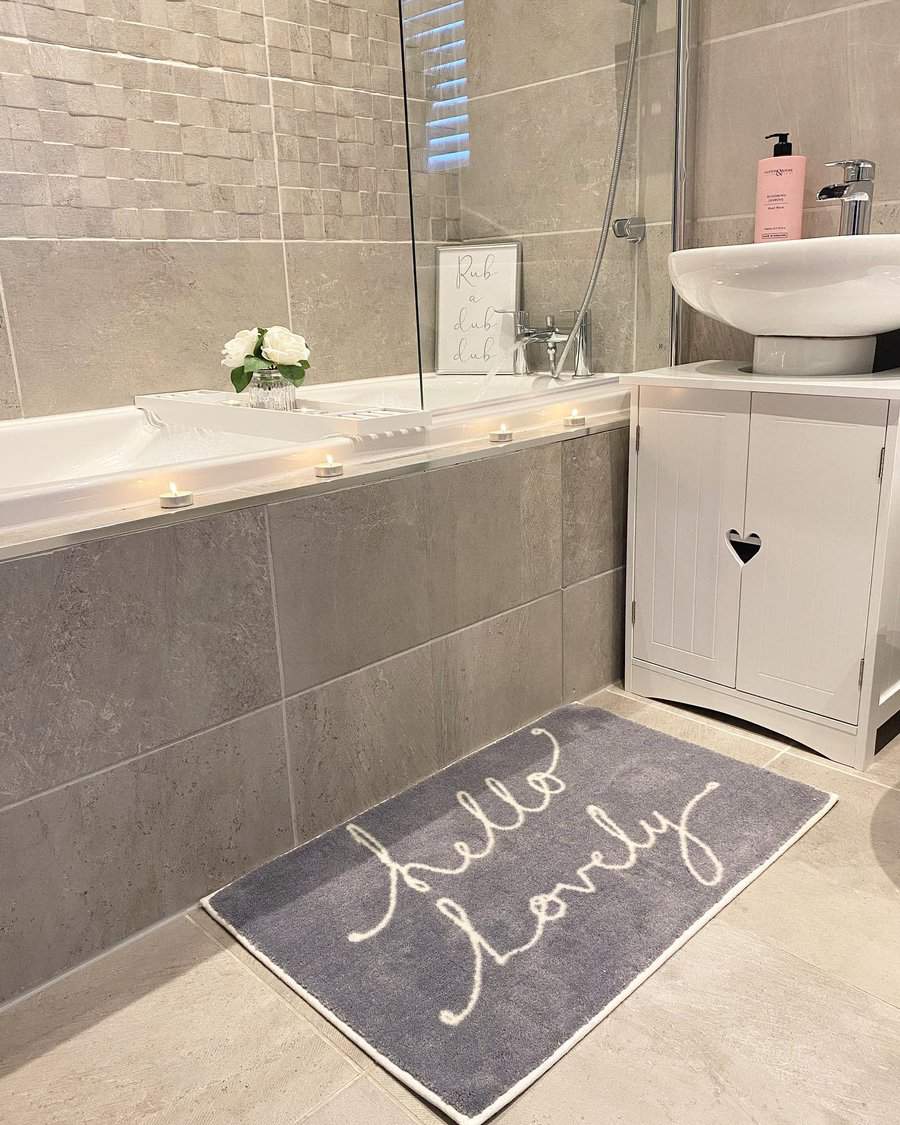 19. Light Grey Brick Tiles & Marble Hexagon Flooring
Adding light grey brick tiles to your bathtub design can create a modern and contemporary atmosphere in your bathroom. These light grey tiles, along with hexagon marble floor tiles, can transform a simple space into one that is soothing and welcoming.
Installing light grey brick tiles can also add texture and dimension to a room as well as an eye-catching detail that will evoke style, sophistication and luxury. This beautiful combination of light grey brick tiles with hexagon marble flooring is an all-inclusive choice when updating any bathtub space.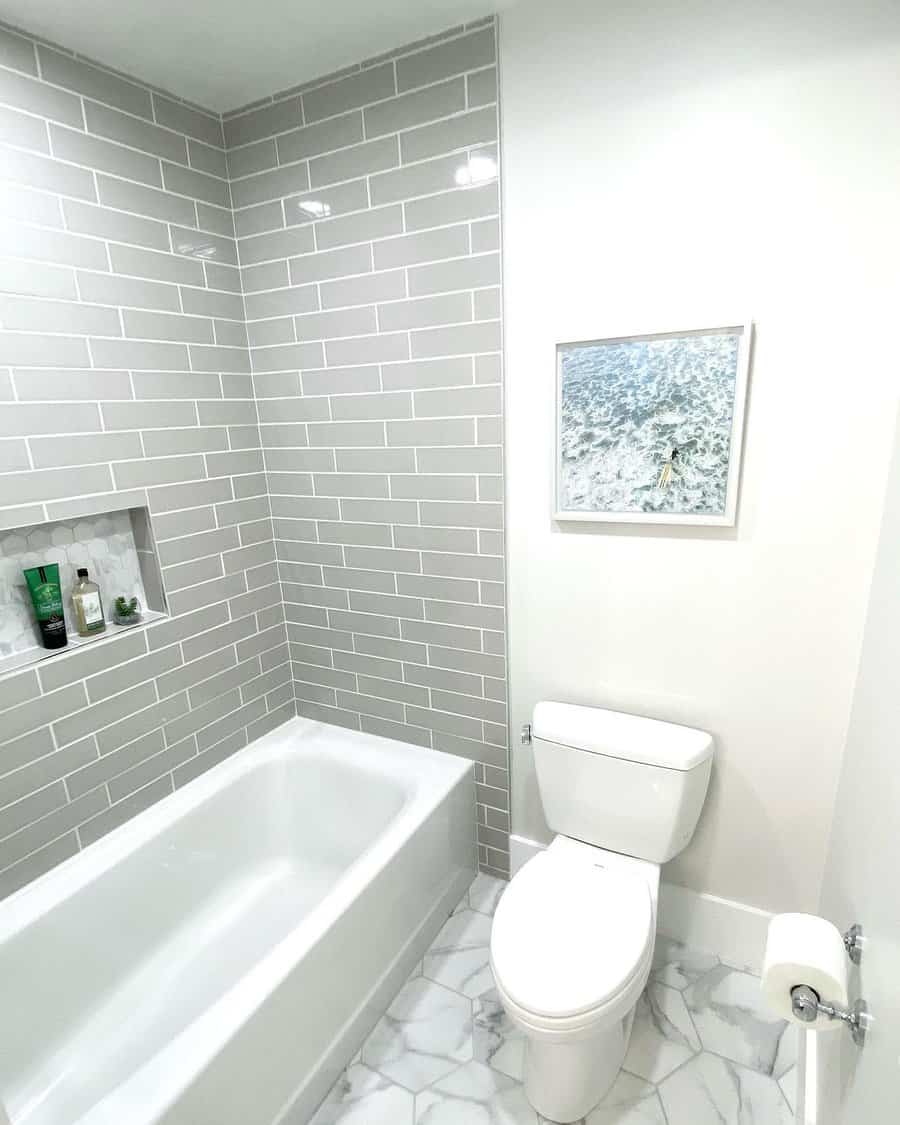 20. White Herringbone Polished Tiles
Make a small bathroom feel like a cozy oasis with white herringbone polished tiles. These tiles will give your bathtub an elegant and luxurious look, yet remain classic and timeless.
Install white herringbone polished tiles along the walls of your bathtub, allowing them to flow one into the other in curved lines that bring movement and life against the plain white plaster.
Throw in some white grouting for extra dynamism, and you're ready to jump into your bathtub sanctuary!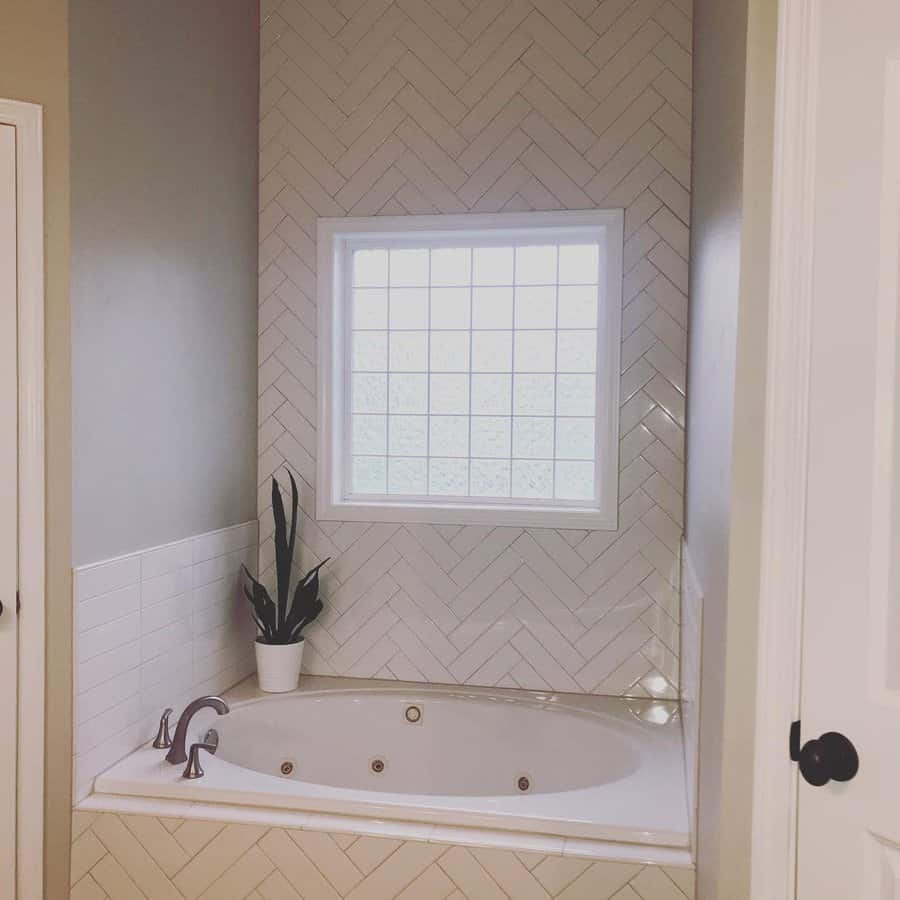 21. Black & White Beveled Subway Tiles
Adding black and white beveled subway tiles to your bathtub is a great way to add a touch of uniqueness and style. Whether you opt for black on black or mix it up with black and white, this timeless design can complete the perfect modern bathroom look.
They're easy to keep clean and maintain, so you can enjoy their subtle detail without too much upkeep. The black and white beveled subway tiles provide that contemporary element with their angular corners – perfect for mixing into an eclectic decor style or simply enhancing something more traditional.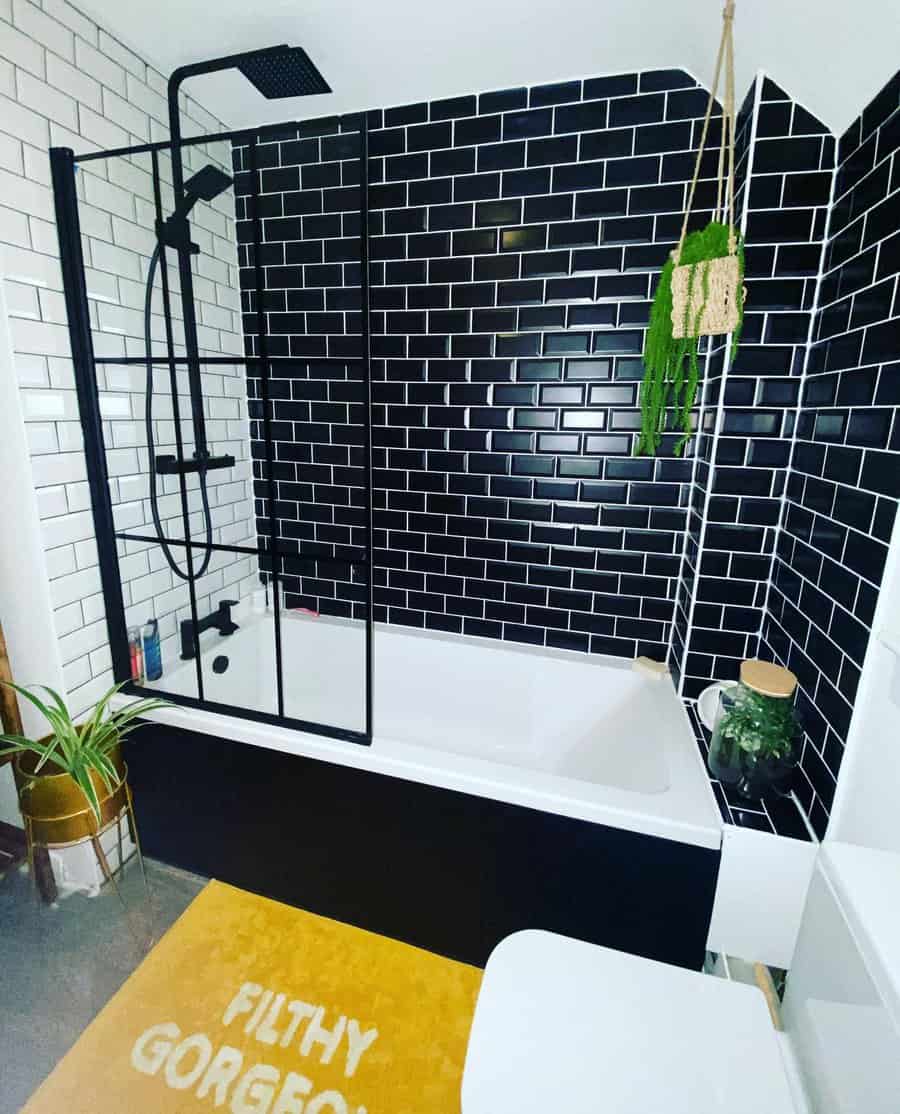 22. Retro Style Green Mosaic Tiles
Give your bathroom a touch of green with the unique look of green mosaic tiles. With their shimmering effect, these tiles can make any bathtub appear to be luxurious and calming – perfect for a relaxing soak in the tub or an invigorating jacuzzi session.
Not only are green mosaic tiles aesthetically pleasing and sure to please any guest that steps foot in your bathroom, but they also offer tremendous protection from water damage, helping your bathtub stay looking as beautiful and crisp as ever.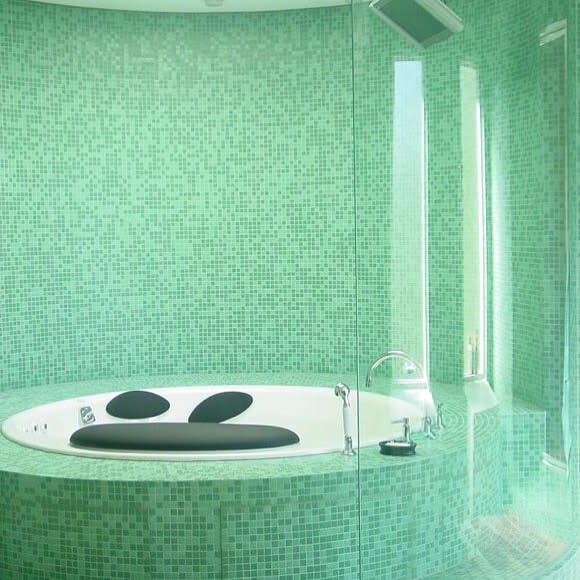 23. Finger Mosaic Tiles
The bathtub is often overlooked when it comes to creative design. But there are many ways to make your tub feel like a personal and luxurious retreat.
Finger mosaic tiles are one way to do this – create an intricate pattern of beautiful colors around the inside of the tub or accentuate the back wall with these stunning tiles.
For an extra touch of personality, you could add some recessed shelves on either side of the bathtub and fill them with candles, plants, or other decorative pieces that match your finger mosaic tiles. Who knew the bathroom could be so inviting?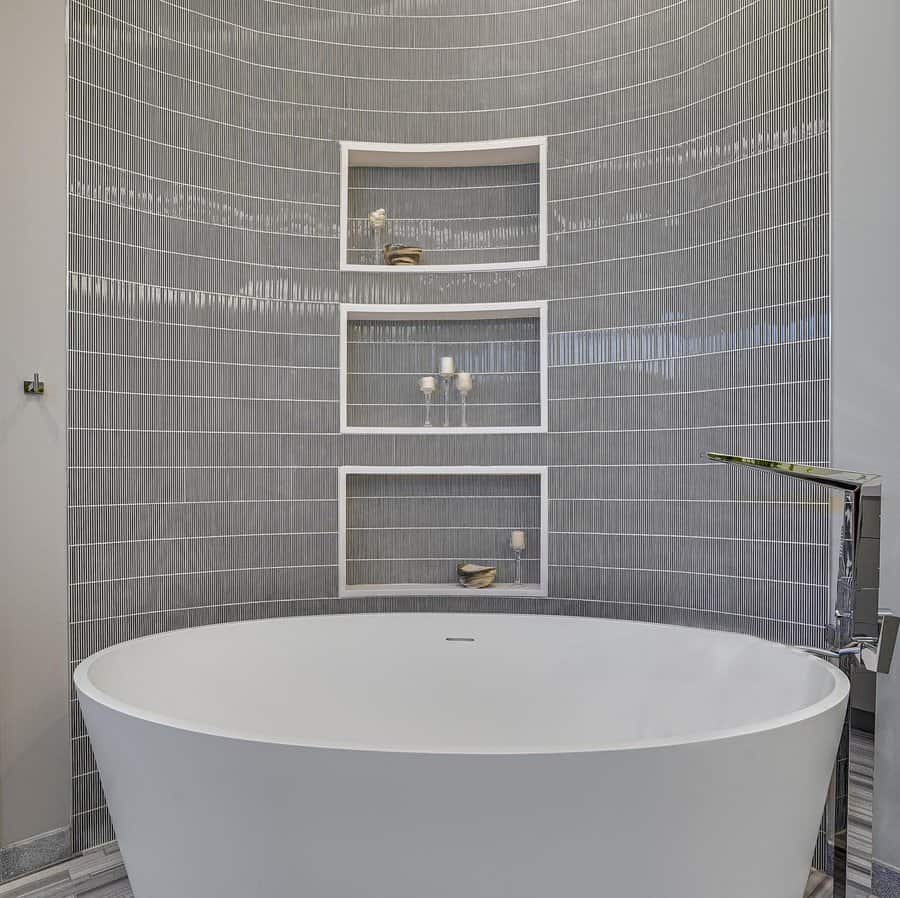 24. Brick Style Marble Tiles
For an eye-catching look in the bathroom, brick-style marble tiles make a great choice. These tiles provide a stylish accent to both the walls and flooring, allowing you to create an attractive yet still functional design in your bathtub.
For an added touch of luxury, consider using decorative accent tiles along with brick-style marble as part of your overall design for a truly beautiful effect.
No matter what size or shape bathtub you have, brick-style marble tiles offer a timeless and classic look that will never go out of style.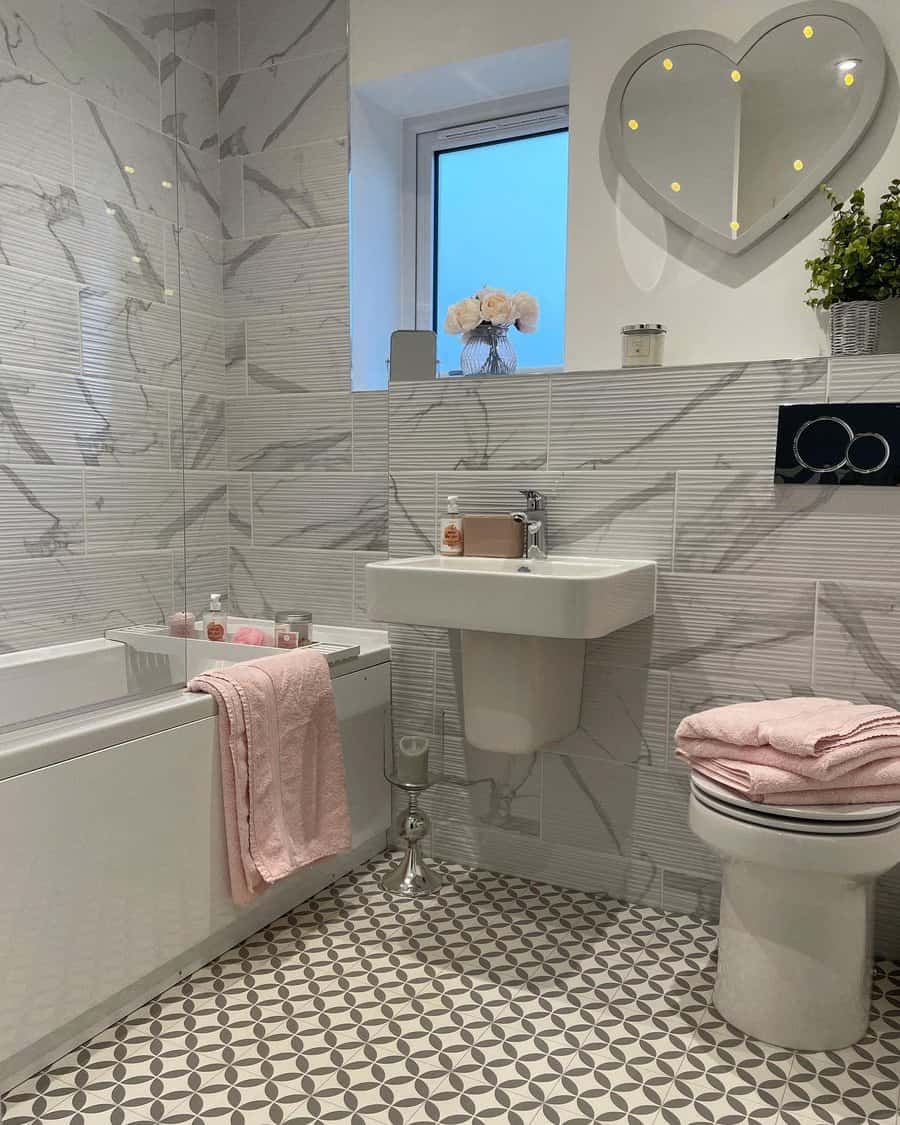 25. White Textured Tiles & Herringbone Flooring
Create a luxurious oasis in your bathroom with textured white tiles and white herringbone flooring. Let the simple elegance of two-toned tile bring a classic look to your space. For those who prefer more color in the home, adorning your tub tile design with patterns and unique designs will instantly brighten up the room with an artistic twist.
Depending on your taste, pick from intricate shapes, bold prints or textured glazes that combine form and function into an eye-catching aesthetic.
From sleek and modern to pastoral charm, you're sure to find the perfect bathtub tile design to complete your dream bathroom.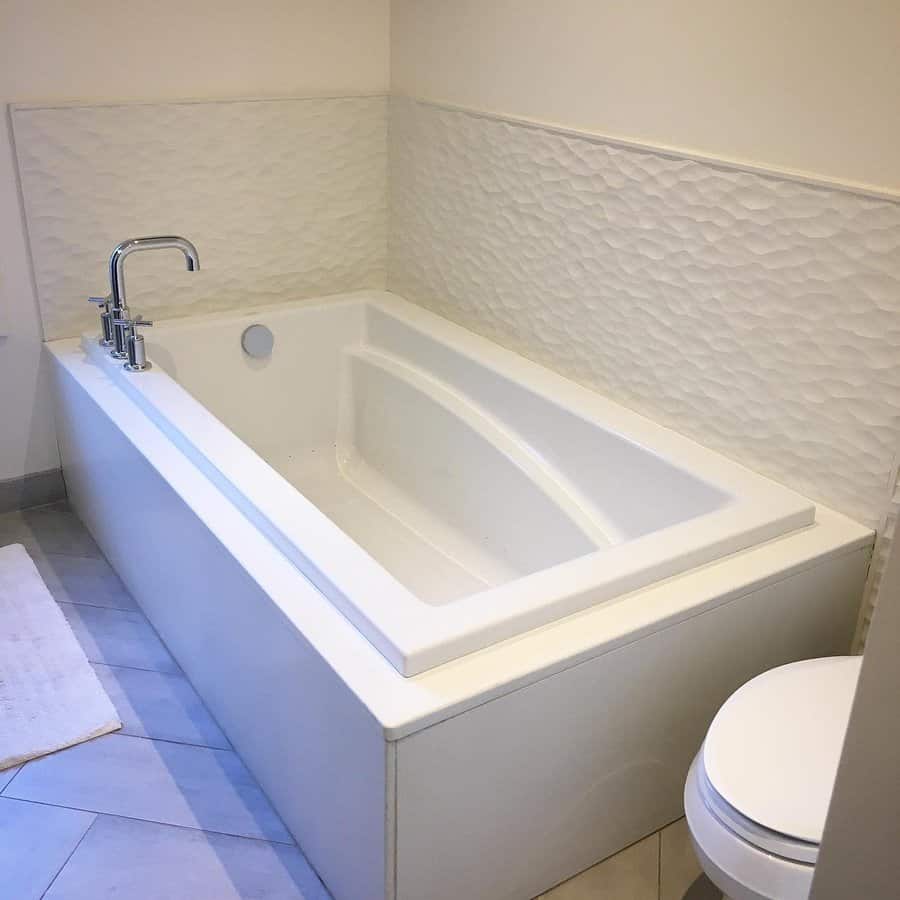 Bathtub Tile FAQs
Can you put tile directly on a bathtub?
You shouldn't put tile directly on a plastic bathtub. Modern tubs are not turdy enough to support tile and mortar. The tub flexes, which will cause the tile to pop off. There are DIY guides that can show you a method for adding tile to your tub. However, if you want lasting results, you should remove the plastic tub and do the project correctly from the start.
Should I tile before installing a bathtub?
When installing a bathtub, you should install the backer board, floor tile, and backsplash tile first. Then you can install the bathtub. The final step is to install the first row of tiles around the tub and then work your way up the wall.
Do you start tiling from the top or bottom?
When installing your tile, start with a pyramid that consists of three tiles on the bottom row and one on the second row. Work your way up the wall from this point by adding layers to your pyramid. Work your way back and forth to slowly work your way out towards the edge of the wall. Using this method helps to keep your tile level and centered for a professional-looking finish.