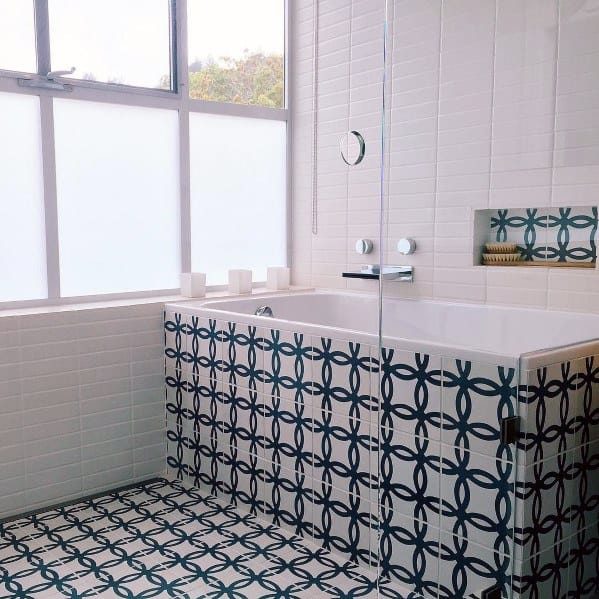 25 Best Bathtub Tile Design Ideas
"I noticed every time I spent a lot of time in the bathtub, I would just get fantastic realizations about myself, and they were so valuable and liberating."– Leonard Orr
Say goodbye to that boring builder-grade drop-in bathtub. It's small and ugly in that basic white. You can't really do much with these tubs other than take them out and replace them with something better.
You could have a freestanding tub or another built-in that has tile surrounding it. Even if you add a freestanding tub, you need tile on the walls around it. Once you decide on your dream tub, your next step is to choose just the right tile.
These bathtub tile ideas will help you plan a bathroom remodel that features an upgraded tub.
1. Color
You can't go wrong with white tiles in your bathroom. White looks clean and bright. It's also easy to tell if you got your bathroom clean or not. However, white can also look boring and sterile. Instead, consider another neutral color.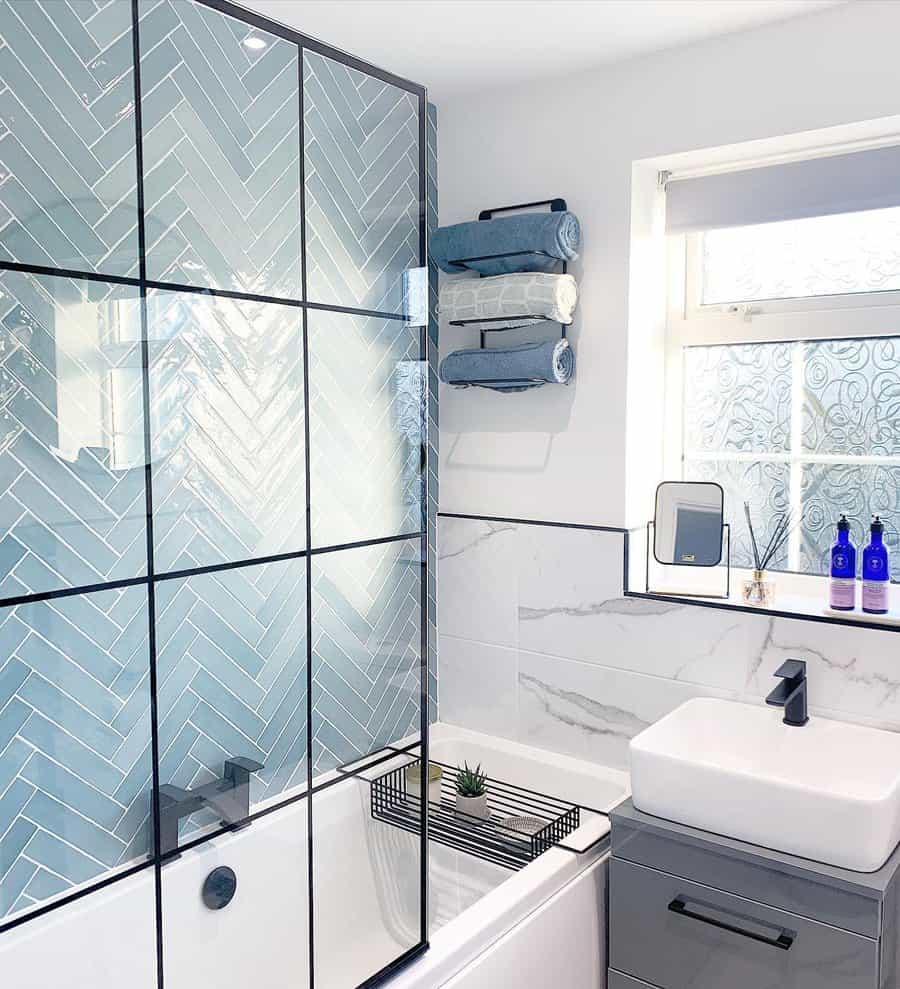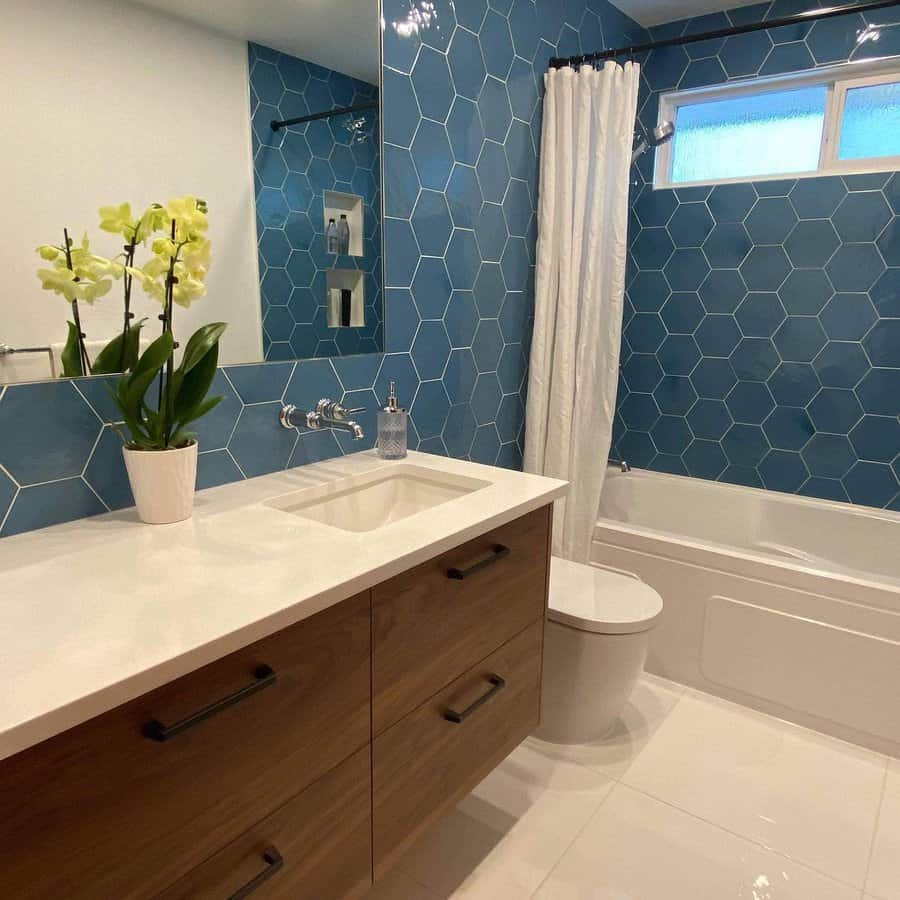 Beige or brown can look gross and inspired thoughts you don't want to have associated with your bathroom. Try a shade of grey instead. This gives you a nice neutral backdrop that you can pair with a range of colors in your decor.
2. Contemporary
Contemporary bathrooms embrace tiles that don't look like tile. Tile the area around your bathtub with a tile that looks like wood. This gives you the visual warmth of wood but the durability of tile. It costs more than wood but will also last significantly longer in the wet environment of your bathroom.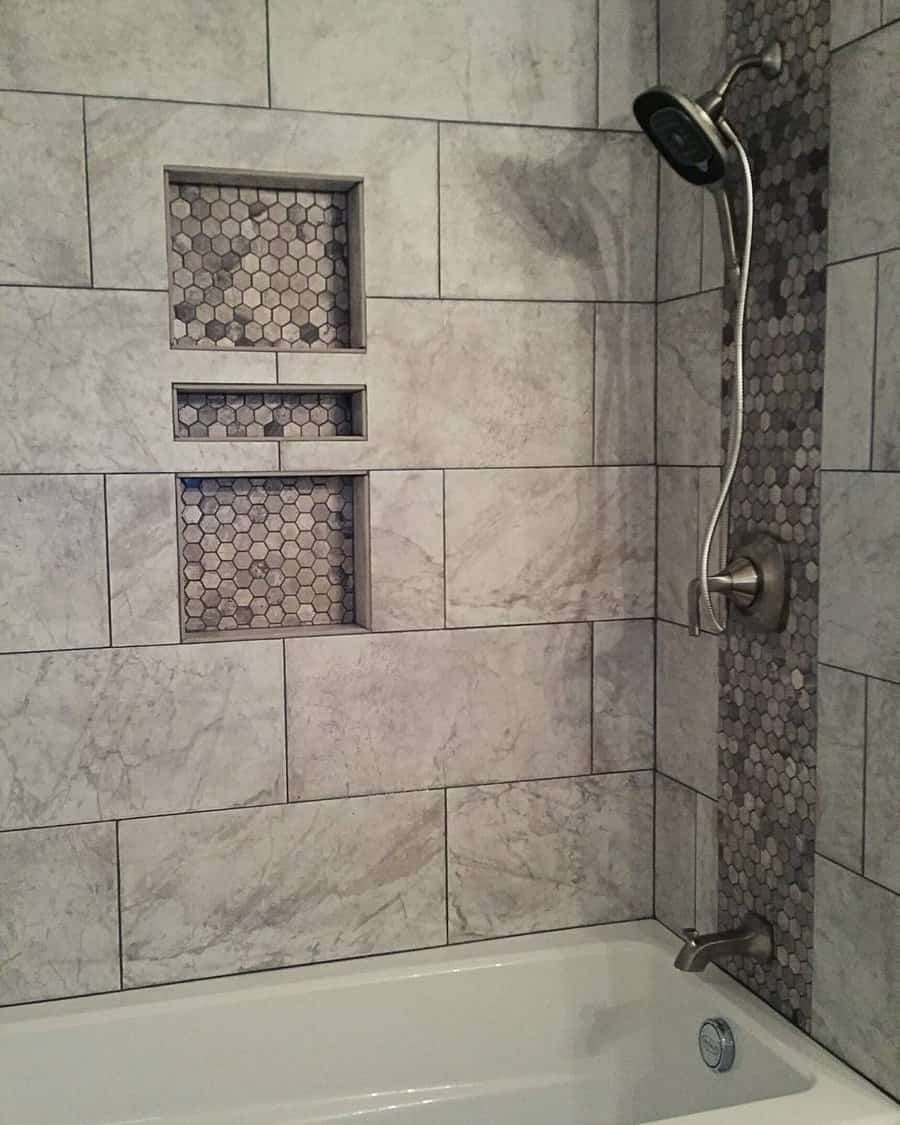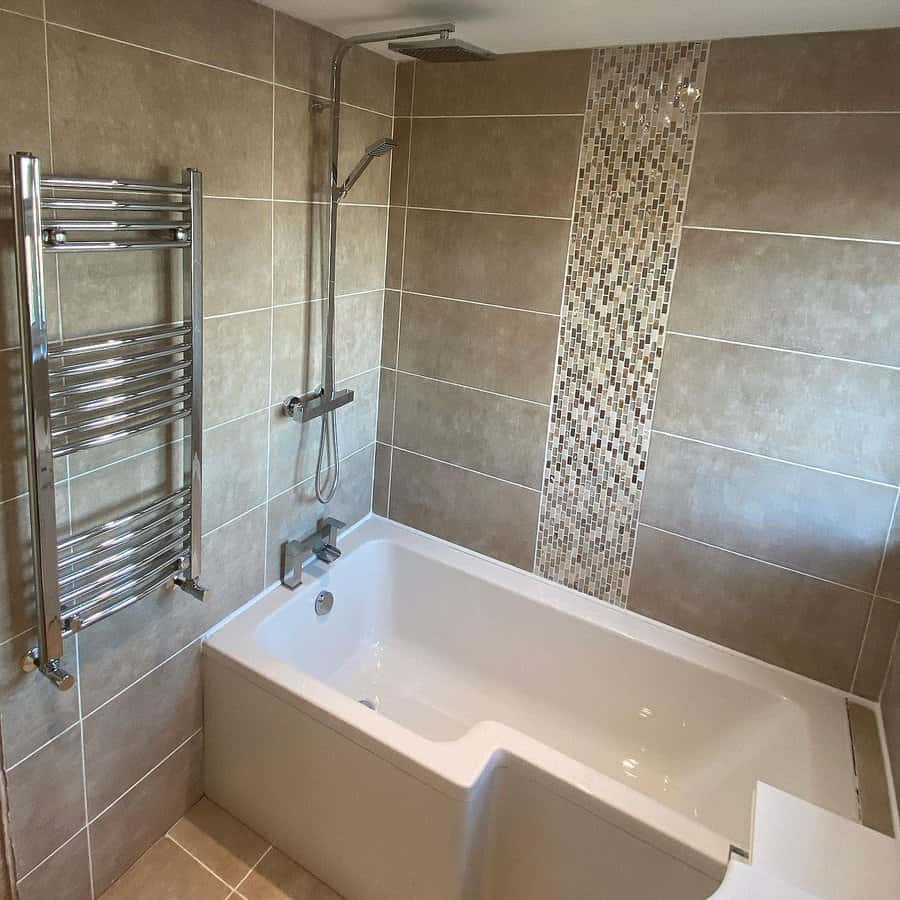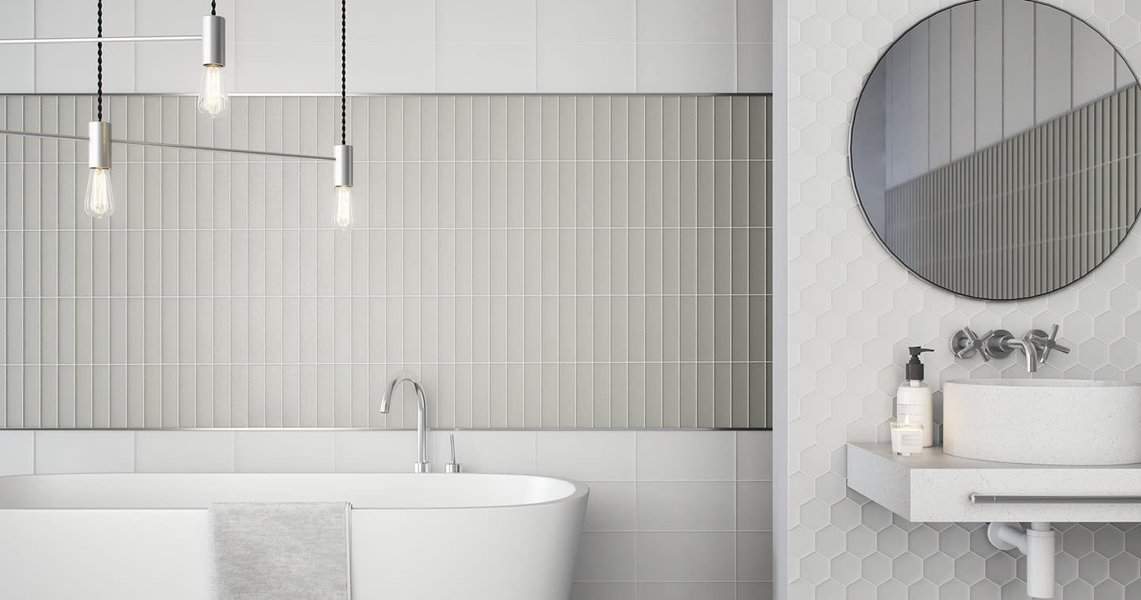 Another popular contemporary tile is glass tile. It has a soothing blue-green color that will give your bathtub a spa-like feel. Choose a tile that has a modern shape and size to keep your bathroom feeling contemporary and not outdated.
3. Dark
Dark tiles make a bold and sophisticated statement. They are perfect for surrounding a bathtub in a master bathroom. You could use black subway tile for a unique take on the vintage tile. Or you can use black marble or granite for a luxury take on dark tile.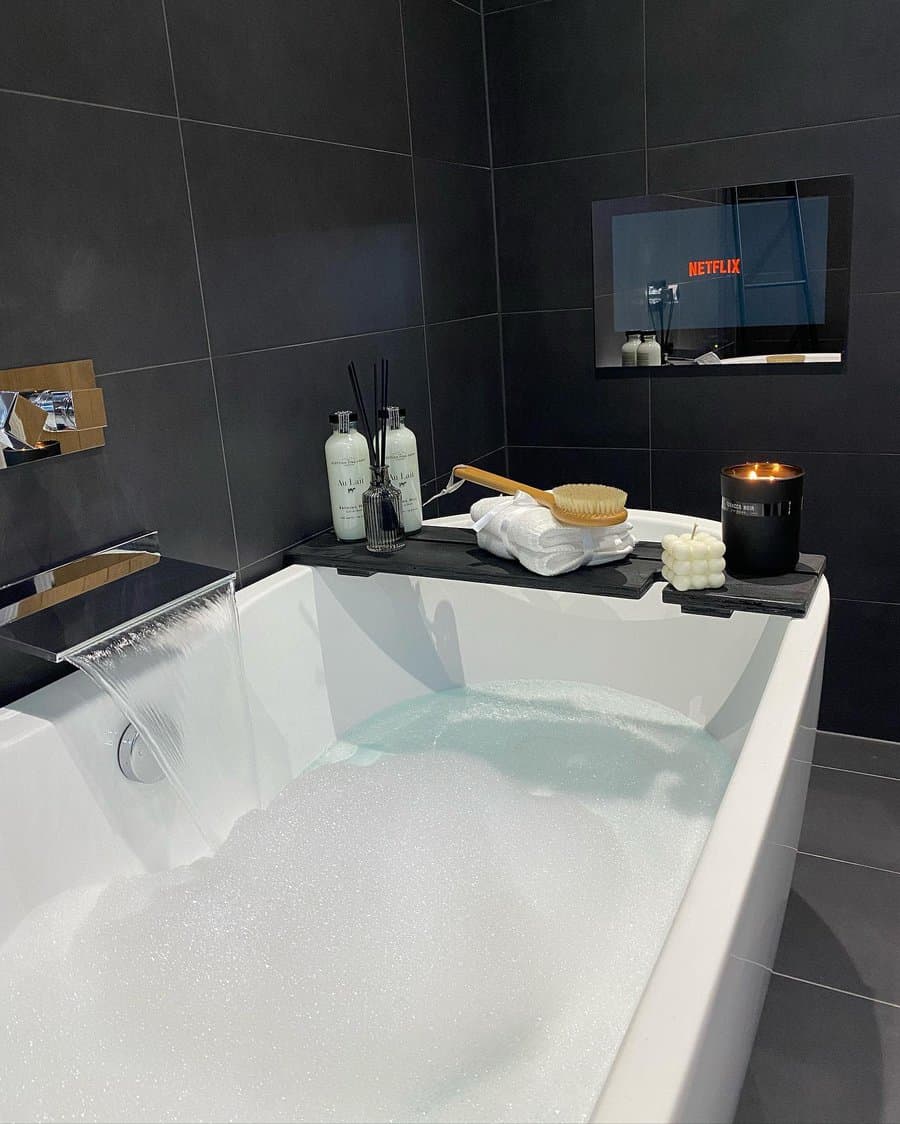 If you have a small bathroom, the dark tile can actually make your bathroom feel bigger. Pair your dark tile with a metal tub for a beautiful and elegant balance between light and dark.
4. Marble
Using marble tile as a part of your bathroom tile ideas will elevate the look of your bathtub. This tile is typically used as shower tile or floor tile. However, that doesn't mean you can't also use it for your bathtub.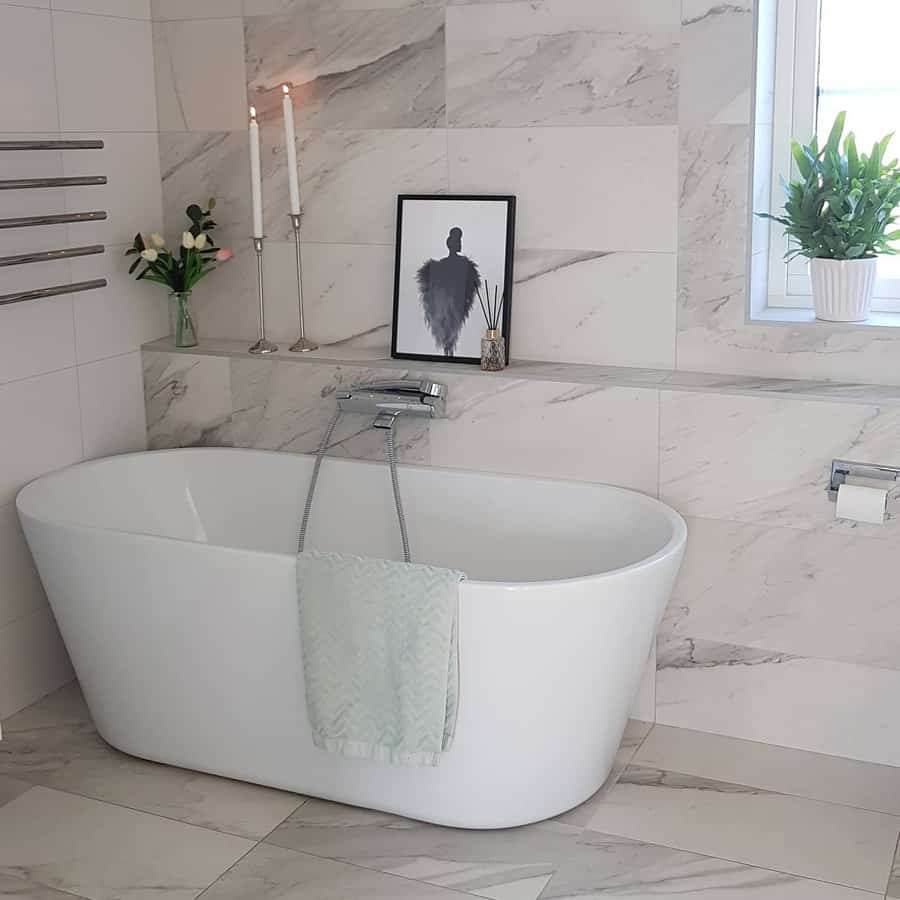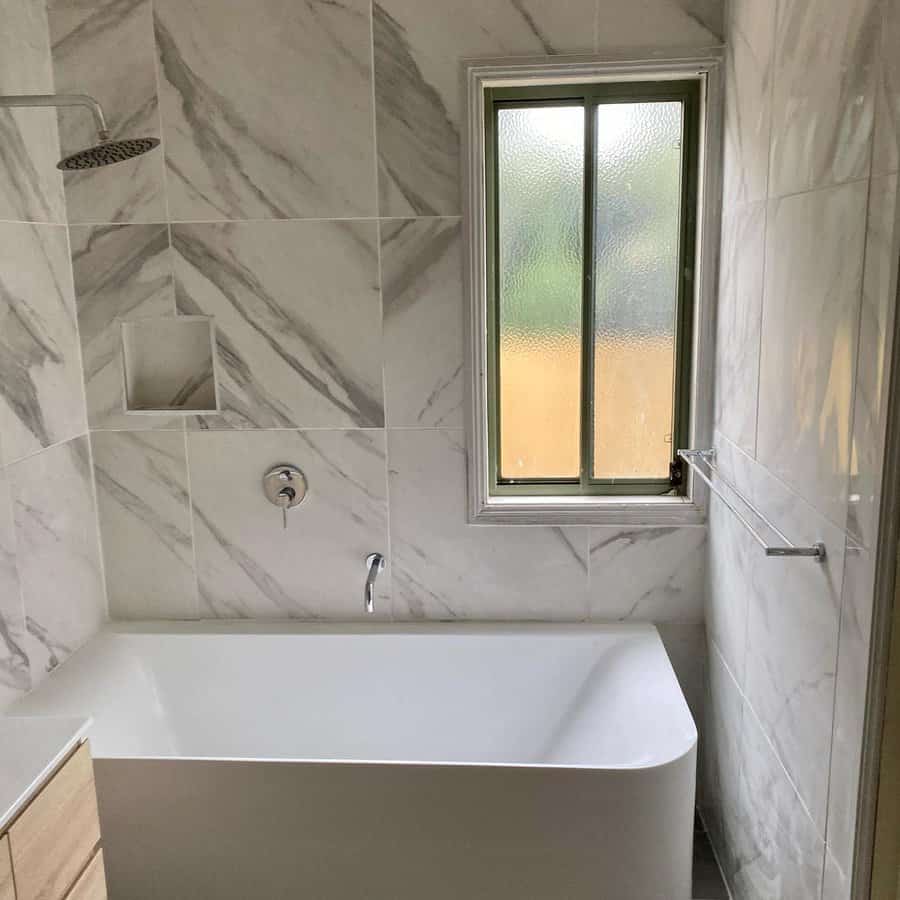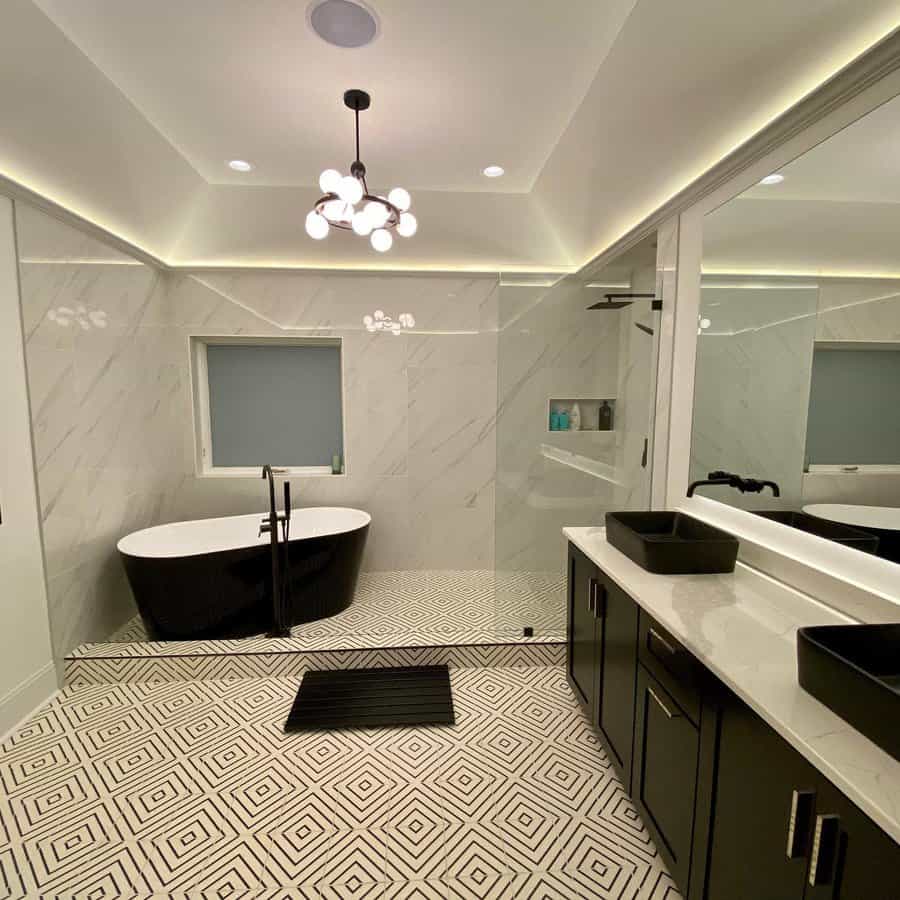 Large marble sheets look beautiful as they can feature the graining that's prized in this type of stone. However, if your budget can't support this, you can opt for smaller tiles. These are less likely to break or crack, making it easier to install them around your tub.
5. Modern
Modern bathrooms feature large-scale tiles. You can do this in your bathroom when adding tile to the walls around your bathtub. Opt for thin grout lines that minimize their look, so they don't break up the look of the tile.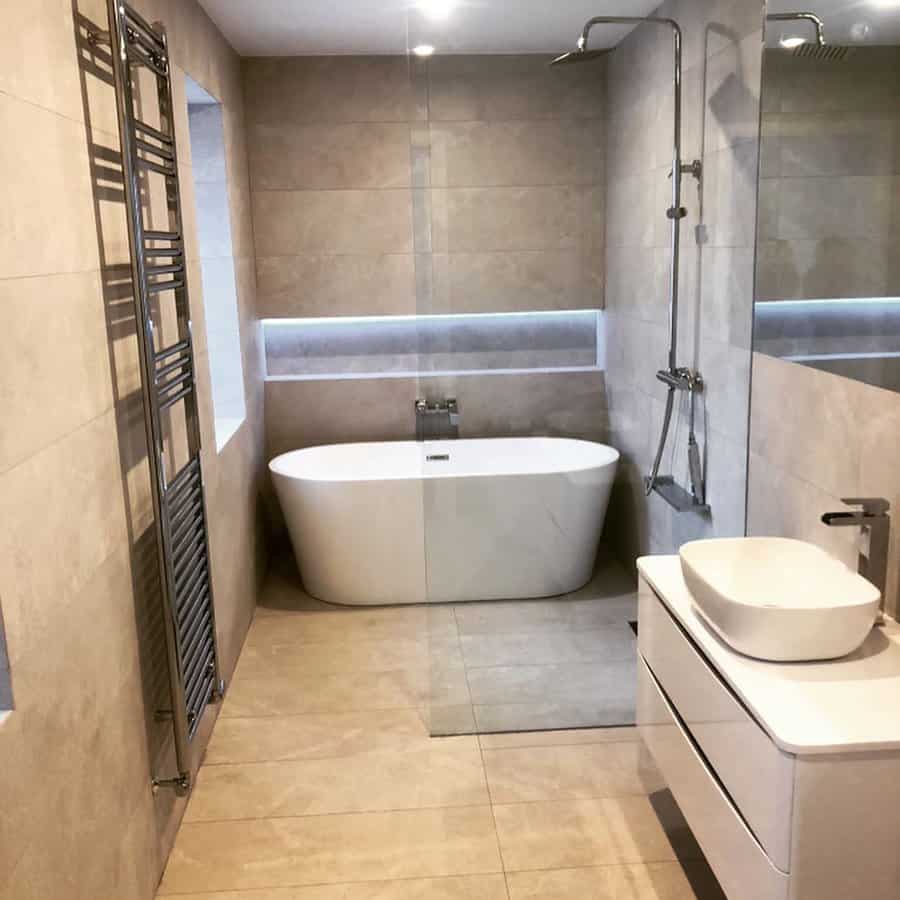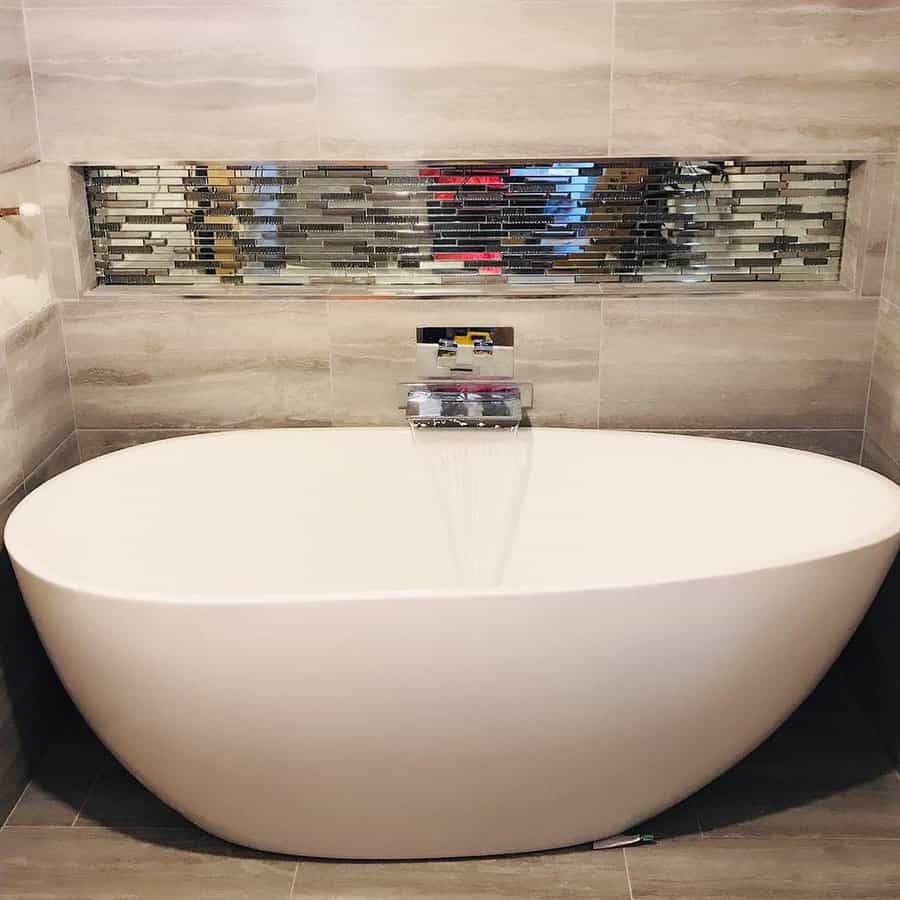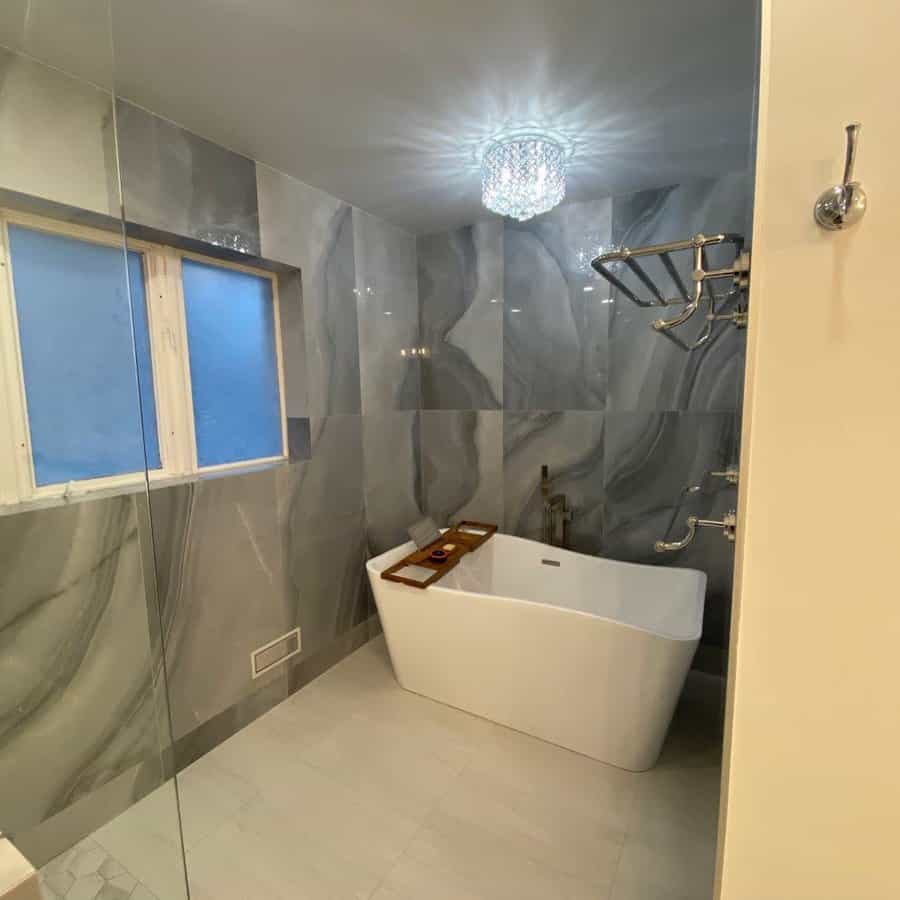 Choose a tile that has a subtle pattern but nothing too bold. It should also be in a soothing white, grey, or beige. If you want a stronger statement, you could use a tile that's charcoal grey. Then it's dark and moody like black but not as harsh.
6. Neutral
A popular small bathroom tile idea is to use neutral natural tiles. This brings an earthy feel to your bathroom tile designs. Instead of using crisp and pristine porcelain tile with a uniform color and shiny finish, neutral tile design features slight variations in color and finish.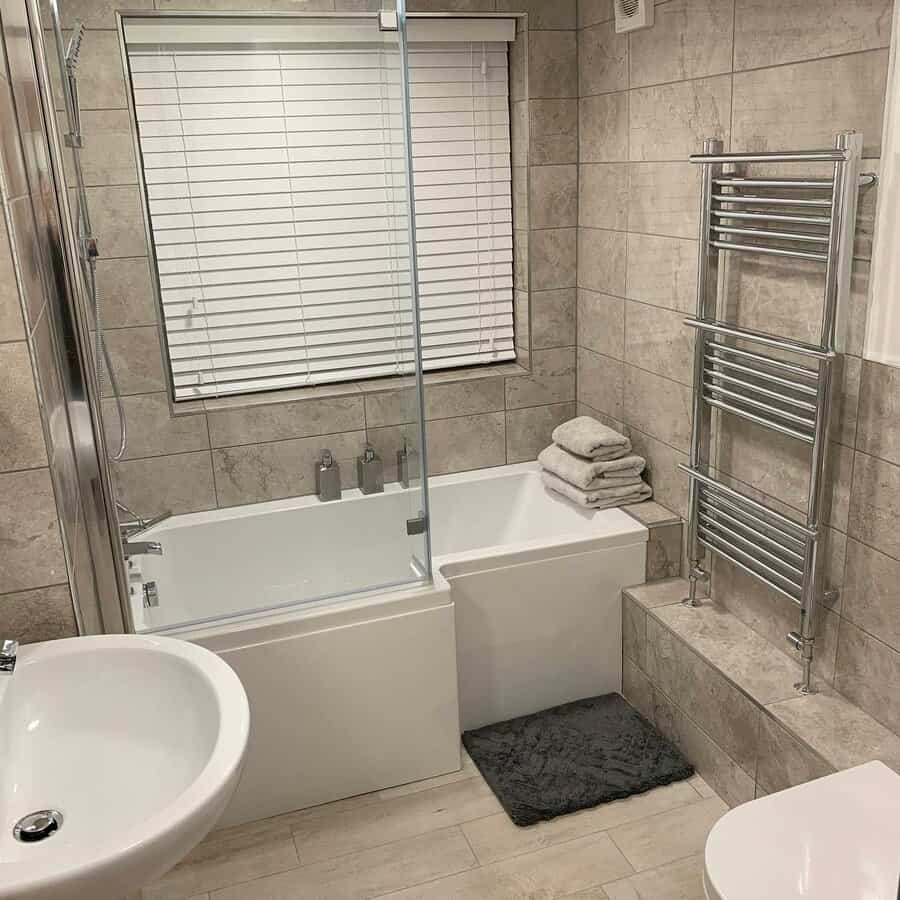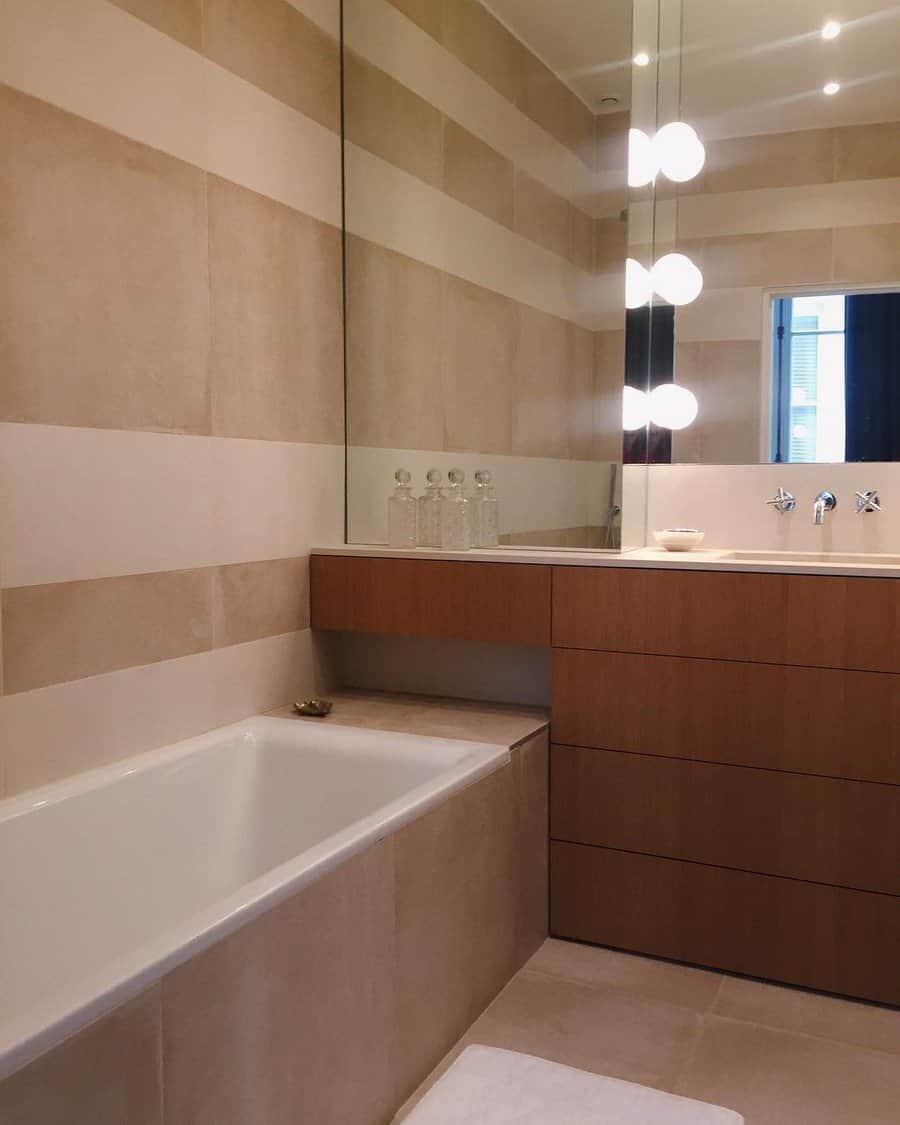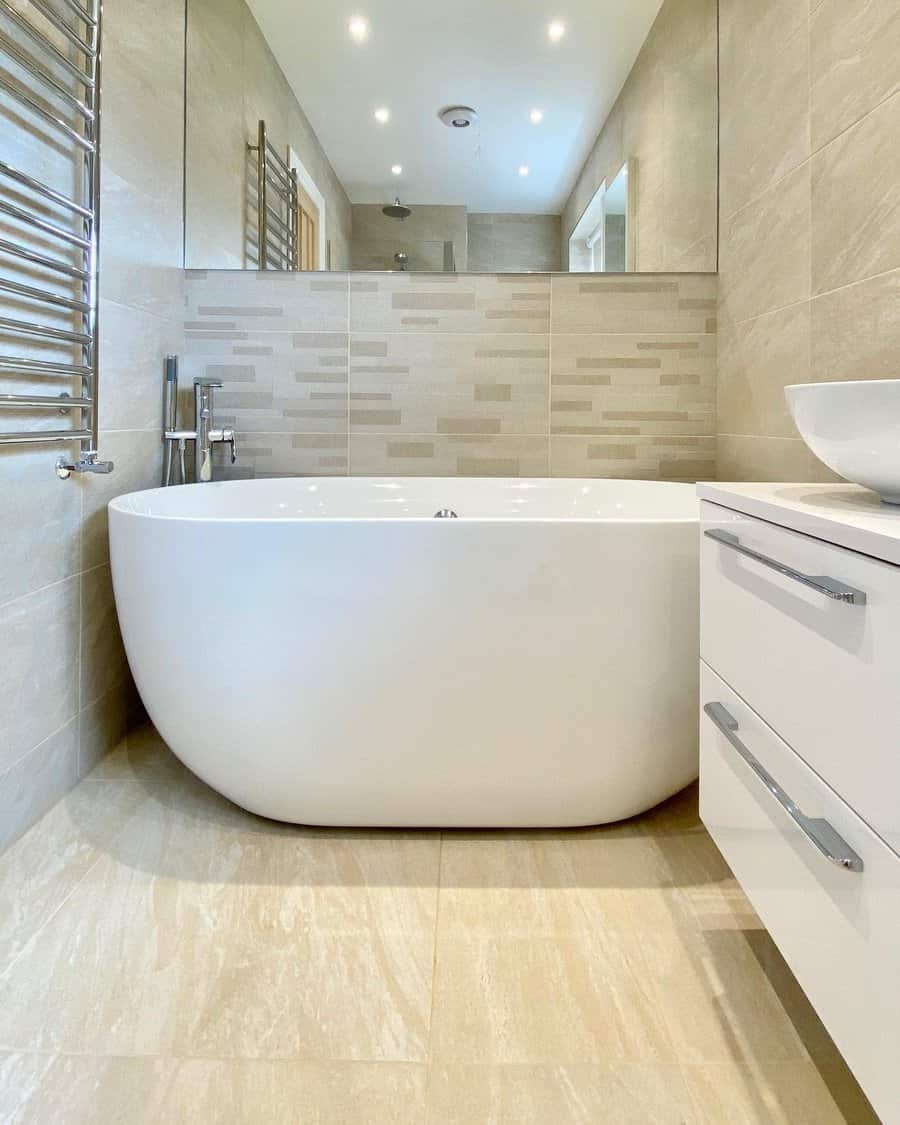 These wall tiles are good to use when you want another area in your bathroom to be the focal point. Use these tiles around the bathtub to create a backdrop that doesn't draw attention. They are subtle shades of white that will blend with a white tub.
7. Pattern
Patterned tile adds texture and dimension to your bathroom. You can create a pattern with your tile by using penny tile or mosaic tile. Penny tiles get their name because they are small, round tiles that resemble pennies.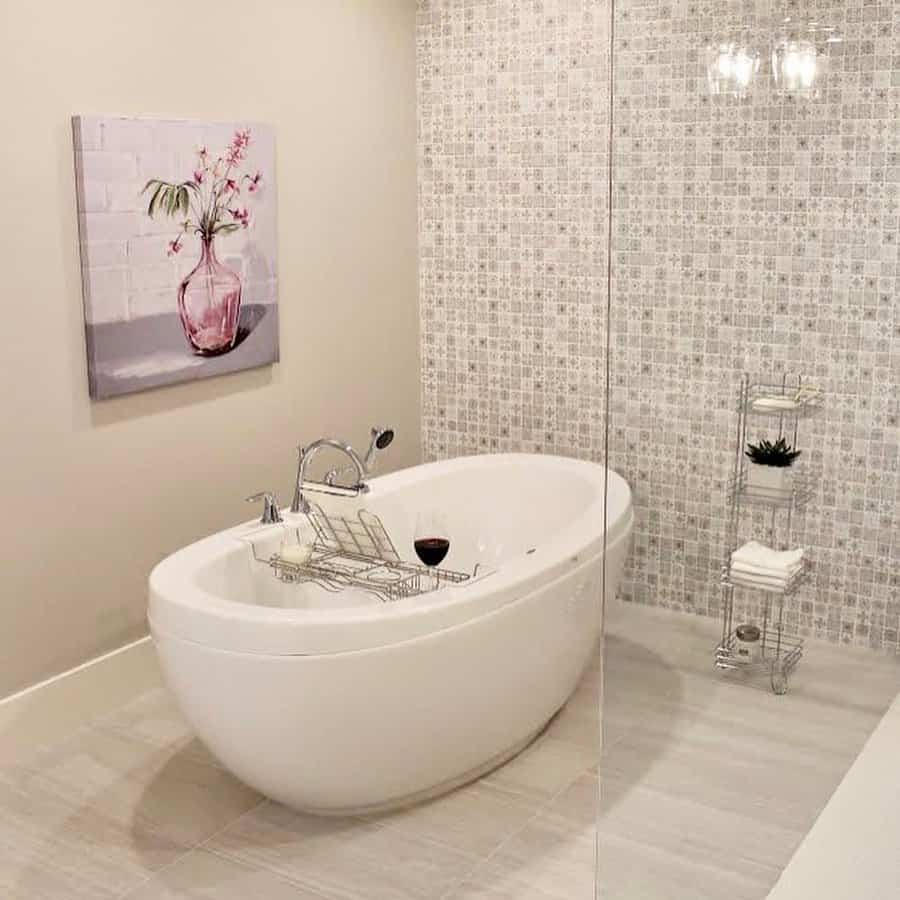 Mosaic tiles are typically square and have patterns on them. You then arrange them randomly or use the tile to create a larger picture. A modern take on penny tile is hexagon tile. These are small tiles that are a similar size to penny tile but are a hexagon shape instead of round.
8. Rustic
Rustic bathroom tile design uses tiles that are made out of stone or are handmade. Covering your bathroom wall in natural stone brings nature into your home. Use tiles that are imperfect. You can then finish your rustic design with handmade bathroom decor.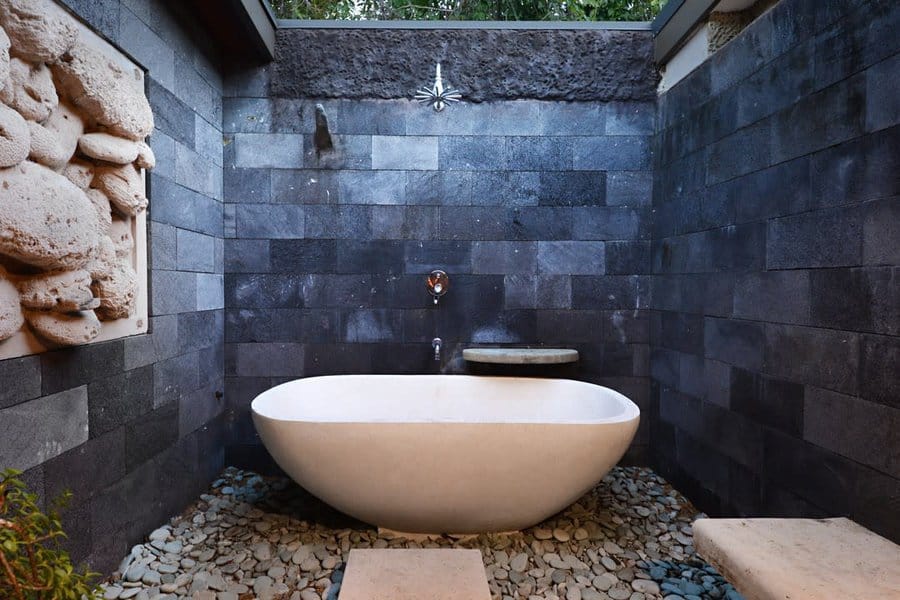 Using river rocks gives your bathroom a built-in foot or body massager. Line the bottom of your tub and feel the stones gently massage your body as you relax in hot water. Using rocks or boulders to build out around your tub gives the illusion that your tub was built out of the stone or even carved out from them.
9. Stone
Natural stone tile brings nature and warmth into your bathroom. Instead of using rustic stones, use refined tiles that are cut from high-end stones. These are the stones that are smooth and uniform enough to use on the bathroom floor.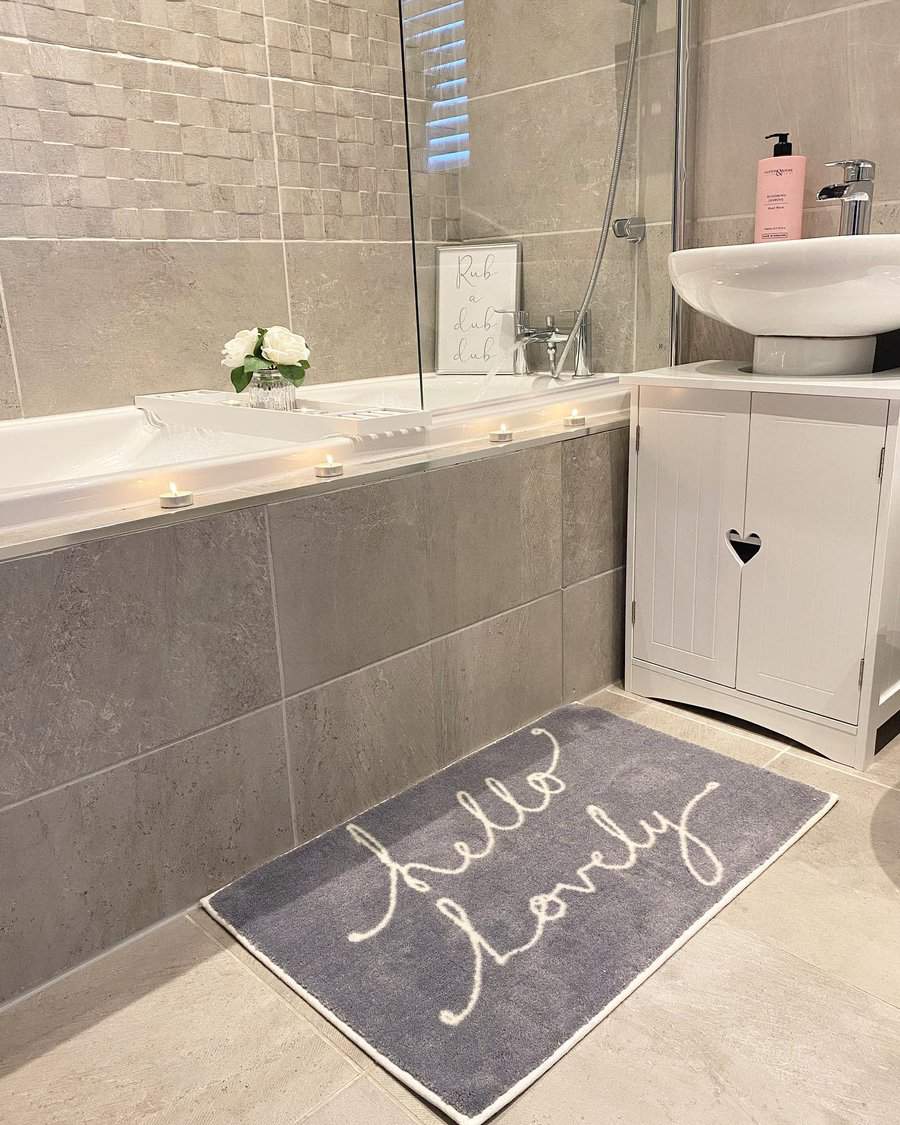 The stone material doesn't have to be rustic either. Elevate your bathroom design by using tile that's made from travertine, marble, slate, granite, limestone, basalt, or quartzite.
Check out shower tile ideas to get a feel for how each of these stones look. Then you can choose the stone that will fit the interior design style you want to achieve.
10. Subway
It doesn't matter if you call them subway or metro tile. These white tiles have been used in design for over a hundred years. While tile trends come and go, subway tiles never seem to go out of style.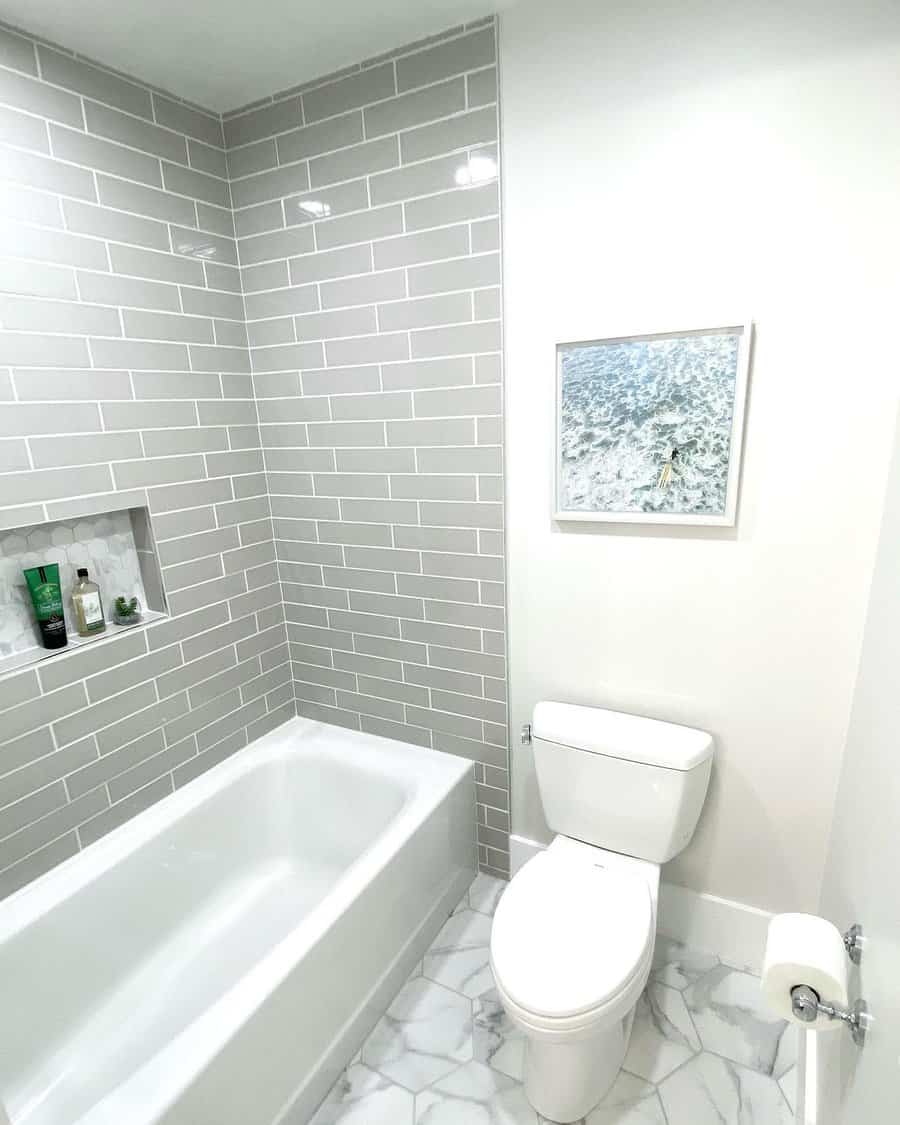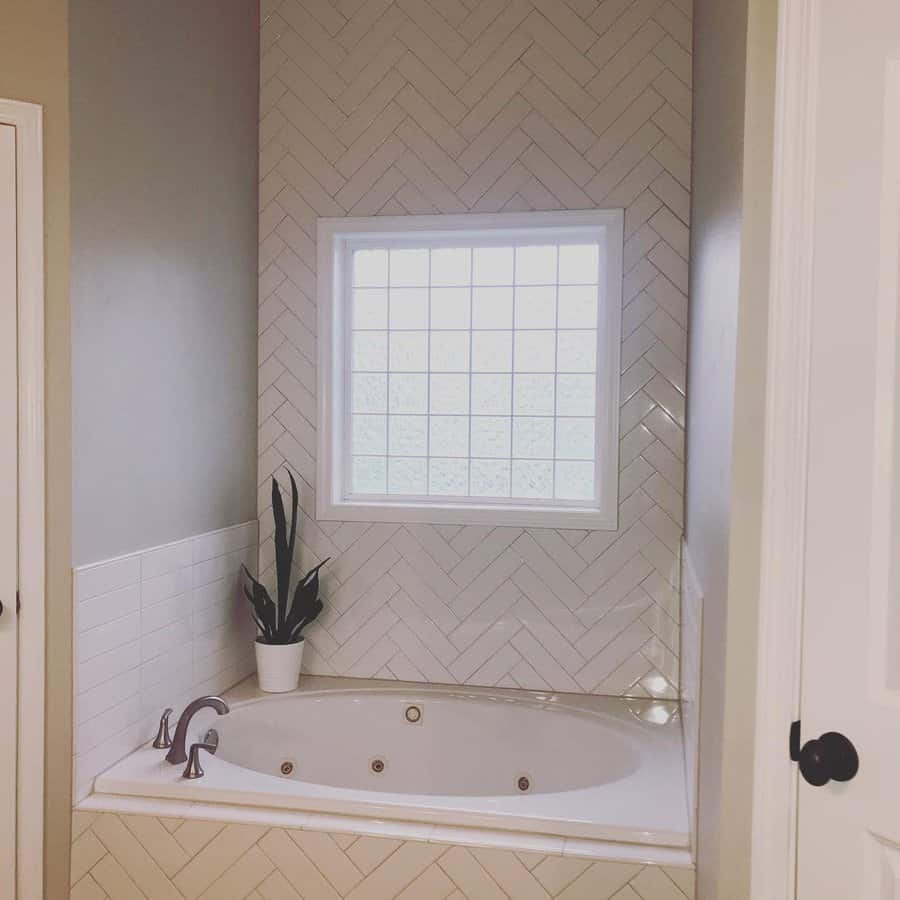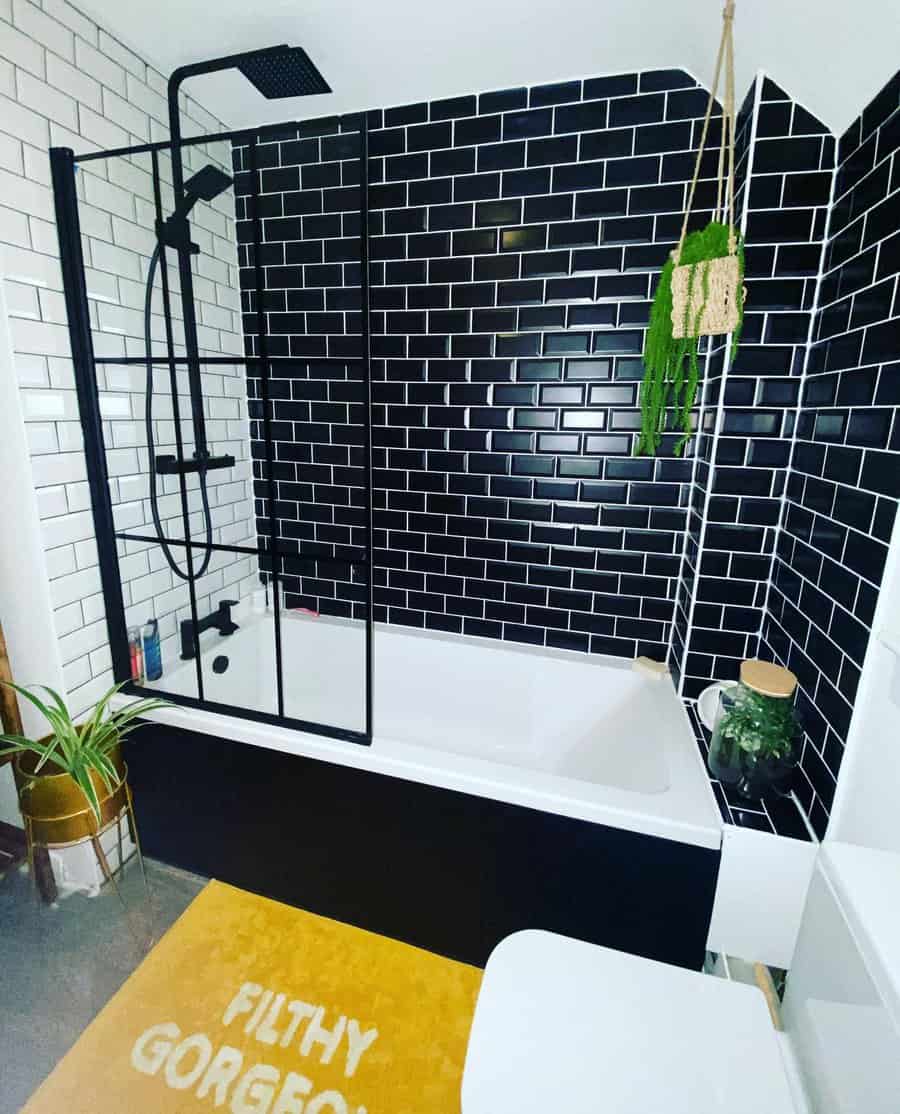 These ceramic tiles have a clean design that complements a variety of interior design themes and home architectural styles. You can use them in your bathroom tile idea to surround your bathtub. Extend them beyond the tub area to cover the shower walls and the rest of the bathroom.
11. Surround
The tub surround is the wall immediately around the tub. You need to tile this area because the wall gets splashed while you are in the tub. If it were just backer board or drywall, it would absorb the water and eventually rot or grow mold.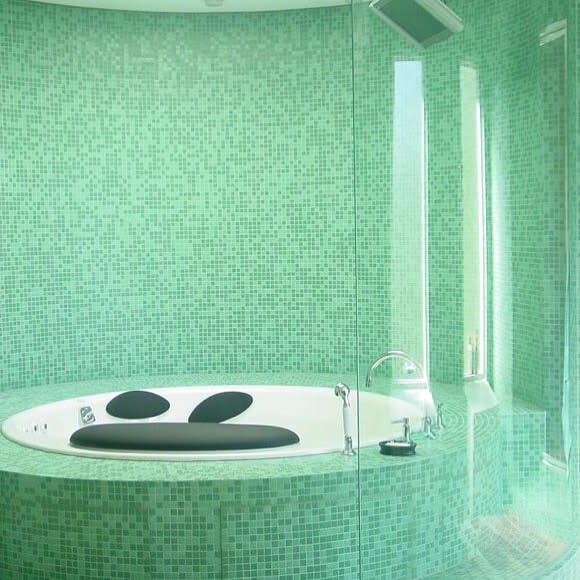 Look at bathroom ideas to find a style or design that you like. You could use one large tile to cover the entire area. You could add a board or edge that's the same tile but cut smaller. Or you can get fancy and use an accent tile that's a different size, color, and shape.
12. Textured
Textured tile is the tile trend of the future. You will see it is commonly used as wall tile, but depending on the texture, it can also work well in bathroom floor tile ideas. A textured tile will be safer to walk on when it's wet because you can gain traction that prevents you from slipping.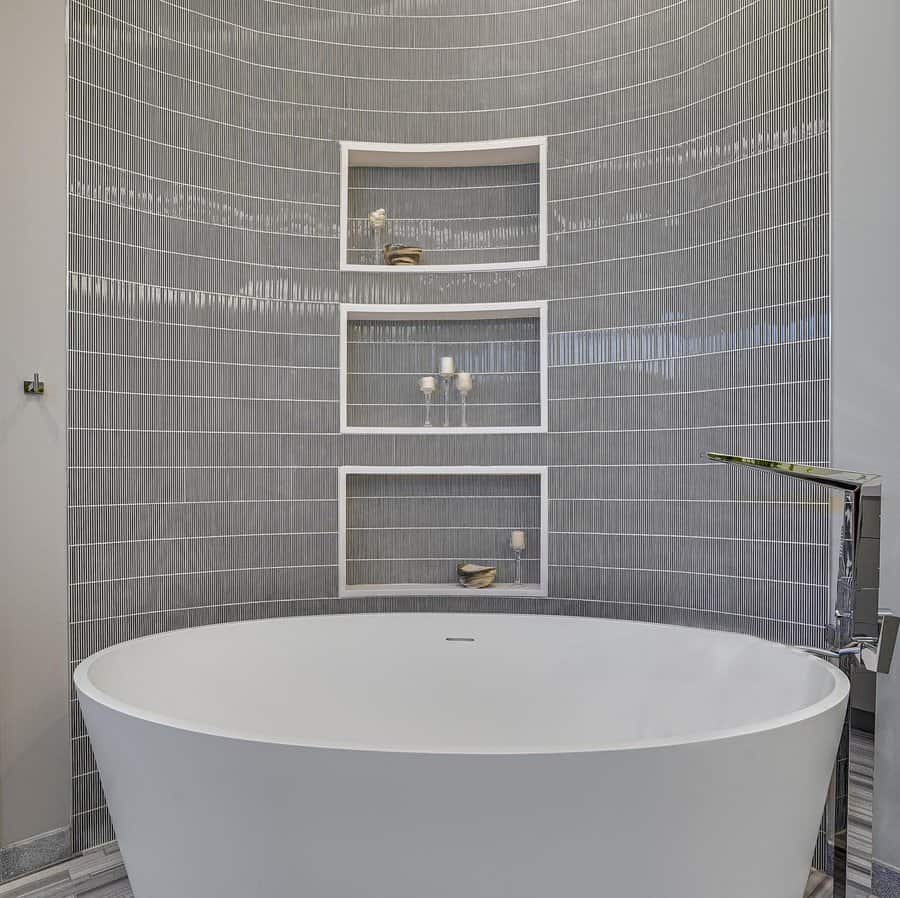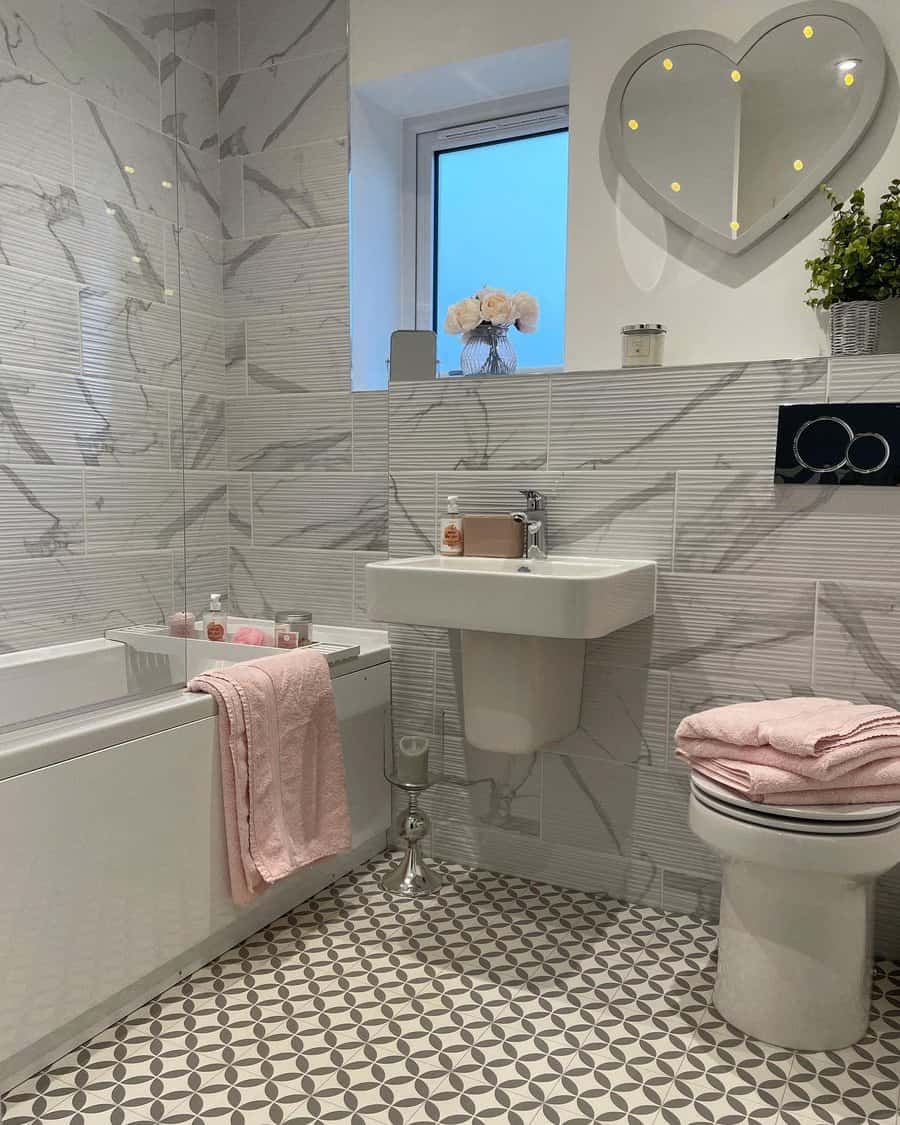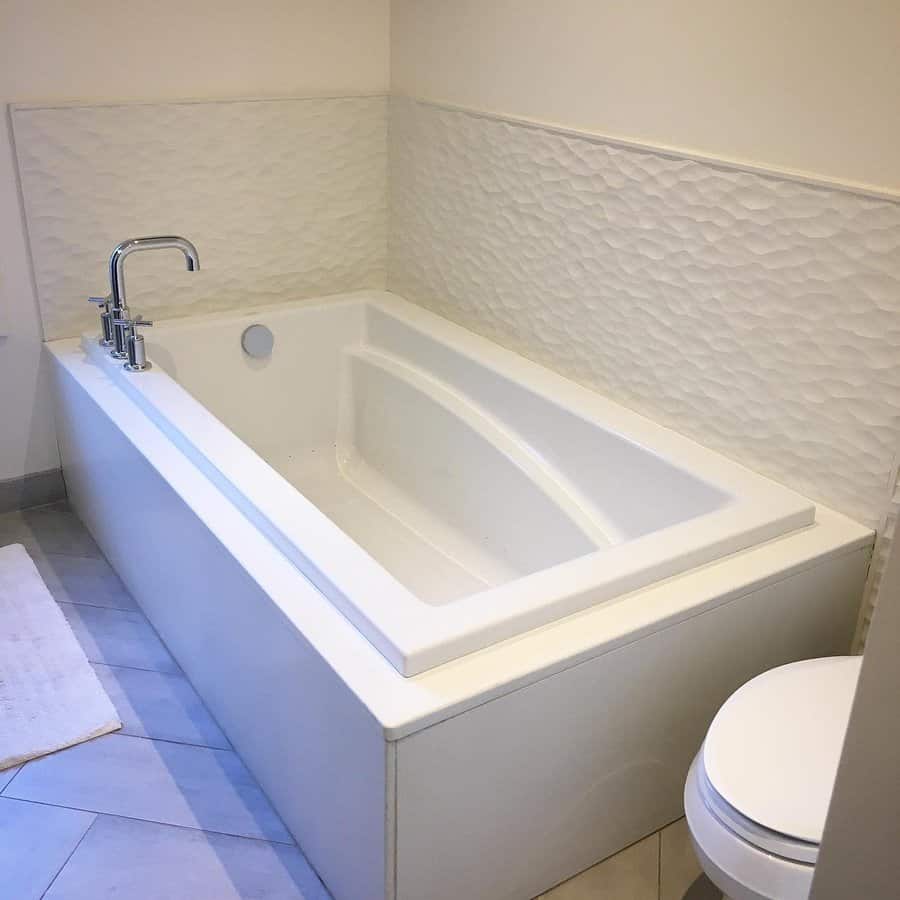 If you don't want your entire bathroom to have texture tile, you can use it on your shower floor. A 3D tile won't be comfortable to walk on but can look beautiful around your bathtub. There are design ideas that will show you how to use the texture to your advantage to elevate the look of your bathroom.
Bathtub Tile FAQs
Can you put tile directly on a bathtub?
You shouldn't put tile directly on a plastic bathtub. Modern tubs are not turdy enough to support tile and mortar. The tub flexes, which will cause the tile to pop off. There are DIY guides that can show you a method for adding tile to your tub. However, if you want lasting results, you should remove the plastic tub and do the project correctly from the start.
Should I tile before installing a bathtub?
When installing a bathtub, you should install the backer board, floor tile, and backsplash tile first. Then you can install the bathtub. The final step is to install the first row of tiles around the tub and then work your way up the wall.
Do you start tiling from the top or bottom?
When installing your tile, start with a pyramid that consists of three tiles on the bottom row and one on the second row. Work your way up the wall from this point by adding layers to your pyramid. Work your way back and forth to slowly work your way out towards the edge of the wall. Using this method helps to keep your tile level and centered for a professional-looking finish.