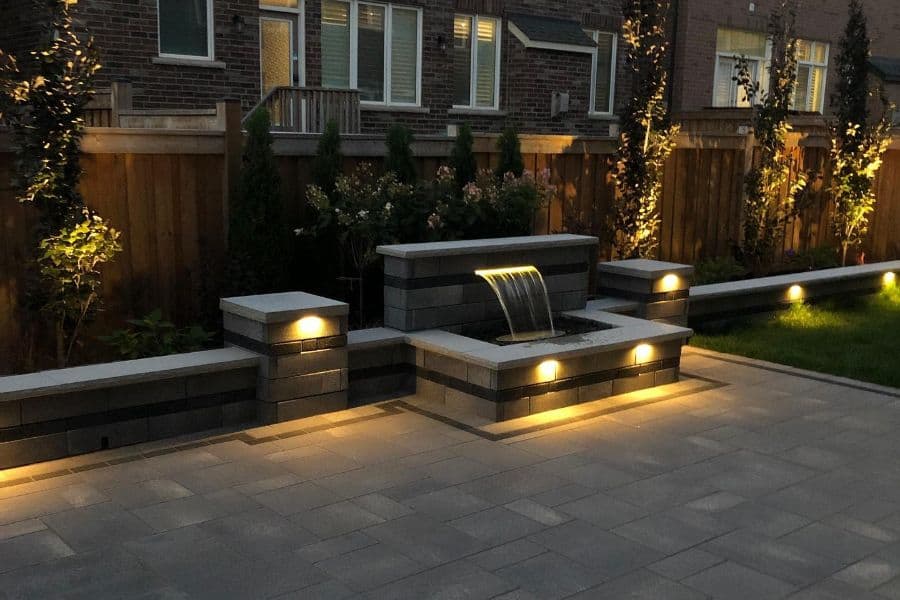 The Top 60 Hardscaping Ideas
To have a beautiful design for your backyard, you need to use a combination of soft and hardscaping. Soft landscaping is the soft materials, such as grass, mulch, shrubs, trees, and soil.
The hardscaping is the concrete, stones, pavers, and gravel. When you combine them, you create varying textures and variety that add visual interest.
These hardscaping ideas will get you inspired to upgrade your backyard. Perhaps you'd love to add a fire pit to your backyard. Or maybe you've always wanted a water feature.
Turn your small yard into a useable space and increase the value of your home with luxury materials.
1. Rock Landscaping
Embrace the rugged beauty of a rocky landscape by combining different kinds of rocks in a mix-and-match fashion. Create stunning pathways, retaining walls, or even rock gardens that seamlessly blend with the natural surroundings. The juxtaposition of smooth stones and rough textures adds a dynamic and visually appealing element to your outdoor design.
To infuse life and vibrancy into the hardscape, strategically incorporate patches of plants or succulents for accent. These bursts of greenery soften the ruggedness of the rocks and create a harmonious balance between nature and structure.
From dramatic boulders to intricate pebble mosaics, hardscaping allows you to express your creativity and create a landscape that is not only functional but also visually captivating.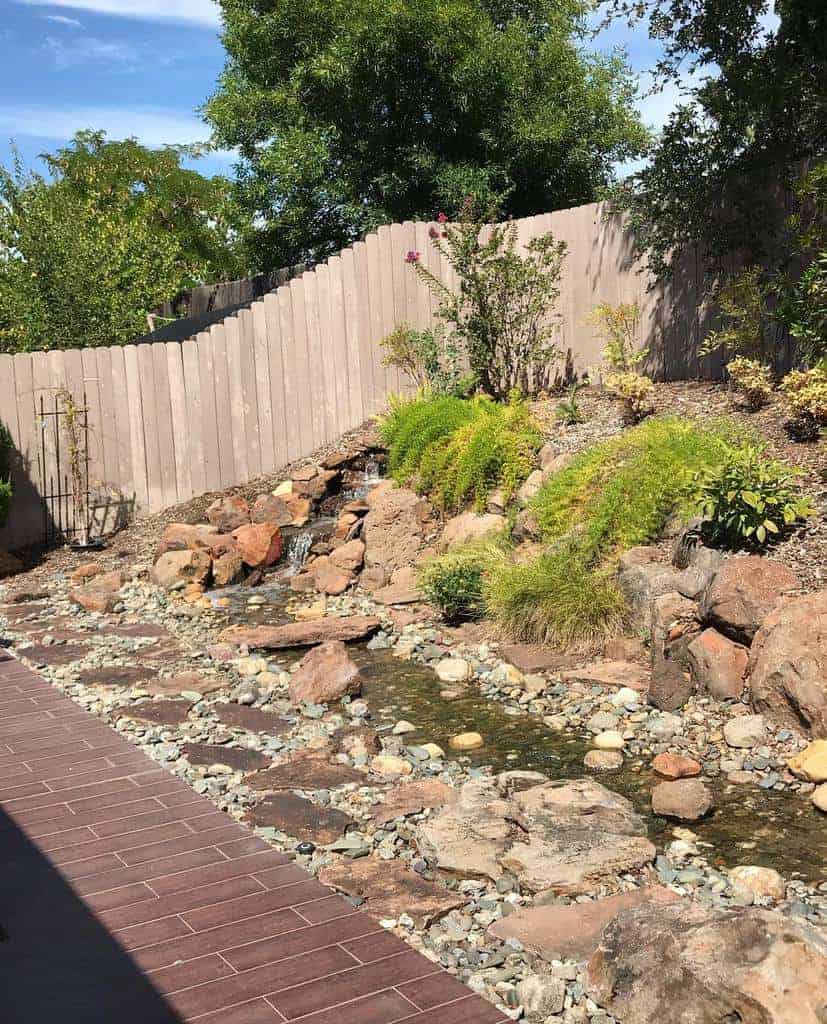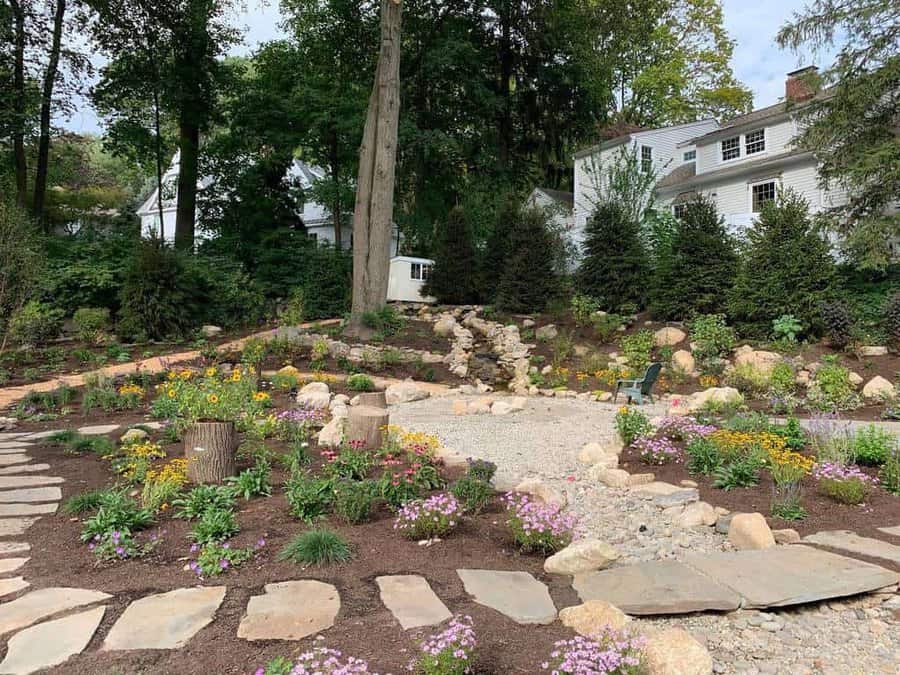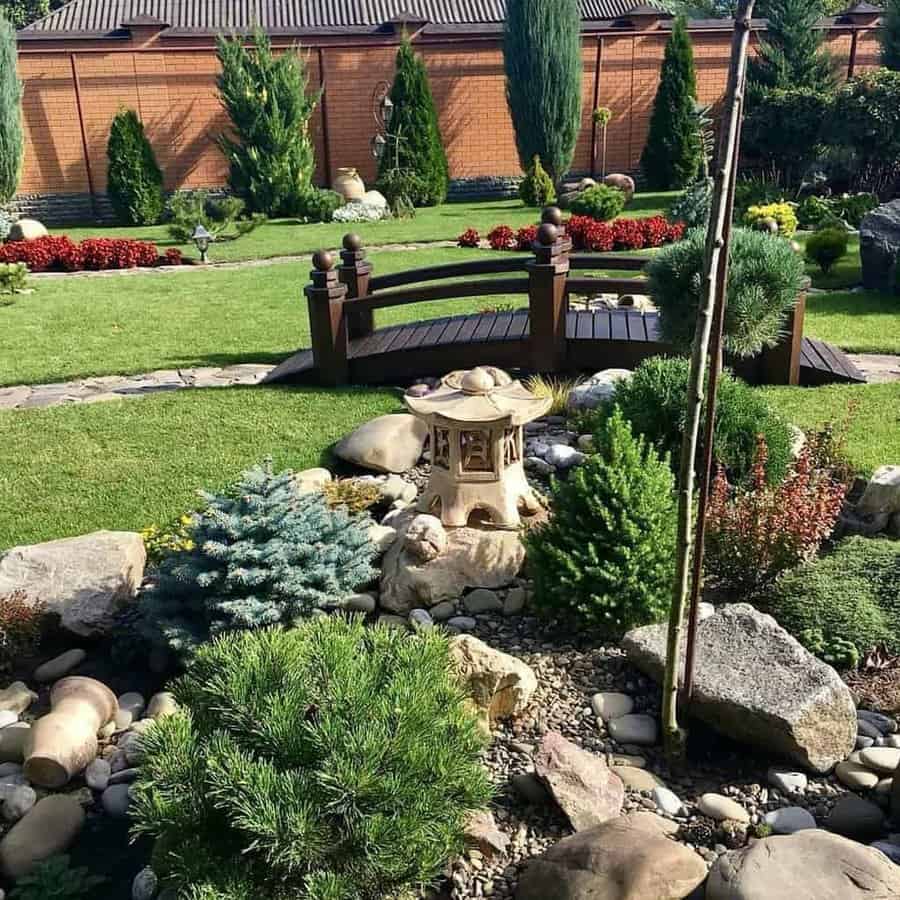 2. Firepit Area & Seating
Create a mesmerizing focal point by incorporating a firepit area into your landscape design. A firepit not only provides warmth and ambiance but also invites gatherings and cozy conversations under the starlit sky. Pair it with thoughtfully placed seating options, such as comfortable chairs or rustic benches, to create a welcoming and intimate atmosphere.
Whether you opt for sleek and modern or rustic and natural, the choice of materials for your firepit and seating can truly elevate the aesthetic appeal. From stone to concrete, each selection adds its unique charm, reflecting your personal style and enhancing the overall design of your outdoor space.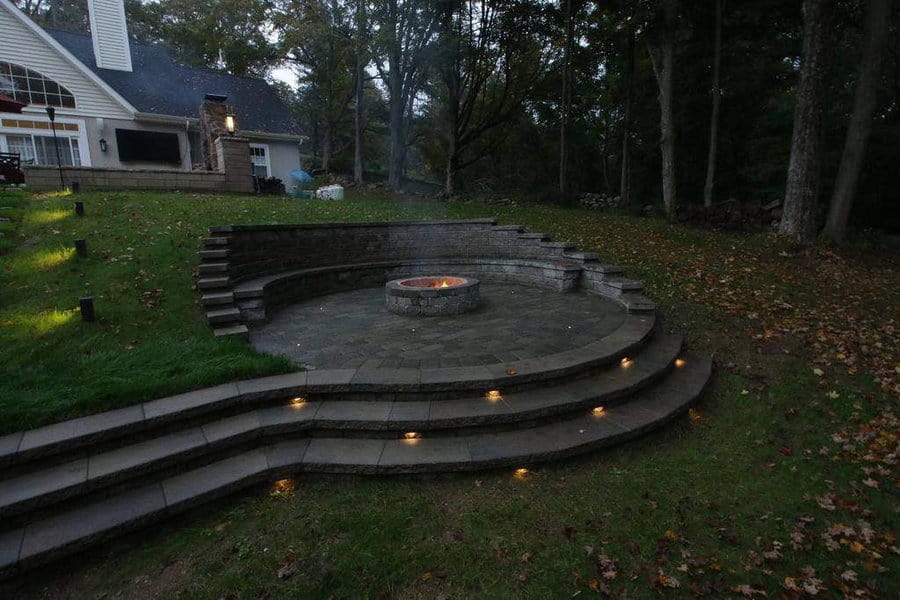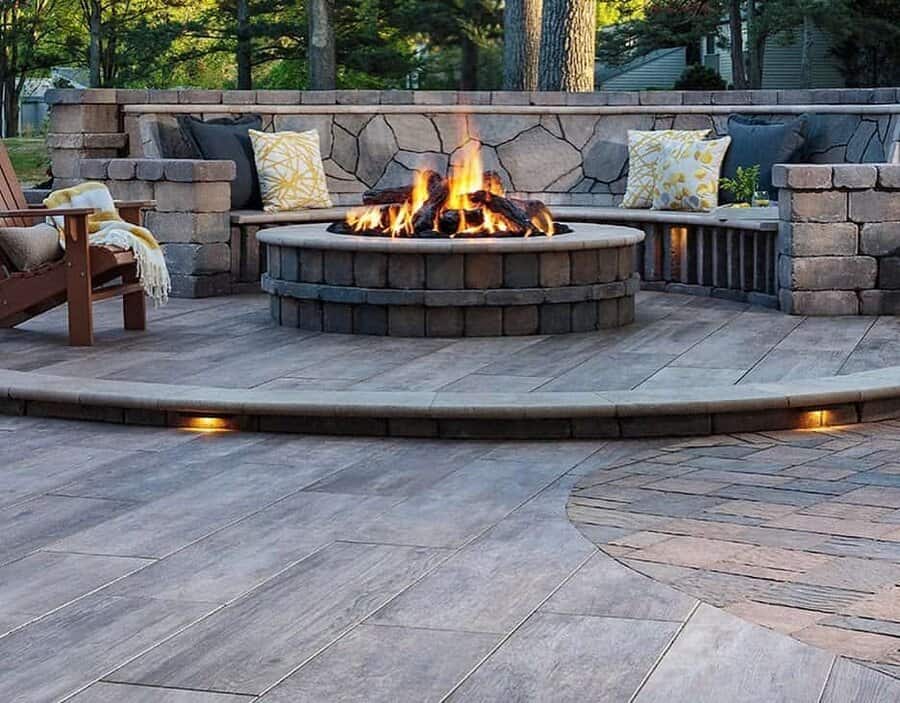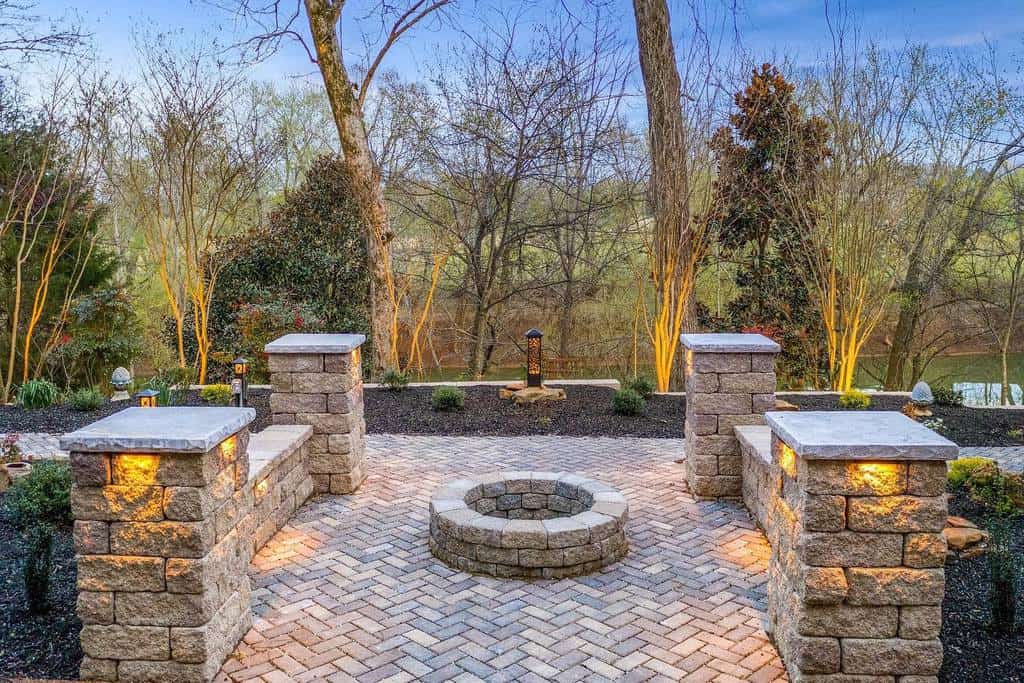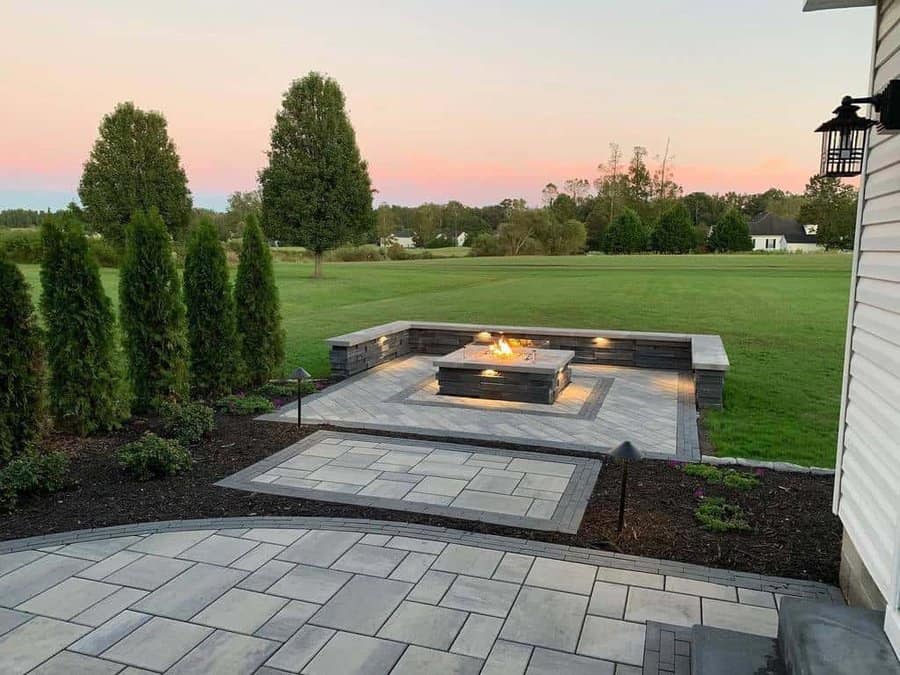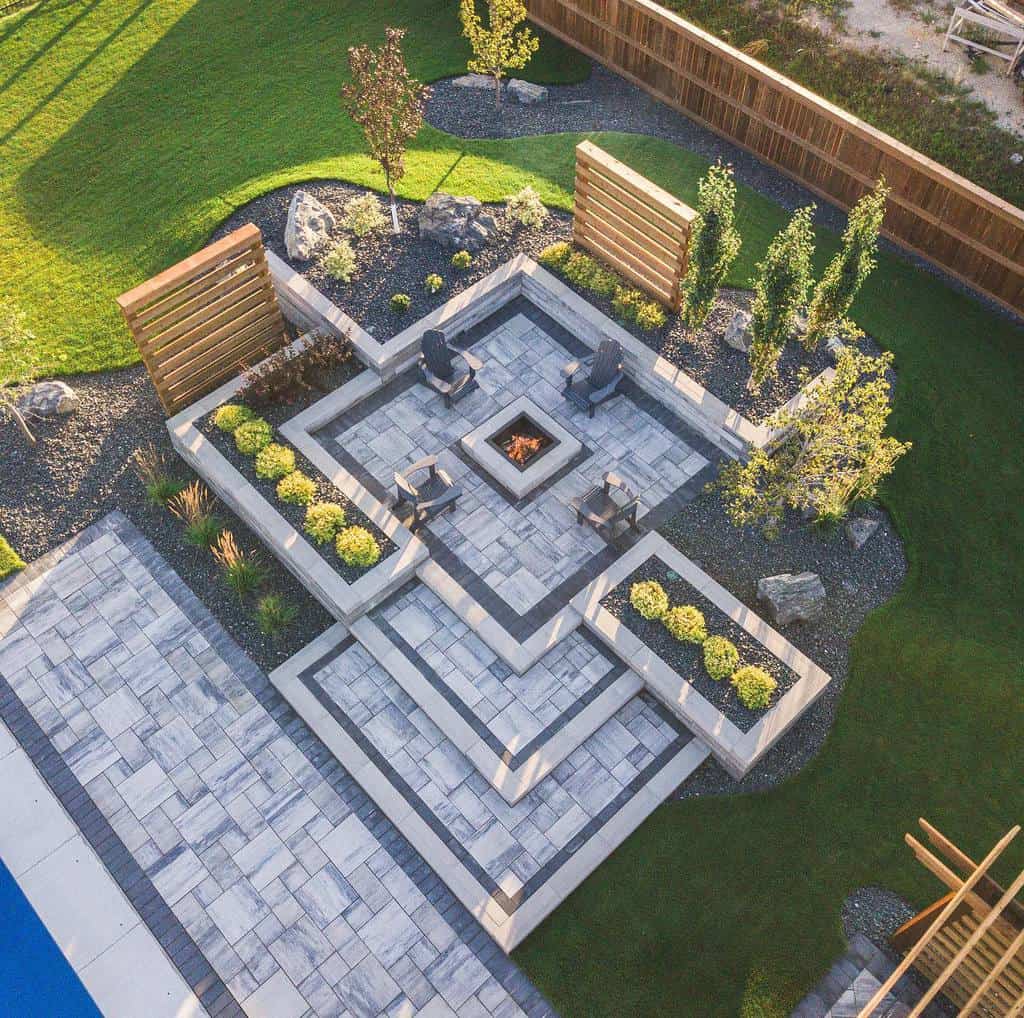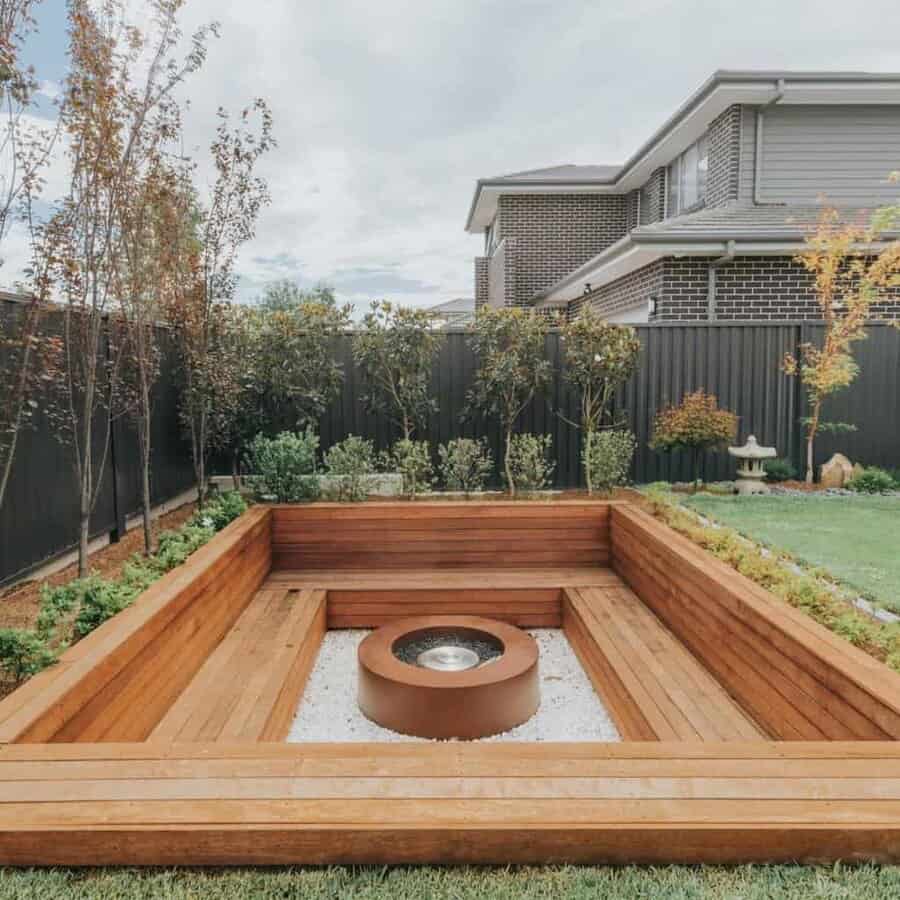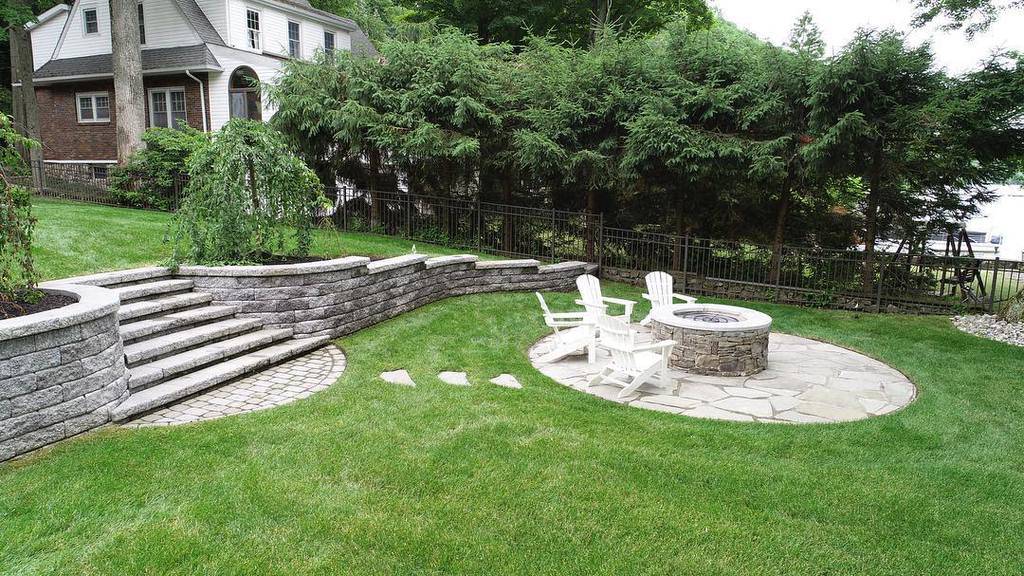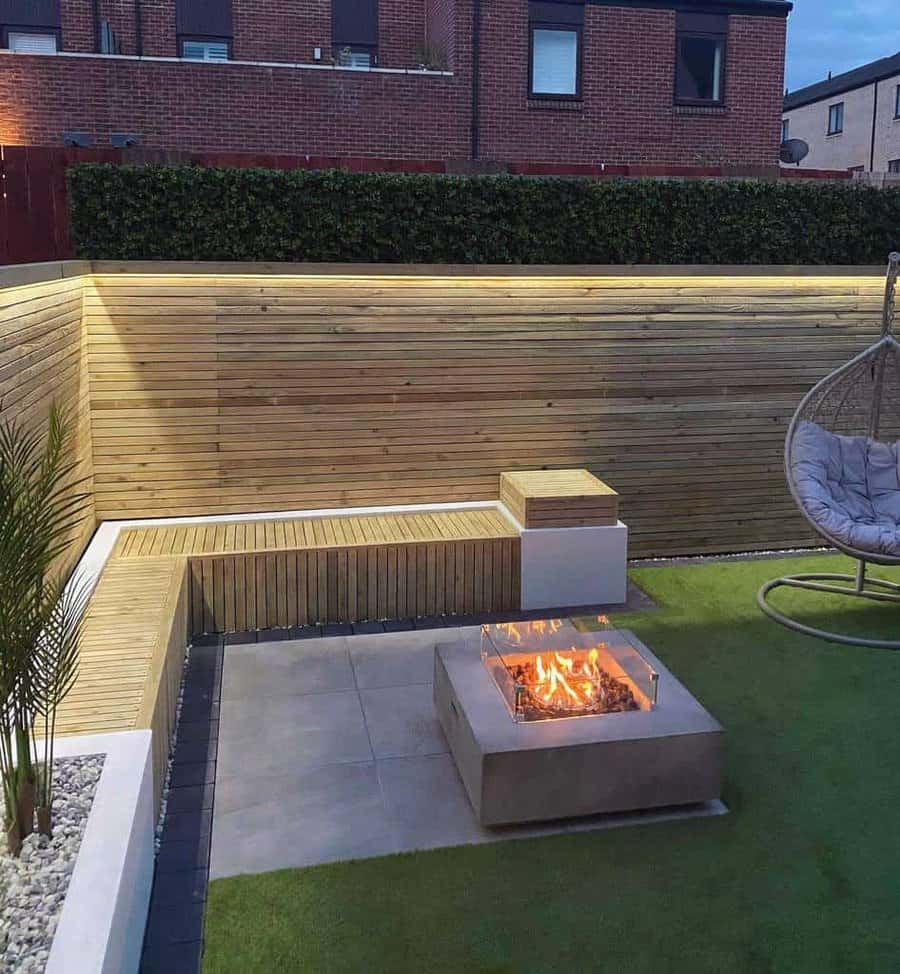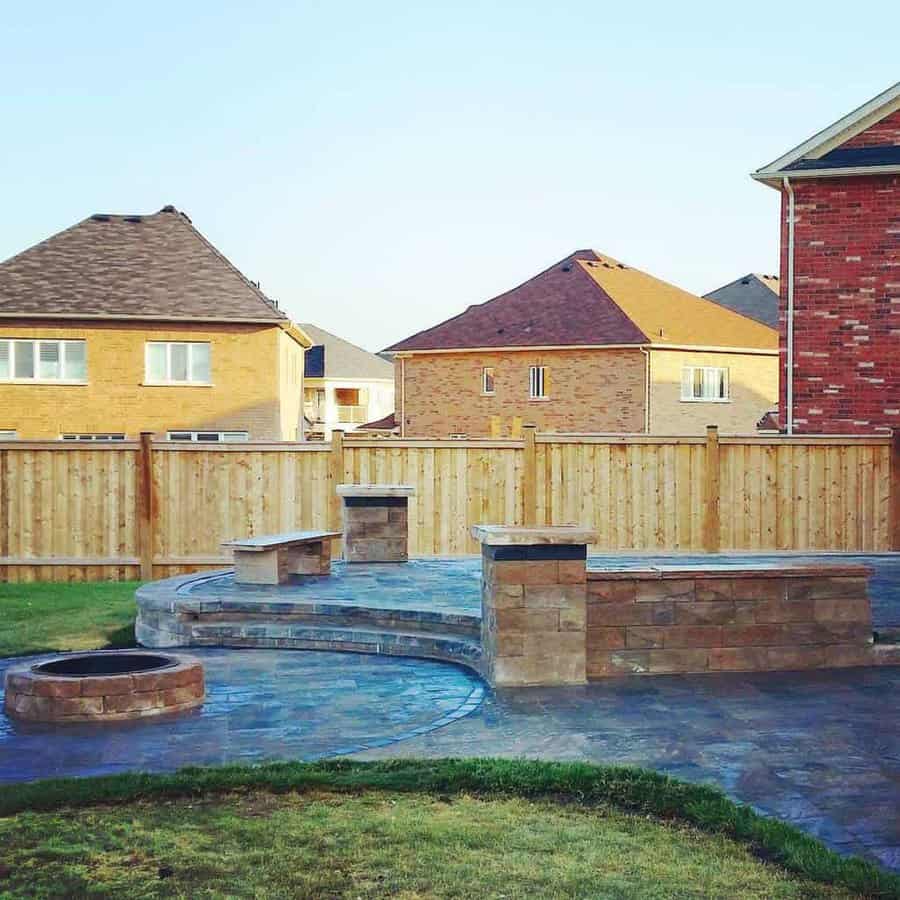 3. Concrete Staircase Steps
The versatility of concrete allows for a range of design possibilities, from clean lines to textured surfaces that blend harmoniously with the surrounding environment. Whether you have a small backyard or a sprawling garden, concrete staircase steps can be customized to fit your space and style.
Enhance the overall appeal of your outdoor area by incorporating decorative elements such as embedded stones, vibrant tiles, or even built-in lighting for added safety and ambiance. With their durability and low-maintenance nature, concrete staircase steps are a reliable choice that will withstand the test of time while effortlessly blending with the natural beauty of your landscape.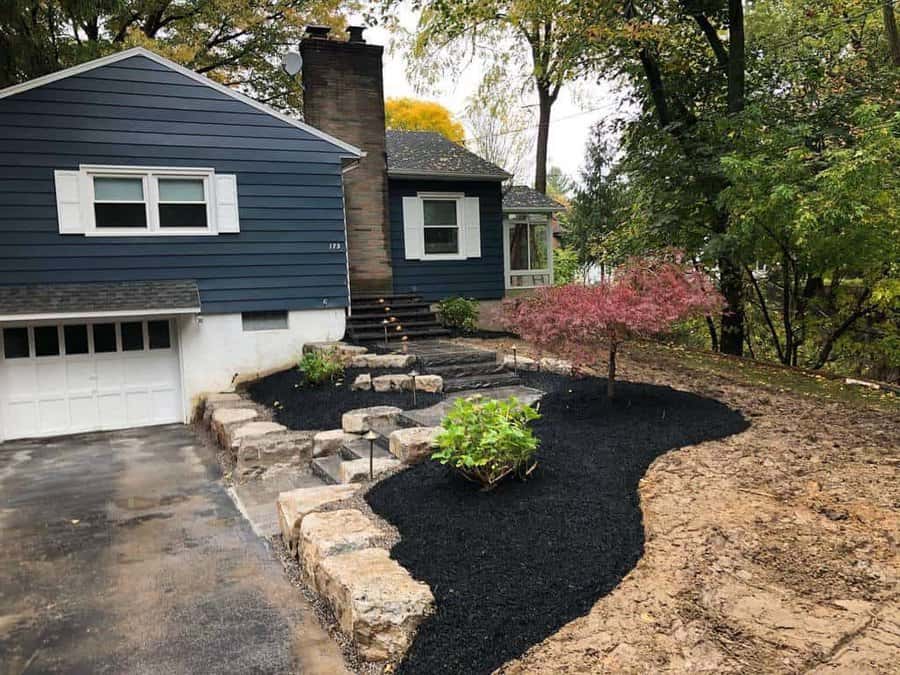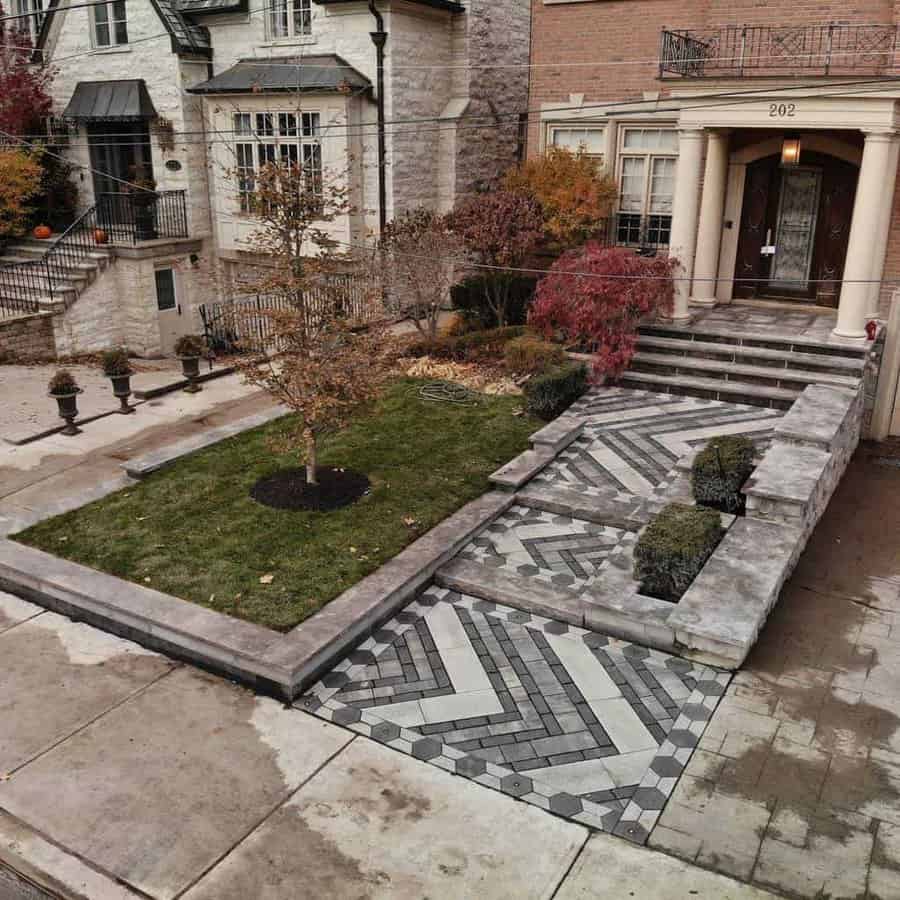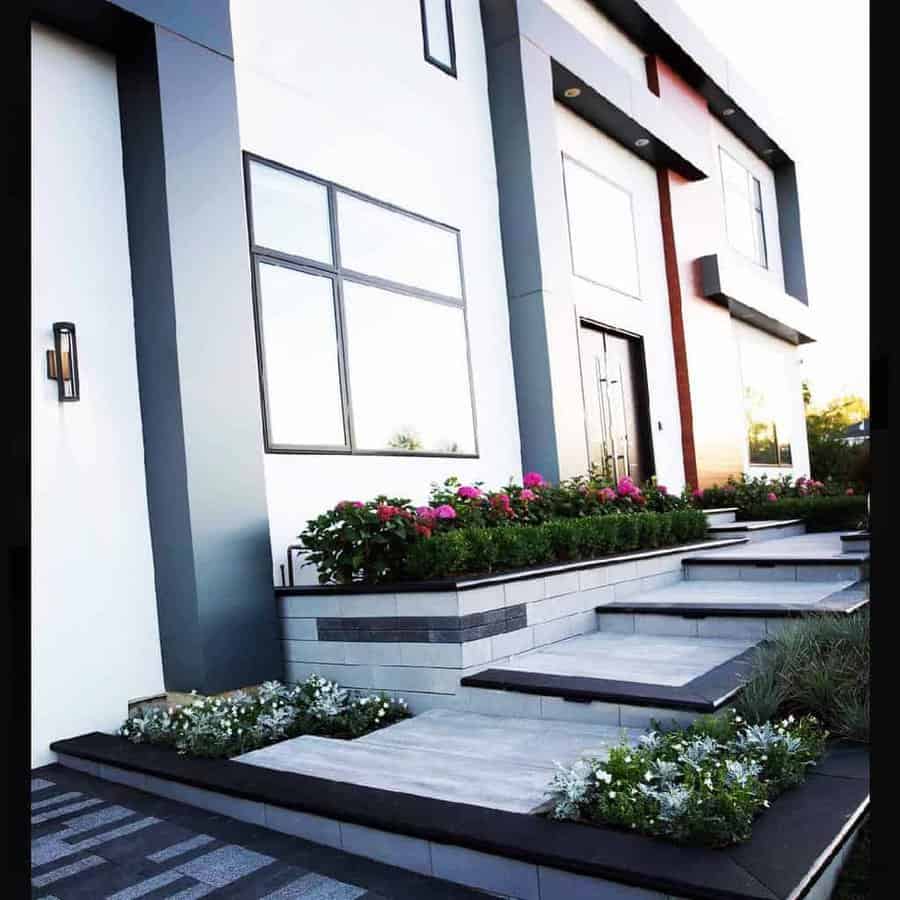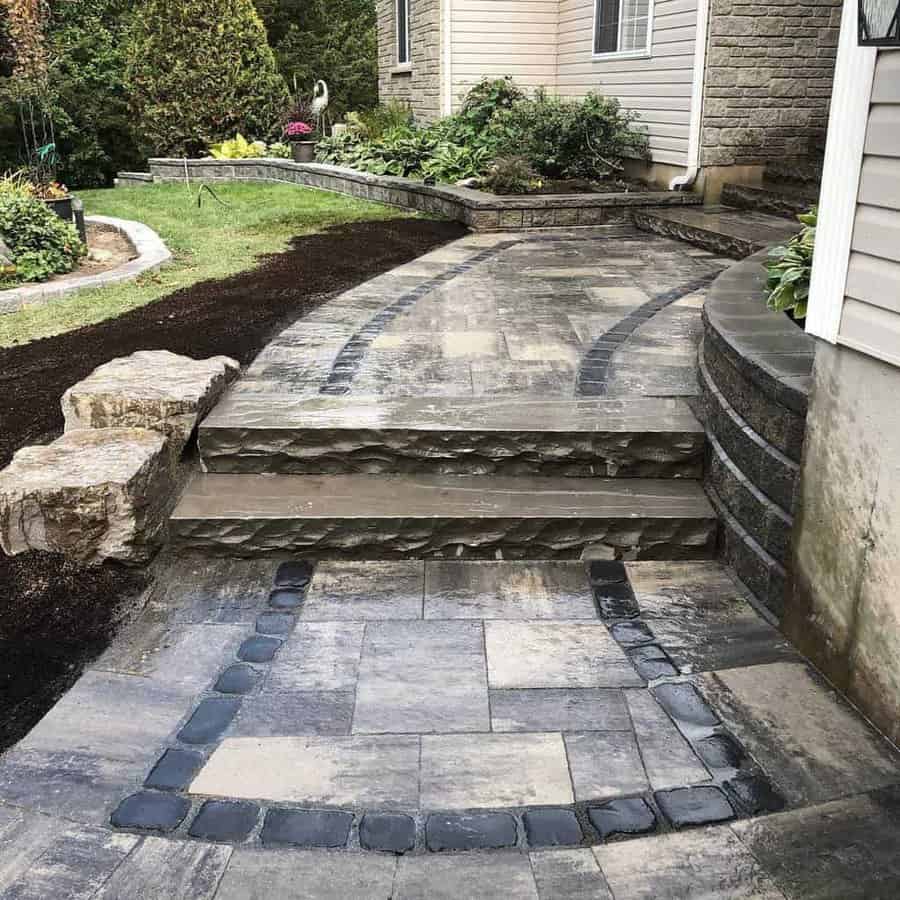 4. Pebble Landscape
Whether you choose small pebbles or larger river stones, they add texture and visual interest to your landscaping. Create pathways that wind through your garden, guiding you on a delightful journey of discovery.
Transform plain flower beds into stunning focal points by edging them with pebbles, adding a touch of elegance and definition. You can even create eye-catching designs or patterns using different colors and sizes of pebbles, turning your outdoor space into a work of art.
The beauty of pebble landscape hardscaping lies in its versatility and low maintenance. It not only enhances the aesthetic appeal of your garden but also helps with drainage and weed control.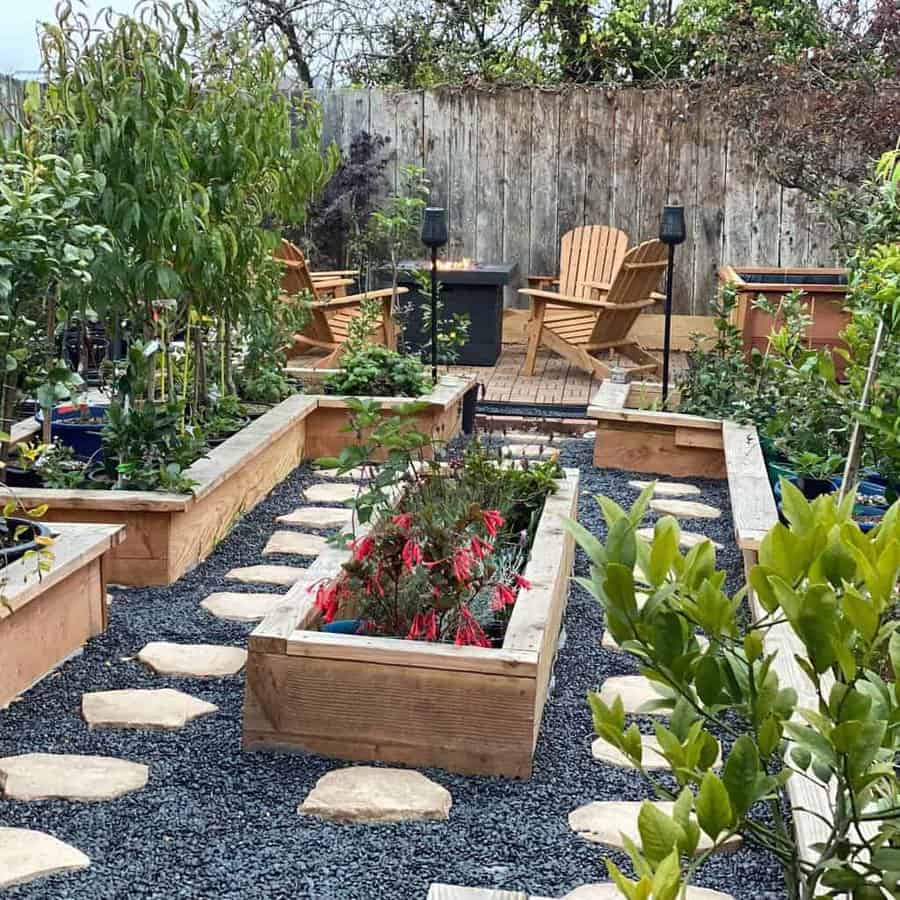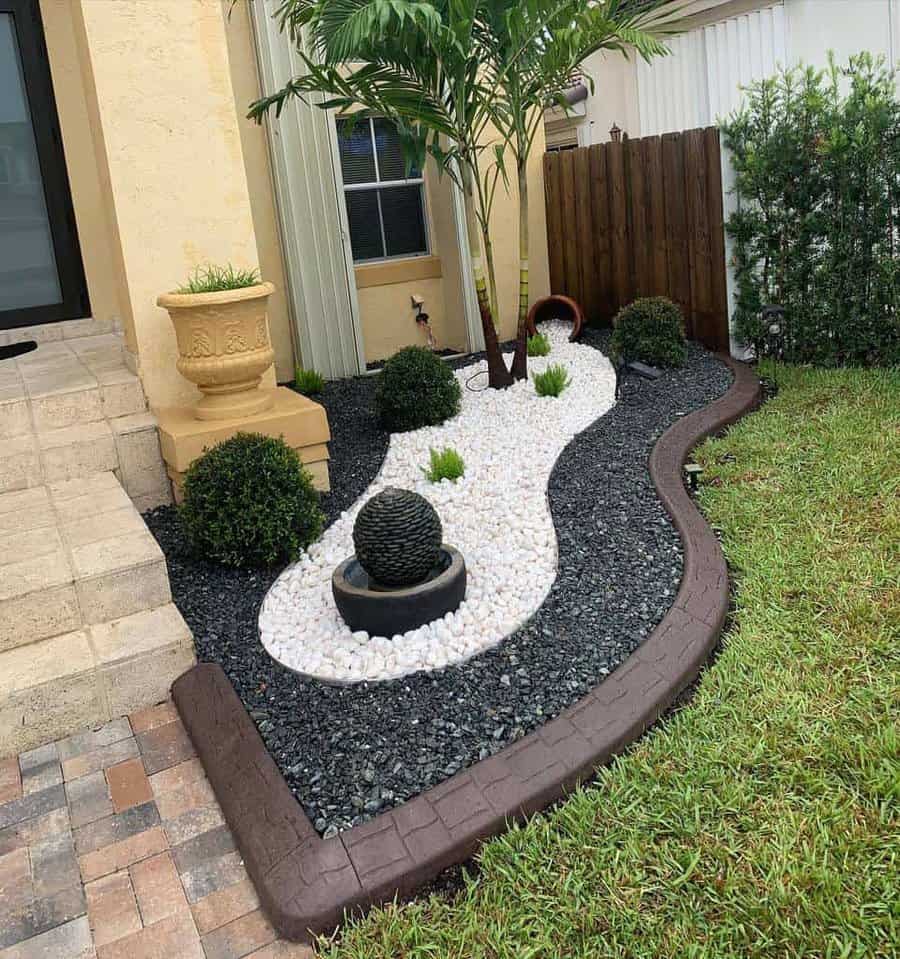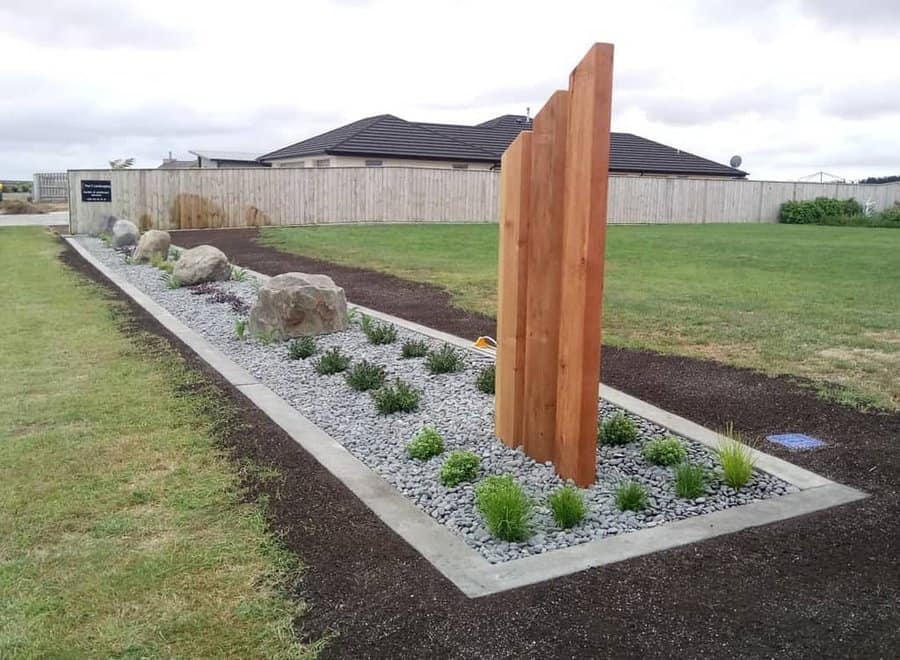 5. Retaining Wall
A retaining wall not only provides structural support and prevents soil erosion but also adds a stylish element to your landscape design. By incorporating planters into the retaining wall, you create an opportunity to bring vibrant greenery and blooms to otherwise unused vertical spaces.
Imagine cascading vines and colorful flowers spilling over the edges, transforming your retaining wall into a living work of art. Whether you opt for a modern and sleek design or a rustic and natural look, the combination of a retaining wall and plant box adds depth, texture, and visual interest to your outdoor oasis.
It's a perfect way to maximize space, showcase your favorite plants, and create a stunning focal point that seamlessly blends hardscaping and greenery.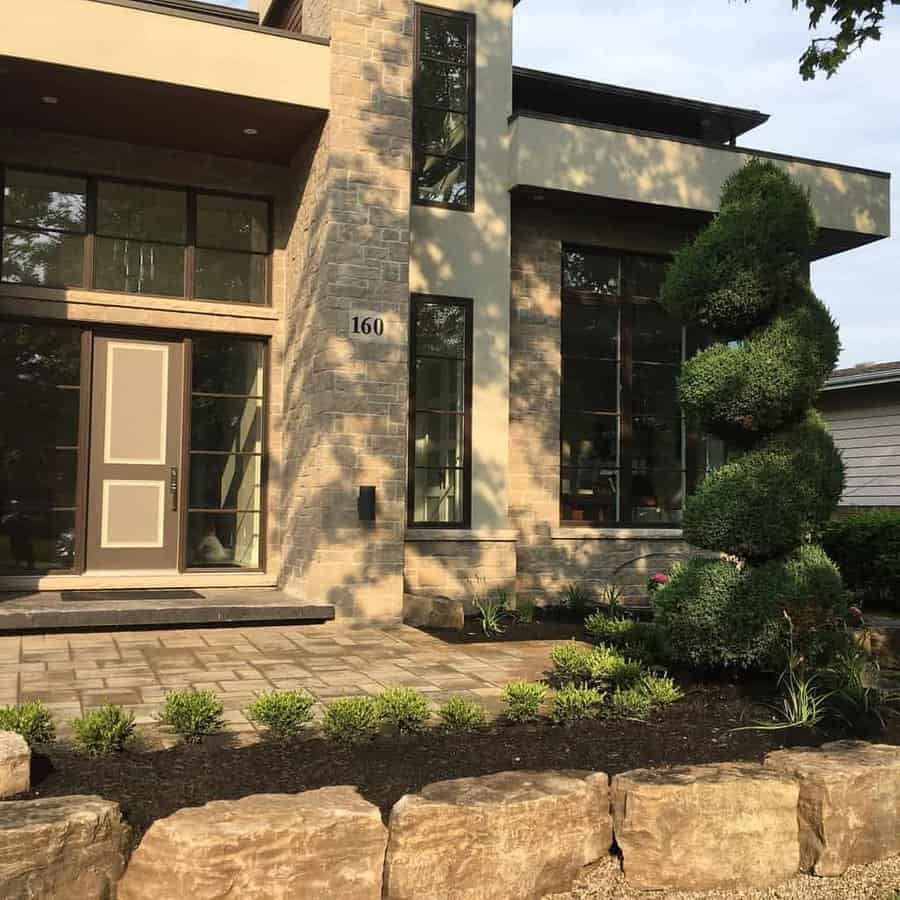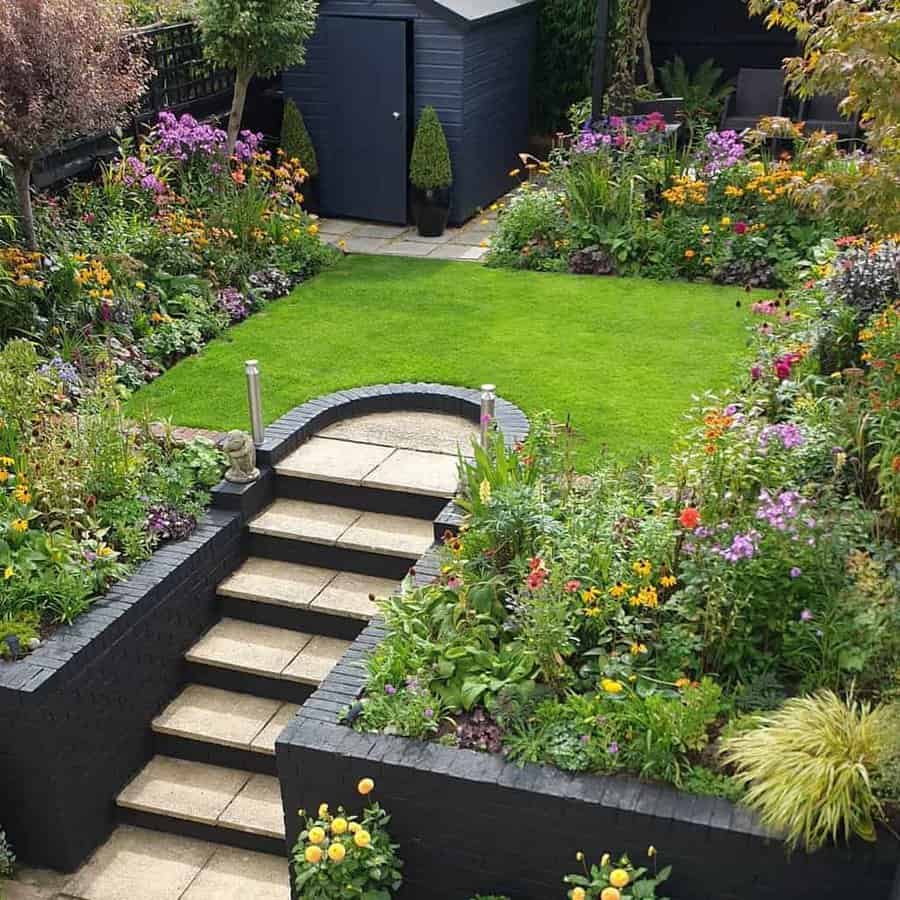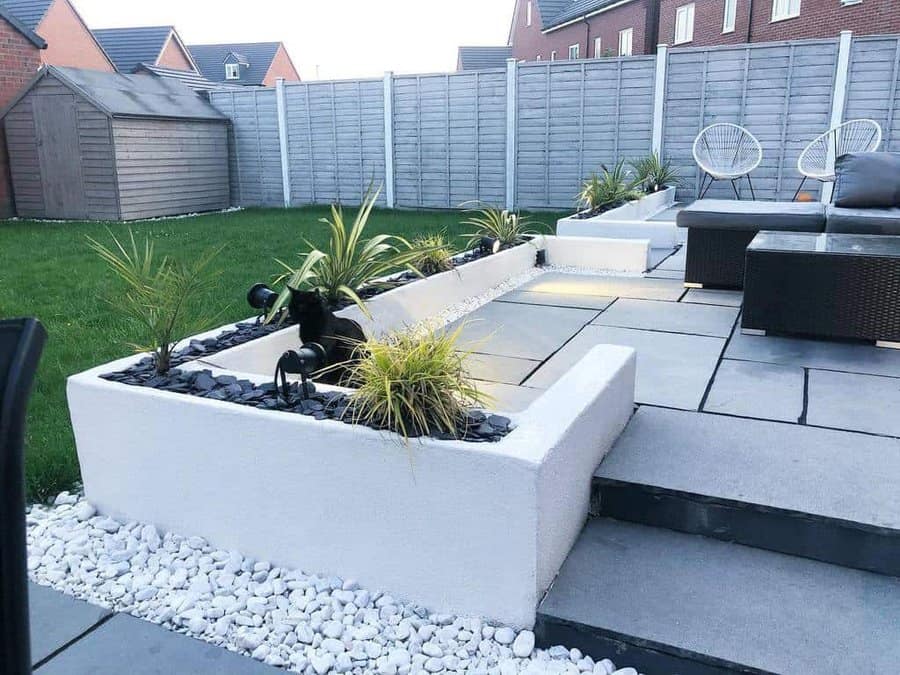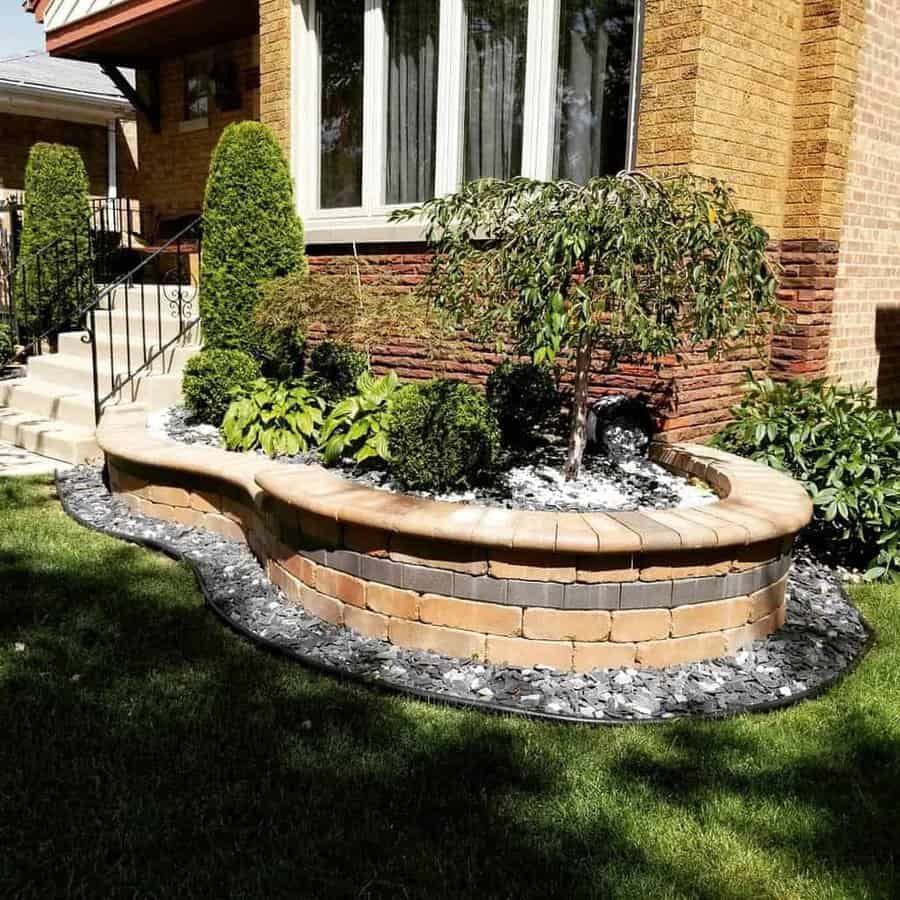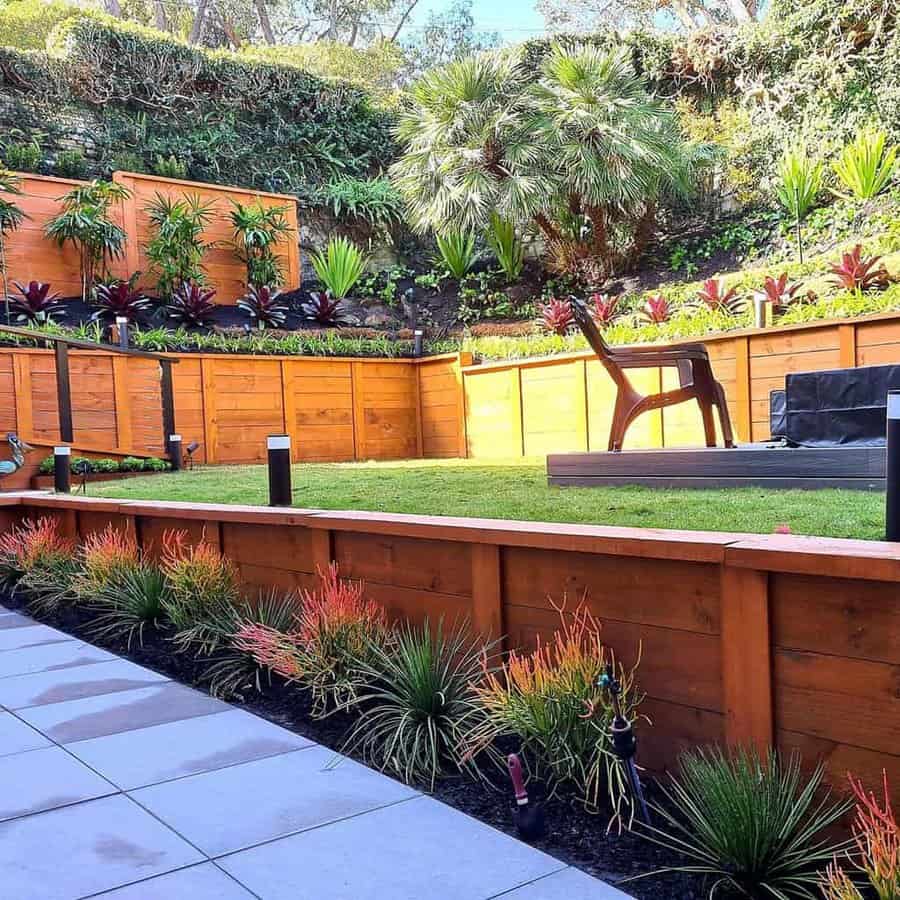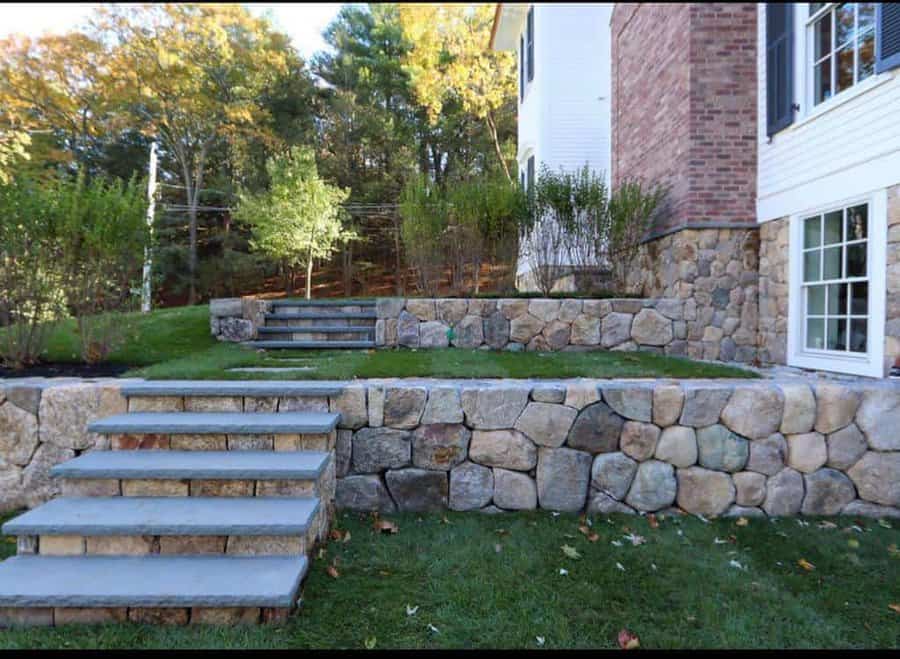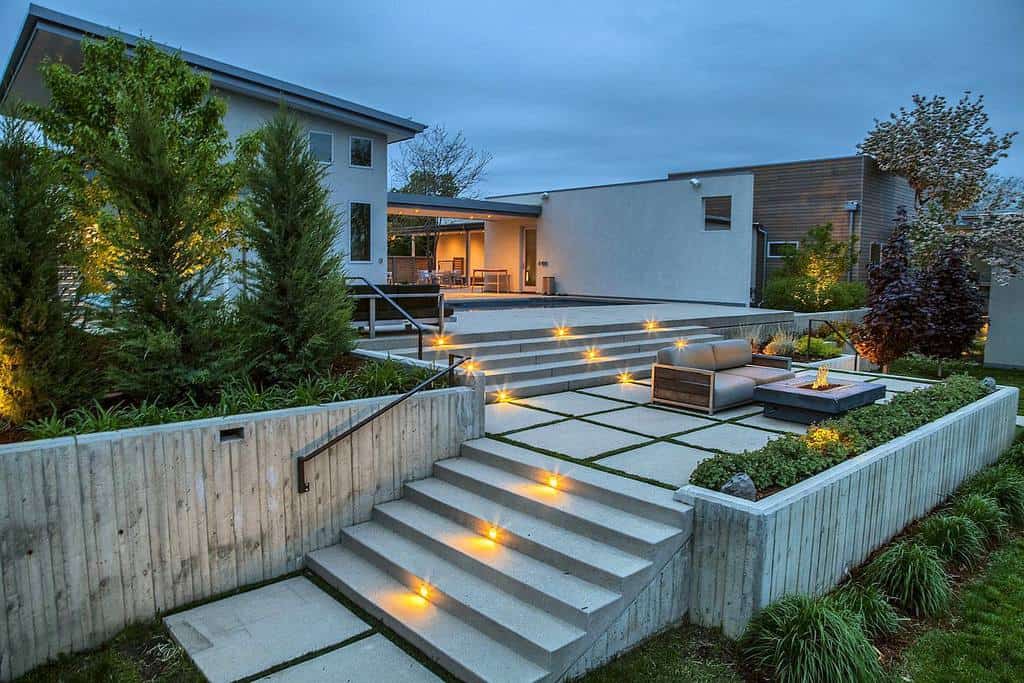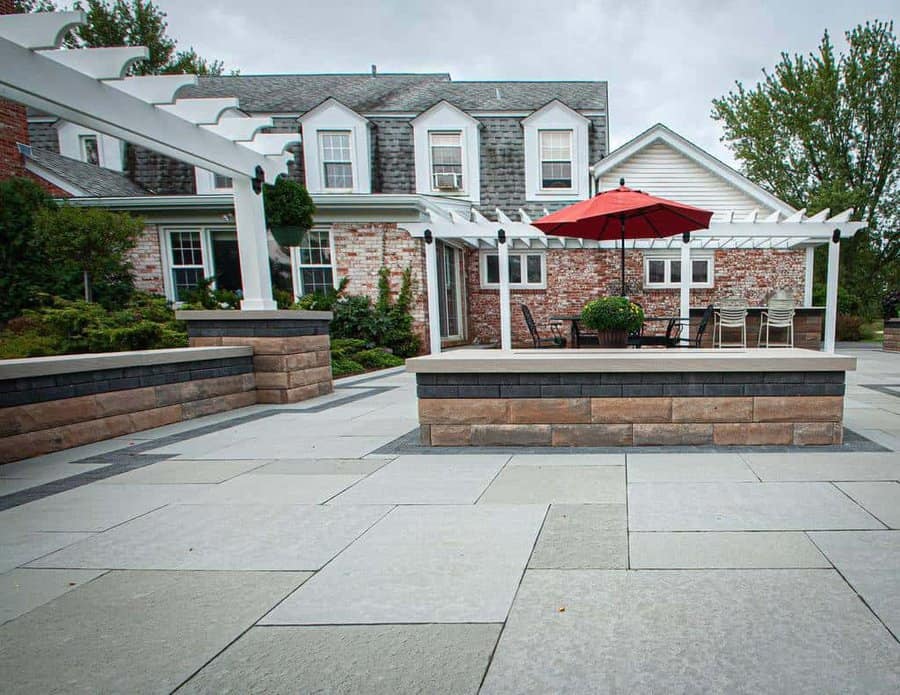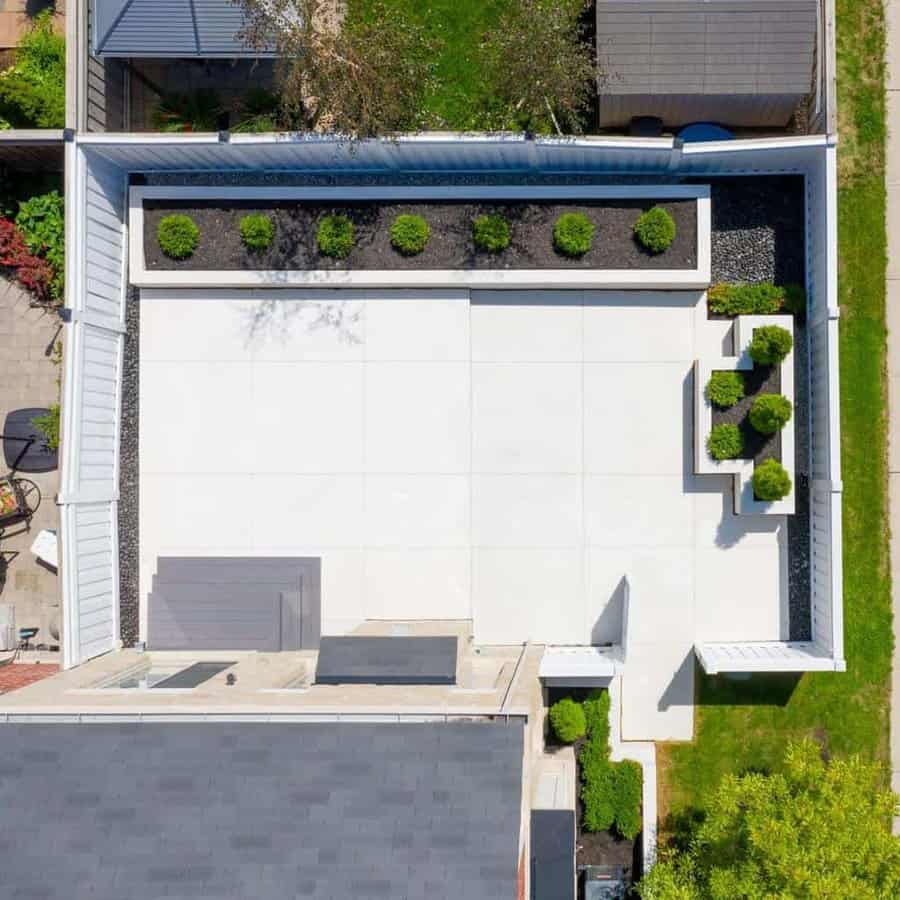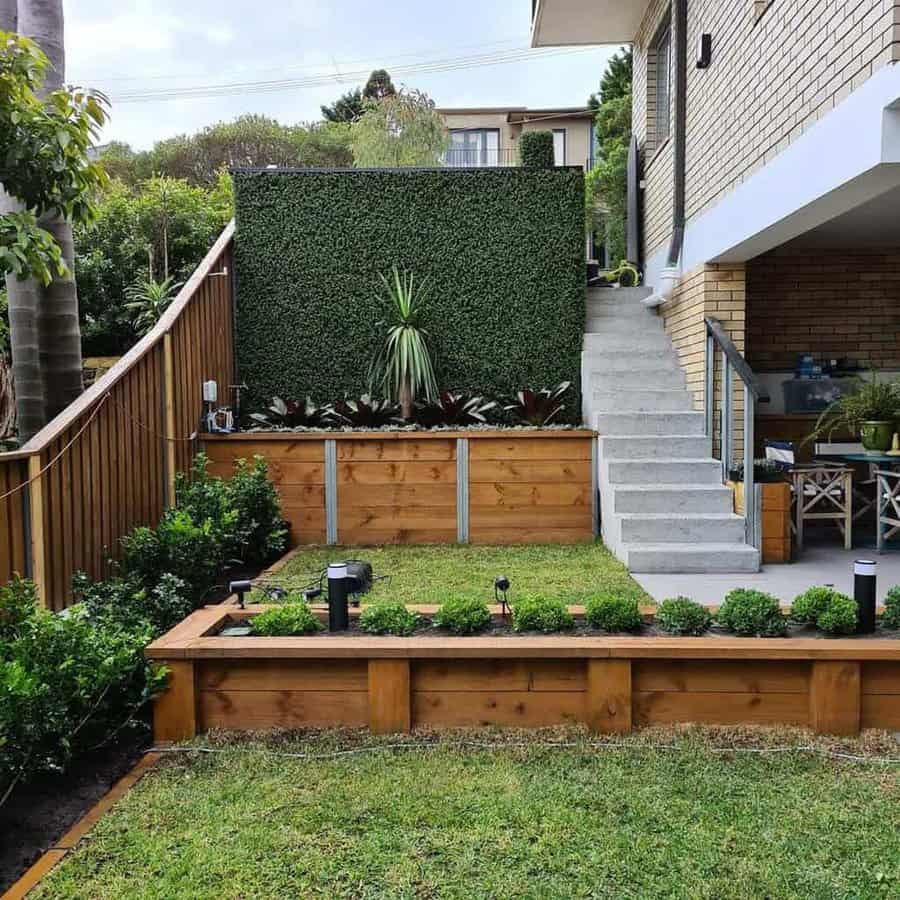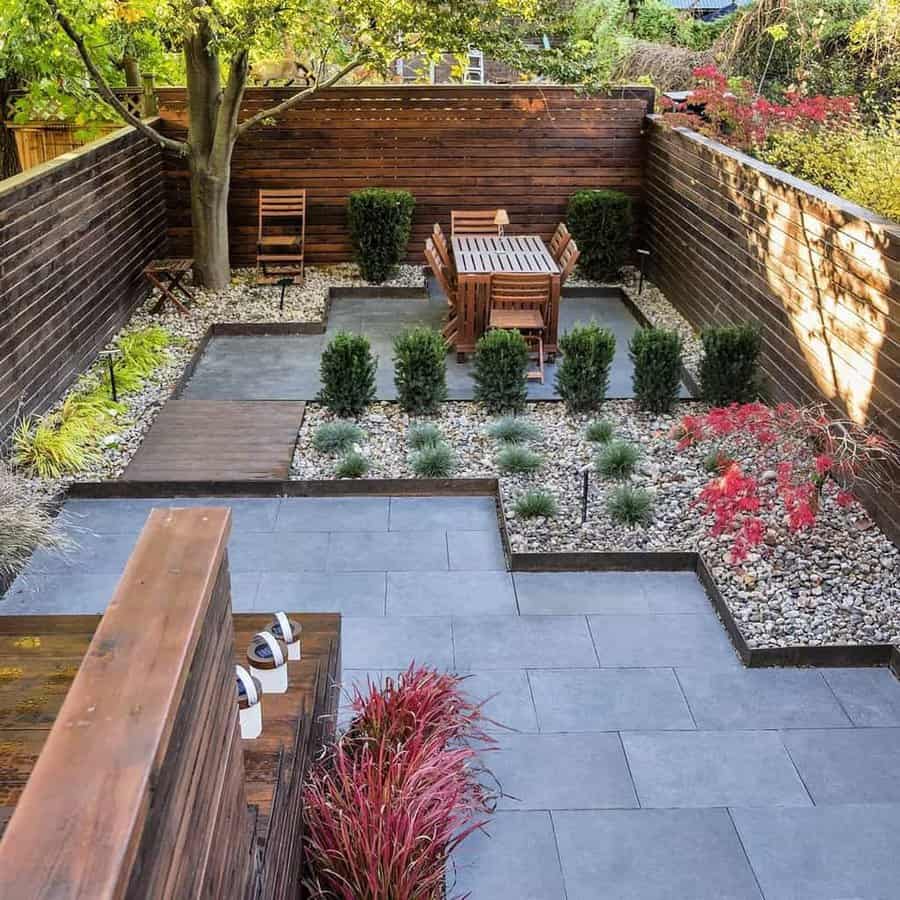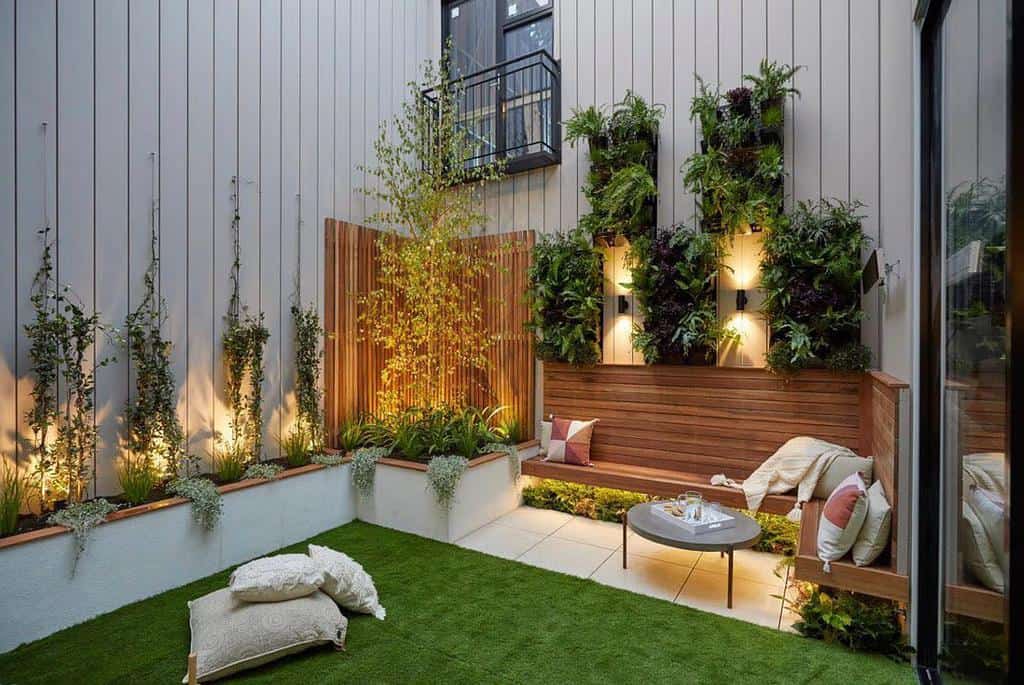 6. Rocky Patio Staircase Steps
Increase your curb appeal with rocky patio staircase steps. These hardscape features bring a natural and rustic charm to your landscape while serving as practical elements. Crafted from durable rocks and stones, the staircase steps blend seamlessly with the surrounding environment, creating a harmonious and organic feel.
As you ascend or descend the steps, you can appreciate the texture and character of each stone, adding a touch of adventure and intrigue to your outdoor experience. Whether your landscape is sloping or you simply want to create defined pathways, rocky patio staircase steps offer both practicality and aesthetic appeal.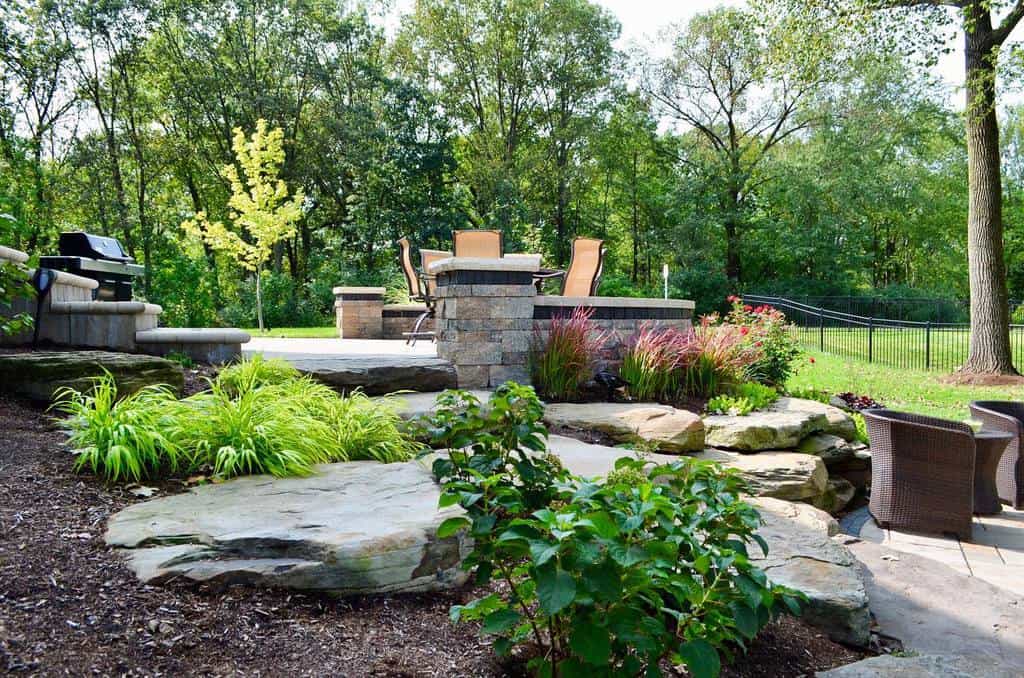 7. Rock Firepit
Hardscaping elements like a DIY firepit not only enhance the functionality of your outdoor space but also create a captivating focal point for gatherings and relaxation. By using large rocks as the foundation and arranging them in a circular pattern, you can create a rustic and inviting firepit that blends seamlessly with the natural surroundings.
Fill the gaps between the rocks with smaller pebbles for added stability and a polished finish. The beauty of this project is its simplicity – just find big rocks, gather some pebbles, and let your creativity guide you. Gather around the crackling fire, roast marshmallows, and create lasting memories with family and friends in your very own backyard retreat.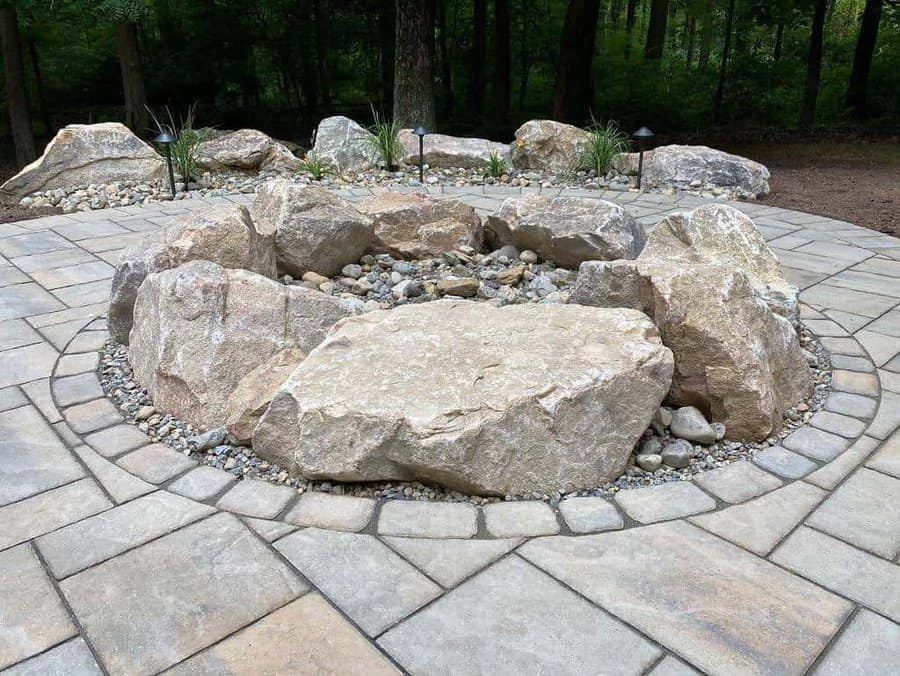 8. Brick Patio
Brick has long been favored for its ability to withstand the natural elements while adding a touch of classic elegance to any setting. When choosing bricks for your patio, opt for high-quality materials such as clay or concrete pavers. Clay bricks offer a warm and rustic appeal, with their natural variations in color and texture, while concrete pavers provide a more uniform and contemporary look.
Consider the size and pattern of the bricks to create visual interest, whether you prefer a traditional herringbone design or a modern geometric layout. A brick patio not only adds functional space for outdoor seating and entertaining, but it also serves as a stylish foundation for your green landscape.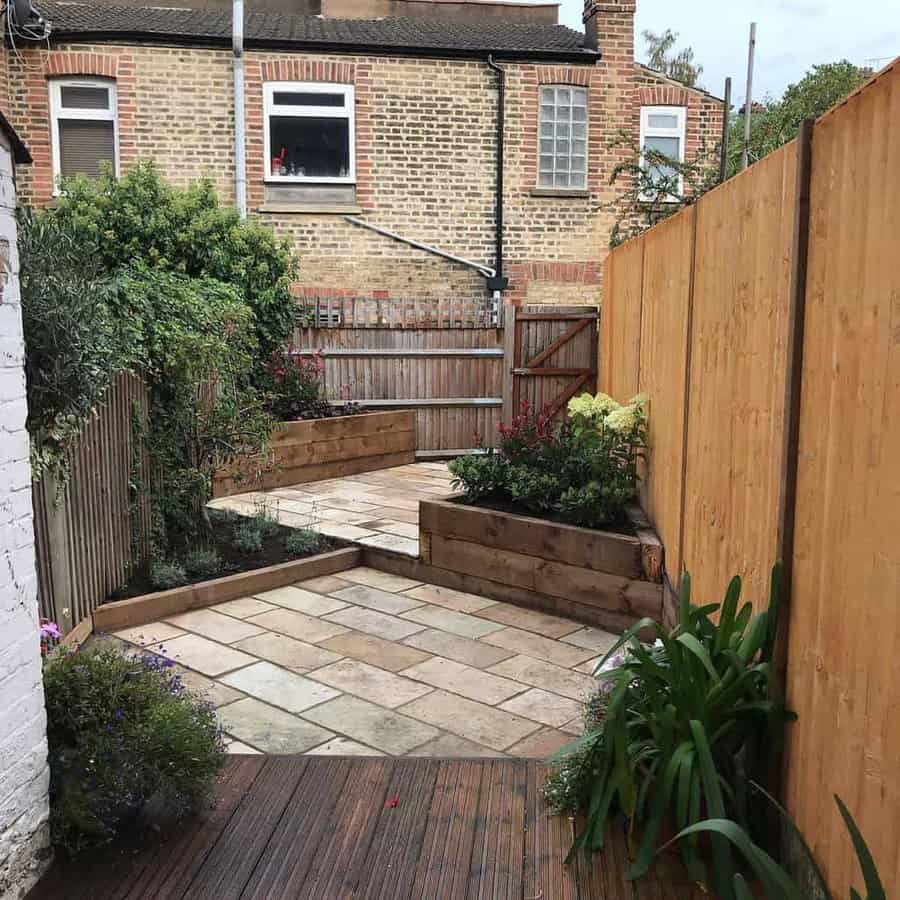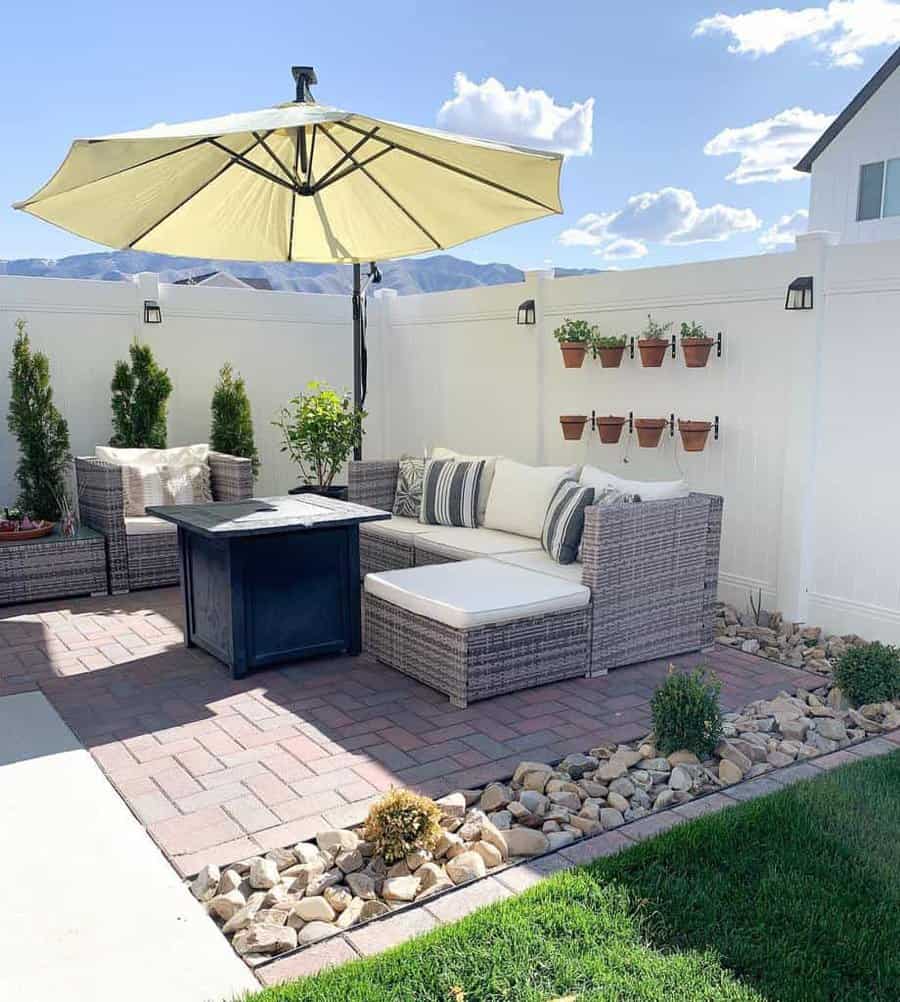 9. Wood Patio Deck
A wooden patio deck provides a cozy and inviting area for relaxation and entertaining, all while being cost-effective. With some creativity and a little DIY spirit, you can design and build a deck that perfectly suits your style and needs.
The natural appeal of wood adds a rustic and organic element to your outdoor environment, seamlessly blending with the surrounding greenery.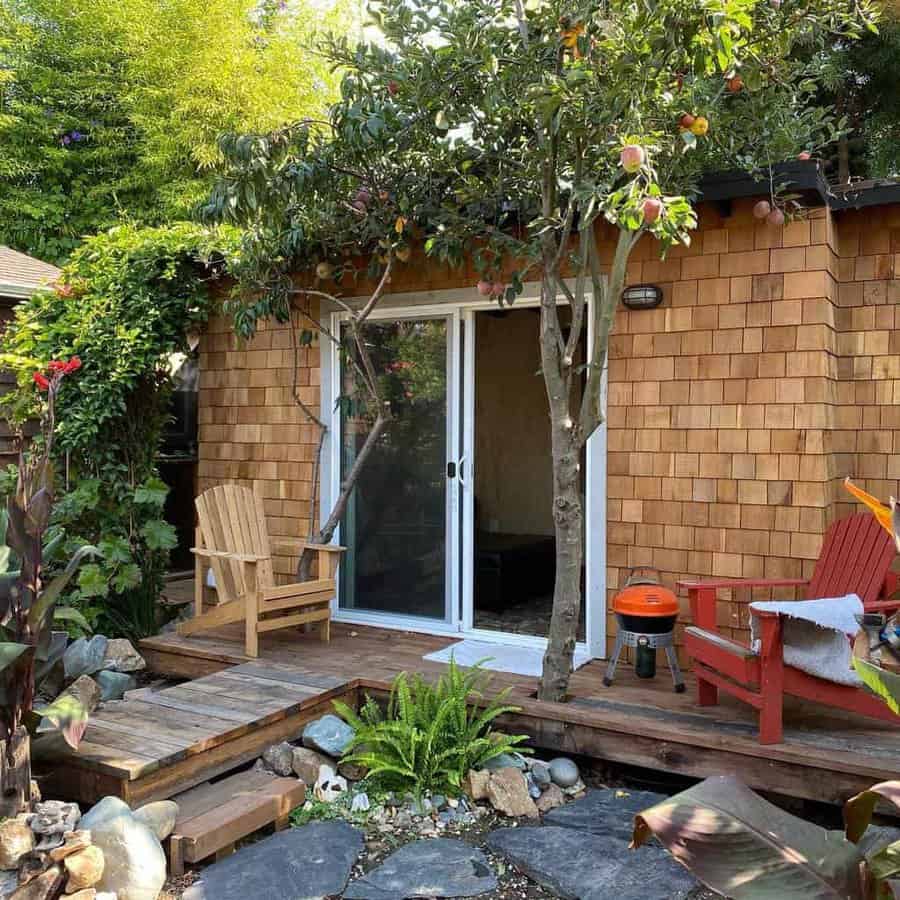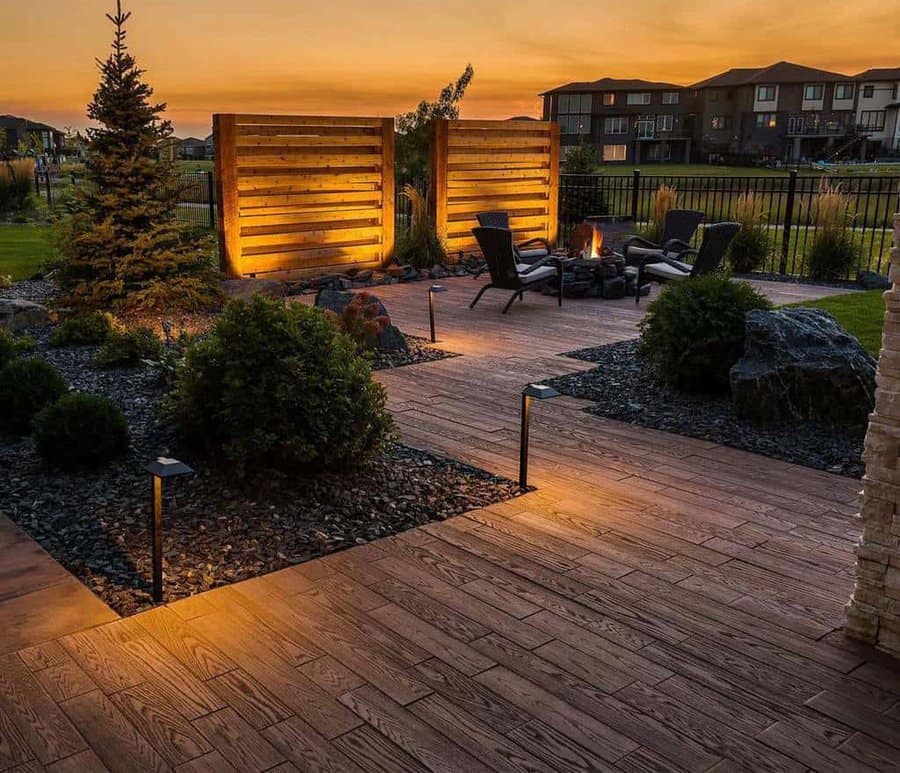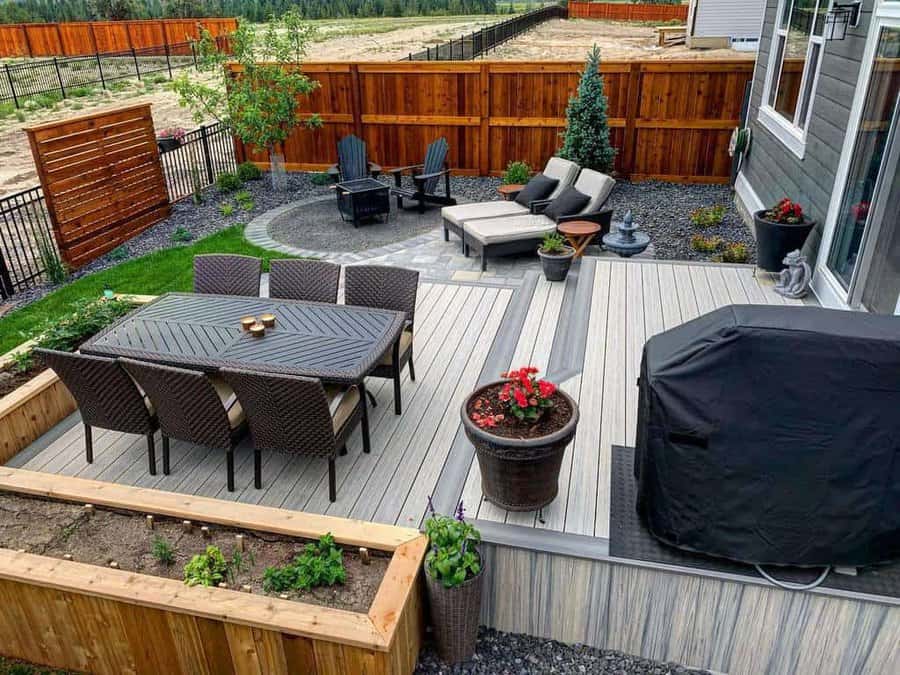 10. Pool Patio
A well-designed pool patio not only enhances the functionality of your outdoor space but also adds a touch of style and elegance. From sleek stone pavers to textured tiles, the choice of materials sets the tone for your poolside retreat. Create a seamless transition from your pool to the patio by selecting materials that are slip-resistant and durable, ensuring both safety and longevity.
Incorporate cozy seating areas, outdoor loungers, and shade structures to create inviting spaces for relaxation and entertainment. Don't forget to add strategic lighting to illuminate your pool patio during the enchanting evening hours.
Whether you prefer a modern, minimalist look or a lush, tropical vibe, hardscaping your pool patio allows you to bring your vision to life and make a statement with both form and function.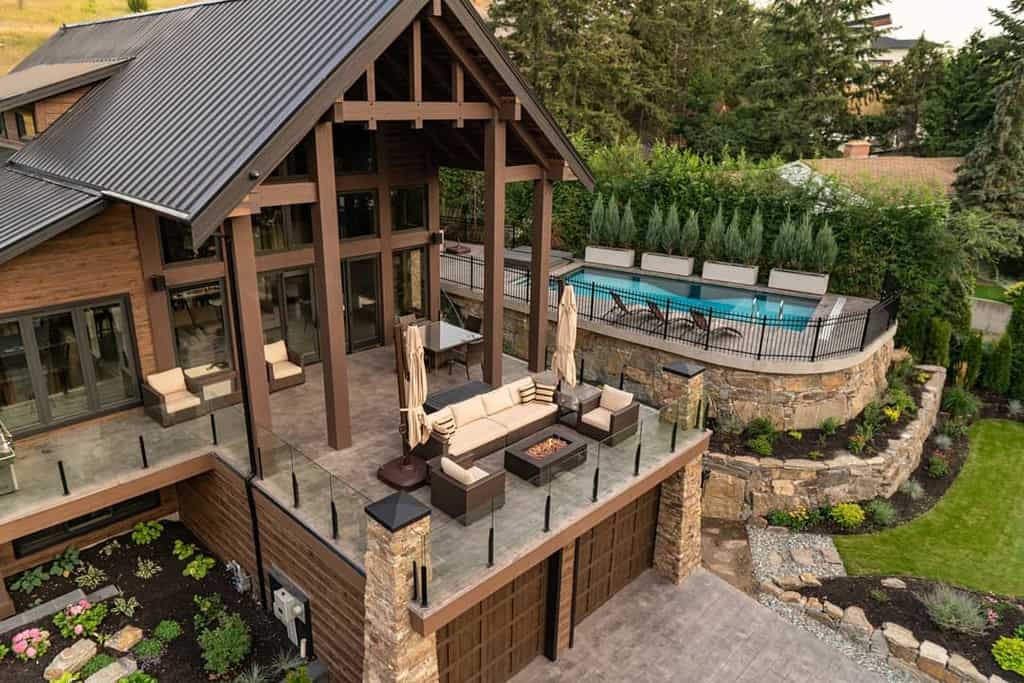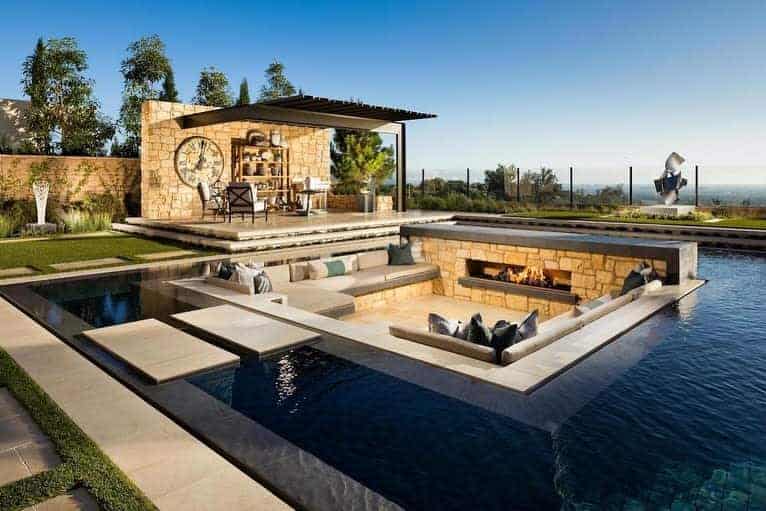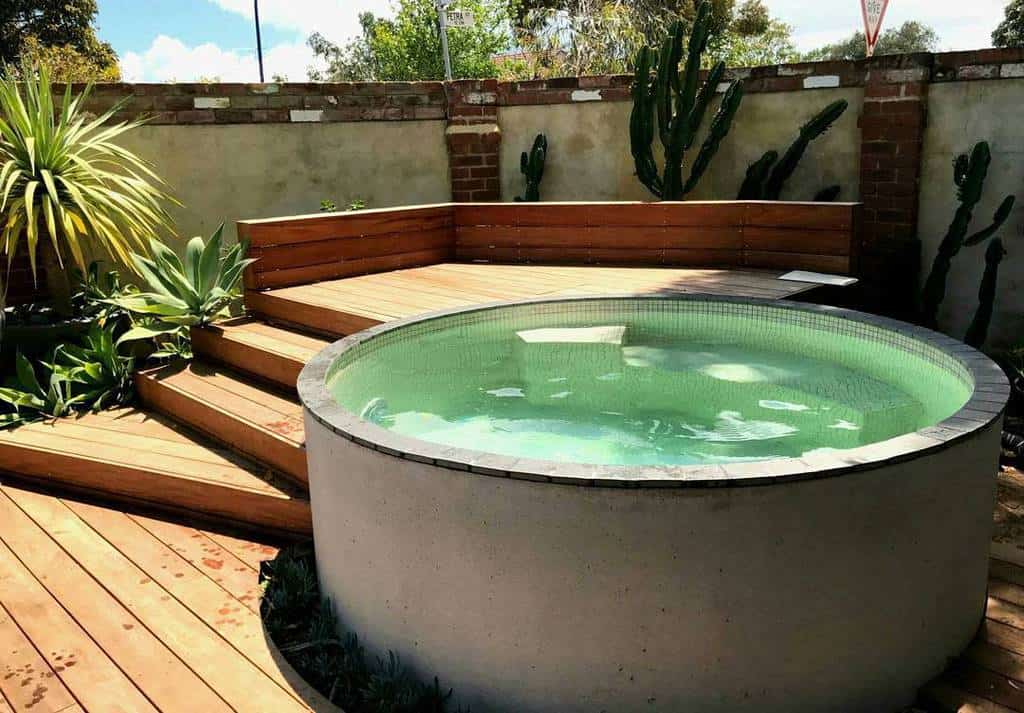 11. Concrete Paver Patio
A concrete paver patio offers durability and low maintenance, making it an excellent choice for those seeking a long-lasting and stylish solution. With a wide variety of shapes, sizes, and colors available, you can customize your patio to suit your personal taste and complement the surrounding landscape.
Whether you prefer a minimalist design or intricate patterns, the versatility of concrete pavers allows for endless creative possibilities. From hosting gatherings with friends to simply lounging in the sun, a concrete paver patio provides a solid foundation for creating unforgettable outdoor moments.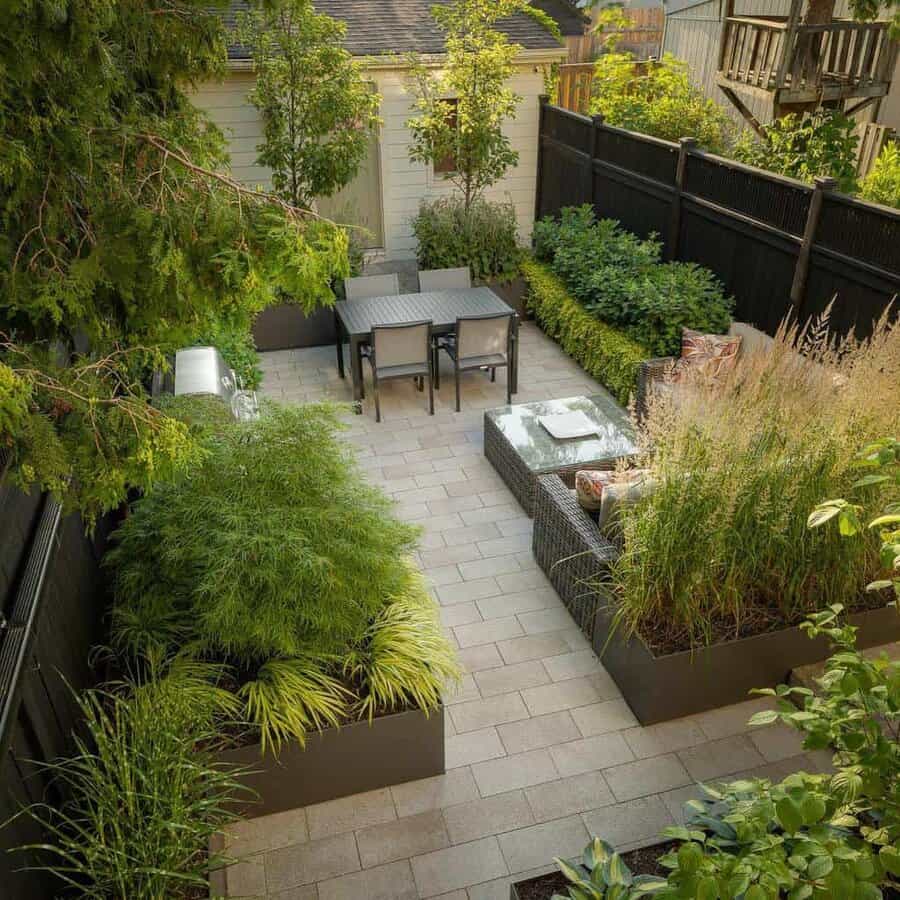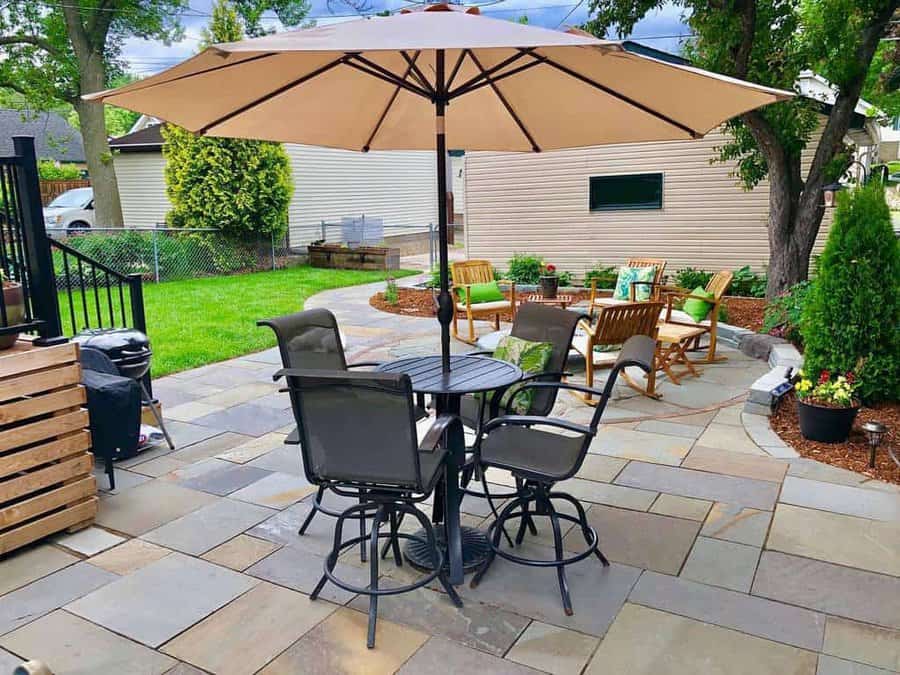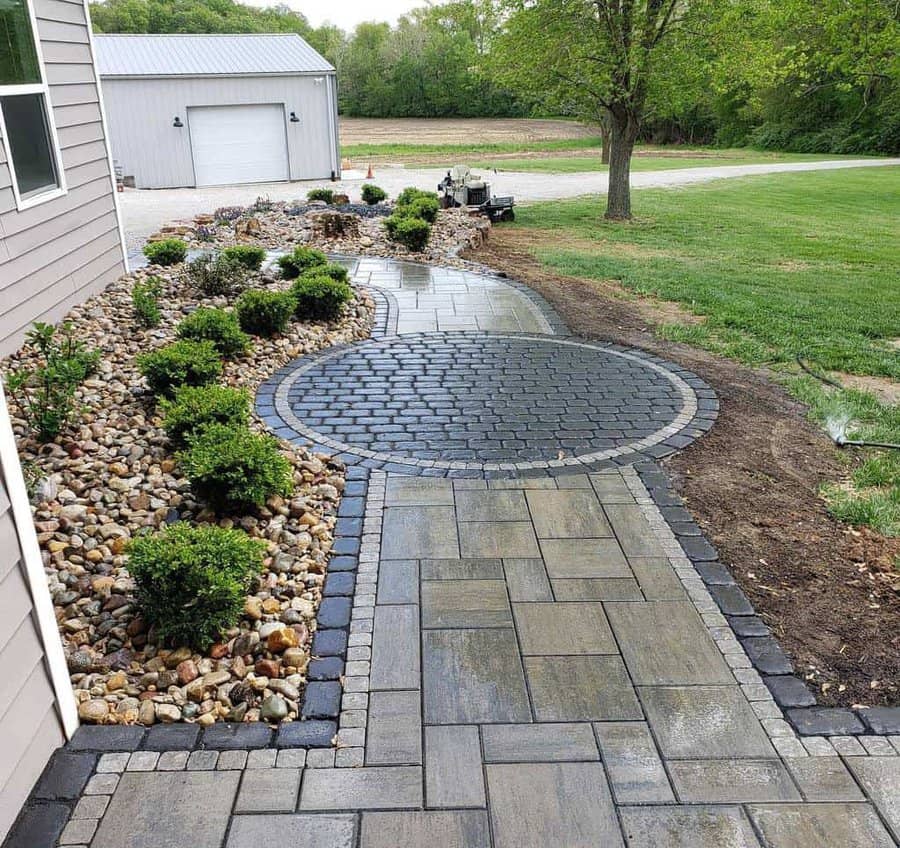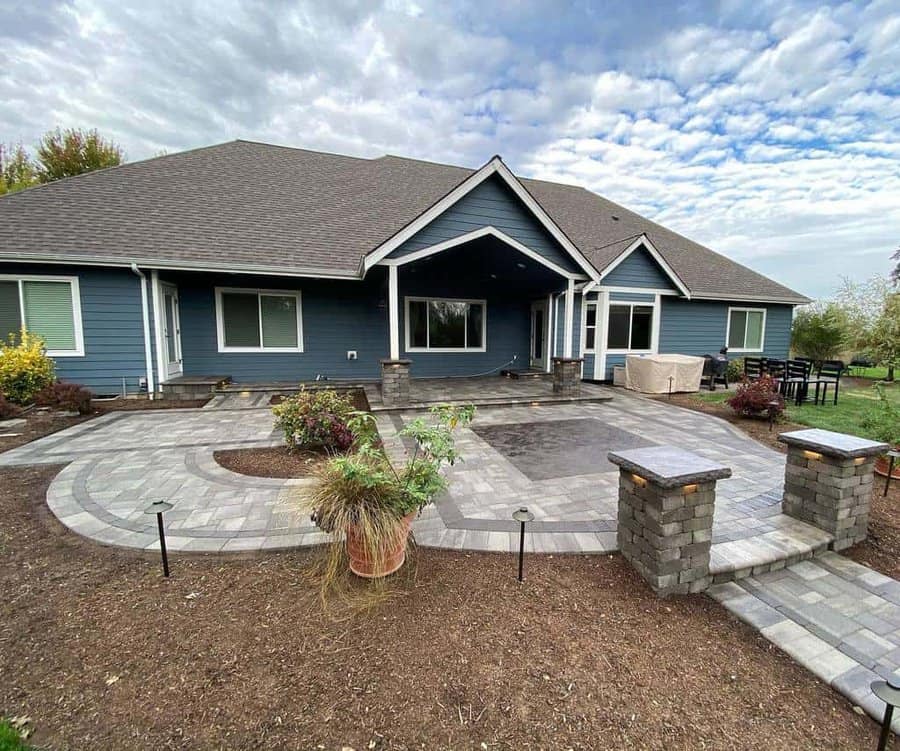 12. Flagstone Pavers
With their natural textures and earthy colors, flagstone pavers add a touch of rustic charm to any landscape design. Whether you're creating a pathway, patio, or even a retaining wall, flagstone pavers offer endless possibilities for creating a functional and stylish outdoor environment.
Arrange them in various patterns to achieve a unique and personalized look that complements your overall aesthetic. The smooth, flat surface of flagstone pavers provides a stable and safe walking area, making them ideal for both practical and decorative purposes.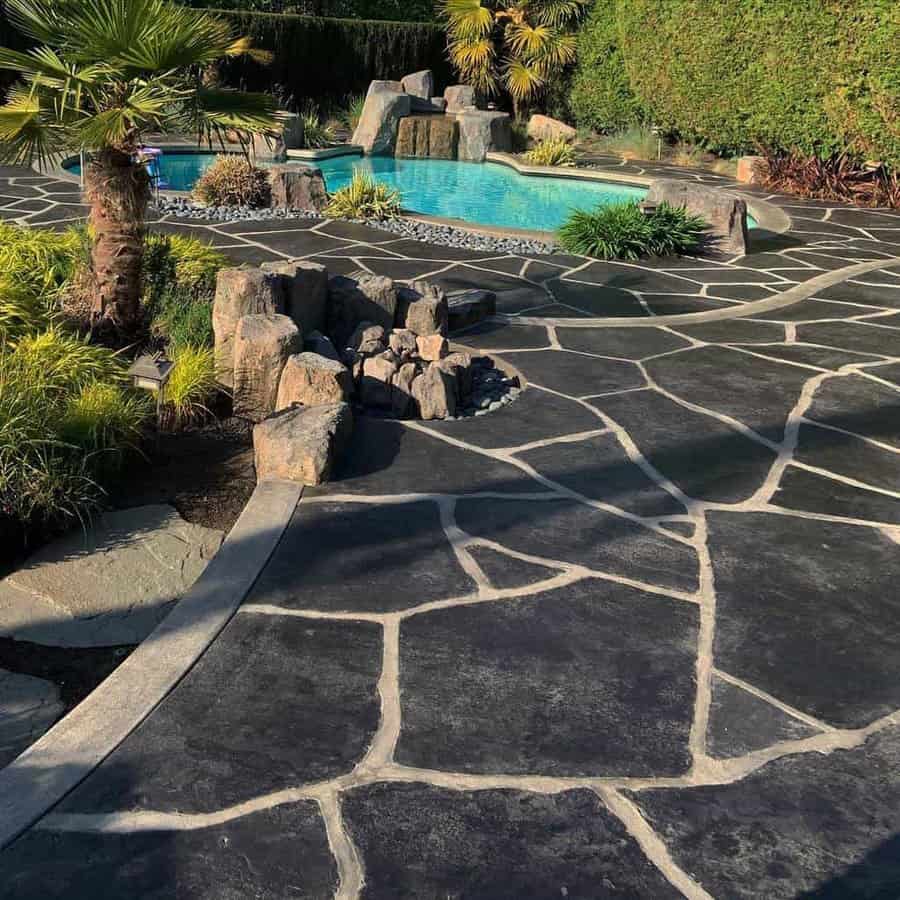 13. Gravel Patio
Hardscaping with gravel offers a unique and versatile design solution that adds character to any garden or backyard. The texture and earthy tones of gravel create a natural and inviting ambiance, blending seamlessly with the surrounding greenery.
A gravel patio provides a stable surface for seating areas, outdoor dining, or simply lounging in the sun. It's a low-maintenance option that allows rainwater to penetrate the ground, promoting healthy drainage. Enhance the aesthetics by incorporating potted plants, comfortable seating, and soft lighting to create a cozy and serene atmosphere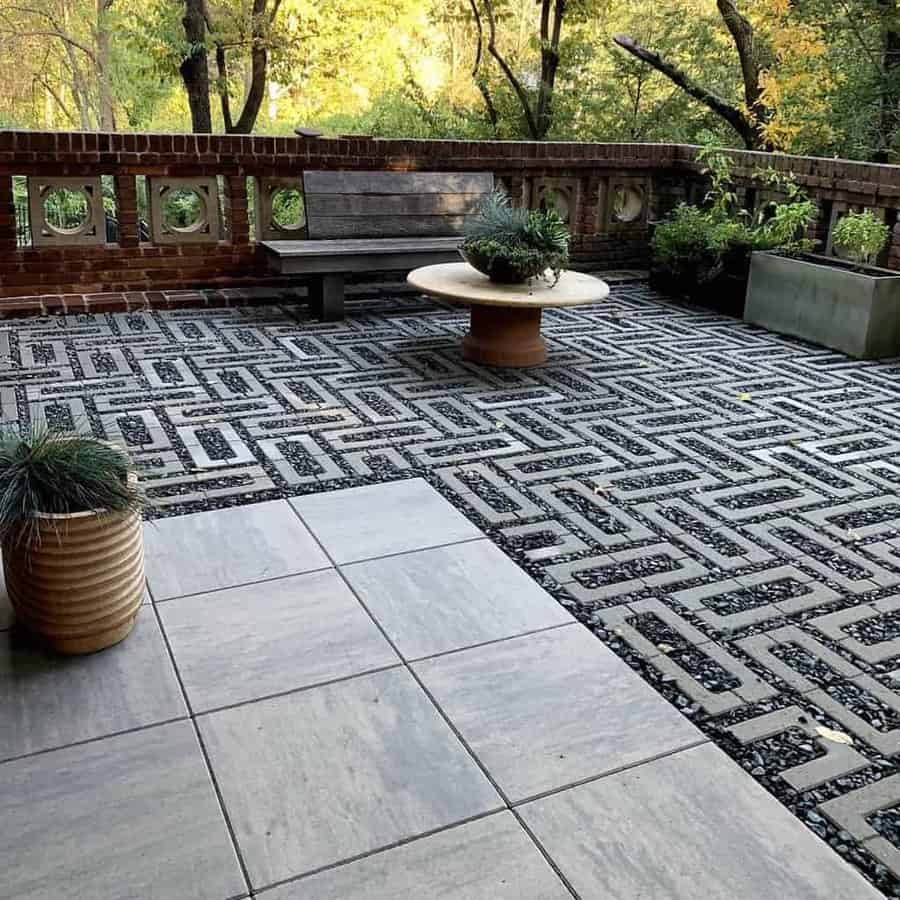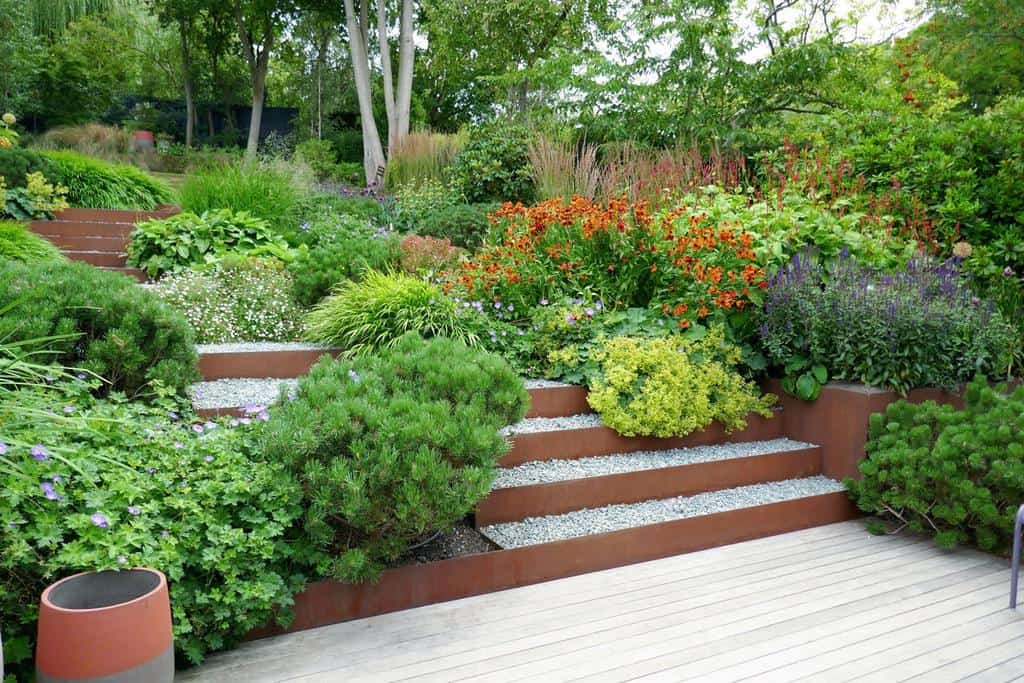 14. Front Patio Solar Lighting
Elevate your front patio with the perfect blend of functionality and style through the art of hardscaping, all while embracing sustainable solutions with solar lighting. Hardscaping involves incorporating non-living elements into your outdoor space, and it provides the opportunity to create a stunning landscape that stands the test of time.
Illuminate your front patio with solar lighting, not only to highlight the beauty of your hardscape but also to reduce energy consumption and embrace eco-consciousness. Solar-powered lights are an excellent choice, as they harness the power of the sun to cast a warm and inviting glow, adding ambiance and safety to your outdoor area.
From pathway lights that guide your guests to decorative lanterns that infuse charm, the options for front patio solar lighting are endless.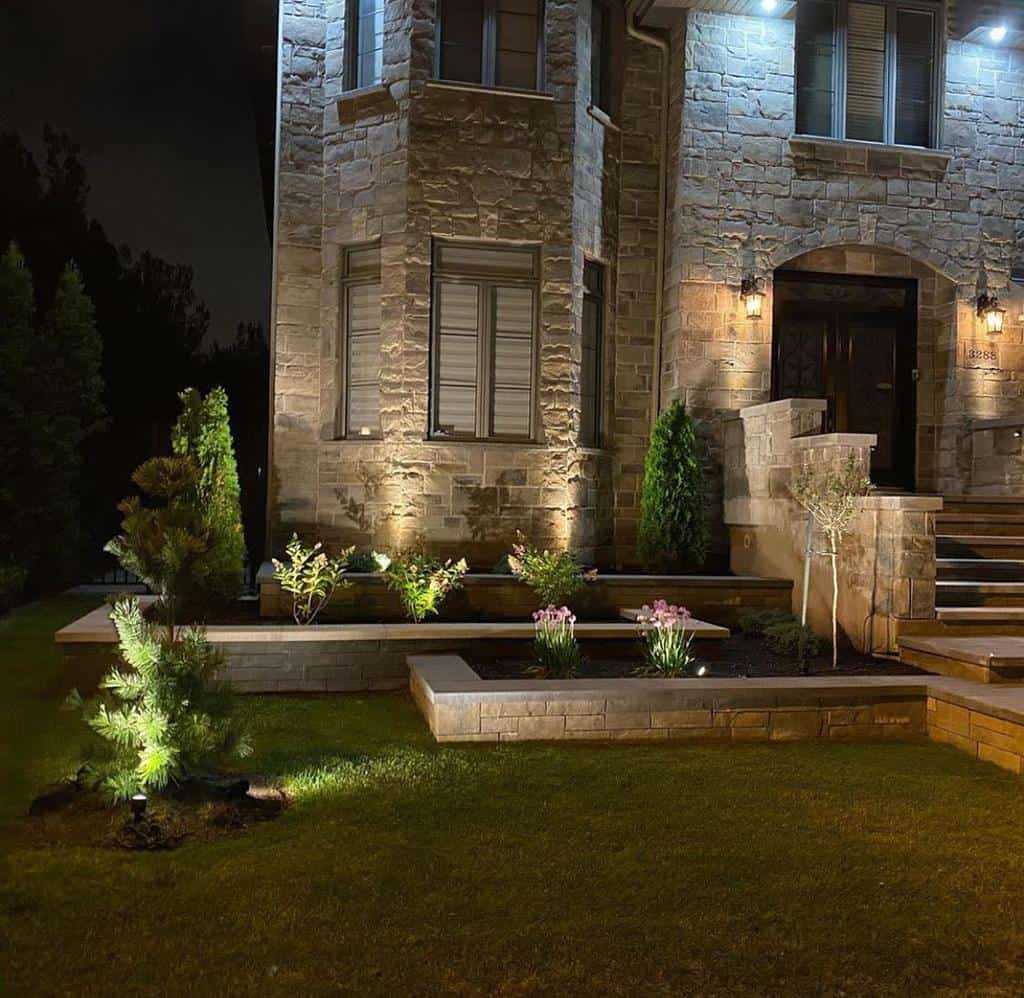 15. Concrete Walkway
Whether leading to your front entrance or winding through your backyard oasis, a concrete walkway provides a solid foundation for your outdoor activities and enhances the overall aesthetic appeal.
You can choose from a variety of finishes, such as stamped patterns or exposed aggregates, to add texture and visual interest. Concrete walkways are low-maintenance and can withstand the test of time, making them a practical choice for any homeowner.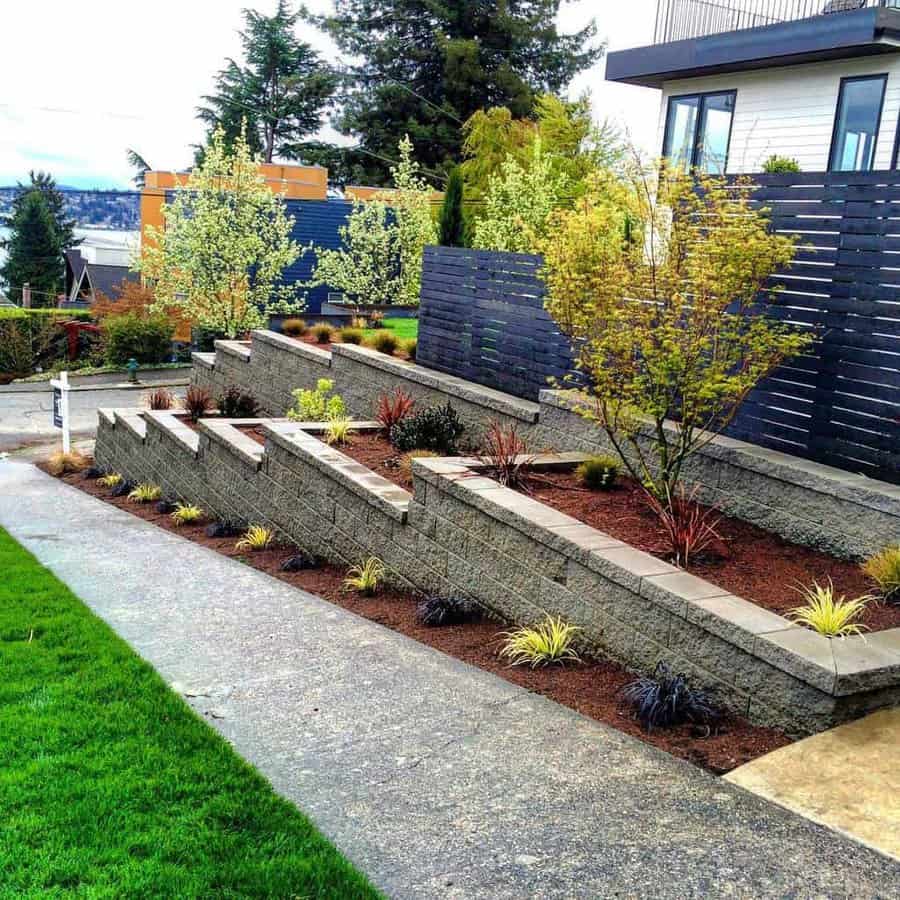 16. Pergola
A pergola not only provides shade and protection from the elements but also adds a touch of architectural elegance to your landscape. With its open framework and lattice roof, a pergola creates a captivating focal point that seamlessly blends with nature. Imagine enjoying a cup of coffee or hosting gatherings under the dappled sunlight streaming through the interlaced beams.
You can embellish your pergola with climbing vines and hanging plants, adding a lush and vibrant touch to your outdoor oasis. Whether you're seeking a cozy spot for relaxation or a stunning backdrop for entertaining, a pergola is a perfect addition.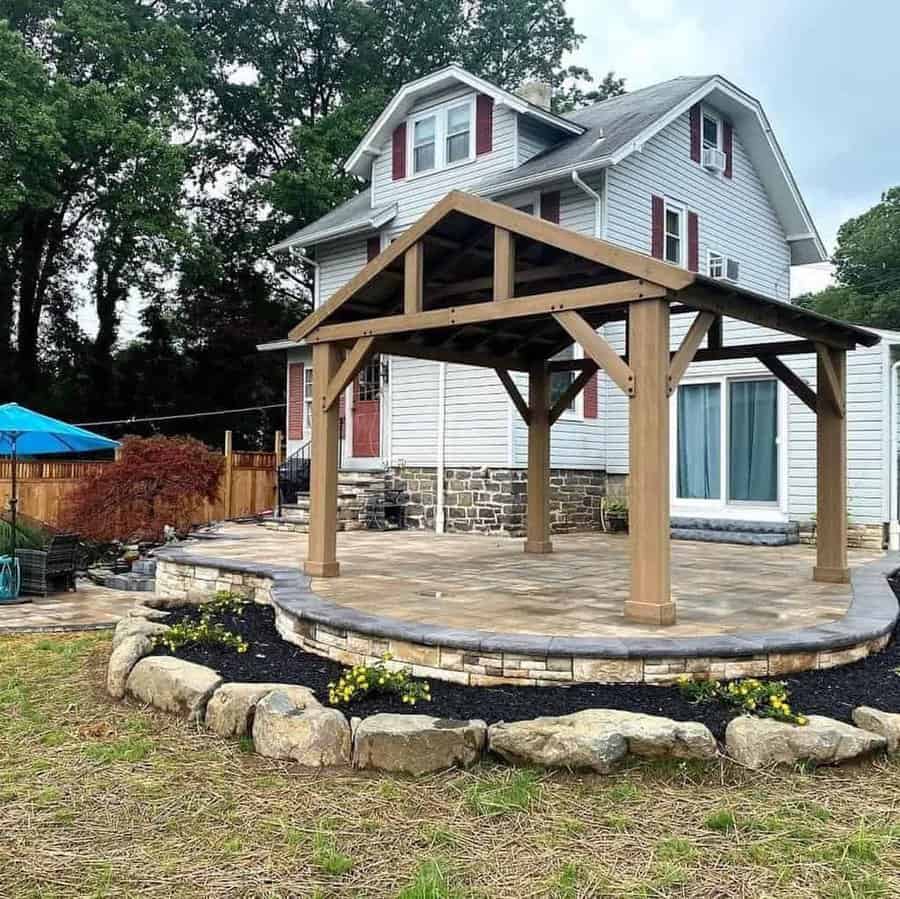 17. Concrete Gravel & Grass Steps
One innovative element that can truly transform your landscape is the use of concrete gravel and grass steps. These steps combine the sturdy nature of concrete with the organic charm of grass, creating a visually striking and functional pathway.
The contrasting textures of the concrete and gravel add depth and visual interest, while the lush green grass softens the overall aesthetic and brings a touch of nature to the scene. Not only do these steps provide a practical way to navigate your outdoor space, but they also become a unique design feature that effortlessly blends with the surrounding landscape.
Whether leading to a patio, garden, or pool area, the concrete gravel and grass steps add an inviting touch that seamlessly integrates into your outdoor oasis.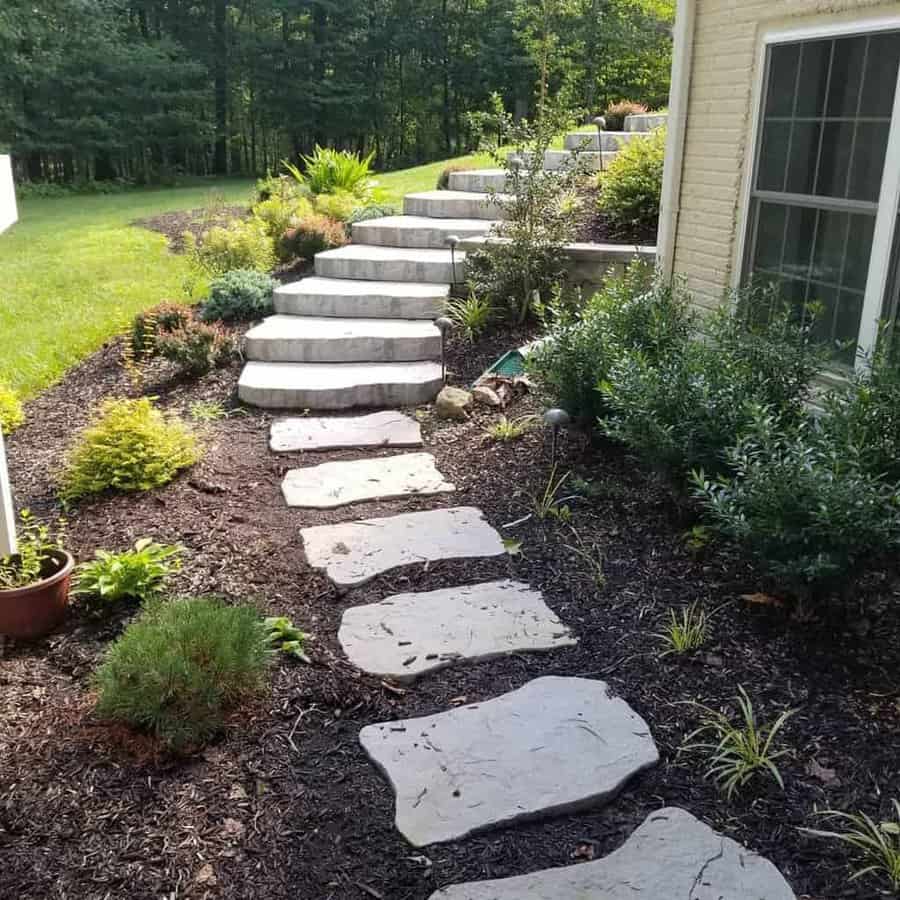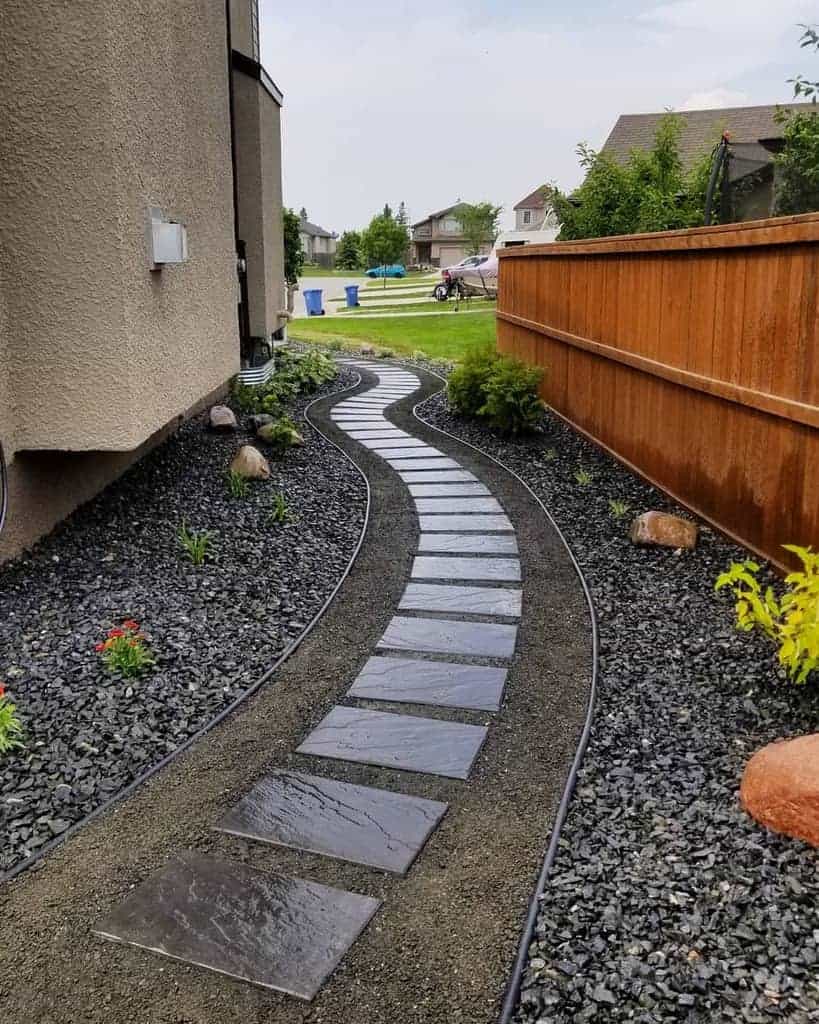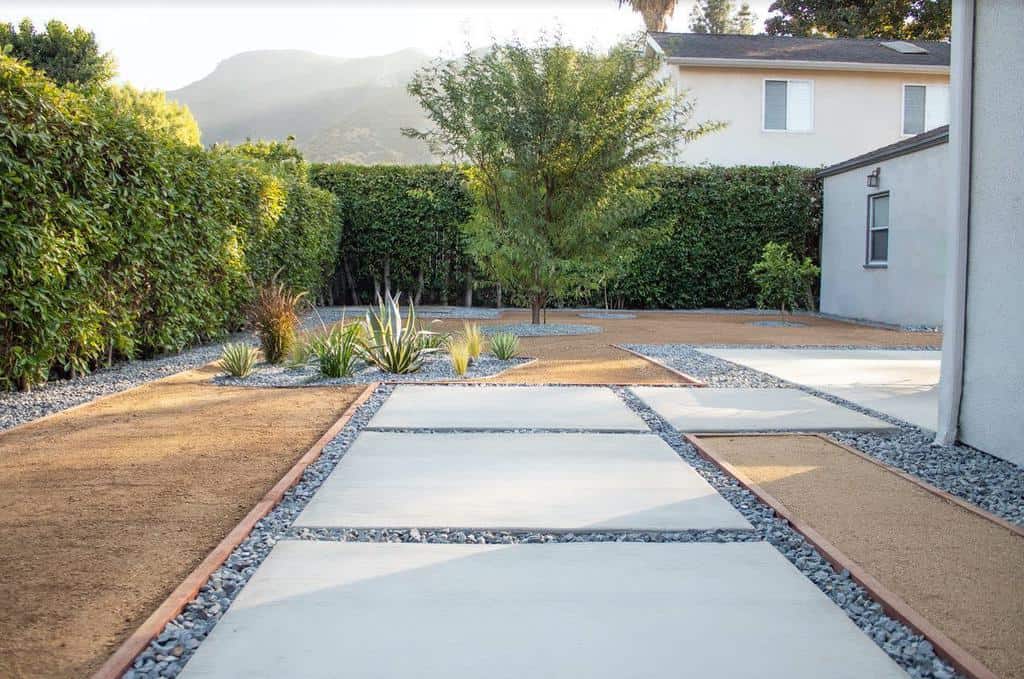 18. Garden Water Feature
A modern pond crafted from concrete or steel is a stunning addition that effortlessly combines functionality and style. The tranquil sound of trickling water creates a soothing ambiance, transforming your garden into a peaceful oasis. The sleek and minimalist design of a modern pond adds a contemporary touch, complementing any architectural style.
Whether placed as a focal point or integrated seamlessly into your landscape, a garden water feature becomes a captivating centerpiece that invites serenity and relaxation. It not only adds visual interest but also provides a refreshing respite for local wildlife, further enhancing the biodiversity of your garden.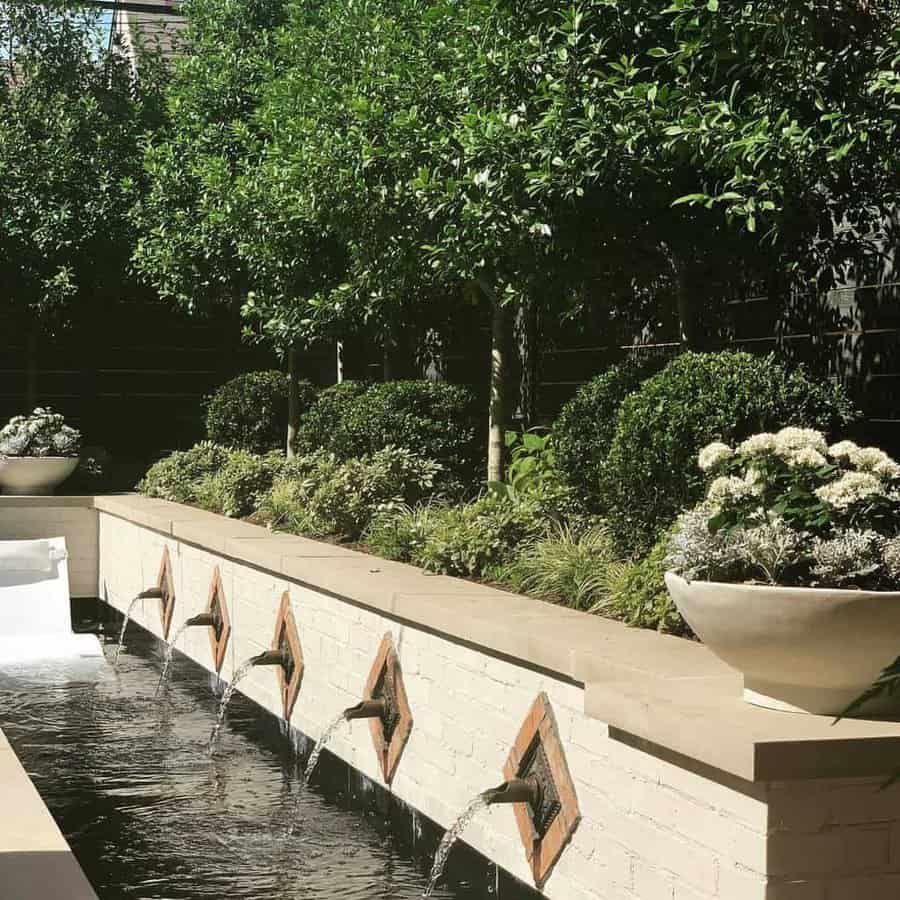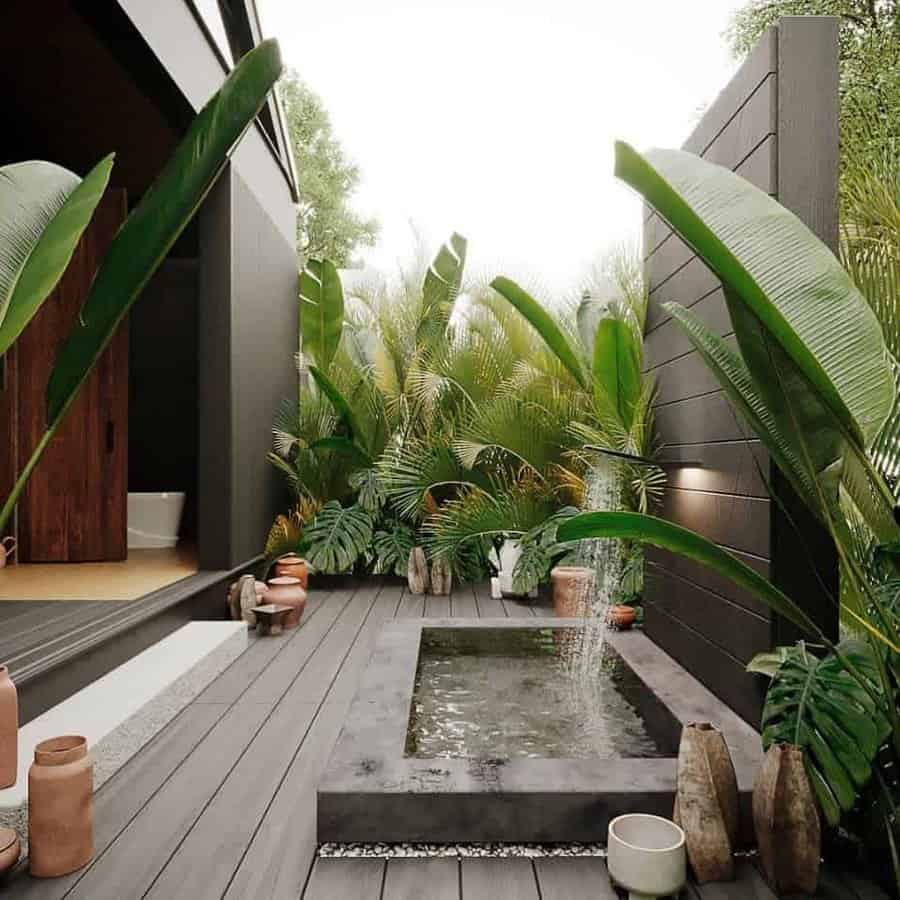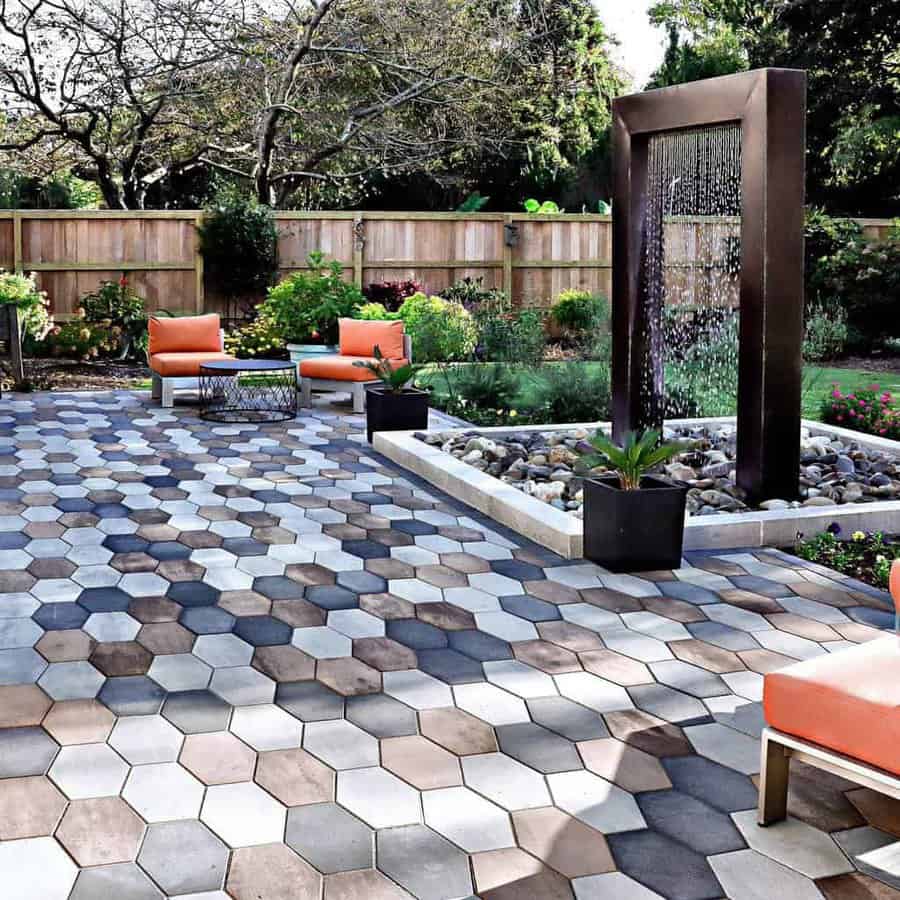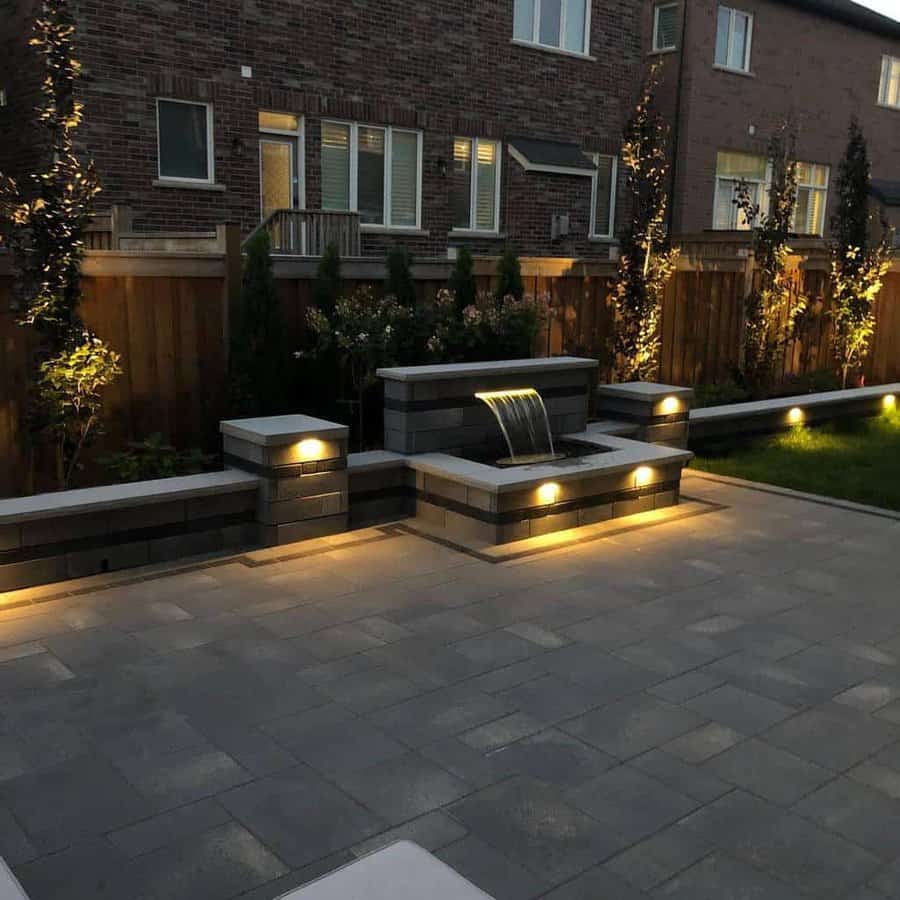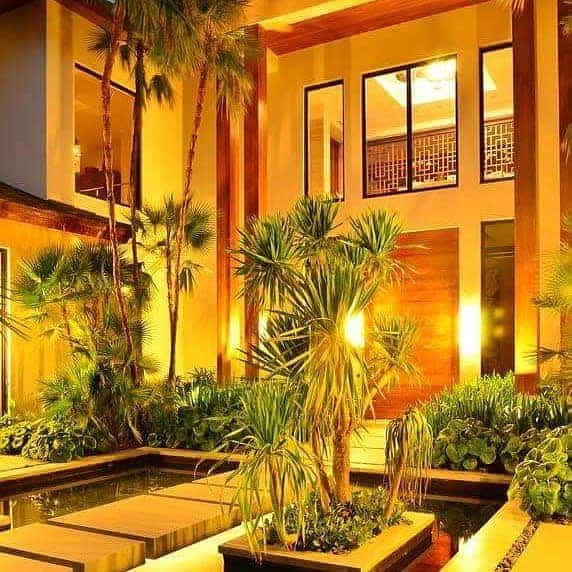 19. Decorative Backyard Pond
Transform your backyard into a tranquil oasis with the captivating beauty of a decorative backyard pond. Crafted with an artful arrangement of rocks, this natural-looking hardscaping element adds a touch of serenity and charm to your outdoor space.
The sight and sound of water gently cascading over the rocks create a soothing ambiance, inviting you to relax and unwind in the embrace of nature. With careful planning and design, the decorative backyard pond becomes a focal point that seamlessly blends with the surrounding landscape.
Enhance the visual appeal by adding aquatic plants, floating lilies, or even a small fountain for a delightful touch. Whether you have a large backyard or a cozy corner, a decorative backyard pond brings a sense of tranquility and harmony, making it the perfect spot for meditation, reflection, or simply enjoying the soothing sounds of nature.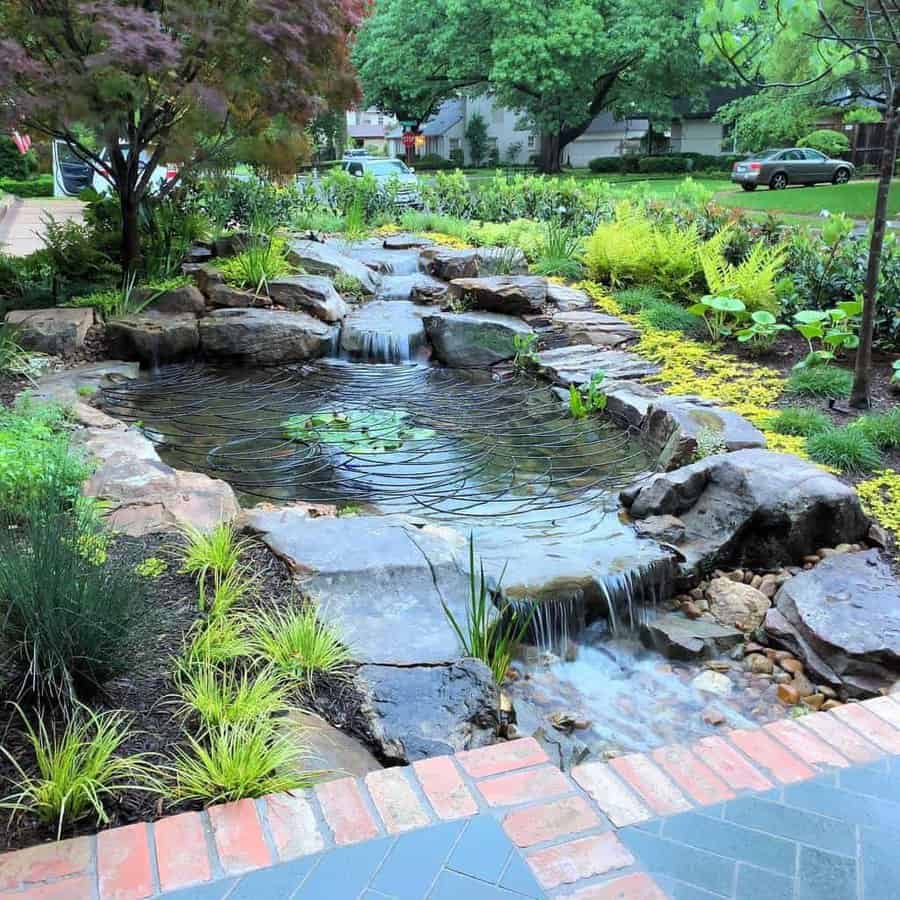 Hardscaping FAQs
What is an example of hardscape?
Hardscape elements are the solid or hard elements of the backyard. These are solid and unchanging elements in your backyard. Examples of hardscaping are retaining walls, pavers, patios, outdoor kitchens, decks, driveway, stone, gazebo, outdoor fireplace, or the base of a water feature. It could be paving or a structure.
Does hardscaping add value to your home?
The right hardscaping can add value to your home. It can create more living space outdoors and increase the homeowner's enjoyment and use of the home. To add the most value to your home, add hardscaping that creates functional spaces, such as a patio, deck, or stonework.
Is hardscaping a good investment?
Yes, investing in hardscaping projects is a smart idea. It will give you more usable space outside. You'll also enjoy a high return on investment when you go to sell your house. This type of home improvement project is as popular as a bathroom or kitchen renovation.