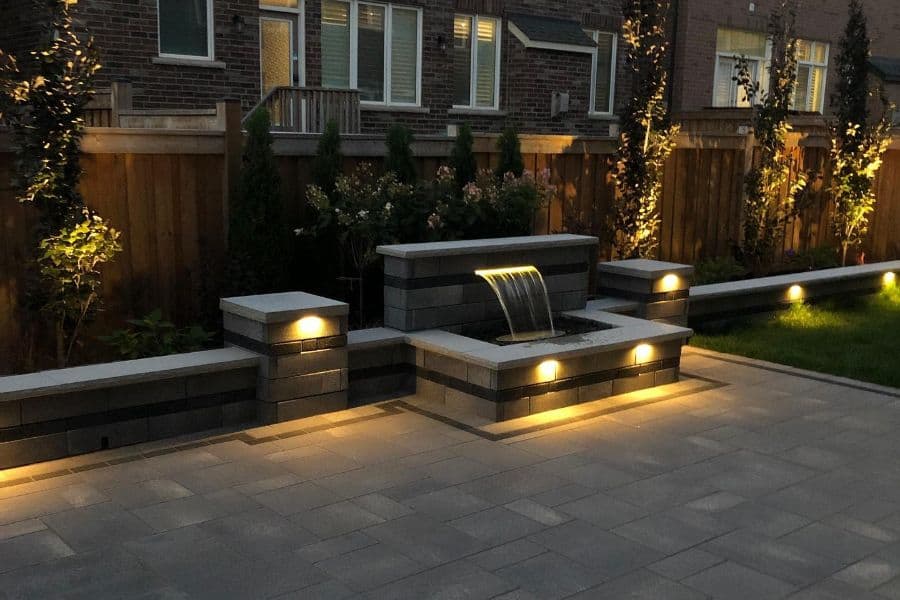 The Top 60 Hardscaping Ideas
To have a beautiful design for your backyard, you need to use a combination of soft and hardscaping. Soft landscaping is the soft materials, such as grass, mulch, shrubs, trees, and soil.
The hardscaping is the concrete, stones, pavers, and gravel. When you combine them, you create varying textures and variety that adds visual interest.
These hardscaping ideas will get you inspired to upgrade your backyard. Perhaps you'd love to add a fire pit to your backyard. Or maybe you've always wanted a water feature.
Turn your small yard into a useable space and increase the value of your home with luxury materials.
1. Boulder and Rocks
Using large boulders and rocks as a part of your landscape design can give your property a natural and rustic feel. This is perfect if you want to create a natural feel to your outdoor space. Look for large natural stones that you can have brought in and professionally arranged.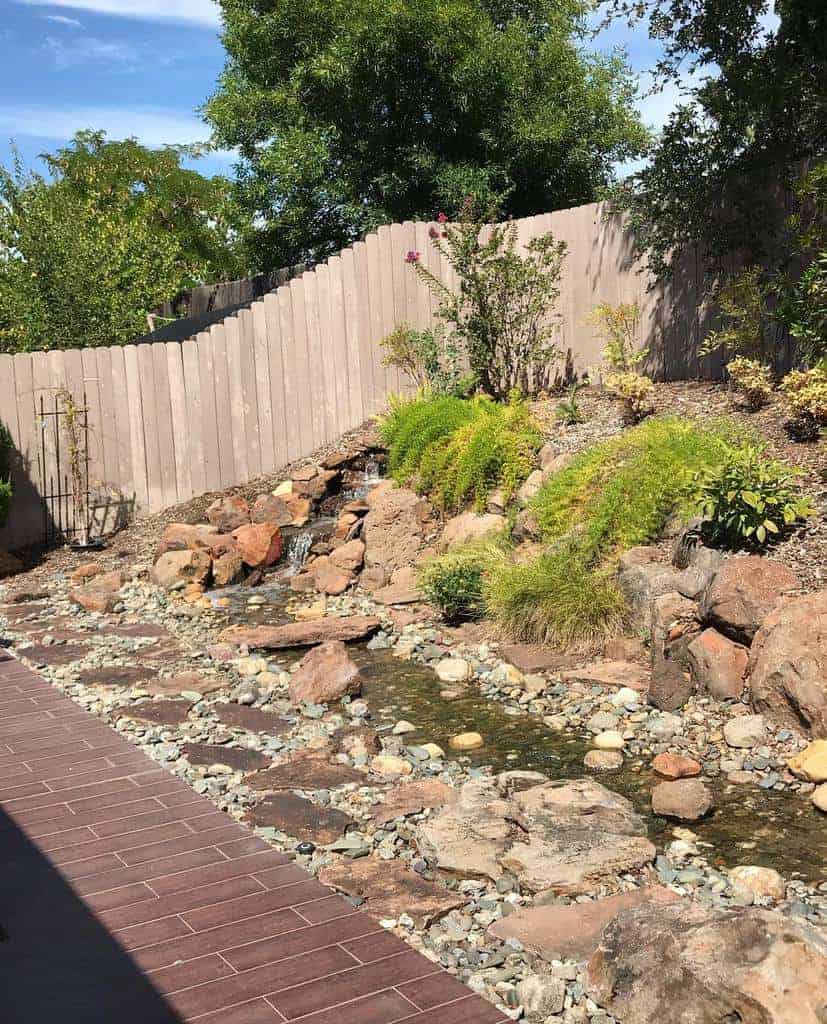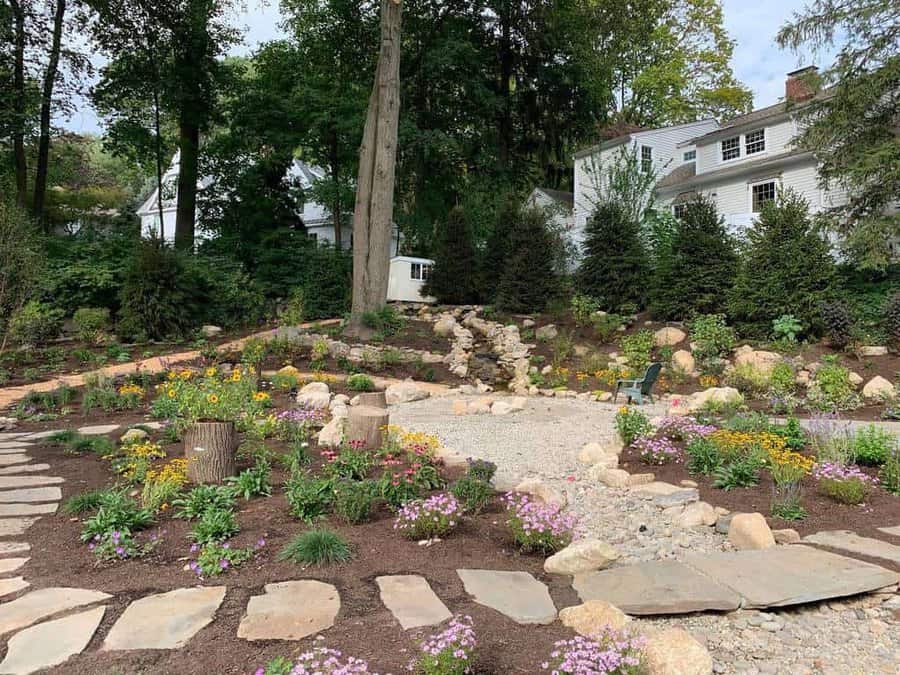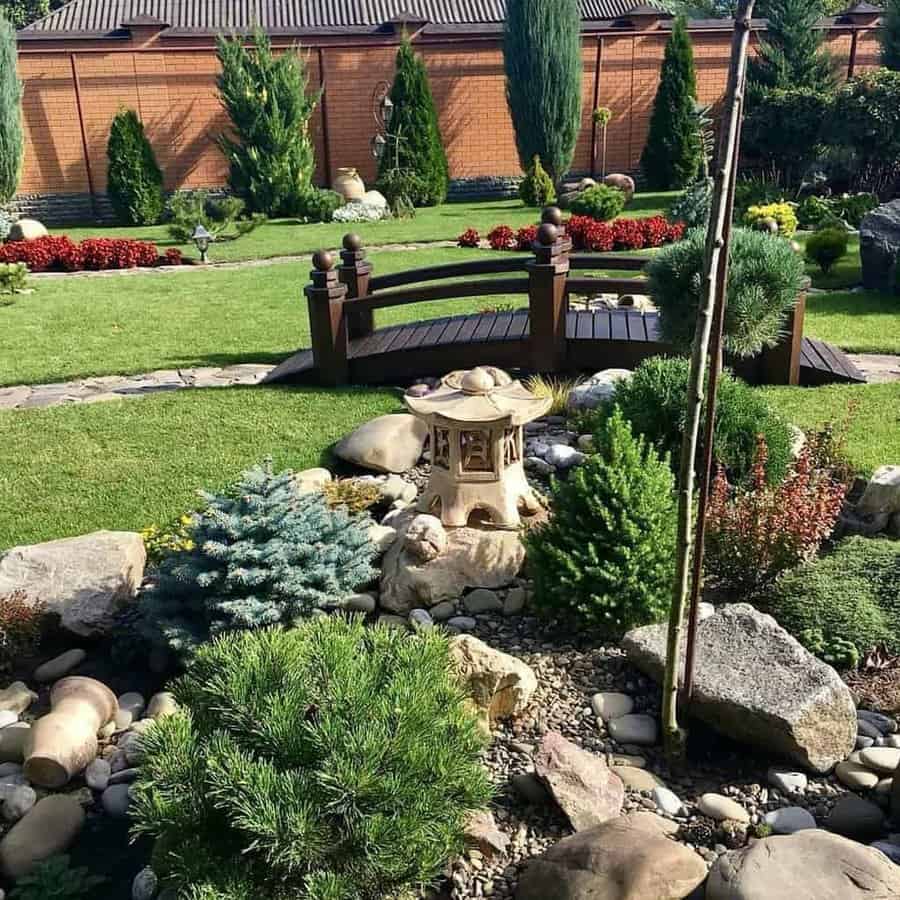 You can look at landscape ideas to get inspired. Use the large stones to build a privacy wall. Pile earth behind them to build a retaining wall. Stack them around a pool and build a fountain into them.
2. Firepit
Adding an outdoor fire pit to your concrete patio can give you an additional outdoor entertaining space. This hardscape design is perfect for adding an outdoor entertaining space to your backyard.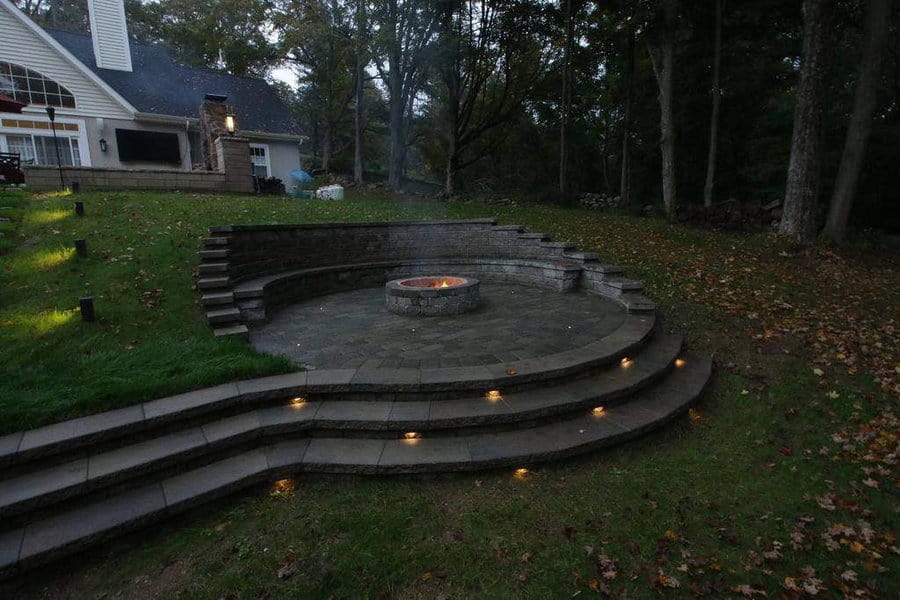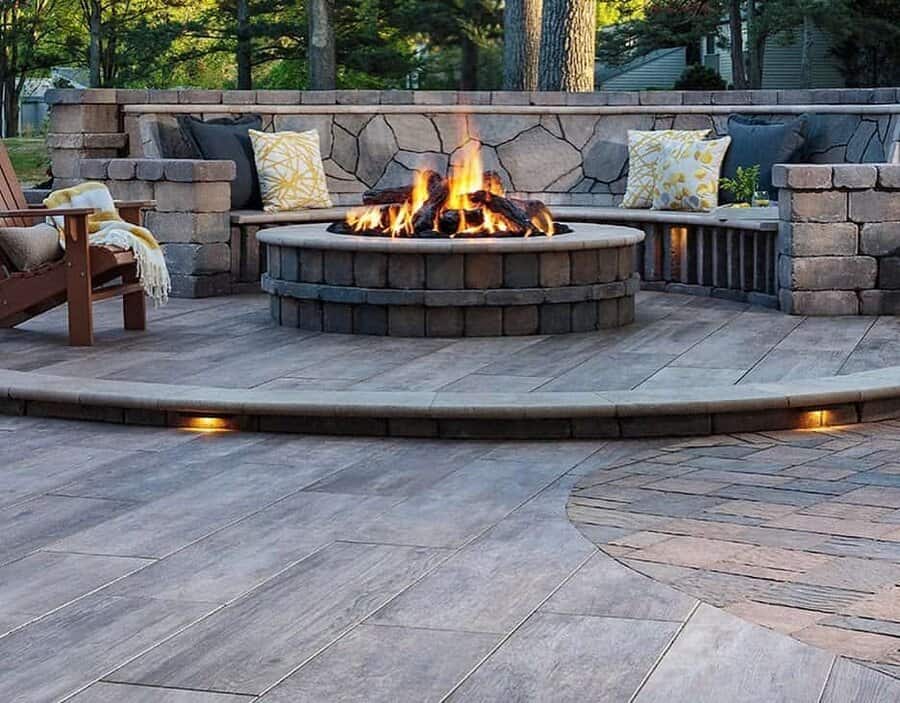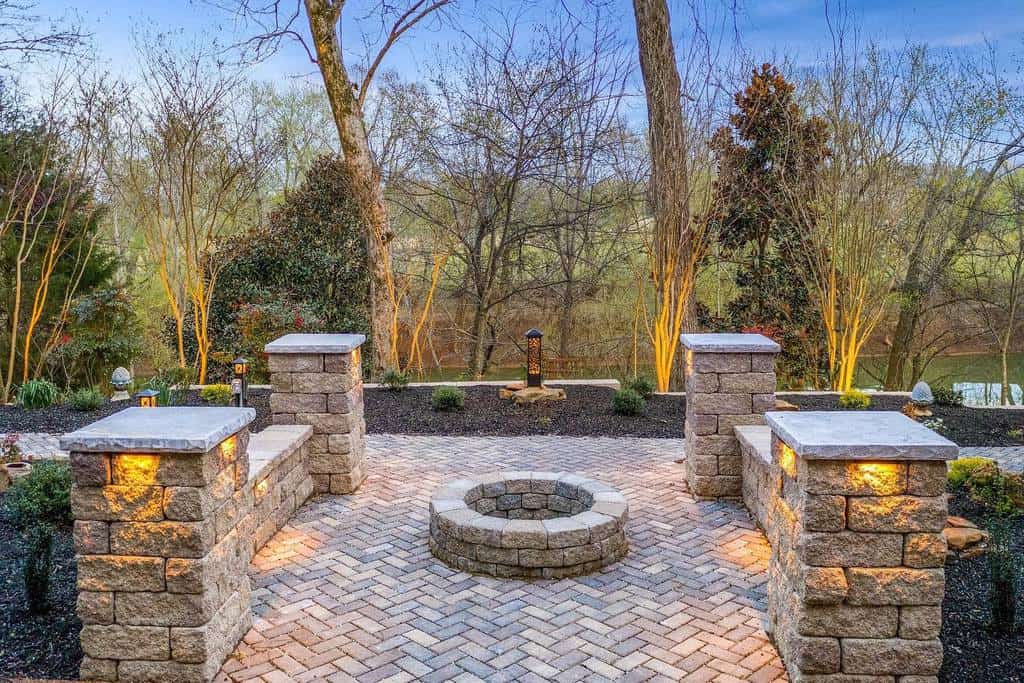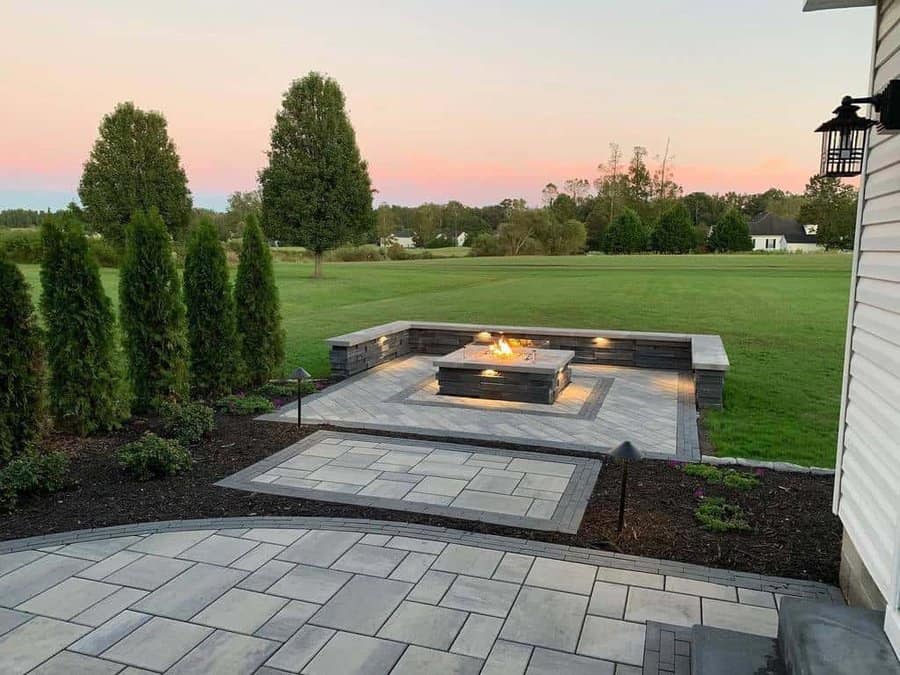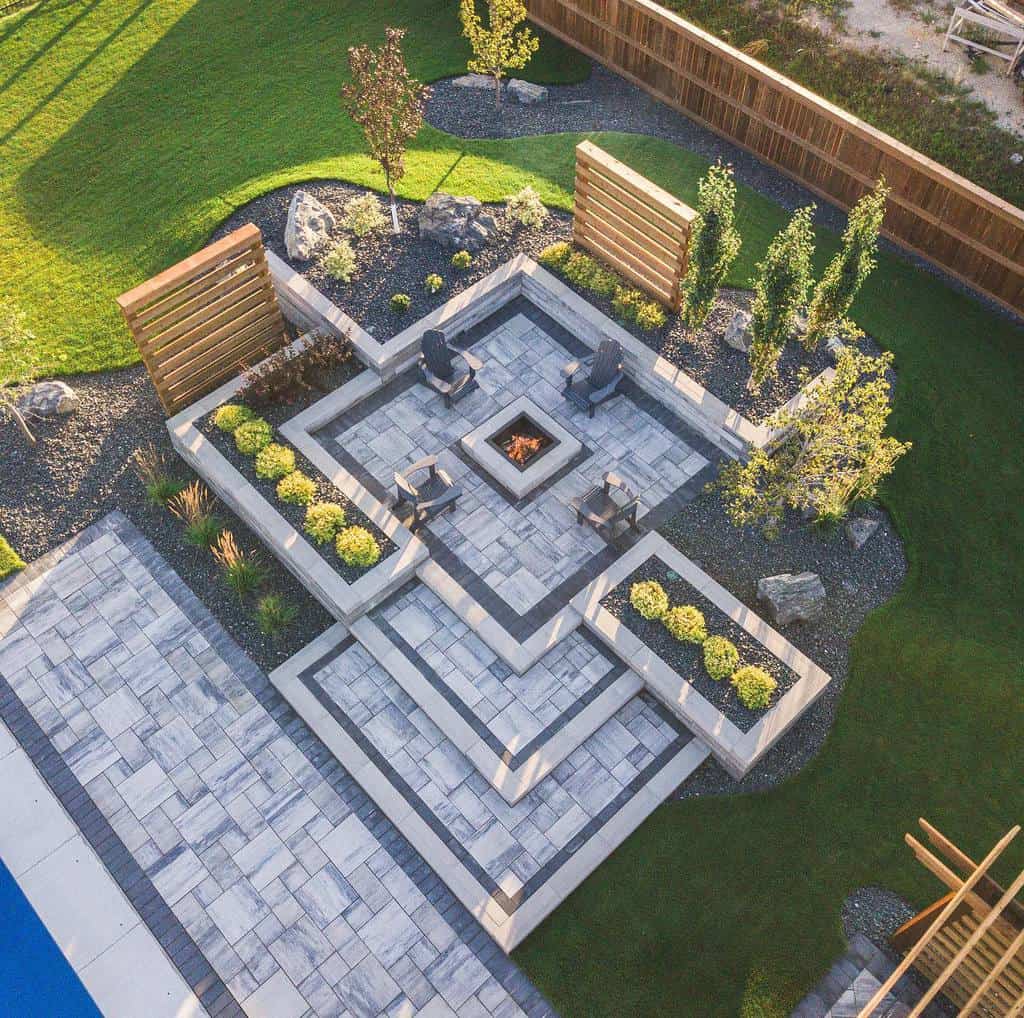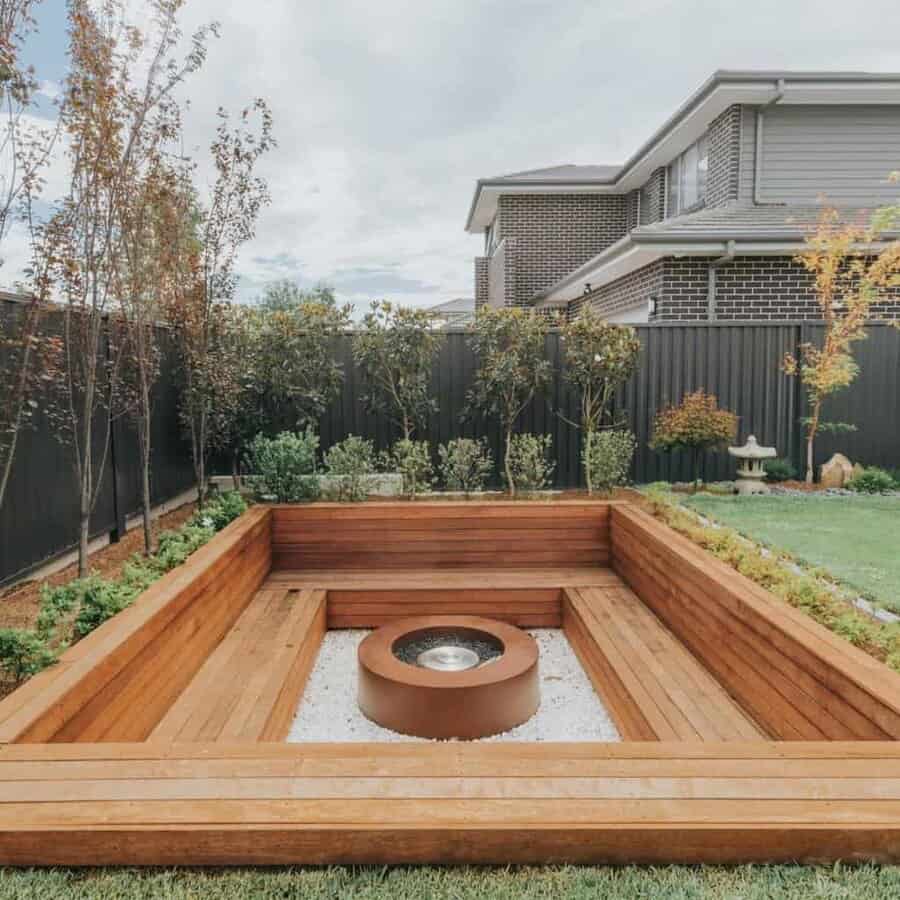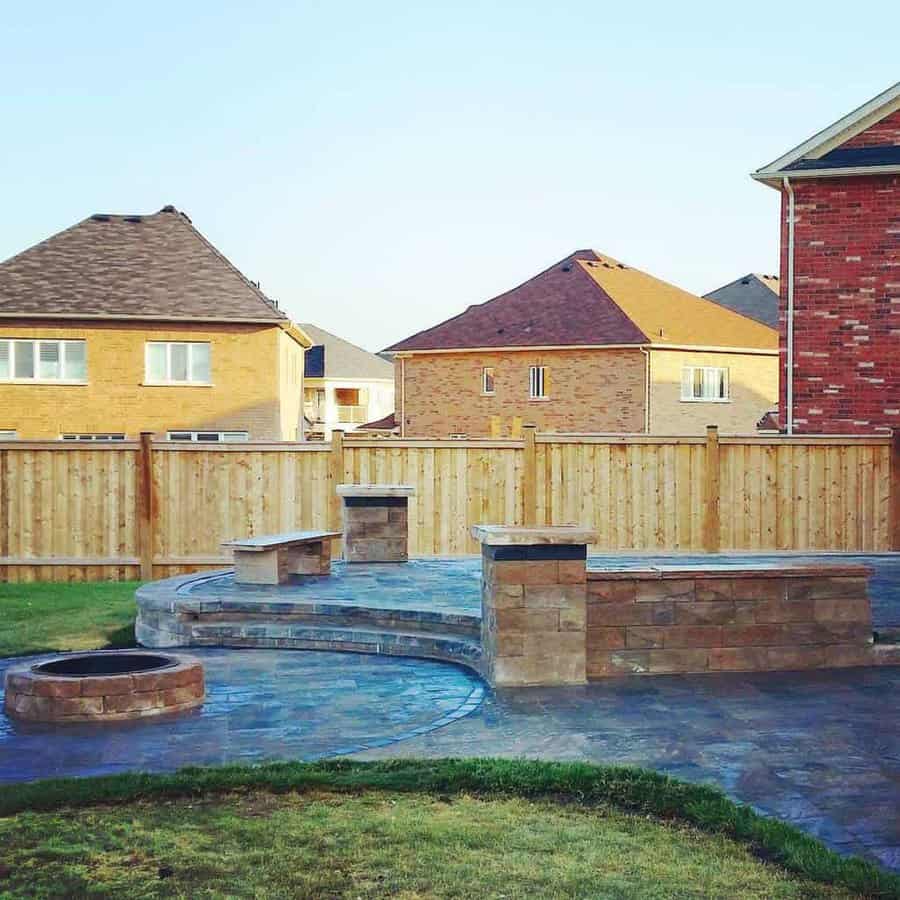 Build your firepit out of paver or natural stone. Then have a flat stone pad around it that's large enough to place chairs on. Make it larger so that people can move their chairs closer or further away to adjust how warm they get.
Consider building a stone bench around the fire pit. It can have a curved shape that matches the curve of the fire pit. Building the bench out of stone makes it look like it's a part of the landscape.
Read more: 49 Fire Pit Ideas
3. Front Yard
Don't forget about landscaping your front yard. You can use hardscape ideas to add curb appeal to your home. Start with the driveway.
A basic option is to have a concrete driveway. This isn't very stylish, but you can make it look nice by pressure washing it and keeping it looking fresh and clean.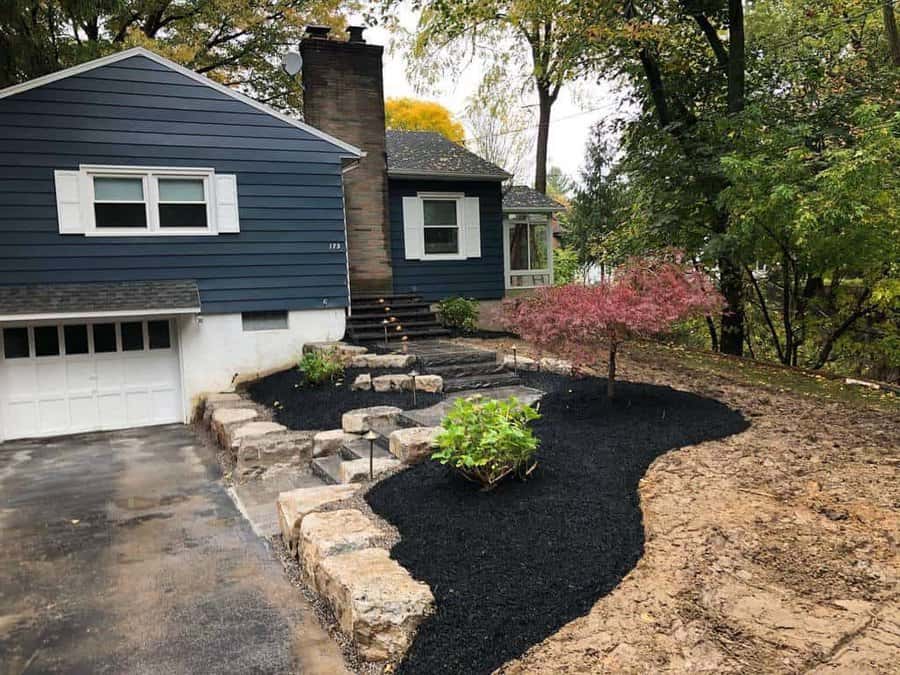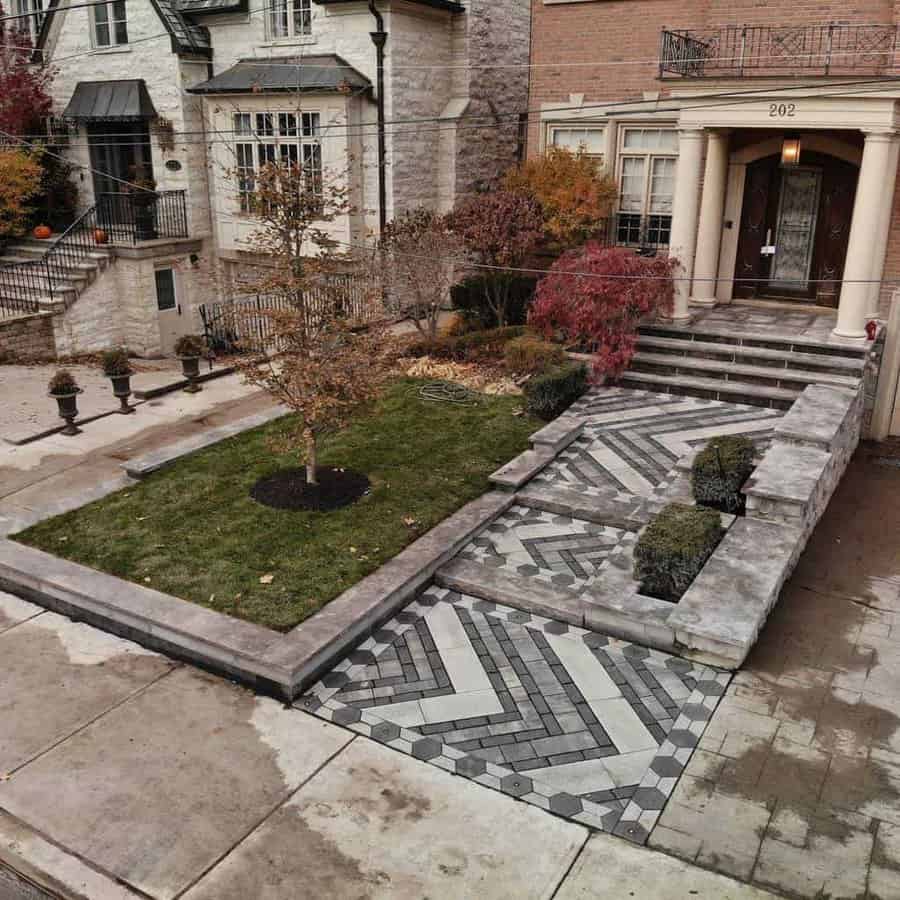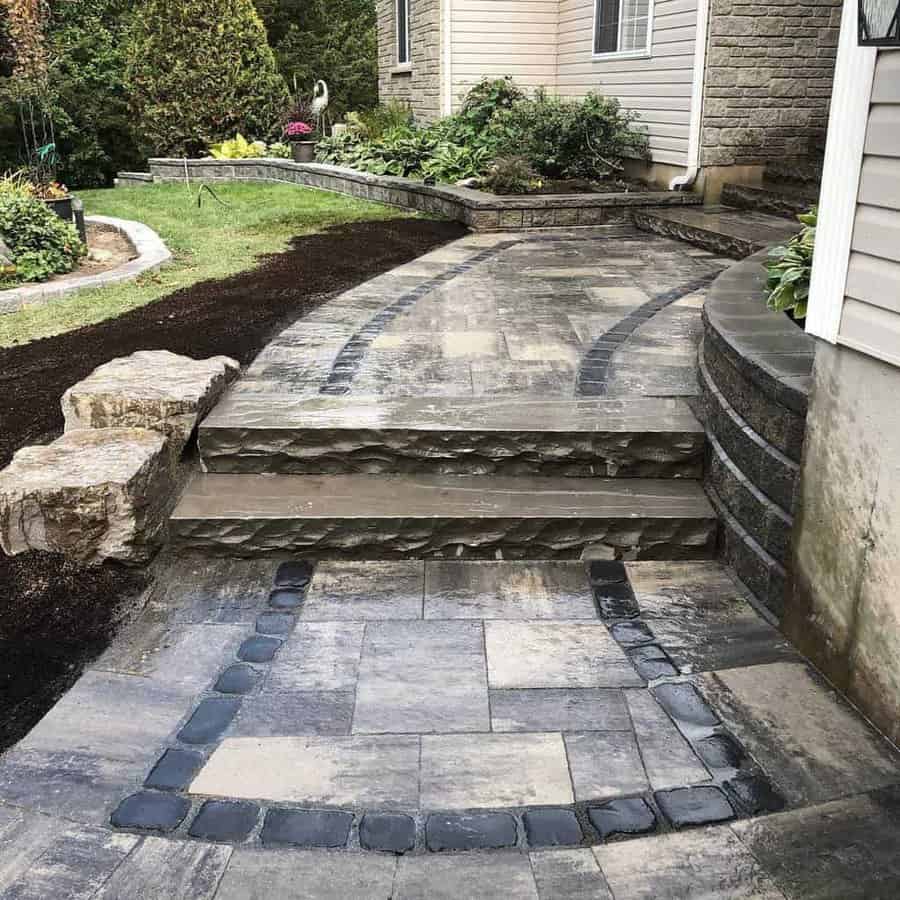 For a modern and elegant look, replace the concrete driveway with natural stone tiles or pavers. This can improve the look of your driveway while also improving drainage and having a long usable lifespan. Be sure to pick a stone with a tumbled or hammered finish so that it isn't slippery when wet.
Read more: 79 Landscaping Ideas for the Front of the House
4. Garden Decor
Having a garden is about more than growing plants. You should create an atmosphere by developing a landscape design theme. You can incorporate this into your garden for a cohesive look throughout the entire yard.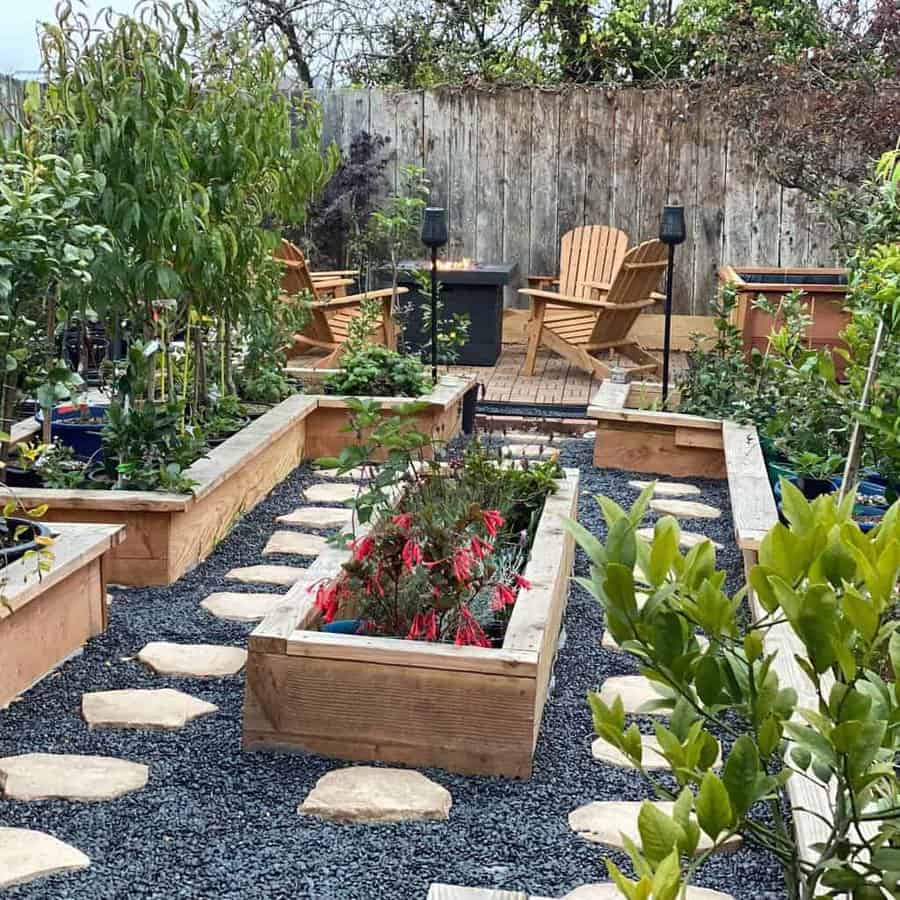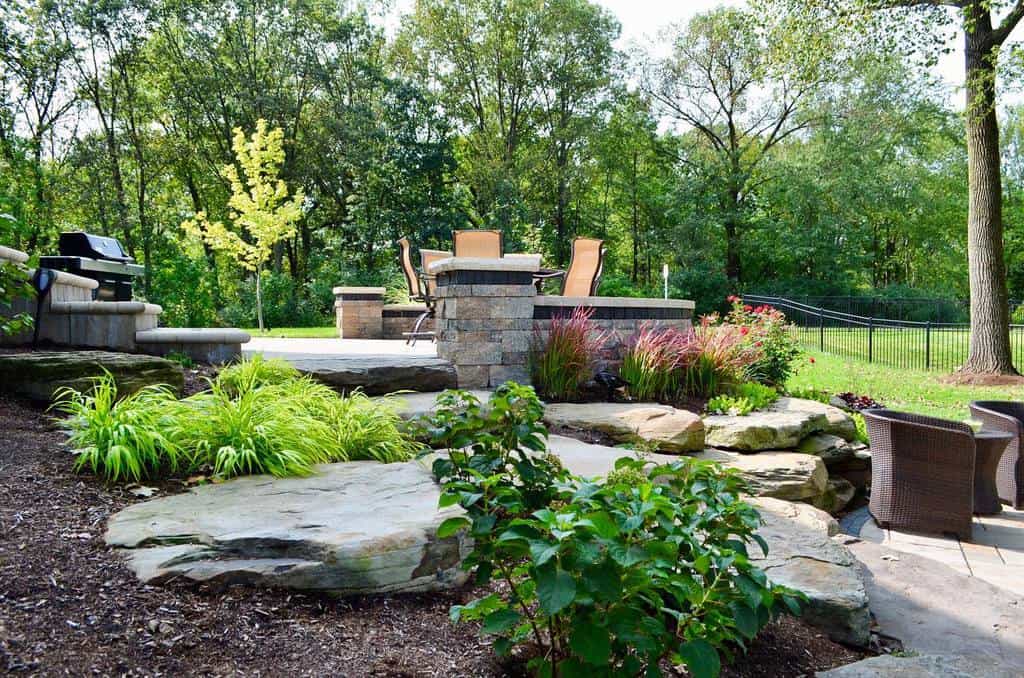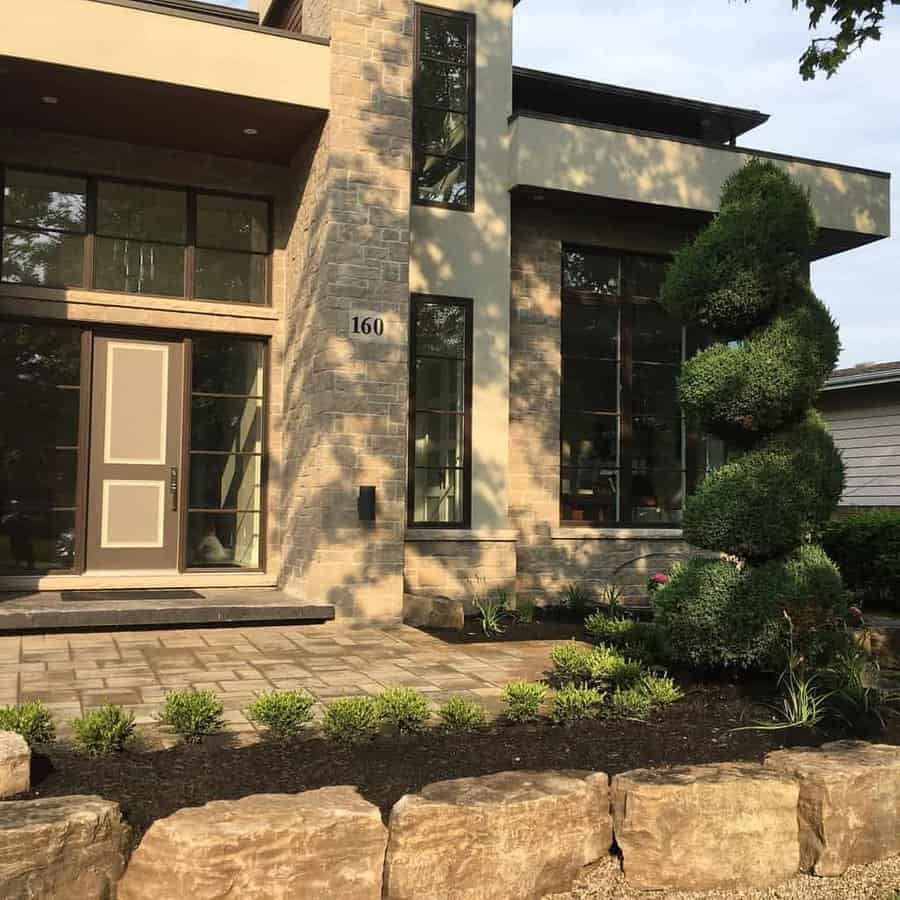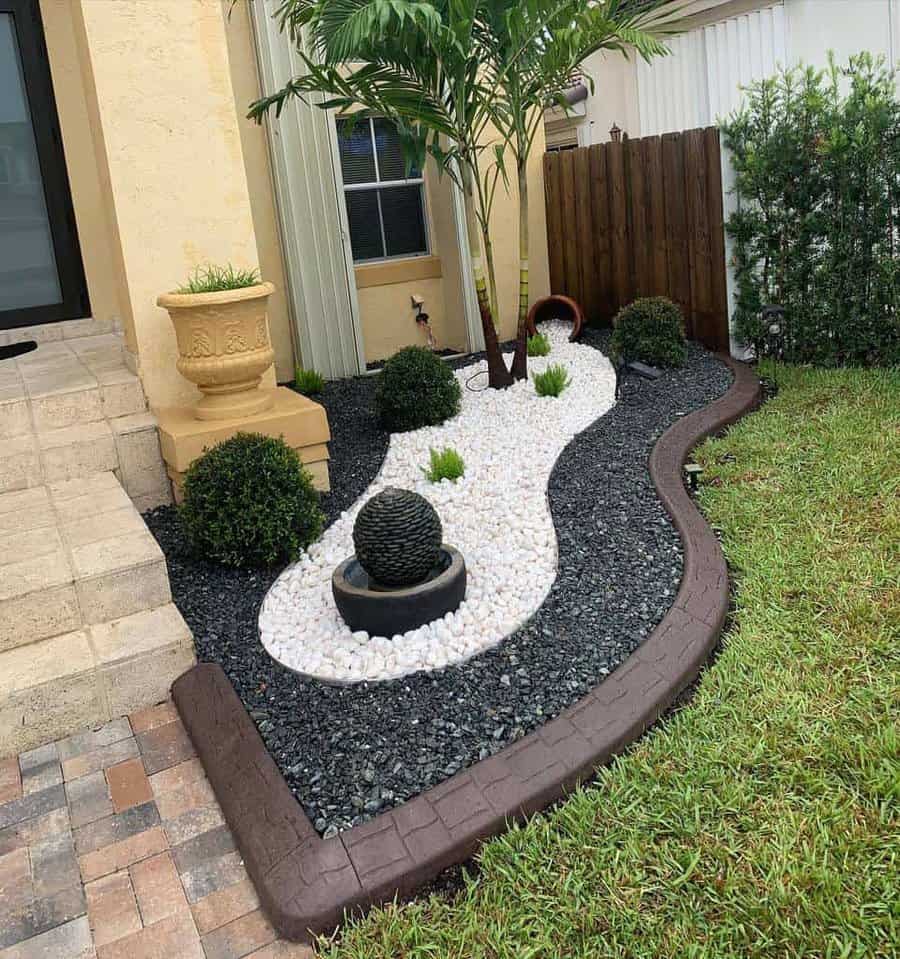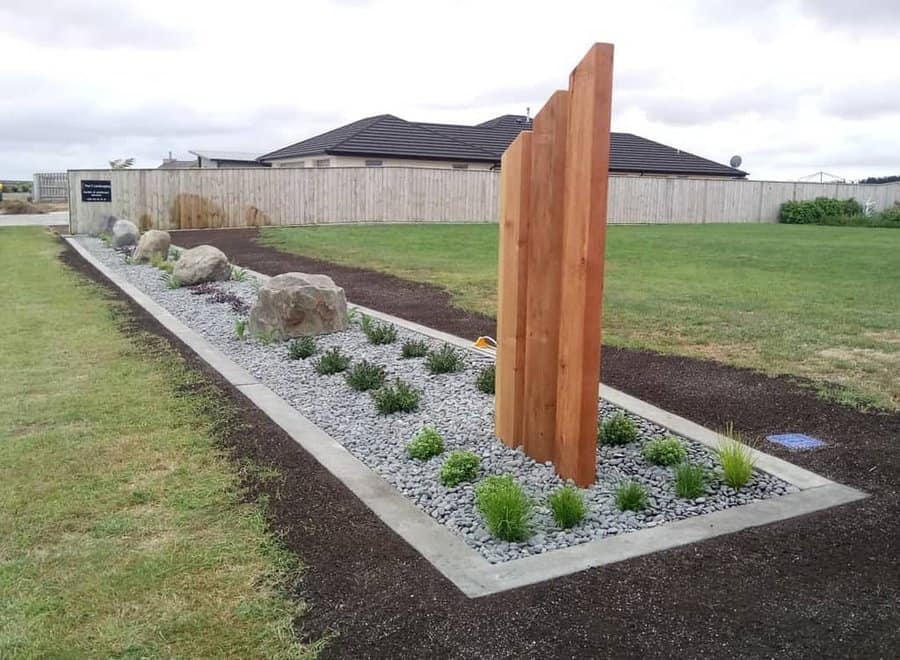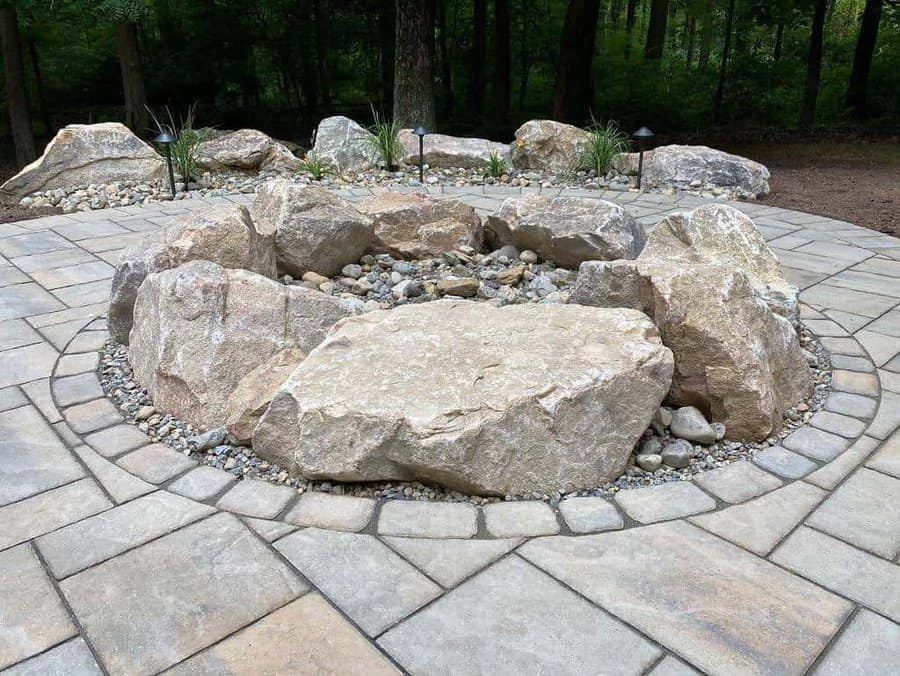 Start your hardscape project by building solid concrete or stone planter boxes for your garden. Then build off of these with stone or gravel walkways around them.
If you prefer a more freeform style of garden, you can add hardscape elements to it. Place a bench among the flowers. Add a few statues to fill in empty areas.
5. Ideas for Small Spaces
Using hardscaping in your small backyard can help you make the most of your space. Build out your backyard patio with concrete pavers. This lets you smoothly transition from the seating area to the lawn. Now you can have a diverse outdoor living area, no matter how small it may be.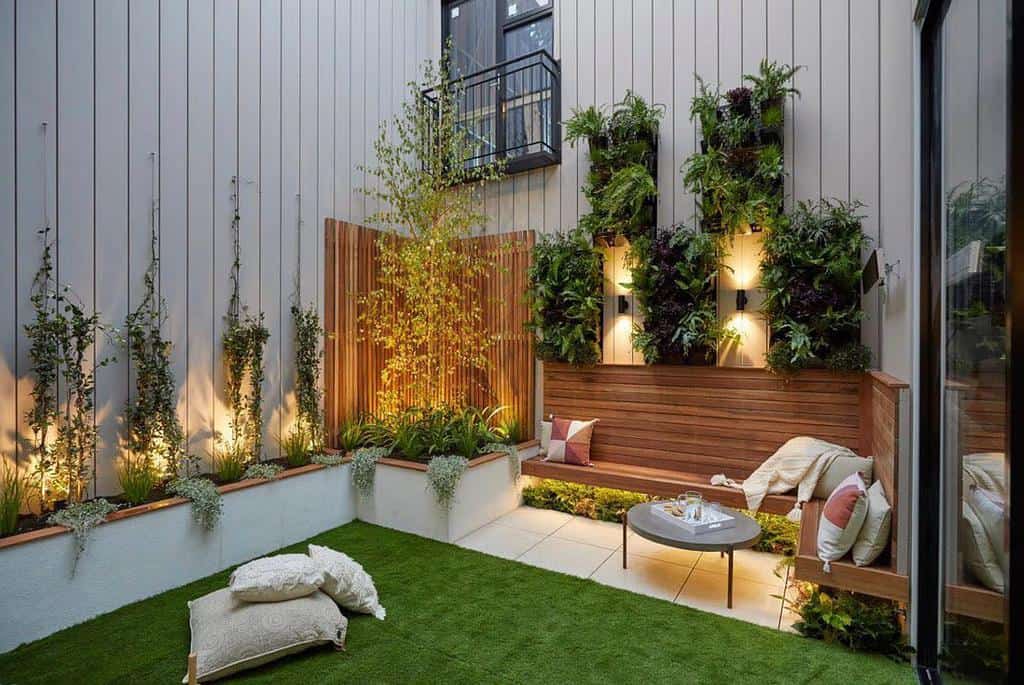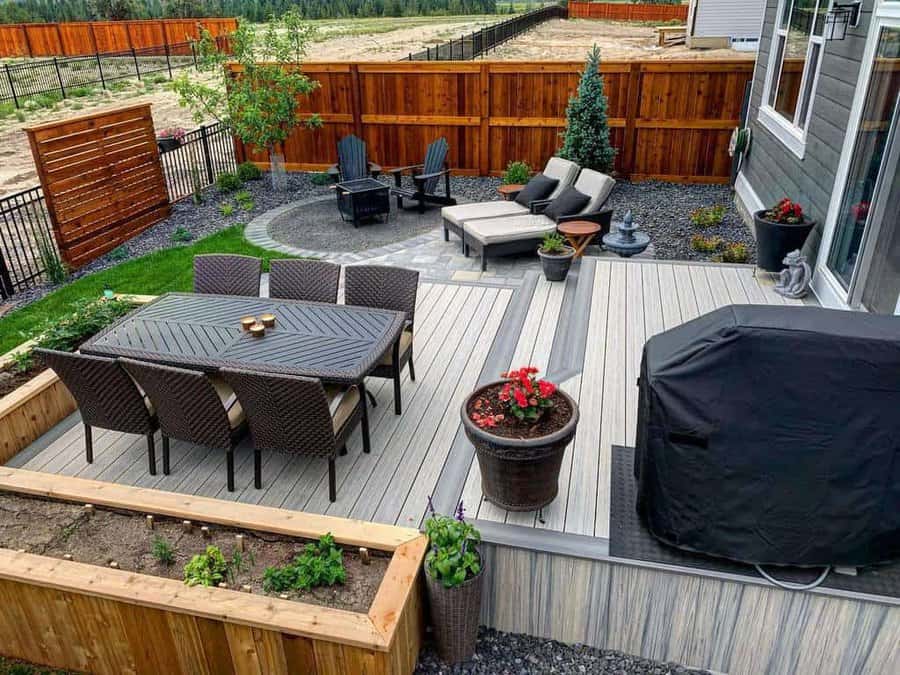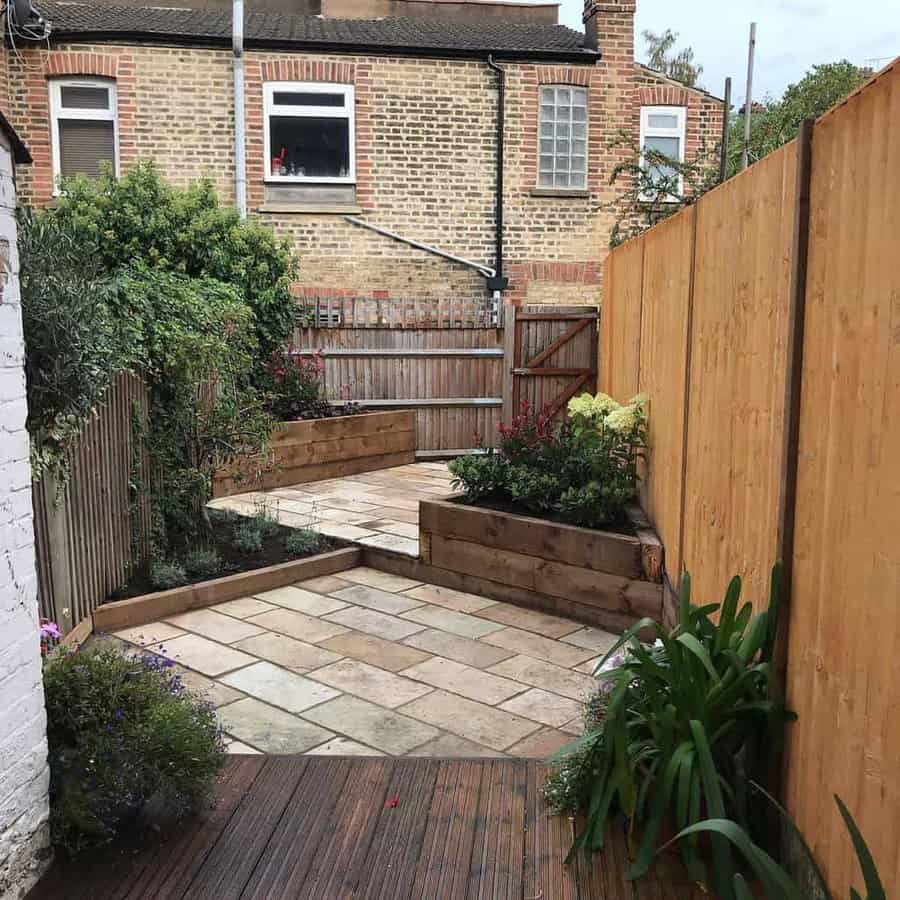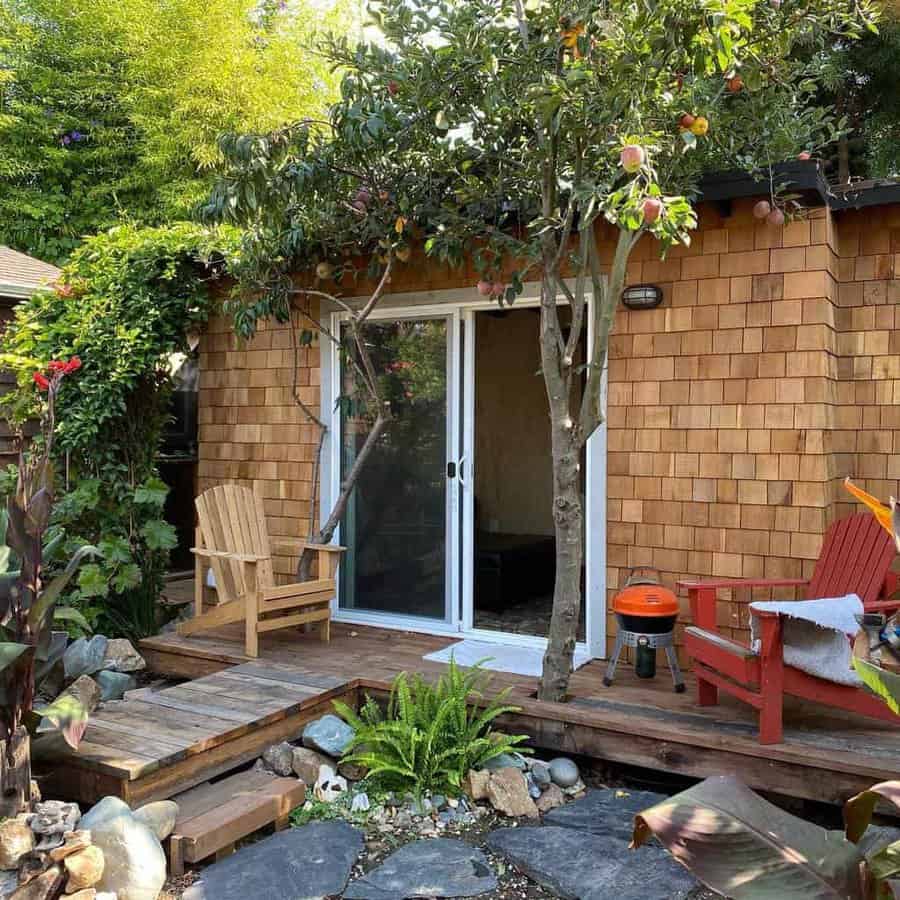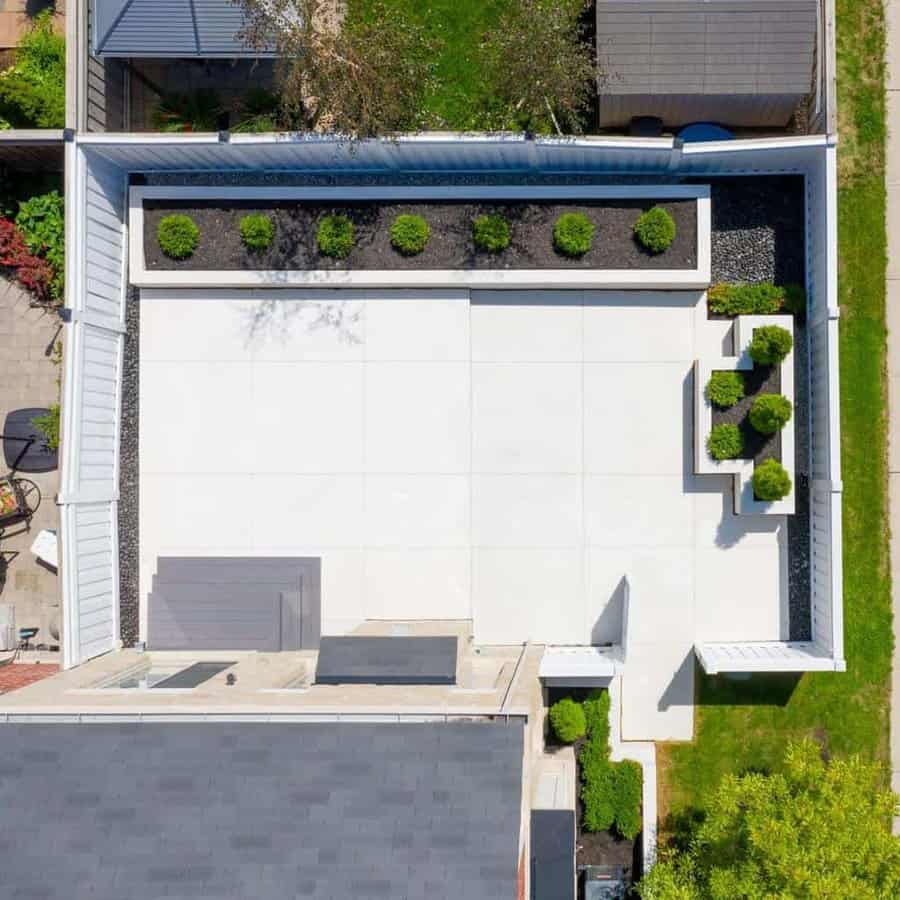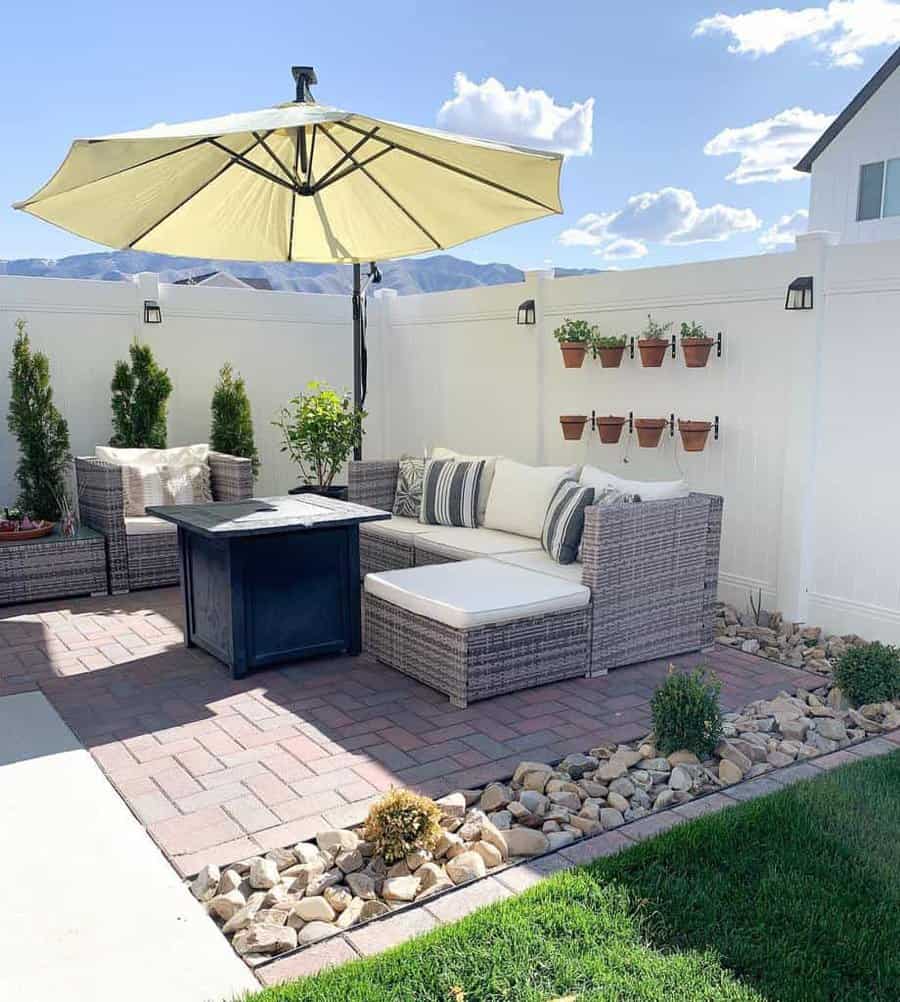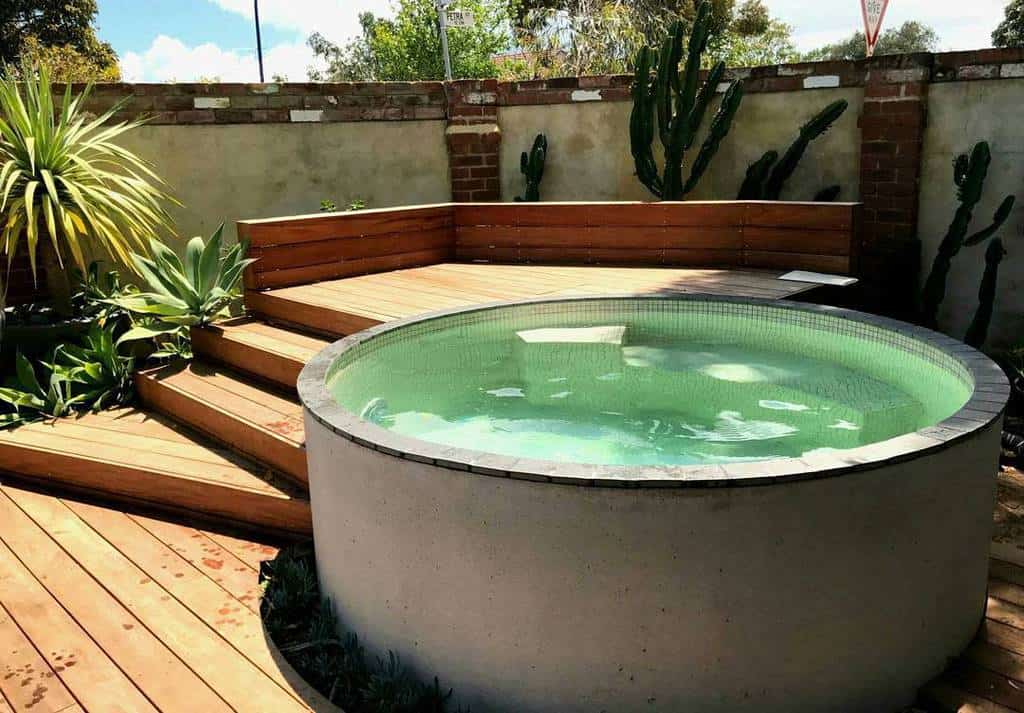 Build raised garden or flower beds along one or two of the walls. This adds varying heights to the space and makes it feel bigger. You're also adding built-in decor. Install a pole or column and string lights from it overhead. This illuminates the entire space and helps it to feel bigger.
6. Luxury
Turn your hardscape into a luxurious outdoor lying space. Build large patios that you can turn into an outdoor kitchen, swimming pool platform, or outdoor living room.
Cover these areas with a pergola and create some shade. This makes them more enjoyable to use during the hottest months when the sun is shining bright.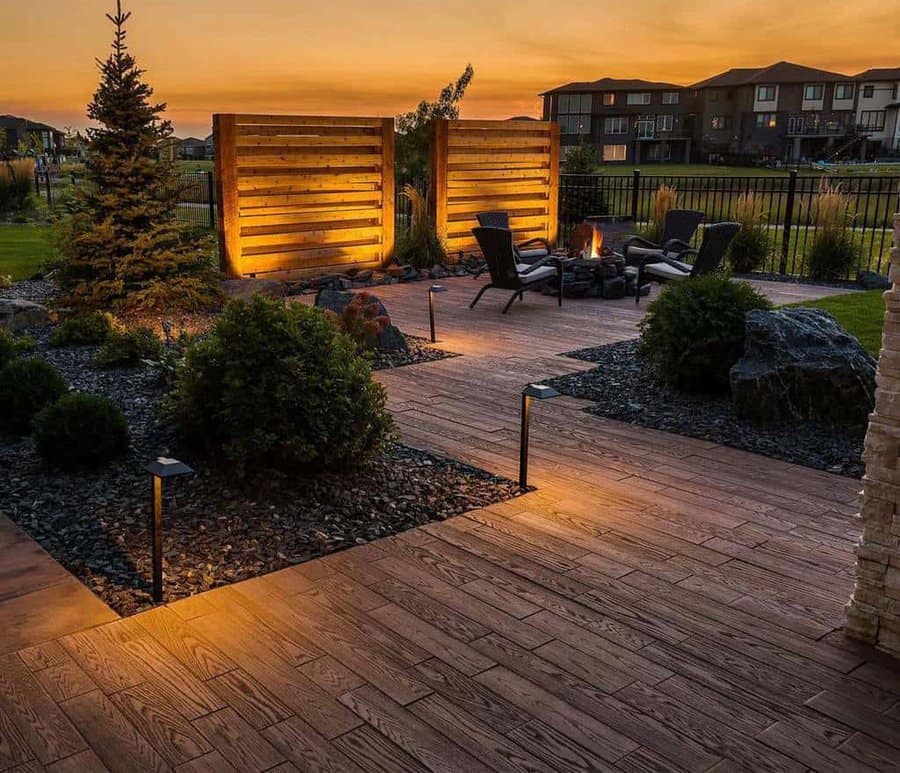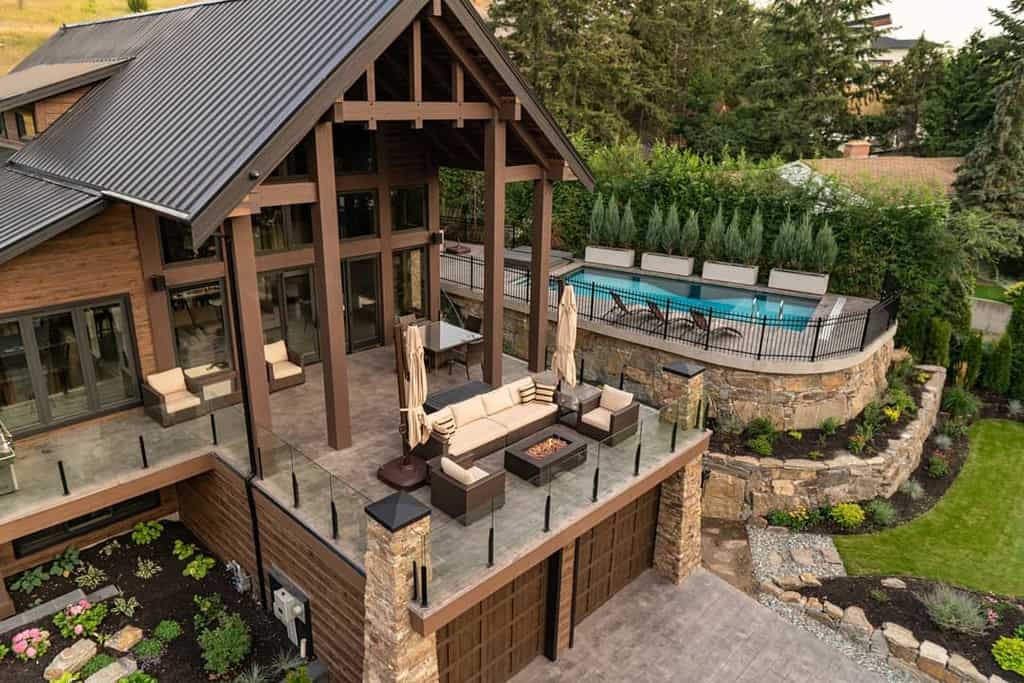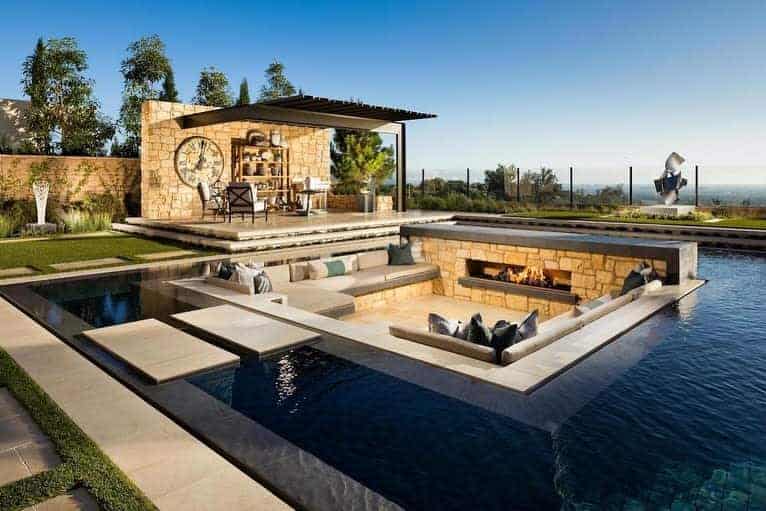 Use more expensive materials that you would traditionally find in higher-end homes. Pavers are a popular choice. You could also use slate tile. If you want to create a traditional look, use red bricks.
7. Modern
Give your outdoor living space a modern feel by incorporating landscape lighting. Add lights in the ground that will point upward to brighten up the landscape. Have the lights line the walkway to help people navigate your yard.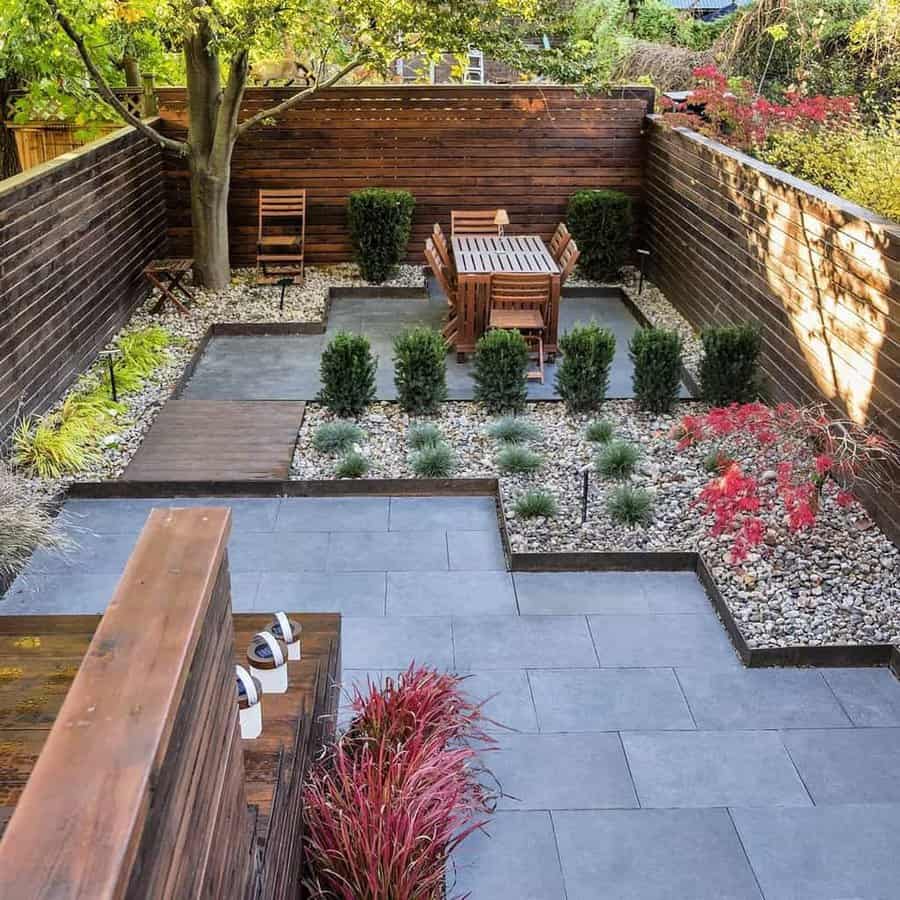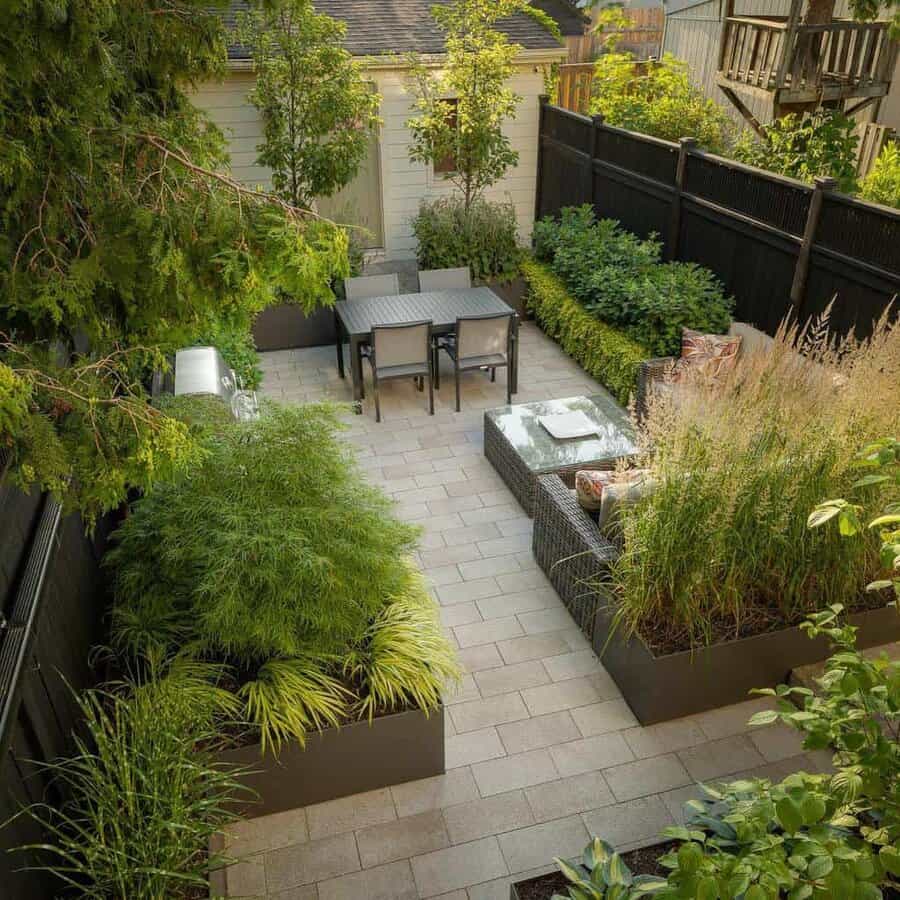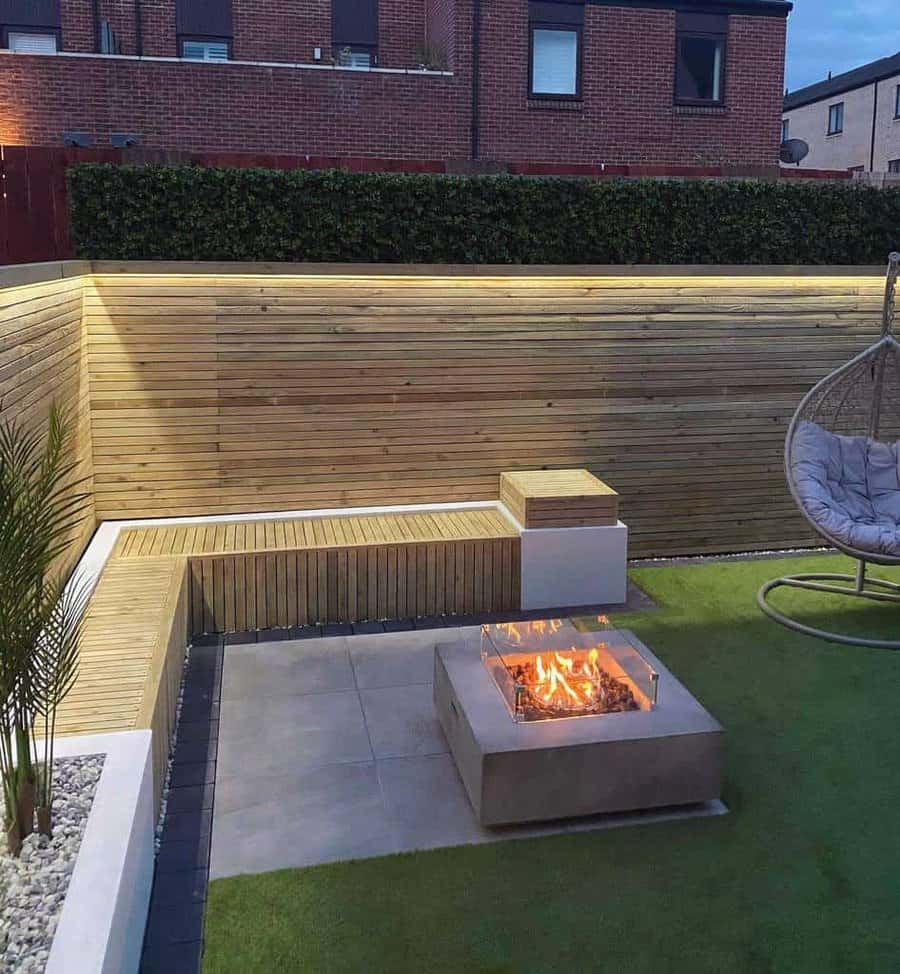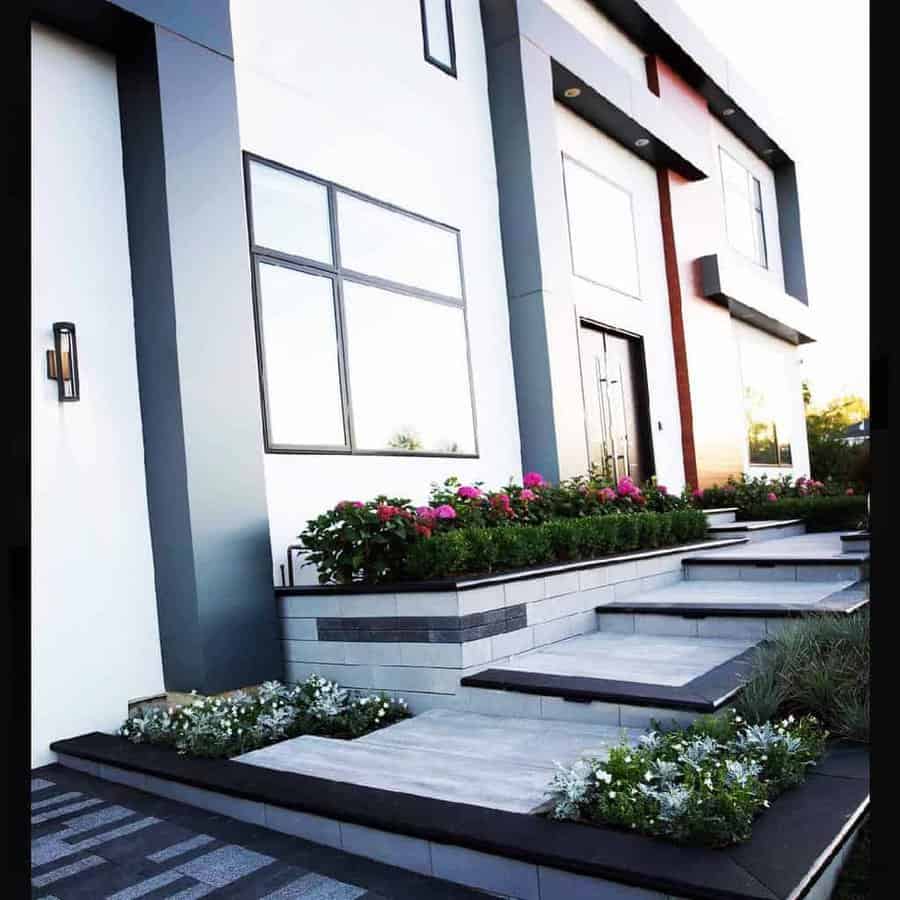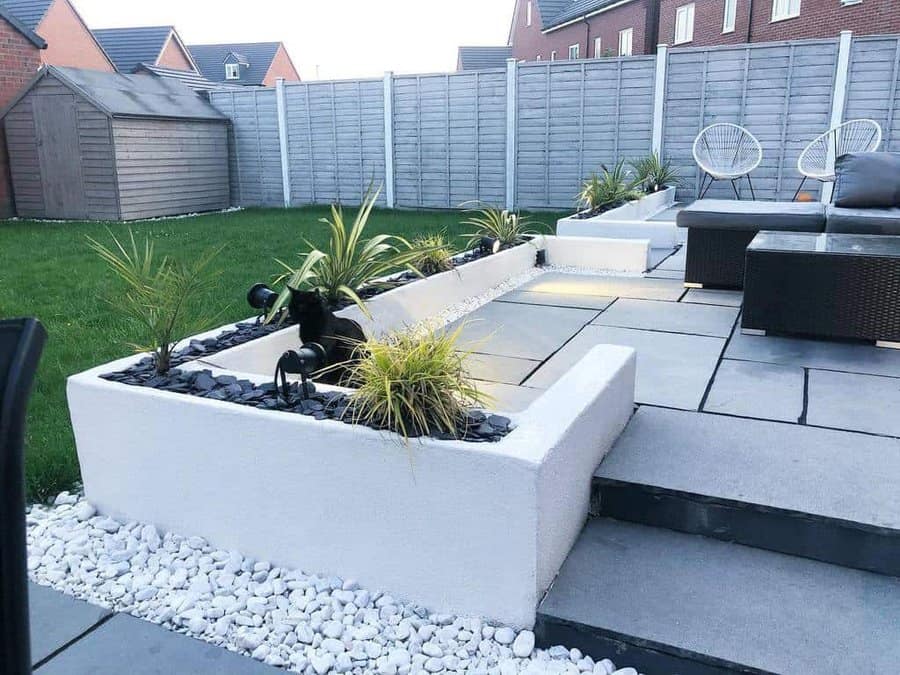 To make this hardscape feature work, you should use a variety of hardscape materials. White or dark grey gravel works well as a ground cover around square concrete pavers and blocks of lush green grass. Line the different elements with a solid black piece of metal instead of pavers.
8. Pavers
Use brick pavers to cover your plain concrete patio. This dresses up the patio and makes it look more luxurious. You can also cover the patio in flagstone for a natural feel of rustic stones arranged together to create a smooth surface.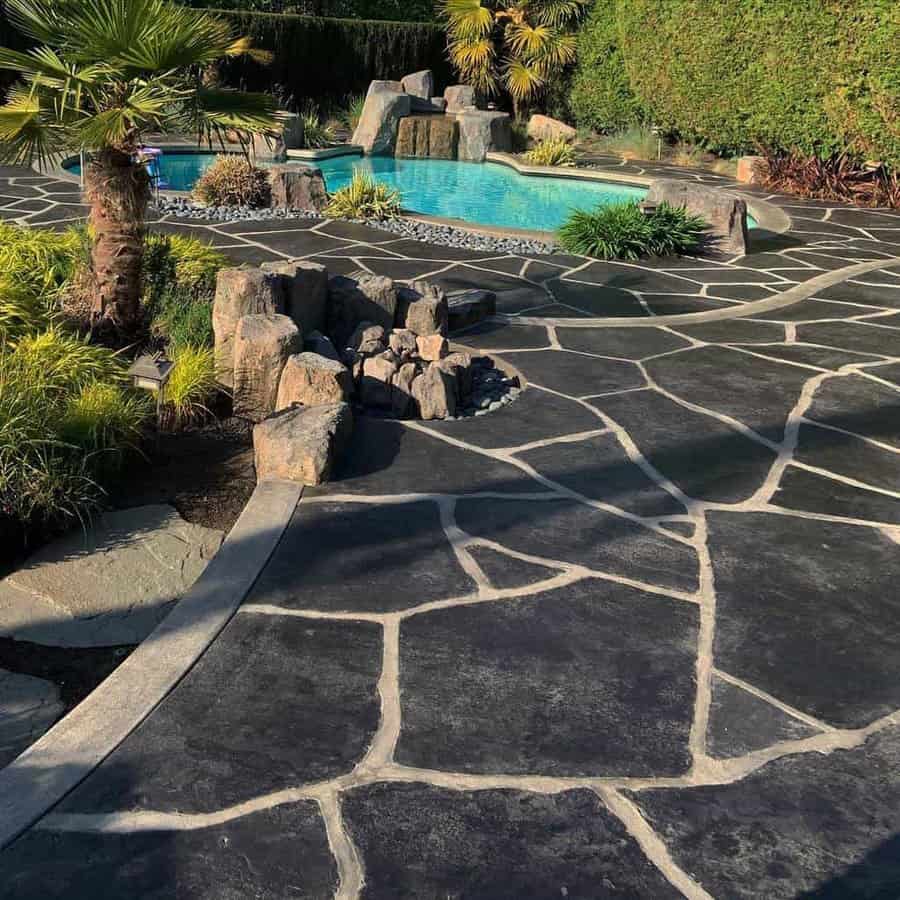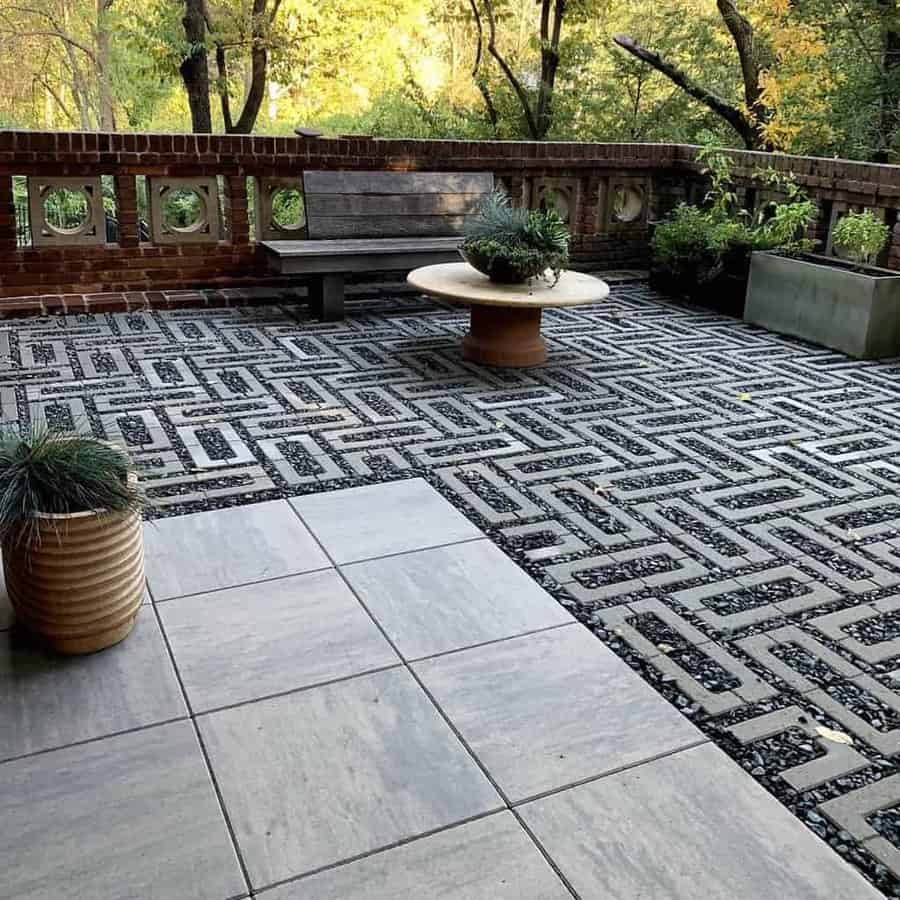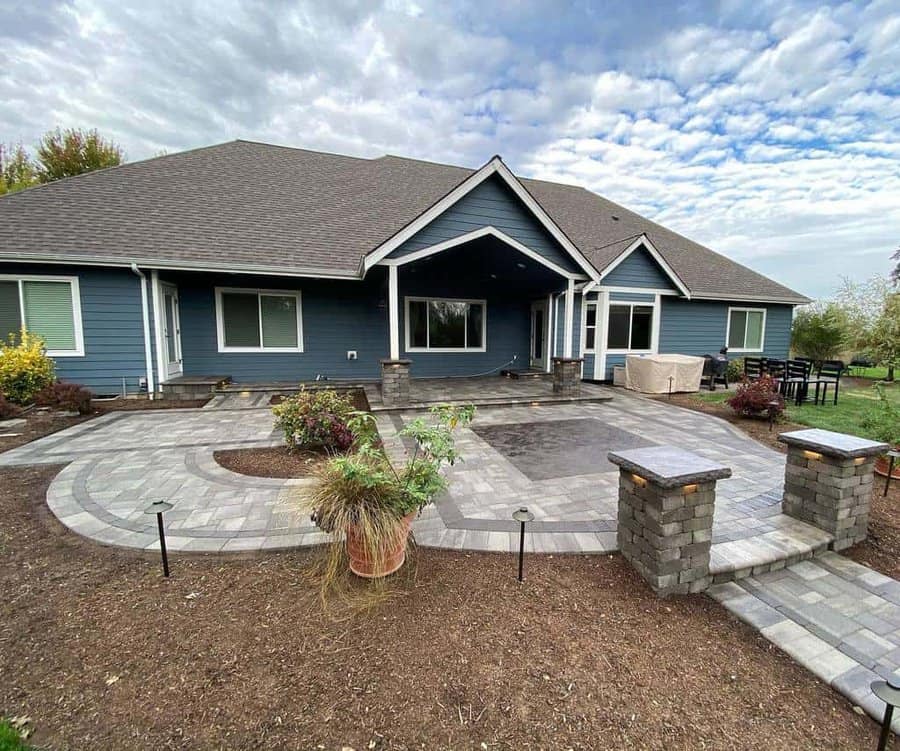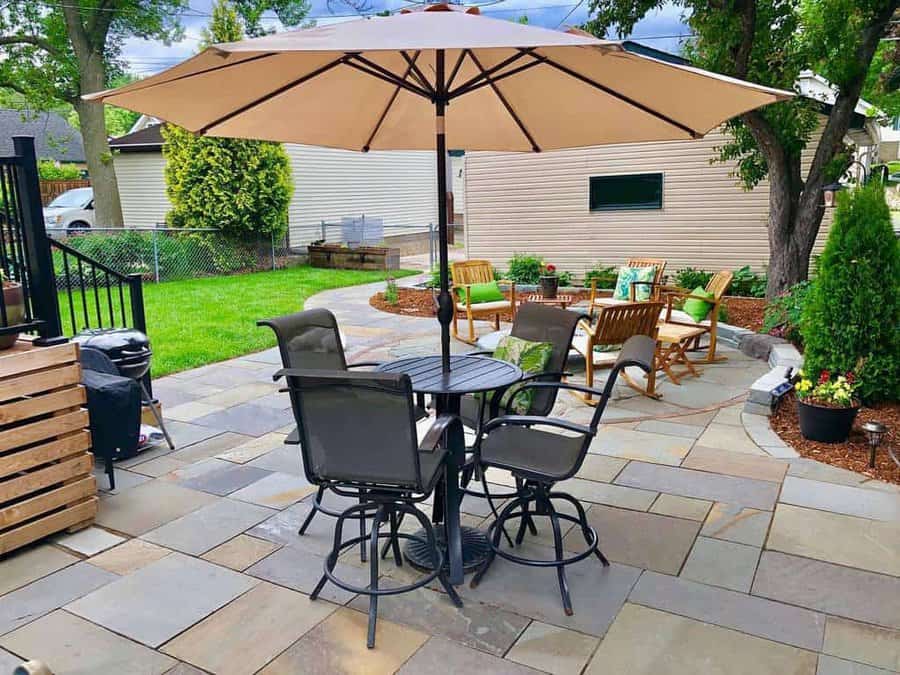 If you need to create a walkway in your yard, consider using concrete pavers. These are large square or rectangle-shaped pavers that you sink into the ground. Leave some space between them for a modern look.
Properties that have drainage problems need permeable pavers. These leave gaps between each of the pavers to allow water to flow through. This prevents standing water from pooling on the pavers.
9. Retaining and Garden Wall
Property that isn't perfectly flat presents a unique challenge. You can accept the property as-is and its limited use. Or you can build a stone wall to function as a retaining wall. This levels the ground and allows you to create a step-down design.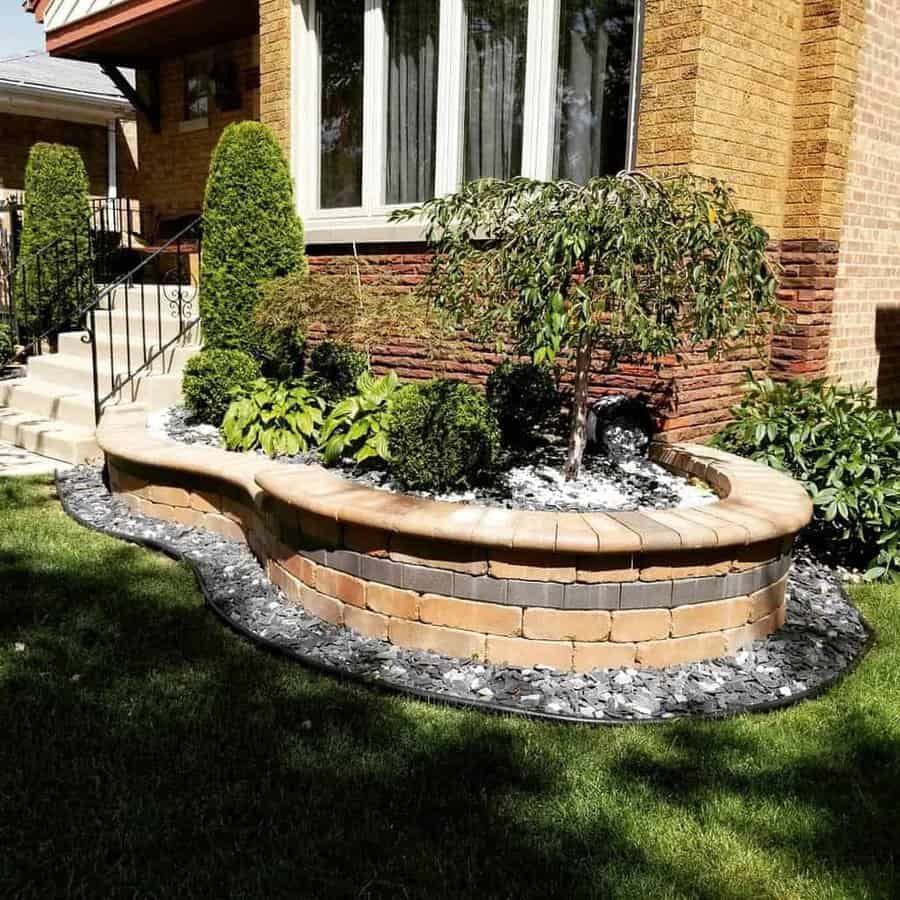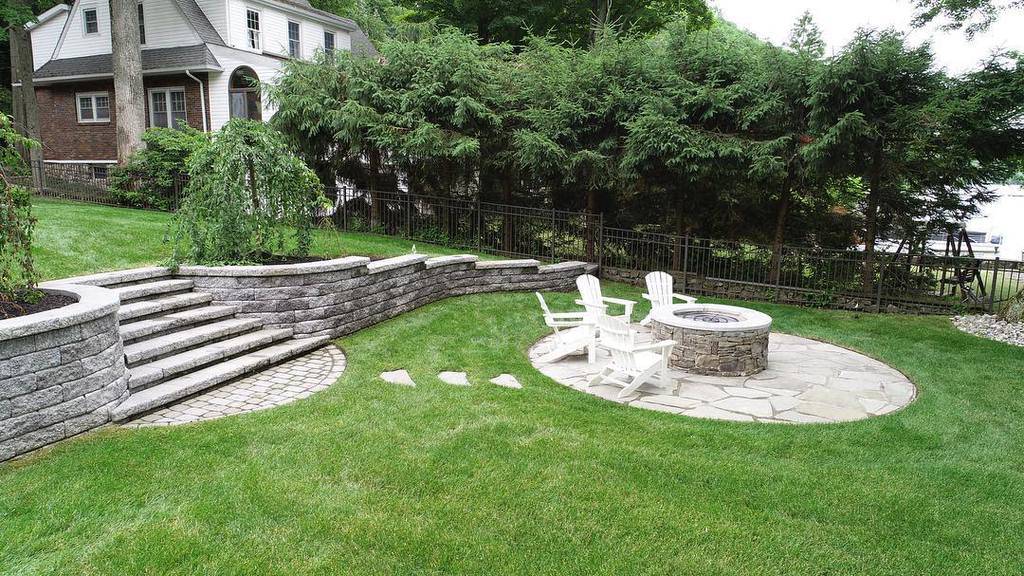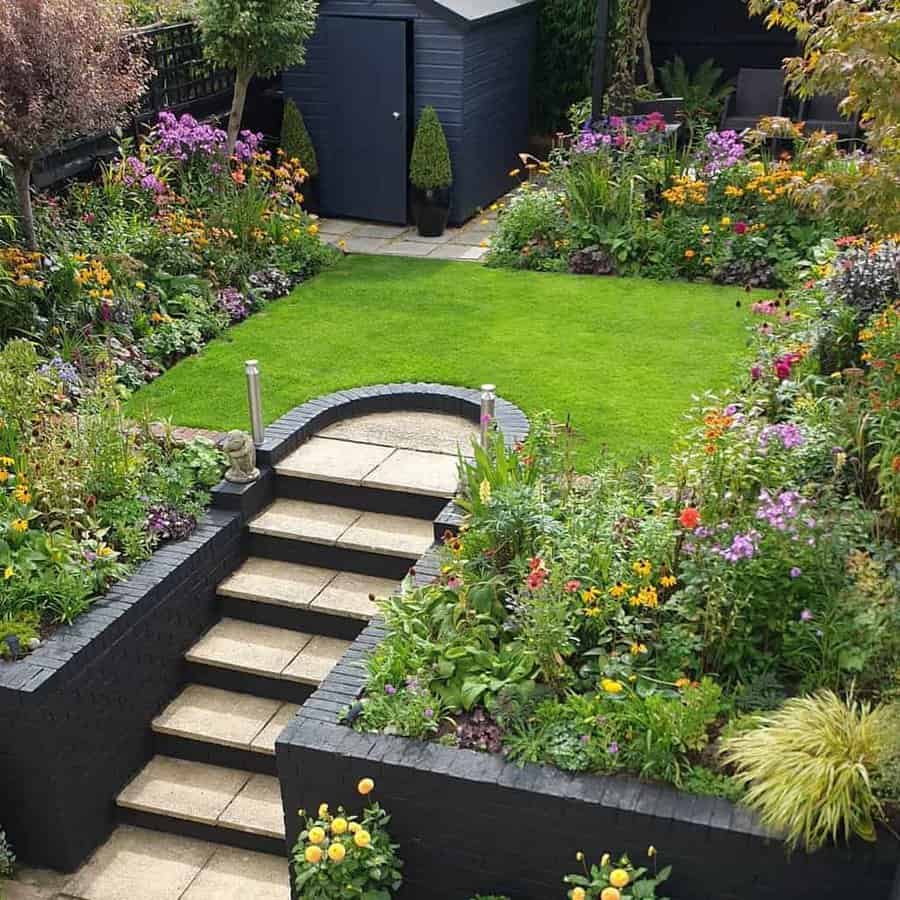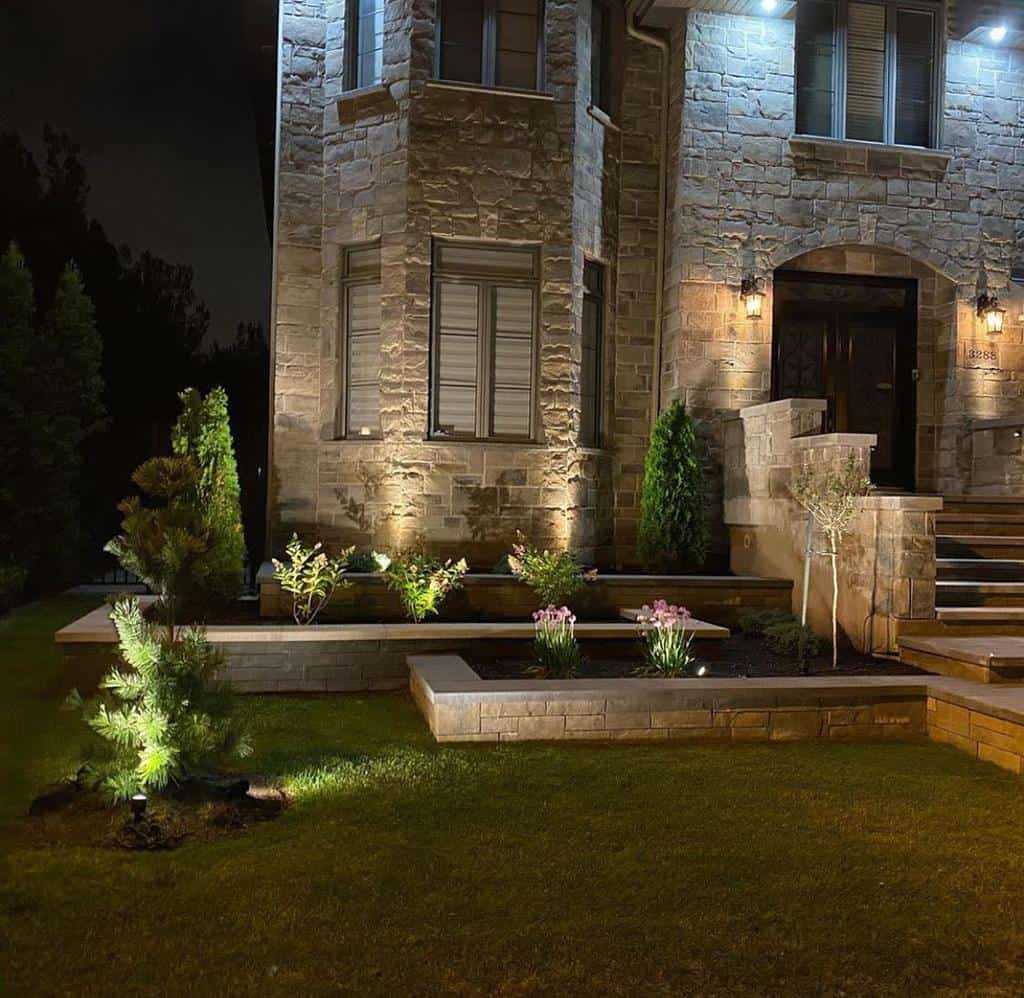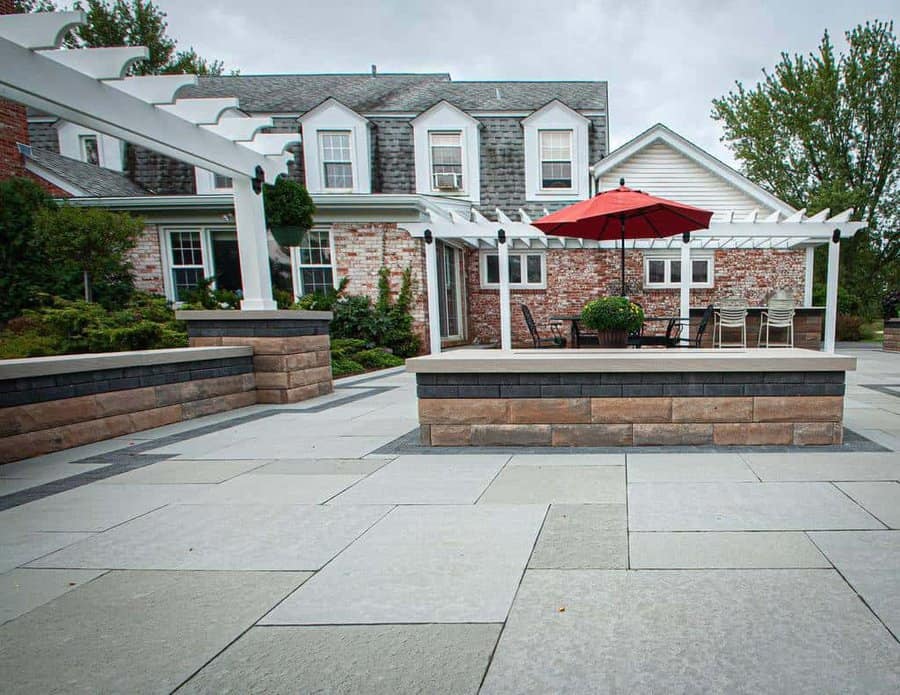 When building your retaining walls, you can use metal, wood, stone, or concrete. The height and thickness of your retaining wall will depend on how much earth it needs to hold.
If you aren't experienced, it's smart to seek out the assistance of a professional experienced in building these walls. Otherwise, you risk the wall collapsing under the weight of the earth it's holding.
10. Slope Garden
Instead of building retaining walls, you can embrace the slope in your yard. Create a backyard hardscape design that slopes down the property. You'll need to build water channels into the hardscape to allow for property drainage.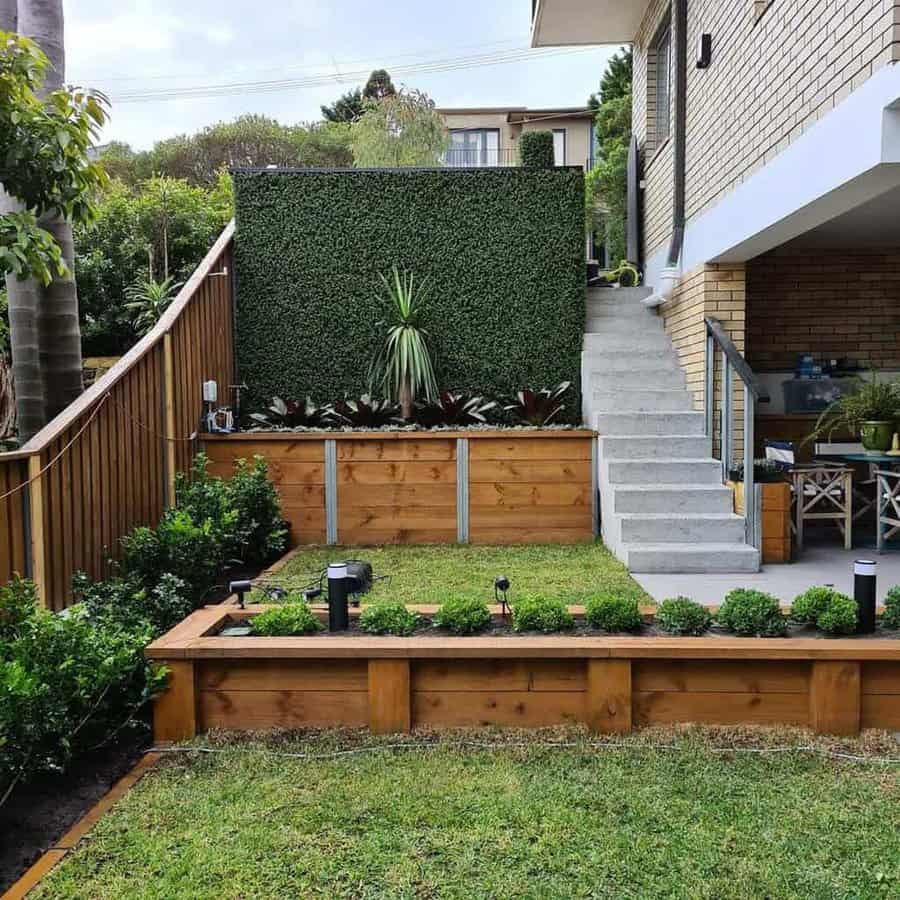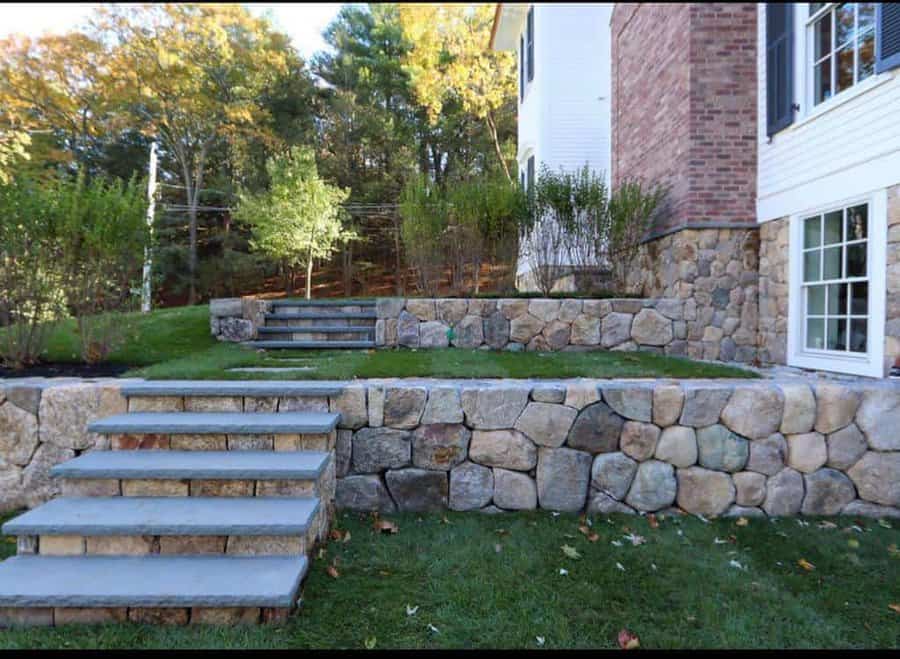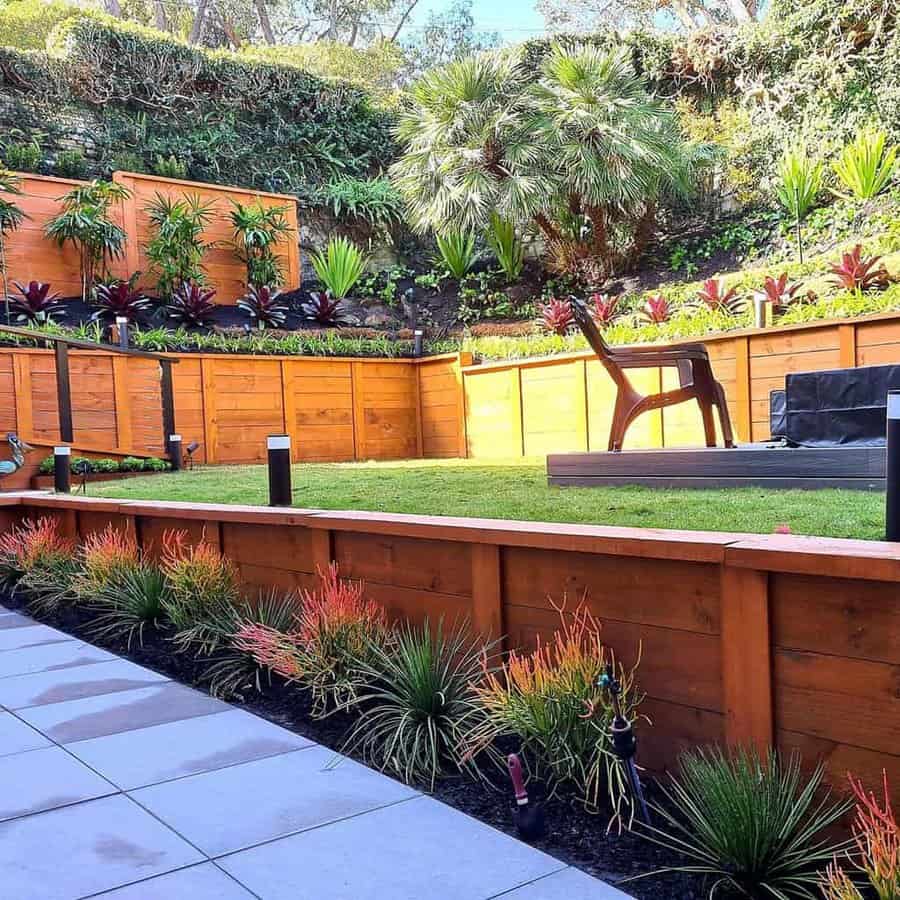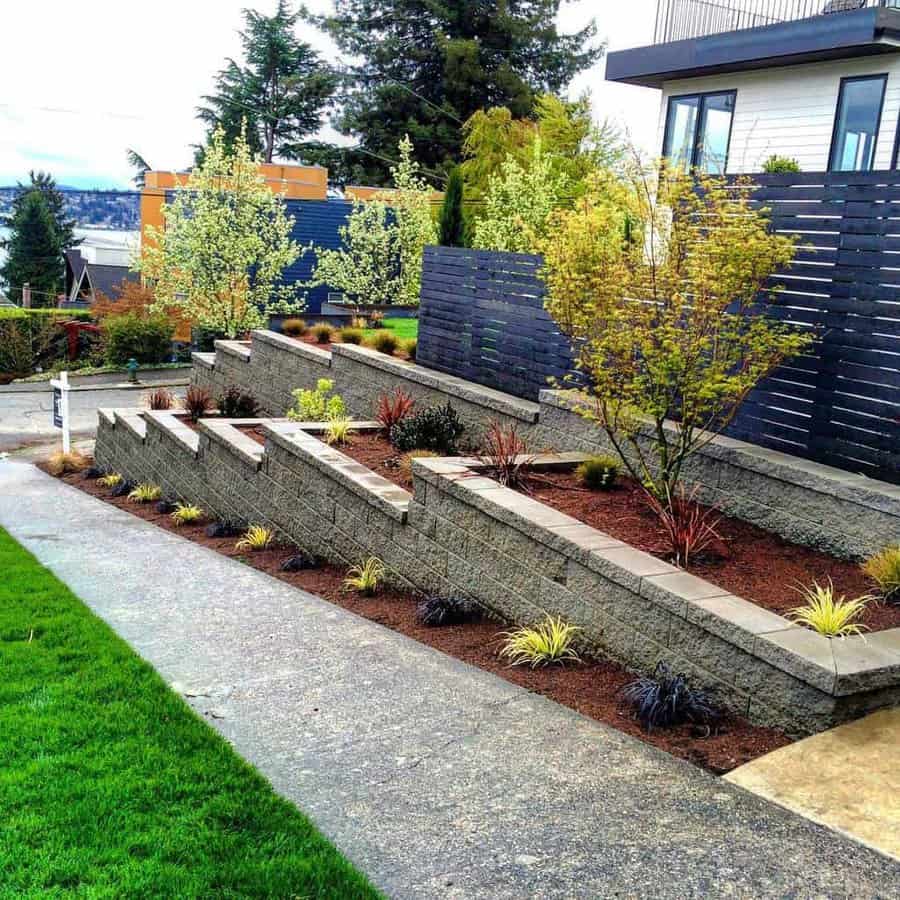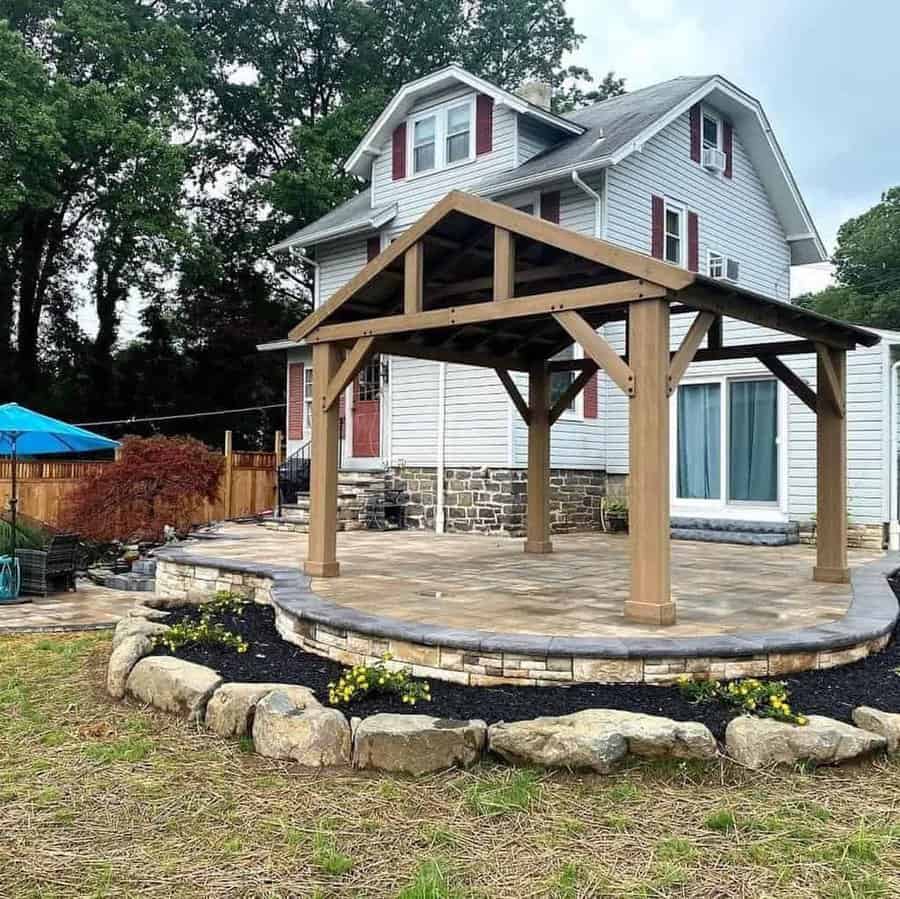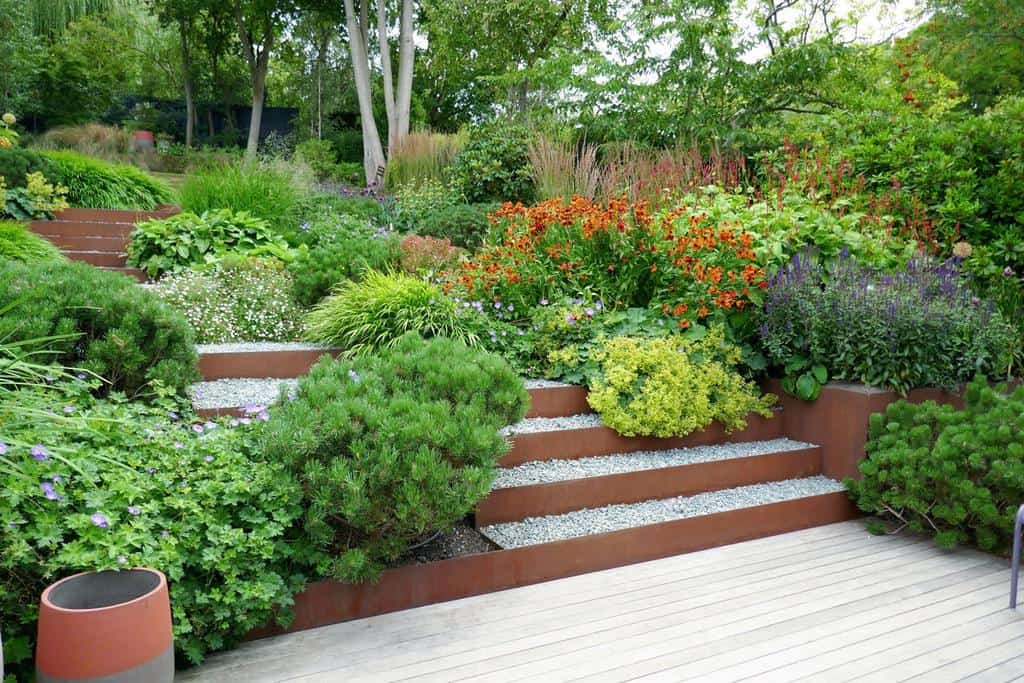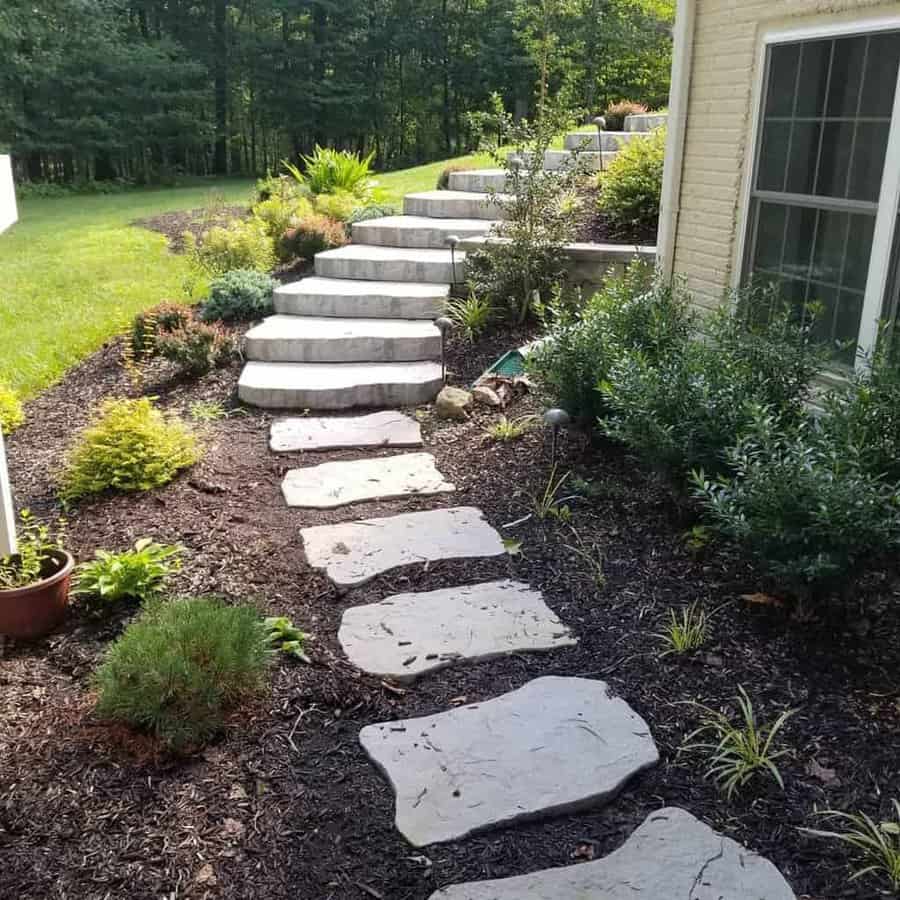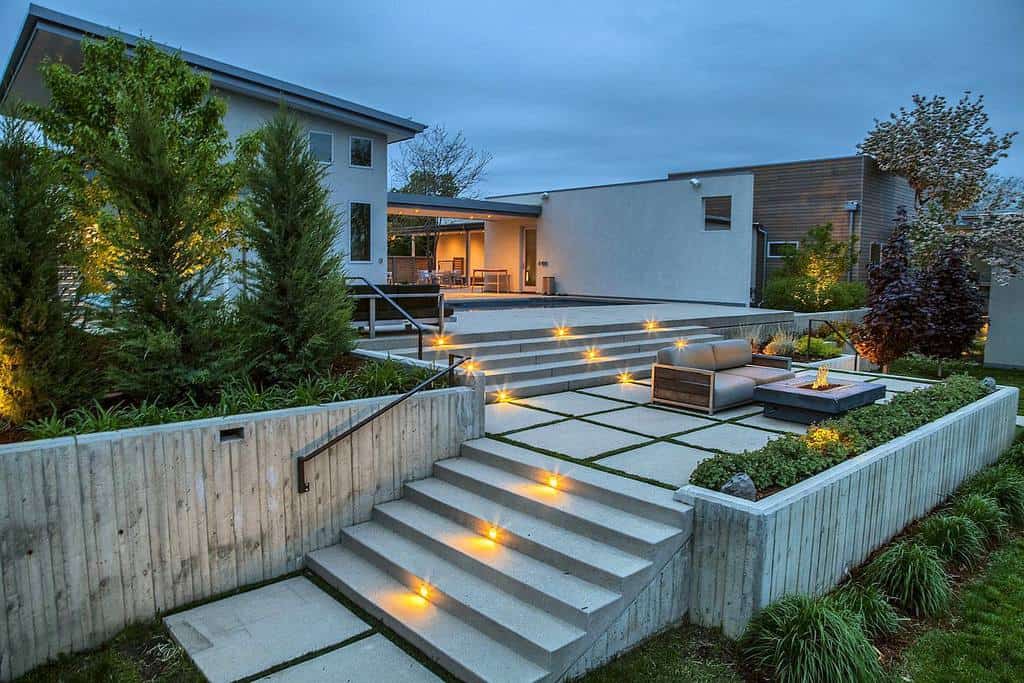 Build it into your lawn to encourage rich growth of the lawn and prevent depriving your lawn of moisture. Steps can also look good because they will follow the slope of the ground.
Large natural stones are perfect for this because they can be set into the earth. You could also use concrete to form the steps.
11. Walkway
A stone walkway gives you a designated place to walk through your yard. This prevents your yard from getting trampled on or killed. It also helps you define the space by having paths that lead to each area of your yard.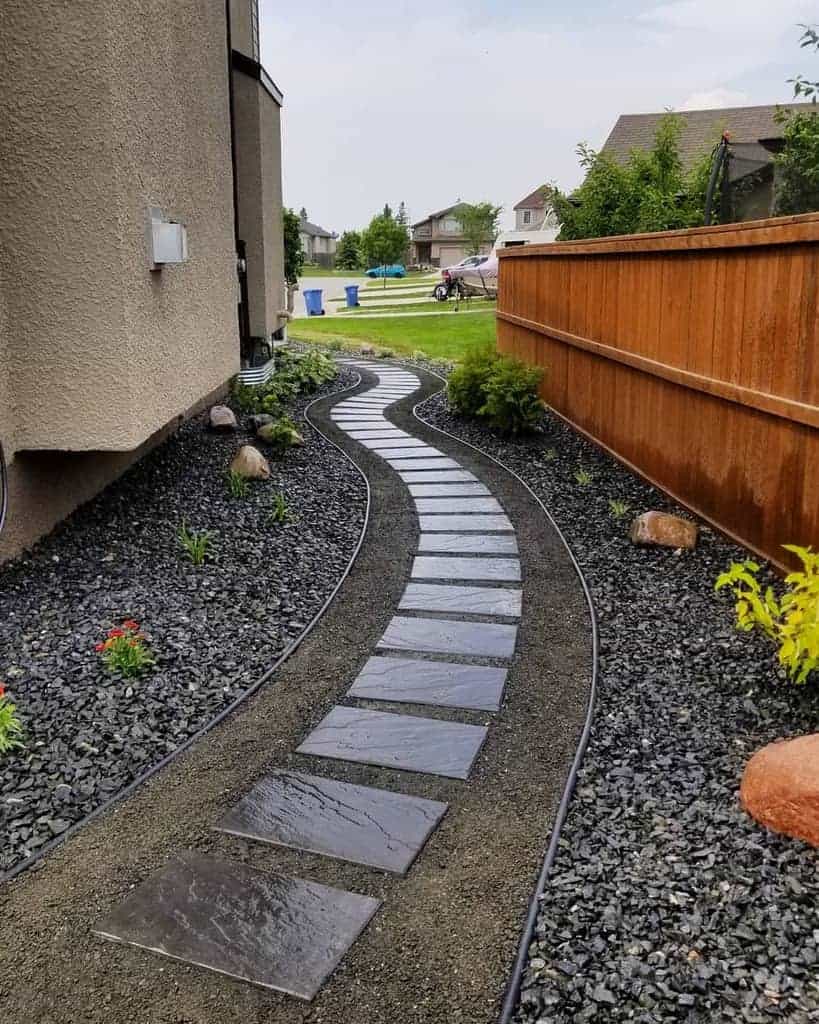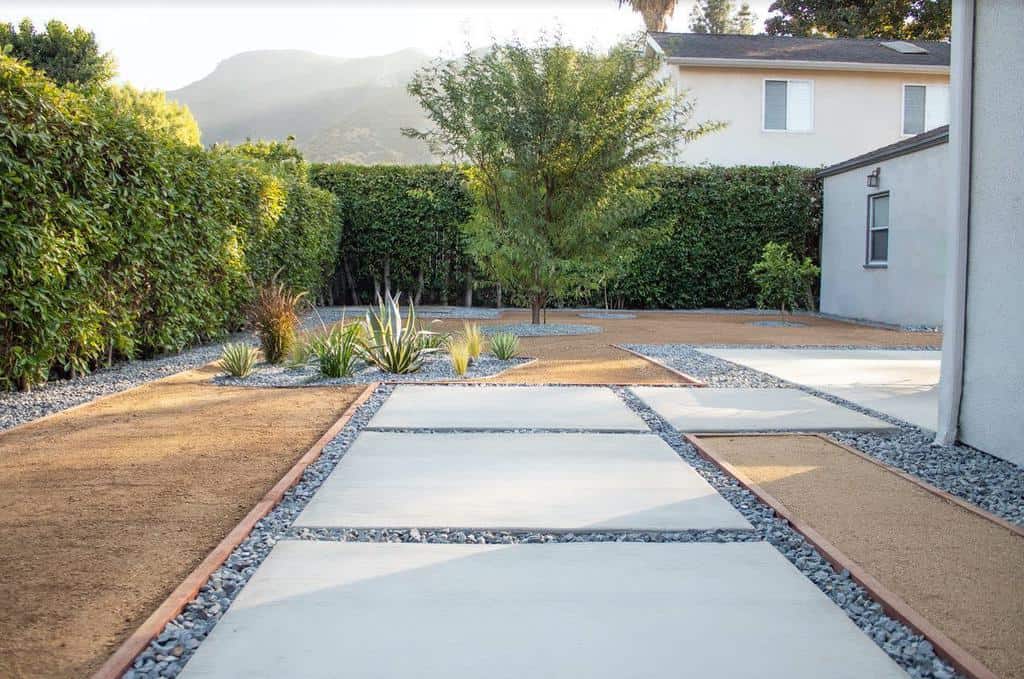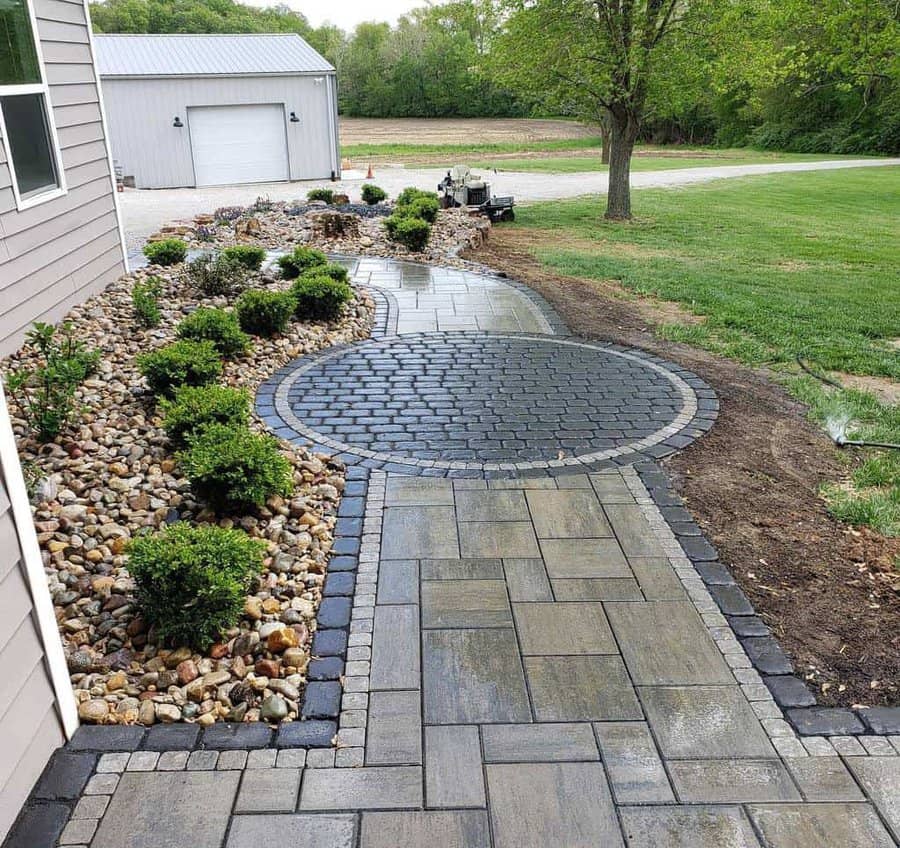 Start the walkway at your back door or leading off of your patio or deck. Then have it end at your raised planter garden, fire pit, pond, or pool. You can also have it wrap around your house to the front of your yard. Lay a walkway down in your front yard to increase your home's curb appeal.
12. Water Feature
Adding a water hardscaping feature to your backyard adds a natural soundtrack to your yard. You can do this with a fountain or small pond. Add natural stones around the edge and under the running water. This tumbles the water and creates more sound.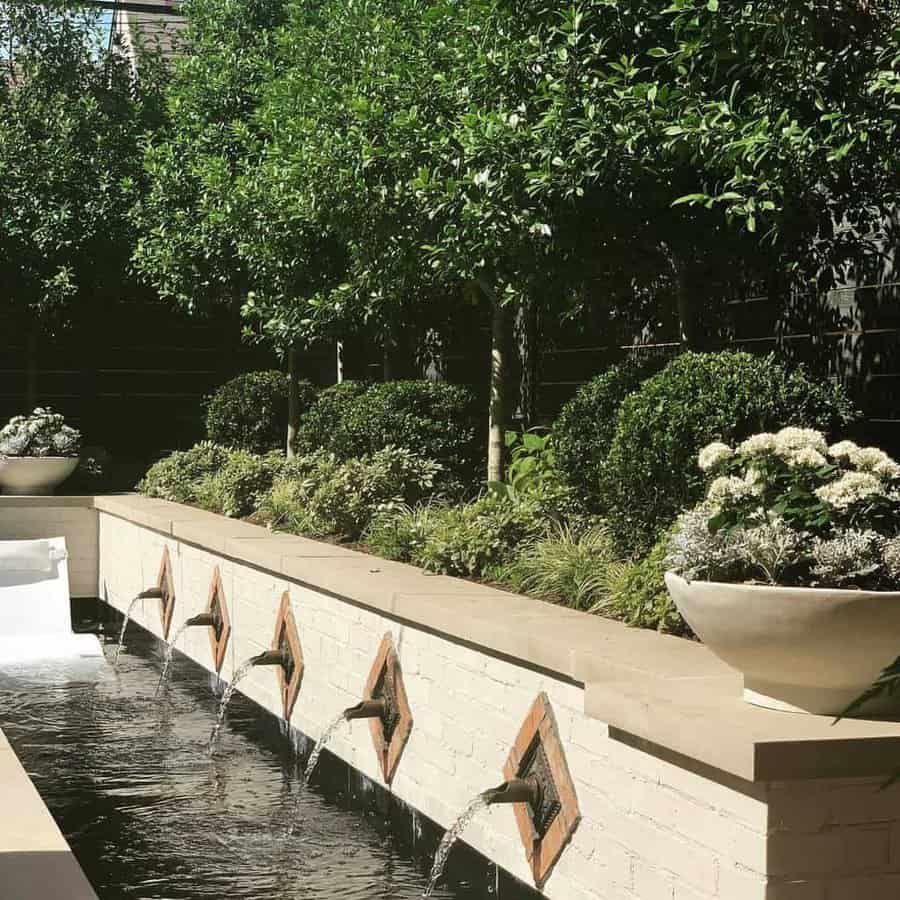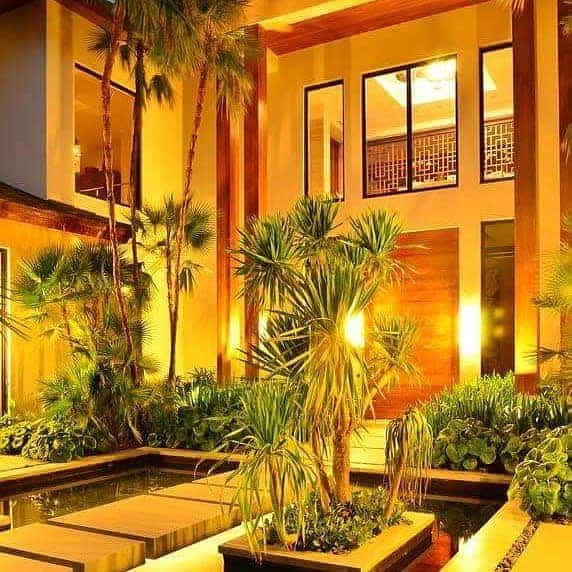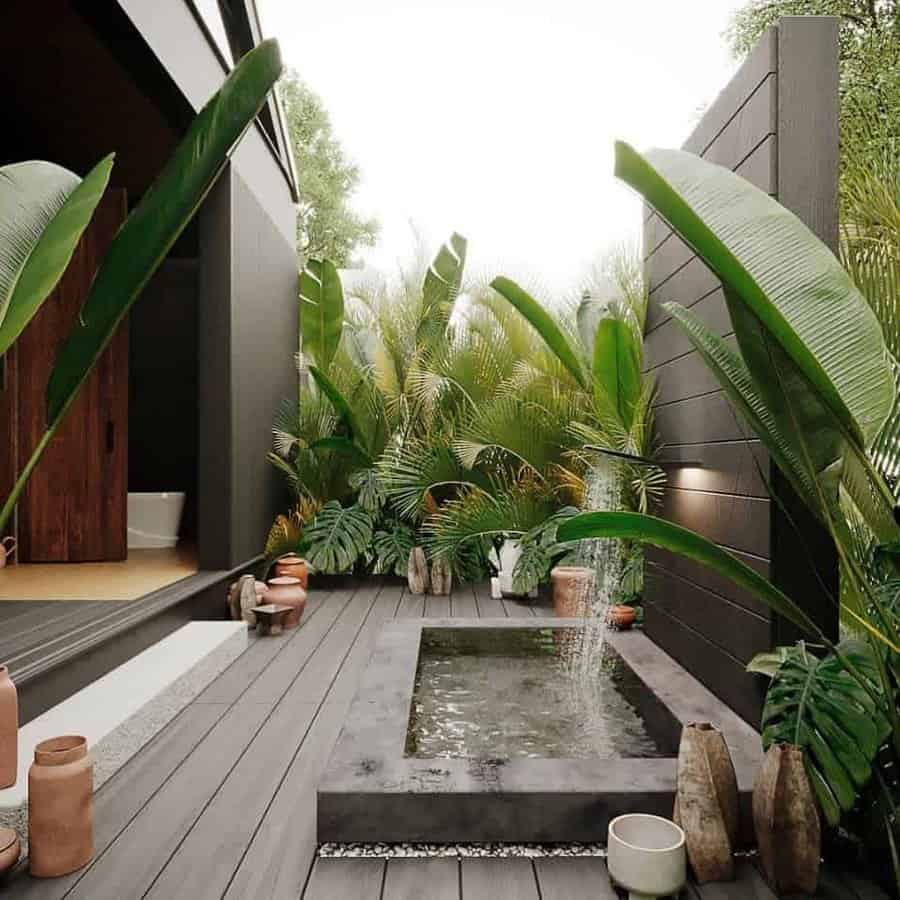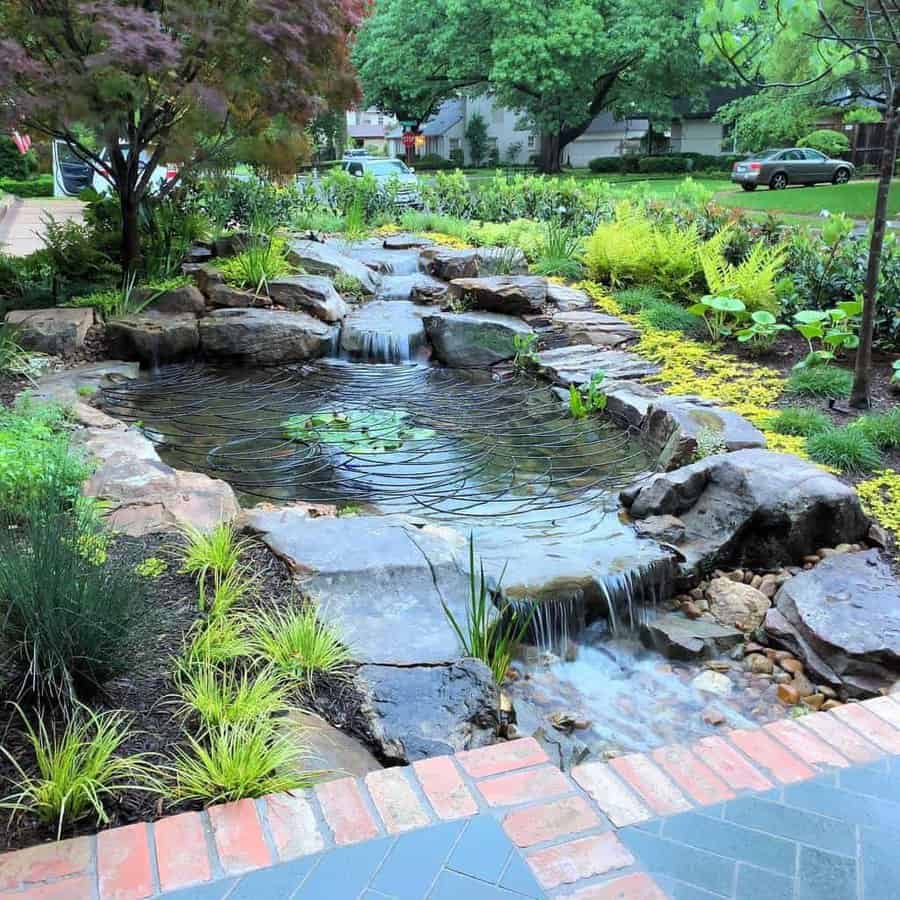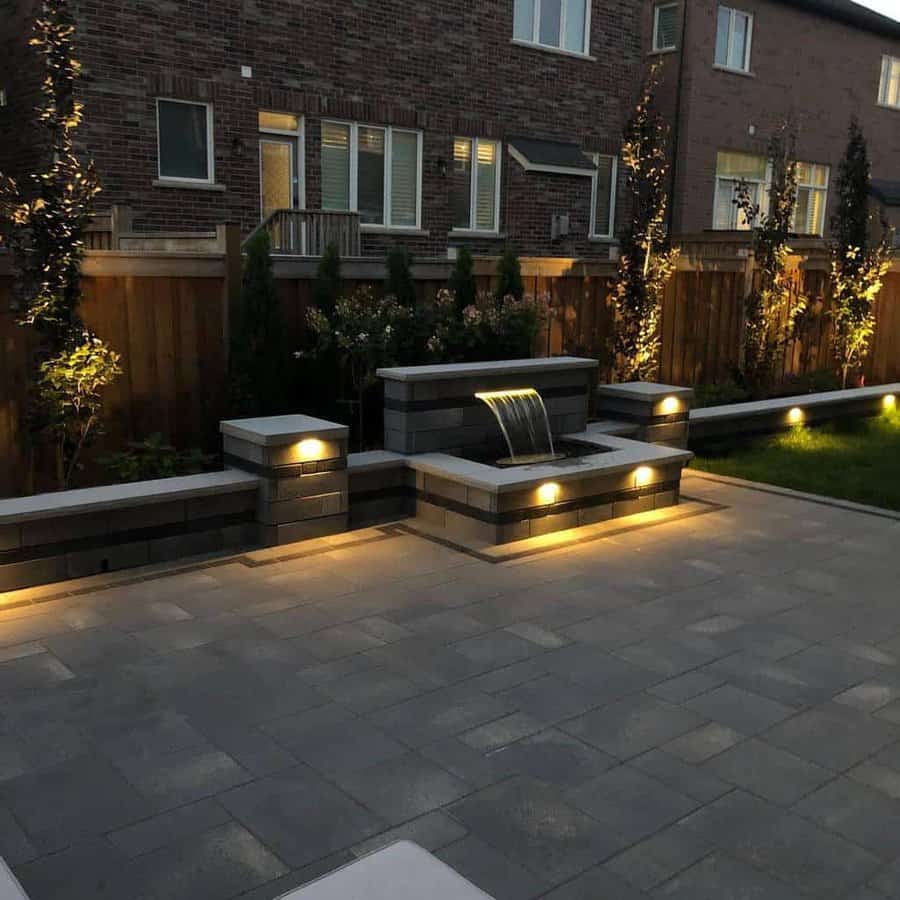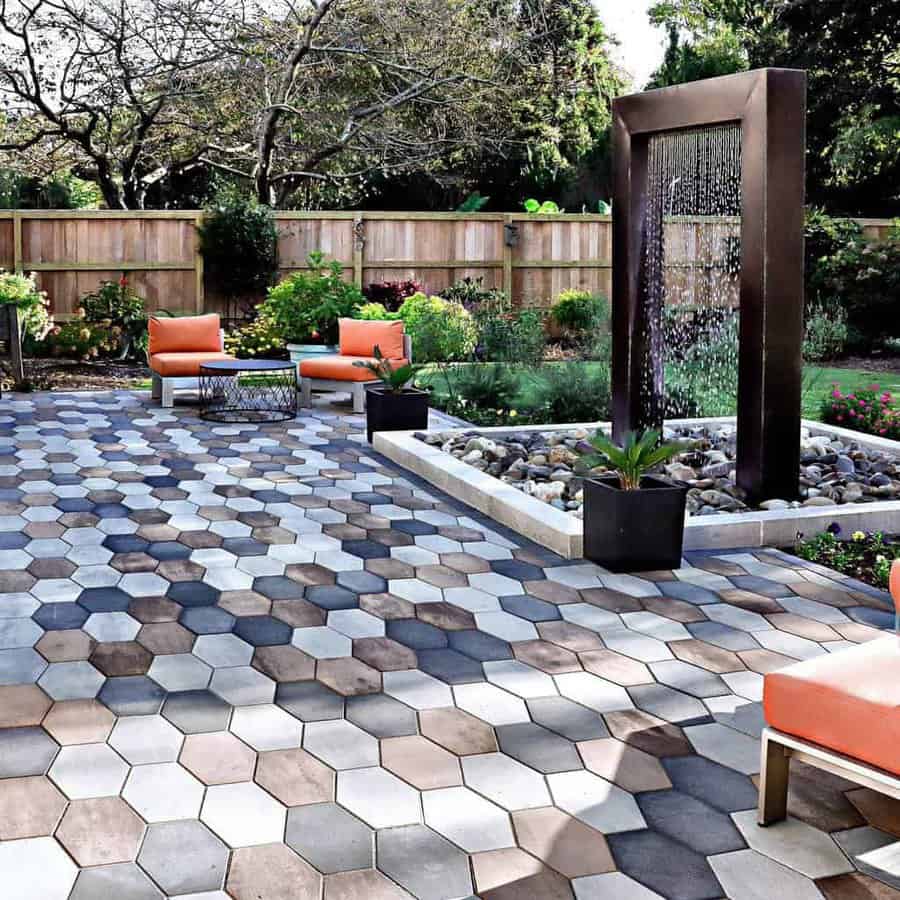 Scale the water feature to the size of yard you have. A small patio with limited space will look good with a pedestal fountain. A large sprawling property can support something larger, such as a koi pond.
For a modern look and increased privacy, add a water wall to your patio or deck. The cascading water will block your neighbor's sight while also creating a relaxing atmosphere.
Hardscaping FAQs
What is an example of hardscape?
Hardscape elements are the solid or hard elements of the backyard. These are solid and unchanging elements in your backyard. Examples of hardscaping are retaining walls, pavers, patios, outdoor kitchens, decks, driveway, stone, gazebo, outdoor fireplace, or the base of a water feature. It could be paving or a structure.
Does hardscaping add value to your home?
The right hardscaping can add value to your home. It can create more living space outdoors and increase the homeowner's enjoyment and use of the home. To add the most value to your home, add hardscaping that creates functional spaces, such as a patio, deck, or stonework.
Is hardscaping a good investment?
Yes, investing in hardscaping projects is a smart idea. It will give you more usable space outside. You'll also enjoy a high return on investment when you go to sell your house. This type of home improvement project is as popular as a bathroom or kitchen renovation.