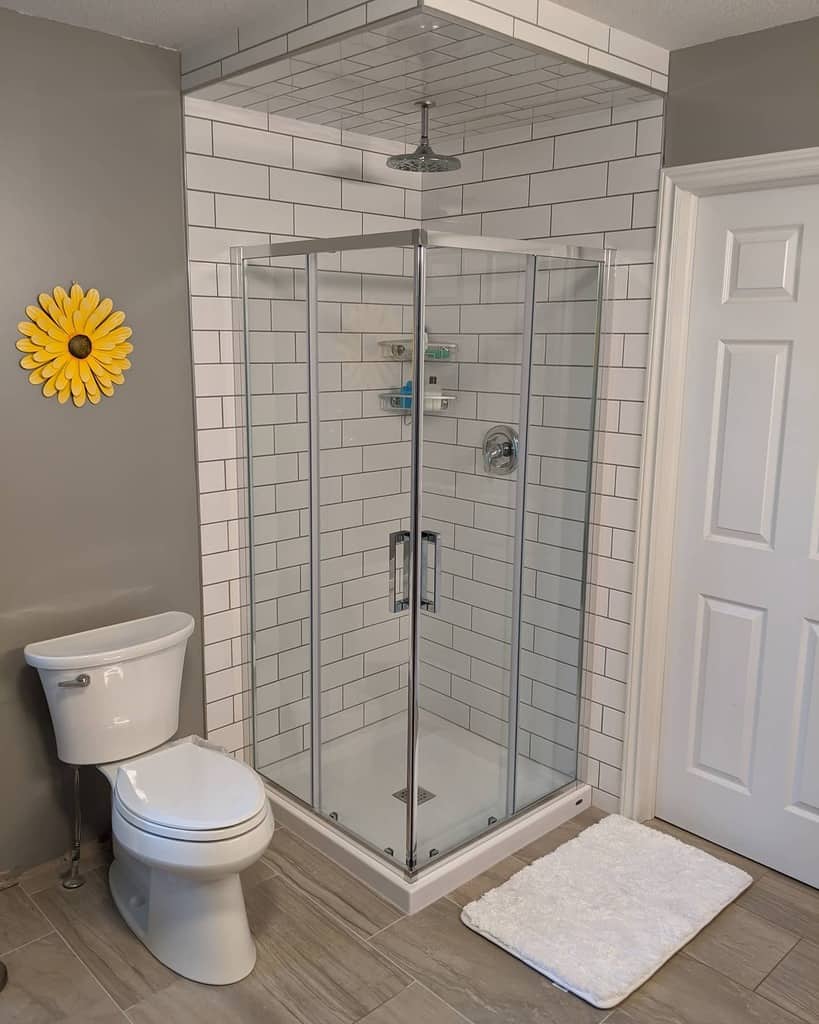 You bought your house with the idea that you would remodel your bathroom one day. It's been years, and you've never gotten around to remodeling the bathroom. Every day you are reminded of how much you hate your master bathroom shower. Well, now is the time to do something about that less-than-desirable shower.
These bathroom shower ideas will help you choose the best design for your bathroom.
1. Opt For Marble Walls
A marble-tiled bathroom shower can offer an elegant atmosphere for a good, hot shower at the start or end of each day. Selecting either a black or gold fixture to pour out the water can be tailored to individual interior preferences, and marble walls keep things looking rich and polished.
For those who want to feel indulgent from time to time, marble showers can help turn an otherwise mundane routine into something luxurious.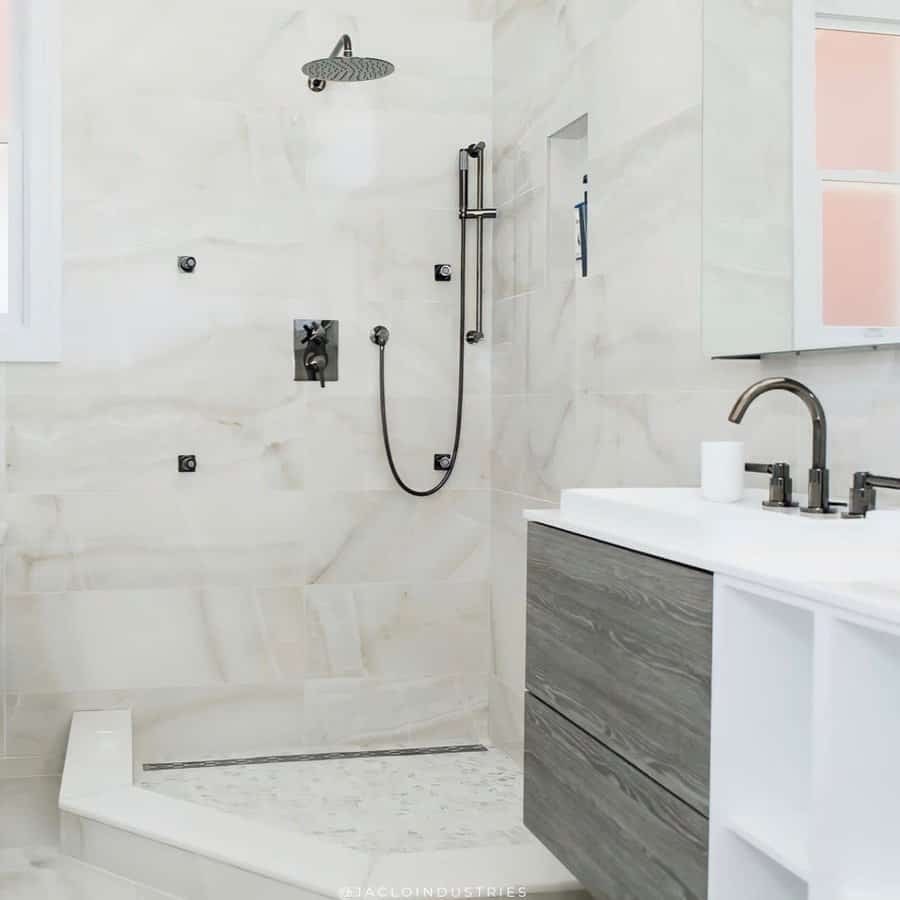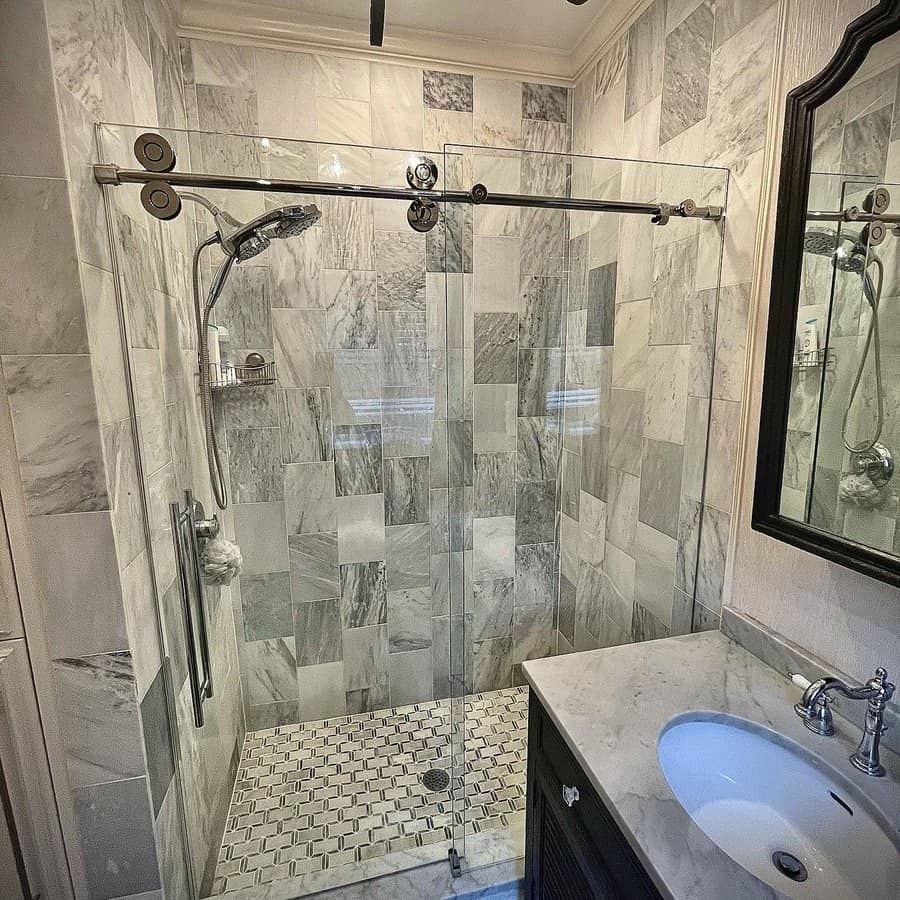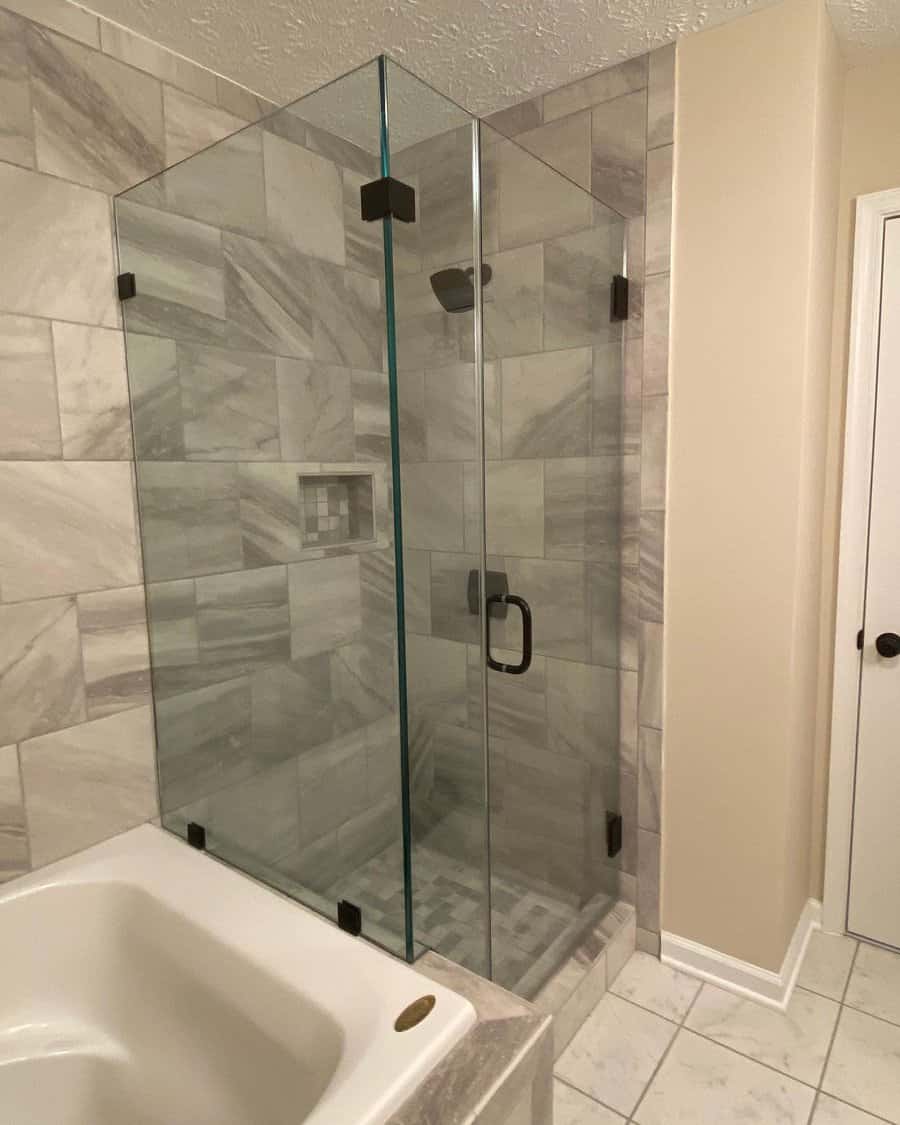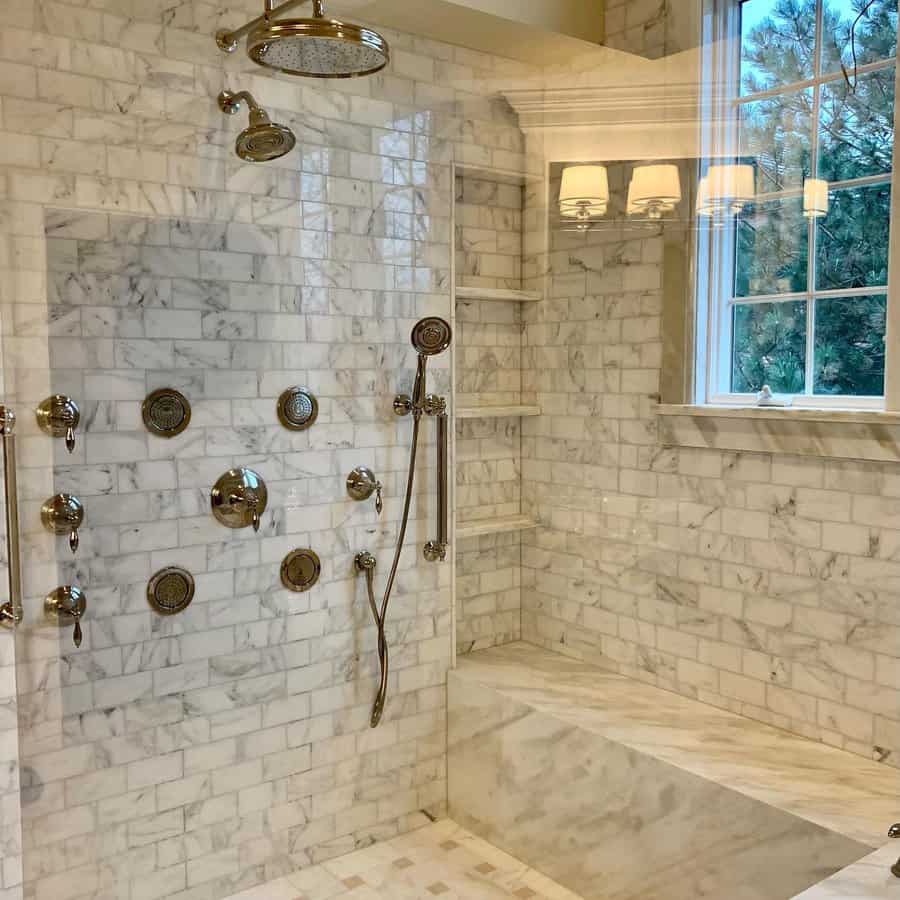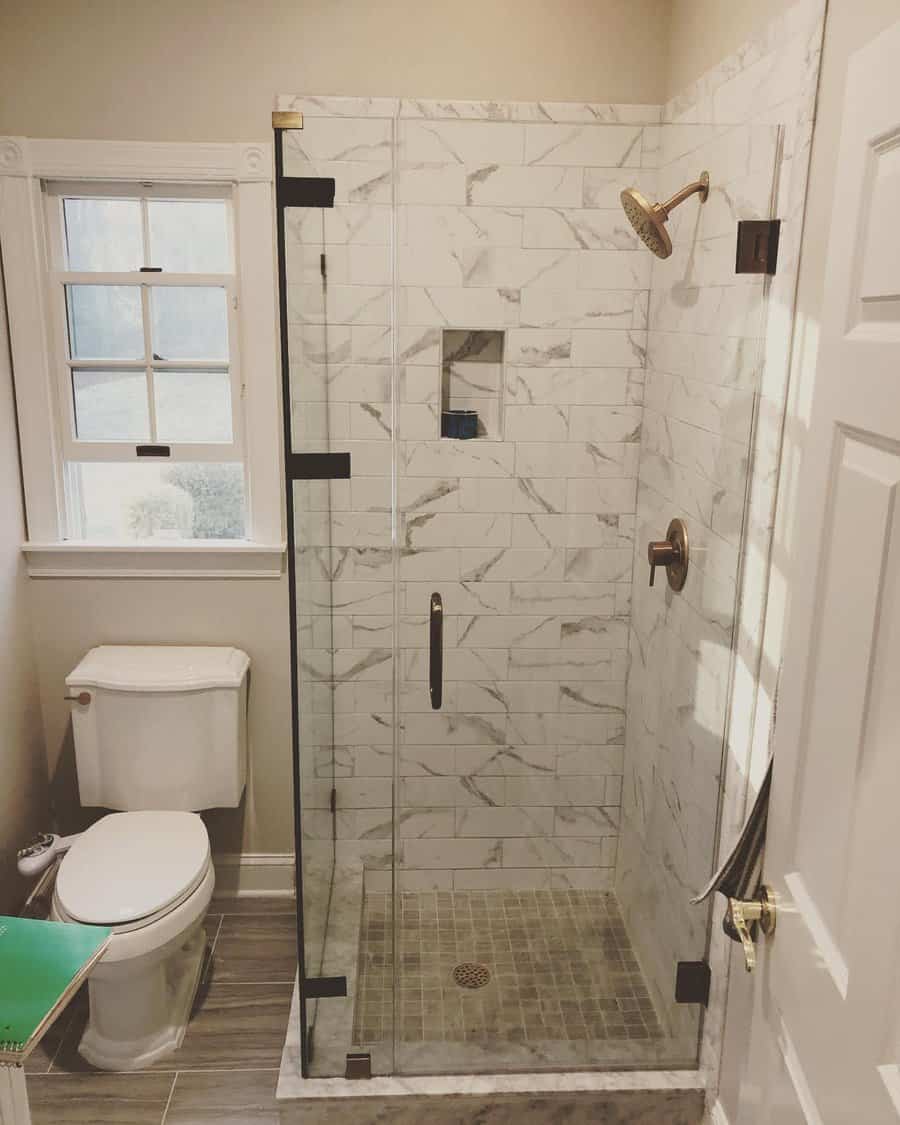 2. Play With Pattern
Printed wallpaper and decorative tiles can be used to great effect in creating a comfortable and vibrant atmosphere. Or, if you're in the mood for something even more unique, why not mix and match printed wallpaper designs with decorative tiles and other materials?
With a bit of imagination, there's so much fun to be had – be playful with your design choices and explore different color combinations for an effect that's truly one-of-a-kind.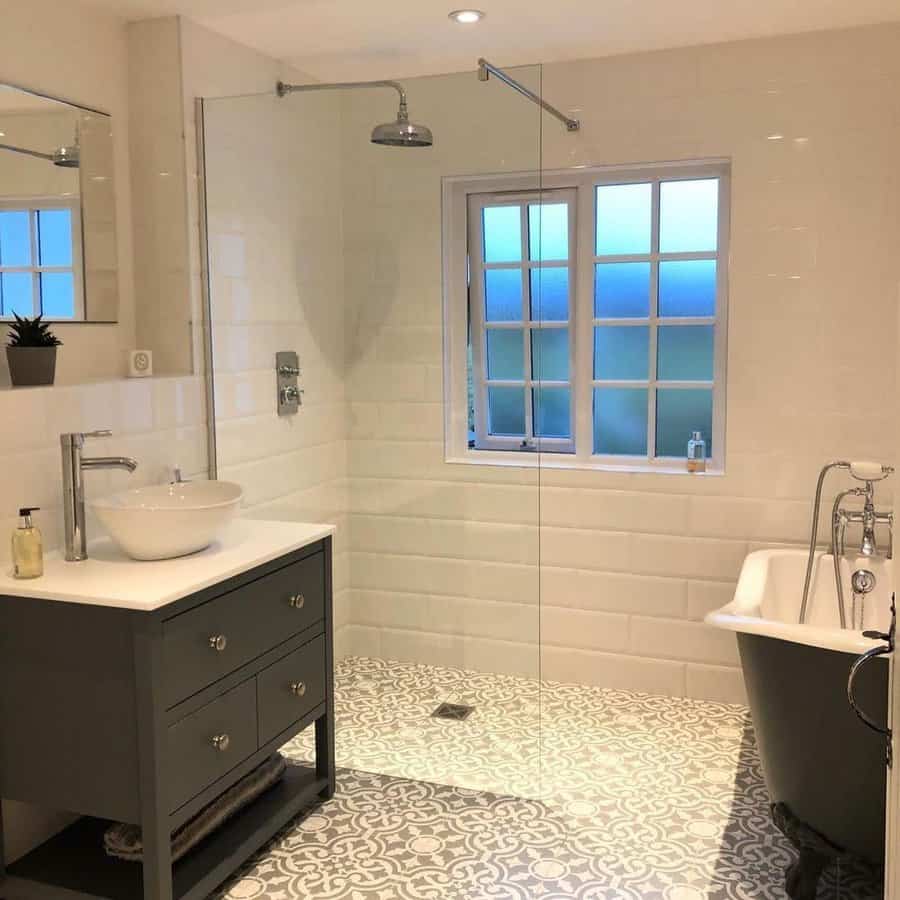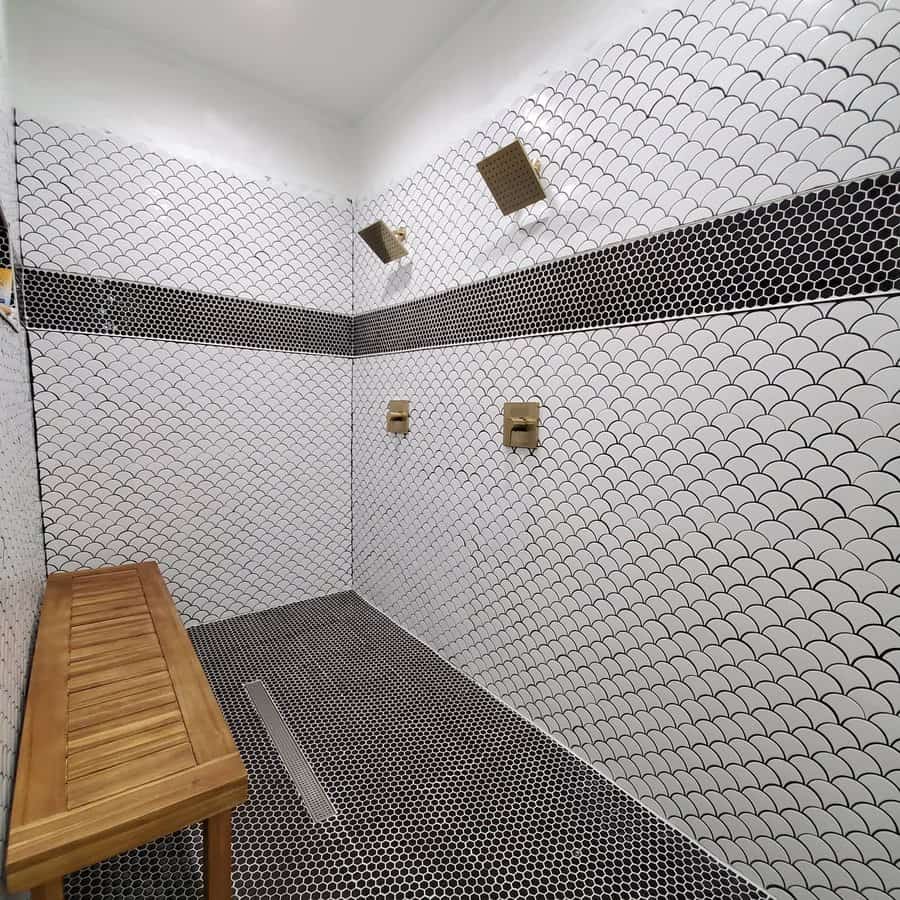 3. Install Gold Fixtures
Taking a shower in a gold-fixtured bathroom is like walking into a wonderland. Every morning, you can start your day feeling royal and ready to conquer the world. Everything is sparkling with gold fixtures and a pristine white interior that makes the gold stand out even more.
Add some graphic tiles on the walls for extra character and personality, and transport yourself from an ordinary space to a goldmine of relaxation!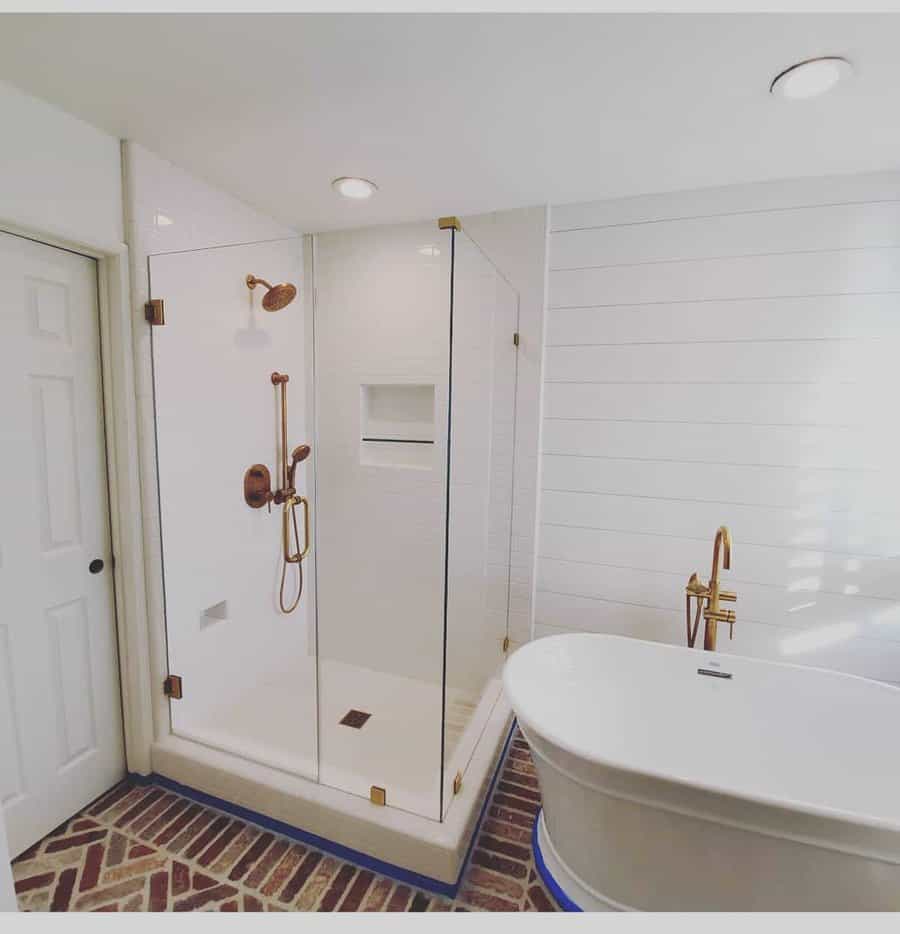 4. Install A Quadrant Corner Shower Door
There's nothing better than a quadrant corner shower door to give your bathroom the perfect look. Not only is it ultra-stylish and modern, but it's also incredibly functional. It's perfect for small bathrooms due to its shape, allowing maximum space while fitting snugly into the room corner.
If you want to make a statement in your bathroom, quadrant corner shower doors are just what you need – they'll take your bathroom experience to the next level!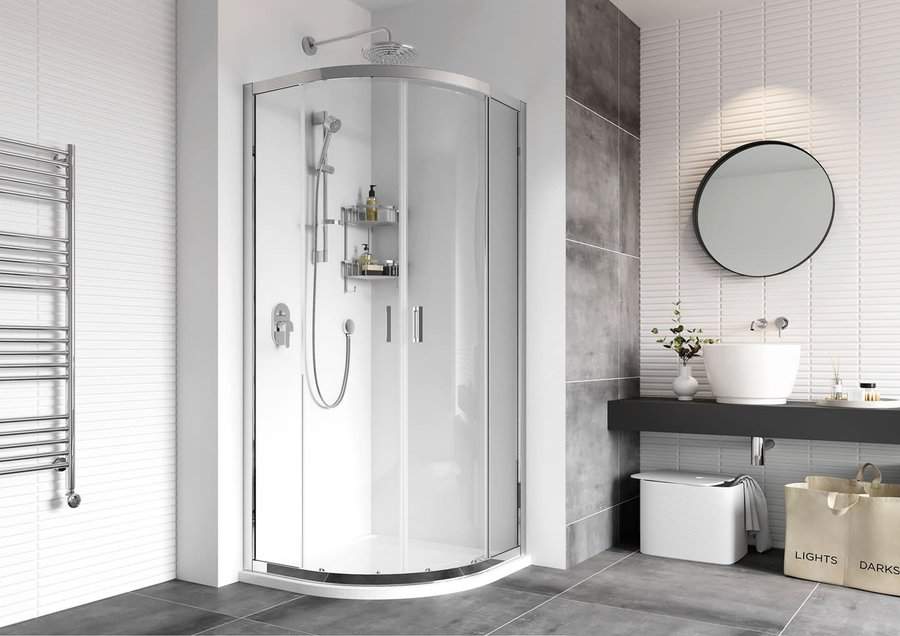 5. Add A Frosted Window
Nothing quite compares to that feeling of privacy and indulgence when you step inside your bathroom shower. It's like the door shuts out the world, leaving you in a quiet oasis to de-stress and just enjoy being immersed in bright diffused light.
With privacy glass windows providing a buffer from the outside world, your bathroom can become its own sanctuary where privacy is perfectly balanced with natural light to make for an invigorating shower experience.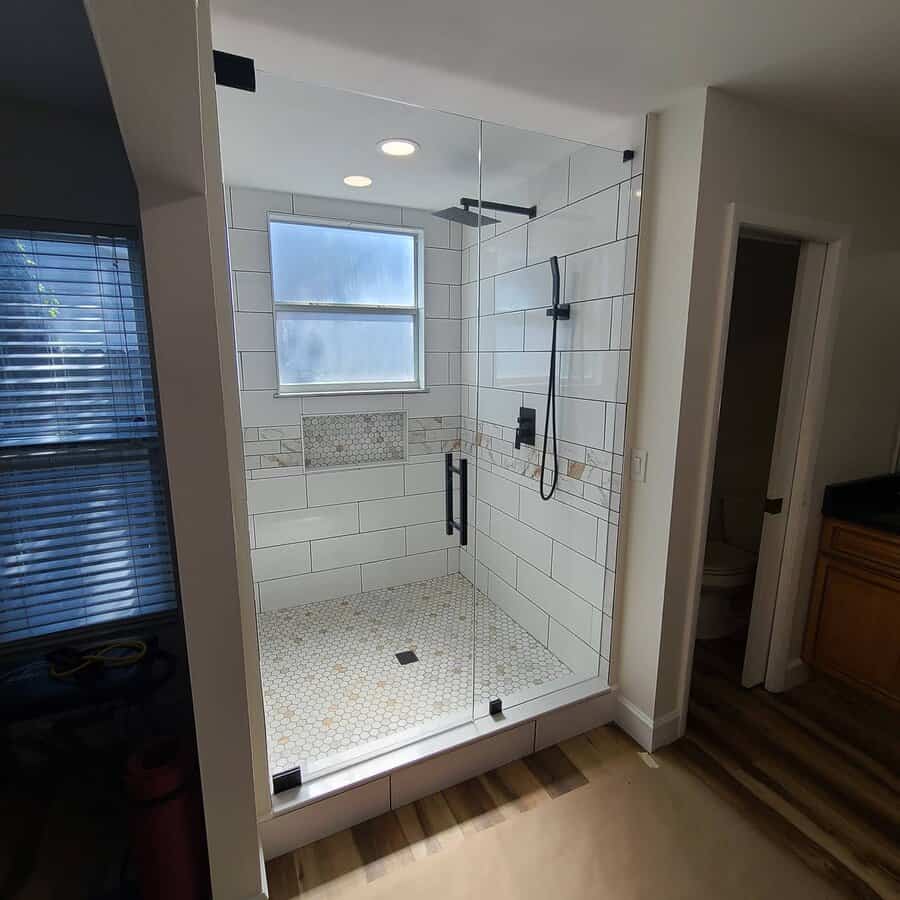 6. Install Black Fixtures
For those with industrial or minimalist sensibilities, a bathroom shower with black fixtures is the perfect way to achieve that style. Black pairs perfectly with other industrial elements such as white and wood for a modern yet edgy look.
Best of all, black fixtures are low maintenance and durable, so you never have to worry about making your industrial design dream space look anything less than polished and sleek.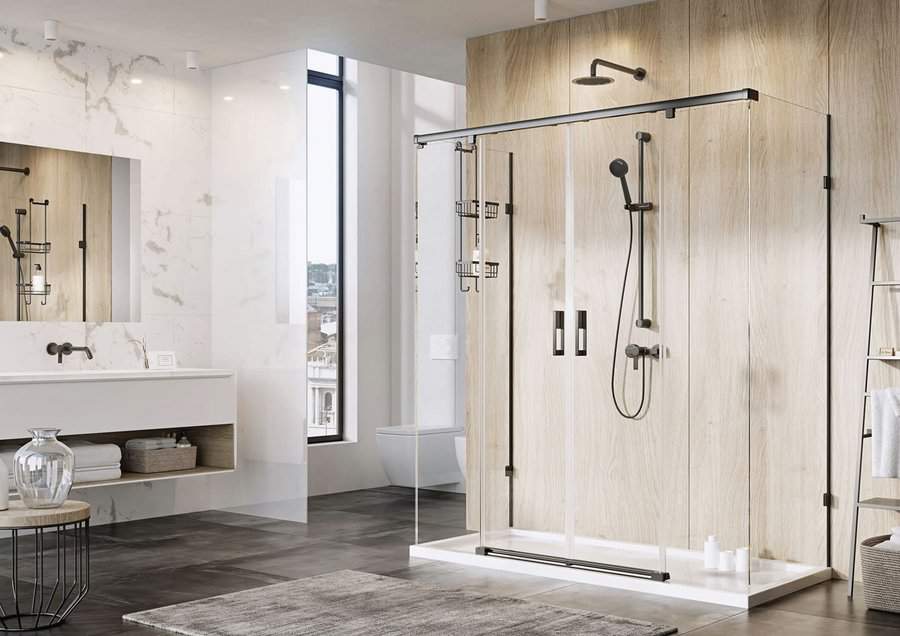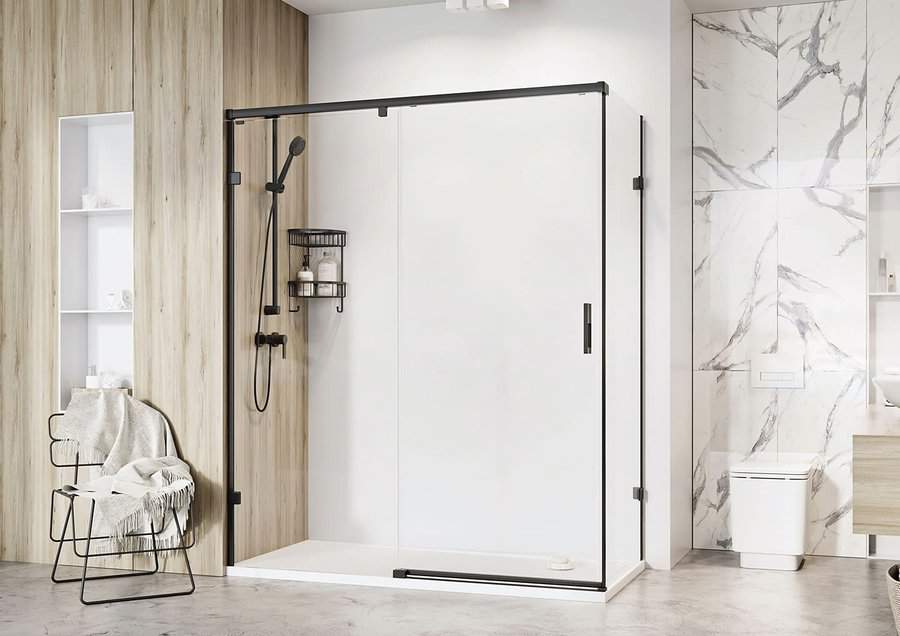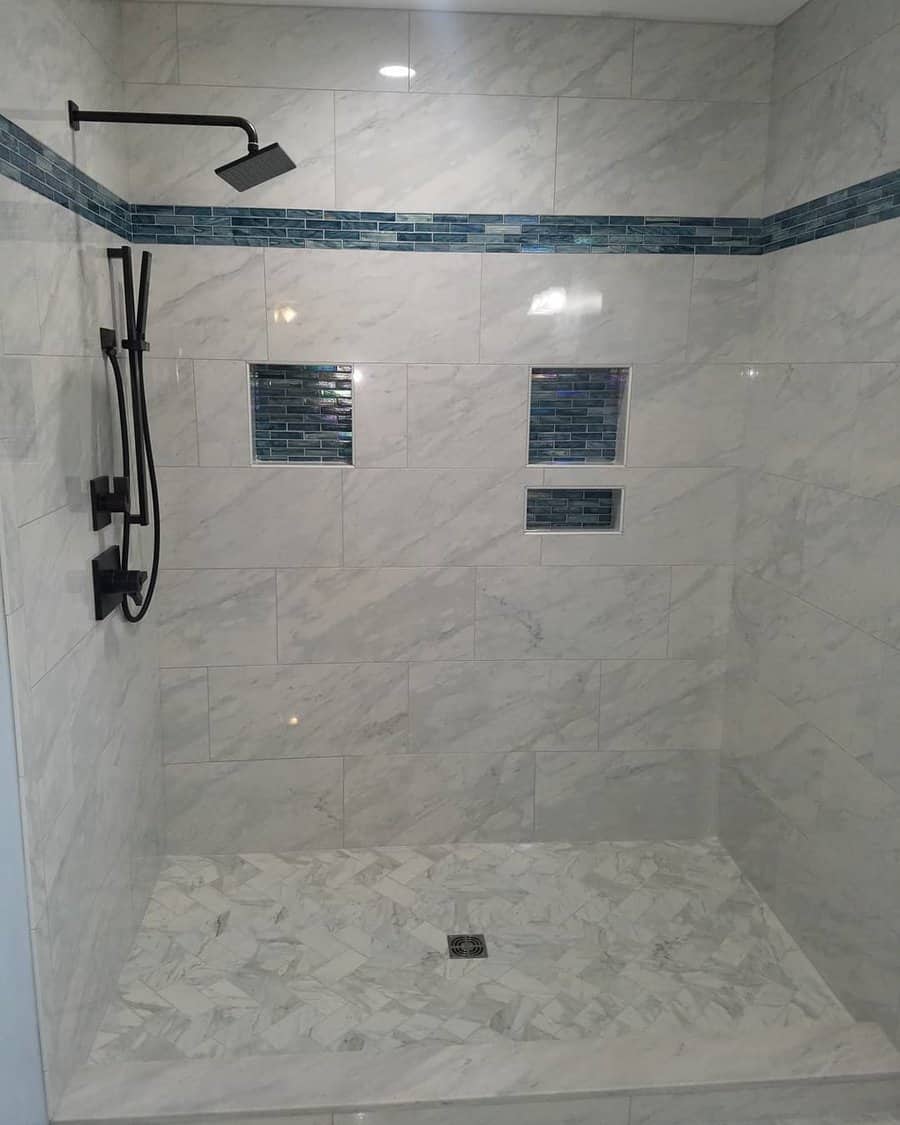 7. Build A Multi-Purpose Corner Seat
The bathroom just got a major upgrade with the addition of a corner seat in the shower. Not only is this multi-purpose piece of furniture convenient – you won't have to worry about bringing a chair into the shower again – but it also offers a relaxing, spa-like experience that can't be replicated anywhere else.
Whether you're shaving your legs, washing your dog, or simply enjoying the steam and heated water, this corner seat provides comfort and functionality for any bathroom project.
No longer do we have to settle for standard showers; now we can create multi-functional spaces with style and personality in our homes!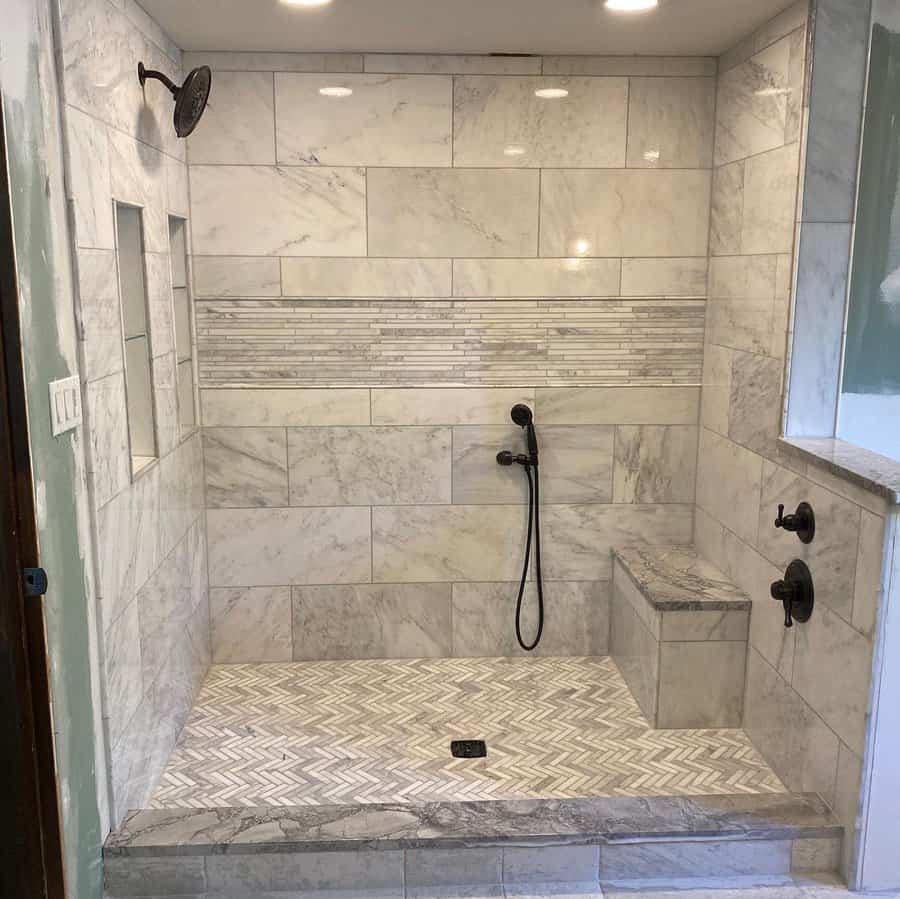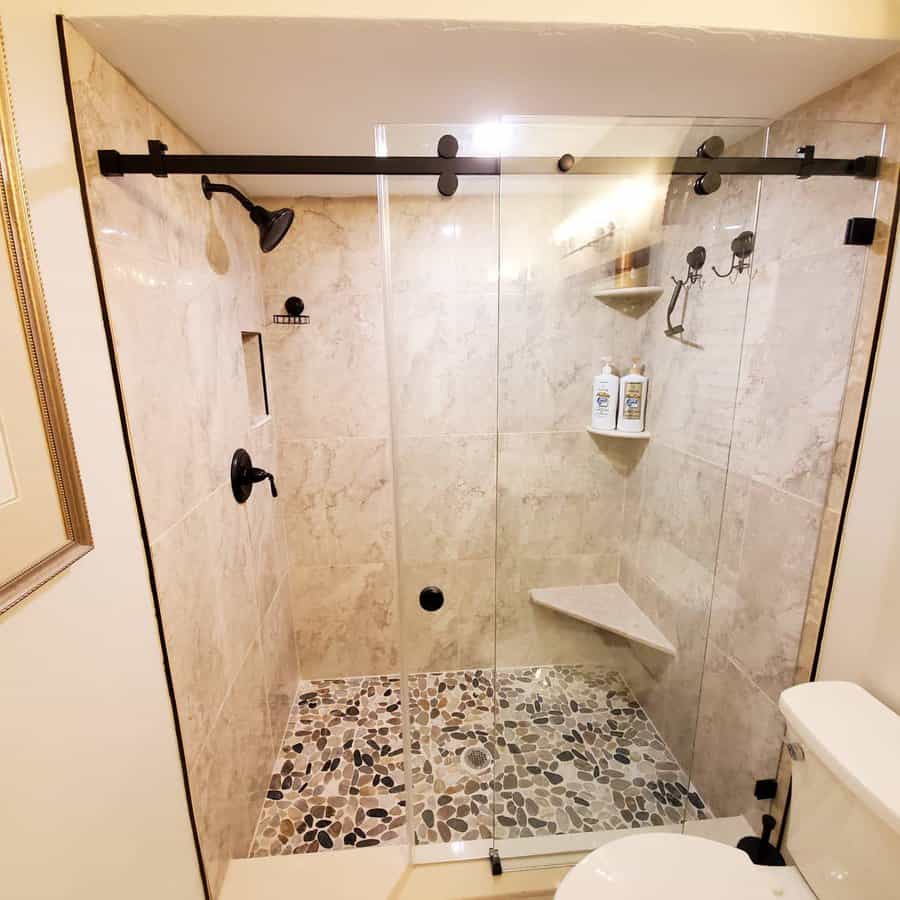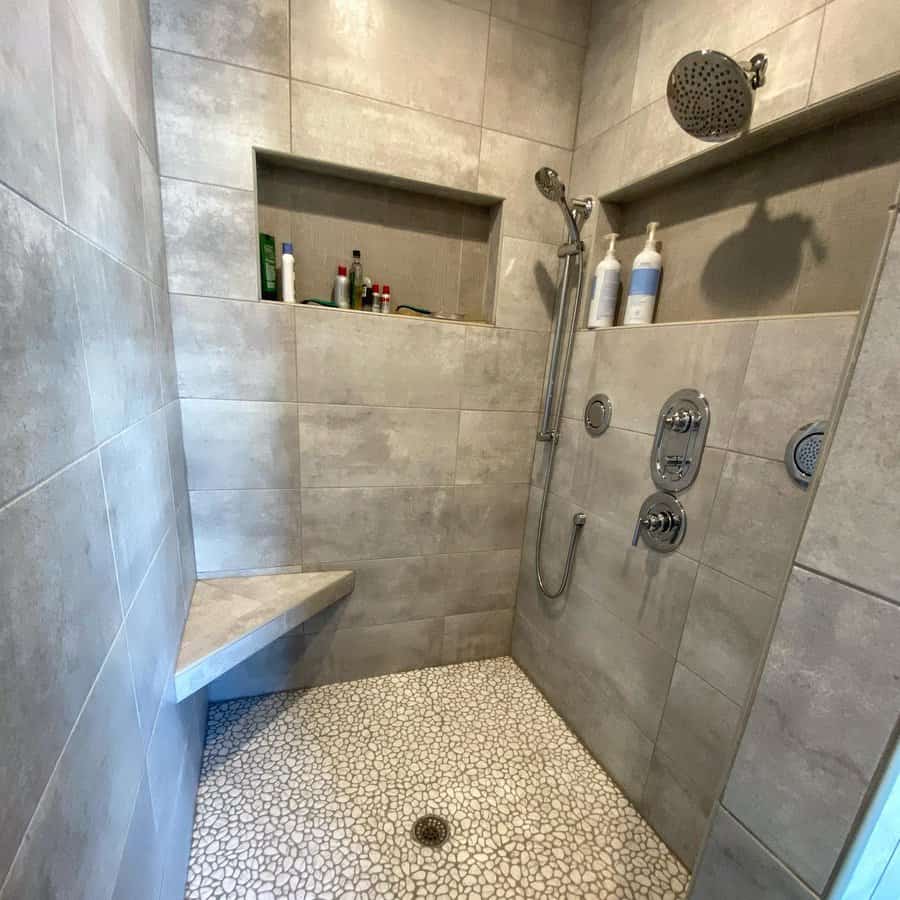 8. Install Herringbone Tiles
A bathroom shower with herringbone tiles adds such visual interest. It's a creative way to install and organize tiles, giving an alternative to simply having a plain printed wall in the shower.
The unique way the tiles are set up adds a professional and modern feel, which helps bring any bathroom space to life.
And with so many color and design options out there, it's easy to find one that matches your desired aesthetic while adding sophistication and charm.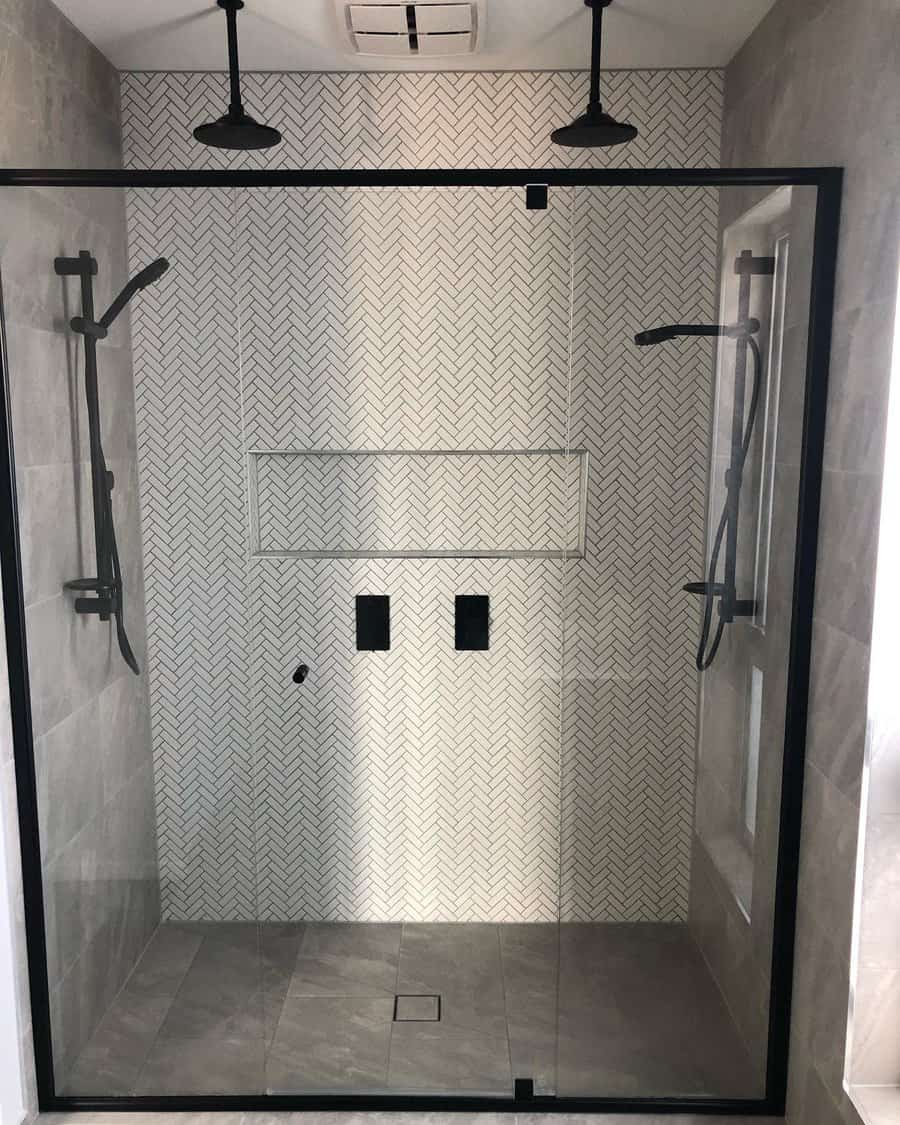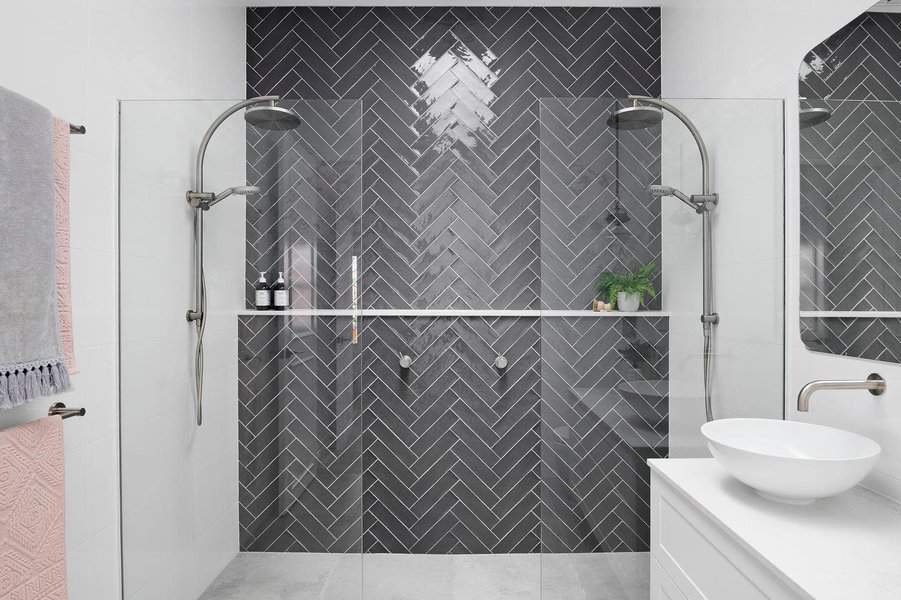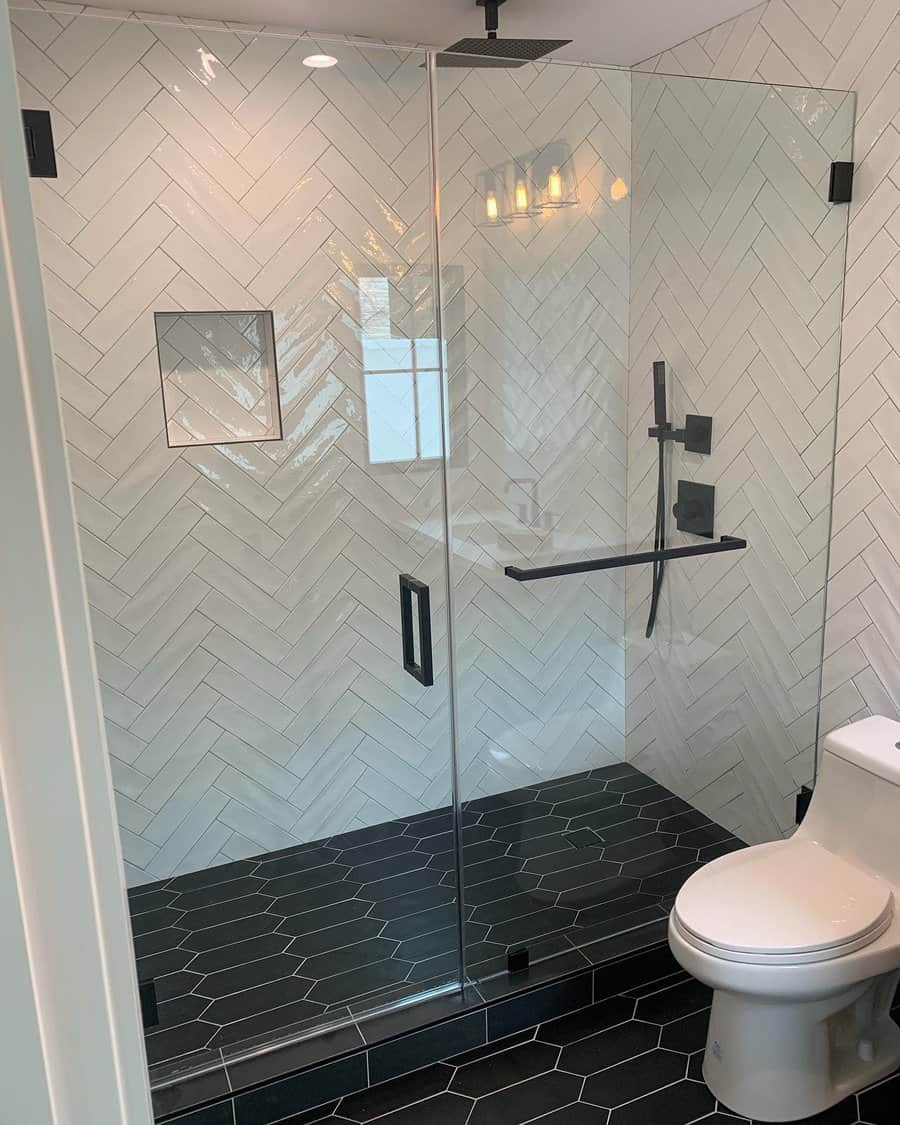 9. Attach Mosaic Tiles For Accent
A mosaic-tiled shower can be a great way to add life and color to a bathroom. By incorporating mosaic tiles into your shower design, you'll bring vibrant colors and an accentuated look into your space. Not only are mosaic tiles eye-catching, but they also offer a luxurious element that will make your shower the event of the bathroom.
Make the mosaic tile designs customized to fit any theme with various colors, shapes, and styles to choose from; it's a wonderful opportunity to express yourself through unconventional artsy vision and design.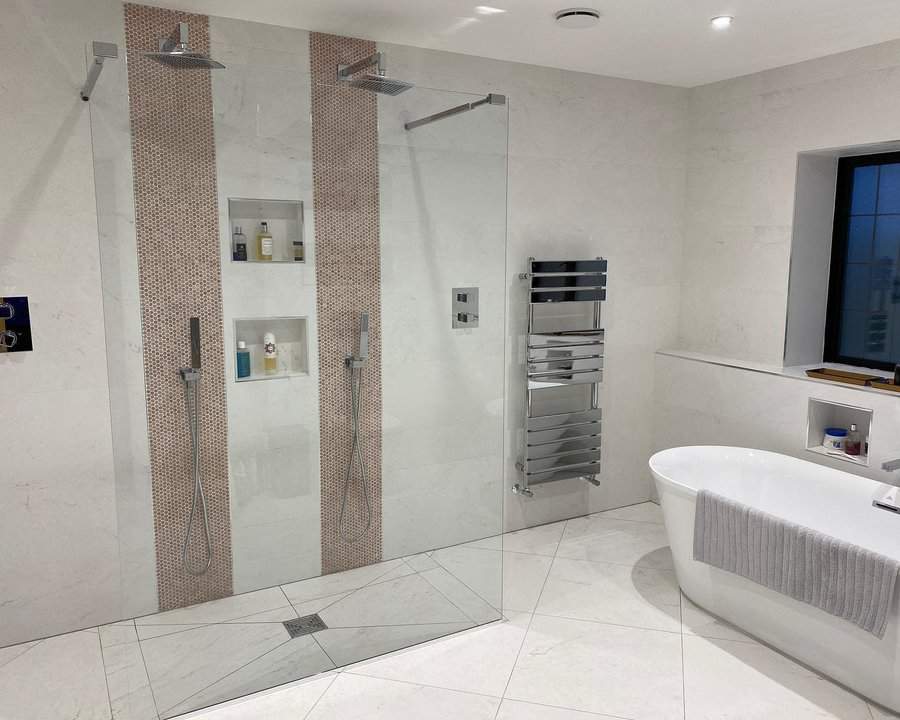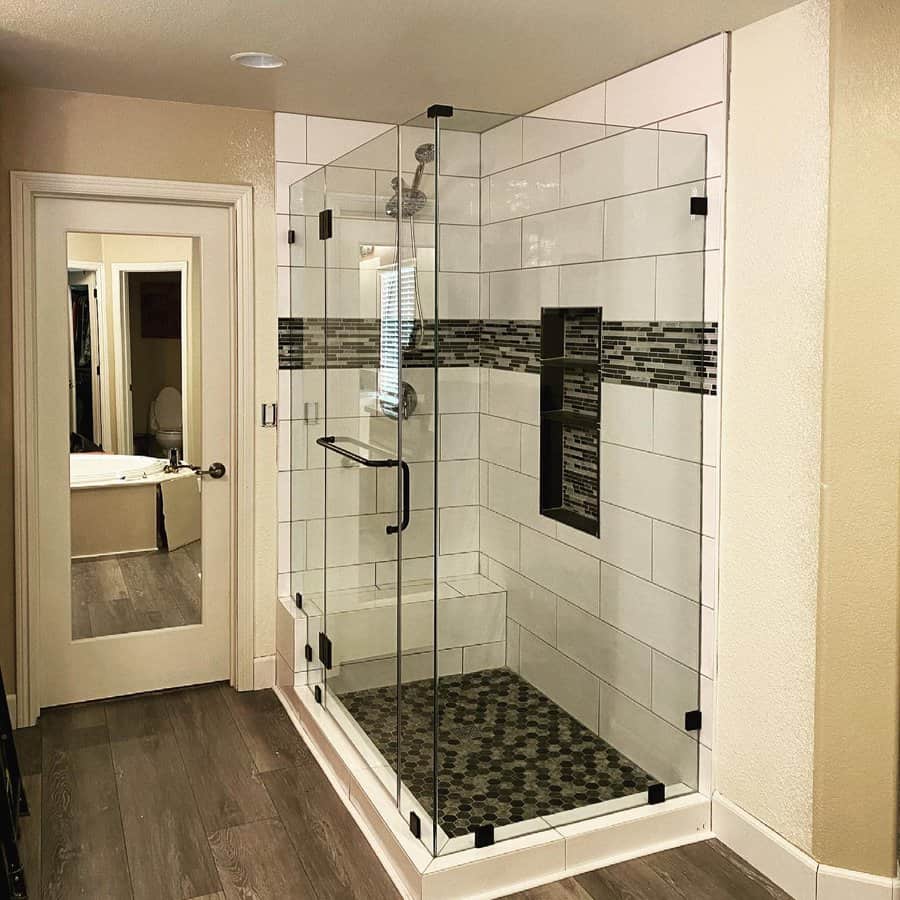 10. Build A Recessed Wall Shelf
A beautiful bathroom shower can be completed with the addition of a recessed wall shelf. This stylish shelf adds convenience and charm to any shower by providing storage for all your bath essentials including shampoos, conditioners, and soap.
Not only is this shelf practical and efficient but it also elevates the look of your bathroom thanks to its sleek design that can be customized to match any style you desire.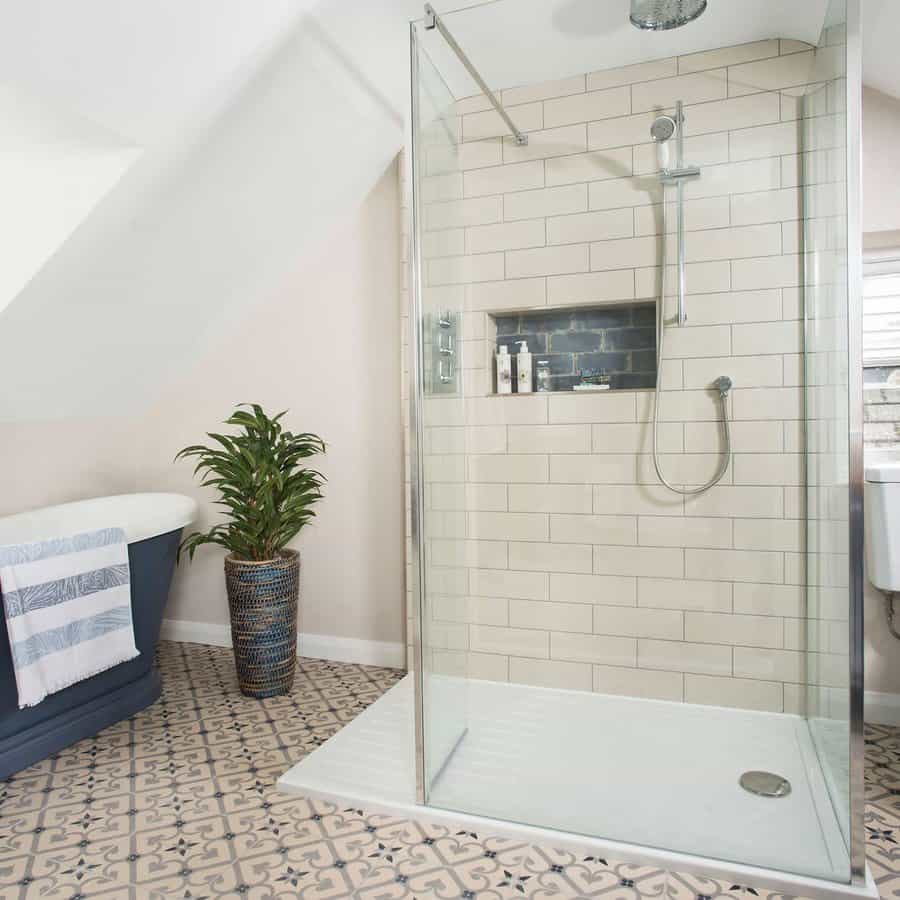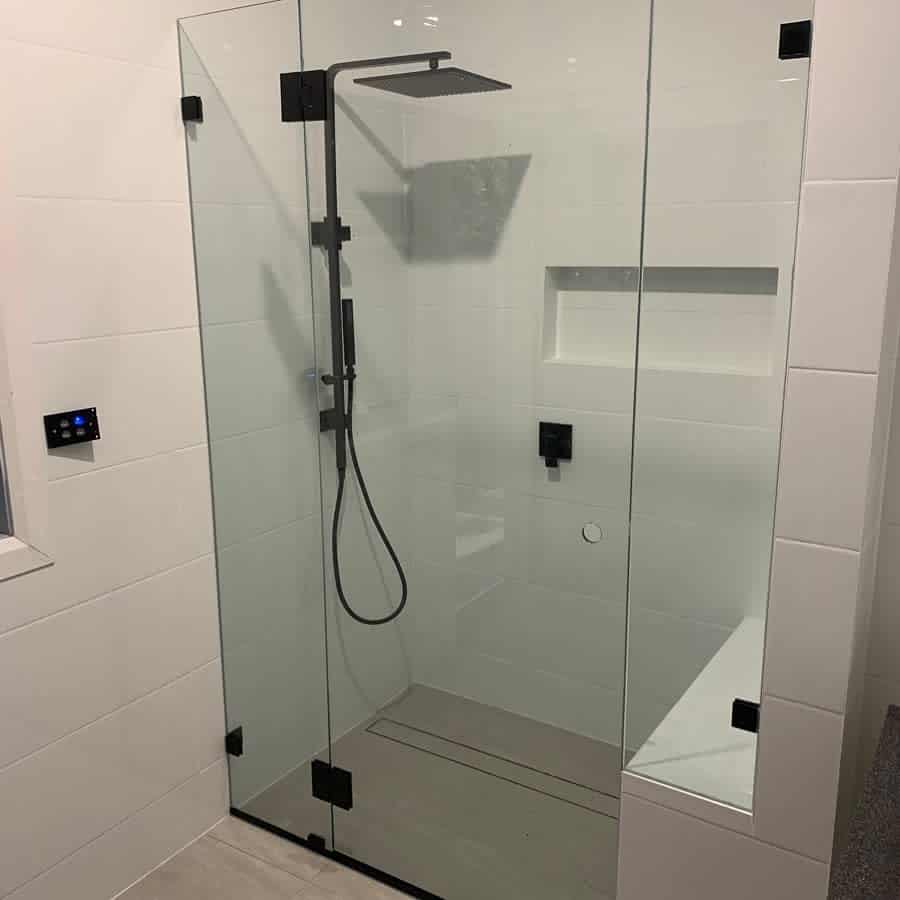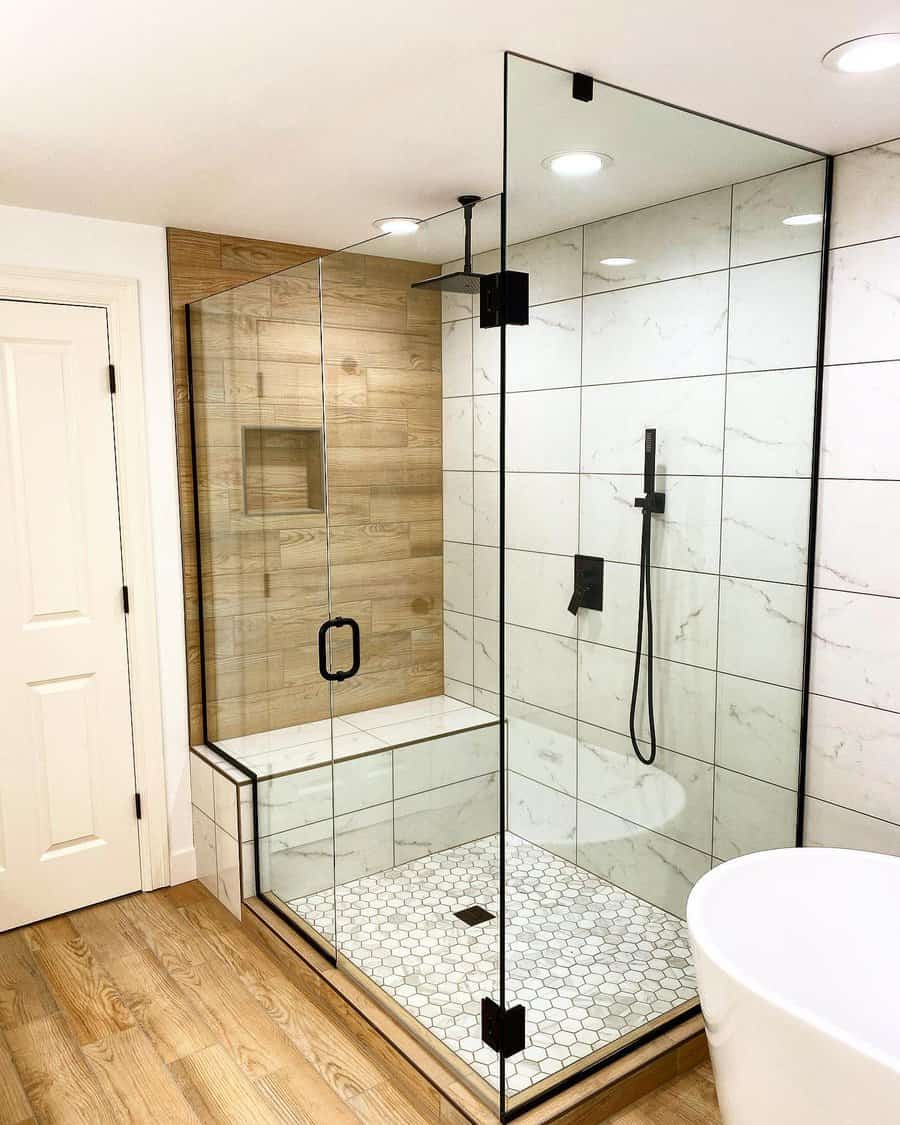 11. Install A Frameless Shower Door
Frameless shower doors are an ideal addition for small bathrooms with limited space. Not only do these sleek, modern fixtures make the most out of minimal space, but they also add a seamless look for a sharp and stylish aesthetic. Light reflects off the surrounding surfaces for a subtle sparkle, bringing life to the room and enhancing its well-designed appearance.
As for functionality, frameless shower doors open both ways for effortless access for those rushed mornings. And for a trend-forward touch, selecting one that is chrome-plated or reflective can provide an element of contemporary glamour.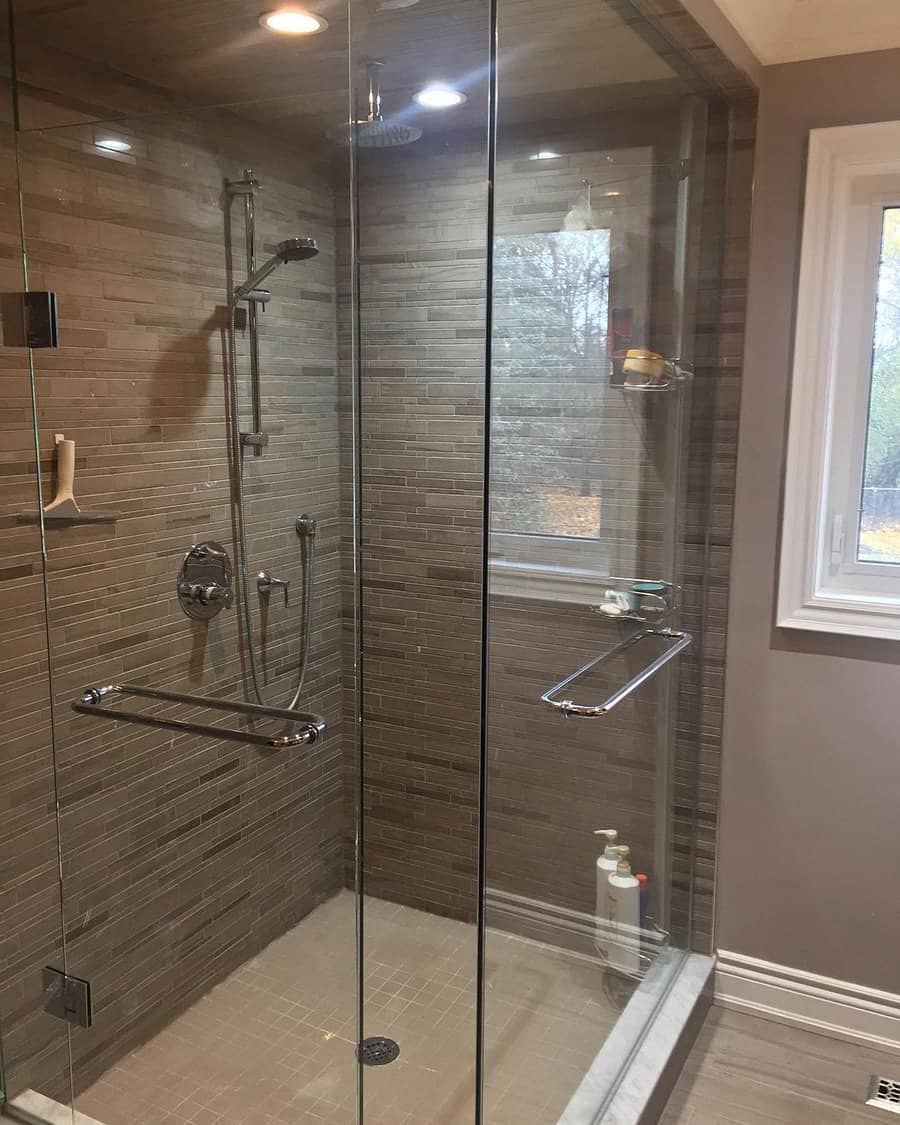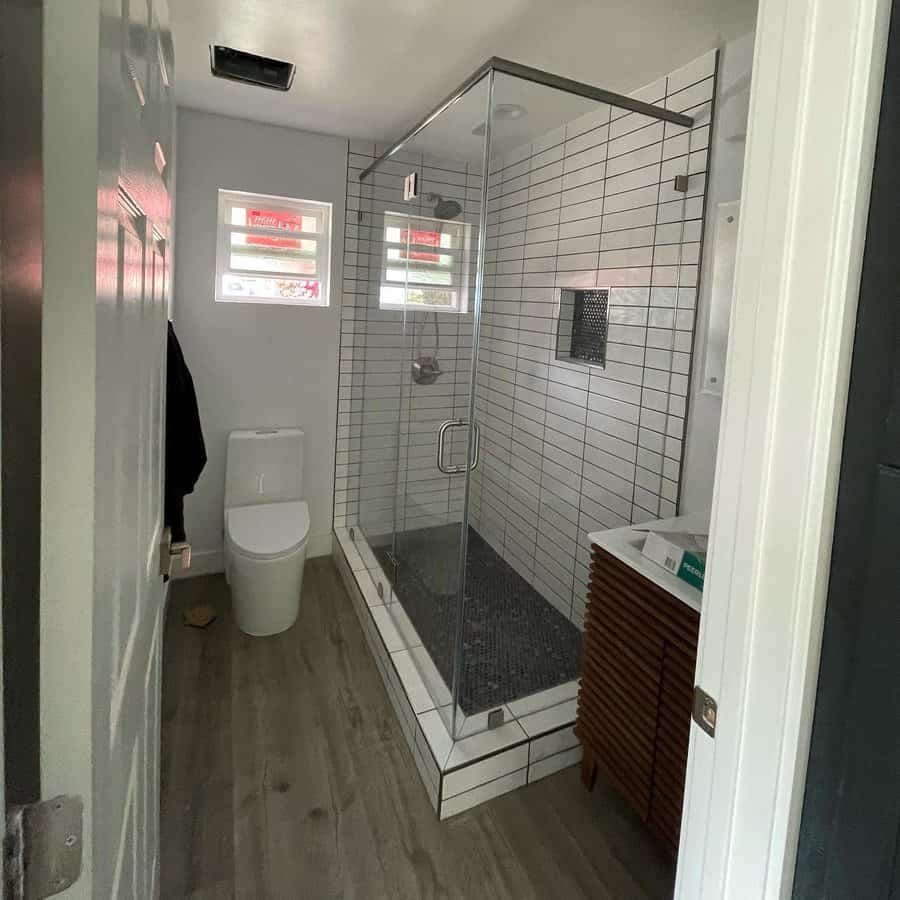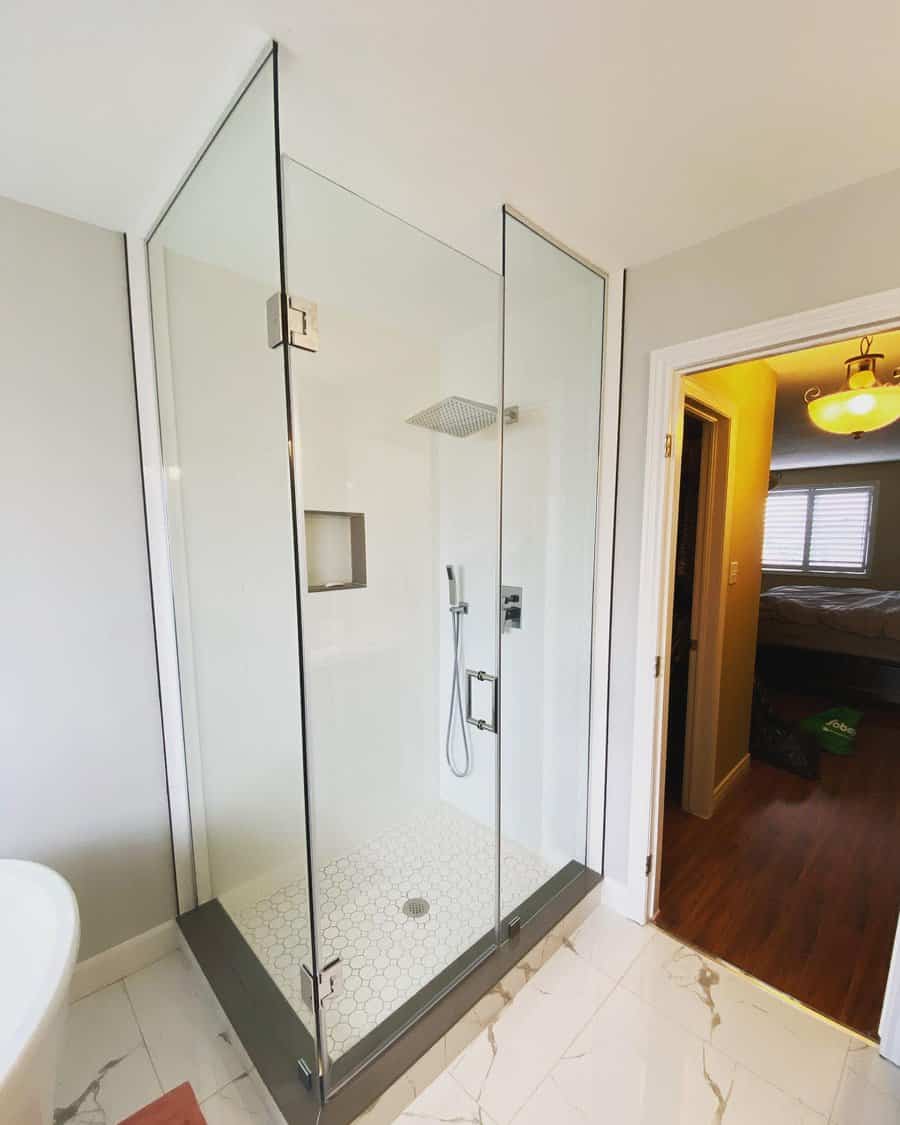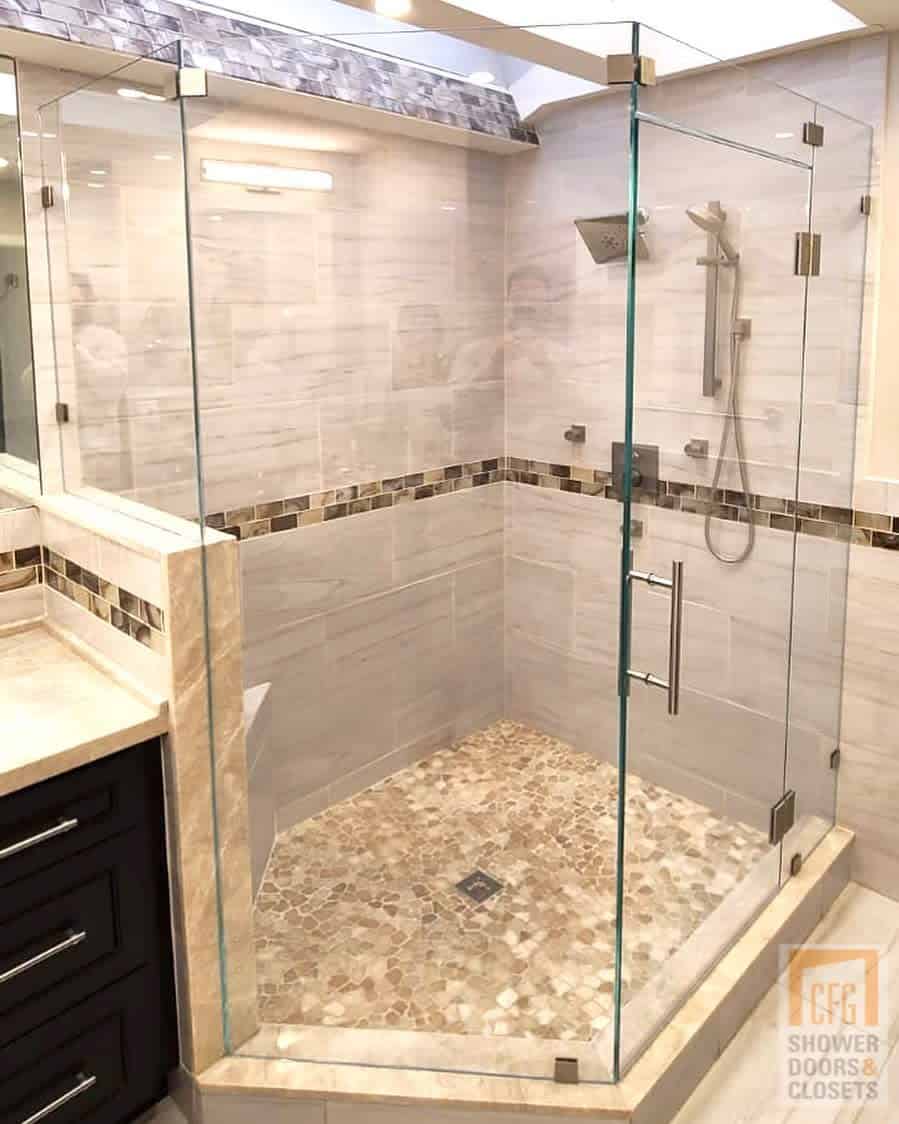 12. Opt For Polished Concrete Tiles
Give your bathroom shower a cool industrial edge with the use of light concrete tiles. These tiles offer a classic style with a modern edge that provides an industrial or minimal look. For a truly rustic feel you can opt for larger, textured tiles in light concrete to complete the look.
There is something unique about the organic texture of light concrete that brings a sophisticated, industrial flair—whether due to its slate-like appearance or its white-hued chipped edges.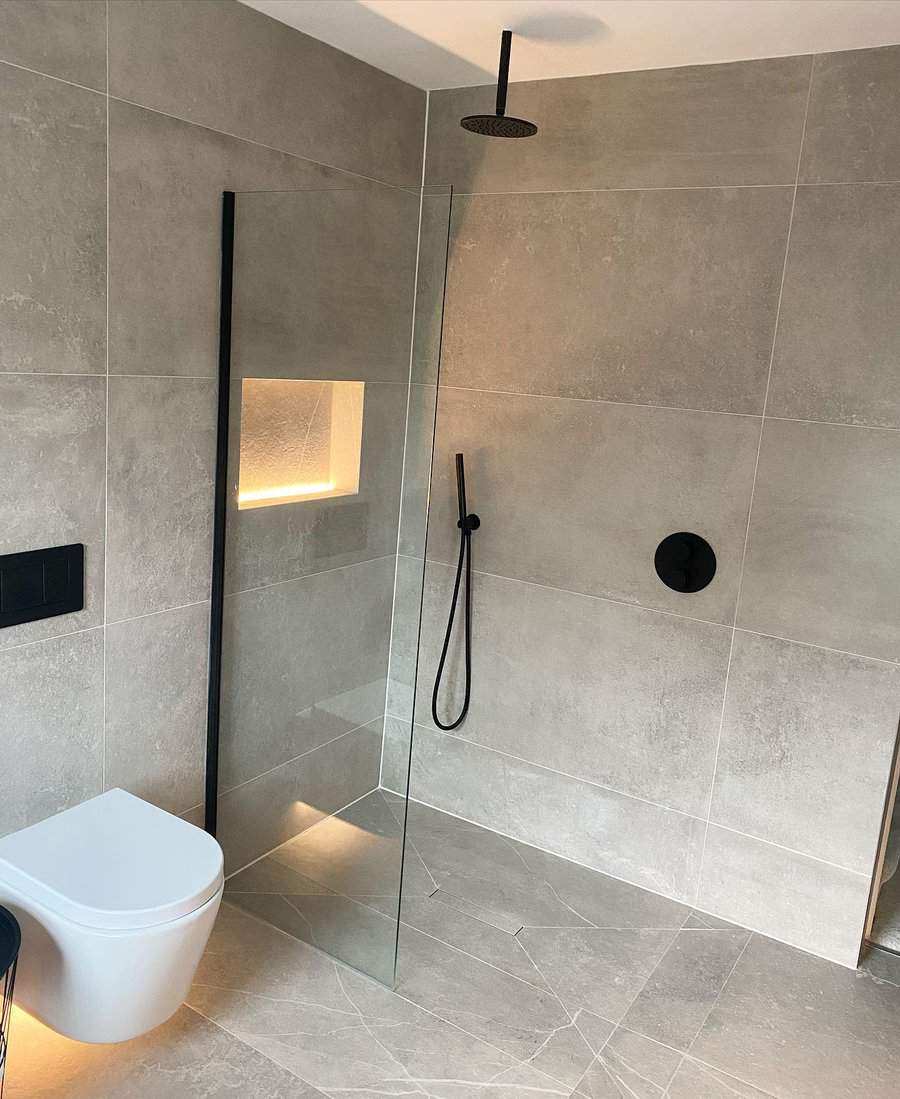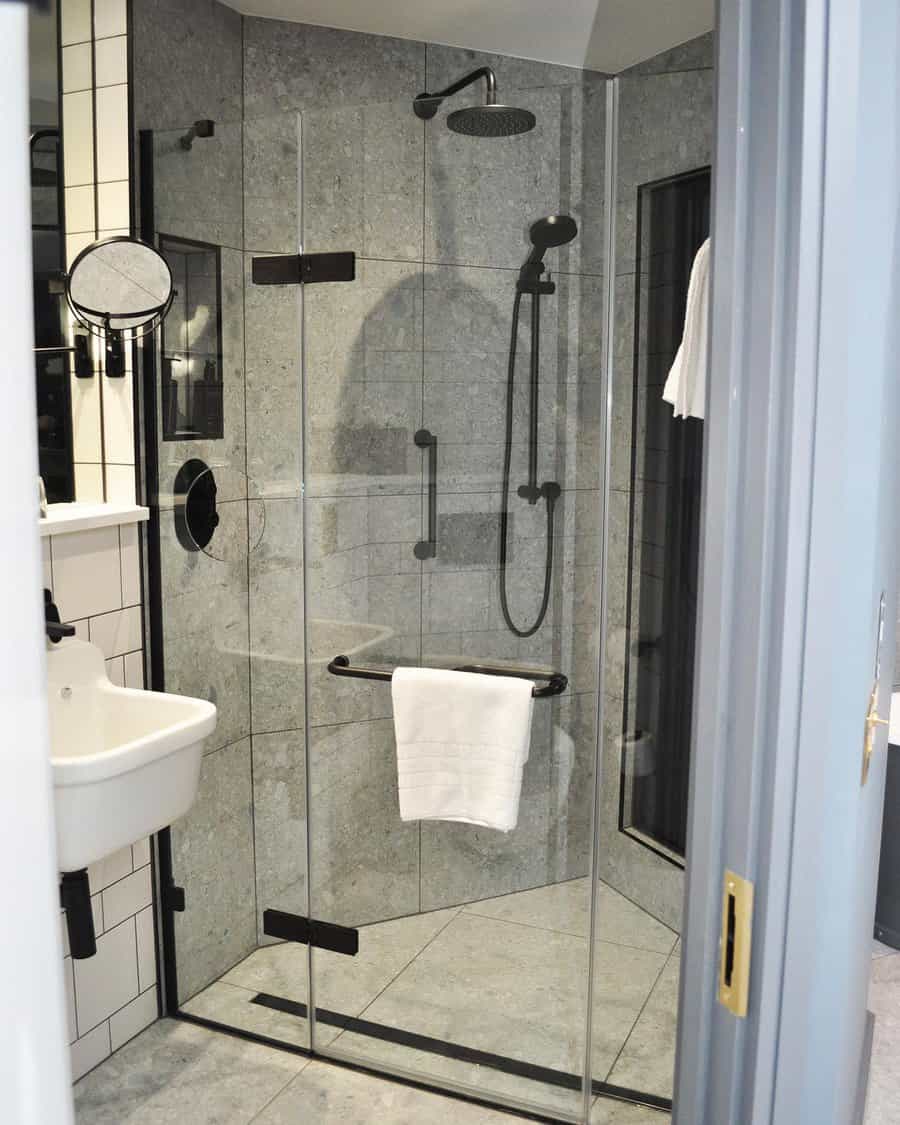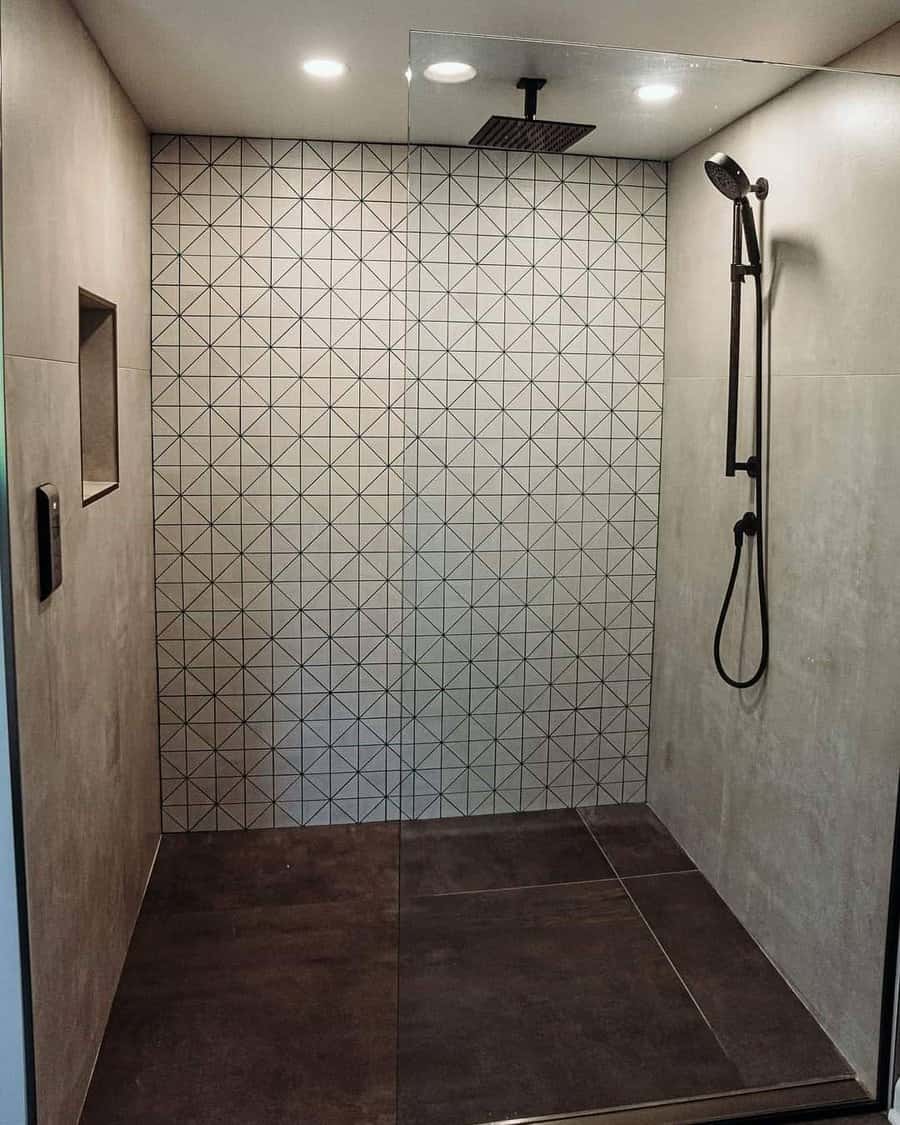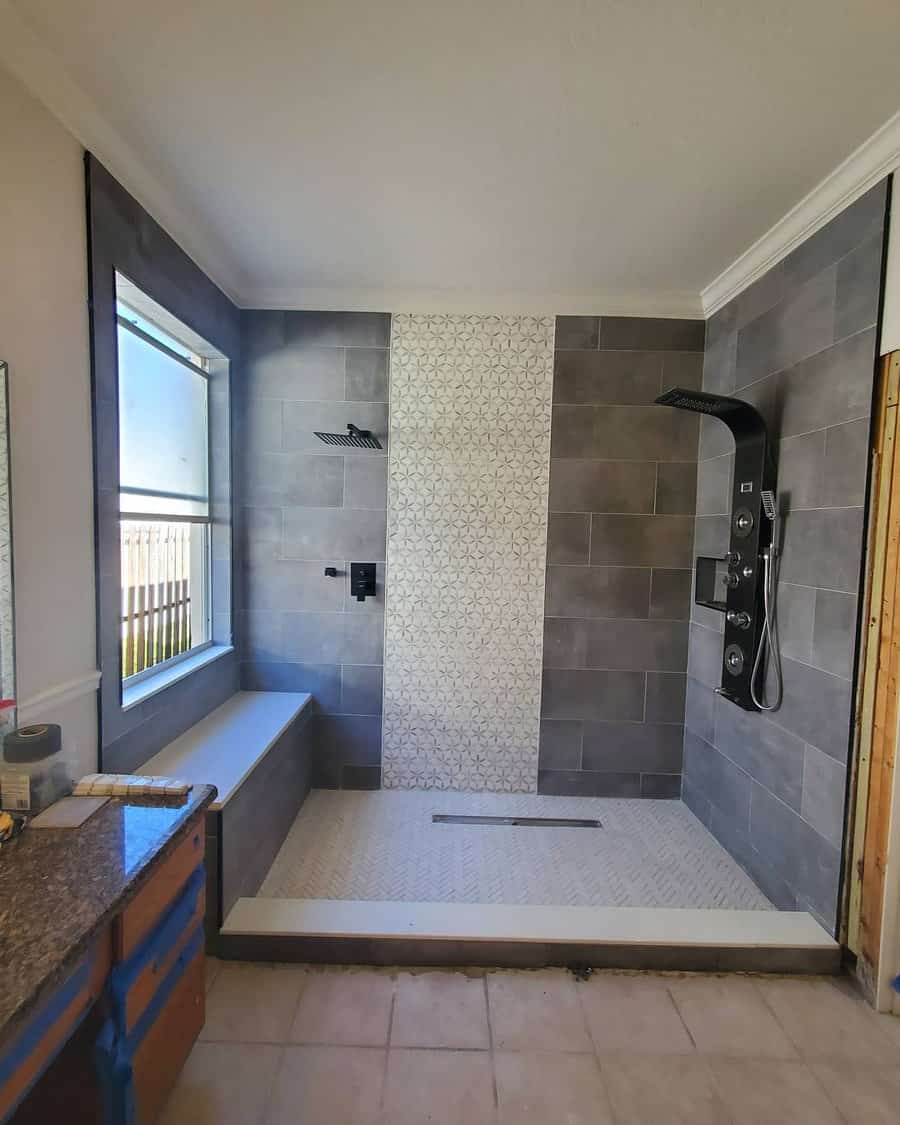 13. Go All-White
The all-white bathroom shower is a stunning way to create a minimalist look. With white walls, white floor, and classic silver metal fixtures, it will give your bathroom an ethereal feel. The monochrome palette creates an inviting atmosphere that evokes peace and simplicity.
Perfect for unwinding after a long day or indulging in a moment of relaxation; this sleek design offers a tranquil escape without sacrificing style or elegance.
What's more, the white color scheme helps amplify natural light, making this makeover not only a sight for sore eyes but also an excellent choice for small bathrooms.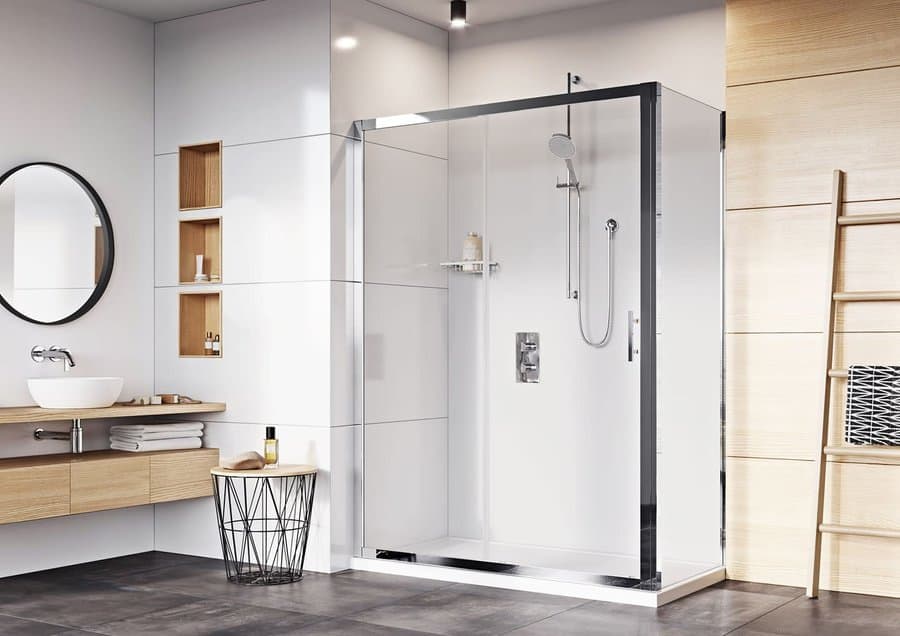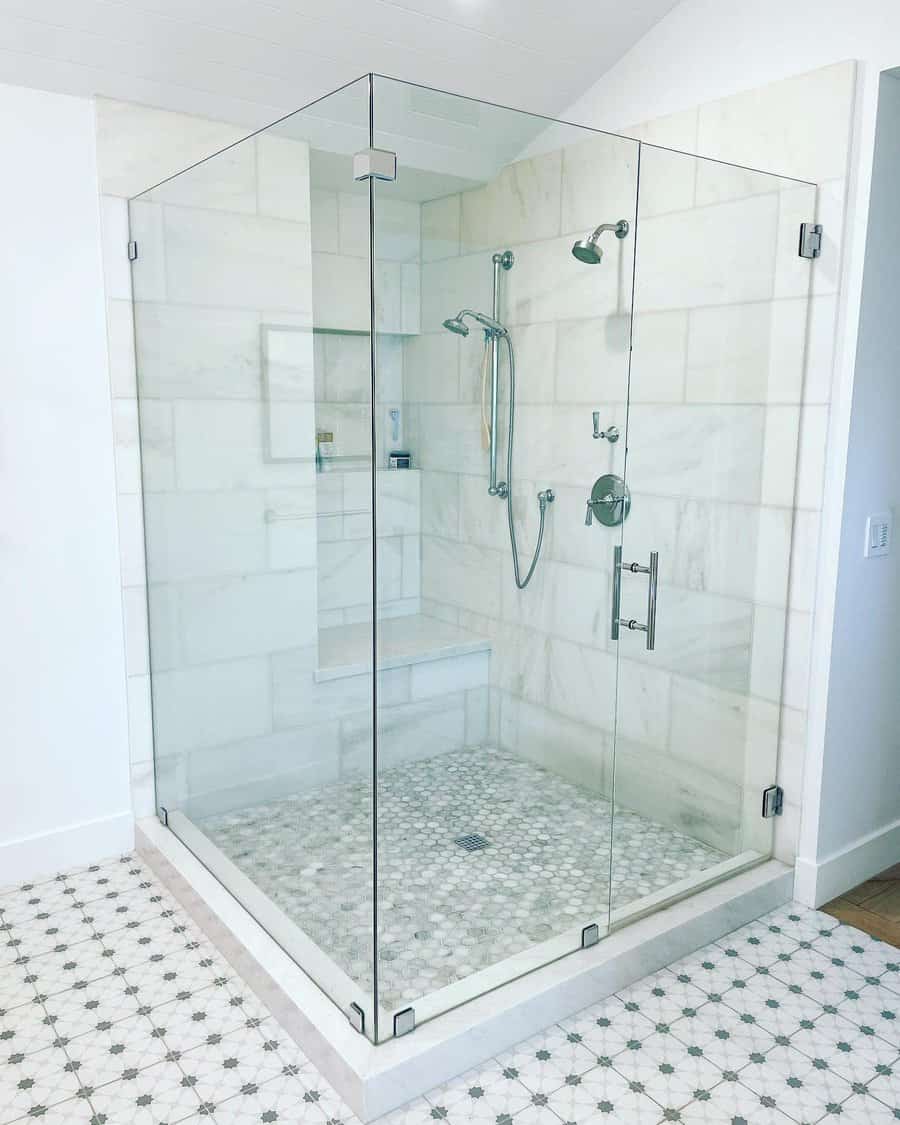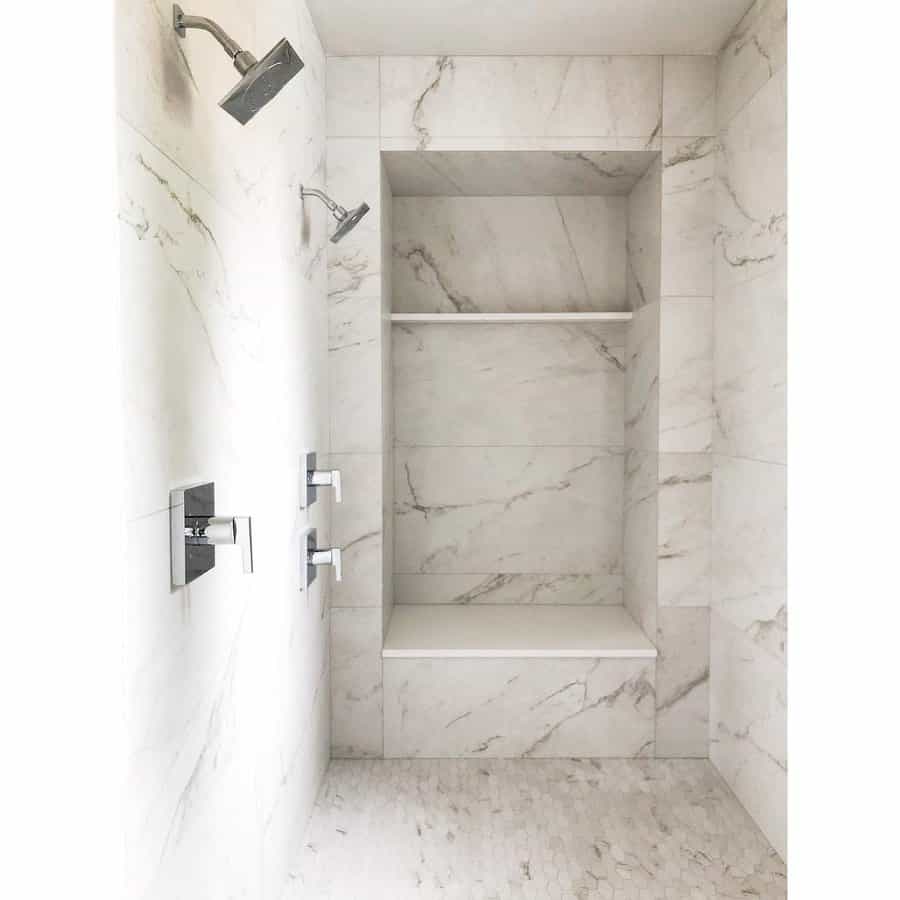 14. Install Stone-patterned Tiles
The organic and raw feel of a bathroom with stone-pattern tiles is truly unique. The textured surface of the stones under your feet can provide an incredibly relaxing feeling like you are walking on a beach or through a quiet forest.
Soft lighting and warm colors can really bring out the incredible properties of these stone-pattern tiles, making your shower feel like an oasis of peace and tranquility on an otherwise hectic day.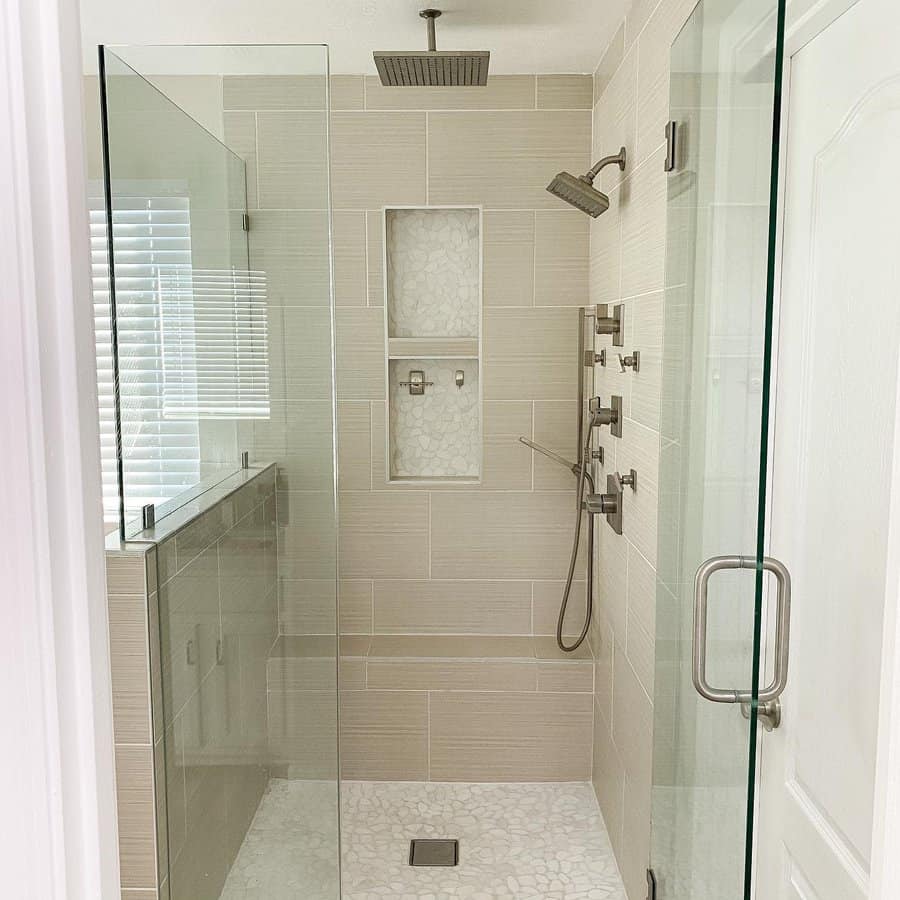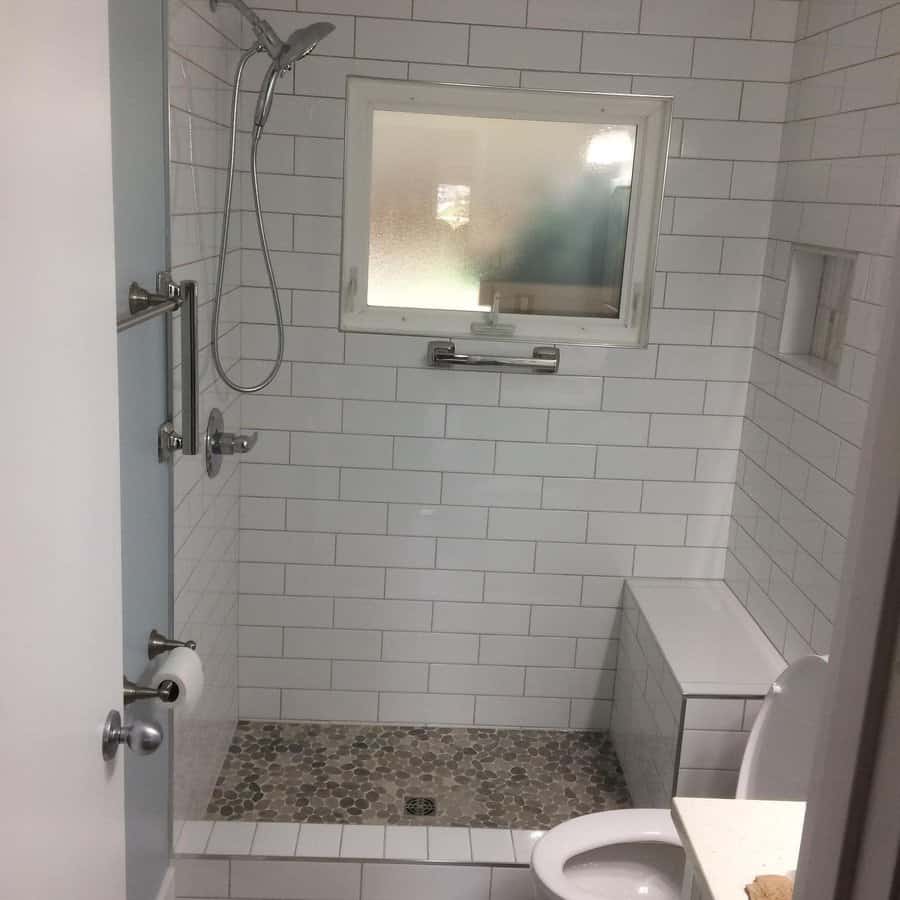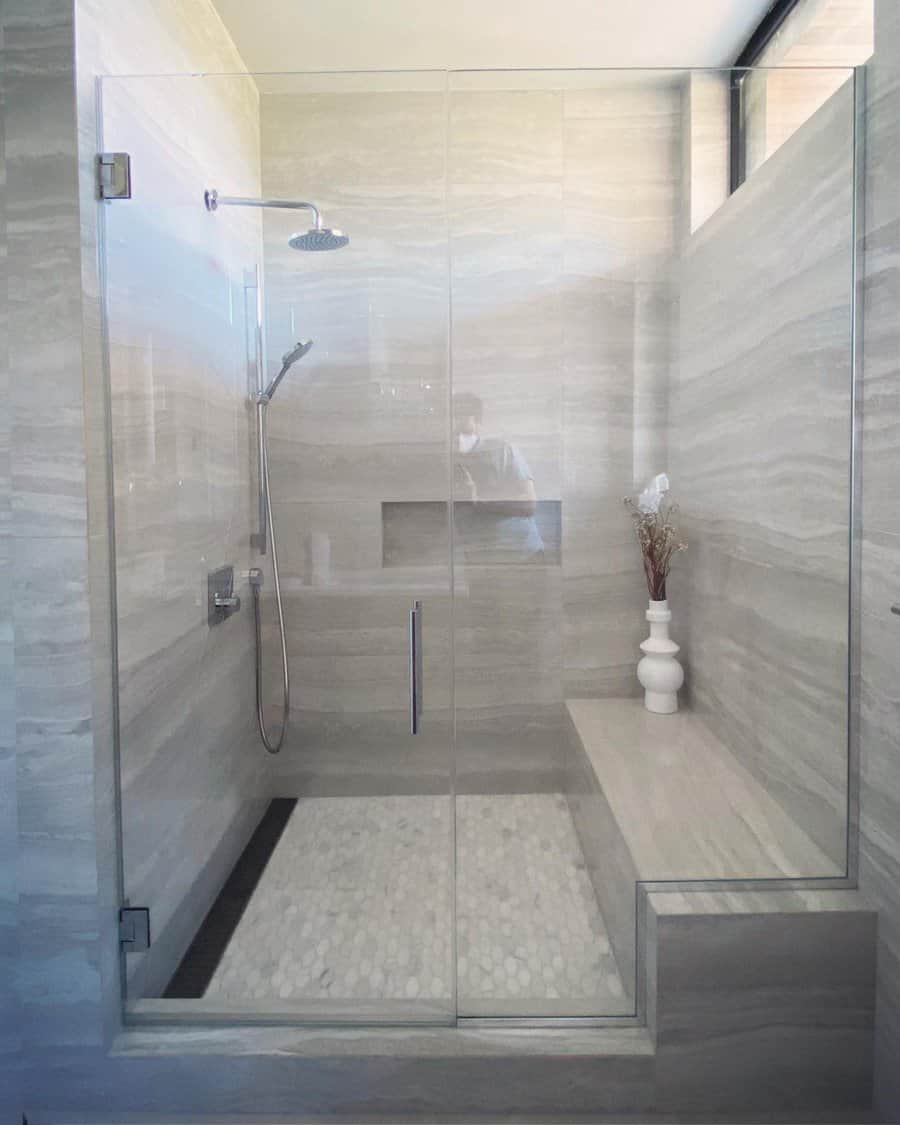 15. Keep It Simple And Monochrome
A white and black shower can be just as inviting as any other color combination. Start with white walls, then top it off with black fixtures for a modern look. Painting or tiling the floor black gives the bathroom maximum impact and adds to the trendiness of the room.
To make it even more interesting, you can play around with texture by adding tiles with different prints and designs in white and black.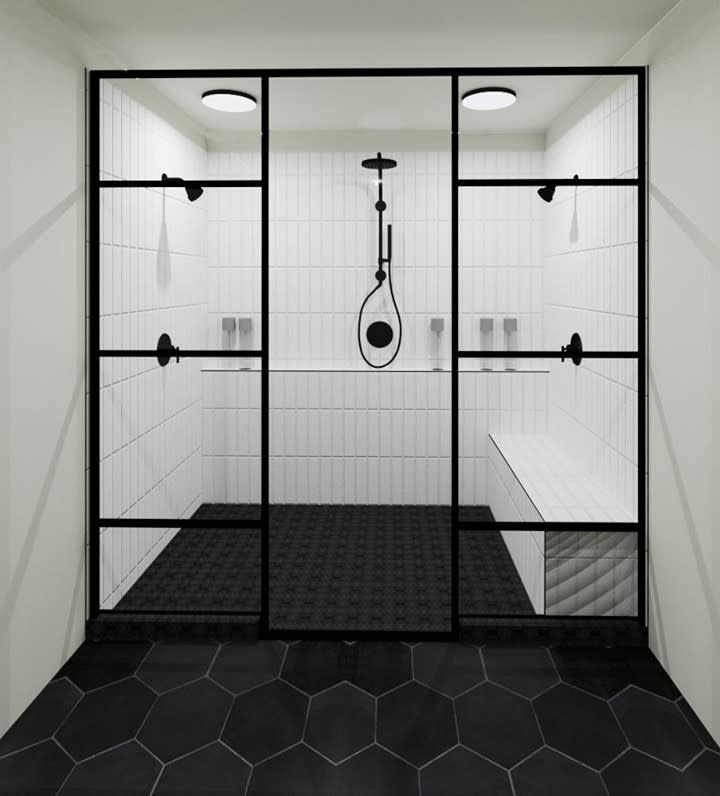 16. Add A Bathtub
If you're looking for a practical, attractive solution for your larger bathroom, why not opt for a shower with an integrated bathtub?
This versatile option is so much more than a standard tub and shower combination; not only does it come in a range of stylish designs to match any decor, but it also boasts convenience and flexibility.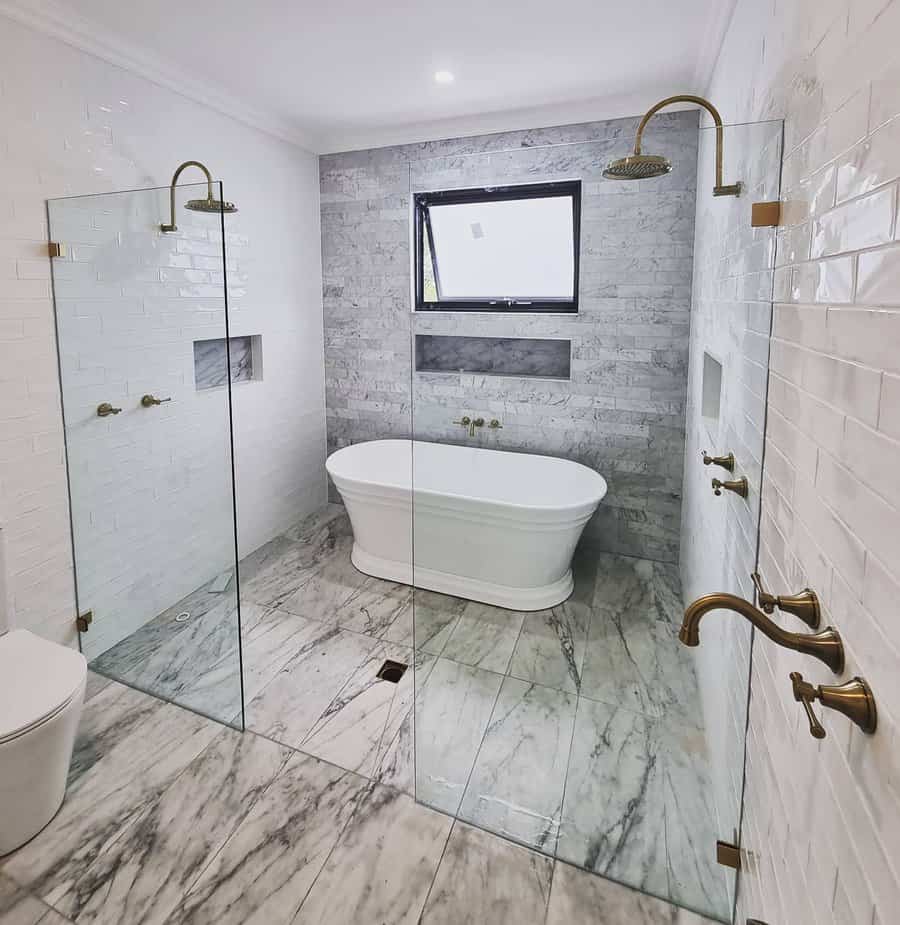 17. Go Coastal With Blue Tiles
A blue-tiled bathroom shower creates an inviting coastal vibe to a bathroom. The blue tiles can be either functional or decorative, so whether the goal is a classic all-blue look or more contrast with bright white flooring, blue tile has you covered.
From deep navy blue to bright sky blue and everything in between, blue decorative tiles will instantly bring a unique coastal charm to a space that is perfect for relaxing after a long day.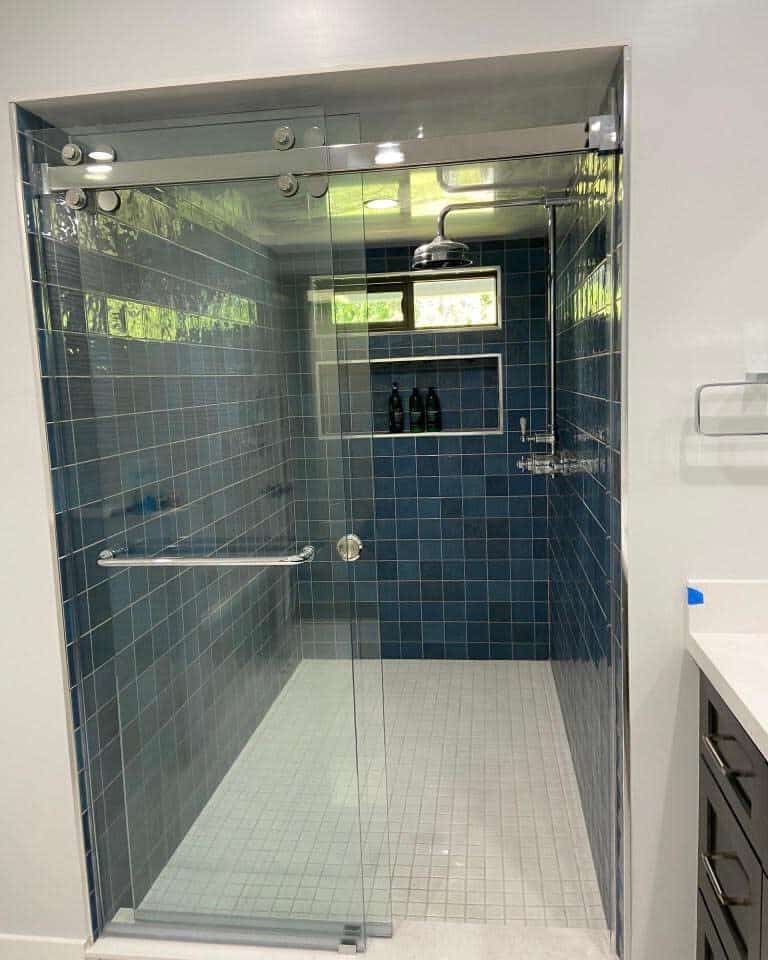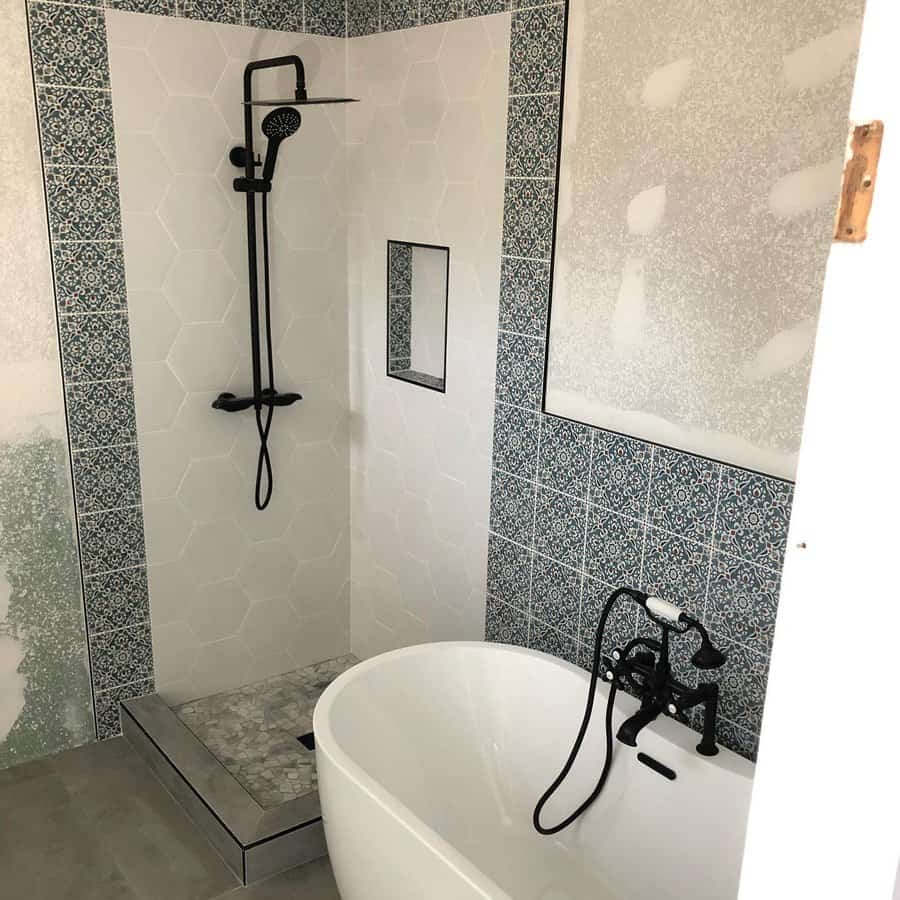 FAQs
How can I make my shower more luxurious?
To make your shower feel more luxurious, start by upgrading your showerhead. This creates a better experience when standing under the water. Then add an aromatherapy element to the bathroom in the form of a candle, essential oil, or even a basket of shower bombs.
Is it cheaper to tile a shower or buy a surround?
It is less expensive to install a surround than having tile. This is because tile is more labor-intensive to install than a single surround piece. However, tile can also be expensive based on the type of tile you choose.
What is a spa shower?
A spa shower incorporates spa-like elements into your bathroom and shower. These are features that go beyond the standard bathroom fixtures. An extra-large, multiple, or rain shower head are all easy way to create a spa experience. Turning your shower into a mini steam room is another way.