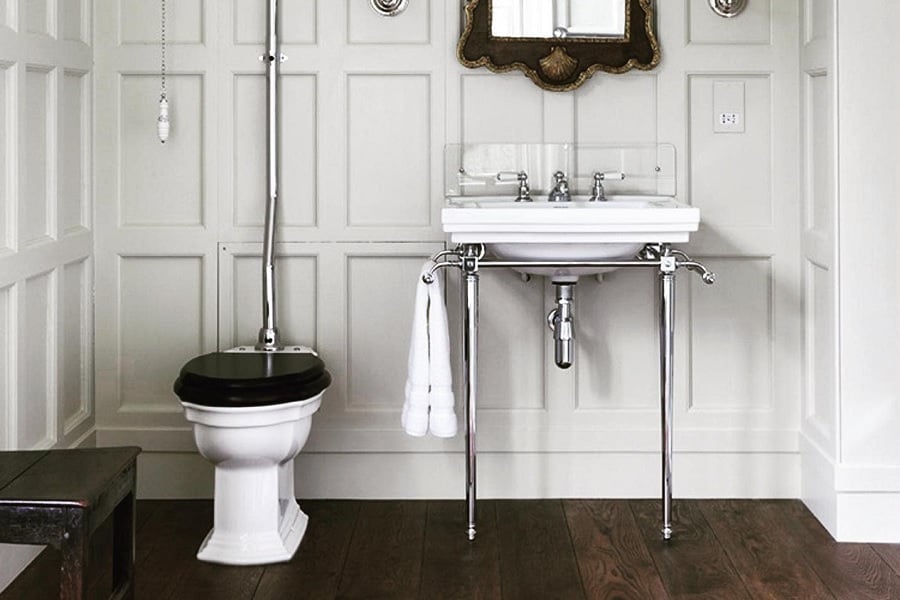 The Top 33 Bathroom Sink Ideas
No matter the size, there are two things all bathrooms need. The first, of course, is a toilet. The second is a sink.
At the end of the day, any sink with running water and a working drain will do the trick. But that doesn't change the fact that selecting a new sink is a major part of any bathroom renovation.
The choice you make today will affect your bathroom design for the foreseeable future! So keep reading for the top sink and bathroom vanity ideas that combine the best in form and function.
1. Backsplash
The bathroom backsplash may not be a part of the sink itself. But there's no denying the impact this finishing touch can have on your bathroom design overall — especially the area above the sink.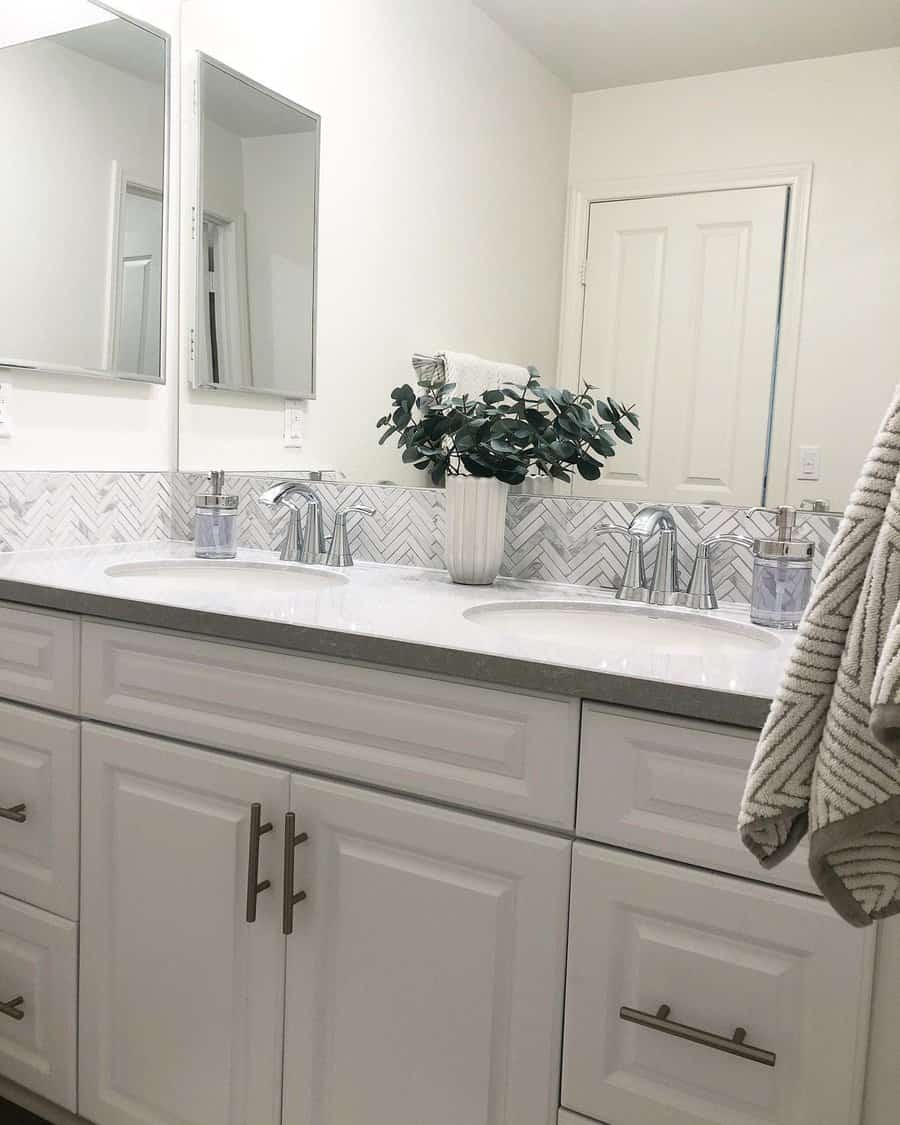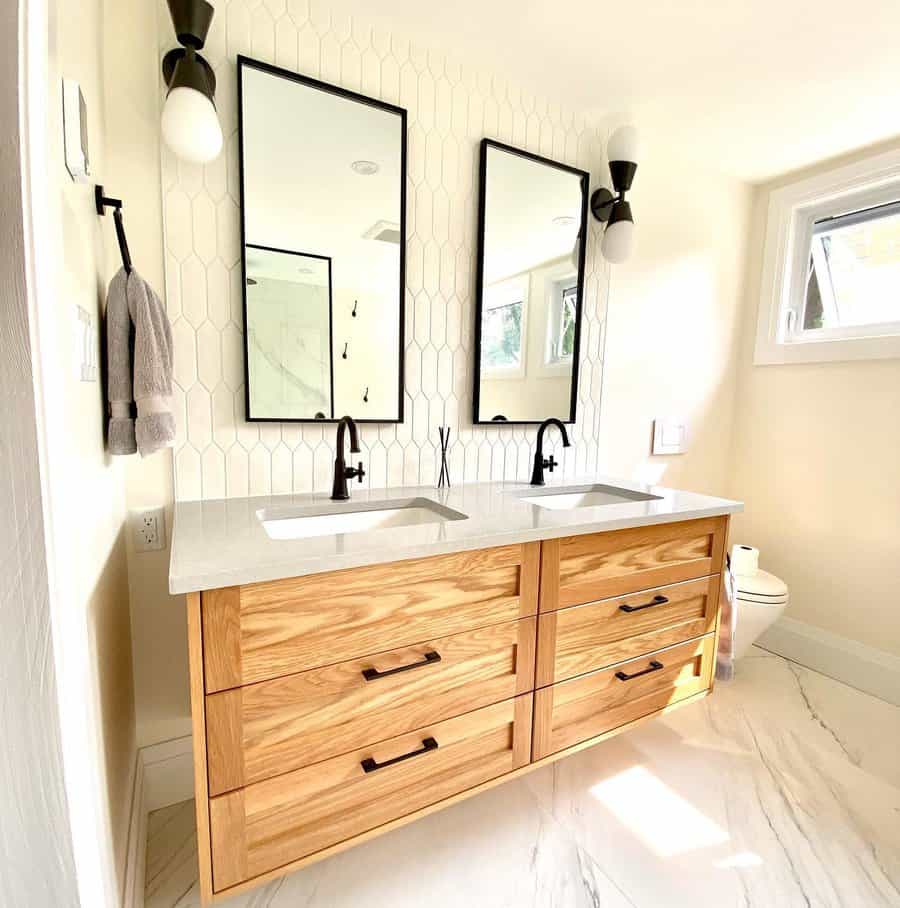 There's tons of freedom for creativity when it comes to designing a backsplash from scratch. If your sink is relatively plain, then bright, patterned backsplash tiles can be a great option. On the other hand, colored or natural stone sinks should be paired with matching tiles above.
A backsplash isn't just stylish. It's also practical. Your bathroom sink backsplash should be several inches tall to protect the backing wall from water damage. Outside of that measurement, the backsplash can be as tall as you like!
2. Countertop
A bathroom countertop offers valuable space for your everyday toiletries and favorite decor. In fact, many homeowners won't even consider installing a bathroom sink without the addition of a countertop vanity.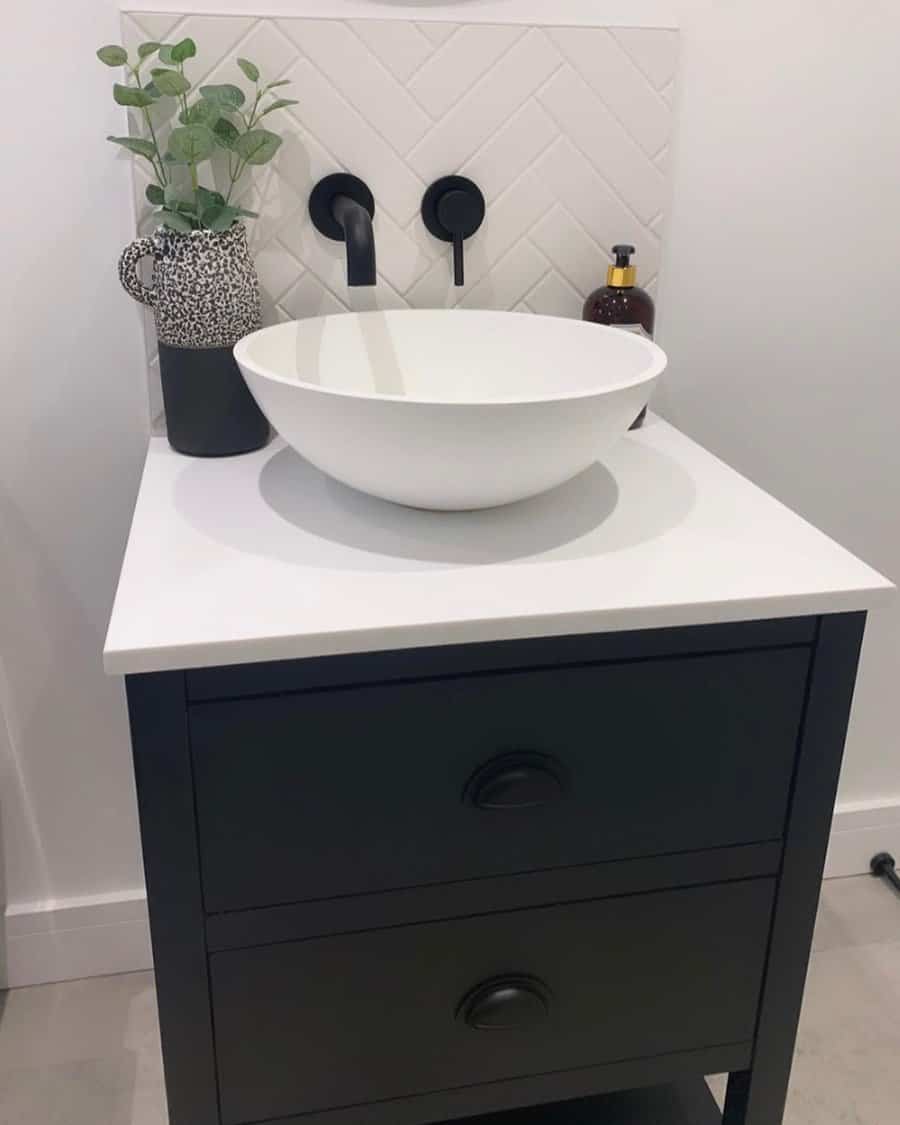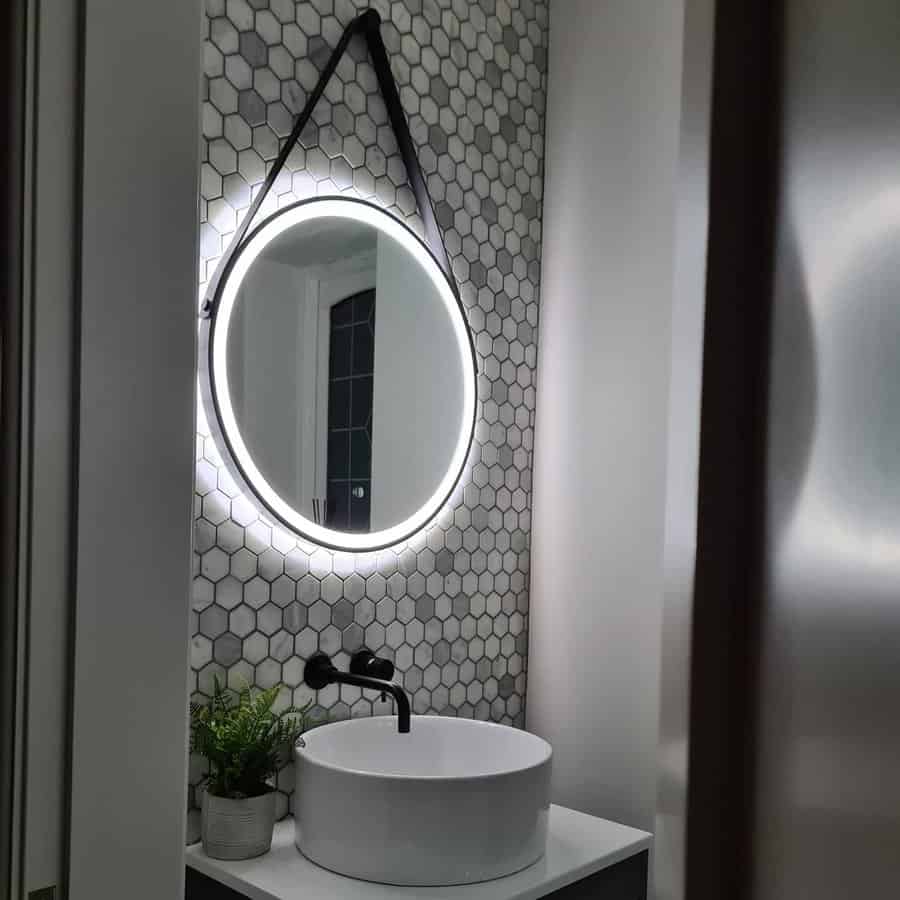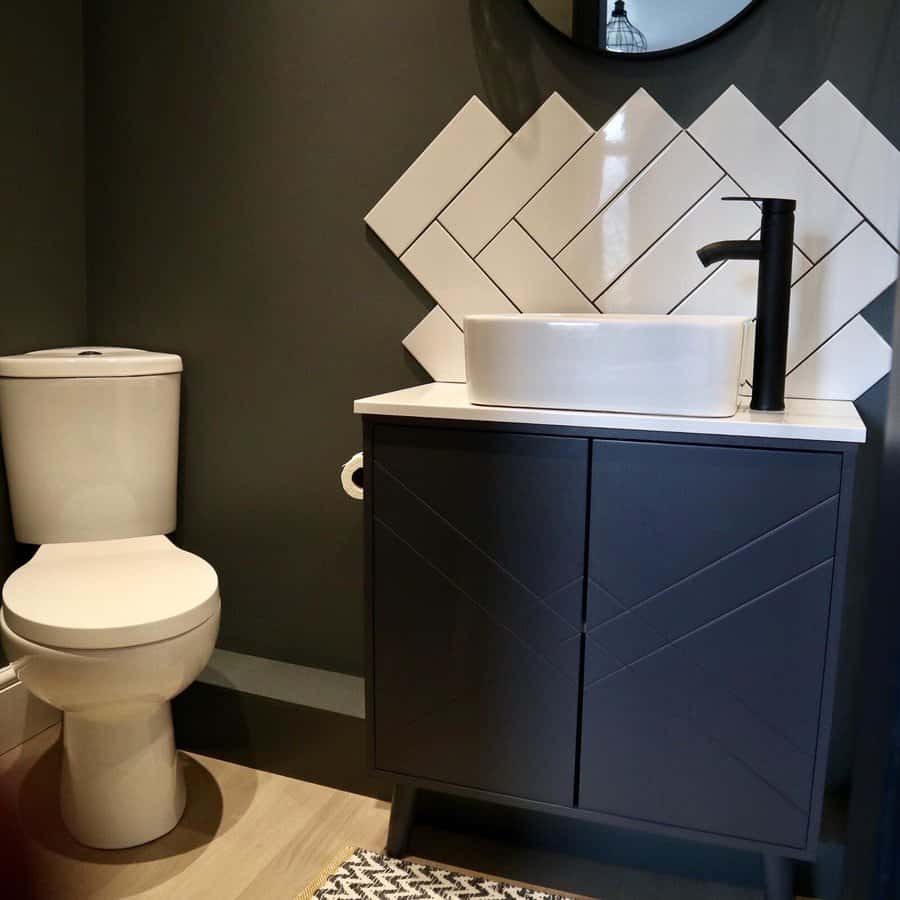 If your master bathroom features double sinks, a large countertop will ensure the space still feels cohesive. Even a tiny powder room countertop can make life a bit easier for your home's guests.
Not everyone enjoys the look of a built-in undermount sink, and that's okay. You can create a modern bathroom design by combining a vessel sink basin with a matching countertop.
3. Design
If there's one thing all interior designers can agree on, it's that often the tiniest details make the biggest difference. Consider your bathroom sink one such detail.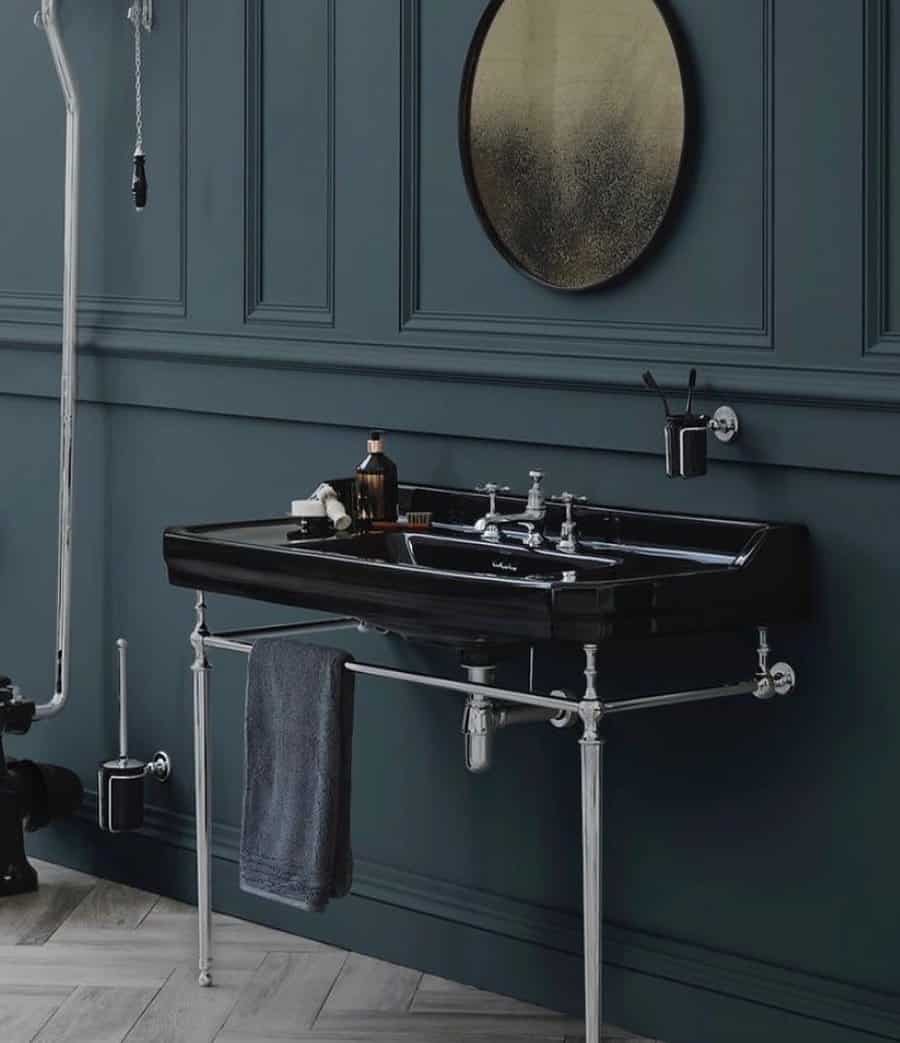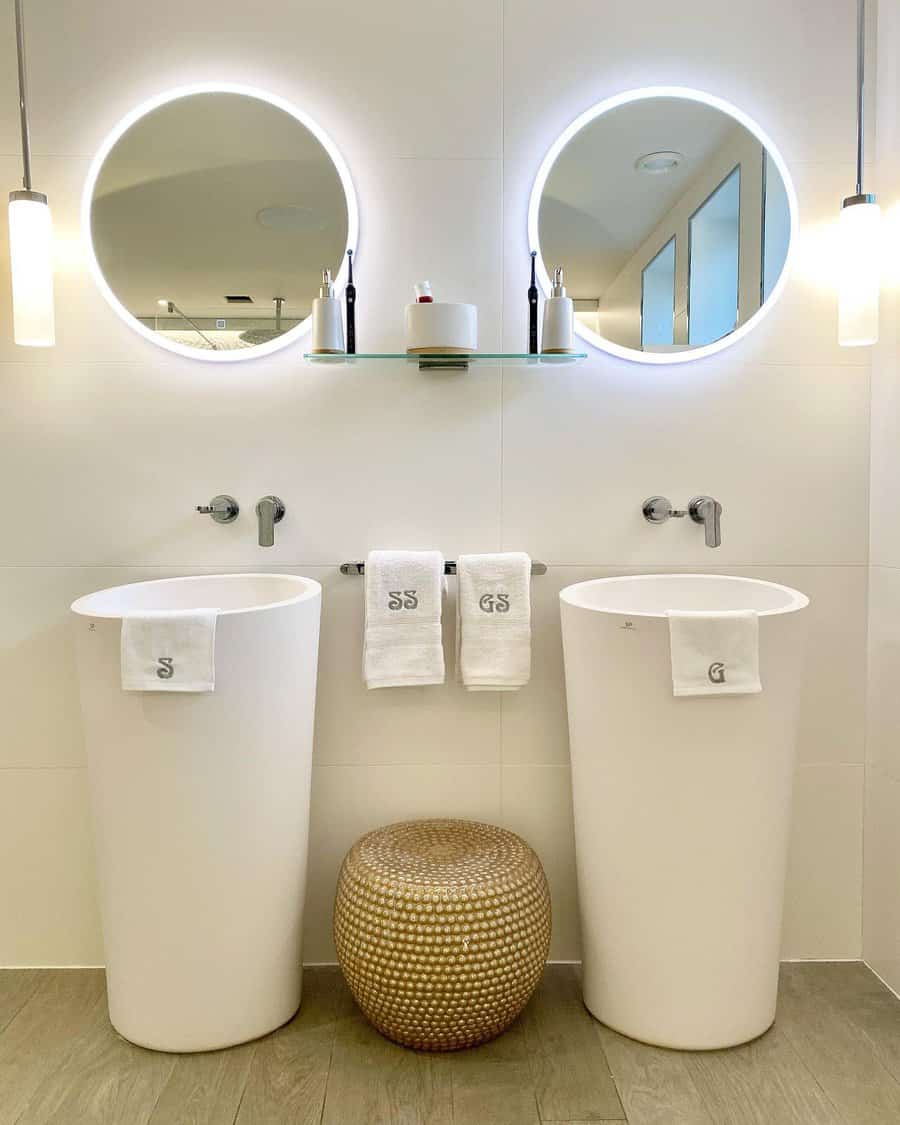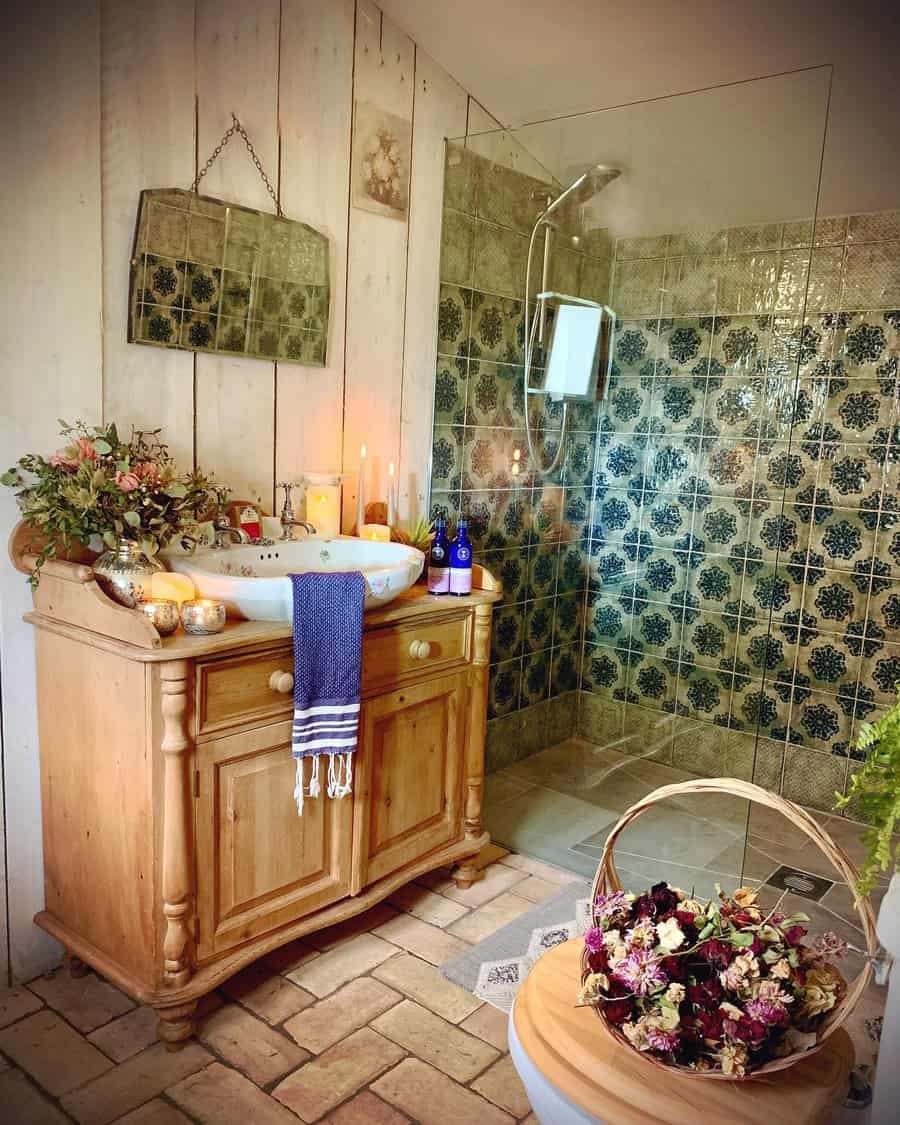 From unusual colors to unique materials, there are far more finishes available to choose from aside from plain white porcelain.
Taking the time to find a bathroom sink design that really speaks to you can be a wonderful way to add style to a small bathroom. There's no need for space-consuming decor when your sink is a statement piece all on its own.
4. Farmhouse
When decorating a farmhouse-style bathroom, you can't go wrong with a large trough sink. But any utilitarian basin will do the trick.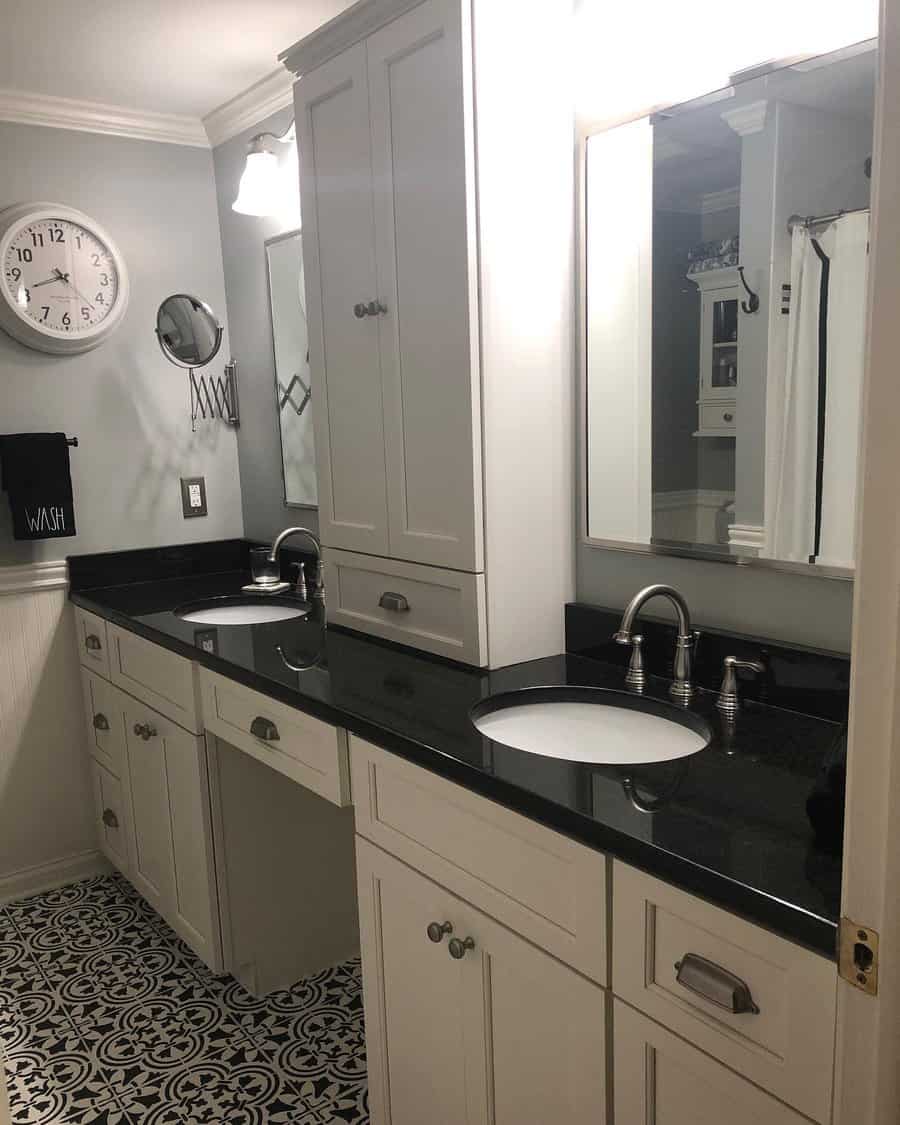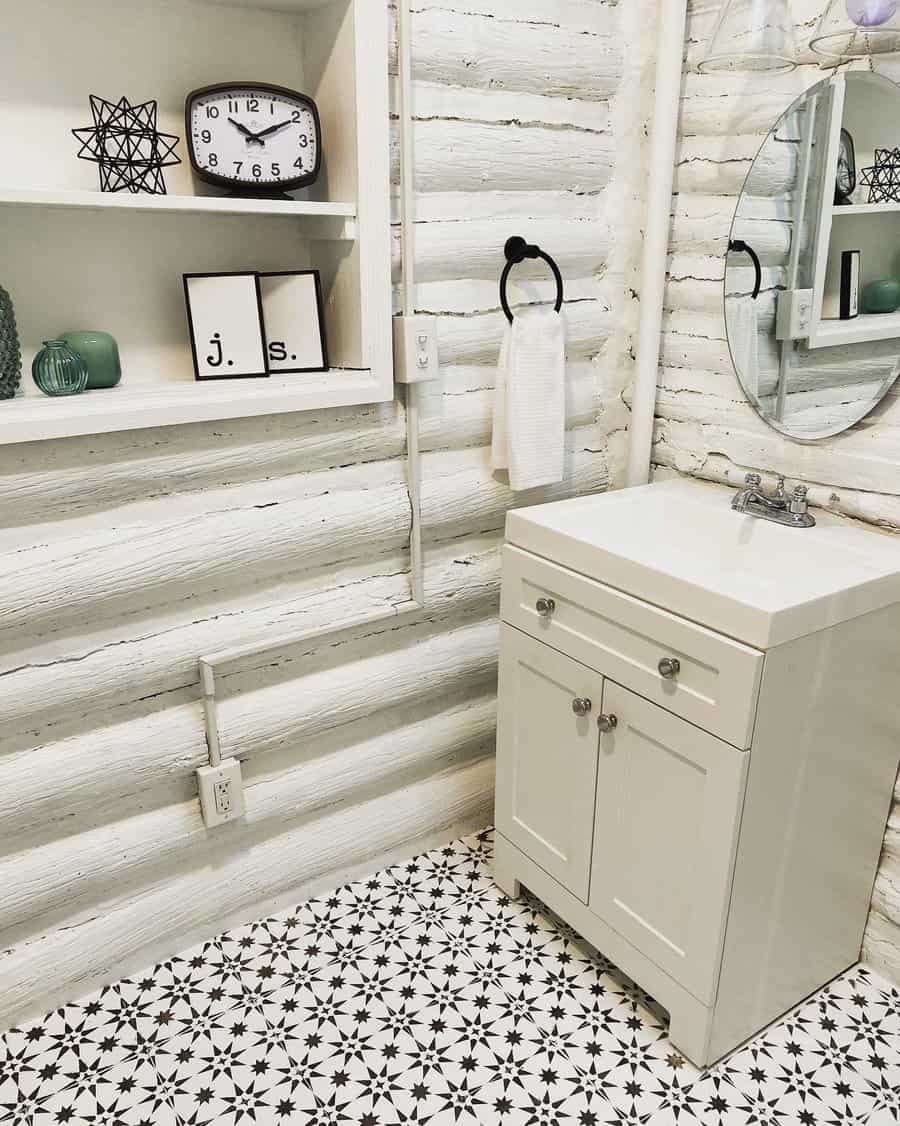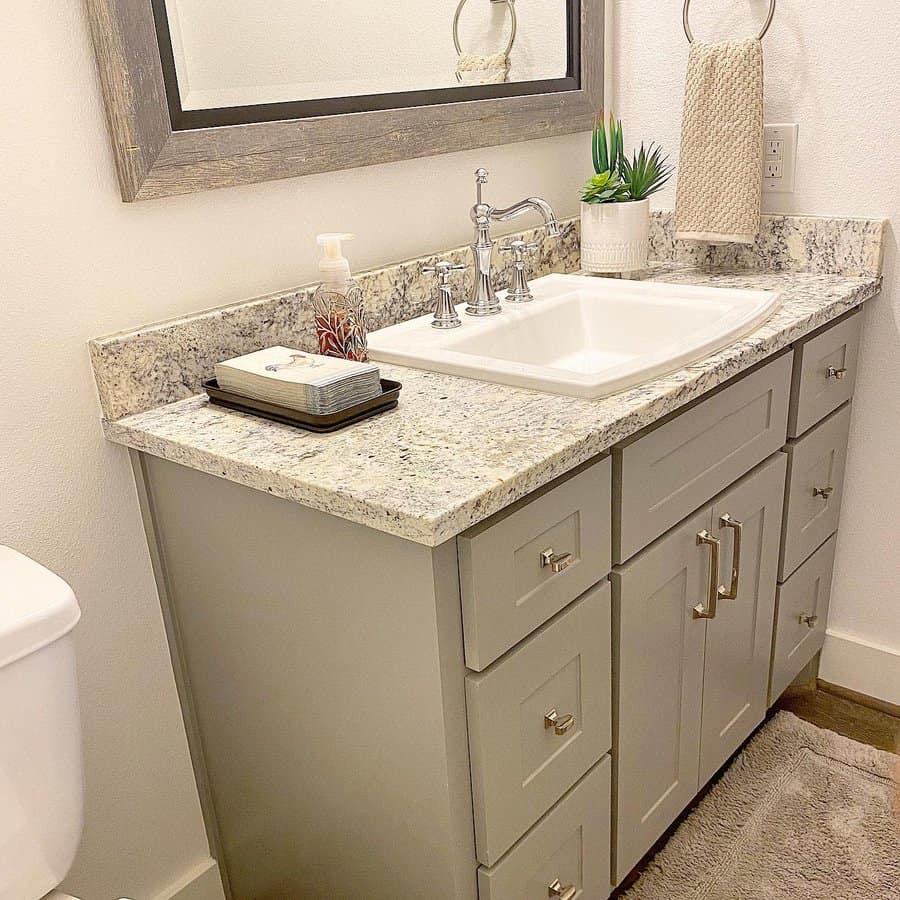 Don't get discouraged if a rustic sink isn't in the cards. You can still give your bathroom a farmhouse-inspired aesthetic with shiplap paneling or a vintage vanity mirror.
Distressed cabinets are the perfect complement to any rustic bathroom design. For a modern interpretation of the farmhouse trend, go with white or grey shaker cabinets. Install brass or cast iron hardware as a finishing touch.
5. Faucet
It isn't always necessary to replace the existing sink to give your bathroom vanity a new look. Just investing in an updated faucet might be all the space really needs!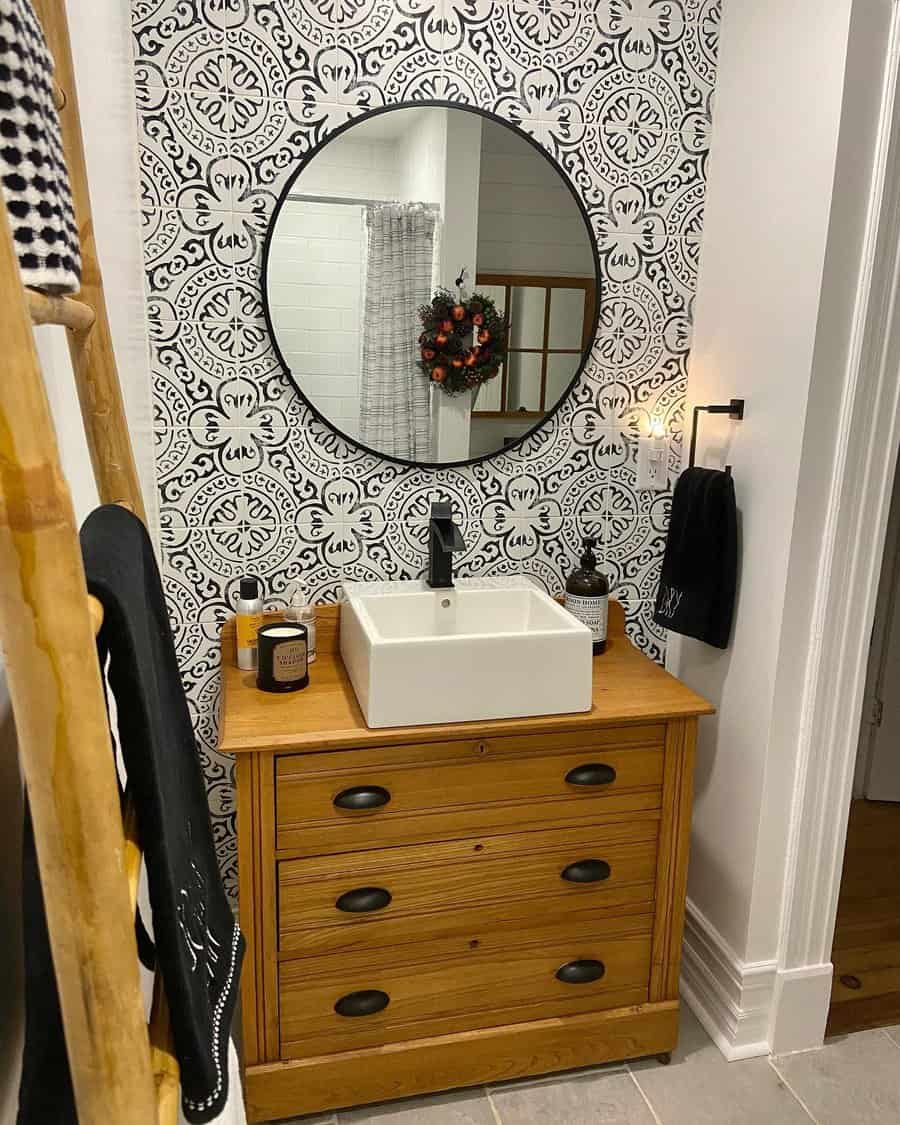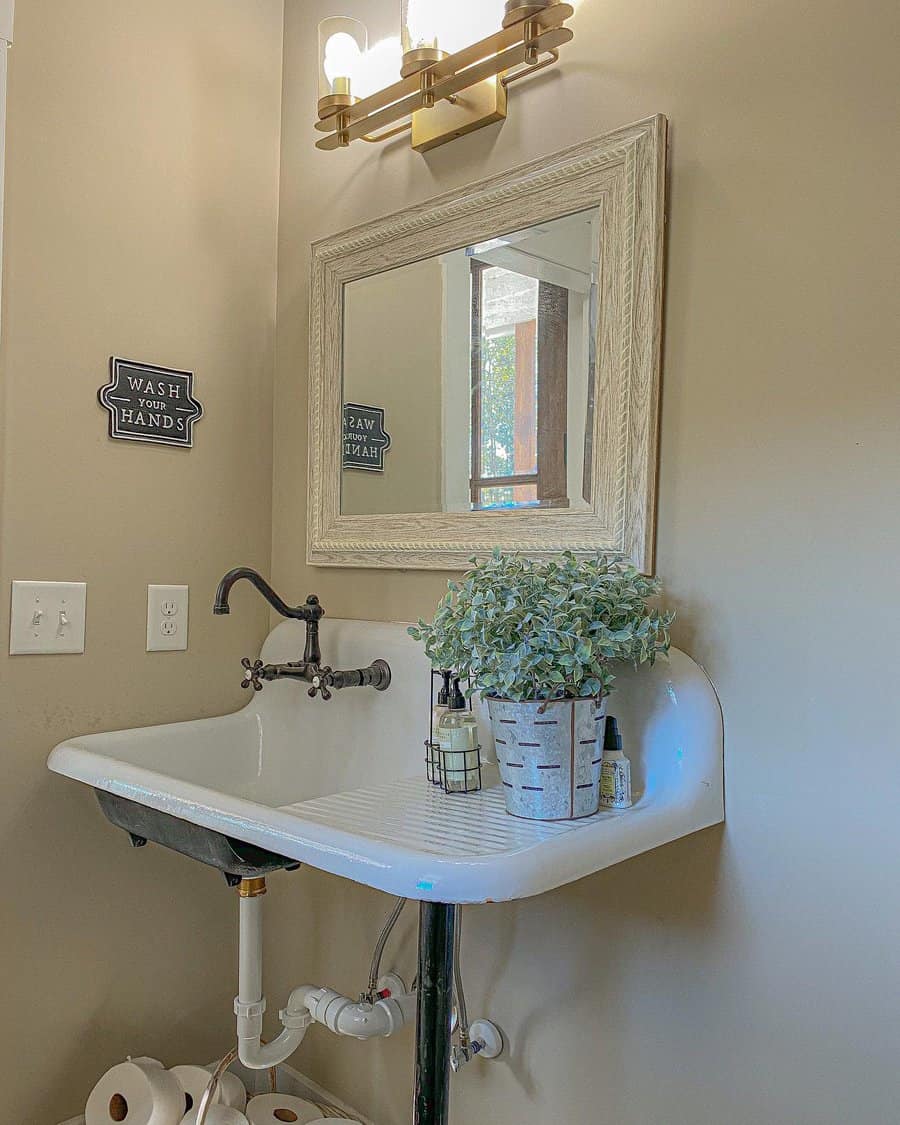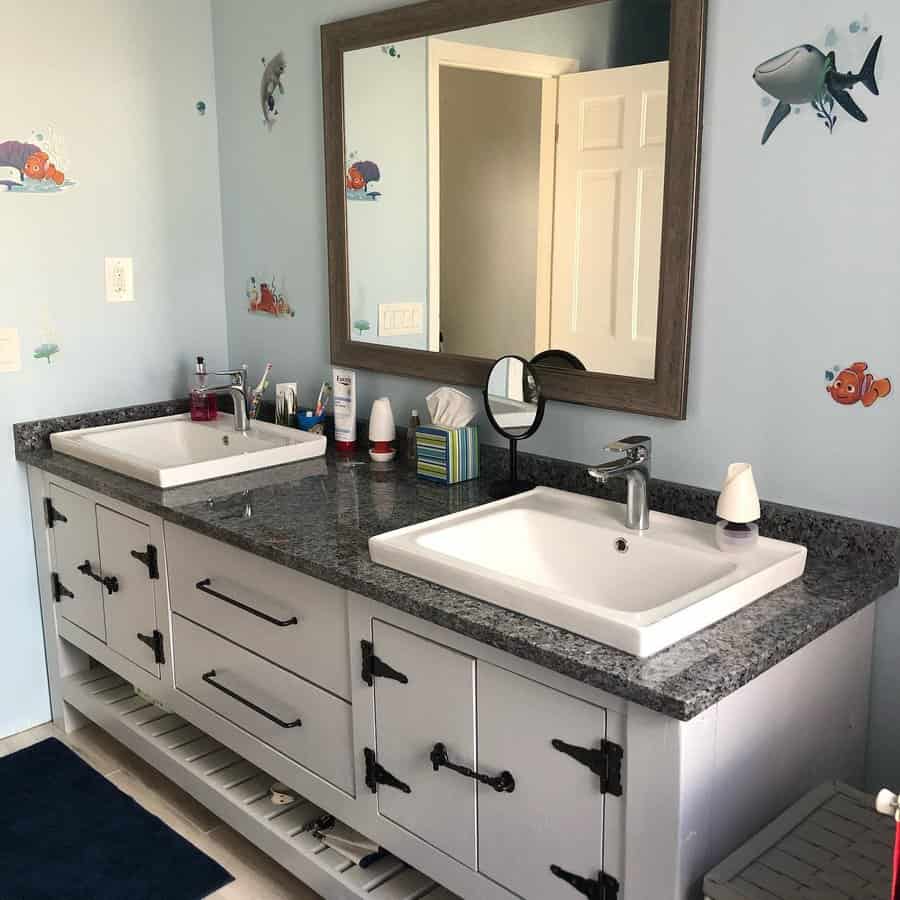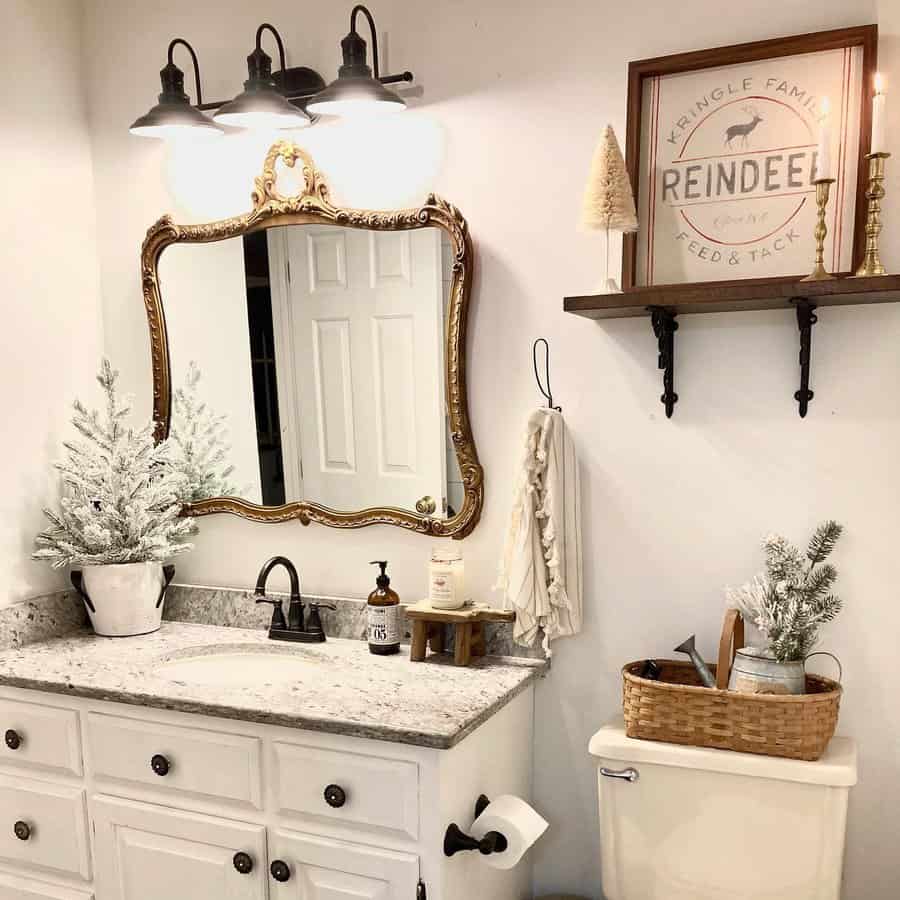 Faucets come in all different sizes, styles, and finishes. Some faucet styles require specialty plumbing setups — i.e., wall-mounted spouts. However, most bathroom faucets are compatible with nearly any sink design.
When selecting a new faucet set, take inspiration from the other hardware within your bathroom. Your bathroom fixtures don't need to match perfectly. But coordinating them is always a good idea.
6. Marble
Marble offers a rare touch of organic luxury that's sure to elevate any bathroom design. There are several effective ways to use this natural stone in your own bathroom vanity.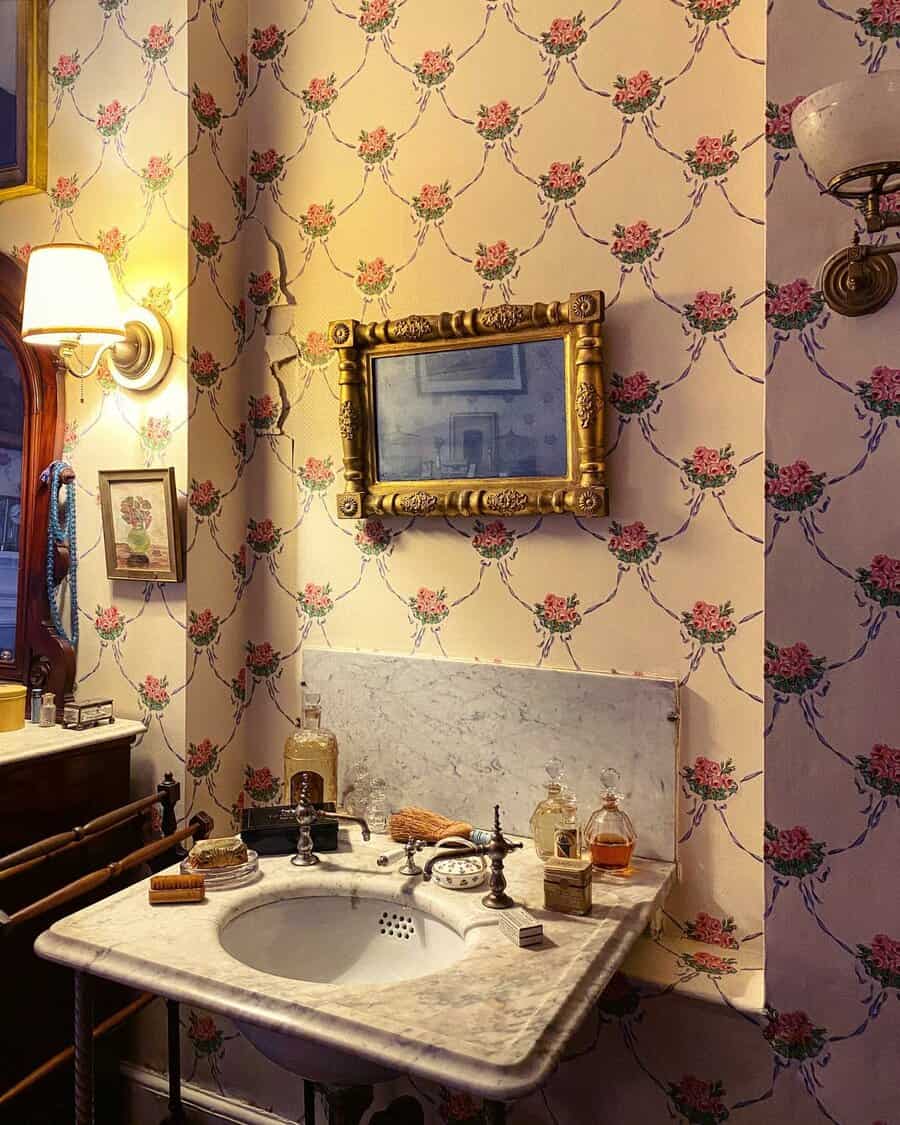 A simple marble countertop can be combined with your favorite vessel sink and vanity cabinets. Extend the look even further with a matching marble backsplash.
Remember that marble comes in more shades than just white. Black, grey, and even pink marble are all wonderful alternatives. While some such colorways are hard to come by, the search will be well worth it once you see the final results.
7. Modern
Between integrated vanity lighting and angular fixtures, designing a modern-style bathroom is both fun and relatively straightforward. And the bathroom sink is the perfect place to start the renovation process.
A floating vanity is guaranteed to give your bathroom a dose of modern appeal. Opt for a built-in sink or a vessel sink for a more traditional design.
Many people love the sleek aesthetic of modern bathroom decor. With that said, including a few organic elements in your bathroom design can make the space feel more inviting. A stone sink or wood vanity are a couple of great examples.
8. Pedestal
If your goal is a bathroom inspired by traditional or even vintage design, you can't go wrong with a classic pedestal sink.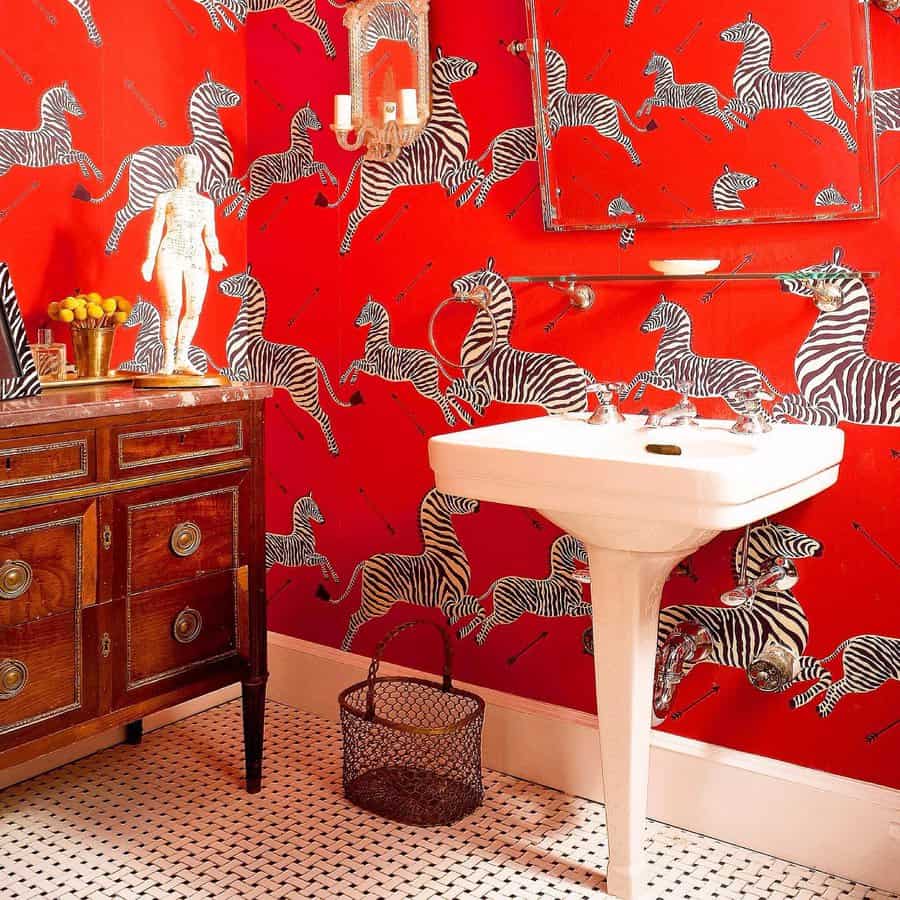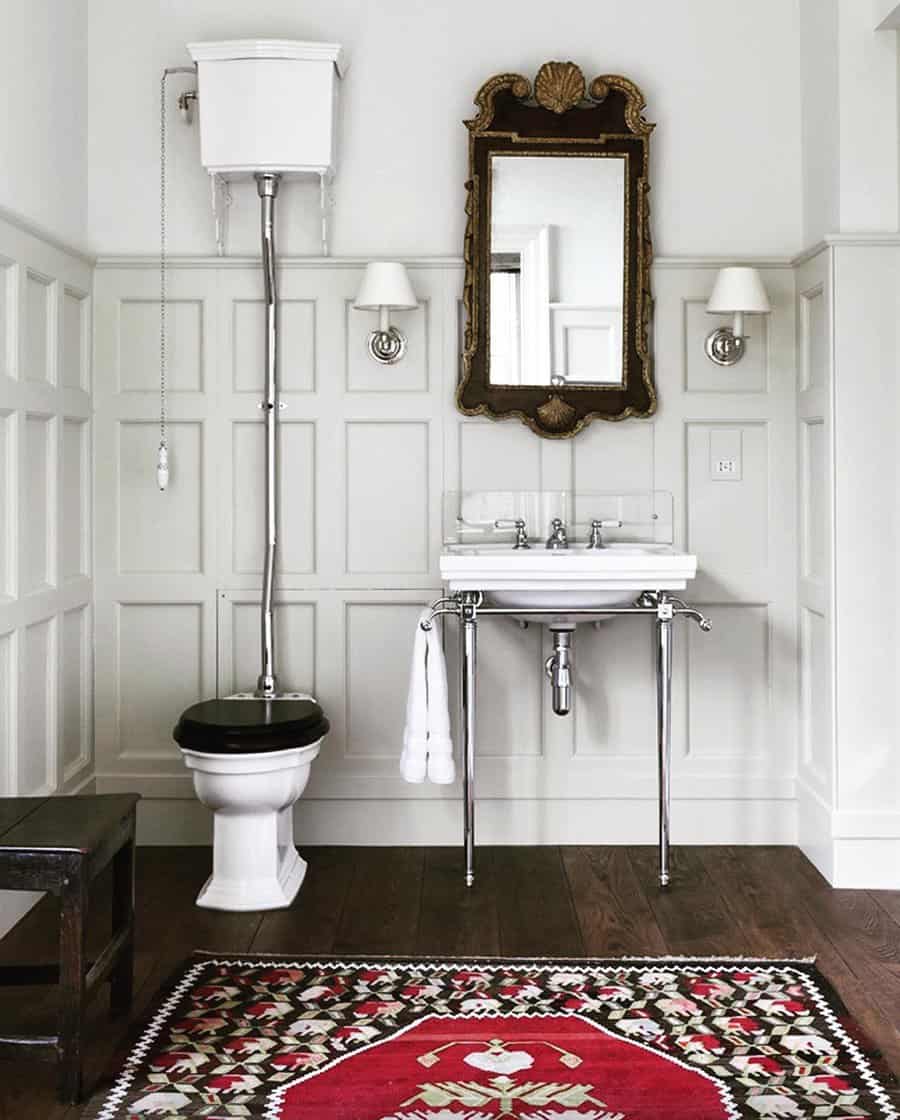 A simple white pedestal sink goes with nearly any decor style you can imagine. On the other hand, there are plenty of unique finishes and shapes available for a more eclectic look.
One thing to keep in mind is that pedestal sinks do not offer much storage. Boost your available bathroom storage with a deep medicine cabinet or floating shelves above the sink.
9. Round
A round bathroom sink is a softer alternative to a traditional square or rectangular basin. This style tends to work best with a freestanding or wall-mounted faucet.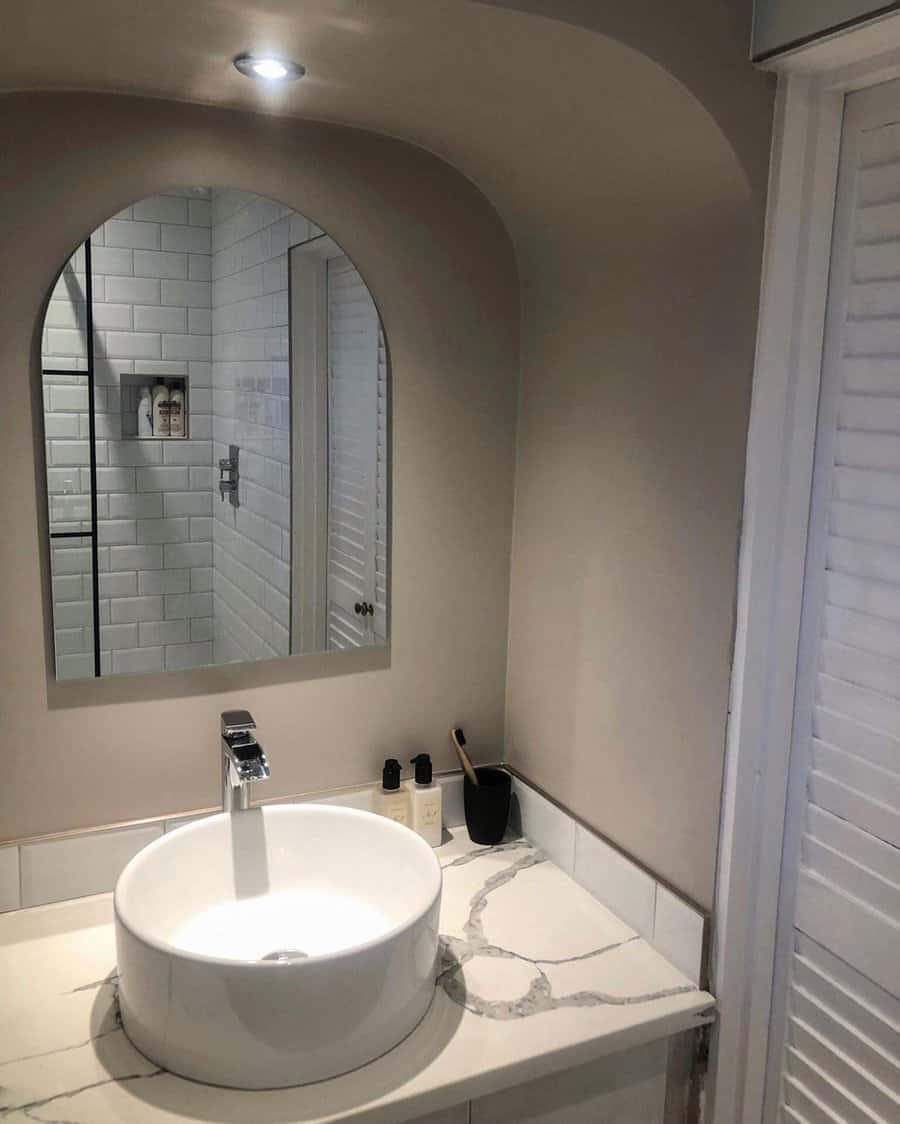 Opt for a round vessel sink if you're going for a feminine design. Complete the look with a delicate faucet set and dramatic vanity mirror. Subtle shades of pink will really sell this stylish powder room or master bath idea.
Pairing a circular vessel sink with a floating bathroom vanity is an excellent way to create a sleek and modern aesthetic with minimal decor. Or incorporate natural stone or wood grain throughout your bathroom for an organic appearance.
10. Undermount
An undermount sink is one that fits into a pre-cut hole in the bathroom vanity. It sits flush with the counter, not above it as a vessel sink would.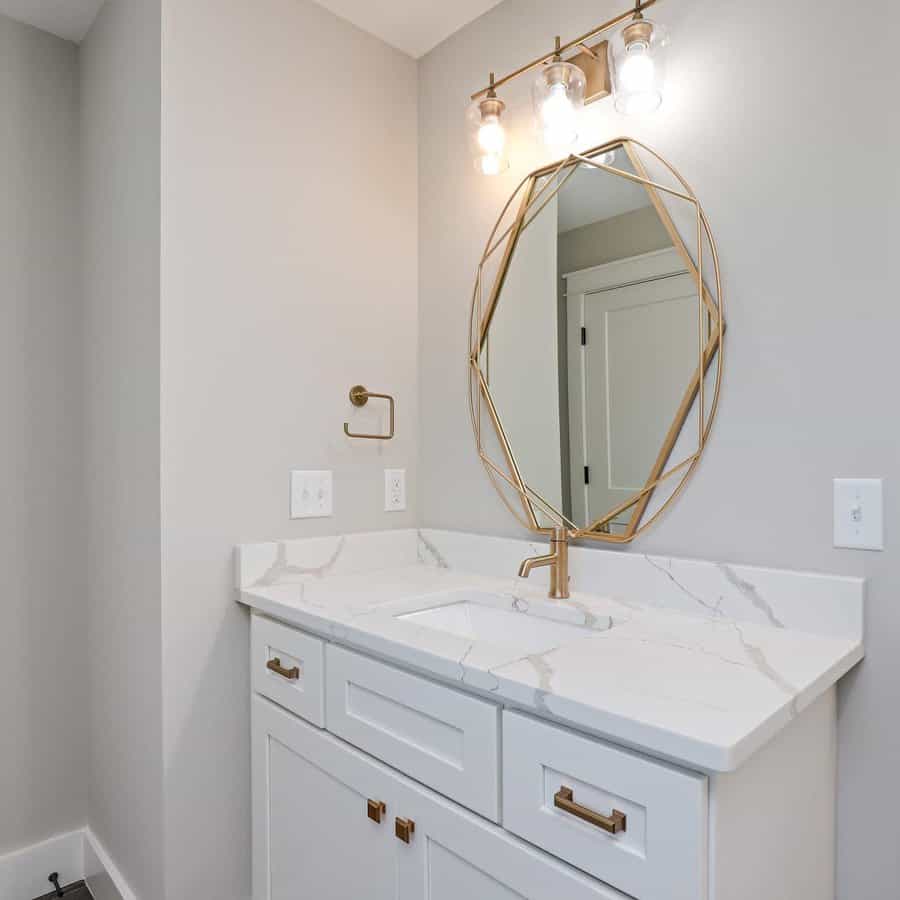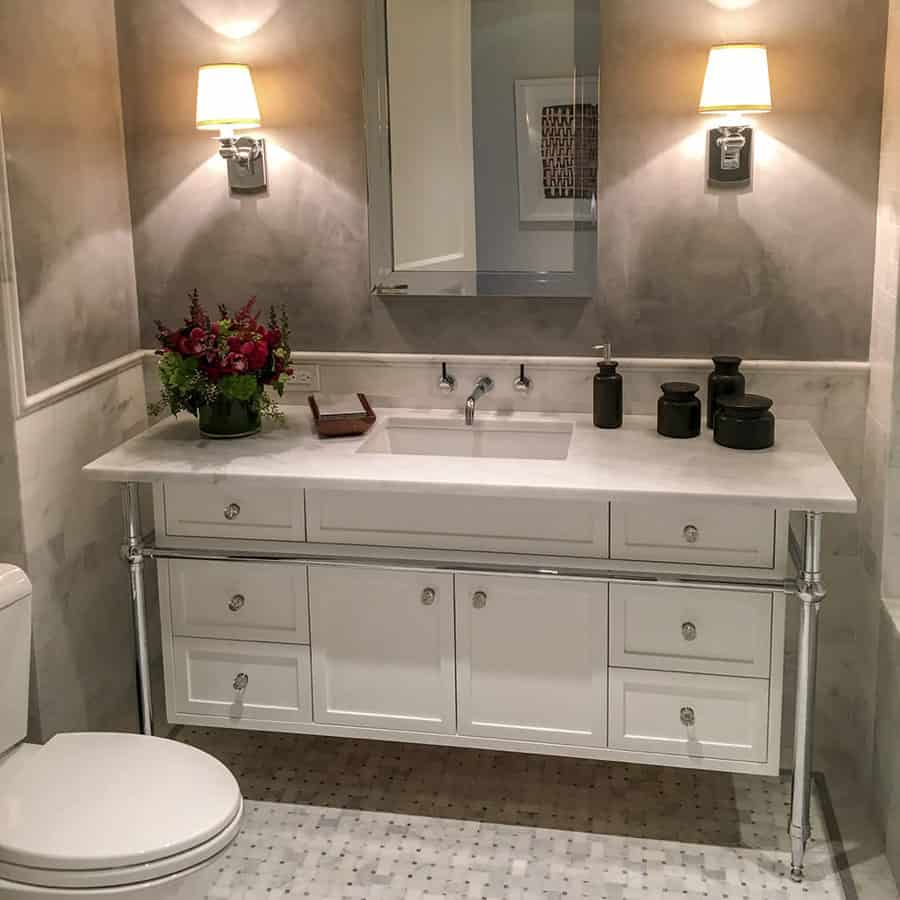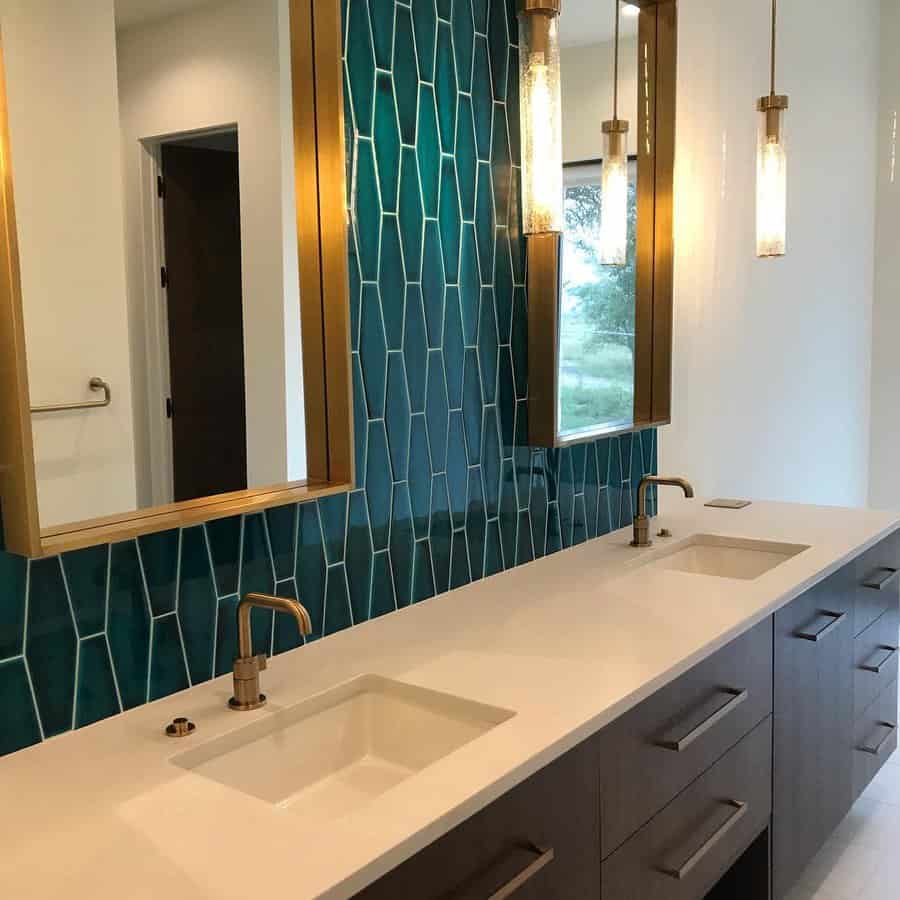 As the name suggests, these sinks are installed underneath the countertop rather than through the top. This creates a seamless appearance where the sink and counter meet.
An undermount sink is a great choice for your bathroom remodel if you want the vanity countertop to be the main attraction. This type of sink won't compete for attention when paired with more dramatic bathroom vanity ideas.
11. Vanity
The bathroom sink is rarely independent of the room as a whole. In many cases, it's just one small facet of a larger bathroom vanity.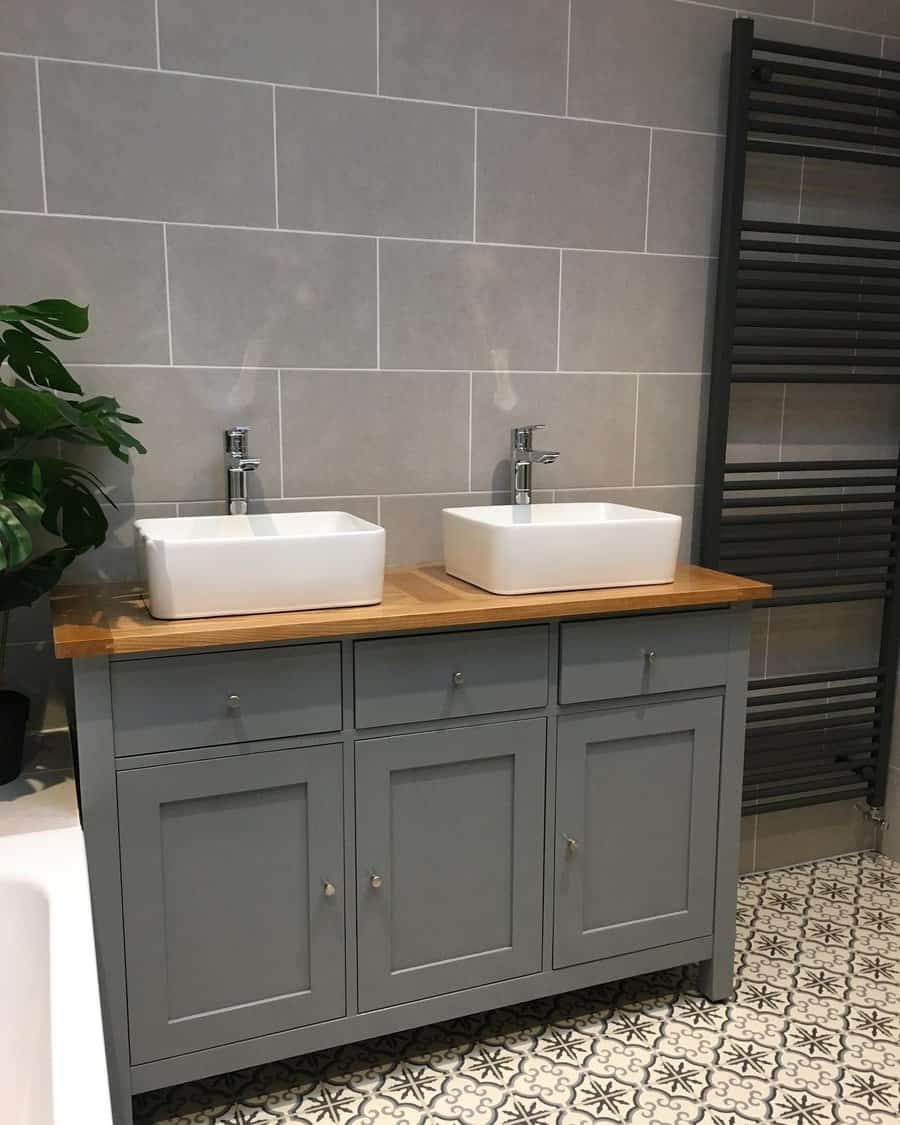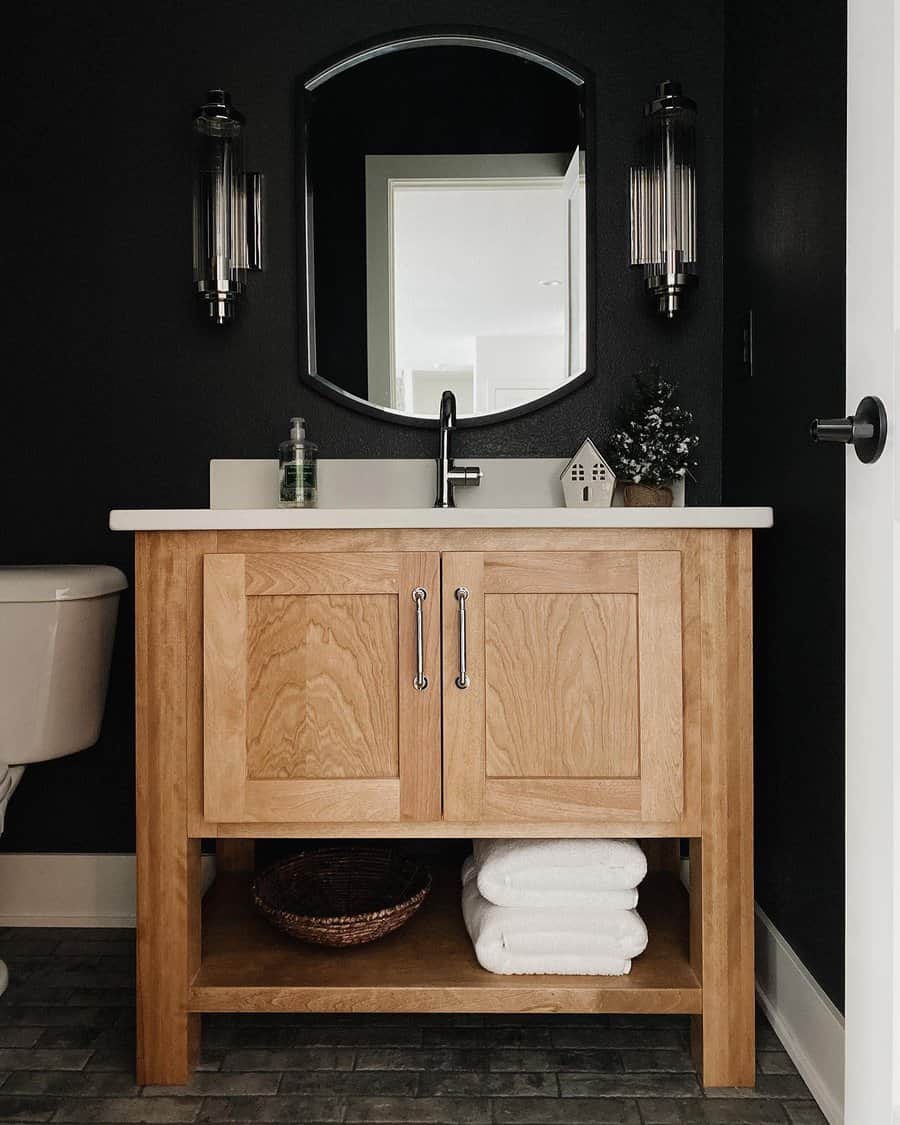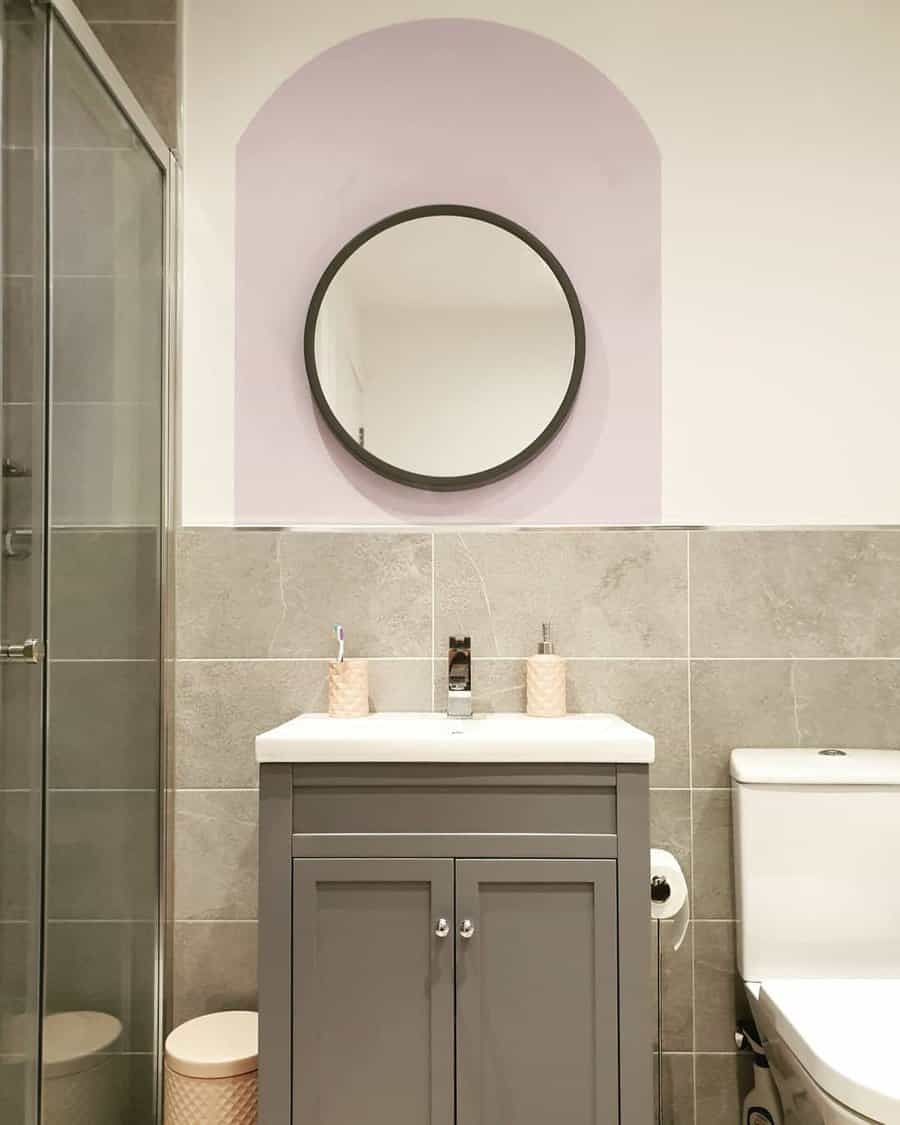 Bathroom vanity ideas vary greatly in aesthetic and function. A vanity in a powder room will hardly look the same as one in a multi-person master bath. Take these factors into account when finding inspiration for your own bathroom vanity and sink.
Does a bathroom vanity need to include a mirror? No. But it's hard to picture a vanity without one. Your selected mirror can have a huge impact on the final bathroom design, whether that means going big or keeping things simple.
12. Wall Mount
A wall-mounted sink is a wonderful solution for any small bathroom. Use the space underneath as extra storage. Or leave it empty to open up the bathroom floor plan and create a little breathing room.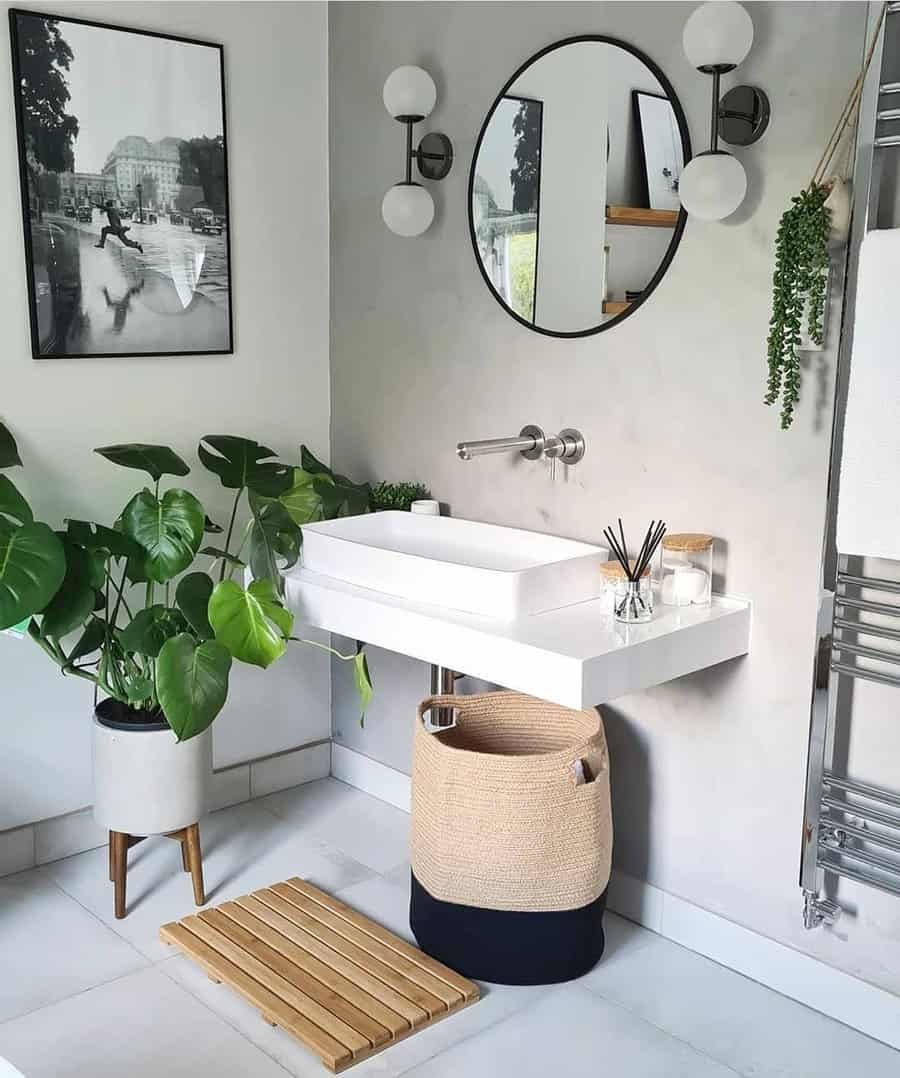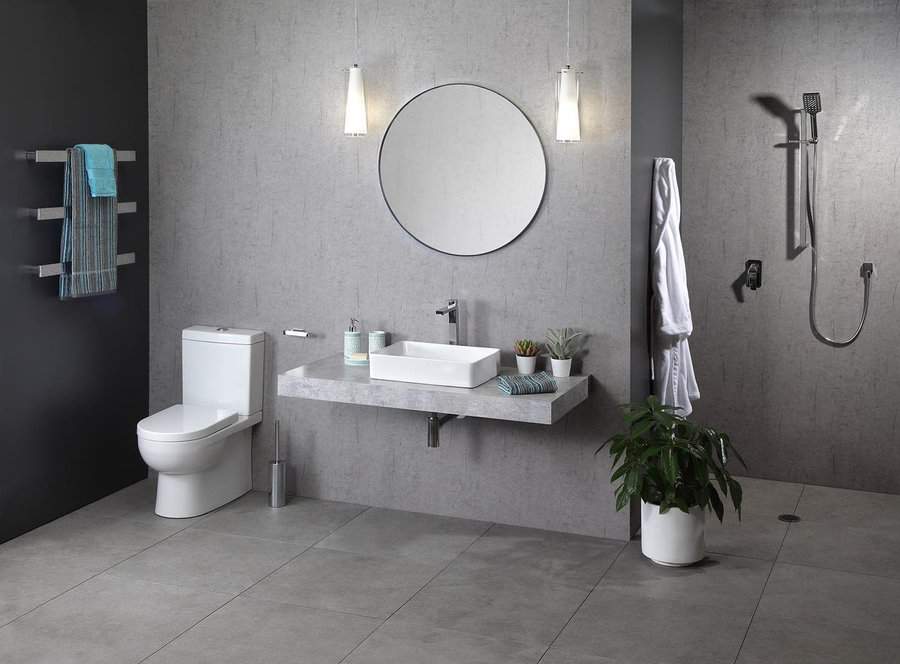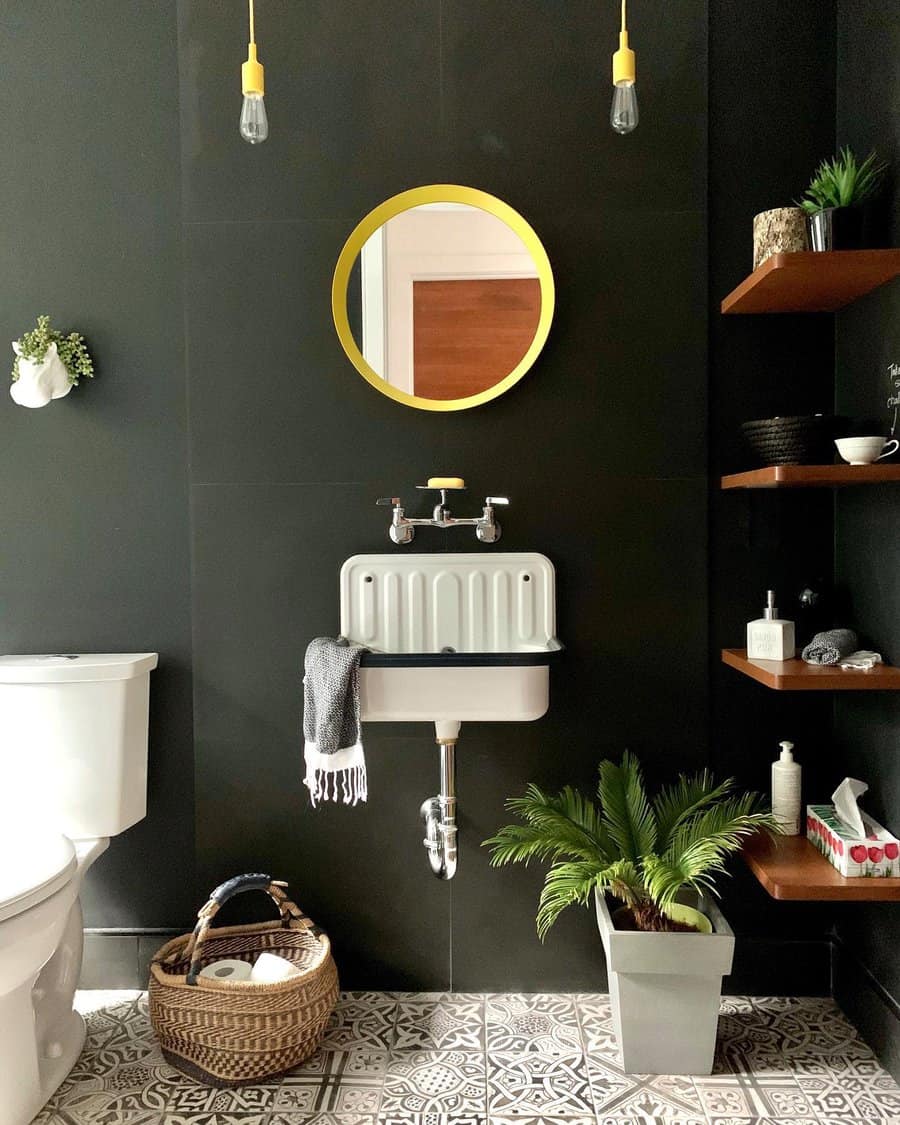 When shopping for a wall-mounted bathroom sink, be sure to keep an open mind. There are many different styles available. Some can even be paired with a floating vanity for additional storage and bathroom counter space.
Wall-mounted sinks offer a unique opportunity to expose the plumbing underneath. This is perfect for an industrial, rustic, or vintage bathroom design.
13. Wood
If you're looking for a bathroom sink that is truly unique, why not invest in a basin made of wood? (Yes, wooden sinks are a thing!)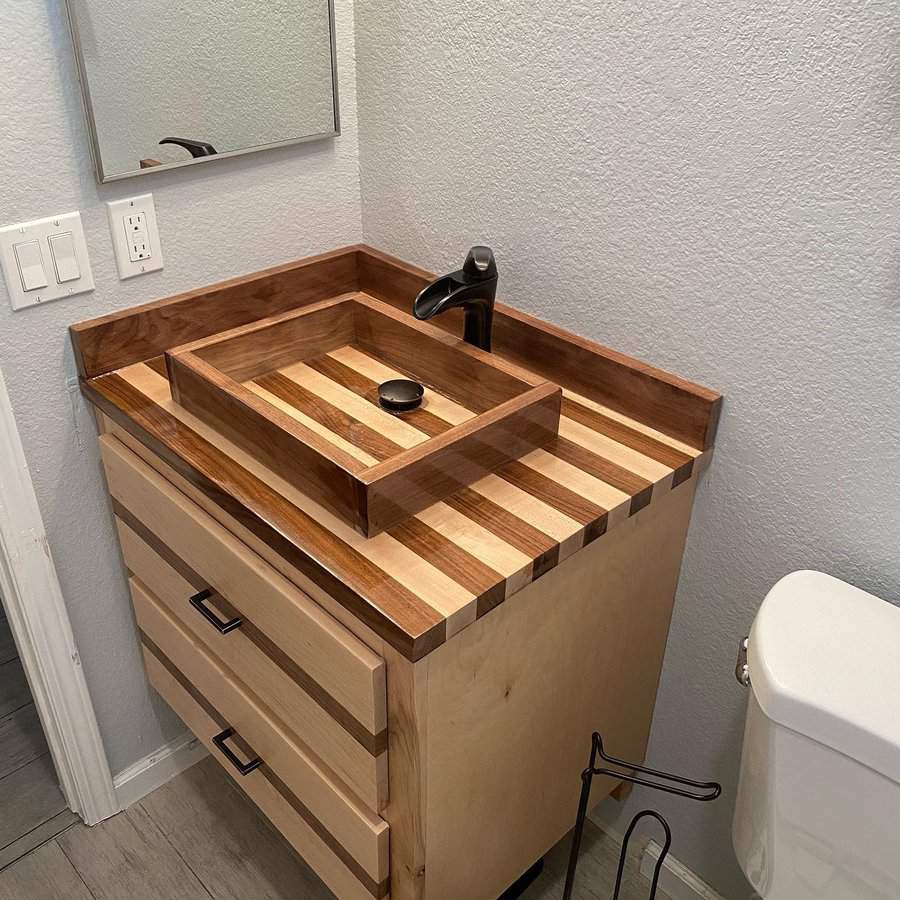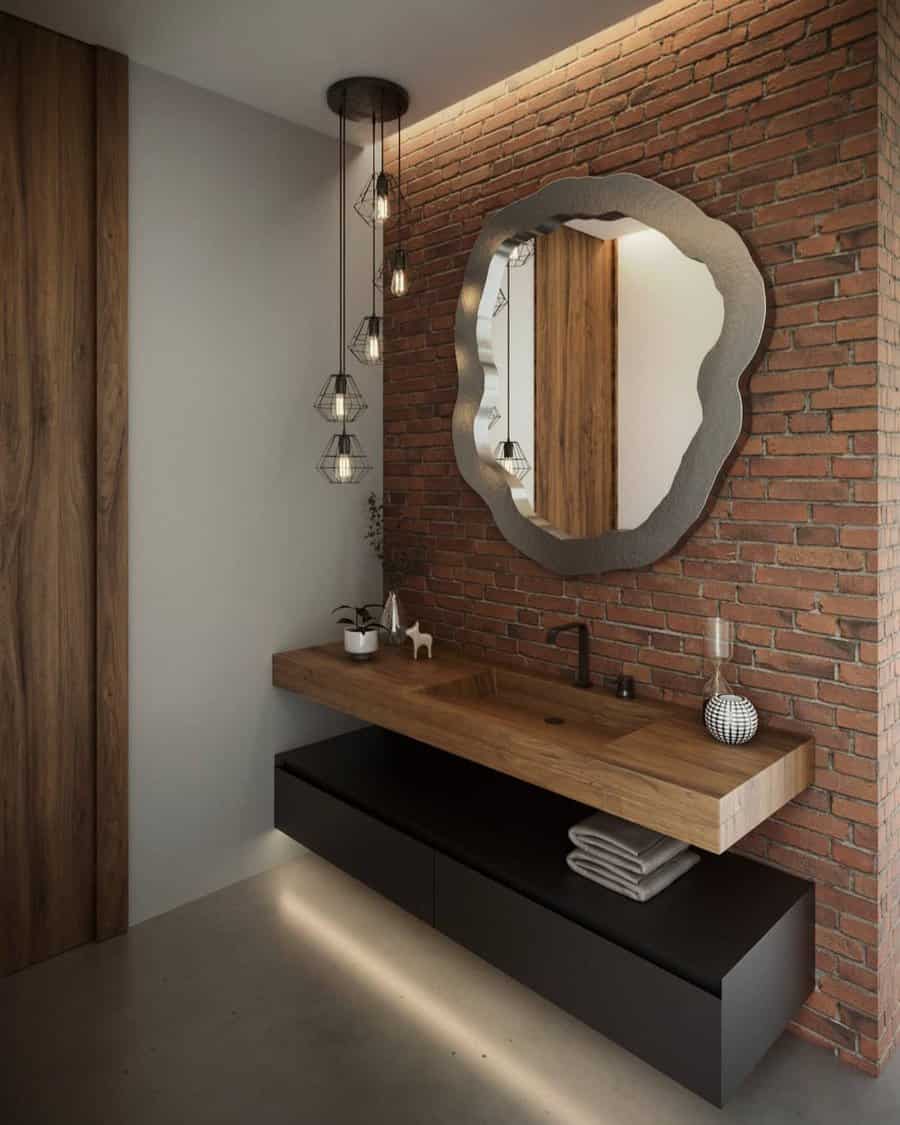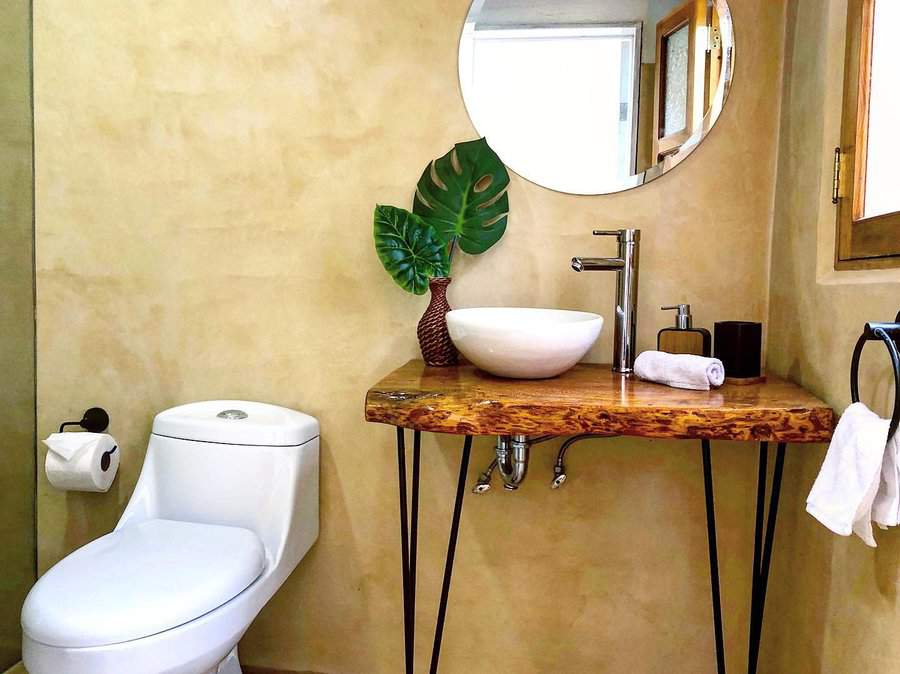 A wooden sink is a statement piece. Of course, you can't just use any wood. Crafting a wood sink is a detailed process that uses special treatments to ensure the final product is durable and waterproof.
While undeniably cool, a wood sink isn't for everyone. Consider pairing a traditional vessel sink with a wooden bathroom vanity to achieve a similar look.
Bathroom Sink FAQs
What is the difference between a bathroom and a kitchen sink?
There are no practical differences between the average bathroom and kitchen sink. Most differences come down to basin size and overall style.
Kitchen sinks are typically larger than bathroom sinks. They're also more likely to boast special features like multiple faucets or double basins.
If the sizes match up, there's really nothing stopping you from installing a kitchen sink in your bathroom or vice-versa.
What material is the standard bathroom sink made of?
Most bathroom sinks have a porcelain-like appearance. However, it's very rare for bathroom sinks today to actually be made of this delicate material.
Instead, bathroom sinks are often made of cast iron covered by vitreous china enamel. This creates the classic white finish most people associate with porcelain without any of the associated issues with durability. Modern bathroom sinks made of these materials are incredibly sturdy and built to last!