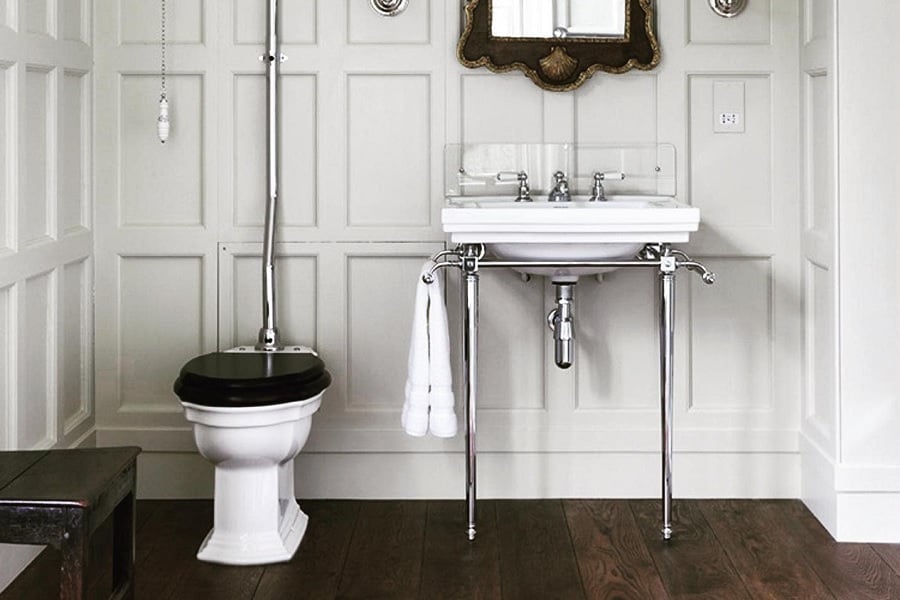 The Top 33 Bathroom Sink Ideas
No matter the size, there are two things all bathrooms need. The first, of course, is a toilet. The second is a sink.
At the end of the day, any sink with running water and a working drain will do the trick. But that doesn't change the fact that selecting a new sink is a major part of any bathroom renovation.
The choice you make today will affect your bathroom design for the foreseeable future! So keep reading for the top sink and bathroom vanity ideas that combine the best in form and function.
1. Herringbone Tile Backsplash
Bring out the creative side of your bathroom with a unique bathroom sink! If you're looking to make an eye-catching statement, consider a bathroom sink with a herringbone tile backsplash. This classic chevron pattern brings out timeless beauty that has been around for centuries, while still staying modern and fashionable today.
The neutral color will give your bathroom a beautiful sun-kissed glow that perfectly completes any style. Whether you choose white, grey, or beige hues, this option is sure to give your home the luxurious feel it deserves.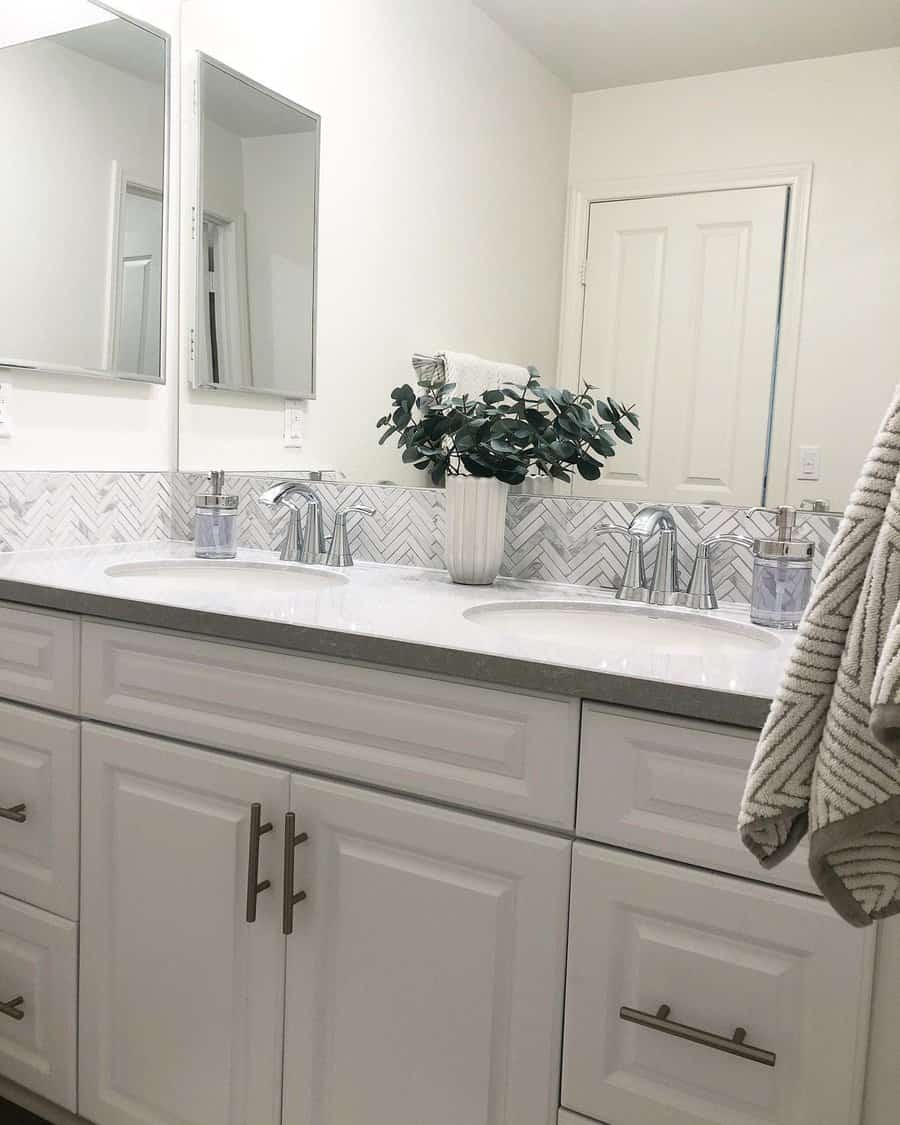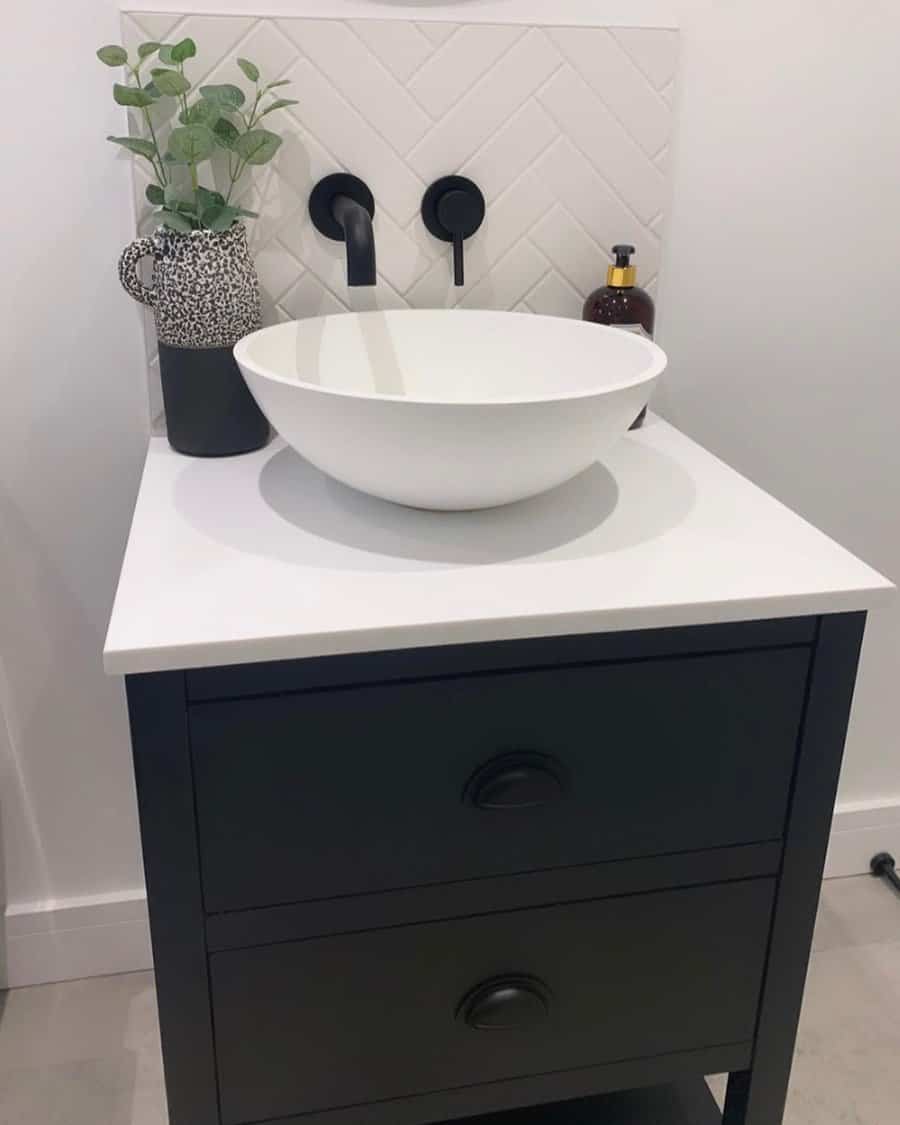 2. Black Fixtures
Jazzing up your bathroom just got easier with a new, stylish sink. You could opt for one that features modern black fixtures, giving you a unique look for the bathroom. The high contrast of white porcelain and shiny matte black hardware gives your room an upscale vibe.
It's also incredibly practical due to its easy-clean surface and resilient materials that withstand whatever is thrown at it. Adding a sleek bathroom sink with black fixtures is sure to give your space a chic finishing touch!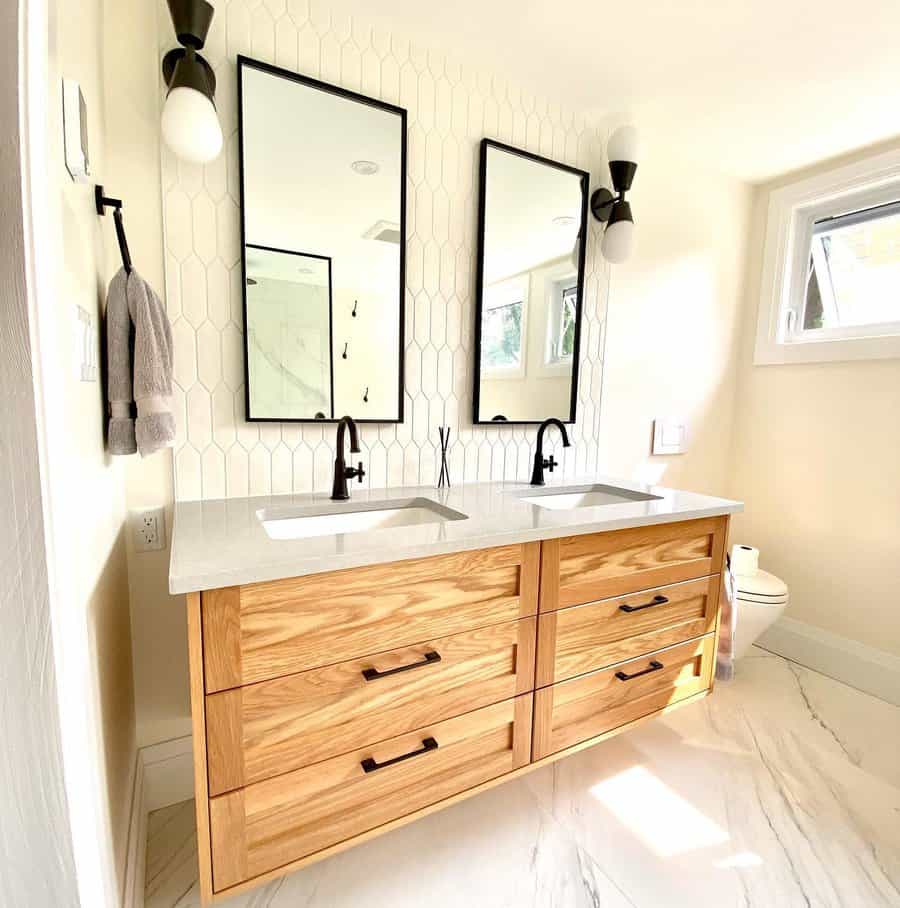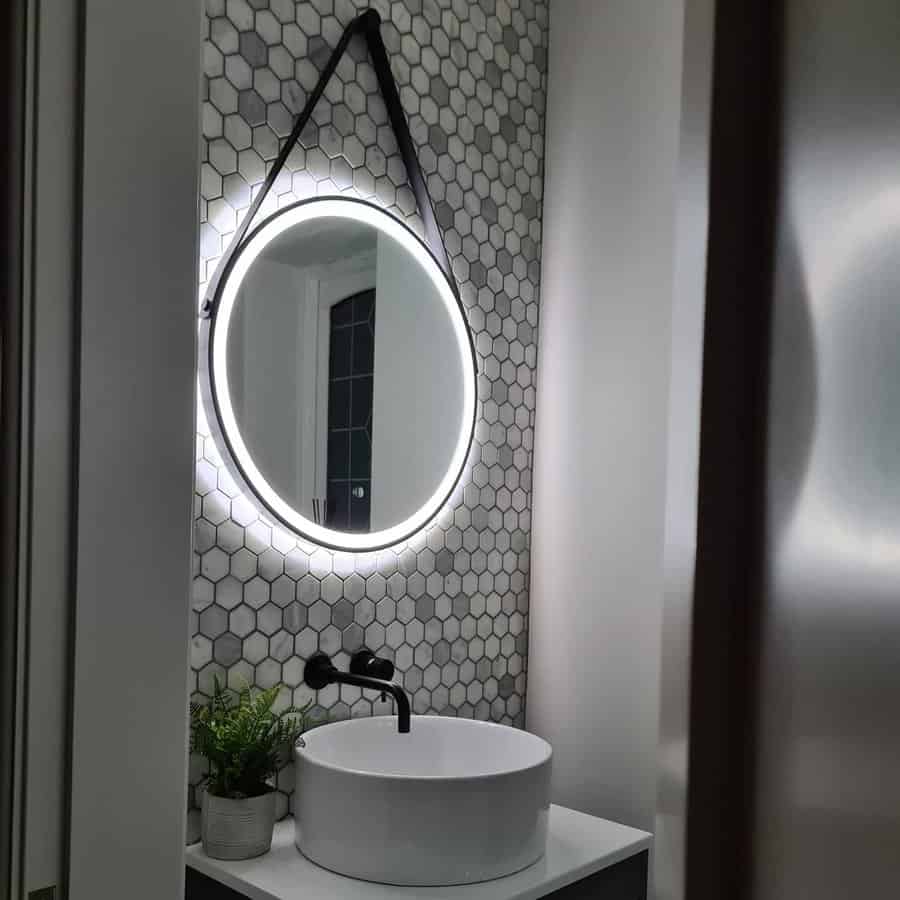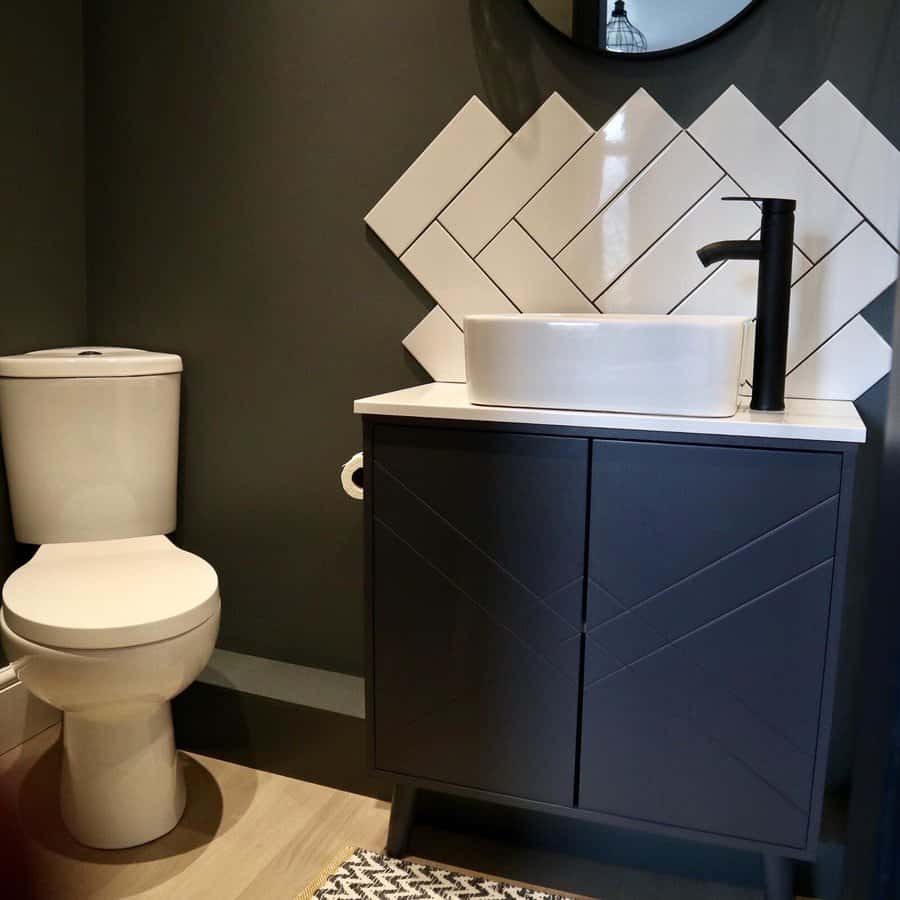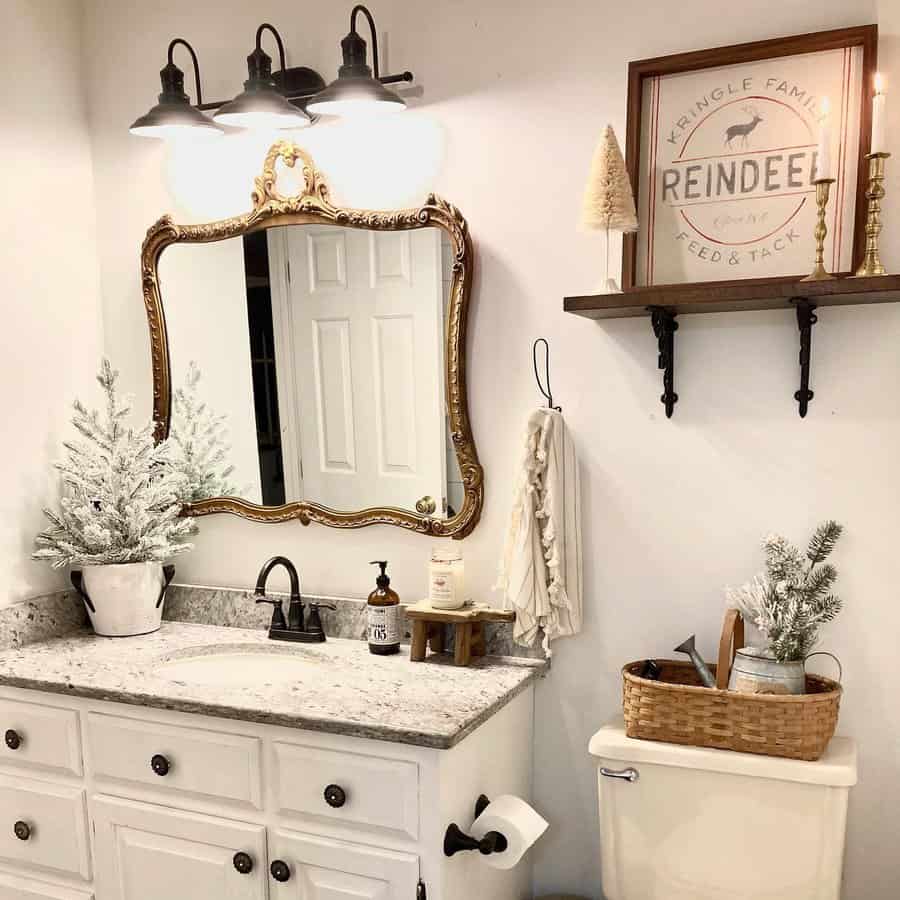 4. Edwardian Wash Basin
If you're looking to make a statement in your bathroom, why not go with an Edwardian wash basin? Its gorgeous curves have been elevating bathrooms since the late 19th century and it's a sure-fire way to give your home that extra bit of pizzazz.
The lovely accents that come with such designs are both timeless and versatile, providing a chic aesthetic no matter the other design details you choose for the room.
Moreover, this style of sink ensures convenience without sacrificing its ornate beauty, making it perfect for busy households. Give your guests something special to talk about with an Edwardian wash basin today!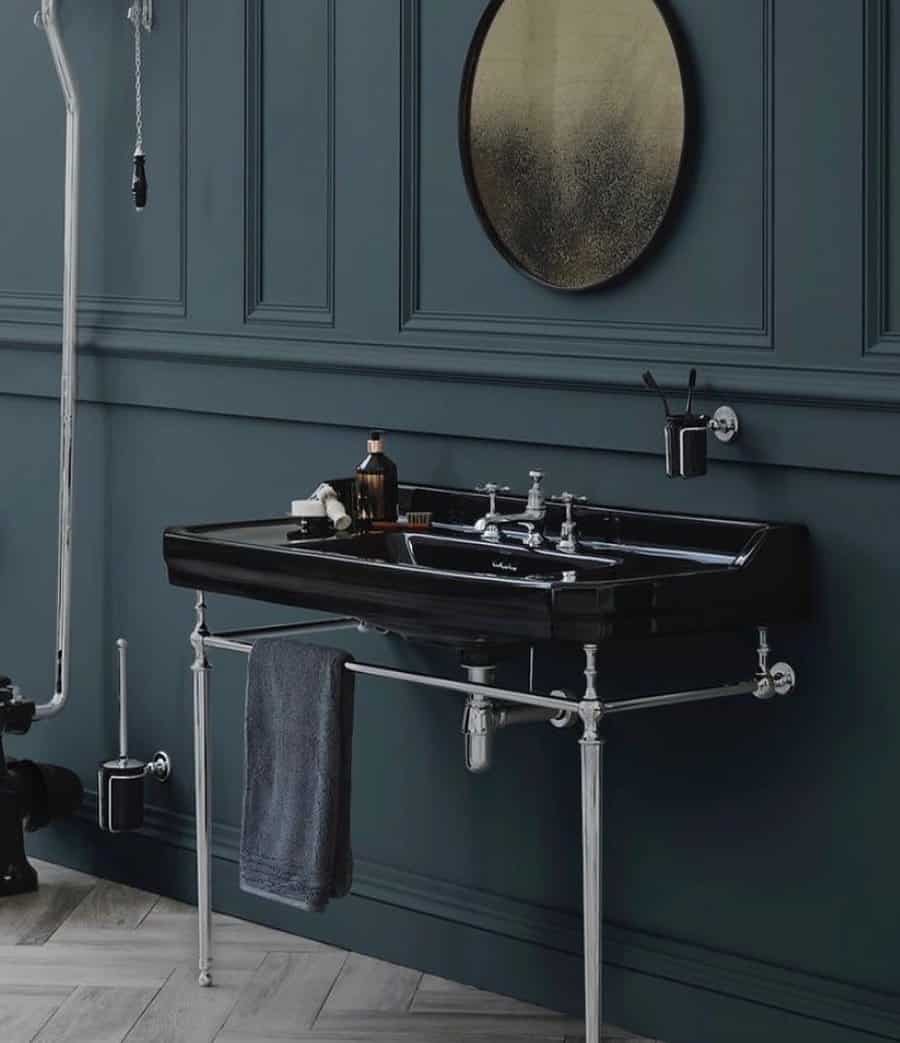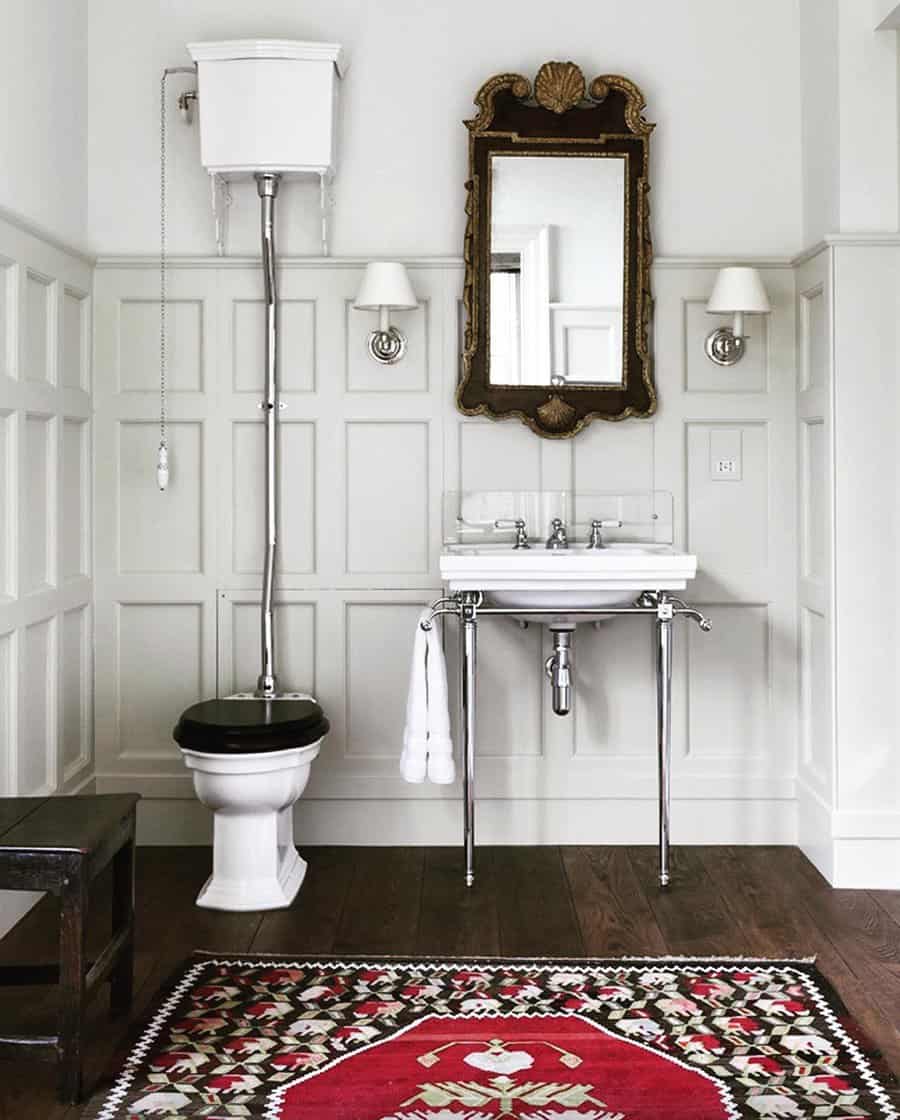 5. Freestanding Basin
When it comes to personalizing your bathroom, adding a freestanding sink can be the perfect touch. There are so many styles and materials to choose from, this modern sink option is sure to add an eye-catching focal point that looks sleek and stylish. From concrete composites to handcrafted terracotta options, you can find a freestanding sink that will fit into any design theme you're going for.
The benefit of a freestanding sink is its flexibility – you can install it virtually anywhere, on any wall or surface. You also have the freedom to combine different components like vessel basins, cabinets, custom hardware, and more. Add that special touch with a unique collection of accessories or fittings around the sink to give it even more personality and charm.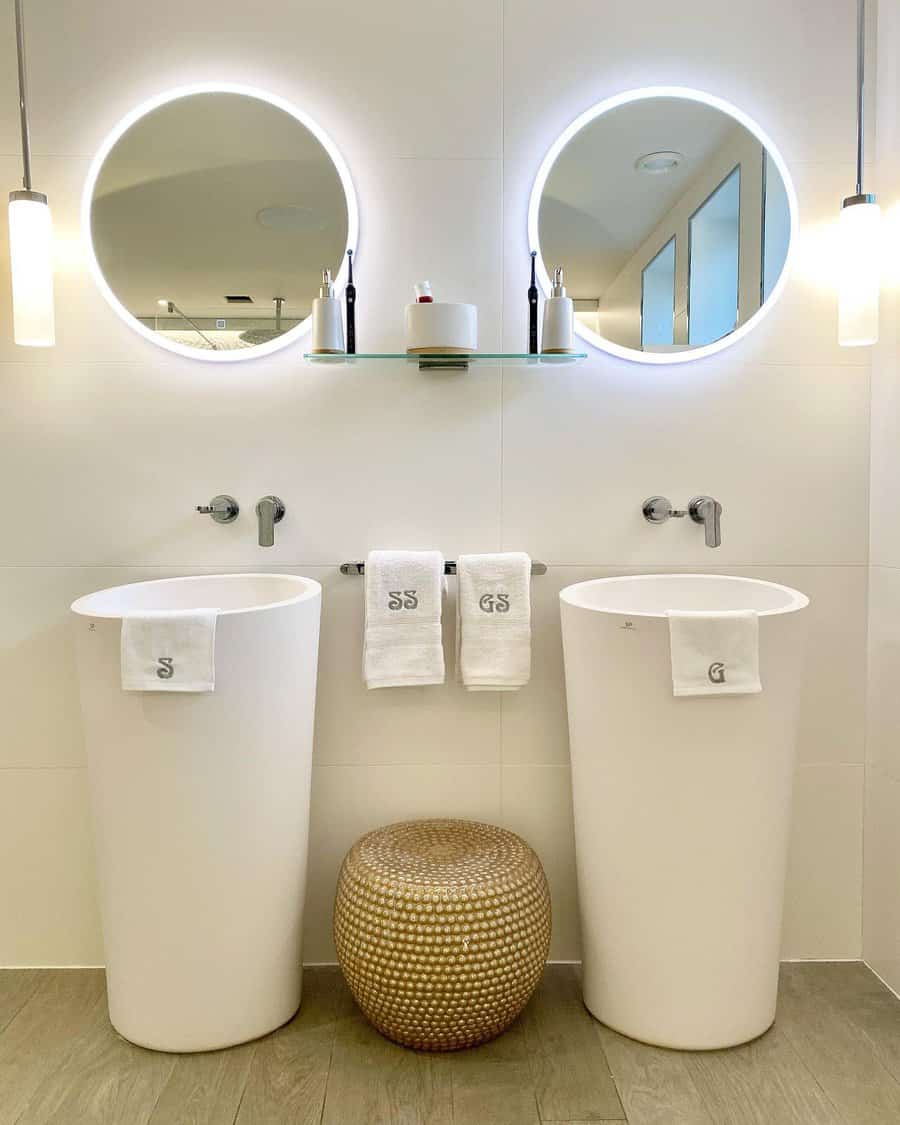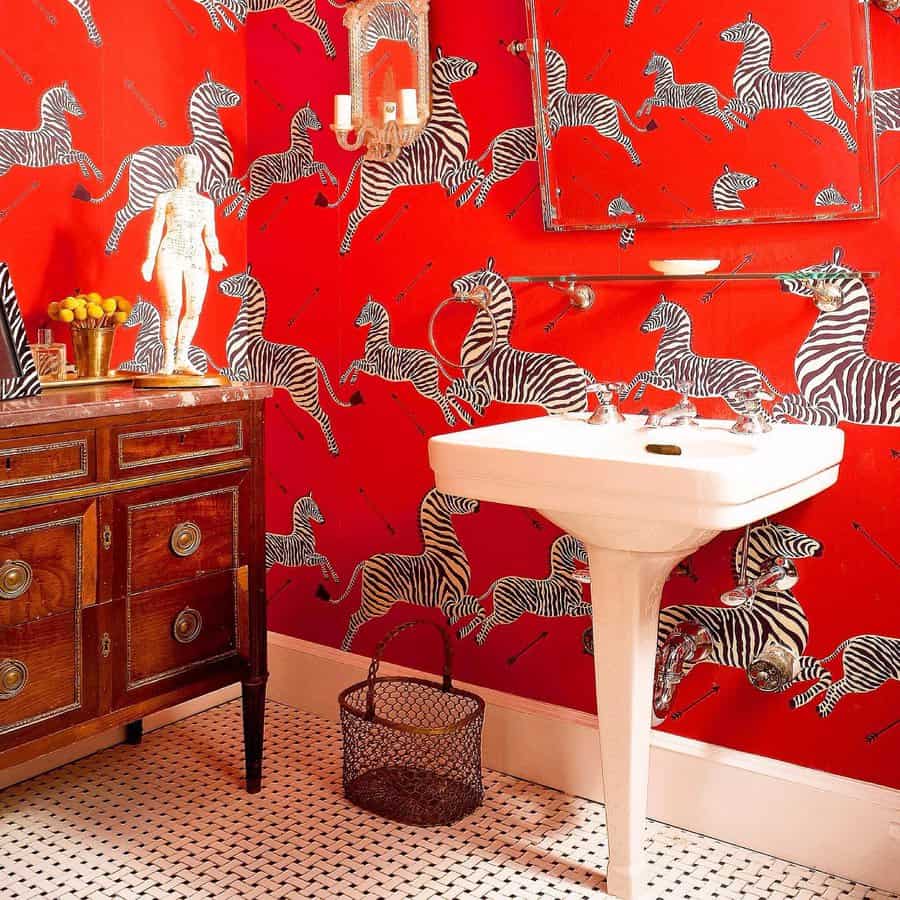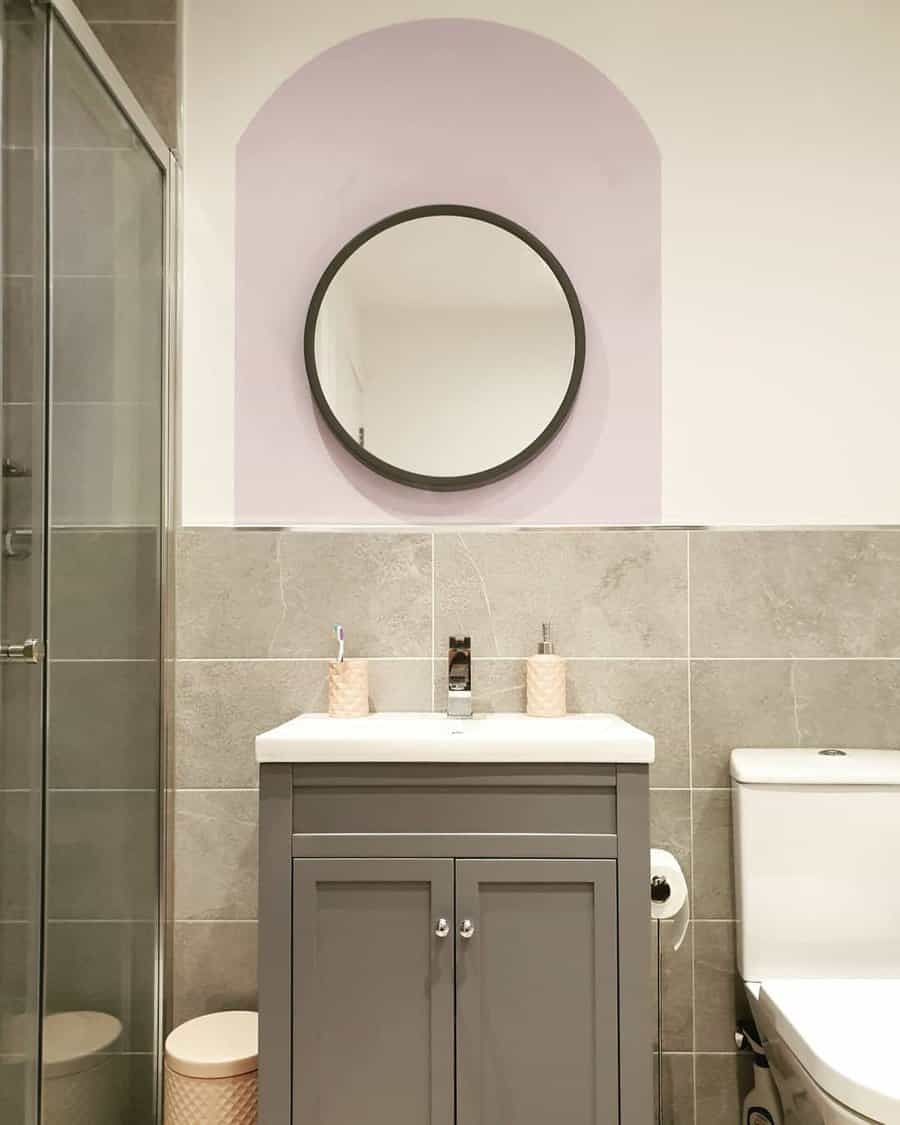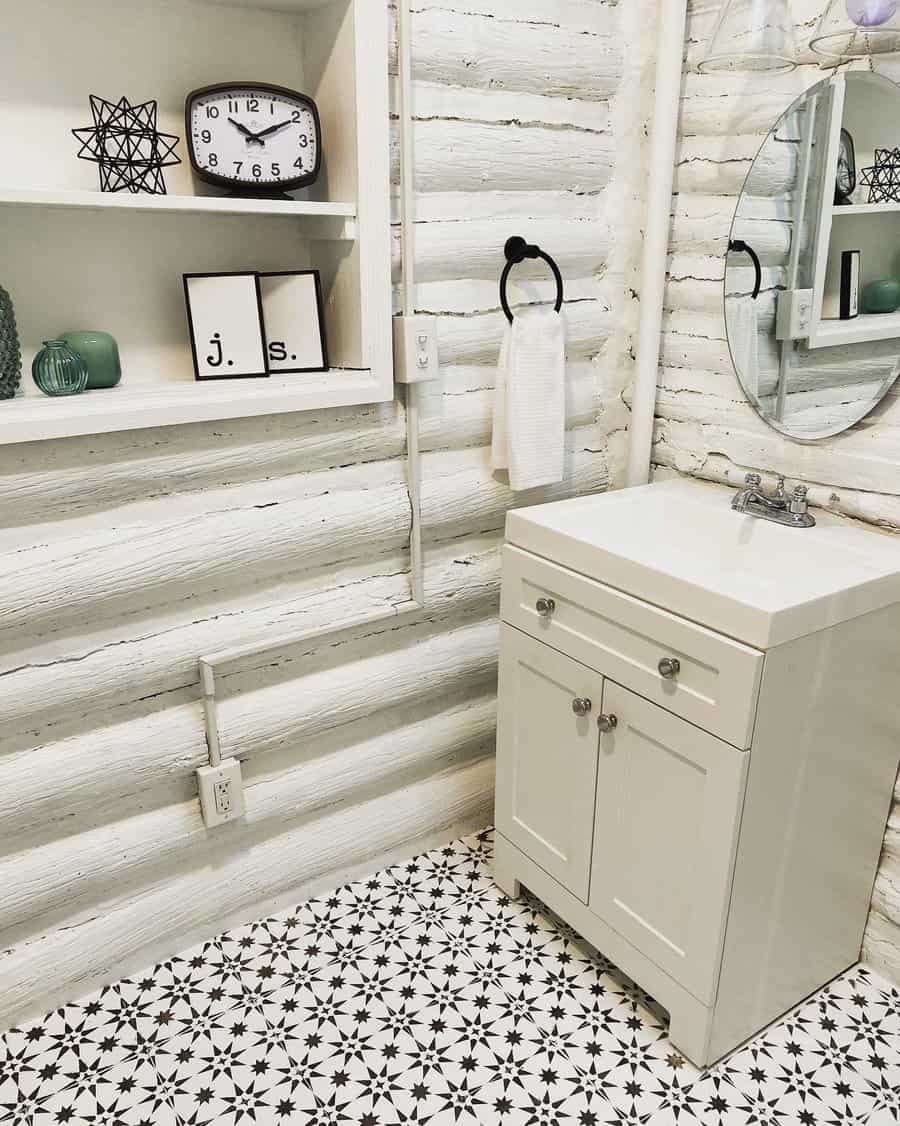 7. Double Sink
Adding a double sink to a shared bathroom space can be a practical and stylish solution to making morning and nighttime routines easier. If you're redecorating, consider incorporating one of the many innovative bathroom sink ideas now featured in home décor magazines, such as sinks mounted on sleek pedestals or even ones secured directly within the walls.
Consider the variables of size and style when making your decision: larger double sinks may work nicely in a master bath, while smaller sizes may be perfect for secondary bathrooms that are used by multiple people throughout the day. Ultimately, finding the right double sink for your shared bathroom will depend on your individual needs and preferences.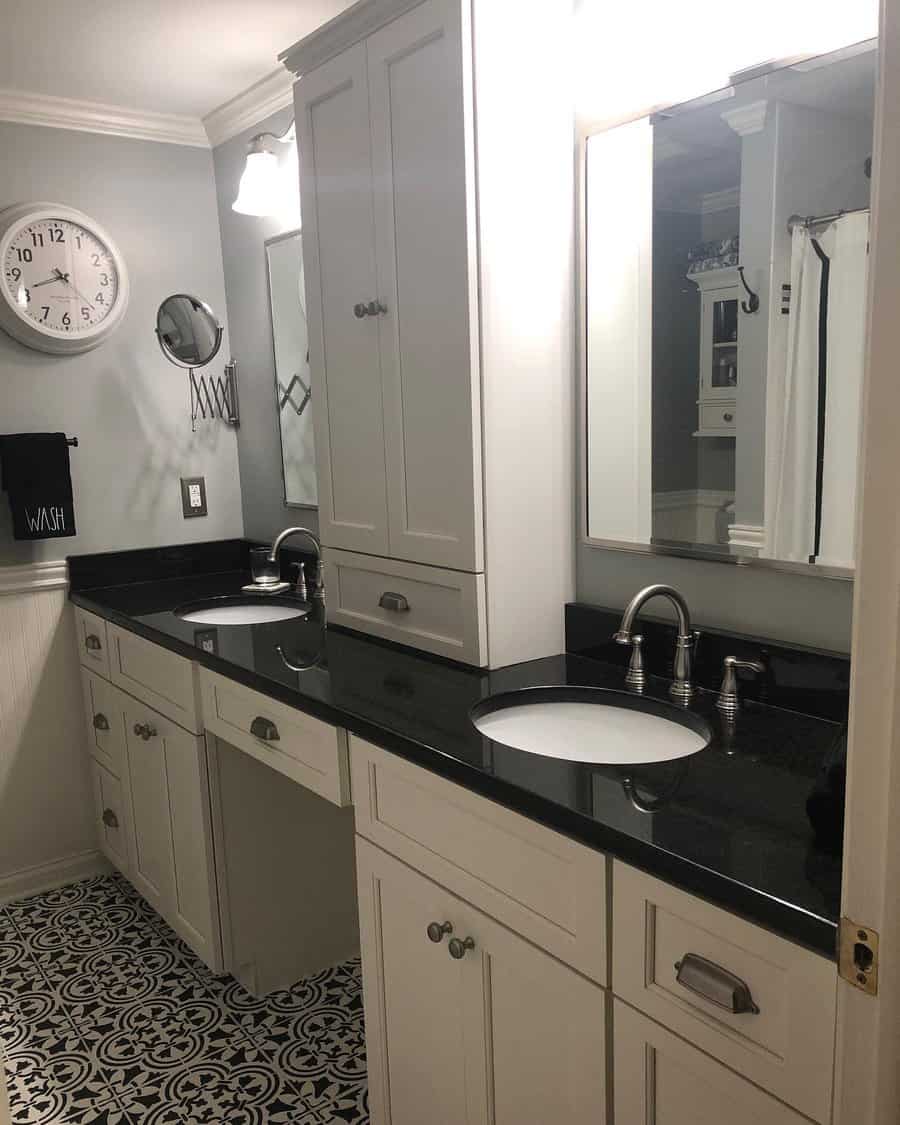 8. Vintage-Style Fixtures
Give your bathroom a perfect touch of timeless style with a beautiful bathroom sink featuring vintage fixtures. From intricate, period-inspired details to elegant added touches, you can have a sink that looks truly luxurious and is sure to make a statement in your home.
Whether you choose classic shapes or opt for something a bit different and unique, you can be sure that your bathroom will have an old-world charm when you use vintage fixtures. Plus, with so many finishes available ranging from gold and copper to porcelain and stainless steel, there are plenty of options to give the look you want in your home.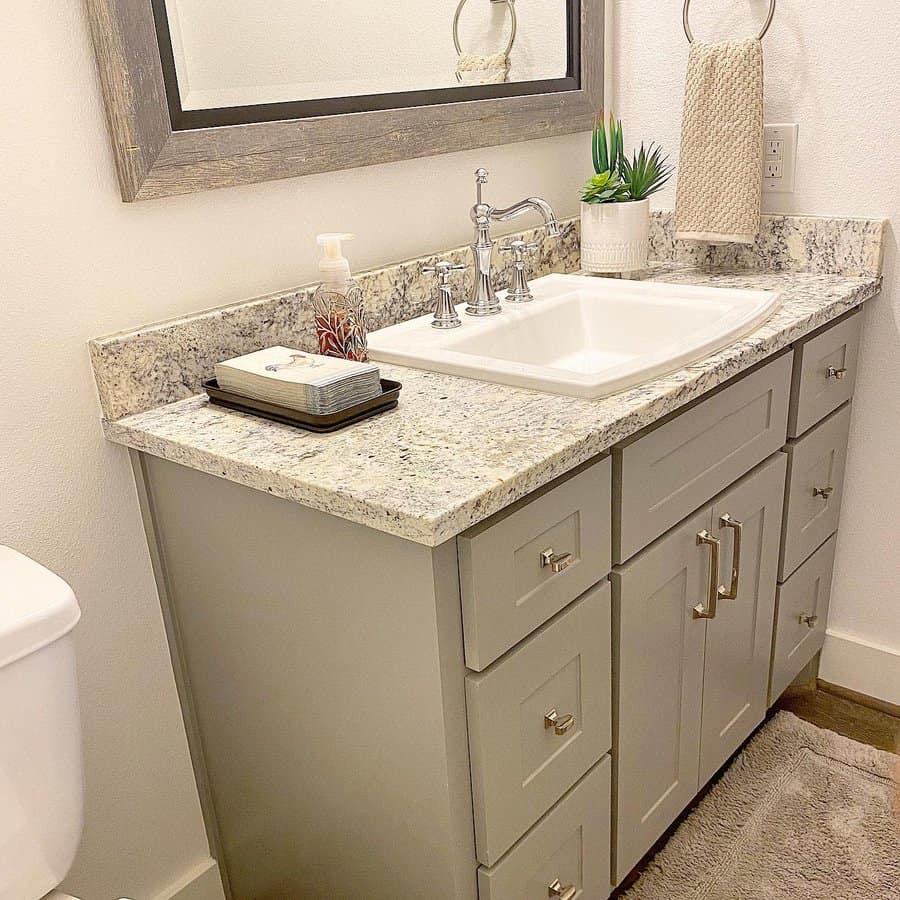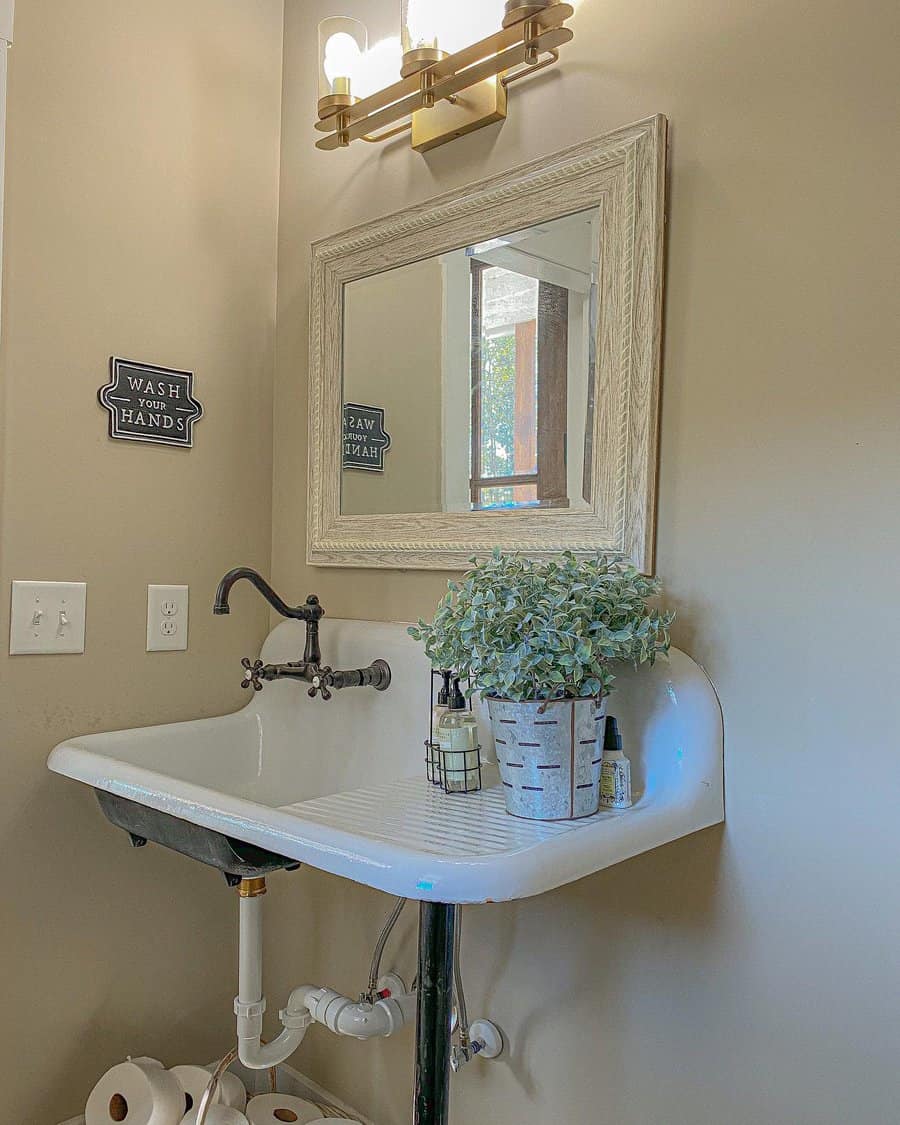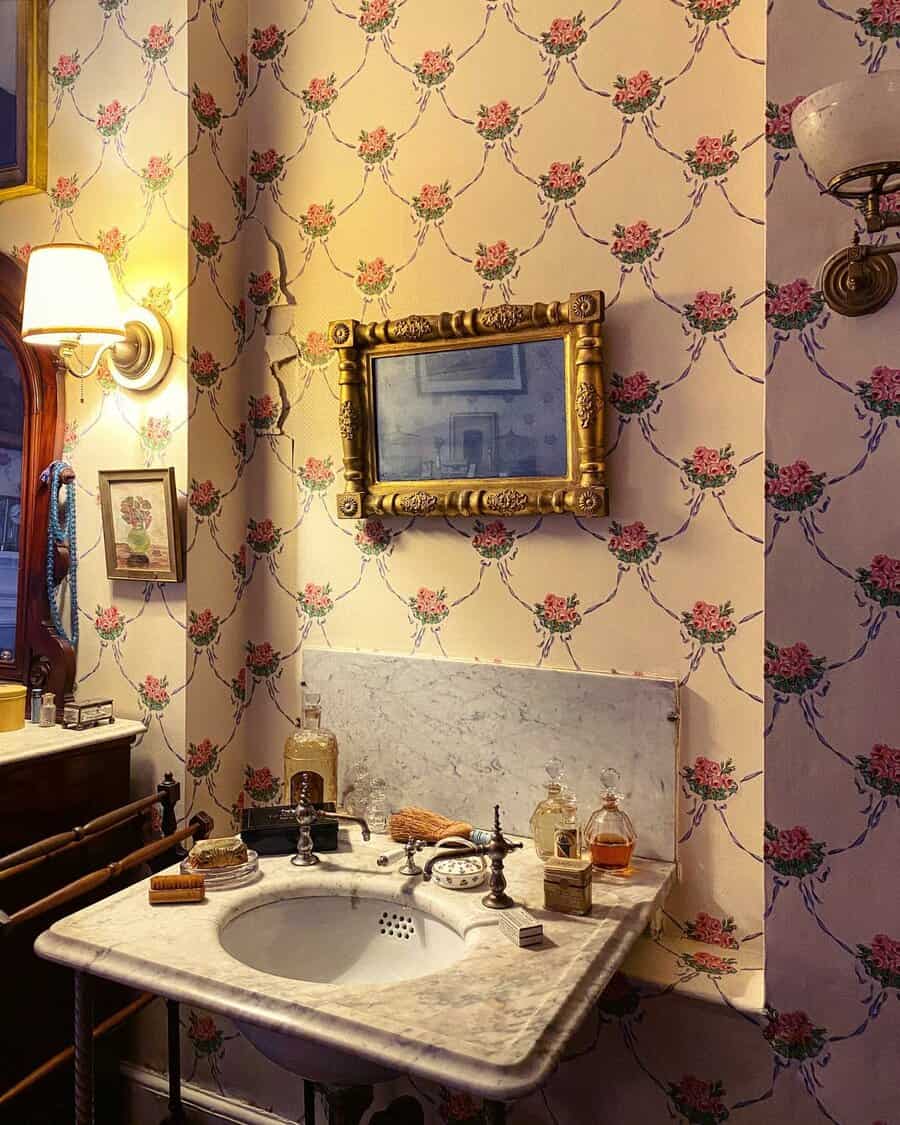 9. Table Top Basin
Expanding the styling possibilities in your bathroom doesn't have to require extensive renovations. For example, you could instantly elevate the aesthetics of your powder room by replacing your existing sink with a modern tabletop basin.
Not only is it chic and modern, but it'll also add extra space to the bathroom without taking up too much valuable real estate. Lastly, topping off this unique configuration is the incorporation of colorful or textured tiles and classic fixtures that will let you stand out amongst traditional designs.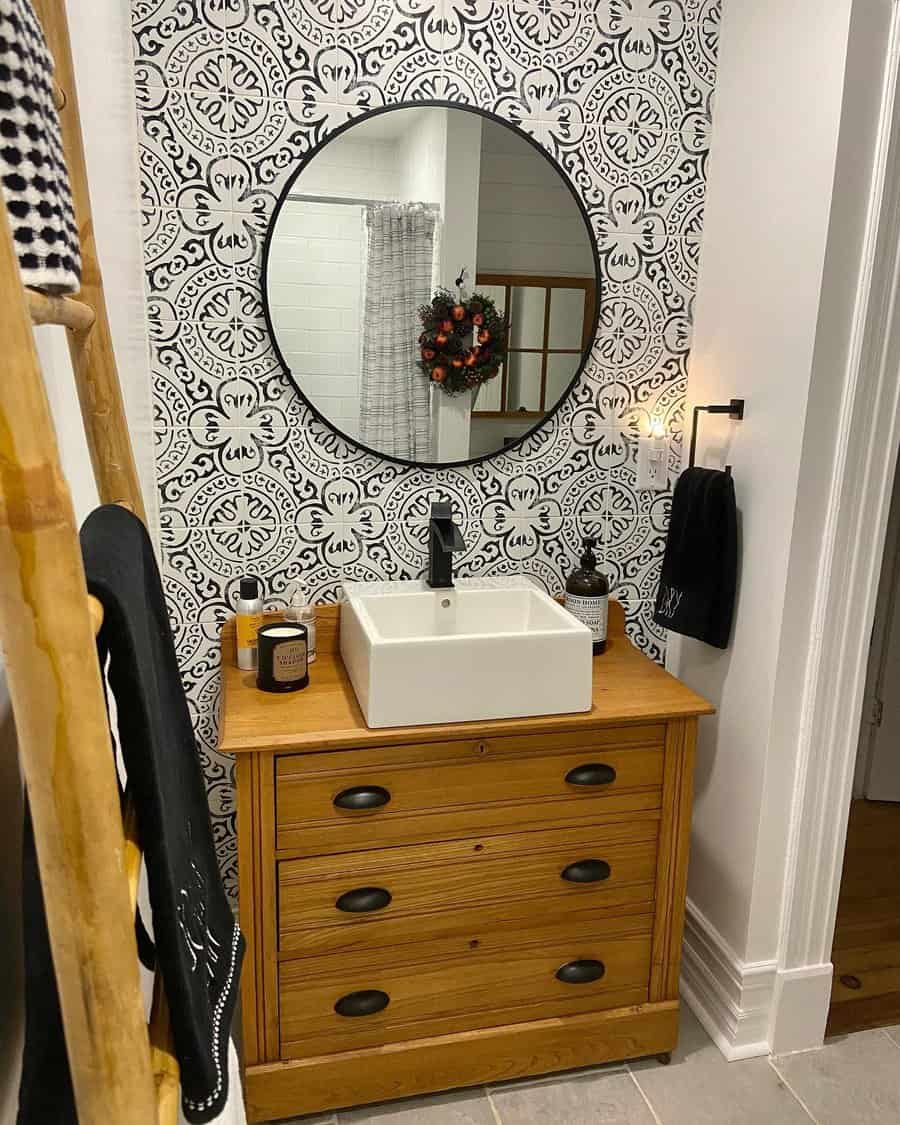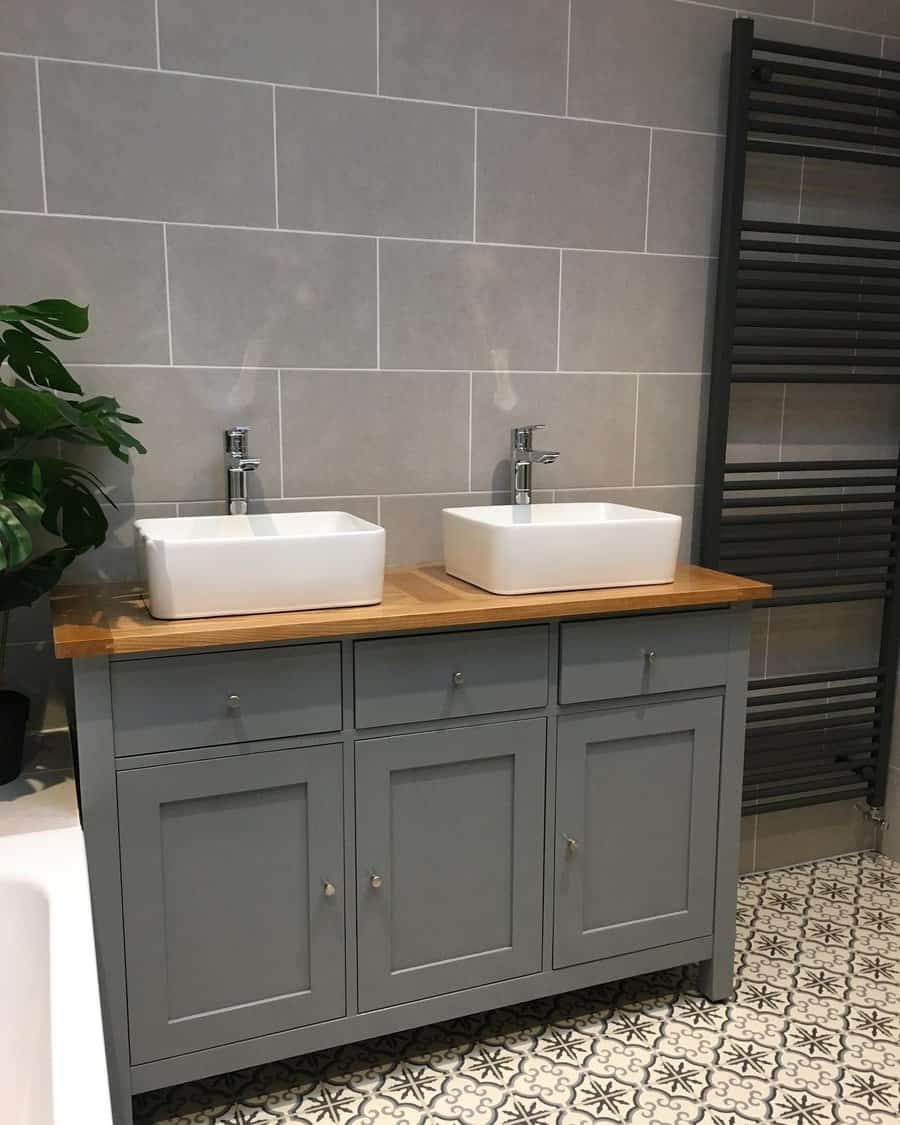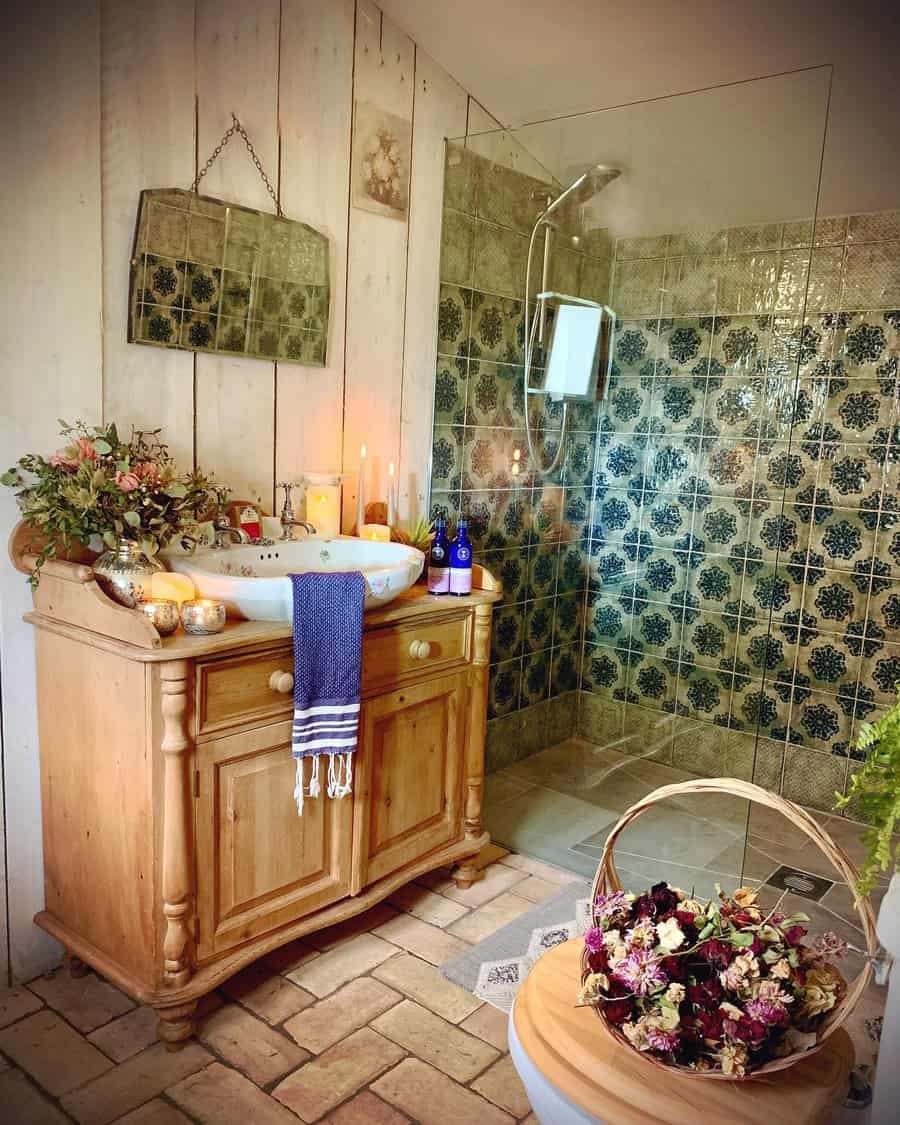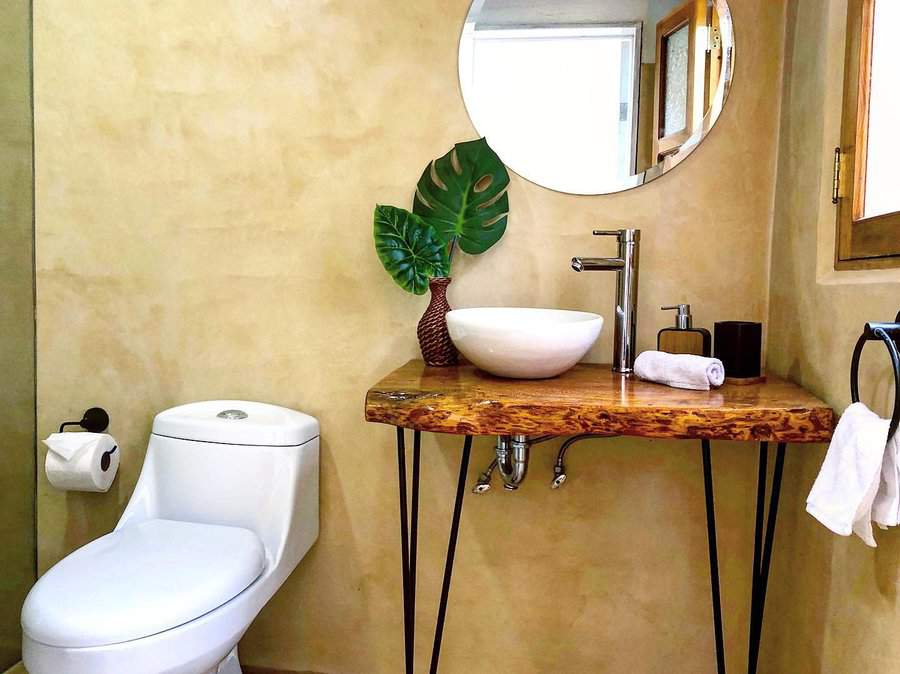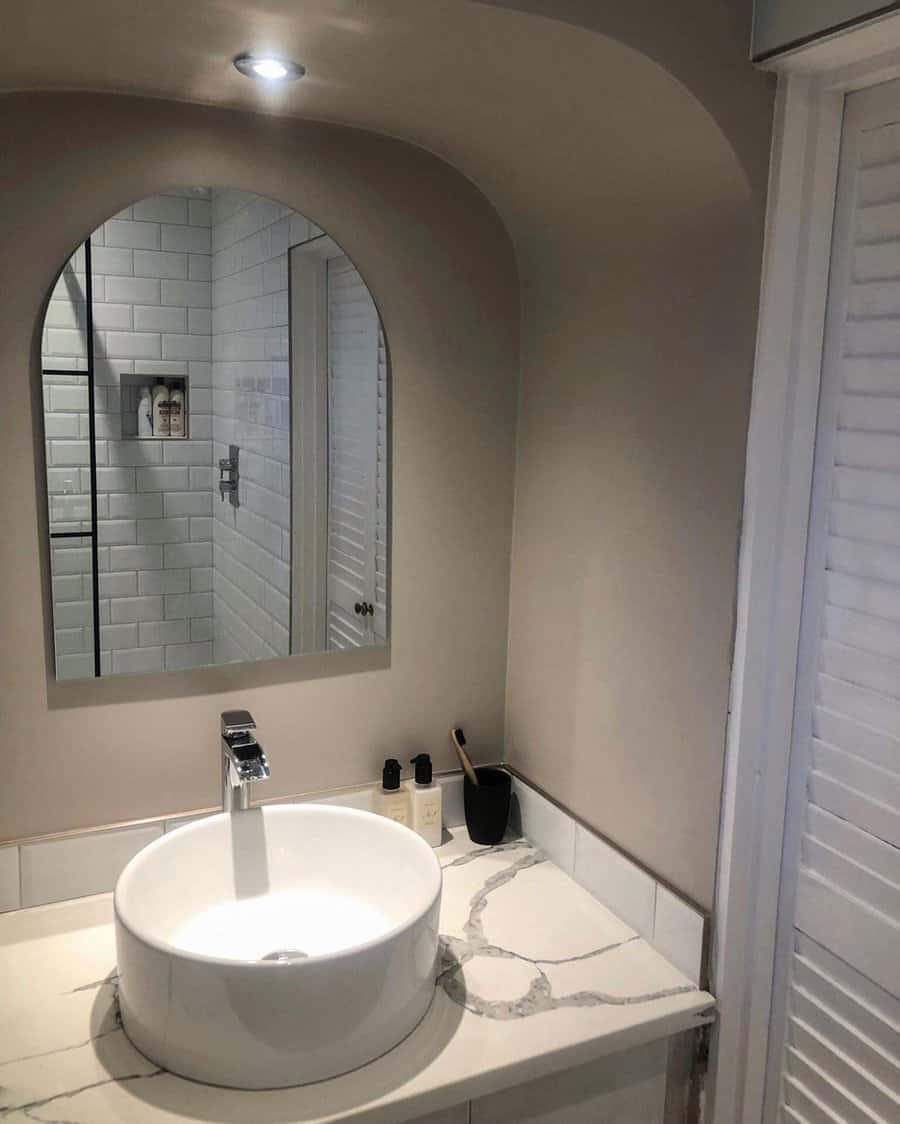 10. Rectangular Drop Sink
Revamping your bathroom can be a fun way to express your creativity and show off your style. A great way to do this is by opting for interesting sink designs. Rectangular drop sinks add a modern feel while providing you with lots of usable space – perfect for busy mornings!
A sink like this also opens up plenty of opportunities for decorative innovation, such as what type of faucet you choose and whether or not you want to surround it with tiles. With bathroom sink ideas like these, it's easy to create the perfect space for prepping in the morning.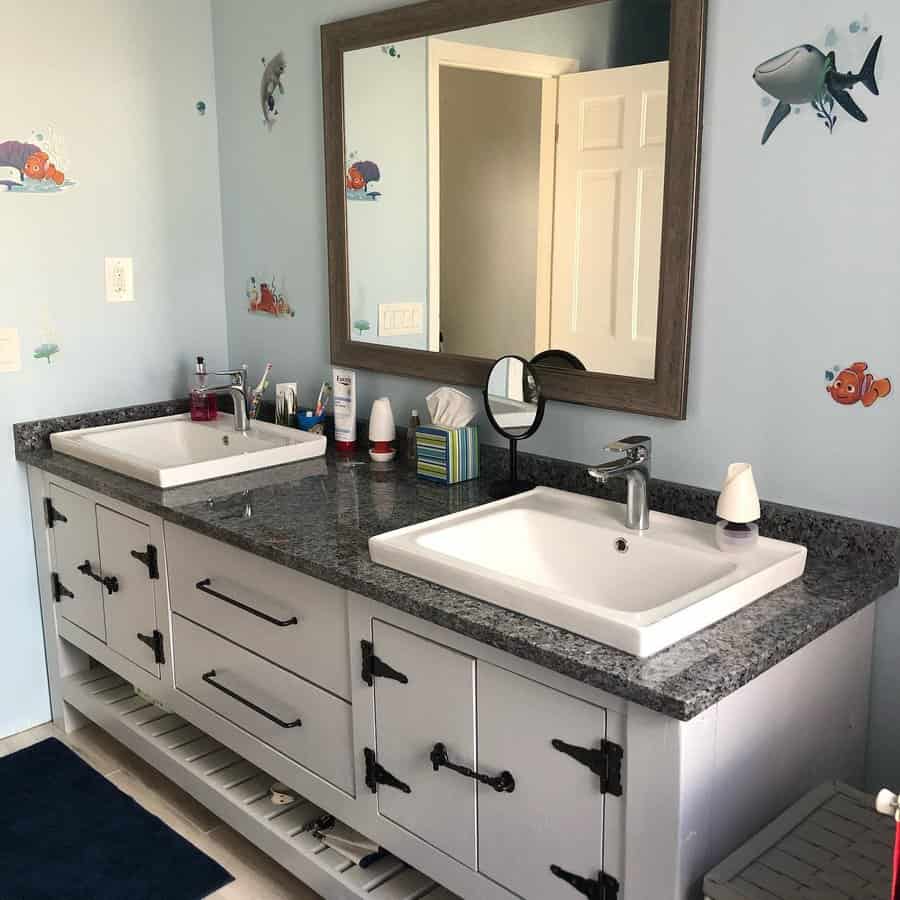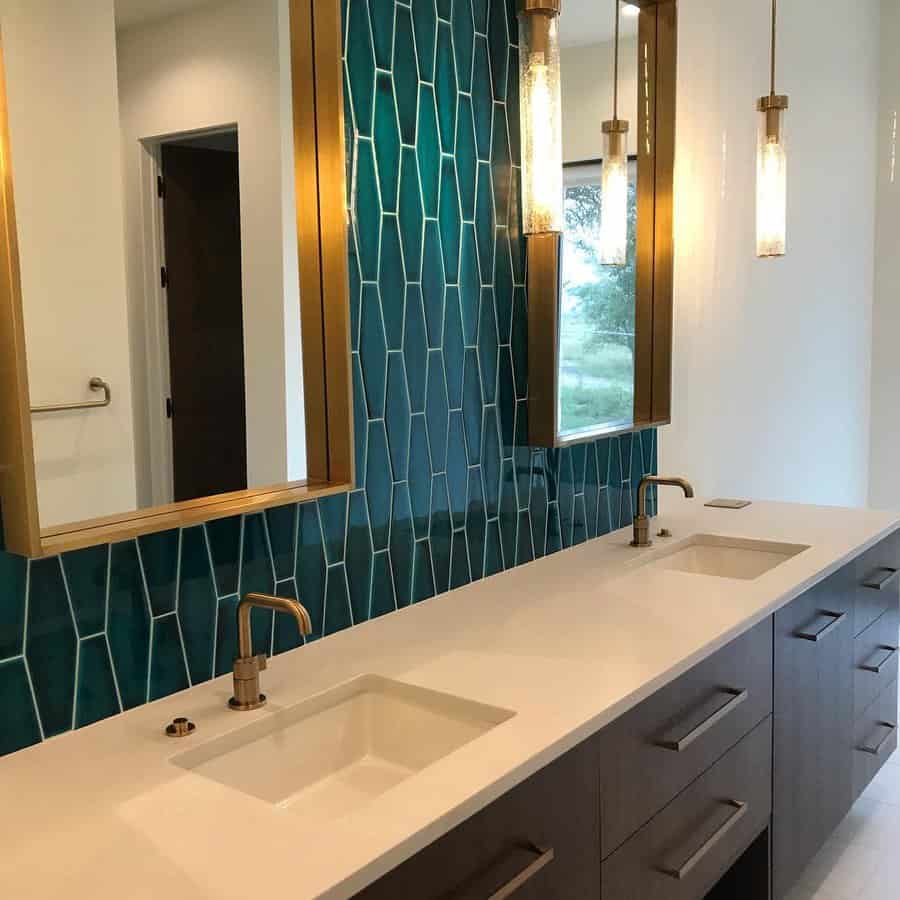 11. Concrete Ramp Sink
When it comes to creative bathroom sink ideas, one option to consider is the concrete ramp sink. Not only does it add a stunning designer look to any bathroom, but its easy-to-clean surface makes it a great choice for busy households.
Its many options provide excellent flexibility when it comes to choosing a style: whether modern, industrial, or minimalist; as well as adding warmth with choices in a color that is inviting and aesthetically pleasing. In addition, its durability will provide years of worry-free use.
So if you're looking for a unique way to stand out from the crowd and add an elegant touch then adding a concrete ramp sink can be the ideal solution!
12. Marble Countertop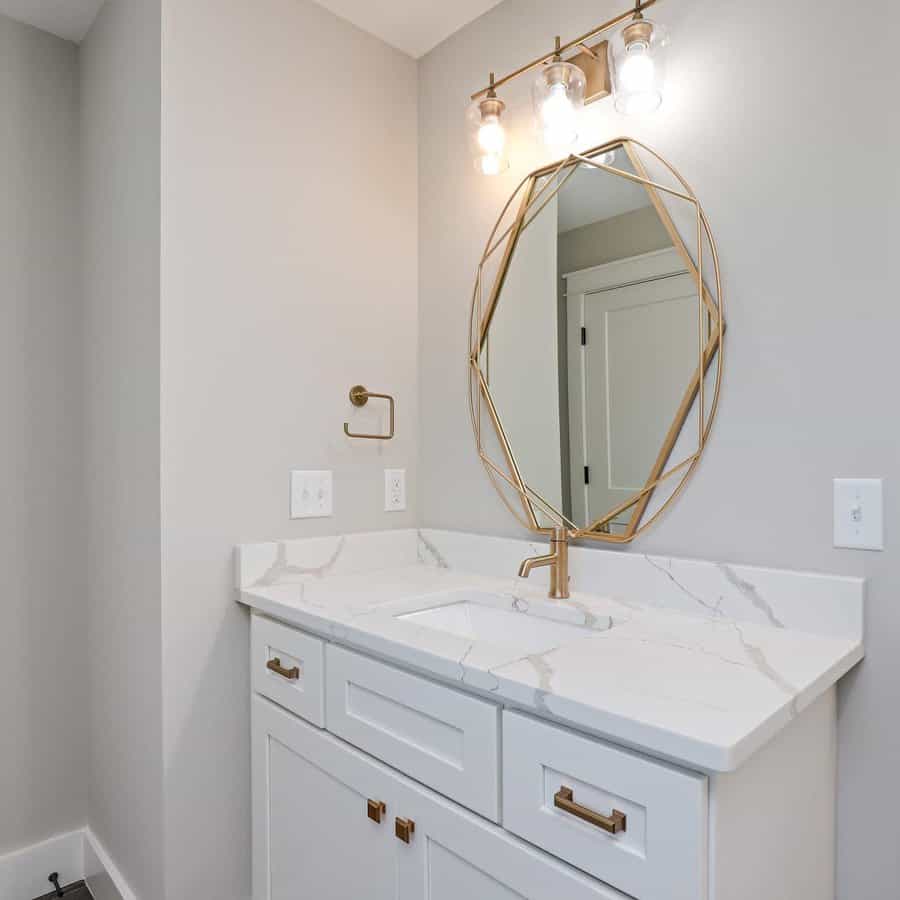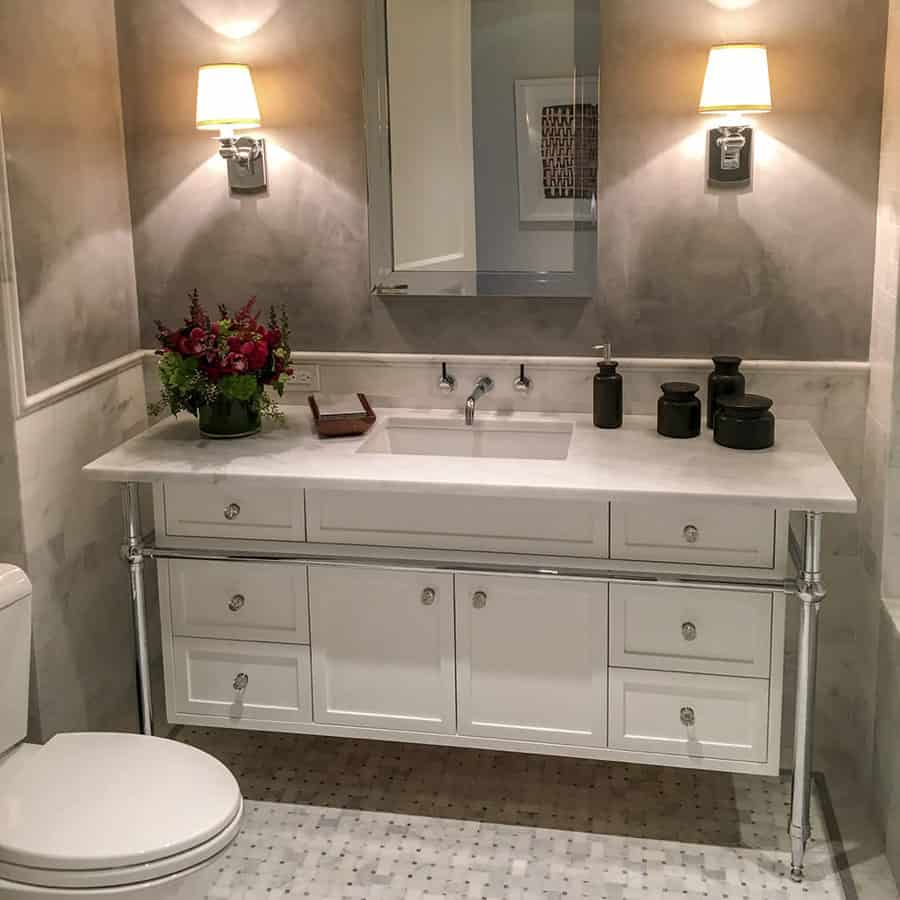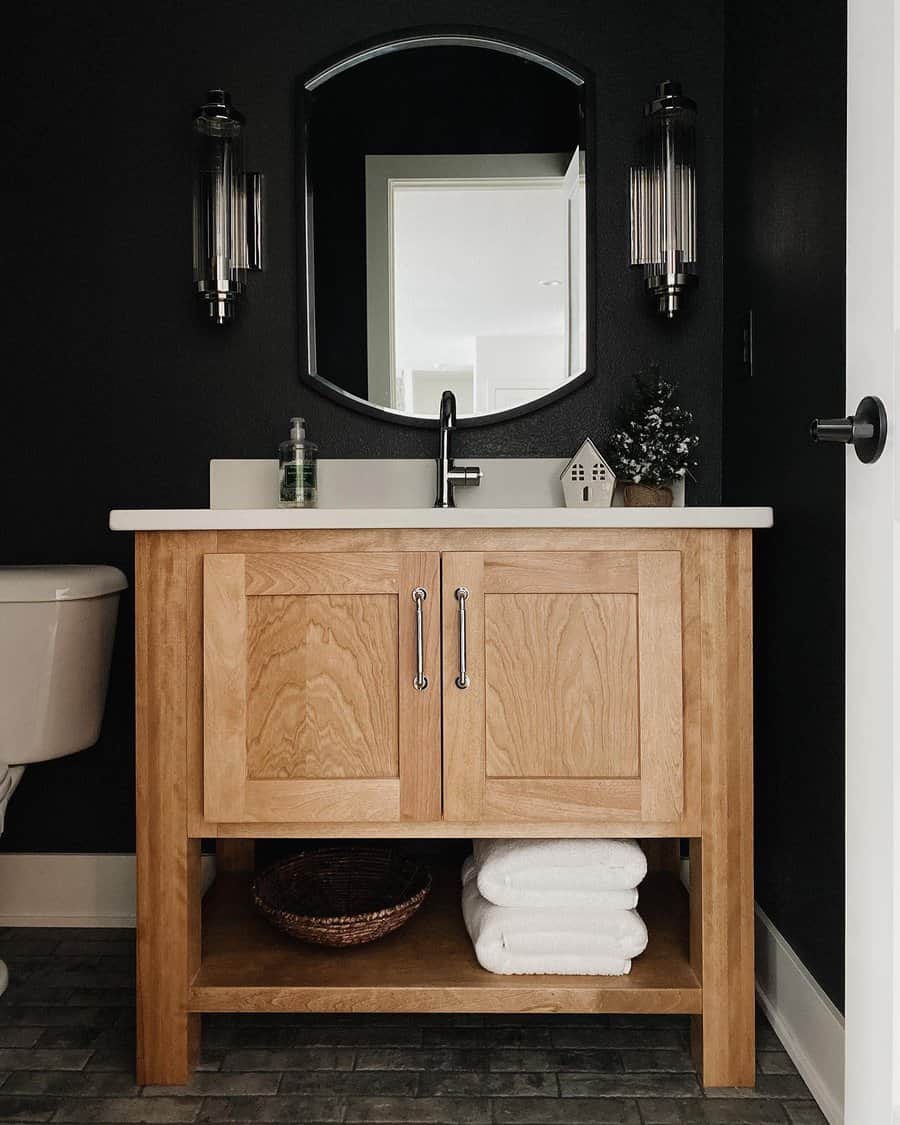 12. Wall-Mounted Sink
With the right accessories, a bathroom sink can easily become a design focal point. One eye-catching idea is to install a wall-mounted sink to appear as if it is floating on the wall. Not just aesthetically pleasing, this modern feature creates the illusion of additional floor space in smaller bathrooms and allows for more open countertops by incorporating minimalist shelving underneath. T
o add further visual interest and texture, consider surrounding your wall-mounted sink with natural stone or even ornate tilework. If you're feeling extra creative, try pairing your chosen design elements with a unique faucet to complete the look!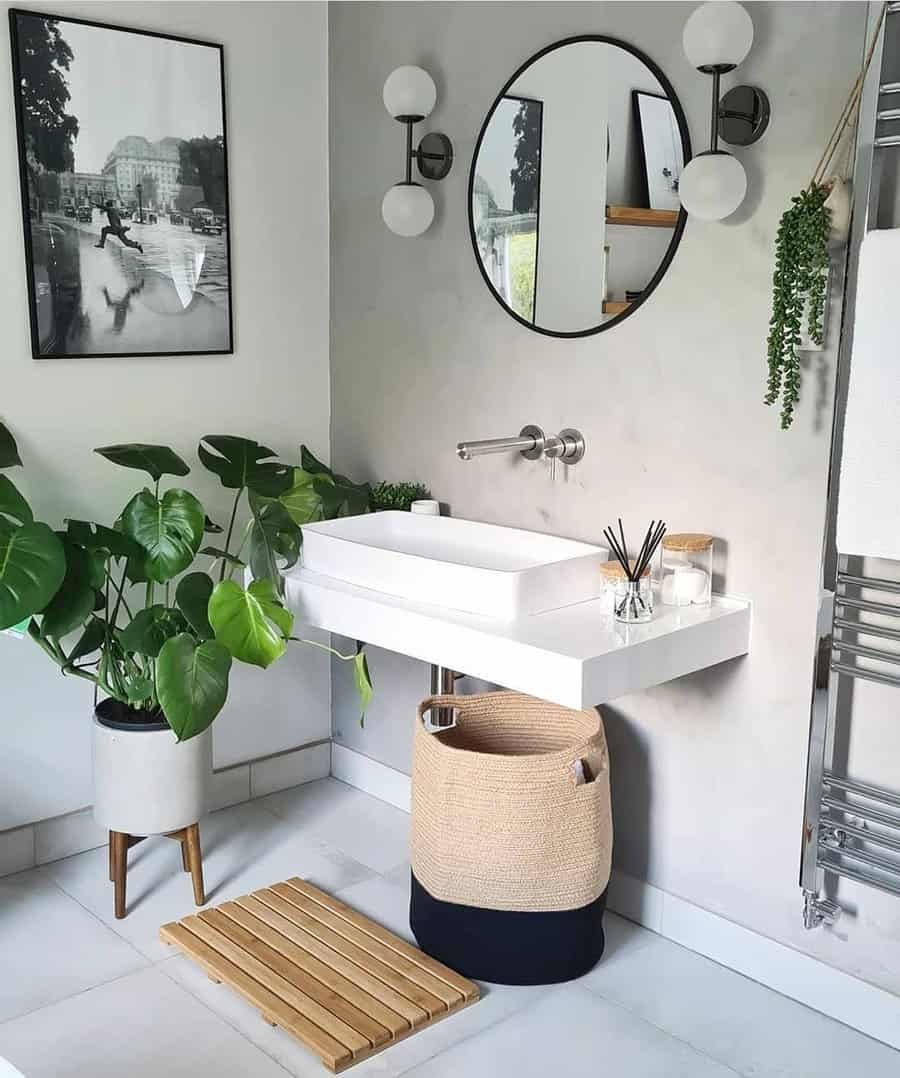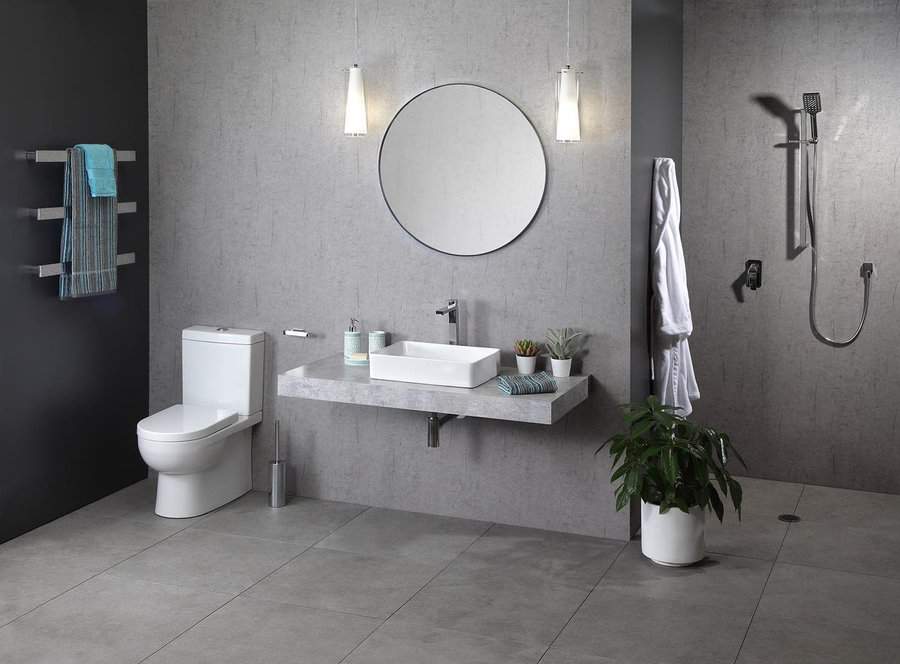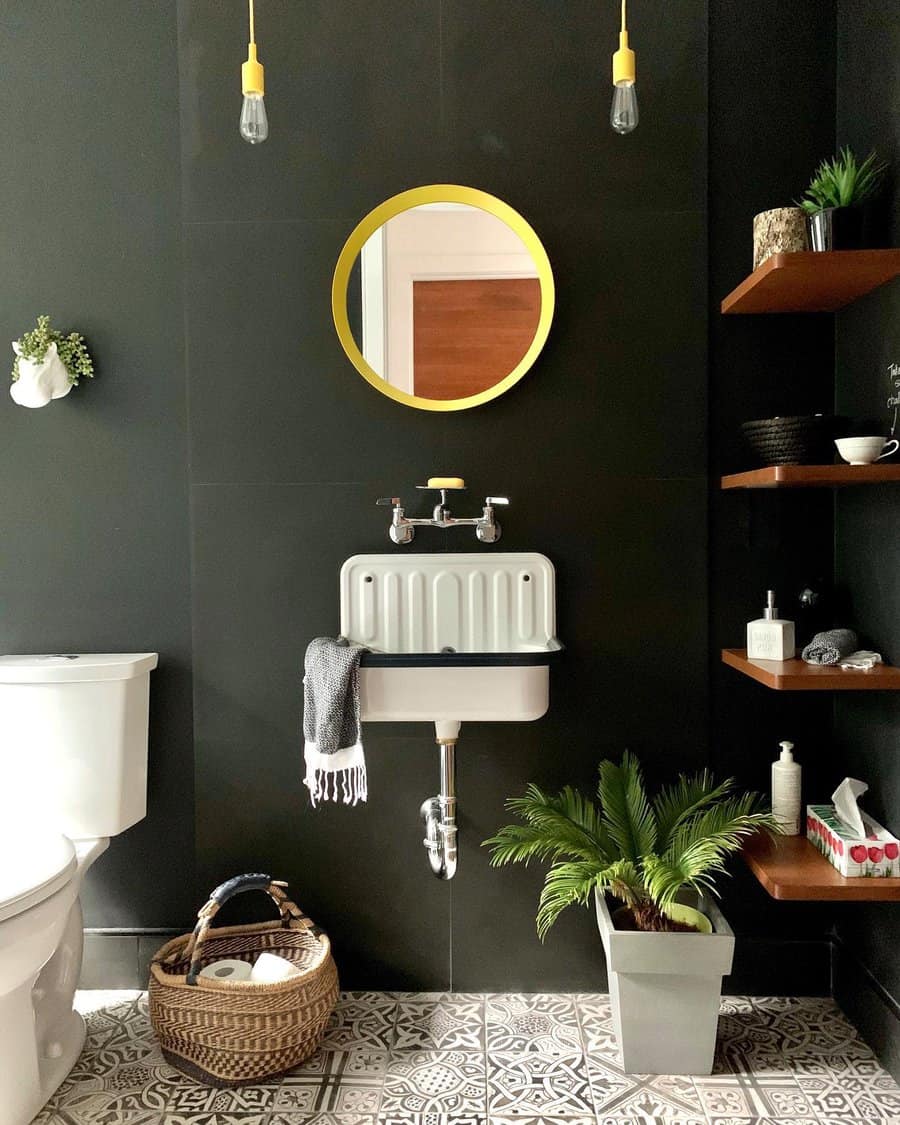 13. Wooden Sink
When it comes to bathroom sink ideas, wooden sinks are a great option for adding a luxurious touch. Not only do they look stylish, but also provide an inviting warmth that feels comforting. If you're not keen on installing a wooden sink, wood tiles make an excellent alternative.
They can be used as an accent to brighten up the room and make the wash basin stand out for a creative flair. By simply making this small change to your bathroom decor, you can bring a unique touch to your home that is sure to impress!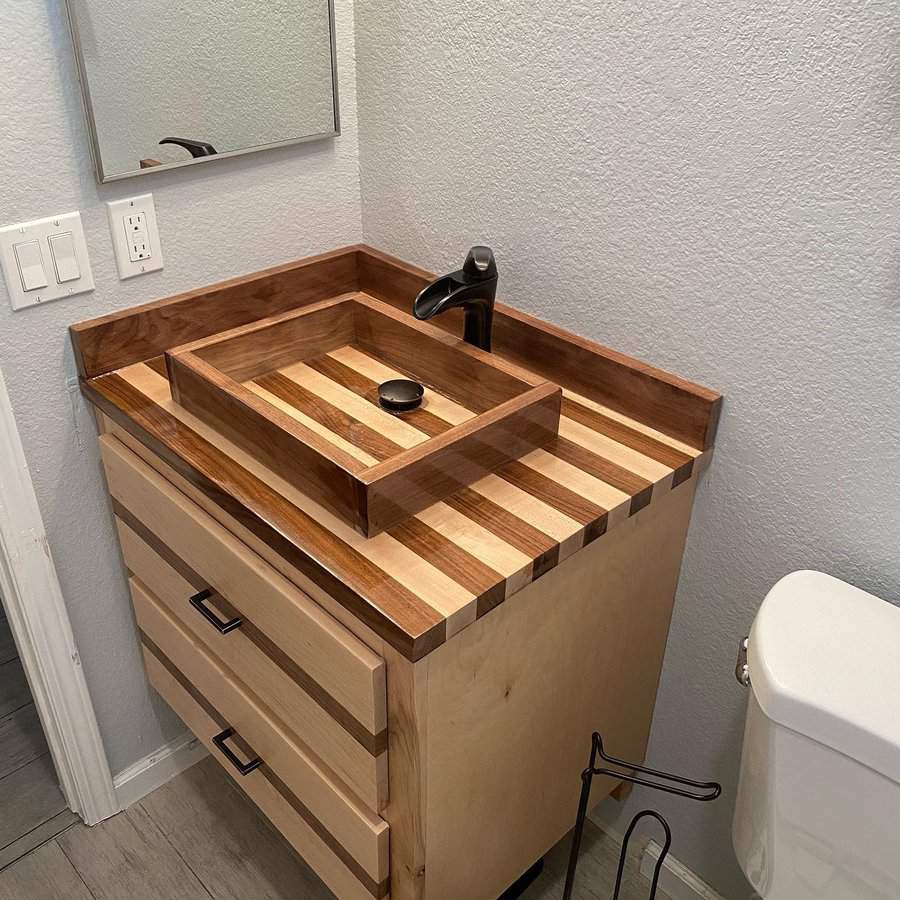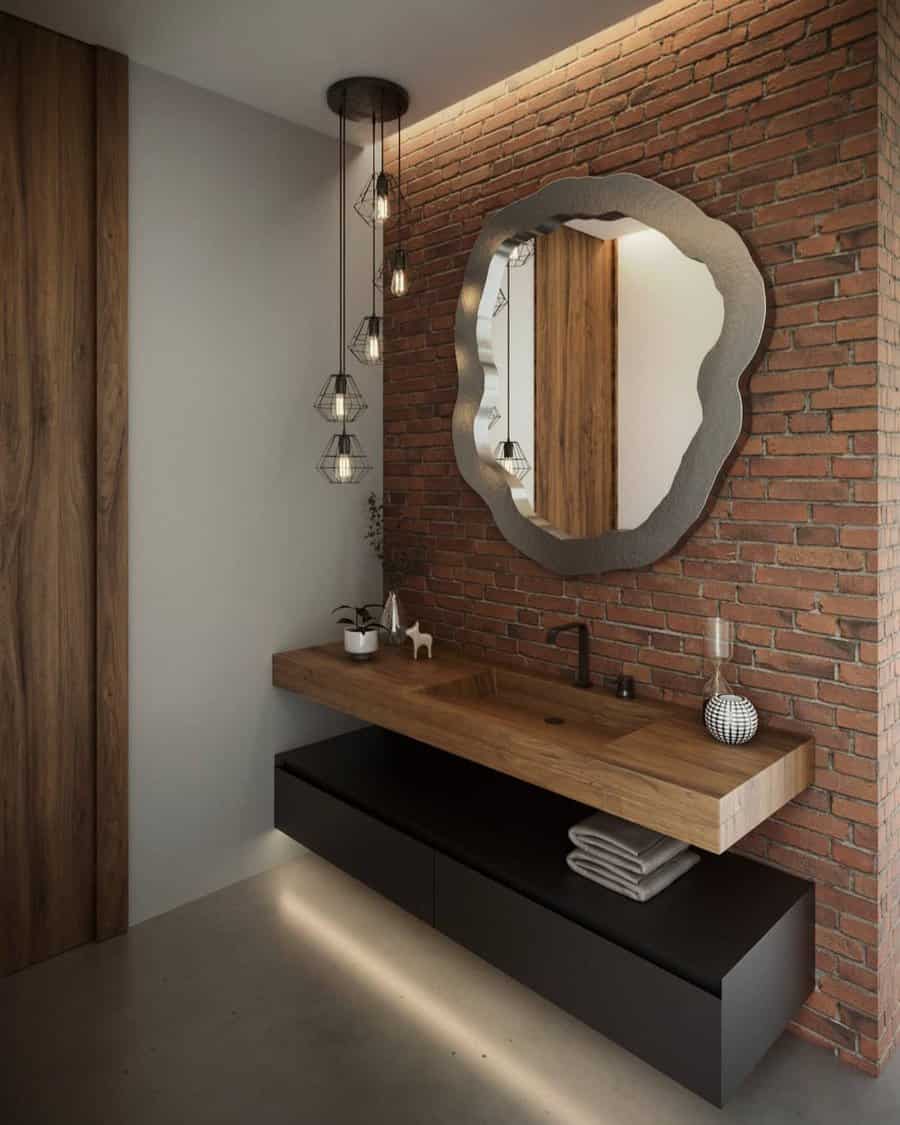 Bathroom Sink FAQs
What is the difference between a bathroom and a kitchen sink?
There are no practical differences between the average bathroom and kitchen sink. Most differences come down to basin size and overall style.
Kitchen sinks are typically larger than bathroom sinks. They're also more likely to boast special features like multiple faucets or double basins.
If the sizes match up, there's really nothing stopping you from installing a kitchen sink in your bathroom or vice-versa.
What material is the standard bathroom sink made of?
Most bathroom sinks have a porcelain-like appearance. However, it's very rare for bathroom sinks today to actually be made of this delicate material.
Instead, bathroom sinks are often made of cast iron covered by vitreous china enamel. This creates the classic white finish most people associate with porcelain without any of the associated issues with durability. Modern bathroom sinks made of these materials are incredibly sturdy and built to last!