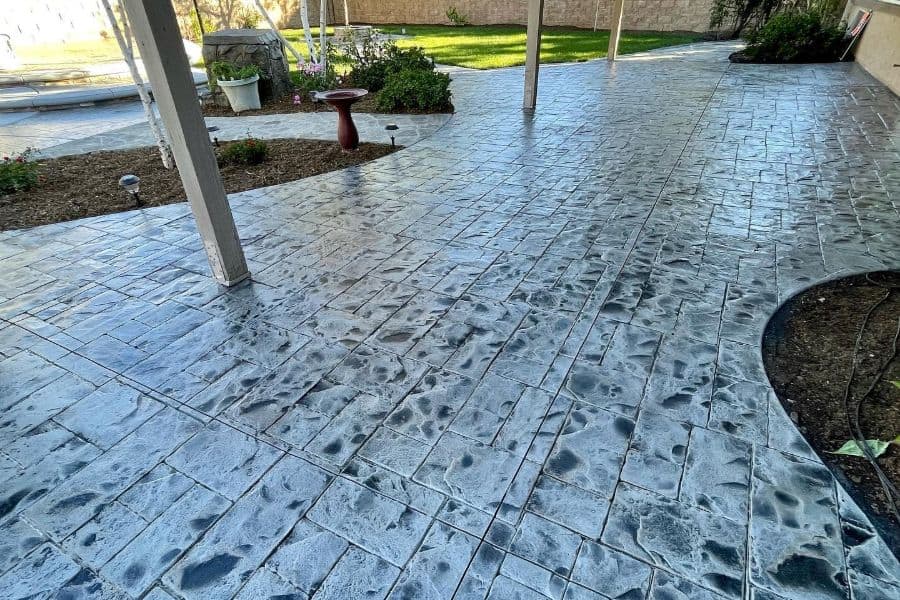 36 Concrete Patio Ideas for Your Backyard
Having a concrete patio on the back of your house gives you the perfect place for developing your outdoor living space. The concrete is sturdy, durable, and long-lasting. The problem with concrete is that it's not very attractive. Leaving your concrete bare can bring down your entire outdoor design. Thankfully, there are several ways you can dress up your concrete patio to elevate the exterior of your home.
Check out these concrete patio ideas and upgrade your concrete into a place you actually want to be.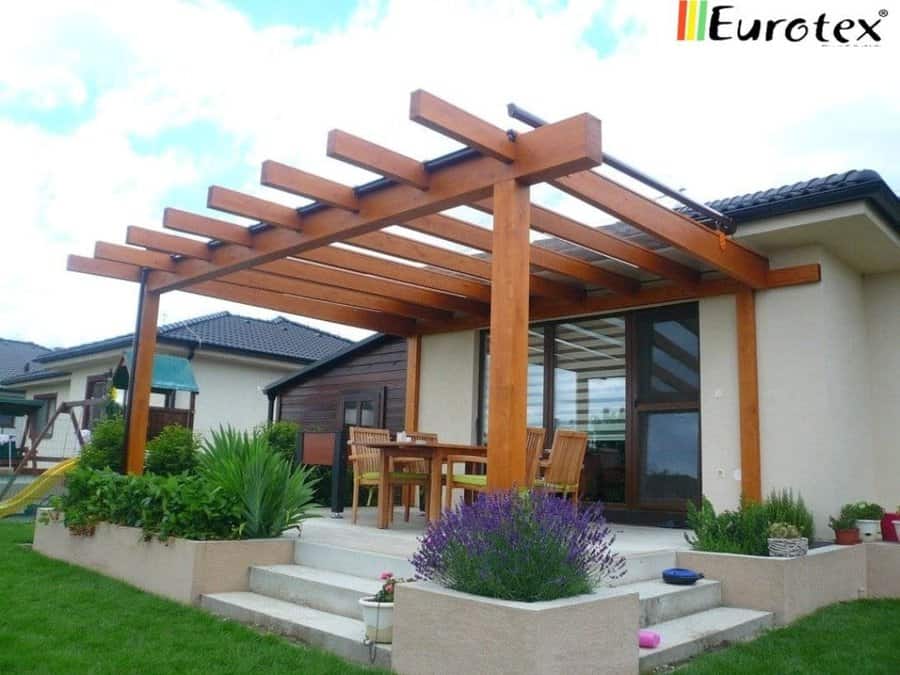 2. Firepit
Placing a fire pit on your concrete patio is a great addition. You'll see many ideas that use pea gravel for the fire pit base and surrounding area. Concrete is better because it's solid and smooth. This gives you a solid base for your fire pit, which is safer than one that can shift and move.
Fire pits are basic, though. Build an outdoor fireplace instead. You can build it on one side of your concrete patio and have a modified chimney that helps direct the smoke upward. You can then create an outdoor living room set up in front of it.
3. Landscape
It doesn't matter if you are planning a DIY concrete patio or already have one in place. Once the patio is in place, you need to add landscaping around it. Otherwise, you have an awkward concrete slab just sitting on your property.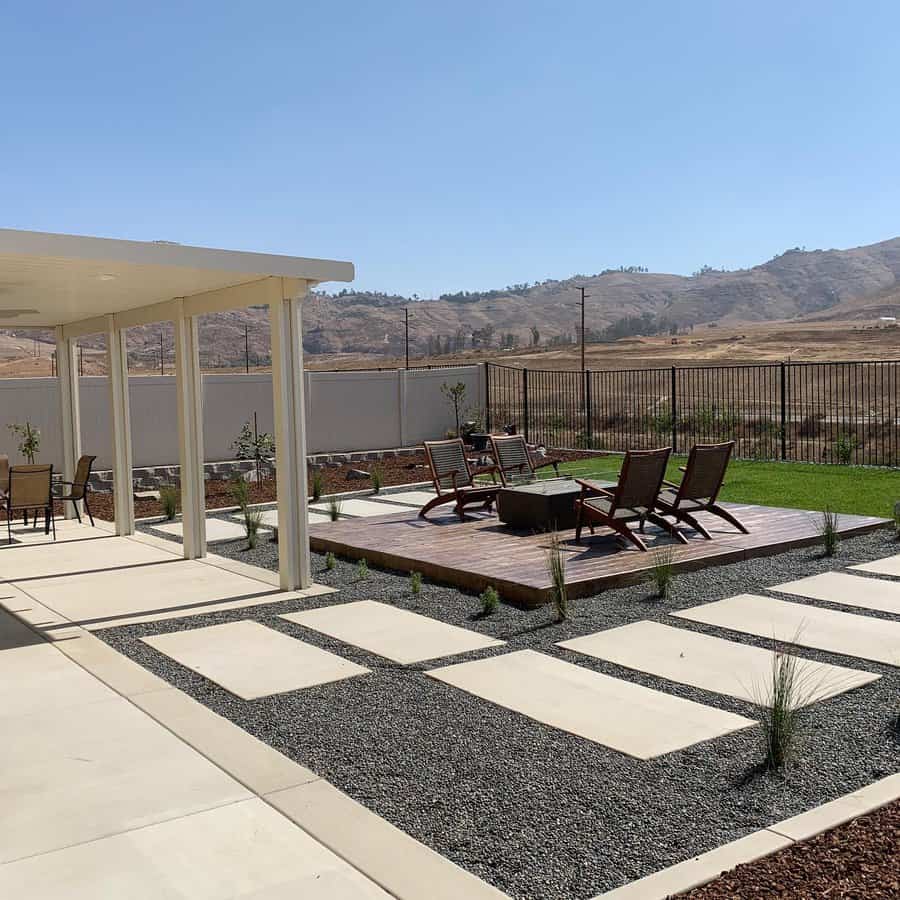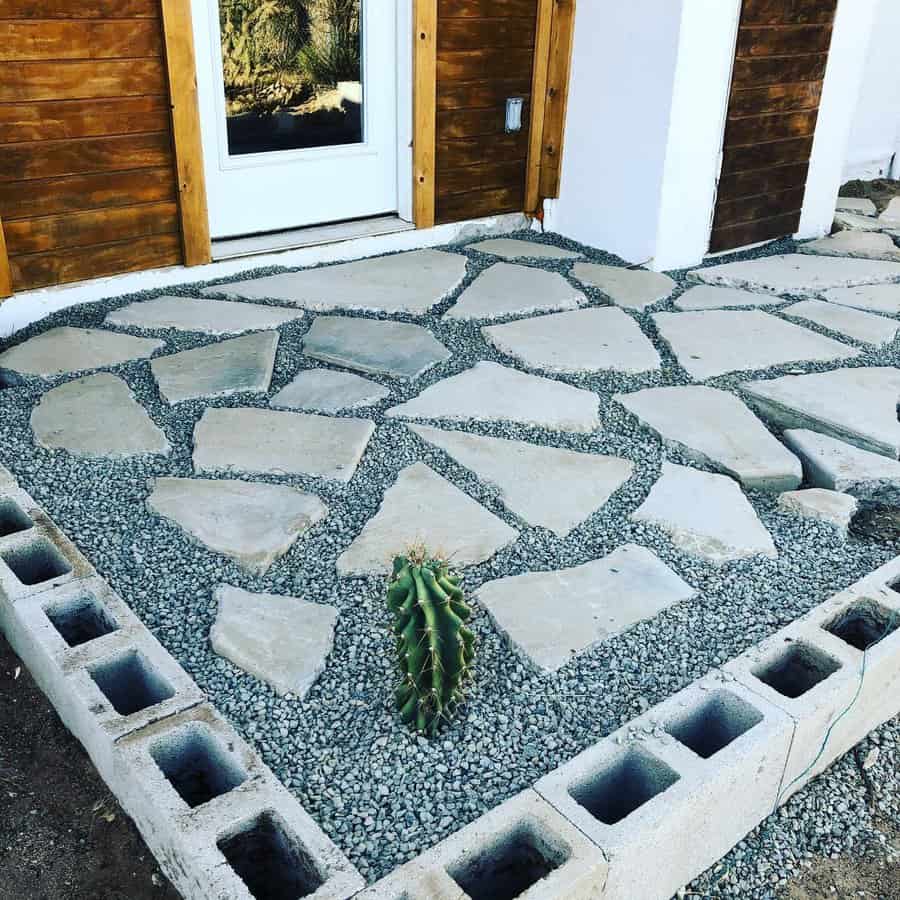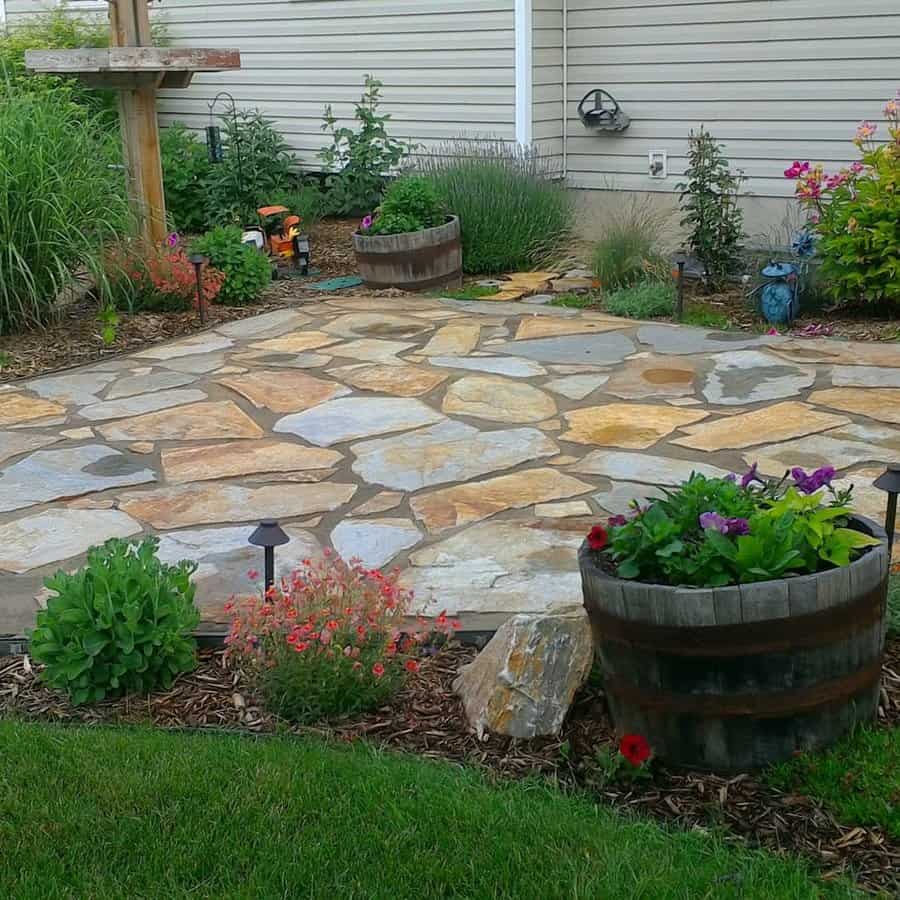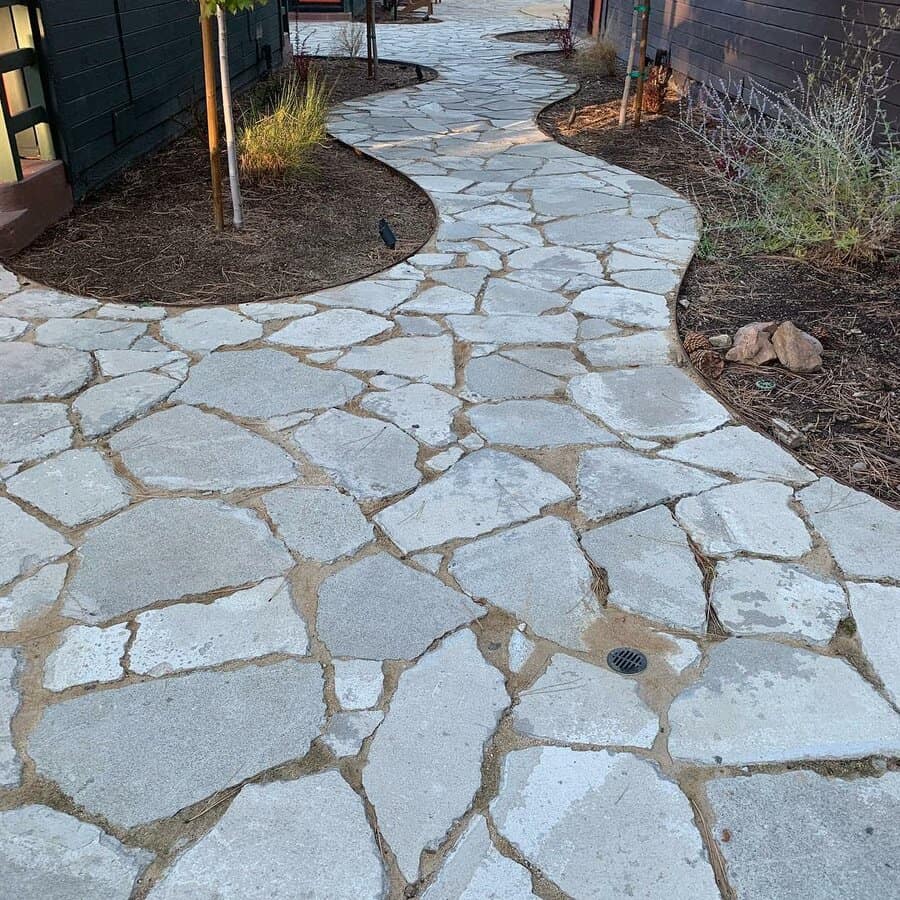 You'll feel exposed when sitting on your patio furniture or when swimming in your backyard pool. Try planting a variety of vegetation that grows to different heights for a layered effect. Dense leafy plants or those that produce large leaves are good for creating privacy.
4. Modern
Fresh and clean concrete can look modern, but it needs to look new and be meticulously maintained. Chances are, if your concrete patio is older, it wouldn't be up to these standards. Thankfully, you have another option for modernizing your patio. Use your concrete patio as a base for laying natural stone.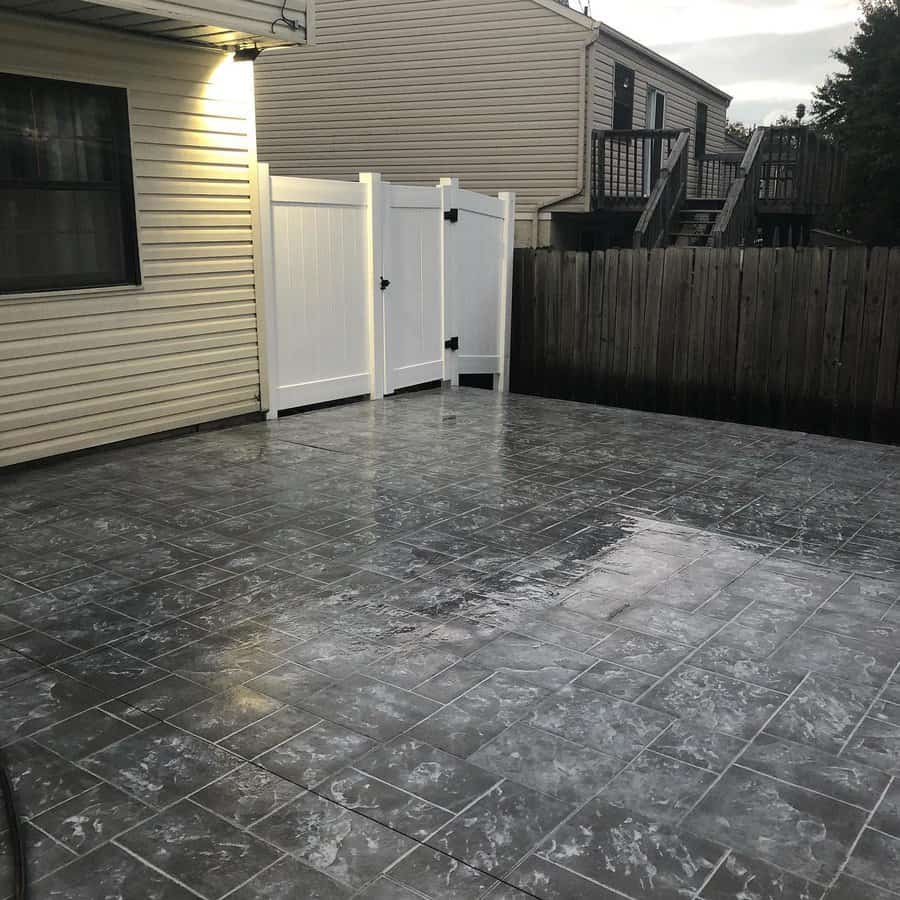 Choose a durable and hard stone like slate or flagstone. These stones have dark coloring to transform the look of your patio. To secure the stones on the concrete, you'll need to mortar them in place.
5. Paver
For a contemporary update to your concrete patio, cover it with pavers. This paver project is significantly easier than starting another project from scratch. The concrete surface gives you a smooth and stable surface for your paver patio concrete overlay. Concrete pavers will give you the same level of durability and a similar look to your slab.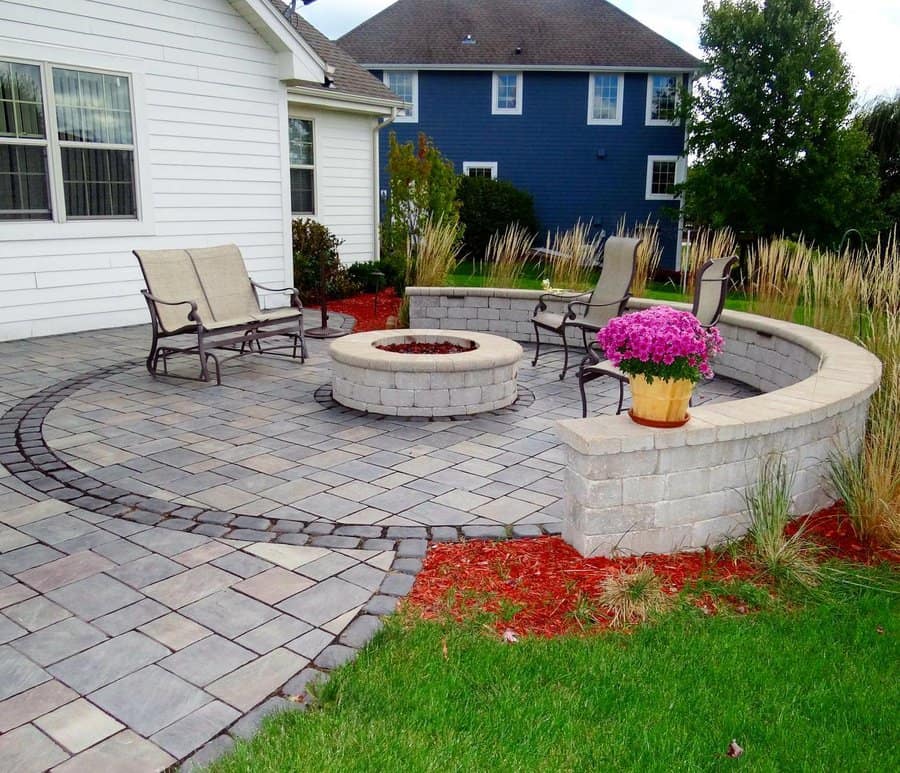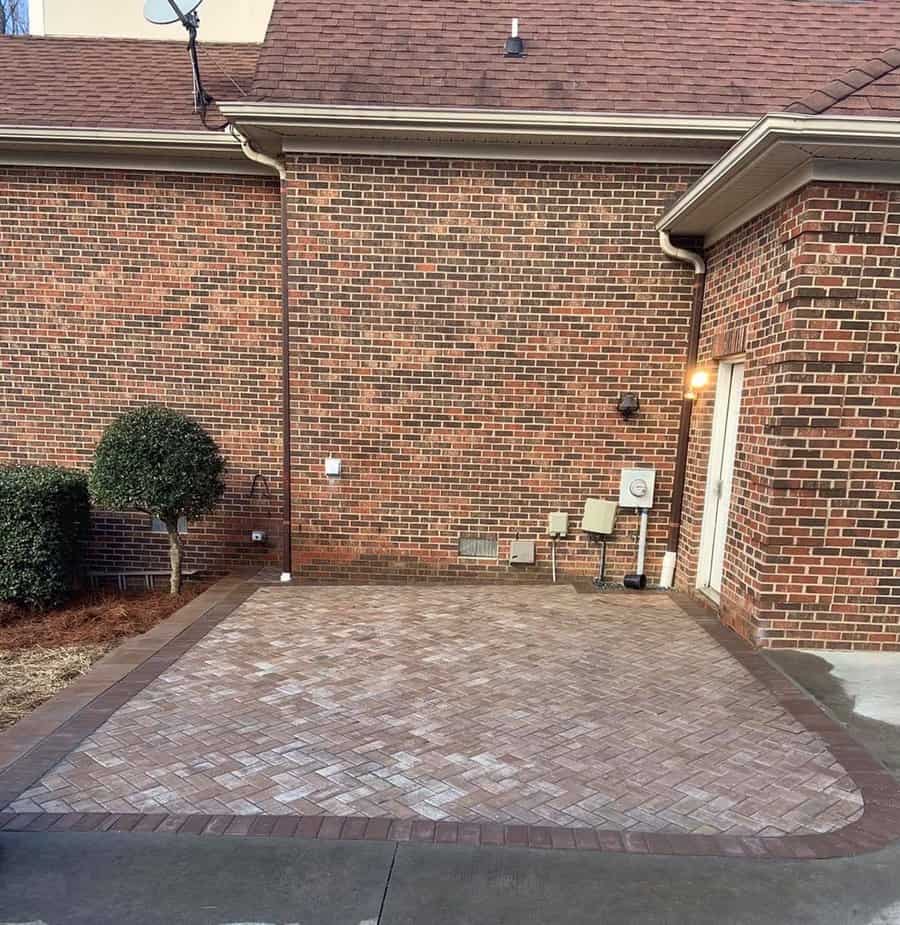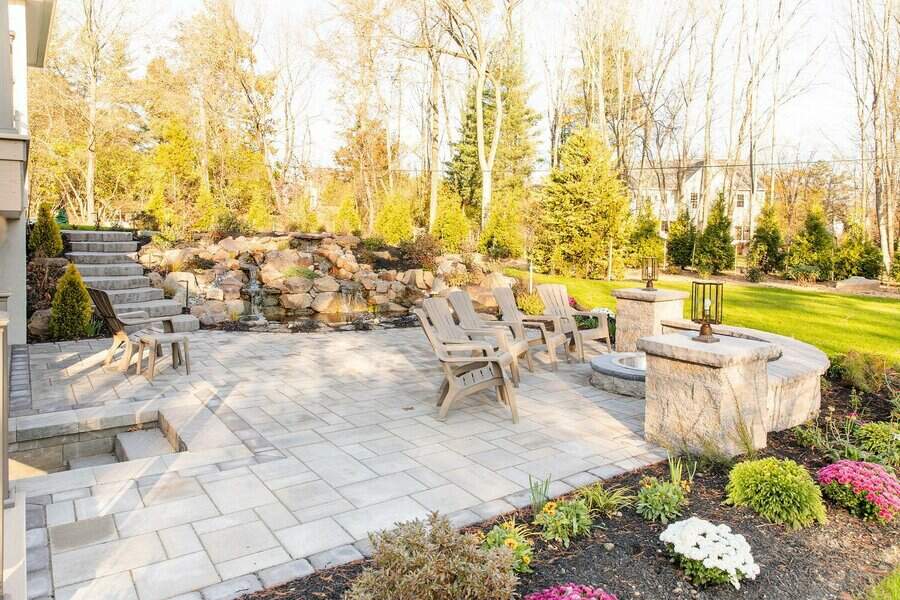 Bricks can give your patio a traditional look with a rich red color. Clay pavers are the modern version of traditional bricks. They create a more modern concrete patio design in your outdoor space. You can keep the design simple with square or rectangle pavers. You can also get more creative with wedge or hexagon shapes.
6. Pergola
You already have the concrete flooring, so why not build a pergola over it. Now you have a shaded and protected outdoor space to enjoy your backyard. You could turn it into an outdoor living room. Or you could have a large dining table for an outdoor spot to enjoy meals.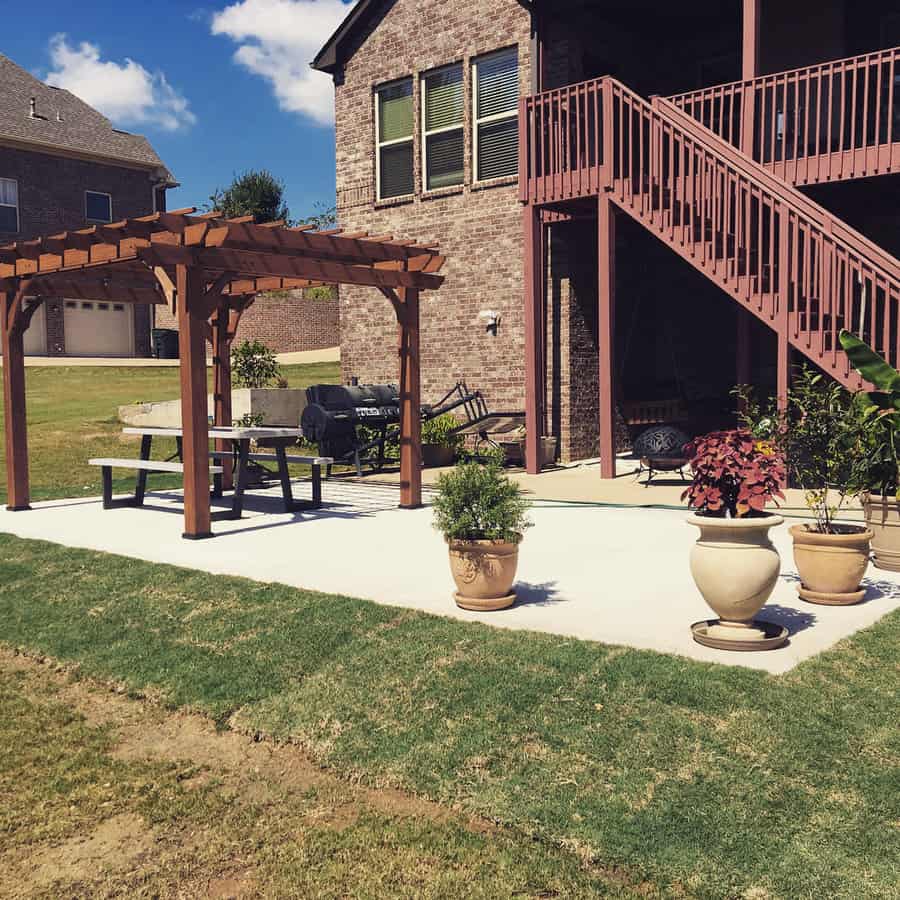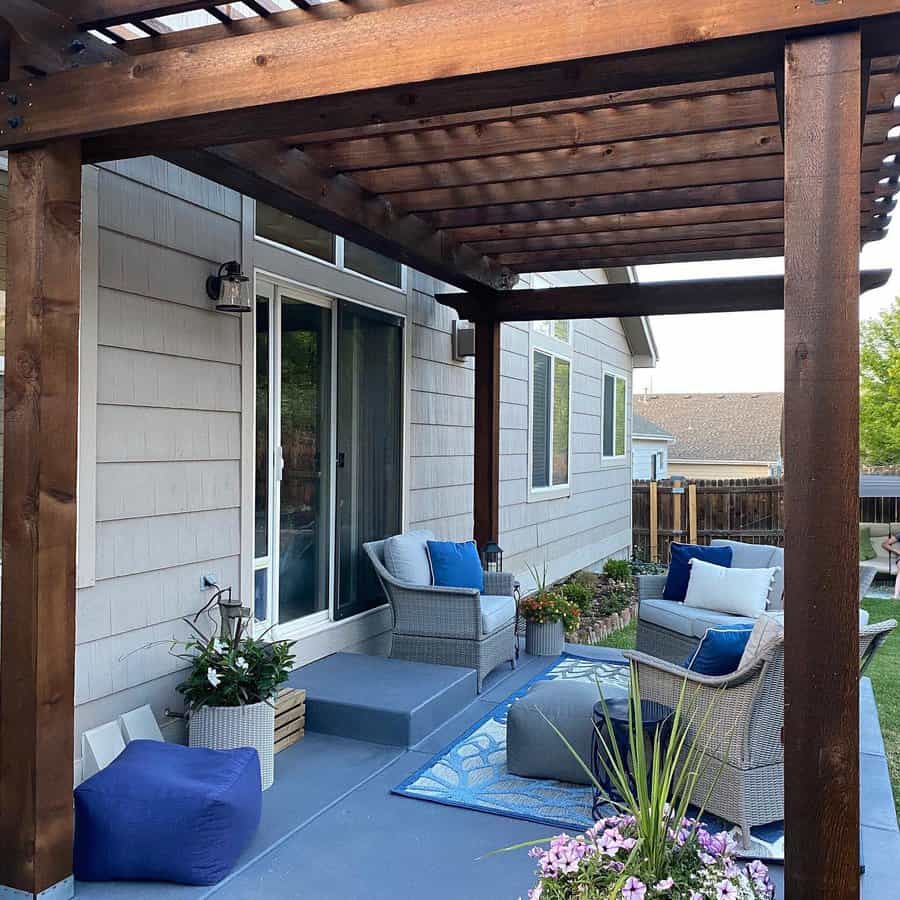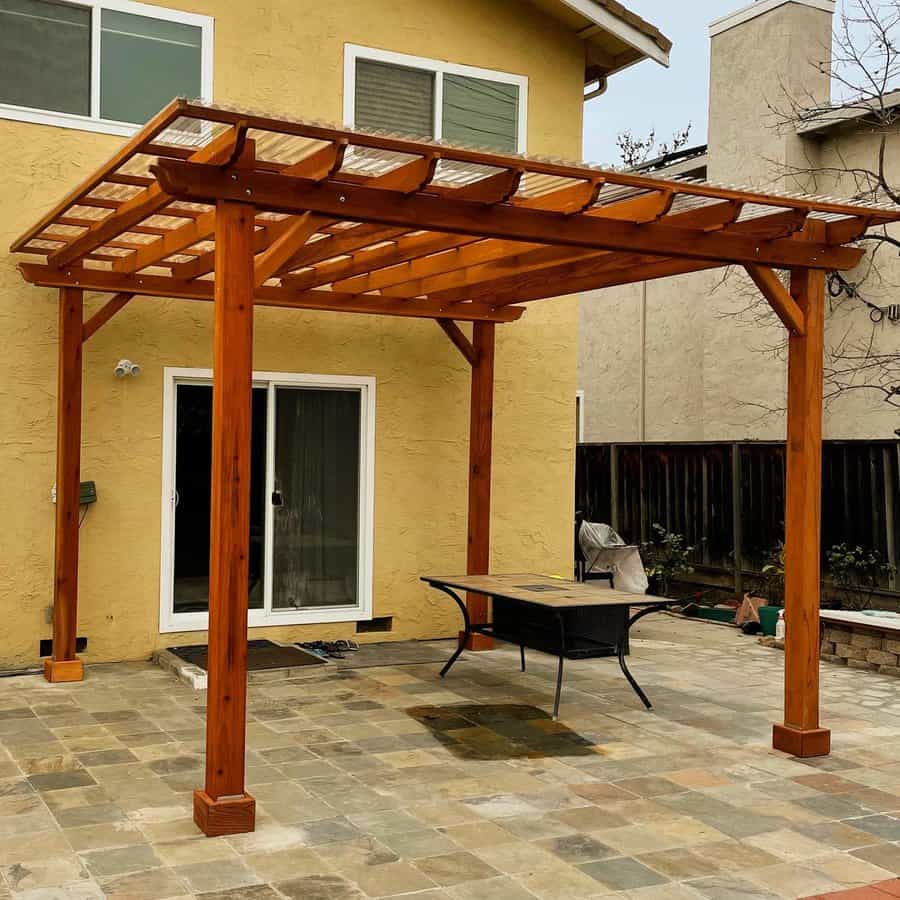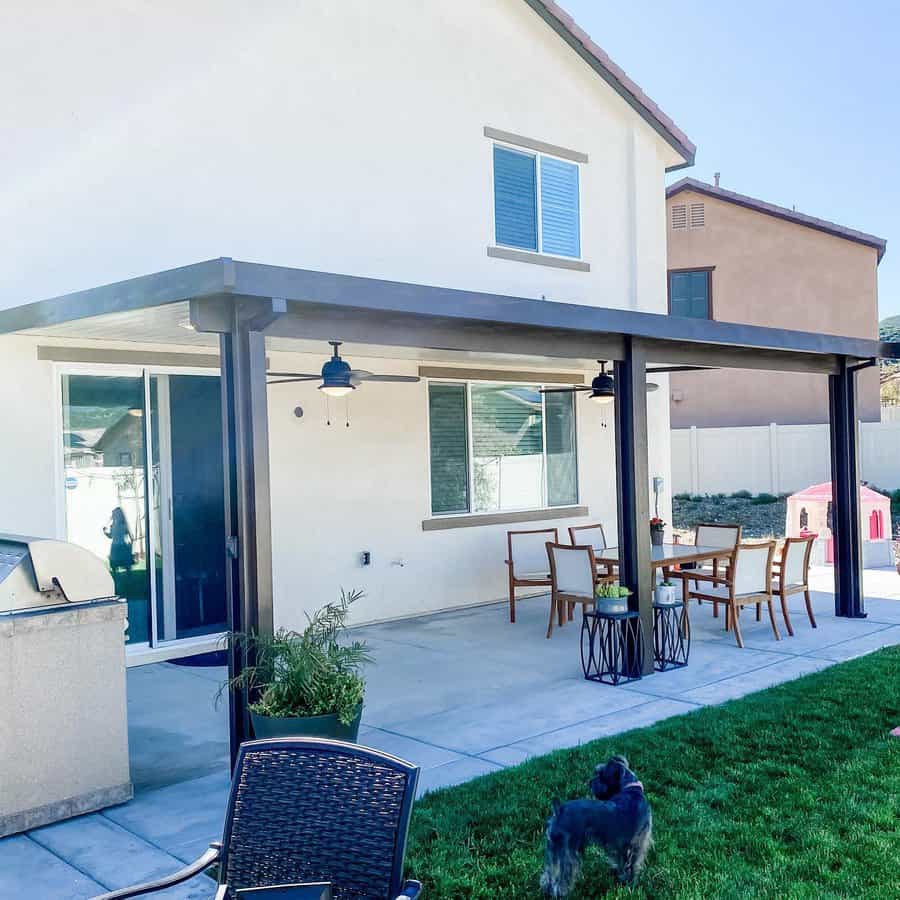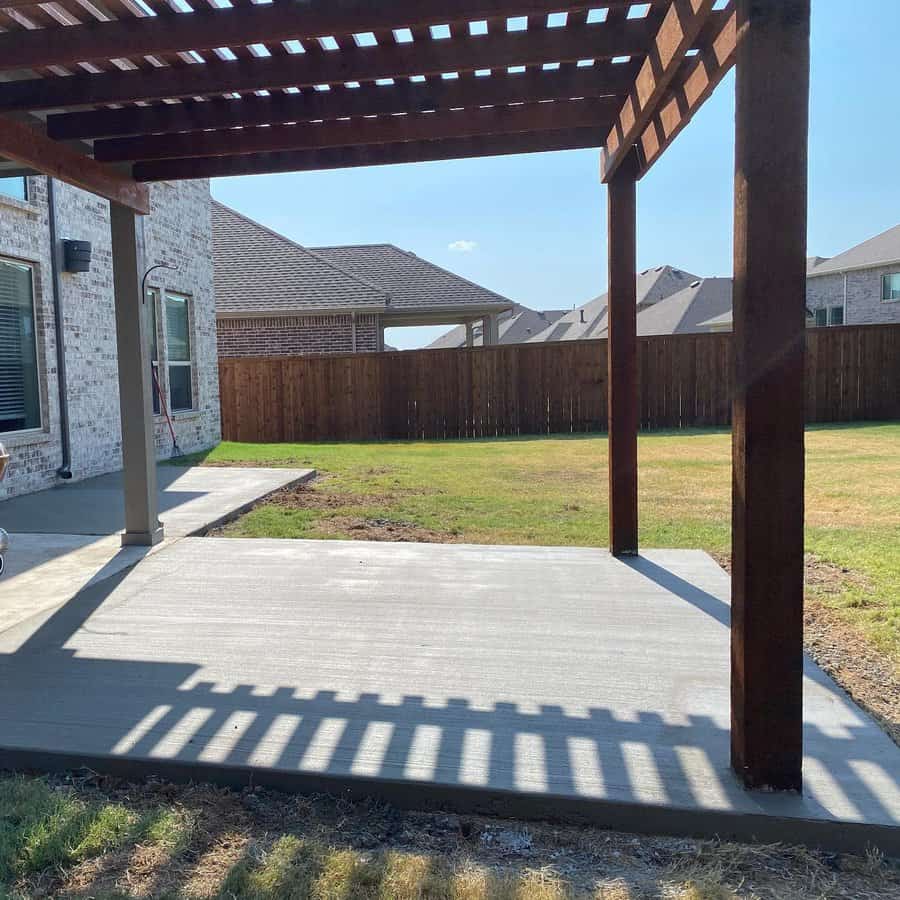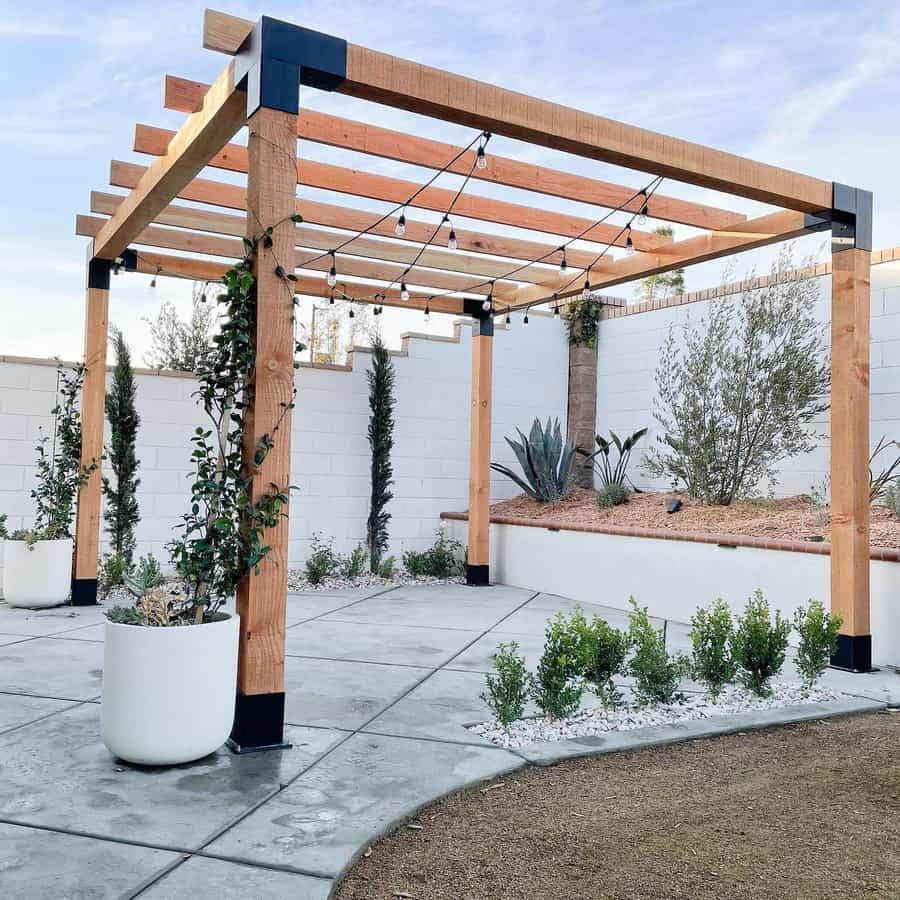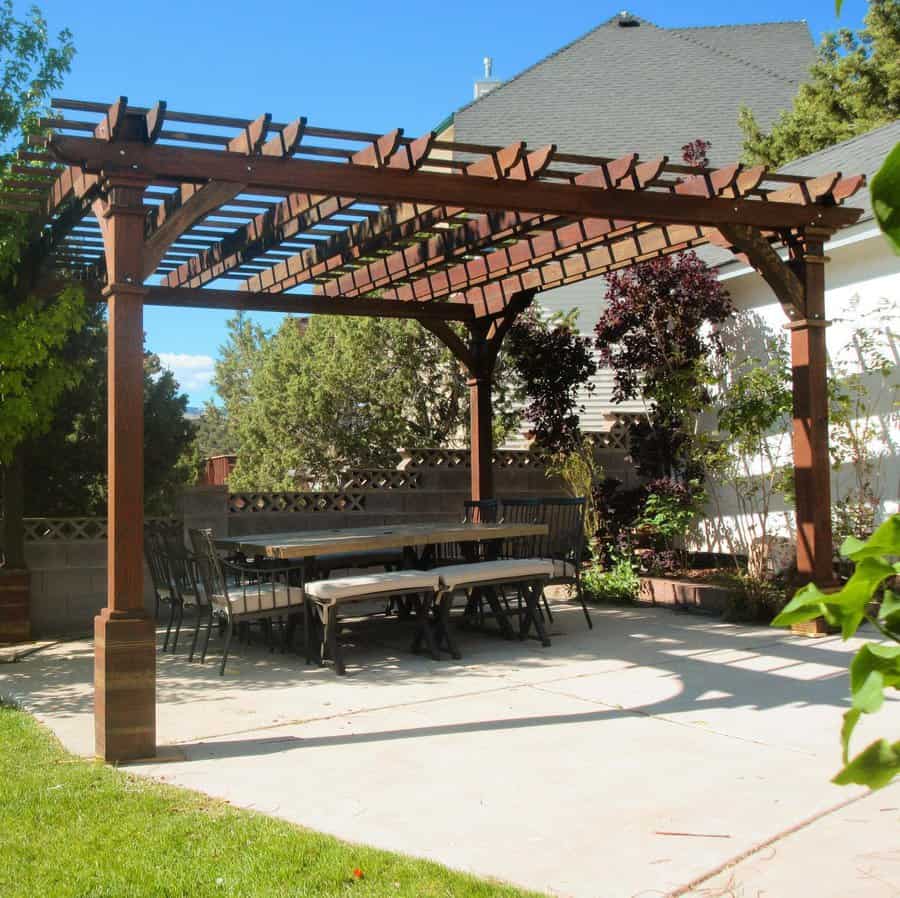 You could even build an outdoor kitchen if you have a larger patio. Pergolas come in a wide range of sizes, so you can build a structure that perfectly fits your large or small backyard.
See more pergola ideas here.
7. Poured
If you are ready to build your outdoor living space from the ground up, your first step is to build the concrete patio. For a solid concrete floor, a poured patio is the best option. It's more expensive than pre-cast pieces, but it lets you customize the design, and it's built directly where you want it.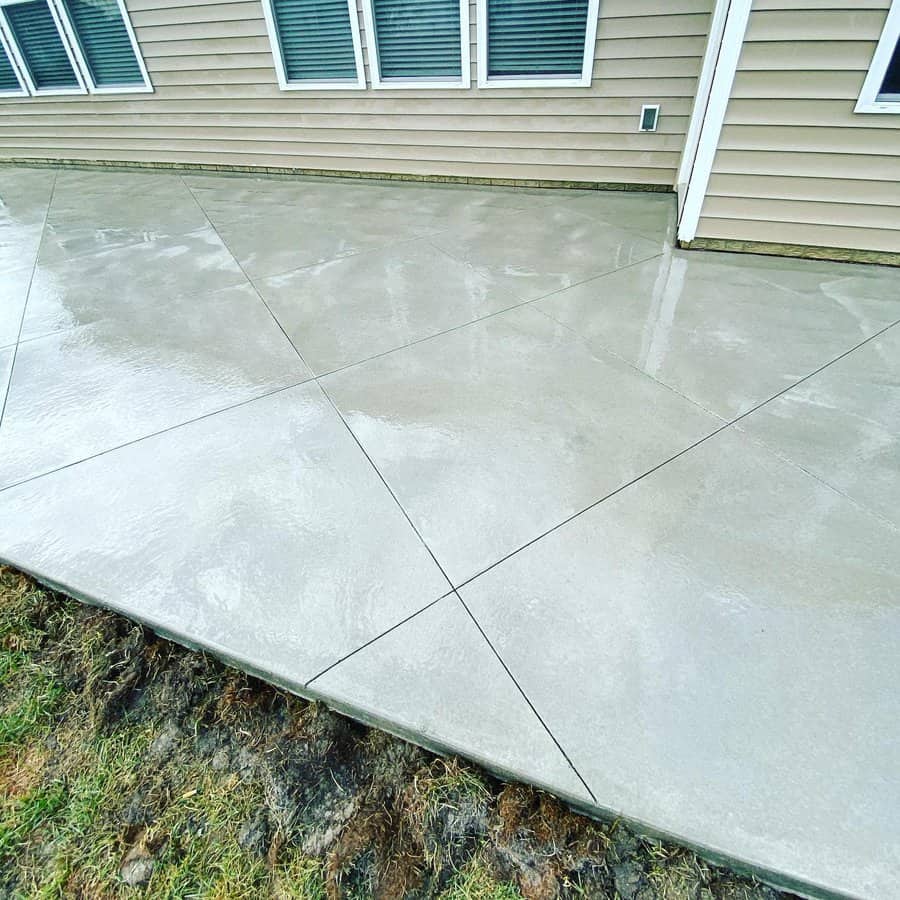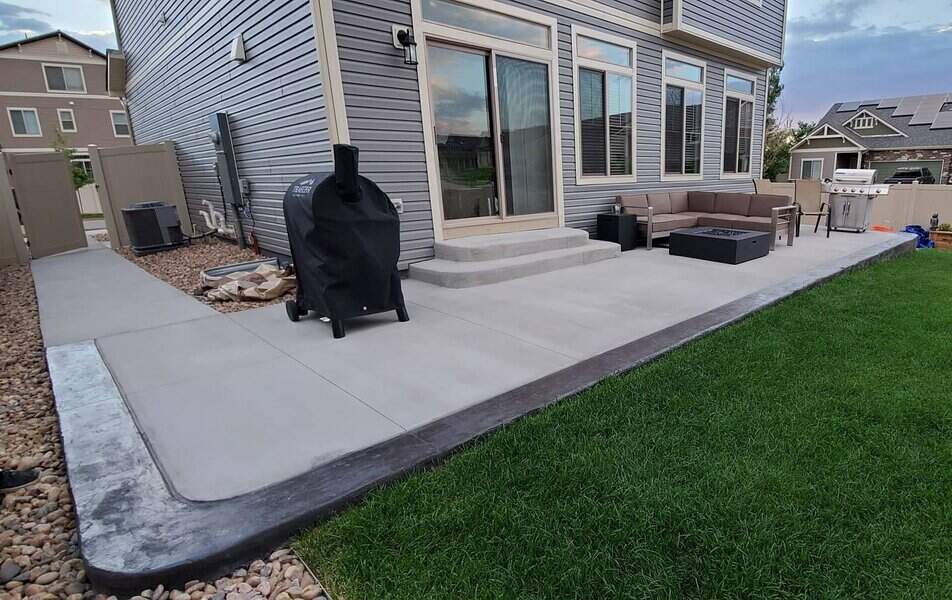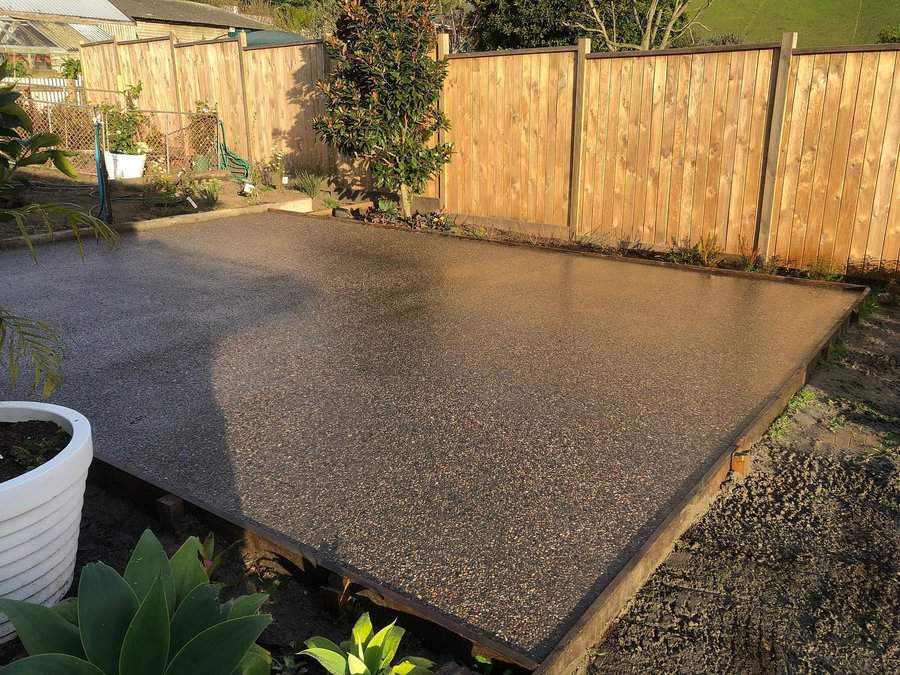 If you already have a patio, you could perform a patio makeover by adding a layer to the top of your patio. This is sometimes done when adding a pool to your backyard. The additional poured concrete connects your existing patio to your future pool surround.
8. Slab
A slab is a large piece of concrete that supports your entire house. Before building up, the contractor marks out and pours the concrete. Once cured, it acts as the base for your home. For most modern homes, the builder will make the concrete slab larger than the home's size.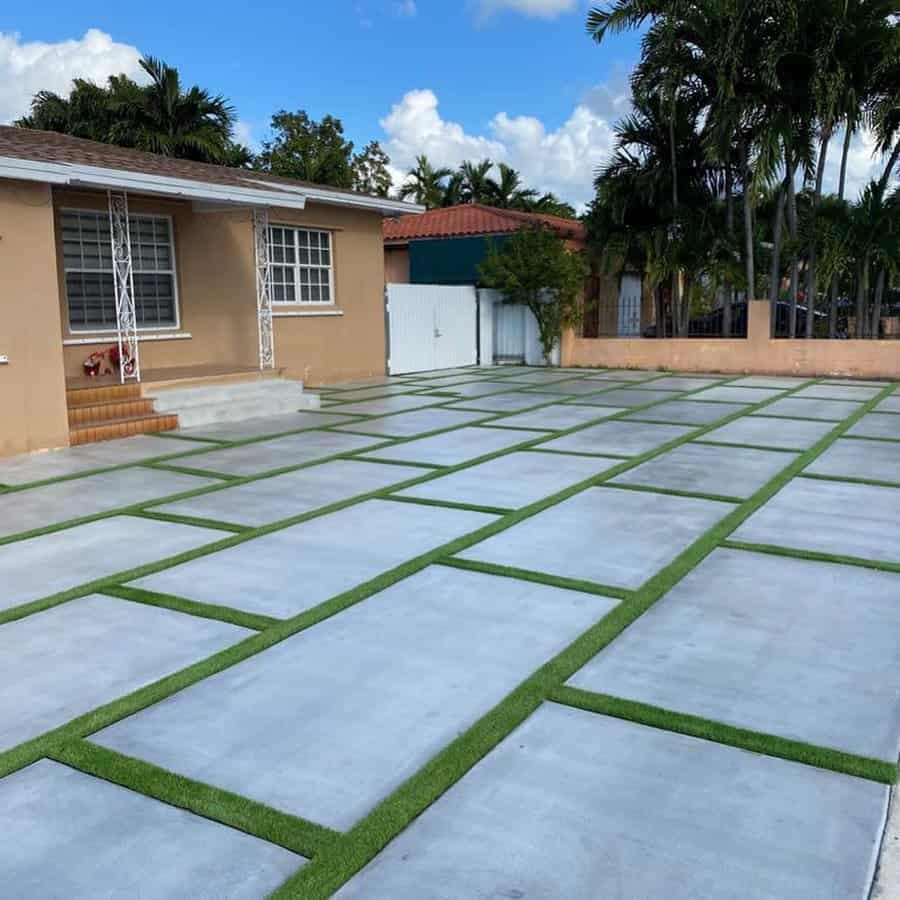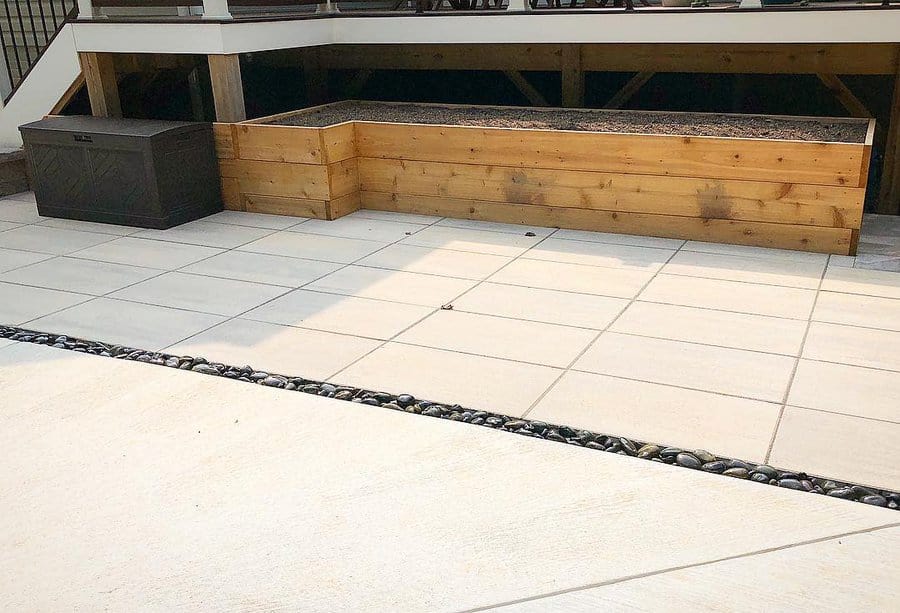 The extra piece of concrete is what eventually turns into the backyard patio extending out from the side of the home. If you plan to build a home, include your patio ideas early on so that you can account for the additional planning, concrete, and costs.
9. Stained
A stained concrete patio will not look like concrete. It's colored concrete, but it can mimic the look of stone. The stain elevates the look of the concrete without having to cover it up or replace it. When done yourself, you can have an affordable and beautiful concrete patio.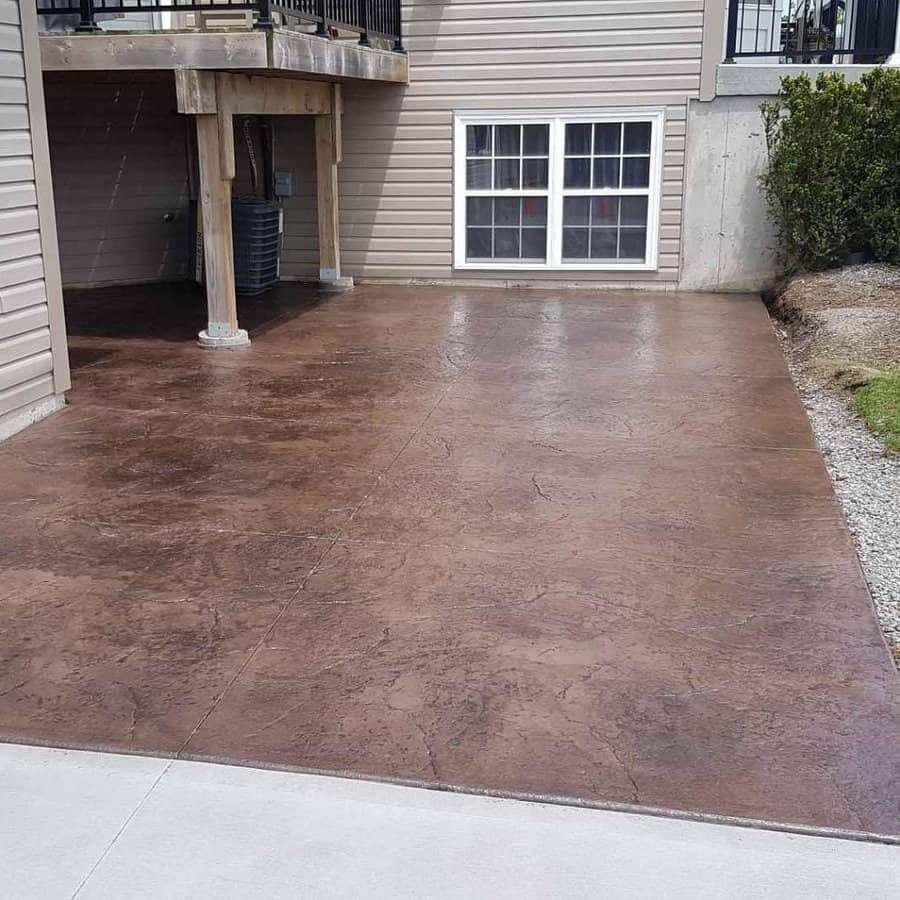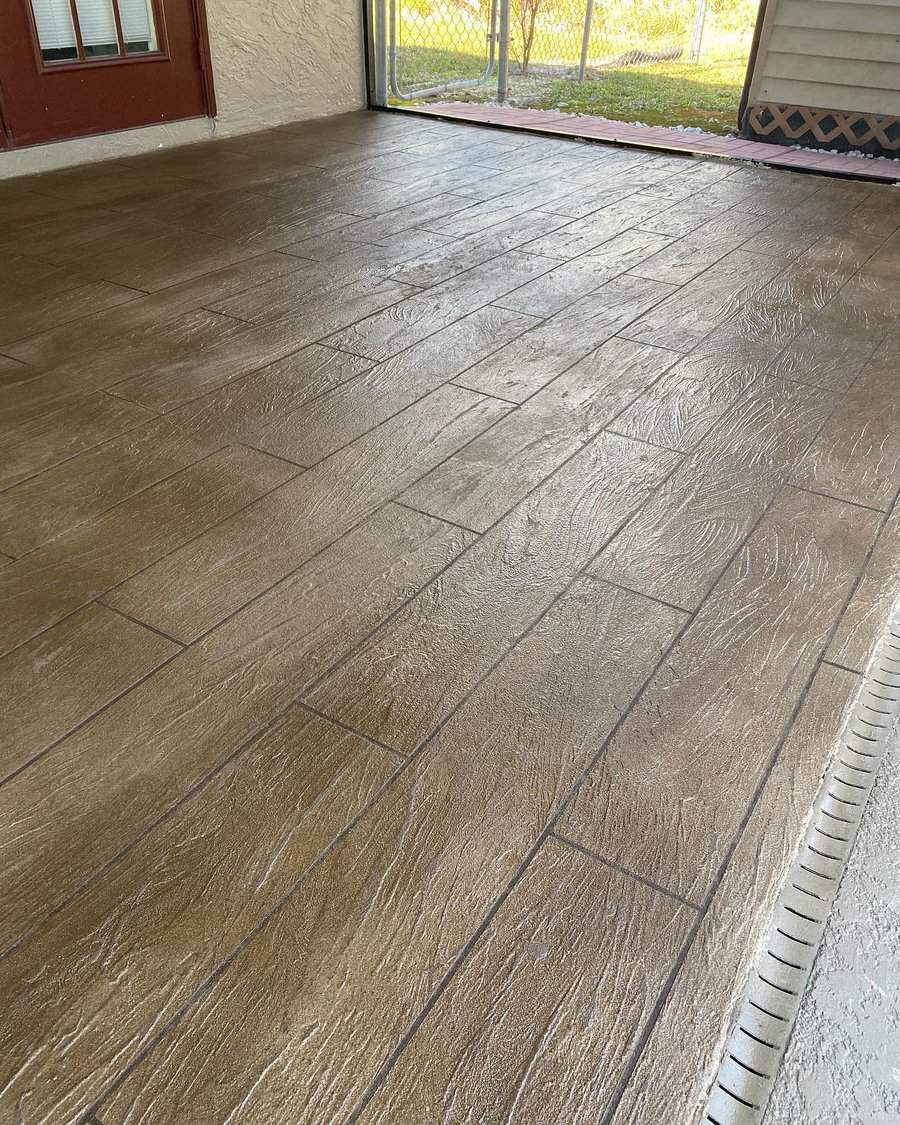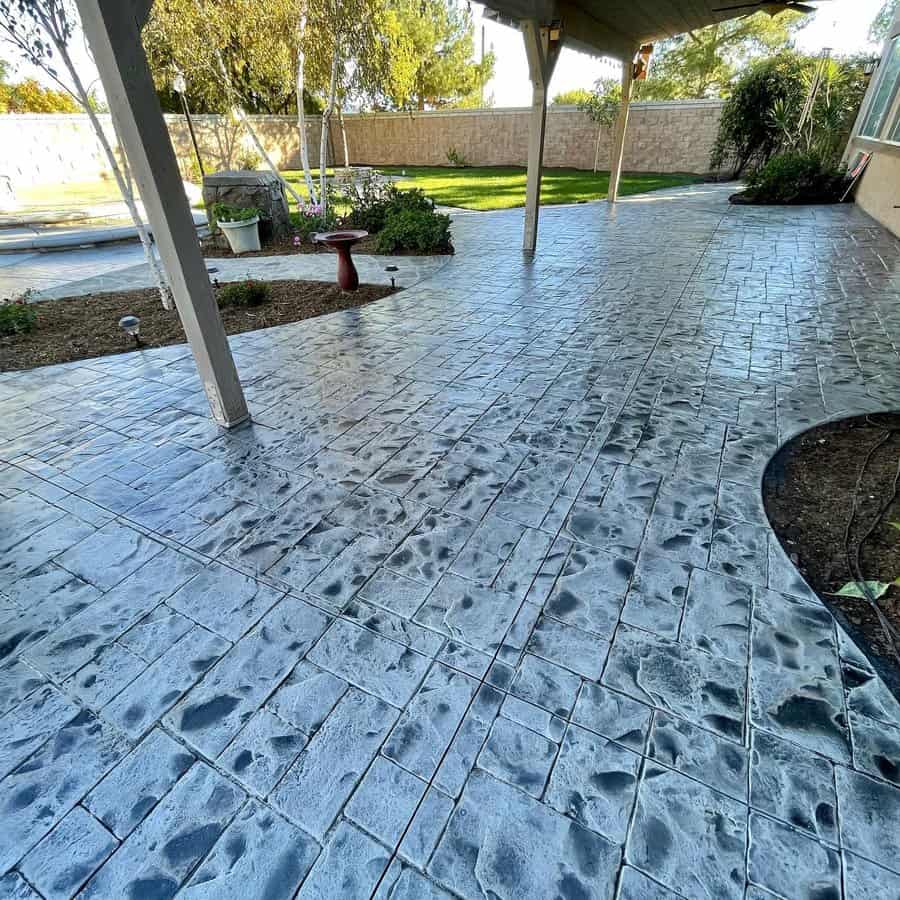 Seal the concrete once you have the stain the way you like it. This protects the concrete and the staining design. Concrete stain comes in a wide range of colors. Try using more than one to create a layered effect that becomes multidimensional.
10. Stairs
Adding stairs to an existing concrete patio can make it safer to navigate your property. You may need a step or two leading into the house through your home's exterior door. Or perhaps your property slopes, and you need stairs that take you from the patio to the ground below.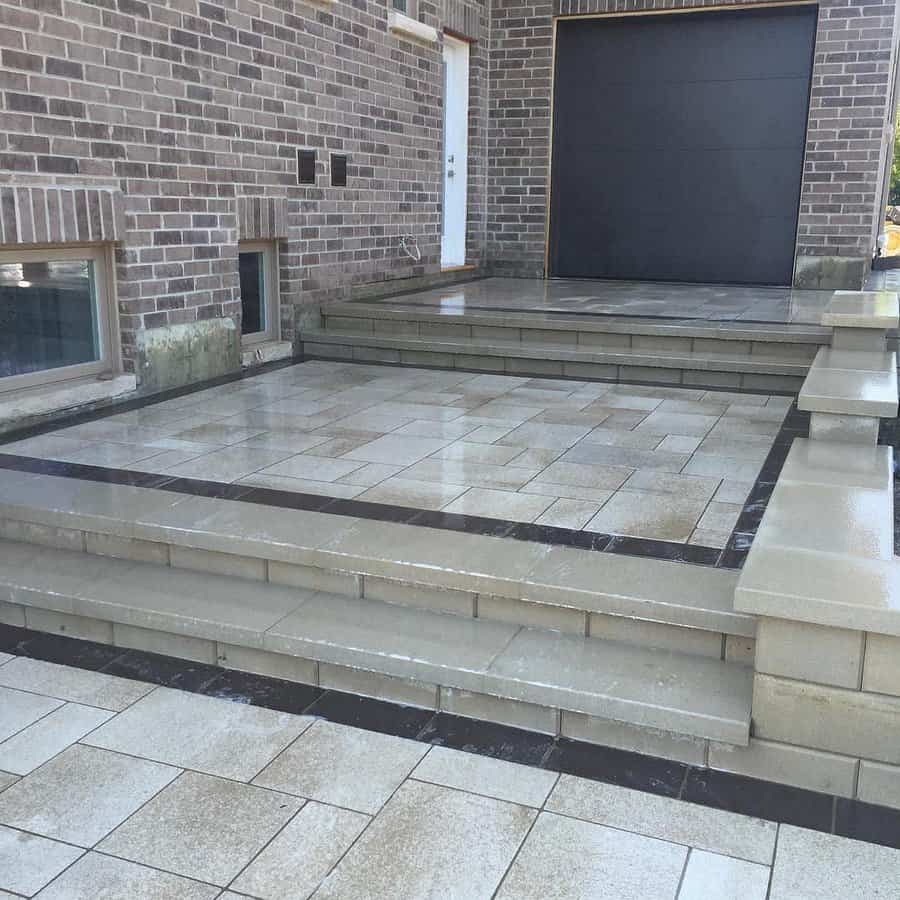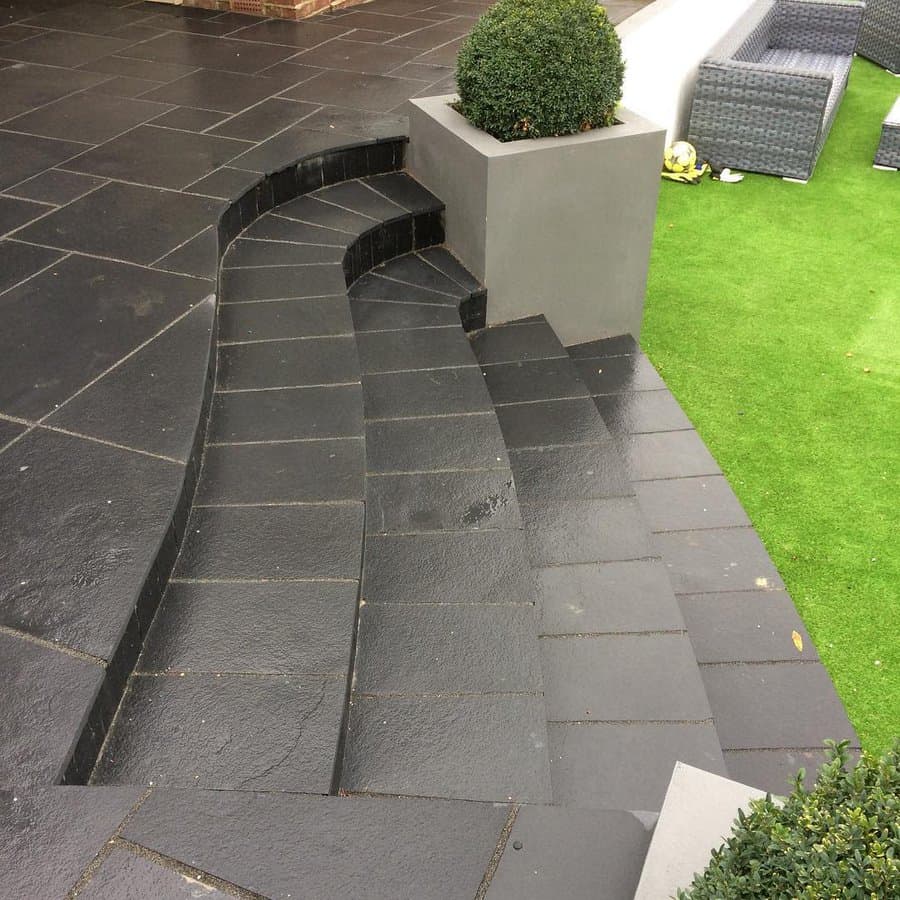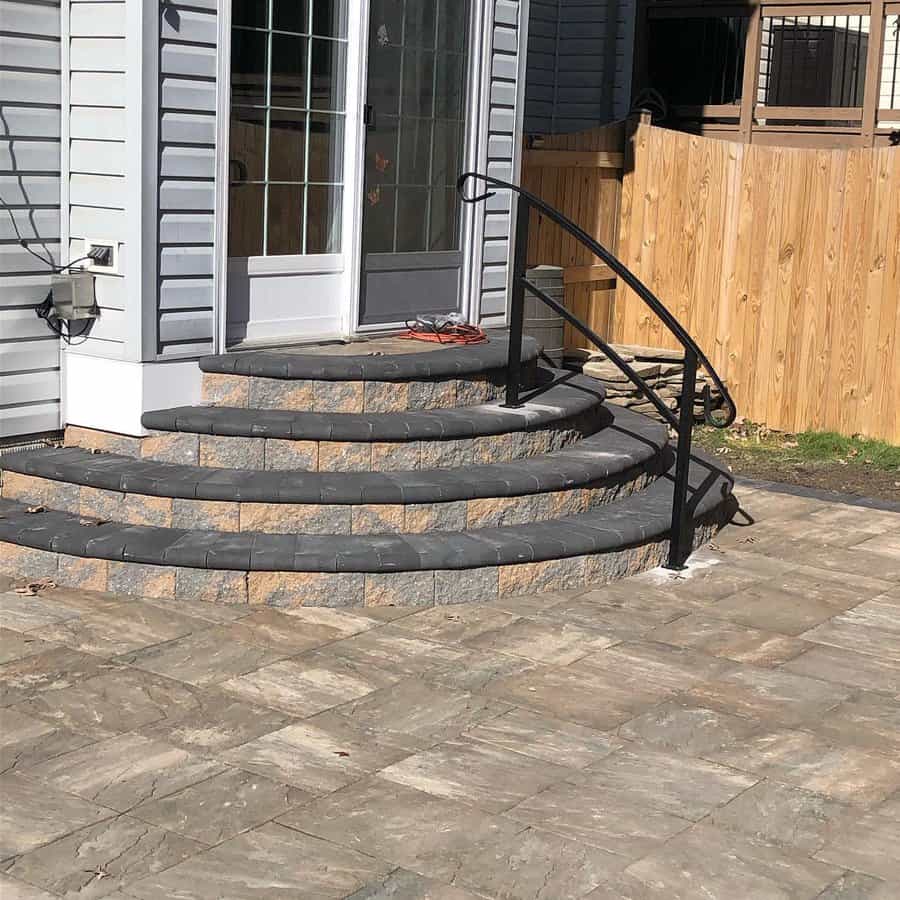 You can use pre-cast steps to build your stairs quickly. Place them where you want them and secure them in place. They should fit smoothly against your poured concrete patio to prevent a safety
11. Stamped
Because poured concrete can look plain with a smooth surface, you can use concrete stamps. They are typically made from a plastic or PVC material. Once the concrete is poured and begins to set up, you lay the stamp on the surface of the concrete and press down. The stamp then makes an indent in the surface to create a design.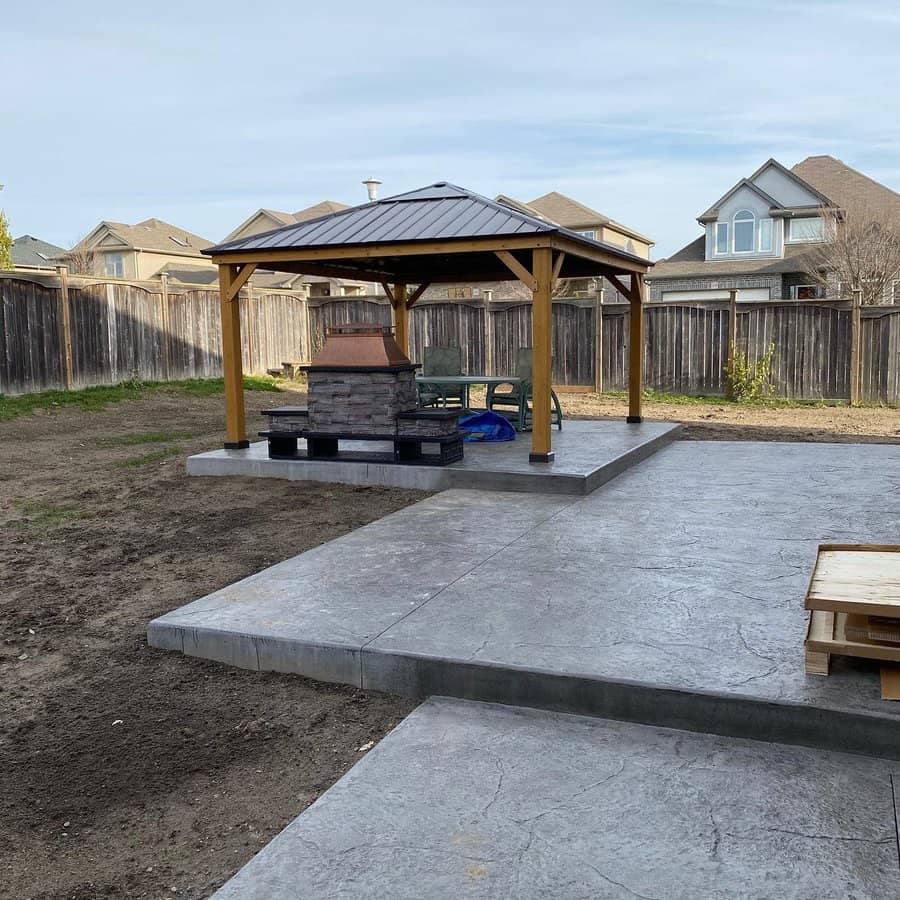 You can create a stamped concrete border when you have freshly poured concrete. Or you can use a larger stamp to create a stamped concrete pattern over the entire surface of the concrete. Some stamps can mimic the look of stones. Other stamps create a decorative design for an artistic stamped concrete patio. You'll need to work quickly, and it helps to have multiple stamps to cover a larger area at once.
12. Steciled
Using a stencil and some paint is a simple method for dressing up an old poured concrete patio. Start by pressure washing your concrete to remove any dirt or grease. You need a clean and bare surface for the paint to adhere to the concrete.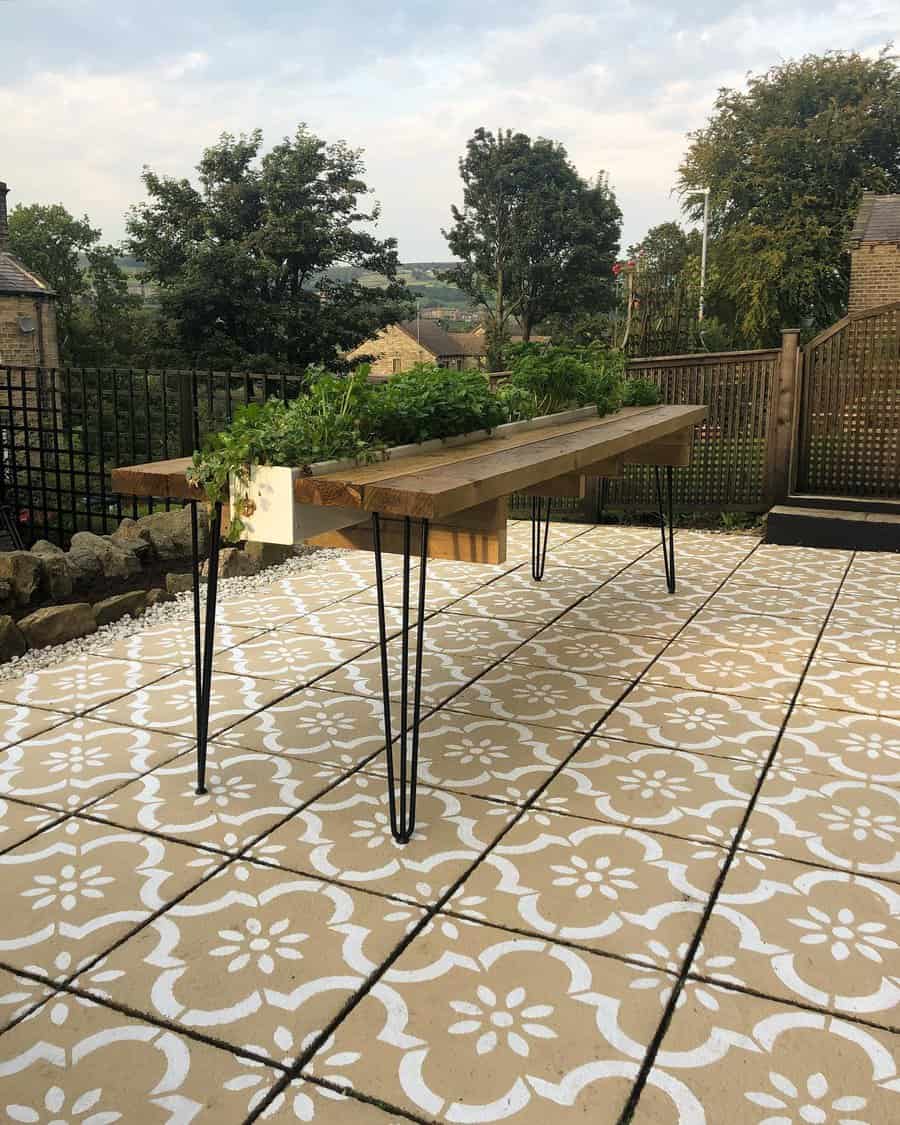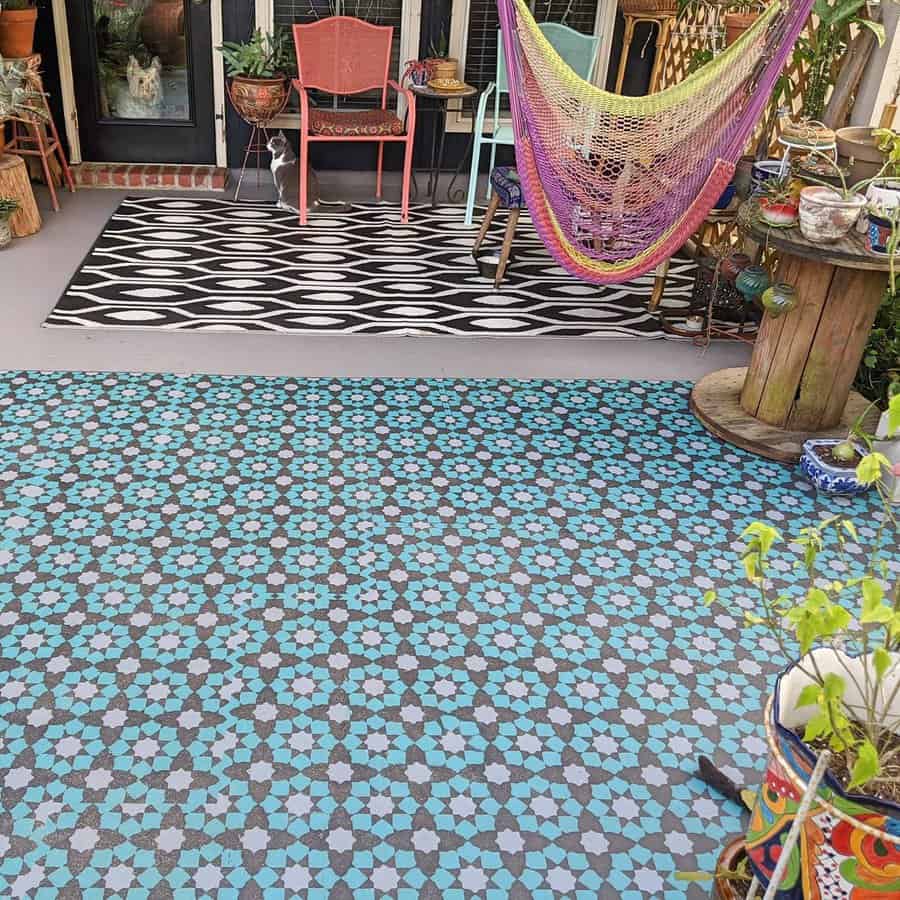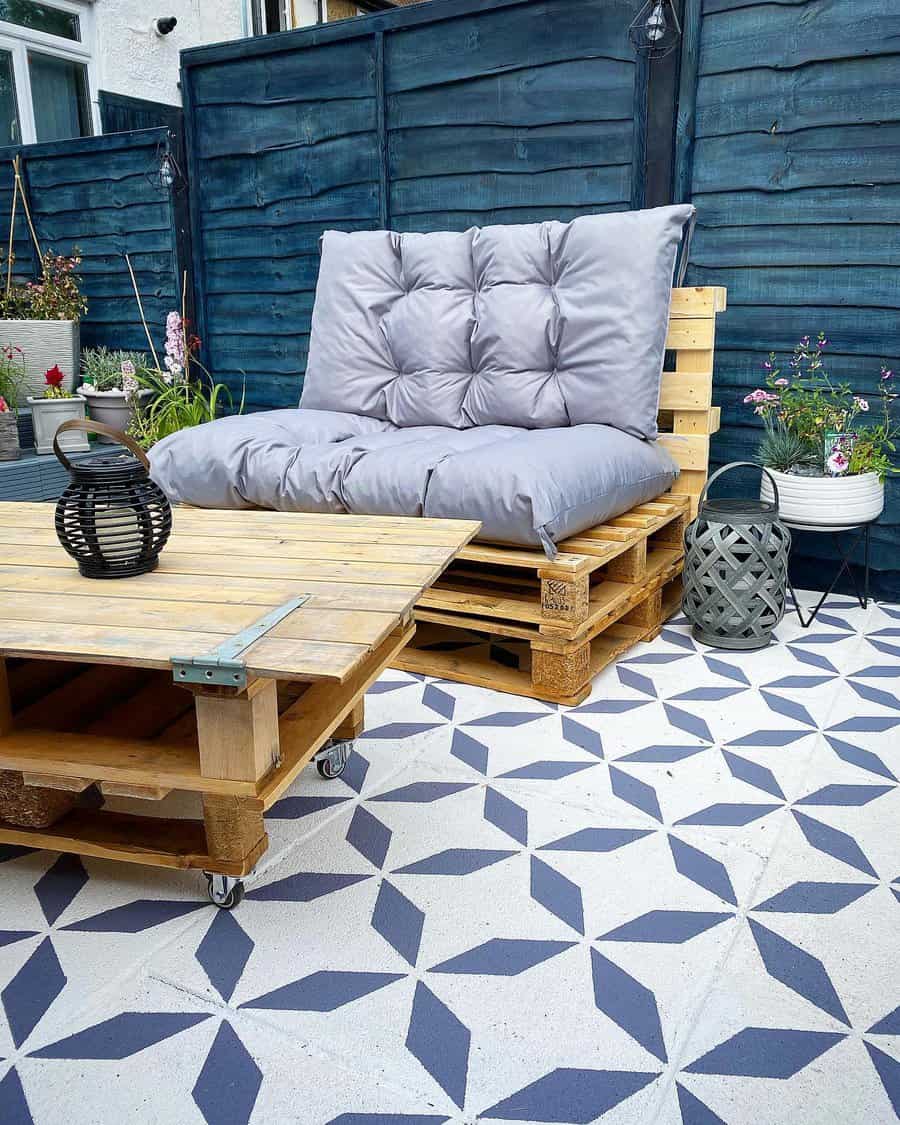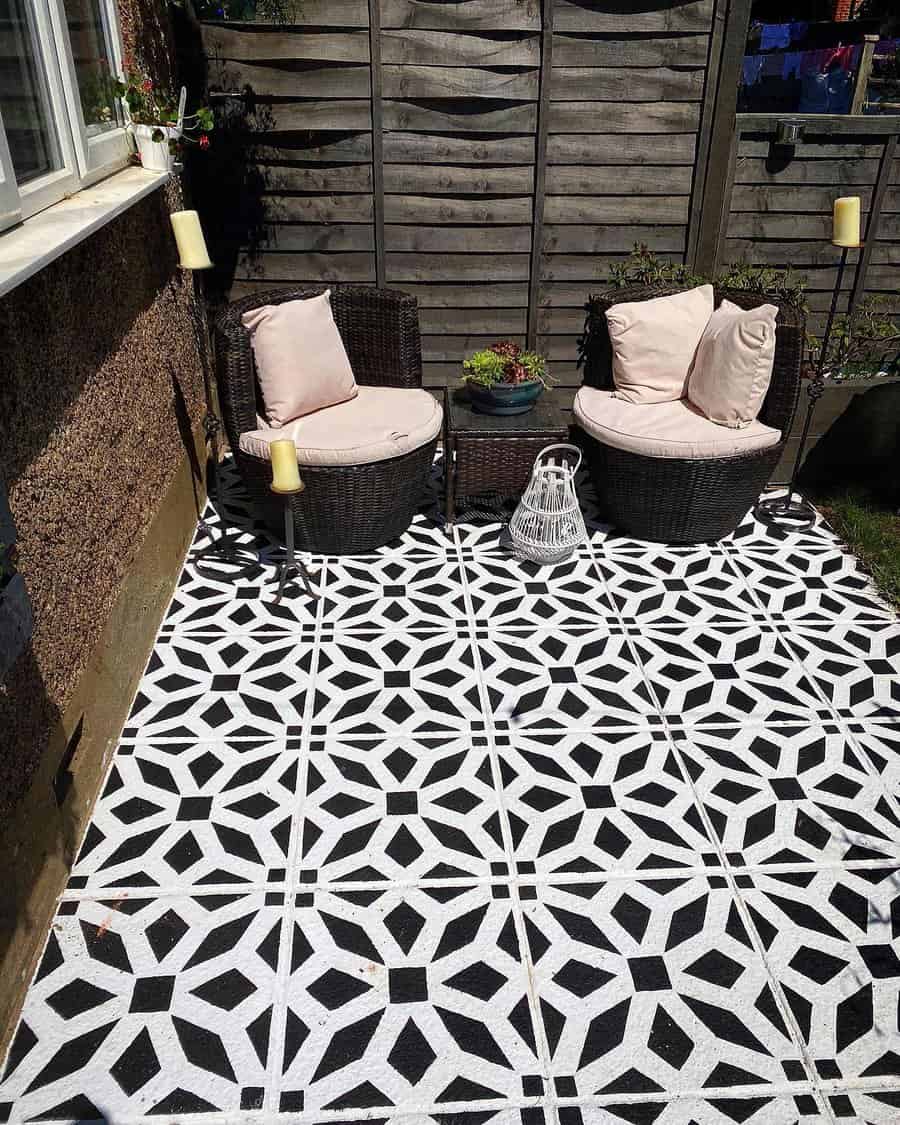 Choose a stencil that you like, lay it down, and then paint the pattern onto the concrete. The finished result should be a decorative concrete patio. You could use a single color or use multiple colors and stencils for a more intricate pattern.
FAQs
Is concrete a good choice for a patio?
Concrete is a smart choice for your patio construction material. That is why concrete is the most popular building material when adding a patio to a home. It has infinite design possibilities and is incredibly durable.
How do I cover an old concrete patio?
If you have an old patio you want to hide, you could simply throw an area rug over it. There is also concrete paint that you can use to give your concrete patio a fresh look. If you want something more permanent, you could arrange pavers over it or build a wooden deck.
Is it better to paint or stain a concrete patio?
Stain is a more durable treatment because it sinks down into the concrete. It is a dye that becomes a part of the concrete. Paint is a liquid that sits on the surface of the concrete and then dries like a coating. This makes it less durable because it can eventually peel or wear away.