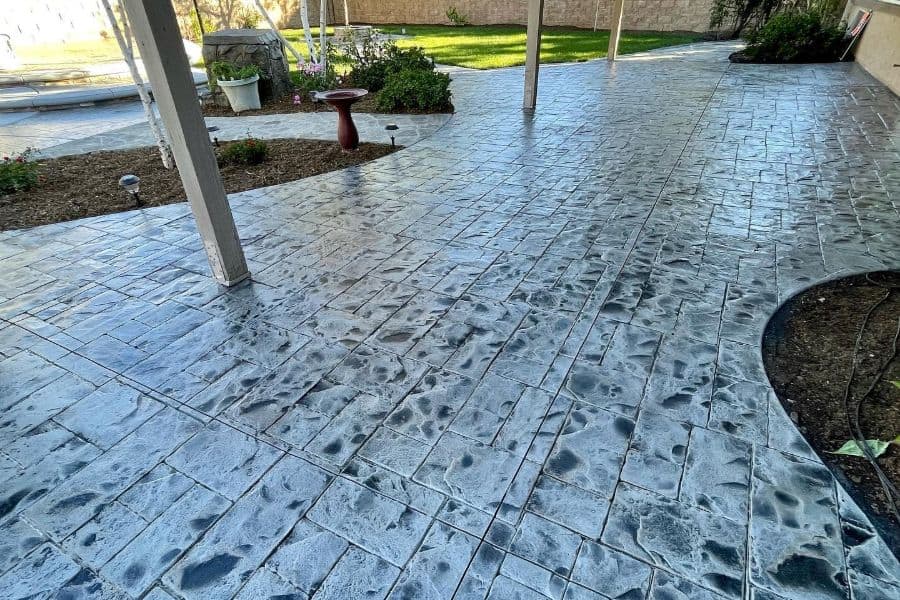 36 Concrete Patio Ideas for Your Backyard
Having a concrete patio on the back of your house gives you the perfect place for developing your outdoor living space. The concrete is sturdy, durable, and long-lasting. The problem with concrete is that it's not very attractive. Leaving your concrete bare can bring down your entire outdoor design. Thankfully, there are several ways you can dress up your concrete patio to elevate the exterior of your home.
Check out these concrete patio ideas and upgrade your concrete into a place you actually want to be.
1. Add Plant Boxes
Creating a concrete patio can be a great way to liven up your backyard and turn it into an outdoor oasis. Adding built-in planter boxes to the edges of your patio can help create visual interest and dimension, as well as provide an area to build mini herb gardens or add in flowers or shrubs depending on your desired look.
Furthermore, built-in planter boxes are often more maintenance friendly than planting directly in the ground, allowing you to give your patio the perfect finishing touch!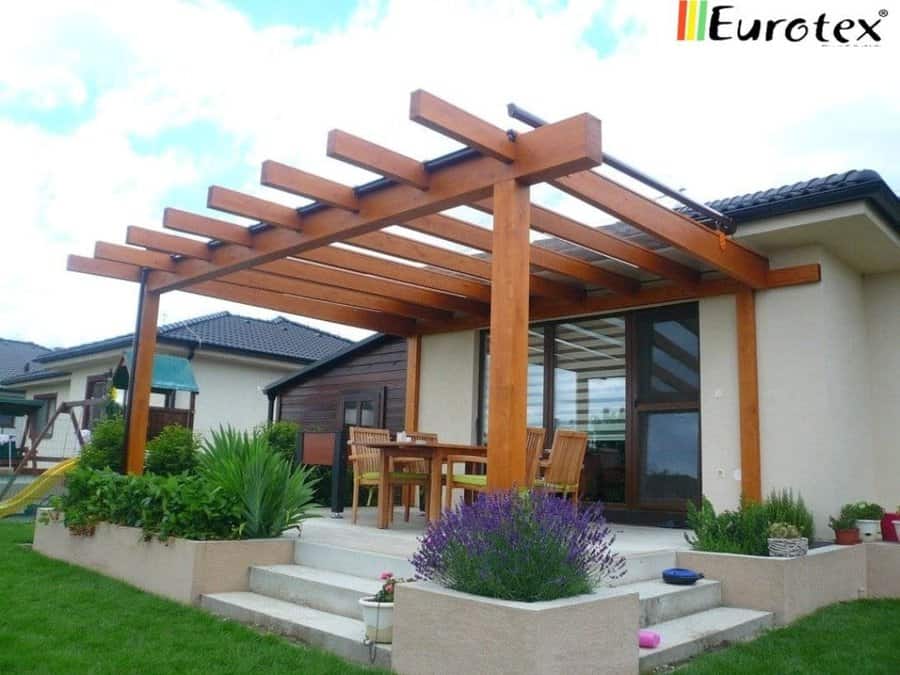 2. Build A Concrete Fireplace
What could be better than gathering around a concrete fireplace out on the patio? This is the ultimate outdoor amenity, providing warmth and a place to gather with family or friends. With a round concrete patio that features a round fireplace, your summer days and nights can be filled with conversation around the warmth of the flames.
Picture a night when the stars are out and you are surrounded by people you care about – this is what life is all about, and it all starts with having the perfect outdoor setting!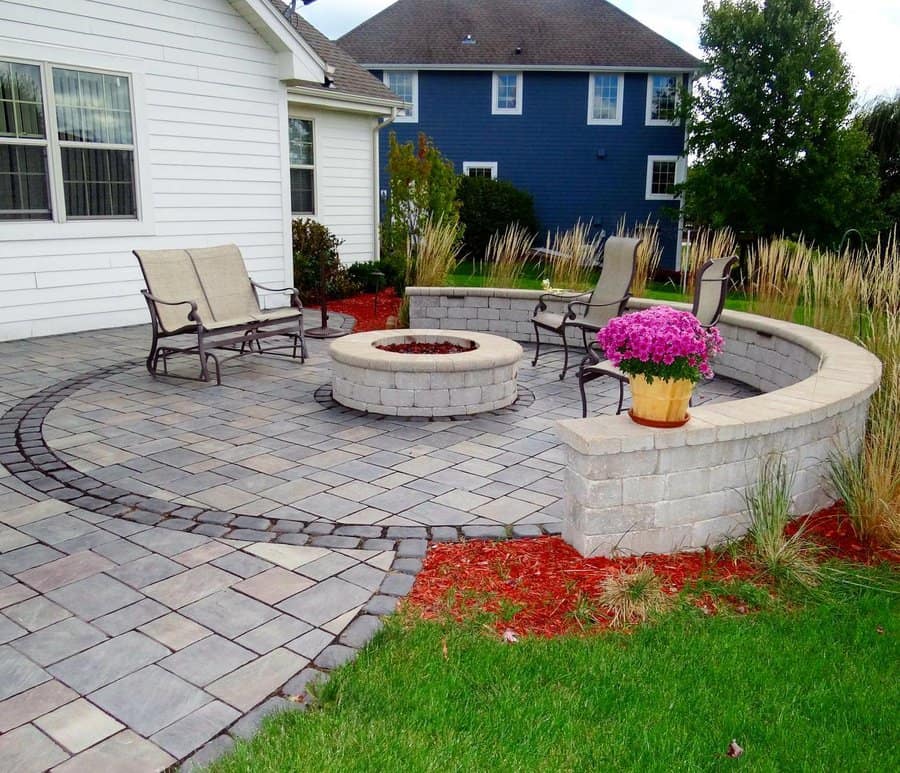 3. Install Concrete Pavers
A concrete patio is a great way to make any backyard more welcoming and beautiful. With concrete pavers, you can create a pattern that best fits your style, and if you're feeling extra creative you can fill the cracks between the concrete tiles with rocks or soil for an even more interesting look.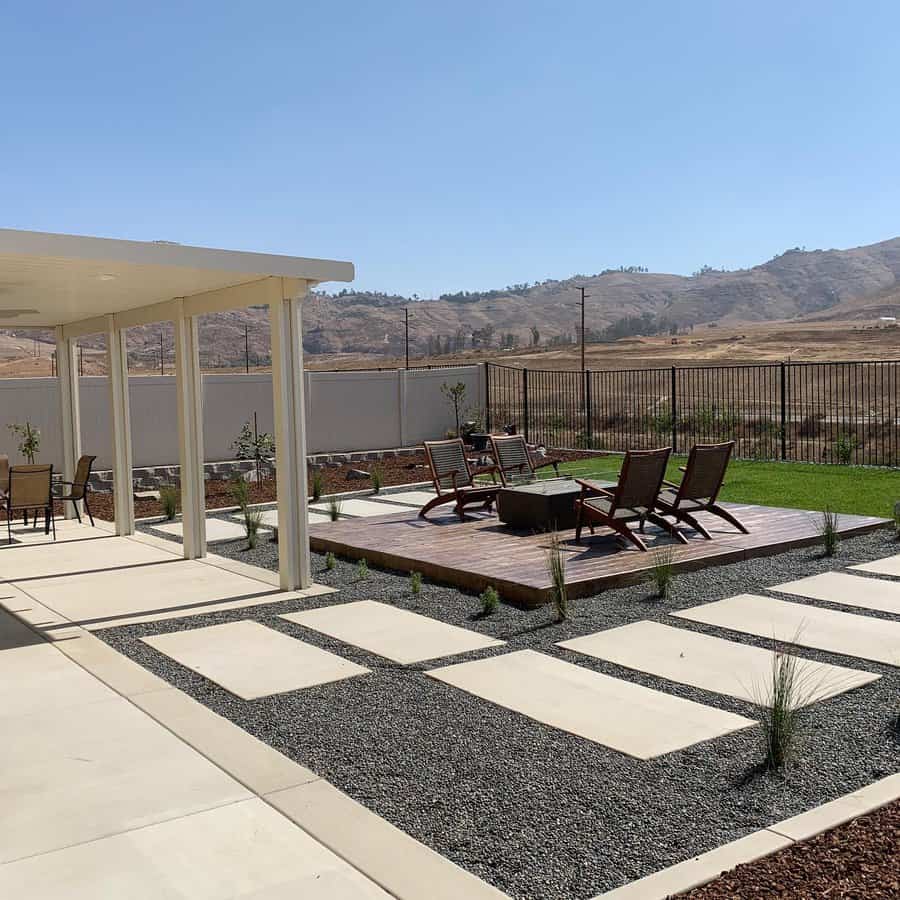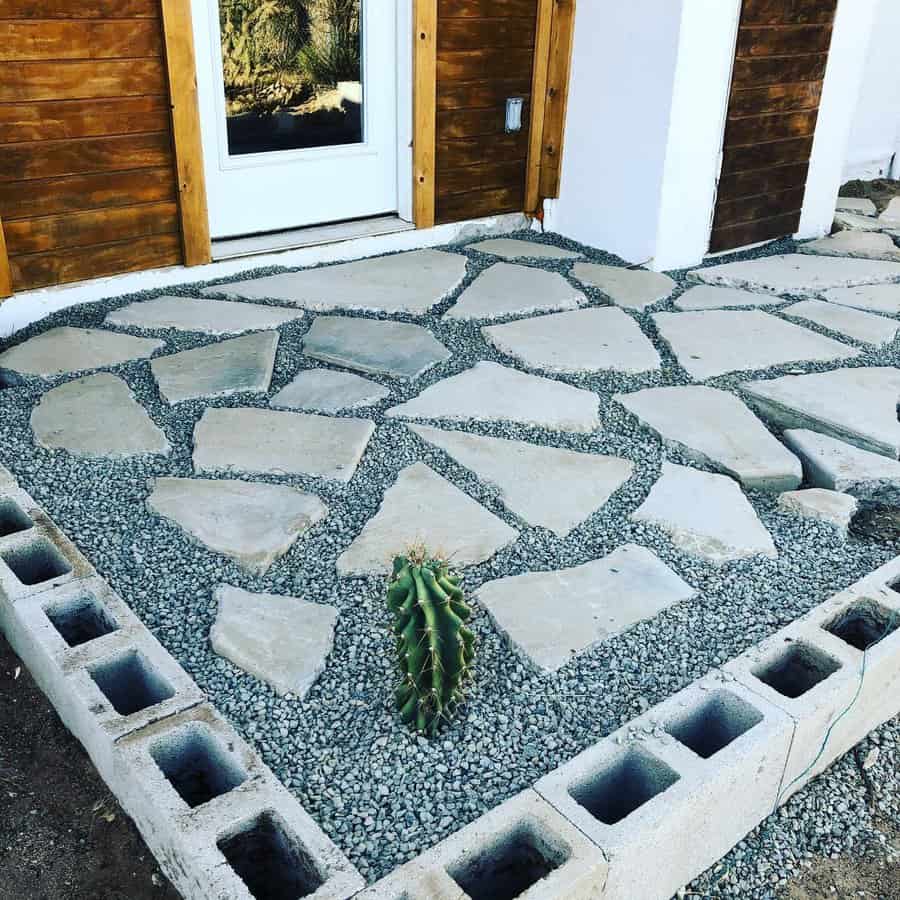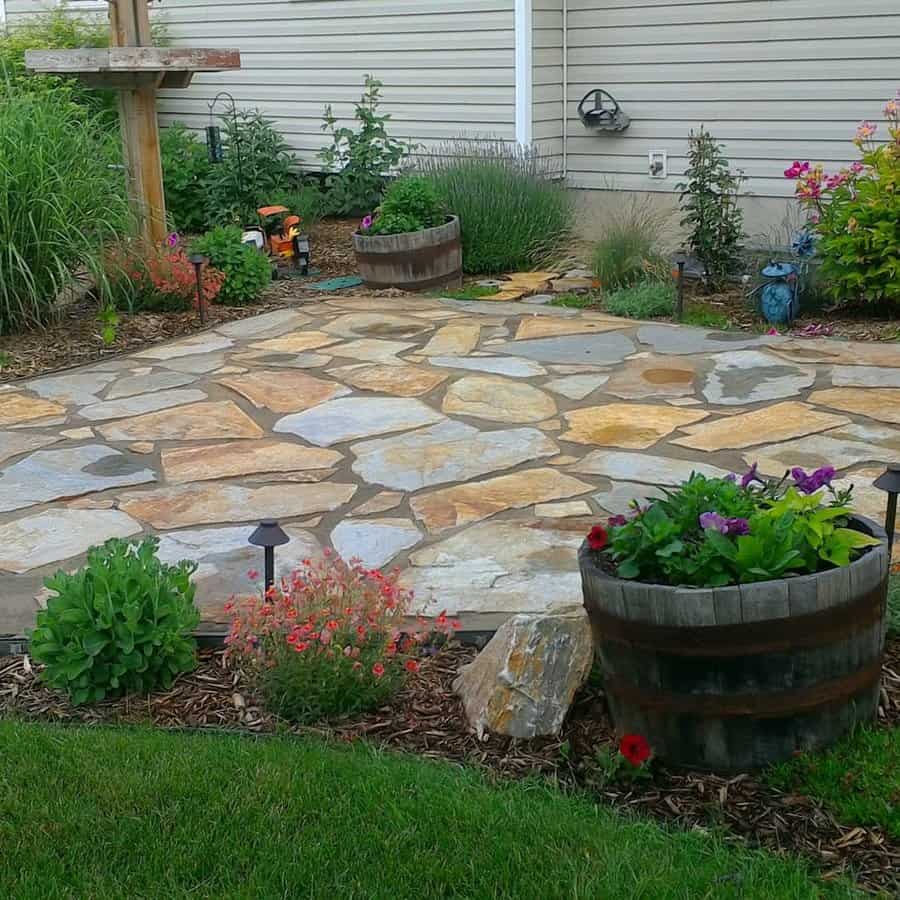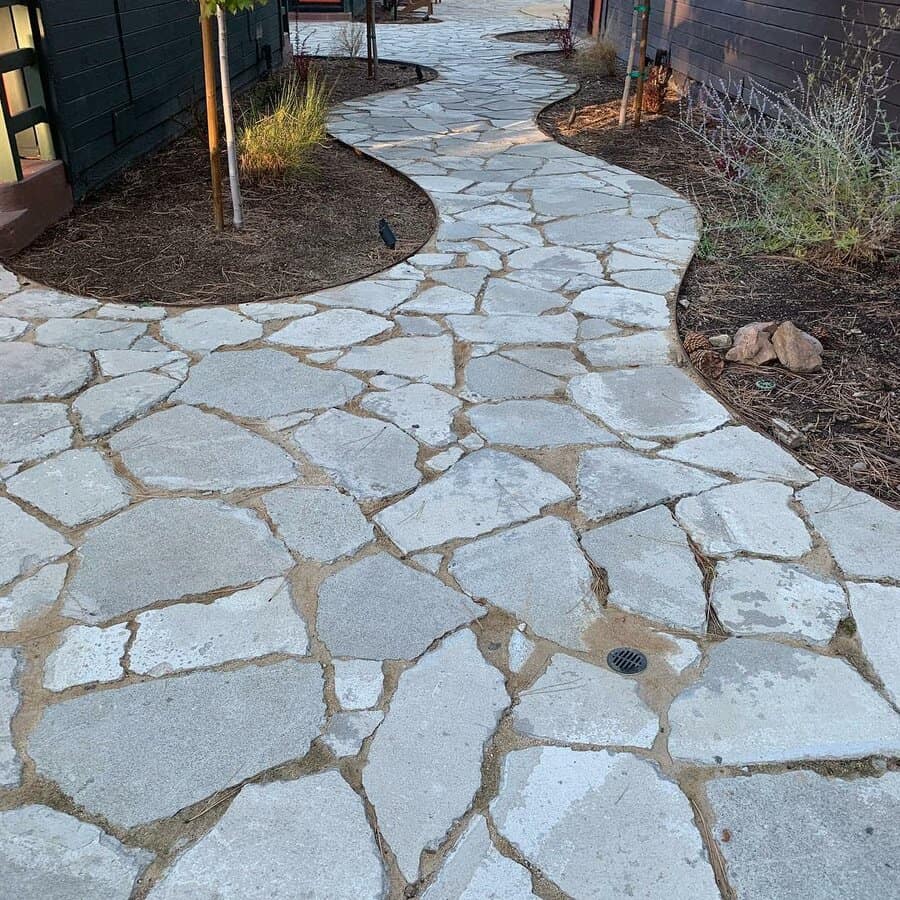 The concrete's durable material will withstand all kinds of weather, while the realistic texture of its surface is perfect for creating a comfortable outdoor space that's both breezy and firmly grounded.
4. Assemble A Deck With Stamped Concrete Tiles
A grey-stamped concrete patio is a perfect way to lend a cozy, rustic vibe to your outdoor living space. Featuring grey stamped concrete tiles that resemble raw cobblestones, this design offers plenty of charm while also being a more economical choice compared to real cobblestones. The grey stamped tiles create an interesting texture that makes for an interesting focal point in any yard. From afternoon BBQs on balmy days to comforting conversations around a bonfire, the grey-stamped concrete patio will be the ideal setting for countless hours of entertaining and relaxation.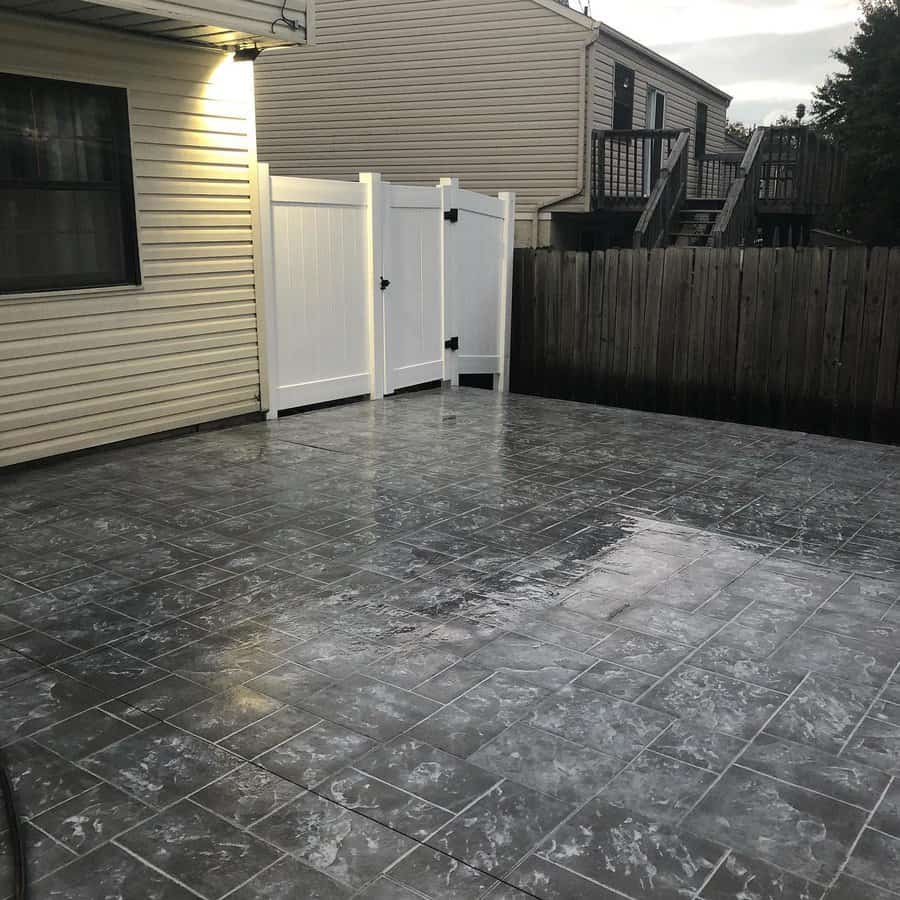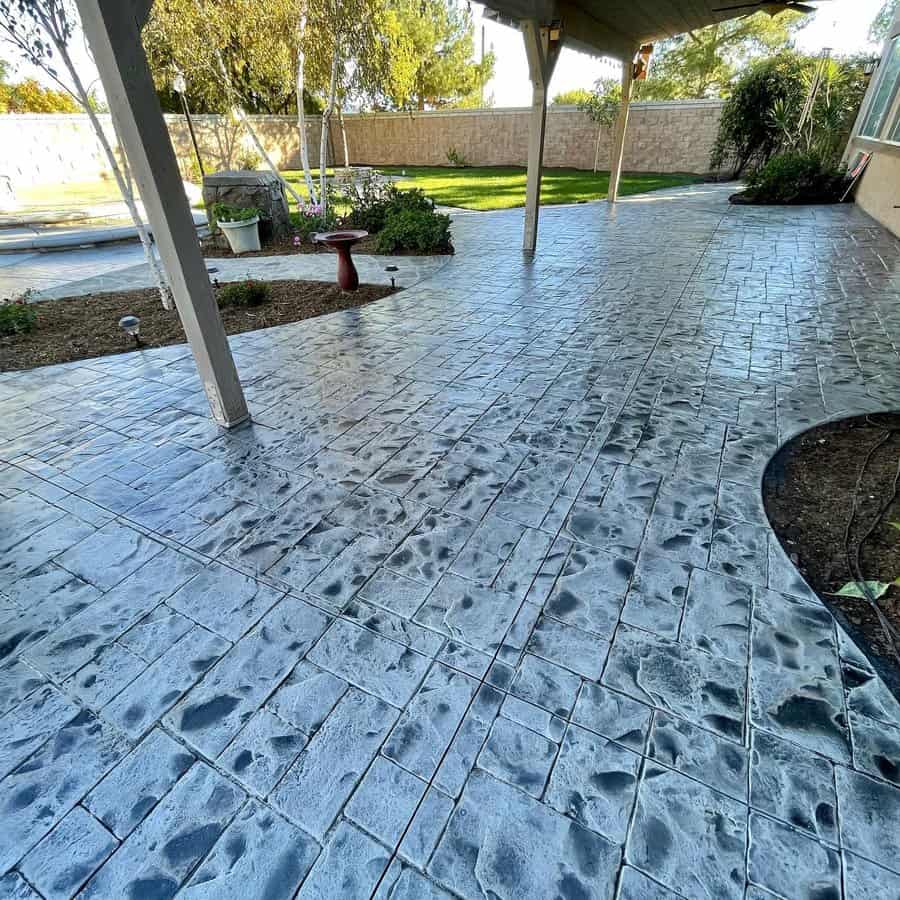 5. Protect Your Deck From Moisture With Epoxy Tiles
Installing a concrete patio in your backyard is the perfect way to enjoy outdoor living in all seasons. The epoxy tiles provide lasting protection from moisture and rain, so your patio will stay looking its best for years to come.
Install a few comfortable pieces of outdoor furniture and you'll find yourself spending more and more time outdoors soaking up the sunshine, taking in the fresh air, and creating ever-lasting memories with friends and family. Give your outdoor space an upgrade today with a protective concrete patio.
6. Basketweave Pavestone Bricks
Transform your outdoor space into an elegant oasis with basketweave pave stone bricks laid perfectly into a concrete patio. This modern and classic look pairs well with brick walls, helping your space come alive with texture and style.
As the sundrops pour down, the vibrant basketweave will bring a sensory flair to any of your backyard cookouts or afternoon lawn parties. Make a statement and enjoy life on your own private lavishly designed patio.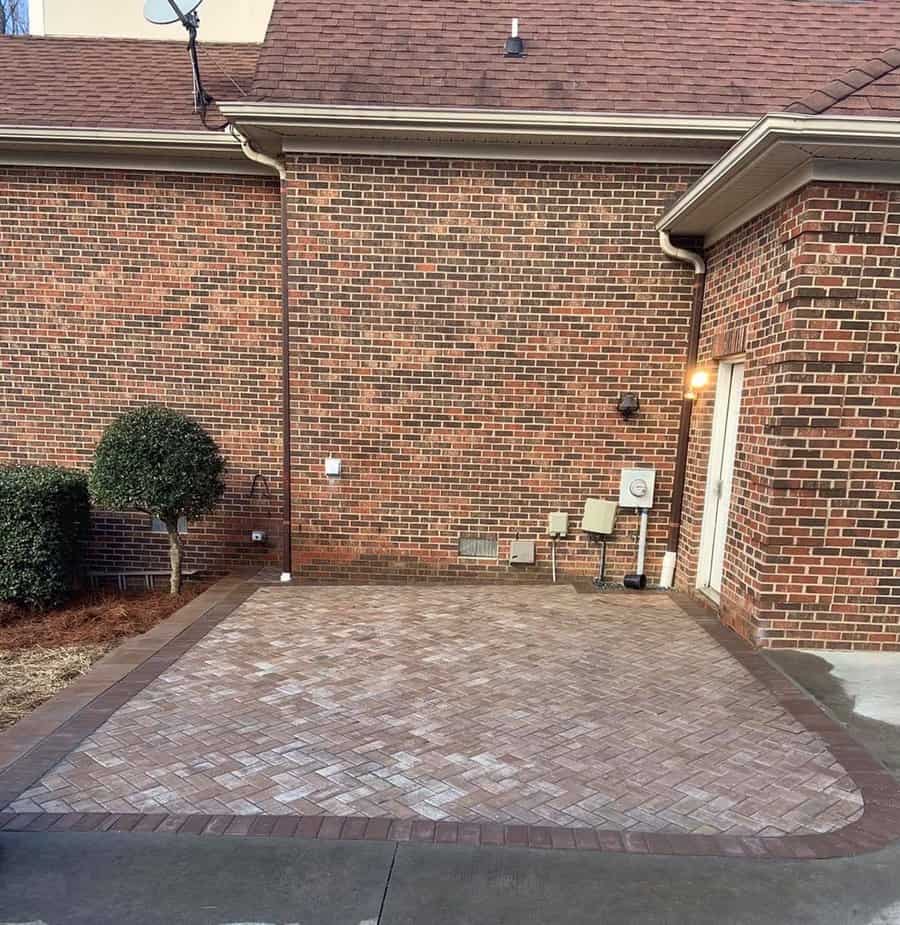 7. Flagstone Flooring In French Pattern
Bringing a creative touch to an outdoor space has never been easier than with flagstone flooring in a French pattern for your concrete patio. Not only is it a cost-saving option that is sure to last for years to come, but this chic exterior will also bring a light and sophisticated feel to the area that you and your guests are sure to love.
Whether you want to set up some furniture or just let the flagstone speak for itself, you can be sure it will add dimension, texture, and beauty wherever it is installed.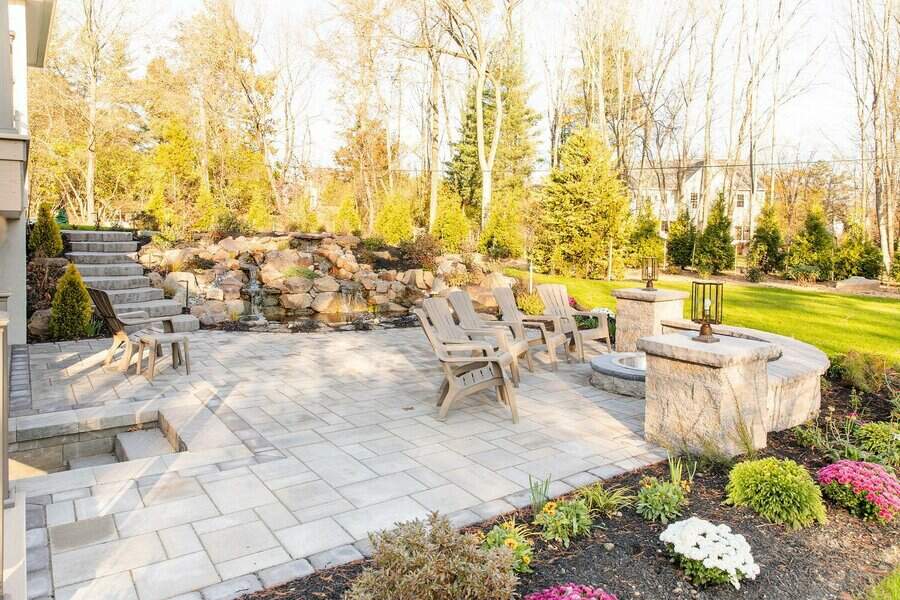 8. Add A Pergola To Designate An Area For Gathering
Make an outdoor space to entertain and relax this summer by installing a concrete patio in your backyard.
Create a cozy atmosphere of fresh air, greenery, and shade with an add-on of a pergola to clearly designate the area for gathering. Use outdoor durable furniture such as wrought iron chairs, add hanging greenery or even add multiple levels of raised beds. Install a trellis to add vertical interest and add delicious fragrances and beauty with flowering climbing plants.
In the evening you can enjoy soft lighting from string lights adding another layer of warmth to your patio entertaining experience.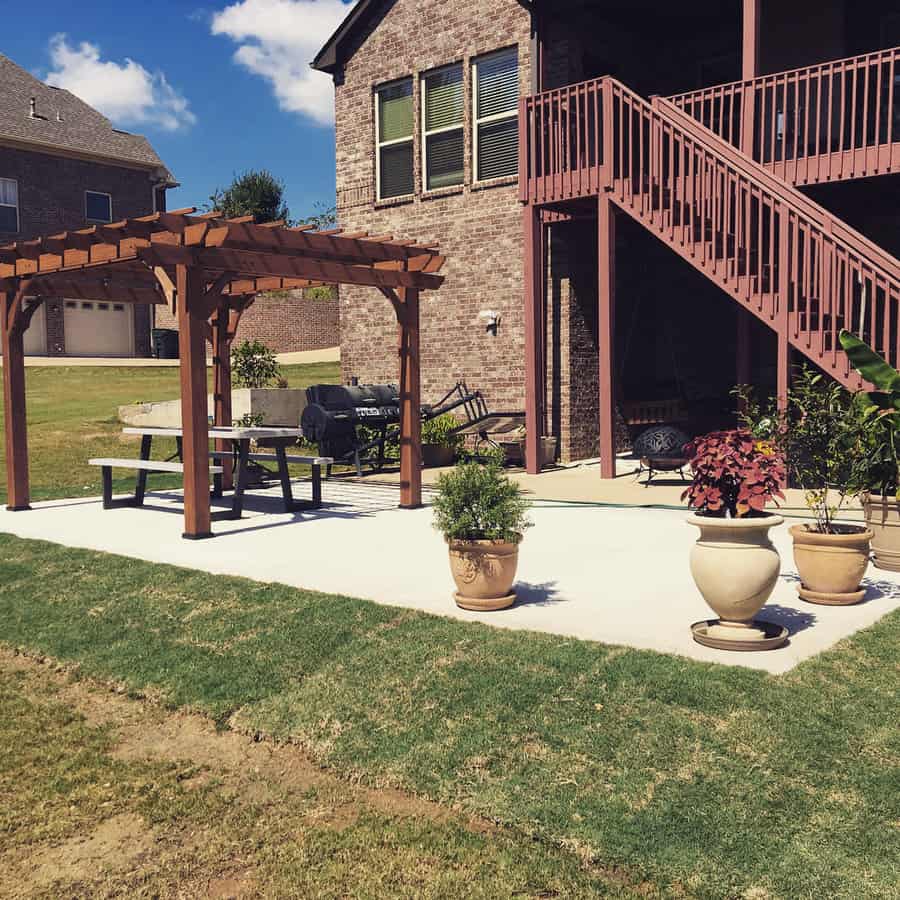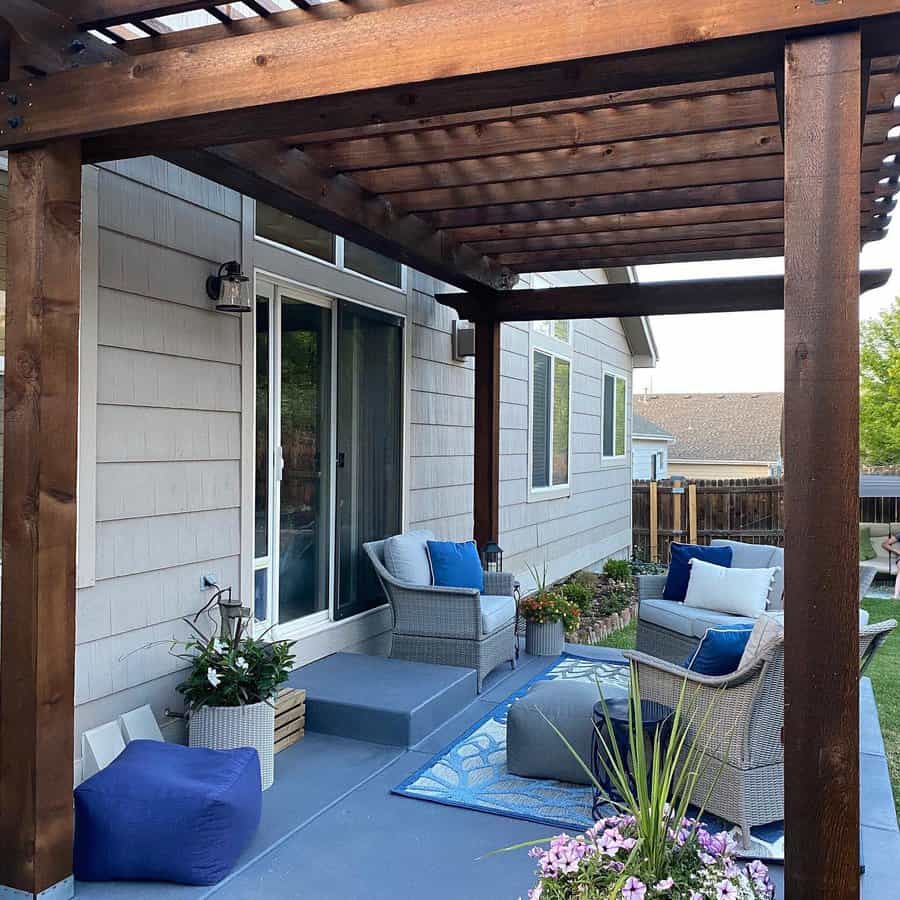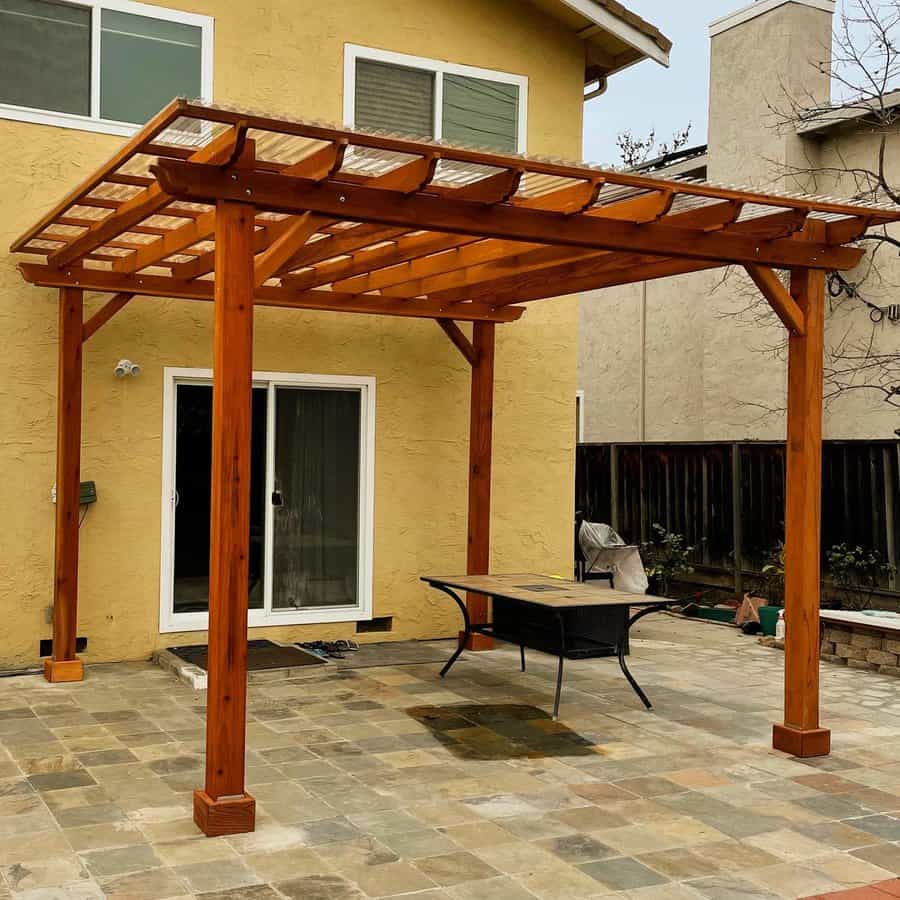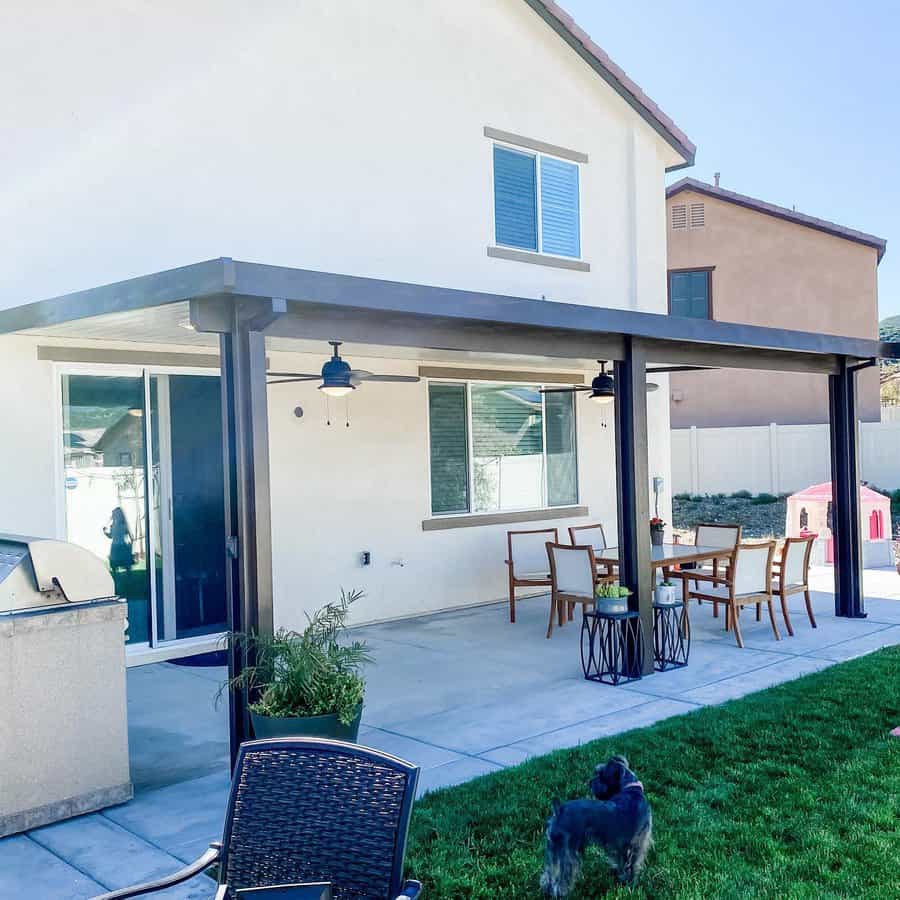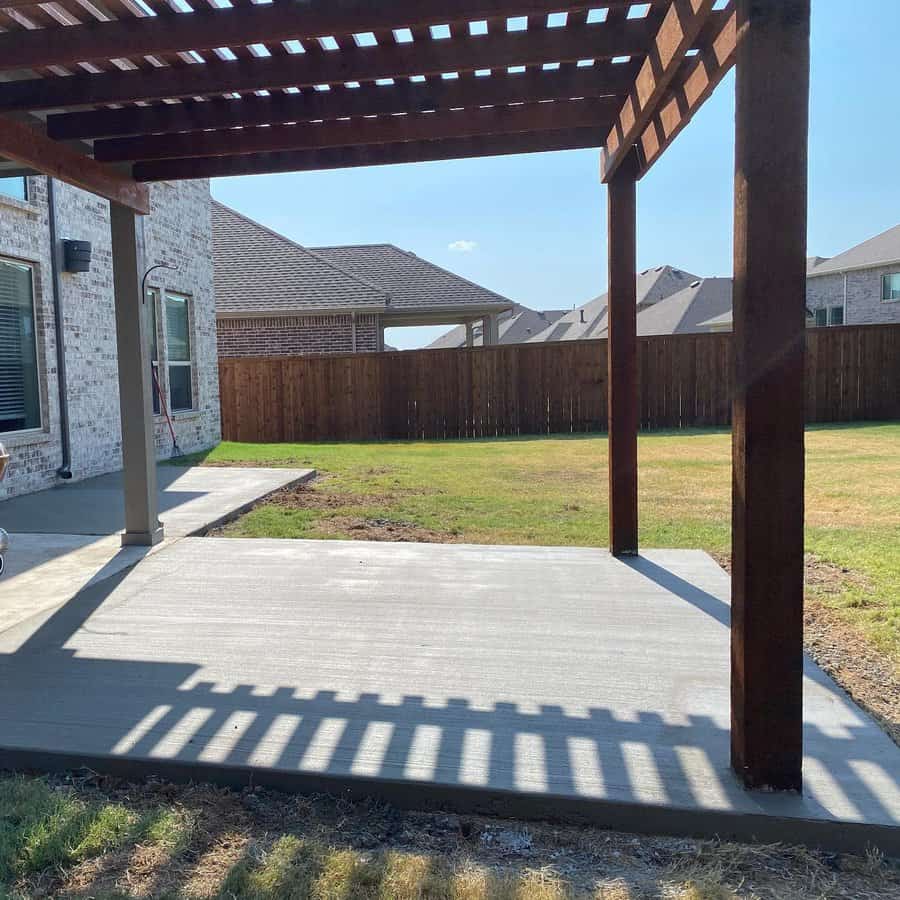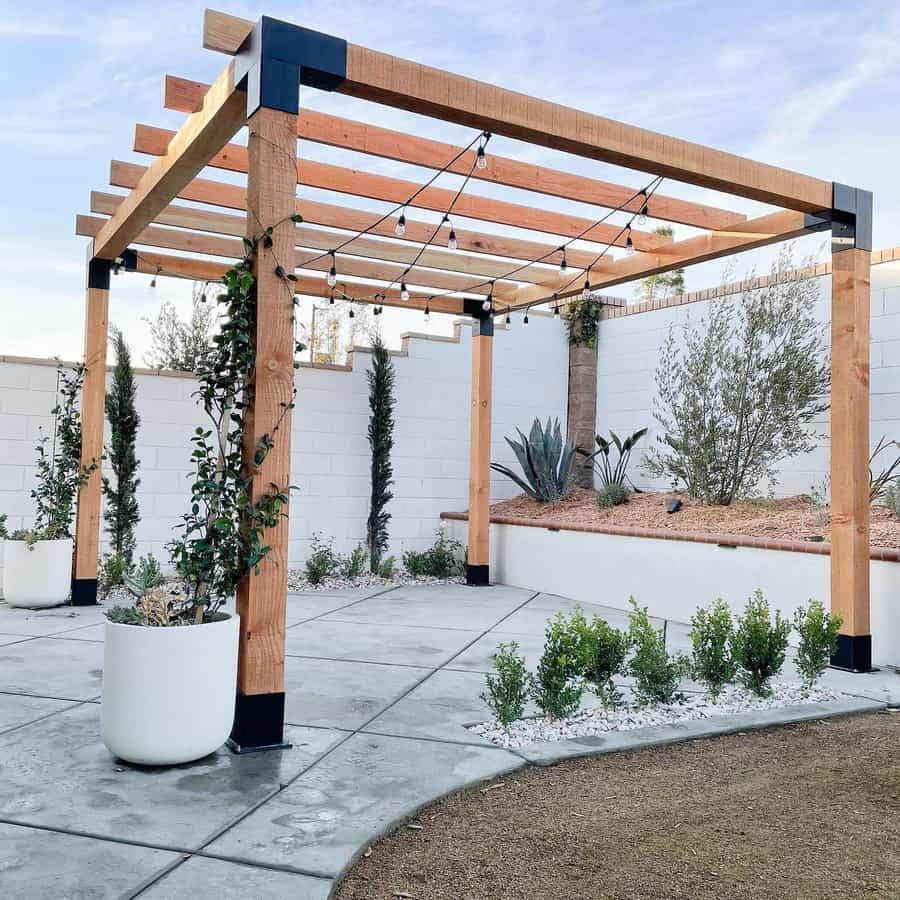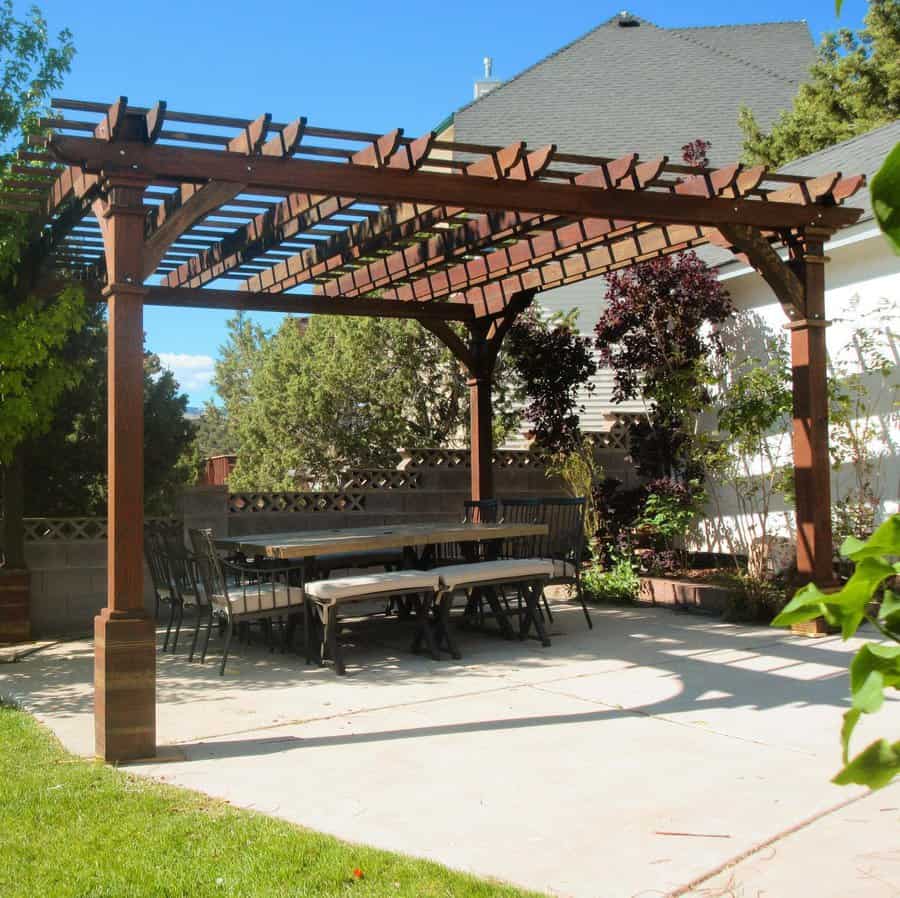 9. Keep It Simple With Polished Concrete Tiles
A polished concrete patio is a subtly elegant way to bring sophistication to your outdoor space. With polished concrete tiles, you can keep it simple and still wow guests with a polished look that's both timeless and chic. Not only is the polished finish easy to maintain, but it also gives the illusion of a larger patio when things start getting crowded around the BBQ.
Get creative with patterned tiles too; arrange them in mosaic or diamond patterns for an eye-catching, unique design. Whatever you choose, polished concrete is sure to supply your outdoor space with lasting beauty and elegance.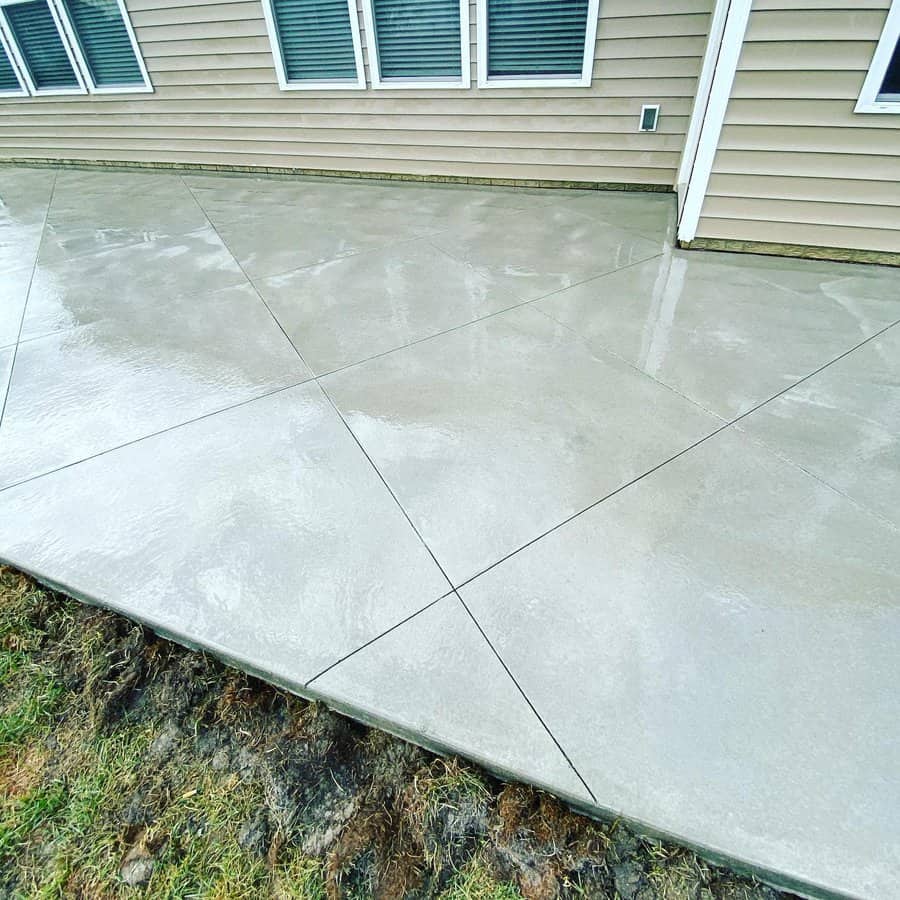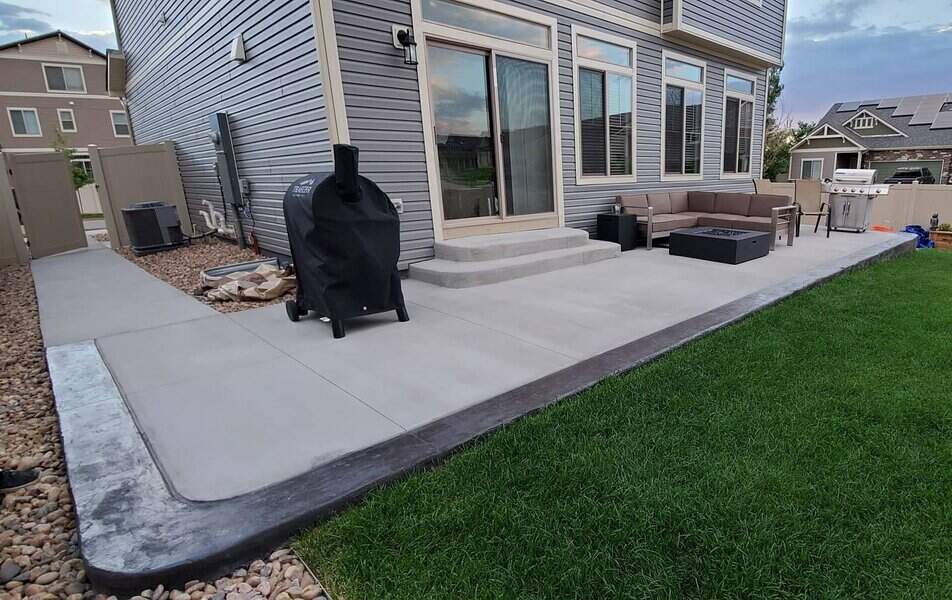 10. Exposed Aggregate
Nothing says "outdoor oasis" quite like exposed aggregate patio flooring. With its rough-meets-smooth texture, exposed aggregate patio flooring can bring a natural and organic feel to your outdoor space.
Whether you're entertaining friends, having the whole family over for dinner, or merely getting lost in a book on a warm summer day, exposed aggregate patio flooring offers the versatility needed to create your ideal paradise. If you're looking to take your outdoor living space to the next level, this might just be the perfect solution.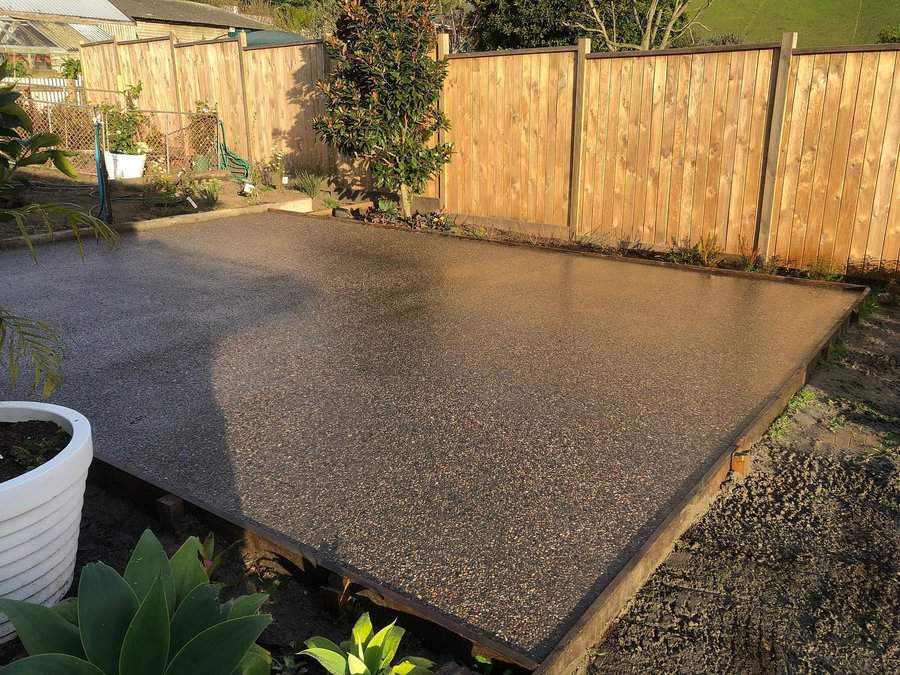 11. Slab Concrete & Artificial Turf
Transform your drab and mundane yard into your own private oasis with the addition of a slab concrete patio outfitted with beautiful artificial turf. Get the look of a luscious lawn without all of the upkeep, as you will be able to entertain family and friends with much less maintenance.
Soften the appearance of slab concrete with lush fake grass that never needs mowing or watering — leaving you more time to relax in your lovely outdoor space!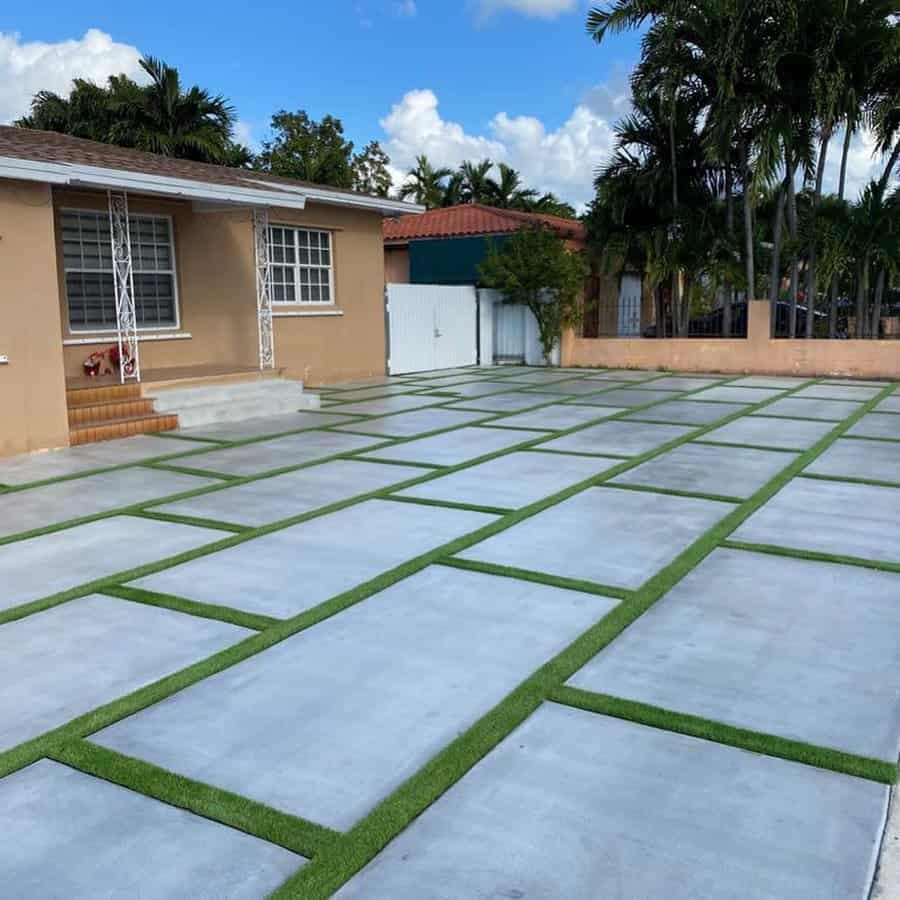 12. Add A Narrow Rock River For Accent
Turn your outdoor space into a mid-century courtyard-inspired haven with slab concrete flooring and a narrow rock river. Create an elegant concrete patio to entertain guests outdoors and experience the beauty of nature up close.
Incorporate various plants and flowers to bring life to the area, then add some infrastructure such as pergolas or trellises for a luxurious twist. You're sure to have a one-of-a-kind oasis that your friends will be jealous of!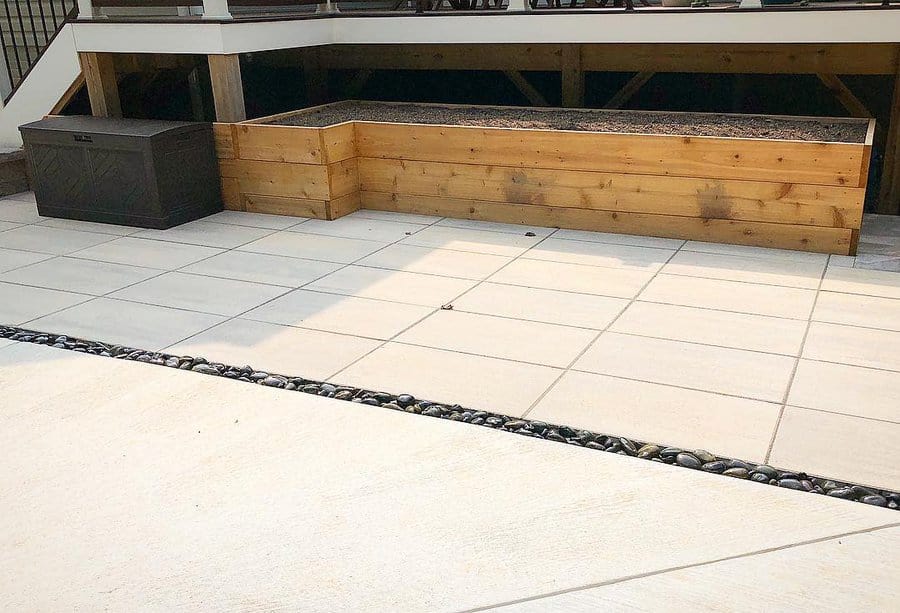 13. Woodstained Stamped Concrete
A wood-stained stamped concrete patio can be a beautiful addition to any outdoor area–it looks like wood but is much more durable than the wood itself. Stamped concrete patios allow the homeowner to choose from a variety of wood designs, giving them the wood-like look they desire while ensuring years of useability.
Once the wood stamps are applied and dried into the concrete, a sealant provides excellent protection against shifting temperatures and everyday wear and tear. Not only are wood-stained stamped concrete patios strong and practical, they also add an extra touch of style to any outdoor space.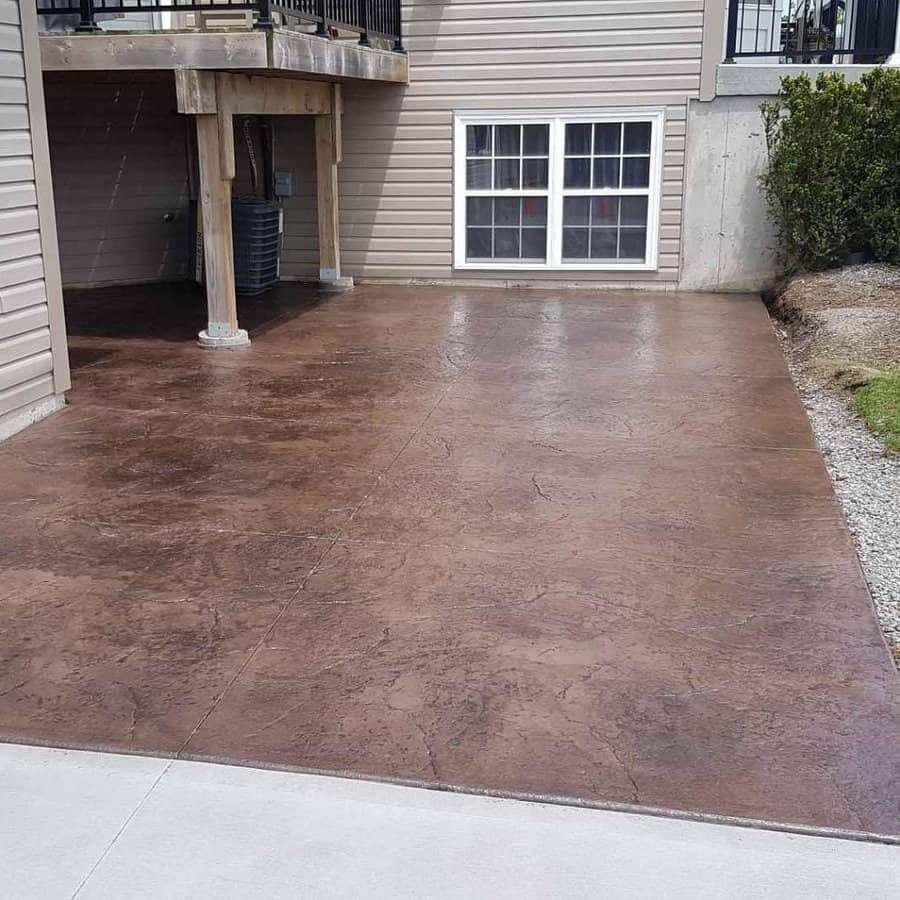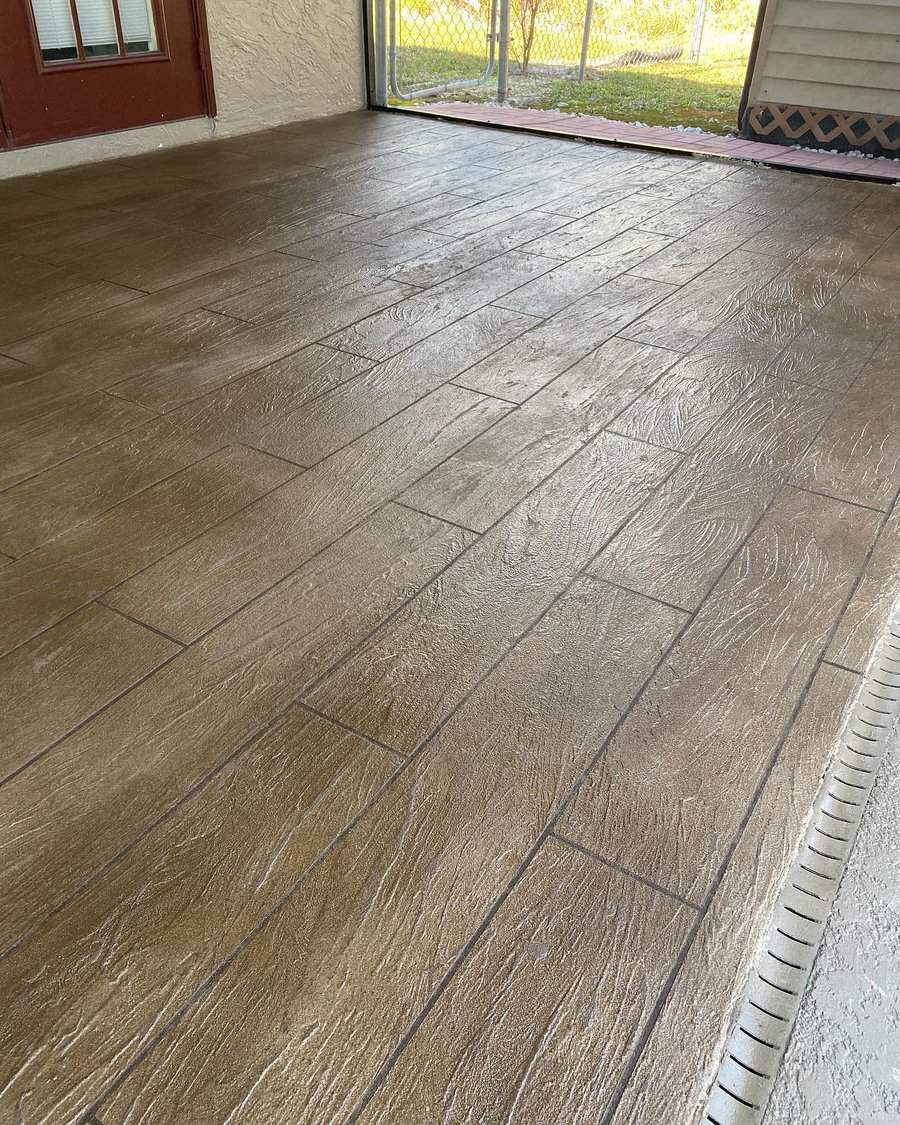 14. Add Bull-nosed Steps To Your Elevated Patio
Create a tranquil respite and add a touch of contemporary style by installing a concrete patio with bull-nosed steps leading to it. Whether you opt for intricate patterns or sleek angles, you're sure to add character and value to your home with a concrete patio.
Relax outdoors as if you were in your own private retreat – without ever leaving your backyard.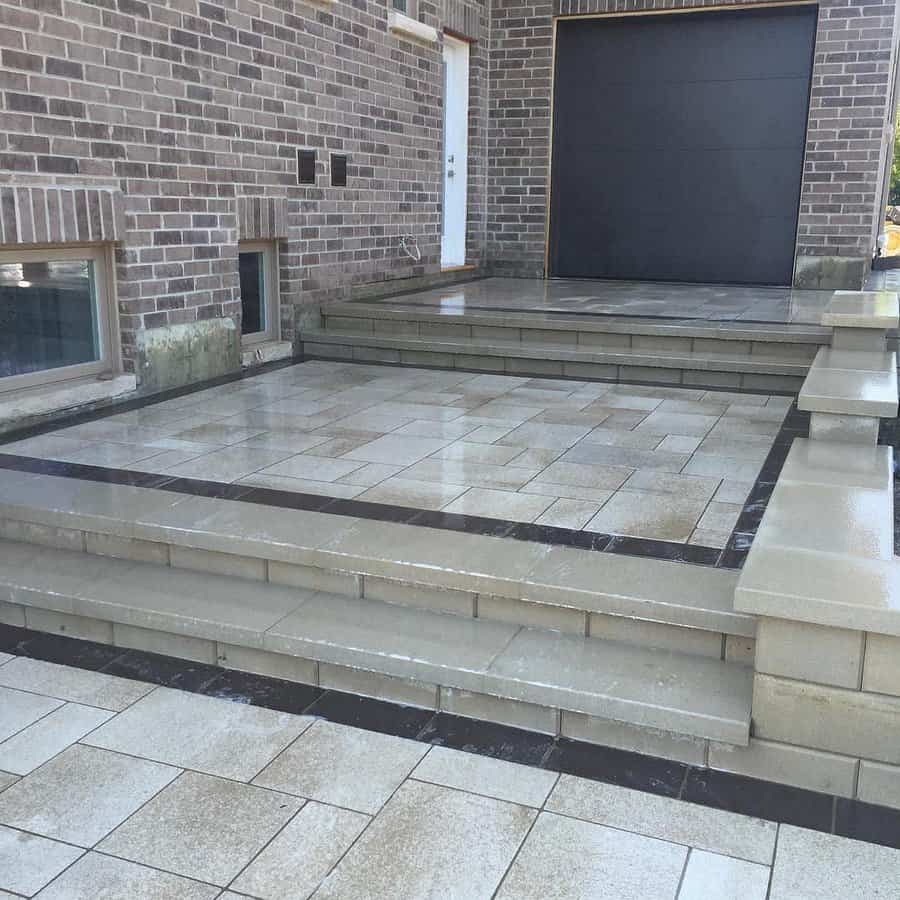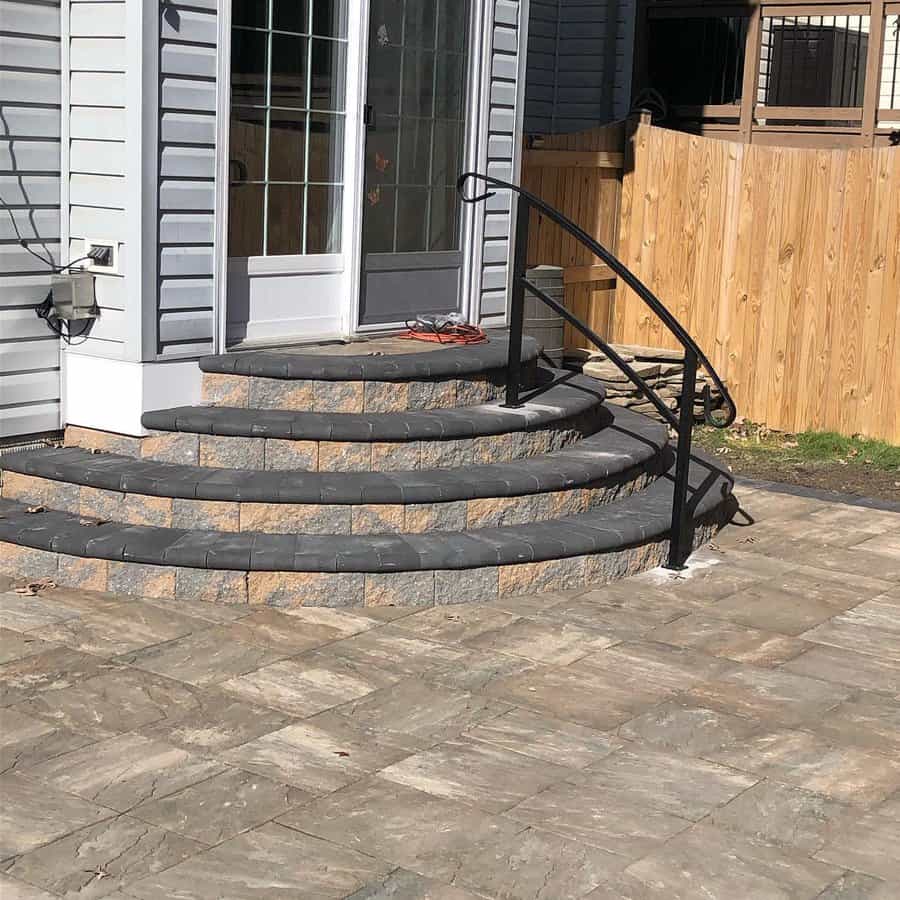 15. Add Curved Steps To Your Modern Patio
If you're looking to add something special to your modern concrete patio, consider adding curved steps! Whether you want a smooth black finish or polished tiles this add-on can truly transform your space.
On the other hand, grass adds a touch of life and provides a surface that is ideal for bare feet. Curved steps add an extra layer of detail and character while also providing an easy solution to any gradient problems between your home and the patio. You'll be glad you chose to add these creative stairs as soon as you see your patio in a whole new light.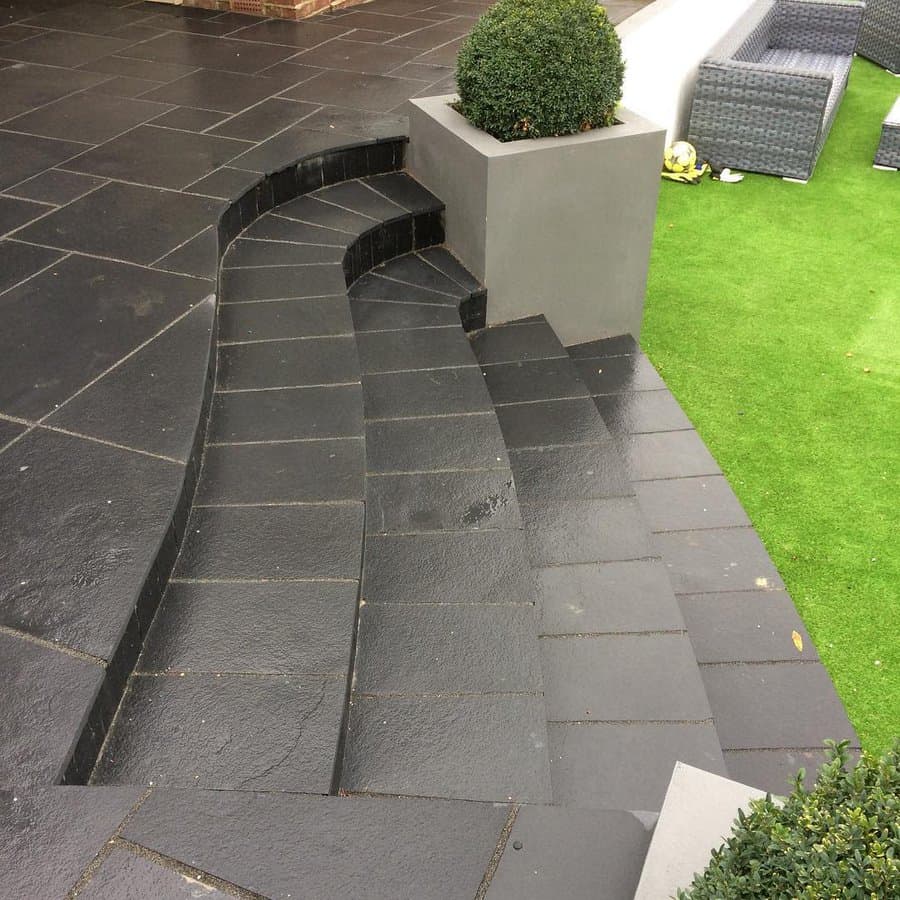 16. Install A Pavillion
Installing a pavilion along with leading steps is the perfect way to elevate your patio to the next level. With the help of yard professionals, you can achieve a more customized look with each step and install it in any area of your backyard.
And don't forget about adding a few touches such as lights and decorative items, like plants or garden shrubs – all leading up to the ultimate centerpiece: your concrete patio with stairs!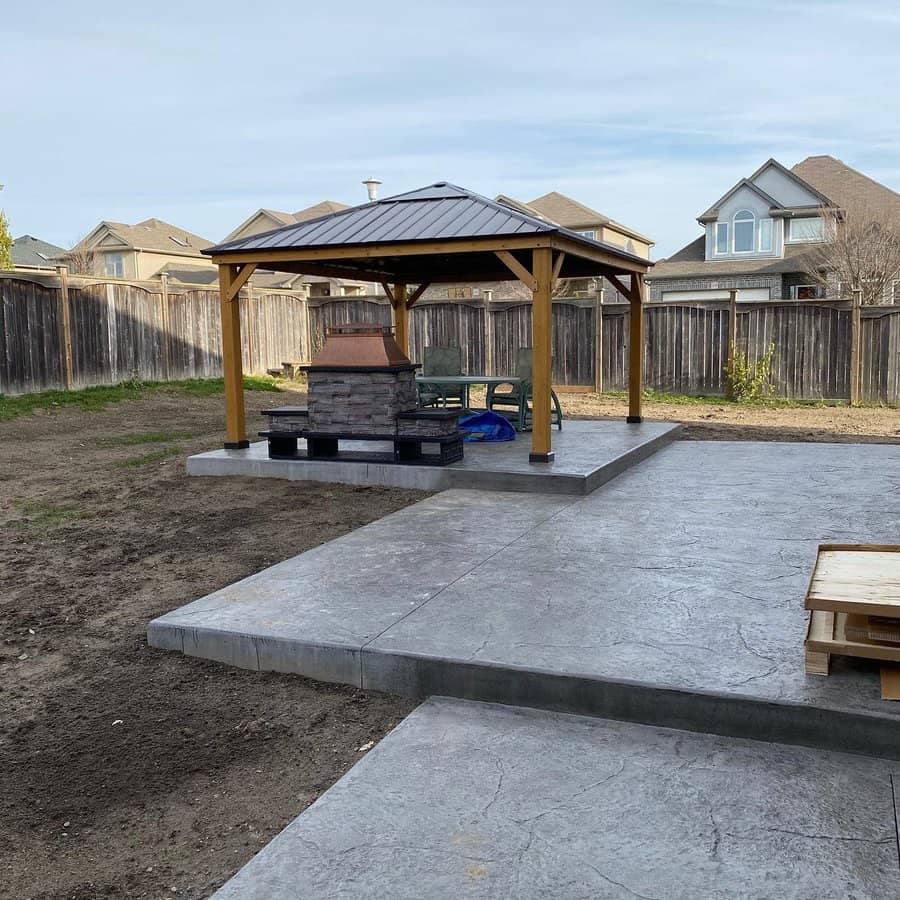 17. Keep It Vibrant With Decorative Outdoor Tiles
To keep things exciting, keep it vibrant with decorative concrete tiles featuring Bohemian designs that blend together for a mesmerizing mosaic. The dynamic patterns created by accentuating your patio with beautiful hues, tones, and shapes keep your patio looking fresh and stylish season after season.
Whether playful florals, abstract geometrics, or bold stripes, there's always a way of sprucing up your space with creative flair.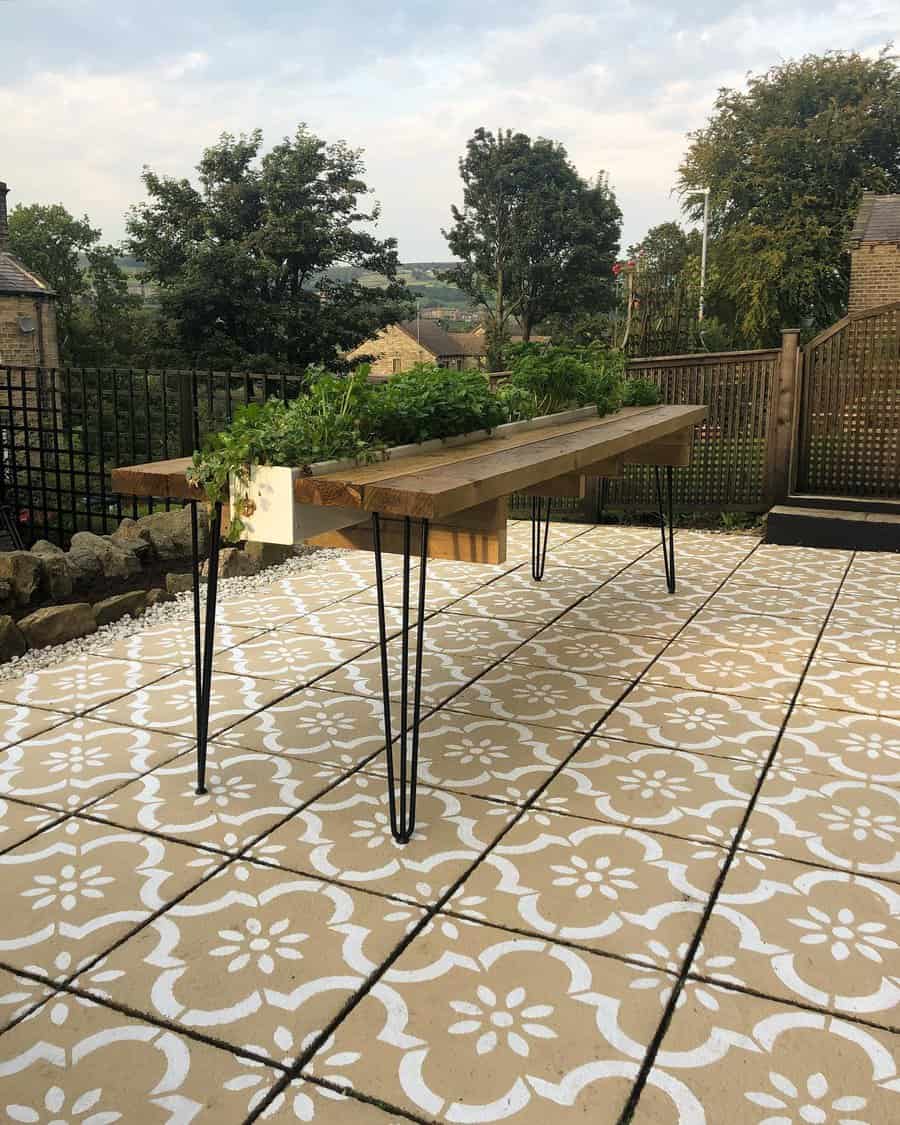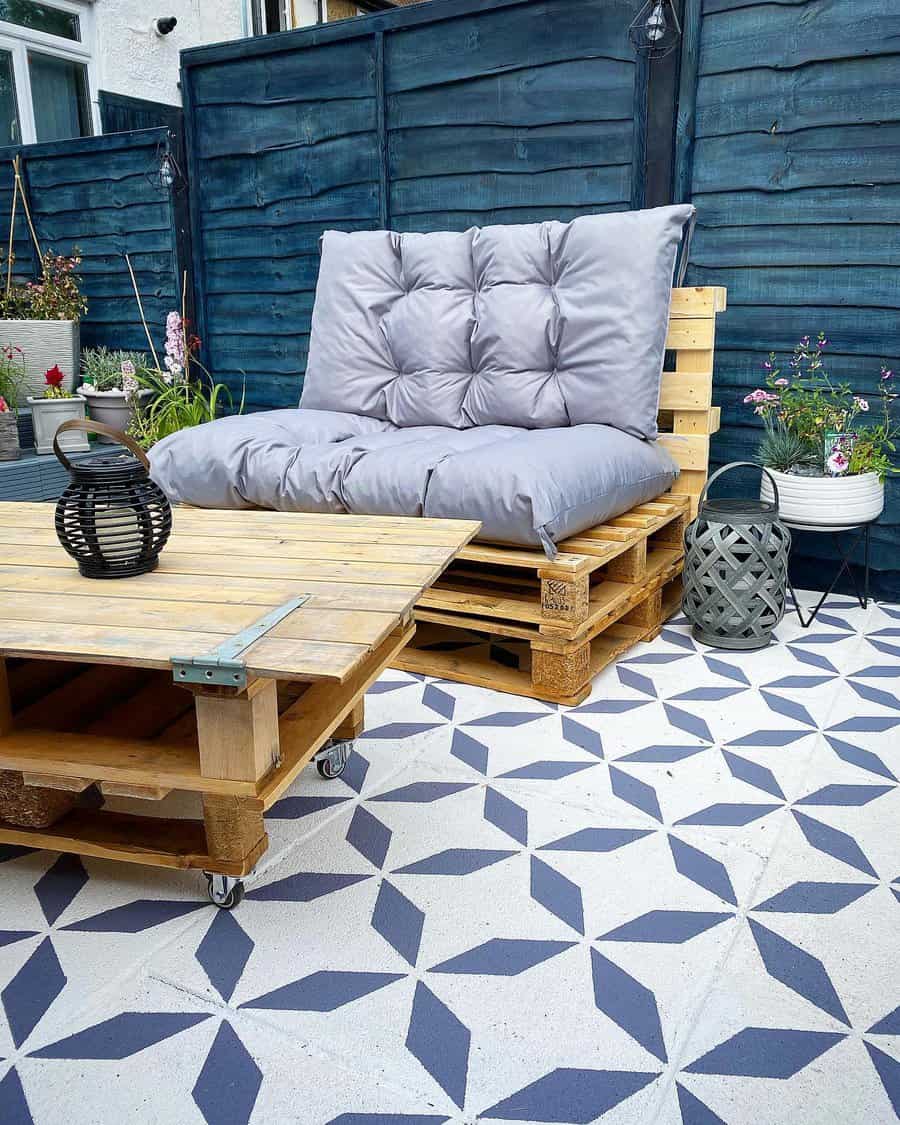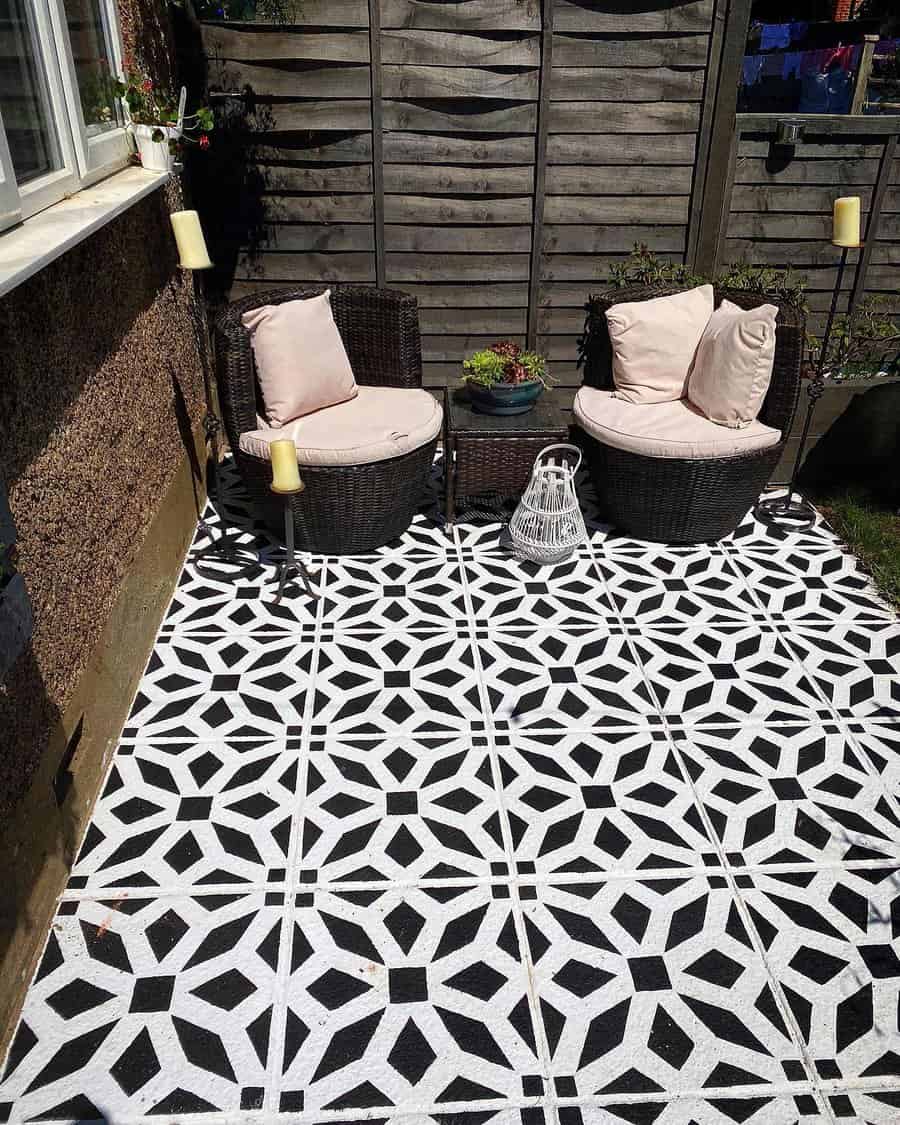 18. Add Bold Printed Mats For Visual Interest
Transform your concrete patio into a Bohemian paradise! Adorn it with decorative rugs, cedarwood furniture, and even a hammock for lounging in the sun. Make use of vibrant colors with lanterns that shine both day and night.
Relax in style as you calmly sway in the breeze of a peaceful evening. This creative twist is sure to make your home the talk of the neighborhood!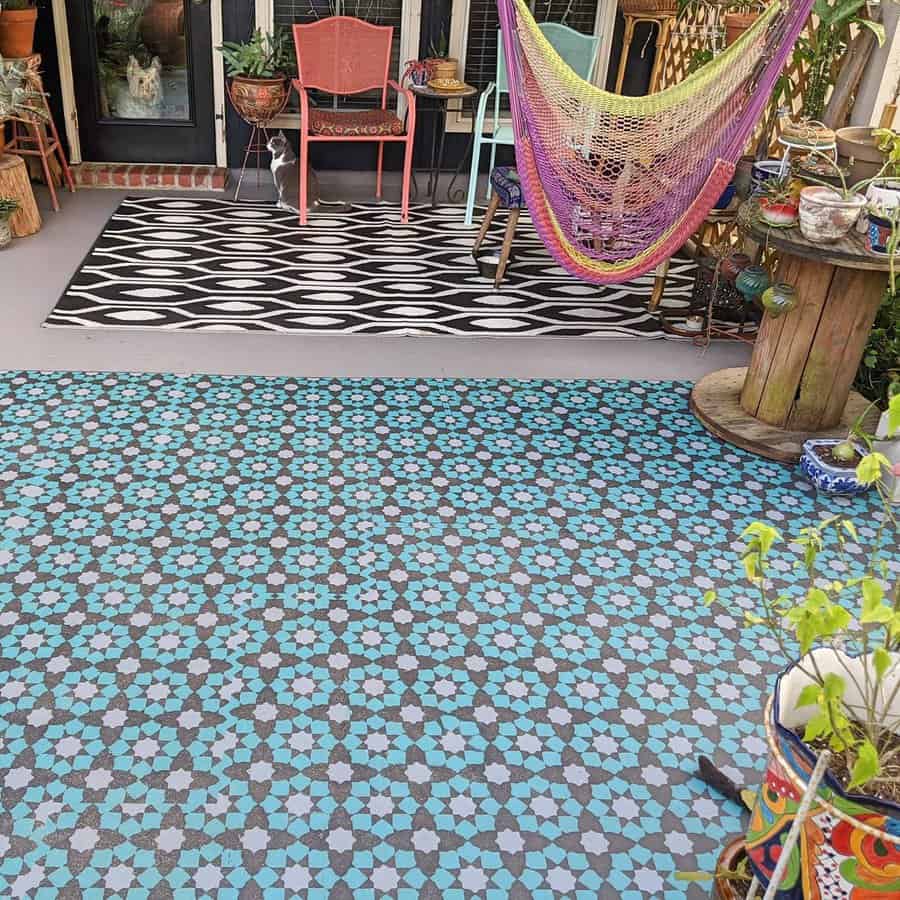 FAQs
Is concrete a good choice for a patio?
Concrete is a smart choice for your patio construction material. That is why concrete is the most popular building material when adding a patio to a home. It has infinite design possibilities and is incredibly durable.
How do I cover an old concrete patio?
If you have an old patio you want to hide, you could simply throw an area rug over it. There is also concrete paint that you can use to give your concrete patio a fresh look. If you want something more permanent, you could arrange pavers over it or build a wooden deck.
Is it better to paint or stain a concrete patio?
Stain is a more durable treatment because it sinks down into the concrete. It is a dye that becomes a part of the concrete. Paint is a liquid that sits on the surface of the concrete and then dries like a coating. This makes it less durable because it can eventually peel or wear away.