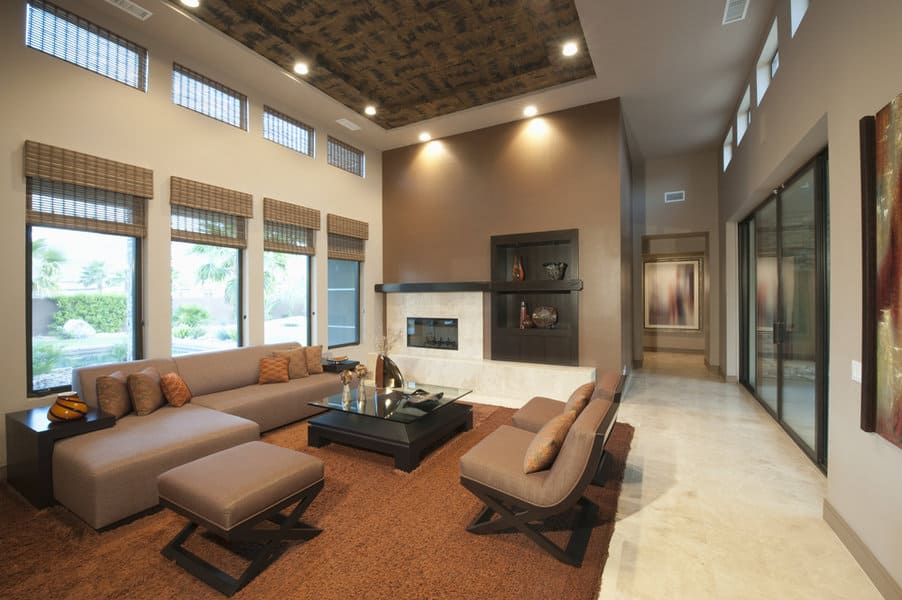 How to Decorate a Living Room with High Ceilings
by — Andra DelMonico

Published on September 27, 2023

Updated on September 27, 2023
High ceilings, while breathtaking and luxurious, can present unique challenges in interior design. Most homeowners grapple with striking the right balance between warmth and grandeur in such spacious rooms.
If you've ever wondered how to transform your cavernous space into a cozy haven without losing its architectural charm, you're not alone.
This article unveils insightful tips for designing a living room with high ceilings, ensuring that every inch, from floor to ceiling, resonates with style and purpose. Dive in to explore ways to maximize aesthetics, maintain functionality, and create an ambiance that harmonizes with your personal taste.
1. Scaling Furniture to Match Ceiling Height
In a living room with towering ceilings, dainty furniture can look out of place. Opt for larger, bulkier pieces that hold their own in such voluminous settings.
Consider sofas with taller backrests, chunky armchairs, or even grand bookshelves that stretch upwards.
However, while scaling up, ensure there's a balance. Your aim should be furniture that complements the ceiling height without making the room feel congested.
Lastly, remember that visual balance is key. If you have an oversized coffee table, for instance, pair it with substantial sofas or chairs to ensure harmony in the design landscape.
2. Strategic Lighting: Layers and Vertical Dynamics
High ceilings offer a splendid canvas for lighting experiments. Begin by layering light sources to cater to the room's verticality.
Downlights, pendants, chandeliers, and uplights can all play a role. A cascading chandelier can bridge the gap between the ceiling and the primary living space, drawing the eye and filling the vertical expanse.
Wall sconces or vertical light installations can accentuate the height while providing ambient light.
Multiple light sources, controlled individually, also allow you to set the mood — bright and airy for the day, cozy and intimate for the night.
Read also: 56 Living Room Lighting Ideas
3. Wall Art and Decor: Going Vertical
In spaces graced with high ceilings, walls can seem expansive and intimidating. However, they're also a golden opportunity to make a visual statement.
Start by considering tall pieces of art or tapestries that can anchor the space. These pieces shouldn't just be broad but elongated, guiding the viewer's eyes upward.
If one significant piece feels overpowering, consider a vertical gallery wall, stacking artworks or photographs from floor to ceiling. This arrangement can lend a dynamic, curated feel to the room.
Moreover, when selecting frames, colors, and themes, ensure they align with the room's overall design language. You want the art to feel integrated, not isolated. Mixing textures, such as metal wall sculptures with painted canvases, can also add depth and intrigue to your vertical space.
4. Incorporating Tall Plants and Trees
High-ceilinged rooms provide an ideal setting for showcasing impressive indoor trees and plants. Embracing these natural elements can transform your space into an urban oasis.
The Bird of Paradise stands tall with its sculptural leaves, making it a perfect choice for vertical appeal. The Dracaena, with its long, slender trunk and tufted top, is another option that can reach considerable heights.
Palm trees, like the majestic Kentia Palm or the fan-like Lady Palm, introduce a touch of the tropics and can grow tall, filling in those vertical gaps nicely.
Don't forget about the Bamboo plant which can add a touch of Zen while embracing the room's height. And, if you're looking for something a tad unconventional, consider the Norfolk Island Pine, an indoor-friendly tree that brings a hint of the forest into your living room.
5. Utilizing Statement Ceiling Fixtures
The vast expanse of a high ceiling provides a unique opportunity to make a bold statement with ceiling fixtures. When chosen thoughtfully, these elements not only serve their functional purpose but become show-stopping centerpieces.
First, think grand chandeliers. These aren't just for classic or traditional spaces. From intricate crystal designs to sleek, modern geometric forms, there's a chandelier to match every style.
Next, consider pendant lights. Grouping them in clusters or arranging them at varying heights can create a visually captivating cascade effect. Opt for designs that complement the room's aesthetics, whether that's minimalist cone pendants or opulent, globe-shaped ones.
Also, explore architectural fixtures like coffered ceilings or wooden beams. These not only add texture and depth but can also help visually segment and define the vast ceiling space.
6. Balancing Negative Space: Tips on Upper Wall Design
The upper sections of walls in rooms with high ceilings can sometimes feel barren or disconnected. Addressing this negative space is crucial for creating a cohesive and inviting atmosphere.
Floating shelves are a fantastic tool. When mounted higher up, they can house decorative elements, sculptures, or books, drawing the eye and providing visual interest in often-neglected areas.
Consider architectural moldings or trim work. These can segment vast wall expanses, creating zones or frames for art or other decorative elements. They also add layers of texture and sophistication to the room.
Wallpaper or wall decals can be employed strategically. Using patterns or murals that play with verticality can elongate the space further while filling it with engaging visuals. Consider designs that have gradients or upward-reaching motifs.
7. Eye-Level Interest: Keeping Cohesiveness from Bottom to Top
With high ceilings, there's a risk of the design feeling disjointed, where the lofty heights steal the show and the immediate eye-level area feels overlooked. To maintain cohesiveness, it's vital to bridge the gap between the floor and the ceiling.
Start with strategically placed mid-height furniture like credenzas, sideboards, or console tables. These pieces can anchor the room and offer surfaces for decorative elements like vases, sculptures, or photo frames.
Mirrors are invaluable tools in these spaces. Vertical or horizontally-oriented mirrors at eye level can reflect light, add depth, and tie together the room's upper and lower regions.
Consider creating a focal wall, maybe with a fireplace, textured panels, or a large painting. This not only draws the eye but offers a grounding element in the midst of towering walls.
Utilize plants of varying heights. While we've discussed taller trees, don't neglect medium-height plants like monstera, pothos, or snake plants. Positioned on stands or tables, they can seamlessly bridge the vertical design gap.
8. Multi-Level Shelving and Display
When dealing with high ceilings, multi-level shelving becomes a powerful design asset, effectively using vertical space while offering functionality and aesthetic appeal.
Start by considering floor-to-ceiling bookshelves. Not only can they house your literature collection, but they also provide niches for decorative items, framed photos, and potted plants. Varying the shelf heights or including cabinets can break the monotony and introduce rhythm.
Modular shelving systems are adaptable and can be customized to fit the room's dimensions and design ethos. Whether you prefer a minimalist metal frame or a rustic wooden look, these systems can be tailored to your needs.
Display platforms or staggered shelving can create visual intrigue. By having some shelves protrude more than others or vary in width, you introduce depth and a dynamic quality to the space.
9. Drapery Solutions for Tall Windows
Tall windows are a hallmark of rooms with high ceilings, offering abundant light and a sense of grandeur. However, they demand special attention when it comes to drapery, ensuring both aesthetics and functionality are in harmony.
Selecting extended curtain rods that stretch wider than the window frame can create an illusion of even larger windows, further emphasizing the room's verticality.
Floor-to-ceiling drapes are a must. Not only do they underscore the room's height, but they also provide an elegant and continuous visual flow. Materials like velvet or heavy linen can offer a luxurious feel, while sheer, breezy fabrics can maintain an airy ambiance.
Layering is key. Using a combination of sheer drapes for daytime privacy and heavier, opaque curtains for night can ensure versatility. This dual approach also adds depth and texture to the window space.
10. Cozying Up: Textures and Materials for High Spaces
High ceilings, while majestic, can sometimes impart a feeling of coldness or detachment. Introducing varied textures and materials is key to warming up the space, making it feel intimate and welcoming
Rustic wooden beams or paneled ceilings can instantly add warmth. The raw, earthy texture of wood contrasts beautifully with the openness of a high ceiling, offering both visual and tactile comfort.
Wall textures, like exposed brick or decorative plaster, can elevate the cozy quotient. These tactile surfaces can reduce the starkness often associated with towering walls.
Incorporate plush rugs or carpets. Soft underfoot, they not only delineate spaces within the room but also introduce a snug and comforting layer.
Soft furnishings like velvet cushions, chunky knit throws, or tufted ottomans can break the room's vastness, making it feel more approachable and cozy.
Lastly, natural materials like stone, rattan, or jute can be integrated through decorative items, furniture, or wall accents. Their organic feel can counteract the room's imposing size, bringing it down to a more human scale.