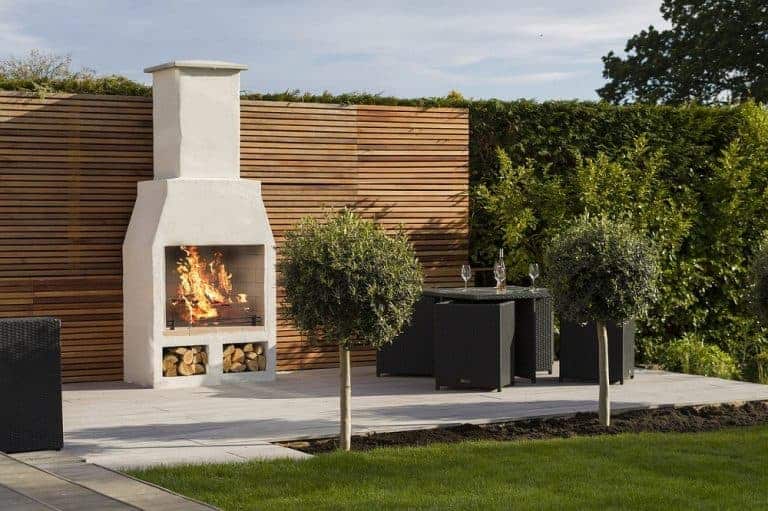 How to Build an Outdoor Fireplace
Having a DIY outdoor fireplace is the pinnacle of outdoor entertaining. While bonfires are fun, an outdoor fireplace takes hosting and outdoor cooking to a new level. It offers an ambiance to a nice evening while enjoying time with family and friends. Good times and good food!
Building an outdoor fireplace is no small task that will be quick or easy to complete. If you are a DIYer, then it's important to understand what you are getting into if you take on this project.
It is a fairly heavy construction project that has multiple layers of the process, from the preliminary set up, to deciding on a style and figuring out the materials as well. There are lots of things to consider as this project gets underway.
Codes, Local Legislation and Restrictions
While legalities are not the first thing that comes to mind when you get inspired to do some outdoor additions such as a fireplace, they do need to be researched and followed.
Local rules and legislation are put in place not only for the safety of the users, but to make sure neighbors are safe as well. They are ensuring the structural integrity of an outdoor fireplace throughout the building process.
Every locality will have its own restrictions in place and will vary district to district. Some will require that there be specific licenses and permits needed, while other places may go farther and even demand that specific types of fuel be used once the fireplace is completed.
There will be restrictions on where a fireplace can be situated on the property, usually detailing the distance from current structures, trees and fences as well. They often state that the required distance is at least 10' at a minimum, but this space can vary area to area.
While placement is often regulated in most areas, chimney height may be as well. This is done to maintain the fireplace's structural integrity as well as making sure it works in a safe manner.
Any rules, regulations, bylaws, local legislation and restrictions should all be met because if they are not, then there is a good chance that construction will be halted, or the structure taken down if it does not meet the required standards. There will usually be a requirement to have a design presented before permits are issued and then an inspection after the construction is complete.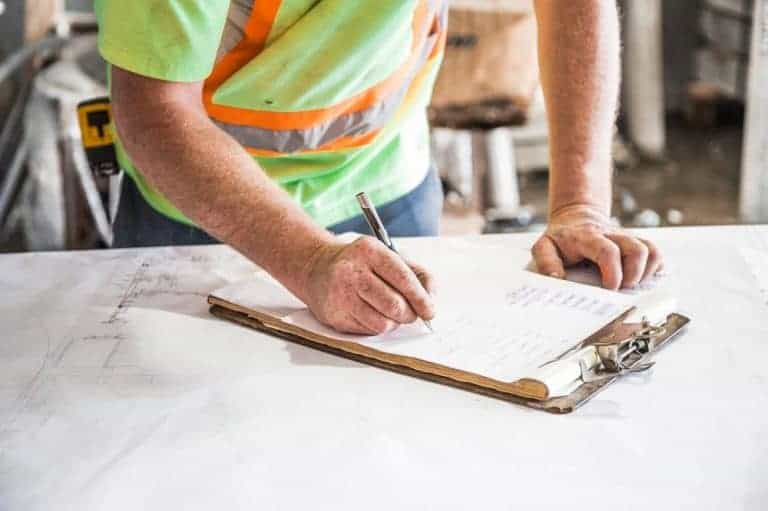 The other issue that can affect the construction of an outdoor fireplace is home insurance. It is important to check with your homeowner's policy to make sure that they will cover any damage that may come from having an outdoor fireplace. It is not worth putting one in to find that insurance will no longer cover certain aspects of the home due to the presence of the fireplace.
Another place that you will need to go through is a local utility company. It is important to make sure you know where their lines are buried so they are not cut or disturbed by accident once construction begins. If you dig and something is cut, it can be an expensive issue to deal with if there were no calls to make sure it was safe to dig.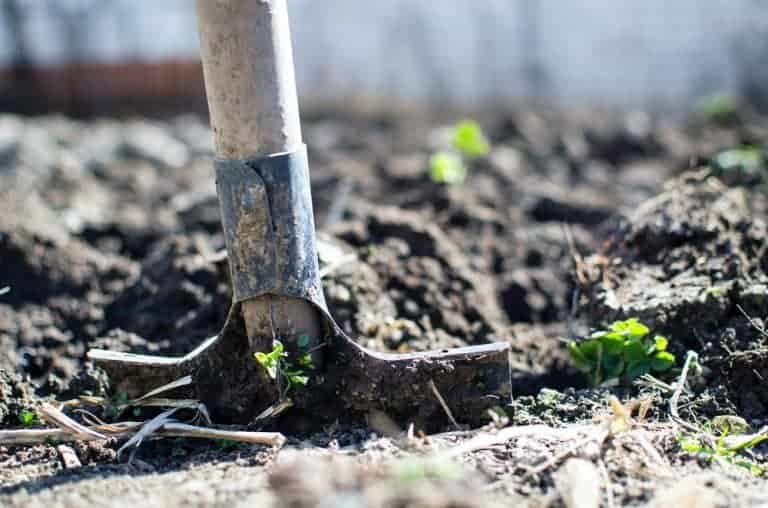 Once all the rules, regulations and restrictions are met, then you can get to work on your outdoor fireplace.
Choosing a Design
The design of an outdoor fireplace is more complicated than one would assume. Firstly, the fireplace design should focus on the reason it is being built. Is it for entertainment, food preparation, warmth, or all of the above?
There has to be a decision on whether it is to be a small, secluded, and romantic fireplace or a large, warm and inviting one for the enjoyment of a group of people. The reason for building the fireplace will help narrow down the design choices.
The second factor to think about when working on a design is where the outdoor fireplace is going to be installed. Determining how it will best enhance the landscape and compliment the architectural style of the home is important.
Creating a connection between architectural styles is important so the fireplace doesn't stand out, looking out of place. A lovely red brick style will suit a colonial-looking home, whereas a fireplace that has an adobe-style will fit in with a southwestern style or maybe a ranch look.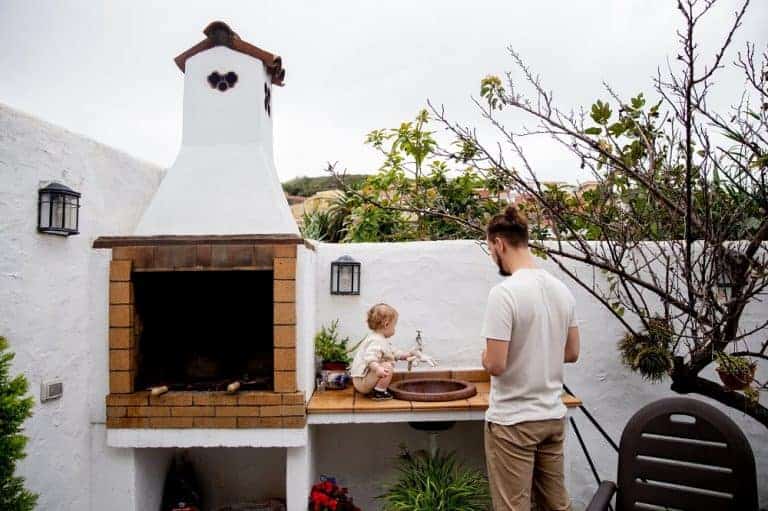 Building an outdoor fireplace is not limited to one particular style but should suit your lifestyle. Its area of placement and matching the aesthetic of your home can bring architectural continuity, so it looks stylish while meeting the user's needs as well.
Choosing a design means finding the general area where it will be built. Look at the area from different perspectives to make sure it can be seen from every perspective you would like. Building this fireplace is a hefty investment, so make sure you can see it from the proper vantage points.
If you want to be able to see it from the inside of your home, then make sure the placement does that. The placement should not just be about one viewpoint but multiple, so walk around the area to make sure it is positioned in the best way for the ultimate outdoor fireplace experience.
The other factor to consider is the space available for the fireplace to be built. It is important to have room to enjoy the fireplace and adjust people's sitting area depending on the different levels of heat.
Generally, you should allow at least 5 feet of space in front of the fireplace for a seating area. This means 2 feet of free space between the fireplace and the front of the chairs.
If the chairs are closer, it may be too hot to be enjoyable and further away may leave people chilled. Some open space allows for adjustments as needed depending on the current weather. The size of this area should be big enough so chairs can be adjusted as needed.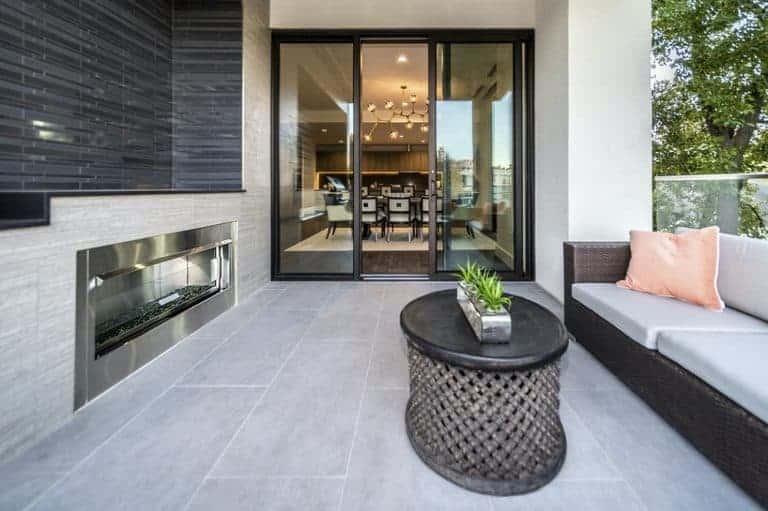 Construction Materials
Once the outdoor fireplace design and building location are chosen, then the hunt for construction materials begins. Every outdoor fireplace has to be built with materials that are heat-safe.
This refers to brick, concrete, stone and other such material for the outside of it. The interior frame will often use cinder blocks as a significant part of the support as they are sturdy as well as heat safe.
The area where the fire will burn is called the firebox. This has to be made from steel or bricks that are fire-rated to withstand extreme heat. If the outdoor fireplace has a chimney similar to indoor traditional fireplaces, then the flue pipe will have to be fire-rated as well, going from the top of the firebox up to the end of the chimney.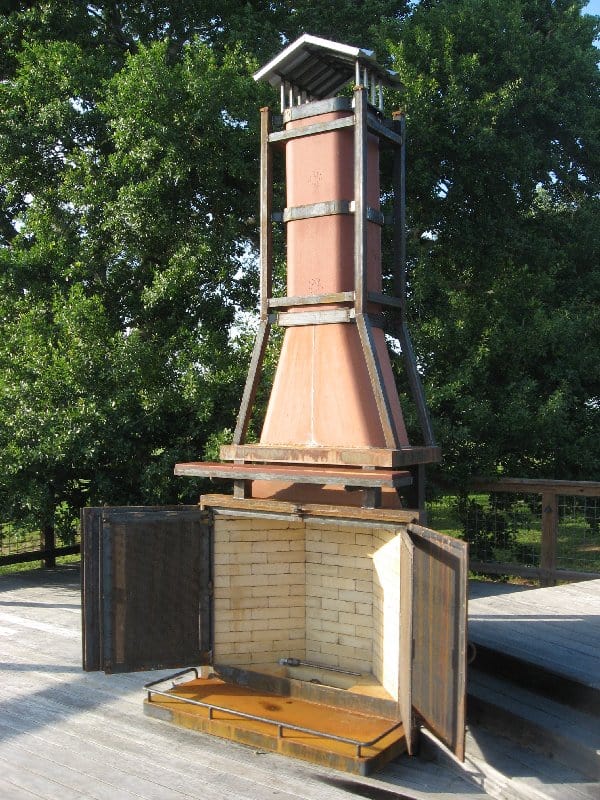 Cost
DIY outdoor fireplaces are like any other construction project; their cost can fit into a wide range of budgets. They can start around $100, and it goes up from there depending on décor, size and complexity.
Inexpensive ones could be made of cinder bricks, a pit bowl, grate and then a special cover. But if you want to build one with a nice stone style, extended sides, and other features, you can do it with a kit or spend the time and money to do it yourself and create your own design. Using a contractor is a good choice as well, but it's not a true DIY project for yourself and is going to cost you more.
Read also: 61 Must-See Indoor Fireplace Ideas
Building Your DIY Outdoor Fireplace
DIY means attention to detail and planning for the desired outcome. While each outdoor fireplace will be different in style and building requirements, there are some general rules to follow:
Have the correct permits and allowances
Choose the placement
Check for pre-existing underground wires and cables
Choose a design that suits and fits the selected area. This includes checking weight tolerances if using a pre-built deck or other outdoor areas
Decide if it will be gas or wood fed. This is important as lines need to be professionally installed if gas is chosen
If the fireplace will be stone or brick then a solid base needs to be established to support the weight and avoid settling
Excavation of at least 9" should be done for any permanent fire pit
Fill 9" hole with 6" pea gravel and then top with 3" thick concrete pad – make sure it will fit the fireplace and any extra seating area to be built
If the fireplace is larger in size, then it may need structural footing, which means the concrete will need to go deeper past the front level. This will vary from area to area
Create a frame outlining the fireplace
Add cement board to the frame using concrete screws
Mix mortar and put it on the cement board. Do not do this all at once as it will dry out. Do it in sections
Add stones and ensure there are no gaps in between
Ensure firebox, flue and chimney cap are installed to code and as specs require
DIY Outdoor Fireplace Ideas
The list of ideas for DIY outdoor fireplaces is endless. Once you have your DIY steps in place then there are lots of designs to choose from. There are kits, engineered drawings, or you can use a design of your own. There is something to meet everyone's construction ability and budget.
1. Simple DIY Fireplace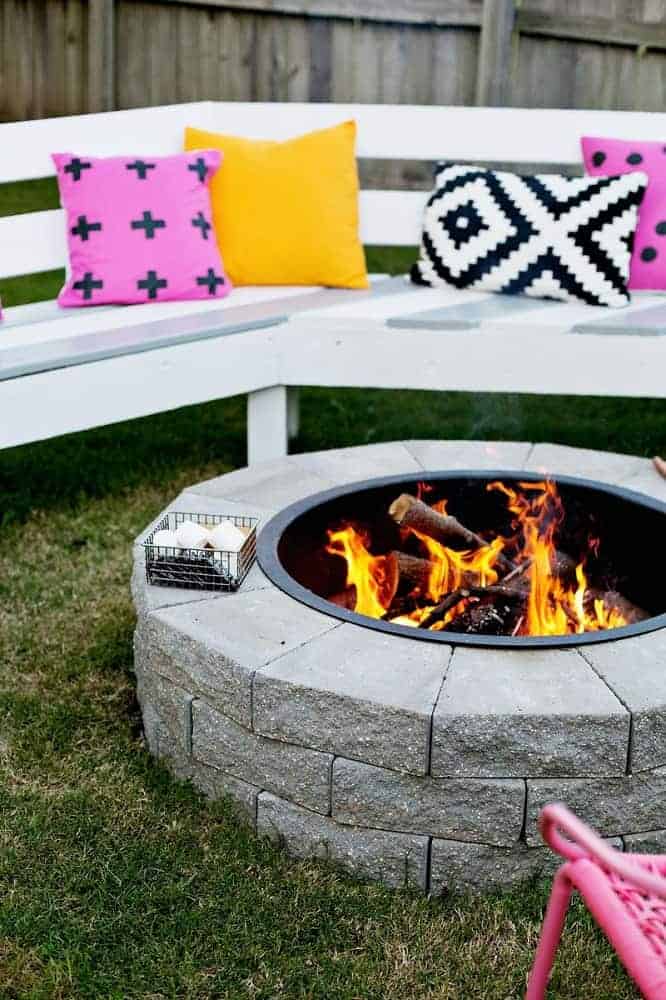 This fire pit is simple and can be completed in one afternoon. It doesn't need a lot of prep or extensive materials. Once you have chosen the right spot, then you are ready to go. It simply takes some ground preparation, 3-4 layers of landscaping stone, a pit bowl, and a grate. You can be enjoying the fireplace by the time the sun goes down.
2. Large Outdoor Fireplace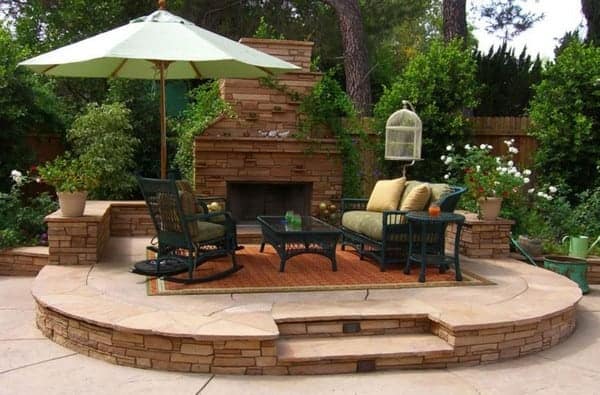 Outdoor fireplaces come in all shapes and sizes. Design can extend beyond the fireplace itself to both the patio and accessories. Think big when choosing what you want to include so the fireplace is integrated into the full area of use. Larger designs can take extra planning but are well worth it when it comes to seeing a beautiful end project.
3. Rustic Outdoor Fireplace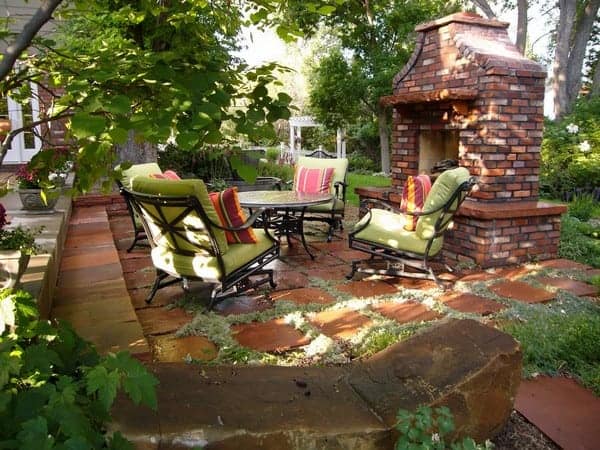 DIY outdoor fireplaces do not have to be extreme engineering concepts. They can be stellar-looking, even with a basic red brick design that blends into the backyard area. You do not have to be a top-notch stonemason to build these. Either using a pre-fab design or creating one of your own is not complicated and can give you a great backyard getaway to enjoy. Matching the patio stone color can link the whole look together.
4. Fireplaces for Pool Areas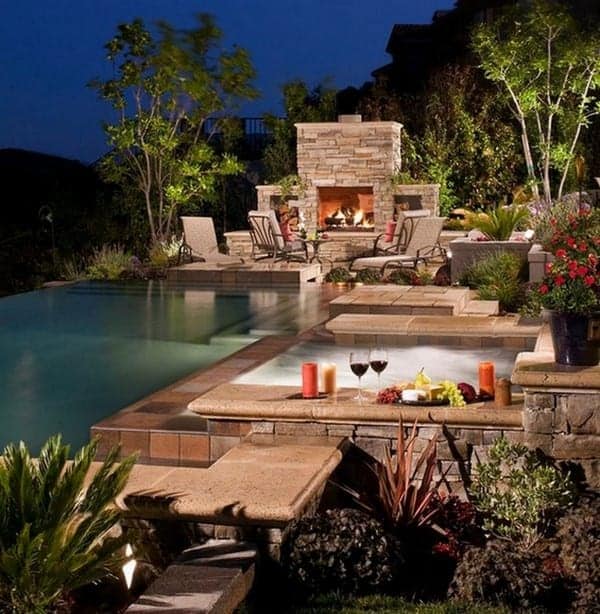 Simple yet elegant outdoor fireplace kits can change the atmosphere of any backyard that has a pool area. Designs do not have to be complex or overwhelming but can add a stunning nighttime look, especially when outdoor lighting is included as well. Some simple lights along with open flames look classic and warm with a water backdrop.
5. Prebuilt Fireplaces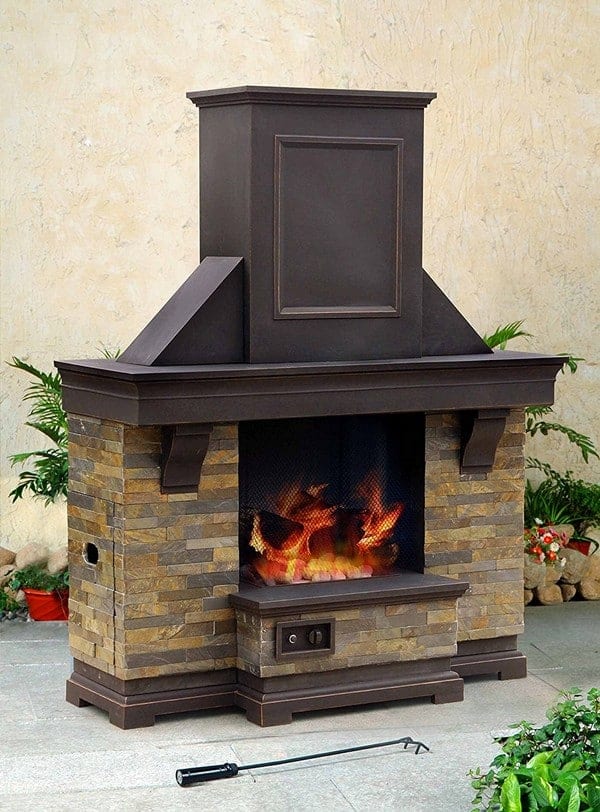 An outdoor fireplace that is prebuilt is great for those who want to have one but aren't feeling like they are up for the do-it-yourself task. That doesn't mean that the early steps of regulations and sit prep isn't necessary, it just means that the actual building of the fireplace has been done so it will only need placement, levelling and hook up for gas if that is the way you have chosen to have your fire.
6. Fireplace Area with Furniture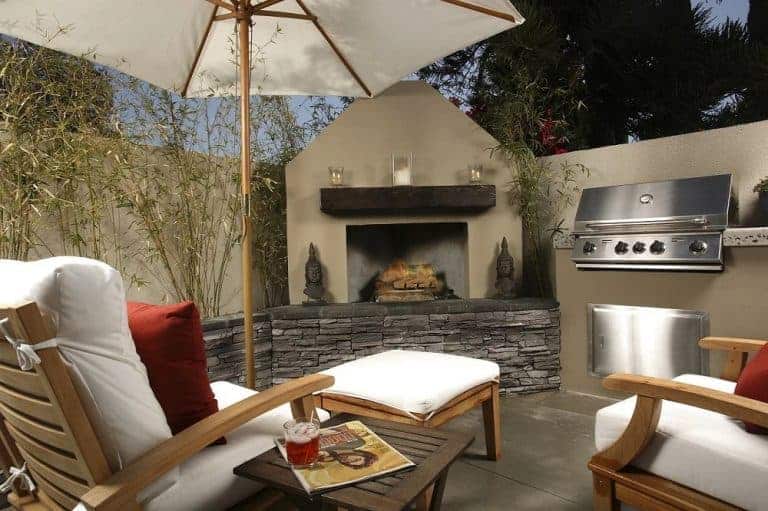 Building a backyard oasis can be simple or include a whole outdoor area for both cooking and relaxing. If you have a secluded corner that is already built or a big enough area, then building a fireplace along with other cooking prep areas and grills can be a great way to enjoy the outdoors. Adding some comfortable outdoor furniture can make the area a backyard getaway.
7. Desert Style Fireplace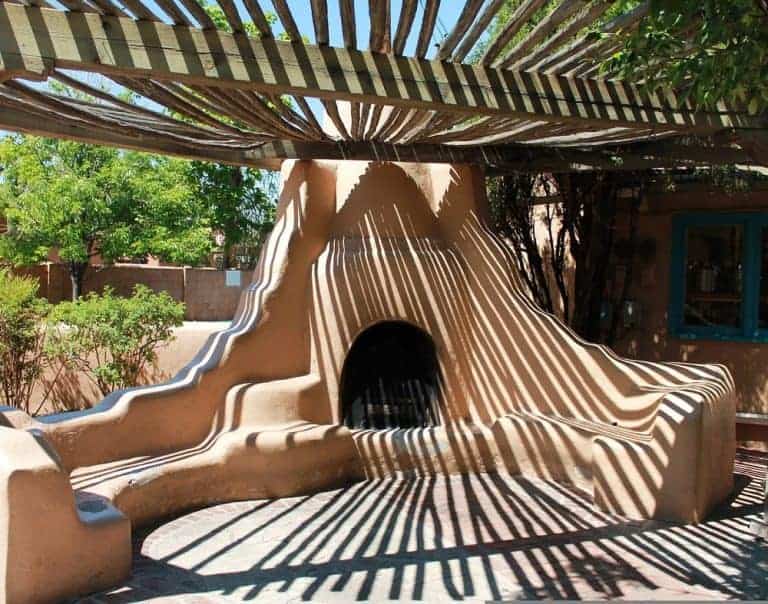 For those who want a more south-western look rather than the more standard type of outdoor fireplace, a design like this can be great. It fits in with a relaxed atmosphere that offers the option of both enjoying a fireplace and somewhere to do some basic cooking. The design can set the tone for your whole outdoor atmosphere. This is good design, especially for those who get to enjoy the weather all year round.
8. Backyard Fireplace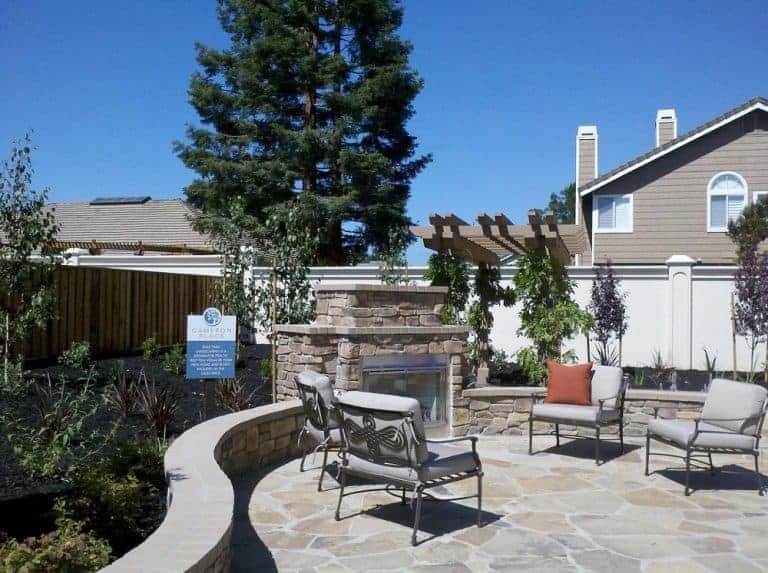 Installing an outdoor fireplace does not mean you have to have a huge backyard or be out in a more rural setting. If the fireplace is installed according to local bylaws and regulations, you can have a beautiful one that is nestled in your urban backyard.
A nice fireplace along with an extended seating area can make evenings in the city or suburb just as nice as sitting around an outdoor fire in a rural setting. With some good design and solid install techniques, you can enjoy some great evenings under the stars.
9. Steel Fireplace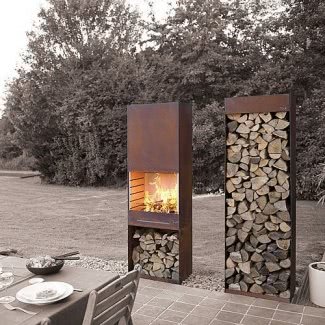 So many of us tend to fall back into looking only at traditional designs when it comes to outdoor fireplaces. We look for the elegant stone that fits into a more classical outdoor décor.
This steel fireplace is not only different, it is simple to create while still giving off an ambiance of warmth and style. It is different and can fit with some modern outdoor décor that can give a stunning outdoor look. Having the wood stacked beside it enhances its style and makes feeding easy. Its slim design means it can fit into even the smallest backyard area.
10. Corner Fireplace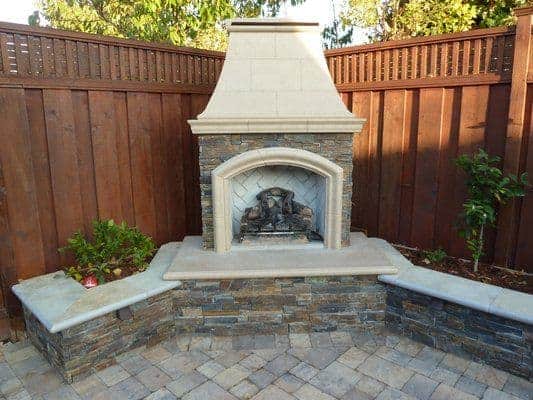 Not everyone has lots of space to build an outdoor fireplace. If you have a corner of your yard available, then you can still enjoy some flames outside.
Building a corner fireplace uses a small space to its advantage. It can look great while reducing the amount of lawn care and garden maintenance you need to worry about. Choosing a brick that complements the fence and your house can add to your outdoor comfort and style.
Final Thoughts
Whether you are looking to build a simple DIY outdoor fireplace or something large and complex, both styles are going to enhance your outdoor freedom and enjoyment.
Creating an outdoor space that has the fireplace as the focal point is not a complicated process if you go step by step. A small circular fireplace with a bowl situated like a campfire or one that is fully integrated into an outdoor dining area is all achievable with the right research, design and application process.
No matter what size of an area you are going to put your outdoor fireplace in, make sure it meets all codes and local legislation. Have a nice-looking outdoor fireplace is the goal, but a safety is a must as well.
Make sure the construction materials are up to code and that any gas install is done by a licenced person. Building your own outdoor fireplace is not only going to give you great satisfaction, but it is also going to bring endless evenings of warmth and enjoyment as well.