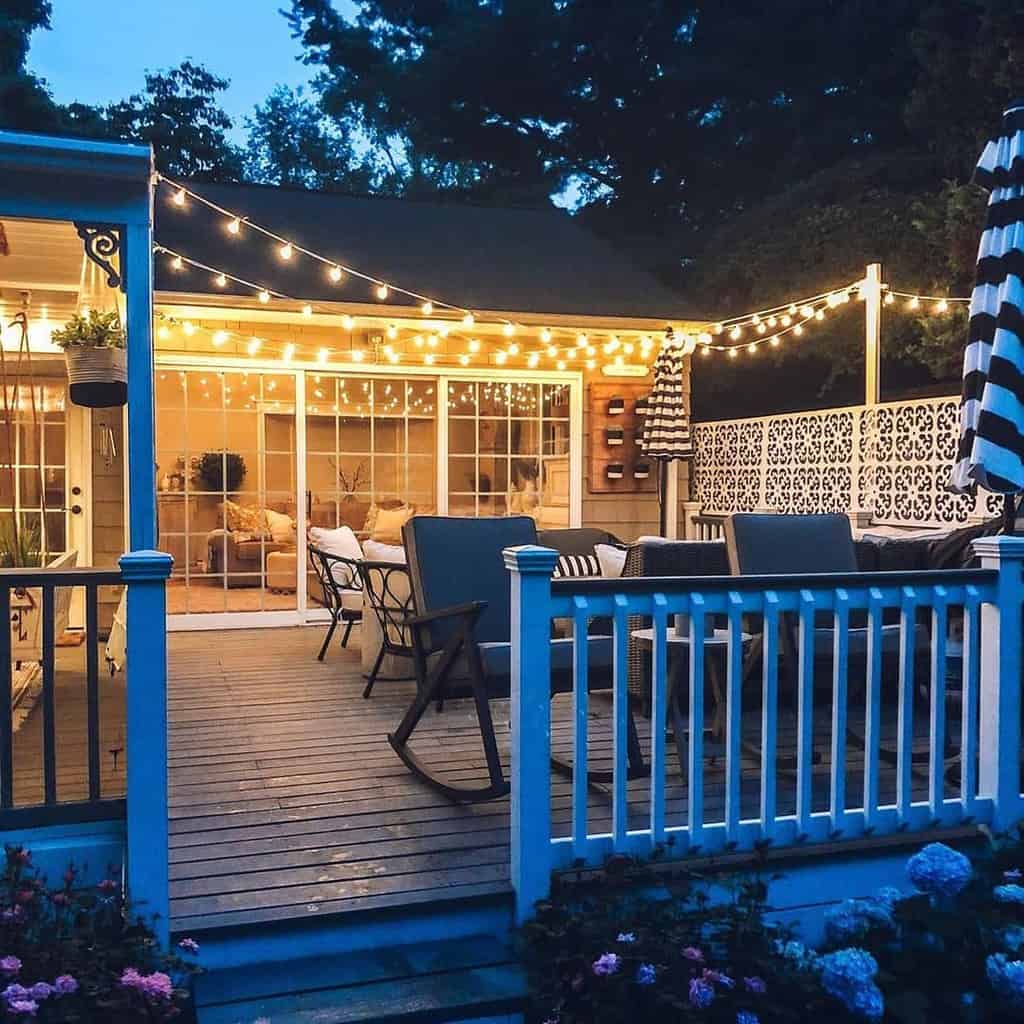 43 Outdoor Lighting Ideas
You've done a lot of work to upgrade and renovate your backyard. Now it's the perfect place to hang out with friends and family. However, when the sun goes down, it starts to get too dark. Without the right backyard lighting, your outdoor space is unusable at night. You could string up outdoor string lights, but they aren't your only option. These outdoor lighting ideas will have you enjoying your backyard space long after the sun sets.
1. Install Lights In A Pavilion
Outdoor lighting can transform any space into something magical. Pre-installed lights in a pavilion under the night sky combined with soft music and the gentle sound of nature can create a peaceful and tranquil atmosphere.
To take it to the next level, why not hang a seat or couch from the pavilion ceiling, so you can kick back and relax while you enjoy the illuminated beauty around you?
With the right atmosphere, outdoor lighting provides a unique experience that is truly unforgettable.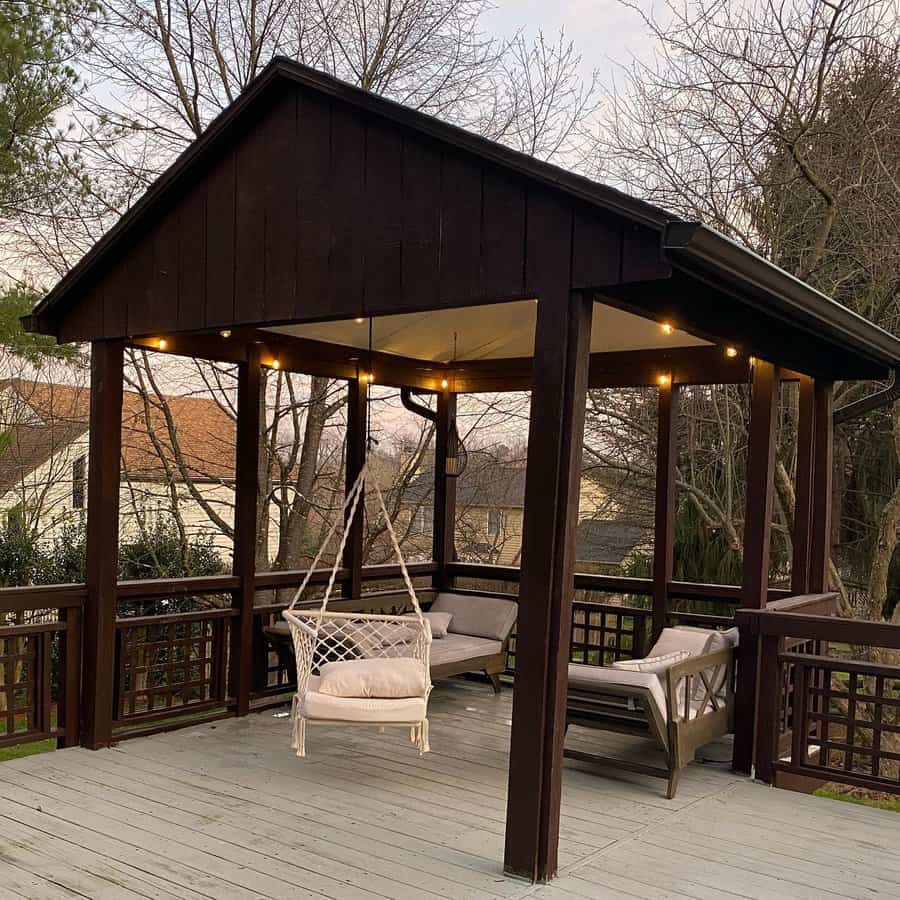 2. Attach String Lights To Your Patio Railing
When the sun sets and the night sky takes over, string lights attached to your patio railing provide a twinkle like none other. Whether you string up string lights or line potted plants on the railing, you can instantly create a romantic atmosphere perfect for any outdoor gathering.
Regardless of the occasion and no matter what message you are trying to convey, outdoor lighting can help set the mood and make any open-air event come alive with an inviting ambiance.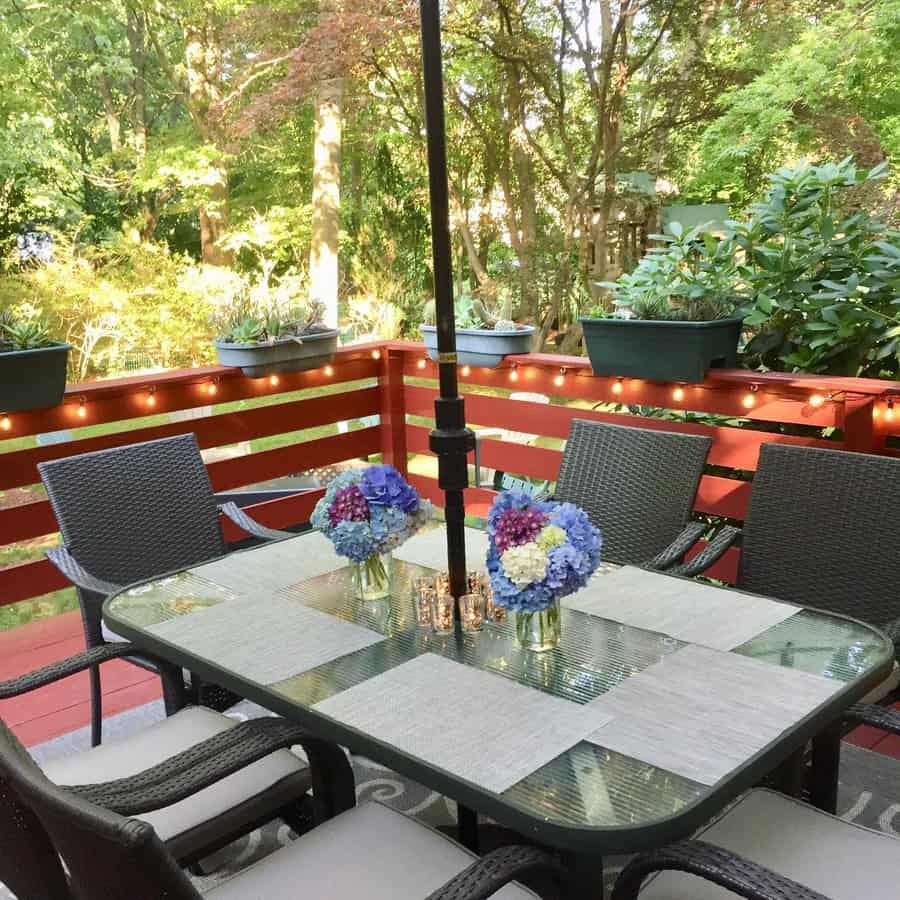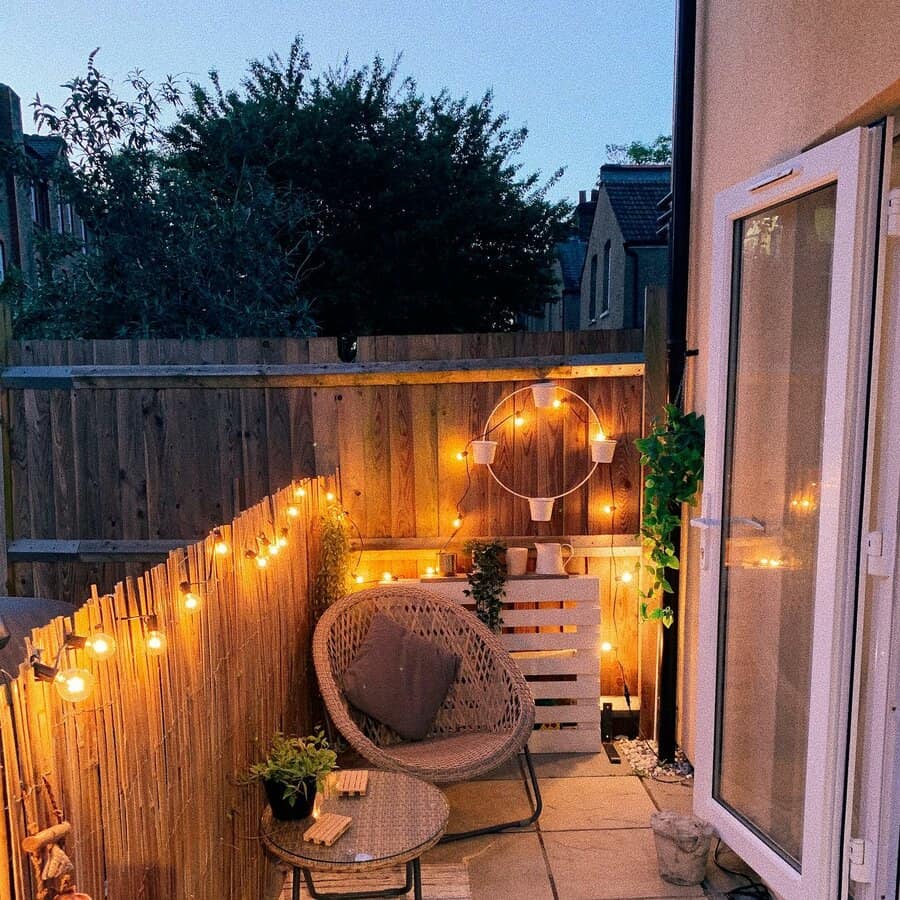 3. Hang Solar String Lights On Poles
Transform your outdoor space into a tranquil yet inviting environment with the addition of string lights. Hung from wooden poles and stretched across an open patio, these string lights will create a serene atmosphere when aglow in the evening.
As an added bonus, your string lights will not only bring beauty to the area but will also provide extra lighting that can be used while relaxing in a seating area or entertaining guests throughout the night.
Illuminate your outdoor space and you'll suddenly have a cozy spot to enjoy during any season.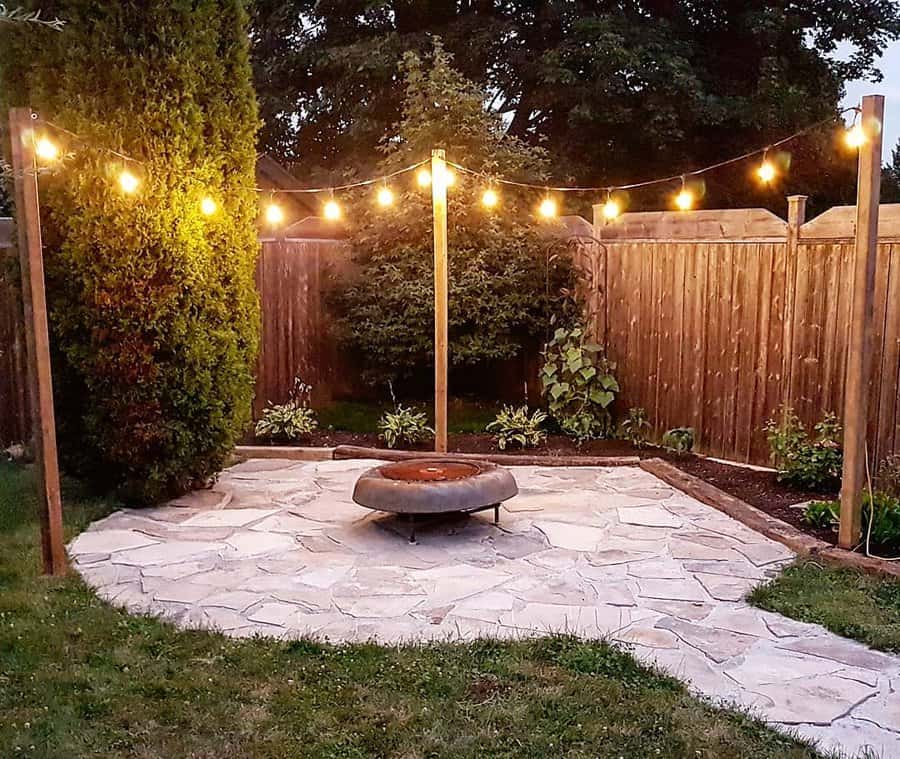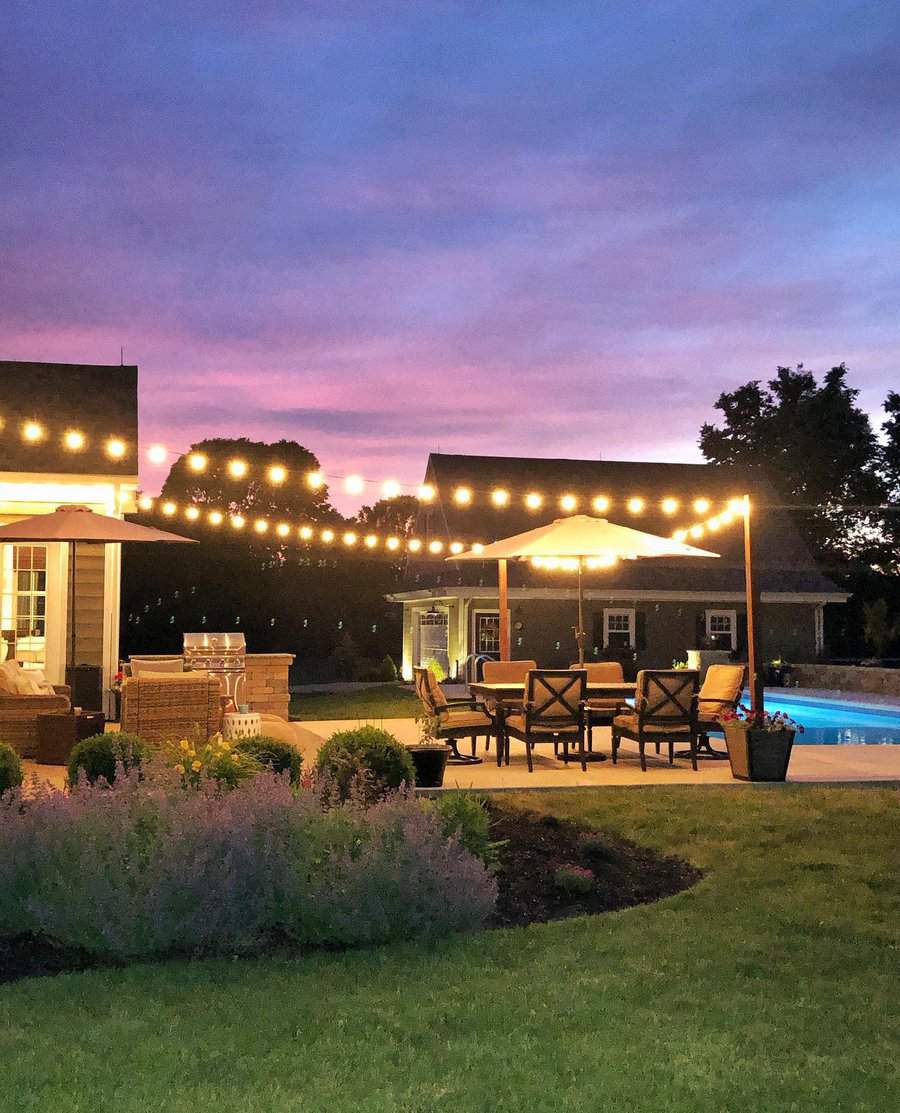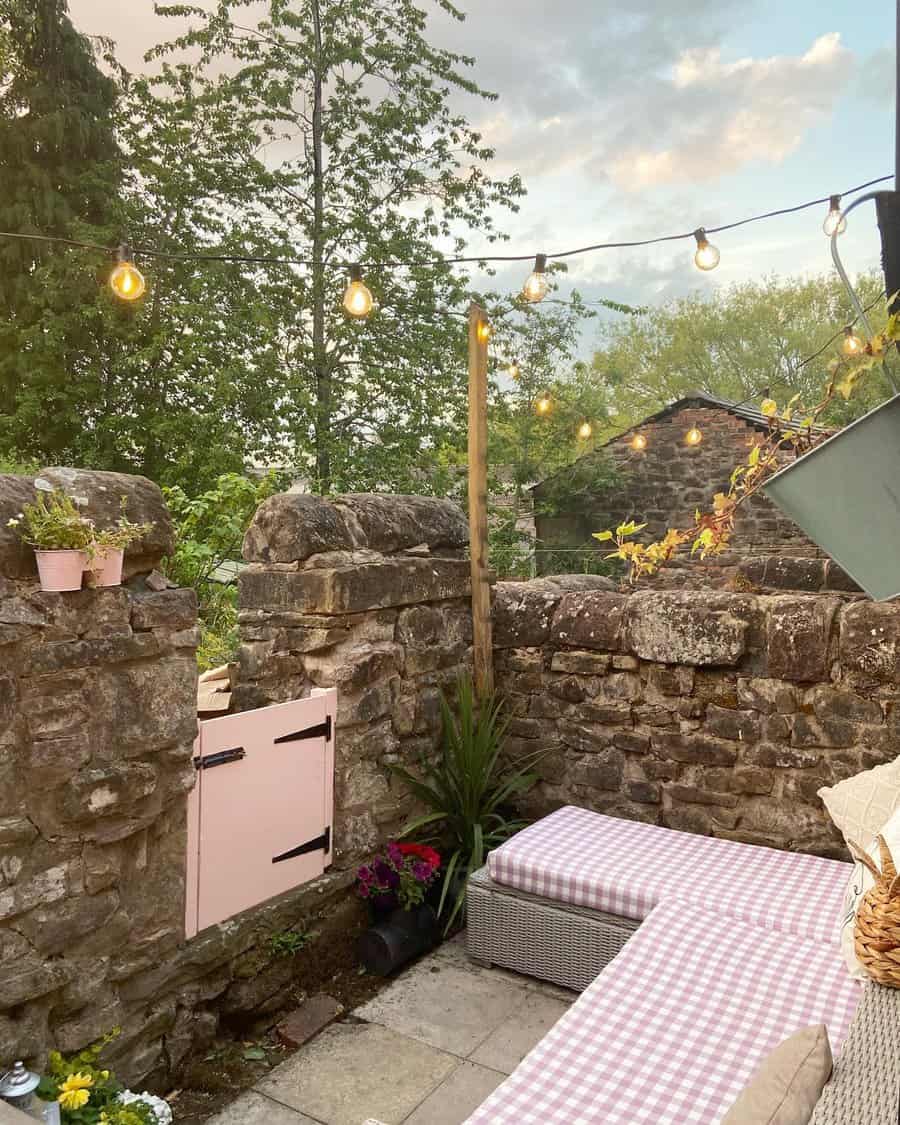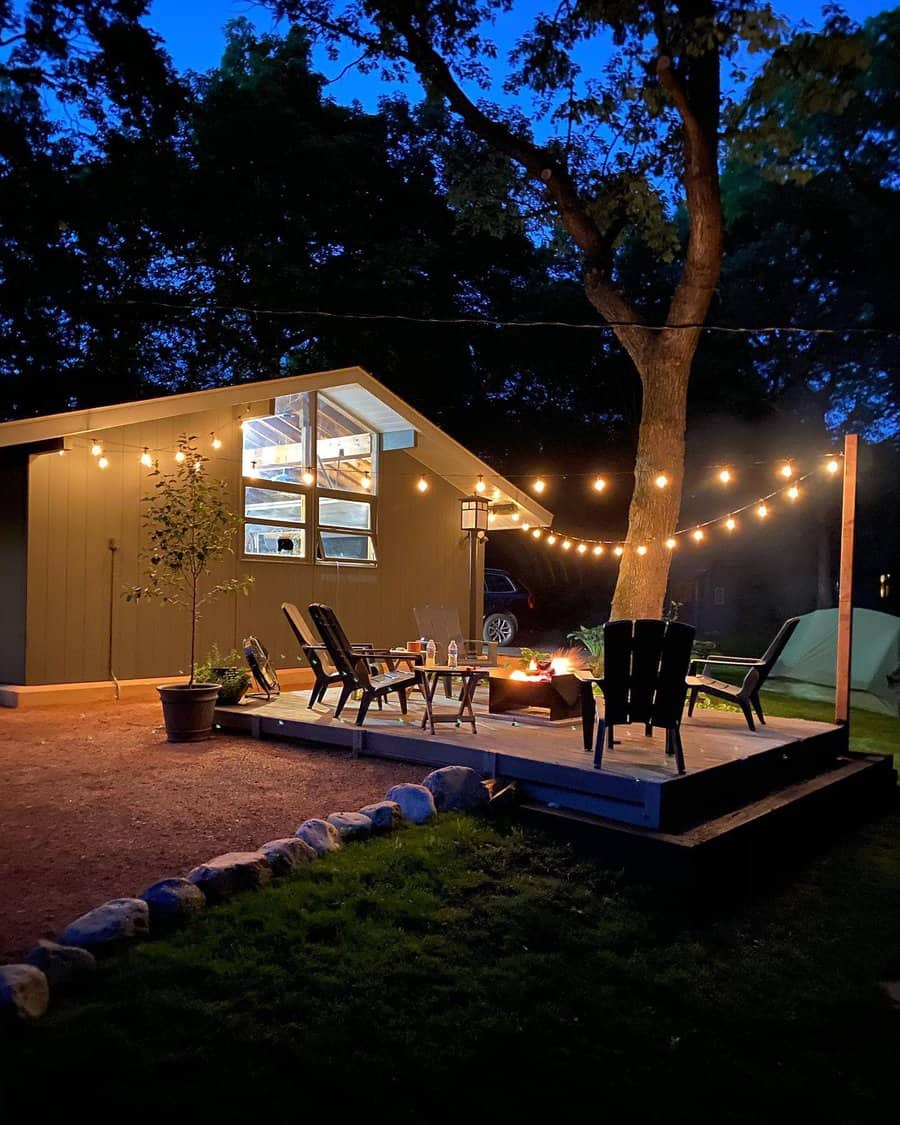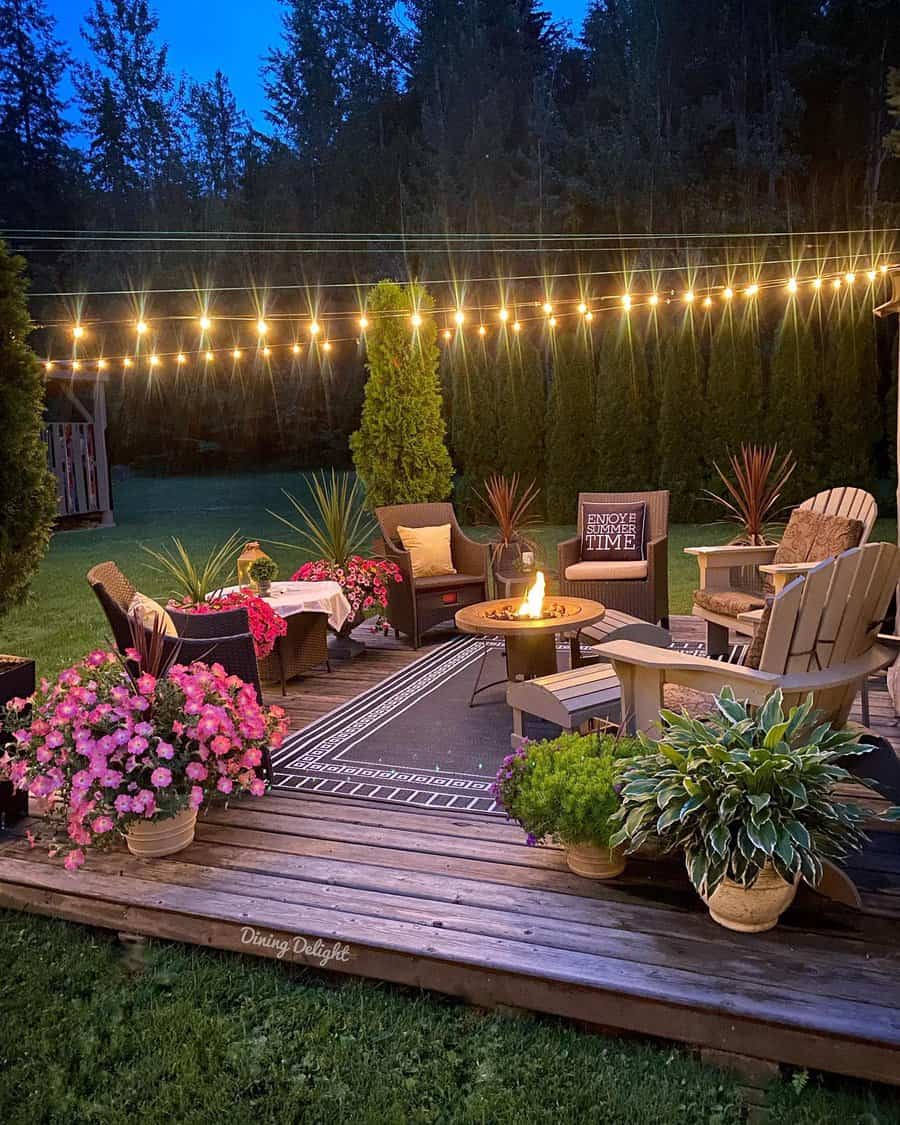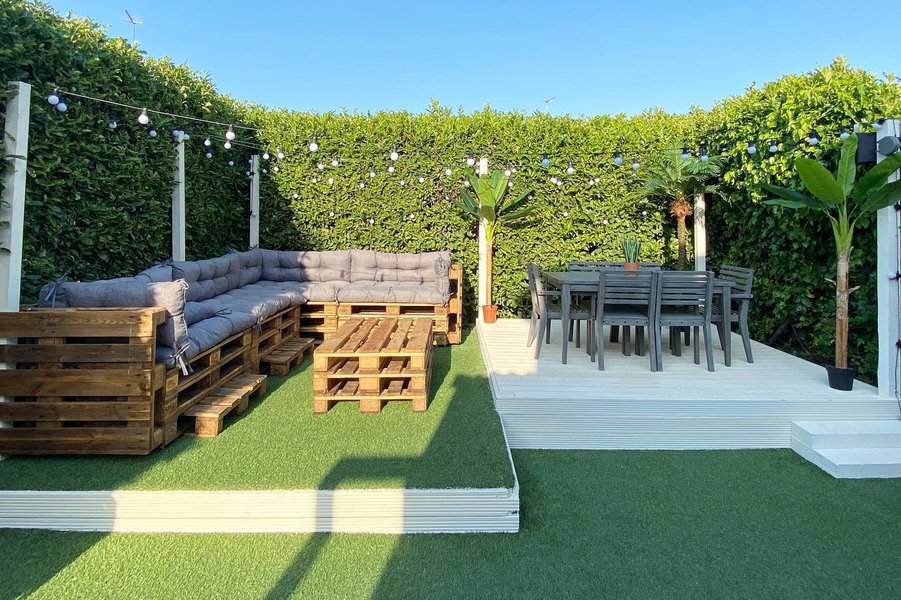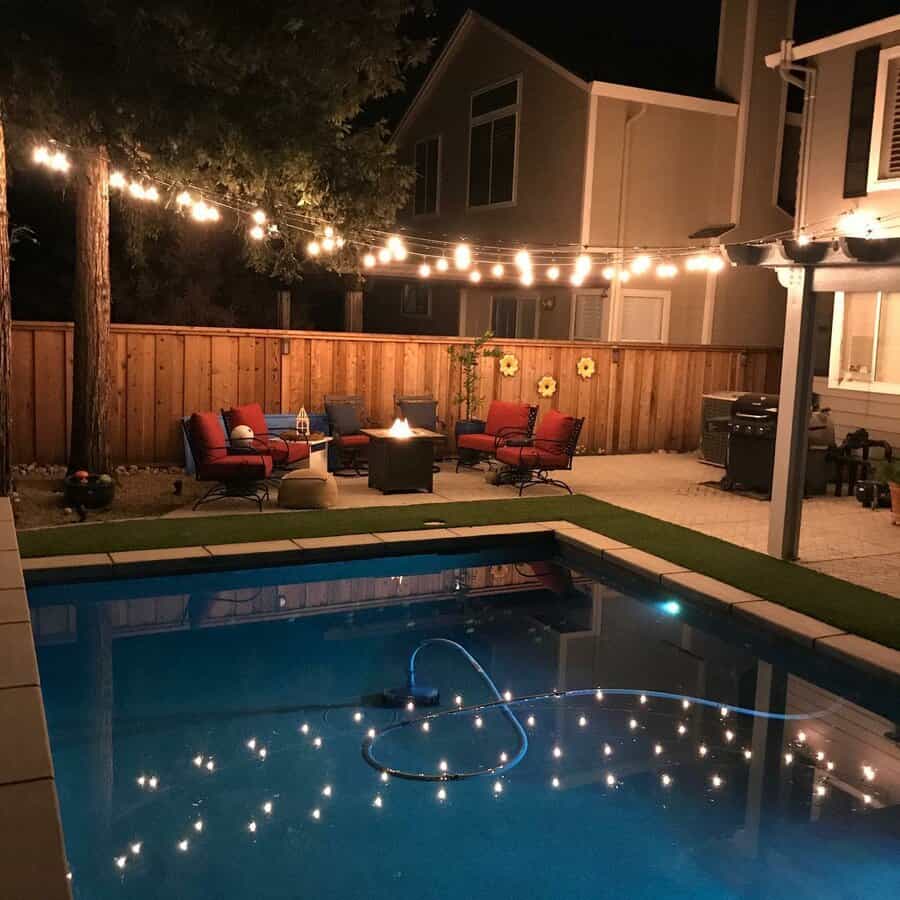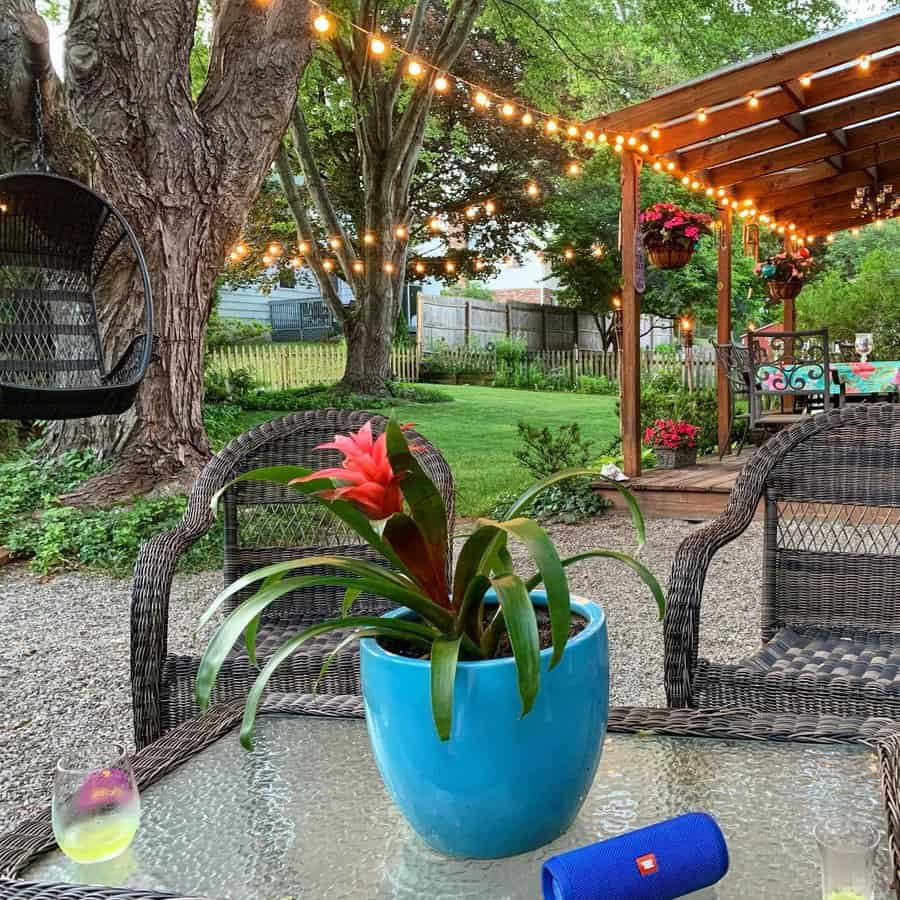 4. Small Backyard Lighting
Gathering around small, twinkle lights outside can give the most ordinary small backyard an extraordinary feel. Whether you set up small strings of garden-party-style bulbs, install cozy patio lamps around picnic chairs and tables, or utilize even the narrowest of spaces for a festive pathway lighting display, outdoor lighting is an easy way to add character to your small backyard space.
Get creative with colorful lanterns or wrapping evergreen branches in string lights for an alluring holiday glow. Whatever your style may be, outdoor lighting will make any small space feel truly special.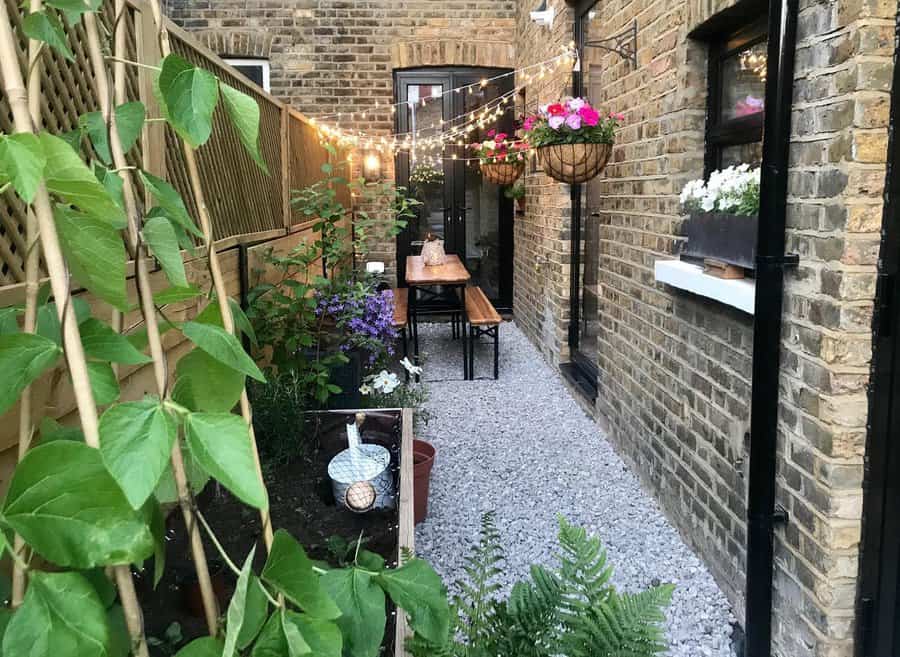 5. Build A Starry Wall
Ahead of the summer months, why not add a touch of starry magic to your garden? Create a starry wall with star-shaped string lights, attach fairy lights to your fence for a dreamy look, and use spotlights around statuettes and trees for an enchanting aesthetic.
By mixing and matching different shapes and colors of garden lighting you can bring an exciting variety to your outdoor space, letting you sit out among the stars each night for an unparalleled atmosphere.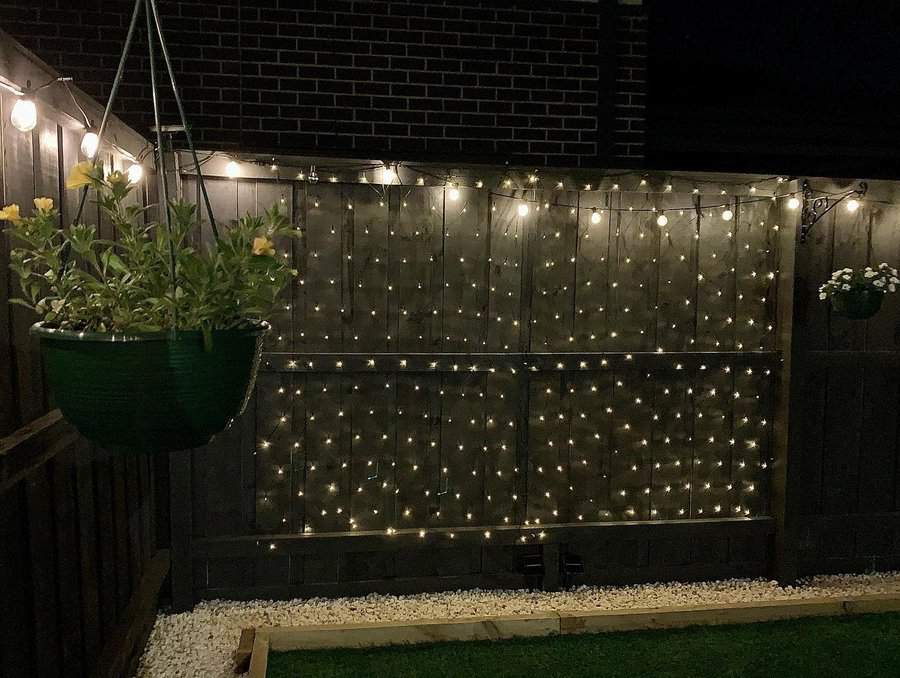 6. Add Recessed Floor Lights
When it comes to outdoor lighting, recessed floor lights on a pebbled landscape will create a beautiful, yet subtle ambiance. This type of outdoor lighting is perfect for adding a bit of drama and mystery to your garden.
The effect of recessed floor lights can be stunning as they combine light and shadow in harmony. From inviting pathways to mesmerizing water features, recessed floor lights can help highlight the best features of your garden.
The right type of outdoor lighting can transform your landscape into an illuminated oasis – an area you'll want to spend more time in and enjoy.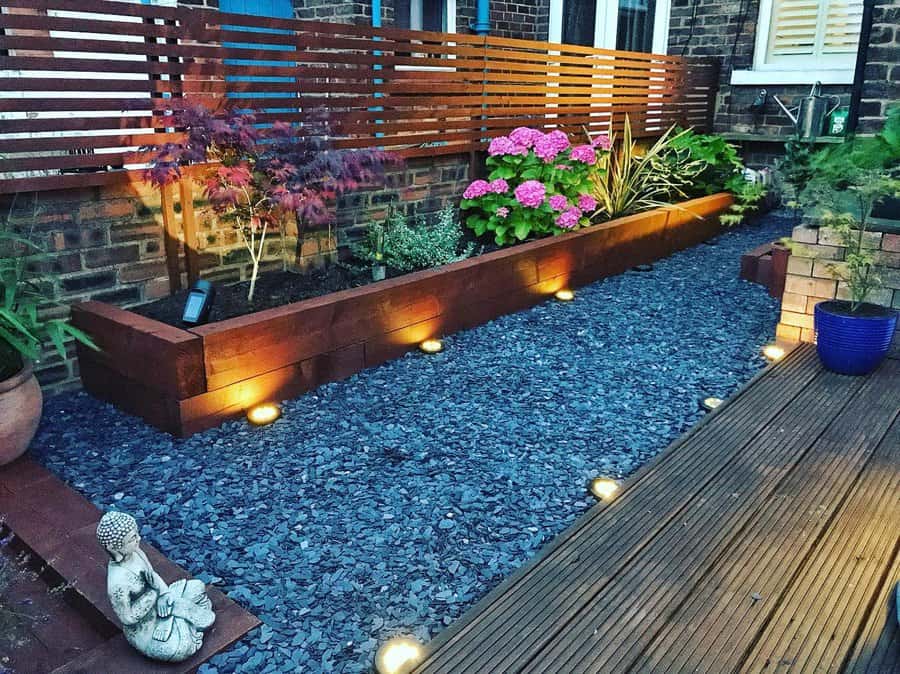 7. Install LED Lights To Your Patio Screen
Adding LED lights to your patio privacy wall is a great way to create that perfect night ambiance. This type of outdoor lighting is both minimal and subtle, allowing guests to enjoy the outdoors while still feeling peaceful and relaxed.
LED lighting can be installed in any shape or size to accommodate even the most complicated of designs. Whether you're looking for grandeur and extravagance, or for something more romantic, LED lighting will help make any occasion special.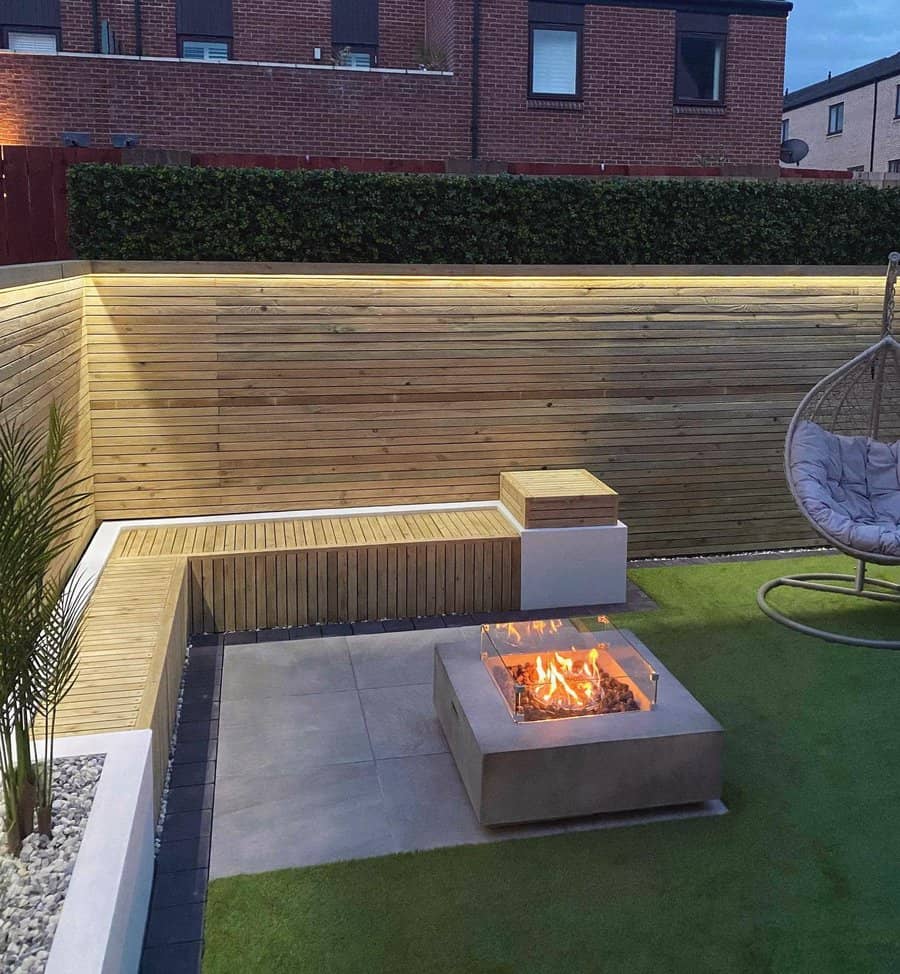 8. Covered Patio With String Lights
Nothing beats admiring the moonlight from the comfort of your covered patio. Create a romantic atmosphere with string lights draped across your patio for an unforgettable night under the stars. Complete the look with cozy couches and you're practically living in a fairytale!
Outdoor lighting adds to your outdoor experience, whether it's a candlelit dinner for two or a backyard party filled with music and laughter. Choose something simple that matches your style and you'll be surprised what a difference little touches like outdoor lighting can make.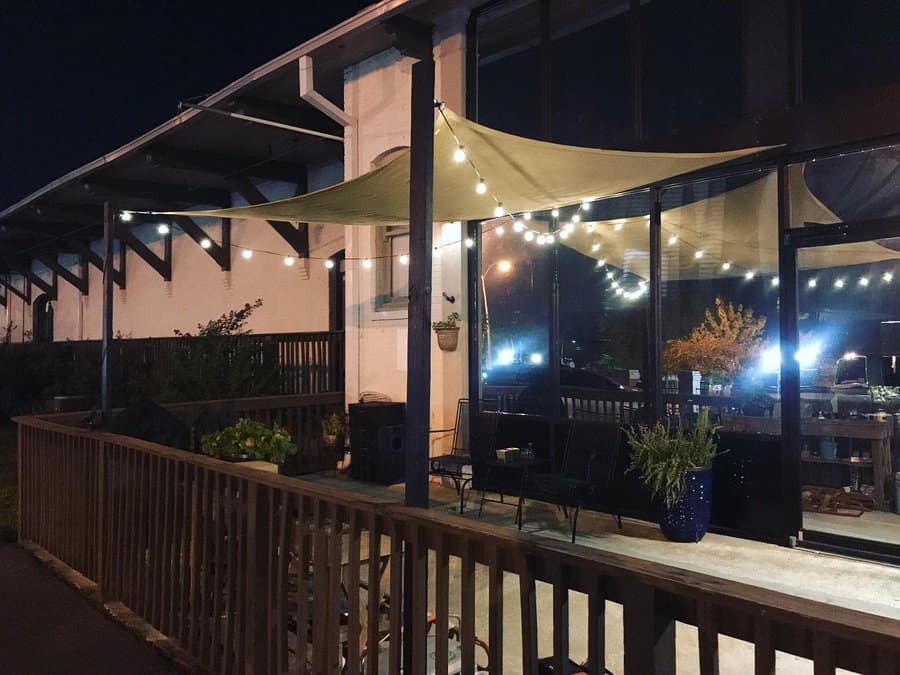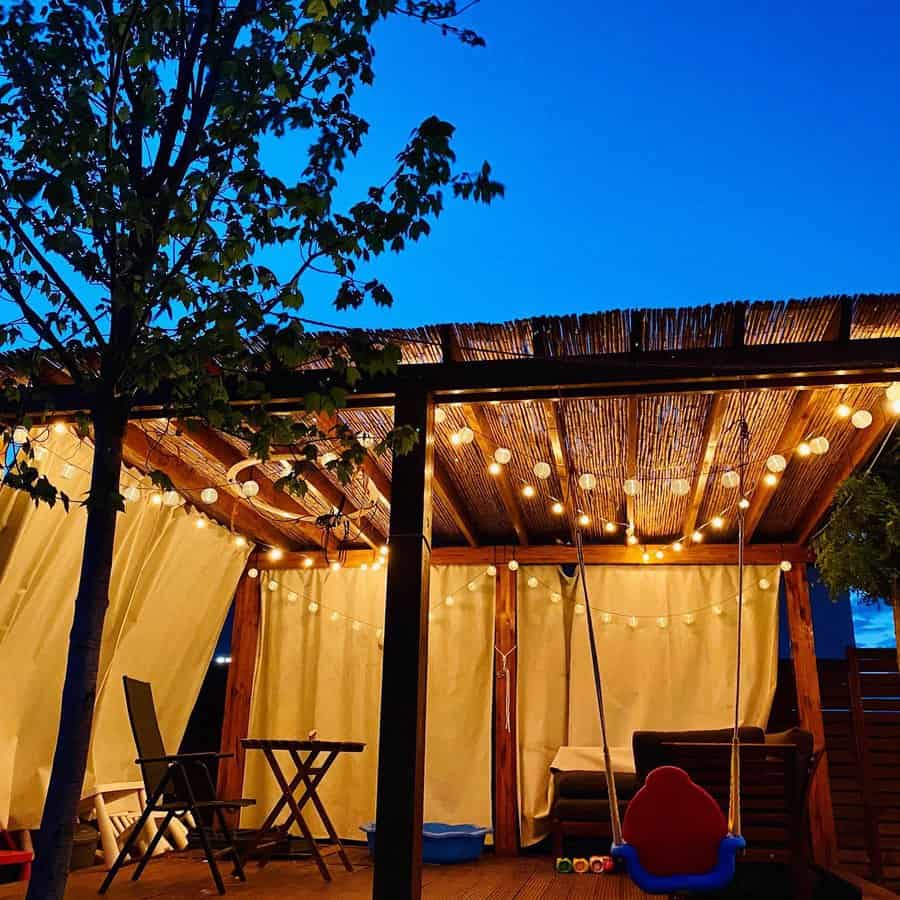 9. Extended Wrap Lights In A Pavilion
Outdoor lighting can be both practical and stunning. If you're looking for ways to make your outdoor space look magical, extended wrap lights are an excellent choice. These lights look like rain drops raining down on the garden and create a brilliantly luminous scene that will bring warmth and delight to any backyard.
A great alternative to traditional bulb lights, extended wrap lights offer a modern and innovative way to light up your world!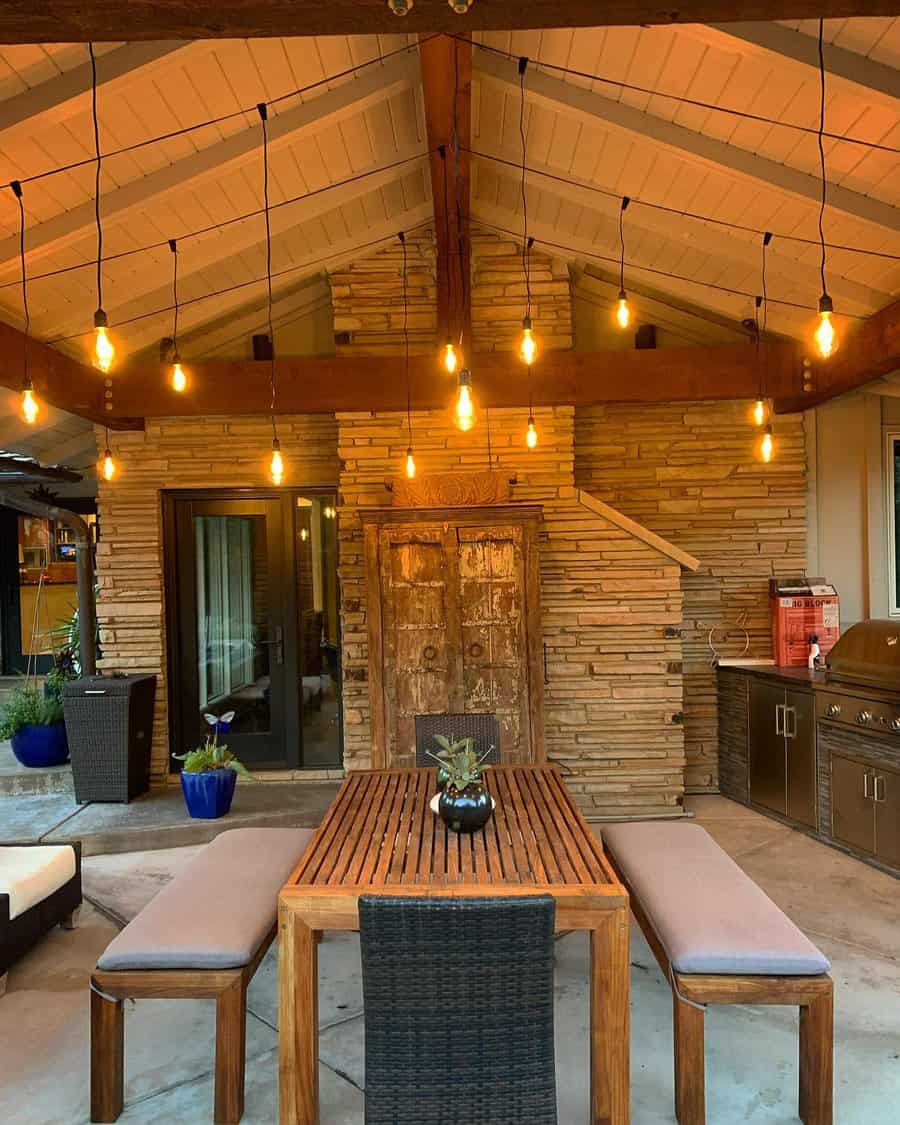 10. Frame Your Patio Window With String Lights
Illuminate your patio window with a festive, glowing frame of string lights. This removable lighting can be used to accent any patio window at any time of year, and the effect it creates is simply magical. Whether you're hosting a party or just lounging outdoors with friends and family, patio window framed with string lights is sure to captivate your guests with its twinkling display. Create an inviting atmosphere that elicit memories of warm summer days in a matter of minutes!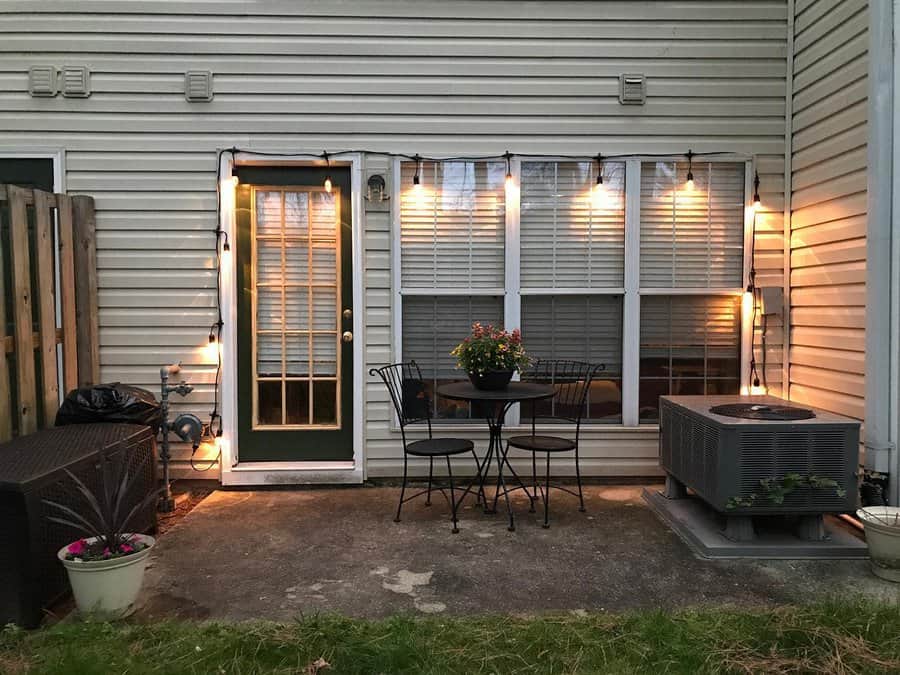 11. Illuminate Your Fire Pit
One of the simplest and most beautiful ways to add some warmth and ambiance is string lighting above a fire pit. It's amazing how the addition of string lights can make any fire pit look amazing. It adds such a romantic touch and provides perfect task lighting for those cozy nights spent around the fire pit with family or friends.
Make it even more comfortable by adding seating around the fire pit, then stringing up some soft, LED string lights and your outdoor sanctuary becomes an enchanted space that will be a hit at any gathering.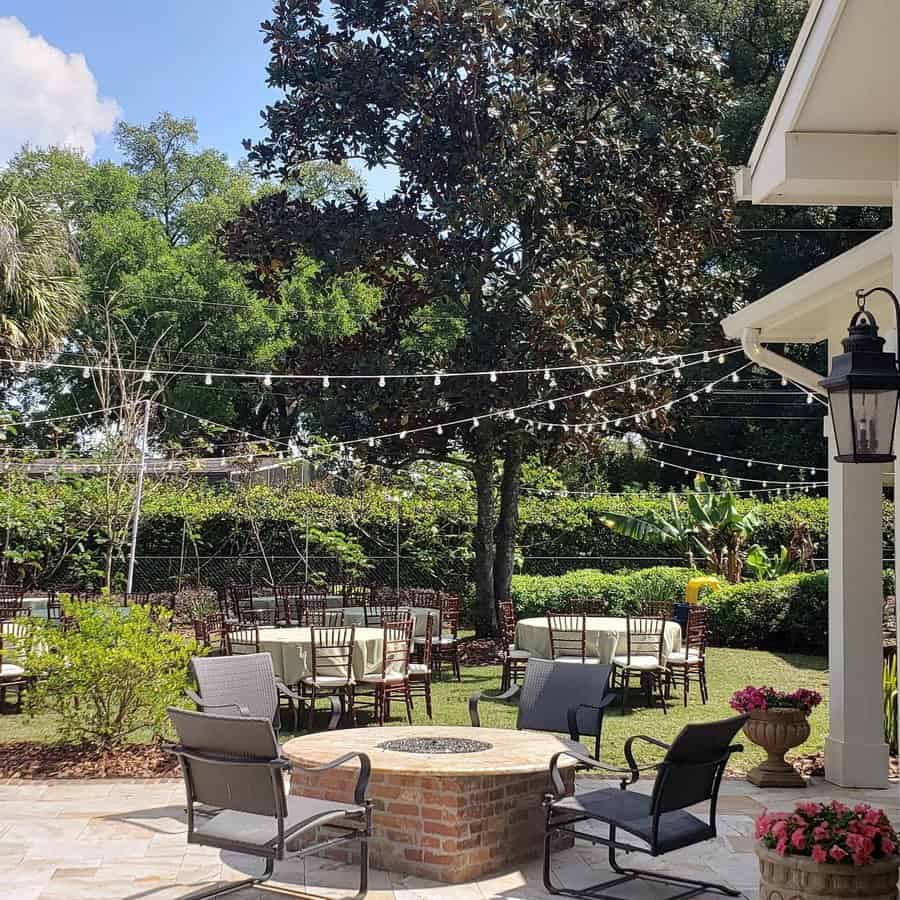 12. Cozy Up With Lamp Shades
Create an inviting ambiance on your patio or deck with lights that are balanced with lamp shades. Nothing adds more warmth than lights that drape the space in romanticism and evoke conversations to linger well into the night.
Accentuate the space further by adding cozy couches, making it ideal for intimate evenings surrounded by friends and family. From there, you can let the lights set the mood with their ever-changing hues and brightness, so you can be sure every night is memorable.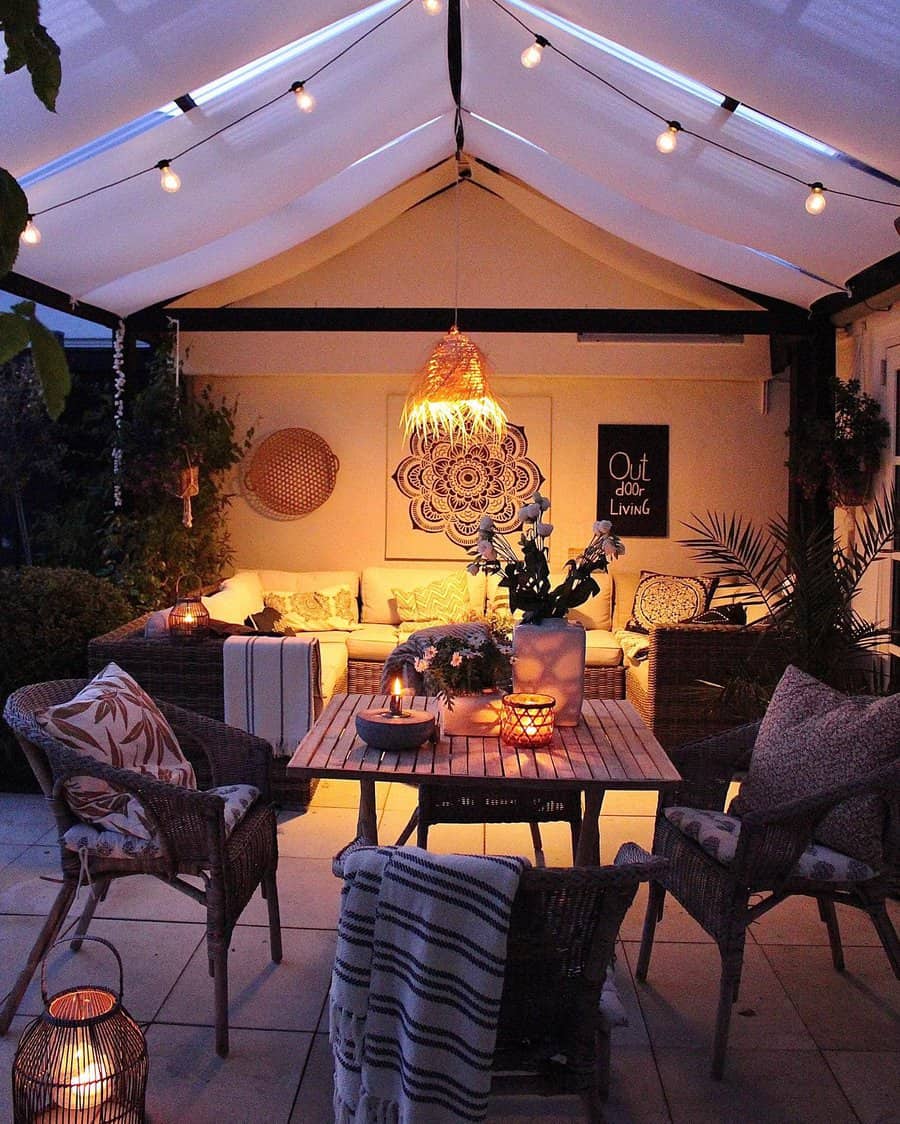 13. Brighten Up Your Pergola
Creating an optimal lighting design for your pergola or patio can completely transform the area and create a romantic atmosphere. Installing string lights in pergolas is one of the simplest yet most effective ways to decorate them and they can provide a magical glow that will make you feel like you're dining in a fairytale when you settle into your outdoor dining area on the patio.
String lights come in various sizes, shapes, and styles that make it easy to capture any desired look – use them to craft a space that is truly special!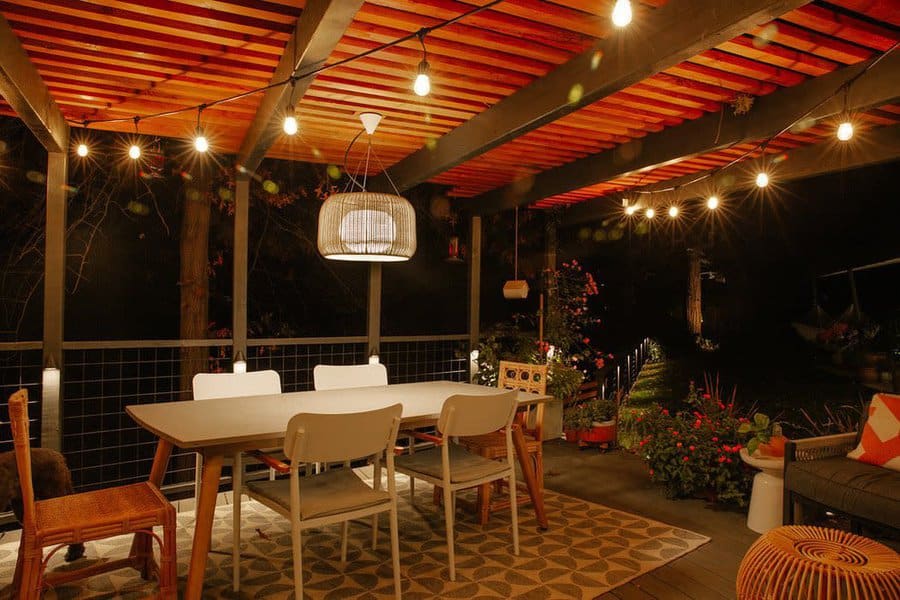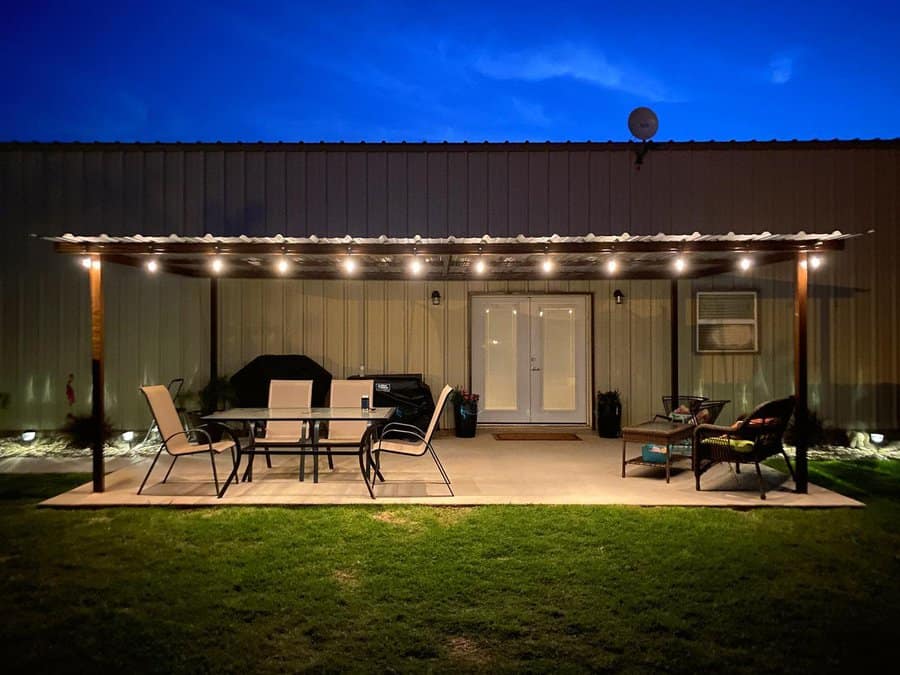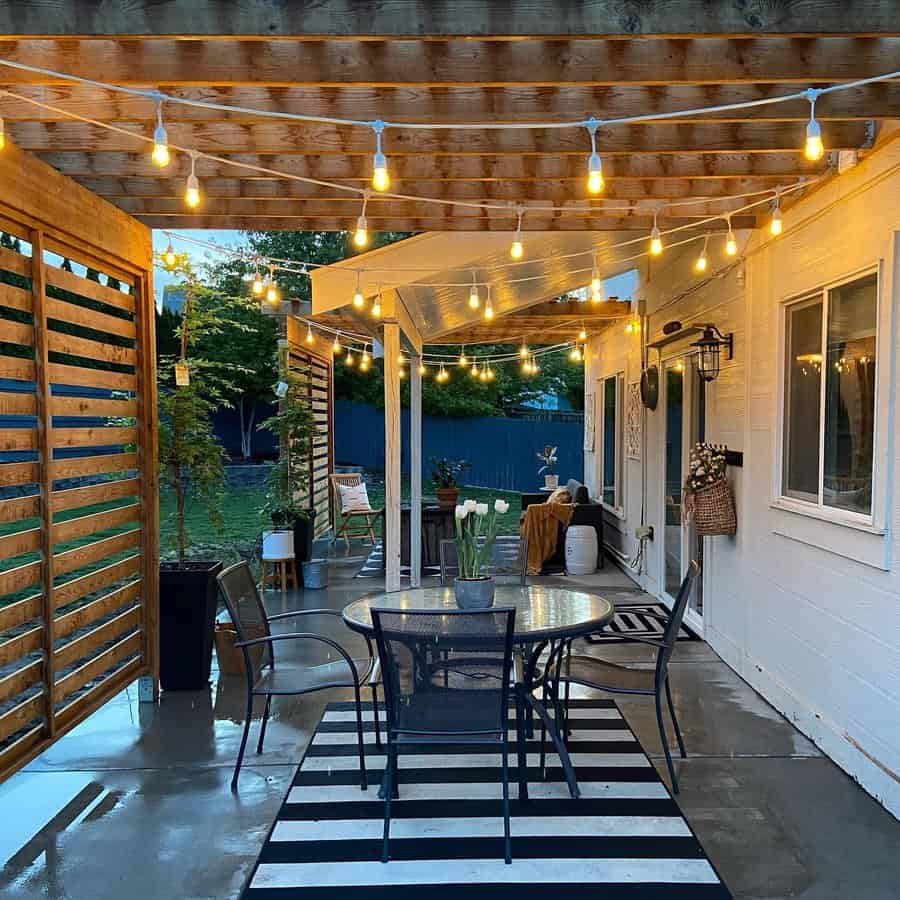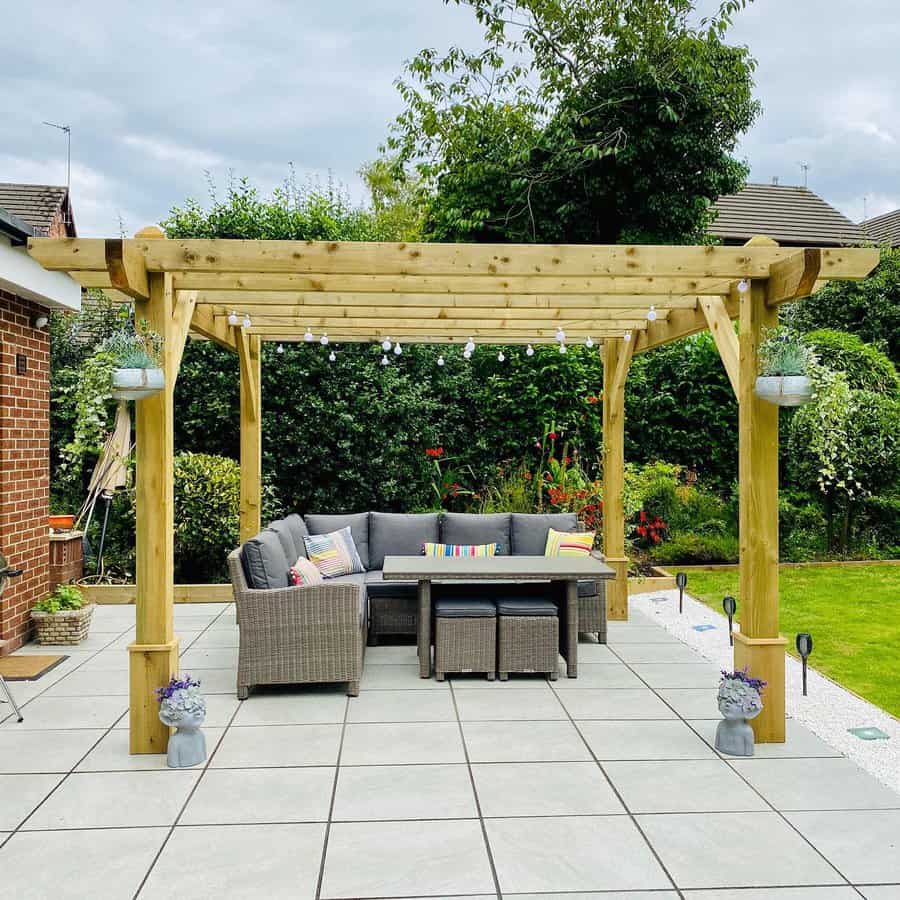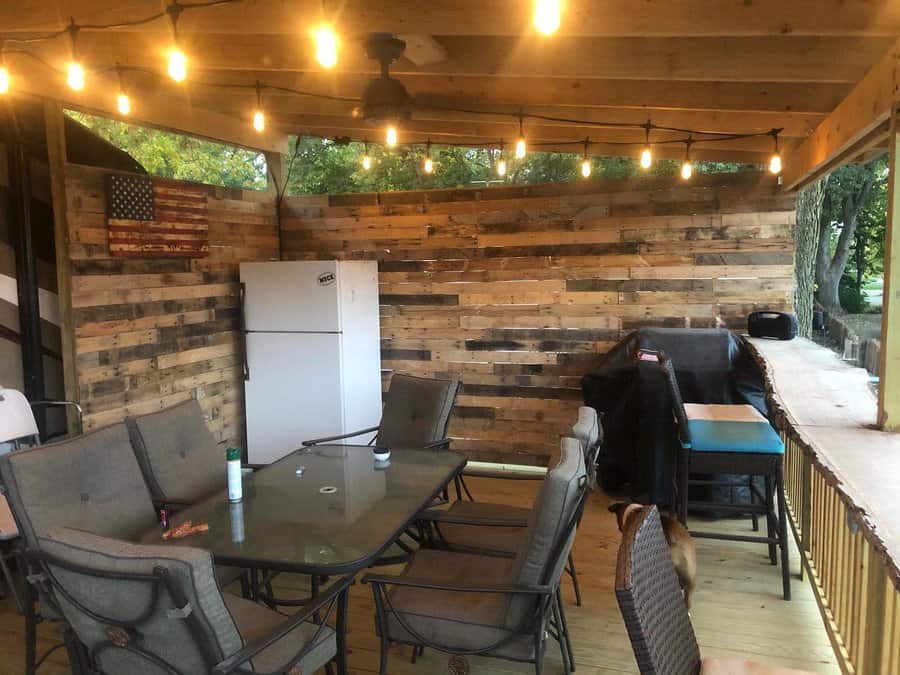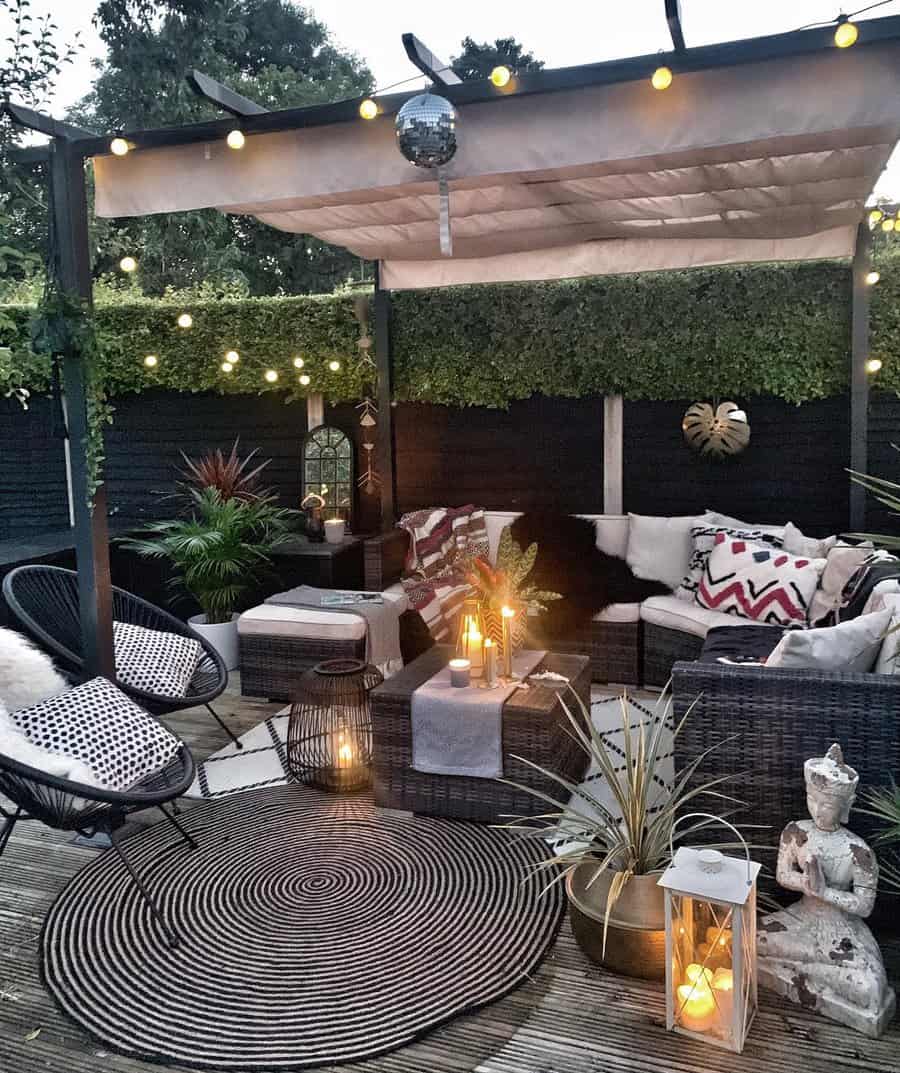 14. Tie String Lights To Trees
We all know that feeling of cozying up on a cool night under string lights. One way to up your outdoor lighting game is by stringing lights across your trees.
This is a great alternative to the typical outdoor poles, and it creates a more interactive experience with nature. Attaching lights across trees also gives off a more relaxed vibe, perfect for any outdoor gathering.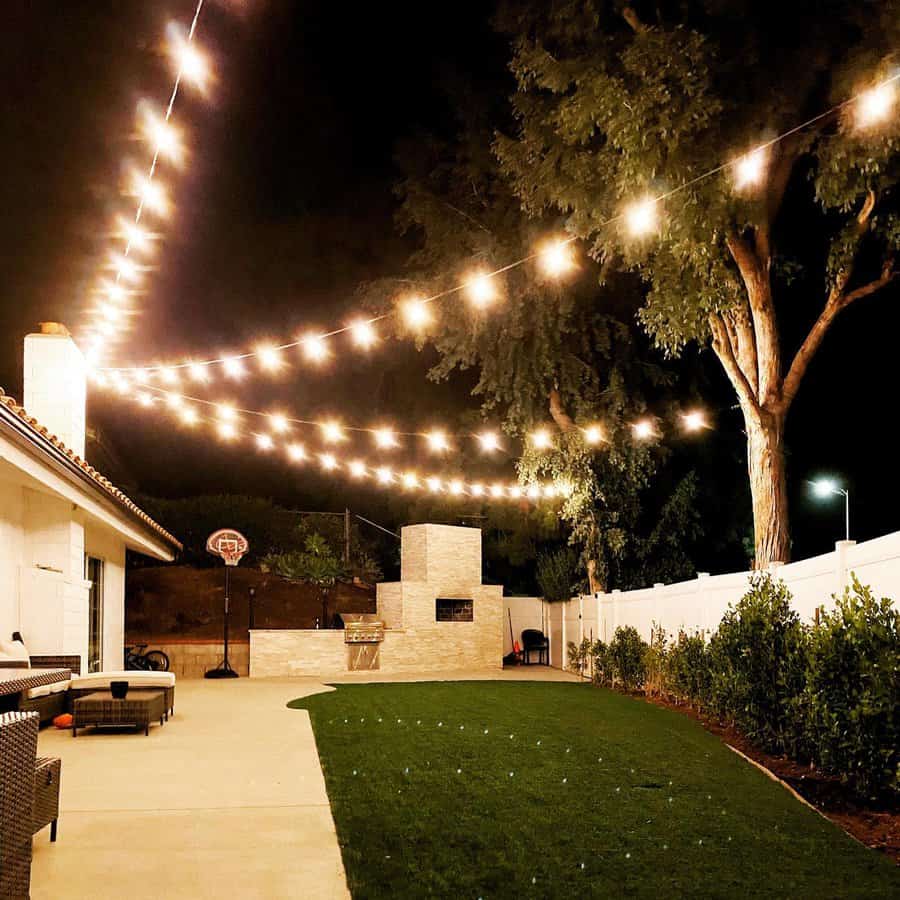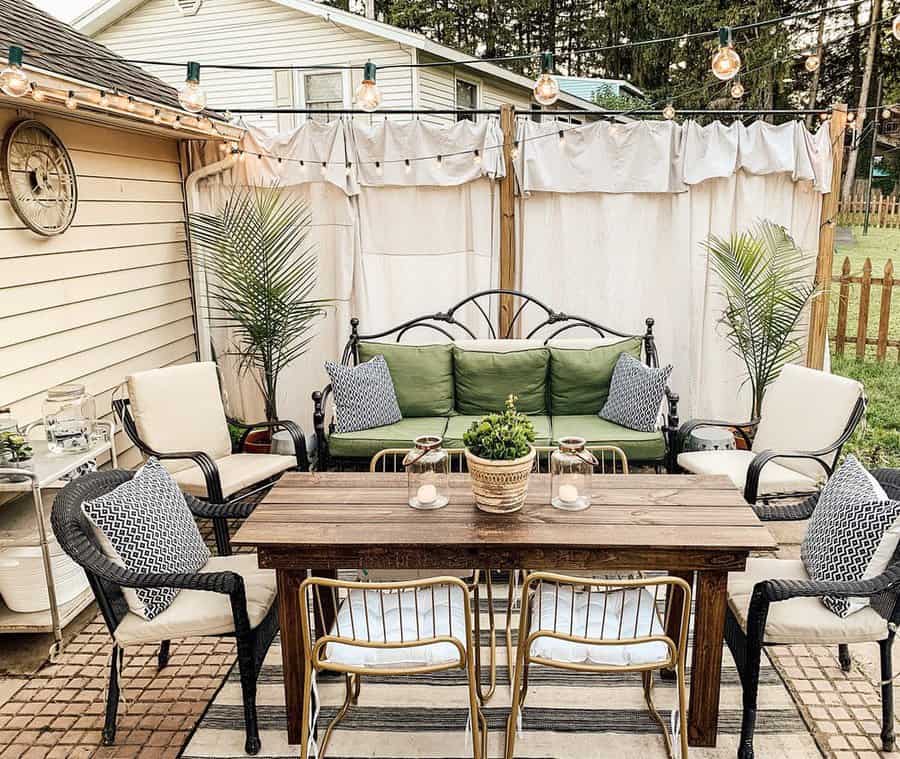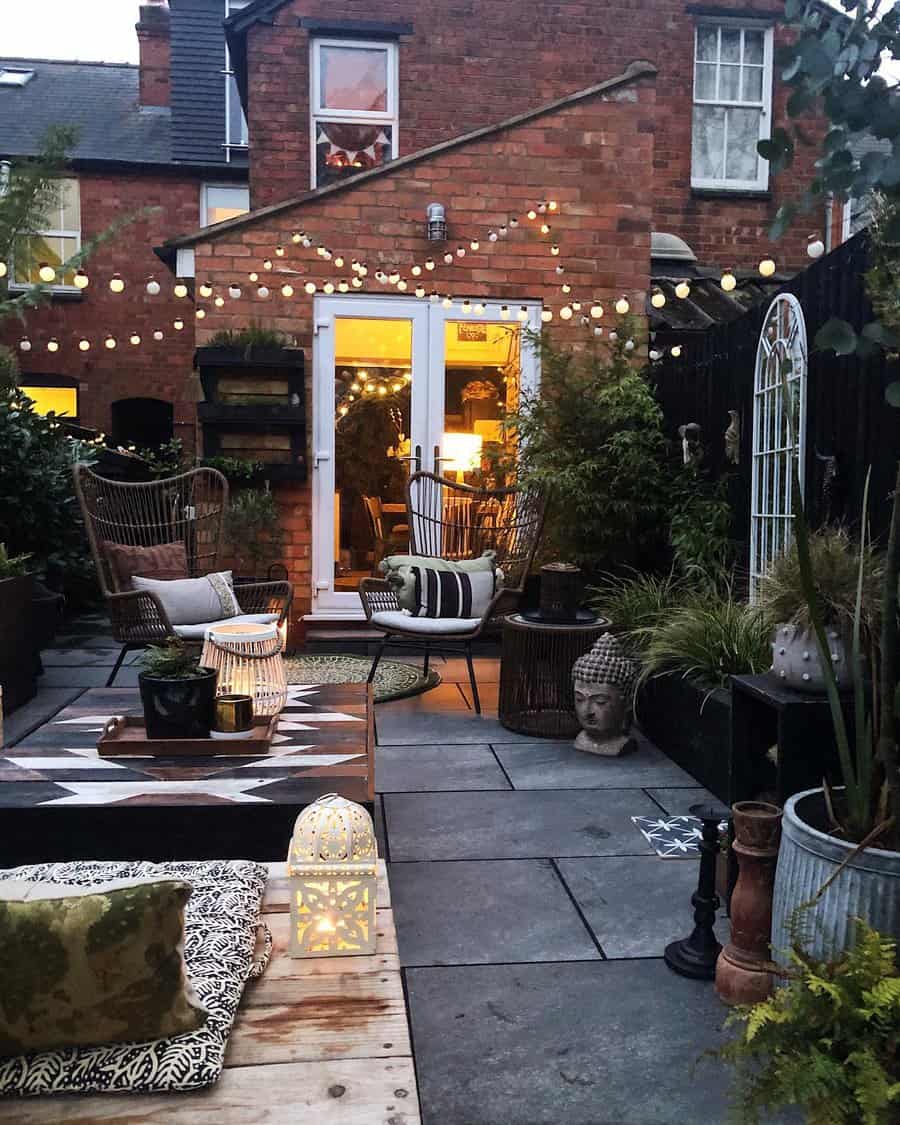 15. Be Spontaneous
Transform your backyard into a paradise of lights! Tie lights spontaneously everywhere and make it twinkle like a starry night. Having a variety of lights will not only help you to achieve the perfect ambience for outdoor parties, but it can also add an extra touch of safety for nighttime activities.
From colorful string lights to edgy wall-mounted sconces, let yourself be creative with your lighting displays and enjoy the beauty of nature under a soft illumination.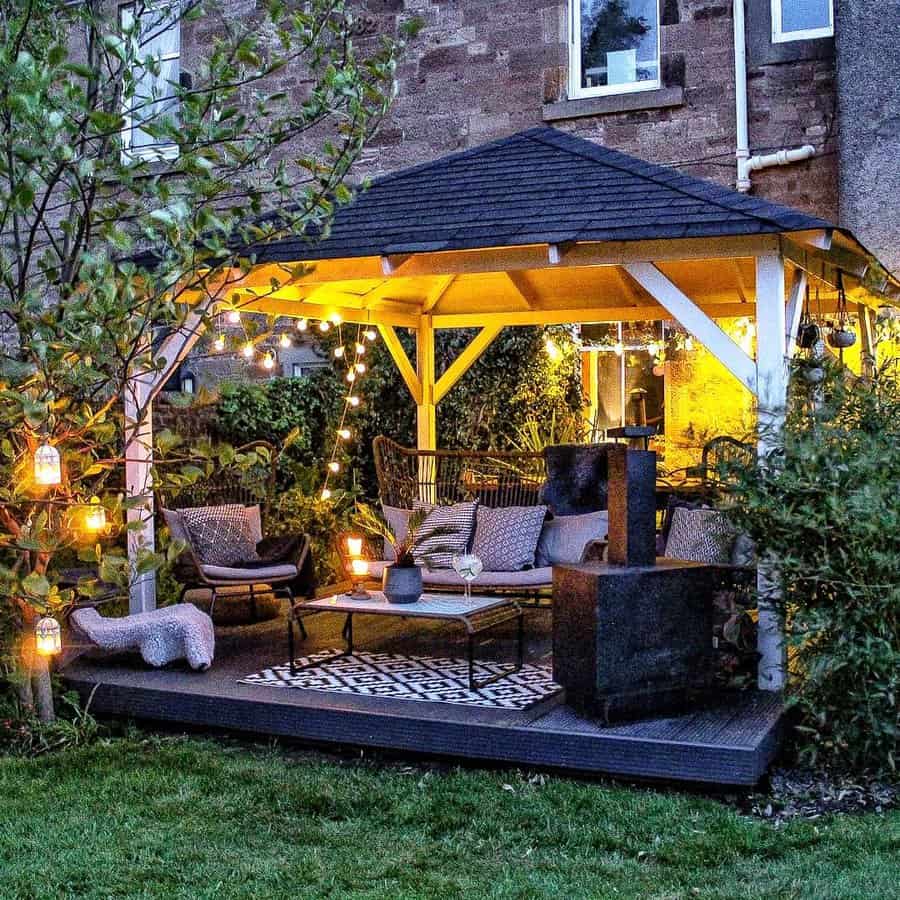 16. Install Bulb Lights To Your Pergola
When it comes to outdoor lighting, solar bulb lights installed on a pergola offer a clean and simple look for any patio or deck. With solar-powered technology becoming more and more accessible, solar bulb lights are the perfect way to save on energy bills while creating a stunning outdoor atmosphere.
Whether placed strategically to light up your evening walks in the garden, or installed onto the pergola as a design feature, solar bulb lights are an excellent choice for anyone looking for creative outdoor lighting while maintaining eco-friendly practices.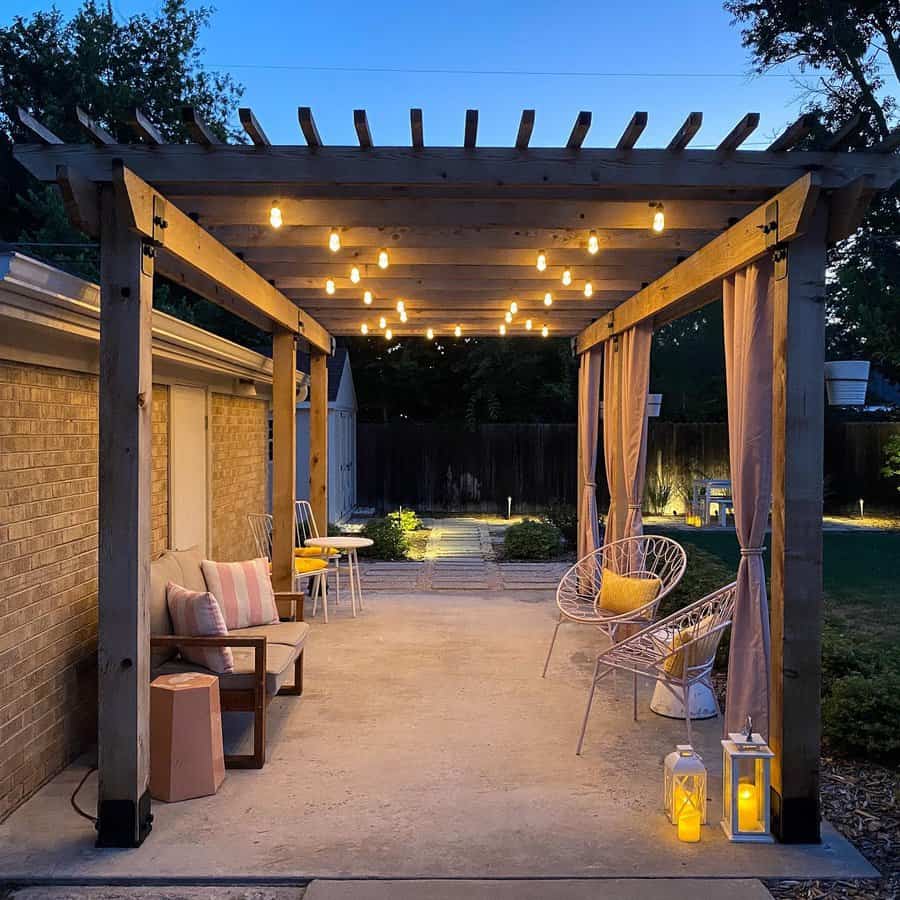 17. Radiating Pool Lights
Outdoor lighting can transform a space. Illuminating pool areas can be especially effective for creating special and unique outdoor spaces. Pool lights come in all shapes and sizes, from subtle ambient pool lights to bright and colorful pool lights, allowing pool owners to create the perfect lighting atmosphere for an outdoor retreat.
Whether you want to create the ultimate pool-party experience by adding colorful light shows or simply enhance a relaxing evening with subtle poolside ambiance, pool lighting offers everyone ways to bring out the beauty of their backyard oasis.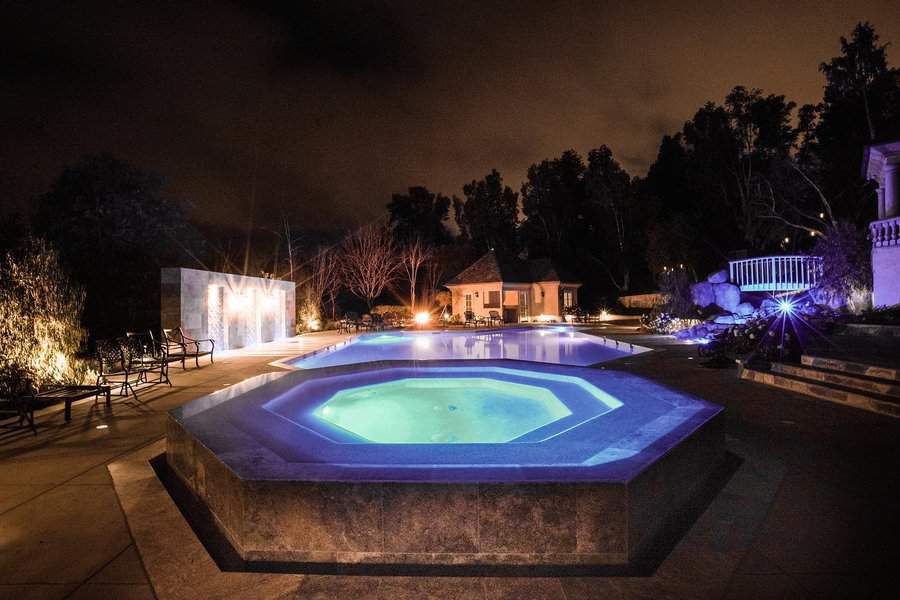 18. Frame Your Pool With Floor Lights
Consider pool framing with subtle, soft floor lights that speak to elegance and sophistication. These lights can help create a stunning area of the pool in the garden, turning a pool into a showpiece that stands out at night.
Imagine what your pool could look like and how it can draw attention in the darkness. Outdoor lighting is one way to immediately spruce up your pool area – without breaking the bank – and accentuate its best features.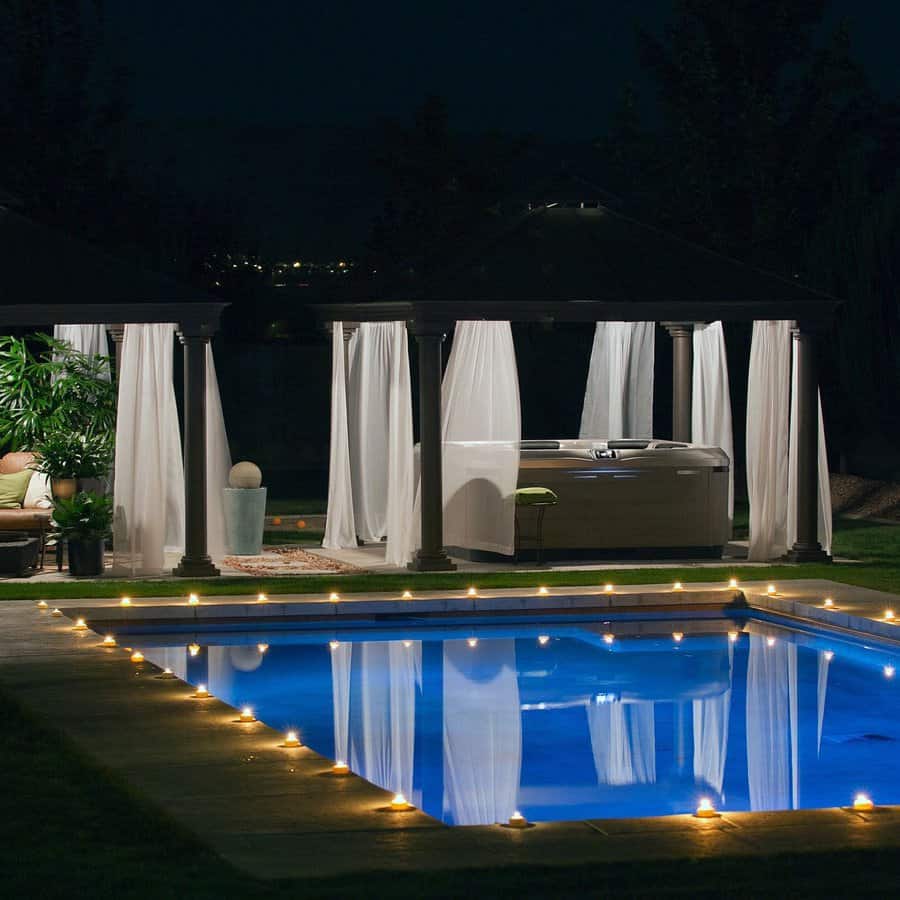 19. Add A Tiki To Your Backyard
Creating a beach-inspired atmosphere in your own backyard can be as easy as adding tiki lighting and artificial grass to your outdoor space. Whether it is for entertaining friends, relaxing with family, or a place for yourself to unwind, you can achieve that effortlessly inviting tropical vibe by incorporating these materials into your existing design.
dding tiki lighting or realistic artificial grass can easily bring that beach feeling to the outside of your home without having to travel far away. So grab a glass of your favorite summer drink, put on some chill music, and enjoy an effortless tiki setup that brings paradise closer than ever before.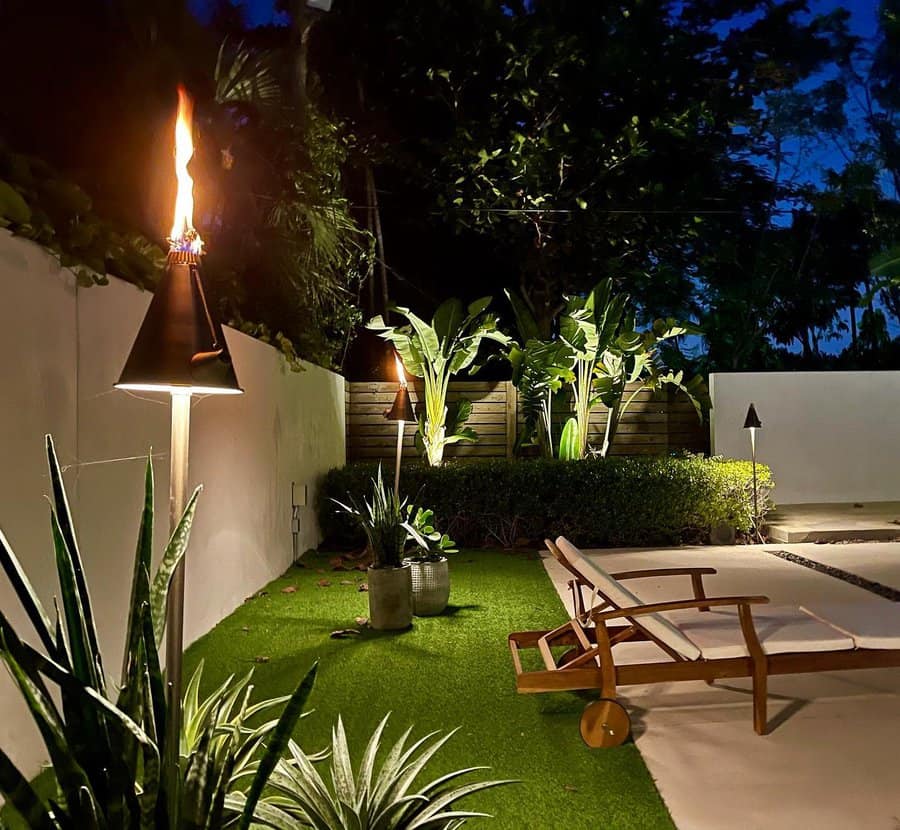 20. Utilize Your Patio Trellis
Outdoor lighting can really jazz up any patio or deck. Get creative with the way you attach string lights to your patio trellis, wrap them around the slats, and climb vines or attach them in unexpected places. You can even plant some flowers along the trellis and attach lights gently in between them – they will bring sparkle and life to your outdoor decor!
There's something magical about a fawn-lit night outdoors; it often brings together friends and family members for an evening under the lights!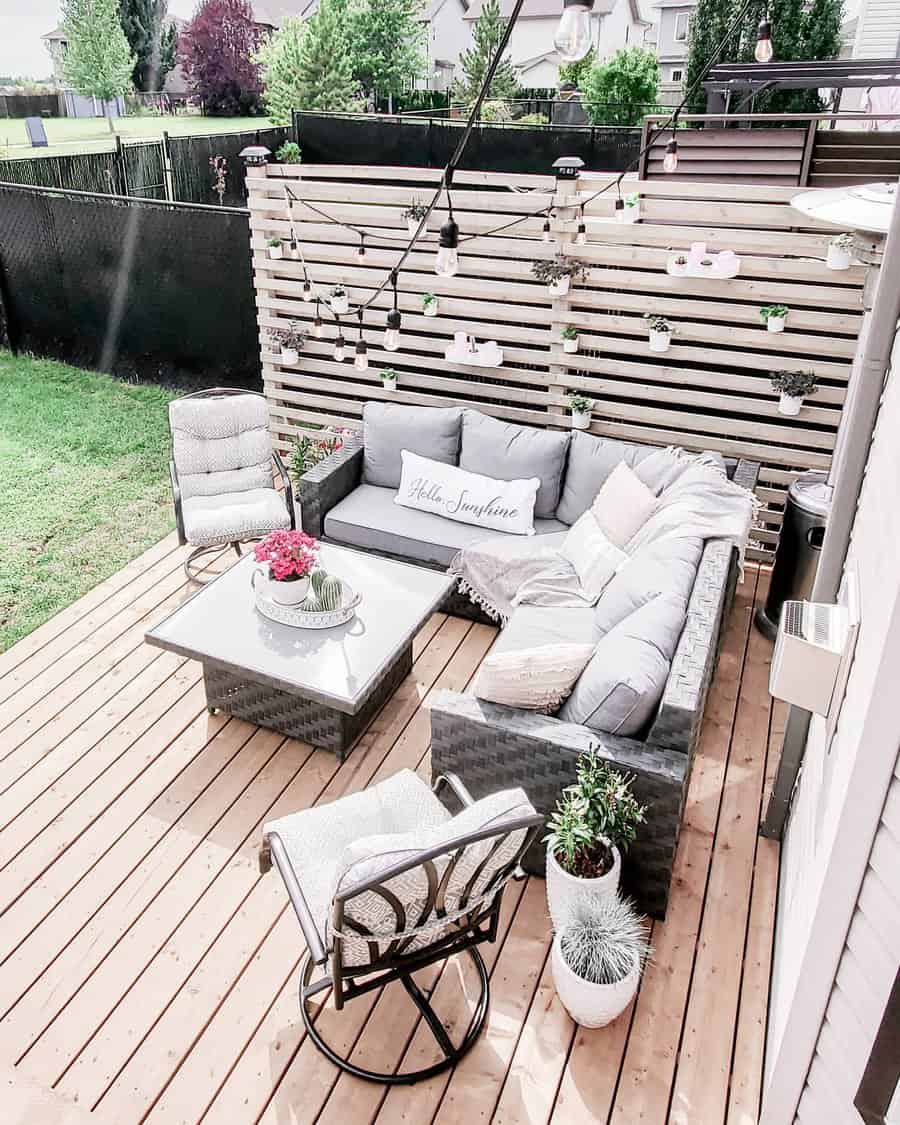 21. Add Lights To Your Backyard Bar
Imagine having a cozy area in your backyard illuminated with string lights hung up on poles. What would make this spot even more relaxing and enjoyable is a wet bar stocked with drinks, snacks, and ice to keep it refreshed throughout the season.
Consider string lights hung on poles around your backyard or wet bar for a chic yet subtle illumination that complements both rustic and modern decor. For an extra hint of uniqueness, hang strands of outdoor-friendly paper lanterns from those same poles or inside along your wet bar archway or porch.
With just a few well-placed lights, you can transform your backyard into an oasis of fun!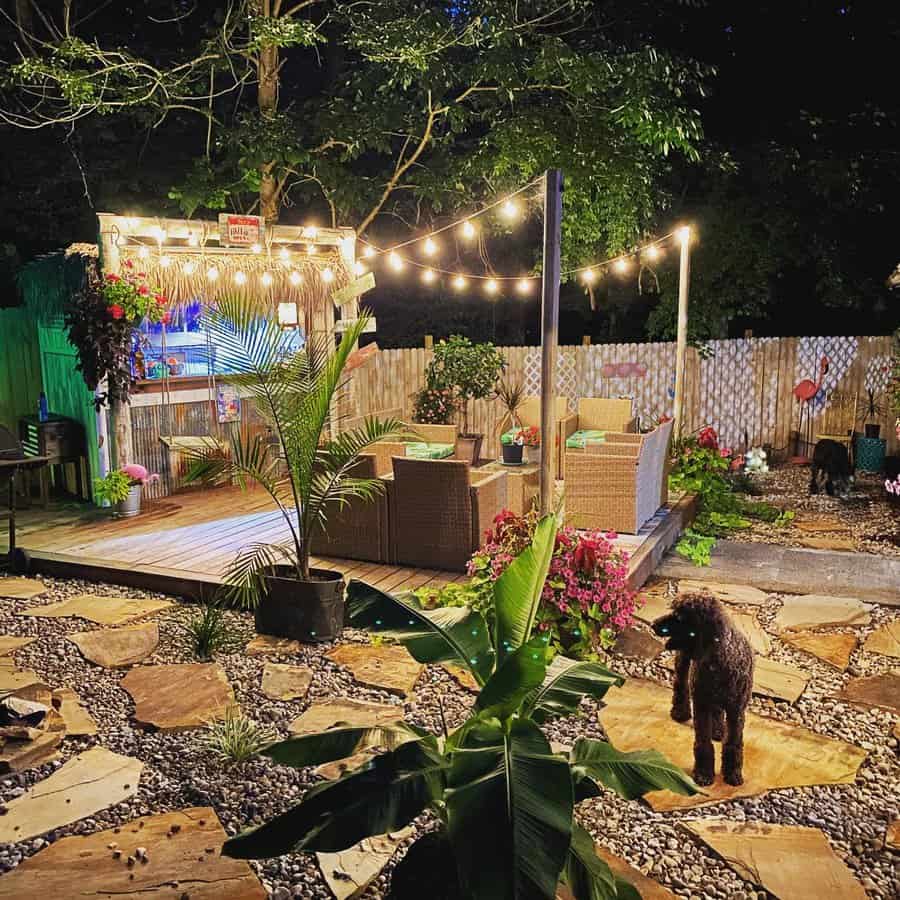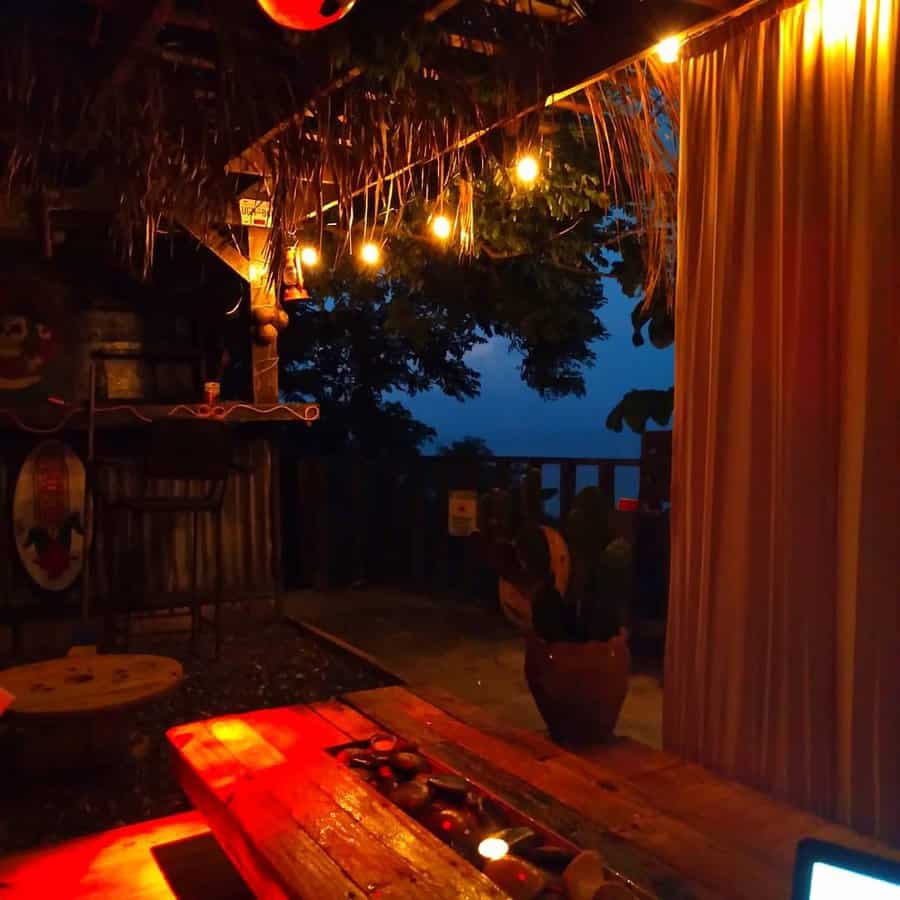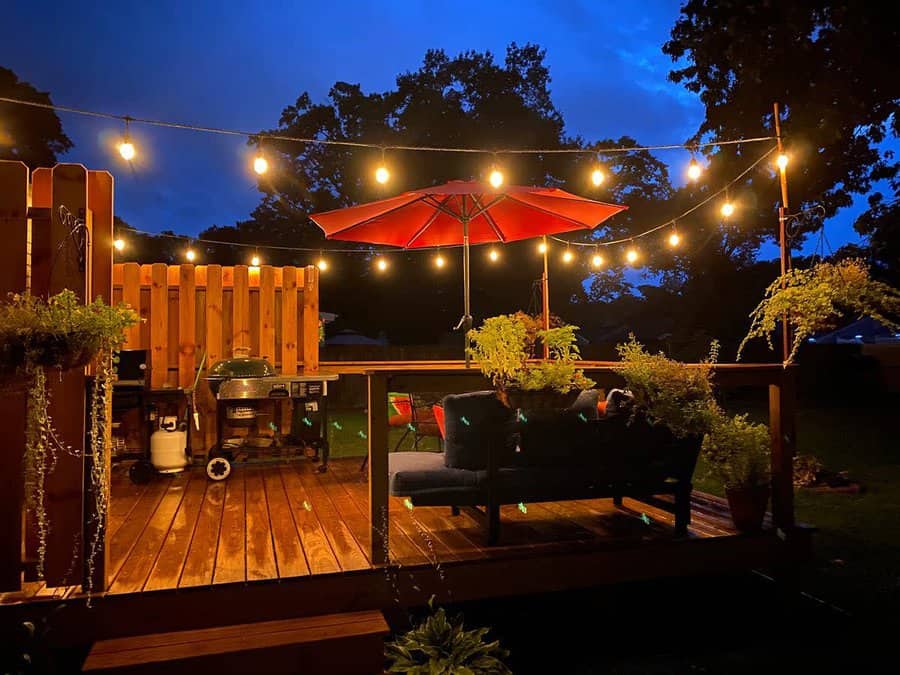 22. Assemble Lights To Your Covered Walkway
Installing string lights on a covered walkway is one of the best ways to use outdoor lighting to its full potential! Not only does stringing lights up create an inviting and dreamy atmosphere, but having them come from above also means that more of the area will be illuminated.
By stringing the lights off a covered walkway, you can make the space seem even more enchanting while making sure everyone below has plenty of light – perfect for late-night strolls in your outdoor oasis.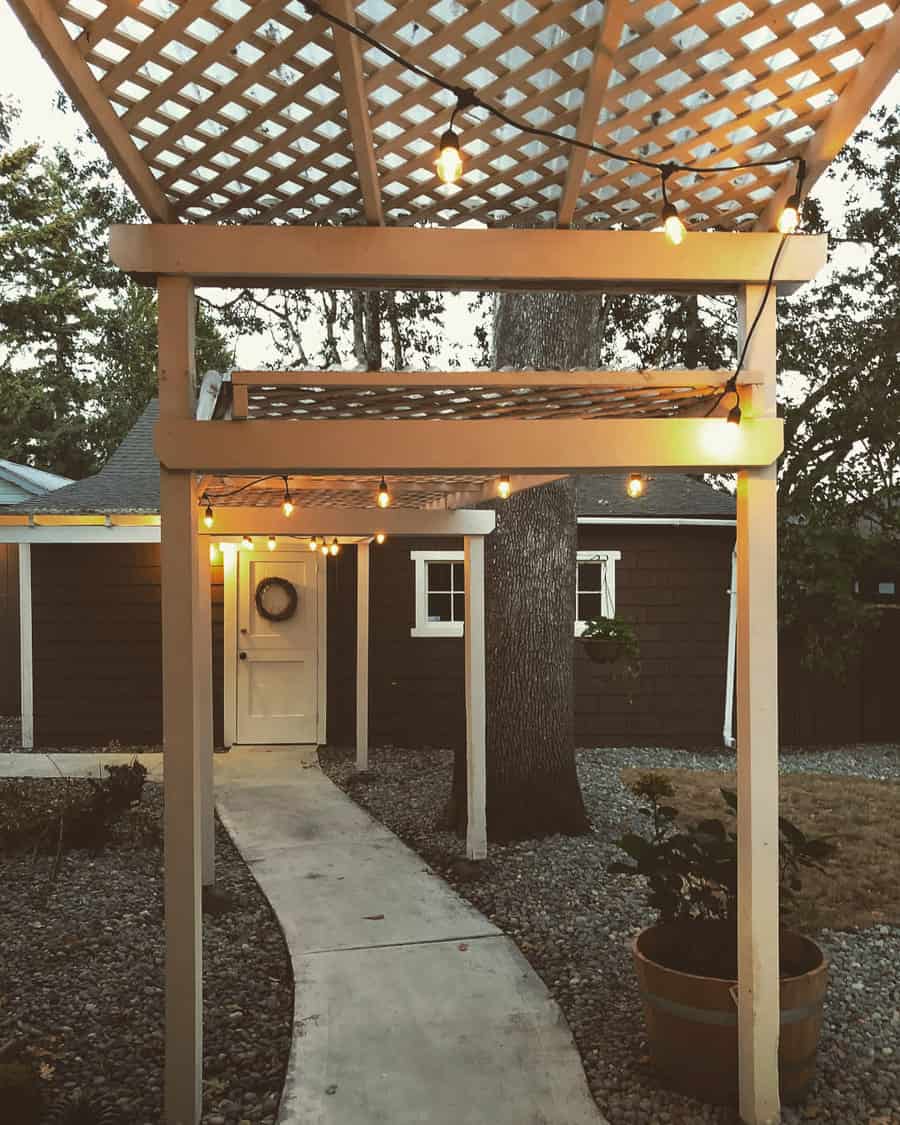 FAQs
How can I light my backyard without electricity?
If you want to place lights somewhere that doesn't have electricity, you'll need to use lights powered by solar or battery power. These alternative power solutions mean you can install them anywhere on your property. If you have fireproof housings, you could place candles around your property. However, you'll want to monitor the flame and keep the candles away from anything flammable.
Where should outdoor lights be placed?
Place your outdoor lights in locations you will occupy at night. Illuminate dark areas of your yard and areas where you'll walk to make moving about safer. Typically, this would be at the entry points to your home, a deck, patio, and walkways.
Do solar lights need direct sunlight?
Technically, solar lights do not need direct sunlight to work. However, solar lights will vary in strength based on the amount of recharge they get. A more extended exposure period to direct sunlight will charge the internal battery more, helping the light be brighter and shine for longer.