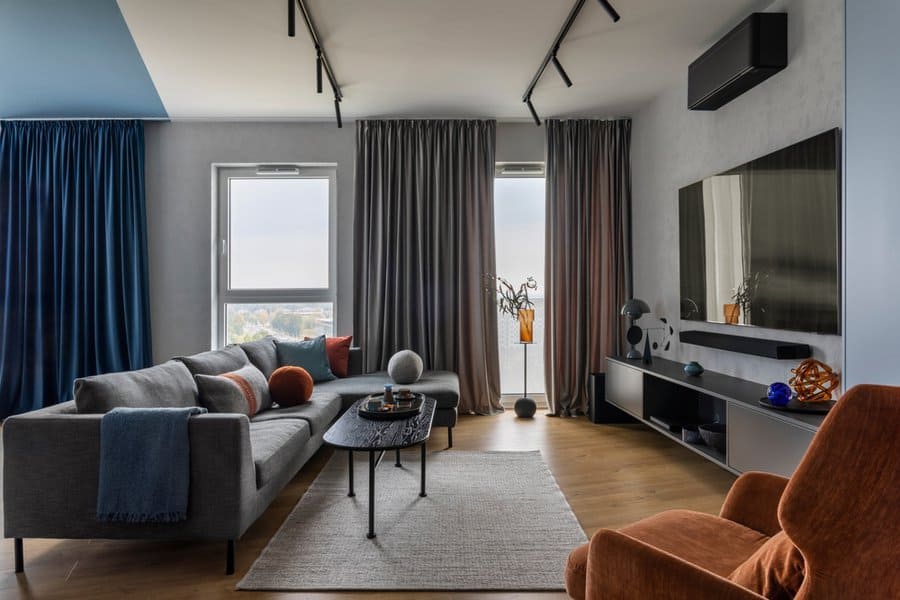 How to Choose Curtains for the Living Room
Choosing the right curtains for your living room can be a daunting task with the plethora of options available in terms of colors, fabrics, designs, and styles. However, the right set of curtains can instantly elevate the aesthetic appeal of your space and tie together all elements of your interior design.
In this article, we will guide you through the process of selecting the perfect curtains for your living room. We'll help you understand how to balance functionality with style, ensuring that your curtains not only complement your décor but also meet your practical needs for light control and privacy. Let's transform your living space, one curtain at a time!
1. Consider Room Functionality
When it comes to choosing curtains for your living room, considering the functionality of the room plays a pivotal role in your decision-making process. This requires understanding how your living room is used on a day-to-day basis.
For example, if your living room is a high-traffic area—constantly bustling with activity, with kids or pets regularly on the move—you'll need to opt for curtains made from durable and washable fabrics. These could include materials such as cotton, linen or synthetic blends. The reason being, these fabrics can withstand regular use without showing signs of wear and tear too quickly. Additionally, they can be easily cleaned either at home or through professional cleaning services, which is a must if your curtains are likely to get dirty frequently.
On the other hand, if your living room is more of a formal, low-traffic area used primarily for entertaining guests or special occasions, you might choose more delicate or luxurious fabrics like silk or velvet to add a touch of elegance and sophistication.
Remember, the functionality of the room is as important as the aesthetic appeal when choosing curtains. The right balance of the two will ensure your curtains not only look good but also last longer, providing value for your investment.
2. Light and Privacy
The degree of privacy and light control you need in your living room is a significant factor when choosing your curtains. If your living room is exposed to a lot of outside attention, perhaps facing a busy street or neighboring buildings, it's important to consider curtains that offer a high degree of privacy. This is where thicker fabrics, or even specialized blackout curtains, come into play.
Thicker materials such as velvet, suede, or heavy cotton can obstruct prying eyes from the outside, providing your living room with the privacy you desire. However, it's not just about blocking visibility. These fabrics also play a major role in controlling the amount of light that enters the room.
For instance, if your living room gets a lot of natural light, you might need to manage its intensity, especially if it causes glare on screens or fades your furniture. Thicker curtains, or blackout curtains, which are often lined with a light-blocking layer, can effectively dim the light, creating a cozy, subdued atmosphere. They can also offer insulation, reducing outside noise and helping maintain room temperature.
On the other hand, if your living room is a bit dark and could benefit from as much natural light as it can get, you may opt for lighter, sheer fabrics.
3. Fabric Choice
The way a curtain drapes or falls is directly related to the fabric from which it's made. Heavier fabrics like velvet or heavy cotton tend to have a pronounced drape, creating a traditional, elegant look. They hang straight and are less likely to flutter with a breeze, which can provide a sense of stability and grandeur.
Lighter fabrics such as linen, on the other hand, drape in a more casual and flowing manner, contributing to a relaxed and laid-back ambiance. They move more freely in the wind, which can create a lovely effect but might also provide less privacy or light blocking.
Silk and faux silk curtains sit somewhere in between, offering a sophisticated, yet softer look. While they drape beautifully, be aware that real silk may fade in direct sunlight and may require a lining or a UV window film for protection.
In terms of longevity, heavier fabrics like velvet or specially treated faux silk tend to resist wear and tear better, making them suitable for rooms where the curtains will be drawn frequently. Lighter fabrics can work well in a low-traffic area or when used purely for decoration.
4. Color Selection
When choosing curtain colors, one approach is to pick hues that harmonize with your existing furniture and décor. This creates a visually cohesive and soothing atmosphere. For instance, if your living room predominantly features cool, understated colors like blues, grays, or greens, you might choose curtains in similar or complementary shades to maintain this calming aesthetic.
On the other hand, you might decide to make your curtains a standout feature by selecting a color that contrasts with your current décor. A vibrant, contrasting hue can serve as a striking focal point that draws the eye and adds an exciting pop of color. For example, ruby red curtains could offer a visually appealing contrast in a room with a primarily white and beige palette.
However, while color is an important element of your choice, you should also be aware of practical considerations. Bright colors can fade over time, particularly if your living room receives a lot of sunlight. This doesn't mean you should avoid bright colors altogether, but you might need to consider UV-protective window films or linings, or be prepared to replace your curtains more frequently.
Remember, the choice of curtain color can set the mood and character of your living room. Whether you opt for a color that blends in or stands out, ensure it aligns with your personal style and the aesthetic you're aiming to create.
Read also: What Color Curtains go With Grey Walls?
5. Pattern and Prints
The choice of pattern or print on your curtains can significantly influence the overall aesthetic of your living room, either by harmonizing with existing design elements or adding a new dimension of visual interest.
In a living room that's already visually busy—with a variety of colors, patterns, and textures in the furnishings, carpeting, and artwork—solid curtains can provide a restful counterpoint. They offer a visual "break" and help prevent the room from feeling overwhelming or chaotic. For instance, if your living room features a patterned sofa, intricate rug, and colorful artwork, a set of solid-colored curtains can help balance out these busy elements, providing a calming influence and tying the room together.
Conversely, if your living room's décor is relatively simple or monochromatic—with minimalist furniture and understated colors—a patterned or printed curtain can add an exciting element of visual interest. Bold stripes, playful polka dots, or an elegant floral or damask print can liven up the space, inject personality, and serve as a focal point.
While choosing patterns, consider the size of the room and its fixtures. Larger patterns may work better in a spacious living room, while smaller, more intricate designs may be a better fit for a smaller room.
Ultimately, whether you choose solid, patterned, or printed curtains, aim for a design that not only complements your living room but also reflects your personal style and the atmosphere you wish to create.
6. Size and Measurement
Before you buy curtains, it's crucial to take accurate measurements of your windows. Measure the width of your window including any extra space you'd like the curtains to cover. For a fuller look, the total width of your curtains should be 2 to 2.5 times the width of the window.
The length of the curtains is equally important. Traditionally, curtains are hung about 6 inches above the window frame or even higher to create an illusion of a taller window. The length of the curtain should ideally extend from the rod down to just above the floor. This standard length gives the room a polished, elegant look.
However, trends do change, and you might prefer a different look. For instance, if you desire a more dramatic and luxurious feel, you could opt for 'puddling.' In this style, curtains are extra long and pool or "puddle" on the floor, which works best with heavier fabrics like velvet.
On the other hand, if you have radiators under the windows or the windows open inwards, you might prefer sill length or below-sill length curtains. These stop either at the windowsill or a few inches below it.
Read also: Should Curtains Touch the Floor?
7. Hardware Essentials
While often overlooked, the hardware elements of your window treatments, namely the curtain rods and holders (or finials), play a critical role in enhancing the overall look and feel of your living room.
Curtain rods are not just functional elements that hold your curtains in place; they can also be a significant aspect of your room's décor. Consider the material and finish of your curtain rods. Brass, bronze, or matte black rods can add a touch of sophistication, while a wooden rod might lend a more rustic or traditional feel.
Similarly, curtain holders, also known as tiebacks or holdbacks, are another aspect of the hardware that can contribute to your room's aesthetic. They are especially important if you plan to draw your curtains back during the day. The holders should match or complement the style of the rod and the curtain fabric. They can be simple hooks or elaborate tassels, depending on your style preference.
Finials, the decorative ends on your curtain rods, can also add a touch of elegance and complete the look. Choose a style that matches the rest of your room's décor. If your living room has a modern minimalist style, consider sleek, simple finials. For a more classic or luxurious look, you might choose ornate, sculpted designs.
8. Seasonal Change
Changing your curtains with the seasons can help to refresh your living room's look and enhance its comfort throughout the year.
During colder months, consider switching to heavier materials like velvet, suede, or tweed. These fabrics provide excellent insulation, helping to keep the chill out and warmth in, making your living room feel cozy and inviting. Darker colors or rich, warm tones can also contribute to this comforting atmosphere, adding depth and warmth to the room's aesthetics.
As the weather warms up, replace the heavy curtains with lighter ones. Fabrics like cotton, linen, or sheer materials are more suitable for warmer months. They allow more natural light to filter through and promote better airflow, creating a bright, airy, and relaxed setting in your living room. Lighter colors or cool, refreshing shades can further enhance this summery feel.
Changing your curtains seasonally doesn't only affect the room's temperature; it can also refresh the space visually. It's an easy and effective way to update your living room's look, keeping it in harmony with the changing seasons outside your window.
9. Personal Style
While functional considerations and design principles are important when choosing curtains, the most crucial factor should always be your personal style. After all, your living room is a space where you spend a significant amount of time, and it should reflect your tastes, preferences, and personality.
Whether you're drawn to minimalist aesthetics with clean lines and neutral colors, love the glamour of bold patterns and lush fabrics, or find comfort in a rustic style with earthy tones and natural textures, your curtains should align with your unique style. They should be a testament to your personality, transforming your living room into a space that feels truly 'you.'
Don't hesitate to experiment until you find a combination of color, pattern, fabric, and style that speaks to you. If a certain set of curtains makes you feel comfortable and happy in your living space, they're likely the right choice.