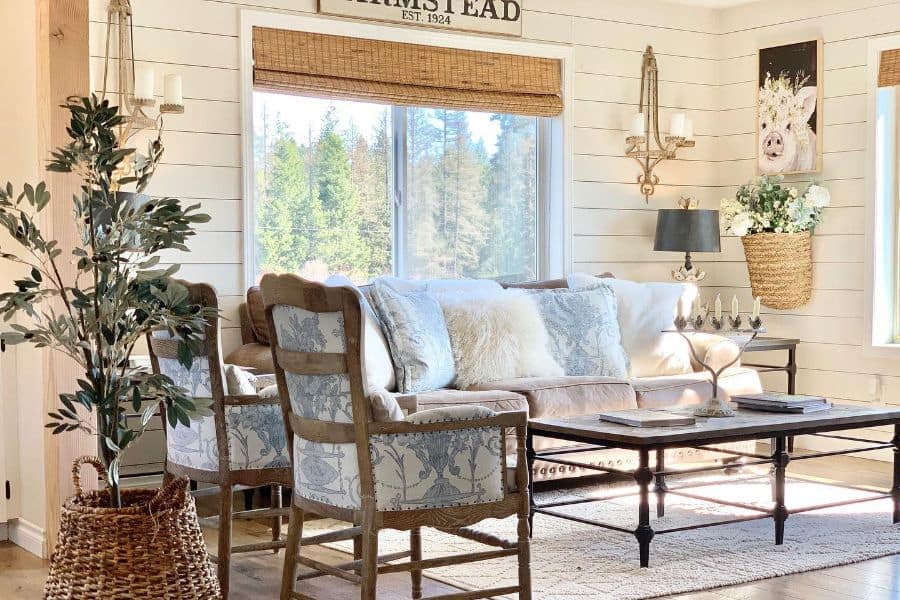 39 Warm and Cozy Country Living Room Ideas
"Country roads, take me home, to the place I belong." – John Denver
The word "country" has long signified a place that's comfortable, unpretentious, and home-like. Like the rolling hills and blue skies of the countryside, country home decor draws us to a kinder, simpler existence.
Beneath the larger umbrella that is country style, several specific decor flavors exist. Coastal, cottage, and farmhouse are American standards, while French, Tuscan, and Scandinavian styles introduce European flair. You'll be amazed by the variety of cozy living room concepts as you browse our collection of the best country living room ideas.
1. Coastal
Some of the coziest country homes are located near the beach. They embrace everything about the seaside aesthetic, with pale, calming colors and weathered wood surfaces. The coastal living room is meant to remind you of relaxing on vacation and is a great place to showcase collectibles from your travels.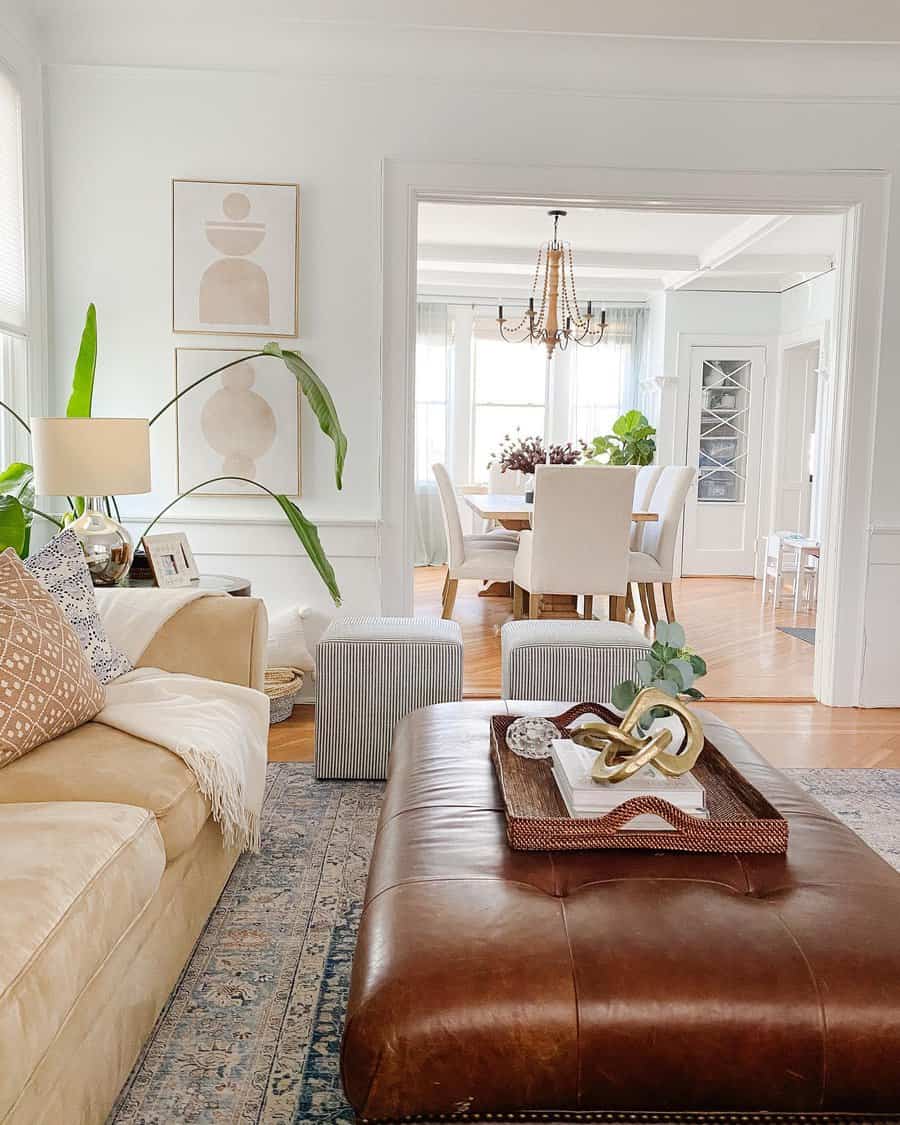 Various soft hues of blue are a must in a coastal country home as they bring the sea and sky indoors, but darker blues, greens, and browns are also welcome. A nubby jute rug adds a rope-like nautical element to your coastal country home. Substitute an old steamer trunk for a traditional coffee table to complete your nod toward all that's good about traveling.
Read more: 65 Coastal Decor Ideas
2. Cottage
Cottages were traditionally smaller houses built on large estates, comfortable little homes that received all the hand-me-downs from the main house. Decorating a comfy cottage is more about creating an aura of warmth and light than sticking to a certain design manual.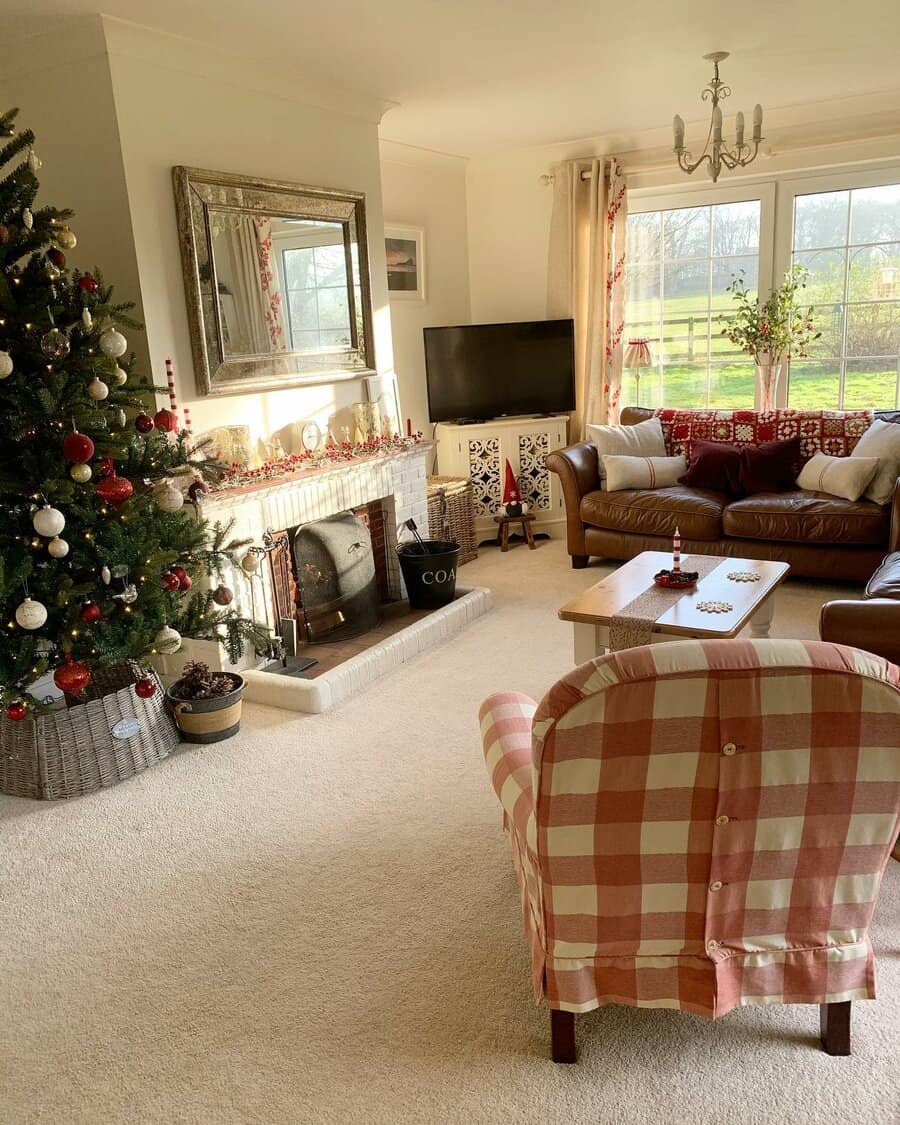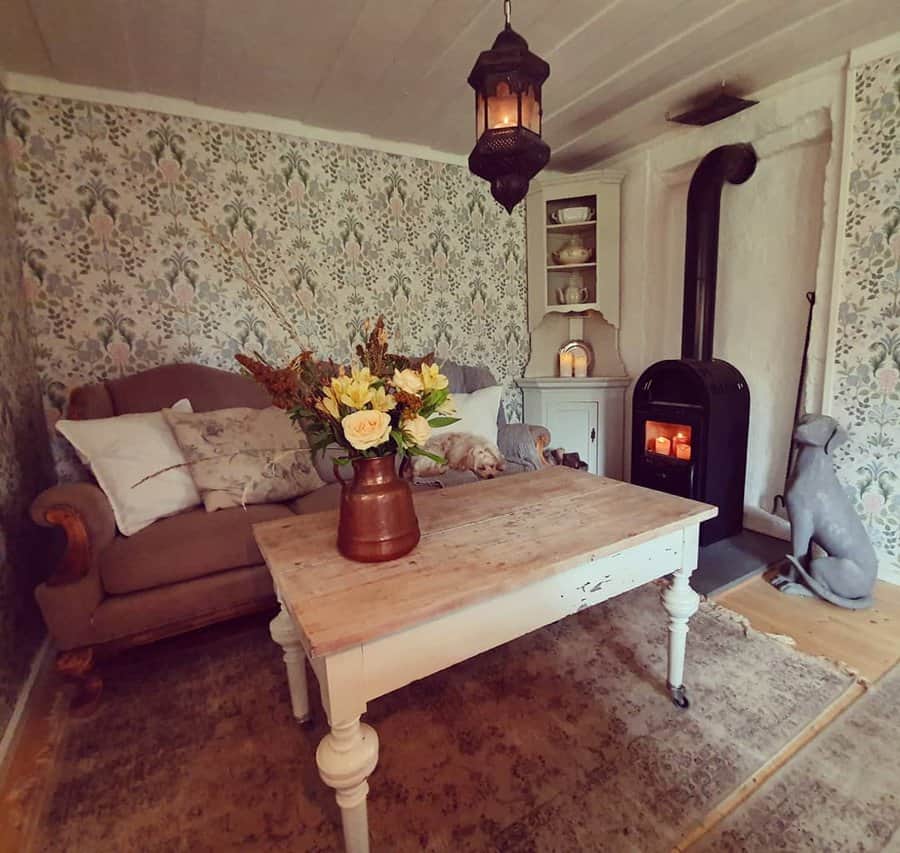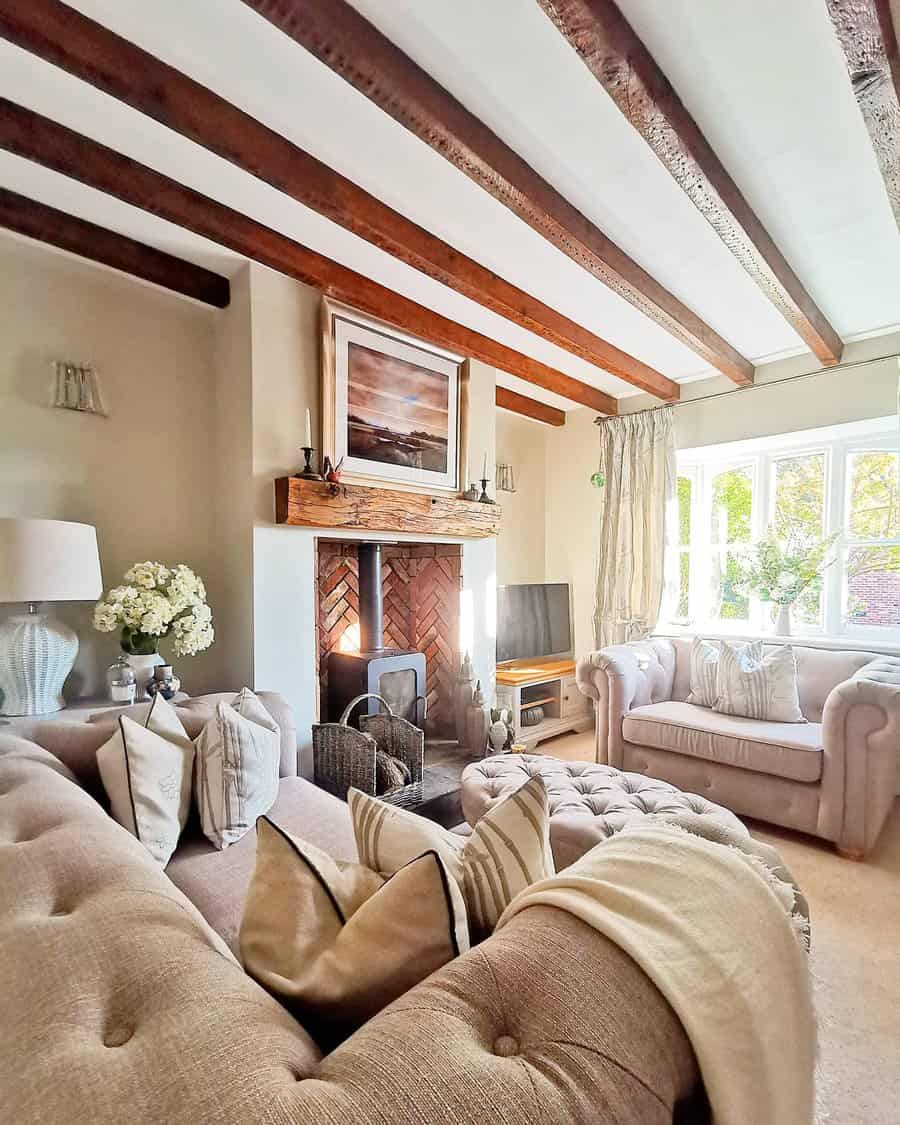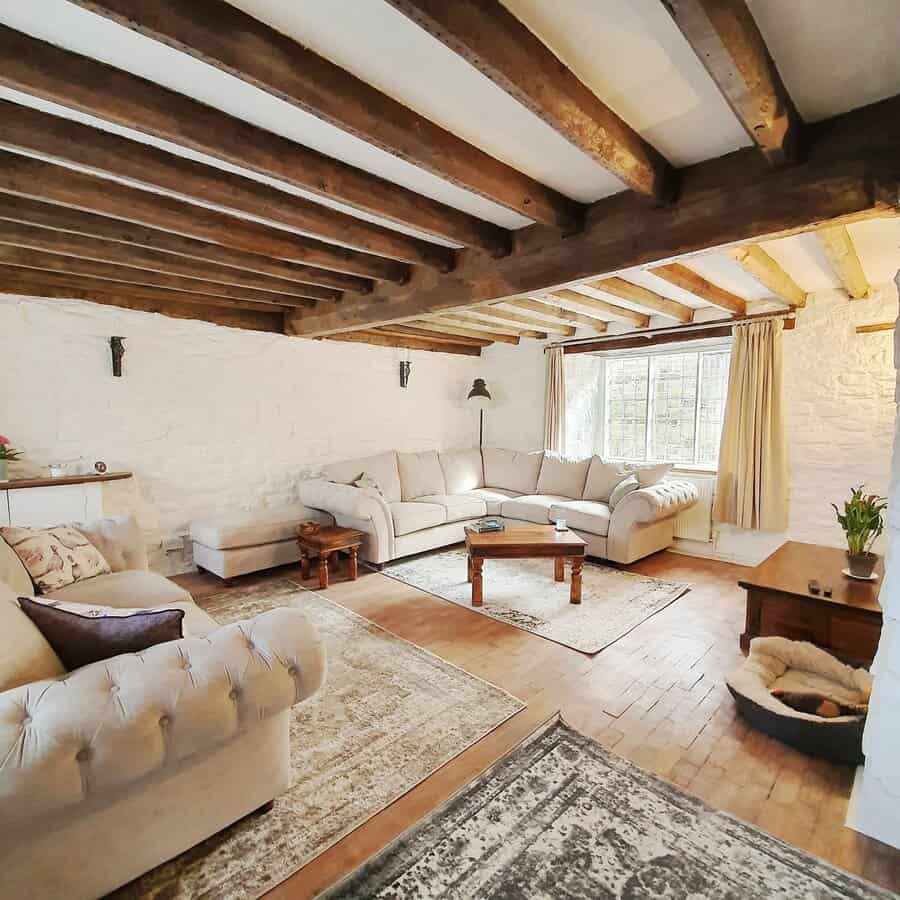 The beauty of cottage decor is that it reflects your personality and preferences. Pretension is unwelcome in a cottage inspired room. Because it is genuinely you, the people who love you automatically feel comfortable and welcome in this space.
A cottage-inspired country living room can include shabby chic decor. This casual, ultra-feminine style includes lace, stripes, and large floral prints in soft hues of pink, white, and cream. Beaded chandeliers and chippy paint finishes are also fitting in shabby cottage design.
3. Decor
Country decor used to mean lots of quilts, lace, and heavy wooden furniture pieces. Now it can include a diverse range of textiles and materials, but they must share certain common denominators. Country decor is generally considered the epitome of coziness paired with livability.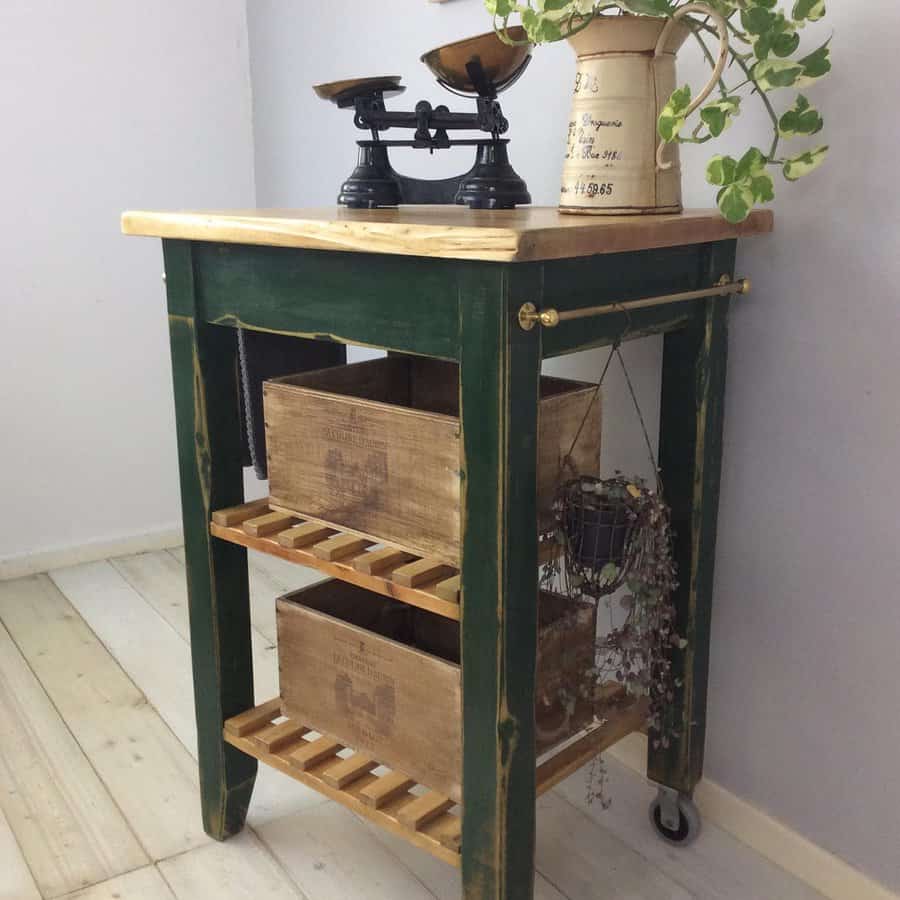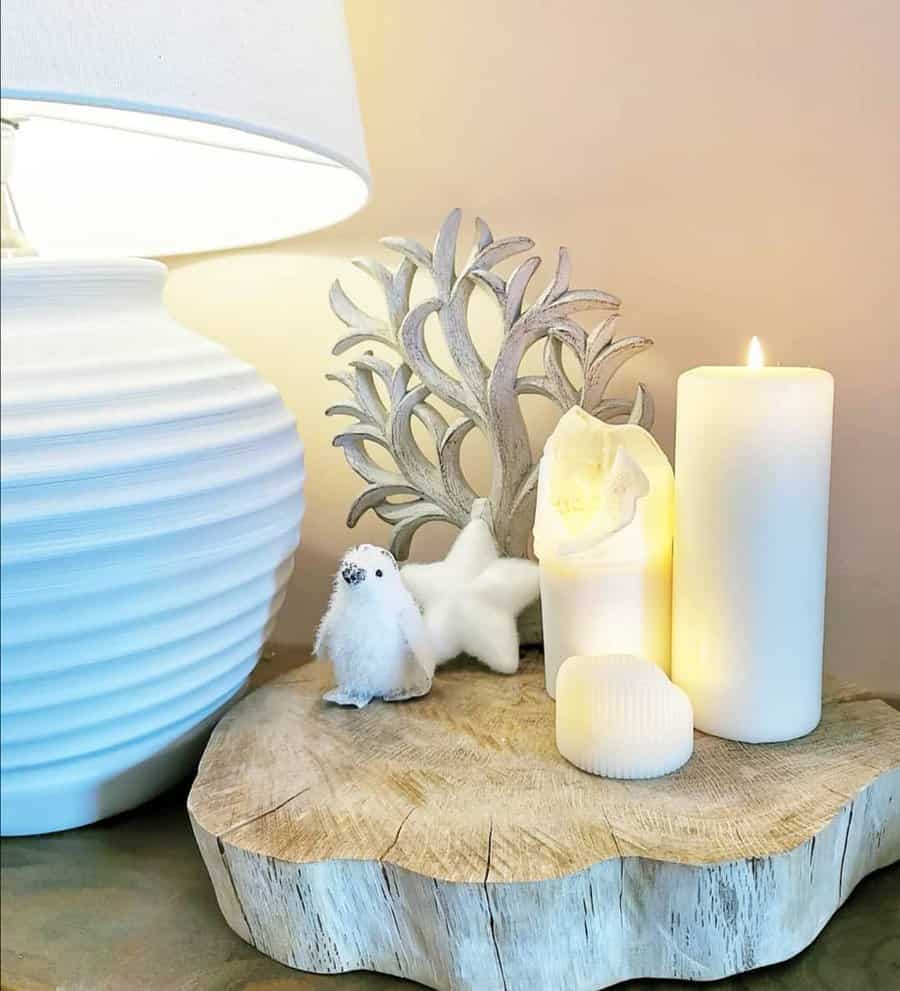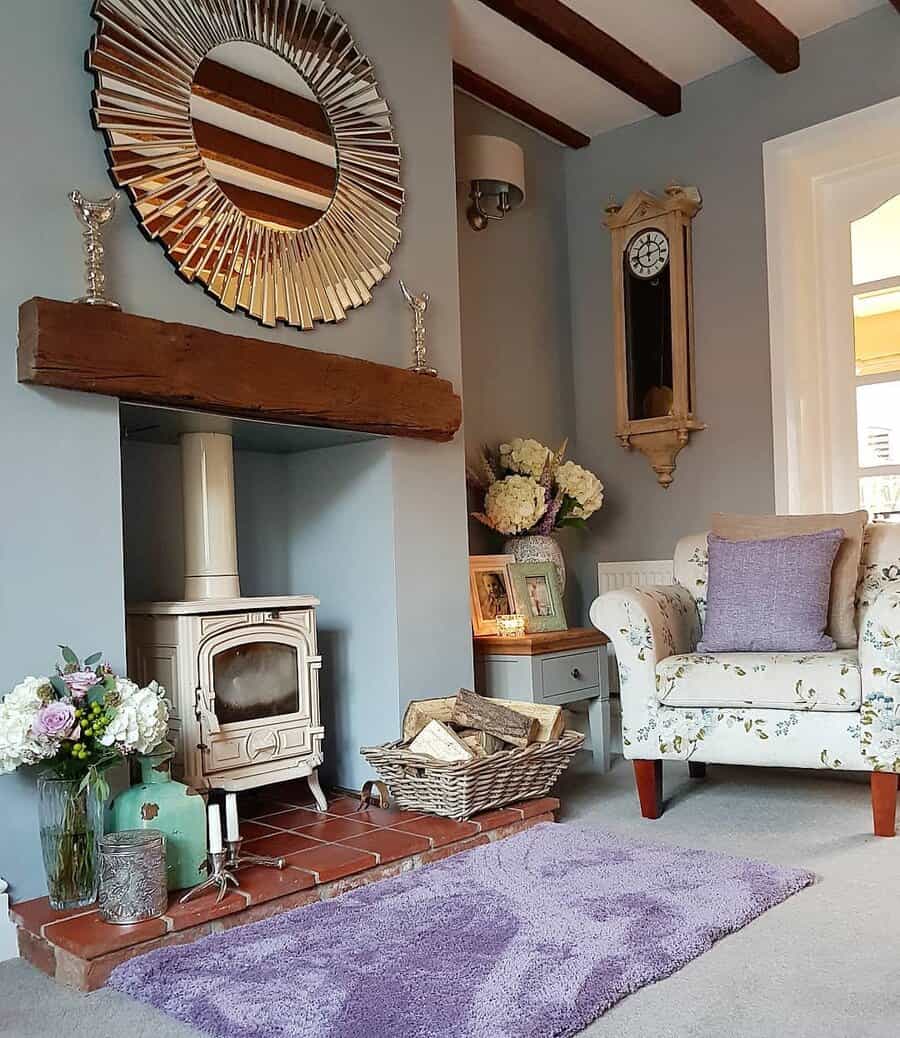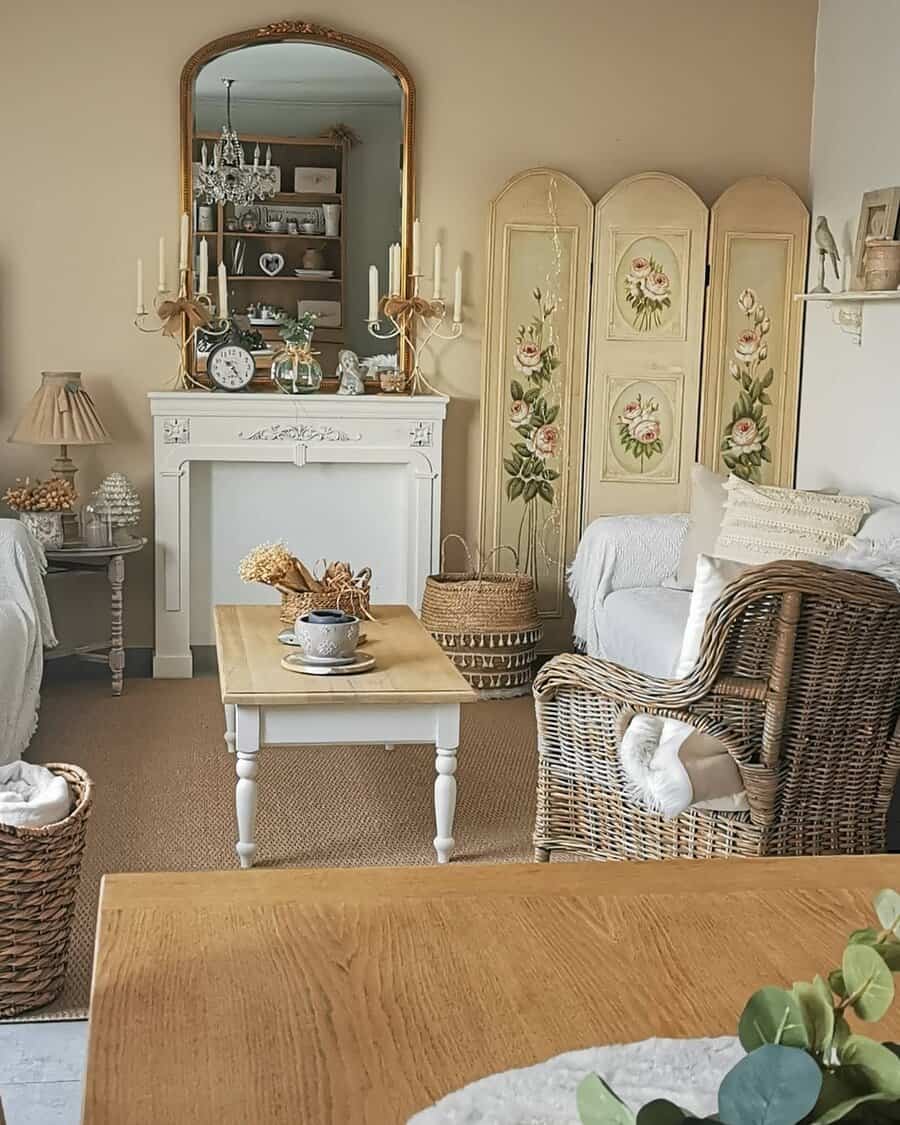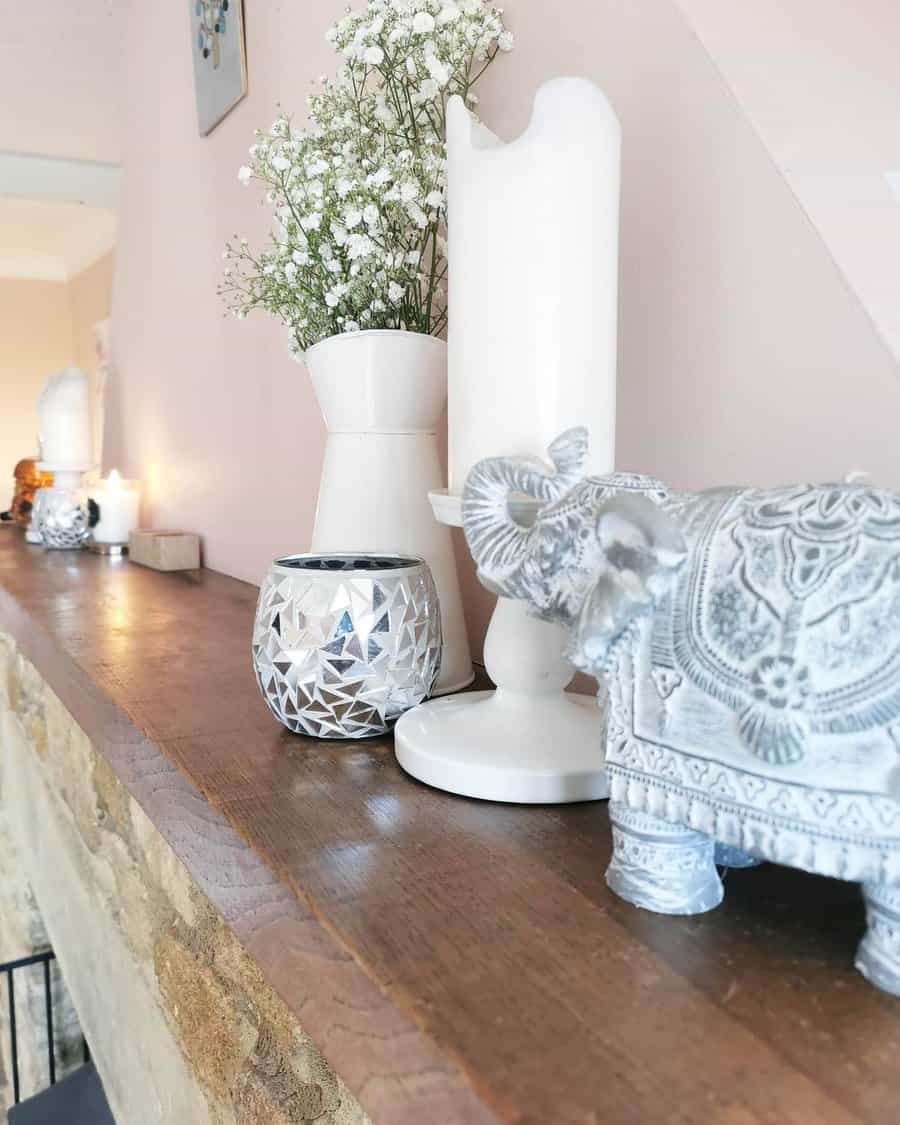 Fresh flowers, whimsical paintings, rustic metal light fixtures, and candle chandeliers are common country and farmhouse living room elements.
A large area rug often anchors the space and provides a soft place for bare feet to land. Persian rugs are classic country living room accents, but other types of rugs fit well into country style. Oversized checks, simple stripes, and colorful plaid rugs work well in country spaces.
4. English
An English inspired country living room has a warm, dark color palette and is a bit more formal than cottage style. Textiles include chintz, a colorful fabric with a shiny finish, often showcasing plaid or floral patterns. The sofa must include a generous throw pillow collection and a knitted wool afghan.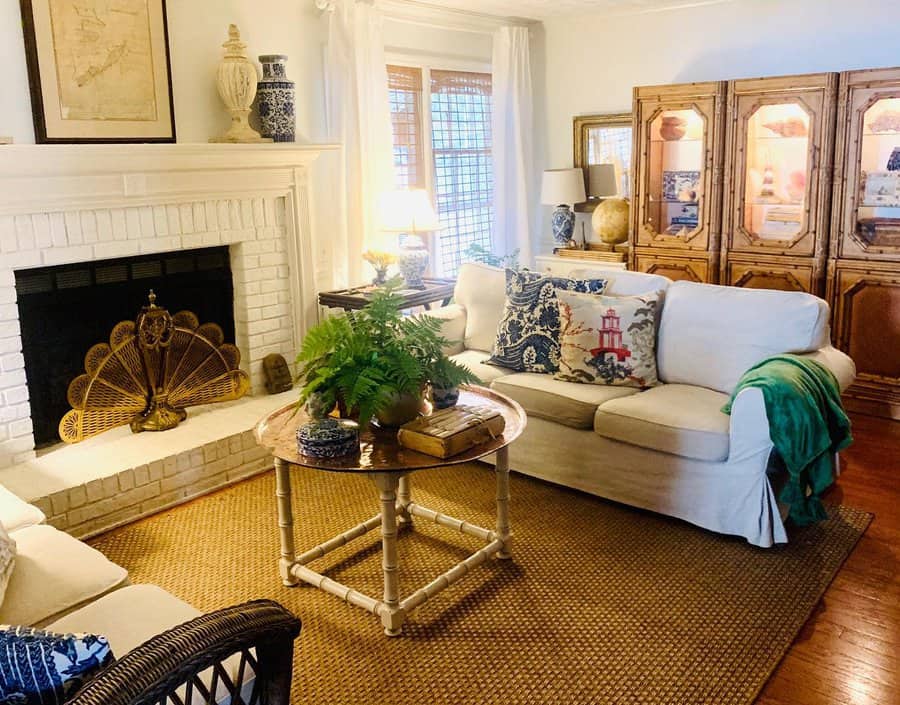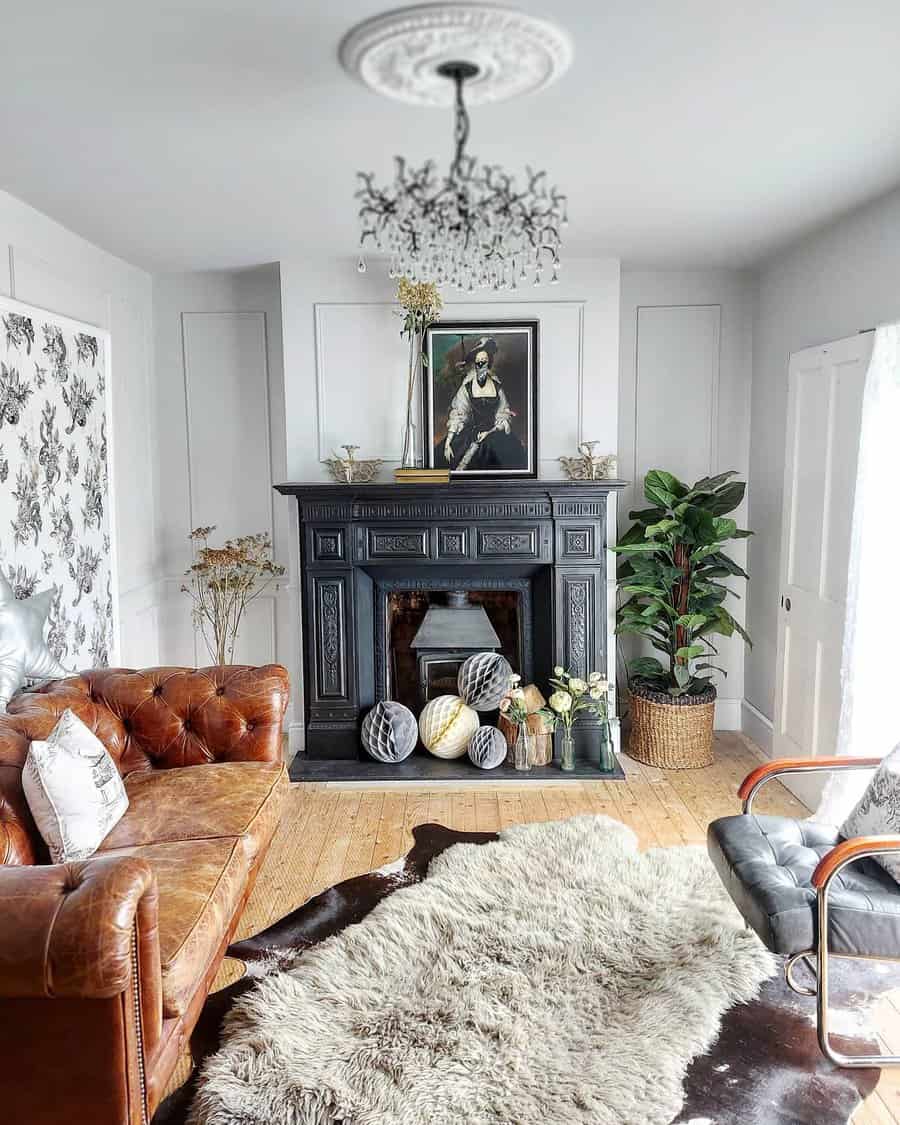 Plush wing chairs and wooden Windsor chairs exhibit classic English style. These chairs make great filler pieces in family room or dining room corners.
Don't forget to anchor the space with a generous area rug in deep, warm hues. An English living room is centered around a heat source, so if your home lacks a fireplace, consider installing a wood stove to achieve that by-the-fire ambiance.
5. Farmhouse
Farmhouse design combines traditional country elements with contemporary style. For example, open shelving, or floating shelves, are as great in farmhouse style as they are in more modern spaces. Vaulted ceilings with decorative beams are one of the more rustic hallmarks of farmhouse decor.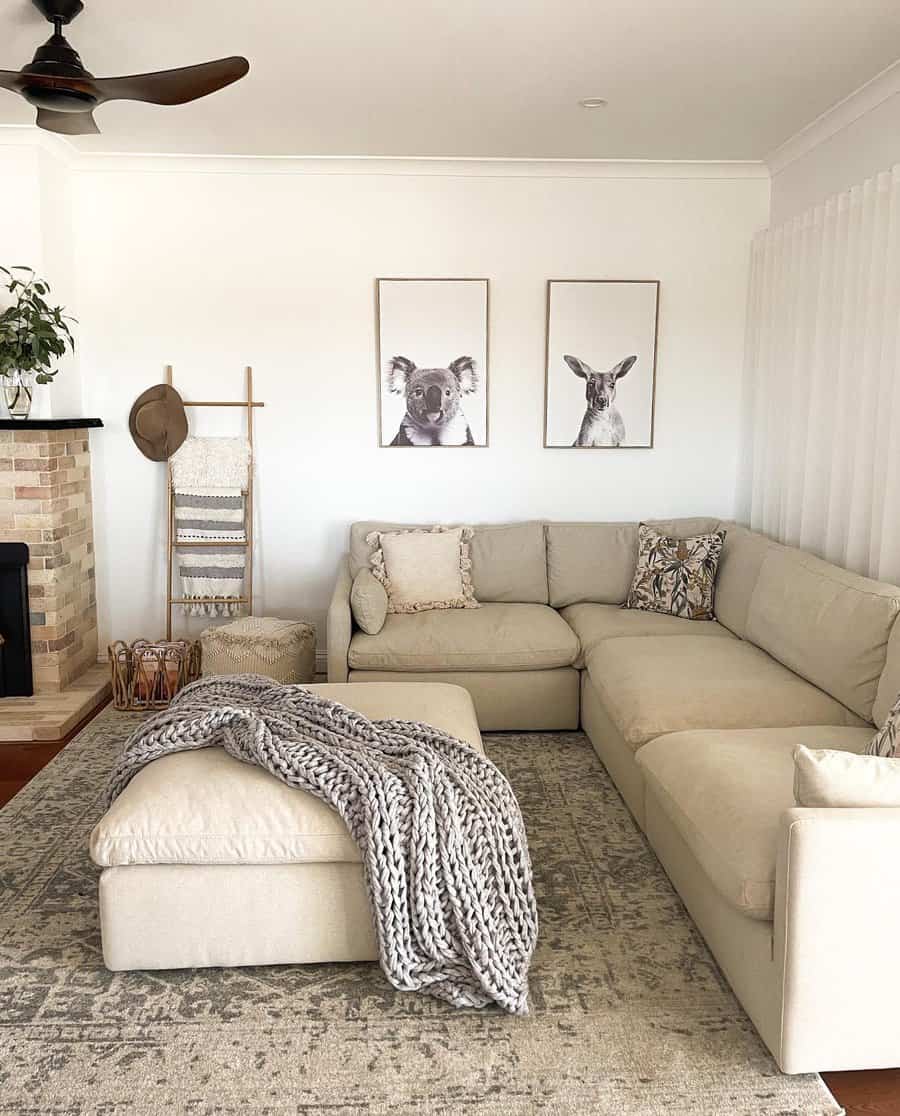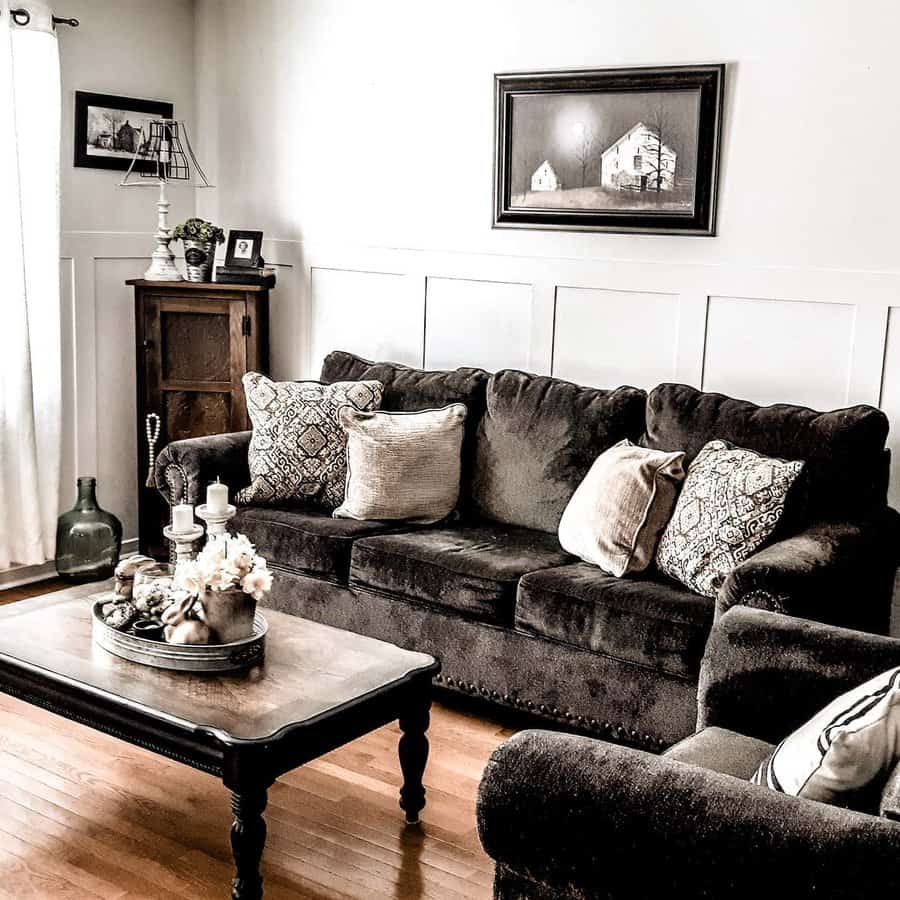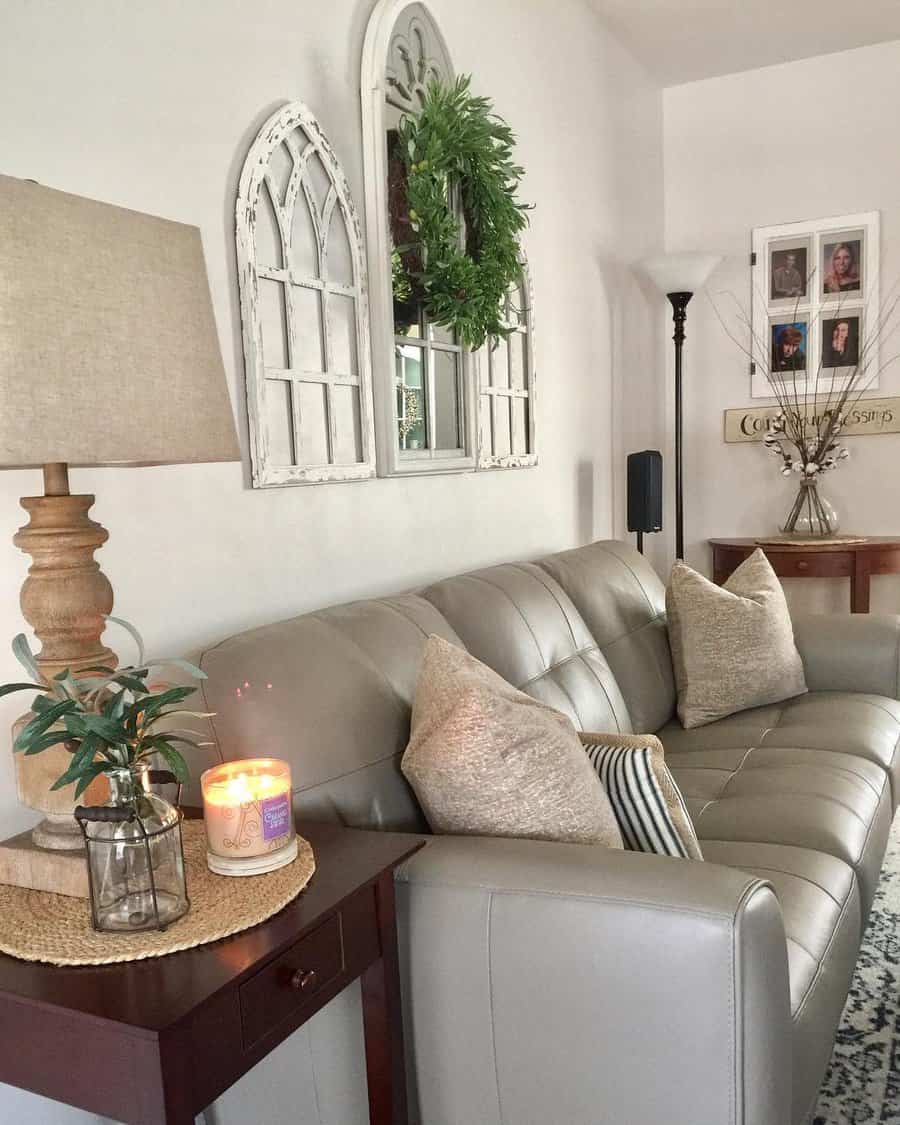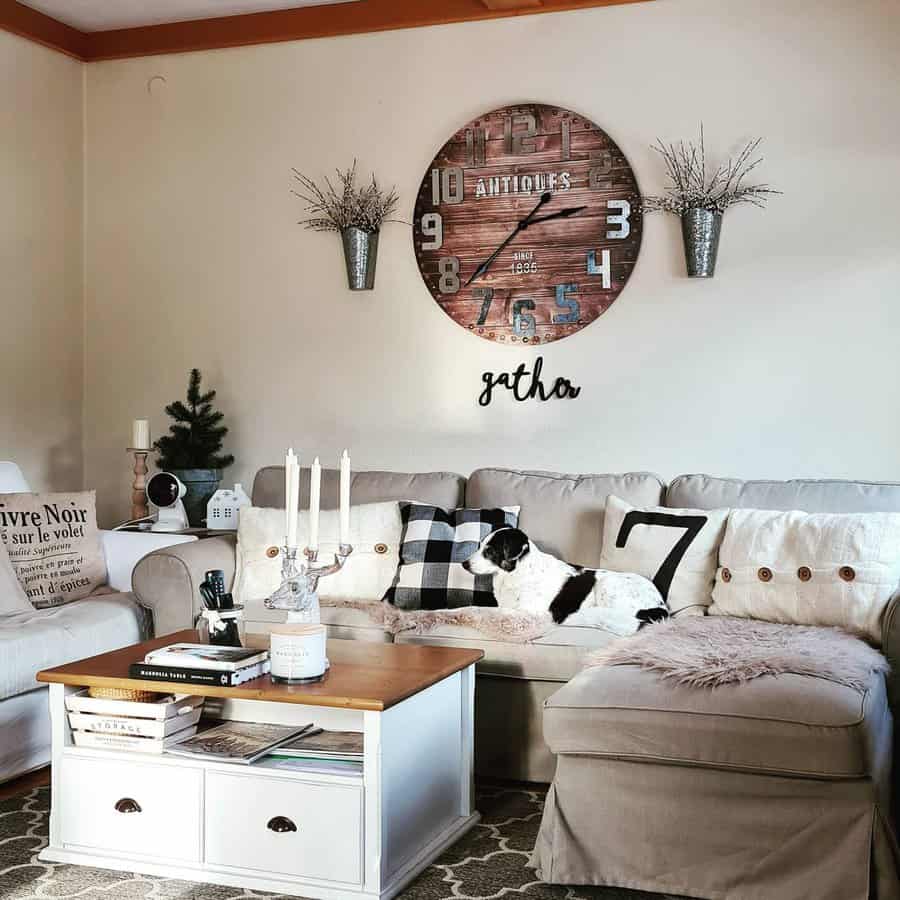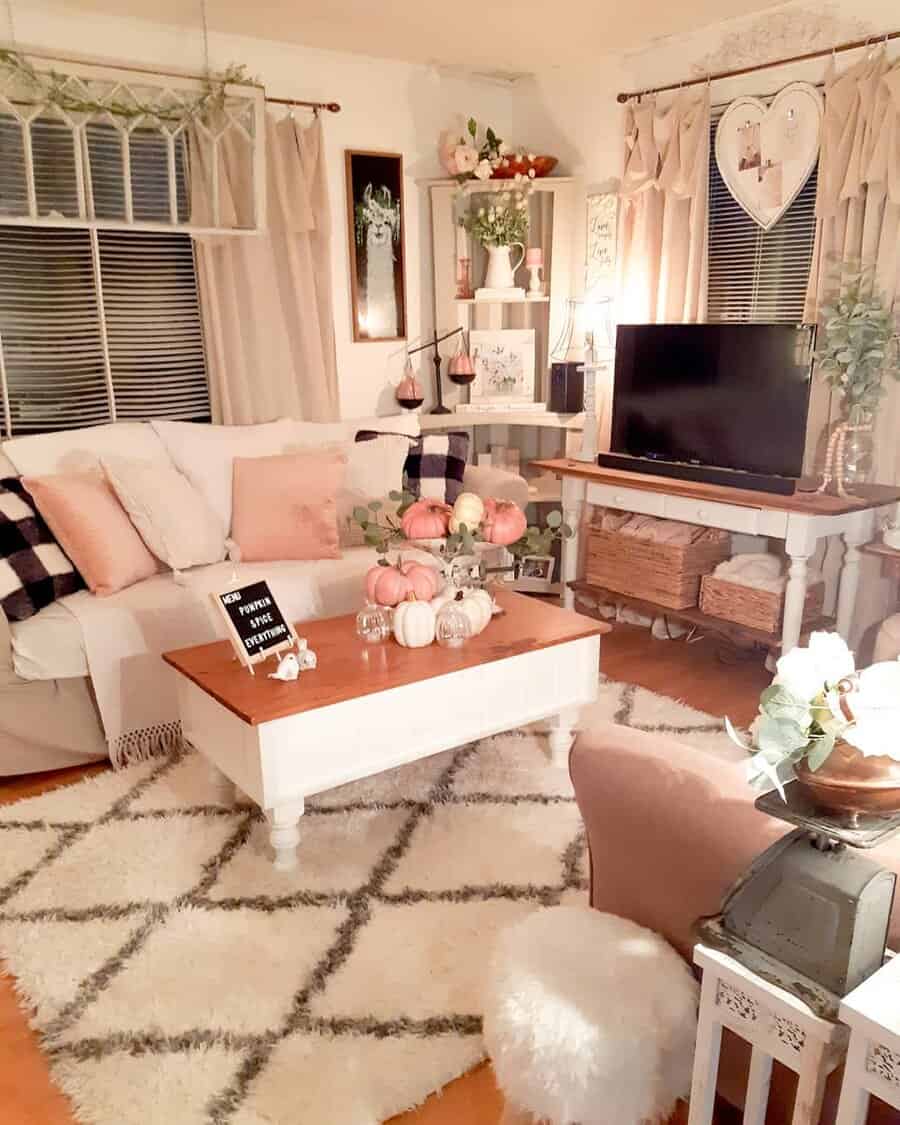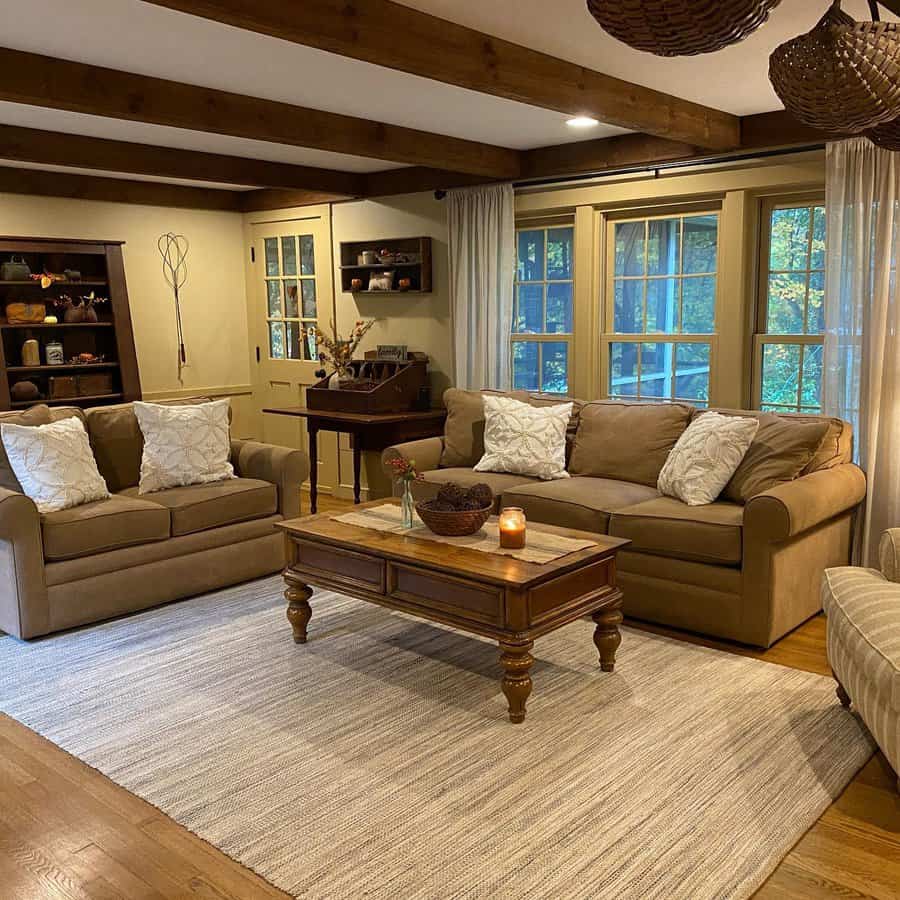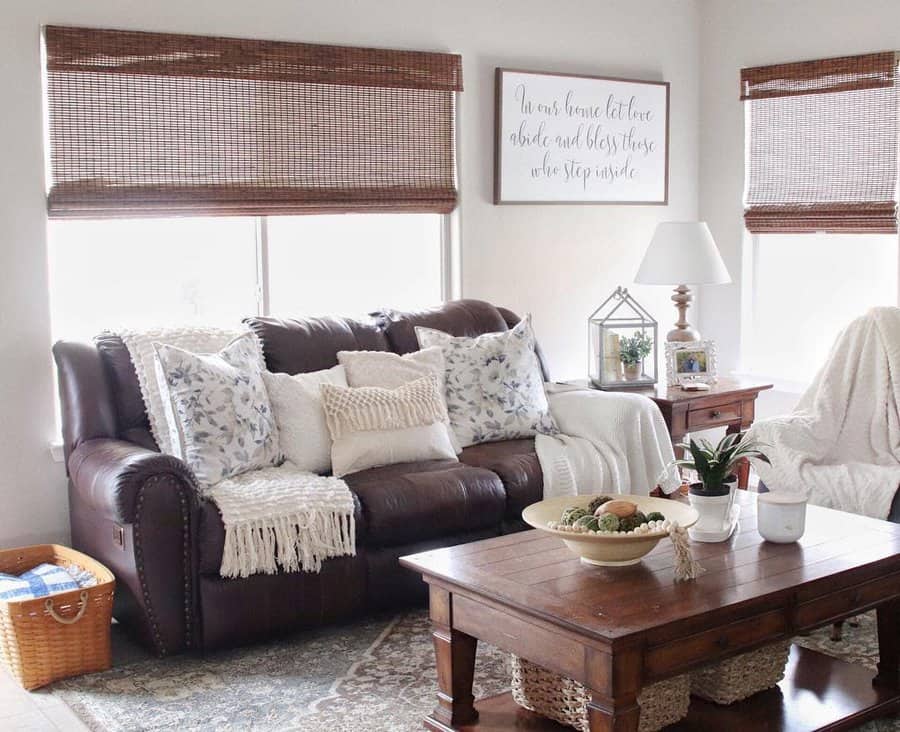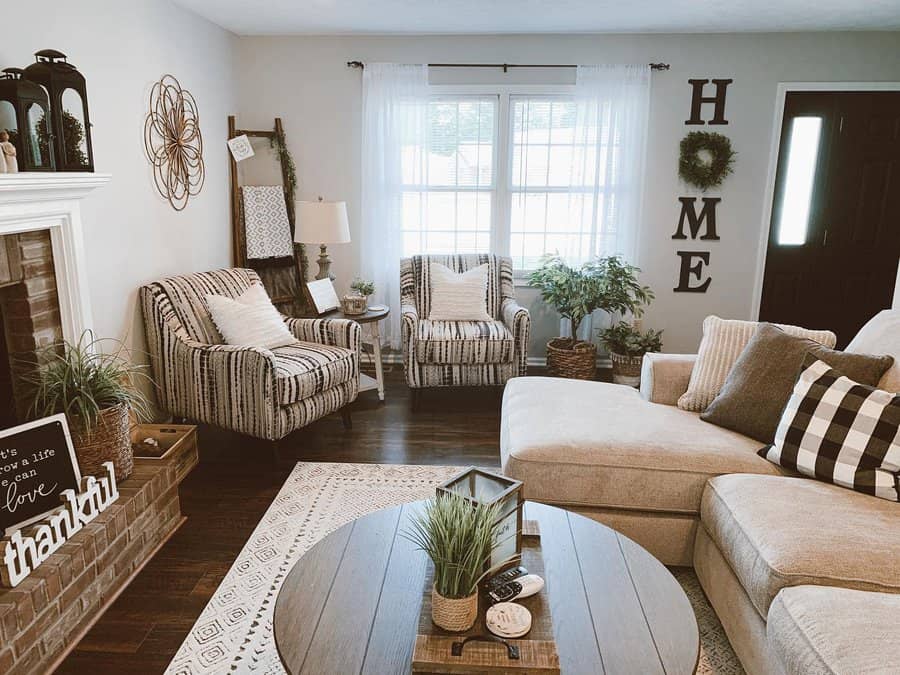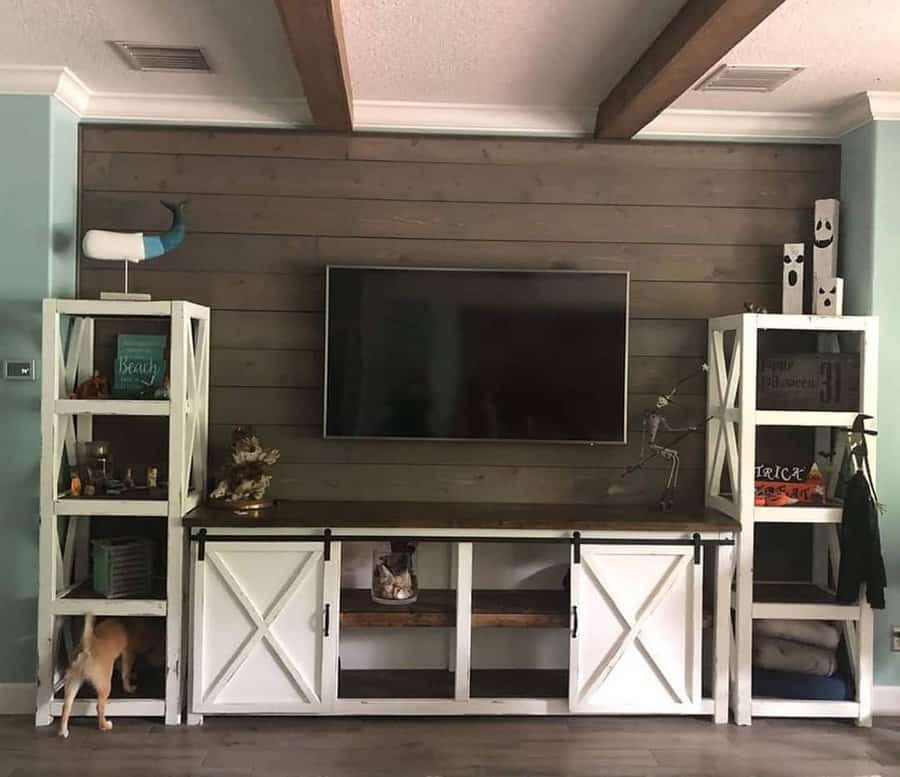 White walls and an open concept floor plan are common features in a farmhouse living room. Offset the white with plenty of natural wood surfaces.
Use plenty of black accents as well, such as throw pillows, wall art, and picture frames. Add baskets, metal light fixtures, and stone bowls to elevate the room's natural elements.
6. French
A French country living room melds the elegance of French style with more rustic comforts. Designed after homes in Provence and the rest of the French countryside, French country decor includes lots of botanical themes. These appear in French country design as toile fabric, artwork, wallpaper, and accessories.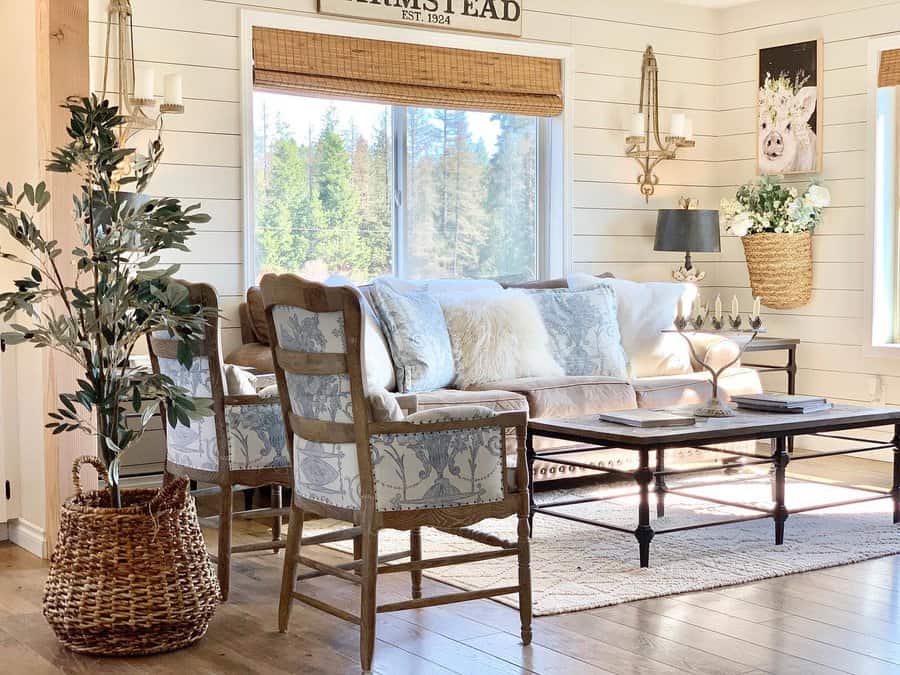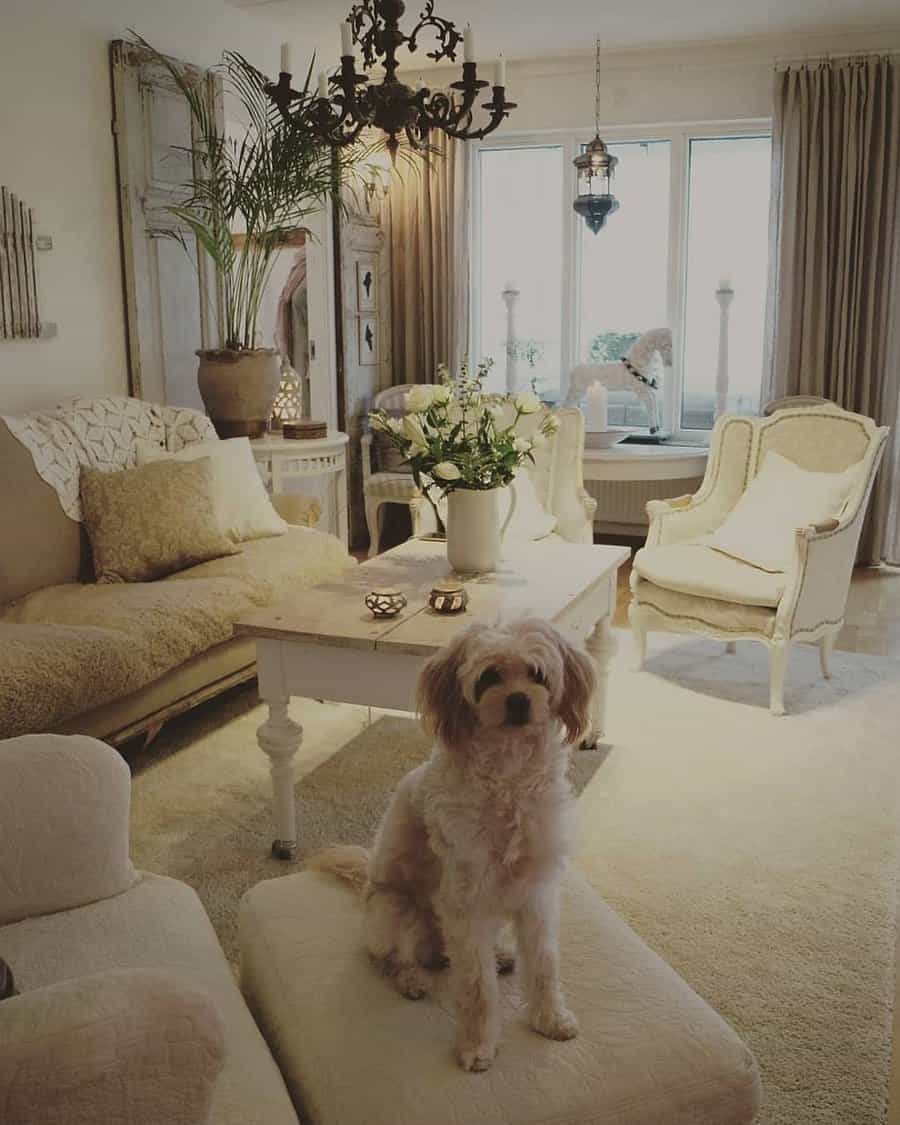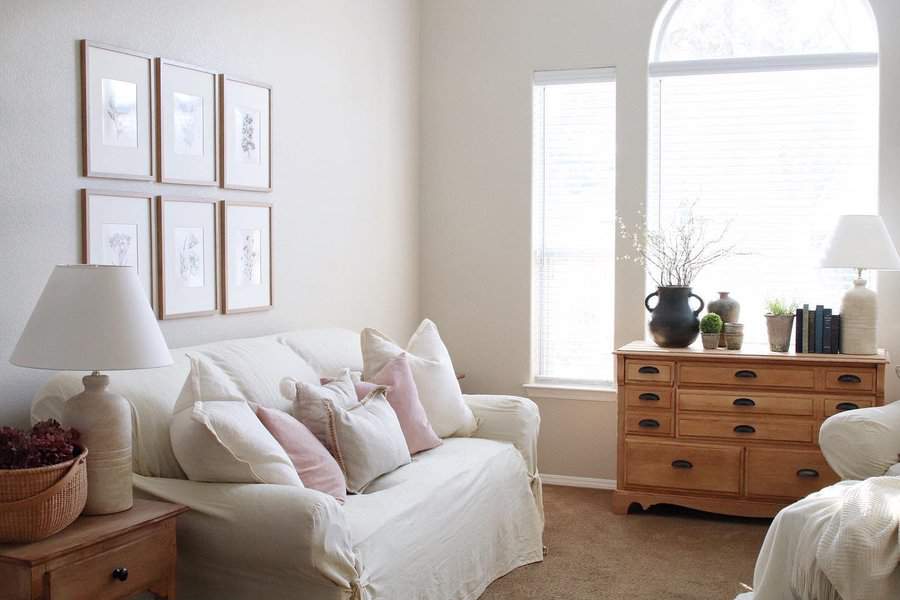 As in other country style living rooms, French country style relies heavily on natural materials such as wood and stone. However, they often have a weathered appearance. Furniture is still more refined than rustic, but its subtle distressing provides a lived-in, well-loved vibe. Traditional and modern French country furniture shuns minimalist lines, preferring natural curves and softer boundaries.
7. Modern
Modern country decor can be described as a more simplified type of country decor. Somewhat eclectic in nature, it combines elements from vintage, industrial, and coastal country decor and conveys a naturally relaxed vibe.
A coffee table in this style may combine a stocky wood base with a modern glass tabletop.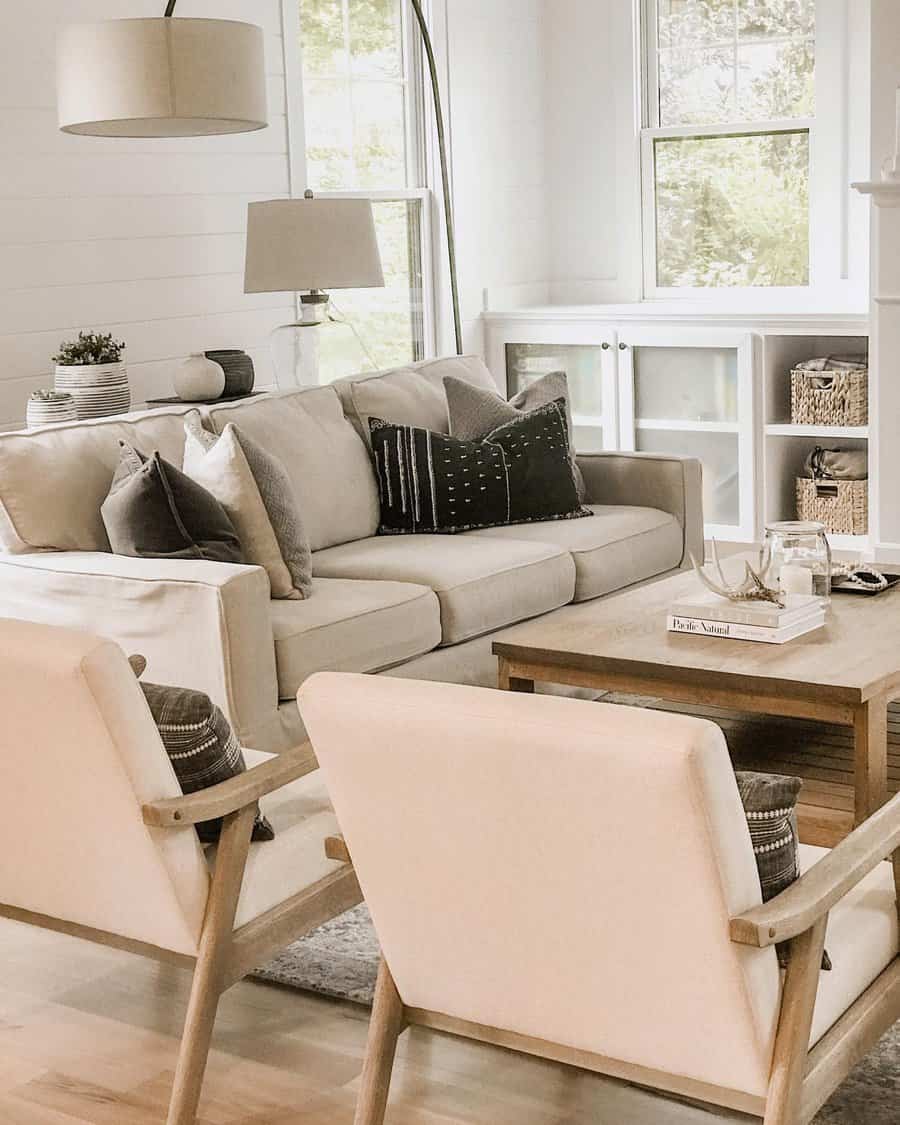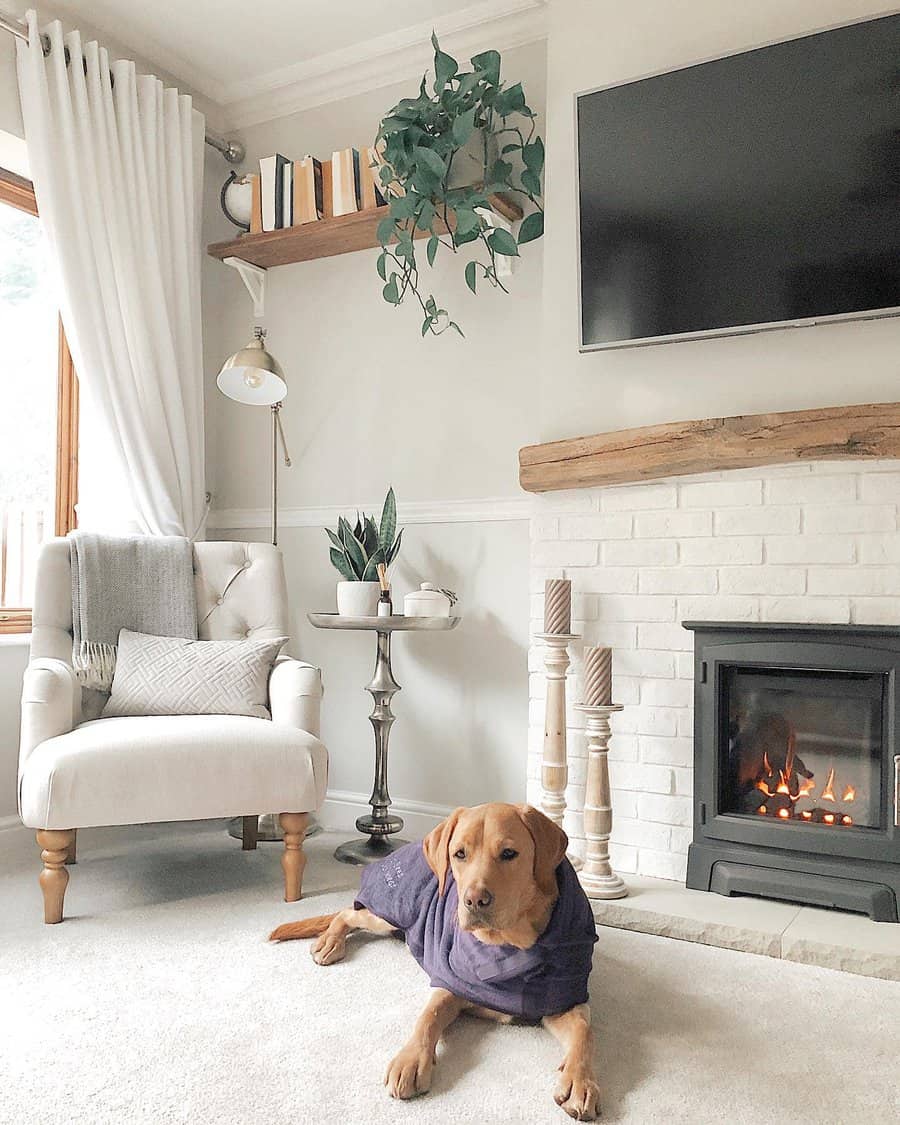 Modern country decorating ideas mix new and old pieces into each room. In this way, it shares similarities with modern farmhouse style. But unlike a farmhouse living room, a modern country style living room often incorporates plenty of bold colors.
8. Neutral
Neutral colors are a common element in country living room decor. Pale neutrals can make a small country living room feel bigger and brighter, especially when used on the walls, rug, and sofa. Offset neutrals with warm wood tones and black or metal touches in your artwork and accessories.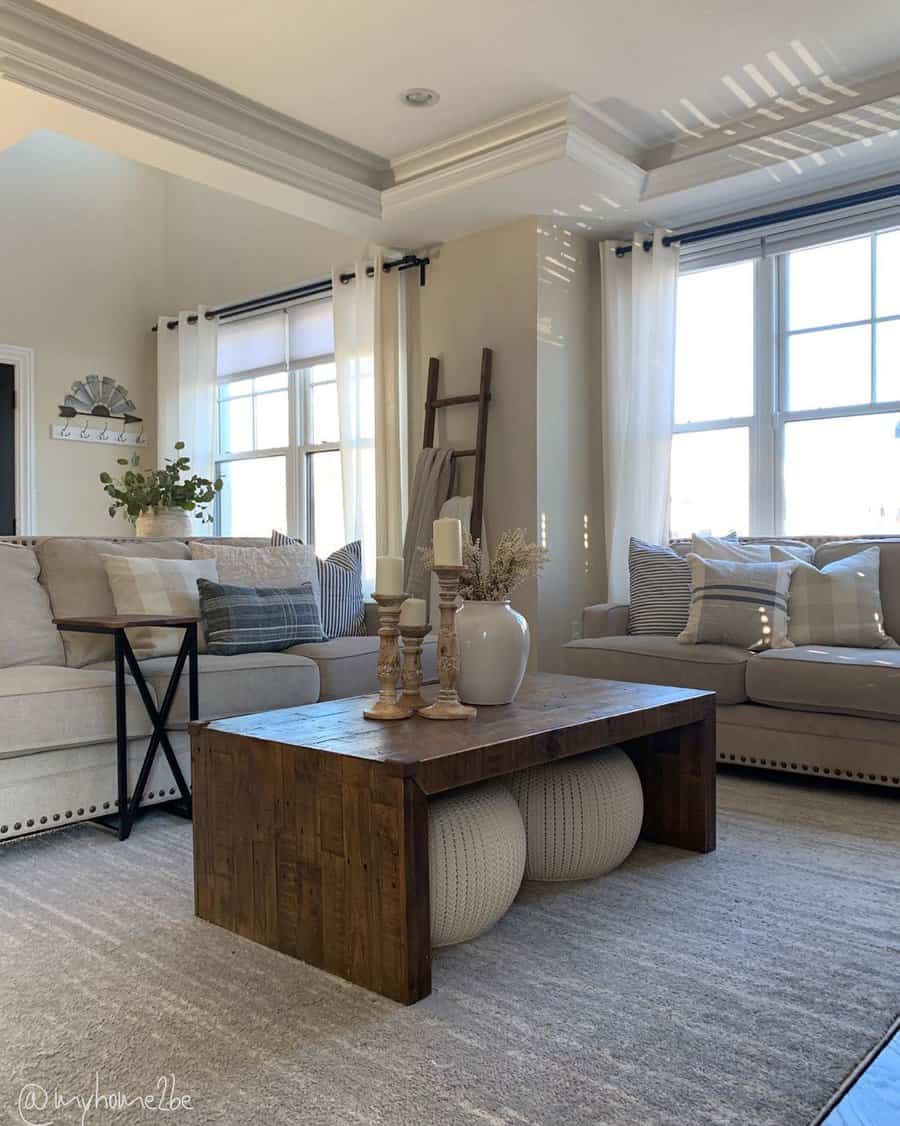 Farmhouse style relies heavily on a neutral color palette, as does Scandinavian cottage style. A cream or white sofa provides a large neutral base in a country style living room and can support any sub-style in the country genre.
9. Rustic
Rustic style is a natural partner with country decor ideas. Rustic living room ideas include sturdy, industrial-inspired elements with a strong masculine flavor. A leather sofa and a heavy wood coffee table set on top of a cowhide rug are all great illustrations of rustic country style.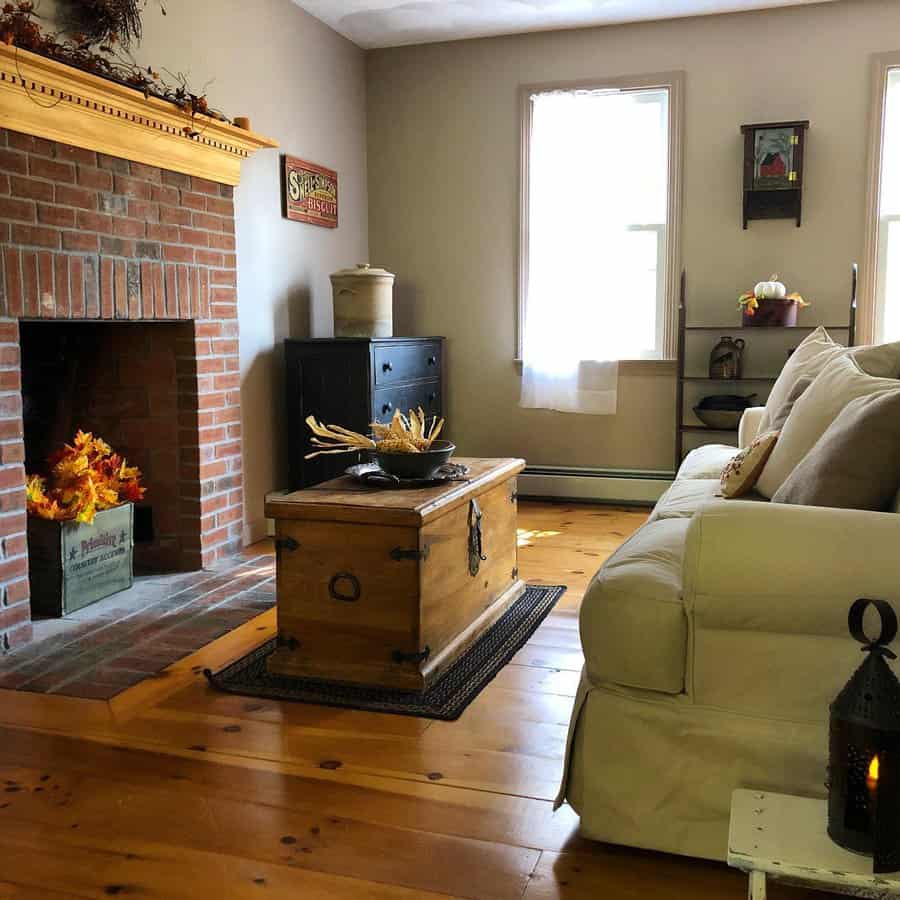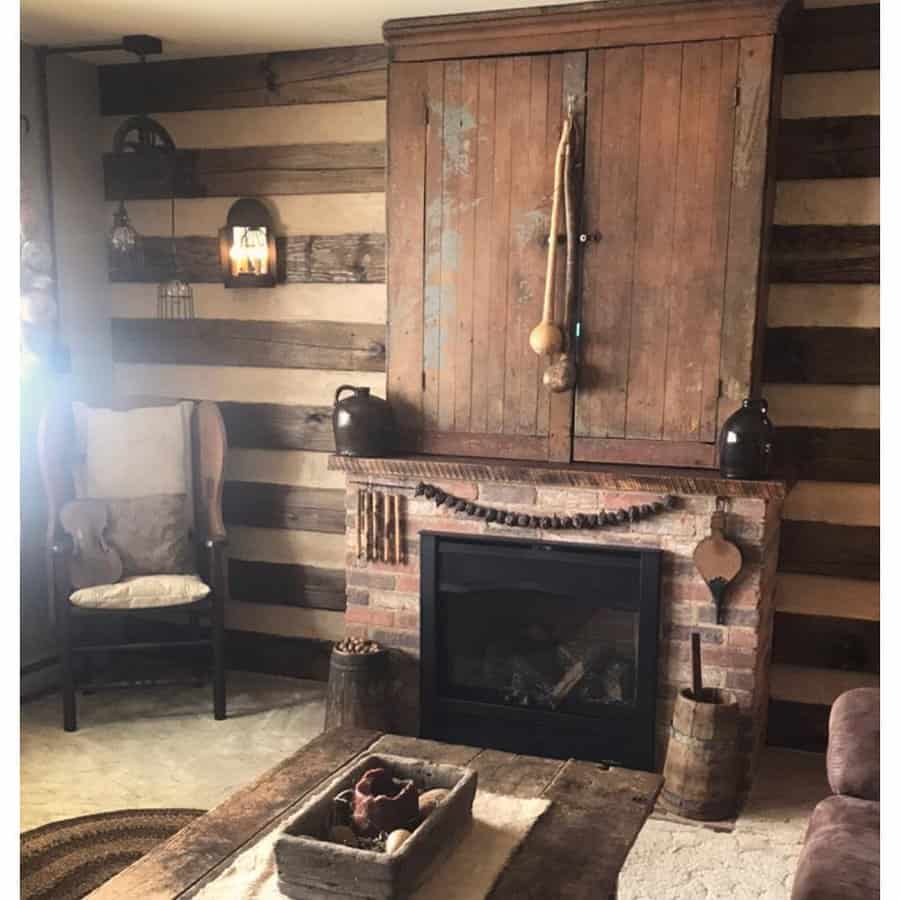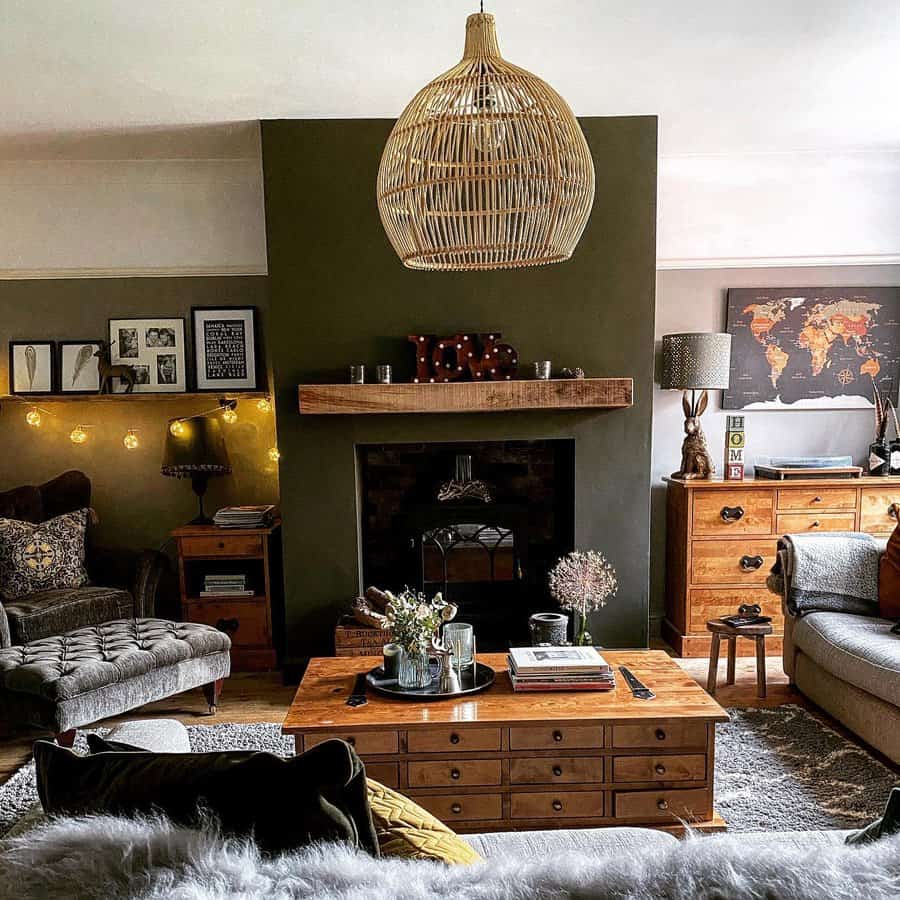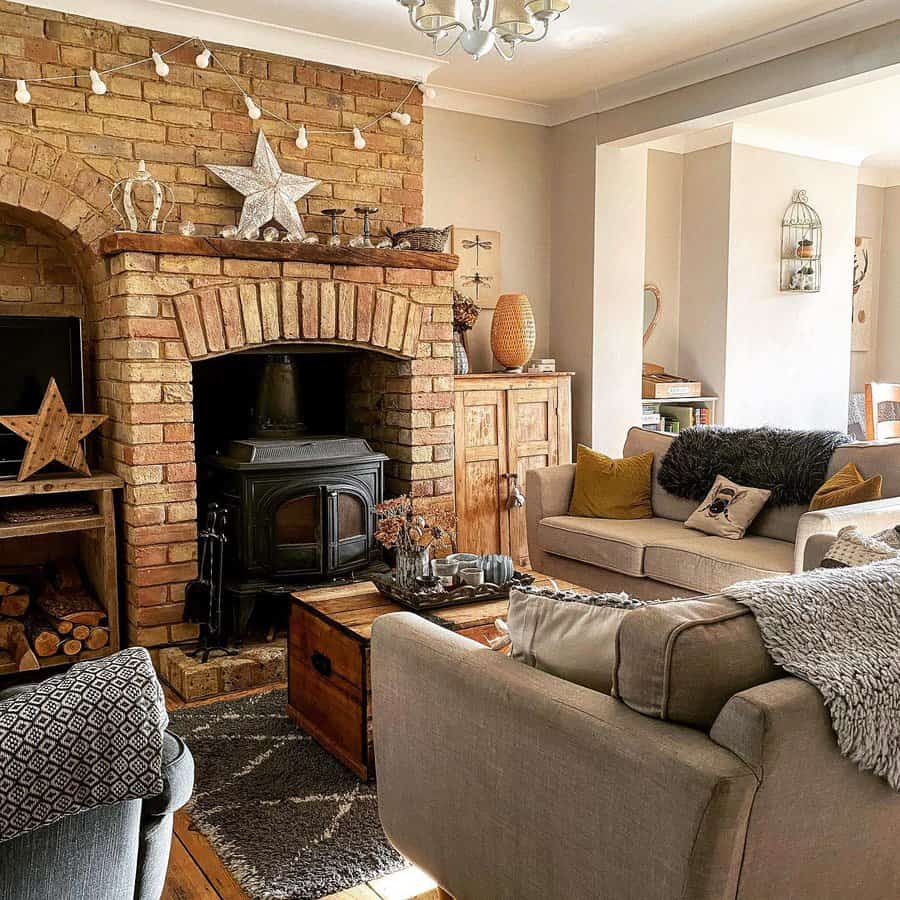 Organic wood paneling warms up any rustic living room. A room-width stone fireplace flocked by leather wing chairs is a comforting centerpiece in many a country living room. Hang mounted taxidermy skulls over the mantel—something preferably made from a single heavy beam of reclaimed wood.
Read more: Top 53 Rustic Living Room Ideas
10. Scandinavian
Scandinavian design emerged in the 1950s and remains popular for its clean minimalism and functionality. A suitable addition to modern or country decor, Scandinavian furniture's simple lines designate basic comfort—something inherent to country style.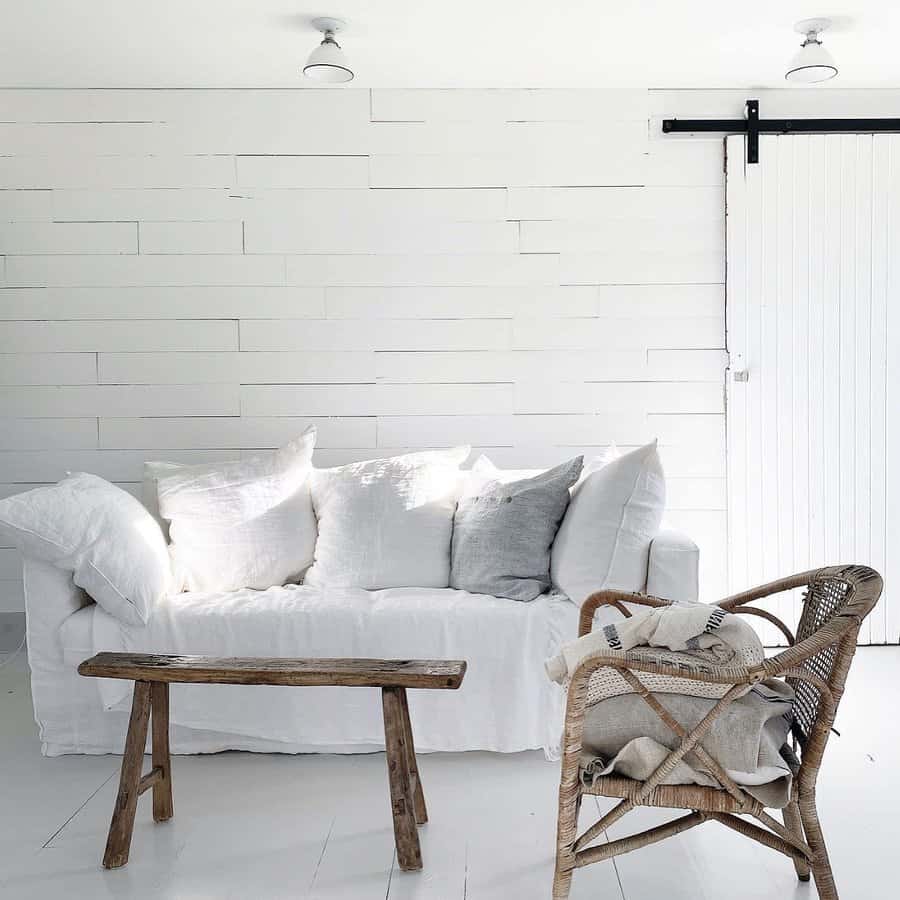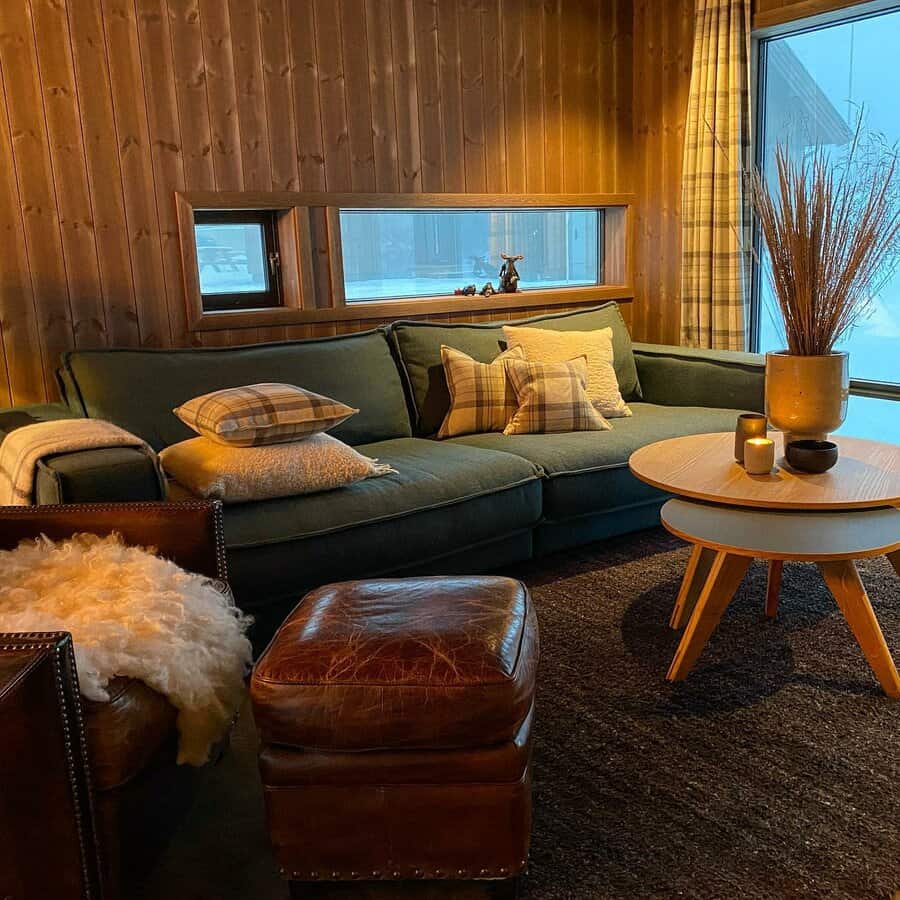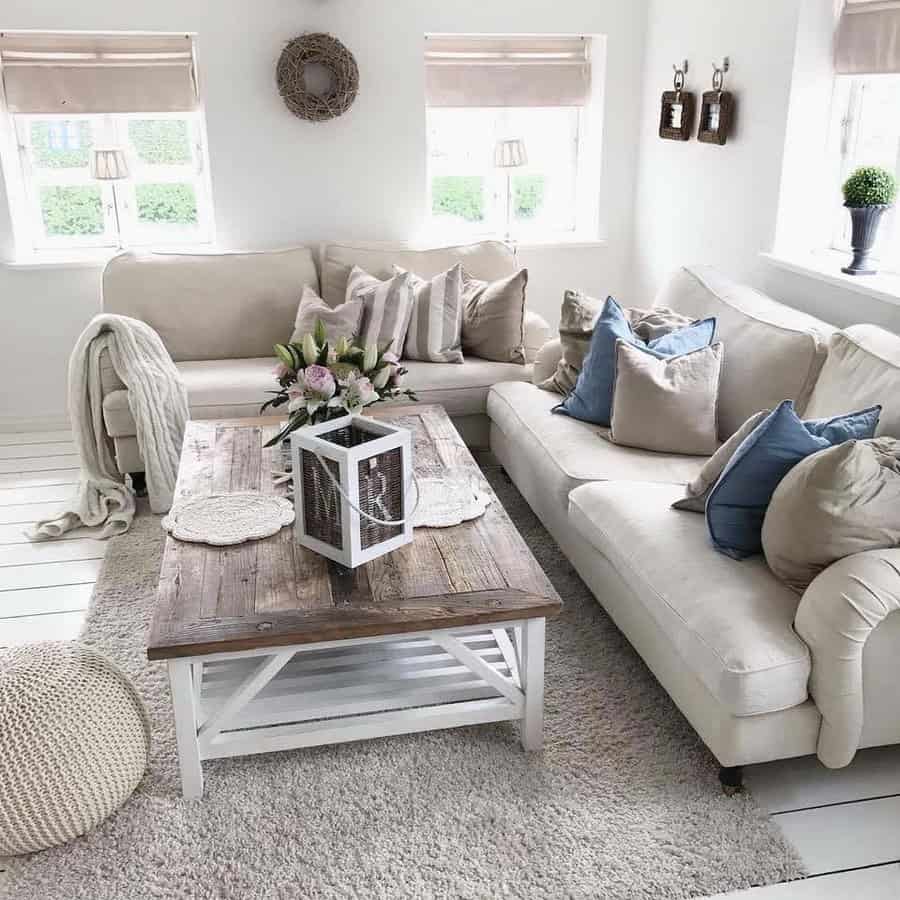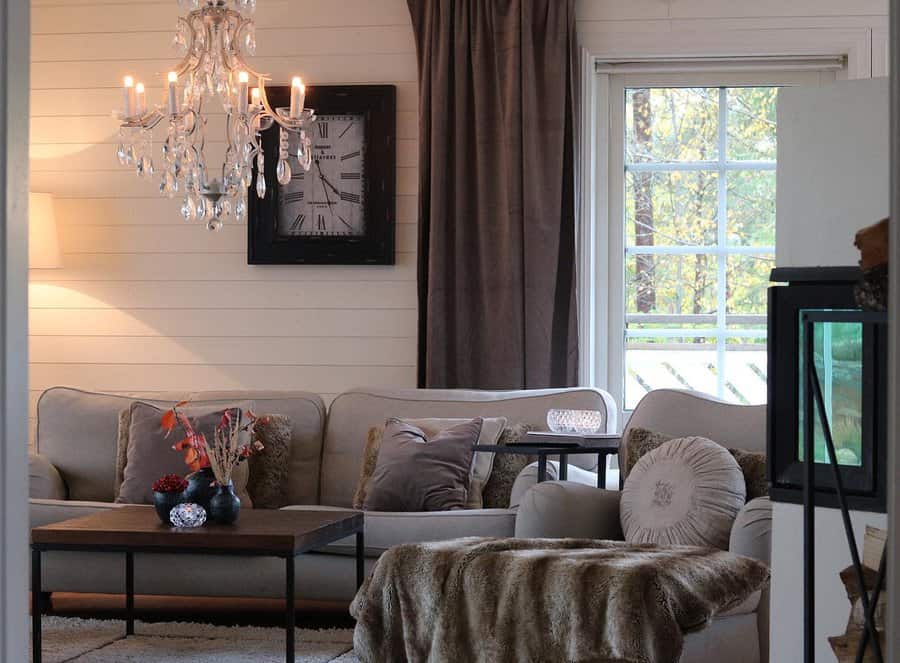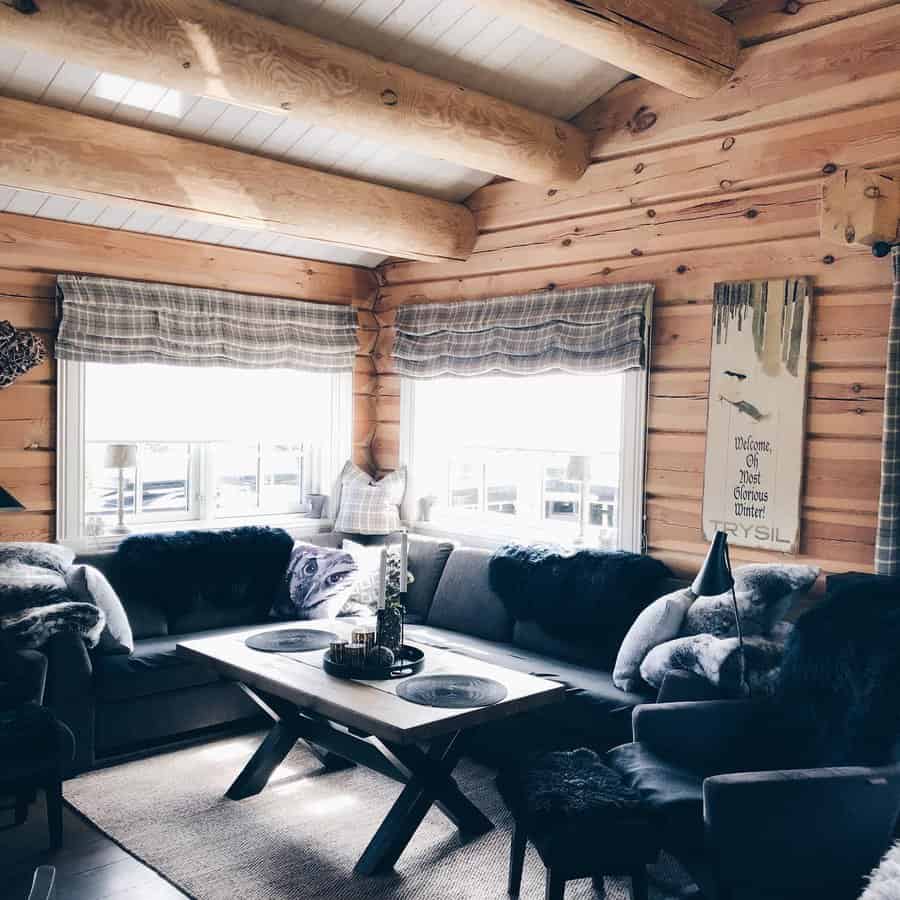 Unlike rustic or farmhouse style, which can become a bit cluttered, a Scandinavian approach to country decor includes all of the comfort with none of the clutter. This doesn't mean that it's a boring living room idea, however. Scandinavian decor often includes interesting patterns and bright pops of color.
11. Traditional
Traditional country decor is based on interior design preferences that were common in old farmhouses. As such, it usually includes plenty of antique furniture and vintage collectibles.
It's best if some items show gentle wear and tear, so don't be afraid to use distressing techniques when finishing repurposed pieces.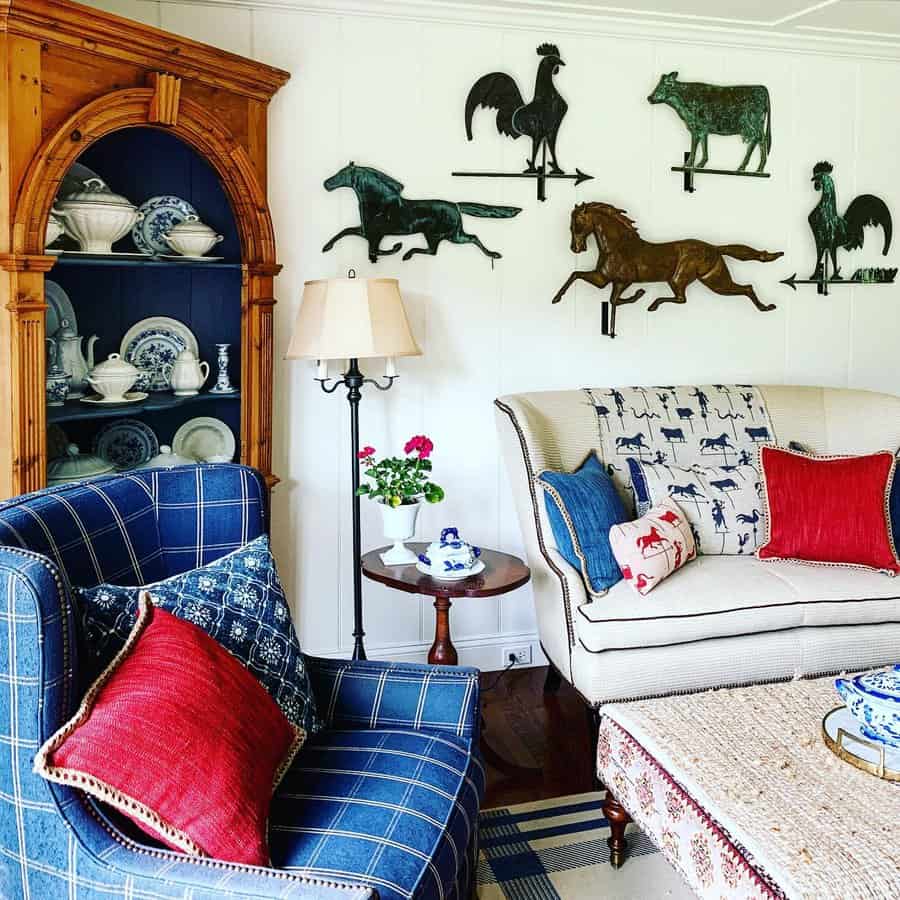 Traditional country textiles include ticking stripes, toile, gingham, and plaid. As with furniture, fabrics that appear gently worn are more at home here than brand-new materials. Wainscoting, beadboard, ceiling beams and other natural wood accents add traditional country details to the room.
12. Tuscan
Classic Tuscan country decor hails from the sunbaked region of Tuscany, Italy. Its Mediterranean style centers around rustic surfaces, a warm color palette, simple furnishings, and plenty of iron accents. Terra cotta must be included as well as other natural stones devoid of any glaze or sheen.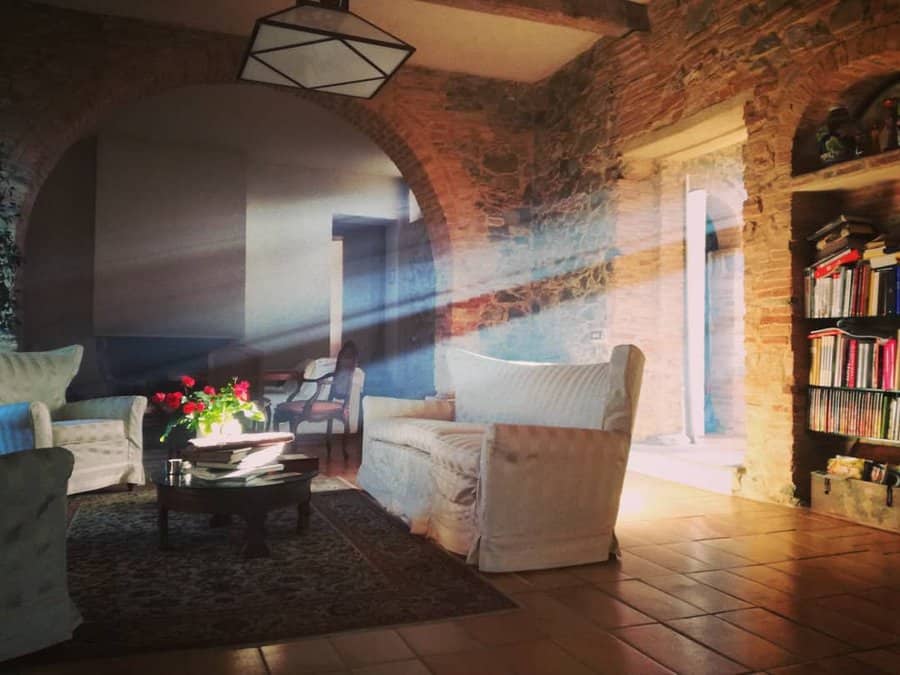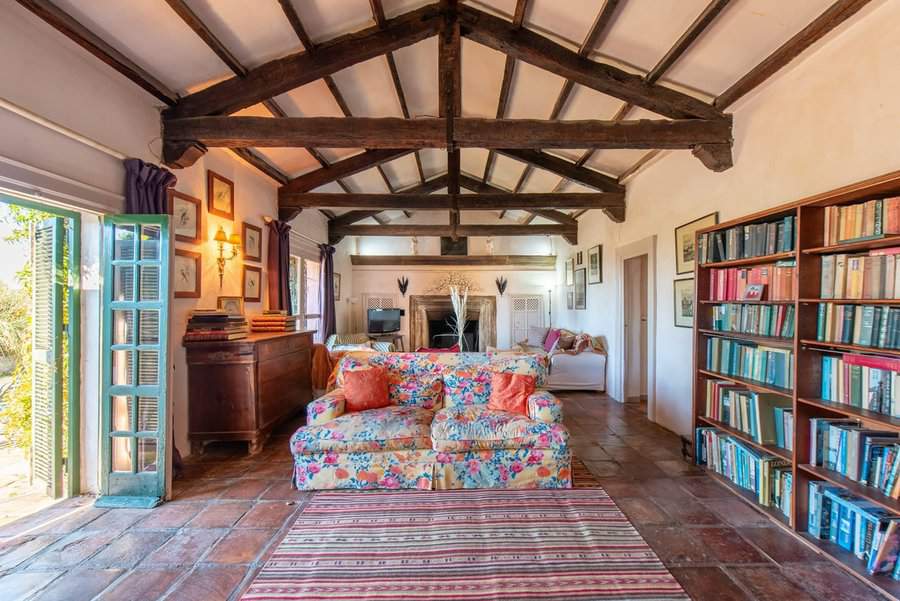 Rough hewn wood ceiling beams are common in Tuscan living room decor, especially paired with white or beige plastered walls. As in other country decor, a stone, brick, or tile fireplace is a welcome living room focal point.
Arched door openings and bookcases are another authentic country Tuscan touch. Tuscan-inspired fabrics feature rich, earthy colors in a variety of botanical prints and tile-like patterns.
Read also: The Top 47 Country Bedroom Ideas
Country Living Room FAQs
What is a country room?
A country style room is livable and inviting, comfortable and cozy. It includes plenty of natural and organic materials, including a hardwood floor and metal accents. Today's country style can encompass any design inclination, from modern simplistic to romantic shabby chic style.
What is American country style?
Just like the nation itself, American country style is a melting pot of elements borrowed from other traditions. However, it most often is used to describe an interior design style that references specific periods of American heritage. This may include wood floors, a brick fireplace, and Craftsman or Shaker style furniture.
What is primitive country decor?
Primitive decor showcases simple folk art items, usually handmade pieces that qualify as antiques. When used by interior designers, the word "primitive" describes an item's age and method of production. Although primitive cookware, dishes, tools, and furniture are often used in country living rooms, it isn't considered a design style of its own.