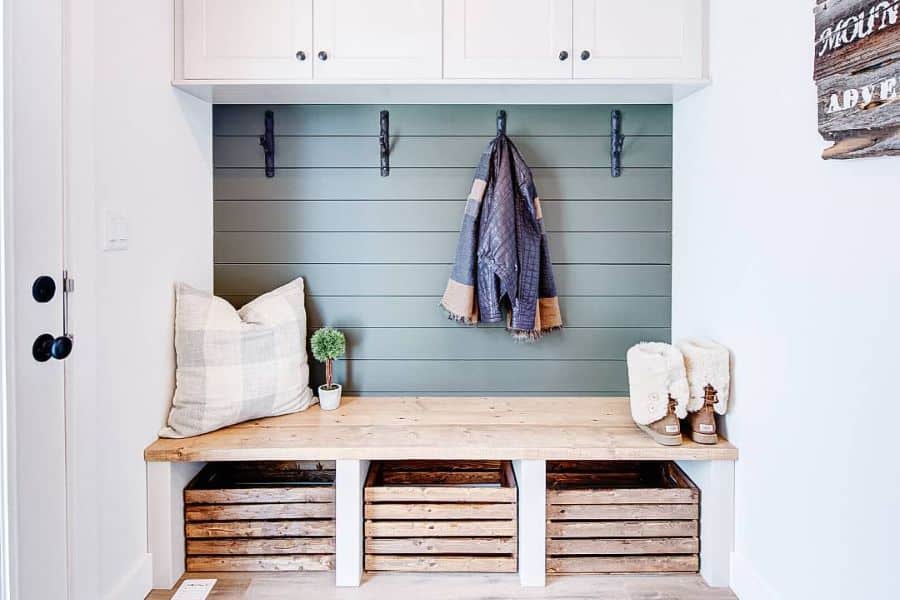 80 Creative Mudroom Storage Ideas and Solutions
Who needs a cramped and cluttered entryway? After all, first impressions matter, and a tidy mudroom right at the entrance to your home is a way to welcome your guests and set a cozy atmosphere to the house.
No matter how big your hallway is, whether you have an entryway closet or not, there are tons of possibilities for you to create a beautiful and functional mudroom that matches your design style and fits in your pocket.
1. Baskets and Crates
Storage baskets and crates are a great solution and a way to keep your mudroom organized. Choose same type and size baskets for symmetry, and label them for each purpose or person. They can be decoration pieces, like wicker baskets, but you can choose from a variety of materials and textures, such as straw, reed, raffia, bamboo, rattan, and synthetic fibers.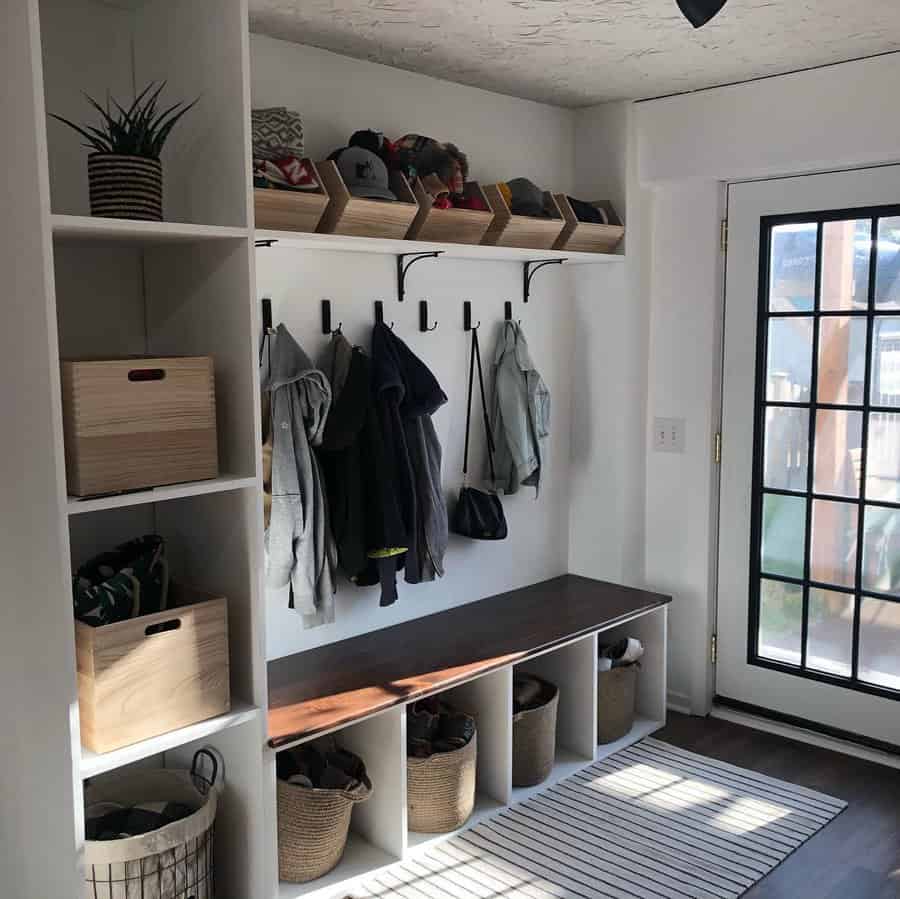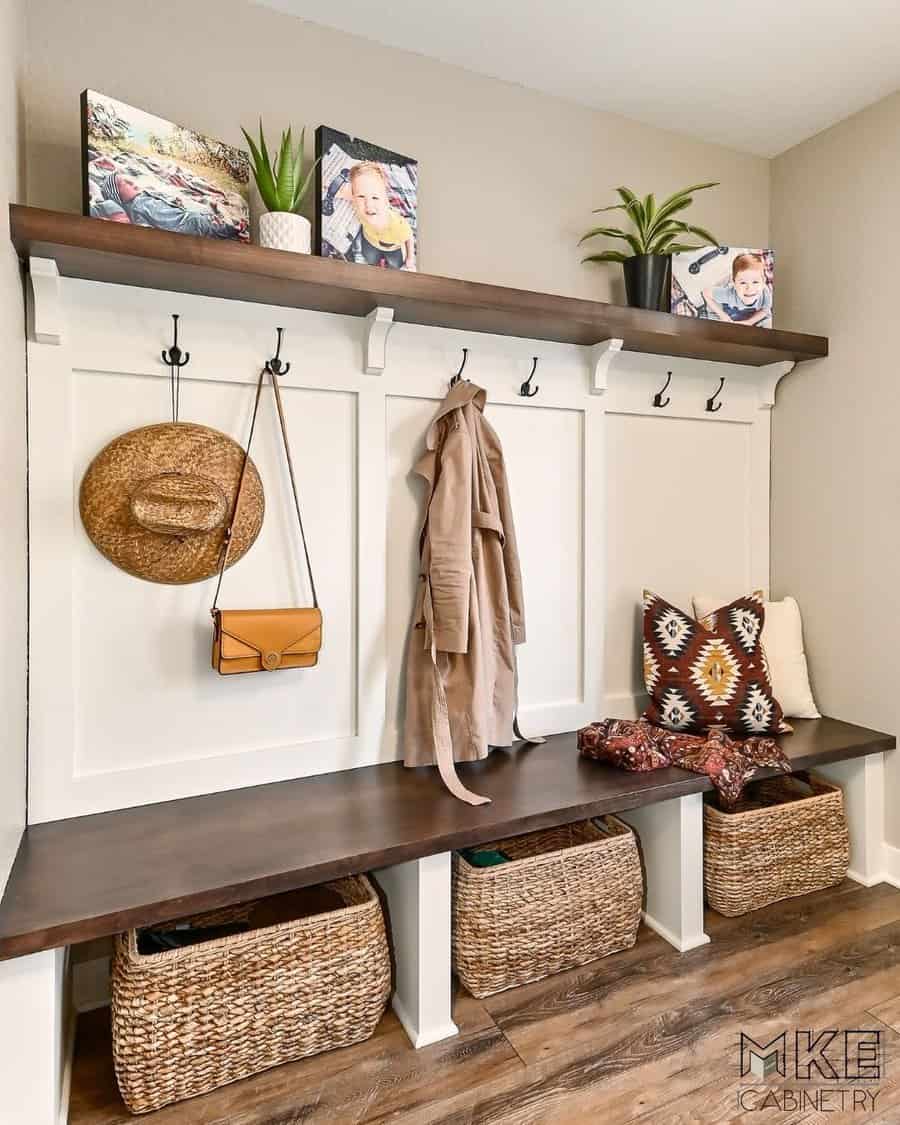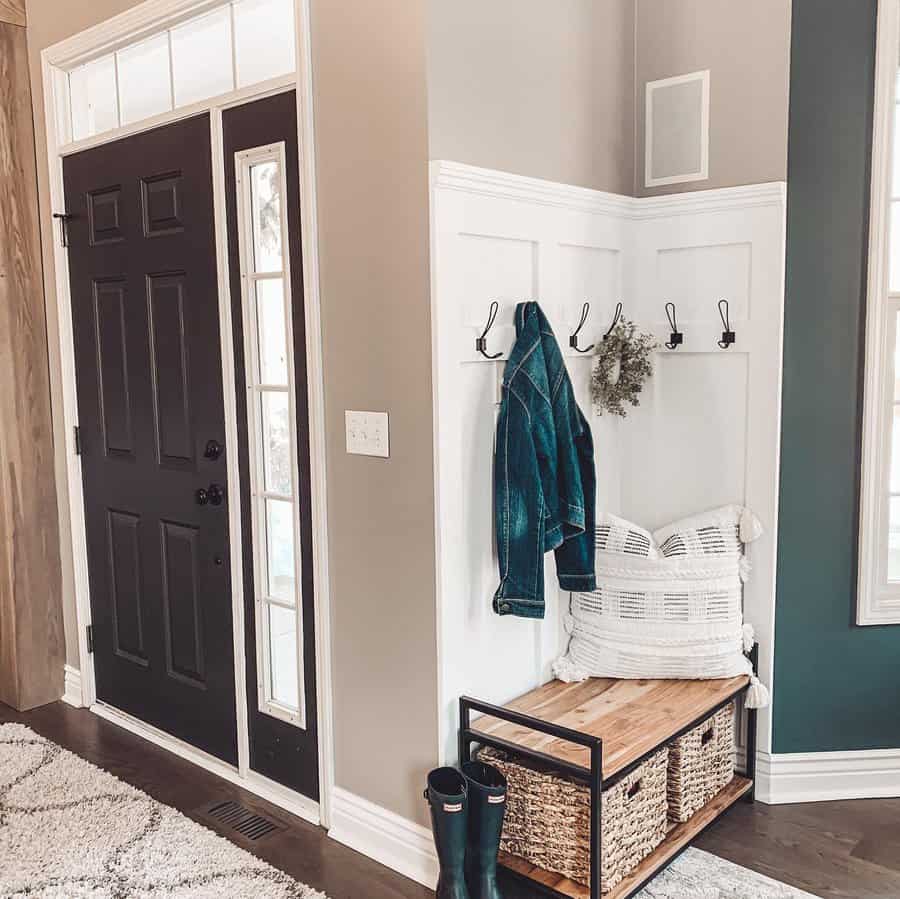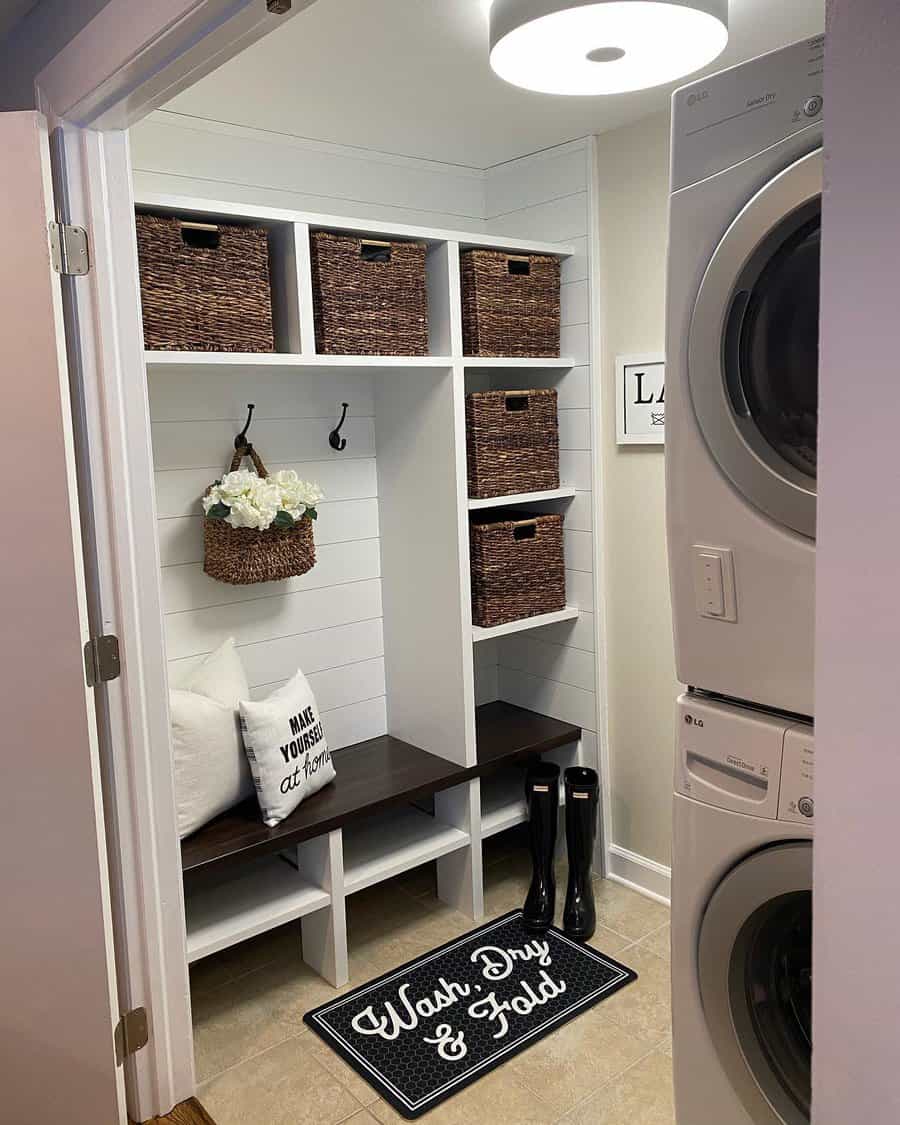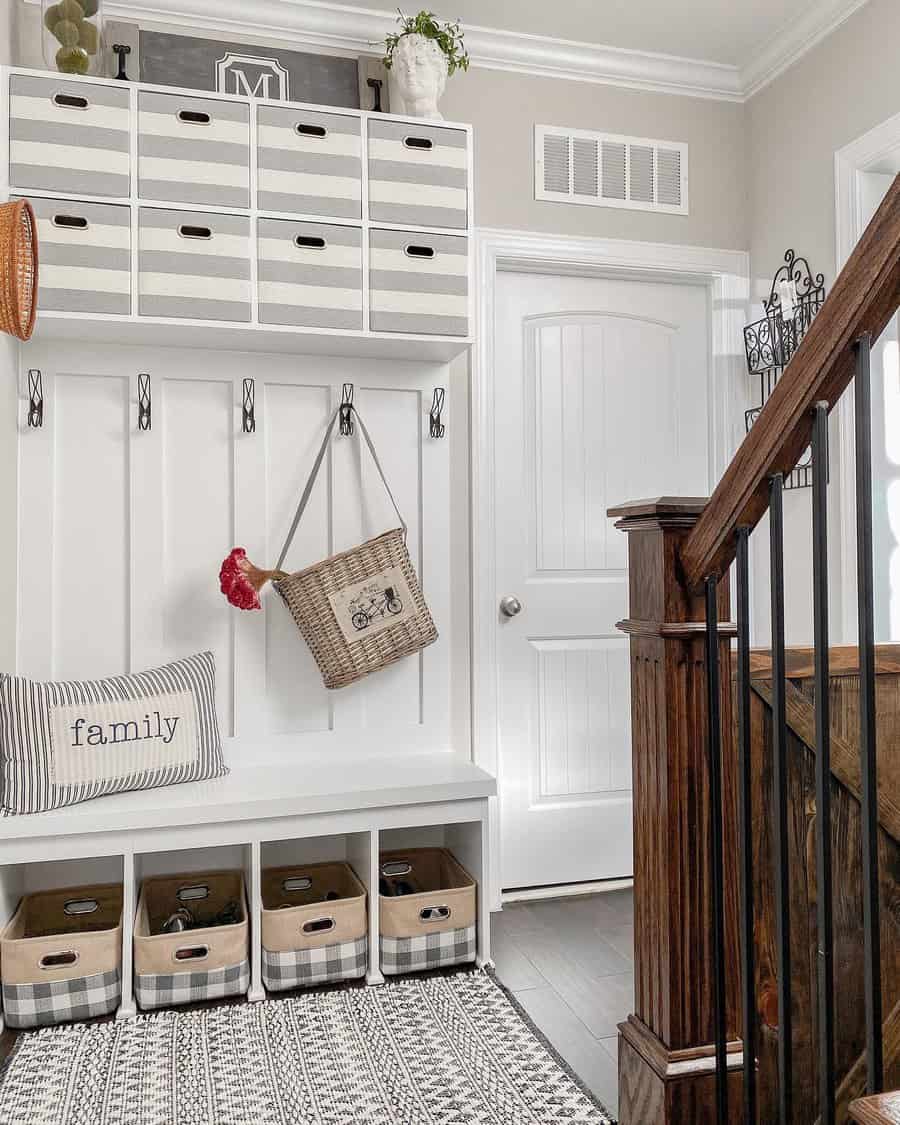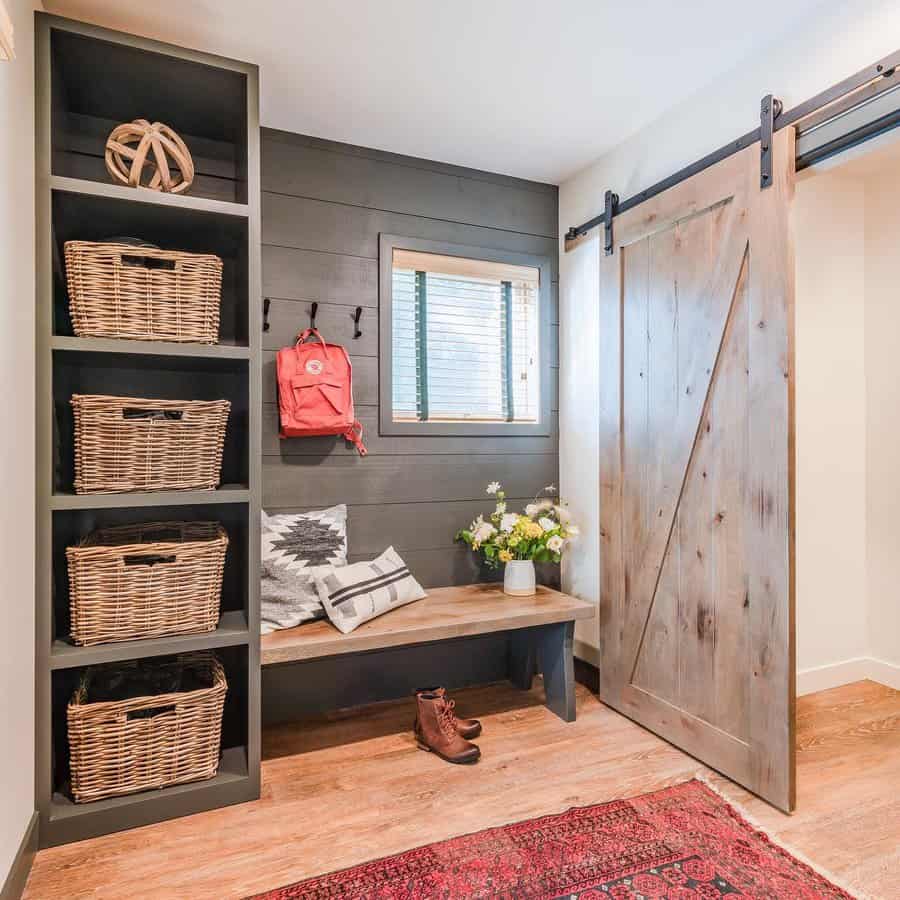 Baskets are great to store shoes because they are light and easy to move around, whereas wooden crates, as beautiful as they might be, may not be ideal for children; they are heavier and not practical to place in and out of the cabinets. But the advantage is that they last long and can be painted.
2. Bench
Bench with storage is the perfect solution for mudroom organization. You need a place to sit and put on shoes, and extra storage is never too much.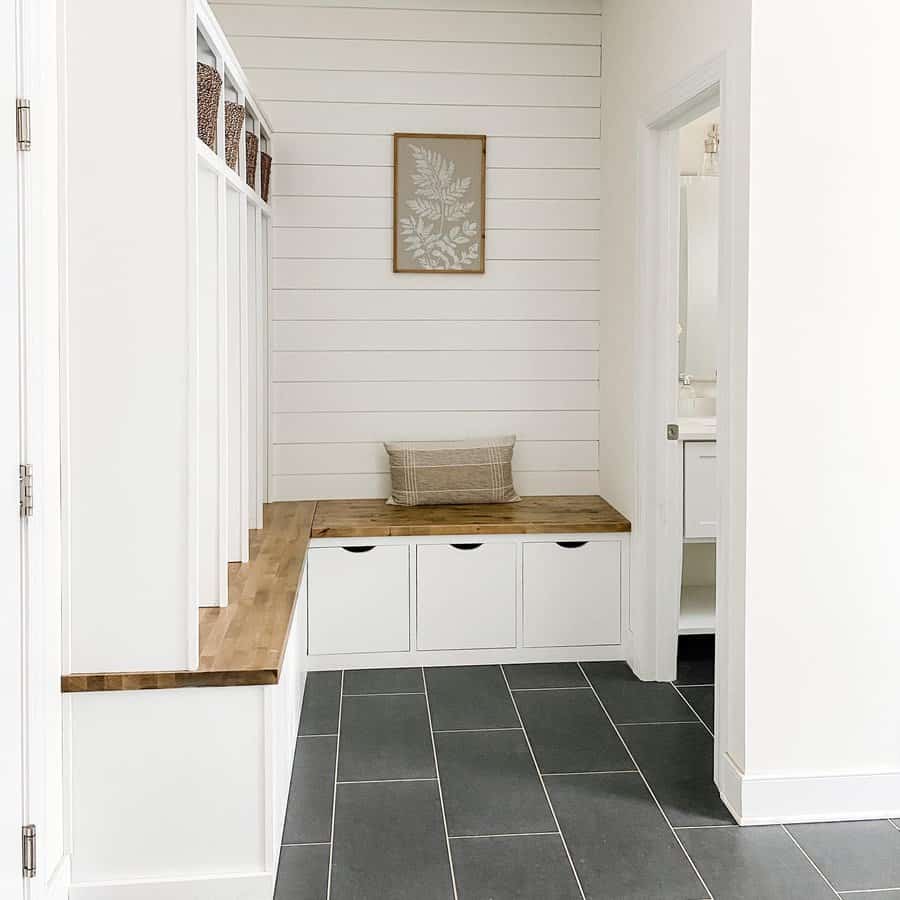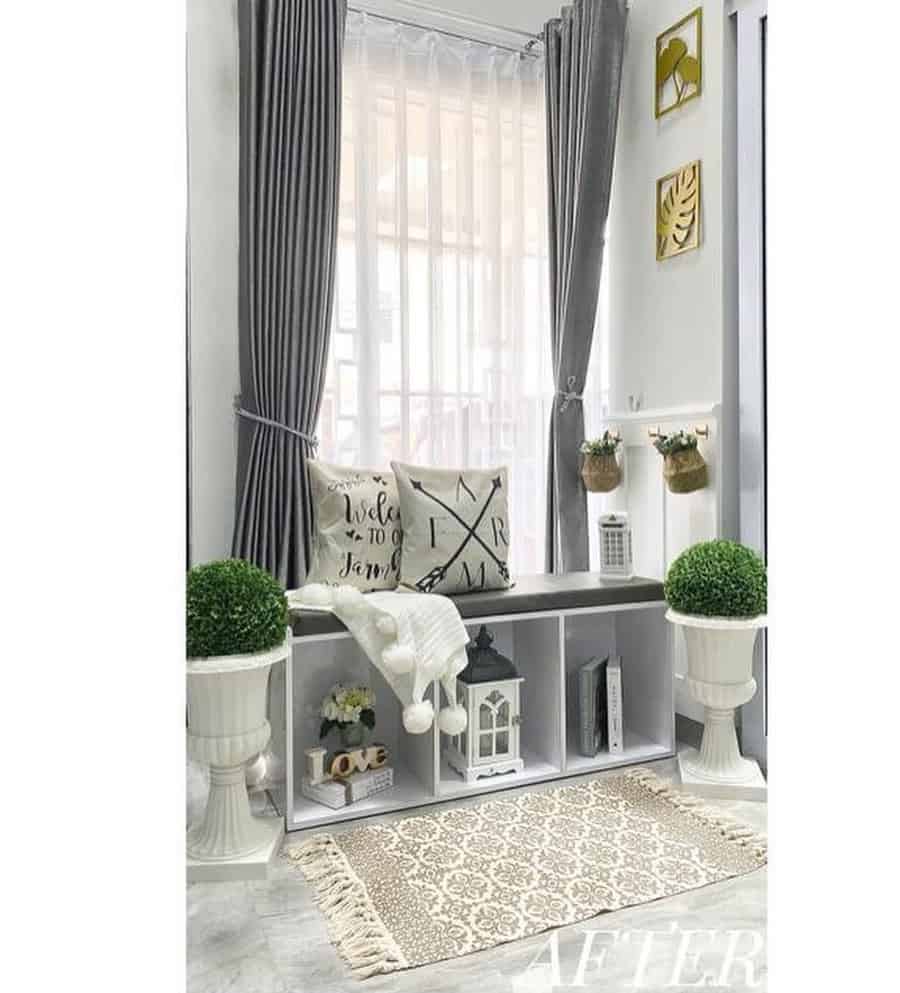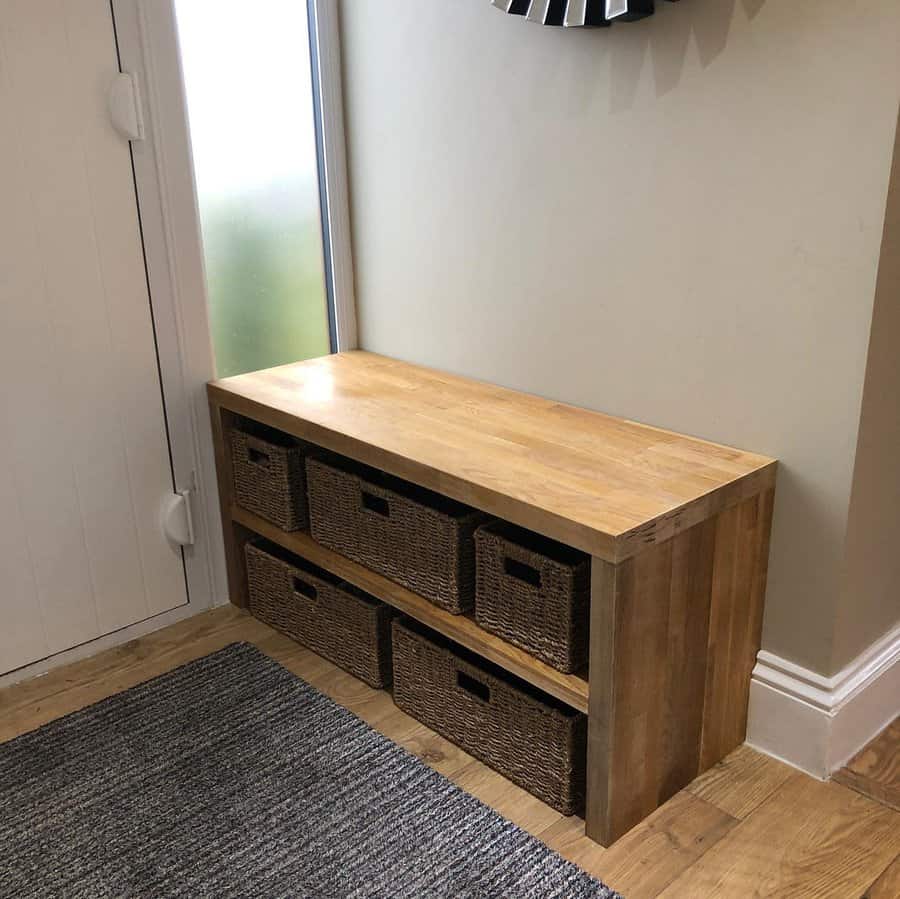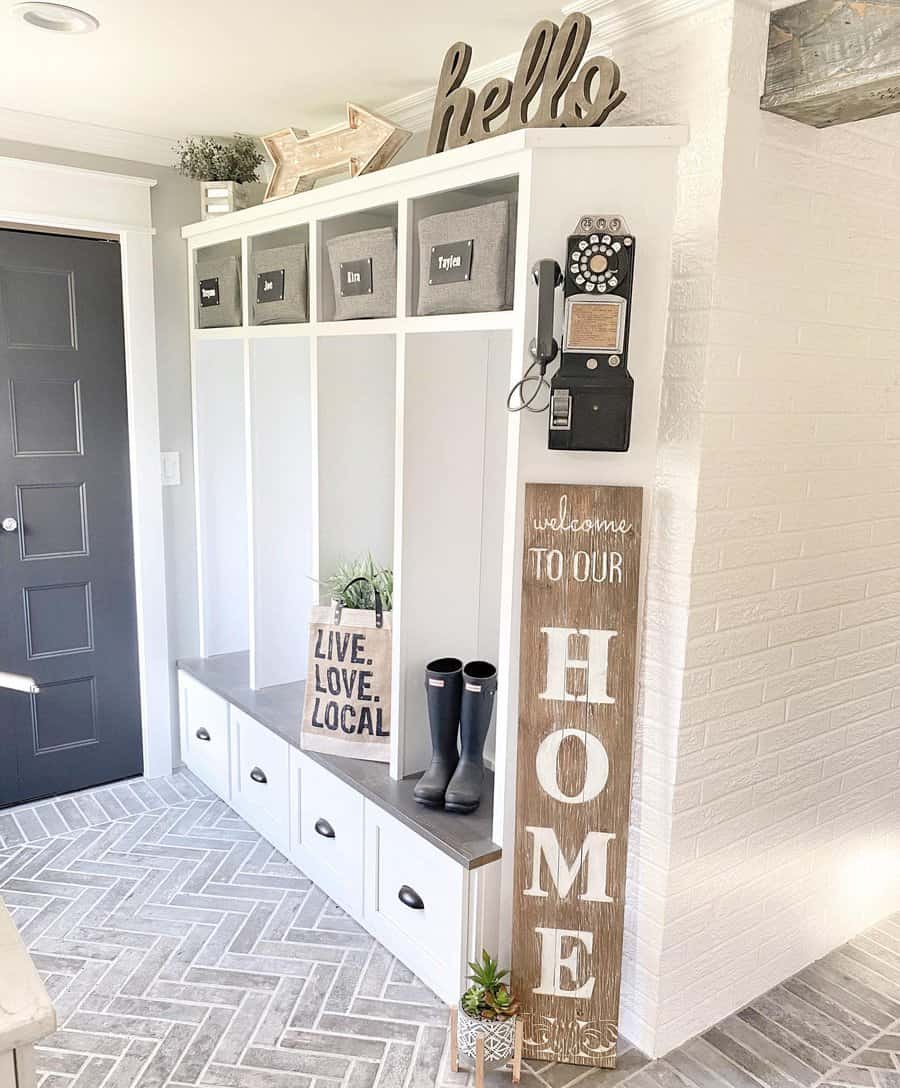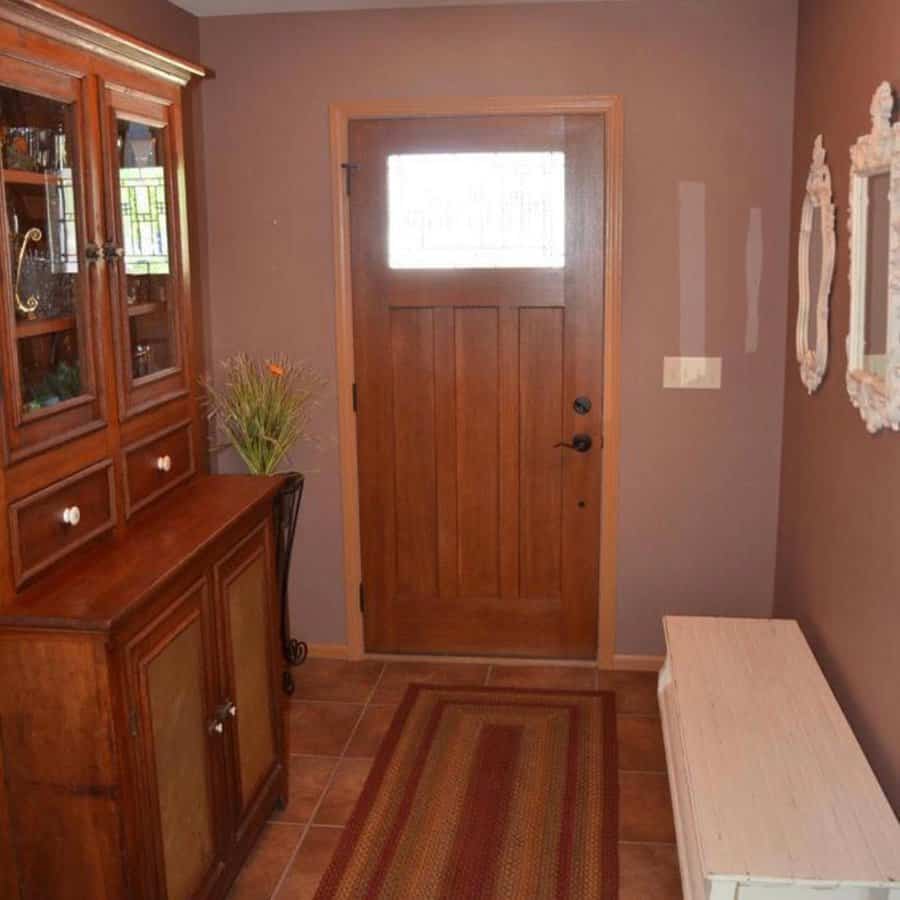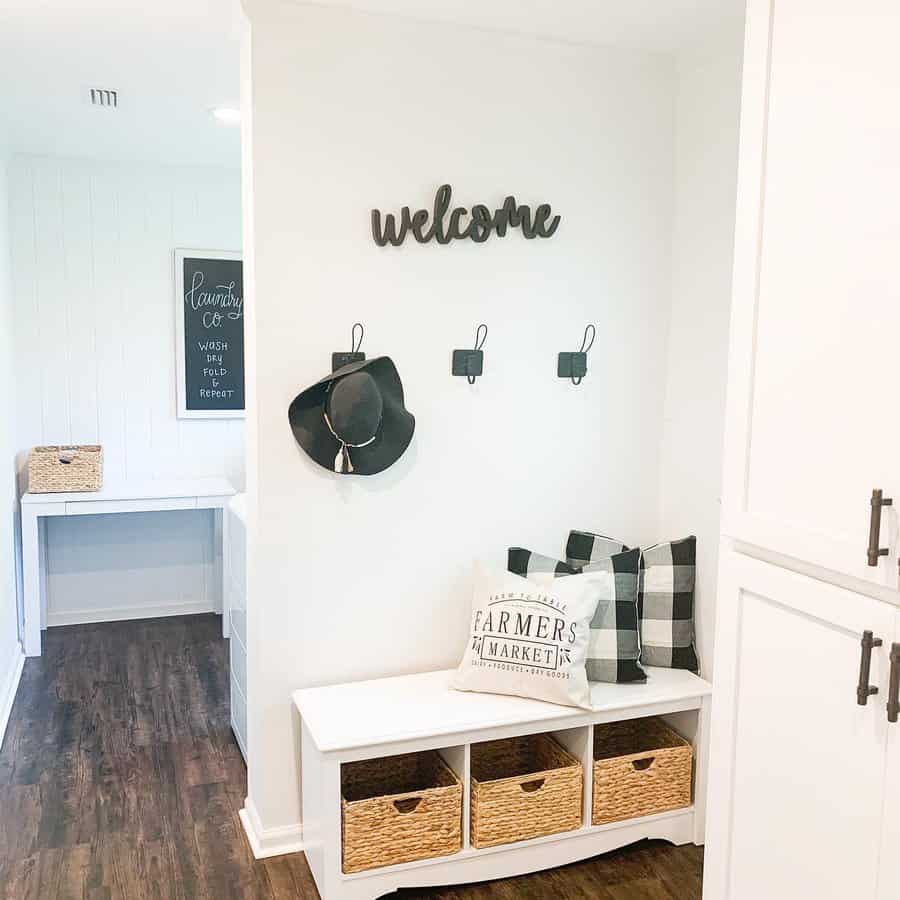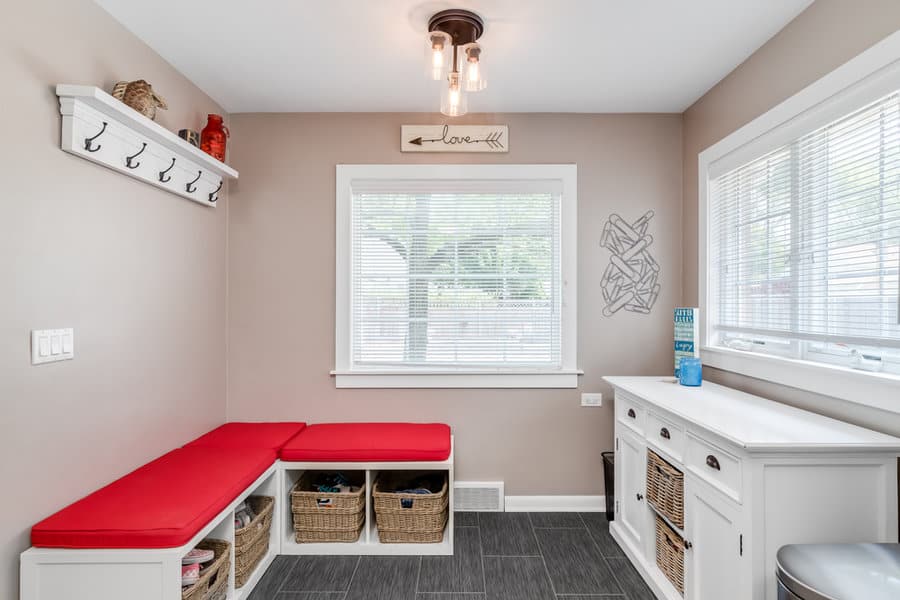 If you do not have enough space for mudroom cabinetry, install a beadboard paneling and add a bench seating with open storage, ideal for shoes. You can also store mittens and scarves in baskets under the bench. Make full use of the vertical space by adding coat hooks and installing an upper shelf for more storage.
See more entryway bench ideas here.
3. Built-in
Built-ins are a great solution for a total use of the space. Since mudrooms are normally right at the entryway, they must be kept tidy, otherwise you will soon have piles of coats and shoes spread right at your front entrance!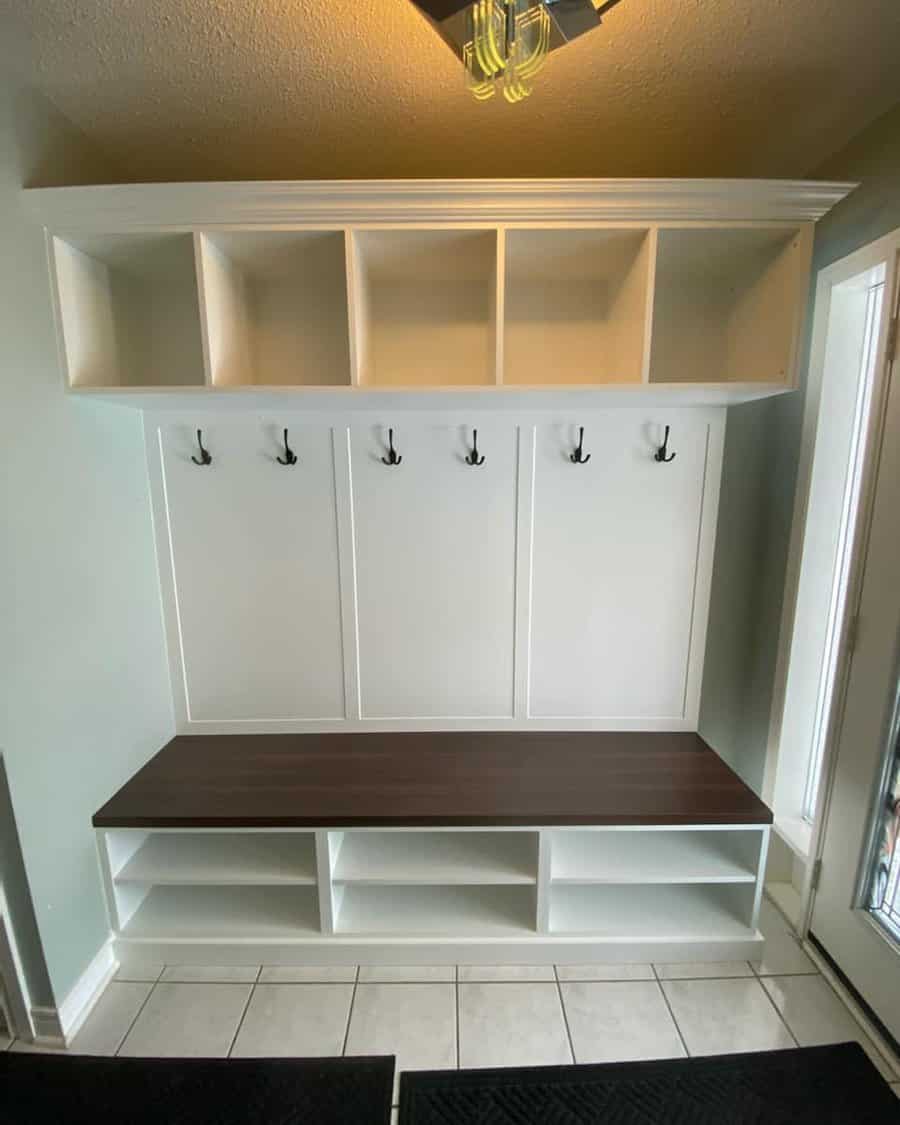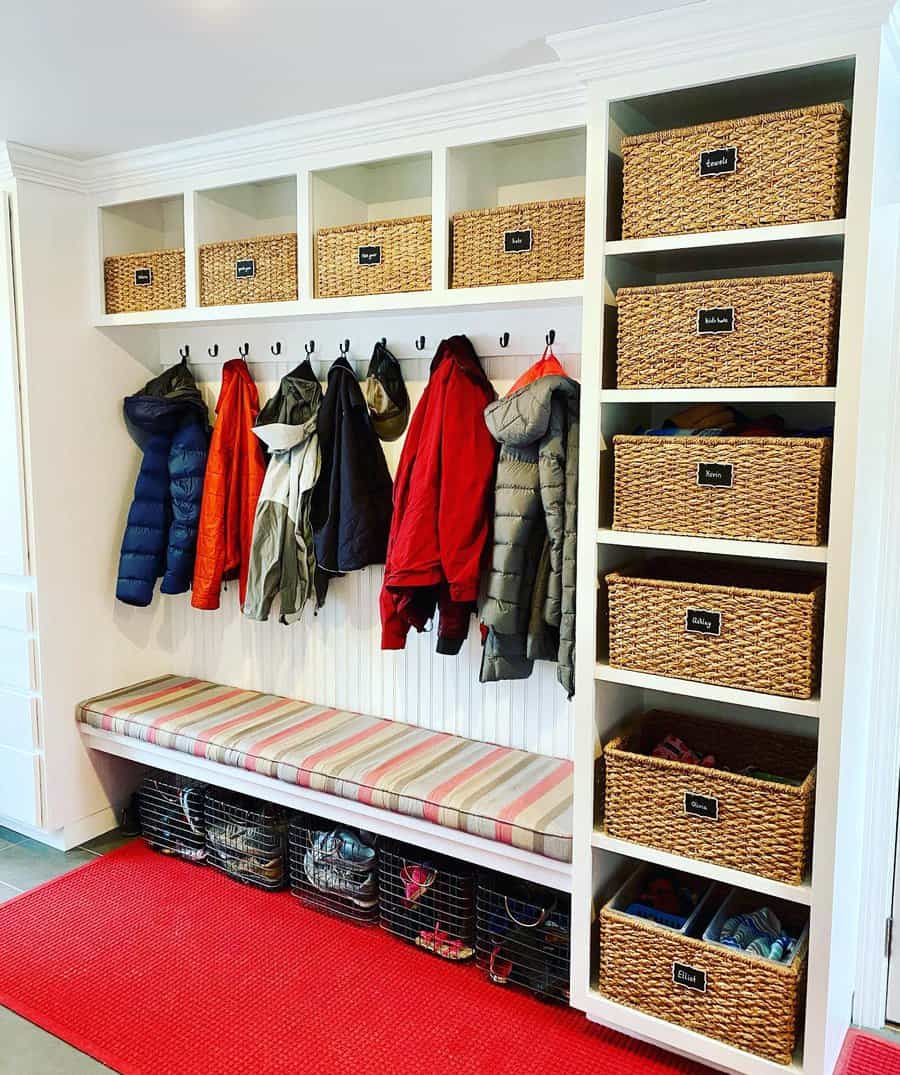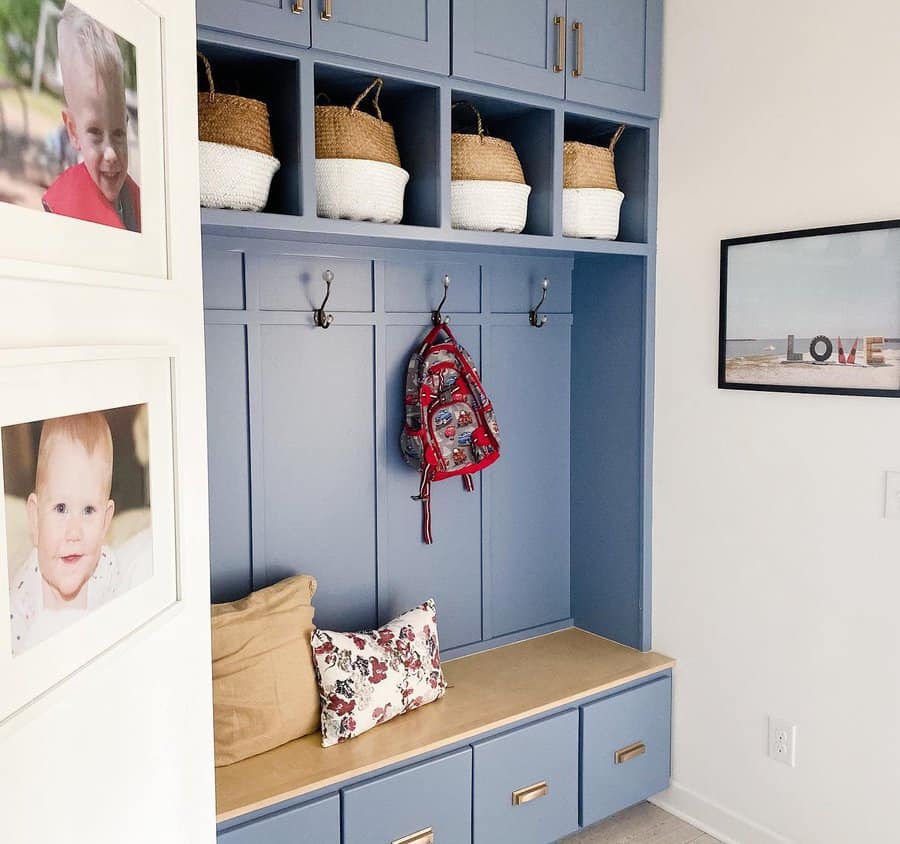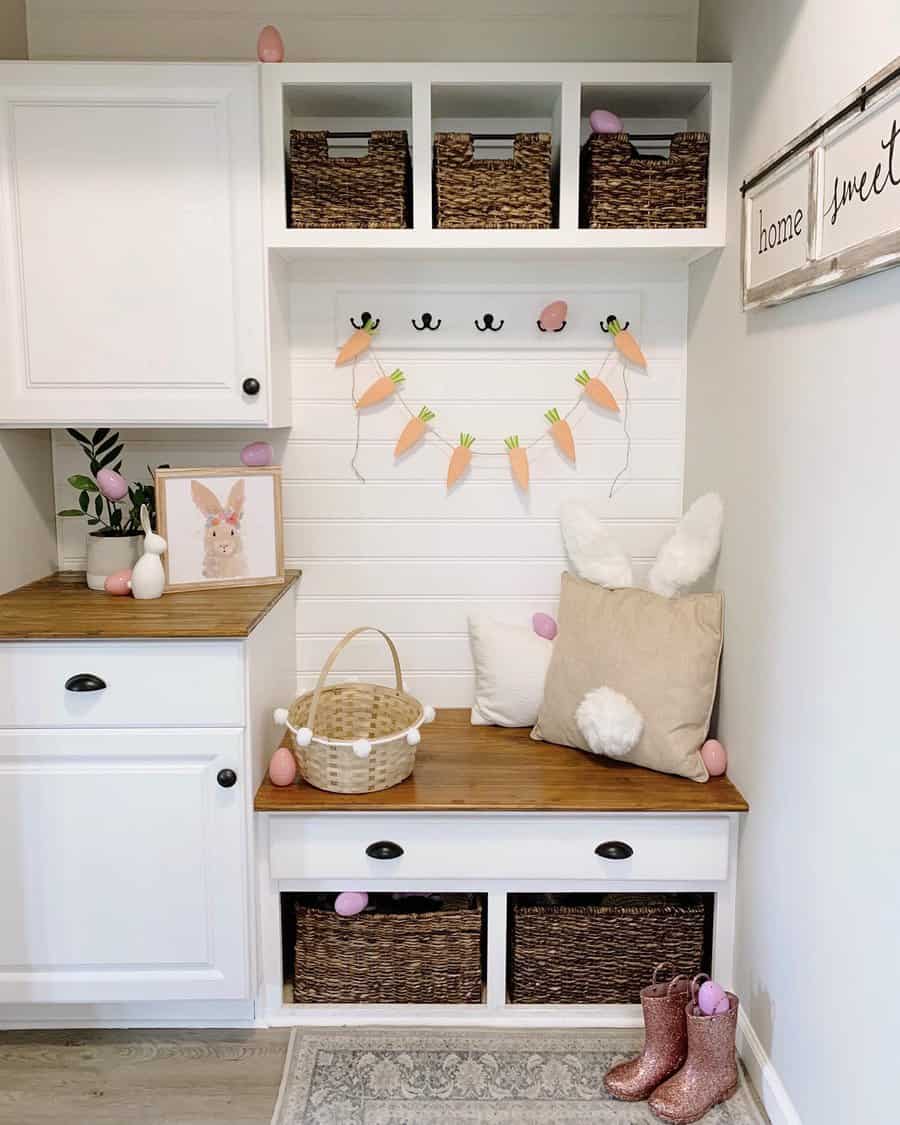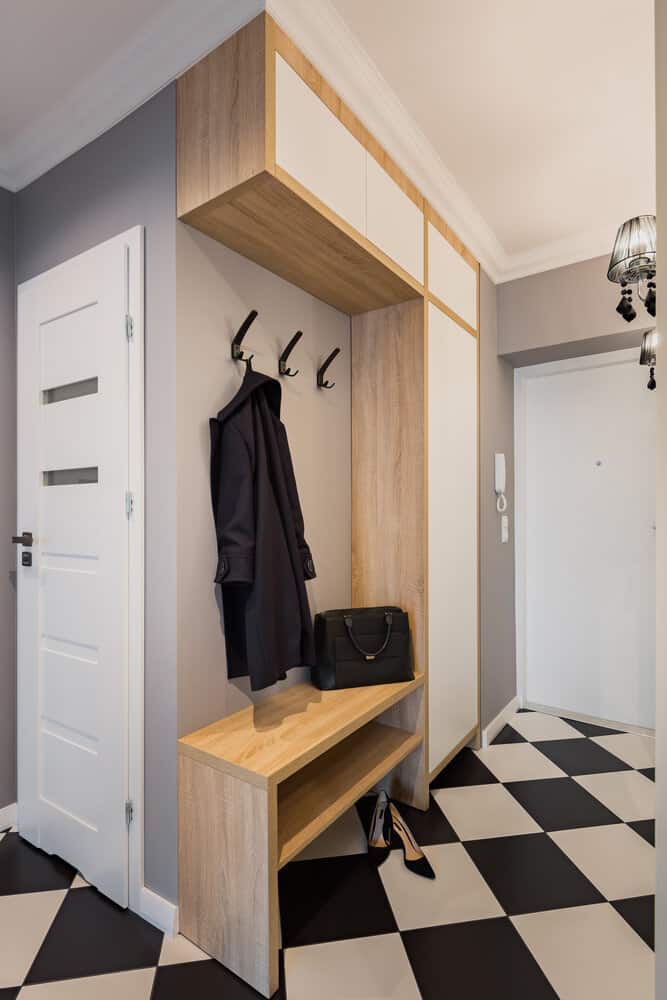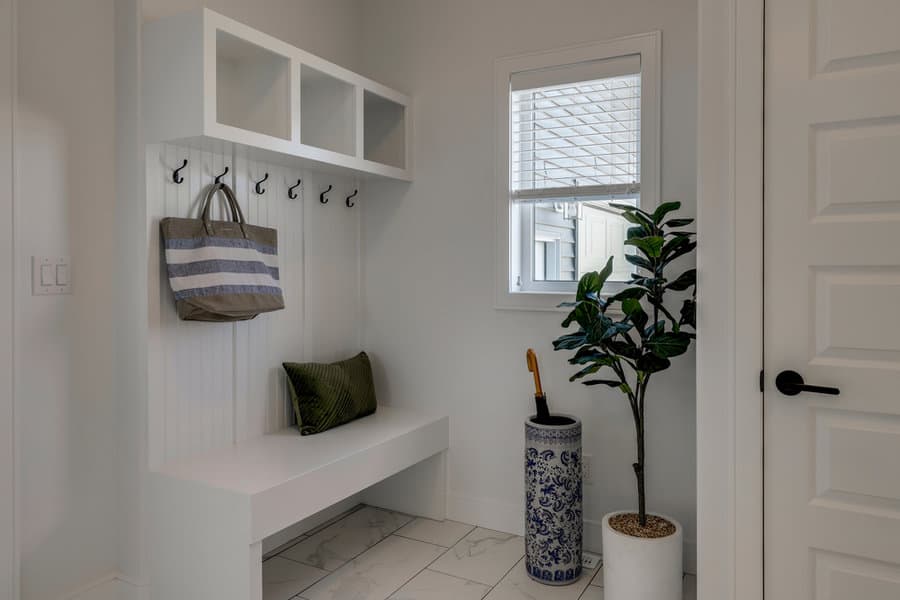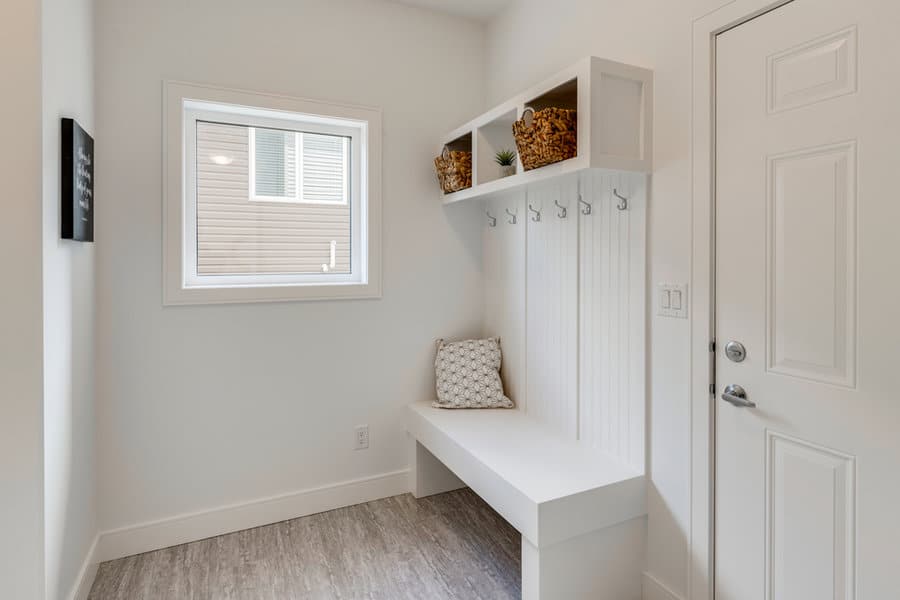 So, plan a place for everything: a bench with cubbies for shoes, hooks, coat racks, or a cabinet for bags and winter clothing. You can have baskets for mittens, scarves, and winter hats on the shelves.
Backpacks can also be kept on hooks or under the bench – the important thing is to have a designated spot for each storage need, so everyone knows where to keep – and where to find – their stuff.
4. Cabinet
You can repurpose an armoire, a dresser, or a kitchen cabinet to use as a mudroom cabinet. Upper kitchen cabinets can be installed over a bench, to make a perfect mudroom storage solution.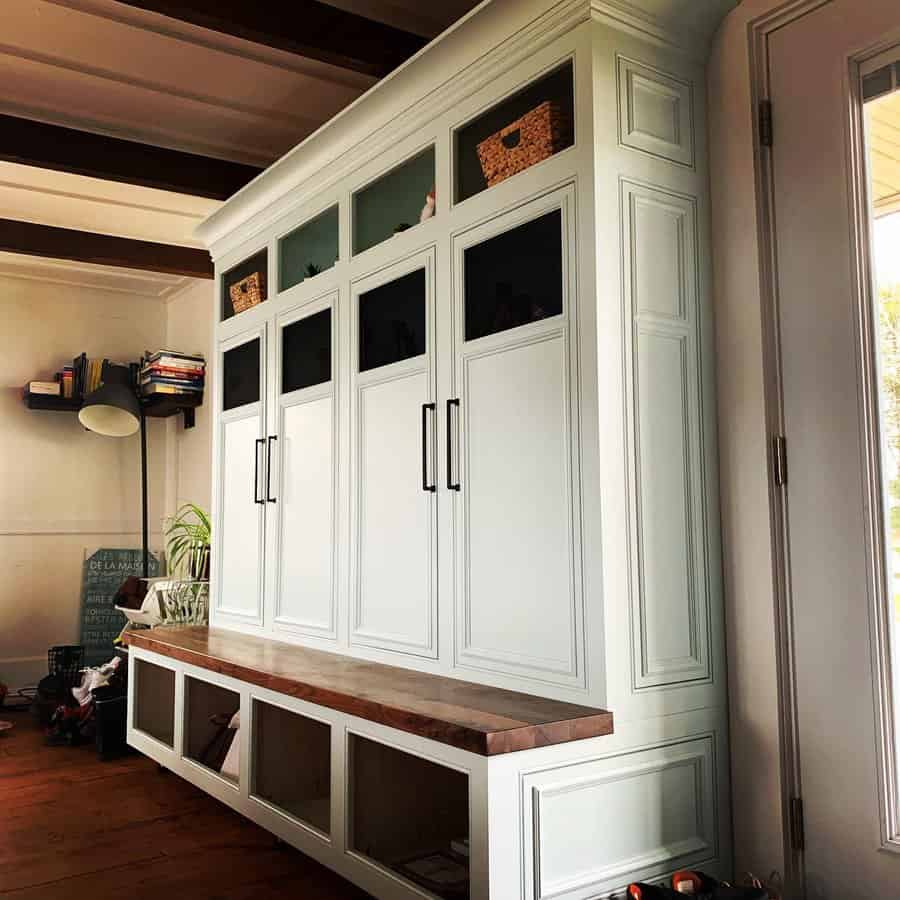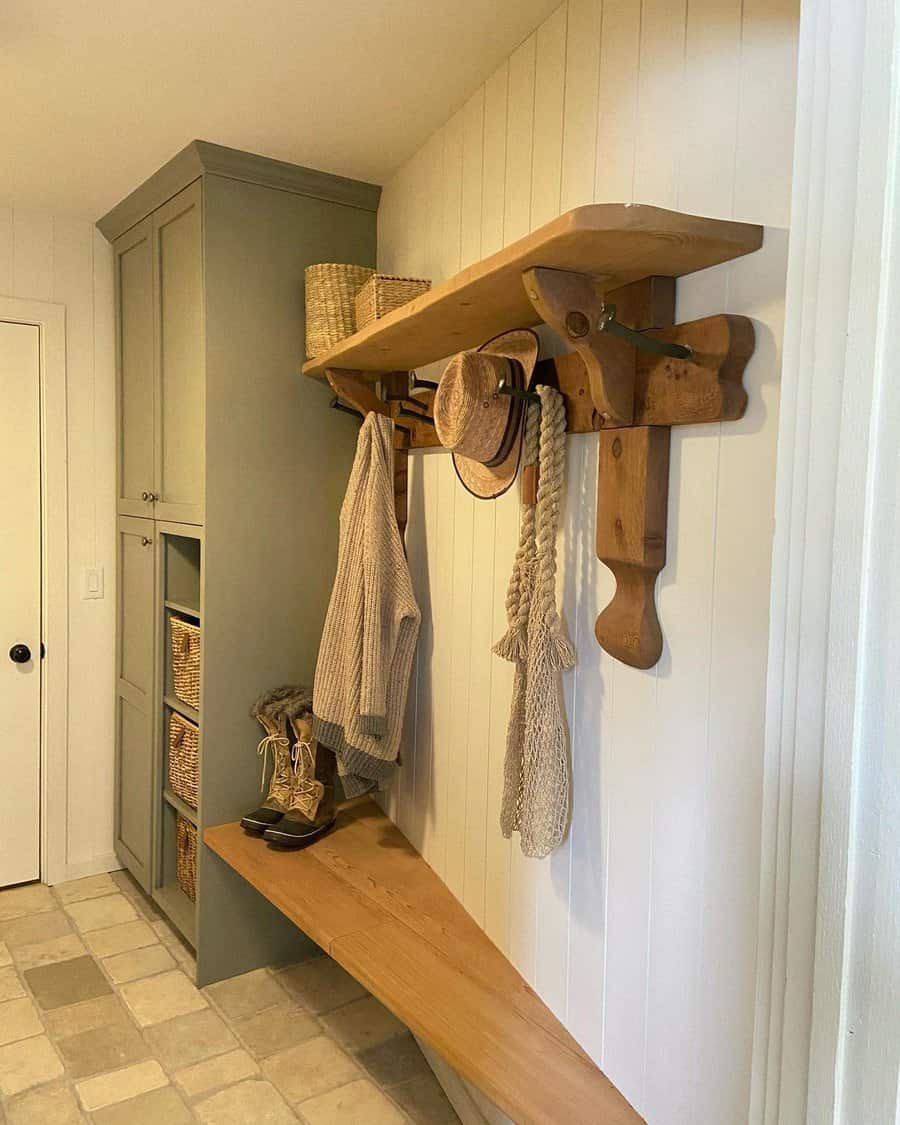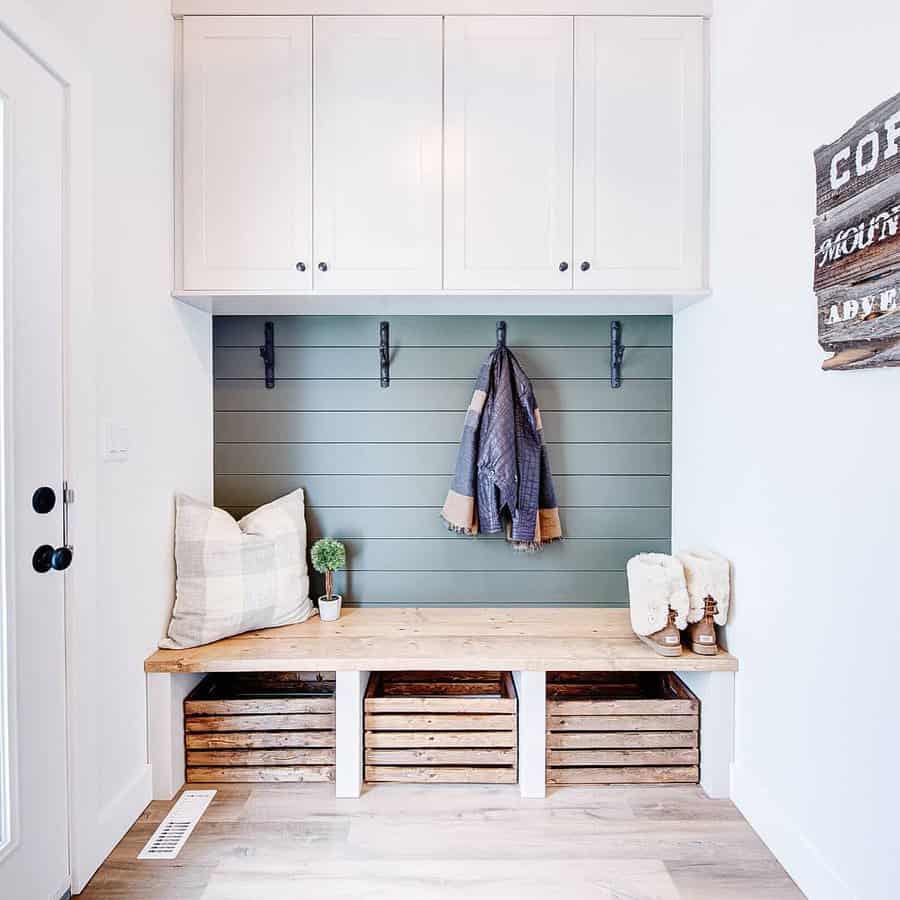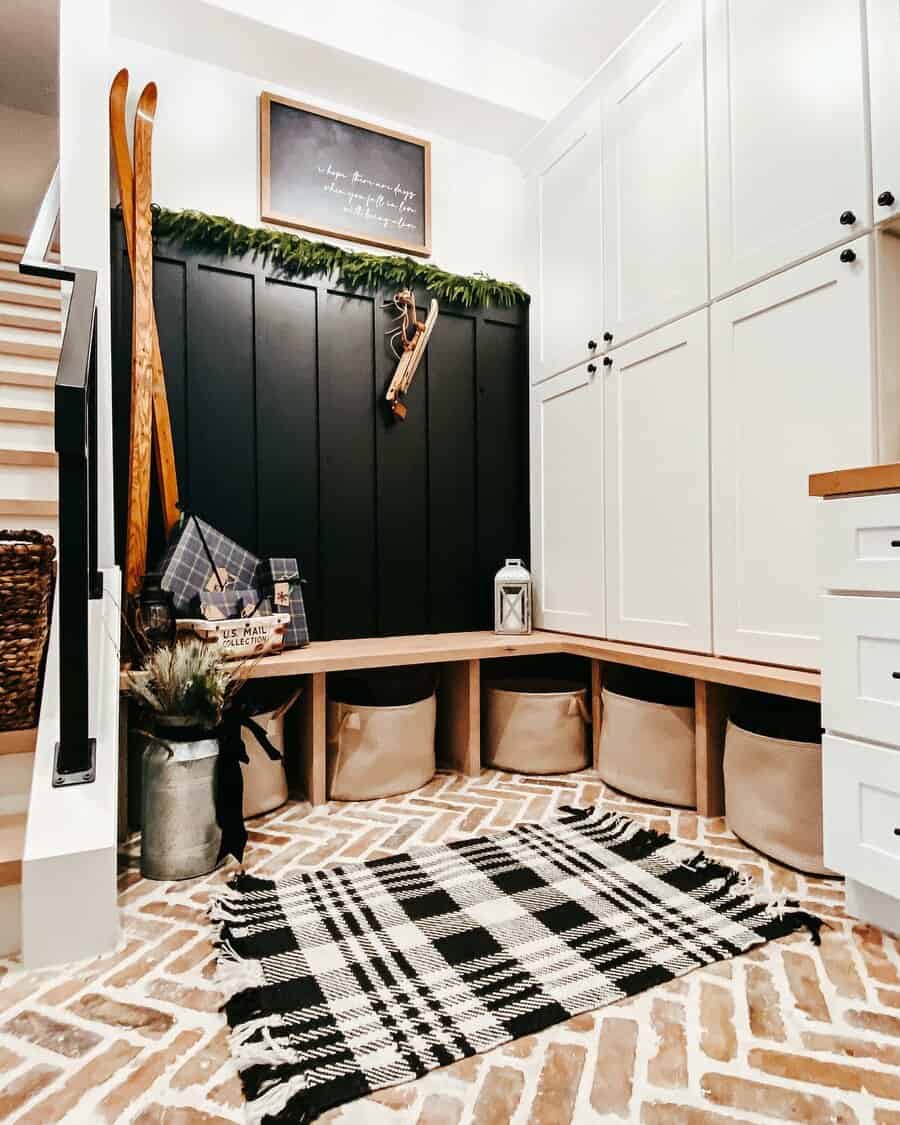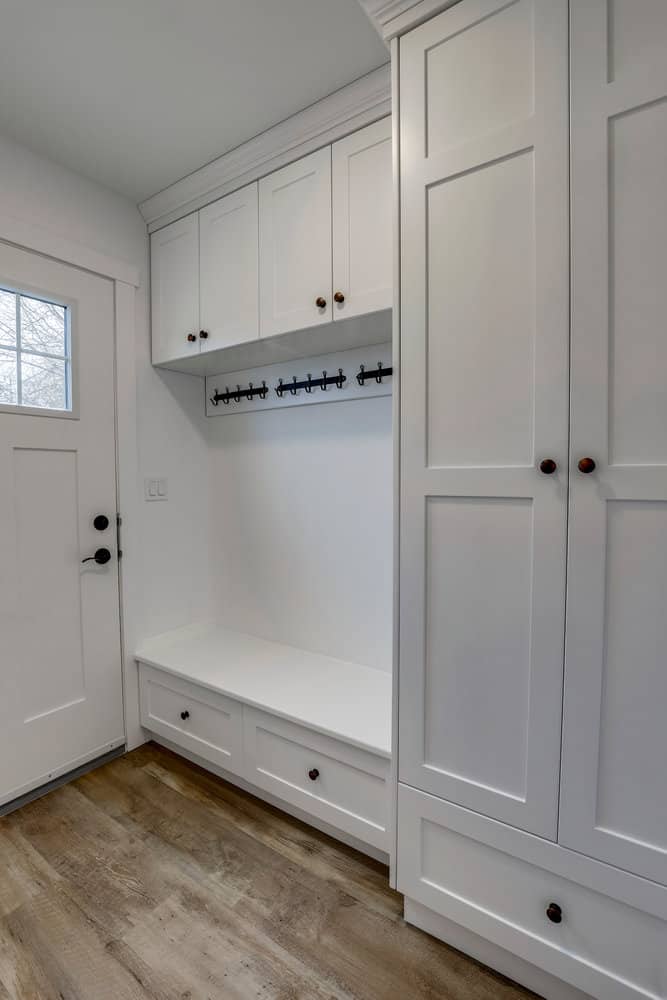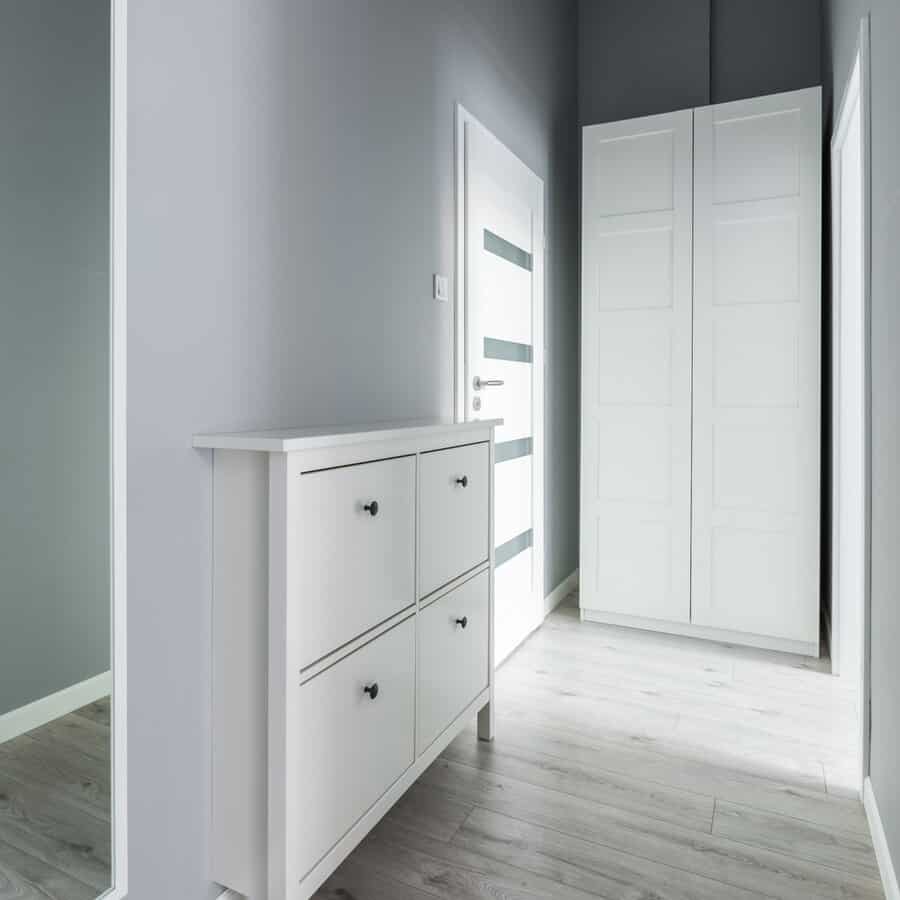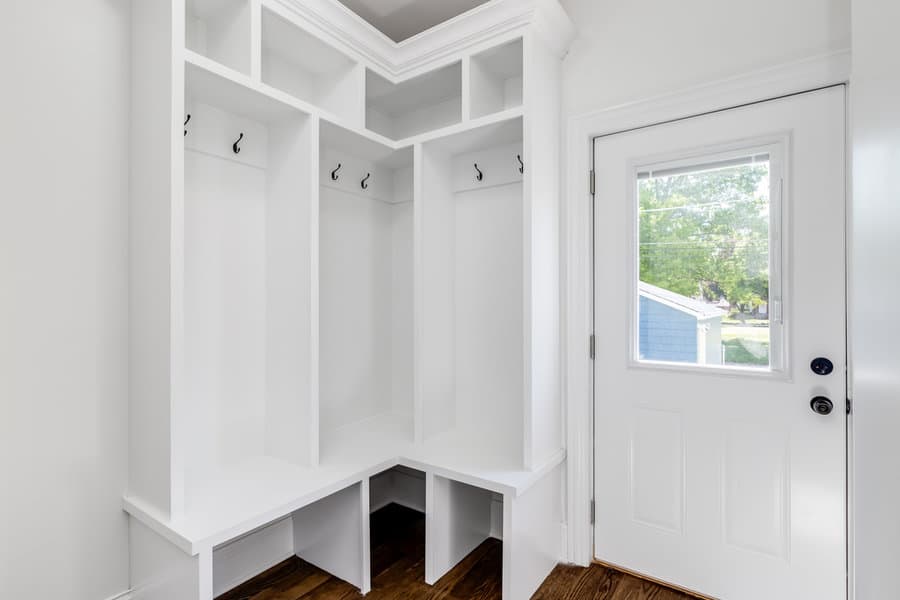 A mudroom bench is between 15 to 20 feet wide, whereas a mudroom cabinet is narrower than a regular closet, measuring about 18 feet deep. Many kitchen cabinets are also 18 inches deep, which makes it easier to upcycle your old kitchen cabinets into stylish mudroom cabinets.
Depending on your space, you can still have a mudroom with narrower shoe cabinets, measuring between 12 ro15 inches deep, and use the vertical space for hooks.
5. Corner
In a mudroom corner cabinet, there's no need for swing-out shelves. You can have an L-shaped bench and install hooks and shelves above them, and you'll have a functional mudroom cabinet.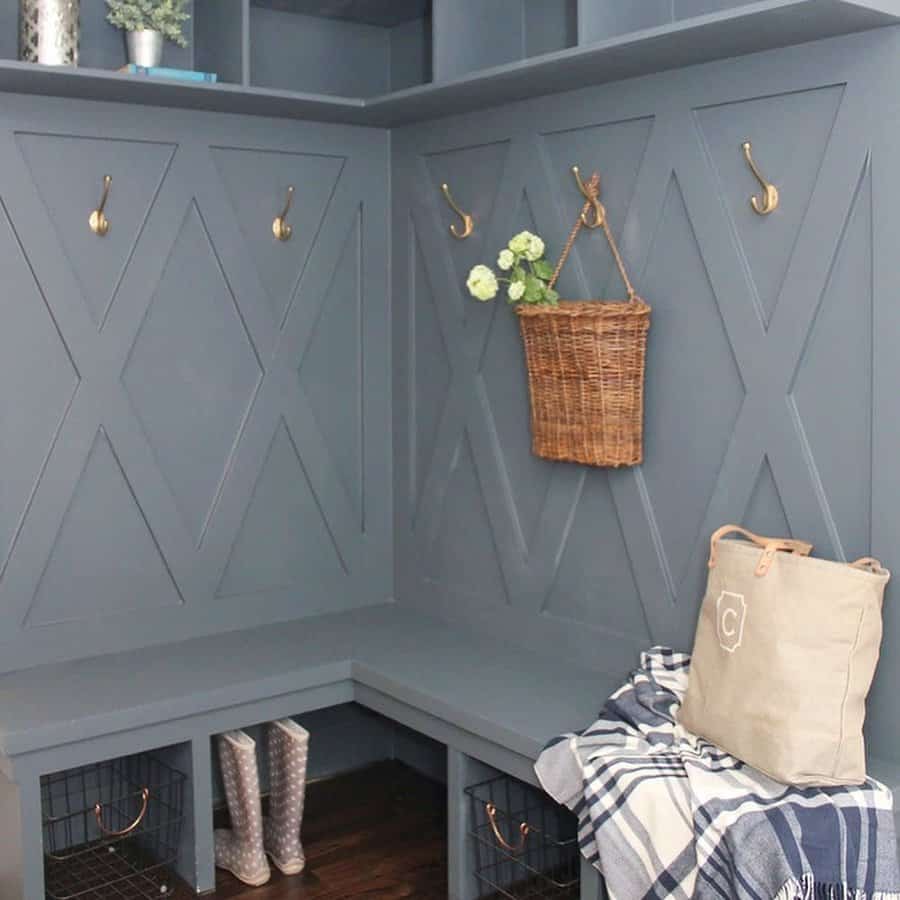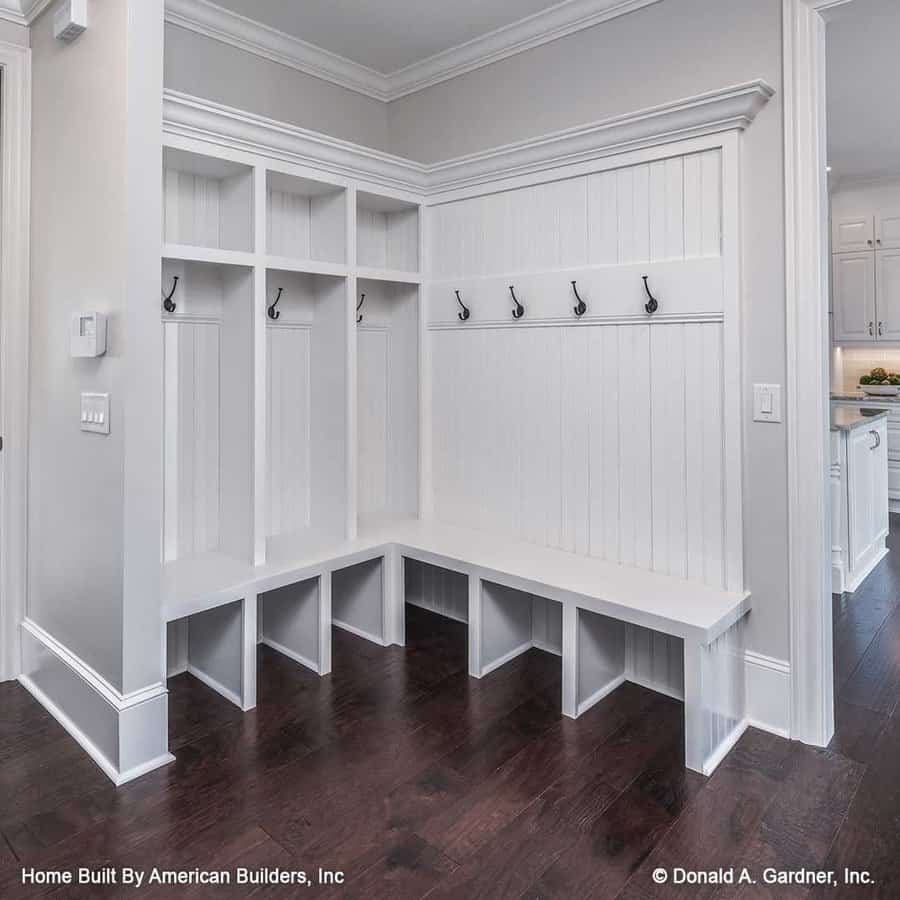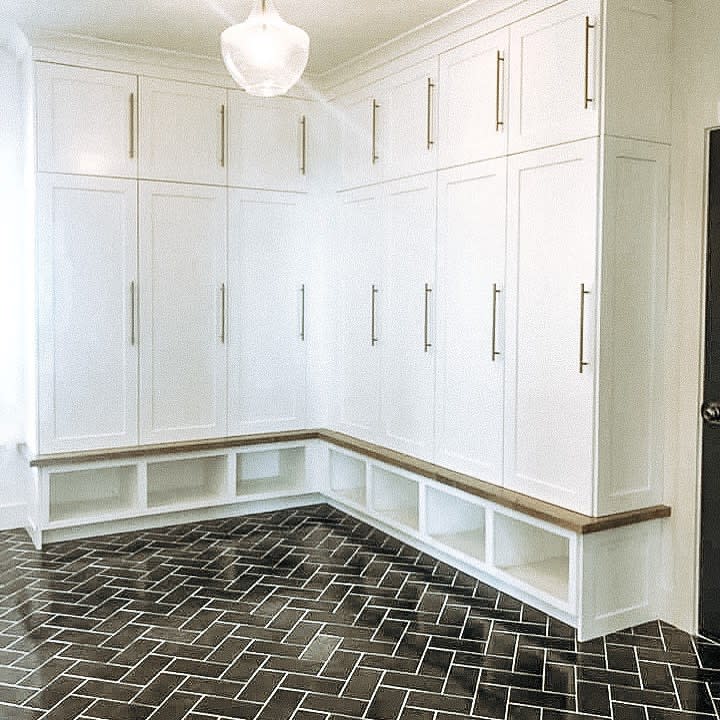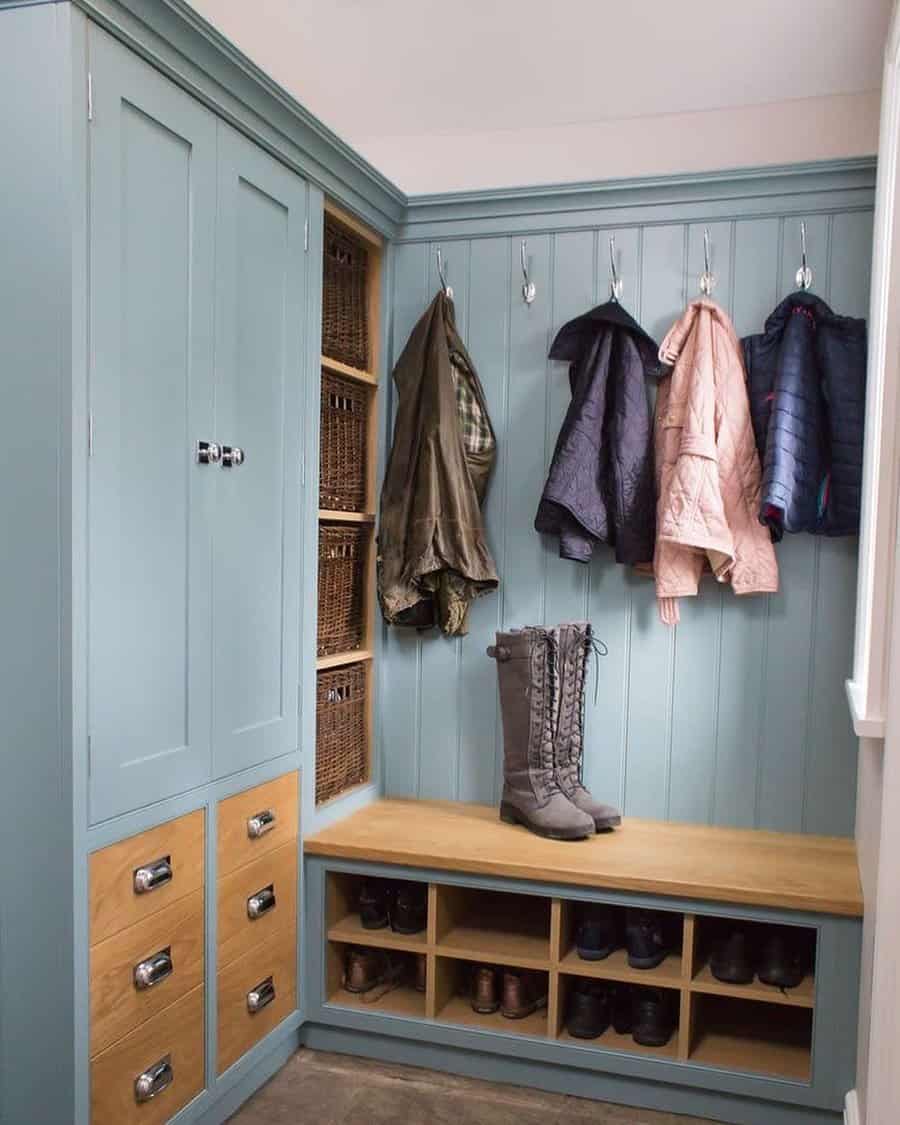 The L-Shape design of a corner cabinet offers many possibilities for creative use of space. You can have one cabinet and shelving unit on one side, and a bench with hooks and underneath cubbies for shoe storage on the other side, for maximum use of the corner space.
6. DIY
If you don't want a makeshift mudroom, there are plenty of affordable solutions that look nice, and help you keep your house organized.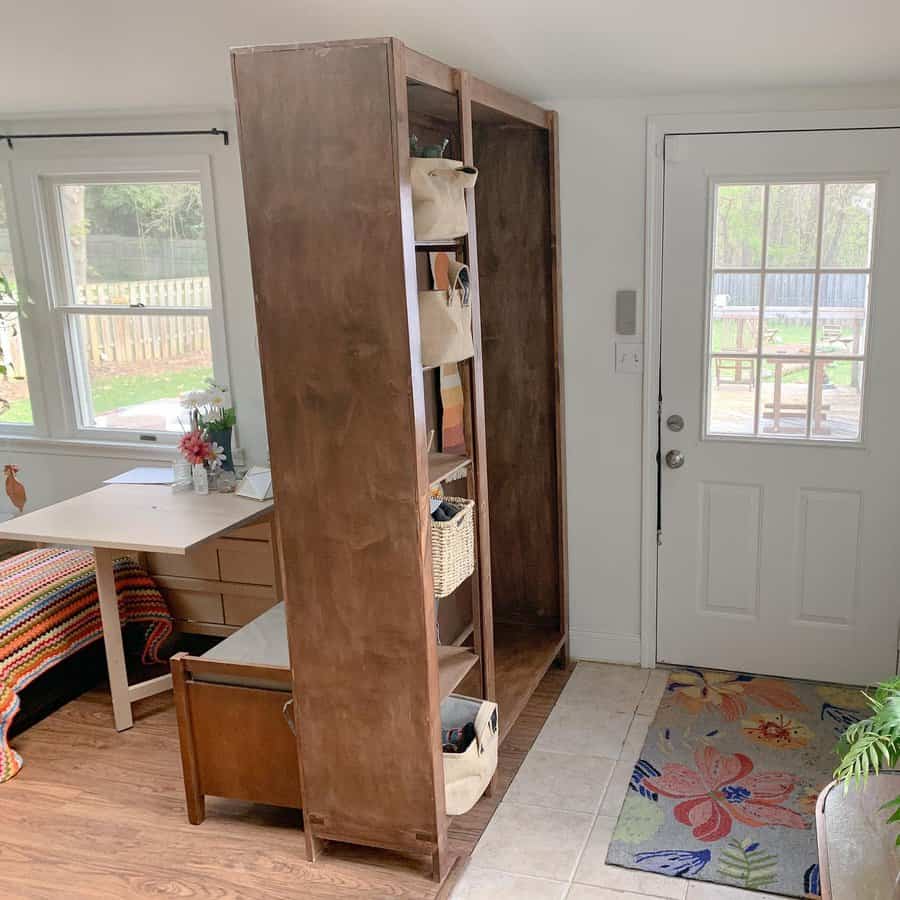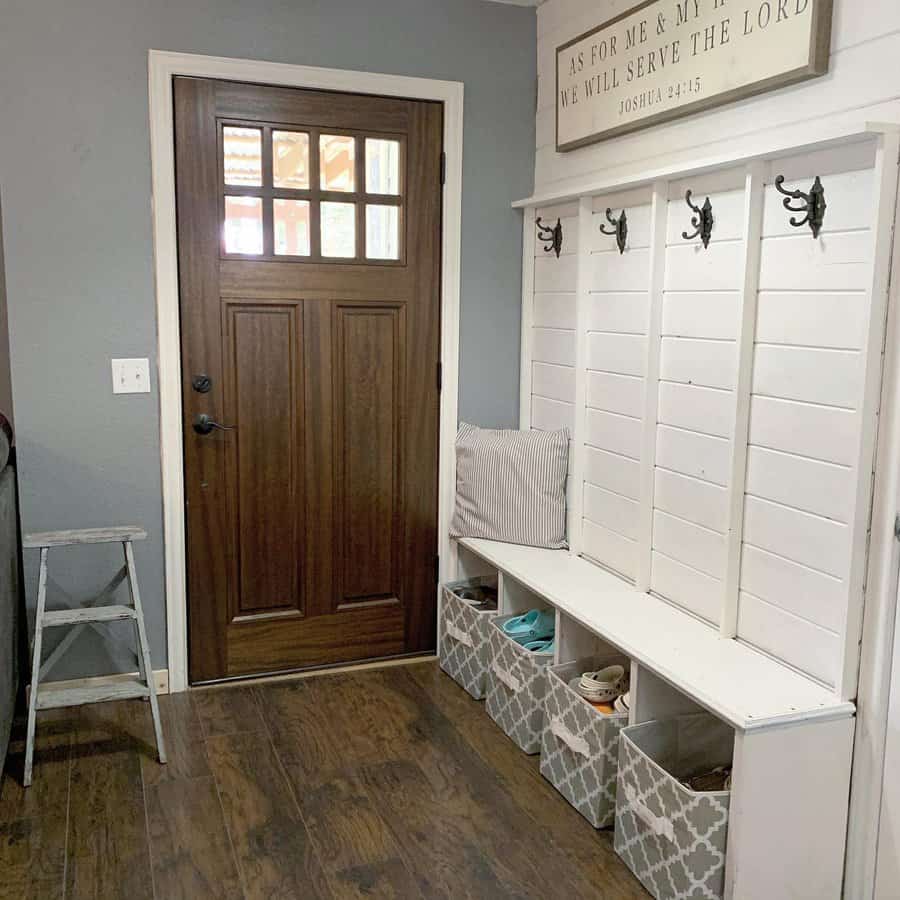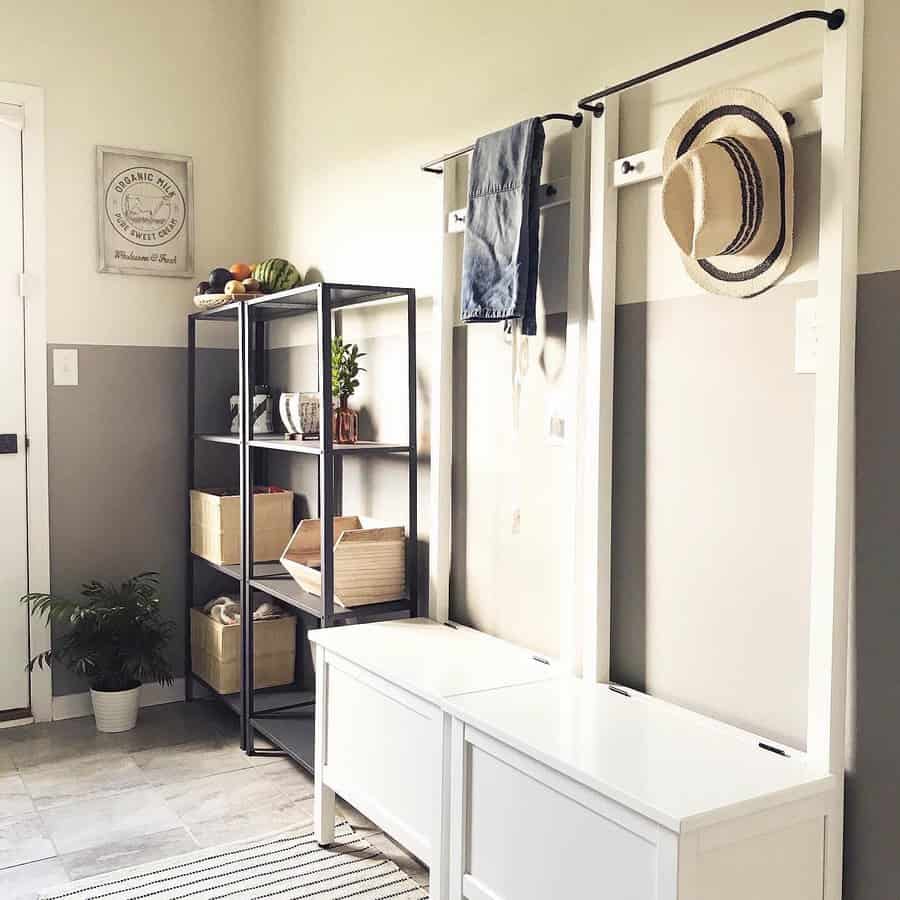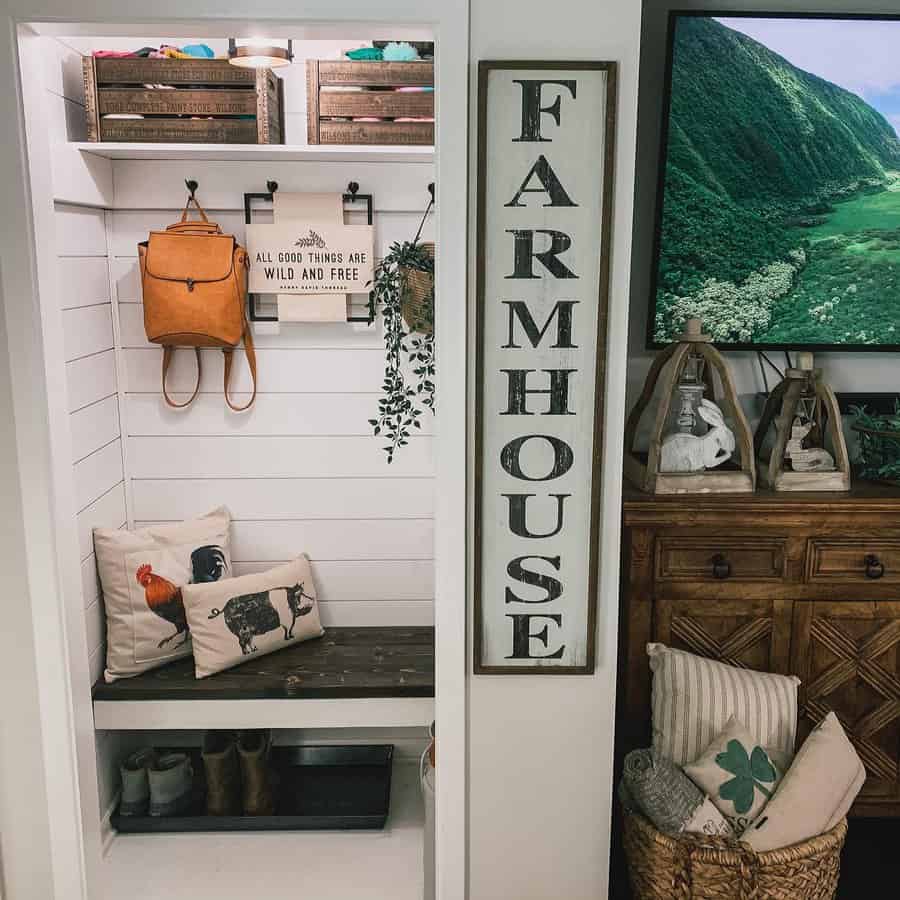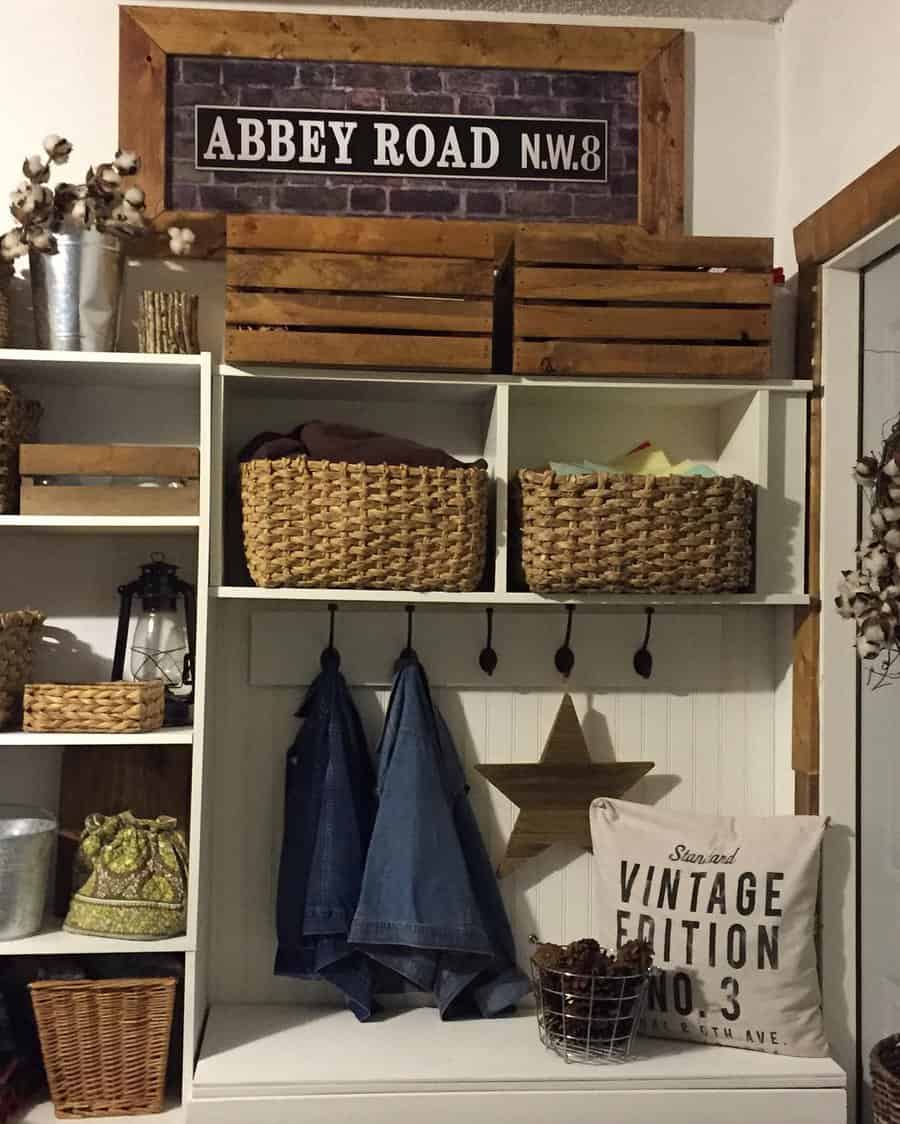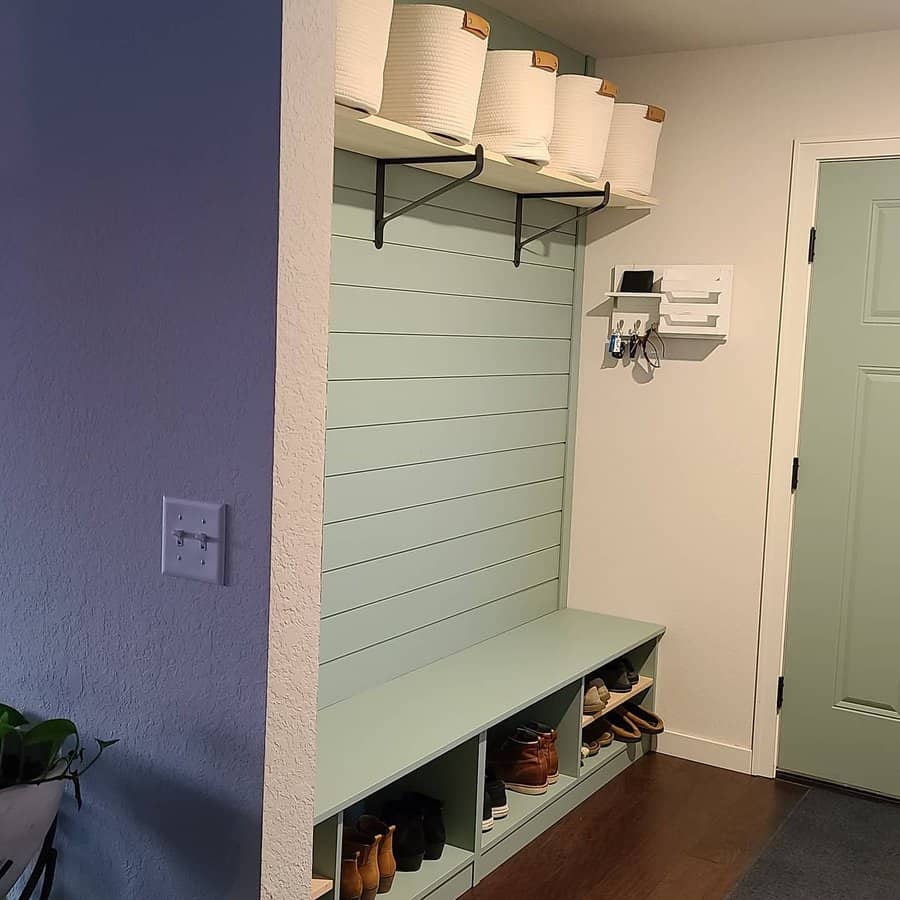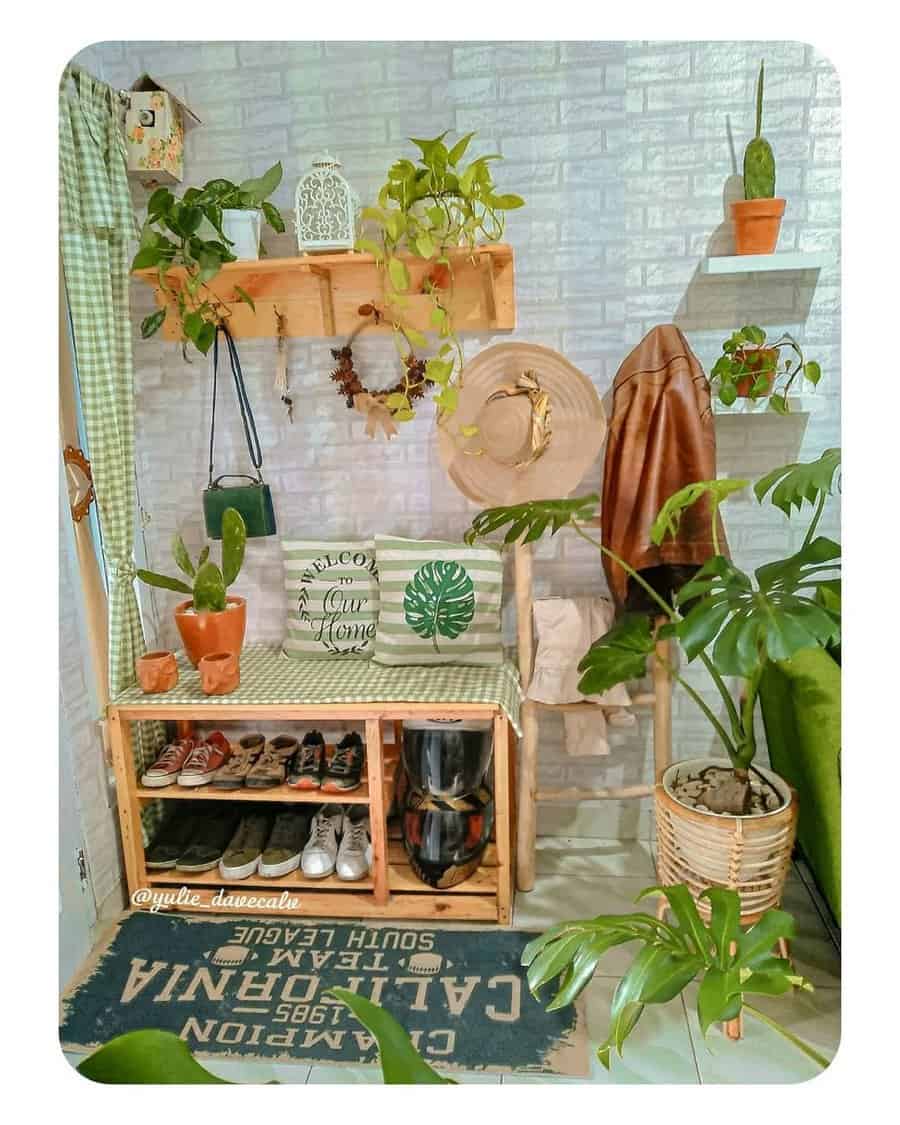 Use pallets to make a bench and repurpose wooden crates to use as shelves, simply by hanging them on the wall. All you need is a nice coat of paint, and you'll have a stylish and functional mudroom.
See more DIY storage ideas here.
Another great option is to cover the walls with beadboard paneling or lattice wood and install a few hooks.
7. Furniture
If you don't have a closet at your entryway, you can upcycle old furniture to make a cozy and functional mudroom. You need cubbies or shelving, wall hooks, a seating area, and some storage for shoes.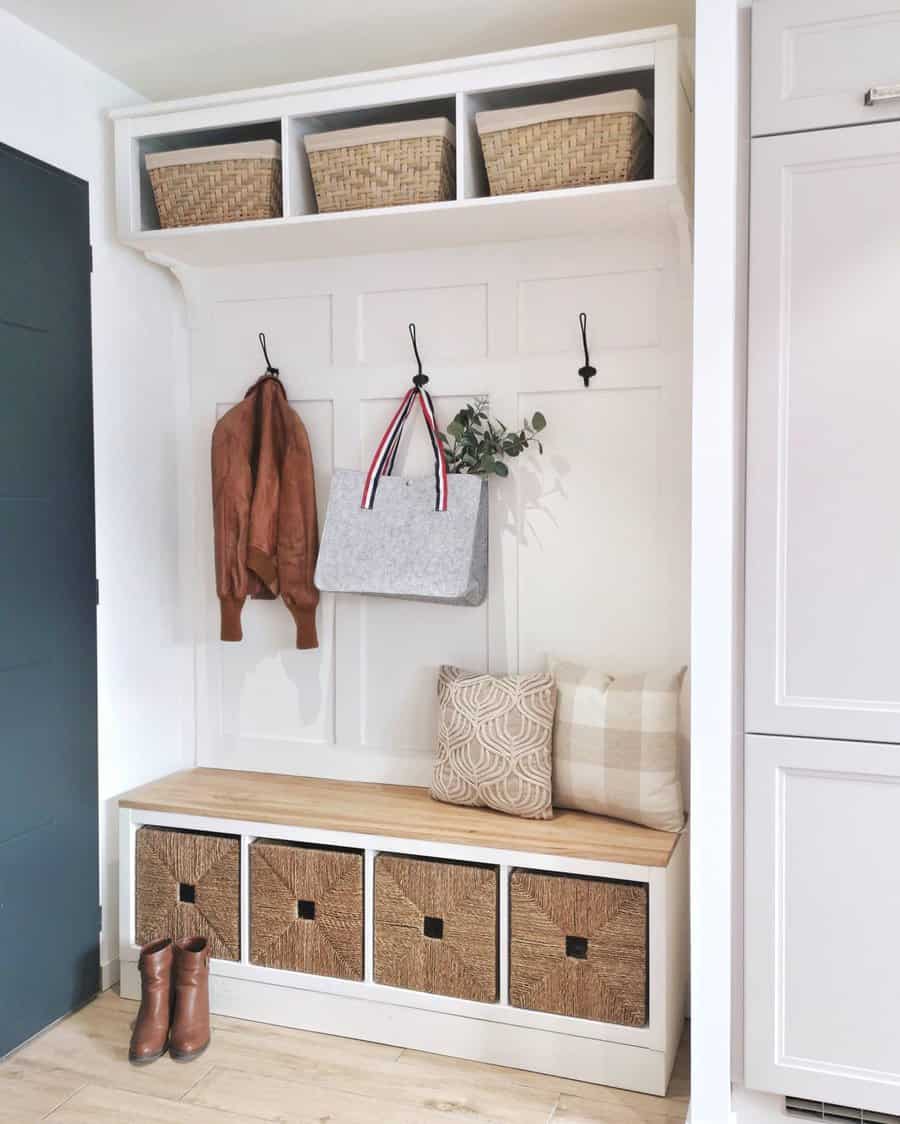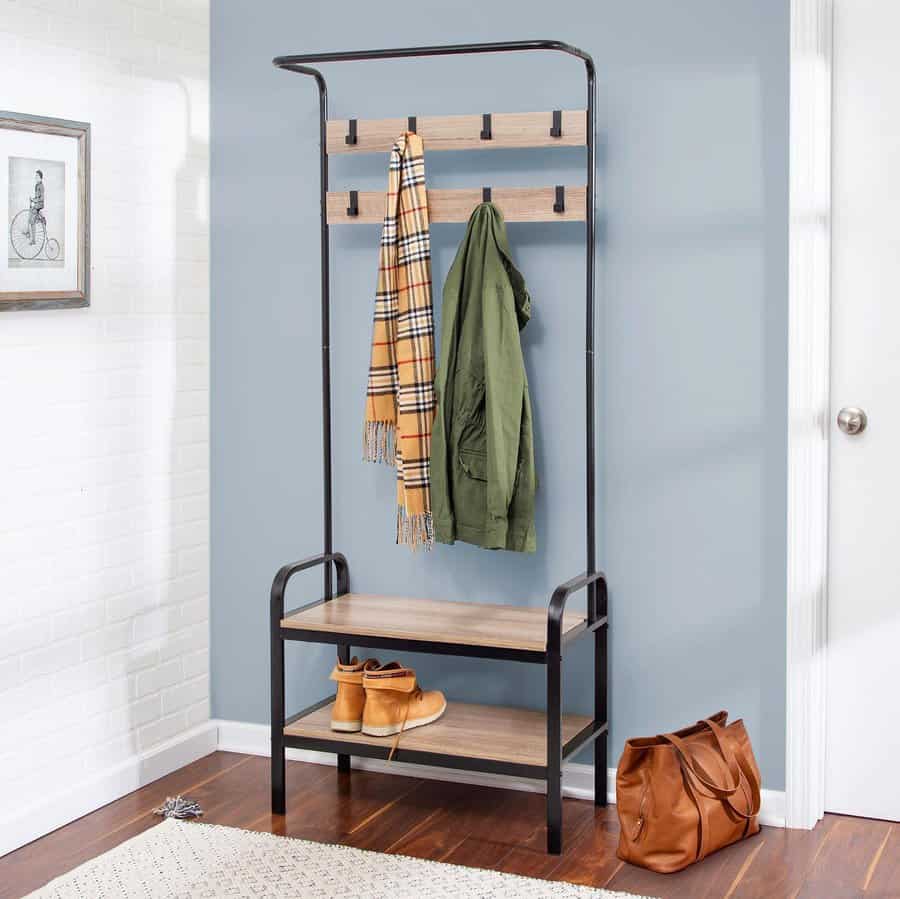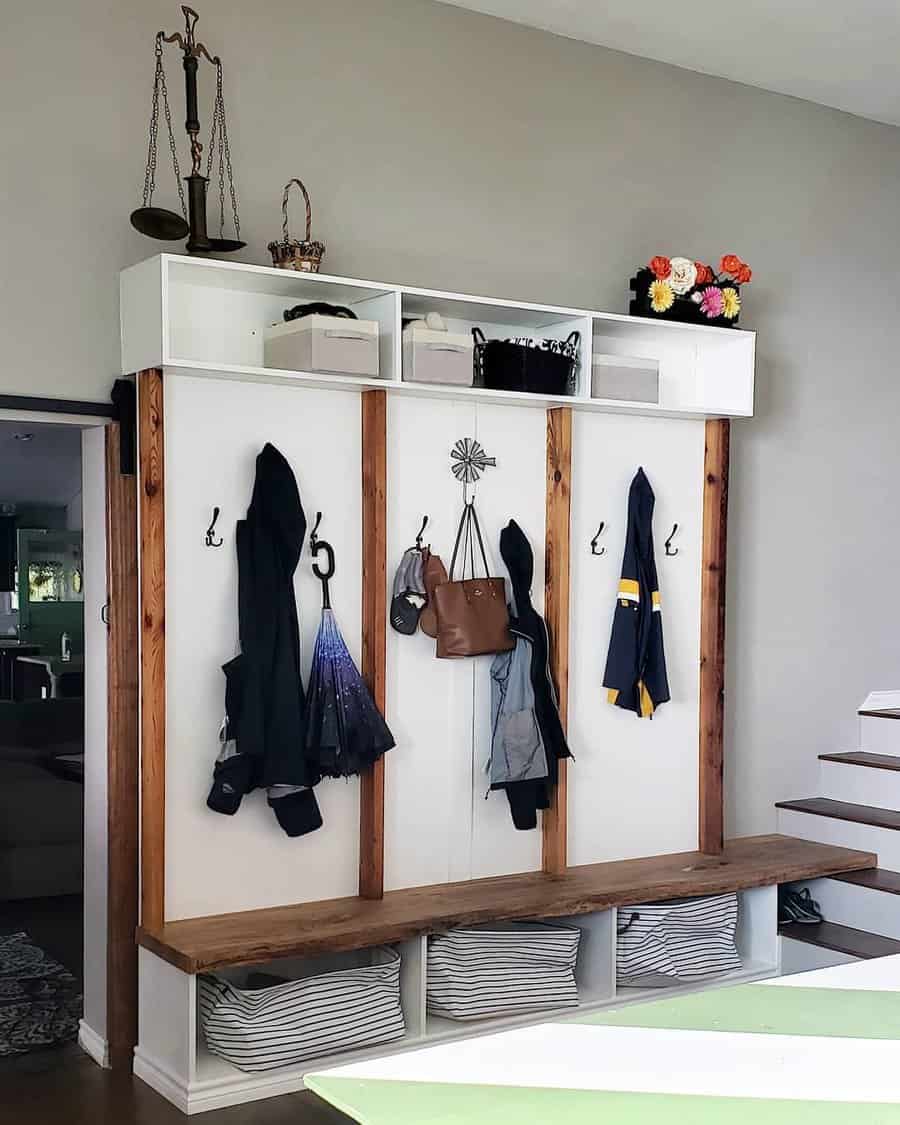 You can repurpose an old dresser or even kitchen cabinets for storage, reupholster a bench, and give the furniture a fresh coat of paint. Give the décor the final touches with a rug and some cushions, and voilà!
8. Hooks and Hangers
There is a great variety of hooks that you can choose from, for your mudroom area. They need not just to serve a purpose, but also to be a décor piece that adds to your design style.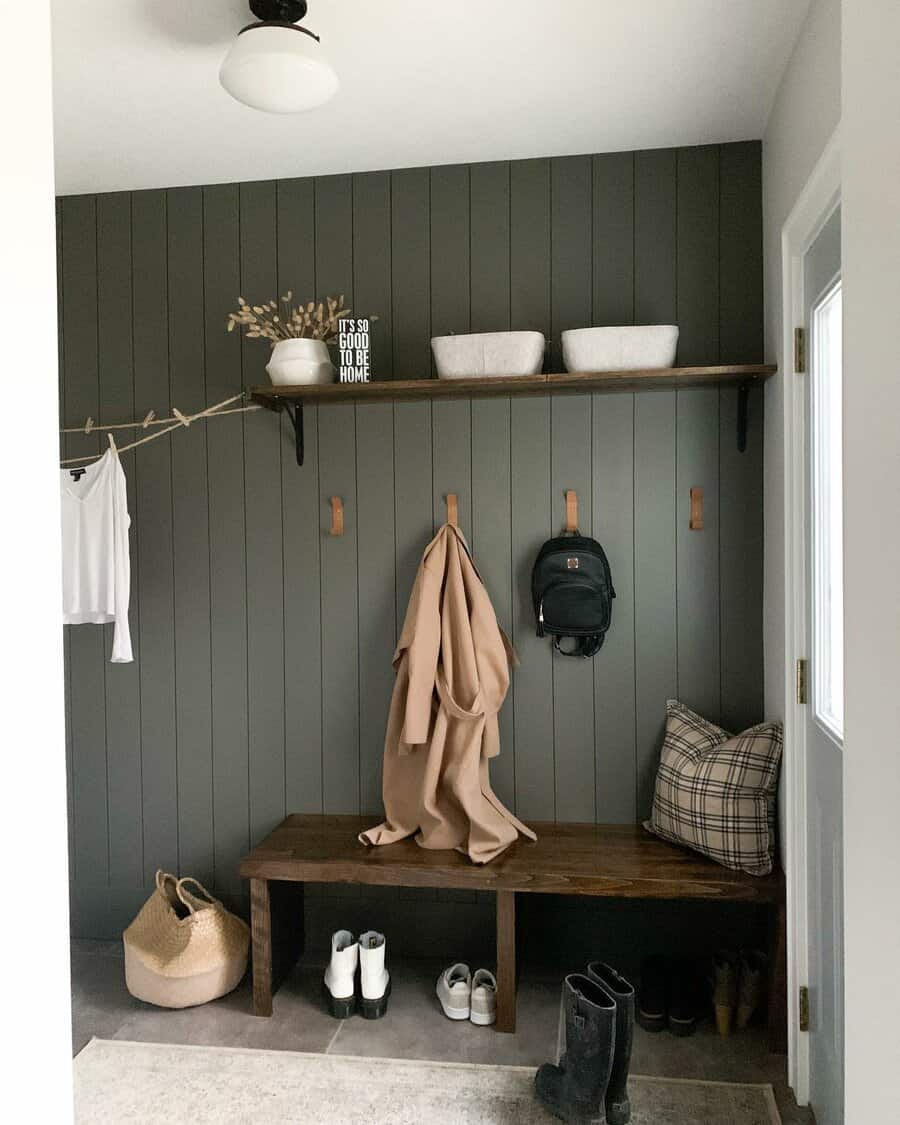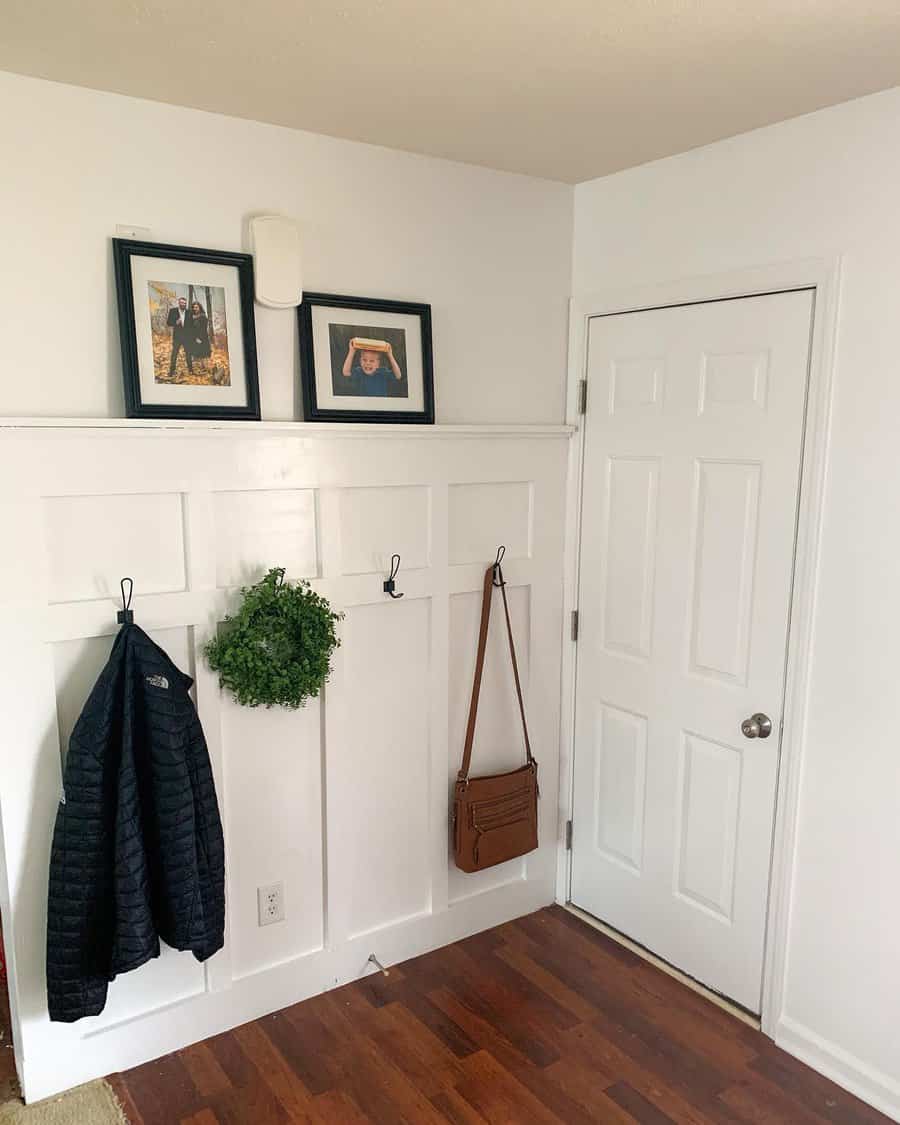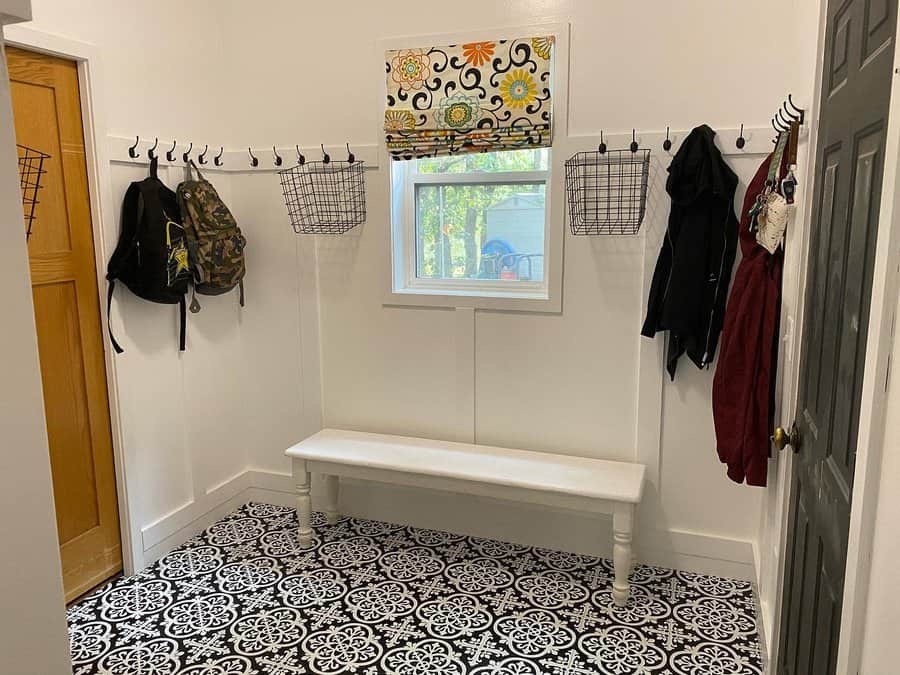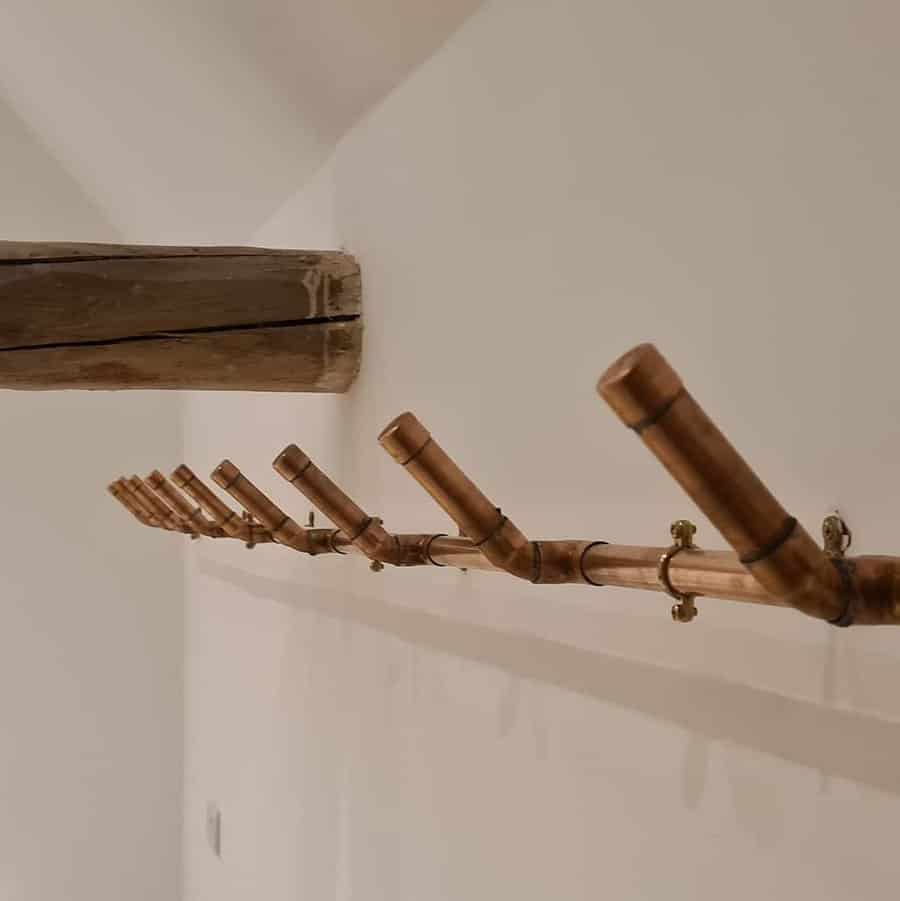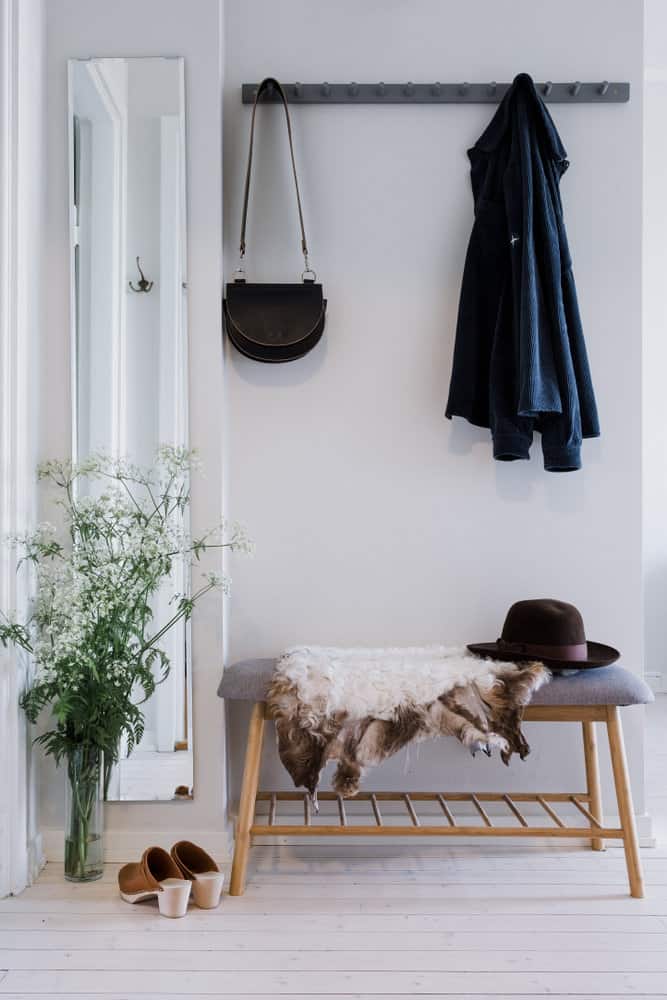 Space the hooks at about 4 to 6 inches from each other, and install extra hooks at a lower height, for children to easily reach their coats, jackets, and backpacks.
9. Locker Type
Locker-type cabinets are stylish and allow for flexible design. You can have a wider lower cabinet that doubles as storage and seating, followed by up-to-ceiling lockers, for maximum use of space.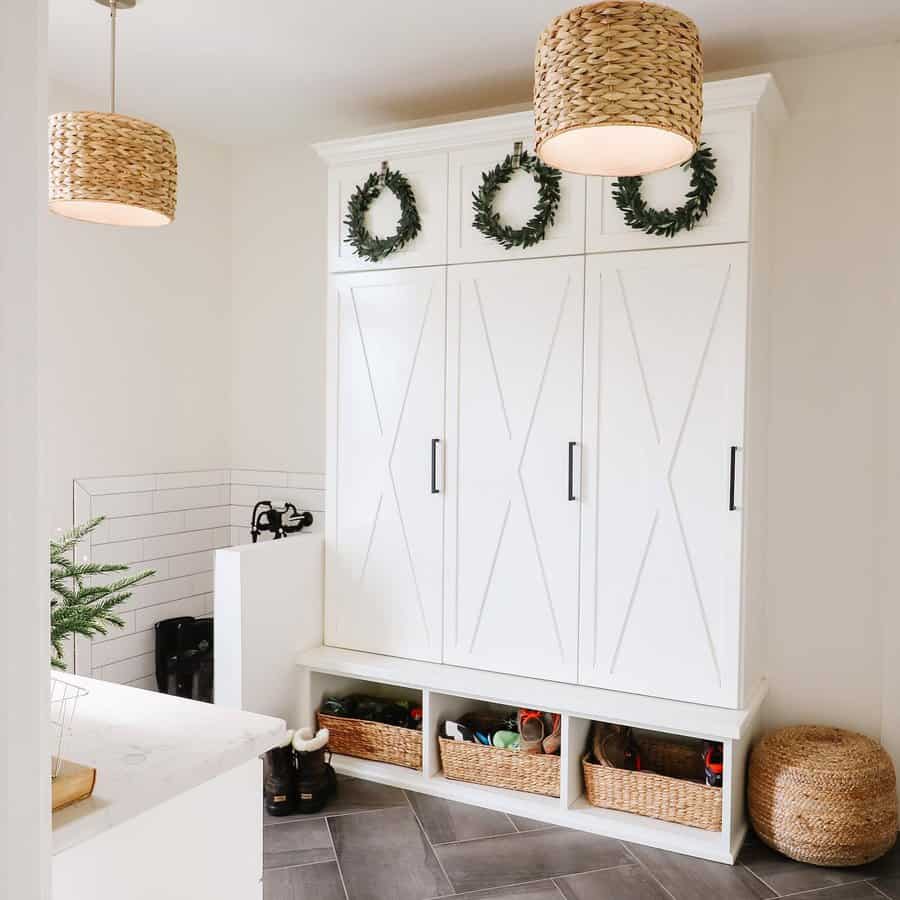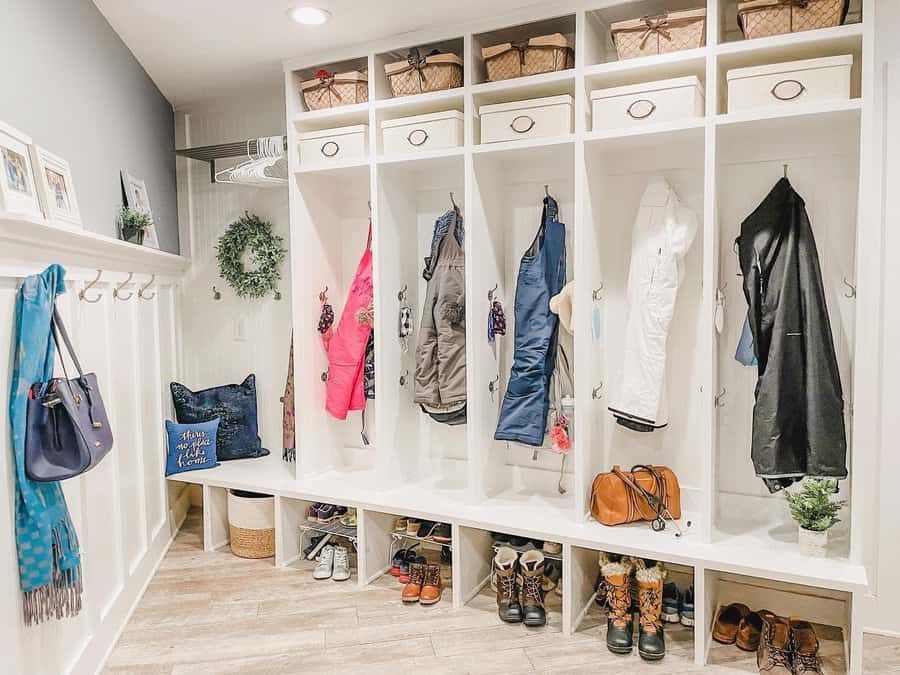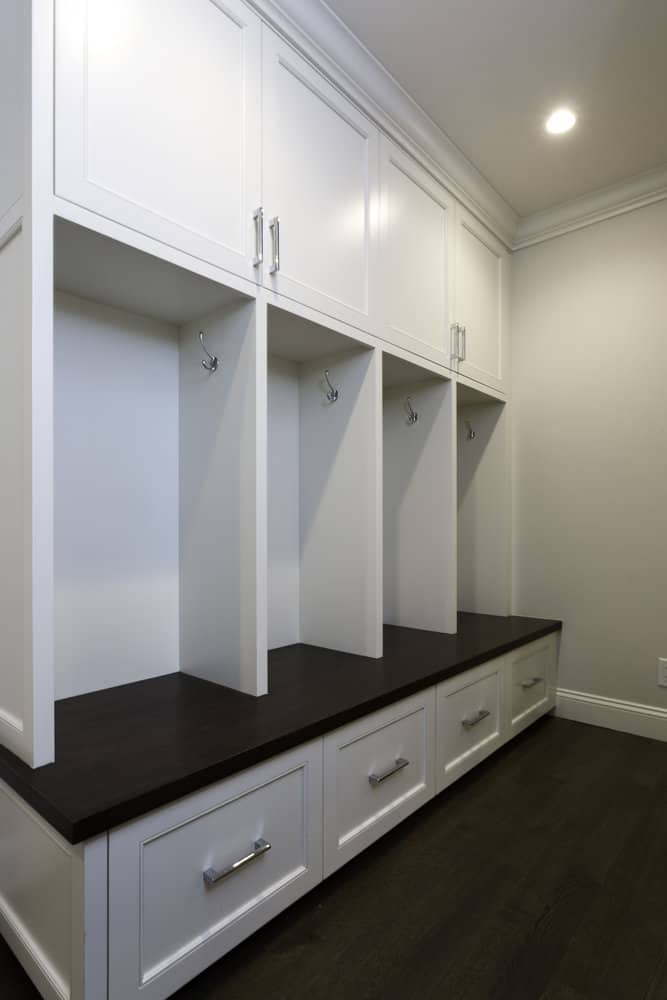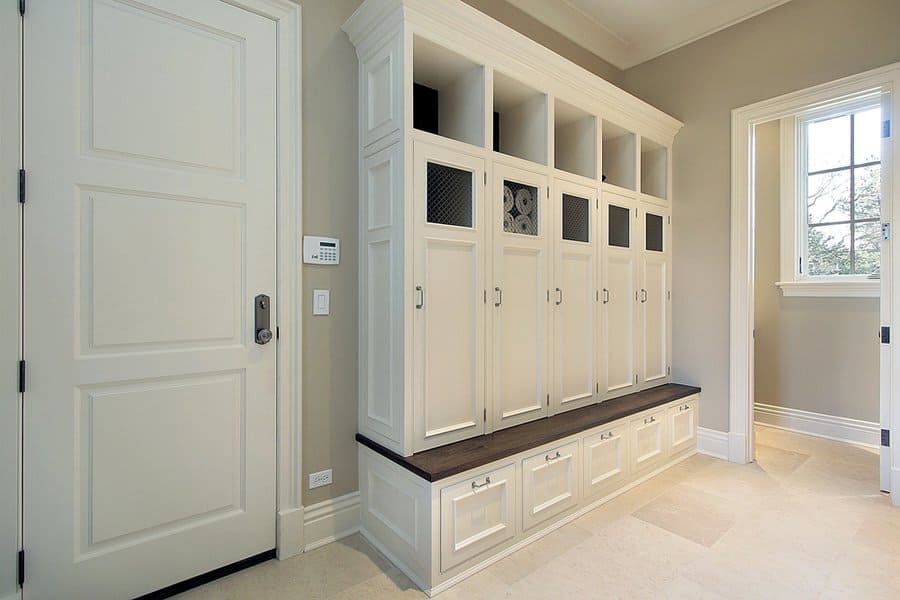 It is the perfect solution for big families, where everyone has one storage compartment.
10. Metal
If you like industrial style, then metal lockers are the way to go. Although they seem durable, keep in mind that they are susceptible to dents, corrosion, and rust.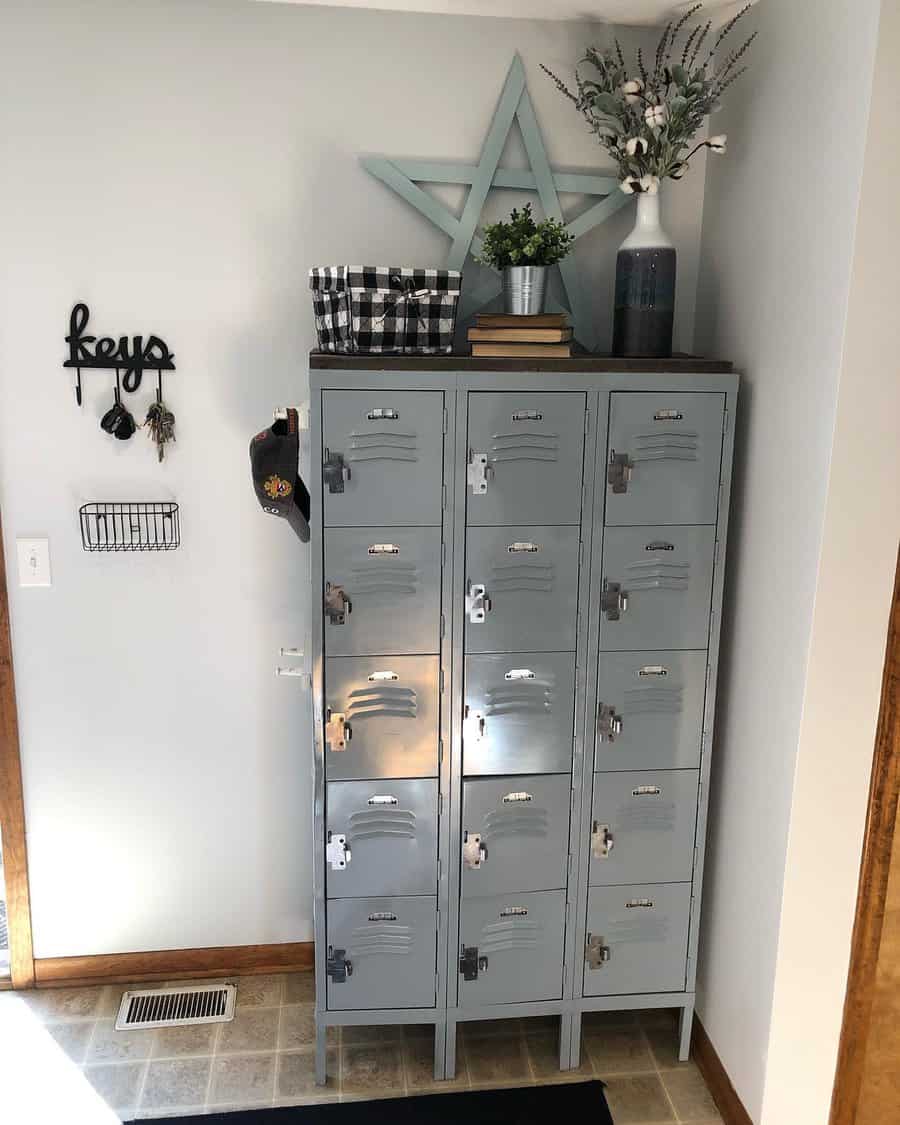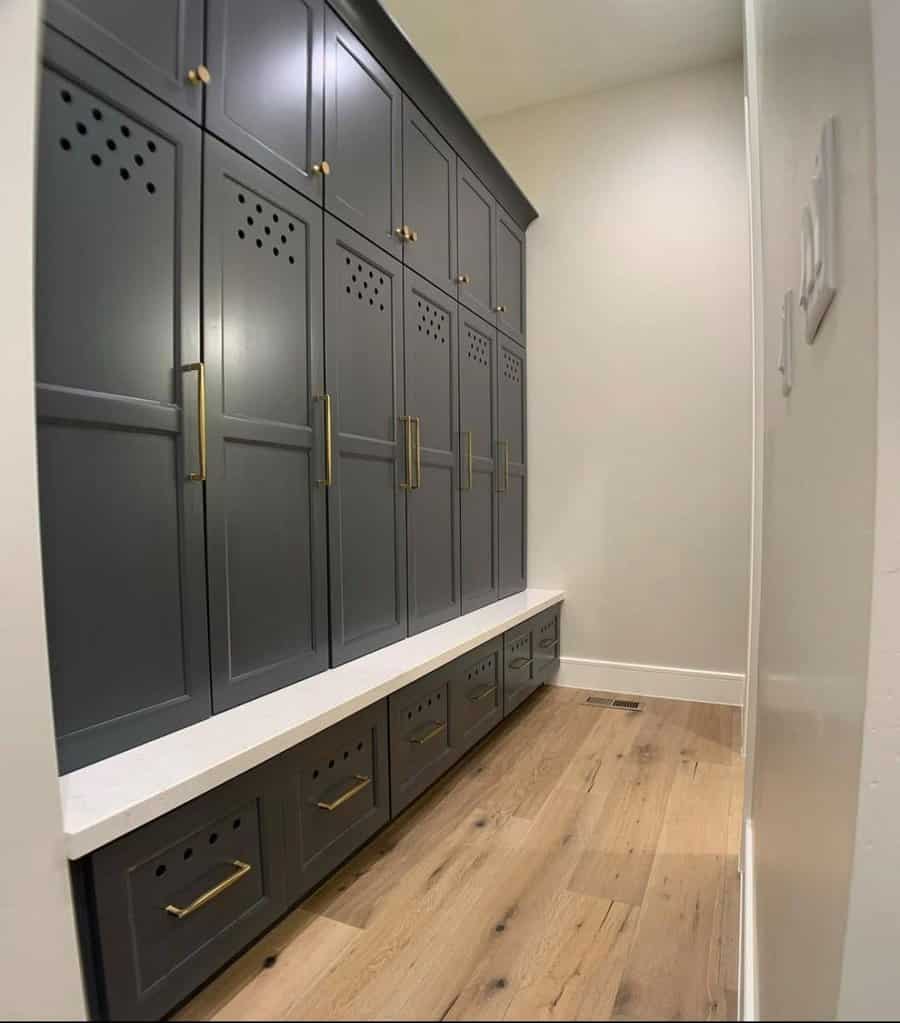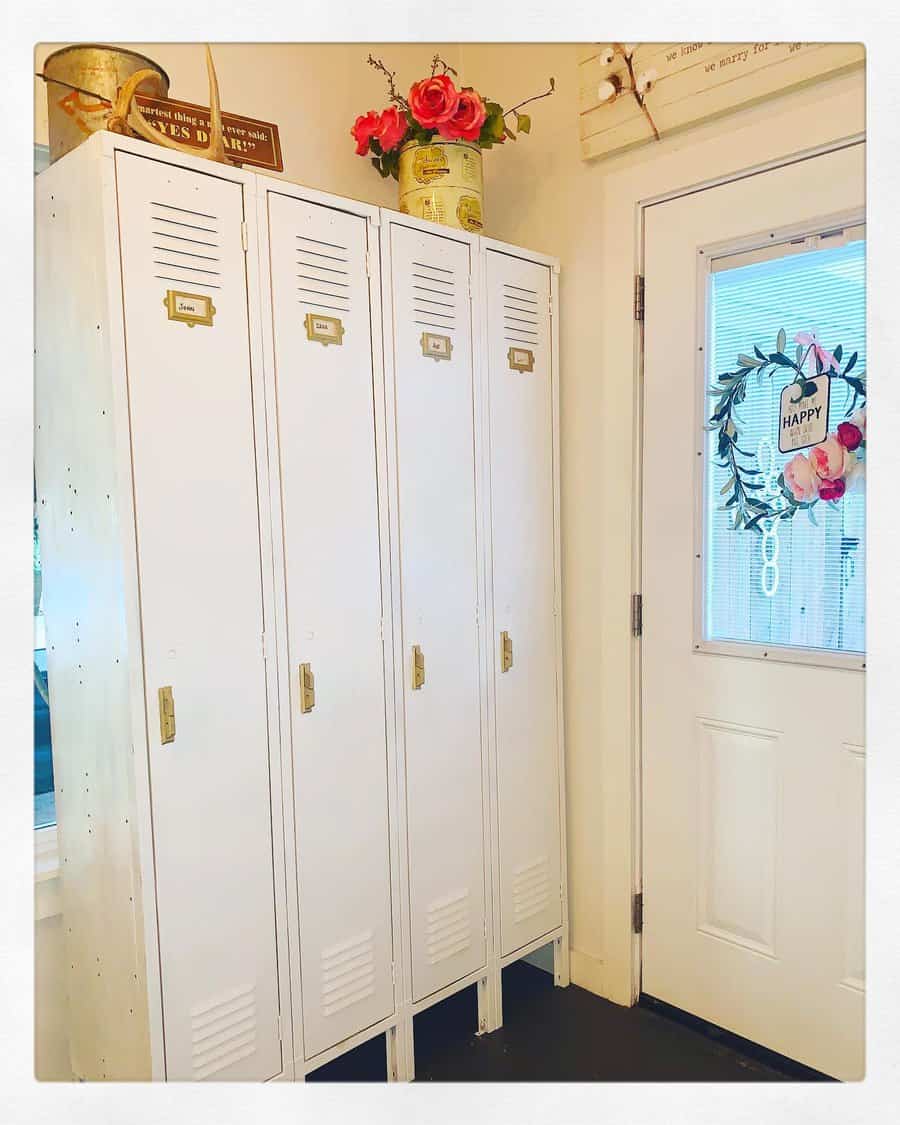 You should avoid storing wet items or anything that could scrap off the painting, and cause rust as a result.
11. Shelves
If you lack space for a mudroom, maybe a shelving unit is all you need.
You can apply tiles to wooden lower shelves, to store wet shoes and rain boots. Apart from giving the space a unique look, it protects the wood and makes it really easy to clean, even if your shoes are covered with mud or snow.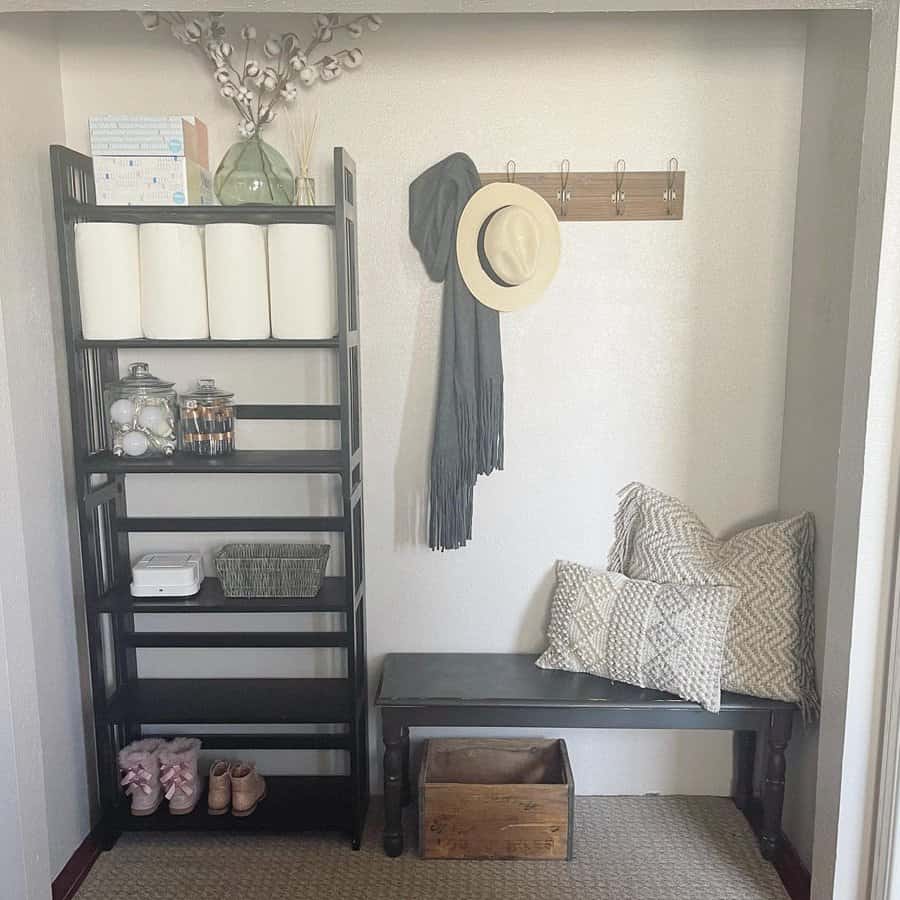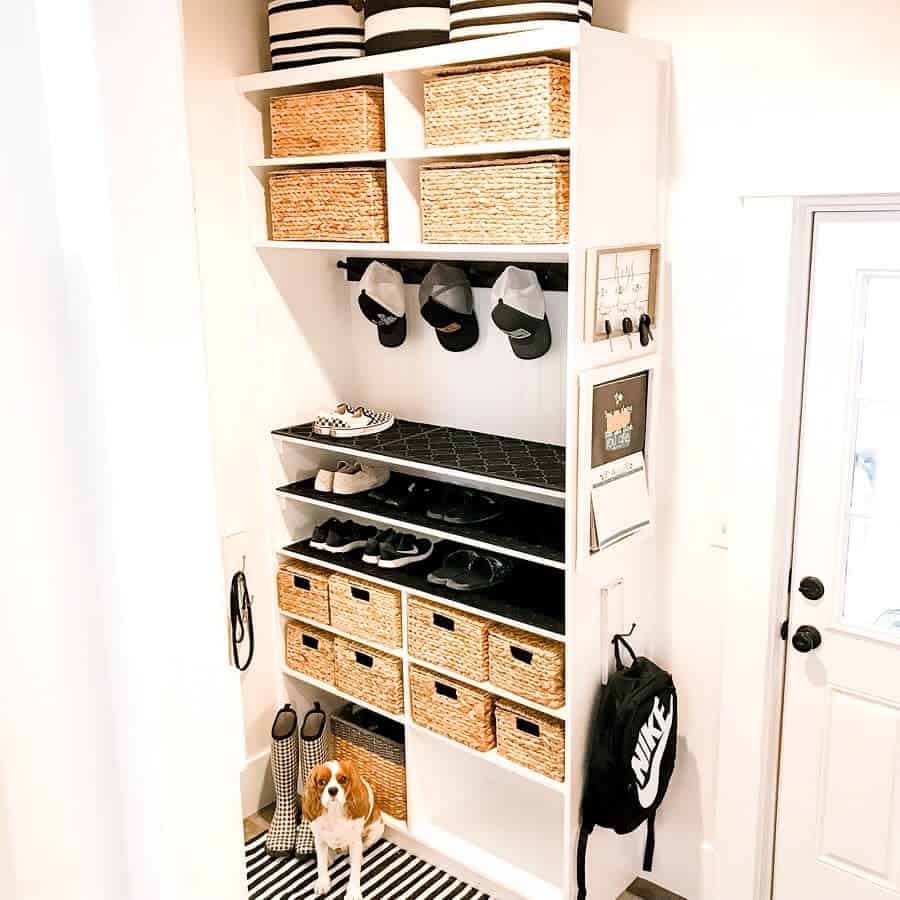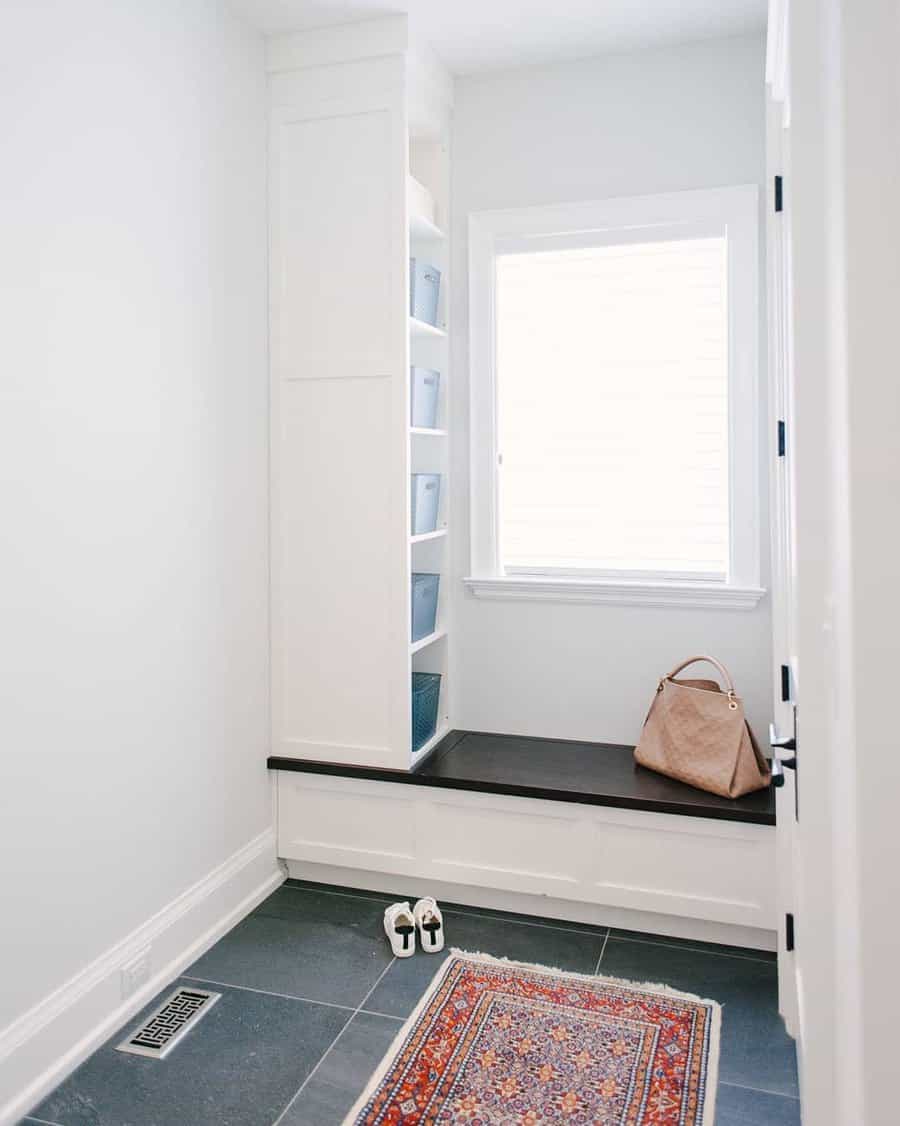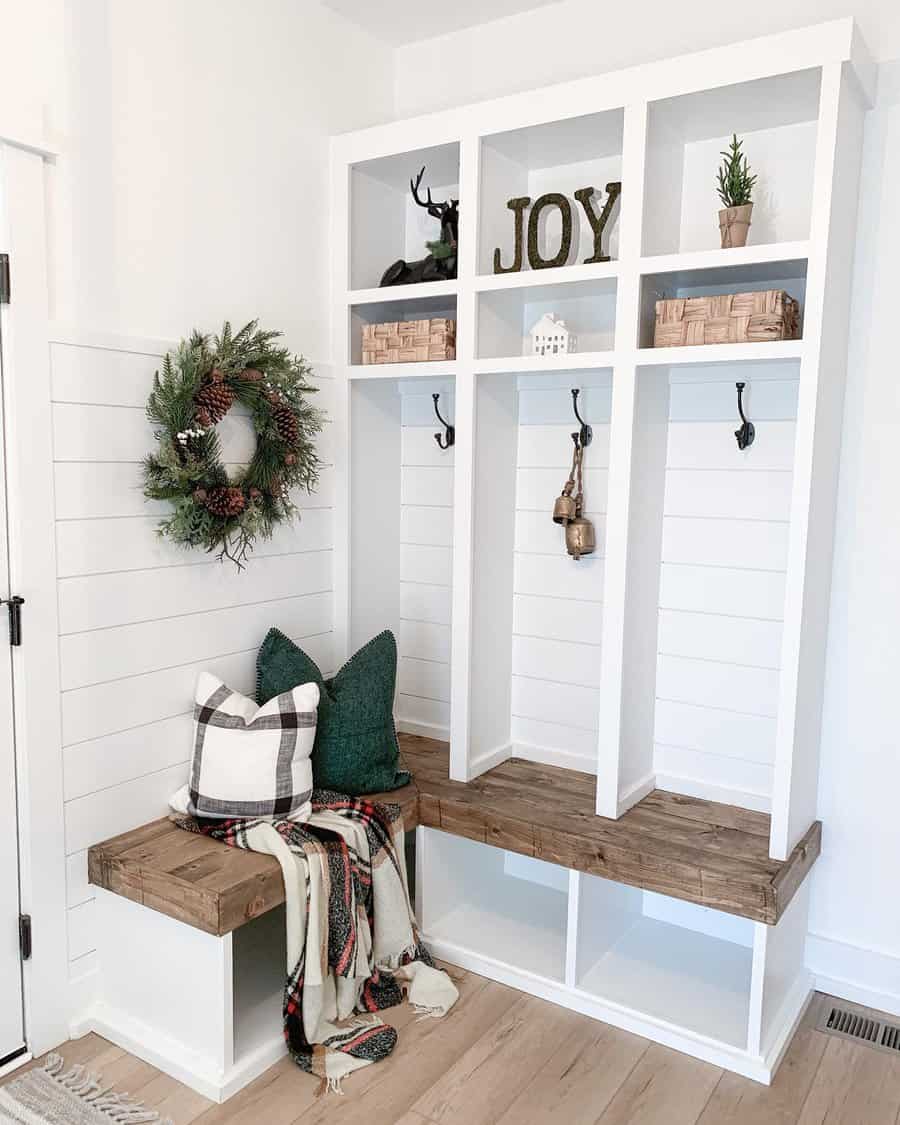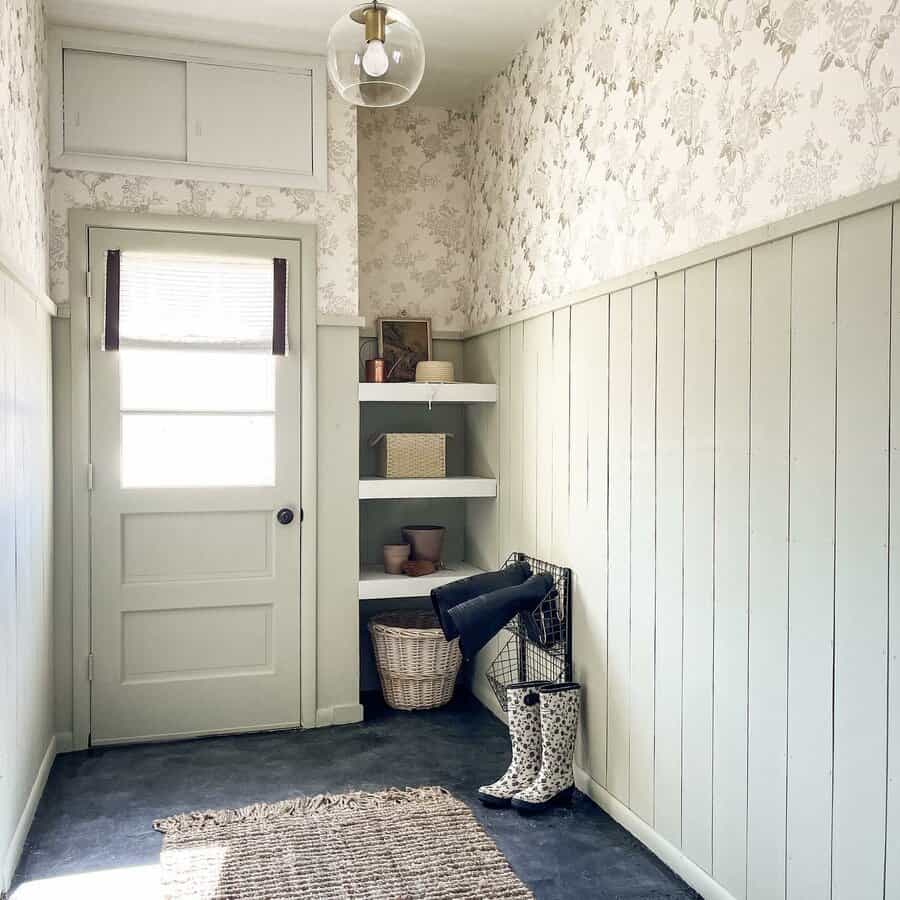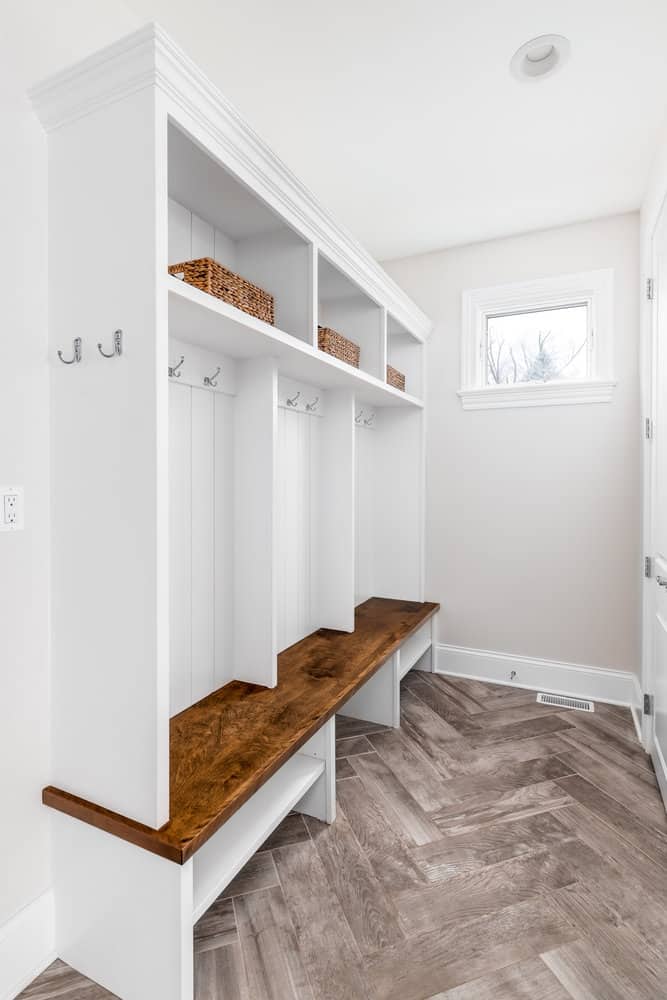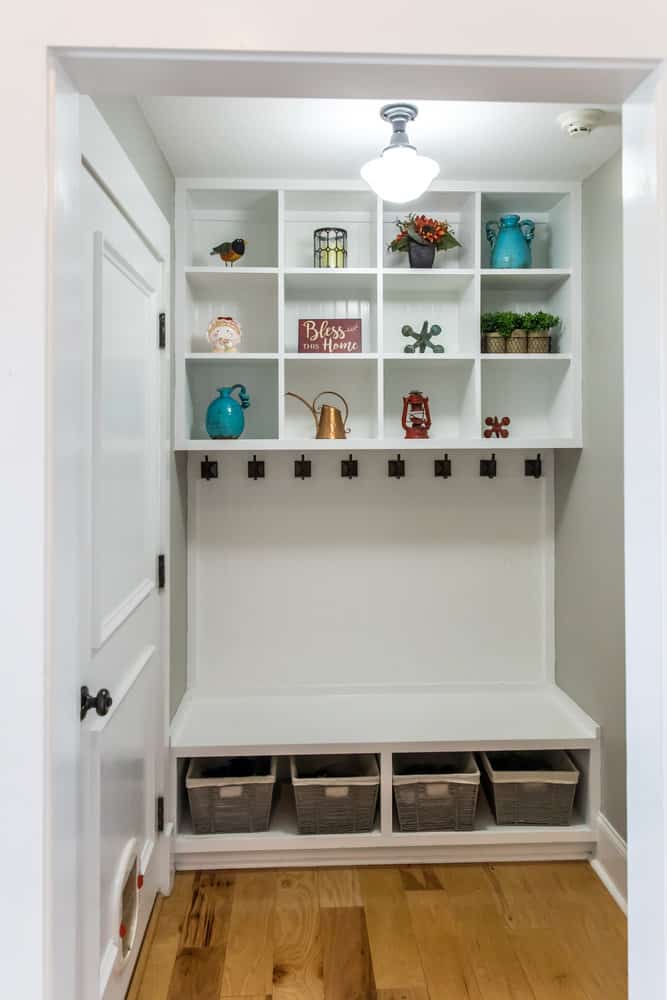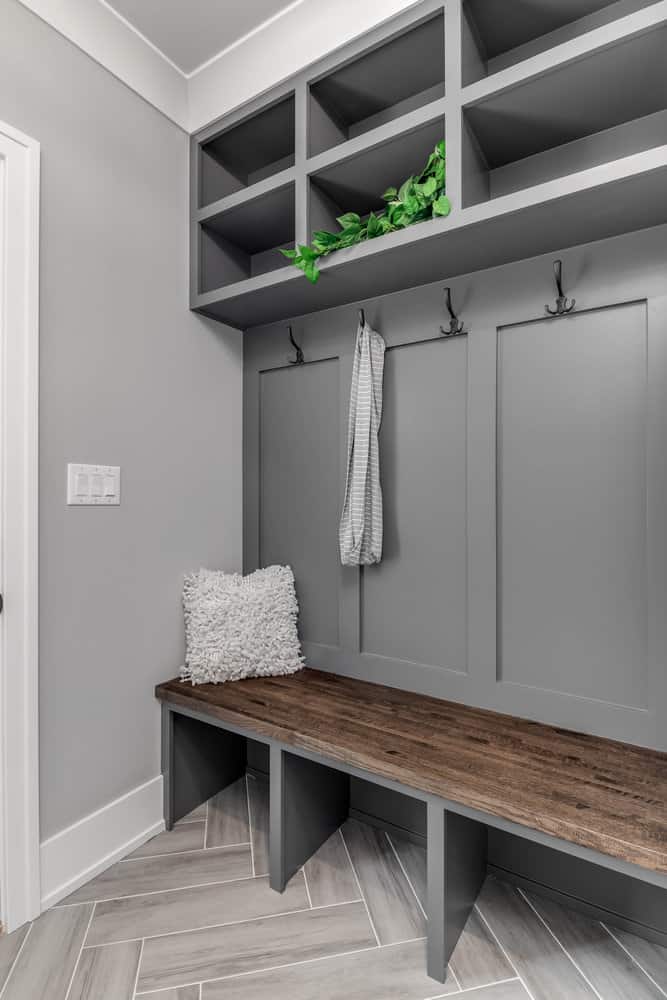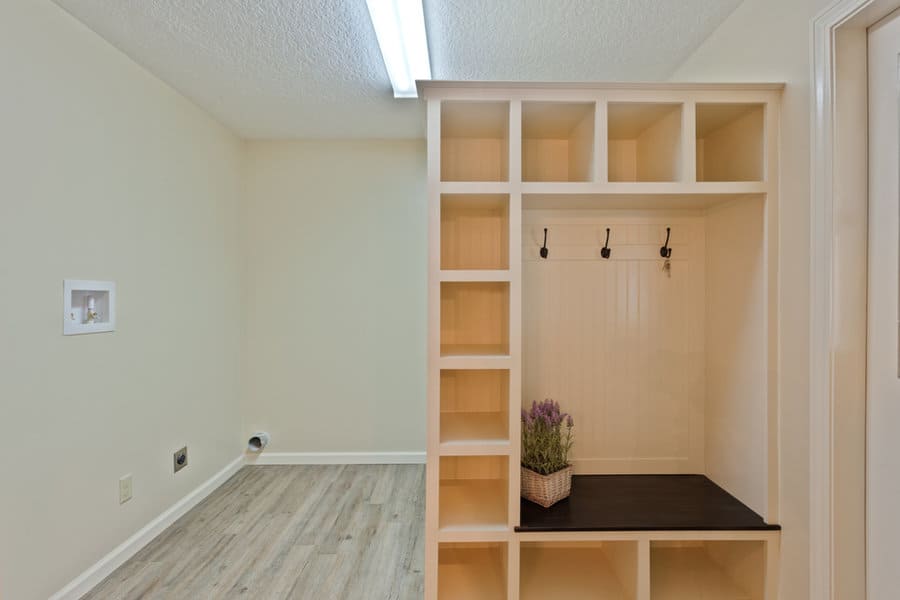 Make use of vertical space and install top-to-ceiling shelves and cubbies, so you can store off-season gear and clothing on the upper shelves.
12. Shoe
How can you make a space full of shoes look nice? Well, organization is the key.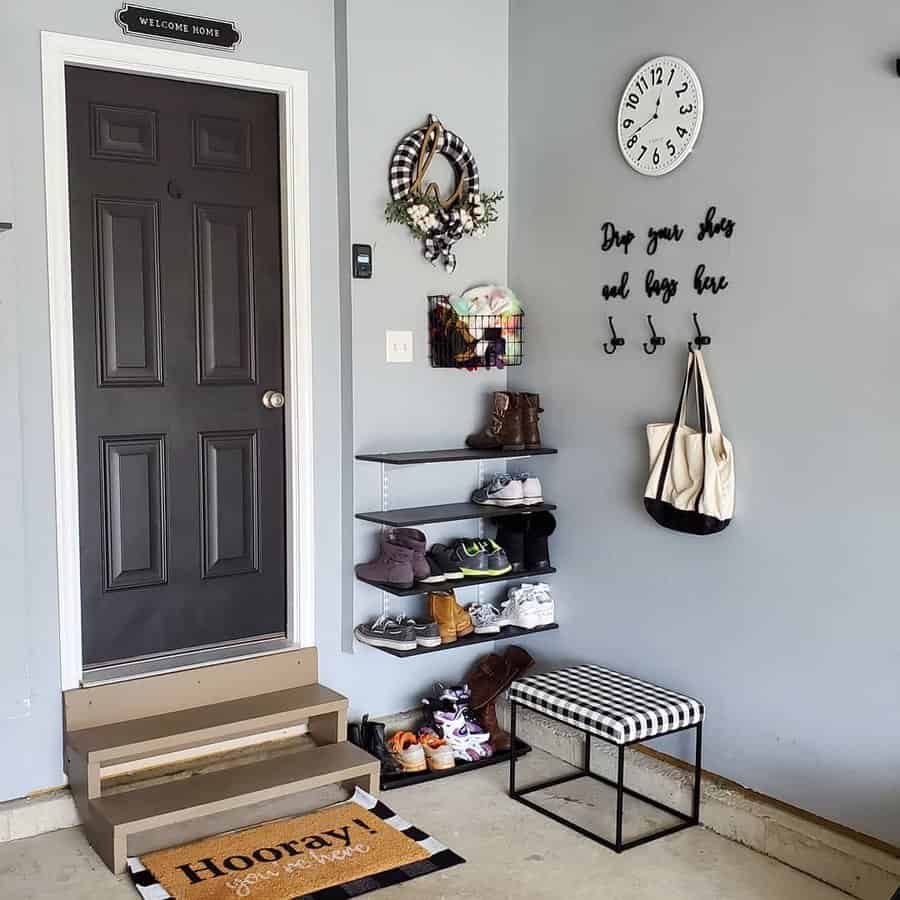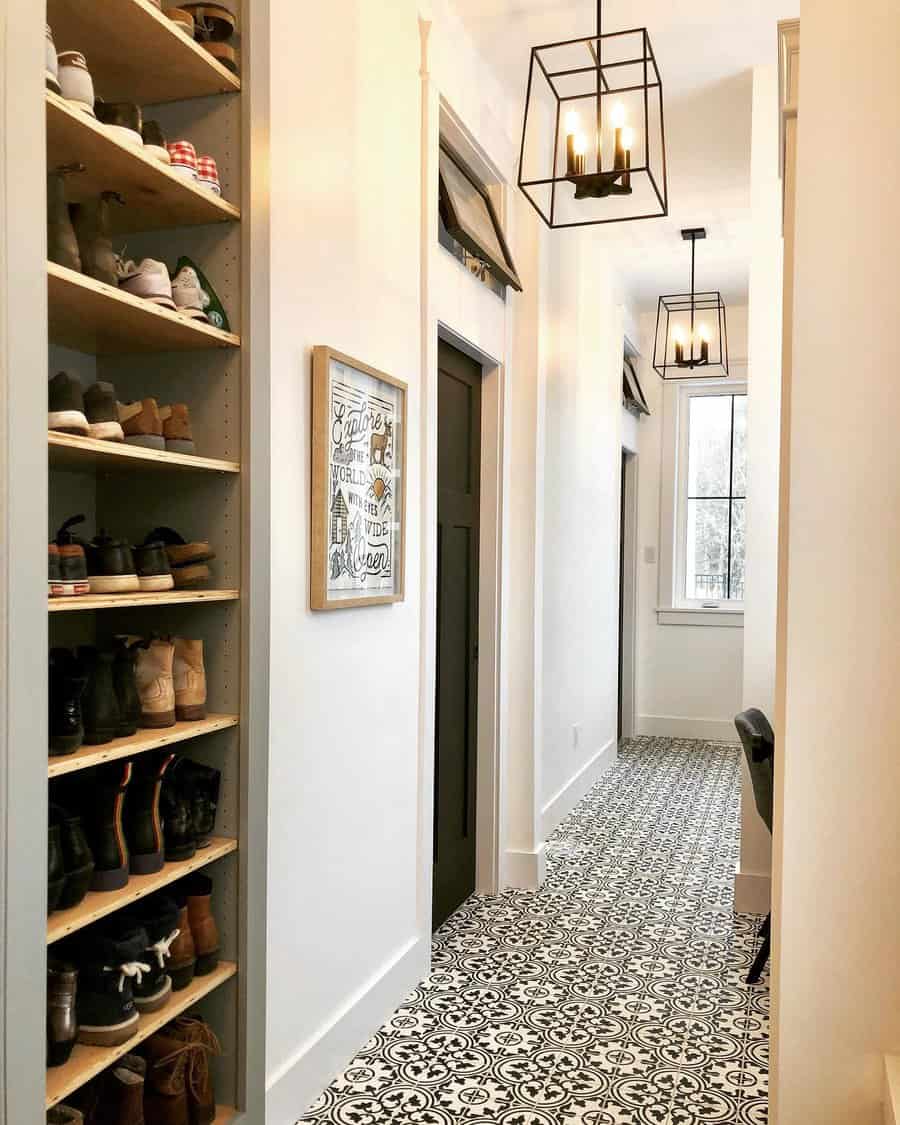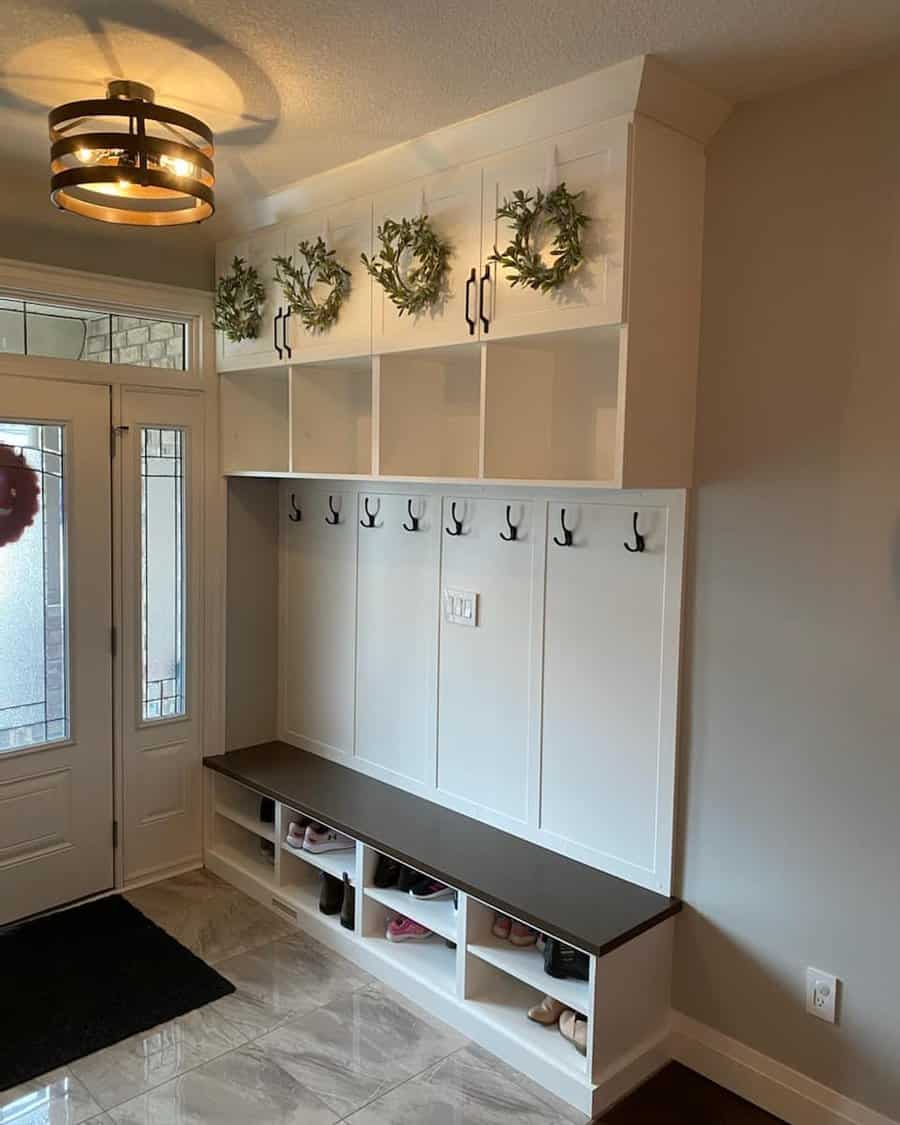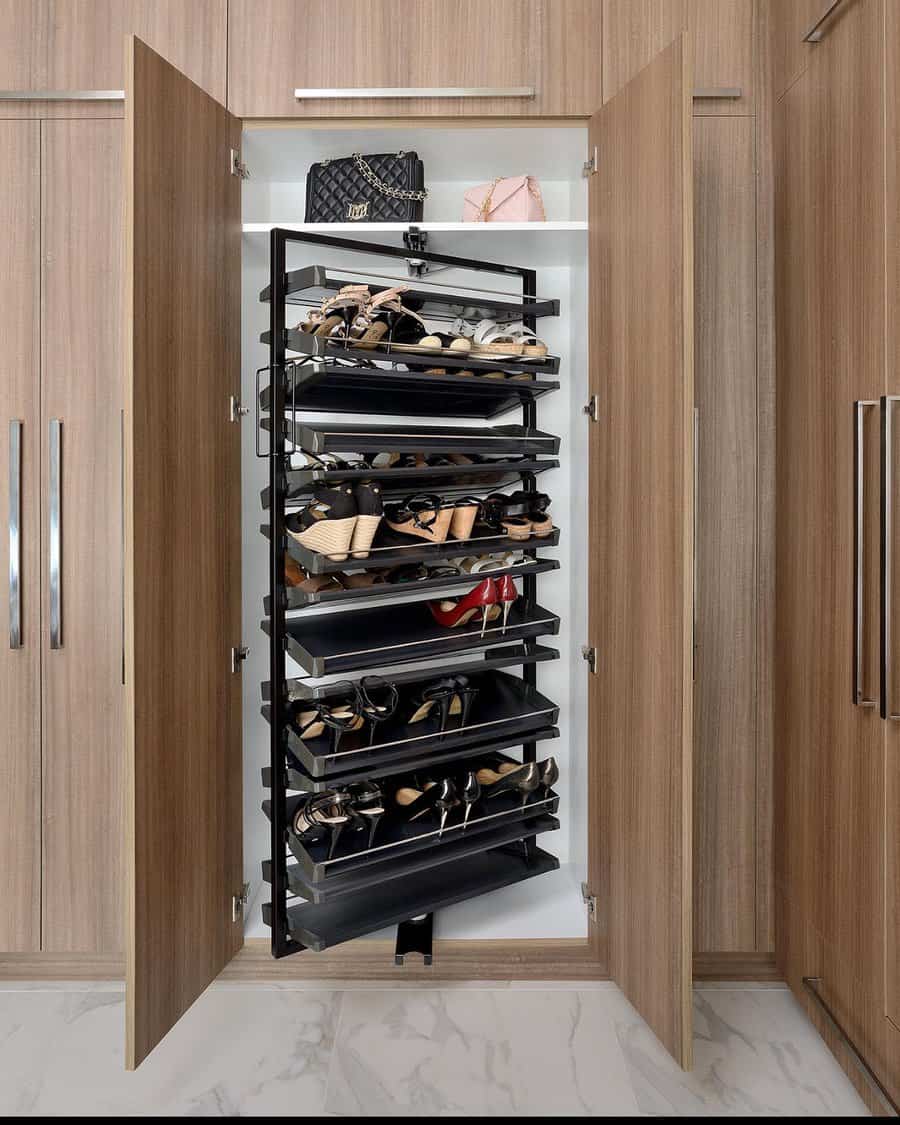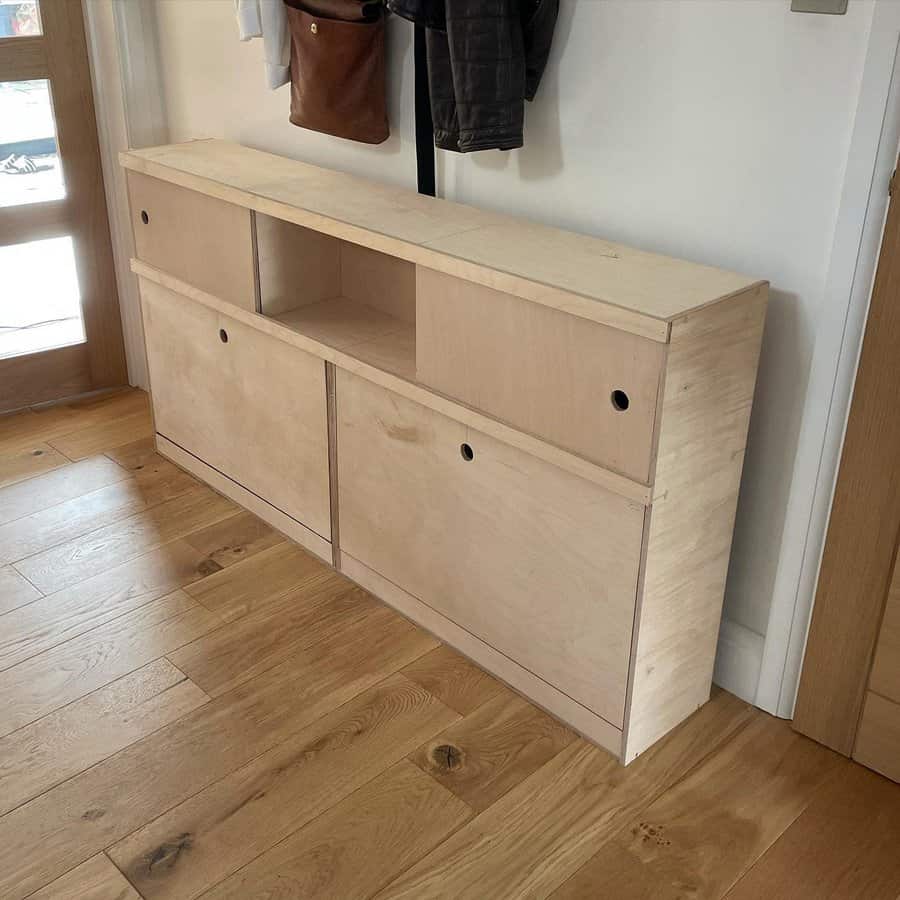 You can store shoes in baskets under a bench, so they are kind of hidden away under the furniture. But if you have open shelves, make sure you have a wet shoe mat nearby, where you can let wet or muddy shoes dry, before cleaning and storing them on the shelves.
Shoe cabinets are a great solution to keep the place organized, and rotation racks are ideal to store many shoes in the mudroom closet.
See more shoe storage ideas here.
13. Wall Hang
Be creative if you don't want your mudroom to be plain and ordinary.
Upcycle old mailboxes and hang them on the wall, instead of installing shelves. Visit thrift stores and flea markets to look for out-of-the-box solutions and repurpose vintage items for unique décor pieces.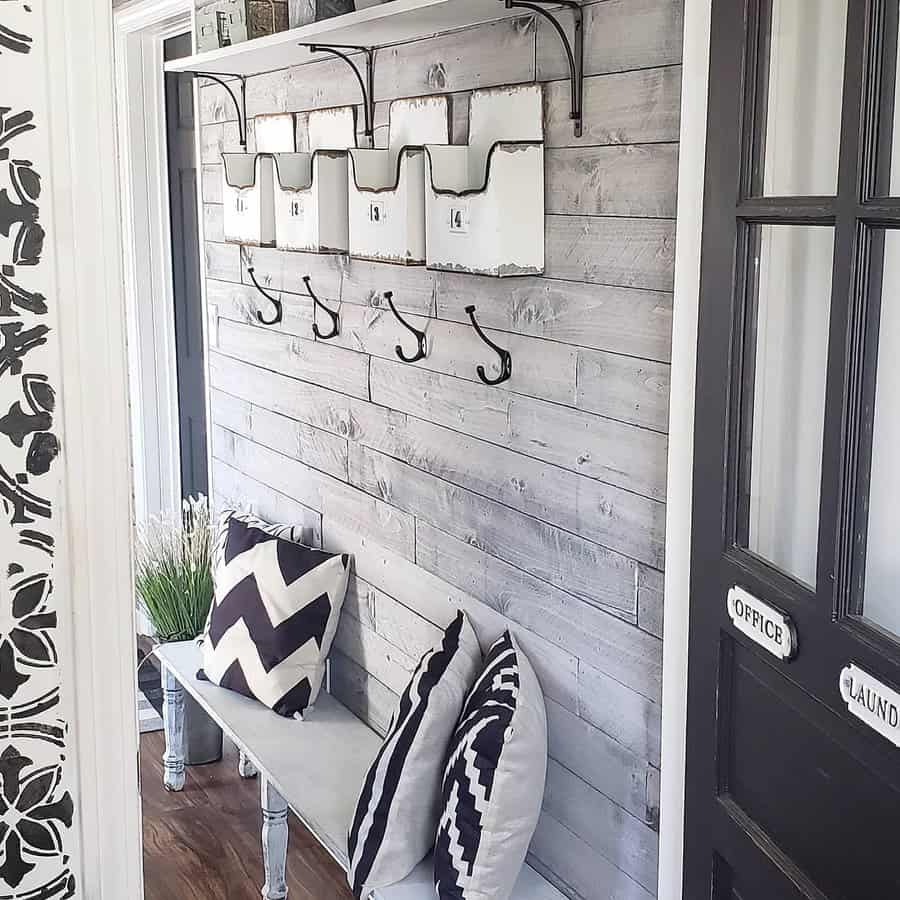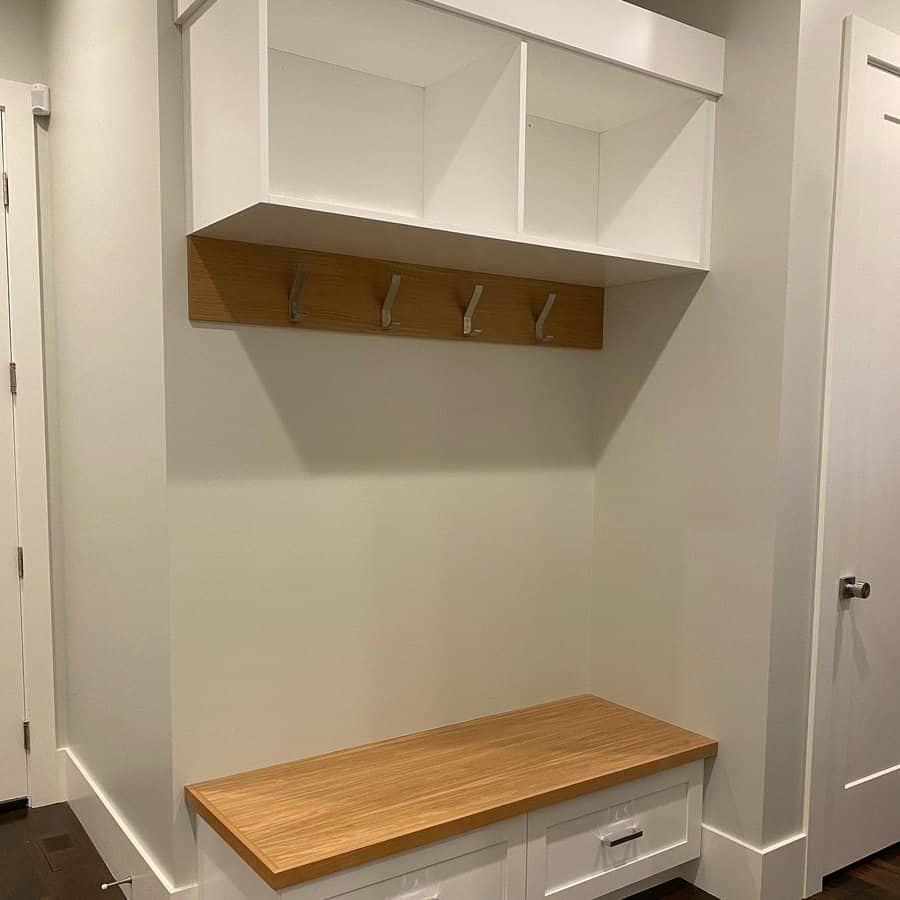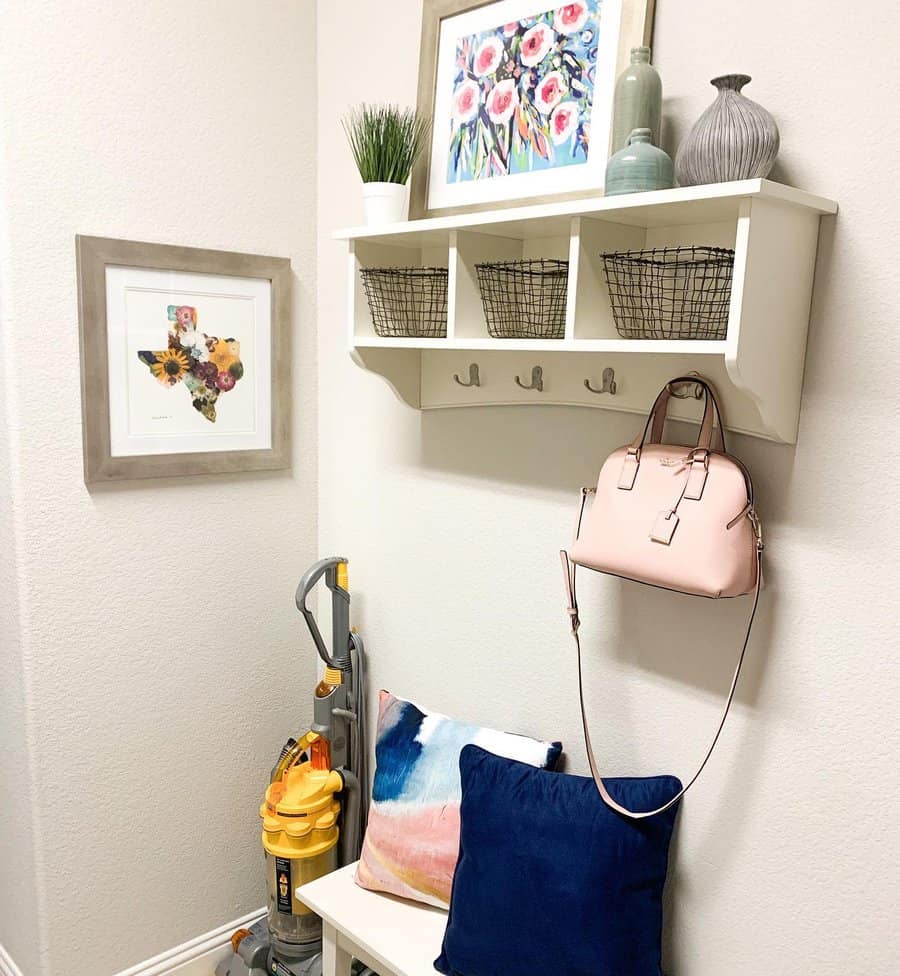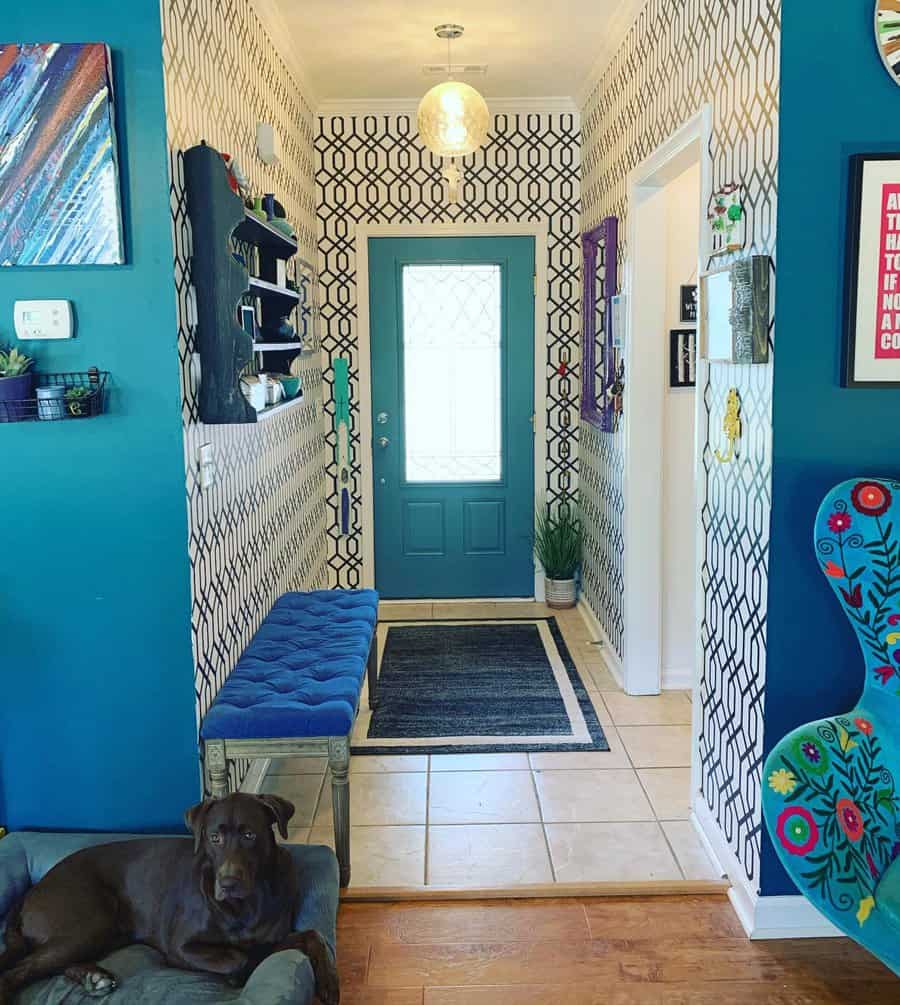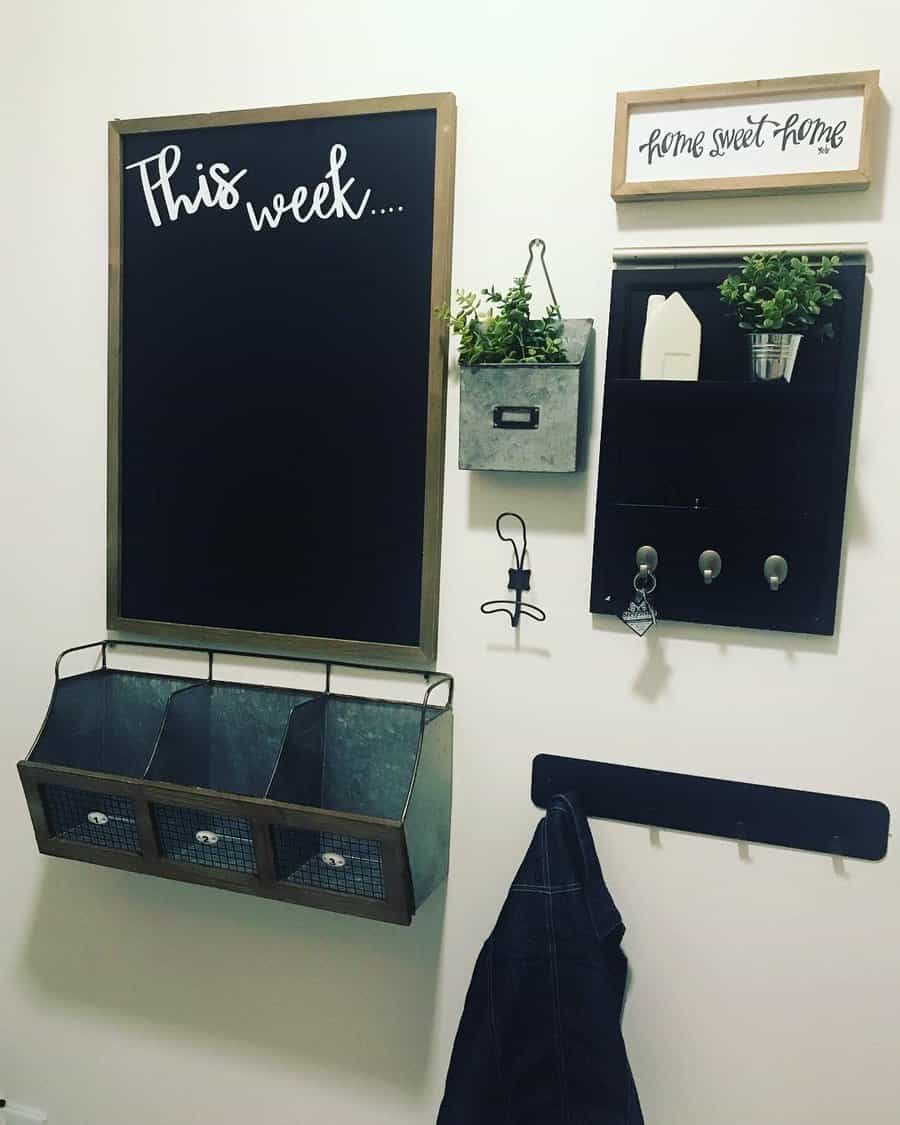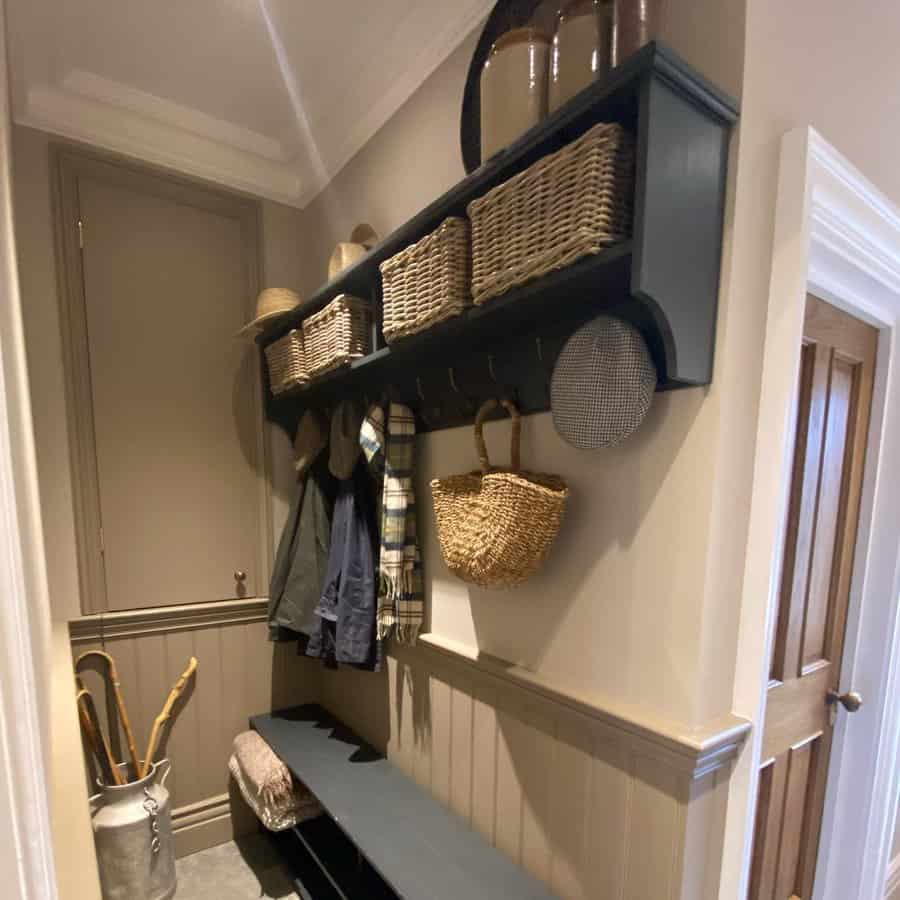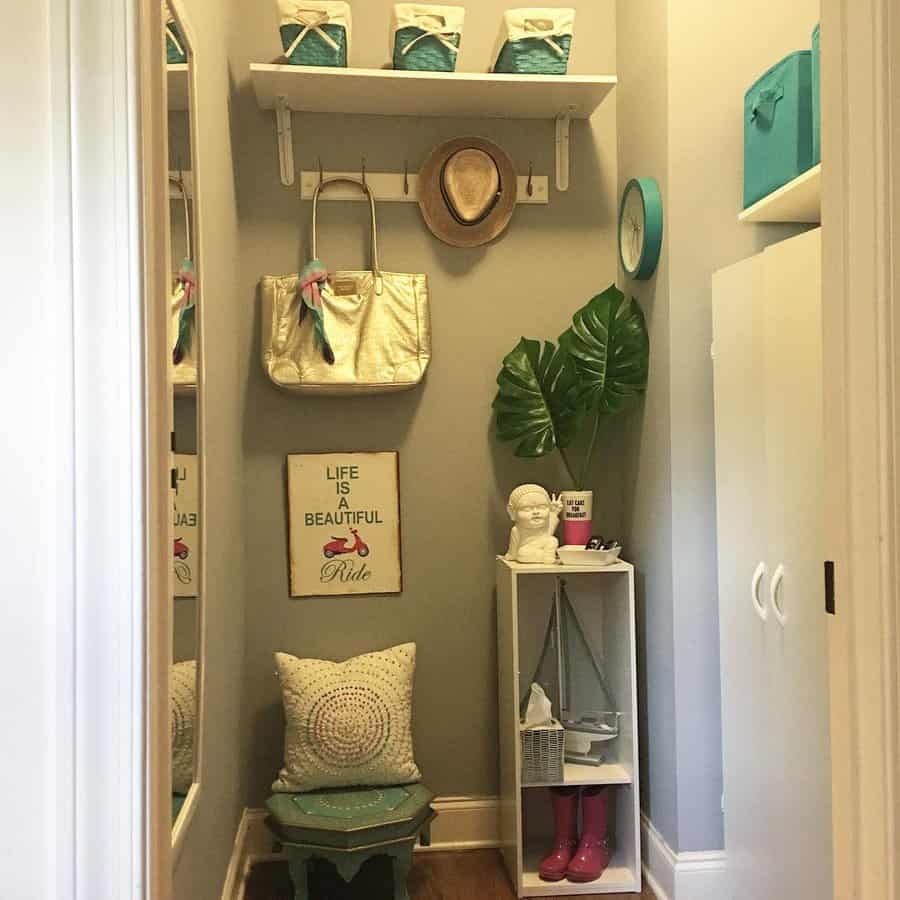 Bring coziness and warmth to the space, by using twine to hold leaf wreaths over old shutters that you can hang on the wall, thus making a one-of-a-kind wall hanging. Wooden wall hangings with flowers also give the space a romantic flair. Apply vintage iron hooks to a wooden panel and place a jar with your favorite flowers, held by rustic twine.
FREQUENTLY ASKED QUESTIONS
How do I add a mudroom to my laundry area?
You basically need a boot bench, a coat rack, hooks for backpacks and clothes, and a few baskets to store mittens, scarves, and winter hats. If you do not have room or budget for cabinets and drawers, a shelving system will do the job. Remember to leave a wet shoe mat close by, for shoes and boots to dry before storing them.
I have an old bookshelf at my entryway, which serves as a room divider from the living room. How do I transform it into mudroom storage?
Bookshelves are great mudroom furniture because they have a lot of shelves, which is basically what you need for storage. See if you can remove the lower shelves to fit in a bench, preferably with storage underneath.
You can cover the back of the bookshelf with plywood but give it a nice coat of paint on both sides. You will have a wooden wall facing the living room, so decorate it nicely with some paintings, art, and beautiful wall hangings.
All mudrooms look the same. I would like some ideas to freshen up the space.
If you want to think out of the box, here are some ideas for you: 
Use metal buckets instead of baskets

Repurpose iron hose holders to use as mudroom hangers

Use old shutters on the walls, instead of wooden wall covers or cabinets. You can install hooks and shelves on them to make a unique piece of furniture.

If you have kids, install a chalkboard next to their backpack hooks for notes and reminders.

Use a vintage mantel for shelving

Use large decorative skeleton keys instead of ordinary hooks