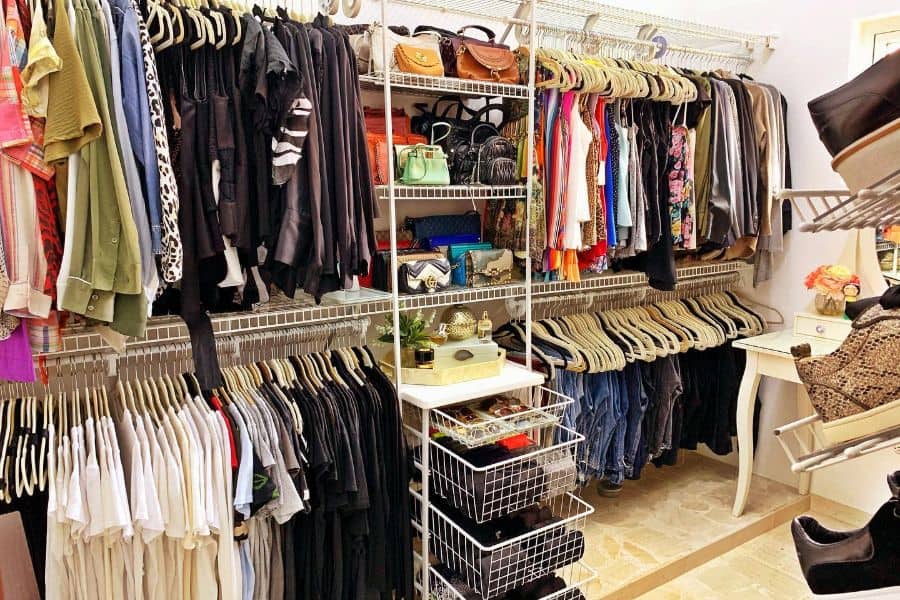 The Top 57 Clothes Storage Ideas
by — Andra DelMonico

Published on March 29, 2021

Updated on October 18, 2023
Do you remember your mom telling you to pick your clothes up off the floor? We do, and now as an adult, we understand why.
It's so much nicer looking and easier to get ready in the morning when your clothes are neatly organized in your closet or dresser.
If you've never taken the time to organize your clothes, then you're probably wasting space.
There's no better time than the present to tackle this necessary task. These clothes storage ideas will help you get started with some helpful ideas on how you can organize your clothes.
1. Elevate Space with Canvas Closet Organizers
Canvas closet organizers, crafted from durable fabric, effortlessly maximize storage while safeguarding delicate items. Ideal for both compact and spacious homes, these versatile units feature compartments that simplify categorization. When seeking a coordinated aesthetic, pair these organizers with neutral-toned decor elements. When not needed, they fold compactly, ensuring efficient space utilization.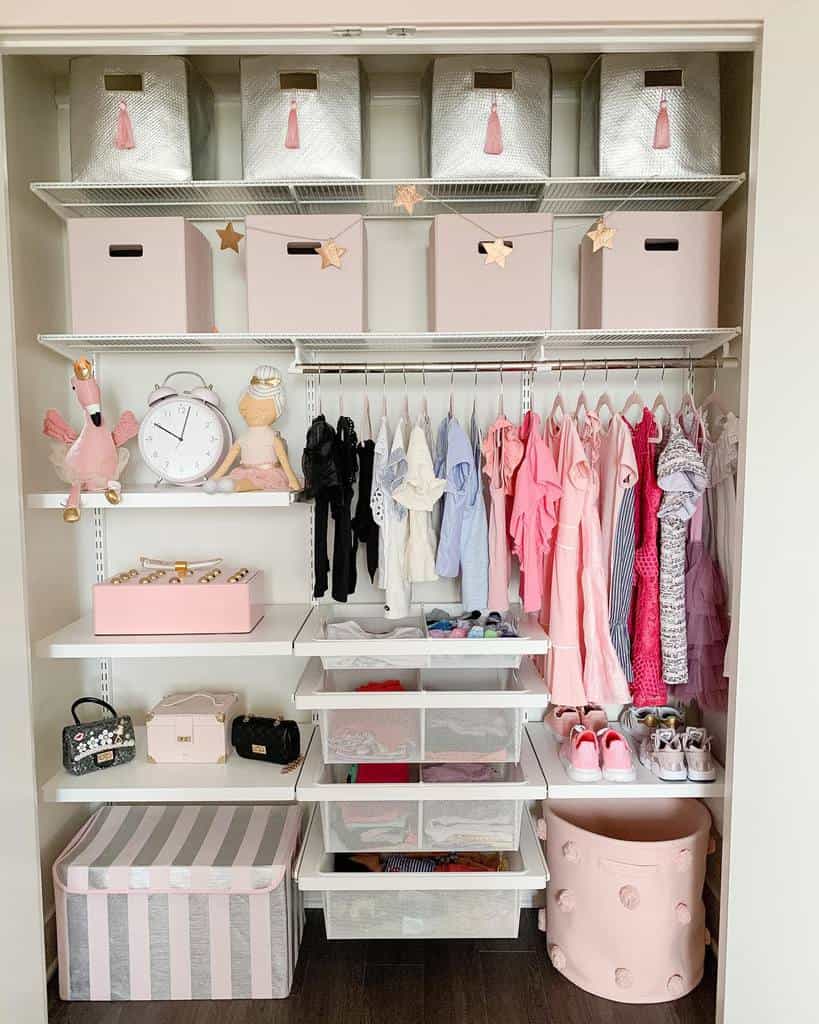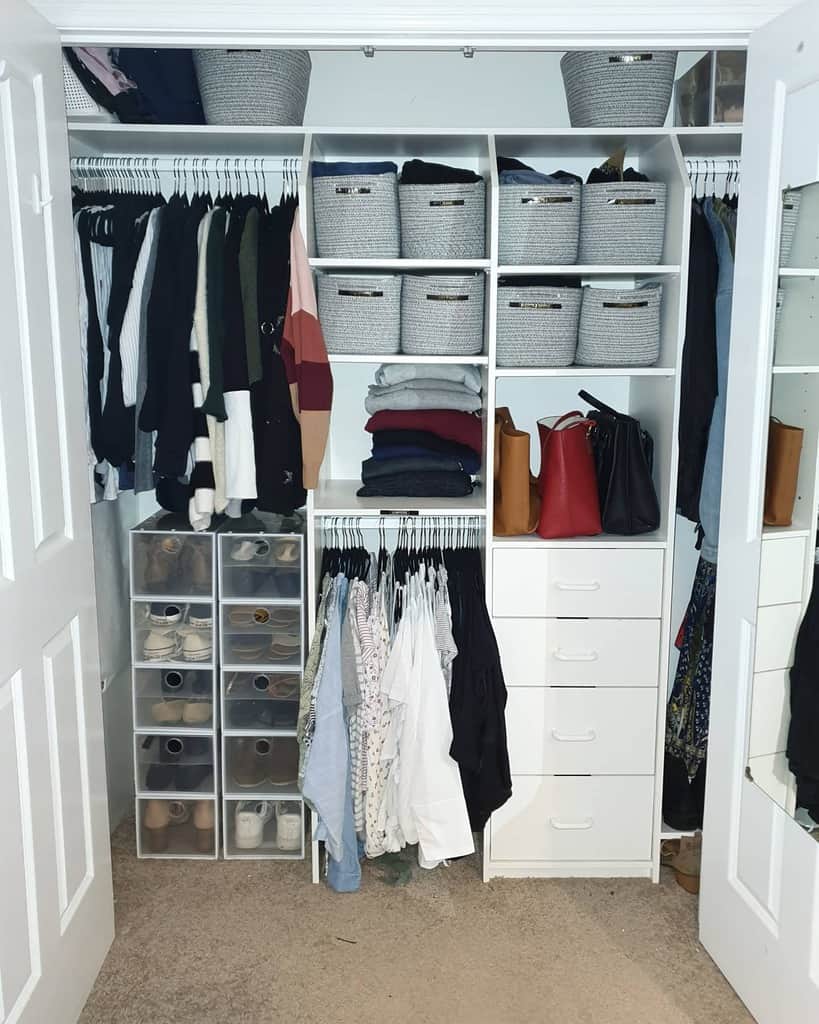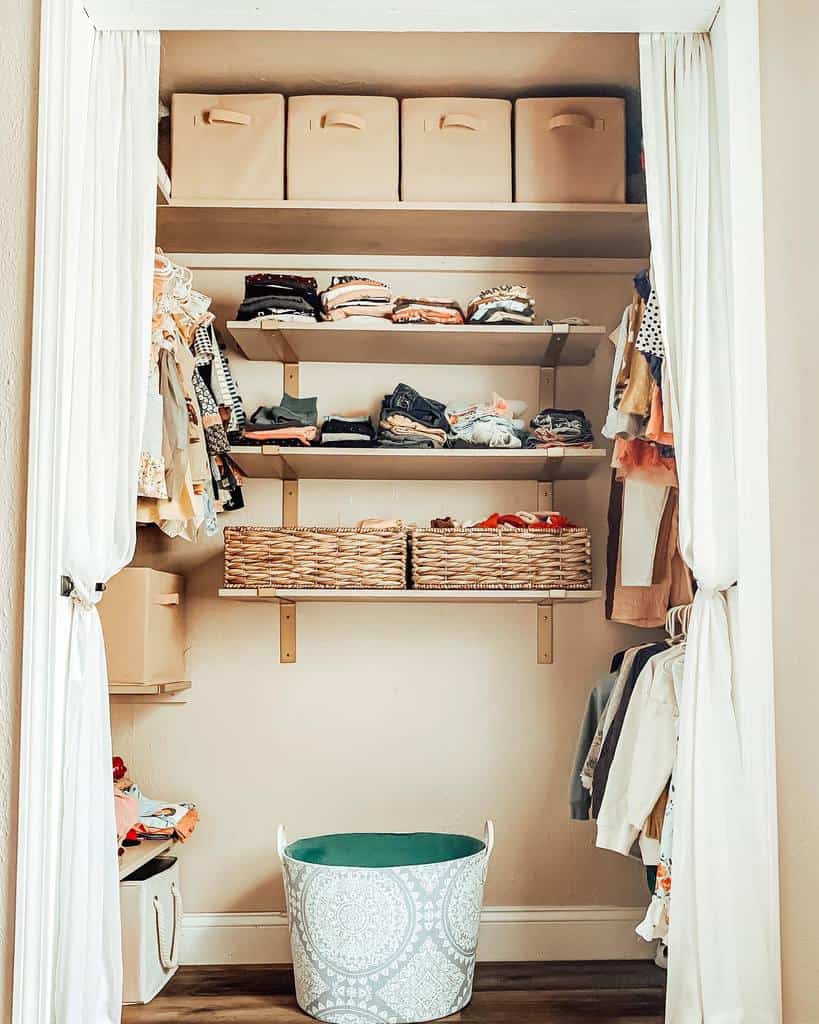 2. Enhance Decor with Basket Storage Shelves
Basket storage shelves effortlessly meld functionality and flair within closets. Offering a neat arrangement, they bring warmth and elegance to your space. Opt for materials like wicker or canvas to elevate aesthetic appeal, and consider varying sizes for diverse storage needs. To tie the space together, align basket colors with your room's palette or introduce complementary hues.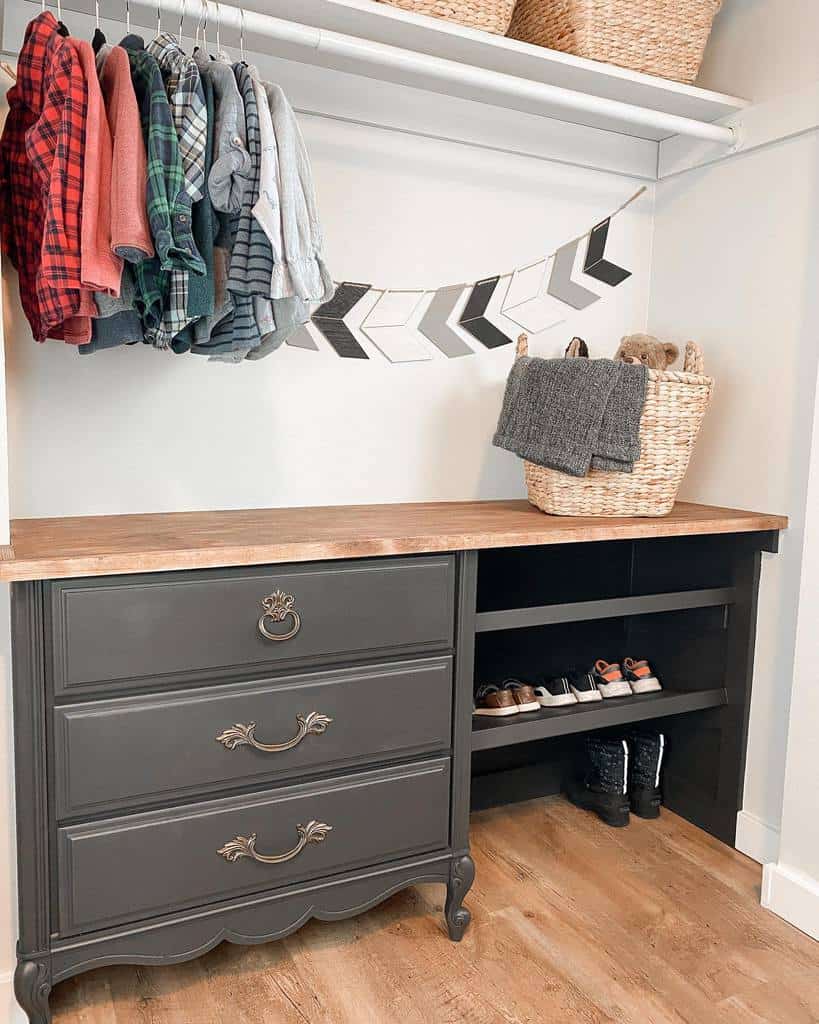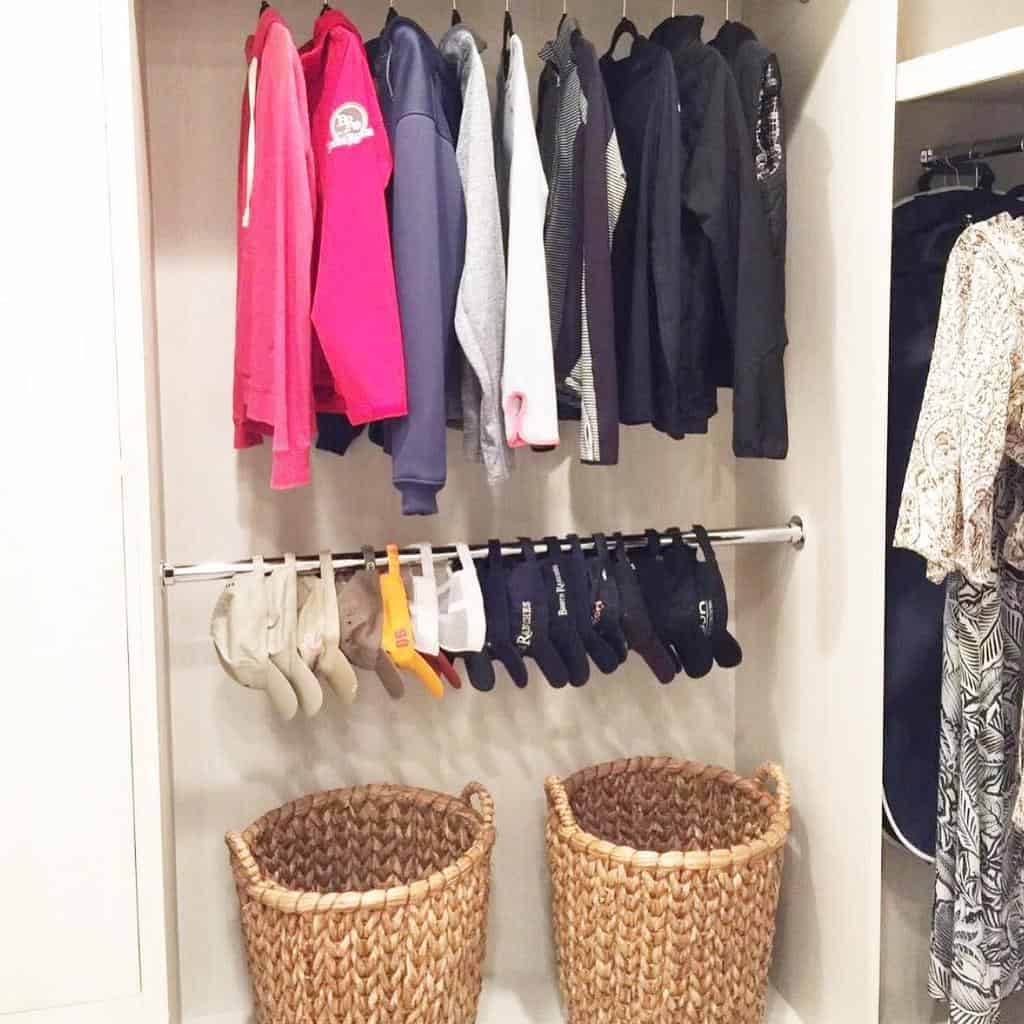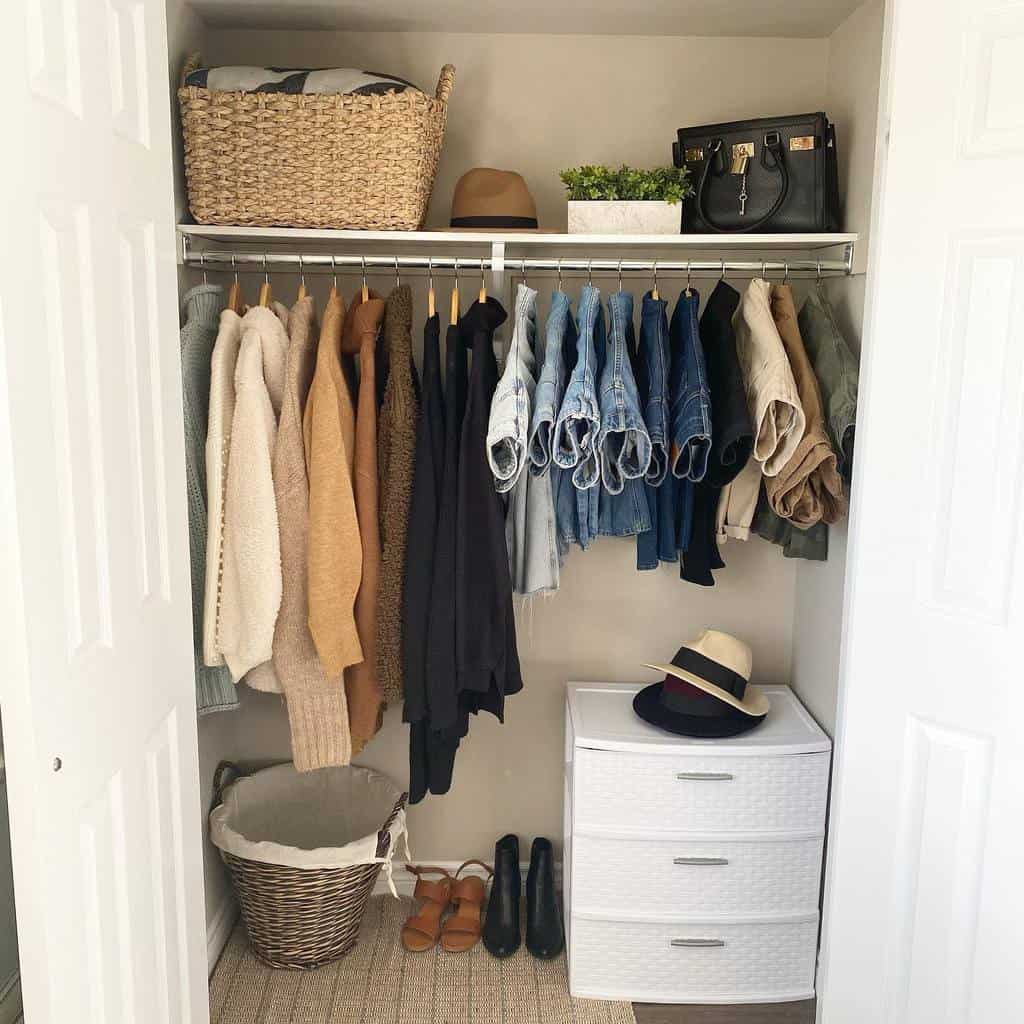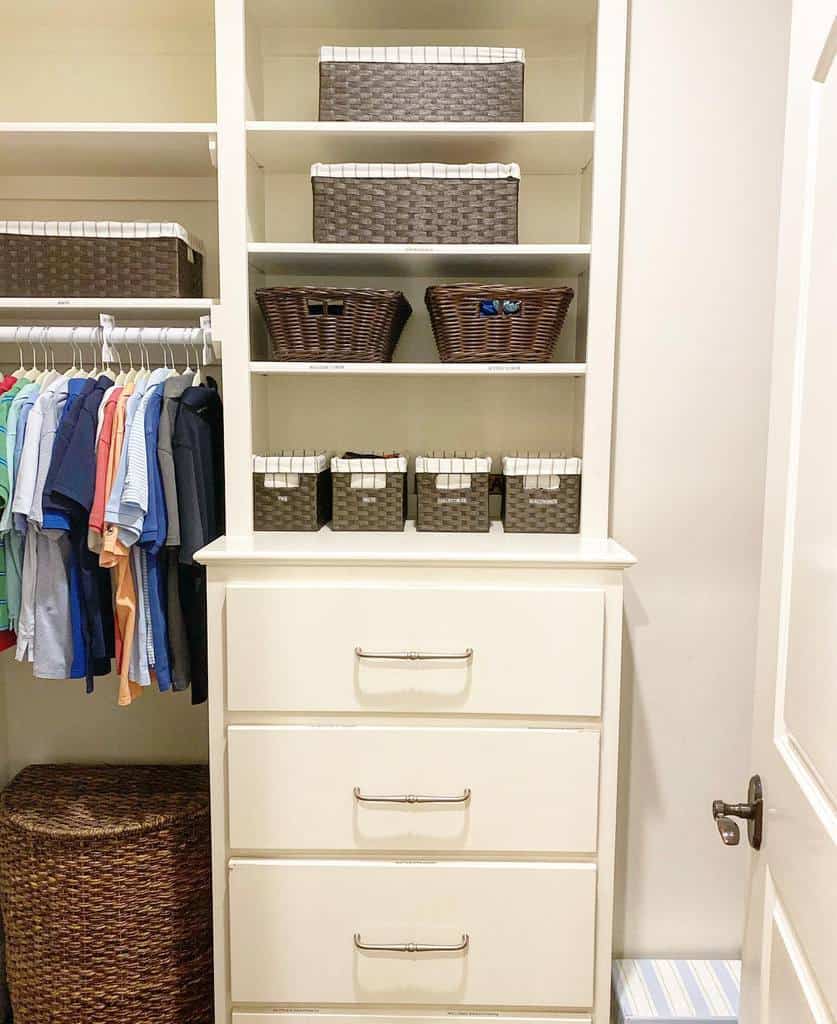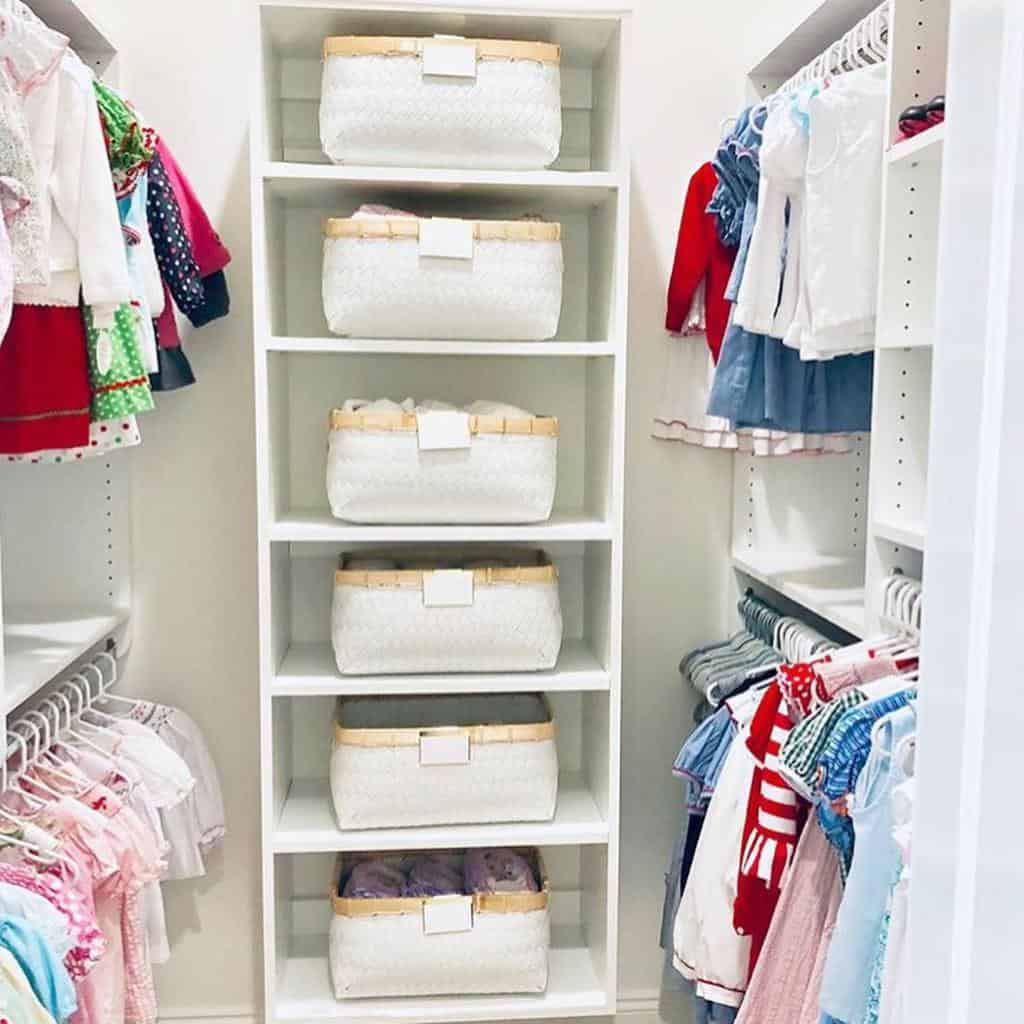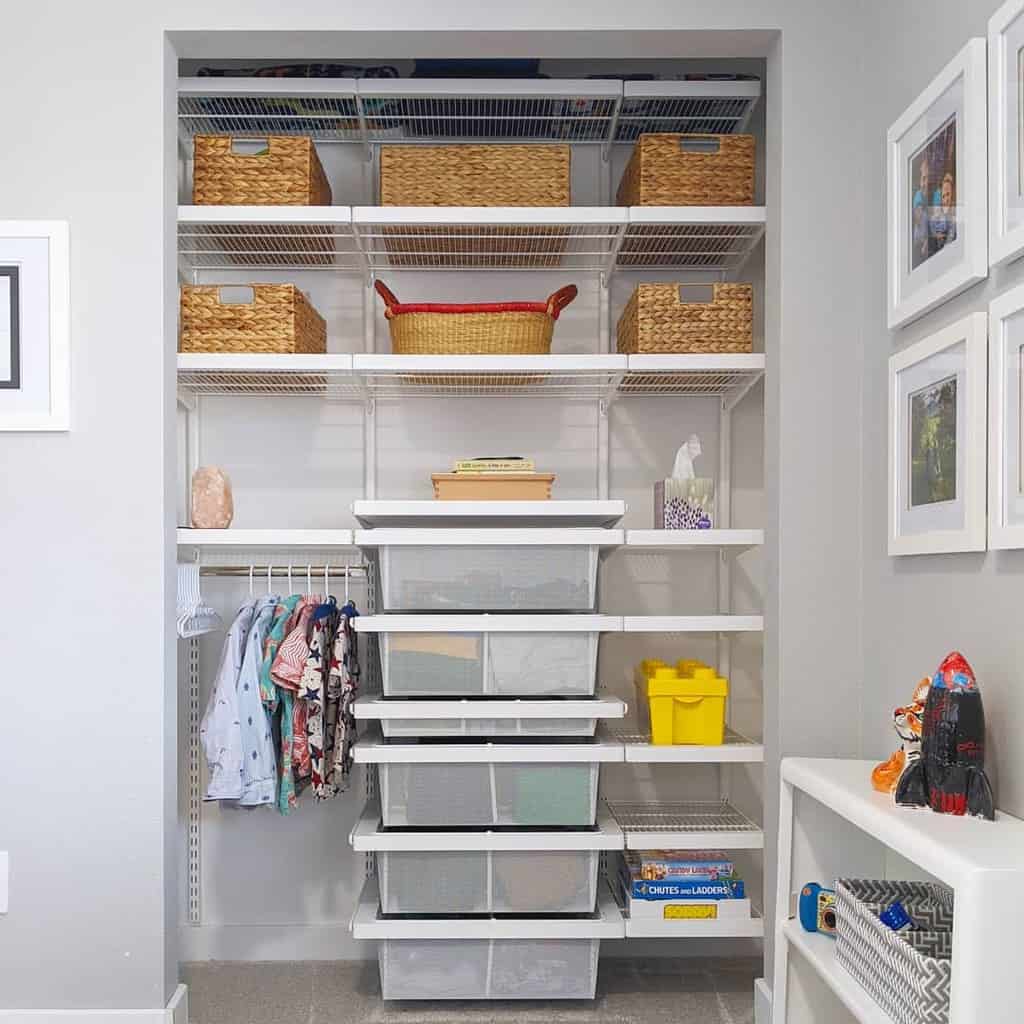 3. Utilize Decorative Cardboard Boxes
Cardboard boxes, often underestimated, can be both functional and chic for clothes storage. Elevate their look with labels or decorative coverings, turning them into tailored storage. Ideal for segregating seasonal wear or daily attire, these boxes are stackable and cost-effective. To seamlessly blend with room decor, select or customize boxes in coordinating colors and patterns.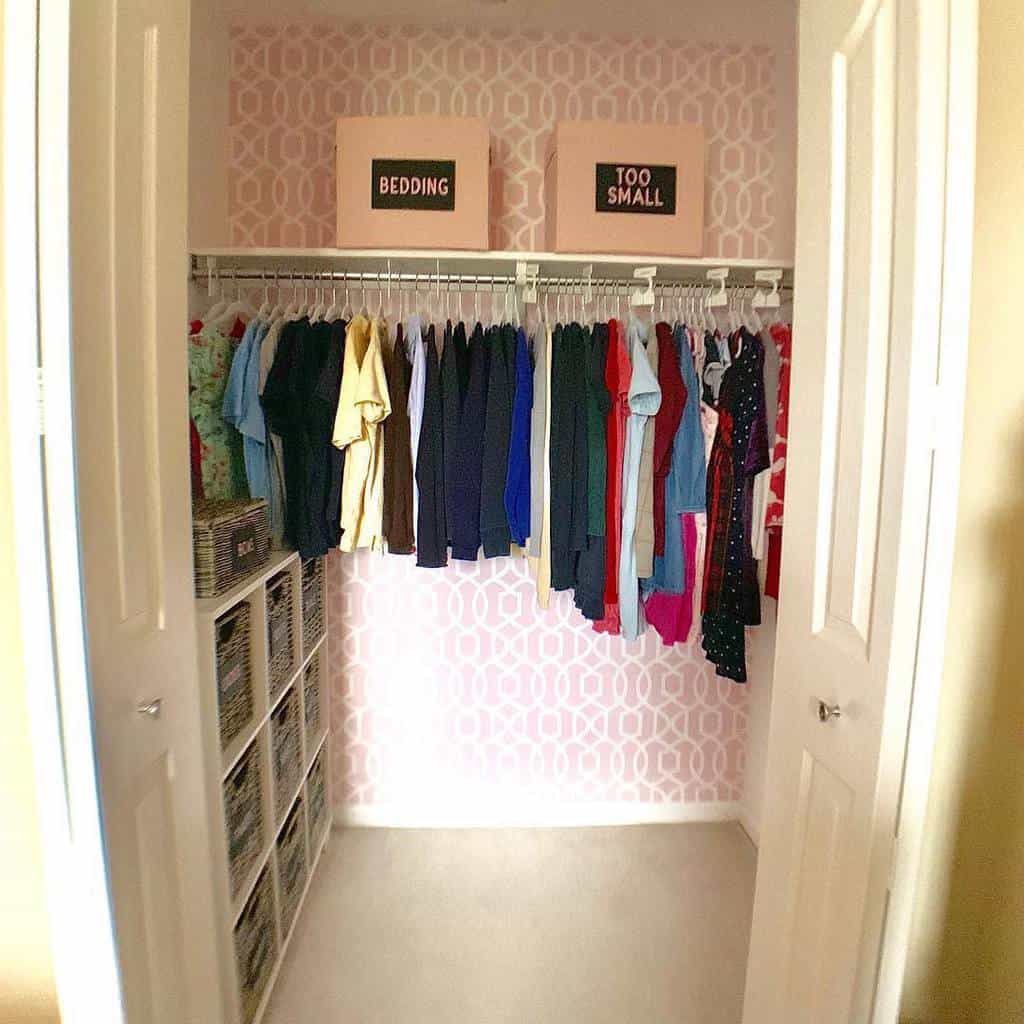 4. Streamline Storage in Wardrobes with Drawers
Wardrobes with drawers streamline storage, offering designated spots for different attire categories. A drawer for socks, another for underwear, and separate spaces for various apparel make organization intuitive. Beyond organization, their doors protect clothes from dust and conceal clutter. When selecting, consider designs that resonate with room aesthetics, be it minimalist modern or ornate traditional.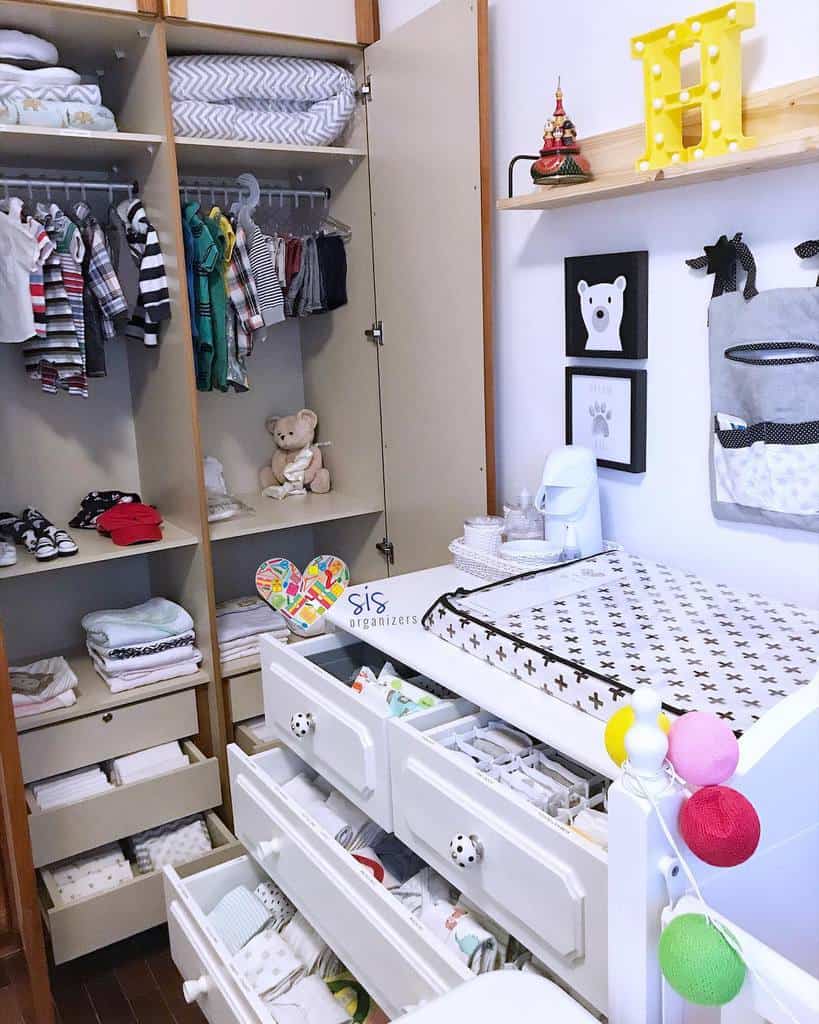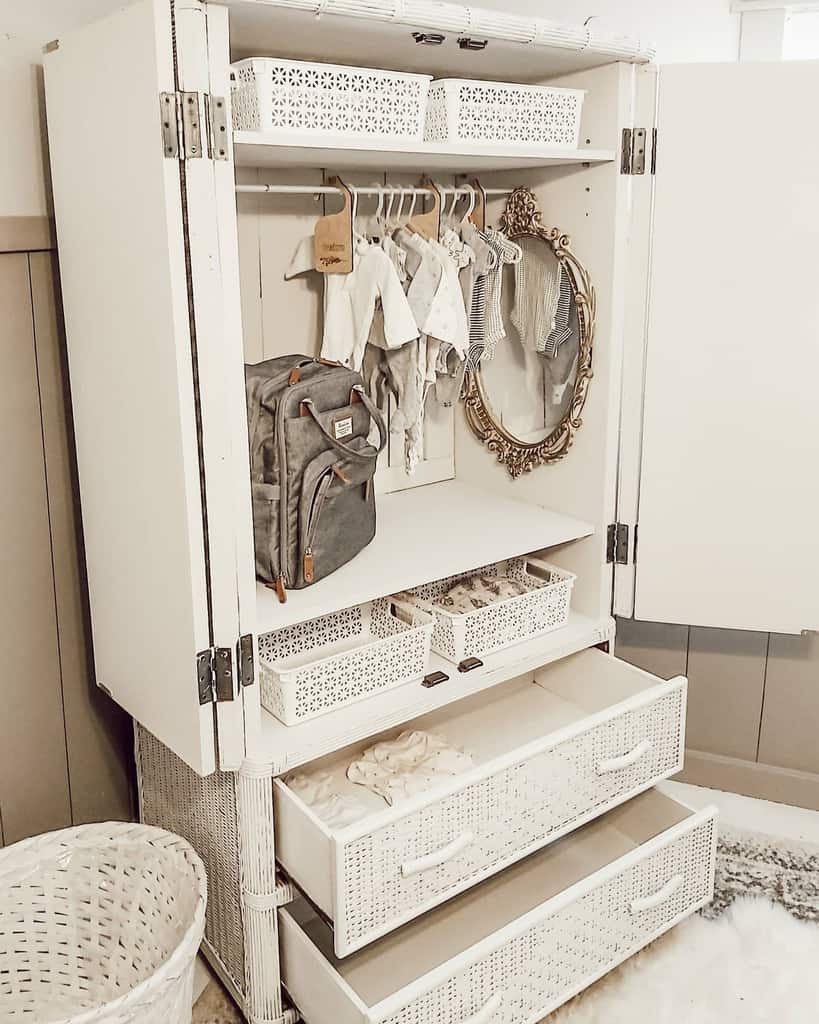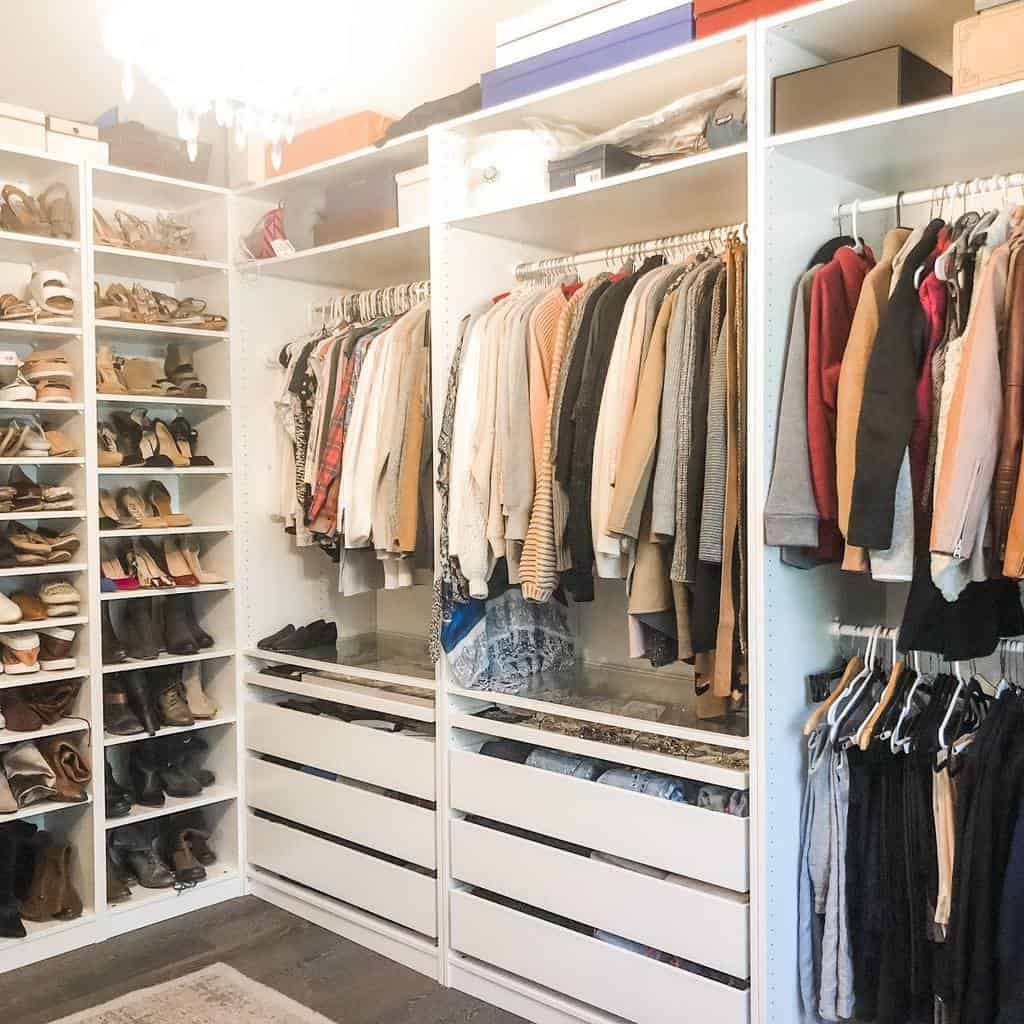 5. Embrace Simplicity with Open Closets
Open closets merge functionality with contemporary style, offering an immediate view of your ensemble choices. Such setups not only ensure easy outfit selections but also infuse an artful, organized aesthetic into your room. For a balanced look, integrate a hanging rod, optional shelves, or drawers, catering to diverse storage needs from accessories to footwear. To heighten its appeal, consider complementing with decorative hangers or accent lighting.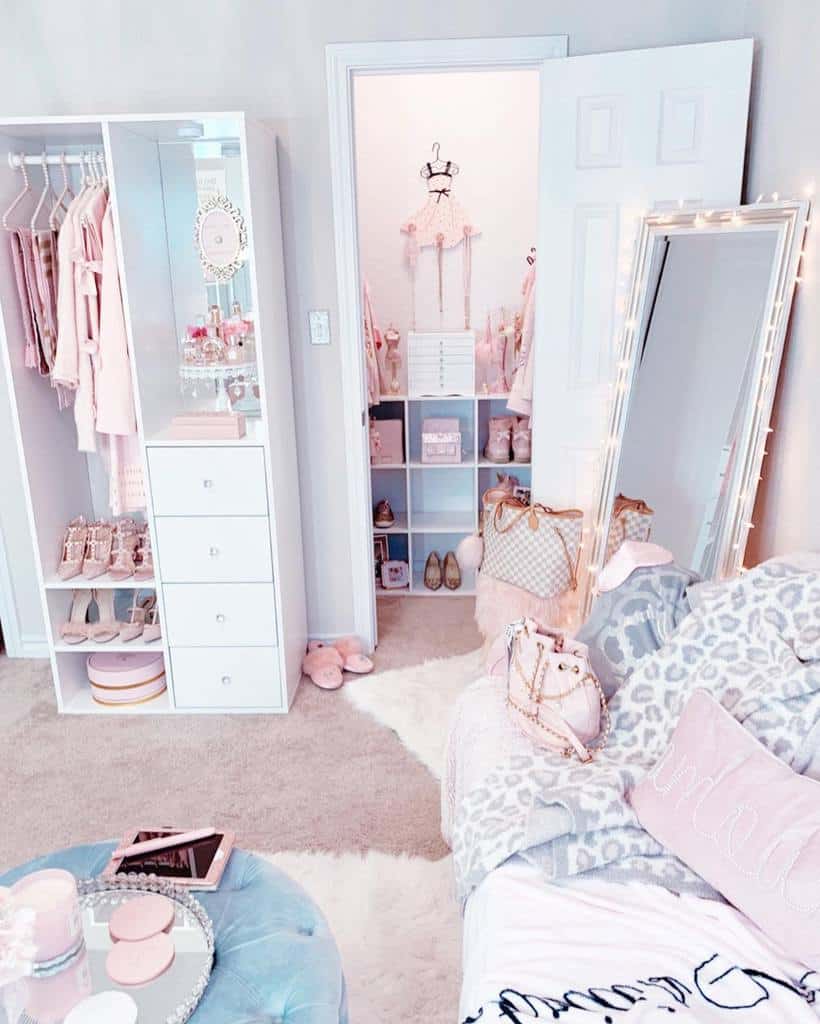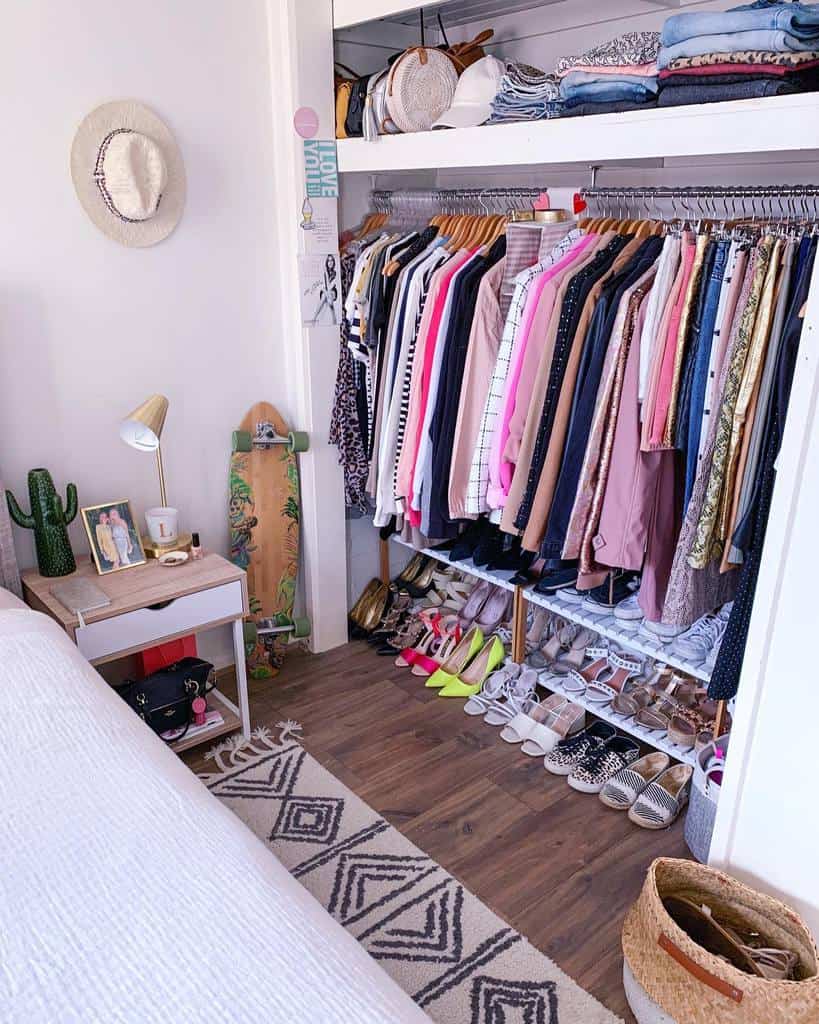 6. Achieve Uniformity with Identical Hangers
Using identical hangers imparts a cohesive, streamlined look to your closet. This simple switch not only elevates the aesthetic but also enhances the ease of selecting outfits. Consistent spacing and alignment, especially beneficial in limited spaces, results in a neat appearance. For a truly refined closet ambiance, select hangers that align with the room's design theme, transforming everyday storage into a visual masterpiece.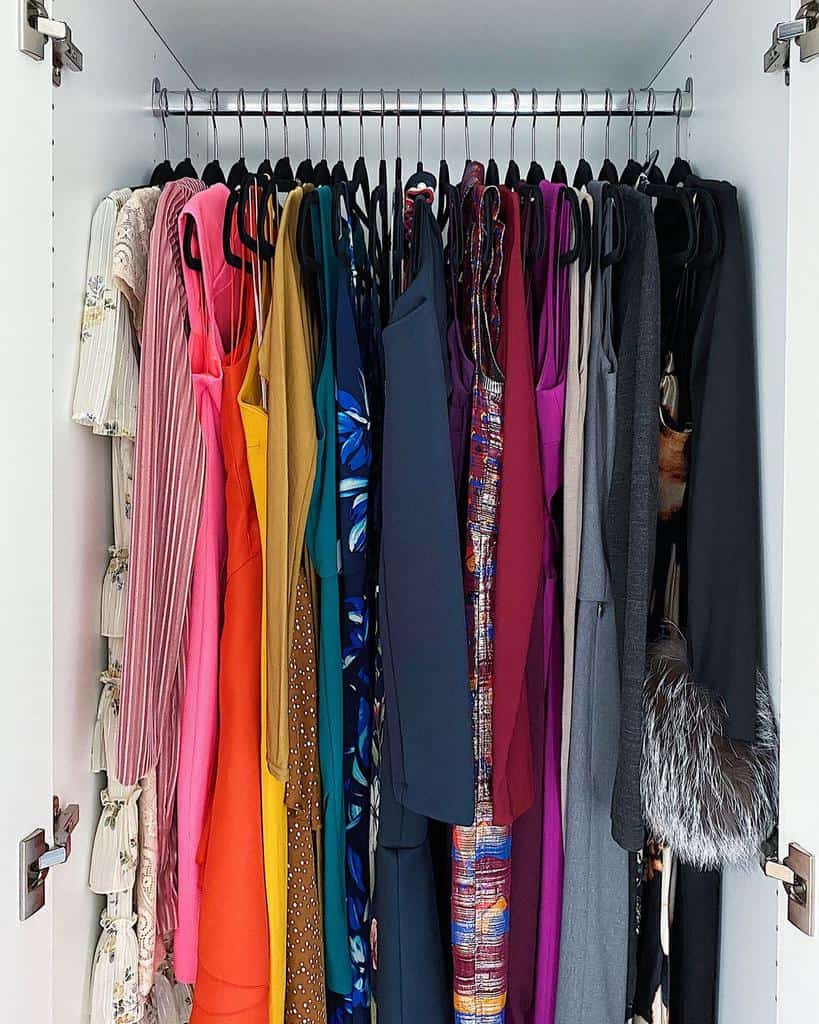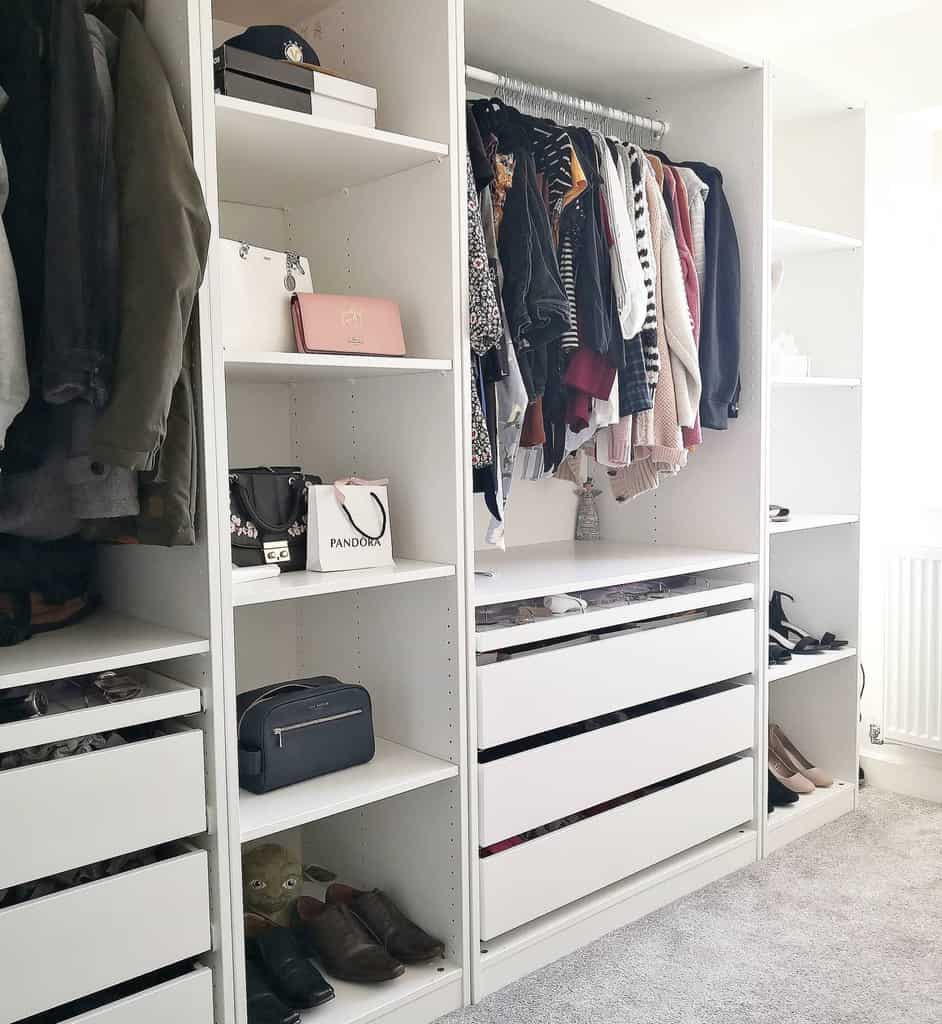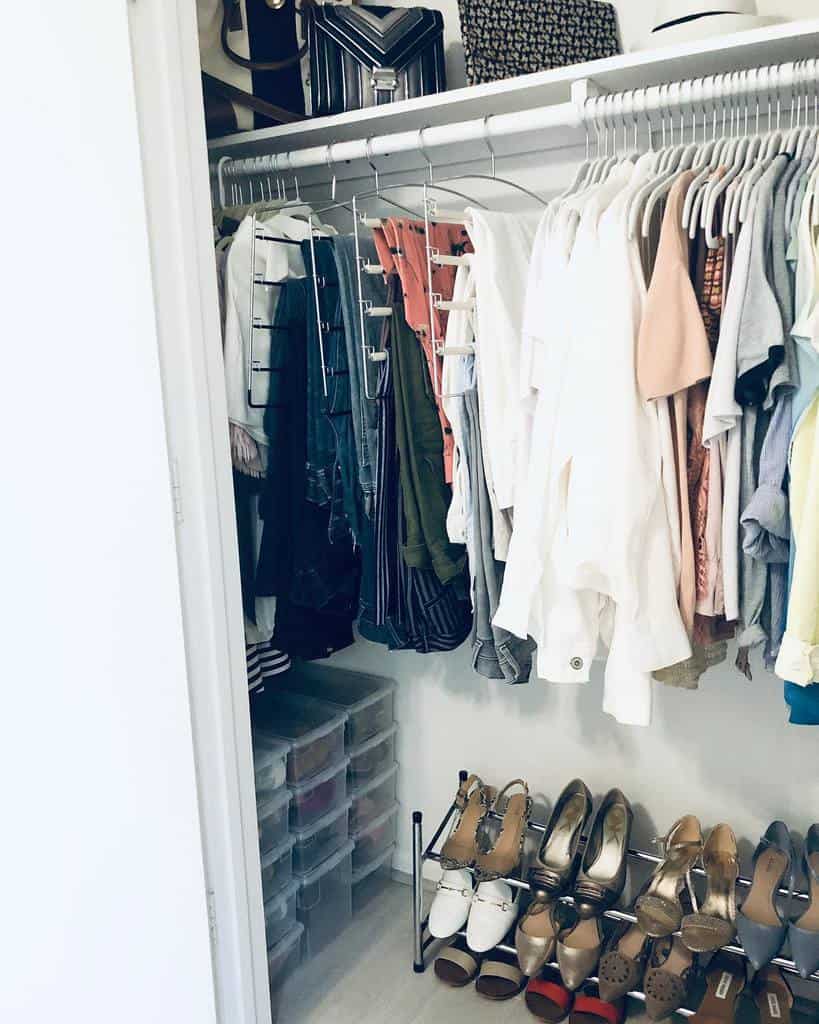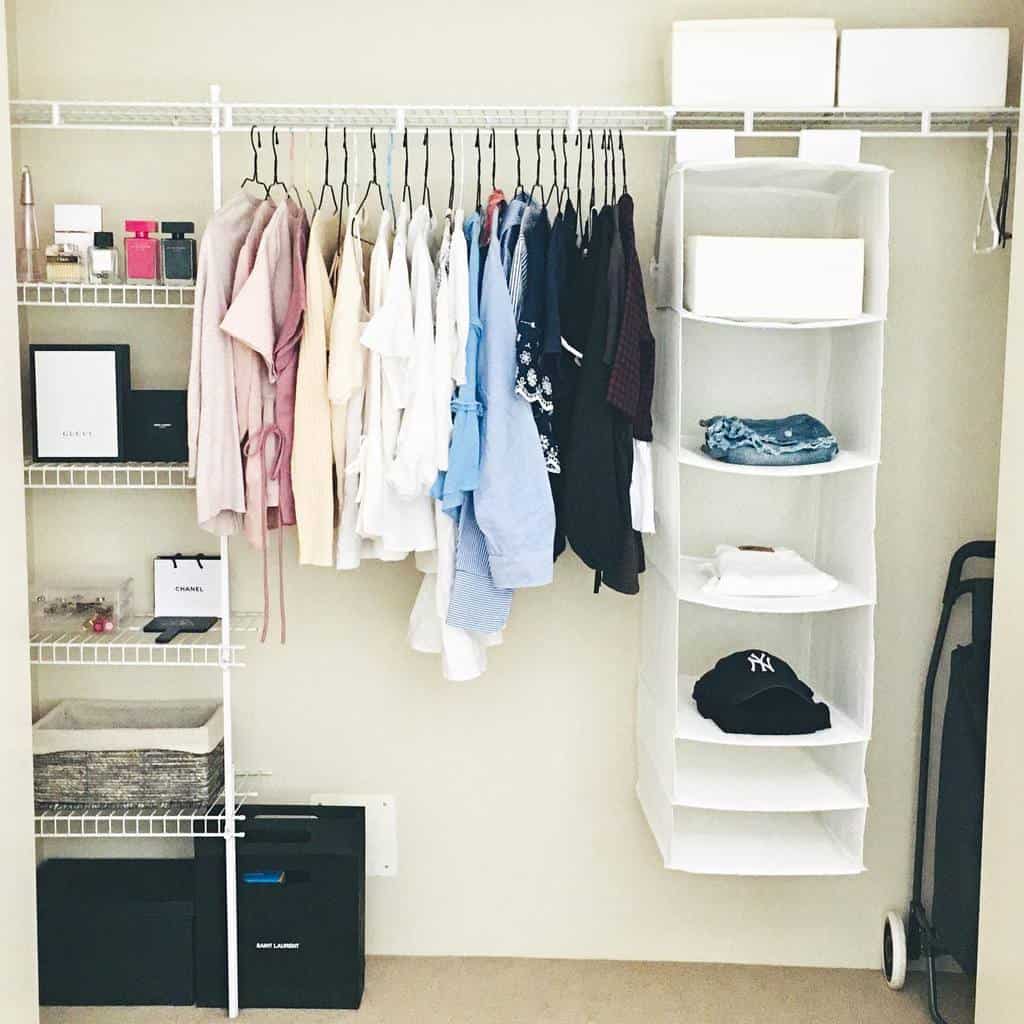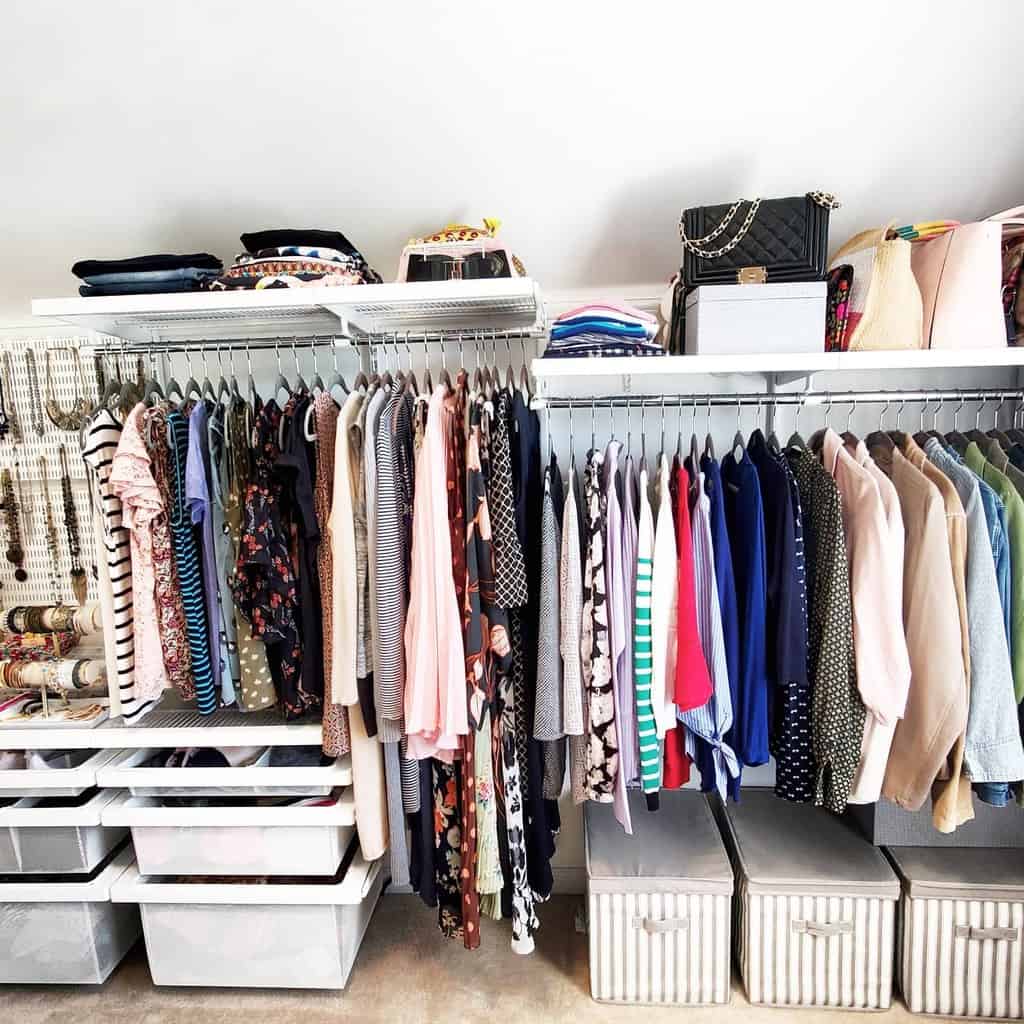 7. Experience Luxury with Walk-In Closets
Walk-in closets exude sophistication, making them a dream for fashion aficionados. Beyond ample storage, they introduce a refined touch to homes. To optimize such spaces, integrate built-in shelves, drawers, and versatile racks, ensuring every piece has its place. Consider designating a zone for dressing or showcasing statement items. This lavish addition not only organizes but celebrates your sartorial choices.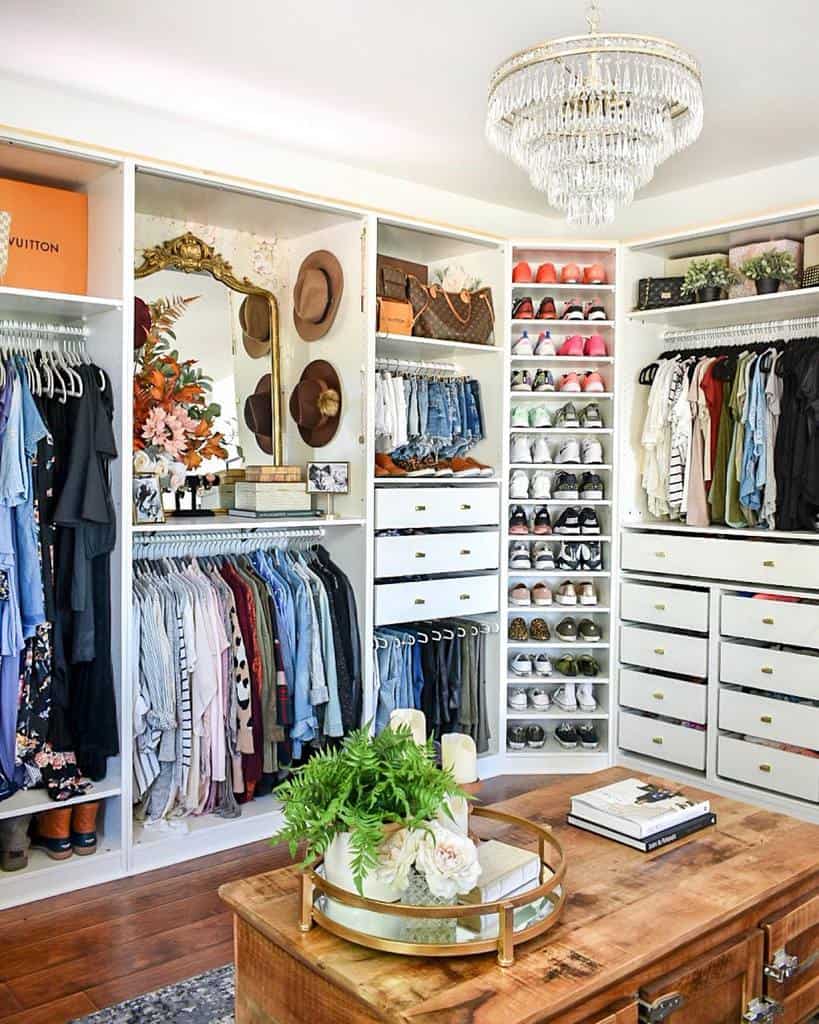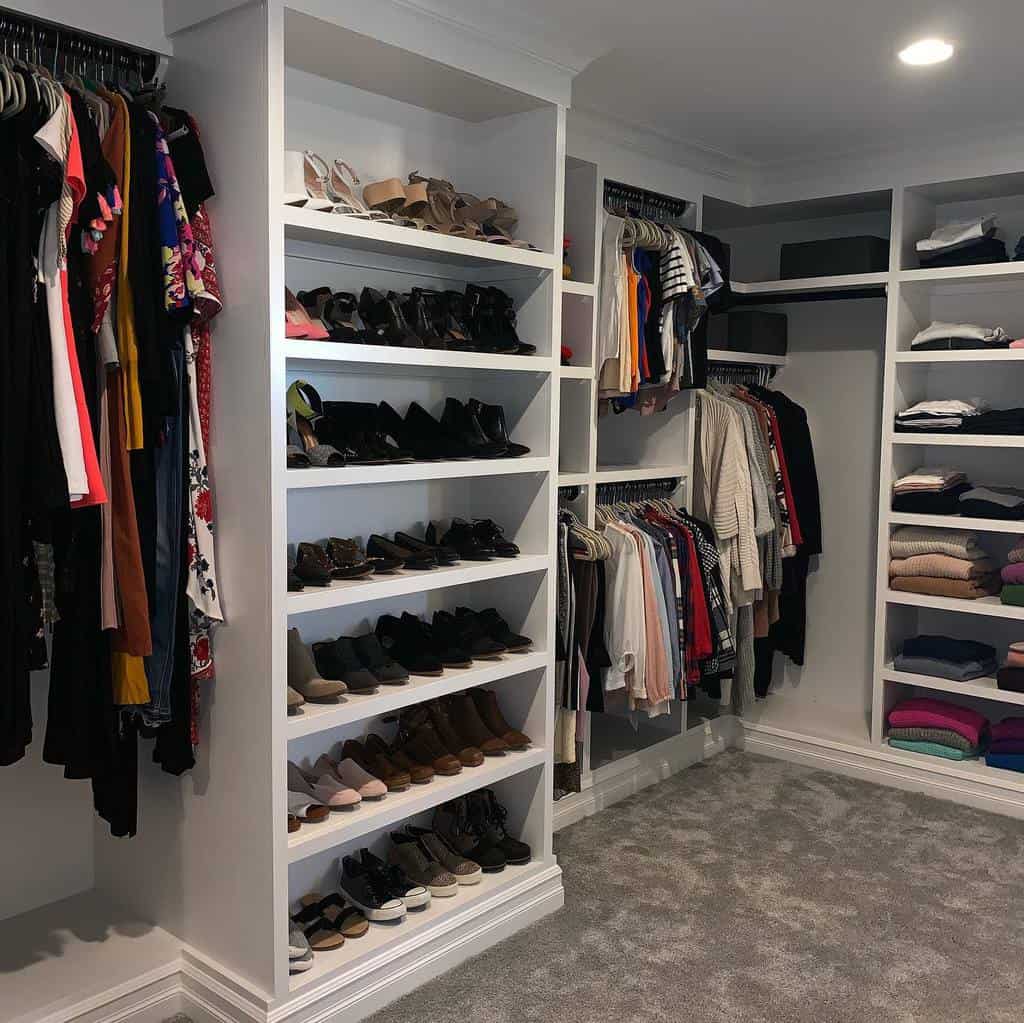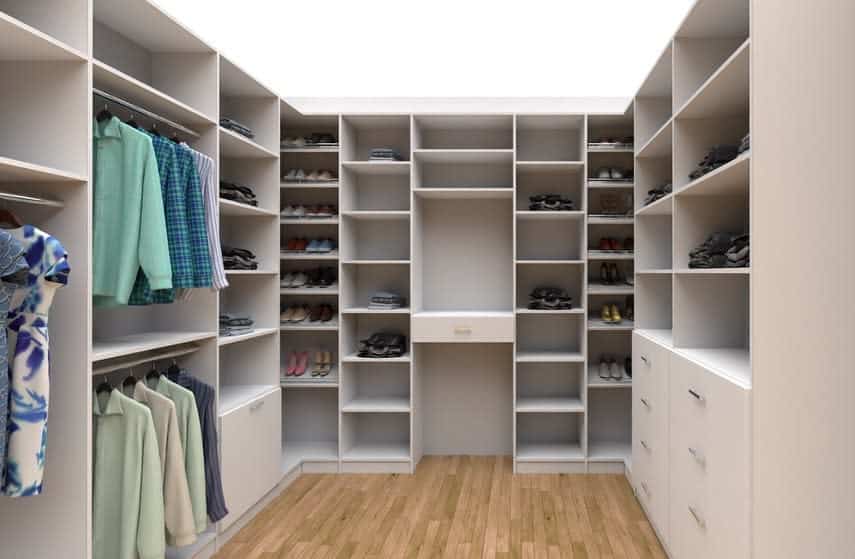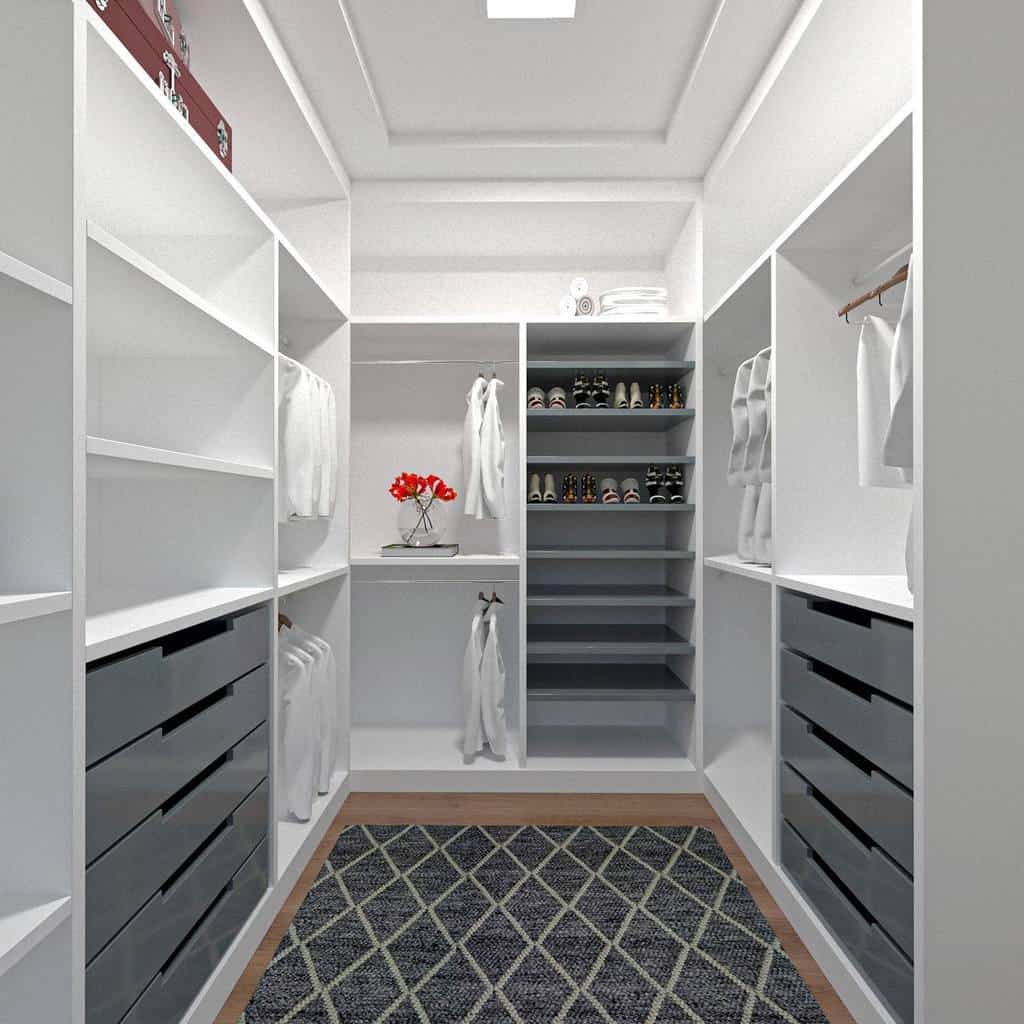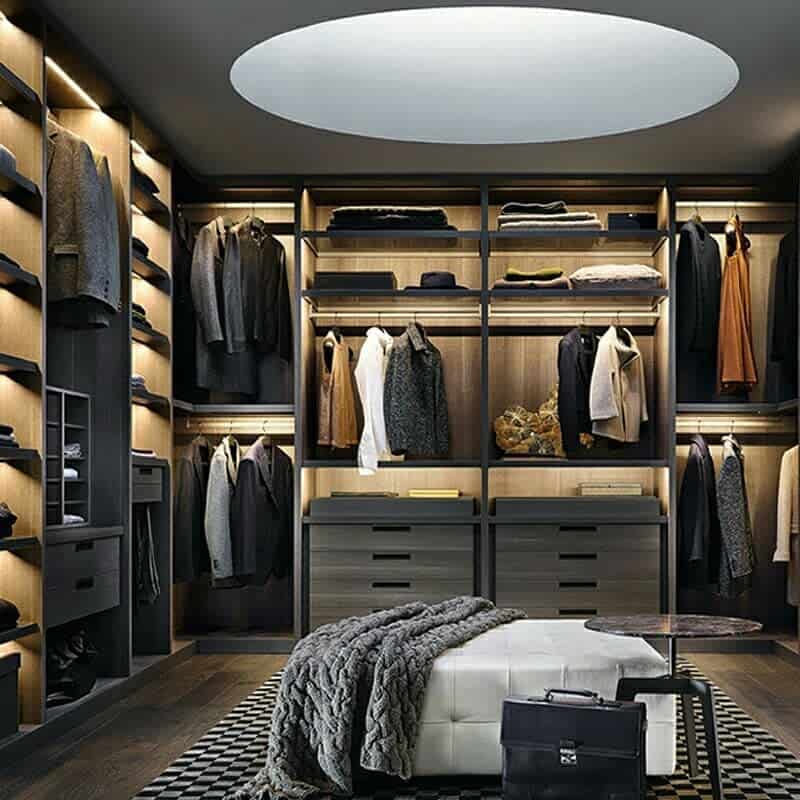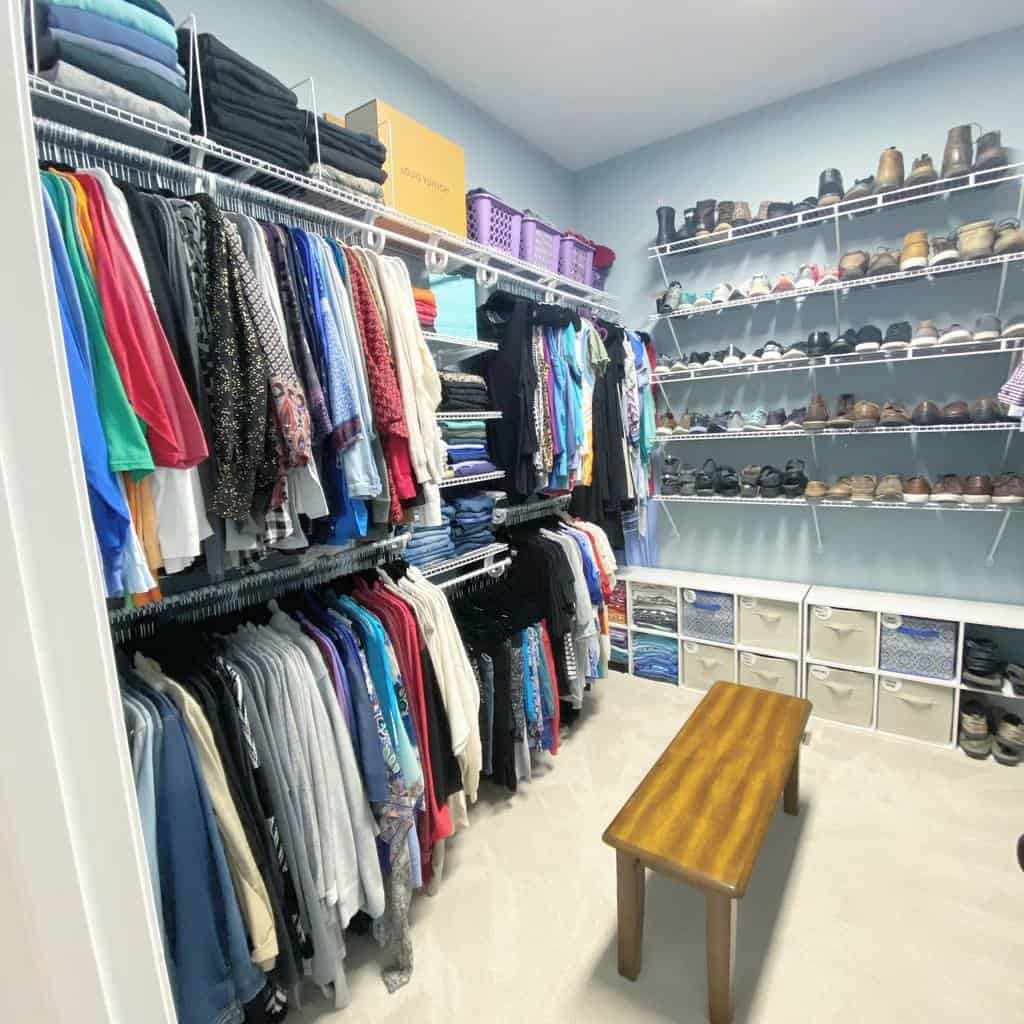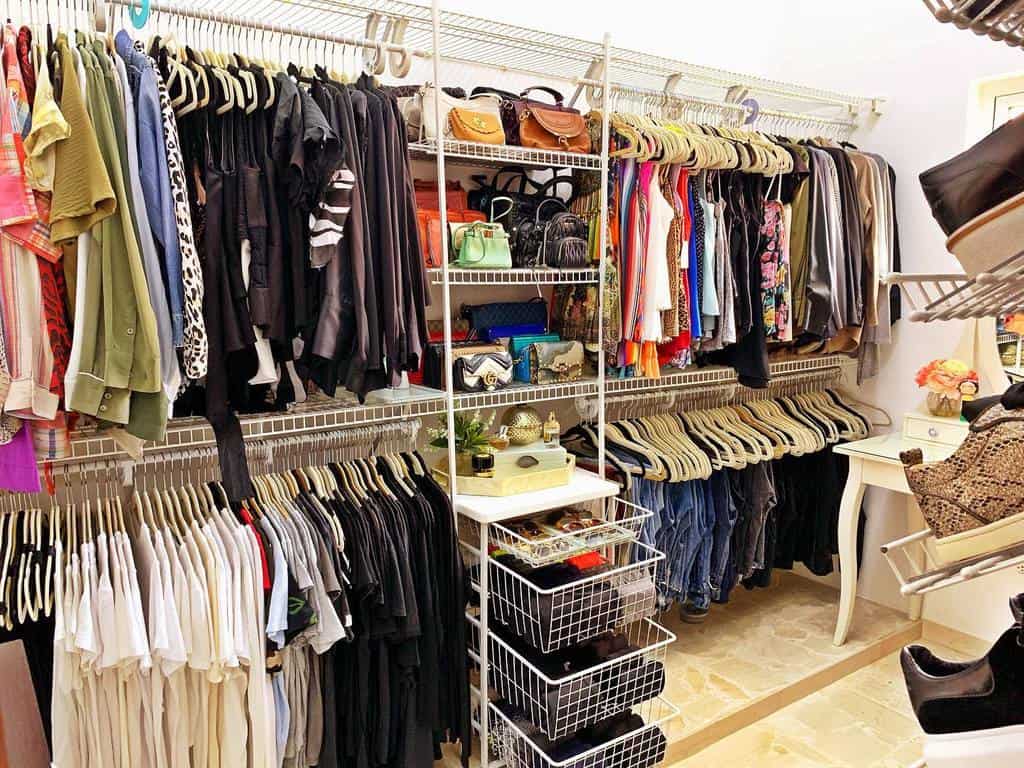 8. Showcase Outfits on Standalone Clothes Rods
Standalone clothes rods seamlessly blend functionality with contemporary charm. Acting as a canvas for your curated outfits, they also inject a dash of modern flair into rooms. These rods aren't confined to bedrooms; positioned thoughtfully in open spaces, they can serve as standout decor elements. When accessorized with artistic hangers or spotlighted with ambient lighting, they elevate storage to an art form.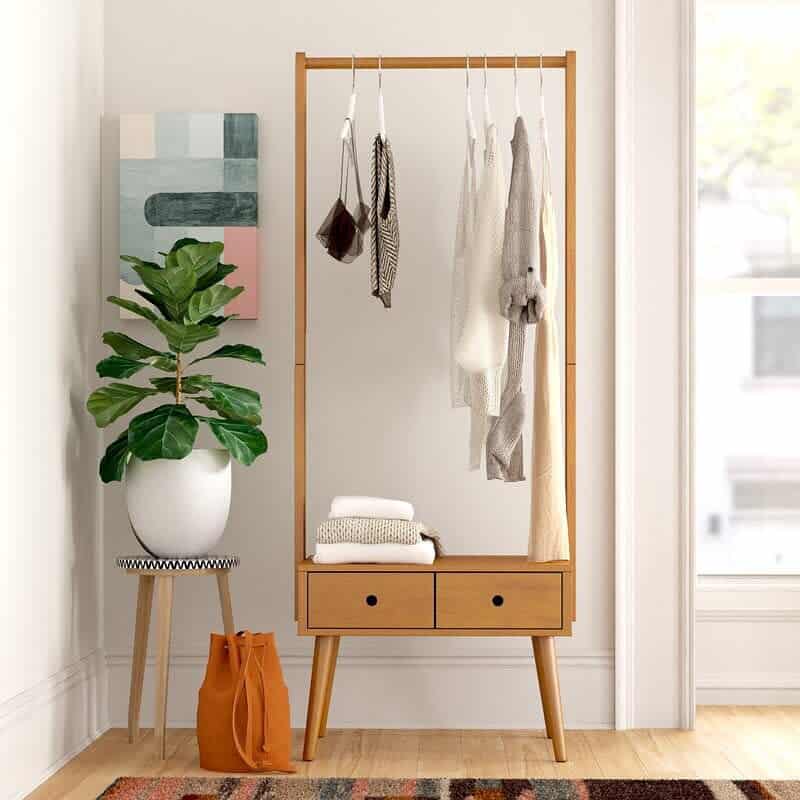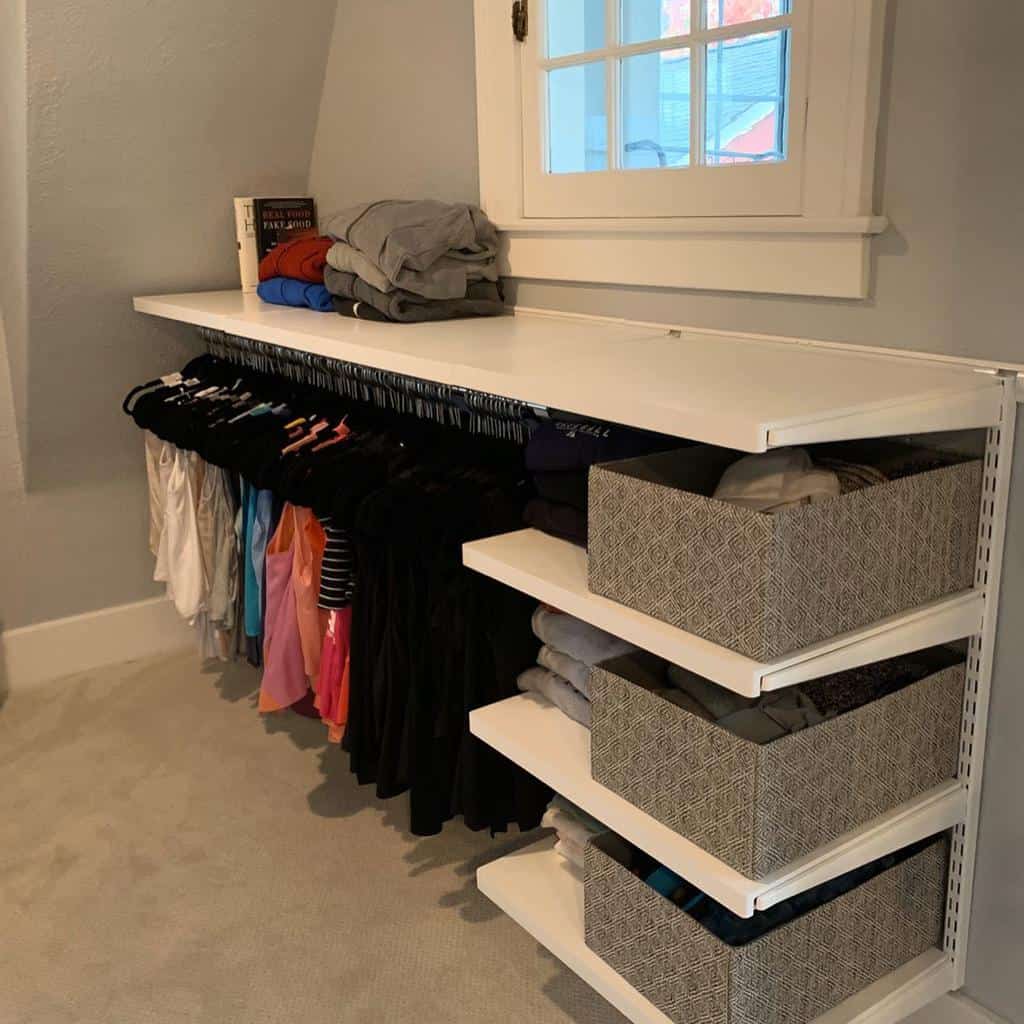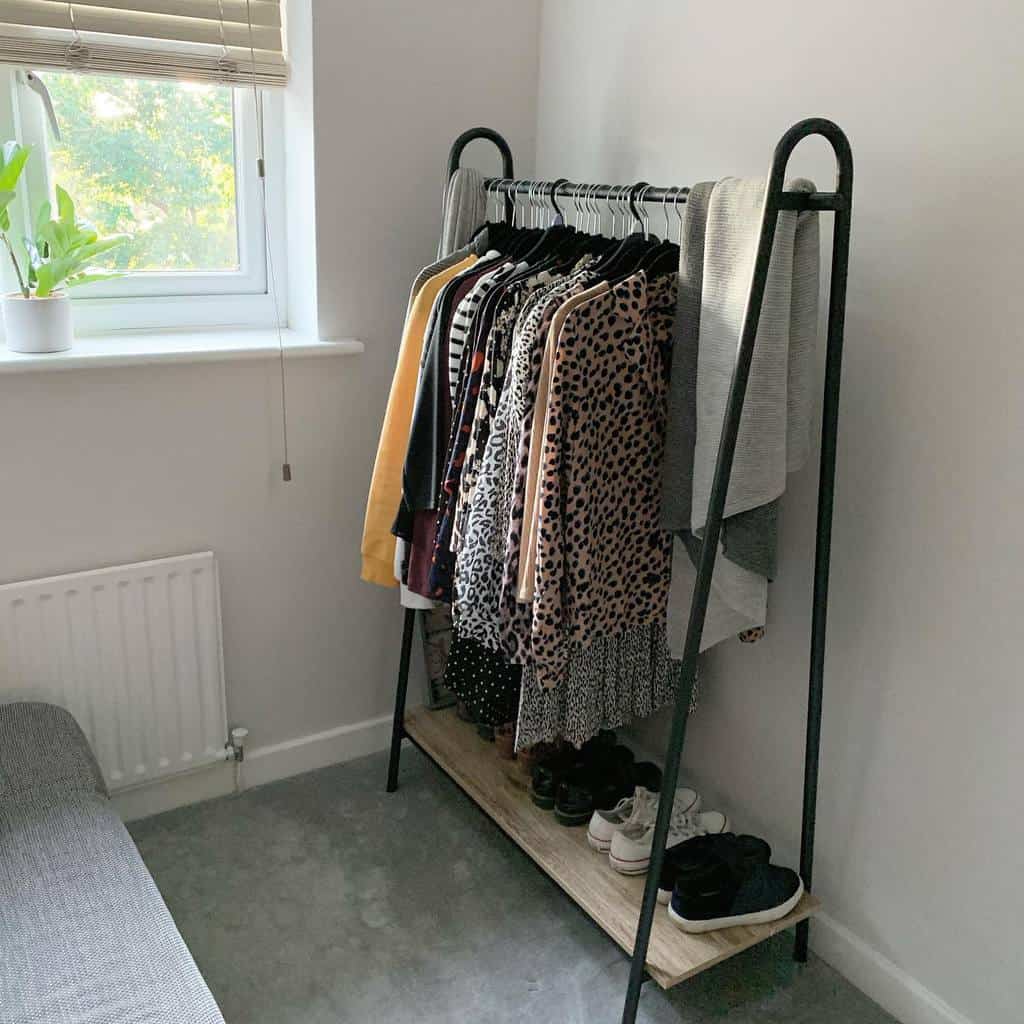 9. Optimize Corners with Tension Rod Organizers
Tension rod organizers offer an ingenious, drill-free approach to maximizing storage. Easily adjustable, they fit various closet widths, accommodating items from garments to accessories. Their minimalist appeal ensures harmony with modern interiors. For an enhanced look, consider using uniform hangers or adding hanging fabric storage pockets, marrying utility with design finesse.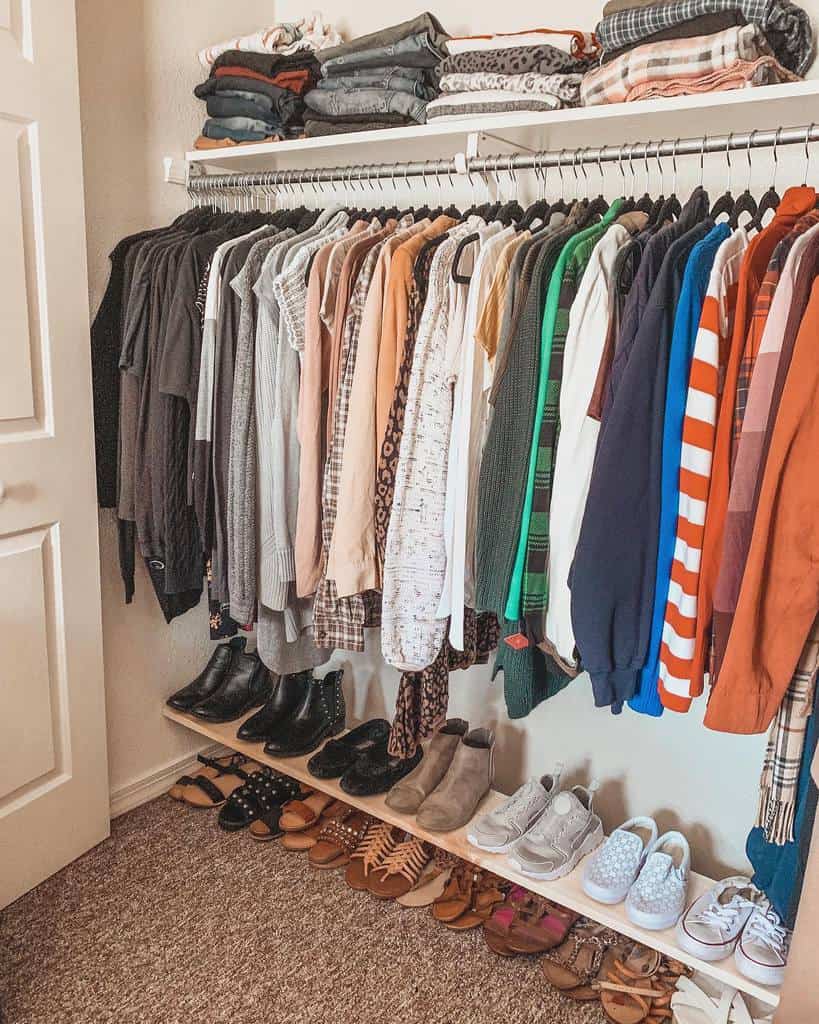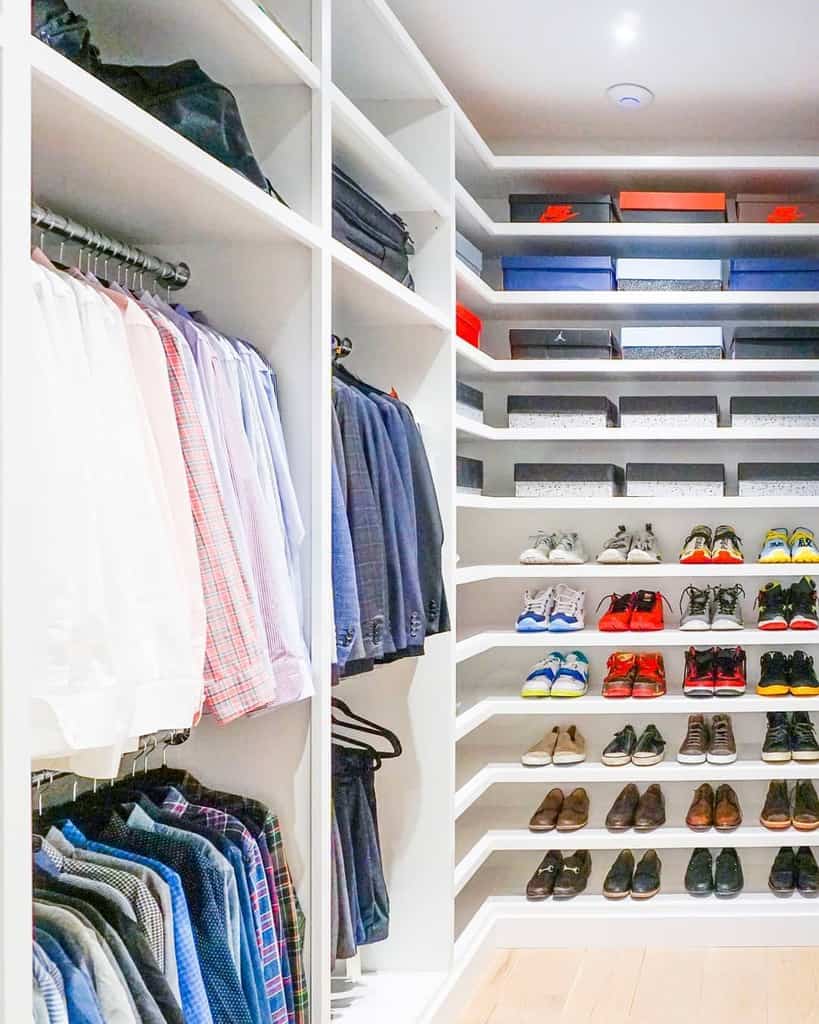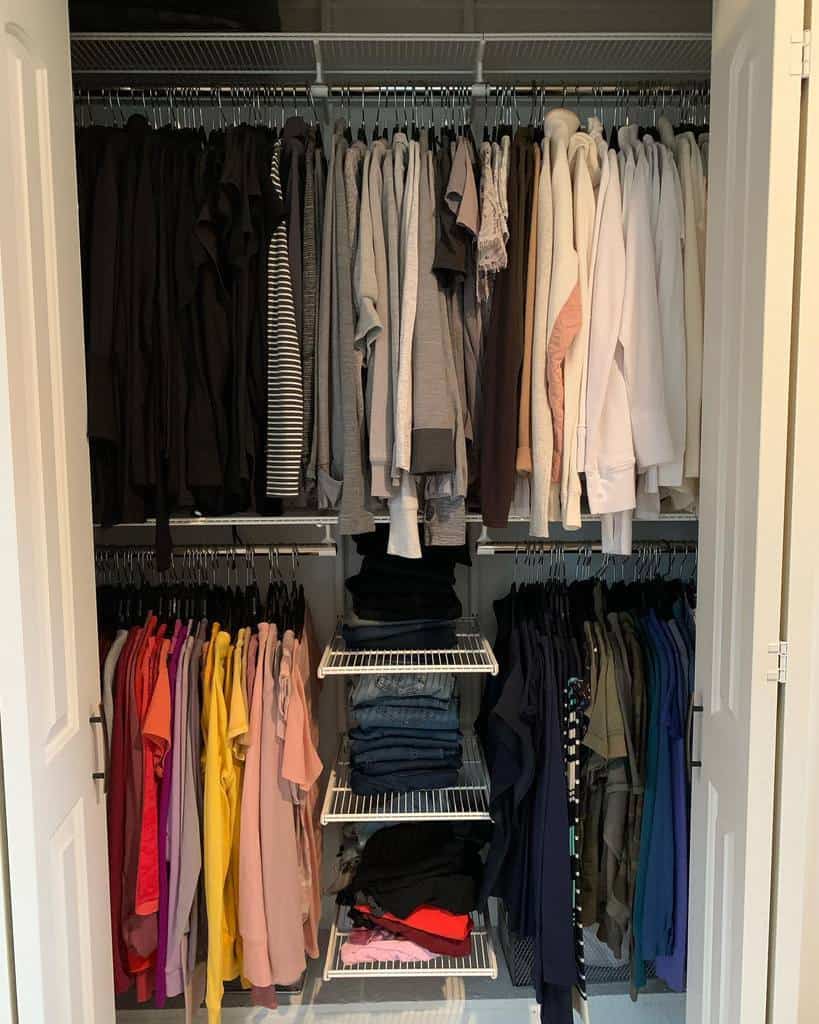 10. Showcase Footwear in Clear Shoe Storage
Clear shoe storage effortlessly combines organization with visibility, ensuring you can spot your desired pair instantly. Whether you prefer stackable units or over-the-door designs, these transparent organizers maintain shoe condition and maximize closet potential. To elevate aesthetics, select designs that meld with room decor, transforming shoe storage into a harmonious blend of function and style.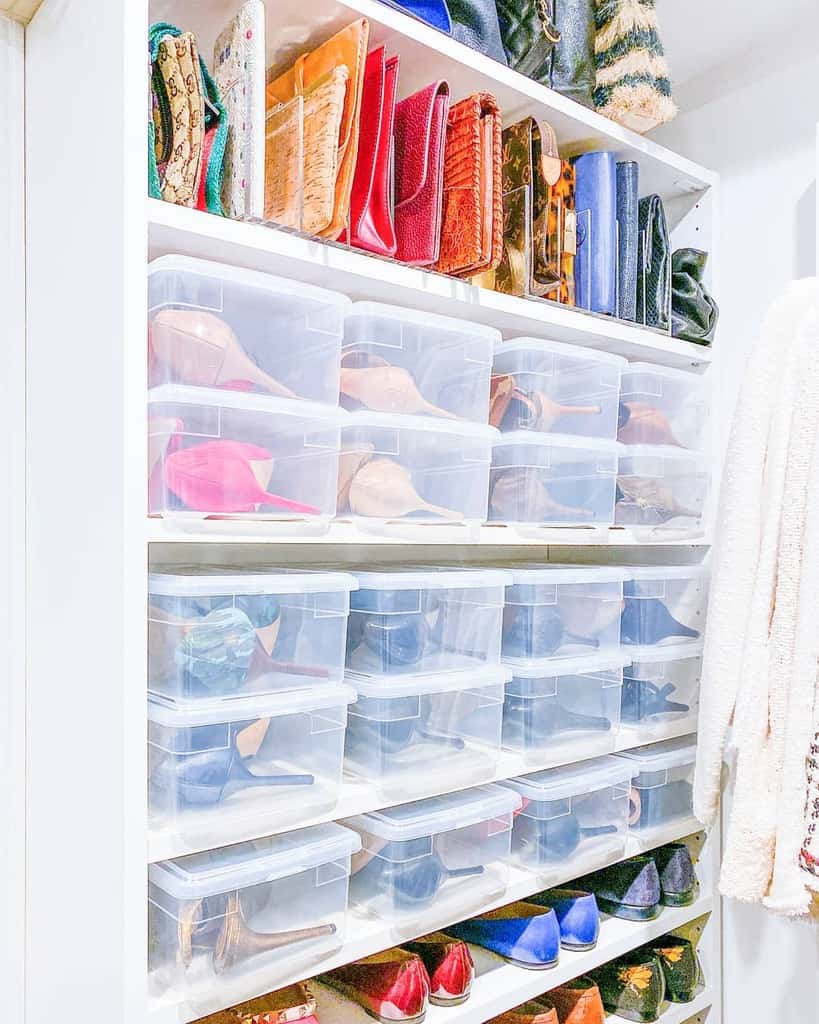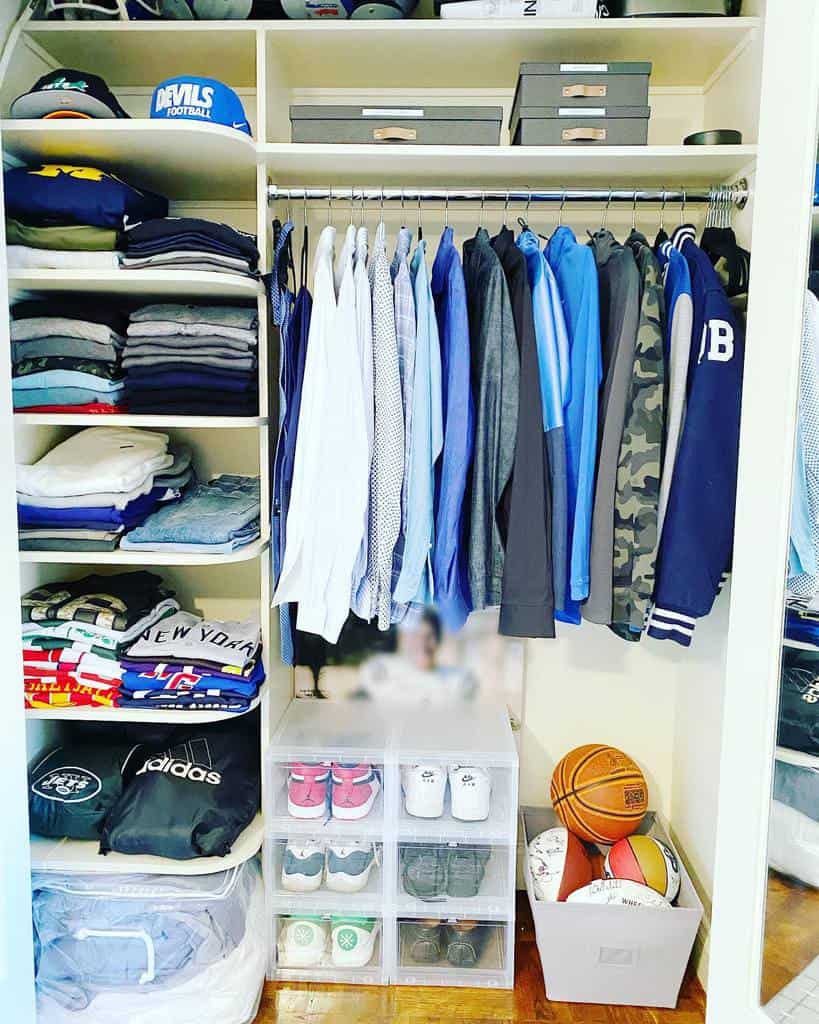 11. Customize Space with Modular Shelves
When it comes to storing your clothes, functionality, and versatility are key. That's where modular shelves come in handy! These shelves offer the perfect solution for organizing your wardrobe while still keeping your space stylish. Plus, with adjustable options, you can customize the layout to fit your specific needs.
Whether you're looking to create a walk-in closet or simply want to maximize space in your bedroom, modular shelves are a great choice. And the best part? They're perfect for any decor style, whether you're going for a minimalist or maximalist look.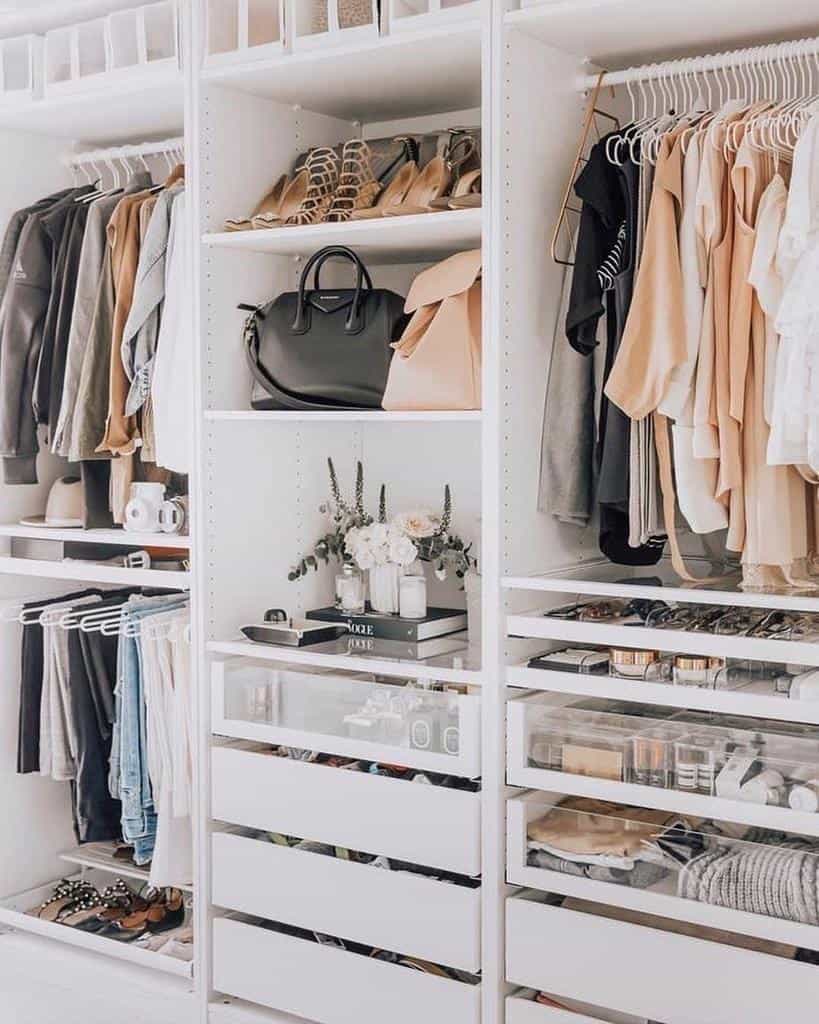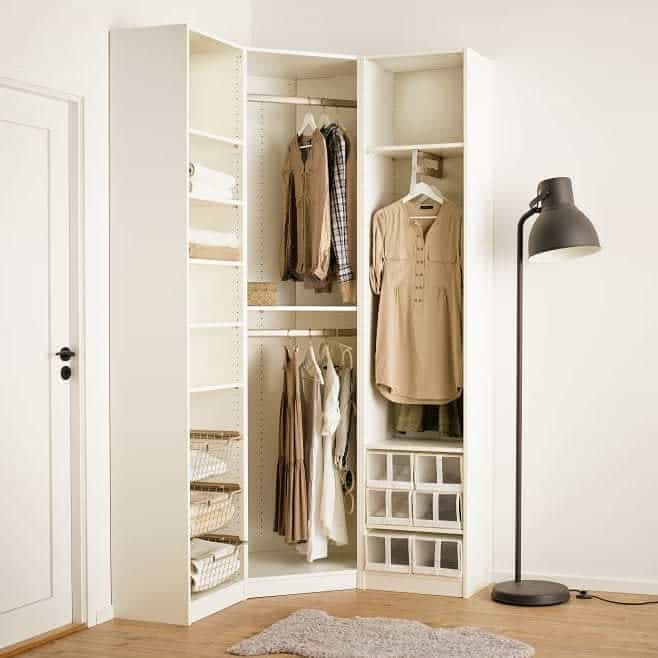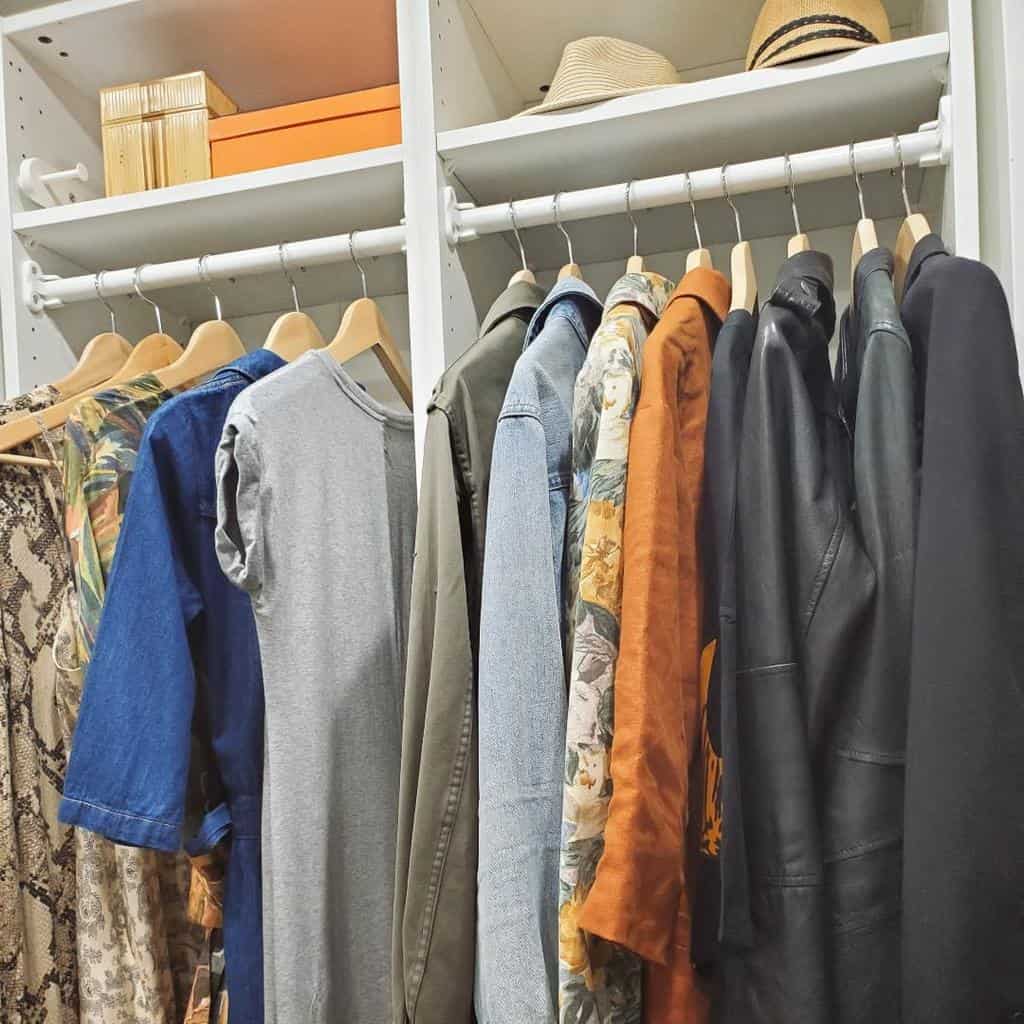 12. Save Floor Space with Wall-Mounted Racks
Wall-mounted clothes racks are an ingenious blend of style and space-saving utility, particularly suiting minimalist or modern interiors. These racks offer both an accessible wardrobe and a dynamic display platform. When selecting, consider materials like wood or metal to sync with room aesthetics, and potentially incorporate hooks or additional shelves for versatility. It's a functional yet chic solution to clothes storage challenges.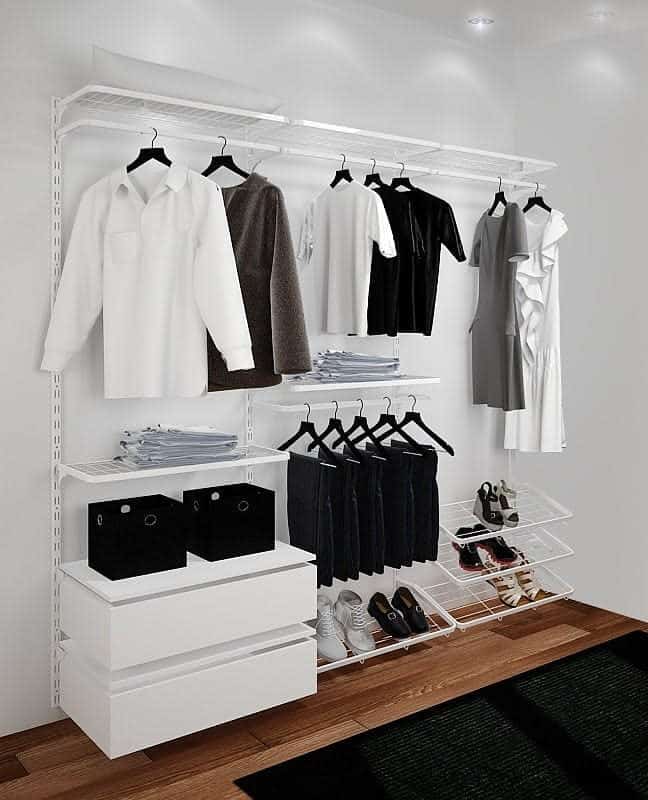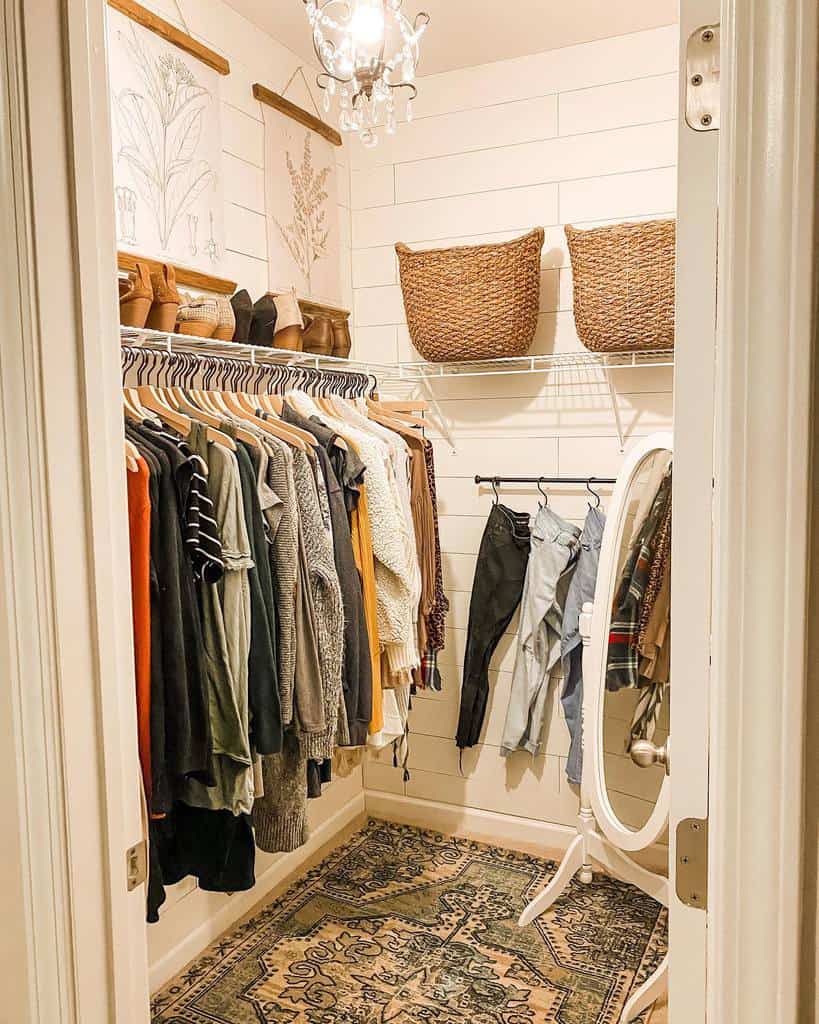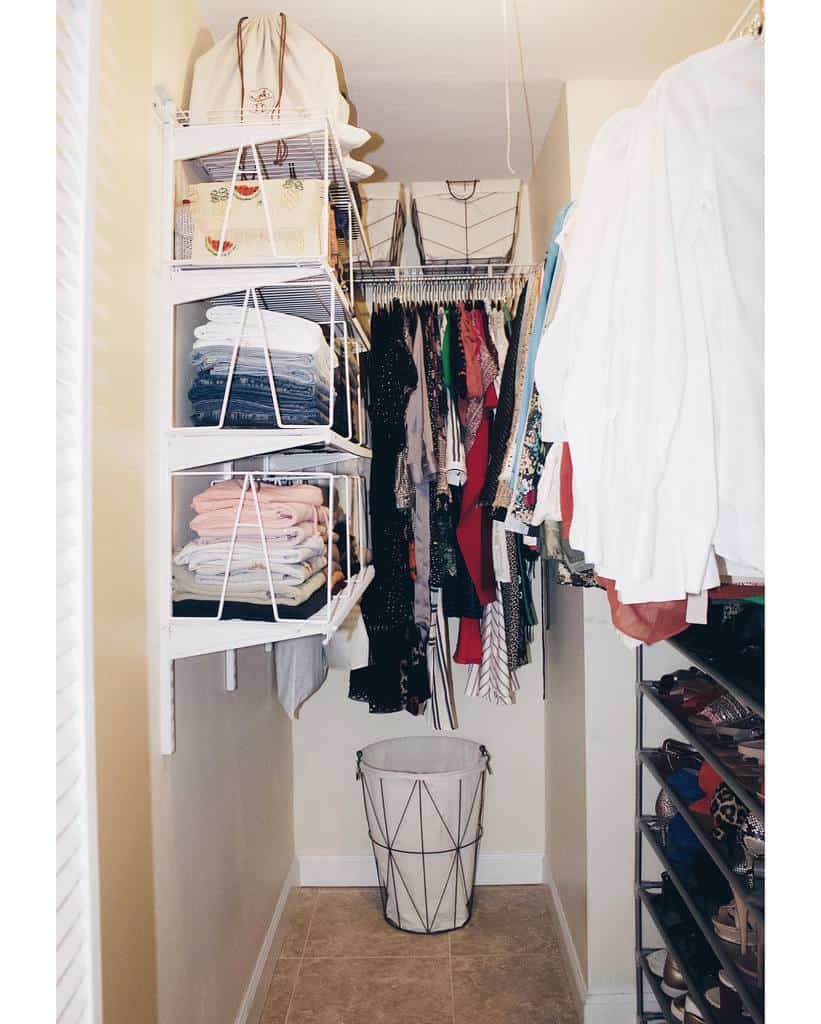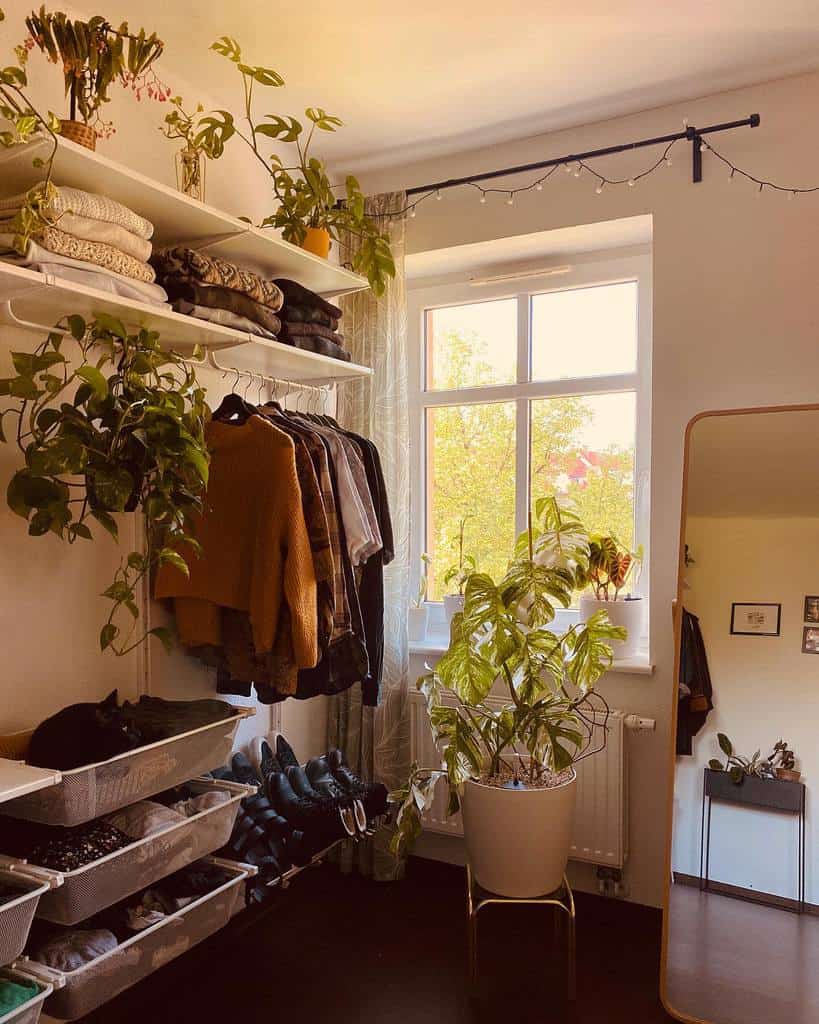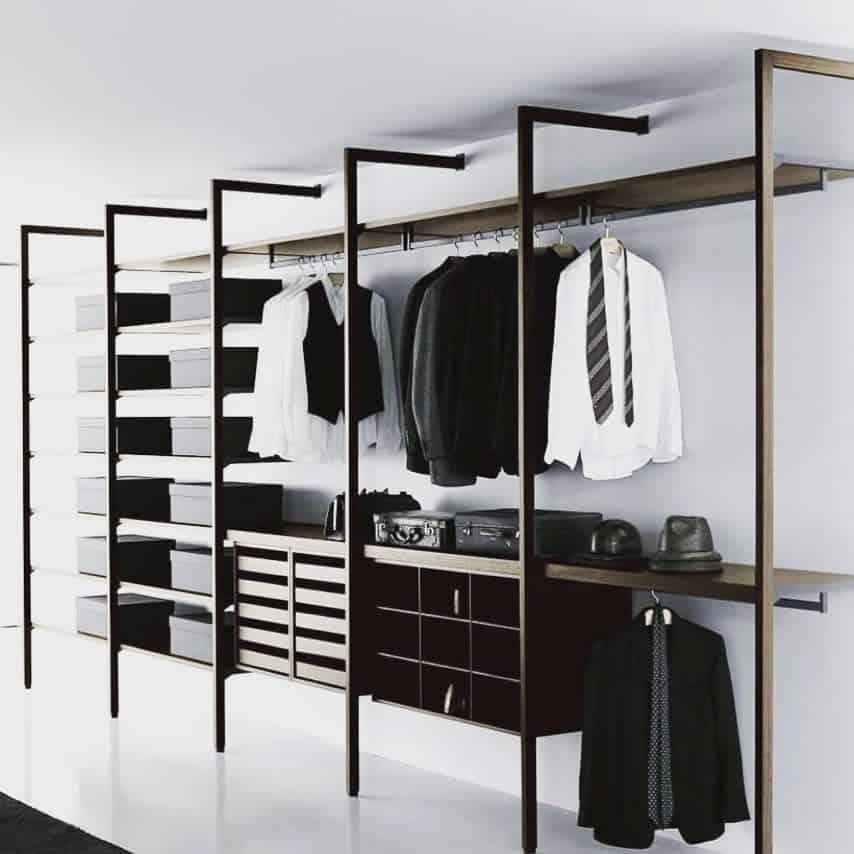 13. Efficiently Store Shoes Behind Closet Doors
Closet door shoe racks offer a clutter-free solution, turning overlooked space into a functional shoe haven. By elevating shoes off the floor, these racks ensure neatness while facilitating easy access. To align with your decor, choose from a plethora of styles and materials. Regardless of closet size, harnessing door space introduces a transformative approach to footwear organization.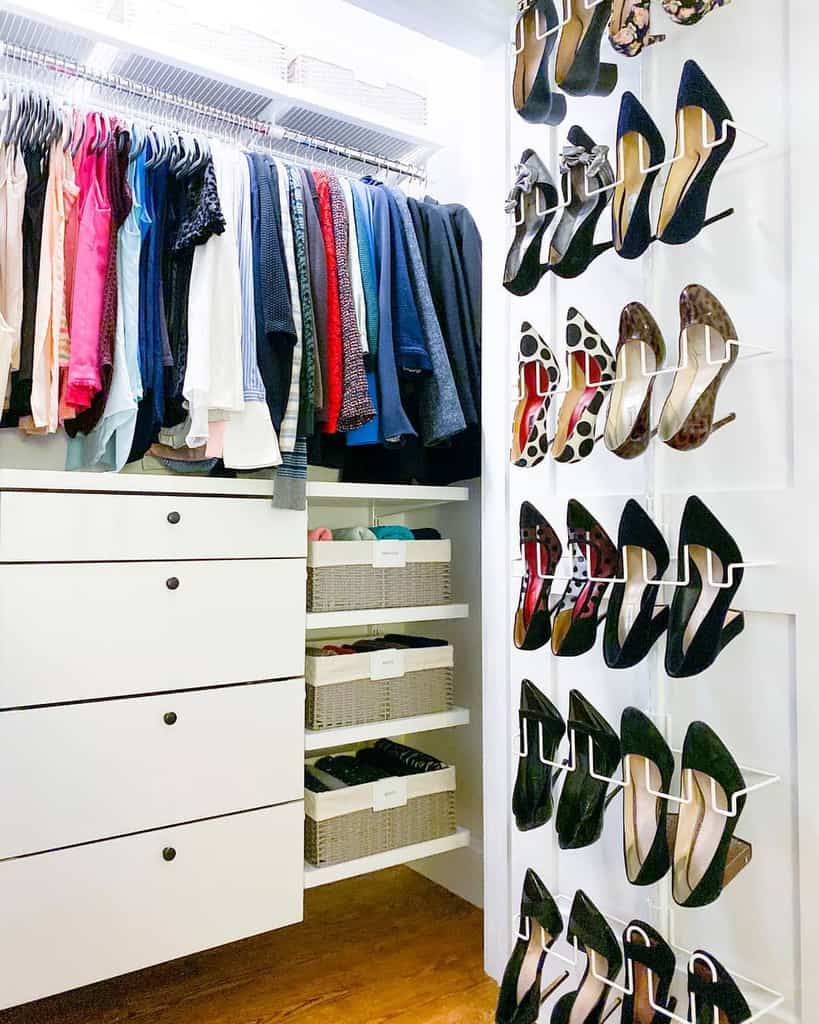 14. Segment Space Using Closet Shelf Dividers
Closet shelf dividers effortlessly compartmentalize your storage areas, ensuring folded items remain neatly in place. These dividers eliminate the risk of stacks collapsing, presenting your wardrobe in a clear, tidy manner. Available in diverse styles and hues, it's simple to find a design that meshes with your interior aesthetics. Embrace these dividers for a revitalized, orderly closet experience.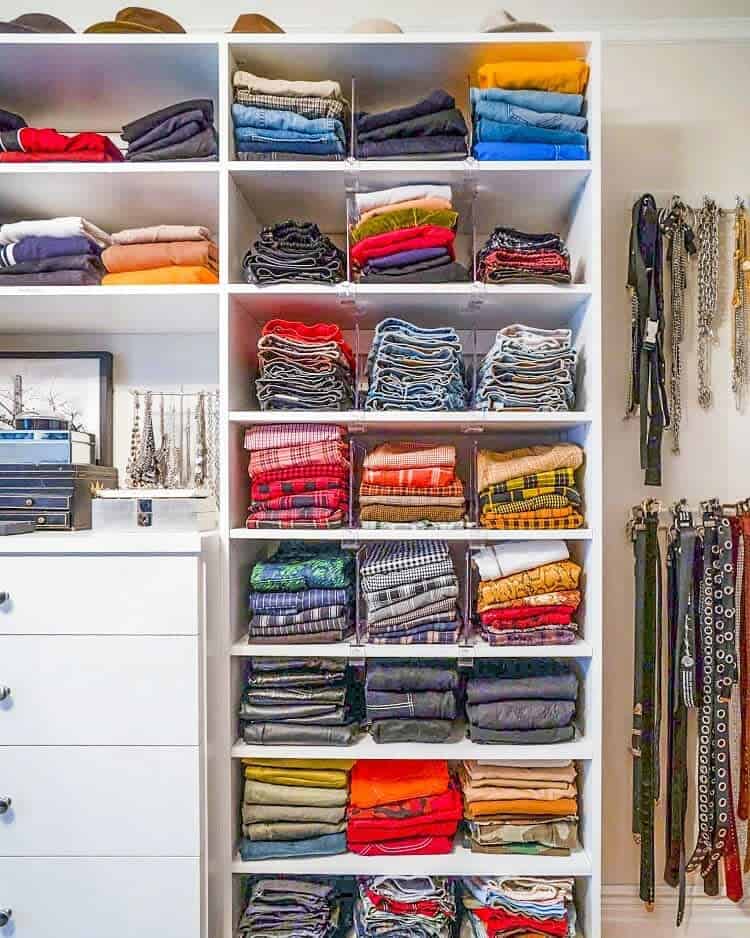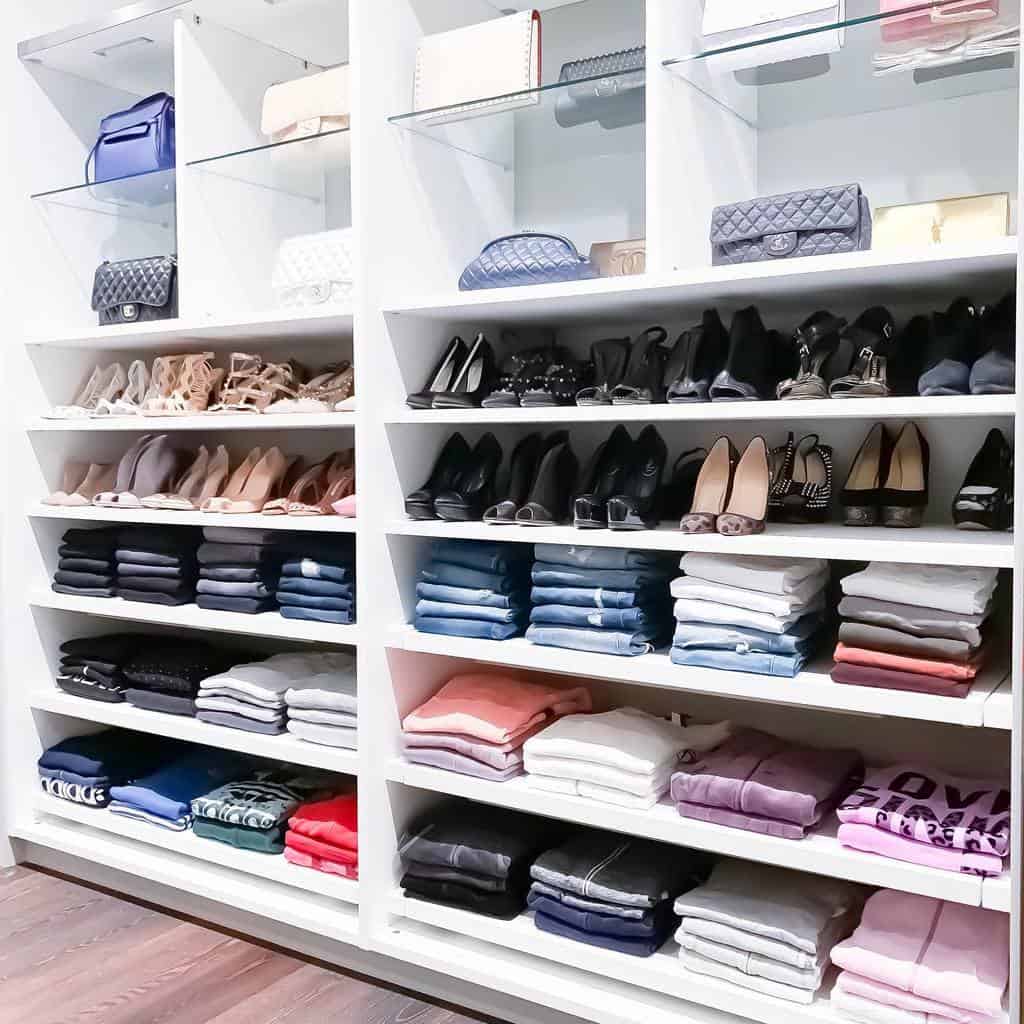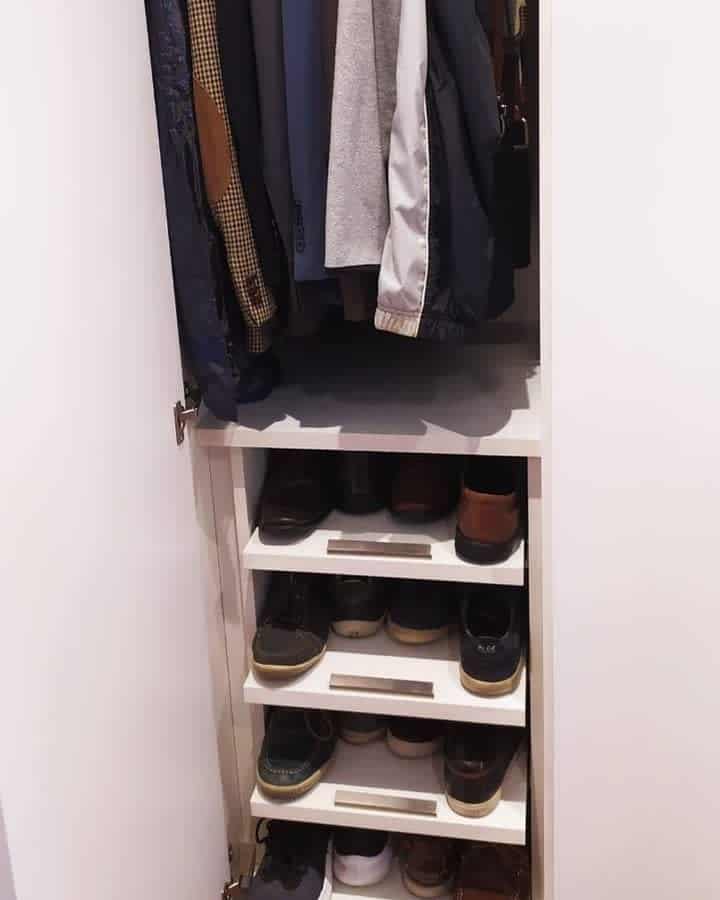 15. Stack Shoes in Metal Closet Racks
Metal shoe racks deliver both organization and contemporary flair to your storage solutions. Beyond footwear, these racks adeptly accommodate purses, scarves, or folded attire. Their sleek design lends an air of modern sophistication, seamlessly integrating into minimalist spaces. Regardless of your closet's size, integrating a metal shoe rack ensures efficient use of space and a tidy wardrobe presentation.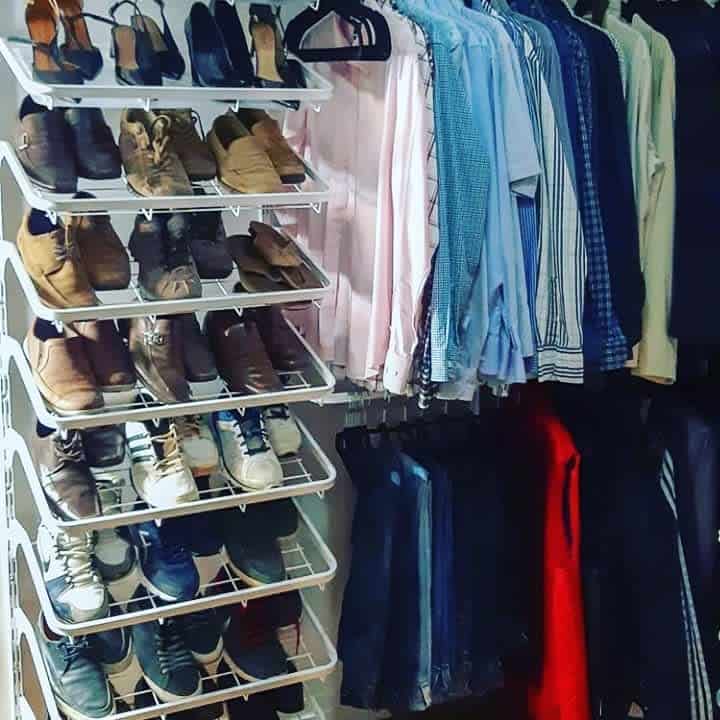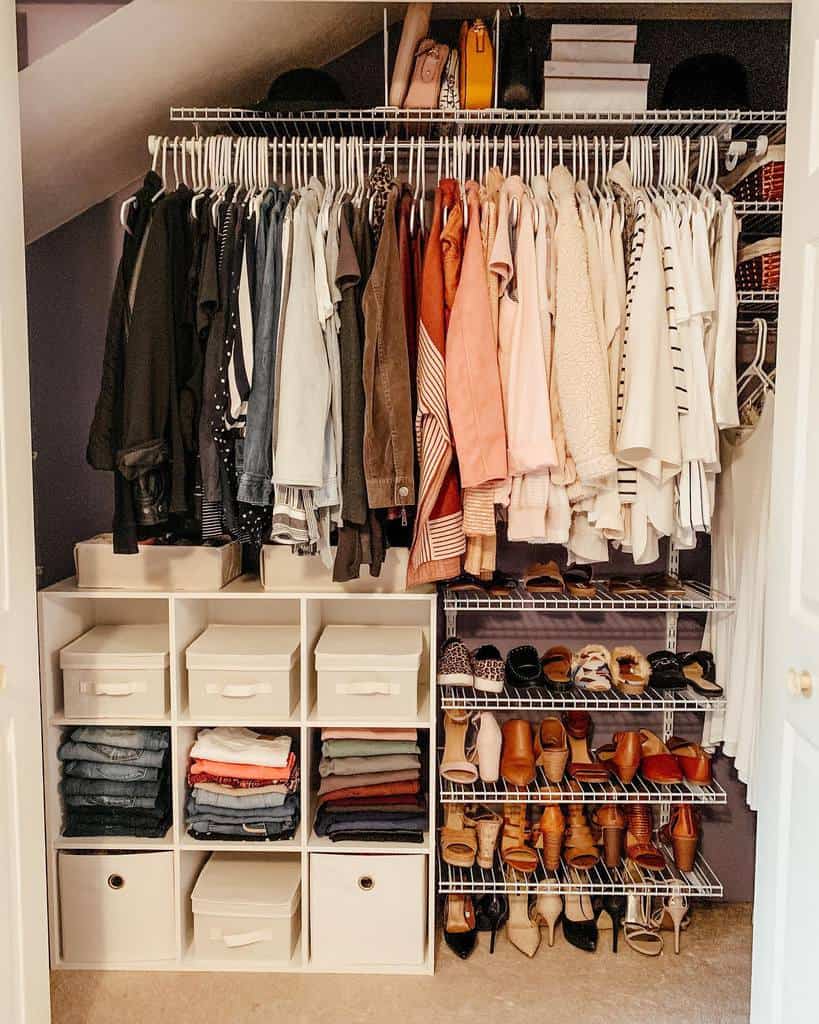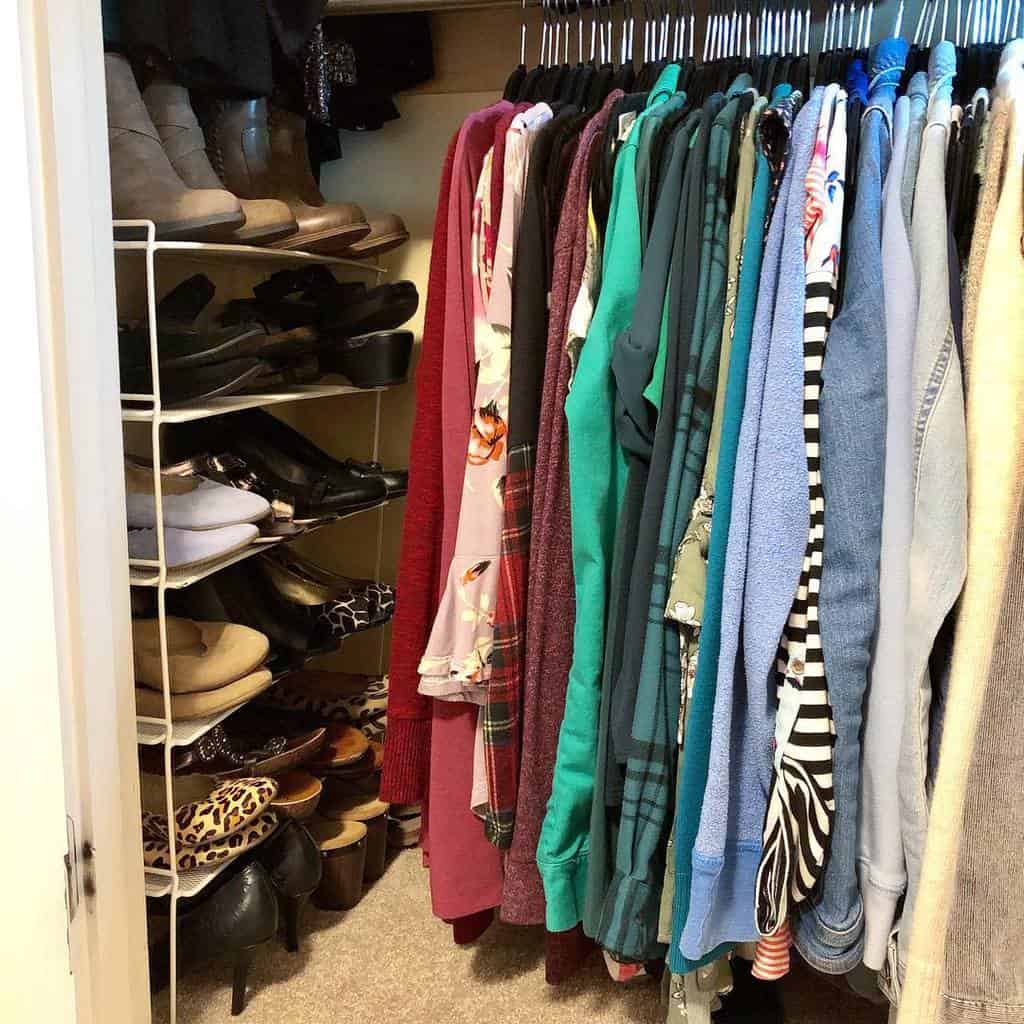 16. Organize Vertically with Tiered Hanging Organizers
Tiered hanging closet organizers effectively harness vertical space, offering compartmentalized storage for clothes and accessories. Their collapsible nature ensures adaptability, especially in compact living areas like apartments or dorms. Perfect for those with expansive collections or those simply seeking optimal organization, these hanging organizers are a must-have in modern homes.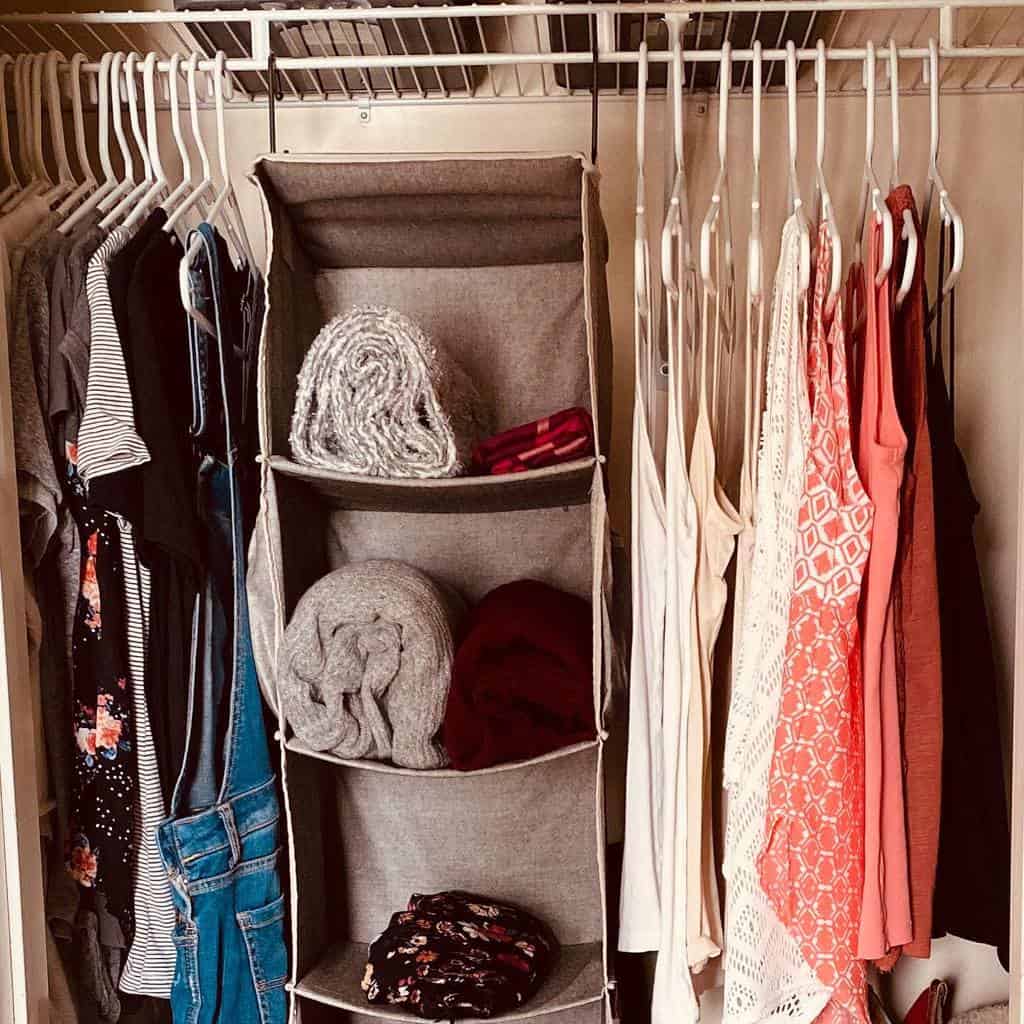 17. Maximize Space with Double Hang Rods
Double-hang closet rods effortlessly double your wardrobe's hanging capacity. By stacking rods, you optimize vertical space, ensuring easy access to your attire without the clutter. This upgrade is especially beneficial for those with growing collections or limited closet sizes. Transitioning to a double-hang setup not only tidies your space but also keeps clothes wrinkle-free and ready-to-wear.
18. Enhance Privacy with Curtain Door Closets
A curtain door closet offers a blend of functionality and aesthetic appeal. Perfect for modern, minimalist interiors, it ensures easy access while lending a cozy, soft ambiance to the room. To optimize the setup, integrate shelves, drawers, and rods for seamless organization. Beyond its practicality, this style introduces a distinctive design touch, elevating your bedroom's overall look.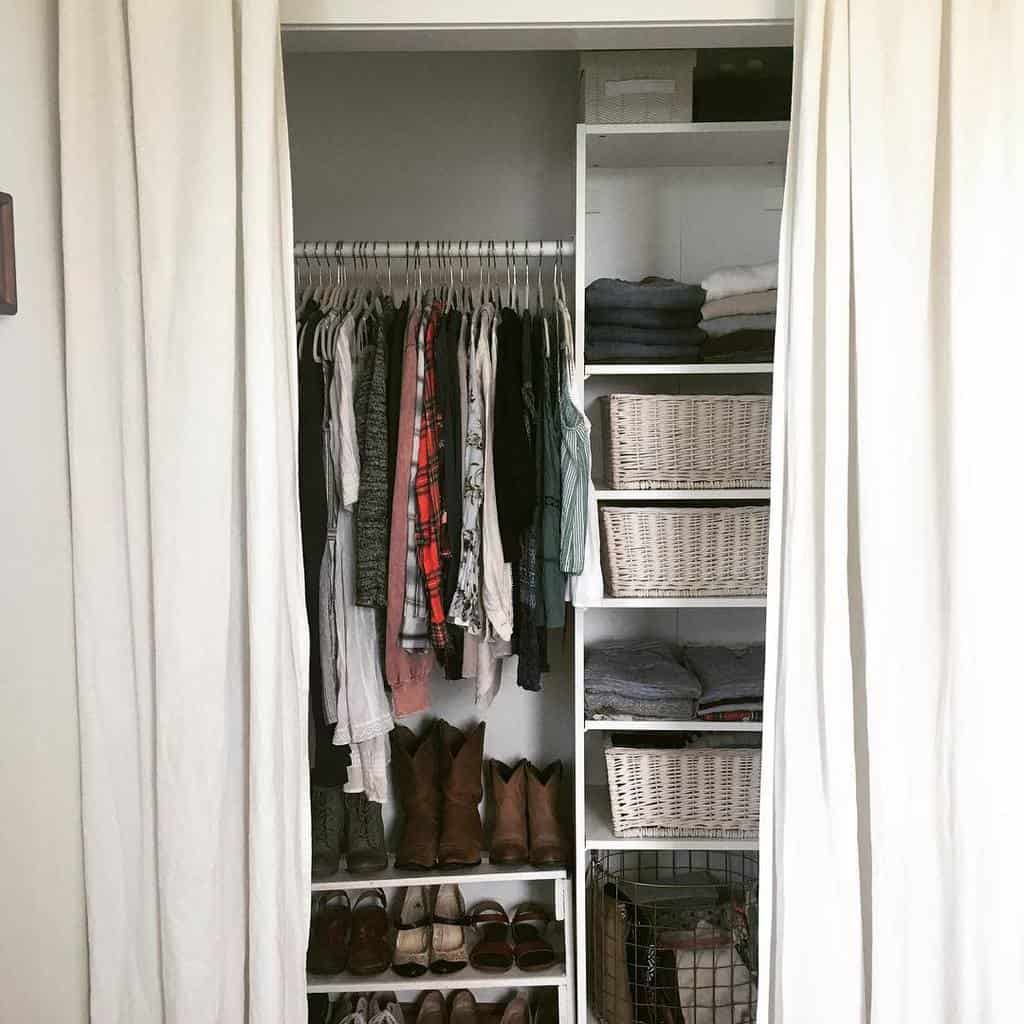 19. Organize Caps on Tiered Closet Organizers
A tiered cap closet organizer is a must-have for cap enthusiasts. Protect your caps from damage and make use of often-overlooked door space. The tiered setup offers a clear view and quick access to each cap, streamlining your selection process. Moreover, by freeing up drawer or shelf space, it enhances overall wardrobe organization. Elevate your closet's functionality and bid farewell to disarray with this specialized organizer.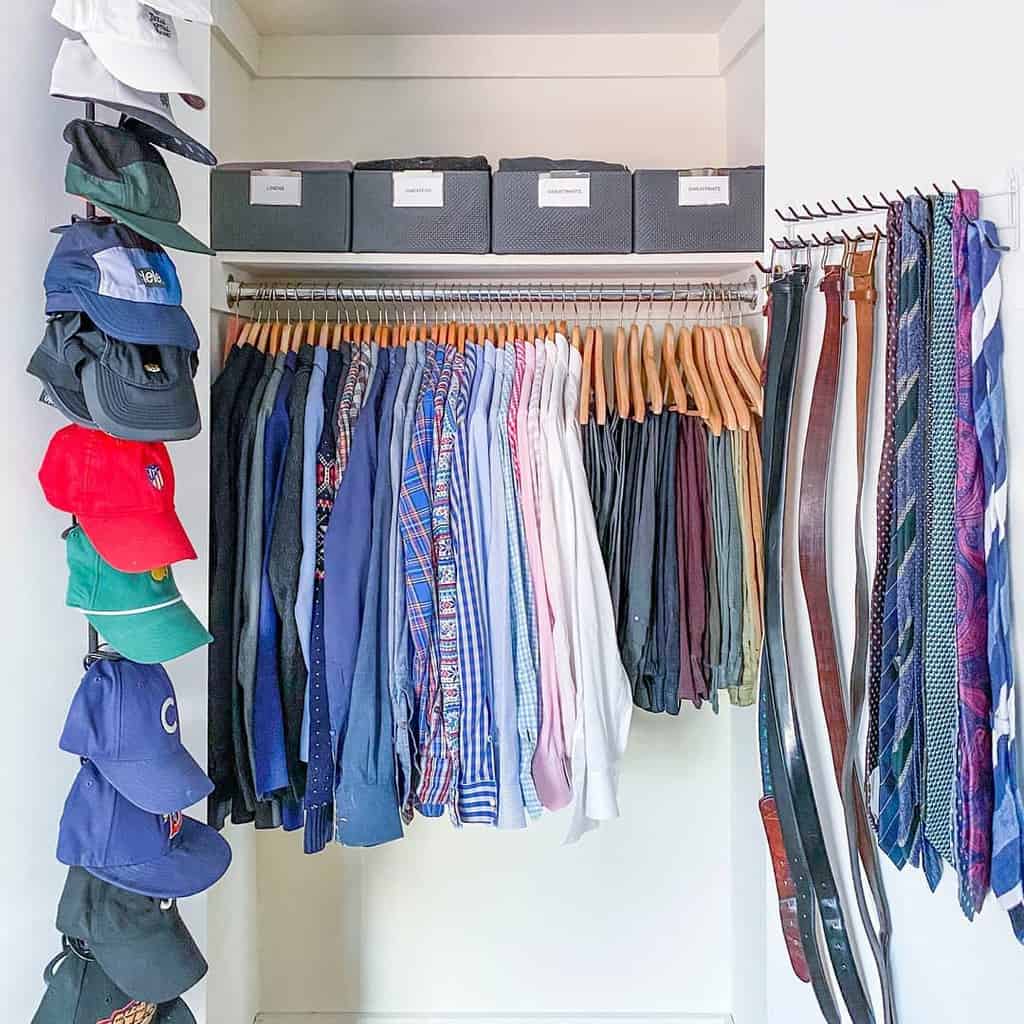 20. Stash Extras in Under-The-Bed Storage
Maximize your bedroom's storage potential with under-the-bed solutions. Ideal for seasonal clothes or surplus items, these containers keep belongings organized yet out of sight. From sleek clear boxes to decorative fabric designs, there's an option to suit every decor. Slide them under your bed to maintain a neat, uncluttered space.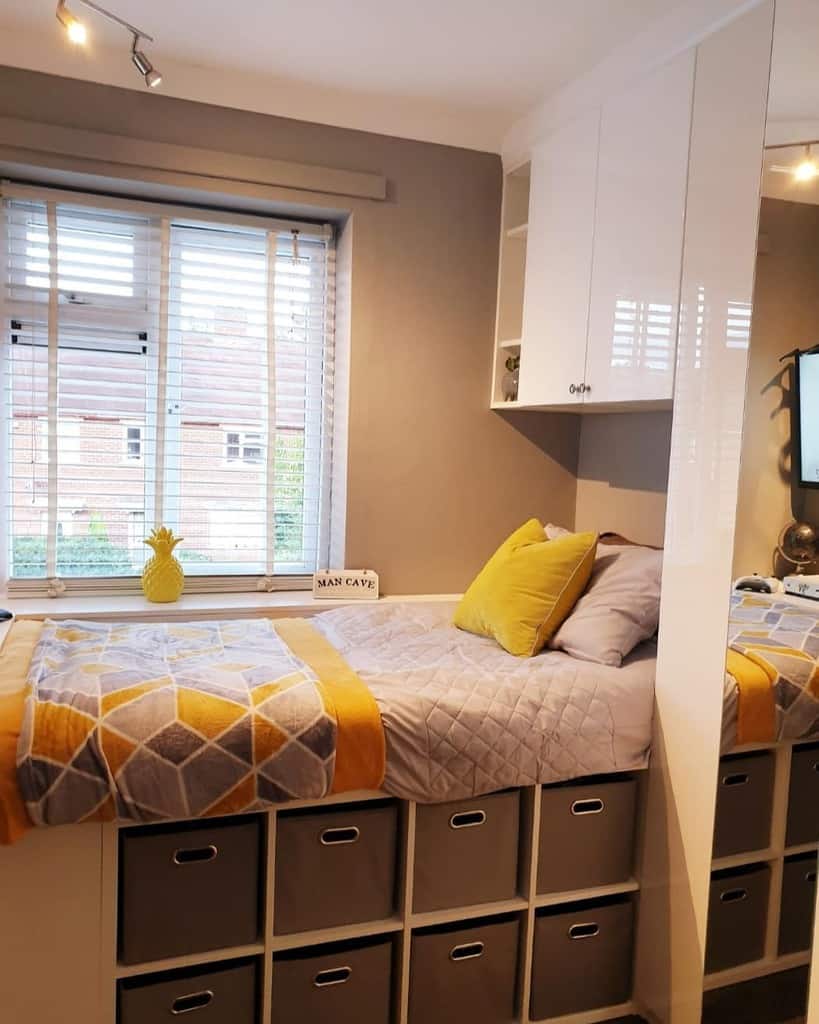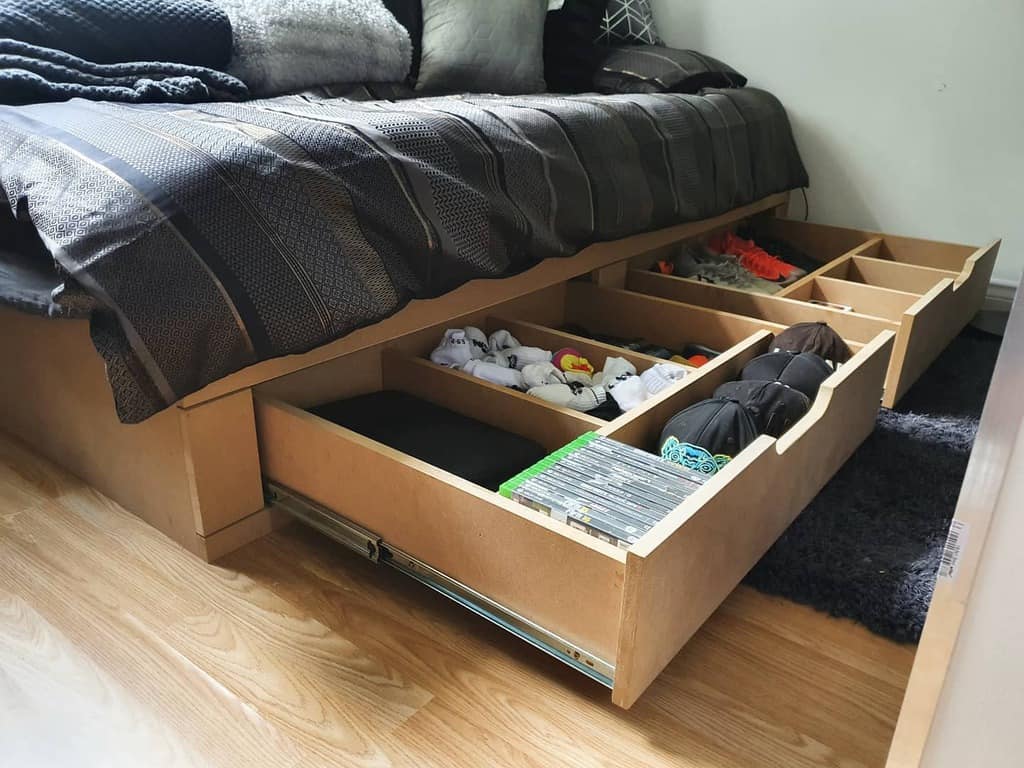 Clothes Storage FAQs
How do you store lots of clothes?
Start by decluttering. This helps you reduce the number of clothes you have to organize and gets rid of anything you don't actively use. Then empty your closet, dresser, and anywhere else you store your clothes. With everything empty, you can begin to organize your clothes and store them by season or type to maximize your available storage space.
Is it OK to store clothes in plastic containers?
Yes, it's ok to store your clothing in plastic containers that have a clip-on lid. These containers are impervious to bugs but also allow for airflow. Cardboard boxes are bad because they are susceptible to moisture and bugs. Plastic bags are bad because they trap moisture and encourage mold growth.
Is it better to hang or fold jeans?
There's no right or wrong way to store your jeans. You can hang them in your closet or fold them and put them on a shelf or in a drawer. Store them where you have available space in your bedroom.