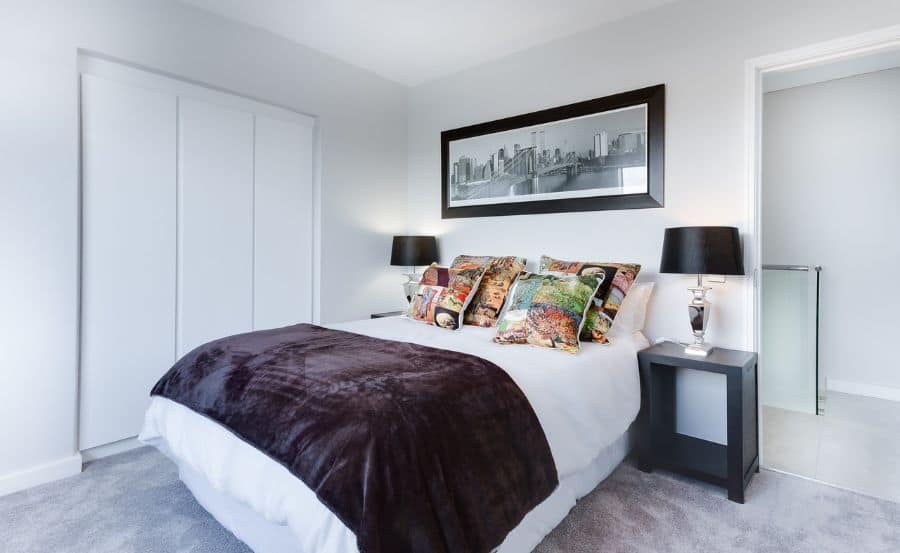 71 Simple Bedroom Ideas That are Cheap and Easy
"Simplicity and repose are the qualities that measure the true value of any work of art." – Frank Lloyd Wright
Between catching up on shows and curling up to read in bed, you probably spend a lot of time relaxing in your bedroom. As much as you want an aesthetically pleasing room, it can be hard to unwind in a space overstuffed with zany design elements. Keeping it simple just might be the way to go.
It might feel like you have to give up your design style to embrace simplicity, but that's where our simple bedroom ideas come in. Whether you're all-in on minimalism or looking to tone down your boho decor, read on to see how you can uncomplicate your space.
1. Apartment Bedroom
Simple home decor is a godsend in small bedrooms in apartments. Avoid visual clutter with neutral colors, minimalist furniture, and simple wall art. Plants, wood floors, and big windows that let in plenty of natural light are all elements that can add warmth without over-complicating the space.
If you live in a studio apartment that doesn't have a separate bedroom, look for a way to separate it from the rest of your living space. A lightweight curtain or bamboo room divider, for example, visually cuts it off from the surrounding area and helps you settle into sleep mode. Transform the wall behind your bed into an accent wall by painting it a different solid color or framing it with eye-catching light fixtures. These are some of the simple yet stylish interior design ideas to separate a small space.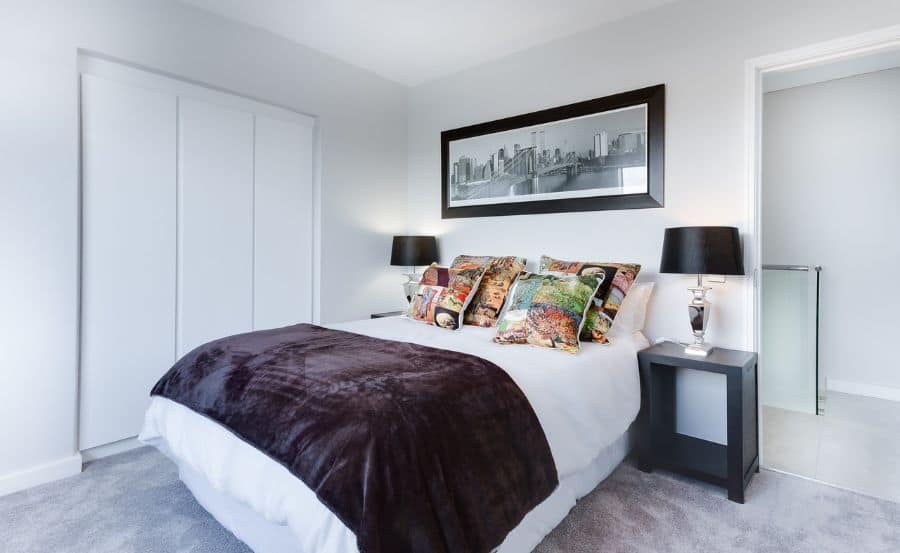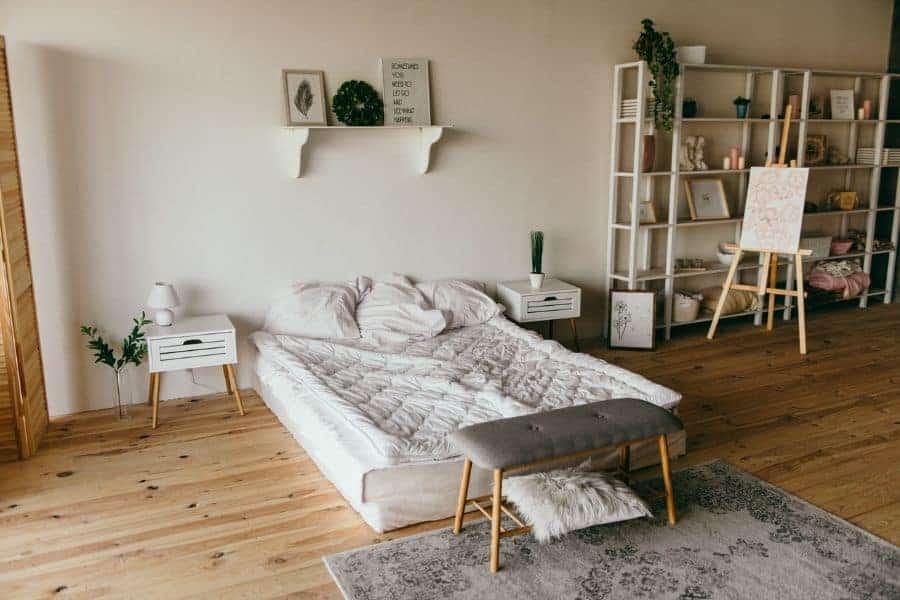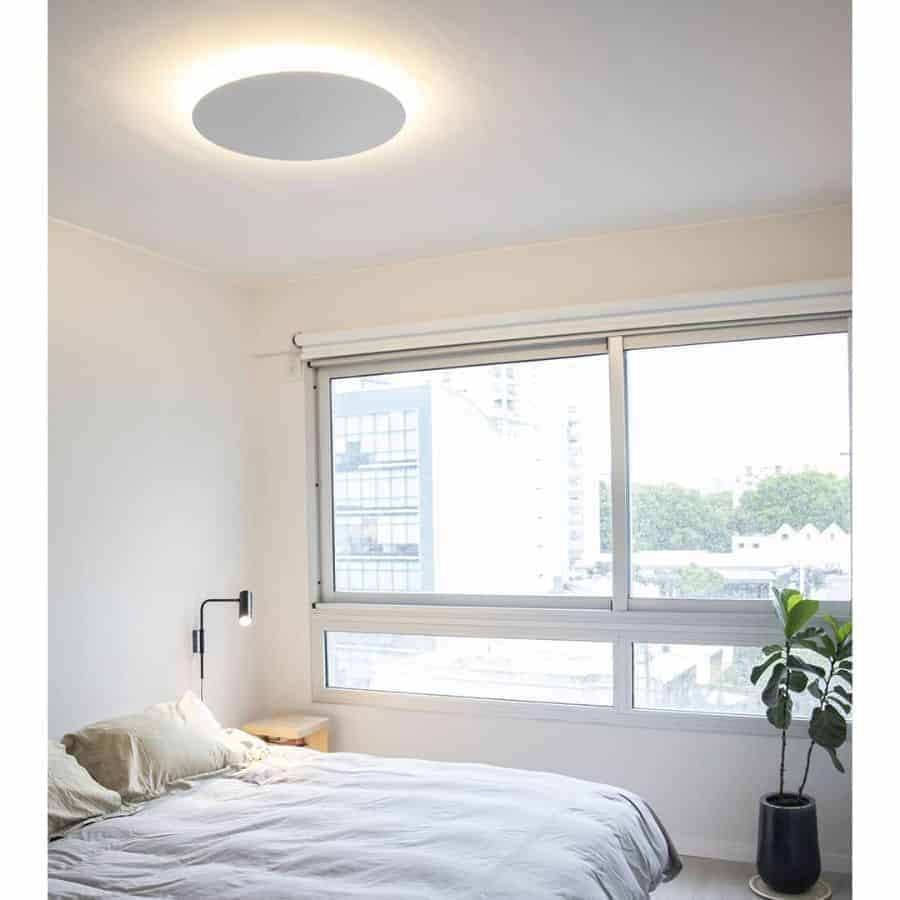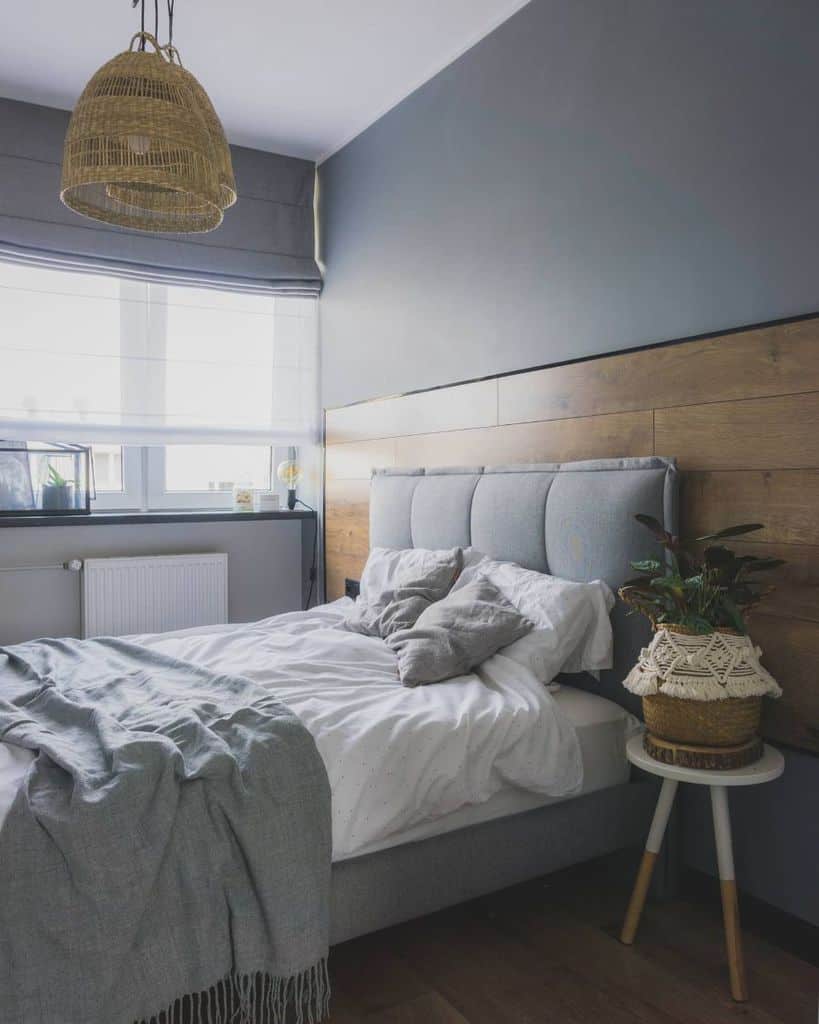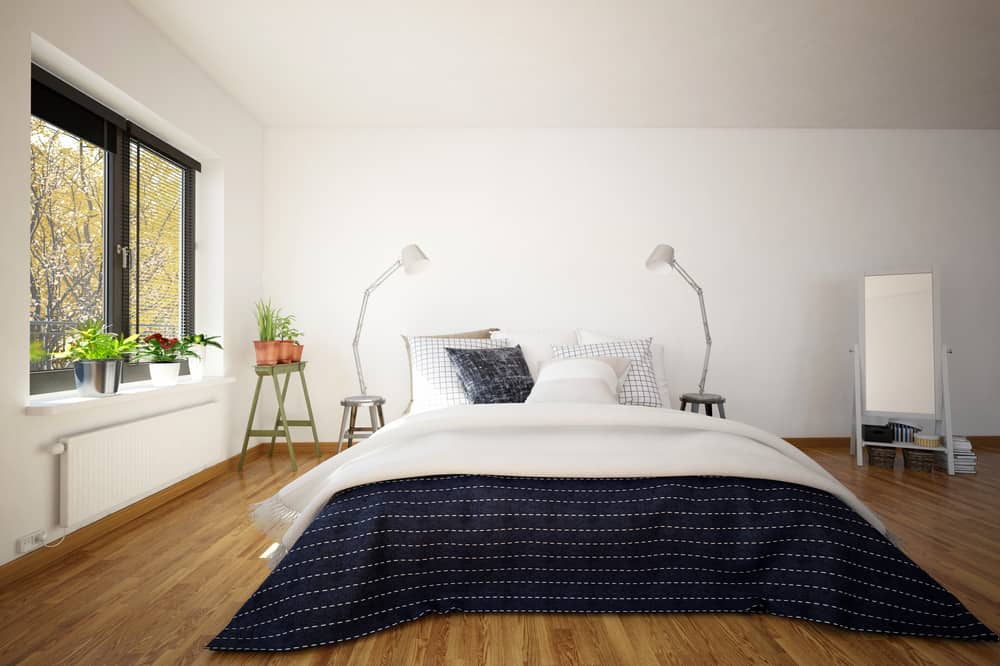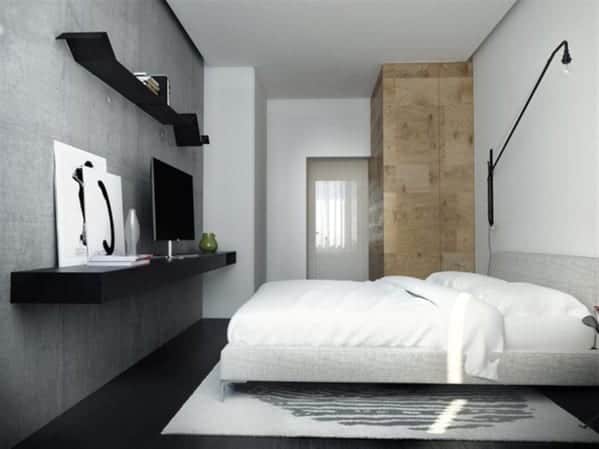 2. Attic Bedroom
Whether you're setting up a guest room or giving your teen a new space, attics are an excellent option for creating a new bedroom. White walls help amplify the effect of any natural light that enters. They also dispel the notion that attics are musty, cobwebby spaces. Strengthen that effect with light, cream-colored furniture and bedding, or incorporate darker colors to add some visual weight.
If you want to keep your attic available for more uses, consider installing a Murphy bed. Convenient and practical, a Murphy bed gives you the option of an attic bedroom when necessary without precluding other uses, like a game room or workout space.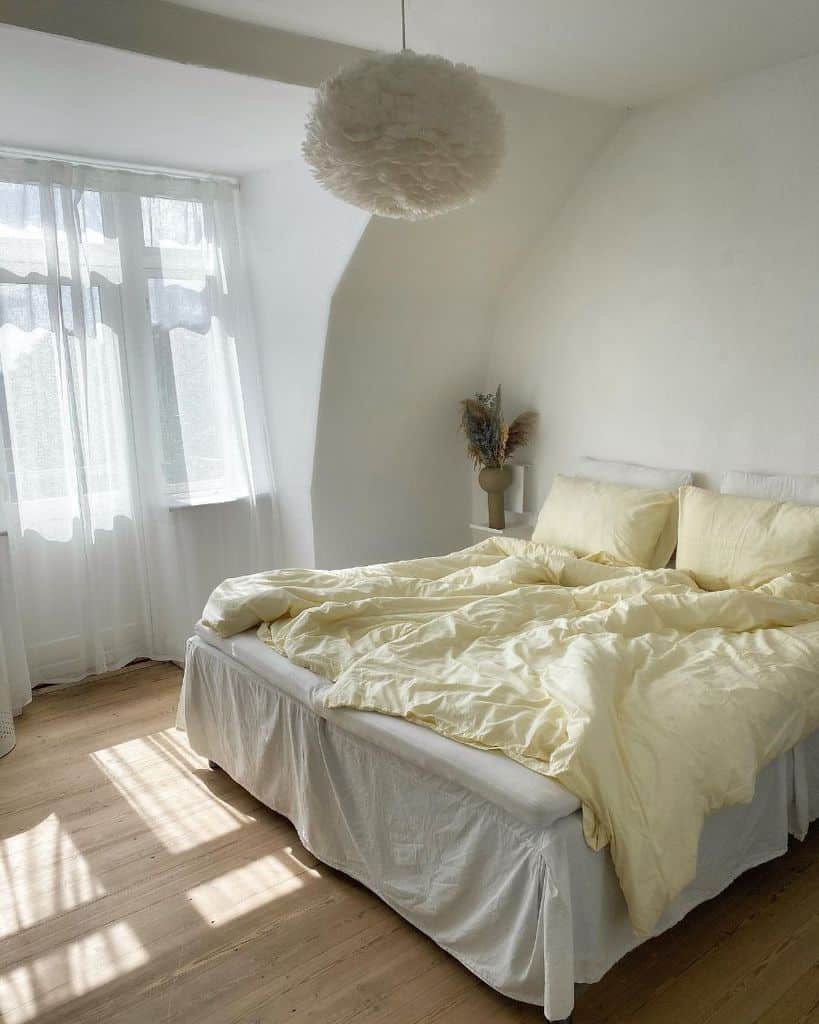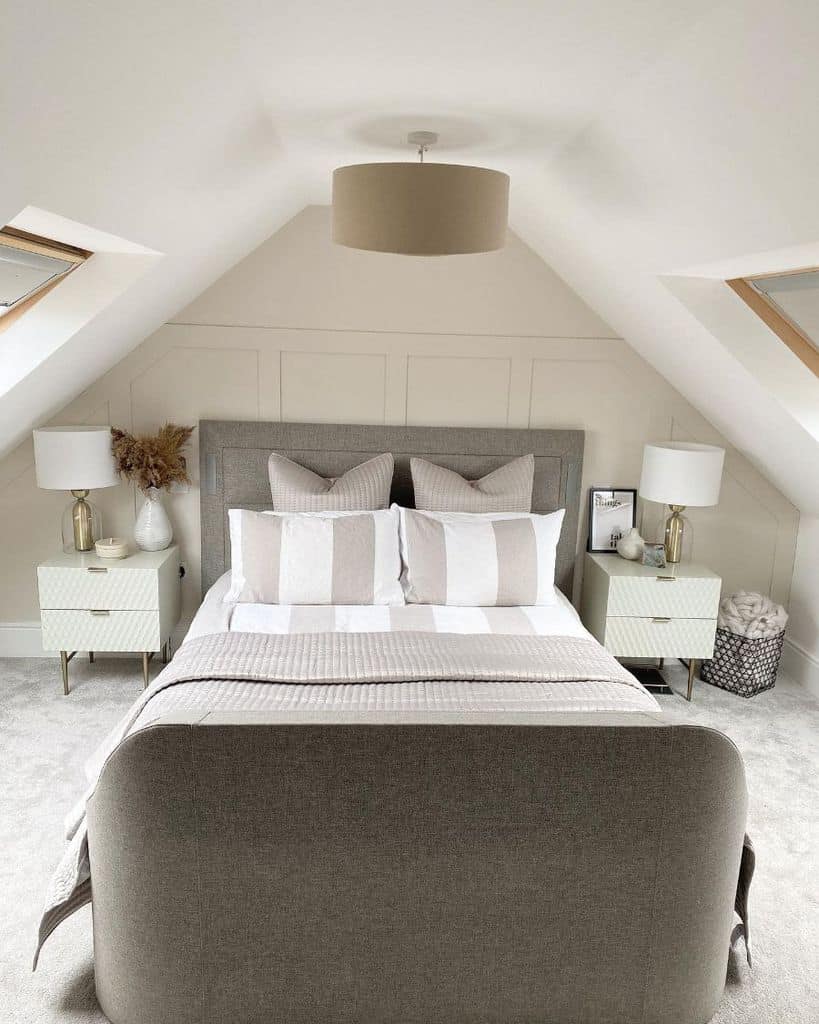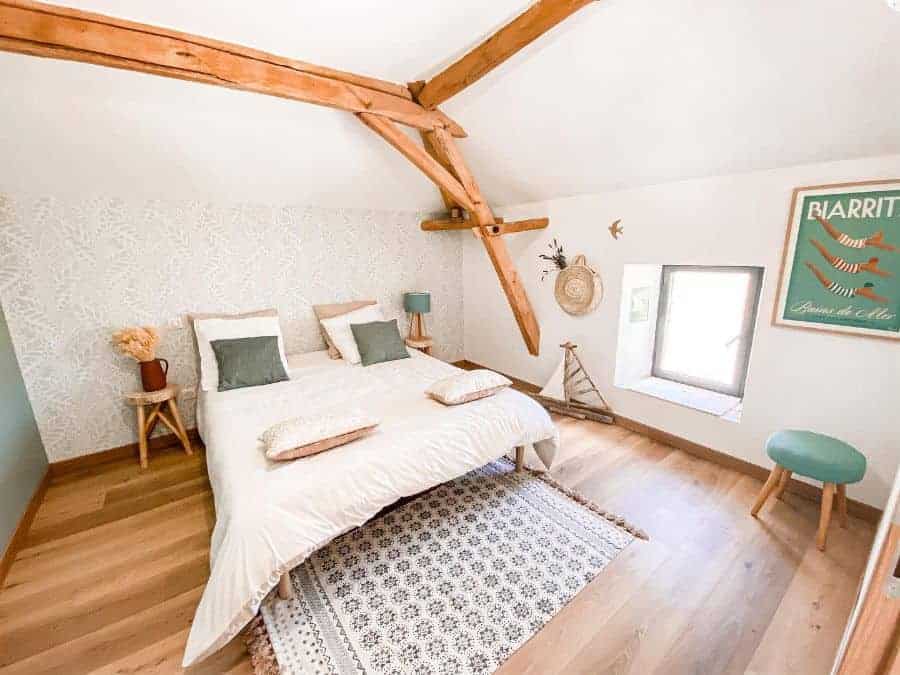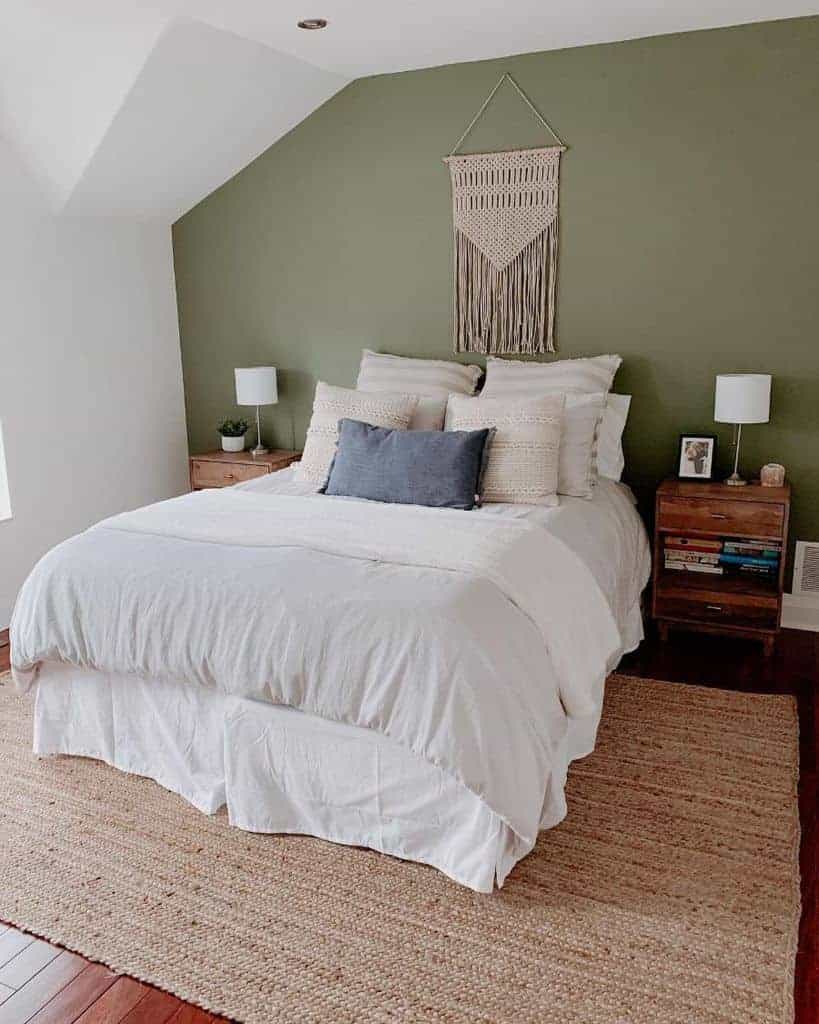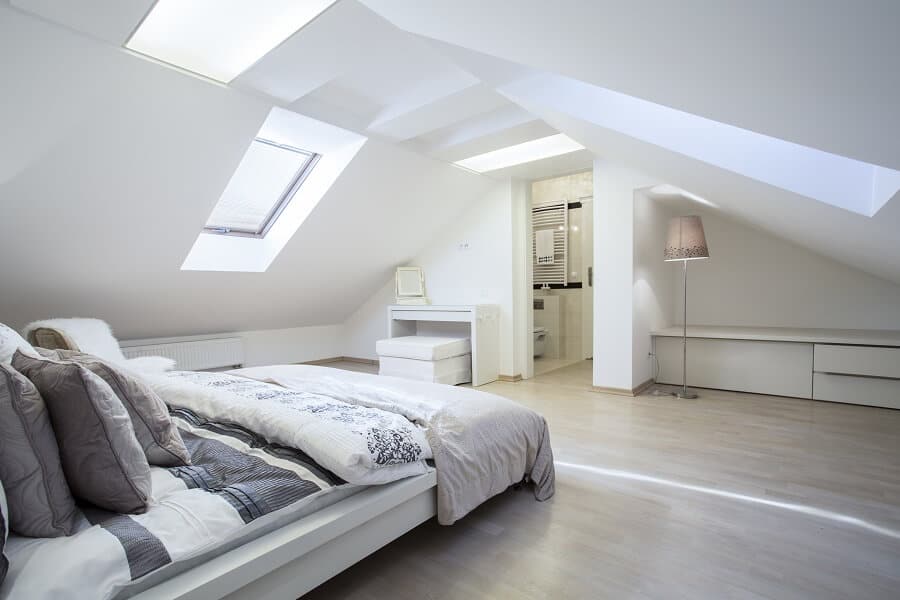 3. Contemporary Style
Equal parts polished and inviting, the contemporary style is a great choice for designing a cozy yet minimalist bedroom. Incorporate warm neutrals like cream and taupe, and look for bedroom furniture with smooth shapes and curved lines.
Contemporary design lends itself to color, which is a great way to add visual interest without cluttering the room. Shades like olive, auburn, and royal blue can all work well to bring warmth and personality to a contemporary bedroom.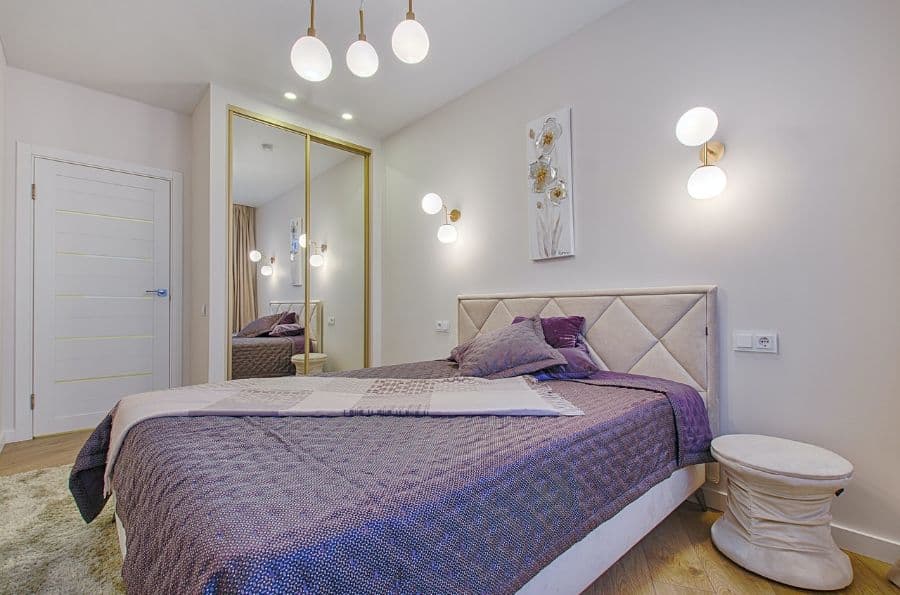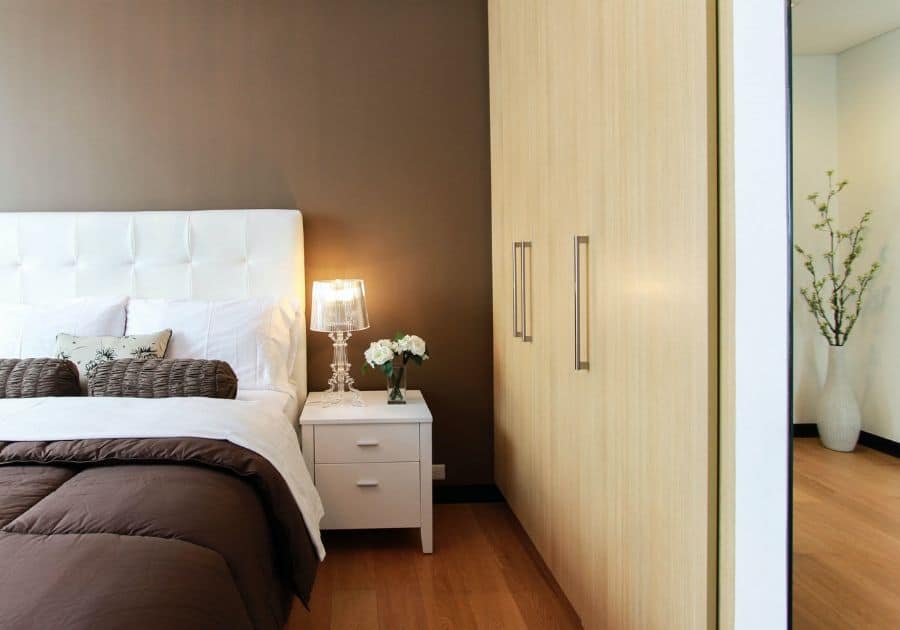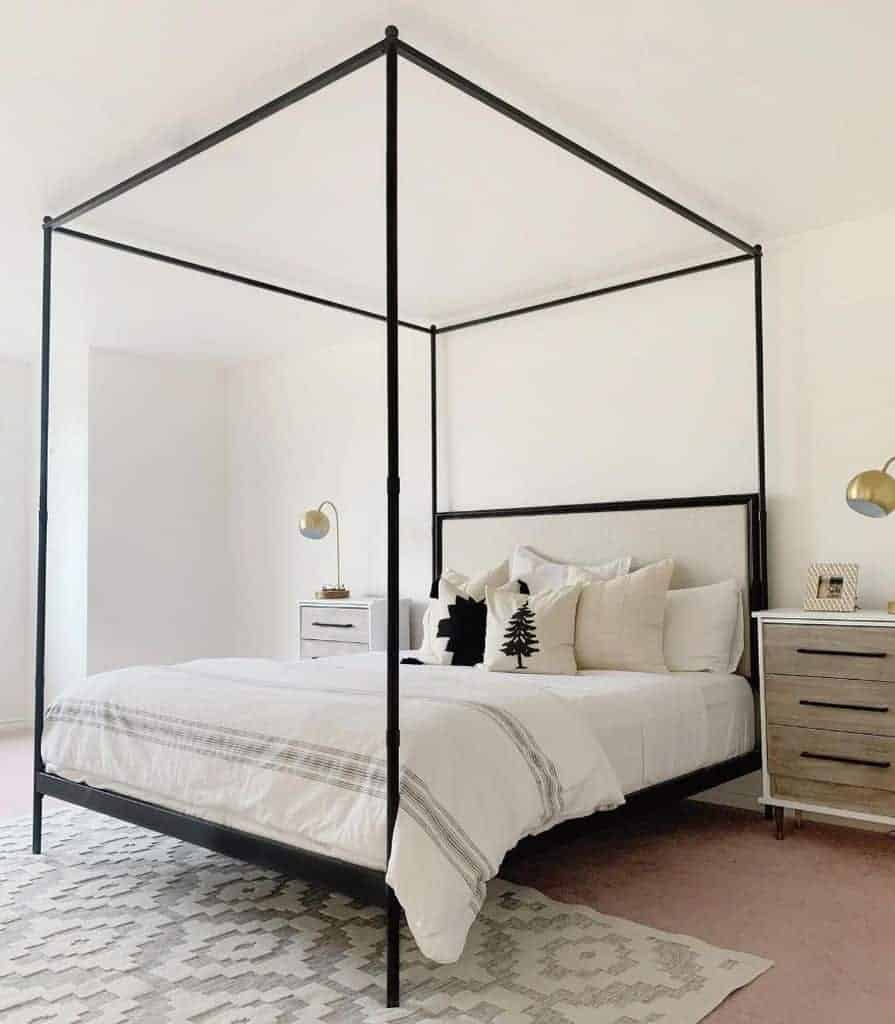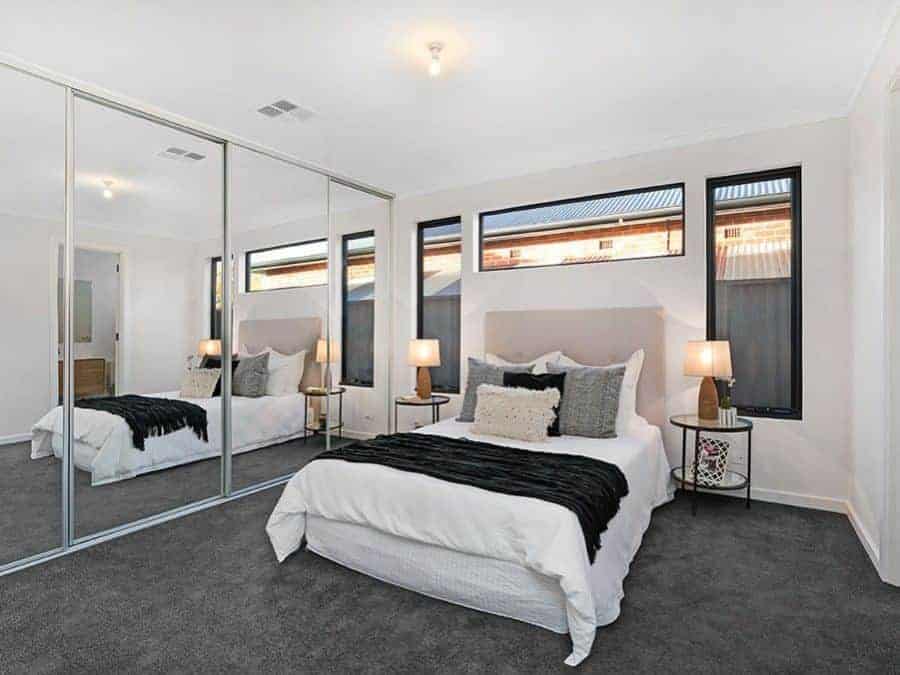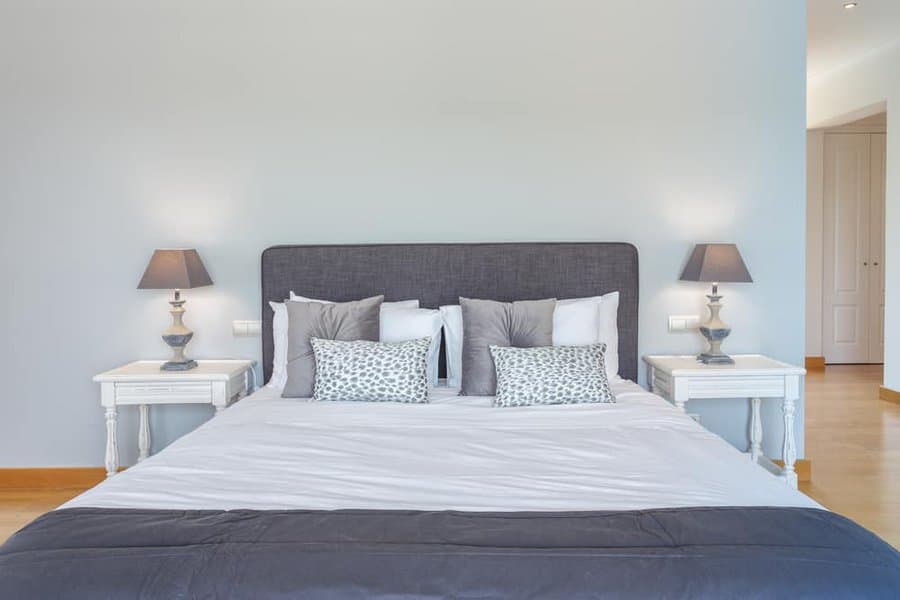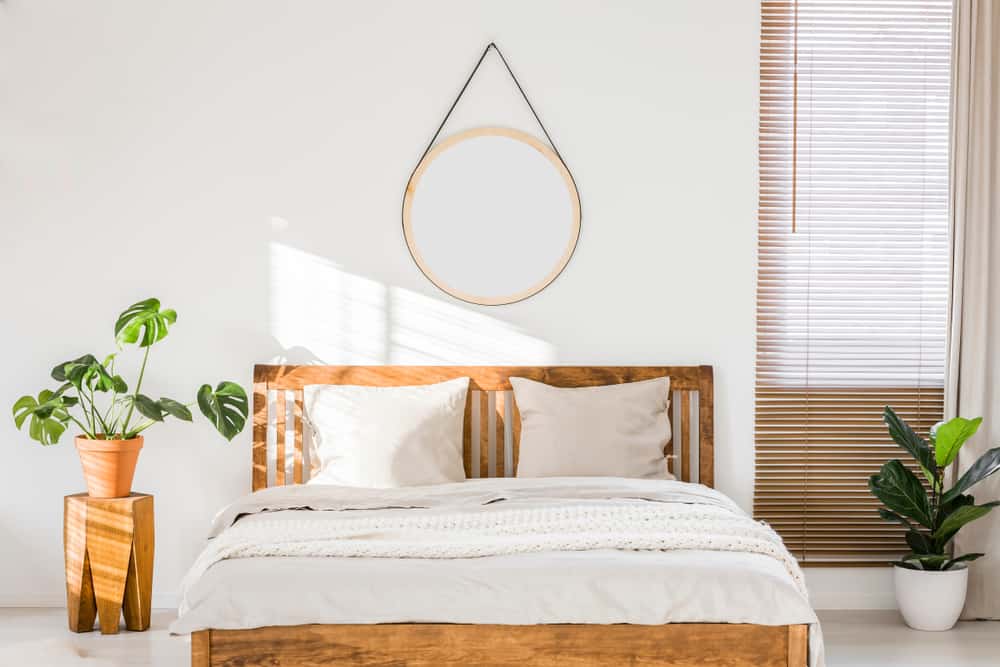 4. Dark-Themed
Dark colors are a great way to elevate your simple bedroom and pack a visual punch. Painting your walls deep colors like black, charcoal grey, or navy blue will create a somber, sophisticated mood. It also makes for a cozy, secluded vibe. Want to add a little more energy? Colors like burgundy or deep teal will warm the room up without sacrificing that dark aesthetic. Accessories like brass accents and dramatic, sprawling plants complement the look and add a touch of luxury.
Want to add a little more energy to your bedroom design? Colors like burgundy or deep teal will warm the room up without sacrificing that dark aesthetic. Accessories like brass accents and dramatic, sprawling plants complement the look and add a touch of luxury.
To keep your dark bedroom more cozy than cramped, play up any natural light that enters the room. This will help the space feel airy yet still dramatic, without making it seem like the walls are closing in. Try hanging a mirror, so it faces the window and amplifies the light.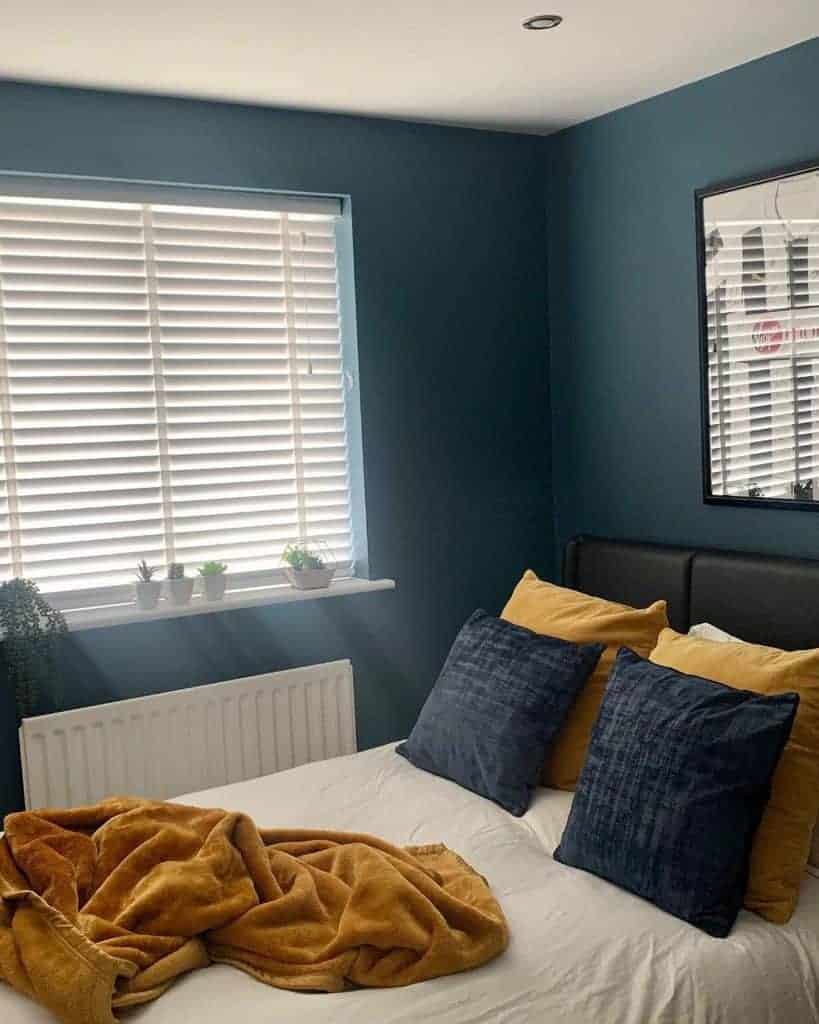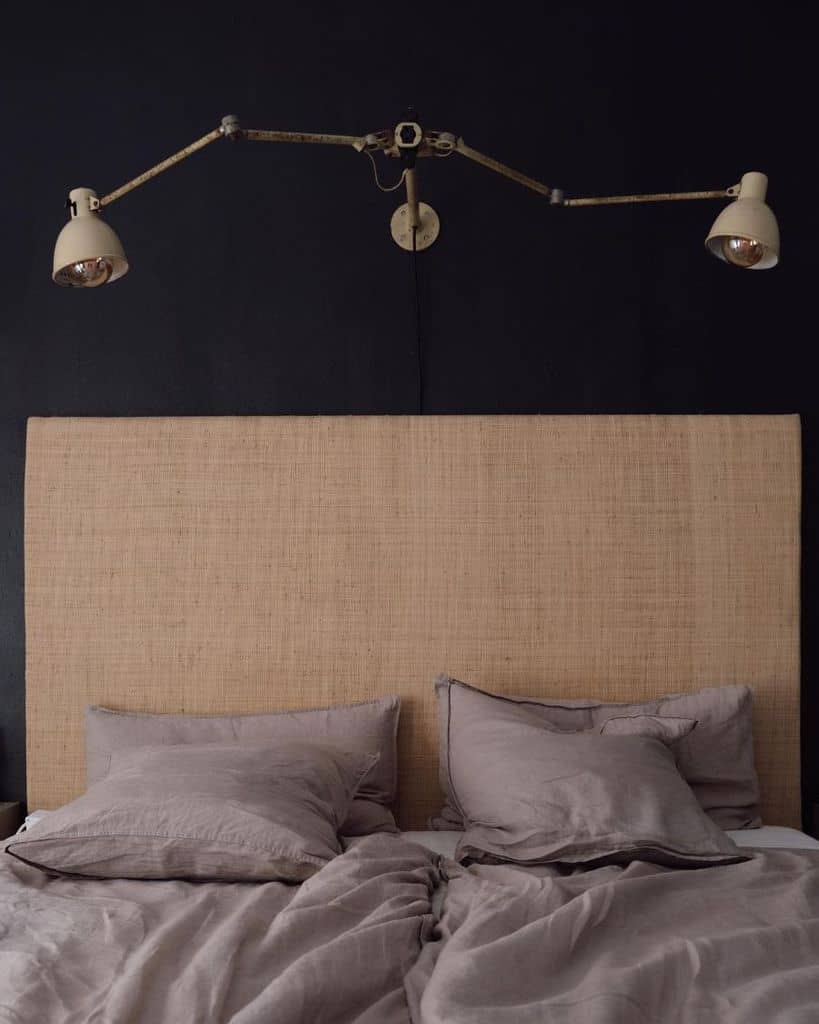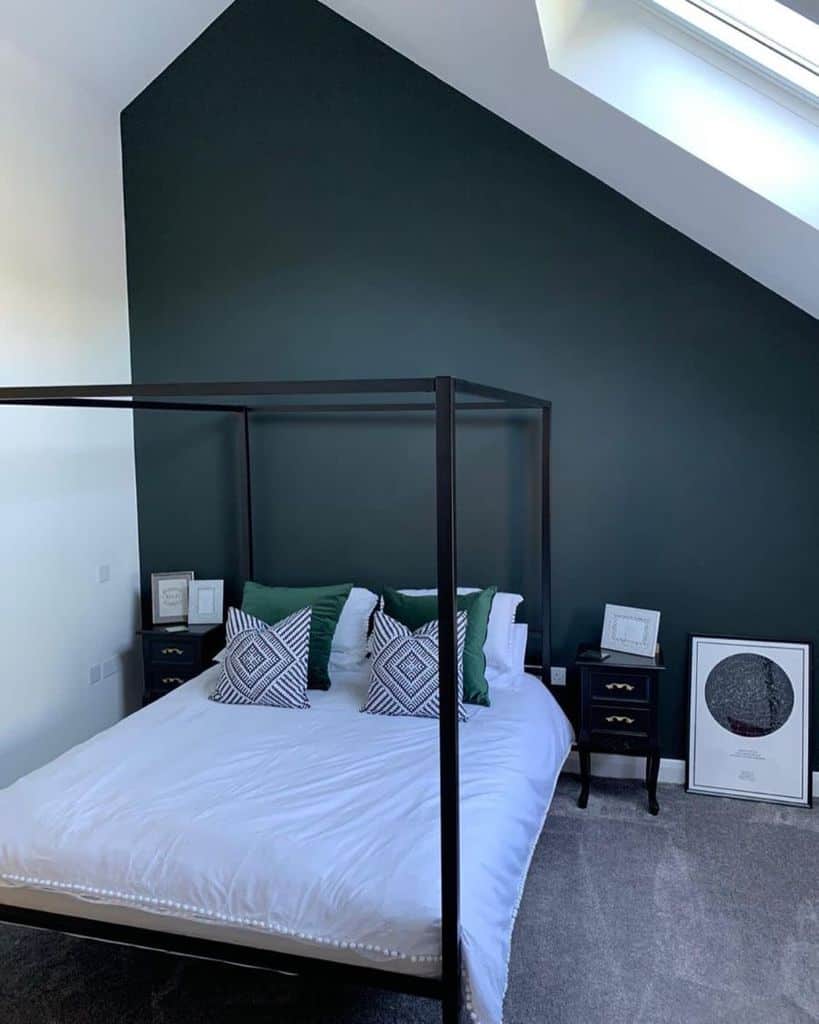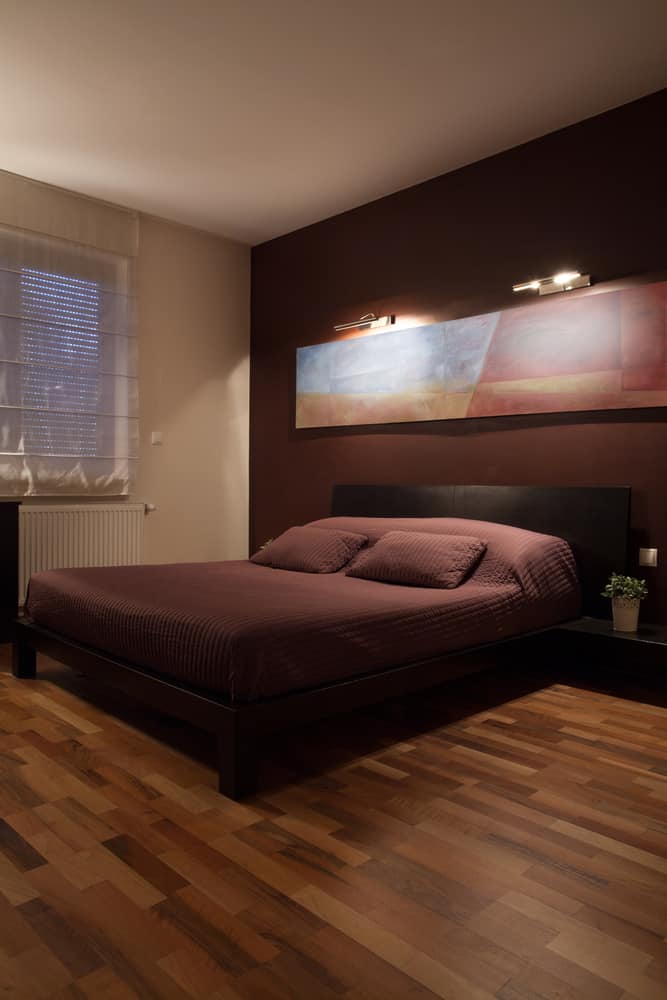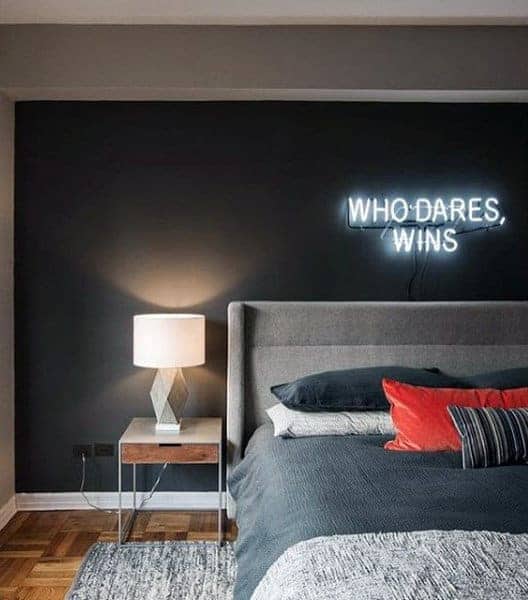 5. Farmhouse Style
Farmhouse-style bedroom decor is surprisingly versatile in that it can be subtle or as over-the-top as you want it to be. To keep things simple, skip the huge, wall-mounted moose antlers and go for simple prints and solid colors. As always, neutrals are your best bet, but warm colors like red and orange also work nicely.
Distressed materials are a mainstay in farmhouse interior design ideas, so keep an eye out for vintage (or vintage-inspired) furniture to spruce up your farmhouse bedroom. Plants like eucalyptus or pampas grass will elevate the style of the room.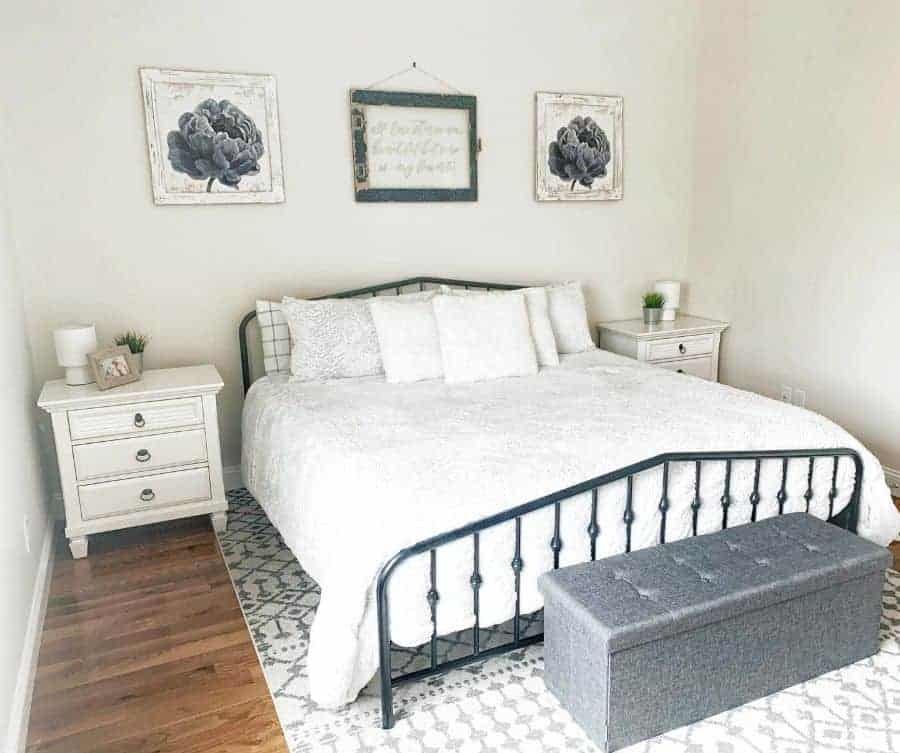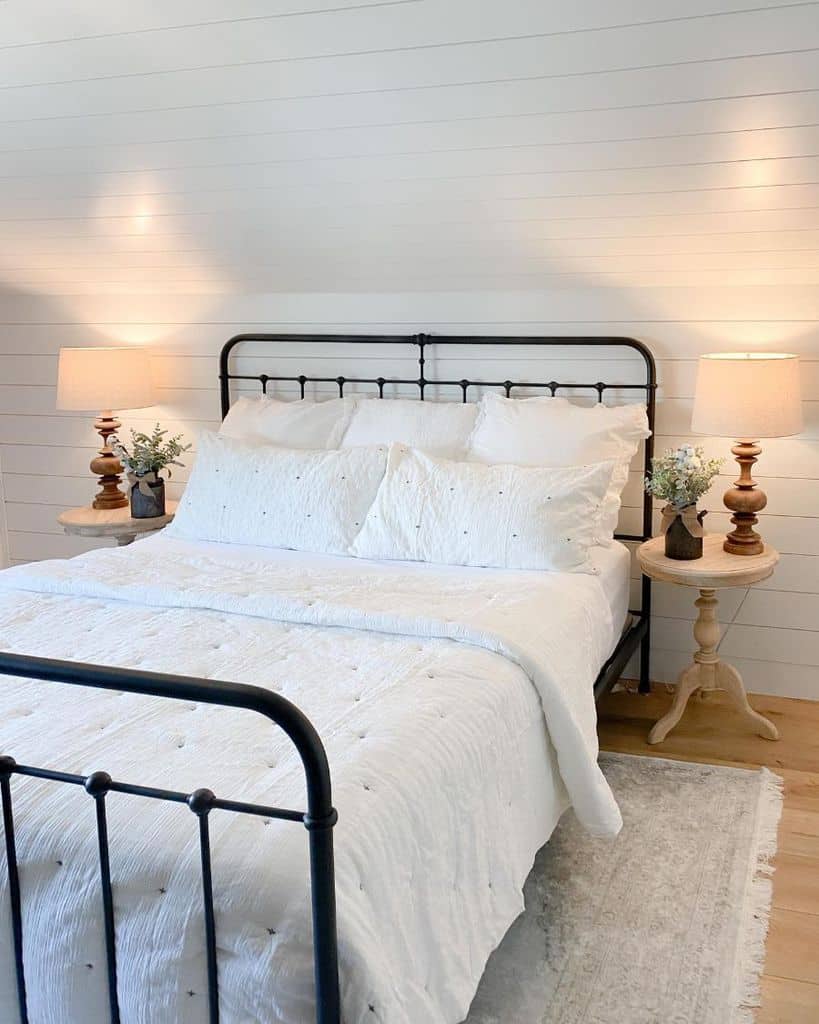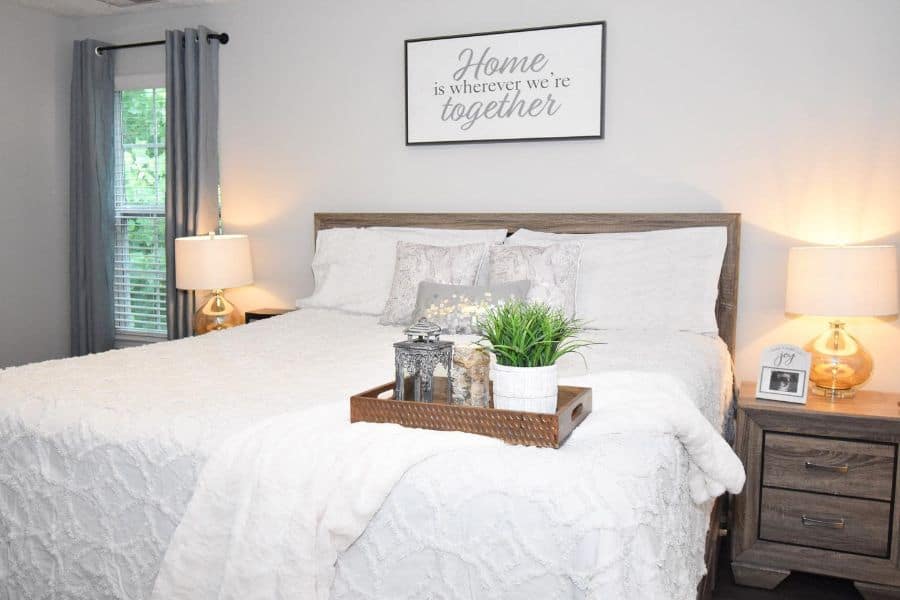 6. Guest Rooms
A simple bedroom design is perfect for guest rooms. Whether you're hosting family for the holidays or a friend for a long weekend, your visitors will appreciate a space where they don't feel too out of place. Keeping the bedroom decor uncomplicated and serene will help guests relax and unwind.
A neutral color scheme is a surefire way to make your guest bedroom feel both sophisticated and inviting. Amp up the coziness with plenty of blankets, throw pillows, and warm bedroom lighting. If the room still feels a little sparse, warm it up with one or two eye-catching pieces of artwork as wall decor.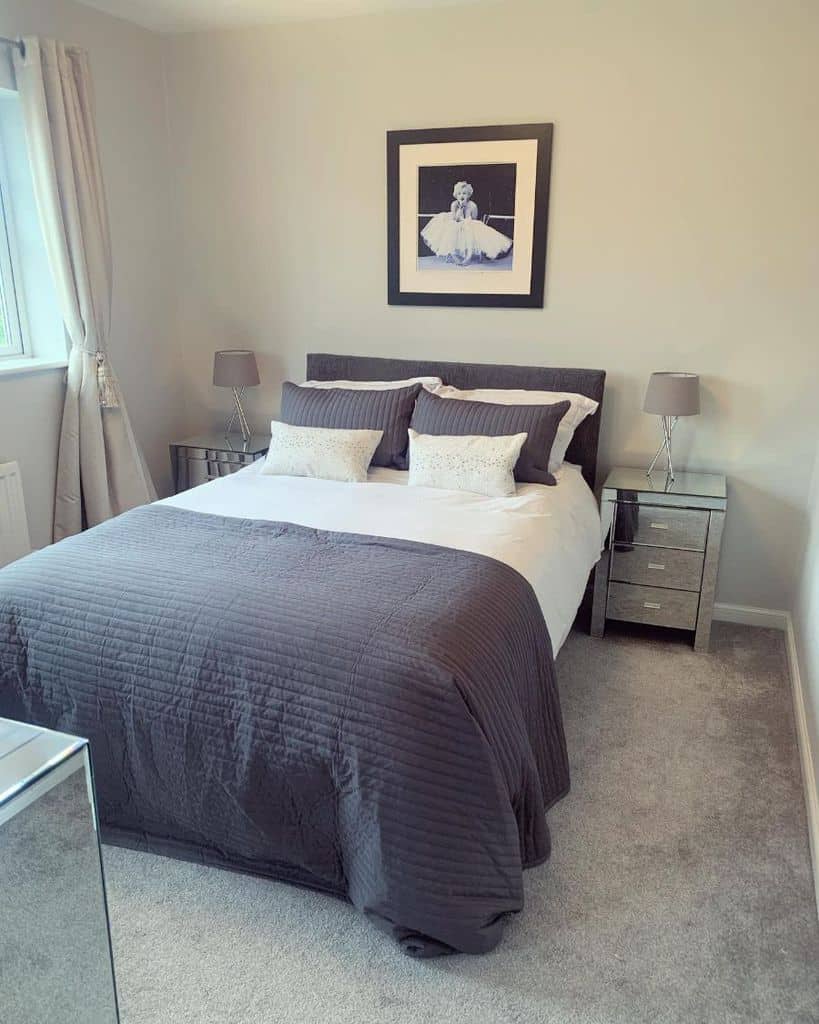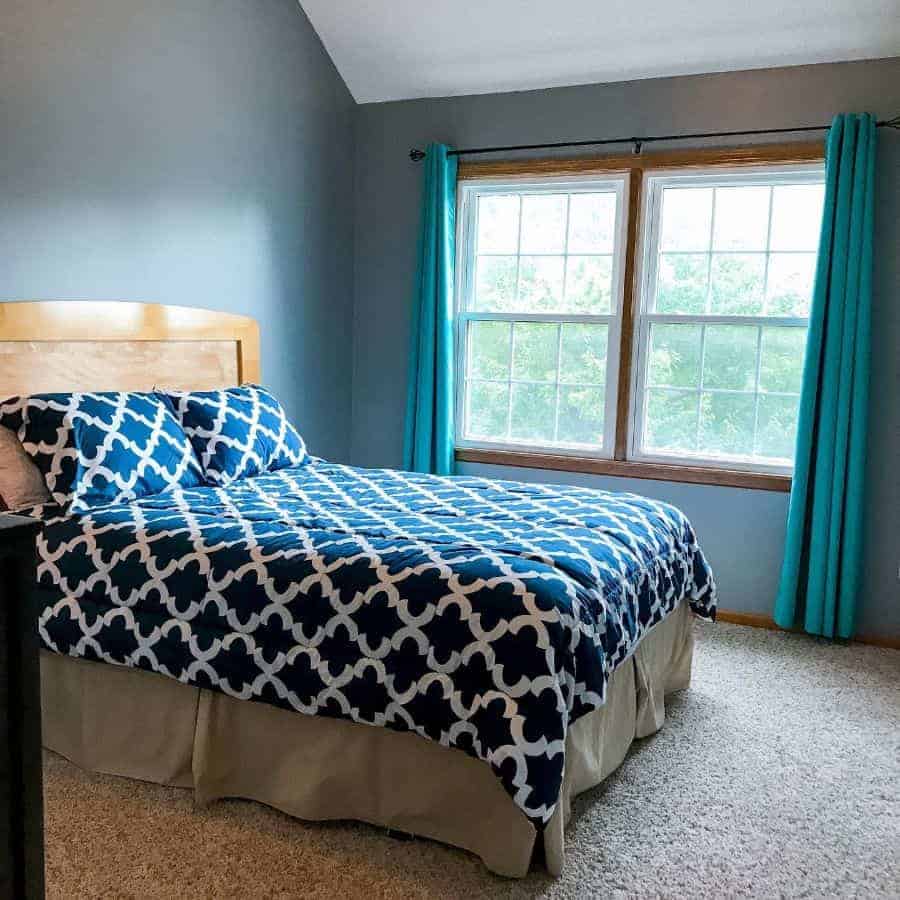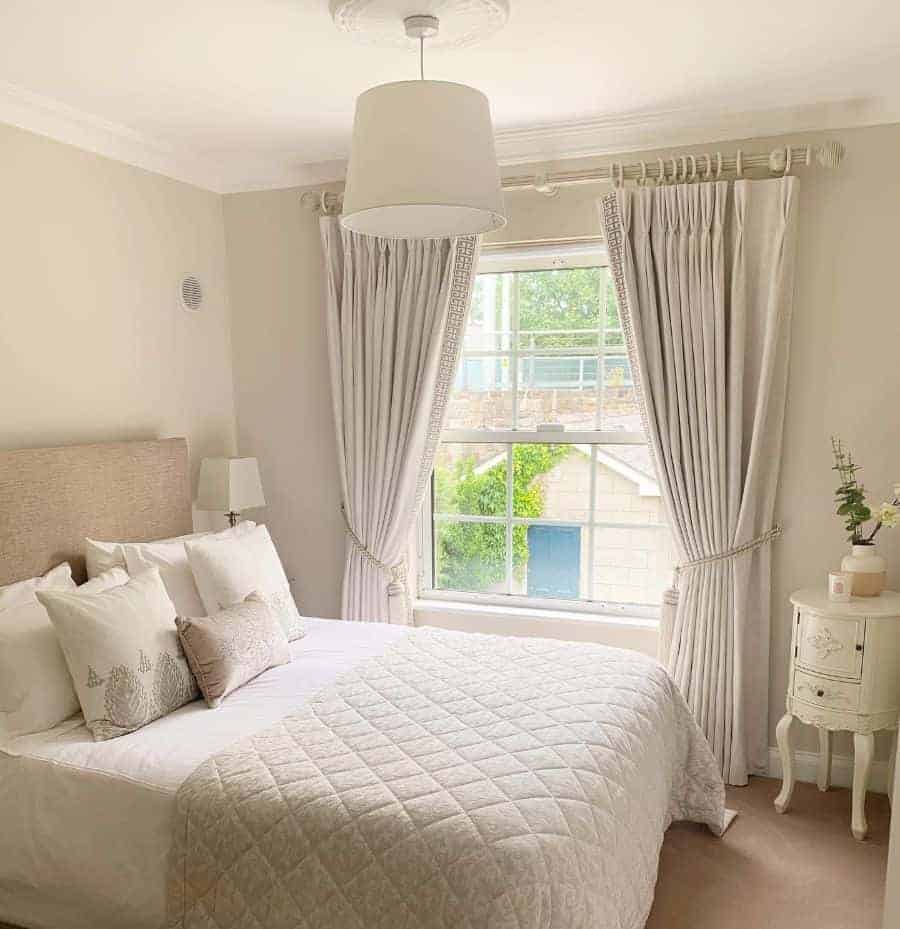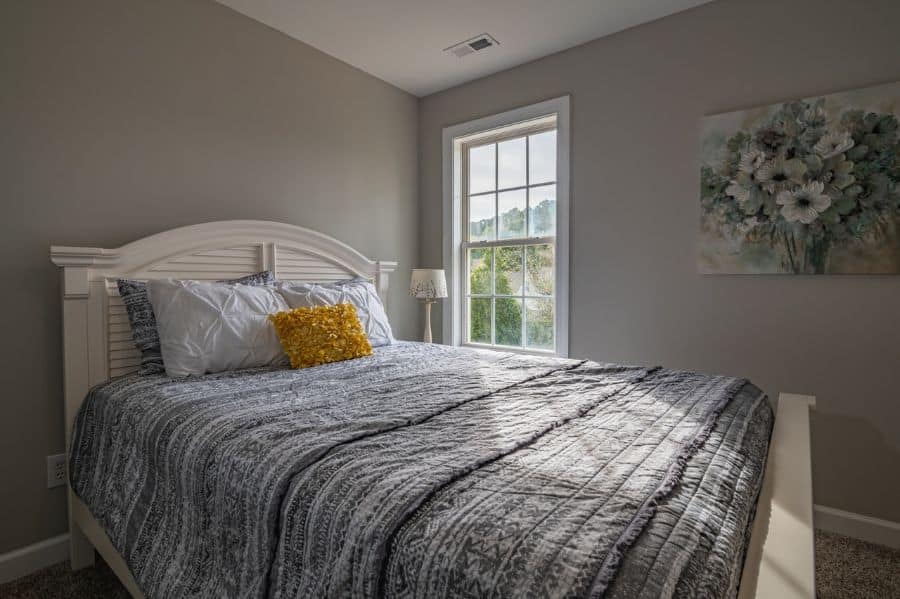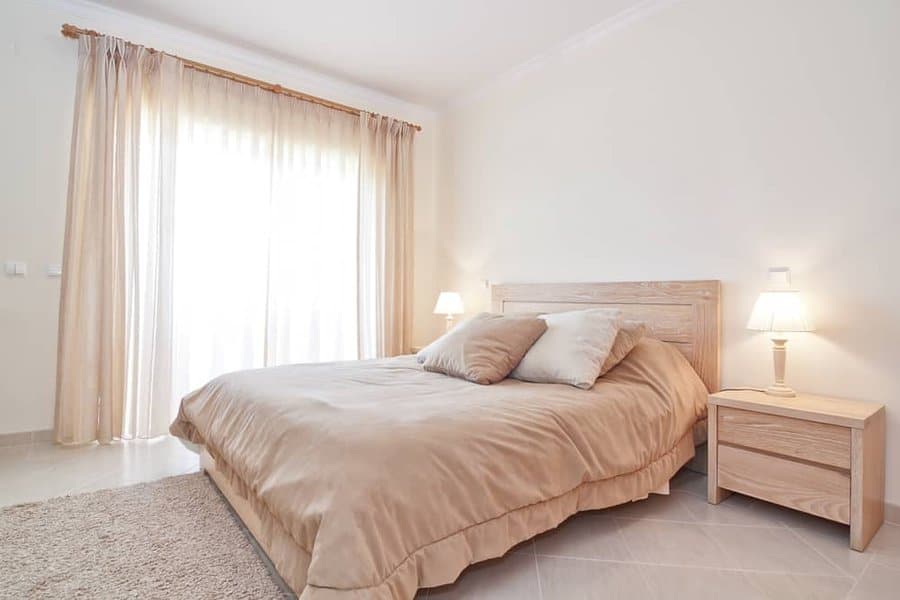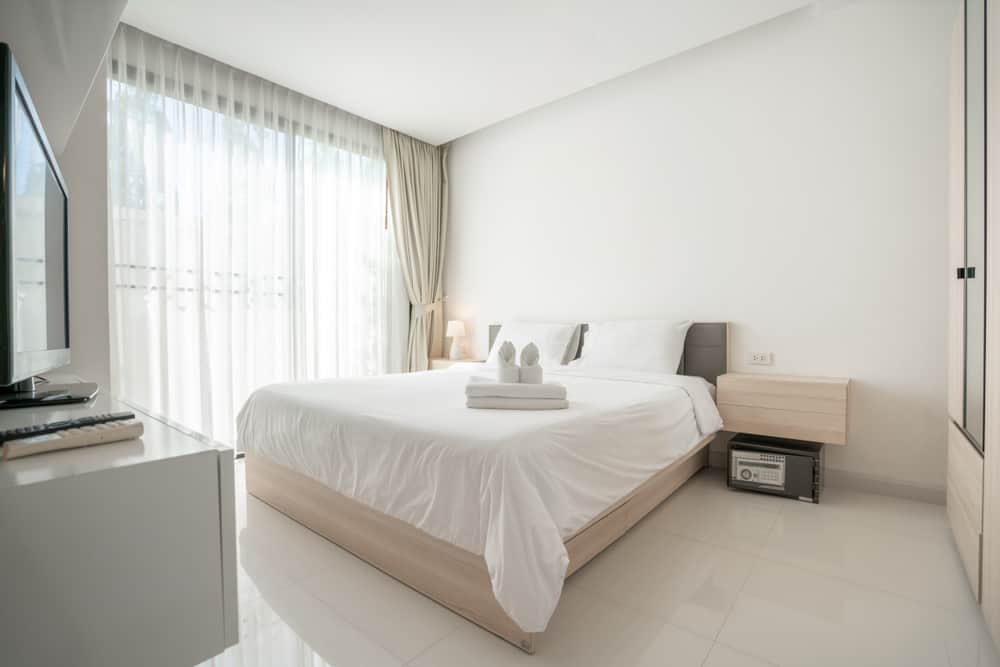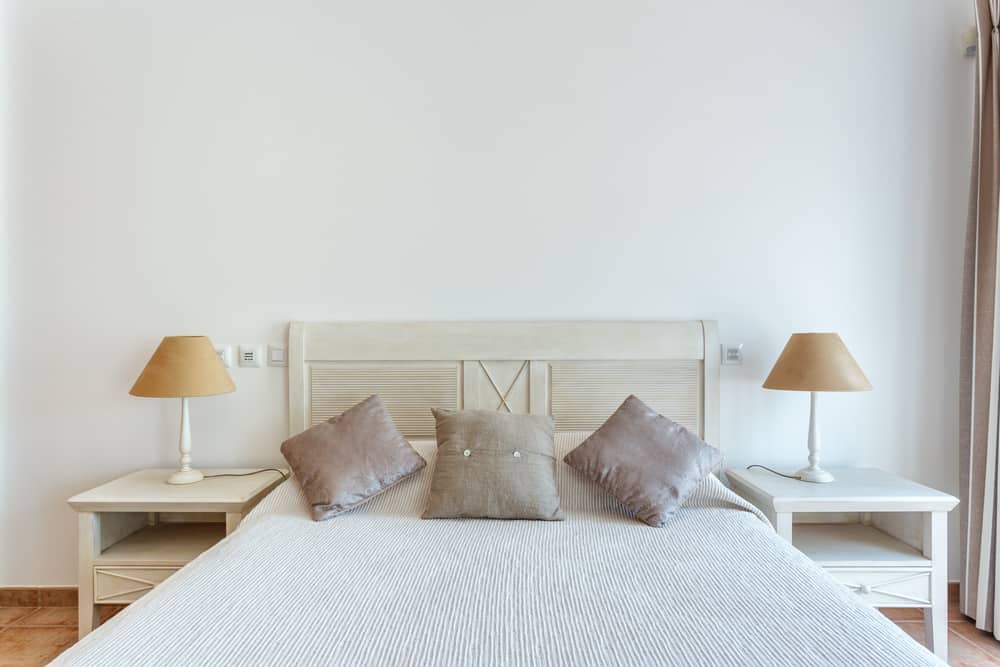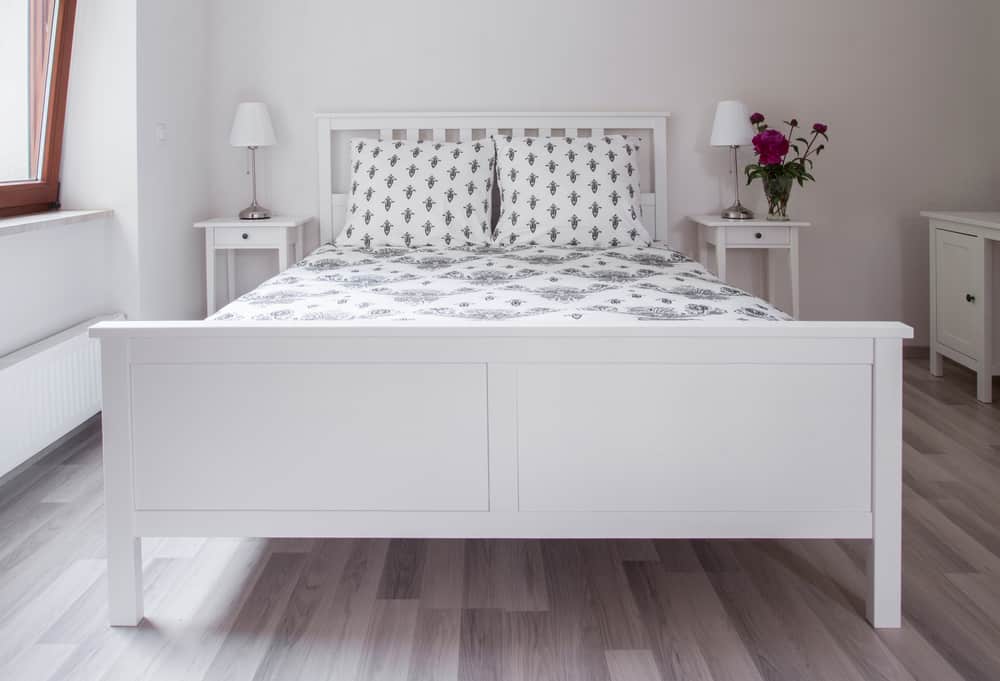 7. Kids Bedroom
It's no secret that kids tend to favor unconventional approaches to interior design. After all, what does a six-year-old care about minimalism? But whether you want a quiet space to help your kid calm down at bedtime or a simple design that they'll appreciate for years to come, plenty of kids can benefit from simple bedroom decorating ideas.
Try featuring your child's favorite color prominently in the room. For example, solid blue walls and navy-and-white-striped sheets make for a playful, visually interesting room without being too chaotic. On the other hand, neutral walls and furniture can work as a great backdrop for colorful art, throw pillows, and other decor.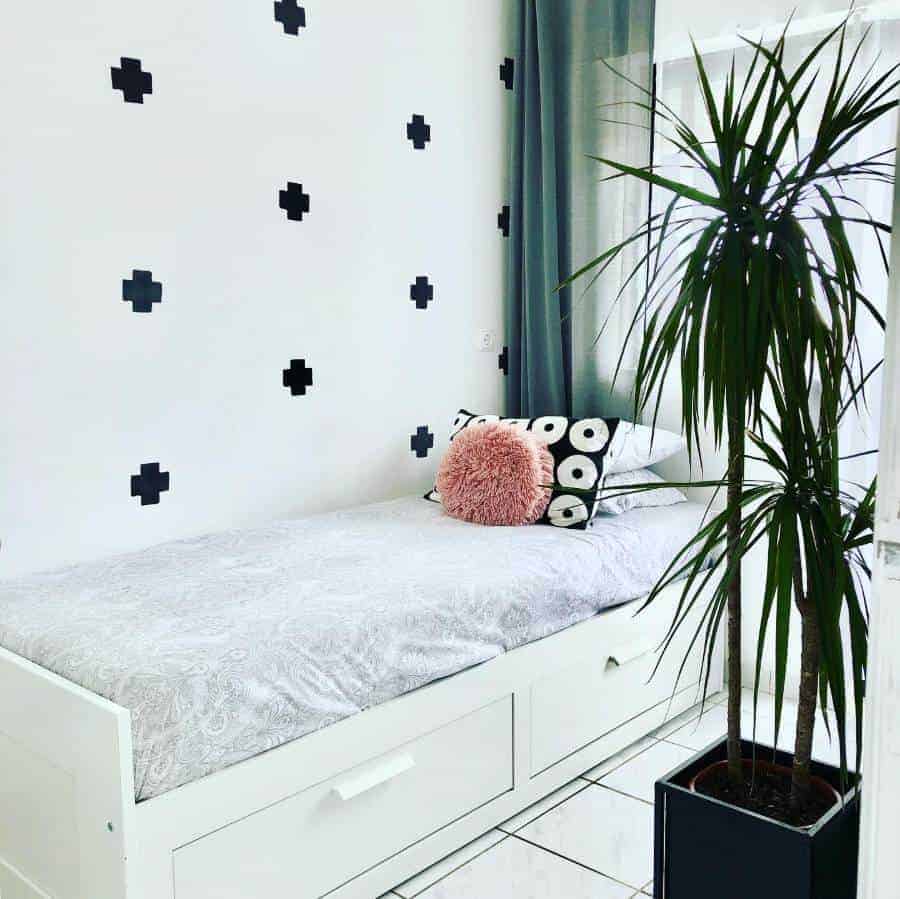 8. Minimalist Master Bedroom
While it can feel tempting to pack your master bedroom wall to wall with decor, that's not always the way to go. Sometimes, keeping things simple and prioritizing your favorite wall decor pieces is the best way to create your perfect space. Get rid of things that you're only hanging onto because you feel like you have to.
If you're not ready to say a permanent goodbye, packing some things away in a closet or drawer gives you the option of swapping them back into your room later, allowing you to refresh your master bedroom decor with things you already own and love.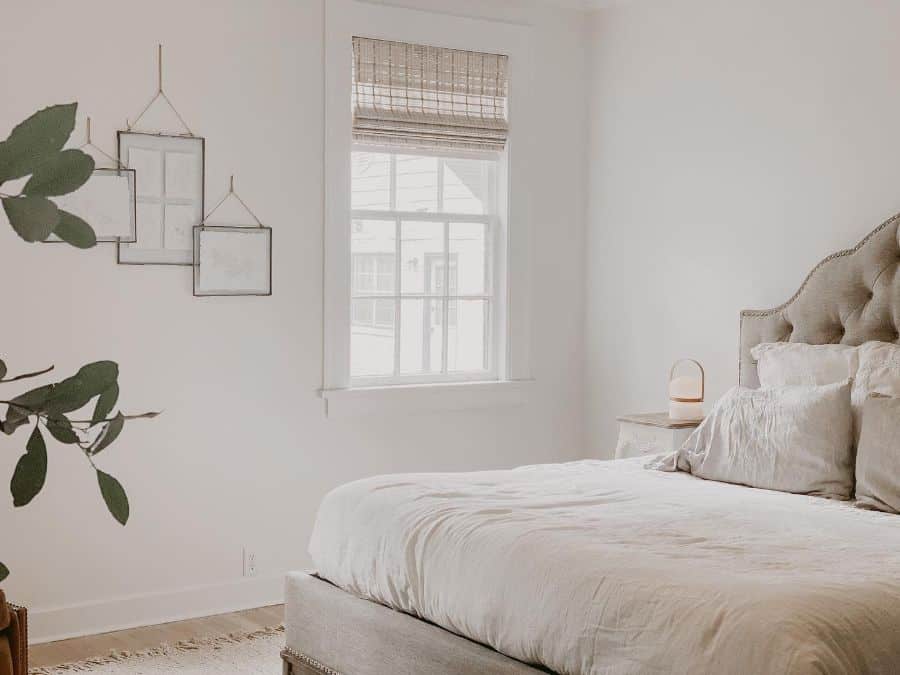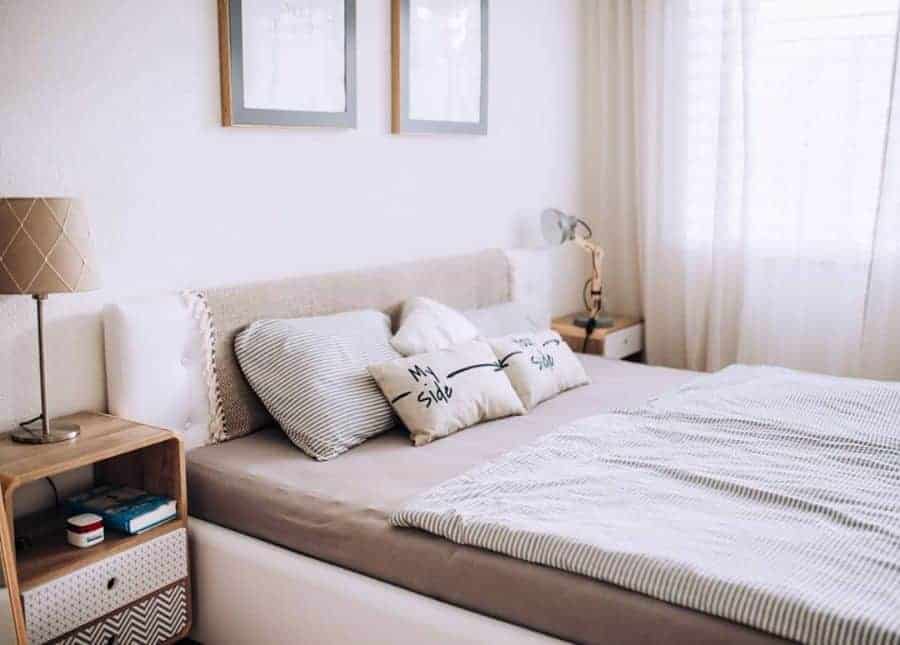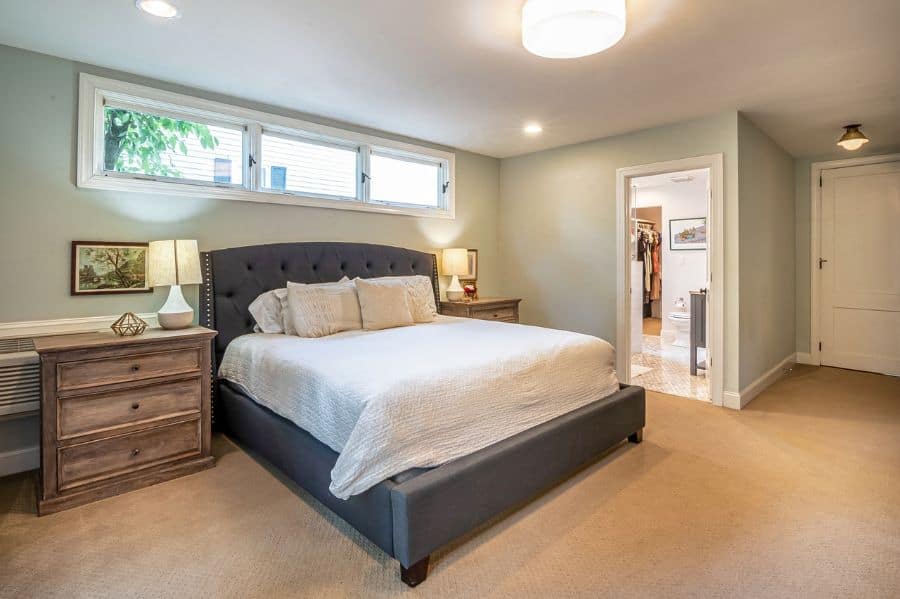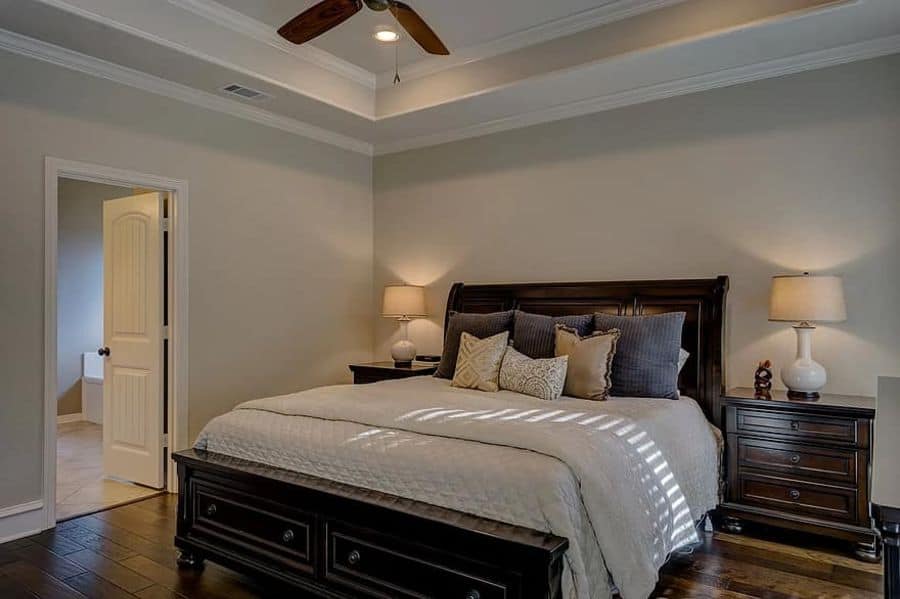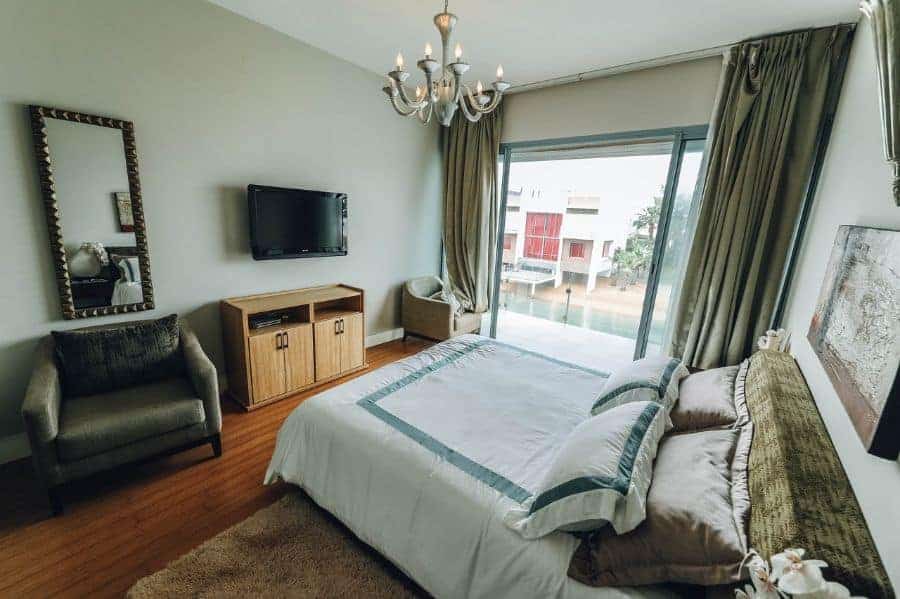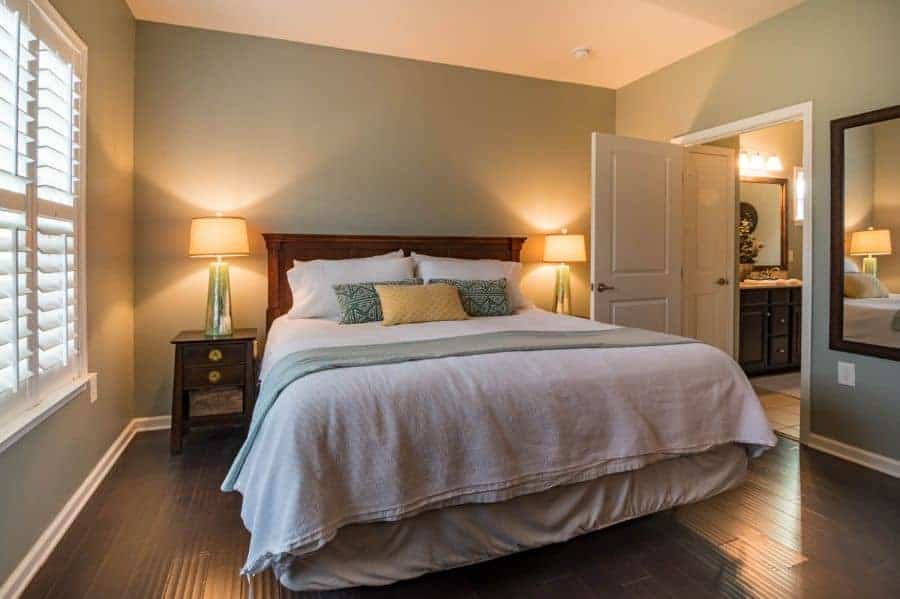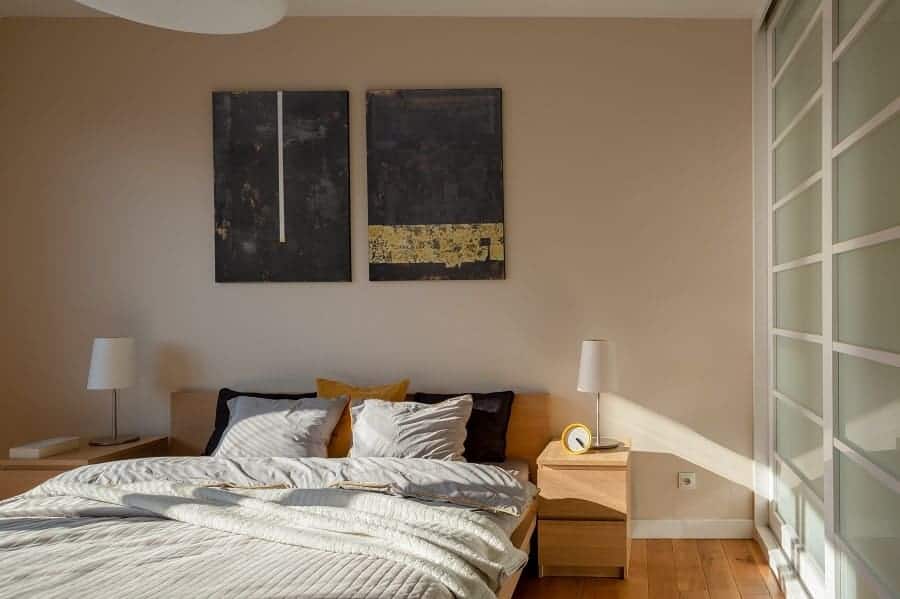 9. Modern Design
Simplicity and modern bedroom design go hand in hand. Neutral colors, clean lines, and an air of sophistication are all you need to pull the room together. Try a high-contrast color combo like black and white to add visual interest while keeping things simple. A dash of bold color like bright orange or cobalt blue energizes the room even more.
If your modern bedroom feels a little empty or cold, look for simple, organic elements to warm it up. Plants, glass room dividers, and cool light fixtures are all examples of things that can take your bedroom to the next level.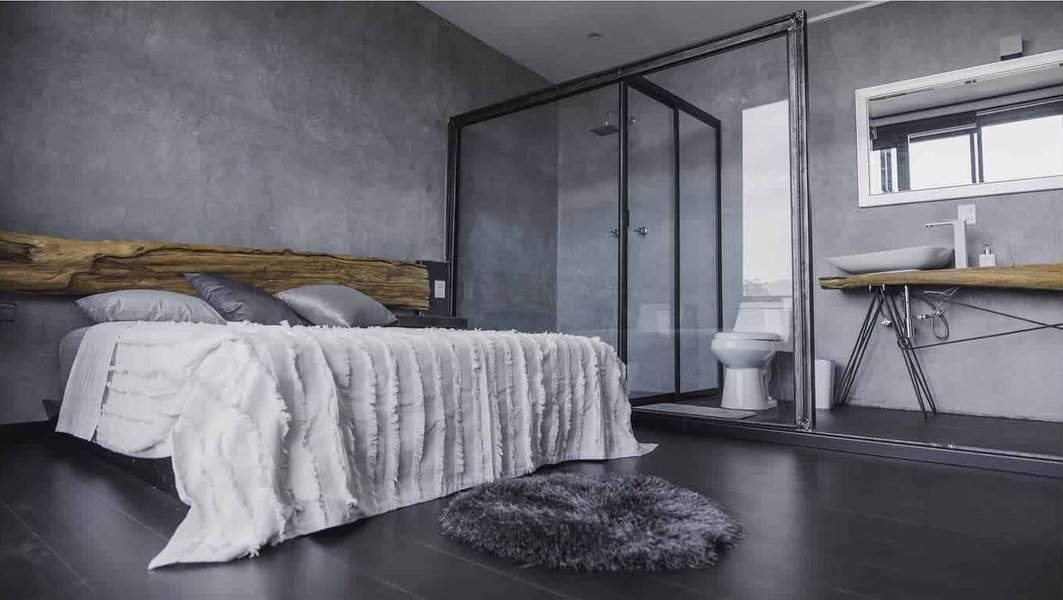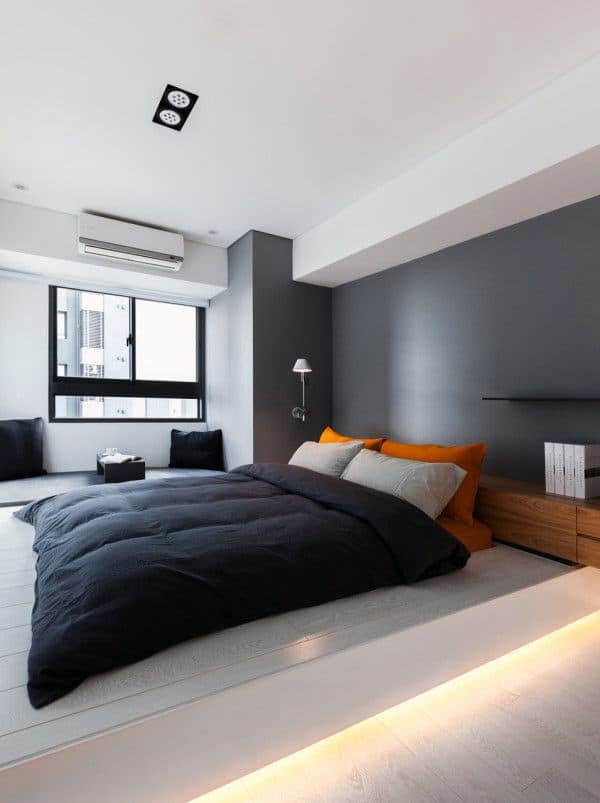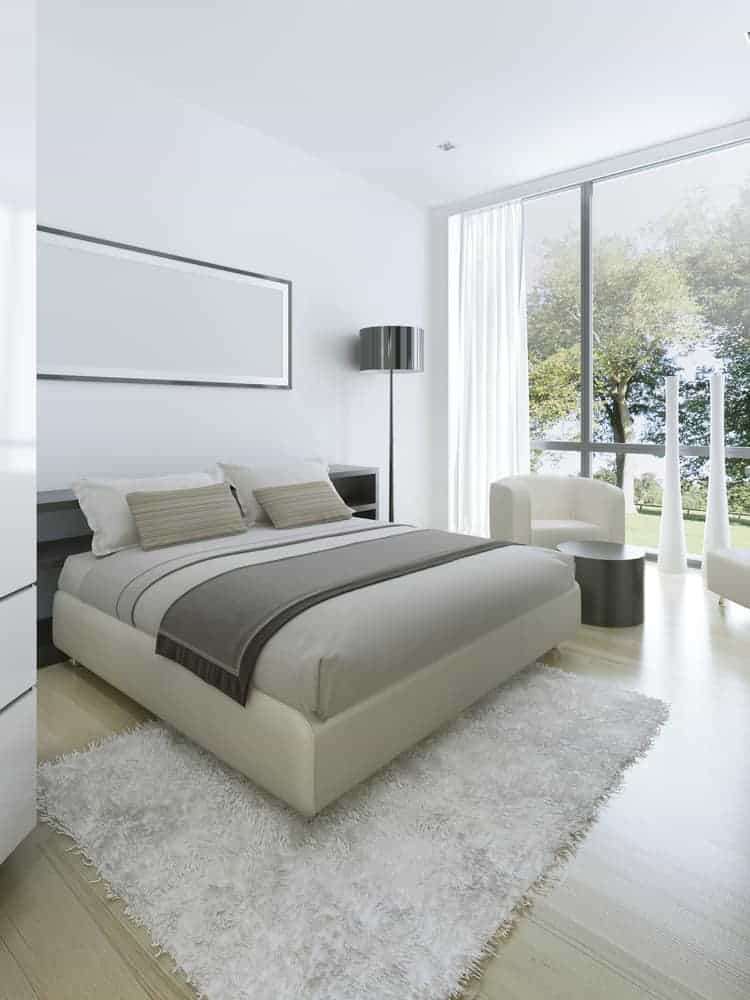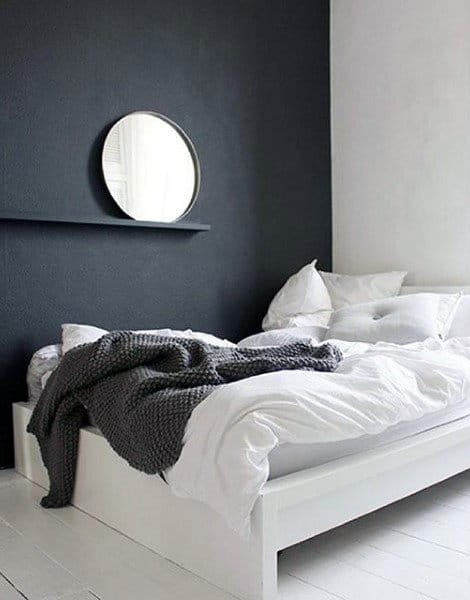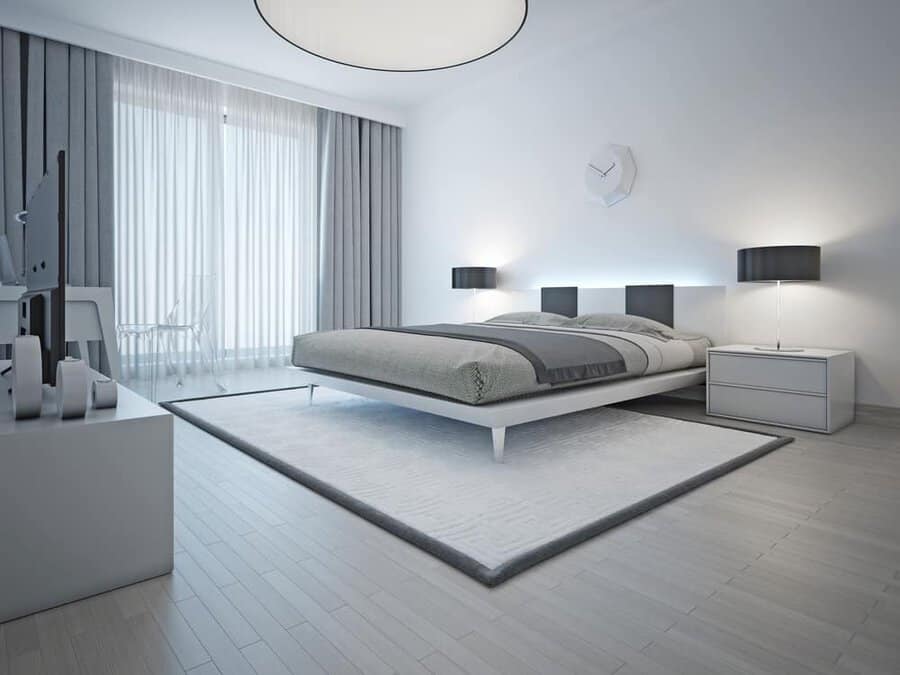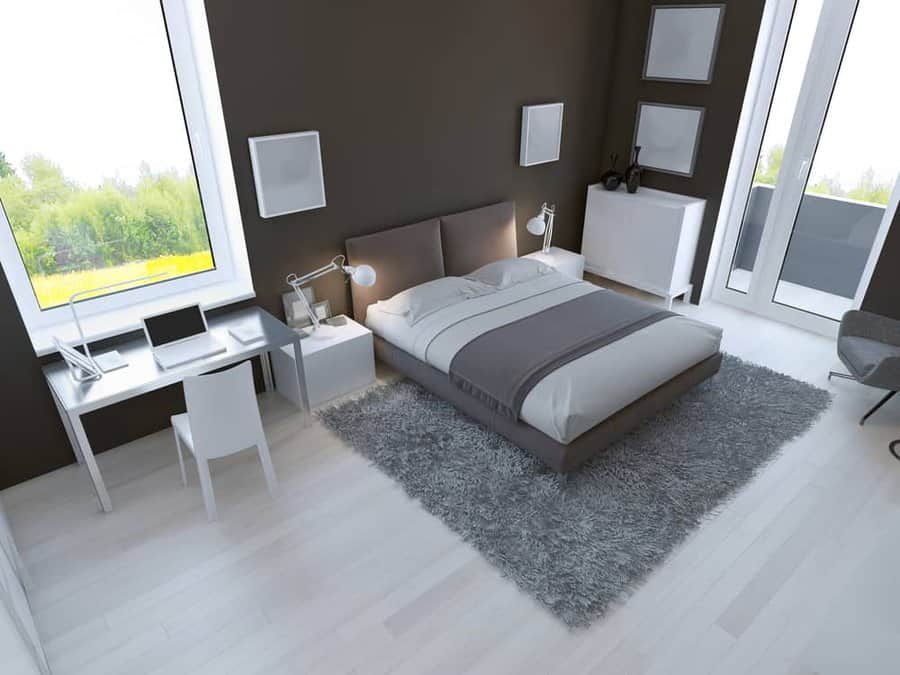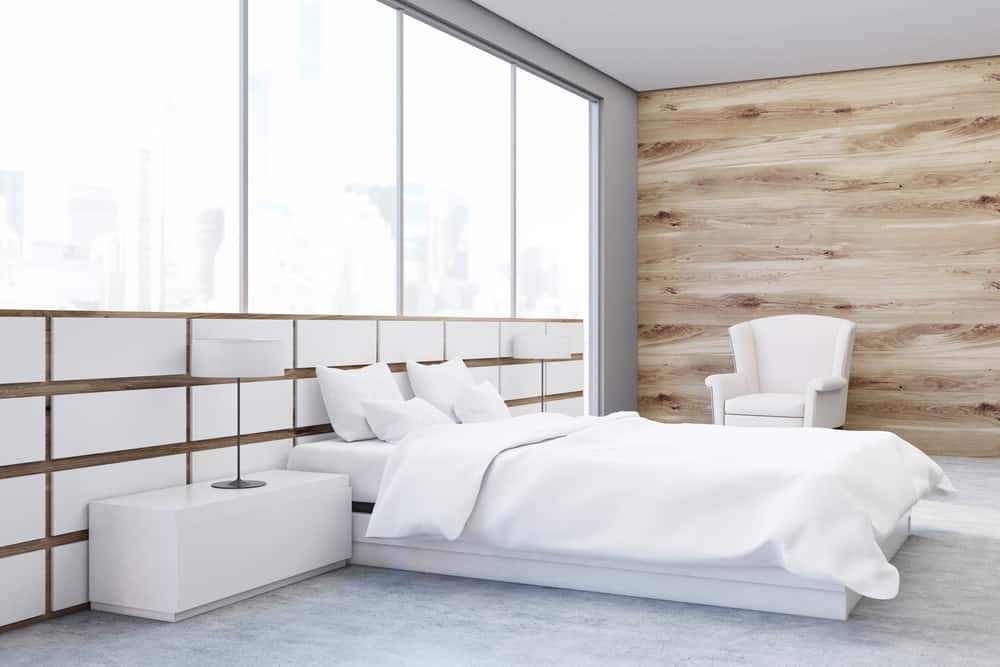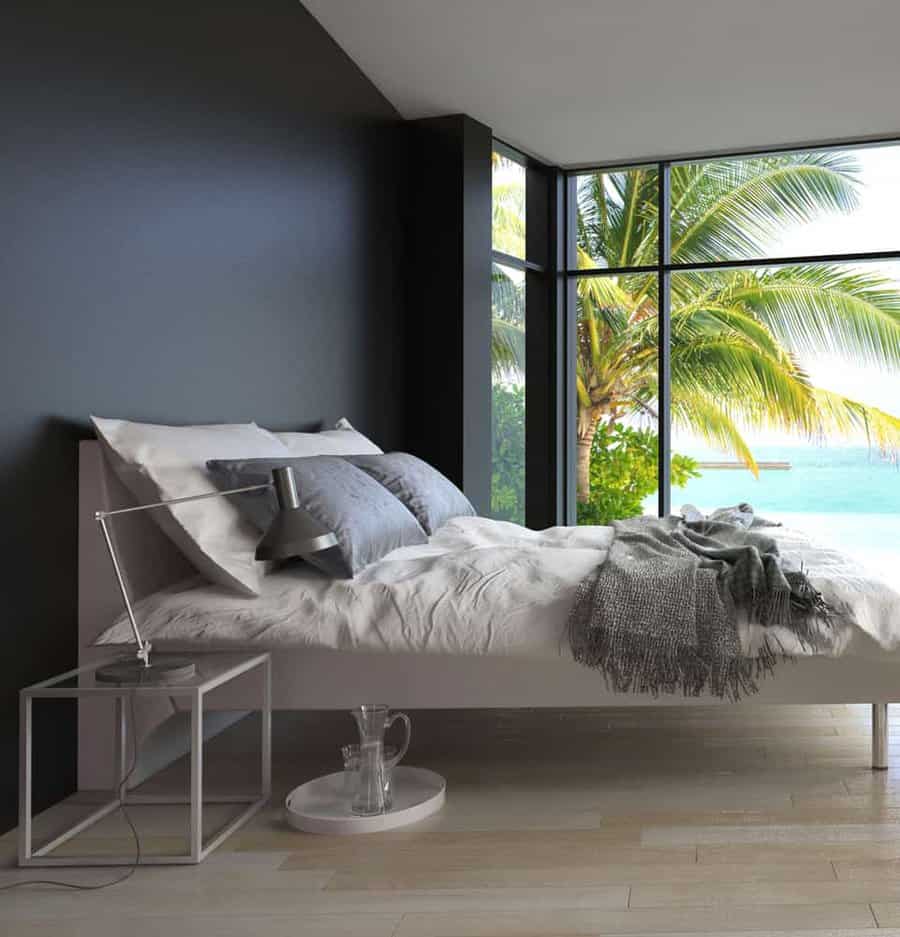 10. Neutral Color Schemes
Understated and timeless, neutral colors are a staple in simple bedrooms the world over. Keep things light and airy with a mix of white, cream, and beige. Natural materials like wicker and rattan add a little color without going overboard. You could also ground your lighter colors with black or dark brown accents.
Want to add a little visual weight? Mid-toned greys give the room more dimension while still staying neutral. Break up the room with light-colored furniture and bedding, or introduce darker tones, like navy blue, for a sophisticated, masculine vibe.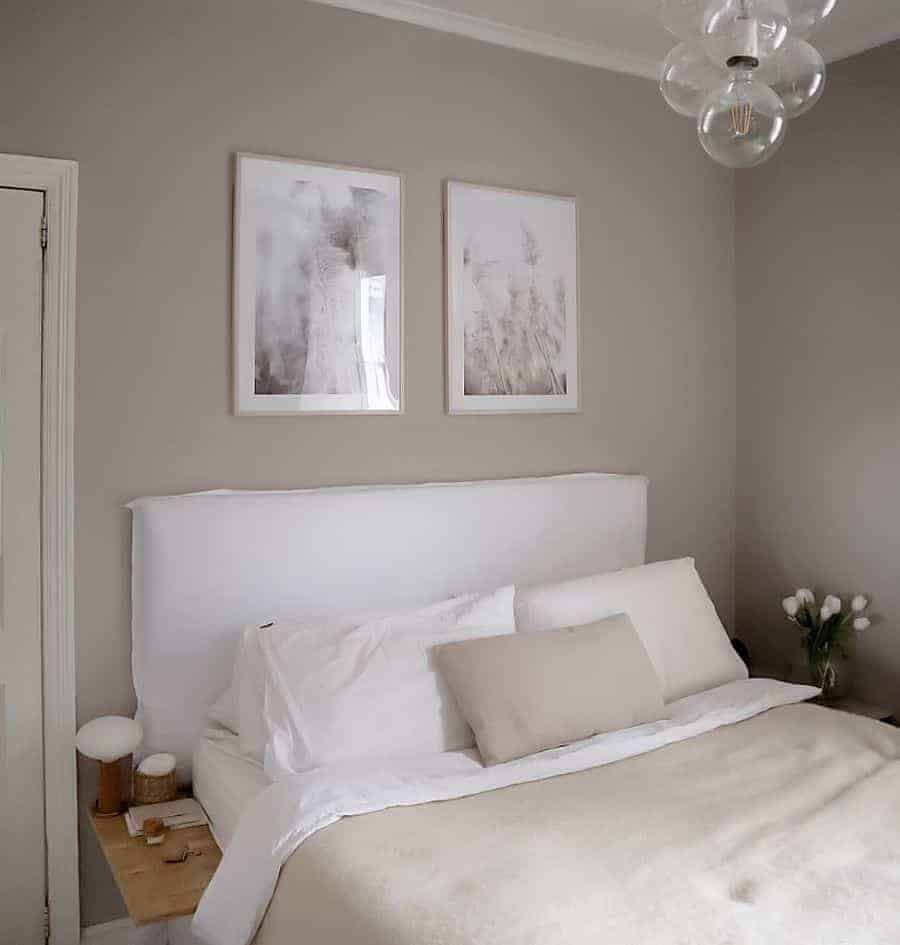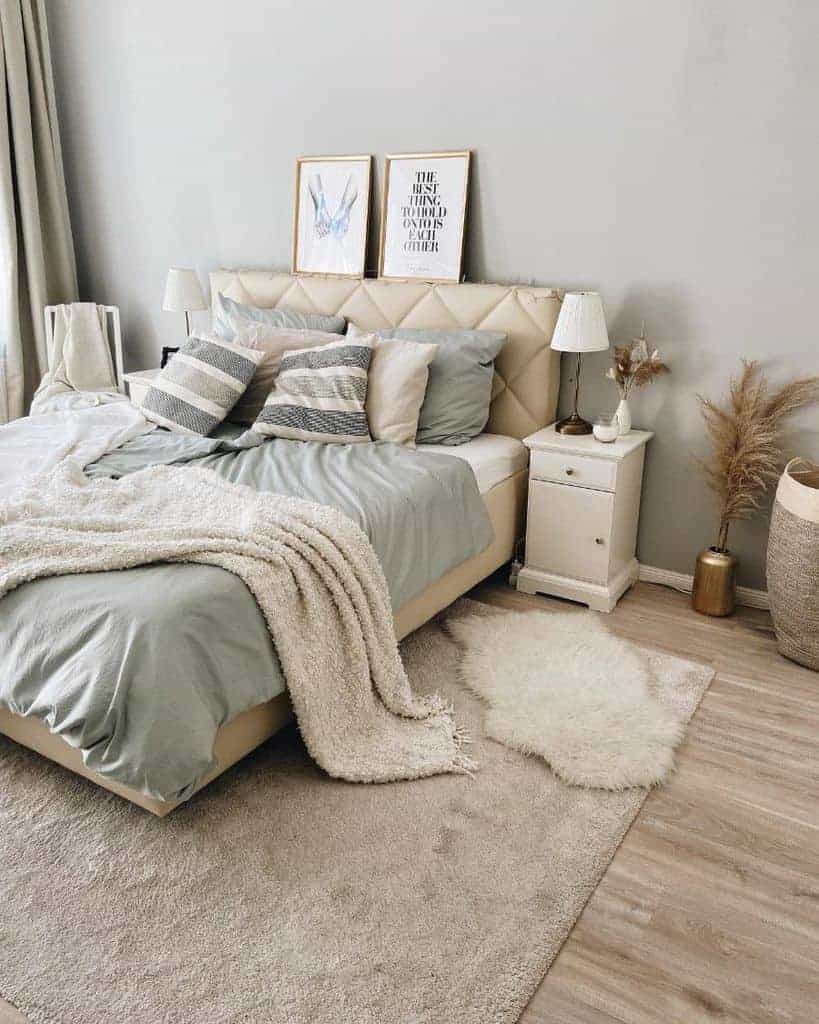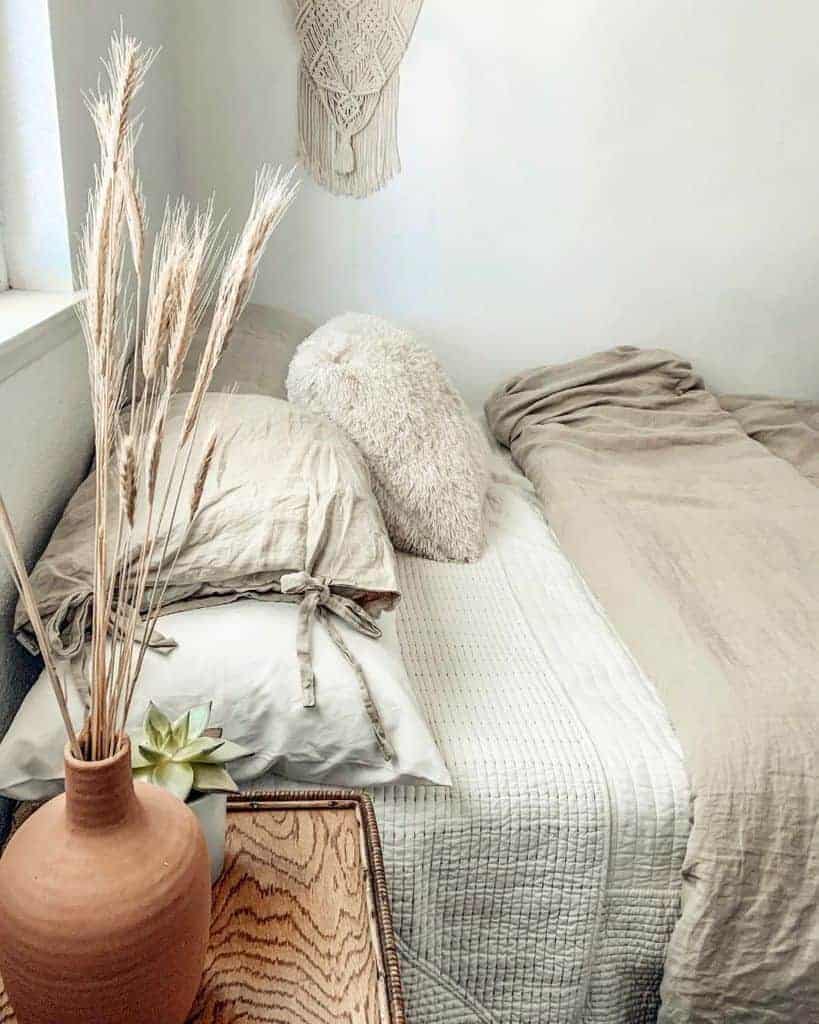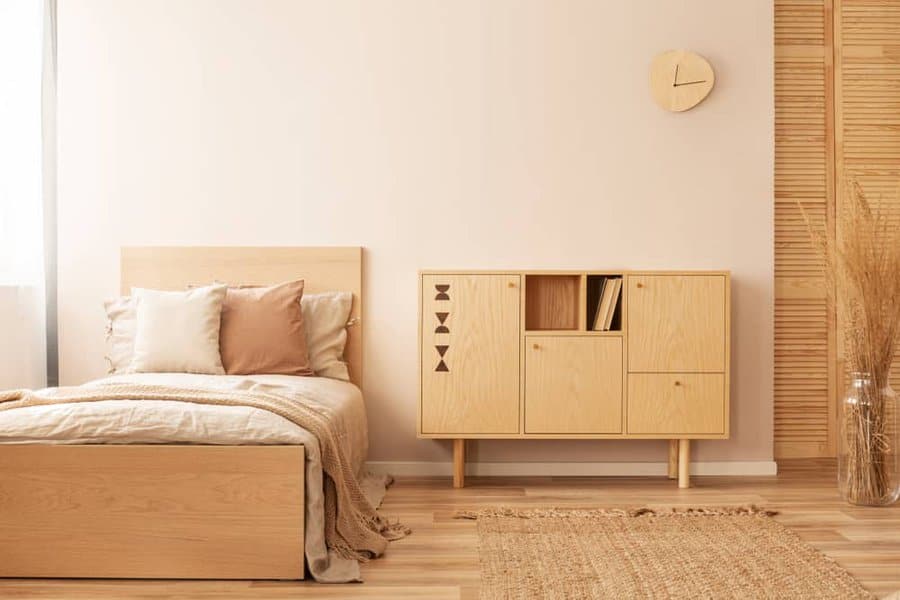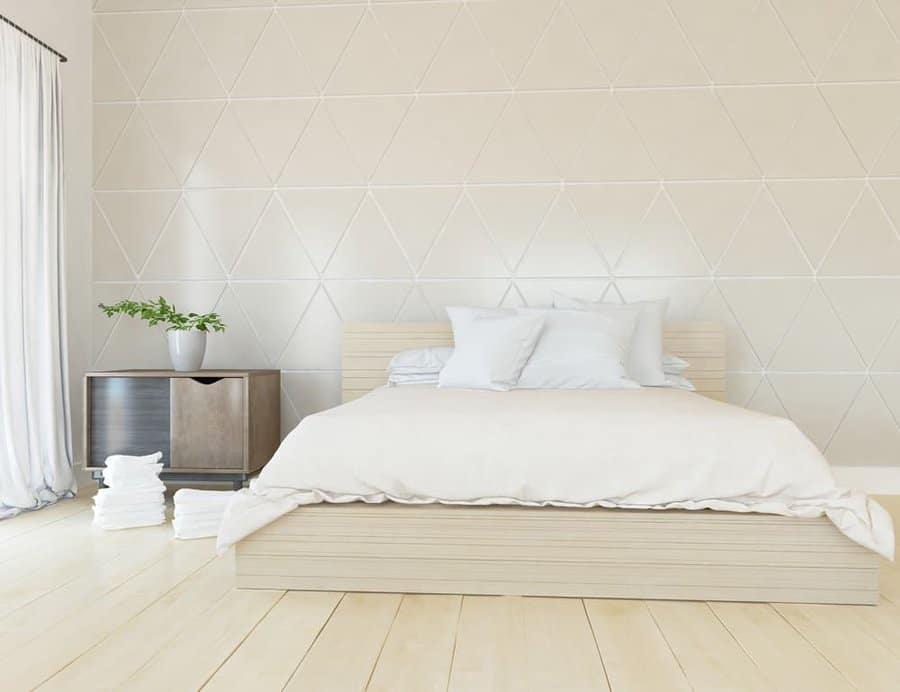 11. Scandinavian Style
With its emphasis on clean lines and minimalism, Scandinavian design is a no-brainer when it comes to creating a simple bedroom. Get rid of any unnecessary clutter, or at least store it out of sight.
Natural elements are a major factor in Scandinavian design, so wooden furniture and wood flooring are must-haves. You could also bring in plants to warm up the room and add color organically. On the subject of color, a light, neutral colorpalette is the way to go. White, grey, beige, and tan are major players, but colors like powder blue and sage green will also work well.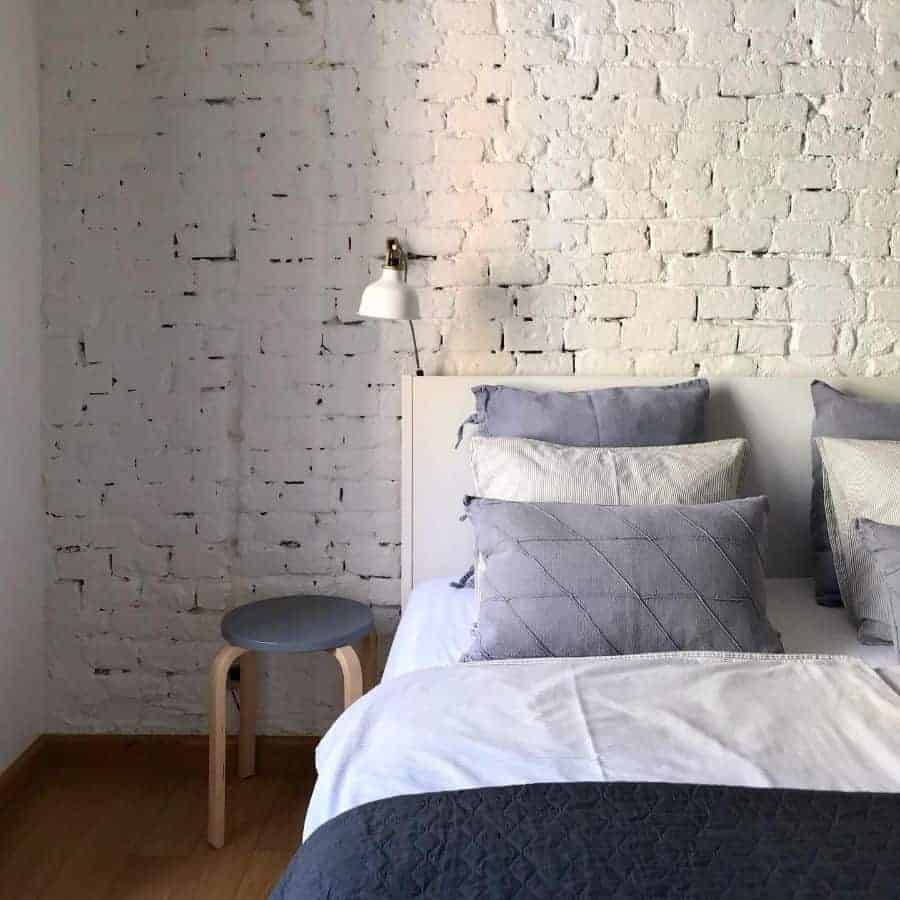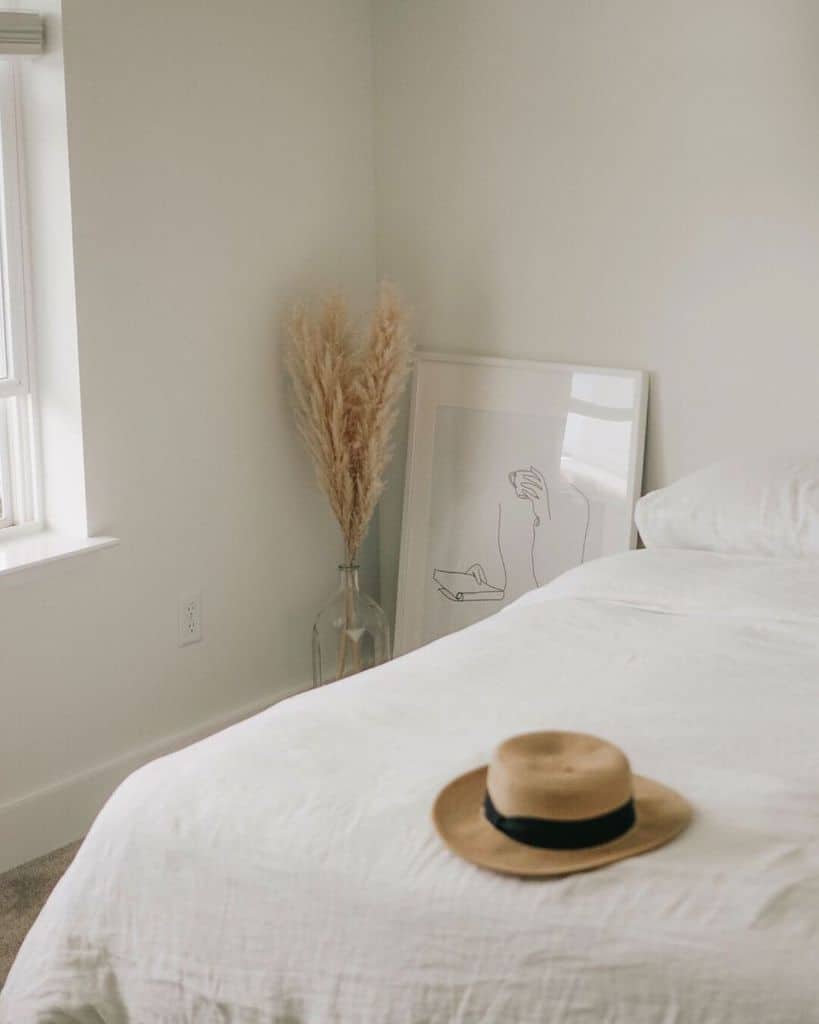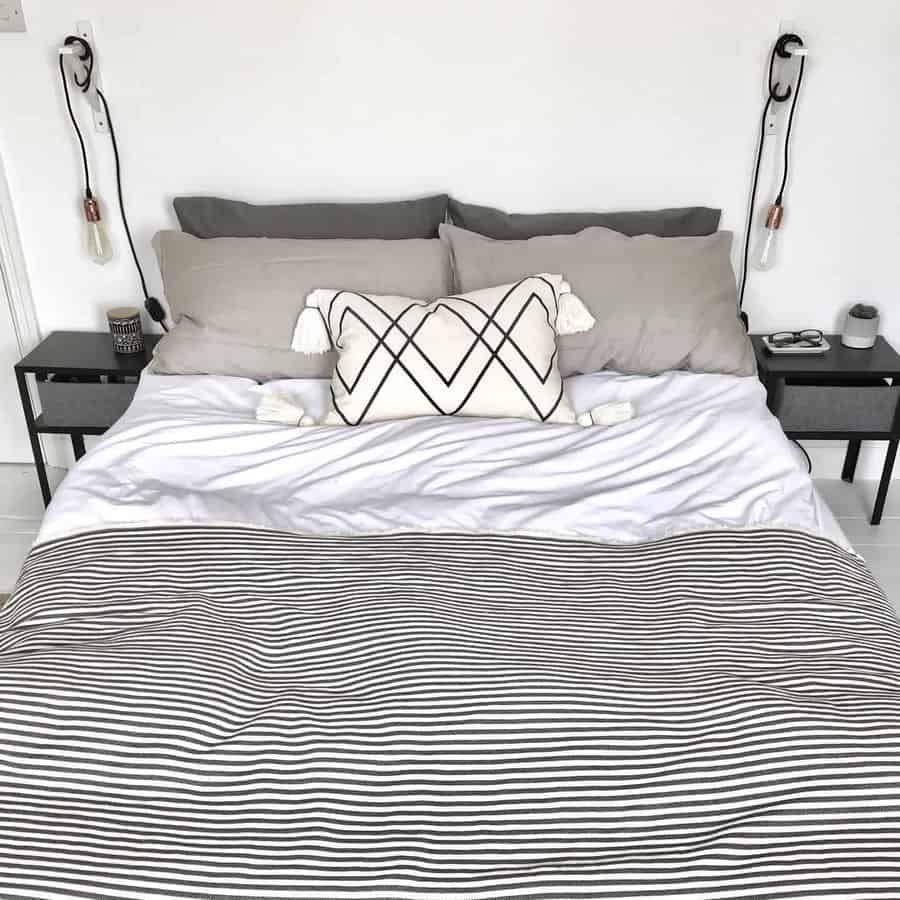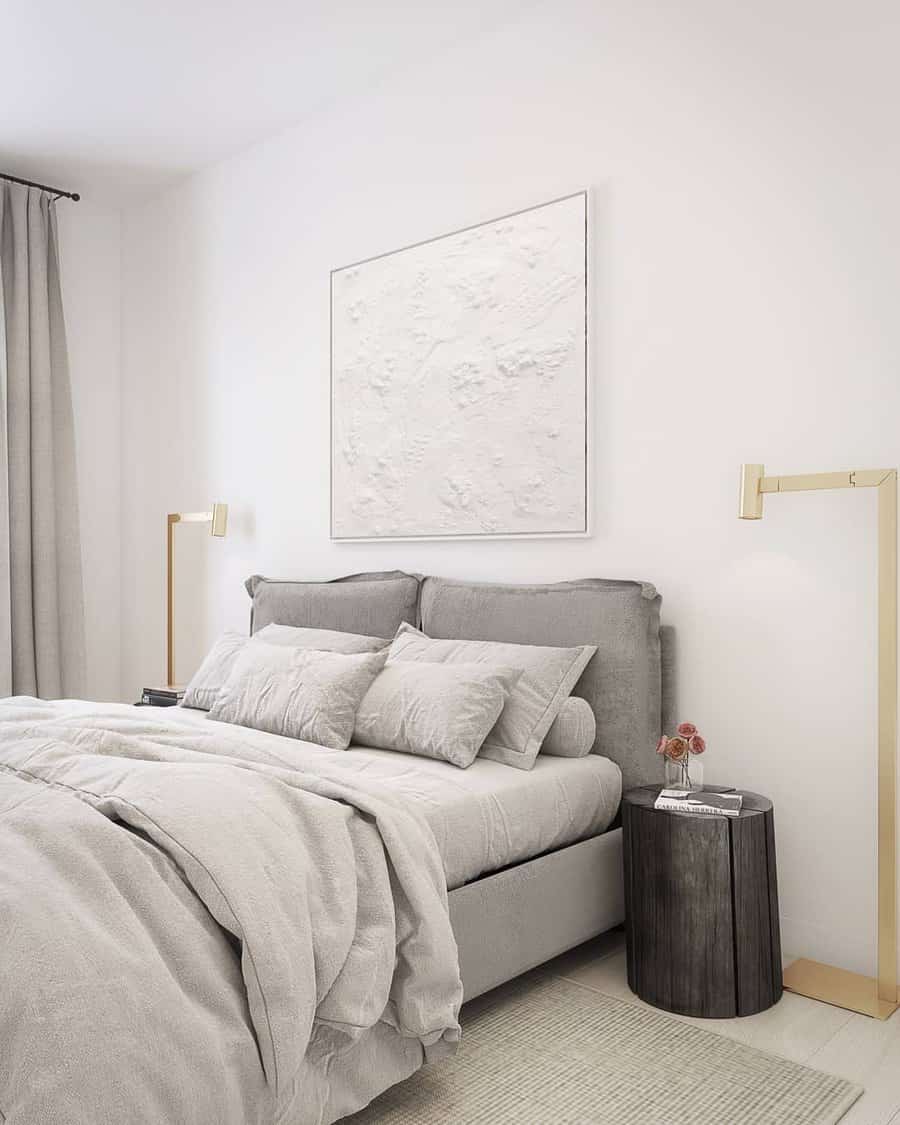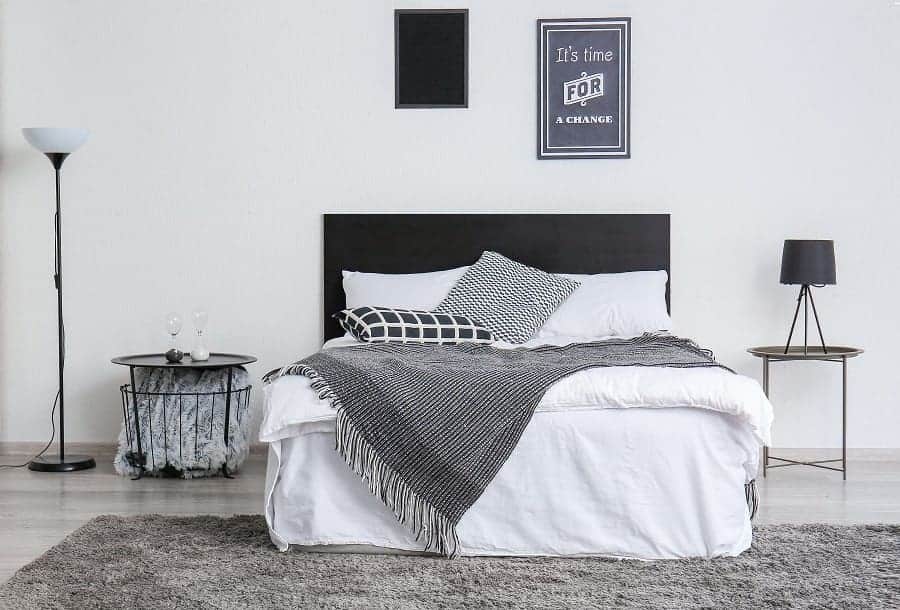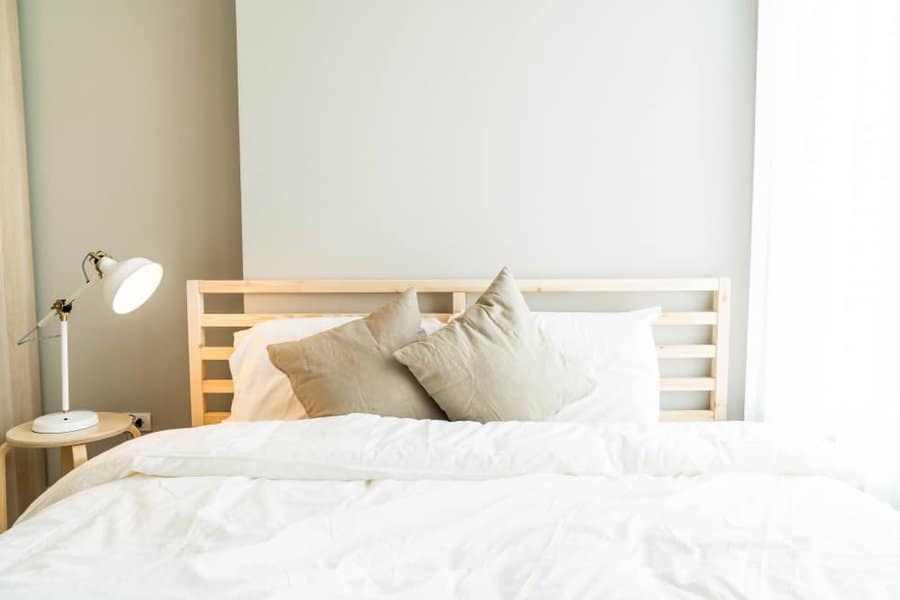 12. Minimalist Space and Design
Clutter can rack up quickly in small bedrooms, so a minimalist bedroom might be your best option. Try putting up a small floating shelf next to your bed instead of a traditional nightstand. It gives you a spot to put the essentials — phone, glasses, lip balm — and frees up floor space, which helps keep the room from feeling cramped.
While patterned wallpaper is always an excellent choice for adding character to a room, designs with small, frequently repeating patterns aren't the way to go. They can make the room feel chaotic and cramped, especially when applied to all four walls. Look for wallpaper with bigger designs, and consider putting it up on just one wall to serve as an attention-grabbing focal point.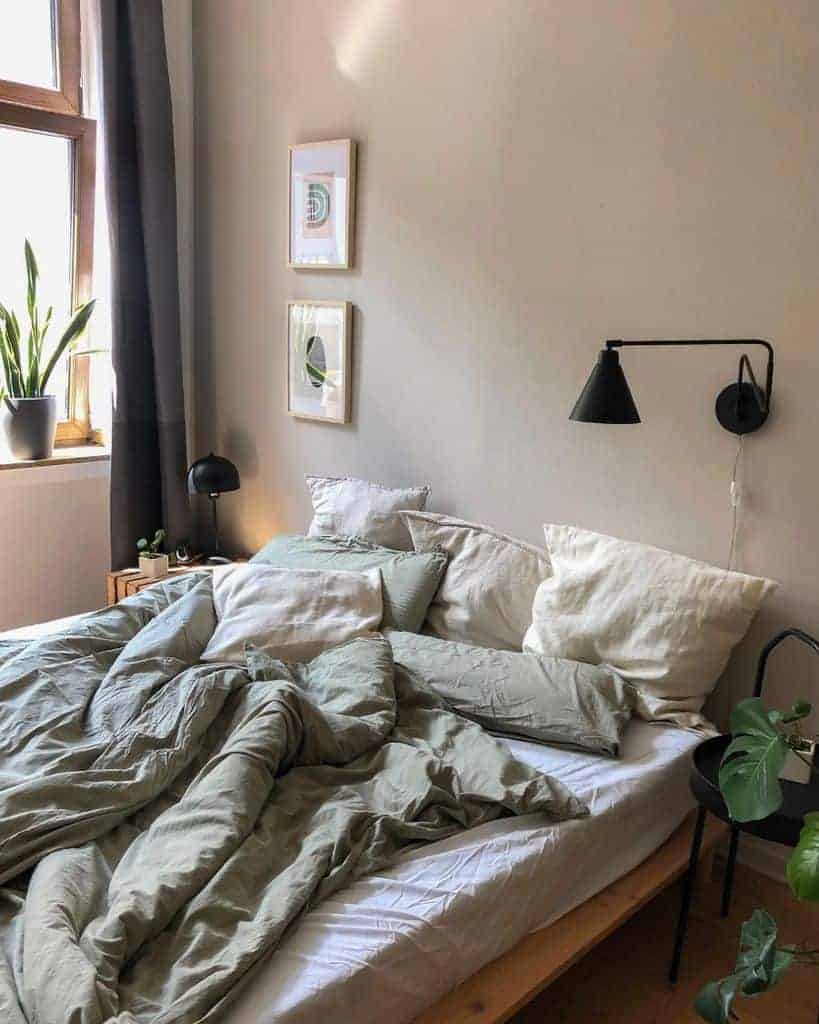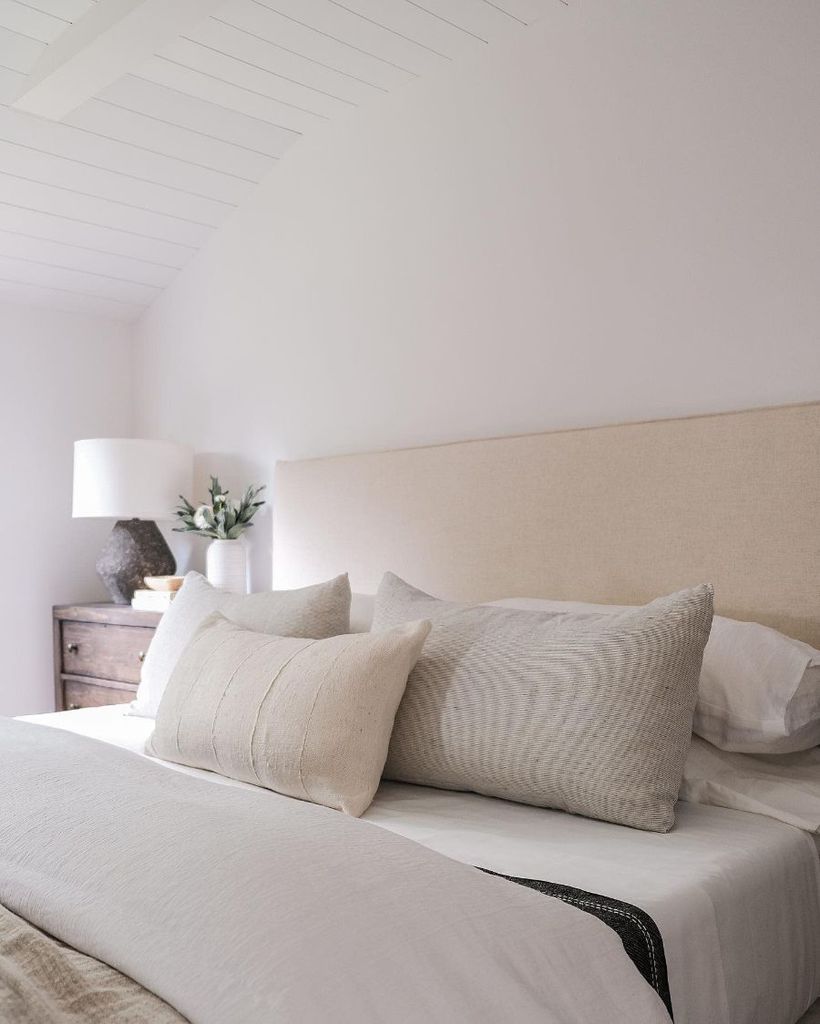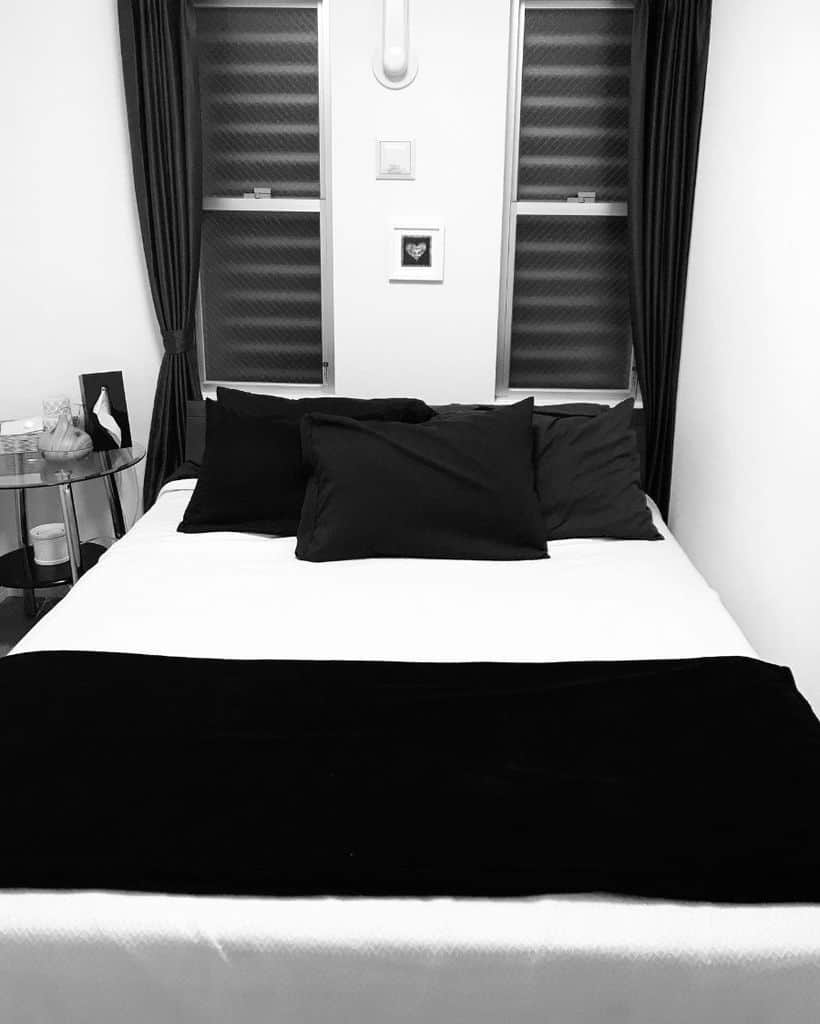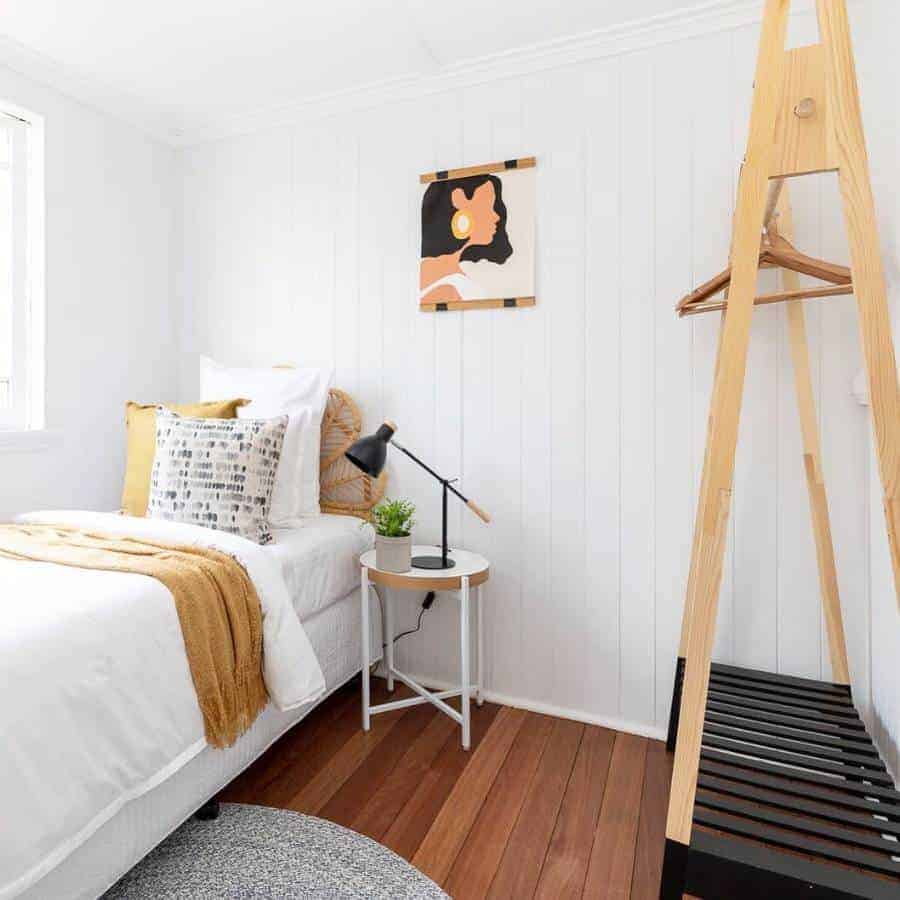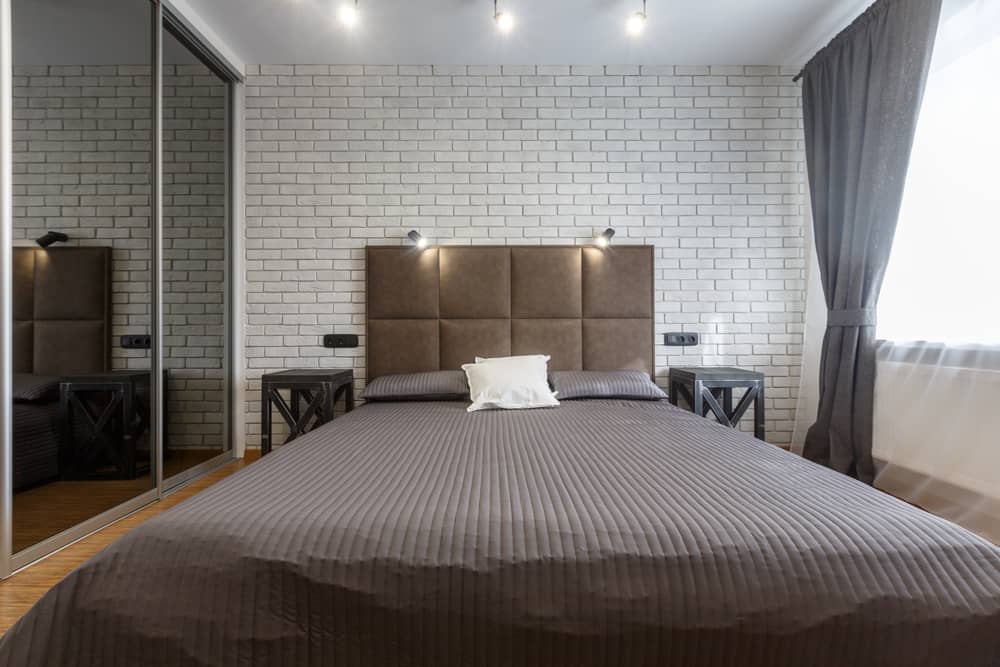 13. White Bedroom
Crisp, timeless, effortlessly chic, a simple white bedroom is the perfect place to unwind. A monochromatic color scheme allows the eye to travel around the room without interruption, prompting a sense of tranquility. To keep things from feeling boring, play around with texture. A wrought iron bed frame, weathered wood bedside table, and fluffy white rug all break up the room and add visual interest.
If you're still feeling a little flat, you can easily introduce a few pops of color to ground the white and add dimension. Tan, black, and blush pink are all good options. You could also bring in plants to add life and color without sacrificing the aesthetic. Metallic accents like brass or rose gold also do the trick and add a touch of luxury.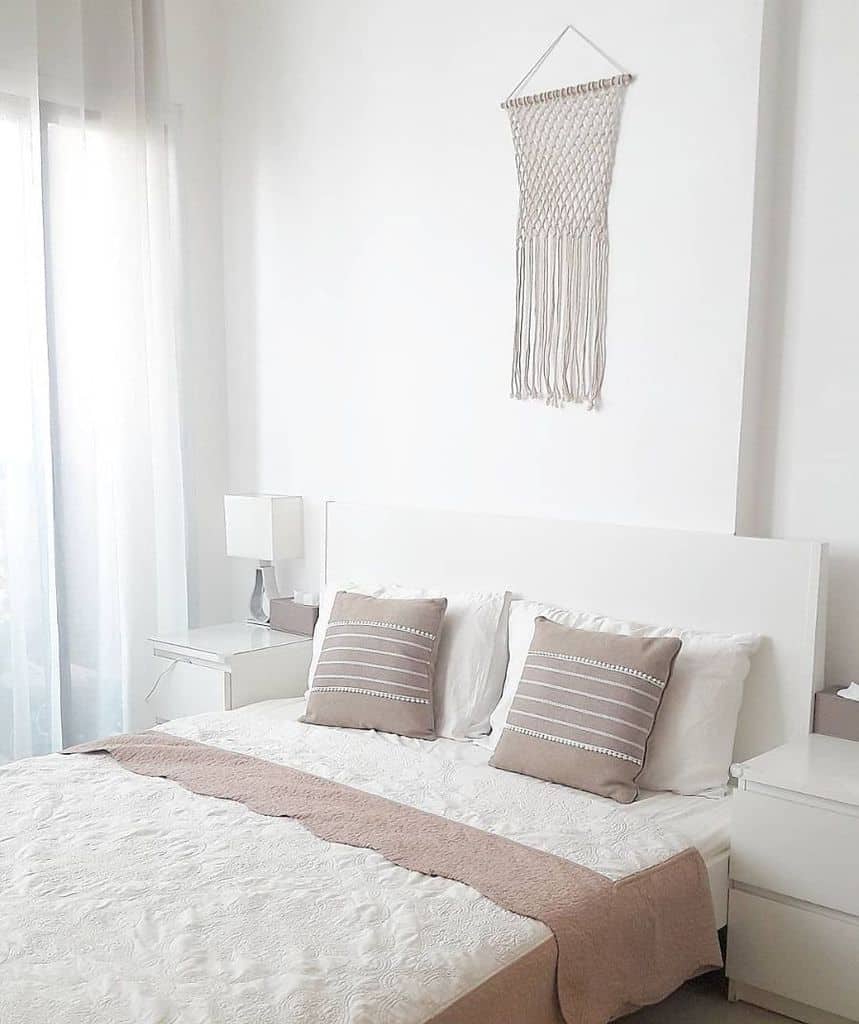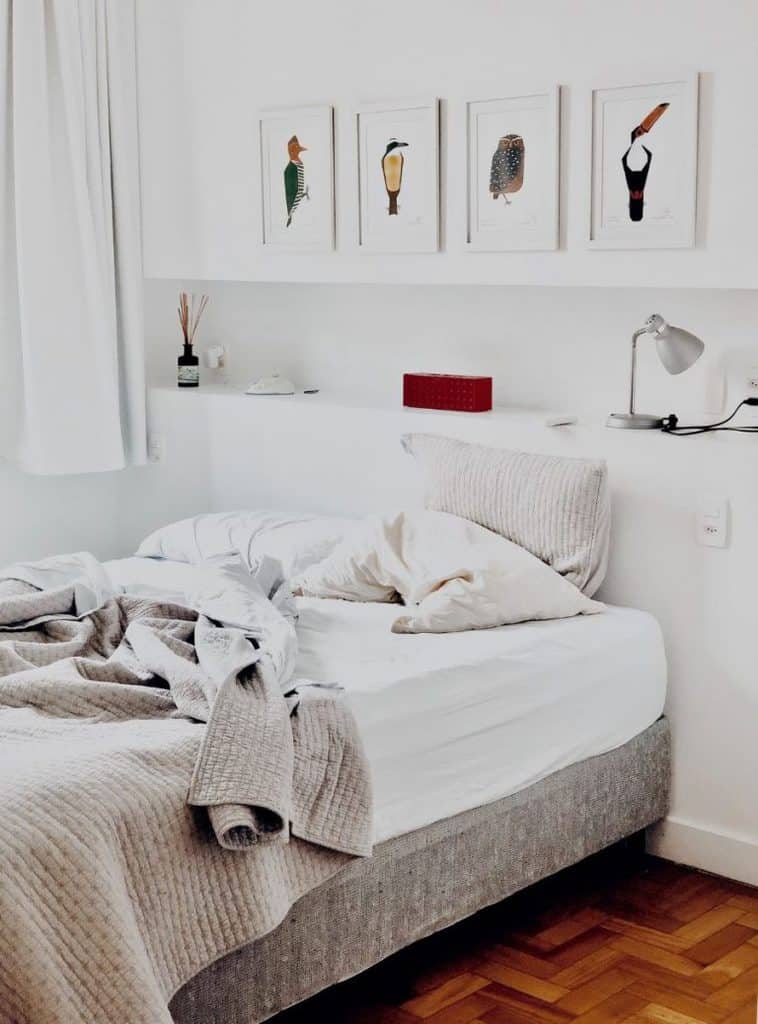 Simple Bedroom FAQ
What should be in a minimalist bedroom?
Short answer? As little as possible. Your main staples are a bed, a bedside table, and some lighting. A dresser or clothes rack may also be necessary if you don't have a closet. If it feels too bare, add some warmth with a plant or a single piece of art.
How can I make my bedroom look nice for cheap?
Hanging curtains near the ceiling instead of right above the window draws the eye upward and makes your ceilings appear higher and loftier. You could also swap boring dresser knobs for stylish ones and gather odds and ends on a tray instead of setting them directly on your dresser.
What is the most relaxing bedroom color?
Soft, nature-inspired tones are your best bet for creating a relaxing atmosphere. Sage green and pale blue are both excellent options—and of course, white walls serve as the perfect backdrop to any minimalist space.