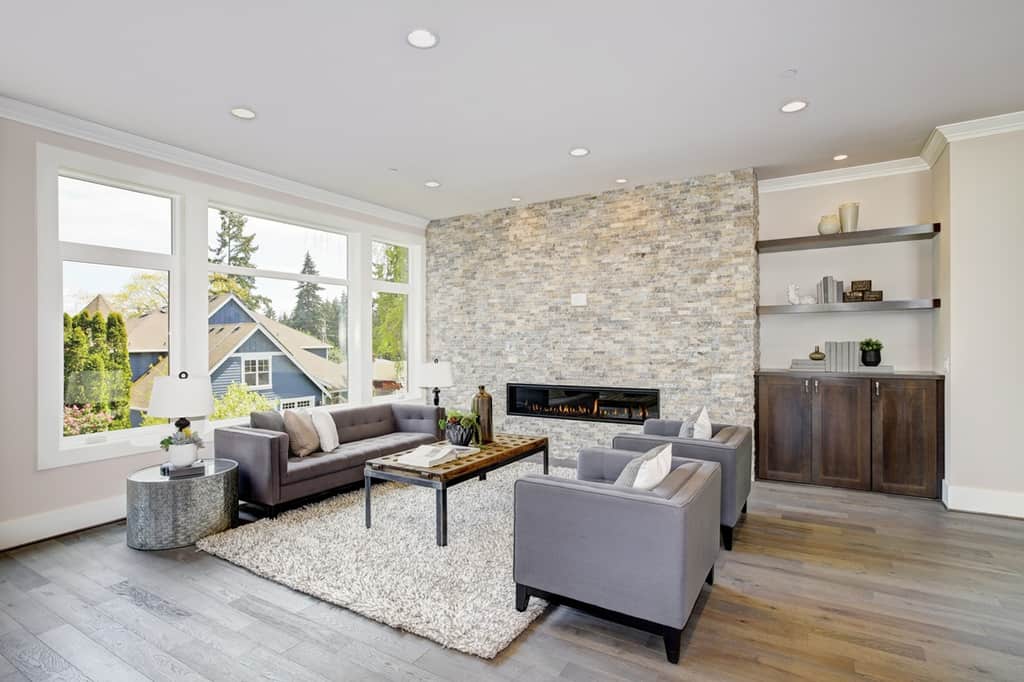 Best Wall Colors for Grey Floors
If you're wondering what's the best wall color for grey floors, you are in luck. Because grey flooring is such a trendy neutral, it's not hard to find a wall color that will bring your room's decor together. This is true whether you have grey tile, grey laminate, hardwood floors, or carpet.
One factor in choosing a wall paint color is to consider the colors that already exist in your furniture, curtains, rugs, and other decor elements. If you plan to purchase these items after you paint the walls, then virtually any shade on the color wheel can work with grey floors.
White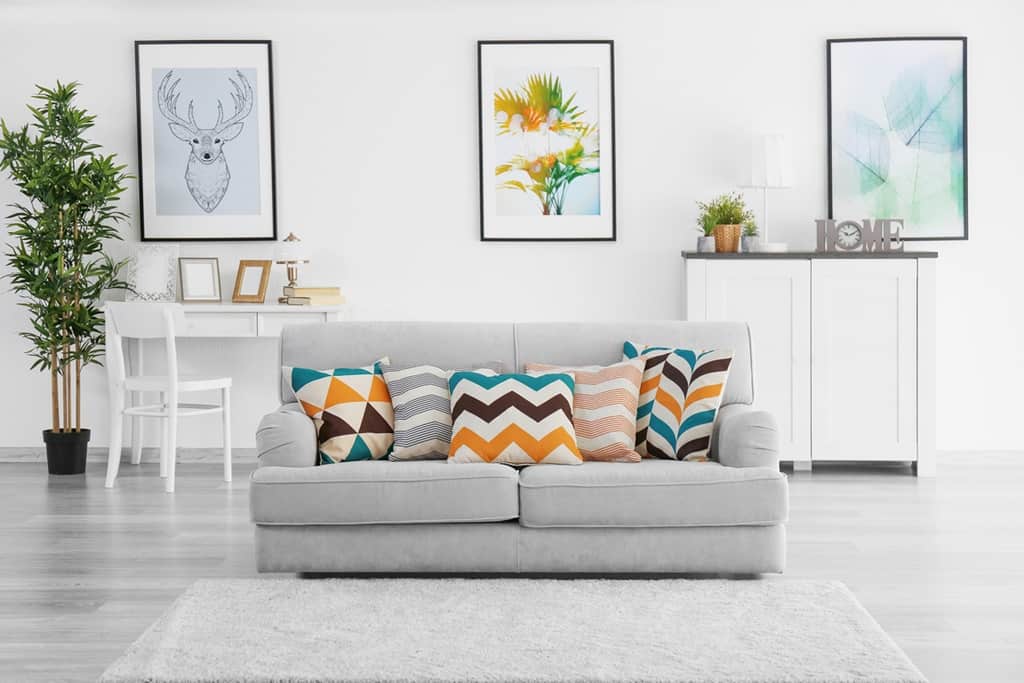 The ultimate neutral, pure white really does go with anything. Paired with grey flooring, white paint will give you a clean, classic foundation to build upon.
Are you into farmhouse decor? Grey wood flooring and white shiplap is a perfect background for your natural wood tone furniture and rustic metal accents. Do you ascribe to modern minimalism? A sleek dark grey floor tile pairs beautifully with smooth white walls and angular black furniture.
Although one might assume that white is white, a glance at any paint sample display will show you how there are obvious color undertones in every white paint. Make sure you take paint swatches home to see which color of white looks best with your grey floor.
Beige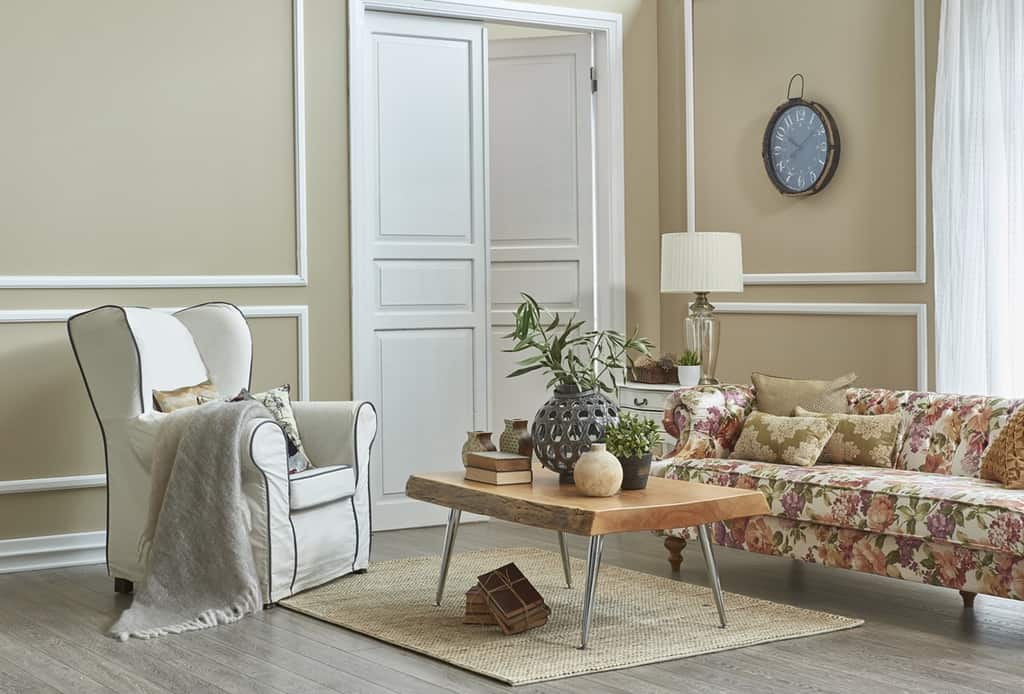 It may seem odd to pair two mid-tone neutrals in a single space, but the combination of a grey floor and a beige wall color can be quite elegant. This is especially true when the beige shade has a grey undertone, as in Sherwin William's Accessible Beige, Repose Grey, or Worldly Grey.
This type of greige paint looks great with wooden furniture because it serves as a middle color between the grey floor and wood tone furniture. Greige or beige paint colors make a room feel warmer than one that's primarily decorated in cool grey.
Blue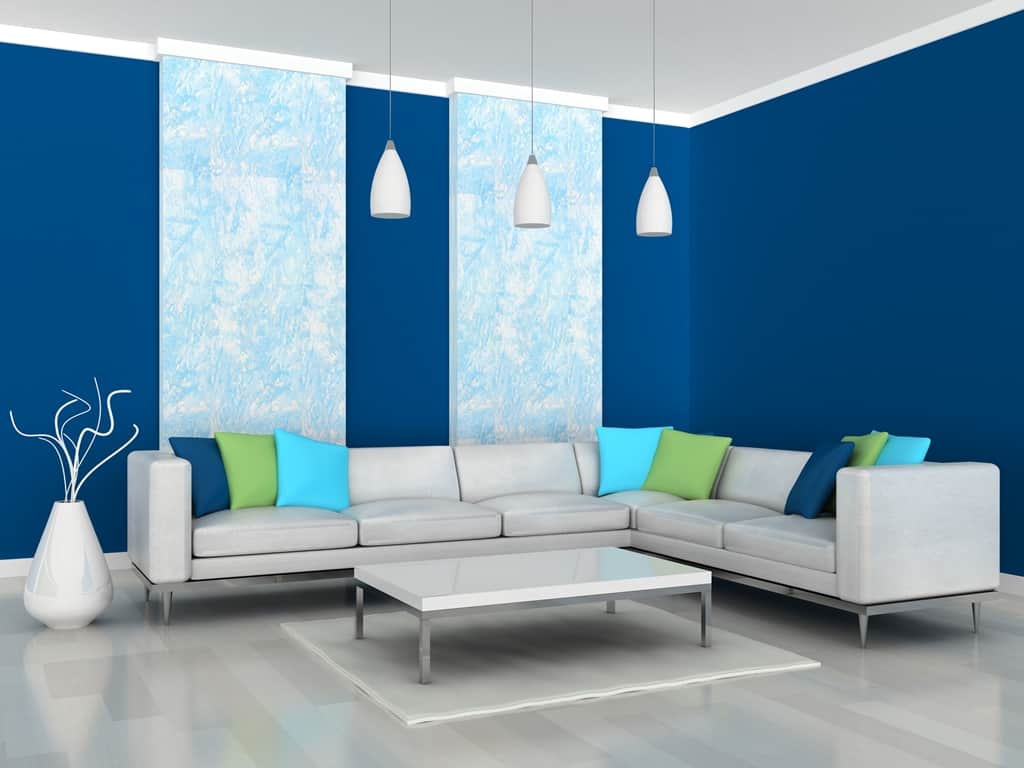 Blue—in all its shades and tints—works exceptionally well with grey flooring. This is true whether the floor is light grey or dark grey. Just like shadowy clouds on a sunny blue sky, grey and blue were made for each other.
Choose a pale, misty shade of blue paint if you are seeking a calm, Zen-like space. For something more cheery, go with a brighter blue, such as cobalt or turquoise. Navy blue wall paint creates a dark, dramatic space that looks amazing with grey color flooring, rich wood tone furniture, and brushed nickel accents.
Green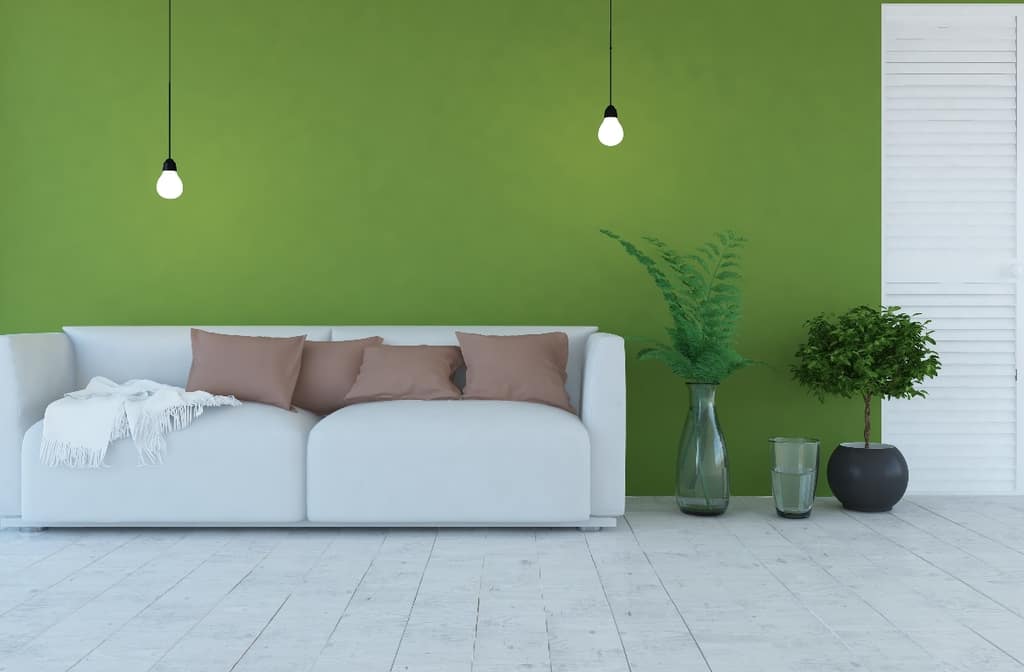 Dusty, grey-tinged greens look amazing next to any grey color, from pale smoke to deep charcoal. Think of how pretty moss looks on a grey rock, or how the fuzzy texture of a sage leaf casts a pale grey mist over its deeper shade of green.
Try to avoid yellow-based greens, such as olive green, and bright Kelly green when you have cool grey flooring. However, if your grey floor is a warmer, greige type color, those shades of green are perfectly acceptable. Just be sure that your throw pillows, knick-knacks, and artwork incorporate the same color palette. 
Pink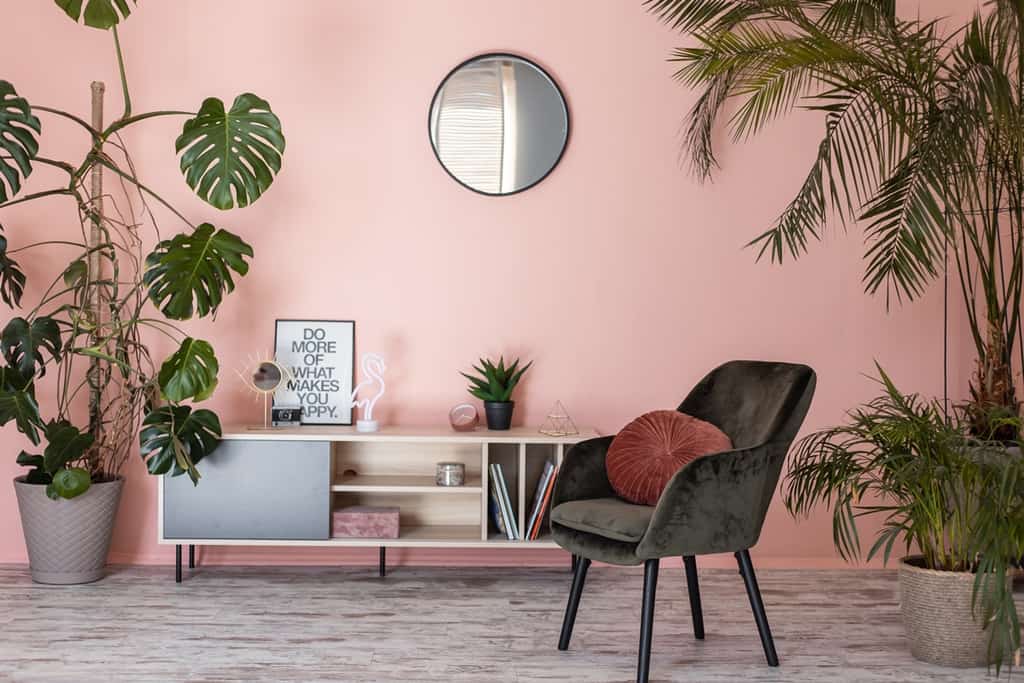 Just like misty blue and butter yellow, pale pink coordinates beautifully with grey flooring. Because pink is such a warm, inviting color, it pairs particularly well with warmer grey cabinets and floors.
Some pink hues—like dusty pink—have a slight grey undertone that is obvious when you look at paint samples. Try to stay close to these hues to avoid creating too much contrast in your color scheme. Even if your child begs for bubble-gum-pink walls in their grey-floored room, try to keep the color muted for a more relaxing space.
A background of a dark grey wood floor and dusty pink walls can carry a stronger accent color like maroon. It also looks amazing accented with rose gold or copper.
Lavender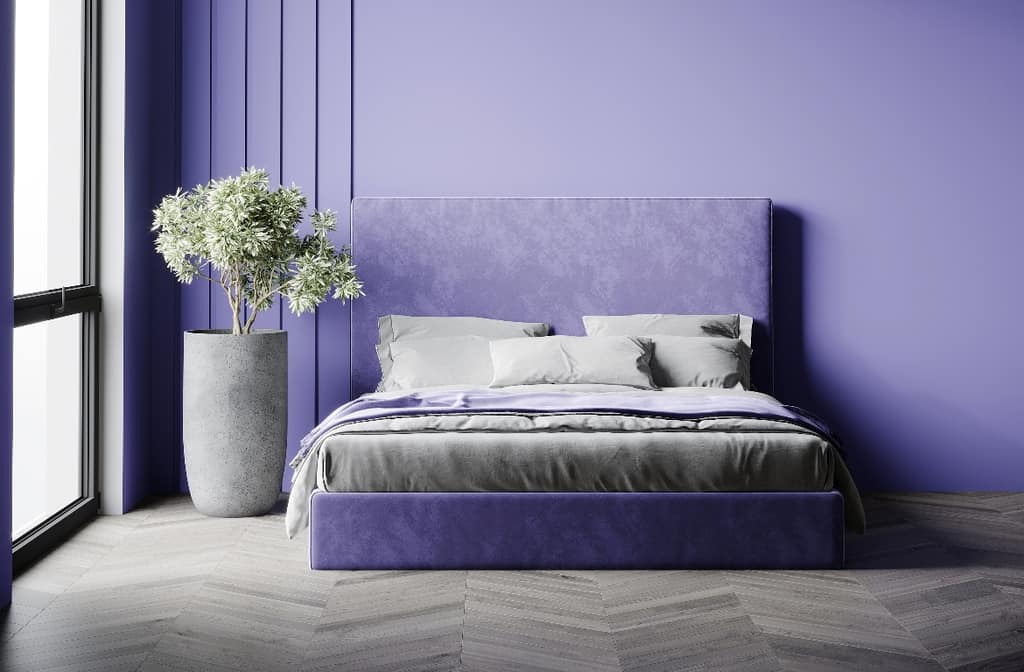 Lavender or pale purple is another pastel color that looks stunning beside grey flooring and walls. Like sage green, real lavender flowers have a grey undertone that makes them a natural pairing with grey.
Once you have a grey floor and lavender walls, it's easy to incorporate bolder shades of purple into your textiles and accessories. Perhaps find wallpaper that incorporates grey, lavender, and the darker purple and apply it to an accent wall.
Teal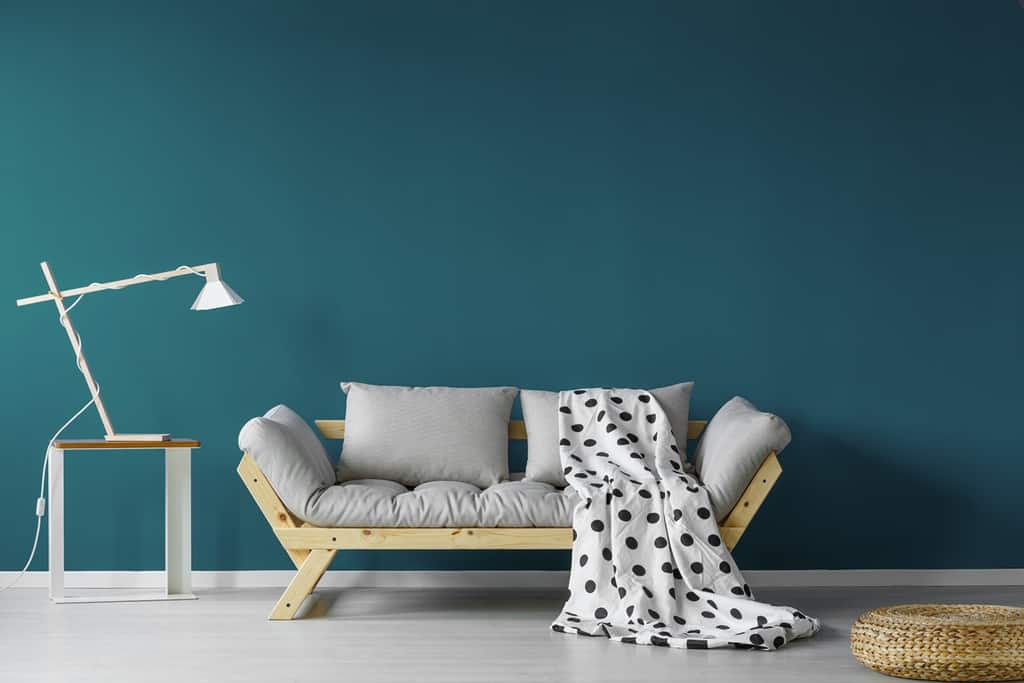 Teal is a great balance between green and blue, not quite turquoise, but with all the same richness. When teal is toned down a bit with a touch of grey, it becomes a dreamy, dramatic color that will add a relaxing vibe to whatever room it's in.
As many paint and decorating color swatches show, grey and teal are quite harmonious, especially when there are multiple values of each color included in one room. Pair light grey flooring with three dark grey walls and paint the fourth wall teal. Then incorporate shades of grey and teal in your textiles and accessories.
Yellow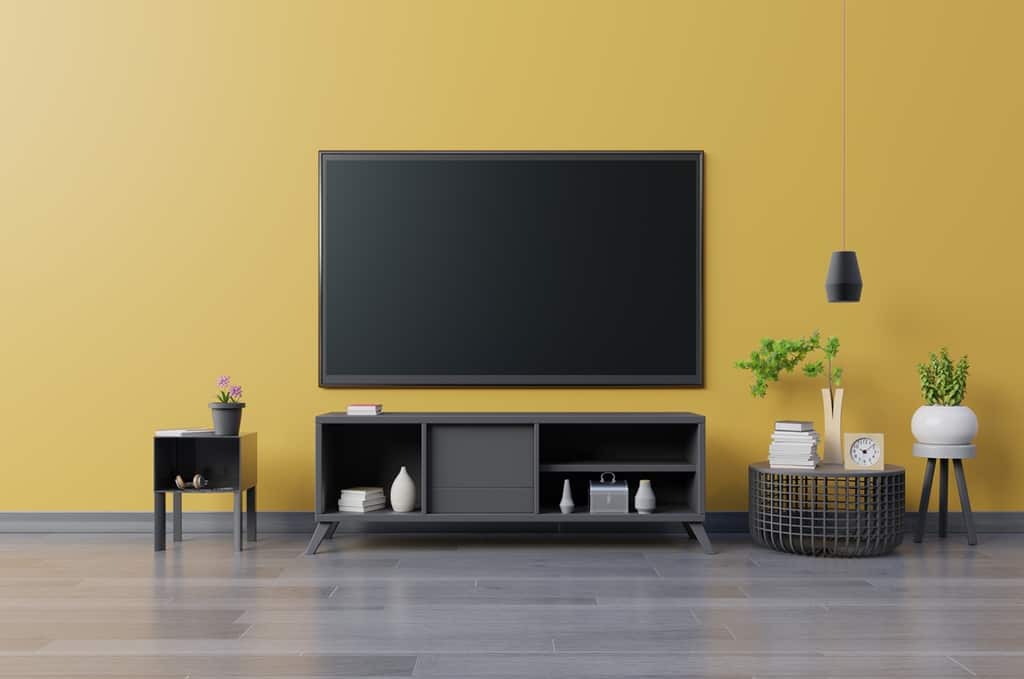 Bright yellow paint can make a grey floor look dull and lifeless, but a soft, buttery shade of yellow is beautiful on walls above a light grey floor. White furniture and white trim look great with this particular color combination, whether it's in the living room or a baby's nursery.
What wall paint color isn't great with grey floors?
Believe it or not, it's best to avoid covering your walls in grey paint when you already have a grey floor. Why? First, an all grey room is just plain boring from a design perspective. And although grey is a good neutral color, too much of it can give the room a depressing aesthetic. 
Another reason to rethink grey walls is that it can be difficult to find a grey paint color that coordinates well with grey flooring. Each shade of grey has its own undertone and they can vary widely. There are warm greys and cool greys, and next to each other, the differences are quite obvious. If you don't perfectly match the undertones, it can throw your entire color scheme off track.
However, if you've fallen in love with Dorian Grey, Agreeable Grey, or another paint swatch that looks great beside your floor—go for it! But keep in mind that grey walls and grey floors work best together when there's a lot of contrast between the shades. Pair a dark grey floor with light grey walls, or vice-versa.