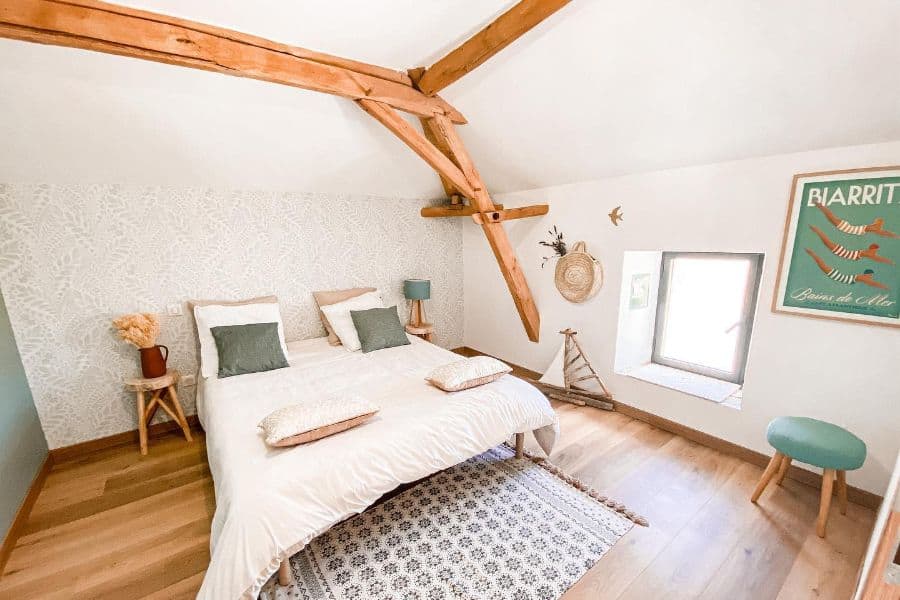 The Top 75 Attic Bedroom Ideas
Making the most of small spaces is a common theme in homeownership. And when moving to a bigger house is either unwanted or impossible, finding a way to add an extra bedroom to your property can be life-changing.
If your home has an attic, then a potential bedroom could be hiding right under your nose! Many attics can be easily converted into a full-time sleeping space. Once everything is said and done, you won't even know the space started as a dusty old attic.
Check out the attic bedroom ideas below to learn how you could add value and versatility to your home with a converted attic space!
1. Attic Bedroom Design
Nearly all attic bedrooms will feature a slanted ceiling of some kind. Rather than fighting it, consider drawing attention to your bedroom's awkward shape with exposed beams, an accent wall, or unique light fixtures.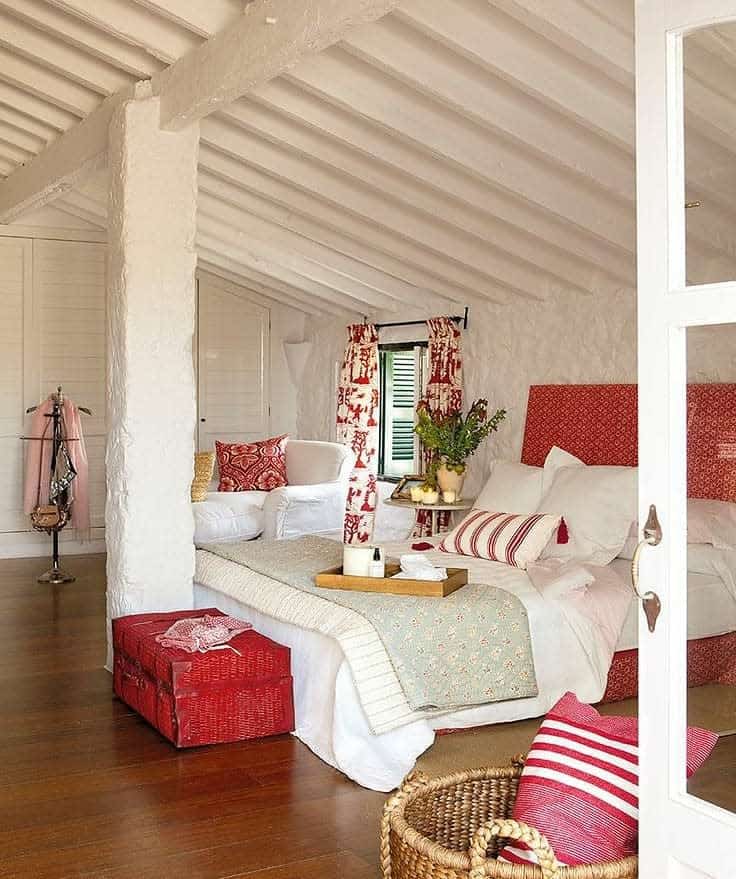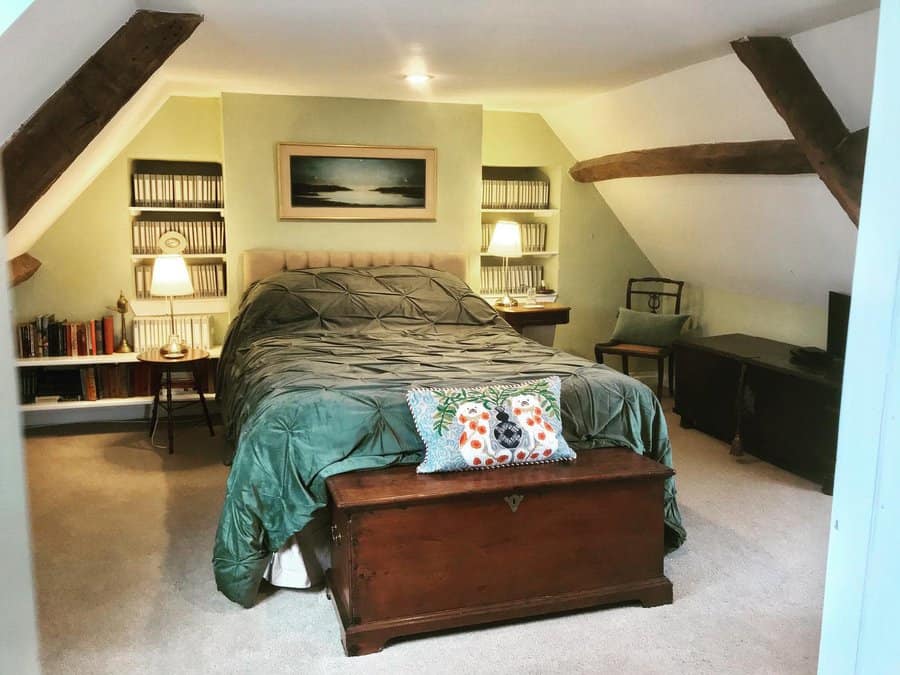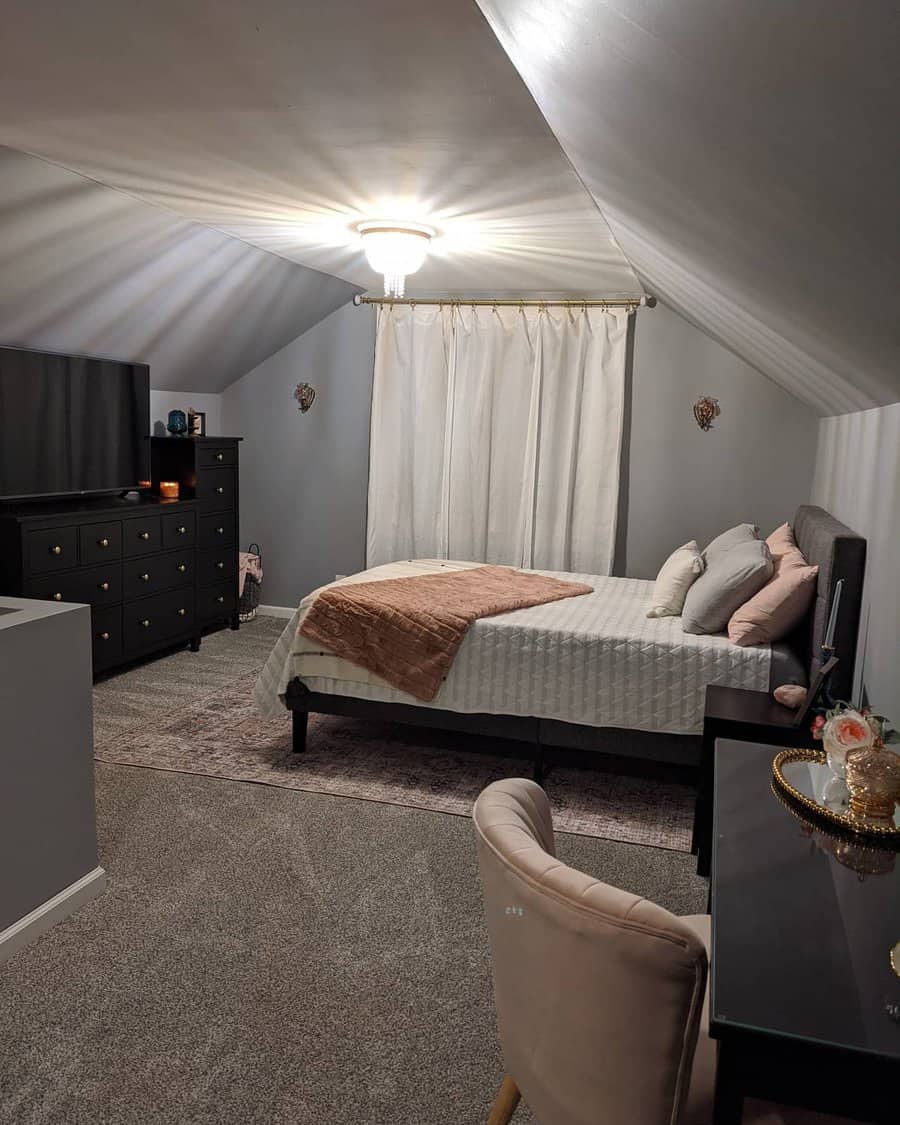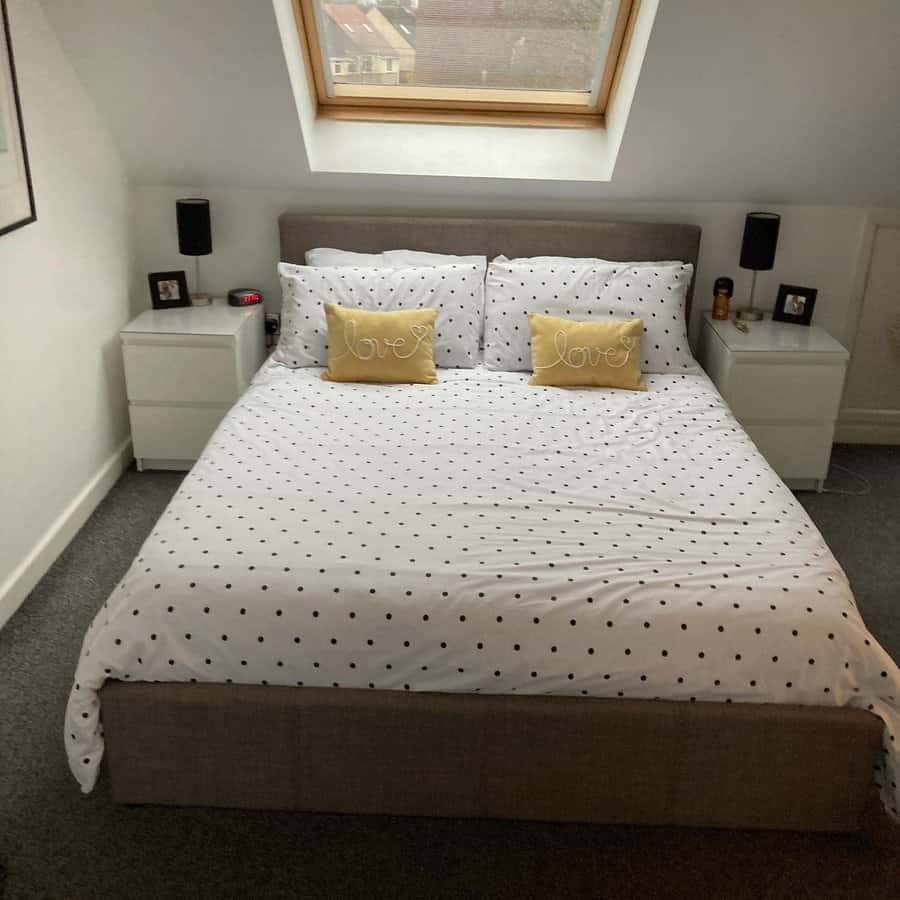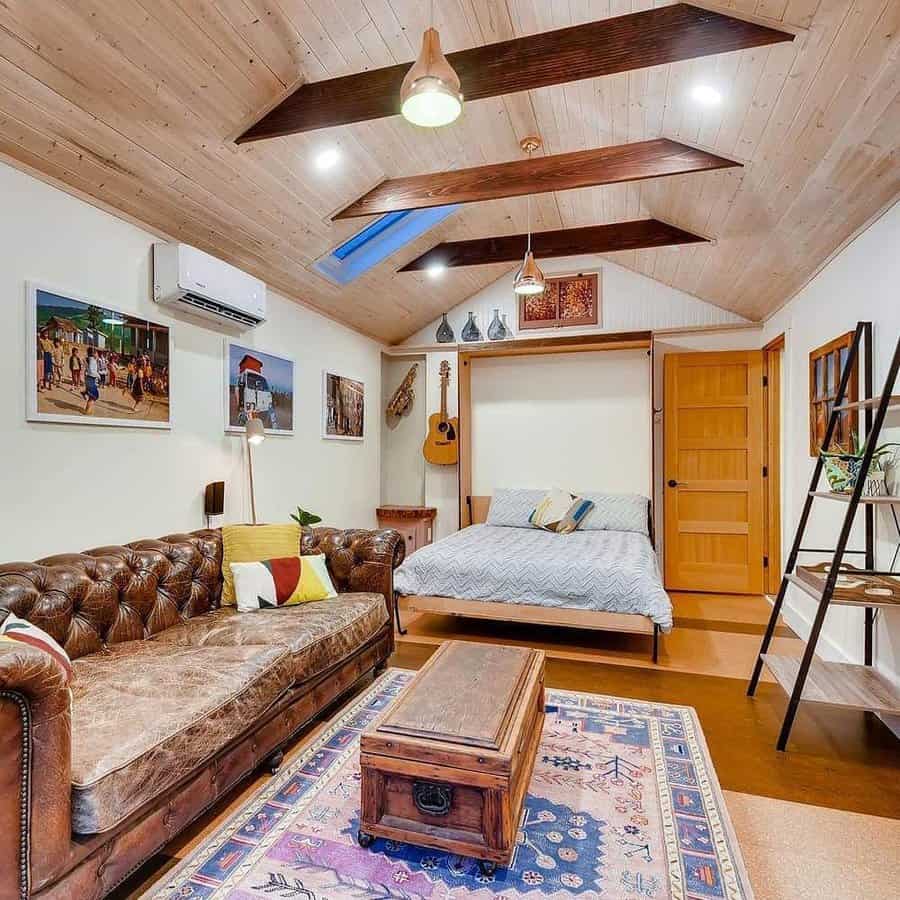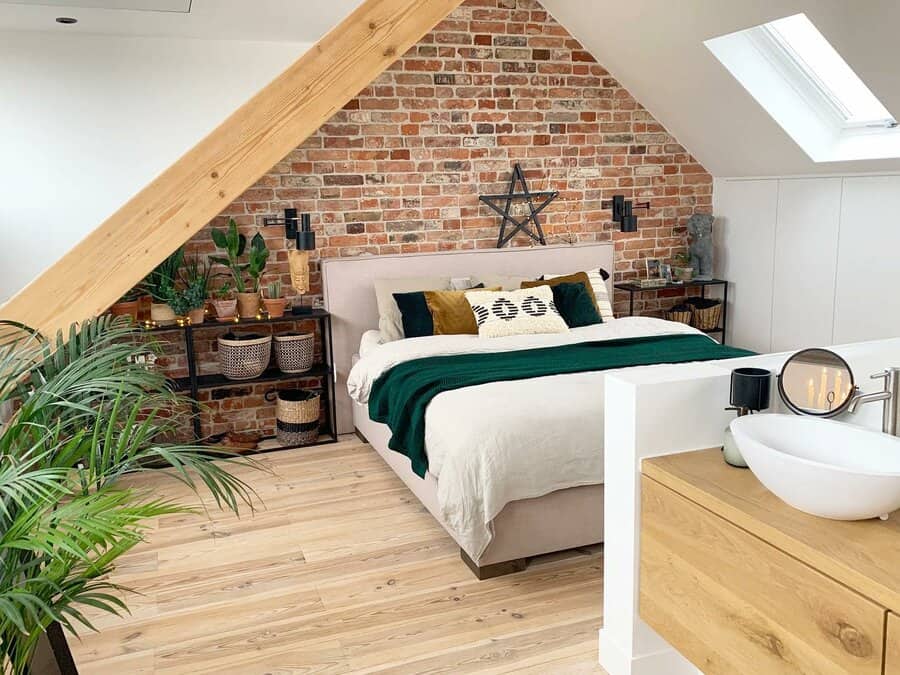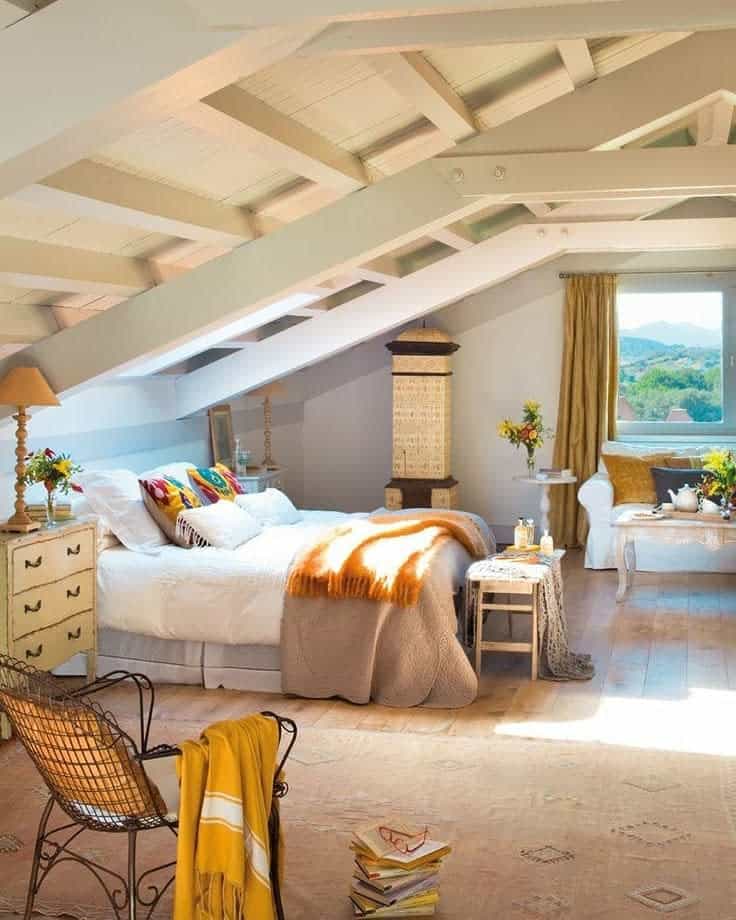 A sloped ceiling can also mean less wall space to hang shelves or display artwork. Take a more relaxed approach by propping up your favorite wall decor on your bedroom dresser or even the floor.
Natural light can be quite limited in an attic bedroom. Think carefully about how your furniture is arranged to make the most of what light does fall within the space.
2. Boho
An attic bedroom is inherently casual and cozy. So Bohemian decor is a natural choice for transforming a small attic or loft into a functional (and comfortable!) bedroom.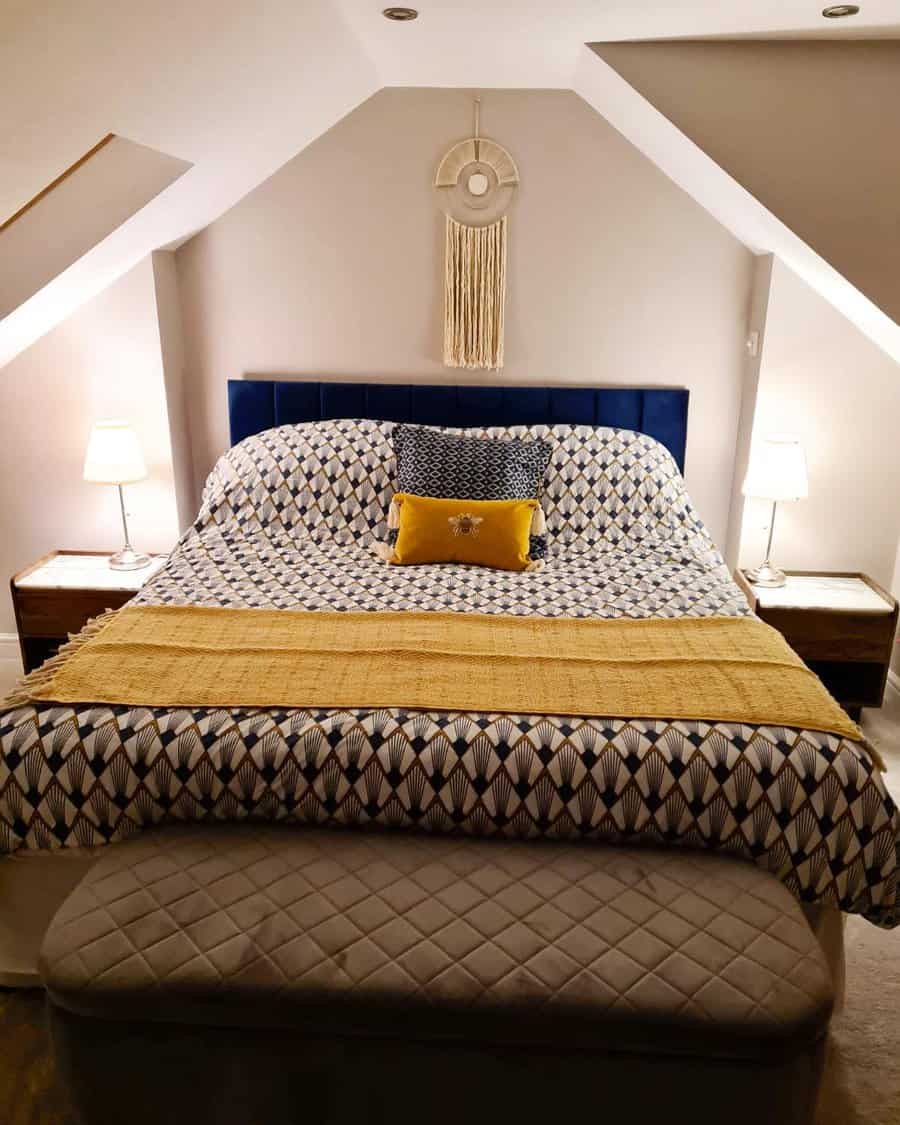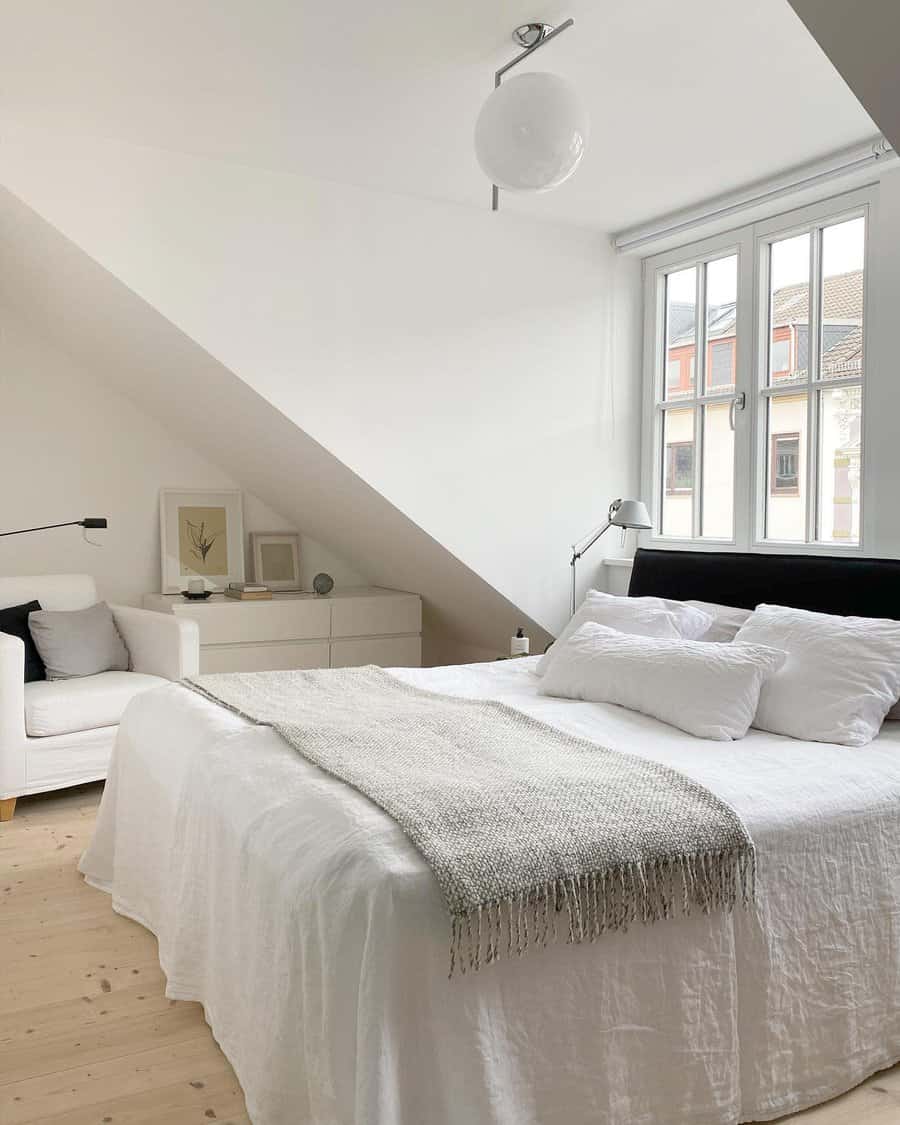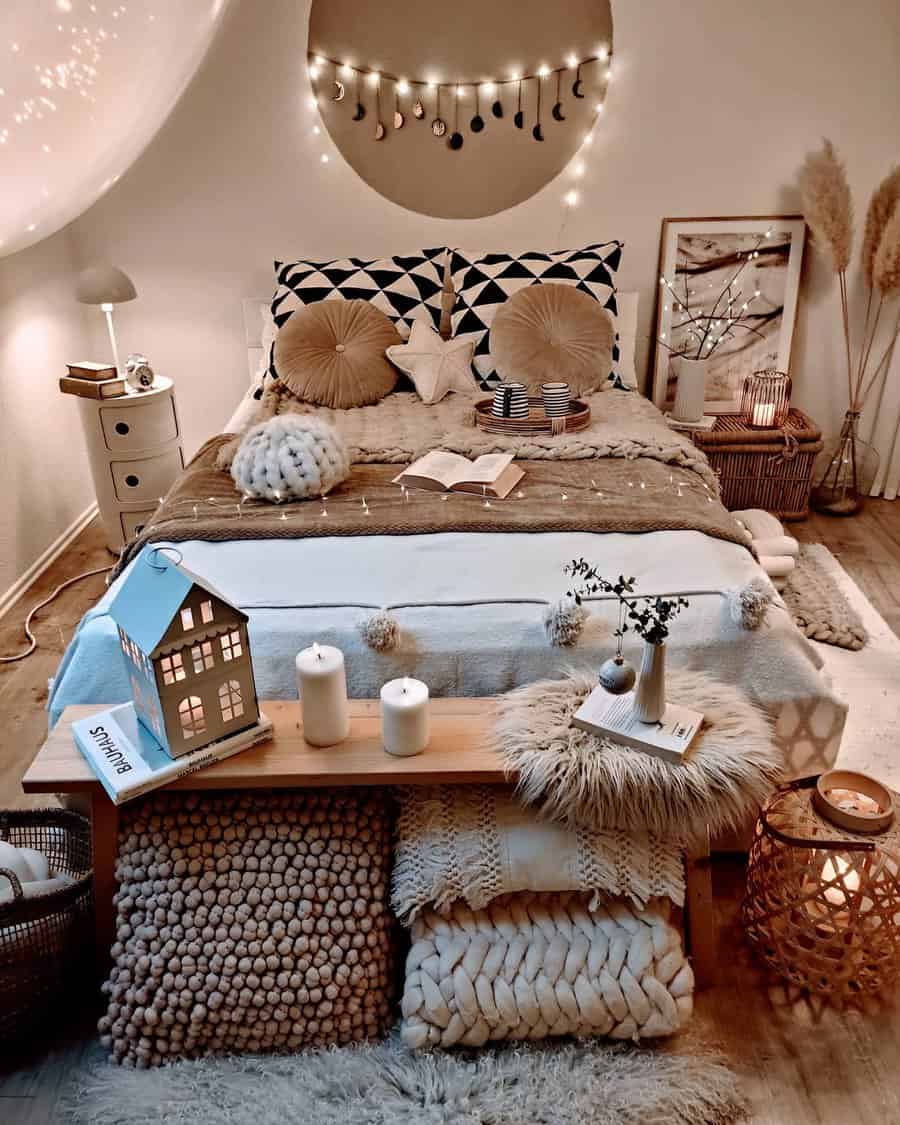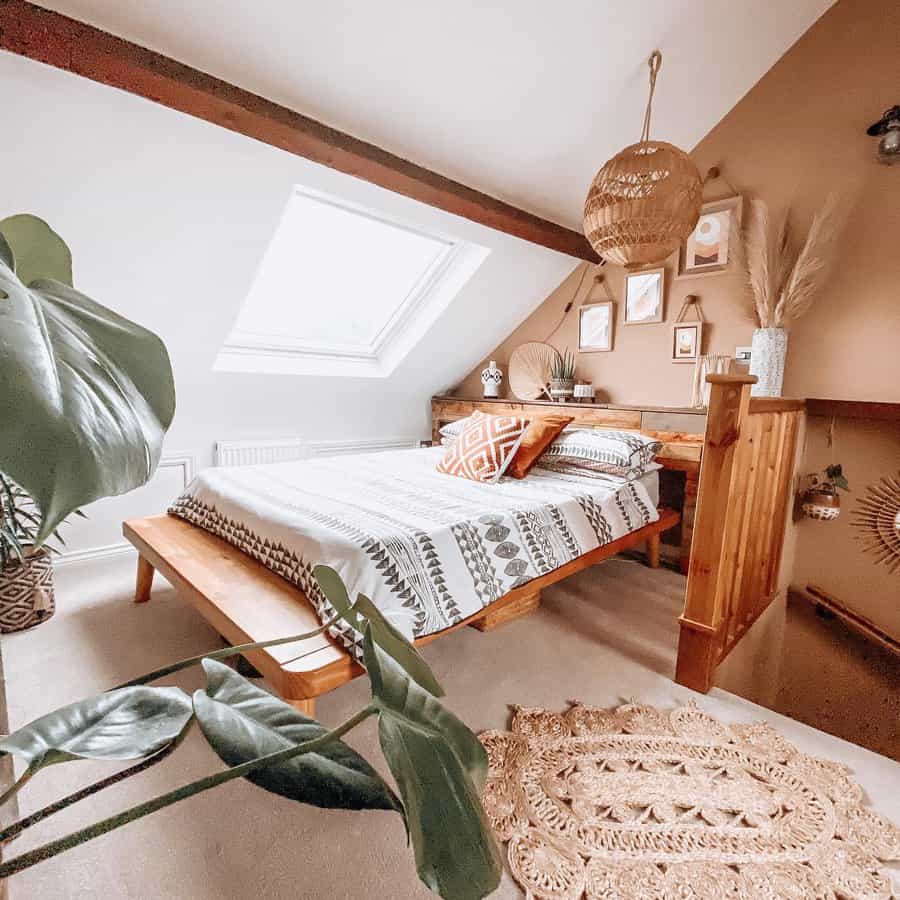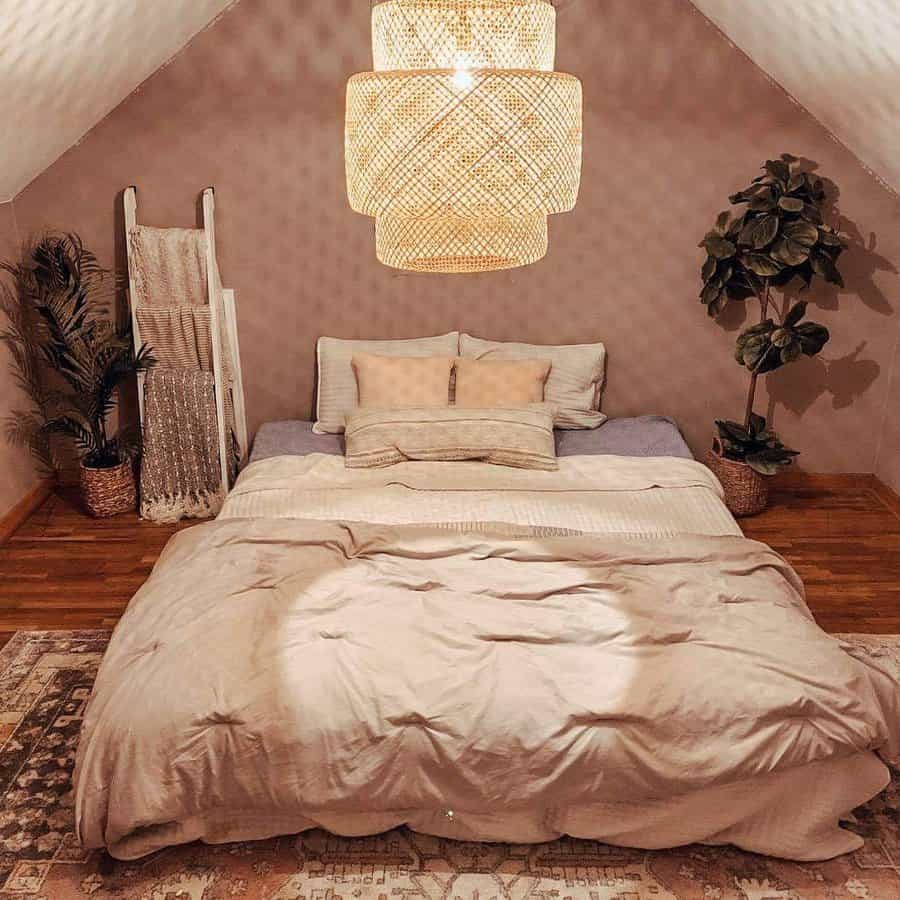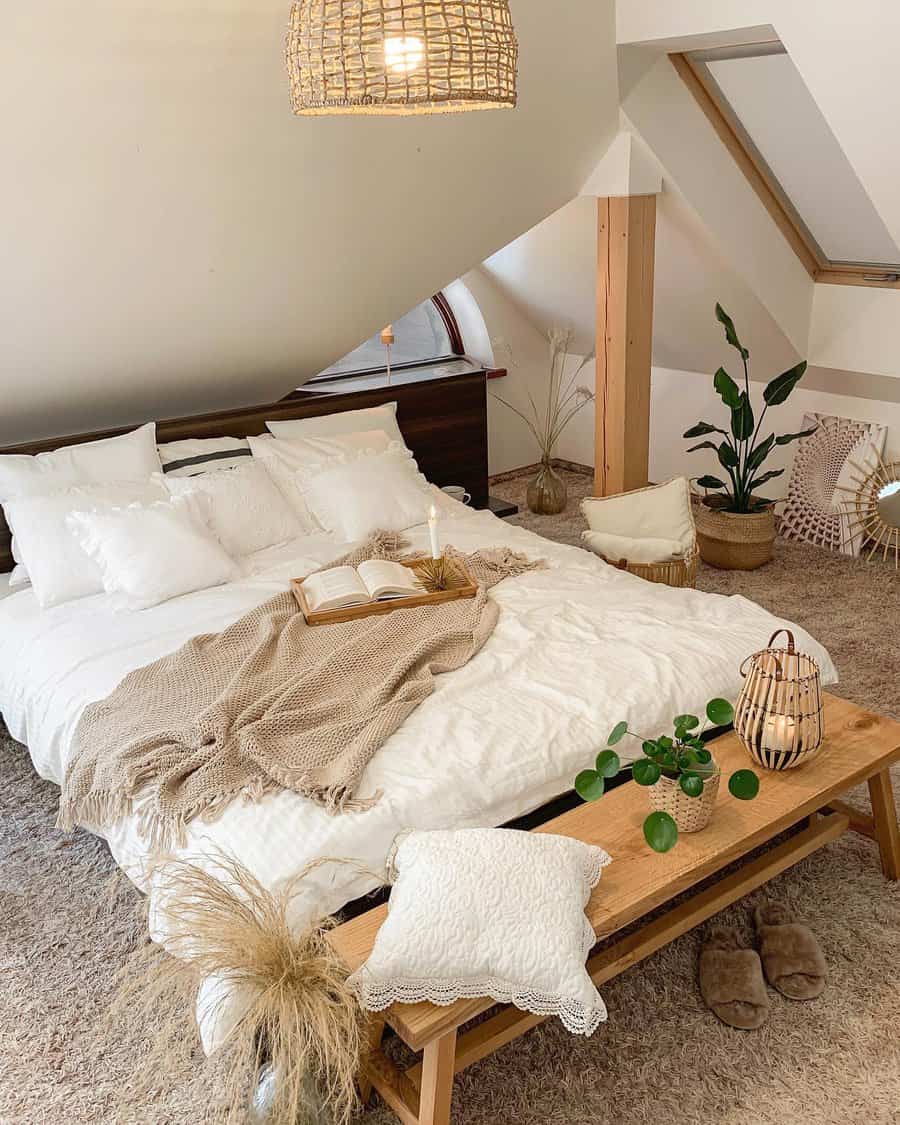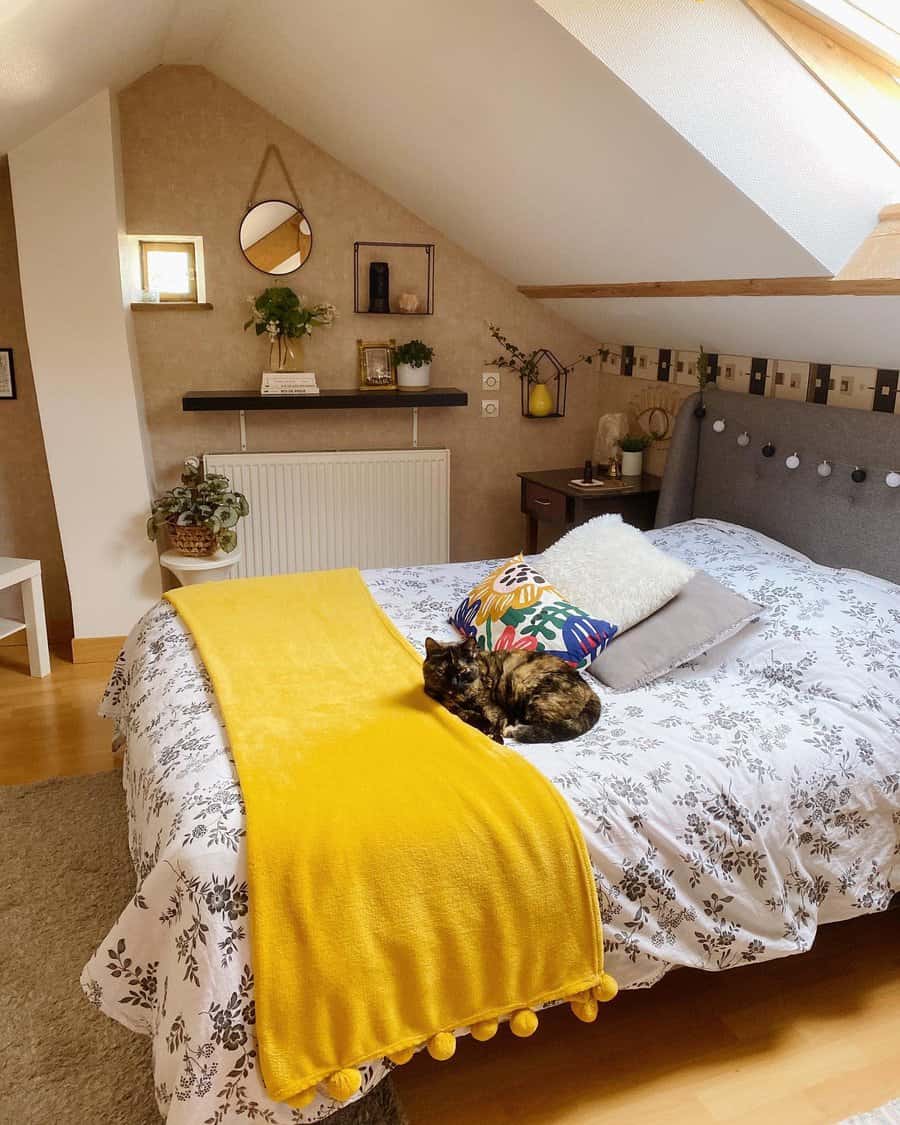 White walls are the ideal backdrop for boho design and will make the space feel larger and brighter. Complete your bedroom color palette with warm, neutral shades. You can include one or two subtle accent colors as well.
While Bohemian decor works well in small spaces, you want to emphasize the natural light in your attic bedroom as much as possible. Avoid heavy drapes — semi-opaque window treatments are best — and furniture that will block your bedroom windows.
3. Masculine
Whether or not interior design is innately feminine or masculine often comes down to the tiniest details. One of the best ways to give your attic bedroom a masculine touch is with a cool, monochromatic color scheme.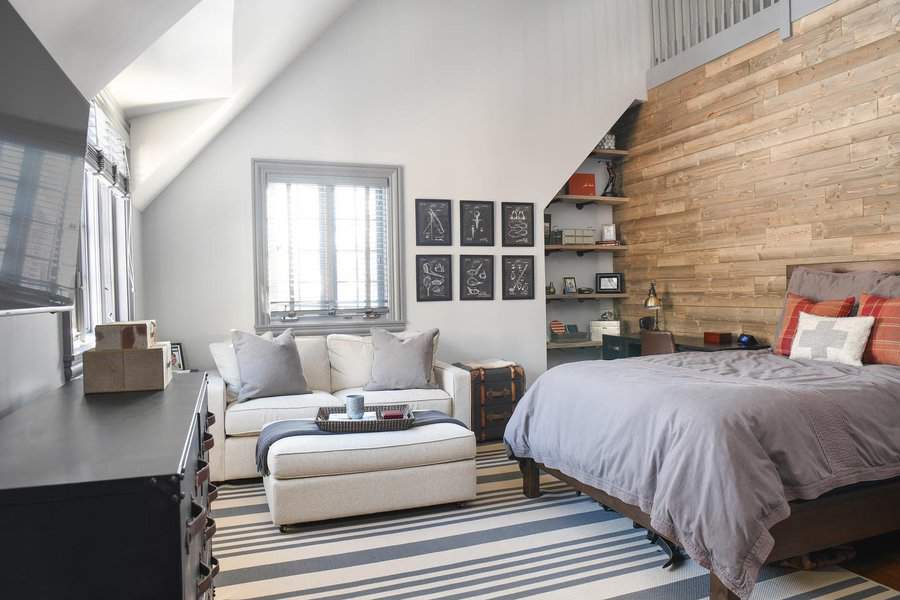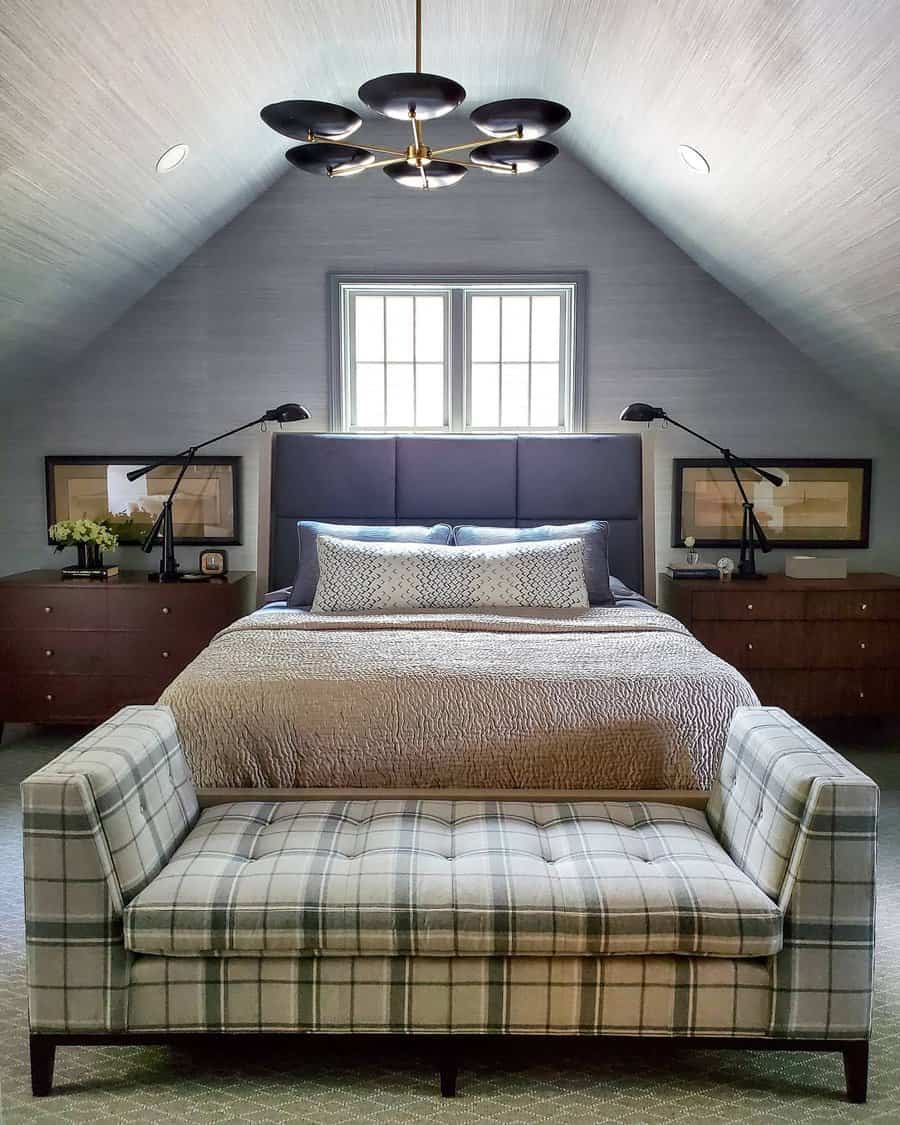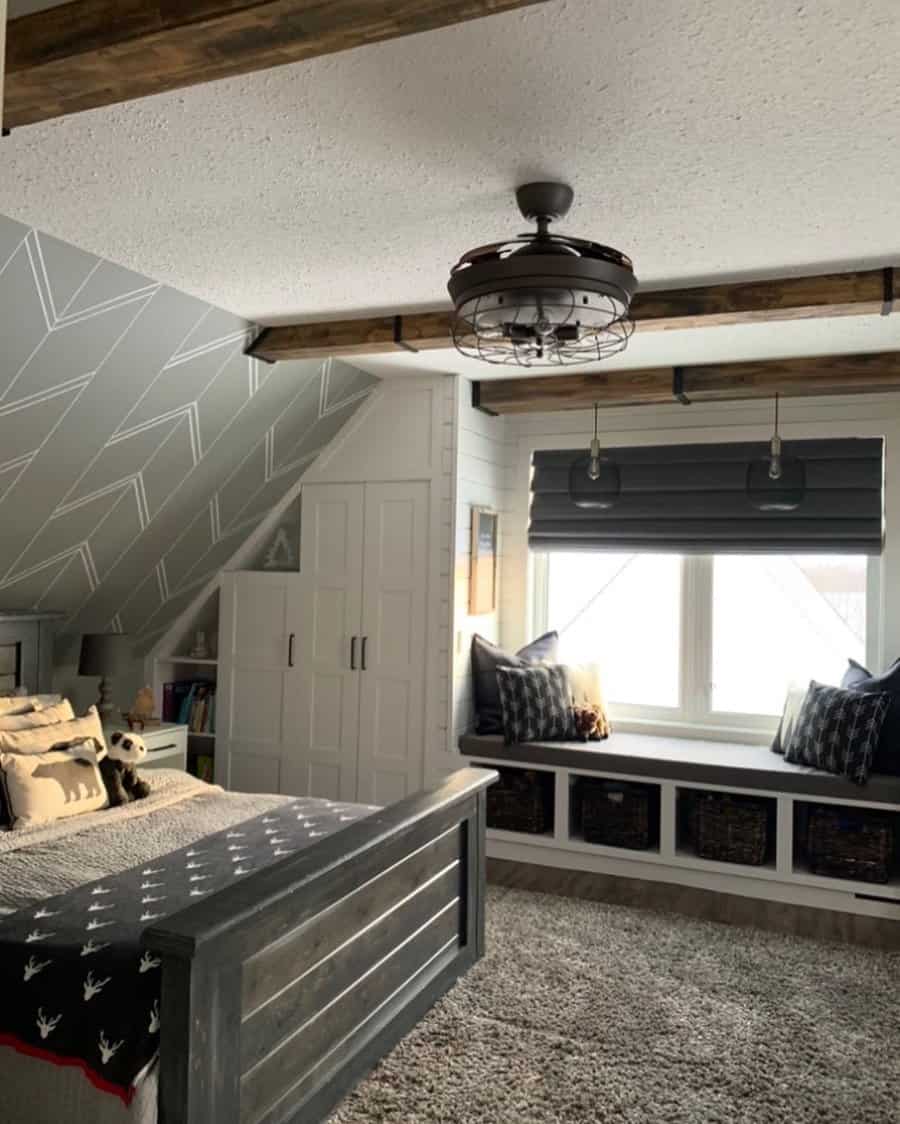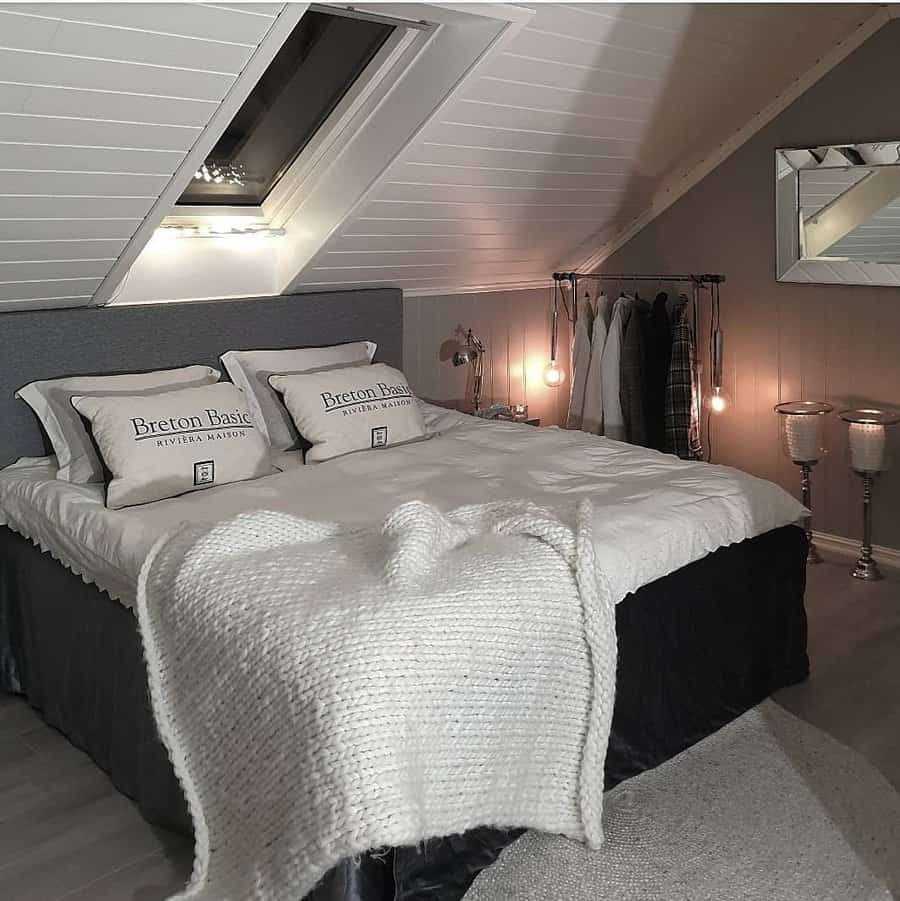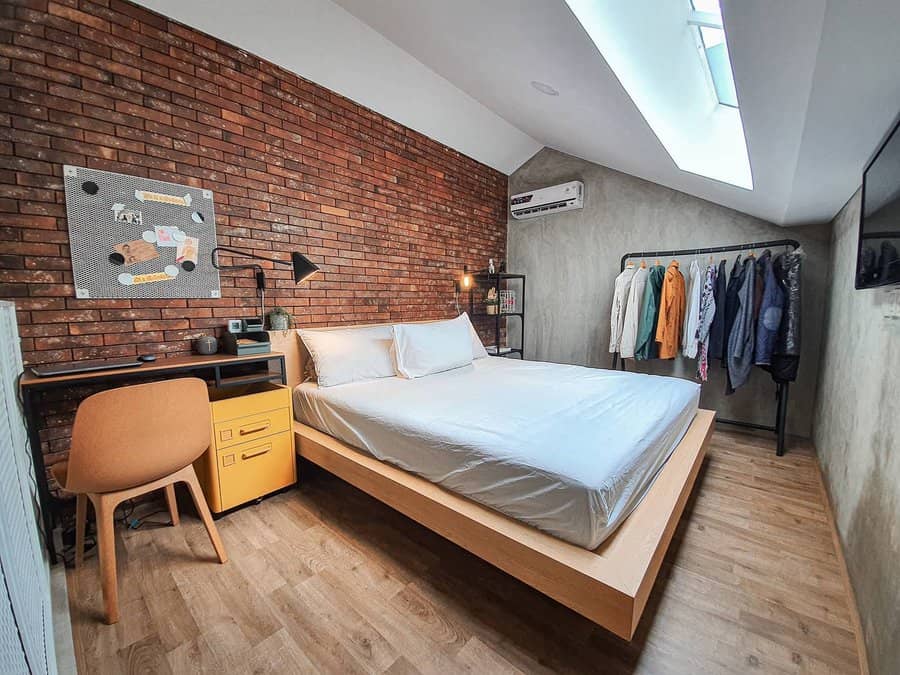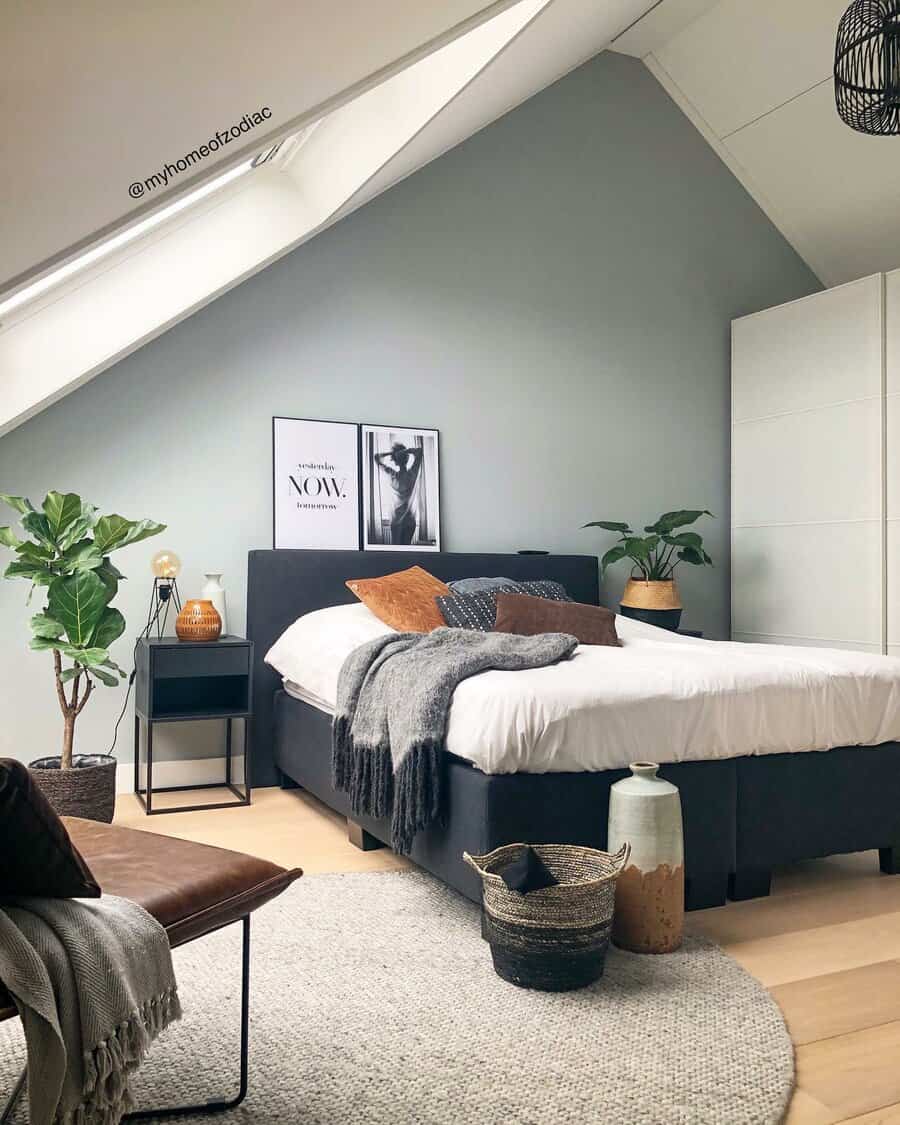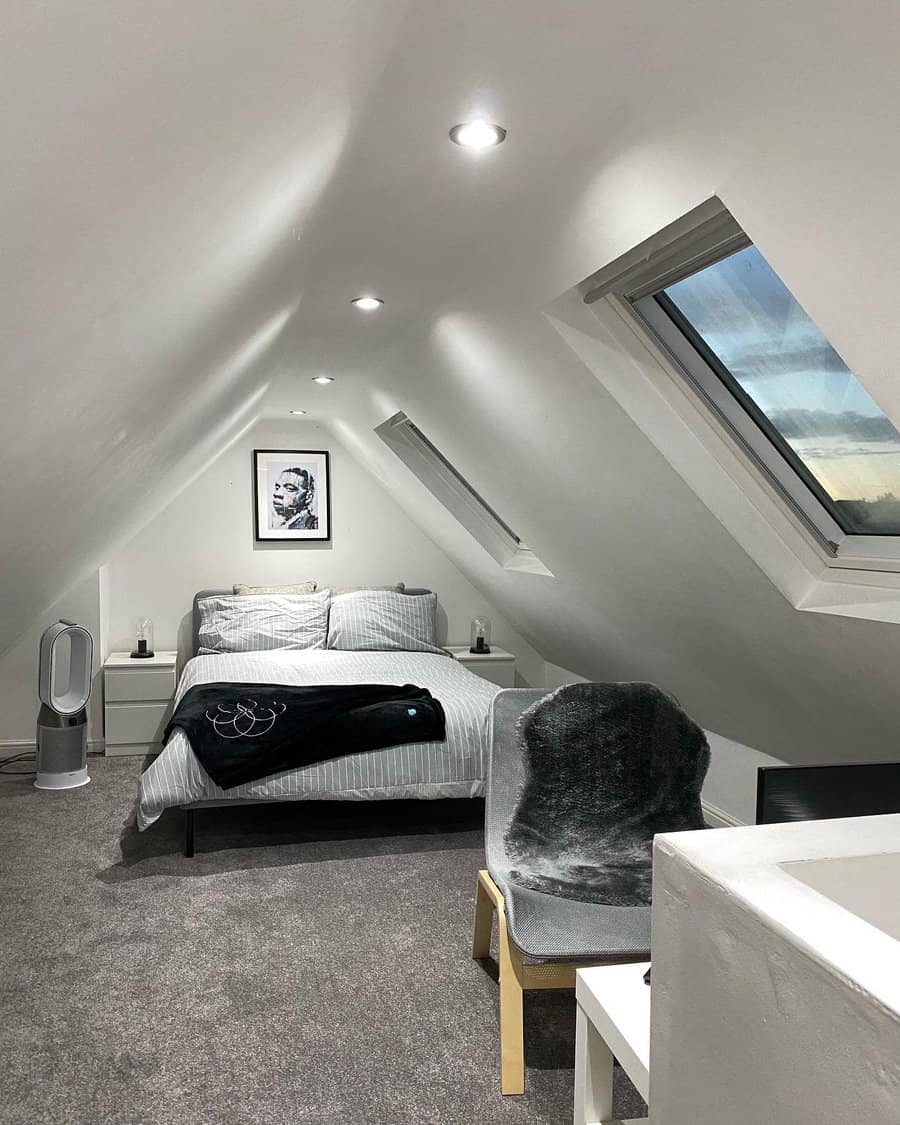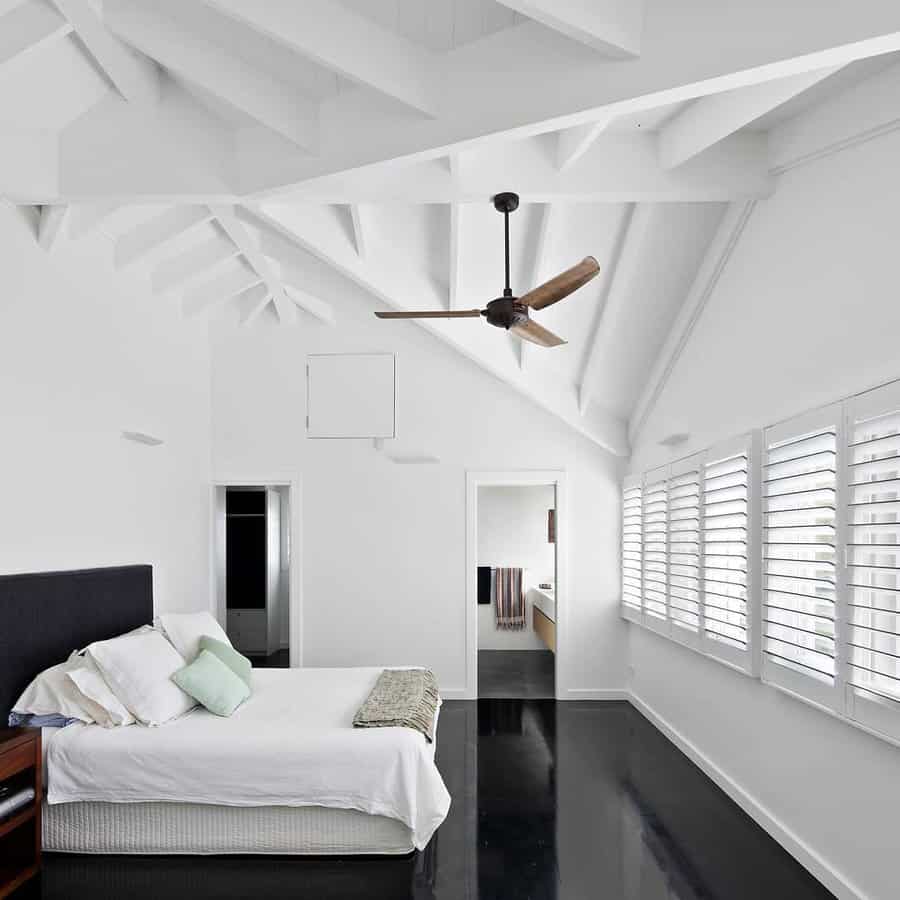 Industrial elements like brick walls or exposed ductwork can give your attic bedroom a mature, masculine aesthetic. If your home lacks these architectural features, consider adding your own with industrial-style light fixtures or wall art.
Don't make the mistake of omitting decorative items from your bedroom design entirely. Potted plants, framed posters, and accent furniture are all effective choices from a masculine-leaning space.
4. DIY
Converting an existing attic into a bedroom can be a big project. So when it comes time to fill the space with furniture and decor, you might be (understandably!) tempted to save a few bucks with DIY interior design.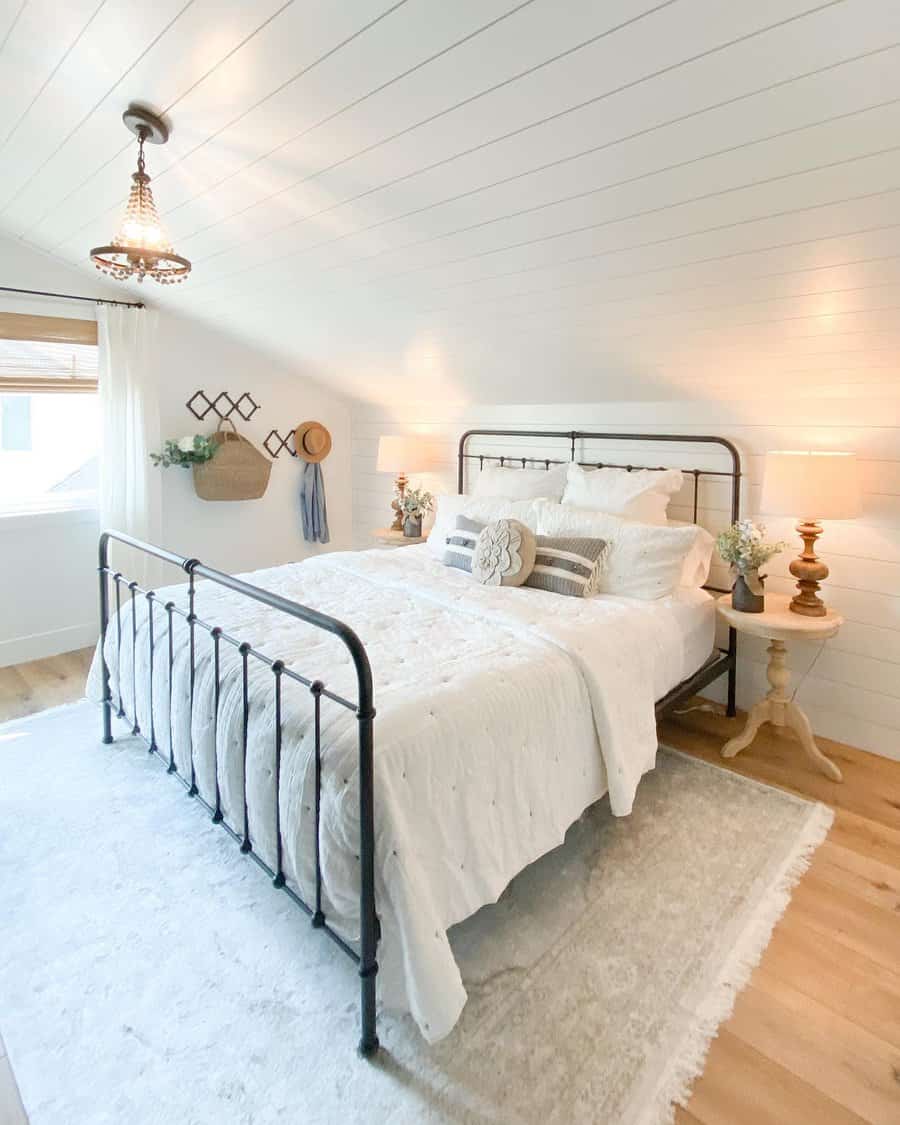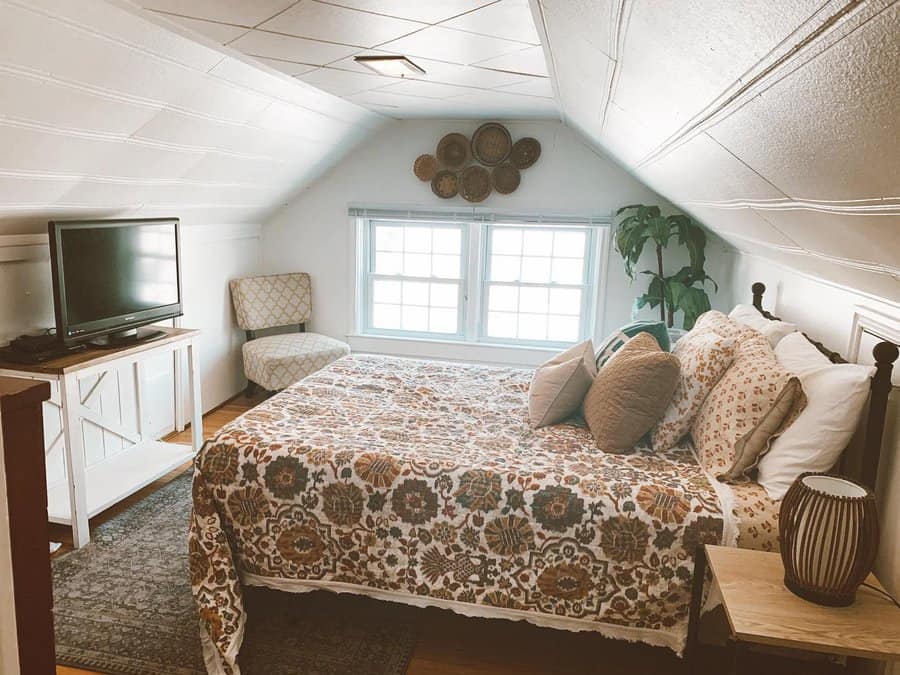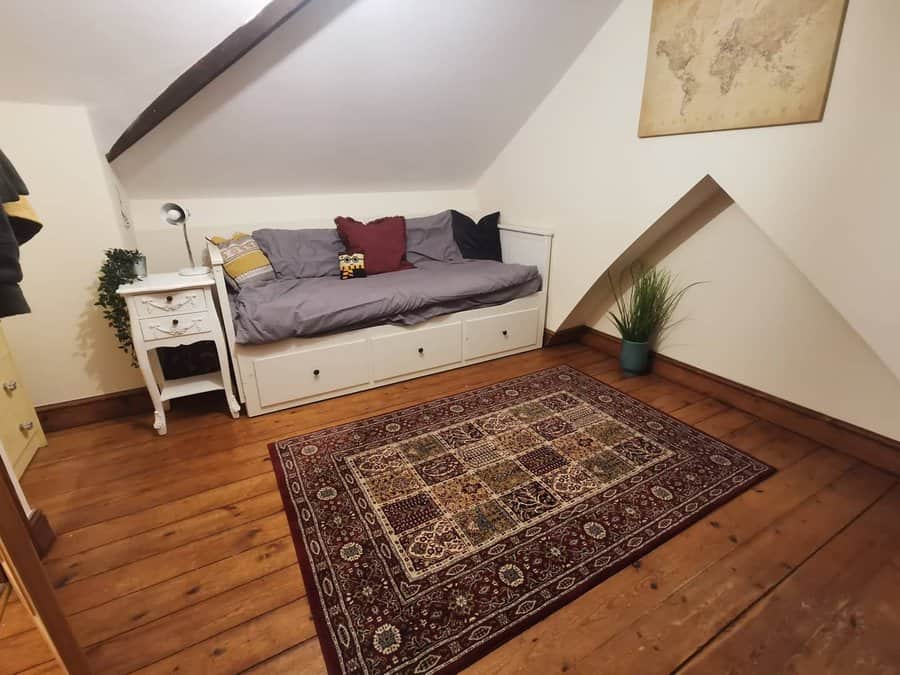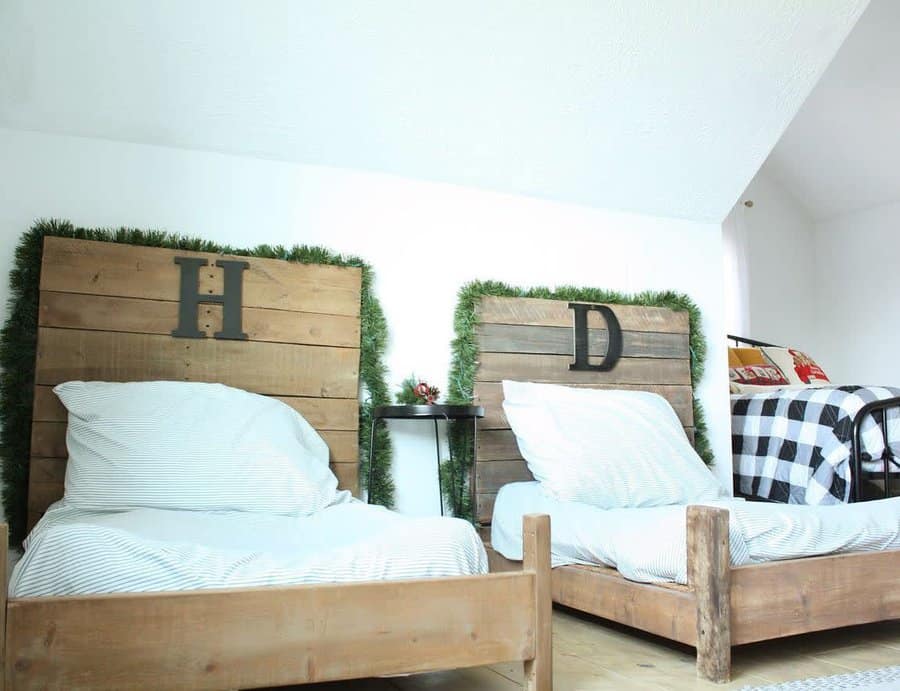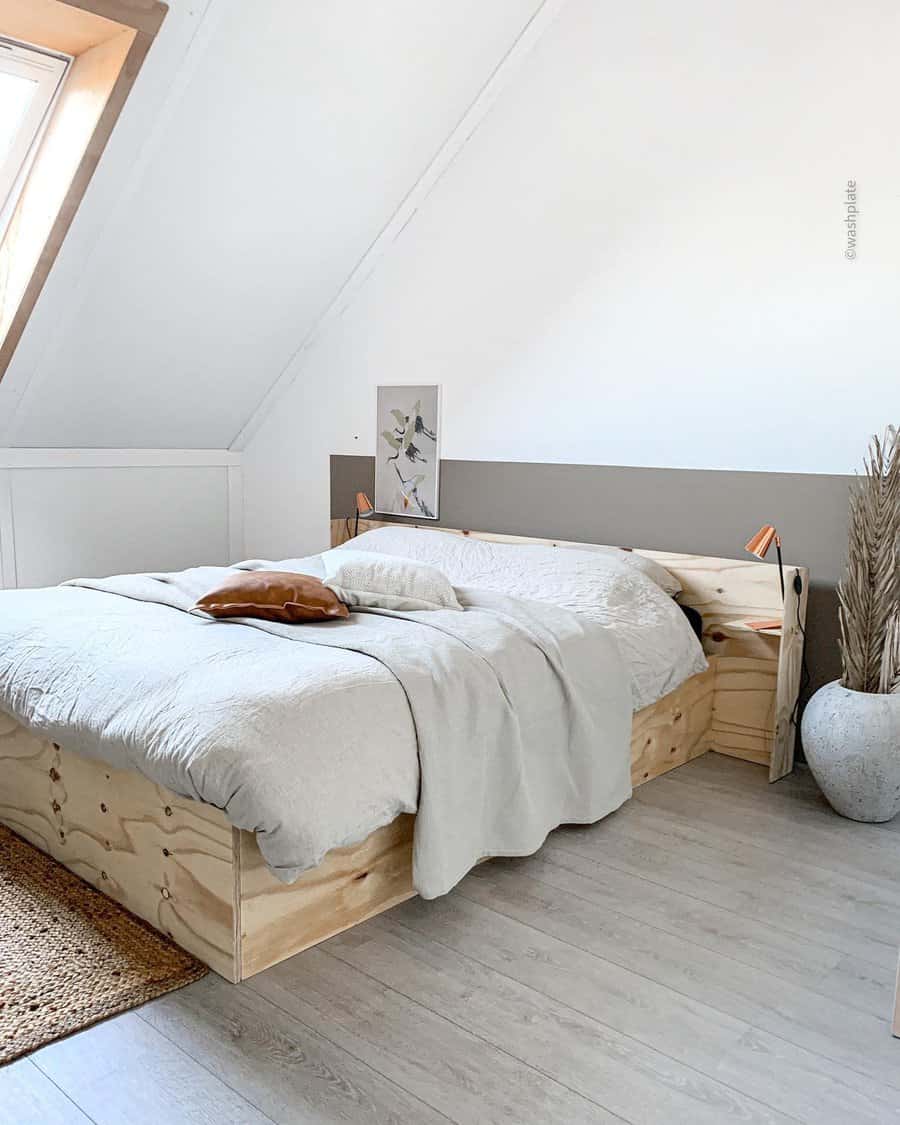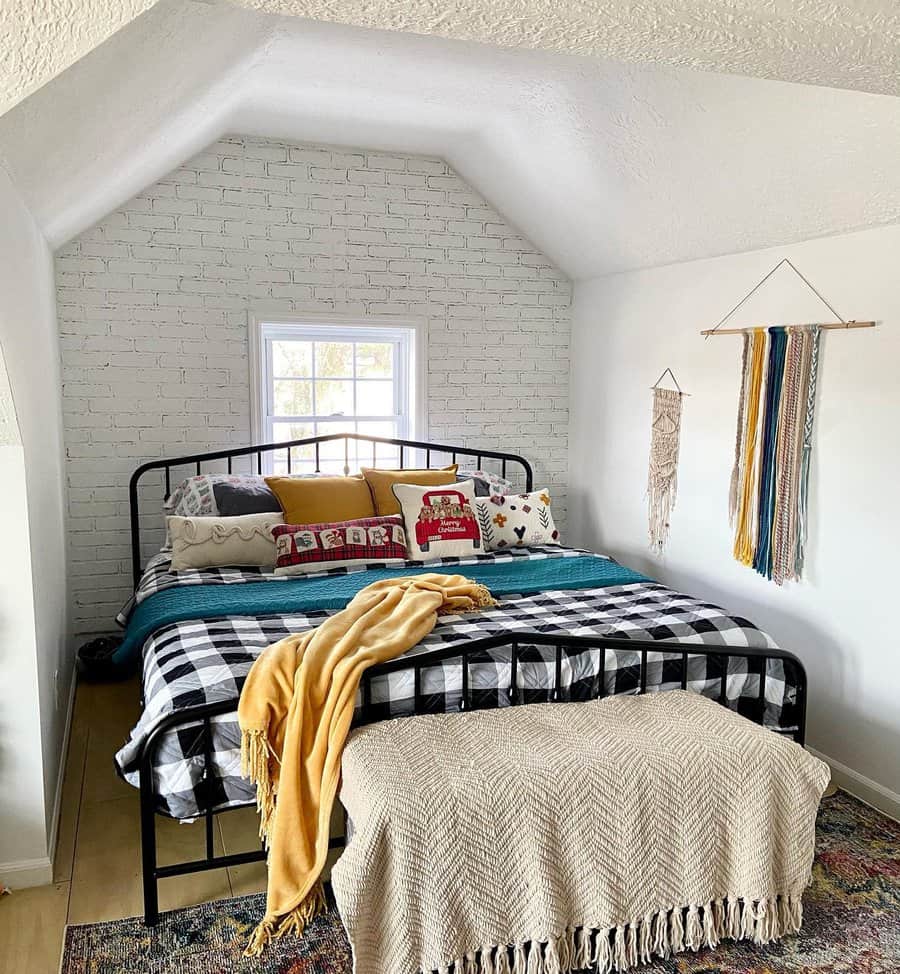 Fortunately, decorating an attic or loft does not need to be significantly different from any other bedroom. There's a good chance you'll be able to repurpose items from around the house to adorn the space.
Lighting is one thing you'll want to prioritize in your new room design. Hanging string lights can transform any space into a cozy nook without drilling any holes. You can also mount battery-operated wall sconces to supplement the room's ceiling light.
5. Feminine
Just like creating a masculine room is about the smallest details, designing a feminine-leaning attic bedroom is about far more than florals and lace. (But there's nothing wrong with using these elements in your own bedroom design!)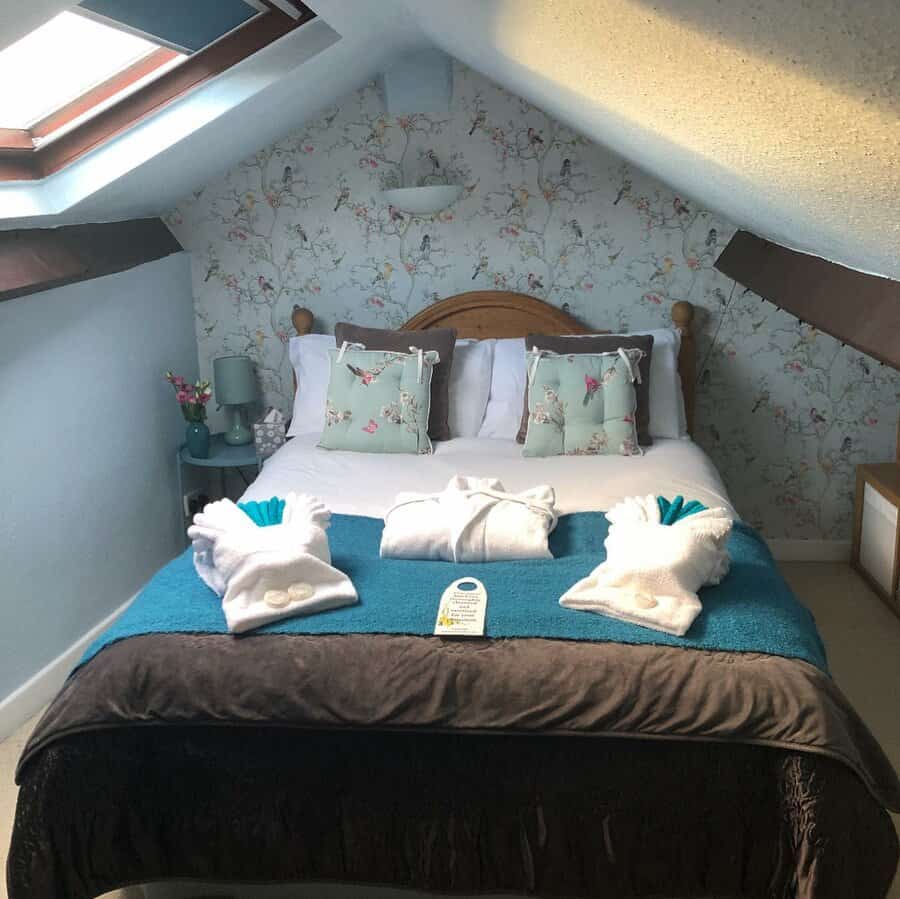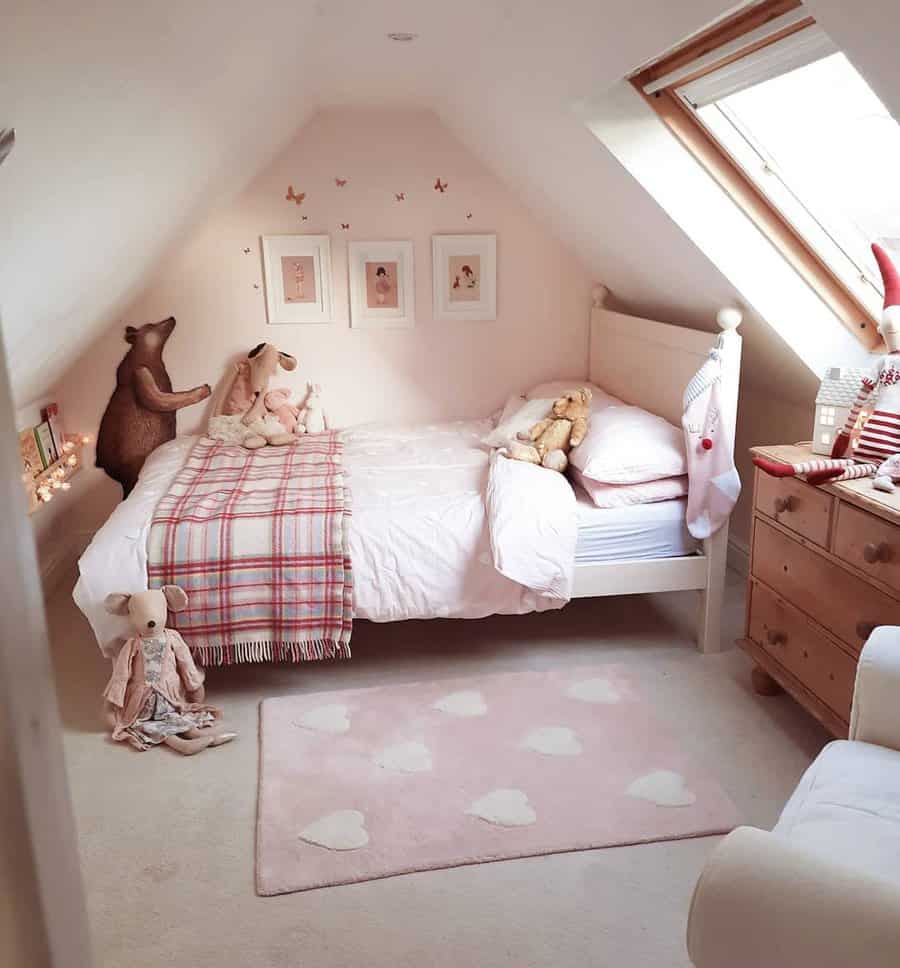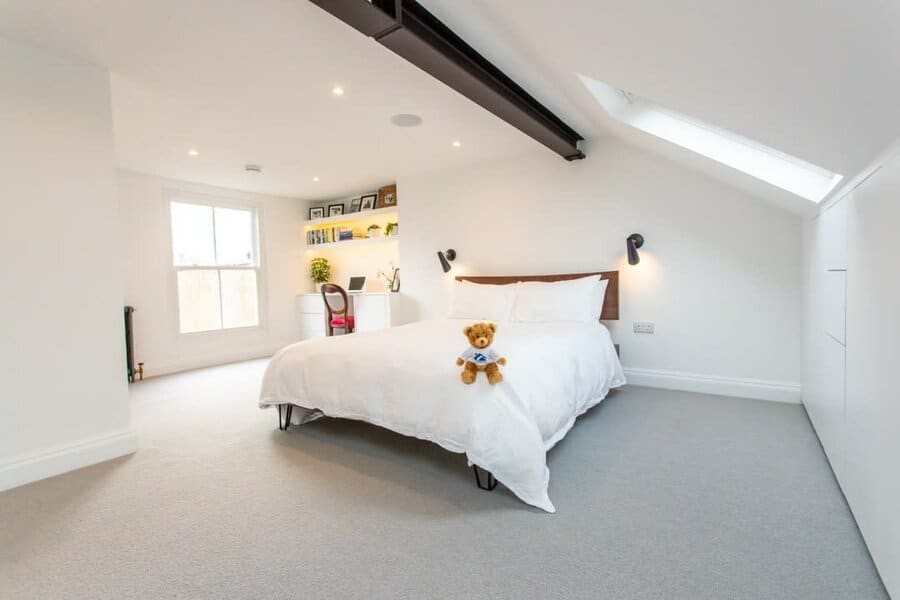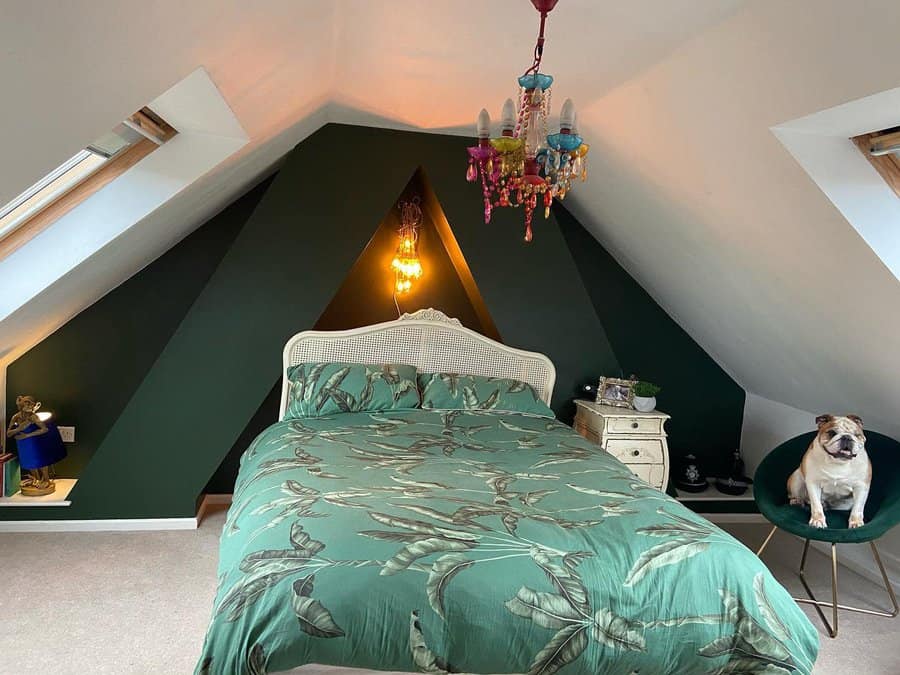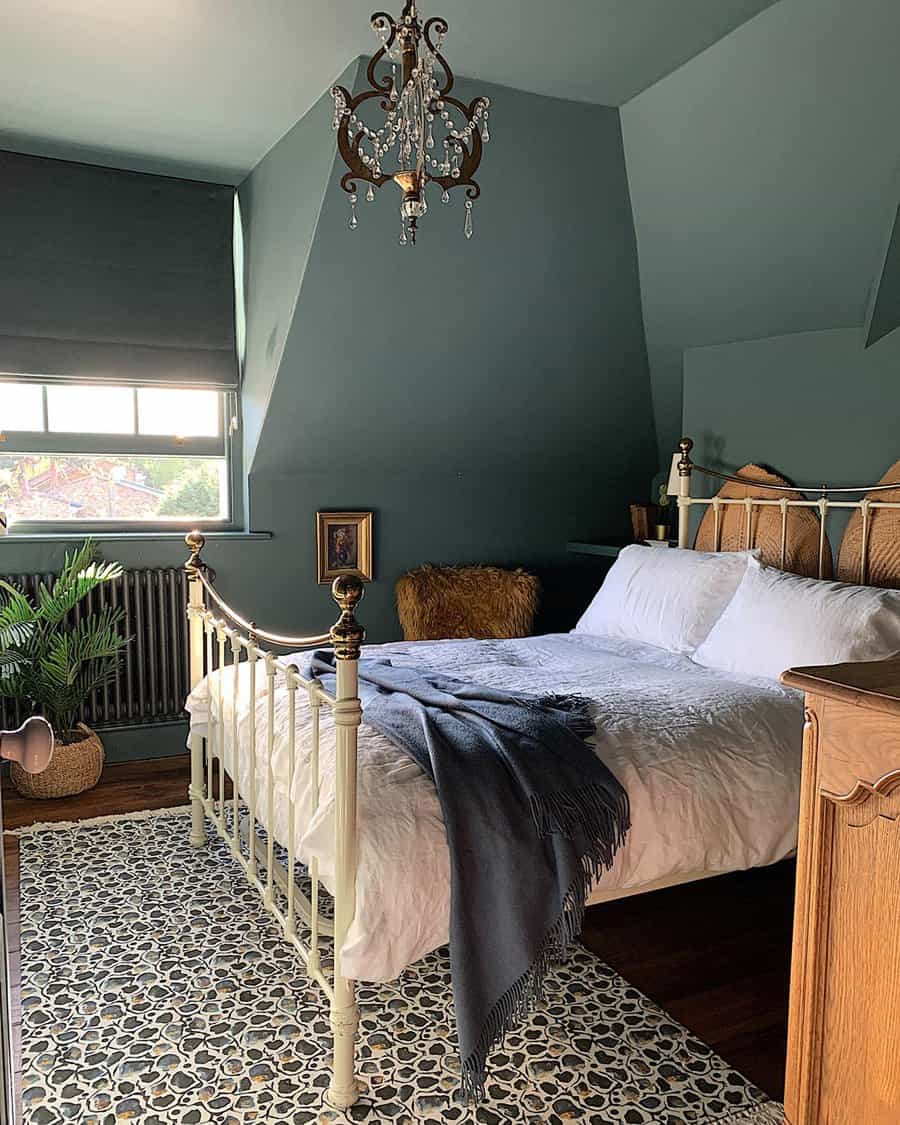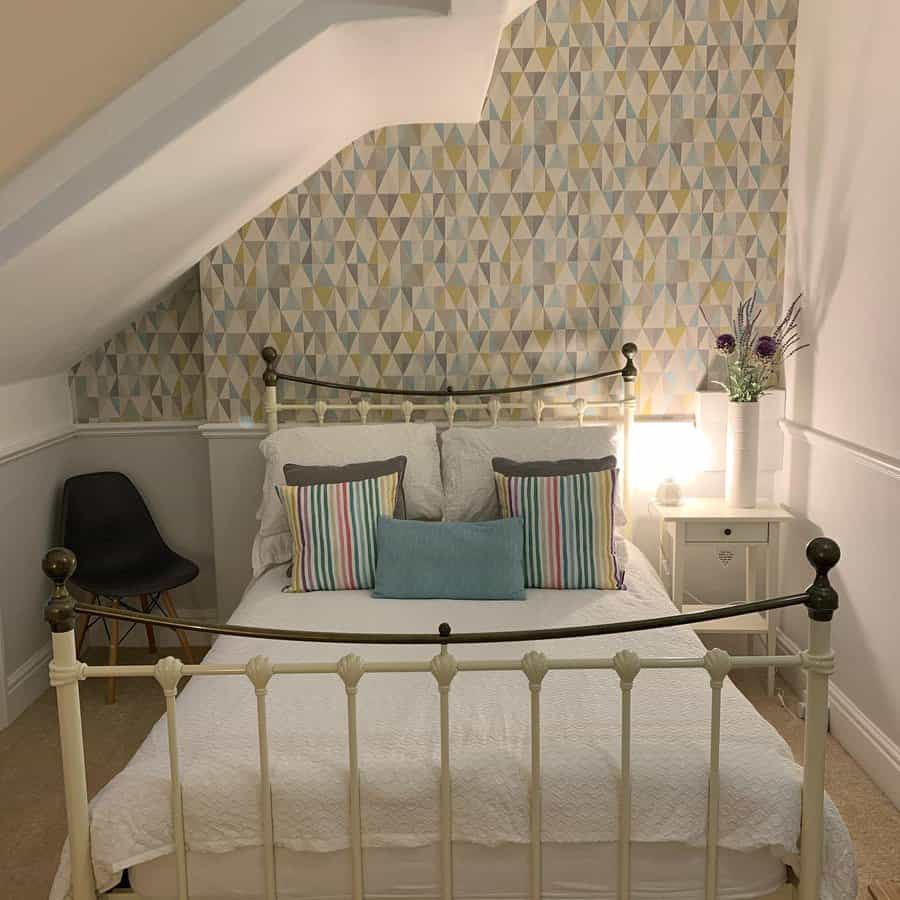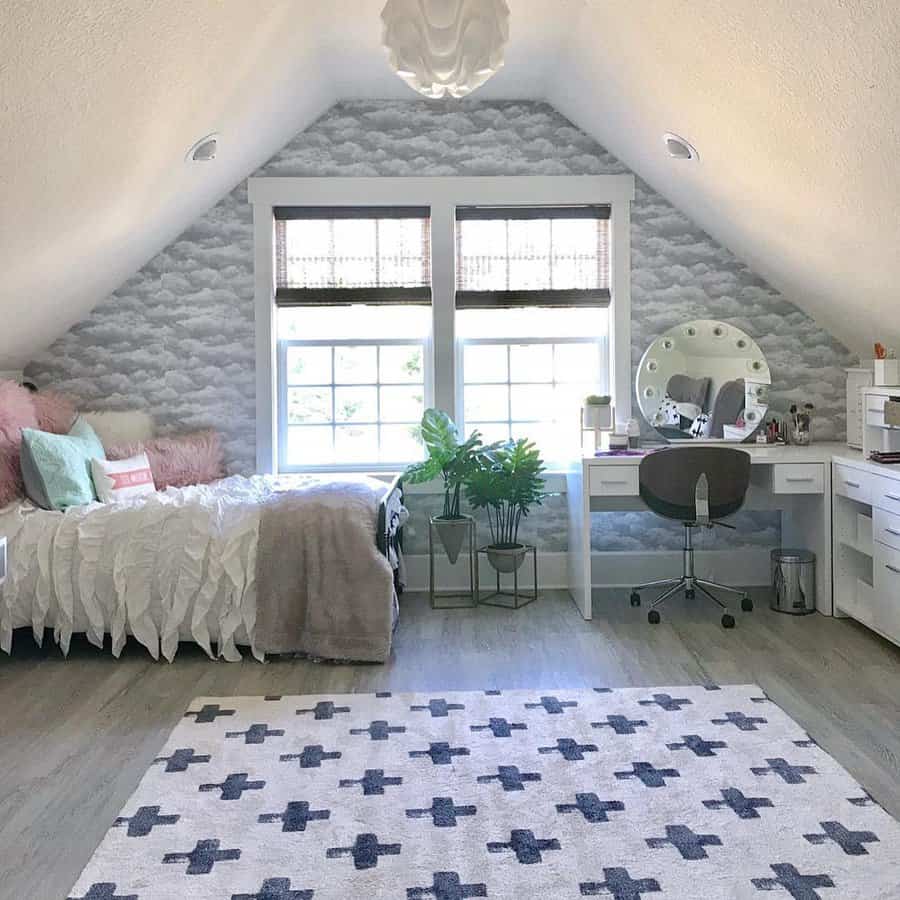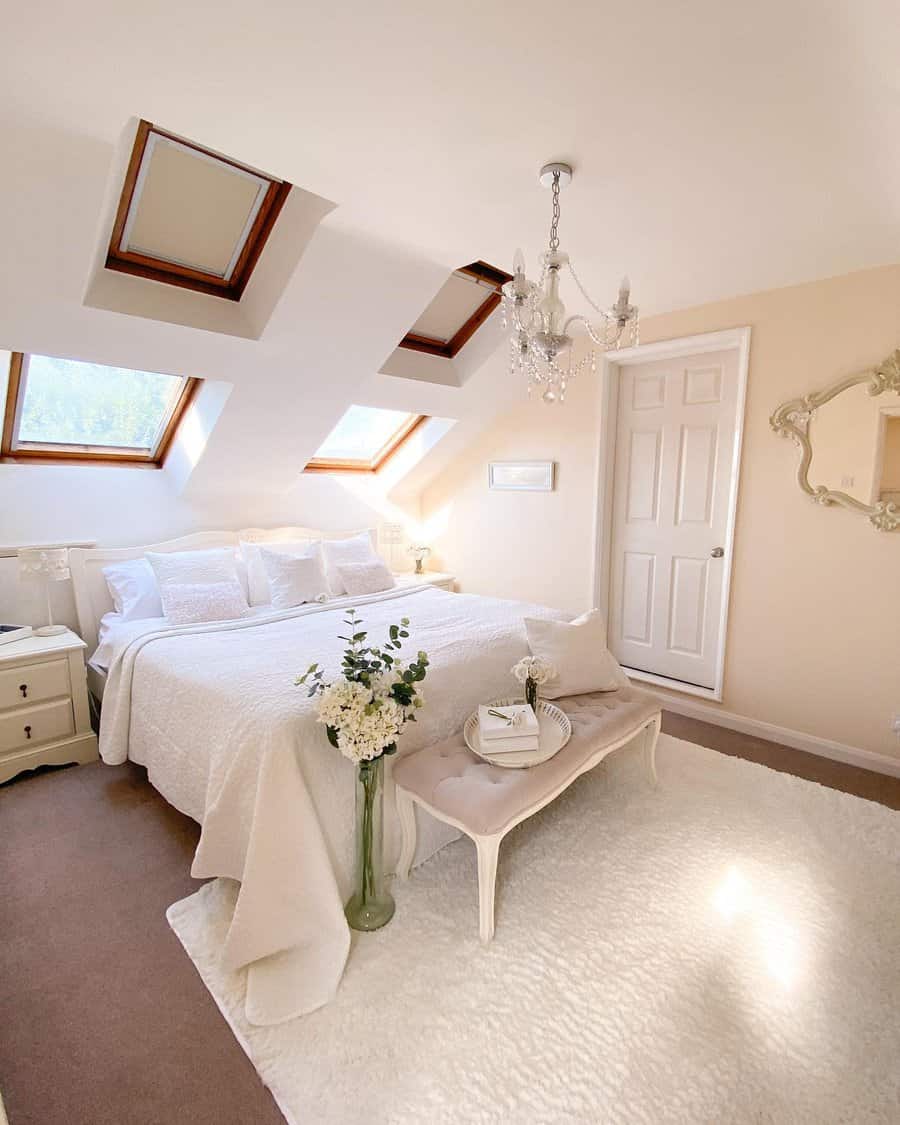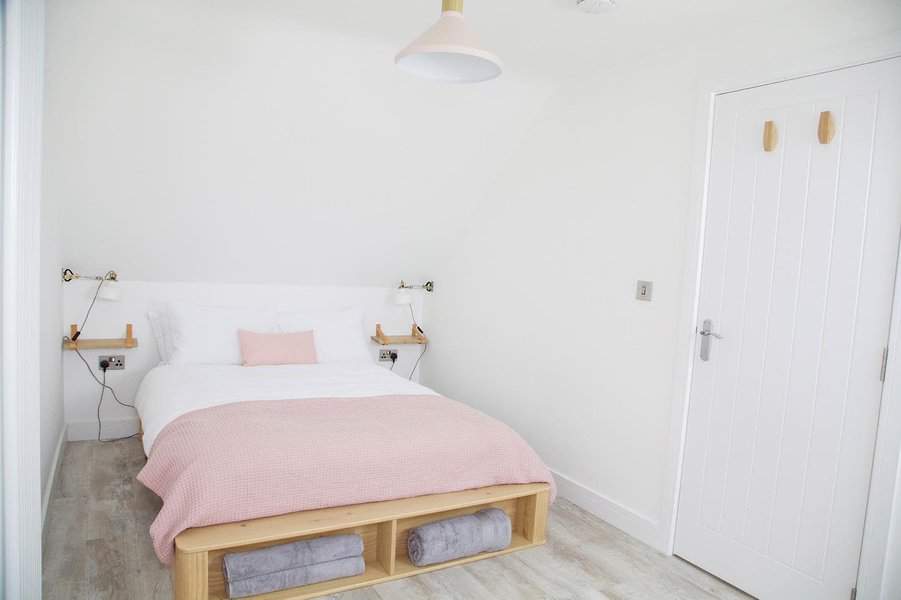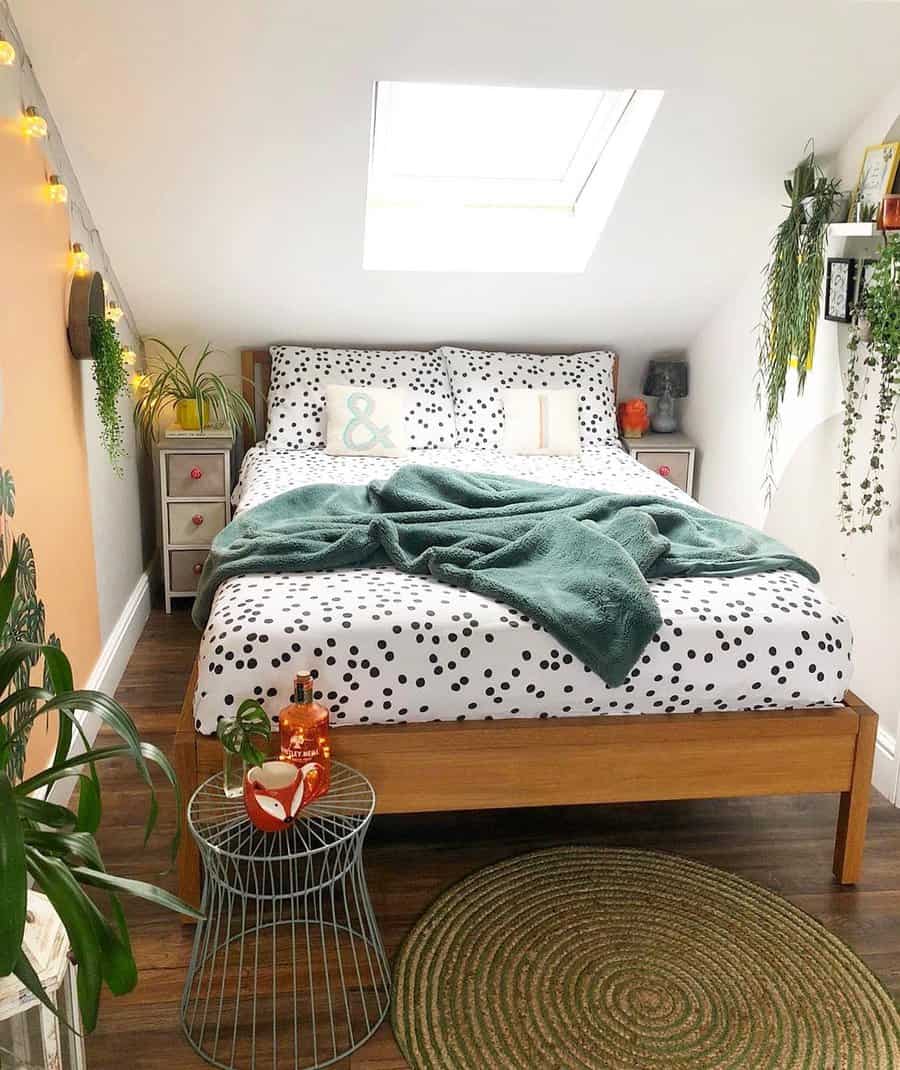 If a cool-toned color scheme creates a more masculine atmosphere, then it only makes sense that bright, warm tones will come off more feminine. Pair these shades with textured fabrics like velvet, linen, or chunky knits.
Of course, pink is not your only option! Blues, lavenders, greens, and even neutrals can all be used in feminine-inspired design. Be sure to include white surfaces within your attic room to maintain a bright and airy feel.
6. Kids
If you have a large family or are just trying to make the most of a tight space, converting the attic into a functional bedroom just makes sense. And it doesn't hurt that most kids view sleeping in the attic as a fun, independent adventure!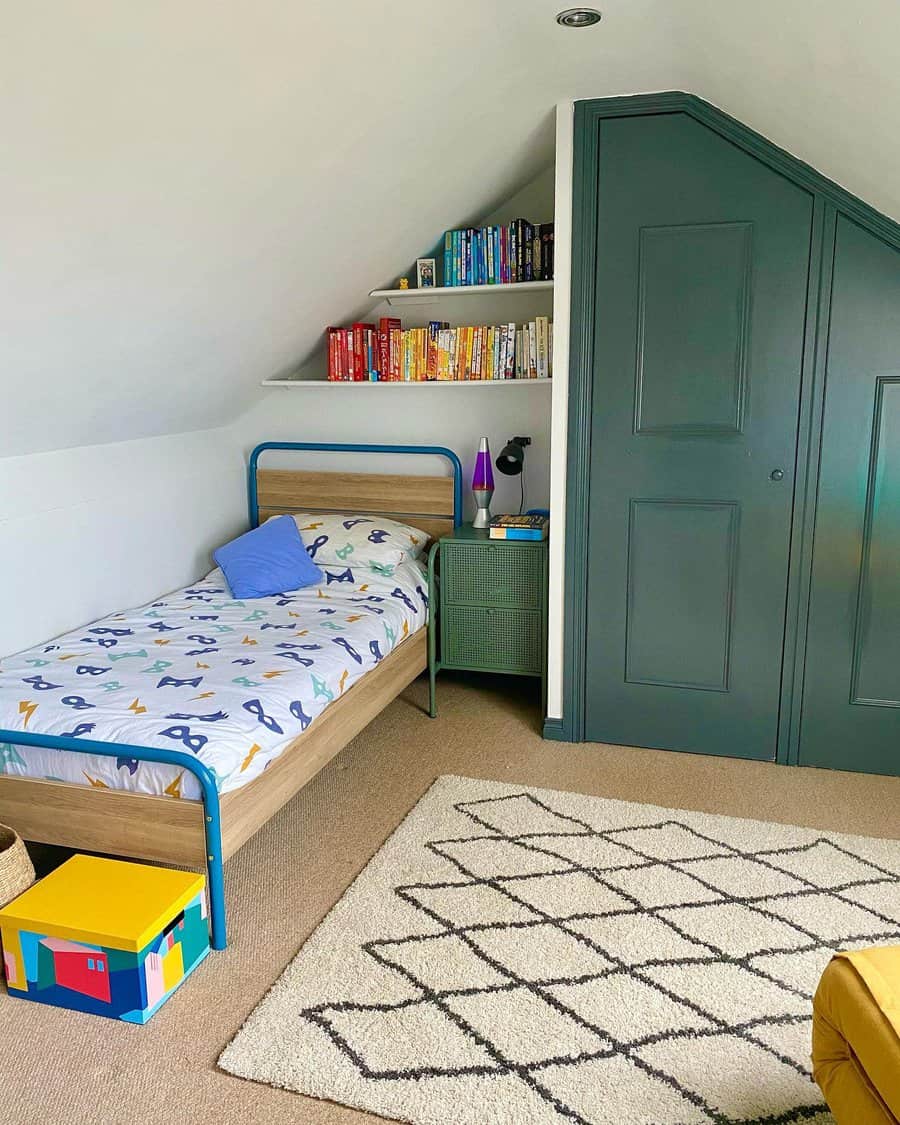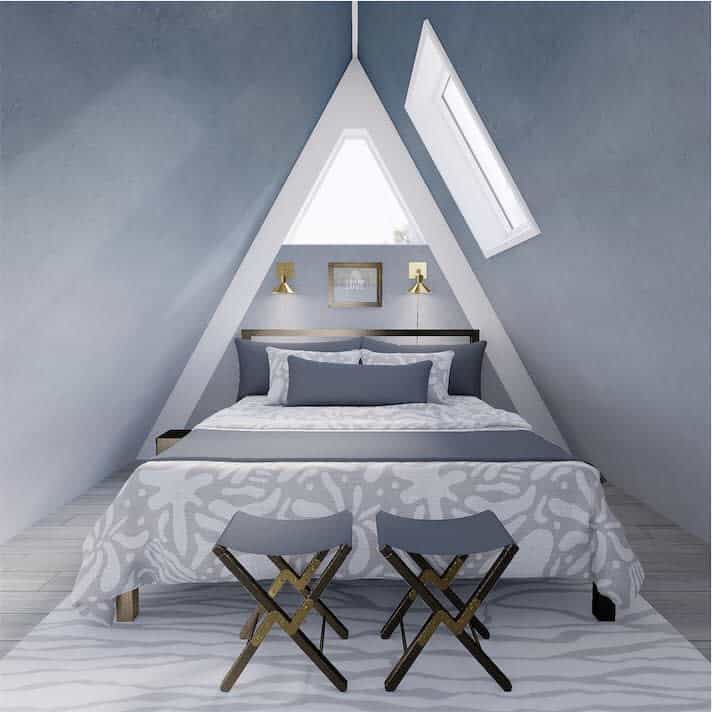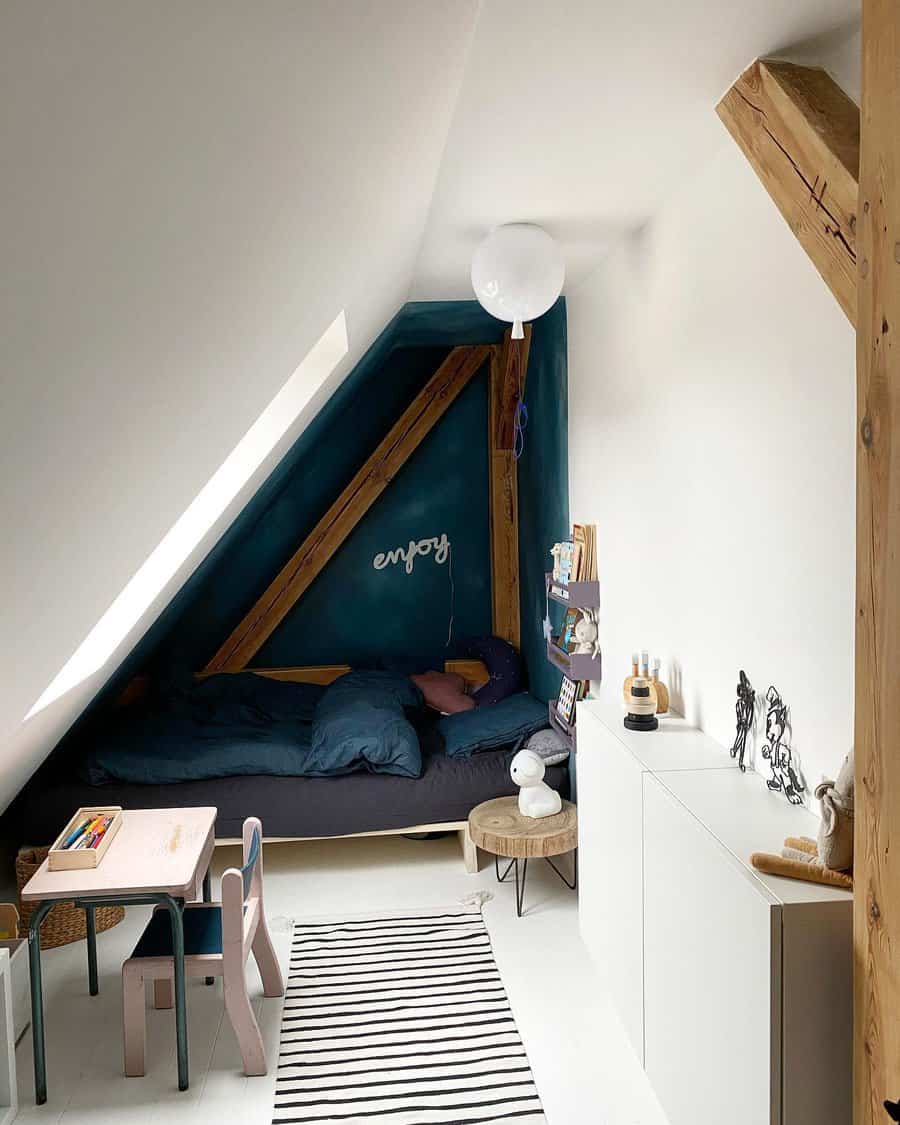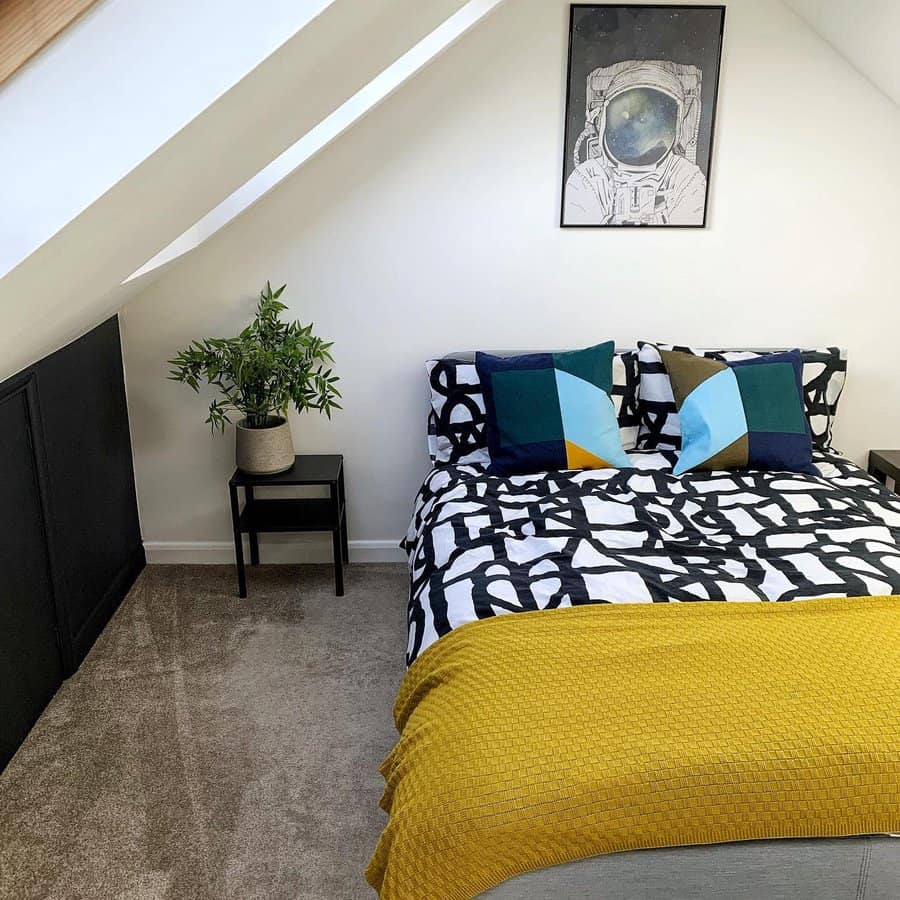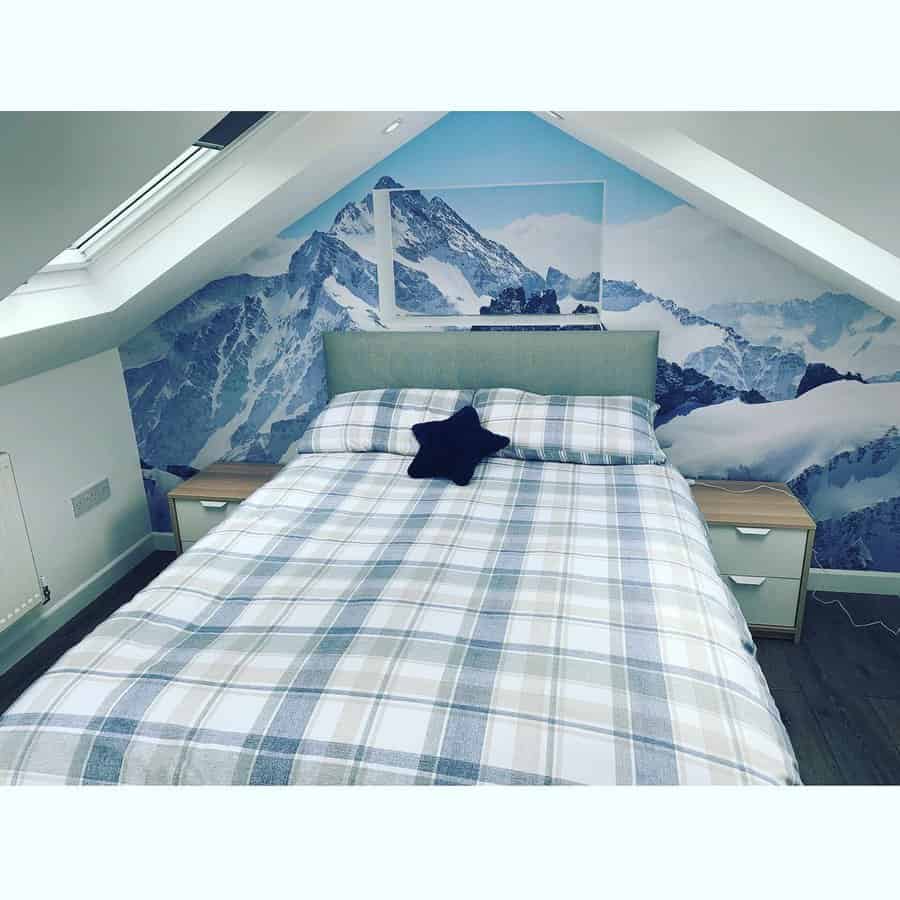 Bunk beds won't fit in many attic spaces, so be prepared to set up multiple beds. There are several creative ways to preserve floor space and provide privacy, such as building a storage area between each bed frame.
Storage is another major concern in any attic room. If building a closet isn't possible, be sure to invest in furniture that doubles as storage to hold all of your child's most cherished belongings.
7. Minimalist
Minimalism is the most obvious solution when decorating any small living space. No matter your personal aesthetic, using minimalist decor in your attic conversion will make the room feel more spacious than it really is.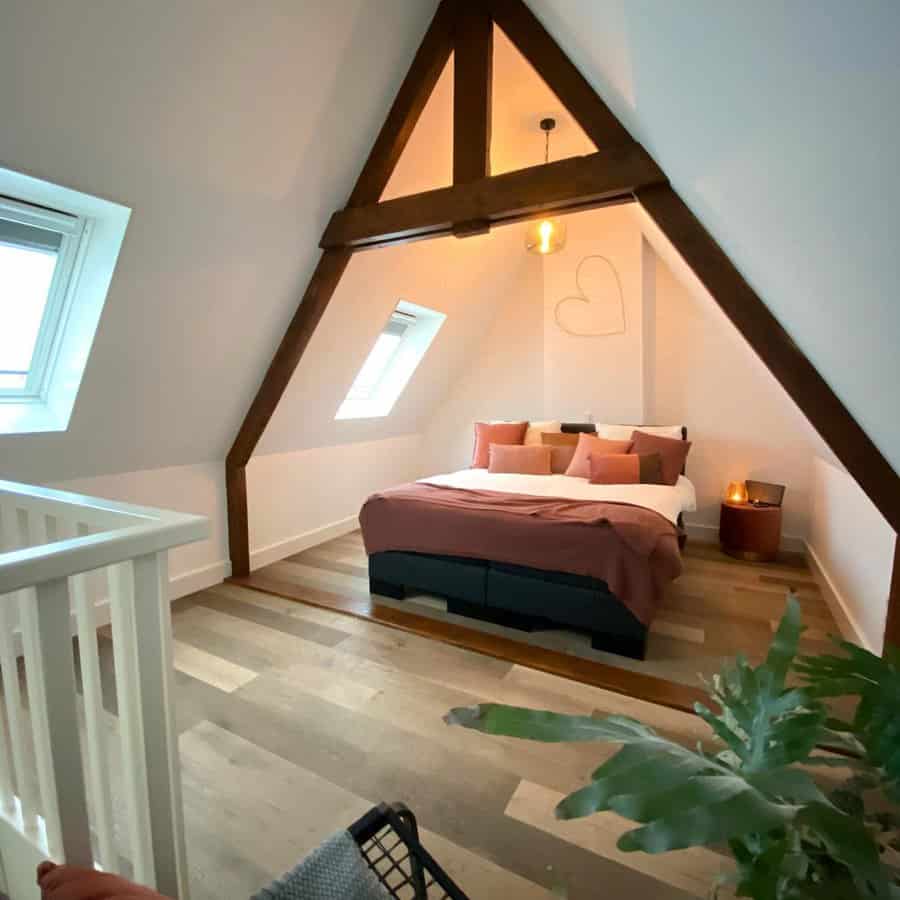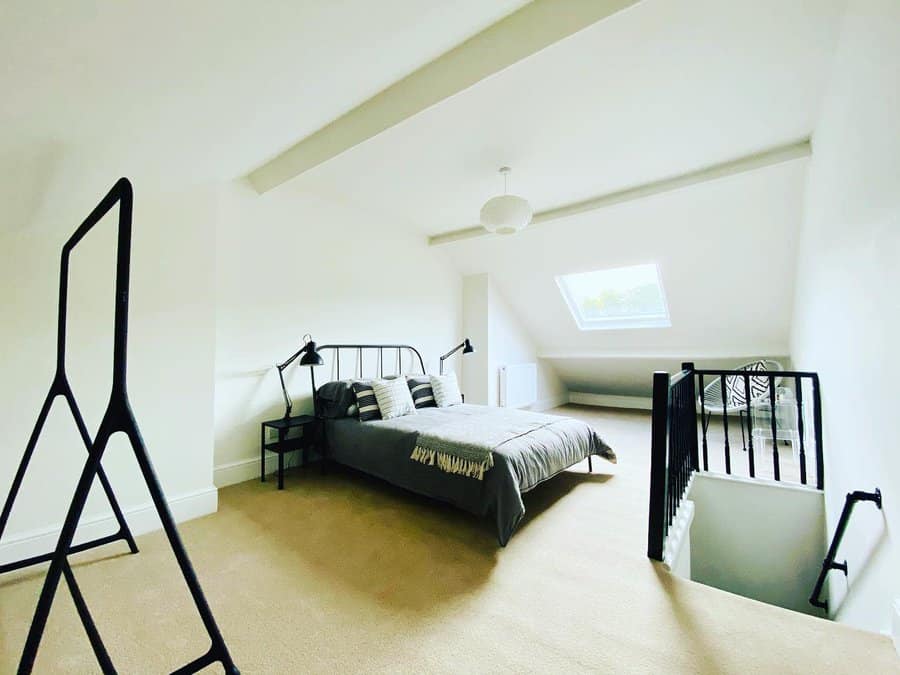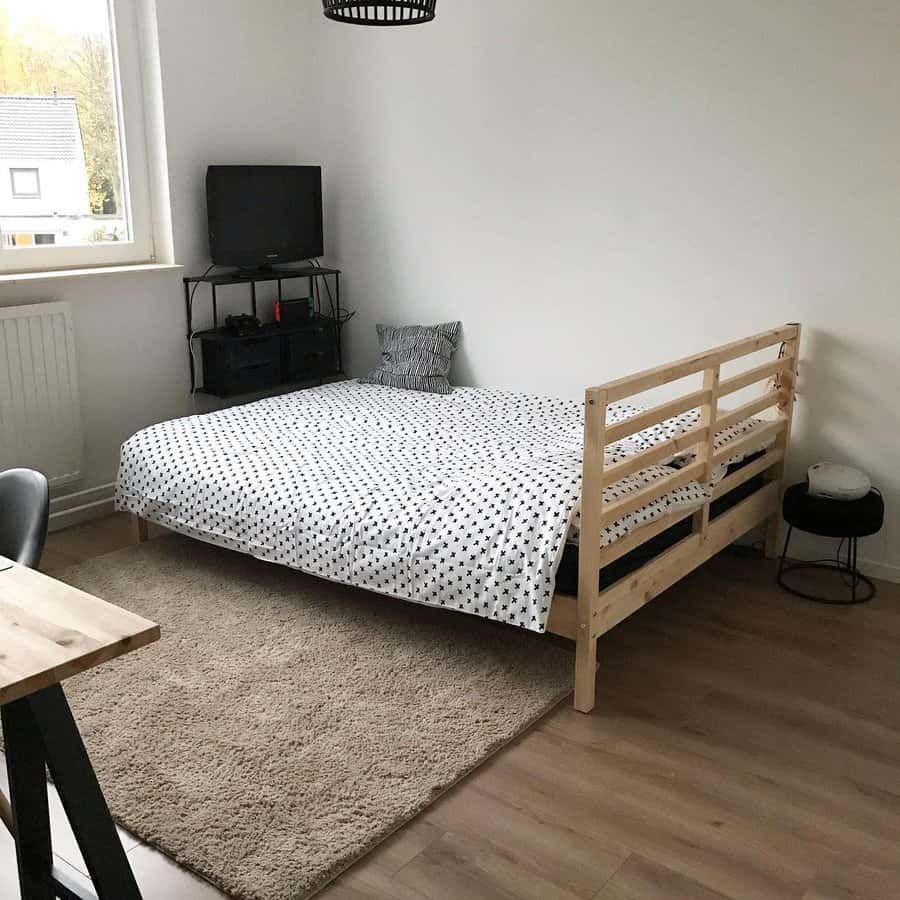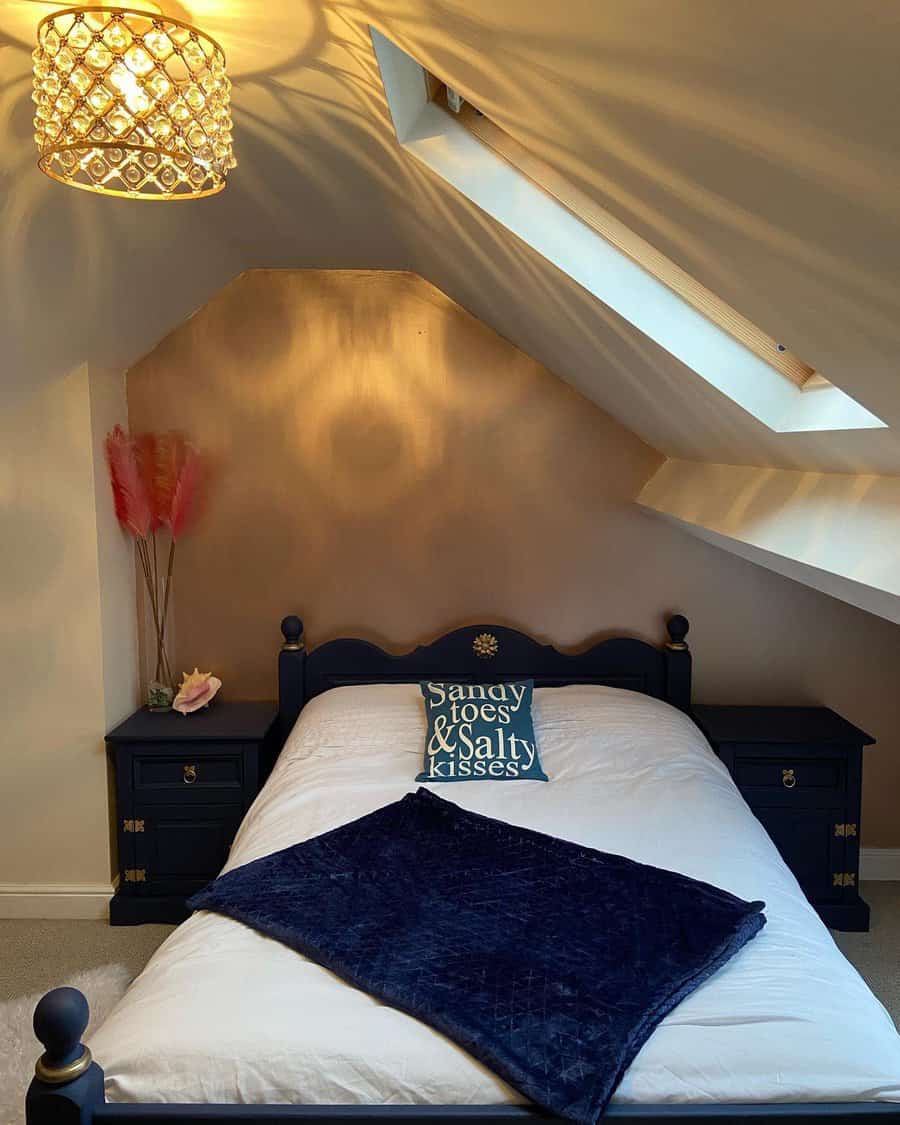 Obviously, all minimalist bedroom ideas revolve around the bed. Take the time to source the perfect bed linens for your bedroom design, as these textiles will set the tone for the rest of the space.
Keep bedside tables and other furniture clear of clutter. Decorative items should be chosen very carefully. If something doesn't bring joy or function to your bedroom, you might be better off without it!
8. Modern
Since modern design is all about prioritizing unique architectural shapes and lines, there's really no better place to utilize this decor trend than in an attic room. Chances are, your attic space already includes some interesting angles.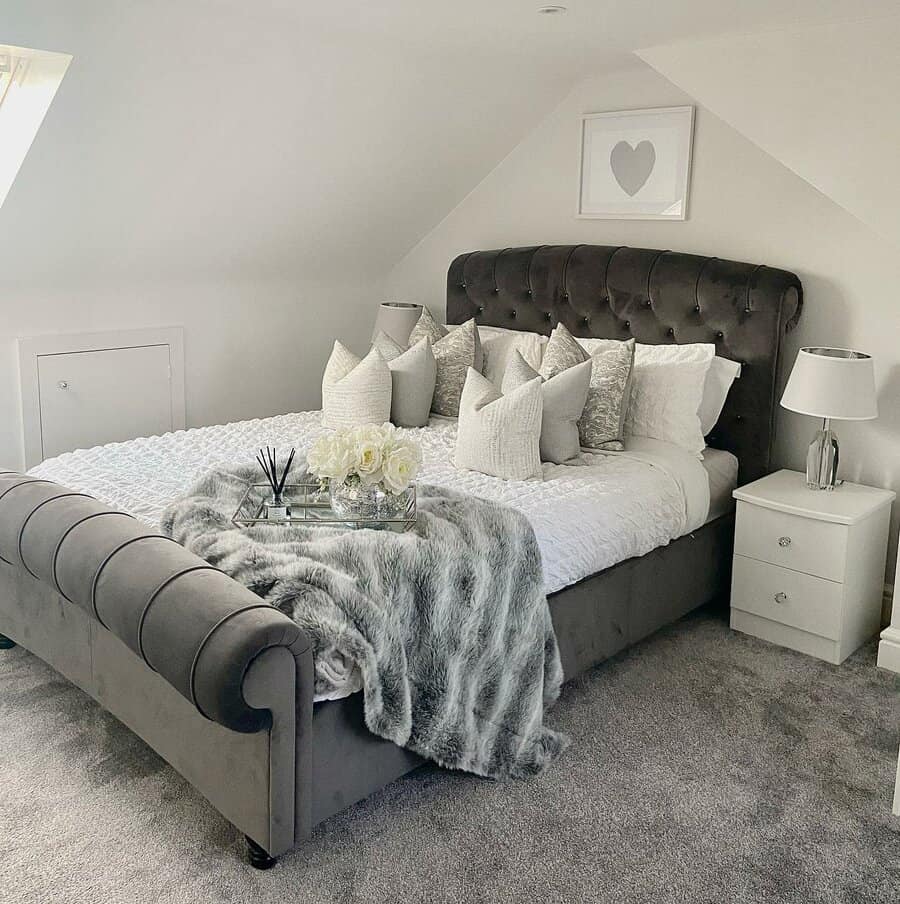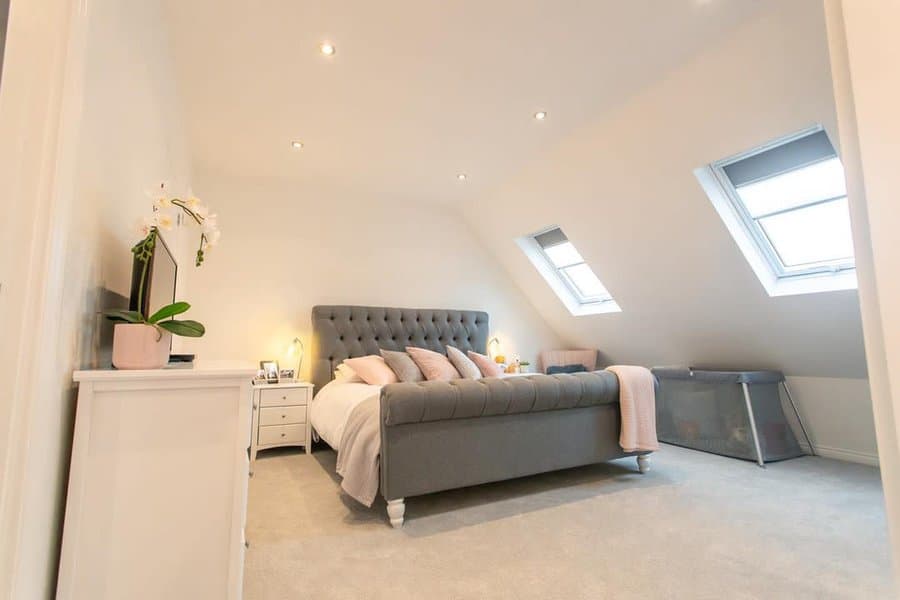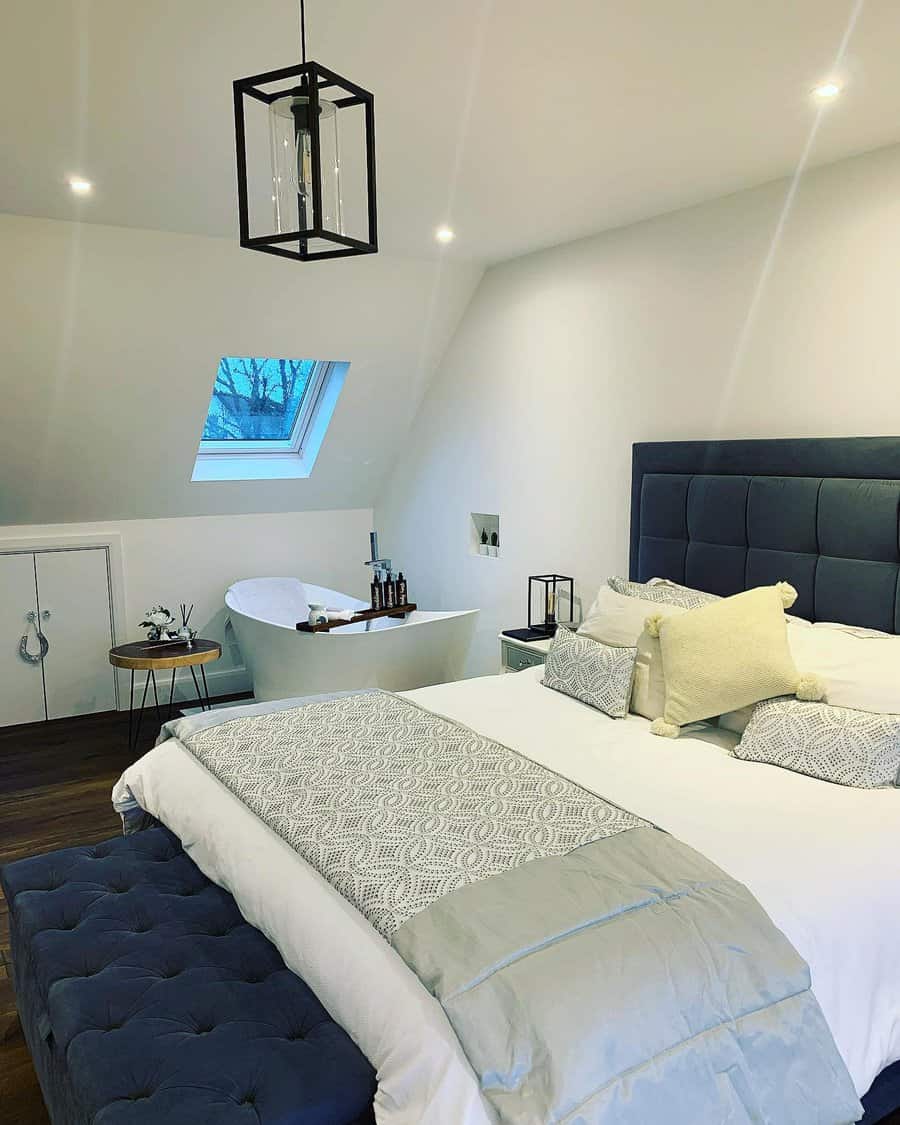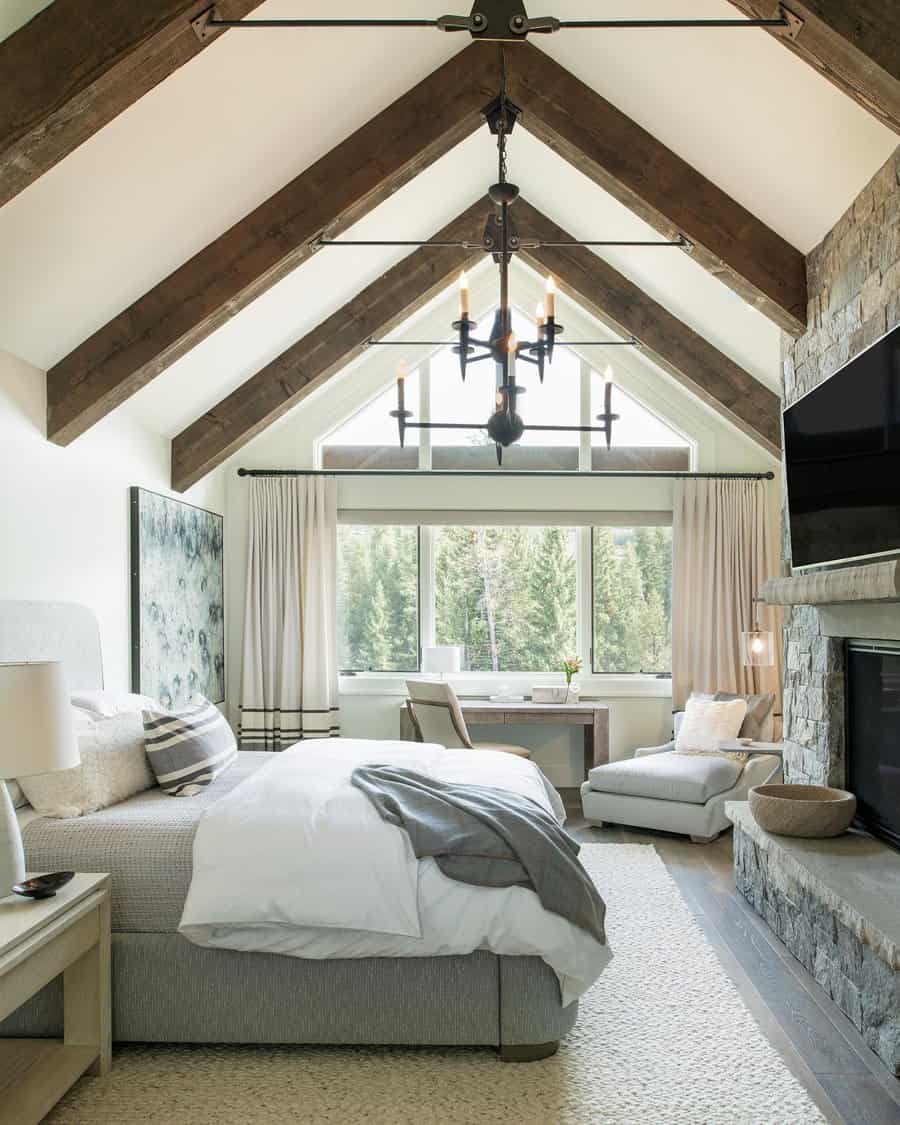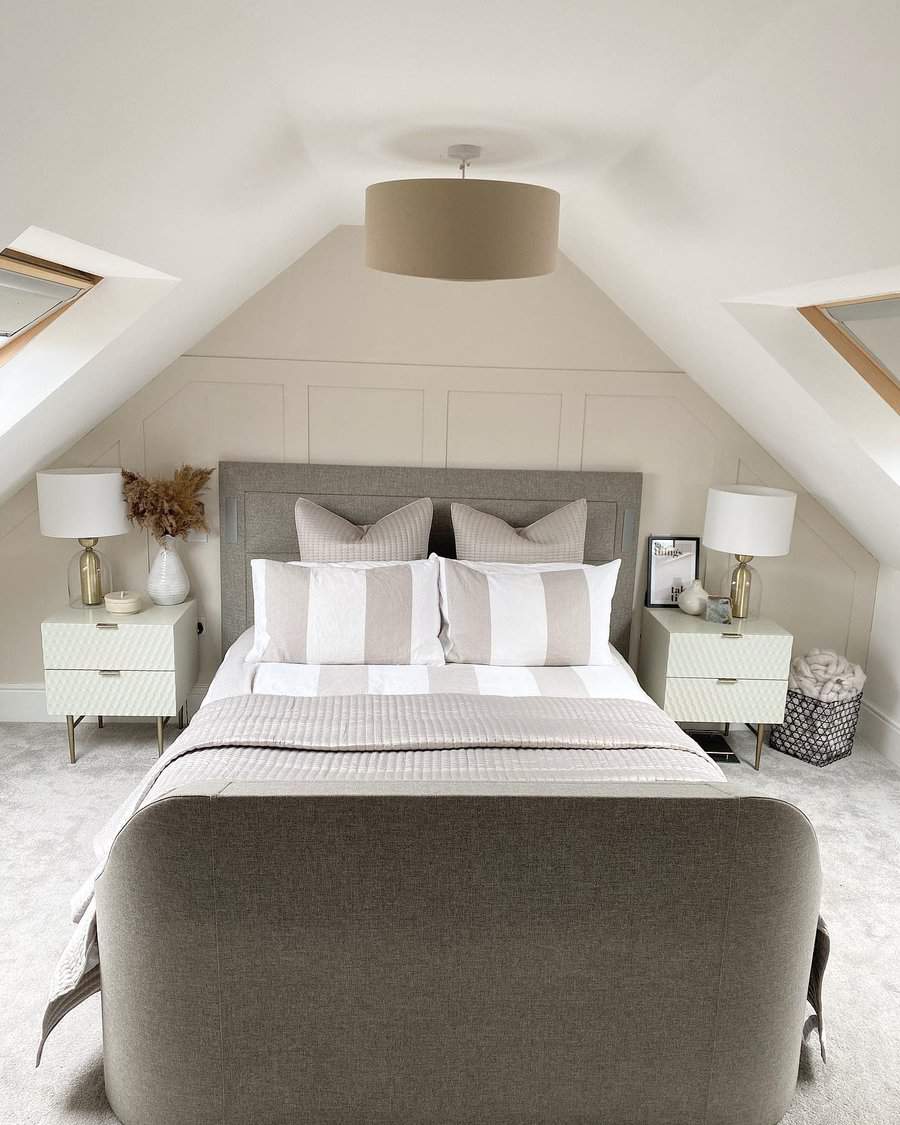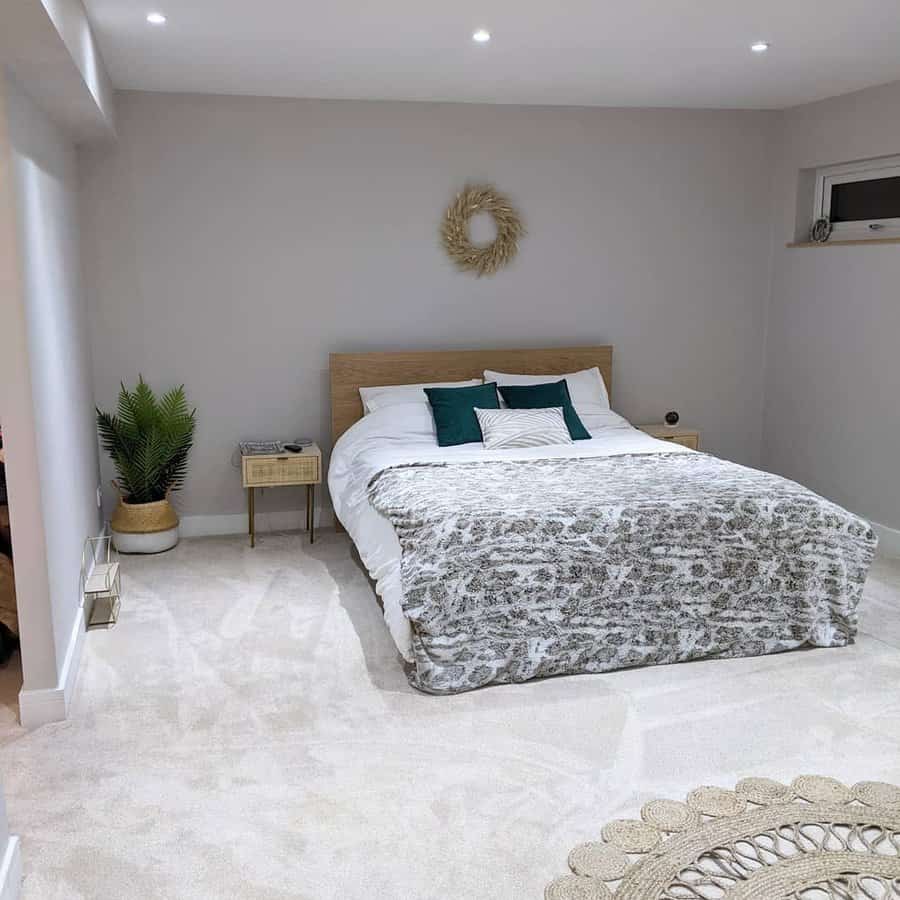 Use paint or hanging decor to emphasize your room's vaulted ceiling or slanted wall. Dormer windows also offer the perfect opportunity to divide up your bedroom floor plan while playing around with geometric shapes.
The modern design trend encompasses many different styles, so you're sure to find an aesthetic that suits your own taste. Draw inspiration from mid-century modern, Scandinavian, Art Deco, and industrial decorating ideas.
9. Paint
Paint can be one of the most intimidating steps in decorating a new room. But, especially when it comes to an attic or loft conversion, it's also one of the most valuable tools in your design arsenal.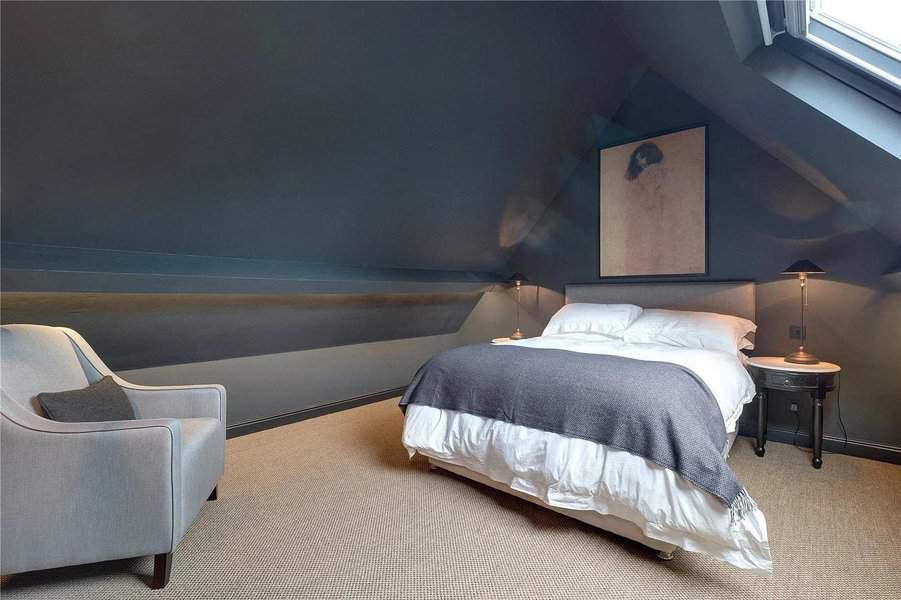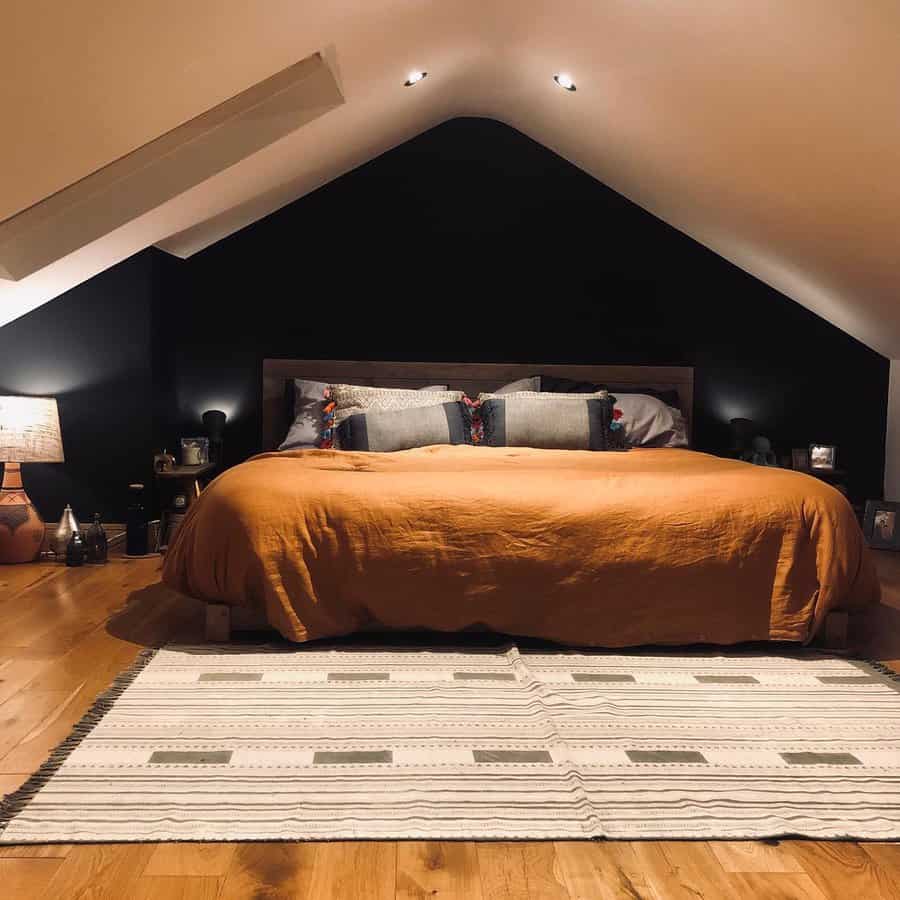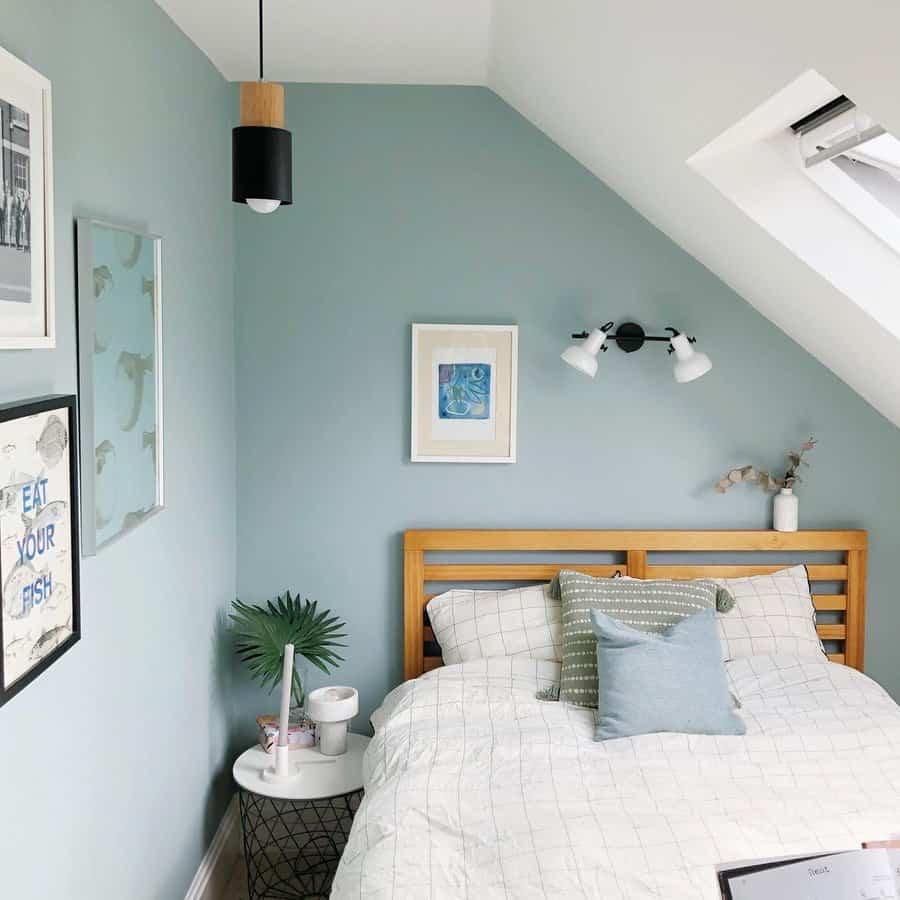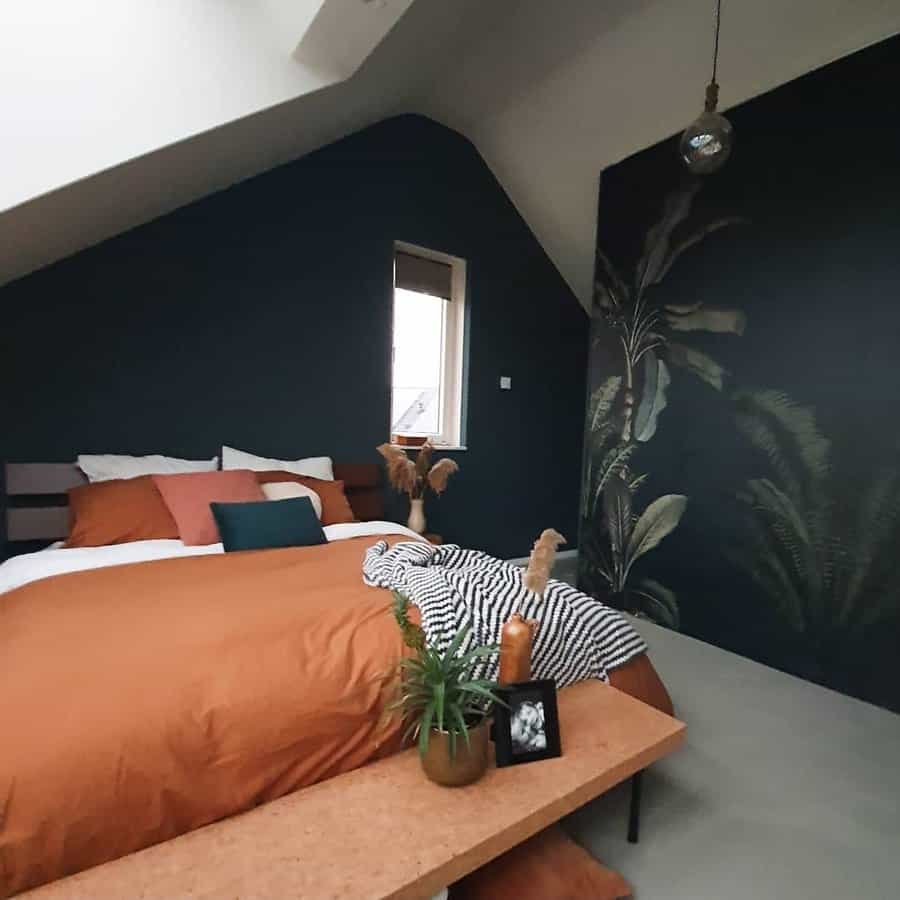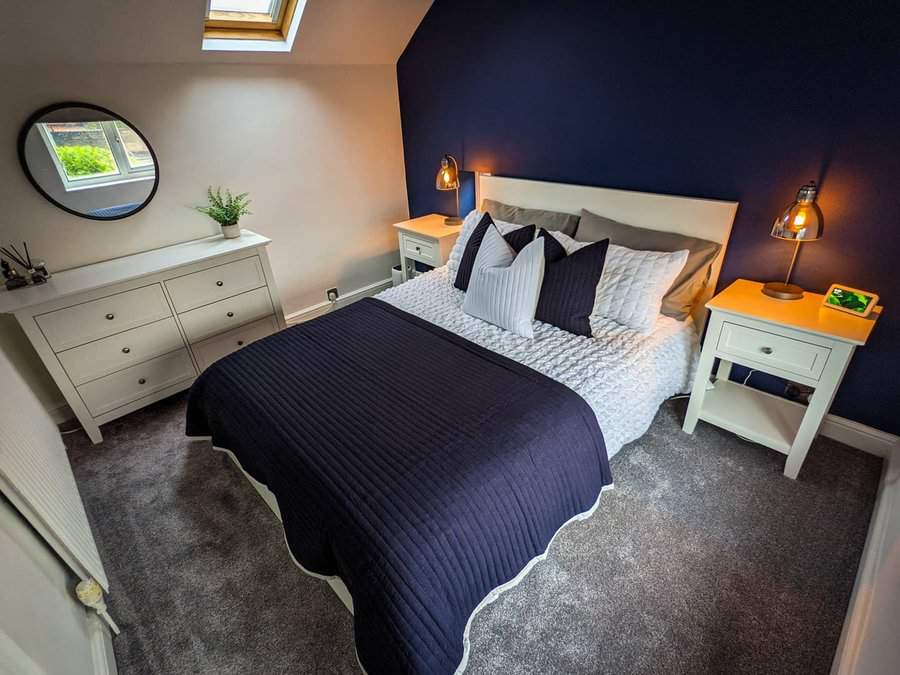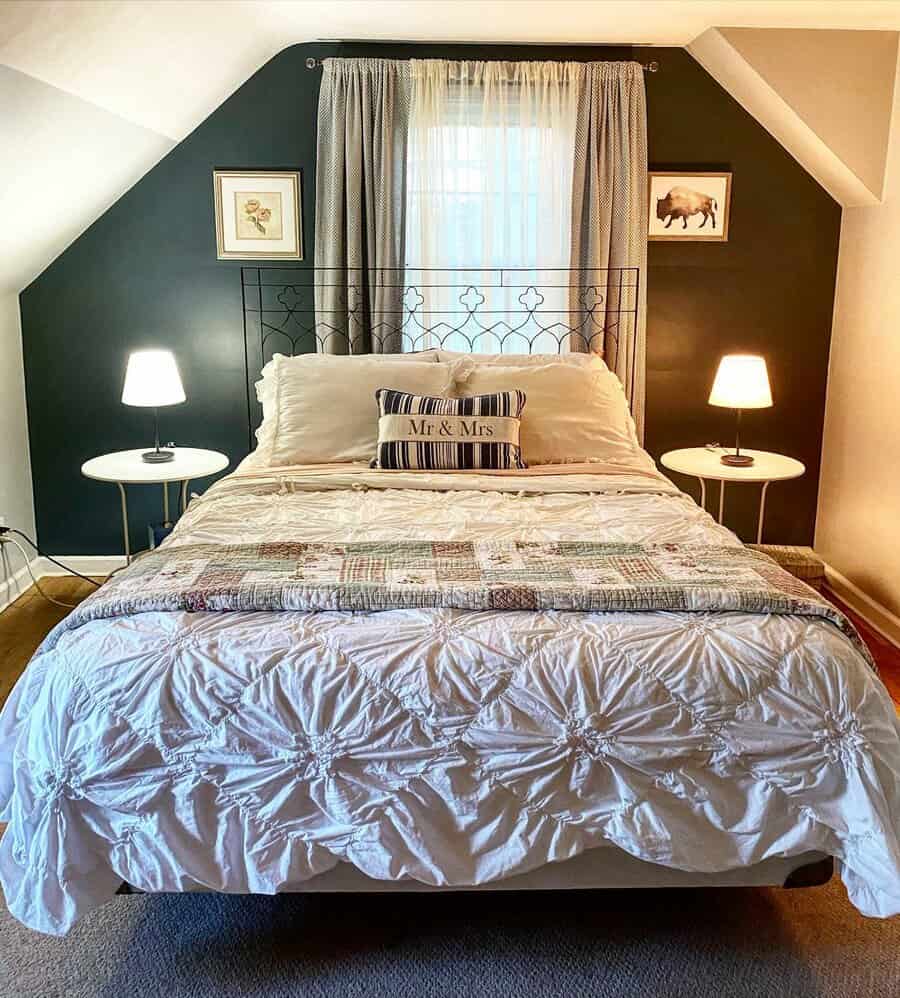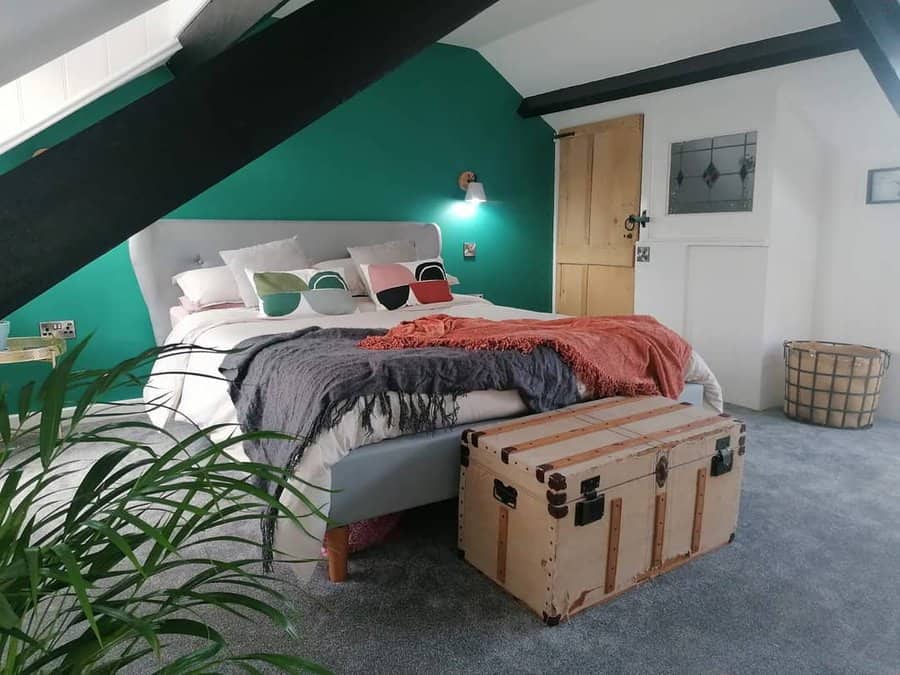 There are countless ways to use paint besides just coating every wall in the same color. A bright accent wall can add vibrancy to your attic space without overwhelming the entire room. You can also paint a faux chair rail to divide the room up vertically.
What about painting the ceiling? Often, attic walls and ceilings are one and the same — painting both just makes sense. However, you can also paint the ceiling a different color to make the space feel taller.
10. Remodel
If you're going to transform an unfinished attic into a full-fledged bedroom, you might as well go big! Especially if this new space is going to serve as your home's master bedroom.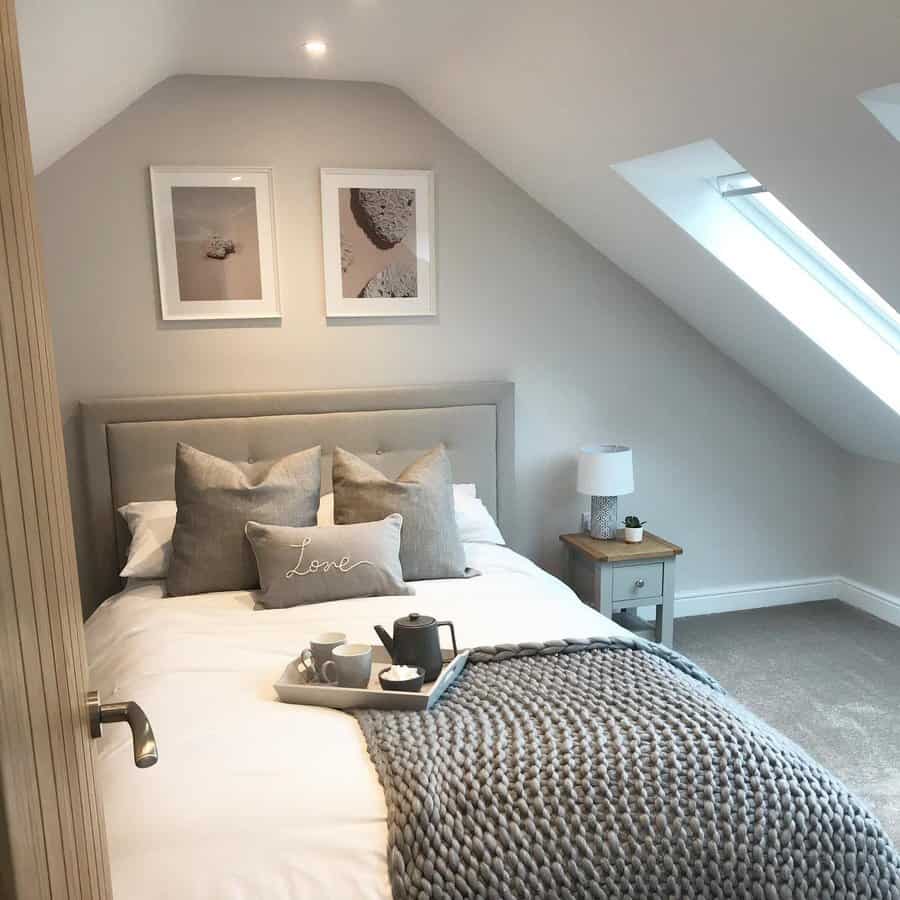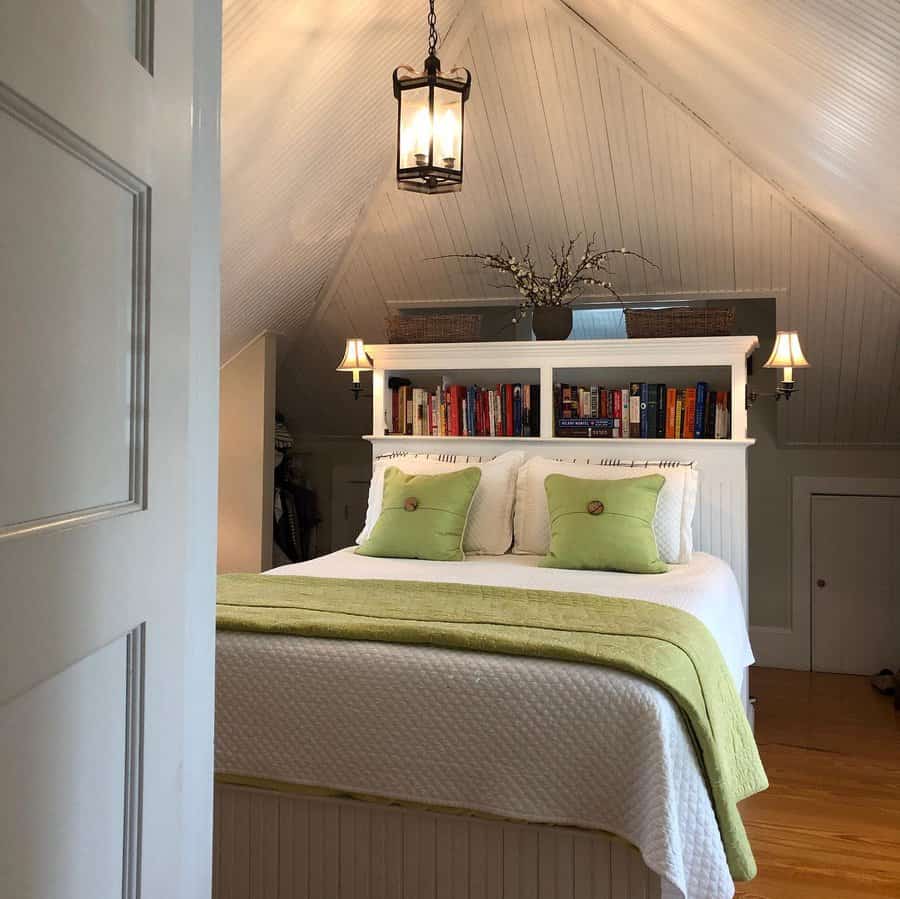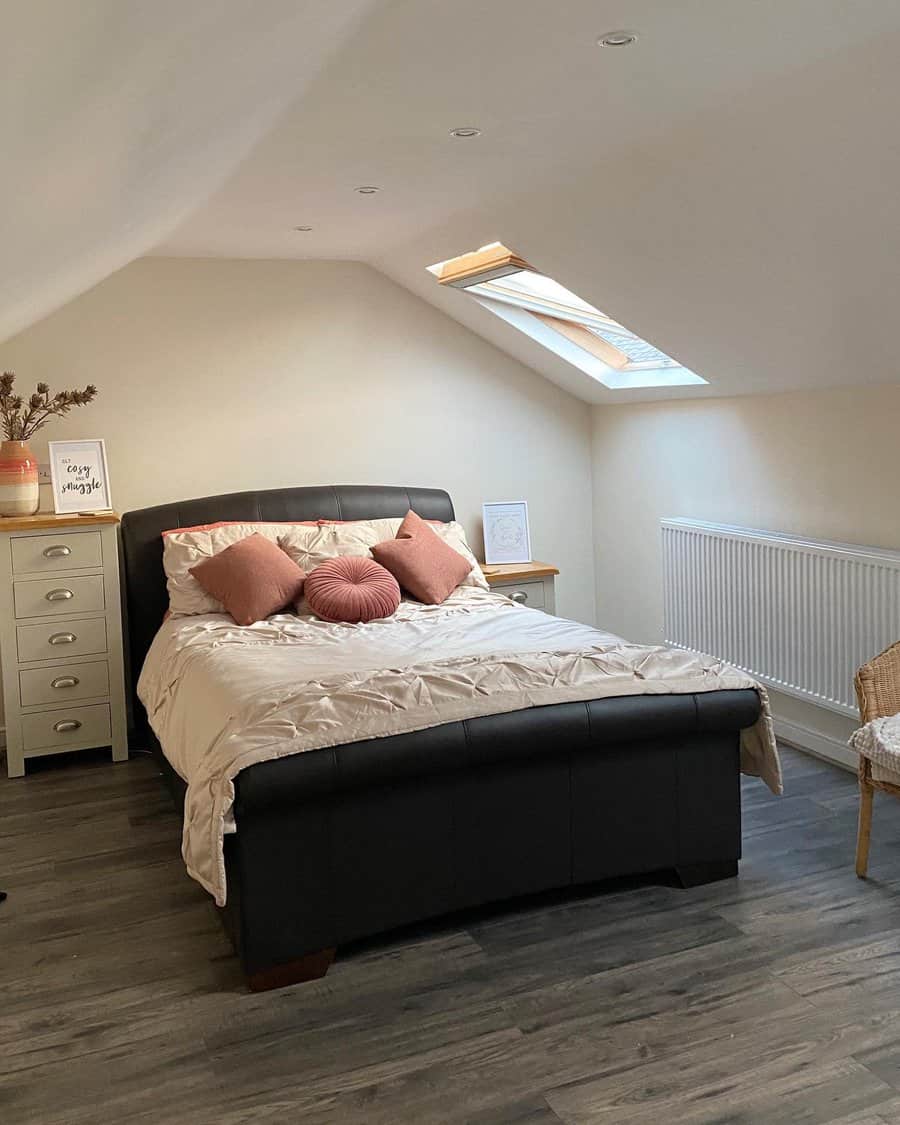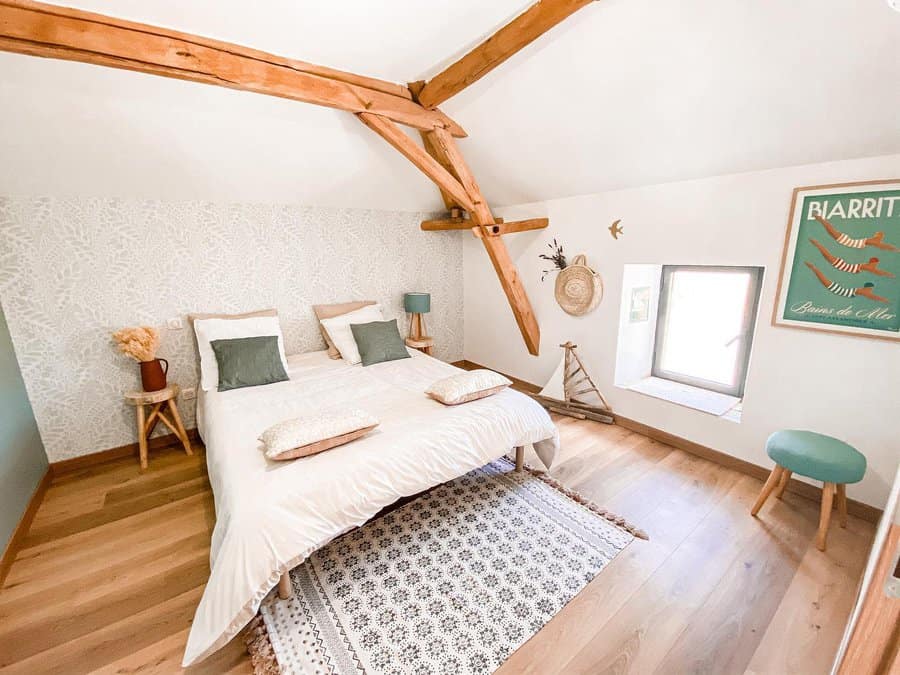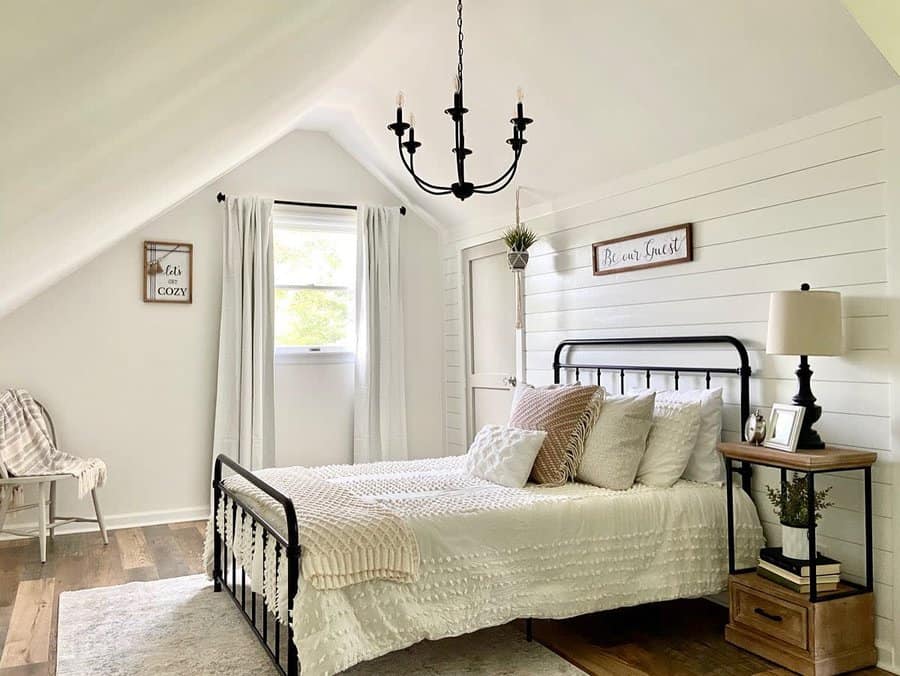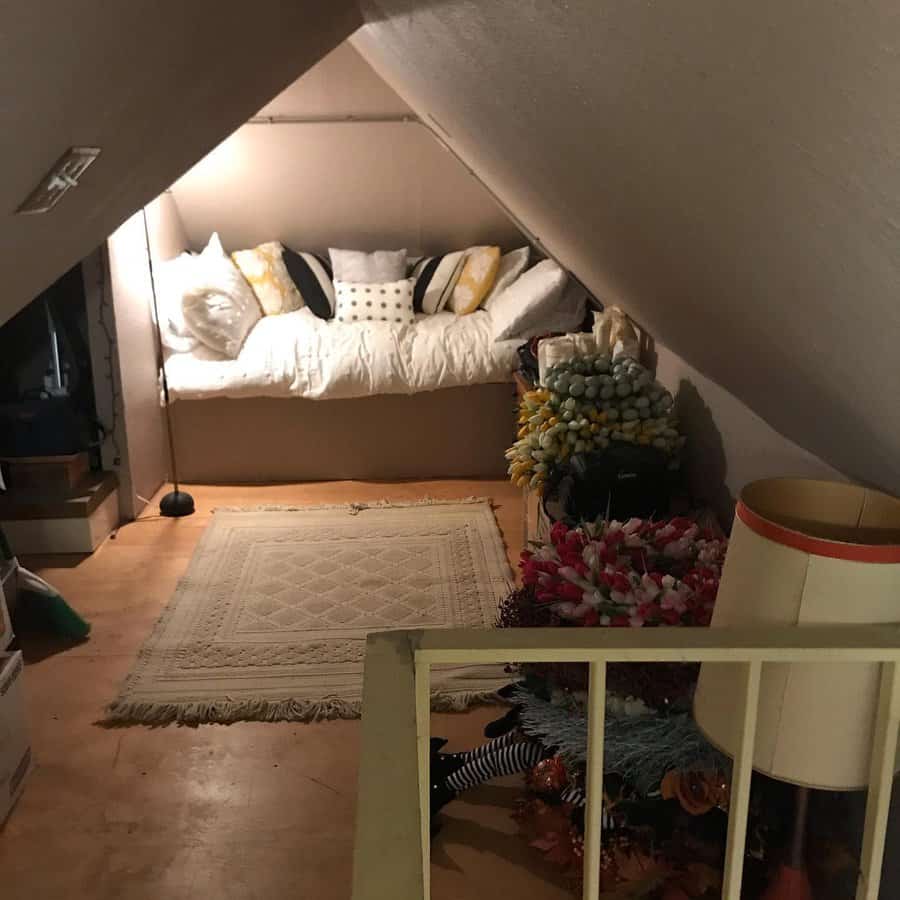 One of the most common fears about sleeping in an attic is the limited space. You can prevent claustrophobia and add natural light to the room with a bright skylight (or several!).
A wooden floor can give your attic bedroom a clean, polished appearance. Hardwood flooring also contrasts beautifully against the softness of bed linens. If you need a little extra warmth, finish off the space with a stylish area rug.
11. Rustic
Attic bedrooms have an undeniably rustic charm to them. You can lean into this theme by tailoring your bedroom furniture and decor to fit the atmosphere.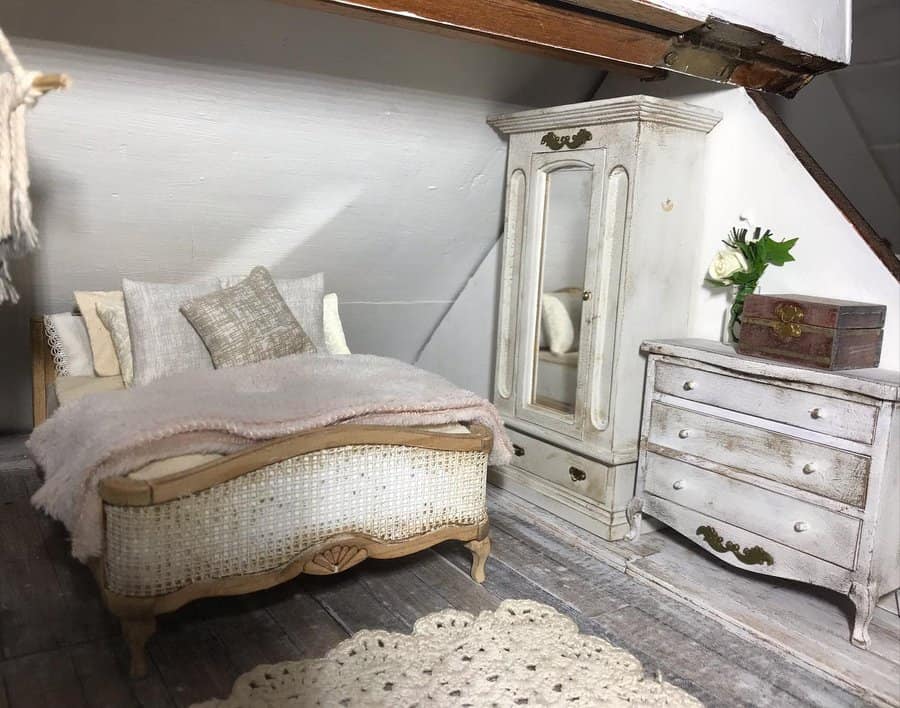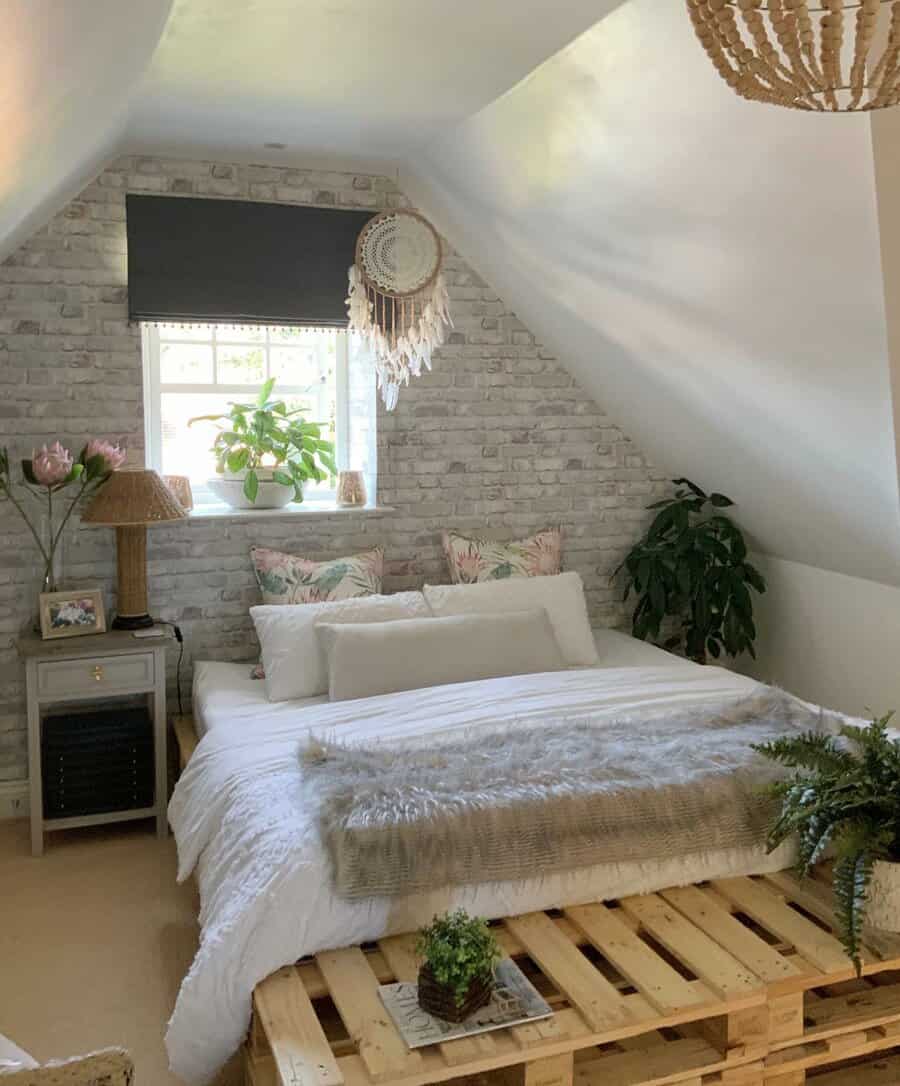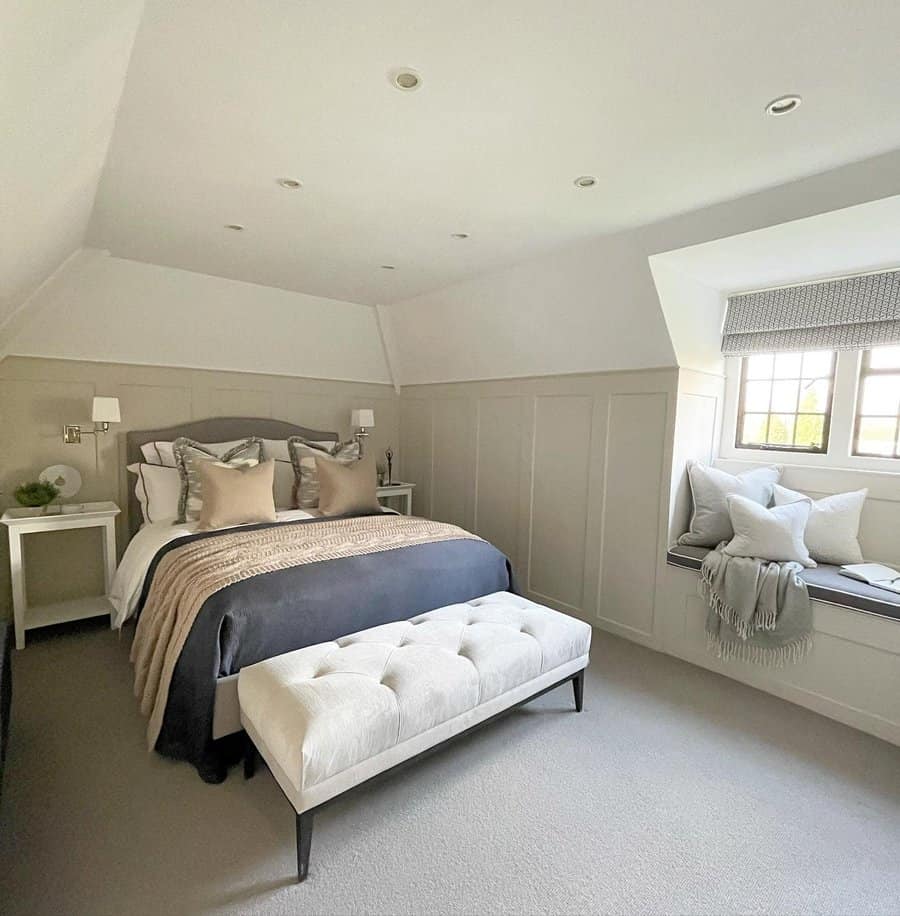 Natural wood is the most rustic material around. While wood furniture is an obvious choice, you can also use shiplap or paneling to create a unique feature wall. Faux ceiling beams are relatively easy to install and can have a huge impact on the final look.
Sliding barn doors are so popular that even contemporary homes have adopted them. This style of door is ideal for any rustic attic bedroom because you don't need to account for extra clearance.
12. Wooden
The greatest qualities of attic bedrooms are their inherent warmth and coziness. But you still might find yourself looking for ways to increase that coziness without sacrificing a contemporary style.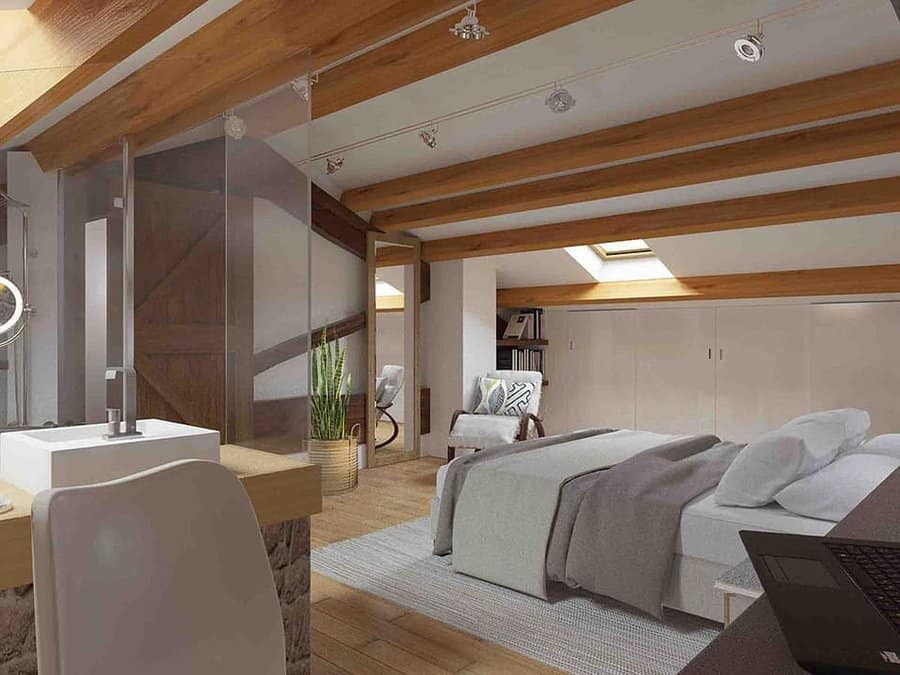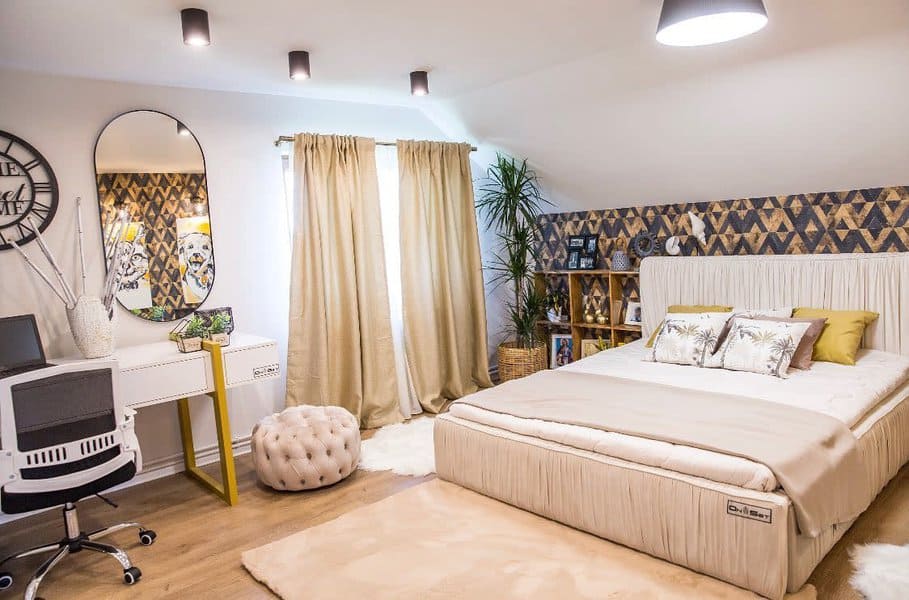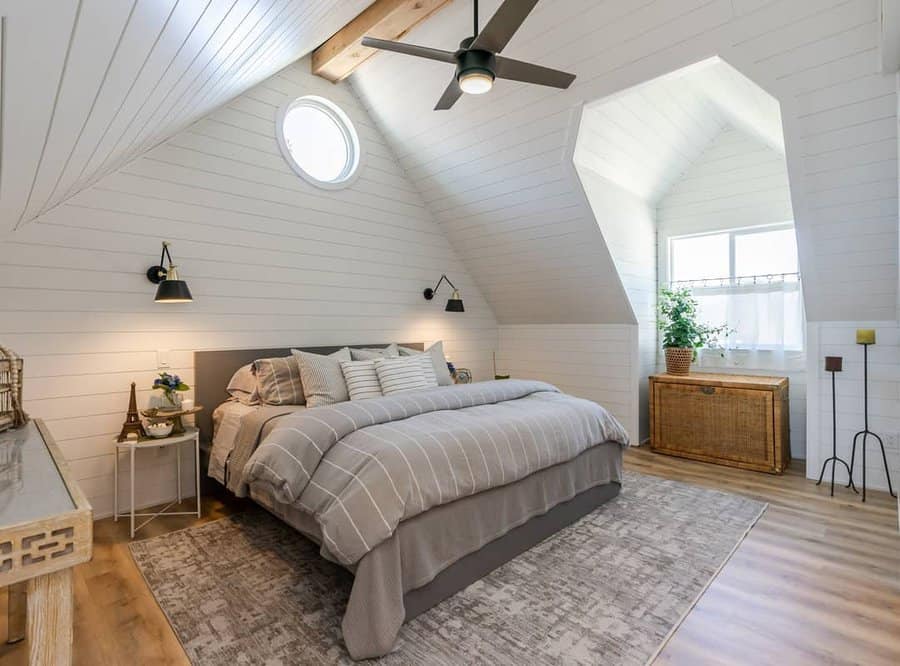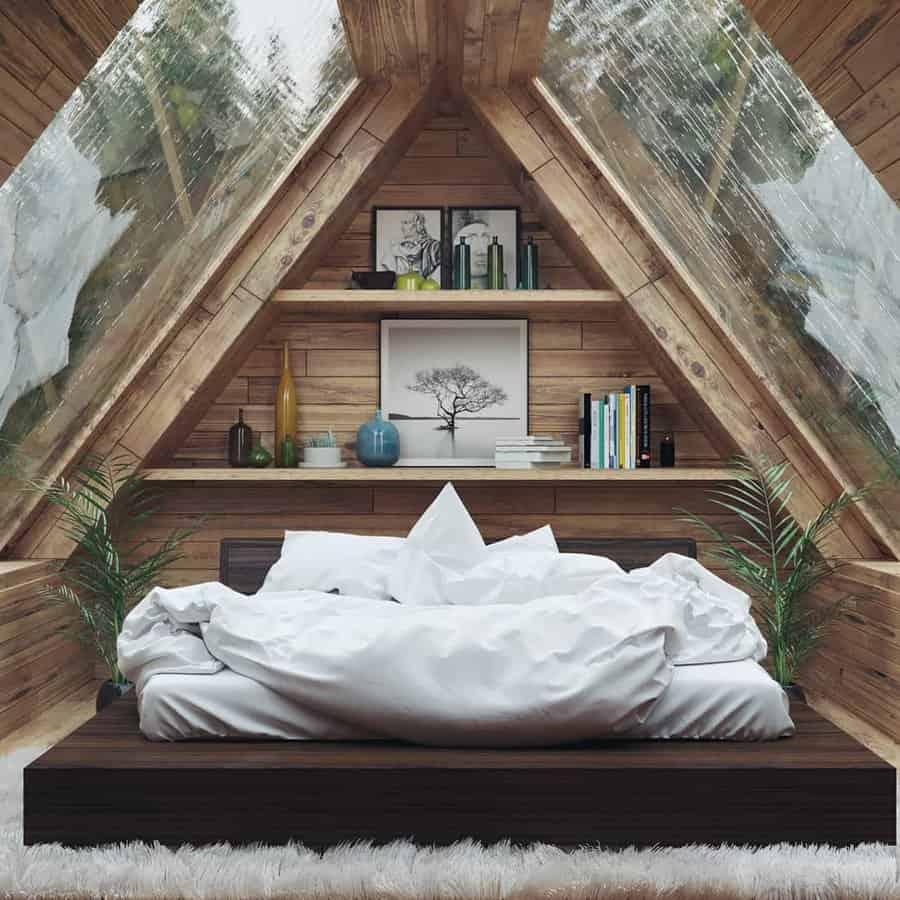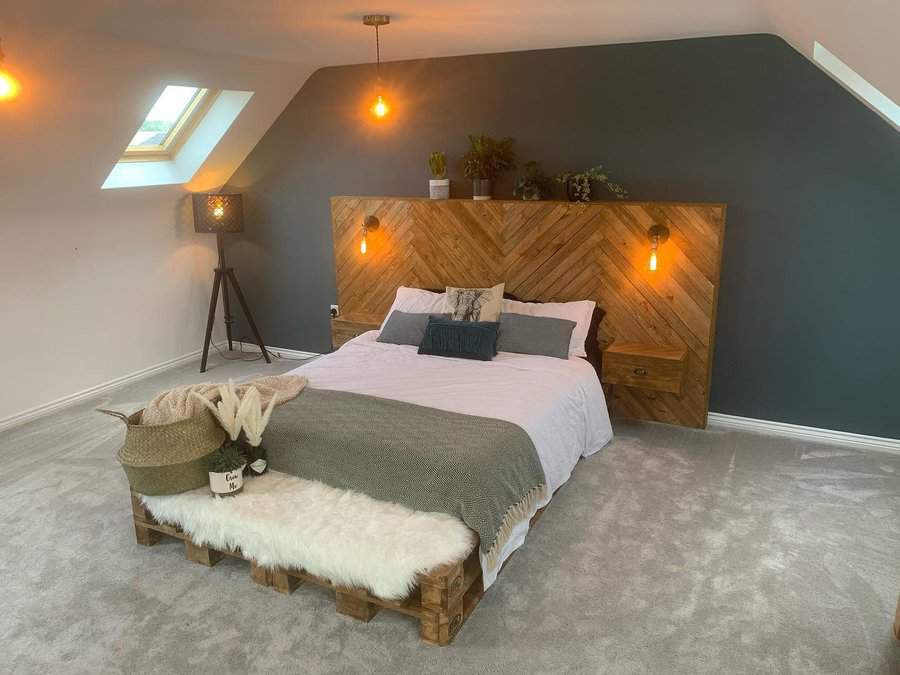 Wood is used throughout all types of interior design. It's simultaneously warm and inviting while also being completely neutral. Plus, it can be used for furniture, decor, and within the room's actual construction.
Remember that natural wood can take on many different appearances. While light wood will suit many bedroom designs, others will be better served by dark walnut or mahogany. Of course, paint is also an option.
Attic Bedrooms FAQ
Can any attic be converted into a bedroom?
No. In order for an attic to be transformed into a functional bedroom, it must meet several building and safety standards.
While the exact requirements will vary by region, attic bedrooms almost always need to have a full staircase and at least one window. Height requirements are also extremely common — if the ceiling is too short, the space cannot be converted into a bedroom.
What is a dormer?
A dormer is a structure that extends past the existing roofline. These structures are typically used to slightly increase the square footage of the home's attic and — when paired with a dormer window — to increase the amount of natural light inside.
Not all homes with attics have dormers. They are most common in houses with a finished attic rather than one used exclusively for insulation or storage.