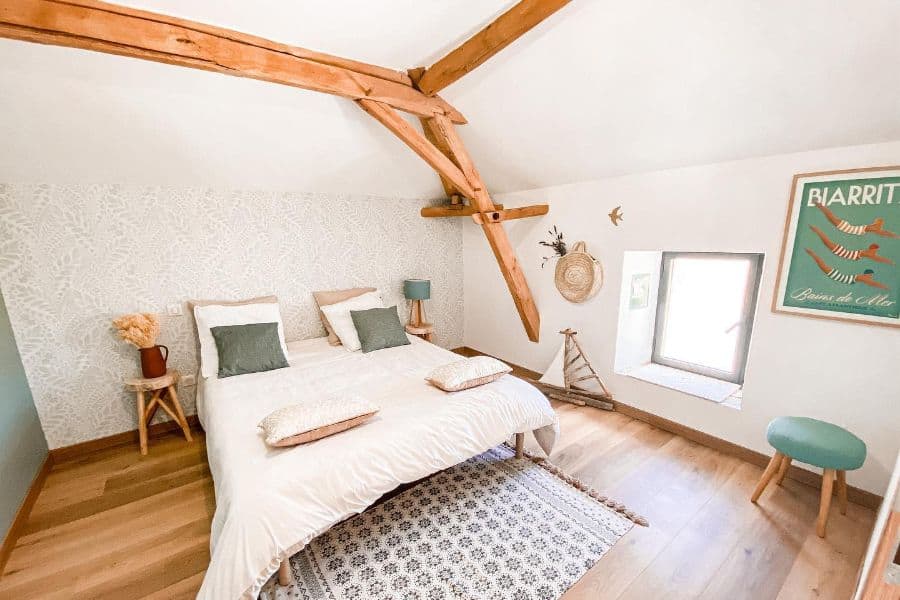 The Top 75 Attic Bedroom Ideas
Making the most of small spaces is a common theme in homeownership. And when moving to a bigger house is either unwanted or impossible, finding a way to add an extra bedroom to your property can be life-changing.
If your home has an attic, then a potential bedroom could be hiding right under your nose! Many attics can be easily converted into a full-time sleeping space. Once everything is said and done, you won't even know the space started as a dusty old attic.
Check out the attic bedroom ideas below to learn how you could add value and versatility to your home with a converted attic space!
1. Exposed Beam Accents
Transform your attic into a captivating and cozy bedroom retreat with the timeless charm of exposed ceiling beams. These architectural features add a touch of rustic elegance and create a unique focal point in your attic space. The exposed beams showcase the structural elements of the room, infusing it with character and personality.
Their natural wood texture and warm tones create a warm and inviting ambiance, making your attic bedroom feel like a retreat nestled in the treetops. Embrace the inherent charm of the beams by complementing them with natural materials and earthy tones in your decor.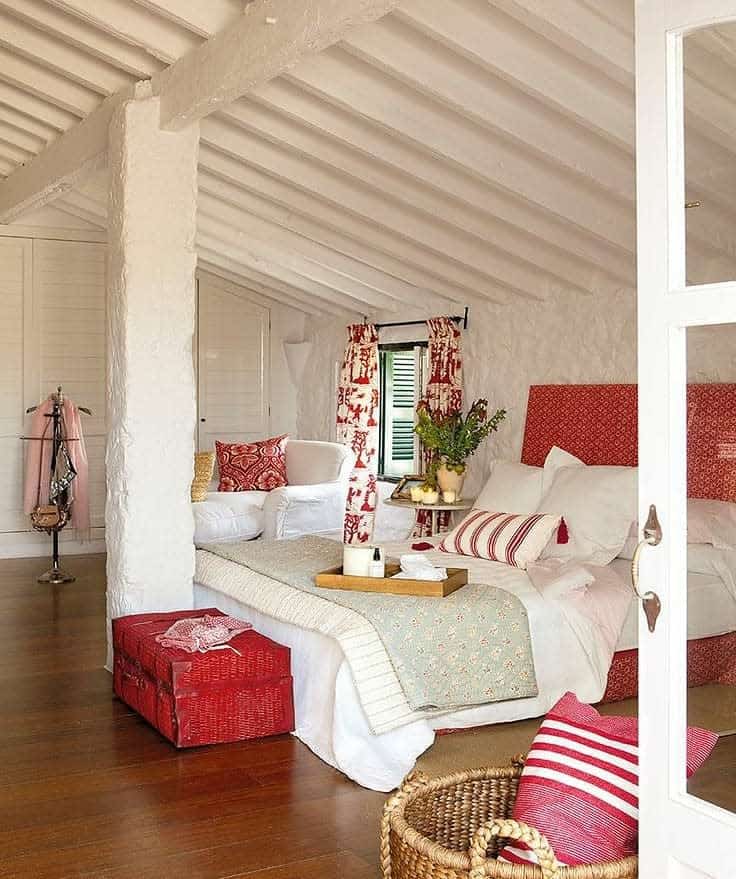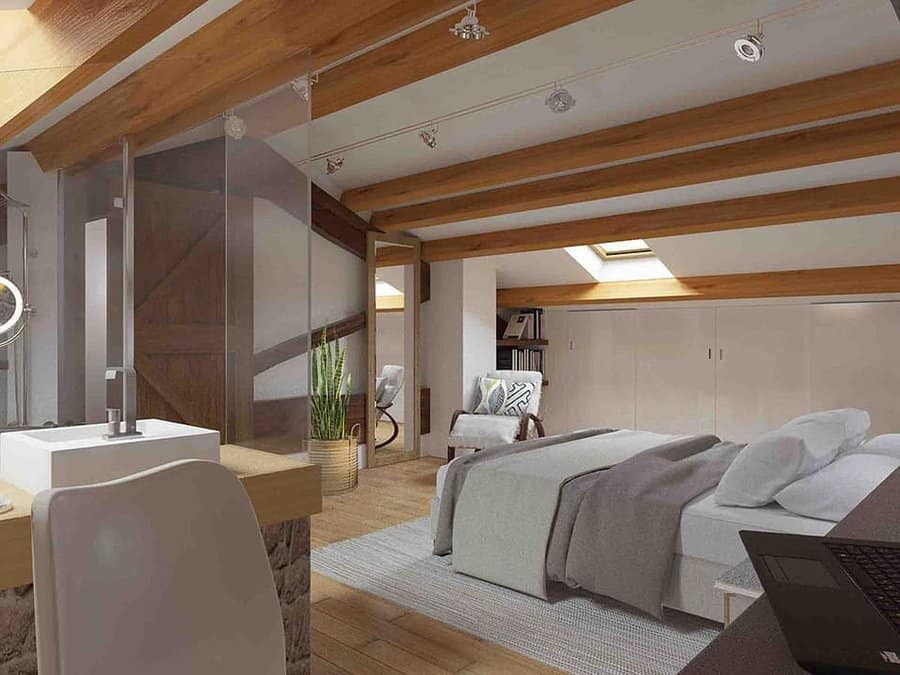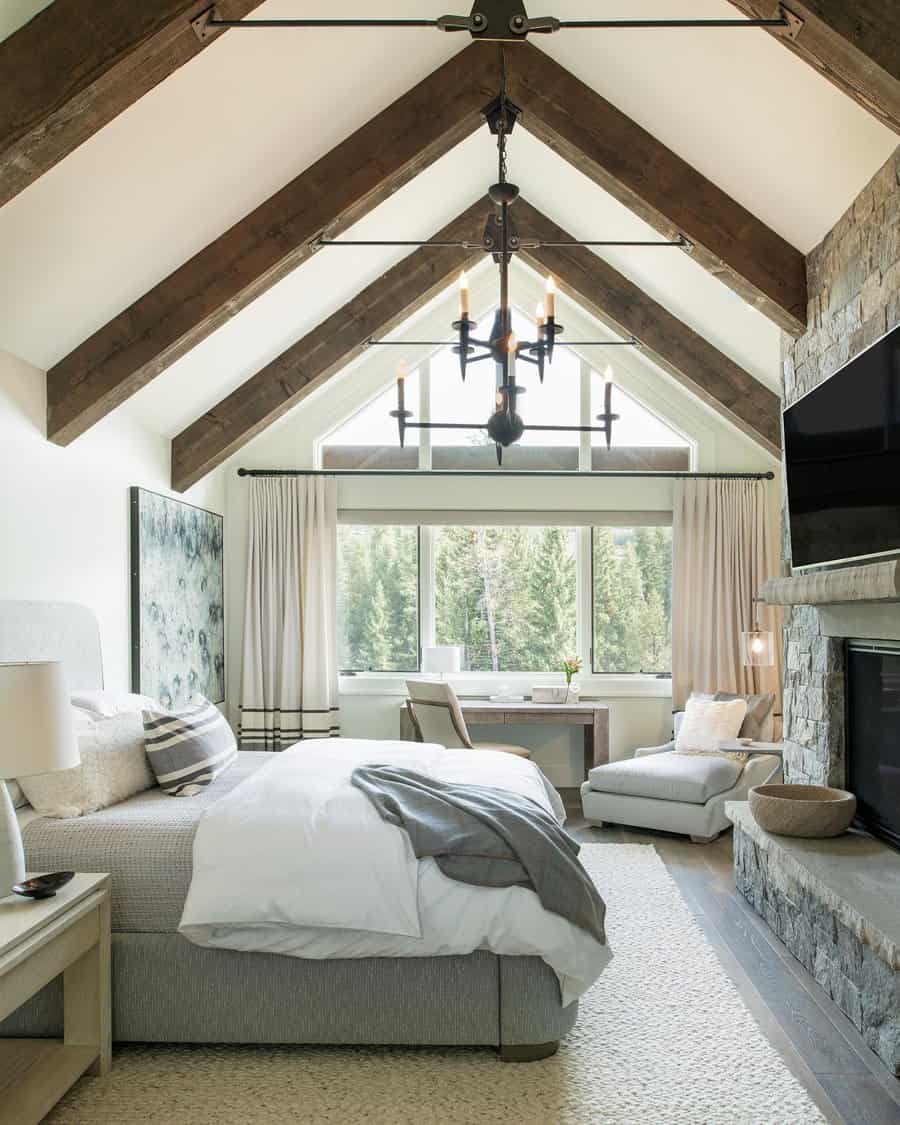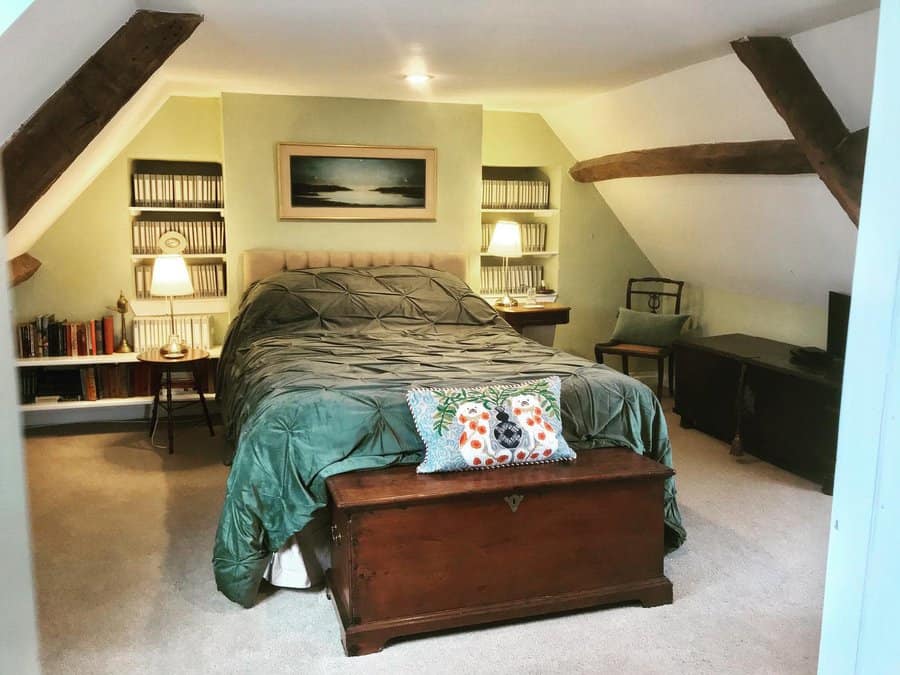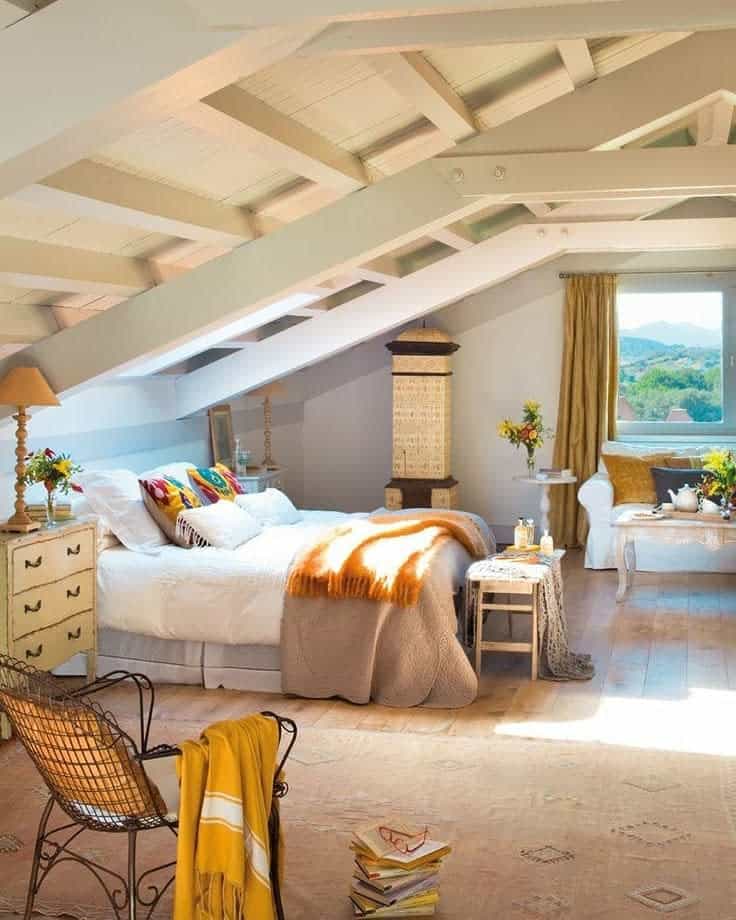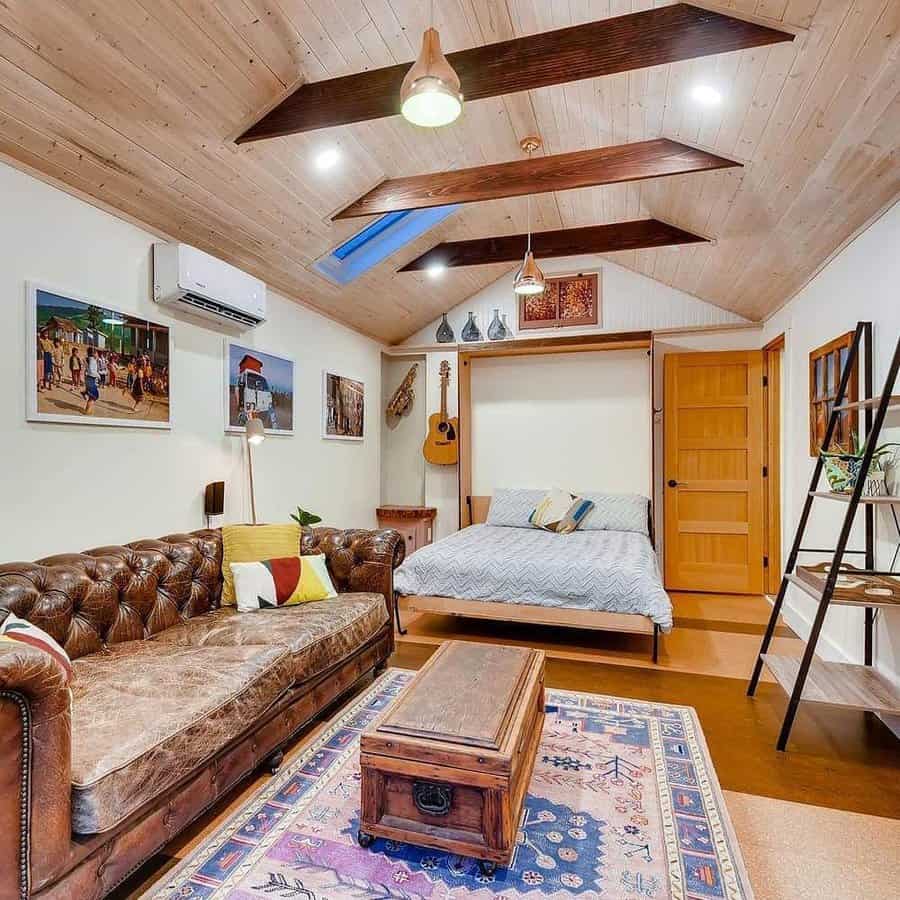 2. Wall-To-Wall Carpet Flooring
This creative and functional idea brings comfort and warmth to your attic bedroom, creating a soft and luxurious foundation. The plush carpeting provides a sense of coziness underfoot, making it a perfect choice for creating a relaxing and intimate atmosphere.
With its wall-to-wall installation, the carpeting adds a seamless and polished look to the space, visually expanding the room and creating a cohesive design. Whether you're converting your attic into a master suite, a guest room, or a tranquil hideaway, the wall-to-wall floor carpet flooring adds a touch of elegance and sophistication.
Choose from a wide range of colors and textures to match your desired aesthetic, from neutral tones that create a serene ambiance to bold hues that infuse the room with personality and style.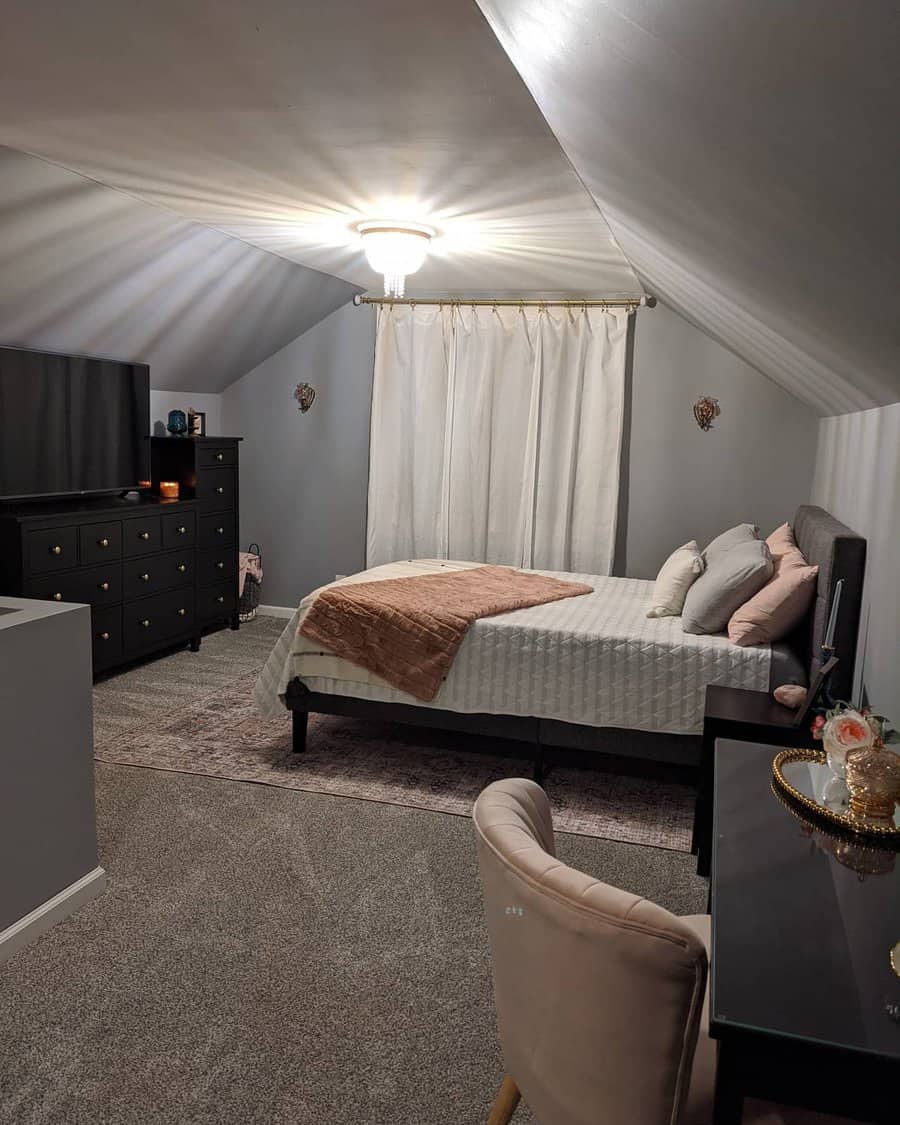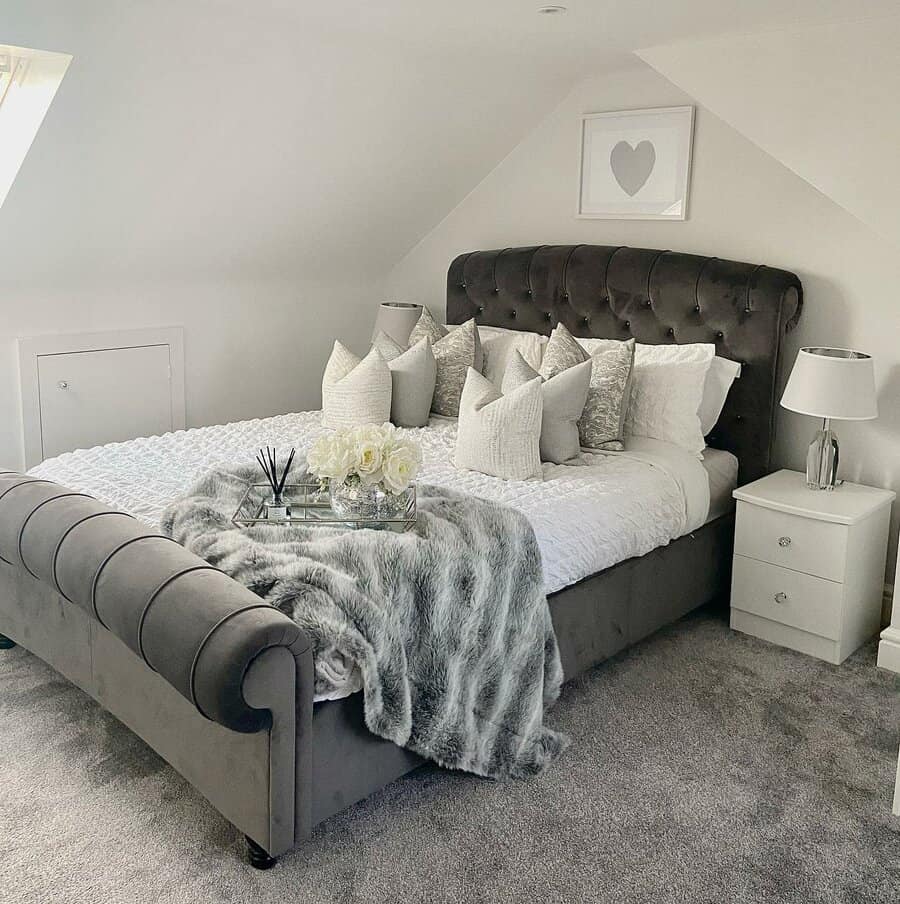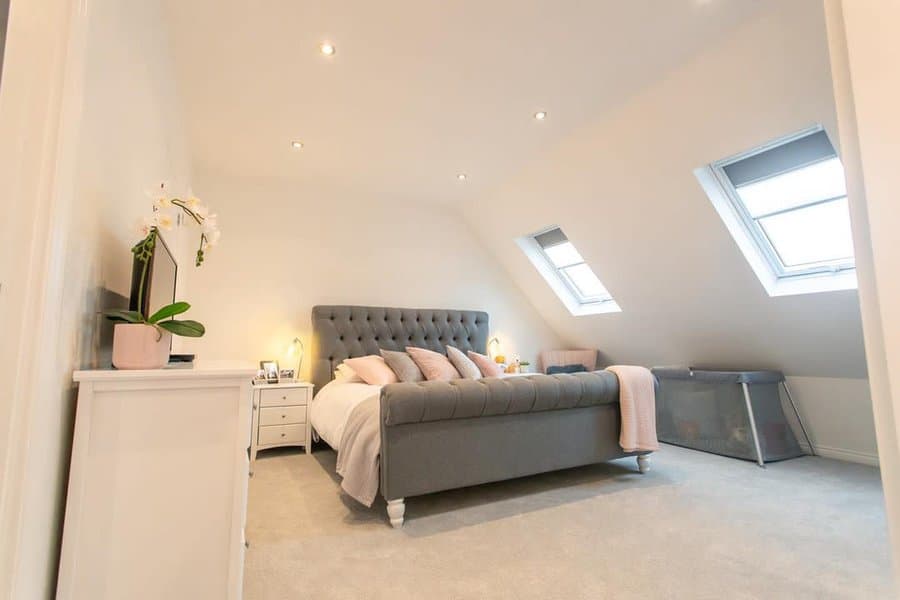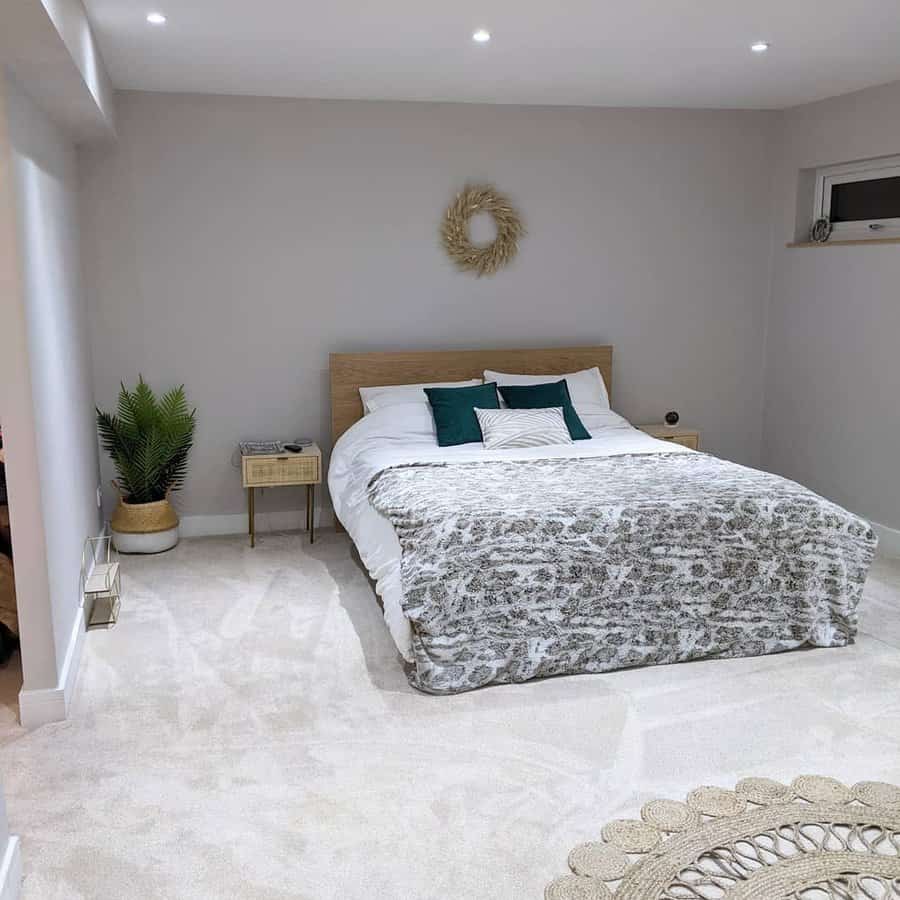 2. Skylight Window
Elevate your bedroom experience with the enchanting allure of an attic bedroom, illuminated by the soft and captivating embrace of natural light pouring in through a skylight window. This brilliant design idea seamlessly blends the charm of attic space with the warmth and brightness of the outdoors.
The skylight window becomes the centerpiece, casting a gentle glow that bathes the room in a soothing ambiance. Imagine waking up to the first rays of sunlight streaming through the window, creating a serene and inviting atmosphere that energizes and inspires.
The interplay of light and shadows dances across the room, adding depth and character to every nook and cranny. With the added bonus of stargazing at night, the skylight window transforms your attic bedroom into a celestial retreat.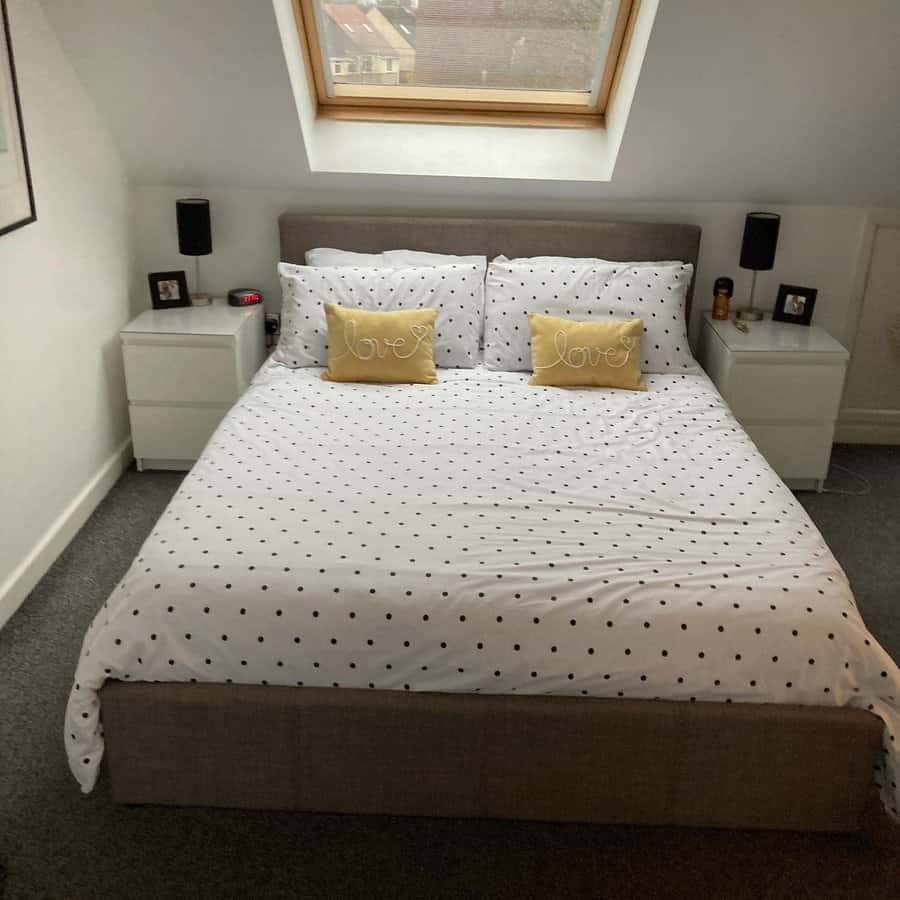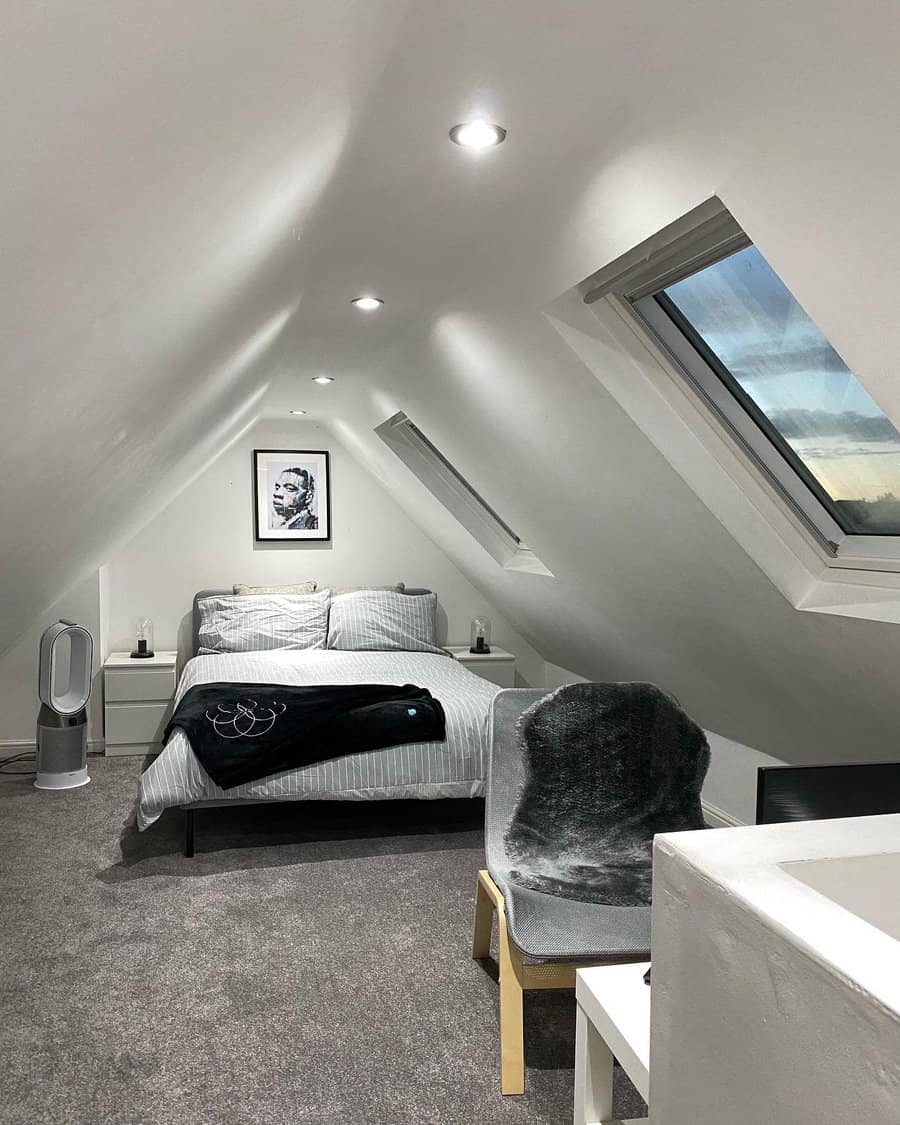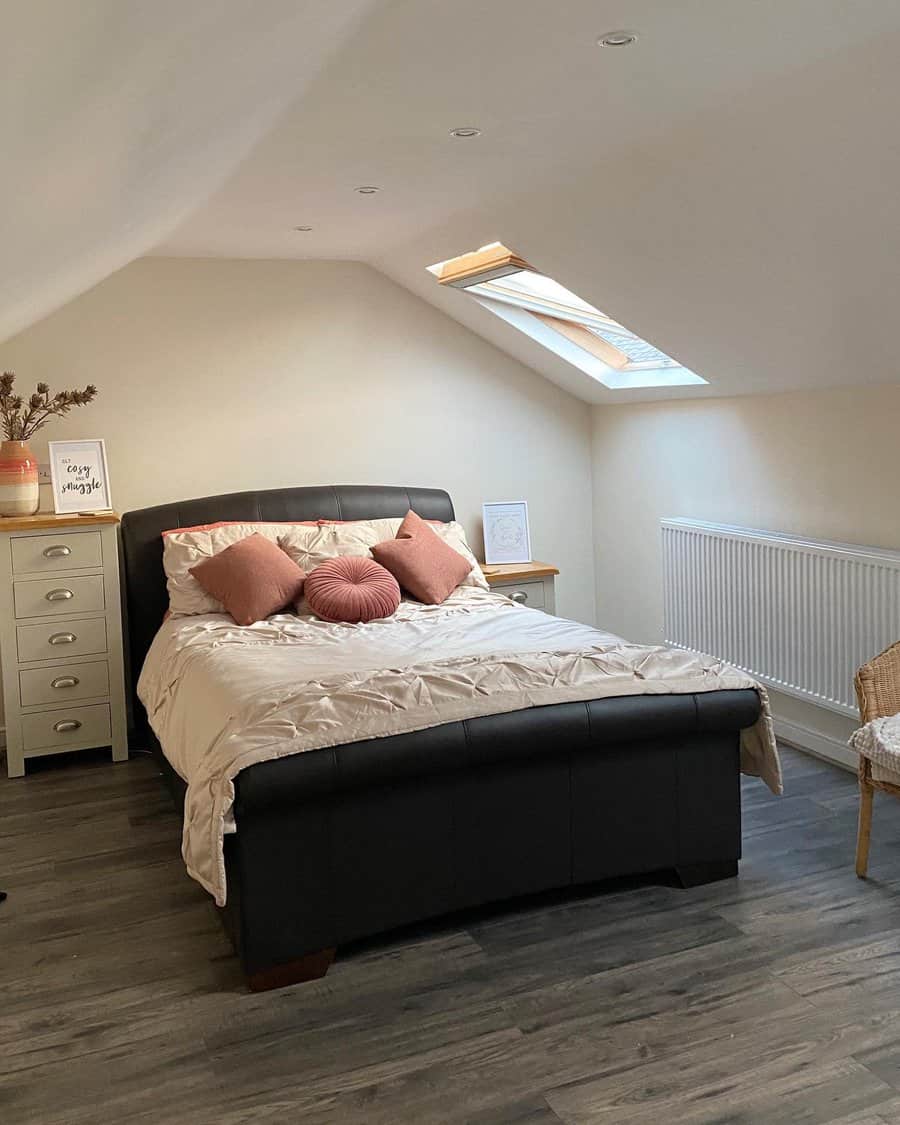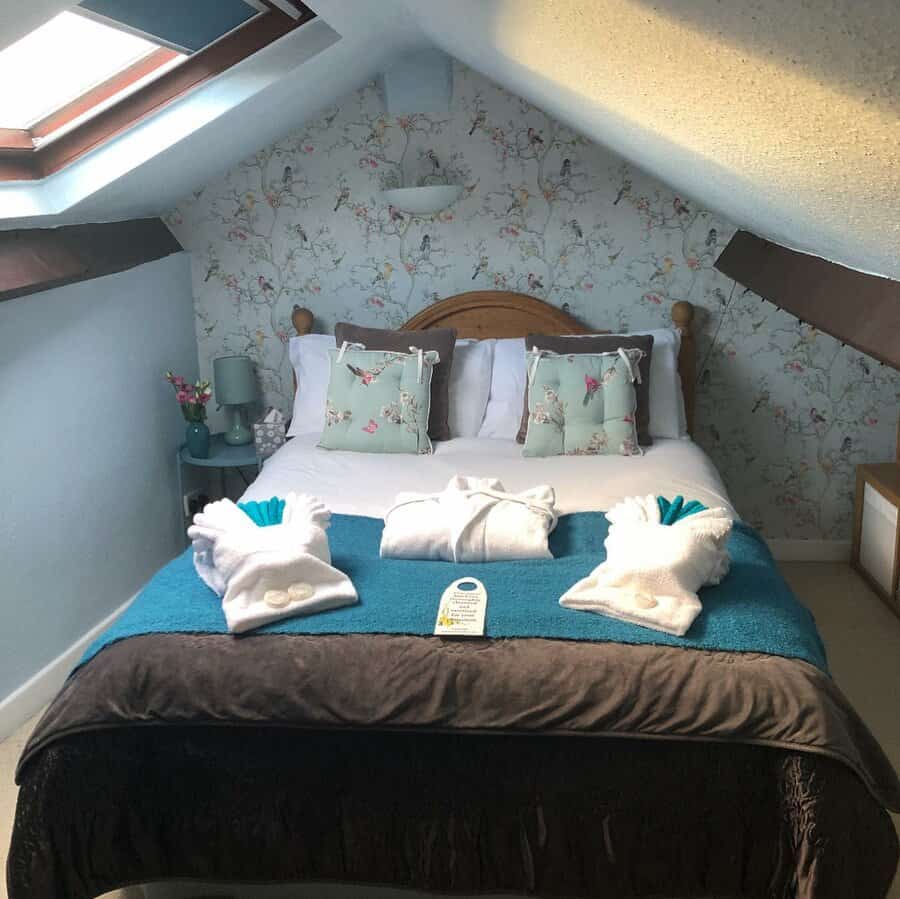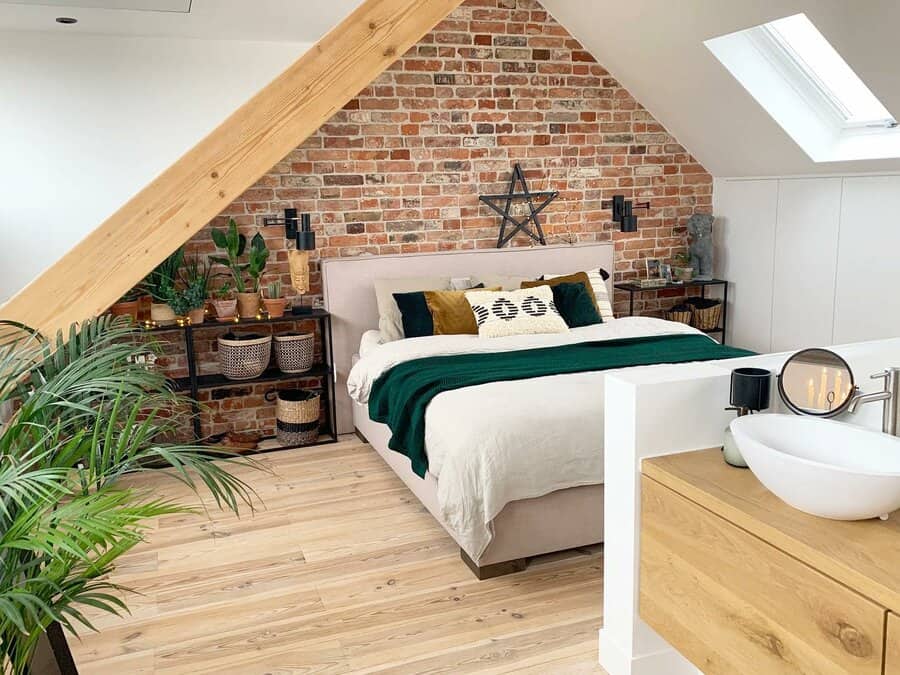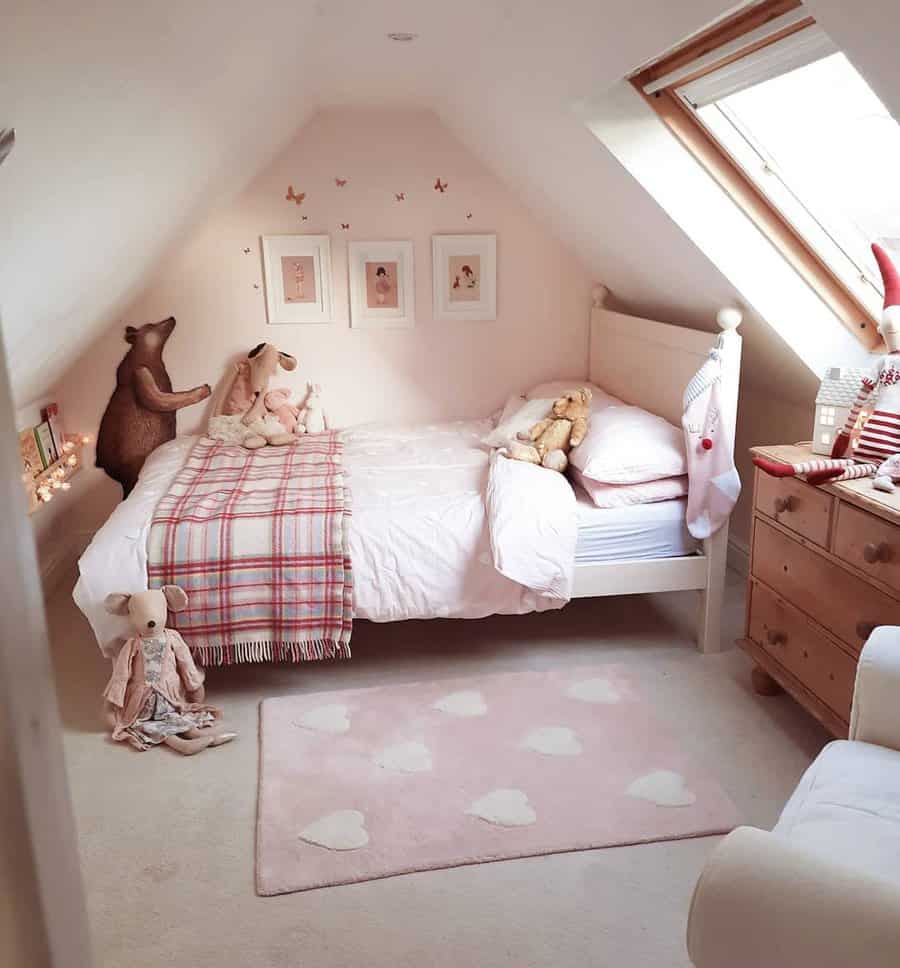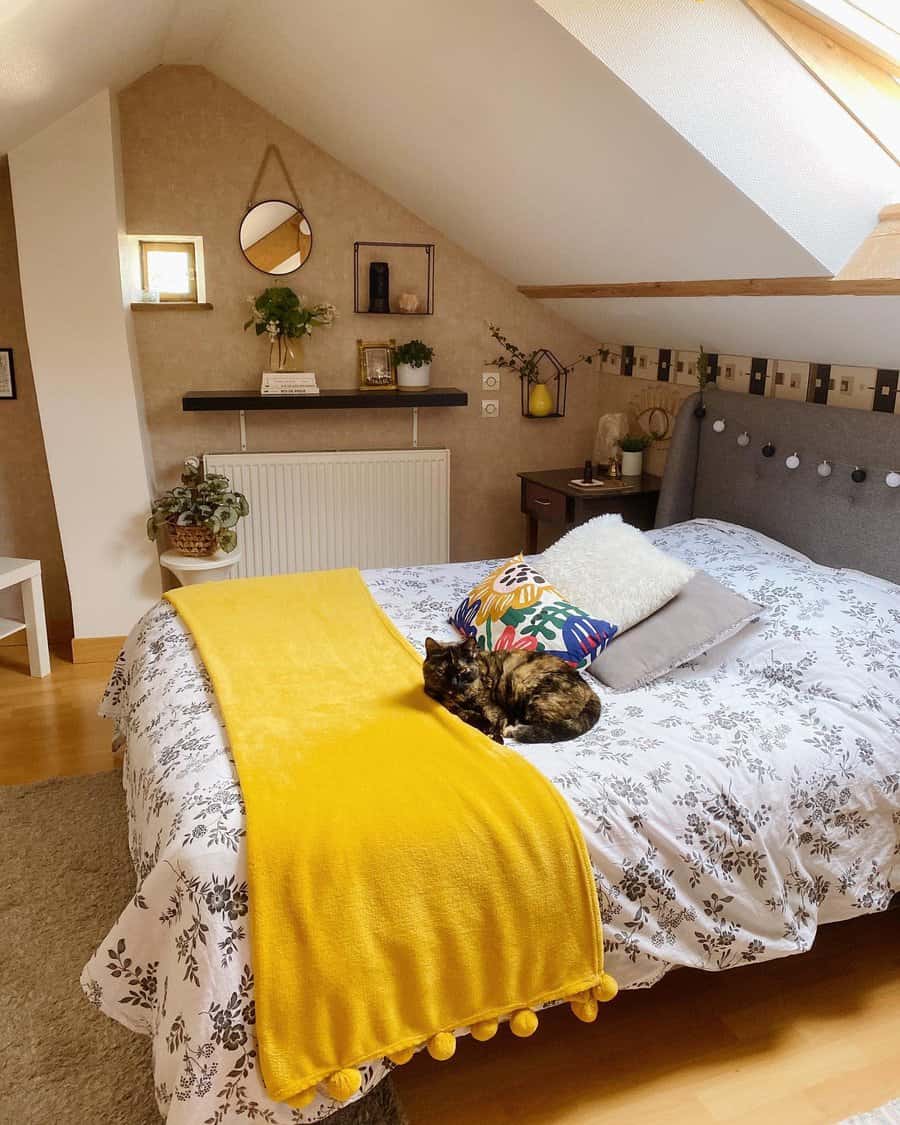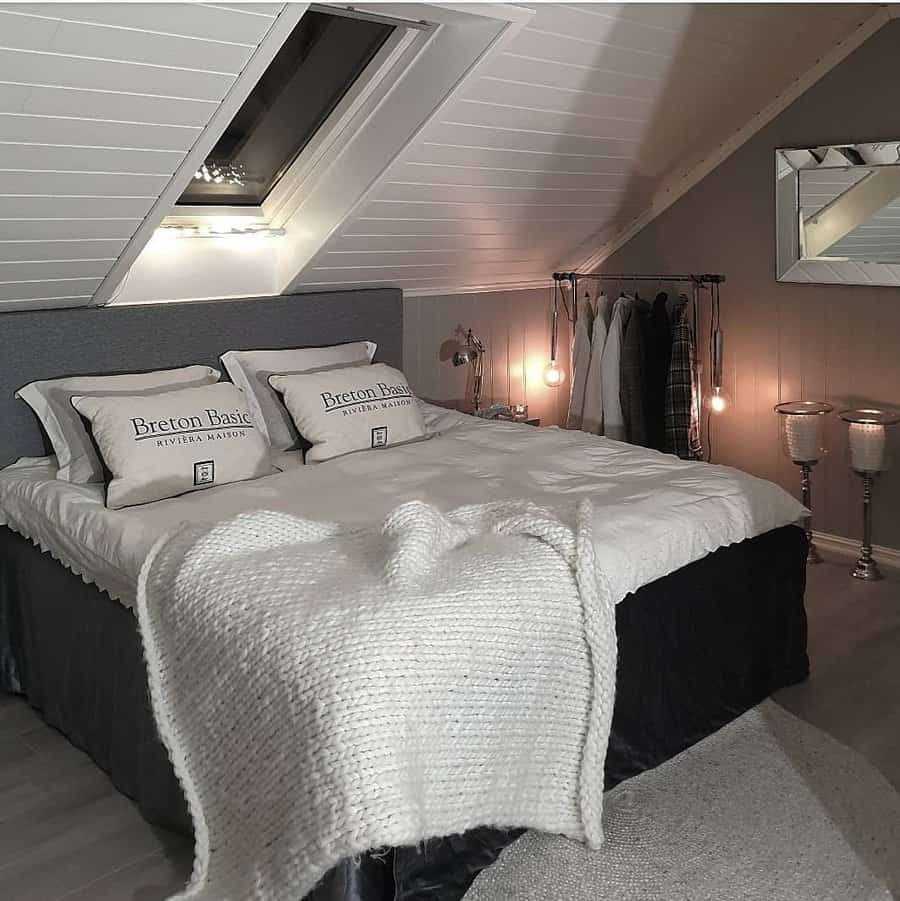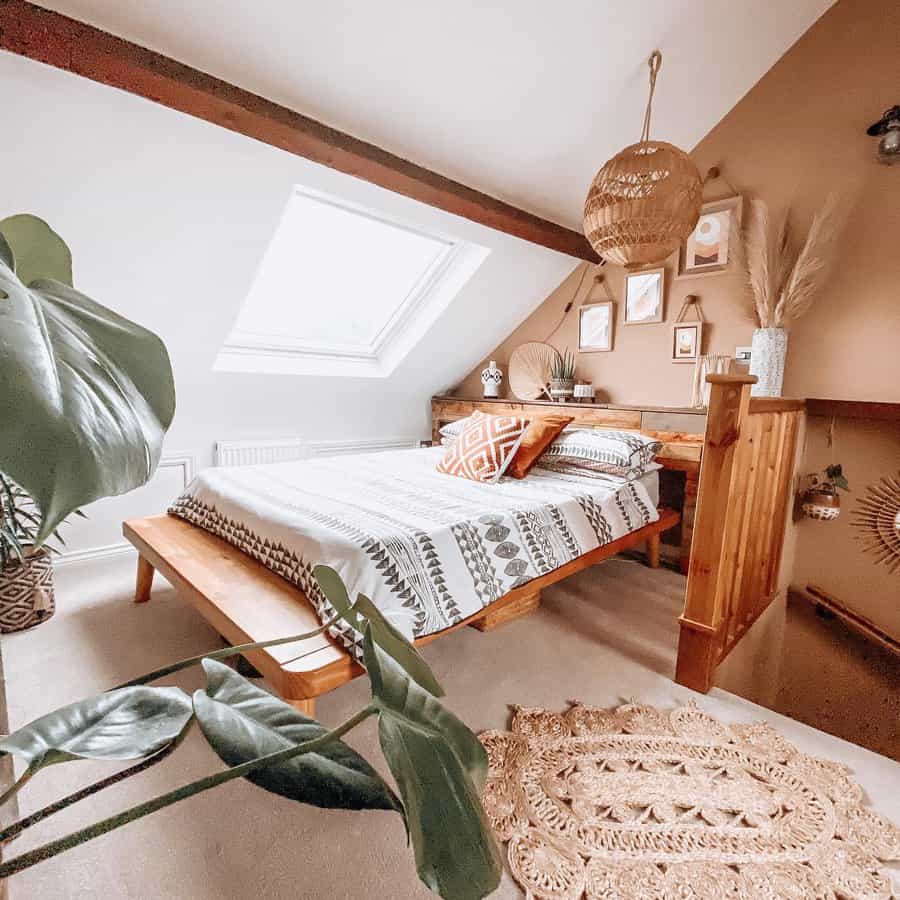 3. Attic Wall Art
Let your imagination soar as you curate a gallery wall that showcases your personal taste and passions. From bold abstract paintings to delicate watercolors, each piece of art can bring its own touch of magic to the space. Additionally, consider incorporating woven art, such as macrame or tapestries, to add texture and depth to the walls.
These intricate and handcrafted pieces can infuse the room with a bohemian flair and create a sense of warmth and coziness. Whether you opt for a curated collection of art or a single statement piece, attic wall art allows you to express your individuality and transform your attic bedroom into a captivating and inspiring sanctuary.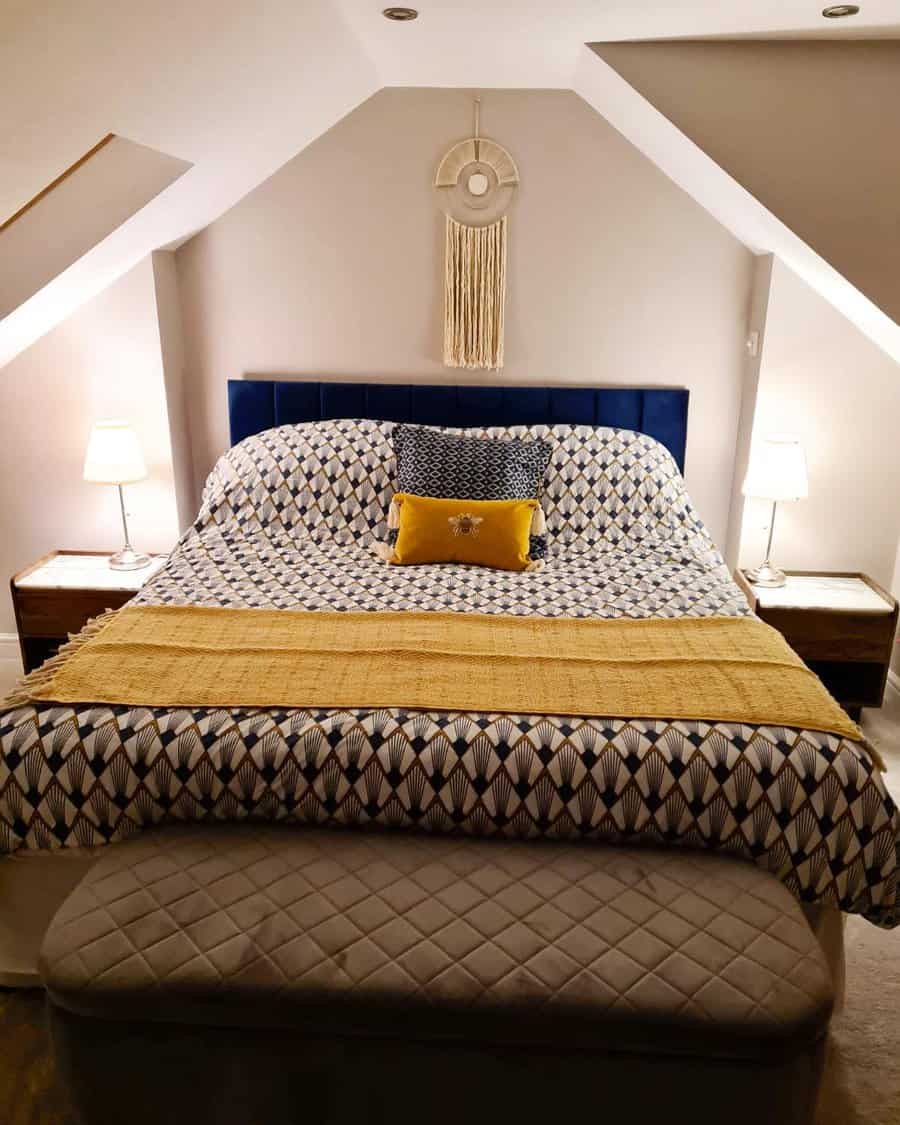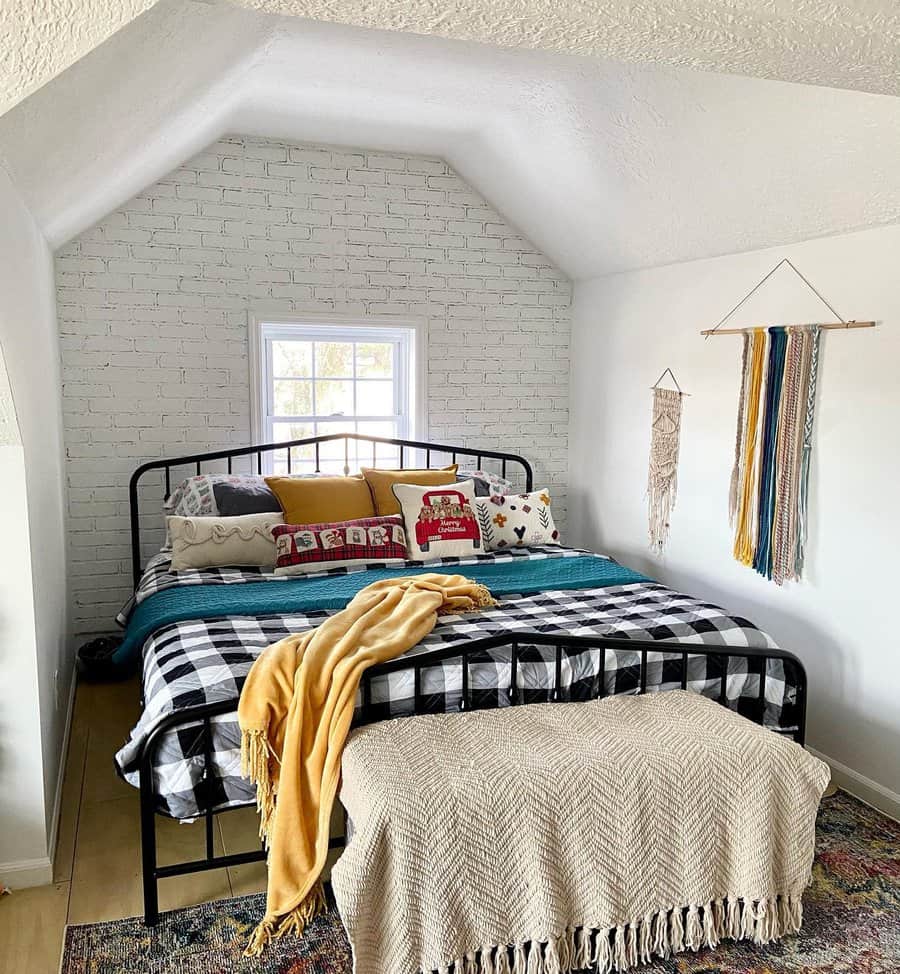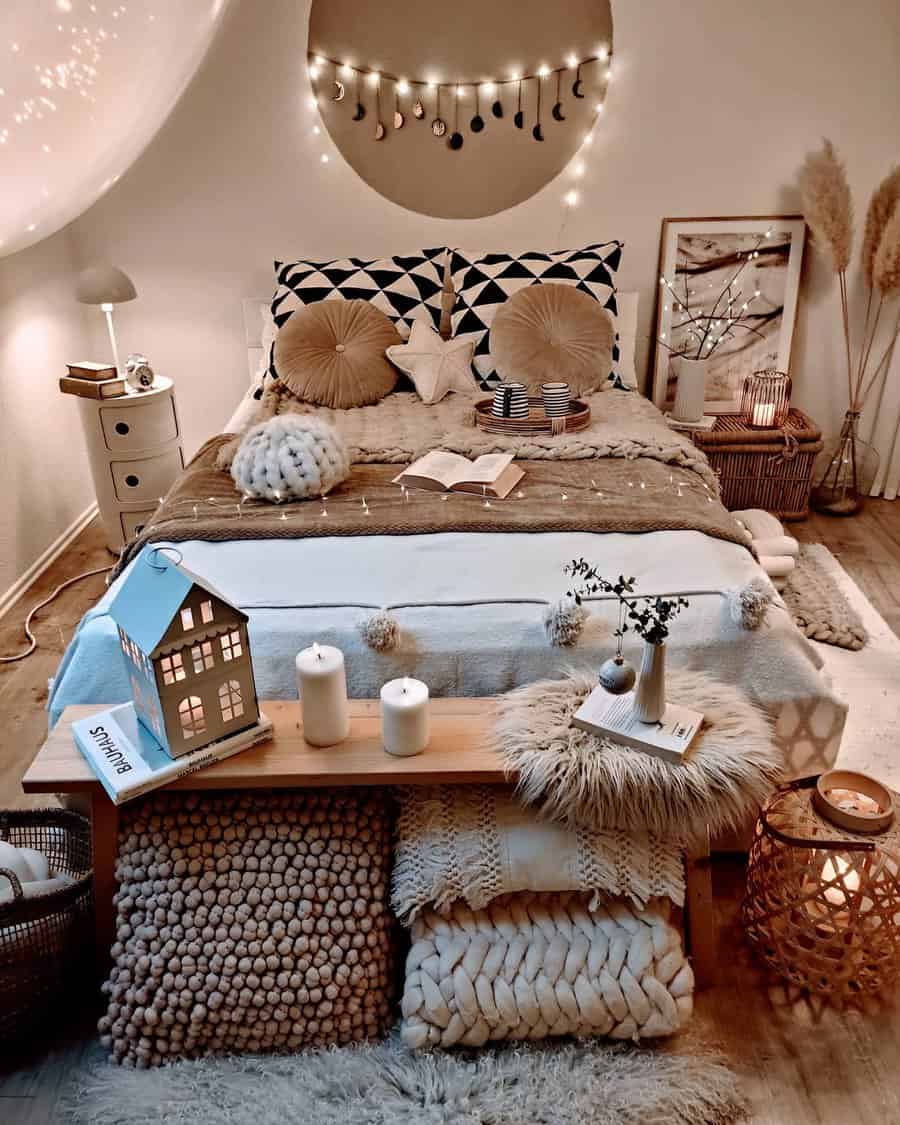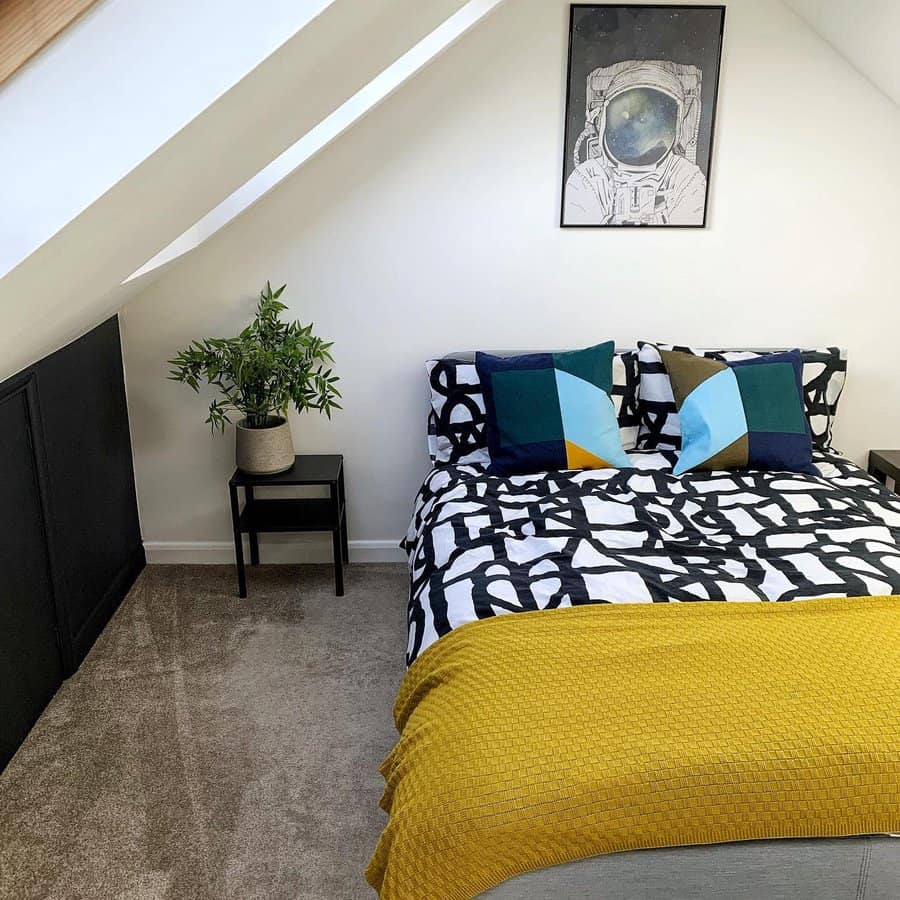 4. Attic Pendant Lamp
Choose a pendant light that complements the style of your space, whether it's a sleek and modern design or a vintage-inspired fixture. The pendant light beautifully suspends from the ceiling, casting a soft and diffused glow that adds depth and character to the room. It can be positioned above the bed to create a cozy reading nook or hung in the center of the room to illuminate the entire space.
The interplay of light and shadows adds a touch of magic, enhancing the unique architectural elements of the attic. Whether your attic is adorned with exposed beams, sloped ceilings, or skylights, the pendant light serves as a captivating centerpiece that transforms your attic into a stylish and inviting haven. Allow the gentle glow to guide you to a peaceful night's sleep or create a serene atmosphere for unwinding and relaxation.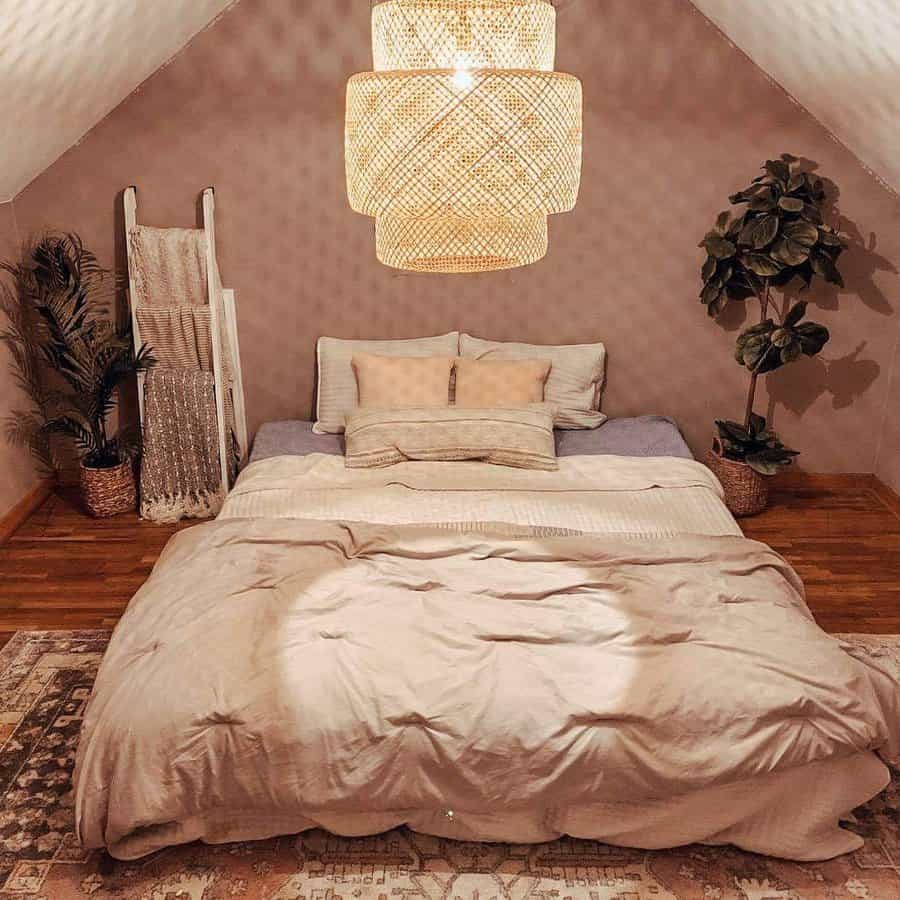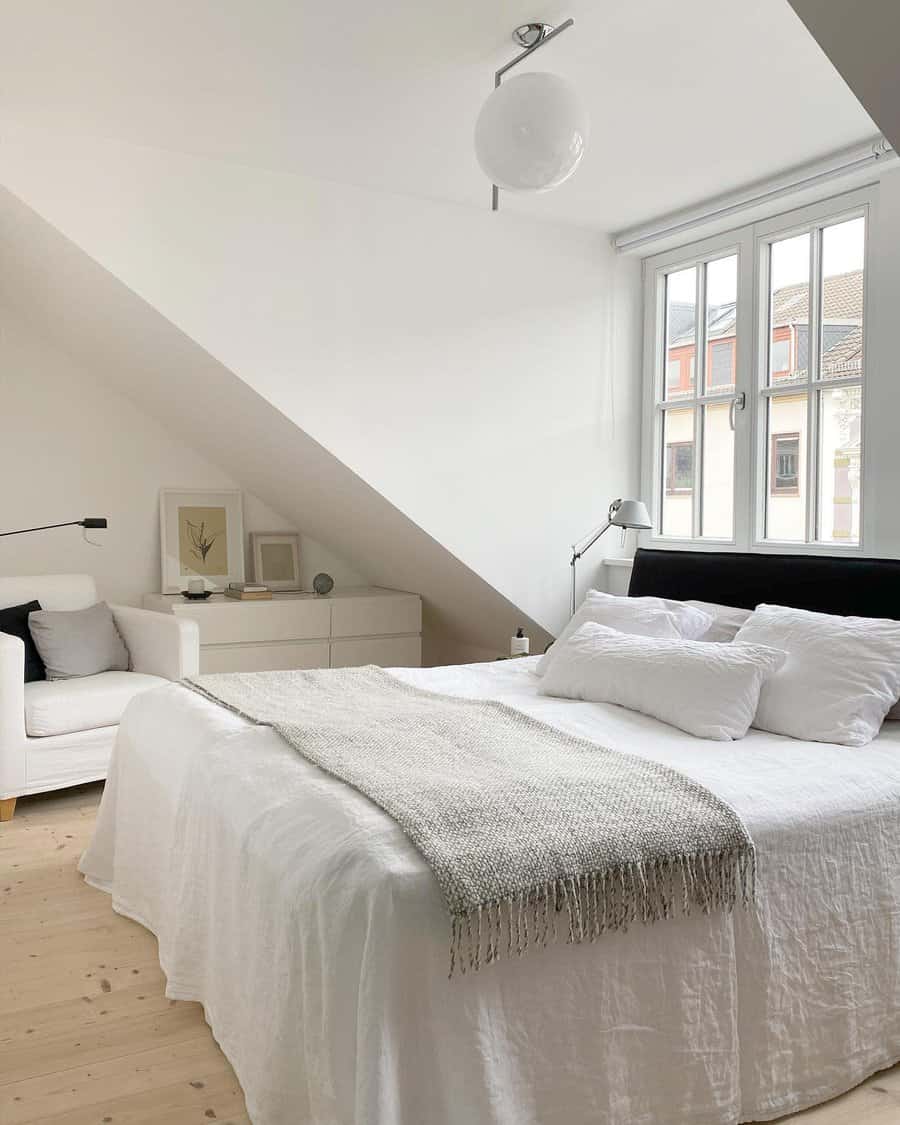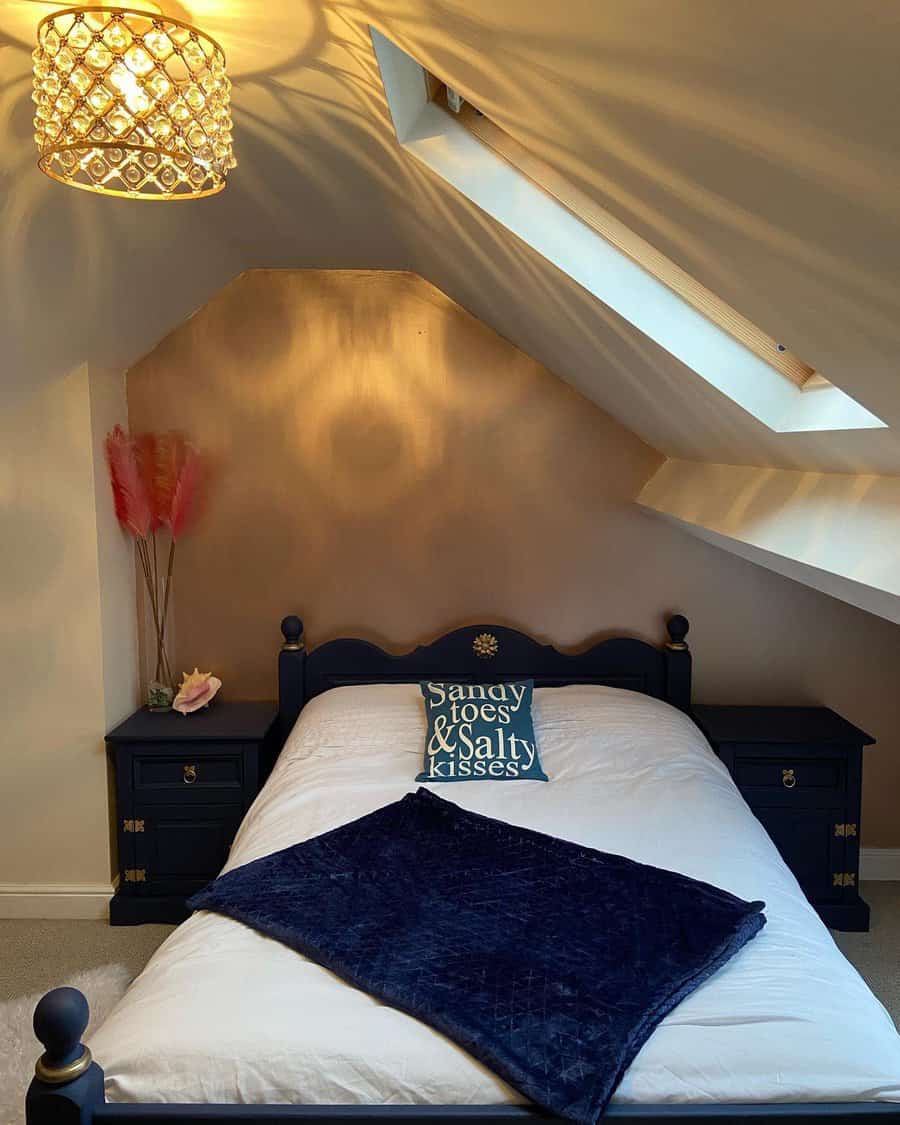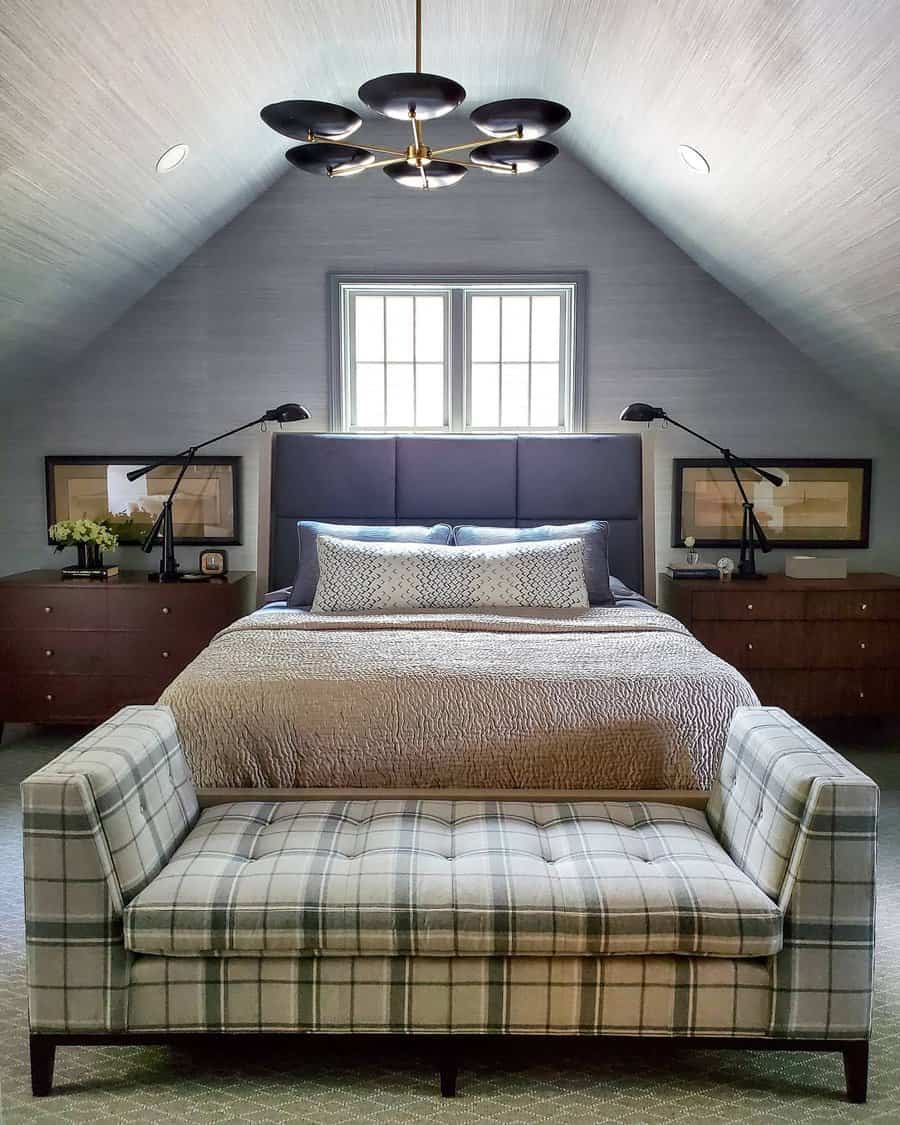 5. Attic Floor Bed
This imaginative and cozy idea utilizes the unique layout of the attic space to create a charming and inviting bedroom. By placing the bed directly on the attic floor, you embrace the sloping ceilings and create a whimsical and intimate sleeping area. The low-profile design not only maximizes the use of space but also adds a touch of uniqueness to the room.
Nestled beneath the eaves, you'll find solace and serenity as you drift off to sleep amidst the charm of your attic retreat. With the soft glow of twinkling string lights or the natural light streaming through skylights, you can create a tranquil ambiance that encourages relaxation and rejuvenation.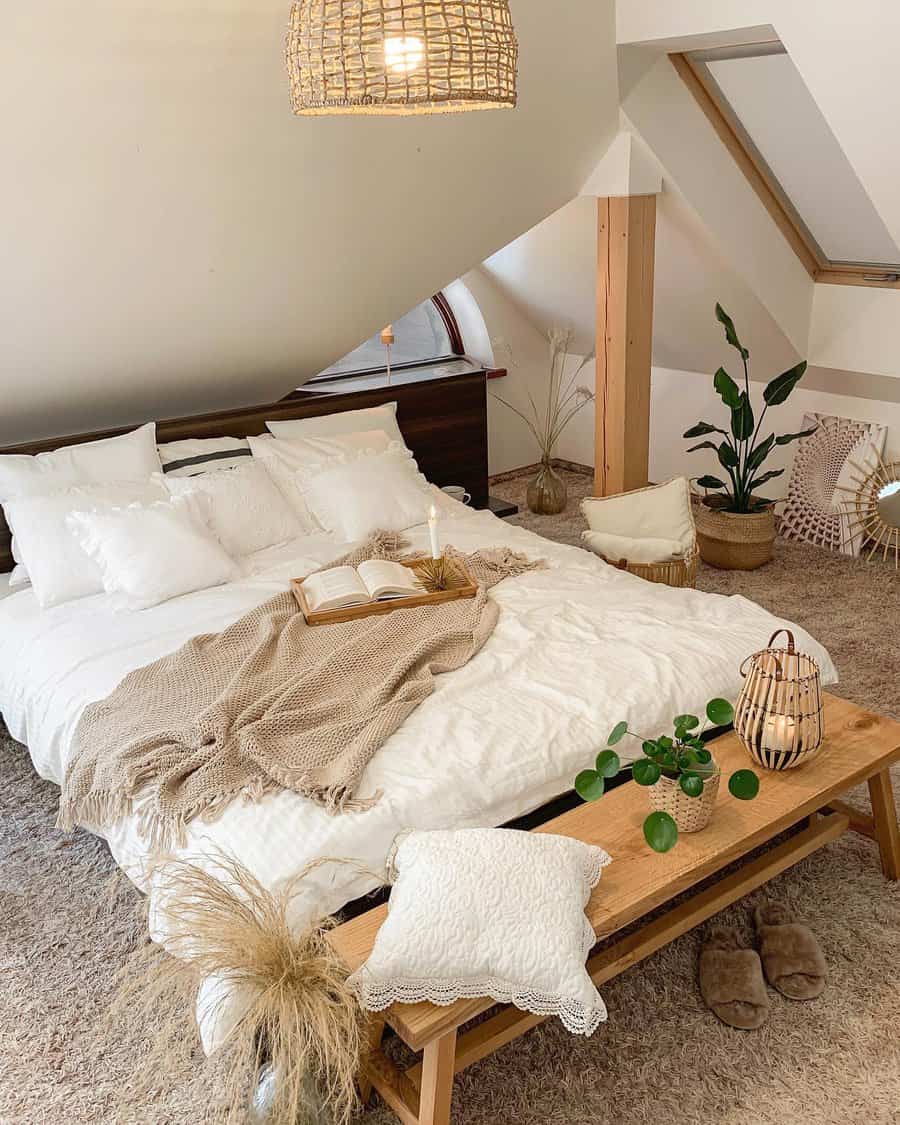 6. Textured Accent Wall
Turn your attic into a captivating and cozy bedroom retreat with the allure of a textured accent wall. Picture this: an exposed brick wall or a stunning wood accent wall that adds instant character and warmth to the space. The raw and rugged beauty of exposed brick brings a touch of urban charm, while the rich and earthy tones of a wood accent wall create a natural and inviting atmosphere.
These textured walls serve as focal points, elevating the aesthetics of your attic bedroom to new heights. The juxtaposition of rough textures against the clean lines of the room creates a visually captivating and dynamic look. It's the perfect opportunity to infuse your personal style and create a unique and inspiring ambiance.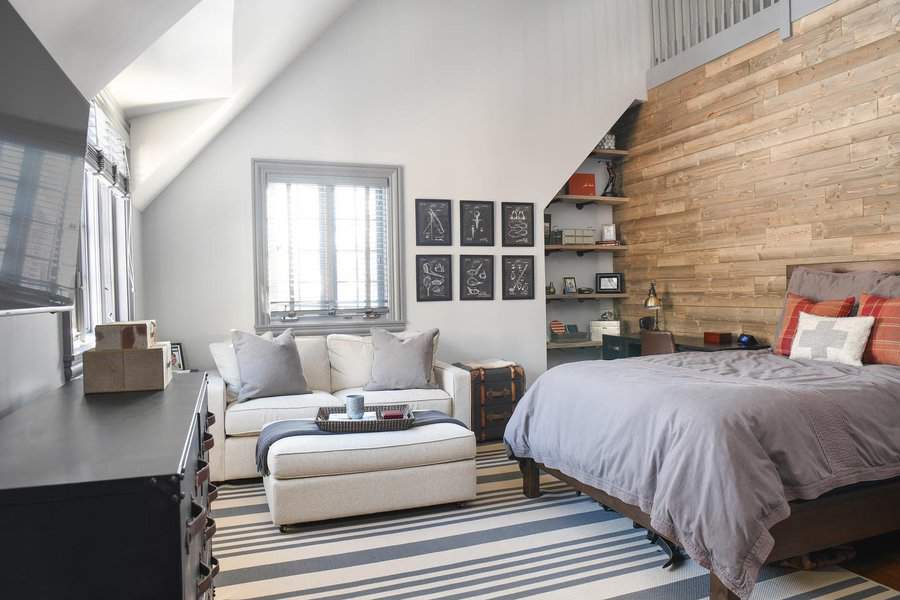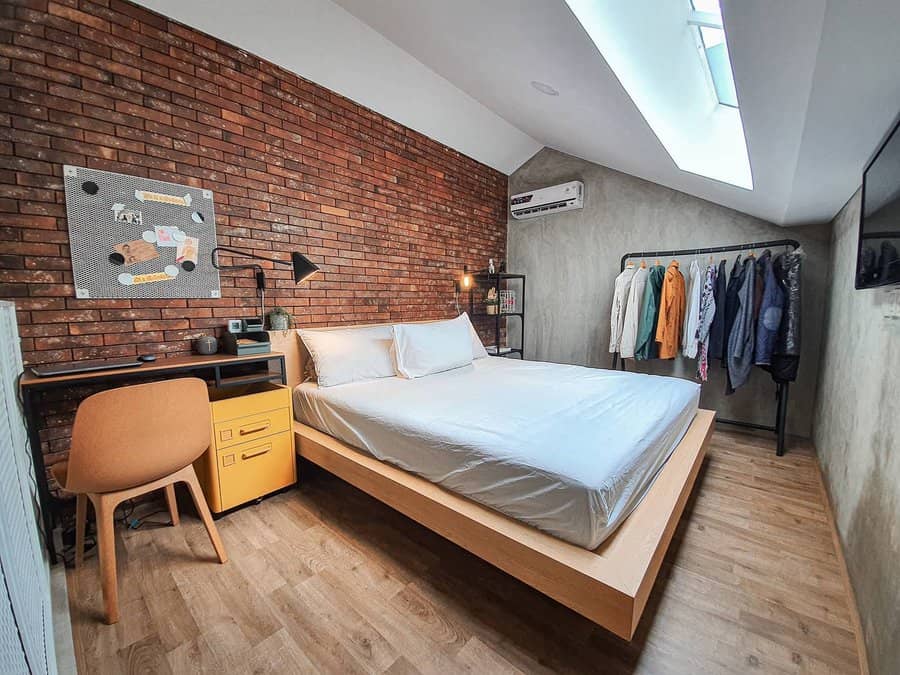 7. Attic Bay Window Seating
One captivating idea that can transform your attic into a cozy sanctuary is the addition of a bay window seating area. Utilizing the unique architectural features of the sloping roof and angled walls, a bay window creates a charming nook that bathes the room in natural light.
Imagine curling up on a plush cushioned seat, nestled within the alcove of the bay window, as you indulge in your favorite book or simply bask in the breathtaking views outside. This attic bay window seating serves as a versatile space that can be used for relaxation, meditation, or even as a quiet spot for creative inspiration.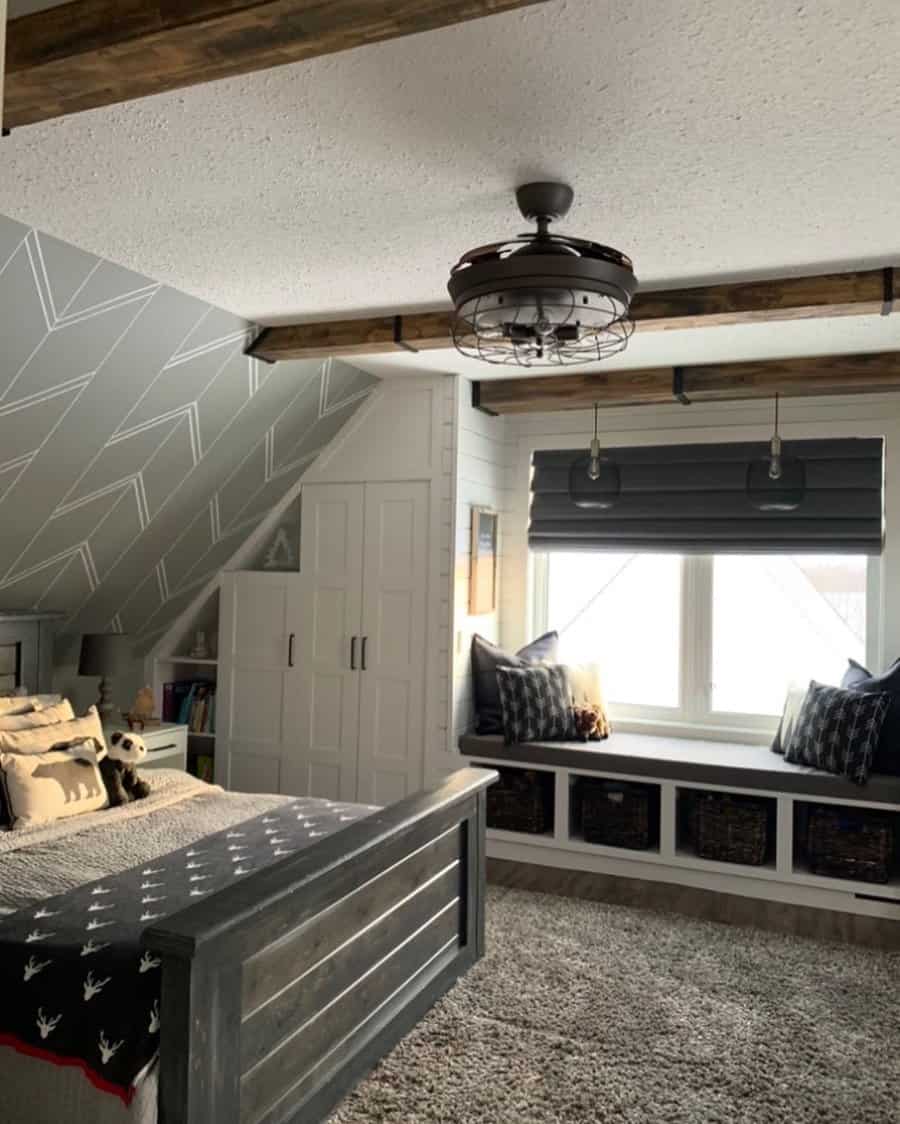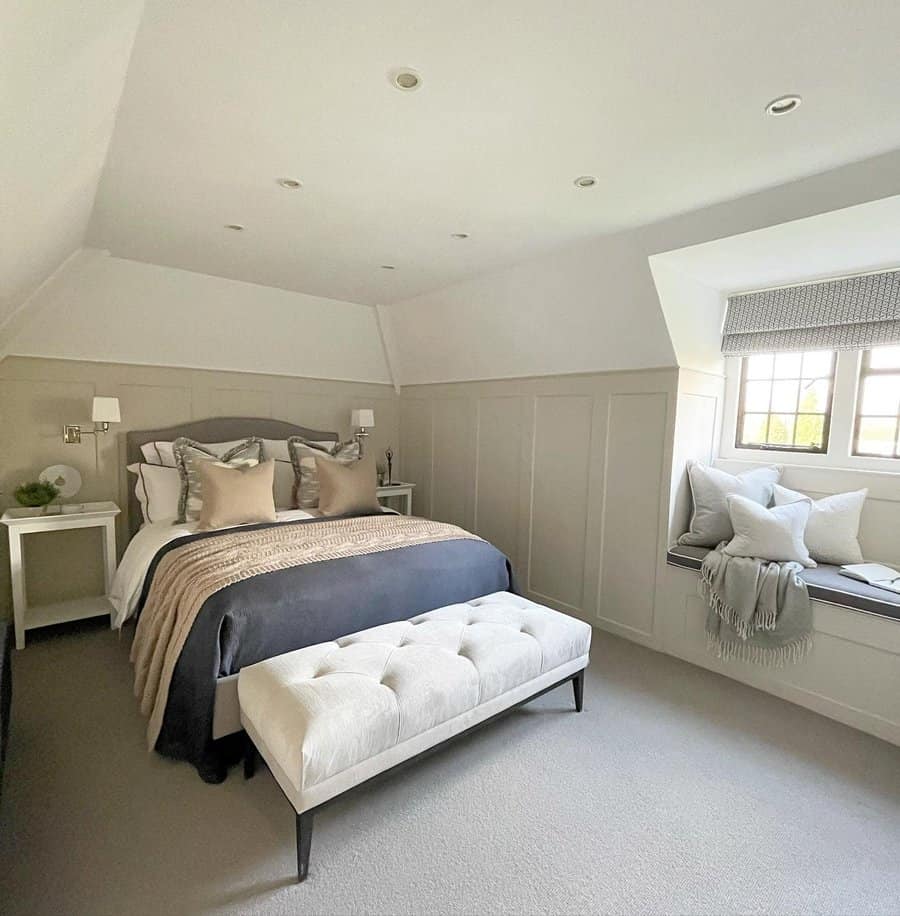 8. Attic Plants
Whether you opt for hanging plants cascading from the ceiling, potted plants adorning the windowsills, or a vertical plant wall, the presence of plants adds a refreshing and serene ambiance to your attic bedroom. The natural green hues and organic textures create a soothing atmosphere, connecting you to the beauty of the outdoors while providing a sense of tranquility and relaxation.
The attic's unique architecture, with its sloped ceilings and skylights, lends itself perfectly to creating an intimate and enchanting botanical haven. Combine different varieties of plants to create an eclectic and lively display, or opt for a cohesive arrangement with a specific theme or color palette. Let the natural light flood in through the skylights, illuminating the greenery and creating a picturesque retreat.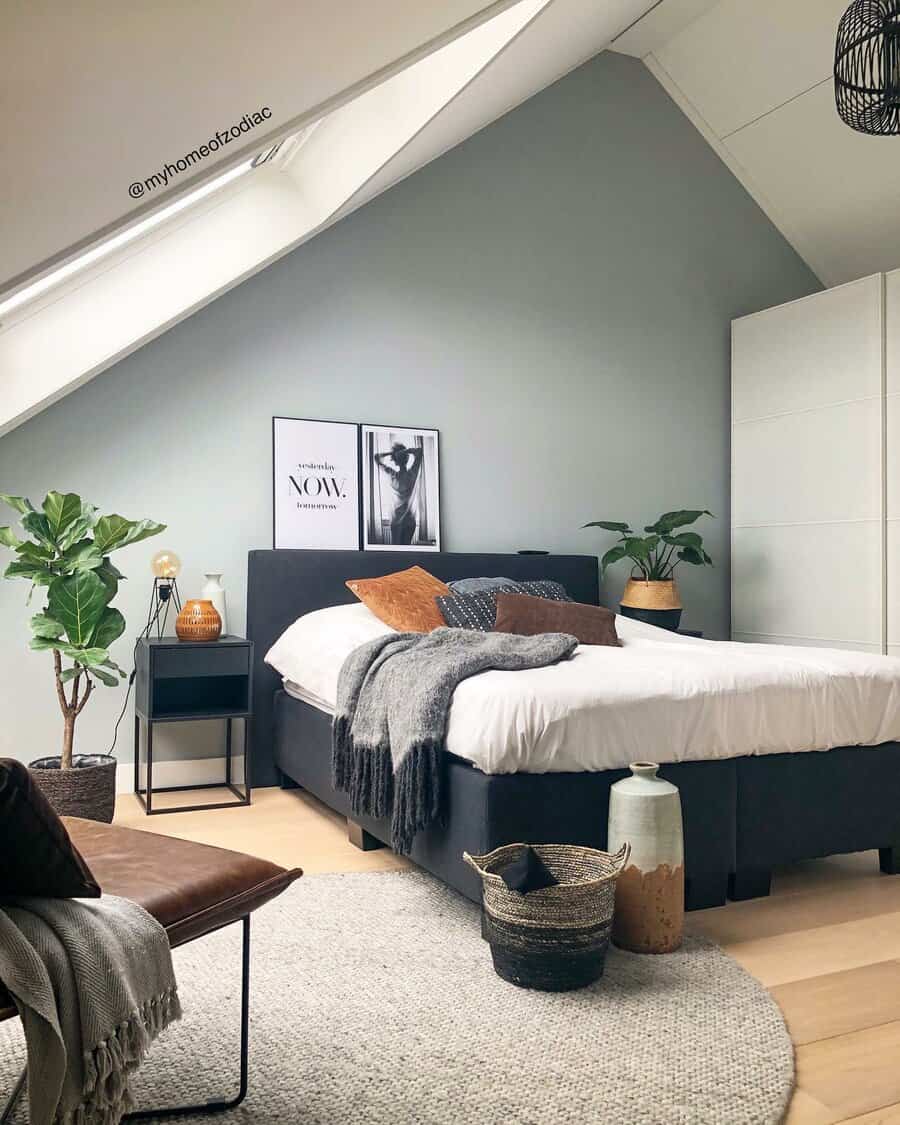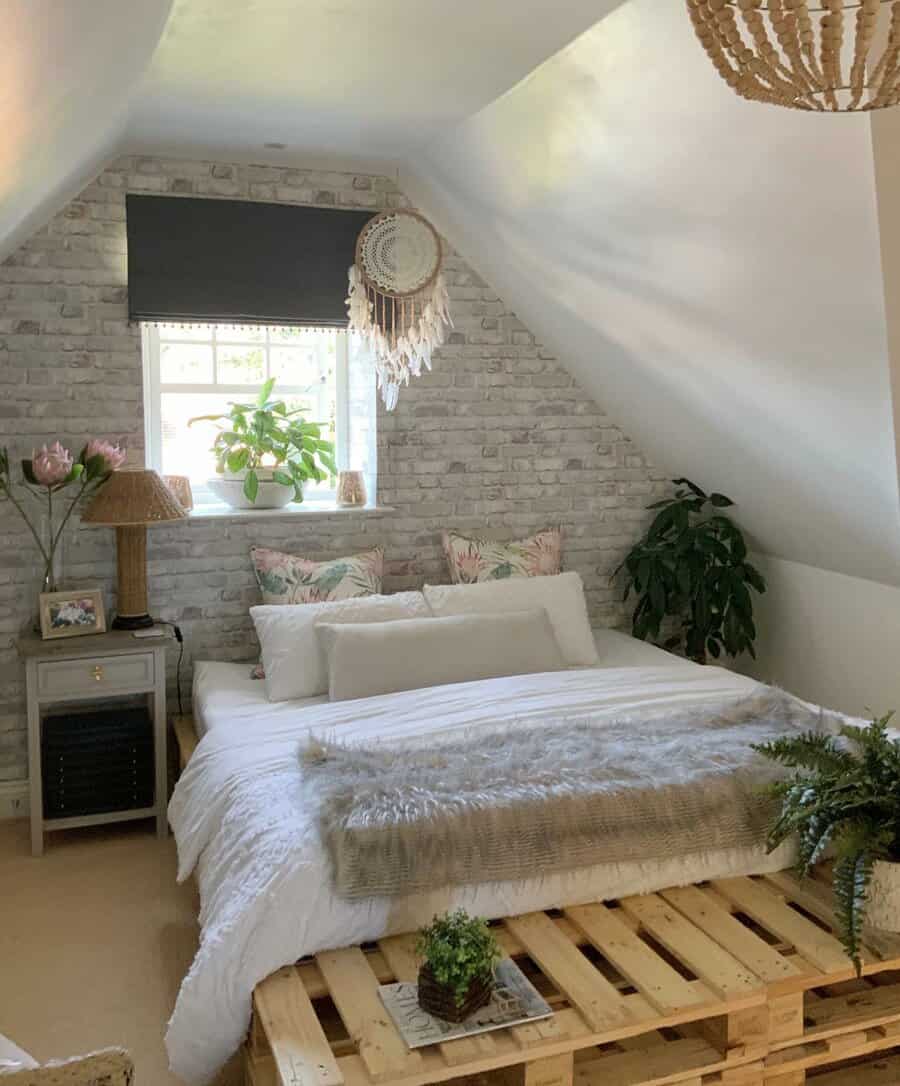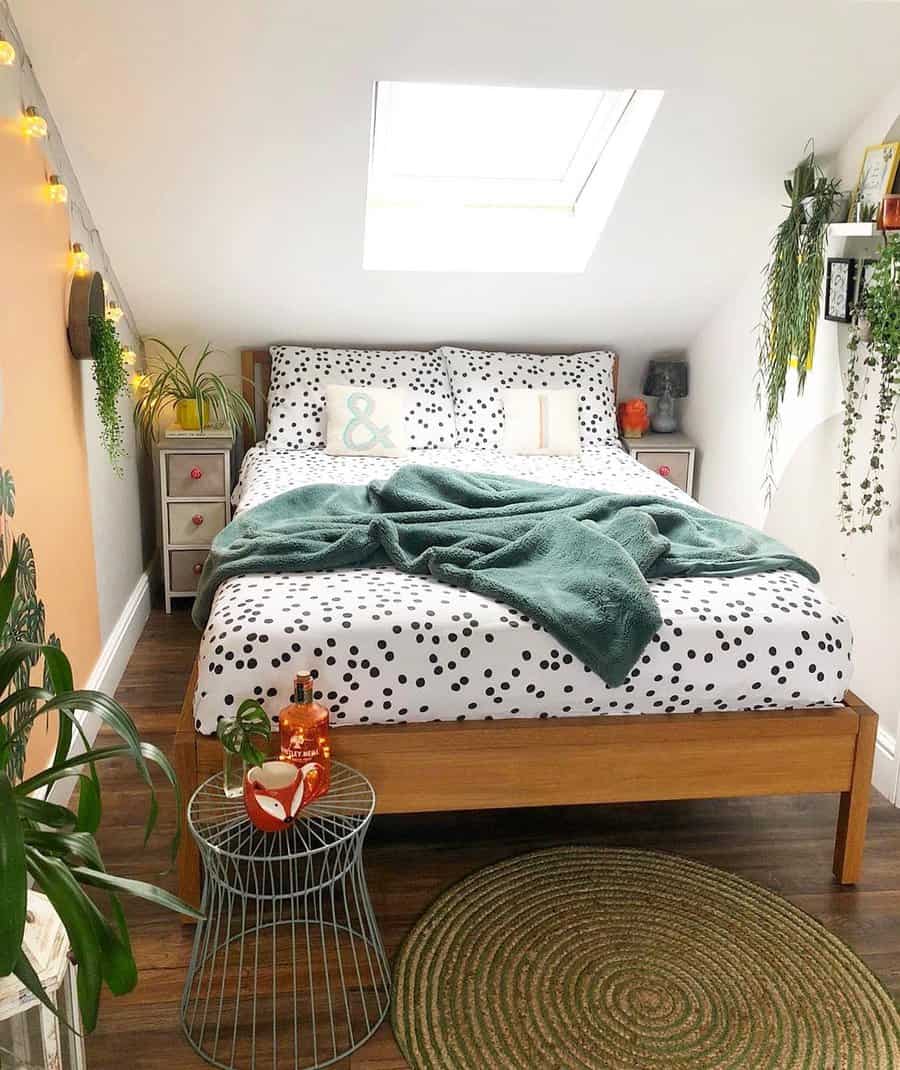 9. White Attic Bedroom
The use of white as the predominant color creates a clean and airy atmosphere, making the room feel spacious and inviting. The natural light that filters through the attic windows accentuates the bright and crisp aesthetic, adding to the ethereal ambiance.
White walls and ceilings provide a blank canvas for your personal style to shine through, allowing you to incorporate pops of color and texture with furnishings, textiles, and accessories.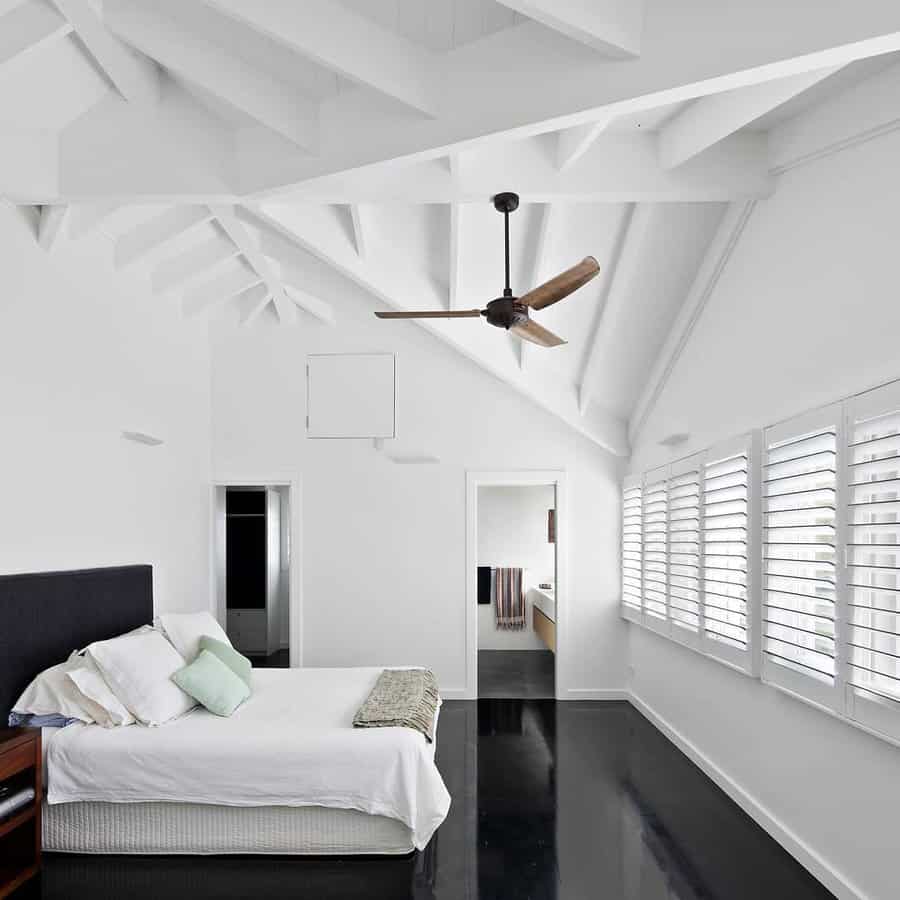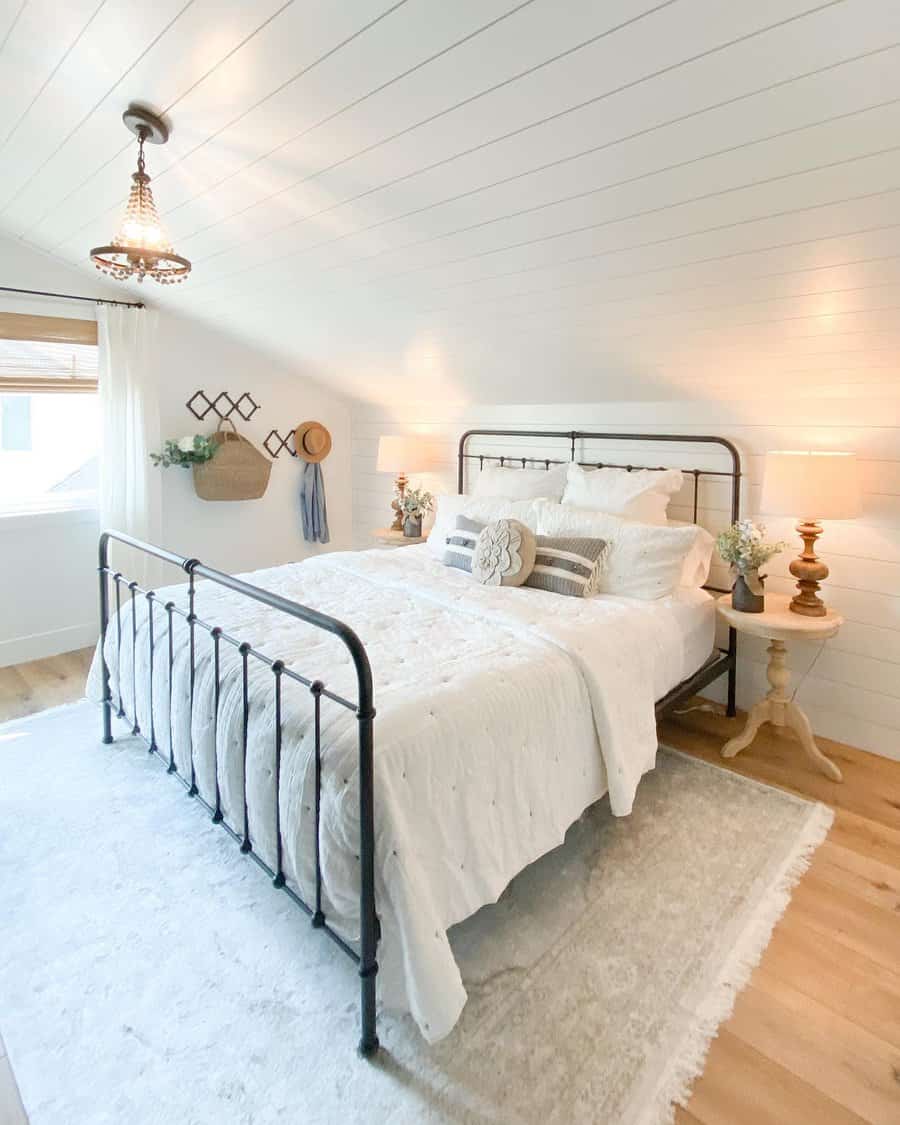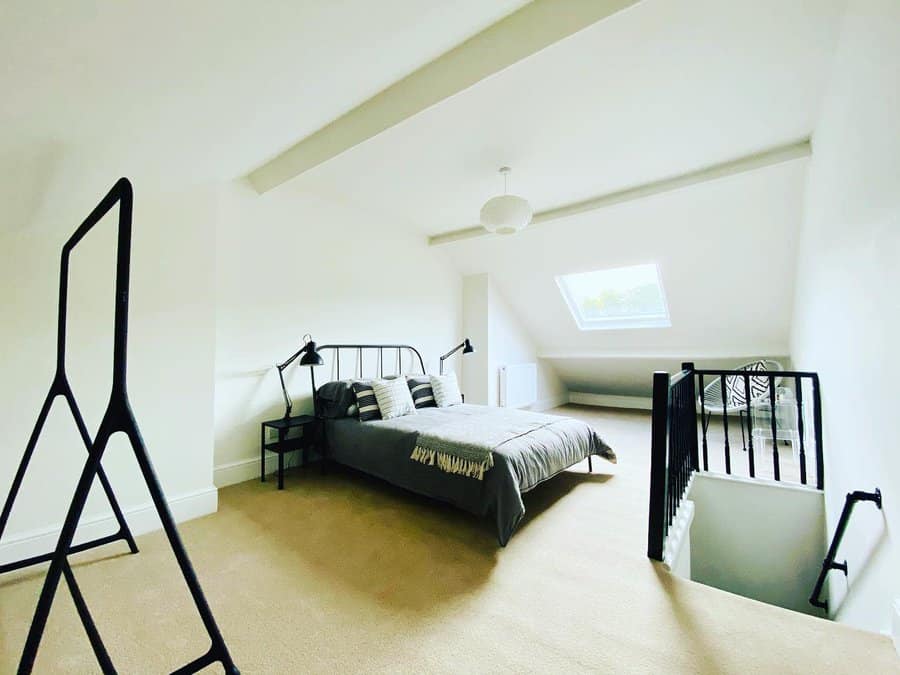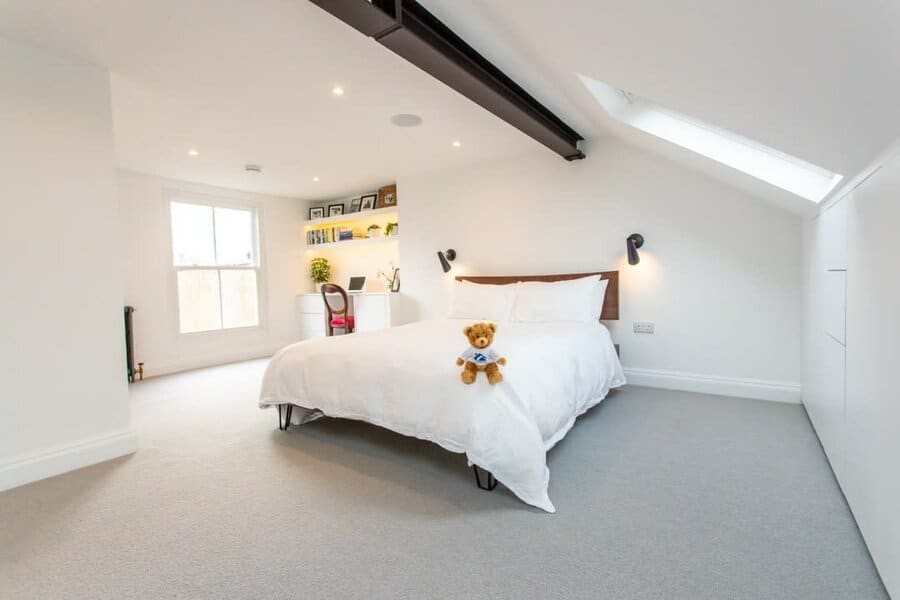 10. Area Rug
An attic area rug acts as a focal point, adding texture, color, and softness to the room. Whether you opt for a plush, shaggy rug for a touch of luxury or a woven patterned rug for a bohemian flair, the right choice can instantly elevate the aesthetic of your attic bedroom. The rug not only provides a comfortable surface to walk on but also helps define the space and anchor your furniture arrangement.
Its presence adds a sense of coziness and intimacy, making the attic bedroom a serene sanctuary where you can unwind and relax. With the right choice of color and pattern, the attic area rug can tie the room together and create a cohesive design scheme.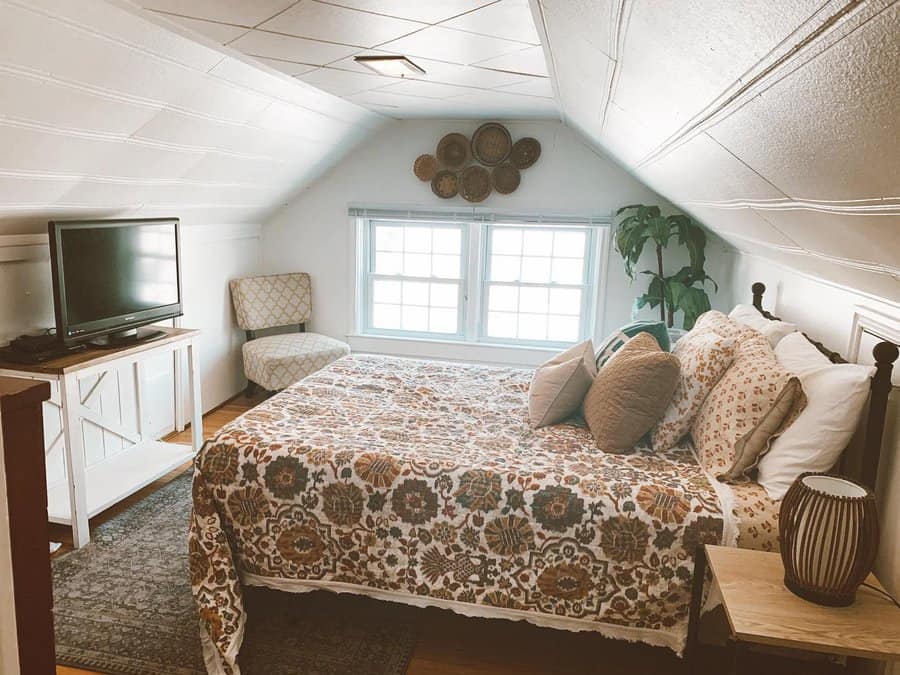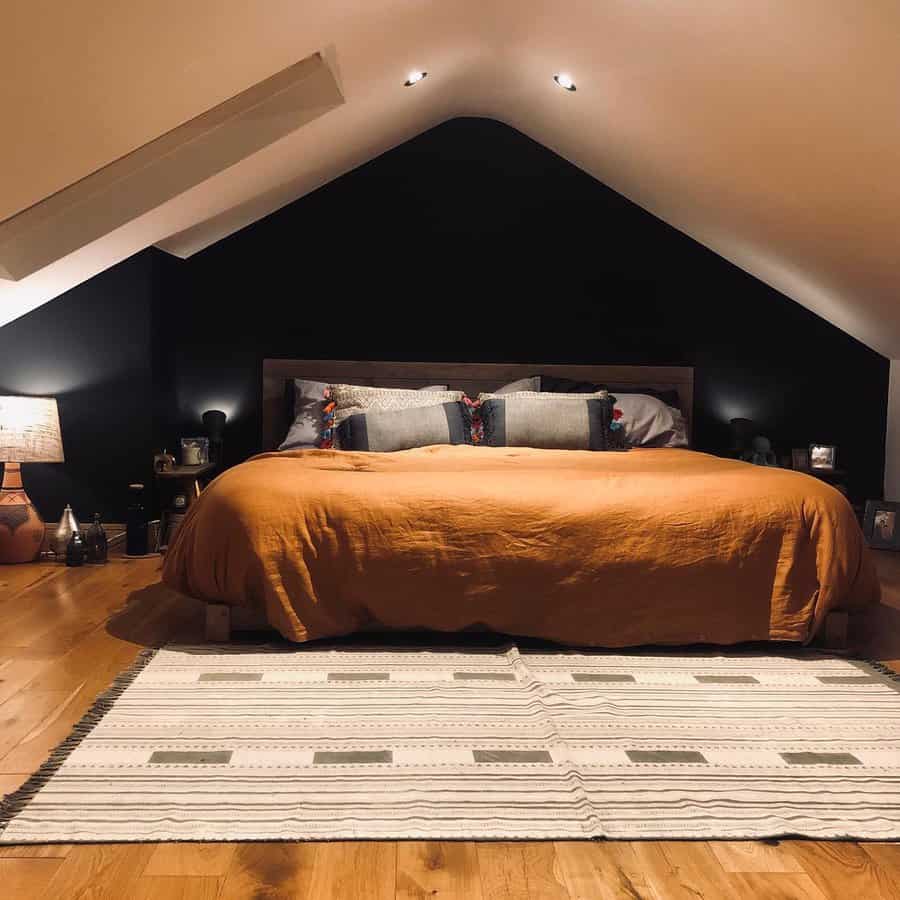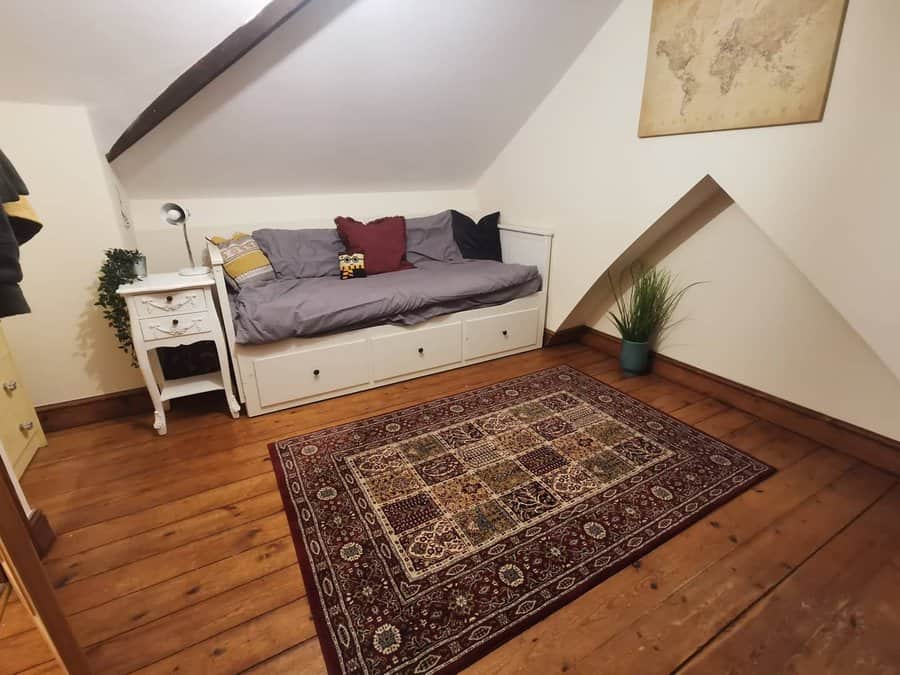 11. Wood Pallet Beds
Embrace the DIY spirit and create a unique and cost-effective sleeping space that exudes warmth and character. By repurposing wood pallets, you can craft a floor bed that not only adds a touch of rustic elegance but also maximizes the available space in your attic.
The natural textures and earthy tones of the wood pallets create a cozy and inviting atmosphere, perfect for unwinding and enjoying a restful night's sleep. Whether you're converting your attic into a guest bedroom, a teen's hideaway, or a tranquil space for yourself, wood pallet beds offer a versatile and budget-friendly solution.
Create a personalized haven with soft and plush bedding, accent pillows, and ambient lighting to enhance the cozy ambiance.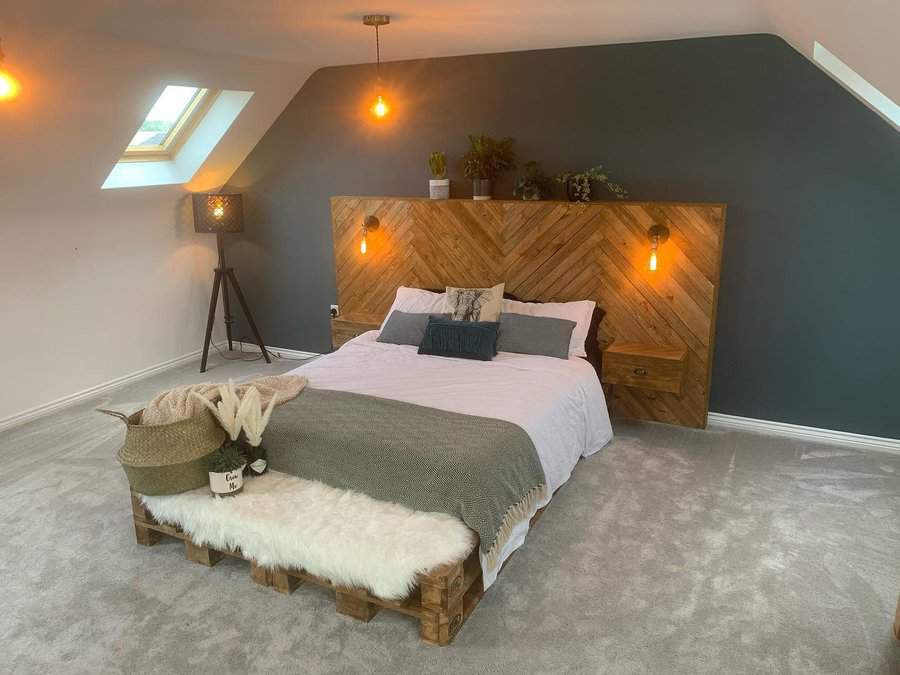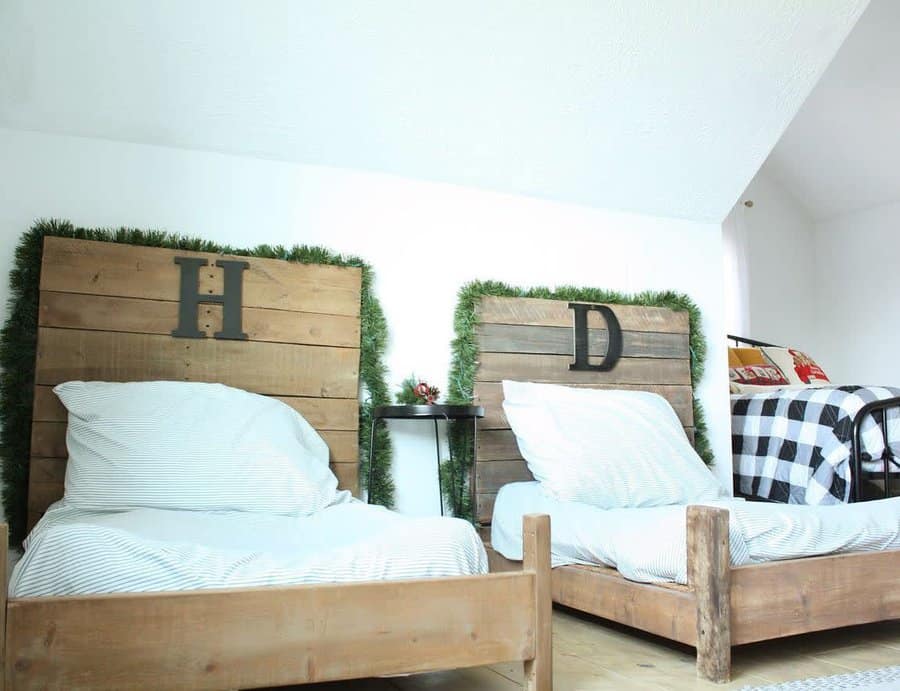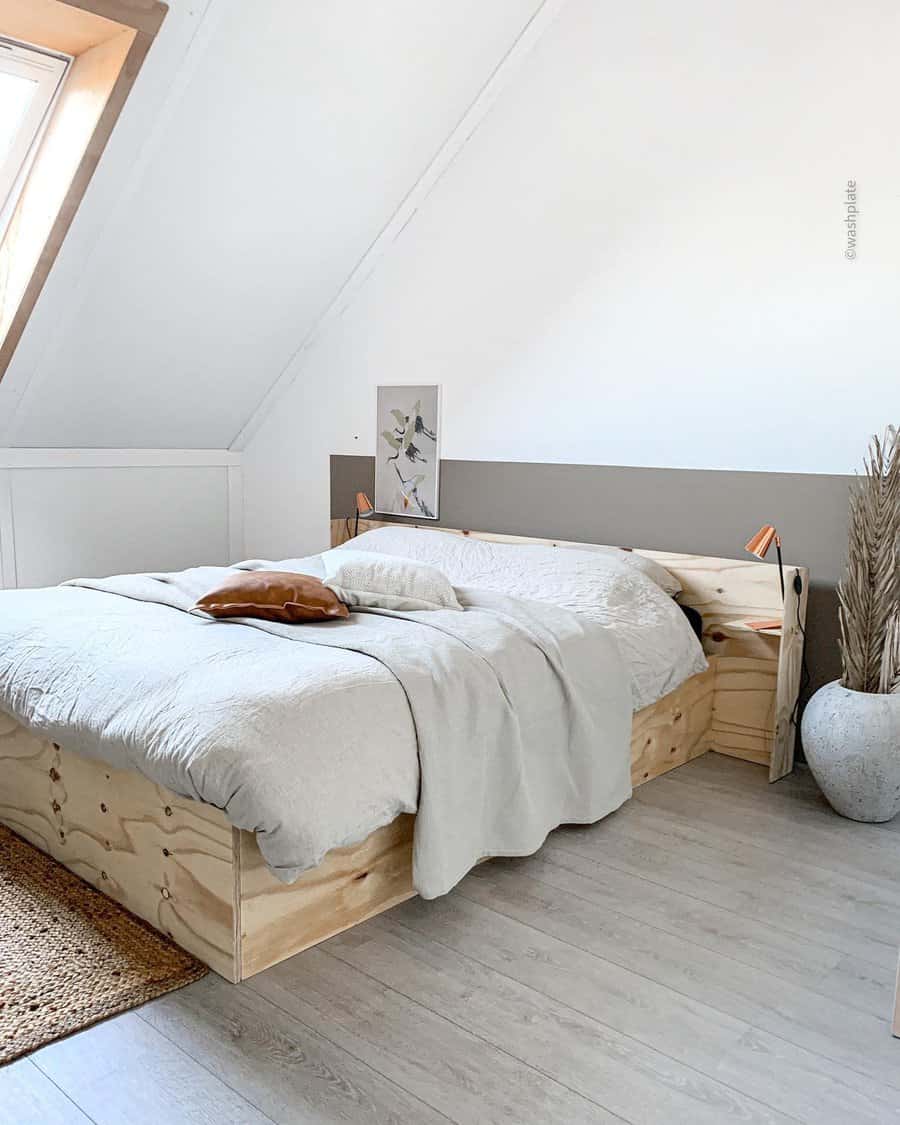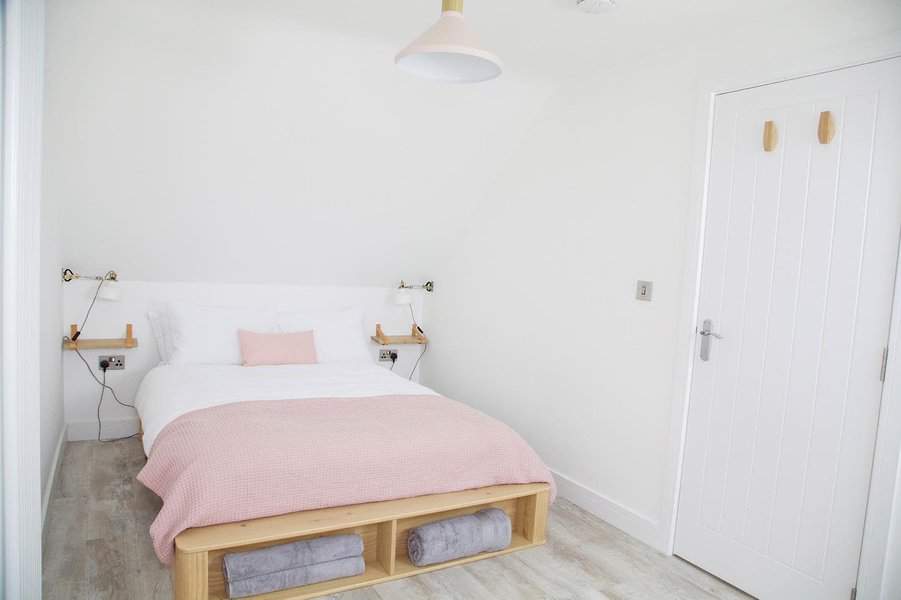 12. Glam Attic Bedroom
To set up an attic bedroom with a glam interior, start by selecting a color palette that exudes elegance, such as shades of white, cream, or soft pastels, and infuse it with silver or gold accents to add a touch of luxury. Incorporate plush textiles and sumptuous fabrics, like velvet or satin, for a lavish feel.
Install a sparkling chandelier as a focal point, casting a warm and inviting glow. To maximize the natural light, consider adding skylights or large windows, allowing the beauty of the outdoors to shine through. Incorporate sleek and modern furniture pieces with clean lines, creating a harmonious blend of old-world glamour and contemporary style.
Utilize the attic's unique architecture and exposed beams as design features, adding charm and character to the space.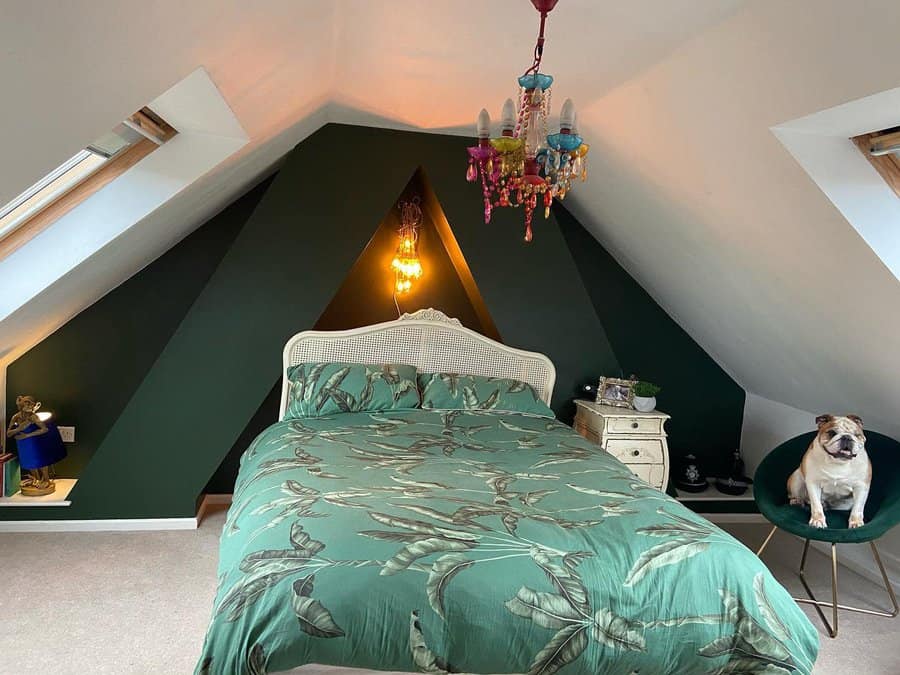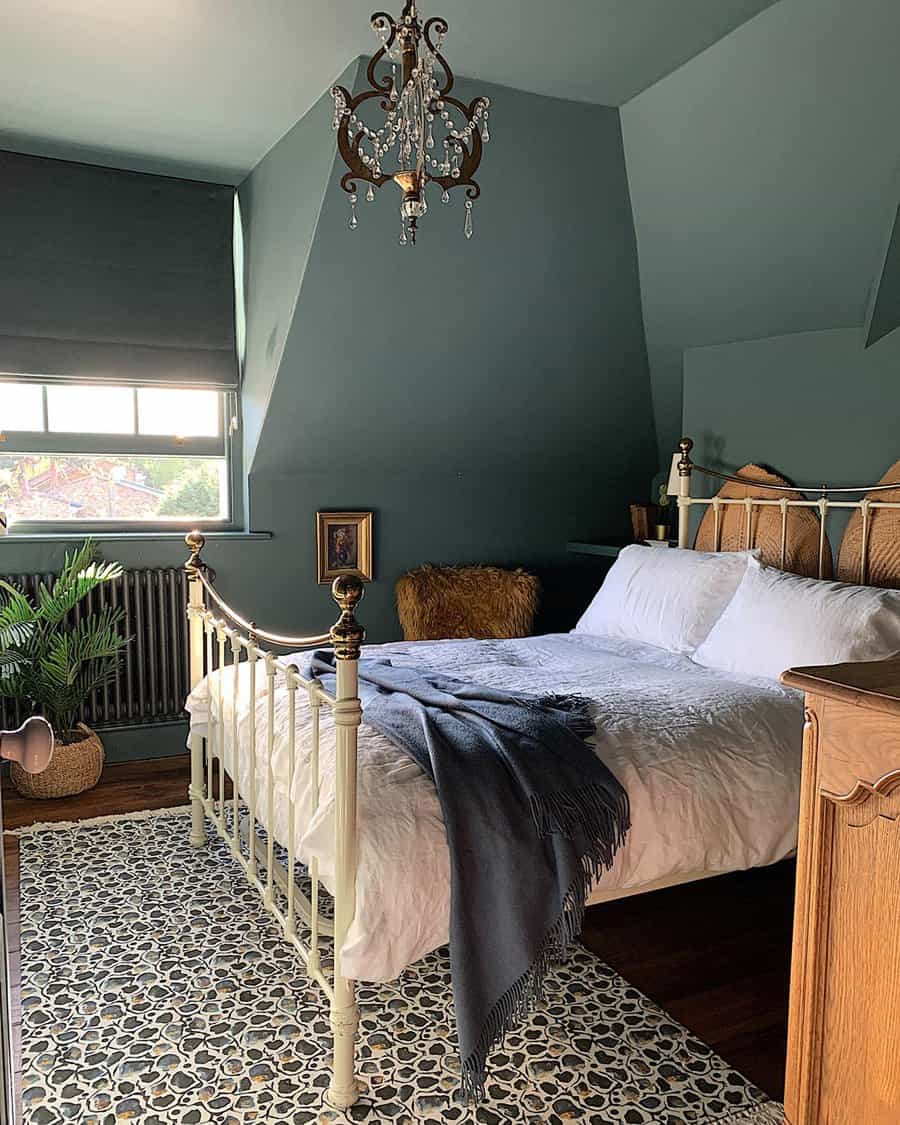 13. Attic Guest Room
Create a cozy and charming ambiance with a sparkling chandelier that adds a touch of elegance and sophistication. The soft, warm glow from above sets the mood for relaxation and comfort. To elevate the guest experience, consider incorporating a stylish bathtub into the attic bedroom. This unexpected addition provides a private oasis where guests can unwind and indulge in a soothing soak.
Complete the guest room experience by adding a thoughtfully curated selection of guest toiletries, such as luxurious soaps, lotions, and fragrances. Display them in a beautiful tray or basket to add a touch of elegance and ensure your guests feel pampered during their stay. With the right blend of comfort, style, and attention to detail, your attic guest room will become a hidden gem that leaves a lasting impression on your visitors.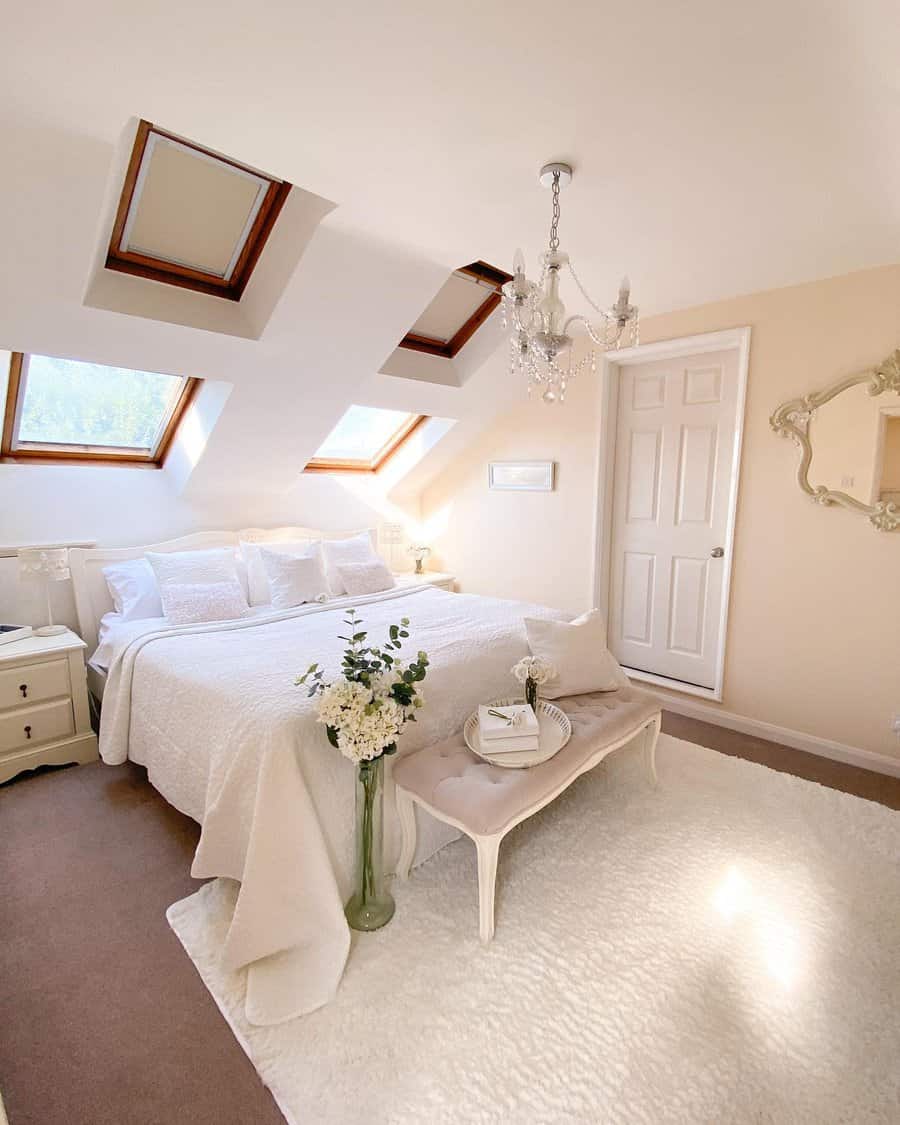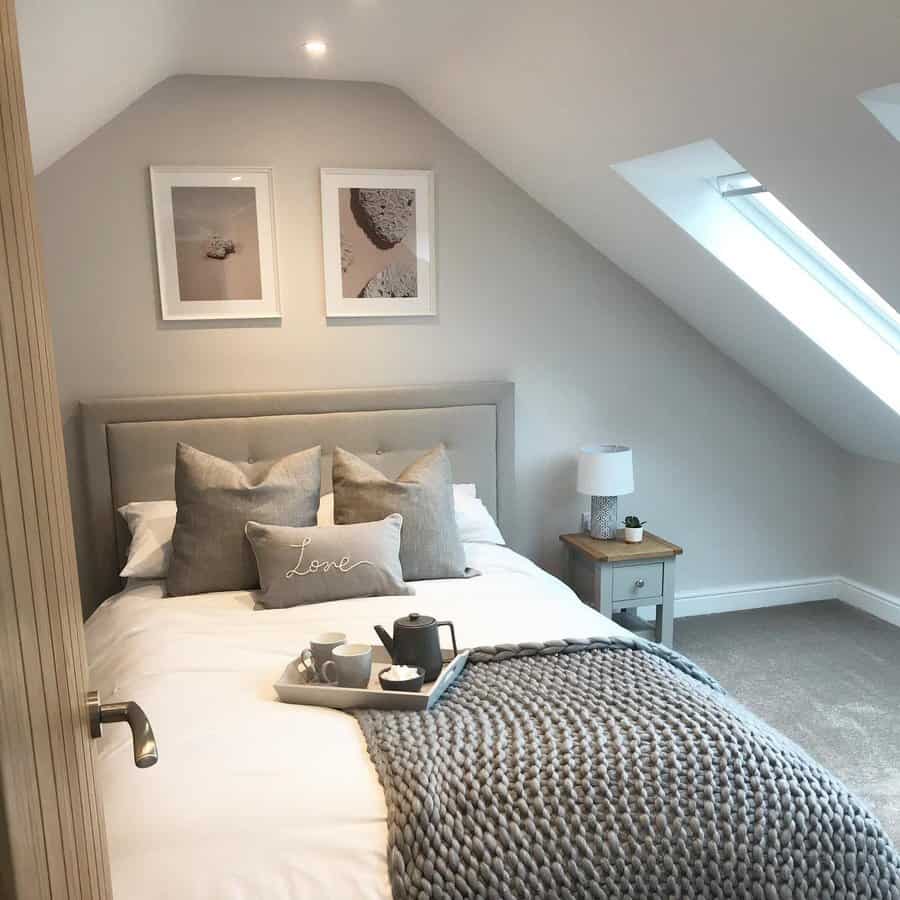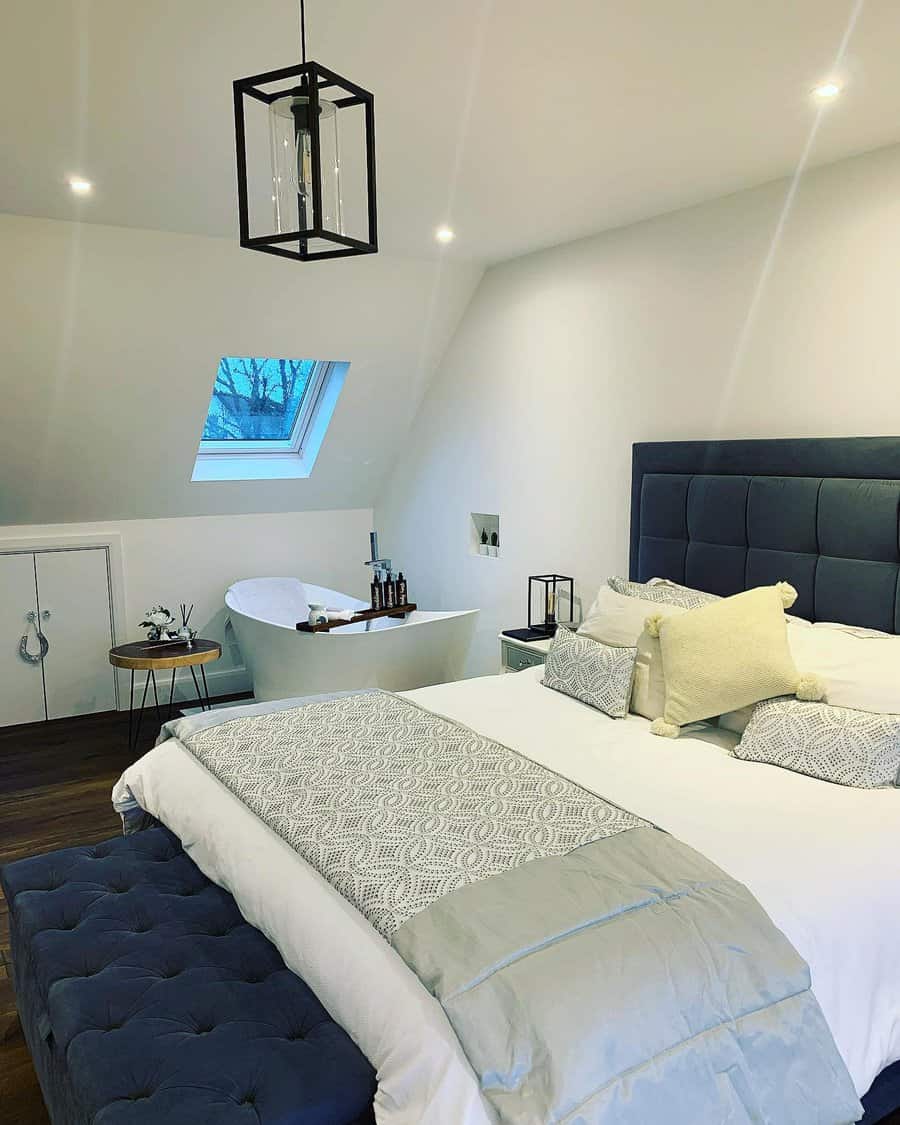 14. Decorative Wallpaper
One of the most enchanting attic bedroom ideas is to create a stunning accent wall using vibrant and visually captivating wallpaper. By carefully selecting a pattern or design that resonates with your personal style, you can infuse your attic space with a sense of charm and visual interest.
From intricate florals to bold geometrics, the options are endless. The accent wall becomes a focal point, drawing the eye and adding depth to the room. The beauty of decorative wallpaper lies in its ability to transform a plain and ordinary wall into a work of art, evoking a sense of whimsy and enchantment.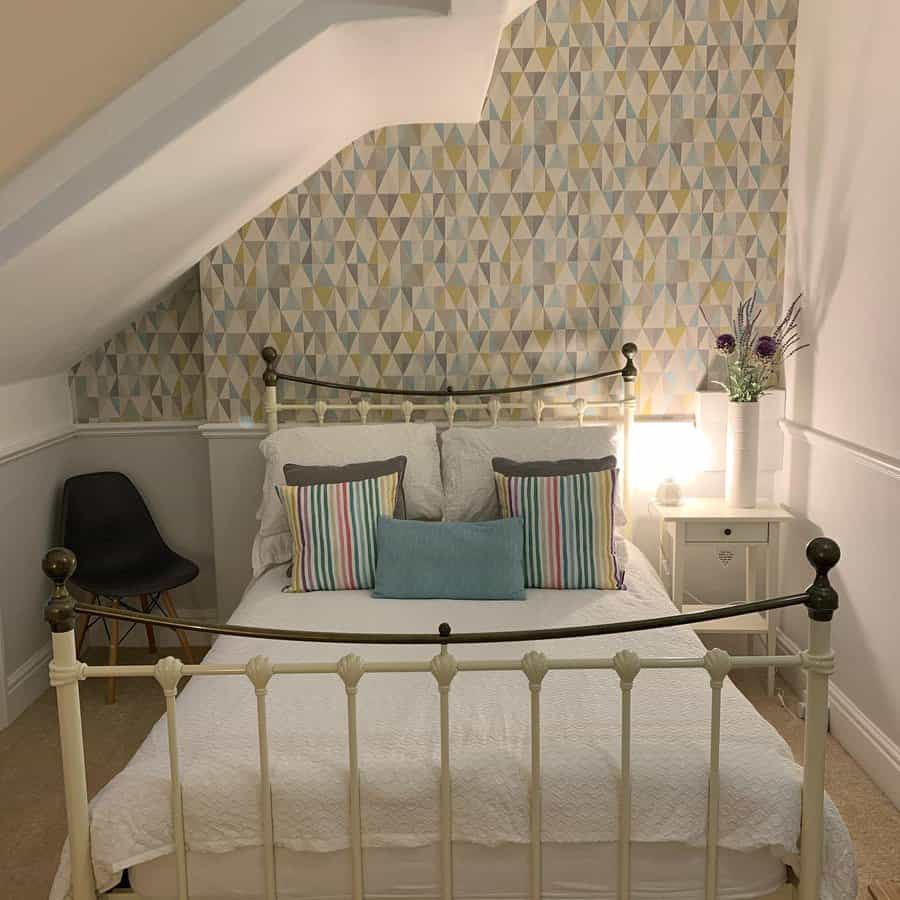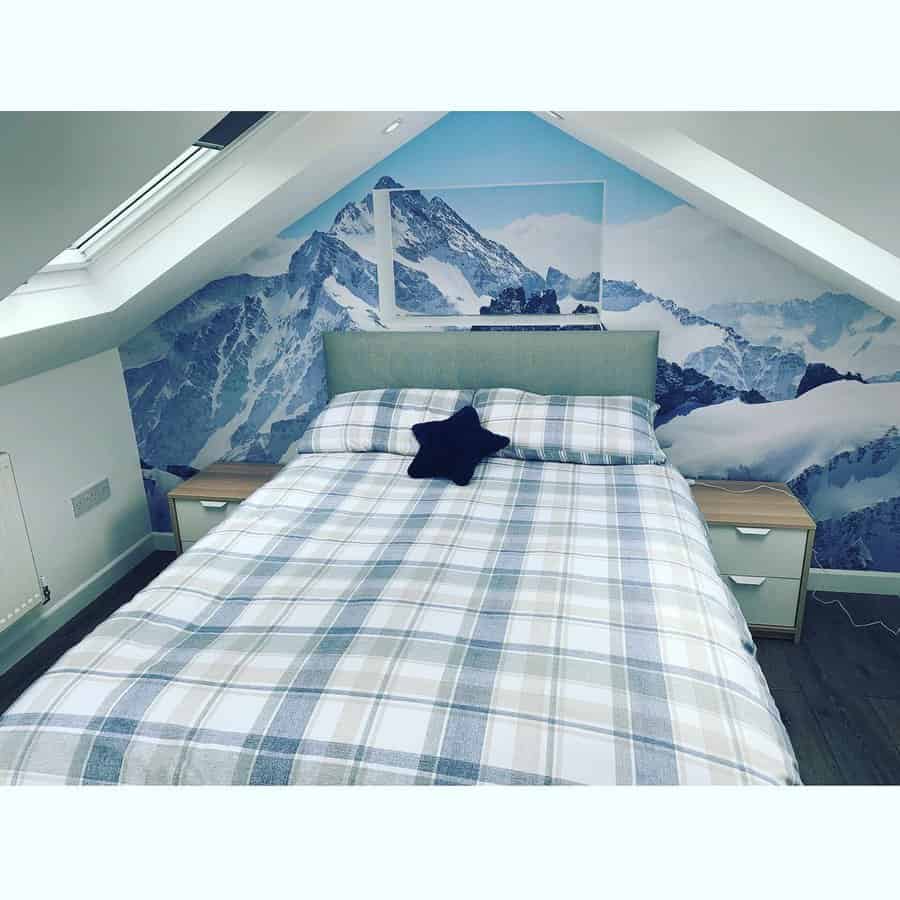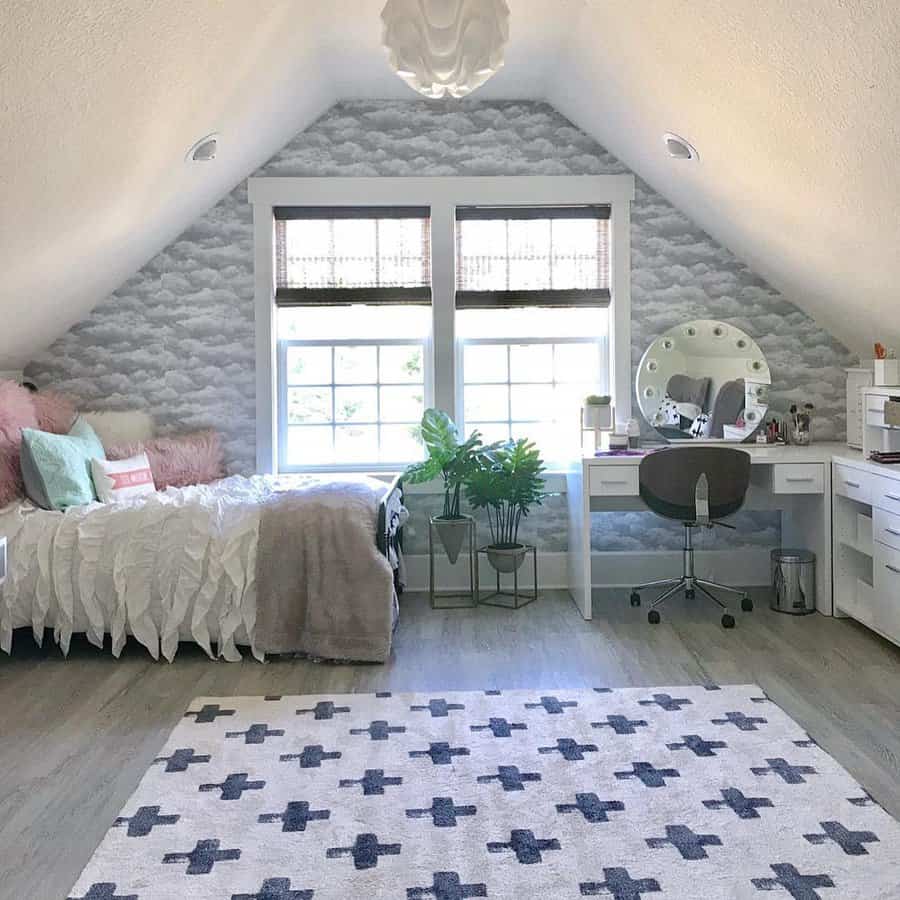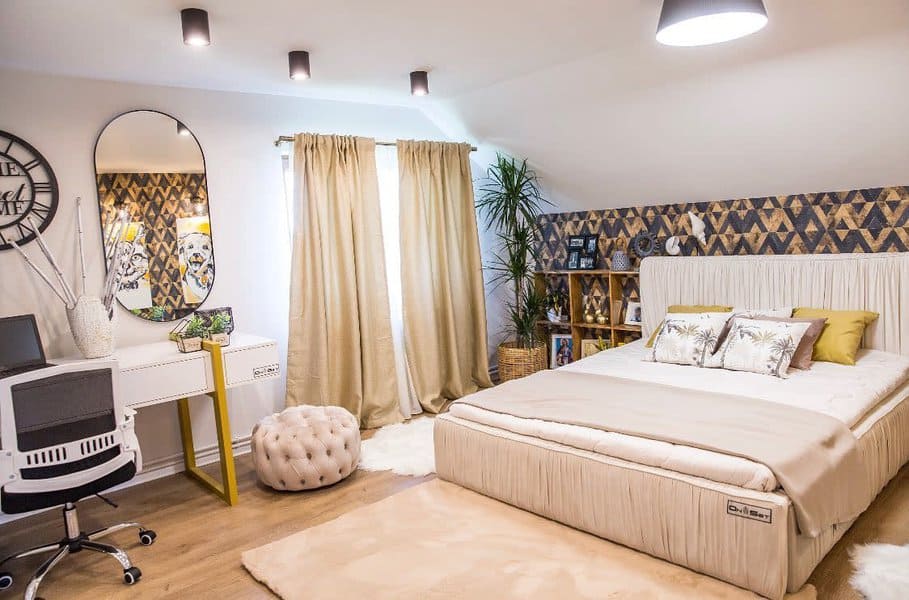 15. Kids' Playroom
Transform your attic into a magical haven for your little ones with the enchanting idea of an attic kids' playroom. Utilize the unique shape and cozy ambiance of the attic to create a space filled with wonder and imagination. Install bookshelves along the sloping walls, filled with colorful storybooks and treasures waiting to be discovered.
Incorporate toy cubby shelves to keep their toys organized and easily accessible. Create a snug and inviting corner with a daybed, adorned with plush cushions and soft blankets, perfect for curling up with a favorite book or for little ones to take a nap after a day of adventure.
The sloping ceiling adds a whimsical touch, making the space feel cozy and intimate. Enhance the atmosphere with playful wall decals, vibrant rugs, and a splash of cheerful colors.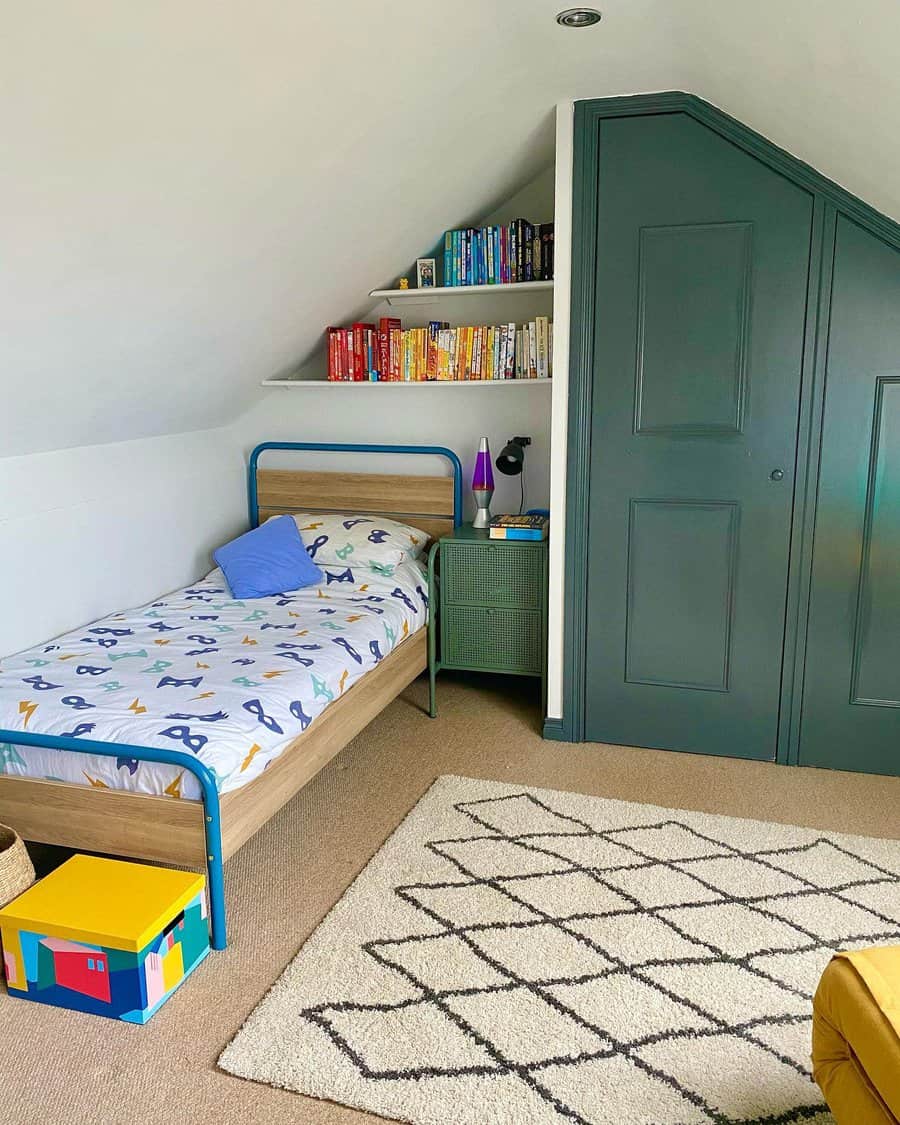 16. Small Attic Loft Bedroom
A small attic loft bedroom is the perfect solution for maximizing a minimal space with a low ceiling. Embrace the unique charm of the attic by keeping the design minimalistic yet stylish. Opt for a single bed to optimize the limited floor space and create a cozy nook for relaxation.
Let natural light flood the room by incorporating a skylight, which not only brightens the space but also adds a sense of openness and connection to the outdoors. With clever storage solutions and efficient furniture arrangements, you can make the most of every inch in your attic bedroom.
Embrace the sloping walls and angled ceilings as architectural features that add character and charm. Use soft and neutral tones to create a soothing atmosphere, and add personal touches through carefully selected decor and accessories.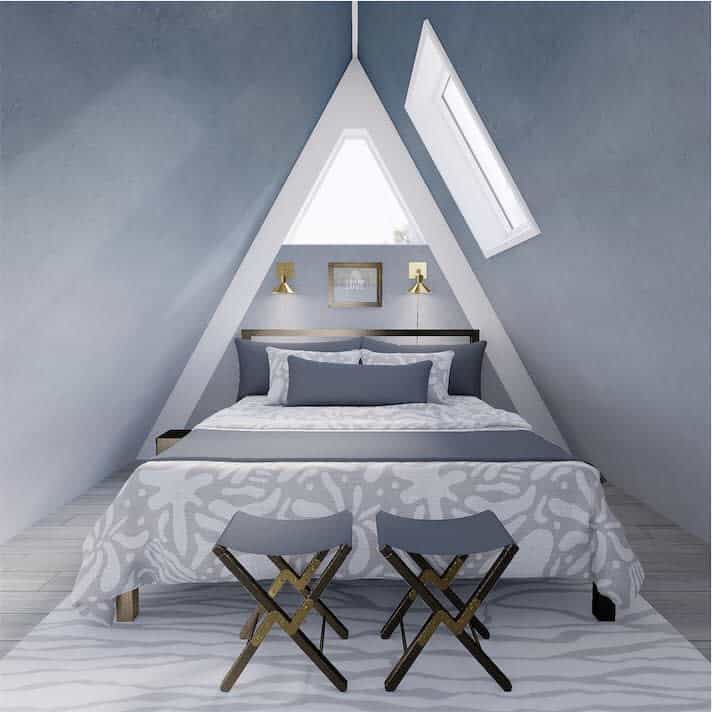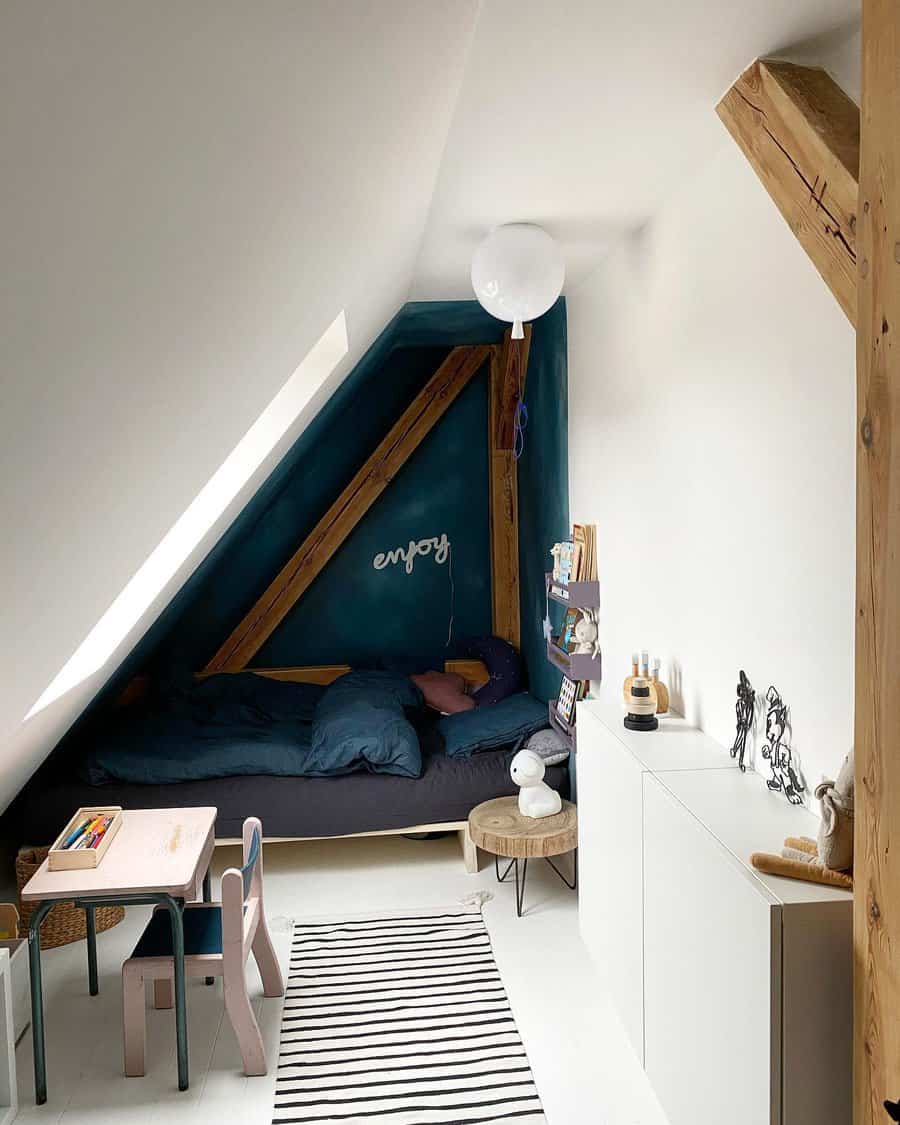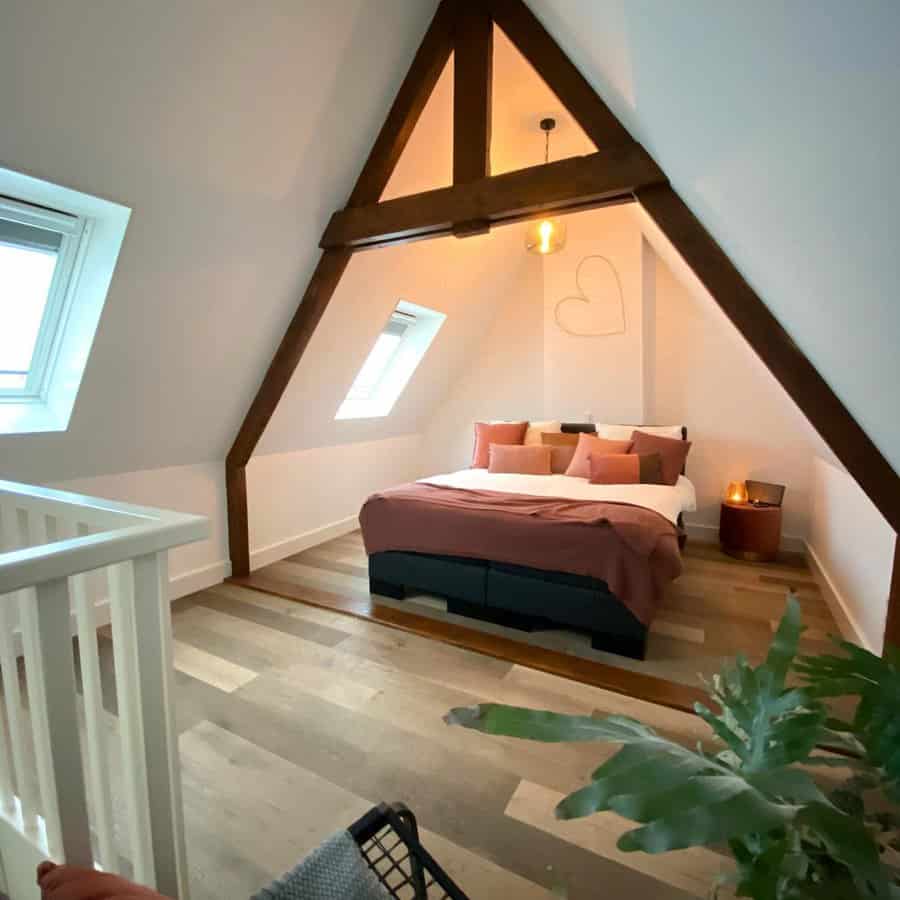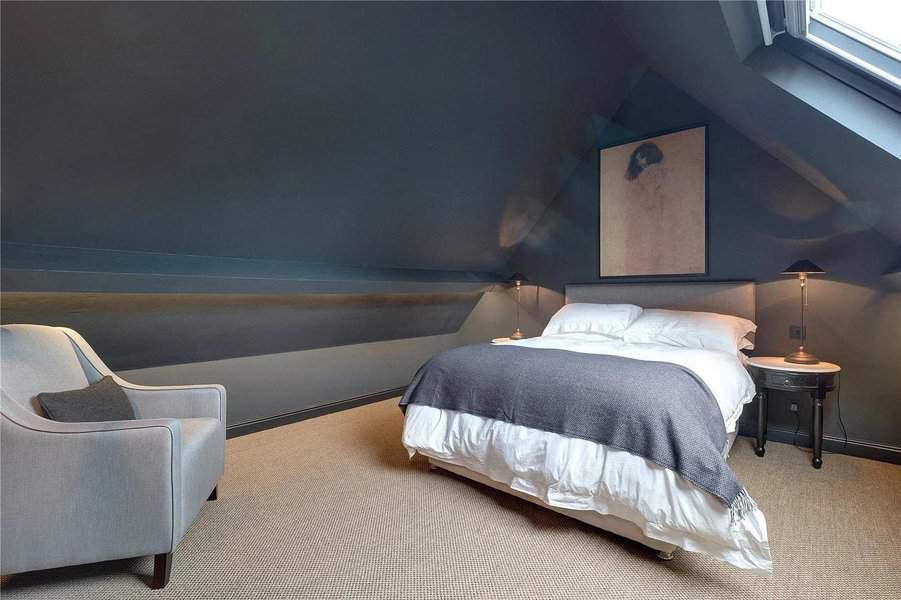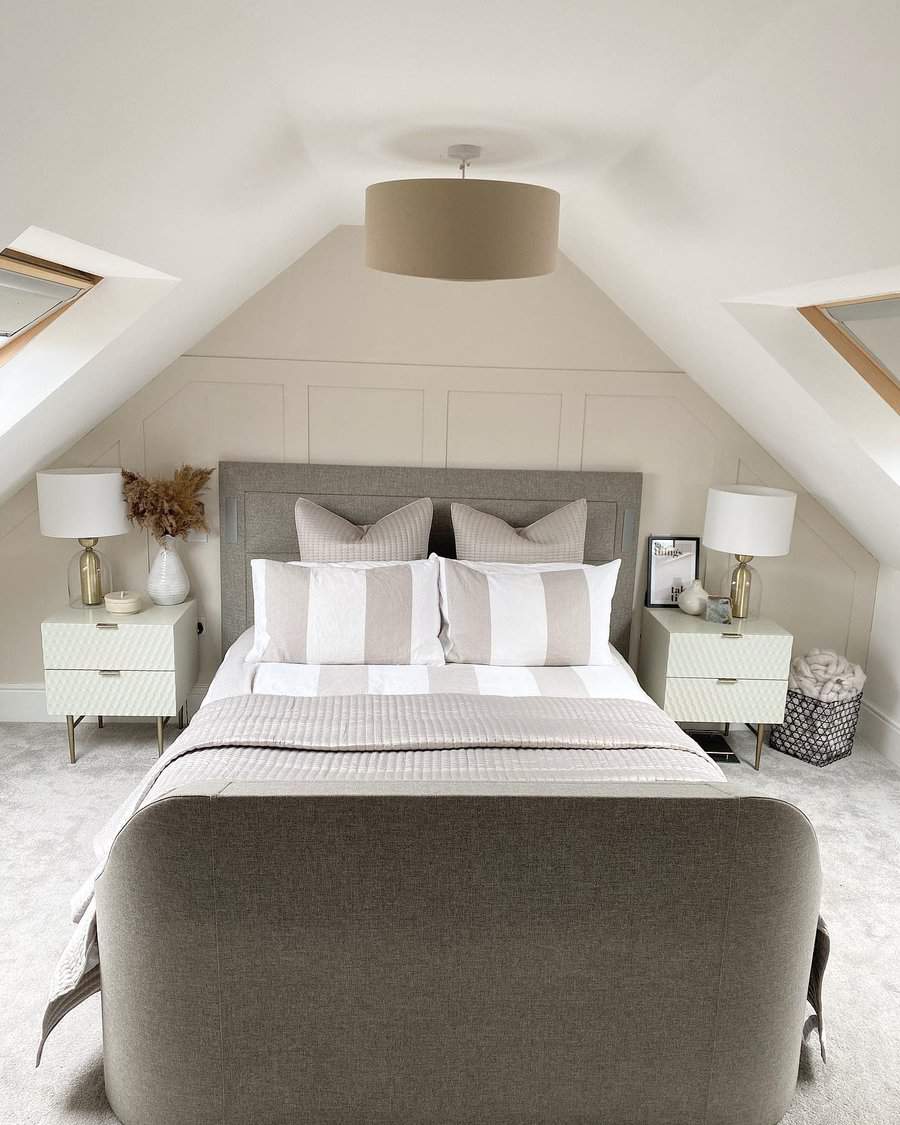 17. Attic Daybed
Turn your attic into a cozy and inviting bedroom retreat with the enchanting charm of an attic daybed. This brilliant idea transforms the often underutilized attic space into a comfortable haven for relaxation and rejuvenation.
The attic's unique architectural elements, such as sloping ceilings and exposed beams, create an intimate and charming atmosphere. The daybed serves as a focal point, providing a cozy spot for lounging, reading, or simply daydreaming.
Adorn it with plush cushions, soft throws, and an array of decorative pillows to enhance its comfort and visual appeal. Embrace the natural light that filters through the attic windows, accentuating the warmth and serenity of the space.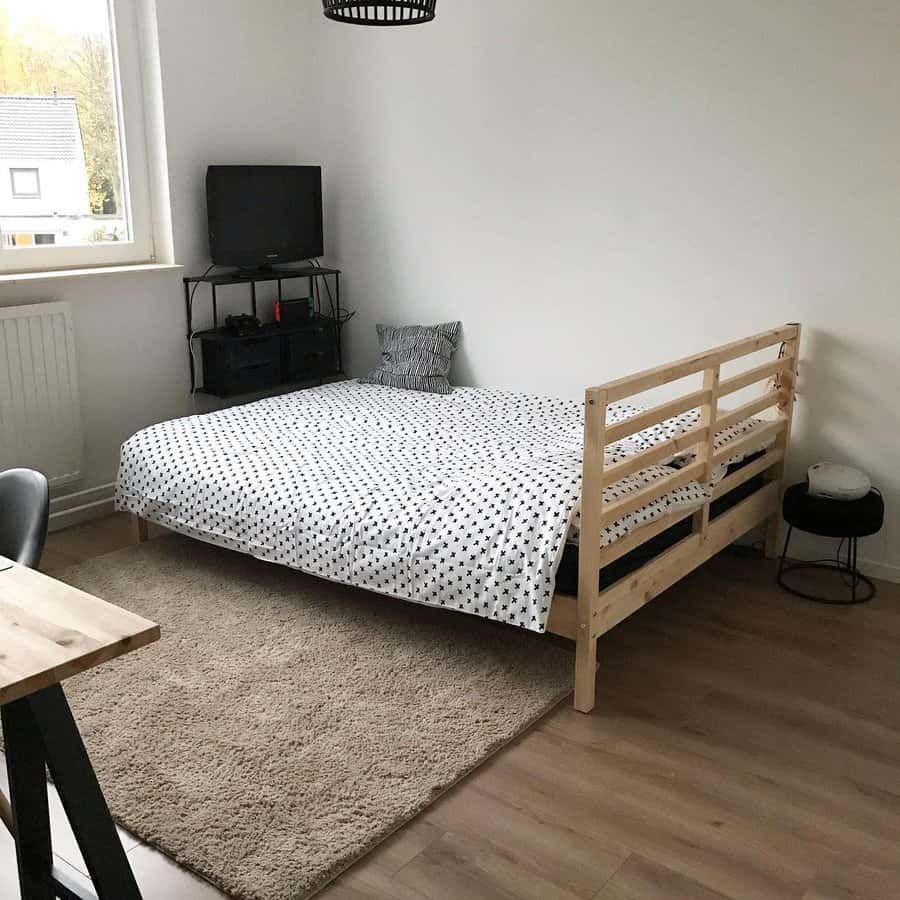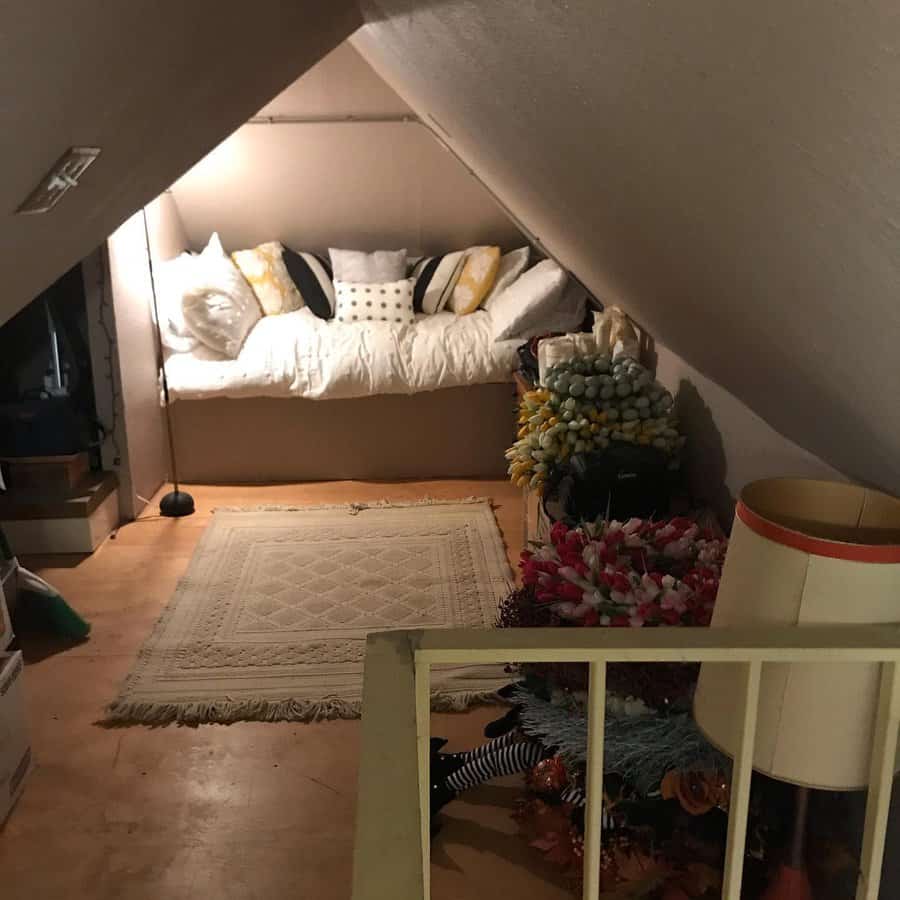 18. Color Accent Wall
One brilliant idea to add a touch of visual interest while maintaining a minimalist aesthetic is to incorporate a color accent wall. Choose a vibrant hue that resonates with your personal style and complements the overall color palette of the room.
Whether it's a rich and deep shade or a playful and energetic tone, this pop of color will infuse the space with personality and create a focal point that instantly catches the eye. The simplicity of the surrounding walls and decor allows the accent wall to shine, making it a captivating feature that adds depth and character to the attic bedroom.
As sunlight streams through the angled windows and dances across the room, the color accent wall becomes a vibrant backdrop, creating a dynamic and visually engaging atmosphere.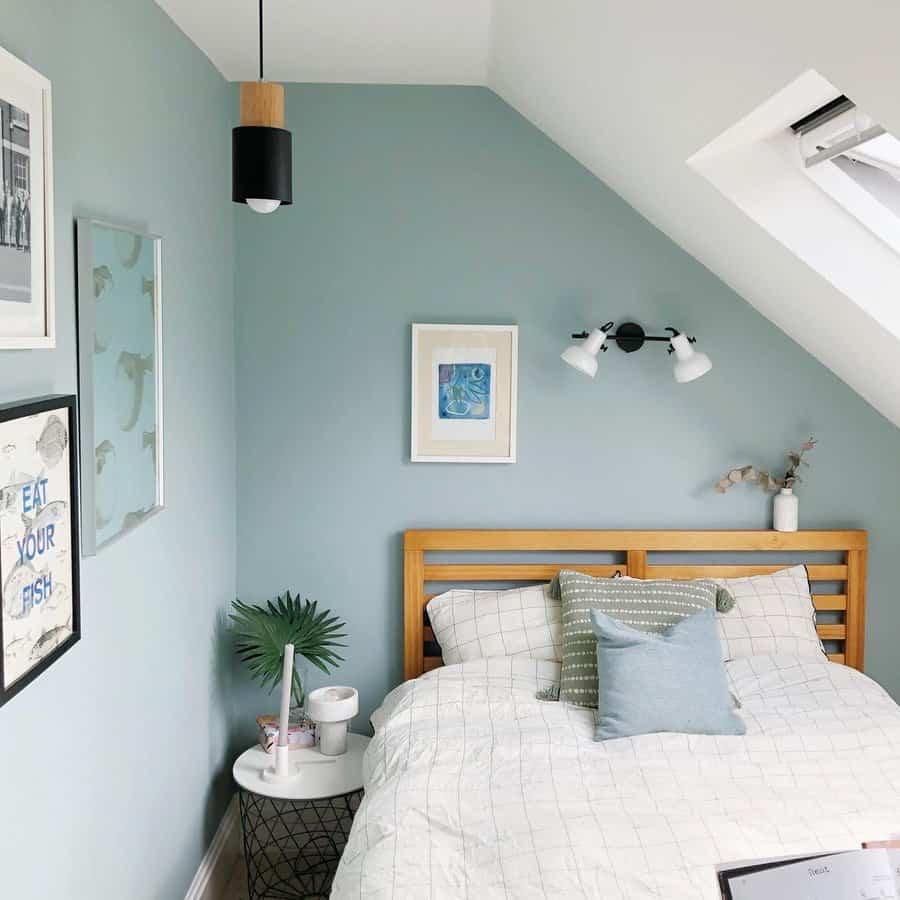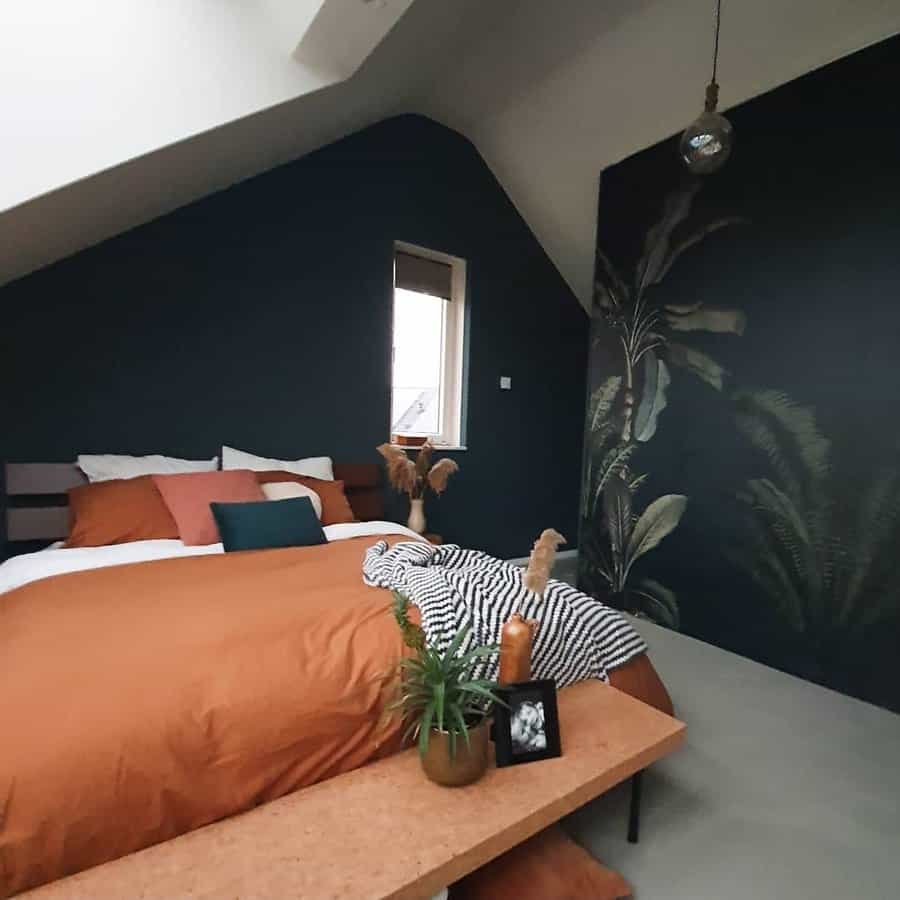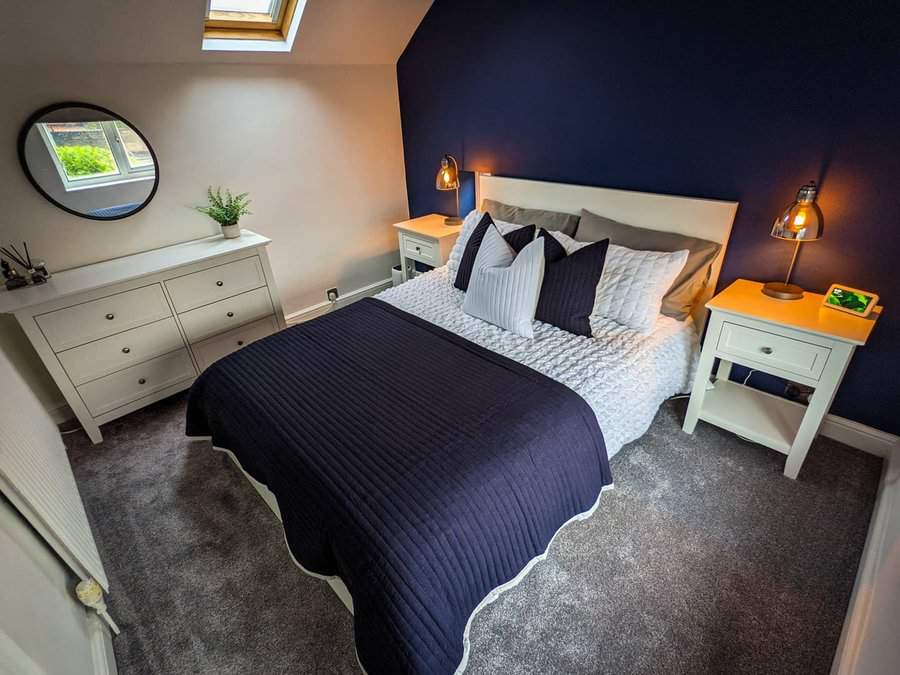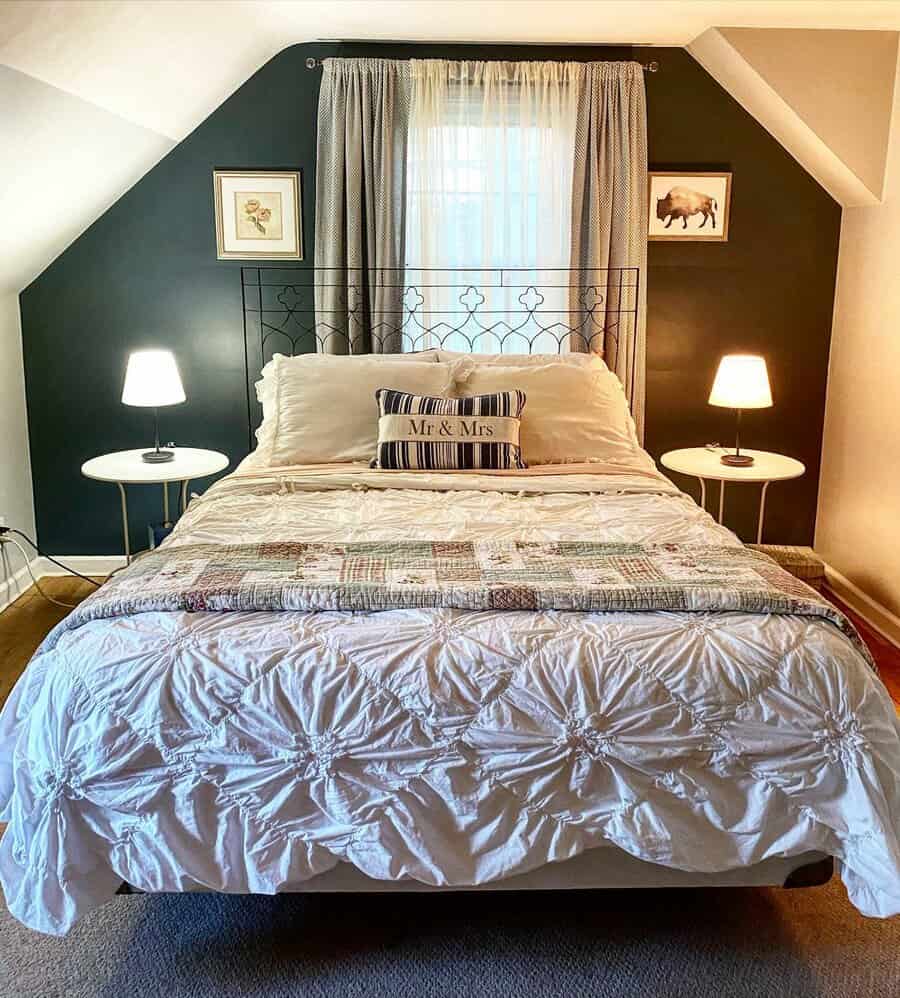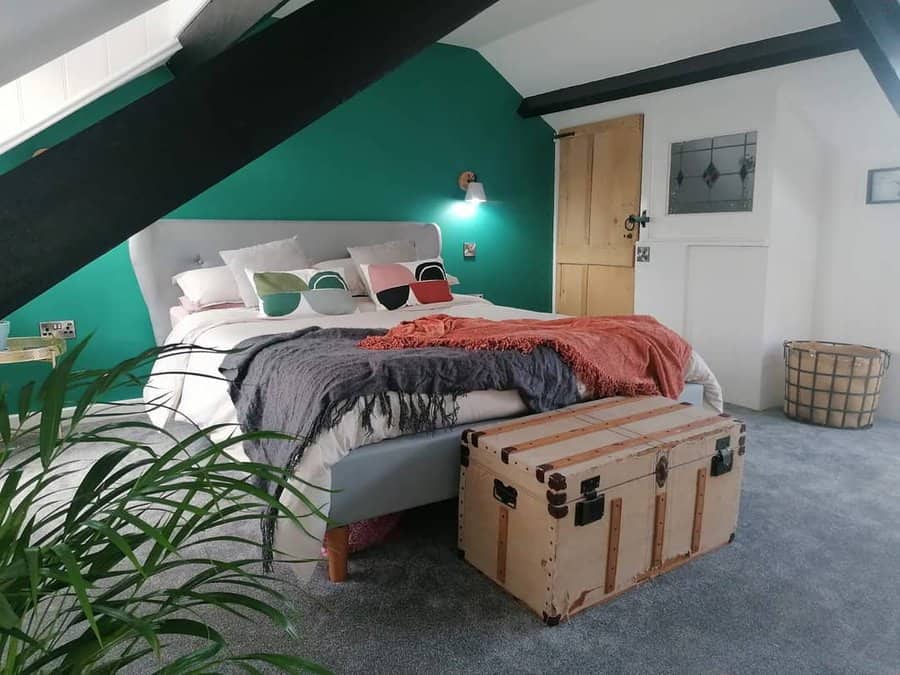 19. Attic Reading Nook
Picture a nook nestled beneath a slanted ceiling, adorned with a comfortable bed flanked by built-in bookshelves filled with your favorite literary treasures. This attic reading nook is the perfect sanctuary for bookworms and dreamers alike.
As you curl up on the plush bed surrounded by a collection of books, a soft reading lamp casts a warm glow, inviting you to lose yourself in the pages of a captivating story. The sloping ceilings add a touch of whimsy and create an intimate ambiance, while the natural light streaming in through skylights or dormer windows bathes the space in a soft glow.
With a cup of tea in hand and a cozy blanket draped over your legs, you can immerse yourself in the world of literature and let your imagination wander.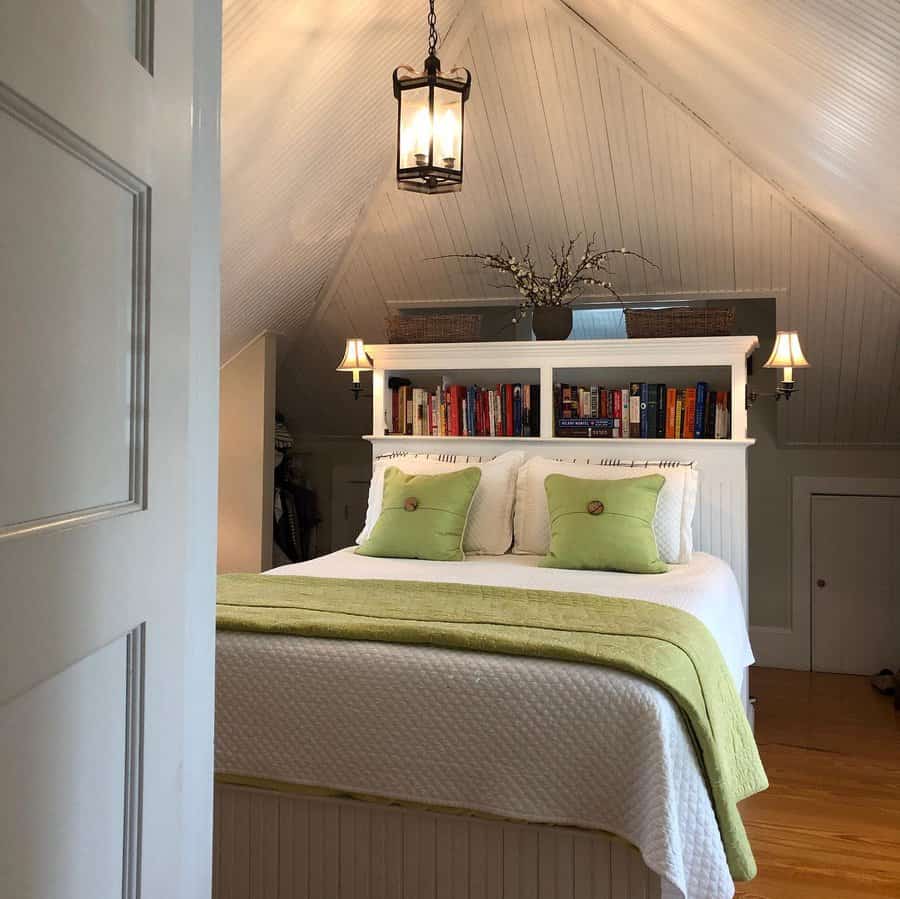 20. Farmhouse Chic Attic Bedroom
Create a charming and cozy retreat in your attic with a farmhouse chic bedroom design. Embrace the unique architectural features of the space, such as the exposed ceiling beams, and enhance their rustic beauty by incorporating white-washed wood elements.
The combination of the warm, natural wood tones and the crisp white finish creates a soothing and inviting atmosphere. To complete the farmhouse chic look, introduce vintage furniture pieces with character and history. Consider a distressed wooden bed frame, an antique vanity, or a weathered chest of drawers. These timeless pieces add depth and personality to the space, evoking a sense of nostalgia and comfort.
Layer the room with soft textiles in muted tones and patterns that reflect the farmhouse aesthetic, such as gingham or floral prints. Add cozy throws, plush pillows, and a soft area rug to enhance the overall comfort and warmth of the room.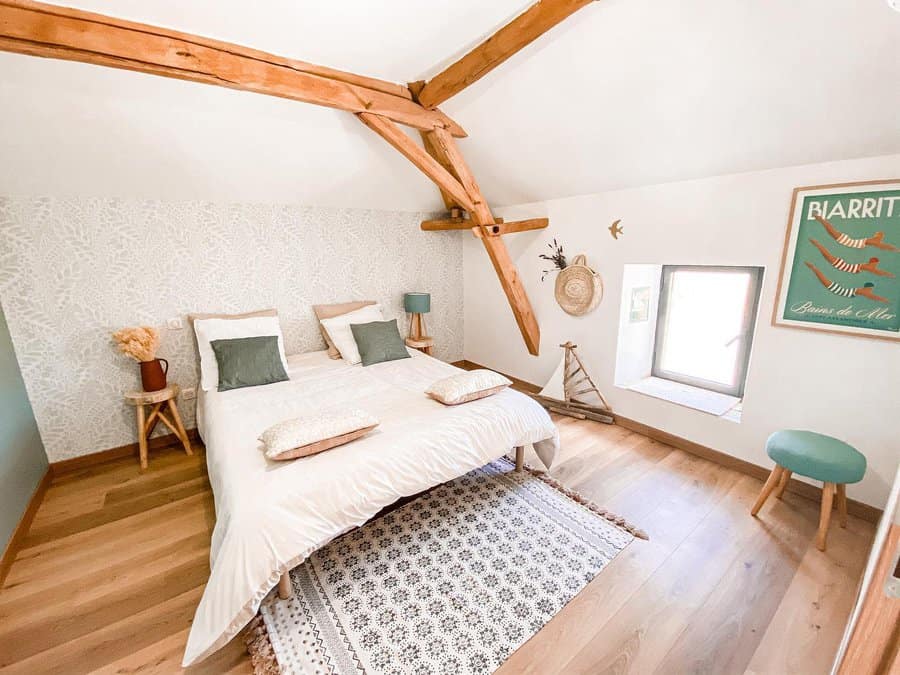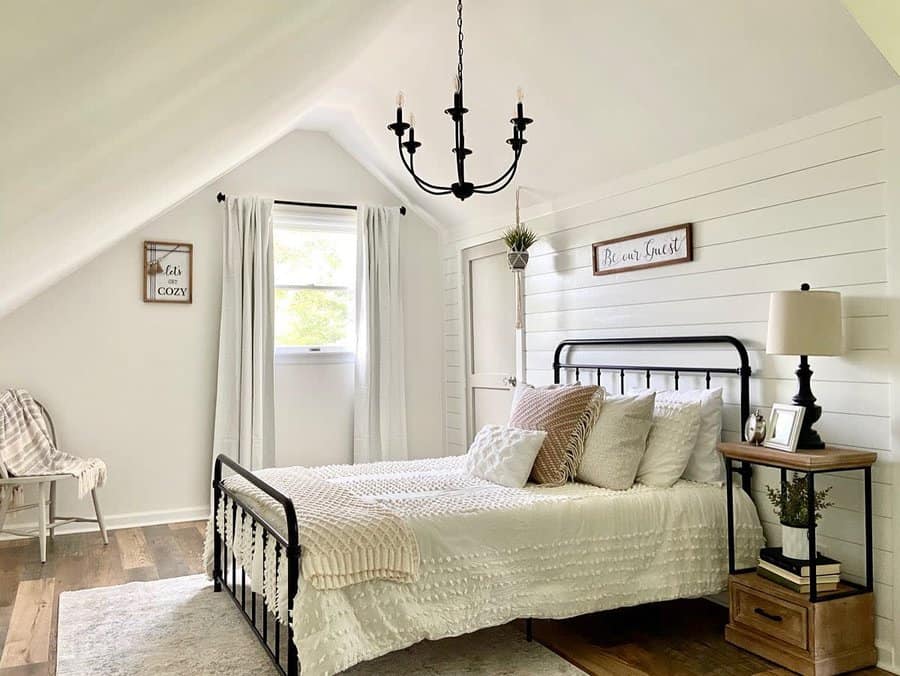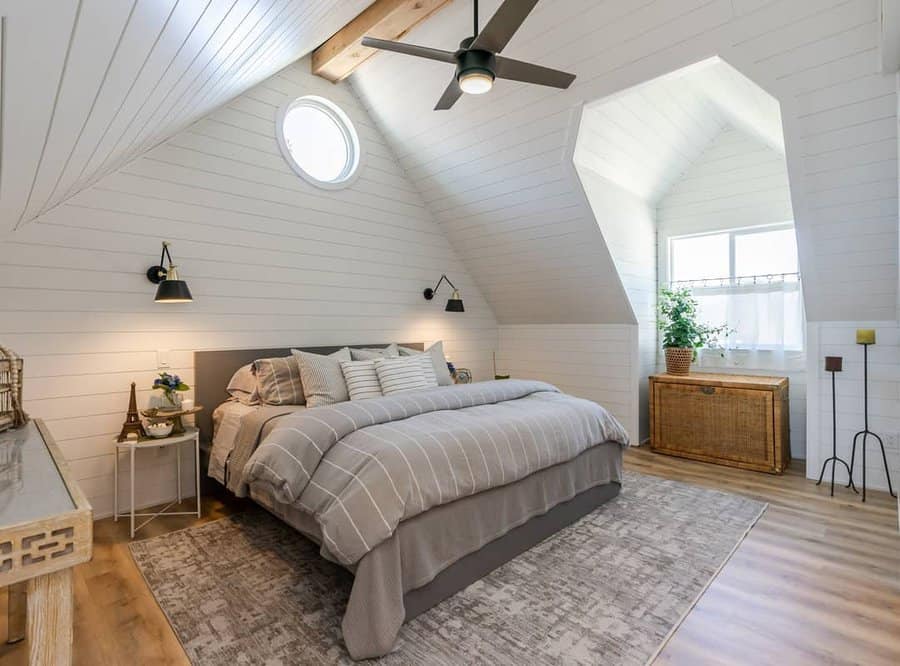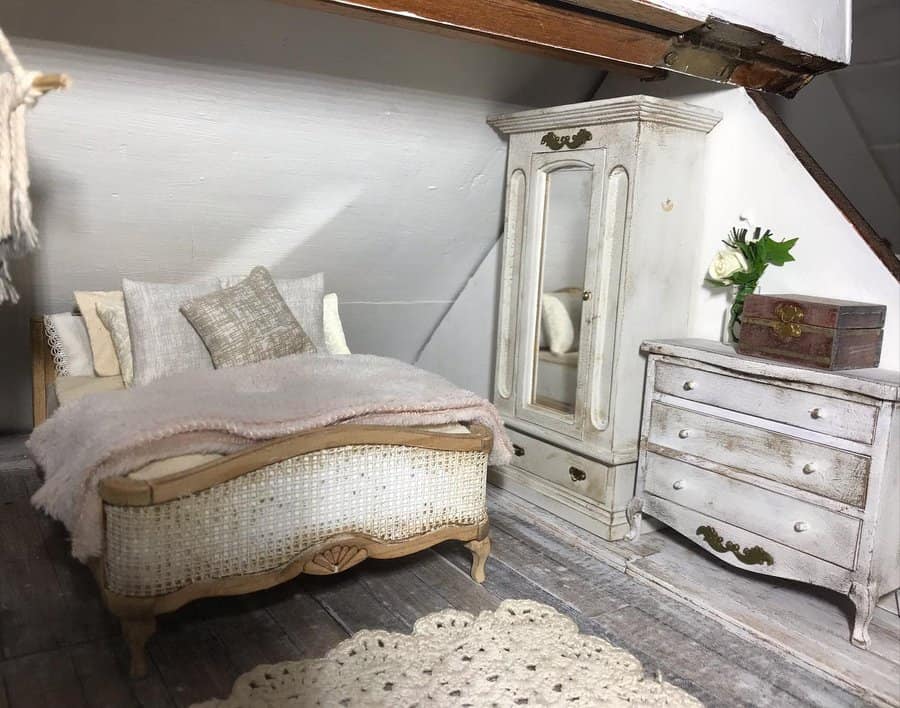 21. Glass Roof
Transform your attic into a dreamy and enchanting bedroom retreat with the captivating addition of a glass roof. This ingenious idea brings the beauty of the outdoors inside, allowing natural light to flood the space and offering a glimpse of the starry night sky from the comfort of your bed.
The glass roof not only creates a sense of openness and airiness but also enhances the cozy cabin aesthetic, evoking a rest house-like ambiance that is perfect for relaxation and rejuvenation. Imagine waking up to the soft morning sunlight filtering through the glass, casting a warm glow over the room and creating a serene and tranquil atmosphere.
The glass roof also offers the unique opportunity to stargaze from the comfort of your own bed, turning your attic bedroom into a magical escape where you can unwind and reconnect with nature.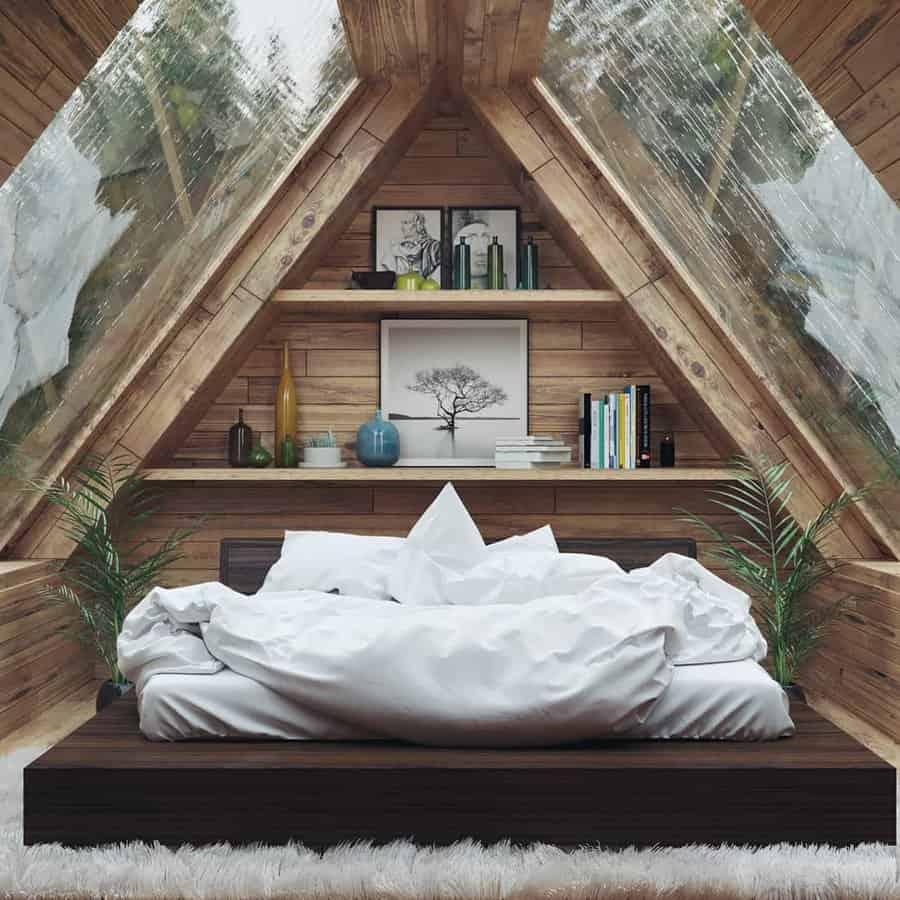 Attic Bedrooms FAQ
Can any attic be converted into a bedroom?
No. In order for an attic to be transformed into a functional bedroom, it must meet several building and safety standards.
While the exact requirements will vary by region, attic bedrooms almost always need to have a full staircase and at least one window. Height requirements are also extremely common — if the ceiling is too short, the space cannot be converted into a bedroom.
What is a dormer?
A dormer is a structure that extends past the existing roofline. These structures are typically used to slightly increase the square footage of the home's attic and — when paired with a dormer window — to increase the amount of natural light inside.
Not all homes with attics have dormers. They are most common in houses with a finished attic rather than one used exclusively for insulation or storage.