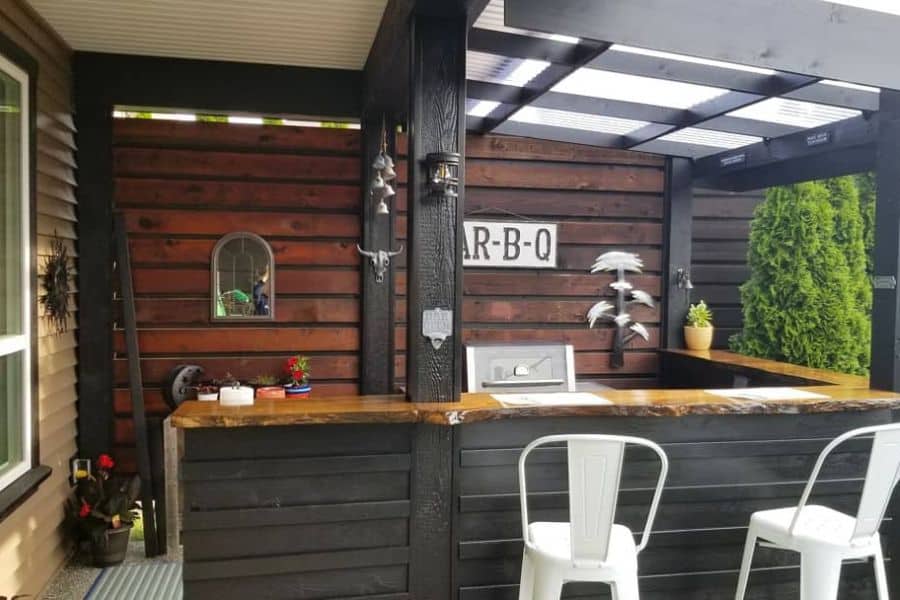 70 Outdoor Bar Ideas for Your Backyard
You love your man cave and wouldn't give it up. However, it forces you to stay stuck inside. This isn't appealing when the weather is warm, the sun is shining, and summer is in full swing. What you need is a backyard pub. This gives you the perfect place outside to enjoy a few cold drinks with friends on a Saturday afternoon.
What's nice about building your outdoor bar space is that it can be as simple or elaborate as you'd like. From a basic bar made from pallets to one that's custom-designed and built from granite. These backyard bar ideas will help you get started building the perfect gathering place for your family and friends.
1. Countertop
The countertop of your bar needs to be durable enough to withstand the weather elements. Unless you have a cover for your bar, it'll get exposed to the sun, rain, wind, and ice. This makes some materials a bad idea. While wood is a popular choice for your bar inside, it will require a lot of upkeep to stay looking nice outside.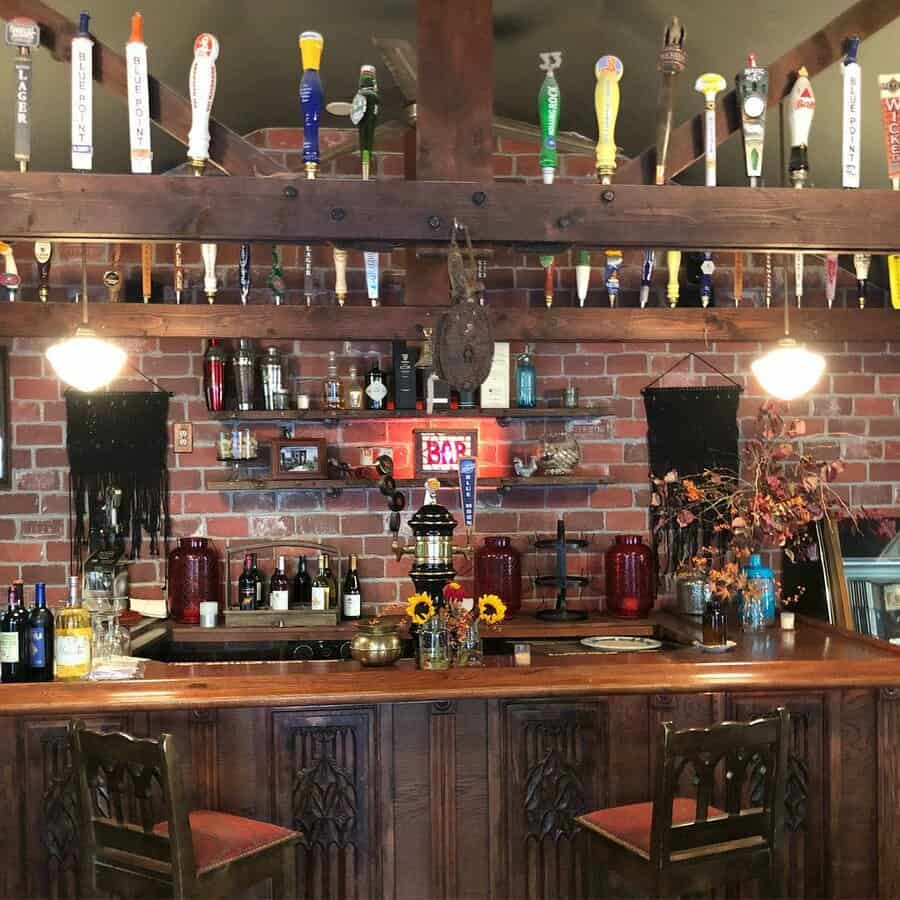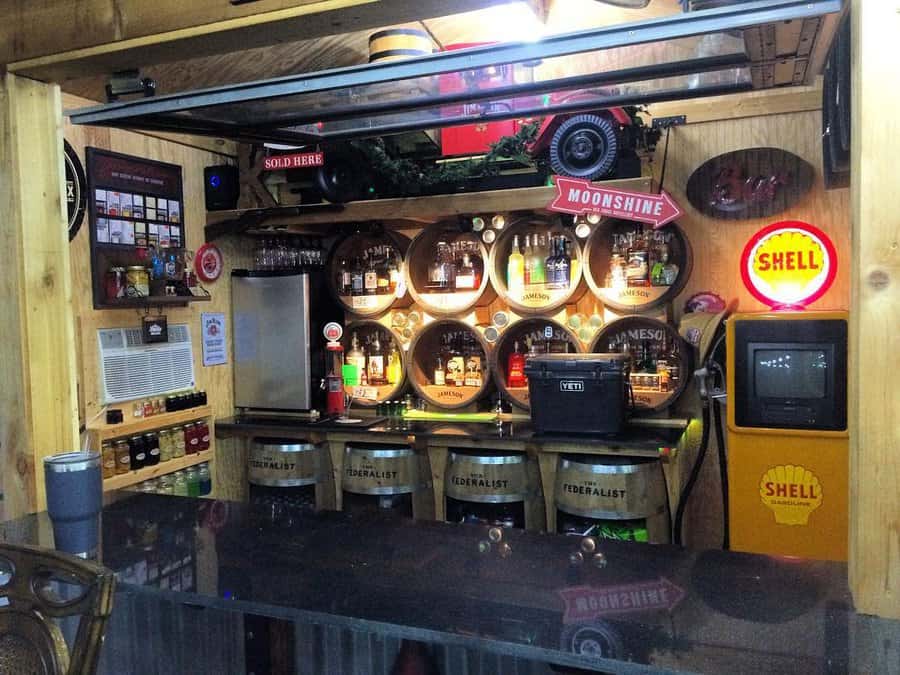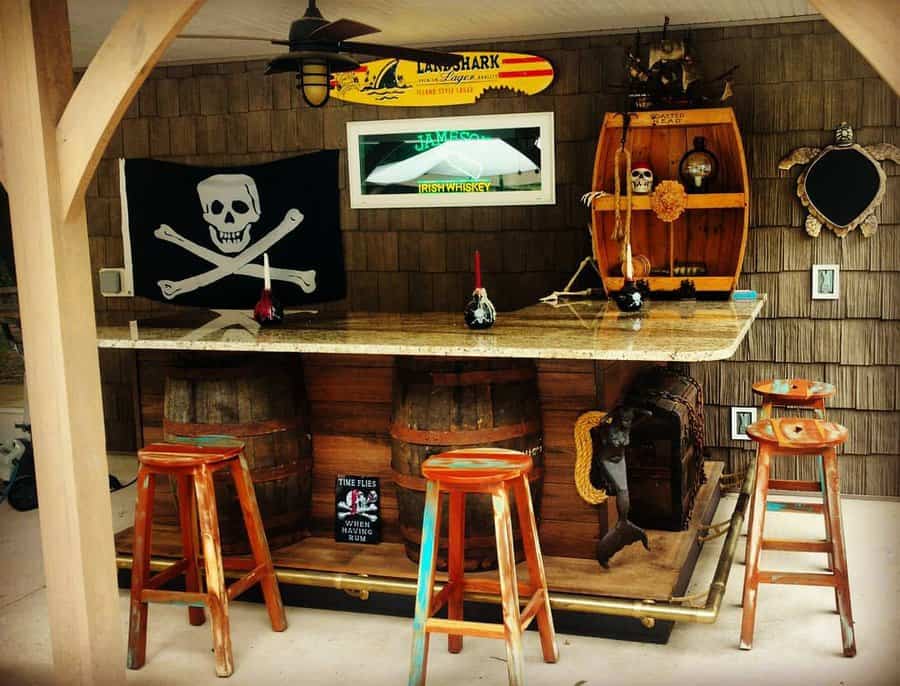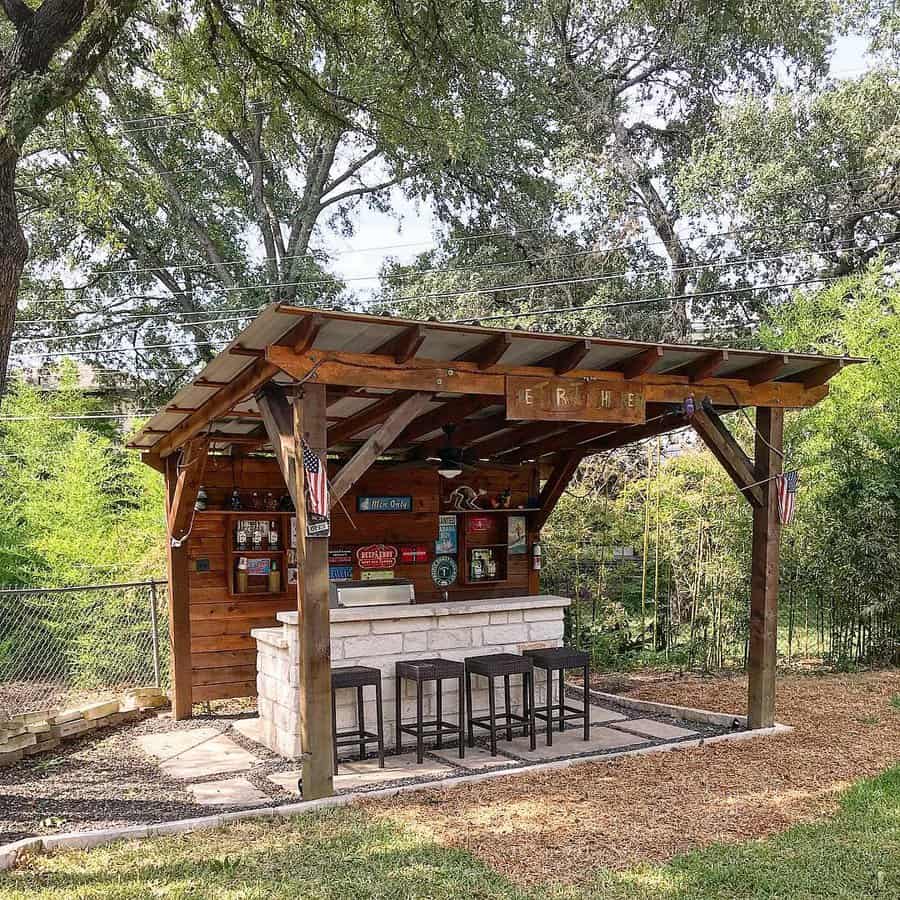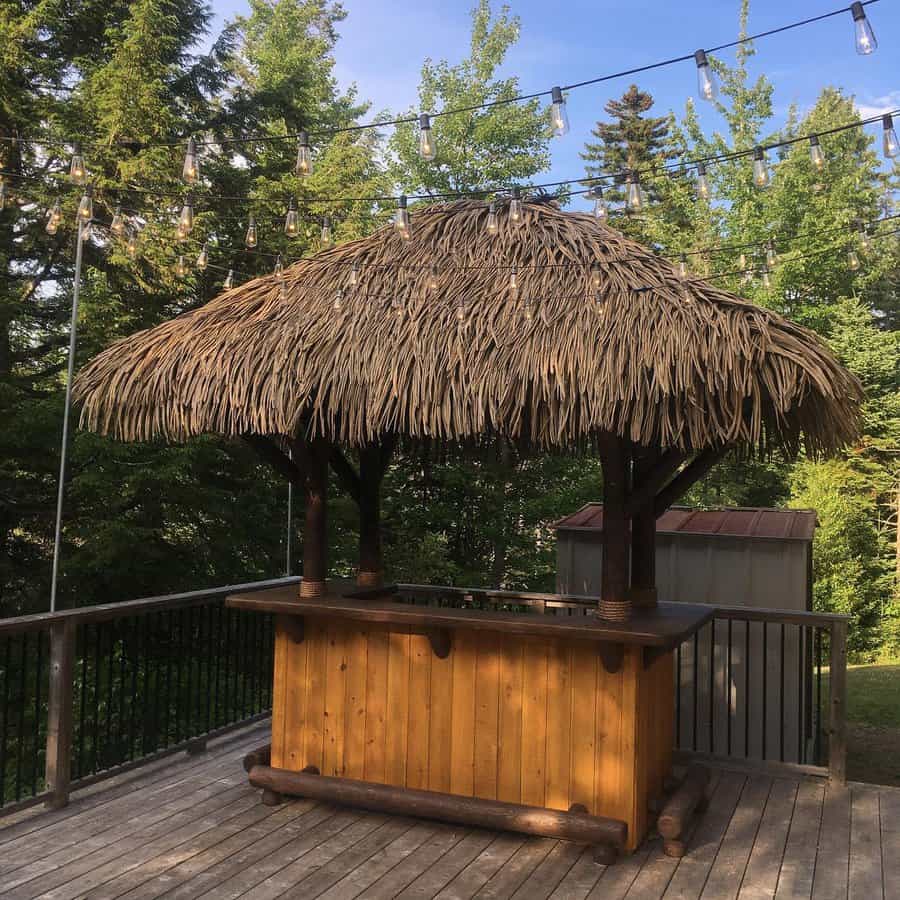 If you really want wood, try a murphy bar. It folds away flat against the wall when not in use. Then you can set it up when you need it and throw an ice chest under it. This style of op-up bar is ready when you need it and out of the way when you don't.
2. Covered
Nothing puts a damper on good times like bad weather. Add a cover to your outdoor bar and let the party continue. You can do this with a gazebo or pergola. These are structures that you can have built over your bar and surrounding area.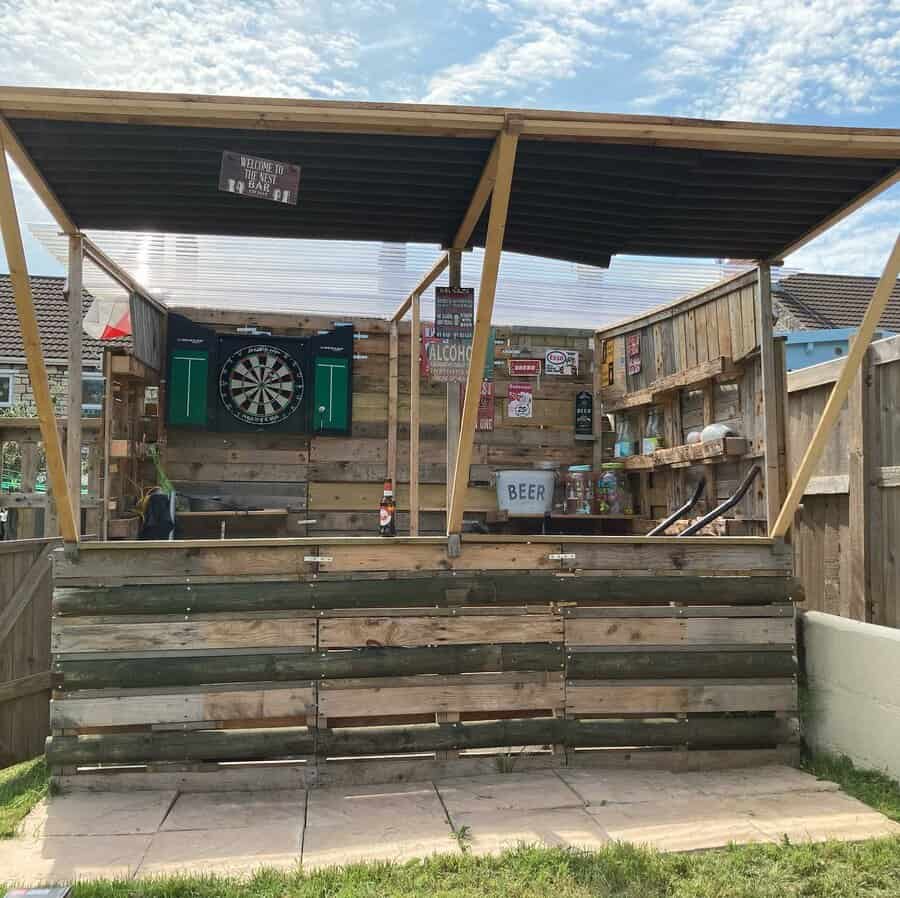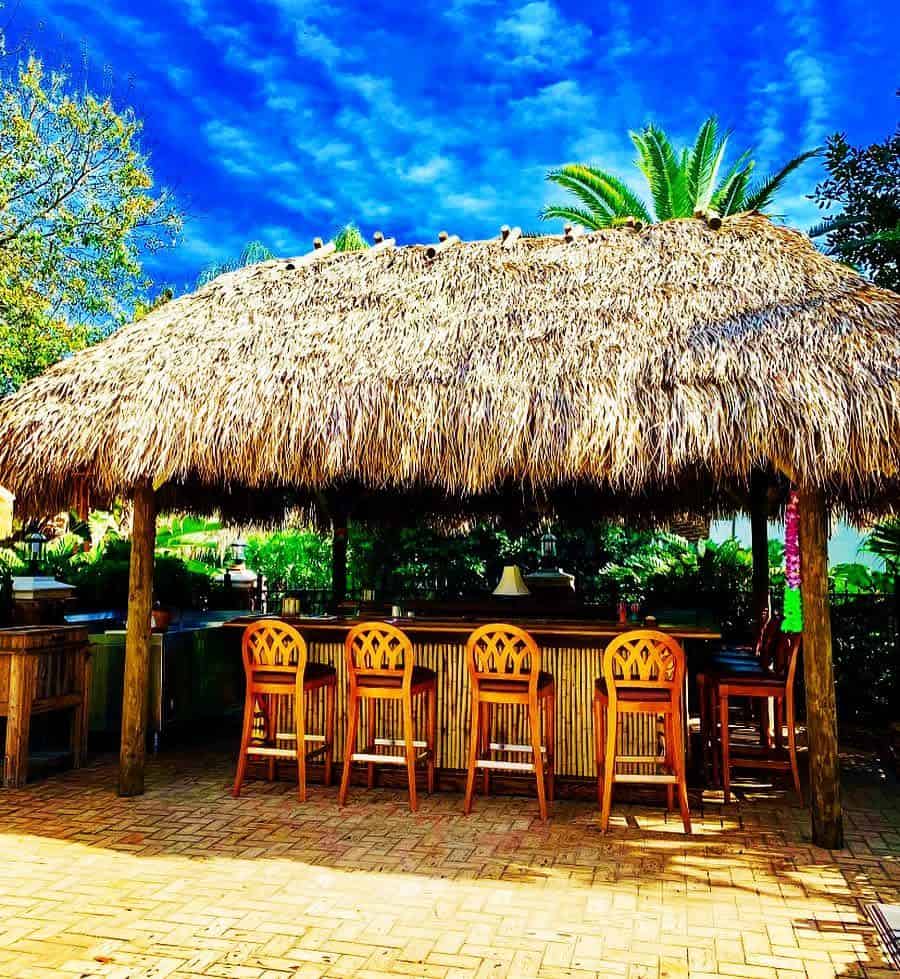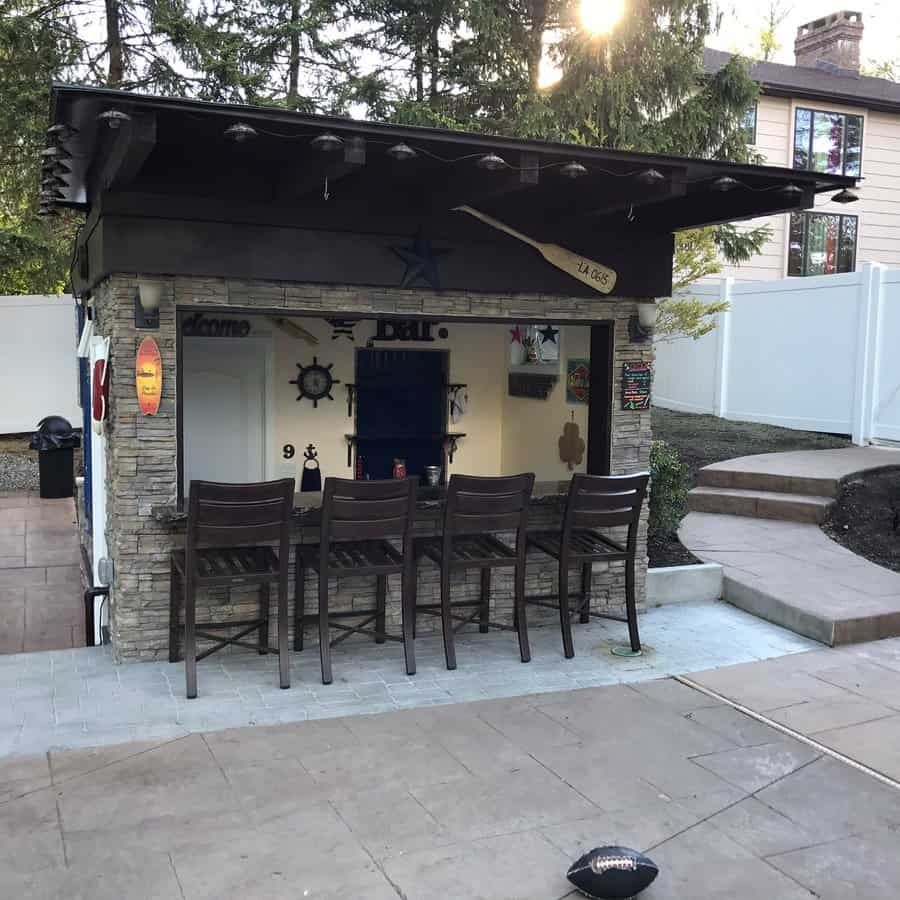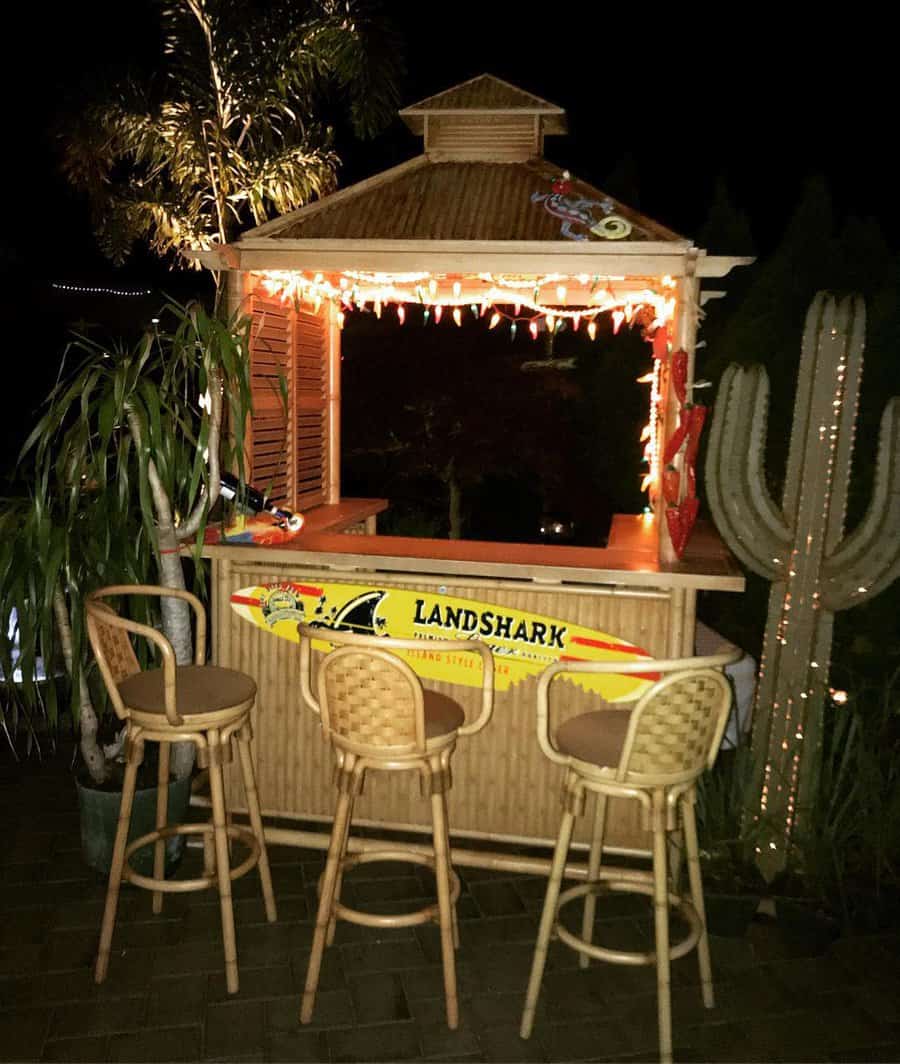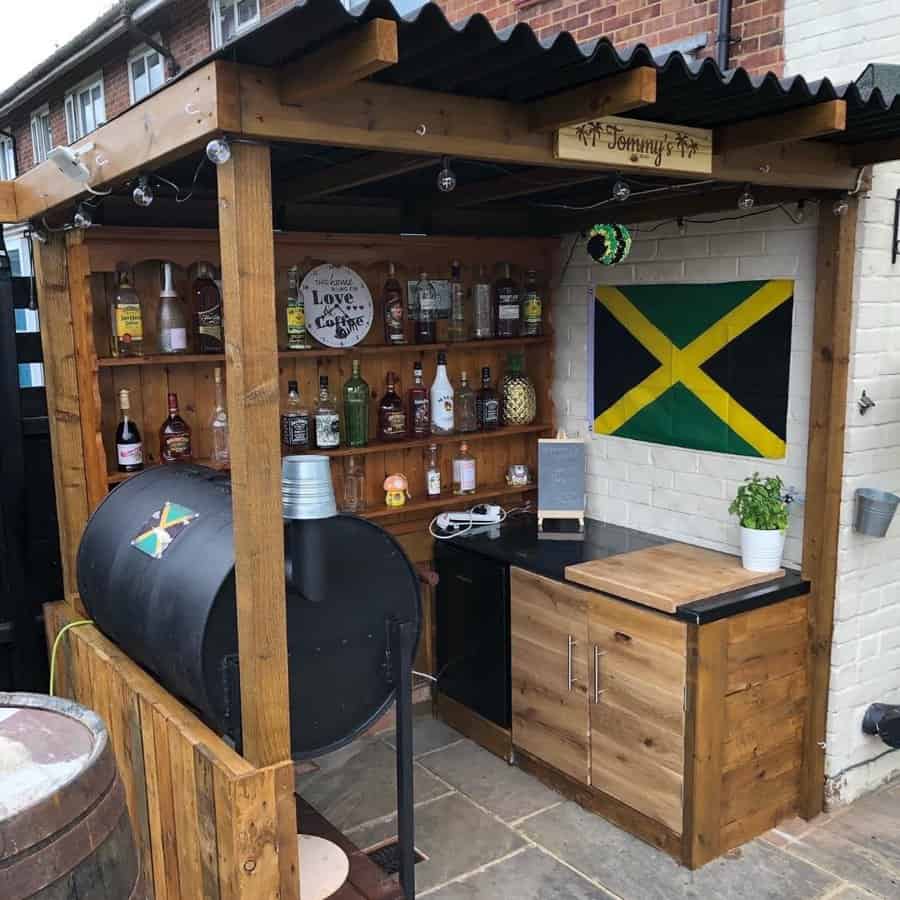 While there are metal pop-up style gazebos, you'll want to avoid these. Invest in a permanent wood frame option. This will have better durability and give you more protection. If you choose to build a pergola instead, look for one with adjustable slats on the roof. Some are manually operated and others are motor operated.
3. DIY
You don't have to hire an expensive contractor to build your bar. With a little carpentry know-how, you can have your own DIY outdoor bar.
Simple DIY outdoor bar ideas show you how to use a wine barrel or old door. These create the main structure of the bar and then you only have to build around them.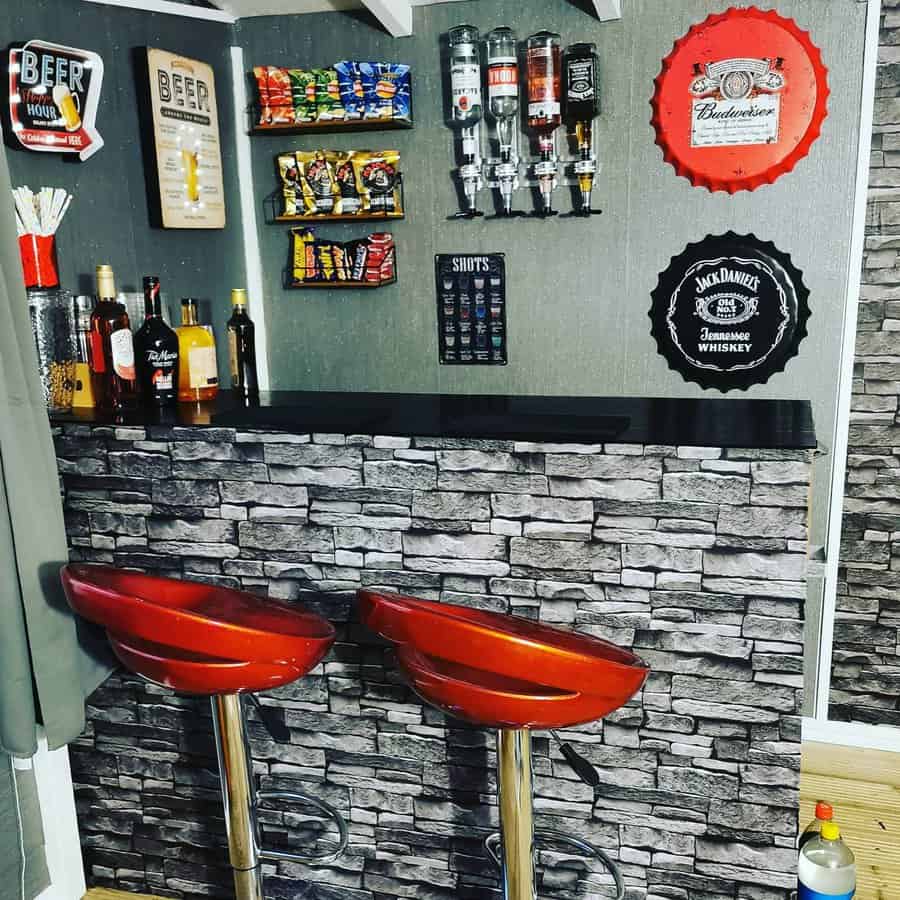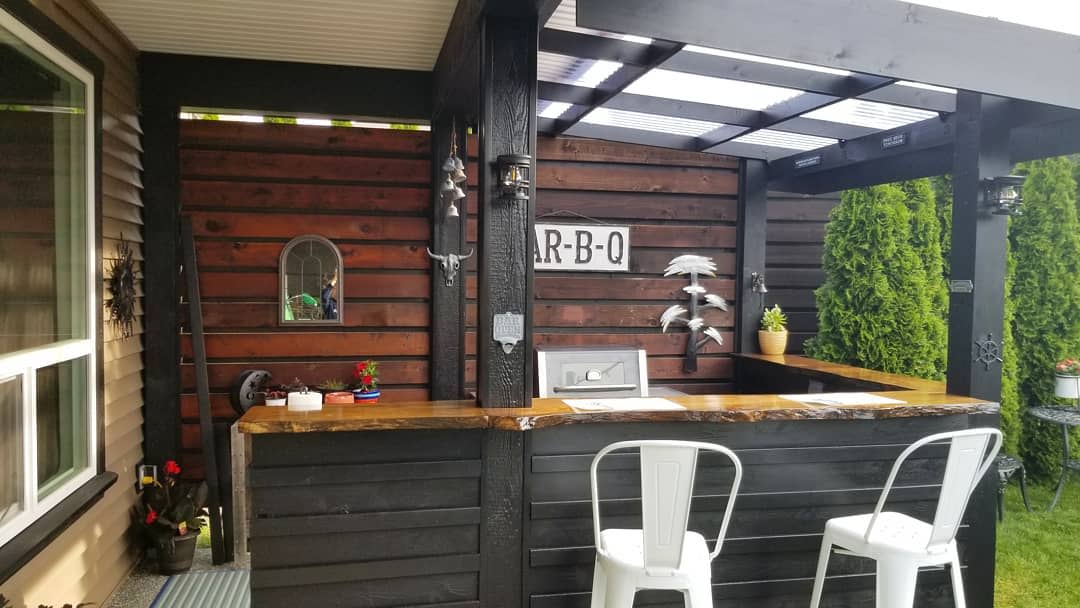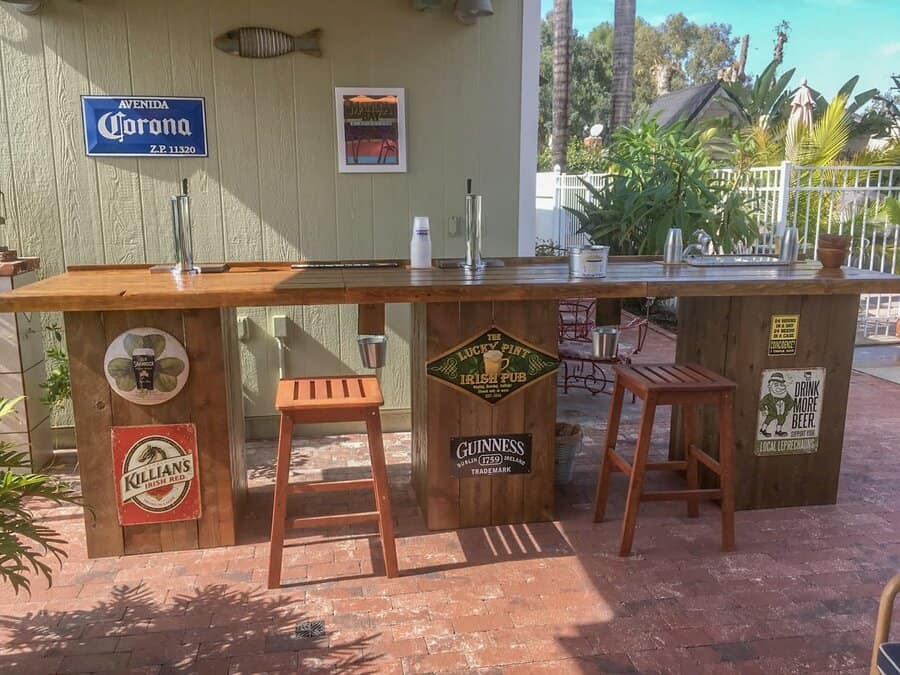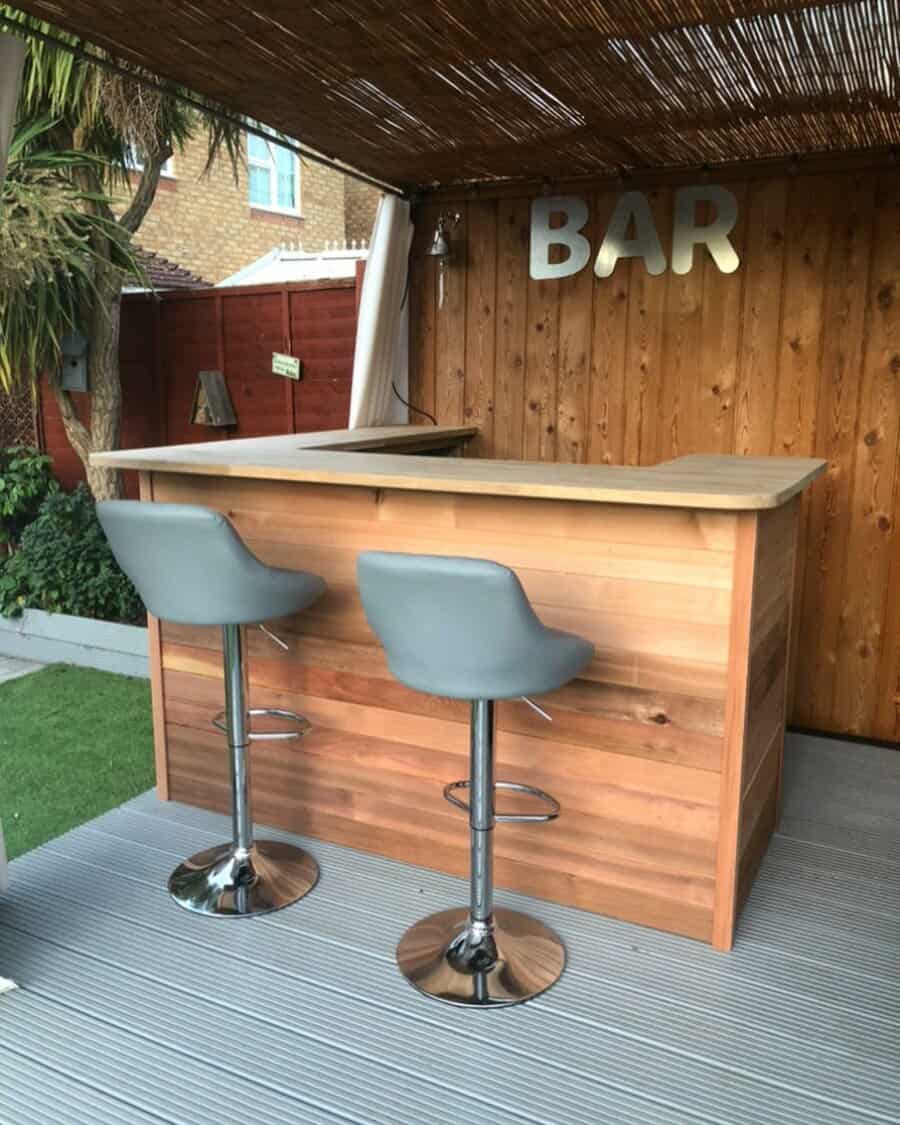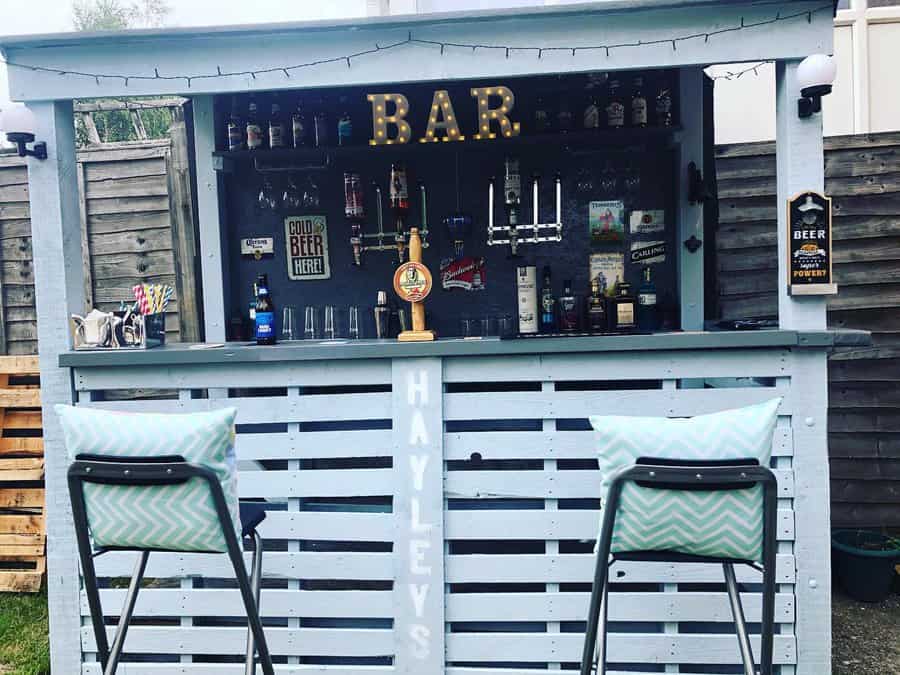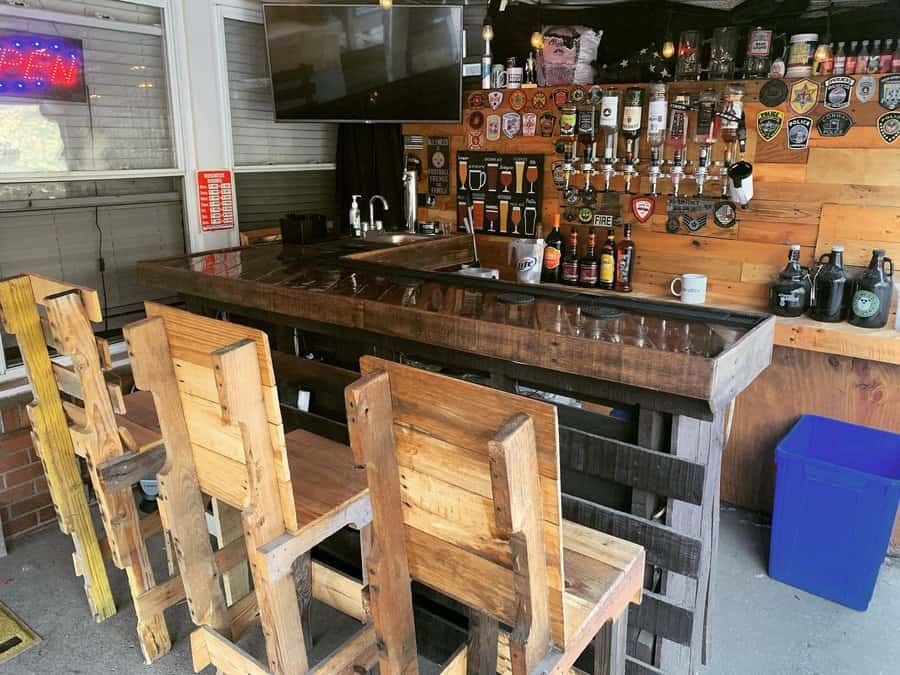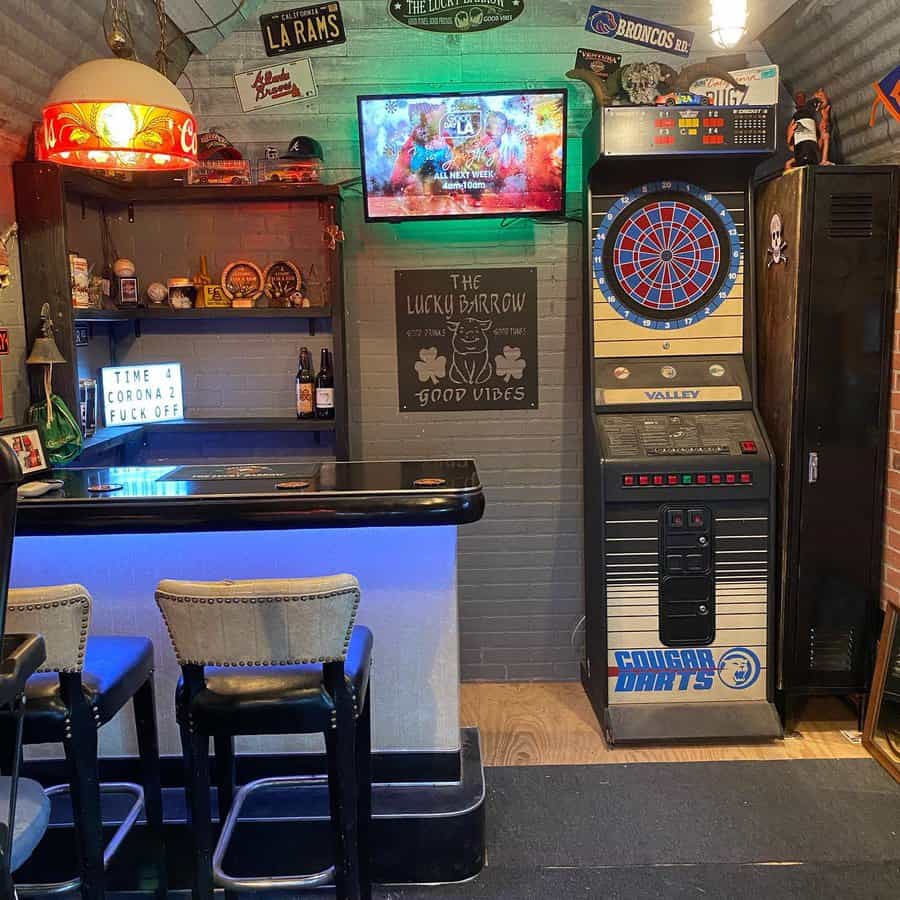 You could also build a DIY bar from the ground up. This is the best option if you want a custom bar. Consider this option if you need an unusual size or shape for your bar.
4. Deck
If you have a deck, then you already have an outdoor living space. This makes it easy to add an outdoor bar. There are several design ideas that show you how to build the bar into your deck.
You could build the bar top into the railing and then line bar stools up along the railing. This is a great idea if you have a great view from your deck.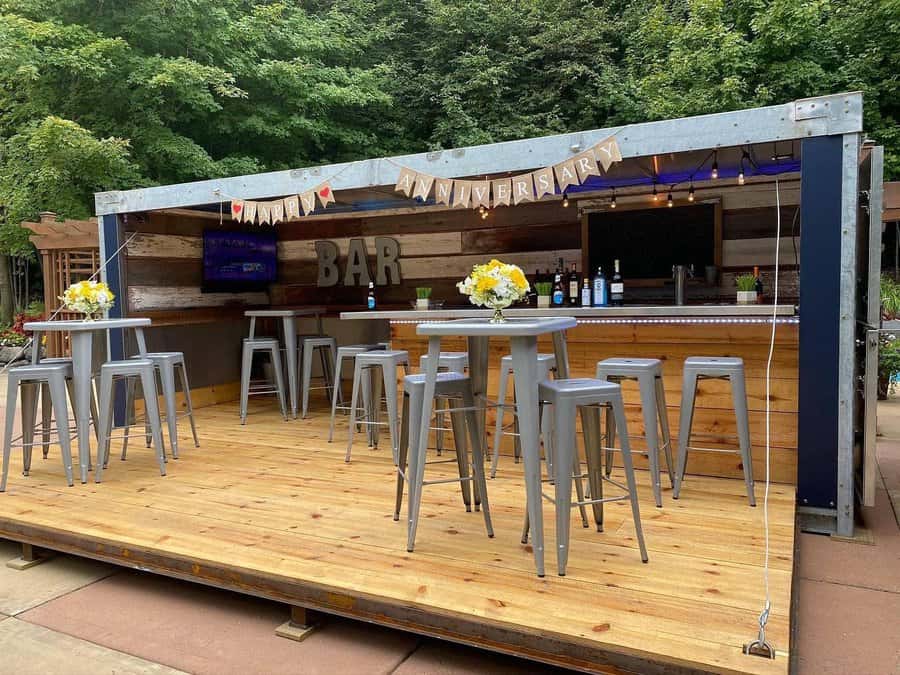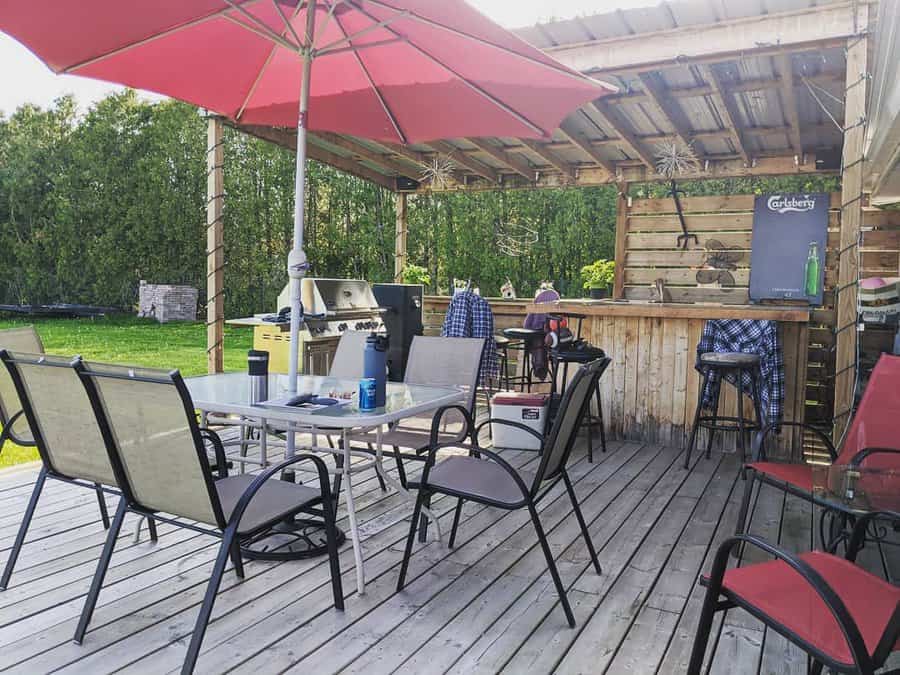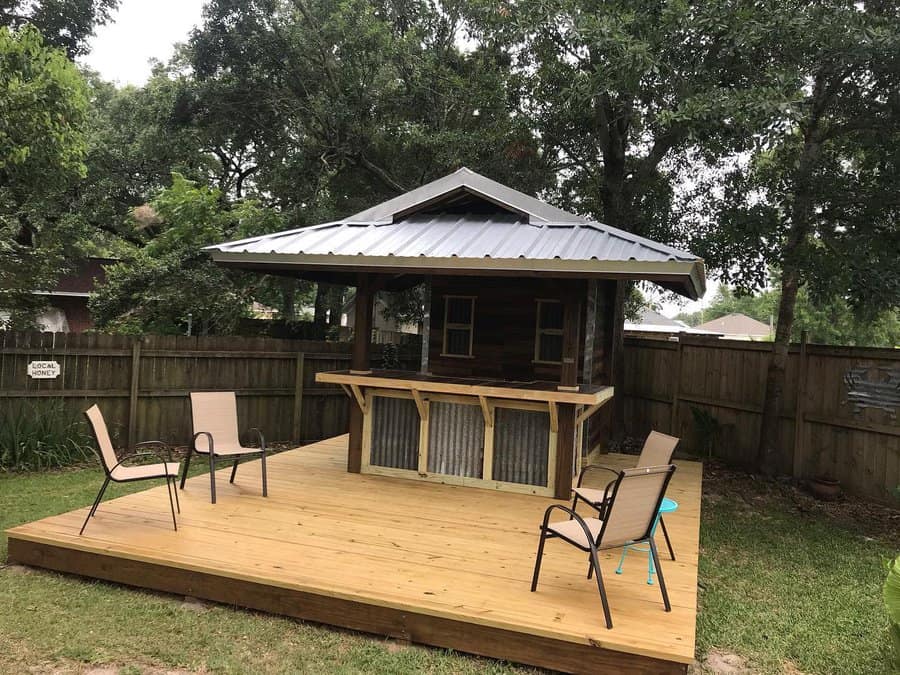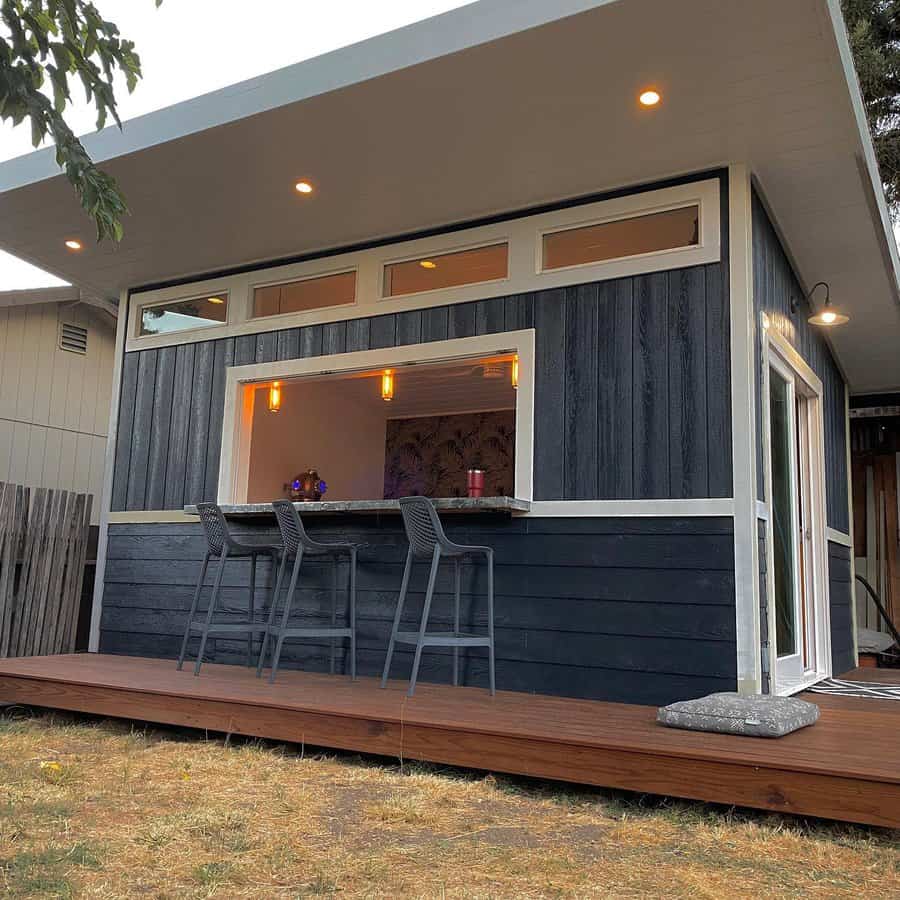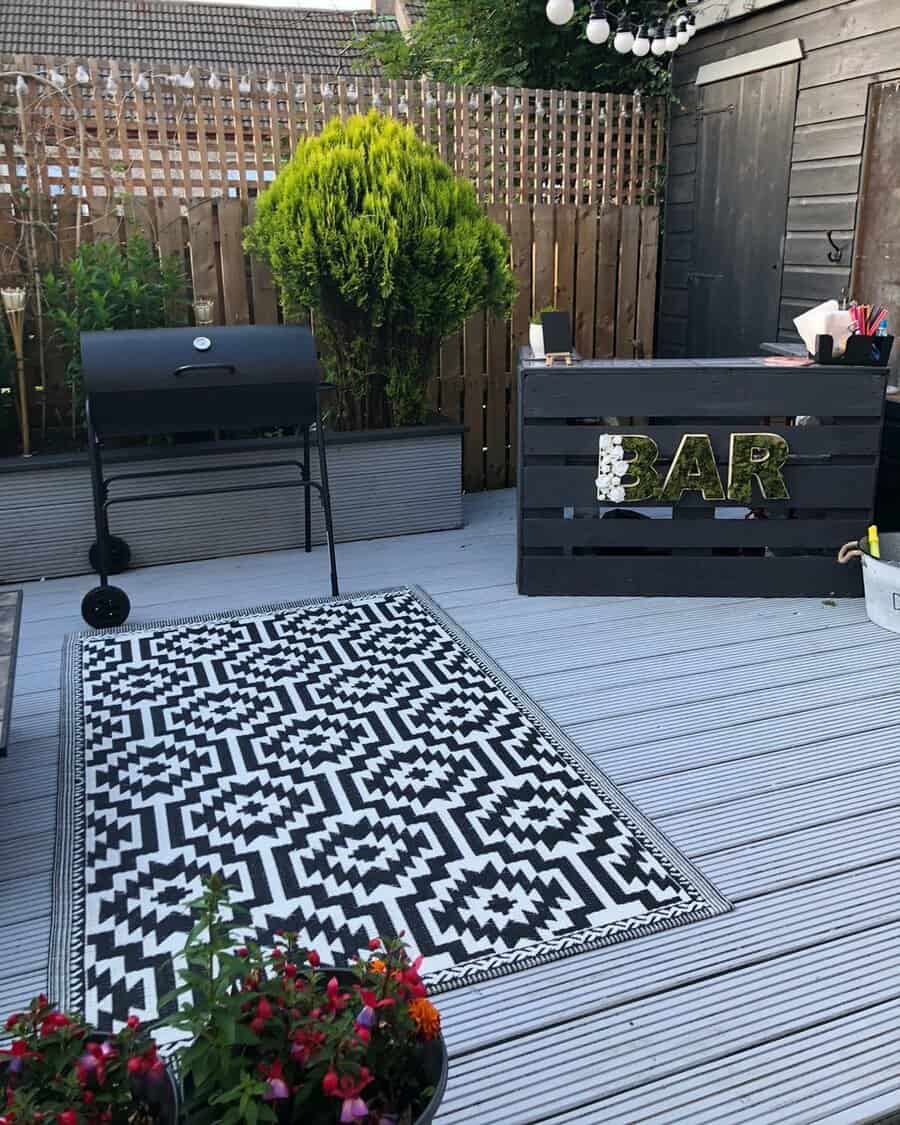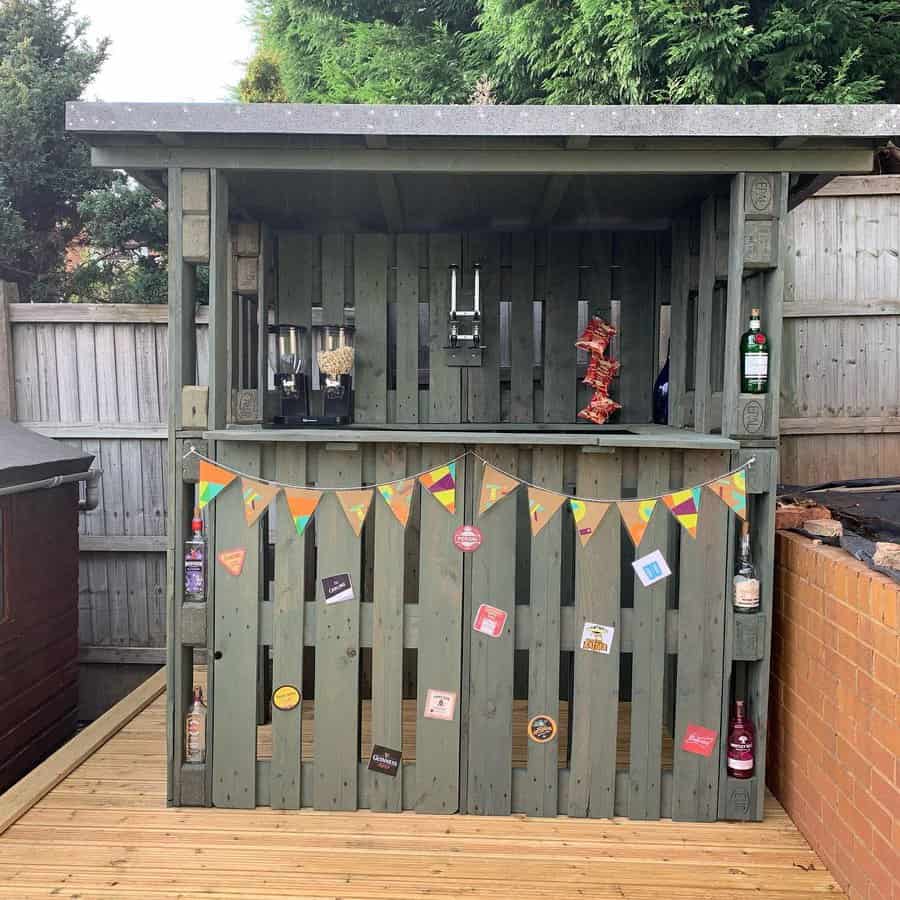 Another option is to build your bar in a naturally dead corner of your outdoor space. It's the corner that's awkward to put furniture in and ends up sitting empty or getting used for storage. Turn it into a functional space by building a bar around it.
5. Design
Get creative with your backyard bar design. You could have it blend in with your other backyard structures for a cohesive look. If you love to plant and have a garden, why not build a garden bar. This gives you an entertaining space that seamlessly blends in with its surroundings.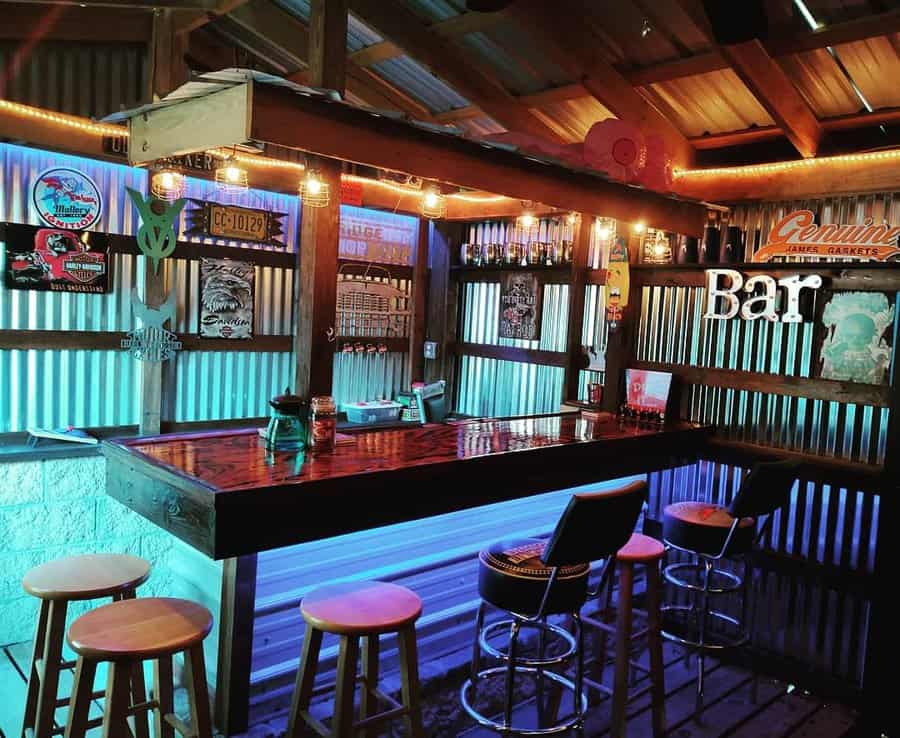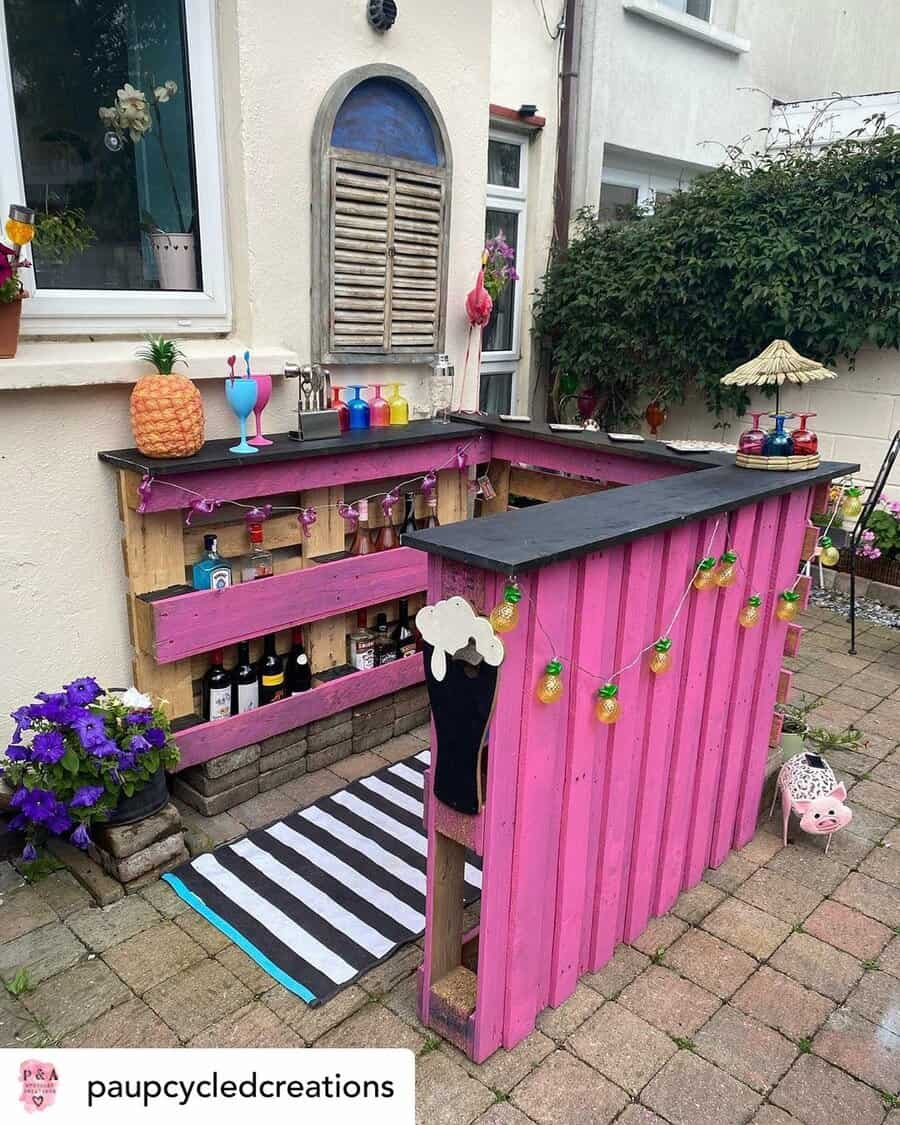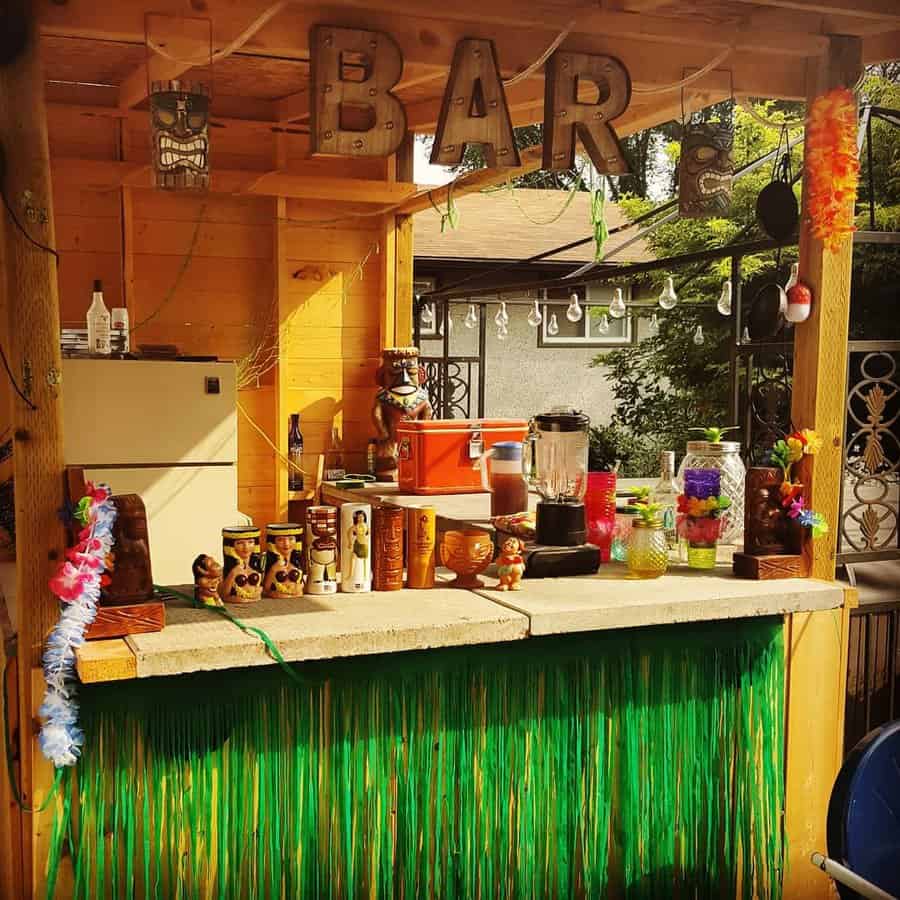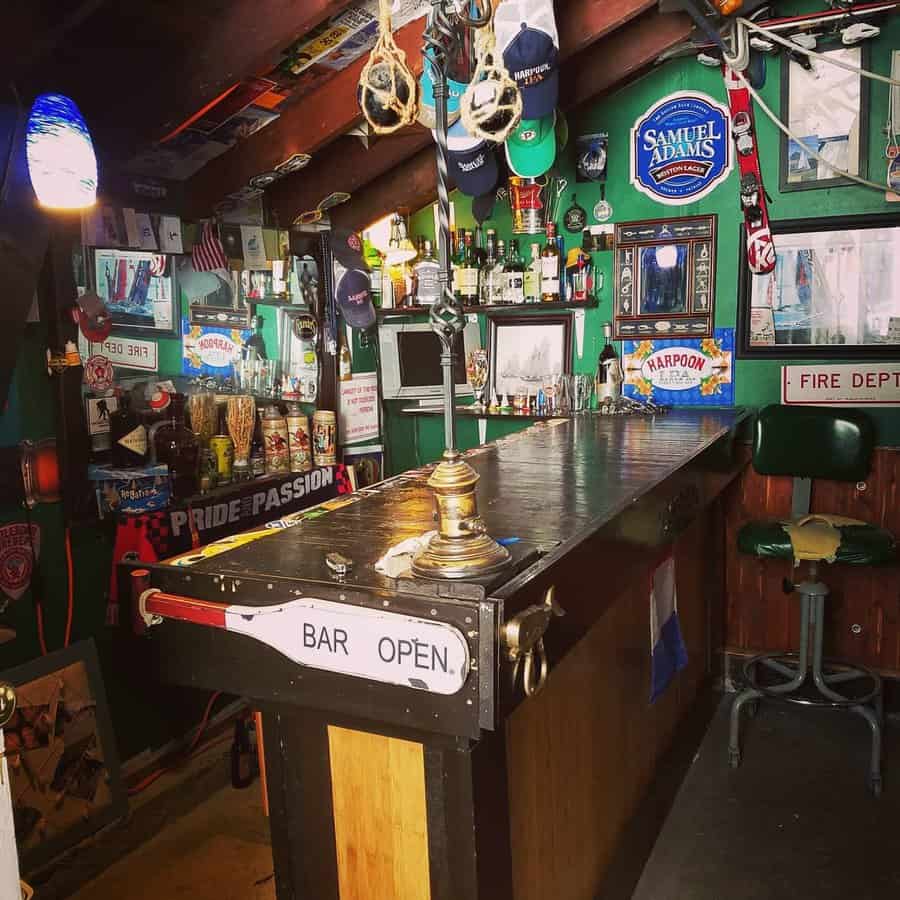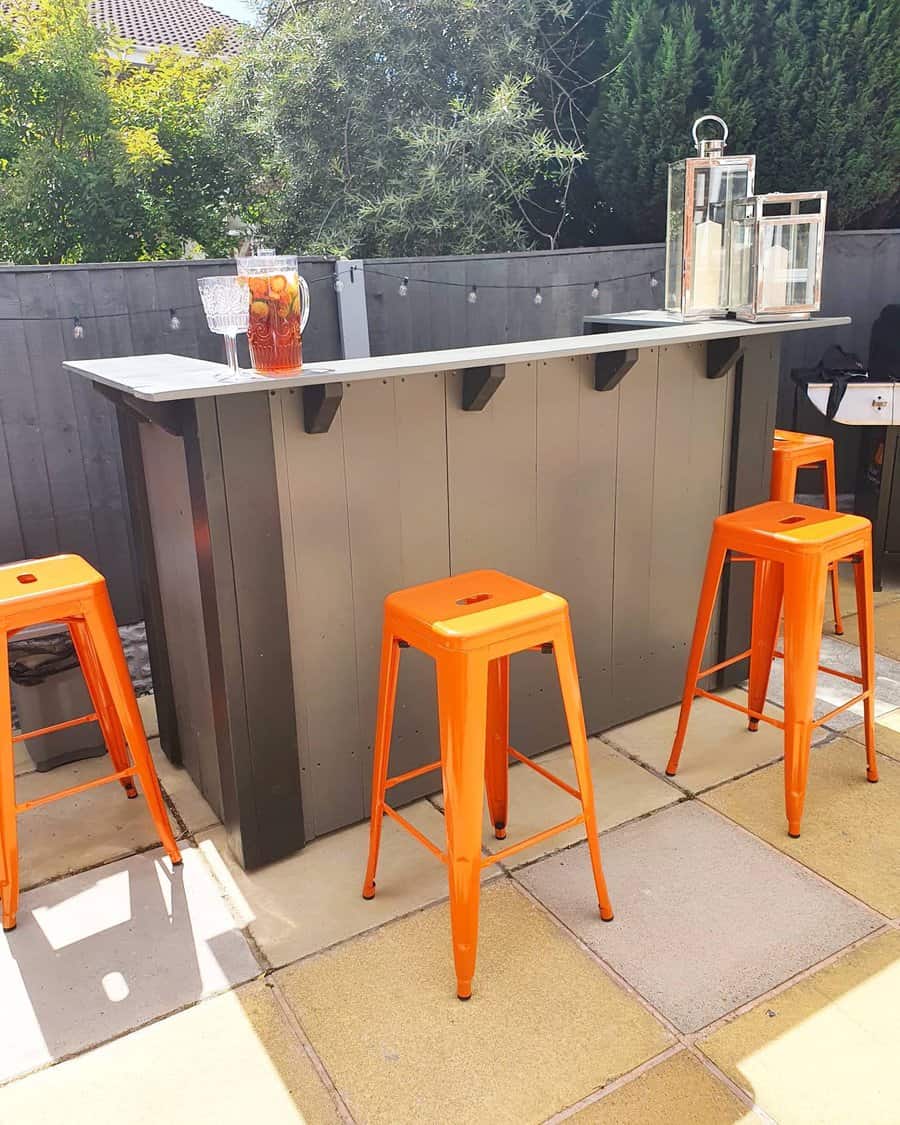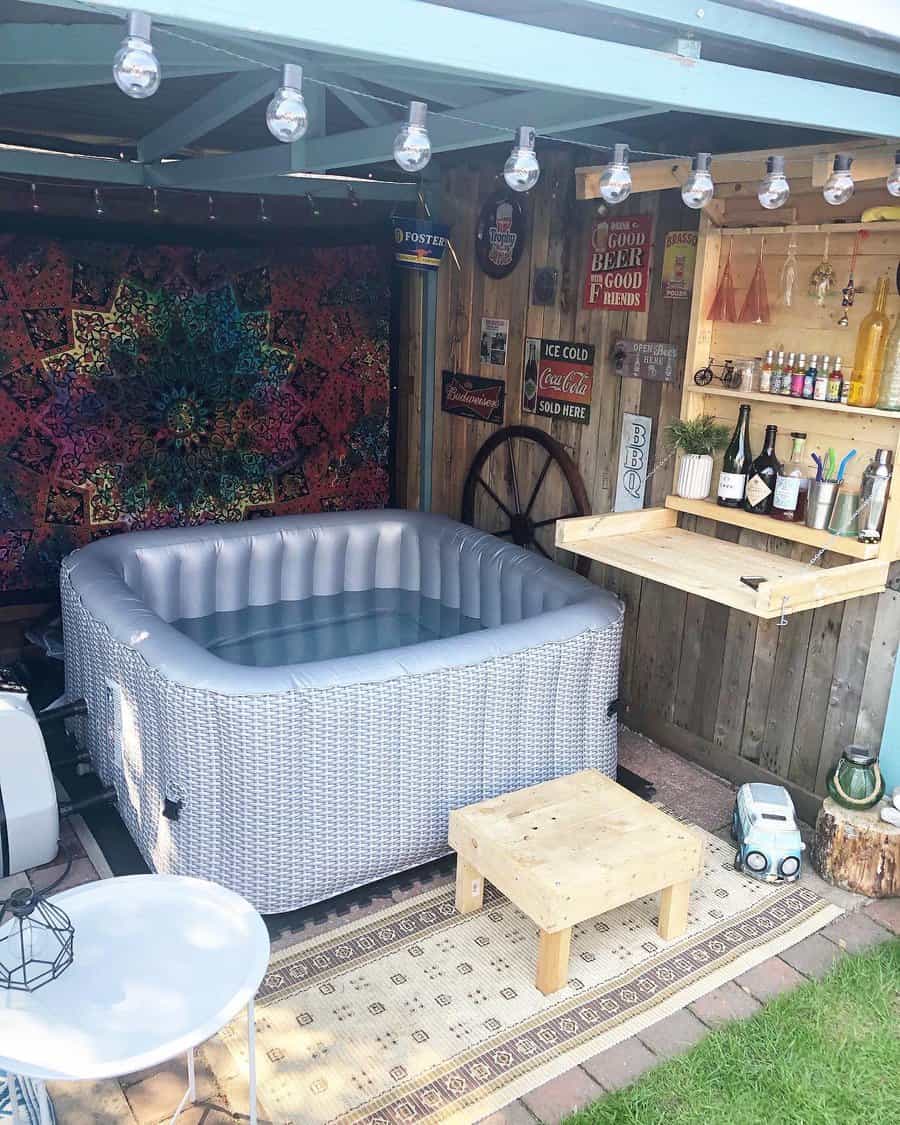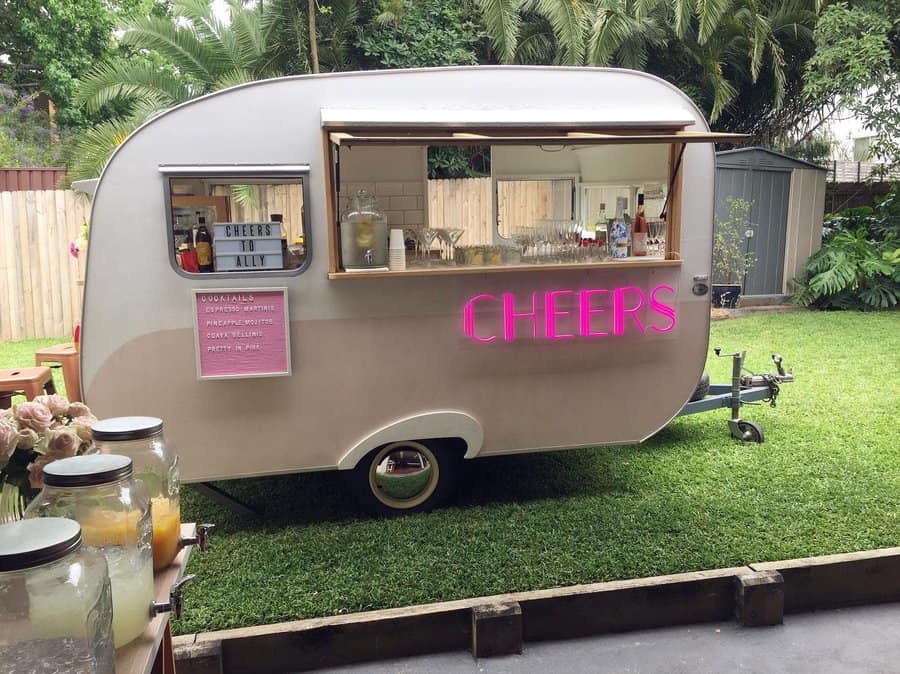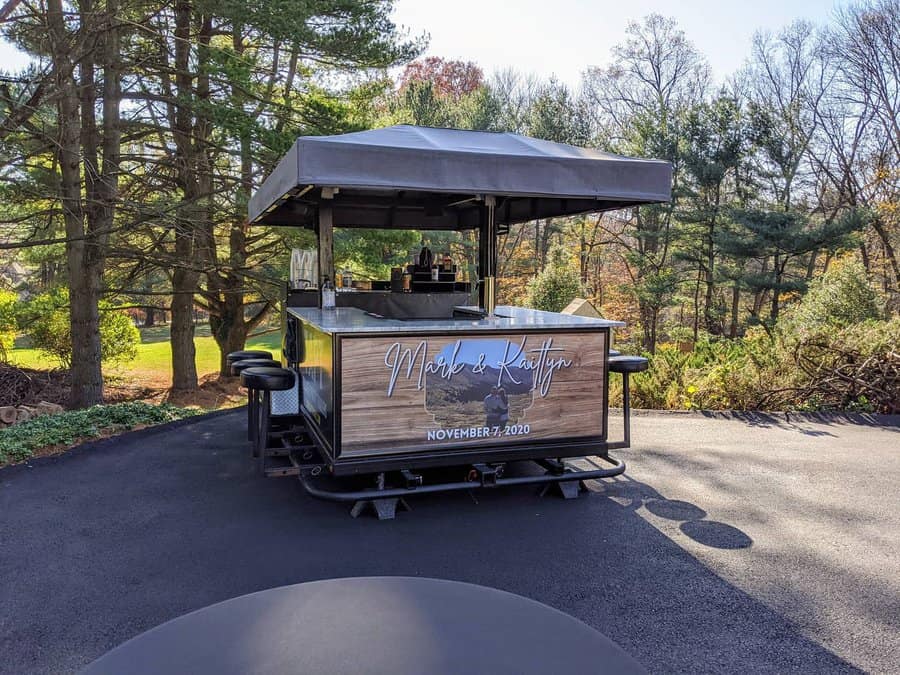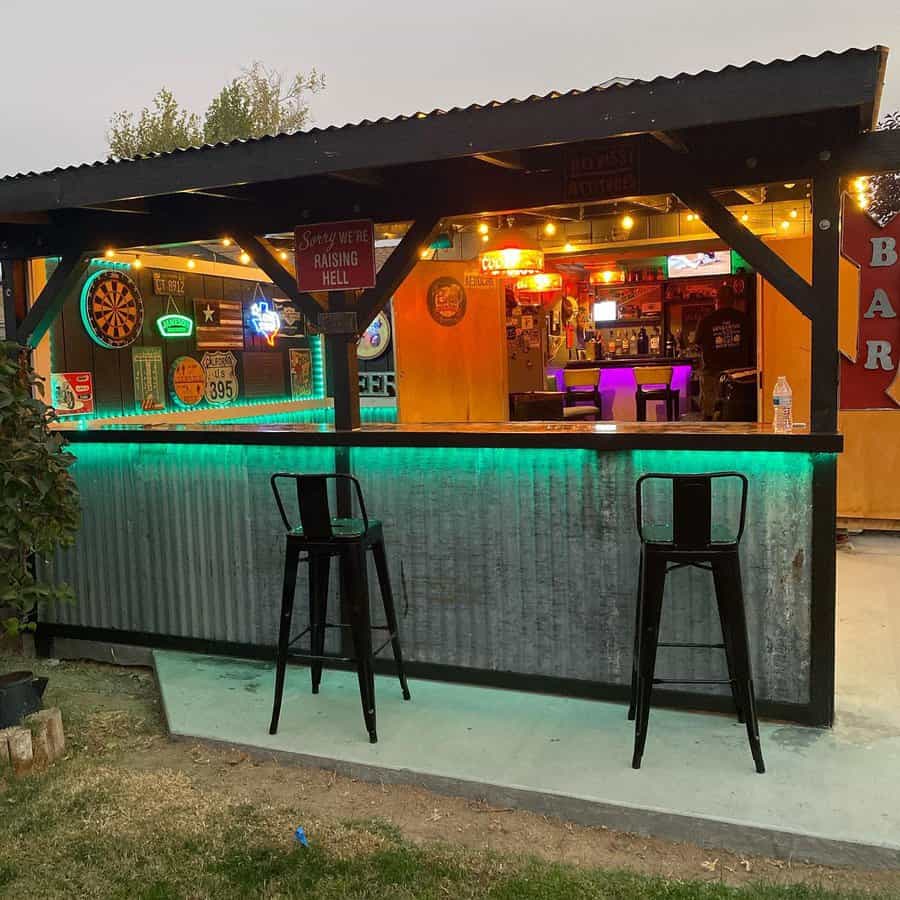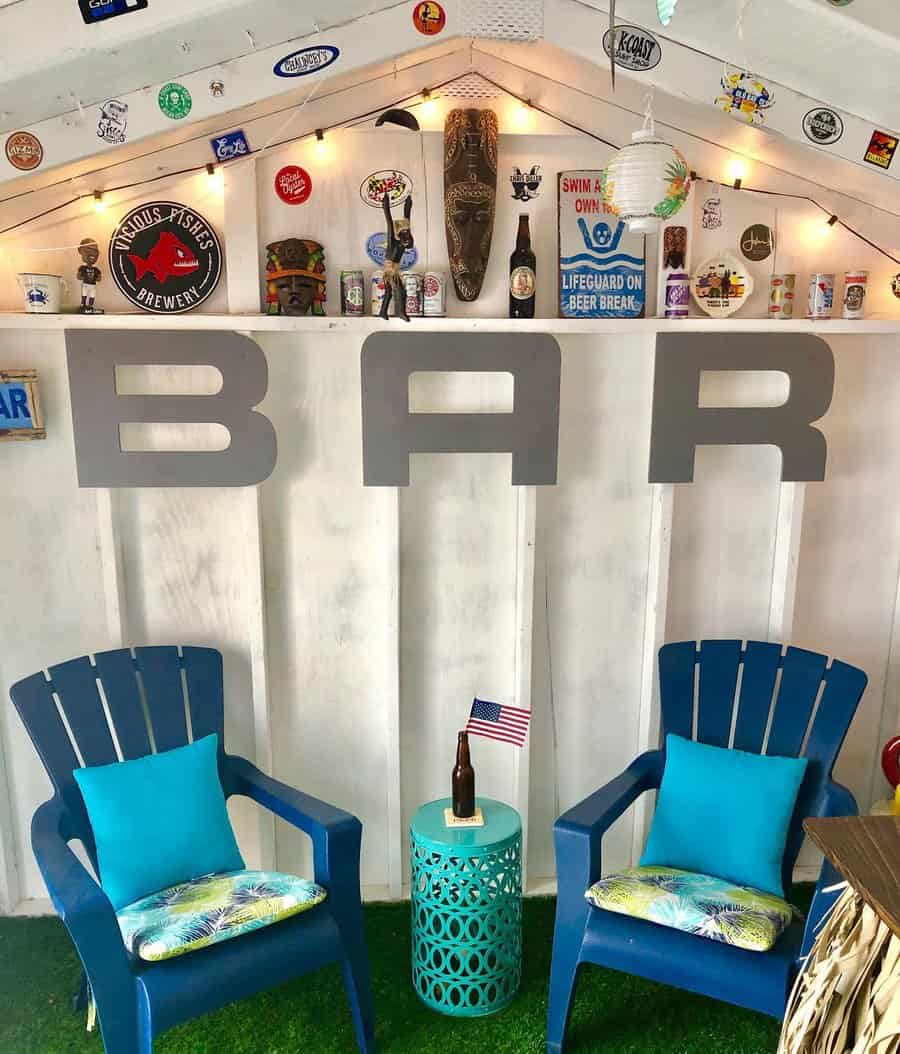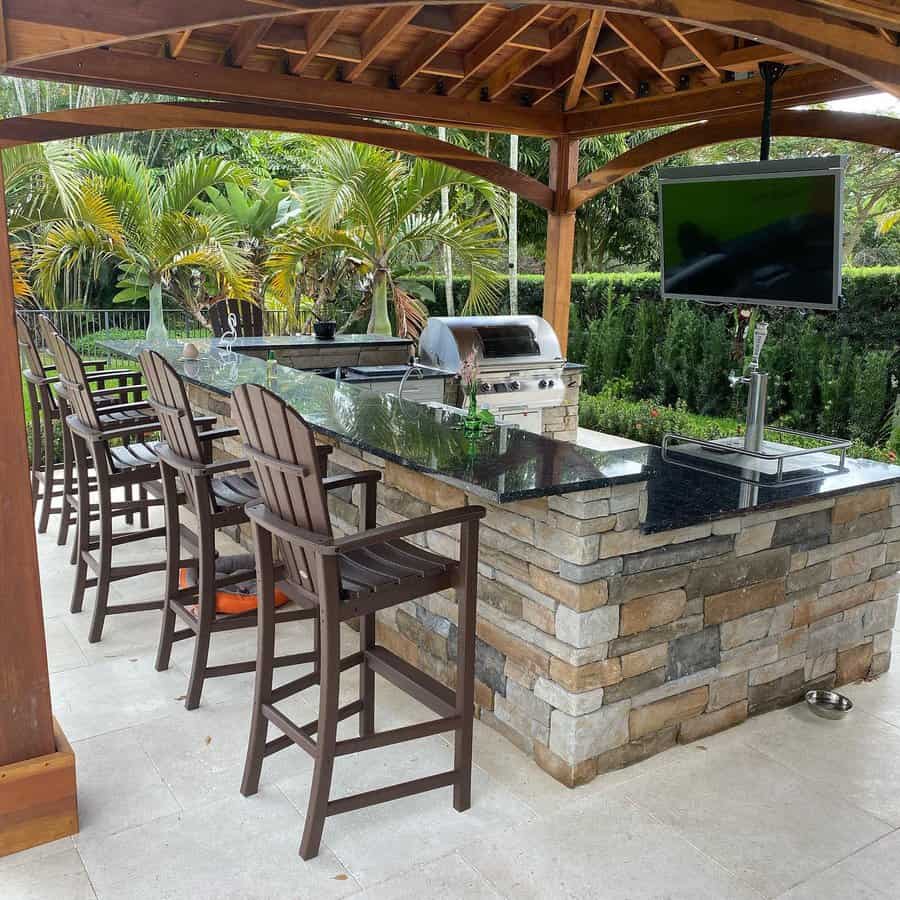 Instead of the standard bar design, use an outdoor bar cart. This gives you an elegant design. If you have a fire pit, build a rustic bar out of the same materials that you've built the fire pit out of.
6. Furniture
Don't stop at just the bar. You need to have a palace for people to sit down. This will encourage people to stay in the space longer as they will be more comfortable.
If you have a limited amount of square footage, then all you need are a few bar stools. Try to have at least three; otherwise, it will look off-balance and odd.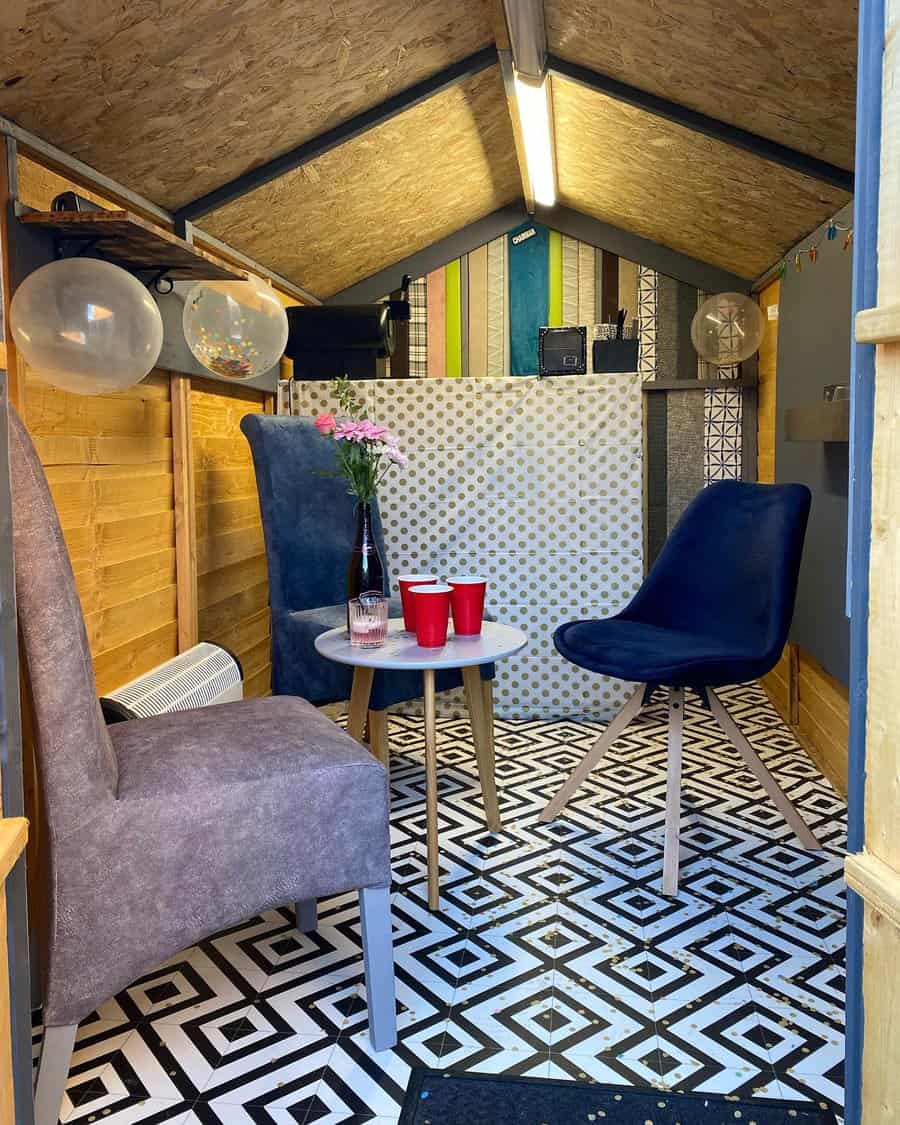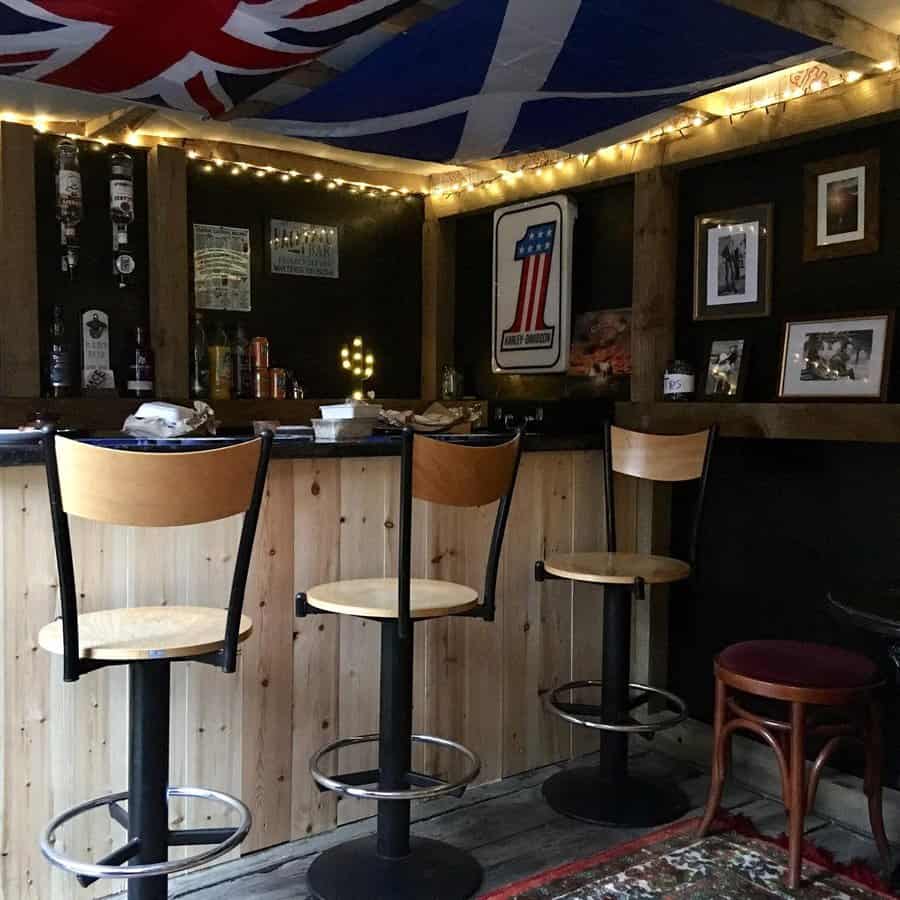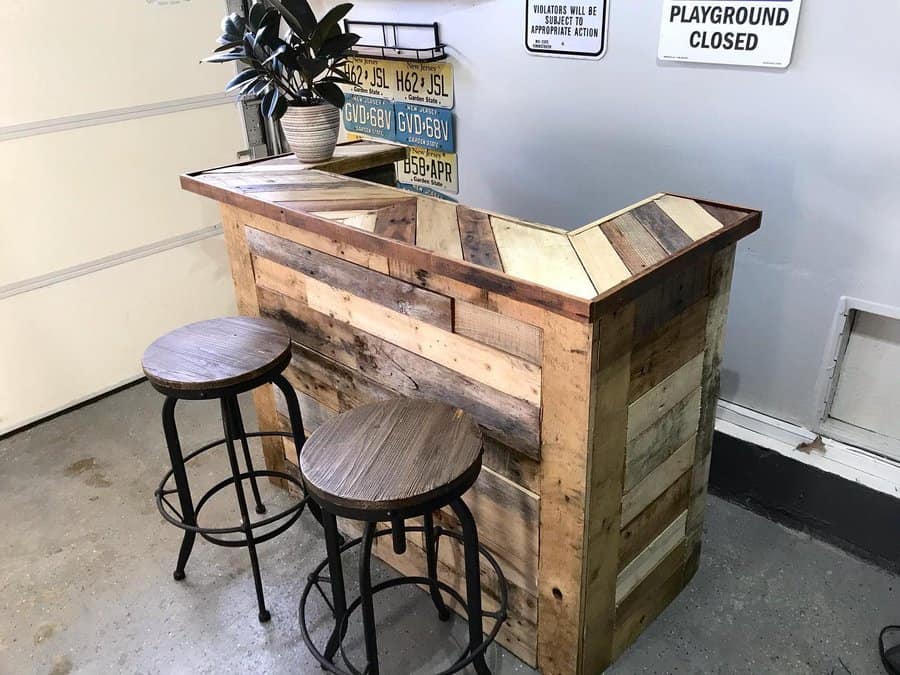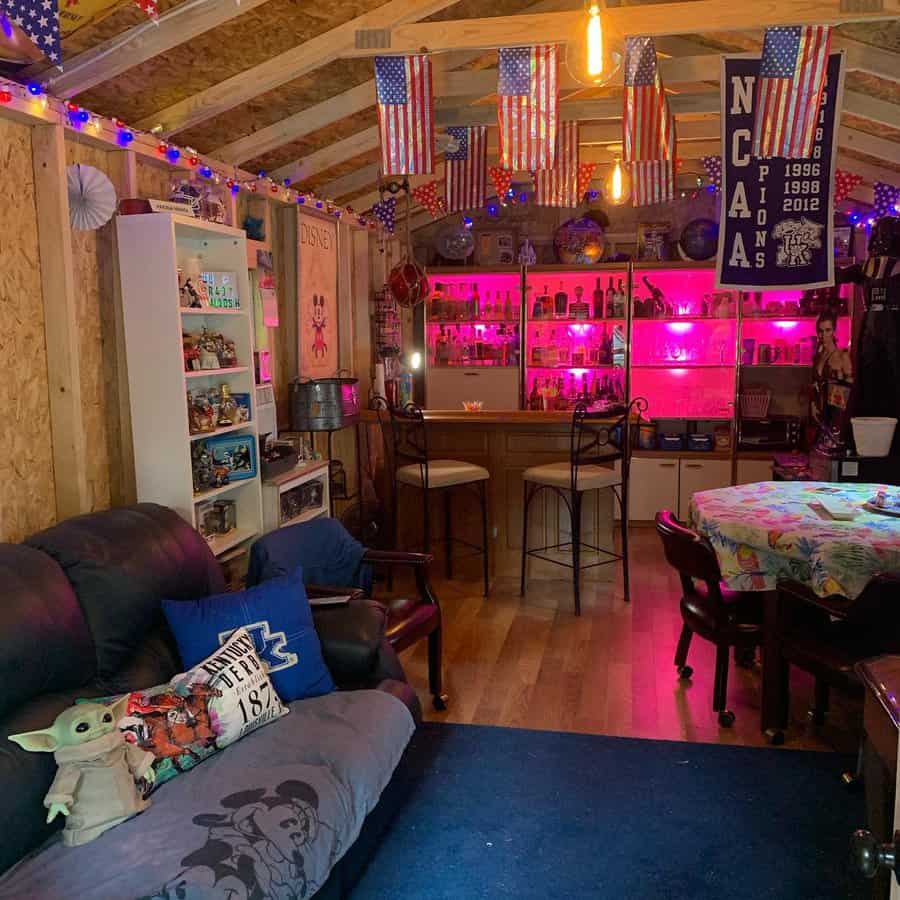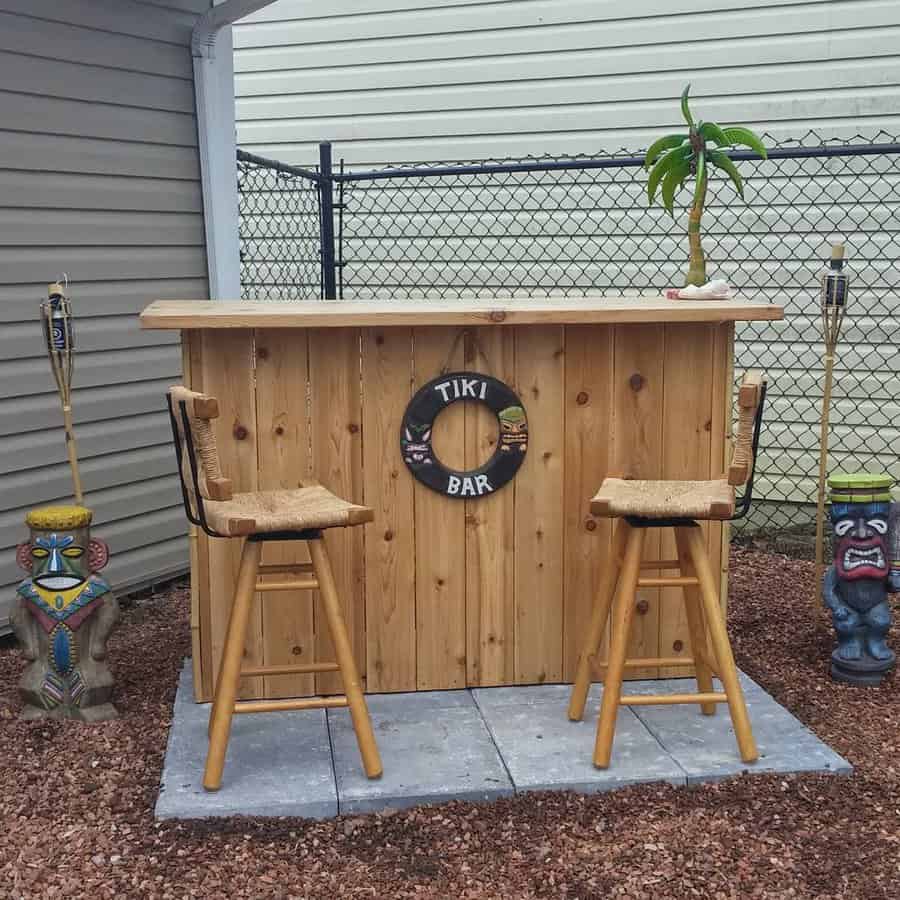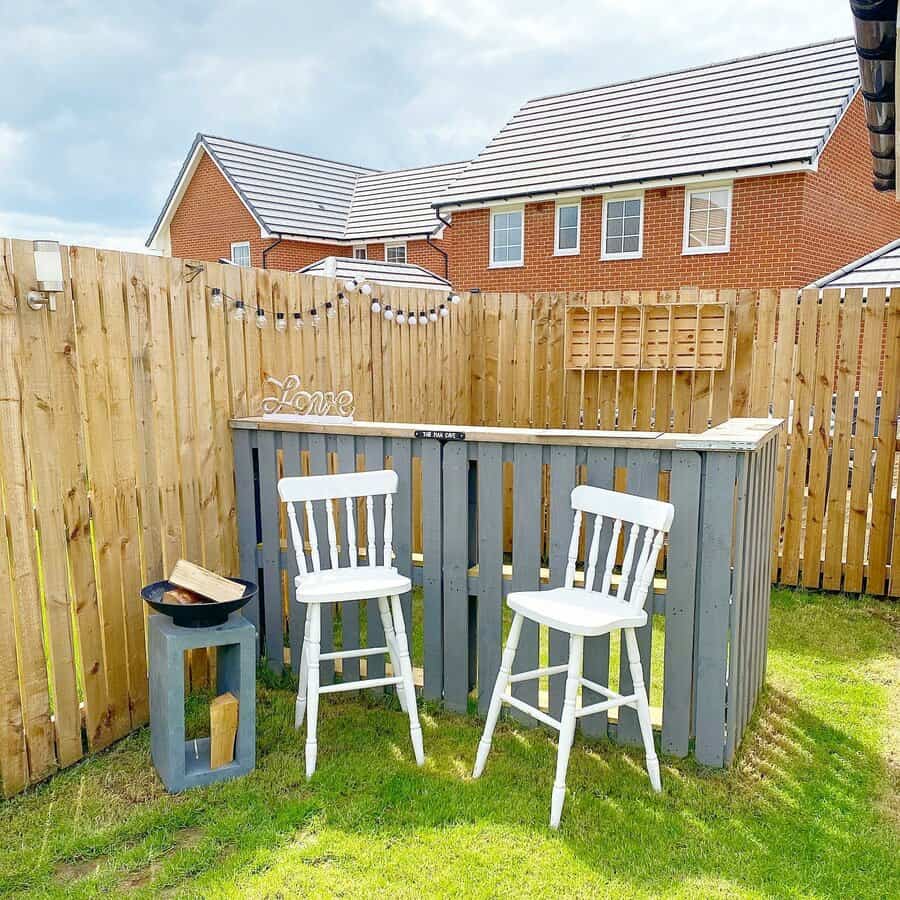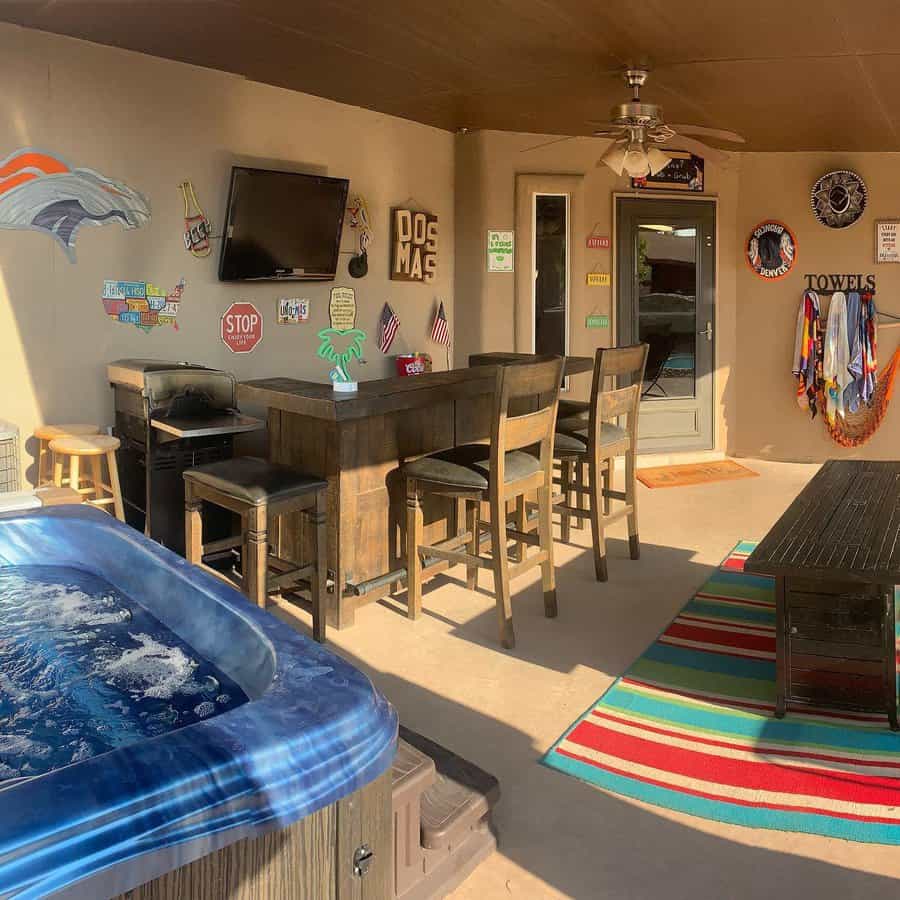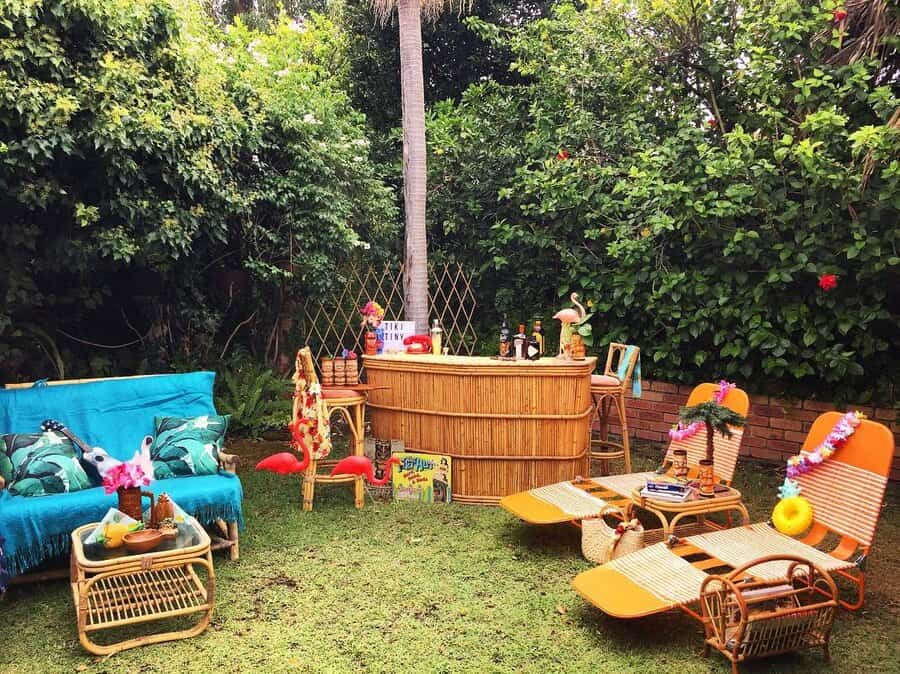 If you have more space, then create a lounge-like atmosphere. Arrange an accent chair, love seat, or sofa. Even a long bench would work. Then add cushions and throw pillows. Look for seating that is deeper, which creates a more relaxed sitting position.
7. Pallet
Modern trends embrace the idea of upcycling wood pallets. A popular use is to make a pallet bar. There are two ways you can go about building your bar. The first is to leave the wooden pallets intact and just attach them to each other. This is fast and easy but limits your customization ability.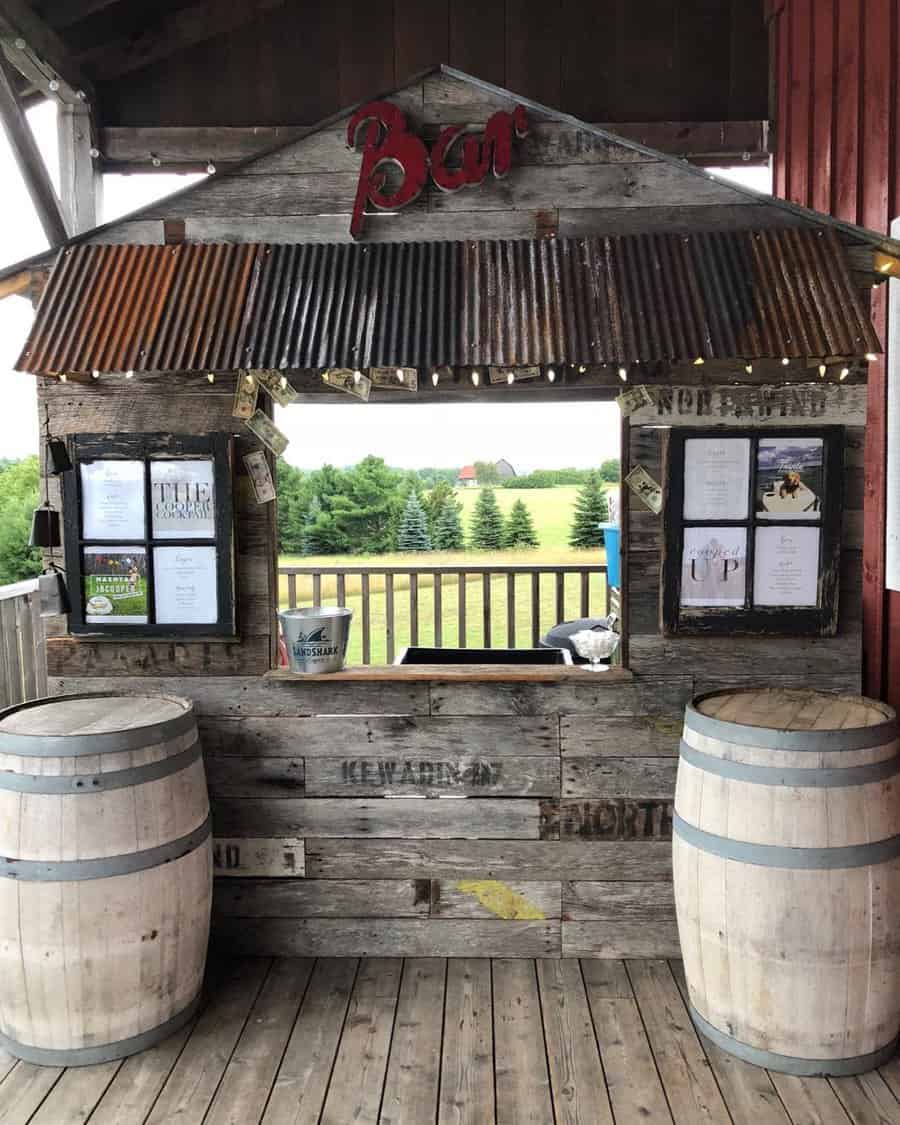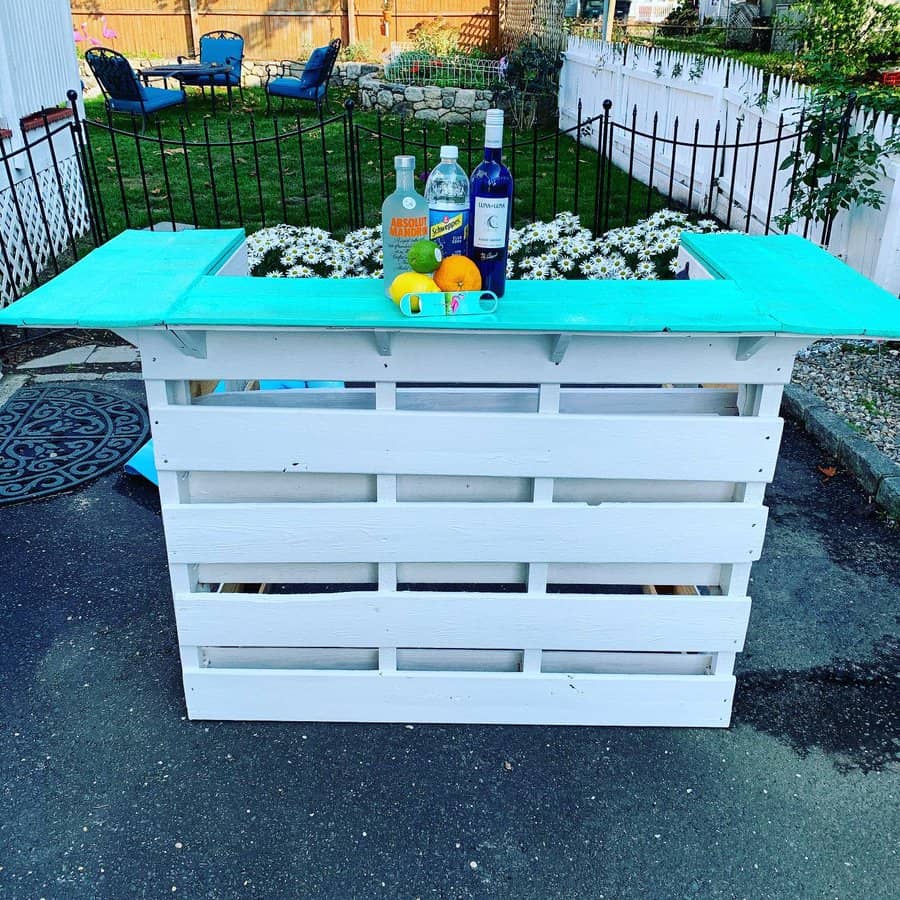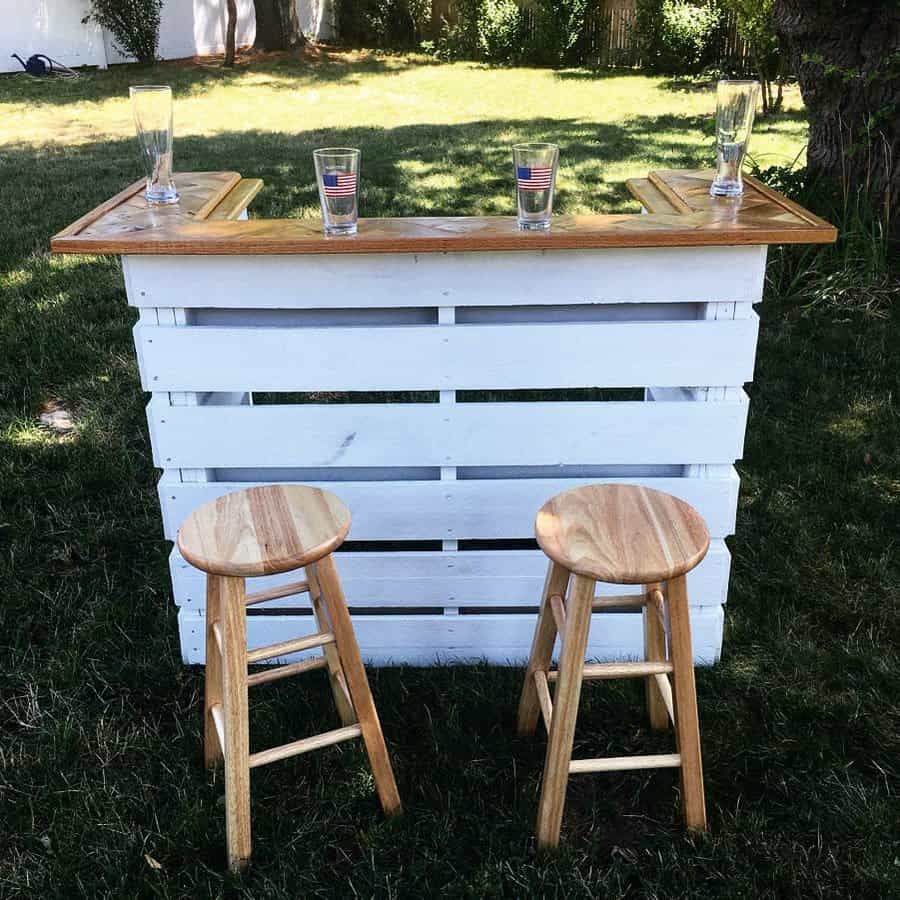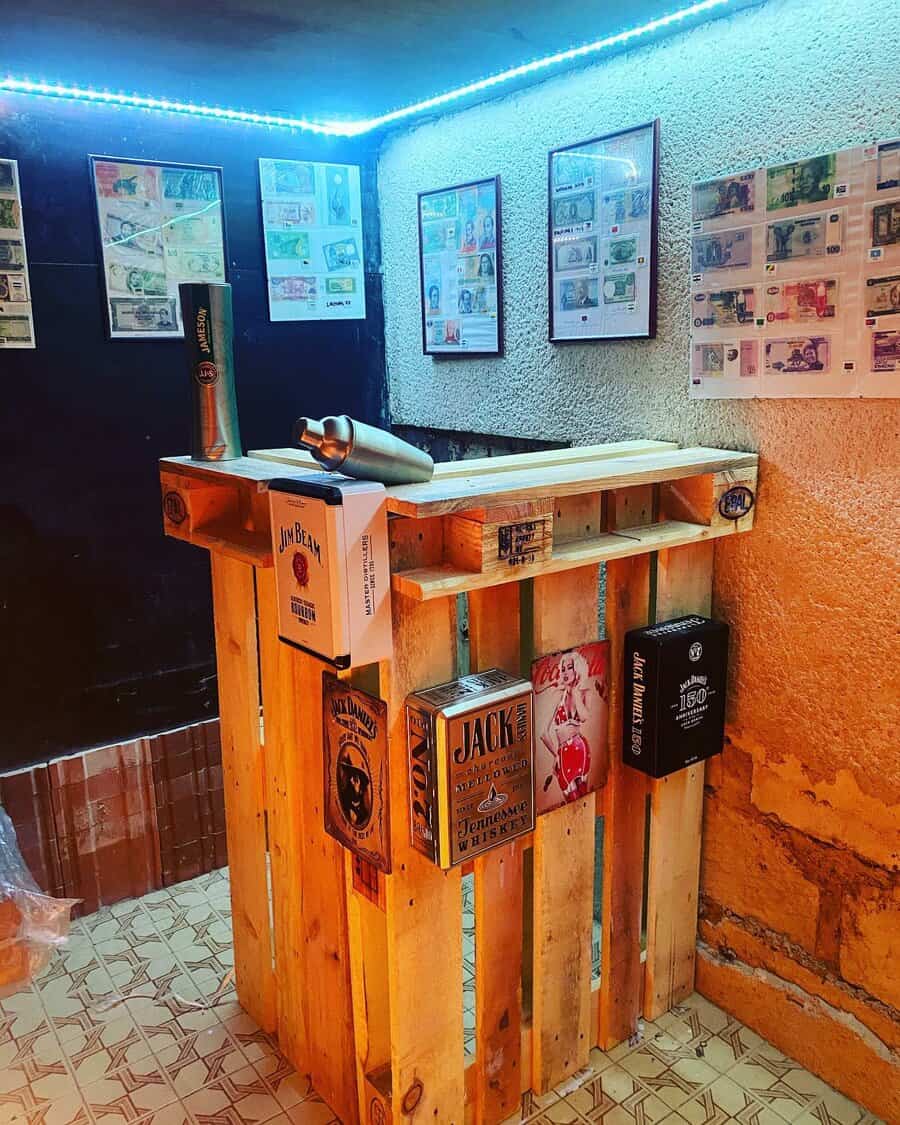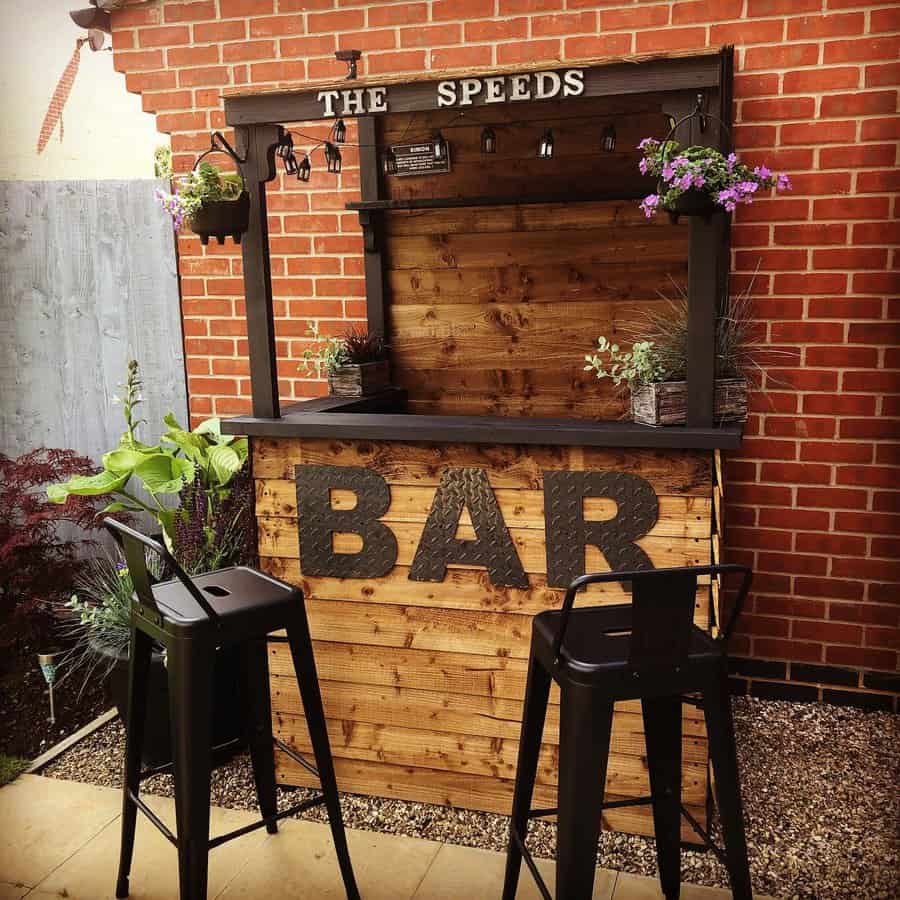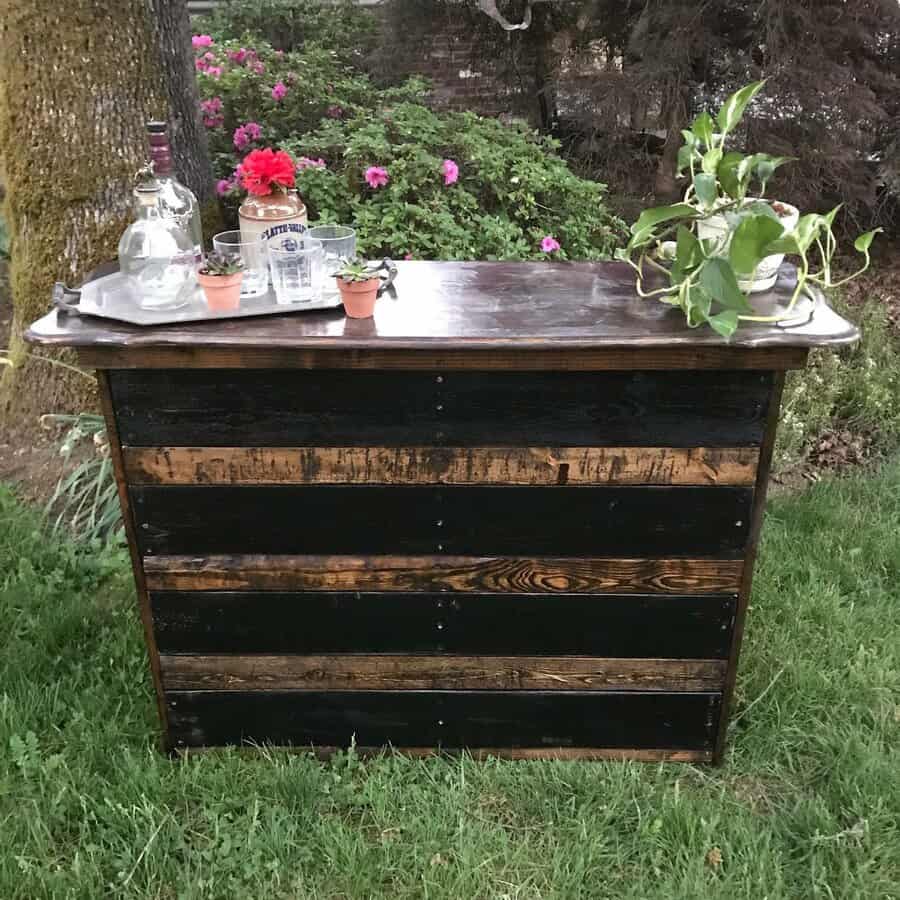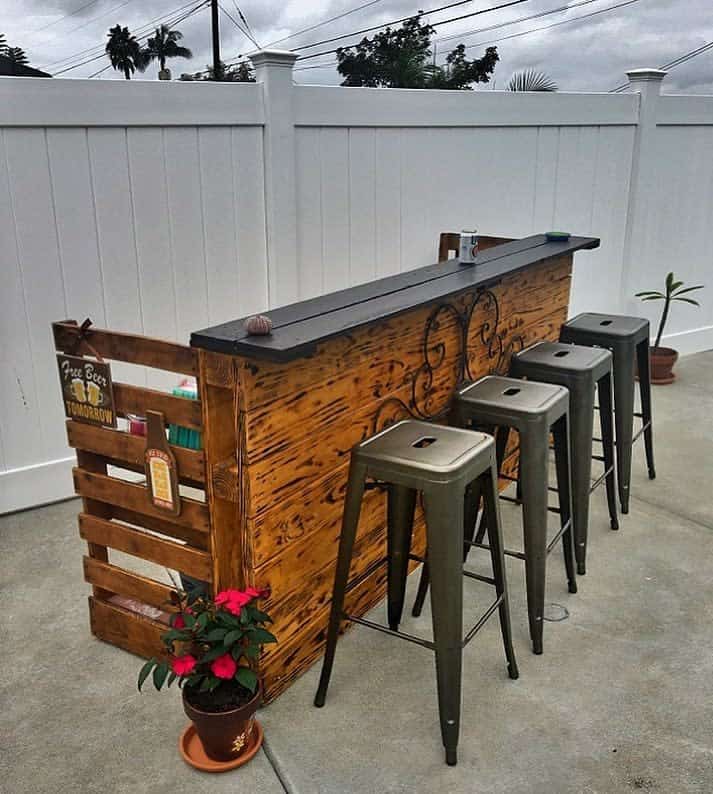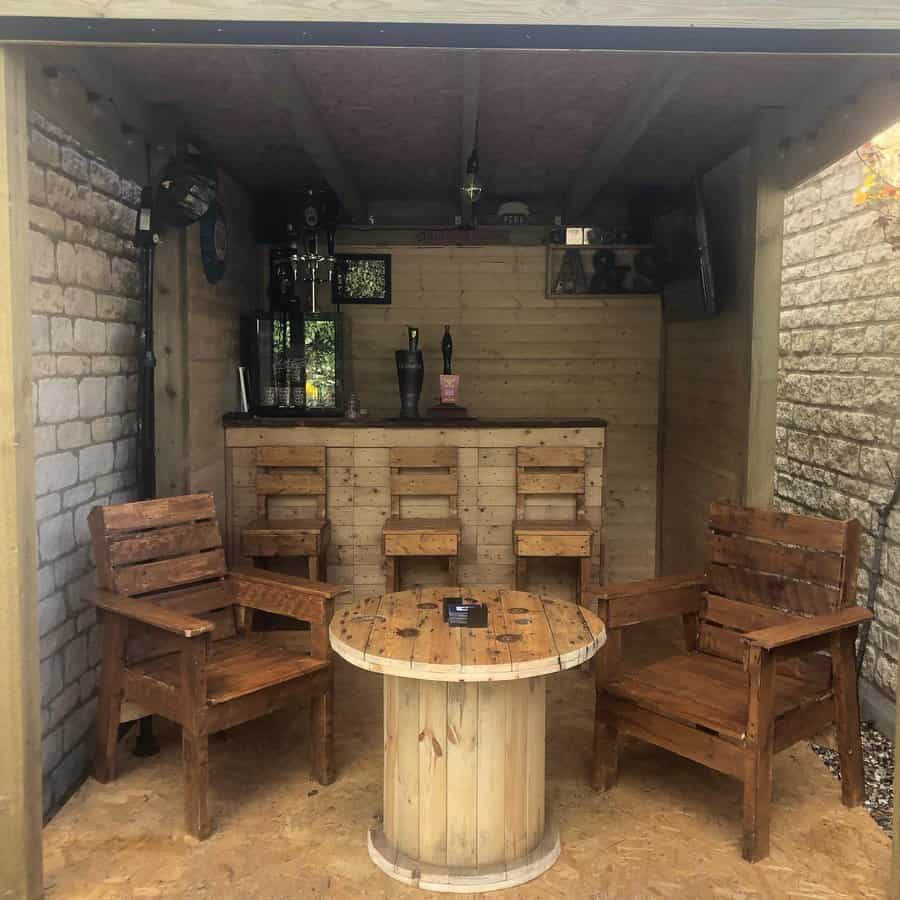 The other option is to break the pallets down. Now you have several similarly sized and shaped pieces of wood. You can use them to build a bar that fits your space and needs. Try taking it a step further by making a design out of the wood. Alternate light and dark pieces for a striped effect.
8. Shed
Building a bar shed lets you build an outdoor bar idea without having to leave your bar outside. You could convert an old gardening shed. Replace the potting bench with a drinking bench.
Replace the small door with two large double barn-style doors. Or you could have a lift-up style door to open the bar from the side. People would then walk up or sit at bar stools on the outside, and the person preparing the drinks would stand inside.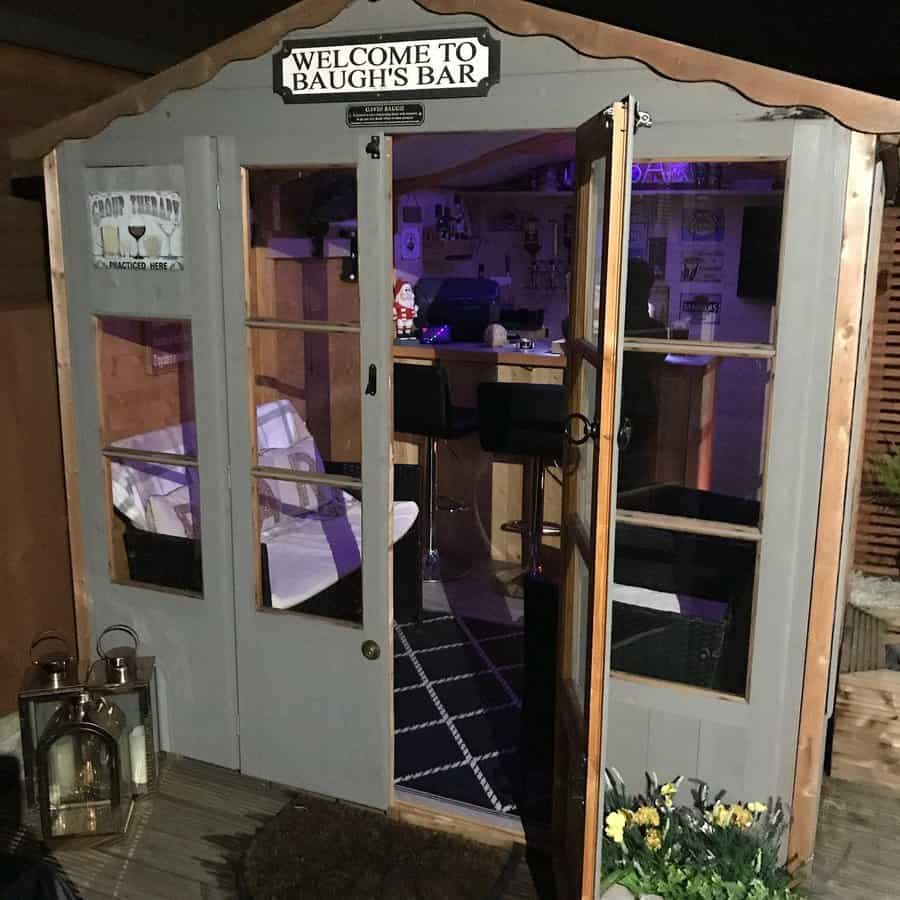 Bar sheds tend to work best when they are a flex space. This blends indoor and outdoor living together so that you can easily transition from one to the other.
9. Tiki
Create your own island oasis getaway right in your own backyard by building a tiki bar on your patio. Use bamboo for the front of the bar; it comes in easy to work with rolled sheets or panels. Then create an overhead cover with a grass roof.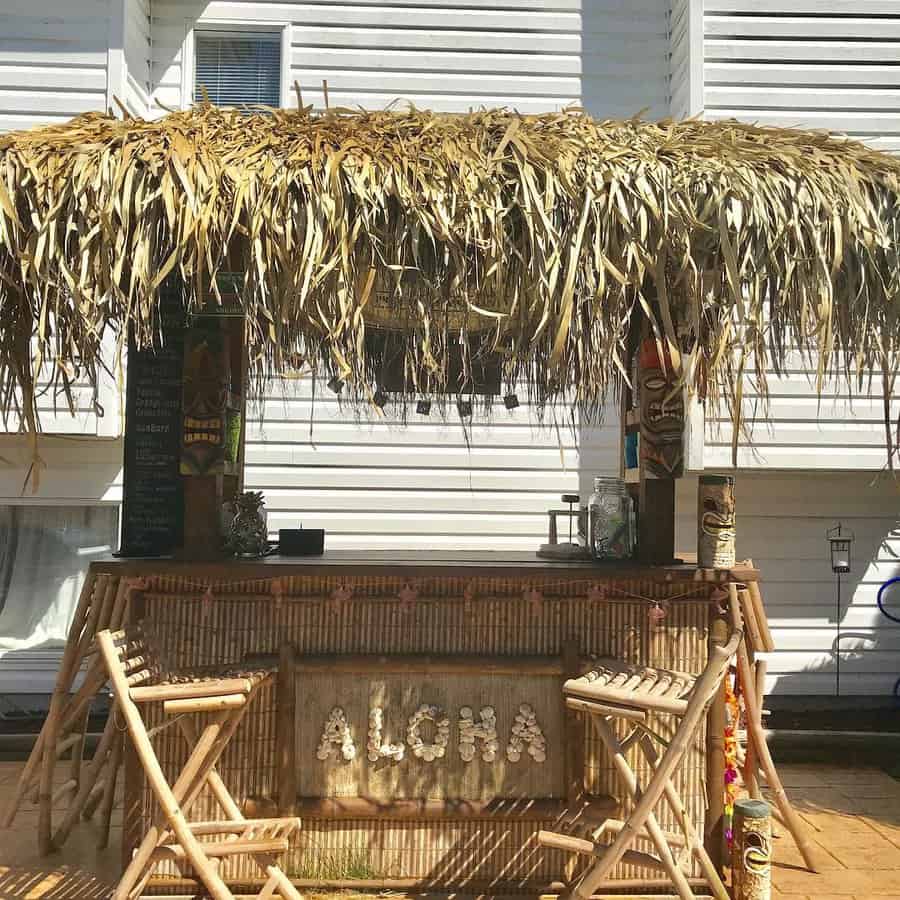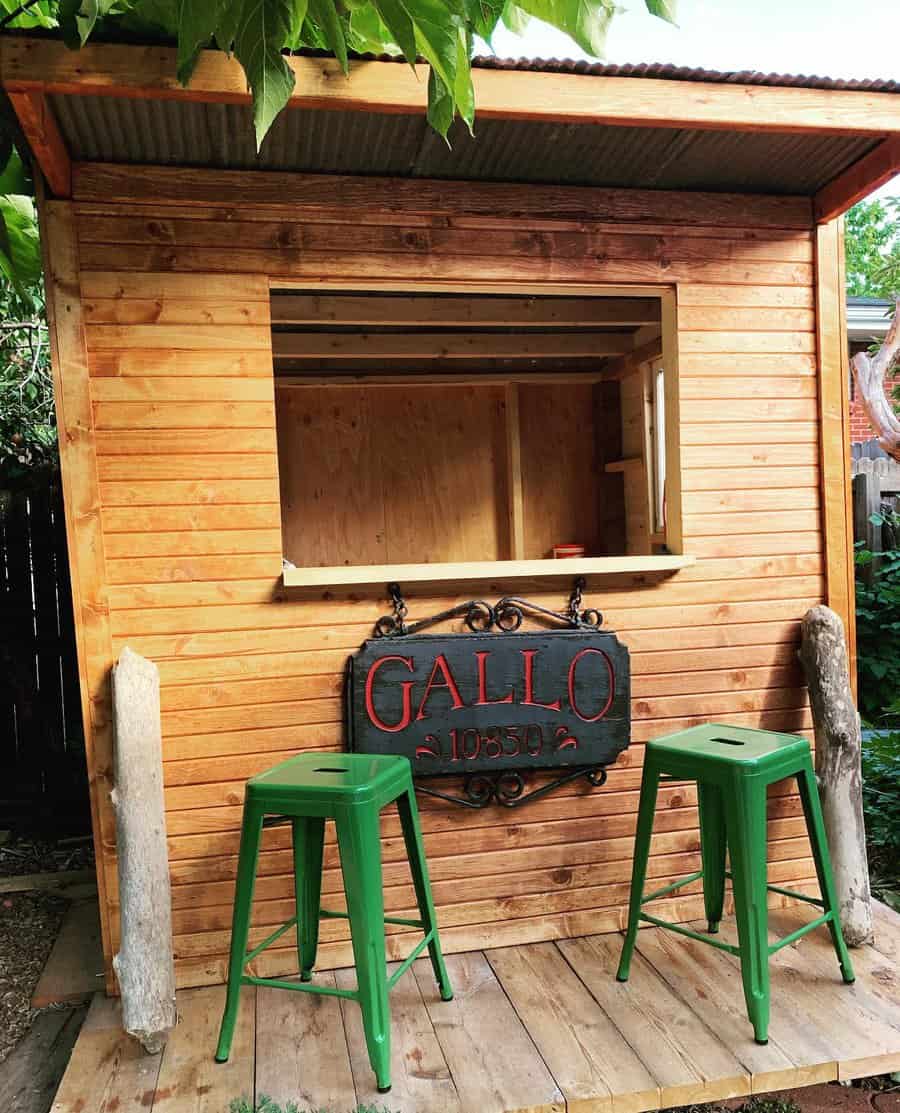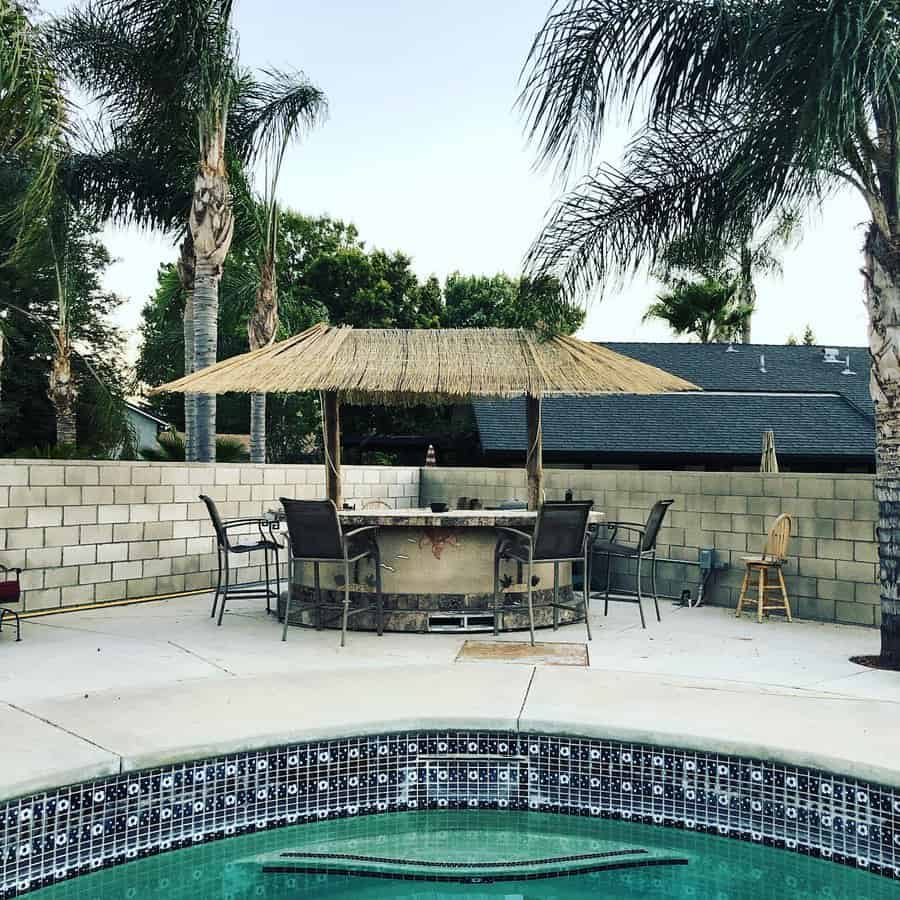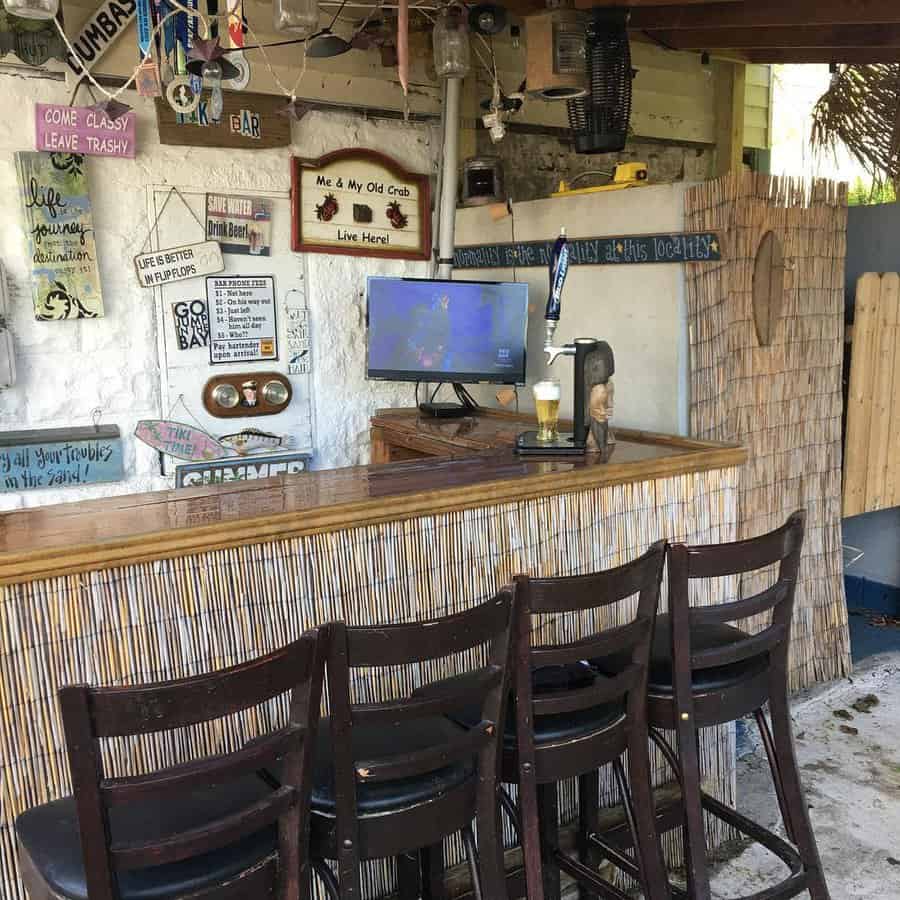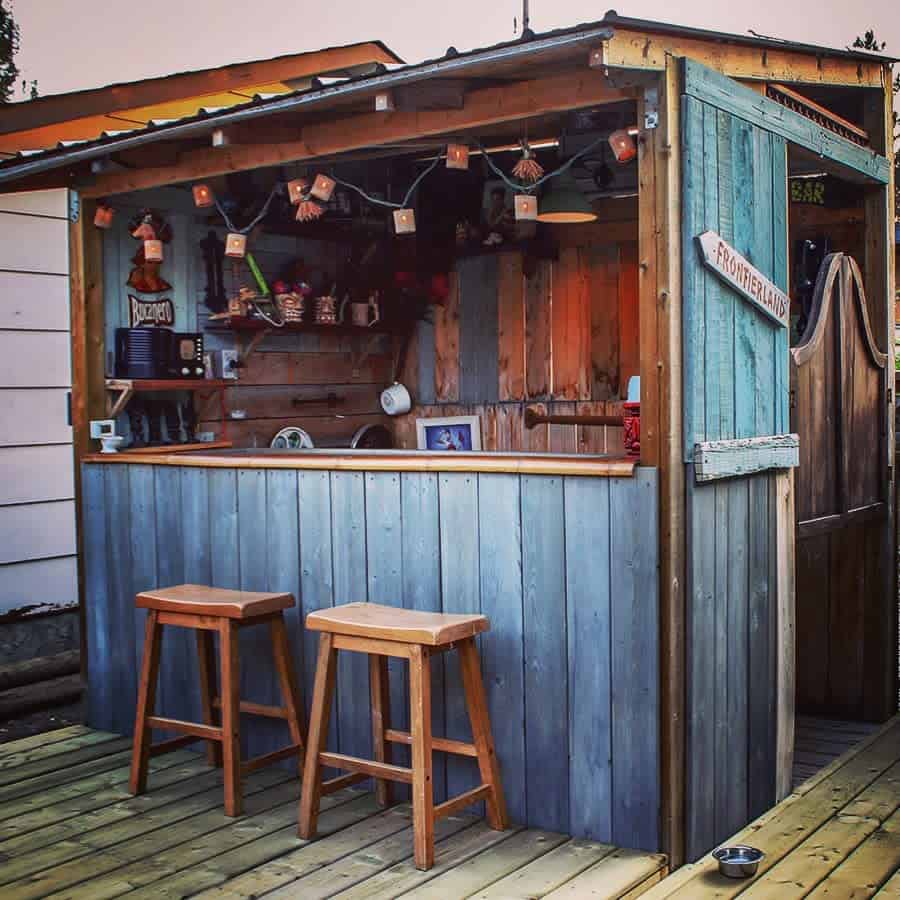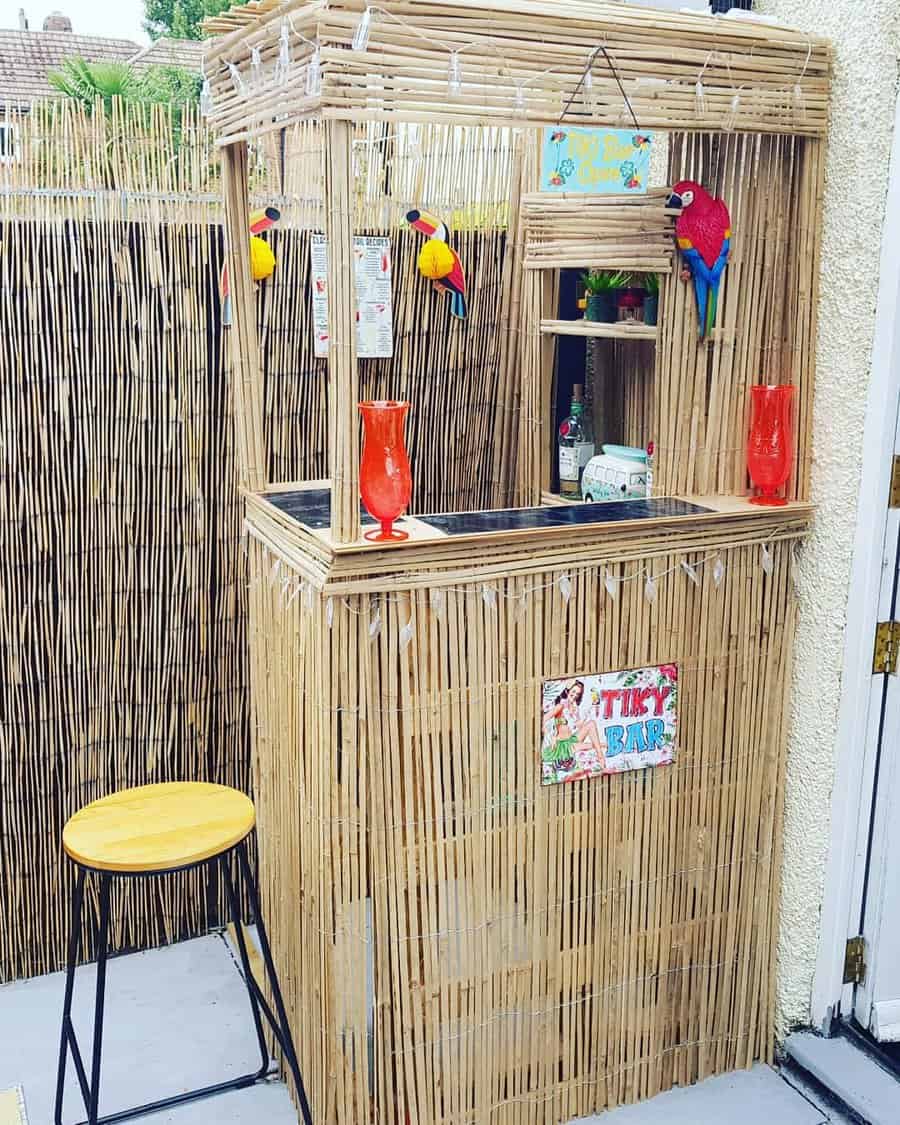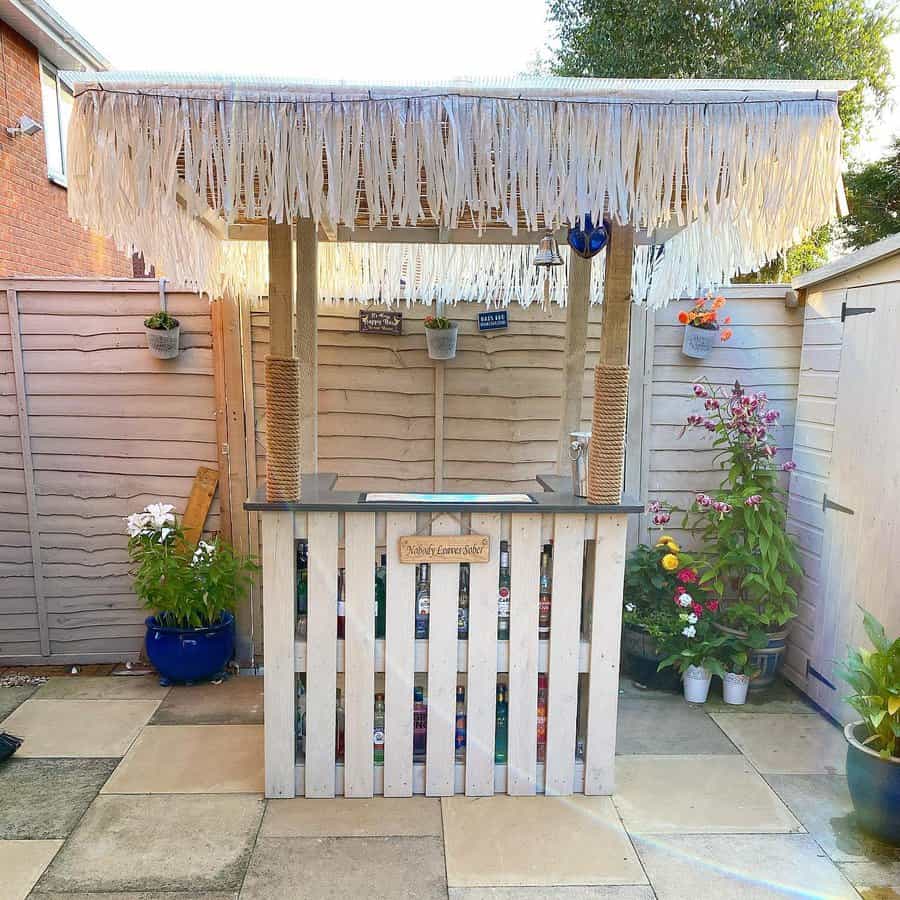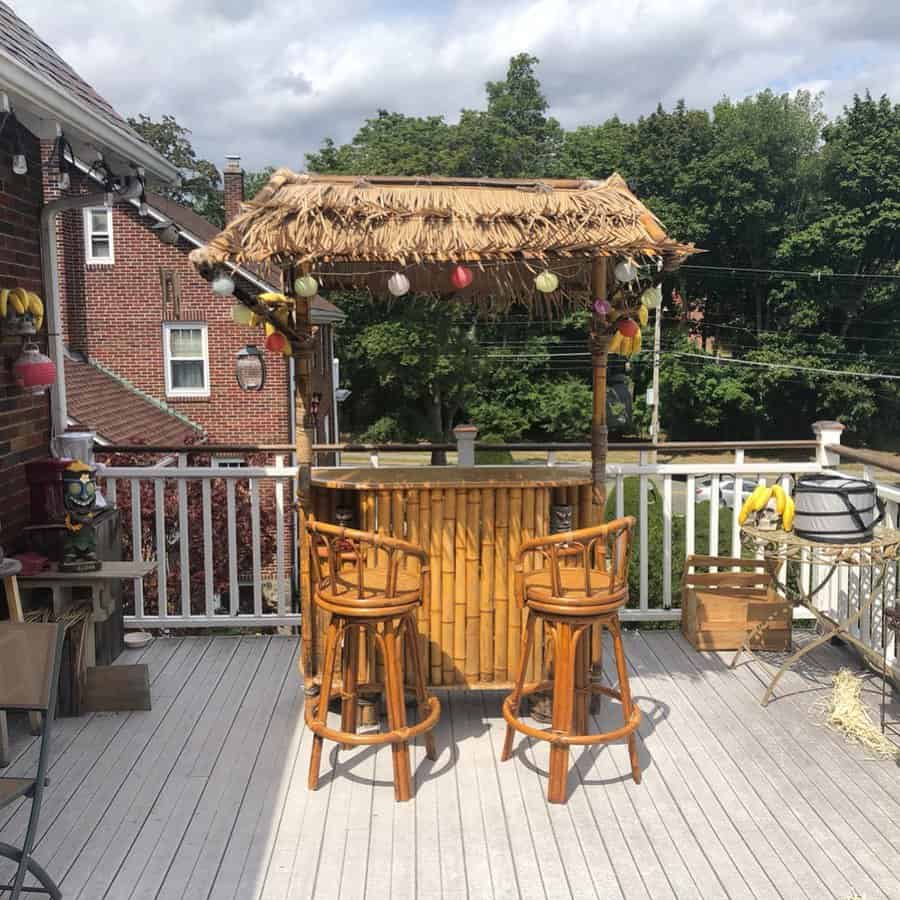 Finish your tiki bar by painting the wood elements bright tropical colors. Then decorate it with all of the island decor that you would expect to see at a tiki bar. It could be decorative surfboards, theme signs, Hawaiian totems, or tropical animal wall hangings.
10. Wood
The popular wood of choice right now is reclaimed wood. It has an authentic rustic and vintage feel. The problem is that it isn't the best choice for your backyard bar. Your best option is to build your bar out of hardwood. These woods are the most durable because they are impervious to water.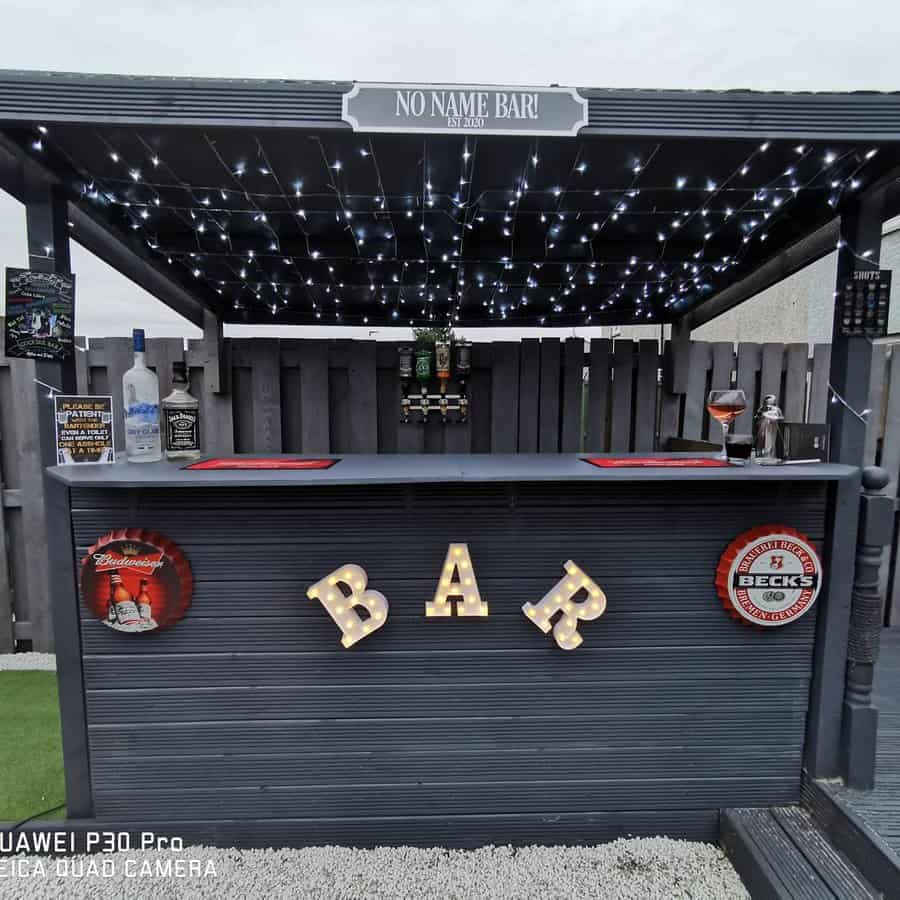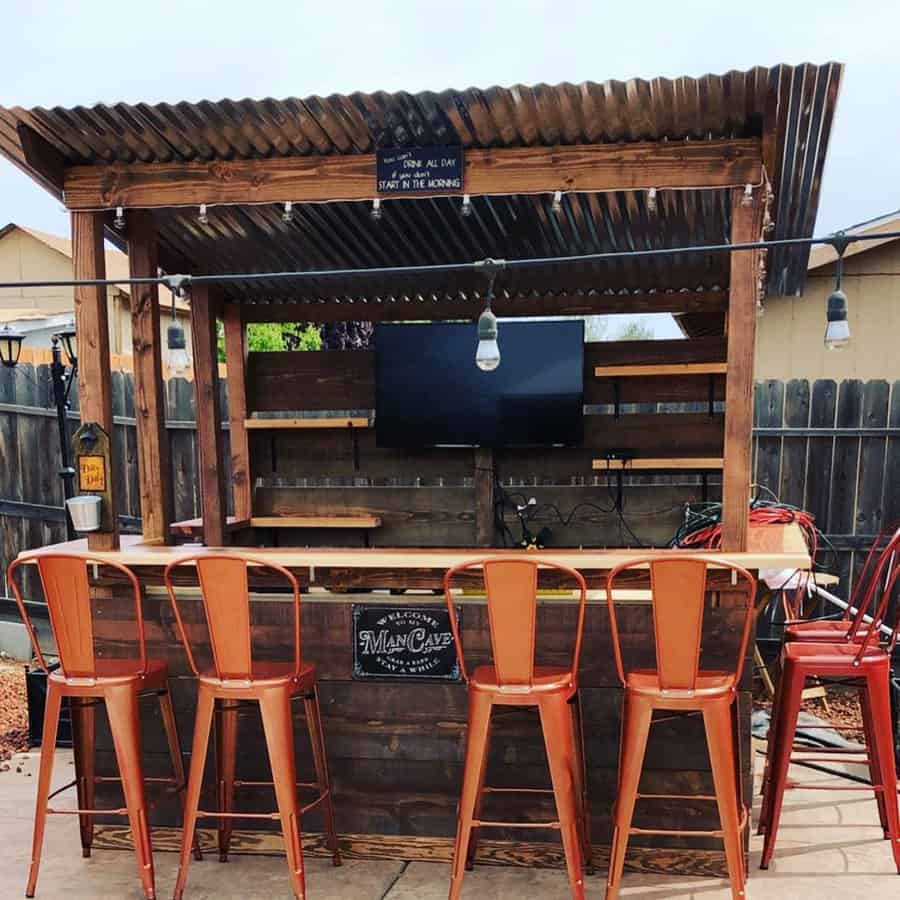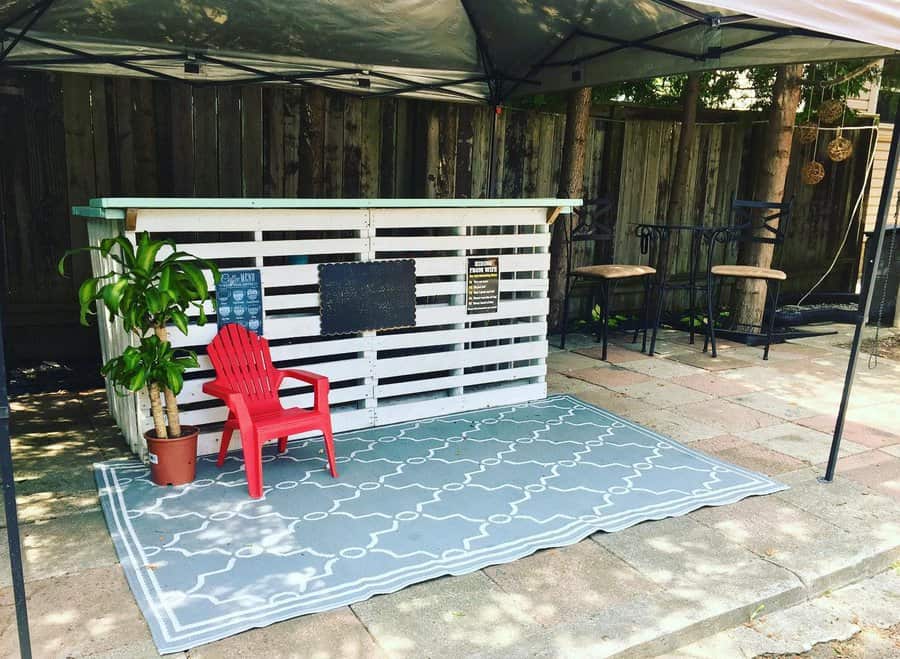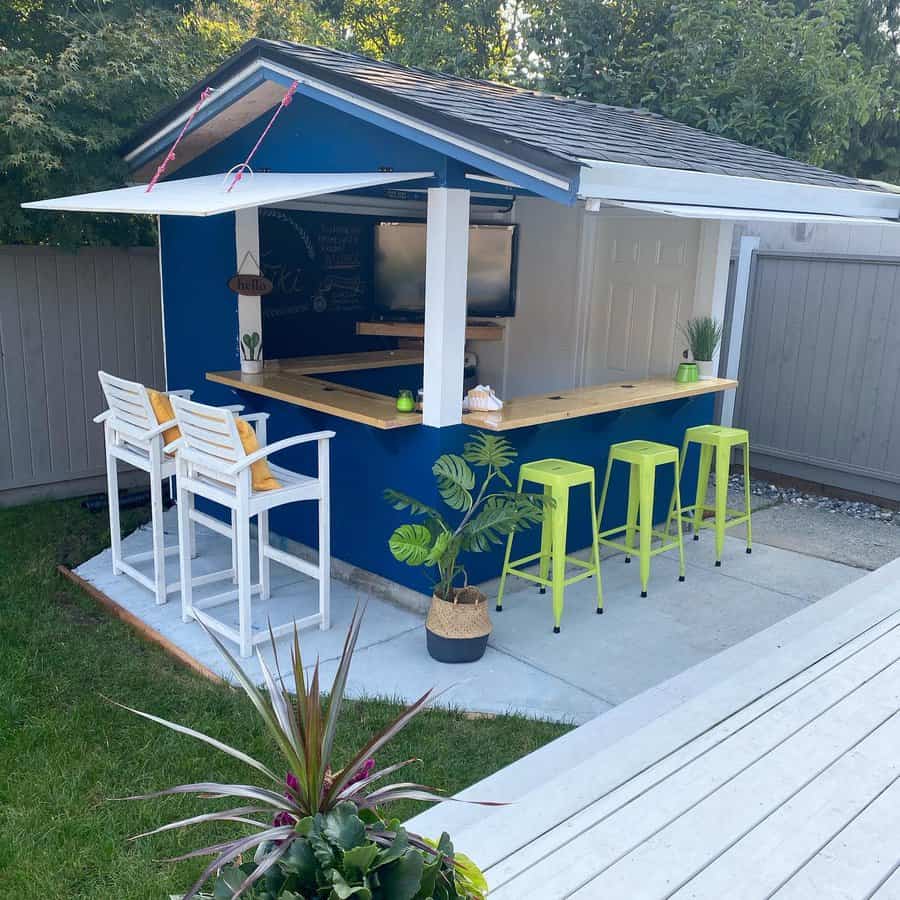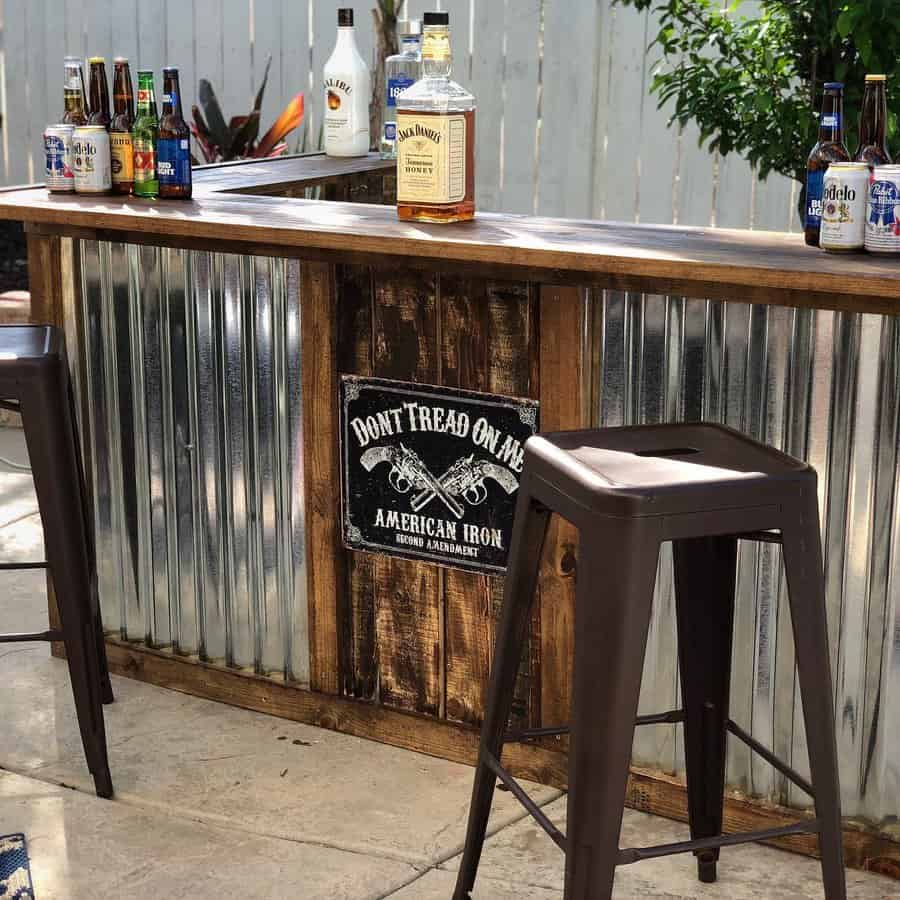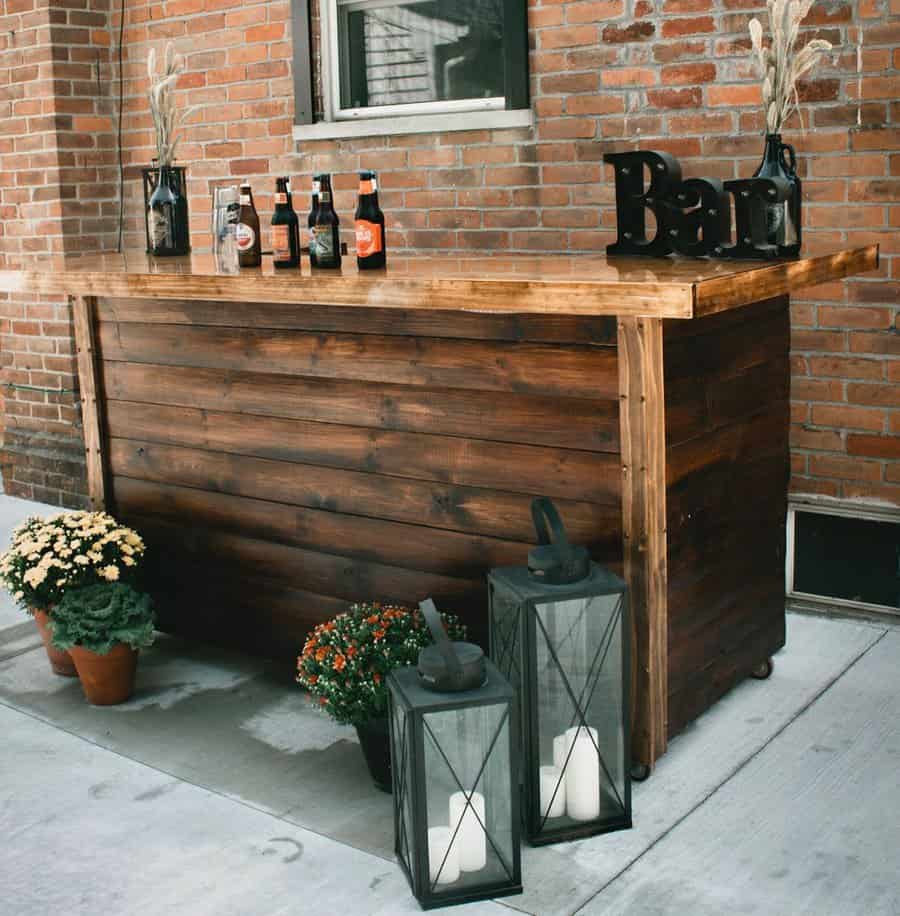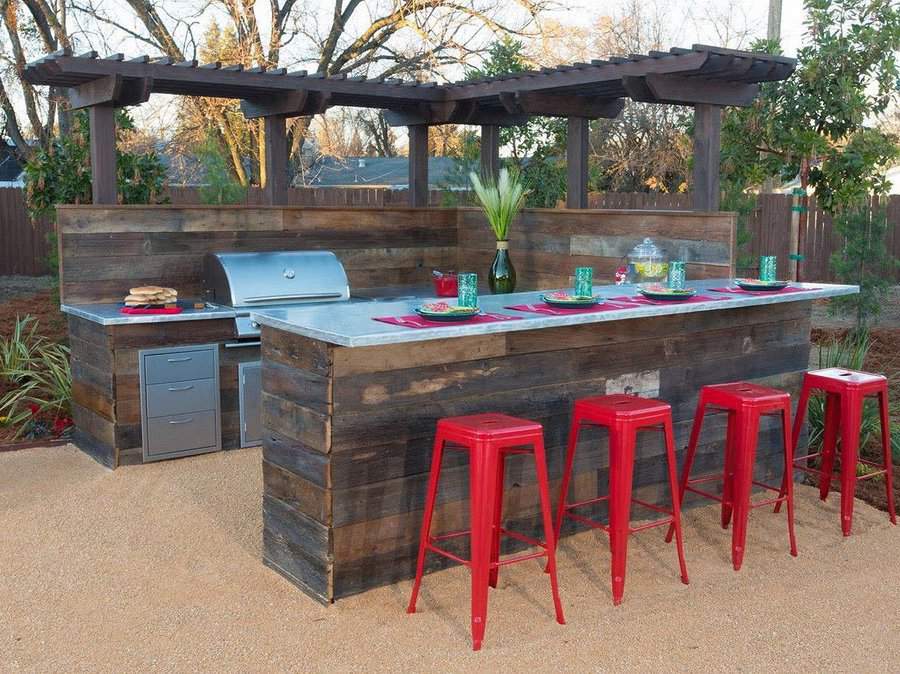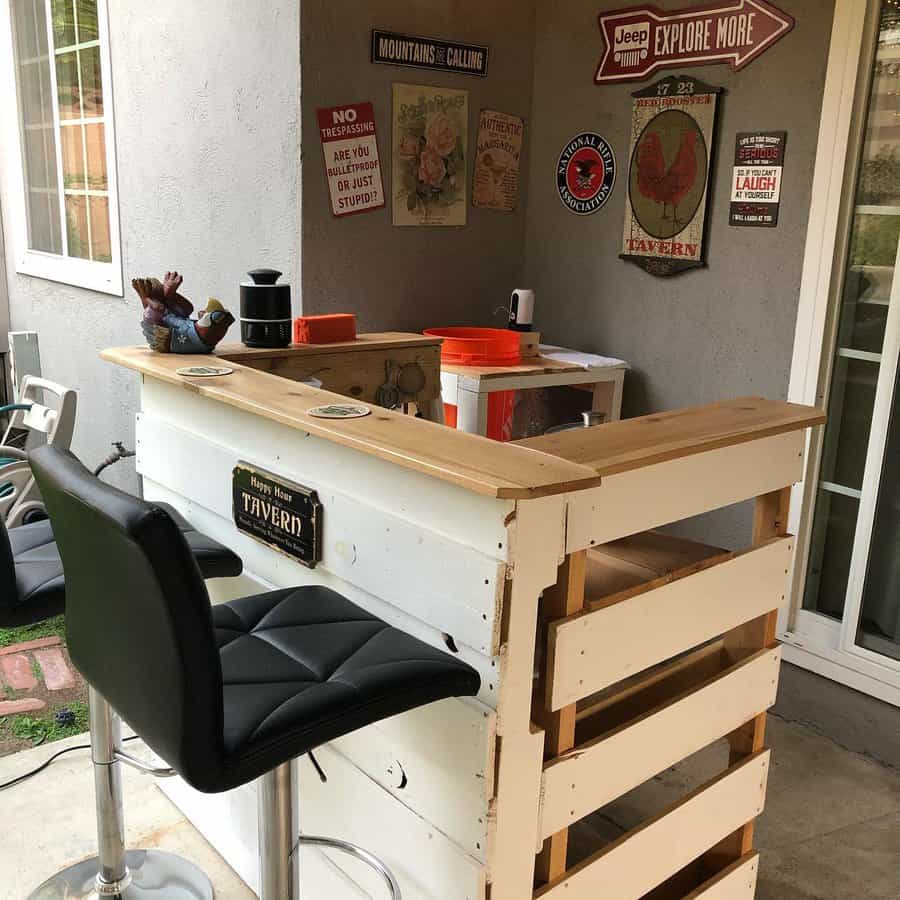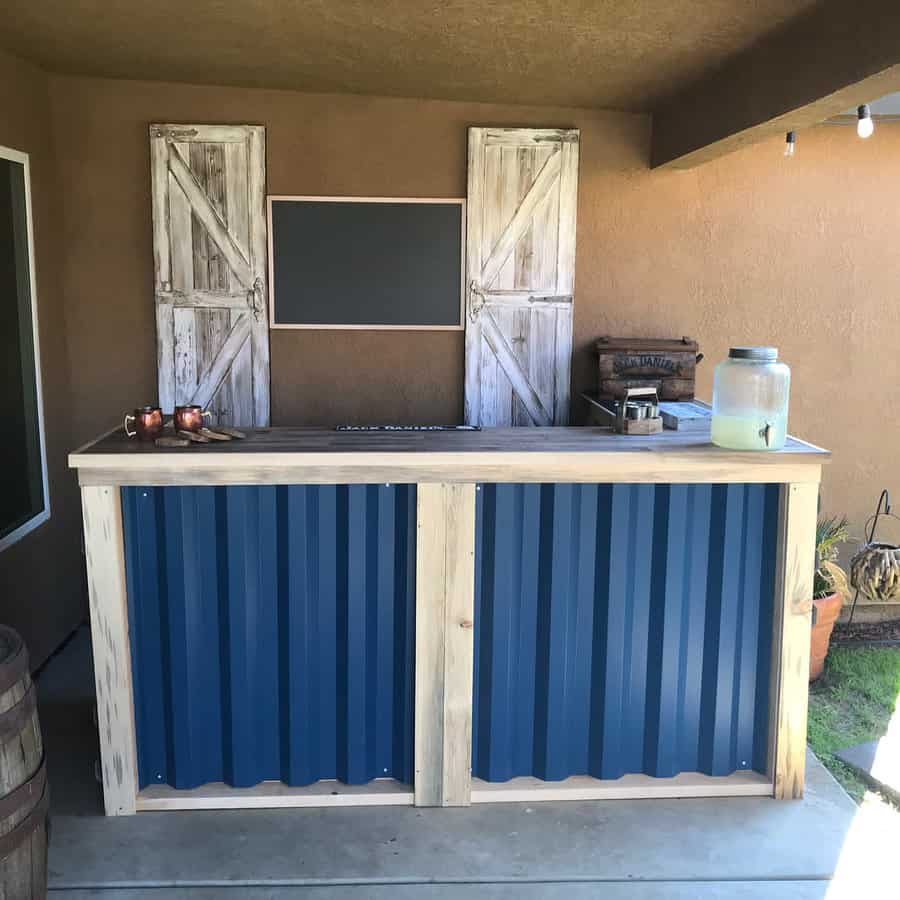 If you can't afford or find hardwood, then your next best option is a treated softwood. They won't last as long as hardwood, but they'll last a decent amount of time. You'll want to regularly treat the wood to ensure you get the most out of it.
Backyard Bar FAQs
How much does it cost to build an outdoor bar?
The cost of your outdoor backyard bar will depend on its size, materials, and design. The bigger, more expensive materials, and extravagant your bar is, the more expensive it will be. Expect to spend at least $500 to $1,000 for a small and simple bar. You could easily spend $10,000 or more for more elaborate designs.
What can I use for an outdoor bar top?
The best materials to use for your bar top are those that are highly durable and impervious to water and weather. Granite is a natural stone that comes in a range of colors and designs. Stainless steel or aluminum are great options if you prefer metal. Wood could be used, but you should stick with hardwoods that will be impervious to moisture.
What do you need for an outdoor bar?
You need to have a place for keeping drinks cold. You can do this with a refrigerator, kegerator, or cooler. An ice maker is nice if you make a lot of mixed drinks. You'll want a countertop area for making drinks and a bar top area for people to place their drinks. While you could have a walk-up bar, one with seating is more comfortable.