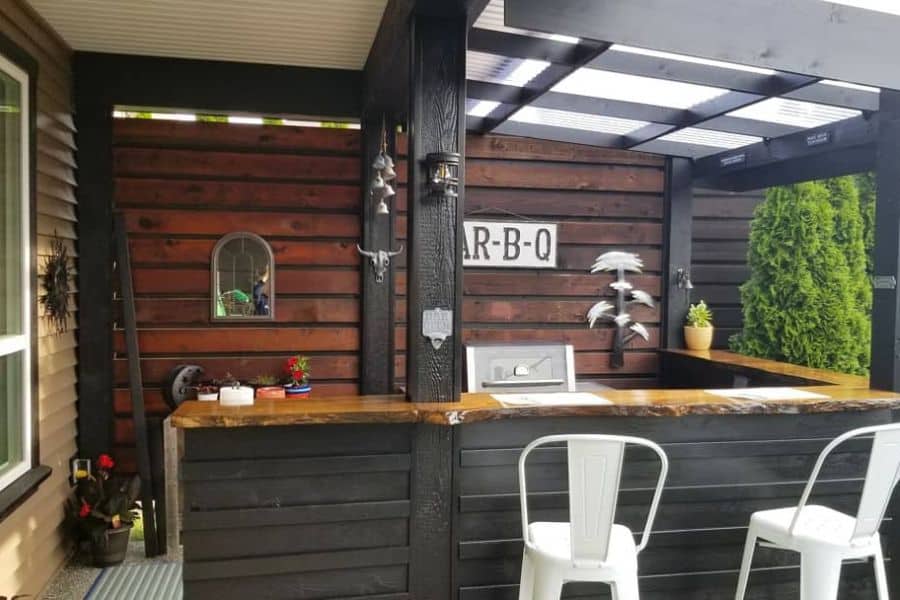 70 Outdoor Bar Ideas for Your Backyard
You love your man cave and wouldn't give it up. However, it forces you to stay stuck inside. This isn't appealing when the weather is warm, the sun is shining, and summer is in full swing. What you need is a backyard pub. This gives you the perfect place outside to enjoy a few cold drinks with friends on a Saturday afternoon.
What's nice about building your outdoor bar space is that it can be as simple or elaborate as you'd like. From a basic bar made from pallets to one that's custom-designed and built from granite. These backyard bar ideas will help you get started building the perfect gathering place for your family and friends.
1. Choose A Durable Countertop
Durability is key when selecting materials for your countertop – look for durable concrete or wood and make sure it's sealed to protect against changes in weather. This same level of protection should also apply to any furniture and lighting you choose as well.
Plus, since these materials won't require maintenance like other materials might, you can focus on what truly matters—enjoying your new living space. Enjoy summer evenings outside, entertain friends and family in your backyard paradise, and feel confident that your durable countertop will have no problem handling whatever Mother Nature brings!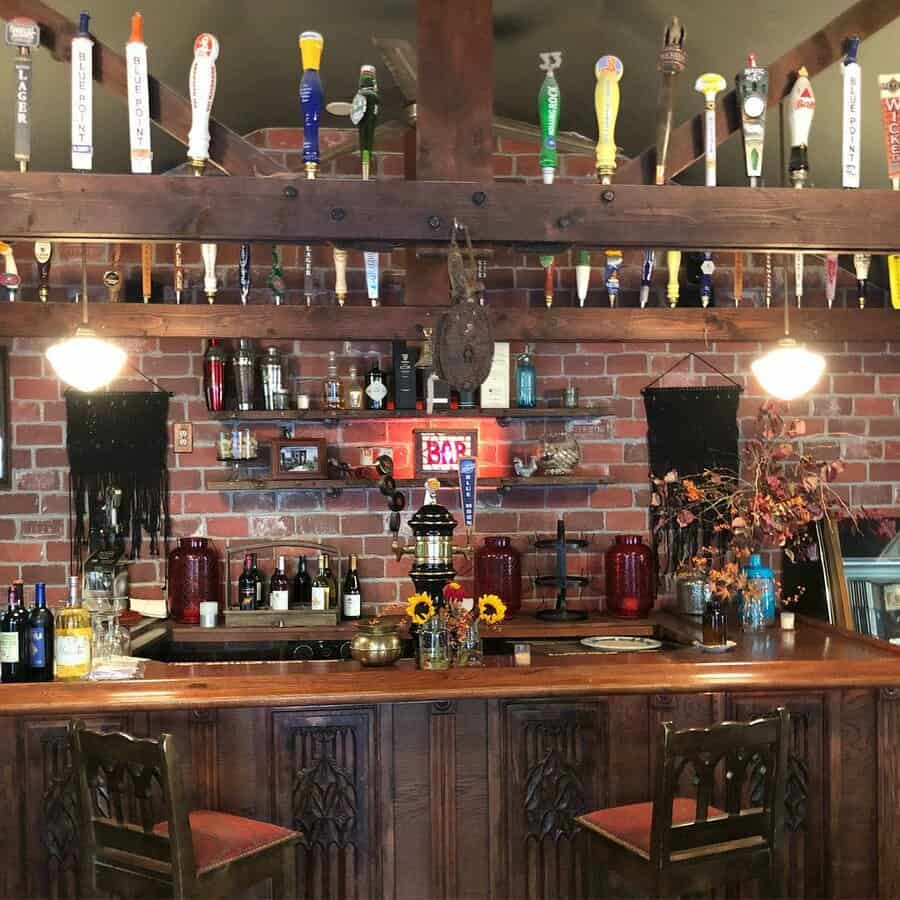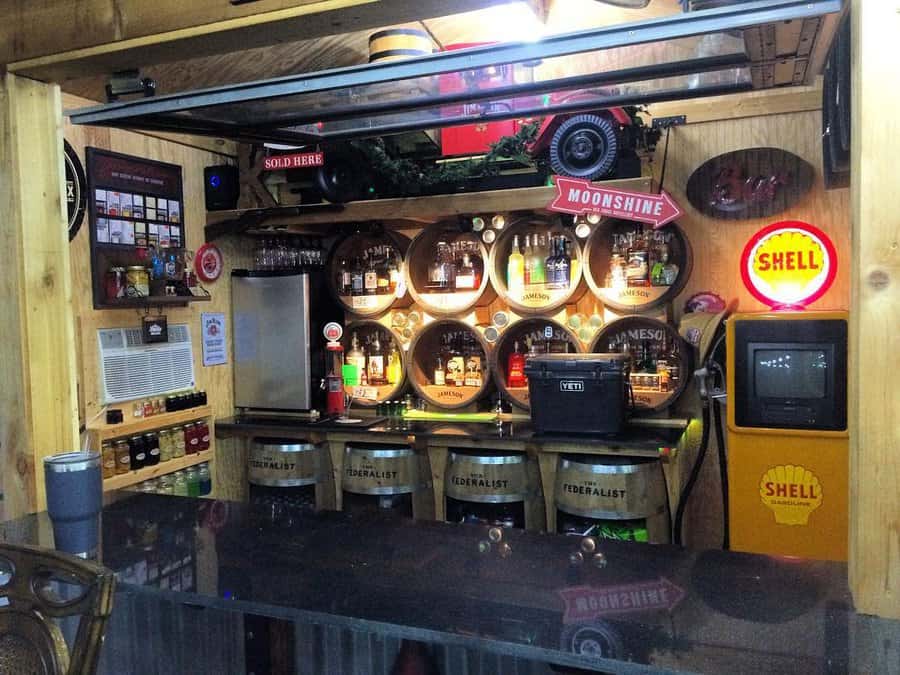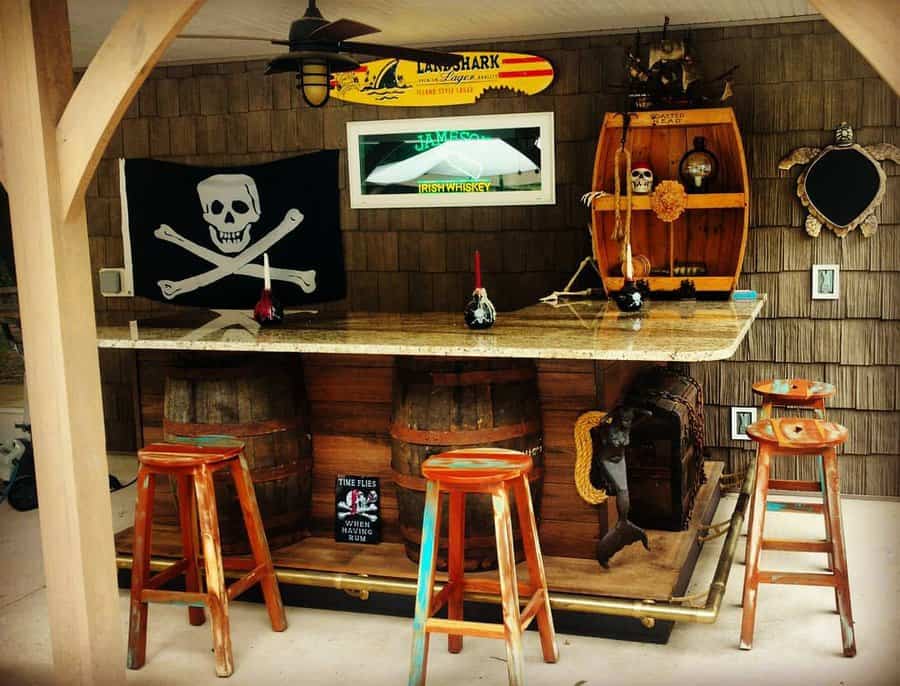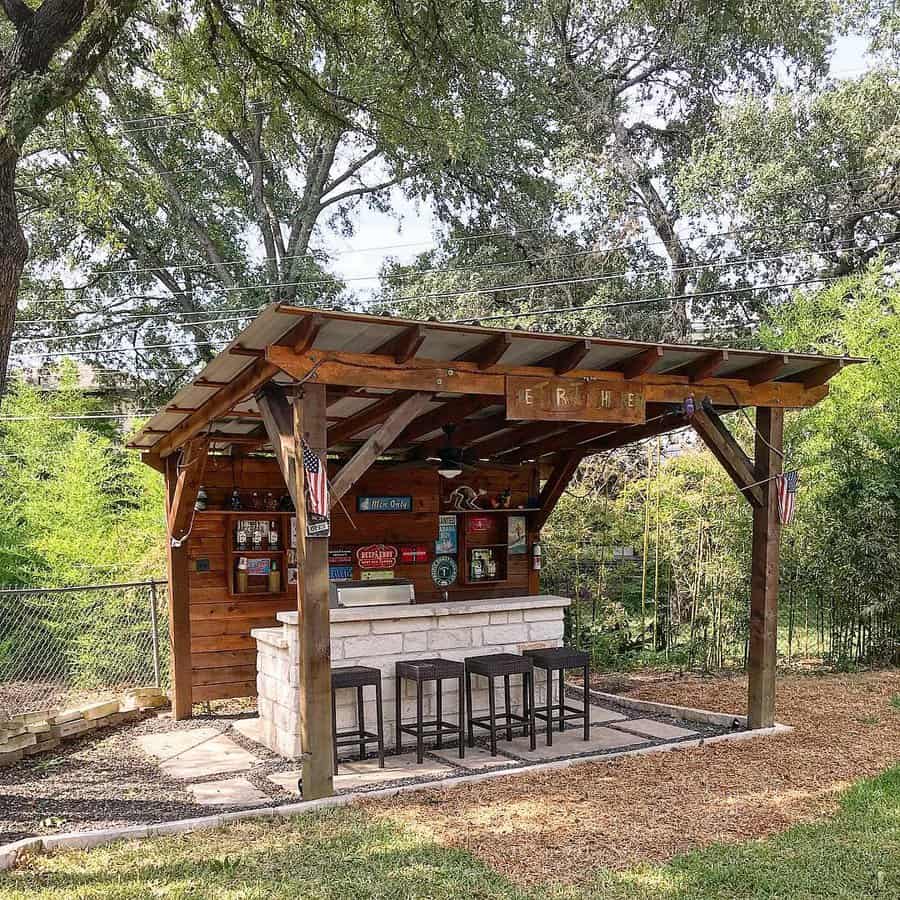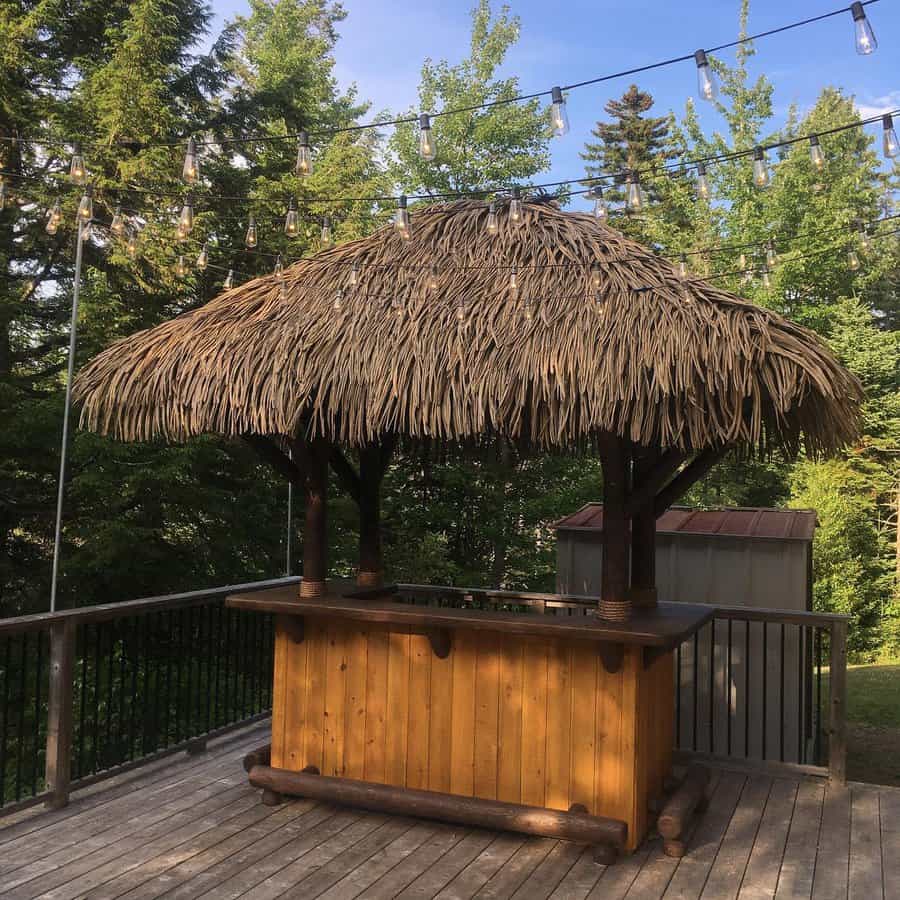 2. Cover The Bar With A Pergola
An outdoor bar with pergola or shade is the key to keeping it nice and dry no matter the weather. Not only is it appealing aesthetically, but it also saves you from dealing with wet and sticky messes due to rain or dust.
A UV-resistant shade can also give you the chance to enjoy your time outdoors without fear of sun damage. Whether your outdoor space is large or small, adding an outdoor bar with a pergola or shade will elevate the look and functionality of your house in subtle yet effective ways.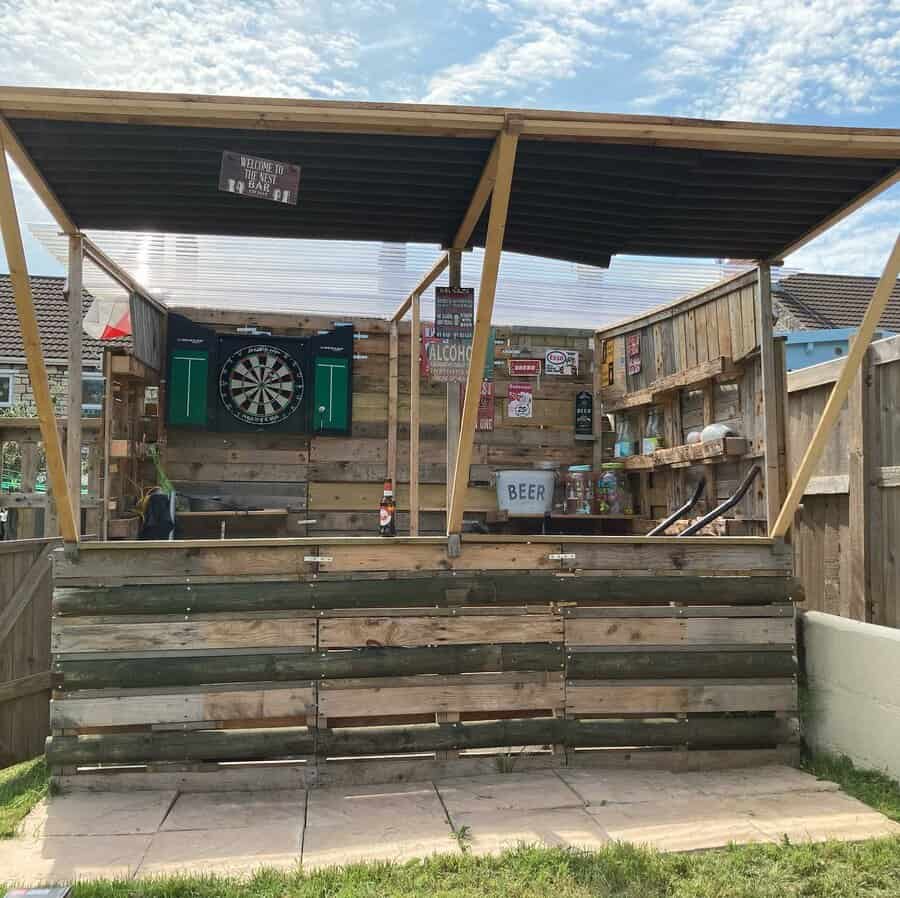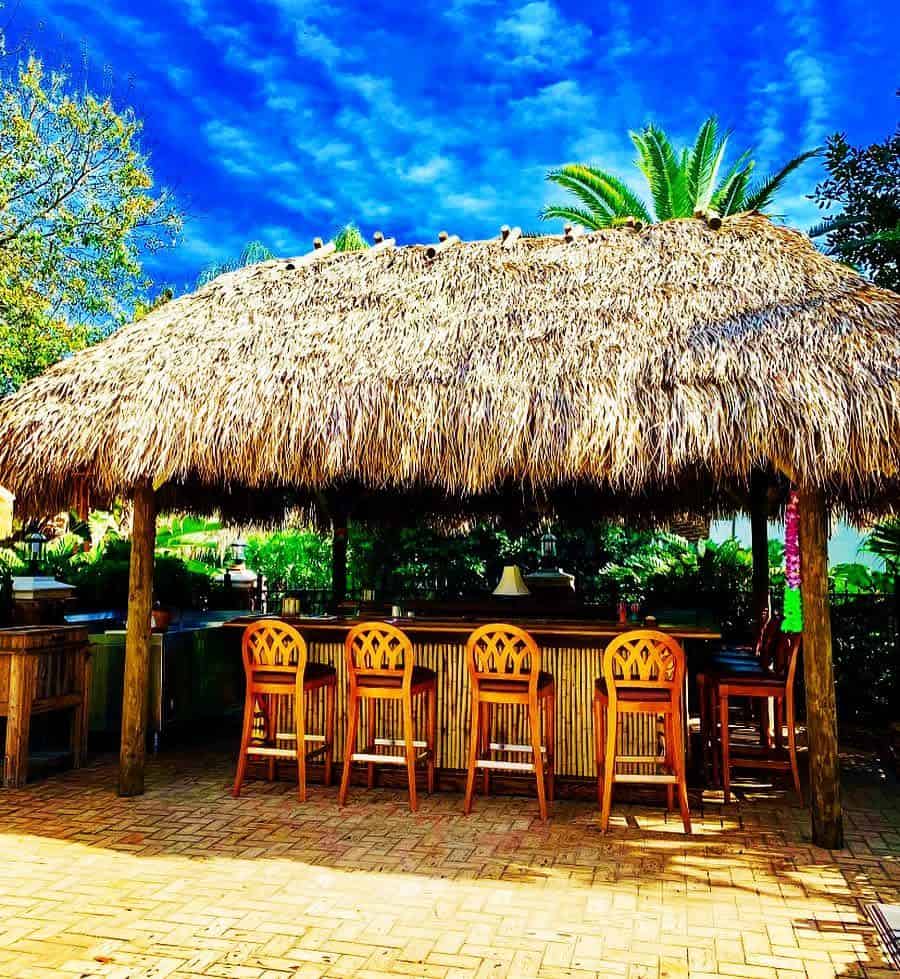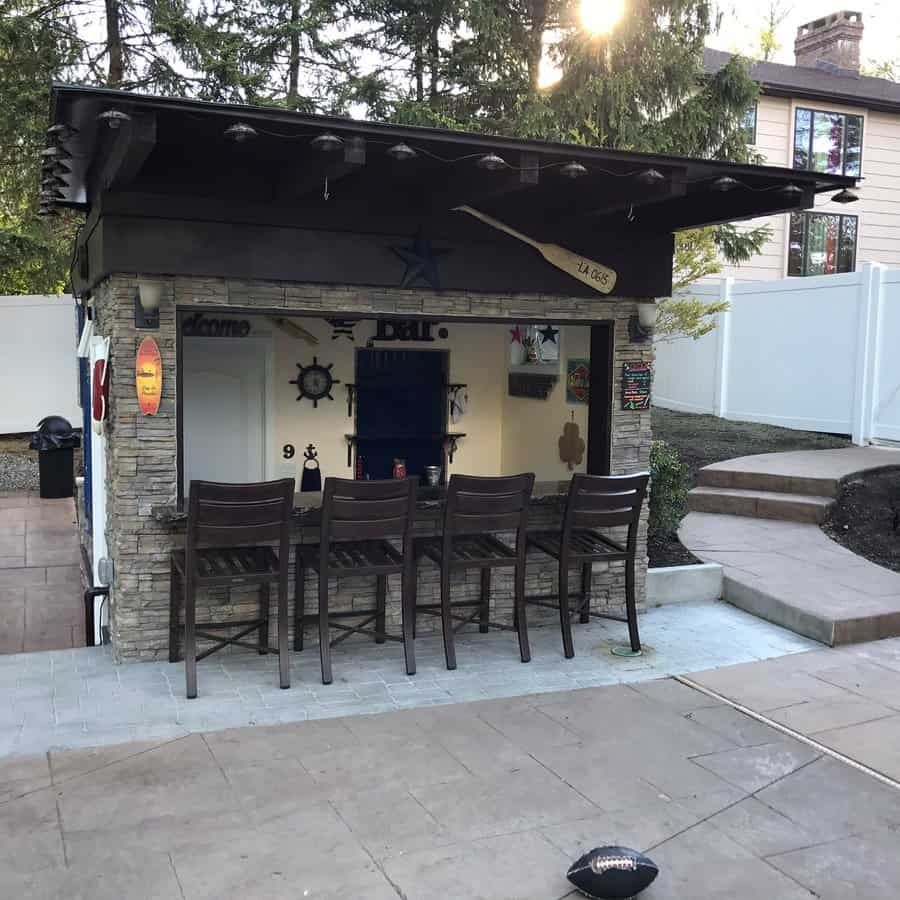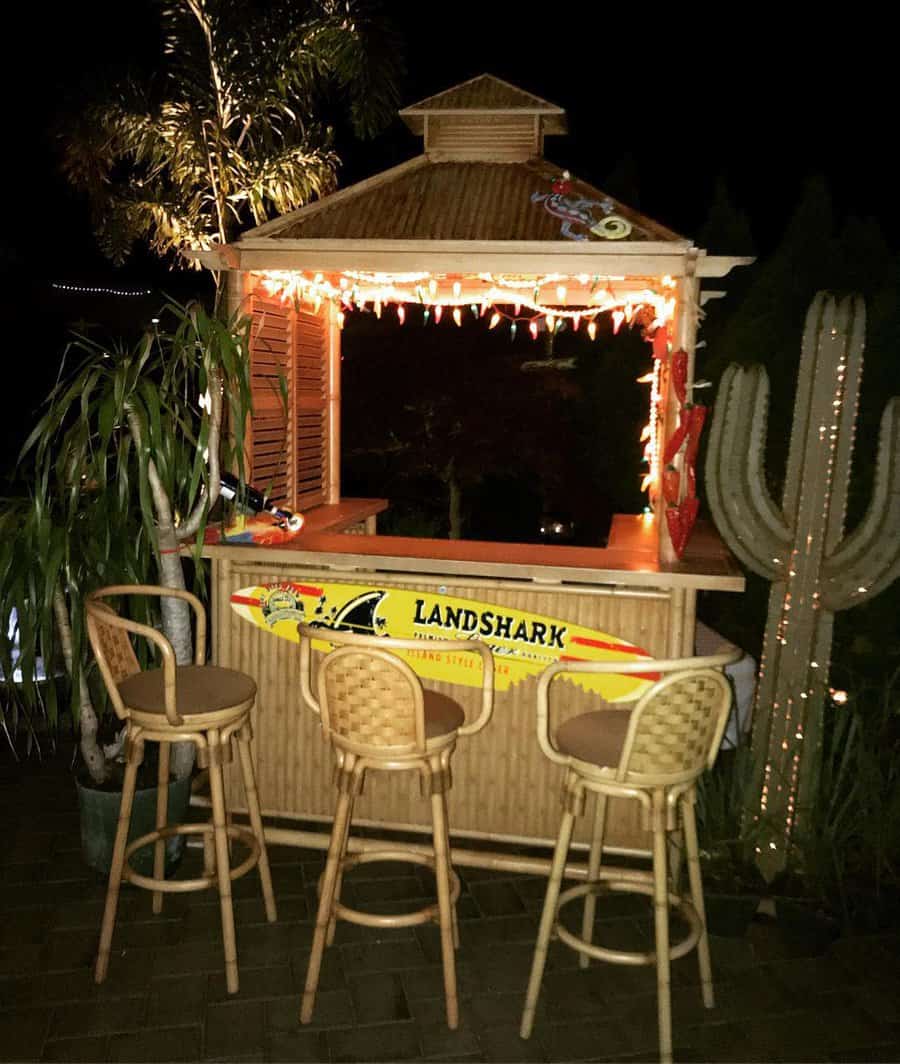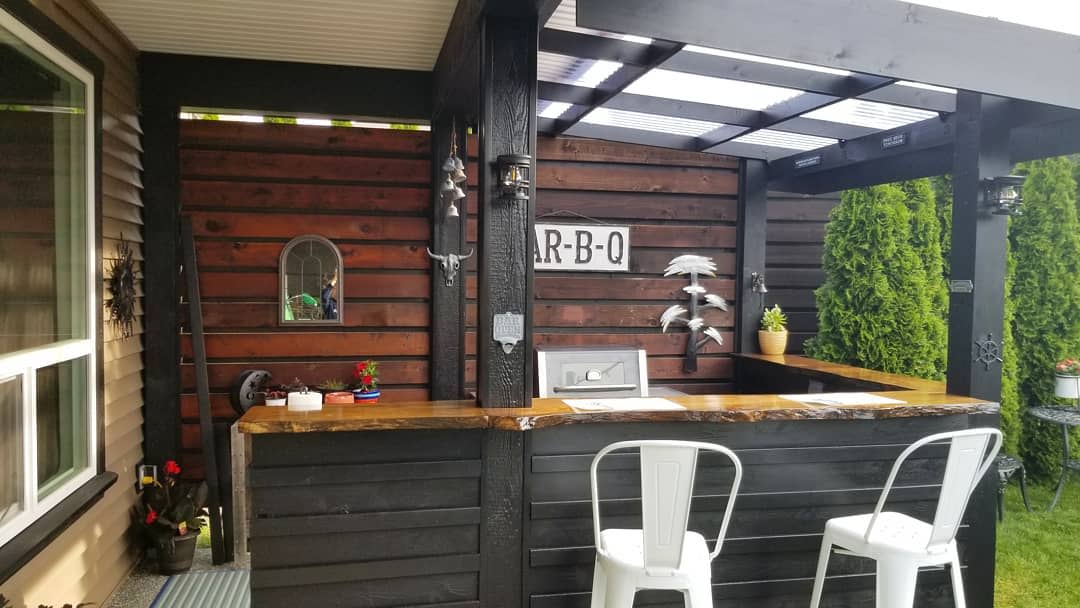 3. Utilize Vertical Space With Wall Shelves
Transform your outdoor space into a home bar worthy of the most eclectic mixologist. A wall-mounted liquor dispenser allows guests to pour their own drinks in style, while wall shelves show off favorite collections from rare wines to vintage spirits.
If you prefer bottled beer, an outdoor beer fridge ensures every brew stays chilled for hours. For outdoor seating, install classic high-top tables with umbrellas for a rustic yet elegant outdoor atmosphere. With the right outdoor bar ideas and accessories, your space is sure to be a hit amongst family and friends!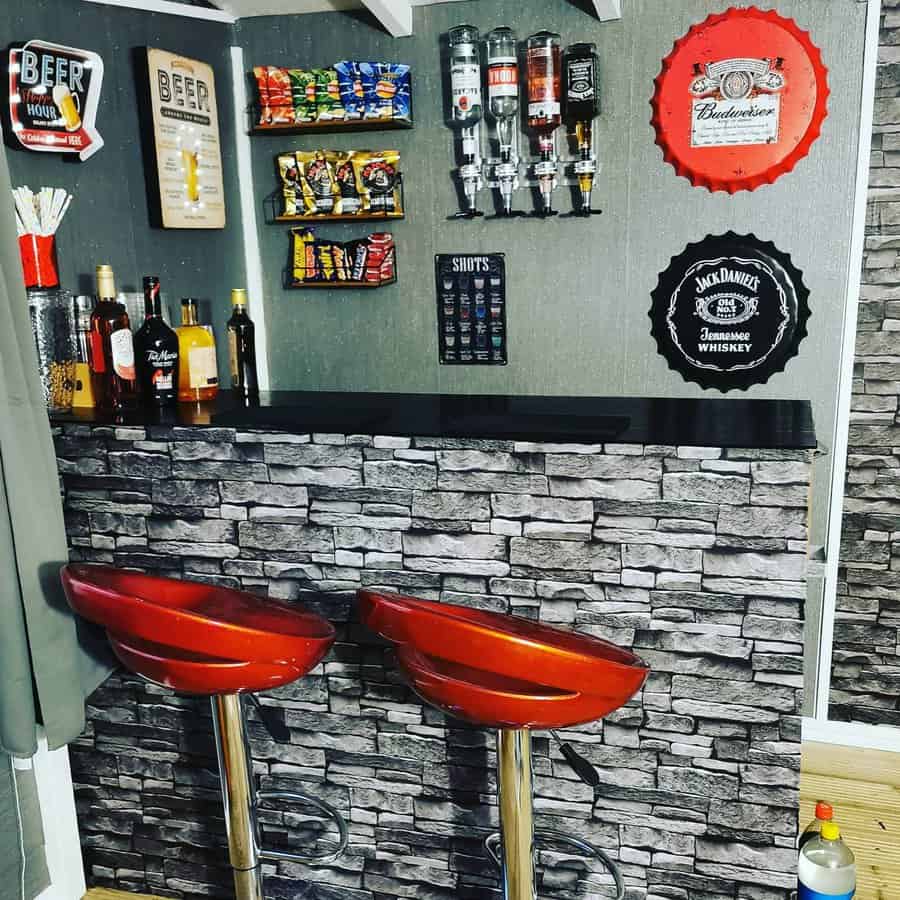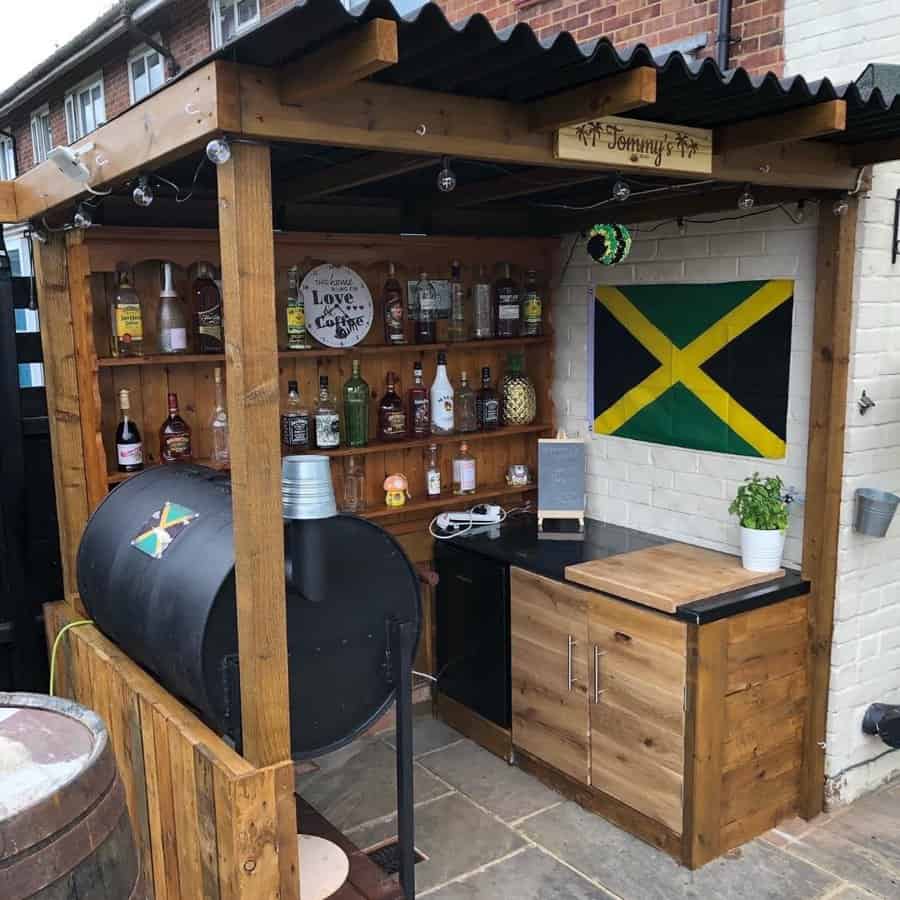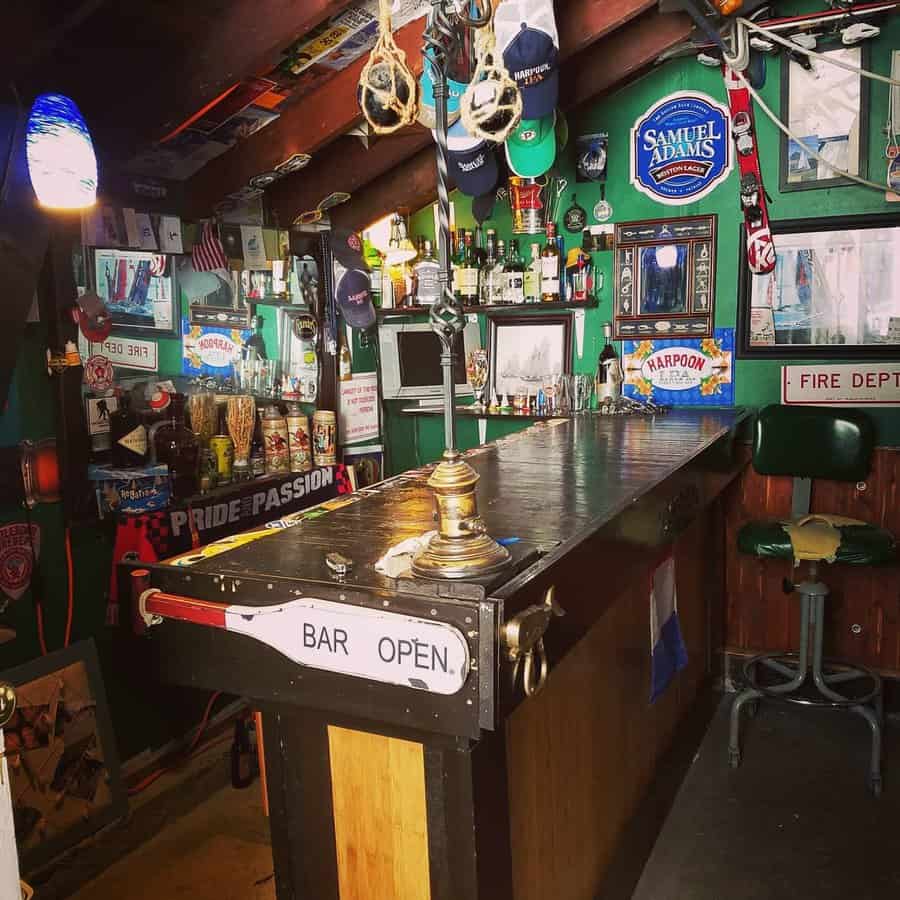 4. Keep It Simple With A Bar Counter
Summer barbecues and outdoor entertaining are beloved pastimes, so it's important to make sure your outdoor bar setup is up to par. A bar counter equipped with beer keg storage and bar stools can provide just the right spot for your friends and family to hang out and grab a cold drink.
For versatility, consider investing in a plain multi-purpose bar counter that can serve as a buffet station or even a breakfast bar on non-party days. Don't be afraid to get creative with color, fabric choices, and accessorizing—an outdoor bar is an opportunity for you to show off your personal style!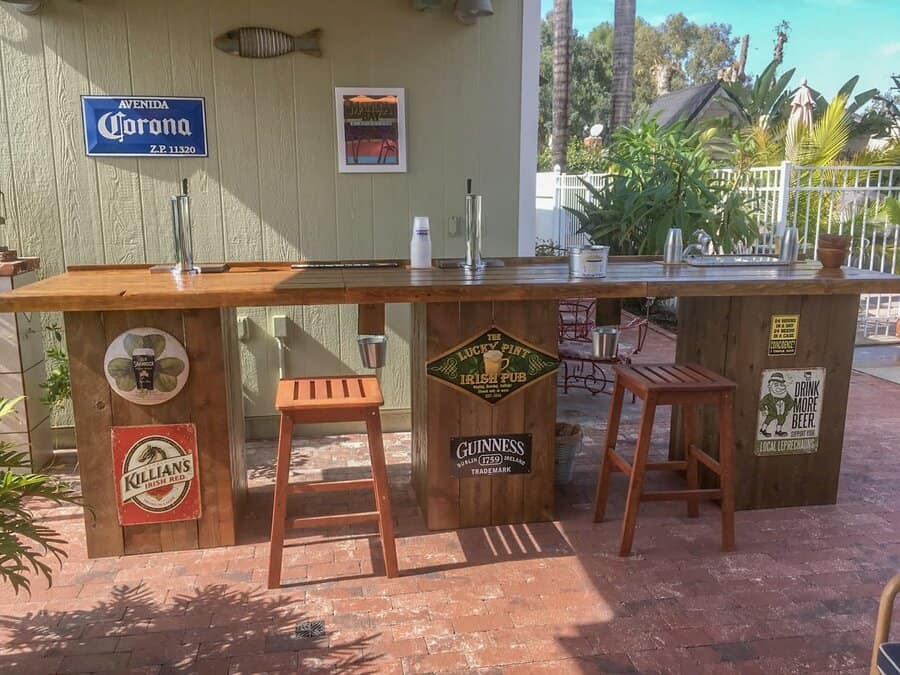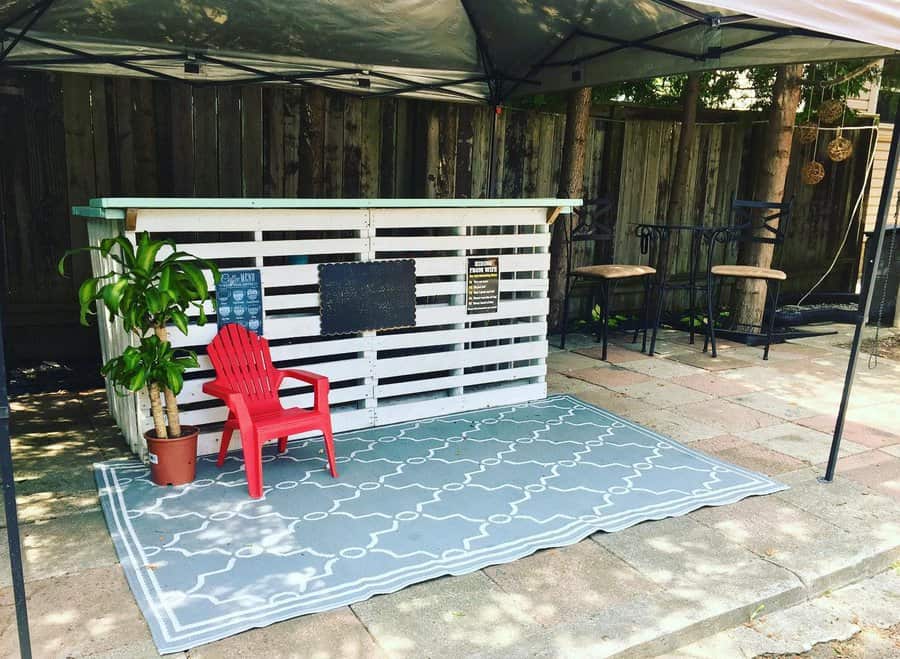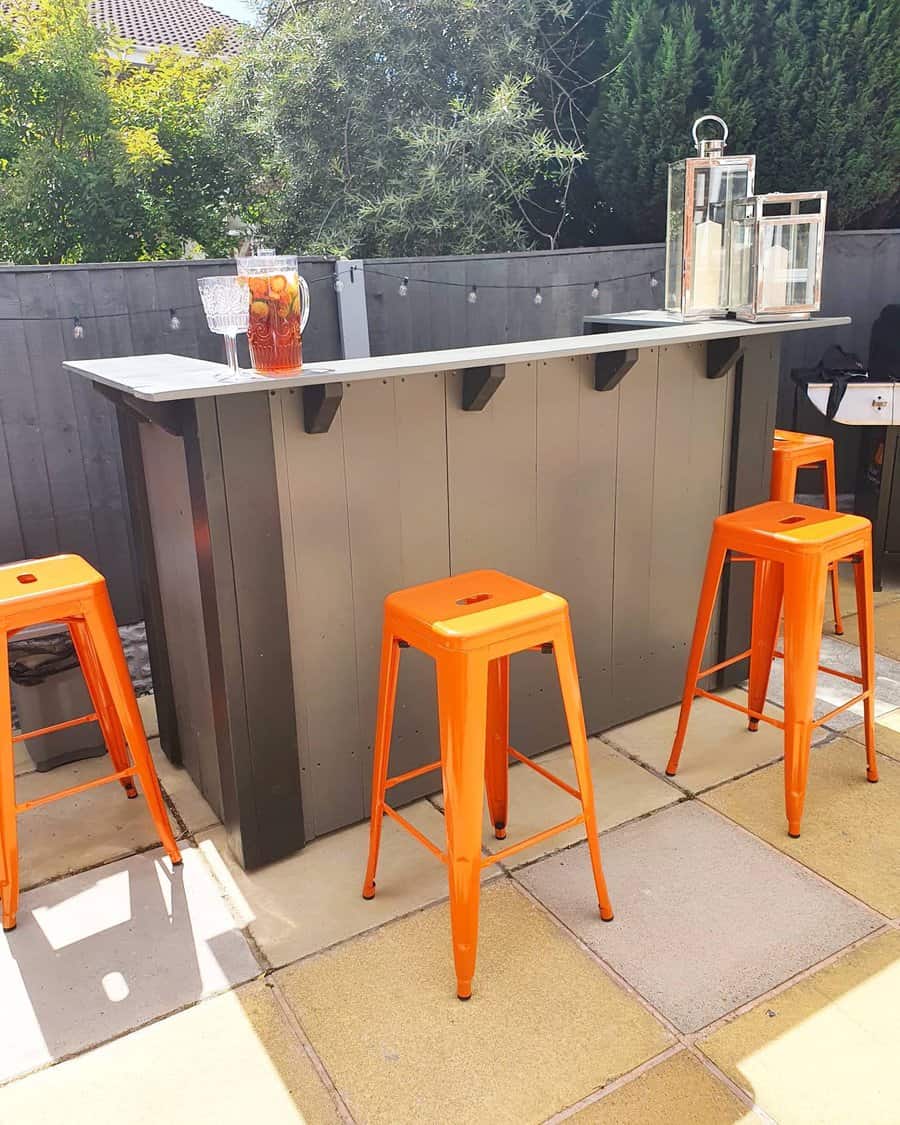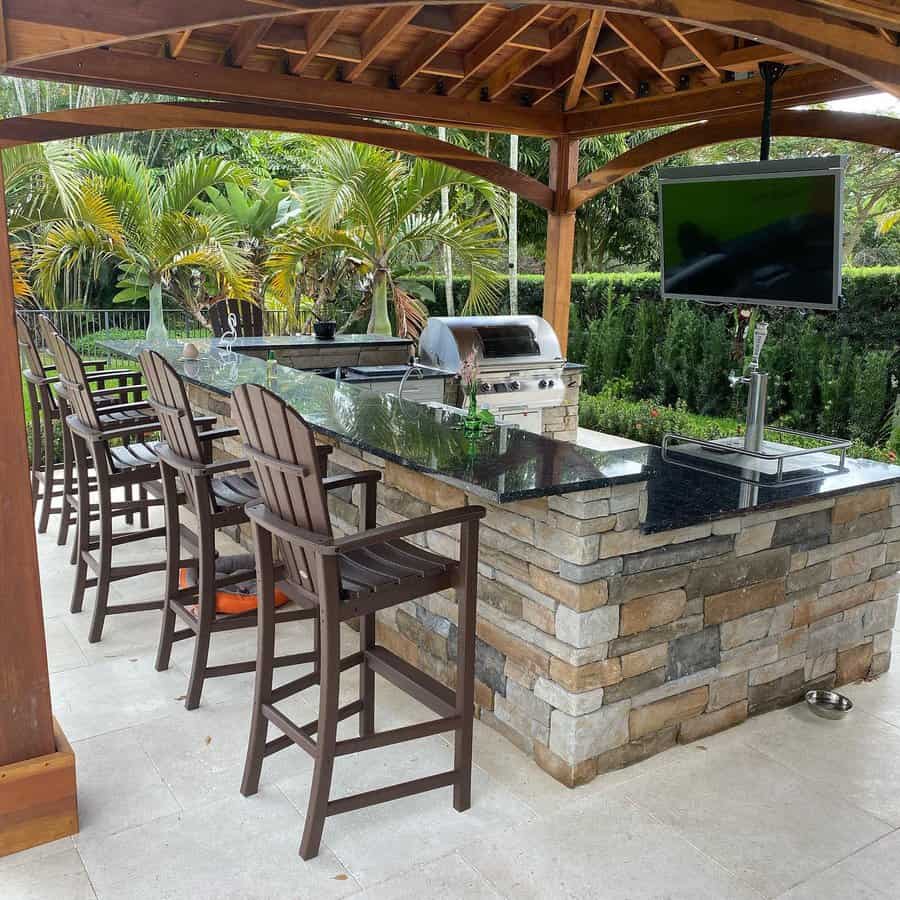 5. Add Bar Stools
Make sure to add lots of extra seating surrounding your bar area; think creatively with colorful camping chairs and cushions tucked away in corners, benches, and loungers near the bar for people to jump on when searching for a drink.
If you don't want any permanent structures, bar stools provide an easy way to add seating. Position them around an outdoor bar cart and include bar tools like shakers and strainers, and even some plants or flowers to make the bar feel festive.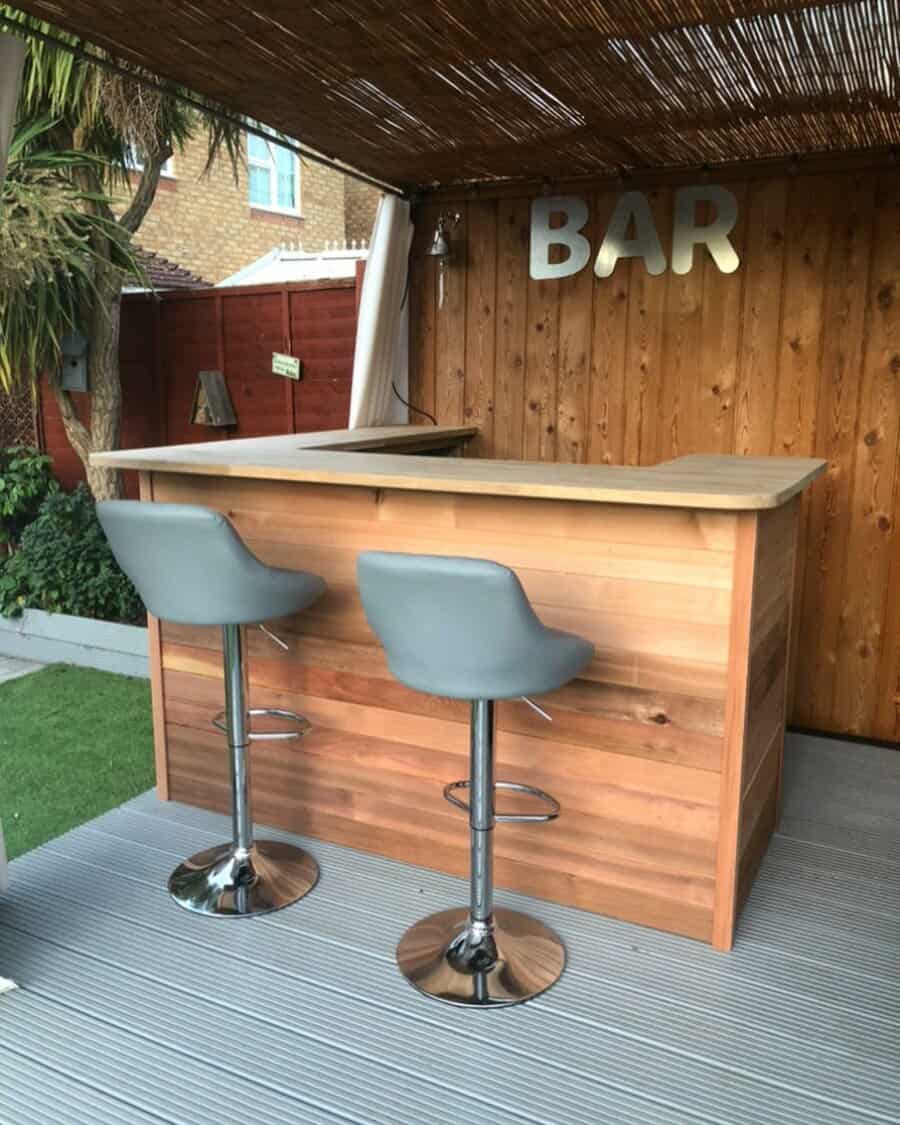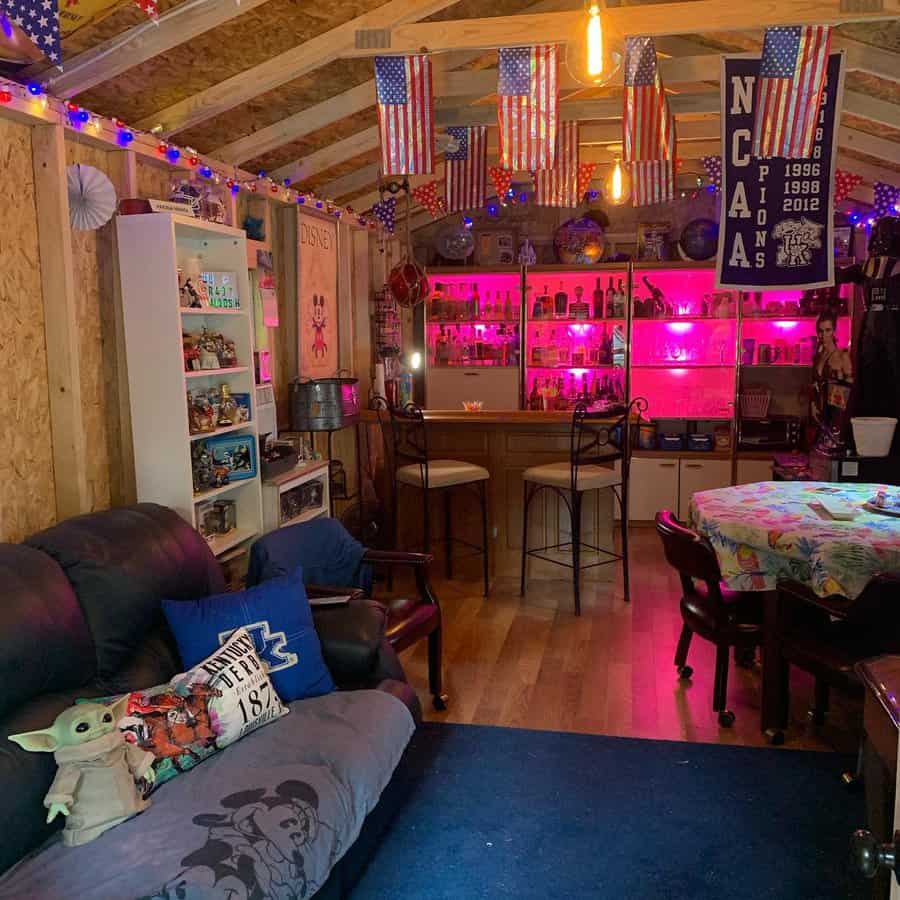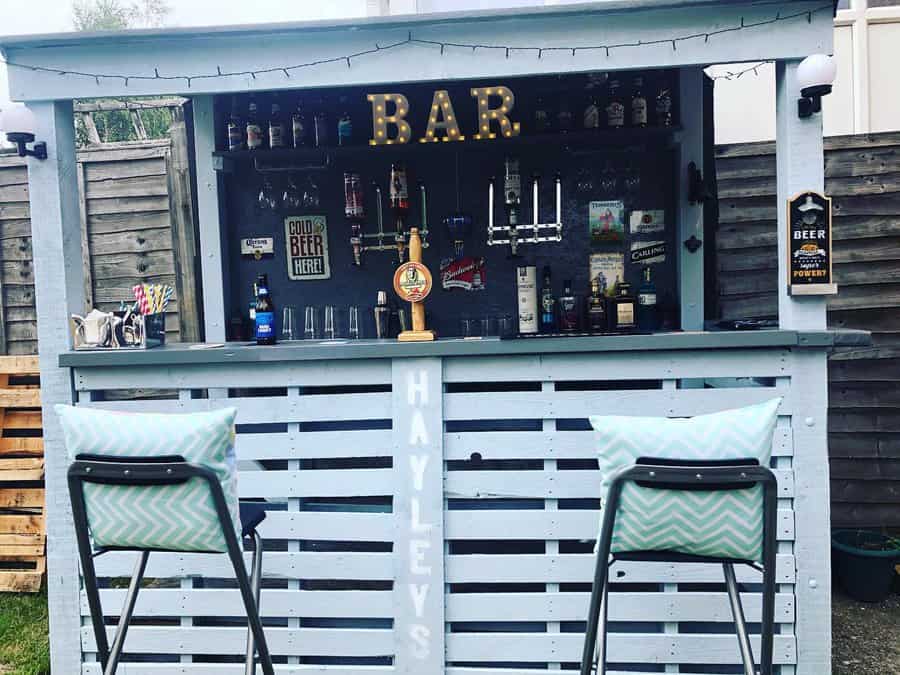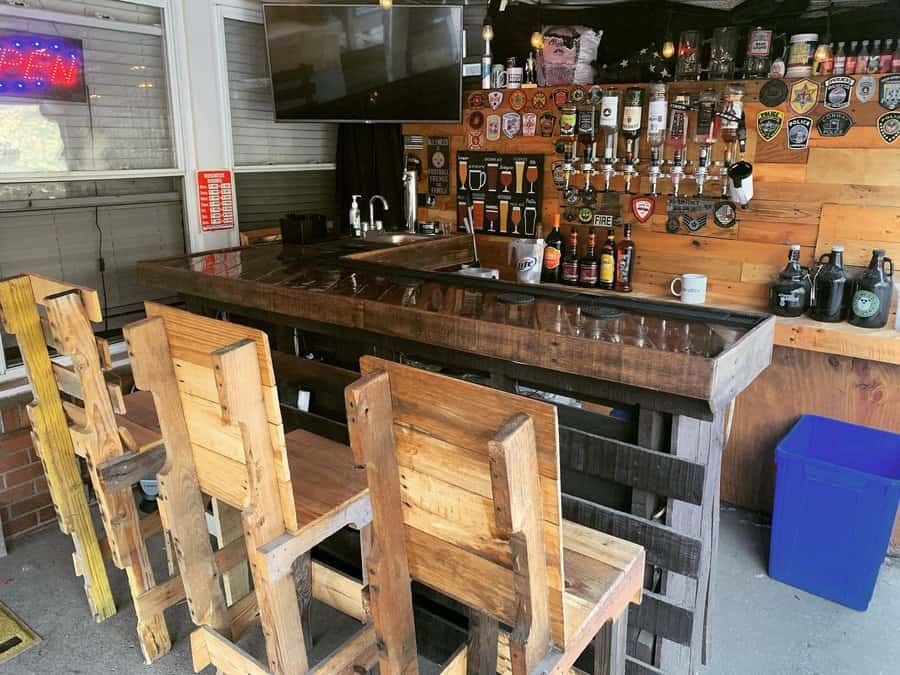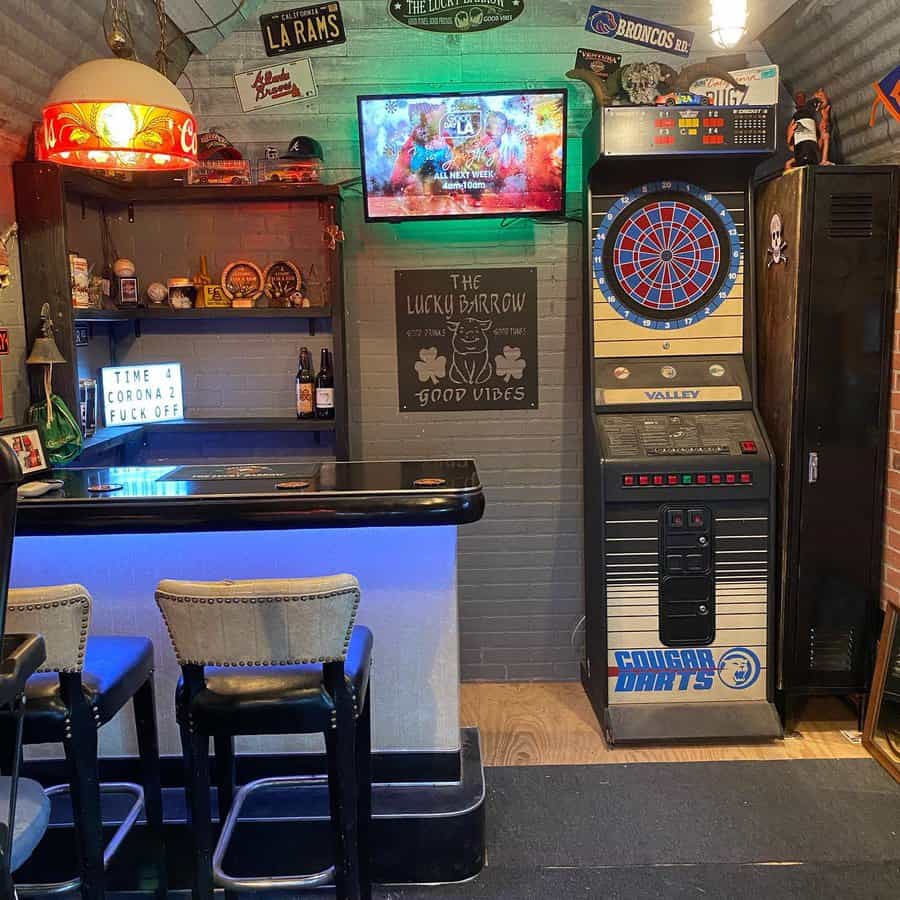 6. Add A Deck To Your Bar
If you're looking for a creative bar setup to enjoy outside, consider building a bar with a deck! Not only will the elevated view give your guests something to look at, but being up off the ground also helps protect them from any wind or rain.
A bar with a wood or composite deck ensures that rain, wind and sun won't ruin your festivities and provides great stability for stools, chairs or other bar accessories. With such an easy setup, you and all your friends can enjoy time outdoors together no matter what time of year it is!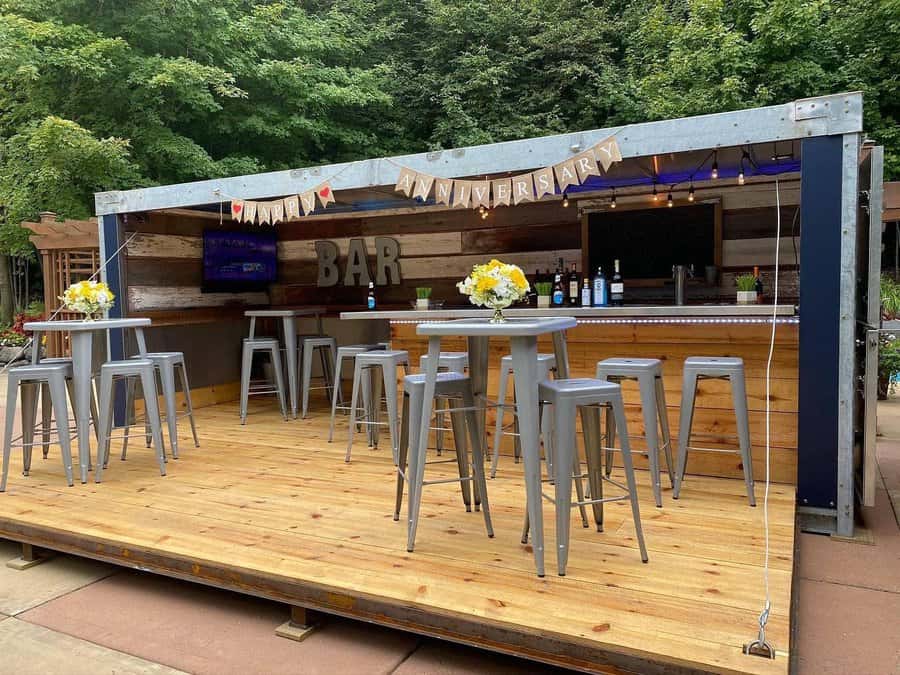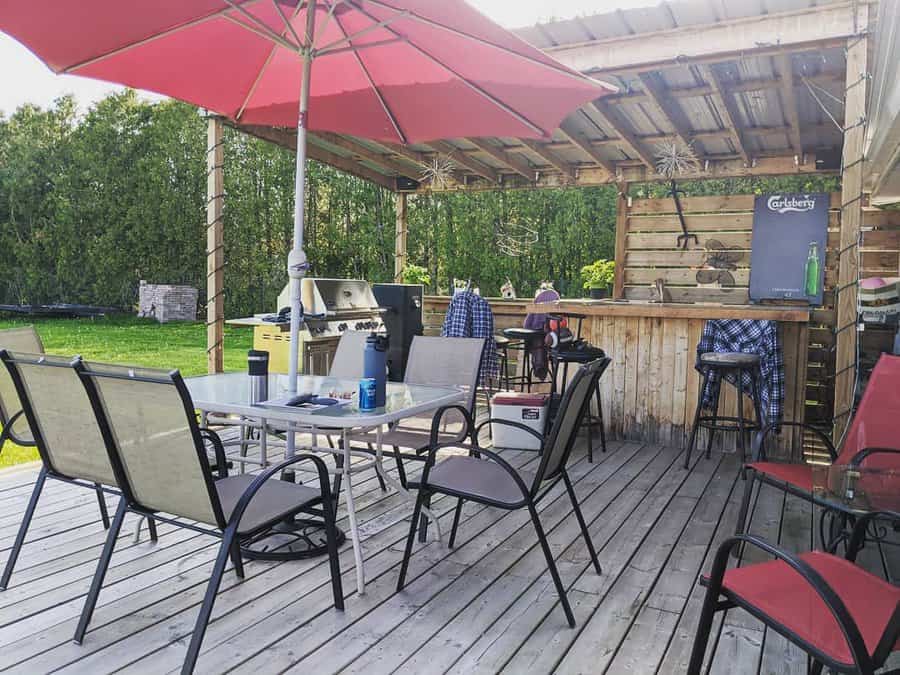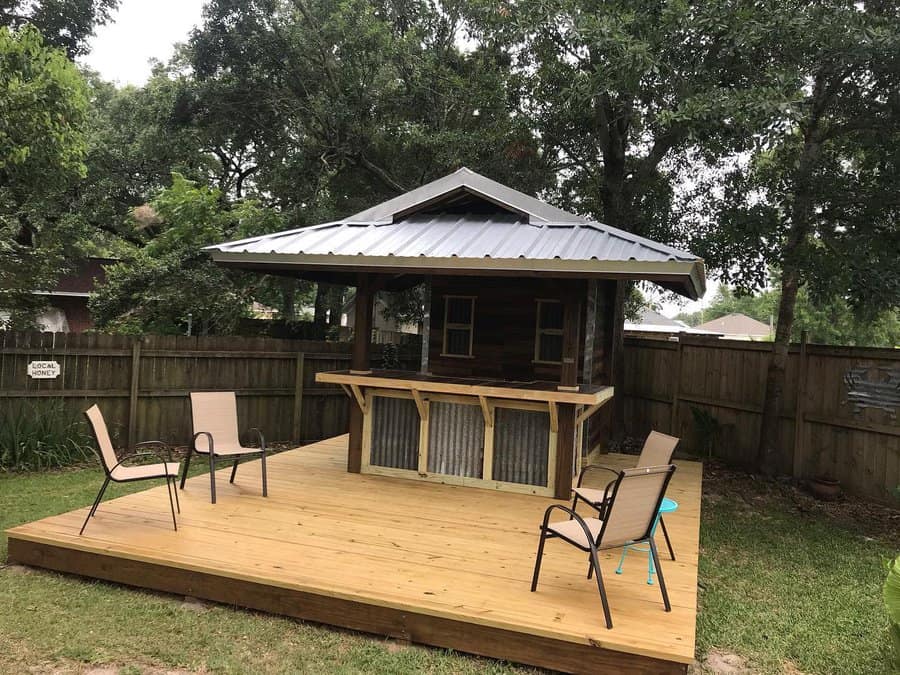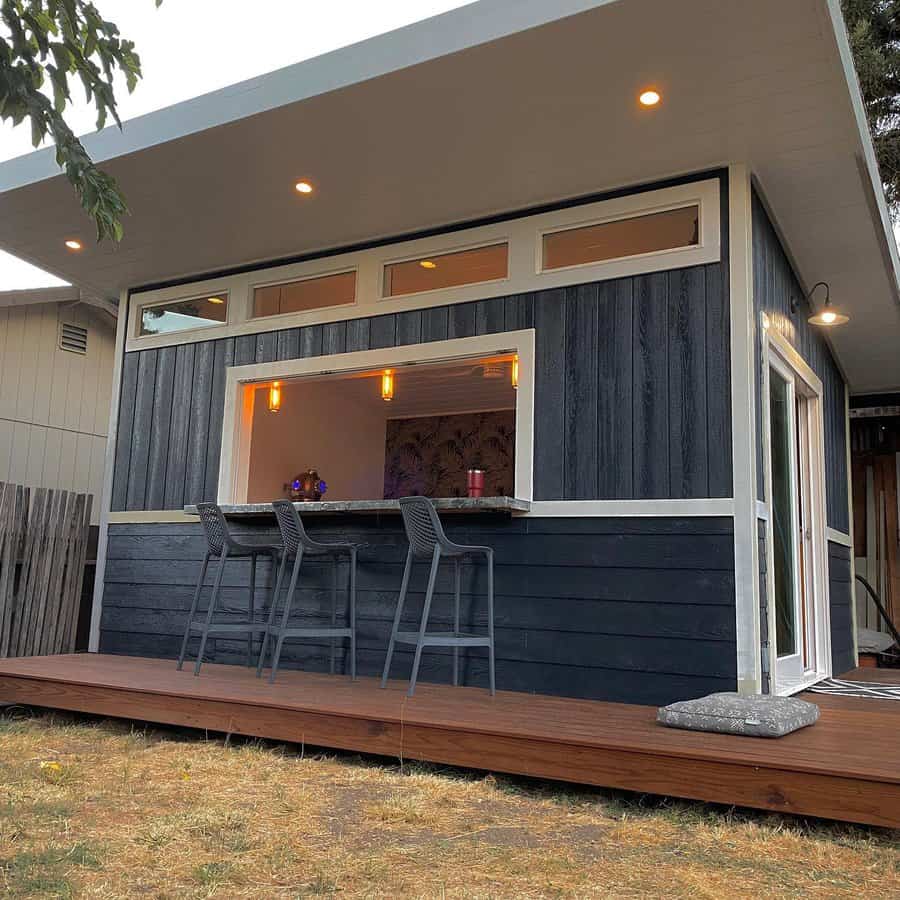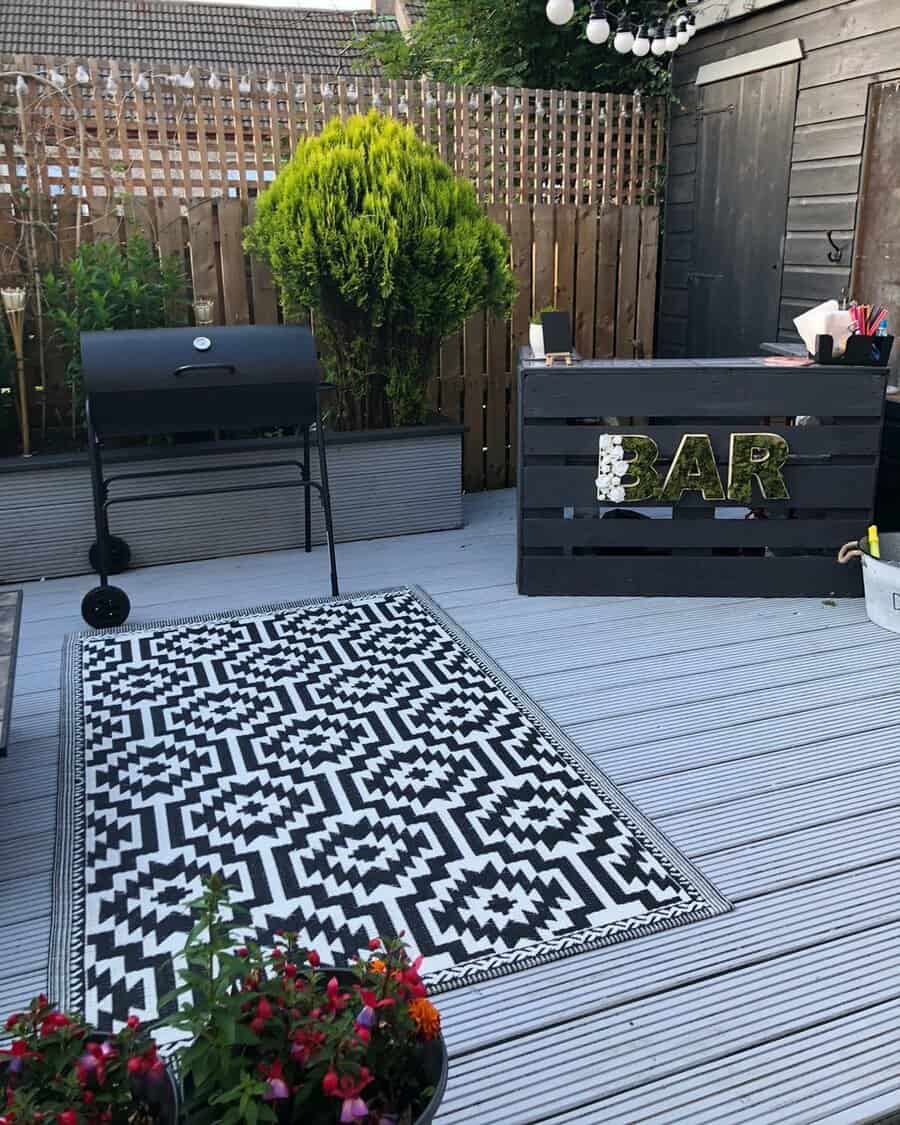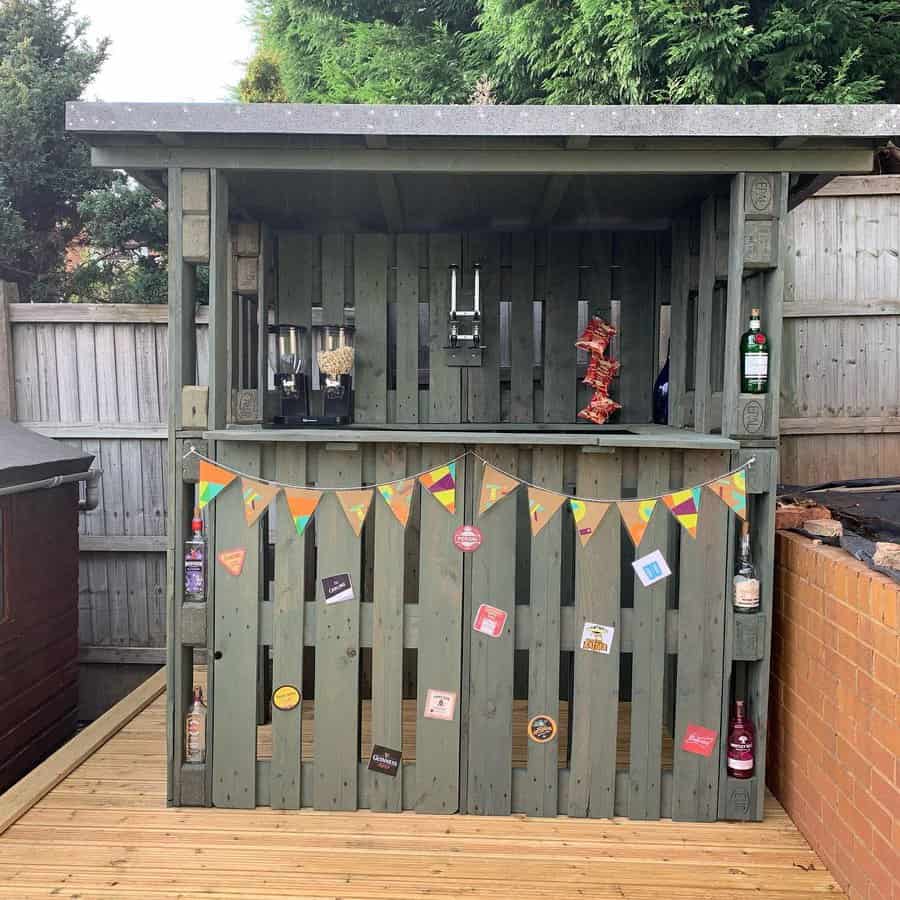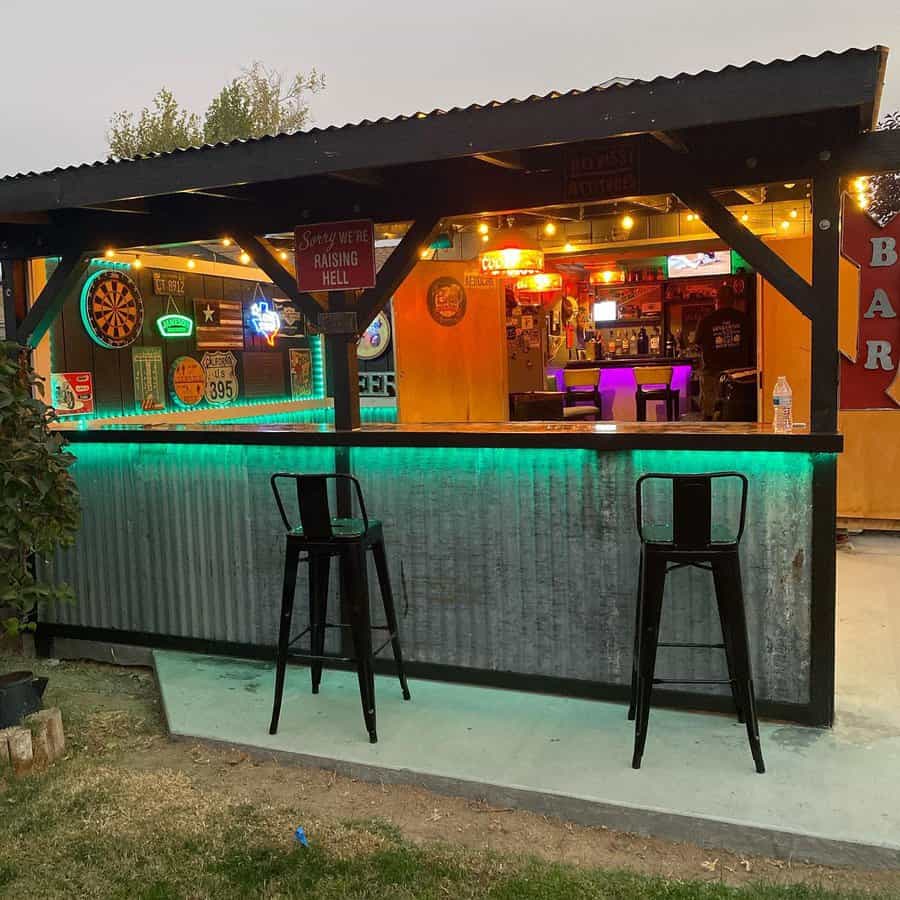 7. Add Dramatic Lighting
Consider installing a bar counter with LED strips on either side to add some pizzazz. Additionally, take your bar decor up a notch by hanging string lights above it along with an eye-catching pendant shade for extra visual impact.
Not only do these features offer a touch of style but also provide the perfect ambiance for evening socializing! Together, they will make your outdoor bar look chic and inviting.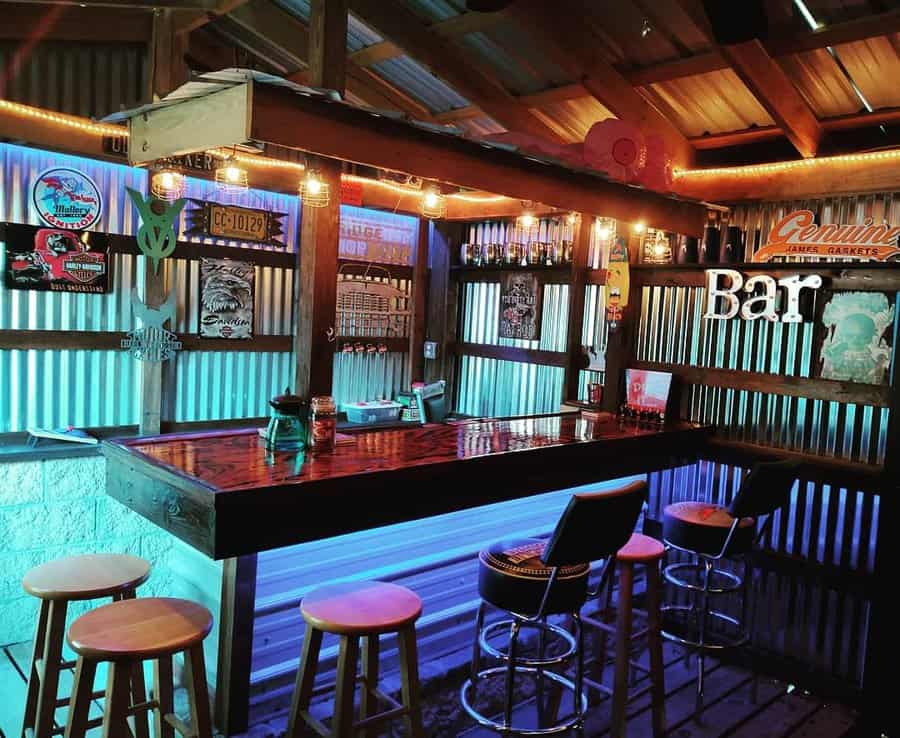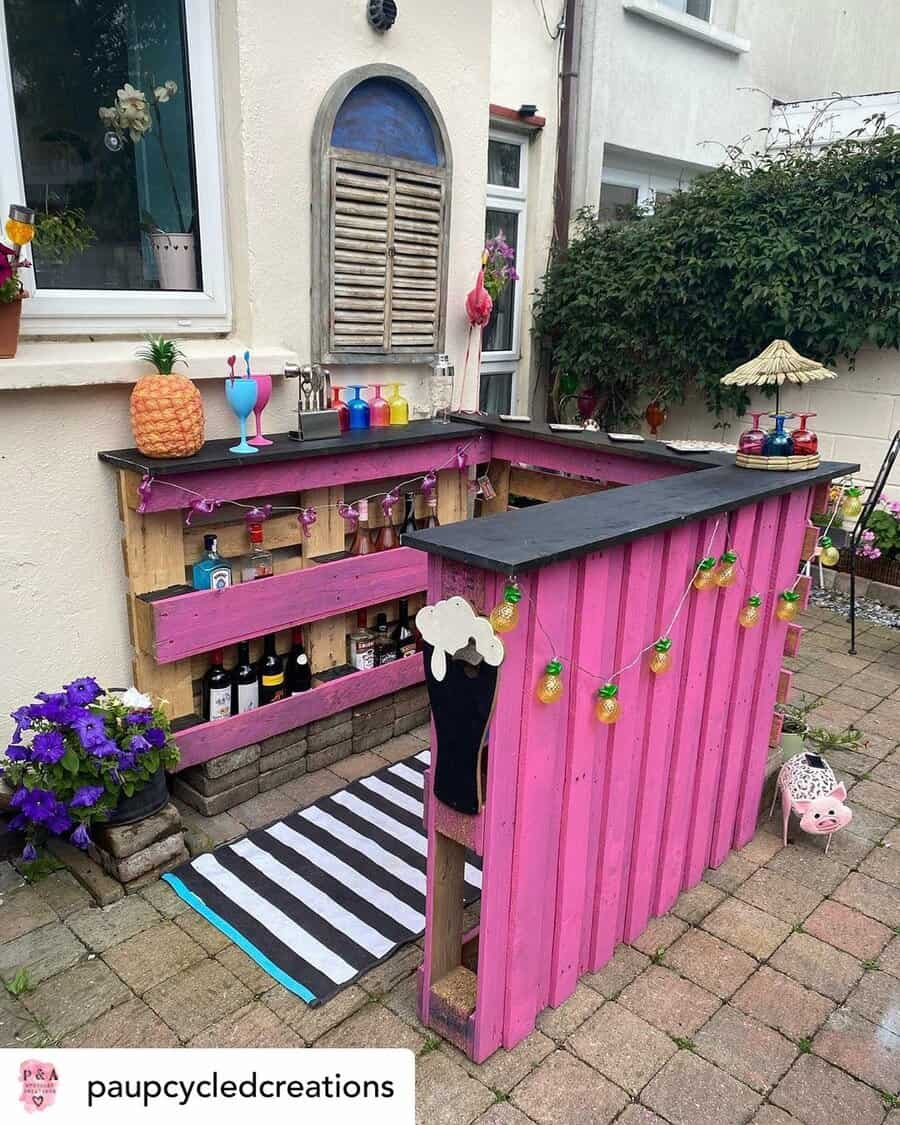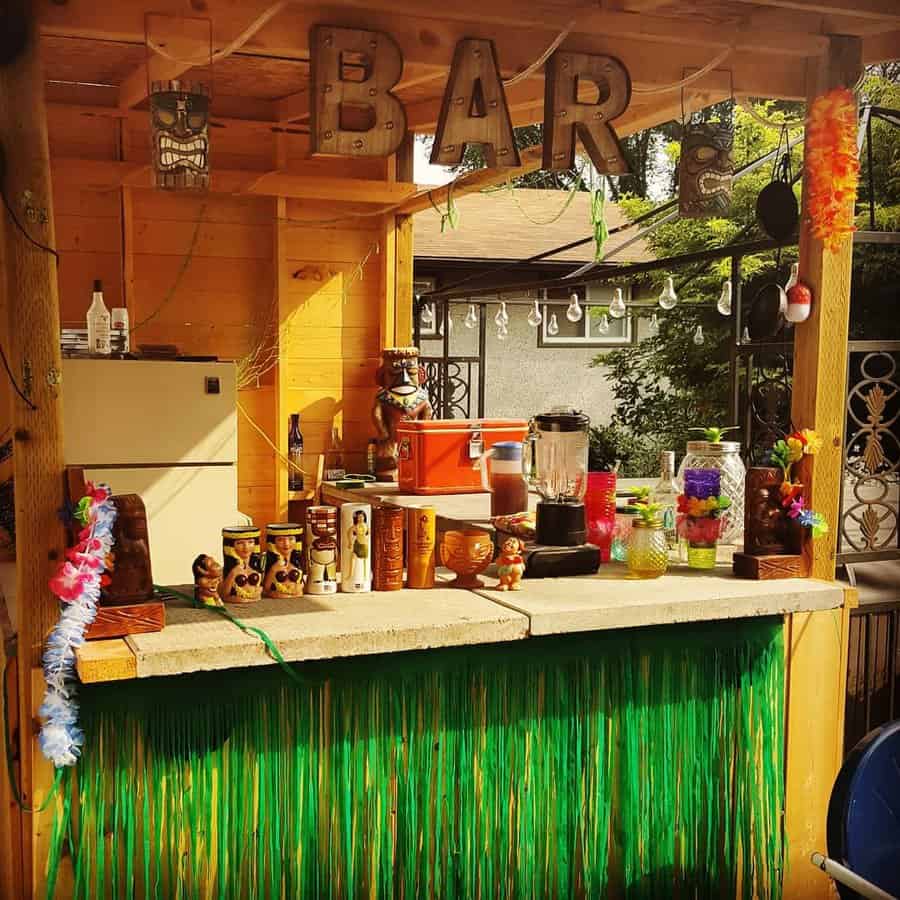 8. Opt For A Rolling Bar
When planning an outdoor event, why not elevate your arrangement with a creative rolling bar counter? This unique solution can come in an assortment of styles and materials and will bring your set-up to the next level.
With an outdoor bar on wheels, you can instantly serve cold refreshments from virtually any spot in your backyard. Furthermore, it's sure to add some fun ambiance that all your guests will enjoy. Whatever occasion you're celebrating this summer, a rolling bar cart is a perfect way to get the festivities rolling!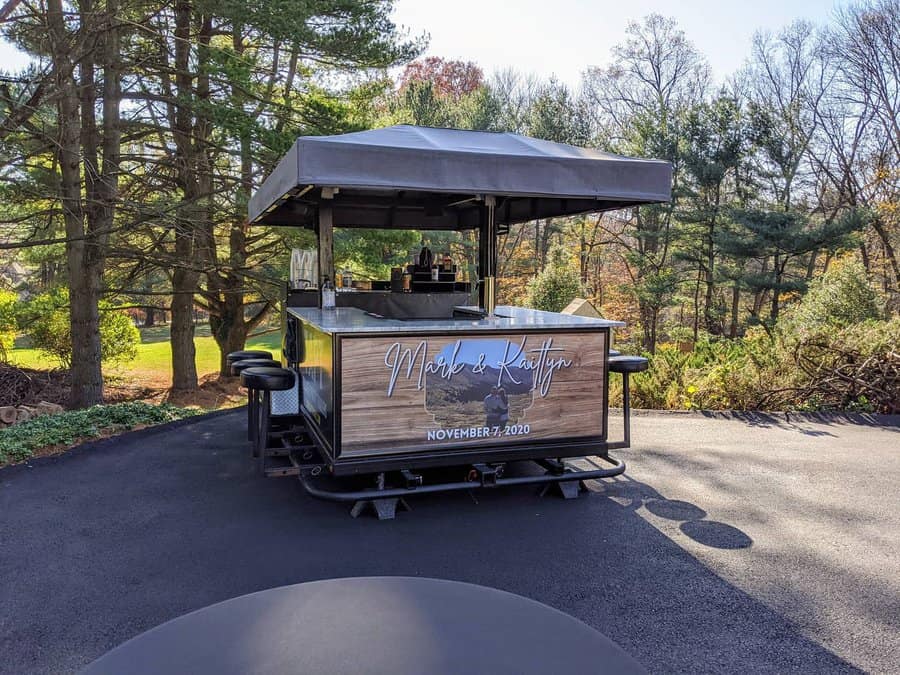 9. DIY A Pull-Out Bar
Have you been searching for the perfect small outdoor bar setup? DIY pull-out bars are a great solution as they save space while giving you an ideal outdoor entertainment spot. Not only are they easy to make and next to no cost, but they provide a simple, yet elegant way to bring your outdoor area together.
All you need is some wood and metal brackets, and with a few weeks of effortless DIY work, you can have the perfect backyard retreat that will undoubtedly get heads turning.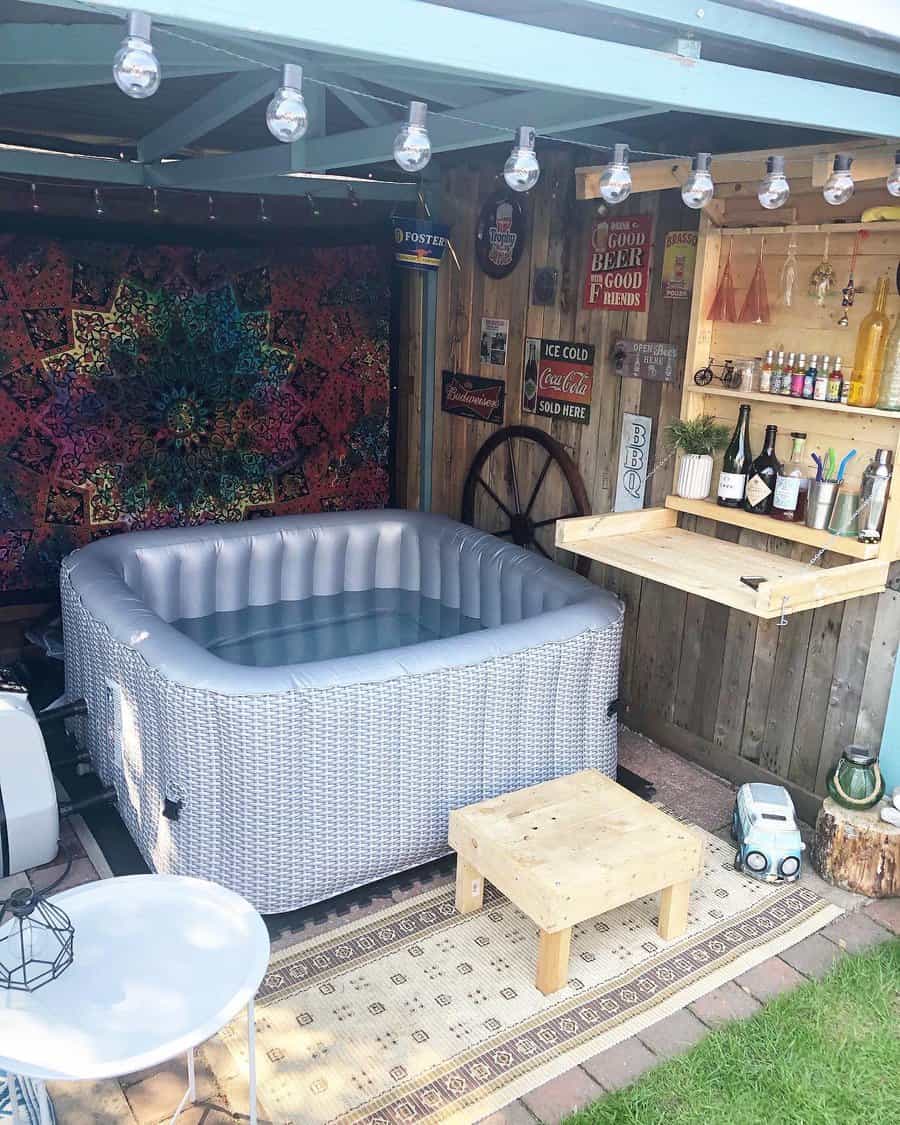 10. Repurpose An Old Truck To A Bar
When it comes time to plan your outdoor bar, don't be afraid to get creative! If you have an old truck that needs repurposing, why not repurpose it into the ultimate outdoor bar accessory? A wet bar on wheels can instantly transform your outdoor space into a swanky destination.
All you need to do is gut the truck, line the bed with sturdy countertops and shelves, and get clever with repurposed items like barn doors and an old ladder for taps.
You can even repaint the truck bed in your favorite color for a personal touch. With a little creativity and elbow grease, you can bring all of your outdoor bar ideas to life!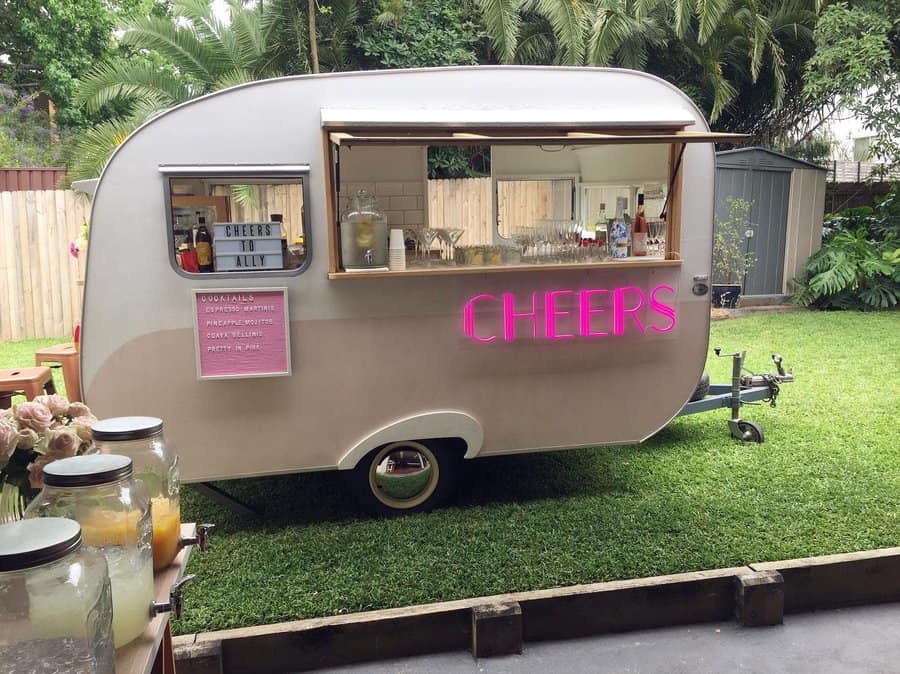 11. Decorate With Wall Art
Sprucing up your outdoor bar? If you're looking for a creative way to decorate the space, try incorporating vintage wall art. From old signs to vintage maps, decorating with antiques adds a unique touch and heirloom charm to any outdoor area.
Not only will the eye-catching decor give guests something interesting to look at while they gather together, but it will also provide a conversation starter and create a more inviting atmosphere.
Vintage pieces can be found in antique stores or online, so start searching for decor perfect for your outdoor bar and make some special memories this summer!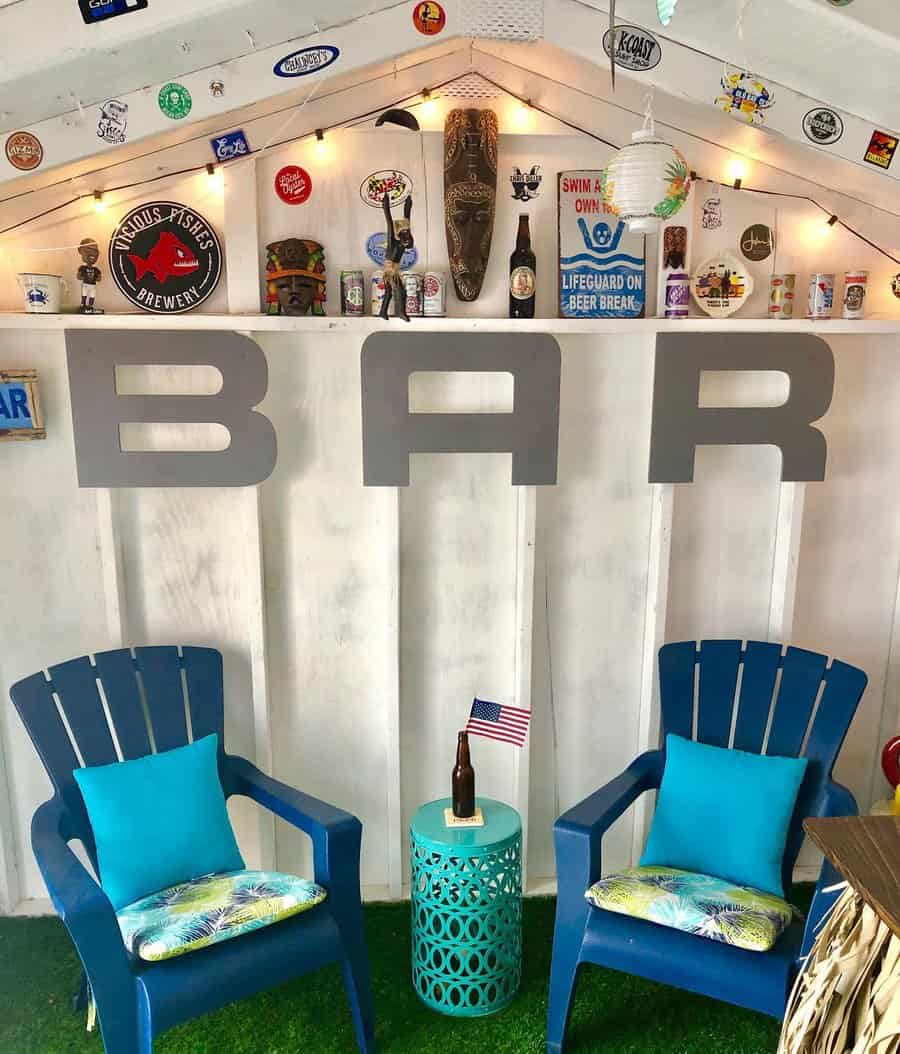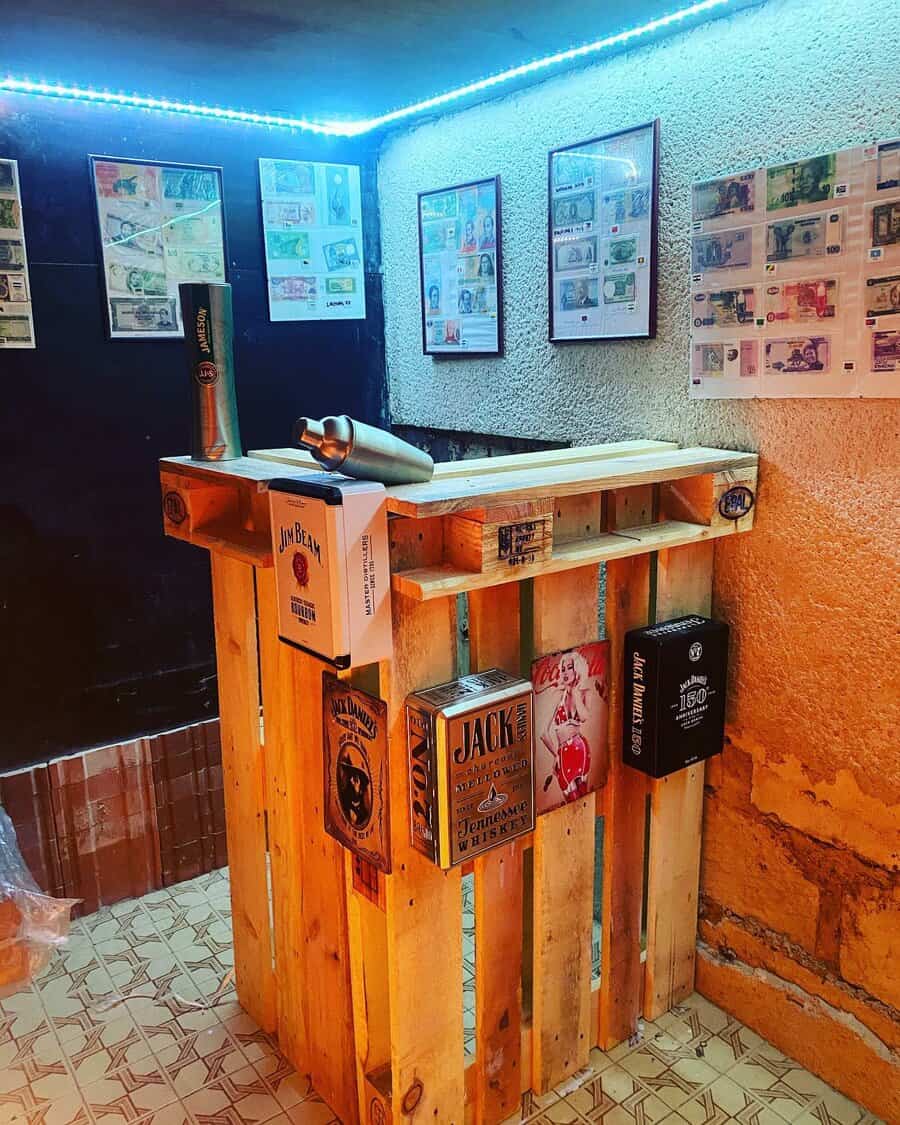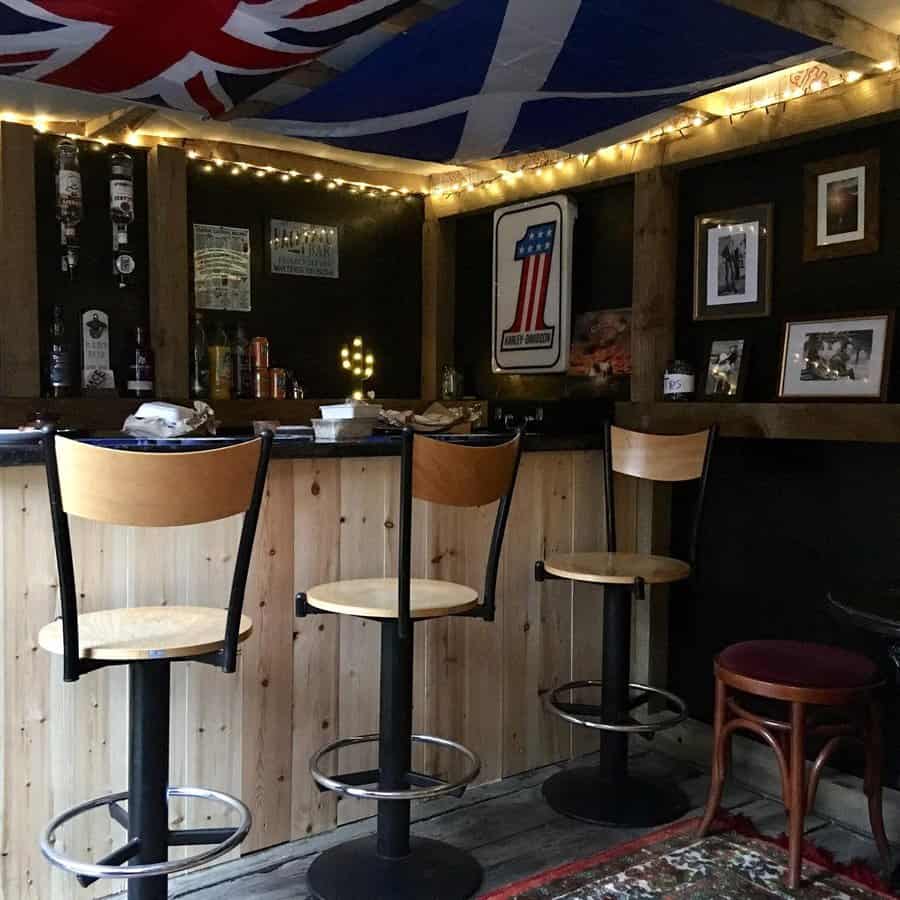 11. Add A Coffee Table For Extra Seating
For extra seating at your outdoor bar area, add a stylish coffee table! Not only does it add charm and style to the space, but also provides more seating for your friends and family to gather together and enjoy the summer season.
With an outdoor bar that has ample seating for everyone, you'll make sure that nobody is left behind. Whether you add a traditional or modern coffee table, the practical and decorative elements will enhance any outdoor space.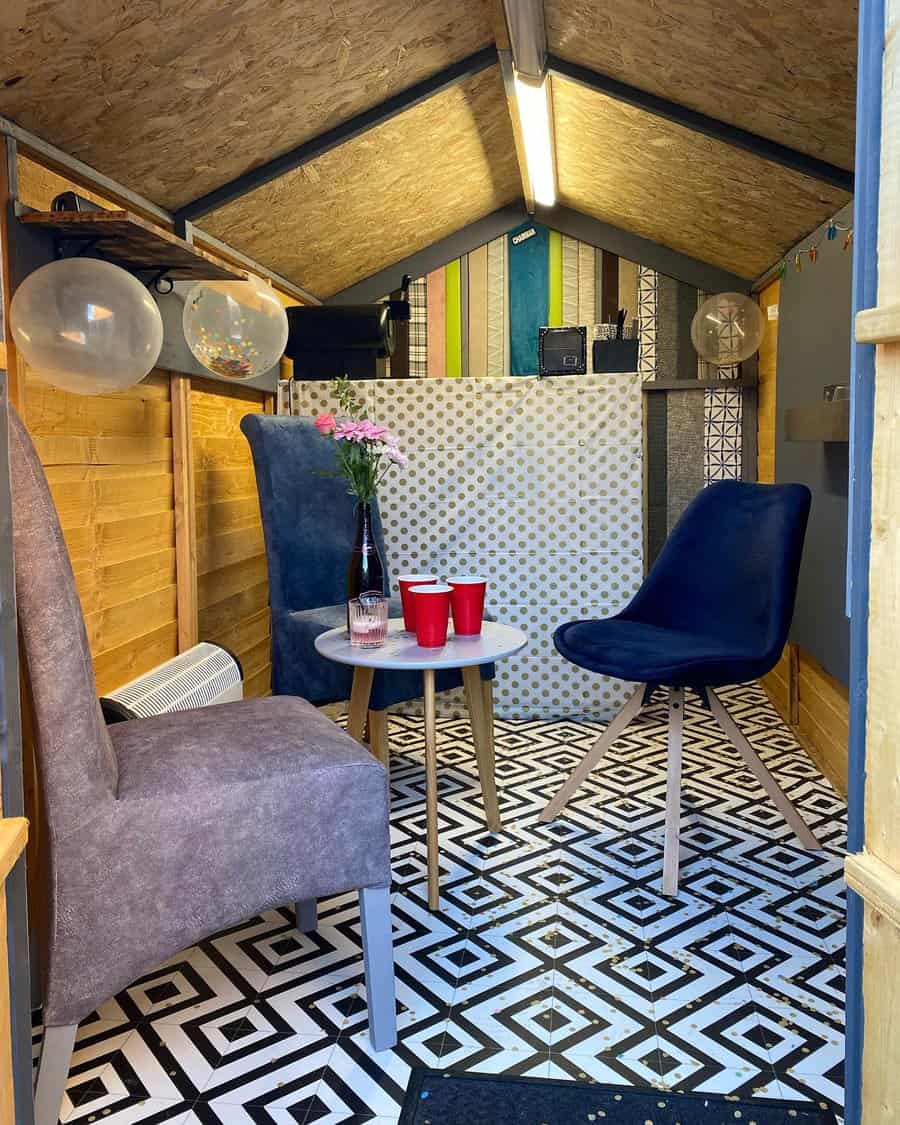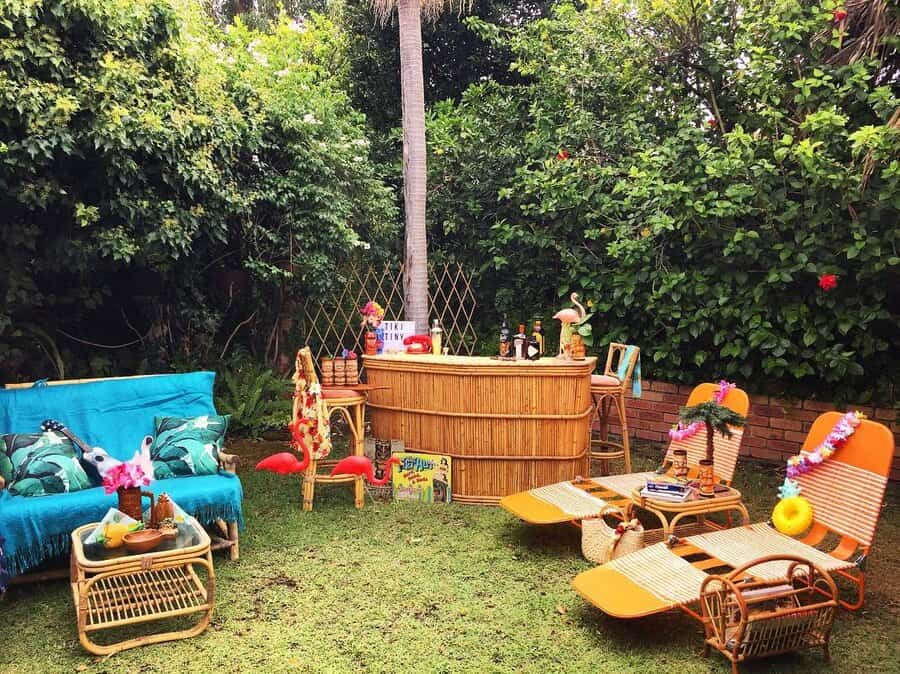 12. Build A Mini U-Bar
Are you looking for a unique outdoor entertaining feature? An outdoor U-shaped bar is a perfect way to make your outdoor space stand out. This type of bar adds an extra layer of class and efficiency that your guests will appreciate.
Even if you have limited space, U-shaped bars can be designed in the form of a minibar. If you are feeling crafty, consider tackling a DIY U-shaped bar project by gathering supplies from your local hardware store!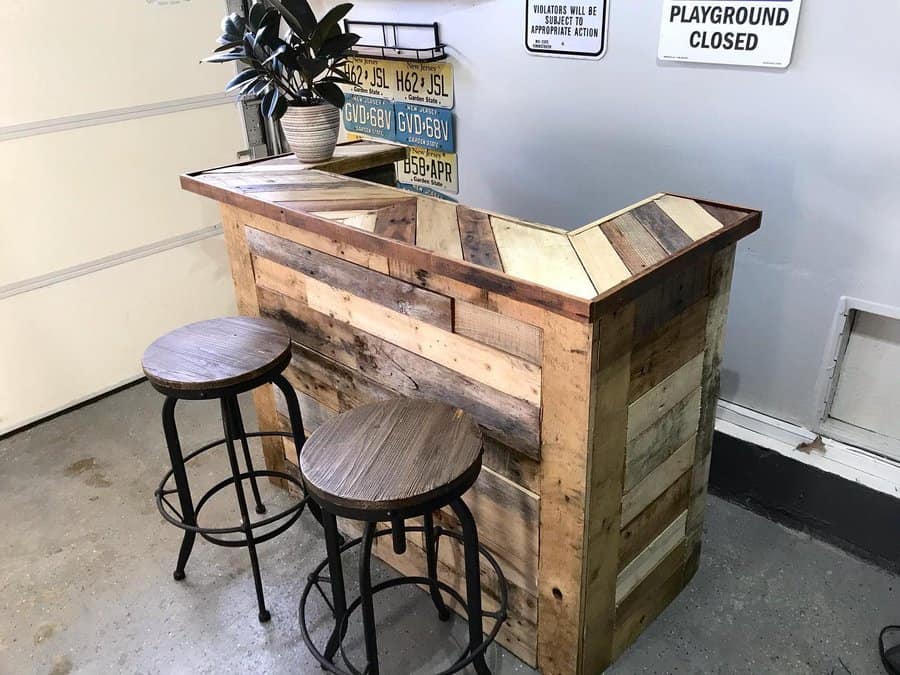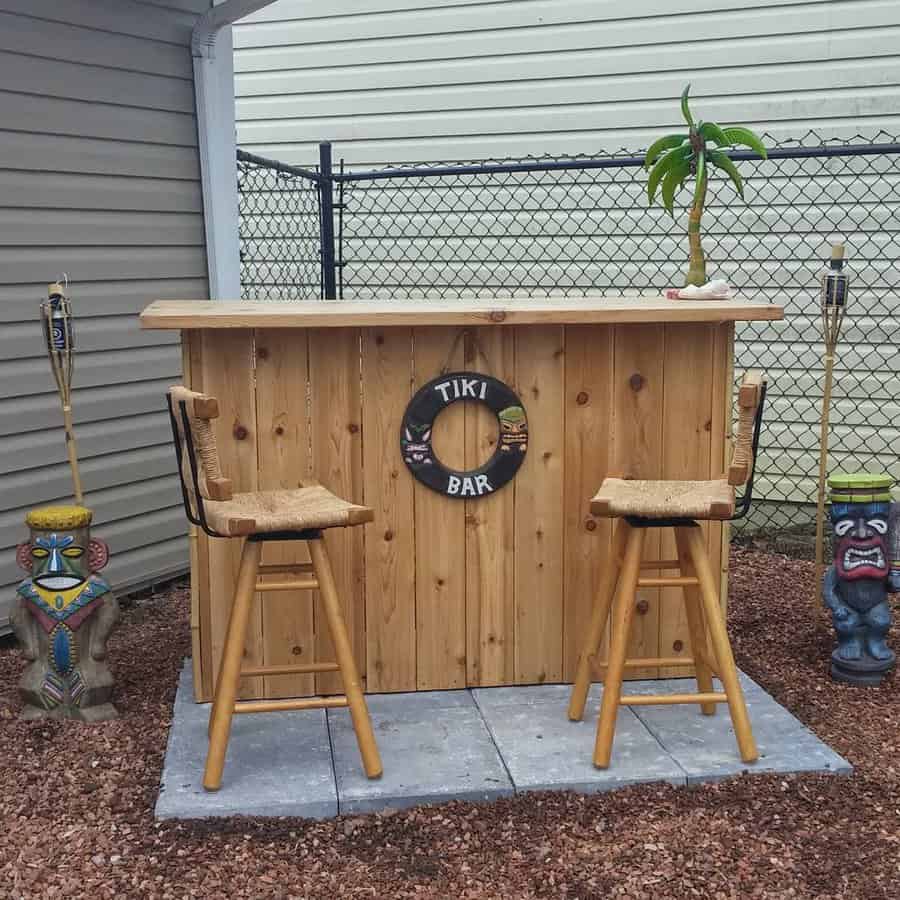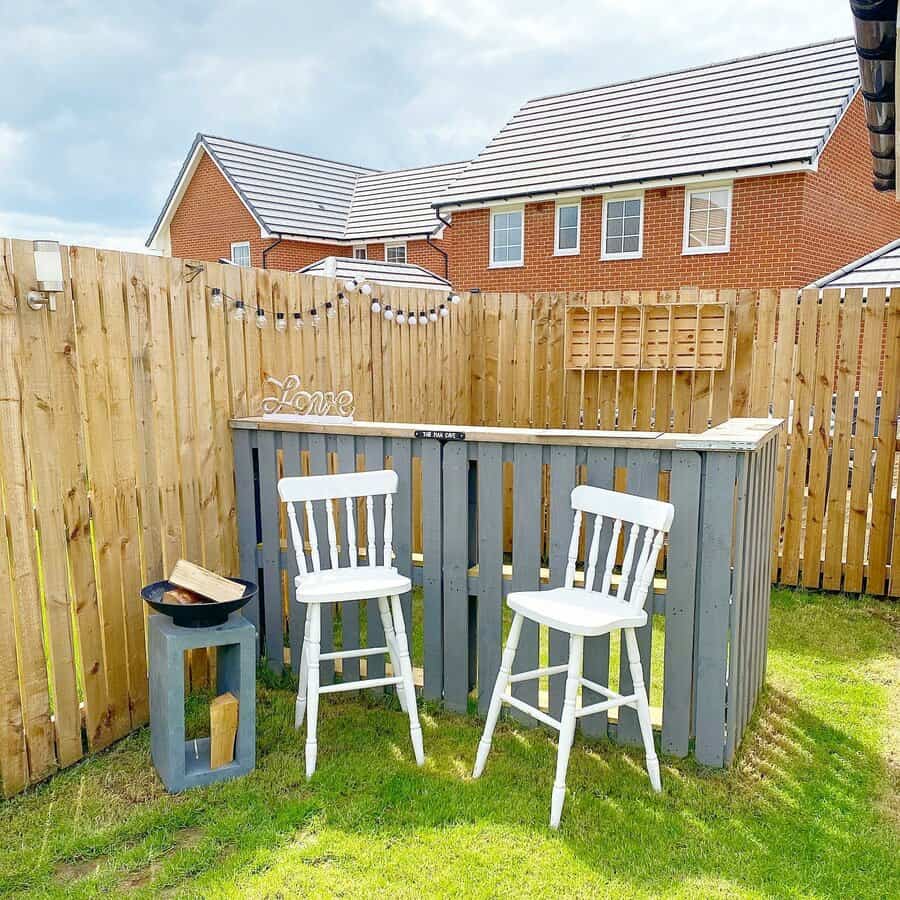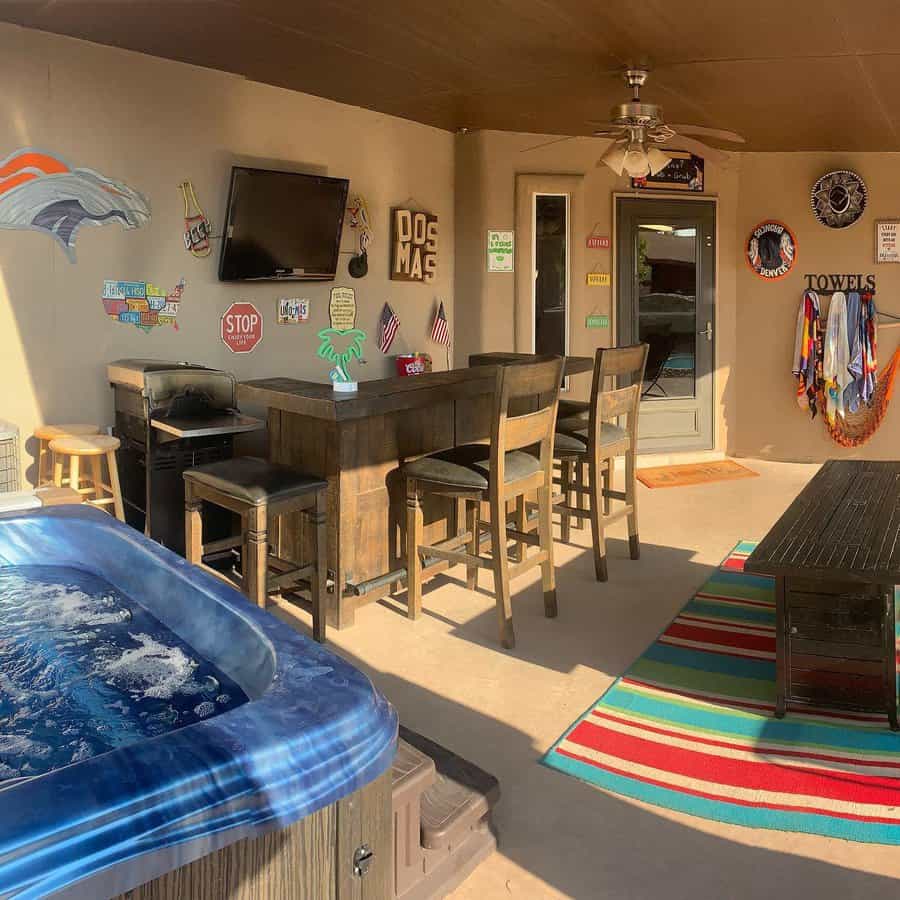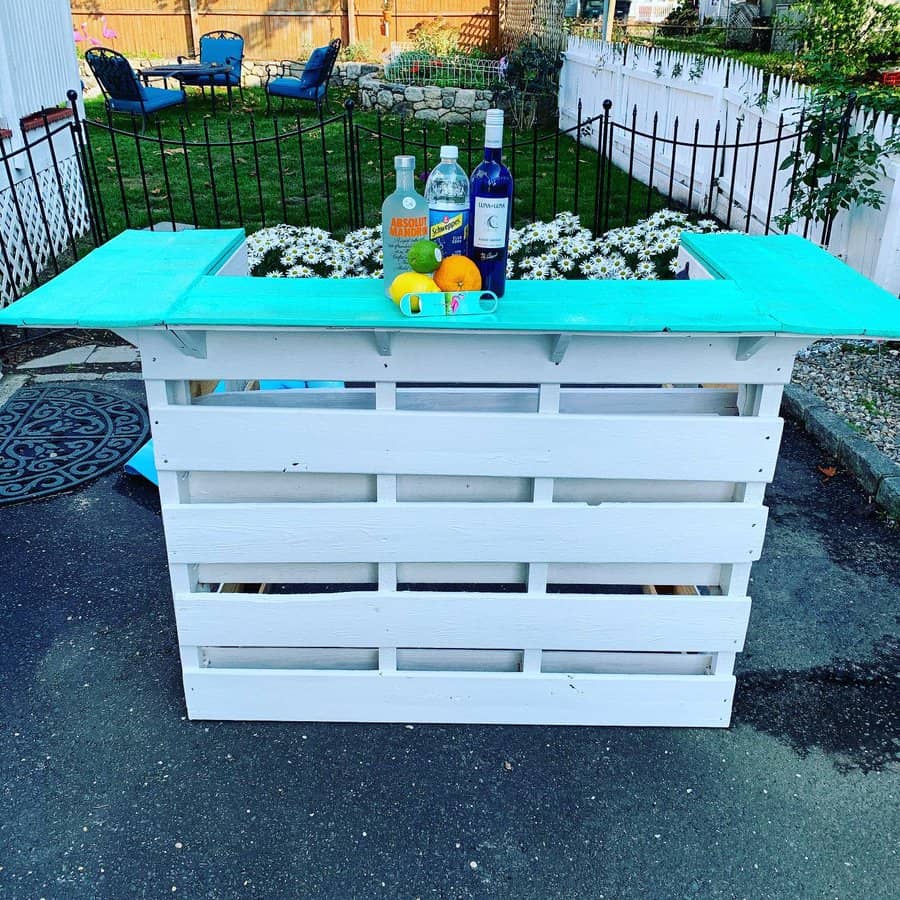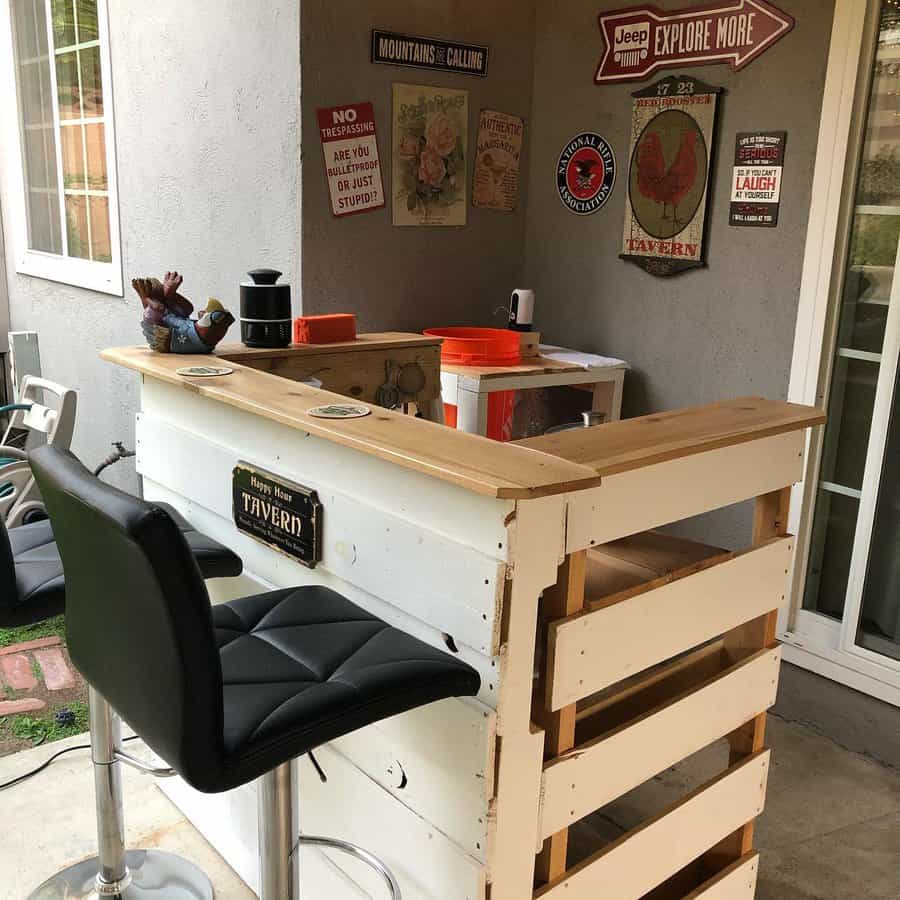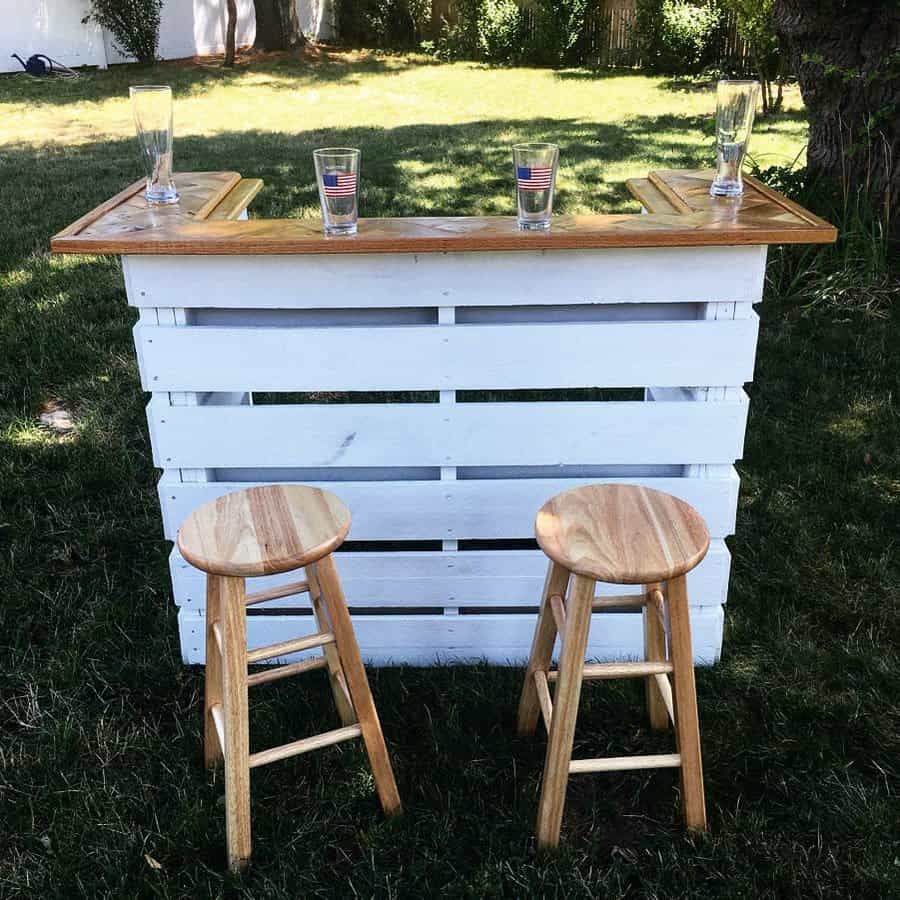 13. Use Reclaimed Wood
Give your outdoor space a rustic and cozy look with a bar made of reclaimed wood. Whether you are using a bar cart or building a bar, wooden bar elements can transform the atmosphere of your patio or deck. A wooden bar is not only aesthetically pleasing but also weather-tolerant and strong; perfect for hosting summer barbeques with friends around.
Use pieces of reclaimed wood to create a unique and naturalist look that will add warmth to your outdoor area; this will not only save you money on wood but also give you an upgraded interior design perk!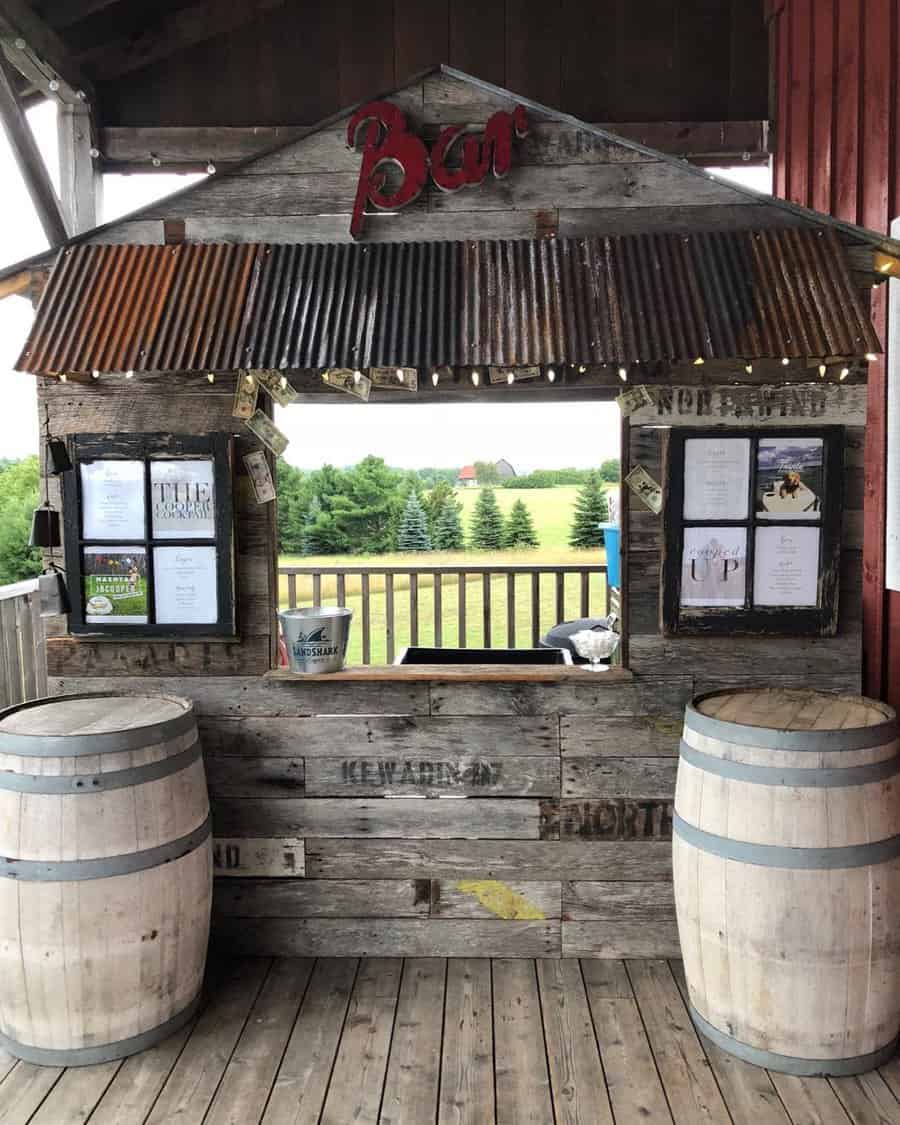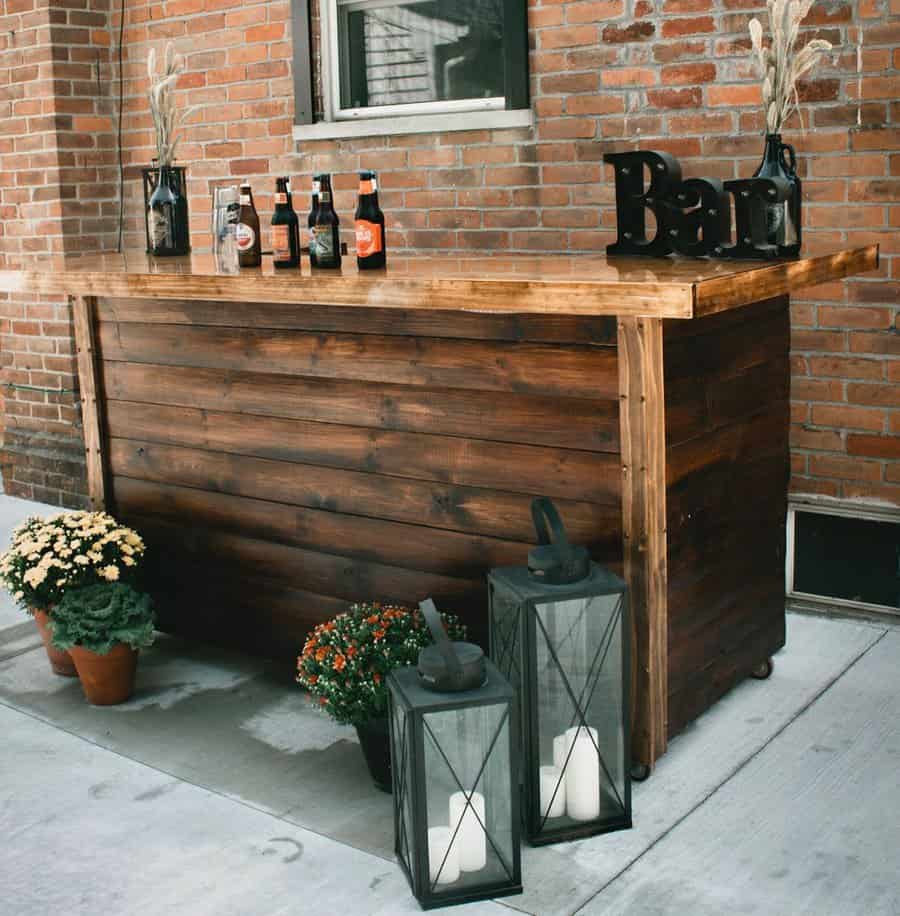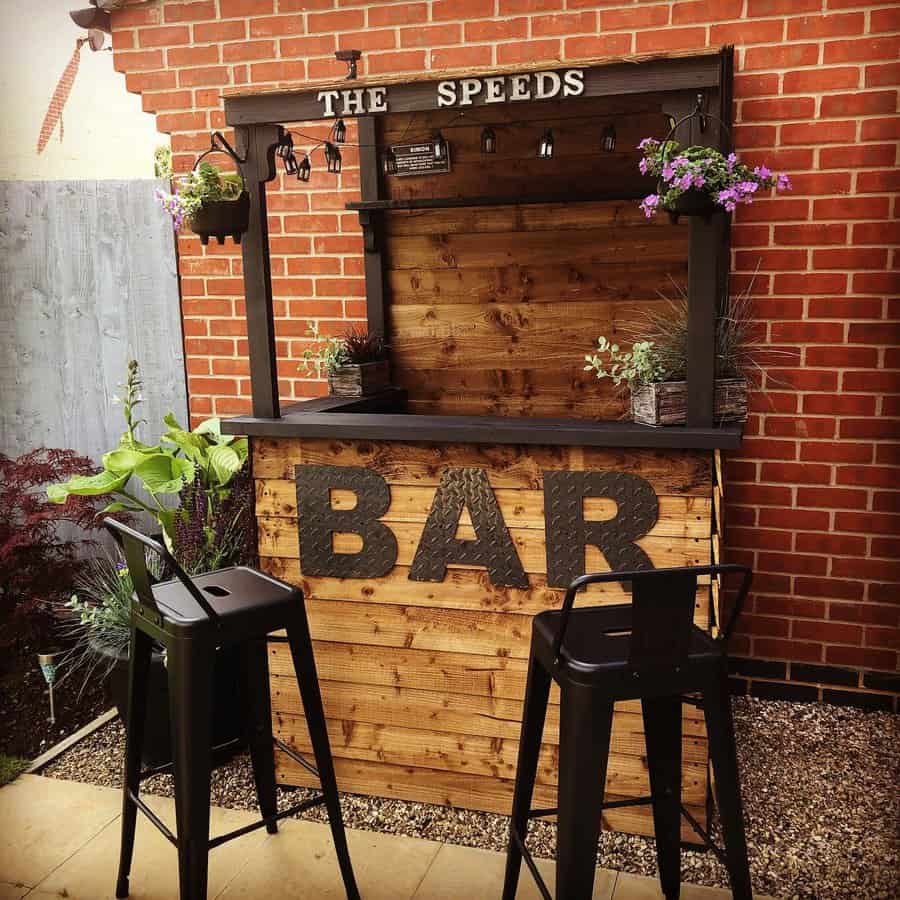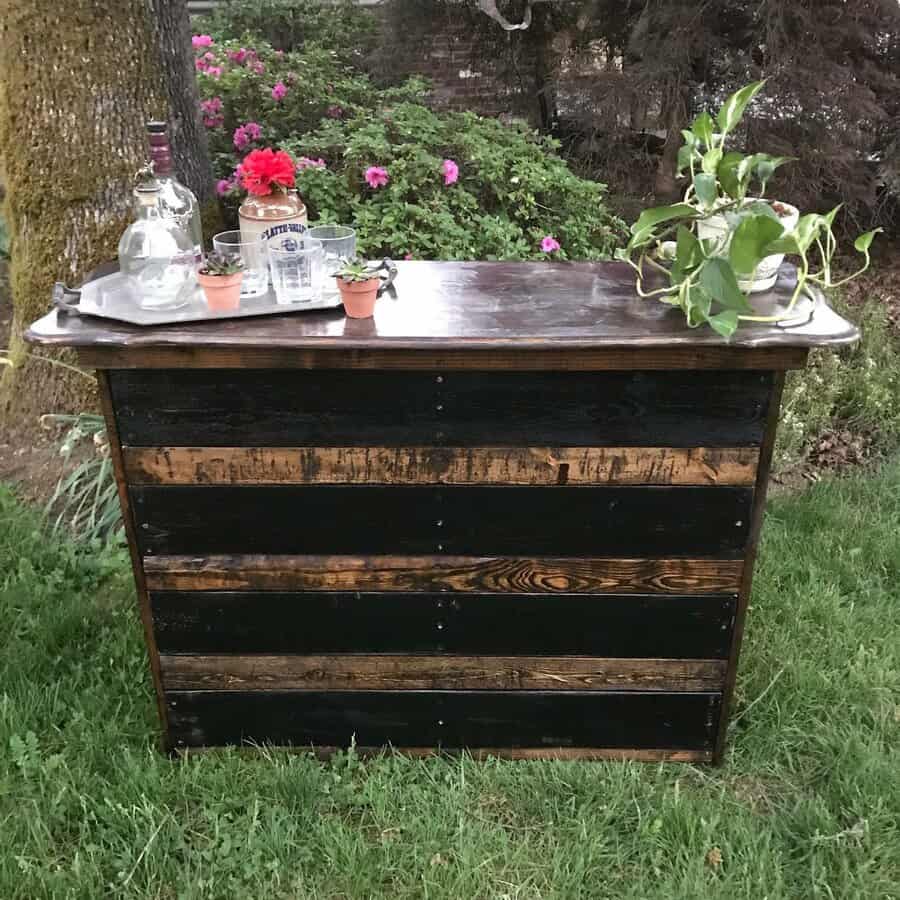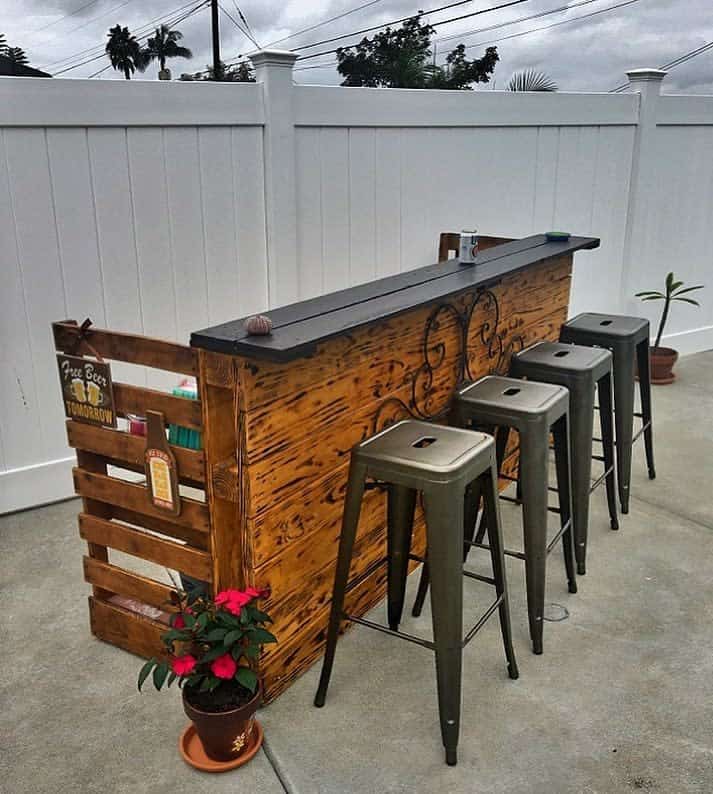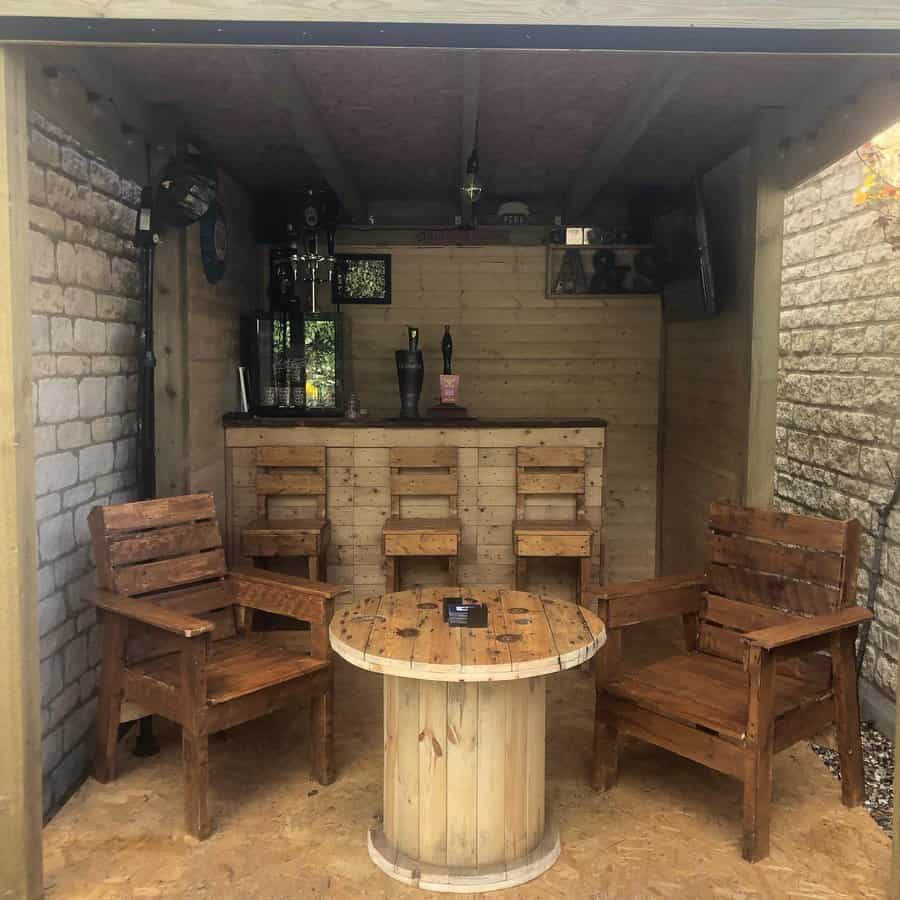 14. Rebuild A Shed Into A Mini Bar
A shed repurposed into a mini bar or an enclosed outdoor bar gives your guests a unique place to enjoy themselves. With these types of options, you can customize according to your personal style, whatever that may be.
Whether you go with wood, metal, wicker, or brick, the ability to have a trendy bar outside will make you the envy of the neighborhood. When done properly and safely, having a dedicated area for drinks is sure to enhance your get-togethers and make them even more enjoyable.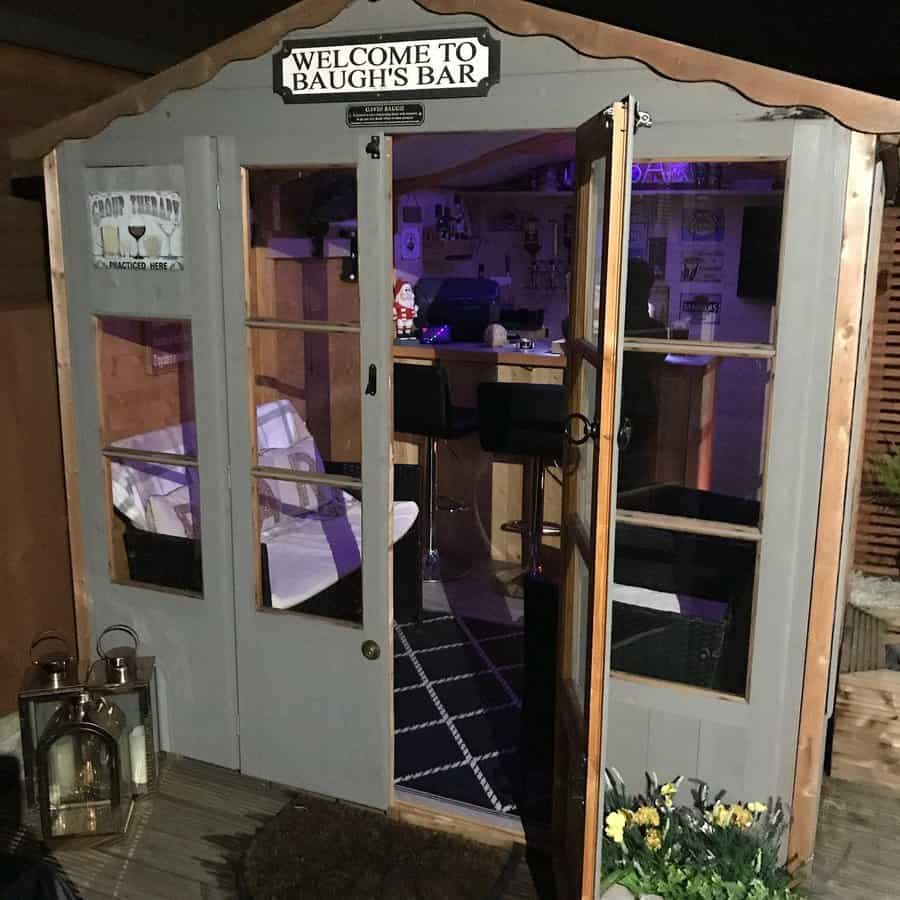 15. Create Your Own Tiki Bar
Tiki bars are a great option, as they provide a fun, the beach feels to the area with their thatched raffia roofs and island vibes.
The Tiki vibe can be established using bamboo mats as well as decorative surfboards and themed signs. Uplighting can also give your Tiki bar an added sense of ambiance when night falls.
Pick a few tropical plants to complete the scene, and you're sure to have an awesome backyard party in no time!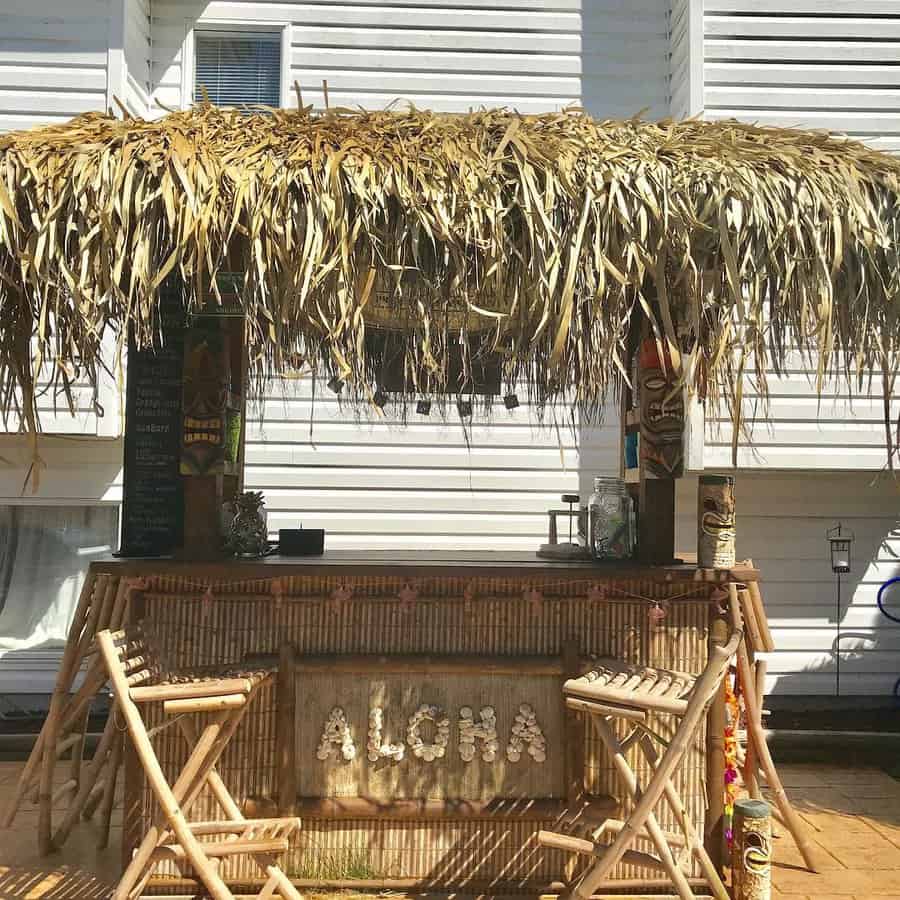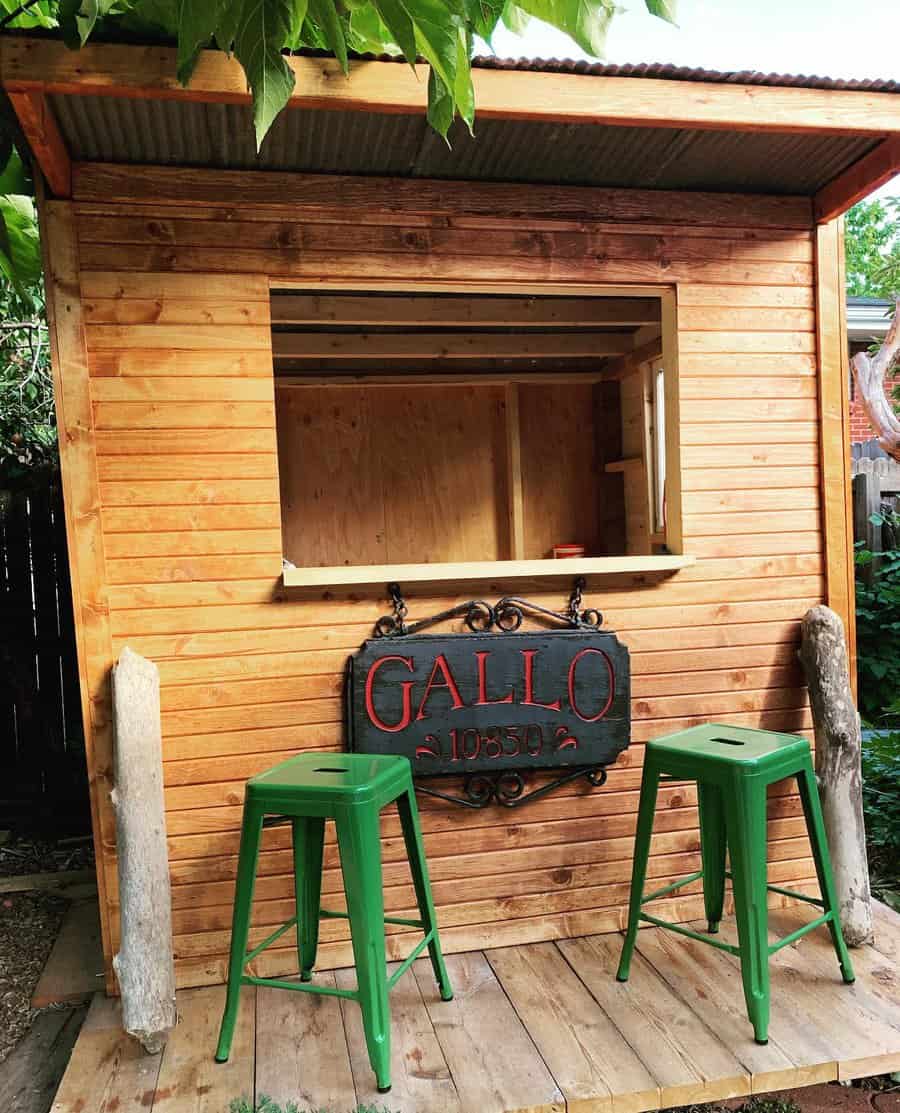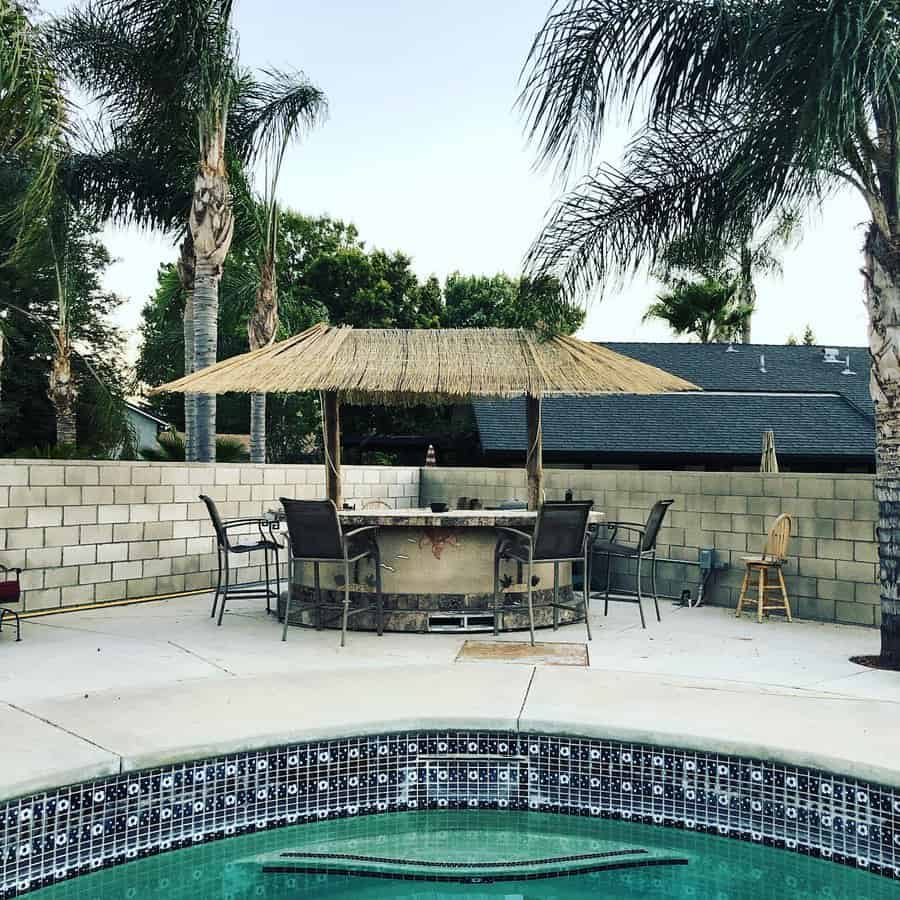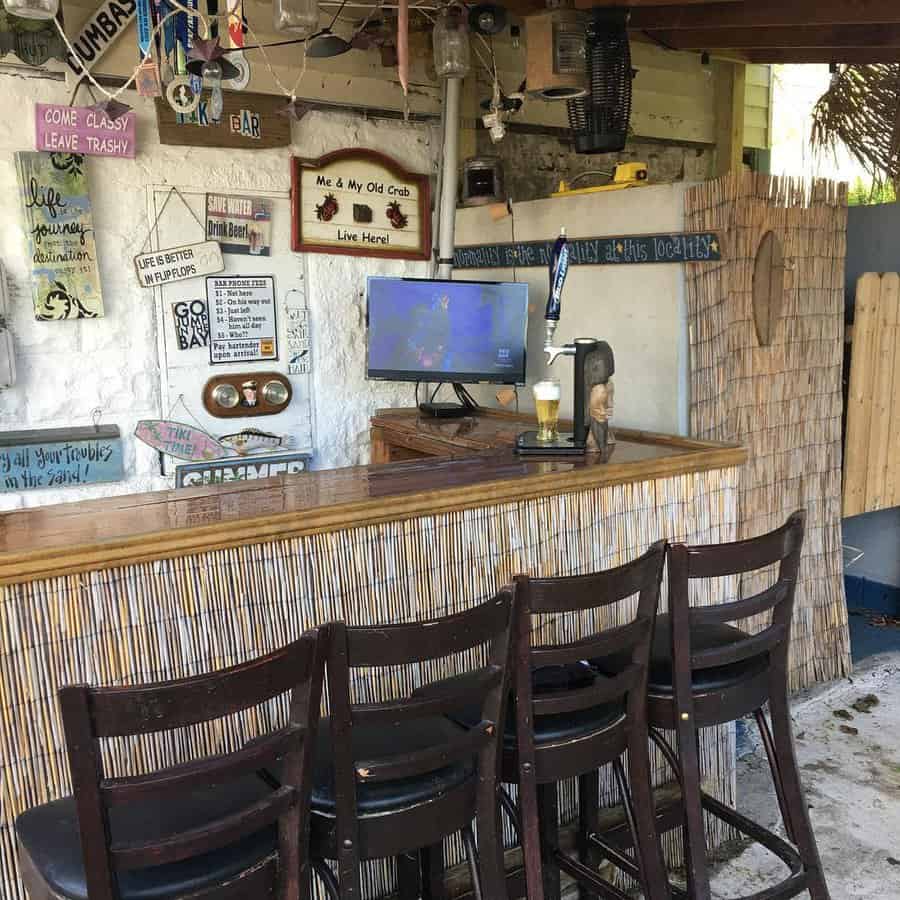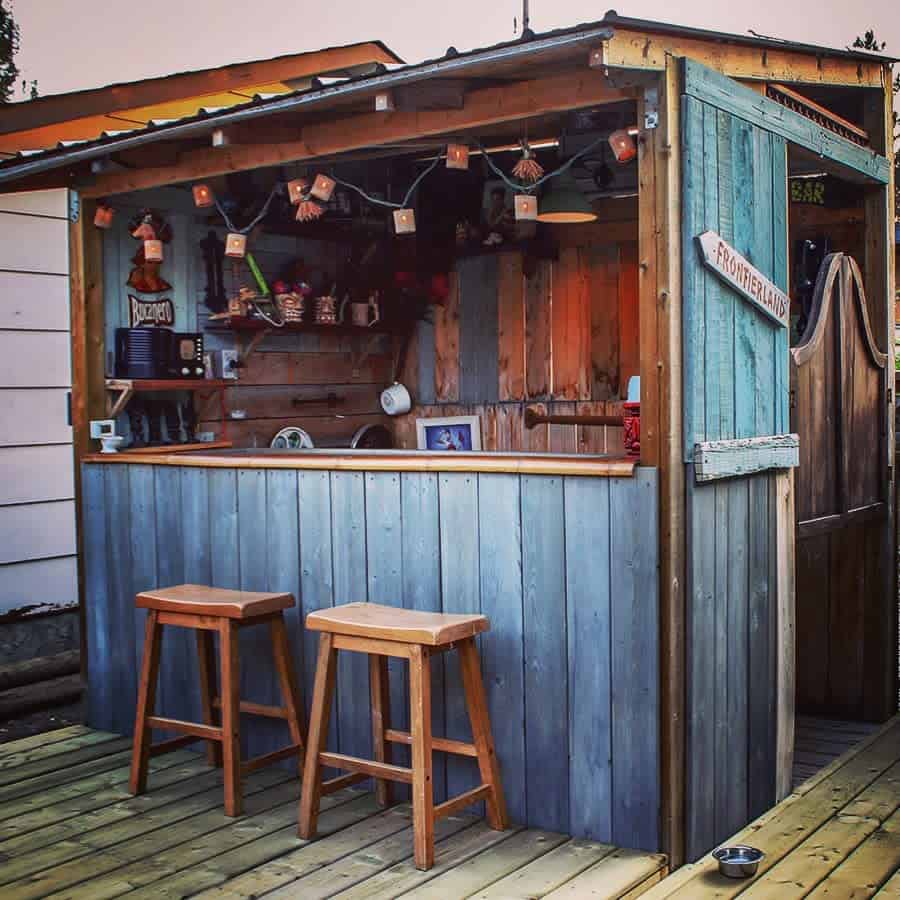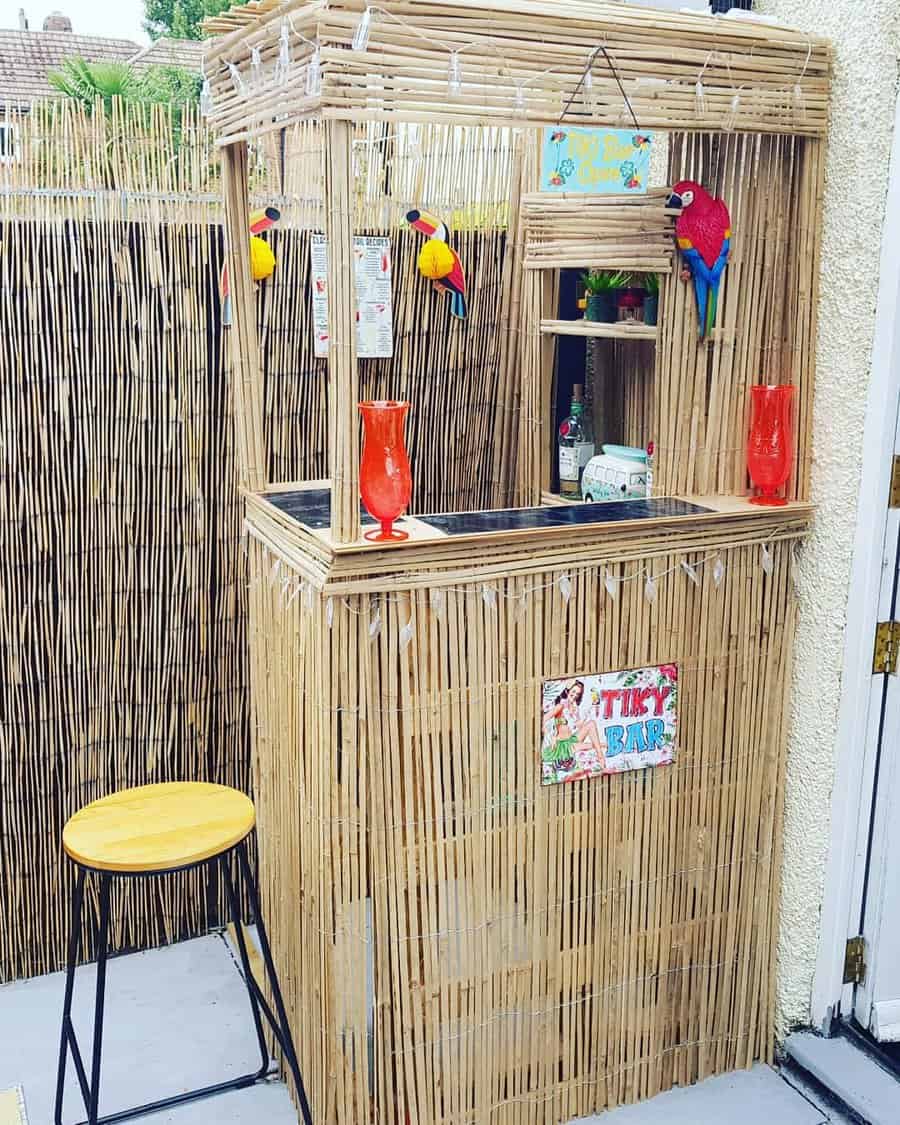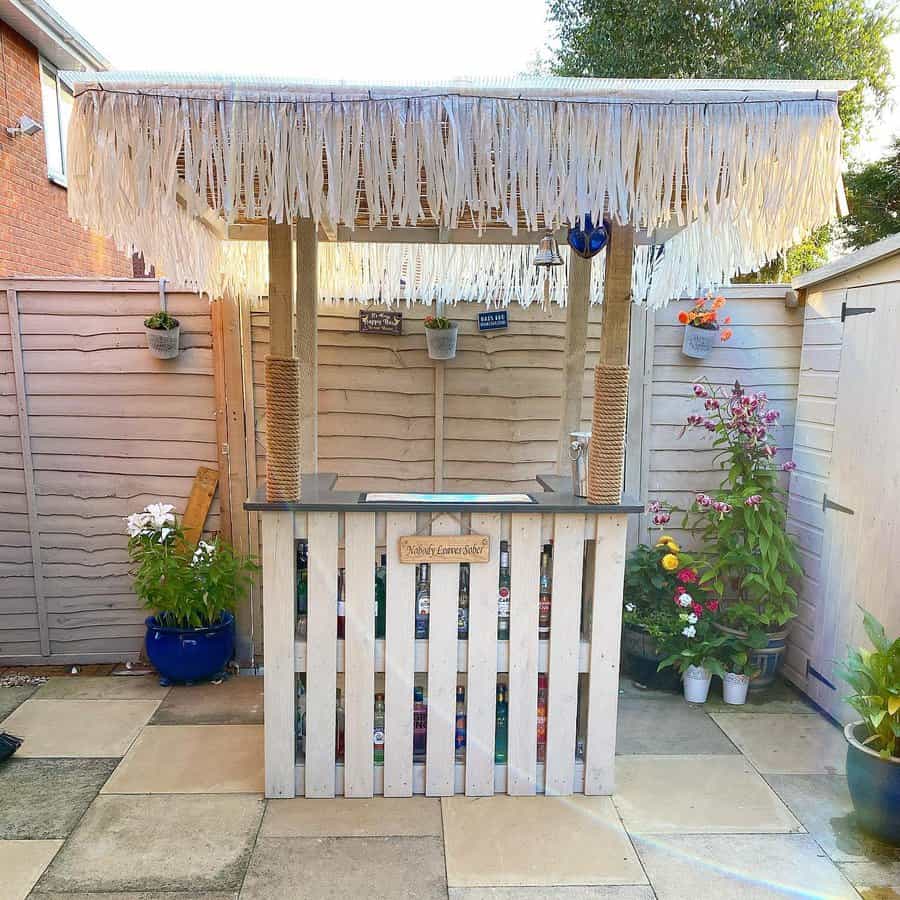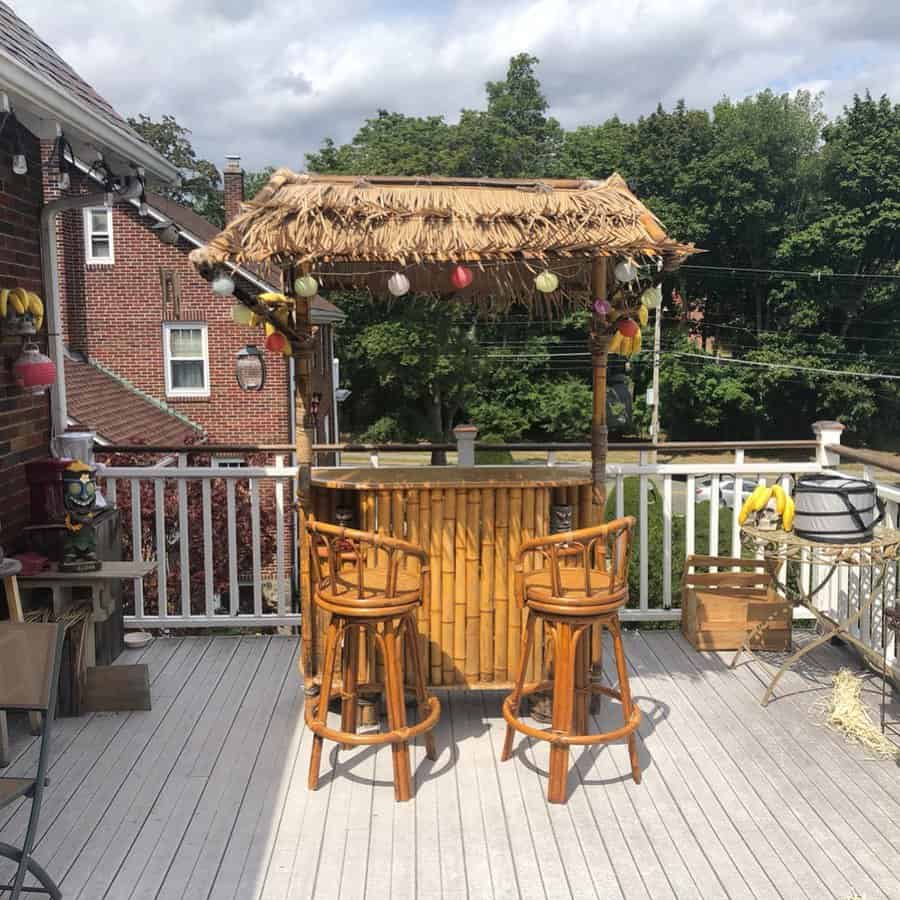 15. Invest In A Pre-Fabricated Bar
Creating an outdoor bar doesn't have to be a costly undertaking. A pre-fabricated bar is an excellent option if you're looking for a cost-efficient solution that won't break the bank but will still make an impact on your outdoor space.
Not only are pre-fabricated bars built to withstand the rigors of outdoor life, but they also provide extra design options due to their ease of customization. From large wooden tables and benches, to wrap-around couches and stools, pre-fabricated outdoor bars are both stylish and convenient for any gathering area.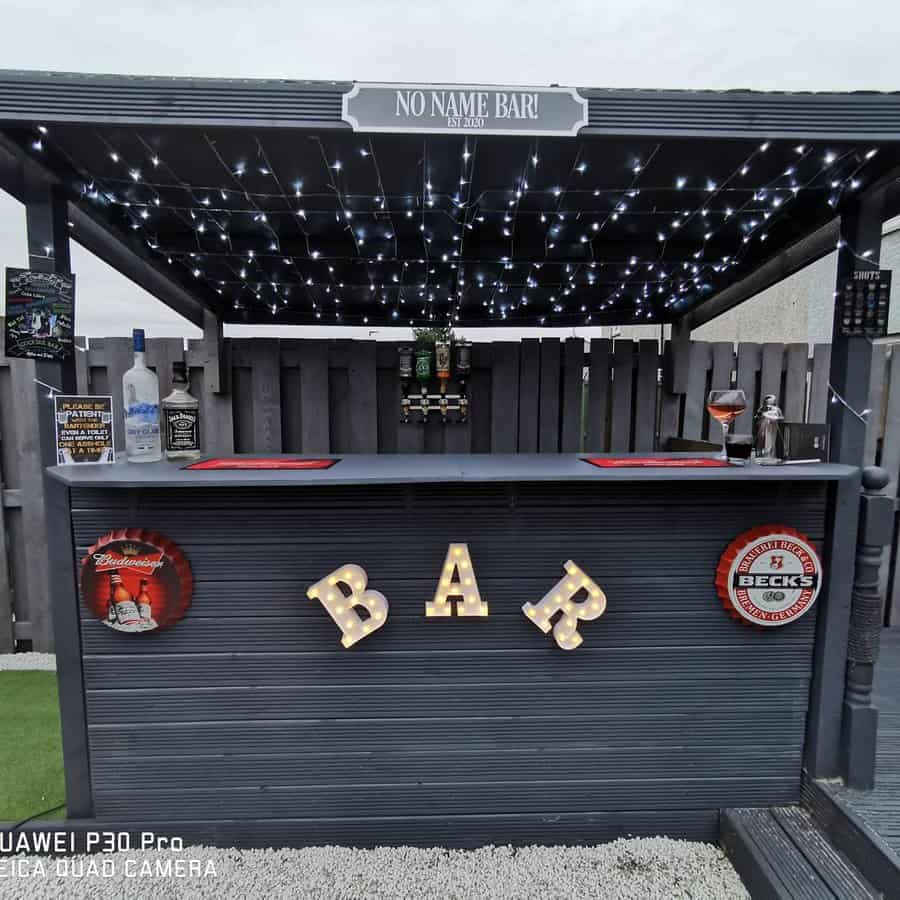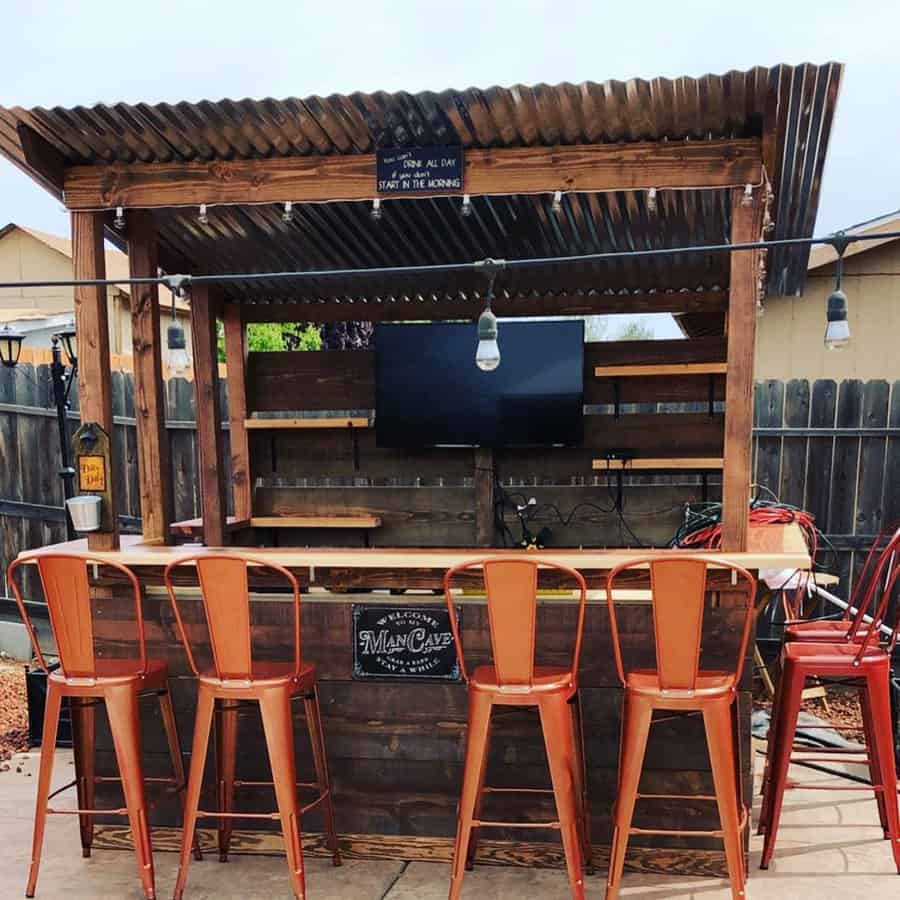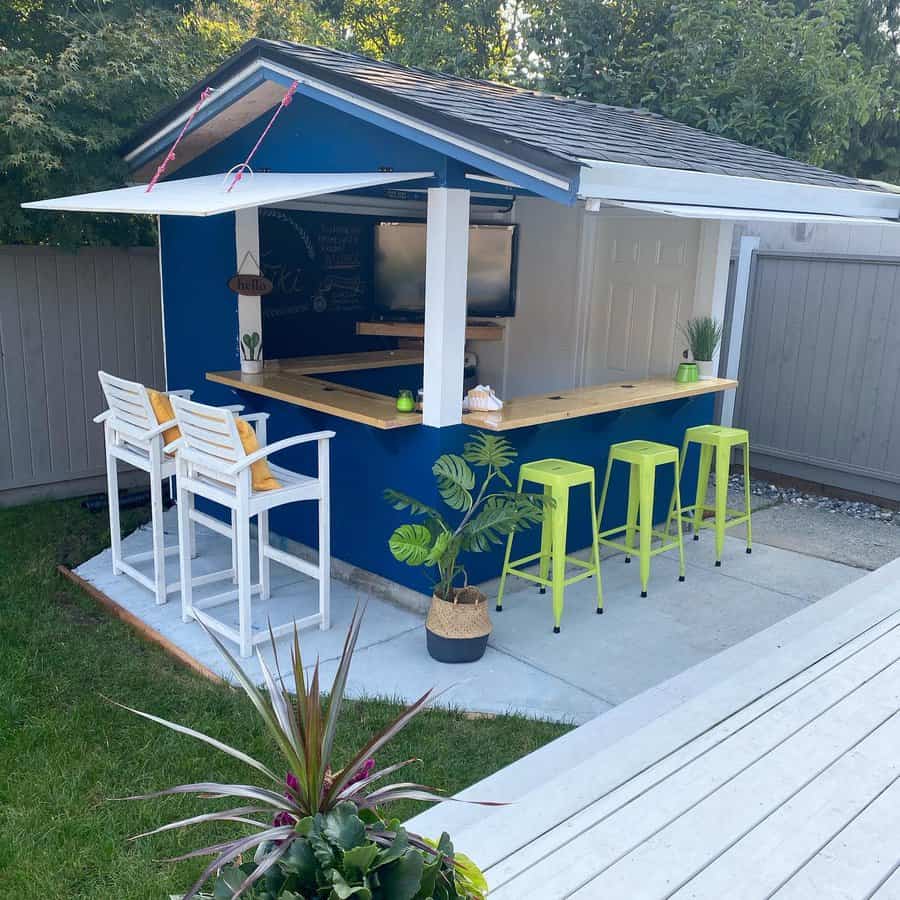 16. Double As An Outdoor Kitchen Island
When designing your outdoor bar space, you have many possibilities available. Consider incorporating an outdoor kitchen island for additional storage and prep area––great for when you invite over friends to enjoy drinks and good company under the stars! A combination of a bar and kitchen island might be a great solution to provide both extra countertop space as well as seating.
Alternatively, Opt for a regular bar counter with accompanying stools so that everyone will have somewhere to sit while they cheer a celebratory toast! Whatever outdoor bar ideas you choose, you can't go wrong with creative outdoor entertaining options.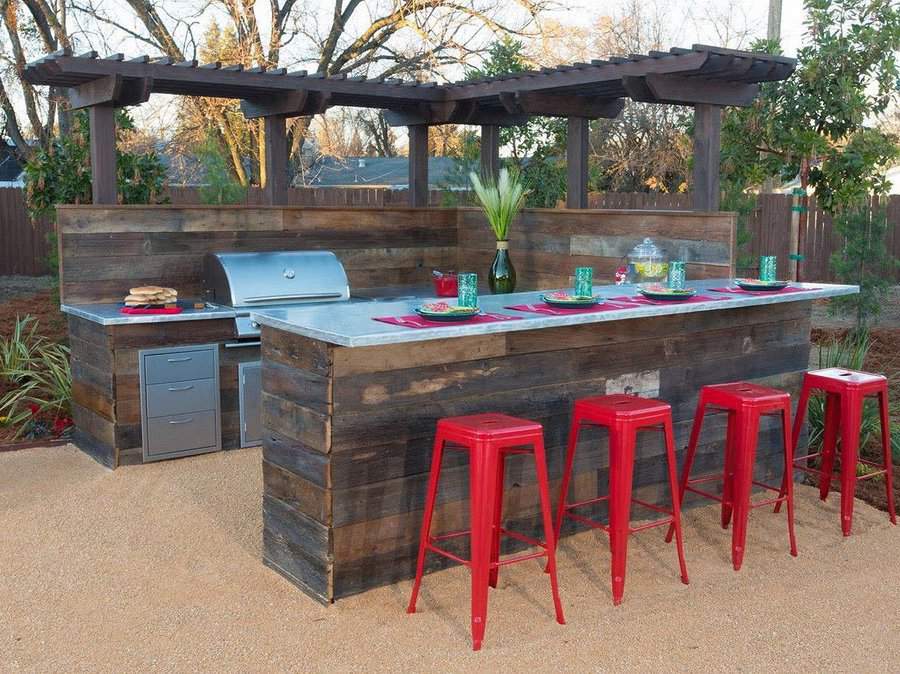 17. Industrial-Style Bar
Make your bar stand out from the rest with an industrial-style bar! By blending wood and repurposed corrugated metal plank, you can create a bar that looks professionally crafted.
To add a personal touch and make it extra unique, get creative with painting or stain options to make the bar shimmer in the sun. With this bar idea, your next outdoor gathering is sure to be one for the books.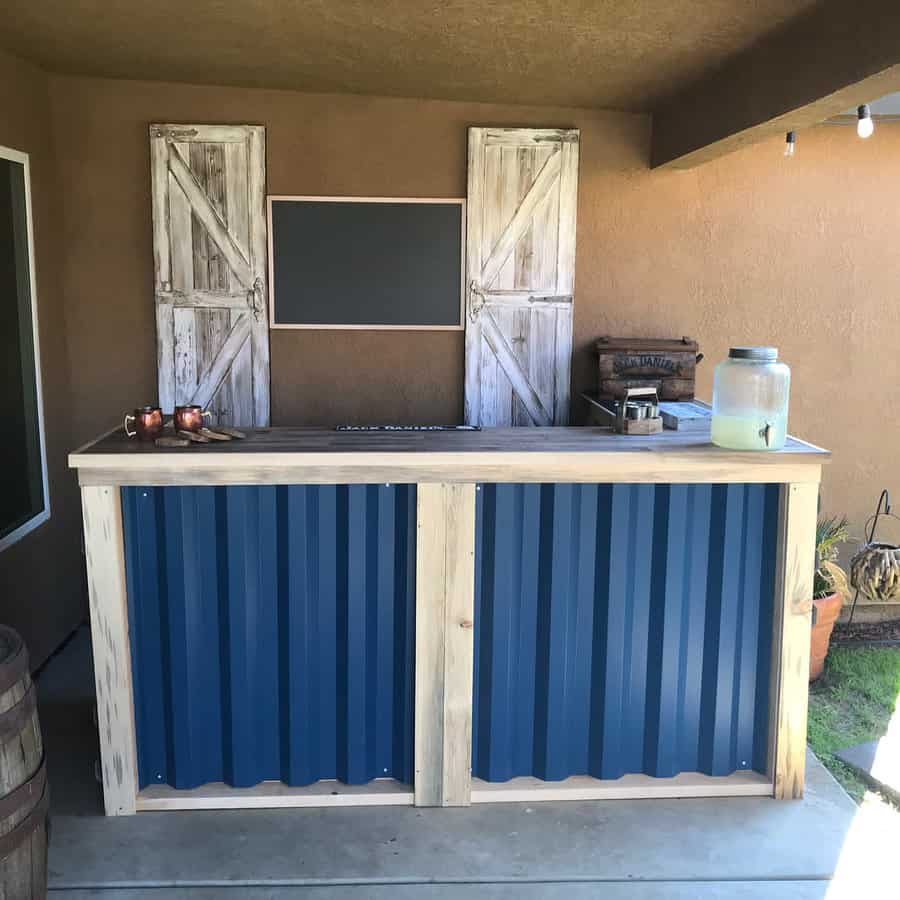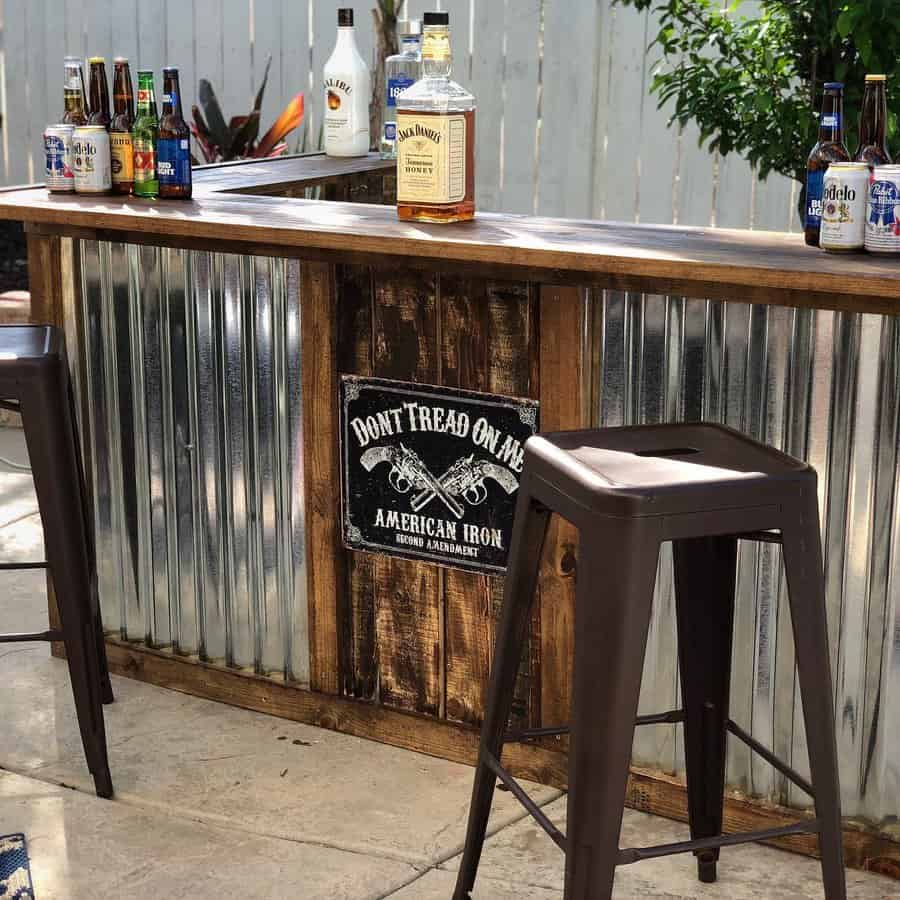 Backyard Bar FAQs
How much does it cost to build an outdoor bar?
The cost of your outdoor backyard bar will depend on its size, materials, and design. The bigger, more expensive materials, and extravagant your bar is, the more expensive it will be. Expect to spend at least $500 to $1,000 for a small and simple bar. You could easily spend $10,000 or more for more elaborate designs.
What can I use for an outdoor bar top?
The best materials to use for your bar top are those that are highly durable and impervious to water and weather. Granite is a natural stone that comes in a range of colors and designs. Stainless steel or aluminum are great options if you prefer metal. Wood could be used, but you should stick with hardwoods that will be impervious to moisture.
What do you need for an outdoor bar?
You need to have a place for keeping drinks cold. You can do this with a refrigerator, kegerator, or cooler. An ice maker is nice if you make a lot of mixed drinks. You'll want a countertop area for making drinks and a bar top area for people to place their drinks. While you could have a walk-up bar, one with seating is more comfortable.