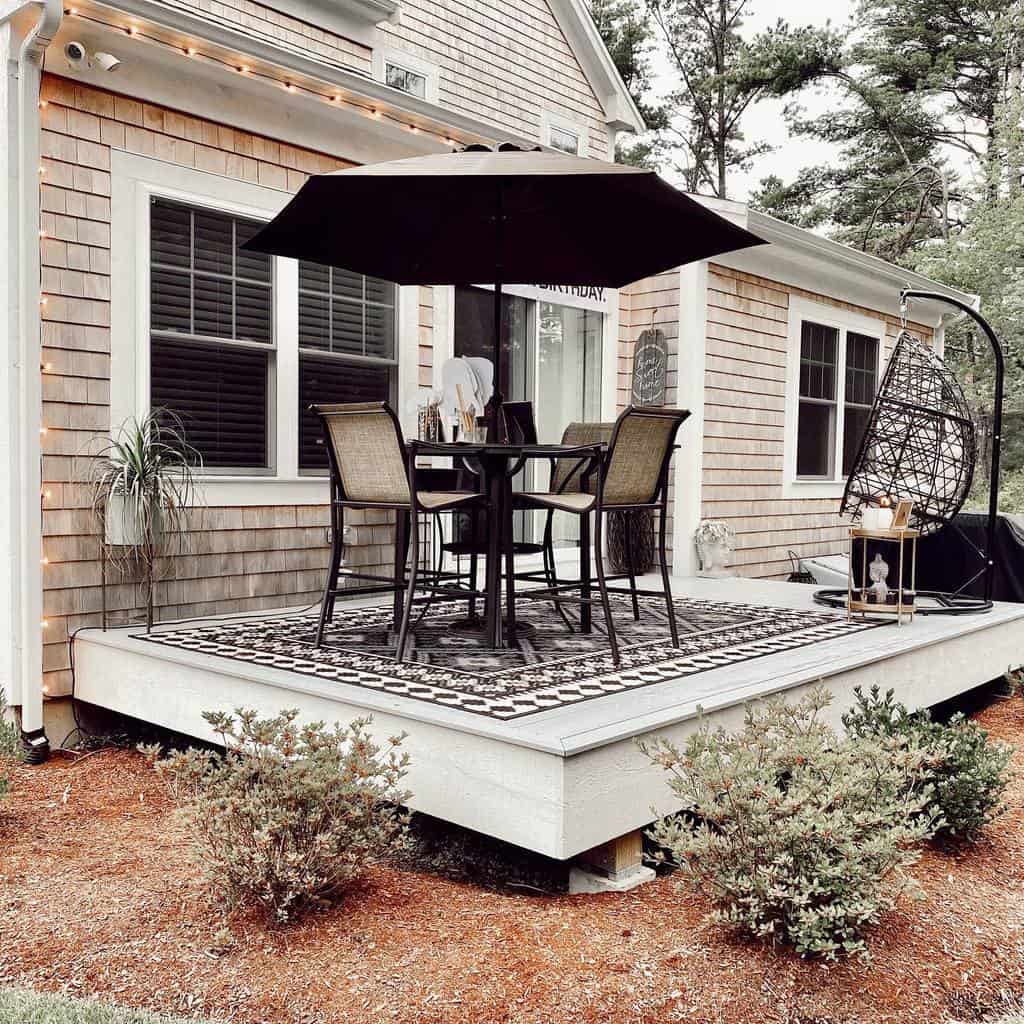 29 Backyard Deck Ideas on a Budget
Everyone desires a cozy outdoor space that suits their needs – a private oasis to retreat and relax, a playground for the children, or a lively venue for entertaining friends and family. One of the most integral components of such a sanctuary is a backyard deck. But can you have a fabulous deck without spending a fortune? Absolutely!
In this article, we will embark on an exciting journey to explore creative and cost-effective backyard deck ideas. Whether you're starting from scratch or giving an old deck a makeover, we have tailored solutions for every budget. So, no matter the size of your yard or the constraints of your wallet, we assure you that a dreamy outdoor retreat is within reach.
From smart material choices and DIY projects to innovative design hacks and wallet-friendly decorations, we'll cover an extensive range of tips and tricks to enhance the charm of your backyard. Get ready to transform your outdoor space into a paradise, without breaking the bank! Join us as we uncover the secrets to crafting a budget-friendly yet aesthetically pleasing backyard deck.
1. Backyard Deck With Lattice Fence
To add a touch of elegance and privacy, incorporate a lattice fence into your backyard deck. This trellis-like structure not only adds visual appeal but also serves as a support for climbing plants, creating a lush and vibrant backdrop for your deck. Imagine sitting on your deck, surrounded by the natural beauty of flowering vines and greenery, while enjoying a gentle breeze.
The lattice fence adds a sense of enclosure without making the space feel closed off, allowing you to enjoy the outdoors while maintaining a cozy and intimate atmosphere. Whether you choose to have the lattice fence fully or partially cover your deck, it adds a touch of sophistication and charm to your outdoor living area. You can also customize the lattice pattern, whether it's a classic crisscross design or a more intricate and unique pattern that reflects your personal style.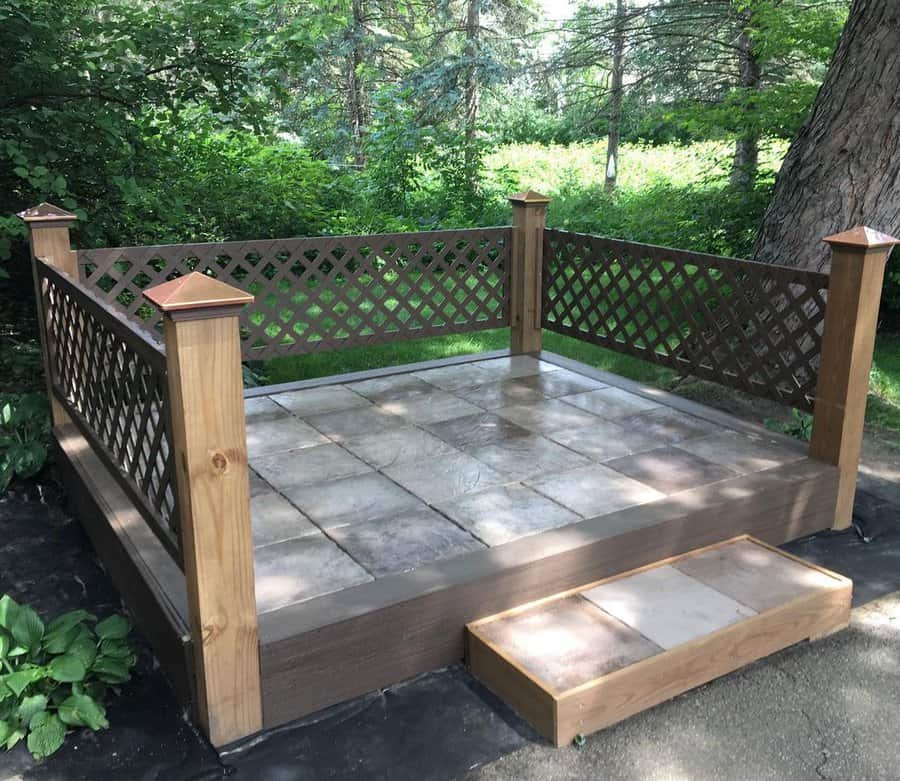 2. Covered Deck With Umbrella Shade
The addition of an umbrella shade creates a welcoming oasis where you can relax, entertain, and enjoy the outdoors in style. Choose an umbrella that complements your design aesthetic, whether it's a sleek and modern design or a charmingly rustic one. The umbrella not only provides much-needed shade on those hot summer days but also adds a touch of elegance and sophistication to your deck.
Imagine lounging on comfortable outdoor furniture, sipping a refreshing drink, and basking in the cool shade provided by the umbrella. It creates a cozy and inviting atmosphere, making your deck the perfect place for gatherings, barbecues, or simply unwinding after a long day. With the flexibility of adjustable umbrellas, you can easily tilt and position them to provide the ideal amount of shade throughout the day.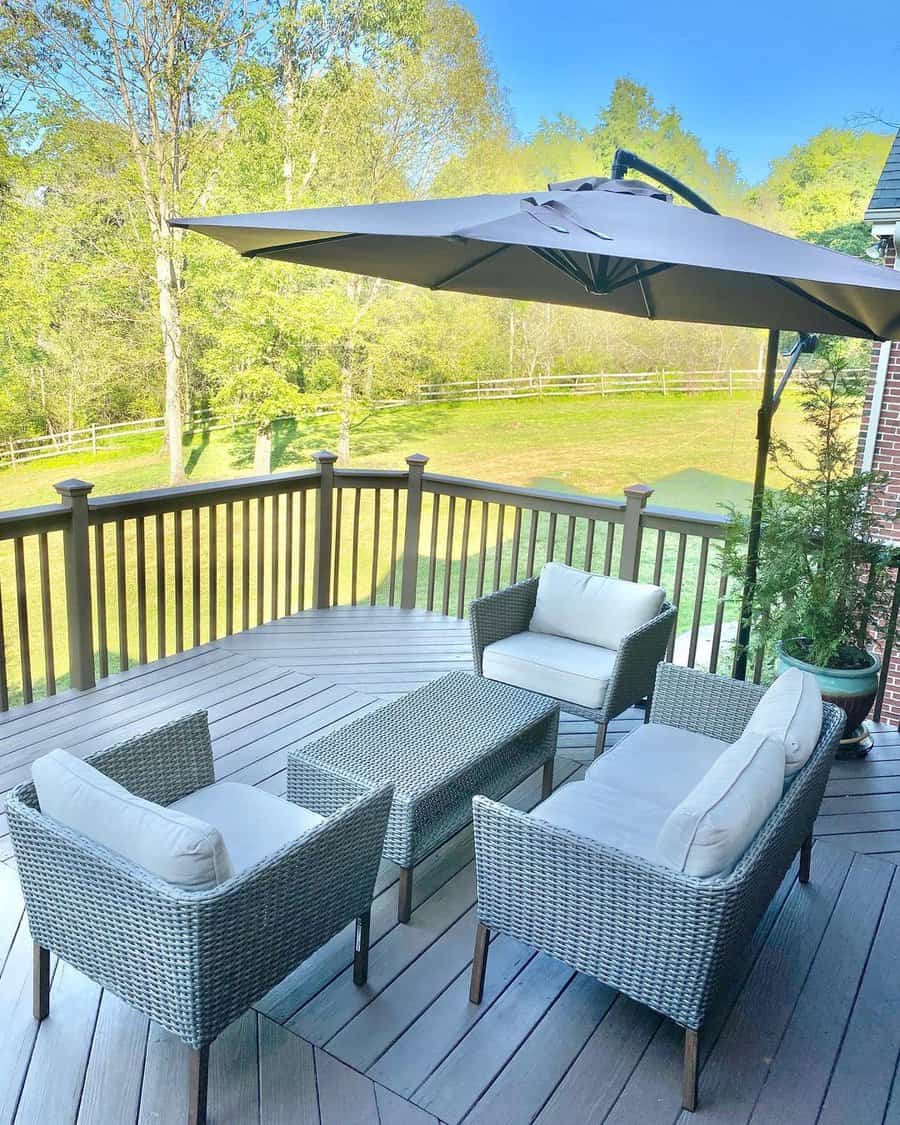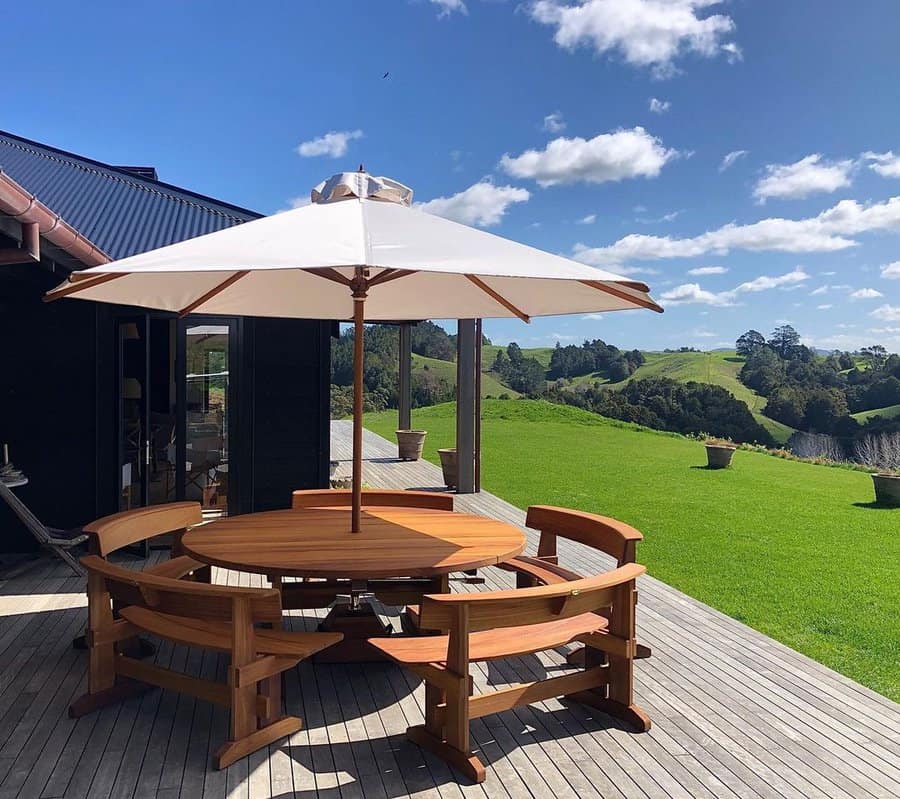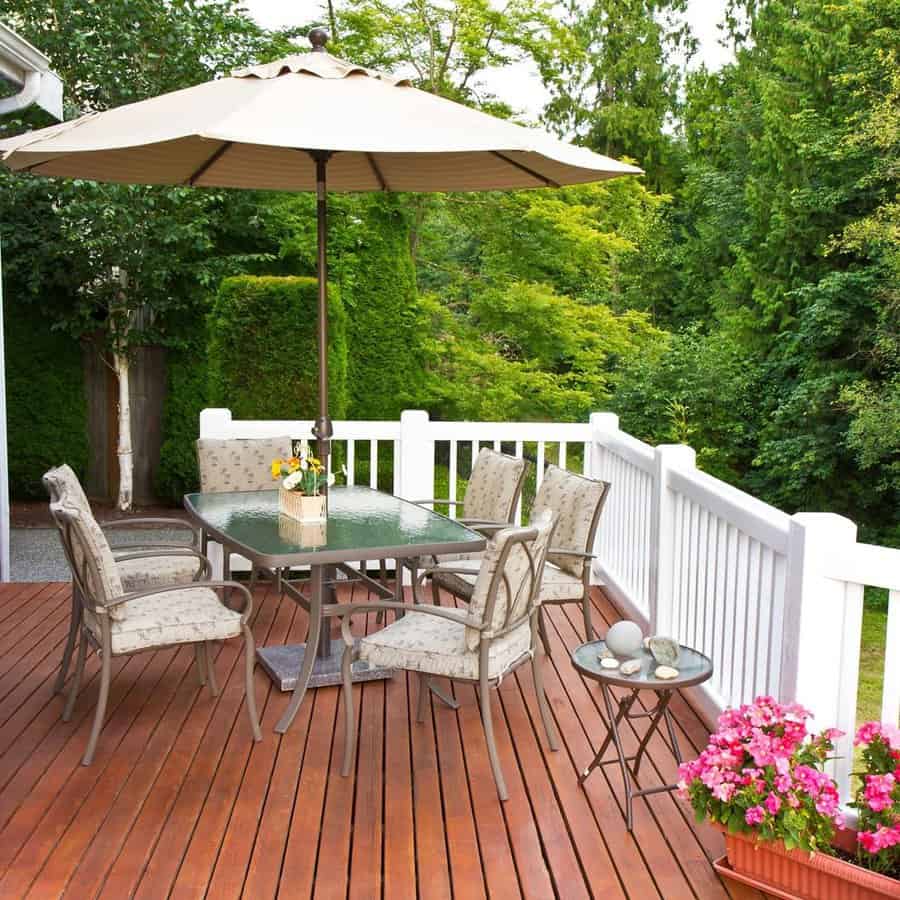 3. Adirondack Chairs
These iconic chairs bring a touch of rustic elegance to your outdoor space, creating the perfect spot to unwind and enjoy the beauty of nature. Whether you have a small deck or a spacious patio, Adirondack chairs are a versatile choice that fits seamlessly into any design aesthetic. Imagine yourself lounging in a comfortable Adirondack chair, sipping your favorite beverage, and soaking up the sun's rays.
The wide armrests provide a convenient spot to rest a book or a refreshing drink, adding to the overall comfort and functionality. Made from high-quality materials such as wood or durable resin, these chairs are designed to withstand the elements and provide years of enjoyment. You can choose from a variety of finishes and colors to match your personal style and complement your outdoor decor.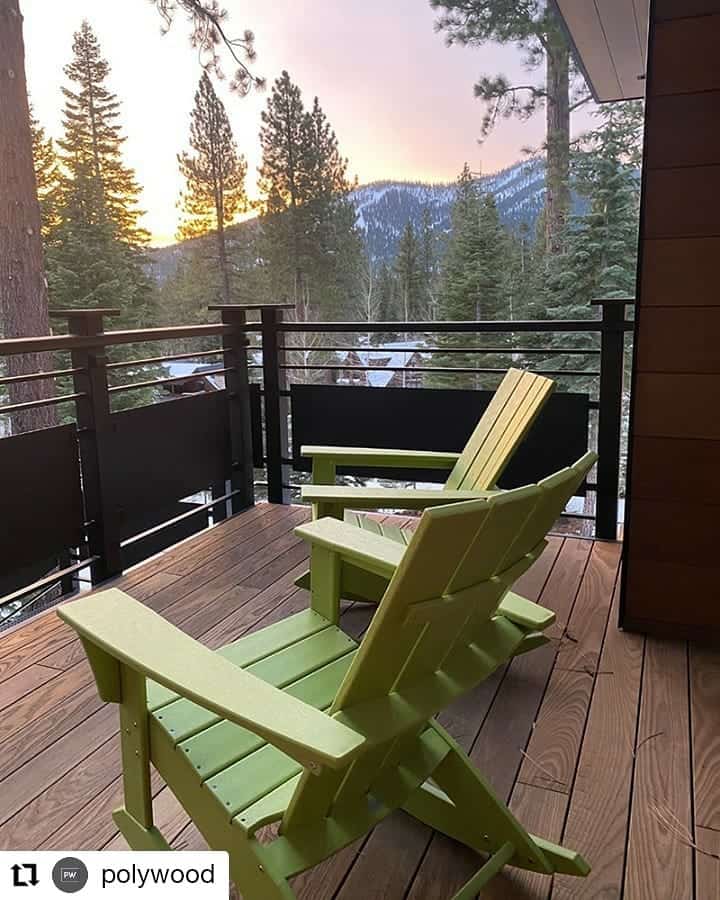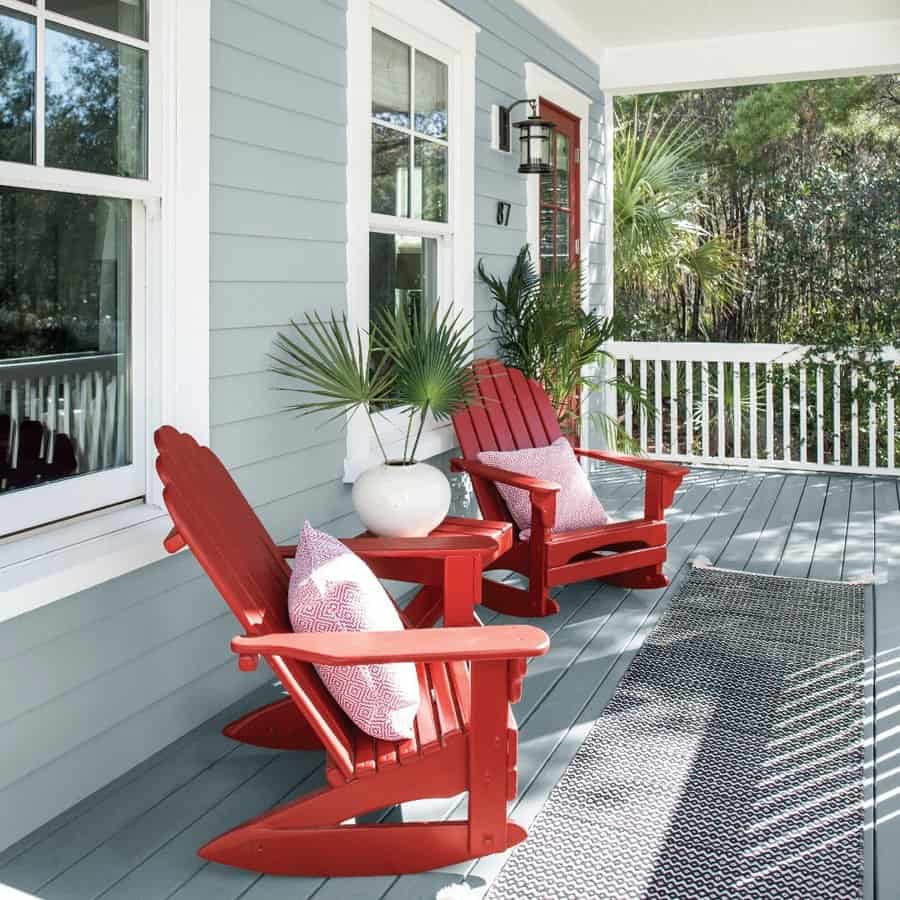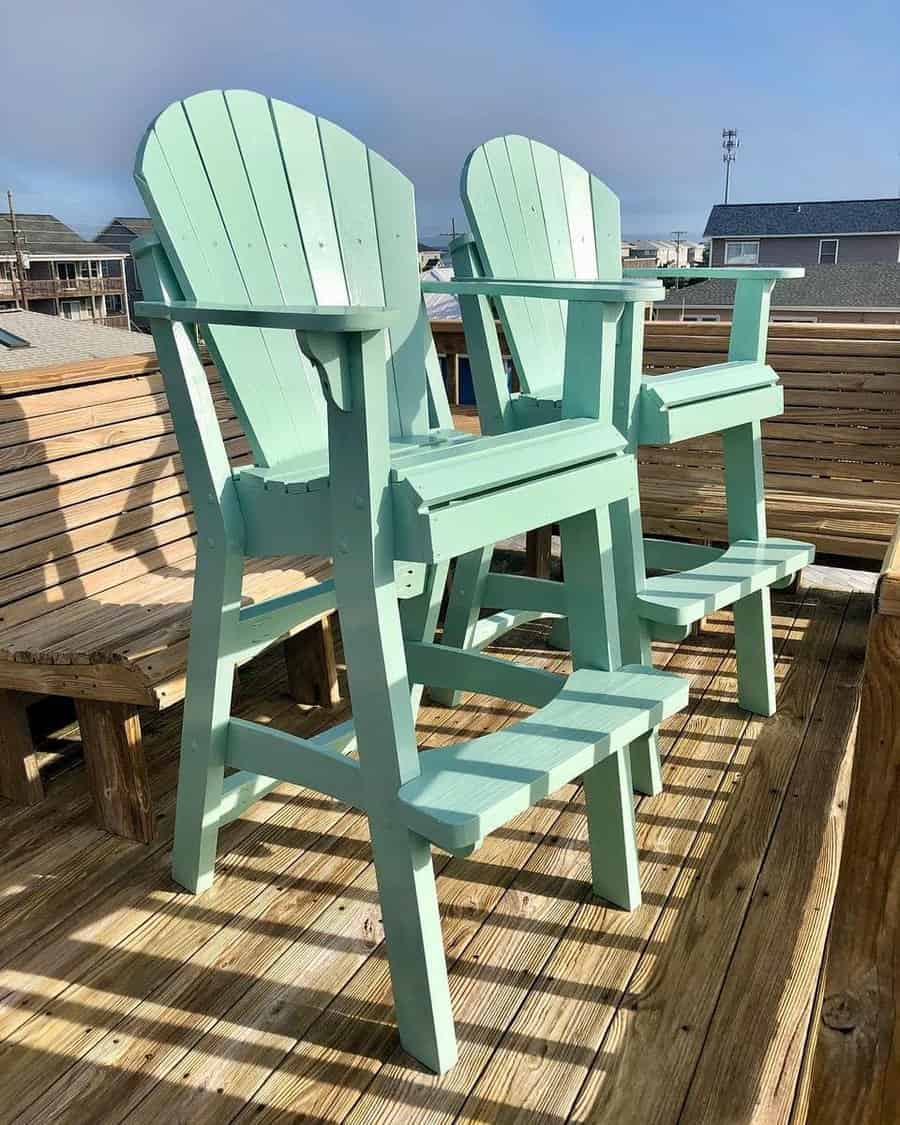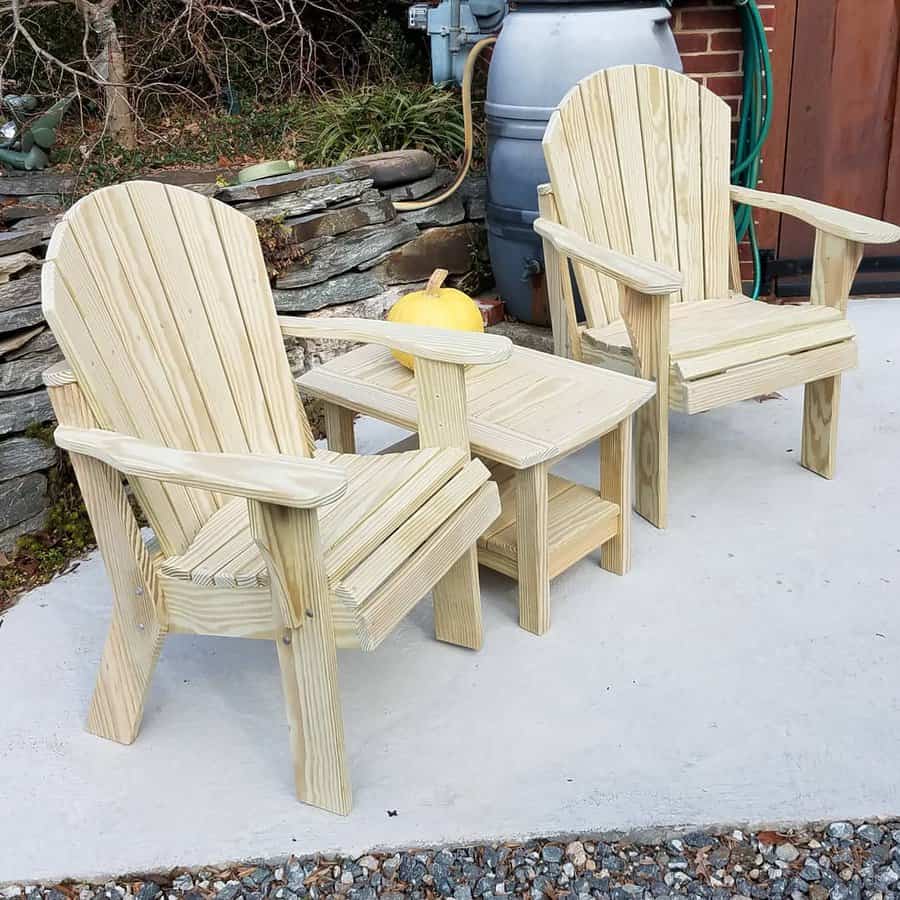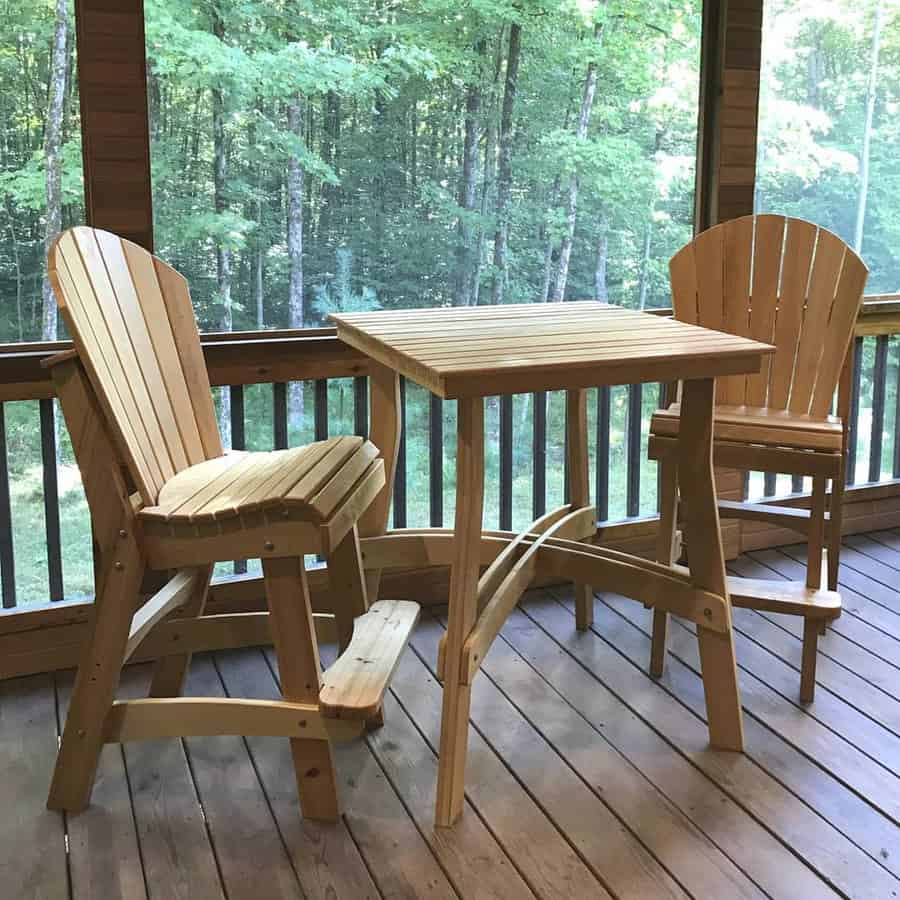 3. Deck Benches
These deck benches not only offer comfortable seating but also serve as functional storage solutions. Imagine stylish and streamlined benches lining the perimeter of your deck, providing ample seating for gatherings or moments of solitude.
With built-in storage compartments beneath the seats, you can conveniently stow away cushions, outdoor accessories, or even gardening tools, keeping your deck area clutter-free. The benches can be customized to match your preferred style, whether it's sleek and modern or rustic and charming. Add cushions and throw pillows for extra comfort and a pop of color, creating a cozy atmosphere for outdoor relaxation.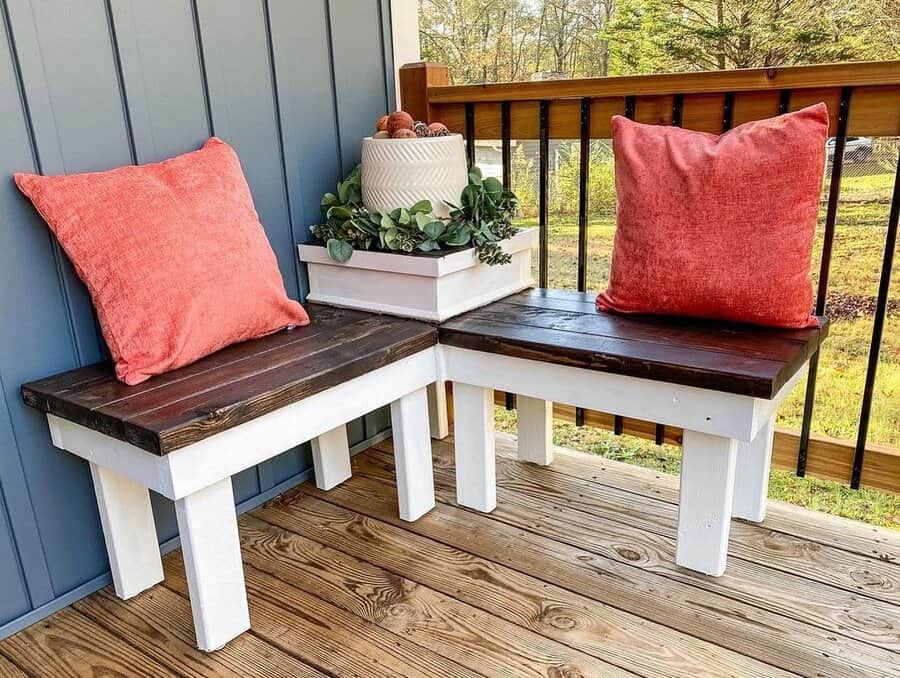 4. Glass Deck Fence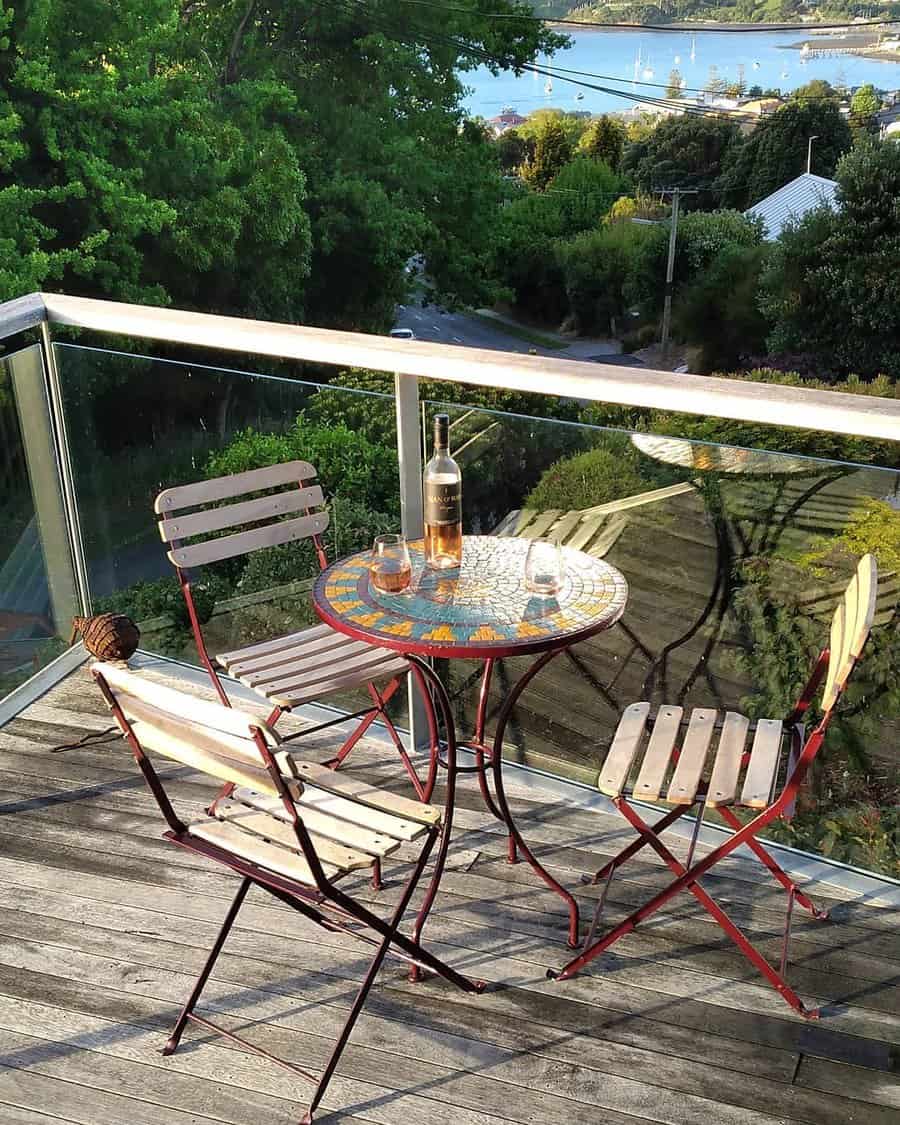 5. Backyard Deck Garden
Imagine stepping onto your deck and being greeted by a lush oasis of greenery and vibrant blooms. By incorporating potted plants and strategically placing them throughout the deck, you can create a harmonious balance between nature and architecture. Choose a variety of plants that thrive in pots, from cascading vines to sculptural succulents, and let their beauty transform your deck into a private sanctuary.
Consider the surrounding trees as a natural backdrop, allowing their branches to provide shade and dappled sunlight that dances through the foliage. With carefully selected seating and stylish accessories, your deck becomes an inviting space for relaxation and entertainment. Whether you're sipping a morning coffee or hosting an al fresco dinner, the deck garden creates an atmosphere that connects you with the beauty of the outdoors.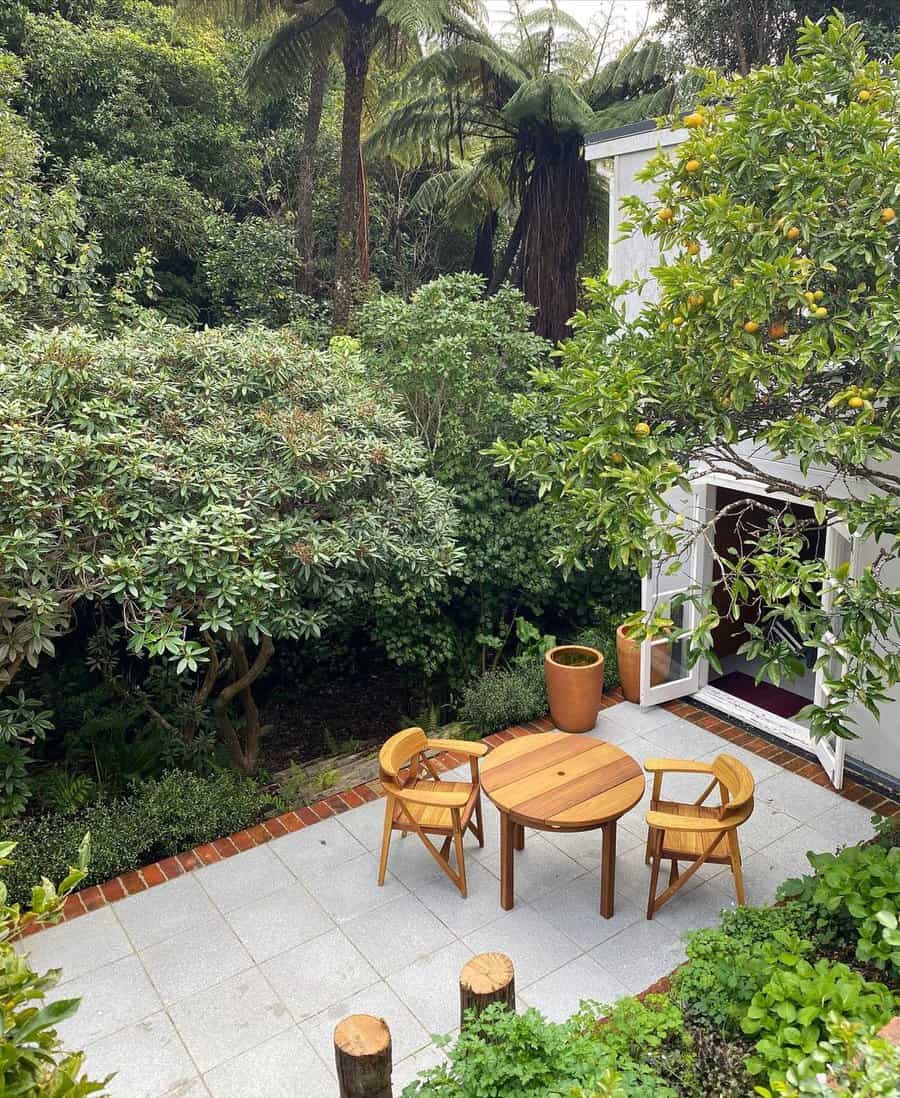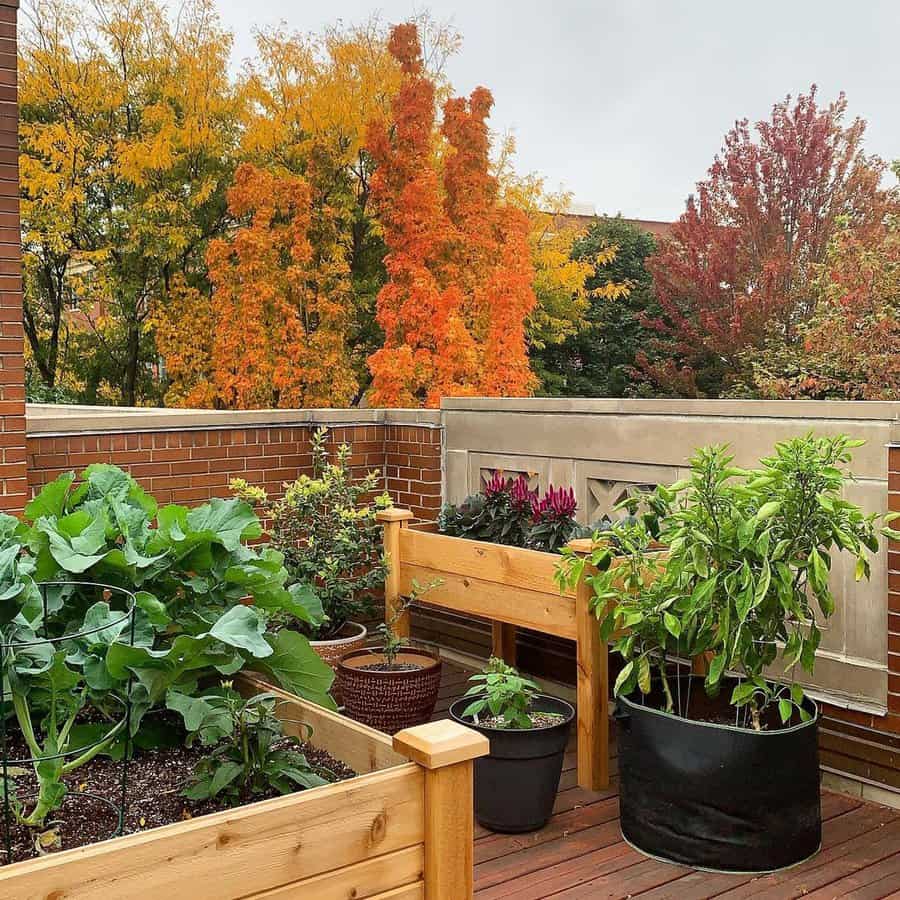 6. Backyard Deck Fire Pit
A backyard firepit deck provides the perfect setting for relaxation and cozying up. With a variety of materials and designs available, you can create a customized space that suits your style and needs. Opt for a sleek and modern firepit built into the deck, seamlessly blending into the overall design. Alternatively, go for a rustic and natural look with a stone or brick firepit nestled amidst the deck's wooden planks.
Enhance the ambiance by adding comfortable seating options, such as stylish outdoor sofas or cushioned chairs, where guests can unwind and enjoy the warmth of the fire. To create a truly magical atmosphere, incorporate soft outdoor lighting and surrounding greenery. Whether you're hosting a gathering or simply seeking a tranquil retreat, a backyard firepit deck is a perfect addition to transform your outdoor space into a cozy oasis.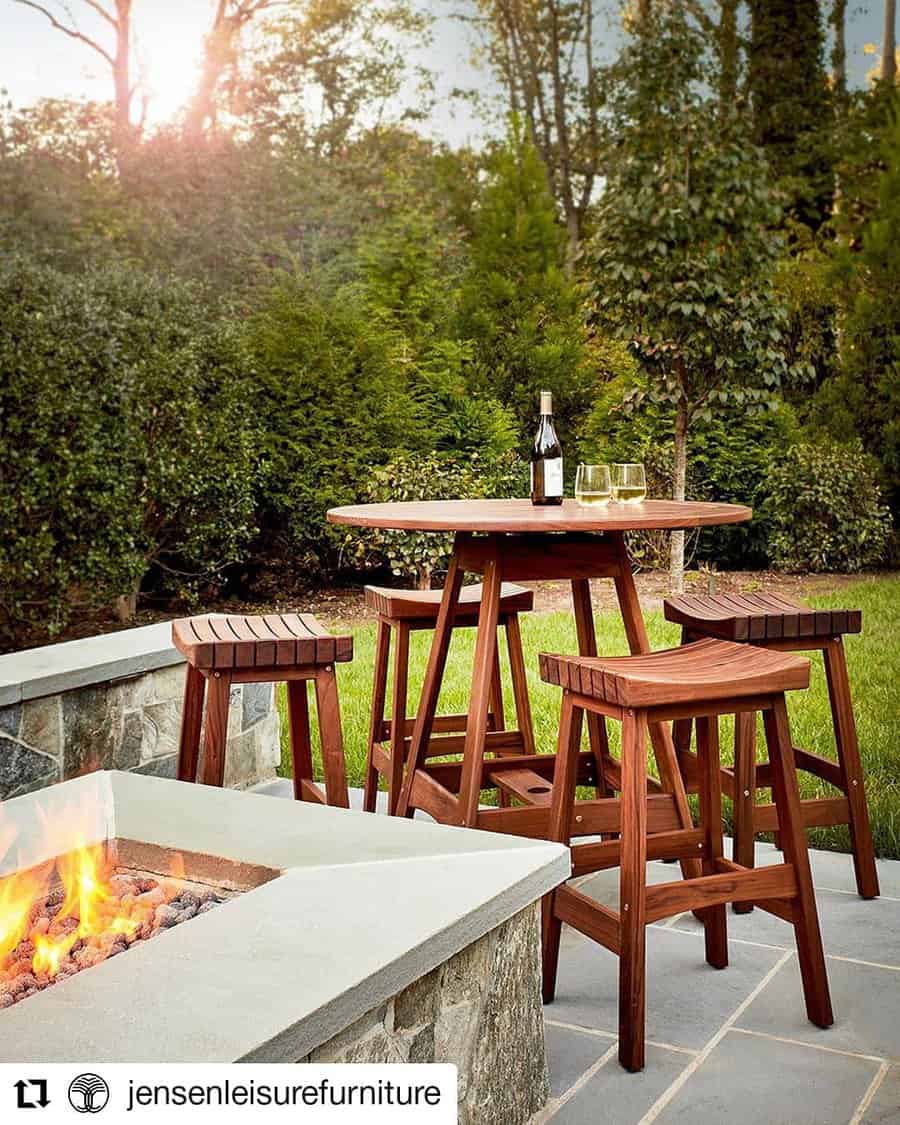 7. Privacy Fence
A backyard deck with a privacy fence not only provides seclusion but also adds a touch of sophistication to your outdoor space. Choose a fence design that complements your aesthetic, whether it's a sleek modern look or a charming rustic vibe. Incorporate elements like wood or composite decking materials for a natural and timeless appeal.
Enhance the ambiance with soft outdoor lighting, creating a cozy atmosphere for evening gatherings. You can also consider adding built-in planters or trellises to incorporate greenery and flowers, adding a fresh and vibrant touch to your deck. Whether you're hosting intimate gatherings or enjoying peaceful solitude, a backyard deck with a privacy fence offers the perfect combination of style and seclusion.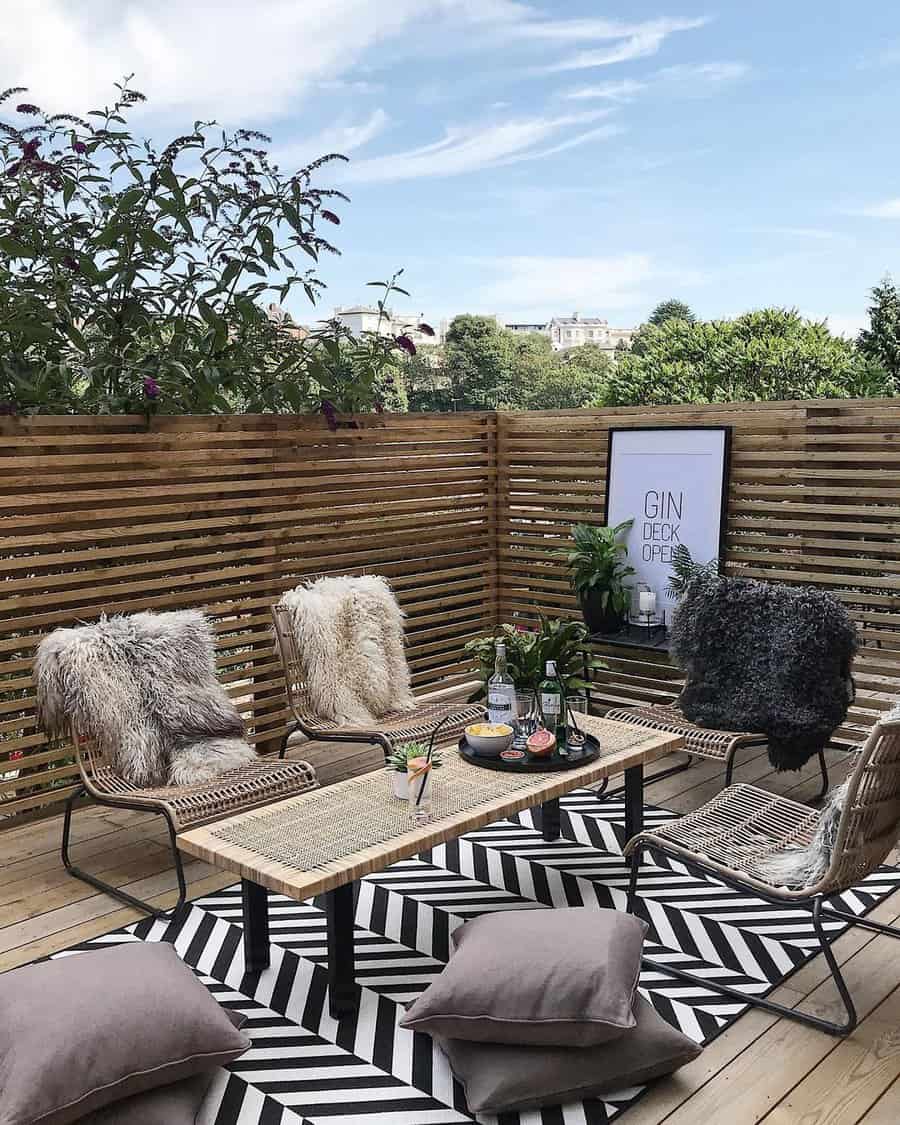 8. Wood Pallet Deck
Embrace the rustic charm and eco-friendly appeal of repurposing wooden pallets to create a unique outdoor space. By arranging and securing the pallets together, you can construct a versatile and budget-friendly deck that adds a touch of chic design to your backyard. The beauty of a wood pallet deck lies in its versatility. You can customize the size and layout to fit your space perfectly, whether it's a small corner or a sprawling backyard.
Enhance the natural aesthetics by staining or painting the pallets in a color that complements your outdoor decor. Add cozy seating, vibrant cushions, and outdoor rugs to create a comfortable and stylish lounging area. Incorporate potted plants and string lights to infuse a cozy and inviting ambiance. Whether you envision it as a cozy reading nook, an alfresco dining spot, or a gathering area for friends and family, a wood pallet deck offers endless possibilities.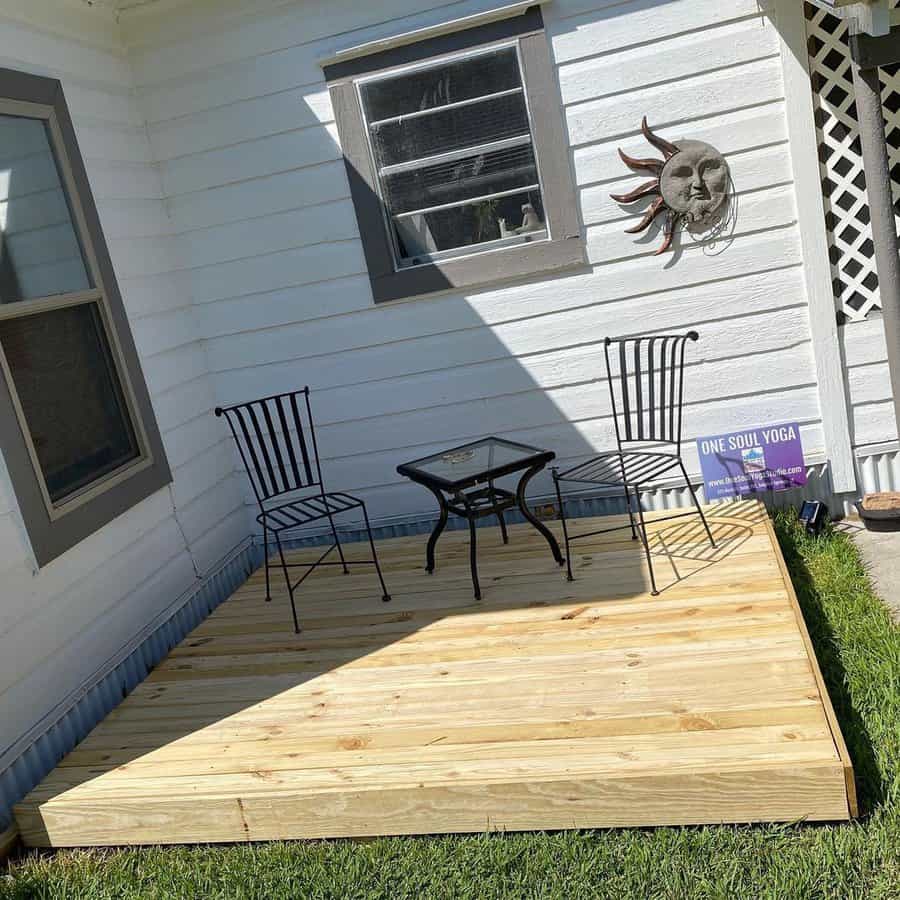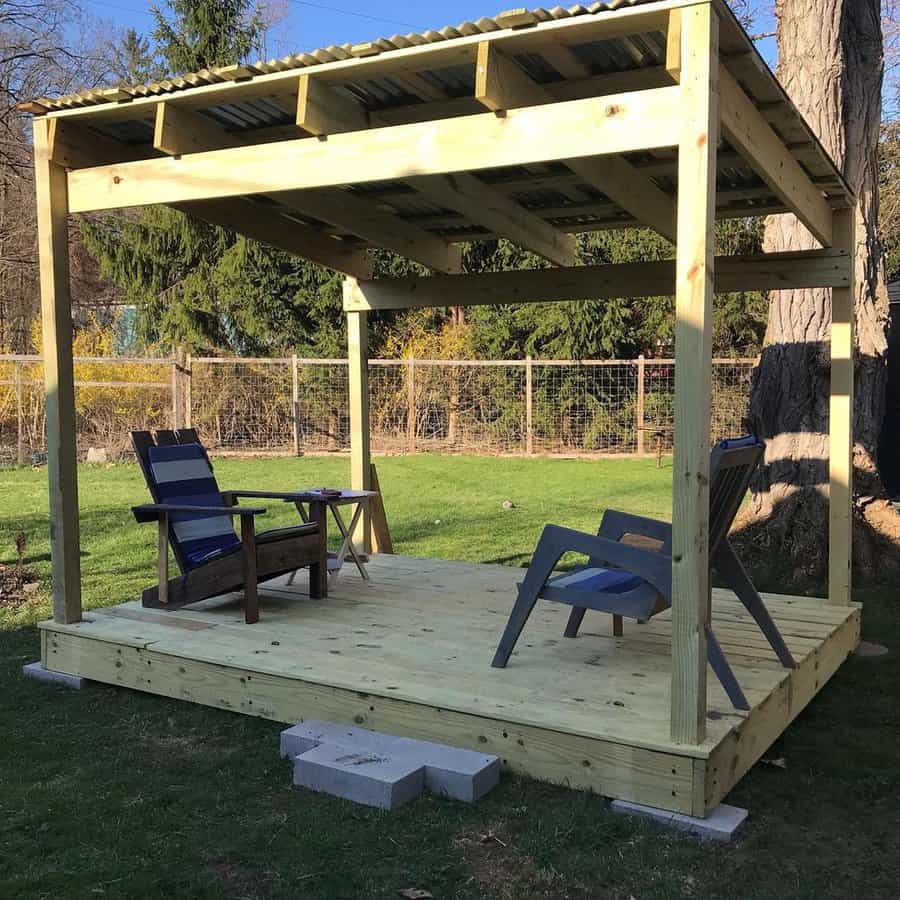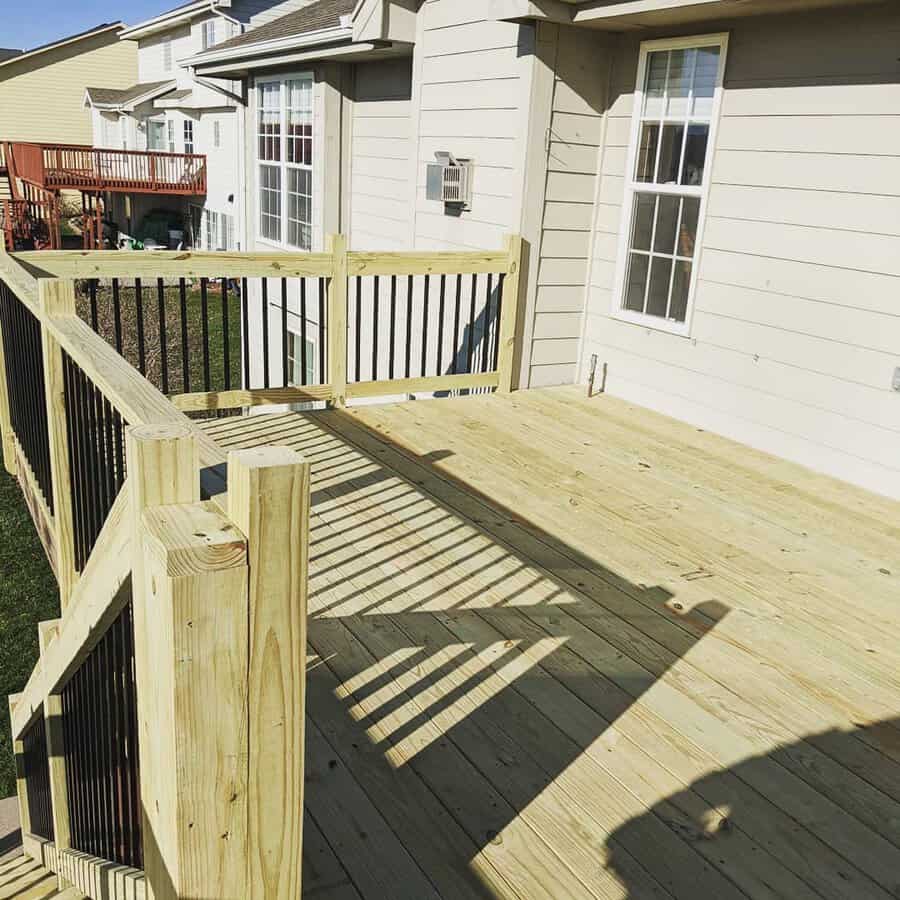 9. Backyard Deck With Steps
Whether you have a sloping yard or simply want to add dimension to your outdoor space, a deck with steps can create a striking focal point. Imagine stepping out onto your deck, taking in the panoramic views, and feeling a sense of tranquility. The design possibilities are endless – from a sleek and modern deck with clean lines and minimalist aesthetics to a rustic and charming deck that exudes warmth and coziness.
Choose from a variety of materials, such as durable composite decking or classic wooden planks, to achieve the desired look and feel. Add stylish railings for safety and visual interest, and don't forget to incorporate lighting options that enhance the ambiance and make your deck a welcoming retreat day or night. With a backyard deck featuring steps, you can effortlessly connect different areas of your outdoor space, creating a seamless transition from your home to nature's embrace.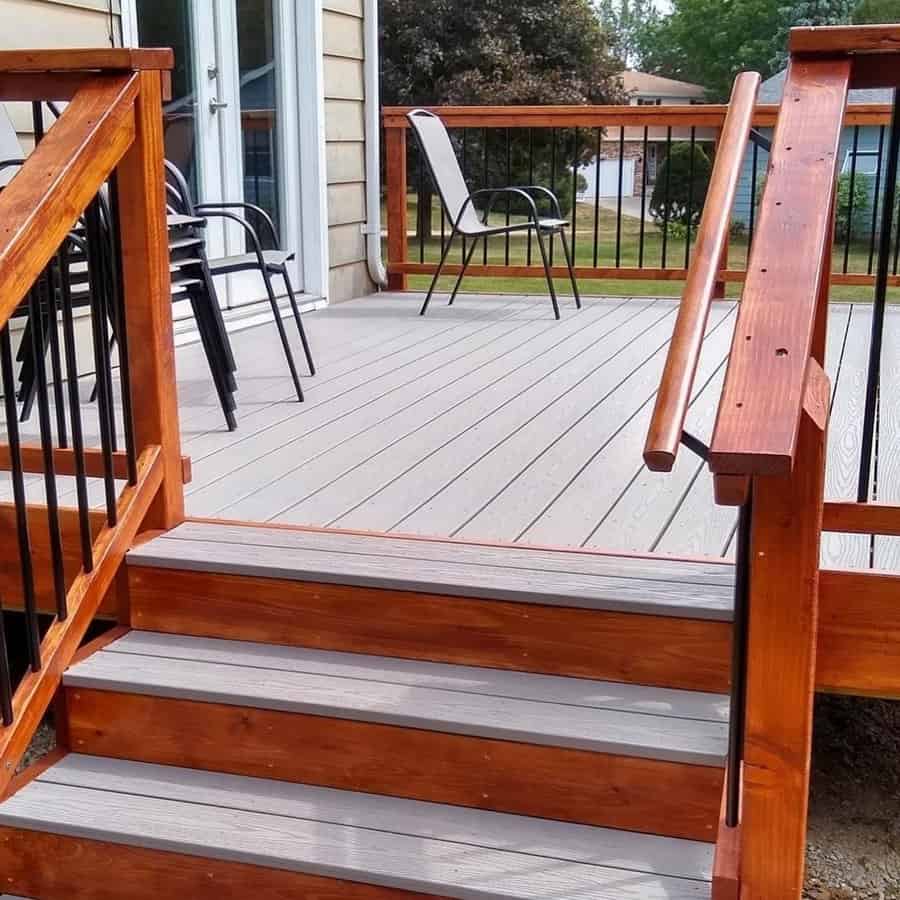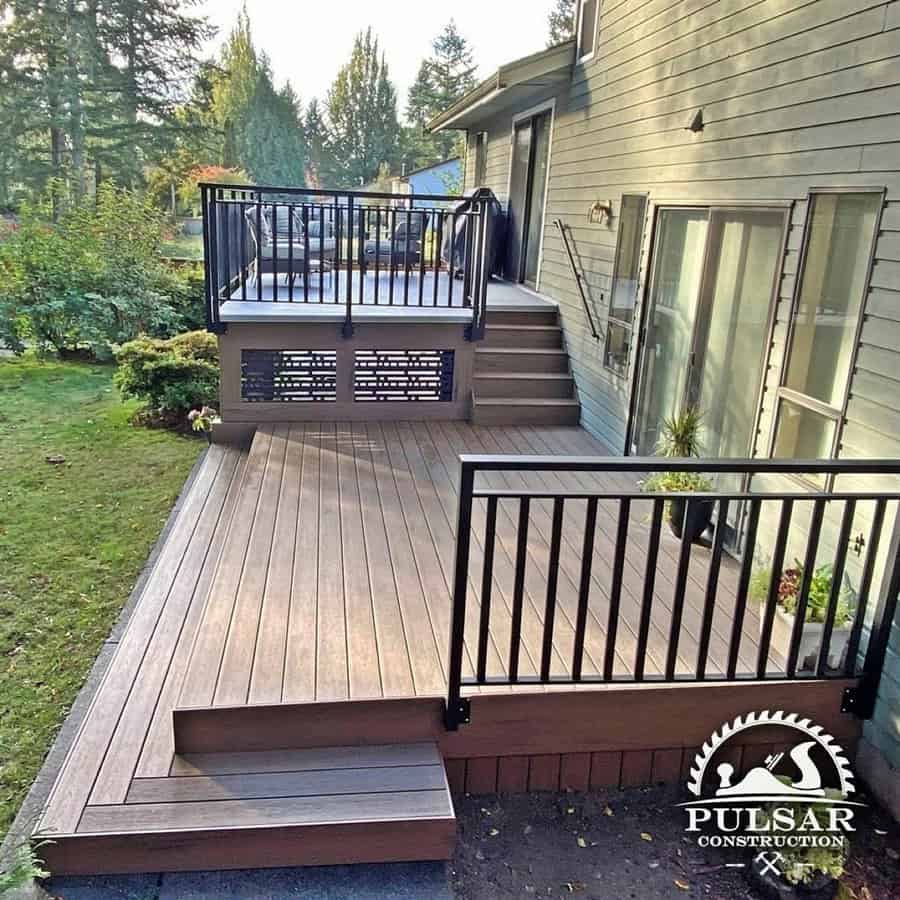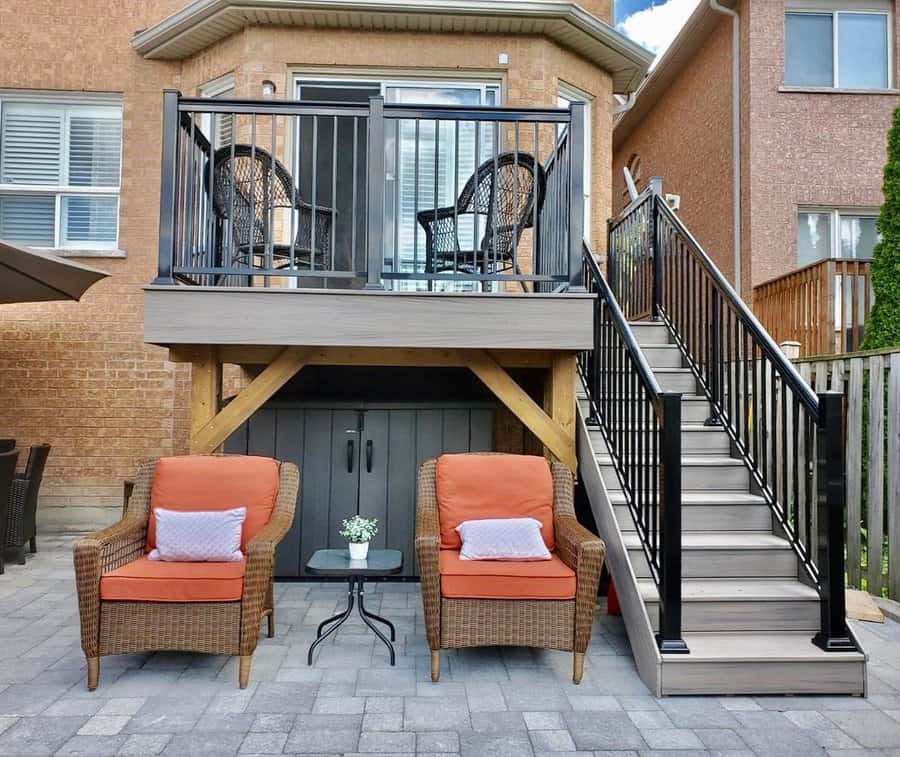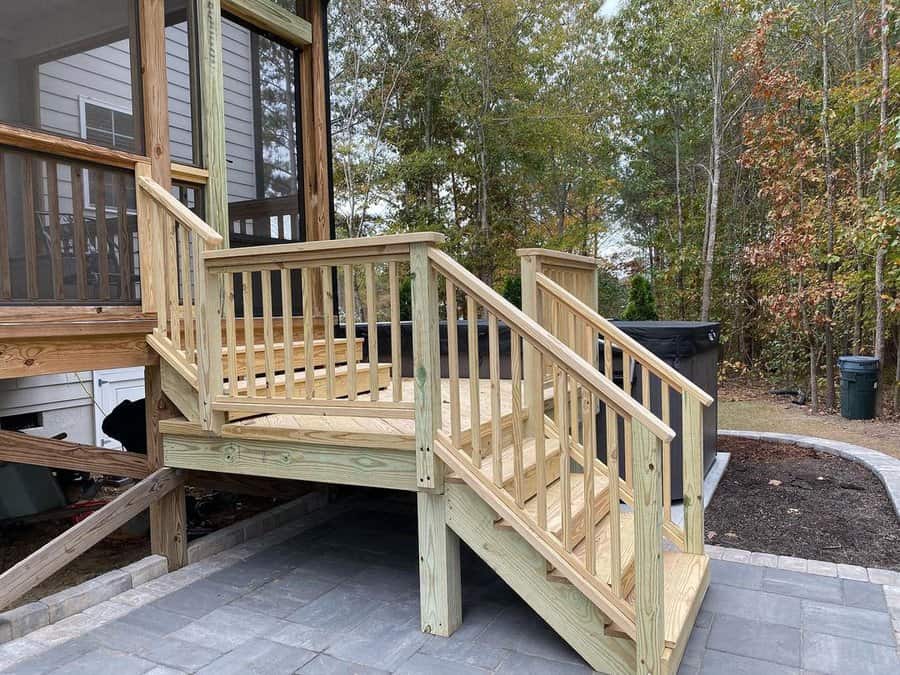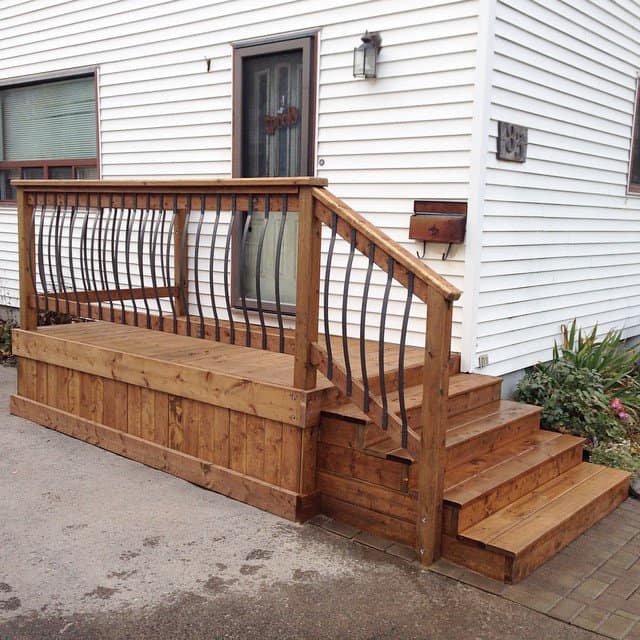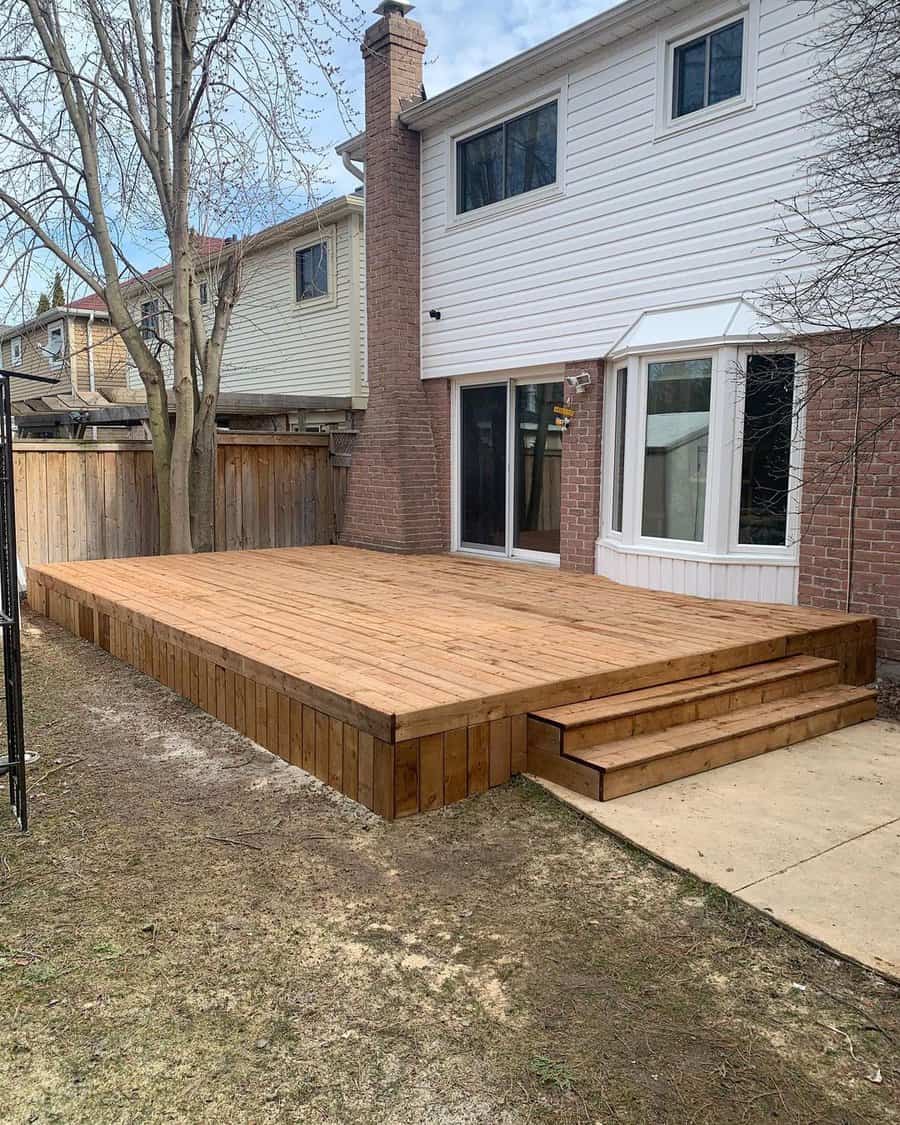 10. Backyard Deck With Pergola
This stunning addition combines the functionality of a deck with the charm and elegance of a pergola, creating a perfect outdoor space for relaxation and entertainment. Picture yourself lounging on comfortable outdoor furniture beneath the dappled shade of a pergola, surrounded by lush greenery and enjoying the gentle breeze. The deck provides a solid foundation for your outdoor activities, whether it's hosting intimate gatherings or simply unwinding after a long day.
With a pergola, you can add an element of sophistication and architectural interest to your deck, enhancing its overall aesthetic appeal. Consider adorning the pergola with twinkling string lights or climbing vines to create a romantic ambiance during evening gatherings. You can also customize the design and materials of your backyard deck pergola to match your personal style and complement the existing architecture of your home.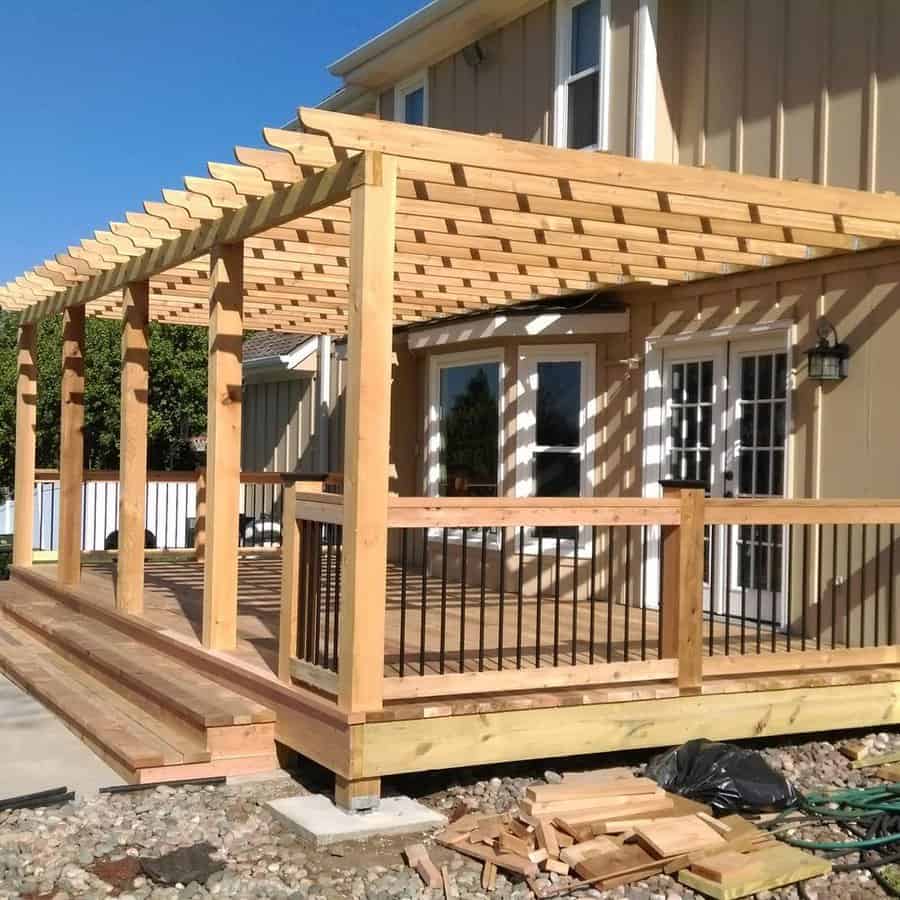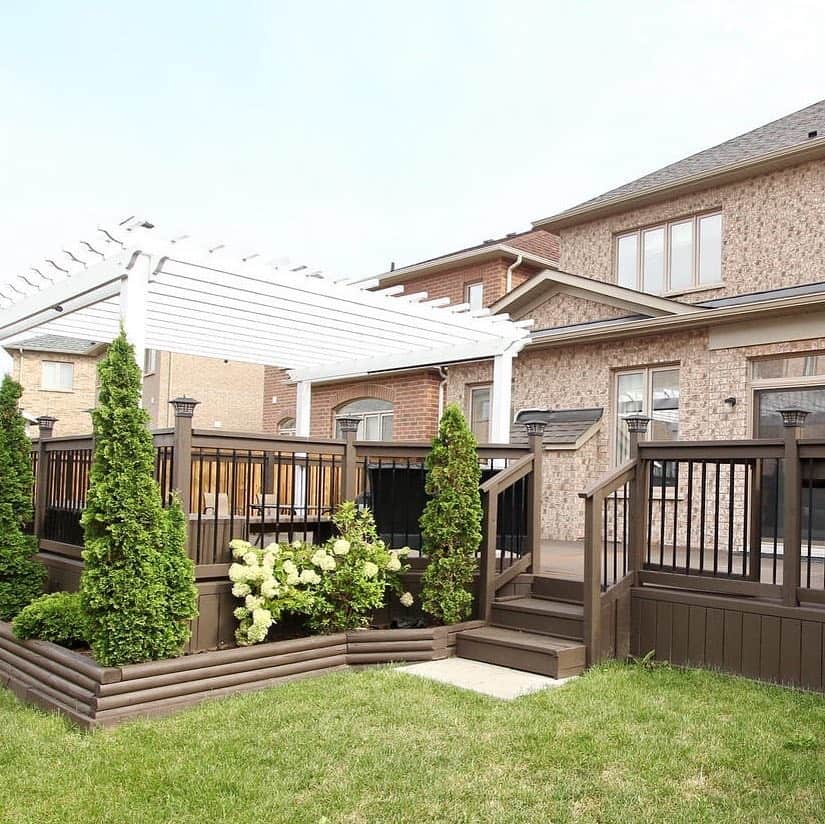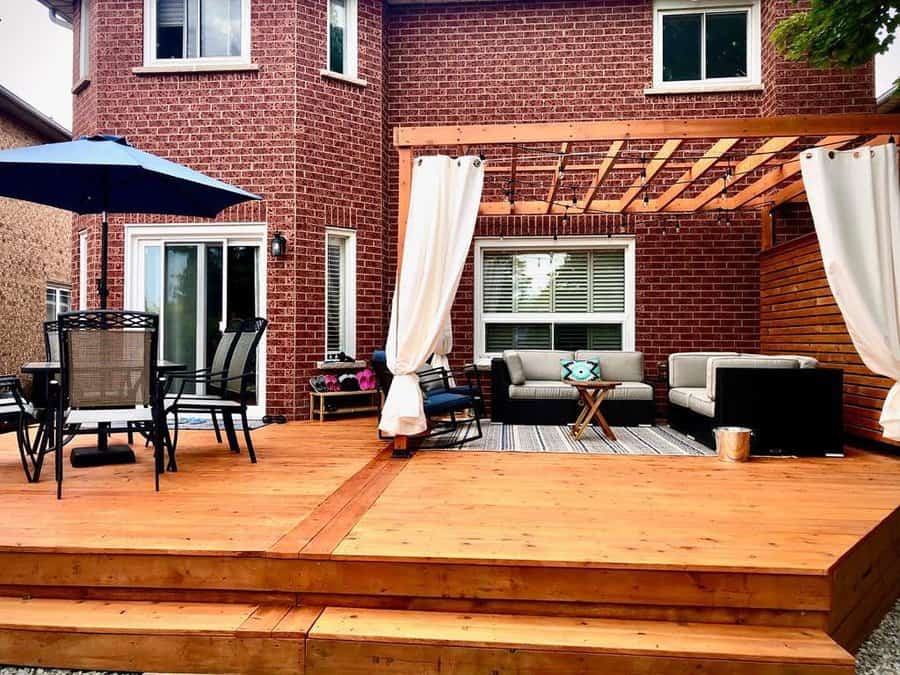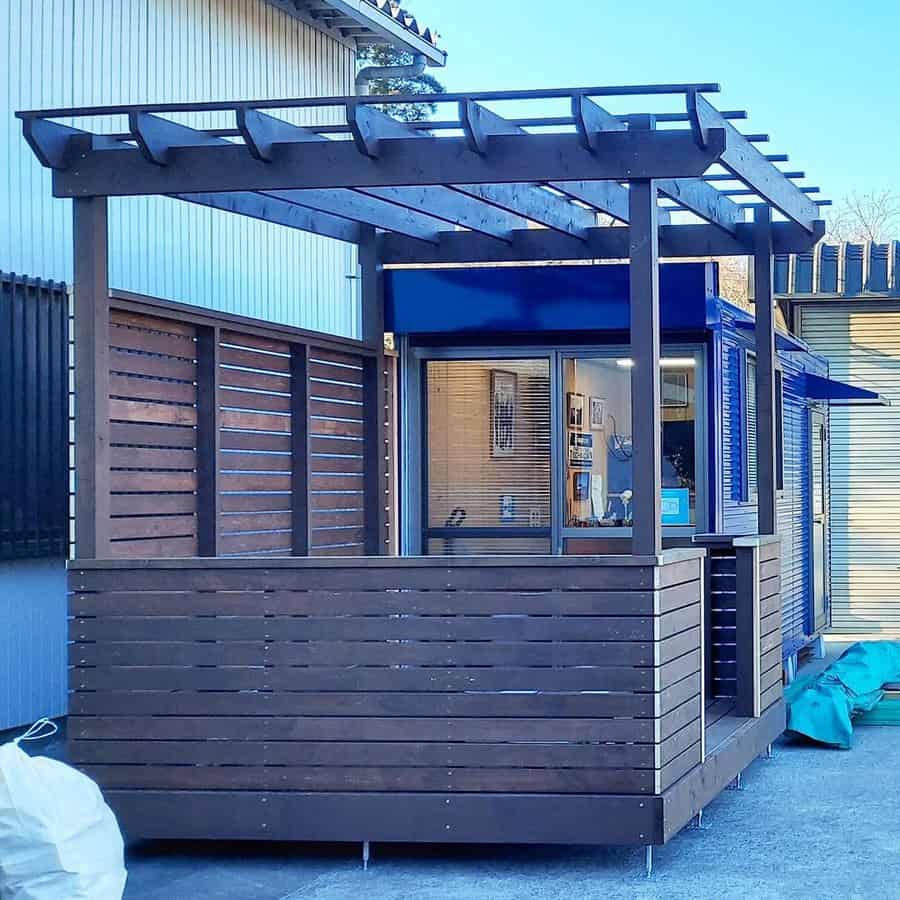 11. Vinyl Backyard Deck
With a wide range of colors and textures available, vinyl decks offer endless possibilities to create a stylish outdoor oasis that reflects your personal taste. Whether you prefer the look of natural wood grain or a sleek contemporary finish, vinyl decks can be customized to suit any design aesthetic.
The best part? They require minimal upkeep, making them an ideal choice for busy homeowners who still want to enjoy the beauty of a deck without regular maintenance. Say goodbye to sanding, staining, and sealing, and say hello to more time spent enjoying your outdoor space.