39 Basement Bathroom Ideas
Having a finished basement is nice, but having a bathroom in it is even better. Adding a bathroom to your finished basement means you never have to run back upstairs every time you need to use the restroom. This doesn't sound like a big deal, but think about how many times you and your friends use the facilities when hanging out.
You don't want to miss a minute of your favorite team playing or have to stop a game every time someone leaves. These basement bathroom ideas are what you need to turn your basement into a functional living space in your home.
1. Play With Words
A basement bathroom can be transformed with playfully framed quotes that reflect its purpose. A great way to accomplish this is to break up the space with a letterboard featuring printed words of wisdom.
Not only will it add dimension, but it will inspire each person who reads it. Try mixing and matching different fonts, sizes, and shapes on the board for an even more unique effect!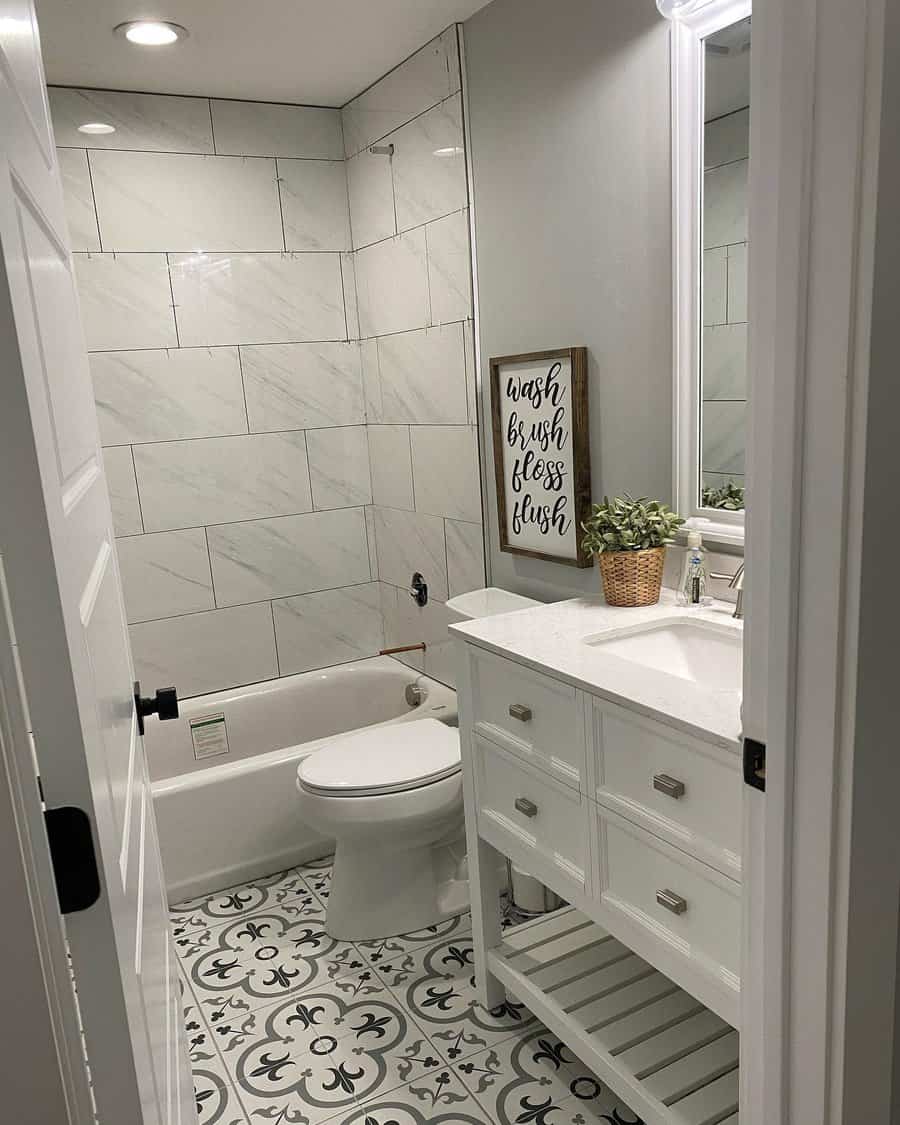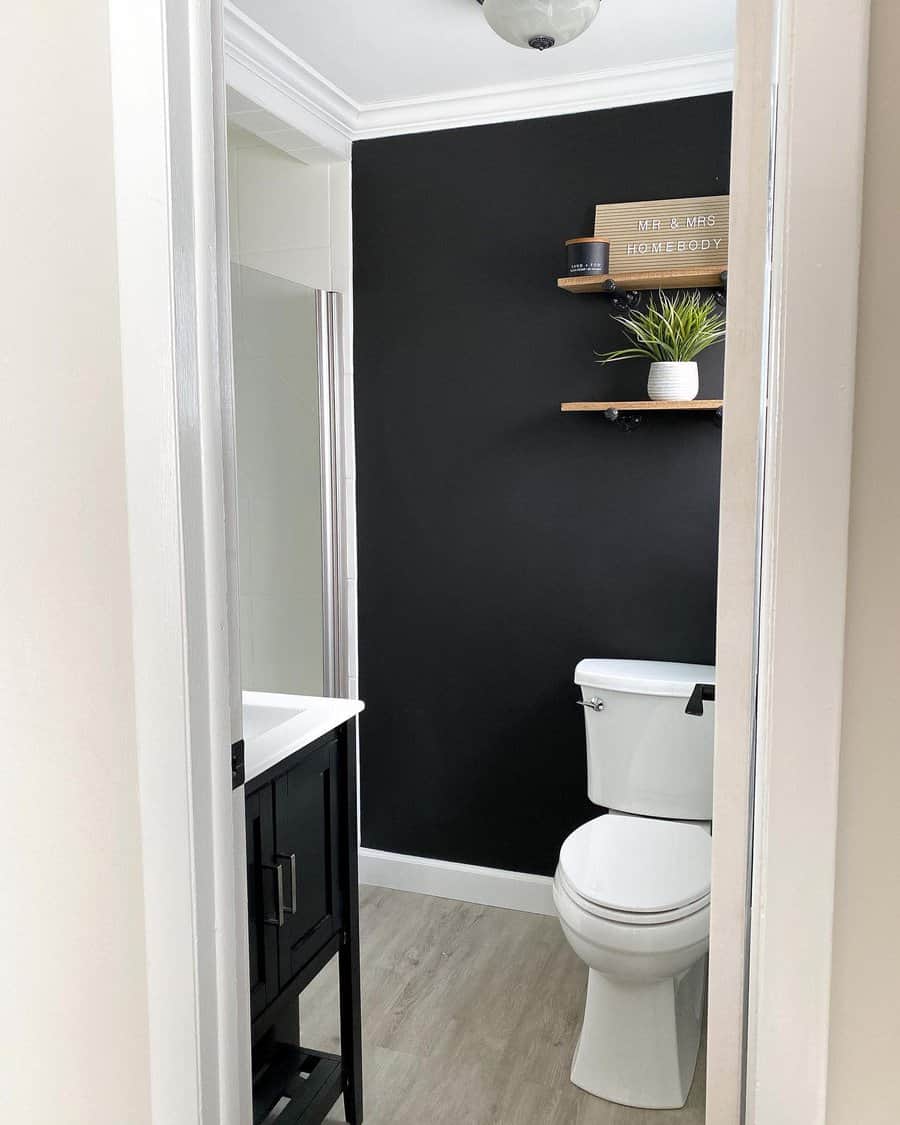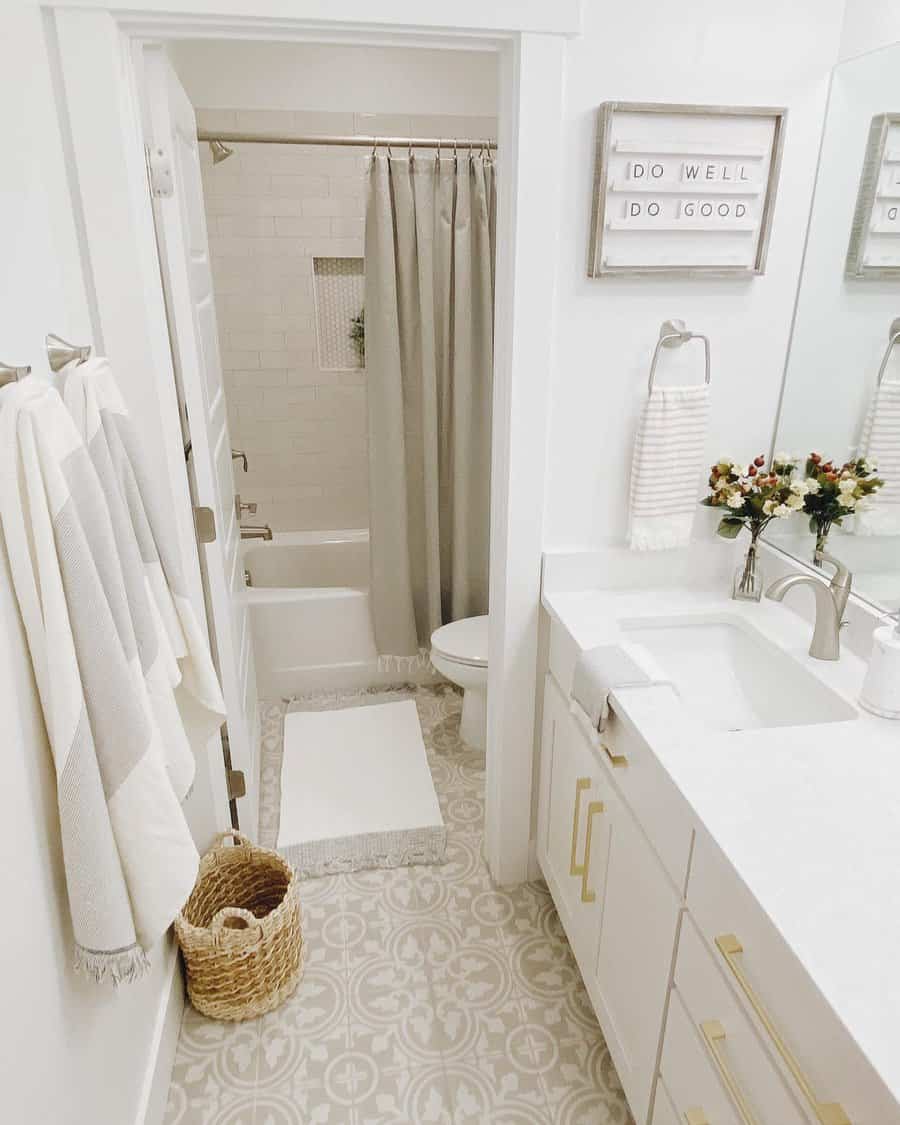 2. Add Mirror Wall Lights
Create the ultimate bathroom experience in your basement with LED mirror wall lights. These LED lights will deliver full and consistent lighting around the entire room, making the perfect space for getting ready to go out or relaxing after a long day.
Finish off the look with a few pendant lamps that add a bright illumination across the whole room, giving you plenty of light to aid in nighttime routines! Not only do LED mirror wall lights provide additional needed lighting, but they also make your bathroom stylish and complete.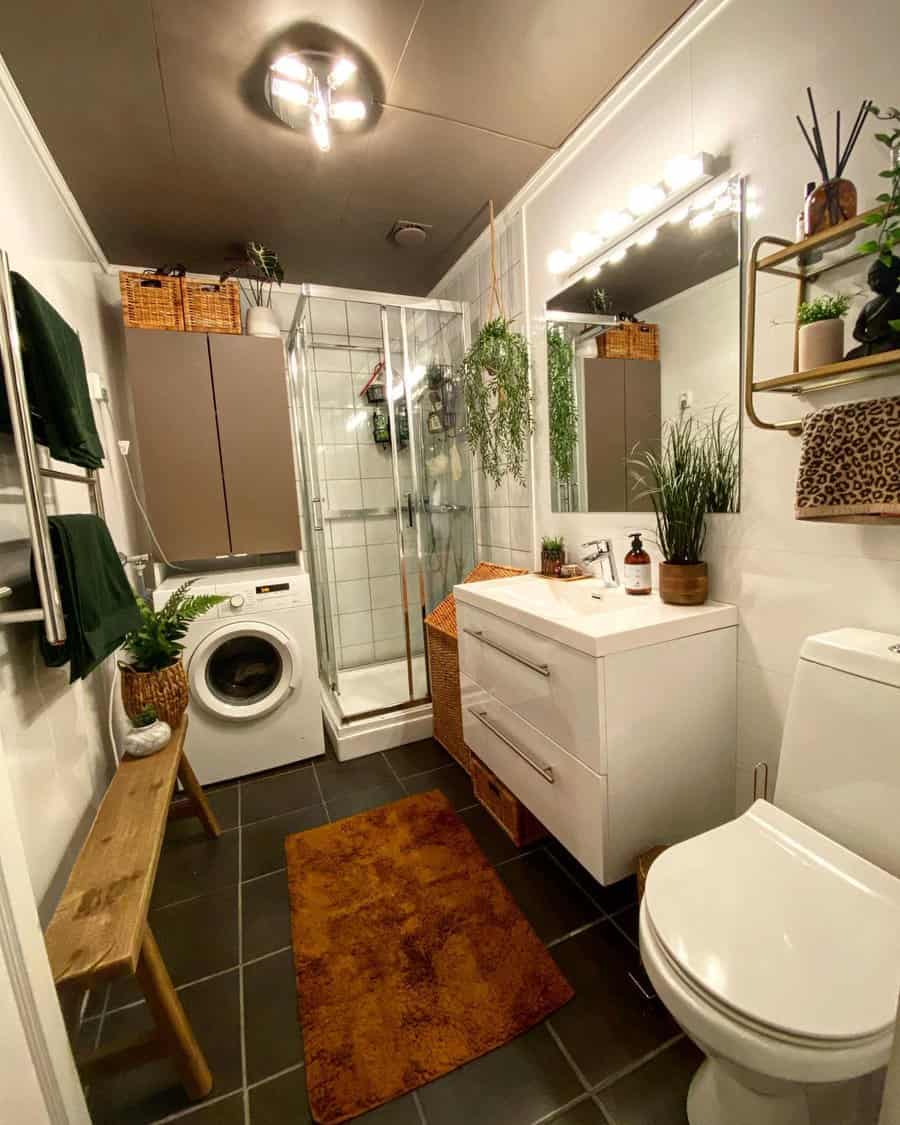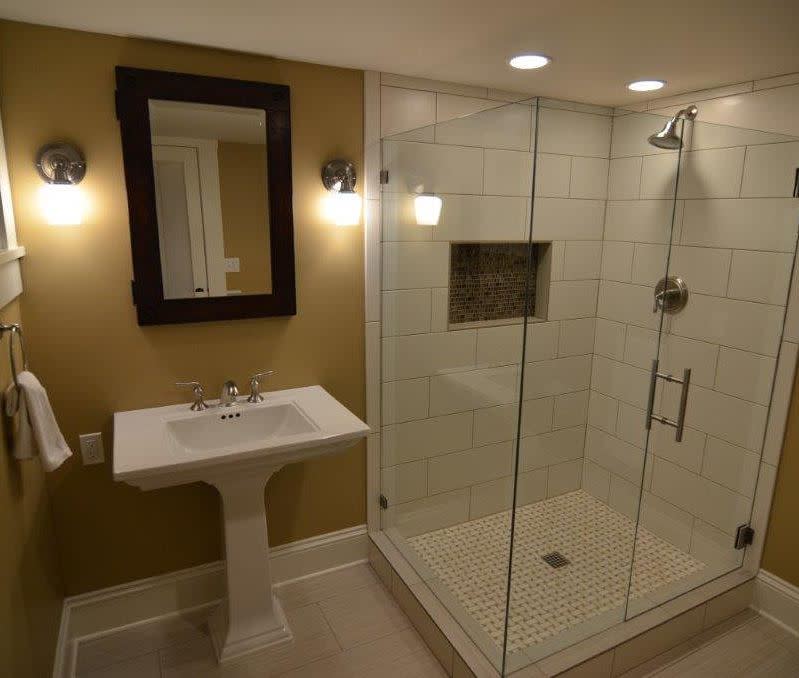 3. Install A Frosted Shower Door
An open basement bathroom can make all the difference in a home! A frosted shower door is a great addition to guarantee privacy and style, while still adding a touch of sophistication. This type of shower door is also quite easy to maintain, making it a smart choice for busy homes.
Spend more time enjoying the bathroom and less time worrying about upkeep with the sleek privacy of a frosted shower door in your basement bathroom.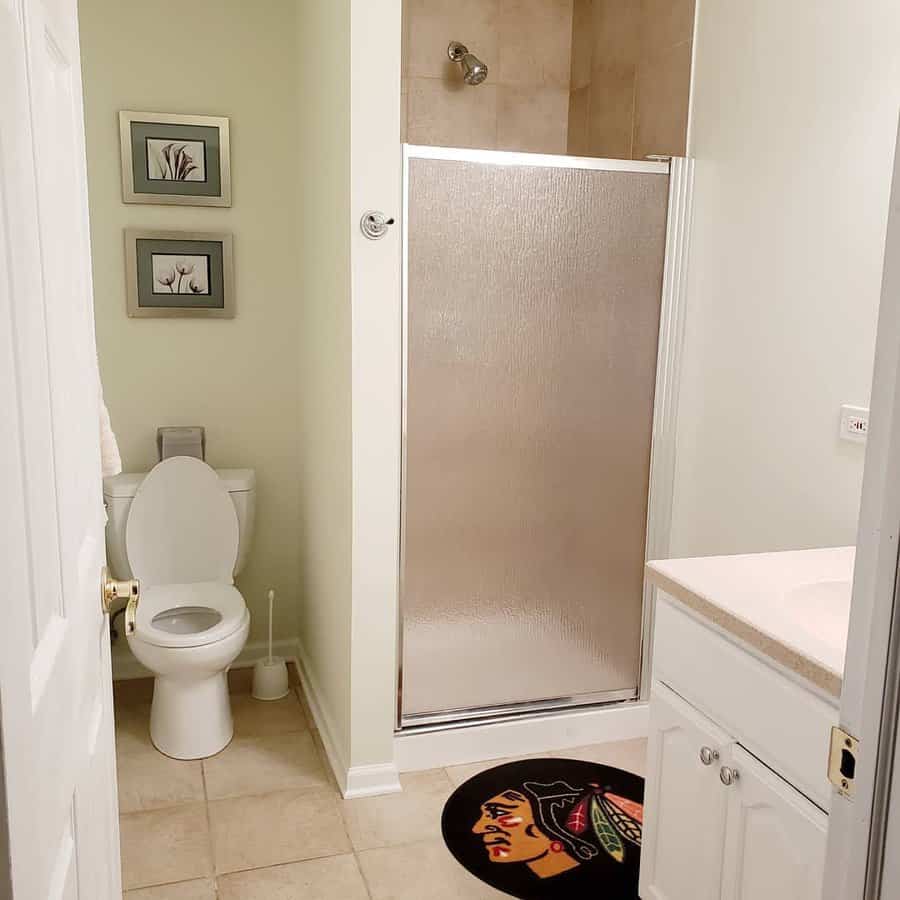 4. Build A Recessed Wall Shelf
Transform your basement bathroom into a witty, efficient haven of wellbeing and relaxation. Utilize recessed wall shelves to store extra towels and toiletry items, so you can reclaim the space lost to bulky furnishings.
These shelves provide ingenuity and reduce clutter while maximizing the use of unused wall space. Make the most of your bathroom with thoughtful shelving solutions that reflect your personality and style.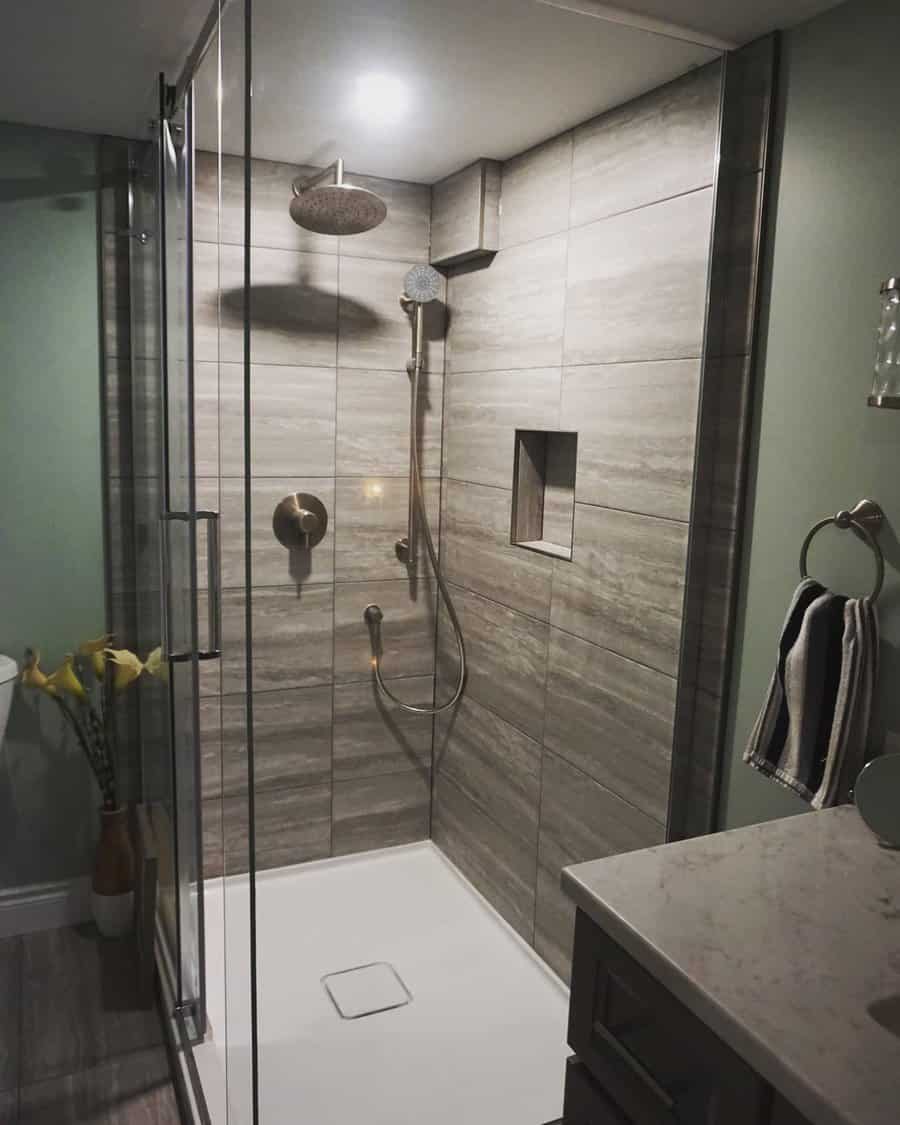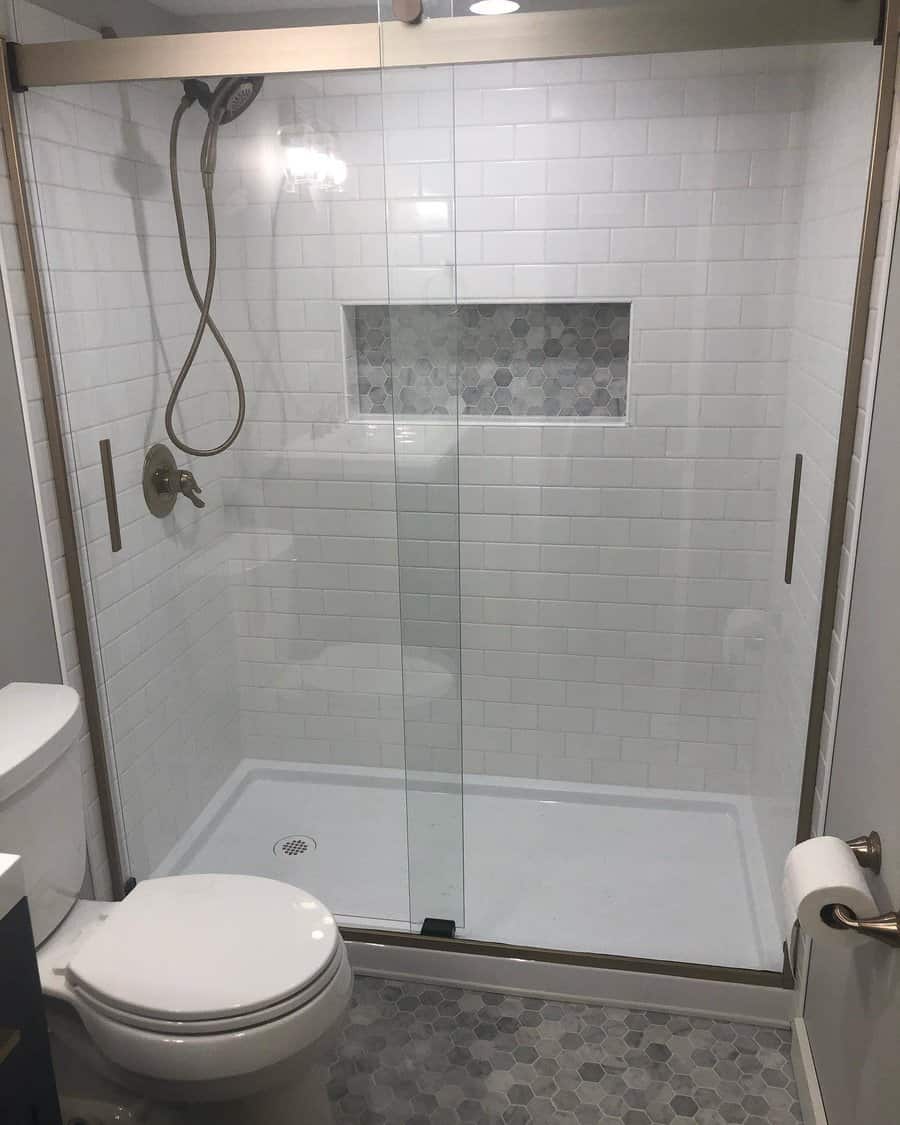 5. Aim For A Vintage Flair
A vintage-style basement bathroom is a perfect choice for homeowners looking for a luxe space to relax and escape the hustle and bustle of daily life. An antique dark wood vanity with a marbled top sets the scene, featuring intricate geometric designs that add a whimsical touch.
To complete this timeless look, hang up an elegant silver or gold framed mirror along the wall, subtly reflecting light around the space to provide an inviting and cozy atmosphere. You may even want to add a few antique accent pieces such as a vase or artwork to take it one step further.
With these simple touches, you can make your vintage-style basement bathroom a special retreat that combines traditional elements with modern practicality.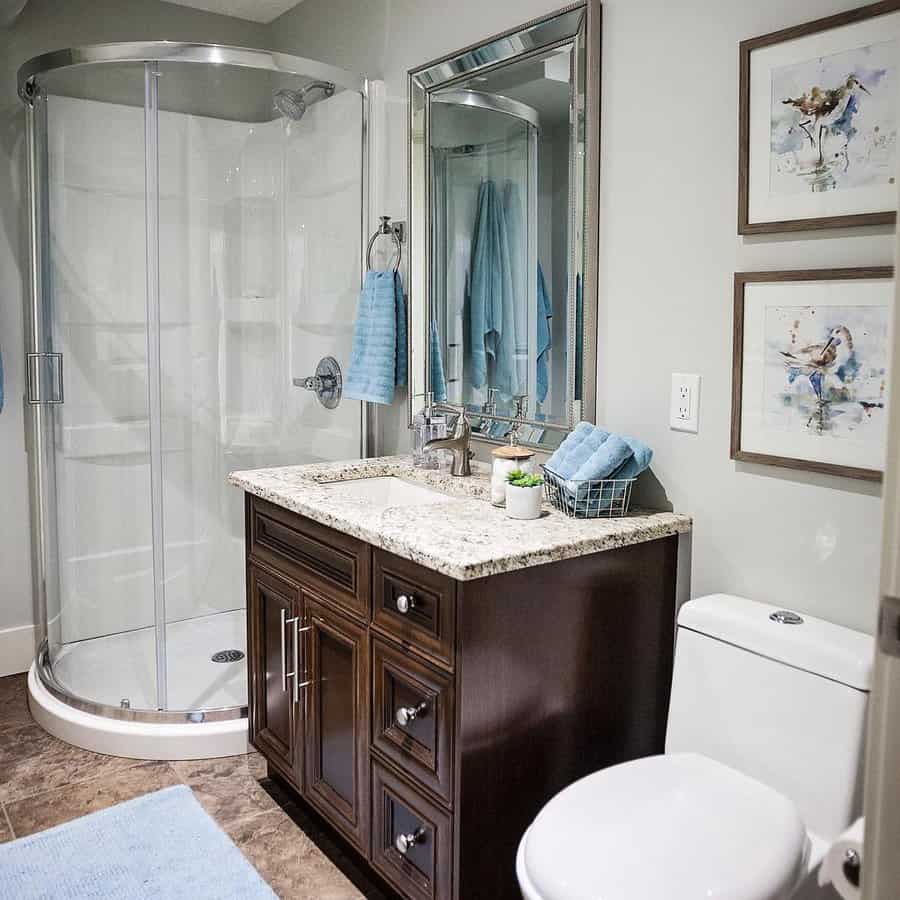 6. Be A Maximalist
For those who love to express themselves in vibrant hues and want to show off their personality even in the tiniest of spaces, look no further than a maximalist basement bathroom.
This is your opportunity to layer on graphic tiles and printed wallpapers in all the most daring colors and patterns, creating a unique space that will transport you across any creative journey.
Whether you decide to go bold with bright yellows and greens or eclectic with mix-and-match neutrals, keep it fun by playing around with tones and shades that speak to your individual taste.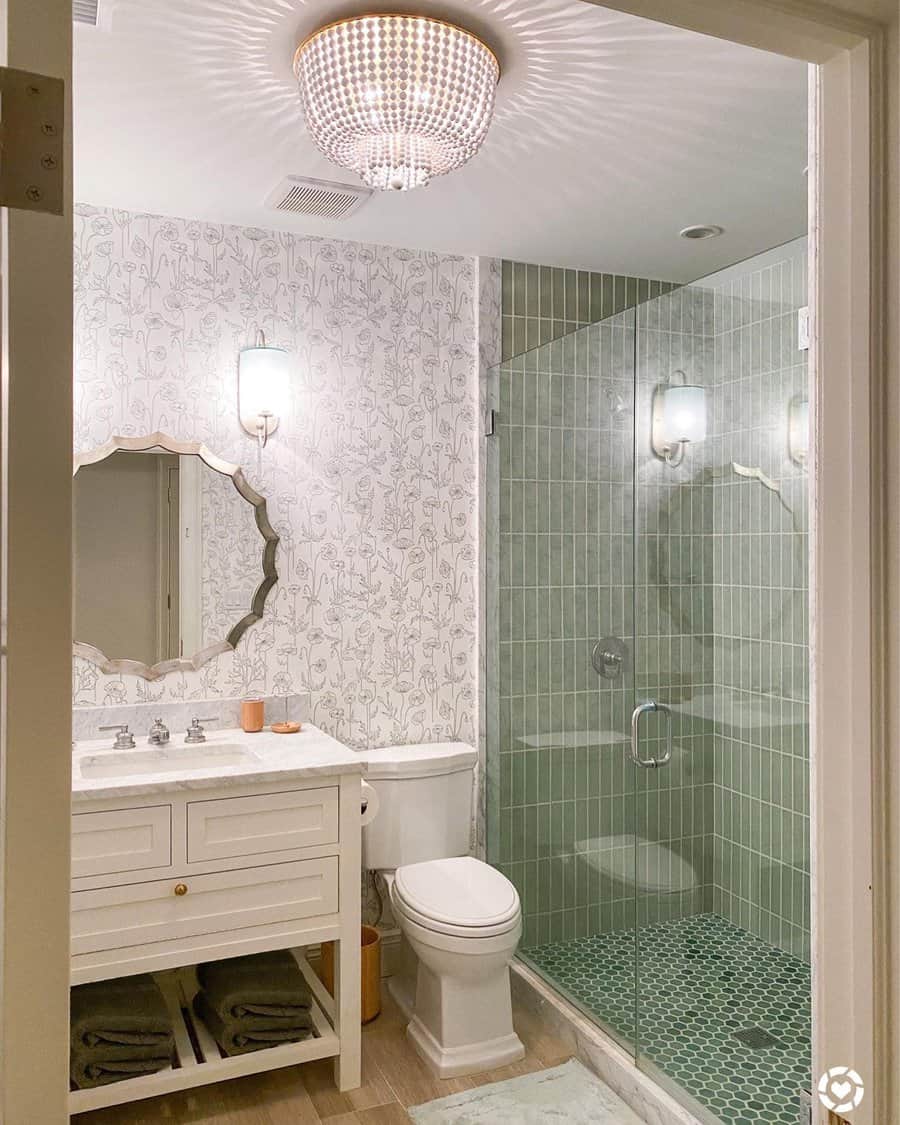 7. Add Decorative Tiles
Give your bathroom an extra special touch by installing some decorative tiles. Whether you are upgrading a dingy old basement bathroom or installing a newly constructed one, adding colorful and unique tiles adds an accent to the minimalist design while also livening up the atmosphere.
For example, why not go for striking marble floors that come in light grey hues tinged with sun-warmed pink? You could even opt for opalescent pastel glass tiles mixed into white subway tile backings, creating an atmosphere of charm and elegance.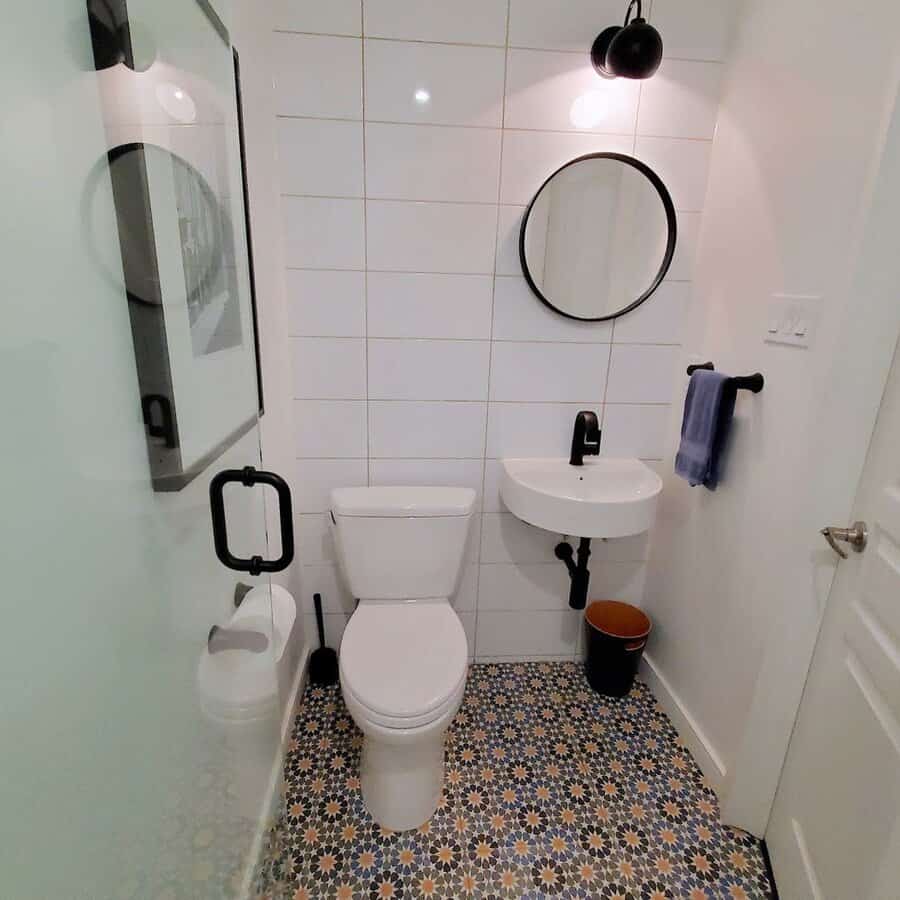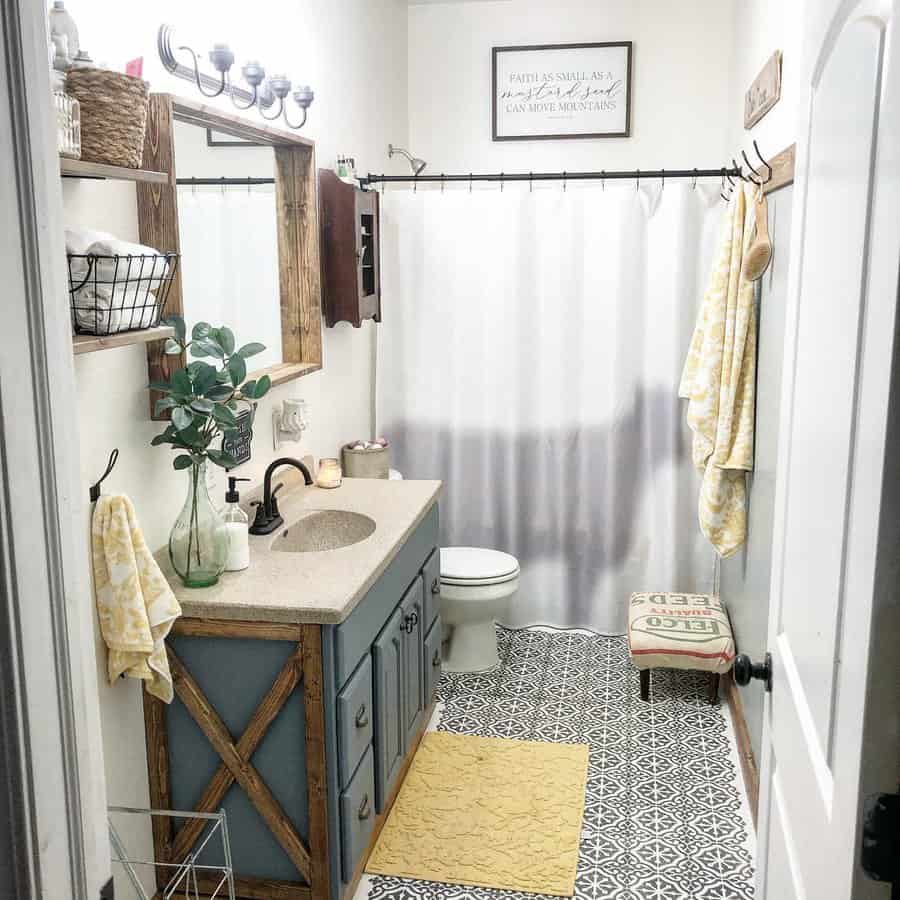 8. Opt For A Statement Mirror
A gold-framed mirror in a black-and-white bathroom can completely transform your basement into an elegant, modern space. If gold isn't the aesthetic you're going for, consider a wood-alternative mirror frame to bring a touch of nature inside.
With either option, the statement mirror is sure to make an impact and put the finishing touches on your perfect, personal bathroom.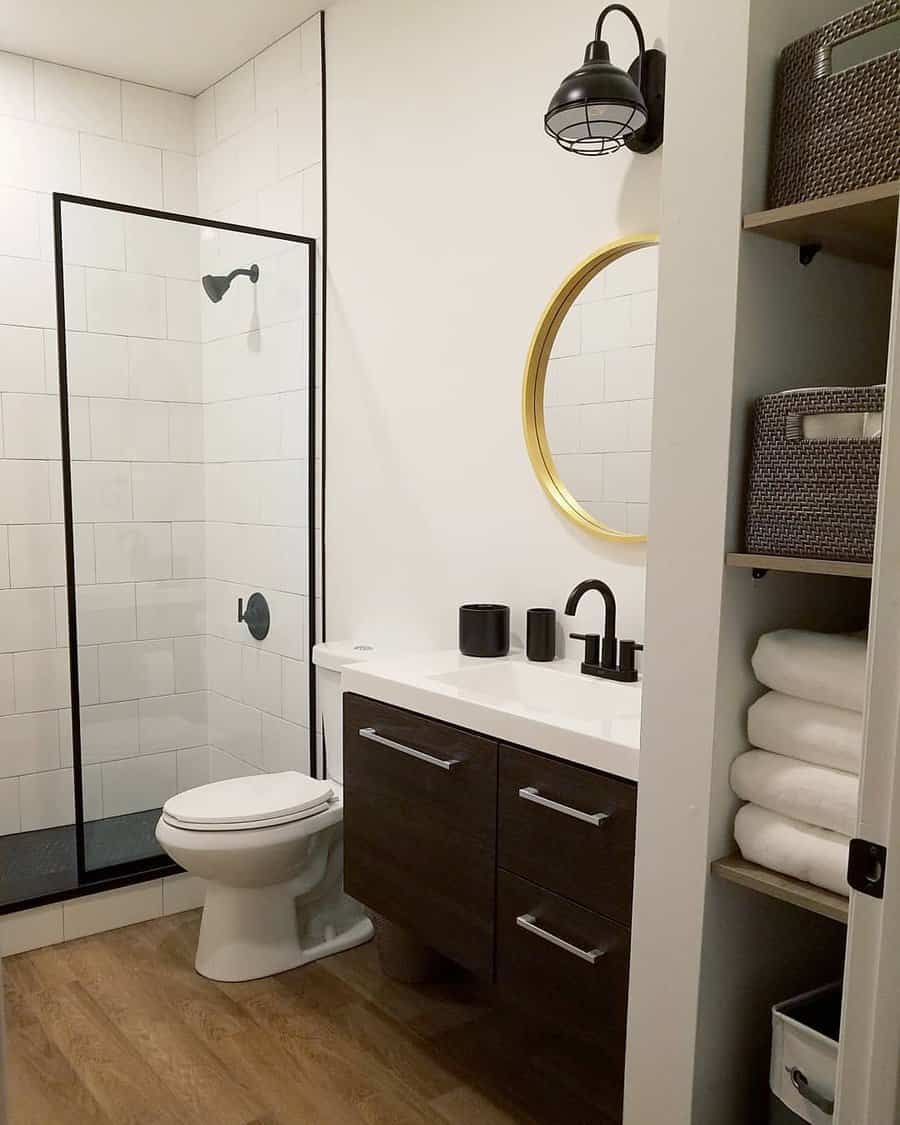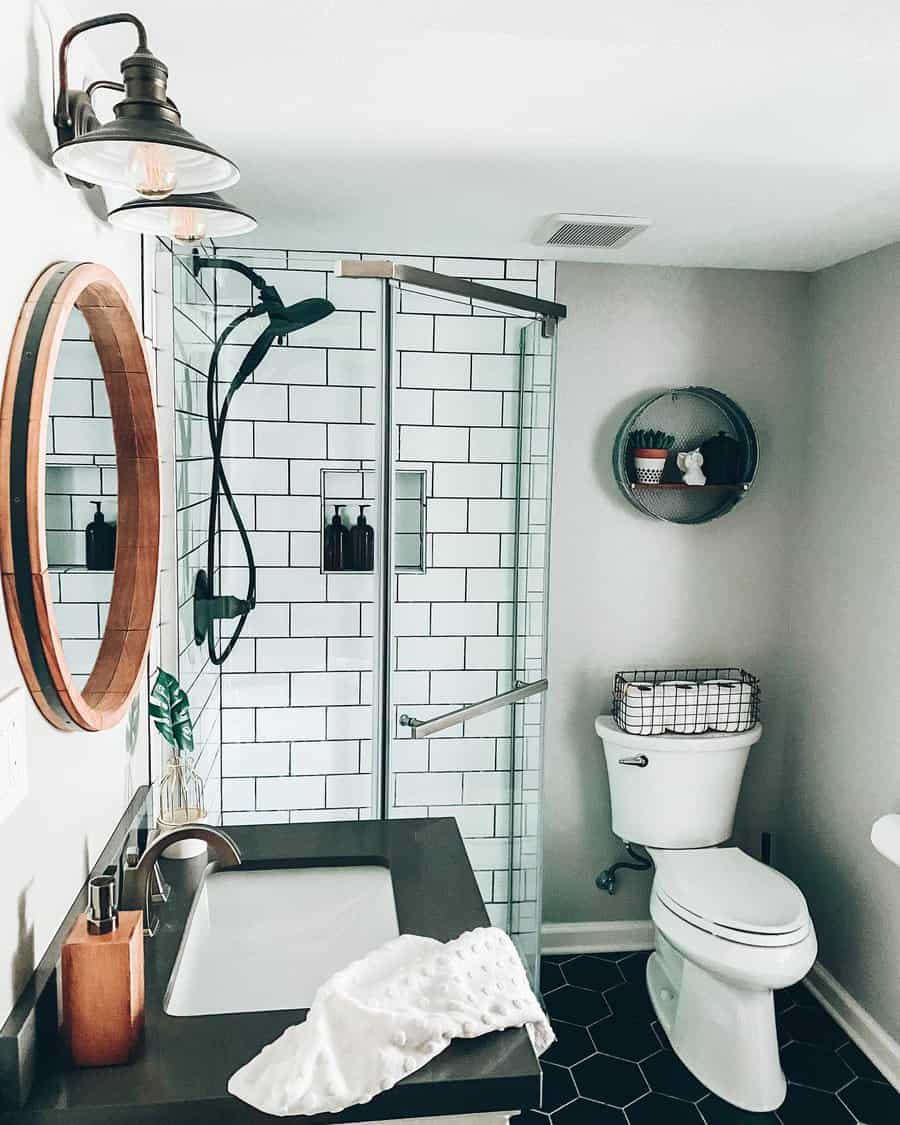 9. Add A Shaker-style Vanity
If you're looking for a bathroom accessory for your small basement that goes beyond a rudimentary sink and toilet, look no further than the sweet embrace of a shaker-style vanity.
With its charmingly shabby aesthetic and robust solid wood construction, it's a surefire way to create an inviting atmosphere in your subterranean quarters.
Flanking either side with stylish yet simple sconces for light is the perfect finishing touch for your modern bathroom re-design!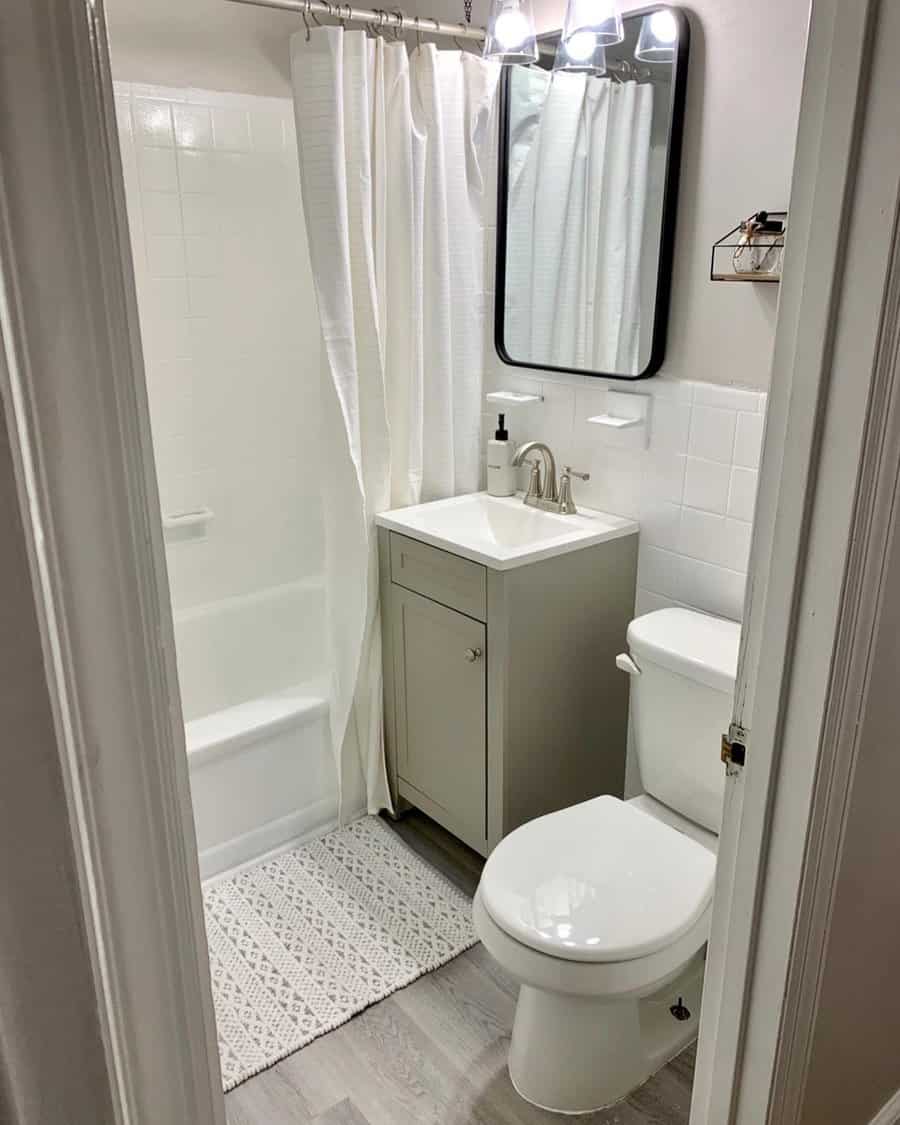 10. Keep It White And Simple
A white basement bathroom offers a unique and creative space to explore a minimalistic interior design. With white cladding walls, white cabinetry, and white fixtures, this all-white bathroom creates a tranquil atmosphere for winding down after a long day.
The white acts as a blank canvas allowing for endless design opportunities – from adopting maximalism with bold and colorful prints to embracing natural elements that embrace the crisp white elements of the space.
An unexpected white basement bathroom isn't just refreshing, it's an exciting place to discover your own personal design style.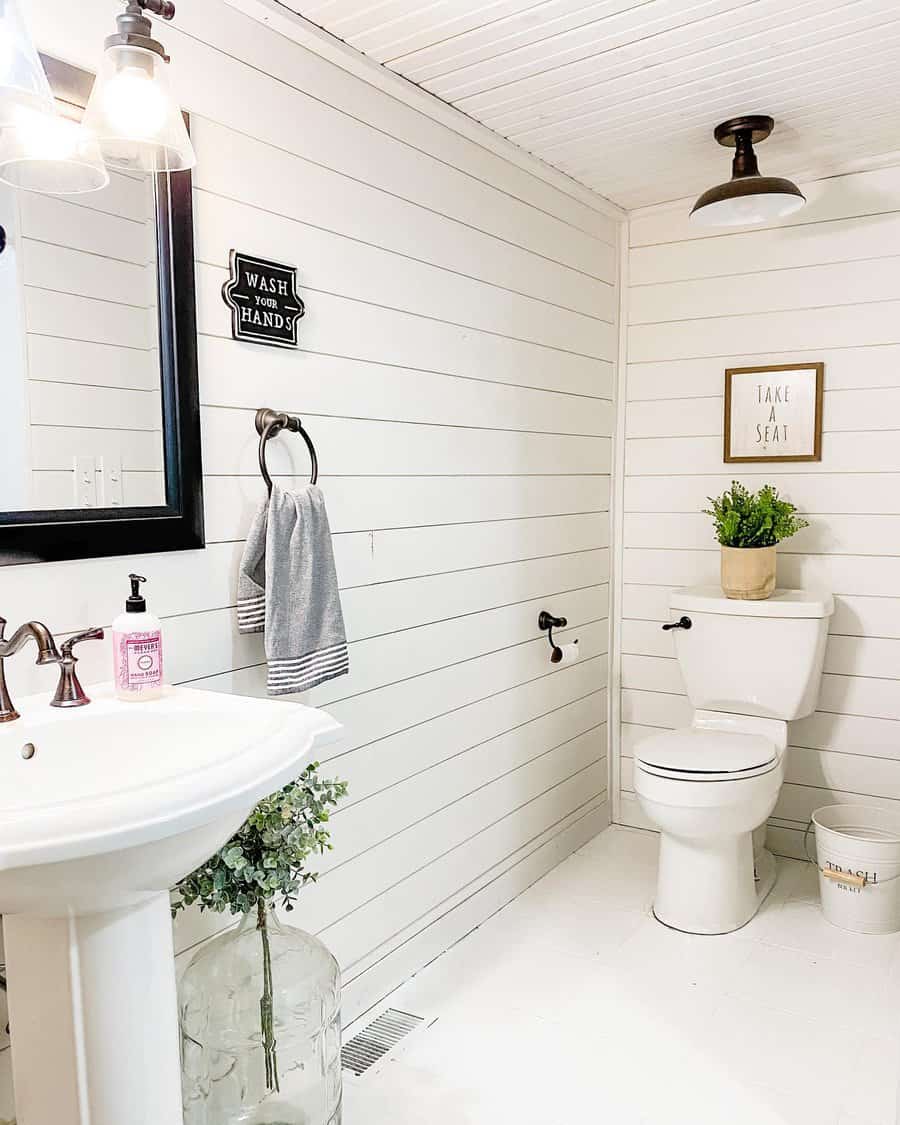 11. Install Black Fixtures
Turn your basement into a sleek and modern escape with the addition of a bathroom featuring black fixtures. Black fixtures are a timeless look that oozes elegance, making any room feel sleek and modern. This is especially true in a small space like a basement, where the darkness of the color scheme will make the interior seem larger.
Plus, black fixtures give you plenty of design opportunities for playing around with bold patterns and textures to complete your sleek makeover. A basement bathroom with black fixtures can be exactly what you need for a chic transformation.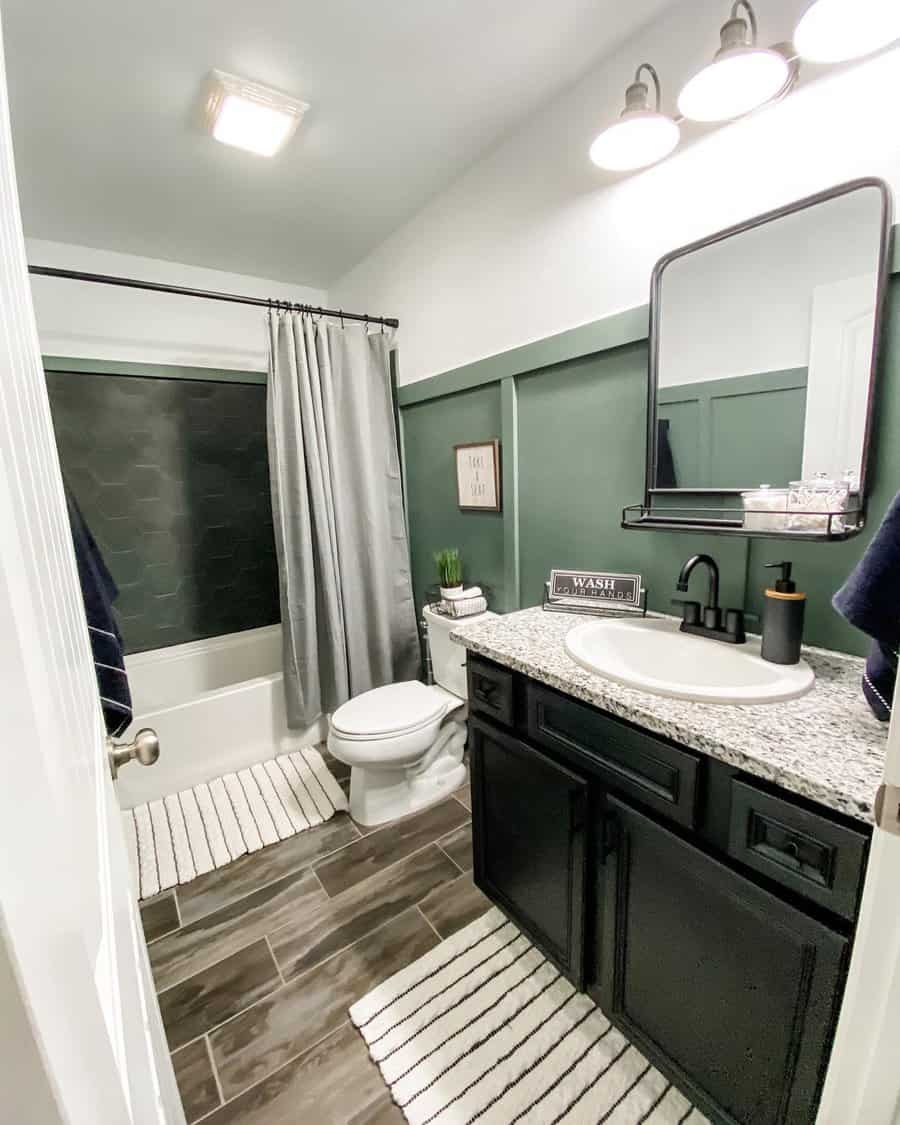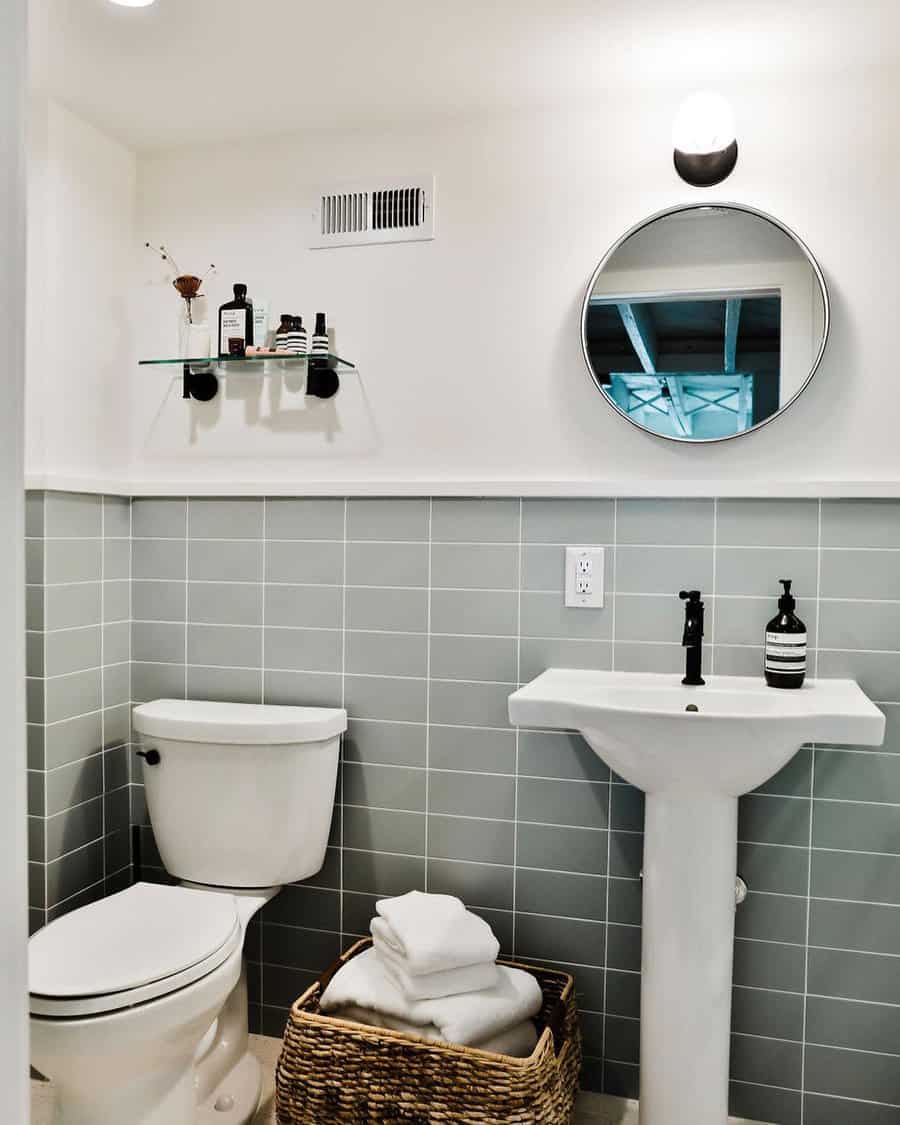 12. Separate The Bathtub Area
Transform your basement bathroom with something simply brilliant; separate the bathtub with a wall made of different tiles. An added bonus is that you can use these accent tiles to energize the room and bring life to an otherwise dull space.
This wall will not only separate the bathtub but add visual interest and make your bathroom look like a statement. Guests will be amazed by how quickly you transformed your ordinary basement into a luxurious retreat!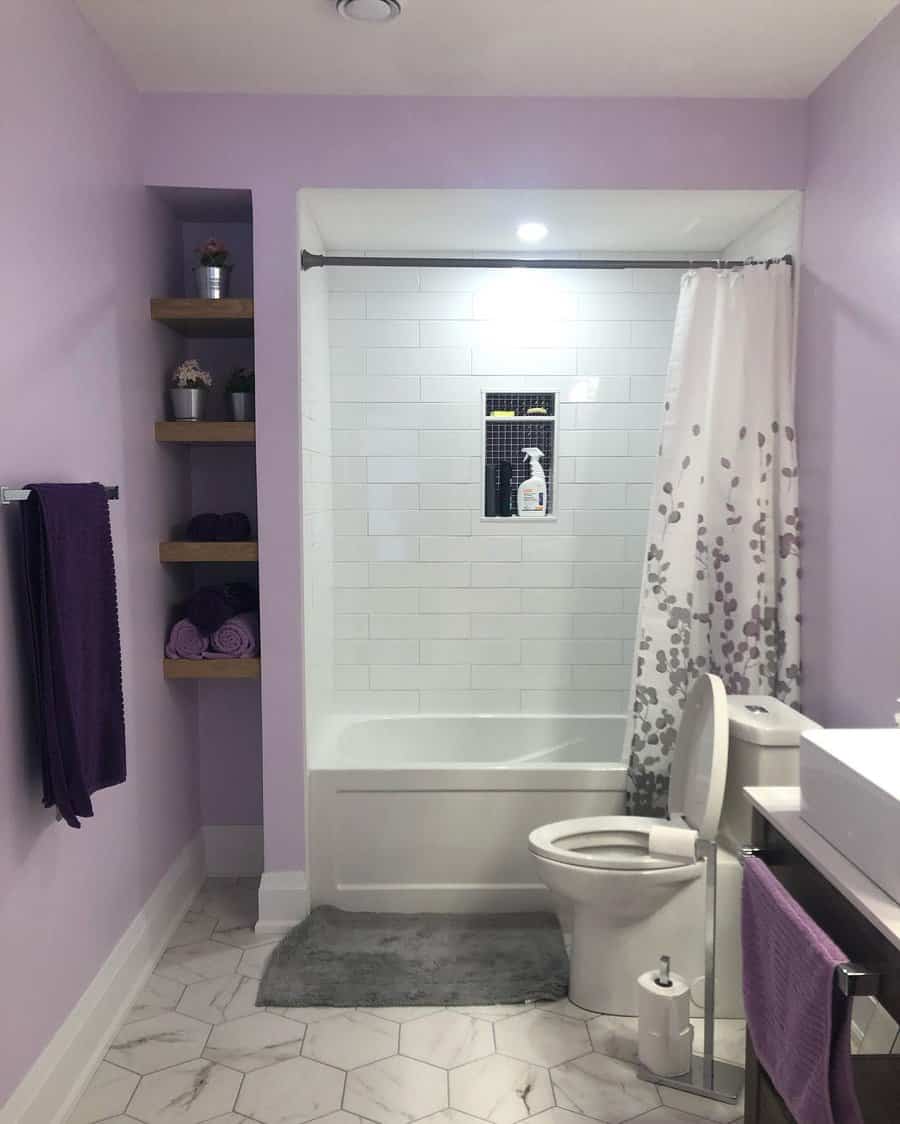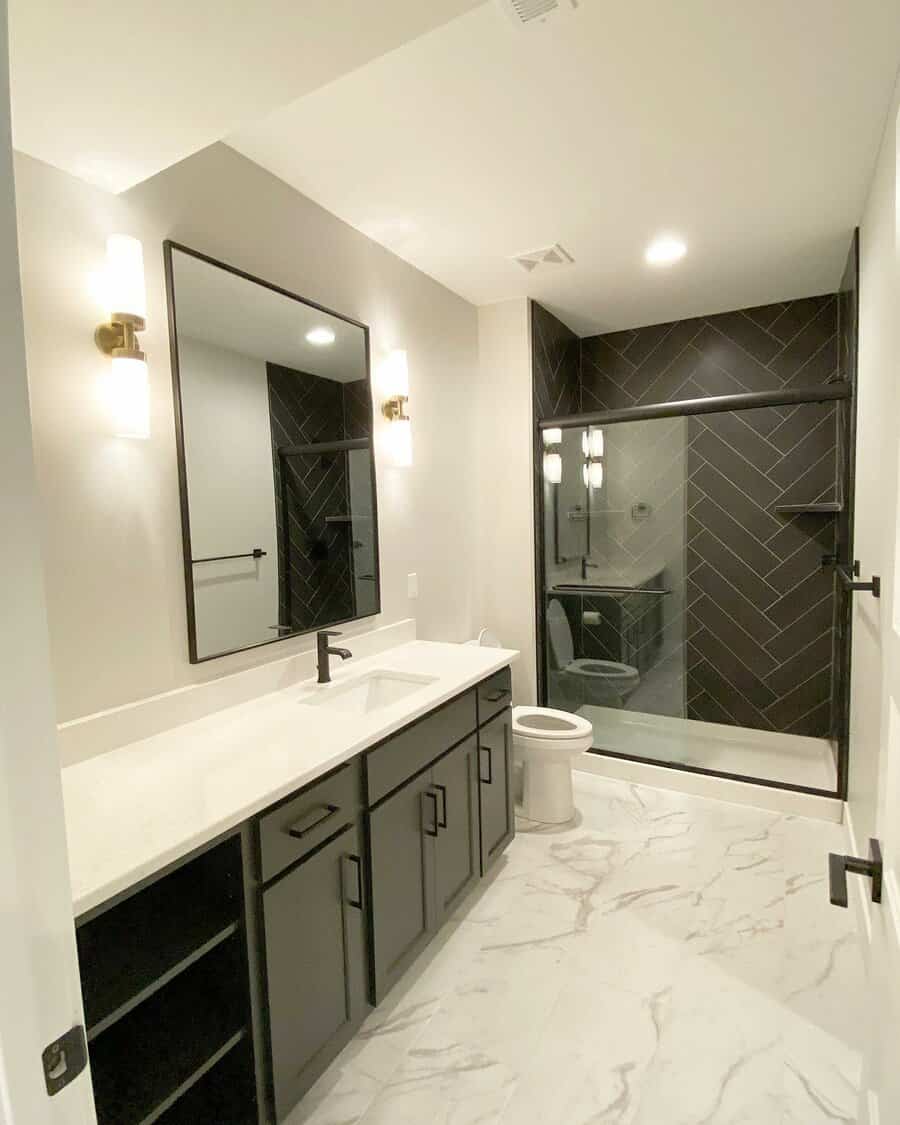 13. Add A Runner
Transform your basement powder room from a dreary accessory in your home to an inviting space with a decorative flair. By adding a decorative floor runner, you can add personality and charm to the otherwise bland powder room.
With a range of colors, sizes, and designs available on the market, it should be easy to find one that suits your style and allows you to create the perfect atmosphere for guests who use these facilities. Plus, this decorative item is an affordable way to spruce up any basement bathroom.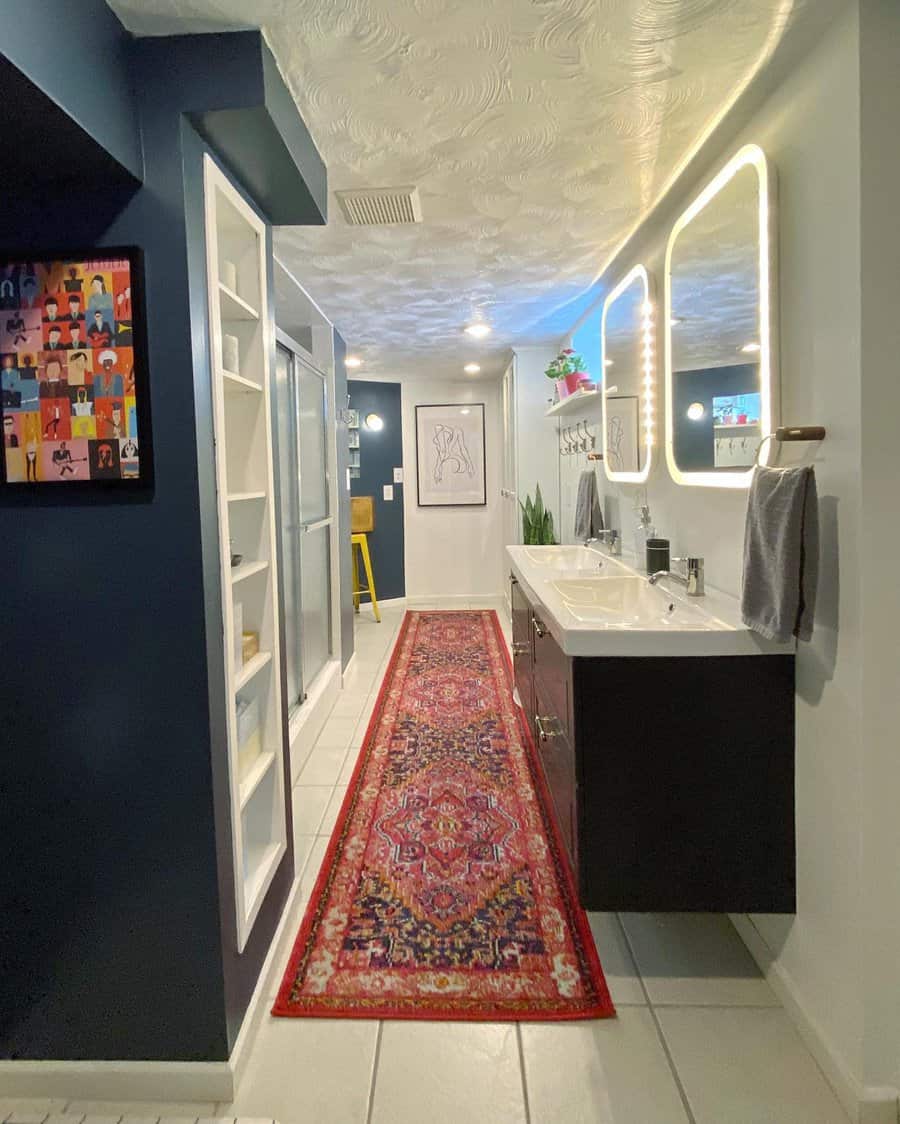 14. Add Window Blinds
Having a small window in your basement bathroom can be both a fun decorating opportunity and a smart way to keep it well-lit with natural light. You can dress up the small window with window blinds or curtains, allowing you to control how much privacy you want in your home.
Plus, when the sun shines through the small window behind you, taking a bath or shower is sure to be an extra refreshing experience. Installing such a small-yet-decorative feature in your downstairs bathroom will surely give it an extra bit of charm.
15. Be Creative With Wall Shelving
If you're looking for a creative way to spice up your basement bathroom, play with the wall shelves! You'll be amazed by how much changing their positioning and displays can transform any space. Whether it's displaying decorations, storing necessities, or both, these shelves are an efficient way to add personality and purpose.
For tips on how to get even more creative with your wall shelves, remember to ask your contractor or architect what they recommend.
With the right amount of playfulness in the design, your basement bathroom will be even better than you imagined!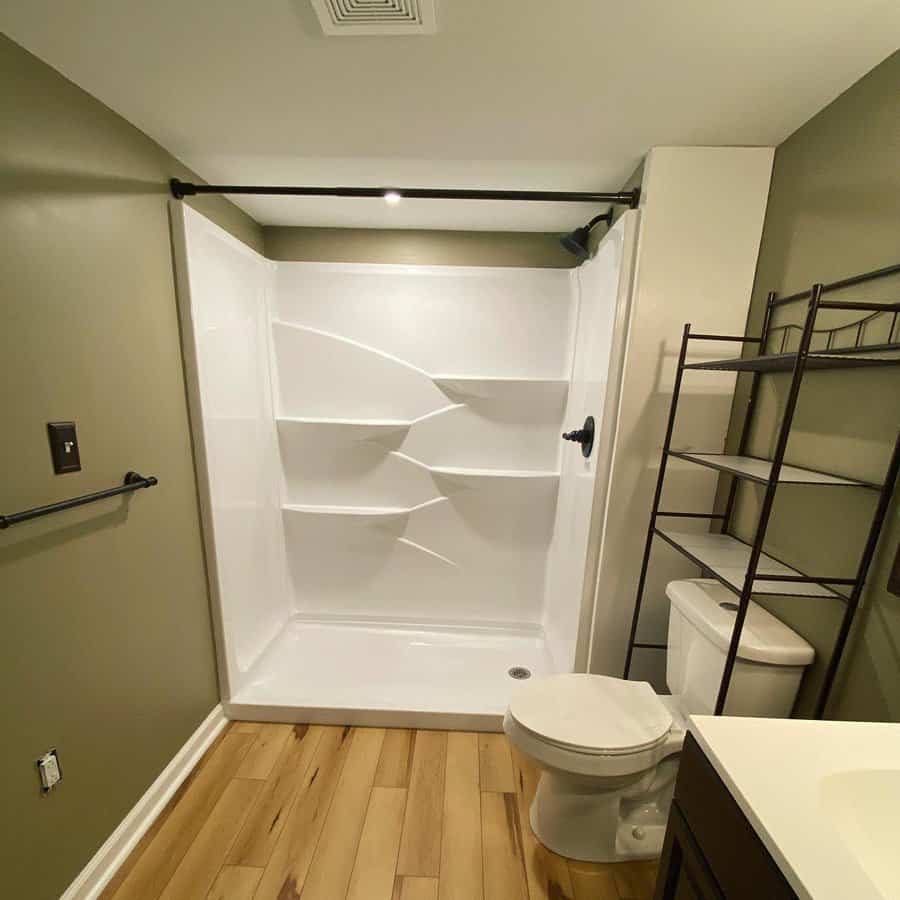 16. Add A Laundry Area
Having a basement bathroom with a laundry area can add so much functionality and convenience to your home! With the ability to add in a washing machine, you can easily launder your clothes without having to leave the comfort of your own home.
A basement bathroom with a dual purpose will add an extra layer of practicality and ease to your day-to-day operations, eliminating wasted trips up and down the stairs as you switch between tasks.
Your laundry won't be an afterthought when it has its own dedicated space!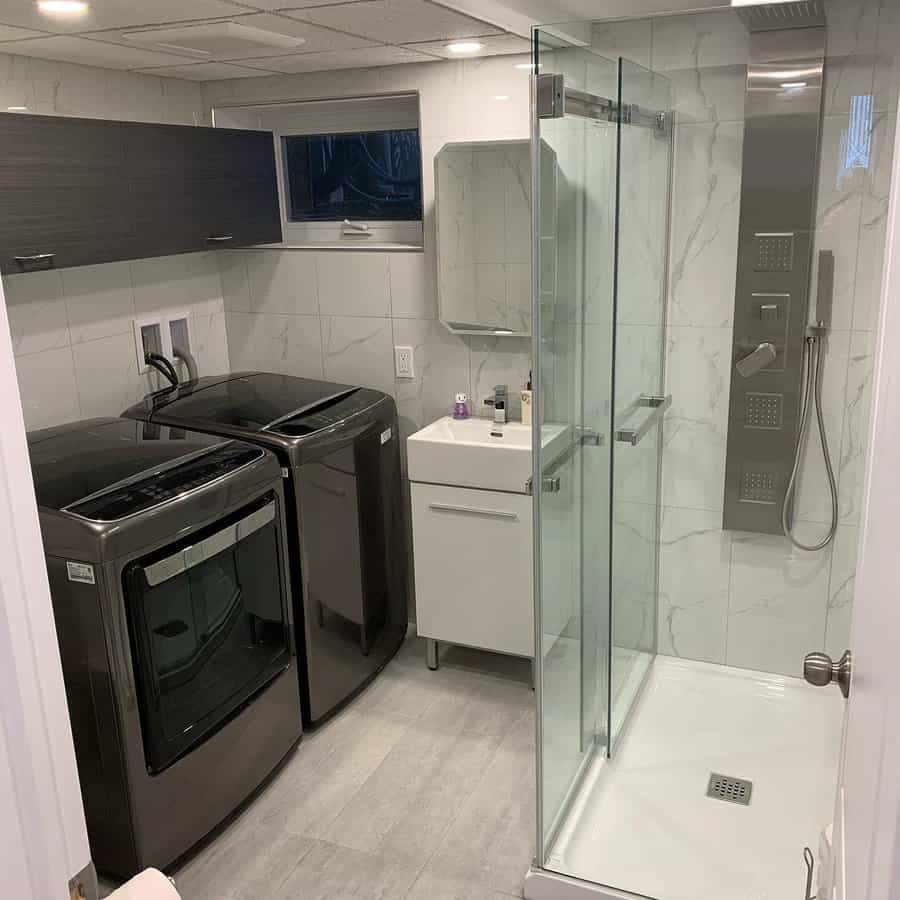 17. Add A Wide A Mirror
Dream of escaping the mundane day-to-day of a small space and feeling like you're in an expansive villa? Look no further than your own basement bathroom with a wide mirror. Installing a mirror to cover one wall of your basement bathroom can give the illusion of a bigger space.
Not only will this illusion open up the appearance of your bathroom, but its reflective surface can also bring natural light and brightness to dark spaces, creating an even greater illusion of grandeur.
A wide mirror is the simplest way to transform any old space into something truly extraordinary.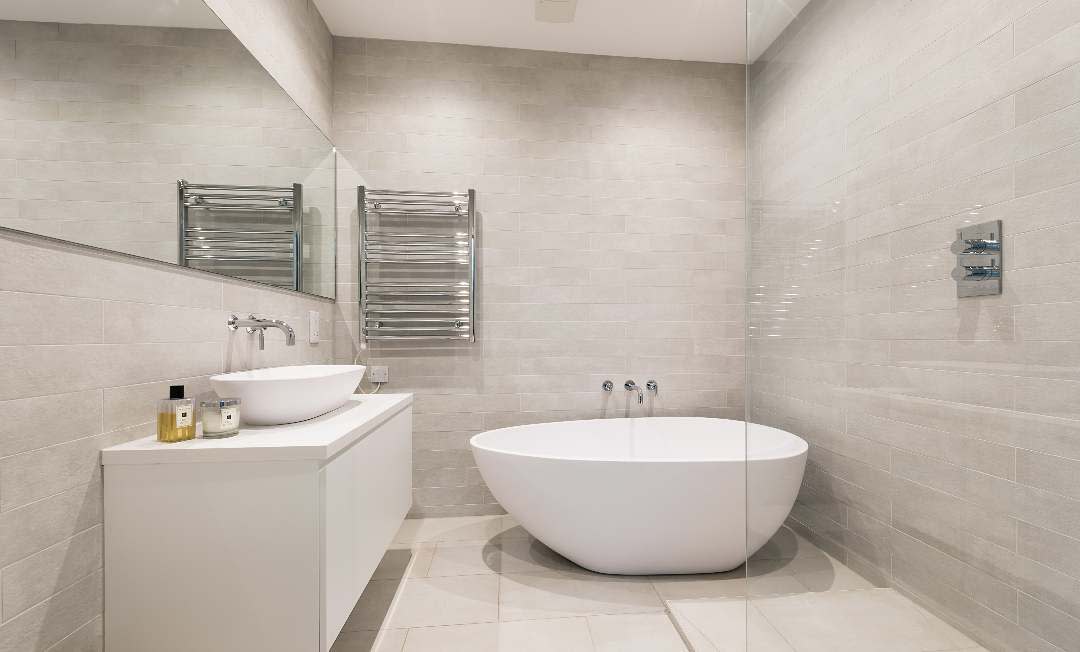 18. Hang A Floral Shower Curtain
A basement bathroom can be intimidating and even daunting, but a great way to give it a feminine twist is with a flower shower curtain. Not only does this adds a vintage flair, but it helps to breathe life into the often-forgotten space.
Gray walls and tiles instantly come alive when combined with this type of curtain. Best of all, you also do not need to include any additional décor items to become inspired by your own bathroom décor; the shower curtain adds just enough flare for the perfect finishing touch.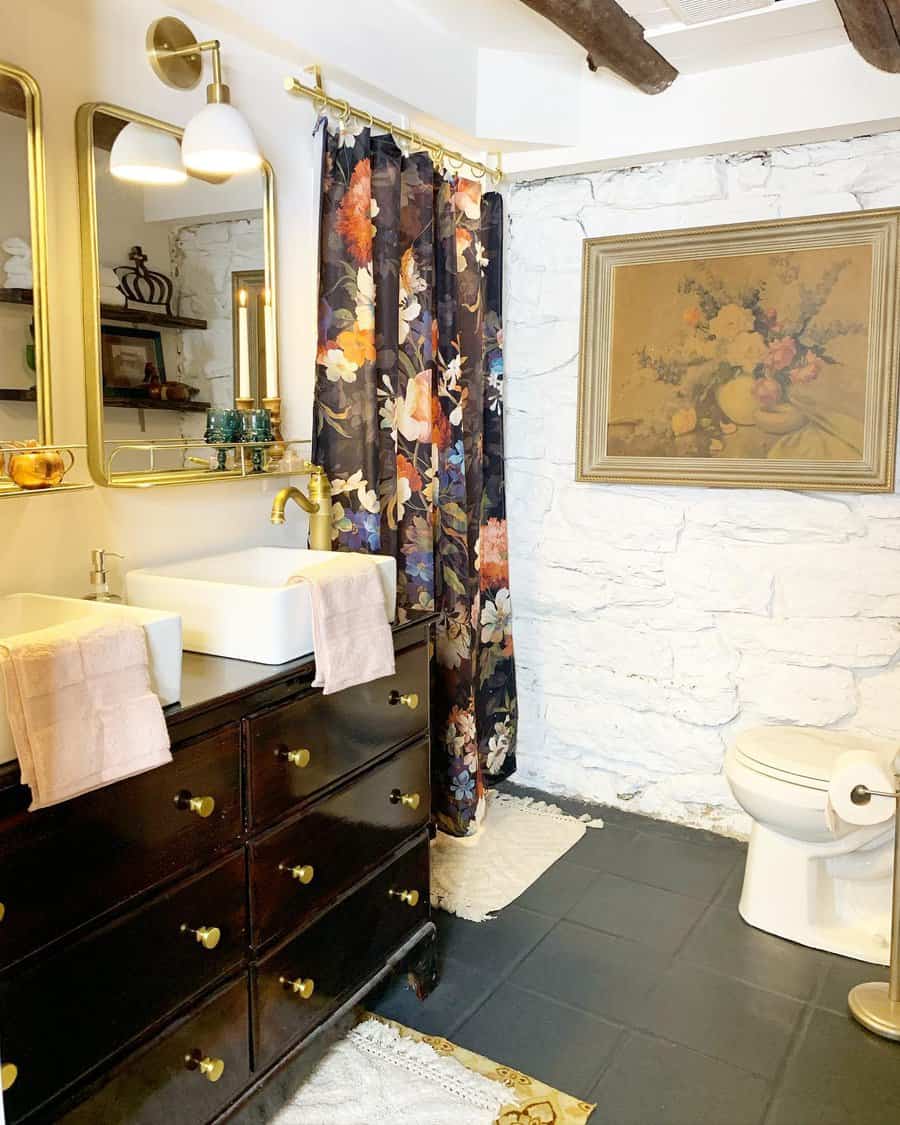 19. Pick Dark Flooring
Adding a basement bathroom with low-maintenance dark flooring can be a great way to add personality and contrast to a living space. The white walls will keep the area looking bright, while the low-maintenance flooring option gives you the assurance that your bathroom won't be needing a renovation anytime soon.
Dark flooring is also great for concealing dust or dirt that might accumulate in busy homes. Installing this kind of bathroom in one's basement would instantly add character and make it more inviting!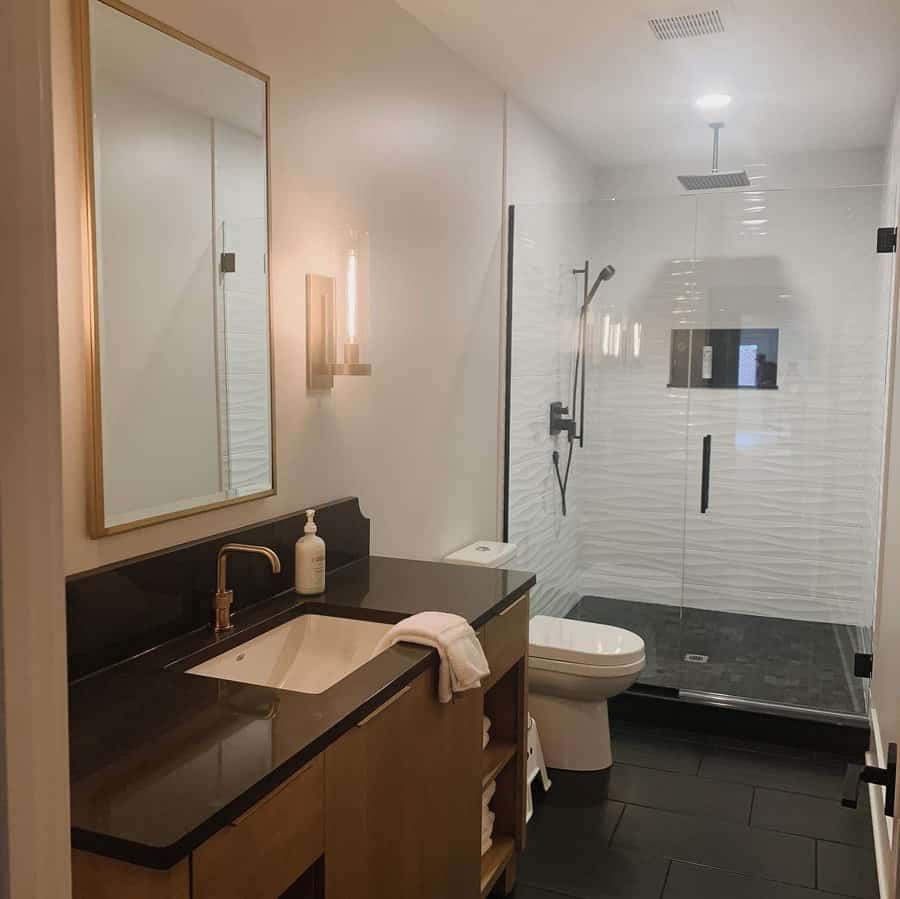 20. Install A Single Shower Corner
Installing a shower corner in the basement bathroom is a great way to maximize space. You can easily get creative and make the shower luxurious; a shower with glass doors is not only sleek and modern but will also make the bathroom appear larger.
Plus, shower corner enclosures come in various sizes and shapes that fit nicely into tight spaces – making them ideal for small bathrooms!
Whether you choose one with special features or an understated design, a shower corner provides an efficient alternative to shower renovation and installation – giving your basement bathroom a total upgrade for less.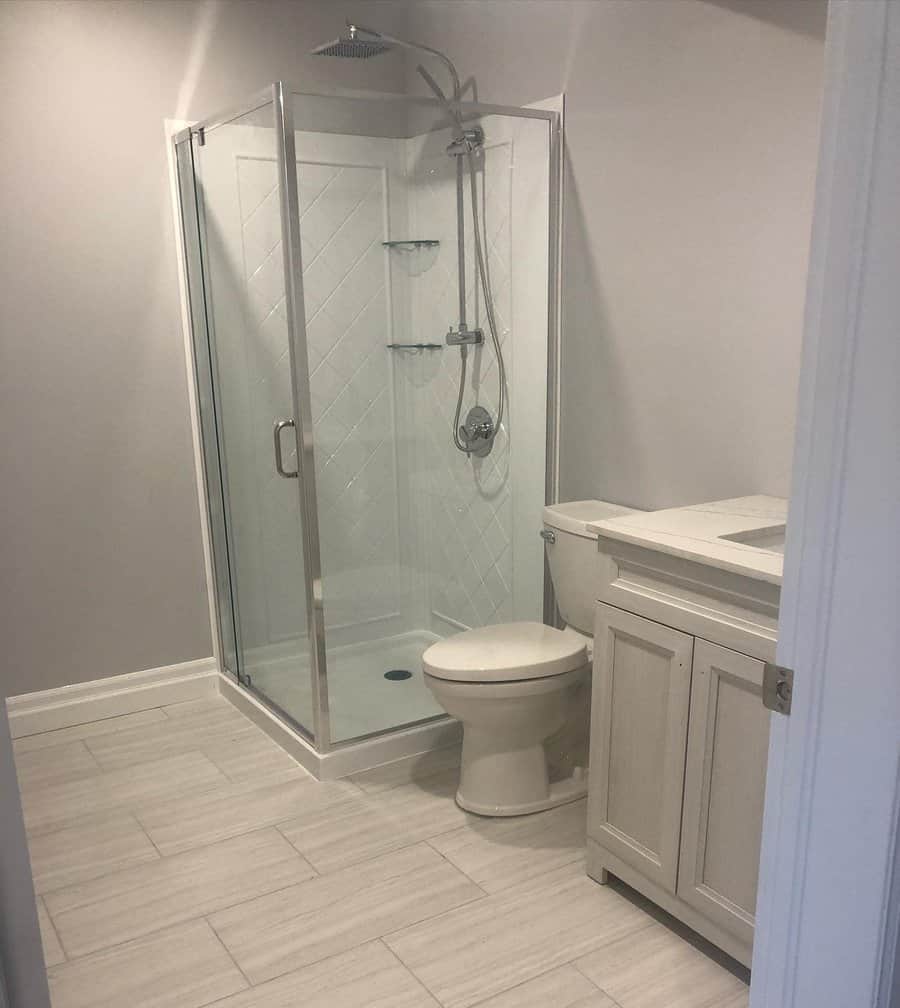 21. Select Graphic Tiles
If you're looking to add a bold and unique touch to your home, look no further than installing subway tiles with dark grout in a basement bathroom.
The subway tile is a classic look but when paired with the dark grout, it becomes something striking and eye-catching — begging for all sorts of creative design possibilities. With such a bold interior, it can liven up any room, offering a perfect balance between sophistication and playfulness. It's time to get creative and make your basement bathroom come alive.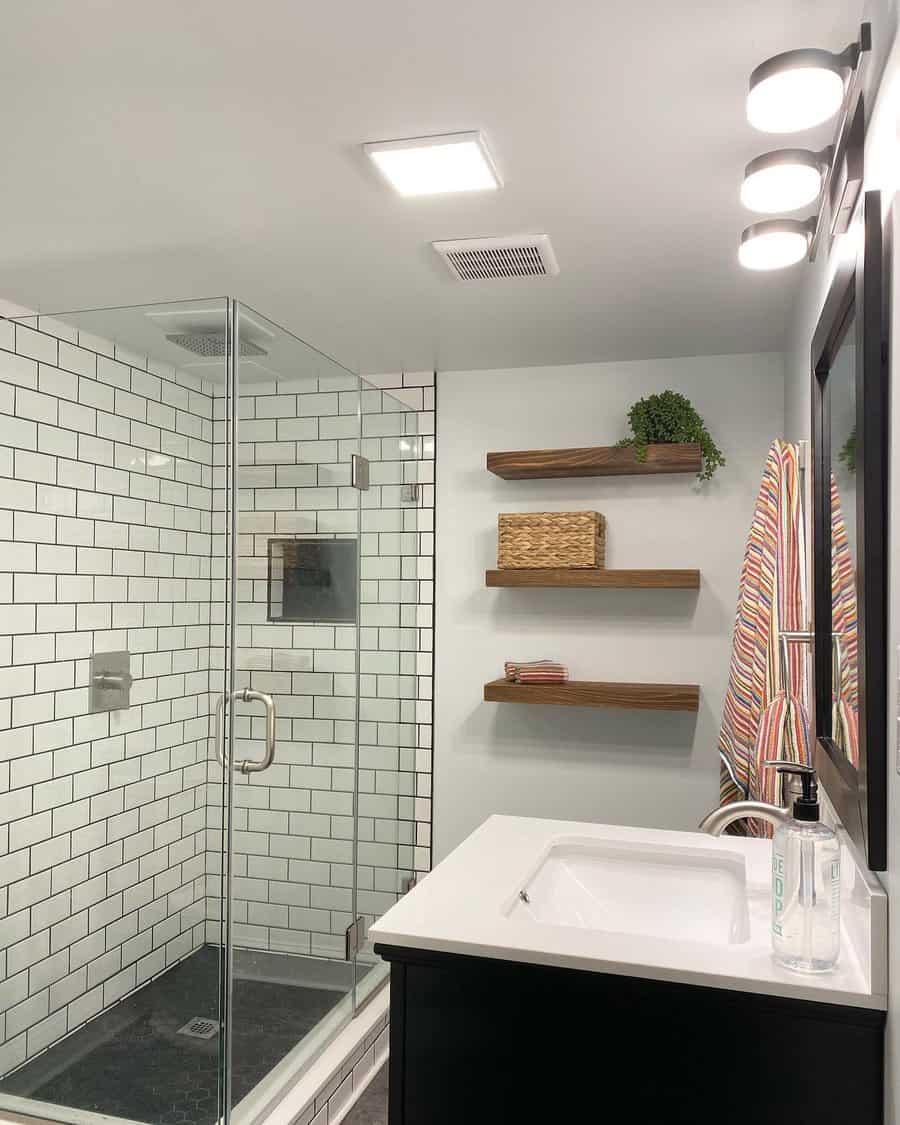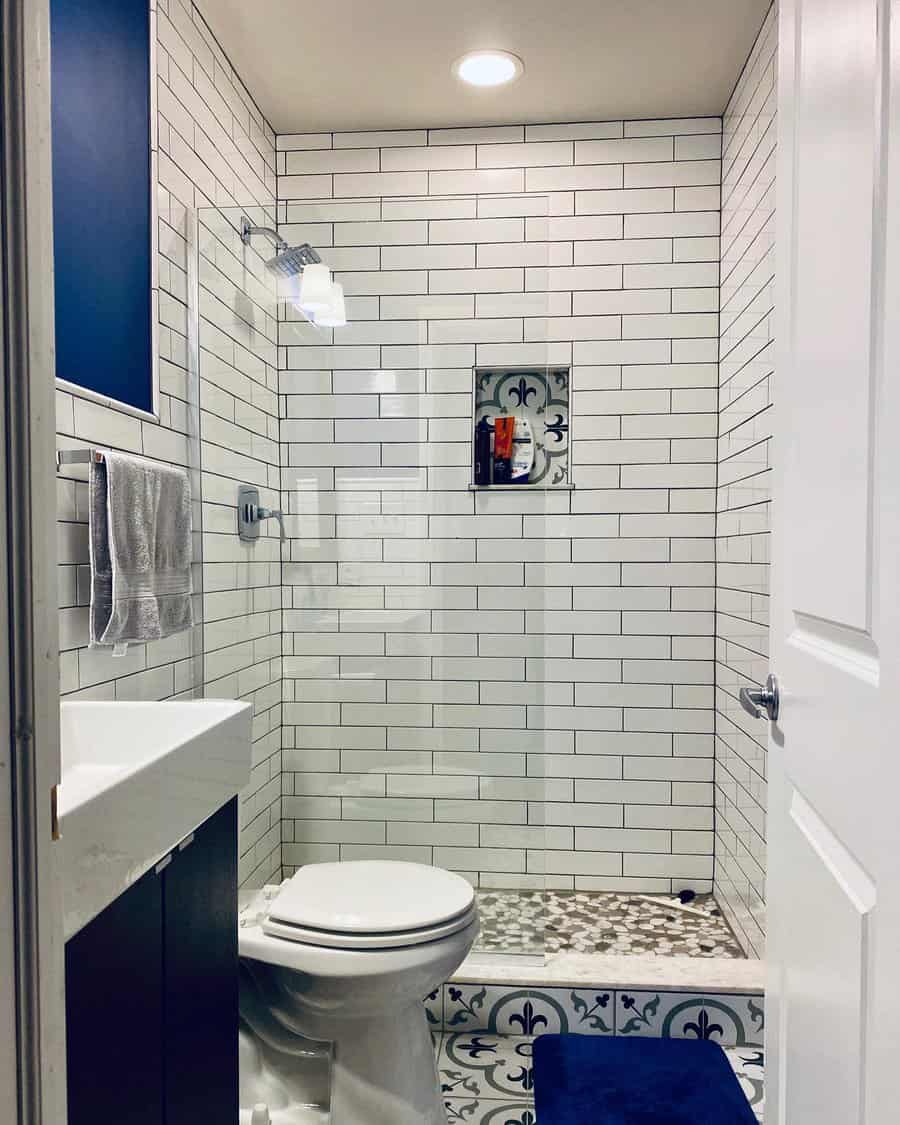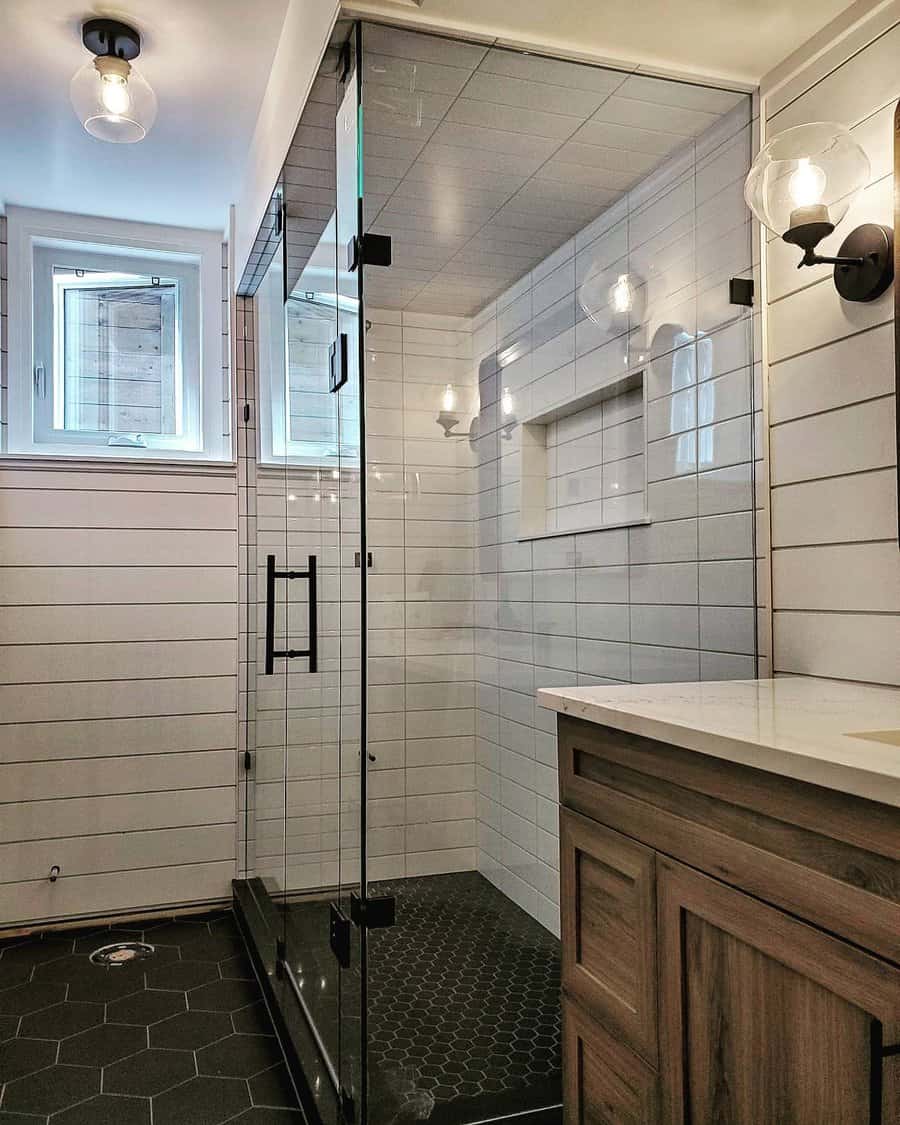 22. Keep It Black And White
A black and white basement bathroom is the perfect opportunity to be creative with tiles. With a classic color palette, you can explore exciting shapes, sizes, and textures in the form of graphic tiles.
To keep it modern, opt for monochromatic hues that create illusions of space. White beveled subway tile laid in a herringbone pattern will give your room an airy feel while still giving off that vintage vibe.
Alternatively, creating a geometric shape such as a diamond checkerboard or brick style with some contrast thrown in will be sure to make a statement without straying away from the sleek aesthetic. Whichever direction you choose to go, be sure to enjoy decorating your luxurious black-and-white basement bathroom!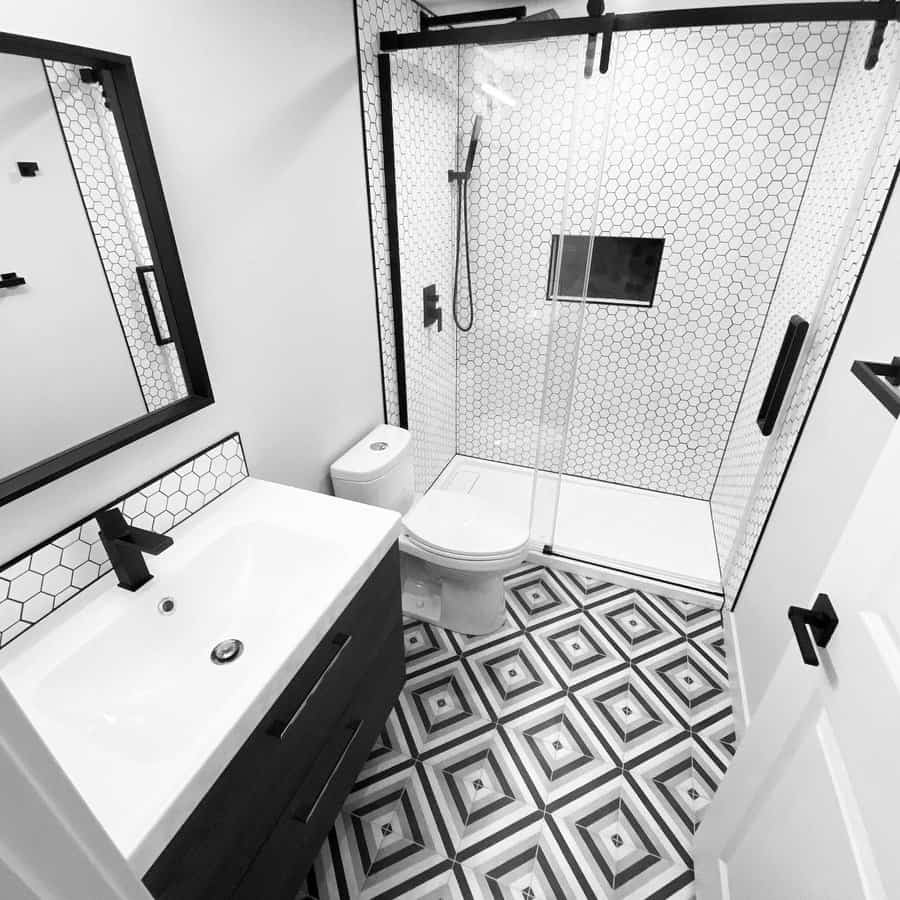 23. Mix Marble With Concrete Tiles
When it comes to adding a basement bathroom with marble and concrete tiles, why not mix and match for a truly creative look? Combining the two tile materials can create visual interest in the space, and be aesthetically pleasing.
Grayscale marble pairs beautifully with warm tones of concrete tiles, livening up any bathroom area. If bolder is more your style, mix up different sizes of tiles in both materials for a unique design that adds depth and a modern touch.
No matter what mix-and-match patterns you decide to pursue, creativity can result in plenty of character that stands out from the crowd!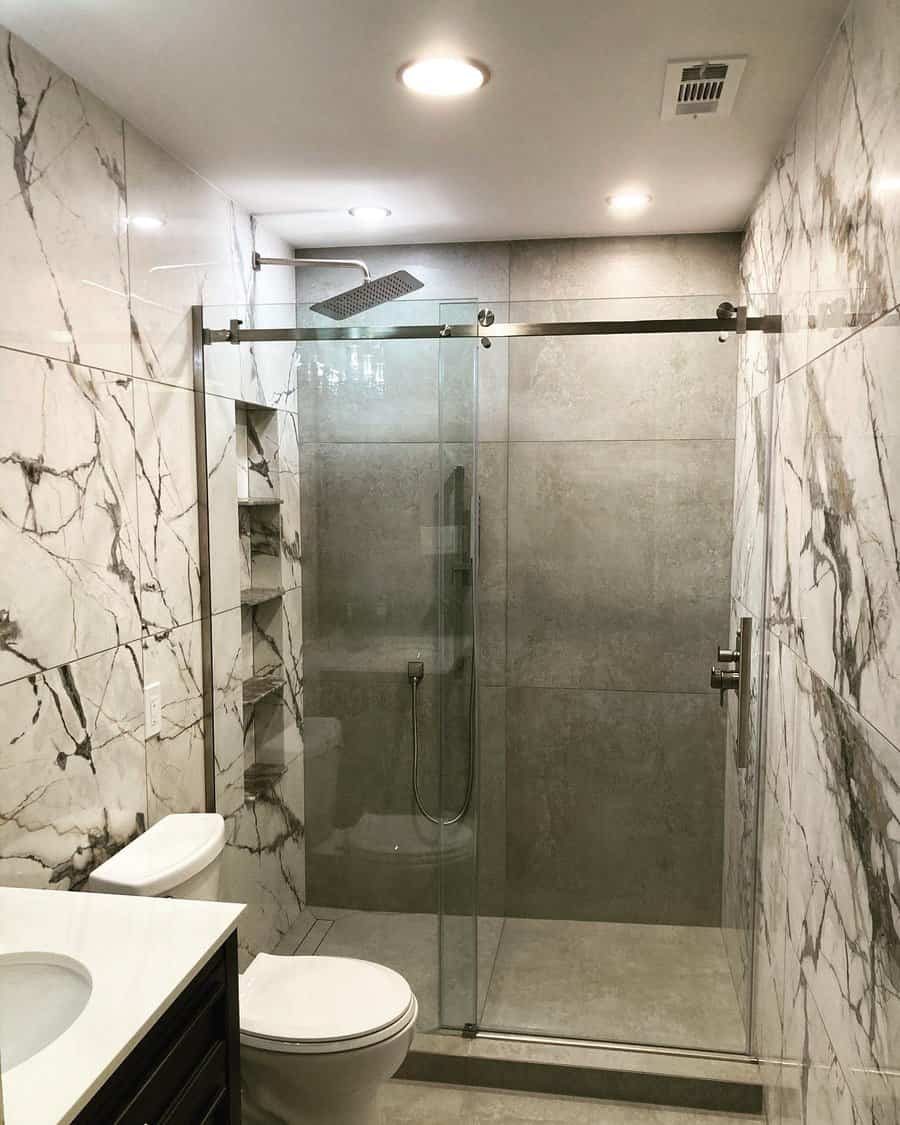 24. Make It Rustic With Wood Tiles
Create a cozy oasis in your basement by outfitting the bathroom with wood tiles. These make it rustic and add warmth that will make you feel like you escaped to the country.
Hang farmhouse-style doors to match the tile and make it truly special. There are so many creative ideas, from unique staining techniques to fun cuts of tile, that can make the bathroom both modern and charming.
Whether you choose light or dark-stained wood tiles, this combination will make stepping into your basement an exciting adventure each time.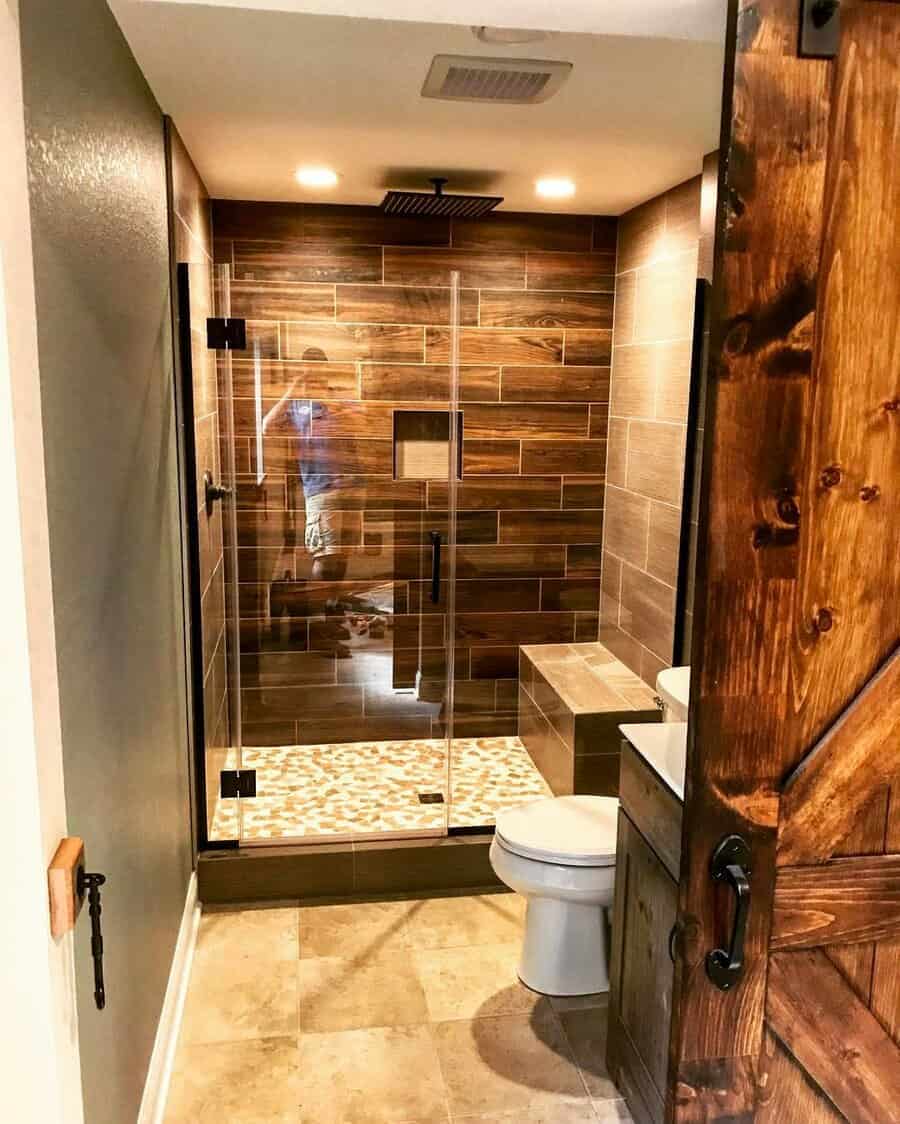 FAQs
Is it worth putting a bathroom in the basement?
Adding a bathroom to your basement can make it a useable and livable space. This can increase the market value of your home because it increases the desirability of your home. Having a finished basement with a bathroom can be a selling point for potential buyers.
How do you plan a basement bathroom?
Start by knowing the square footage of your basement and where the electrical and plumbing lines are. Map out where and how big you want your bathroom to be. Confirm that your plans conform with building codes. Try to minimize the moving of plumbing lines to keep the costs down. Once you have the basics, you can plan the design.
o you need a special toilet for the basement?
For a standard toilet to work, your home's sewer line needs to be below your basement's floor level. Otherwise, you need an up-flush toilet. These toilets look and flush like a standard toilet. They differ once the water flushes out of the bowl. The waste gets pressure ejected up to join the main sewer line.