39 Basement Bathroom Ideas
Having a finished basement is nice, but having a bathroom in it is even better. Adding a bathroom to your finished basement means you never have to run back upstairs every time you need to use the restroom. This doesn't sound like a big deal, but think about how many times you and your friends use the facilities when hanging out.
You don't want to miss a minute of your favorite team playing or have to stop a game every time someone leaves. These basement bathroom ideas are what you need to turn your basement into a functional living space in your home.
1. DIY
Bathroom design is the fun part of basement bathrooms. Even if it's a tiny bathroom, you still have plenty of options. For example, you could have an elegant pedestal sink instead of a large vanity. Instead of a large tub, you could have a walk-in shower with a frameless glass wall. Or you could turn the entire bathroom into a wet room.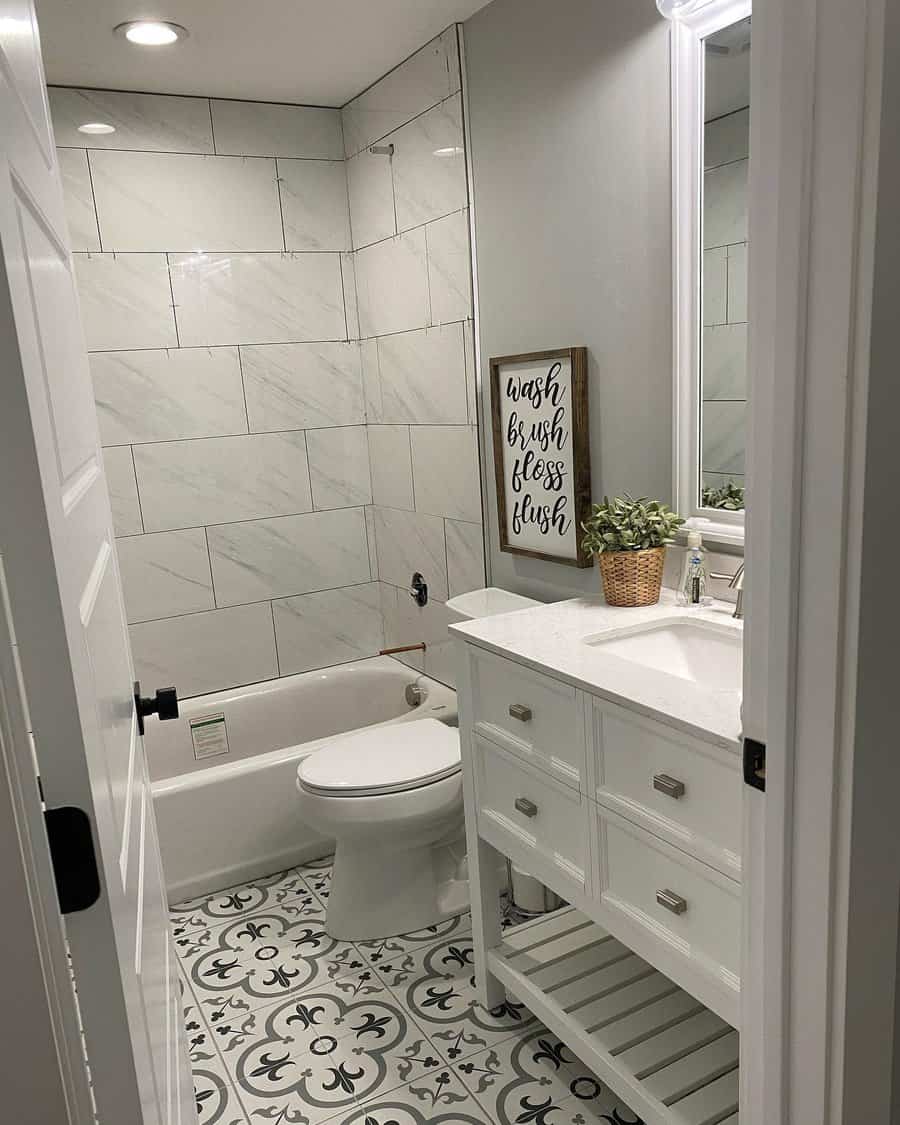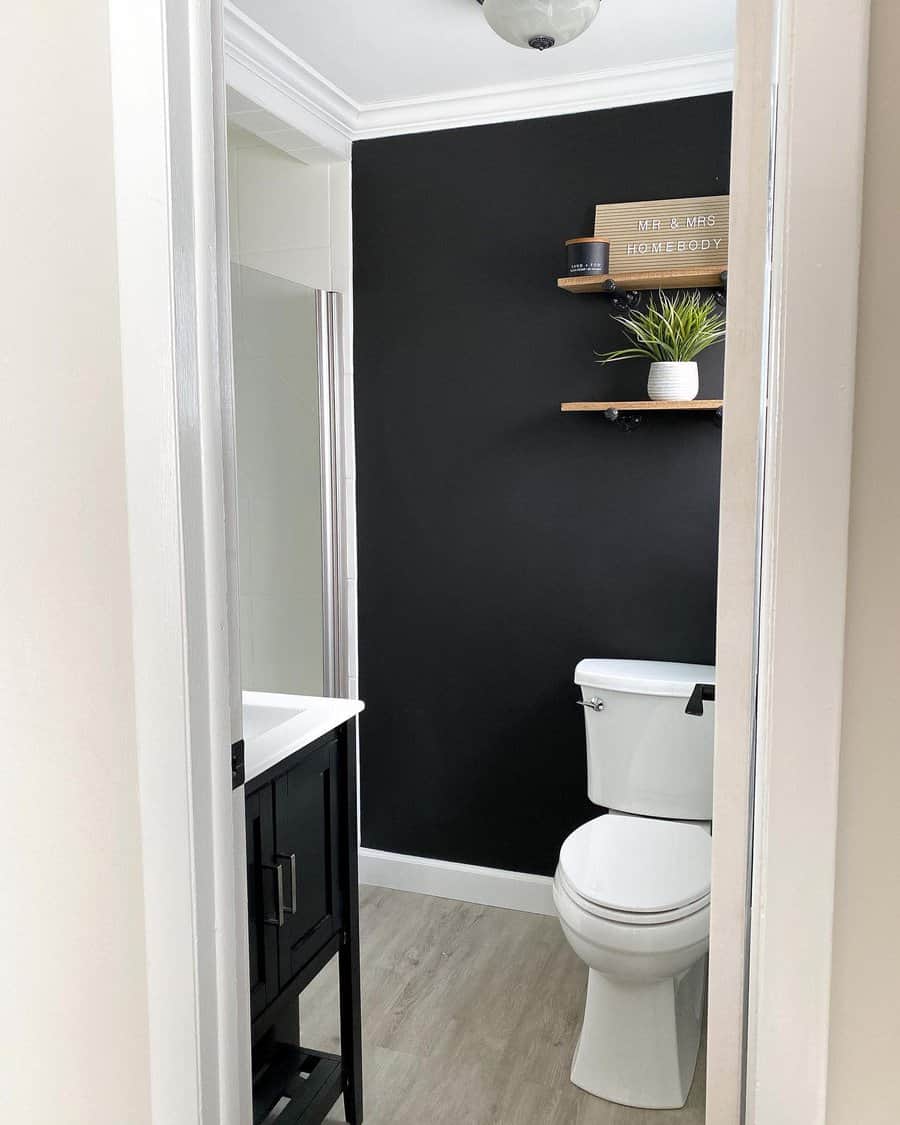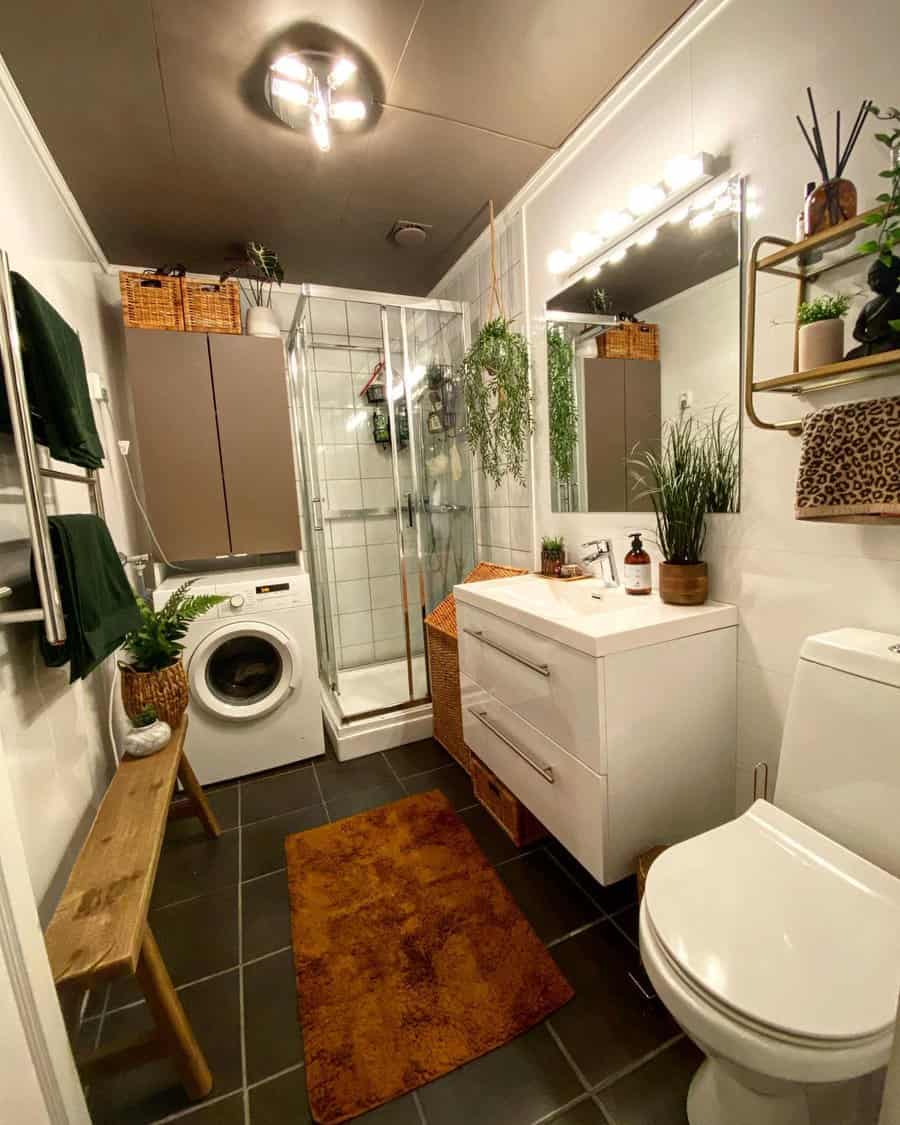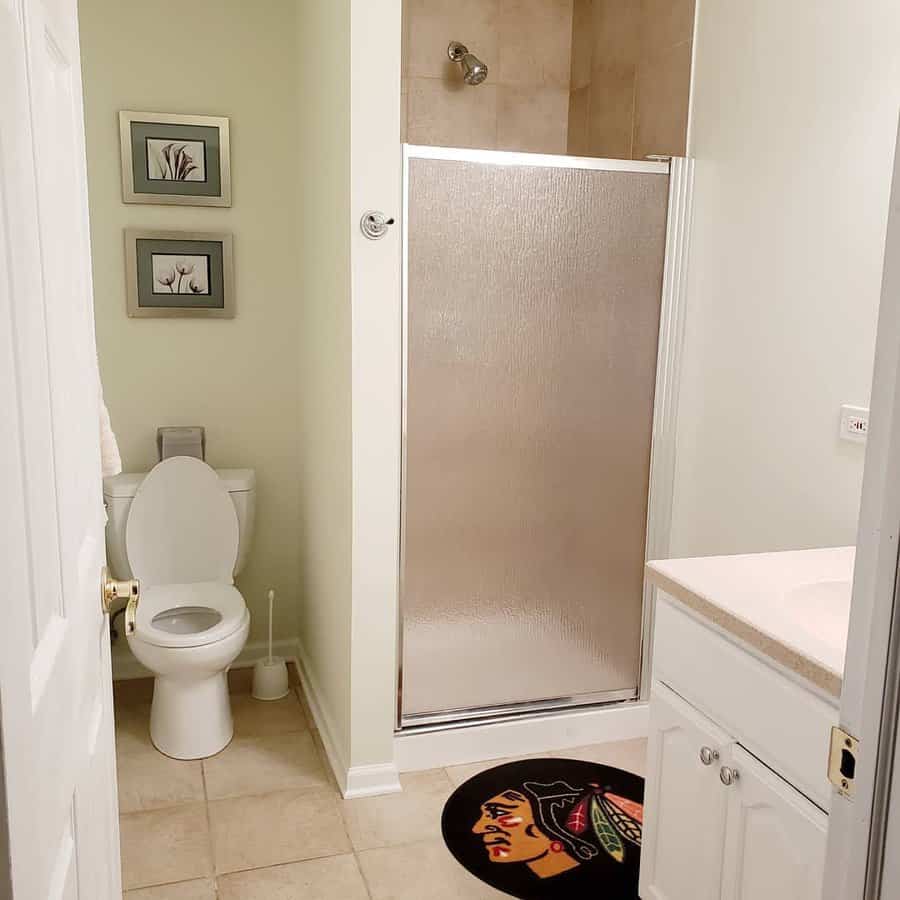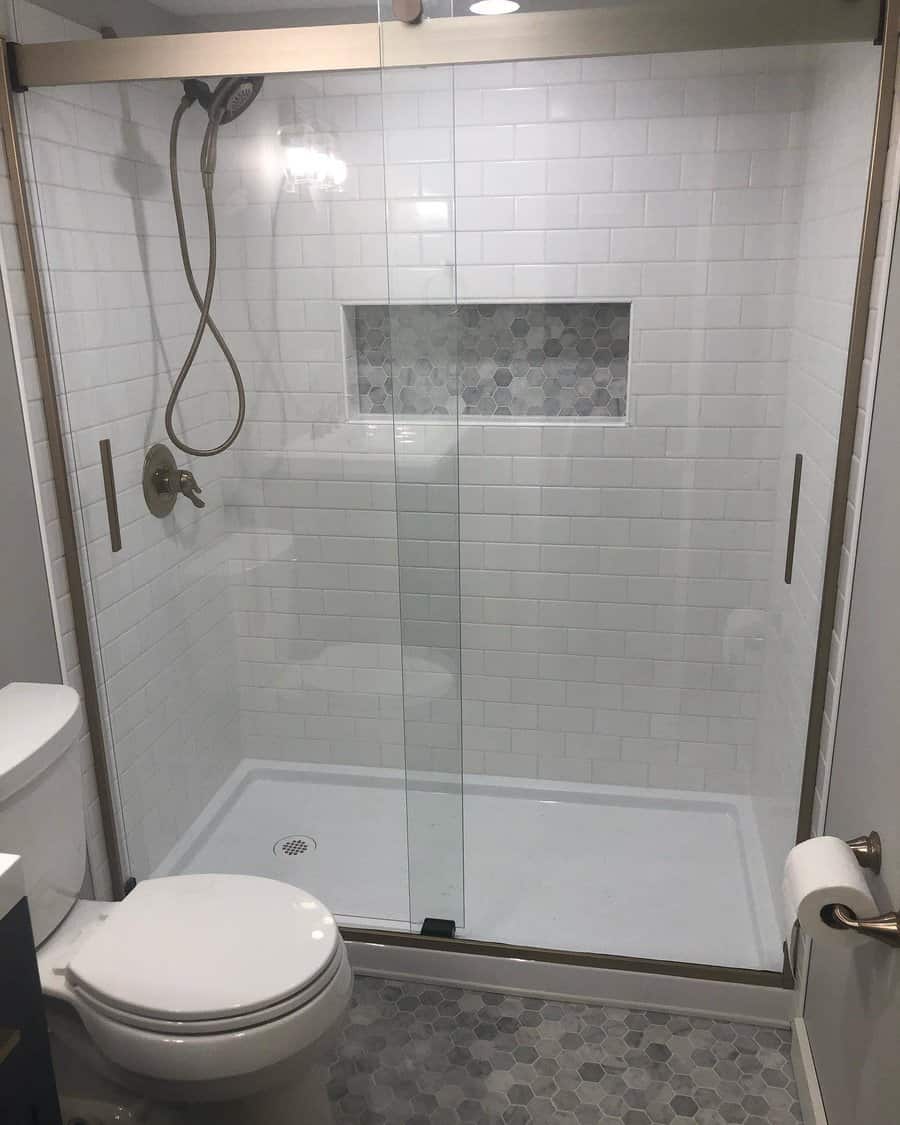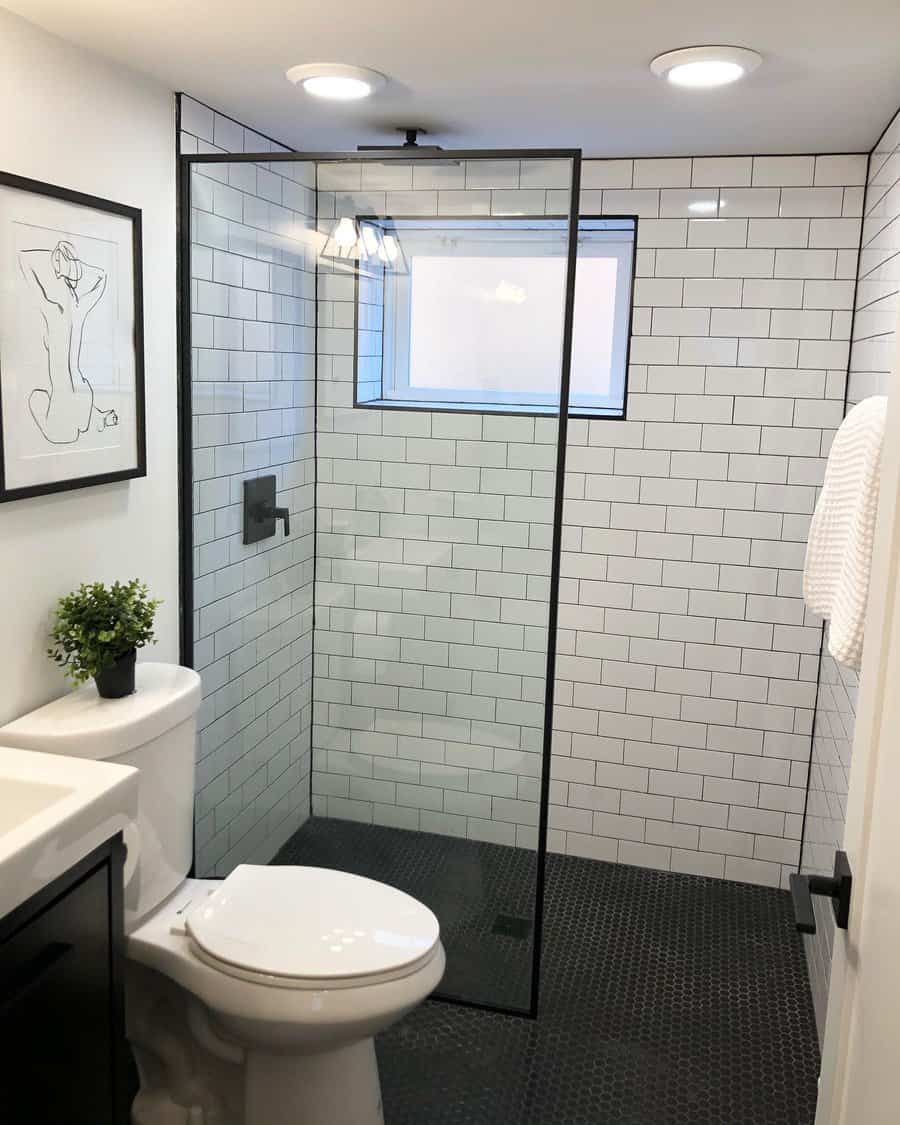 If you get stumped, you could check out small basement bathroom ideas. Then you get to choose a floor and wall tile. Finally, you'll go through the decorating stage, where you get to decide what style you want to use. You could choose from a farmhouse, contemporary, modern, rustic, country, industrial, or even a bohemian style.
2. Design
If you plan on doing all of the work yourself, then you'll need to have plenty of home improvement experience. If yours is limited, you may want to consider only installing a half bathroom.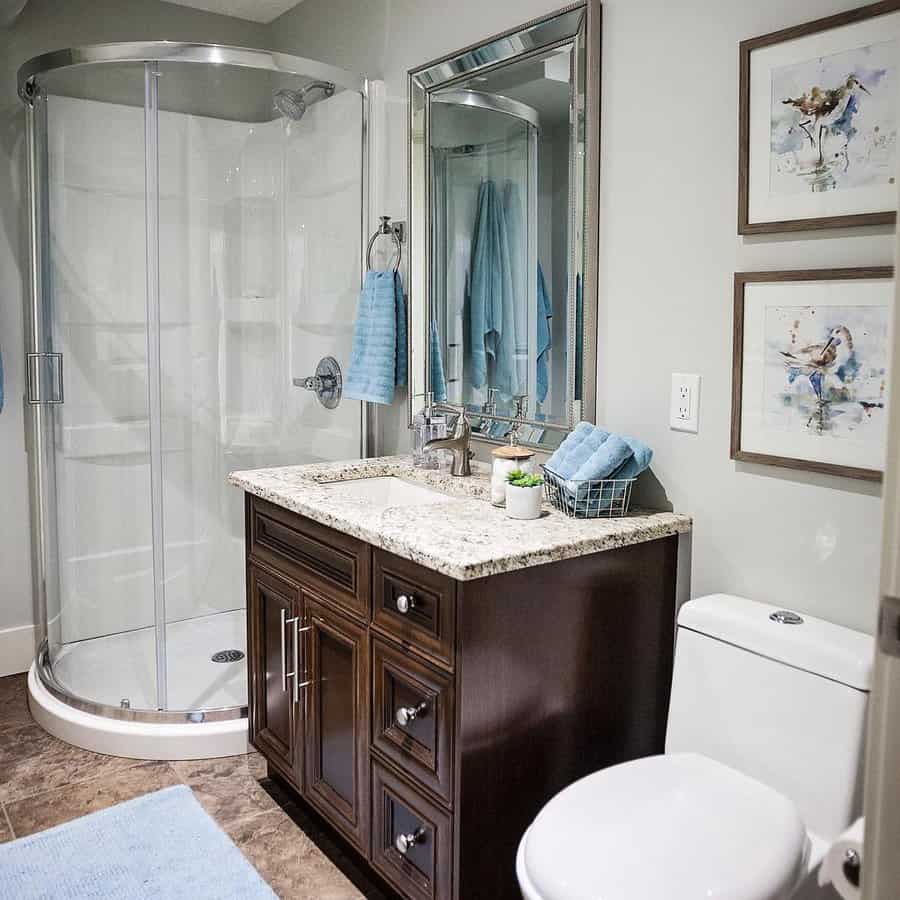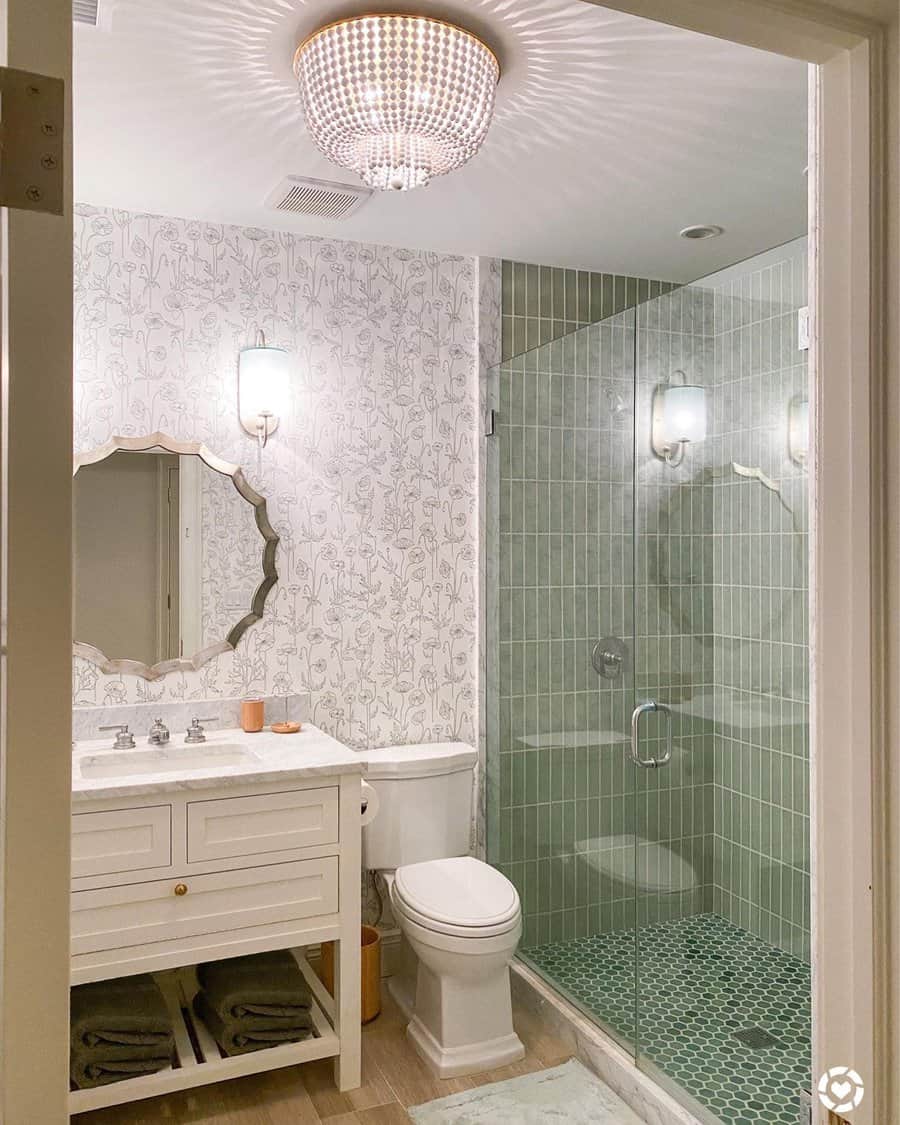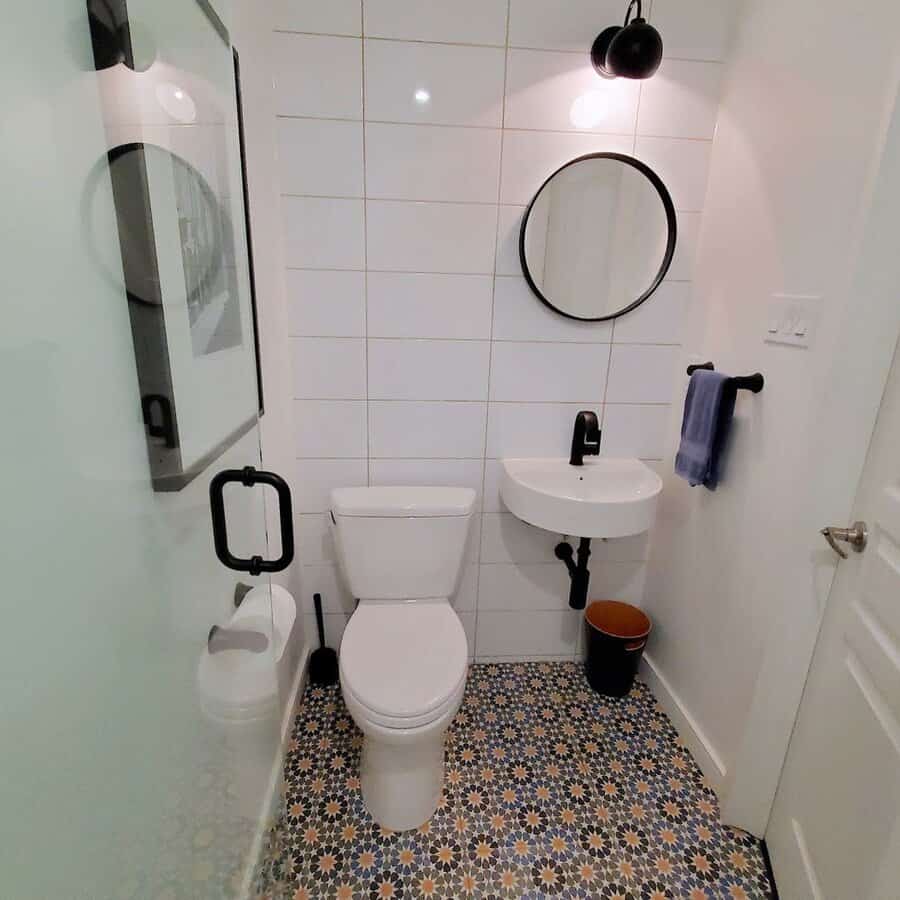 This type of bathroom addition only has a sink and toilet, with no shower. To minimize construction, you could place the bathroom in the corner. This reduces the number of bathroom walls you have to build. You can also maximize the square footage by having everything close together.
3. Farmhouse
A farmhouse design is perfect for your finished basement. You can continue this style throughout your finished basement space, laundry room, and powder room. It works well in a small bathroom because the design is simple and comfortable.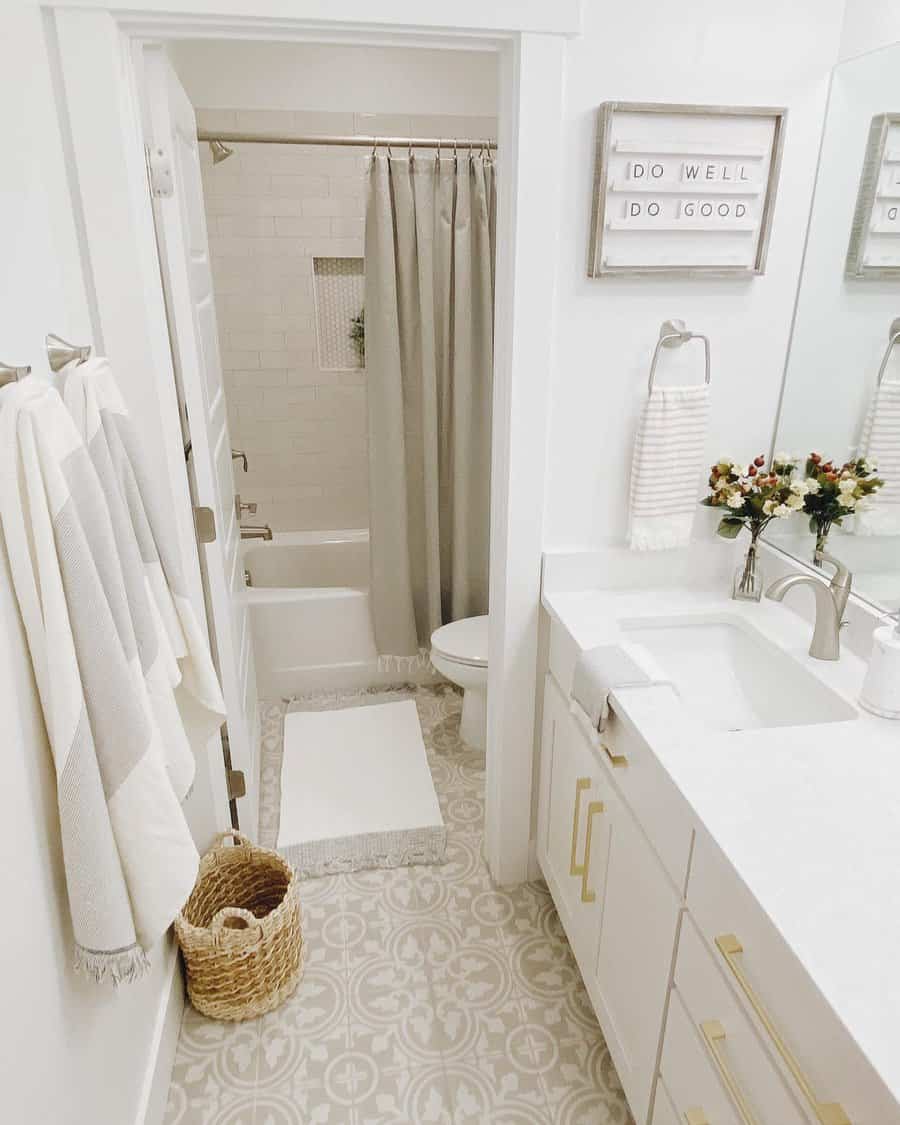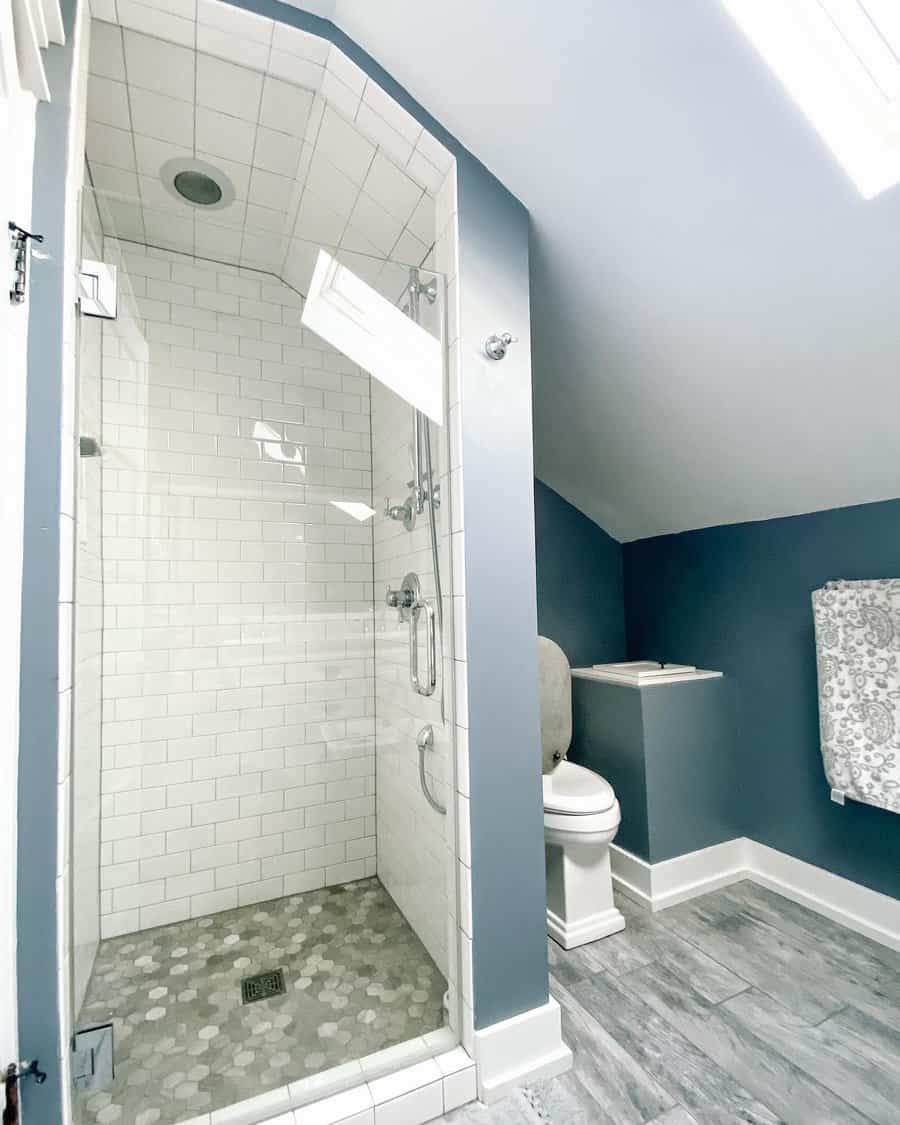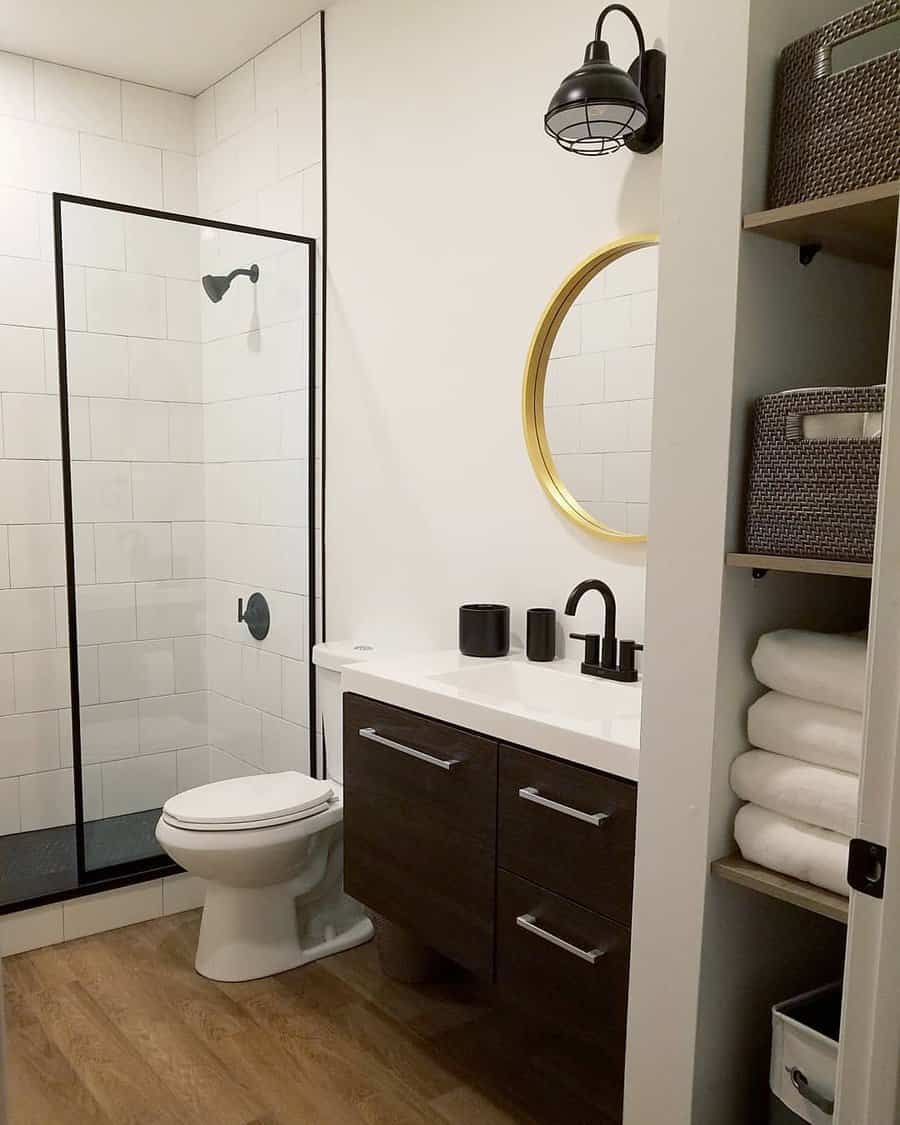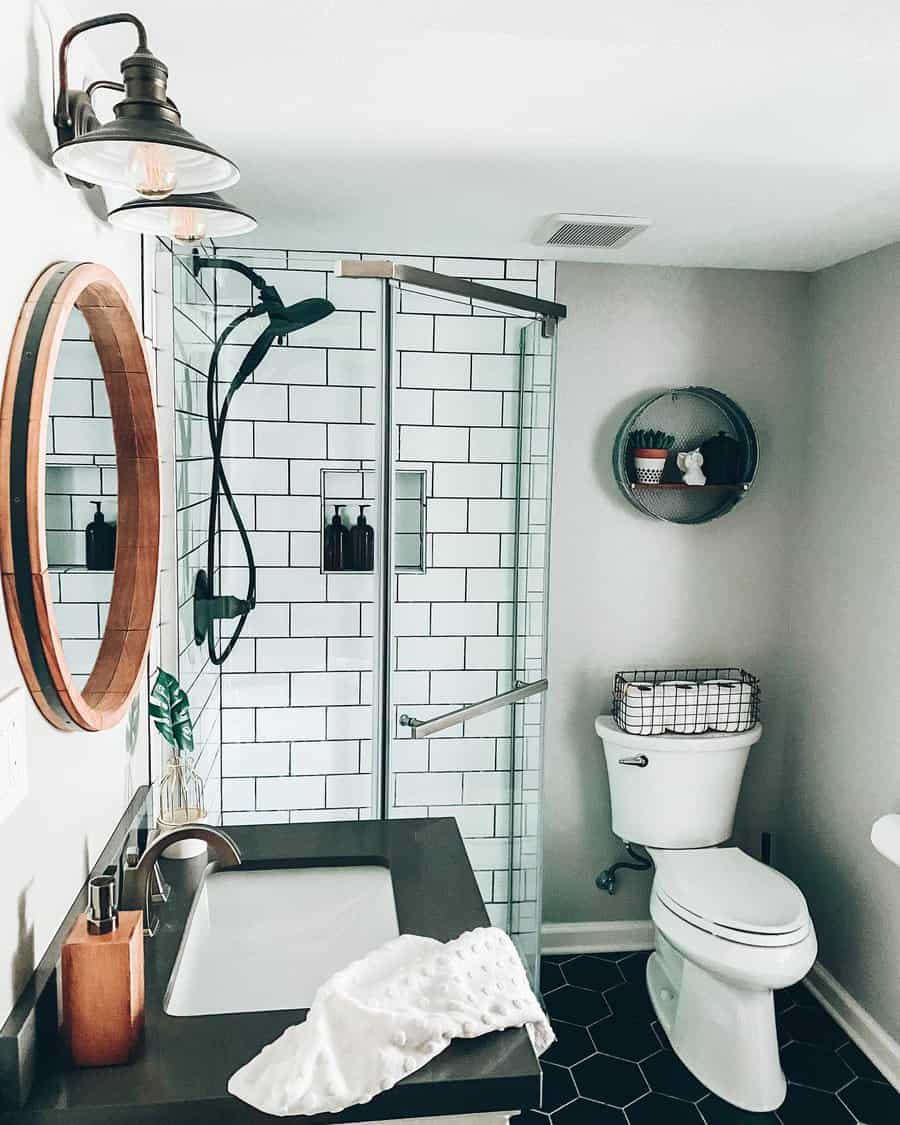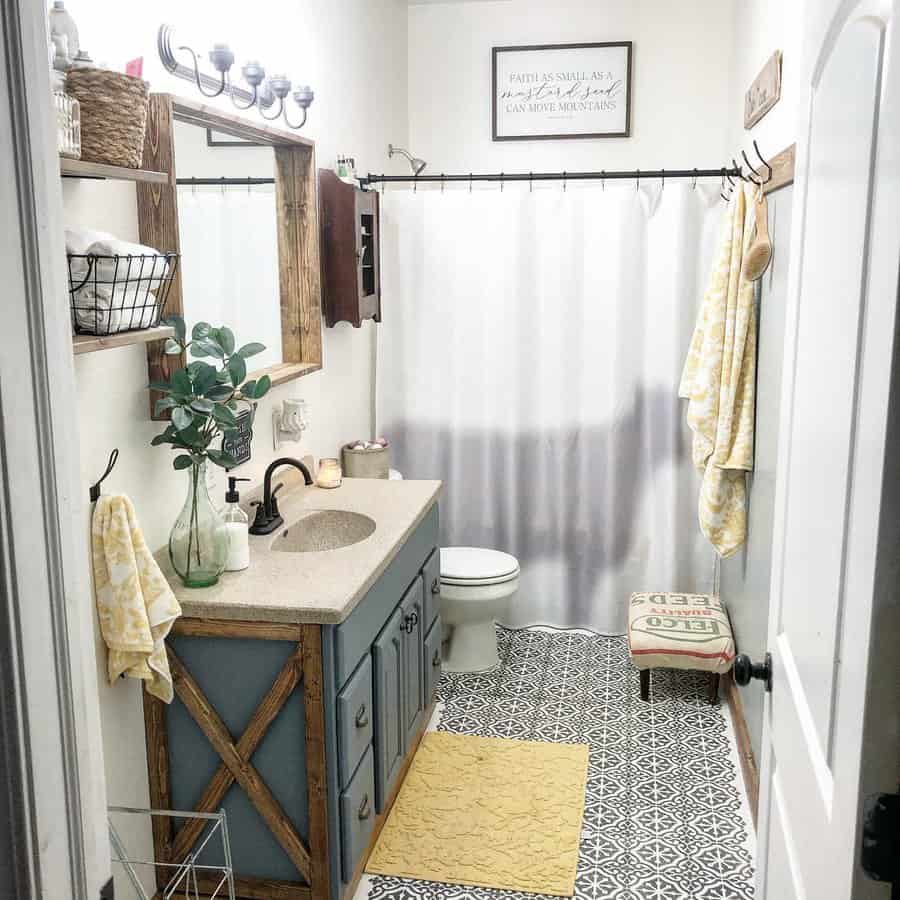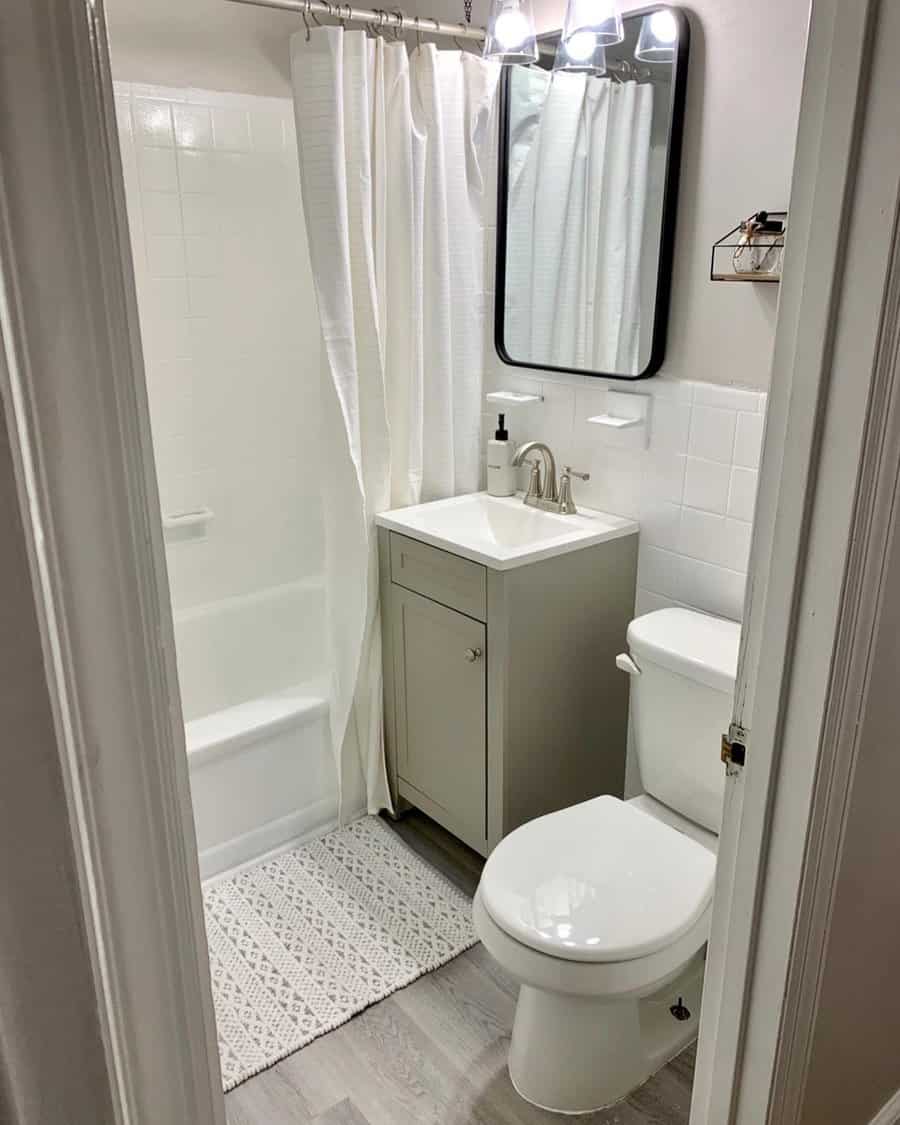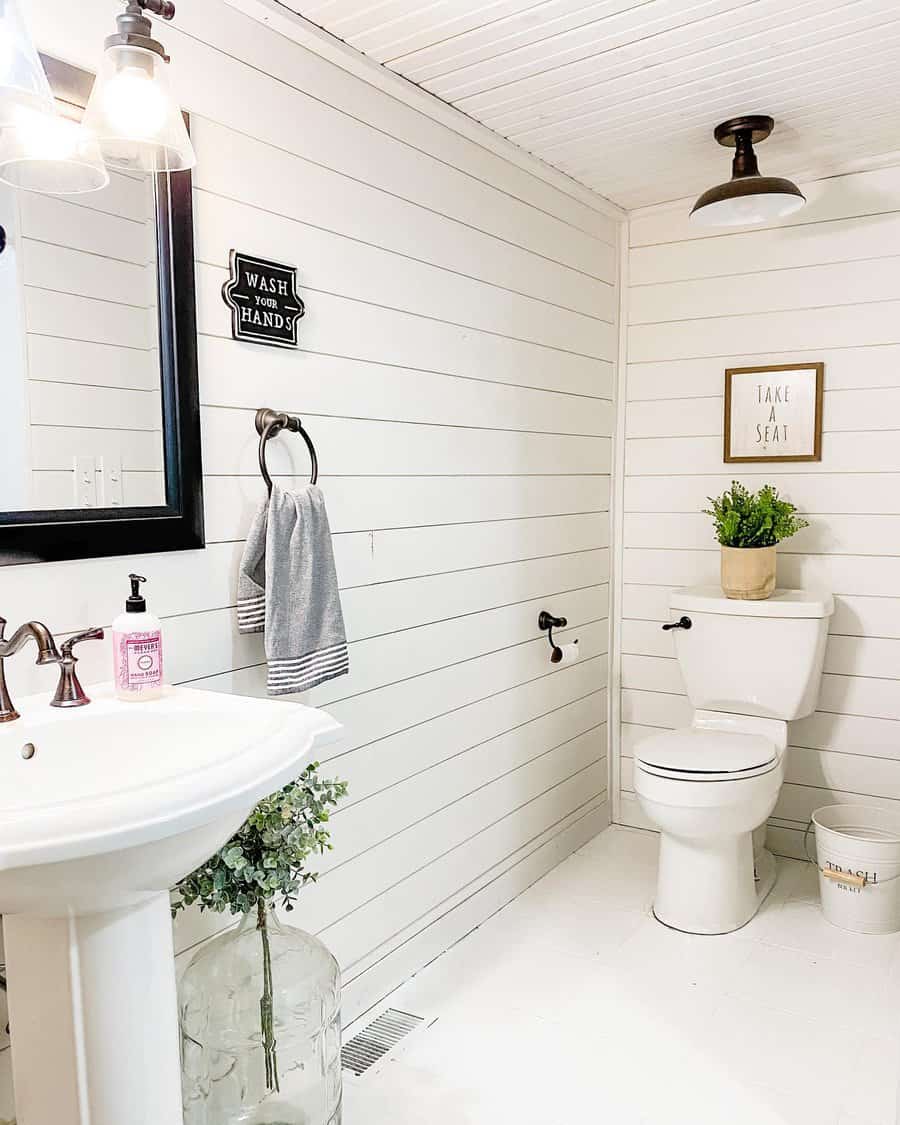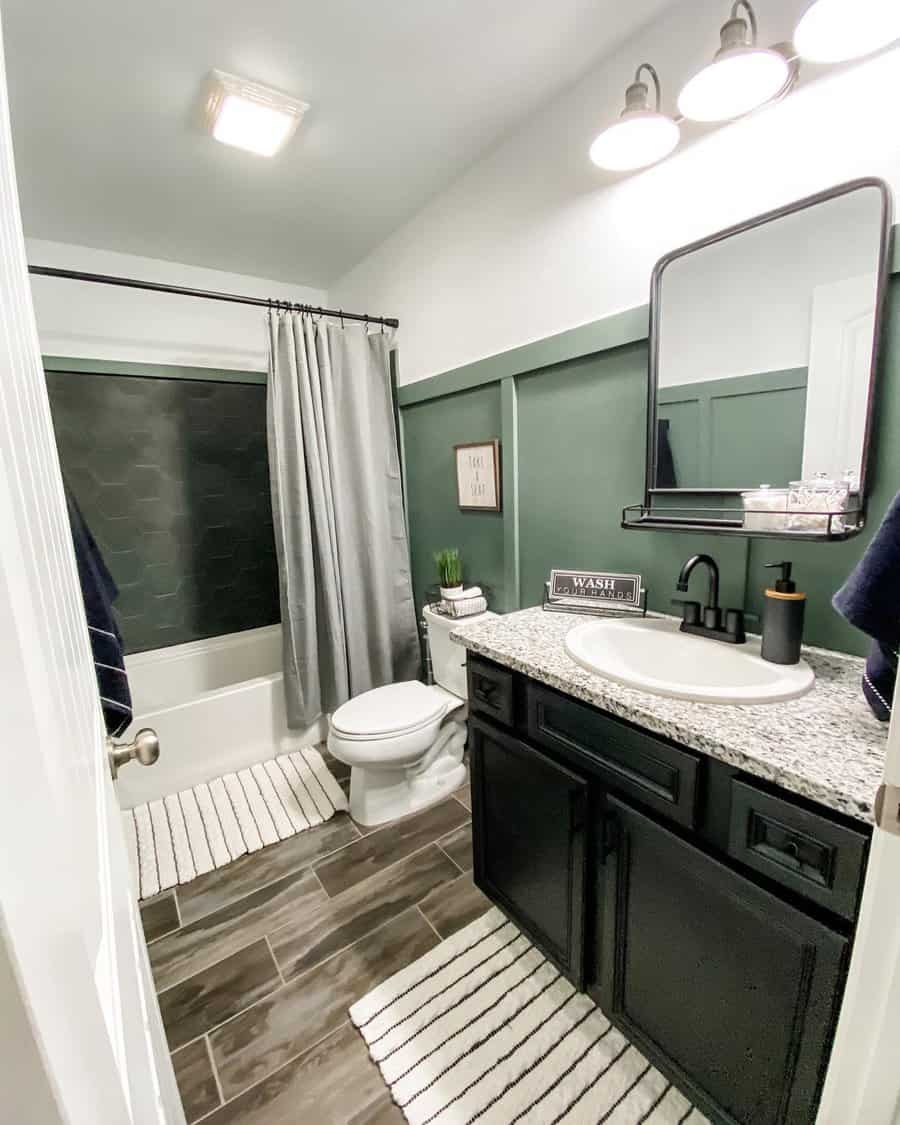 You can also get inspired by rustic basement bathroom ideas because the rustic touch will work well in a basement. You can embrace the exposed wood beams, brick, stone, and concrete. Farmhouse basement ideas will show you how to add farmhouse elements, such as a wood floor, vintage dresser vanity, or salvaged wood floating shelves.
4. Low Ceiling
One struggle you'll face when adding a bathroom to your basement is the low ceiling. If you plan to install a shower, the low ceiling could have a negative impact on where and how you install the shower head. You don't want to stoop to get under the shower head.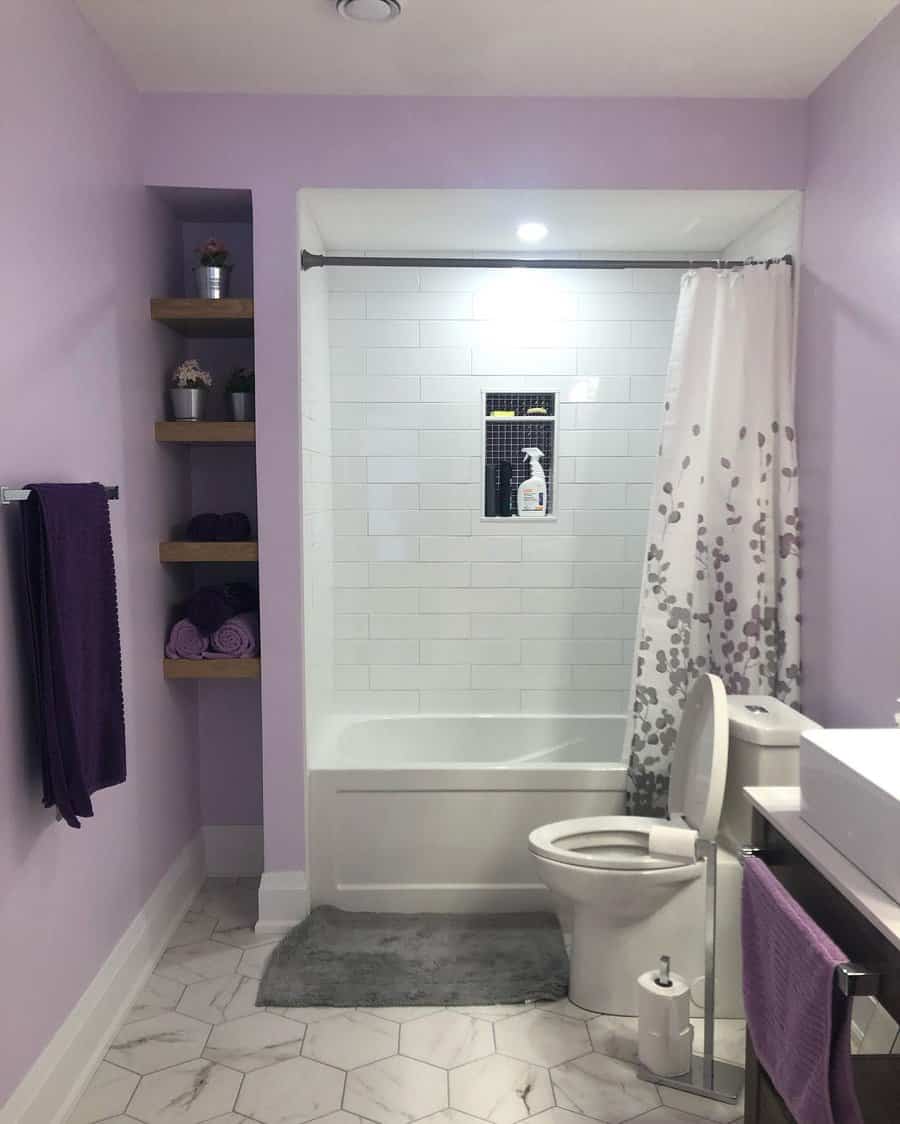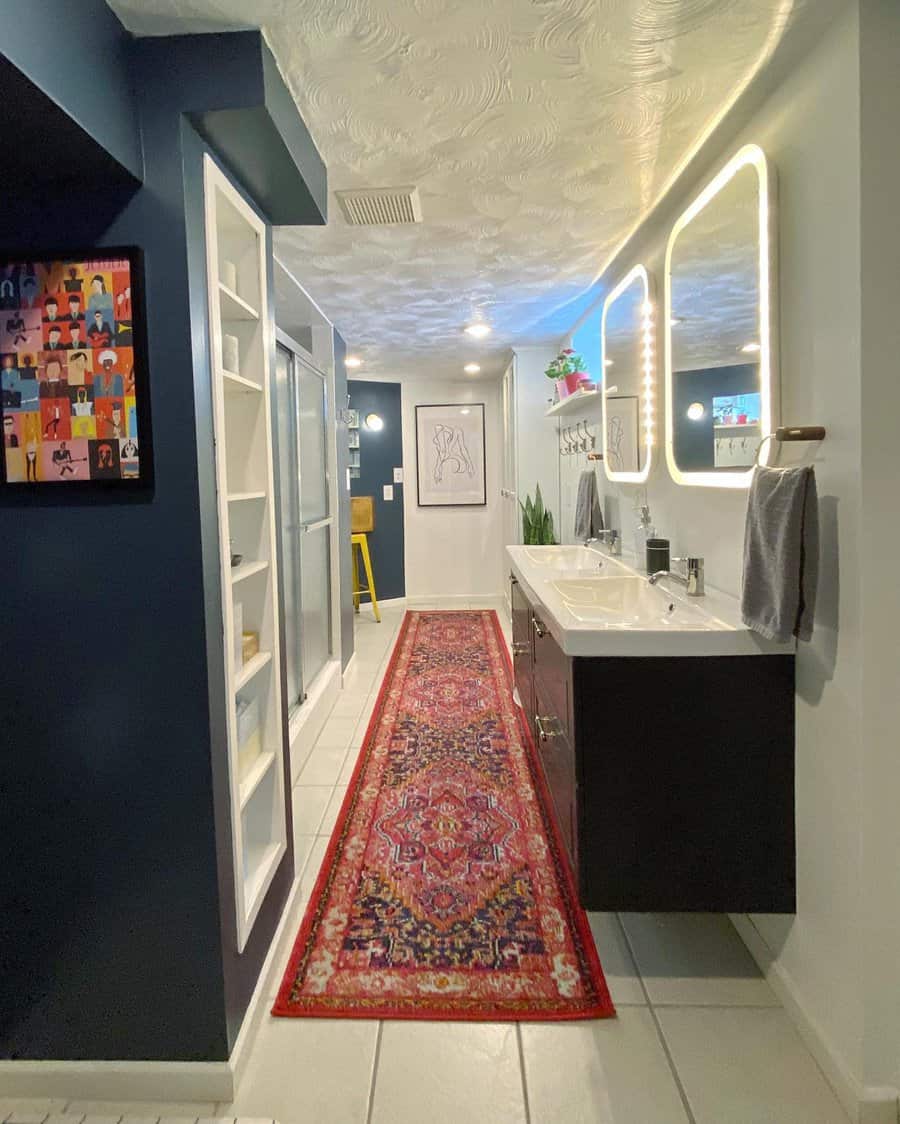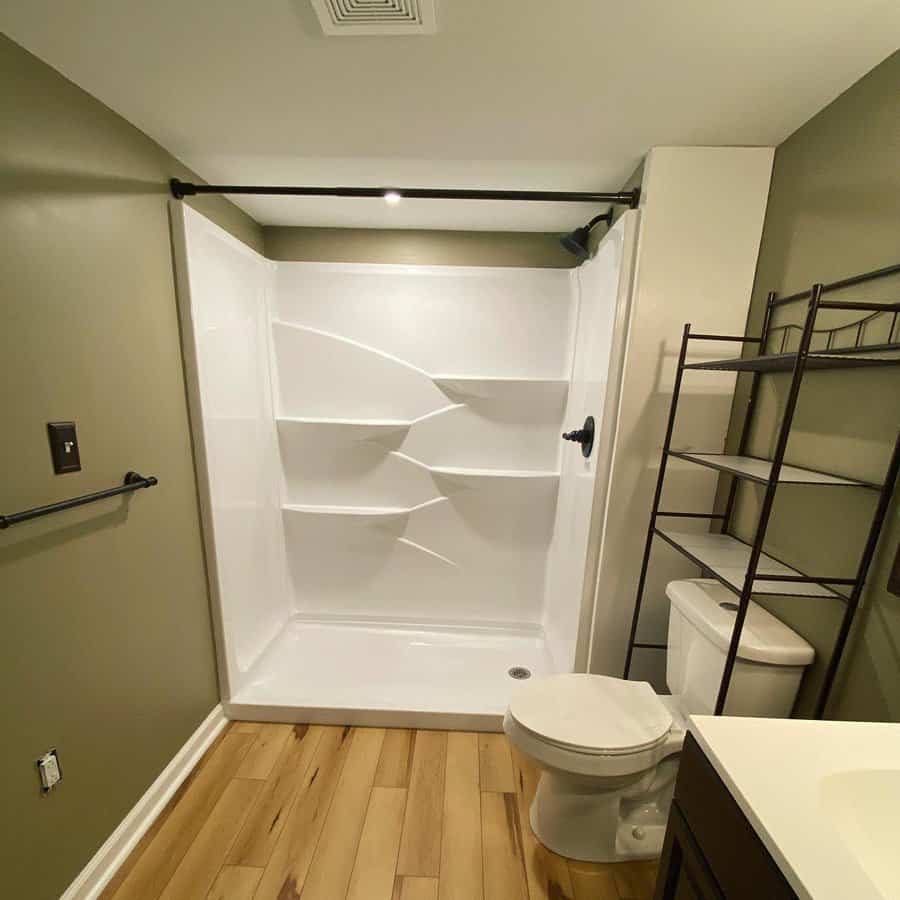 The low ceiling could also affect the shower stall you build. You may not be able to install an affordable prefab shower stall. This means a more expensive custom job. Finally, the low ceiling could prevent you from installing a light on the ceiling. Instead, you may need to wire your new basement for wall sconces.
5. Modern
Embracing a modern style for your basement bathroom can help your new addition to feel bright and large. Modern designs have a minimum look, which can help a low ceiling basement bathroom to feel more open and comfortable to be in.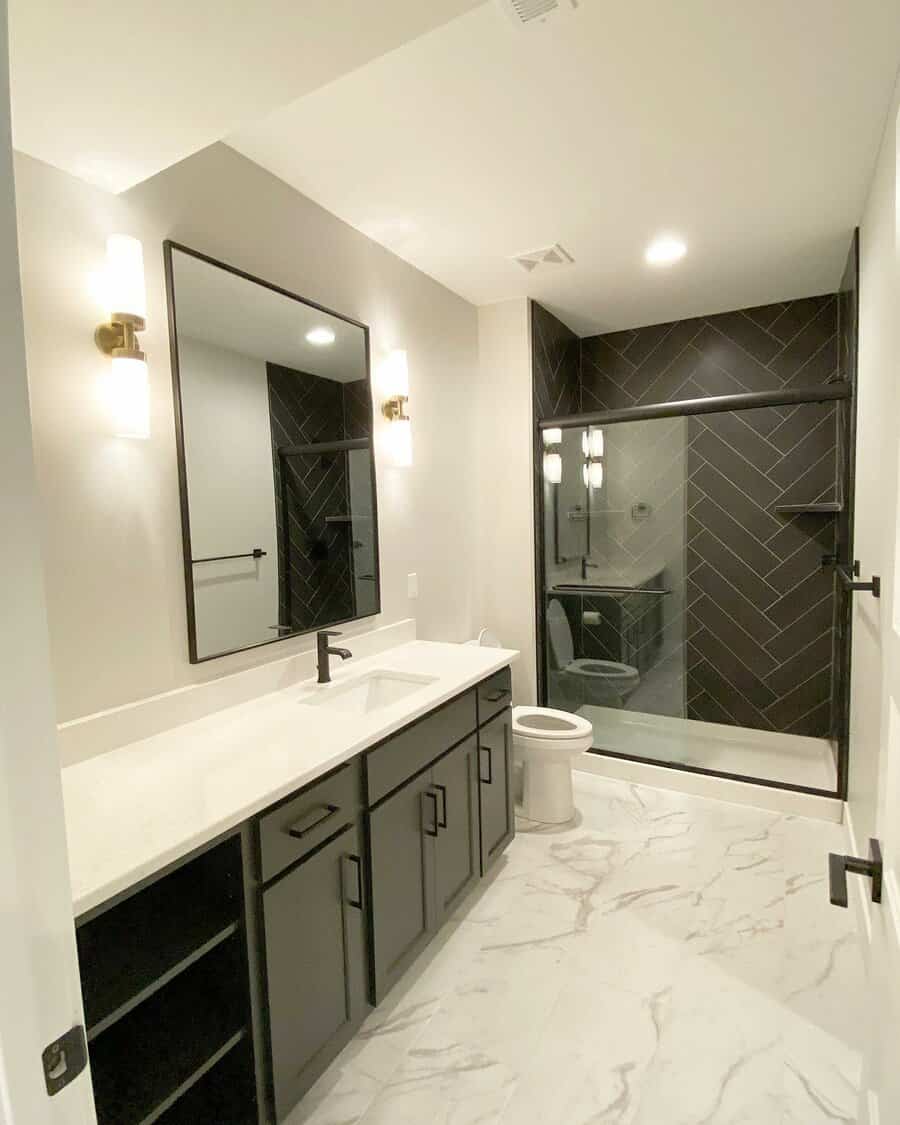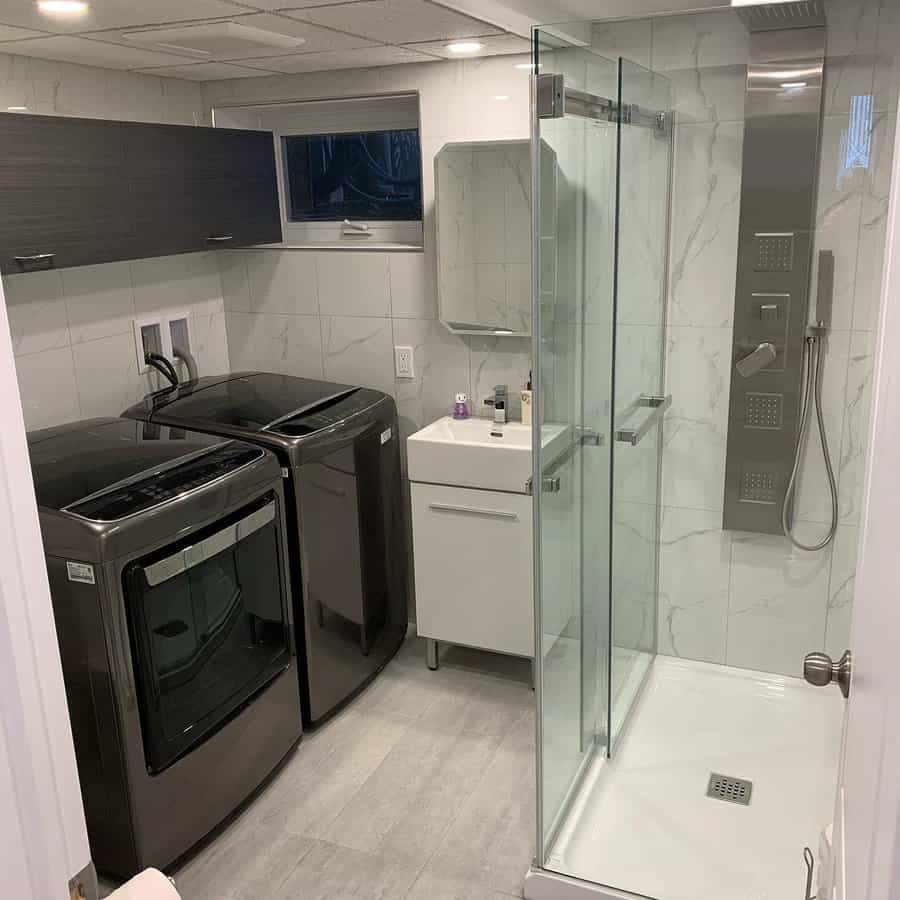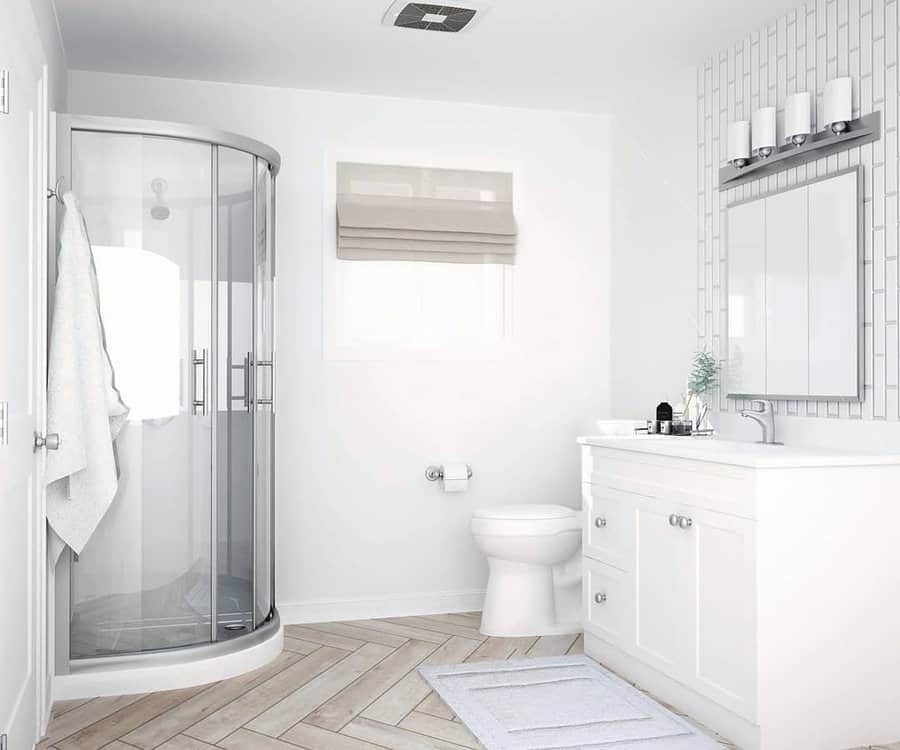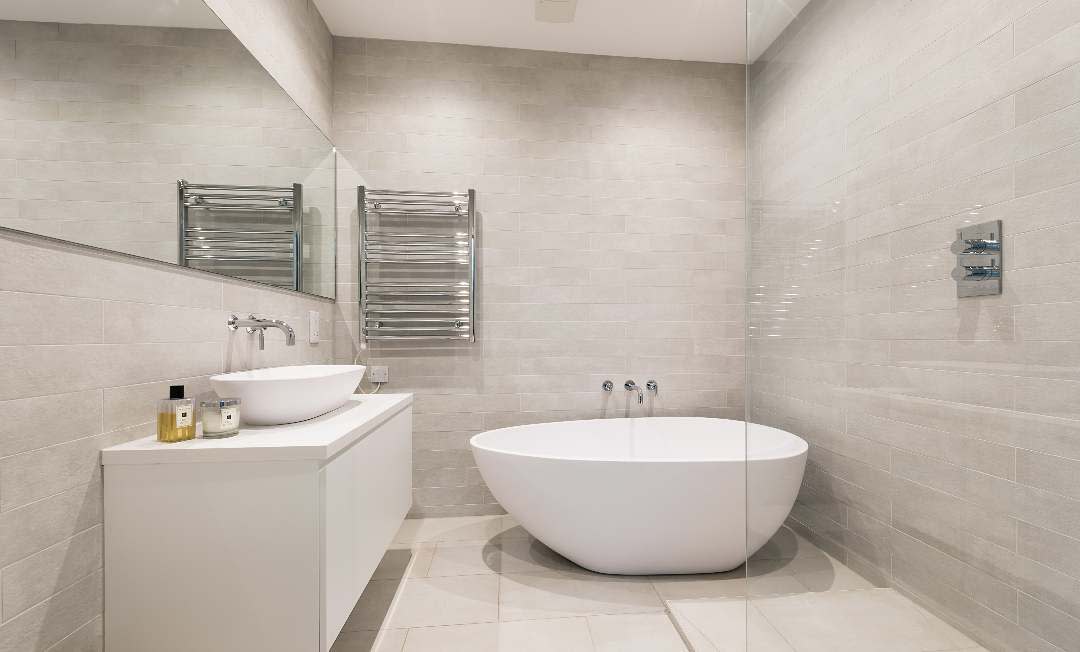 Add plenty of lighting sources and use bulbs that mimic natural daylight. Use a light neutral color scheme. Add a large mirror to help the space to feel larger. Use frameless glass to partition the shower from the rest of the bathroom. Use sleek and simple plumbing and lighting fixtures.
6. Remodel
Bathroom remodeling can be expensive and challenging when it's in your home. It gets even more difficult when the bathroom is in your basement. If you plan to add a bathroom as a part of your basement remodel, you need to map out the existing plumbing lines.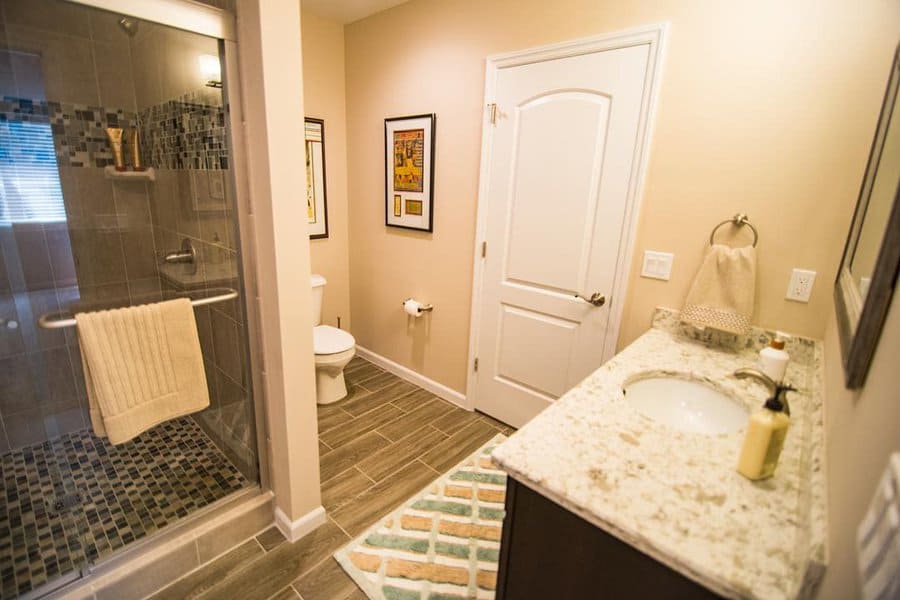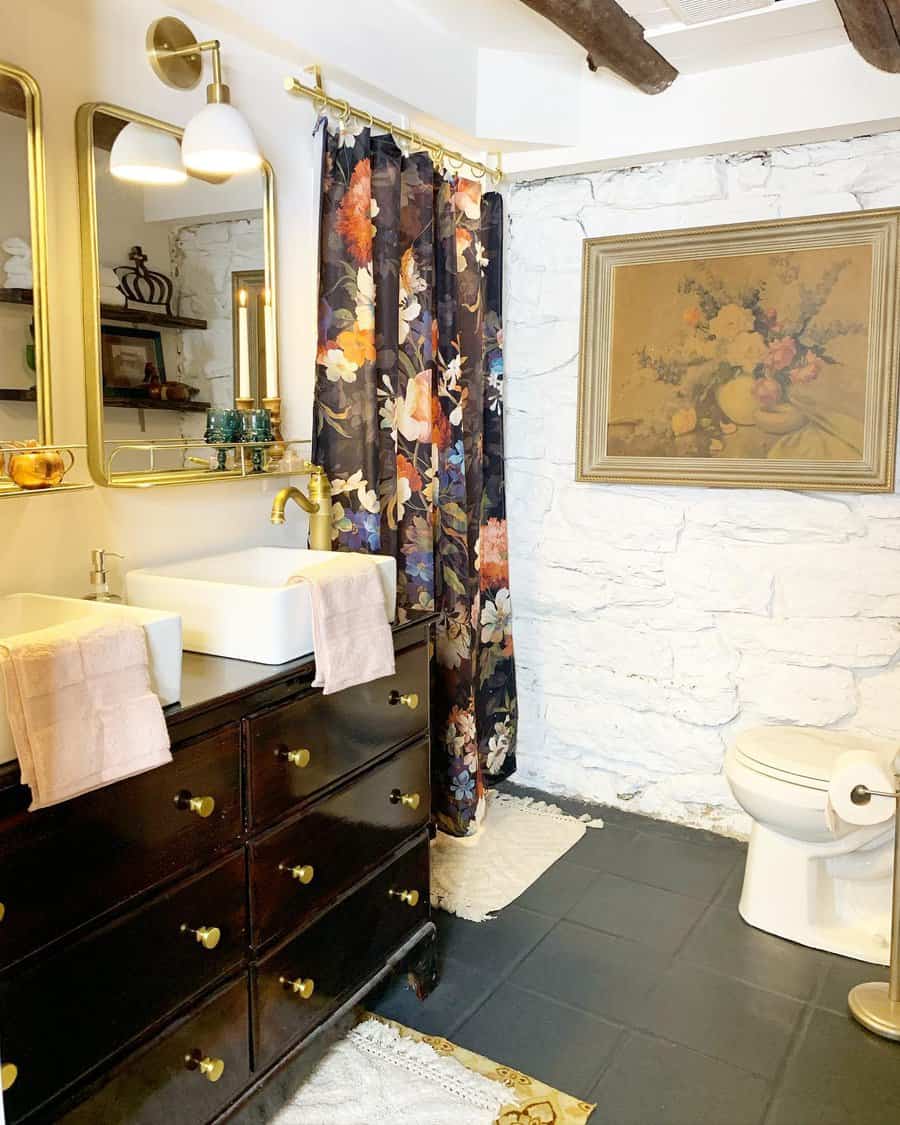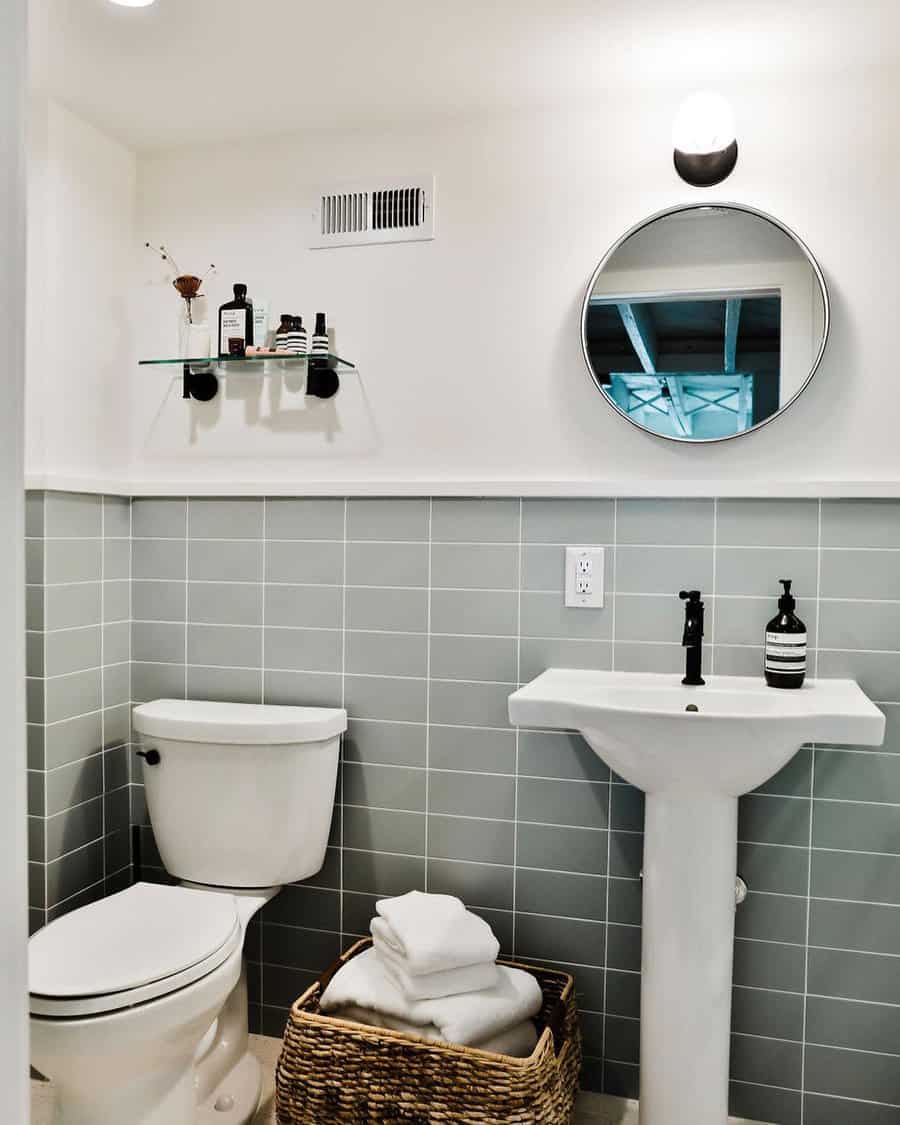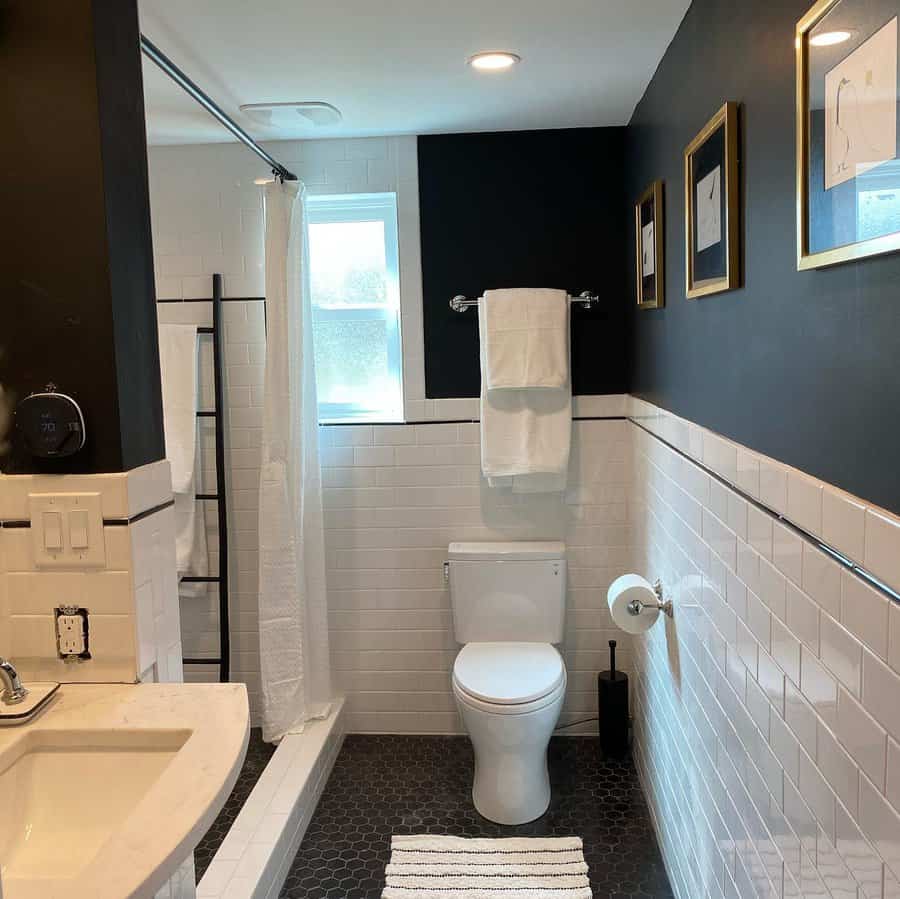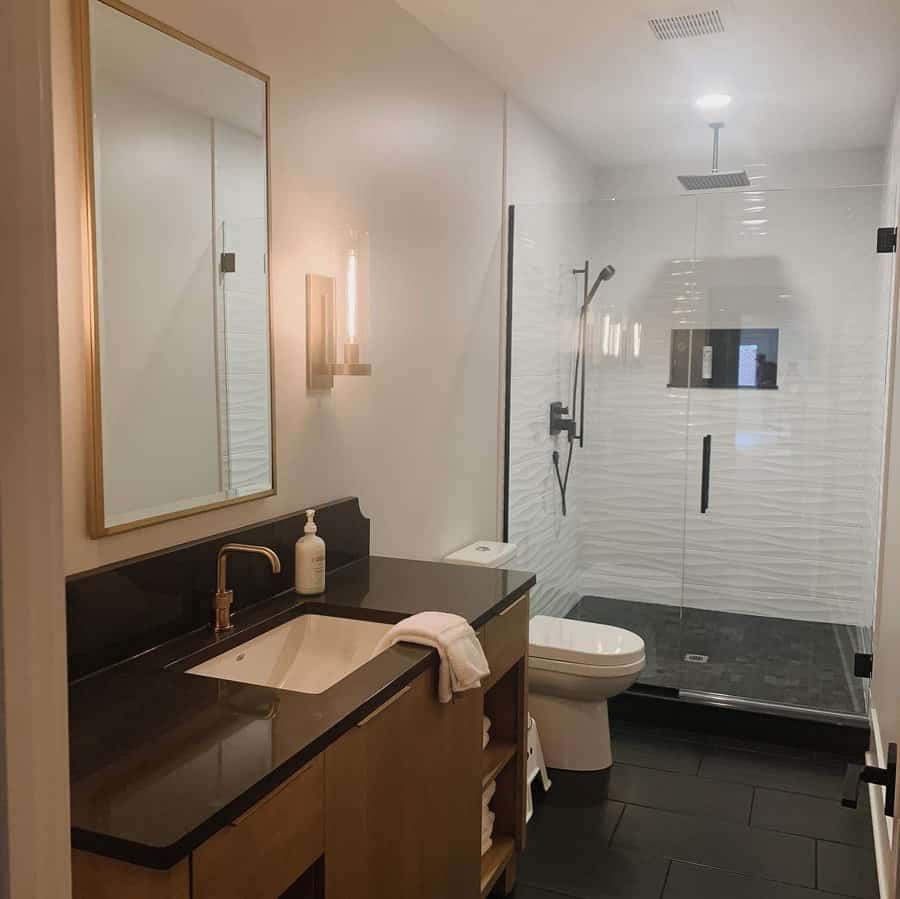 The smartest approach is to build your basement bathroom where your home's plumbing lines are. This minimizes the amount of remodeling and new lines that need to be run. Additionally, check the level of your main sewer line. Standard toilets work with gravity to move the wastewater away from the toilet and out of the sewer line.
If your main sewer line is higher than your basement floor, you need an upflushing toilet. This style of toilet looks like a standard toilet. Upflushing toilets are different because they move the toilet paper and other waste upward to meet the main sewer line.
7. Shower
When installing a shower in your basement, you need to lay down a shower pan first. It acts as the base of your shower and is sloped to direct the water towards the drain.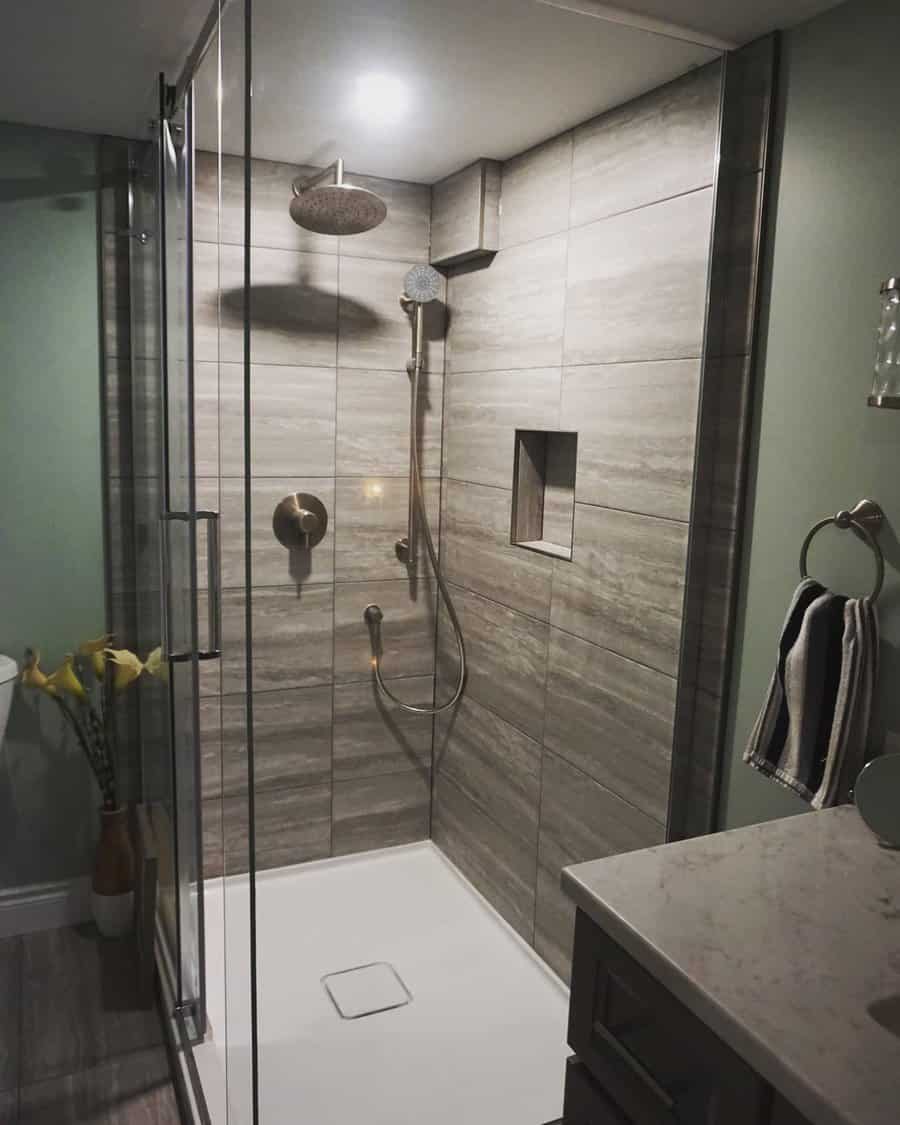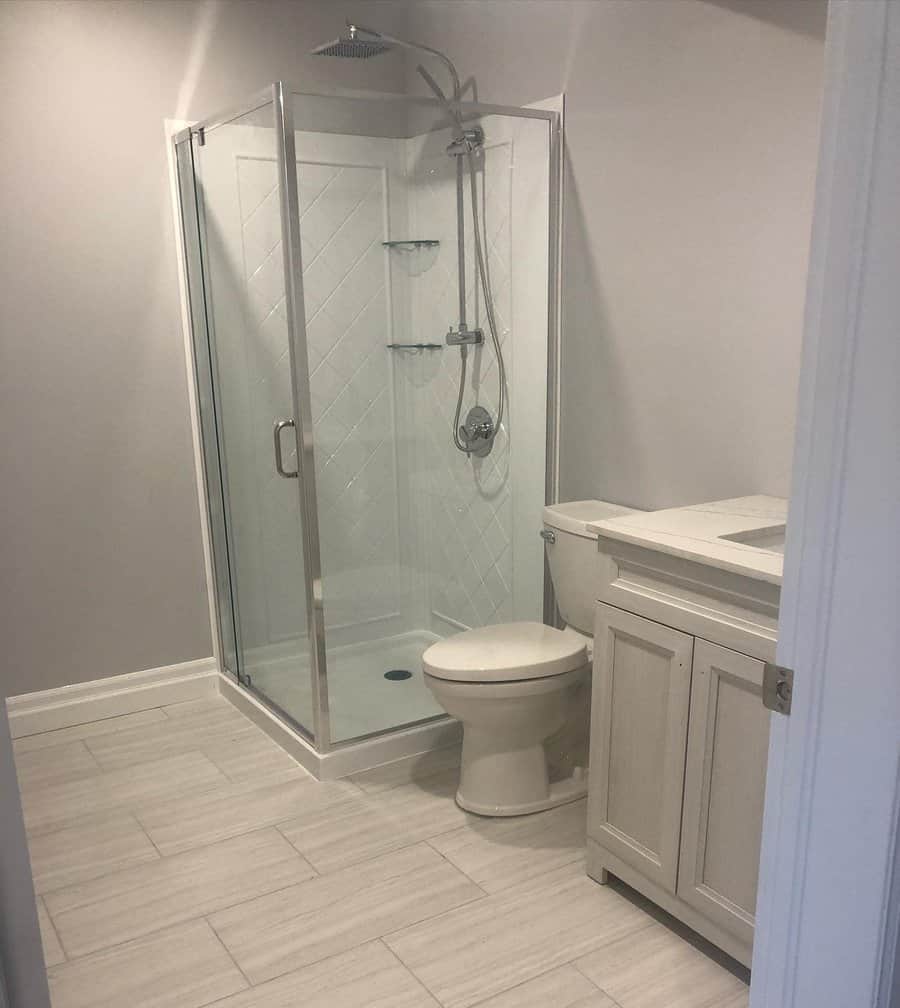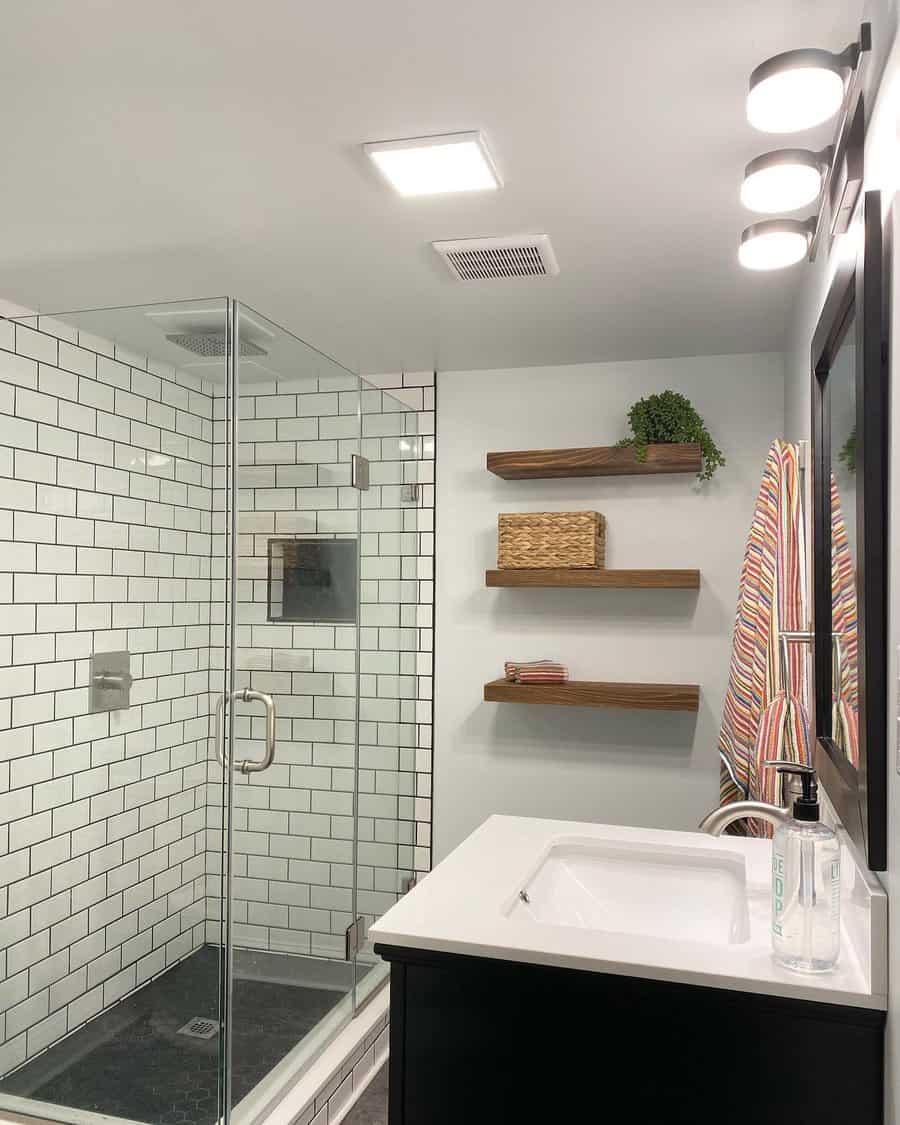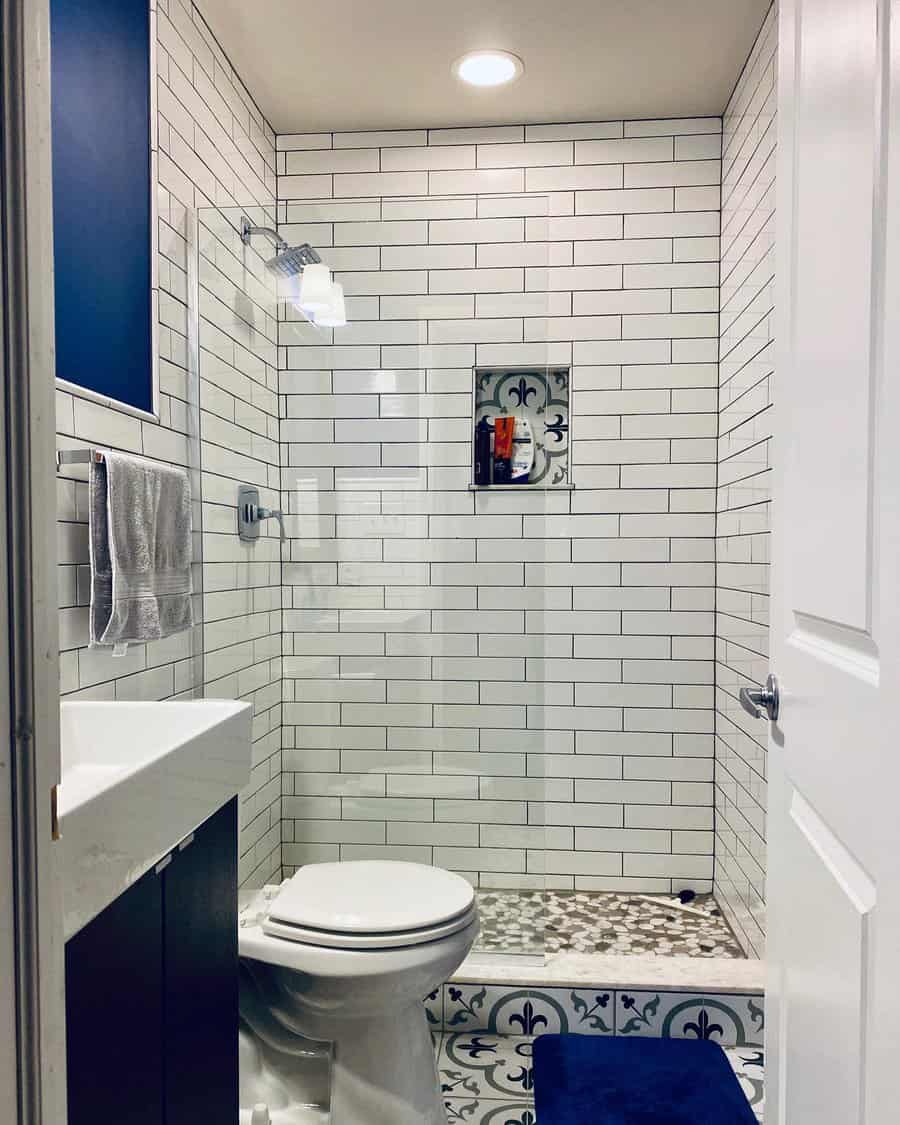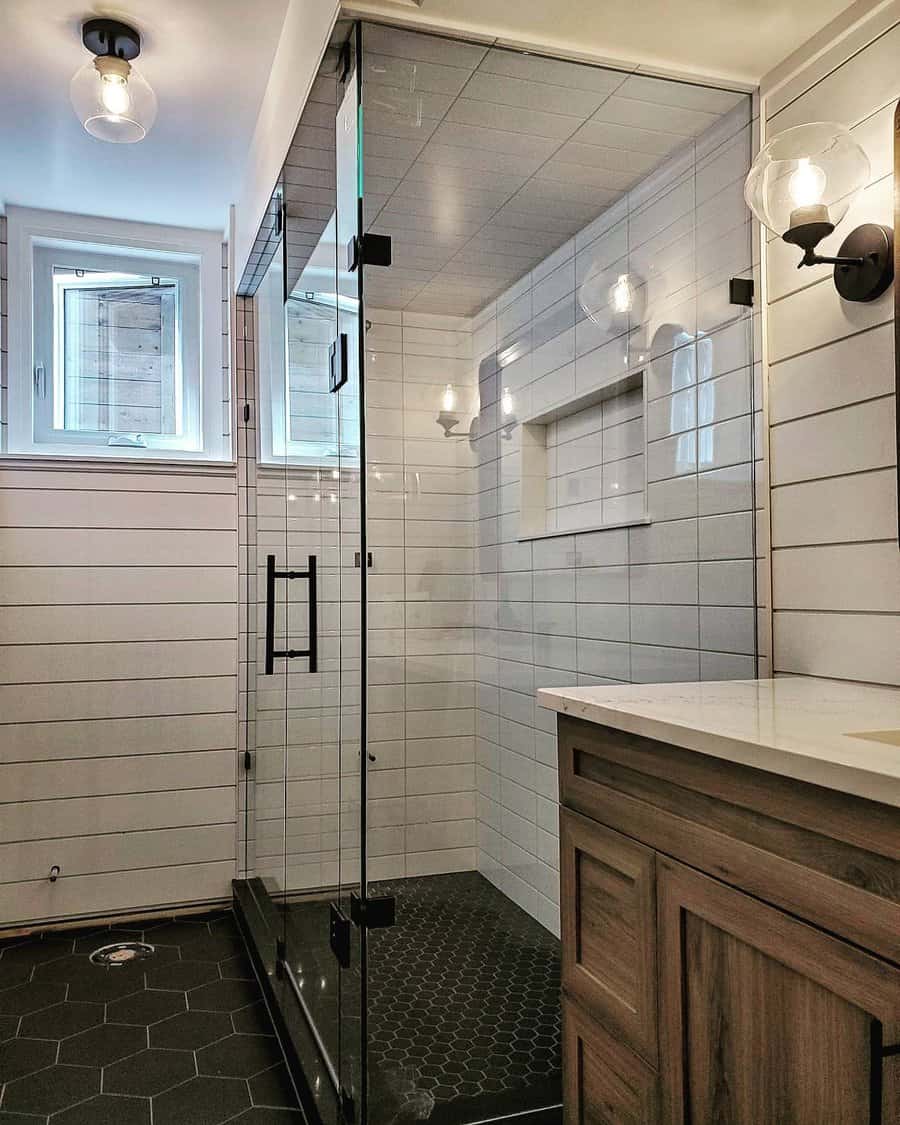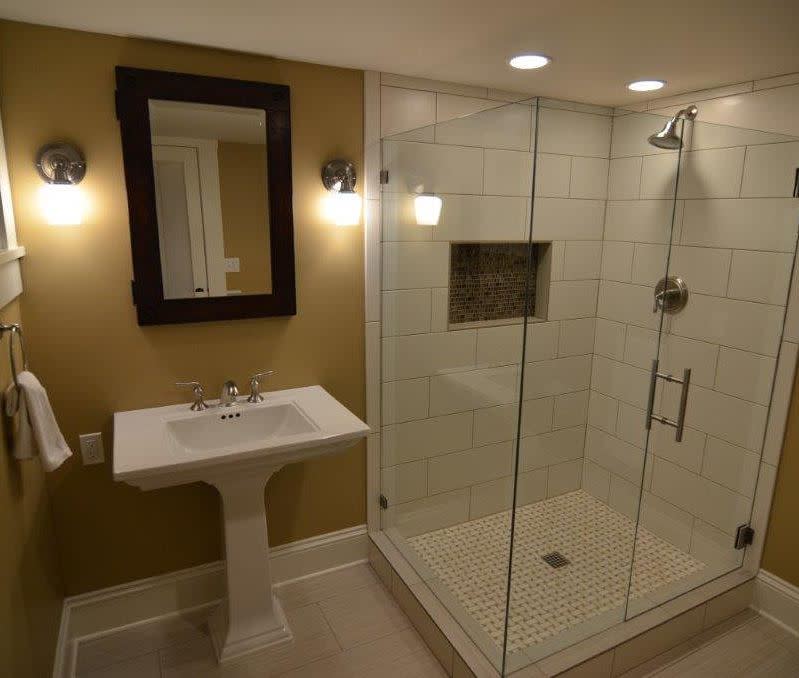 They come in a range of sizes, so you can find one to fit in the small space you have available. If you decide to have a basement bath instead, you don't need the shower pan. However, you will have to figure out how to get a bathtub into your basement.
8. Tile
Tile is a smart choice for your bathroom floor. It's impervious to water, durable, and stylish. You could even continue it outside the bathroom to cover the entire basement floor.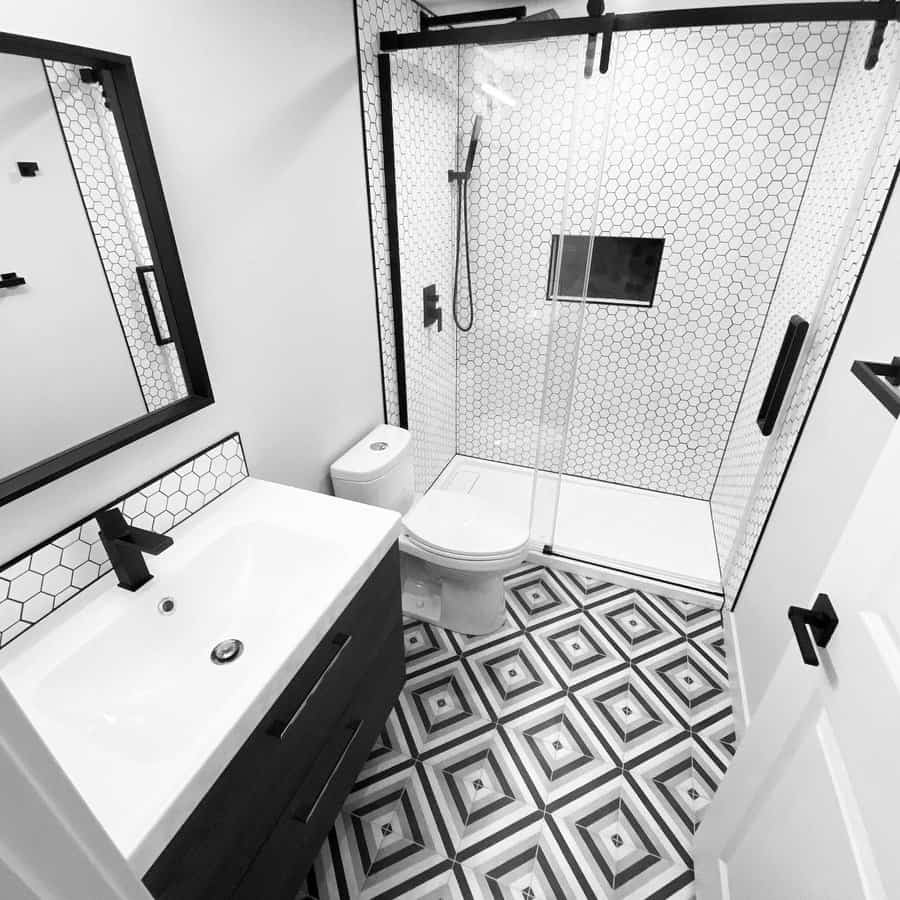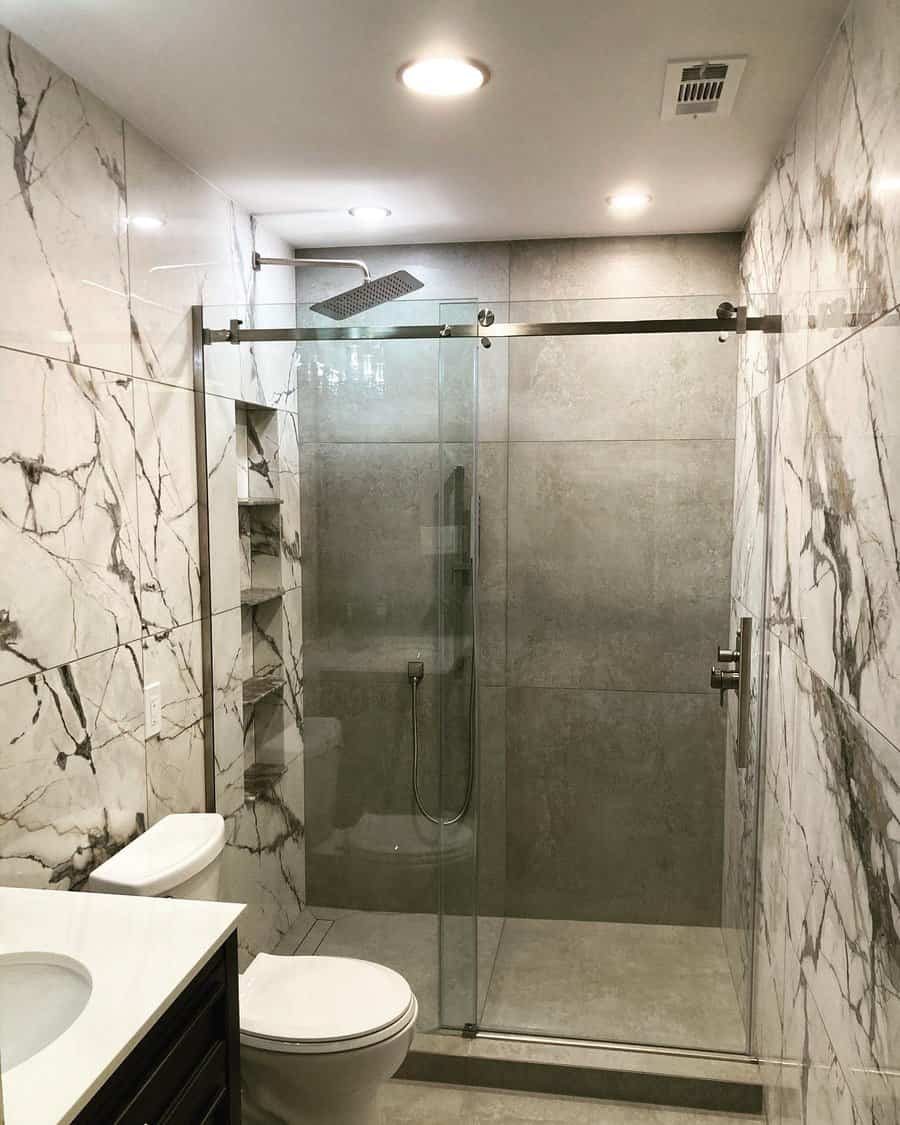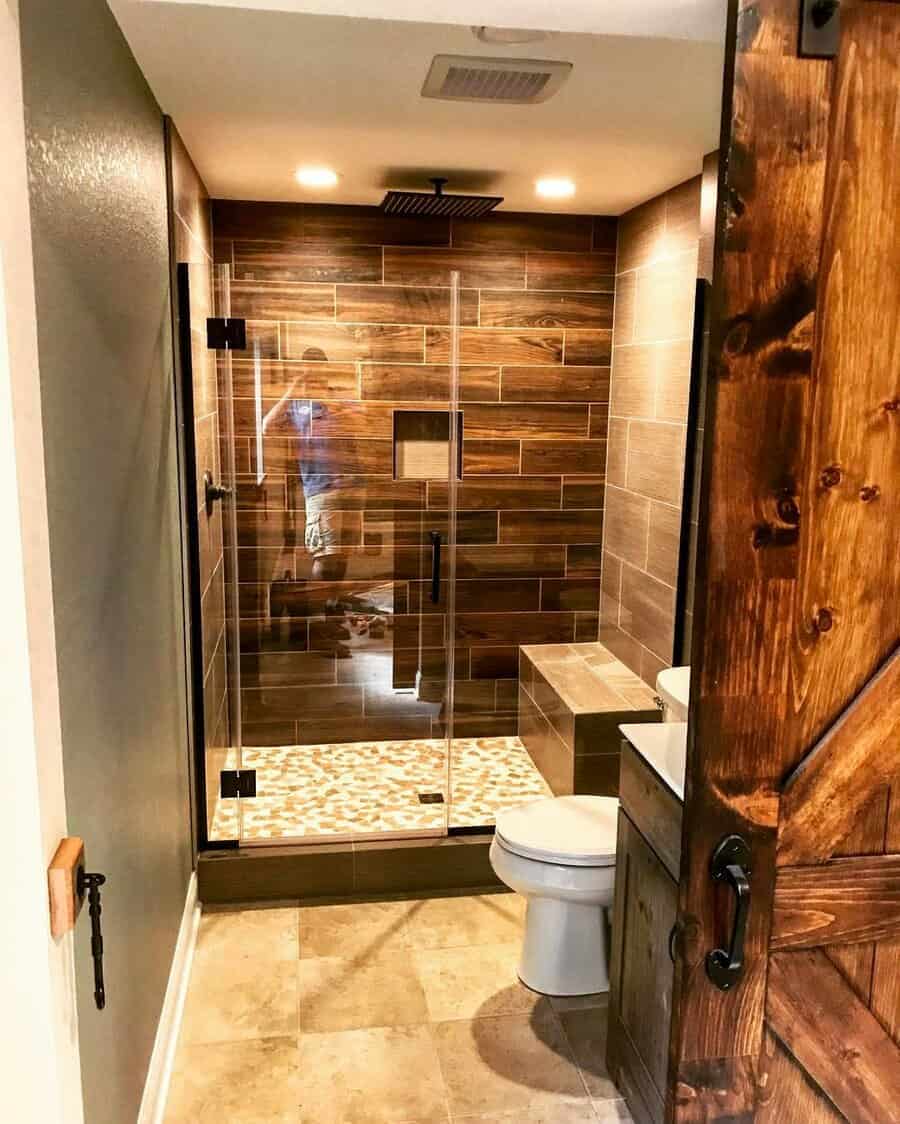 When choosing a floor tile, porcelain is denser and more durable. However, ceramic tile can be fine if you don't expect your basement bathroom to get heavy use. You could also stick tile on the walls. Adding it to the wall around the vanity will help protect the drywall from moisture.
FAQs
Is it worth putting a bathroom in the basement?
Adding a bathroom to your basement can make it a useable and livable space. This can increase the market value of your home because it increases the desirability of your home. Having a finished basement with a bathroom can be a selling point for potential buyers.
How do you plan a basement bathroom?
Start by knowing the square footage of your basement and where the electrical and plumbing lines are. Map out where and how big you want your bathroom to be. Confirm that your plans conform with building codes. Try to minimize the moving of plumbing lines to keep the costs down. Once you have the basics, you can plan the design.
o you need a special toilet for the basement?
For a standard toilet to work, your home's sewer line needs to be below your basement's floor level. Otherwise, you need an up-flush toilet. These toilets look and flush like a standard toilet. They differ once the water flushes out of the bowl. The waste gets pressure ejected up to join the main sewer line.