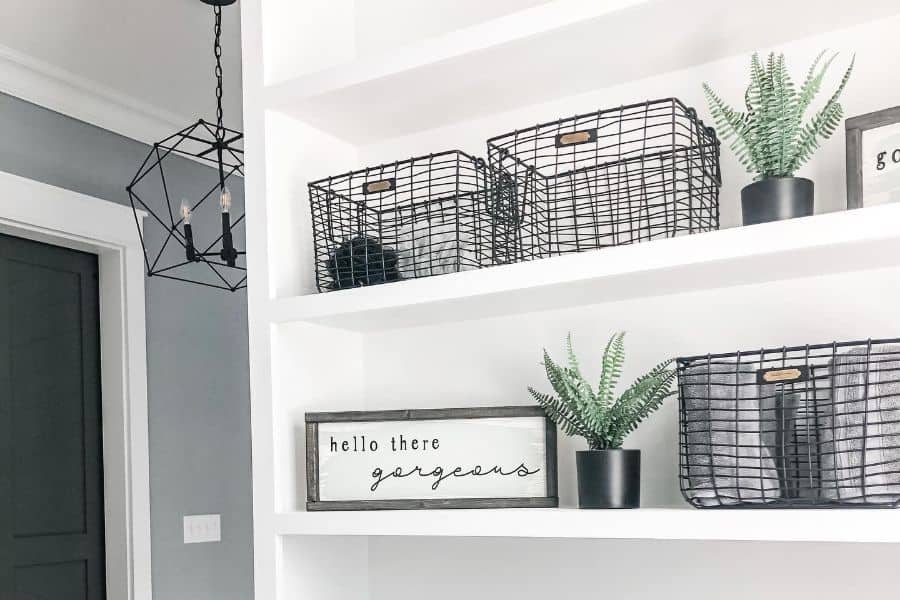 The Top 75 Bathroom Closet Ideas
We use our bathrooms at some of the most hectic times of day. Therefore, having an excellently organized bathroom is an essential time saver. Count yourself among the lucky if your home includes a bathroom closet or two.
Bathroom storage organization can help you and your family members stay on track, whether you're heading out the door or getting ready for bed. Check out our collection of best bathroom closet ideas and select several to get your bathroom storage under control.
1. DIY
If you're undergoing a bathroom remodel or renovation, it's helpful to add a bathroom closet to your floor plan. Even a tiny bathroom probably has room for a small linen closet or an extra linen cabinet.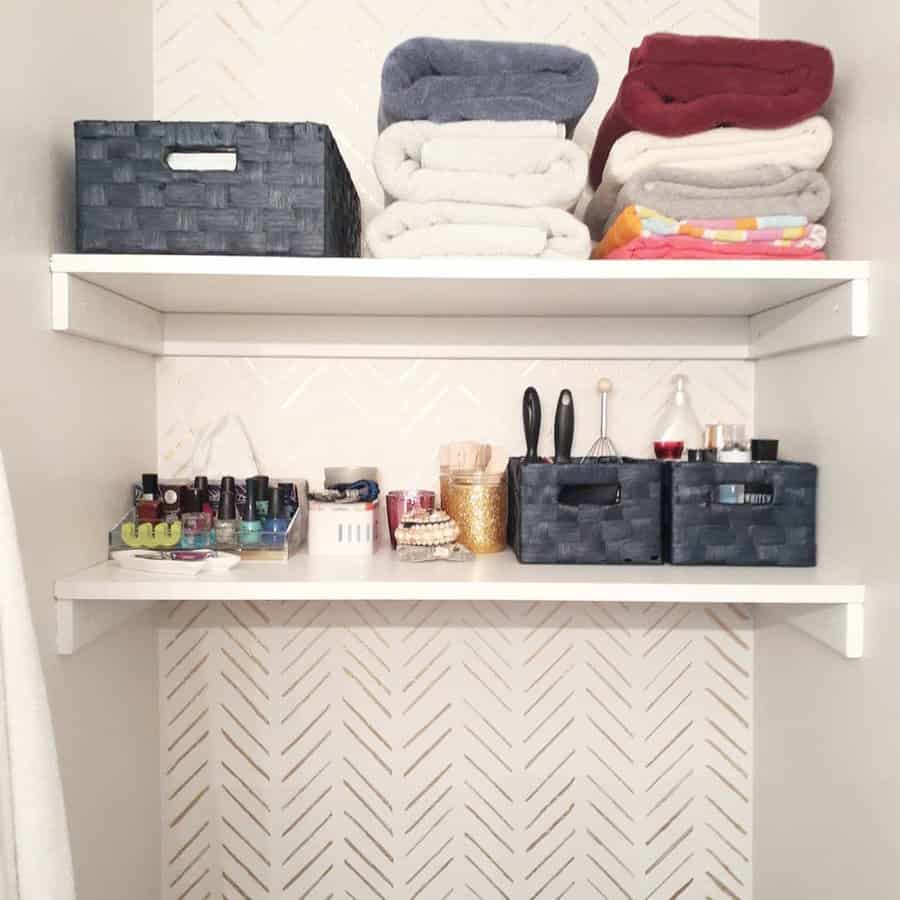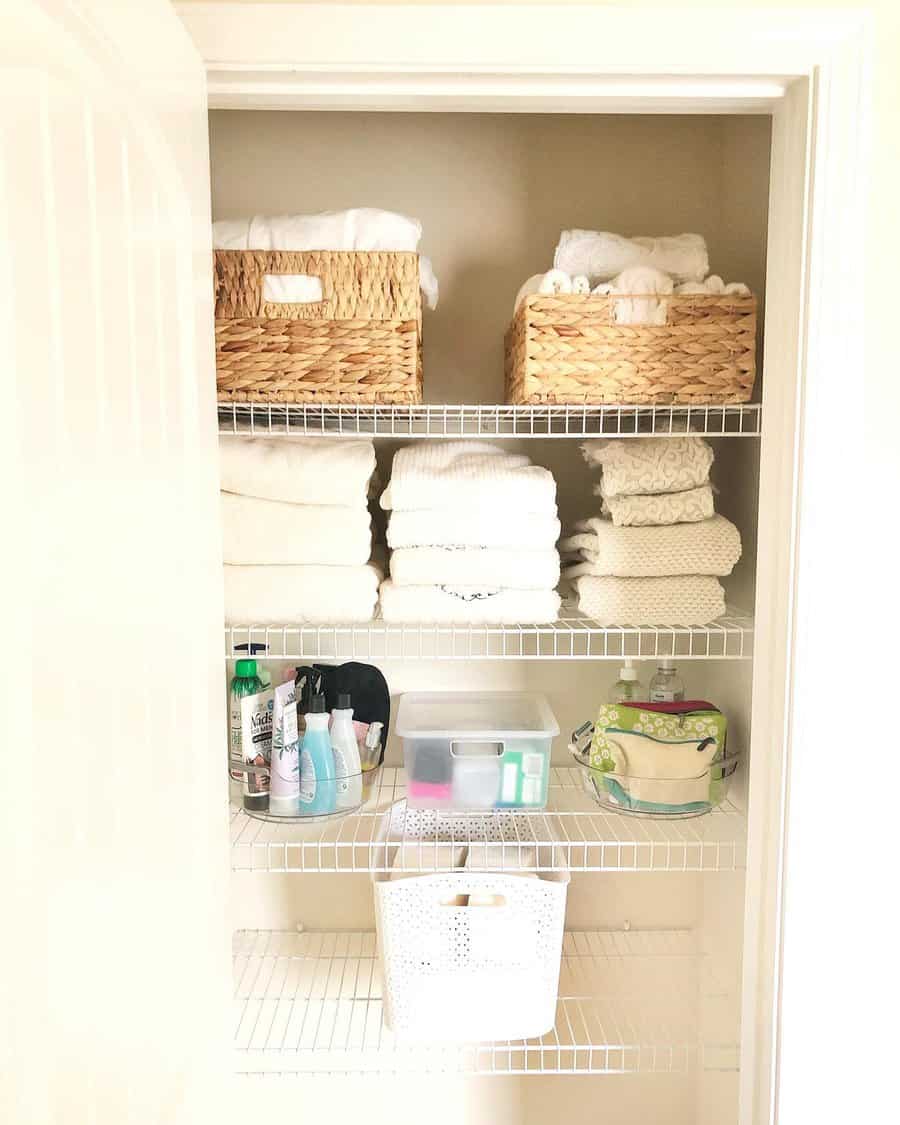 If it's not possible to build a new bathroom closet, get a bathroom cabinet unit that occupies the space above the toilet. It's also relatively easy to add a recessed medicine cabinet on an empty wall, as shown in this video:
When taking a DIY approach to bathroom storage, aesthetics and closet organization should be equally important. Add a beautiful wallpaper to the back bathroom closet wall to add some spice to any size bathroom closet.
Open shelving is another good bathroom storage solution in a small bathroom or powder room.
2. Design
How you design your bathroom closet or linen closet should honor your personal aesthetic. For example, don't use wicker baskets as a storage solution if your personal tastes lean toward modern, minimalist design.
Although you may wonder why it matters when it's tucked behind a closet door, you will see these containers every day. You might as well make them visually pleasing as well as functional.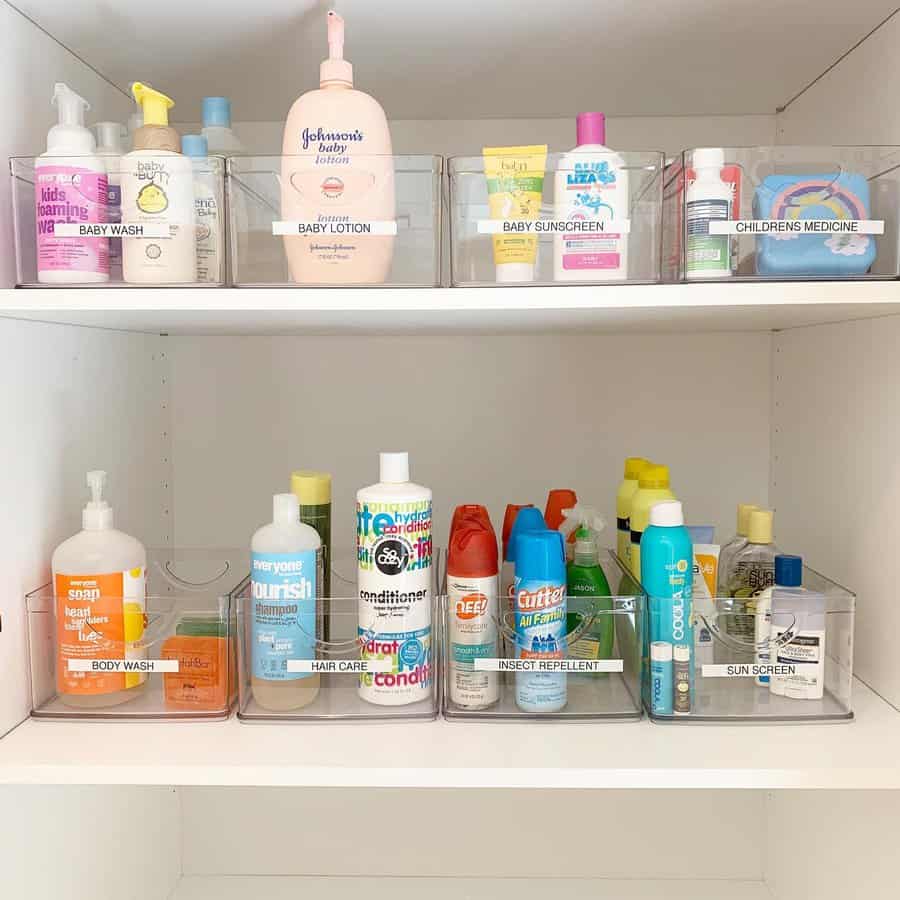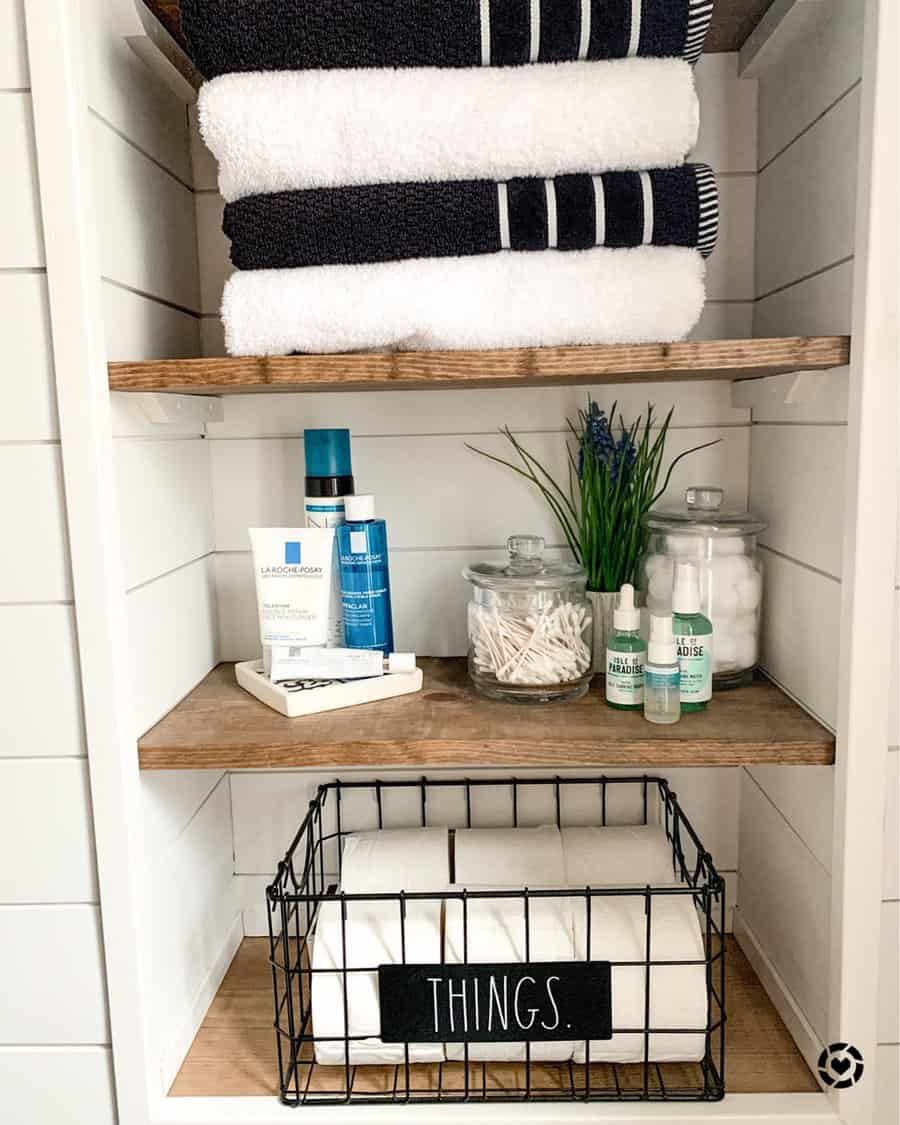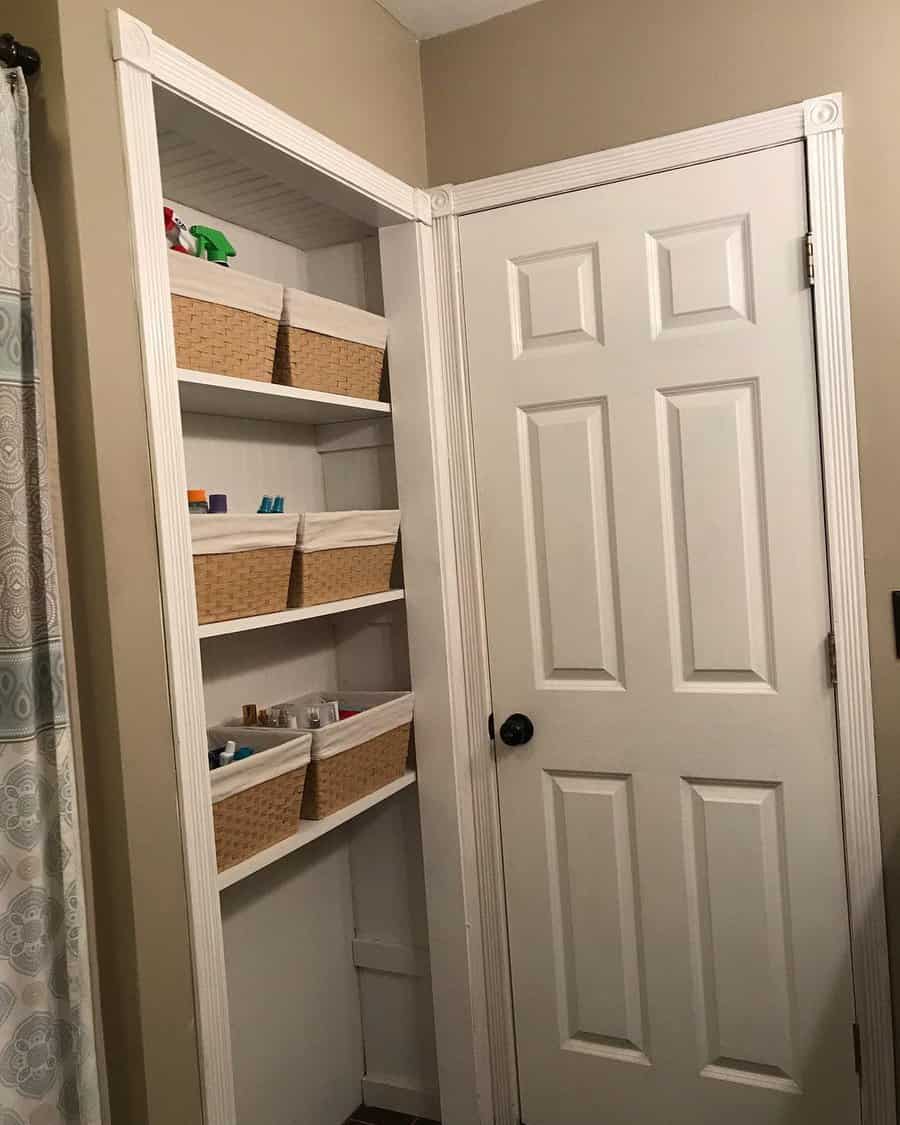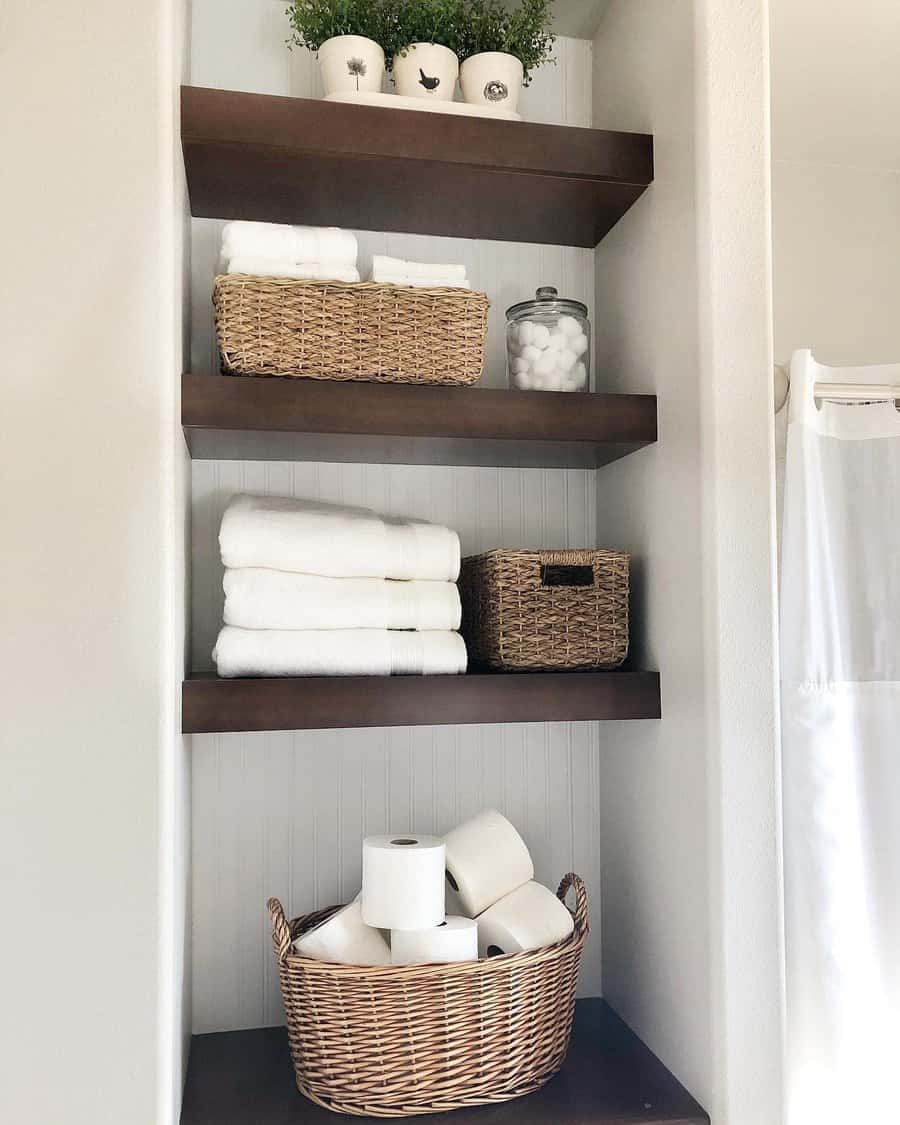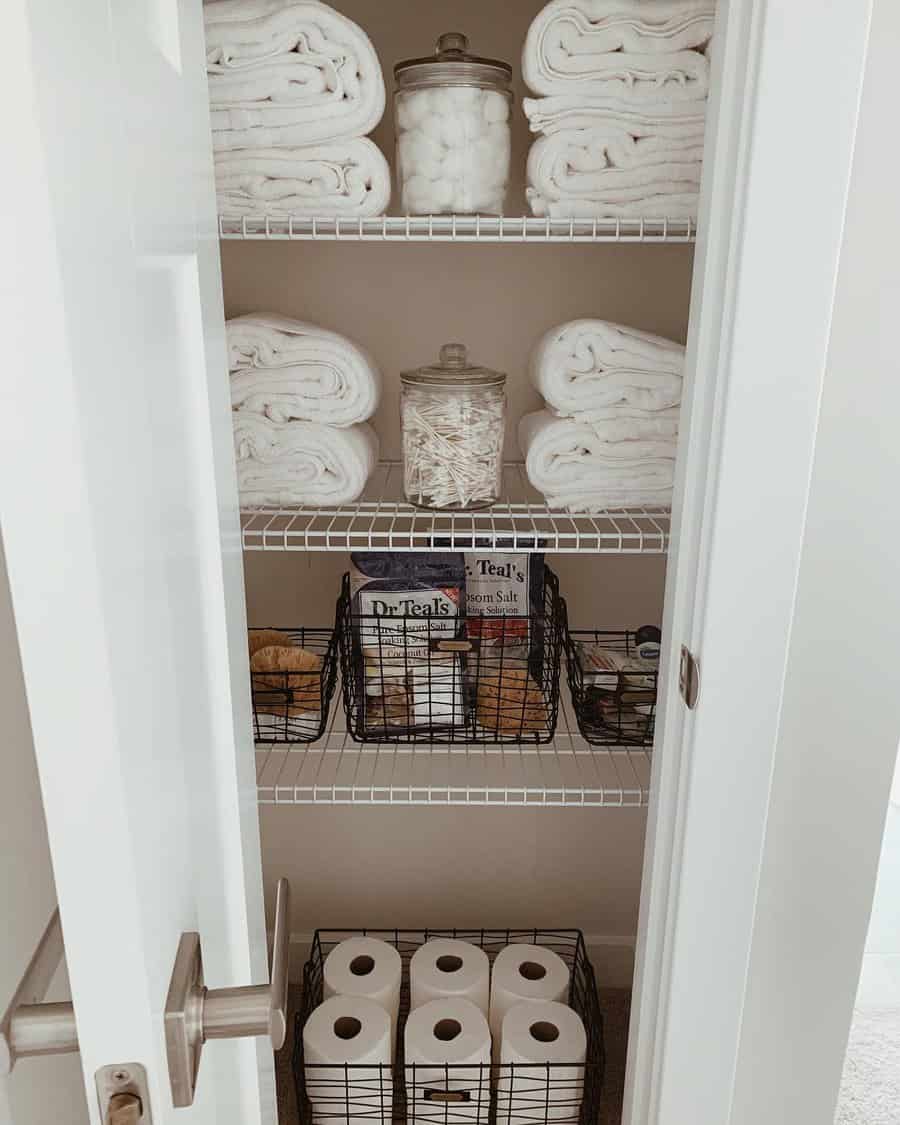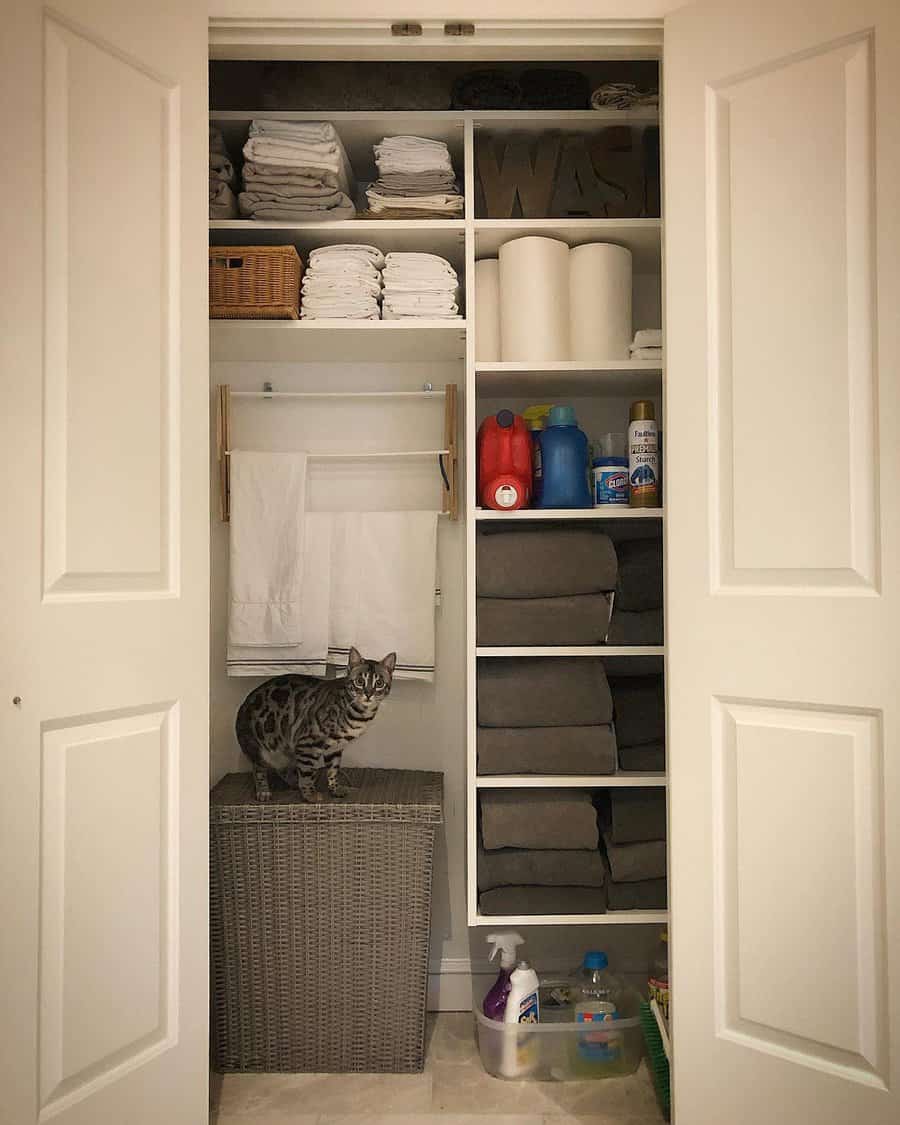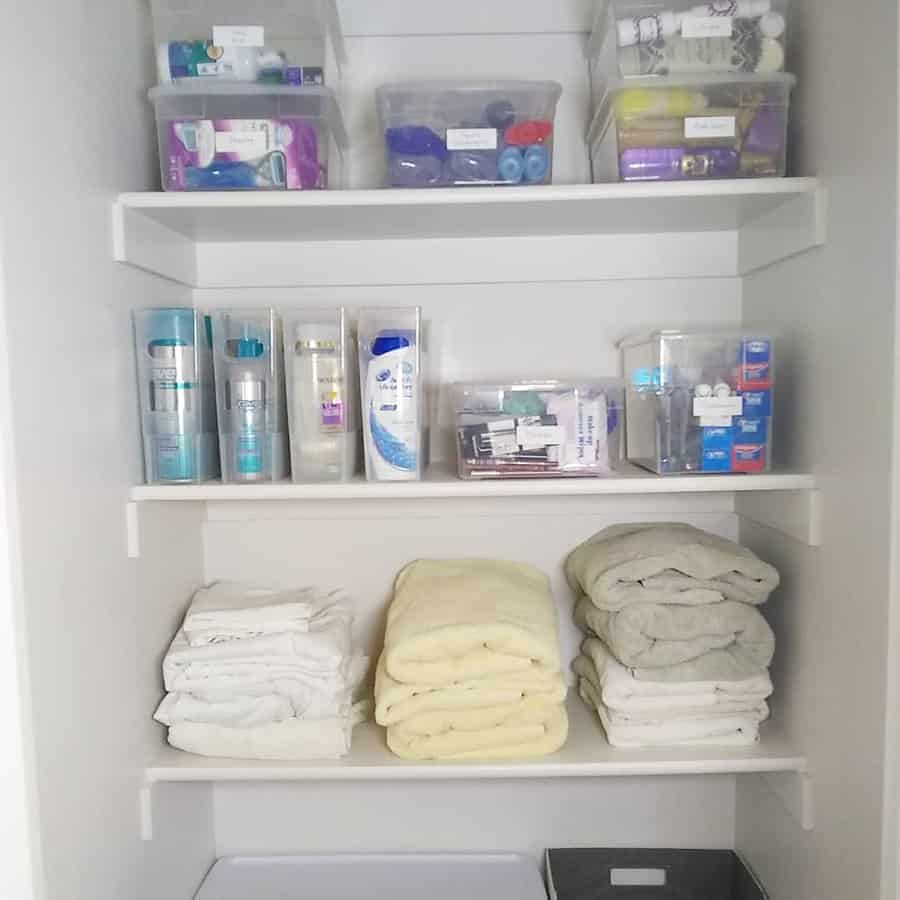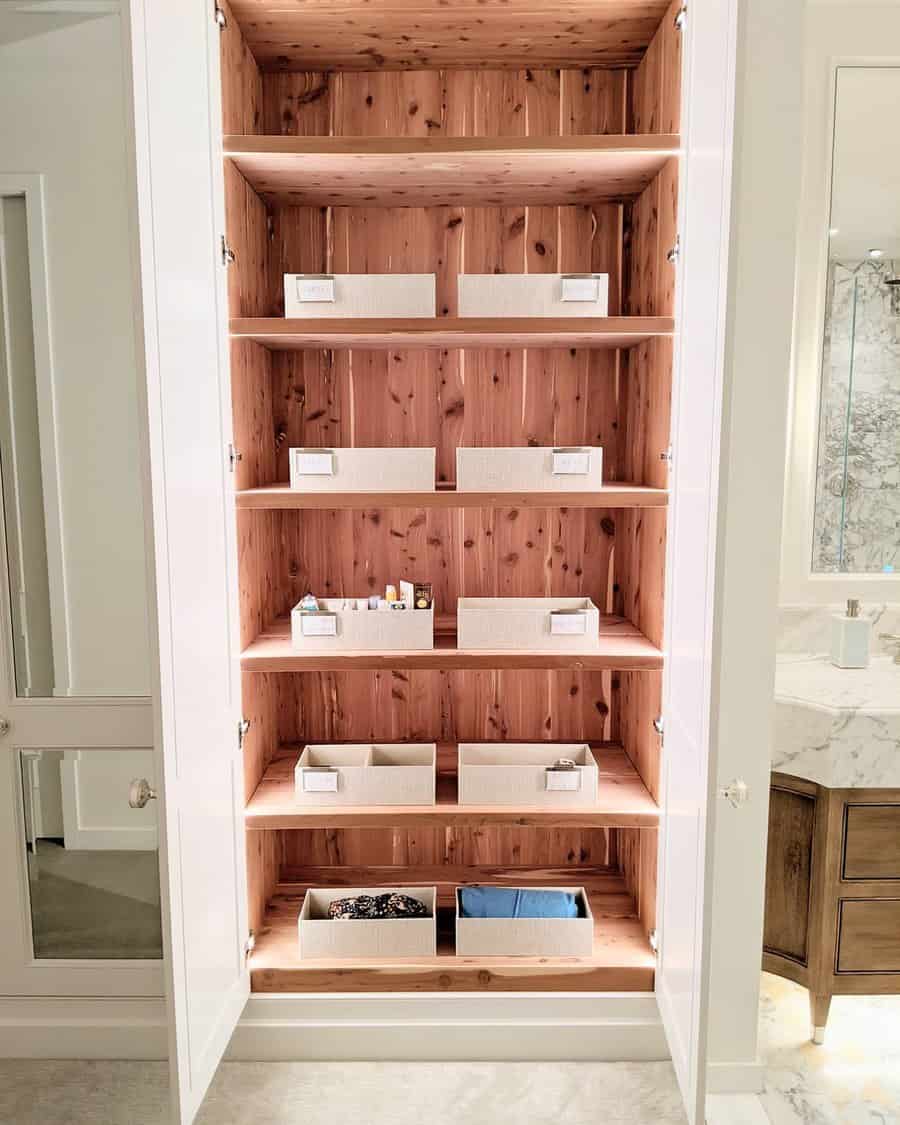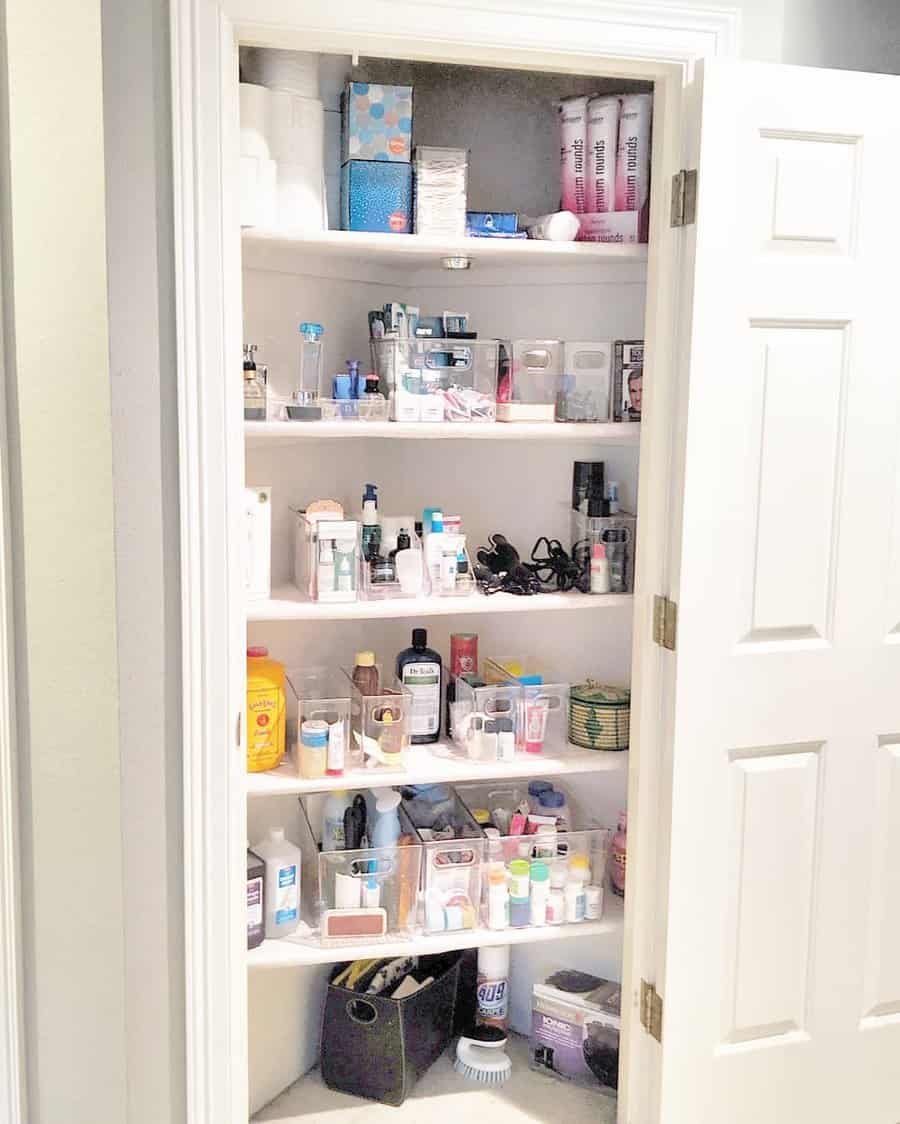 In a spacious bathroom, it's attractive to add a built-in closet that looks like a freestanding wardrobe with cabinet doors and drawers.
However, a basic linen closet can be designed well on the inside, with beautiful, labeled baskets full of toiletries, and neatly stacked rows of linens. Clear bins can help you see what's inside, but opaque bins help the area look less cluttered.
3. Doorless
Since the word "closet" generally indicates a closed-door storage area, it may seem odd to mention a doorless bathroom storage idea. However, in some cases, a doorless linen closet is a good idea.
Popular for quite a while in Europe, the concept of an open closet is now showing up in American home design.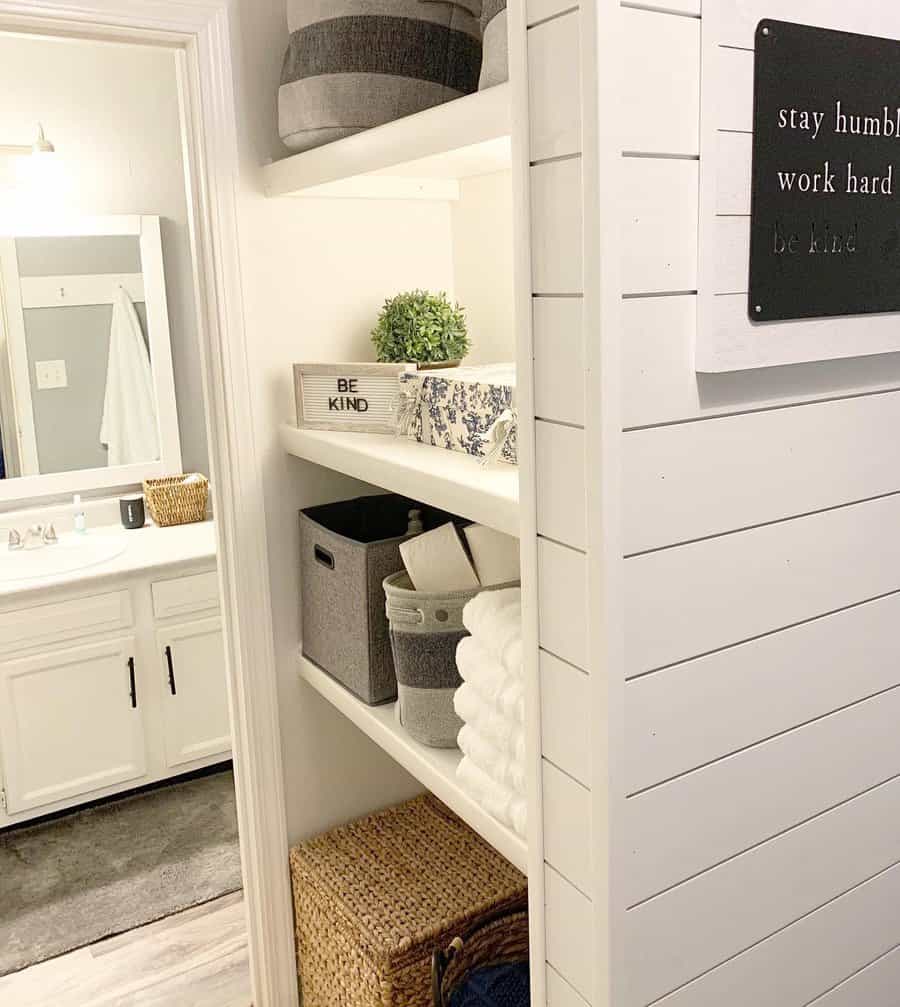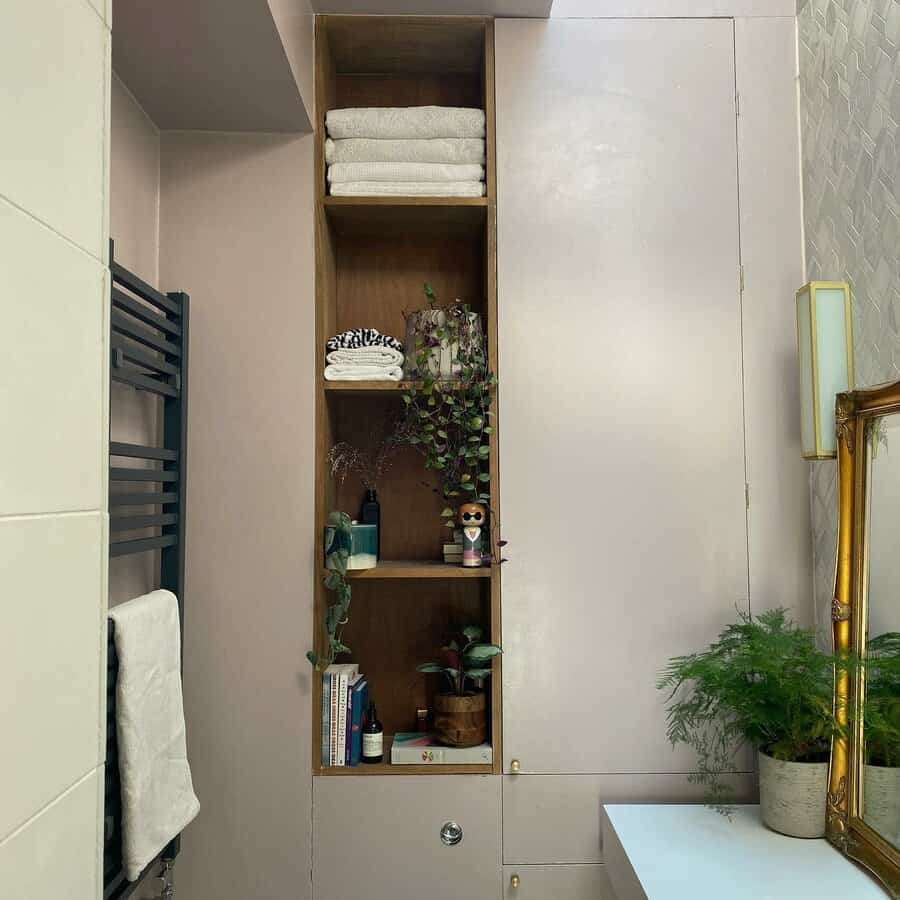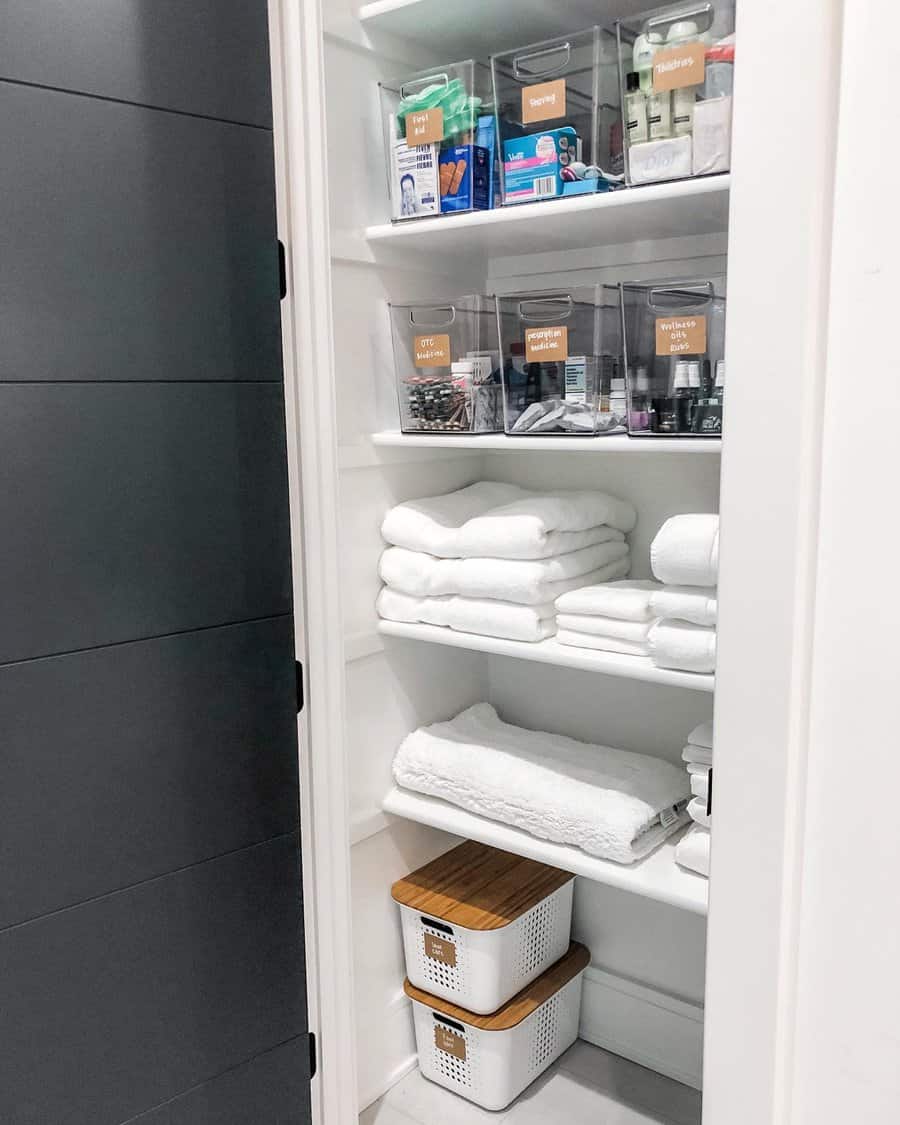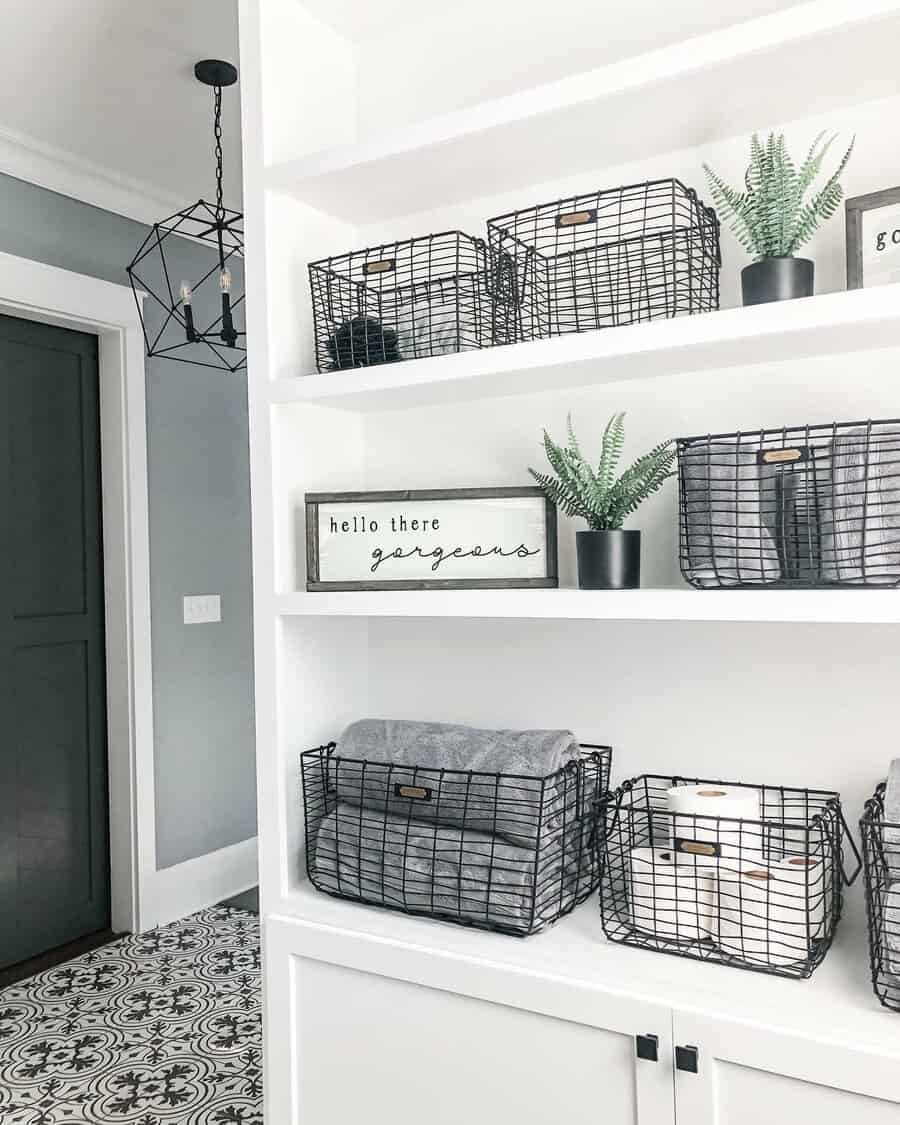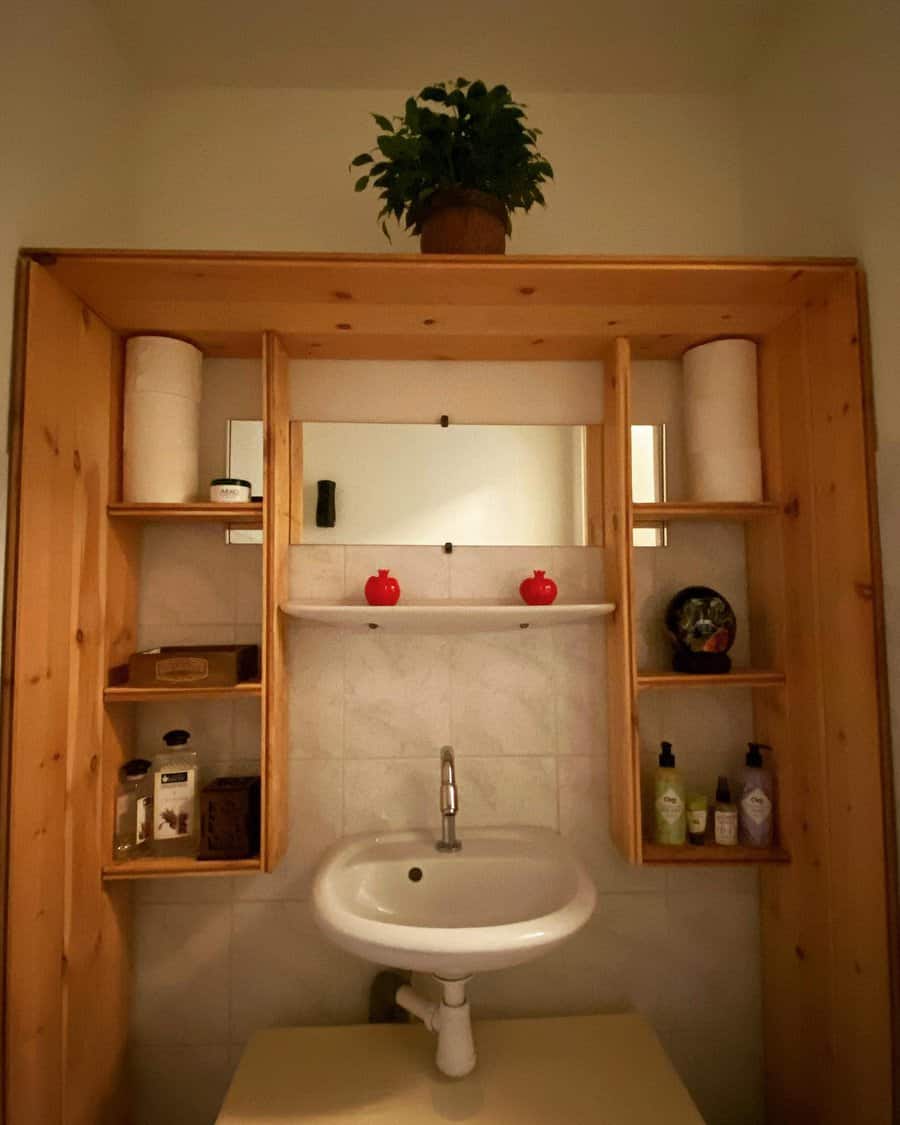 Because you eliminate the space occupied by a door, fitting a closet opening with attractive wood shelving can actually increase the storage room in a small bathroom.
Of course, when your closet organization is on display, your bathroom storage solutions must have a tidy appearance. Replace wire shelves with a wooden built in shelving unit and use a black wire basket to hold your shower essentials.
4. Linen
Many times, the linen closet becomes the home's catch-all closet, much like the junk drawer in the kitchen. Linen closet organization often requires a deep purge of items before attempting to organize them.
Cull every seldom-used bath or hand towel and donate the pile to your local animal shelter. Throw out rarely-used soap or shower gel and cleaning product containers that are nearly empty.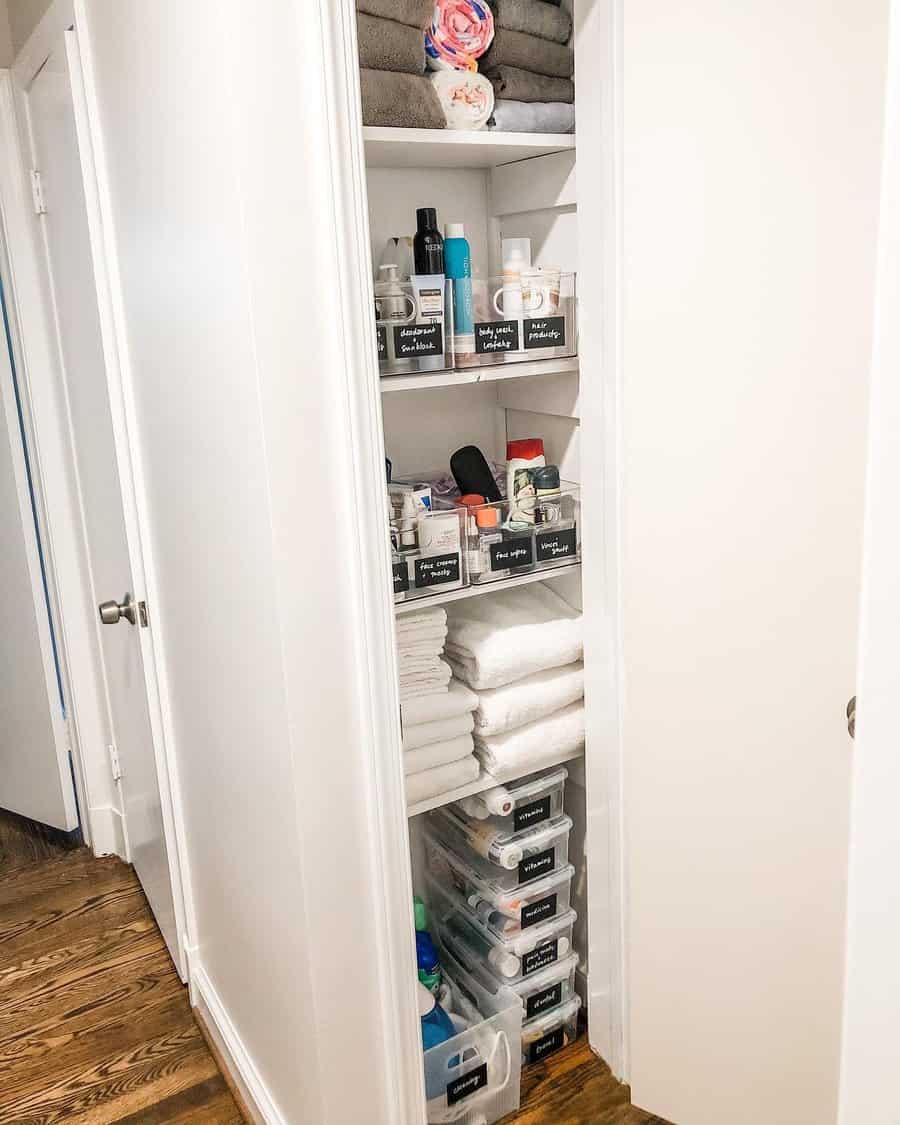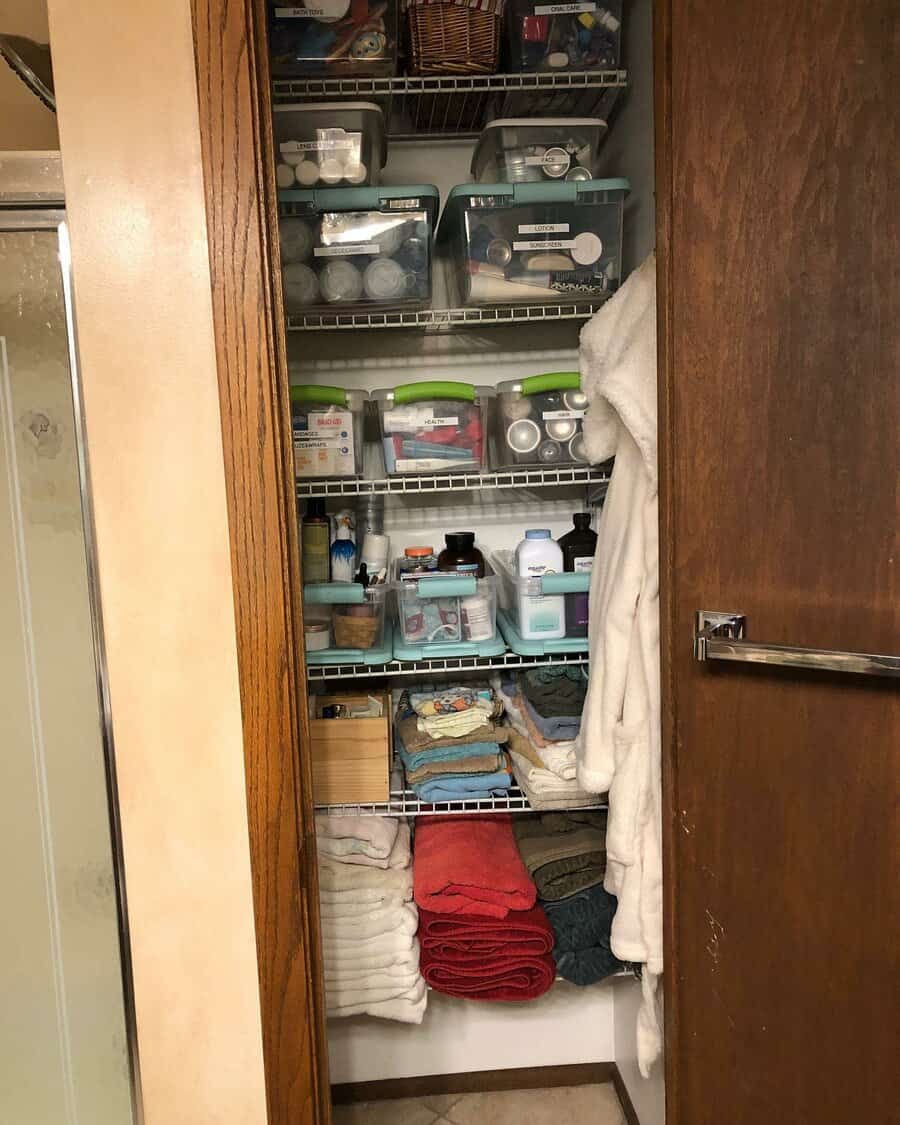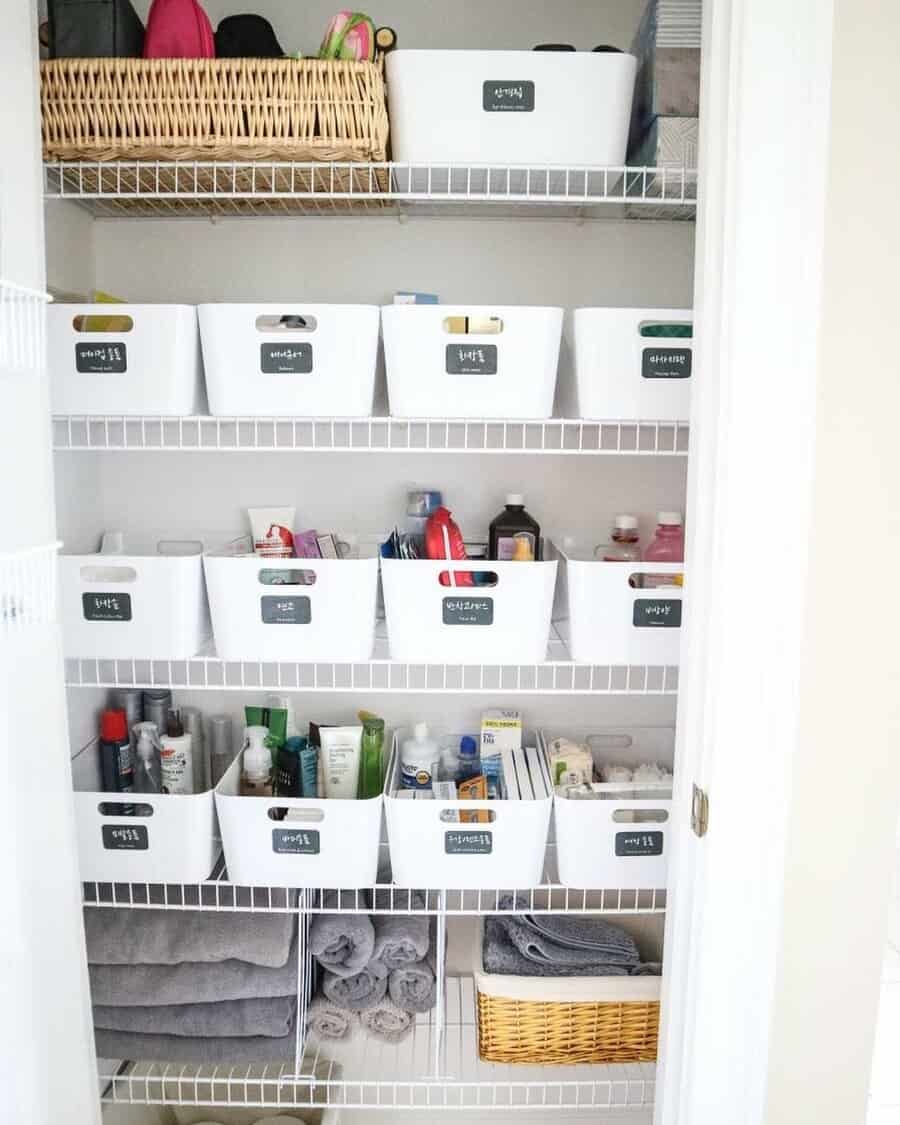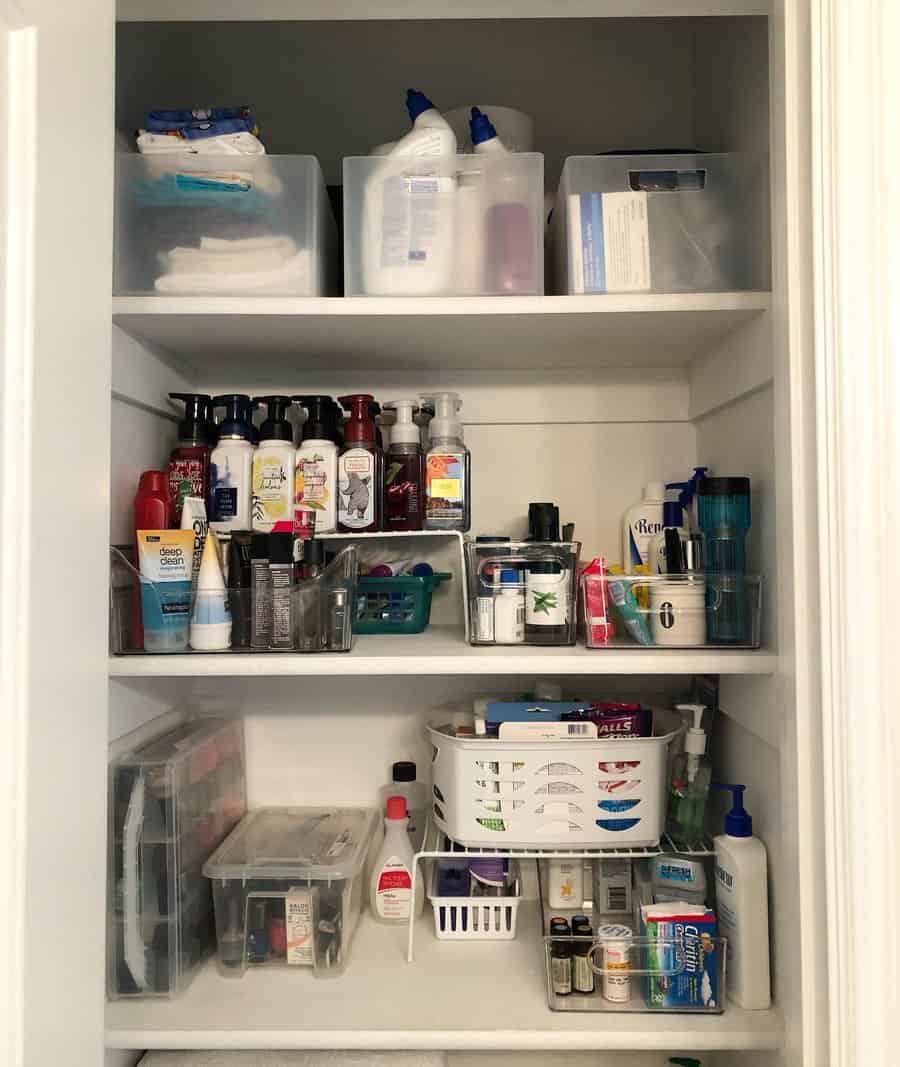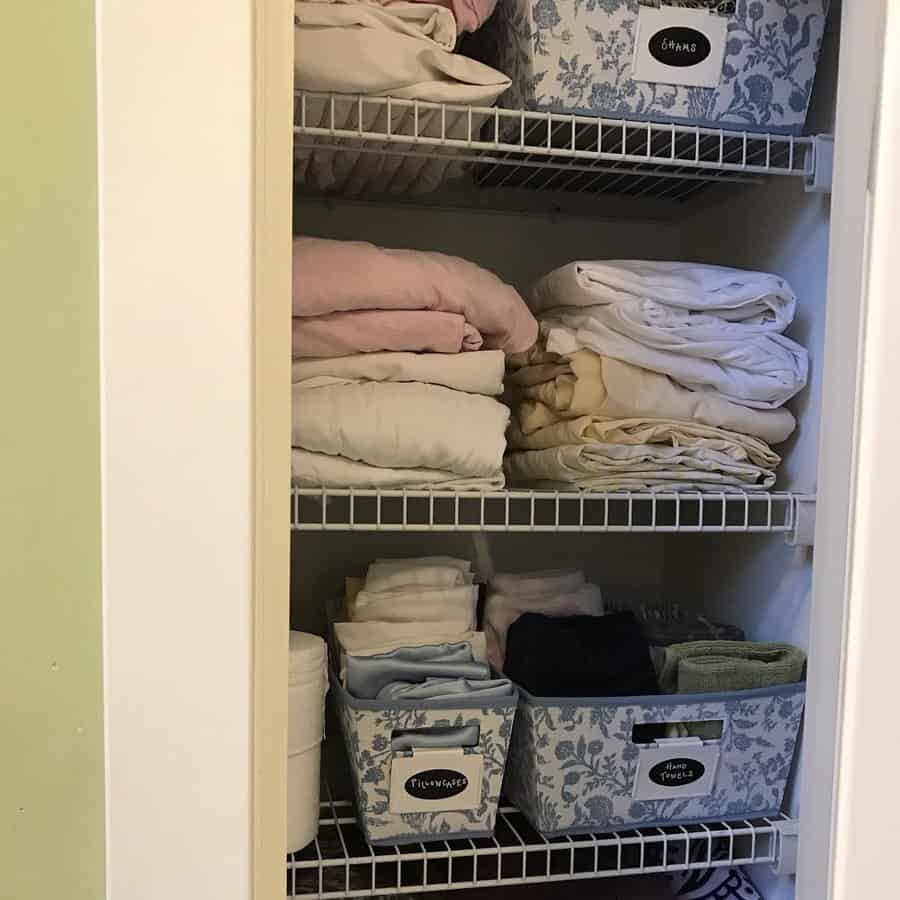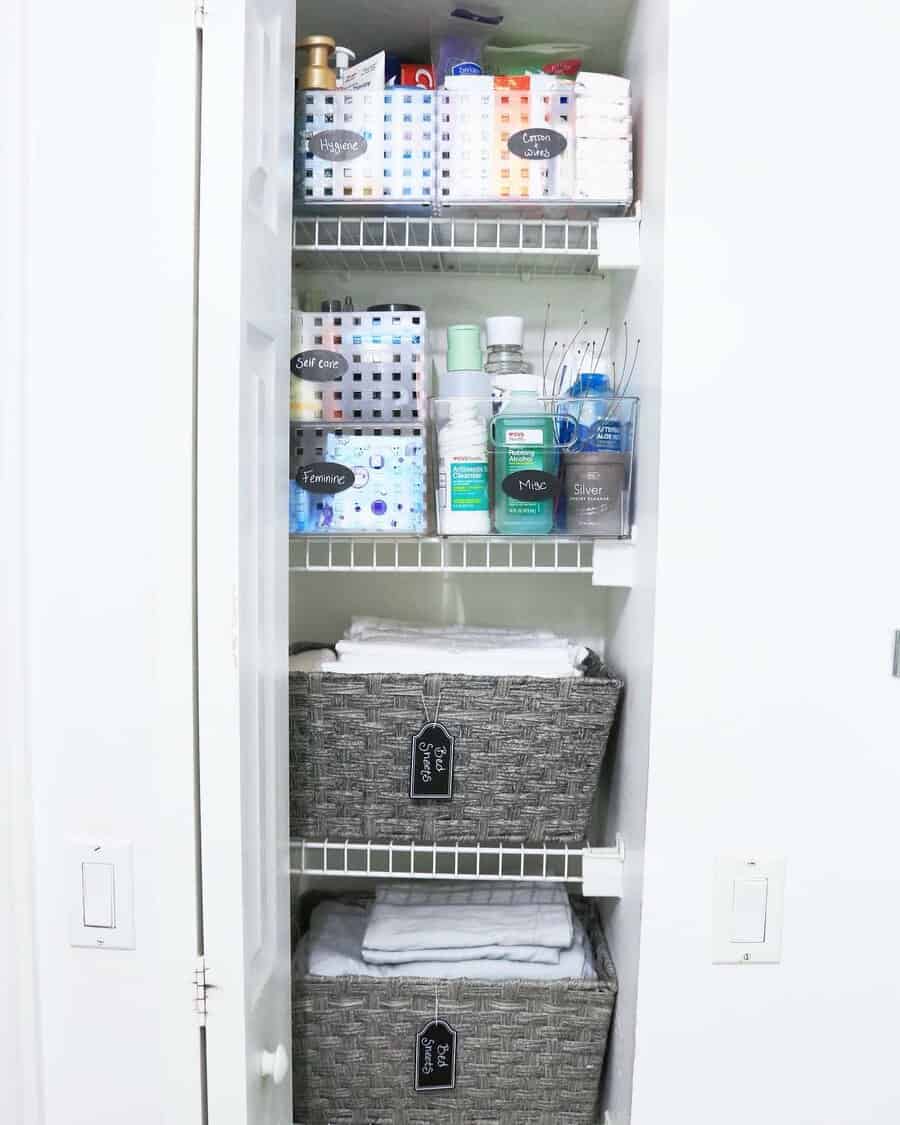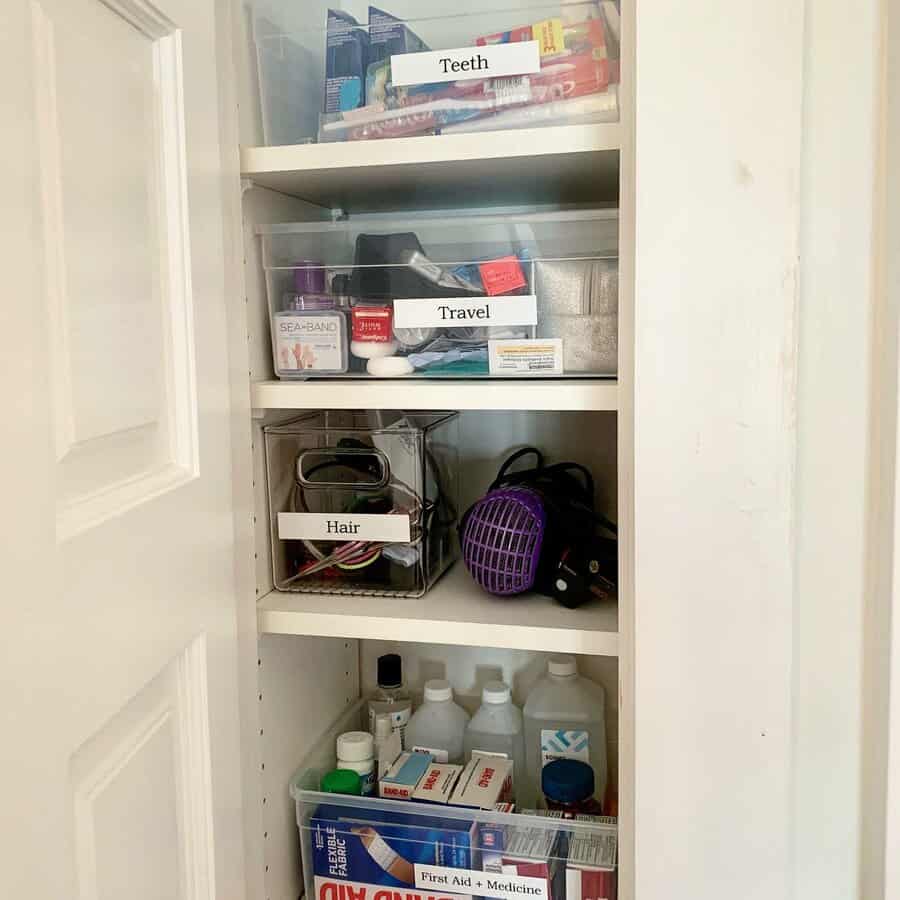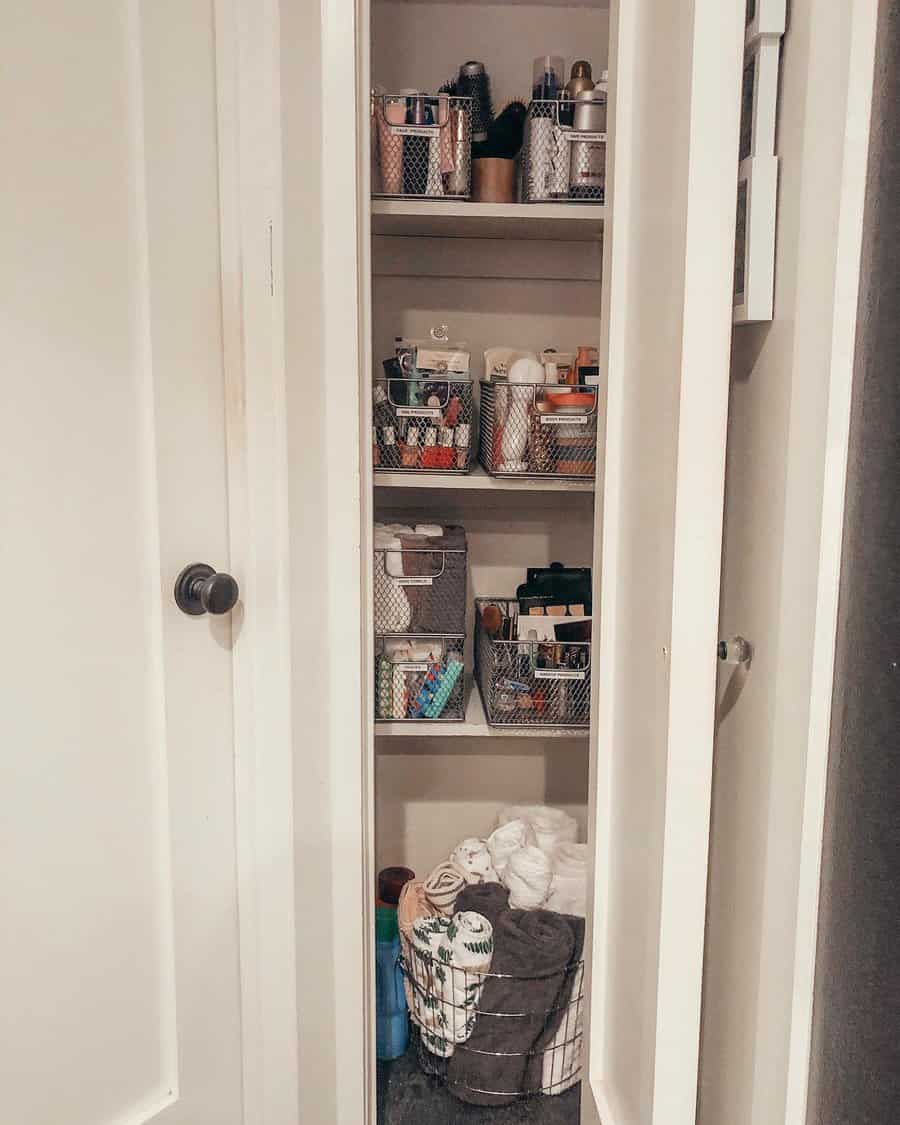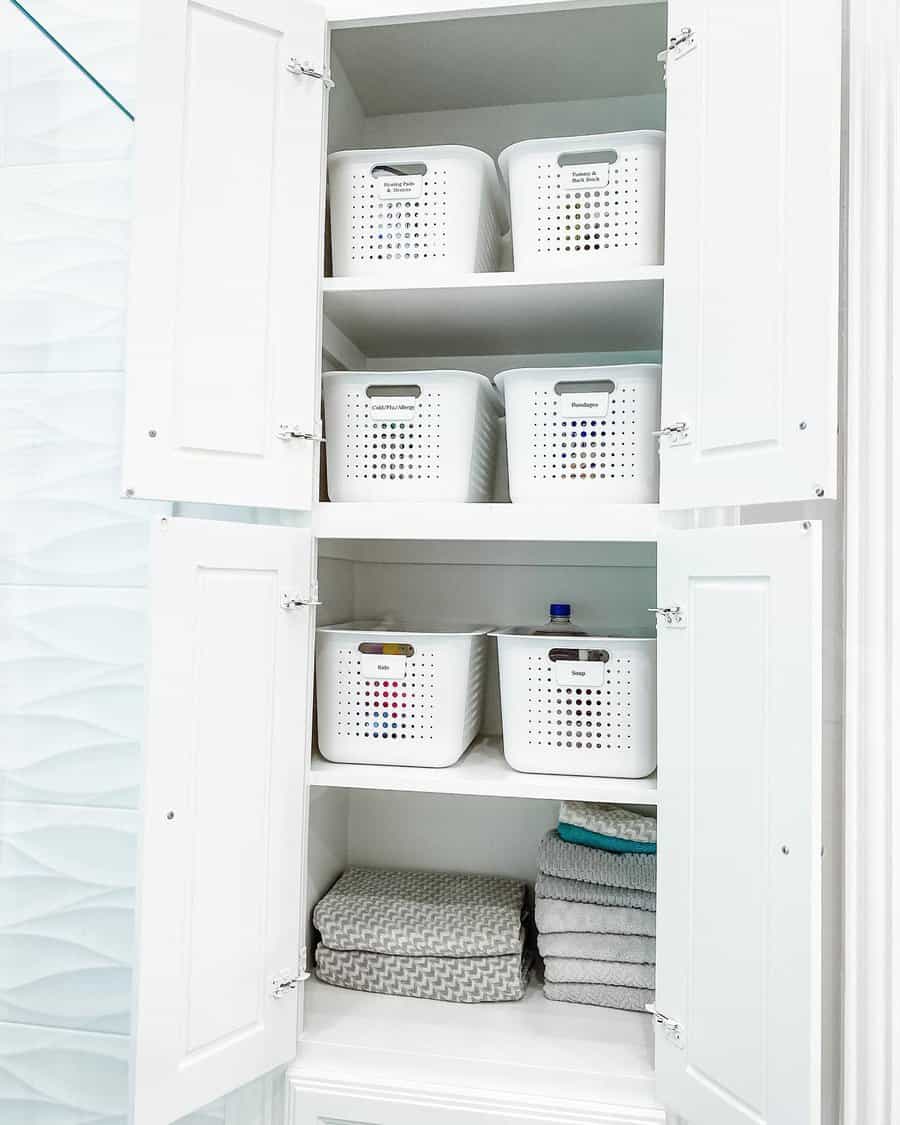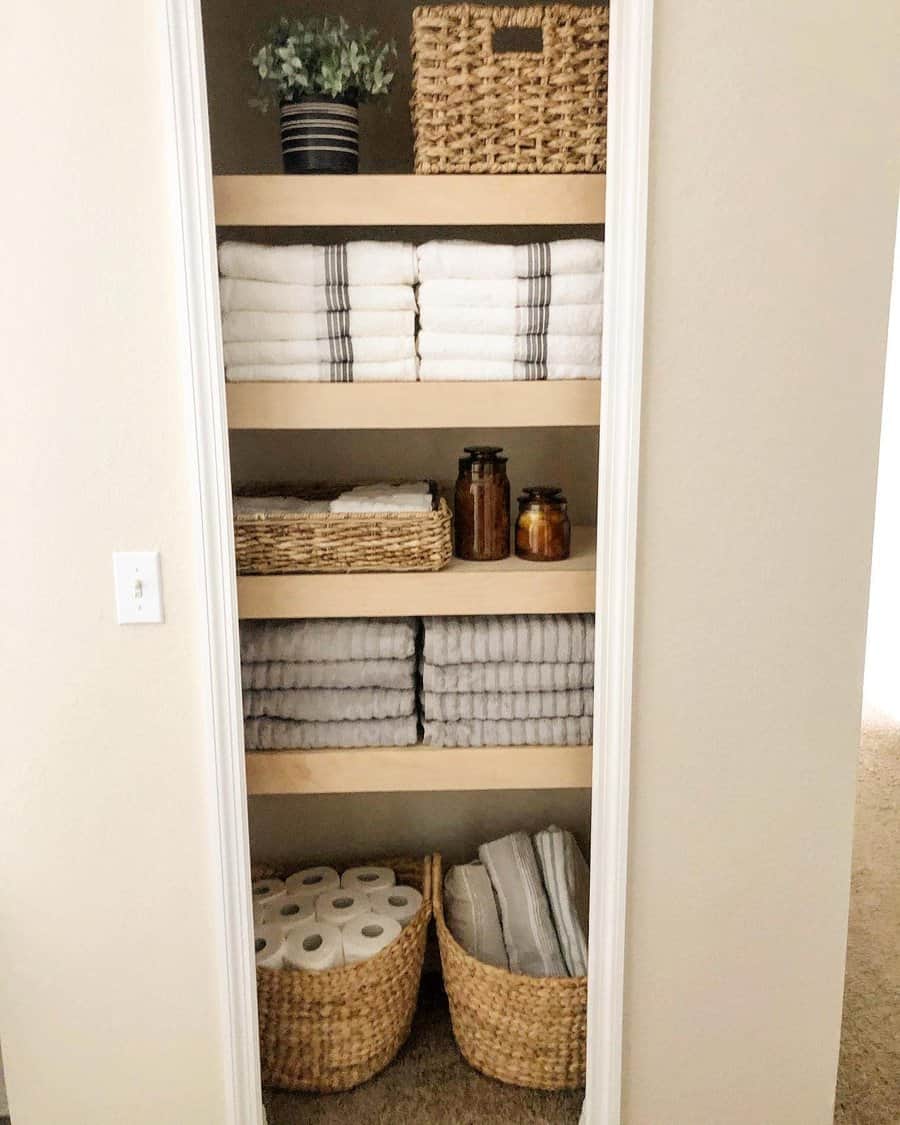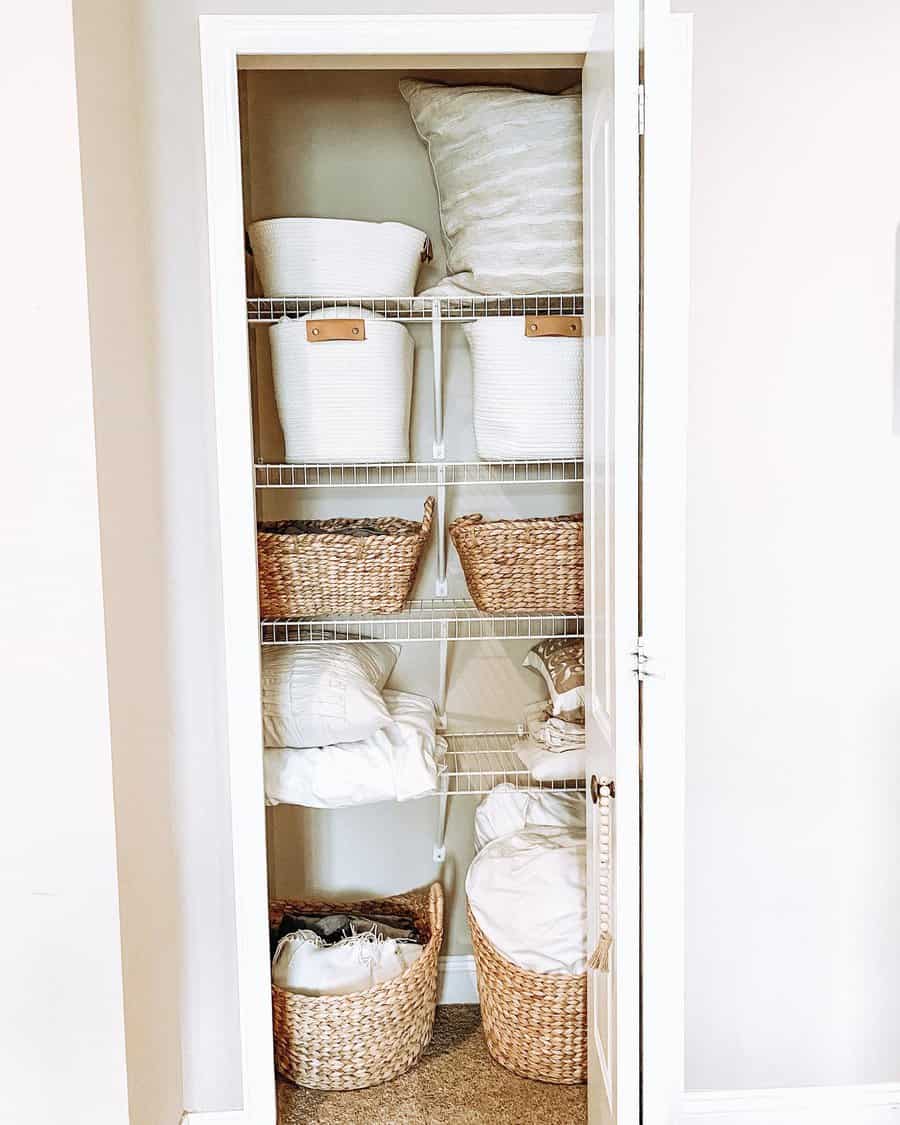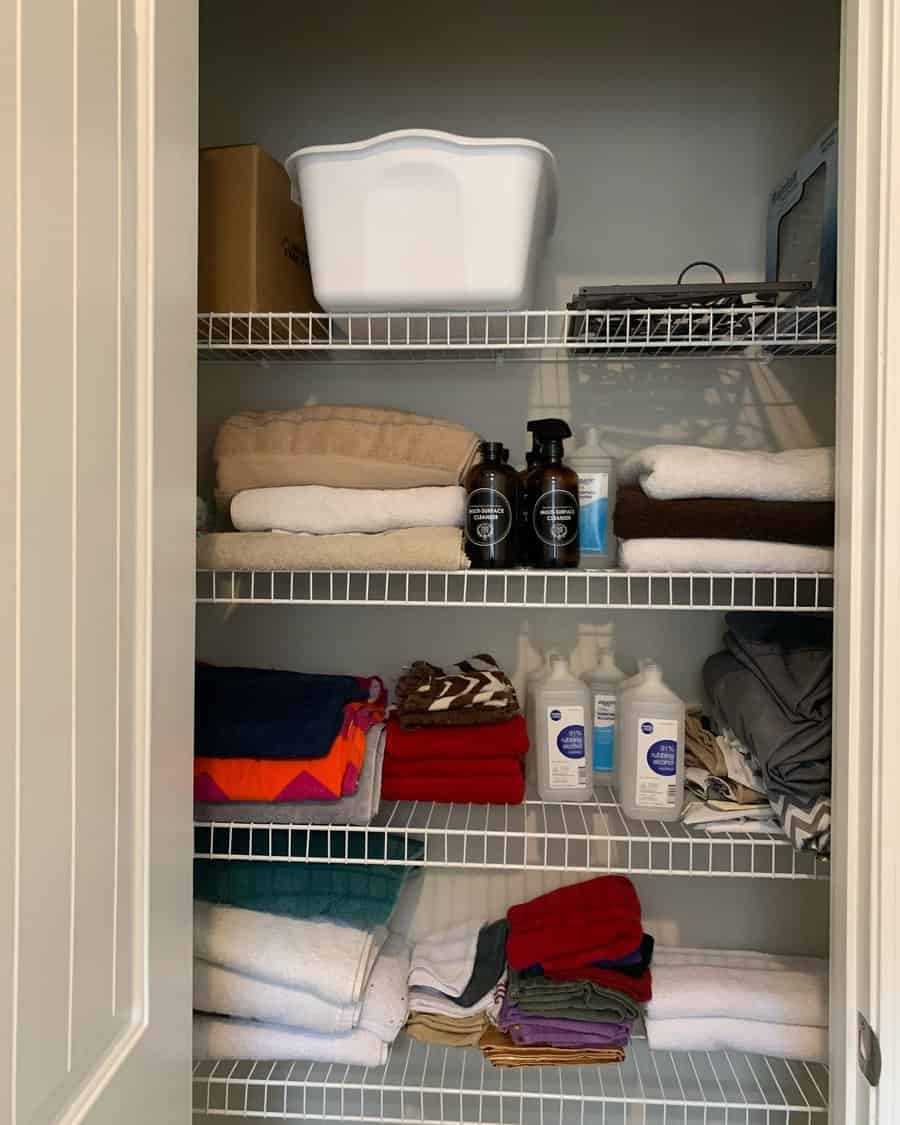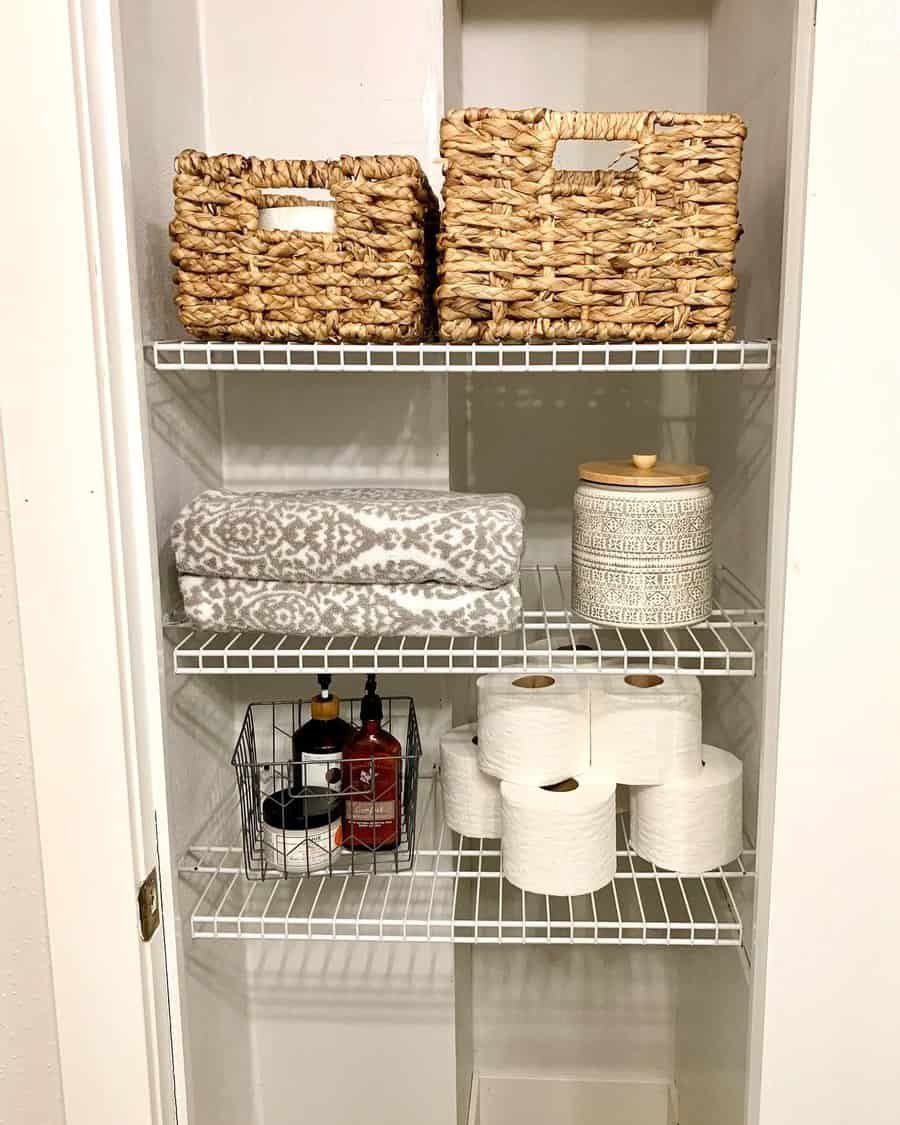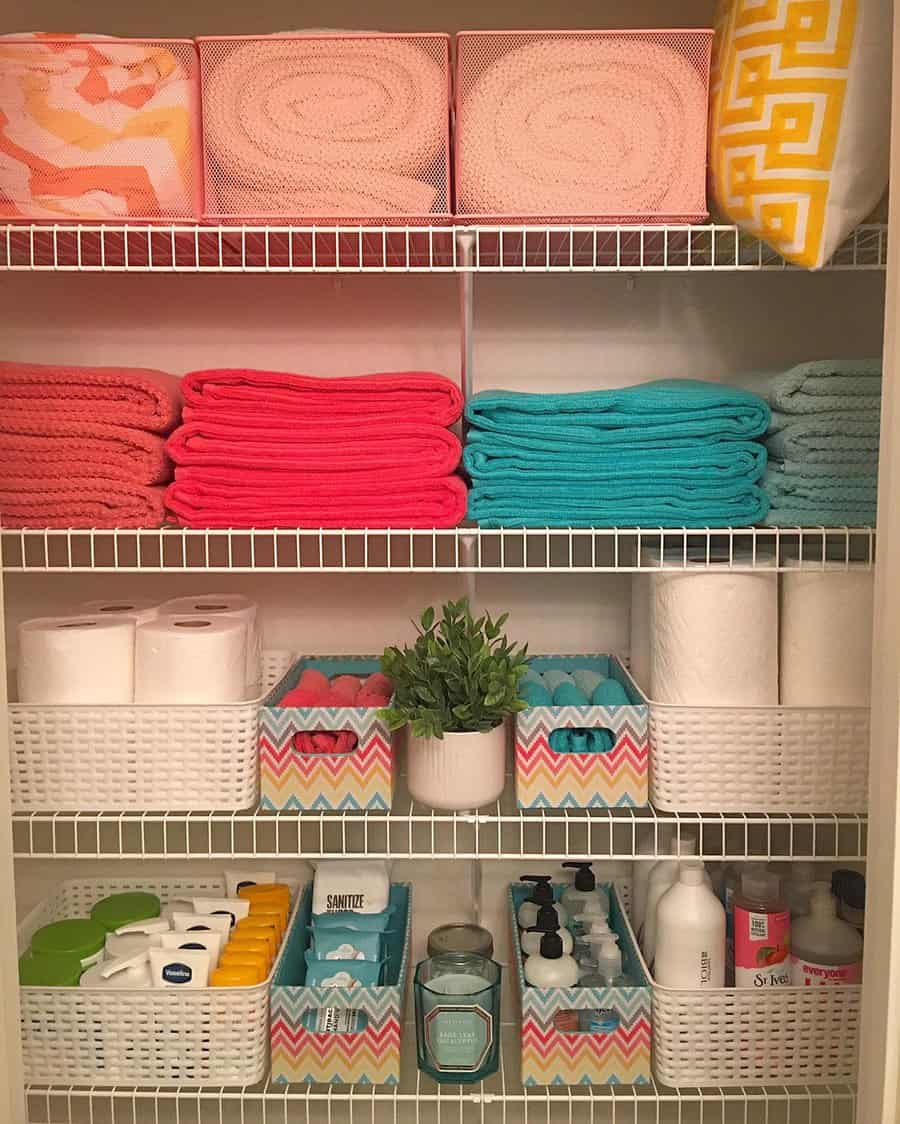 Inside the linen closet is a good place to store extra packages of toilet paper. Instead of just stashing unopened packages inside, stack the toilet paper rolls neatly on a shelf or toss them into a large wire basket on the linen closet floor.
5. Organized
An organized linen closet or bathroom closet needs bins or baskets to separate items into like categories. A lazy Susan can help you reach toiletries in a closet with deep shelves.
If you really need to expand your storage space, hang narrow racks or a shoe organizer on the inside of the door. These small cubbies are plenty big enough for extra bars of soap, razors, hair accessories, and the like.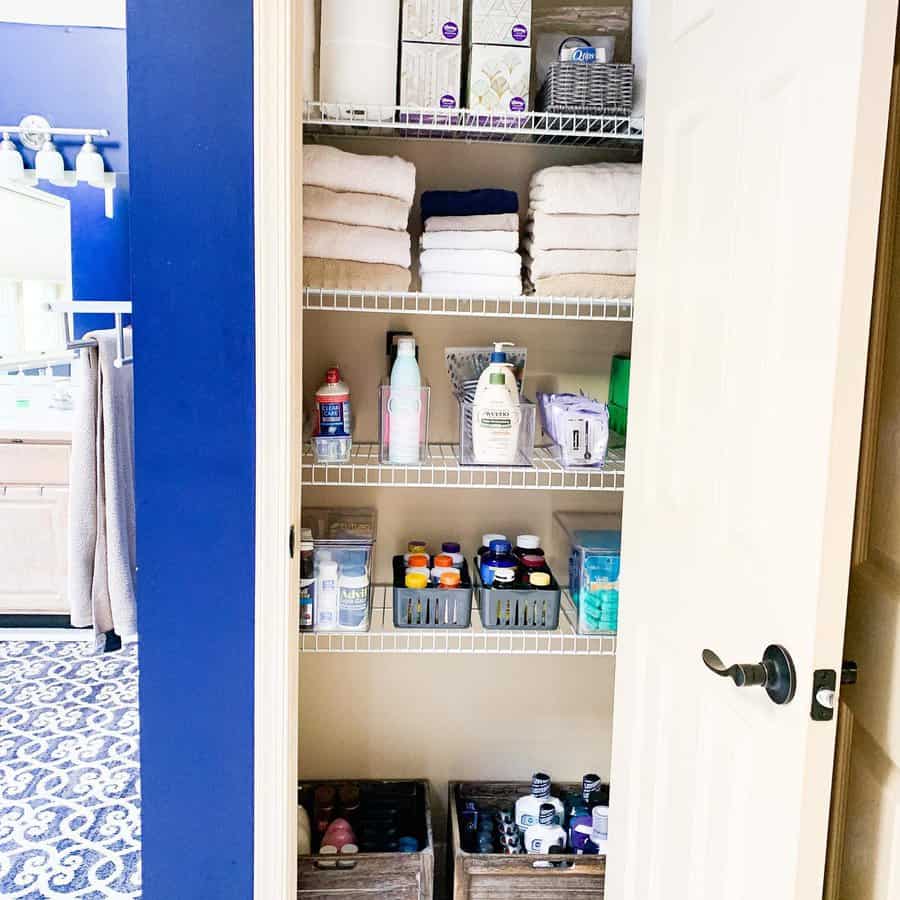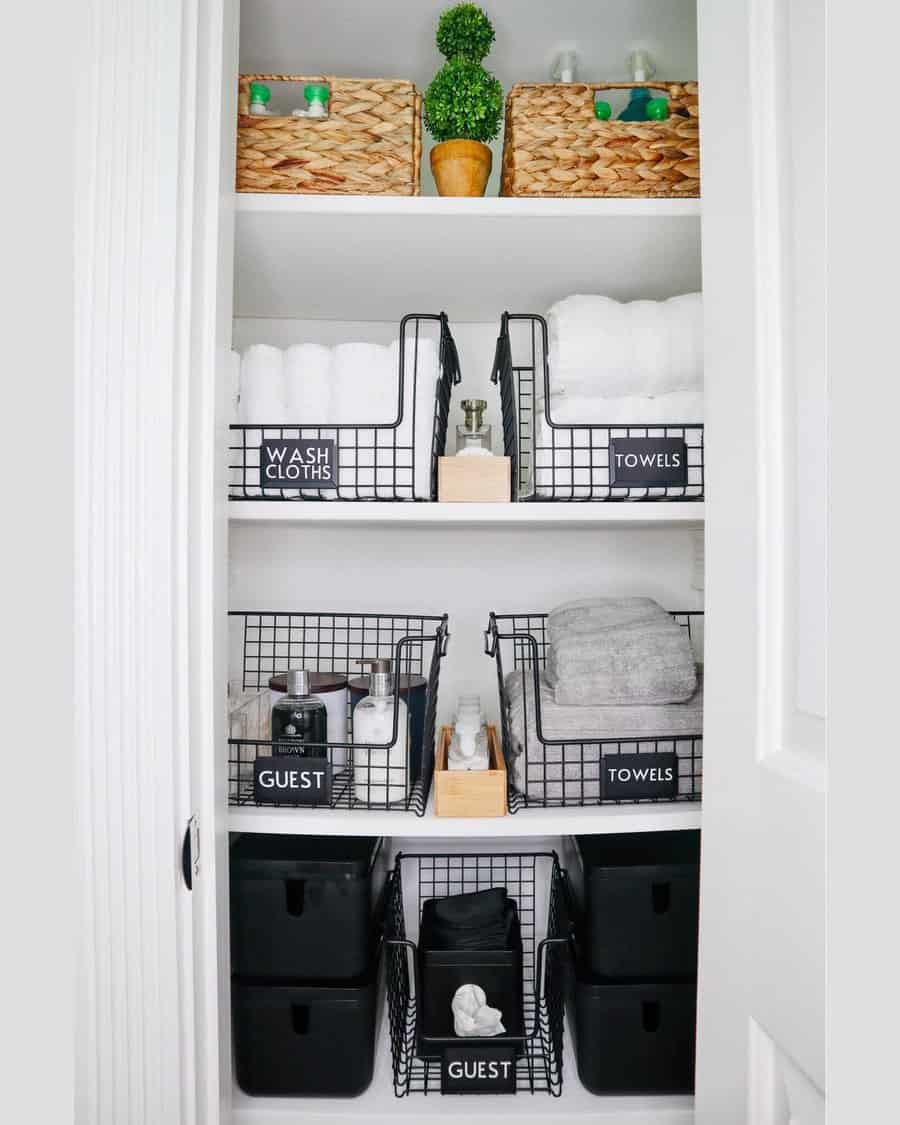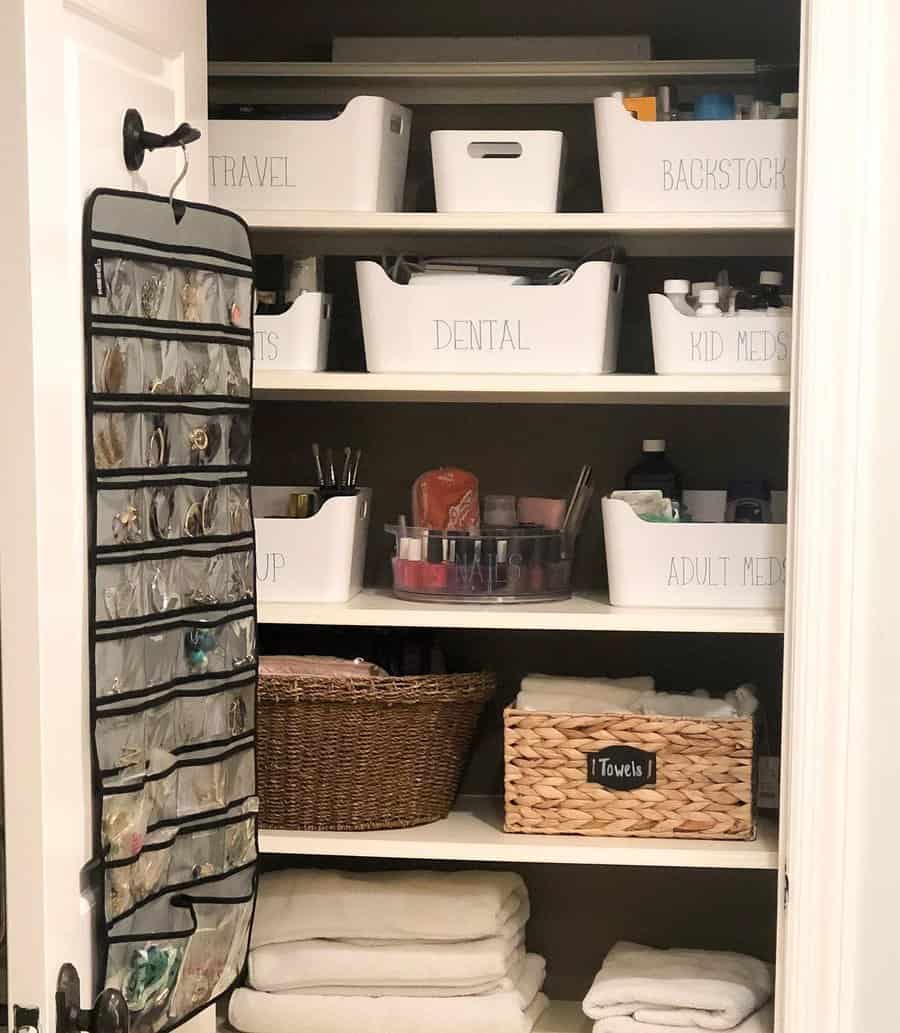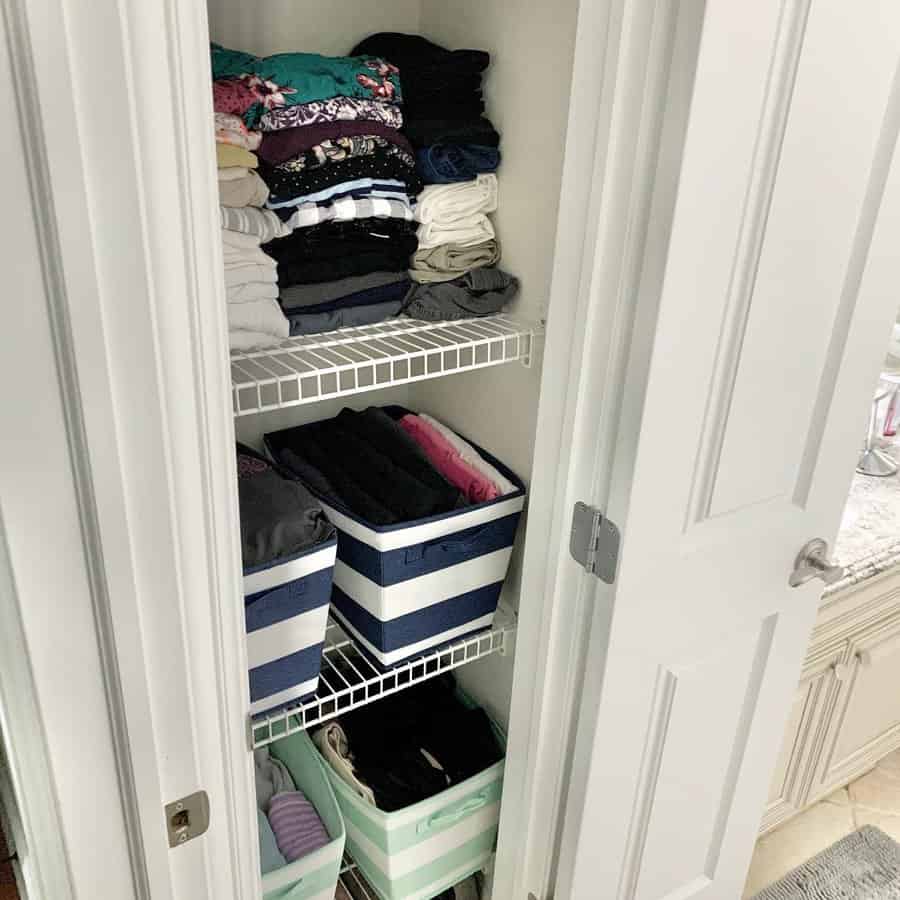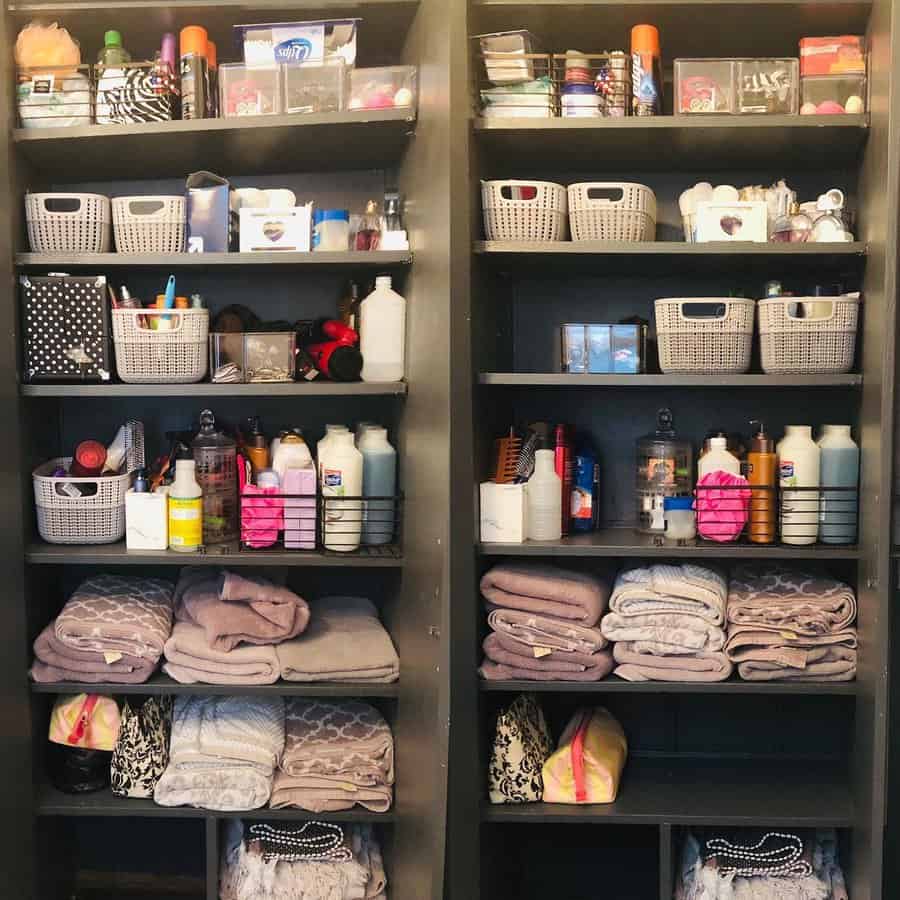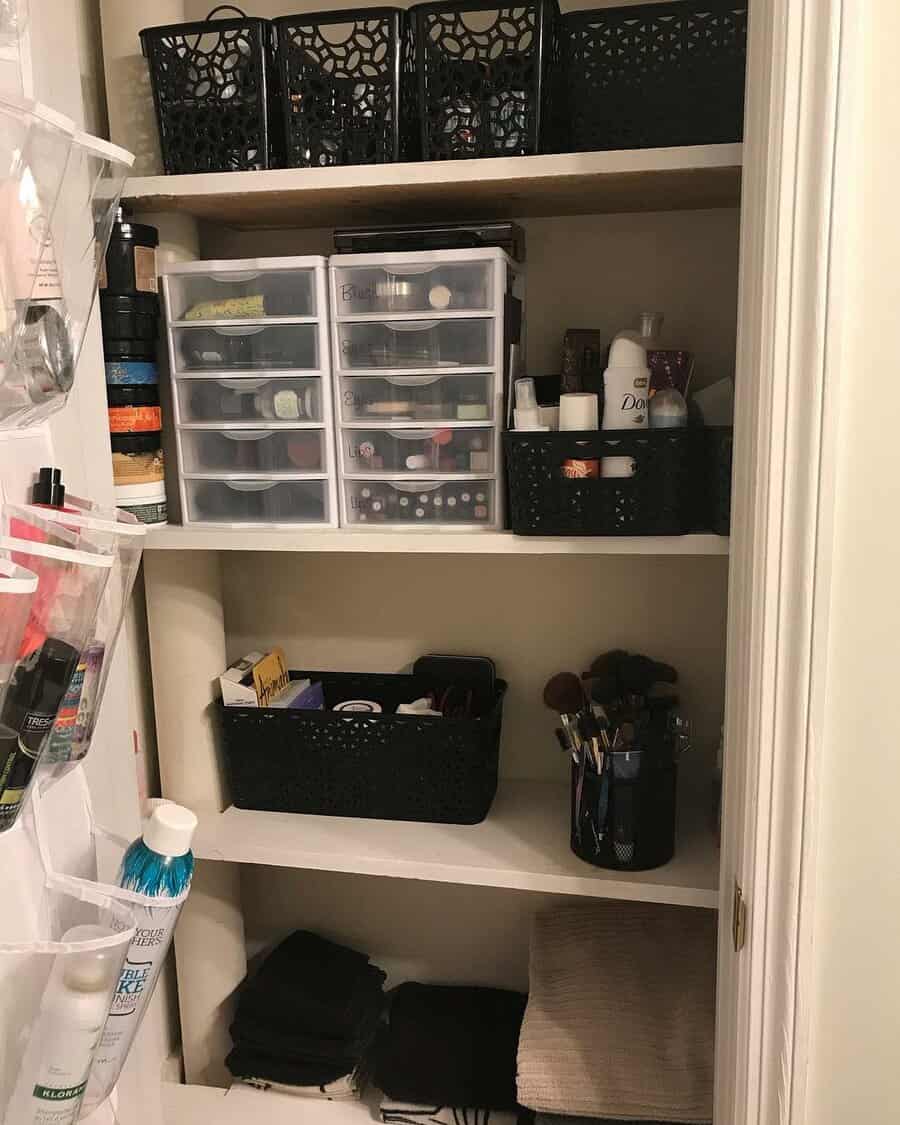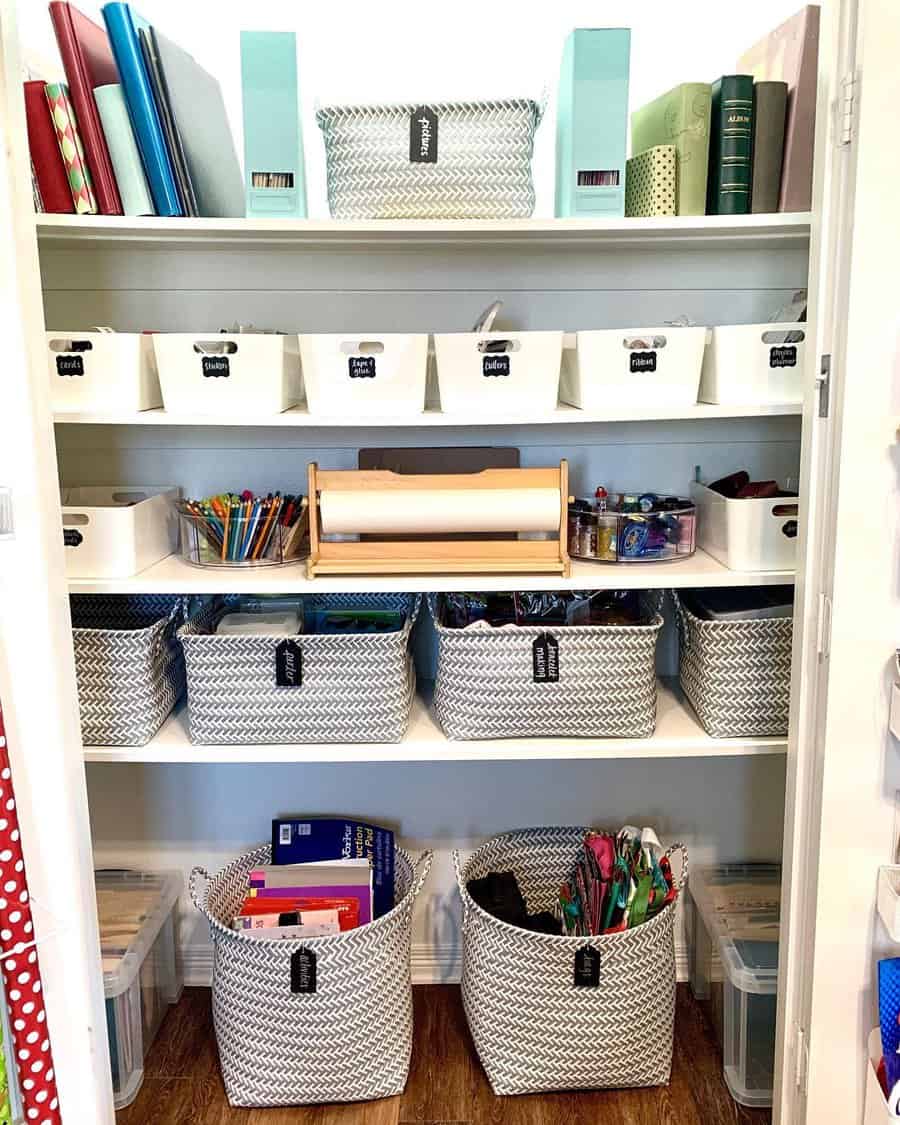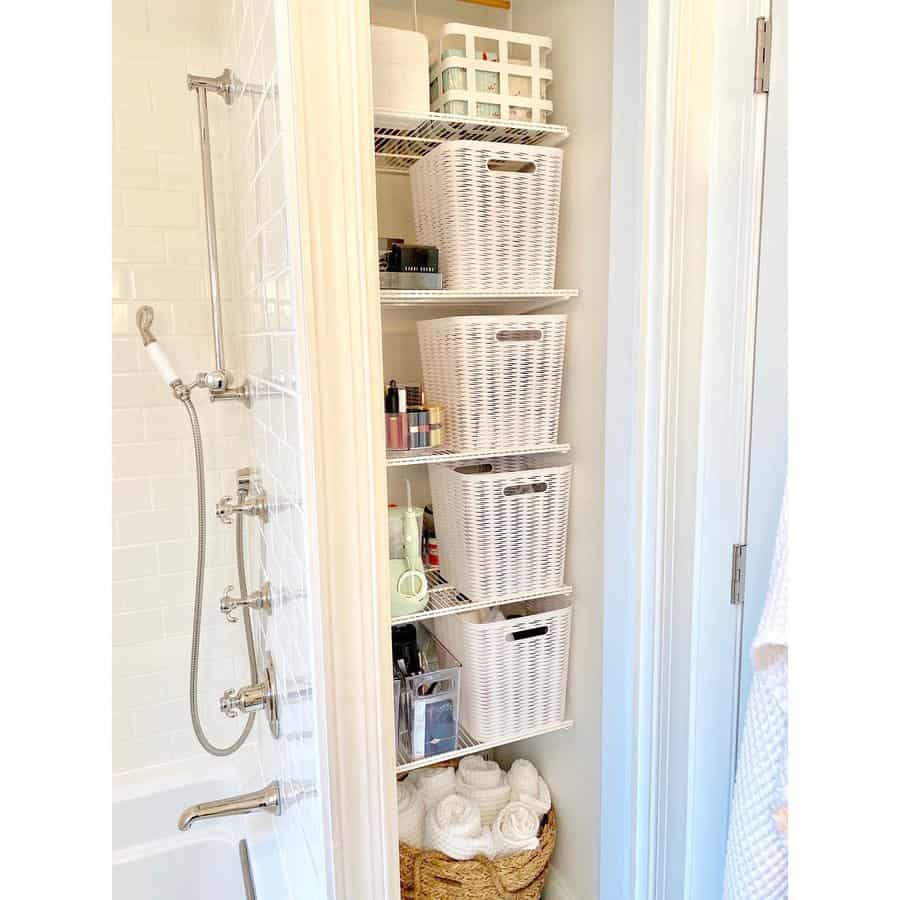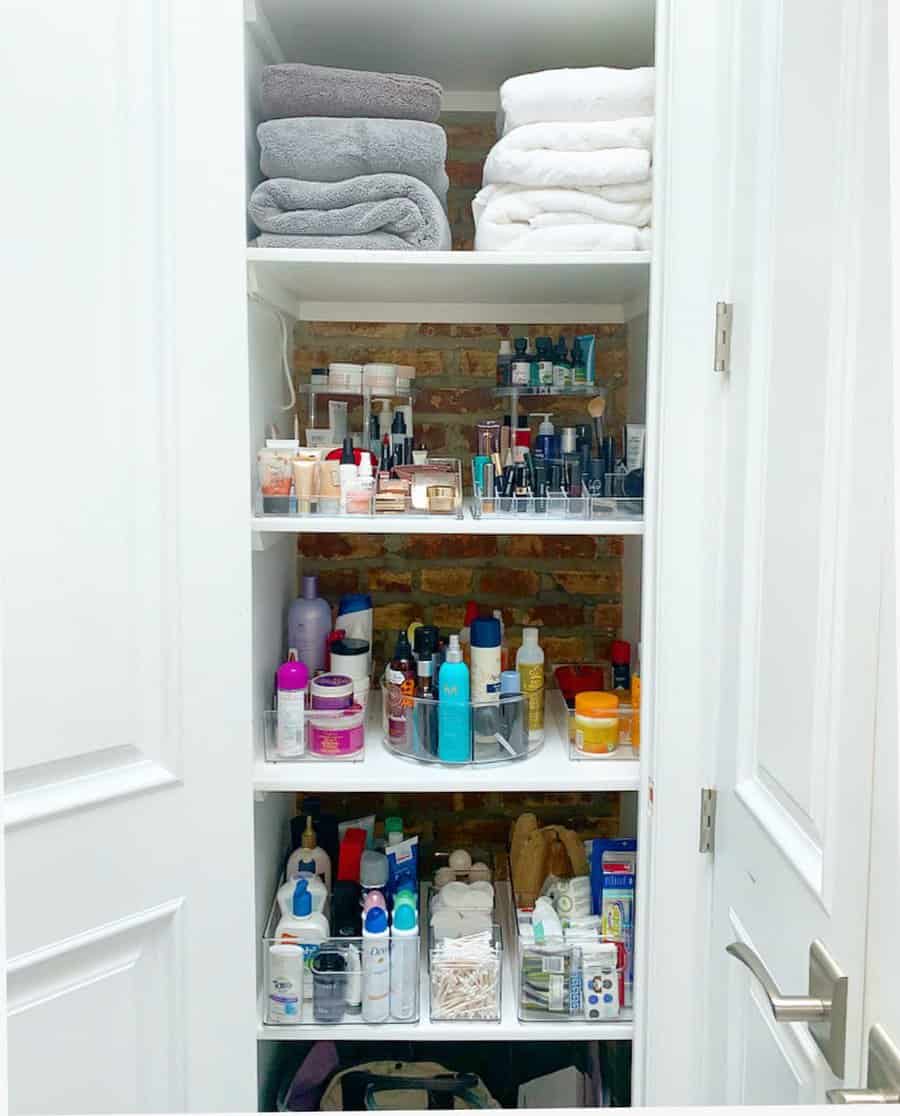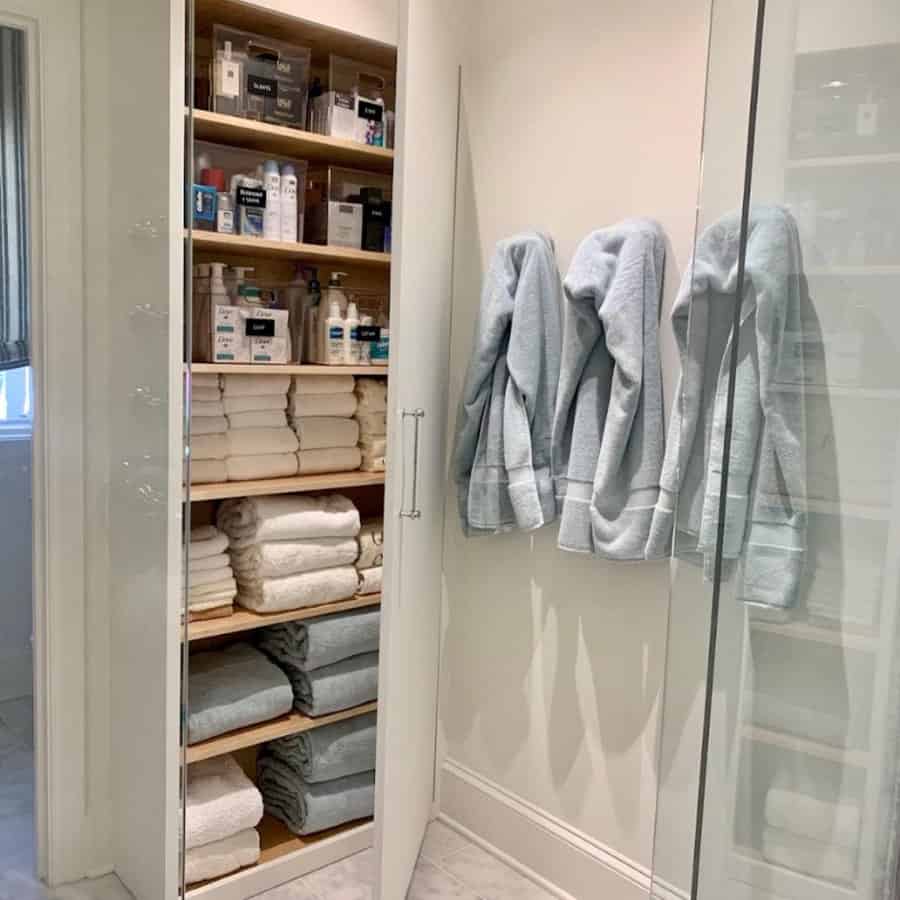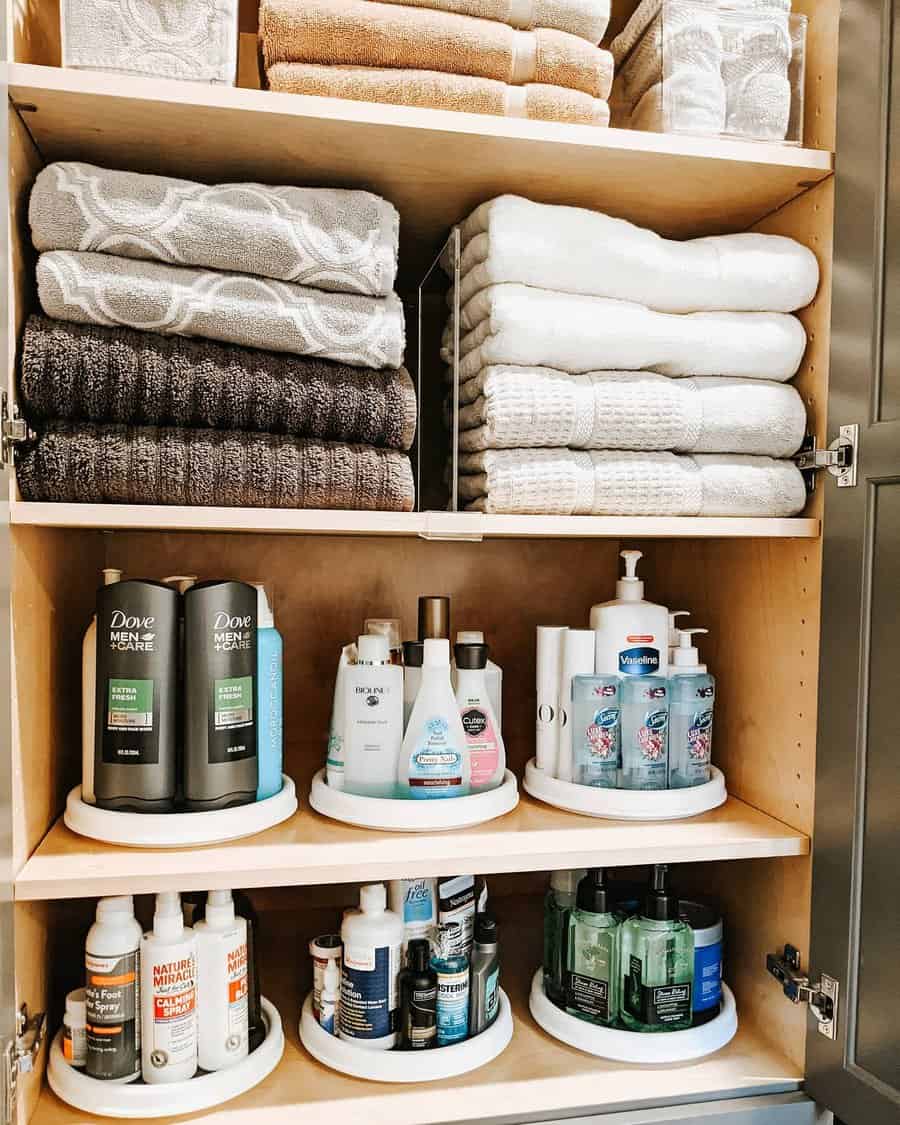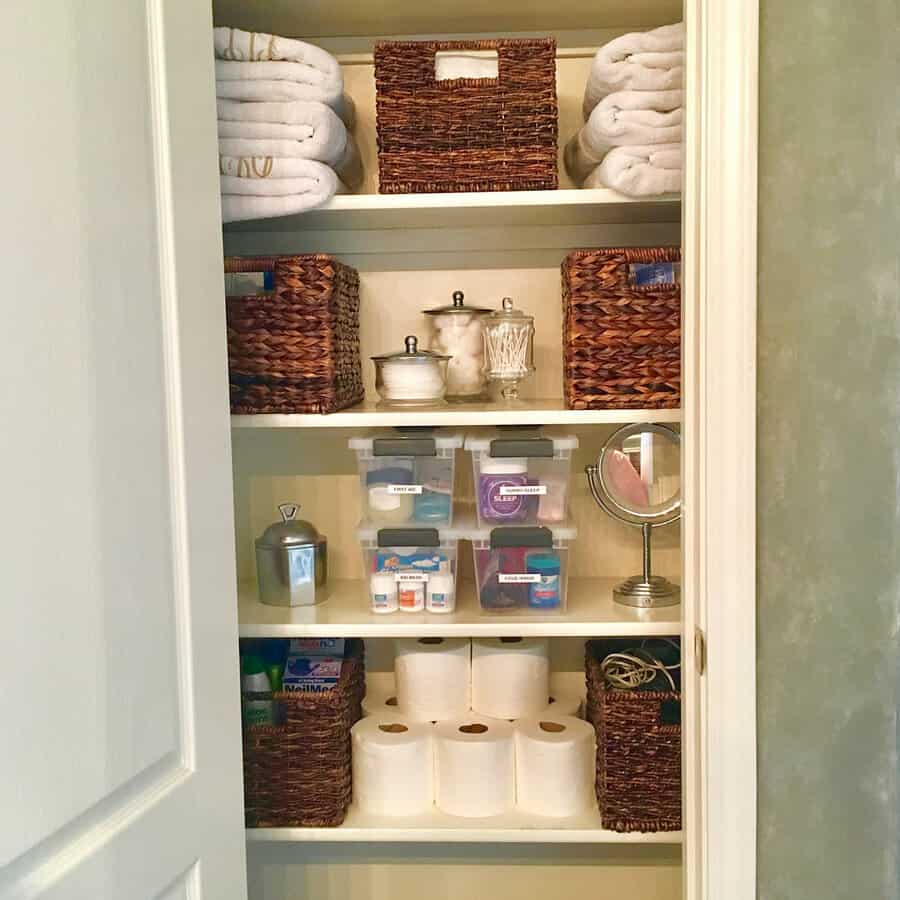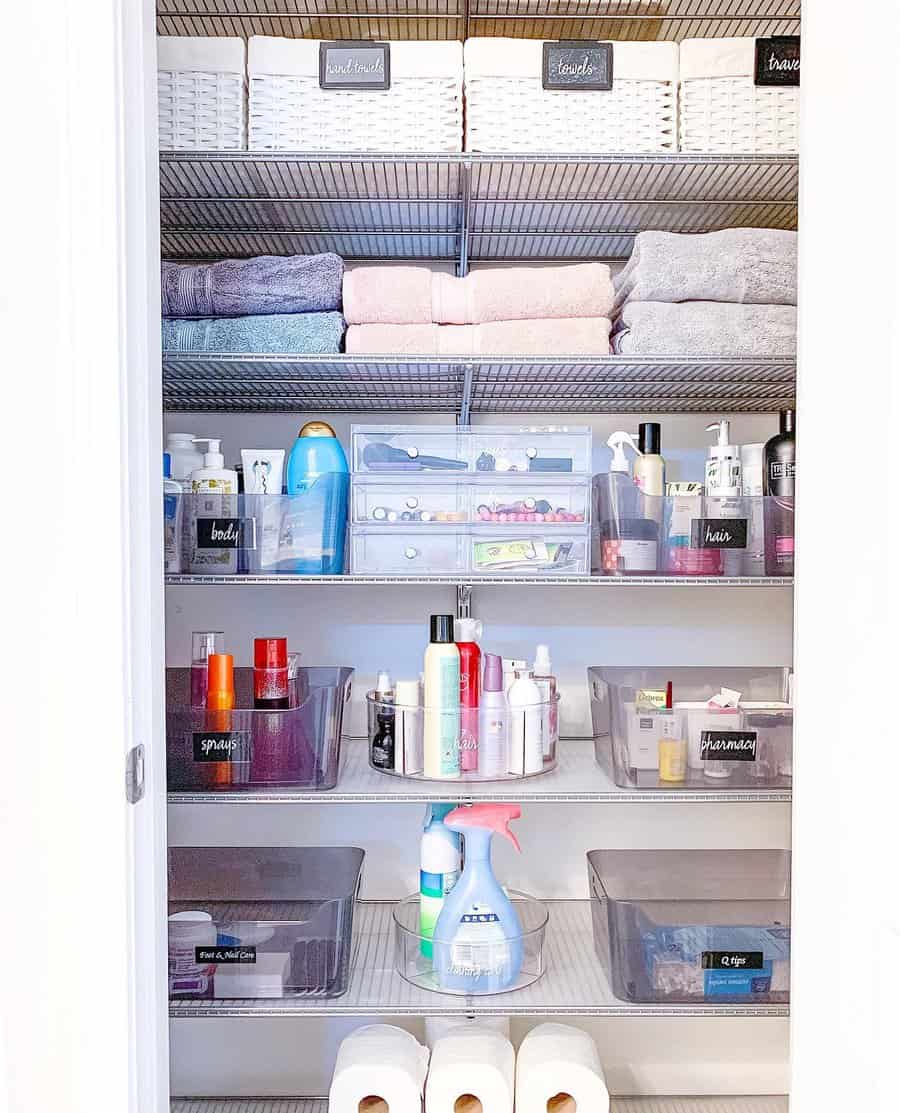 Always seek out alternative storage solutions to make bathroom linen closet organization easier. For example, hang a shower caddy in the shower to free up extra space for closet linen storage.
Also look under the bathroom sink and organize any open storage space there. Label storage bins and line them up in alphabetical order for greater ease in finding what you need.
6. Shelves
The area over the toilet is often underutilized when it comes to small bathroom linen storage. It's a great place to hang floating shelves and display baskets of rolled bath towels. Hang a towel bar beneath the lowest shelf and you have a great place to hang extra hand towels.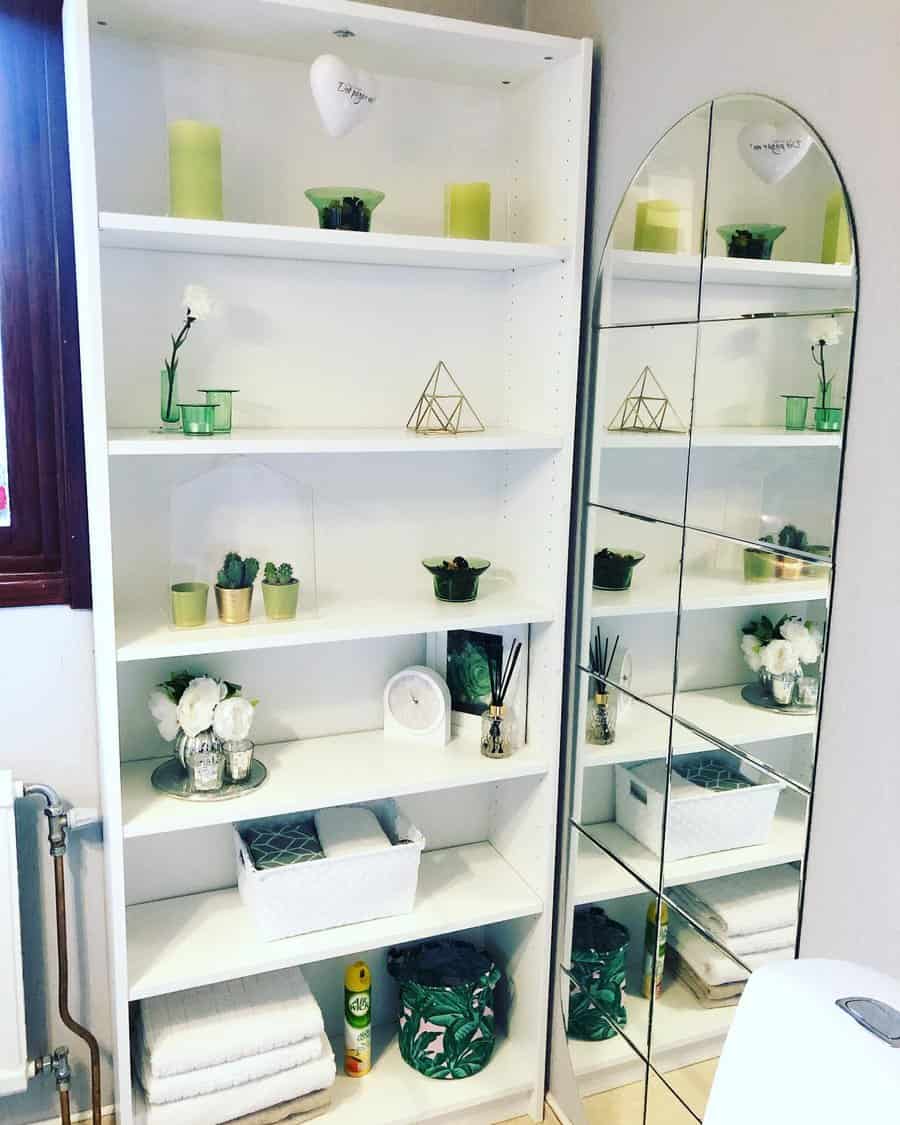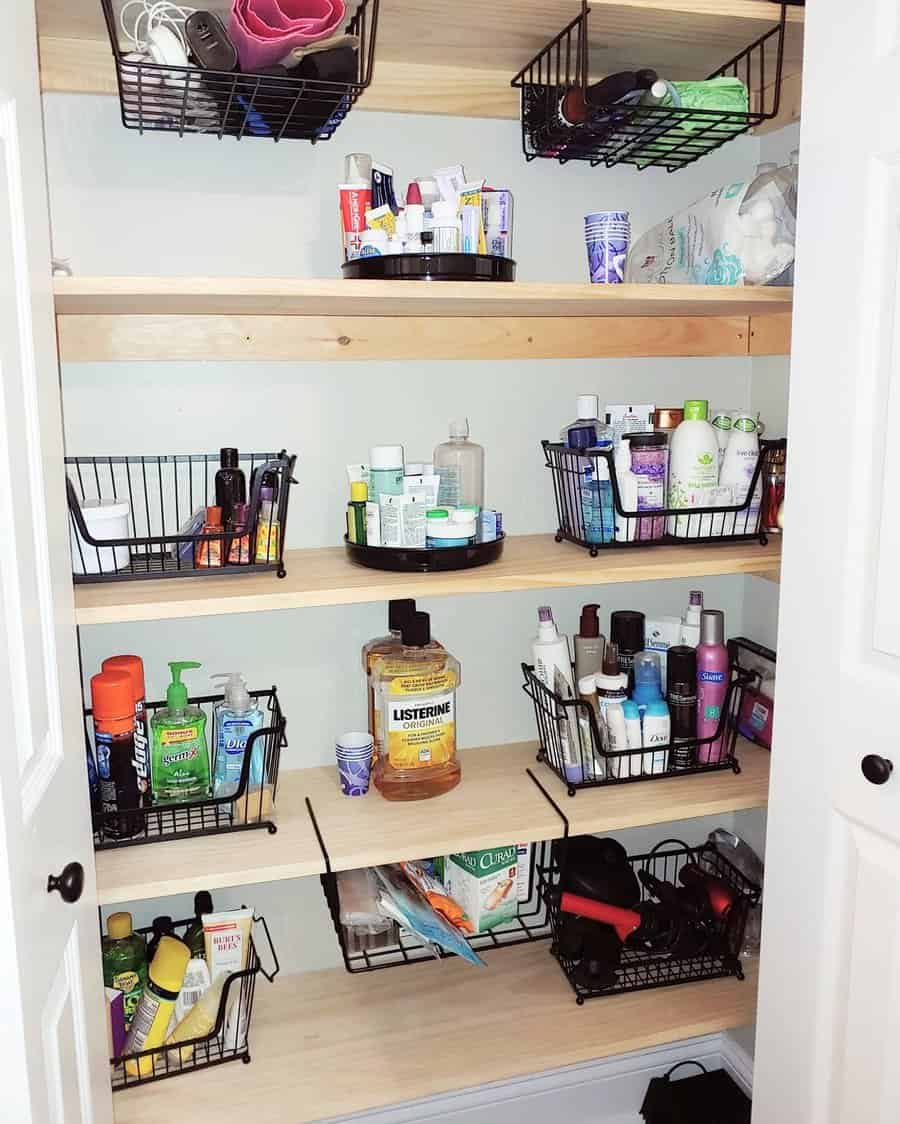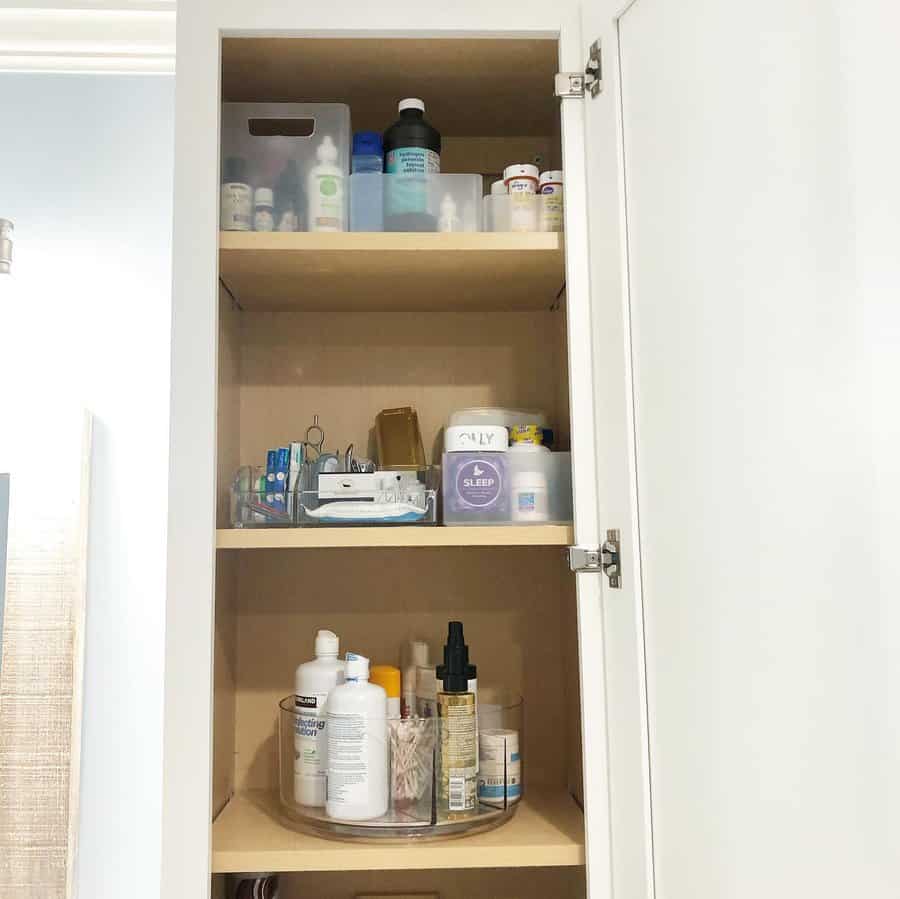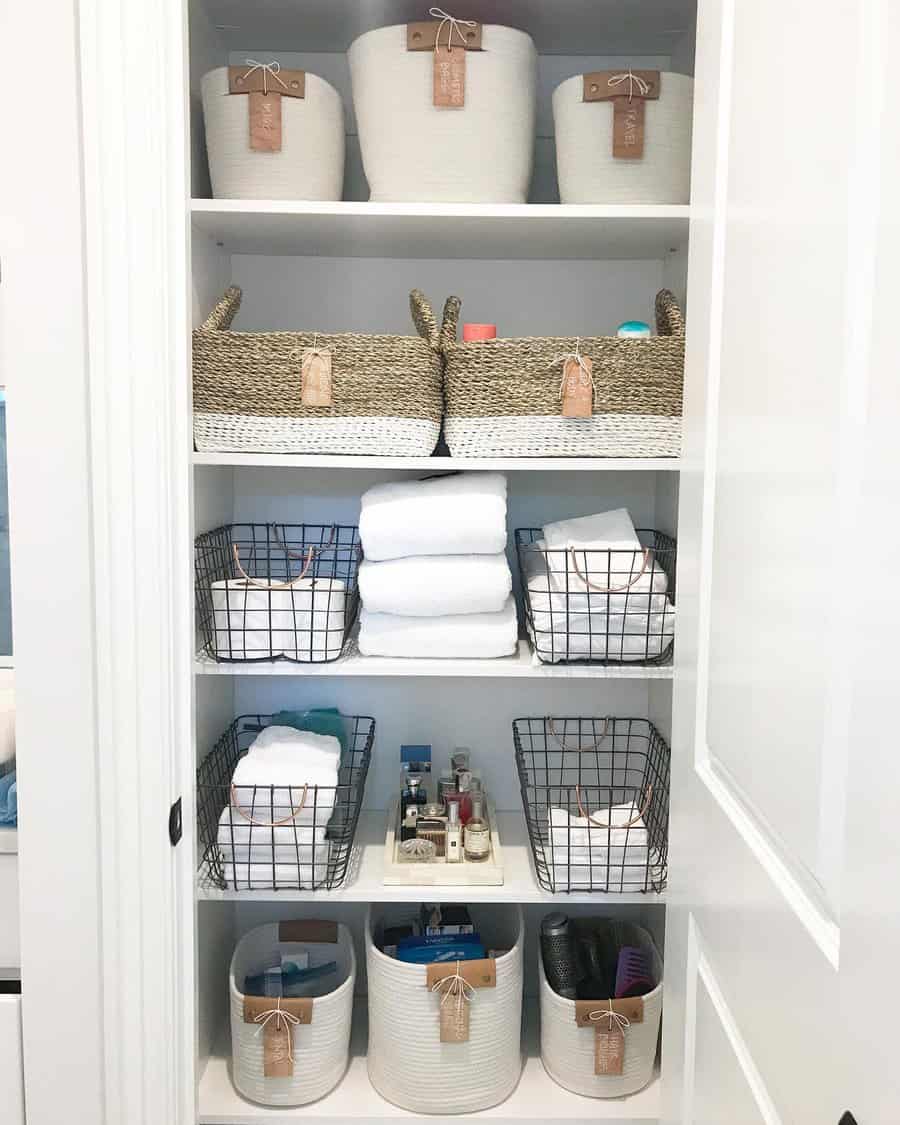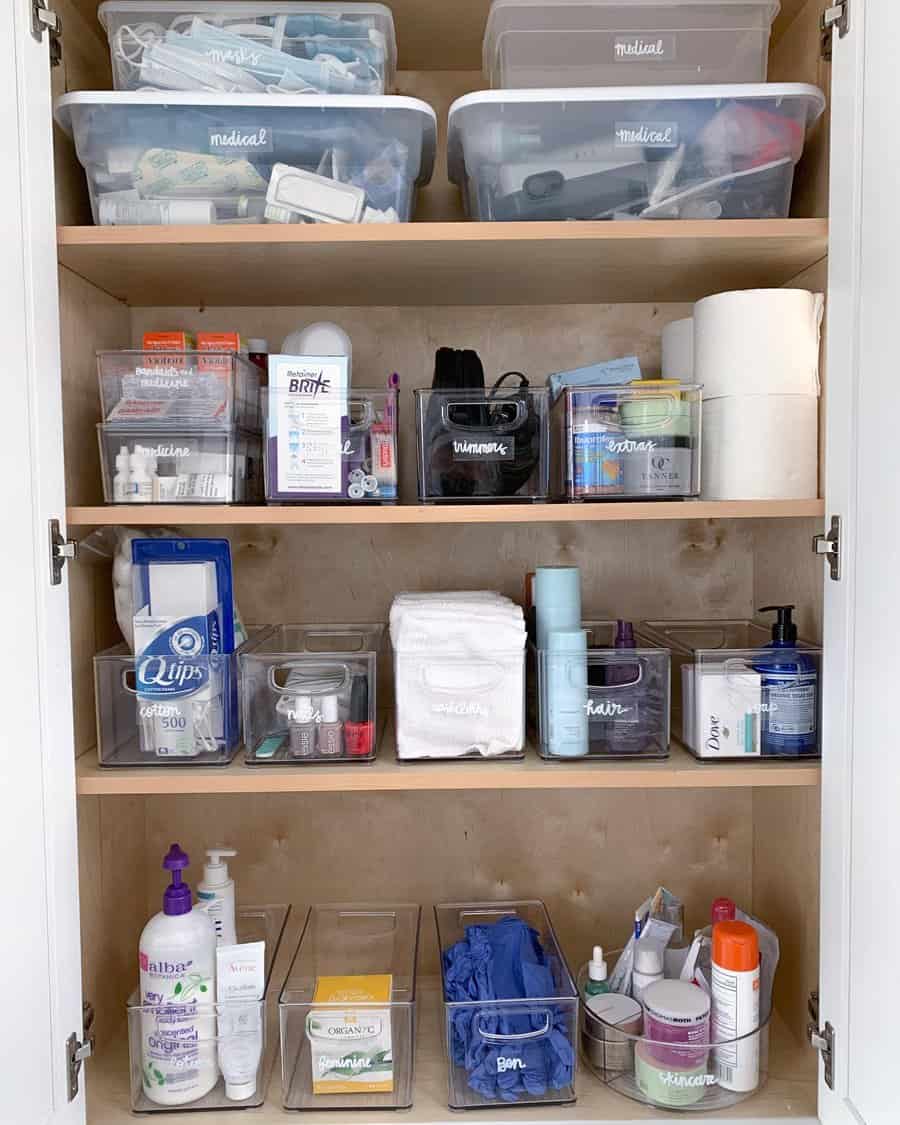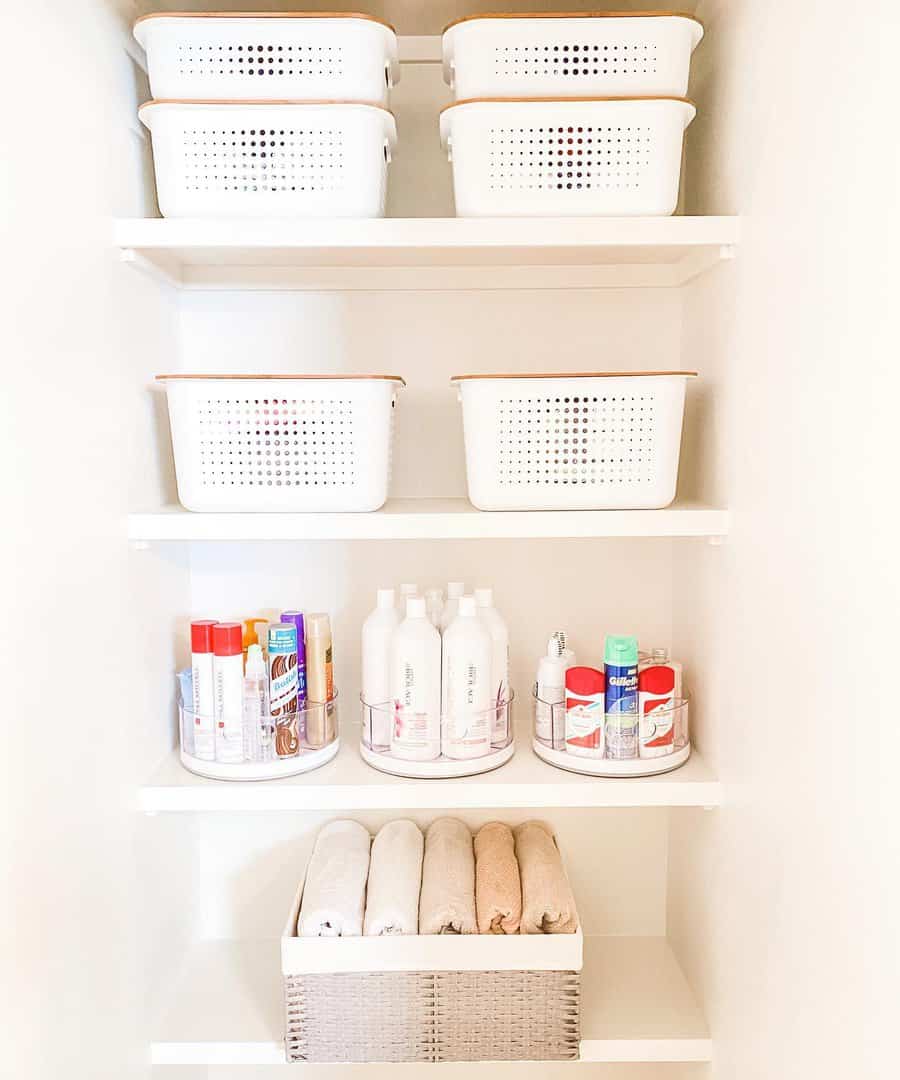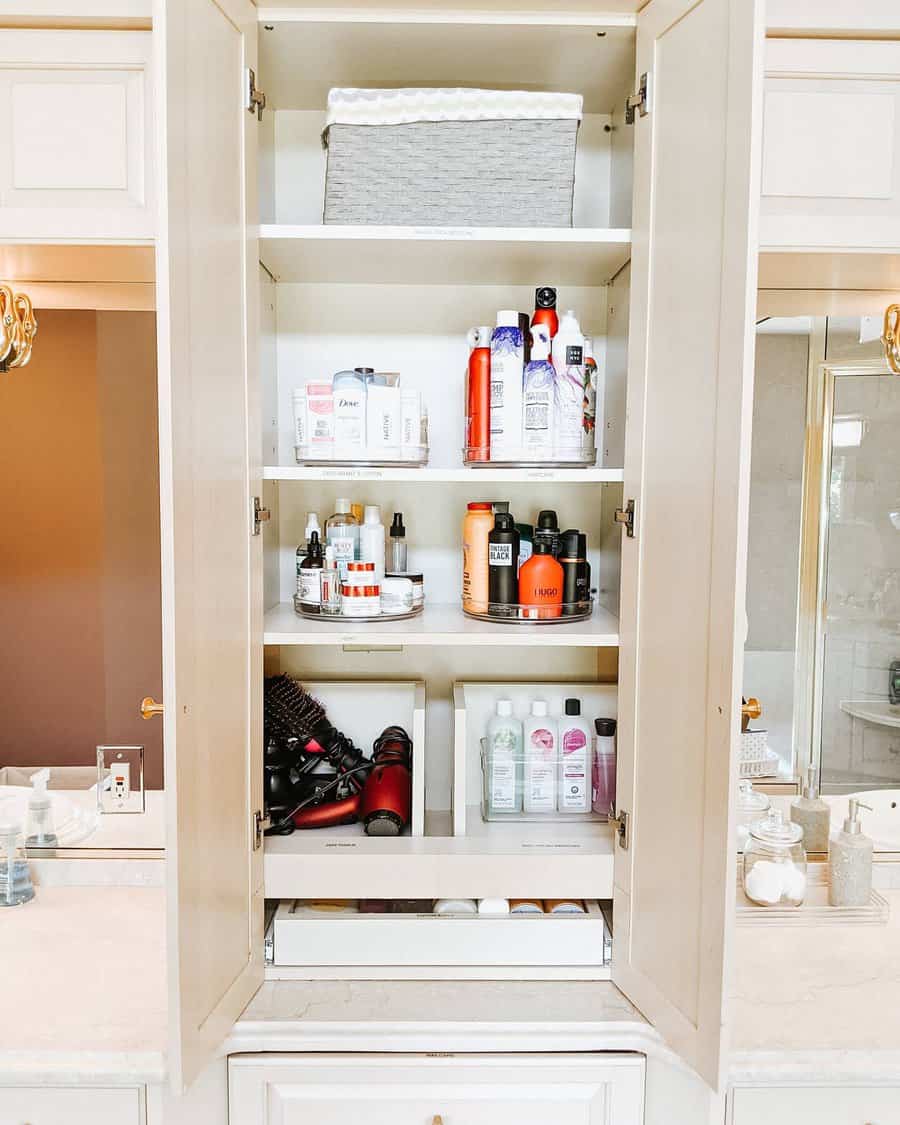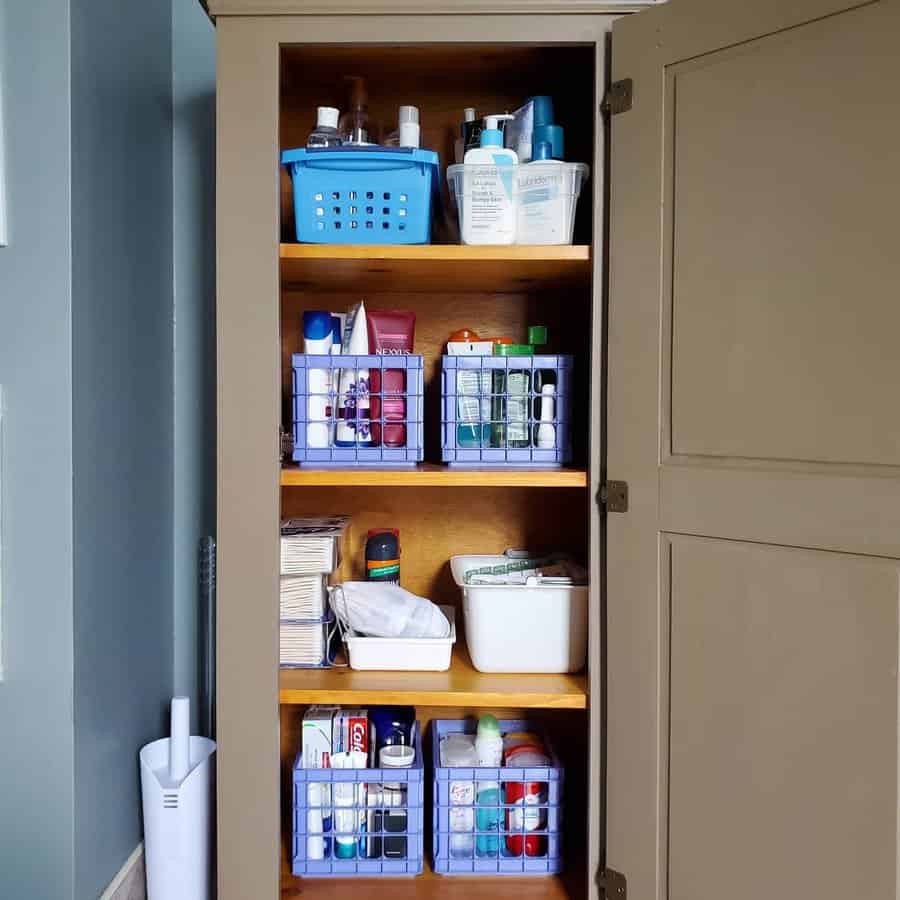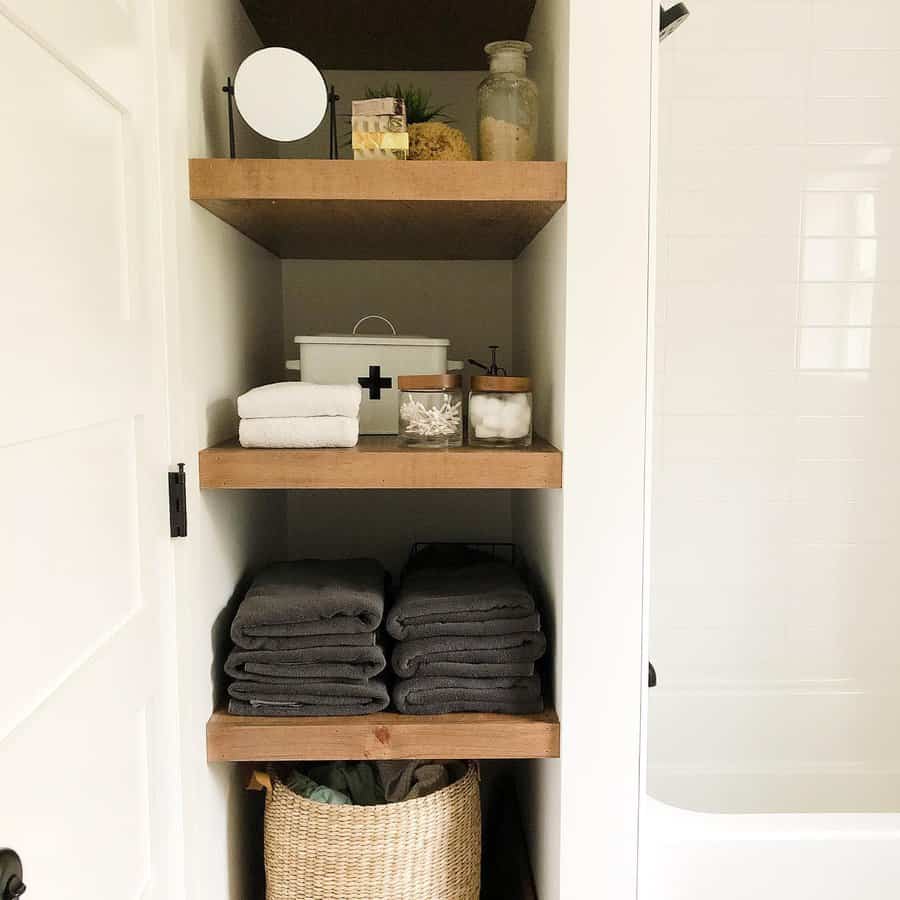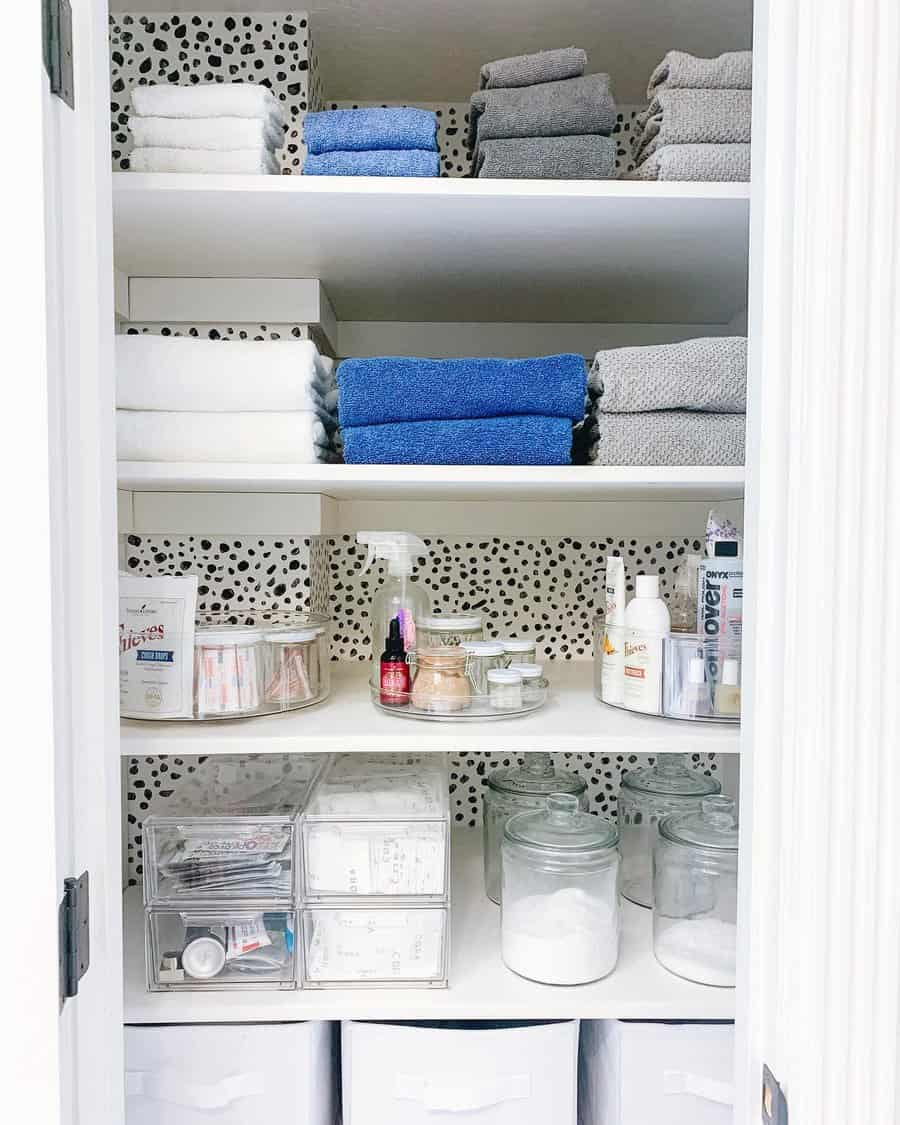 When organizing a bathroom closet filled with shelves, don't forget to utilize the space between the floor and the bottom shelf. This can be the perfect place for the toilet plunger, paper towels, and other cleaning products. One of my top cleaning tips is to organize all your cleaning supplies very well – it makes it so much easier to find the motivation to clean!
7. Storage
It's surprising how much you can fit into a tiny bathroom closet when everything is neatly stored. Get creative with your bathroom linen closet organization containers. Glass jars, small metal buckets, and small serving trays are all attractive vessels for your bathroom necessities.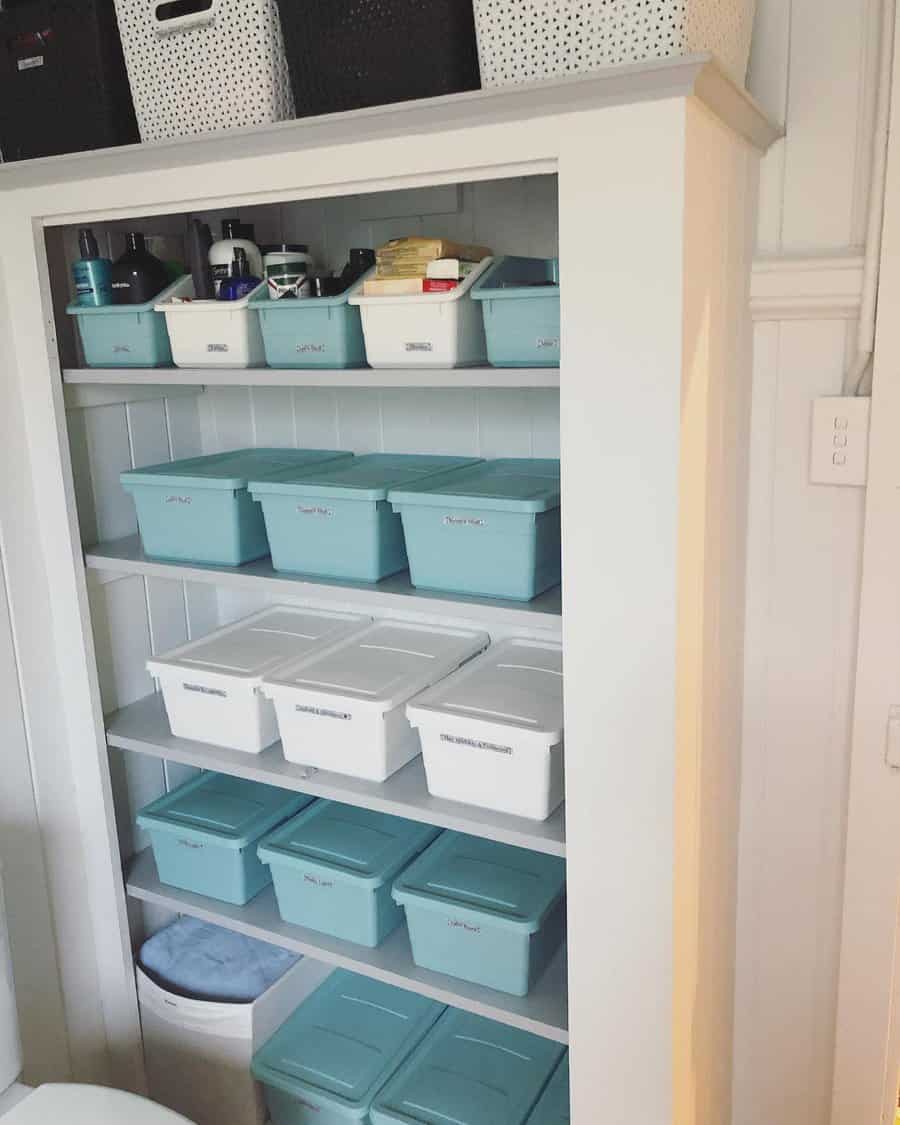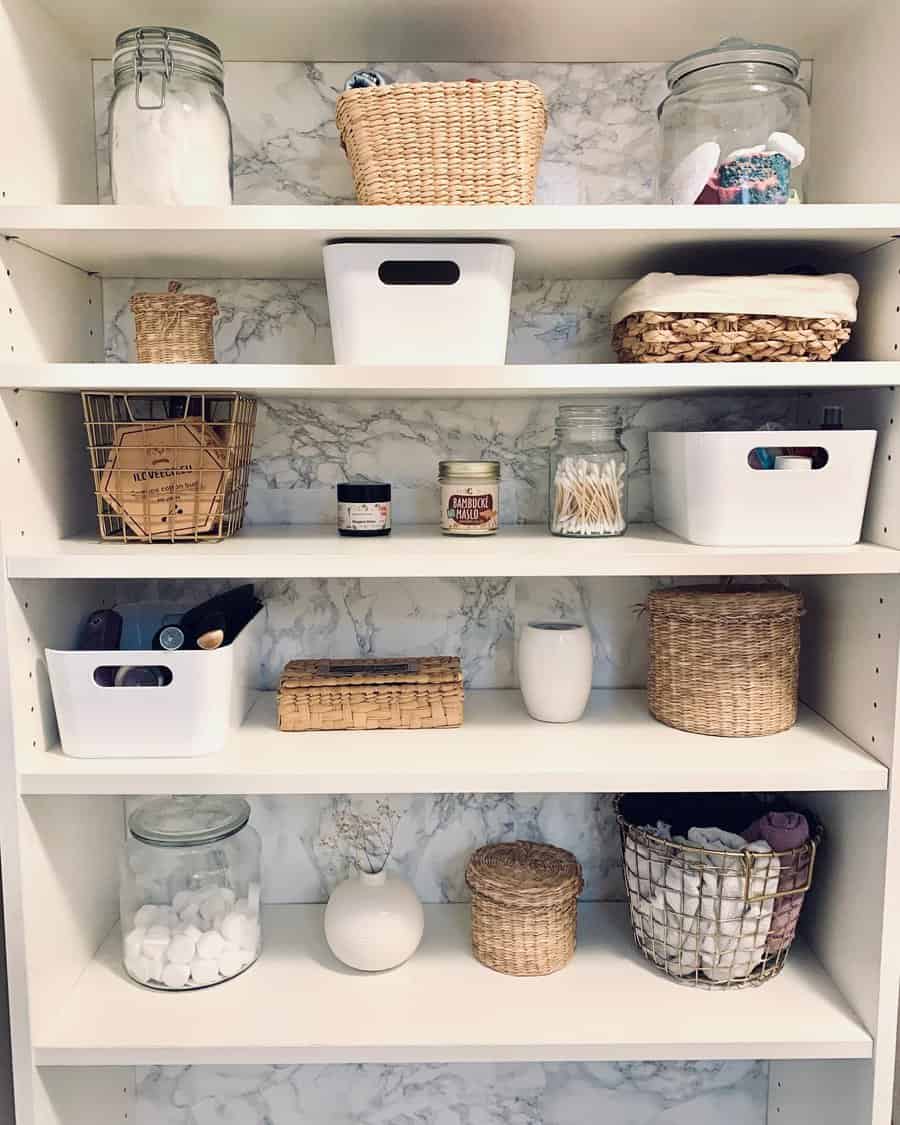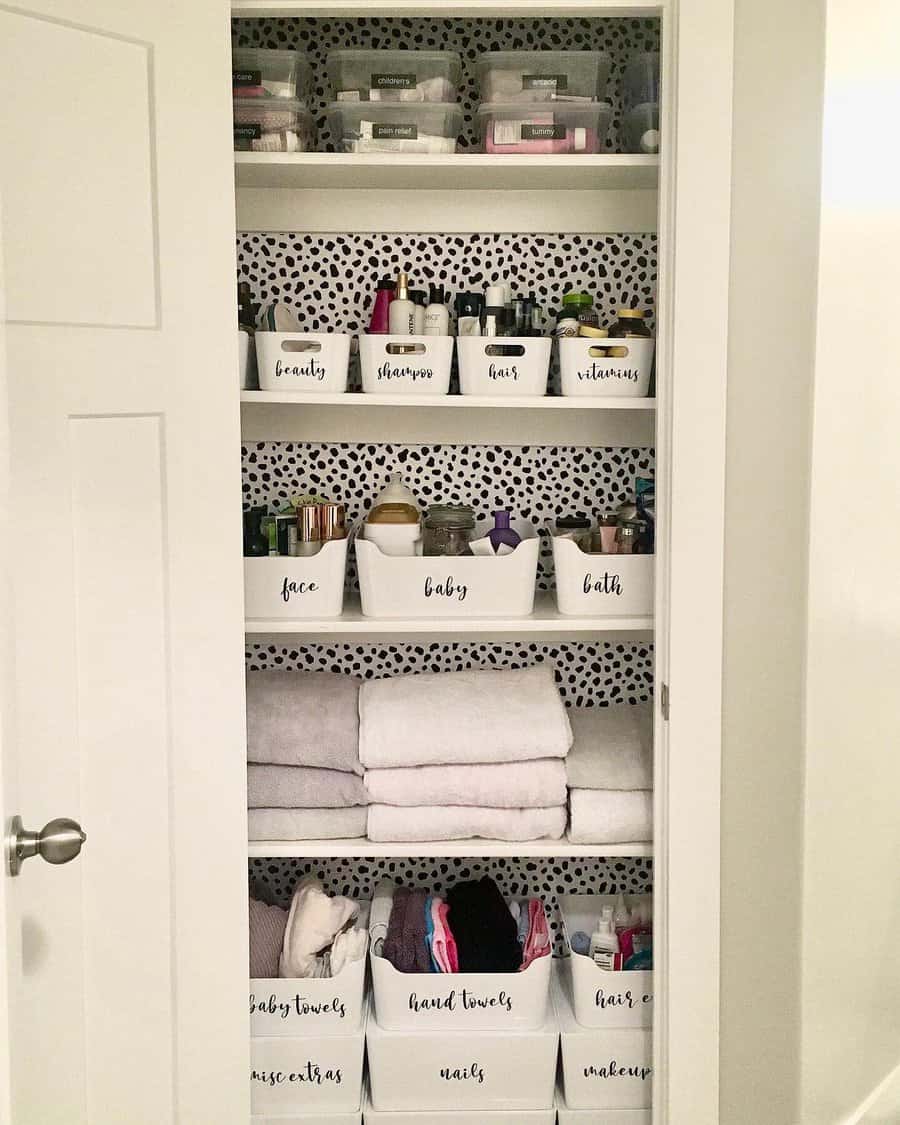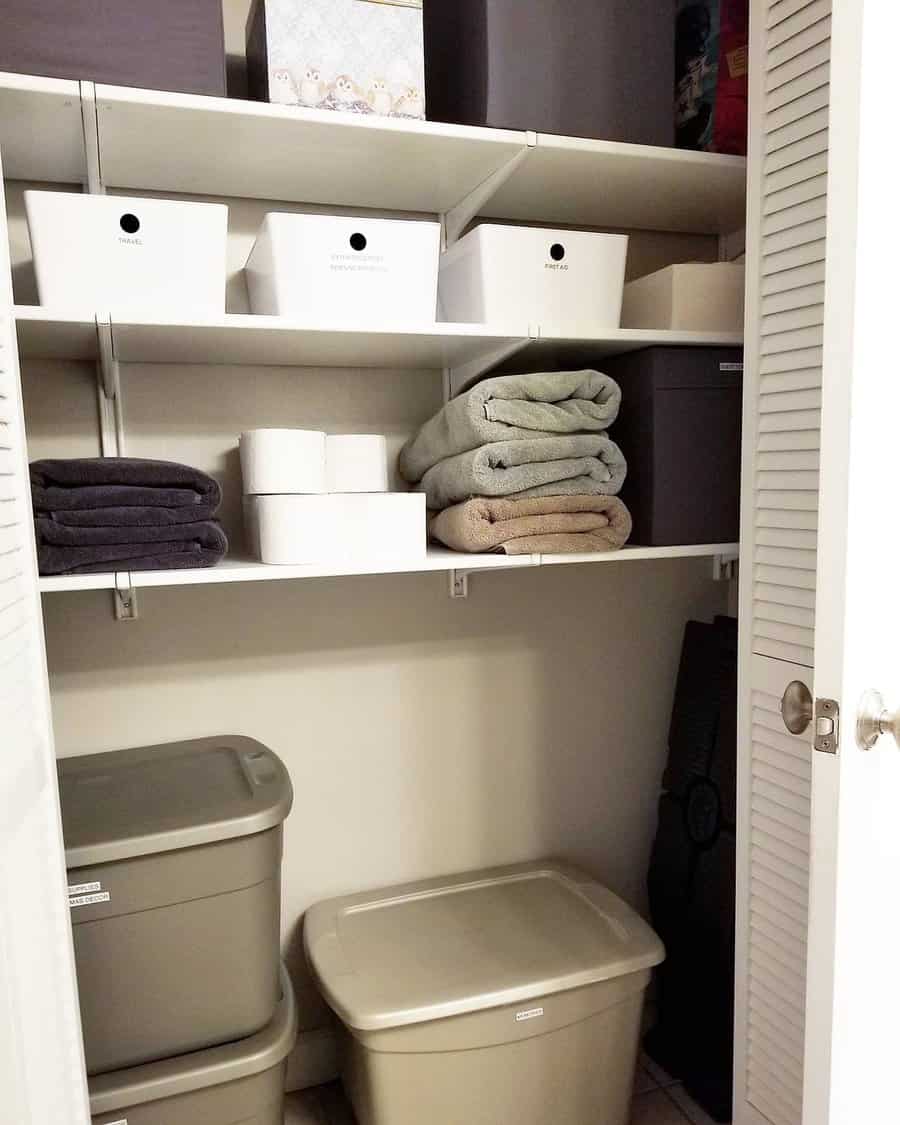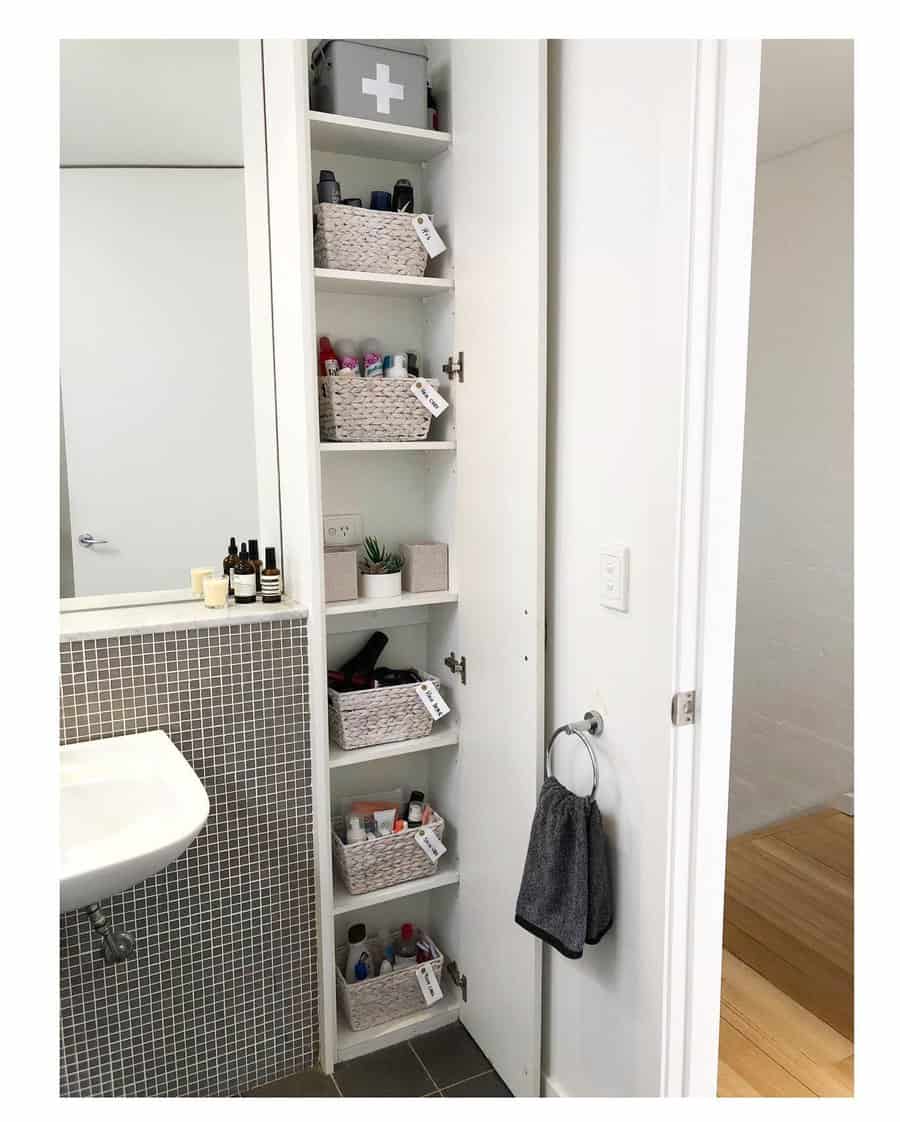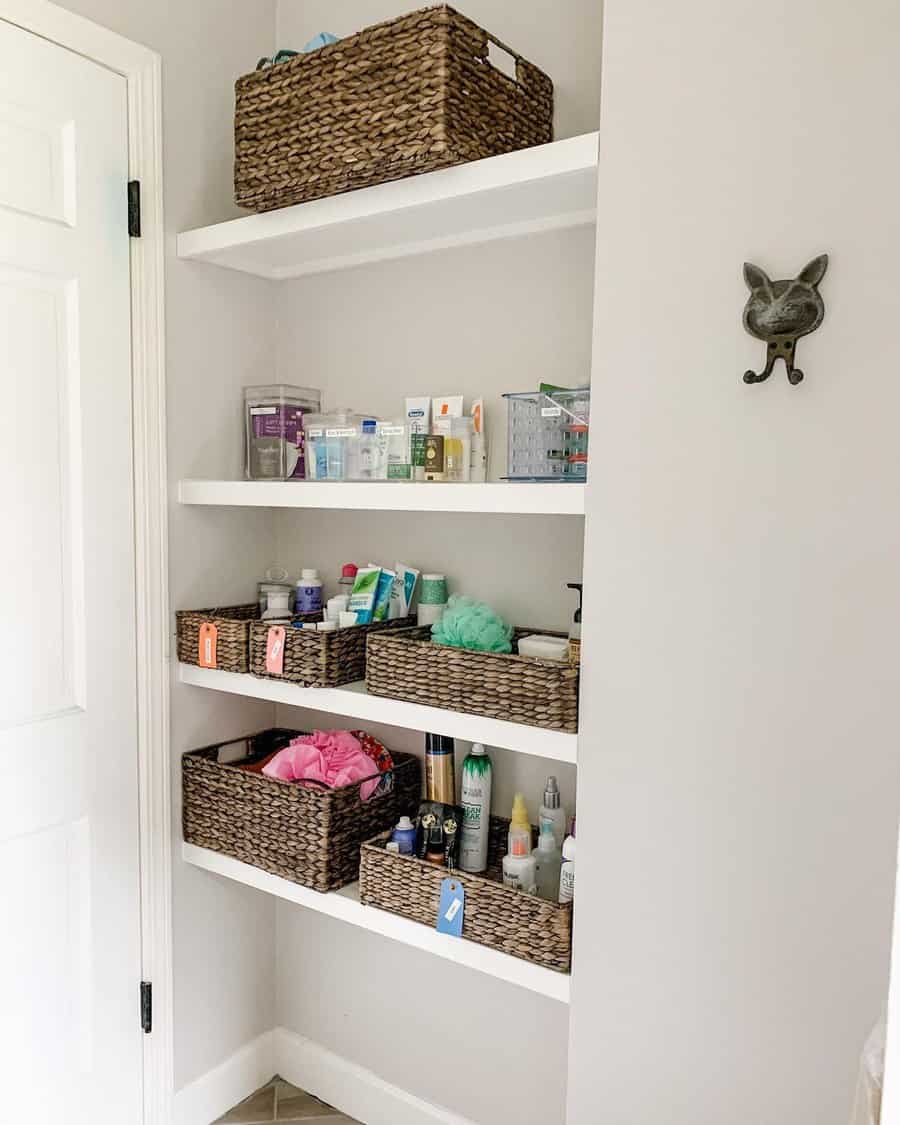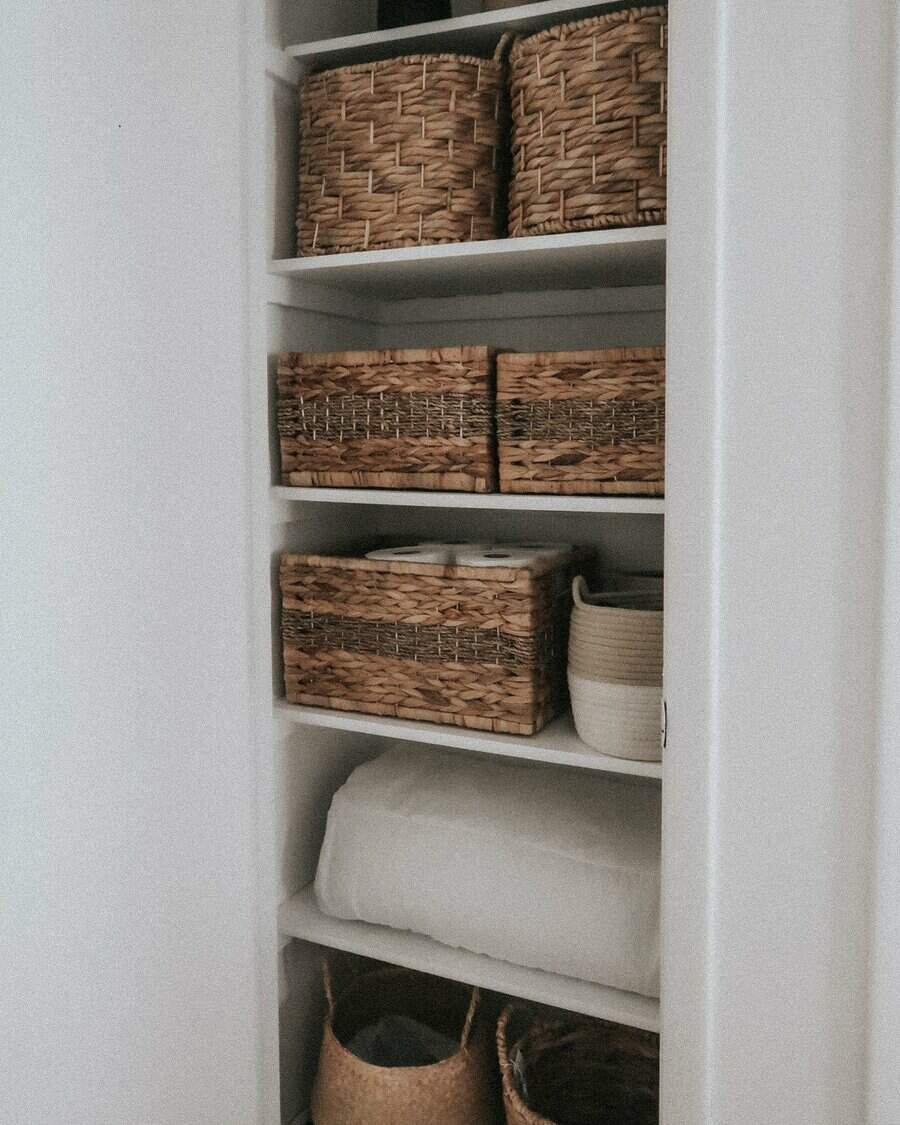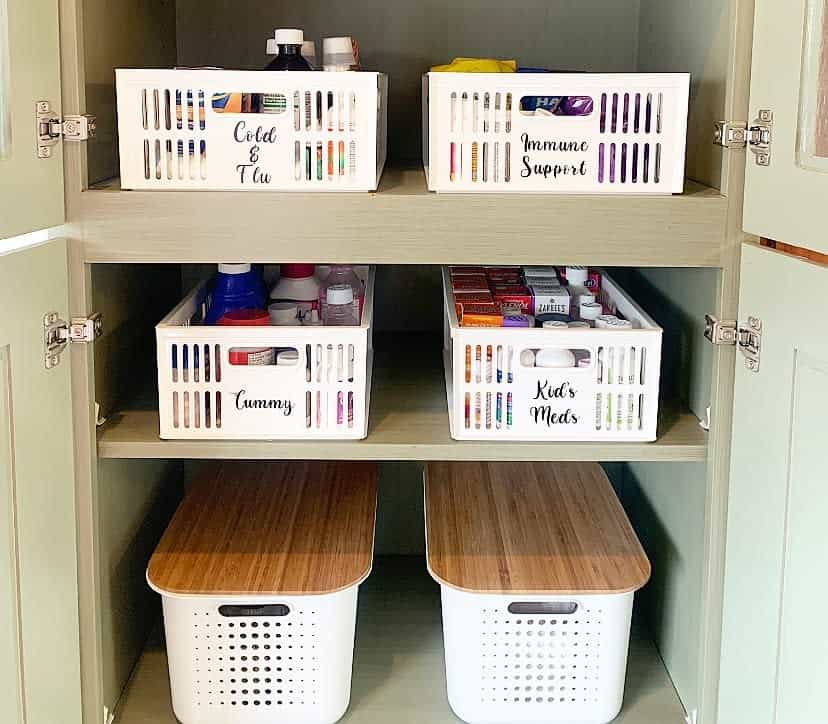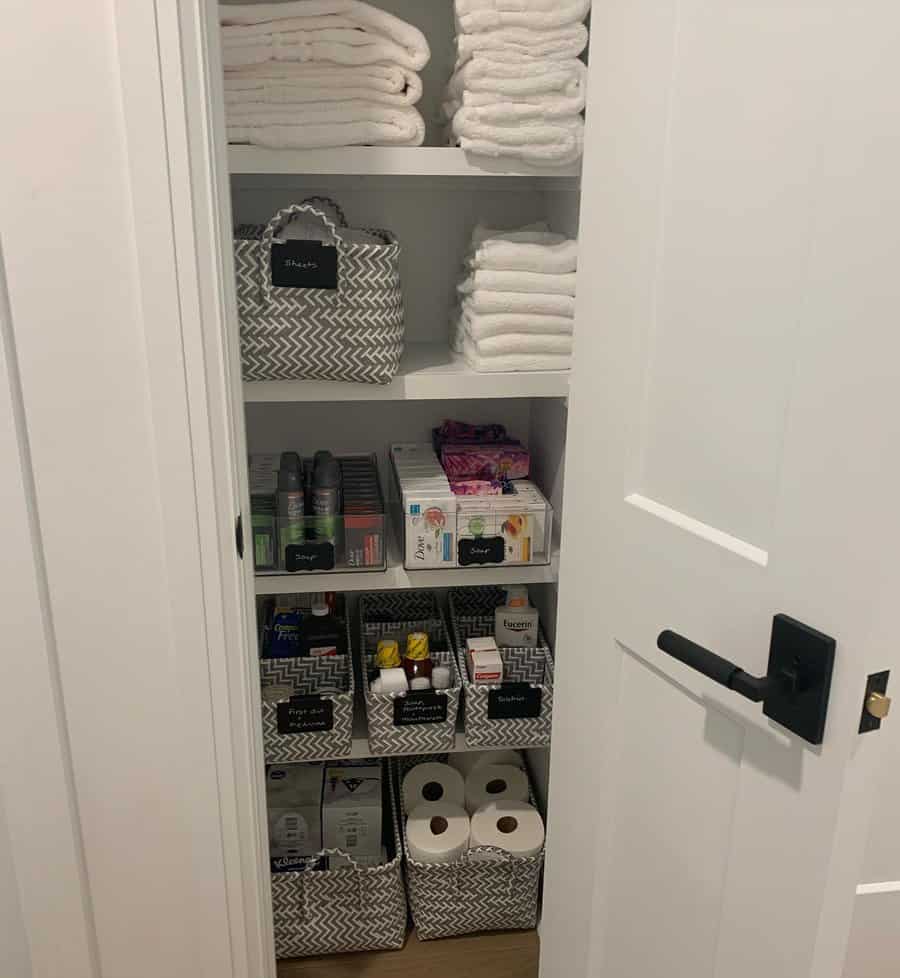 In a small water closet, your only option to store towels might be under the sink. If you're struggling to find storage space inside a small bathroom, it's fine to store your bathroom items in another room.
Move your linens, towels, and cleaning supplies into the laundry room or tuck them behind a kitchen cabinet door.
8. Towel
The first step in organizing bath towels may be getting rid of any that are stained or tattered. After reducing your collection of towels, stack the keepers neatly inside your main or master bathroom linen closet.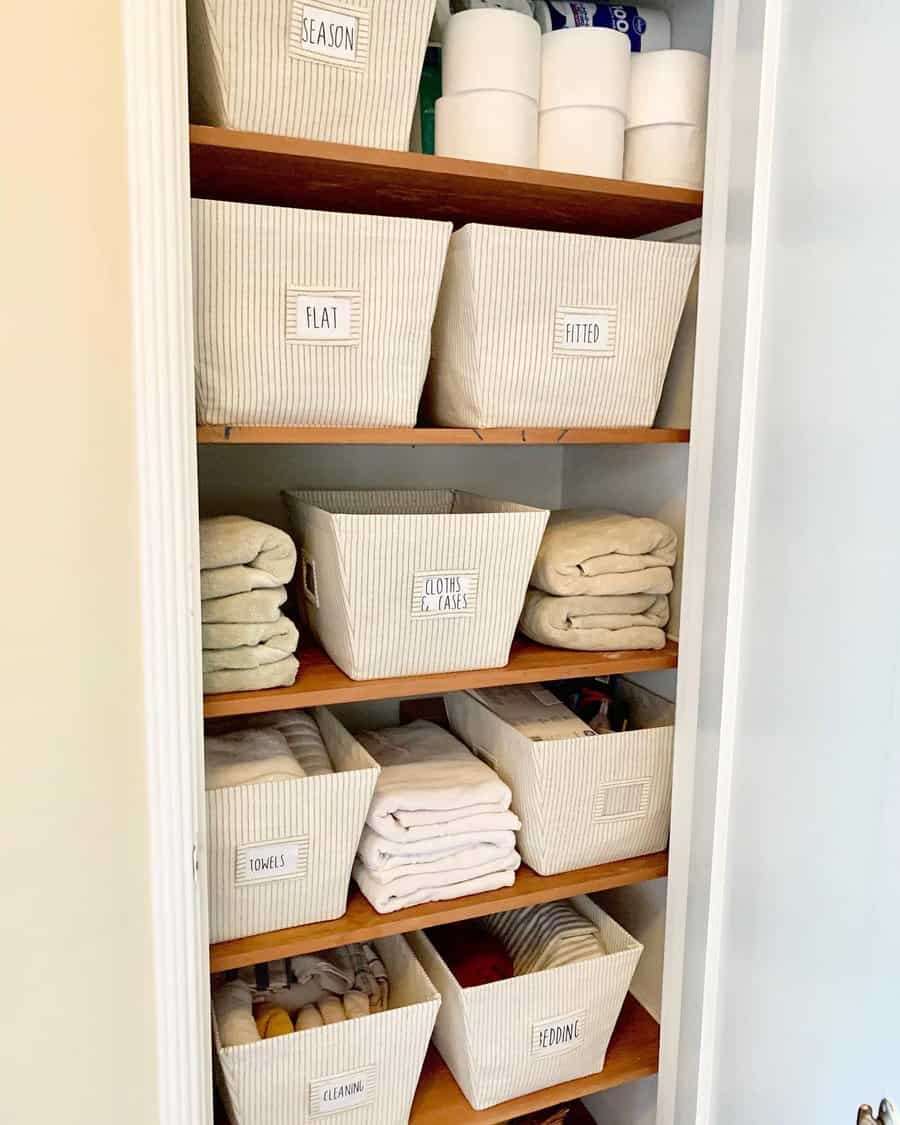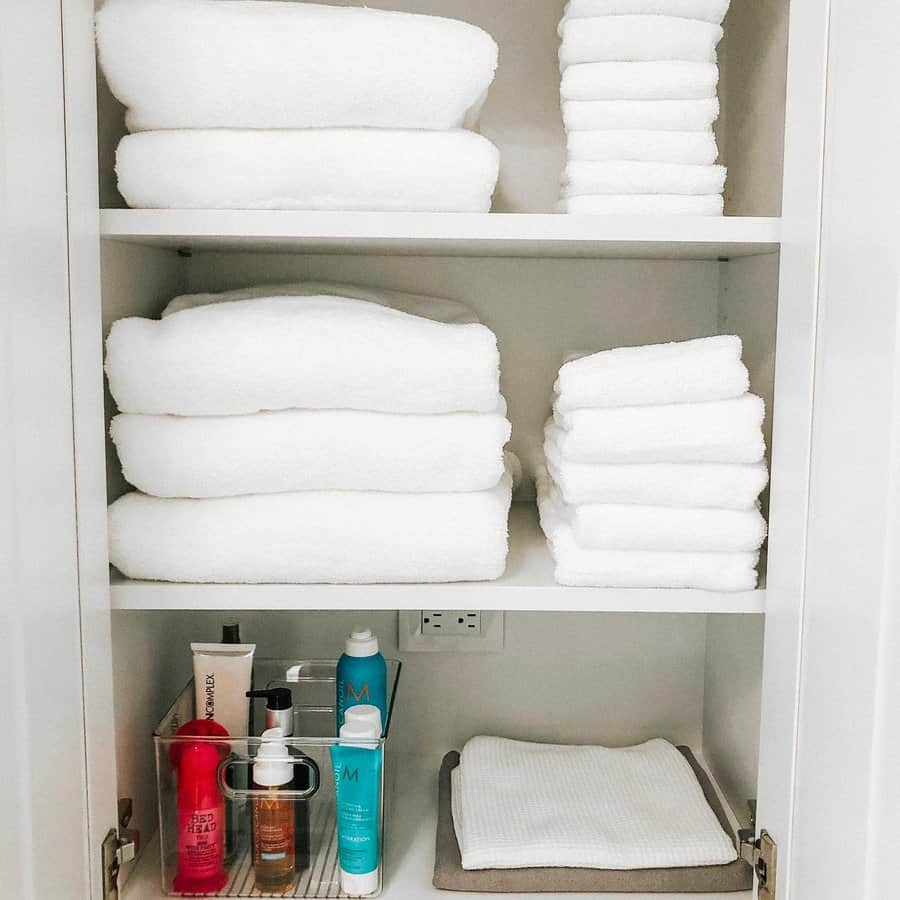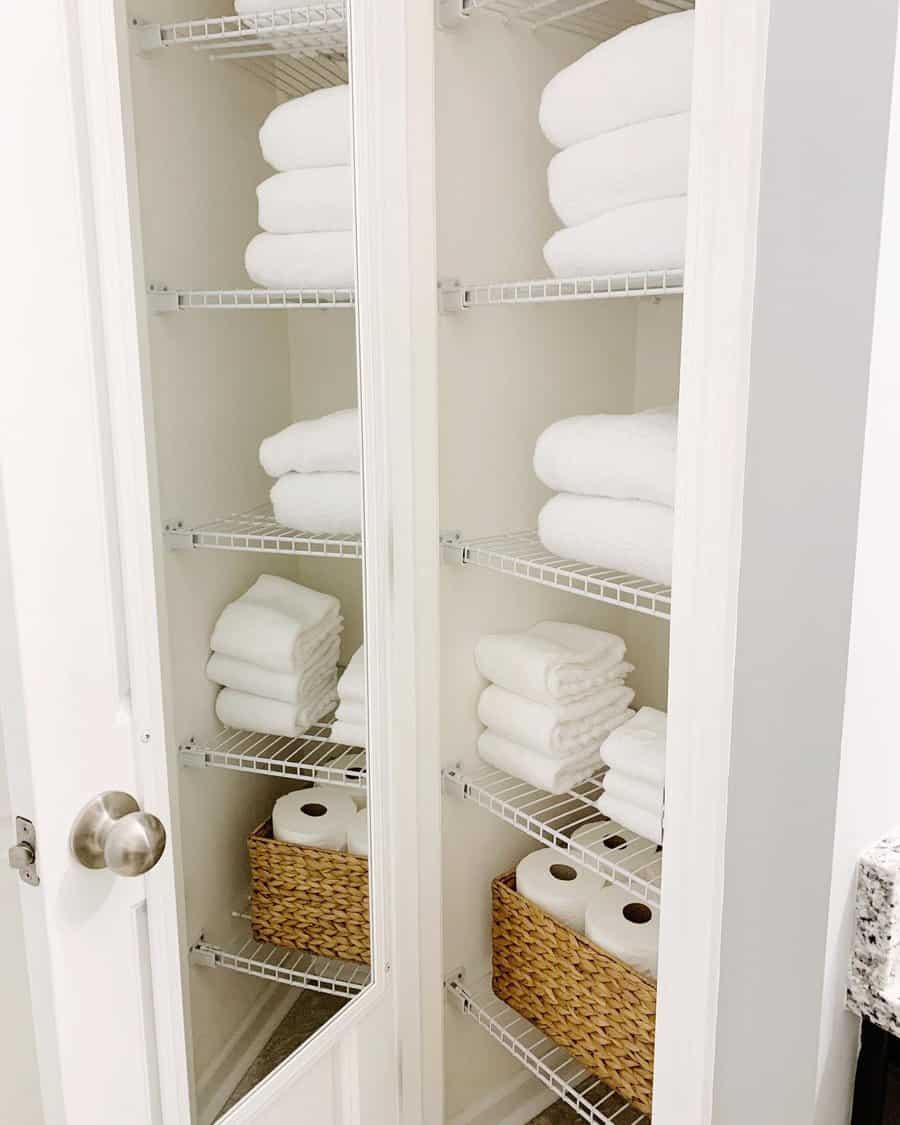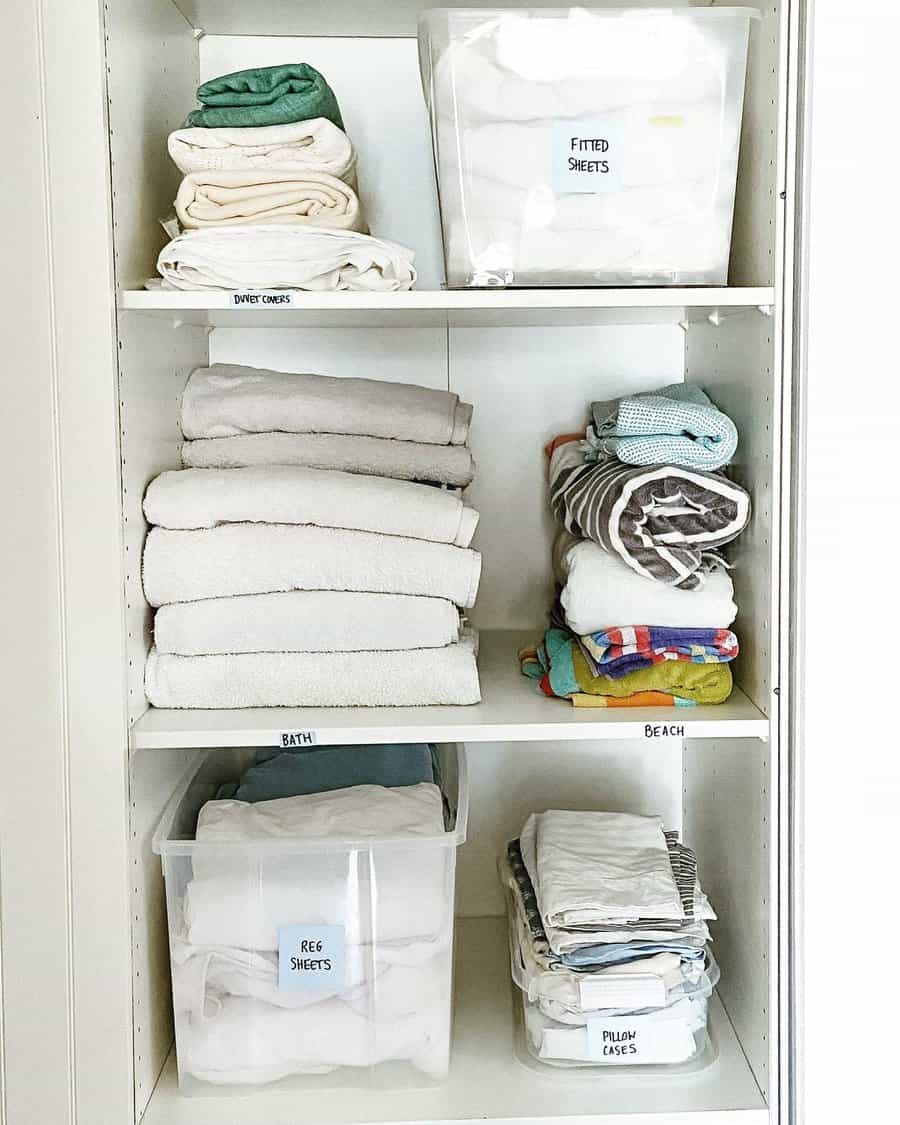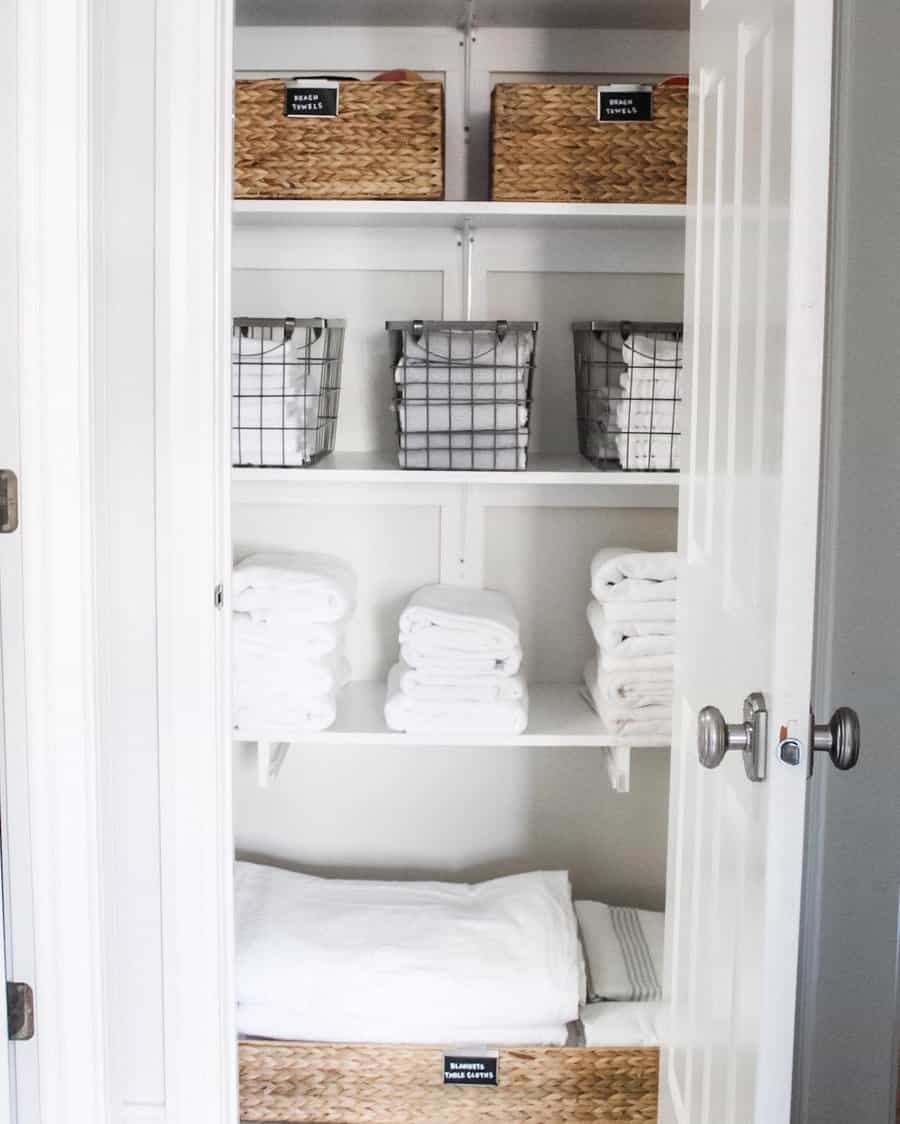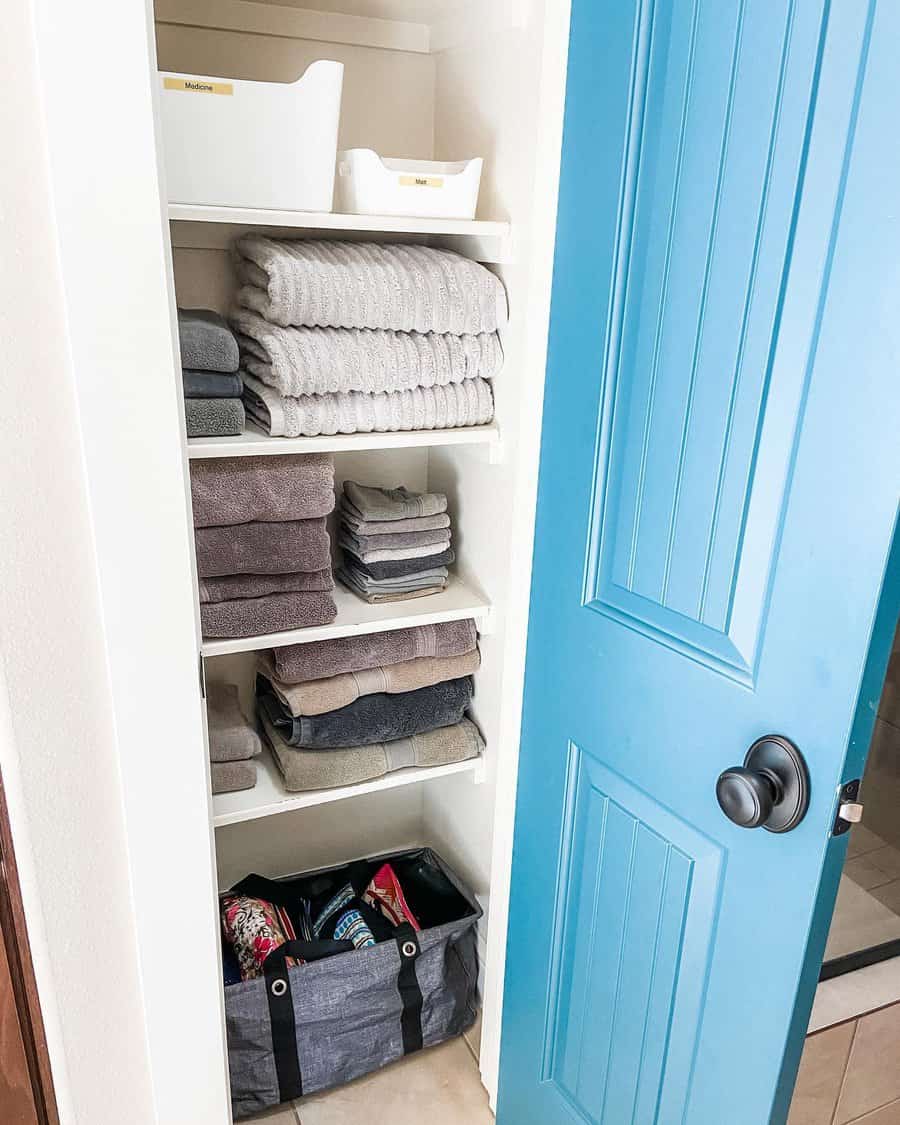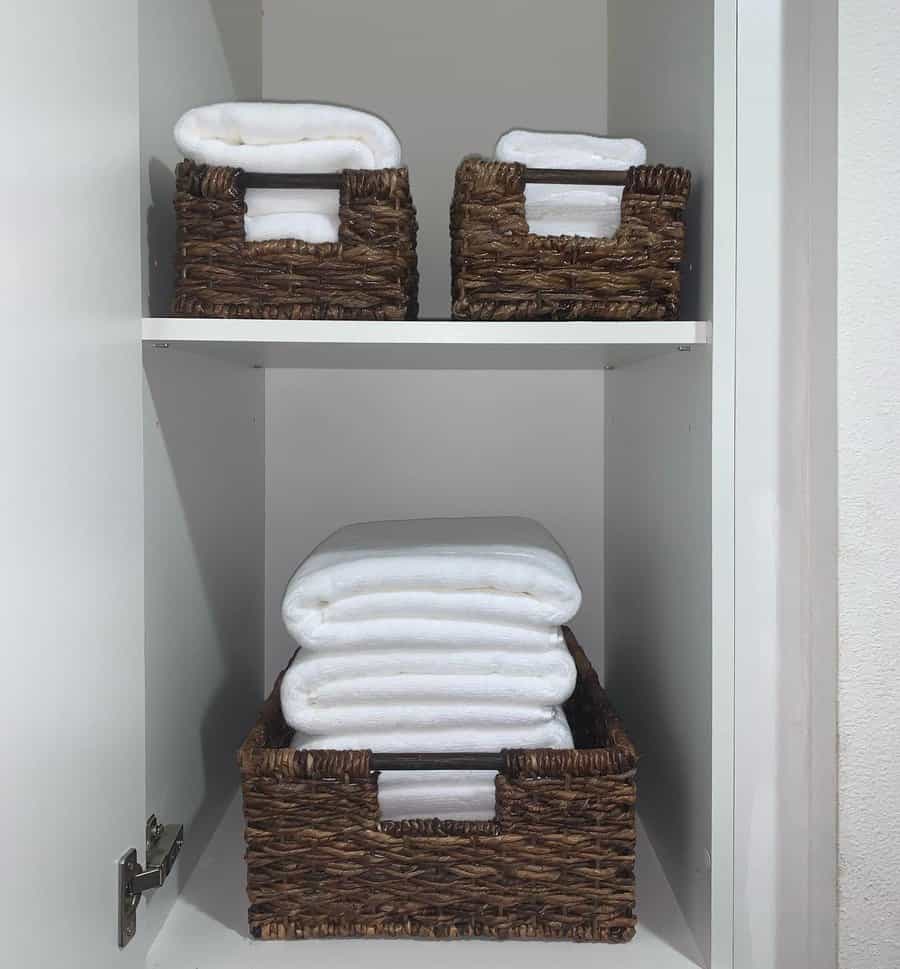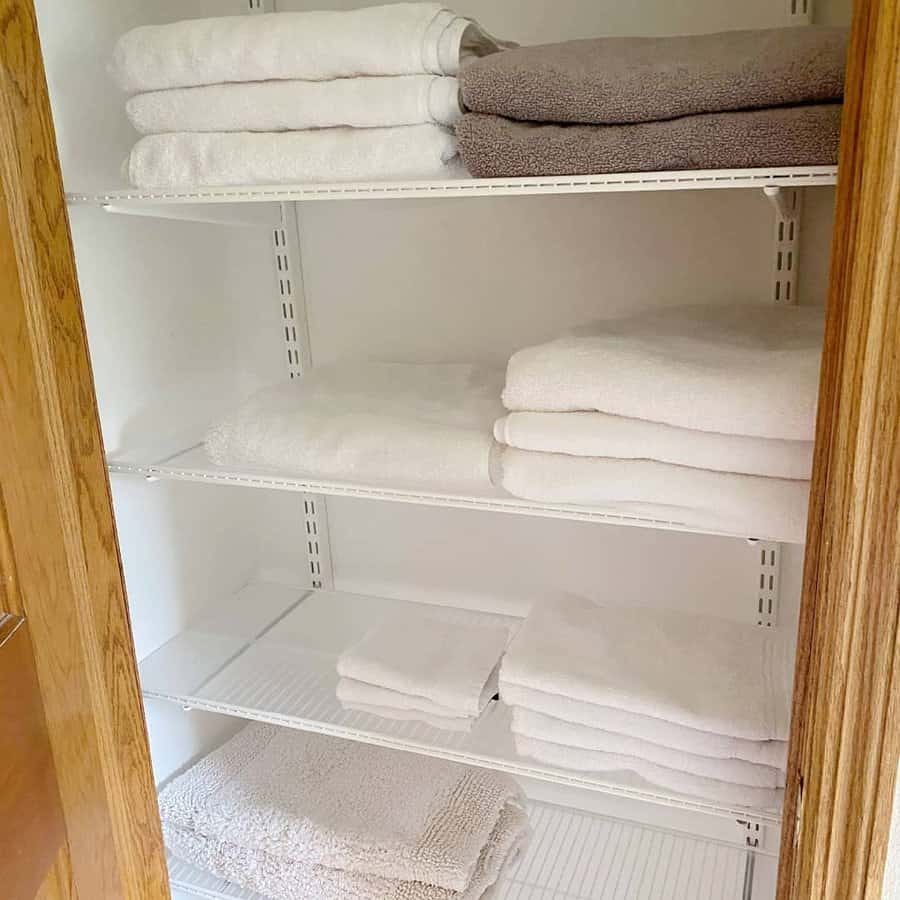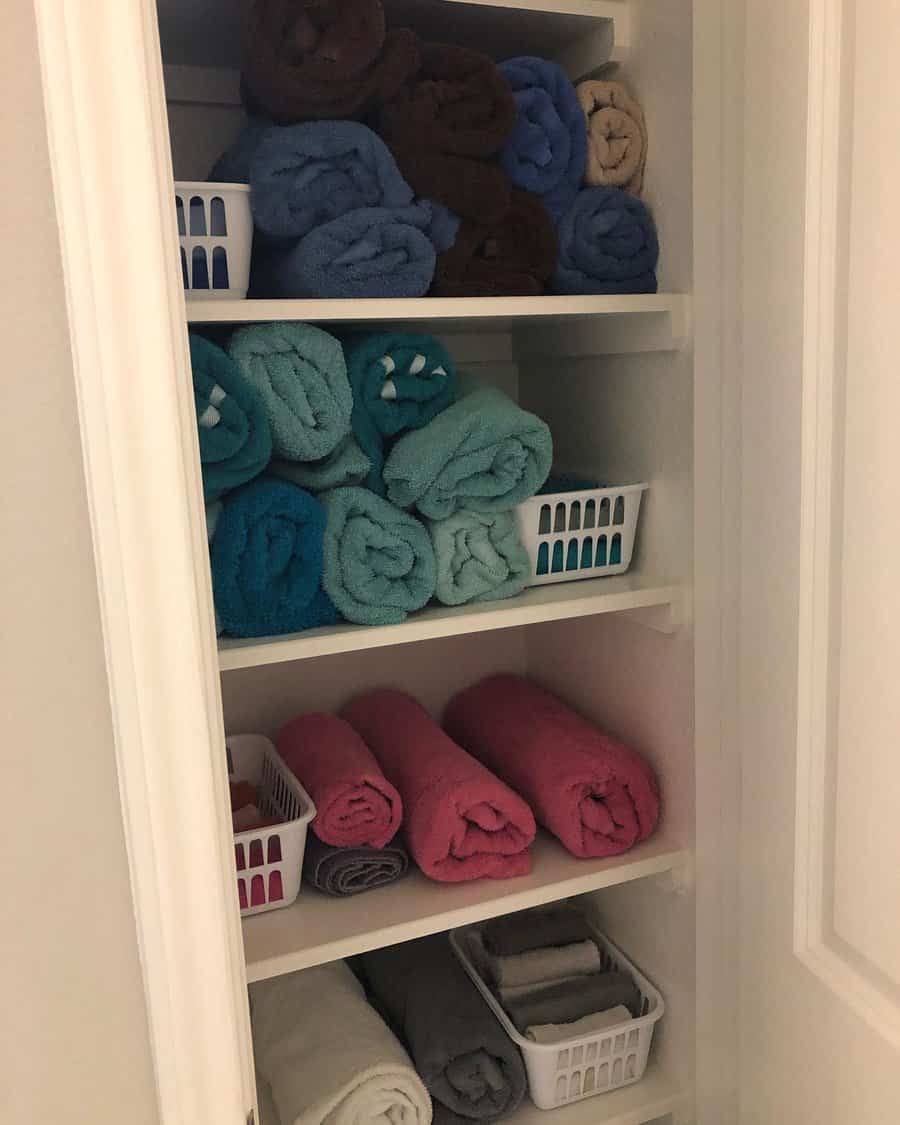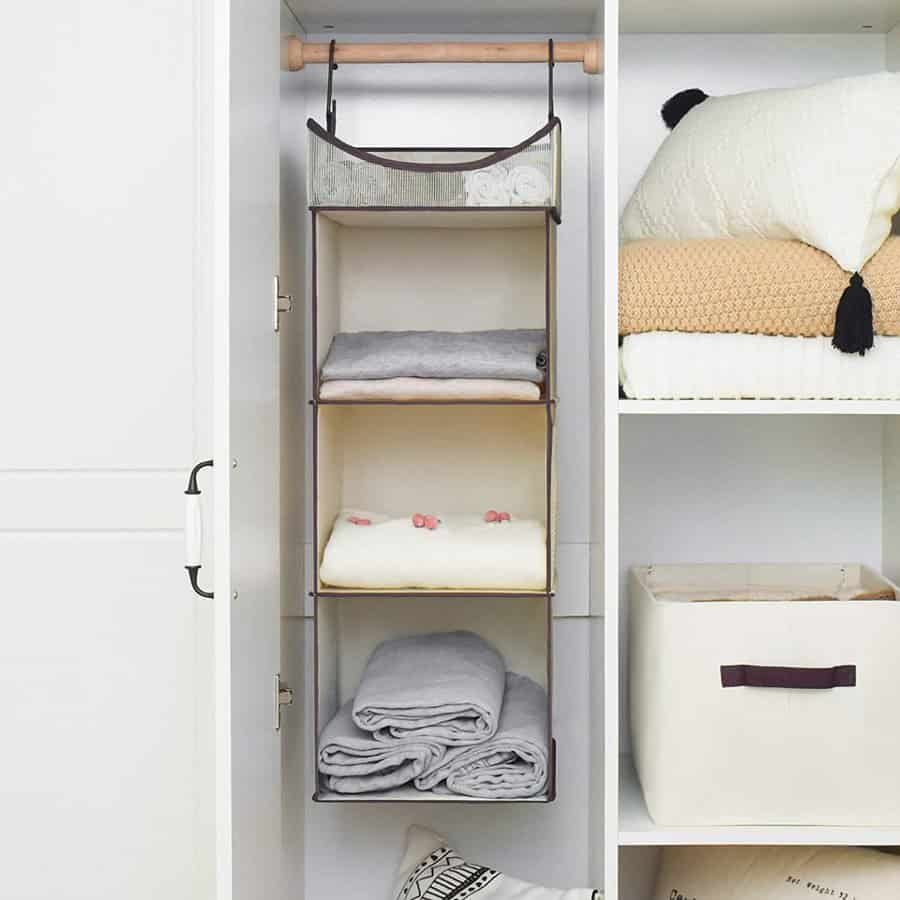 You can also roll towels instead of folding them. A large basket filled with rolled towels looks nice tucked beneath a pedestal sink, and it frees up space in your bathroom closet for less attractive items.
You may find it helpful to color coordinate towels and use a separate color for your master bath, hall bathroom, and kids' bathroom.
Read also: 67 Towel Storage Ideas
Bathroom Closet FAQs
What goes in the bathroom closet?
Anything you would call "bathroom essentials" should go inside your bathroom closet. Towels, wash cloths, extra toilet paper rolls, soaps, shampoos, and lotions are just some of the items that are handy to store in the bathroom or linen closet. Organize your bathroom cleaning supplies on a designated closet shelf.
Should a linen closet be in a bathroom?
The answer to this question depends on personal preference and the amount of storage space in your home. If a bathroom closet is the only space big enough to hold your extra sheets, blankets, and pillows, it may be the logical place to store your linens. However, if you have an open shelf in your bedroom closet, that may be a more convenient place to store bed linens and pillows.
How far apart should shelves be in a bathroom closet?
Ideally, you should space bathroom closet shelves 12 to 16 inches apart. This allows enough room for storage baskets, stacks of folded towels, and tall cleaning supply bottles.