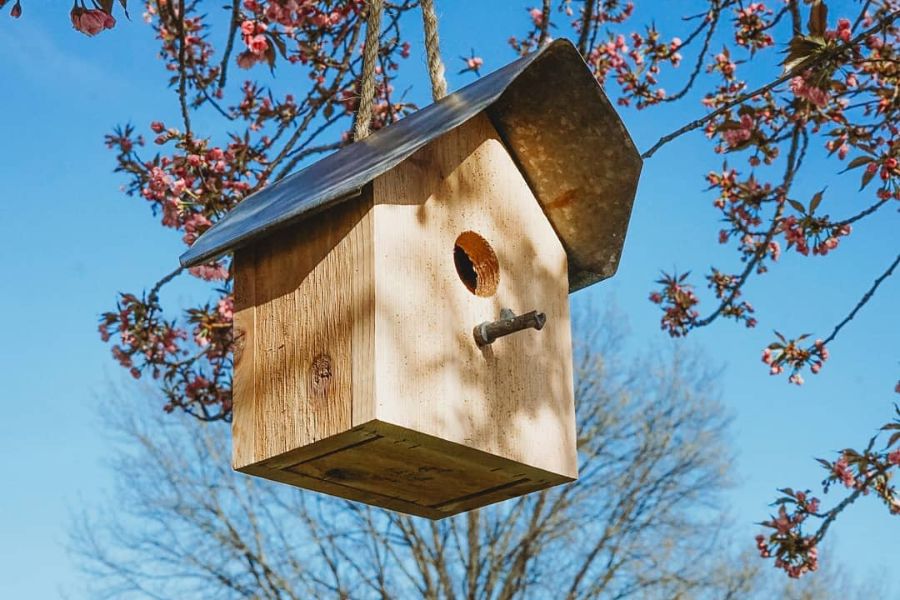 The Top 45 Birdhouse Ideas
Do you fancy yourself an amateur (or not-so-amateur) birdwatcher? Have you suddenly found yourself spending more time in your home's outdoor spaces? These are just some of the great reasons to add a birdhouse to your property.
You can set up a birdhouse for specific species, like bluebirds, purple martins, or chickadees. Or you can sit back and let nature determine who fills the vacancy.
The world is full of beautiful creatures. We just need to take the time to stop and notice them. If you're not sure what types of birds visit your garden, this is an excellent way to find out!
Keep reading for some awesome birdhouse ideas that will turn your backyard into an avian paradise.
1. Creative
One of the greatest things about adding a birdhouse to your backyard is that the birds don't care how it looks. In other words, you can choose a birdhouse that truly suits your personal style — no matter how eccentric that might be.
Ensure your birdhouse has a strong internal structure. As long as the interior is built to meet the needs of your native bird population, you can get as creative as you like with the exterior appearance.
Paint is a quick and easy way to make your birdhouse stand out from the surrounding garden. Or you could go the opposite route, using dried bark, flowers, and moss to make your birdhouse look like it belongs in your backyard.
2. Cute
The birds might not care about your garden's curb appeal, but that doesn't mean you can't. It's surprisingly easy to create your very own adorable birdhouse — your local bluebirds, chickadees, and finches are sure to love it.
If you need inspiration for some cute birdhouse ideas, retro birdhouses are a great place to start. You'll find old birdhouses modeled after vehicles, lighthouses, human homes, and more. Most of these fun designs are easy to bring to life using some basic woodworking skills and a little bit of creativity!
Look for ways to repurpose everyday items into a homemade birdhouse. Let your cute vintage aesthetic shine with a teapot birdhouse or stretch your DIY muscles with some popsicle sticks.
3. DIY
Building a birdhouse from scratch means that you can design the final project to perfectly fit your backyard. Many homeowners choose to pay homage to their own house by creating a birdhouse that looks like a miniaturized version!
Regular lumber isn't the only thing you can build a DIY birdhouse from. Metal scraps, reclaimed wood, and rope are all excellent building materials you might already have on hand. You could even put your wine cork collection to good use as insulation.
Many small birds, like the black-capped chickadee, prefer narrow entrances that keep species like the house sparrow out. As long as the average diameter is a good size, you can make the entrance hole almost any shape you like.
4. Multiple Birdhouses
Birdhouses can include more than one nest box. This style of bird house is ideal for species that nest in colonies, like the purple martin, and prefer to keep their feathered friends close by.
If a full-size bird condominium doesn't fit your garden space, consider hanging several small birdhouses side-by-side. These birdhouses can match for a clean, cohesive look. Or you can mix a variety of styles for an eccentric, Bohemian aesthetic.
Build a full-scale neighborhood by including a bird feeder and bird bath in your garden design. Mount houses and other resources at varying heights to meet the needs of multiple bird species all at once.
5. On Post
You might find that you don't have any suitable trees in your yard or garden, or that your local birds prefer nesting in the open. Either way, hanging your birdhouse from a freestanding post is the ideal solution.
Metal or plastic fence posts are the easiest to get into the ground. If the soil is soft enough, you might be able to drive the post in by hand. Otherwise, a mallet or specialty post driver isn't hard to come by.
Wood posts are sturdier and can last for years, especially if weather-treated. The downside is that they can be more laborious to install. Of course, you can always mount a birdhouse to an existing fence post for your feathered friends!
6. Paint
Paint is, without a doubt, the easiest way to give your pre-fabricated or handmade birdhouse a personal touch. Even if you don't consider yourself an artist, you can achieve a lot with some stencils and a little creativity.
Latex paint is the best option — it's water-based and generally safe to use in your garden. Leave the wood interior unpainted. Ensure your bird house is completely dry before welcoming any feathered friends inside.
Keep in mind that many species prefer houses and bird feeders with camouflaging colors. If your brightly painted creations seem to sit empty, try using more subtle shades in your next birdhouse design.
7. Pallet Wood
Birdhouses are an excellent resource for common and endangered species alike, especially if you live somewhere with limited natural nesting spots. Building birdhouses out of reclaimed pallet wood is a great way to recycle while also improving the local habitat for native birds.
You can use almost any reclaimed wood for this DIY project. Avoid using pallets that might be chemical-treated. Check all recycled lumber for nails, staples, and screws before use.
Look around your garage or workshop for other recycled items you can incorporate into your DIY birdhouse ideas. You can repurpose old furniture hardware, sheet metal, or driftwood. Finish your wooden birdhouse with a coat of paint, hardwood stain, or weather sealant.
8. Rustic
If your garden has a cottage or farmhouse aesthetic, then rustic decor is probably right up your alley. It's easy to extend this style to your birdhouse plans.
Stick with the classic "house" shape when making or buying birdhouses for your property. You can add character with cast iron decorations and reclaimed objects like horseshoes, doorknobs, and more.
Reclaimed wood is perfect for an authentic antique finish. If you want to recreate this look with new or repainted wood, a little bit of sandpaper around the edges of your rustic birdhouse can do wonders
9. Unique
There's nothing wrong with a simple birdhouse — the birds won't notice the difference. But if you take pride in your garden decor and have an eye for design, then this is the perfect opportunity to add intrigue to your home's outdoor spaces.
There are so many awesome materials you can create a birdhouse from. You can sculpt a birdhouse from clay or papier-mâché. If you own a 3D printer (or know someone who does), you can find tons of cool designs to print at home.
Along with making unique birdhouses from scratch, you can transform existing items into functional bird lodgings. Exercise your creative muscles by creating a birdhouse from an old lantern, teapot, or carved gourd.
Birdhouse FAQs
How do you attract birds to a birdhouse?
First, birds are most likely to seek out birdhouses when they are nesting. For most species, this occurs in the spring. Make sure your birdhouse is set up in your yard before the season starts, and avoid messing with it as the time to nest grows near.
Provide plenty of nesting materials in the spring, so that your local birds don't have to venture far to get what they need. This can include dry grass, twigs, hair, string, or wool.
It's also a good idea to have a food source in your yard. This can be a bird feeder, pollinator garden, or berry patch, depending on the types of birds you want to attract.
Where is the best place to hang a birdhouse?
The best place to hang a birdhouse can depend on the most common species in your area. Some birds prefer houses in wide-open fields. Others prefer to nest in sheltered areas with lots of trees.
Wherever you decide is the best spot for your birdhouse, make sure to hang it at the right height. Most songbirds like to nest in houses 5 to 10 feet above the ground.