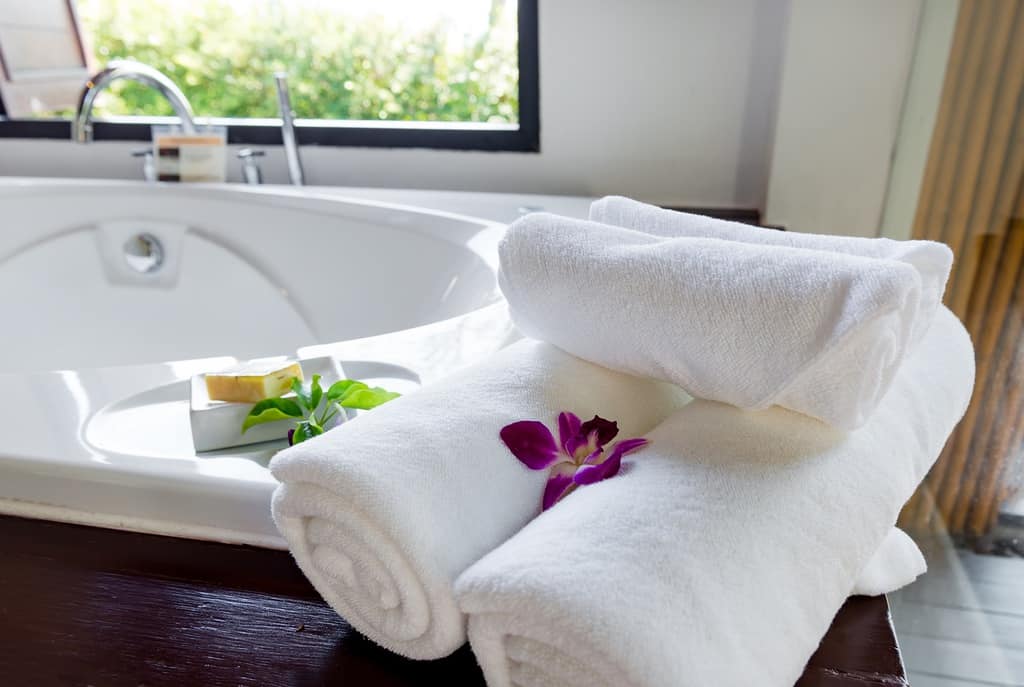 How to Decorate Bathroom Towels
You can add a decorative touch to your bathroom without adding any additional decor. Use the elements that are already present in the bathroom to create a decorative touch. The bath towels are perfect for this. Instead of just throwing them on a hook or draping them over a towel bar, give them some style. Doing this mimics the look of high end spas and resorts. It is the perfect little accent that turns your guest bathroom into a professionally designed space that welcomes people to your home. 
Read also: 67 Towel Storage Ideas
Try these creative ideas for decorating your bathroom towels.
Arrange Towels in a Basket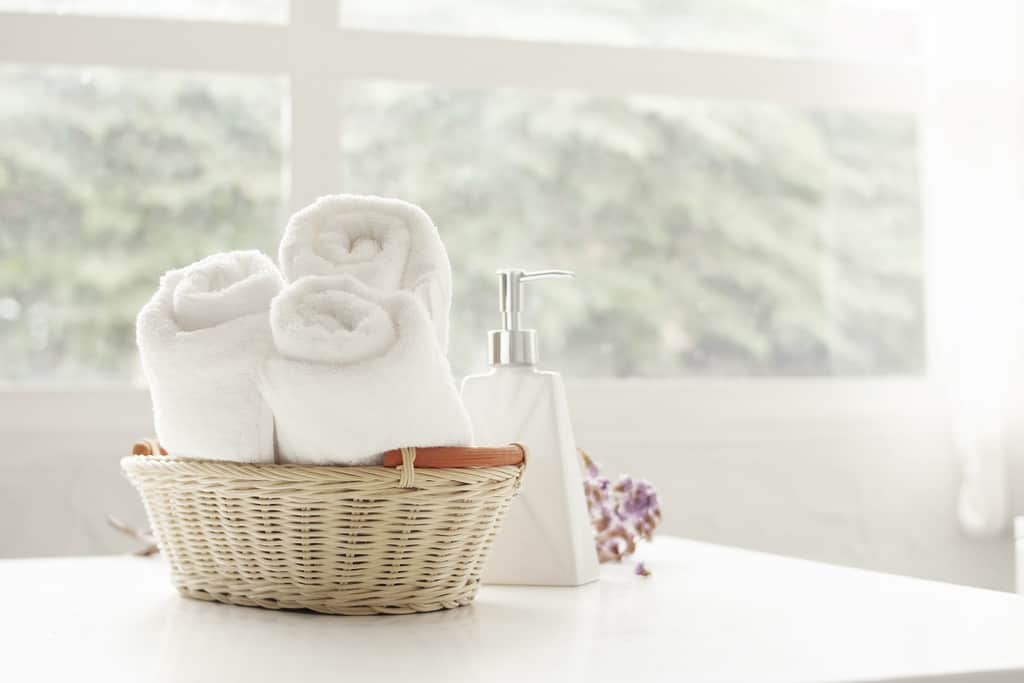 Give your bathroom a spa-like feel by arranging bath towels in a basket. Place a small basket on the bathroom vanity counter with washcloths or hand towels. You could arrange the towels so that the ends stick out like the petals of a flower arrangement. If you prefer a more uniform and neat look, fold the towels and stick the towels ends side down so that the folded sides neatly line up in the basket. The trick to making this look work is buying the right size basket. The towels need to fit snug but not be cramped in the basket when folded.
How to Choose a Bathroom Basket
You can't go wrong with a natural material when it comes to choosing a basket for your bathroom. Wood bins or woven raffia are both great options. They add a touch of nature and color variety without competing with your chosen color palette. However, be careful when choosing cloth baskets. The cloth material tends to be thick, which is slow drying. This can lead to mold and mildew growth. Baskets that are made from thin material may lack the structure and support necessary to hold towels. Metal baskets can add a cool industrial or modern look. However, they need to either be painted or made from rust-resistant metal to prevent them from corroding in the moisture rich environment of the bathroom. 
Use Ribbon to Tie With a Bow
Adding ribbon and bows to your towels goes them a soft and feminine look. Your display's level of femininity will depend on the type of ribbon you choose. A satin, silk, or lace ribbon will look soft and delicate. Velvet can add a bit of drama and traditionalism. Twine, rope, raffia, or burlap will give your towels a farmhouse or rustic look. Nautical lines will give your bathroom a coastal feel. 
To use your ribbon, fold your towels and hang them over the towel bar. Then use your ribbon to wrap around the entire towel and pull it slightly tight to bring in the edge of the towels. It needs to be tight enough that the ribbon won't fall down. However, you can pull it very tight to bring in the sides of the towel if you prefer that look. Tie the ends of the ribbon together in a decorative bow. You can cheat if you aren't good at tying bows like this. Create your bow first with a separate piece of ribbon. Then use a second piece of ribbon to wrap around the towels and tie the bow to the front.
Roll and Stack Towels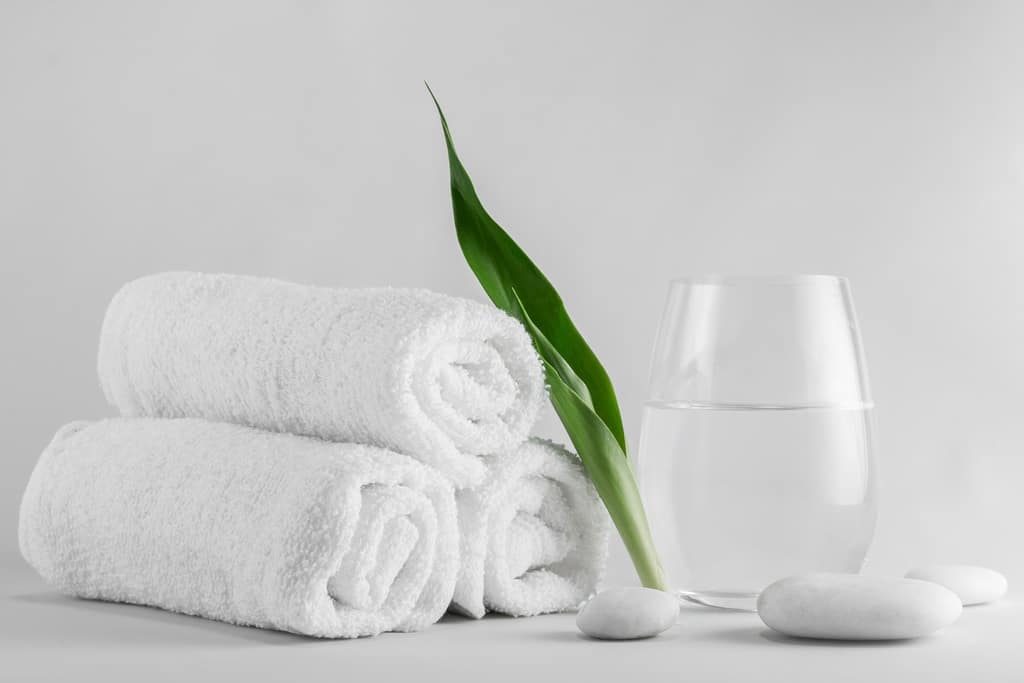 You don't have to do anything fancy to make your towels look nice. Simply making the extra effort to neatly and uniformly fold or roll them will go a long way. Additionally, fold or row them to fit the space you plan to put them. For example, if you have a wall hanging towel rack, then you'll want to fold or roll the towels to neatly fit into each space. The towels should all be uniform in size and shape once on the rack. There should not be any loose corners poking out. You should also display them in a way that prevents them from coming undone. For example, if you roll your towels and then place them on end in a basket, you don't want the towels coming loose and unrolled when someone pulls a towel out to use.
Use Rope and Tassel Decor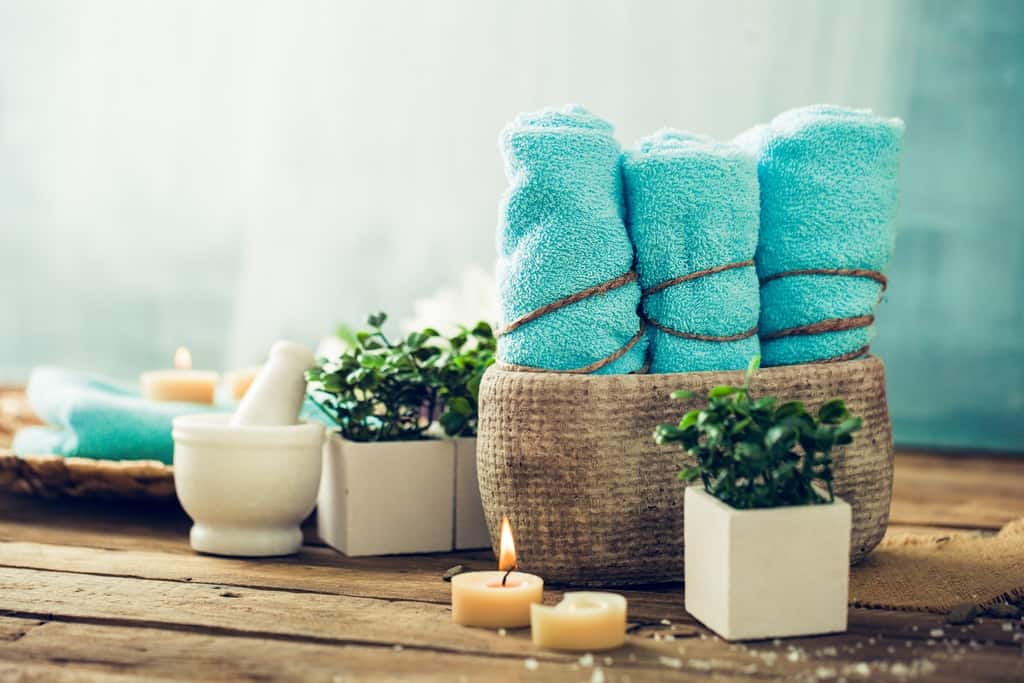 Use a braided cord or rope with tassels on the end to decorate your towels. Wrap the cord or rope around your towels once or twice and then tie the ends and let the excess hang with tassels. You can do this on towels that are hanging on the towel bar or ones that are folded and lying on the vanity counter or a shelf. Each end of the cord or rope should have a tassel on it. Coordinate the color of the cord and tassels to match the rest of the bathroom's color scheme. 
Intricate Towel Folding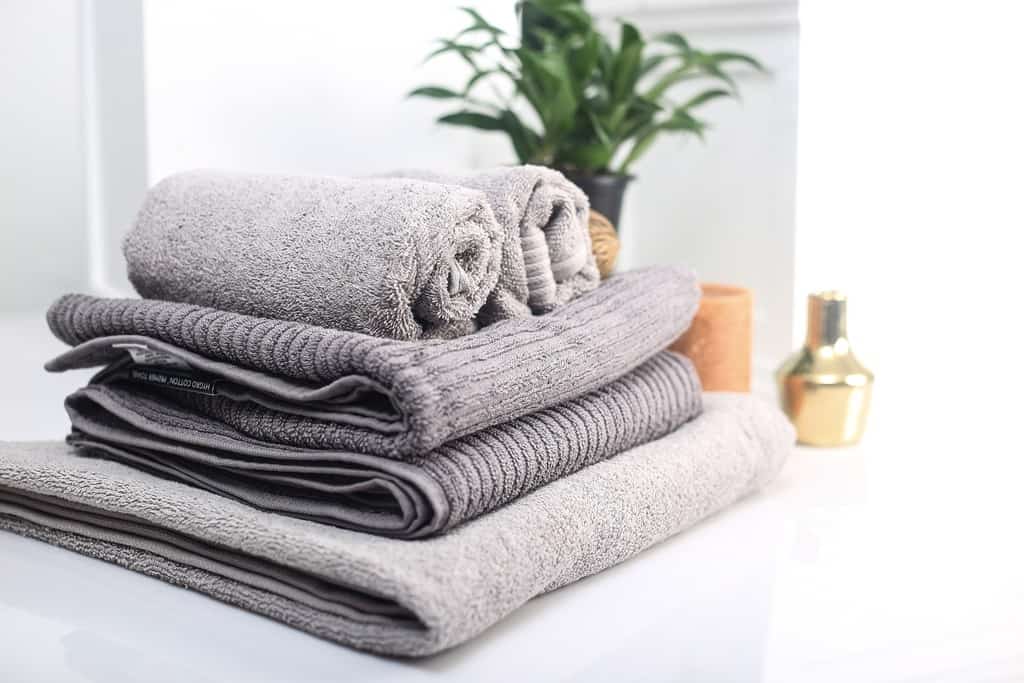 If you have extra time and like to fold towels, then why not create an elaborate display with your towels by intricately folding them? You can use towels of multiple sizes and contrasting colors to showcase your folding ability. Intricately folded towels have a wow factor that impresses anyone.
Decide where you plan to display the towels in your bathroom. This will help you narrow down your options. There are folding techniques that work well with a towel bar, on the bathroom counter, or in a basket.
Decorate Your Bathroom Towels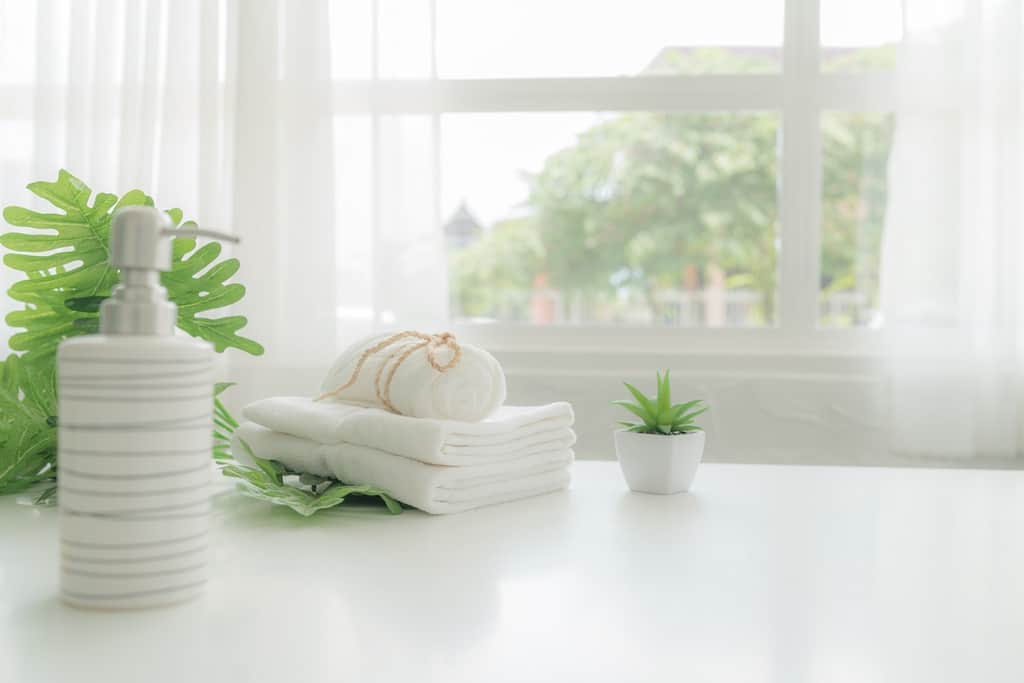 Instead of coming up with a creative arrangement, you could decorate the towels. Popular choices are adding decorative embroidery, trim, or dye. Whatever you choose, be sure it is washing machine and dryer safe. Don't sacrifice ease of care for pretty decor. You could buy already embroidered towels or use a service that will add custom embroidery to your favorite towels. This option is nice because you aren't limited in the towels that you choose. When choosing embroidery, you could keep it simple with your initials in a monogram. Or you could choose something elaborate. Consider the theme and design style of the bathroom when choosing your embroidery. Trim is the decorative element that is added to the towel. This could be beadwork, ribbon, or tassels. Typically, these decorative elements are added to the short end of the towel.
Drape Towels on a Ladder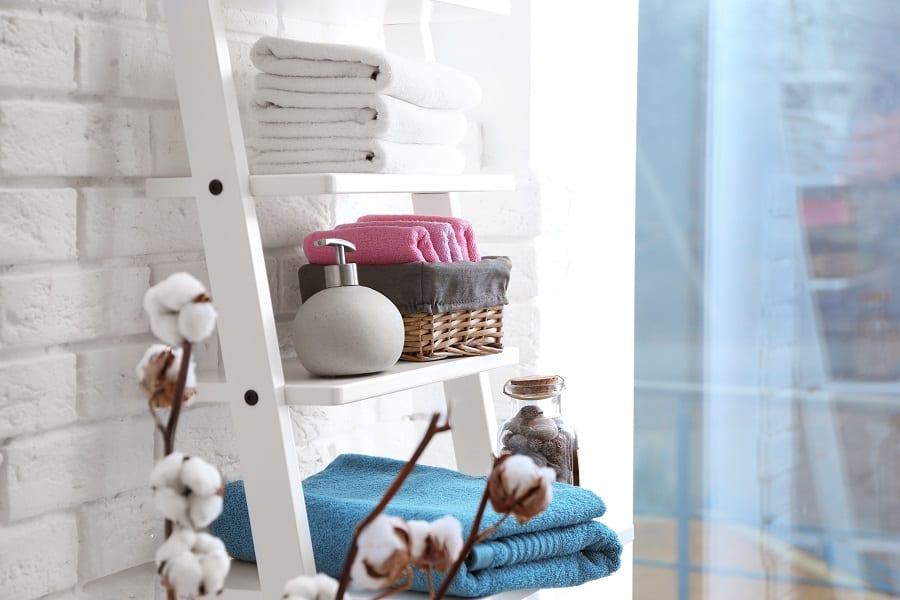 If you love the rustic or farmhouse look, then add a wooden ladder to your bathroom and drape towels. You don't need anything too elaborate. A simple lean-to with three to five rungs is all you need. For a more rustic look, stick with one that is imperfect with hand carving marked and a lack of uniformity. For a more polished look, stick with one that has a more professional finish. You could even choose one with a metal and wood combination construction. Just be sure the metal is corrosion resistant so that it does not rust.
When draping your towels, there is an art to it. Do not just pile the towels on reach rung. This will look messy and trap moisture between the towels. When you go to use them, the towels will have an unpleasant musty smell. To avoid this, avoid hanging towels on top of towels. Limit your placement to one to two towels on each rung. Instead, place the ladder with enough of a lean that there is space between each towel hanging on the rungs. It doesn't need to be a lot of space, but enough for air to flow between each towel. This ensures the towels have a chance to dry between uses. 
Arrange Towels in a Planter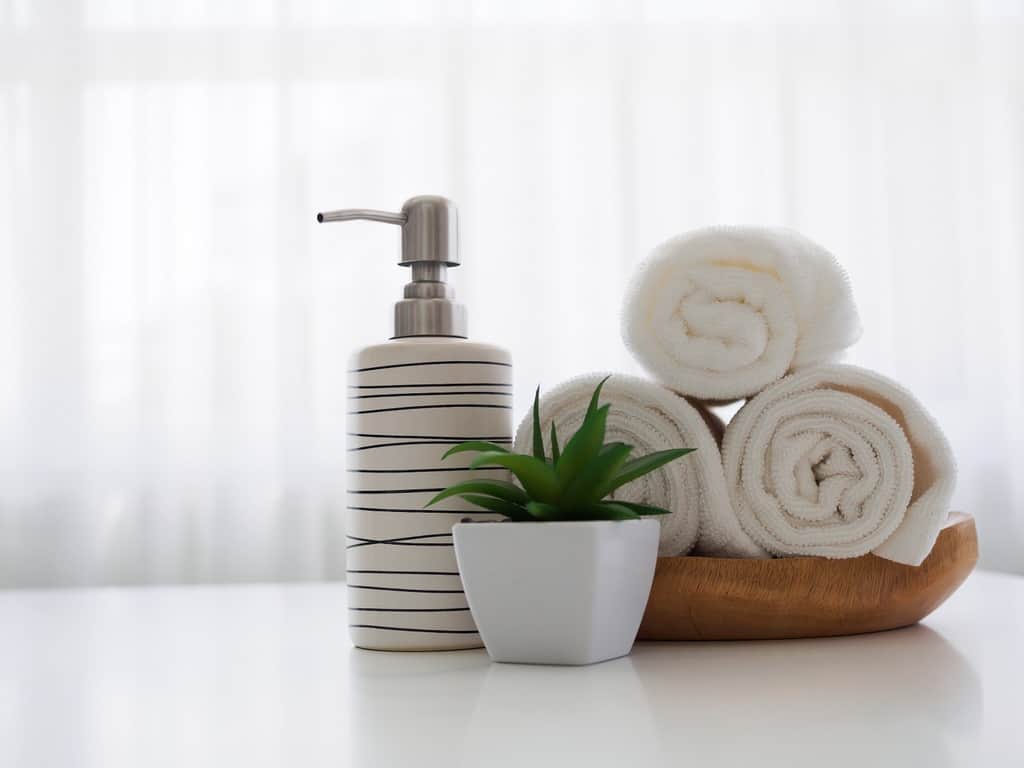 If you have a lot of guests using a single bathroom, then you won't have enough room to hang everyone's towel on the bar, and placing a huge stack of towels on the counter is unattractive and inconvenient. Instead, place a floor planter next to the tub or shower. Instead of putting a plant it, roll towels and stand them on end in it. You can fit several towels in a single planter and conveniently place them for people getting out of the shower. Then, when the towels are not being used, you will have an arrangement that resembles a plant but is actually made of towels, adding to the bathroom decor.
Add a Flower Arrangement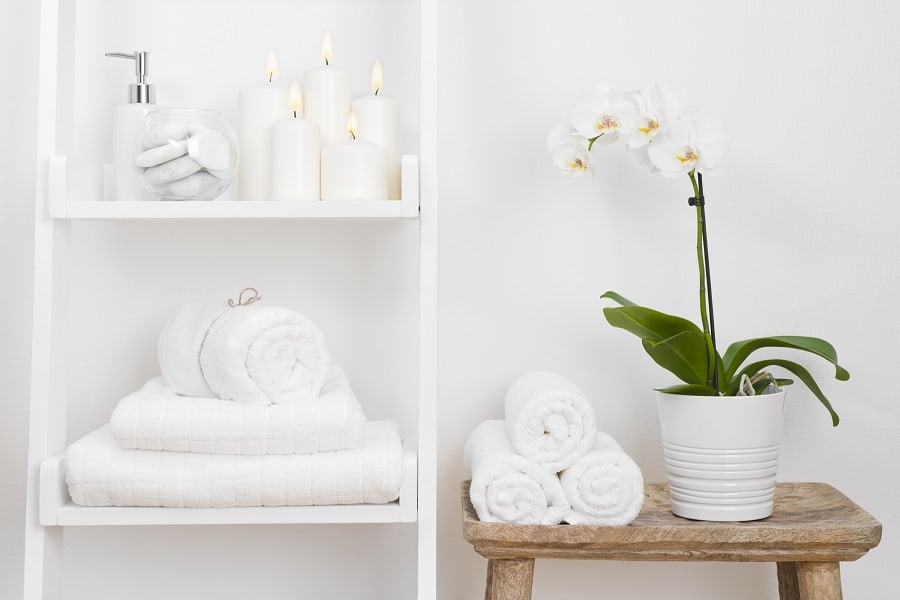 Embrace nature and give your bathroom a seasonal touch by decorating your towels with a fresh flower arrangement. It could be as simple as a single flower or greenery stem or as elaborate as a full arrangement. The size you use will depend on the size of the bathroom, design style, and personal taste. If you have a small bathroom, large arrangements will overwhelm the space. If you have an elegant and traditional design theme, then a single flower bud may look lackluster compared to the rest of the ornate and elaborate decor and architectural elements. 
While you could stick the flowers right into the folds of the towels, this won't be convenient. If someone goes to use the towels, they will have to contend with the mess of flowers they create. To avoid this, use ribbon, cord, or floral tape to hold the flower arrangement together in a bundle. Then it can easily be taken out and placed again as the towels get used. 
Related read: 26 DIY Decor Bathroom Ideas 
Should you use real flowers or faux ones? Some people argue that faux flowers look fake and should be avoided. However, faux flowers only look unnatural when you buy low quality versions. Invest in high quality, and you will have a realistic arrangement that could fool anyone. Fake flowers are nice because you do not have to worry about them having a competing smell to your diffuser or candles. They also do not require upkeep and won't bother anyone's allergies. In contrast, real flowers look and feel natural. They have a subtle scent that will spread throughout the bathroom.