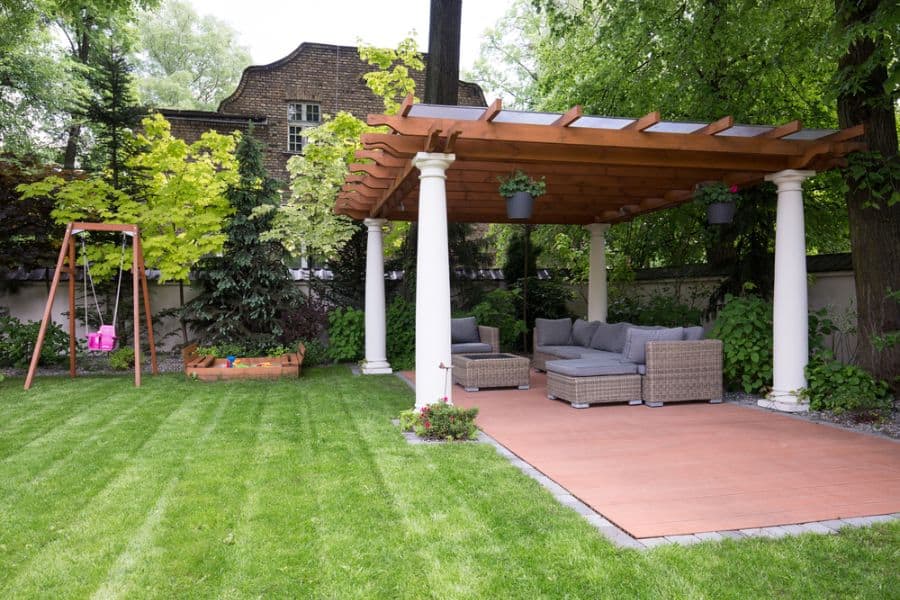 77 Gazebo Ideas for Your Backyard
The backyard can be an extension to your home. It can be a place for children to play, but also for you to have a nice barbecue with friends. A nice garden with a gazebo can be a cozy little spot for you to have meals, relax under the sun and entertain guests and family.
Gazebos are great for garden parties and can be a support area for the pool. If you are looking for inspiring ideas for your outdoor space, check out our selection of gazebos.
1. Backyard
Gazebos are a very versatile option to make your backyard a cool space. They can be a place to meditate, read a good book, serve outdoor meals and entertain.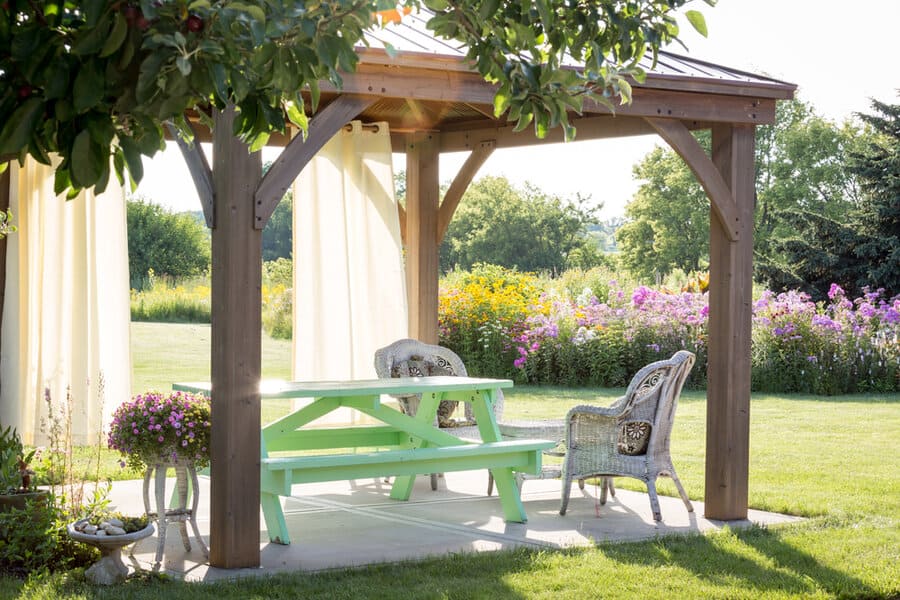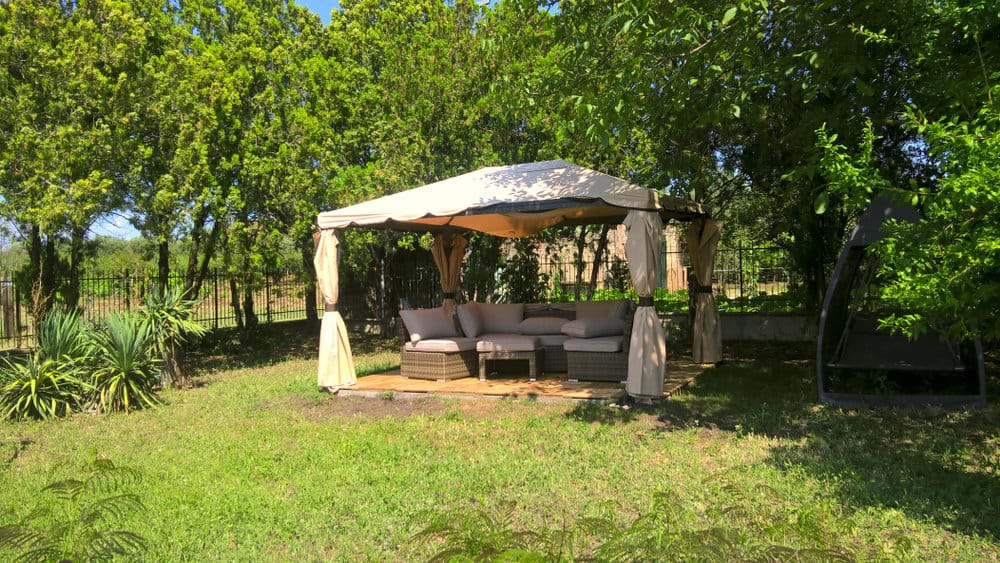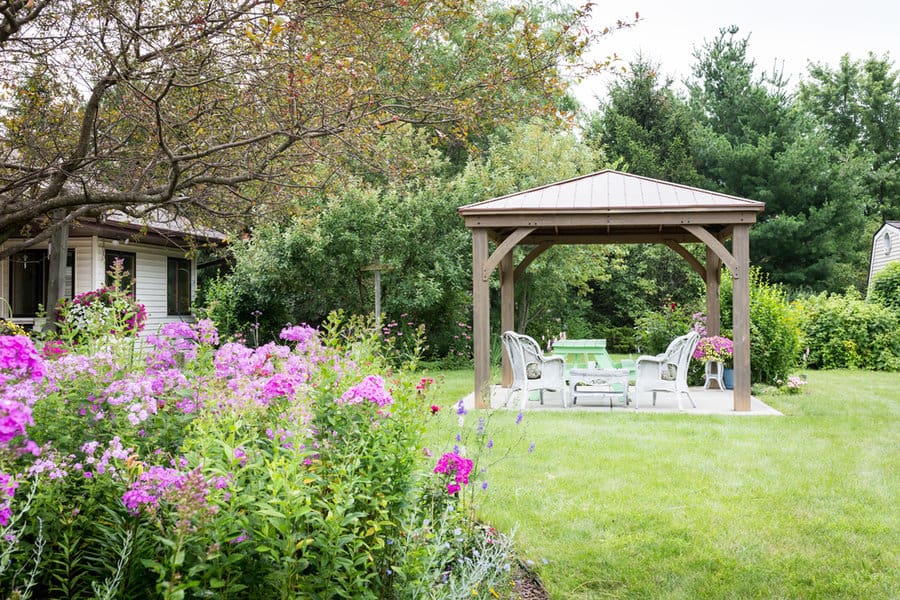 They can be made of different materials: wood, aluminum, bamboo, with canvas or straw covers, among others. Since there is a variety of materials, finishes and structures, you have to choose which type meets your needs, space and décor style.
In case your backyard is small, there are articulated gazebos, with a metal structure and polyester cover, that are easy to assemble and dismantle.
2. DIY
There are online tutorials for you to build your own gazebo. All you need is to purchase the right materials that are also specified in the tutorials and decide if you want a gazebo open on all sides or covered.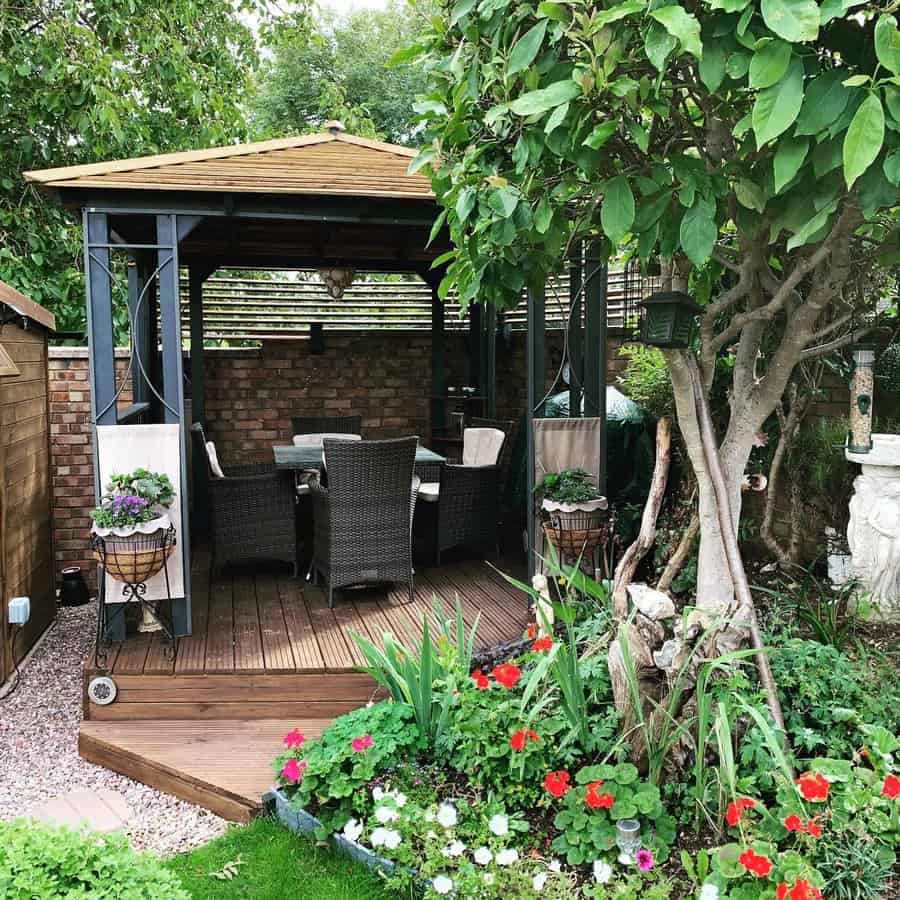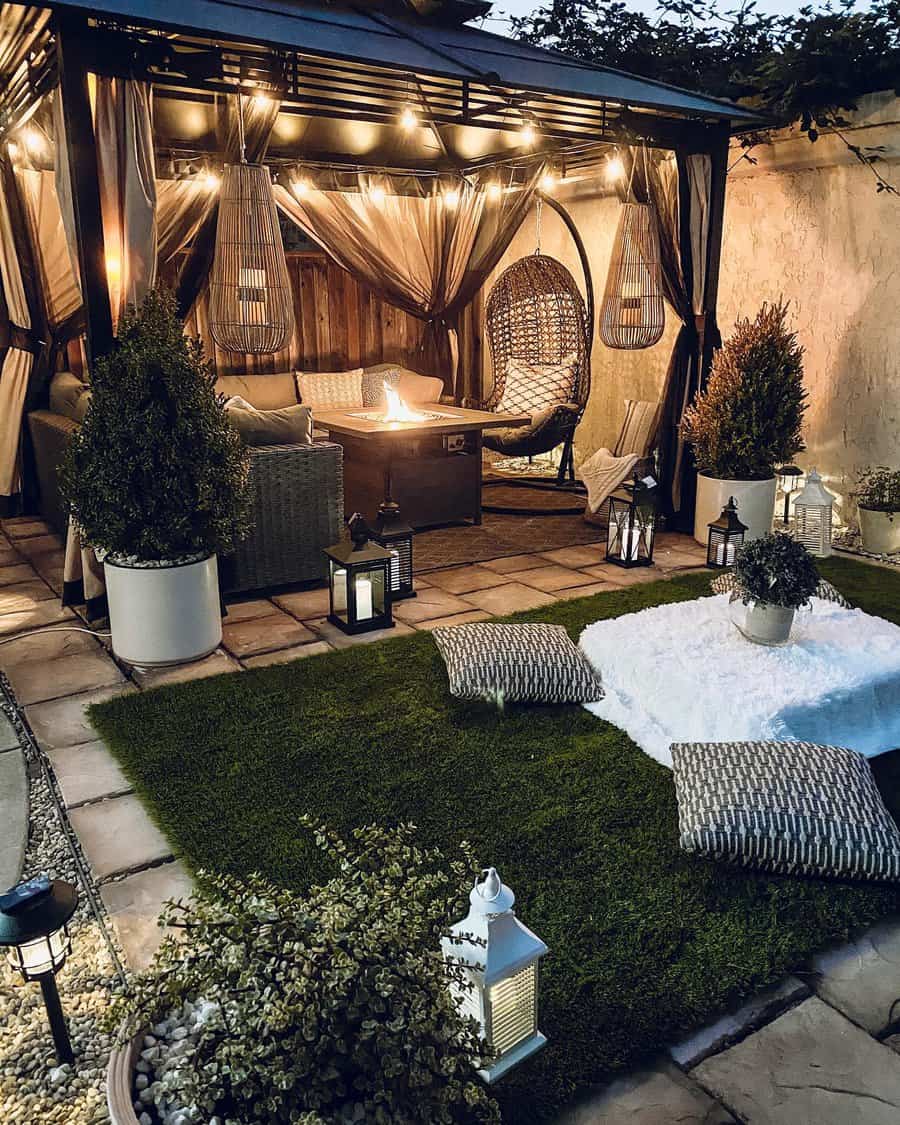 Remember that it will be necessary to analyze the soil and make a proper foundation if you want a solid construction, and you may need to hire a contractor for that.
However, you won't need a platform base, if you want a simpler DIY structure. A very basic but still pretty solution is to put posts around a firepit with open ceiling, for example. You can add seating by hanging swings or adding benches in between the frames.
You can either cover the sides with lattice or fabric or leave them open. The same goes for the ceiling, which can be open or covered with canvas.
Remember that there are prefabricated designs that are already assembled for ease installation.
3. Deck
A frequently asked question is whether you can put a gazebo or a pergola on a deck, and the answer is yes. Whether your deck is a fixed or a pop-up structure, building a gazebo on it is a great solution that will save you money and work.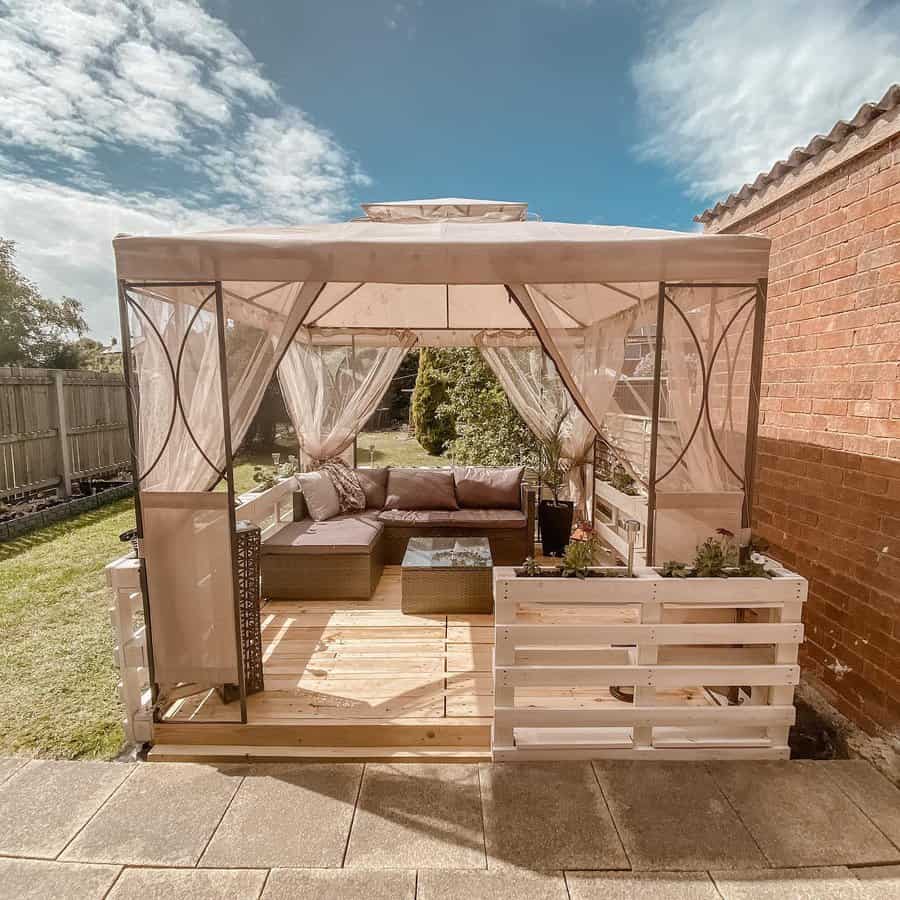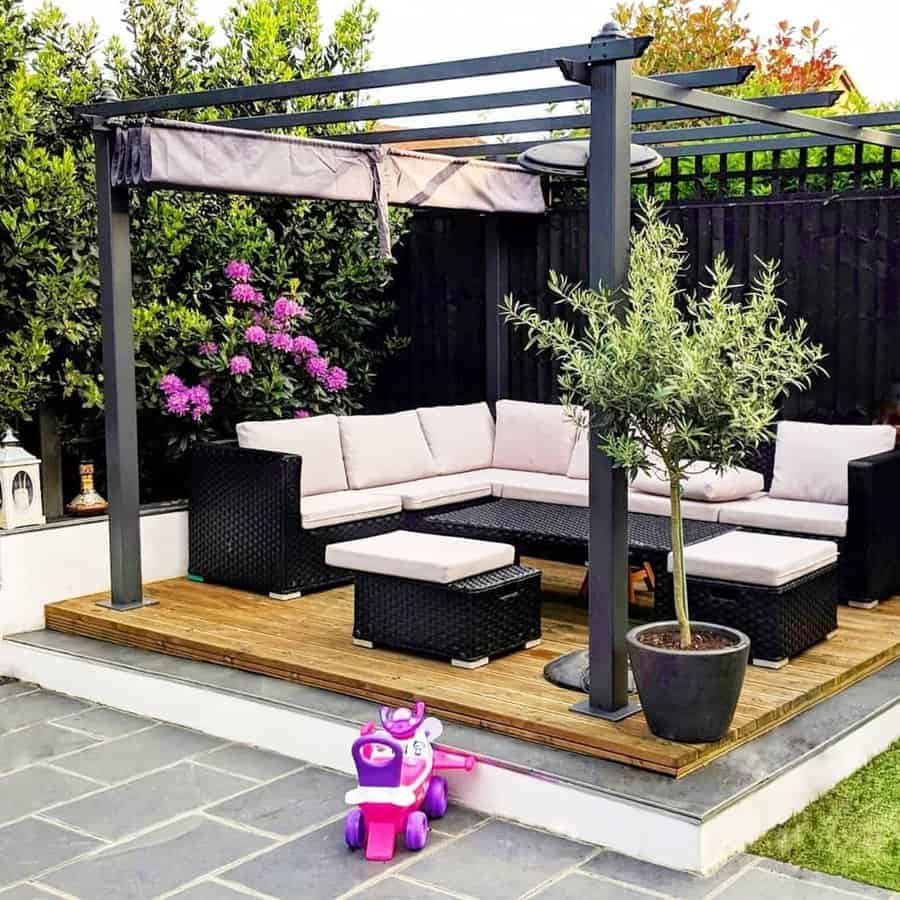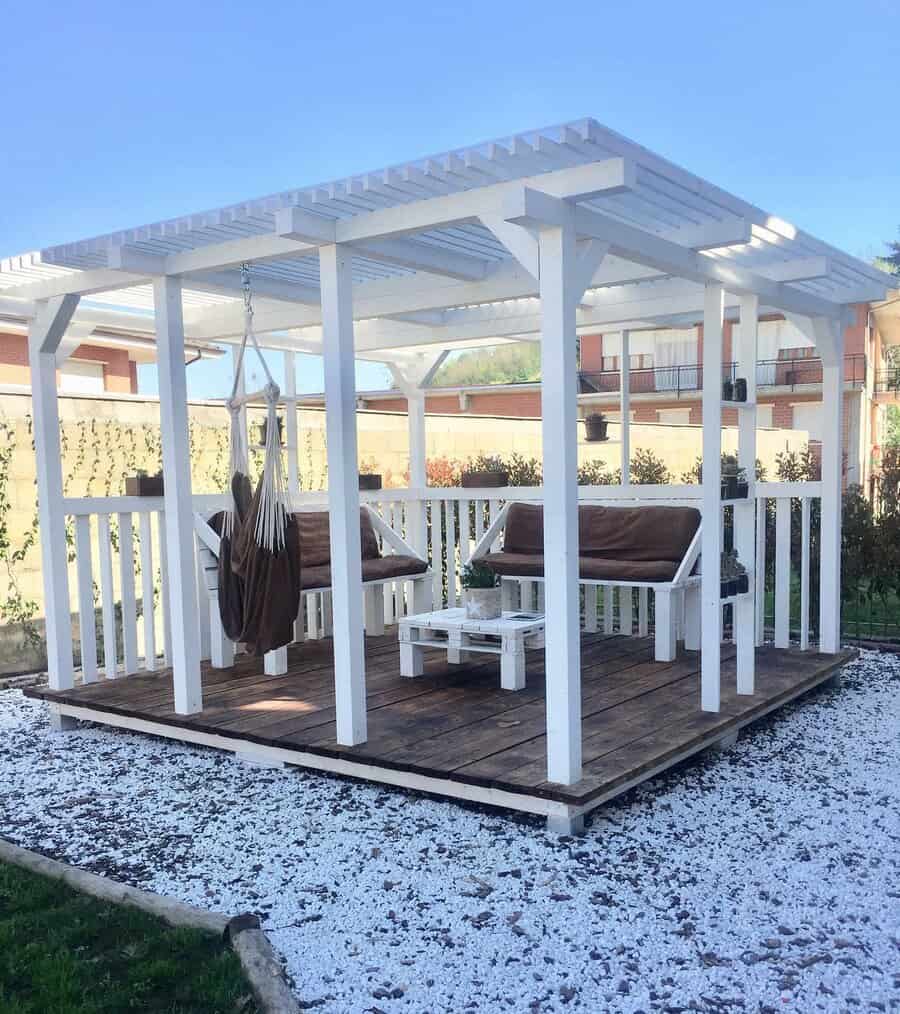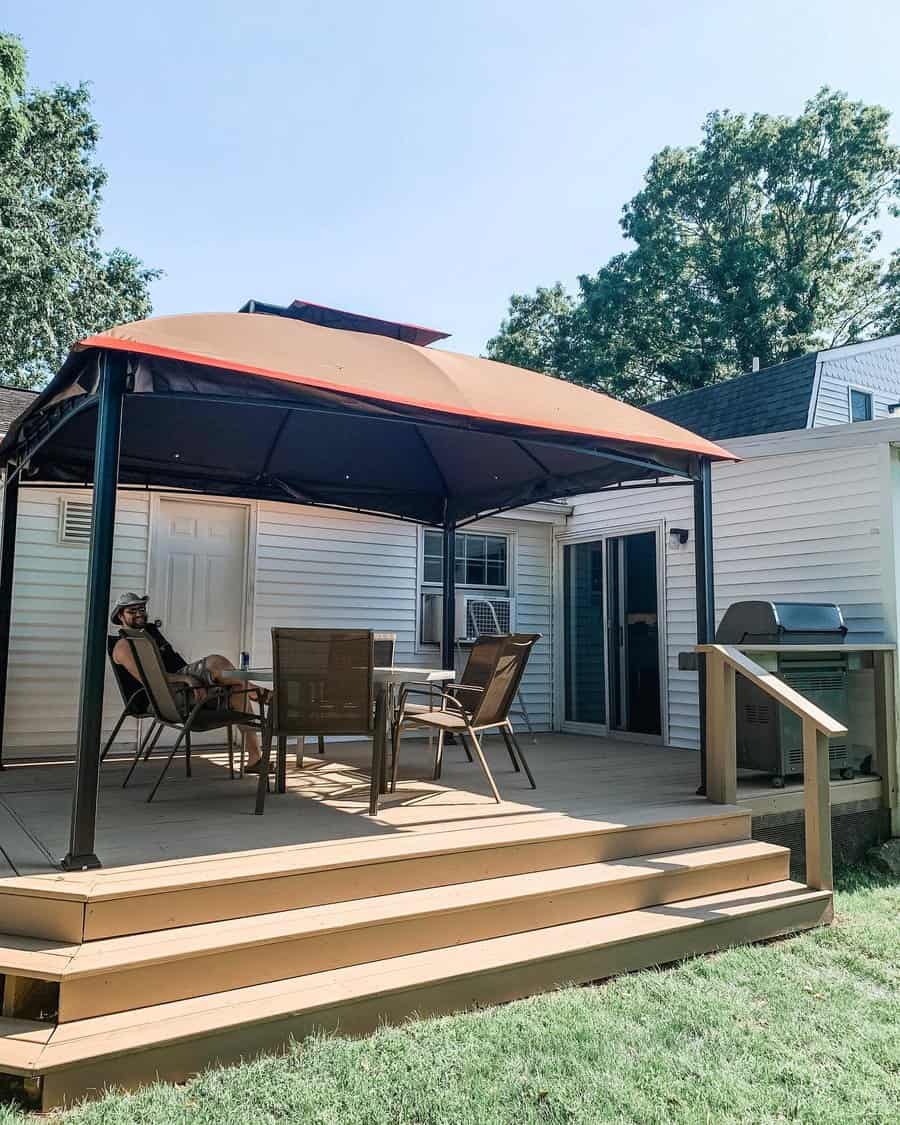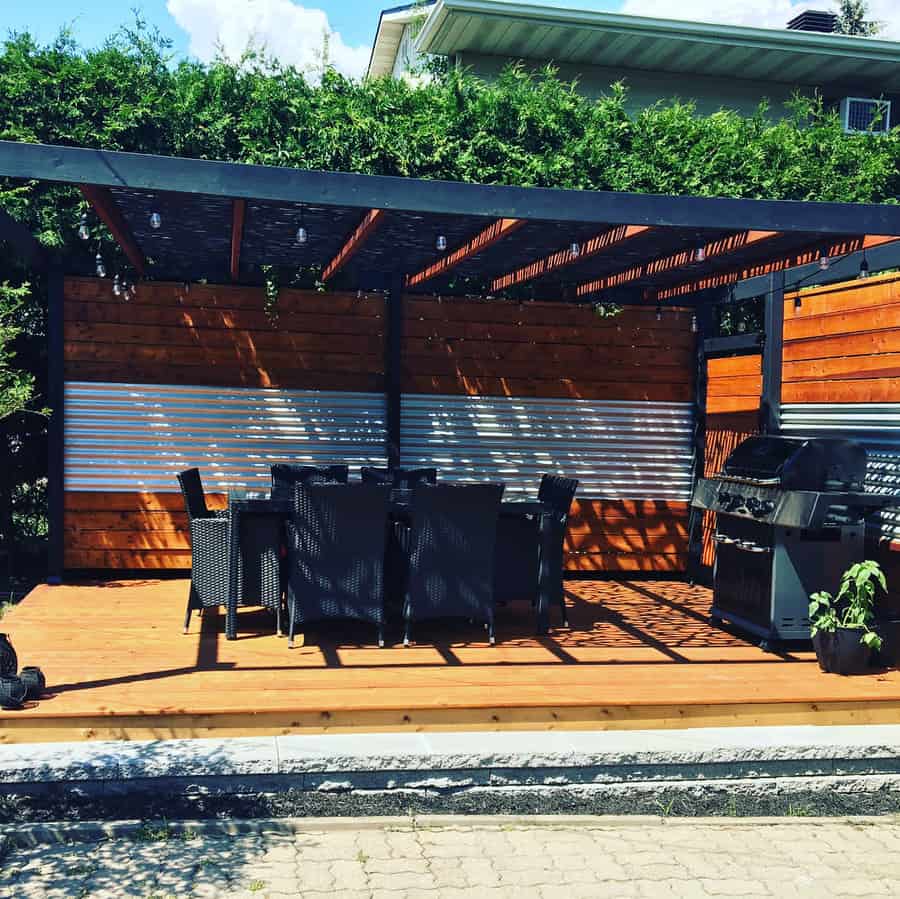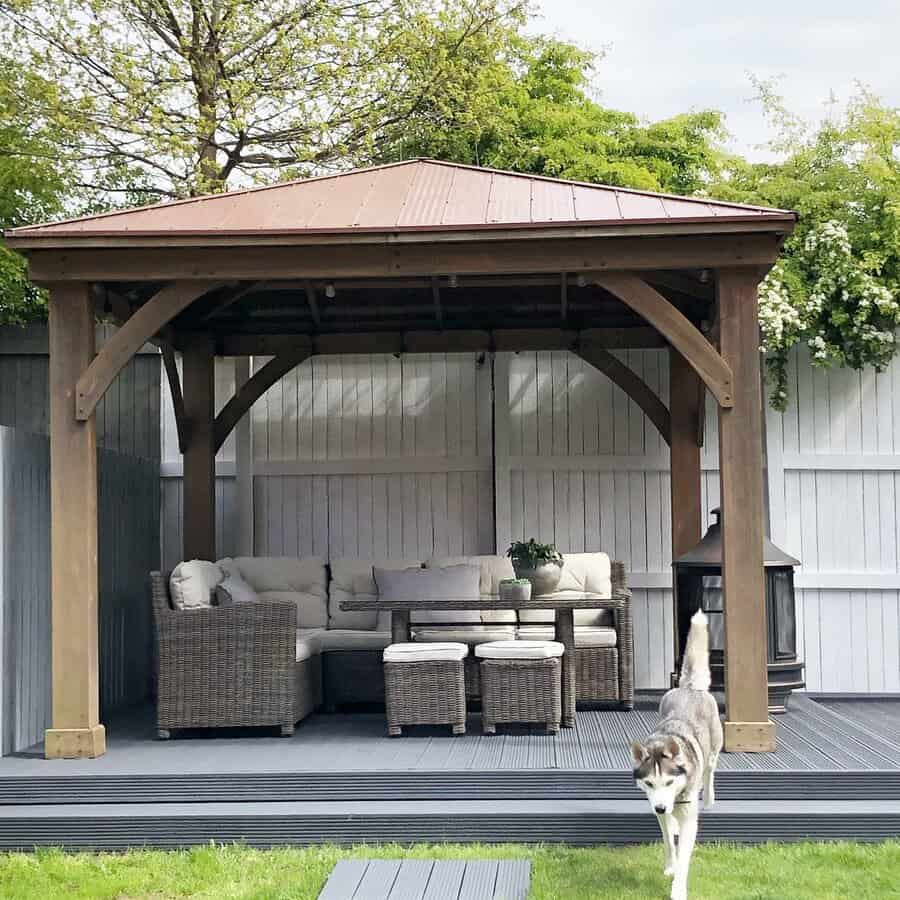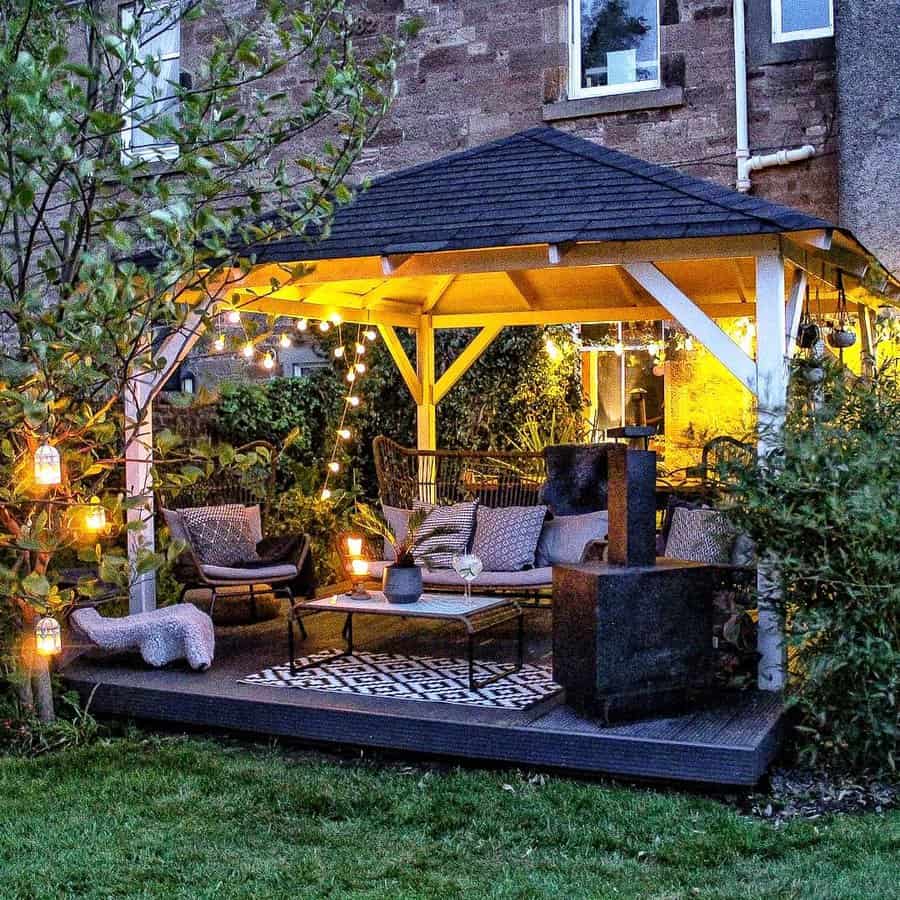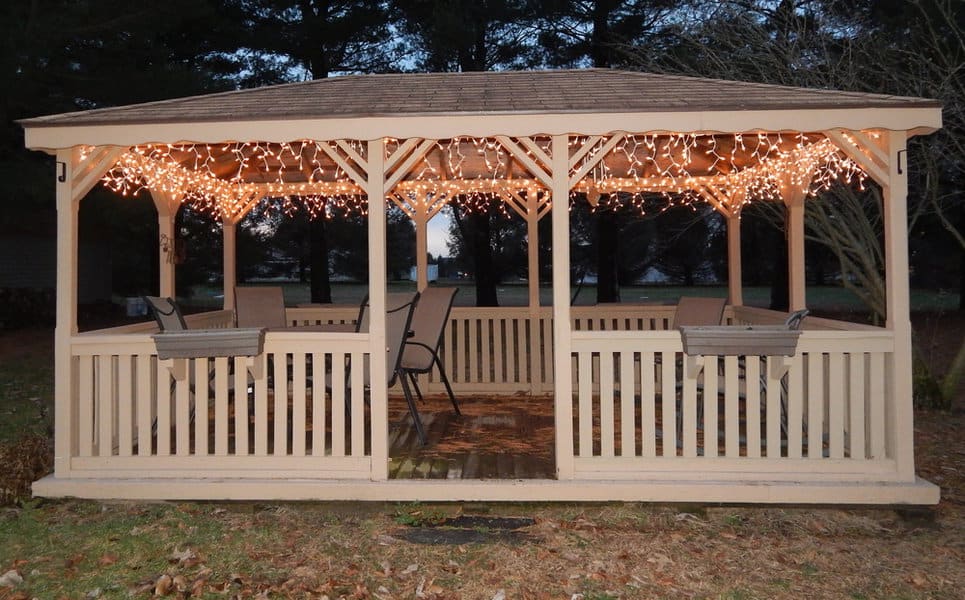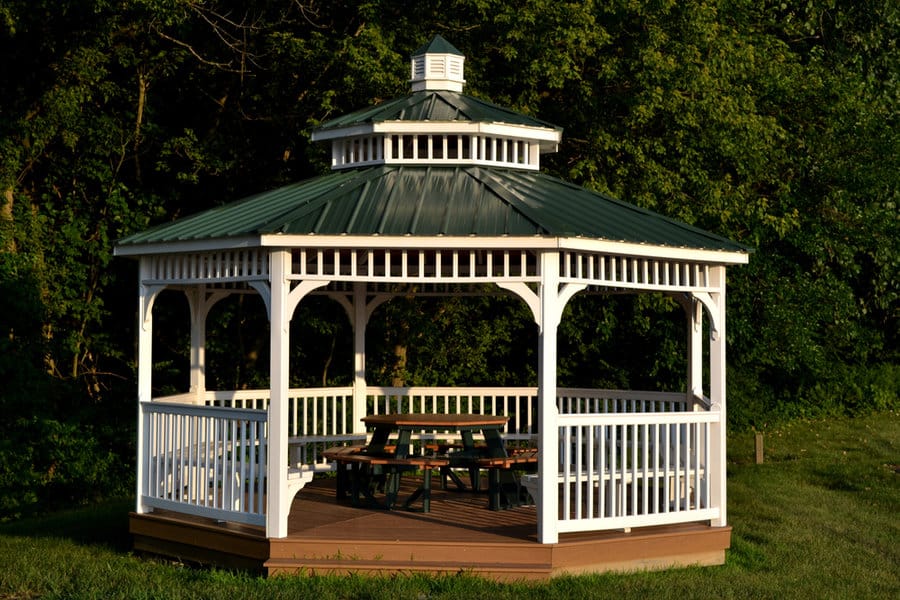 4. Design
Whether you decide on a gazebo, a pergola or a "grillzebo", outdoor space is always fun! So check the design ideas we have selected for you, and see what is the most appropriate for your space and needs.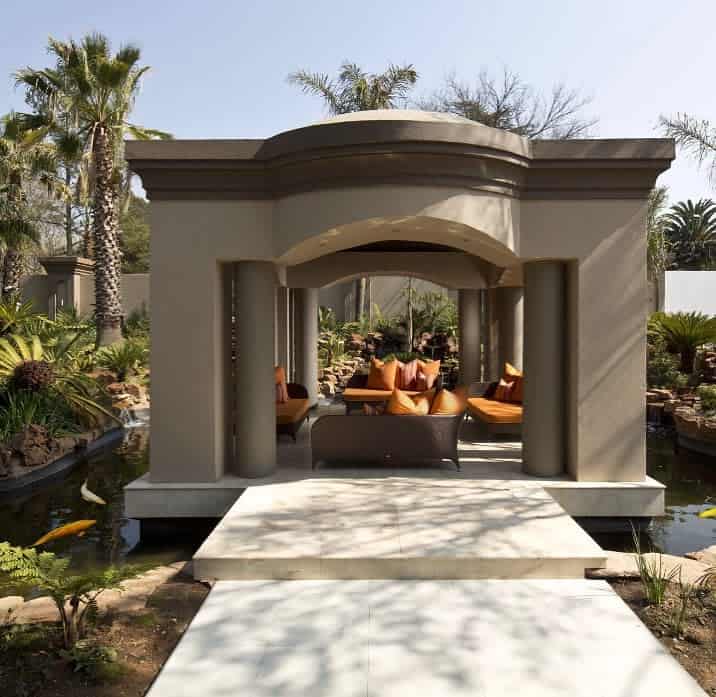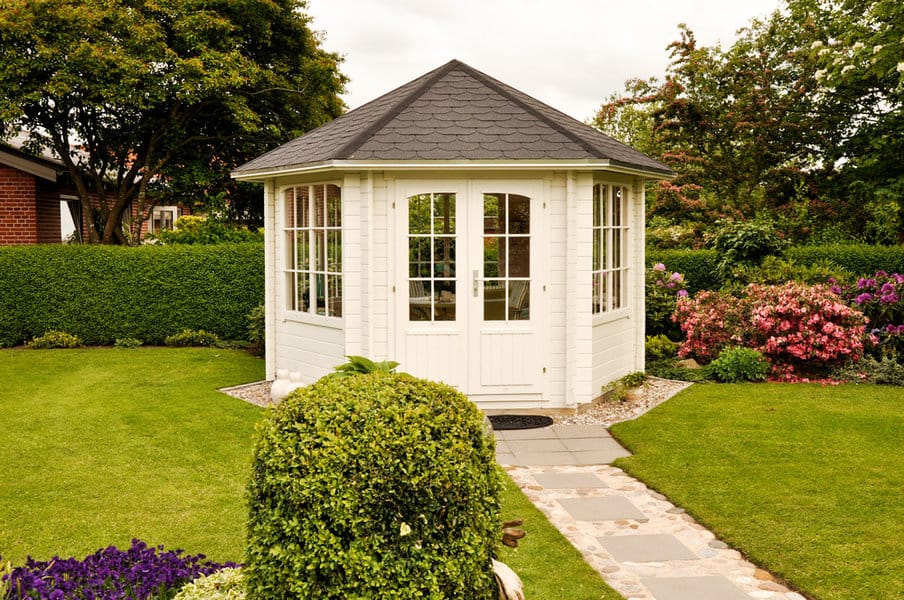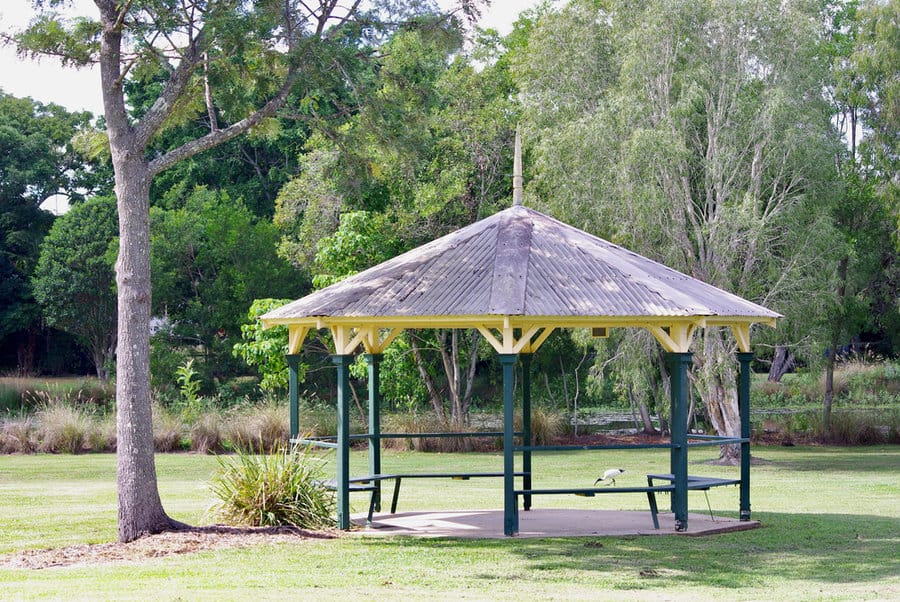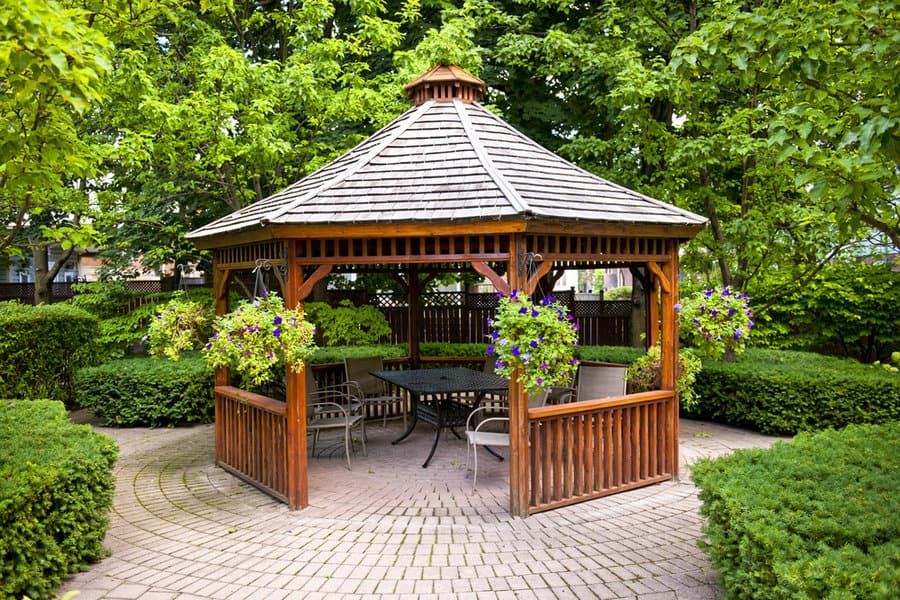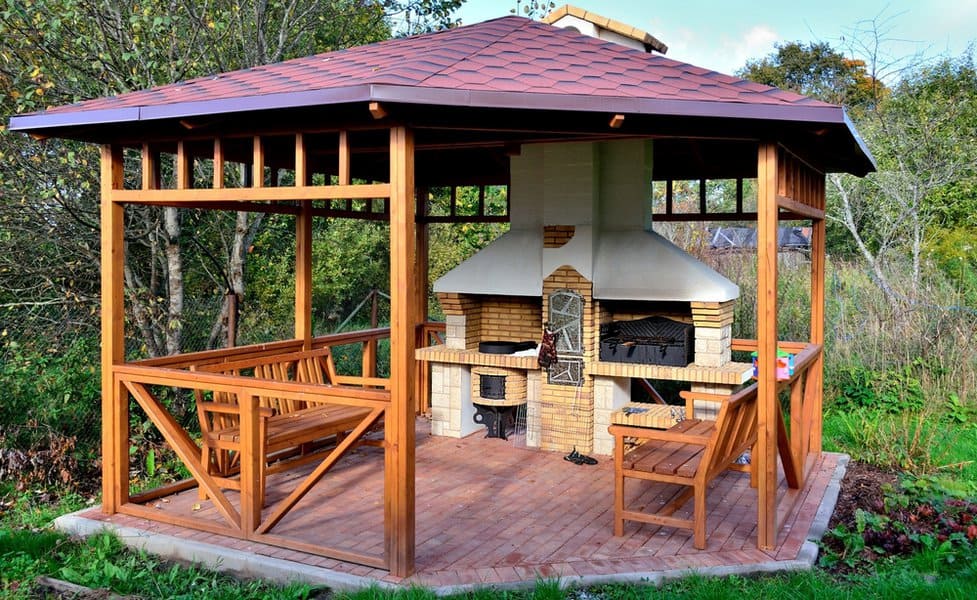 Apart from traditional gazebo designs, you may prefer a more rustic tiki-hut style, a Bali hut, or opt for an Asia style, with a space that looks like a little temple for you to meditate.
5. Furniture
There are many possibilities for you to transform your pergola or gazebo into the coziest place of the house. Add linen curtains, some comfortable seating with soft cushions, and a picnic-style set of table and chairs (or benches).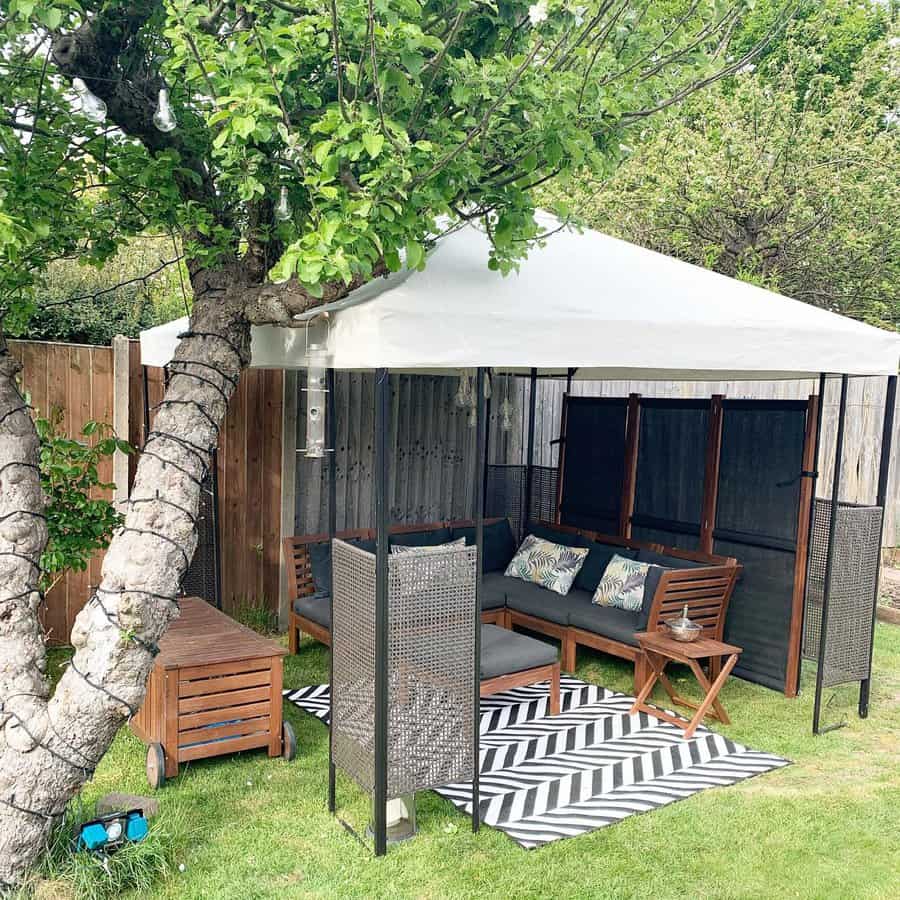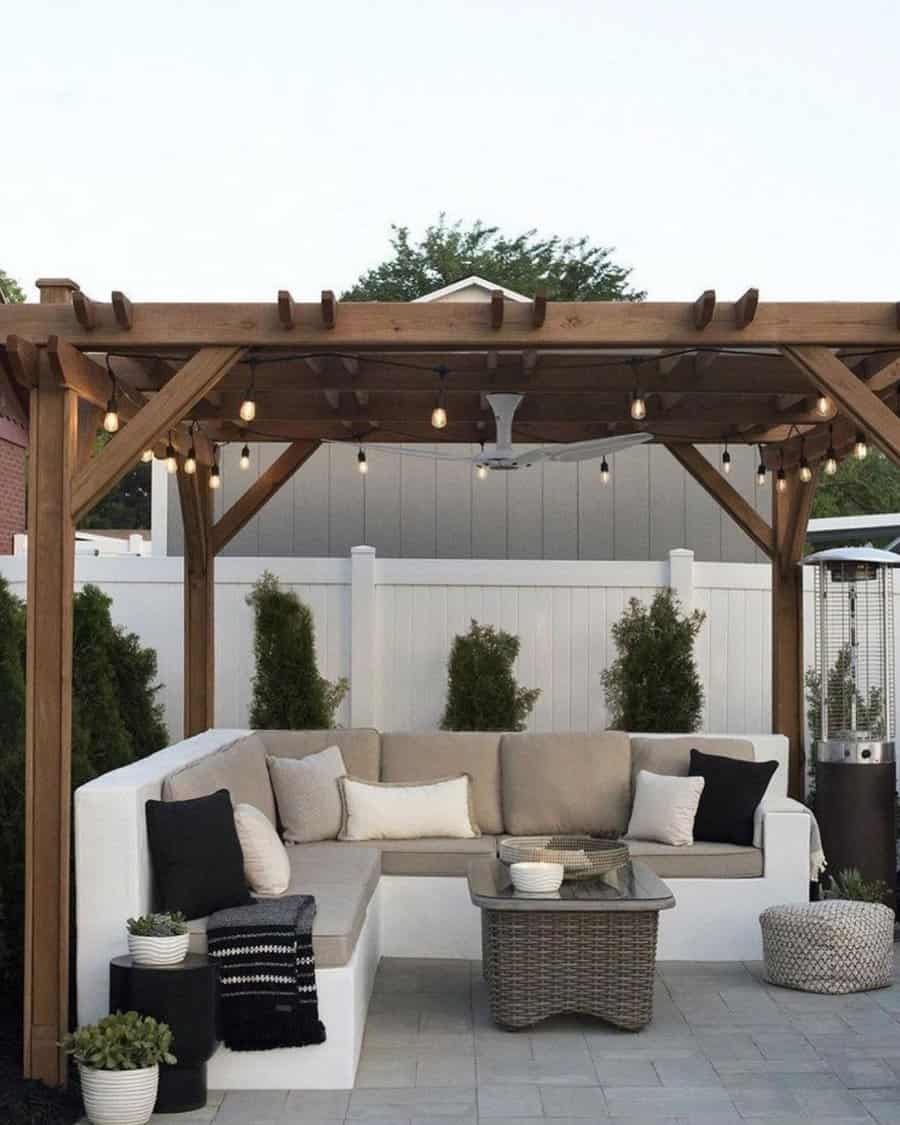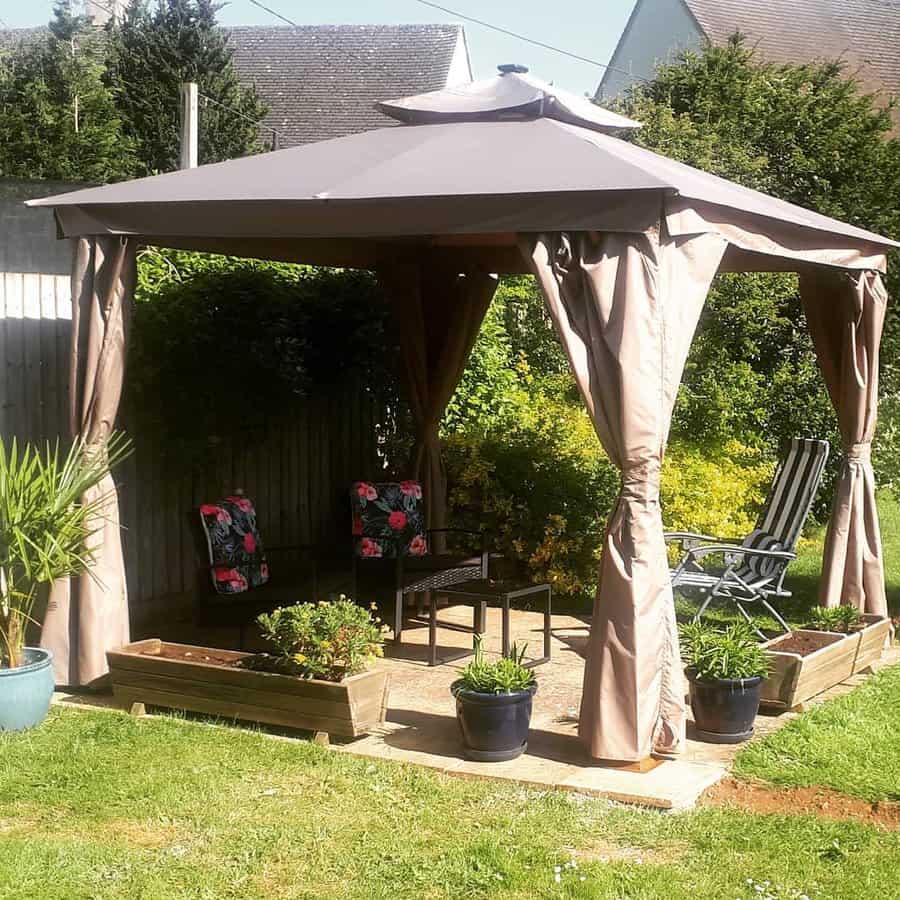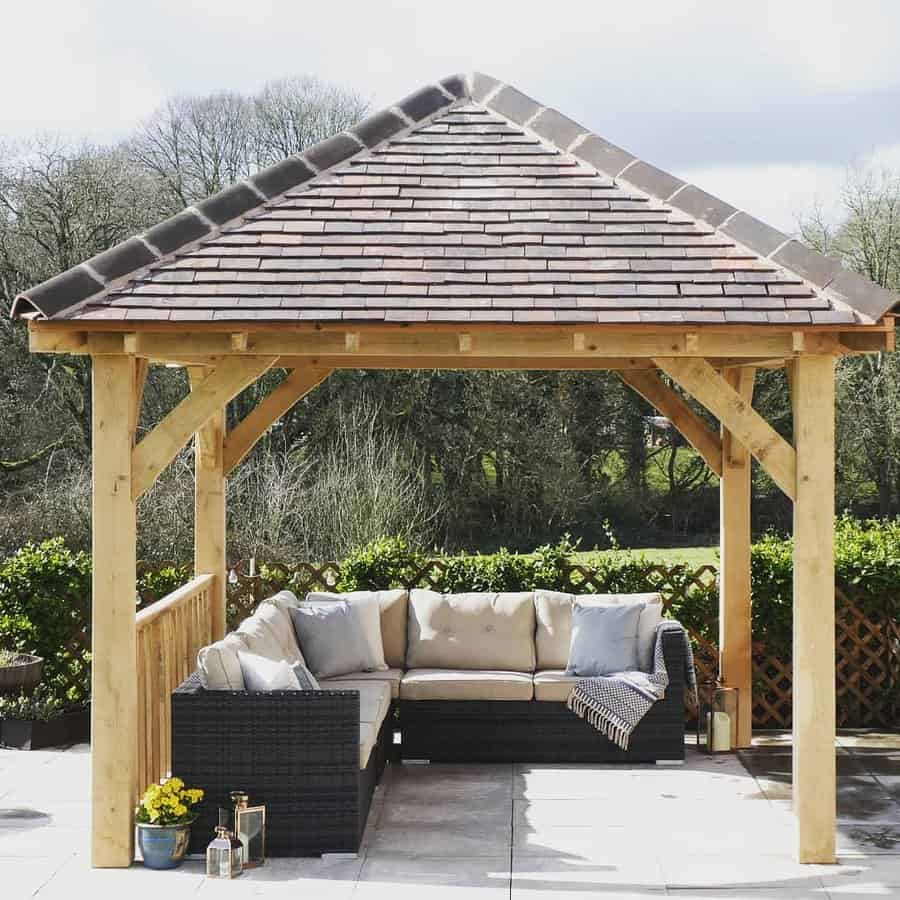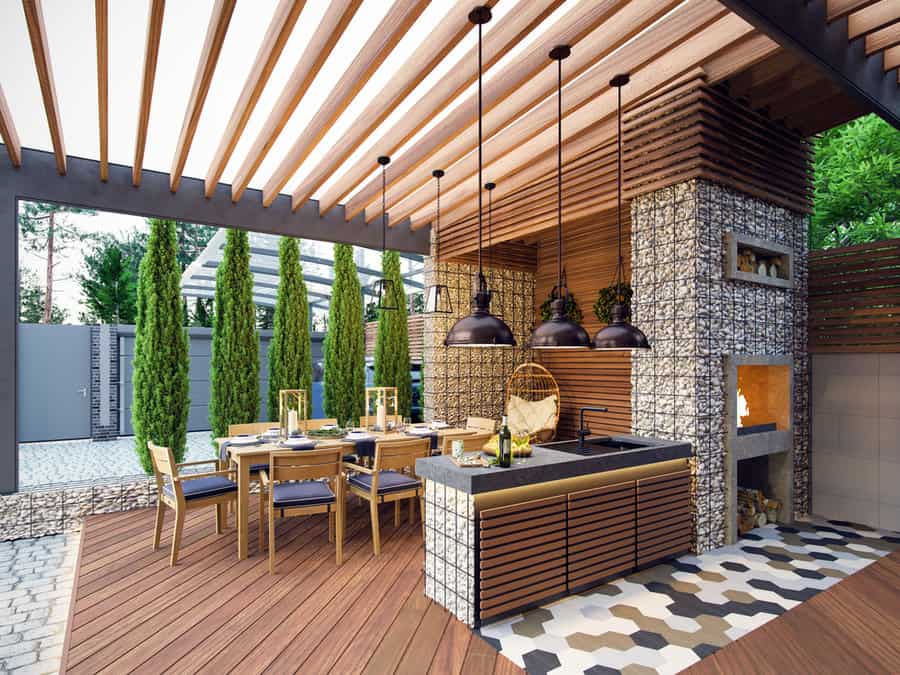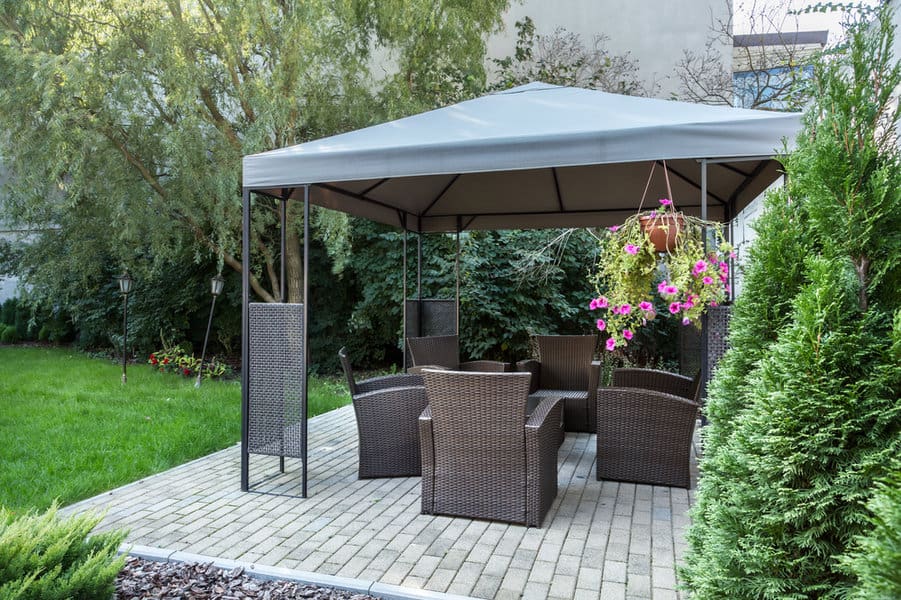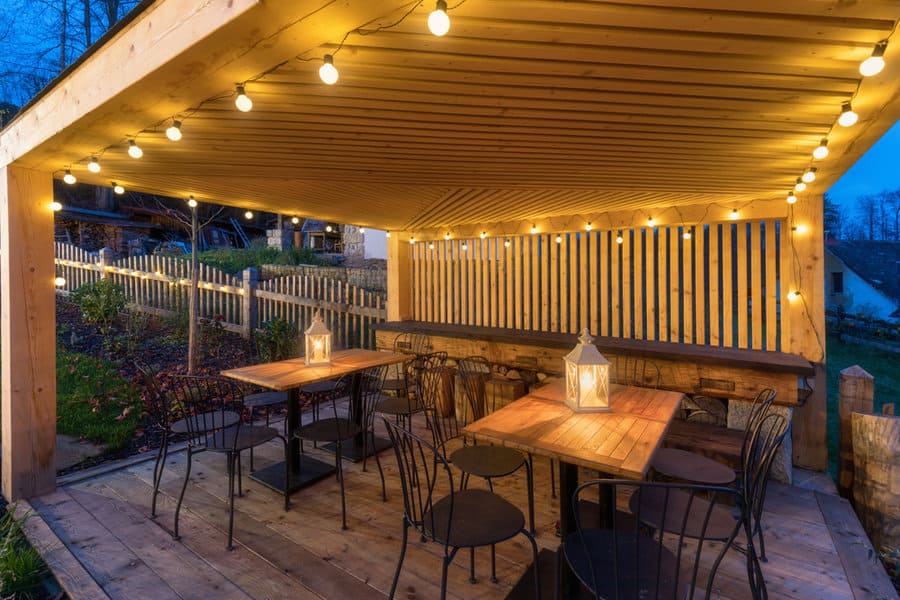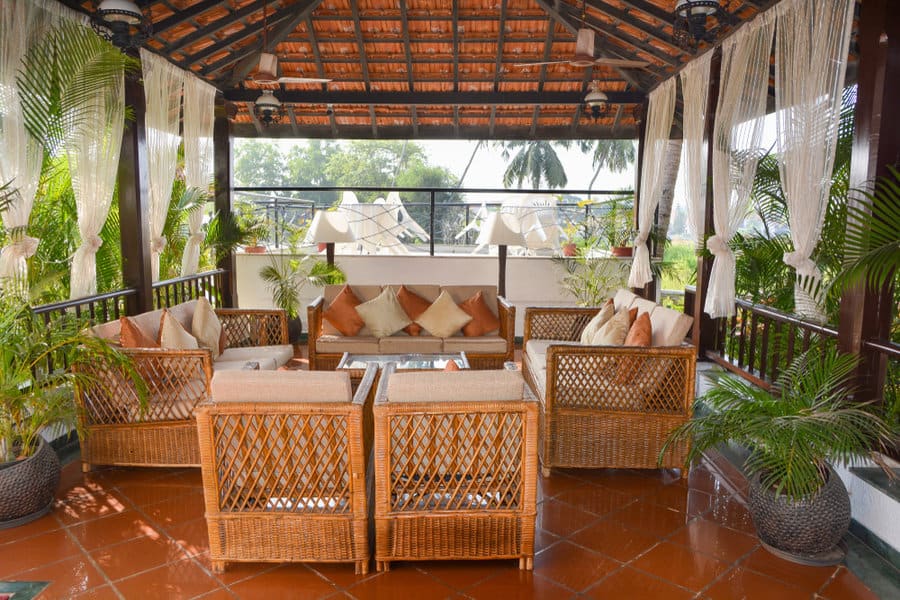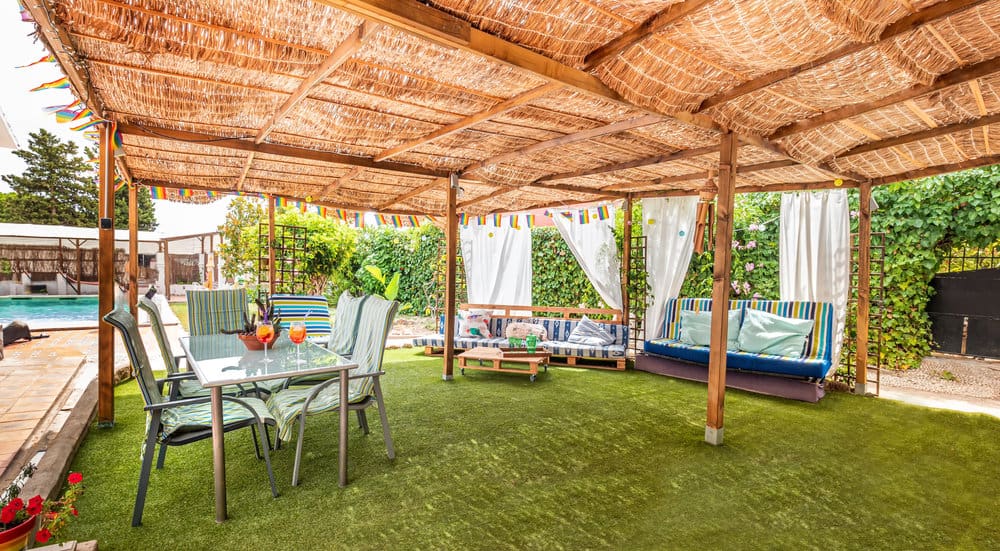 Decorate the space with potted plants, and build planters around it, for a colorful little garden. Include a hammock or a swing, and do not forget the lighting – a nice pendant, ceiling fan or string lights are good options.
Choose lightweight rattan furniture, to remind you that no matter how accessorized your gazebo is, you are still in a natural setting.
6. Garden
Invest on a nice garden around your gazebo and hang planters with colorful flowers. You can plant shrubs all around the structure and bring color and style to the space with flowering vines.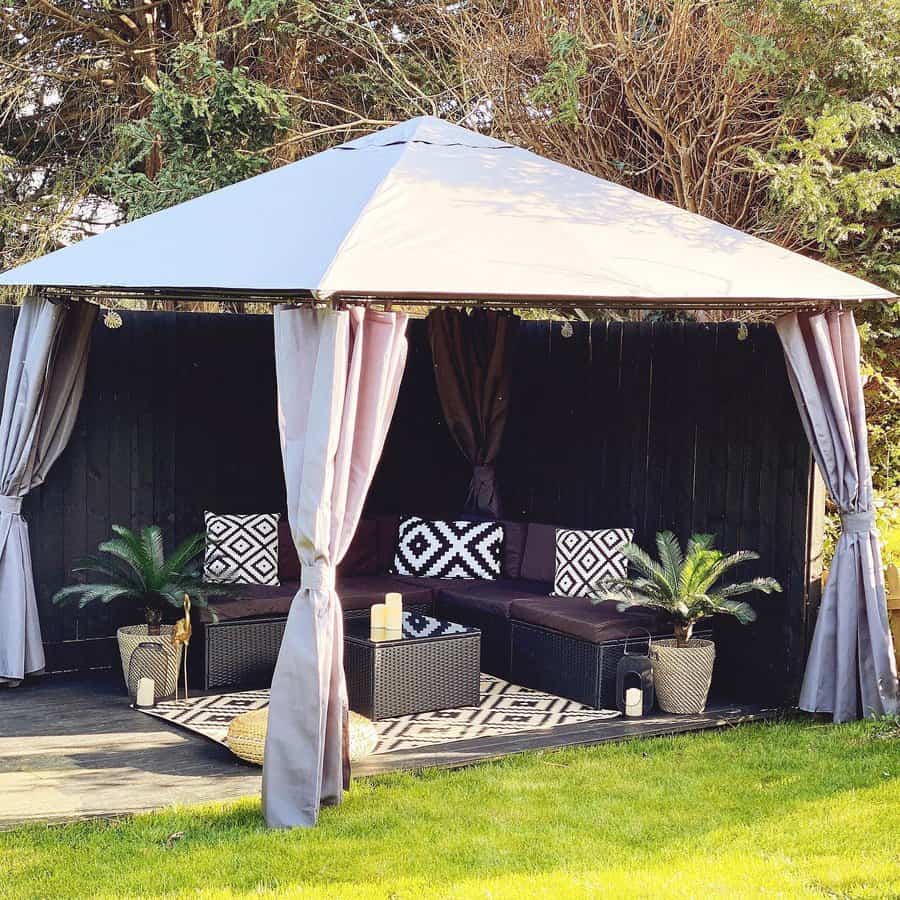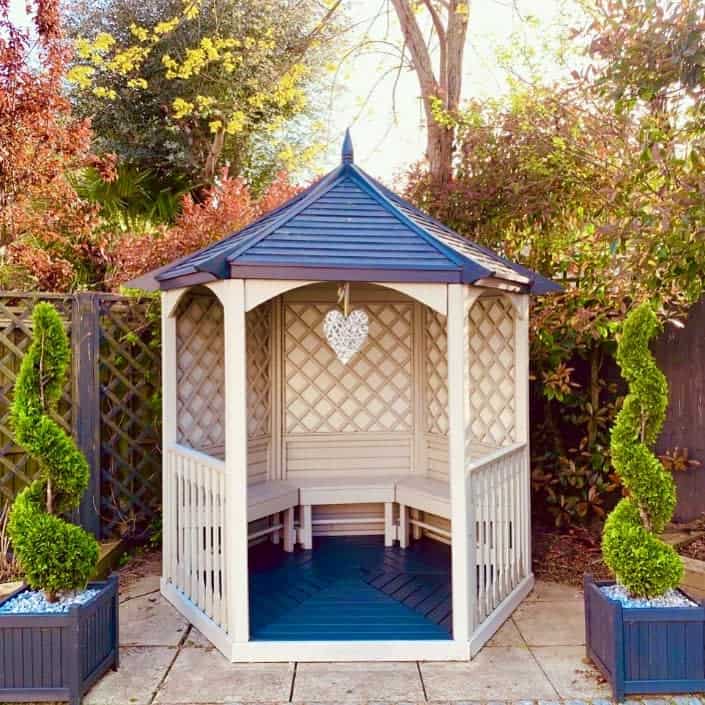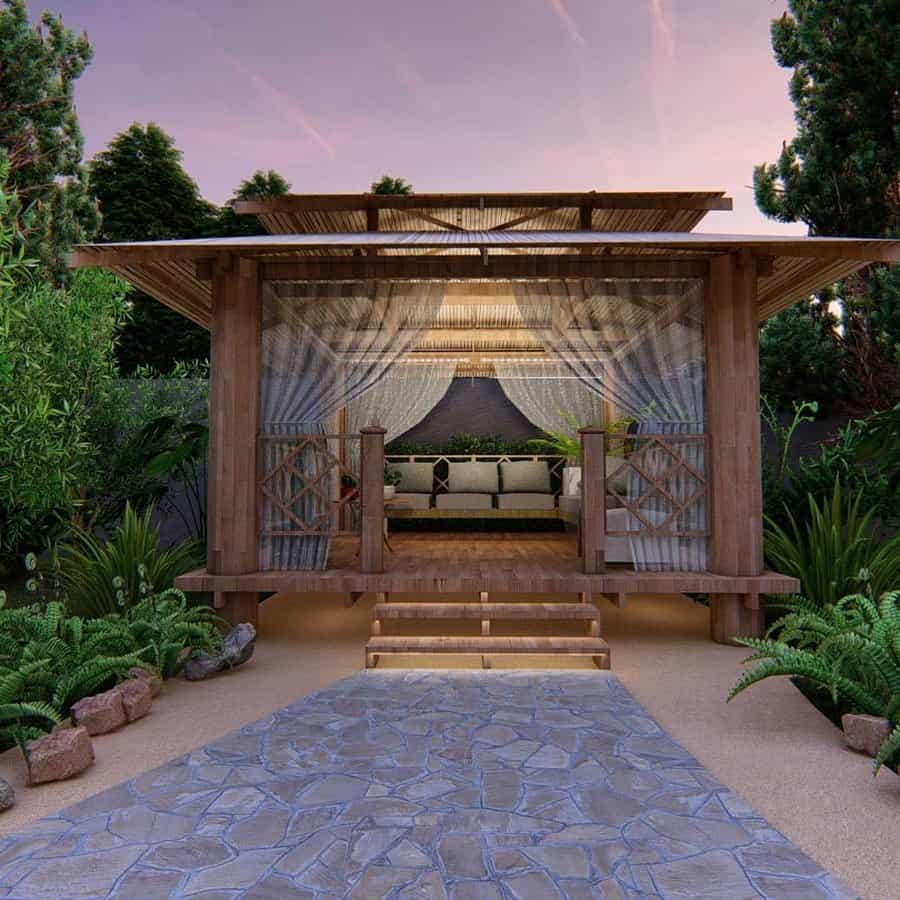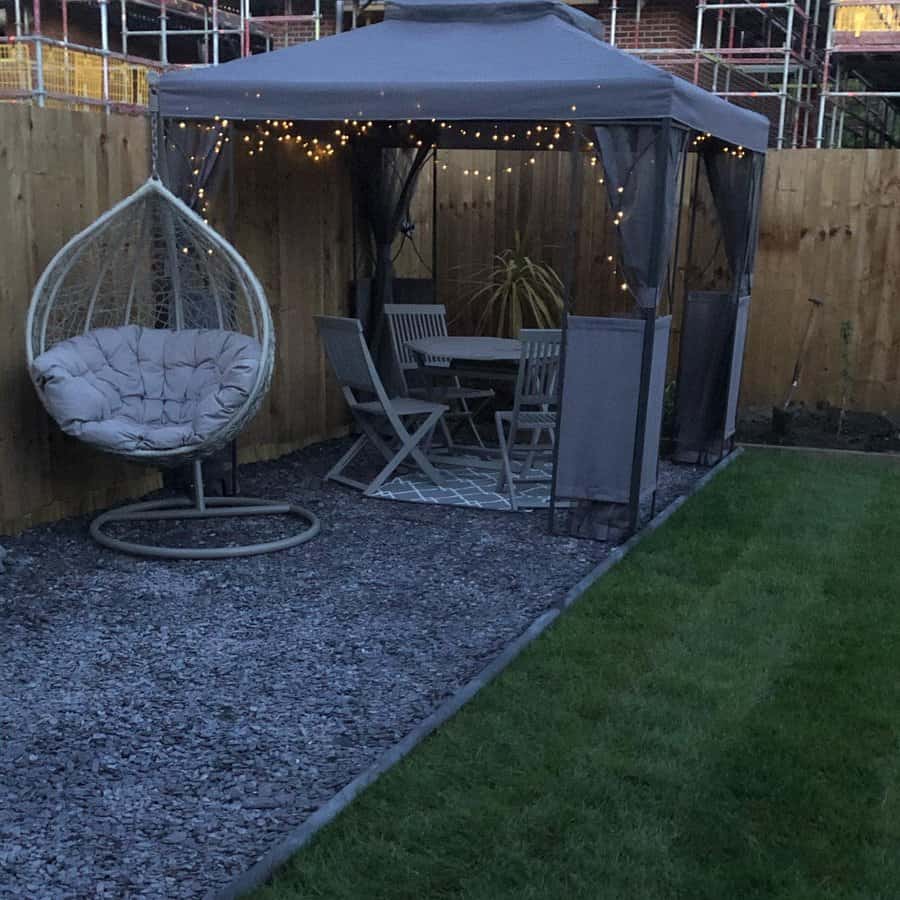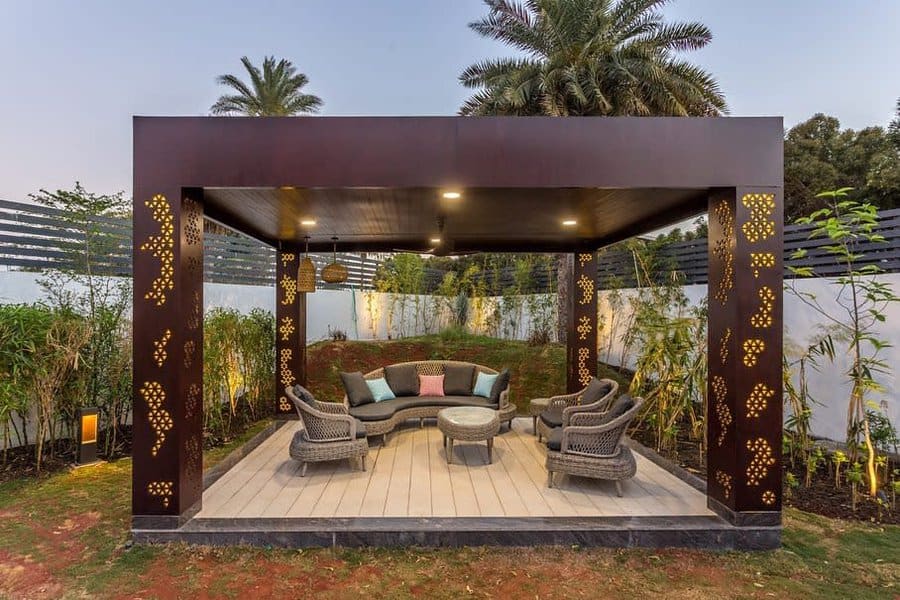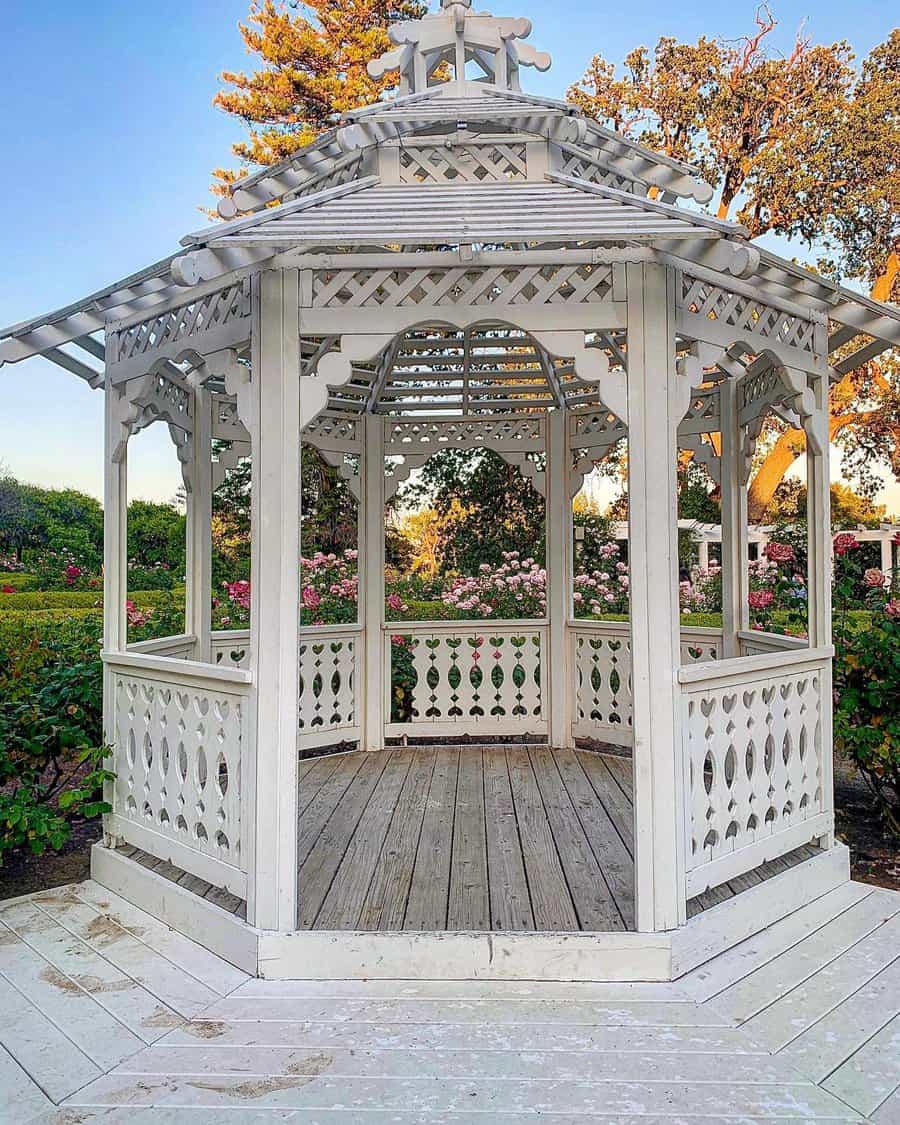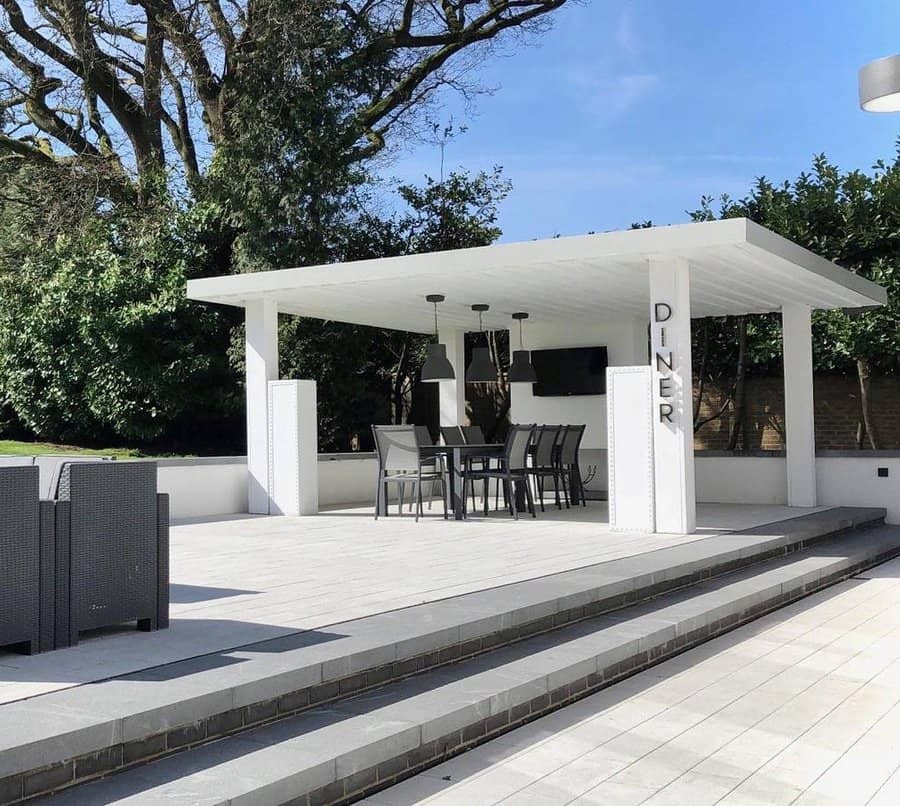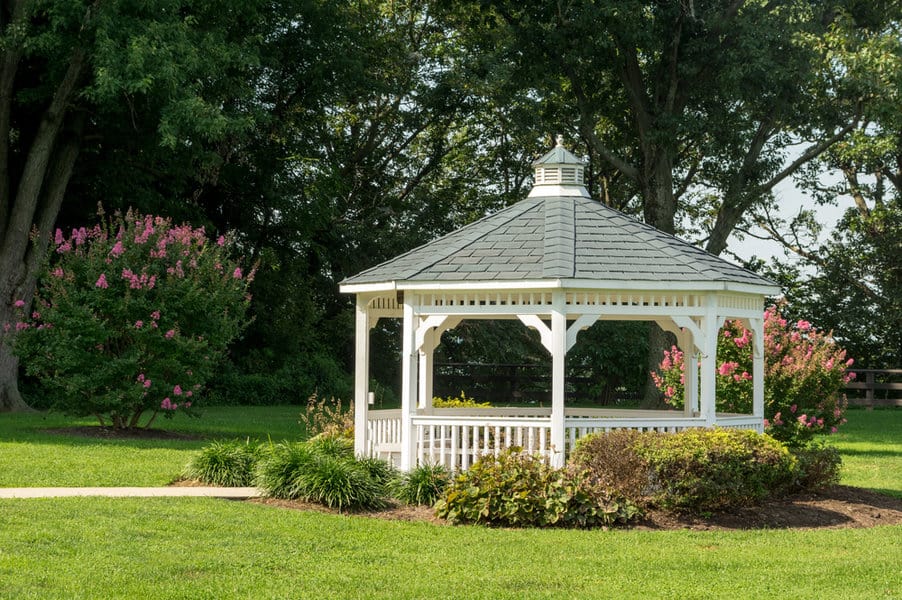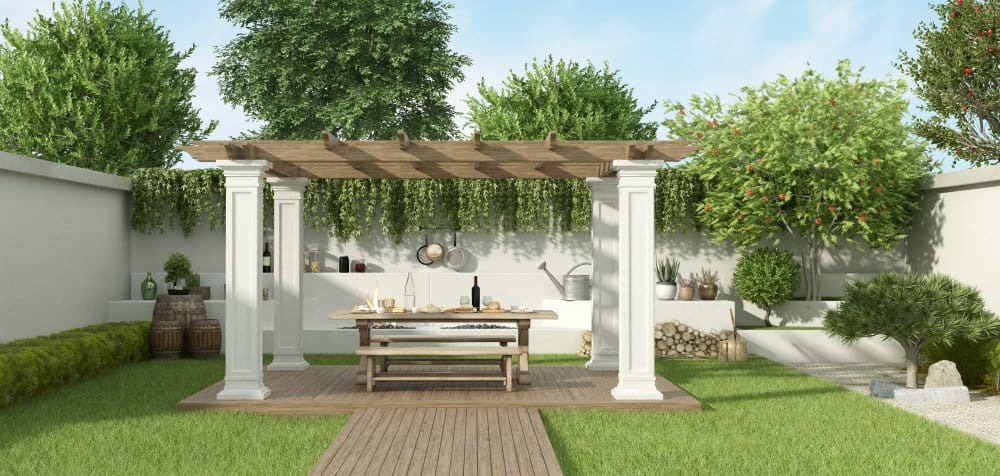 You can install raised garden beds to make the plants stand out and add potted plants to bring color and warmth to the interior, with some bottle or jar lanterns.
7. Outdoor
Gazebos are a must if you love outdoor living. You can transform your backyard into a dream space with a gazebo furnished with comfy chairs, a dining table, and enhance it with a TV, a grill or a pizza oven, a fireplace or a firepit, and a hot tub to make the coolest entertainment space ever.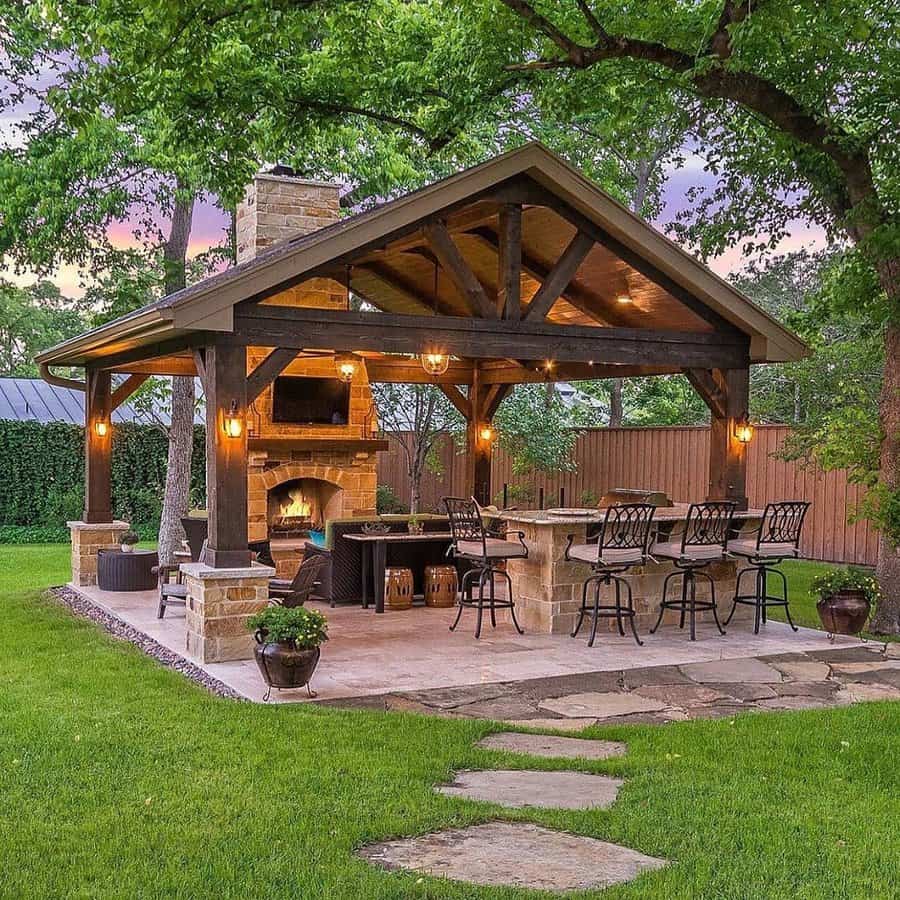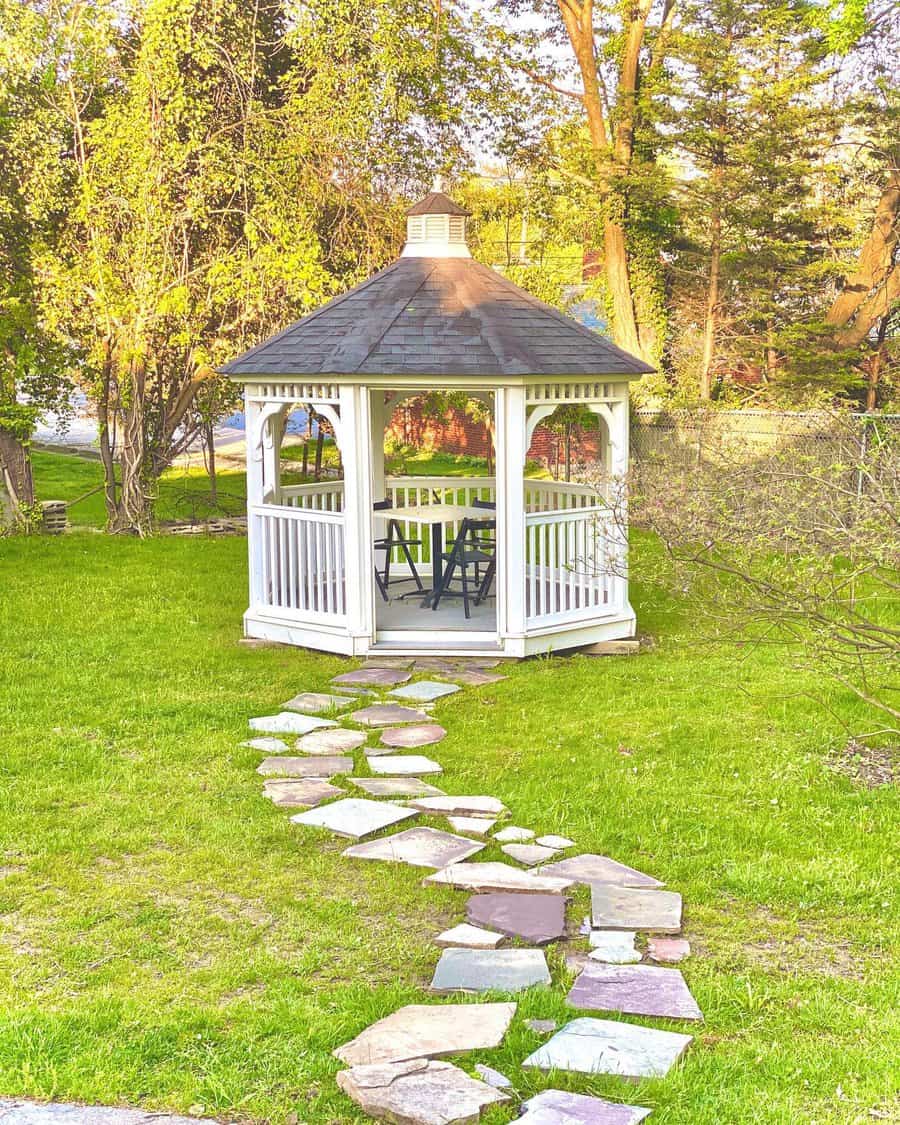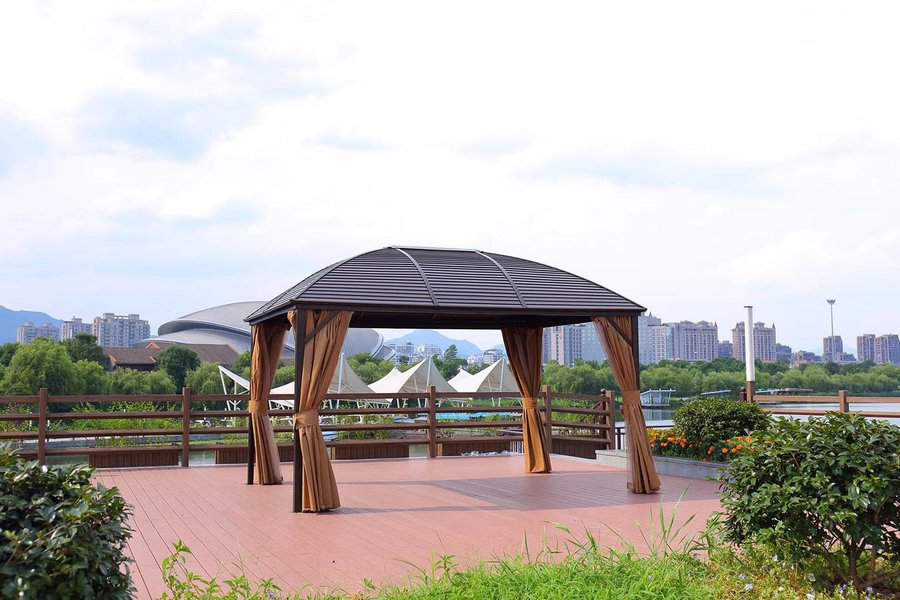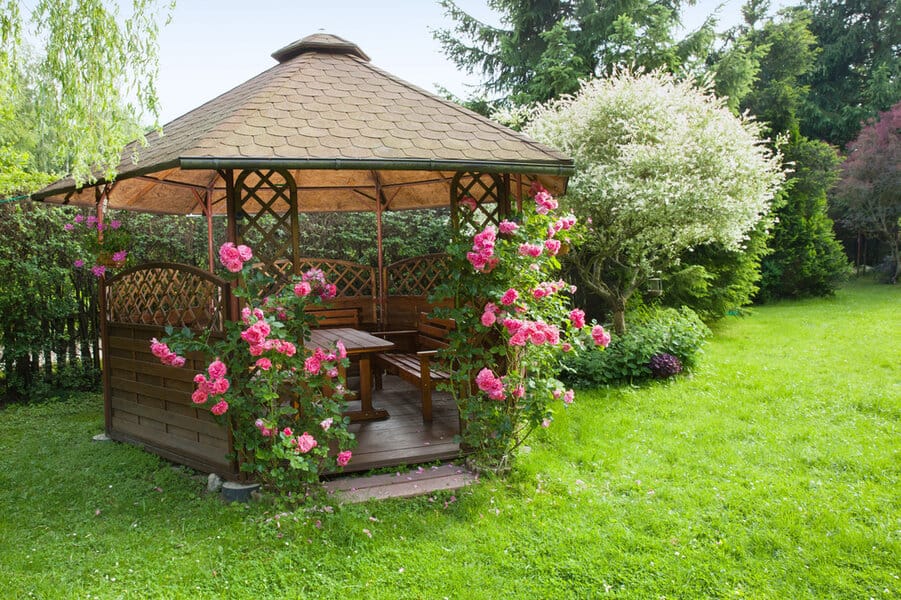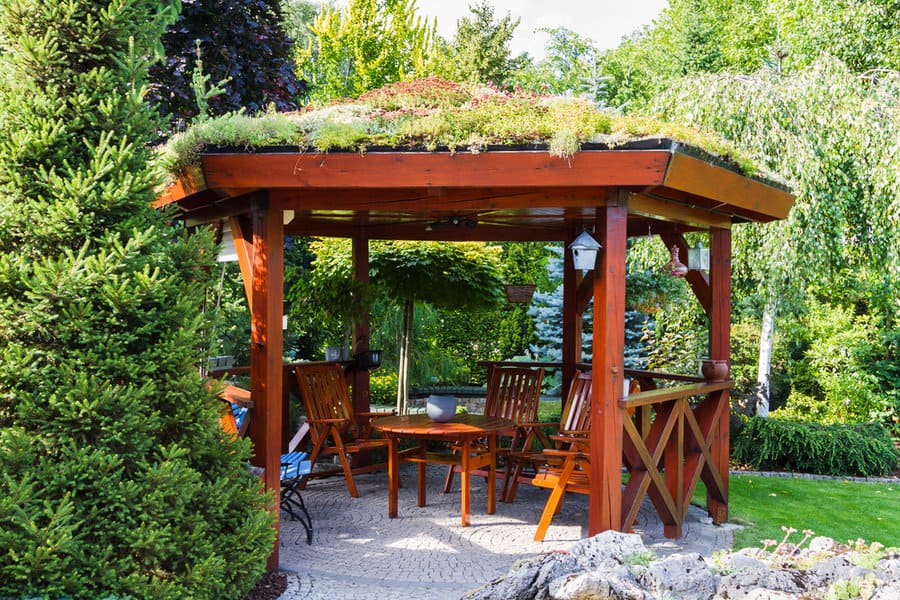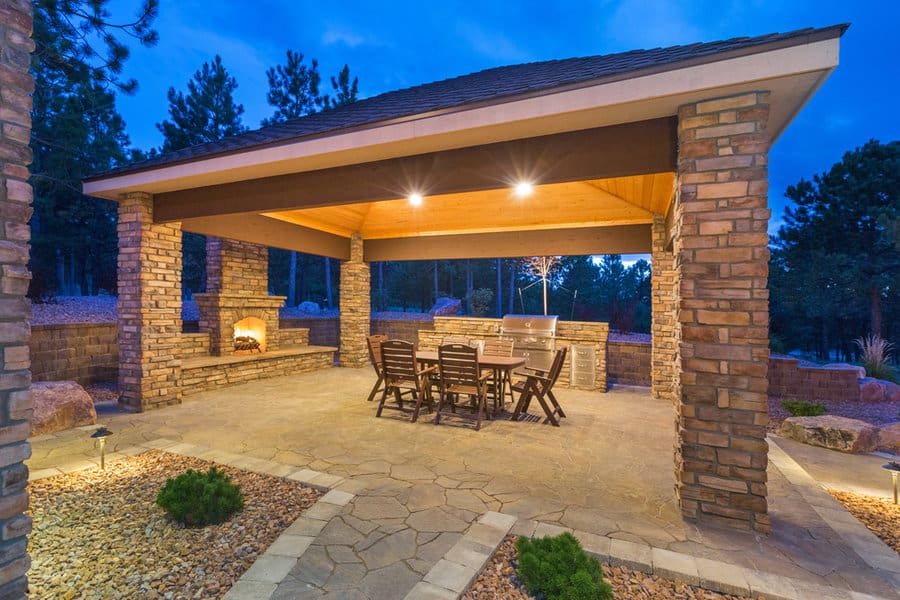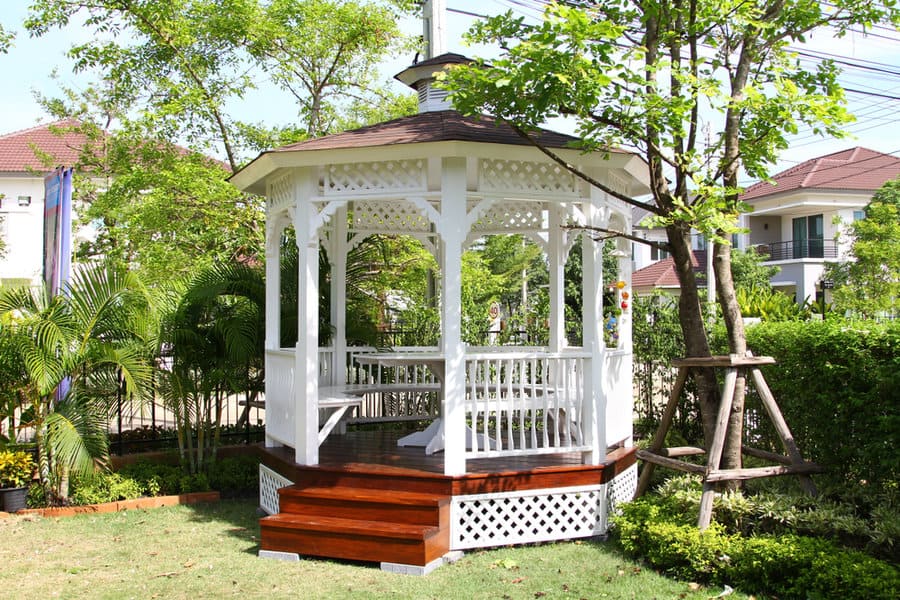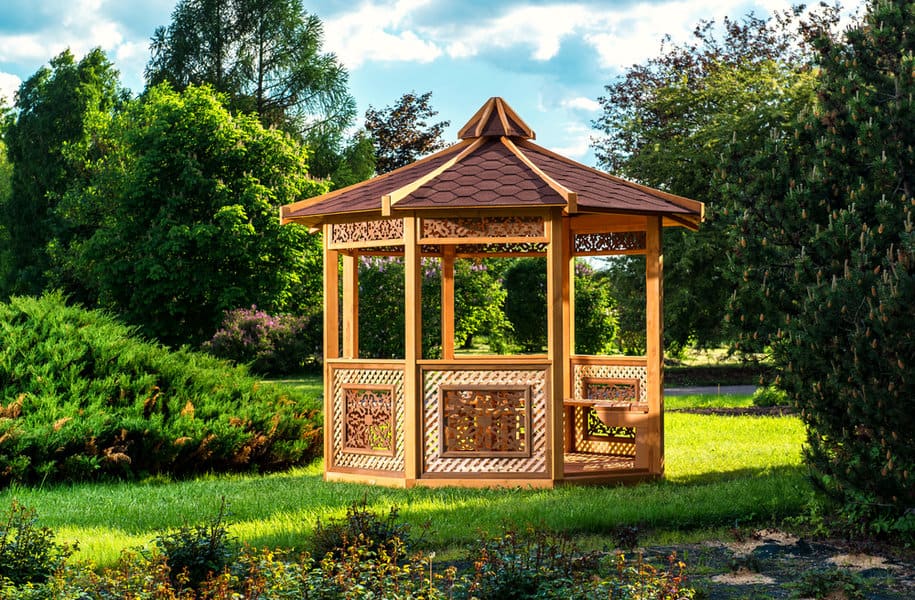 Make sure never to install a firepit or a fireplace in a closed gazebo. You need a ventilation outlet even if your gazebo is screened or has open sides, because of the smoke. It tends to rise and get trapped below the roof, which is very dangerous and toxic.
Bioethanol is the best option for a gazebo fireplace. It is a renewable and sustainable fuel and the safest option. Gas fireplaces are better than wood burning fireplaces, because you can control the size of the fire, and they are easier to light and put out.
8. Patio
You can build a pergola in your patio to make a cozy, relaxing space. Add a canopy for some extra charm and choose décor elements to bring life to the space.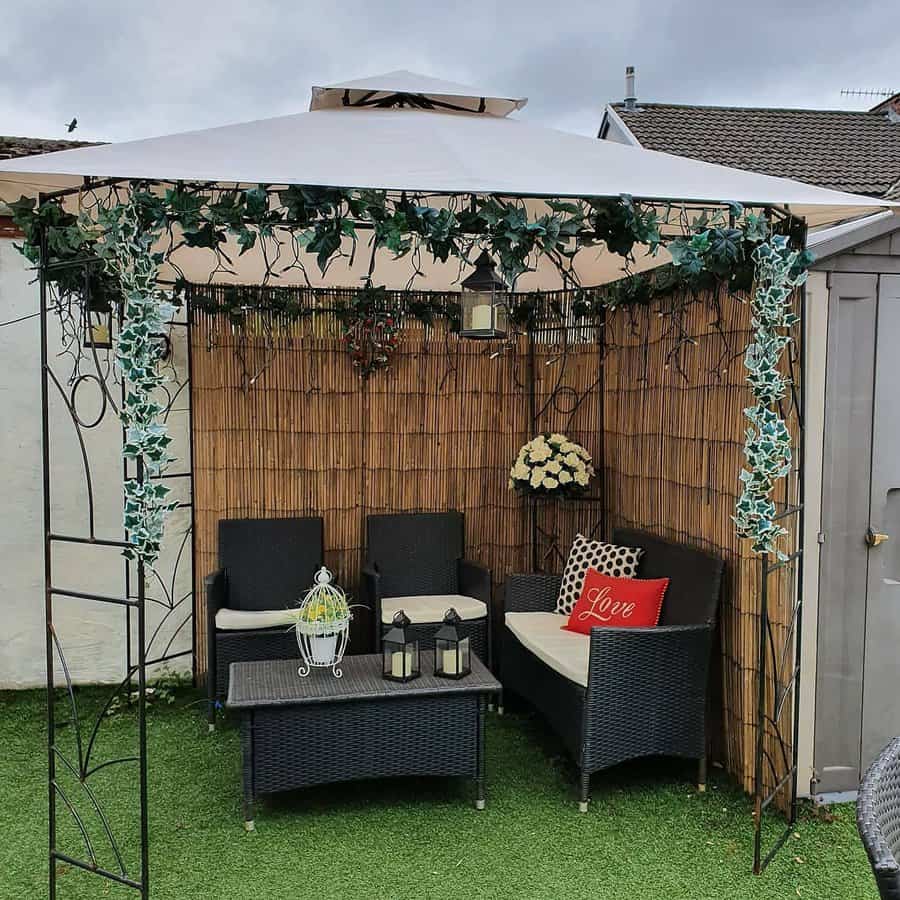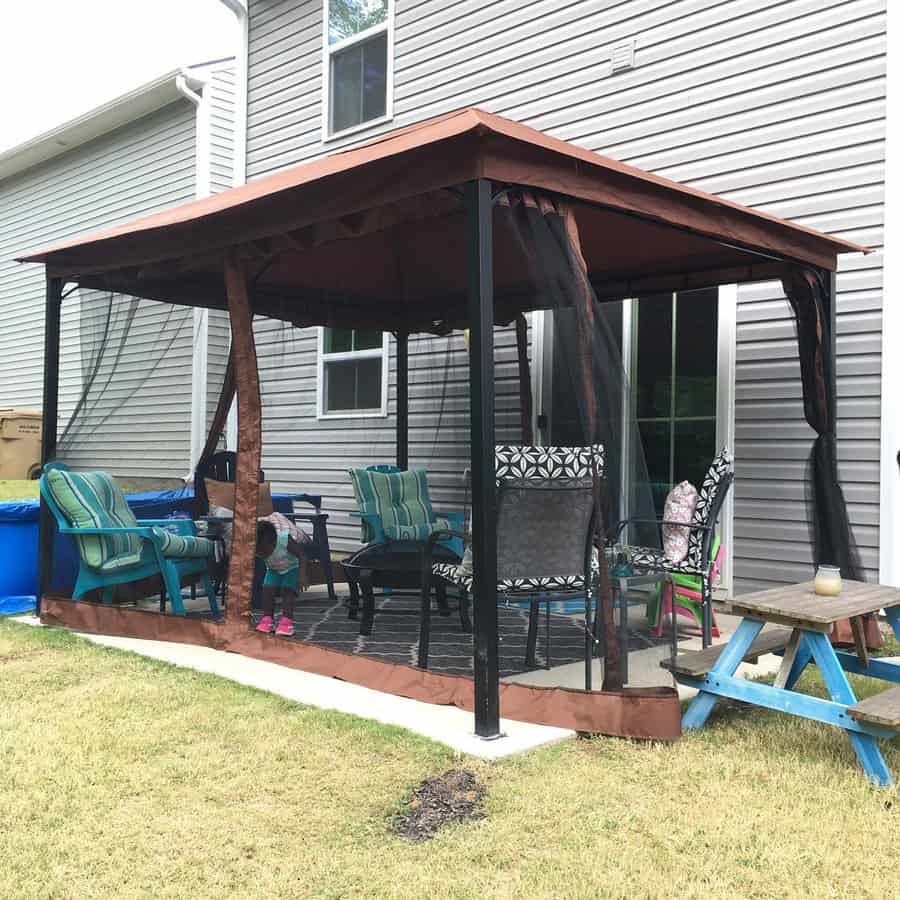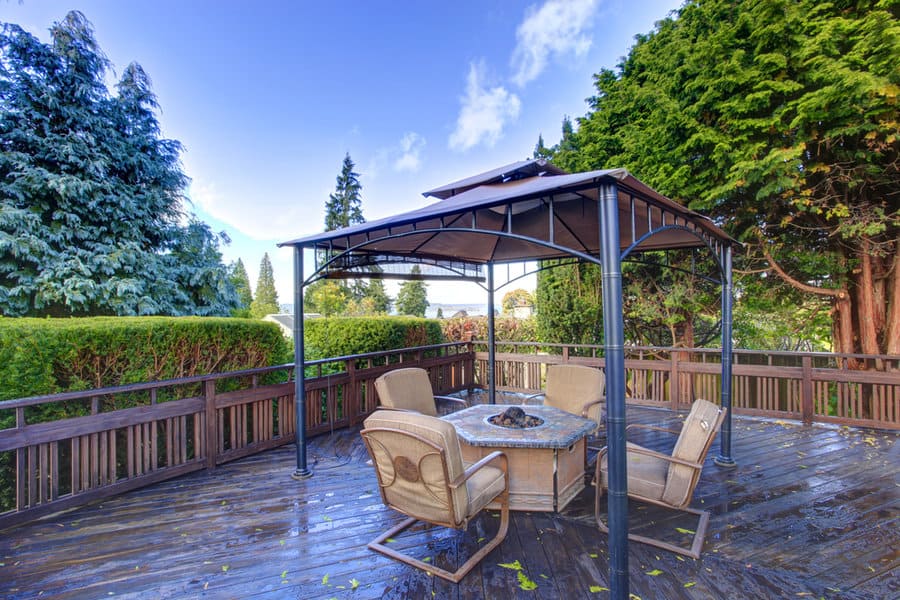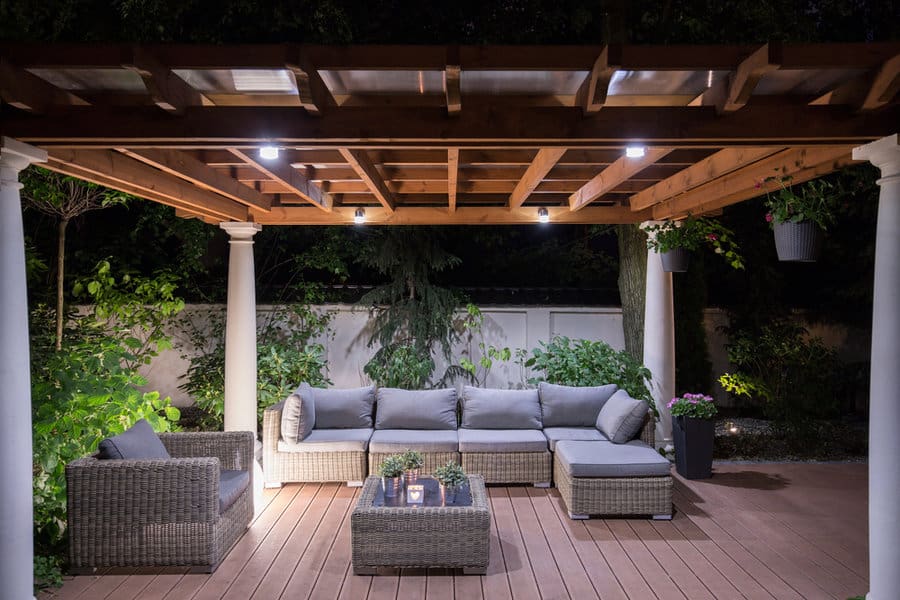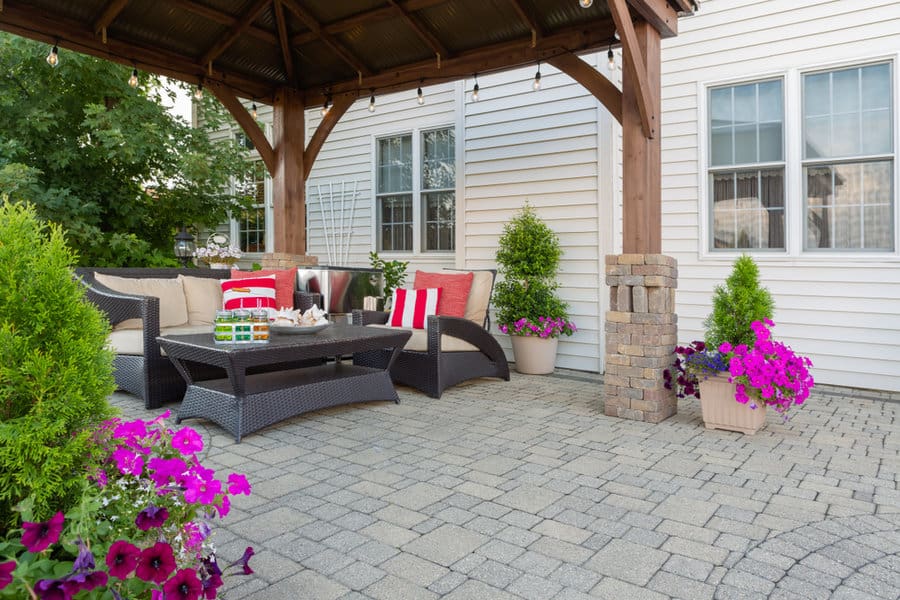 Check out these examples so you get inspired on how to accessorize your patio and make it another livable space in your home.
9. Pool
A pool and a gazebo make the ideal combo for a stunning outdoor space! With a gazebo right next to your pool, you will have some shade to relax and have a drink or a snack, in between swims.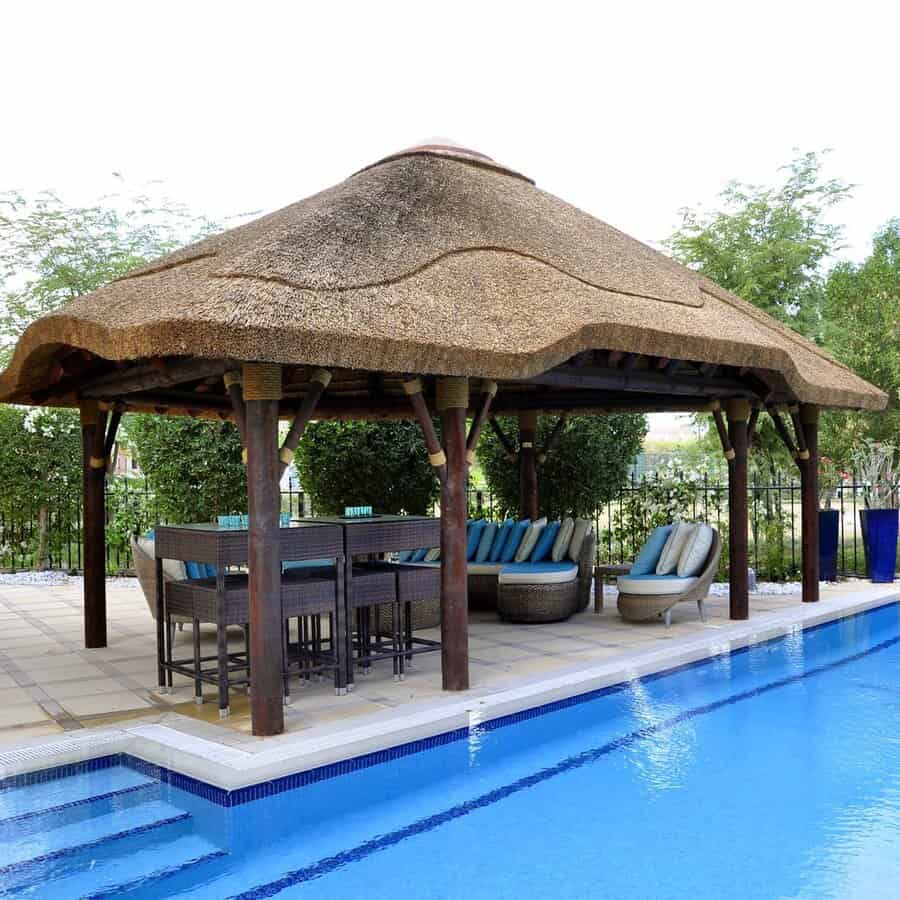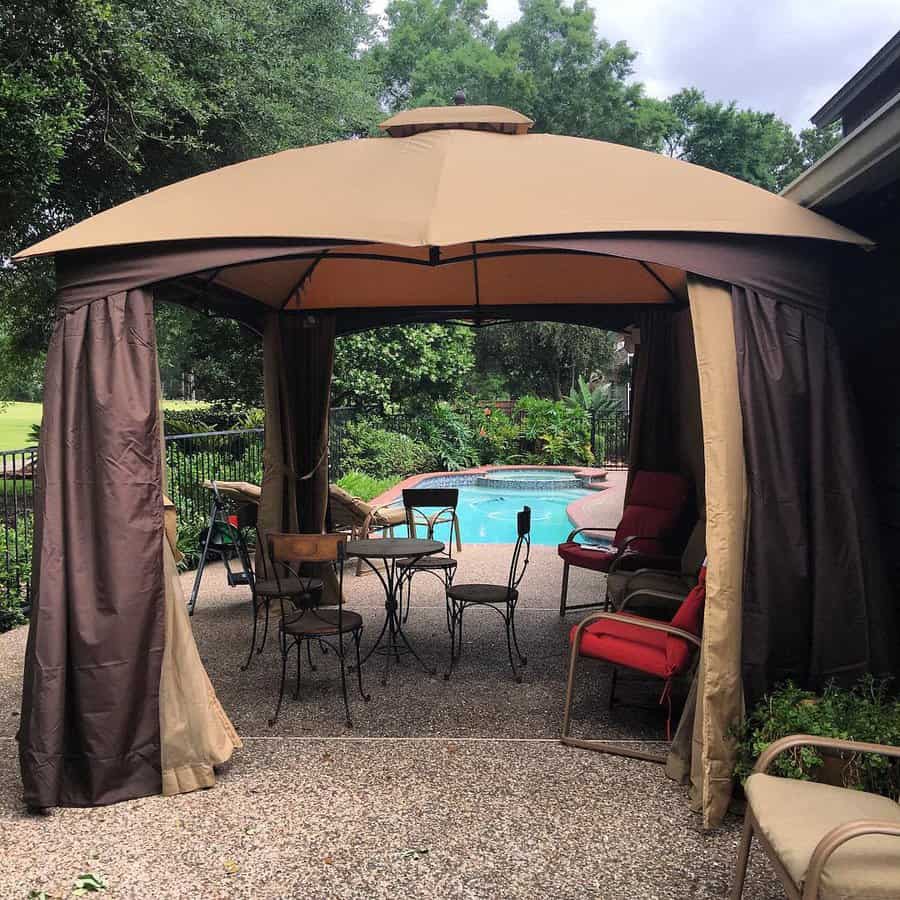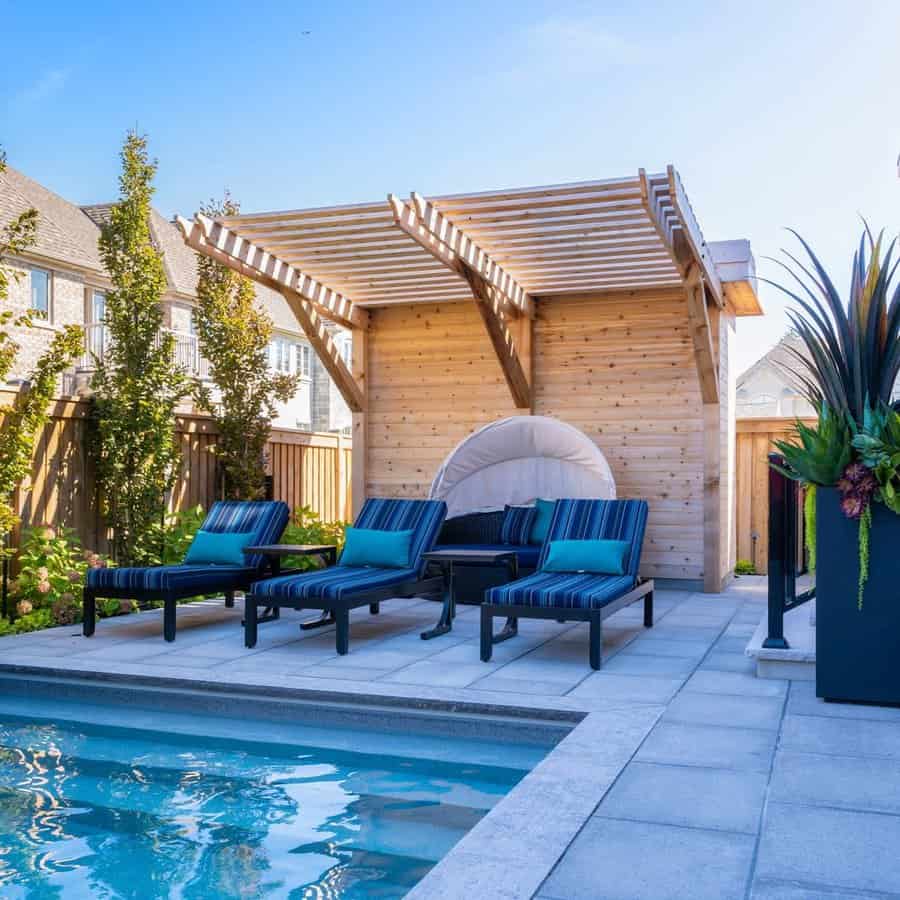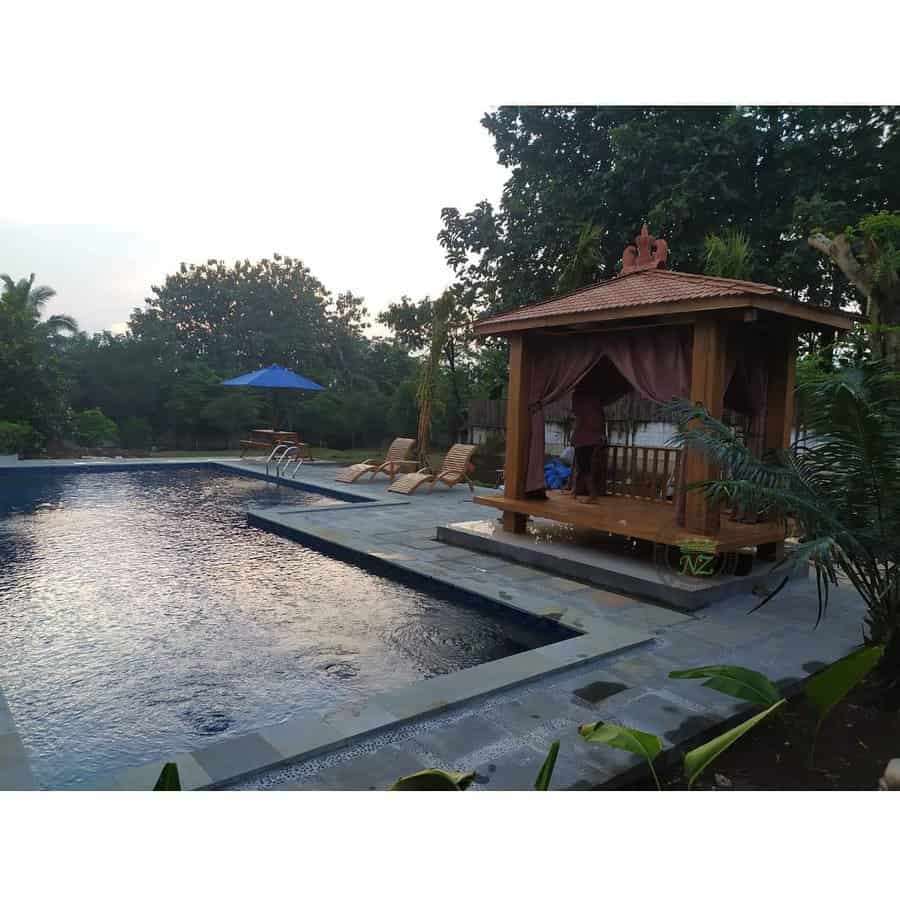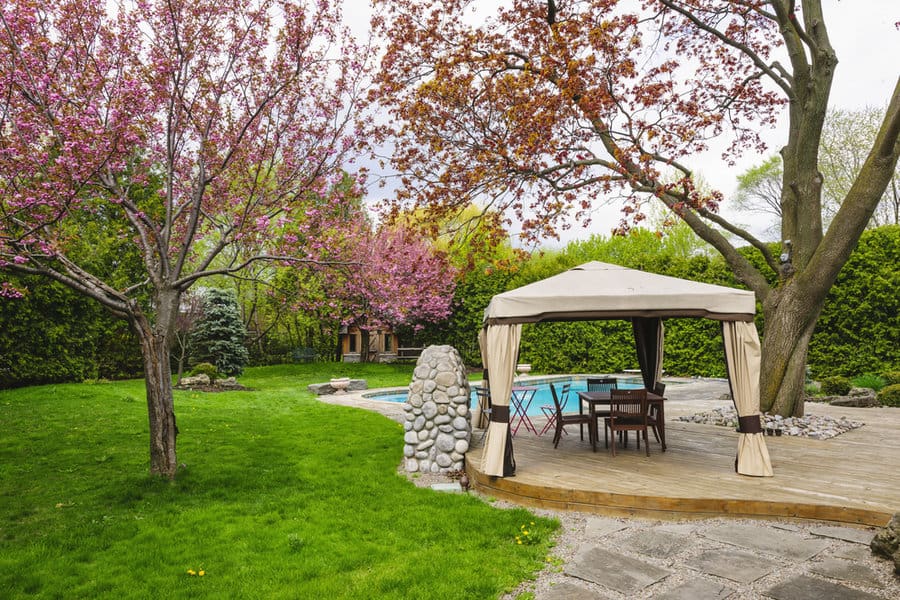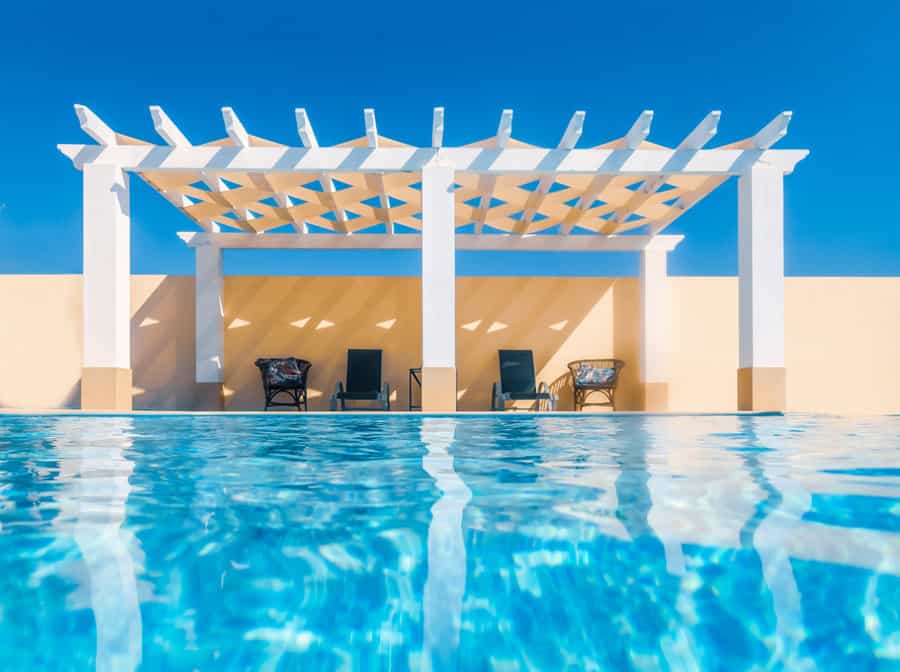 A gazebo is a fantastic addition to the pool area, for you to throw great pool parties and barbecues. You can install a wet bar, an island or a peninsula with seating and some storage for dishware and glasses. You can also install a minifridge and a grill, so you'll have a perfect spot to host dinner parties outside.
10. Roof
Among the many options for gazebo roofing, asphalt shingles are the most popular. You can choose the shingle colors and texture, such as rubber slate and cedar shake shingles.
You can also choose roof tiles or metal louvers, like aluminum. Thatch roofing is also becoming a popular choice, it all depends on your design style.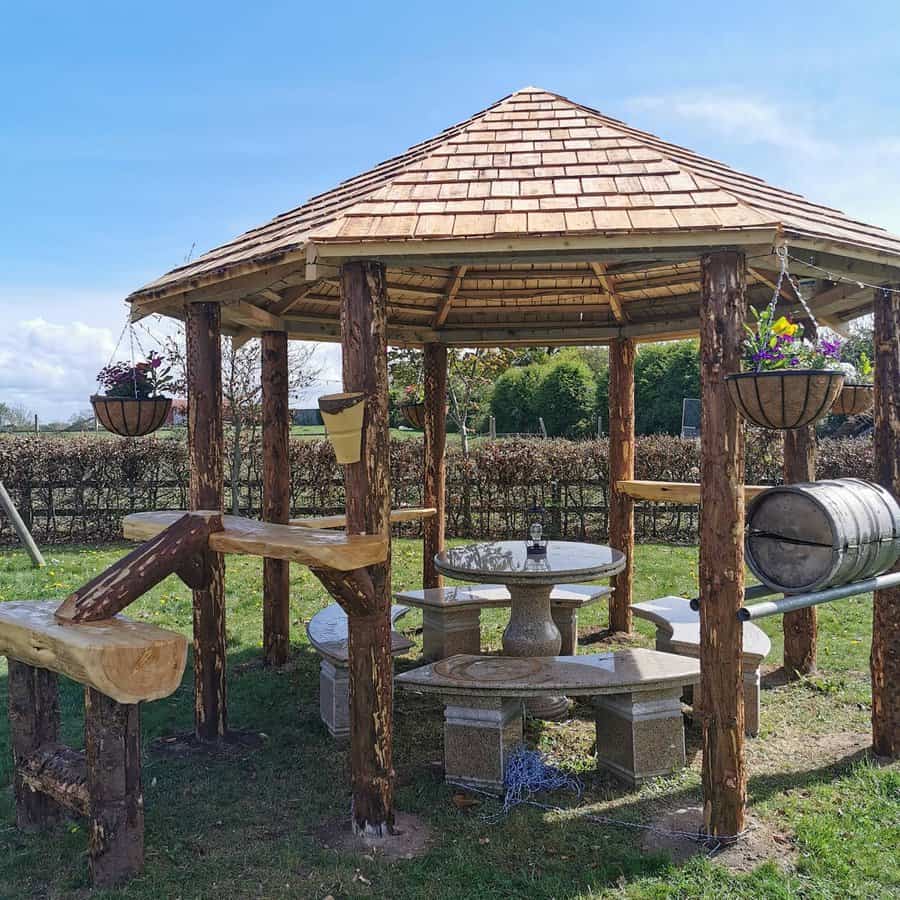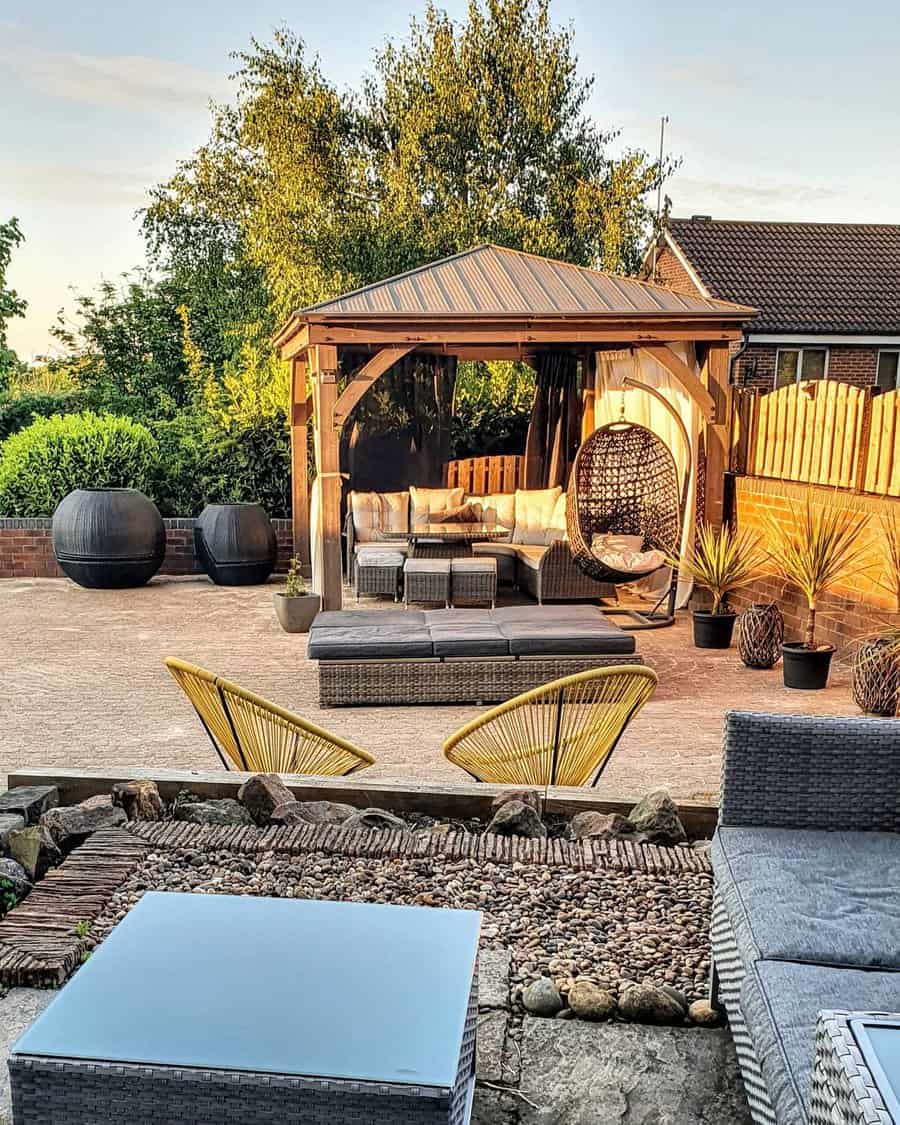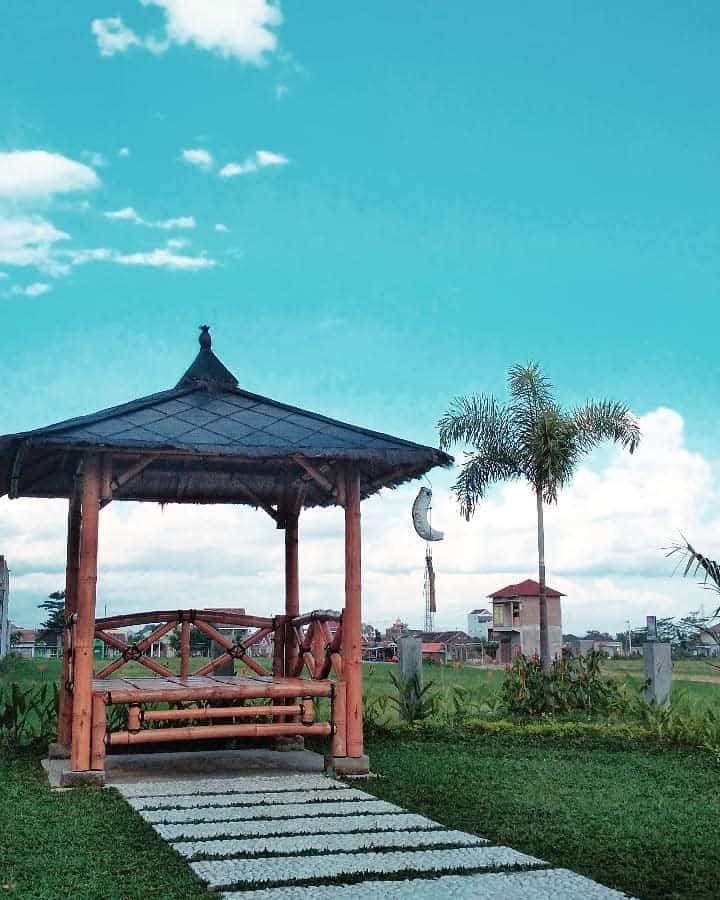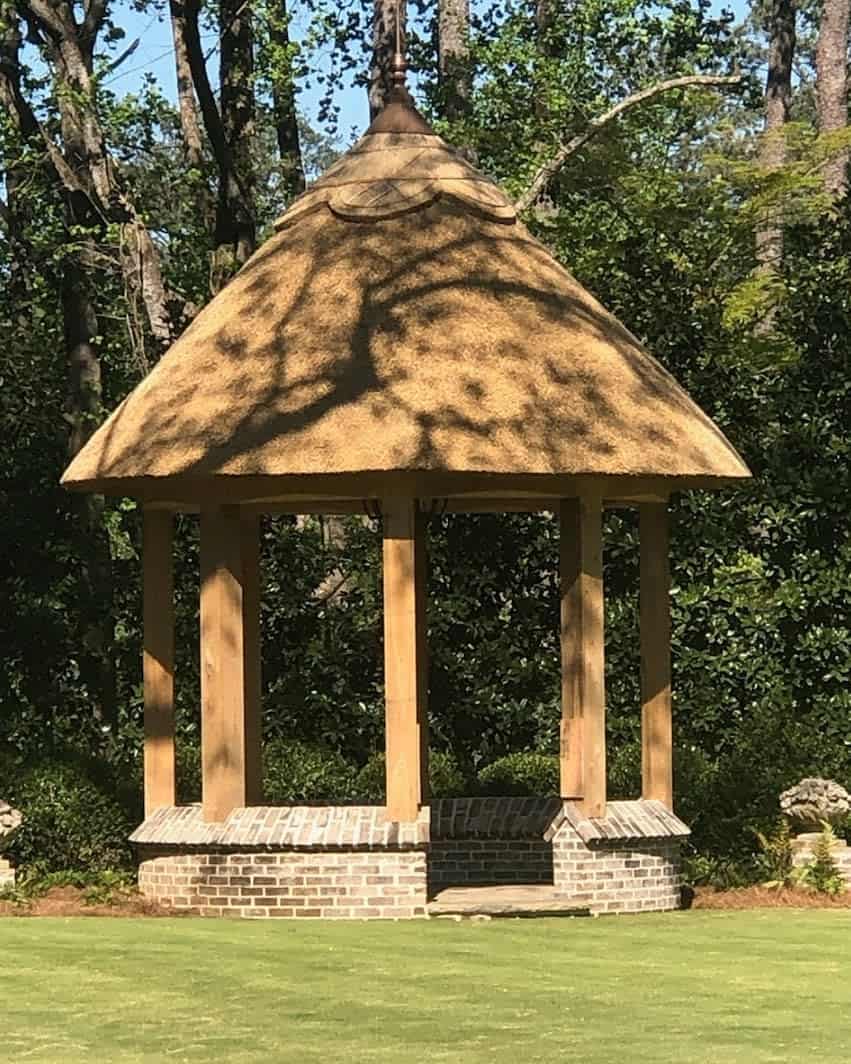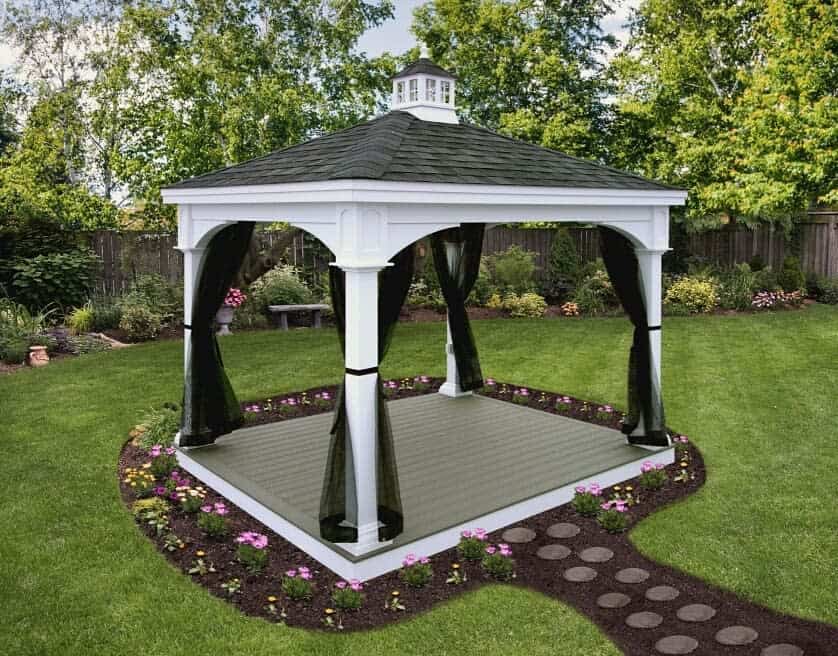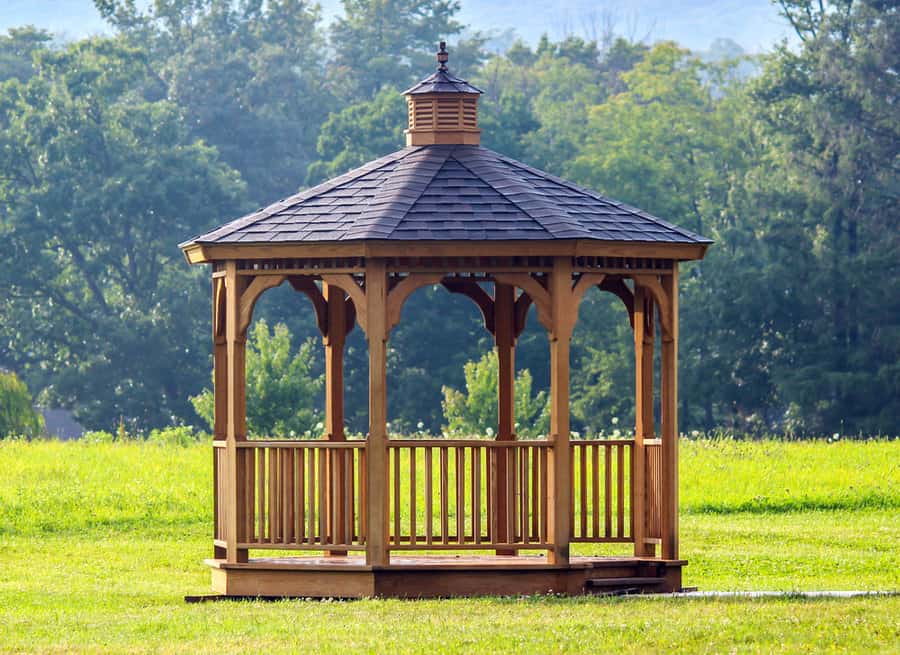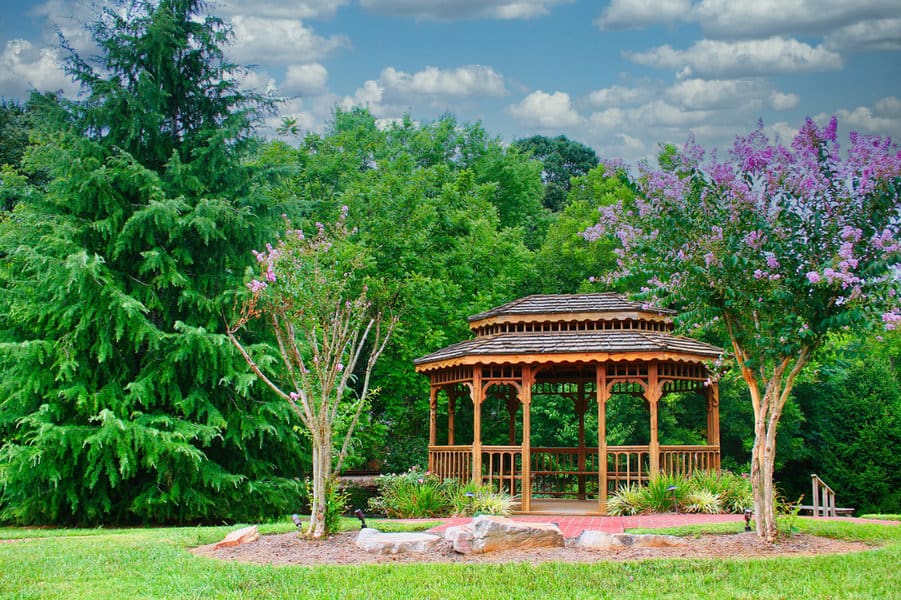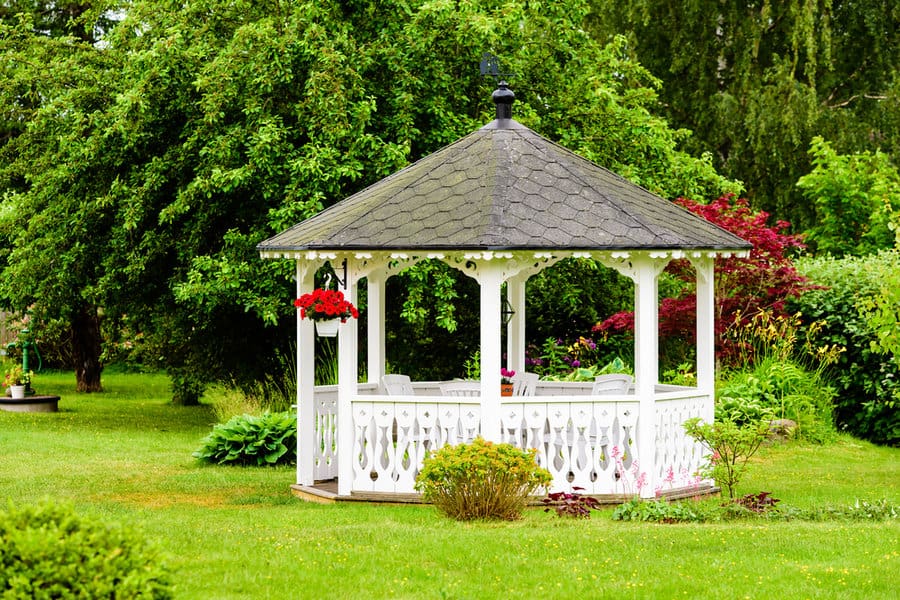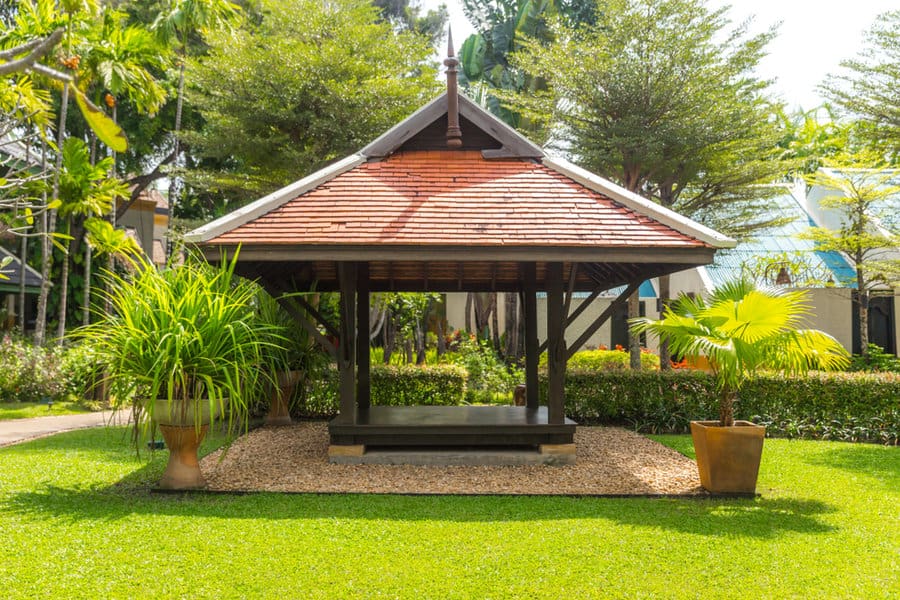 Polycarbonate and laminated safety glass are other roofing options for pergolas. Polycarbonate is lighter than glass, therefore easier and quicker to install. The biggest advantage of glass over polycarbonate as a roofing material is its durability. Glass has greater resistance to abrasion, so it has a better resistance against weather and cleaning procedures.
11. Screened
If you want to be protected from bugs but still have full view of the outside, choose a screened-in gazebo.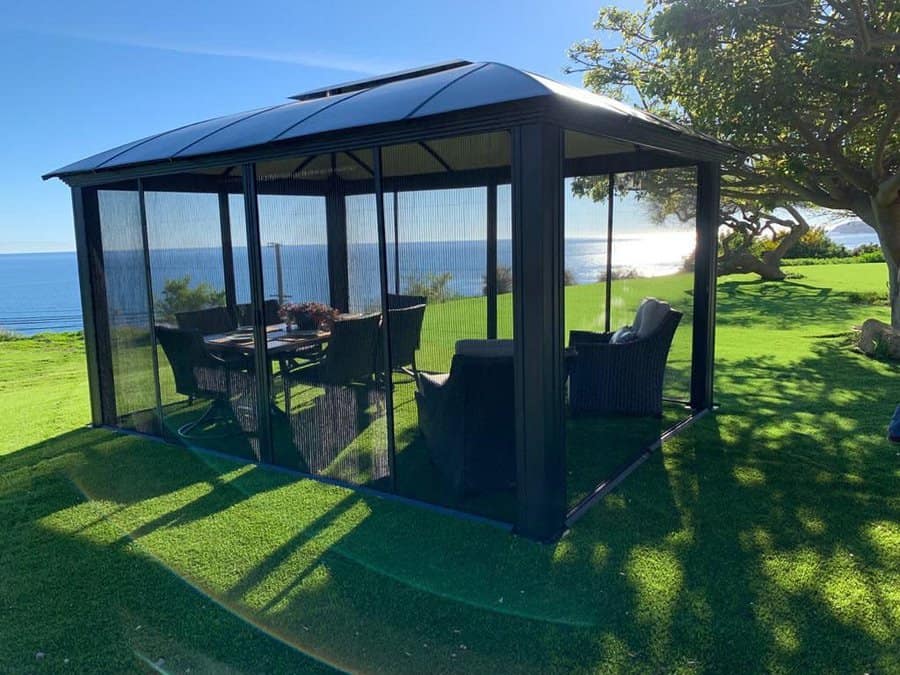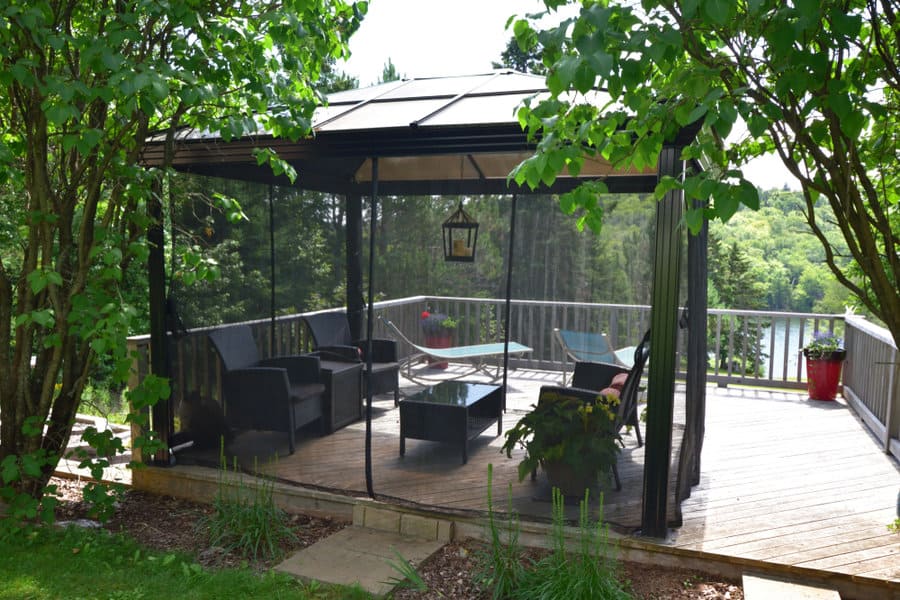 Screens do not interfere with the design, are almost imperceptible and can protect you from insects on a hot summer evening, or when you're having a delicious meal that you don't feel like sharing with flies.
12. Wood
What about feeling like you are on vacation every time you step out of your house into your gazebo? A wooden gazebo will give you that awesome feel.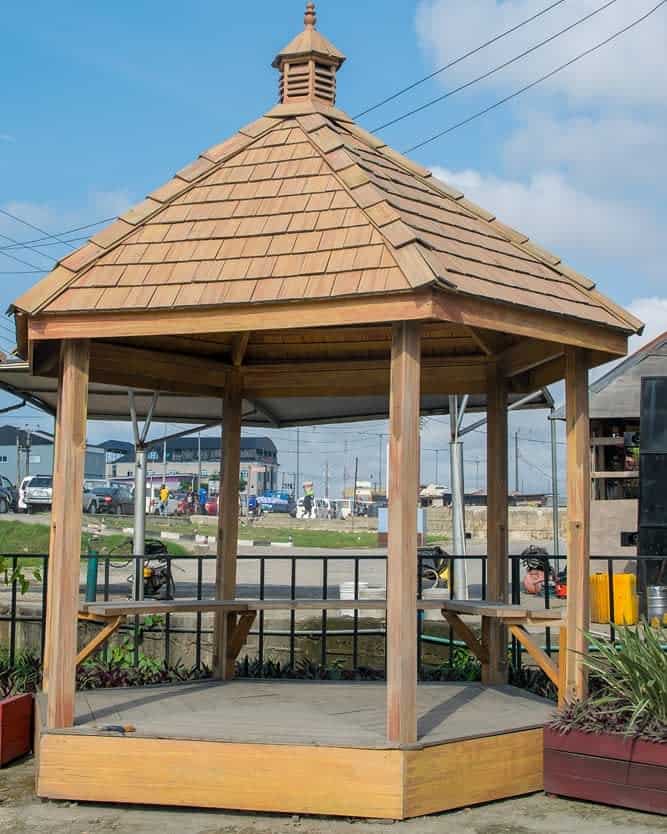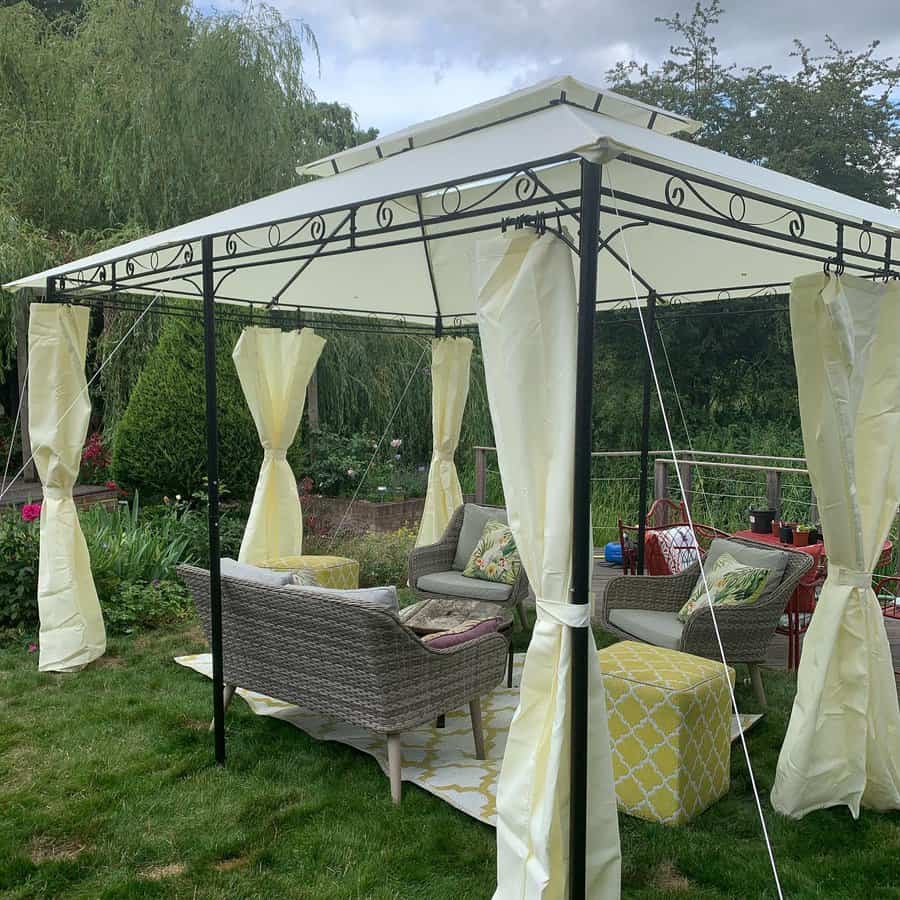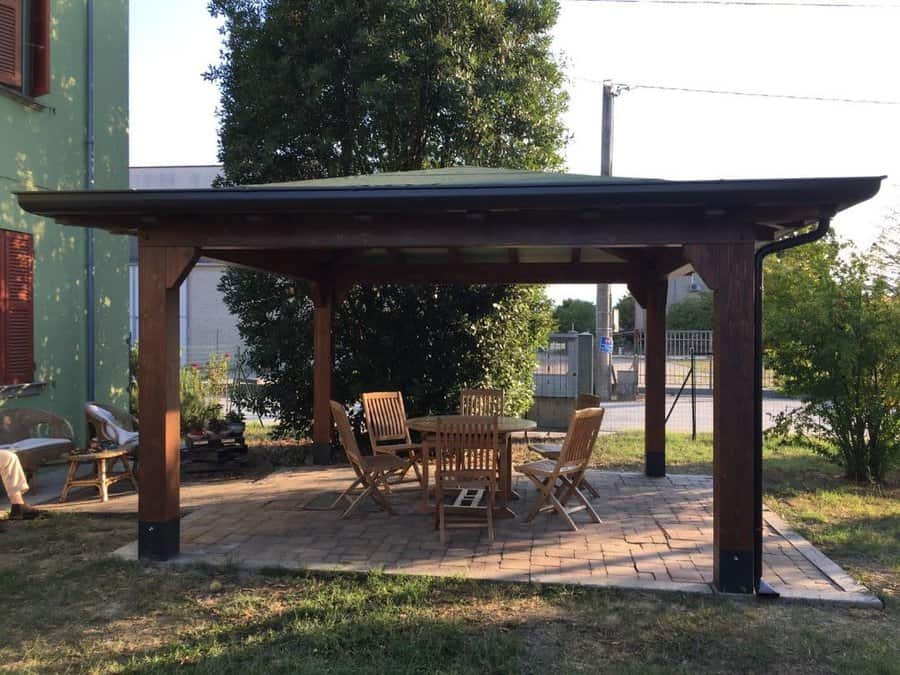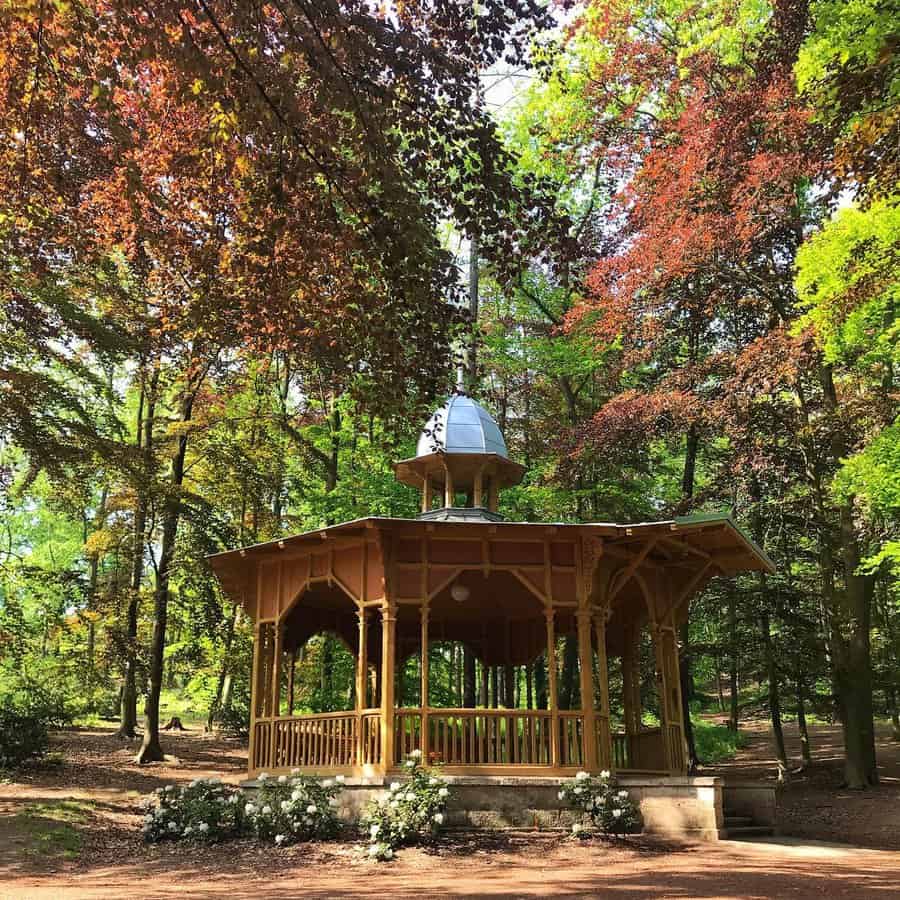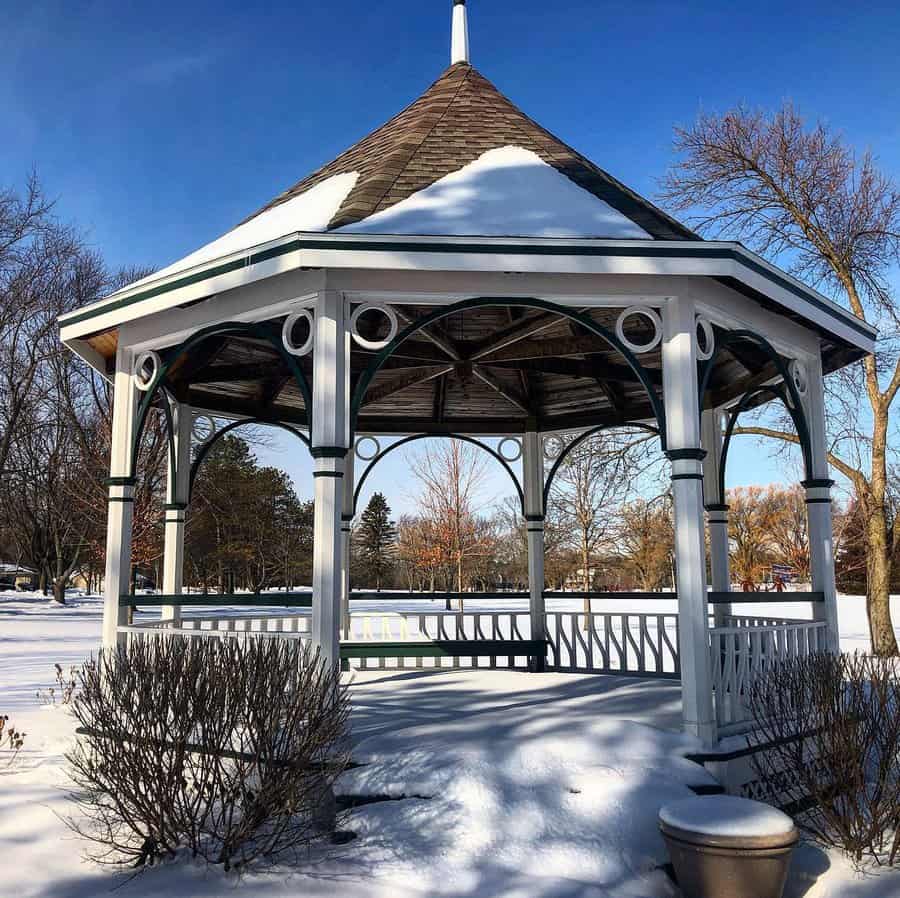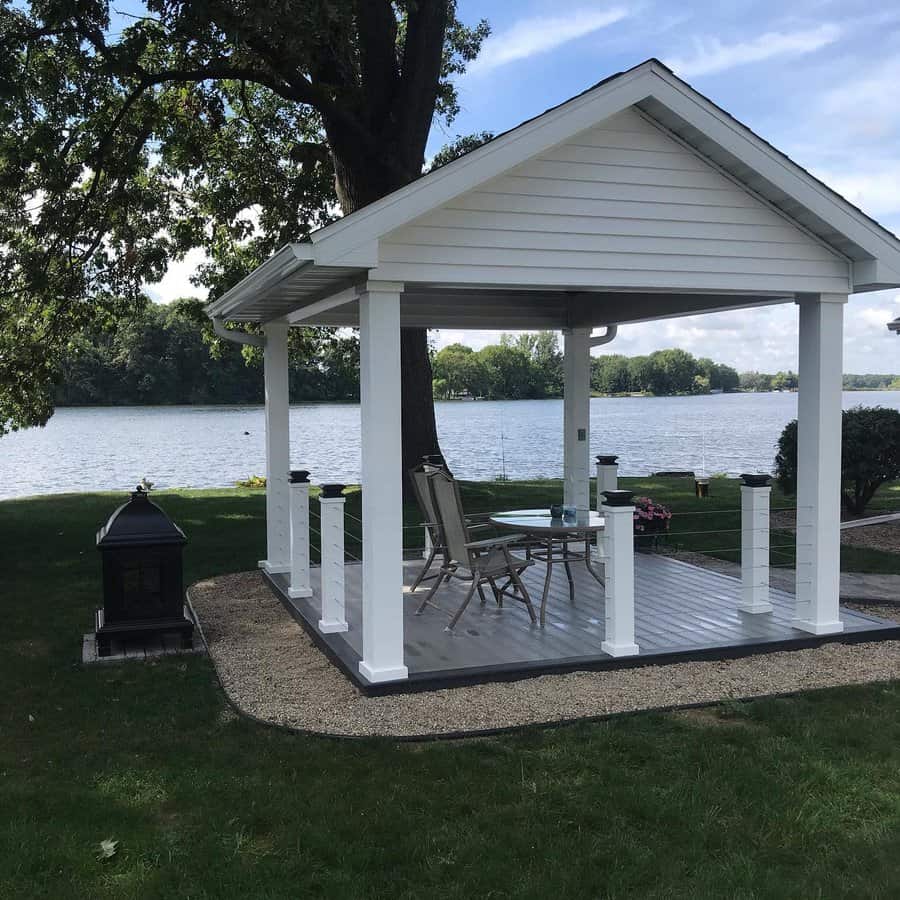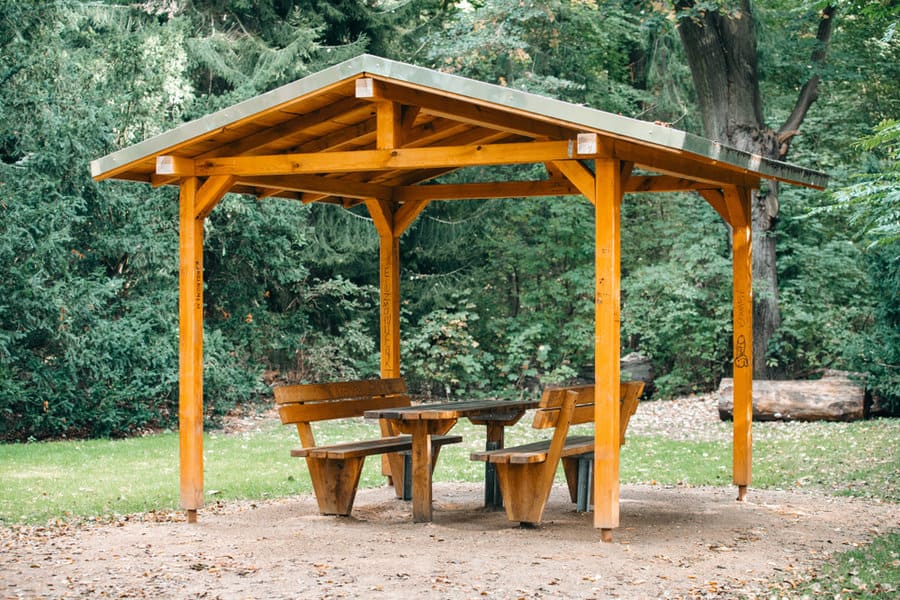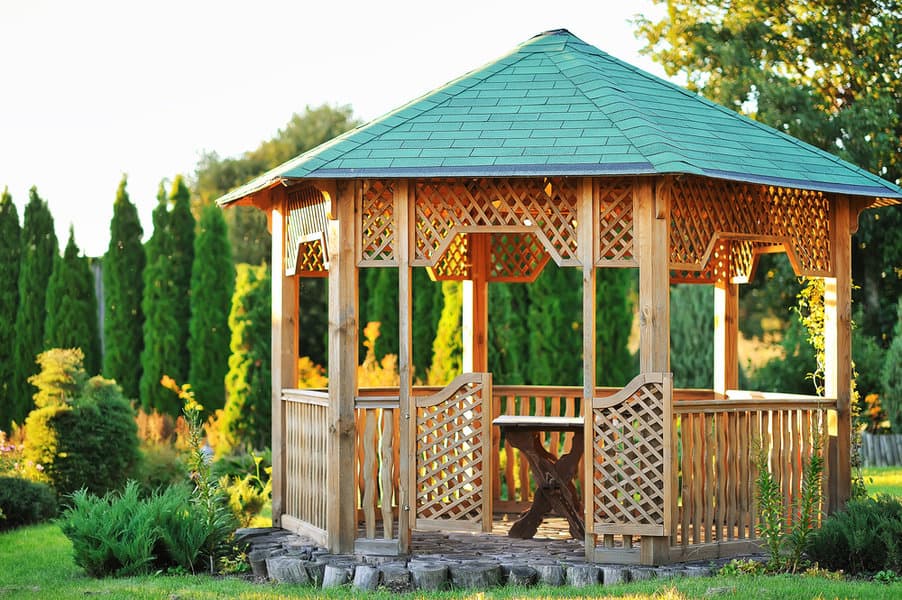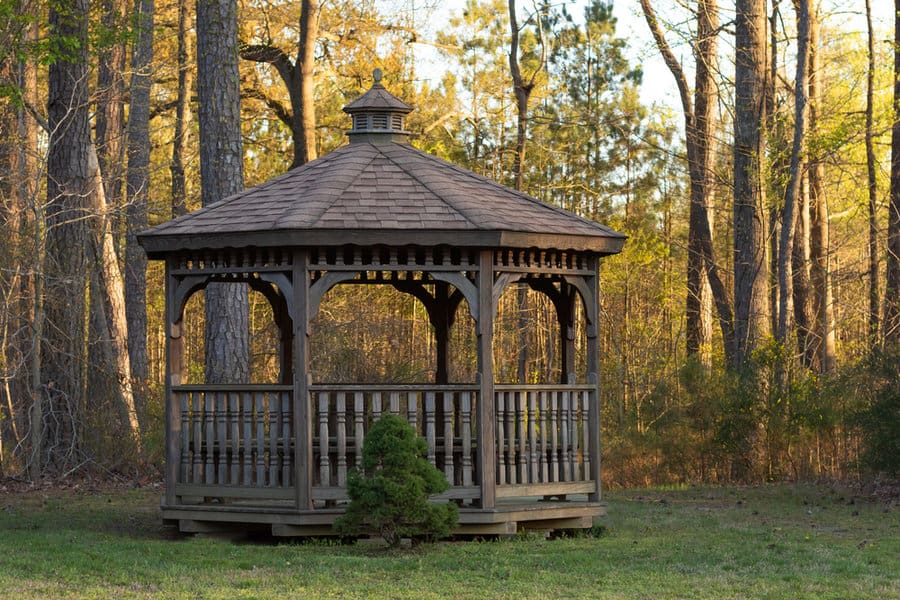 Wood gazebos are timeless. They are resistant and probably the ones that best match the different styles of decoration. Have a look at the inspiring wood gazebos we have selected for you!
FREQUENTLY ASKED QUESTIONS
What materials do I need to build my own wooden gazebo?
Basically, you would need plywood, screws, concrete, wood boards, nails carriage bolts and treated lamber. If you don't want an open roof, you would also need the covers, which can be canvas or straws. You can add linen on the sides, or wood boards, lattice or glass.
Will a gazebo or a pergola add value to my property?
Undoubtedly yes. Especially in big cities, where busy streets and traffic are part of our day-to-day life, outdoor living is like an oasis of peace and fresh air. It is a great addition to your home, a great place to relax, have outside meals and entertain.
What kind of plants should I have around a gazebo?
Prefer the ones that do not obstruct the landscape but bring color and nice aromas. You can plant shrubs and raised planters, so your flowers will stand out above them. For the interior of the gazebo choose aromatic flowers such as lily and roses, and potted plants like lavender, gardenias and jasmine.