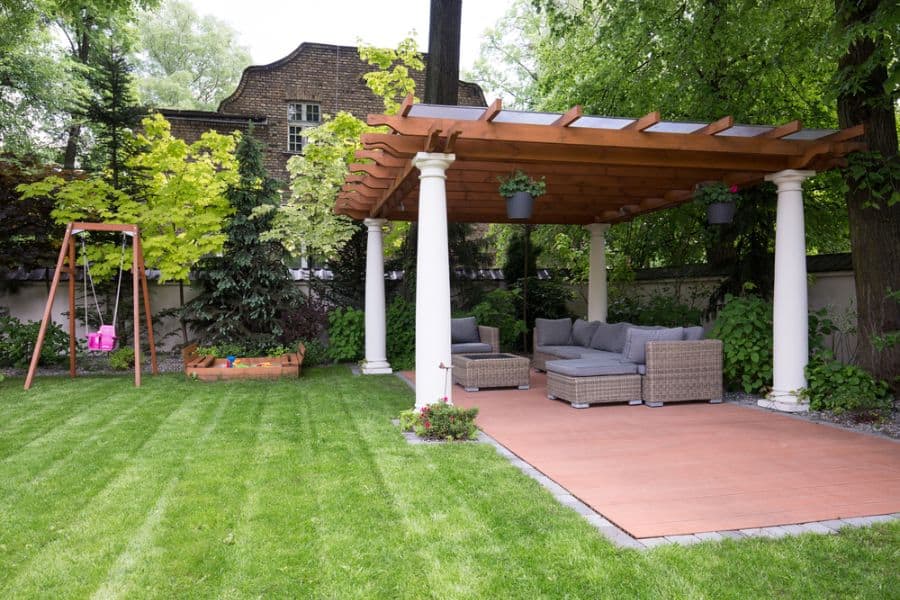 77 Gazebo Ideas for Your Backyard
by — Liz Bittar

Published on March 7, 2022

Updated on October 5, 2023
The backyard can be an extension of your home. It can be a place for children to play, but also for you to have a nice barbecue with friends. A nice garden with a gazebo can be a cozy little spot for you to have meals, relax under the sun and entertain guests and family.
Gazebos are great for garden parties and can be a support area for the pool. If you are looking for inspiring ideas for your outdoor space, check out our selection of gazebos.
1. Rustic Wooden Bungalow Gazebo
Enhance your backyard with the timeless charm of a Rustic Wooden Bungalow Gazebo. This classic addition offers a perfect setting for outdoor dining and leisurely gatherings. Consider complementing it with rustic furniture and string lights for a cozy atmosphere that invites cherished moments with friends and family. Build your square gazebo as a DIY project to personalize your outdoor space, and enjoy the warmth and joy it brings on sunny days.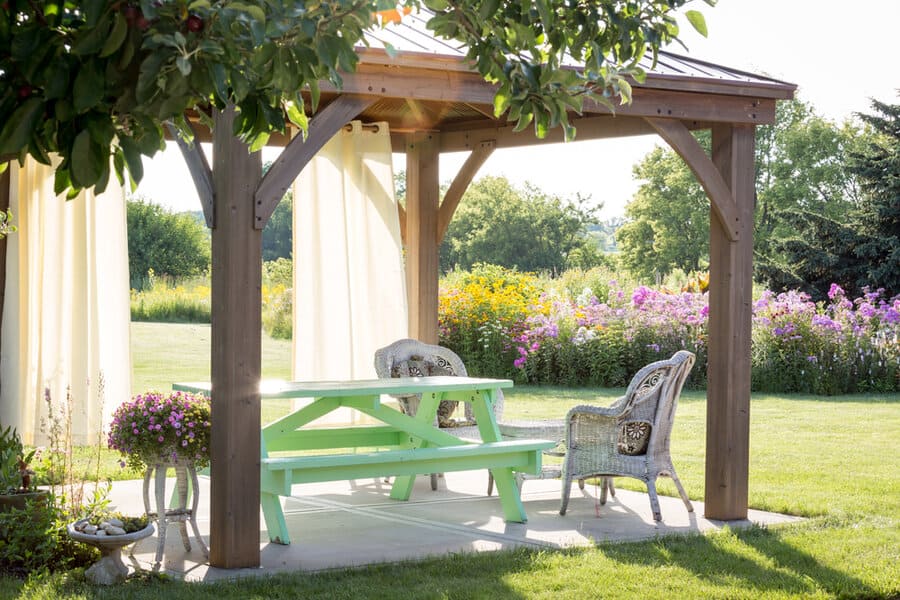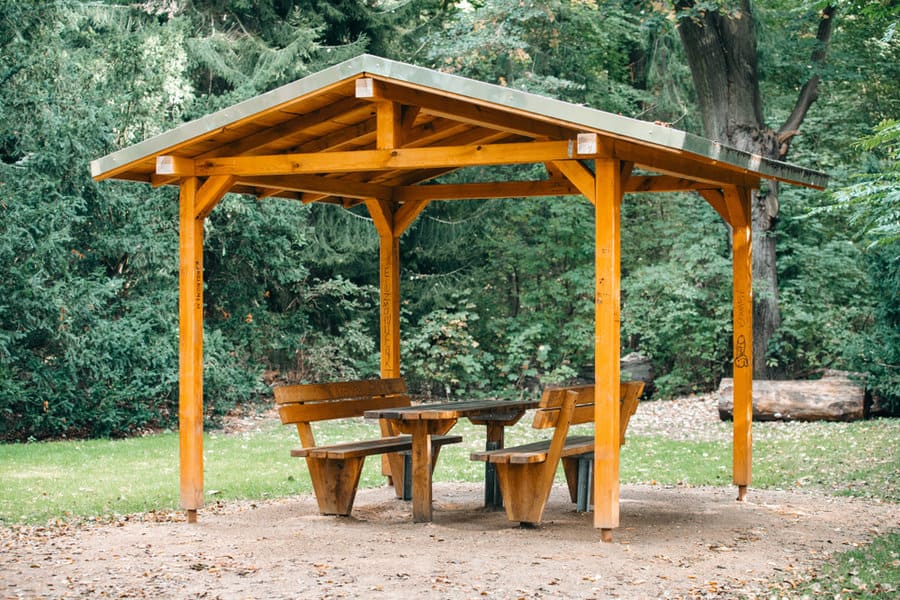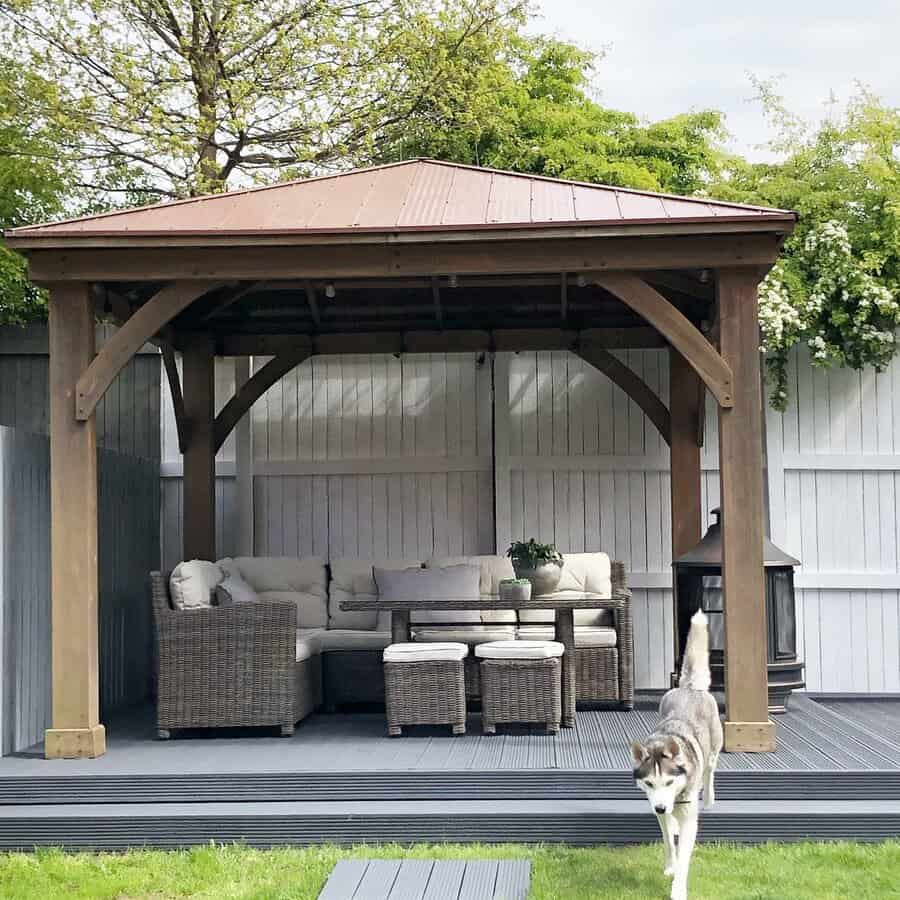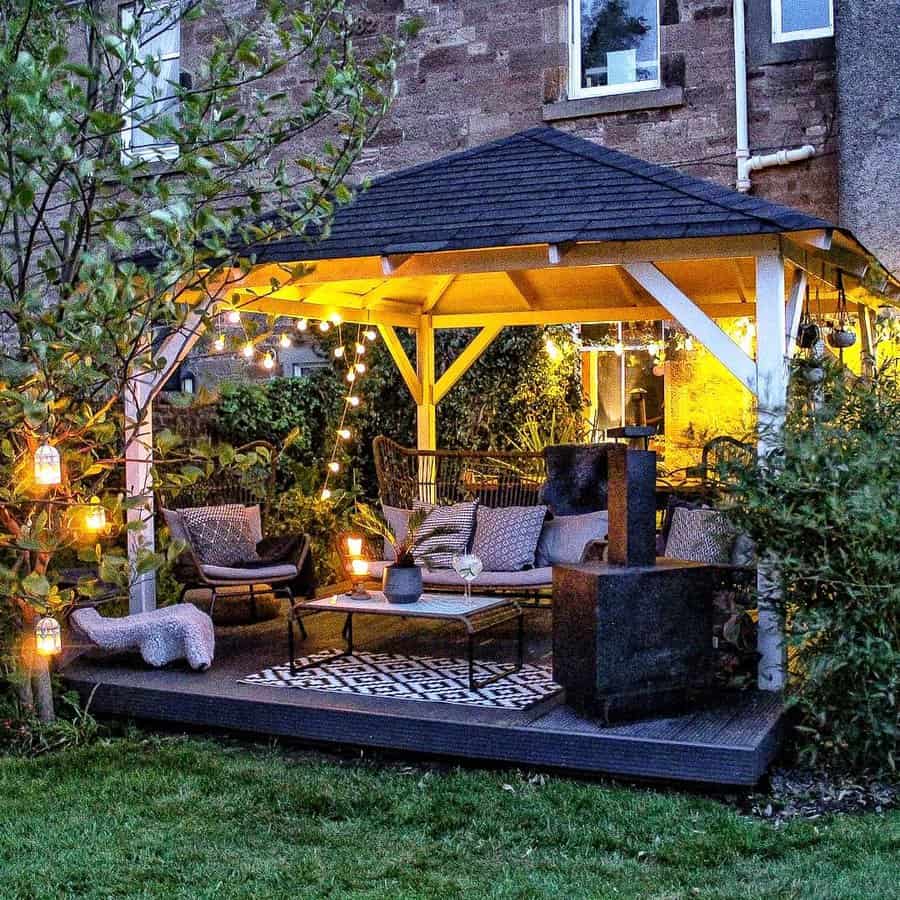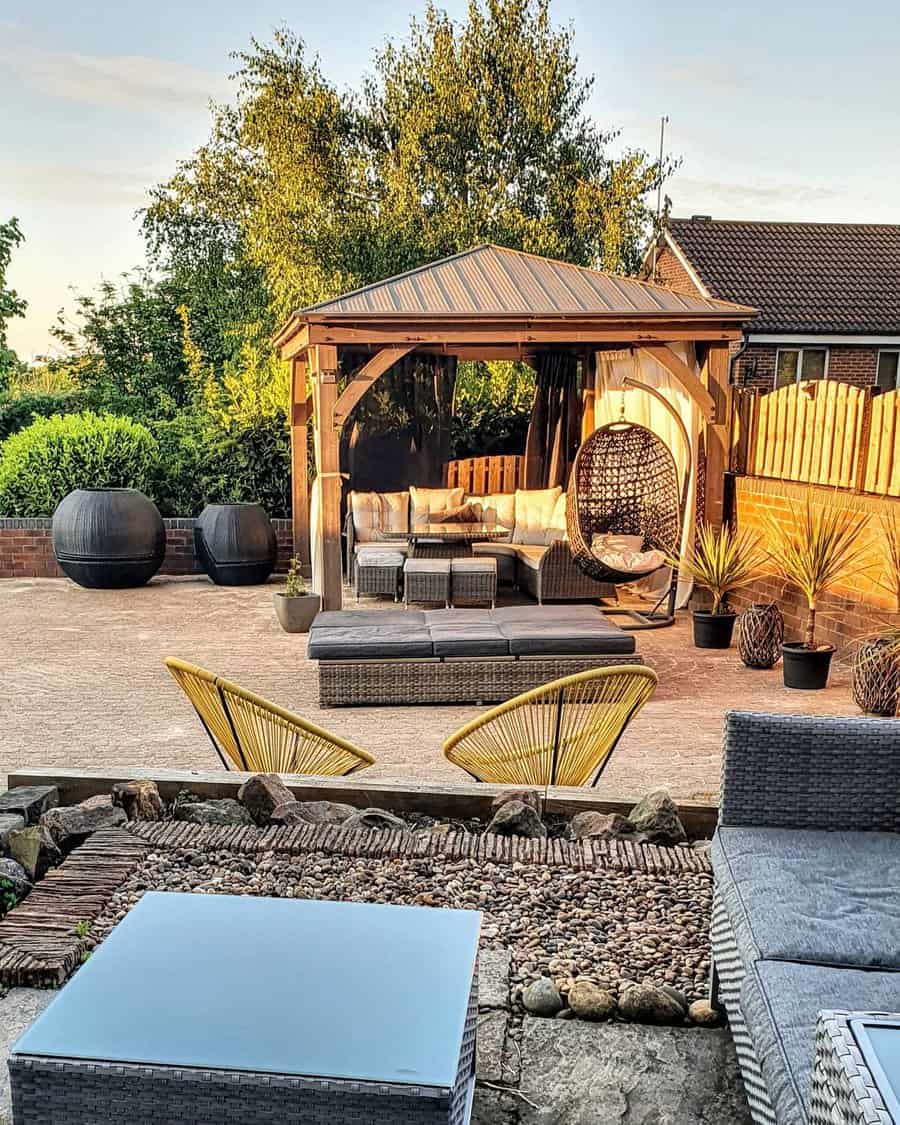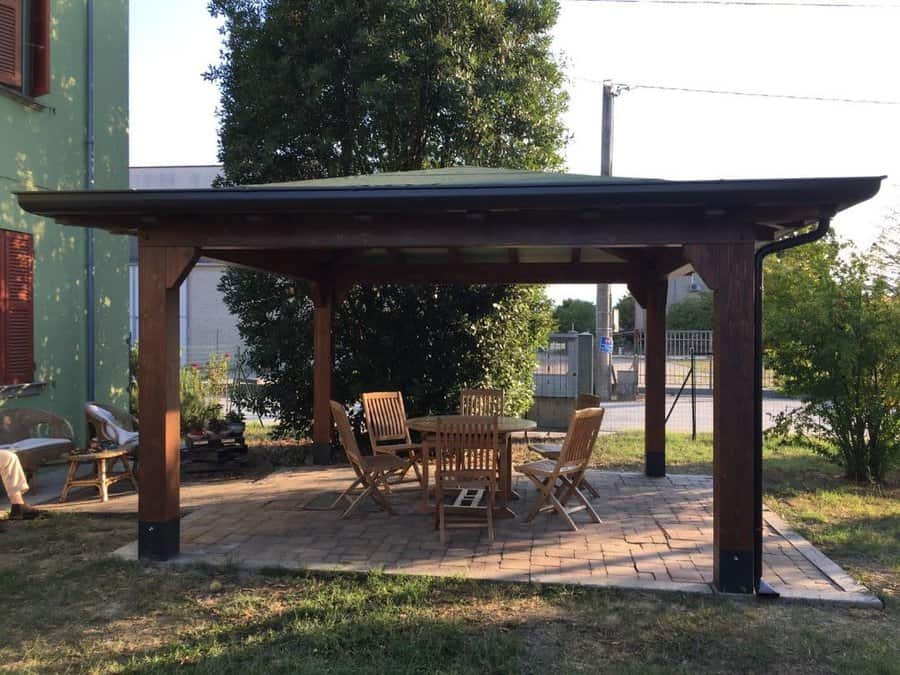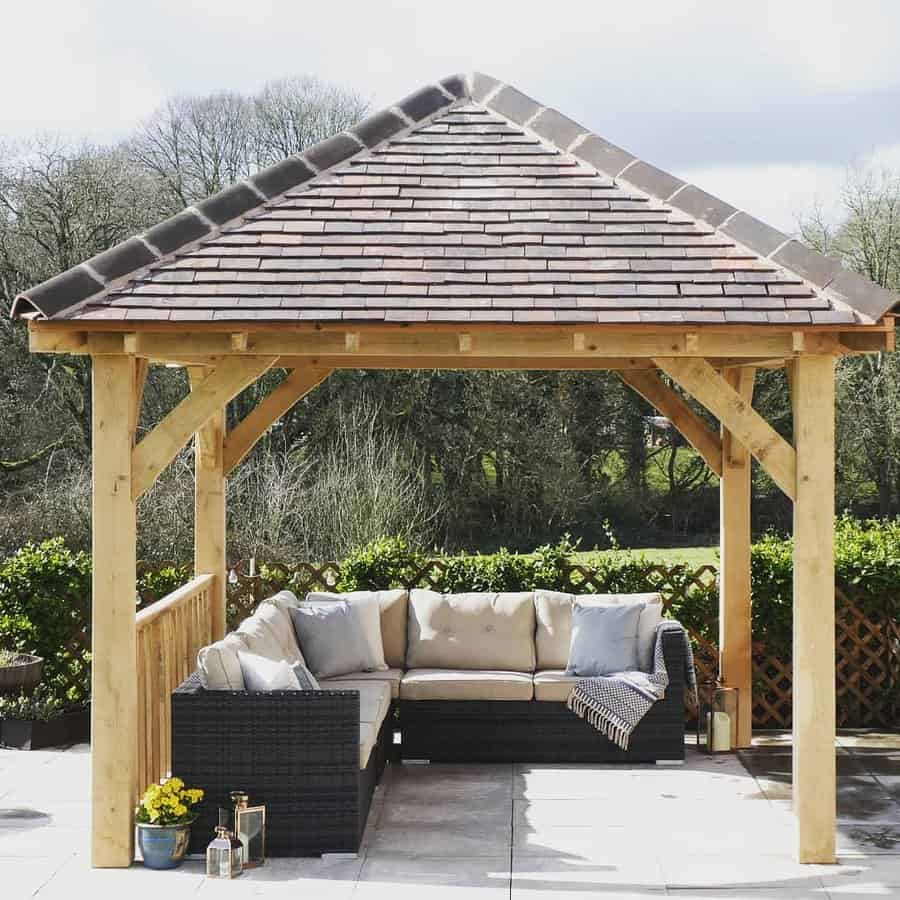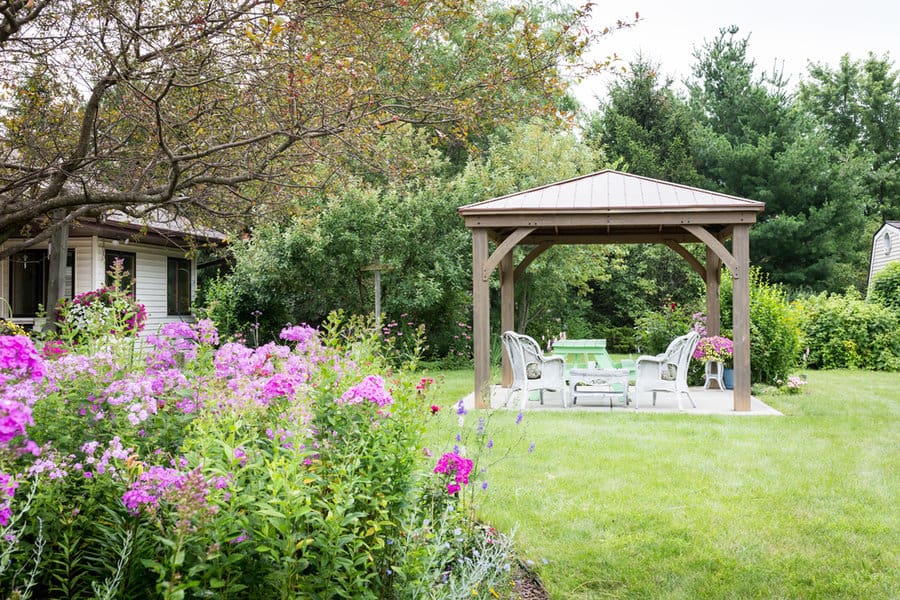 2. Elegant Curtain-Draped Gazebo
Transform your backyard into an oasis of elegant relaxation with an Elegant Curtain-Draped Gazebo. Surround your gazebo with sheer curtain panels to create an inviting and mysterious ambiance while staying connected to the outdoors. Illuminate the space with outdoor lighting to enhance its charm, and consider adding fabric swags to the roofline for both visual appeal and protection from rain showers. This gazebo design is a beautiful addition for enjoying enchanting summer evenings in your own backyard.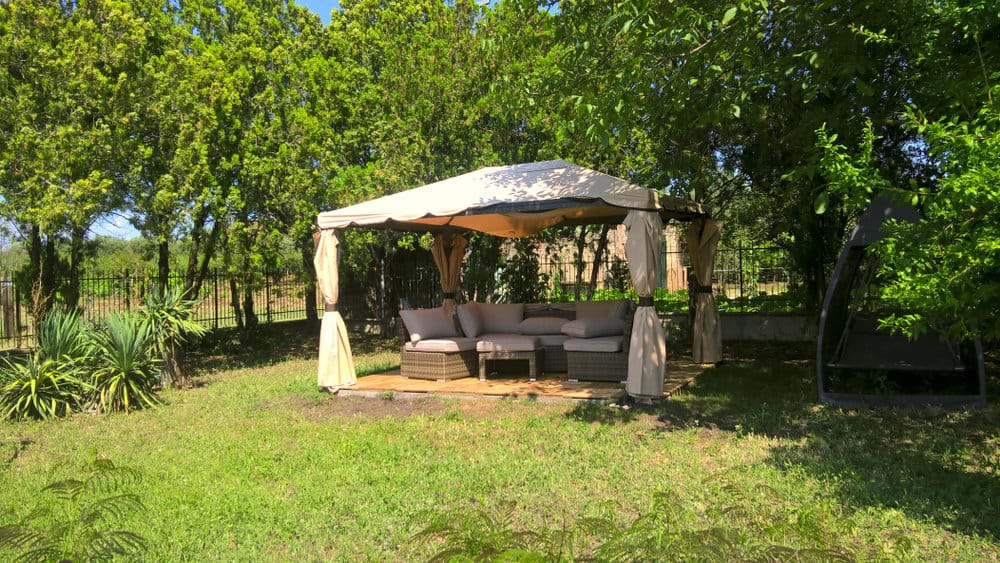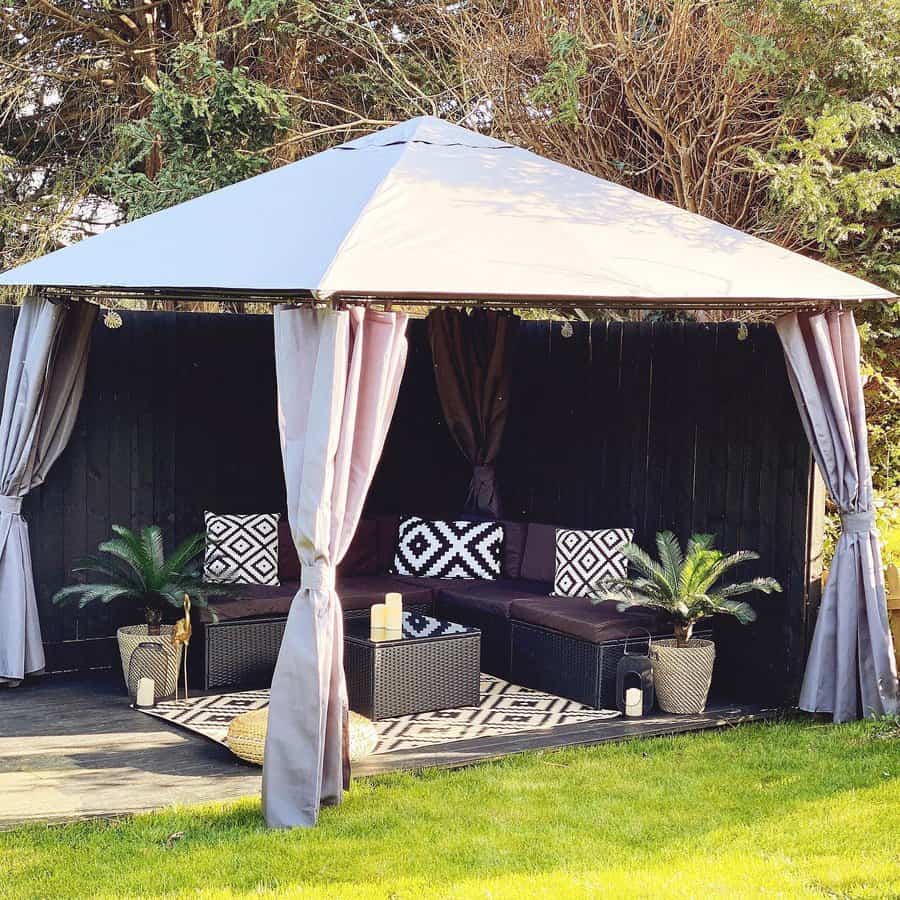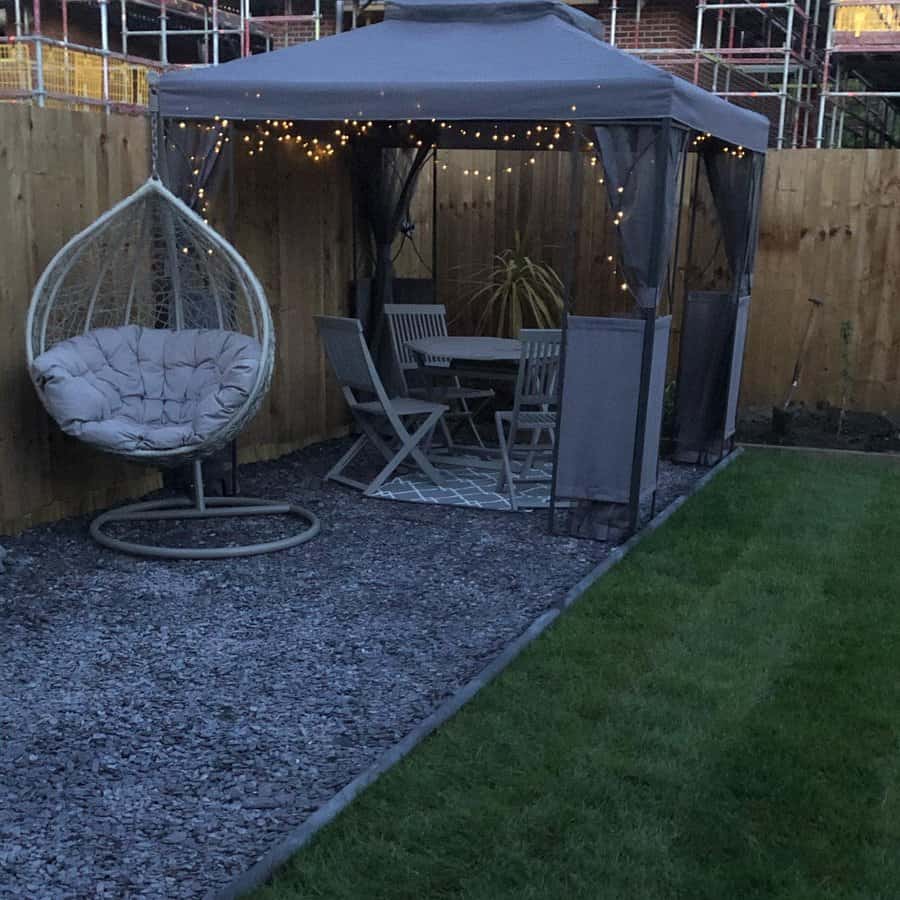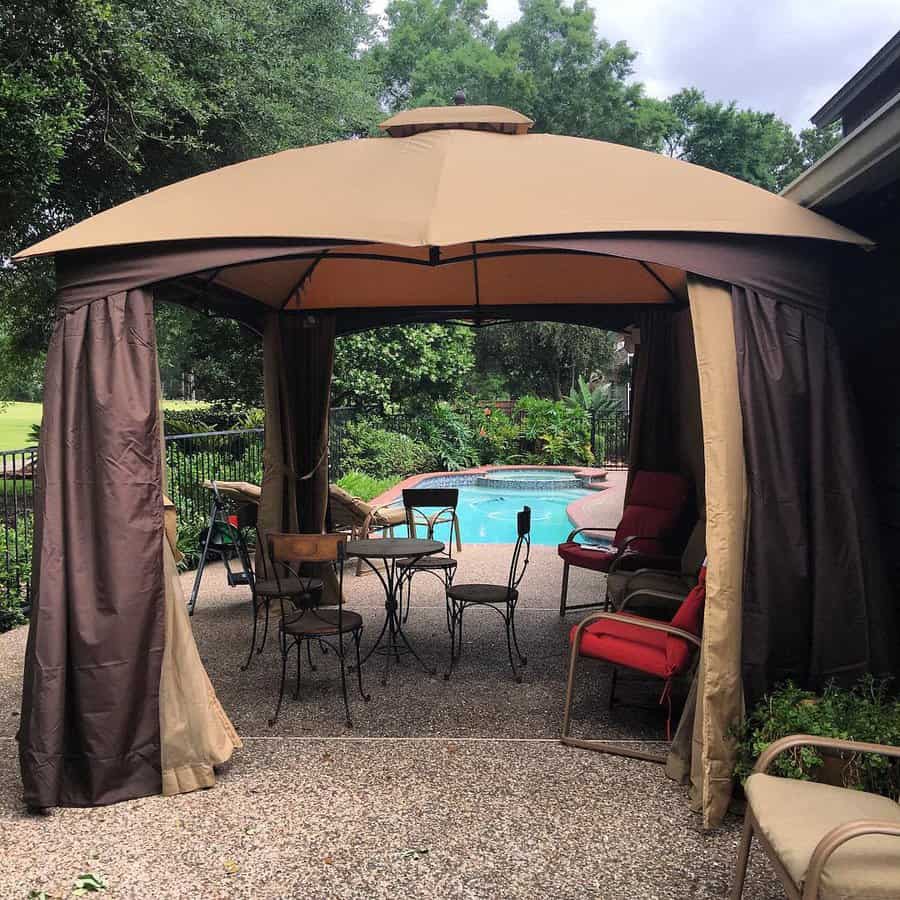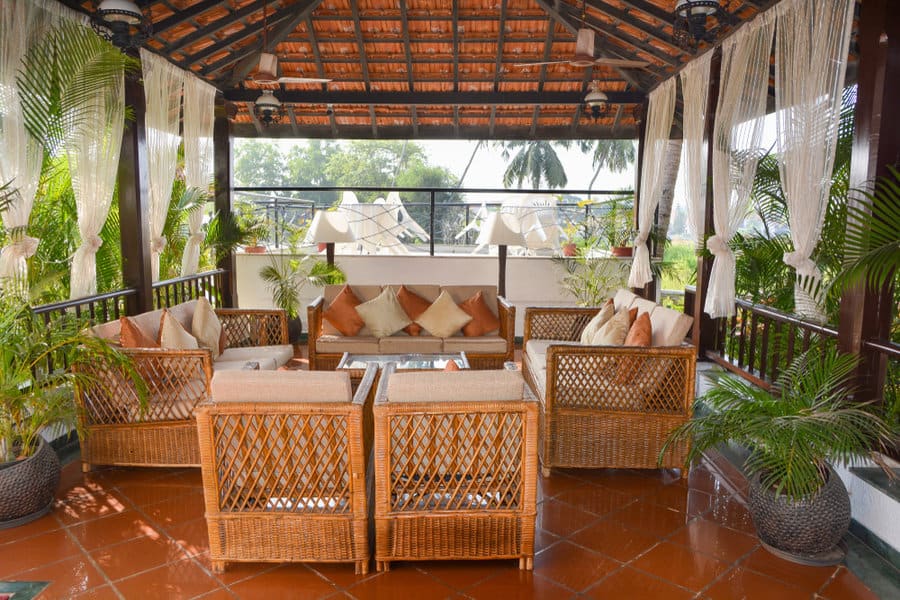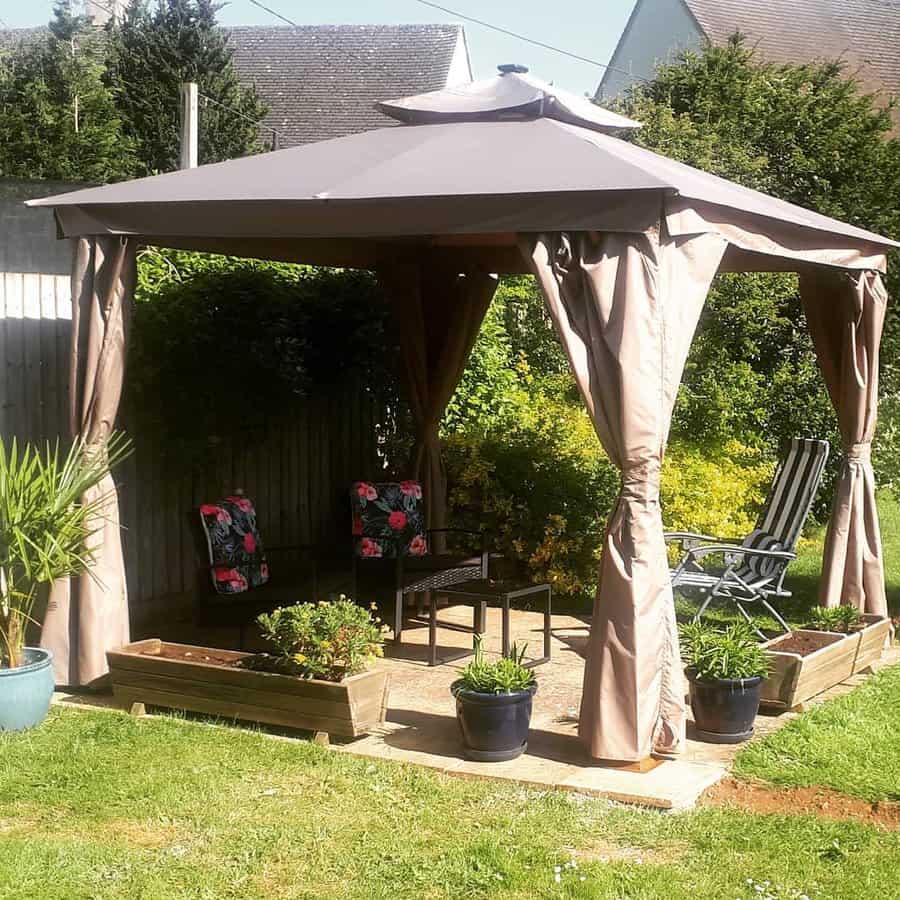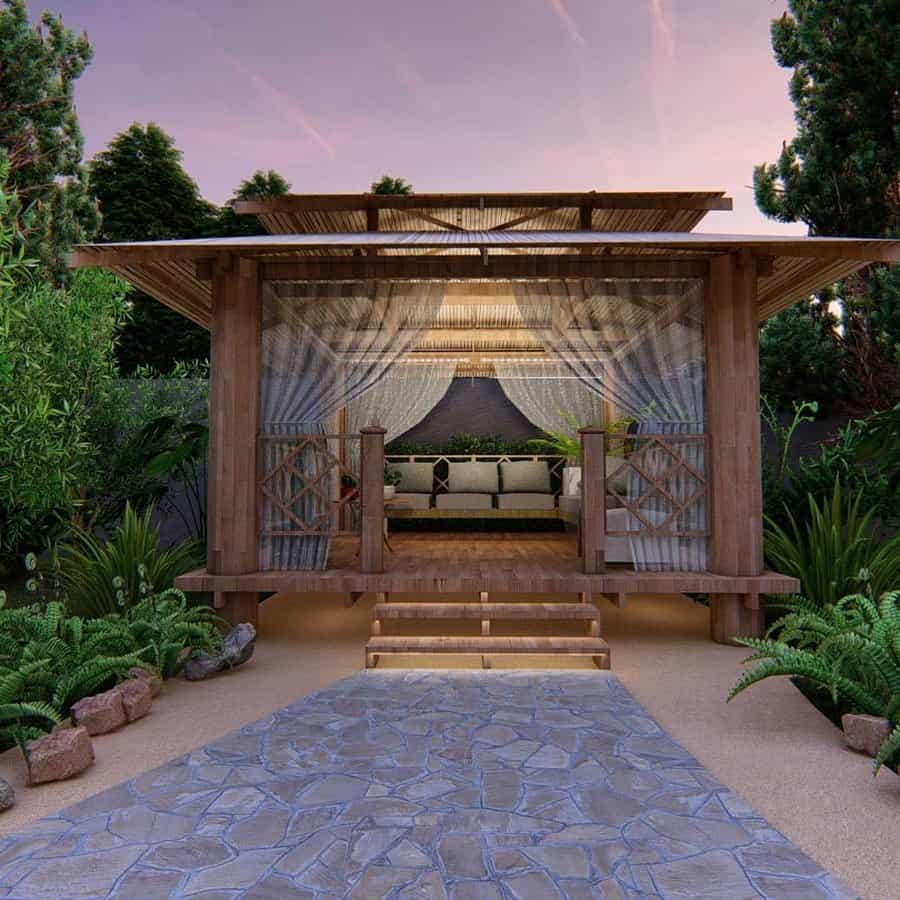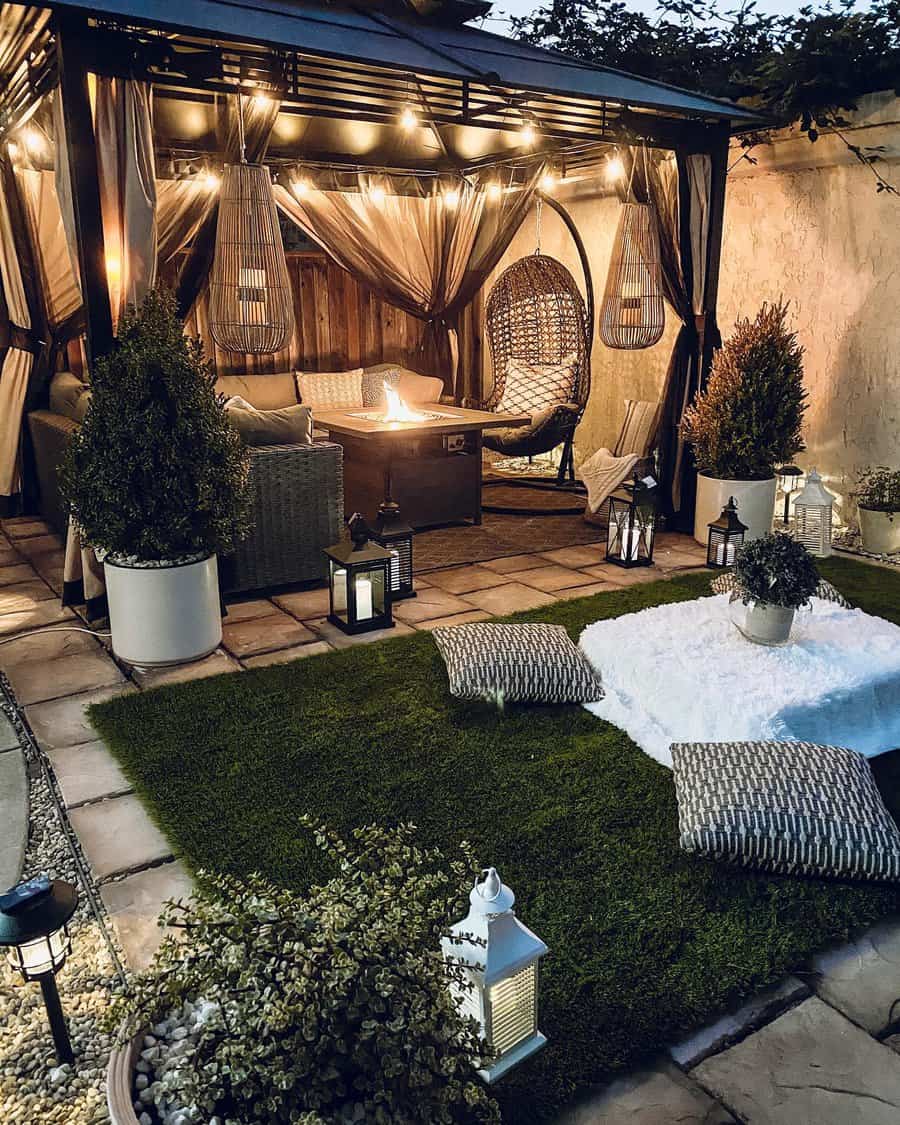 3. Charming Trellis-Sided Gazebo
Create an exceptional outdoor haven with a Charming Trellis-Sided Gazebo. Trellis sides offer privacy and shelter from the wind and insects, making it perfect for leisurely outdoor gatherings. Take advantage of the trellis structure to cultivate native climbing plants, infusing your gazebo with vibrant floral accents that breathe life and color into the space. With regular maintenance, your trellis-sided gazebo will continue to be a tranquil retreat, providing solace after a long day. Consider adding cozy seating and outdoor cushions to complete the inviting atmosphere.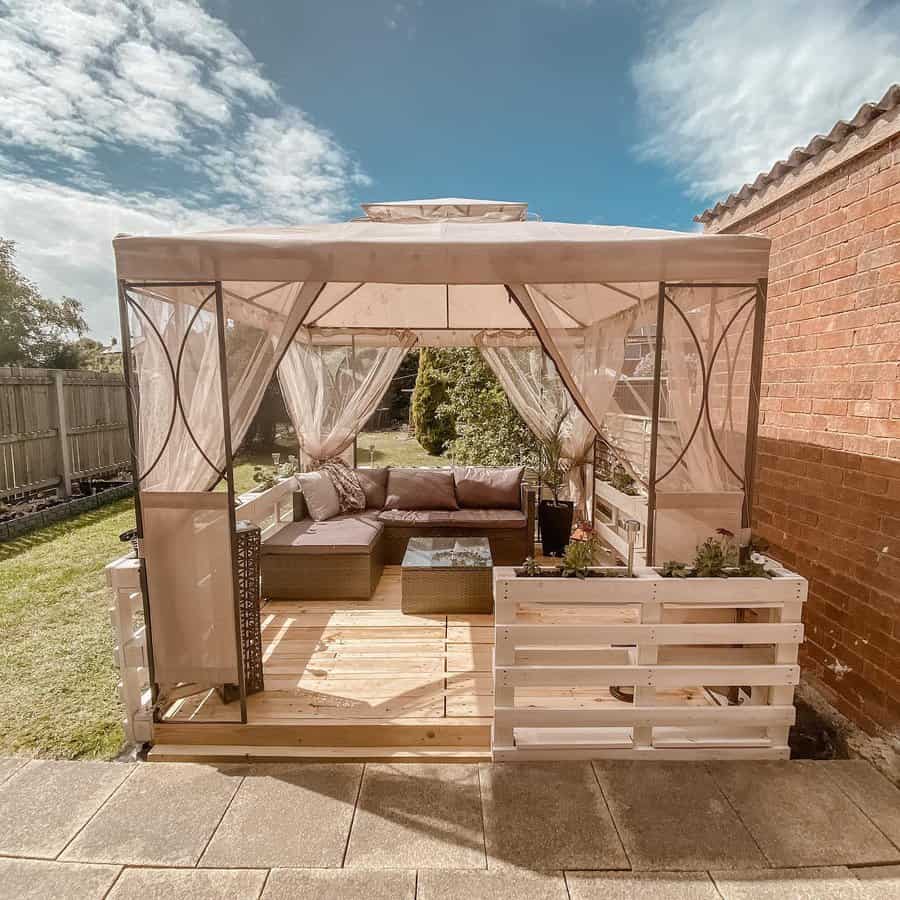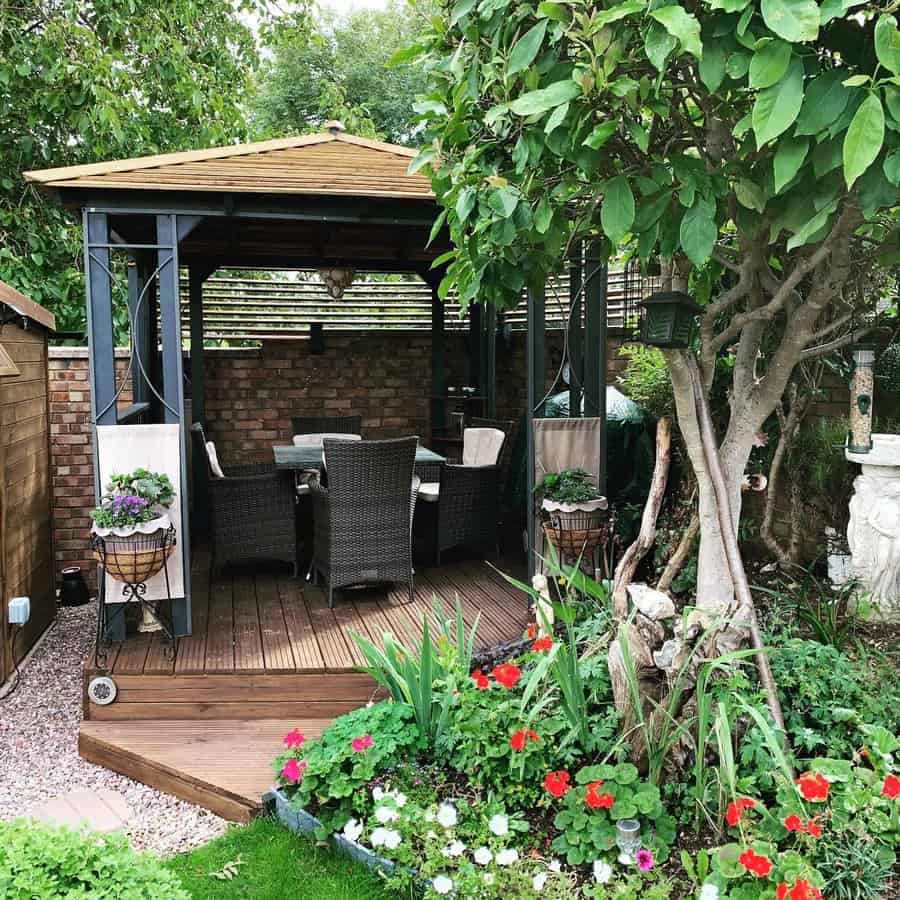 4. Stylish Pergola-Inspired Gazebo
Elevate your backyard's style with a Stylish Pergola-Inspired Gazebo. These gazebos offer both elegance and functionality, providing a cool retreat from the summer sun and protection from wet weather. Consider enhancing your pergola gazebo with features like outdoor kitchens and integrated furniture for an elevated outdoor living experience. The versatility of pergola designs allows for a wide range of options, from traditional to contemporary, ensuring there's a style to match your individual taste. Embrace the charm and character that pergola gazebos bring to your backyard space, creating an inviting and stylish outdoor haven.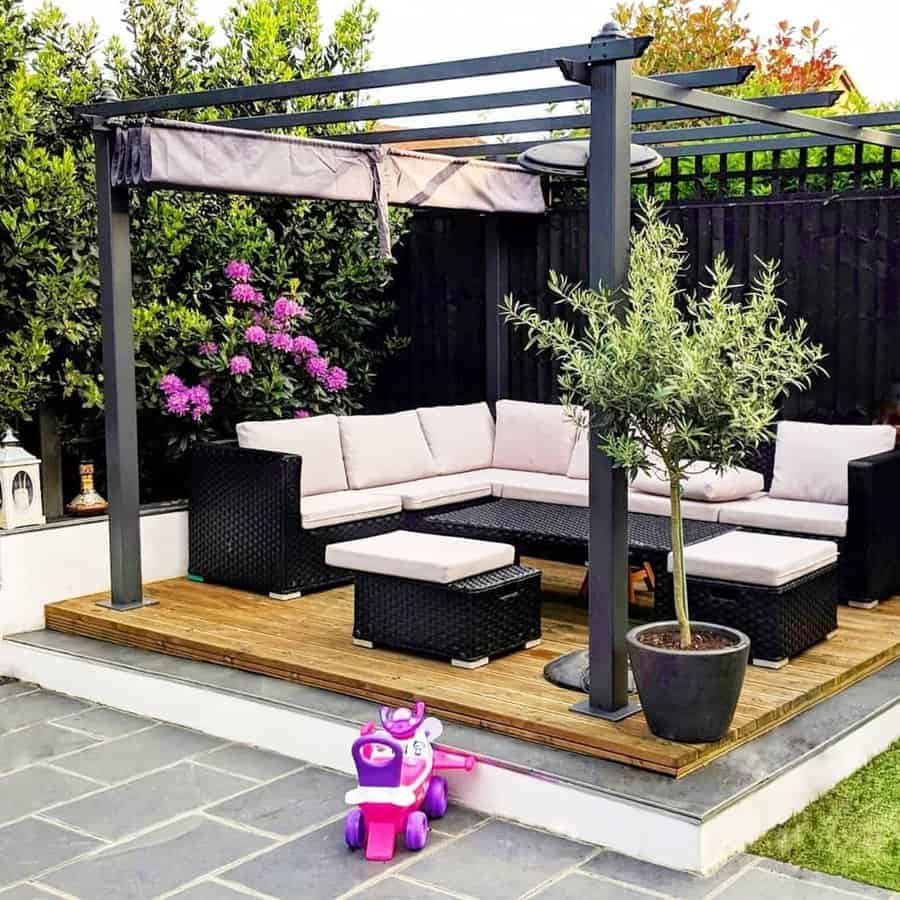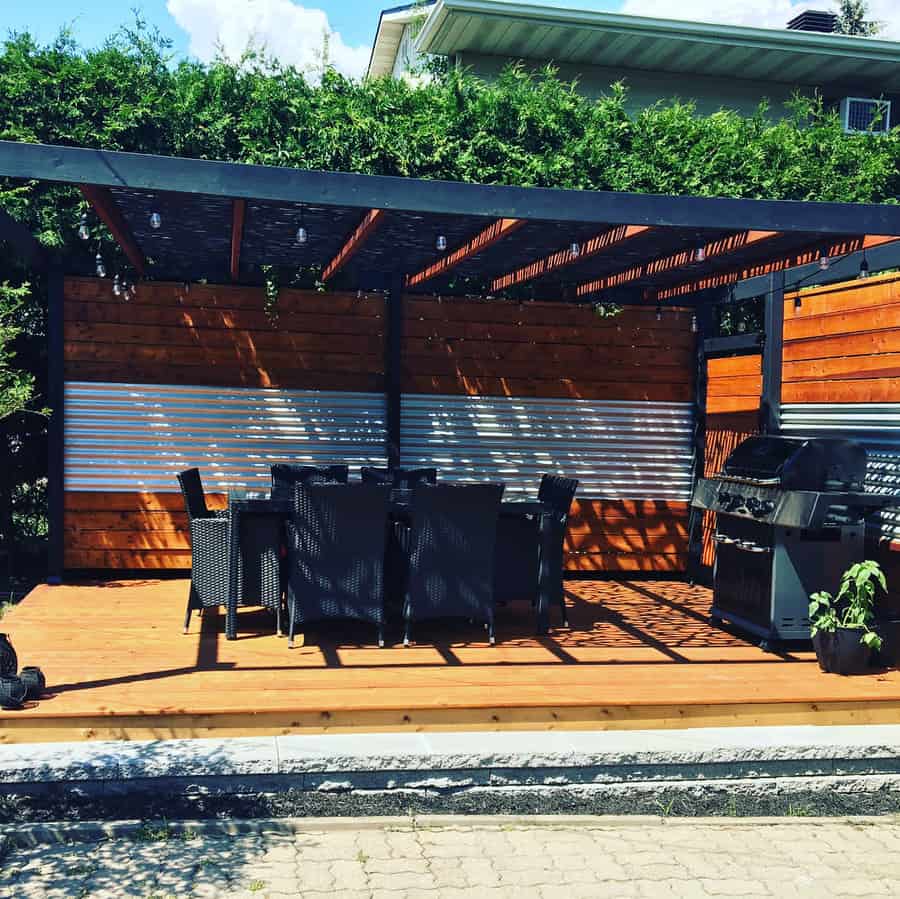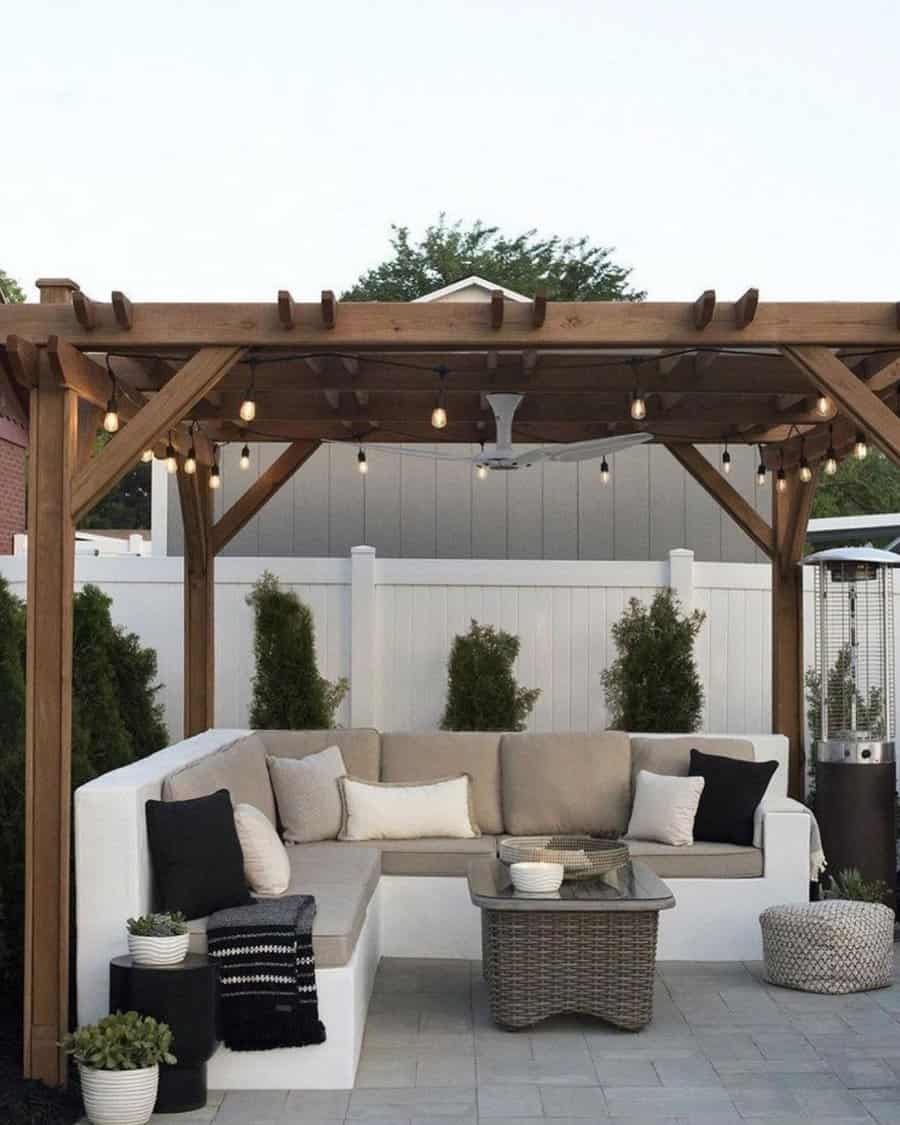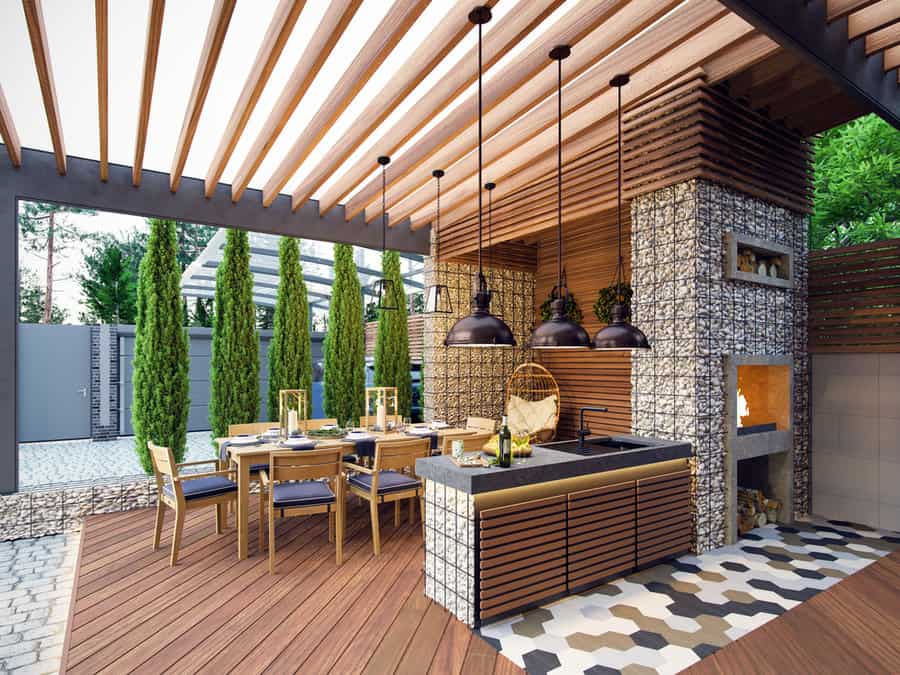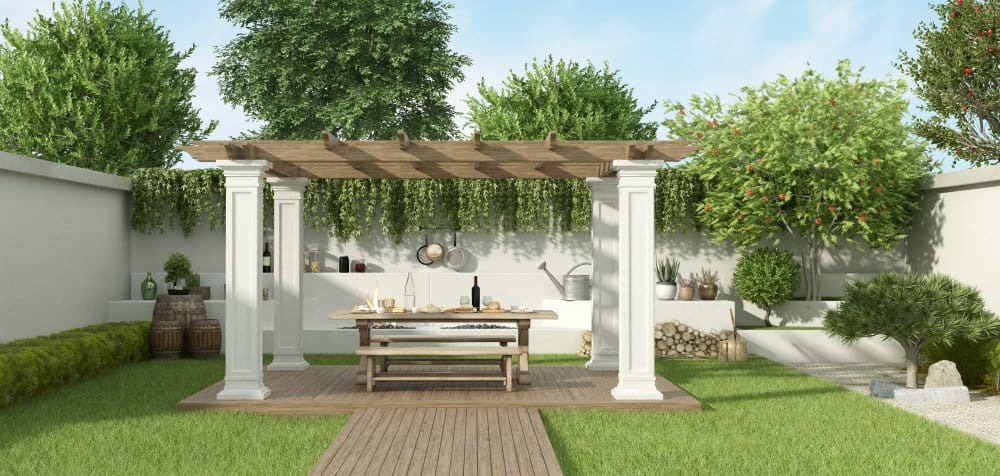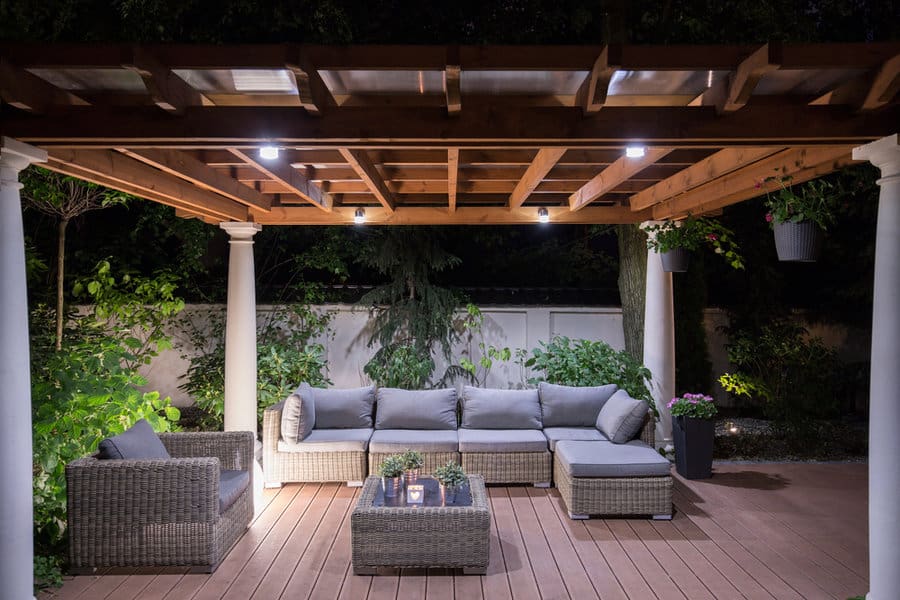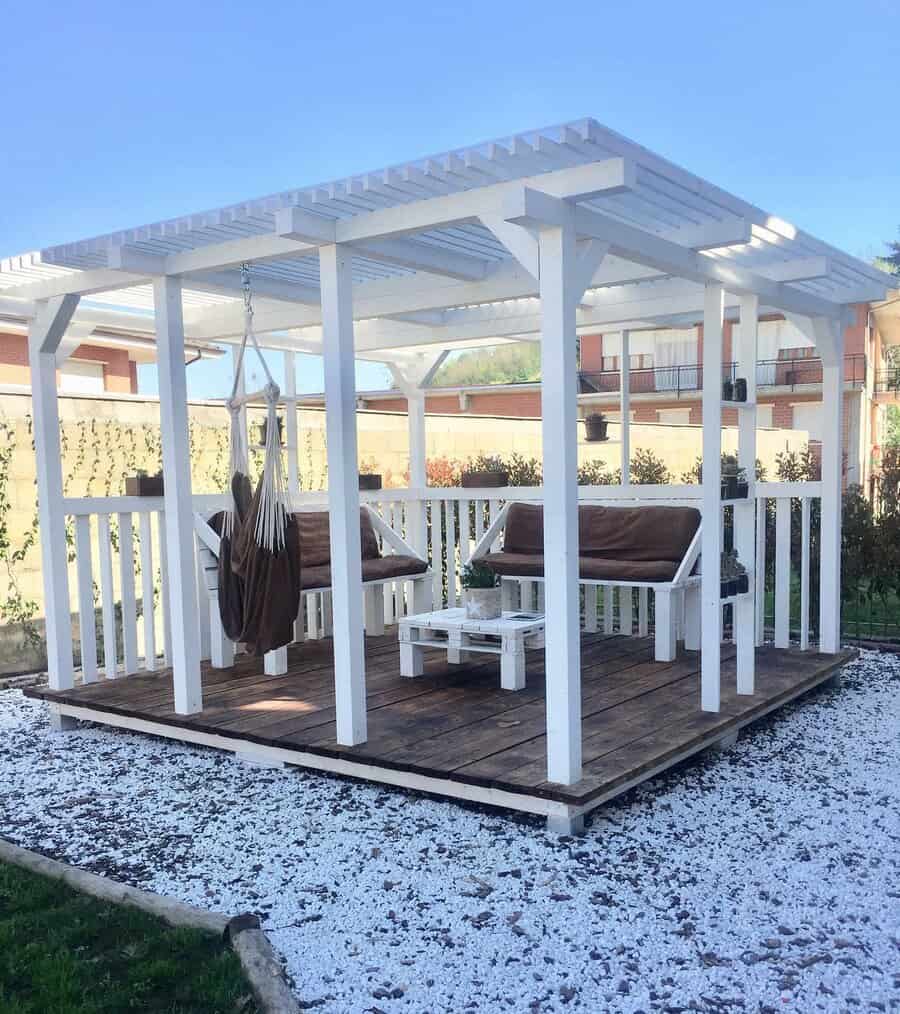 5. Convenient Pop-Up Gazebo
Make outdoor entertaining a breeze with a Convenient Pop-Up Gazebo. Ideal for summer gatherings or garden parties, these gazebos come in various sizes and styles to suit your backyard. Their portability allows you to choose the perfect location or move with the sun's path throughout the day. When not in use, pop-up gazebos fold flat for easy storage, making them versatile for changing seasons or other outdoor activities. Whether you seek shade or a stylish outdoor setting, a pop-up gazebo is an essential addition to your backyard oasis. Explore the options and consider adding one today to elevate your outdoor experience.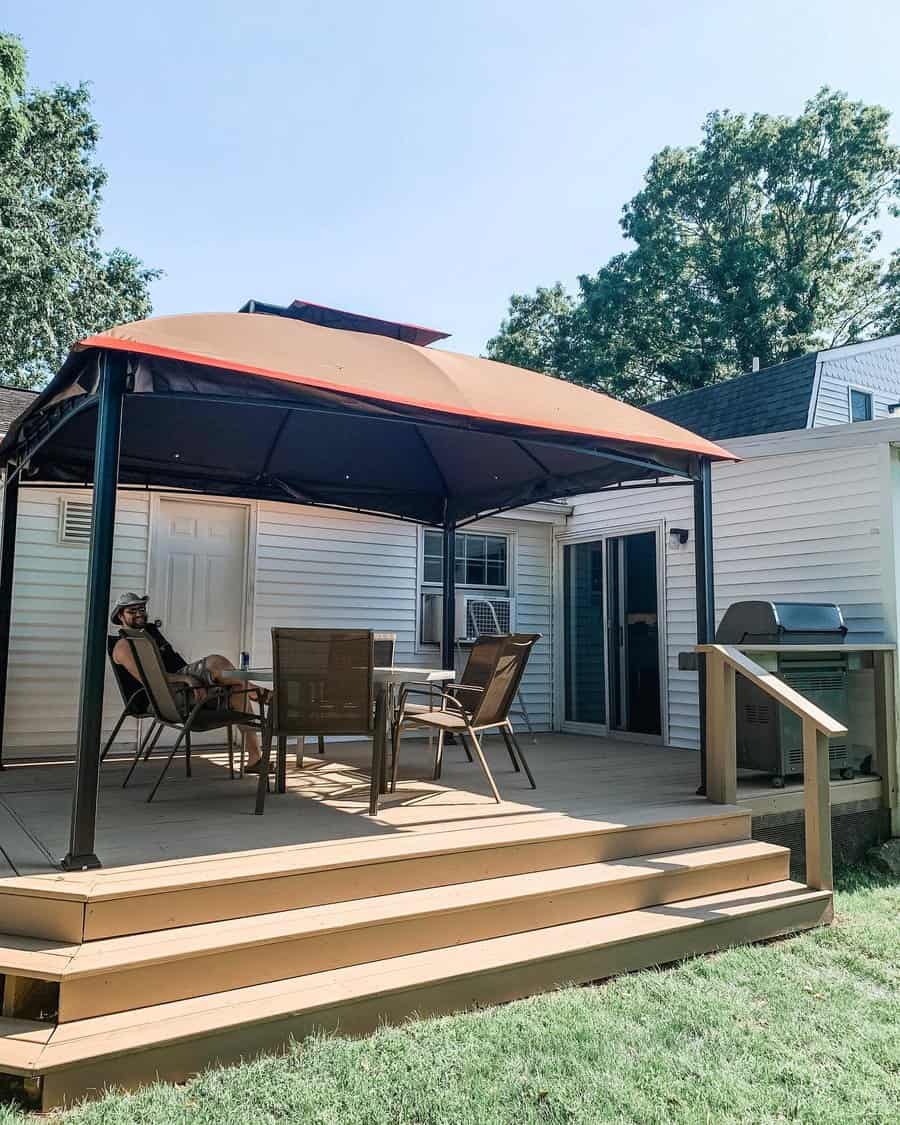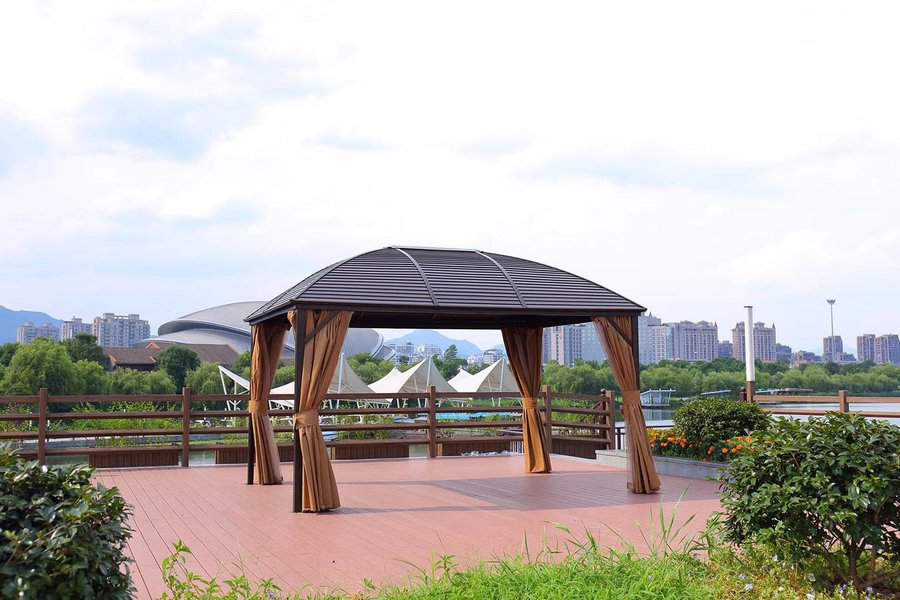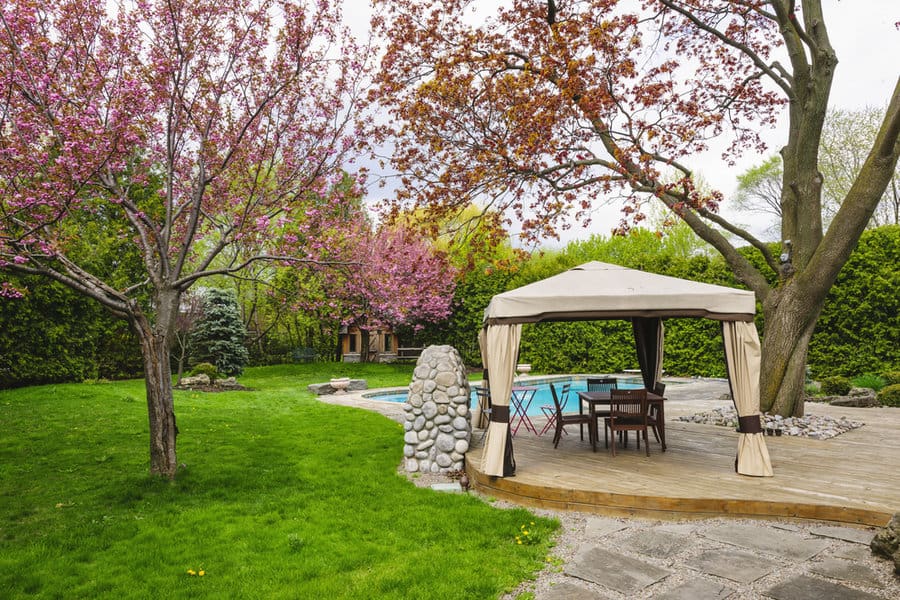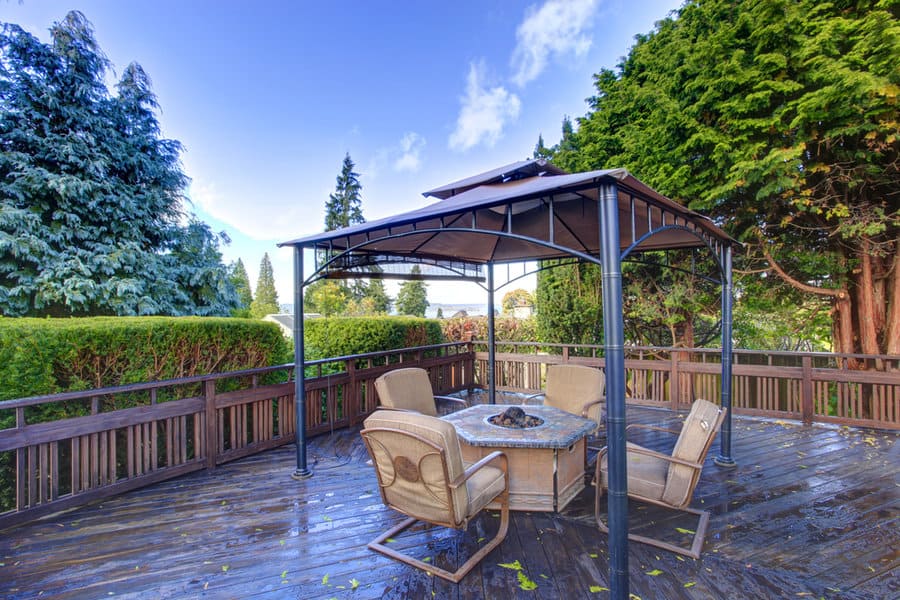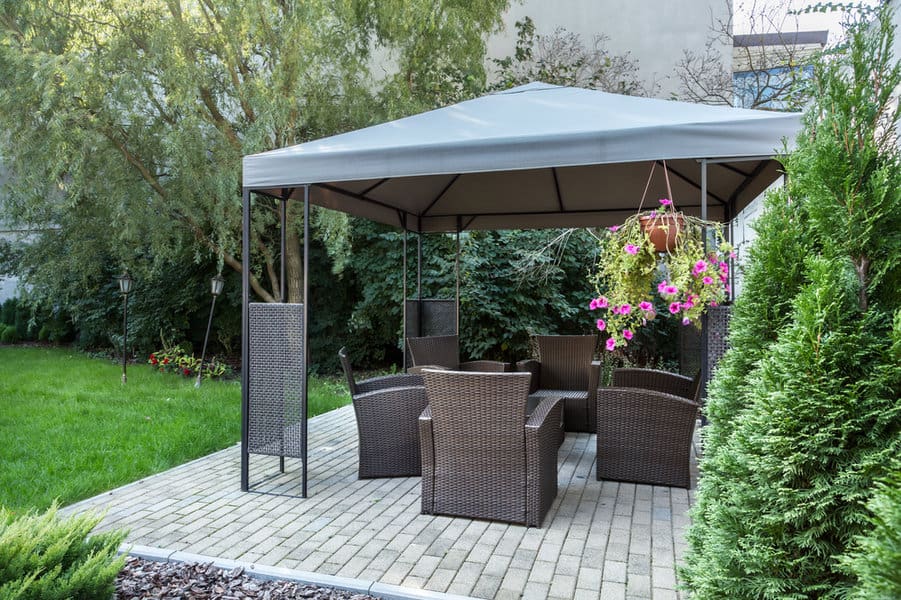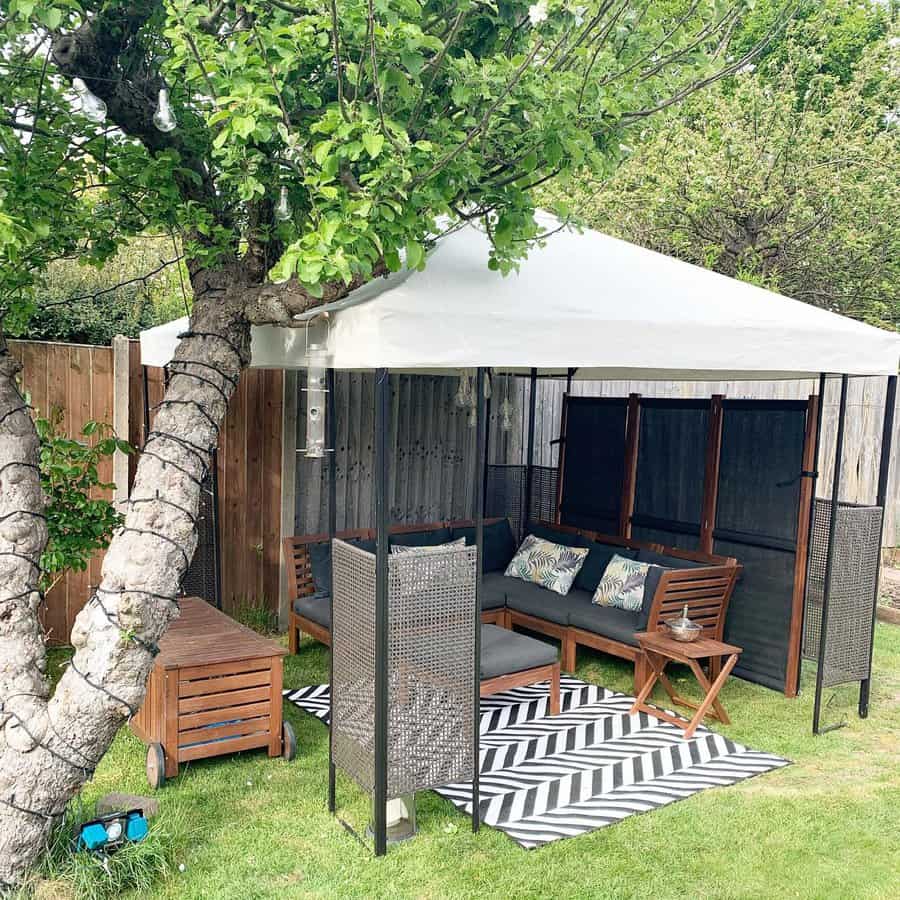 6. Fenced Backyard Gazebo Retreat
Create a tranquil escape in your backyard with a Fenced Backyard Gazebo Retreat. This design adds an extra layer of privacy and serenity, allowing you to fully enjoy your gazebo sanctuary away from the daily hustle and bustle. Beyond its peaceful ambiance, a fenced gazebo offers versatility, serving as an entertaining space or even providing extra storage. Customize your retreat with comfortable seating, outdoor lighting, and lush greenery to make it a cozy and inviting haven for relaxation and gatherings alike.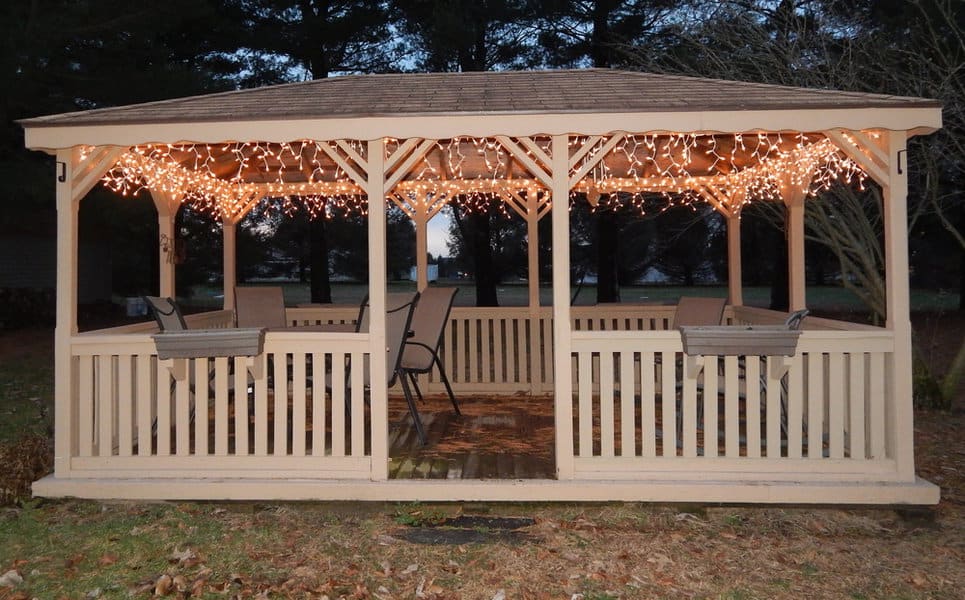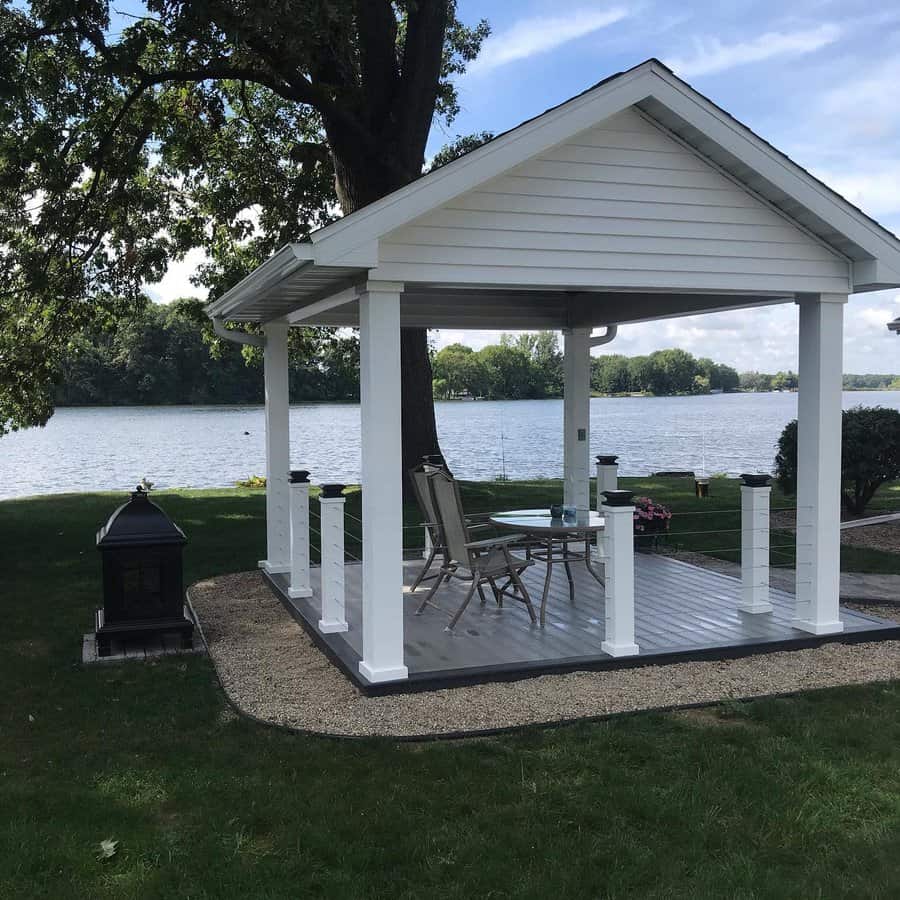 7. Graceful Round Garden Gazebo
Elevate your outdoor space with a Graceful Round Garden Gazebo. These timeless and elegant structures have been cherished for centuries, making them a classic addition to your backyard oasis. Opting for a round gazebo adds a touch of tradition while remaining adaptable to modern accents and design elements. Whether you use it for leisurely lounging or hosting gatherings, a round gazebo promises to enhance the beauty and charm of your outdoor haven. Consider adding comfortable seating, potted plants, and decorative lighting to create an inviting atmosphere that you'll adore.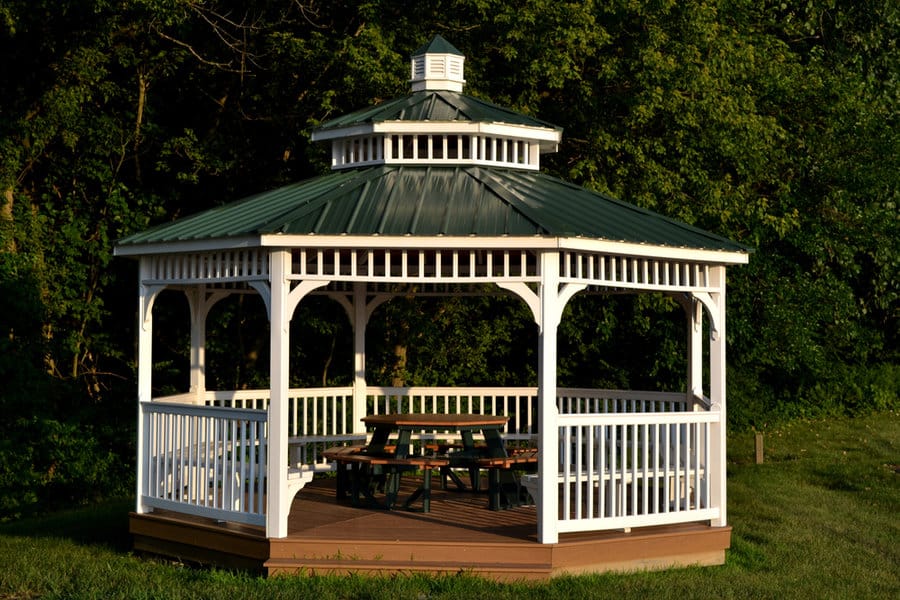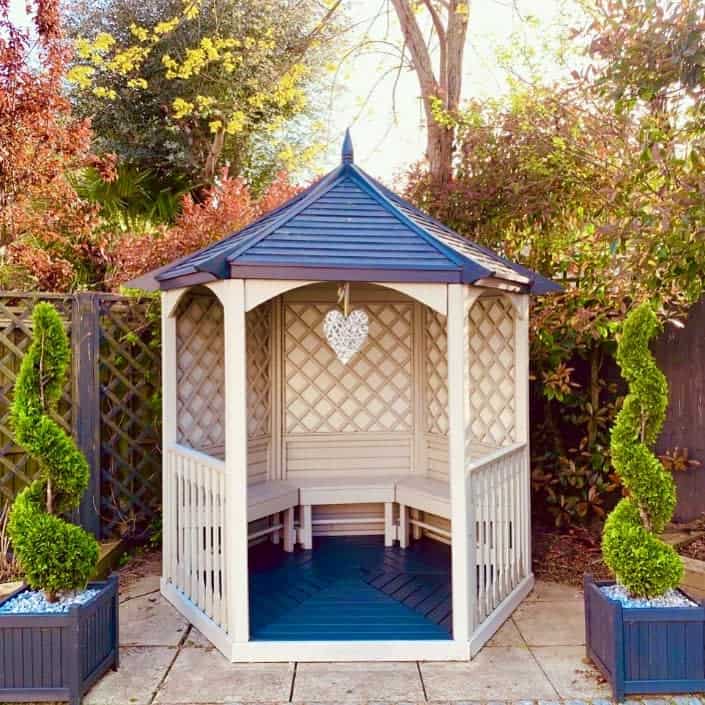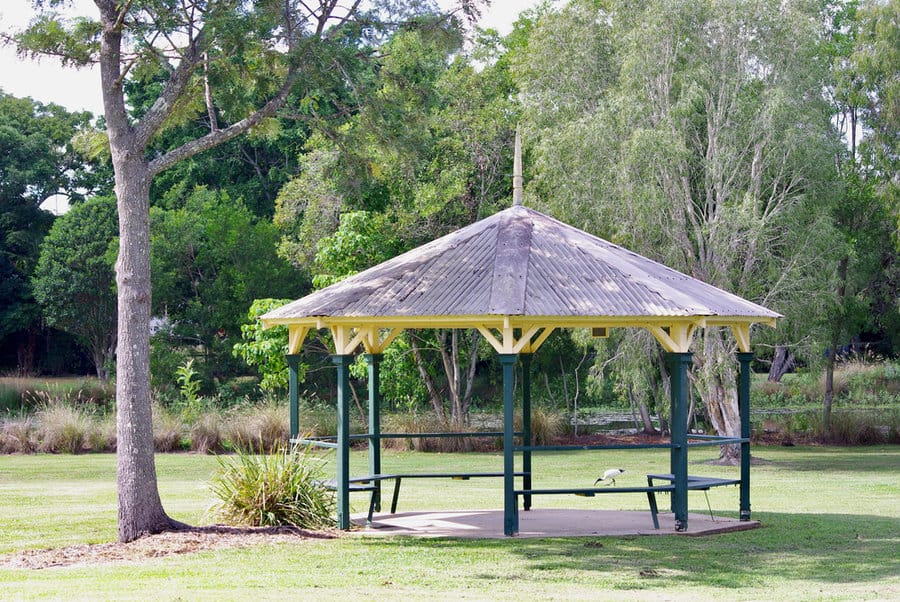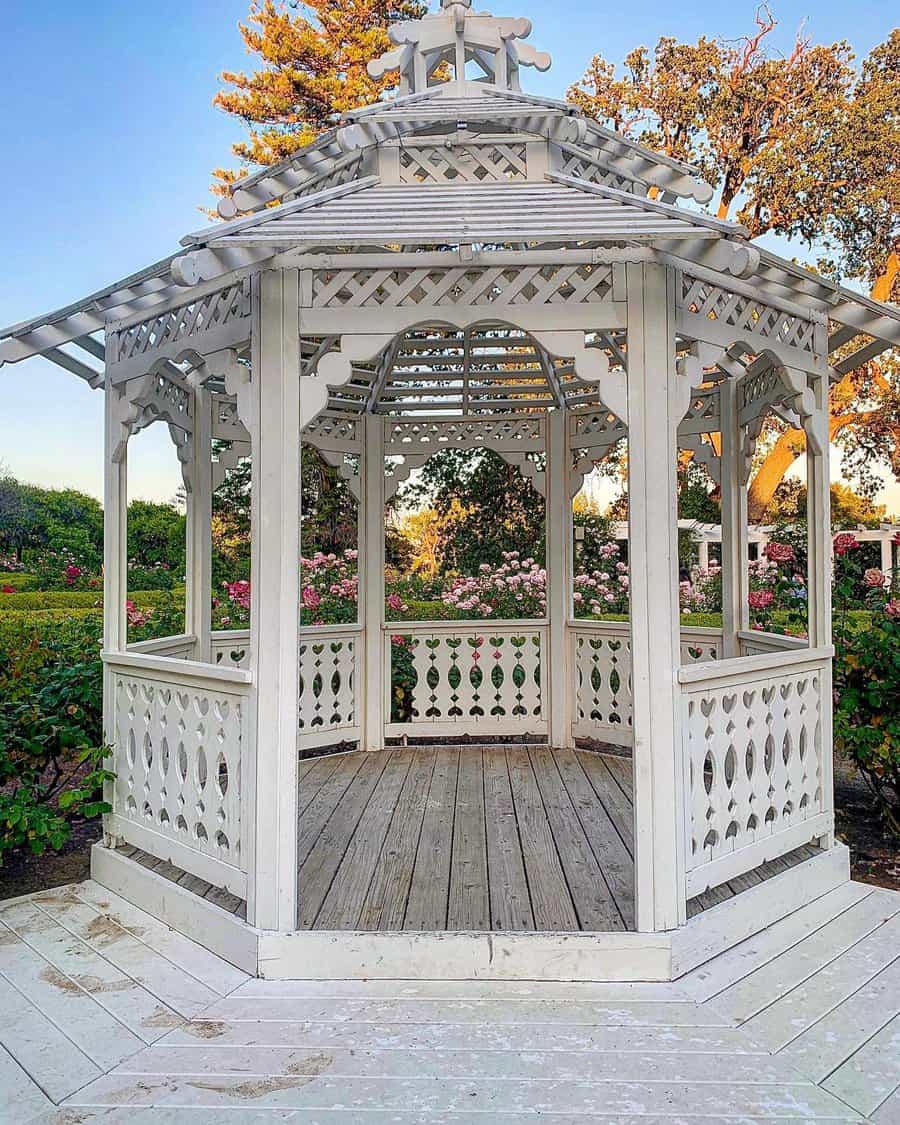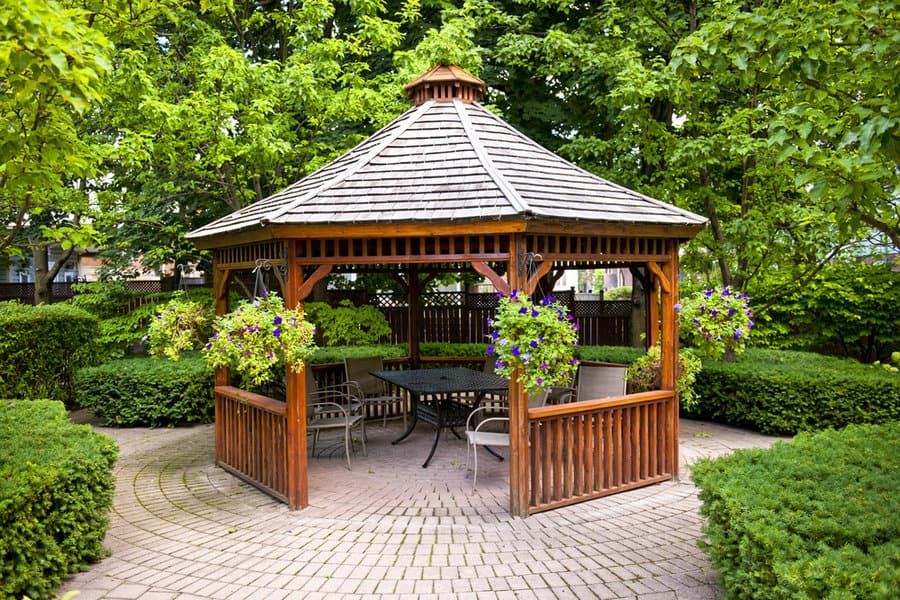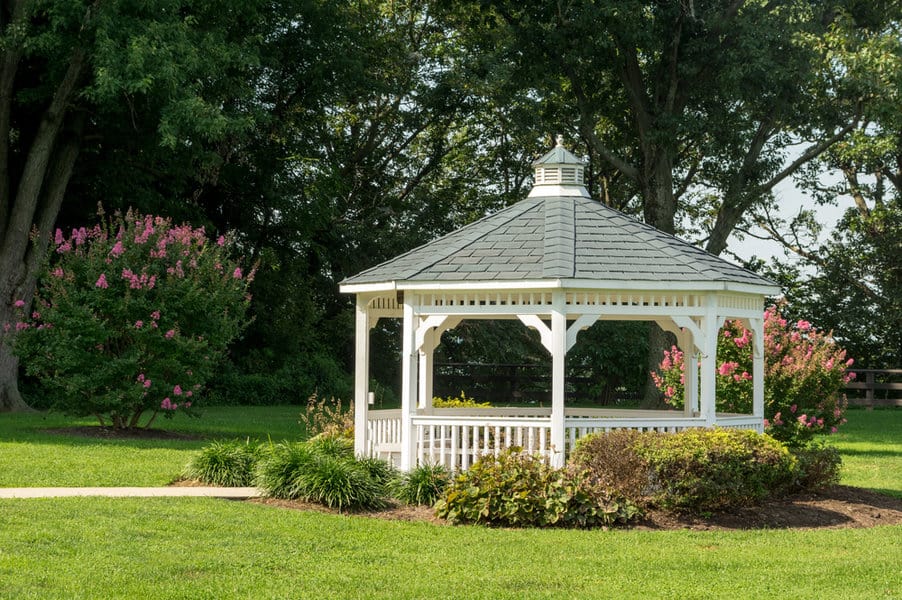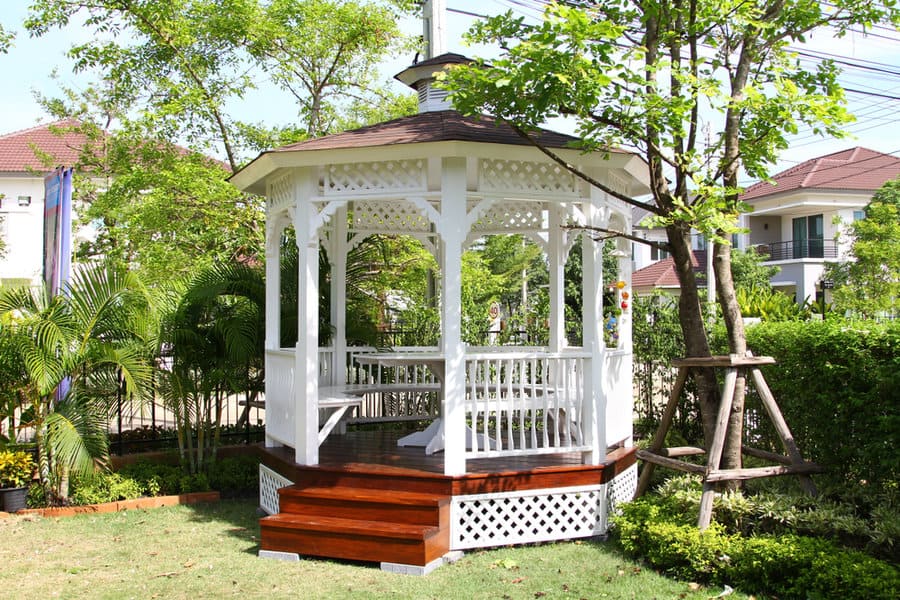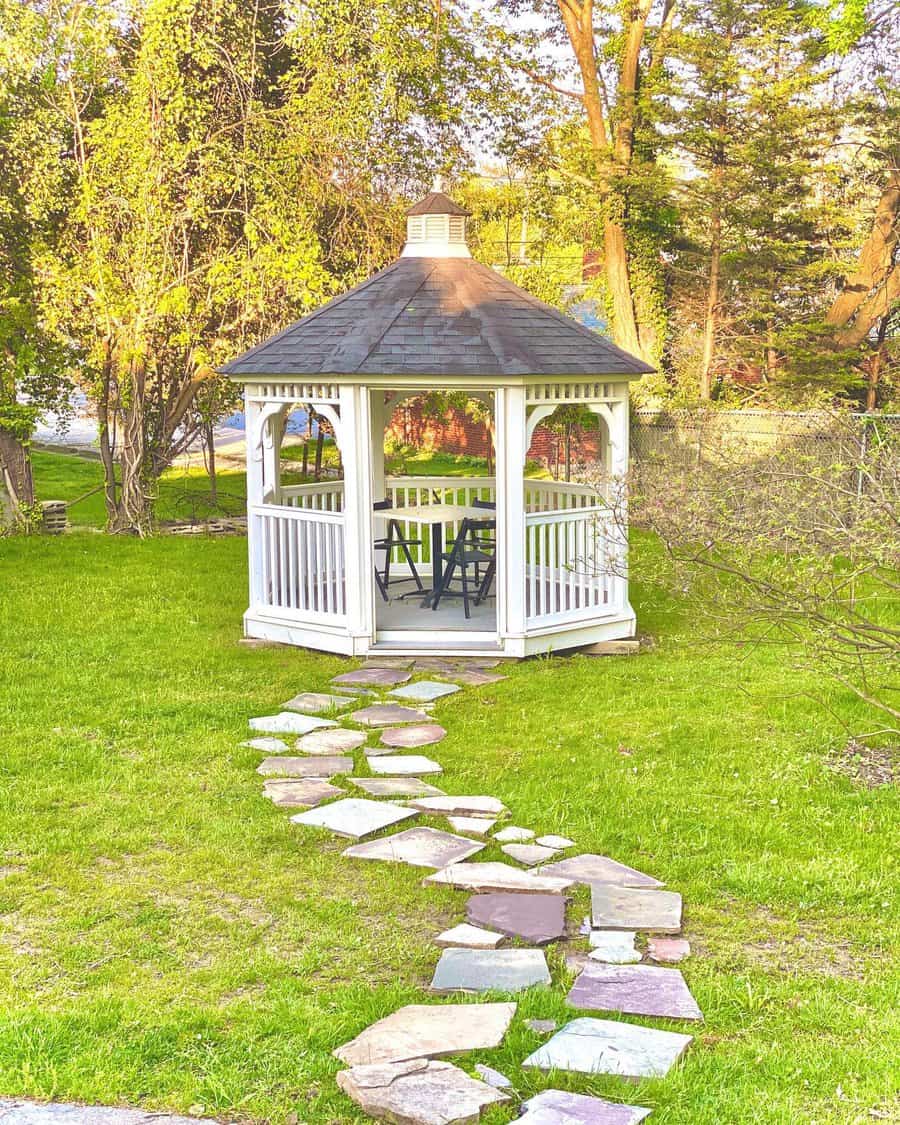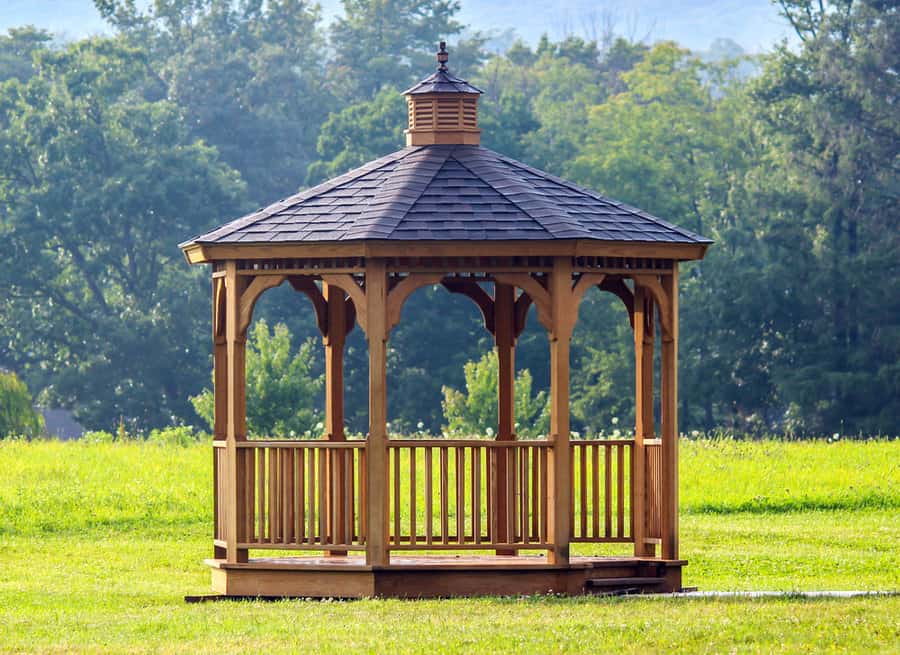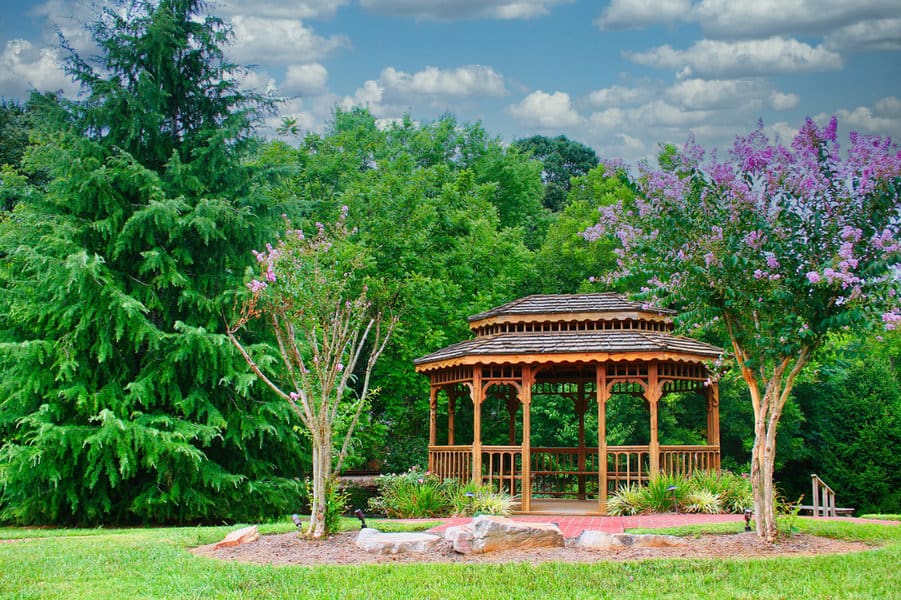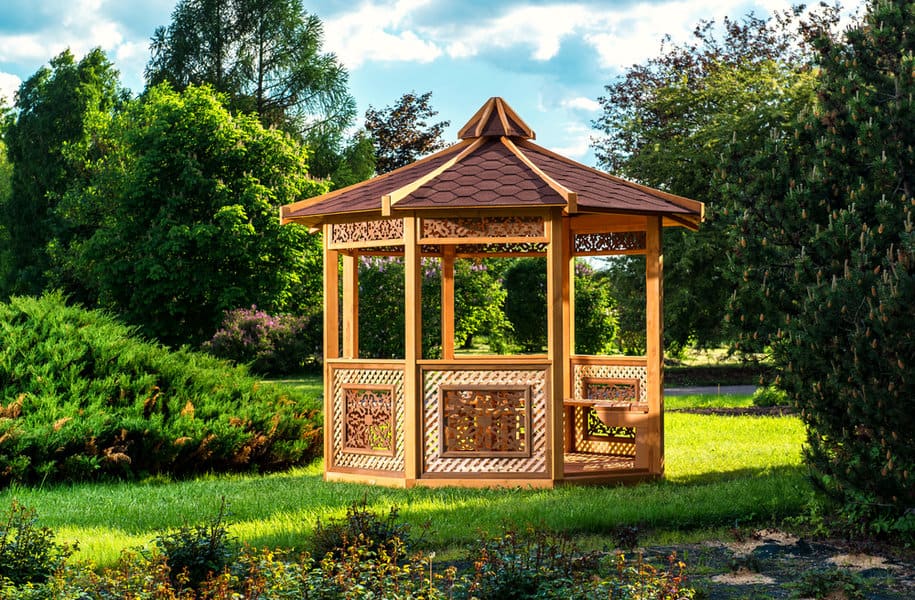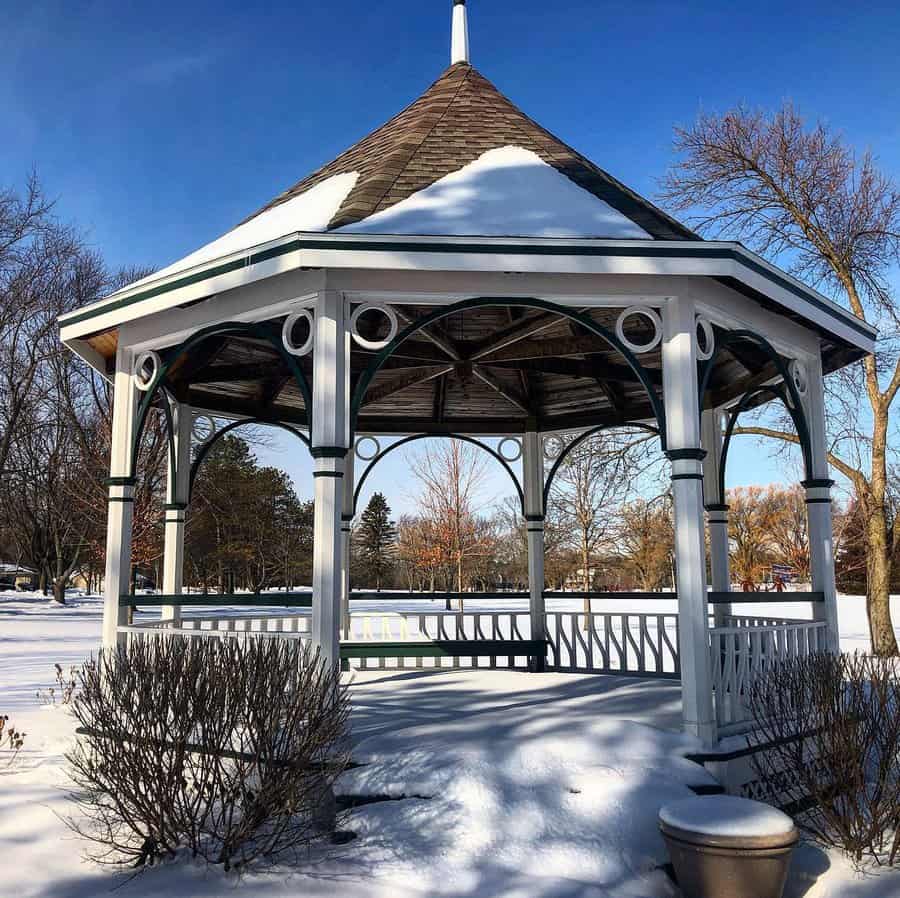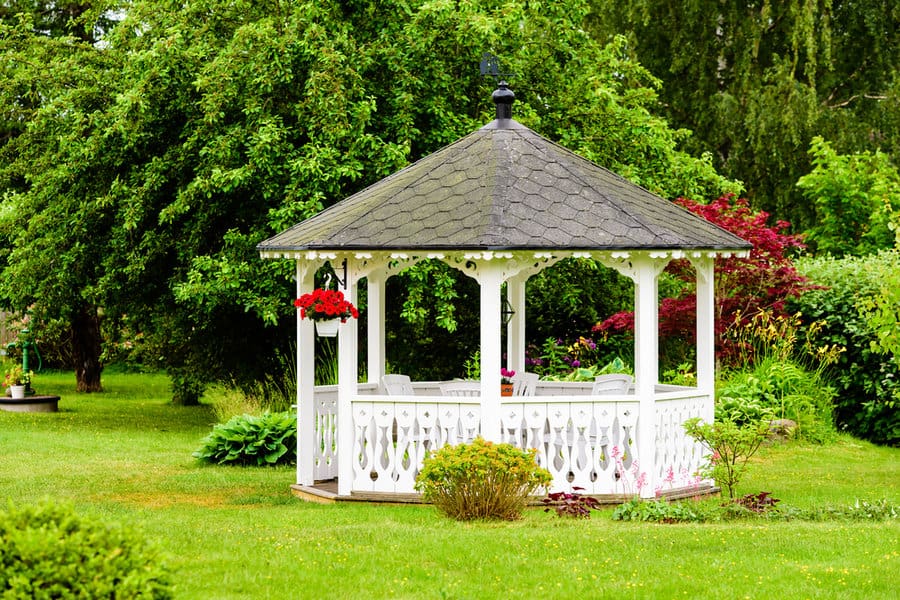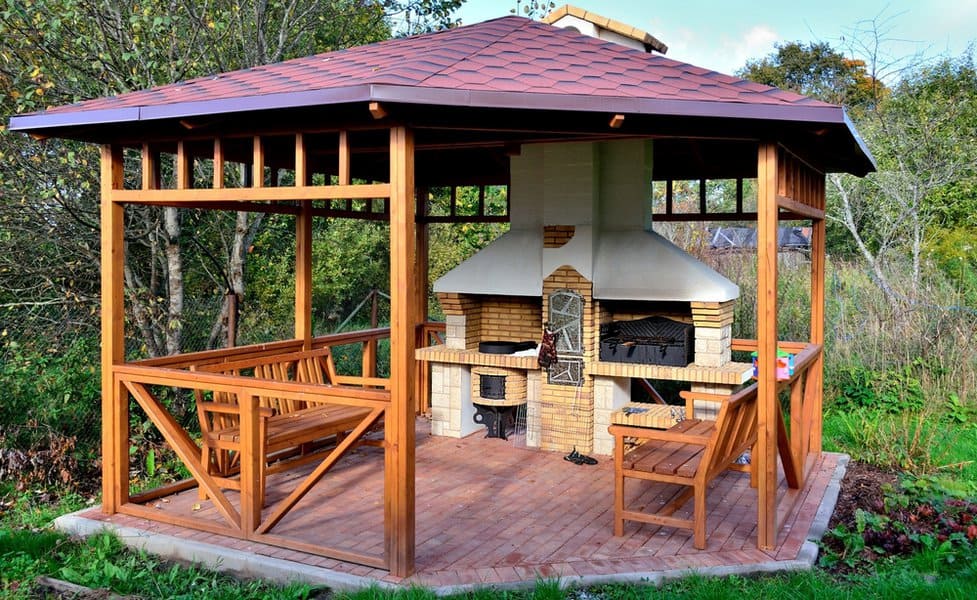 8. Durable Cemented Outdoor Gazebo
Elevate your outdoor space with a Durable Cemented Outdoor Gazebo. These structures bring a surprising touch of elegance and comfort to your backyard. Cemented gazebos offer longevity and shade, making them an excellent investment for sunny days. Create an inviting conversation area by adding furniture, hanging lights, and perhaps even a hammock to make the most of this space. Enjoy the peace and serenity that a cemented gazebo brings to your backyard, providing a lasting and stylish haven for relaxation and gatherings.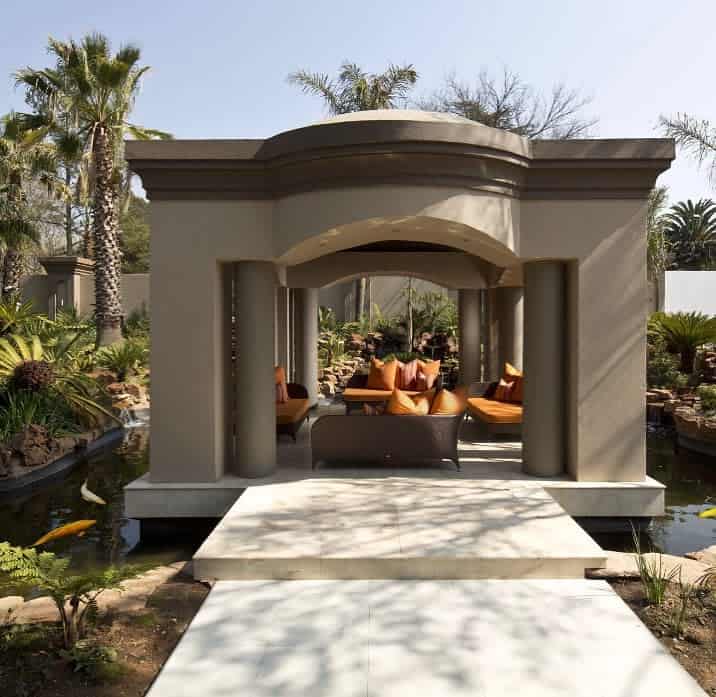 9. Cozy Enclosed Garden Gazebo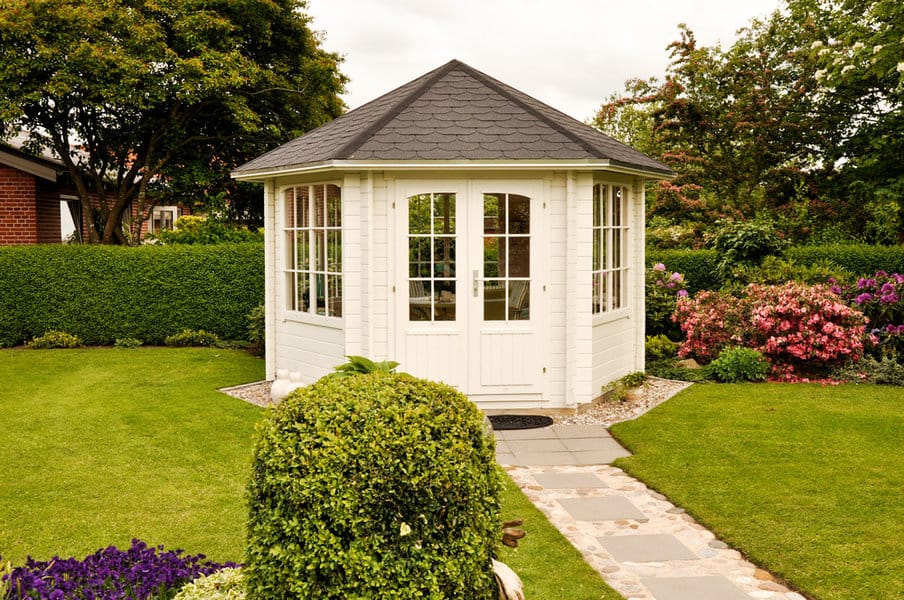 10. Private Patio Gazebo Haven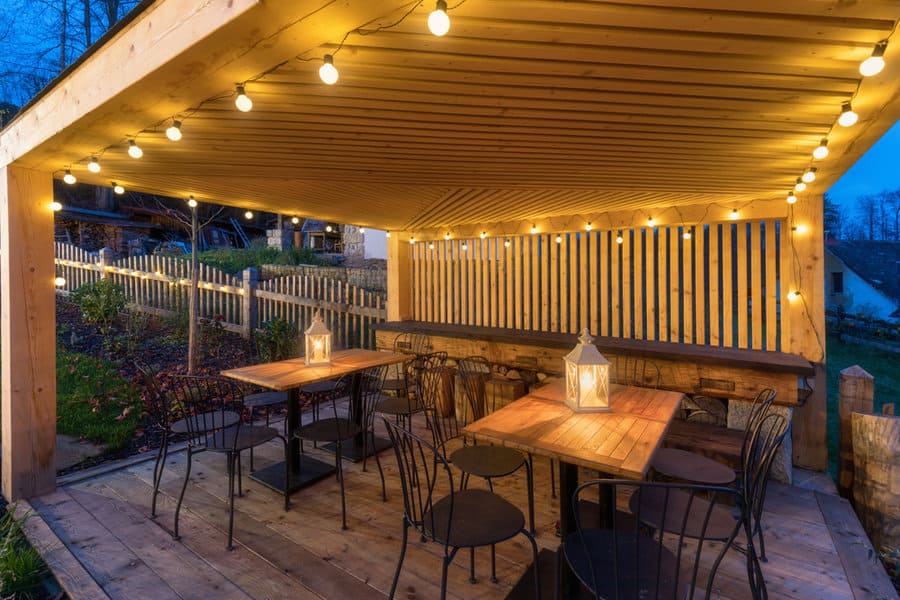 11. Natural Bamboo-Covered Gazebo
Transform your backyard into a serene outdoor oasis with a Natural Bamboo-Covered Gazebo. These aesthetically pleasing structures not only enhance your outdoor space but also elevate your entertainment experience. Customize it with cozy seating, twinkle lights, and a playlist for added ambiance. Embrace the charm of bamboo and create a tranquil retreat for endless summer enjoyment. Consider incorporating tropical plants and outdoor rugs to complete the exotic vibe.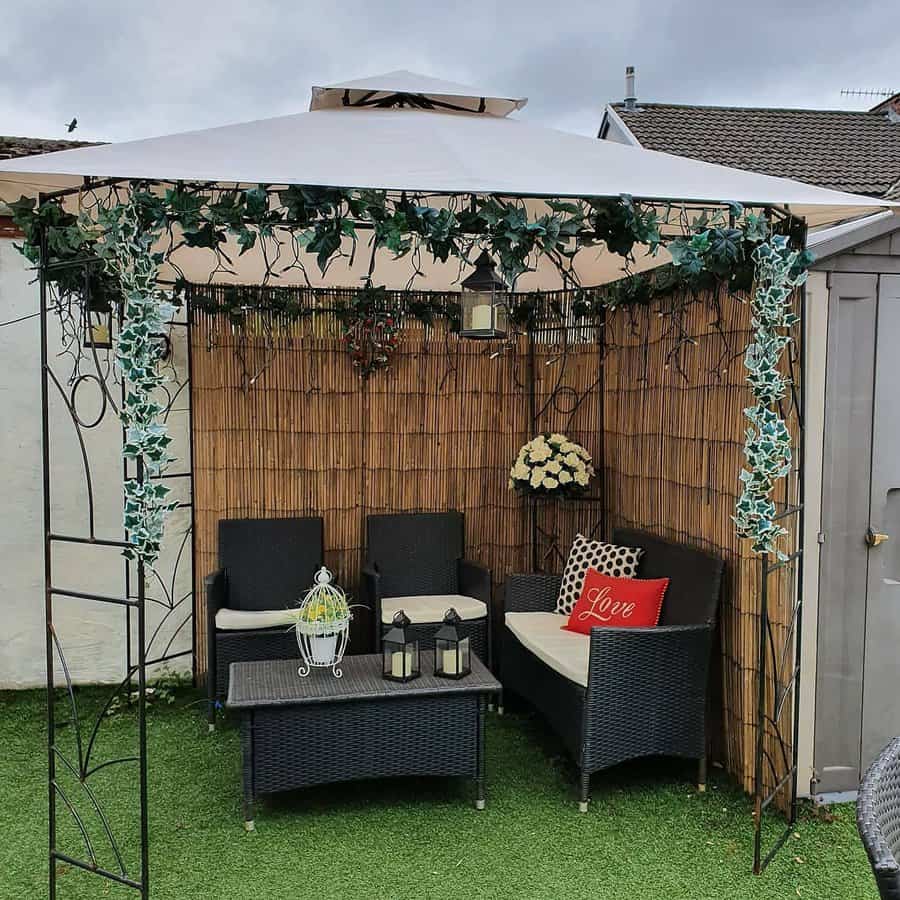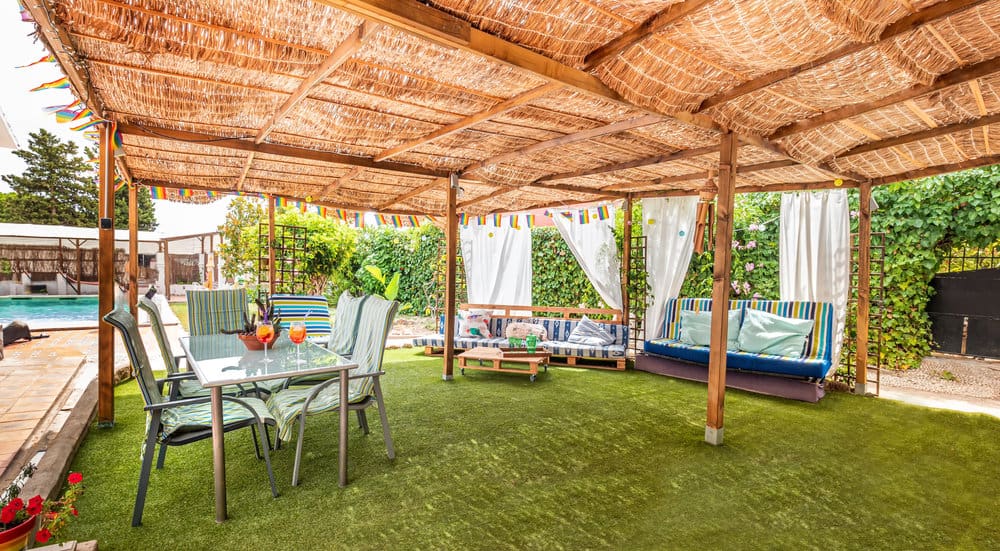 12. Modern Prefabricated Garden Gazebo
Elevate your outdoor space with a Modern Prefabricated Garden Gazebo. These minimalist structures provide an affordable opportunity to create a unique outdoor haven. Whether you're a DIY enthusiast or a seasoned pro, pre-fabricated gazebos offer versatility in design and functionality. Beyond offering shade, they are ideal for year-round gatherings. Choose from various sizes and designs to find the perfect gazebo that complements your home and backyard needs. Add cozy furnishings, outdoor rugs, and potted plants to create a welcoming atmosphere that suits your style.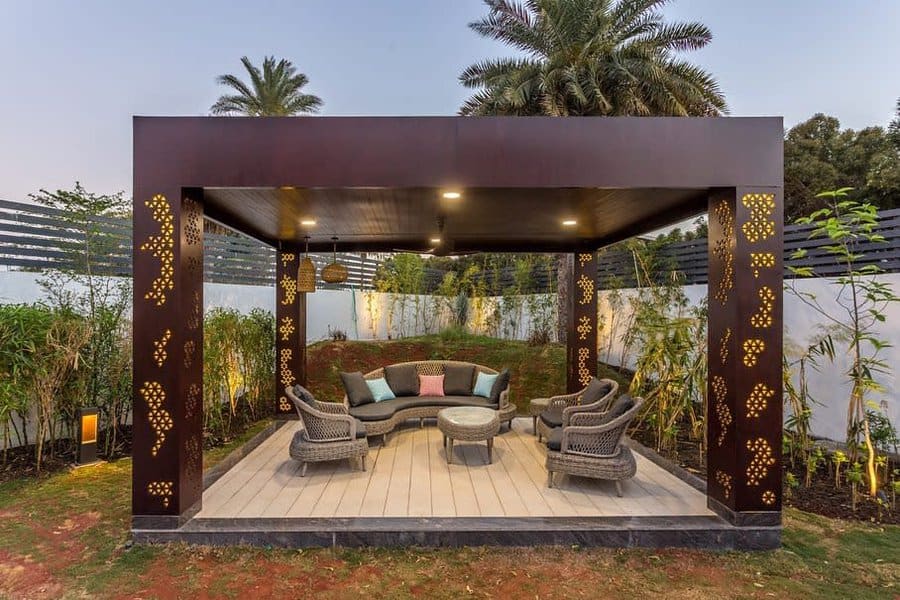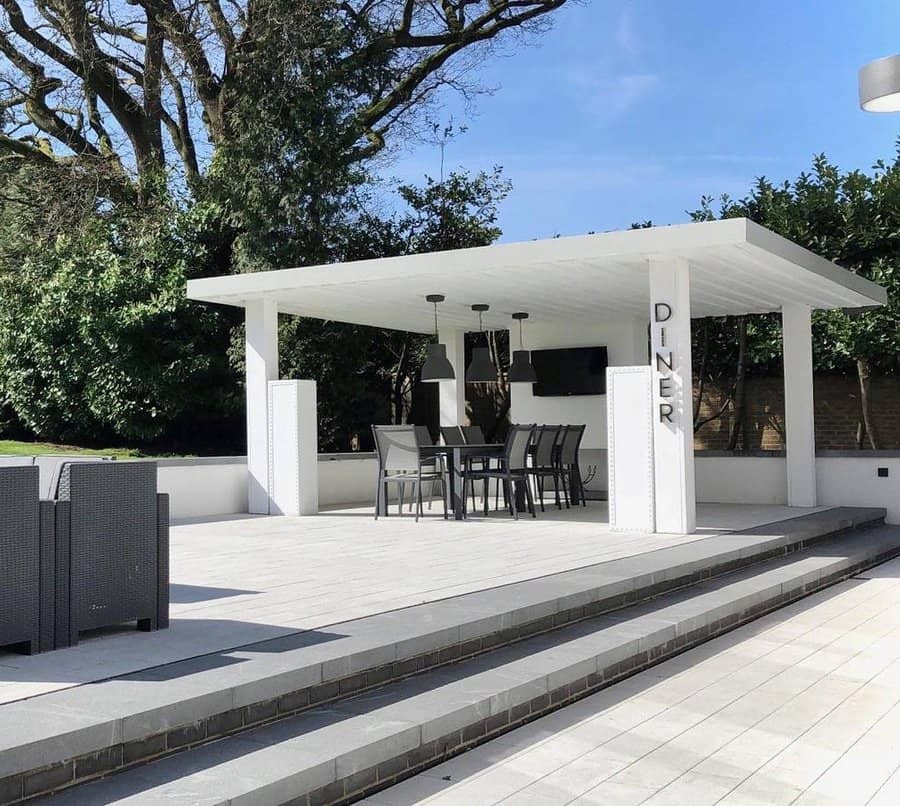 13. Farmhouse-Style Outdoor Gazebo
Enhance your outdoor space with a charming Farmhouse-Style Outdoor Gazebo. These covered structures are ideal for creating inviting outdoor lounging areas while adding rustic charm to your backyard or garden. Featuring wooden posts and a canvas canopy, gazebos blend seamlessly with any home style. Maximize the gazebo's ambiance by strategically placing lighting fixtures to transform it into a captivating starry retreat at night. Consider adding cozy seating, farmhouse-inspired décor, and fairy lights to complete the rustic, picturesque look. Install one today to enjoy the timeless beauty of farmhouse style throughout the summer.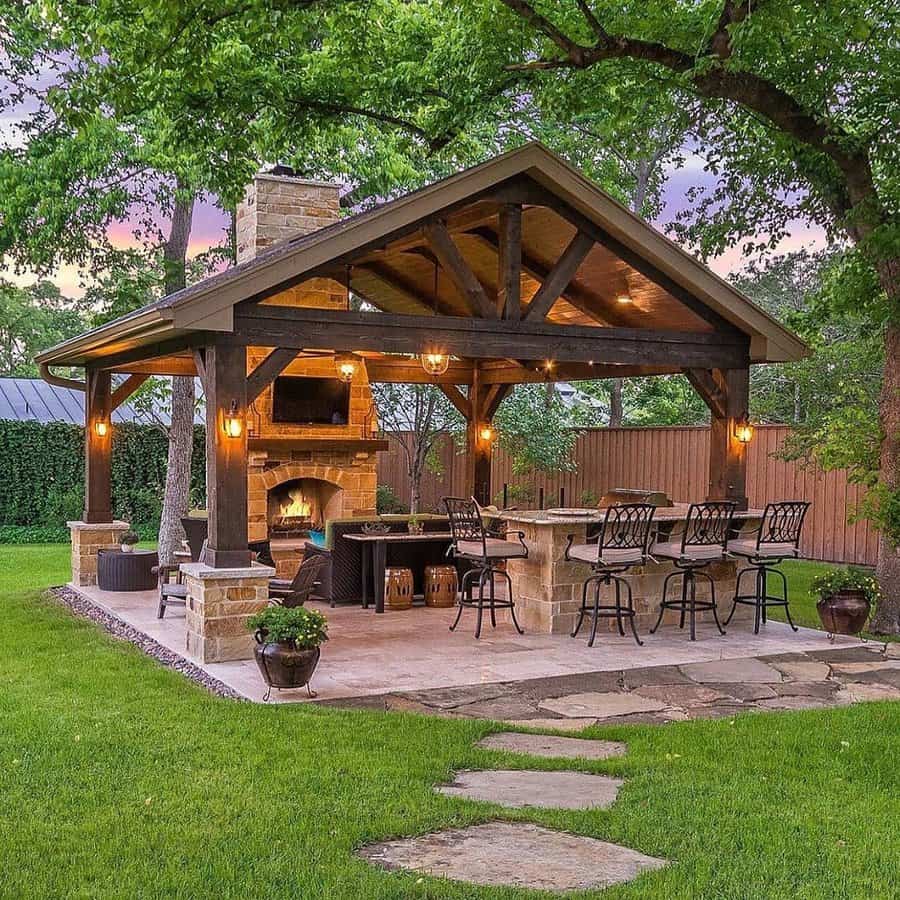 14. Flower-Filled Gazebo Oasis
Transform your backyard into a captivating Flower-Filled Gazebo Oasis. Gazebos not only add personality and charm but also offer a welcoming retreat for relaxation and socializing. Elevate the ambiance by adorning it with vibrant flowers and other decorations, creating an inviting haven. Whether you're hosting gatherings or seeking solitude in the outdoors, a gazebo provides an elegant space to savor the beauty of nature. Consider adding comfortable seating, hanging baskets, and fragrant blooms to complete the enchanting atmosphere. Install one today and bask in the natural splendor of your flower-filled oasis.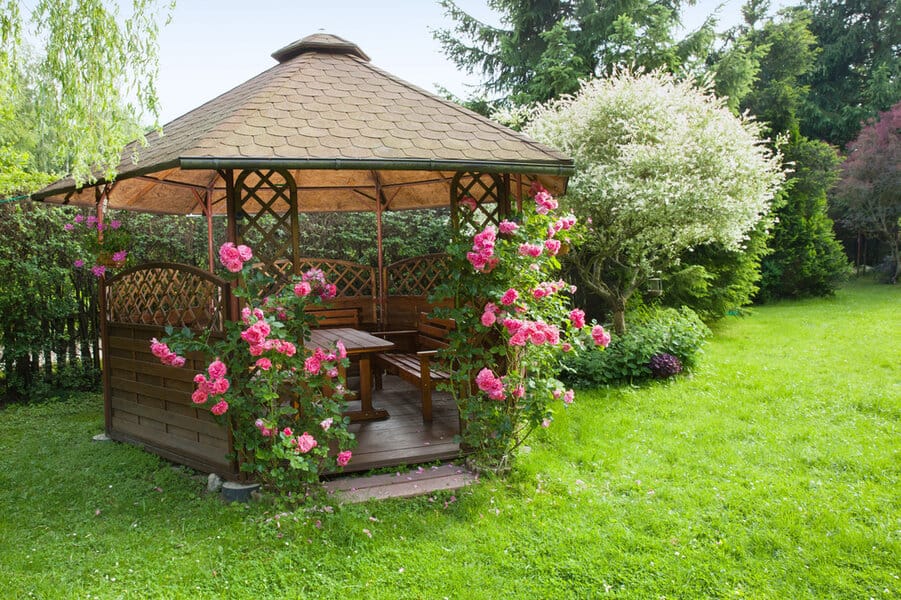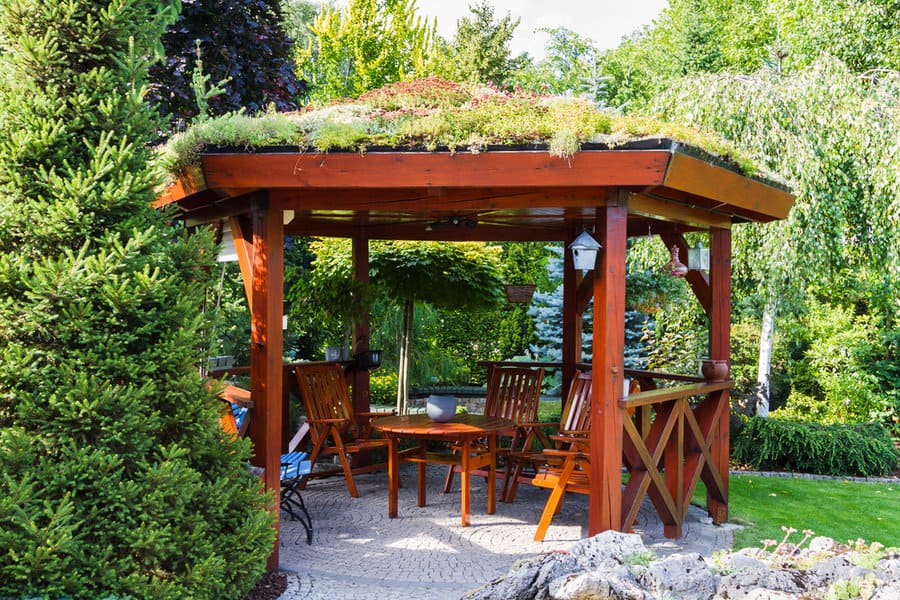 15. Brick-Columned Gazebo Retreat
Elevate your backyard to a paradise with a Brick-Columned Gazebo Retreat. Gazebos are timeless outdoor features, and the addition of brick posts adds a touch of classic beauty and distinction to any design without exceeding your budget. This investment ensures a lifetime of elegance, making it worth the effort. Enhance the space with cozy seating, elegant lighting, and climbing vines to create a truly inviting retreat in your backyard. Give your gazebo the special attention it deserves and enjoy the enduring charm of brick columns for years to come.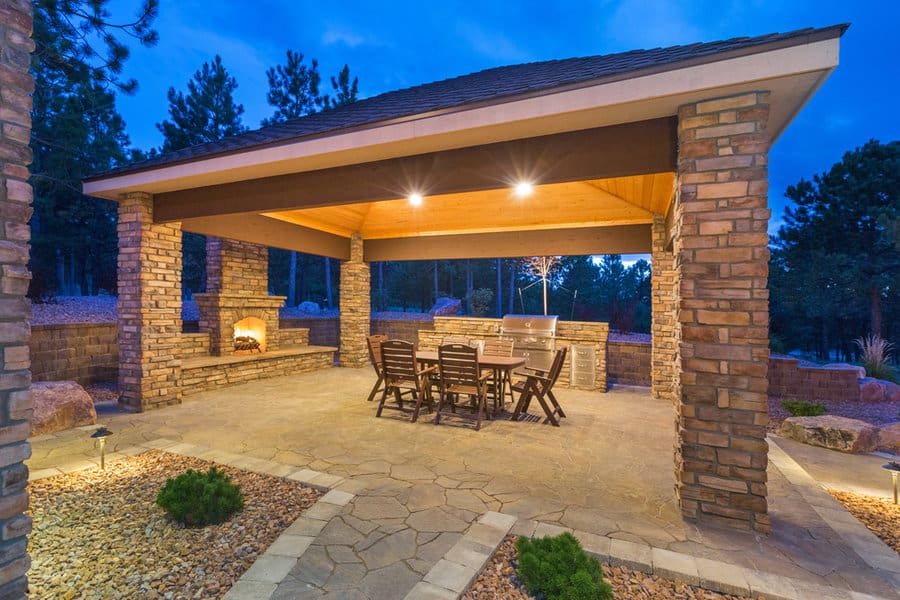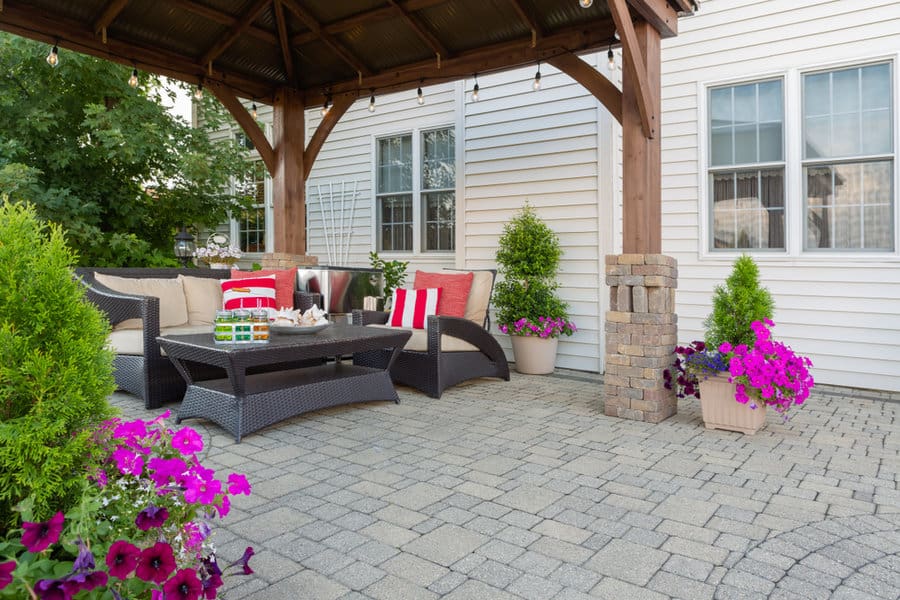 15. Screened Gazebo Escape
Create an idyllic backyard paradise with a Screened Gazebo Escape. These gazebos with mosquito screens offer a perfect haven for outdoor dining and relaxation, especially during mosquito-prone evenings and hot summer days. The added protection from pesky insects is a bonus, while the screened design also introduces a touch of class and style to your outdoor space. Explore various shapes and sizes to find the screen gazebo that seamlessly complements your existing backyard setup. Complete the look with cozy seating, outdoor curtains, and soft lighting to enjoy bug-free evenings in style. Make the most of your outdoor space with this practical and stylish addition.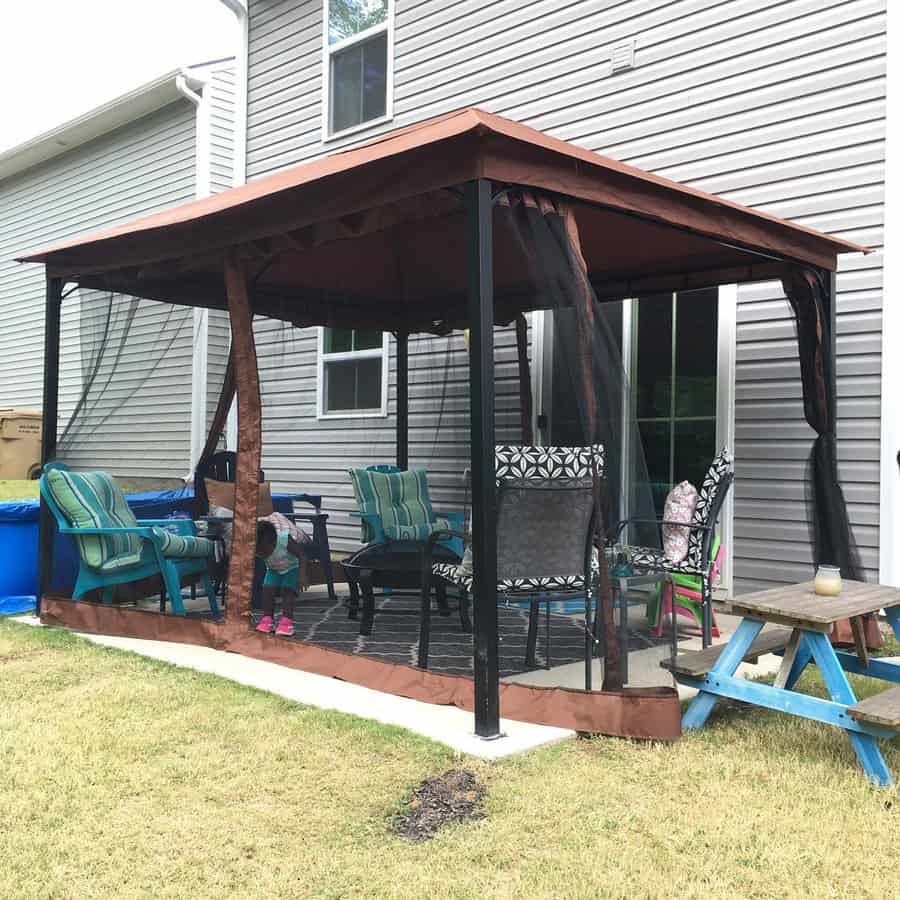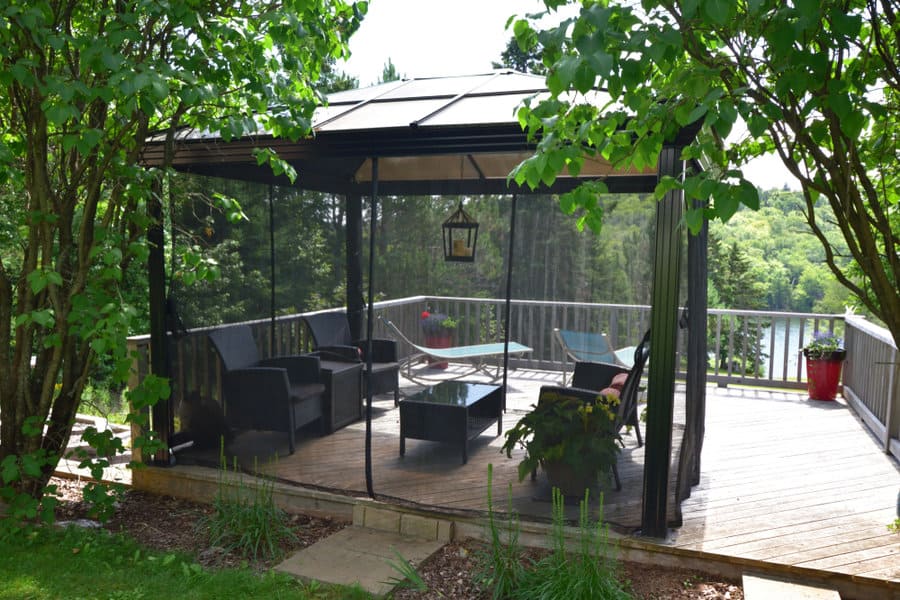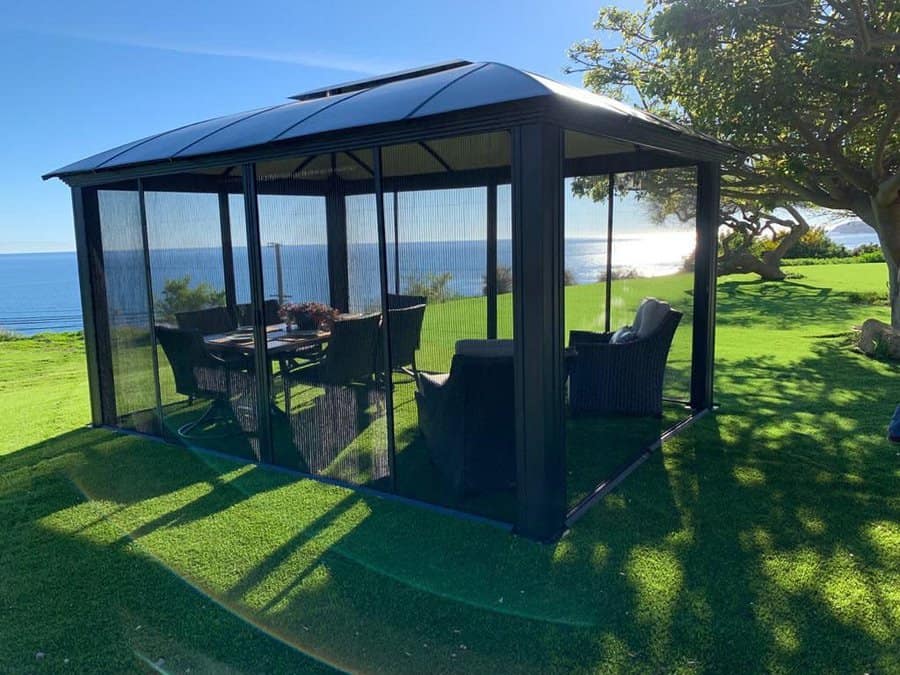 15. Tropical Thatch-Roofed Gazebo
Create a tranquil oasis in your backyard with a Tropical Thatch-Roofed Gazebo. These thatch-covered structures offer a cozy escape from the daily grind while allowing you to relish the comforts of home. Imagine yourself lounging beneath a thatched umbrella, surrounded by the soothing melodies of nearby birds—a true sanctuary. To infuse an even more tropical vibe, opt for a tiki-style gazebo that transports you to an exotic island getaway right in your garden. Whether you seek relaxation or plan to host social gatherings, a thatch-roofed gazebo can transform your house into the ultimate sanctuary. Enhance the atmosphere with rattan furniture, tropical plants, and ambient lighting to complete the paradise-like experience.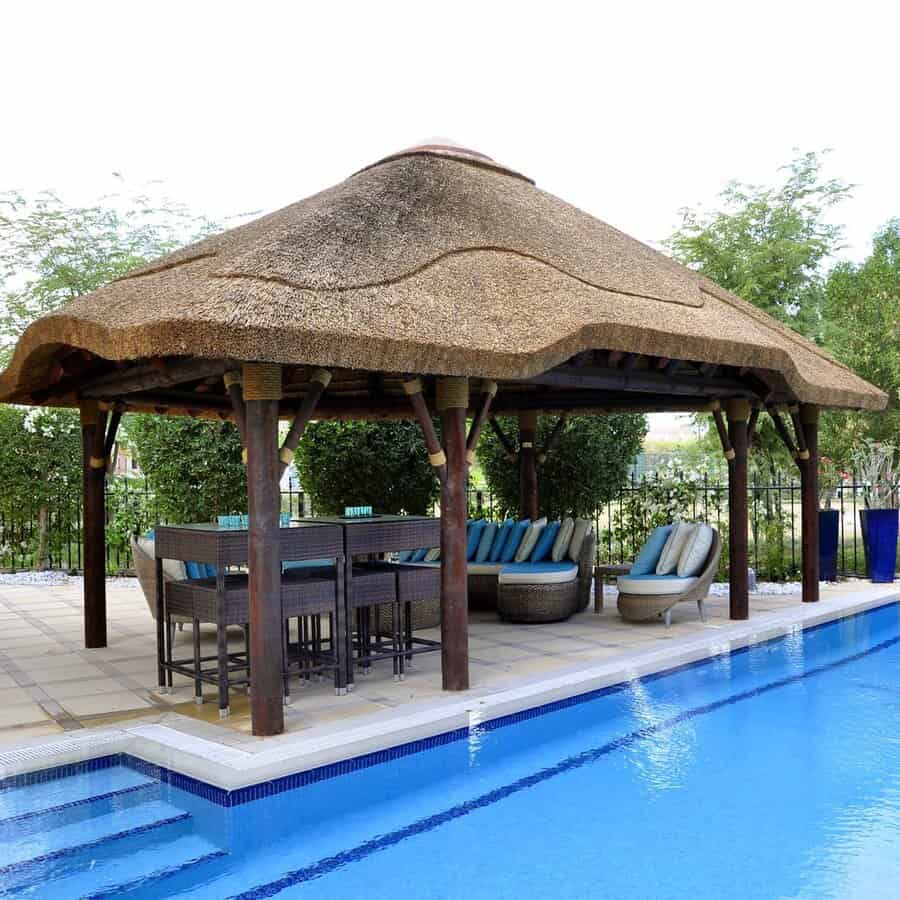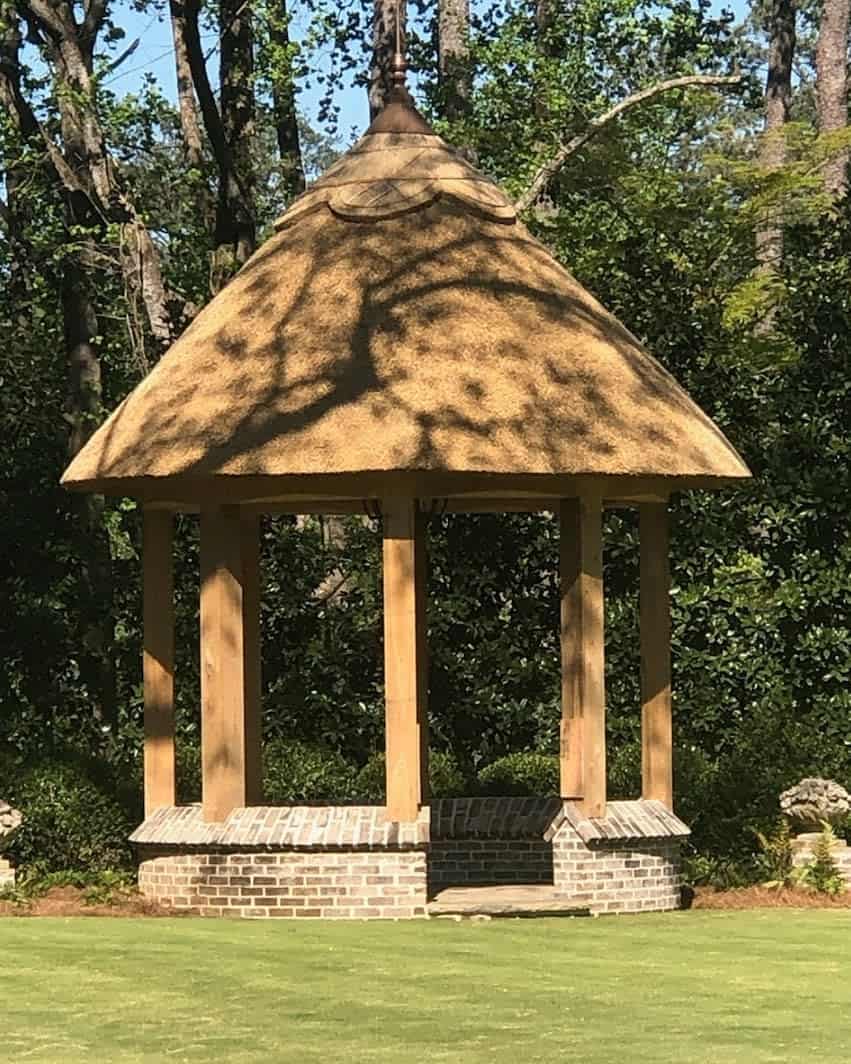 16. Attached Pergola Pavilion
Create an inviting and relaxing outdoor escape with an Attached Pergola Pavilion. Whether it's connected to your home as an attached pergola or stands as a standalone structure in your well-manicured yard, a gazebo serves as the focal point for outdoor entertainment. Whether you're savoring a romantic dinner beneath its roof or sharing quality time with loved ones around its exterior, gazebos offer moments of beauty and refuge from the sun during scorching summer days and starry nights. Elevate your outdoor living space and make lasting memories with the addition of a backyard gazebo. Consider adding comfortable seating, cozy lighting, and outdoor curtains for a personalized touch.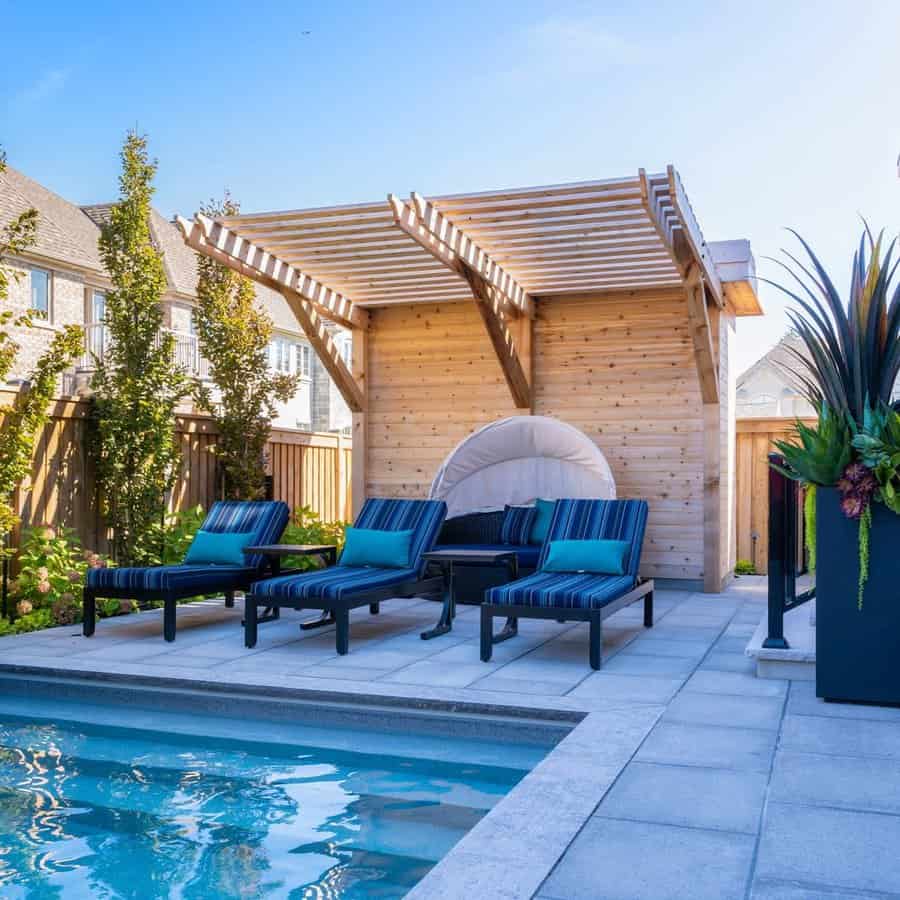 17. Poolside Pergola Paradise
Transform your poolside into a tranquil paradise with a Poolside Pergola Oasis. This gazebo, nestled near your pool, becomes a soothing escape from the everyday hustle and bustle. With its inviting columns and graceful curved roofline, it exudes tranquility and charm. Stepping into its shelter provides instant relaxation, like entering an outdoor sanctuary.
Frame the gazebo's arched beams with brightly colored flowers or trailing vines to enhance its allure. Whether you use it for serene moments of meditation or as an inviting space for summer parties, your poolside pergola gazebo will be an elegant and functional addition to your pool area. Consider adding comfortable loungers, a small bar, and soft lighting to create the perfect poolside retreat for relaxation and entertainment.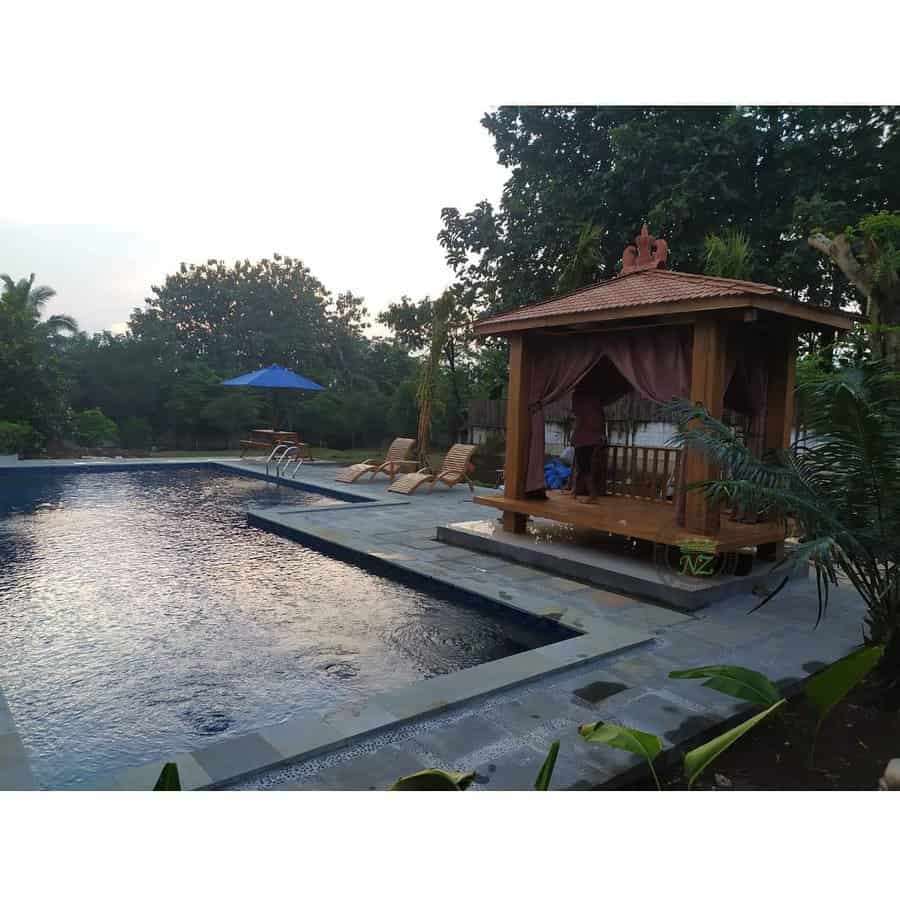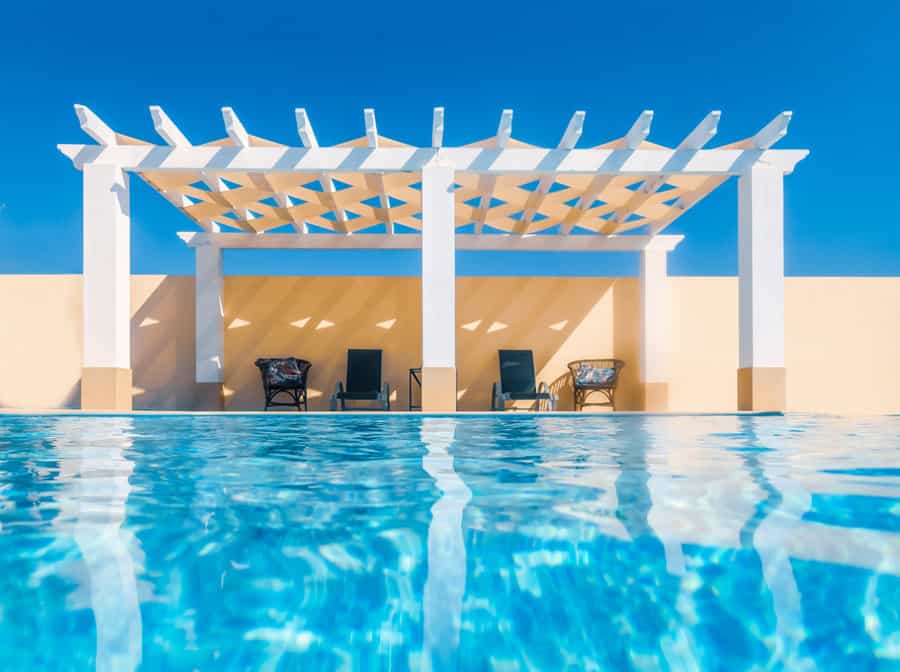 18. Gazebo With Handy Shelves
Enhance both functionality and aesthetics with a Gazebo Featuring Handy Shelves. These shelves, thoughtfully added around the gazebo's railing, provide extra storage space and opportunities for creative decoration. Whether you plan to store books, display drinkware, or showcase vibrant plants, a gazebo with shelves offers versatility without compromising on style and charm. Make the most of this additional storage capacity to elevate your cozy backyard getaway. Consider adding decorative storage baskets, potted plants, and outdoor lanterns to infuse personality into your gazebo.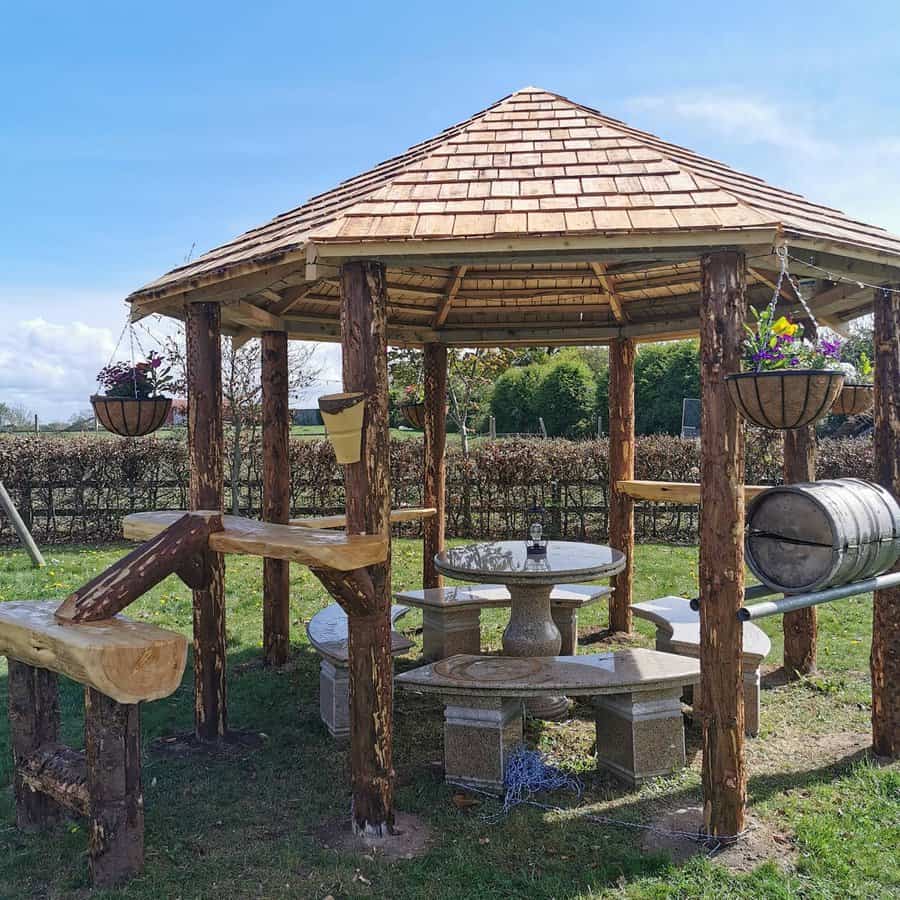 19. Seating-Integrated Garden Gazebo
Indulge in the beauty of your garden gazebo with Seating-Integrated Garden Gazebo. Set up a gazebo with built-in seating to create a permanent outdoor dining area that's always ready for use. Picture yourself savoring a drink outdoors while enjoying the warm night air.
These outdoor gazebos are perfect for hosting gatherings, ensuring your guests' comfort regardless of the weather. Gazebos not only add style to your garden but are also low-maintenance, freeing up more time for relaxation. Consider complementing your gazebo with a dining table, comfortable cushions, and outdoor lighting to complete the cozy outdoor dining experience. With seating-integrated gazebos, your garden becomes a year-round sanctuary for relaxation and entertainment.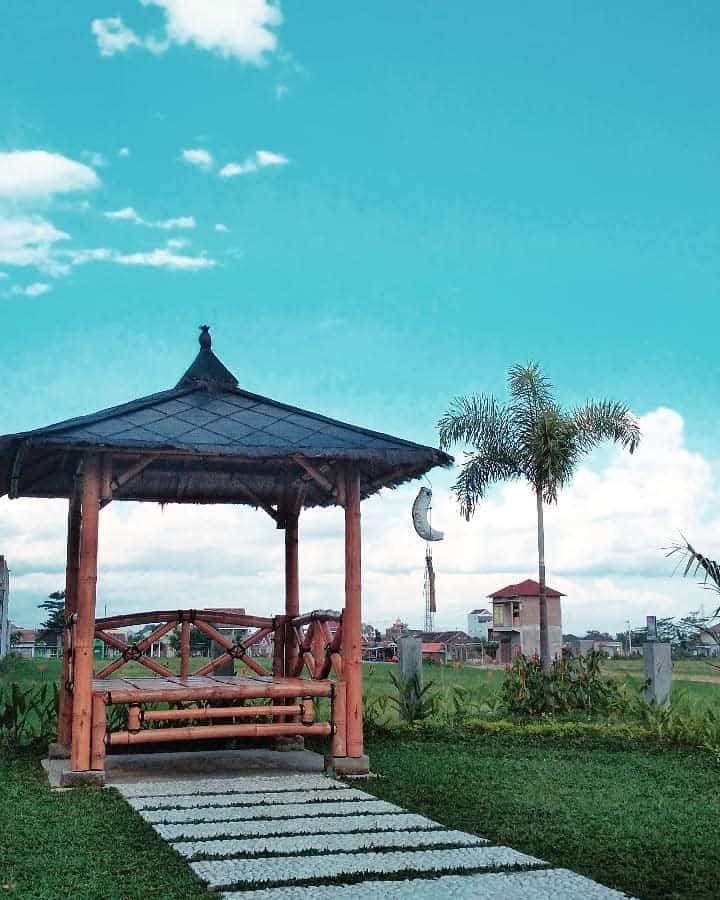 20. Landscaped Backyard Gazebo
Turn your backyard into a tranquil retreat with a Landscaped Backyard Gazebo. Through creative landscaping and thoughtful garden decor, you can craft your own private oasis around the gazebo. Create a cozy seating area with cushions, hammocks, and blankets to bask in the warmth of the sun.
Consider planting climbing vines for added privacy or hanging string lights to extend the outdoor enjoyment into balmy summer evenings. Your gazebo offers endless possibilities for relaxation and entertainment. Whether you're seeking solitude or hosting gatherings, your landscaped backyard gazebo will be the source of cherished memories for years to come. Add outdoor rugs, potted plants, and decorative accents to personalize the space and make it truly your own.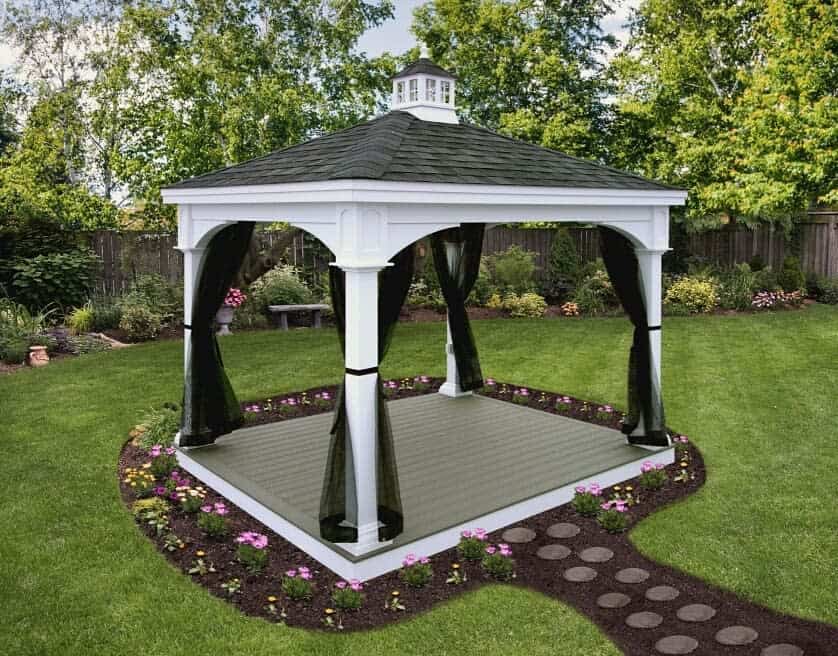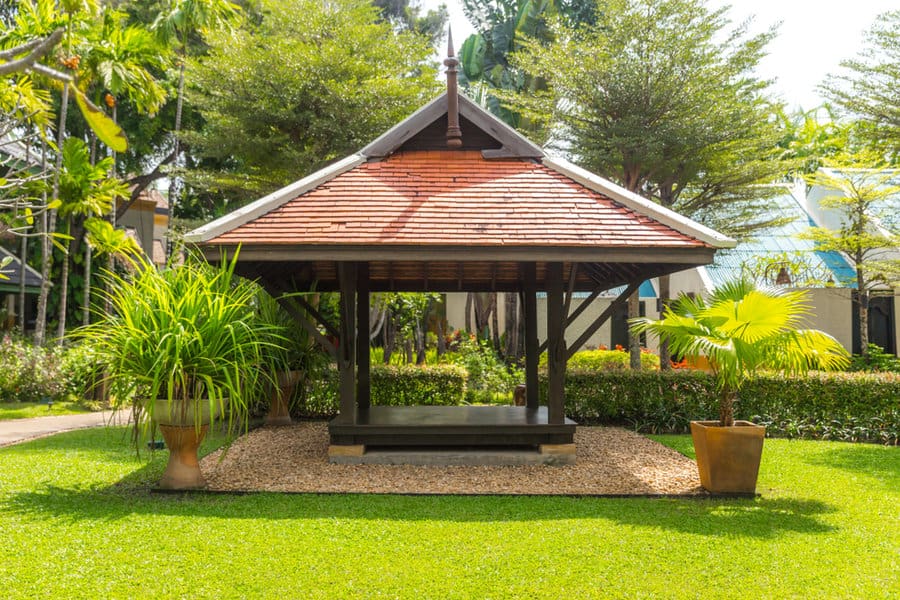 21. Circular Wooden Garden Gazebo
Evoke timeless charm and mystique with a Circular Wooden Garden Gazebo in your backyard. This unpainted and untreated wooden structure exudes rustic beauty and a sense of enchantment that's truly unique. Its natural state brings authenticity to your outdoor space, infusing it with life and character.
Opt for an unpainted gazebo to enjoy the utmost versatility in creating a special atmosphere for yourself or your guests. Whether it's for hosting outdoor parties or seeking solace from the daily grind, the simplicity of a round wooden gazebo makes it a beautiful backdrop for any occasion. Complement the gazebo with wooden furniture, outdoor cushions, and hanging lanterns to enhance its timeless appeal and create an inviting outdoor haven.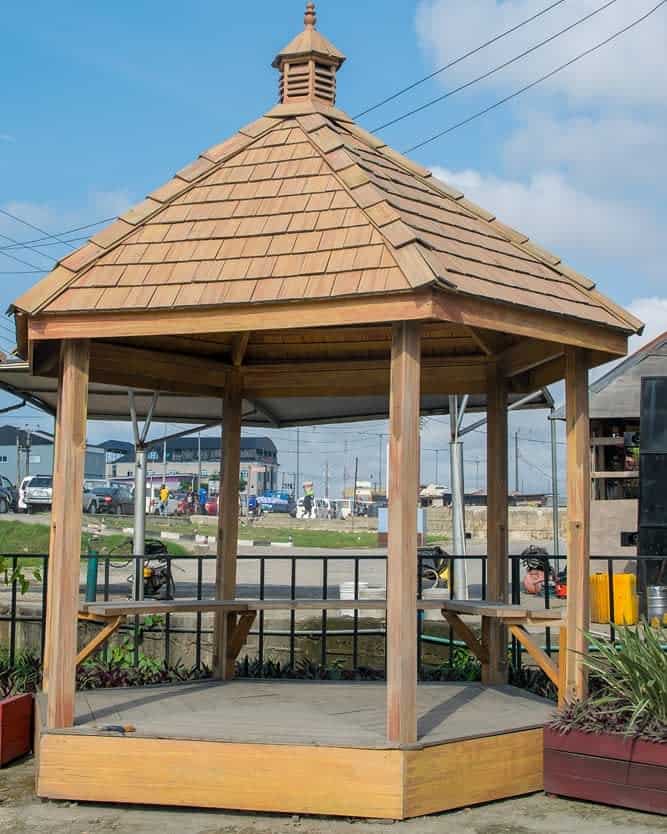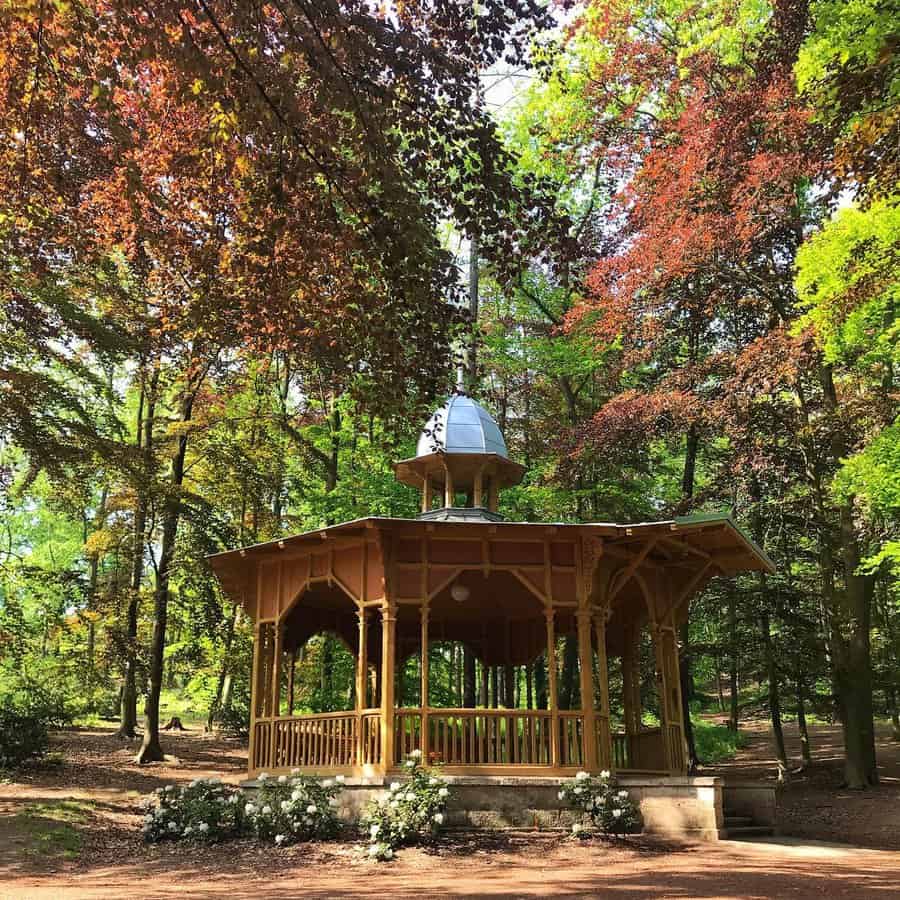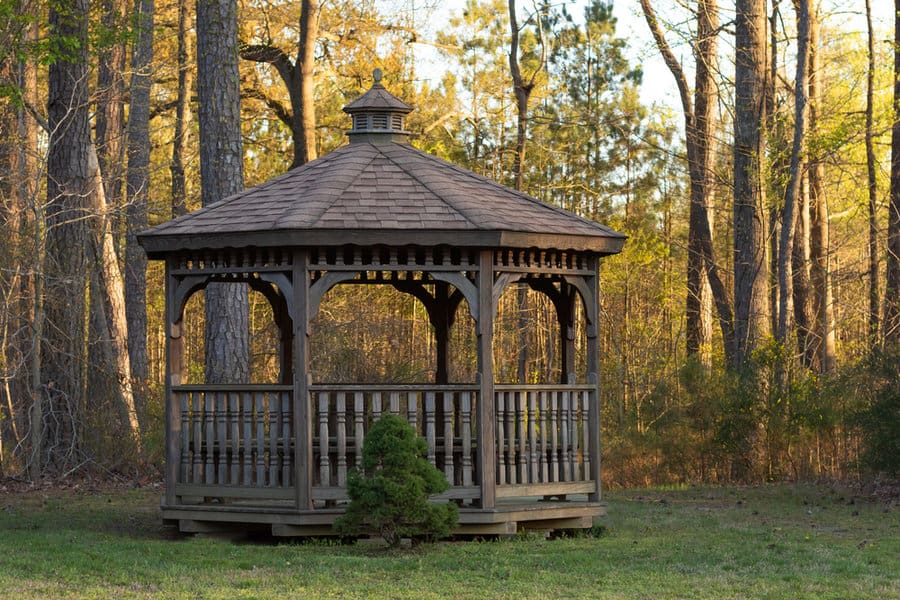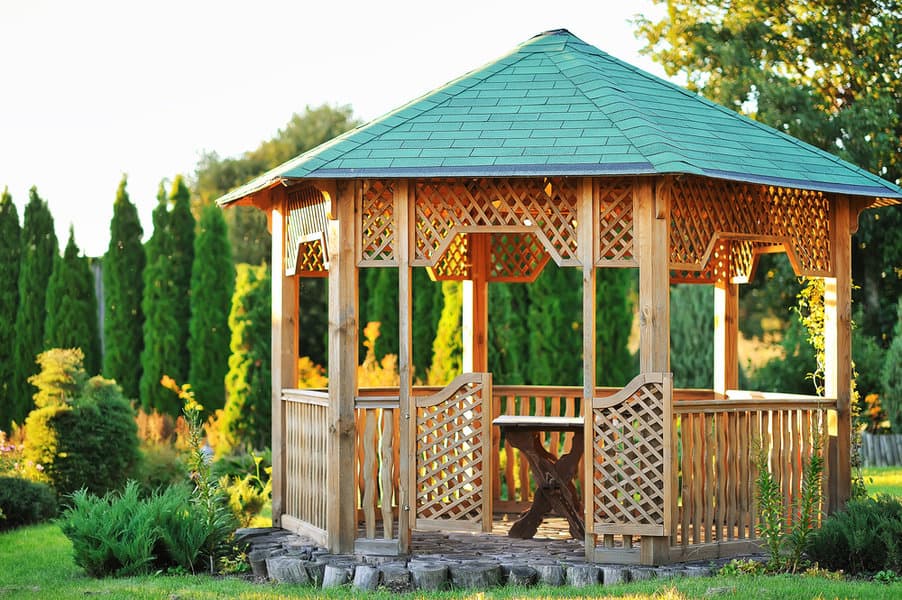 22. Stylish Metal Outdoor Gazebo
Elevate your garden or yard with a Stylish Metal Outdoor Gazebo. This addition offers a serene spot to unwind with a cup of coffee while providing ample customization opportunities. The metal frame allows you to add flowing fabric curtains that dance with the breeze or decorative metal trimmings for a personalized touch.
The installation of a metal gazebo will mark an enchanting moment in your backyard, promising endless days of tranquility and joy. Consider enhancing the space with outdoor furniture, potted plants, and ambient lighting to create an inviting and stylish outdoor retreat. Enjoy the versatility and durability that a metal gazebo brings to your outdoor oasis.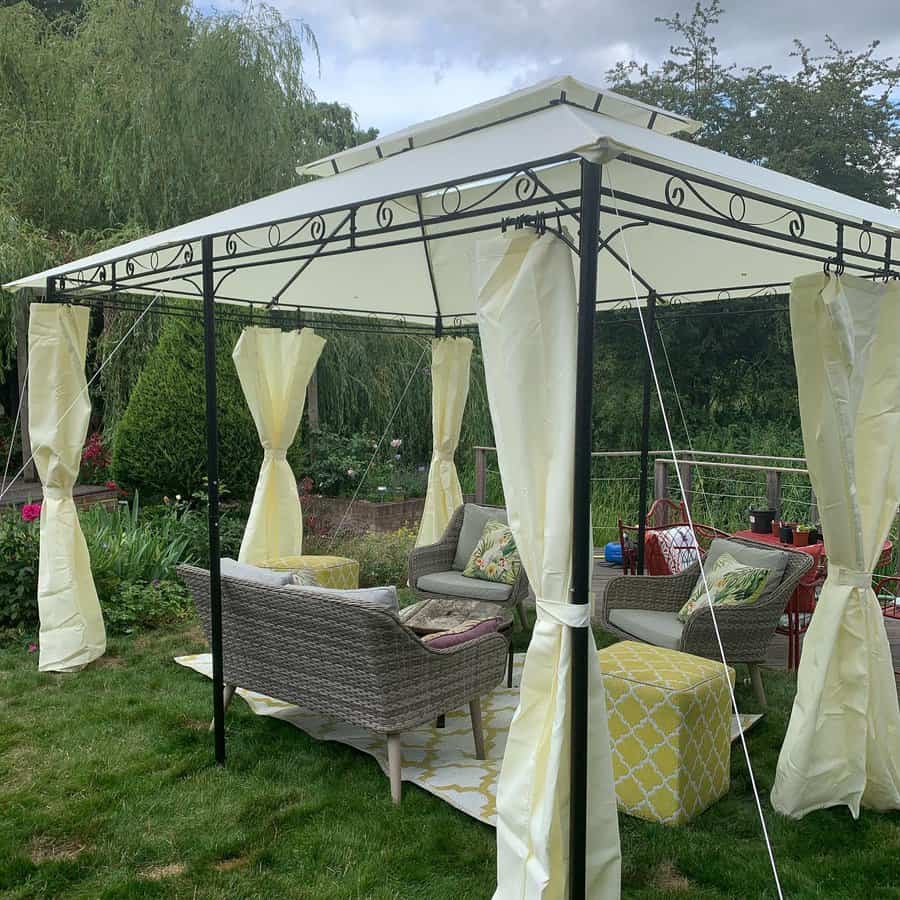 FREQUENTLY ASKED QUESTIONS
What materials do I need to build my own wooden gazebo?
Basically, you would need plywood, screws, concrete, wood boards, nails carriage bolts and treated lamber. If you don't want an open roof, you would also need the covers, which can be canvas or straws. You can add linen on the sides, or wood boards, lattice or glass.
Will a gazebo or a pergola add value to my property?
Undoubtedly yes. Especially in big cities, where busy streets and traffic are part of our day-to-day life, outdoor living is like an oasis of peace and fresh air. It is a great addition to your home, a great place to relax, have outside meals and entertain.
What kind of plants should I have around a gazebo?
Prefer the ones that do not obstruct the landscape but bring color and nice aromas. You can plant shrubs and raised planters, so your flowers will stand out above them. For the interior of the gazebo choose aromatic flowers such as lily and roses, and potted plants like lavender, gardenias and jasmine.