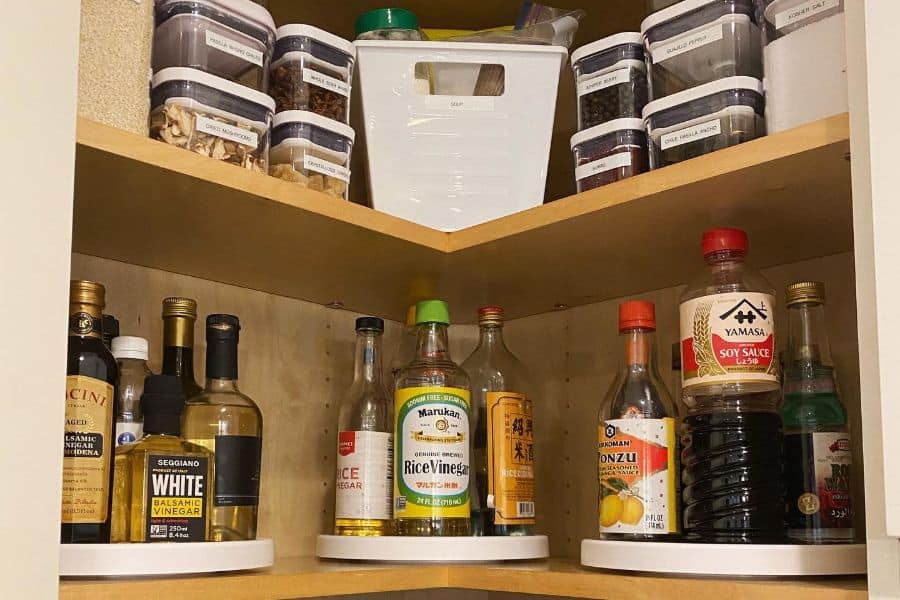 65 Kitchen Cabinet Organization Ideas
The kitchen is the most important room in the house for most families. It has to be a clean and welcoming space, and preferably, free of clutter.
But every day, manufacturers come up with cool kitchen gadgets and appliances that are a must-have, so we end up adding more and more stuff to the kitchen, without adding the corresponding storage space.
The result is a cluttered kitchen, with appliances and utensils lying everywhere! No more of that, we say! In this post, we will give you a few ideas, to make your life easier and your kitchen a functional and organized space. There might even be some extra room for a little more of those cool gadgets…
1. Container
Whether you have open shelves, glass cabinets, or pantry, your food storage containers have to be durable, practical, and beautiful so that you can display them nicely in the kitchen.
There are several materials to choose from, like glass, acrylic, brushed stainless steel, ceramic, plastic, and canisters. Try to have sets of the same material, to provide the uniformity that only well-organized spaces have.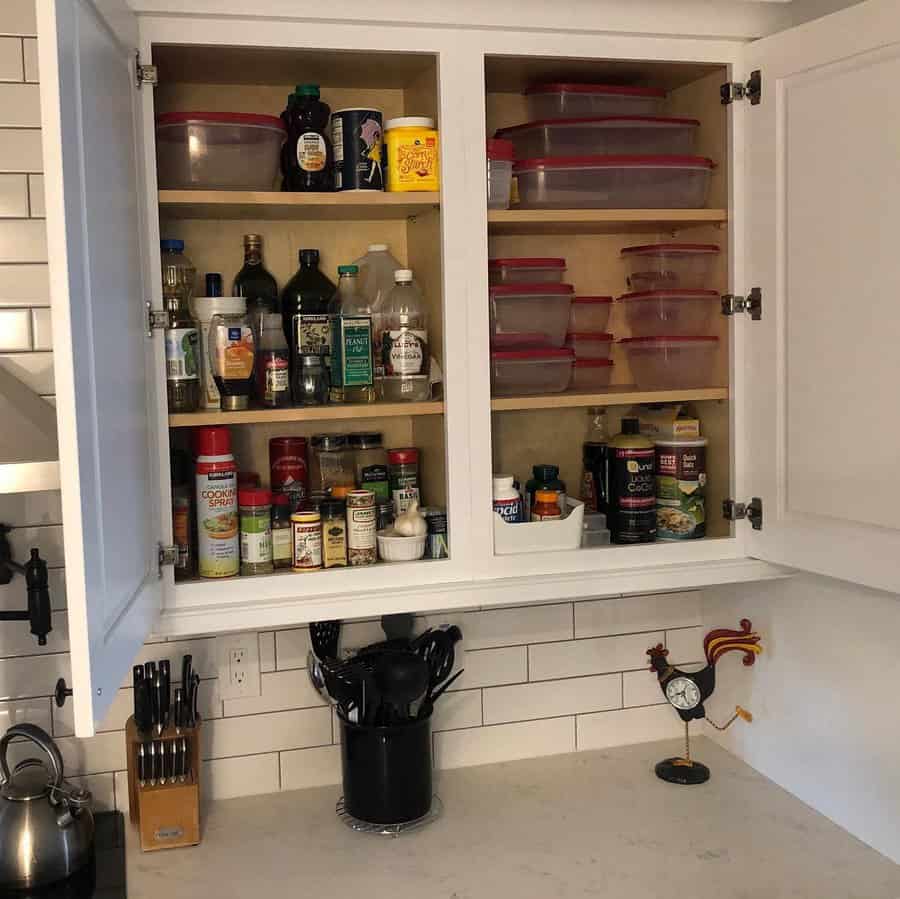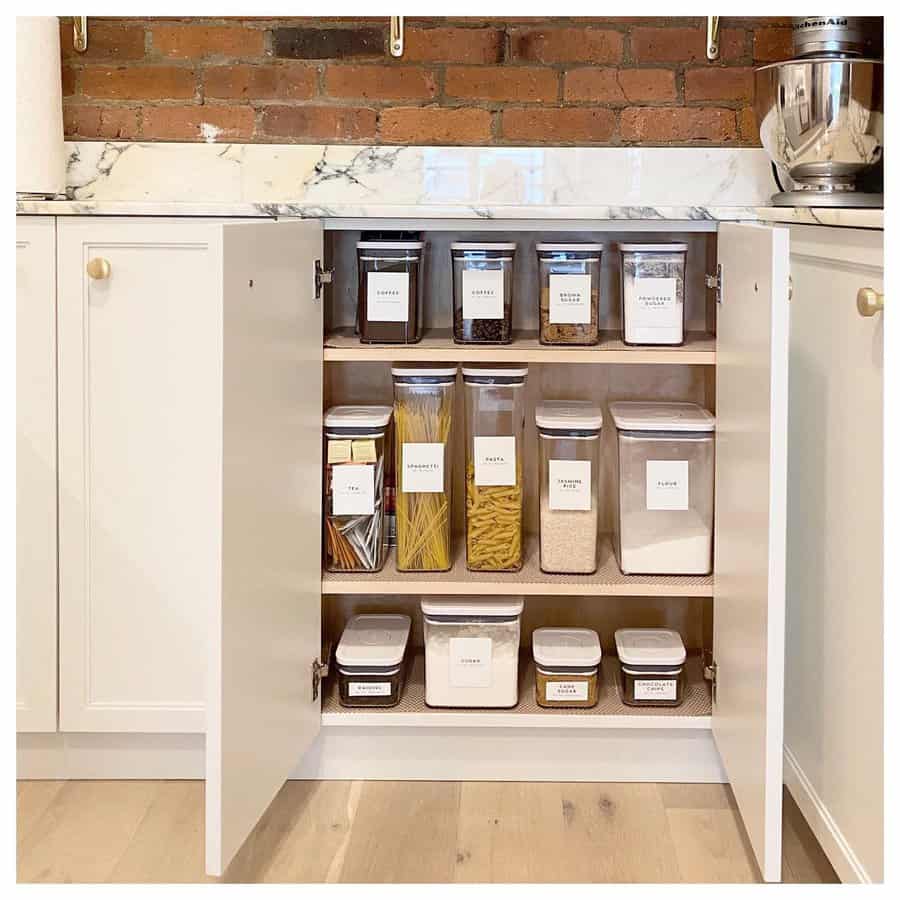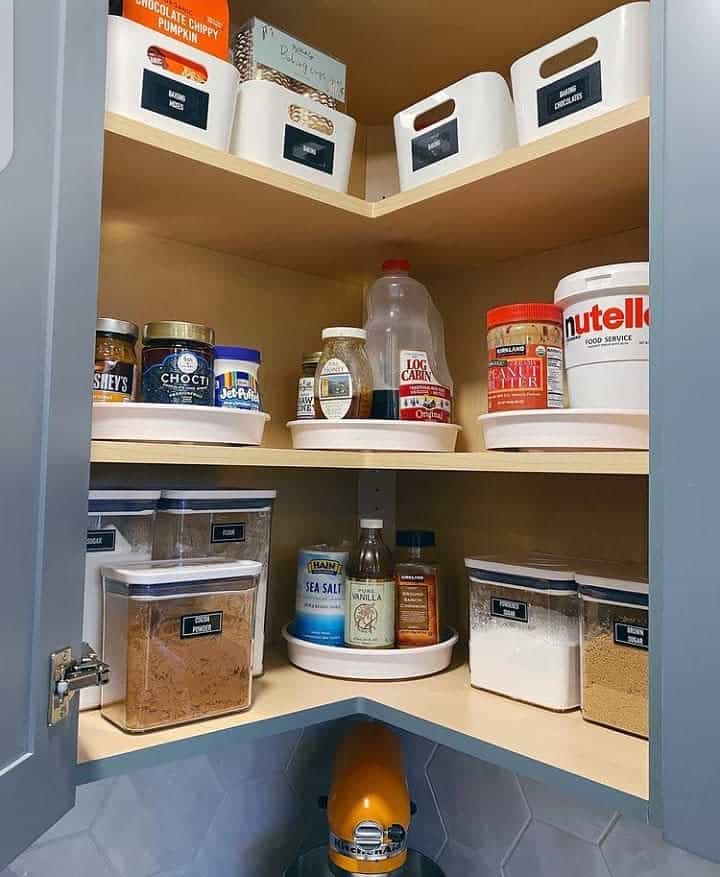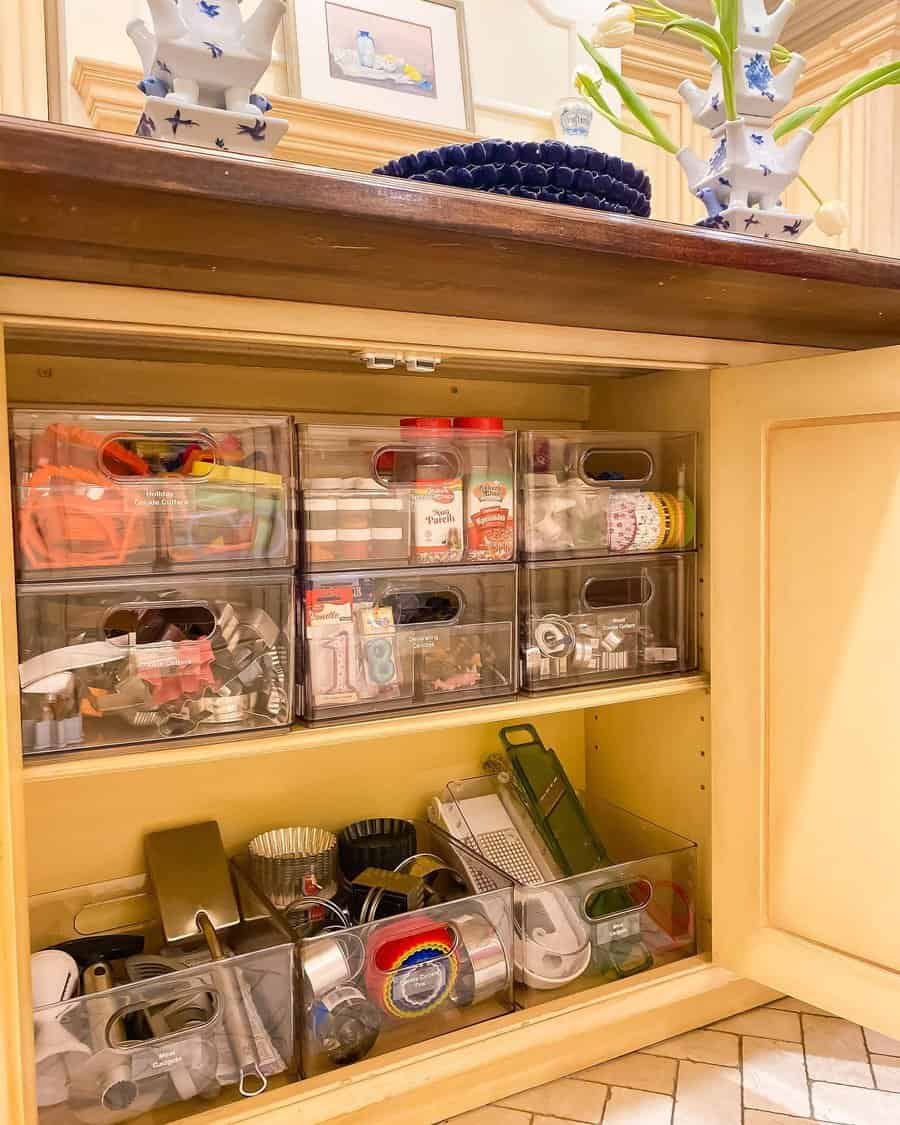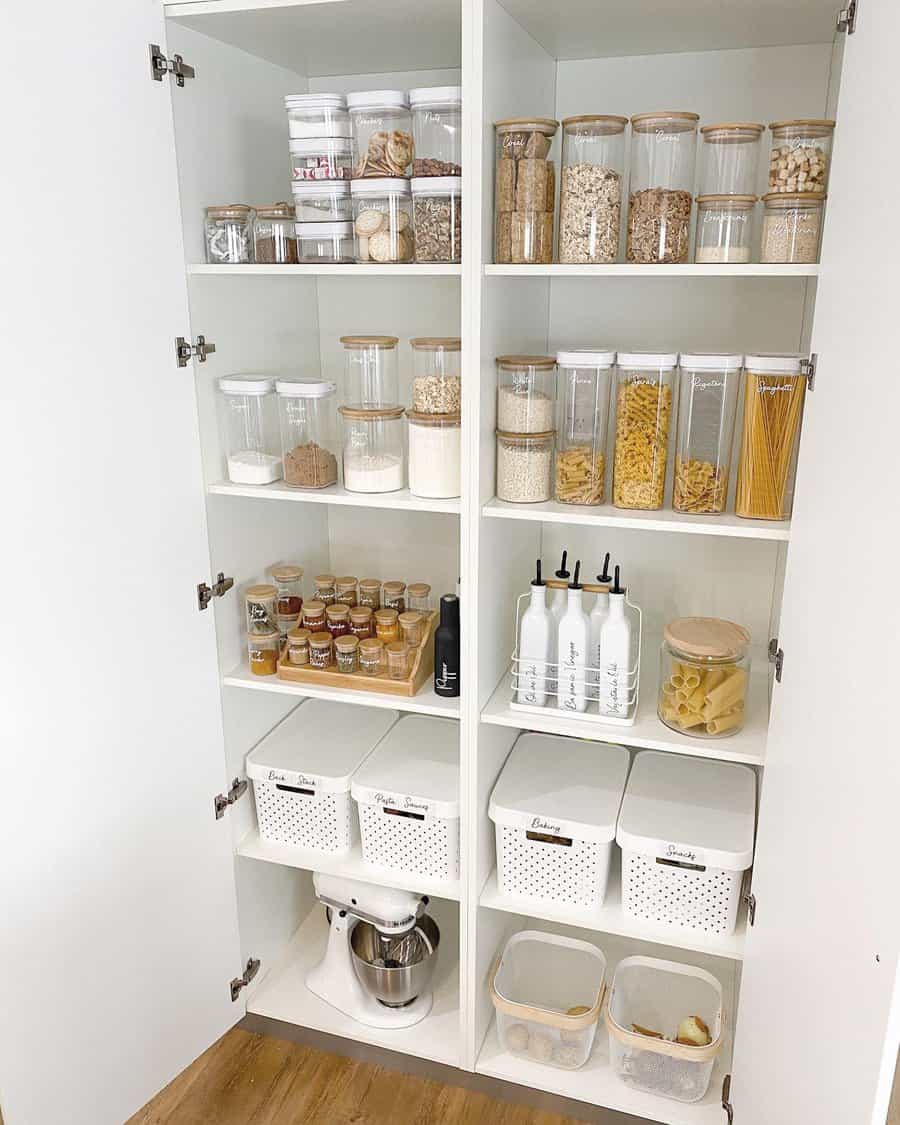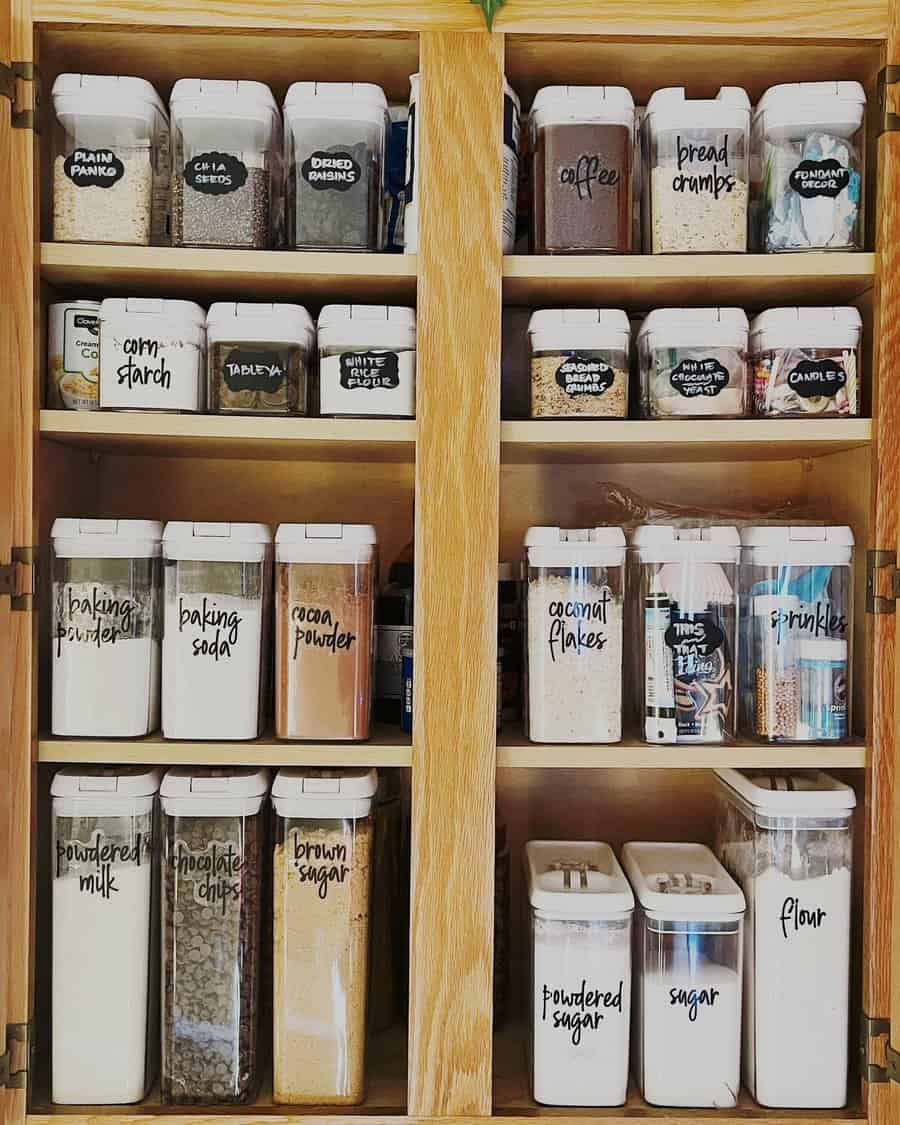 Remember that plastic may stain and retain odors, so maybe acrylic or glass are the best options. Also, if you want containers for freezing purposes, look for leakproof food storage containers.
Label your containers so that you can find everything at a glance. The easiest way is to use chalkboard labels, that you can easily erase and rename.
For food containers that go in and out of the fridge and microwave, you can think of nesting containers with lids, they are easier to organize inside your cabinet or pantry.
2. DIY
If you enjoy DIY projects, you will certainly be able to customize your kitchen and save some money at the same time!
For that junk drawer, you can make your own drawer utensil organizer. Either select some bins or get some plastic or wooden boxes to fill the whole space of the drawer – you can wrap them in fabric or peel-and-stick wallpaper in a beautiful pattern for a stylish look. Shelf liners are also a good call!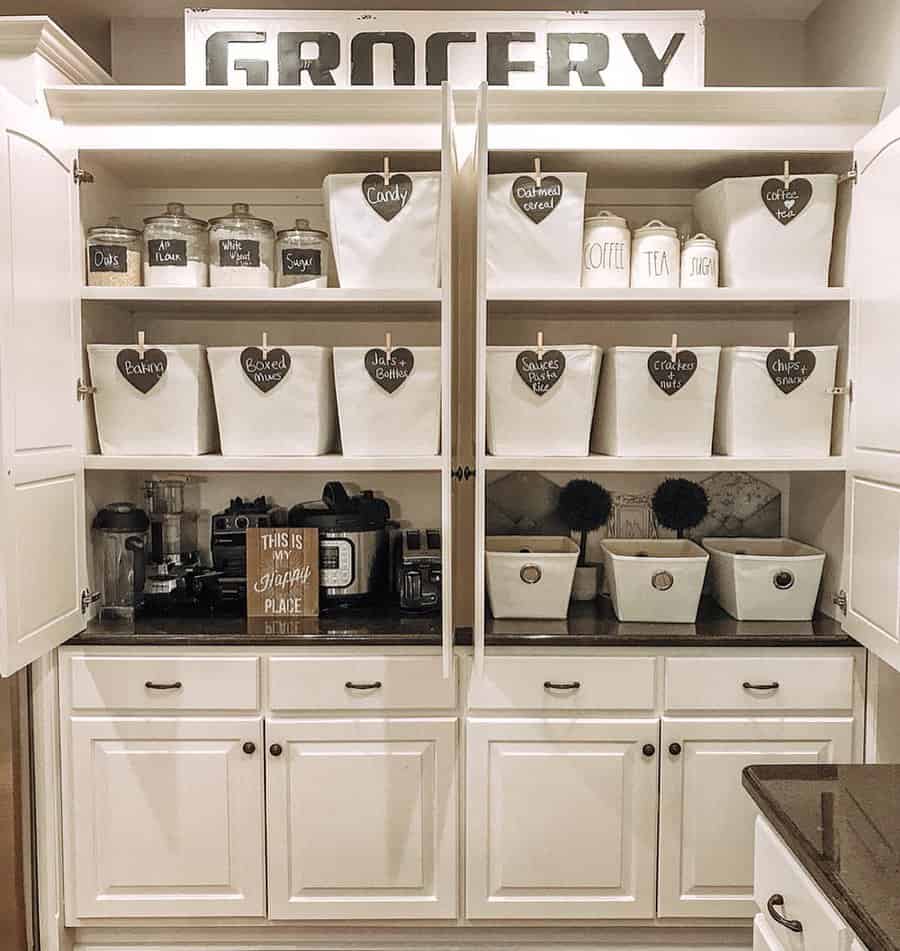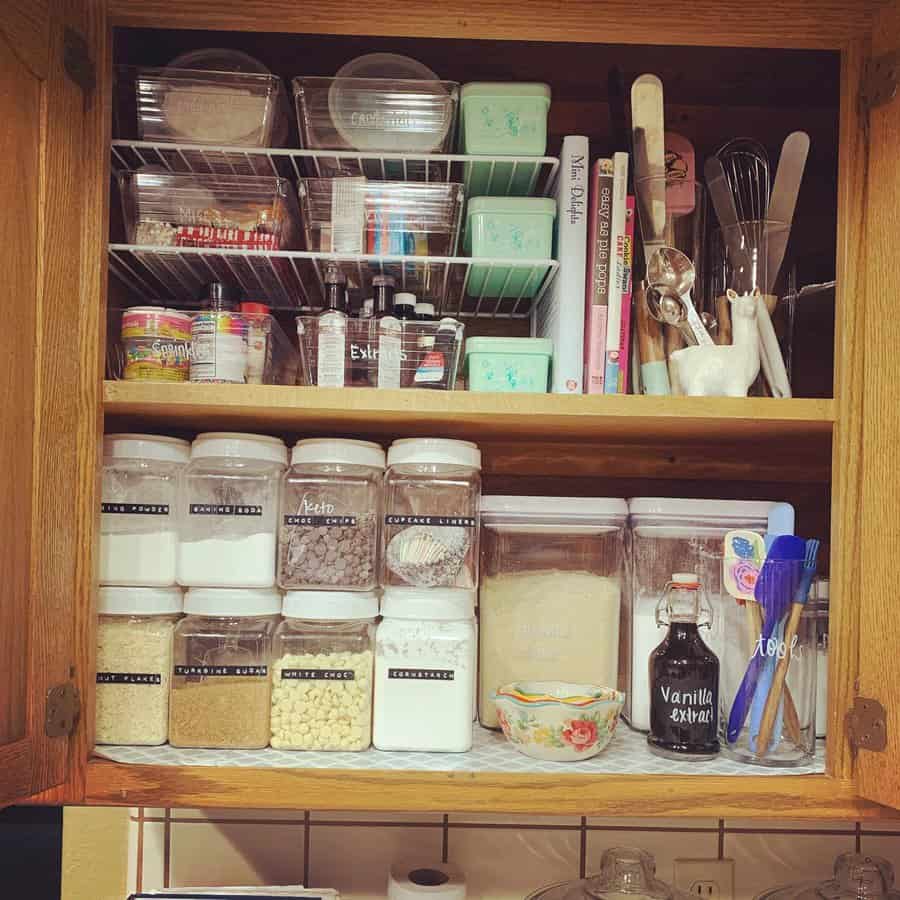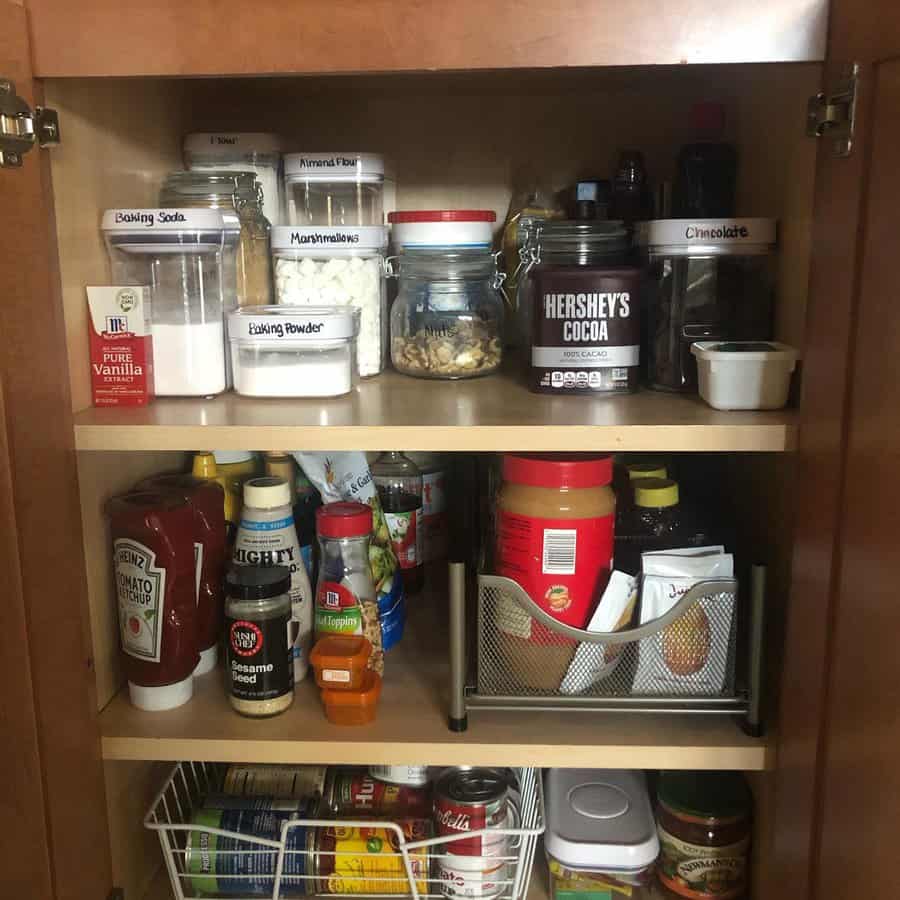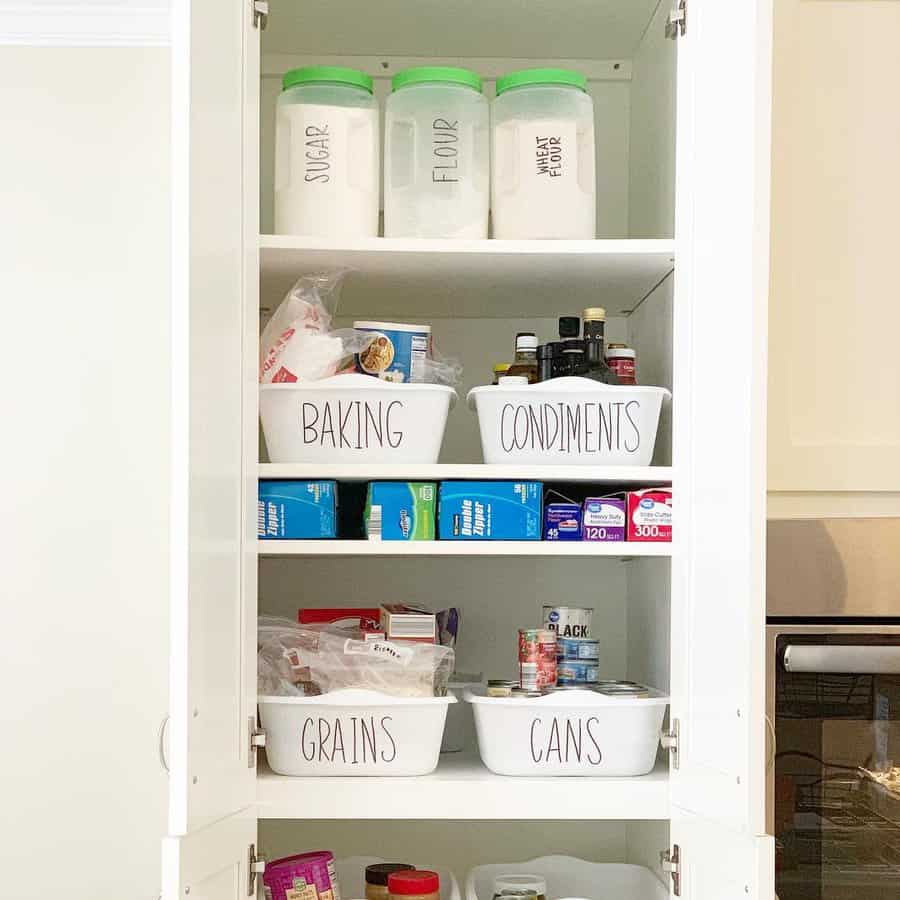 You can also think of adding wood trim to the side of your cabinet so that you can hang pots and cutting boards. Another idea is to make a magnetic fridge holder to attach to the side of your fridge, to store aluminum paper, paper towels, and dish towels. They are easy to find, but why not make your own?
Also, think of reusing food cans for cutlery organizers. Remove the labels (use hot water for that), and then paint and label them. You can attach them together to a piece of wood painted in the same color. It is an ideal solution, especially when you serve meals or barbecues outside.
A very easy solution if you are tired of piling up baking trays and pans, is to store them vertically in a deep drawer or shelf, with book bins. Or you can customize your divider with napkin holders glued together. You just need to measure the space to see how many napkin holders you can fit, and then glue 2, 3, or more napkin holders to each other, to make a perfect tray, pan, and pot lids rack.
3. Design
Design is important, but a beautiful kitchen is not all about design. There are several elements that complement your design and give your kitchen a stylish look, and color coordination is one of them. It is one of those special details that make a huge difference: appliances all in the same color, and kitchen utensils that match.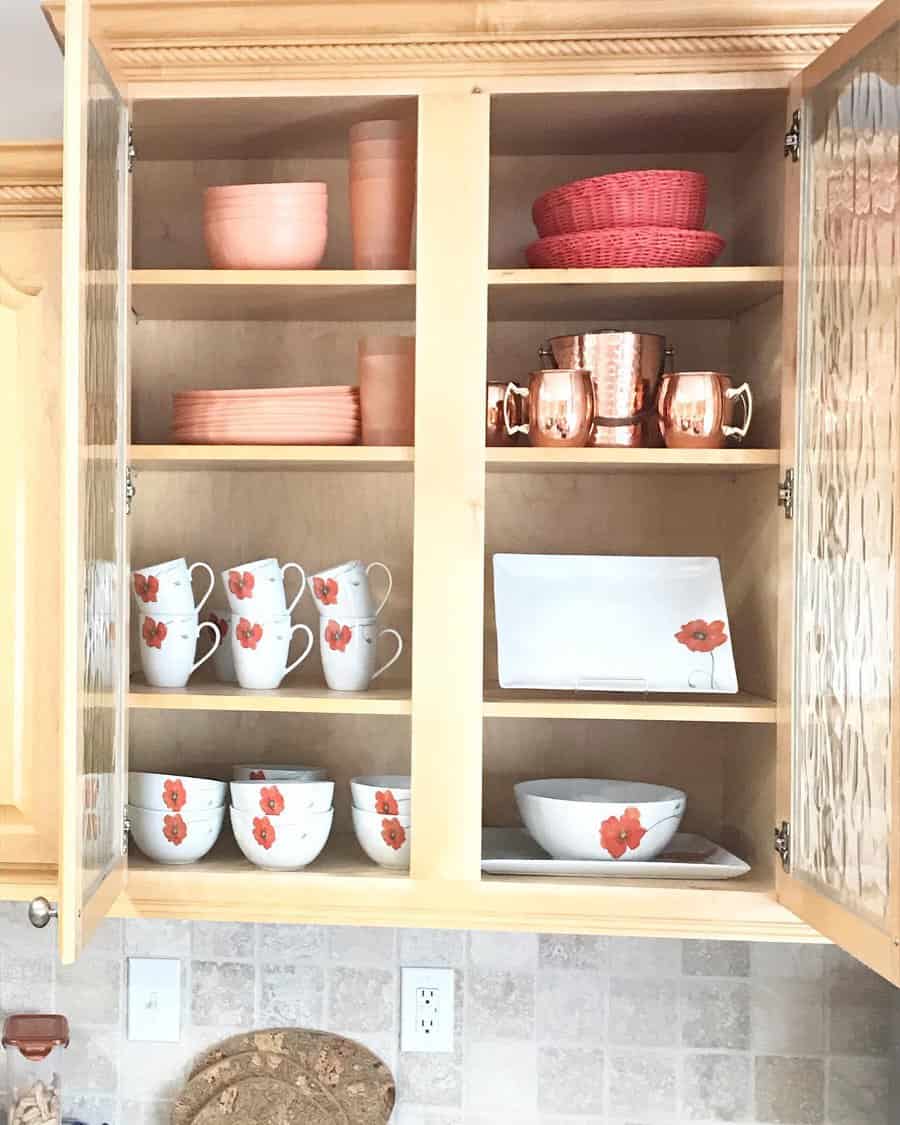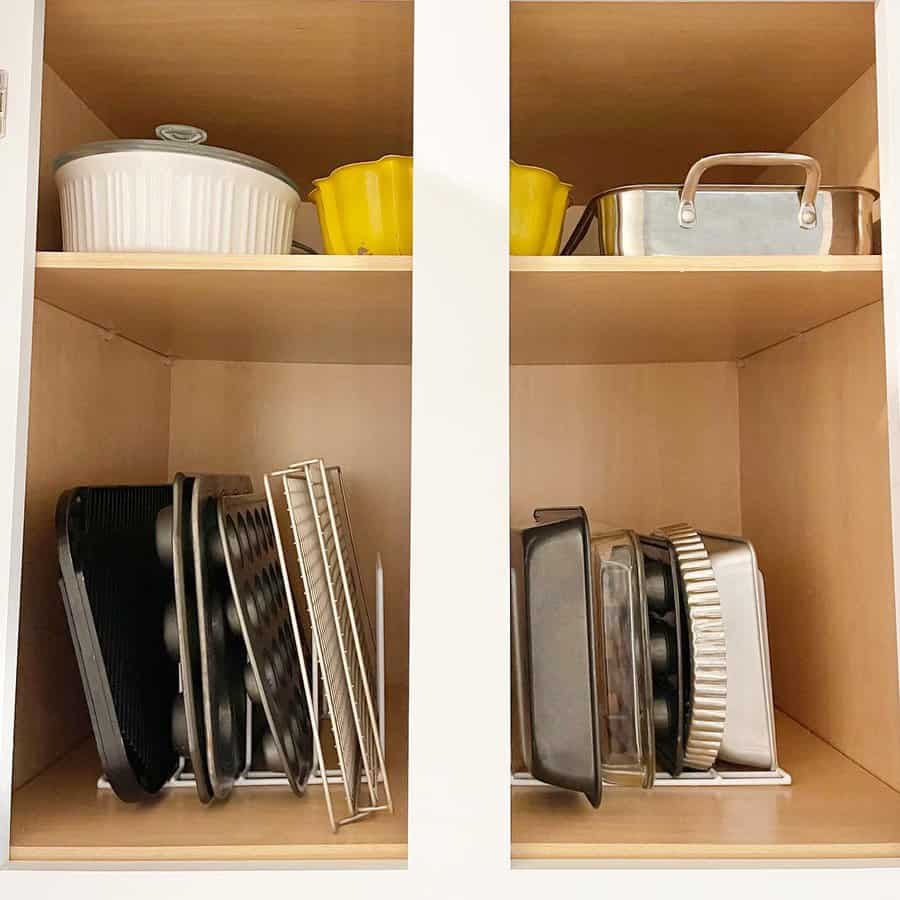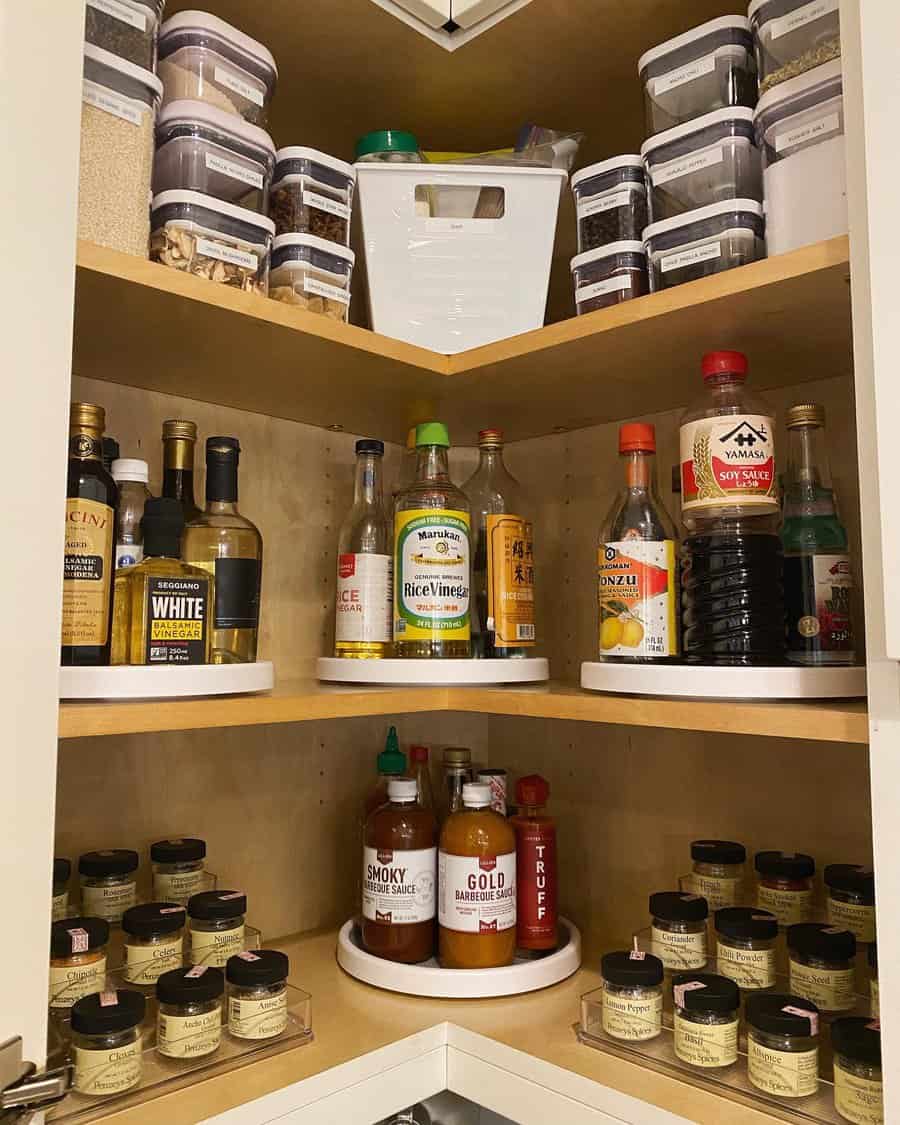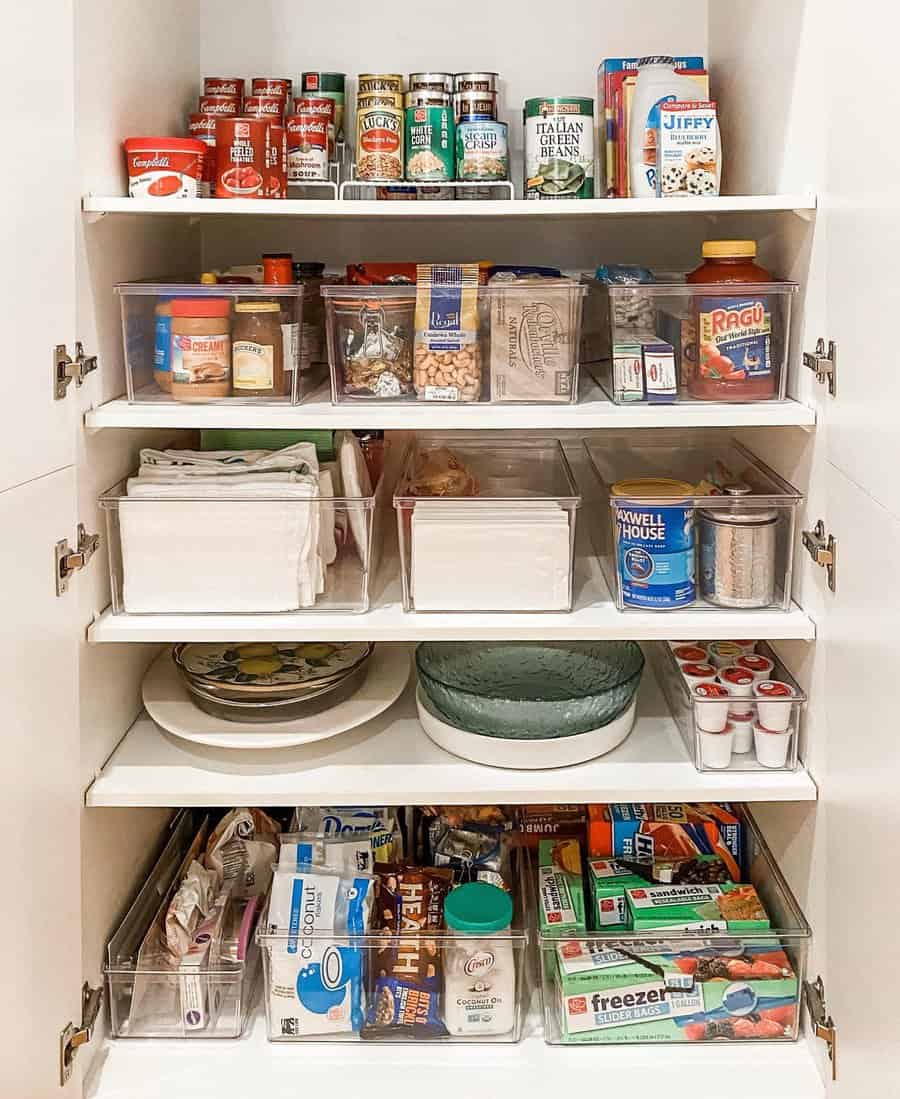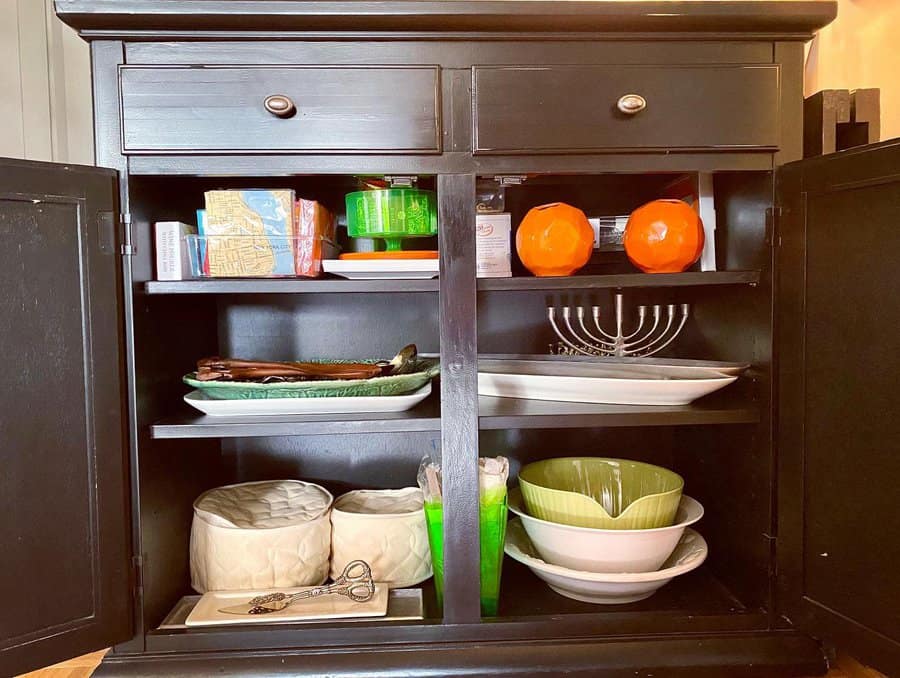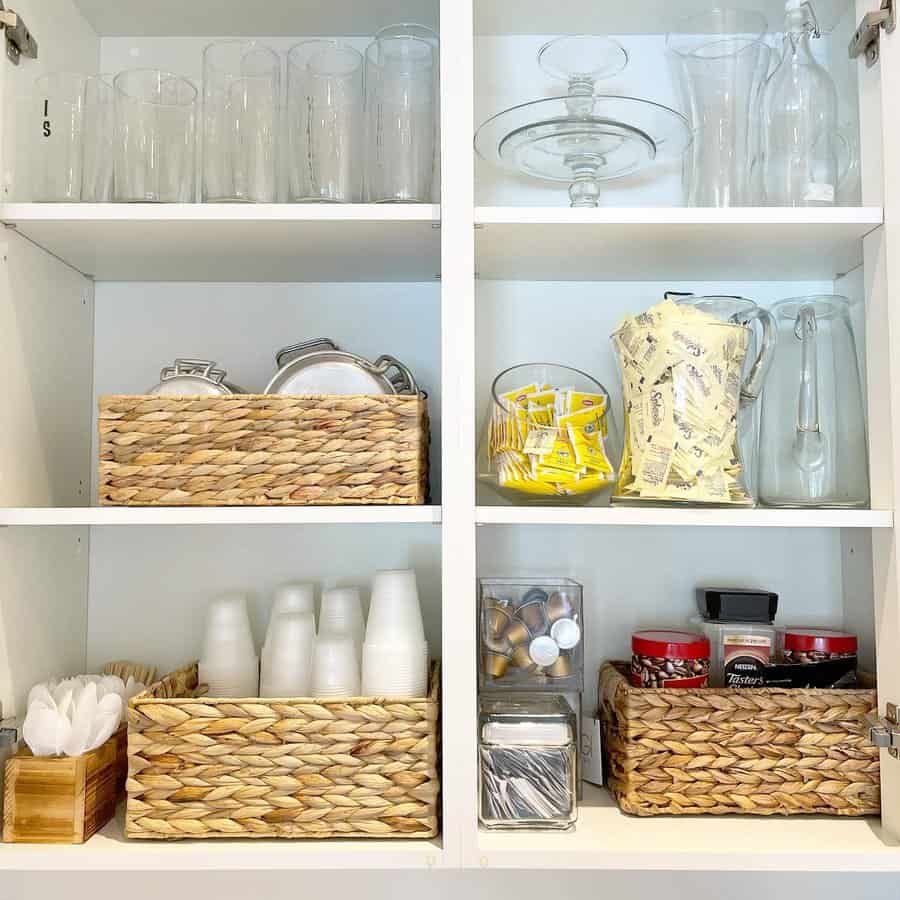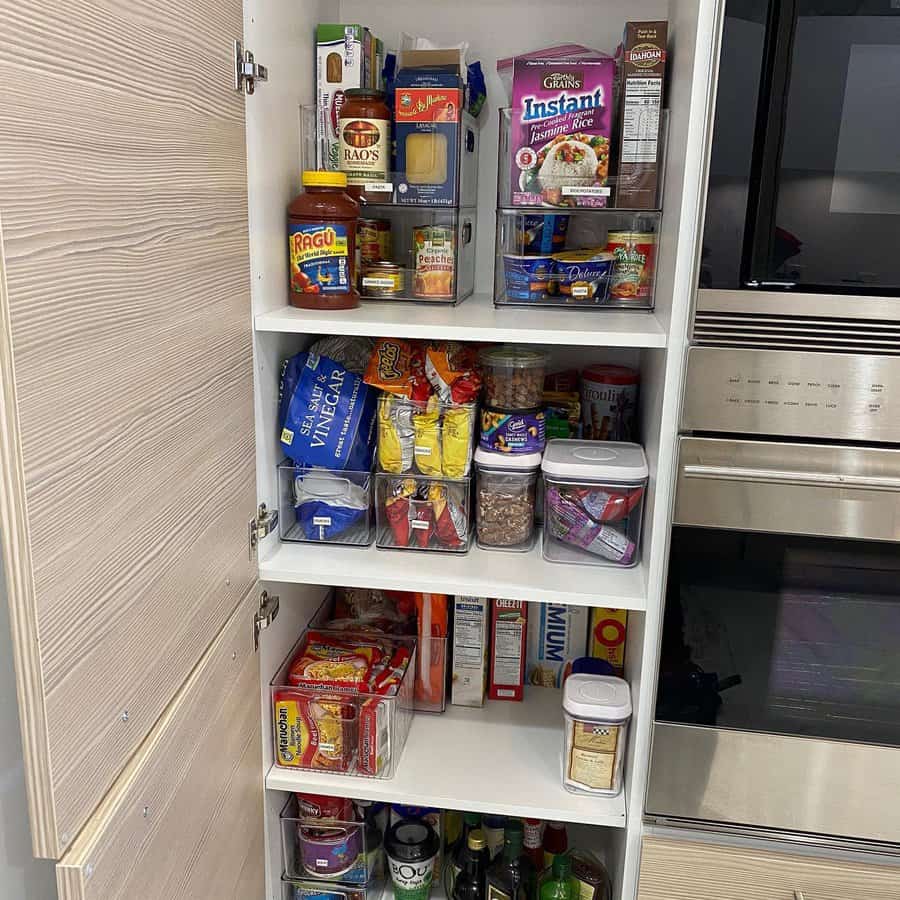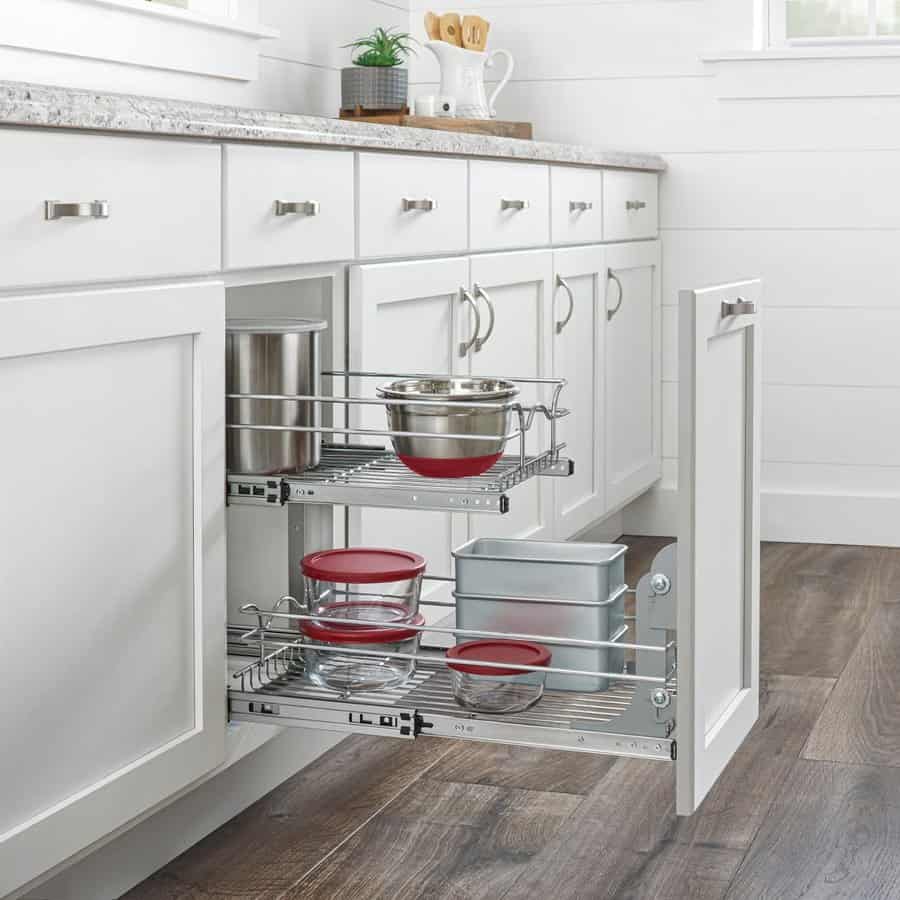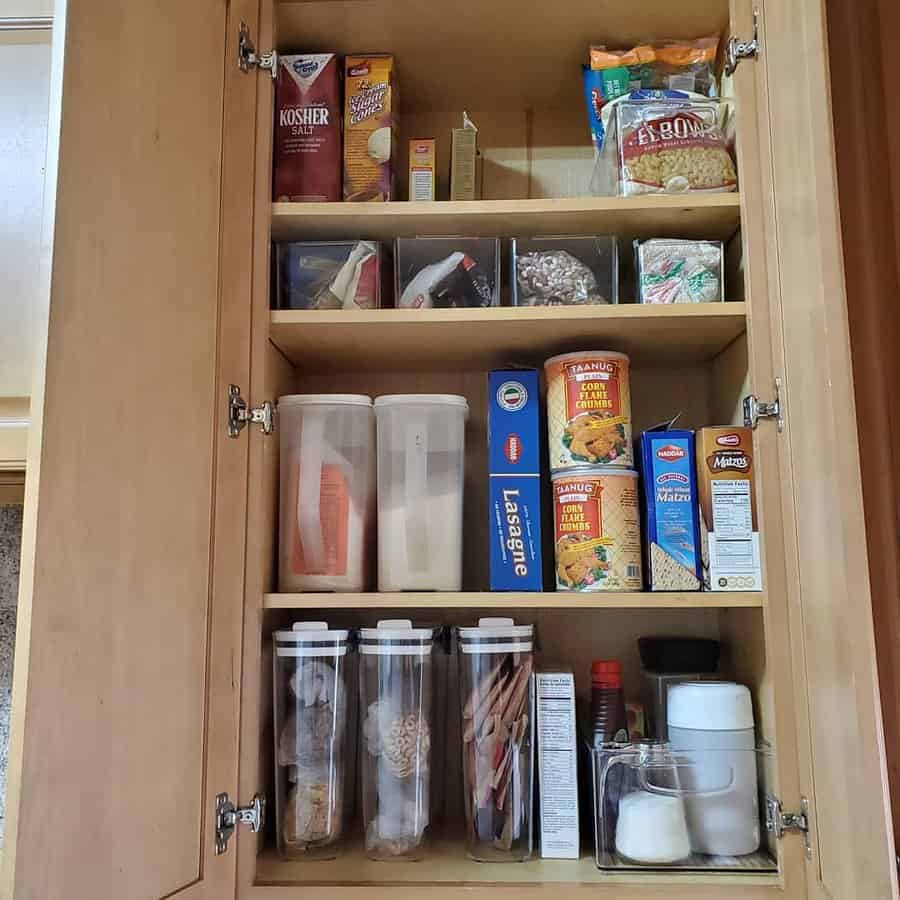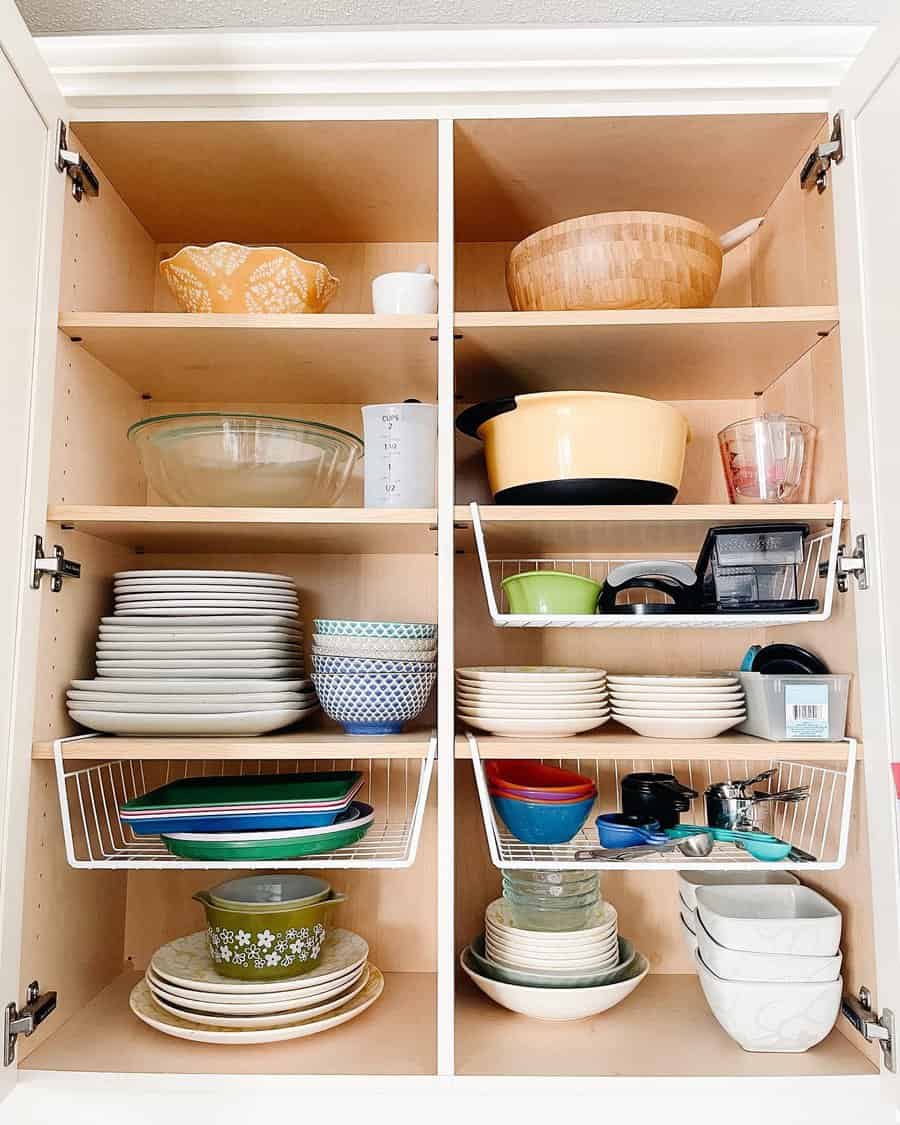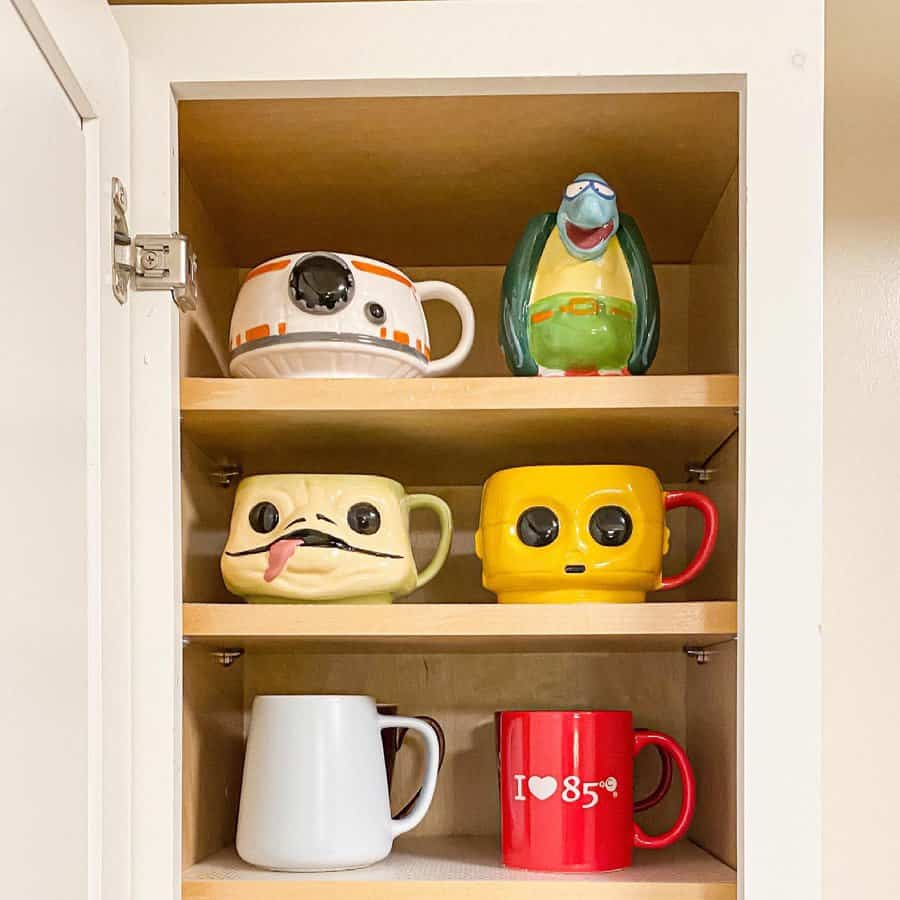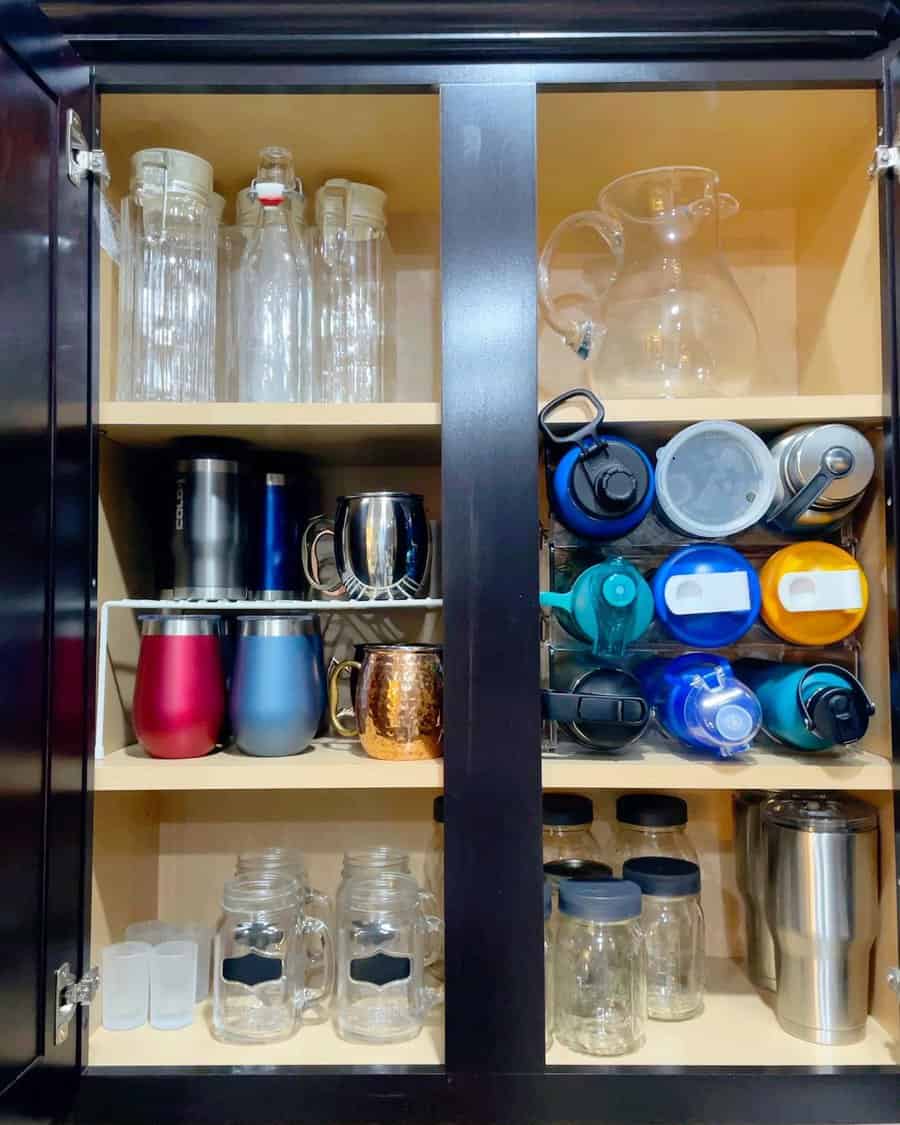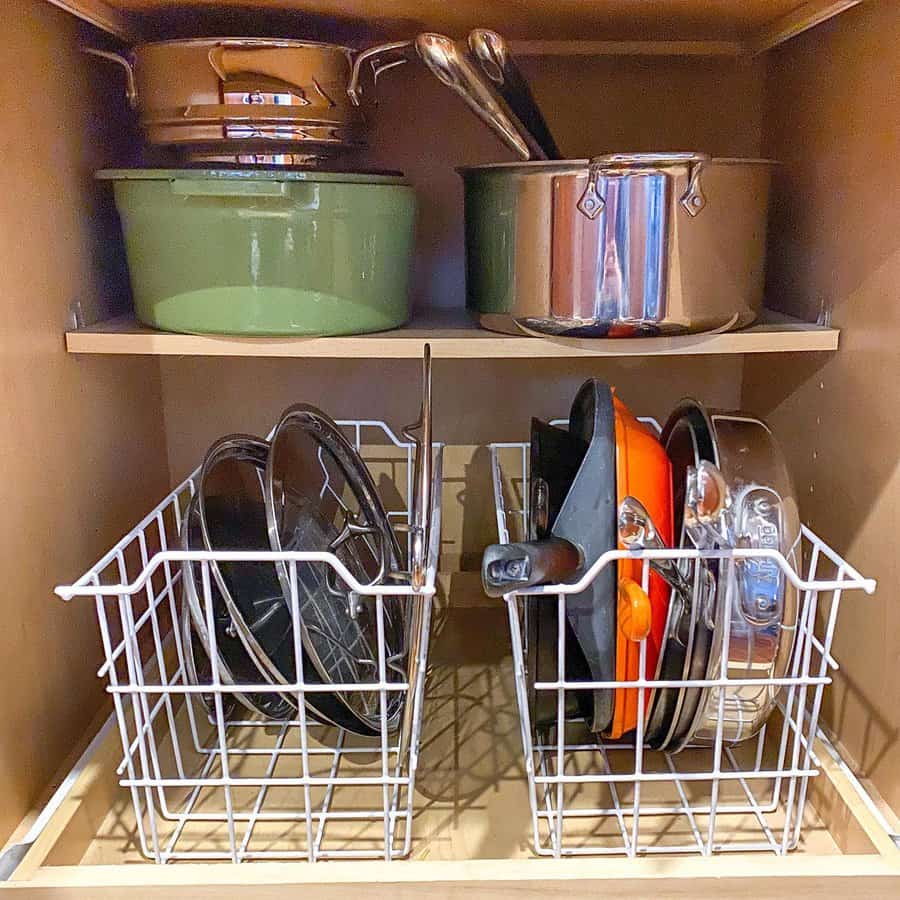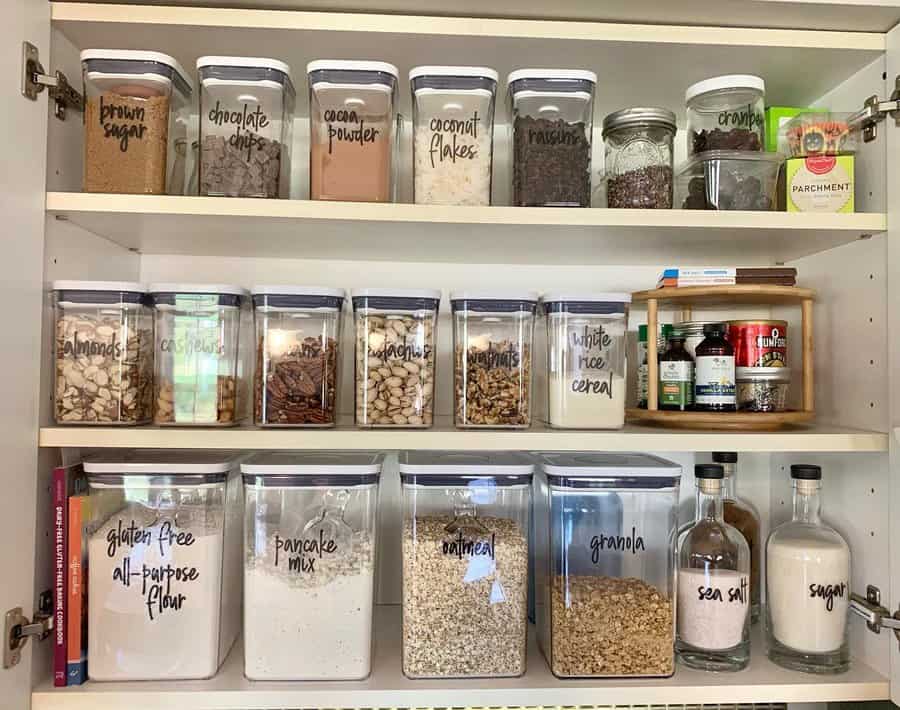 Think of beauty and functionality if you want an organized kitchen. Add to your kitchen practical accessories that will make your life easier and your kitchen much more organized, like turntables inside the cabinets to keep your jars and spices.
Use tension rods to hang cleaning products under the sink, or to hang measuring spoons and other day-to-day utensils.
4. Drawer
Any drawer will soon have that junk-drawer aspect if you do not keep them well organized, and for that you need dividers, plastic or acrylic boxes, or bins. You can also add diagonal drawer dividers to optimize the use of space.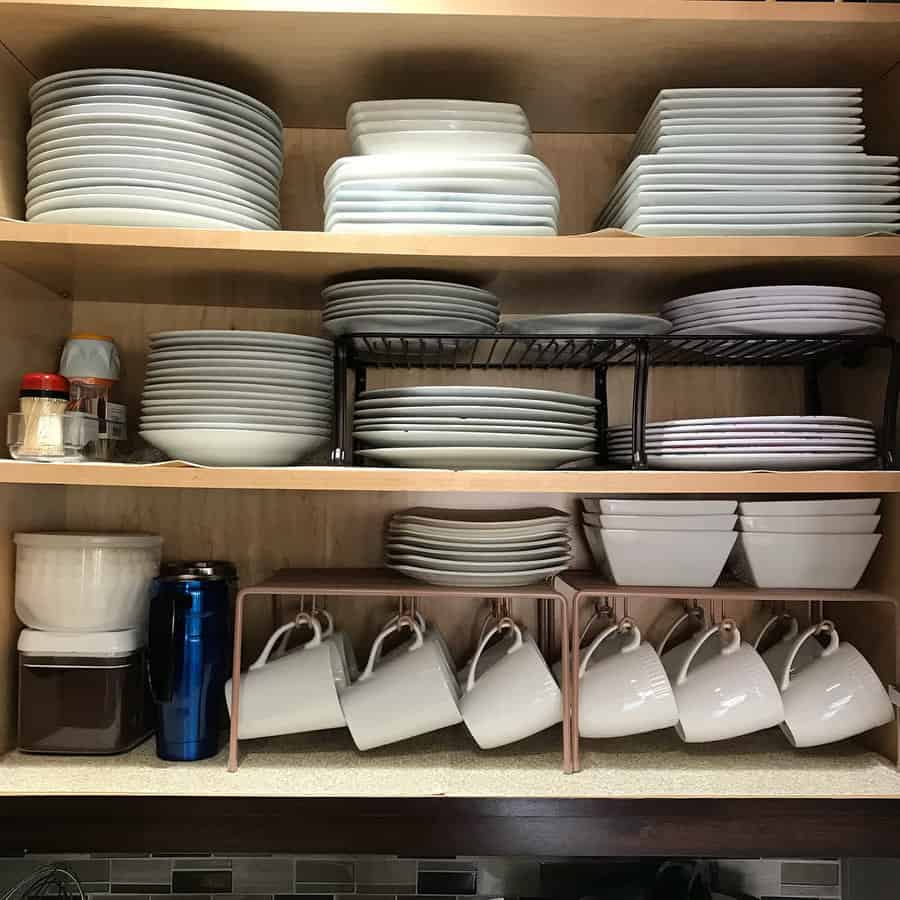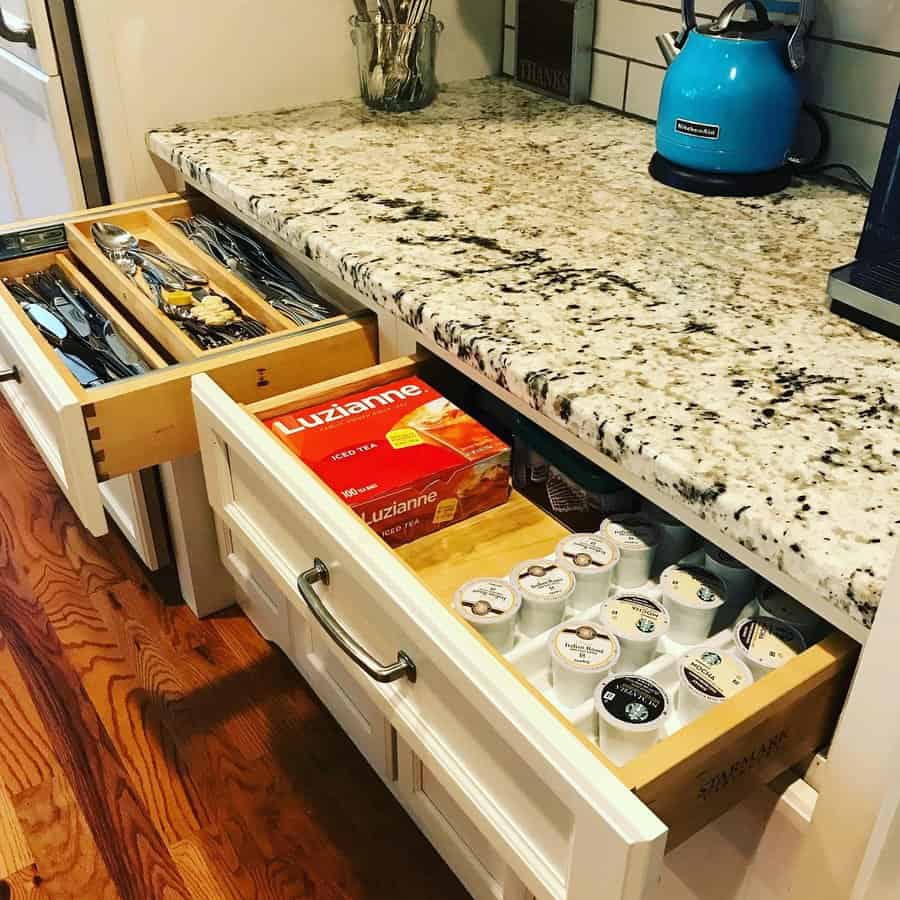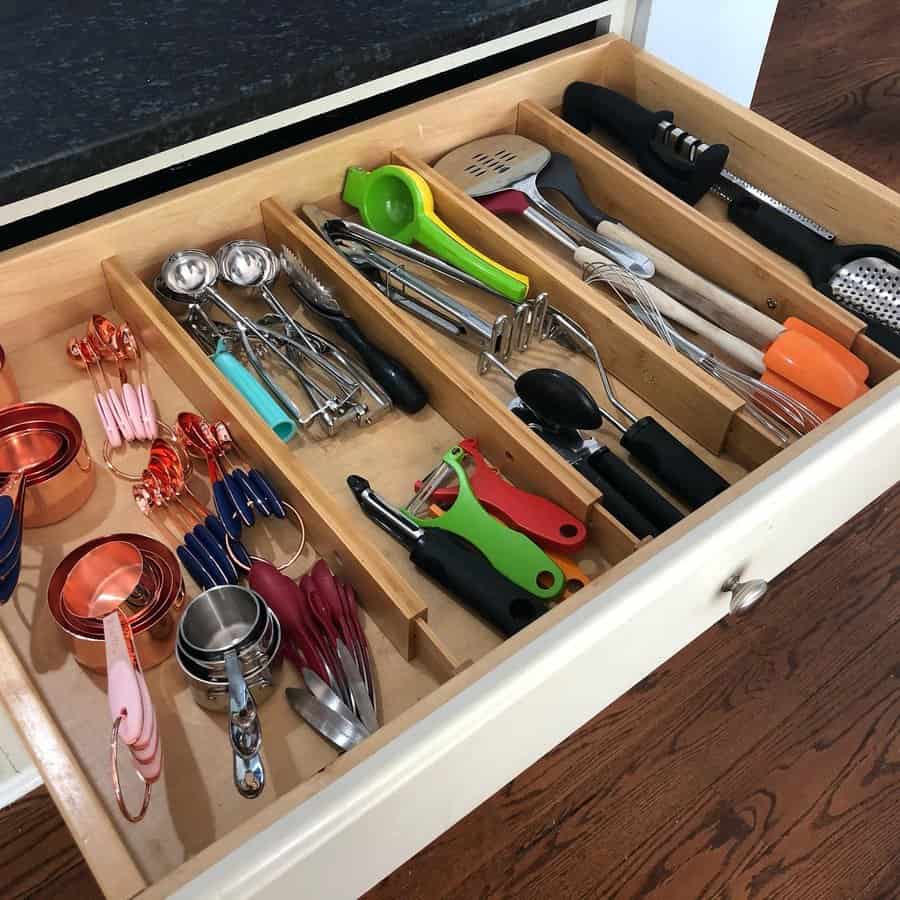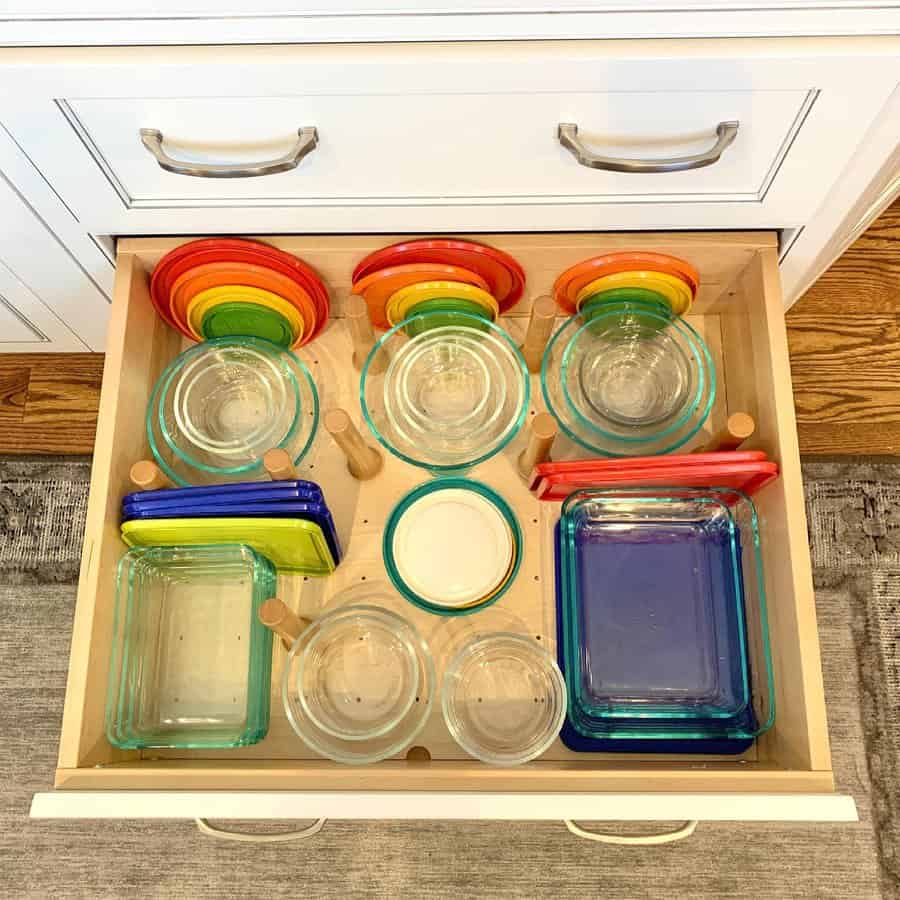 5. Glass
Glass cabinetry brightens any space, but they have to be perfectly organized, 100% of the time. Avoid piling up too many things that give that cluttered aspect; display your nicest dishware instead.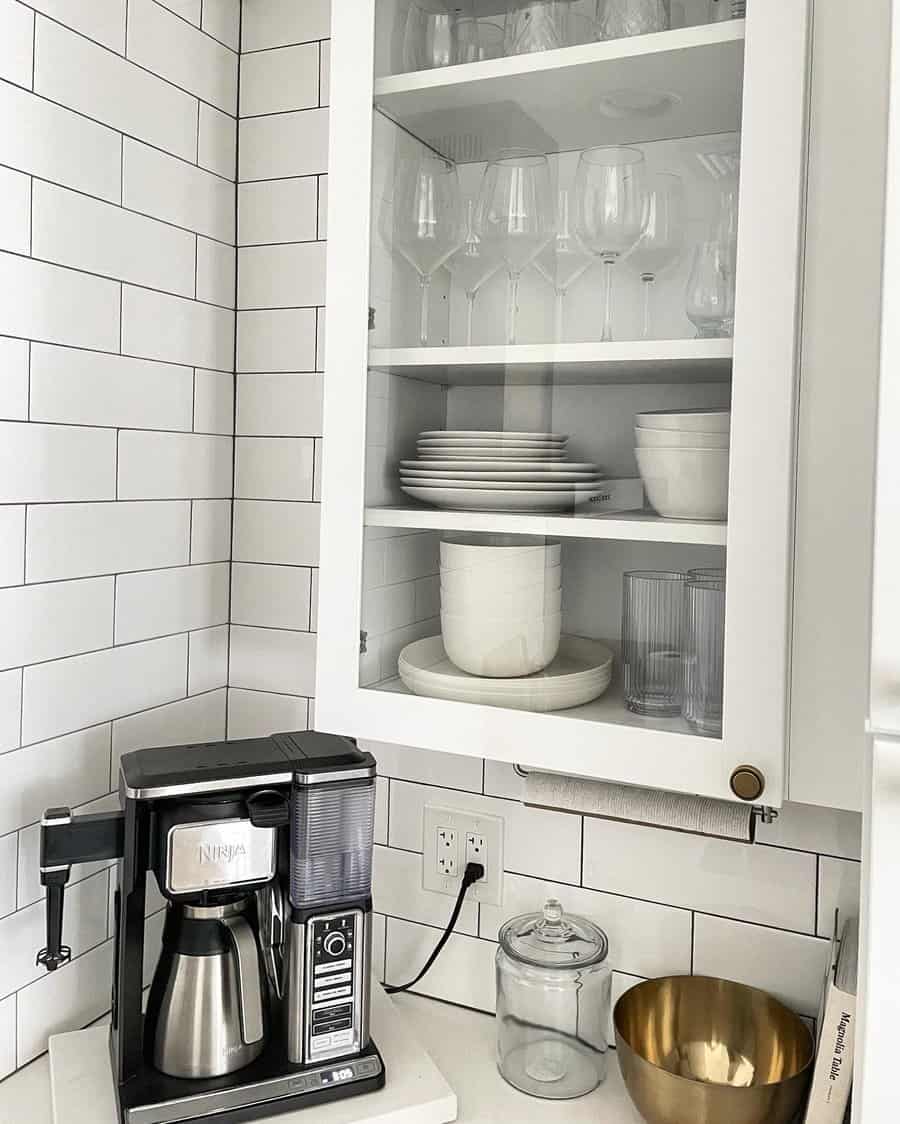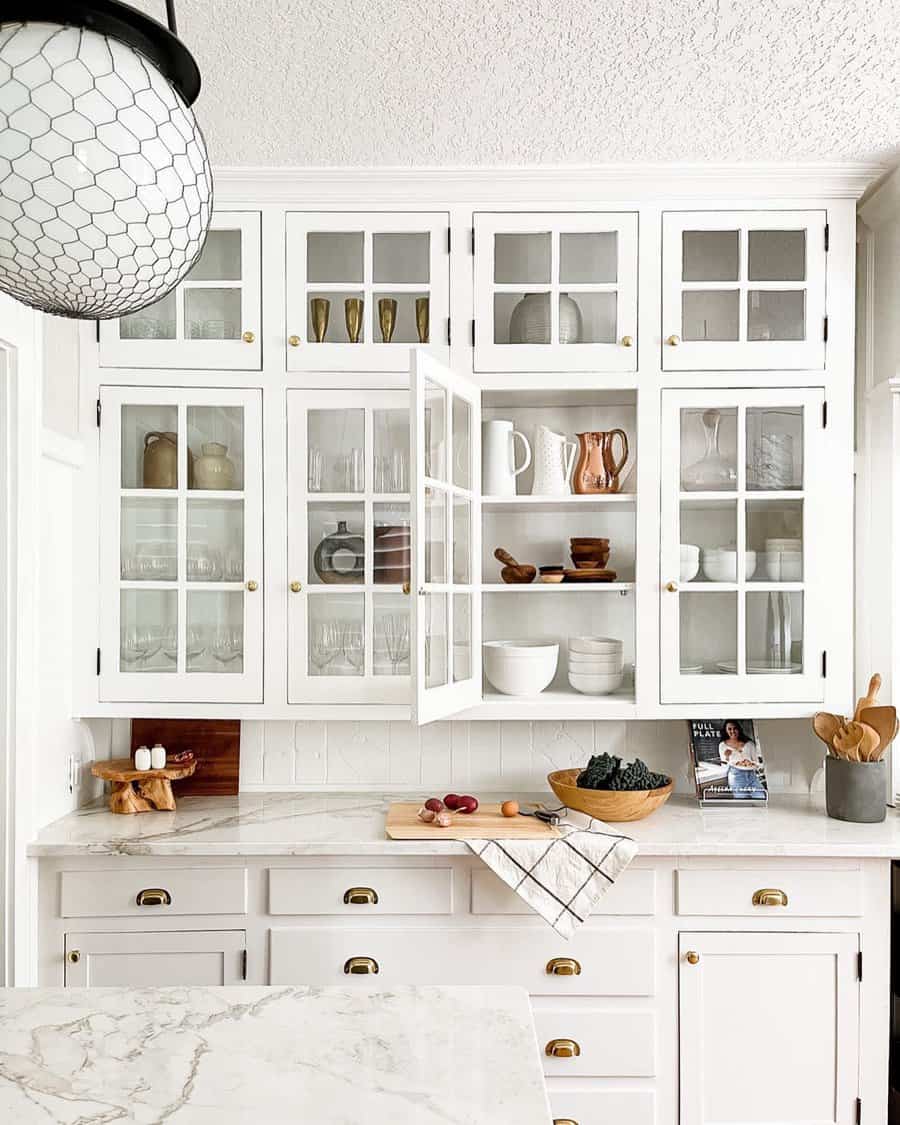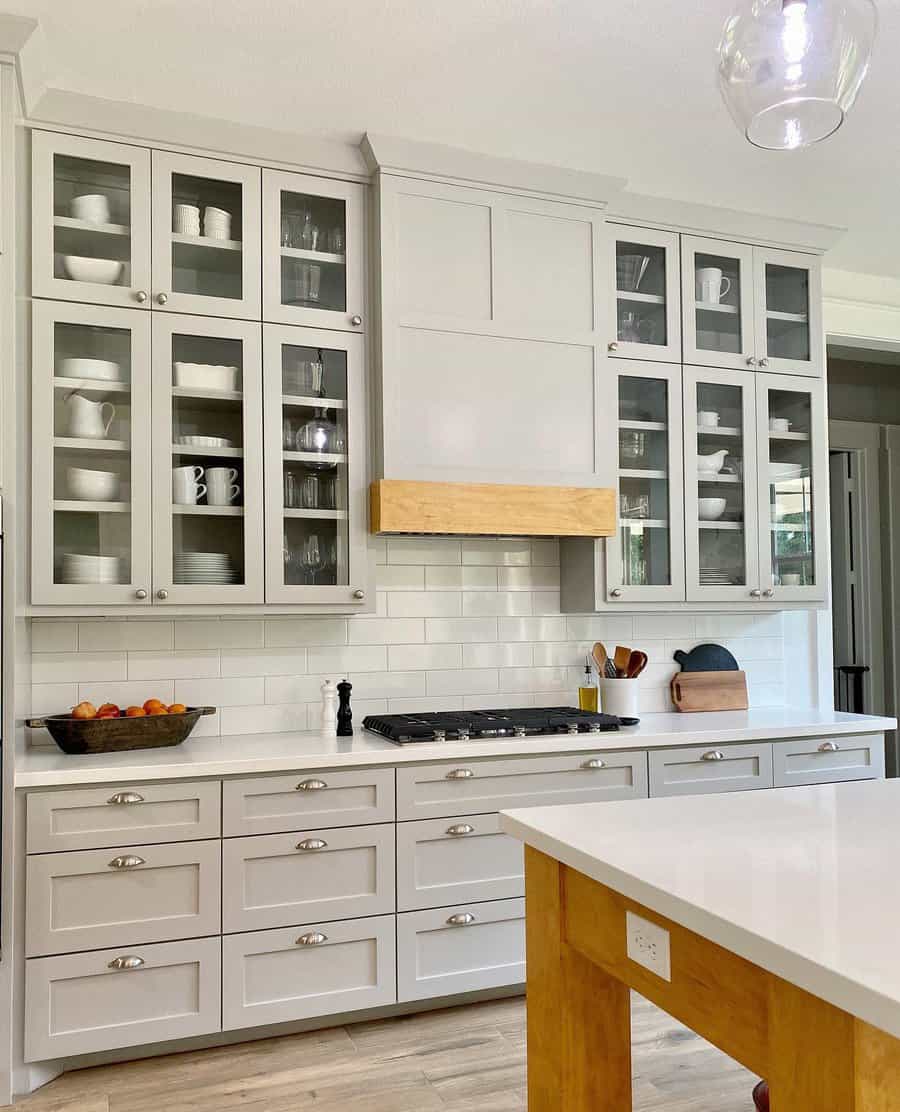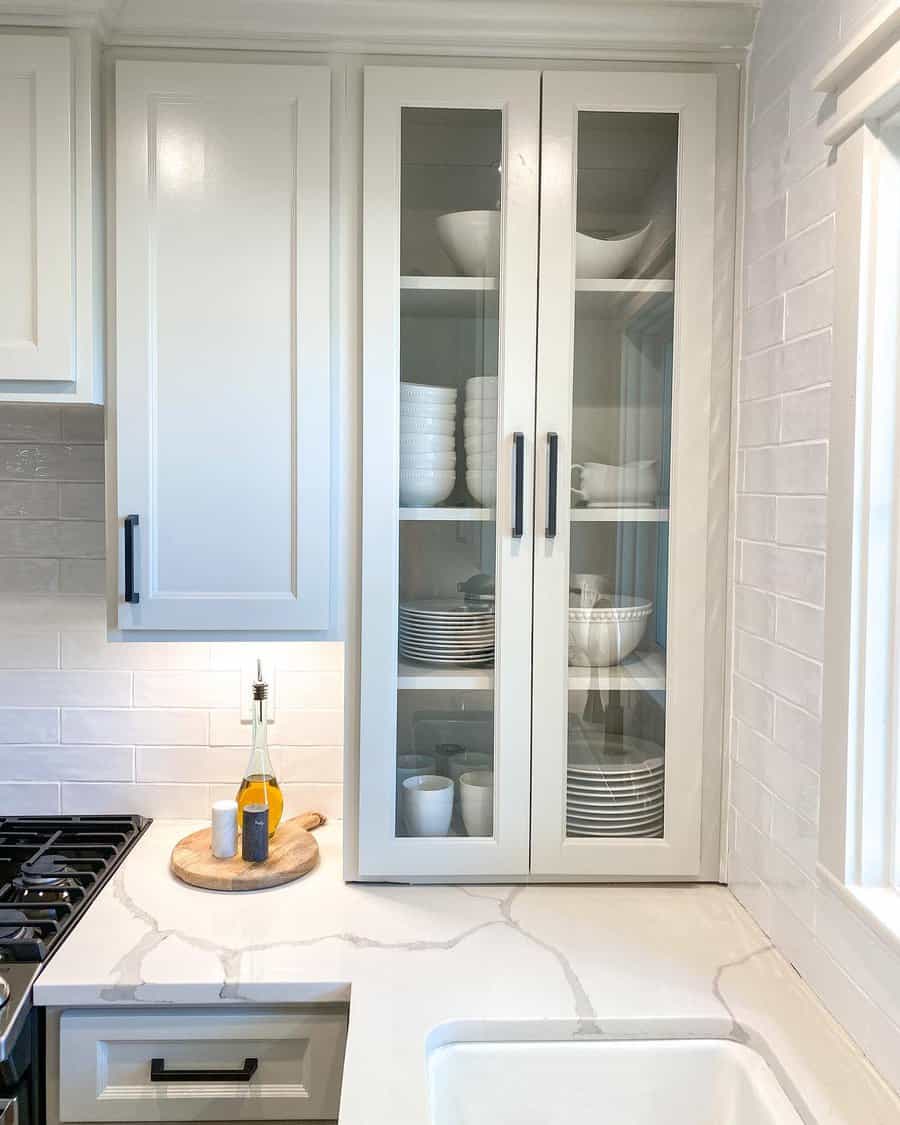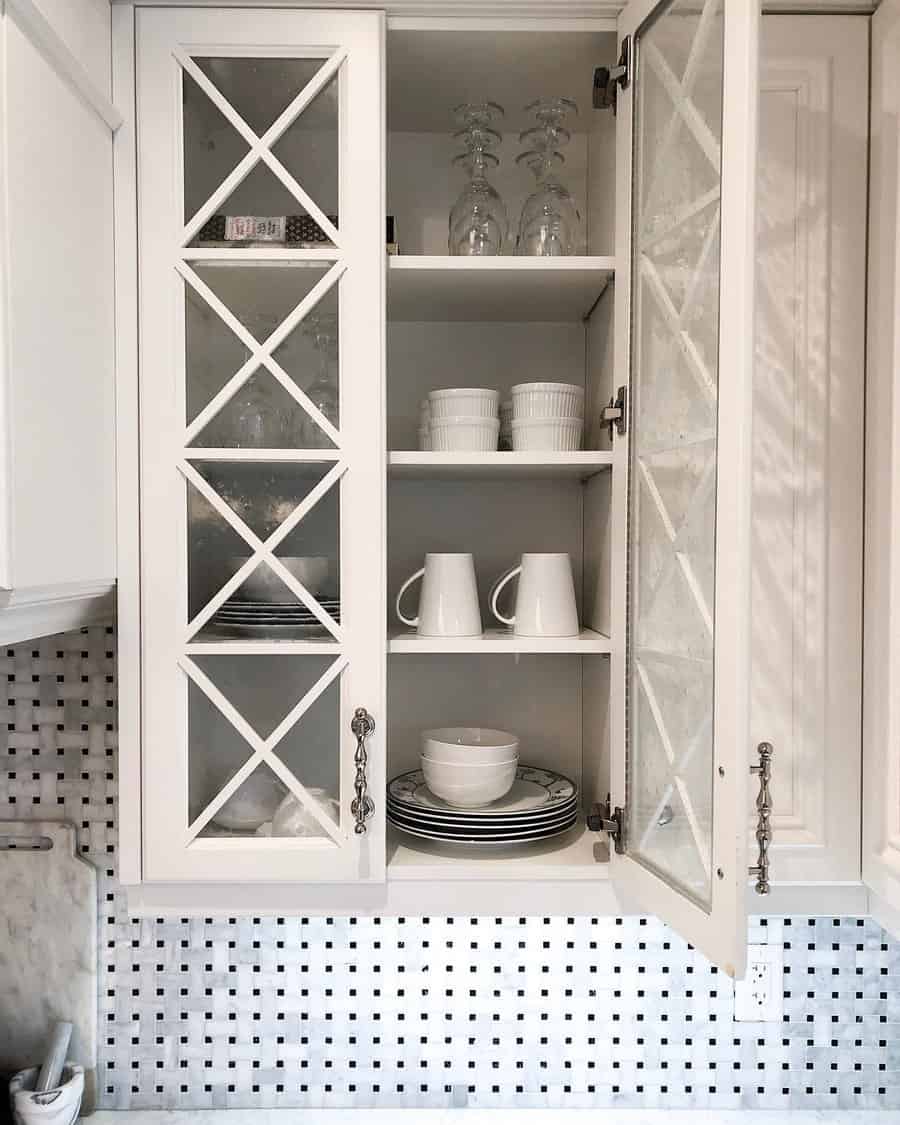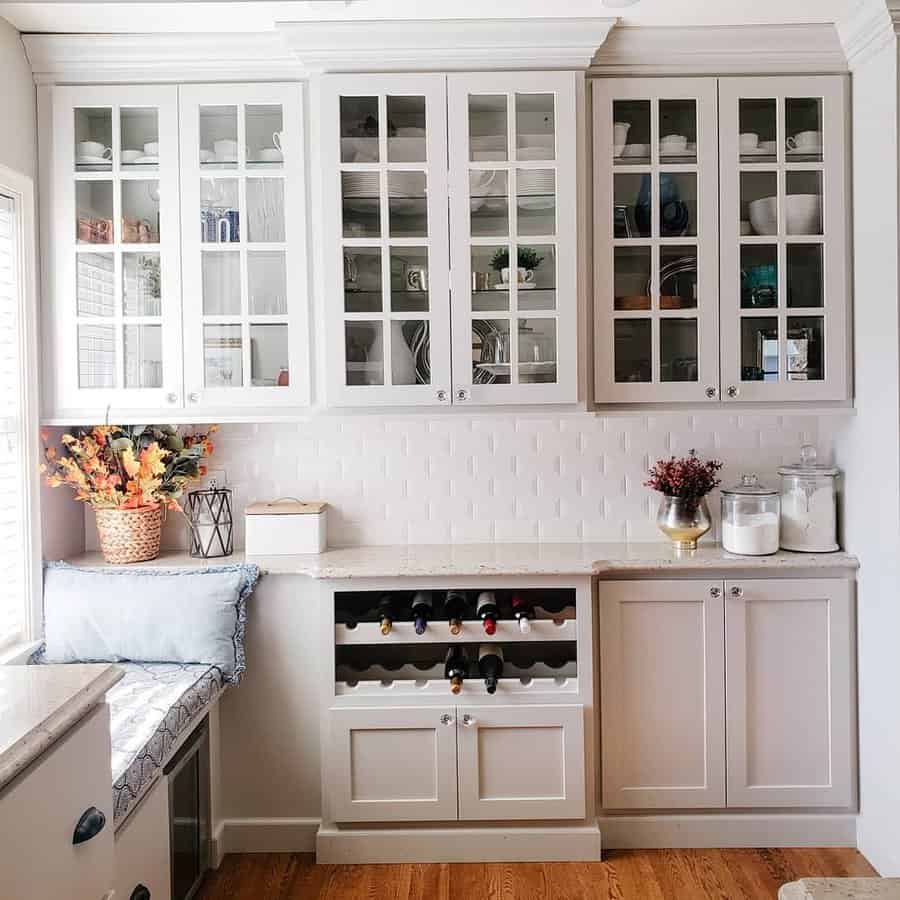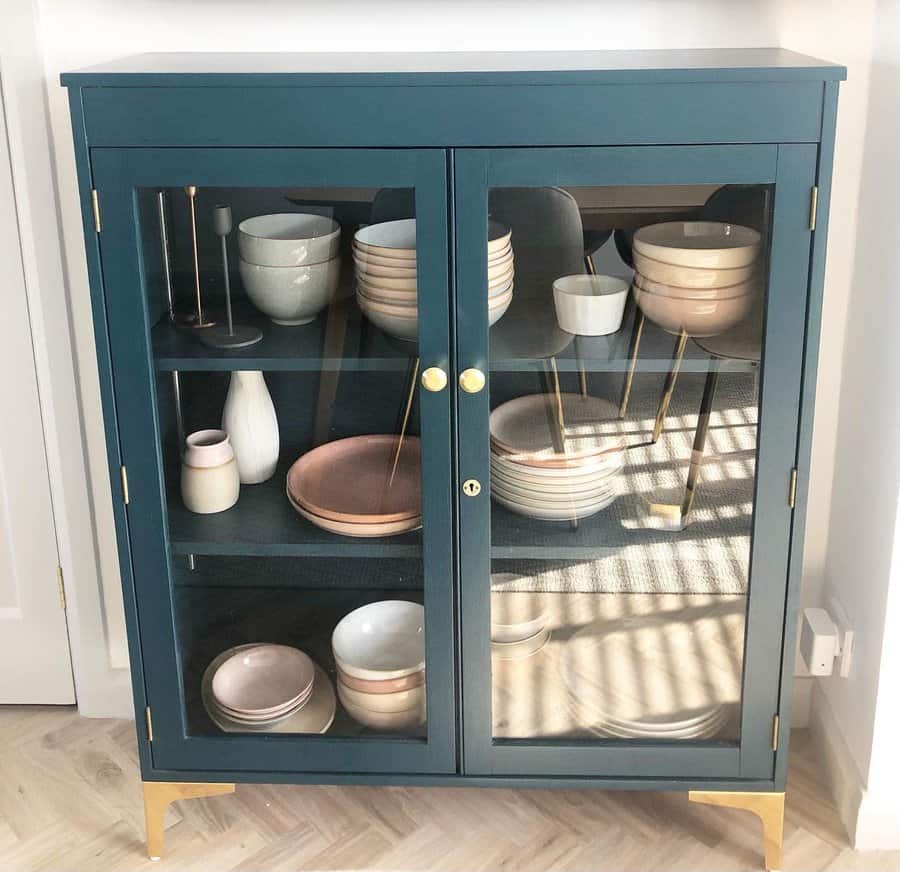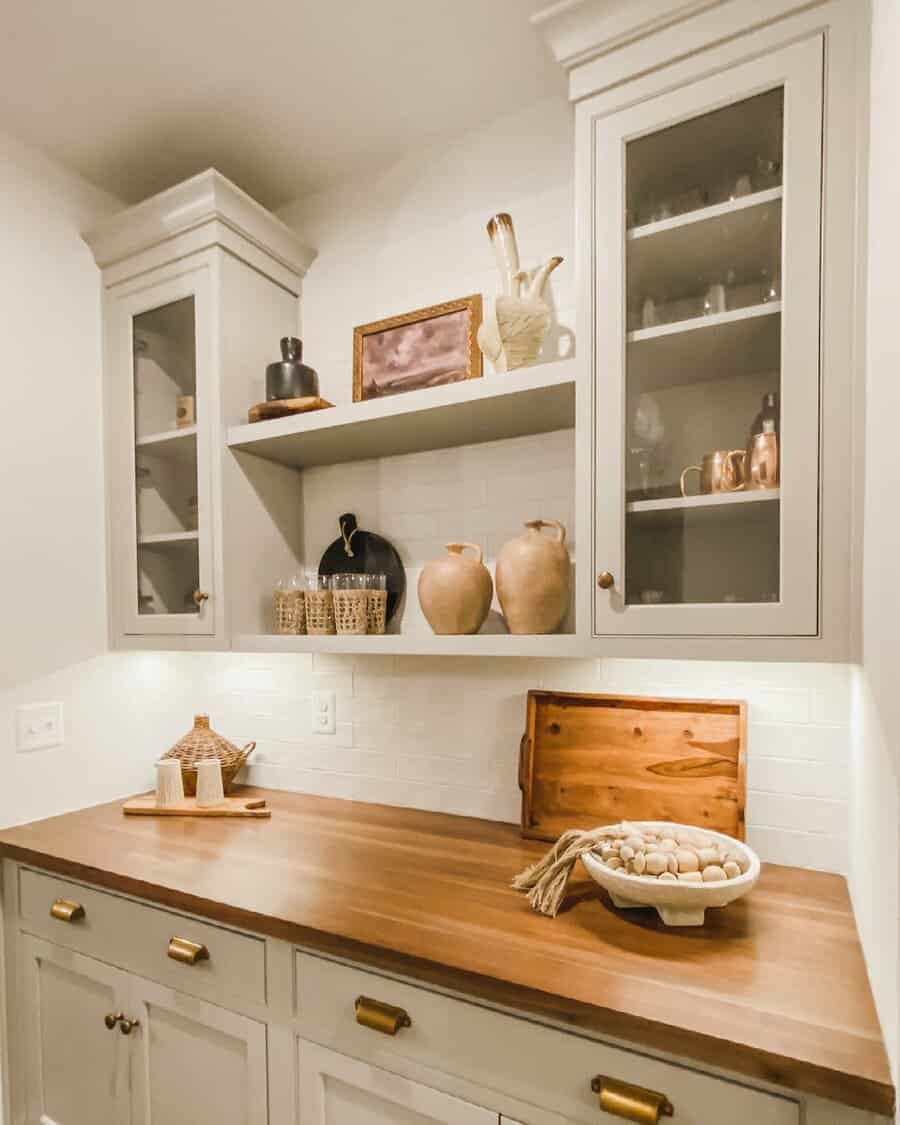 Try to maintain symmetry and color coordination, for visual effect. And remember: less is more!
6. Pantry
In order to maximize the use of space, divide your pantry into sections: canned goods, spices, dishware, appliances, accessories, clear bins, etc. You can use rolling carts to add extra storage space in the pantry.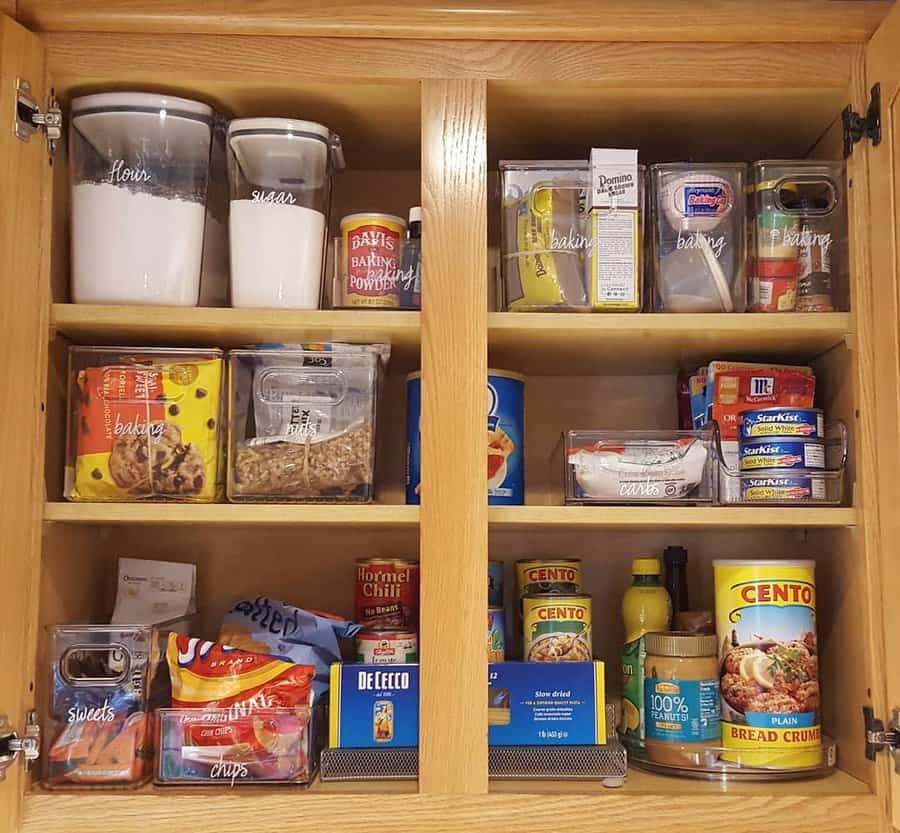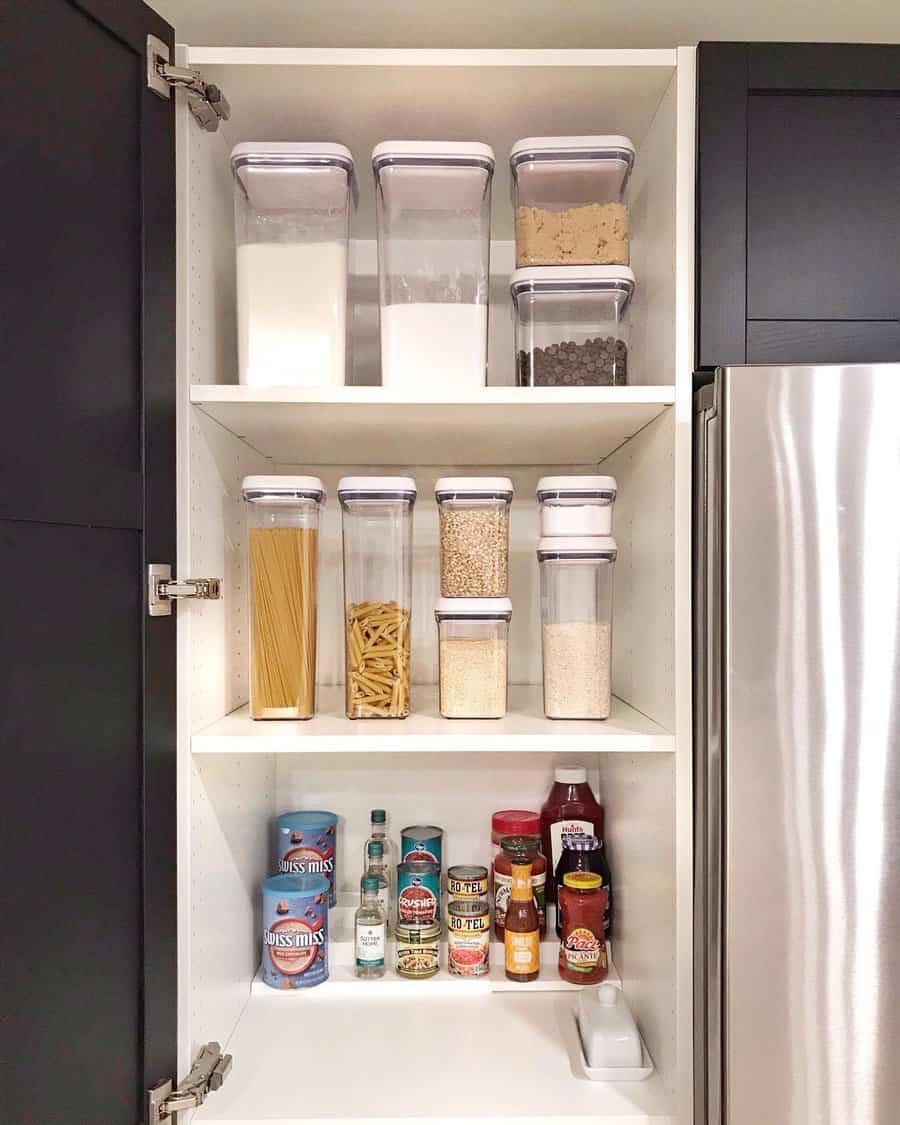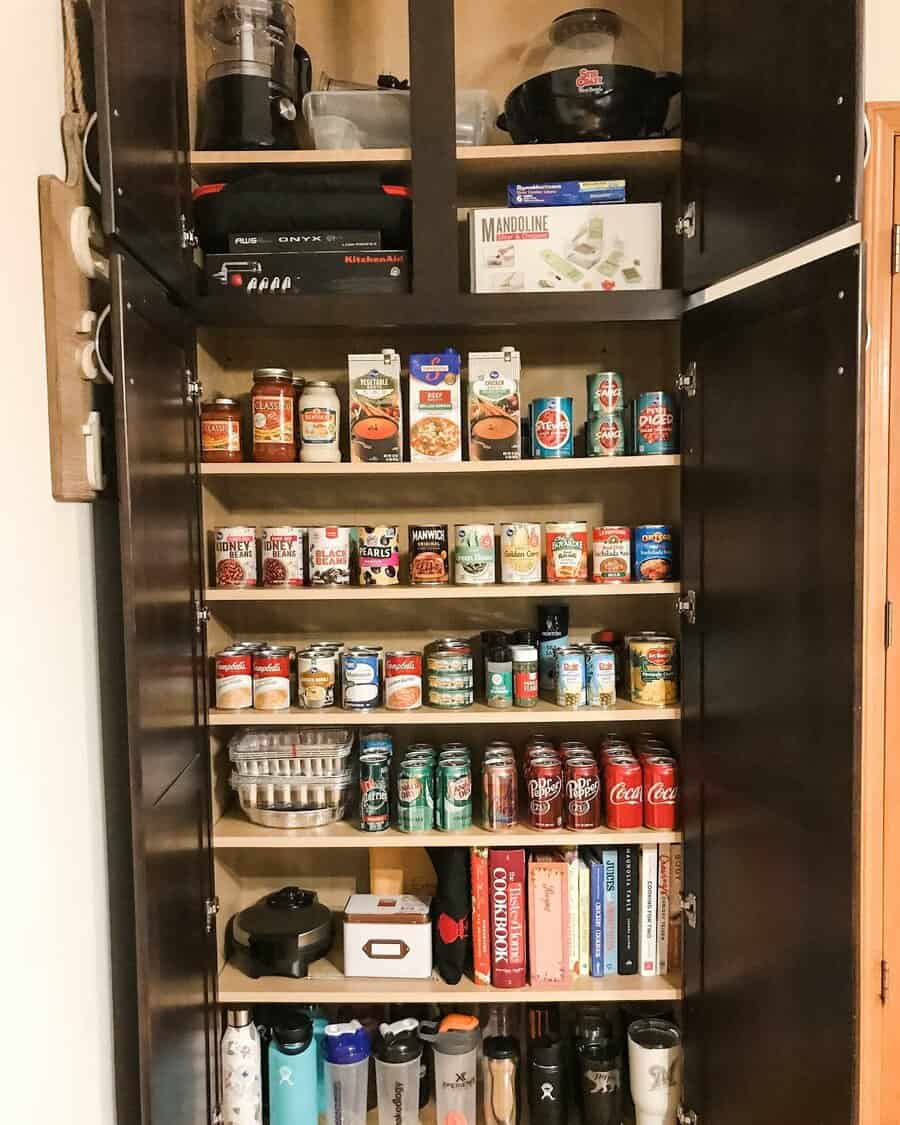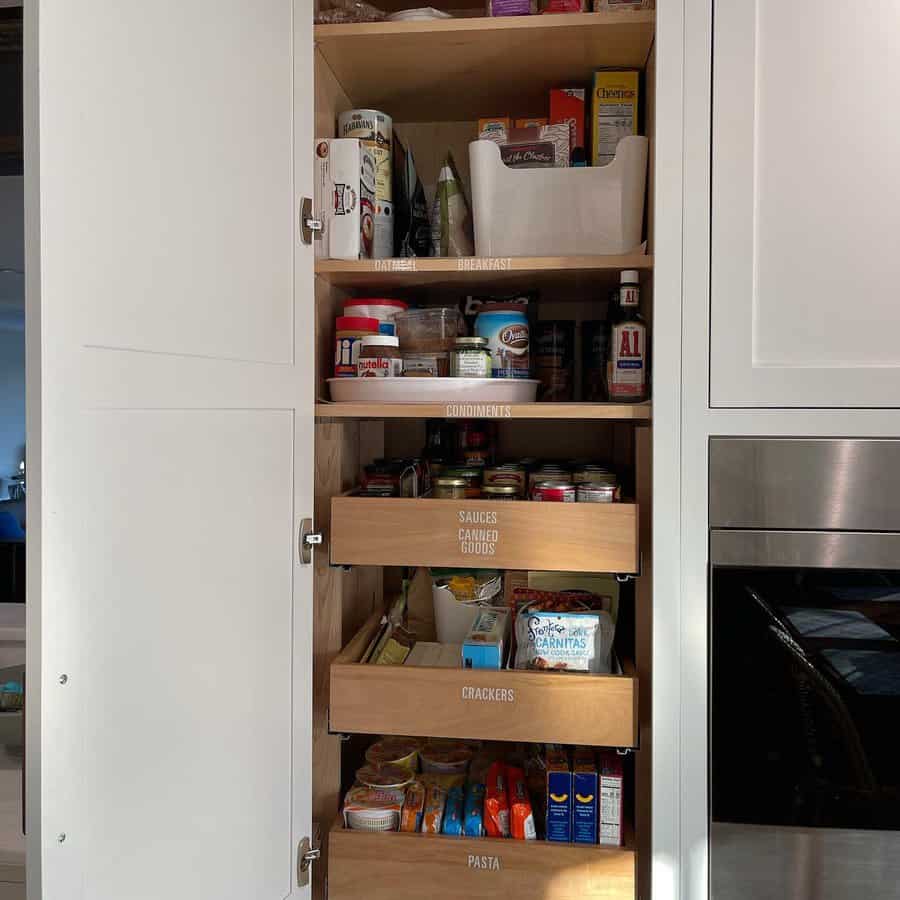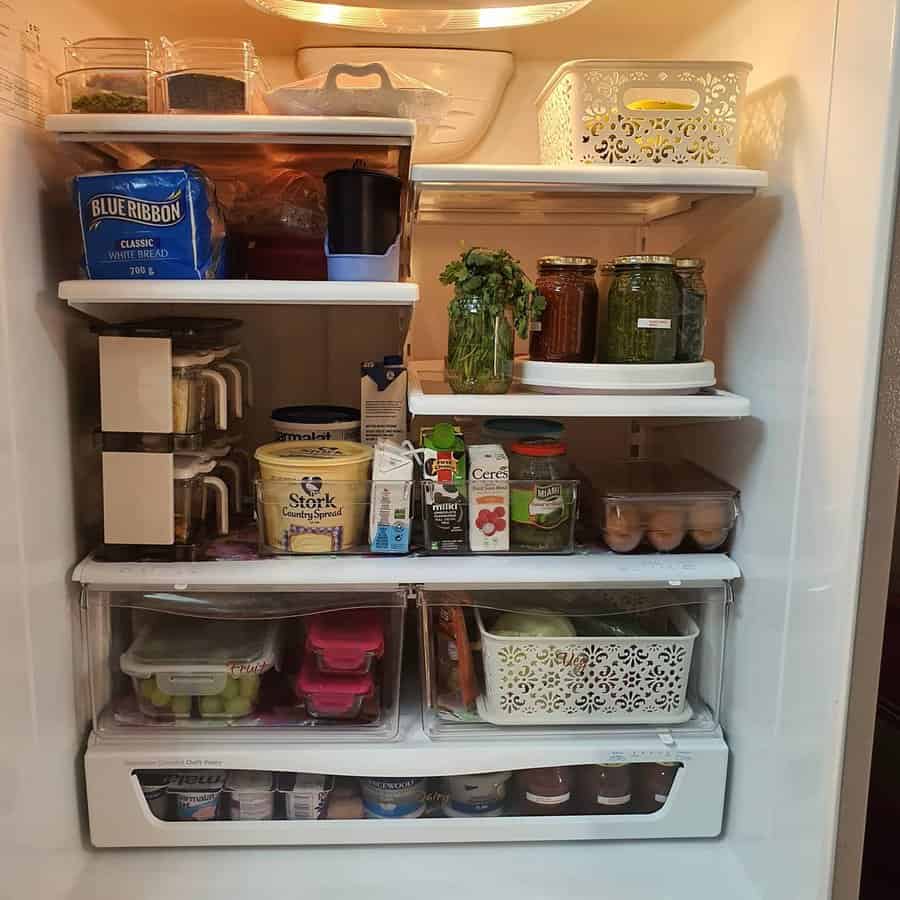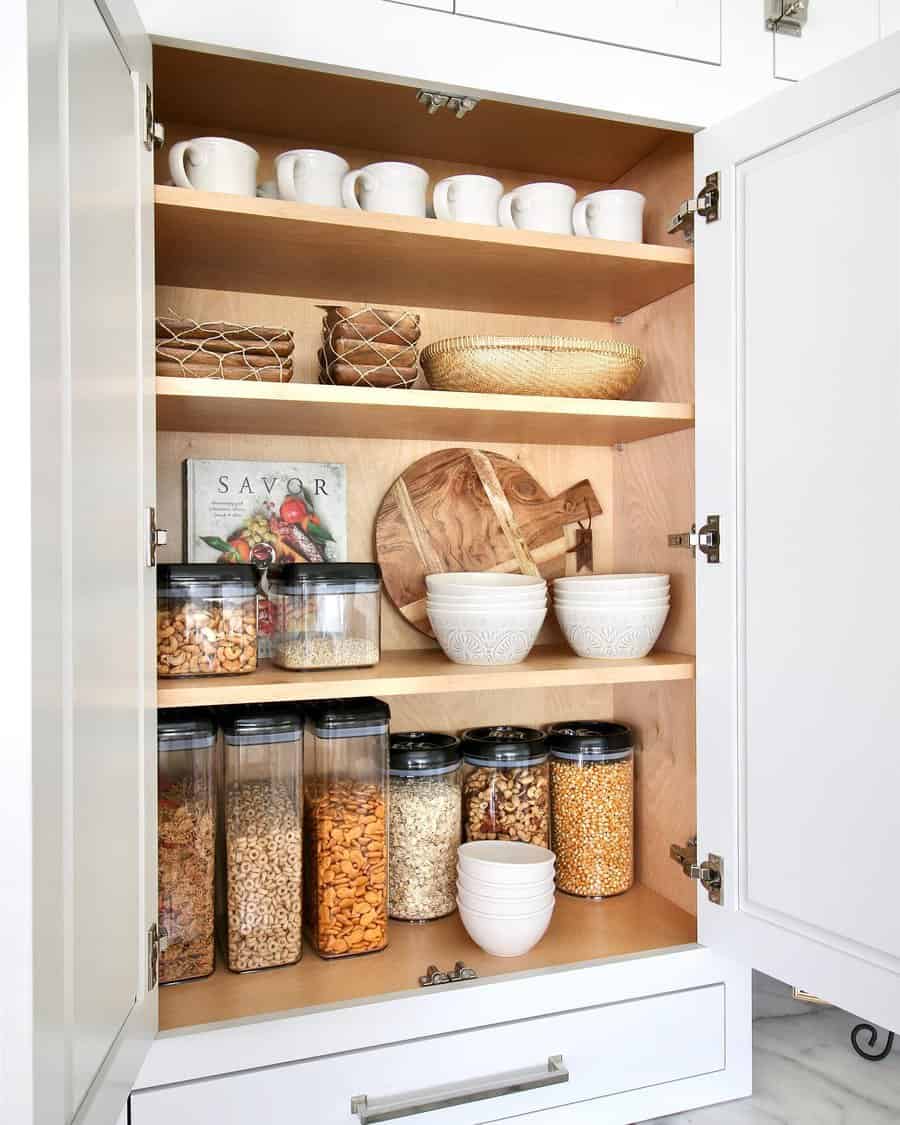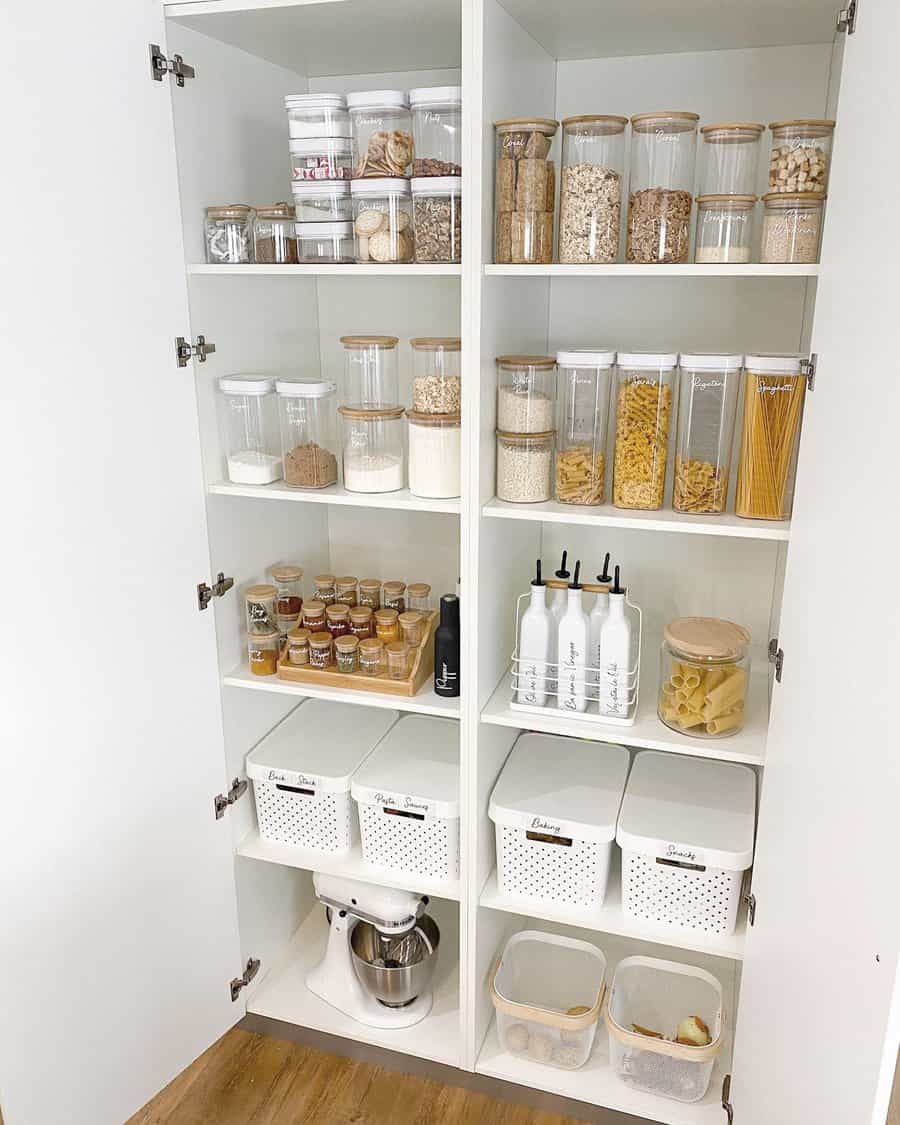 Try to store the food in labeled or transparent containers, rather than in their original packaging. You can also install a pegboard on the wall, to hang measuring spoons and other items, in case you don't have enough drawers. Also consider tiered shelves and turntables, which save a lot of space.
7. Shelf
Pull-out shelves are always a great call. Additionally, you can install a roll-out pegboard to hang kitchen utensils. When shelving space lacks, you can double the space with wire shelves and dividers, instead of piling up your dishes on a single shelf.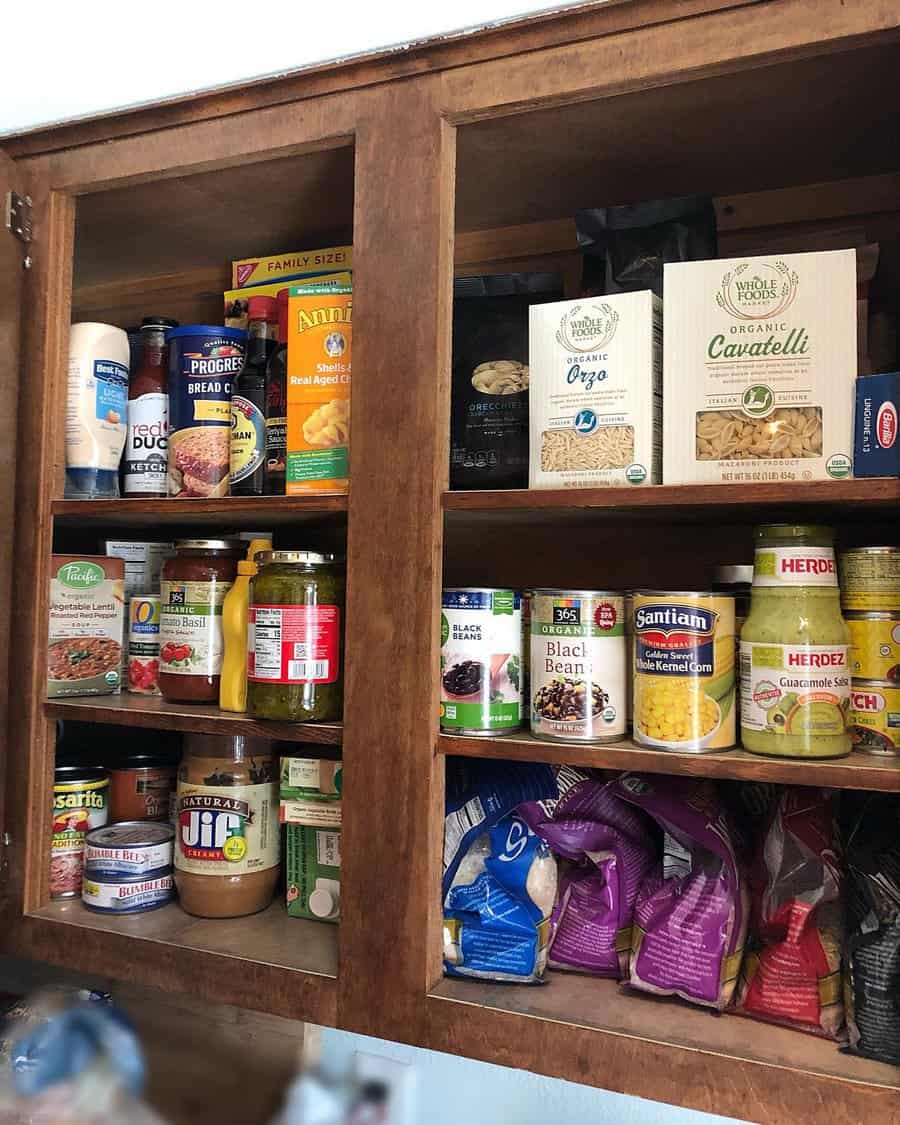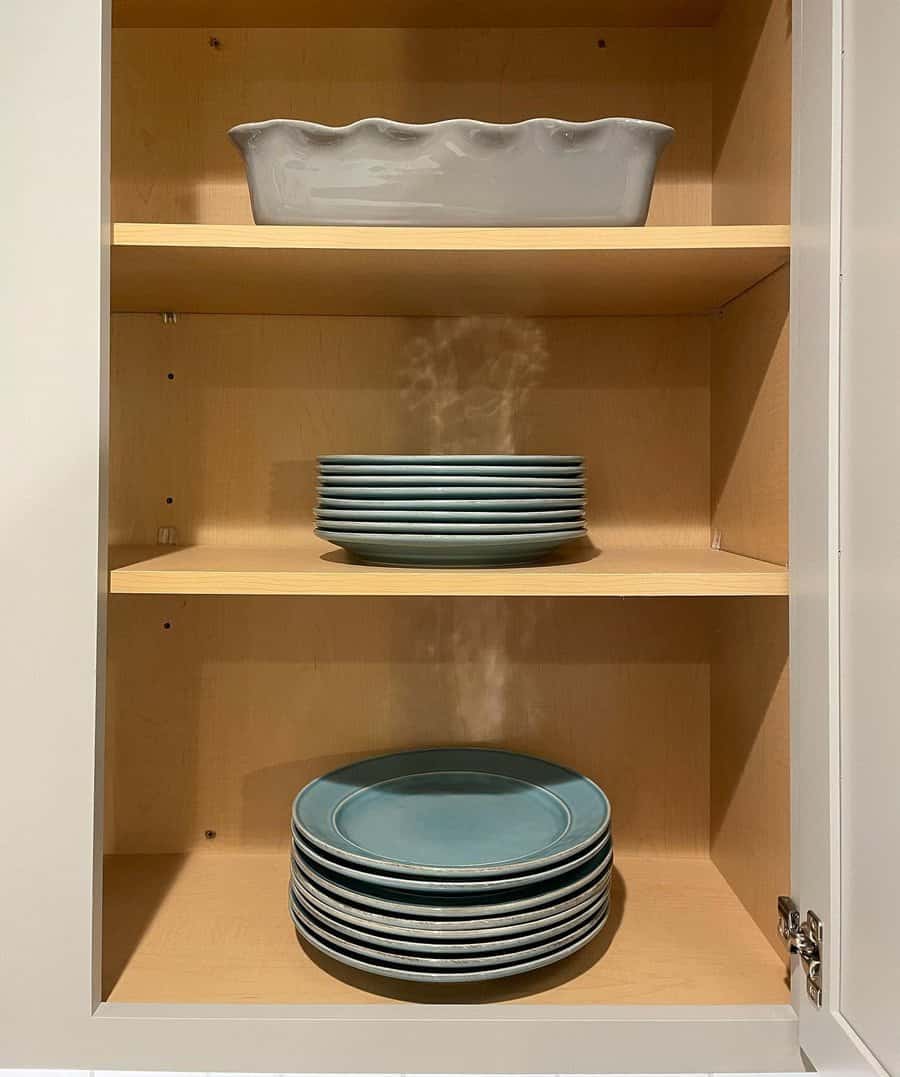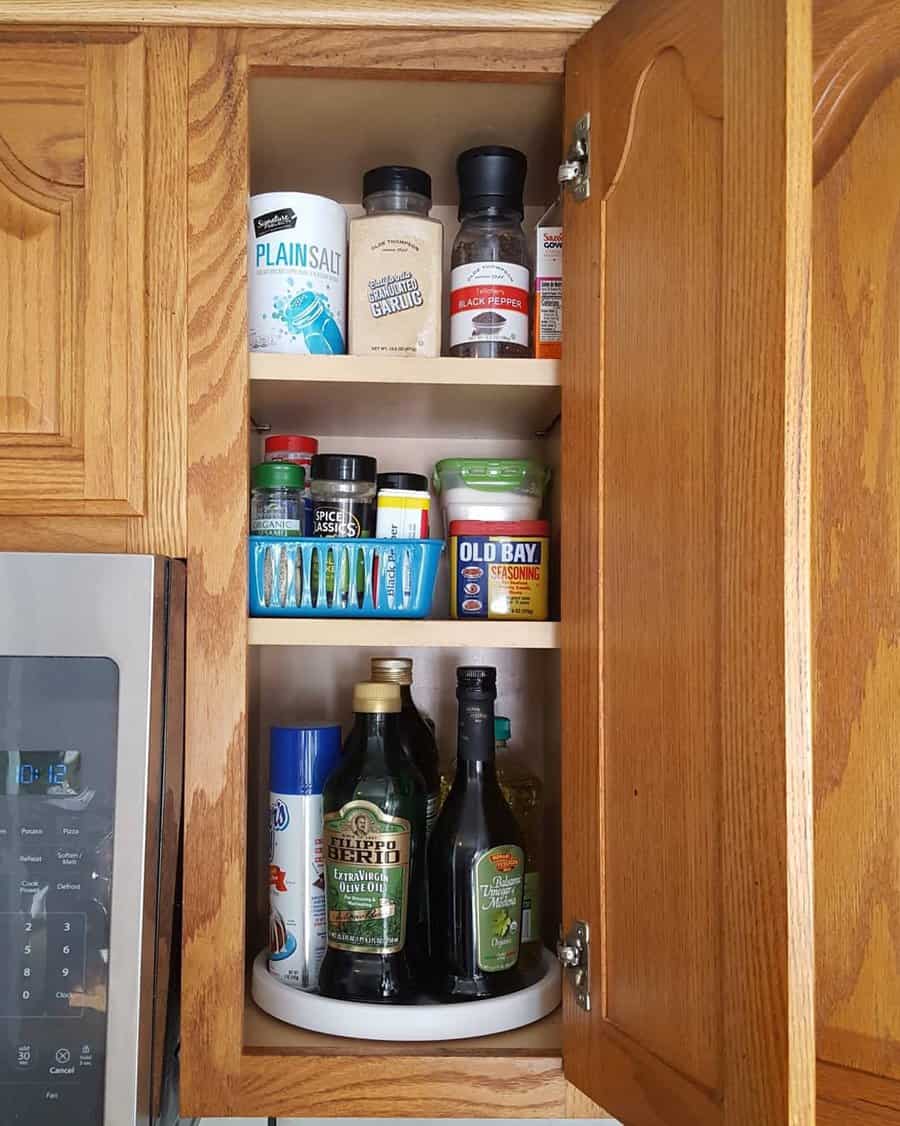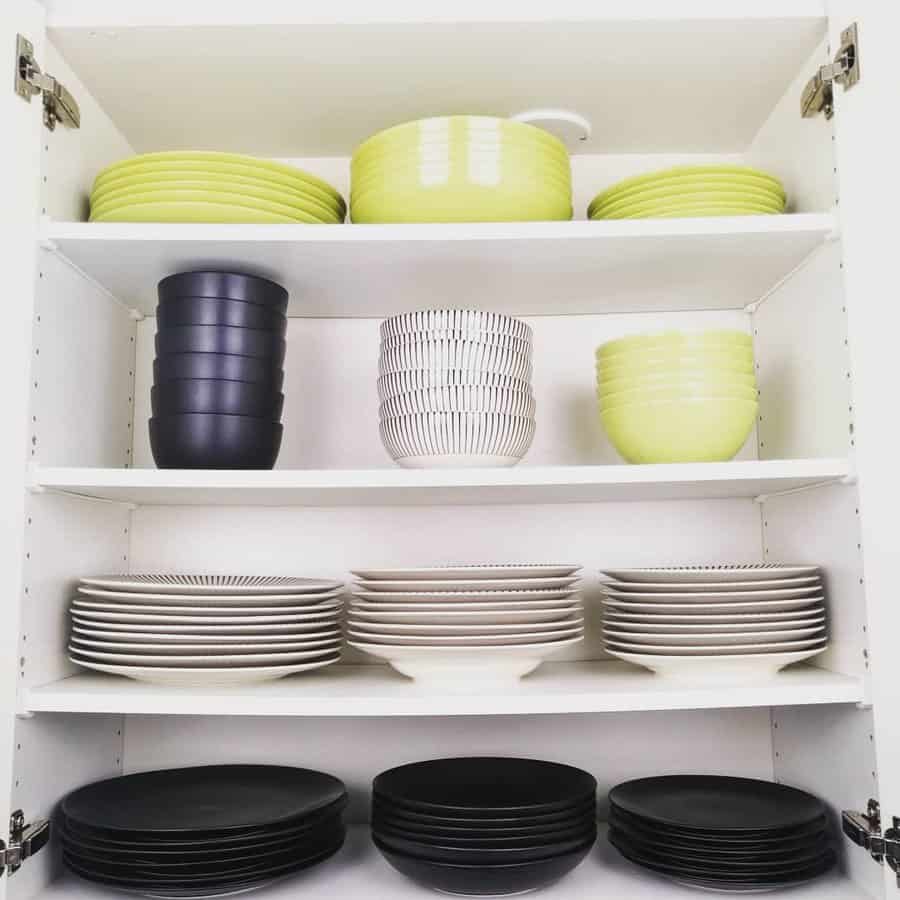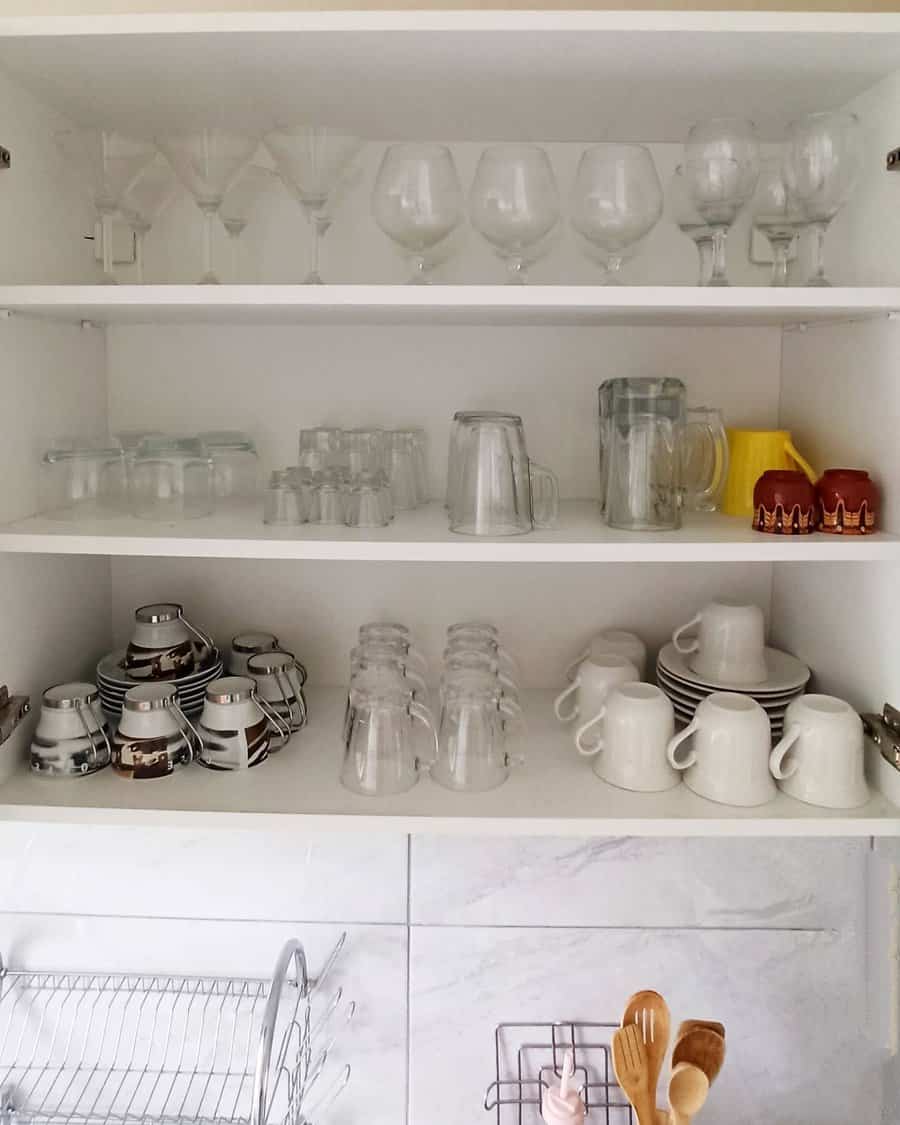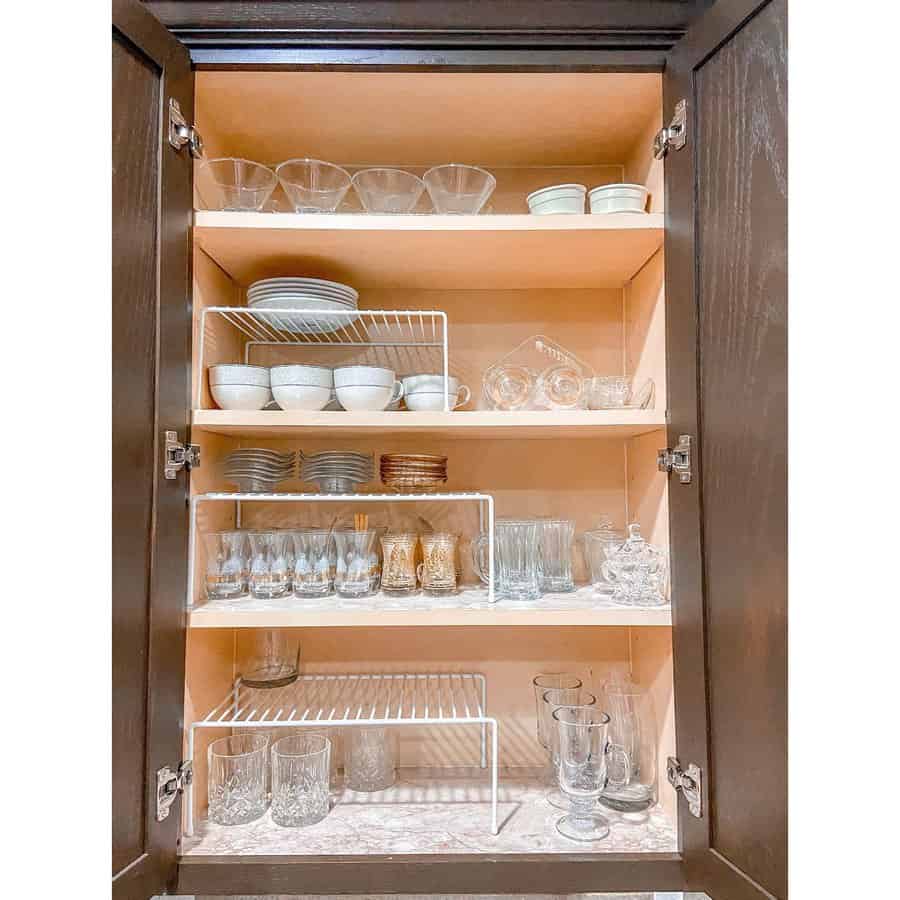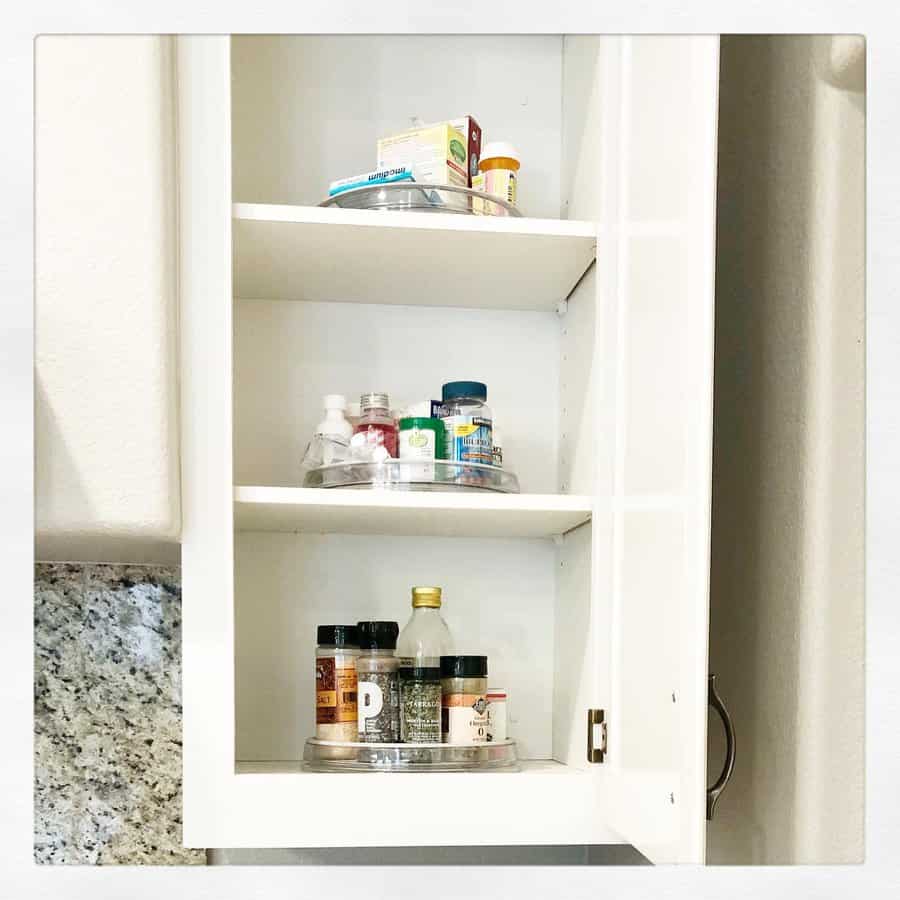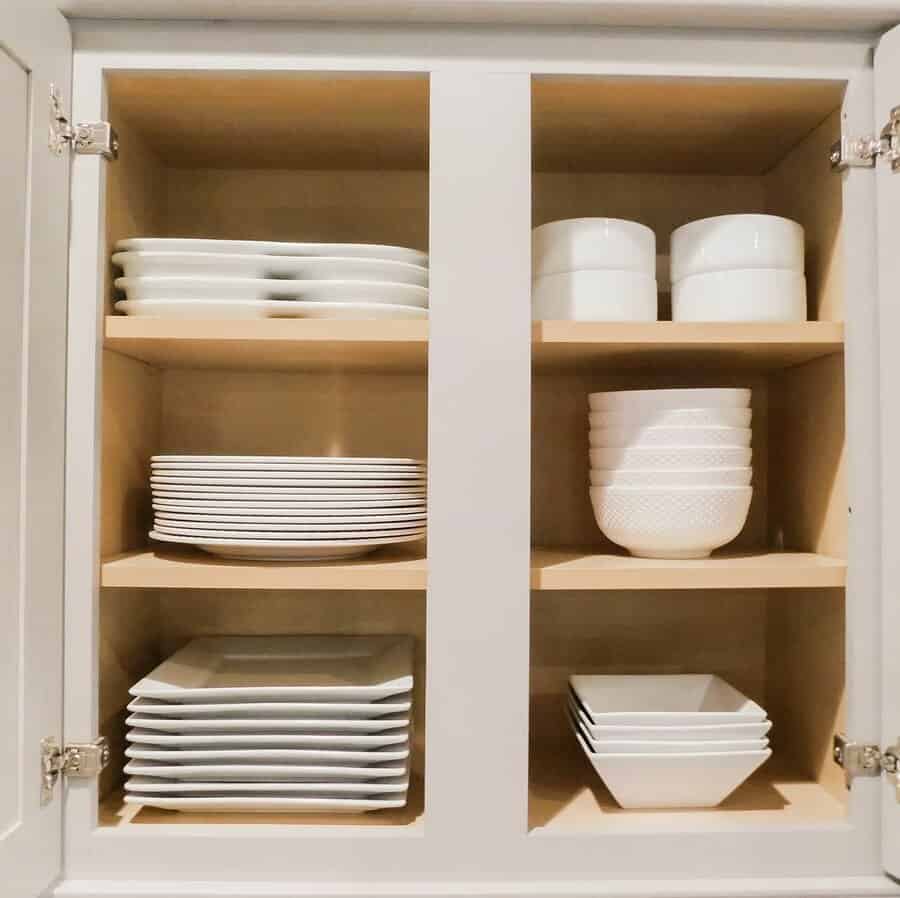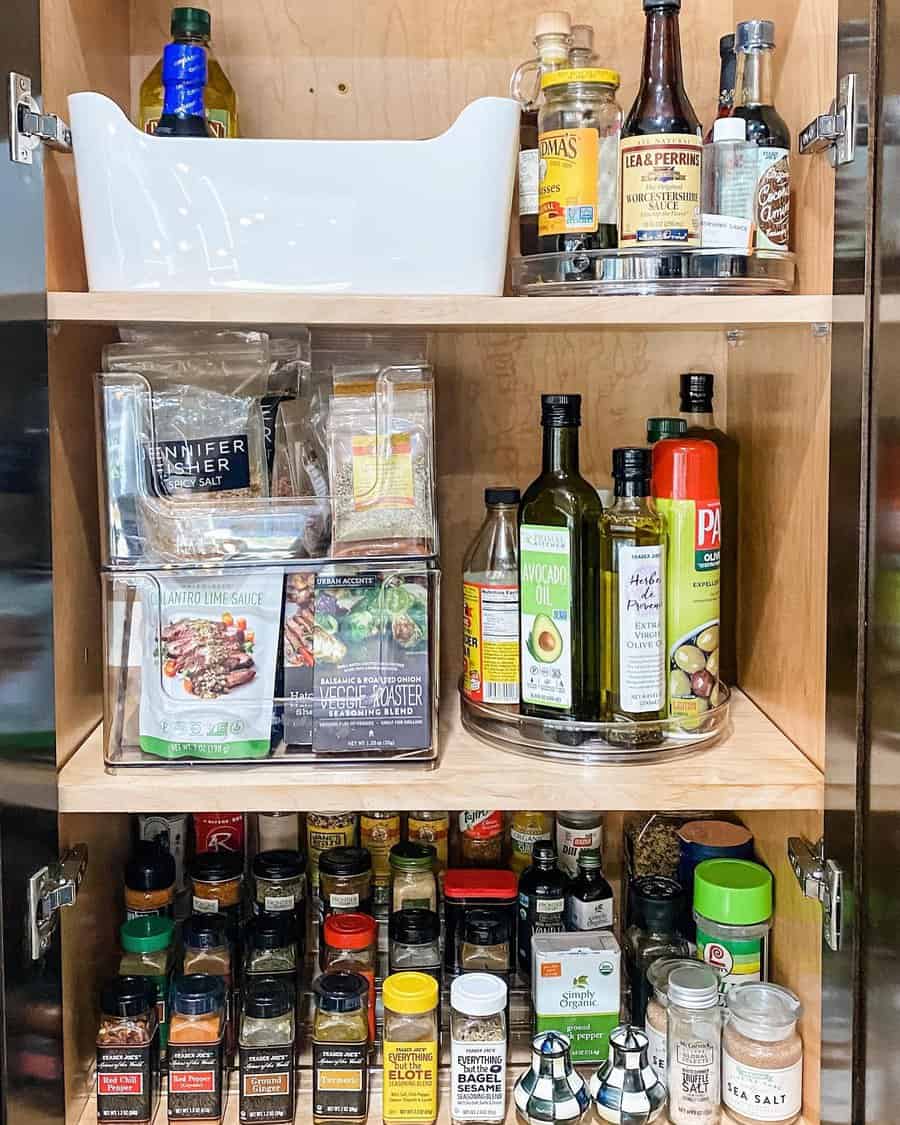 To optimize the space, use both sides of your shelves, by installing magnets onto the bottom side, for spices. You can also install a wine glass holder on the underside of the shelf, as well as a metal or wooden strip with hooks, to hang cups.
8. Storage
Storage never seems to be enough! So, we have to find clever storage solutions, to optimize the use of space to the maximum!
Since it's not always possible to expand our cabinetry, we can add accessories that allow for sectored storage. Magnetic strips are one of these items. You can install them inside the lower cabinets, to keep multiprocessor, blender, and food mixer parts.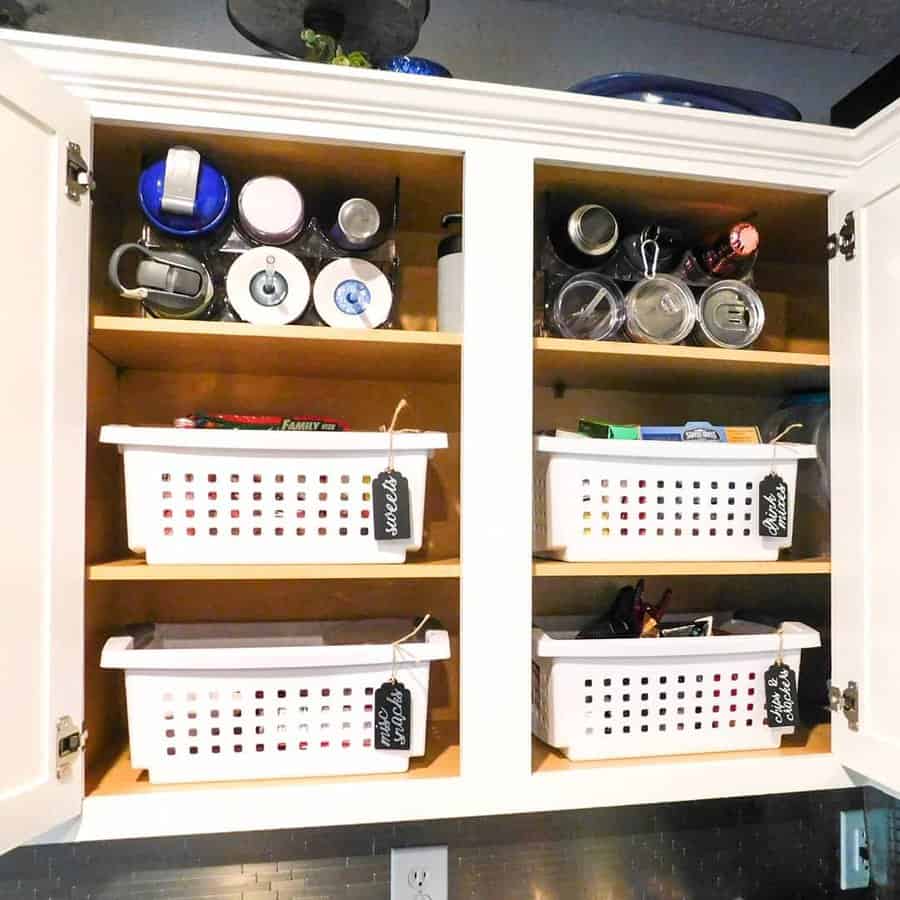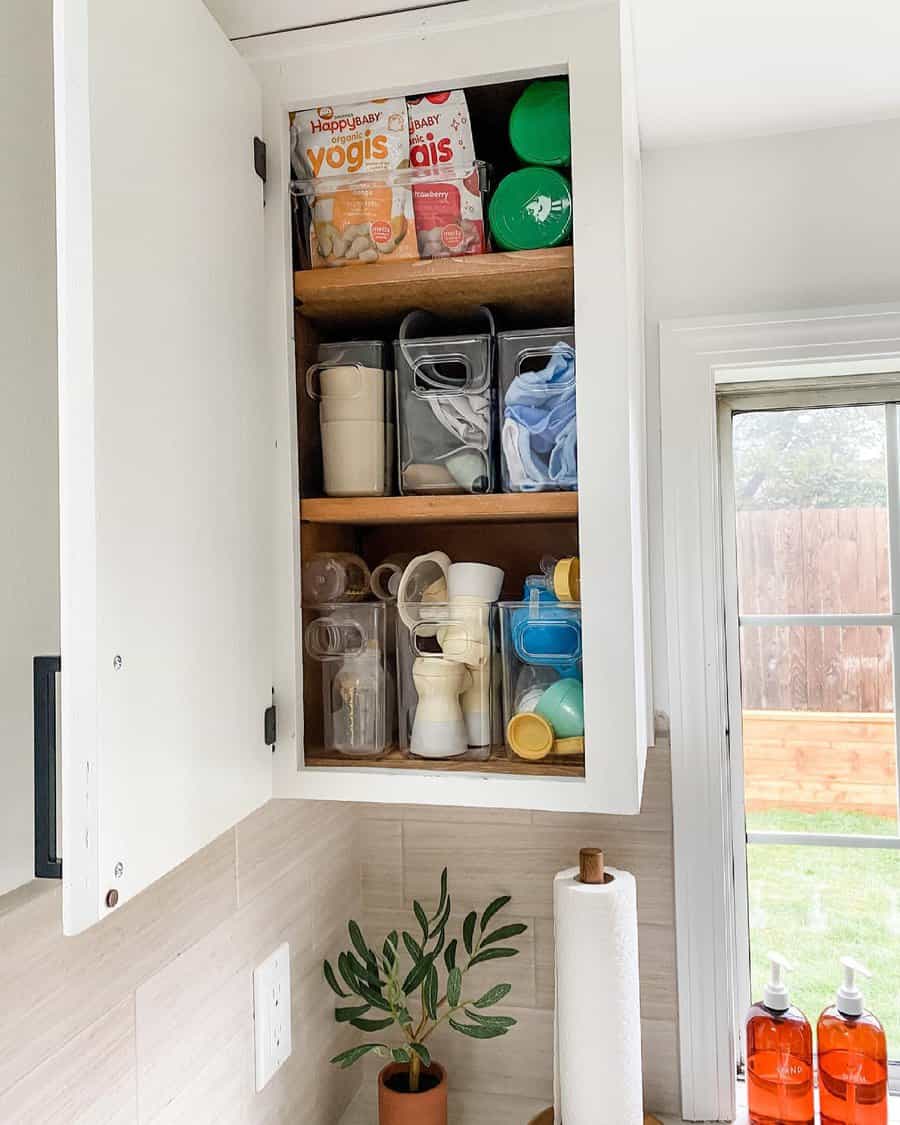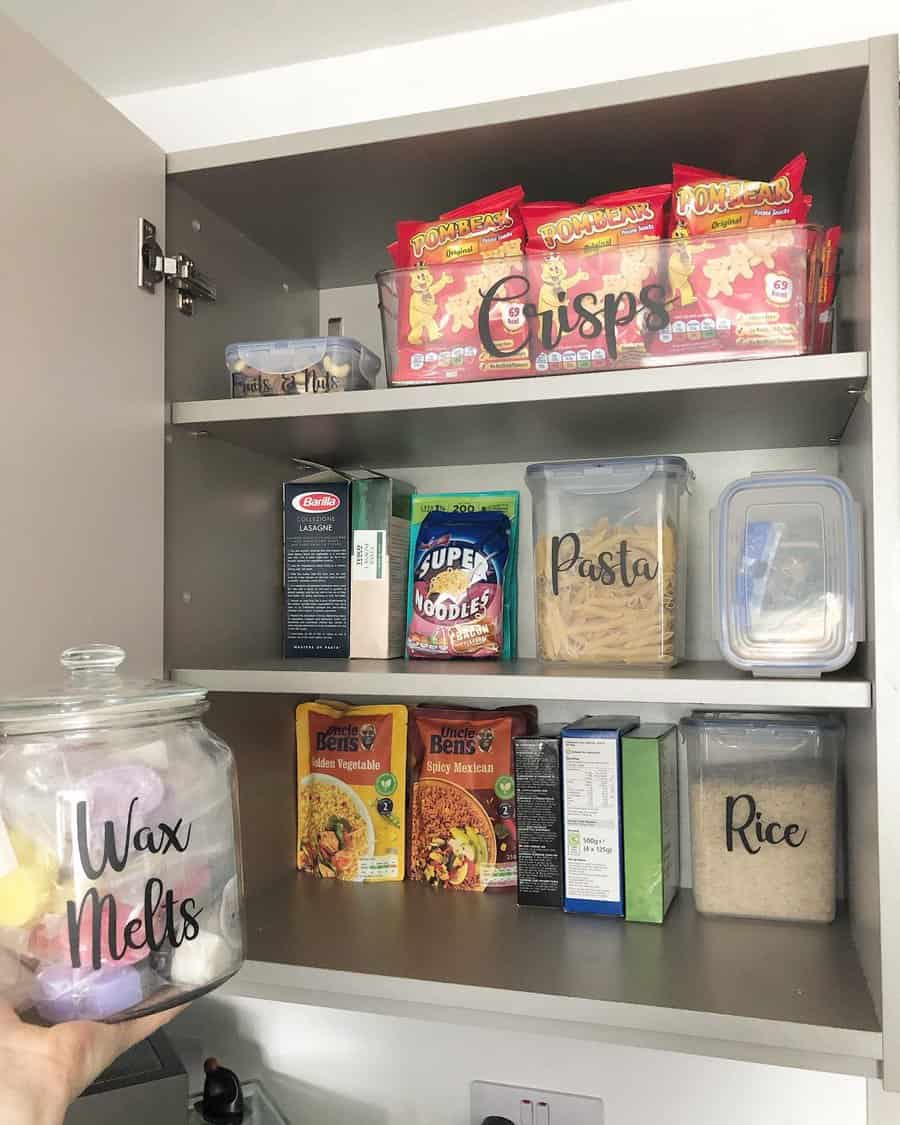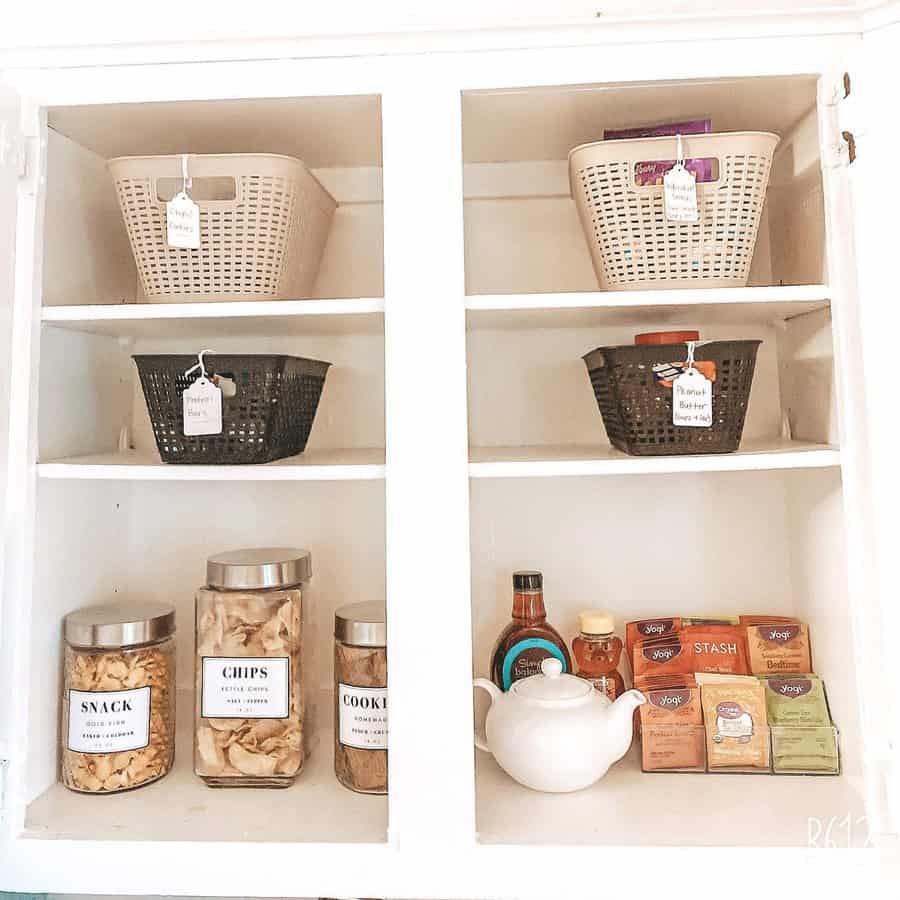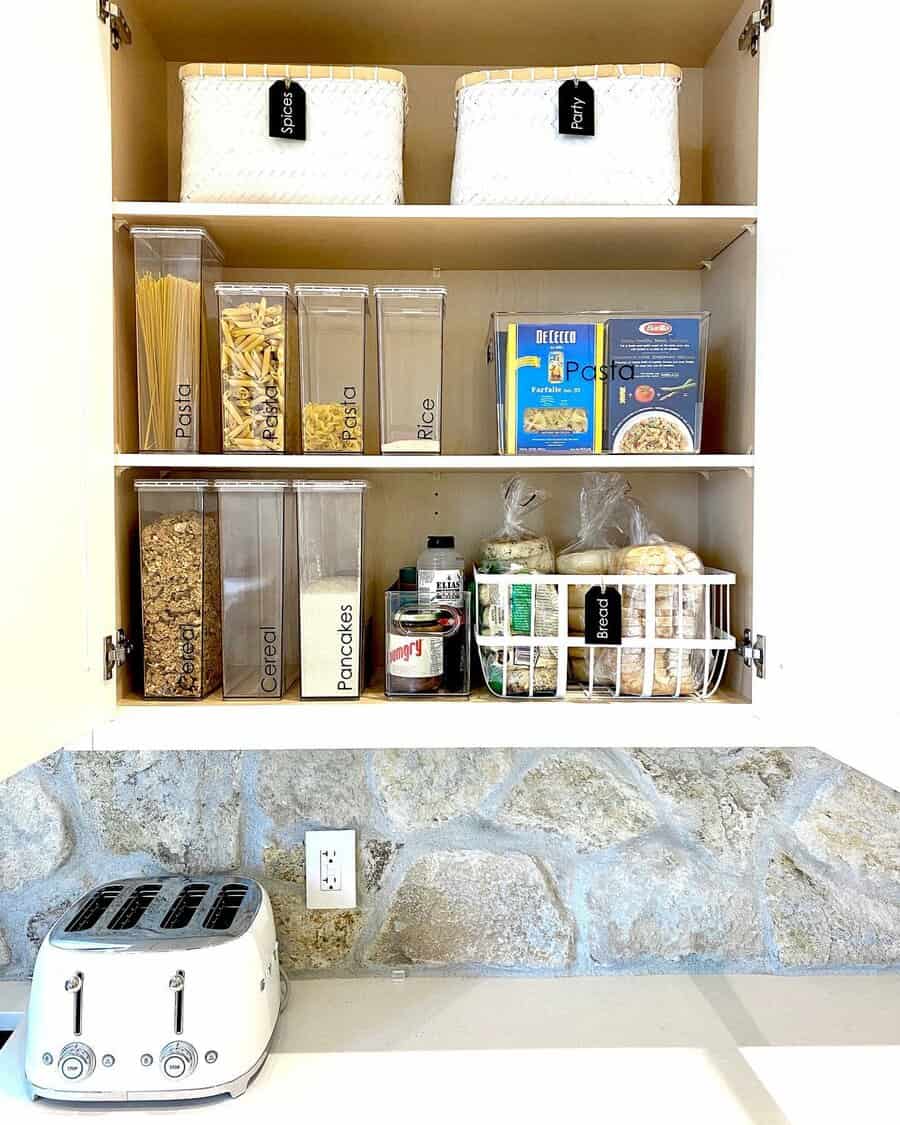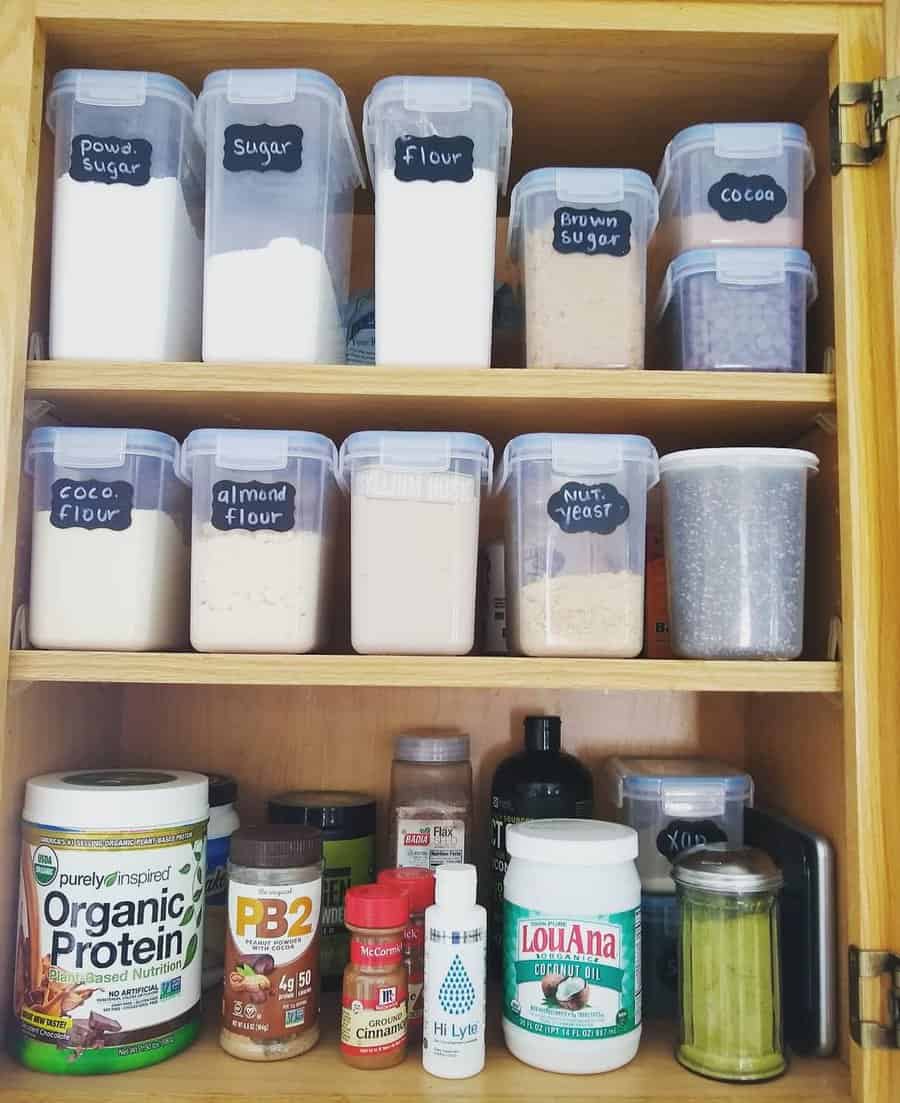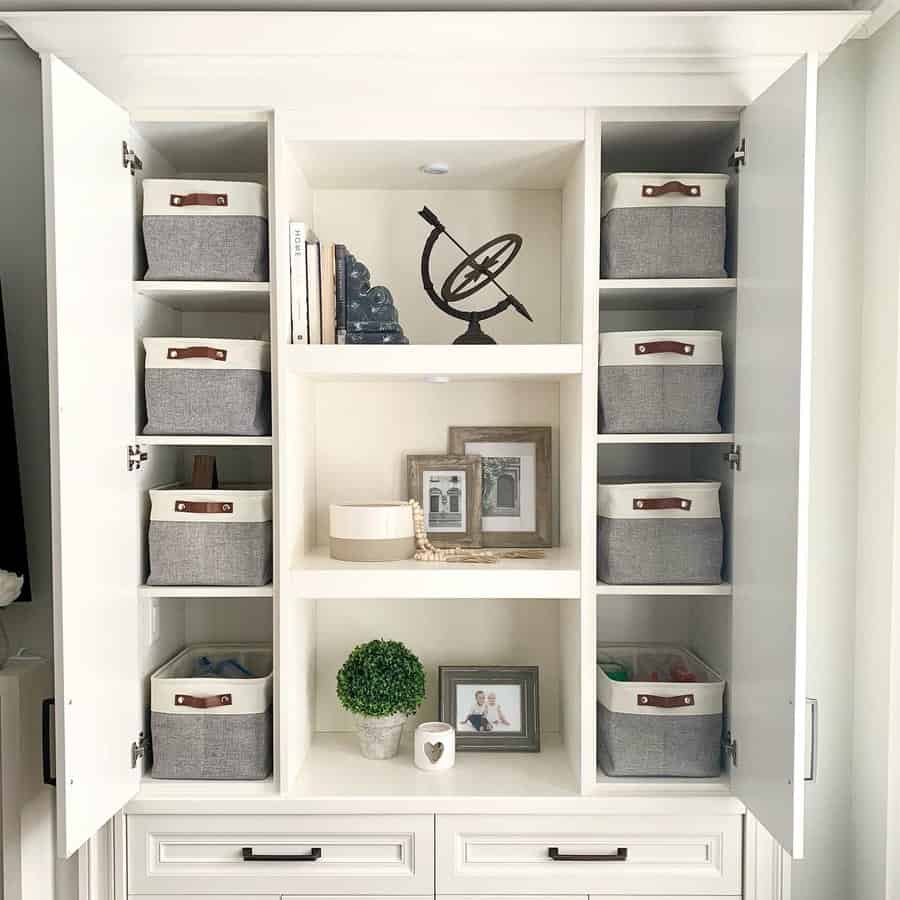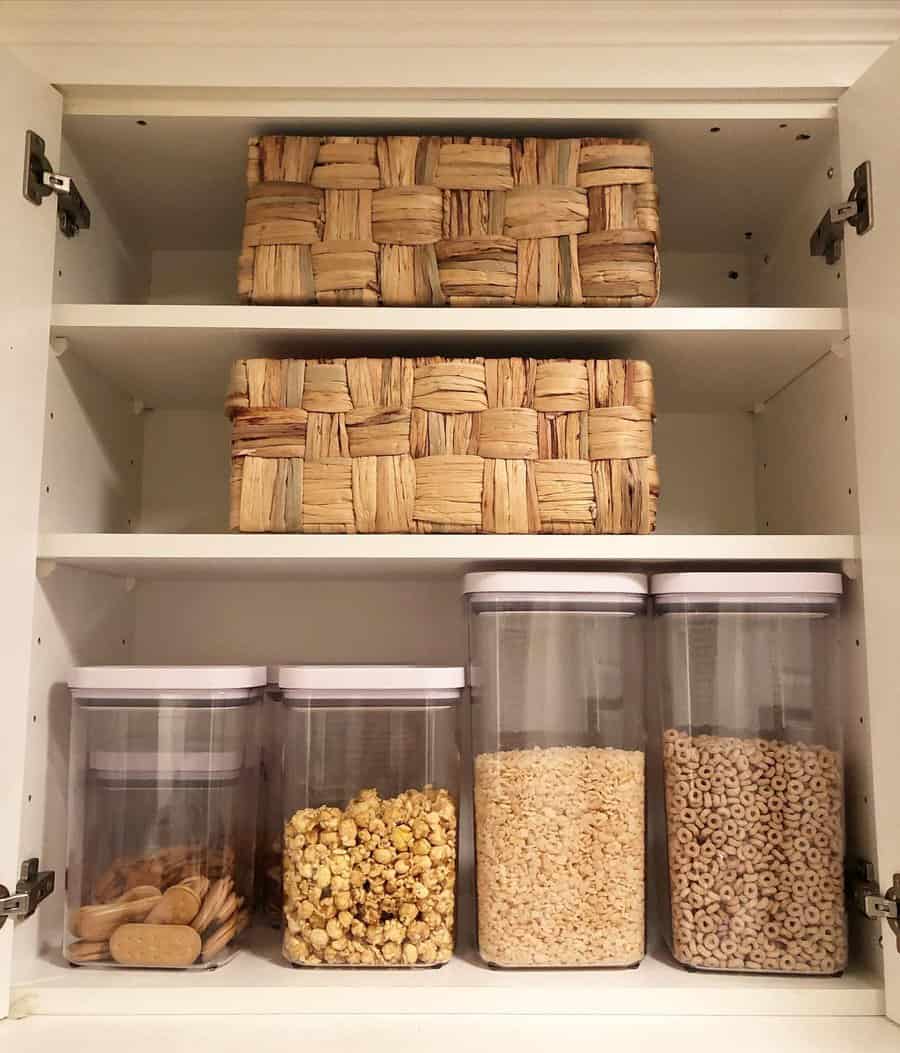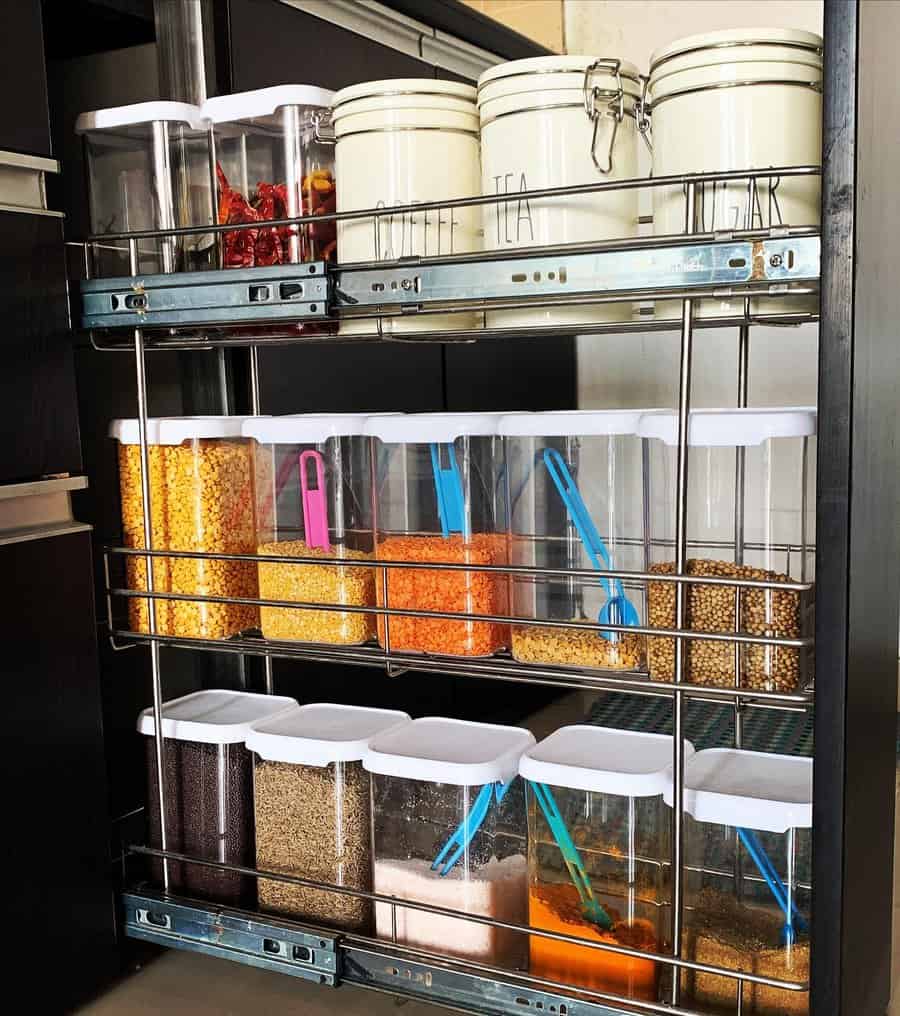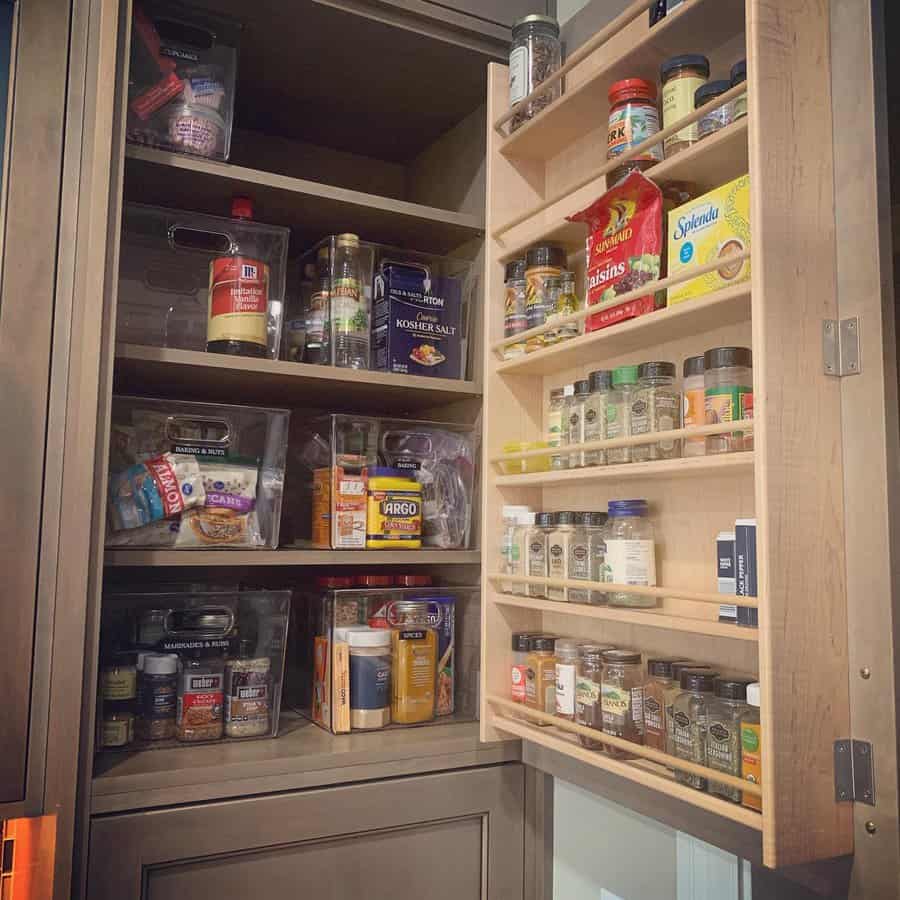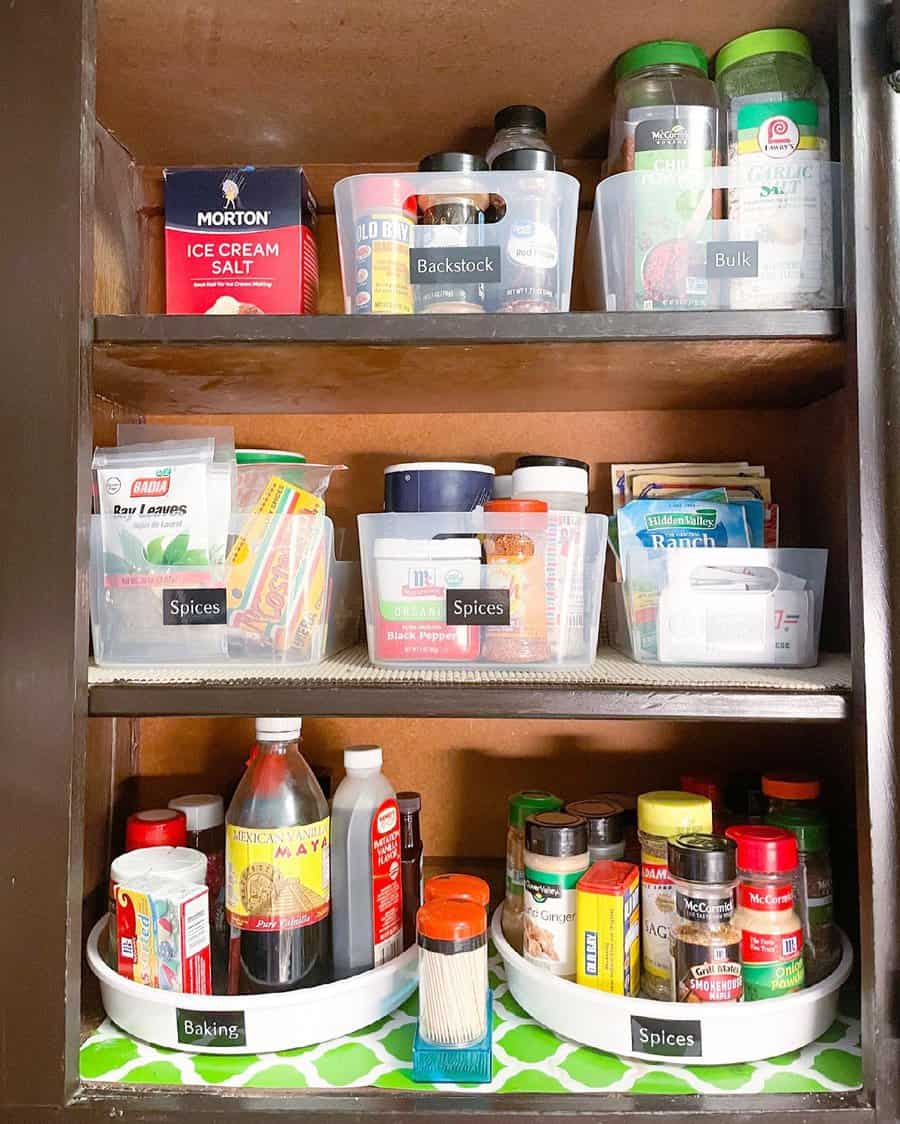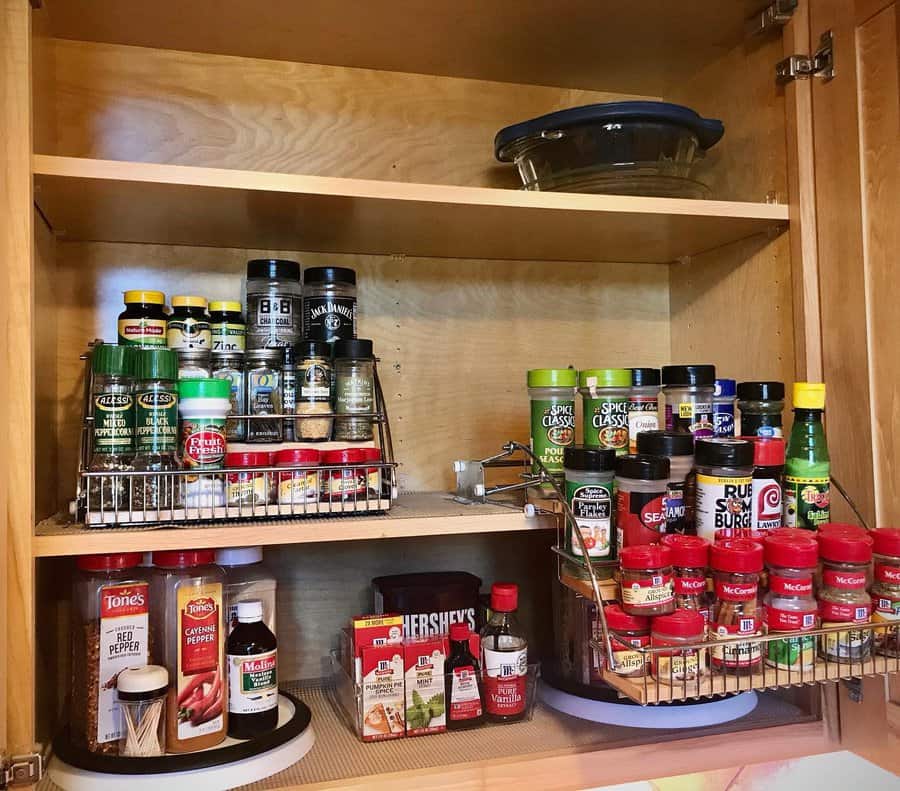 Make the most out of corner cabinet space, by installing a Lazy Susan or a tension rod instead, to hang your pots and pans. If you want to maximize the functionality of your upper cabinet, install under-cabinet storage racks, which you can swing up and down easily for daily usage.
Remember to make the most use of wall and even ceiling spaces, with overhead pot racks, or floating shelves, pegboards, hooks, and magnets, onto the walls.
See more small kitchen storage ideas here.
FREQUENTLY ASKED QUESTIONS
Is it possible to freeze soup in glass containers?
You can freeze liquid in glass jars, providing you leave enough space at the top, to accommodate liquid expansion. 
How do I remove stains and odors from plastic containers?
You should place your plastic containers outside to catch sunlight whenever you can.  In everyday use, wash them in hot water and rinse them with white vinegar (let the vinegar sit for a few minutes and then wash again with dish soap and water).
The good old baking soda is always a great help. To remove stains, mix baking soda with warm water and apply this paste to your plastic containers. Leave it overnight, and you'll see the results.
Should I use under-shelf wrap holders only inside cabinets and pantry?
They are so practical and save so much space, that you can add them to your open shelves, as well.